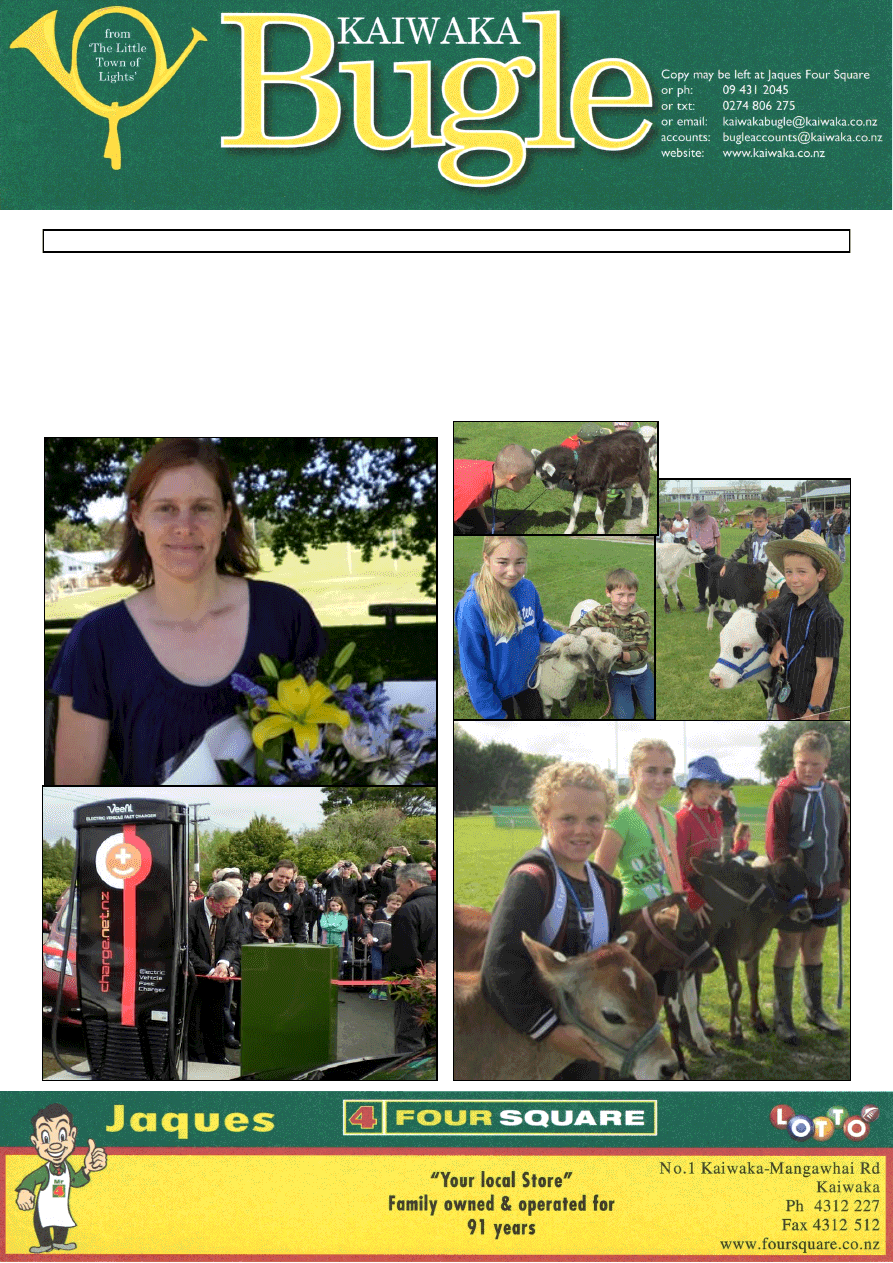 www.kaiwaka.co.nz 
Kaiwaka Bugle - 10 November 2015 
Page 1 
 No: 22
10 November 2015 
Trading Hours: 
Monday-Friday 8am to 6:30pm 
Saturday 8am to 7pm 
Sunday and public holidays 9am to 5pm 
GROUP DAY in KAIWAKA 
Agricultural  Group  Day  26  October  Labour  Day  held  at 
Kaiwaka  Sports  ground  in  excellent  weather,  well 
organised  and  well  supported;  school  pupils  with  calves, 
lambs and goats from Tauhoa in the south to Ruawai in the 
north. 
Photos of Kaiwaka youngsters - Zac Wakeling and his beef 
calf  with  Arjan  Pedersen  in  background;  Zac;  Gareth  and 
Brenda Ferguson, Tara Moyle, and Hamish Ferguson with 
their  kiwi-cross  calves; 
Kate and Michael Ferguson 
with  their  lambs,  and  a 
happy goat! 
KAIWAKA GOOD SORT 
Congratulations  to  Alicia  Reynolds,  our  second  Kaiwaka 
Good  Sort.  Lish  was  nominated  by  Naomi,  who  said  "she 
works as a valued member of Kaiwaka Primary School and 
volunteers tirelessly for lots of different community groups 
including the PTA, whanau group, Eastern JMB, Kaiwaka-
Mangawhai  Cubs  and  Scouts,  Ota  ex  netball  and  the 
Kaiwaka  Youth  group.  She's  always  willing  to  help  out 
(always with a smile) and encourages others to do so too." 
Flowers by Lindy, the Flower girl. Phone 4312847. 
Rt. Hon Winston Peters cutting the ribbon at Kaiwaka's 
Electric Charge Station opening on Friday 30 October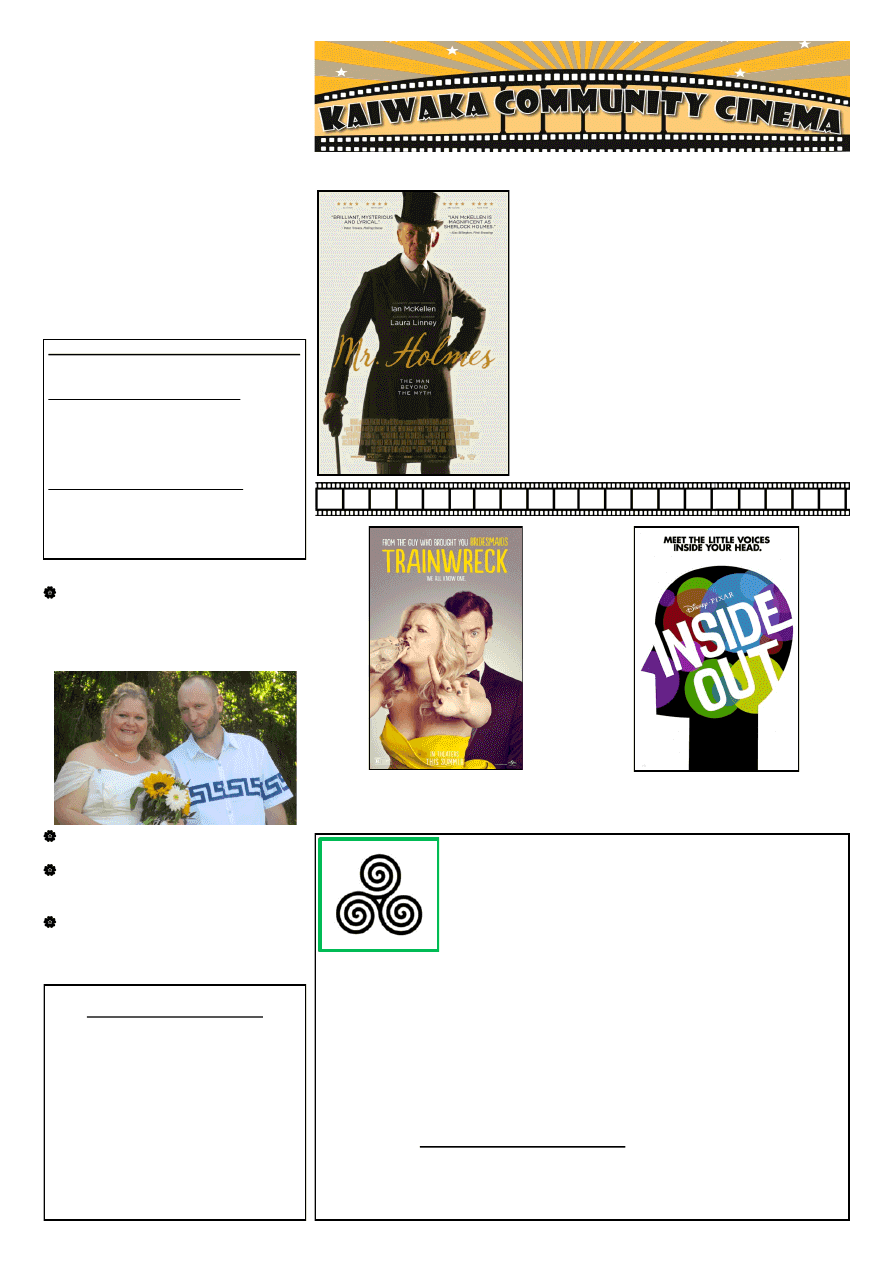 ABOUT TOWN 
......... 
Spotted  on  Guy  Fawkes'  Day  - 
two  grass  fires  on  Oneriri  Road, 
caused  by  skyrockets.  Please  take 
more  care,  especially  as  it  gets 
drier. 
Best  wishes  to  Kane  and  Millie 
on their big celebration  
Condolences  to  the  Phillips 
family  on  the  sudden  passing  of 
Dean. 
 Armistice  Day;  11th  hour  of  the 
11th day of the 11th month 1918 the 
First World War finally came to an 
end. 
KAIWAKA BUGLE No: 22 
10 November 2015
Page 2: Kaiwaka Movies 
Page 3: Public Notices; Classifieds 
Page 5: Pt Curtis, Otamatea Repertory 
Page 7: Kaiwaka School 
Page 9: Kaiwaka Library, Weather 
Page 11: Otamatea High School 
Page 13: Fright Night 
Page 15: Kaiwaka Sports Assn 
Page 17: KSA cont. 
Bugle 23 will appear 24 November 2015 
Contact for advertising, reports, articles 
or information can be made by 
Email kaiwakabugle@kaiwaka.co.nz 
Ph: 09 4312 045 (Lindsey) 
Txt:  0274 806 275 (Wendy) 
Copy may be left at Jaques' Four Square.
Kaiwaka Bugle 
Founded May 1978 
Copies available in Kaiwaka at Jaques Four 
Square, Kaiwaka Postal Centre, Shamrock 
Service Station, Celena's Gifts, Animal Health 
Centre. Also outlets in Maungaturoto, 
Mangawhai and Paparoa. 
Can be viewed online at  Facebook or 
www.kaiwaka.co.nz/Bugle  
Or a copy can be posted to you if you supply 
stamped, self-addressed DLE envelopes. 
At Kaiwaka War Memorial Hall . Adults $10, Chn (under 16) $5, Family Pass (2 adults + 3 children) $25 
Mr Holmes 
Friday 13th November 7:30pm (PG) 
An aged, retired Sherlock Holmes, deals with 
early  dementia,  as  he  tries  to  remember  his 
final  case  and  a  woman,  the  memory  of 
whom  still  haunts  him.  He  also  befriends  a 
fan,  the  young  son  of  his  housekeeper,  who 
wants him to work again. 
Starring:  Ian  McKllen,  Laura  Linney, 
Hiroyuki Sanada, Roger Allam, Philip Davis, 
John Sessions. 
RANA Health 
Naturopathy- Acupuncture- Massage 
Open Mondays, Thursdays & Fridays 
4 Kaiwaka-Mangawhai Road; Room 4; Kaiwaka
Phone or Text for an appointment &/or price enquiry:  
Rebecca Wood 021854158 
Or visit www.ranahealth.co.nz & click BOOK NOW
Rebecca Wood Dip Th Mass; Dip Aroma; Dip Acu; 
Student Naturopath- Final semester
Kaiwaka Bugle Advertisements 2015: 
All 
copy 
and 
queries 
to: 
kaiwakabugle@kaiwaka.co.nz 
Classified  $3  (max  30  words);  1/16  page 
$4; 1/8 page $6; 1/4 page $12. 
Payments can be made online, posted or 
left at Jaques Four Square Store. 
Accounts: 
bugleaccounts@kaiwaka.co.nz 
The  Kaiwaka  Bugle  is  a  community 
newspaper run by volunteers.   
Articles, etc. printed are not necessarily 
the opinion of the Bugle Team. 
Trainwreck 
Friday 27 November 7:30pm (R16) 
Inside Out 
Sunday 29 November 2:00pm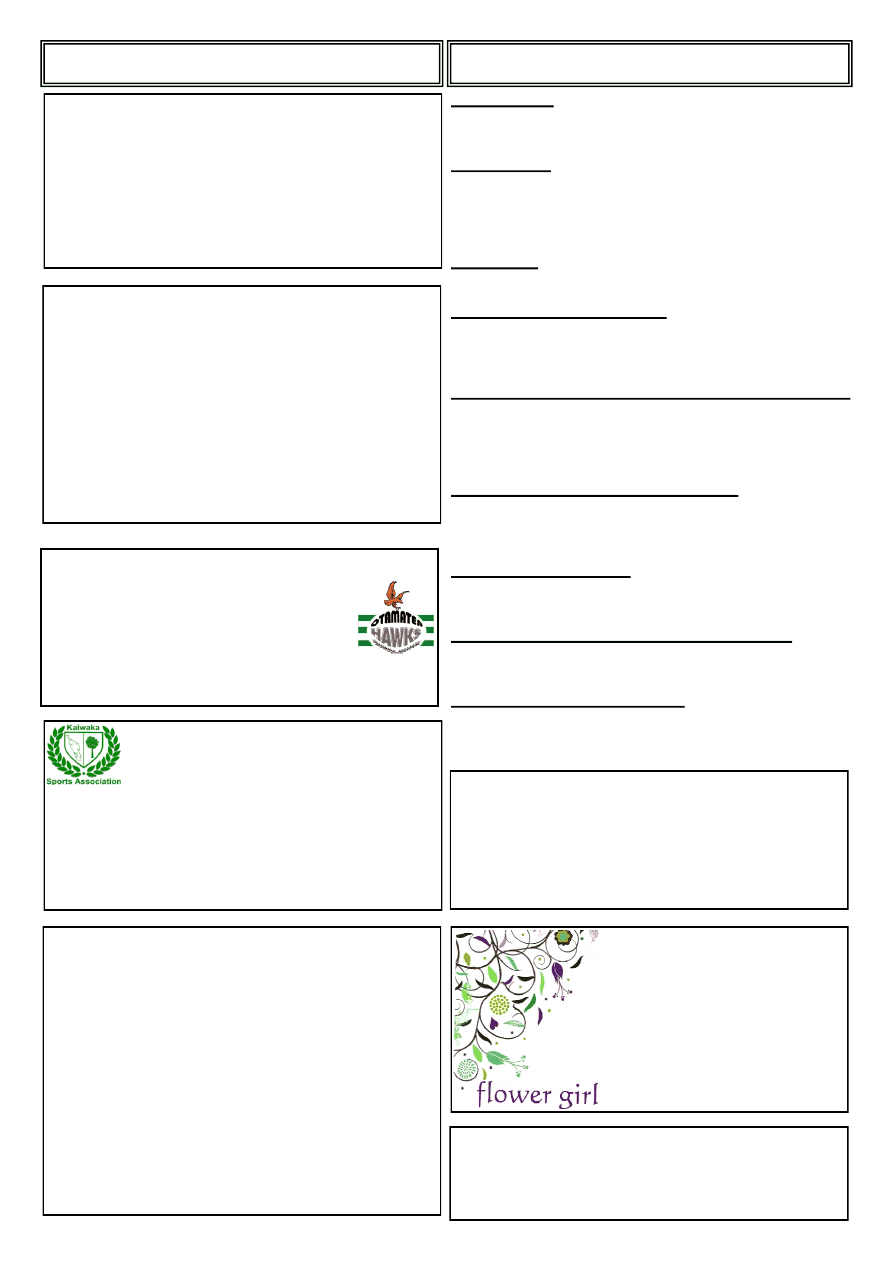 www.kaiwaka.co.nz 
Kaiwaka Bugle - 10 November 2015 
Page 3 
PUBLIC NOTICES 
CLASSIFIED 
Thought for the day:
Proverbs  26:17  Yanking a dog's ears is no 
more foolish than interfering in an argument 
that isn't any of your business. 
FOR  SALE:  Original  wood  stove.  Esse  Century 
cooker.  Wet  back,  double  oven,  white  and  black 
enamel. Working order $2,200.00 Ph 4312 605 Karen 
FOR  SALE:  telephone  pole,  8M  ;  4x4  house  piles 
X10;    Kayak,  4M;  gas  heater  delonghi;  'railway 
sleeper';  galv.  wheelbarrrow;  futon  bed;    scuba  tank; 
sofa  bed;  hand  concrete  mixer-  gdn.feature!?  any  fair 
offers? 431 2992 
WANTED:  Lease  block,  any  size  considered  (10-
200acres). Ph 021 733 305 
THE  SUNSHINE  GIRLS:  Need  help  with  your 
house cleaning? Sometimes you just need another pair 
of hands. We offer two pair and a smile. Comparable 
hourly rate. Ph 431 2532 or 431 2711 
JILL SHIRES HOLISTIC ANIMAL THERAPIES: 
Cranio  Sacral  Therapy,  Herbal  Remedies  & 
Diatomaceous Earth for Pets, Horses & Farm Animals. 
www.jillshires.nz    or  Ph:  431  2080  Based  in  Oneriri 
Road 
PLANTING  AND  LANDSCAPING:  for  all  your 
advisory,  planting  and  maintenance  needs;  20  yrs 
experience; Pete Worsfold 'Sound Landscapes' Ph 021 
825 970 
BERYL  NOZEDAR:  (Middleton)  International  
Clairvoyant.  Numerology,  Tarot,  Clairvoyance,  
Mediumship. $60 for hour includes CD. Ph: 431 2080 
CLOTHING ALTERATIONS & REPAIRS: Hems, 
Zips,  Dressmaking  Phone:  Win  4312027    or  027  444 
8358 Winsome Designs. 
FREE GRAZING WANTED: Small or large block. 
Can  do  some  fencing  or  water.  Phone  after  6pm 
4312006 
Kaiwaka Good Sorts 
Do you know someone in our 
community who is deserving of a 
beautiful bunch of flowers? 
Send an email or drop a note to 
Jaques Four Square to let the 
Bugle team know. We will choose 
a recipient to receive flowers from 
Lindy the flower girl. 
BUGLE DATES 
The end of the year is coming up fast - there are only 
two more Bugles to come after this issue before our 
Christmas break. 
The deadline for the last Bugle of 2015 is: 
midday Friday 4 December.  
The first Bugle of 2016 will be published  
Tuesday 26 January 
The deadline for that issue is midday 22 January 
TRANZNORTH OTAMATEA 
HAWKS 
Annual General Meeting 
Tuesday10th November 2015 
7 PM 
Kaiwaka Sports Complex 
All Welcome 
KAIPARA HUNT INC.  
Annual General Meeting 
Friday 13 November 
8 pm. Maungaturoto Country Club, 
Bickerstaff Road, Maungaturoto. 
All Welcome 
SITUATION VACANT 
Casual to Part-time 
Jenny's Rural Cleaning Services is looking 
for a trustworthy and honest person. 
Must have a clean driver's licence, be able to 
do early start and evening work and Saturday 
morning. 
Email jennychellew@hotmail.com  
or phone Jenny 09 413 -2826 after 7pm. 
KAIWAKA SPORTS 
ASSOCIATION 
Annual General Meeting 
Wednesday 25th November, 7.30pm 
Kaiwaka Sports Complex 
The annual audit shall be replaced with a Limited 
Review and the Auditor shall be appointed at the 
Annual General Meeting. 
All Welcome 
HAKARU COMMUNITY HALL 
& DOMAIN SOCIETY INC 
740 Settlement Road 
ANNUAL GENERAL MEETING 
Wednesday 11 November 2015 
7:30pm 
As the hall is now owned by the above society on 
behalf of the Hakaru community, the committee 
invites locals and new residents to participate in the 
use of the hall by becoming a committee member. 
ALL WELCOME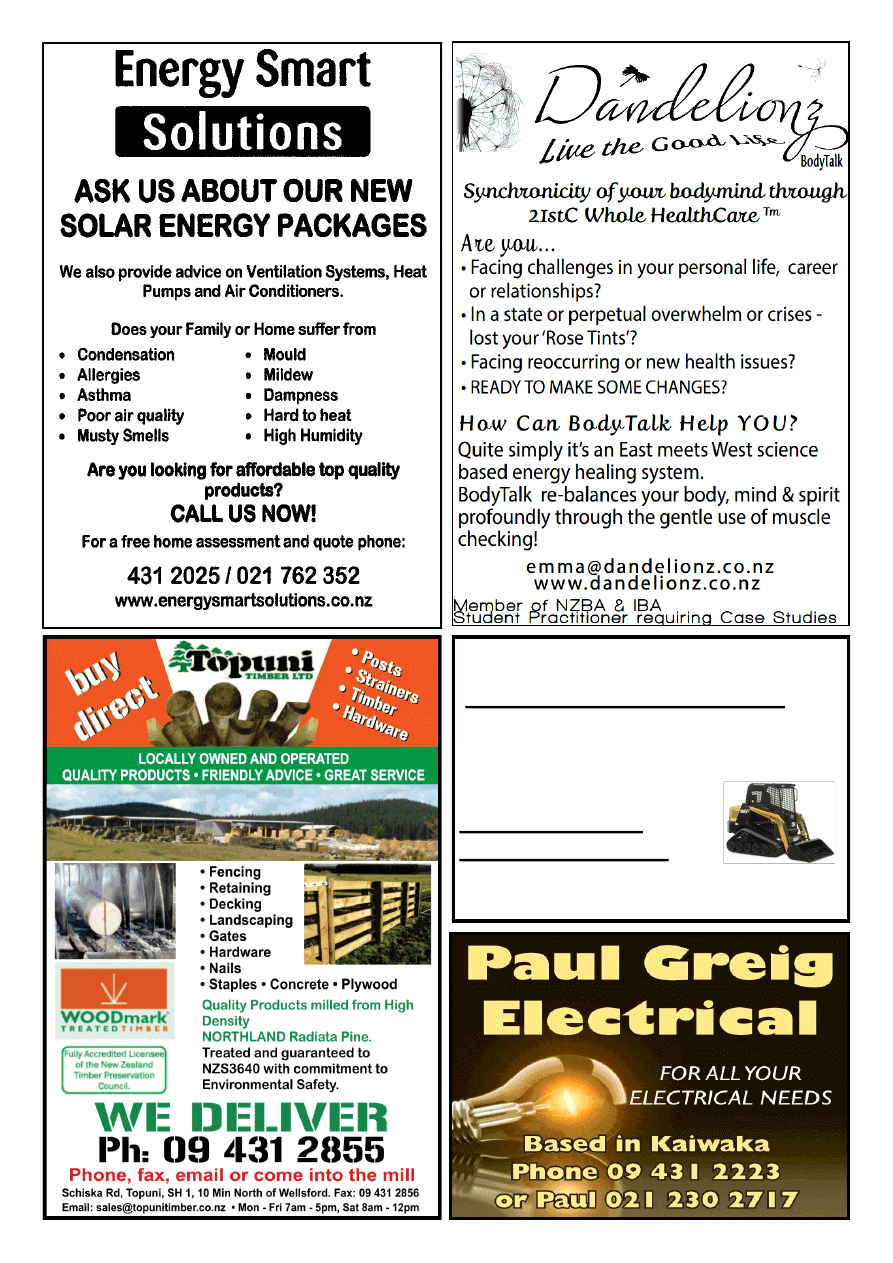 Natural Earth Ltd 
 Landscape and Bobcat services 
 : Driveways  :Landscaping  :Retaining Walls 
 : Hole Boring: Land Levelling :Trenching 
 : Decks :Fences :Sections Cleared: Plus much 
more 
Tel   09 4312885 
Mob 02102391280  
For A Fast Friendly  
Service Contact Tim Hicks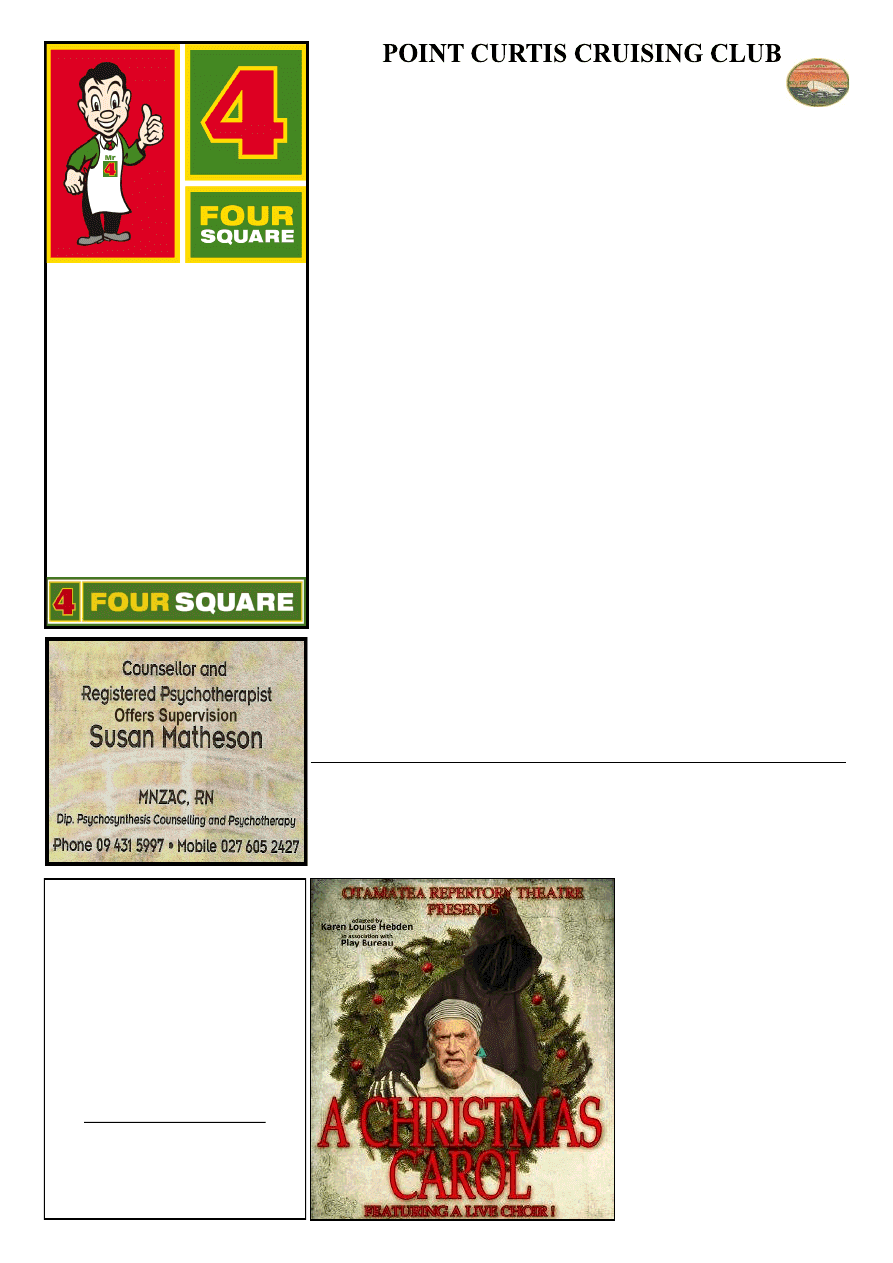 www.kaiwaka.co.nz 
Kaiwaka Bugle - 10 November 2015 
Page 5 
Gardening Season is here 
Great Special on Tui 40L 
Organic Compost $12.99!! 
Large range of  vege & floral 
punnets $2.96 , McGregor 
Seeds, Gardening Gloves & 
Tools. Seasol & Omsocote for 
all your plants needs. 
Hire the Rug Doctor here 
$39.99 for 4hours 
Get it done before the Xmas 
Rush! 
Jaques Four Square 
Phone: 4312227 
1 Kaiwaka-Mangawhai Road, 
Kaiwaka.
Otamatea High 
School 
& Maungaturoto District High 
School 
50
th
 Reunion 
15
th
 – 17
th
 April 2016 
For more details visit:   
Contact: Phone: 0800 682628    
Email: ohs@otamatea.school.nz 
Registrations close 18
th
 March 2016 
Our deepest condolences go out to the 
family  of  Dean  Phillips  who  passed 
away  on  the  1st  of  November  in  a 
tragic  fishing  accident.  Dean  loved 
belonging  to  our  club  and  got  totally 
into  whatever  was  happening  at  the 
time.  He  so  loved  being  back  in 
Kaiwaka.  He  was  always  a  very  kind, 
generous  and  helpful  man  and  always 
had that wonderful smile.  
All  our  love  and  thoughts  go  out  to 
Robyn  Sibtsen,  Barbara  Kemp  and 
Nairi  Franks  and  their  families  at  this 
time. He will be truly missed. 
RIP Dean 
Movember!  This  is  a  fundr aiser   the 
3  Furlongs  Bar  and  Grill  are  running 
for  the  month  of  November.  If  you 
want  to  donate  to  this  great  cause  (a 
couple  of  our  Point  Curtis  Cruising 
Club 
members 
including 
the 
commodore are participating!) you can 
drop  off  donations  to  Jean  at  Jaques 
Four  Square.  We  are  looking  forward 
to  seeing  the  Mo's  at  the  Movember 
Finale  party  at  the  3  Furs  on  the  28th 
November.   
Our next fishing competition will be 
an  Open  Fishing  Contest  on    21st 
and  22nd  November  2015.  Species 
included  in  contest  are  Snapper, 
Kingfish and Kahawai.   Junior section 
also includes Eel. 
Start  Time:  6am  Saturday  21st 
November  2015.  Finish  Time:  6pm 
Sunday  22nd  November  2015.  Weigh 
in:  5pm  to  6pm  each  day  at  the  3 
Furlongs  Bar  &  Grill,  Kaiwaka. 
Maximum Weigh In: 2 of each species 
per  angler  per  day.  Prize  giving: 
6.30pm Sunday 22nd November 2015 
Auction: To follow prize giving. BBQ: 
Following auction. Please bring a plate. 
Ticket  Outlets:  3  Furlongs 
Bar  &  Grill,  Kaiwaka,  Jean 
Mcleish  at  Jaques  Four 
Square, Wellsford Sports & Leisure. 
Entry  fees  are  $30  per  senior  and  $10 
for Juniors (aged under 15).   
SENIOR  SNAPPER  PRIZE  $1000 
CASH!!! 
All  snapper  weighed  in  goes  into  the 
draw for the average weight prize. 
All fish weighed in must be gilled and 
gutted.  Senior s'  fish  will  be  kept  by 
the Point Curtis Cruising Club Inc to be 
auctioned  after  prizegiving.  Juniors 
have  the  option  whether  to  keep  their 
fish or donate them to the auction. 
MPI  rules  and  regulations  apply  with 
the  exception  of  snapper  which  must 
measure 32cm or more. 
Decision of weighmaster is final. 
This  is  a  fundraiser  for  the  Rangiora 
Boat Ramp Carpark. 
Please see full poster for full competition 
details, rules and disclaimer. 
New  Fish  of  the  month:  SNAPPER  & 
KAHAWAI (Cut-off date 17 November 
2015).  Fish do not have to be weighed 
in on the same day. The combined total 
weight may be made up of one snapper 
and  one  kahawai  or  it  could  be  that 
your snapper is heavy enough by itself 
so Kahawai not necessarily required. 
New 
members 
are 
always 
welcome! Subs are $20 for a single sub 
or  $30 for  a family. Subs may  be  paid 
at 3 Furlongs Bar & Grill or to Jean at 
Jaques  Four  Square,  alternatively  subs 
may  be  paid  directly  into  the  club's 
bank account, BNZ Wellsford 02 0364 
0012950  00.  Please  include  your 
surname as a reference. 
Next  committee  meeting:  Tuesday  17 
November,  7pm  at  3  Furlongs  Bar  & 
Grill.      ~ Wayne Leslie, Commodore 
Otamatea Repertory Theatre presents 'A Christmas Carol' 
"Ebenezer  Scrooge  and  his  clerk,  Bob  Cratchit,  work  in  Scrooge's  counting 
house on Christmas Eve. Scrooge's nephew, Fred, stops by to invite Scrooge to 
his Christmas party, but Scrooge declines. When two gentlemen visit to ask for a 
charity donation, Scrooge refuses, spitting out, "Bah! Humbug!" 
At home, Scrooge is visited by the ghost of his business partner, Jacob Marley. 
Marley 
relates 
that, 
as 
punishment  for  his  greedy  and 
self-serving  life,  his  spirit  has 
been  condemned  to  wander  the 
earth  weighted  with  chains. 
Marley  hopes  to  save  Scrooge 
from  sharing  his  fate.  He  warns 
Scrooge  that  three  spirits  will 
soon visit....." 
Opening  Night  27th  November 
7.30pm Session is Booked out! 
28 and  29 November, 2pm 
4 December, 7.30pm 
5 and 6 December, 2pm 
Book  now  at  Tony's  Lotto  Shop, 
Hurndall  Street,  Maungaturoto 
Phone 
(09) 
431 
8052  
EFTPOS 
available 
at 
the 
Otamatea  Repertory  Theatre  for 
door 
sales. 
Adults 
$20, 
Cardholders  $18  and  School 
Students $10 
KAIWAKA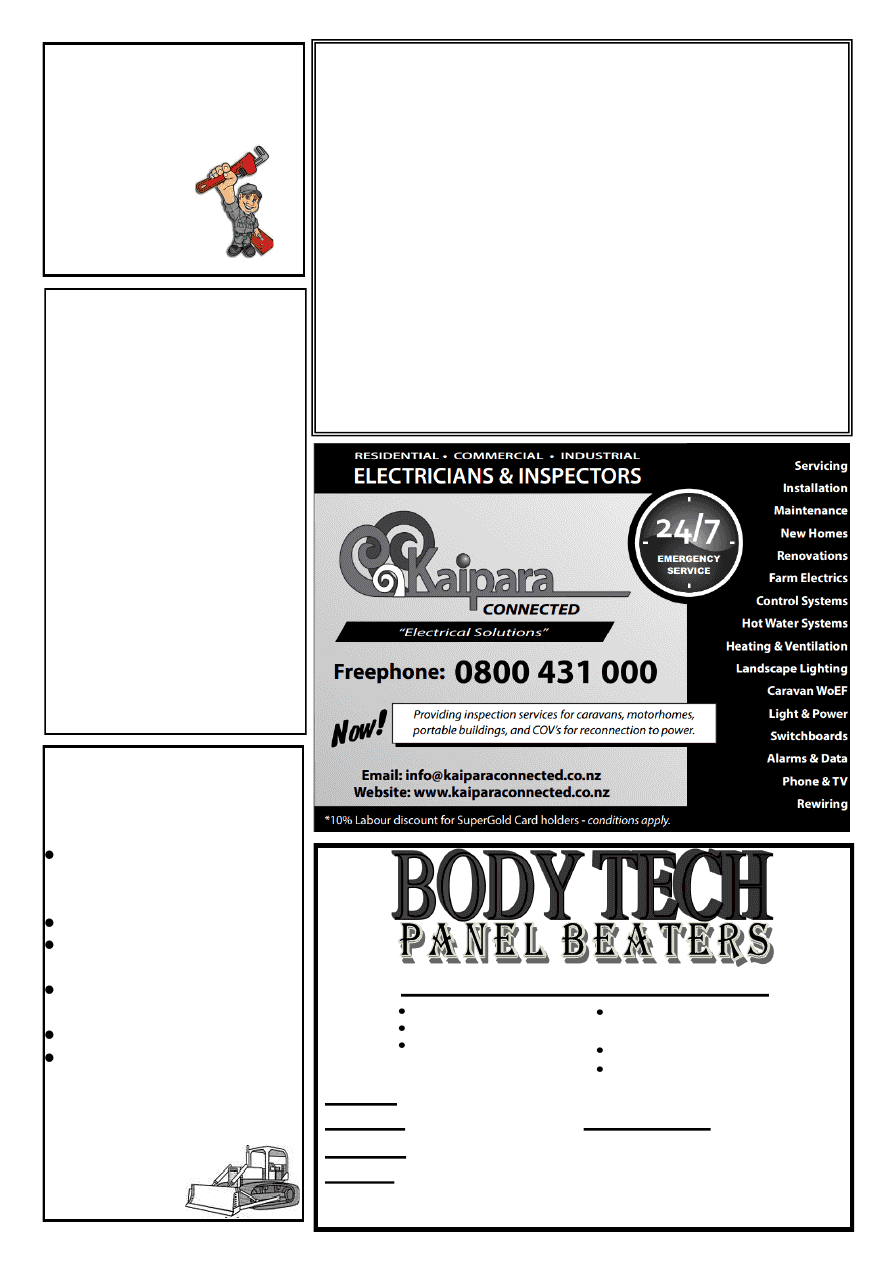 Coates  
Contracting 
D41 Bulldozer with 6 
way blade, bush rigged 
with winch 
For all tree work 
General bulldozing and  
  stick raking. 
120hp Tractor for 
ground cultivation,  
tip trailer work. 
Fencing
All enquiries phone  
Brett Coates  
094318720  
or  
 021431872
Ross Murphy 
PLUMBER 
Certifying Plumber 
09 431 7510 
021 424 252 
Paparoa Based 
+
New Housing  
+
Renovations  
+
Maintenance
KAIPARA FLOORING CO 
32 HURNDALL ST MAUNGATUROTO 
Phone 09 9469886  
or 021 515 415 
Carpet, vinyl, laminate wood look  flooring,  
vinyl planking, sanding & polyurethane service. 
Carpet Short Ends from $79pm + GST 
Vinyl D.I.Y. peel n stick tiles $10sq mtr + GST. 
Free measure & quote.   
Mobile Service 
Phone Christine or Howard anytime 
Open Saturdays by arrangement. 
For all your body repair needs!! 
Hours: 8.30am-5pm Monday-Friday  
Mobile: 021 118 0462       After hours: 09 431 2384 
Phone: Craig or Call in for a free Quote 
bodytech_panelbeaters@yahoo.com
We are located at 1837 SH1 Kaiwaka, behind Twinkle Tow 'n' Tyre 
Call in anytime for a free quote.  
Rust repairs 
Insurance work 
Anti-corrosion  
   treatment   
Large and minor 
vehicle repairs
Industrial vehicles
Full Cut and polishes
UP-LINK 
CHRIS WARING 
FREEVIEW 
INSTALLATIONS
T.V. - HOME THEATRE & 
HI-FI ADVICE/SET UP
SKY ACCREDITED 
INSTALLER
MOB.0273403747 
HM.094312328 
EMAIL cwaring44@gmail.com
28 YRS EXPERIENCE 
OFFERING 
UNBIASED ADVICE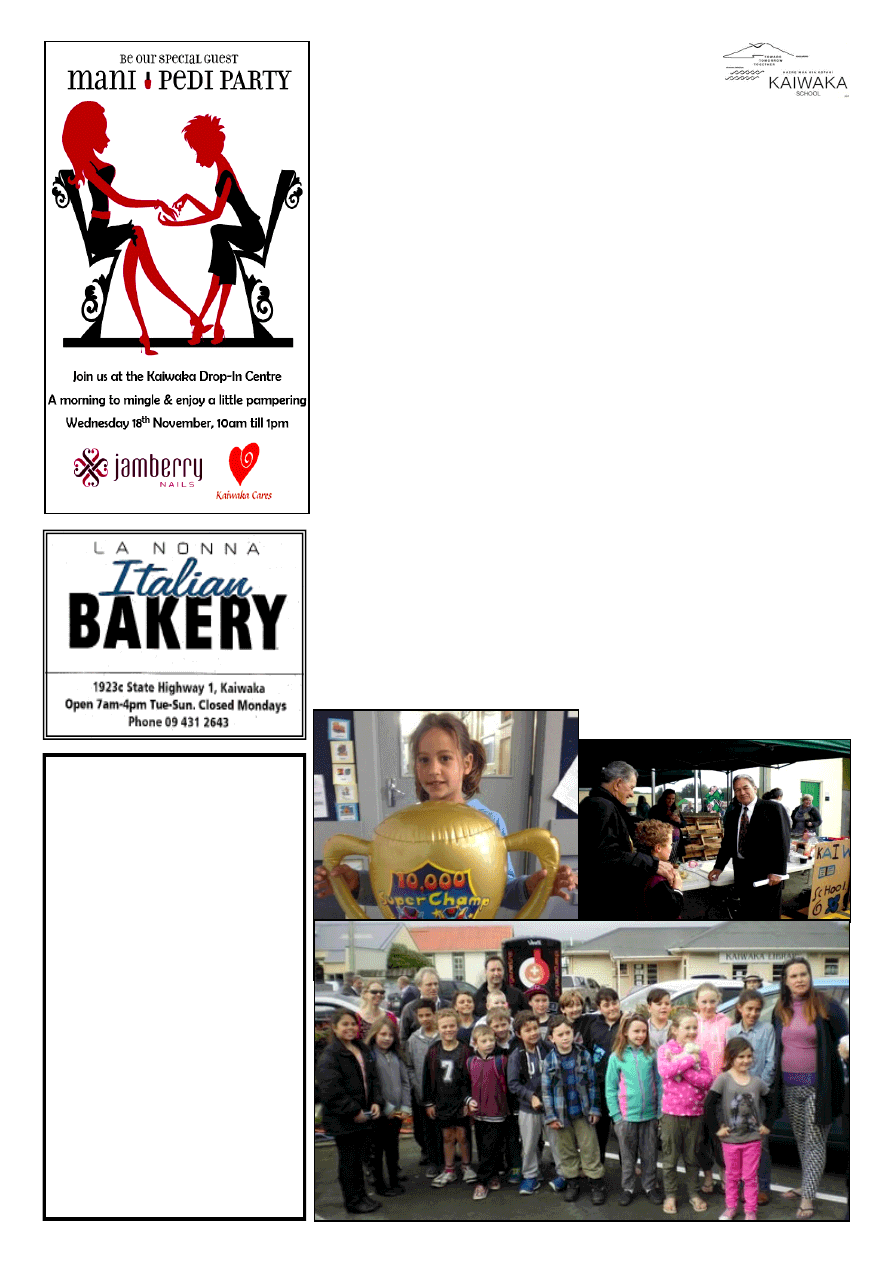 www.kaiwaka.co.nz 
Kaiwaka Bugle - 10 November 2015 
Page 7 
Willow Bend
HORSE  
HOTEL 
"  
Total Horse Care 
" 
Agistment 
" 
Riding Lessons 
" 
Arena Hire (60x40) 
" 
Young Horse Starting 
" 
Re-training/Exercising 
" 
Hoof Trimming 
" 
Problem Solving
Phone Sue 09 431 2817 
or 021 623 776 
Or email sue.gray@xtra.co.nz 
The  Board  Of  Trustees  wishes  to 
advise that our Deputy Principal, Lindy 
Gaskin,  has  resigned  from  the  end  of 
this year. Lindy is on sick leave for this 
term.  We  take  this  opportunity  to 
acknowledge  her  hard  work  and 
contribution  to  the  students  of  our 
school  over  the  eleven  years  she  has 
been  here.  We  wish  her  every  success 
for the future. 
Thank  you  to  the  Reynolds  family  for 
cooking 
all 
the 
sausages 
for 
Agricultural  Day.  Your  ongoing 
support is greatly appreciated.  
A  circus  is  coming  to  school!  We  are 
hosting The Biggest Little Circus Show 
at the KSA on 25th November. We will 
see  juggling,  acrobatics  and  other 
circus  events.  The  cost  is  $4  per 
person. There will be room for parents, 
caregivers  and  preschoolers  too,  and 
the cost  for  each is $4  each  also.  This 
will be in the afternoon, and will finish 
right on bell time, so the bell and buses 
may be slightly late that day.  
Last  week  we  were  invited  to  the 
official opening of the Electric Charge 
Station,  outside  Jaques.  This  was  a 
great  learning  opportunity  for  our 
students.  Thank  you  to  Sharlene 
Tornquist  and  parents  Naomi  Walker, 
John 
Ferguson, 
Adrian 
Buxton, 
Melissa  Hunt,  Deb  Muskett-Osborne, 
Rachel  Johnson,  Amy  Griffiths,  Anna 
Elworthy,  and  Bruce  Ferguson  who 
helped  her  with  the  fundraising 
breakfast.  This  was  a  good  EOTC 
(Education  Outside  the  Classroom) 
experience for our students. 
~Rosie Ellis 
Kaiwaka School 
Giant Atlantic 
Pumpkin Competition 
It's  time  to  plant  seeds  without  delay 
for  the  annual  Kaiwaka  School  Giant 
pumpkin  competition.  Saved  seeds 
from last year's winning pumpkin have 
been  distributed.  Purchased  seed  or 
seedlings can also be used. Once plants 
are  established  plants  need  plenty  of 
water and feeding. 
Prize  categories:  Heaviest  pumpkin, 
Best  dress-up,  Furthest  roll  down  the 
hill. This year a new prize category has 
been  added:  staff  members'  heaviest 
pumpkin and dress-up. Come along on 
judging  day  next  March/April  to  find 
out  if  the  staff  have  hidden 
horticultural and dress-up talents! 
An  impressive  trophy  crafted  by  the 
Kenyon Family is up for grabs for the 
heaviest pumpkin.  
The  current  school  record  to  beat  is 
72kg.  The  New  Zealand  record  is 
754kg! 
Go  to  www.giantpumpkins.co.nz  for 
lots of pumpkin growing tips. 
You  may  need  to  hand-pollinate  the 
flowers  due  to  low  bee  numbers, 
otherwise the baby pumpkins often fail 
to grow and then die. It is very easy  – 
the above website has good instructions 
with photos included. 
More  seeds  can  be  obtained  from  the 
school  office  if  seed  has  failed  to 
germinate after ten or so days. 
Happy pumpkin growing! 
For more information or queries please 
phone Andrea Mitcheson ph 4312042 
KAIWAKA SCHOOL 
Photos: Left -Pyper Buxton has earned 
10,000 points on Skoolbo; Below - at the 
opening of the Electric Charge Station.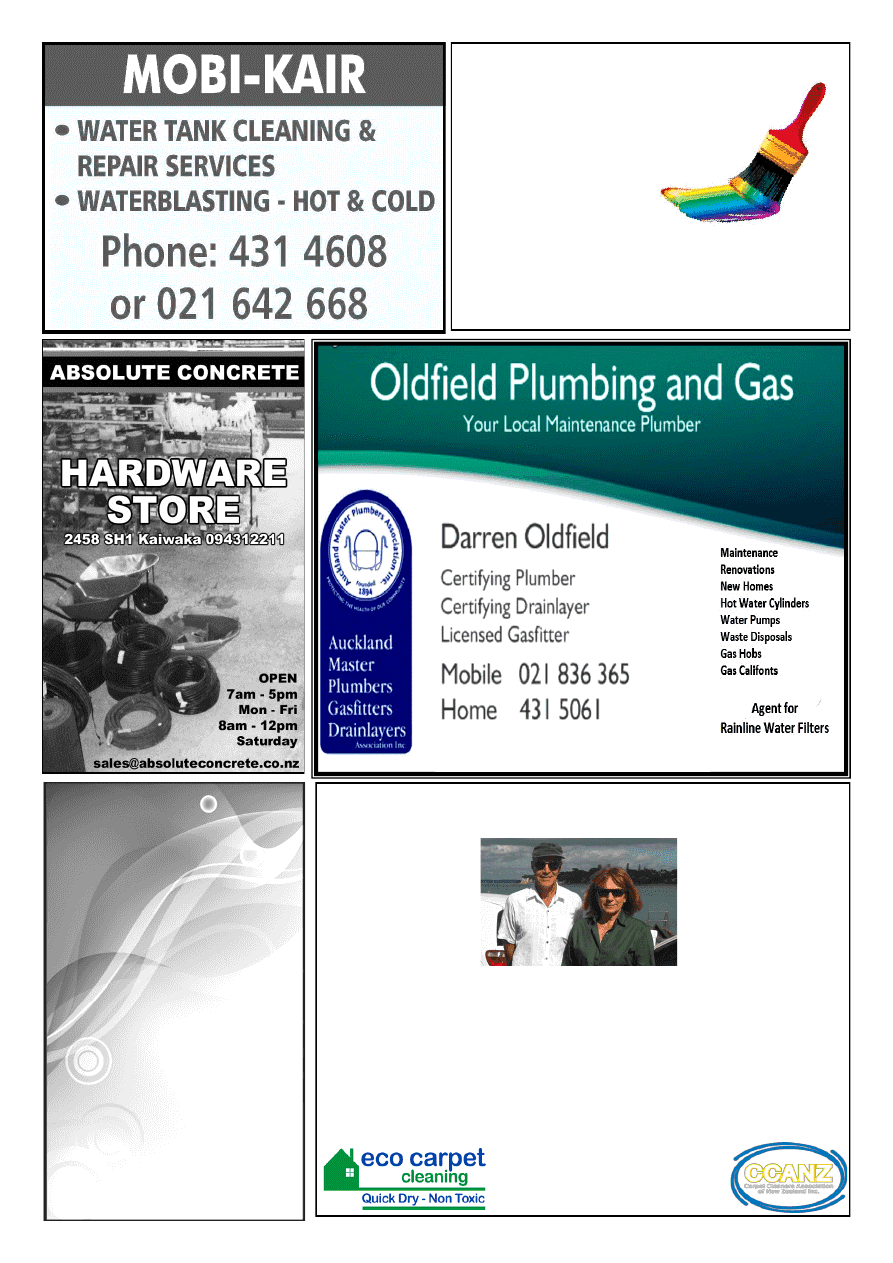 U Beauty 
            Underarm Wax  
    $20 
            Extended Bikini Wax   $30 
            15 min Back  Massage  $25 
            30 min Back Massage  $50 
Please call Nicole for bookings 
09 393 6336 or 022 0639450 
Qualified Beautician 
4 Kaiwaka – Mangawhai Rd 
Kaiwaka 
Eyebrow Wax  $10 
Eyebrow Tint  $10 
Eyelash Tint 
$20 
Lip Wax 
$10 
Chin Wax 
$10 
Bikini Wax 
$20 
Brazilian 
$50 
½ Leg Wax 
$30 
Full Leg Wax  $45 
Full Pedicure  $60 
Foot Tidy  
$35 
Manicure 
$45 
Nail Tidy 
$25 
Chest Wax 
$30 
Back Wax 
$40 
Nostrils 
$10 
Ears 
$10 
09 4312918 
0274735171 
leecooper@xtra.co.nz 
LEE COOPER PAINTERS 
(Kaiwaka Based) 
*30 yrs Experience 
*Interior/Exterior 
*New and Restoration 
*Honest and Reliable 
*Free Quotes 
CARPET & UPHOLSTERY CLEANING 
QUICK DRYING – NON-TOXIC  - GREAT RESULTS
Mike and Marina Bagley have returned to your area 
and are delighted to offer 
carpet and upholstery cleaning 
Call 09 431 3016  or  027 2410414 
marina@ecocarpetclean.co.nz  
www.ecocarpetclean.co.nz 
oldfieldplumbing@gmail.com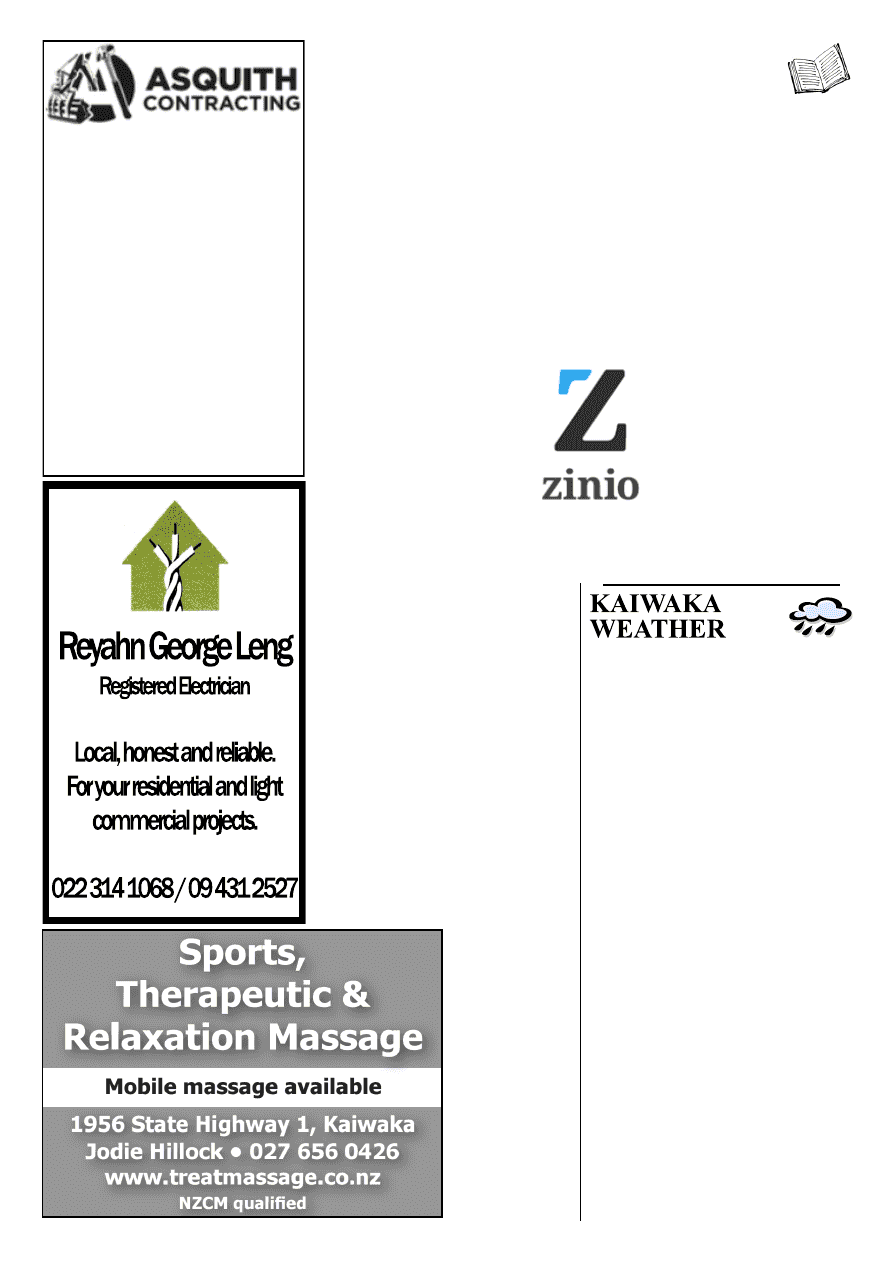 www.kaiwaka.co.nz 
Kaiwaka Bugle - 10 November 2015 
Page 9 
KAIWAKA LIBRARY 
1.7tn Digger/Operator 
for Hire.
Daily/Hourly rates 
available.
Call Tam on 
027 211 1152 
or 
asquithcontracting 
@gmail.com 
Book reserves 
We  are  starting  to  make  use  of  this 
feature  in  our  library  system.  I  can 
place a reserve on one of our books for 
you, if it is currently issued to another 
person, or you can do it yourself via the 
online public library catalogue*. At the 
moment the library volunteers can't do 
reserves on their library login, so if I'm 
not  there  when  you  visit,  get  them  to 
leave  me  a  message  and  I'll  take  care 
of it next time I'm in. This is for books 
in  our  library  only;  if  you  want  to 
borrow a title from another library you 
still  need  to  come  in  and  fill  in  an 
orange request form. I will contact you 
when  the  book  is  ready  for  you  to 
collect. 
Free eMagazines on offer in Kaipara 
Kaipara residents can get the latest and 
best  in  magazines  online,  with 
Zinio for Libraries. 
Kaipara  District  Council,  Far 
North  District  Council  and 
Whangarei  District  Council  have 
partnered  to  provide  the  first 
combined  libraries  eMagazine 
service in New Zealand. 
Zinio  eMagazine  provides  our 
library  members  with  access  to  a  big 
range of latest edition magazines, often 
before 
print 
editions 
hit 
the 
newsstands. These digital editions have 
the same layout on screen as on paper, 
with  photographs,  graphics  and  for 
some, interactive content as well. 
One  of  the  extra  bonuses  with 
eMagazine  is  that  they're  free  and 
users  don't  have  to  worry  about 
overdue  fines,  because  the  magazines 
can  be  kept  for  as  long  as  the 
borrowers  want  them.  And  people  can 
have as many as they want. 
Northland  Libraries  Zinio  eMagazines 
provides  a  wide  range  of  well-known 
magazines  covering  lots  of  different 
interests;  gardening,  lifestyle,  art, 
cooking,  fishing,  news,  music,  teens 
and recreation. 
It's  easy  to  use  on  PCs,  Macs, 
streaming or downloaded via the Zinio 
for  Libraries  app  onto  tablets  or 
smartphones.  Share,  print  or  email 
favourite magazines too. 
Kaipara  District  Council  Libraries 
Manager  Lisa  Salter  says  the  service 
expands  on  the  Council's  existing 
online  borrowing 
services. 
"People  want  their 
favourite 
titles 
readily 
available 
wherever  they  are. 
We're 
already 
providing 
books 
online and it seems 
logical  that  we 
provide  our  library 
members 
with 
ready  access  to 
magazines 
and 
lighter  reading  as 
well. 
"Partnering 
with 
the other Northland 
councils 
has 
brought  this  about 
and  fits  with  the  closer 
working  relationships  we 
have  developed  to  achieve  better 
services for our ratepayers." 
-  This  is  the  press  release  from  KDC 
about  our  new  service,  and  I  couldn't 
put it better. 
To  get  started,  you  need  a  PIN  set  on 
your  account  (come  in  and  ask  to  do 
that  in  the  library  if  you  haven't 
already),  and  then  visit  the  library's 
online service*. 
If  you  have  any  problems,  call  in  and 
see us, or drop me an email. 
*Go  to  kaipara.govt.nz,  scroll  to  the 
bottom of the page, click on "Library" 
under Services & Info menu. 
Next book swap 
Yes,  it's  time  for  another  book  swap! 
We'll  be  going  to  Dargaville  Public 
Library 
on 
Tuesday 
1 
December  to  return  the  books 
we  borrowed  from  there  back 
in  July,  and  bring  back  some 
new ones. 
Now is the time to come in and 
see if you've missed any of the 
great  titles  we  have  on  those 
shelves. No need to return these 
books  before  the  swap,  they  can  stay 
with you until their set due date. We'll 
be packing them up the week before, so 
don't leave it too late. 
                                   ~ Wendy 
 We  faced  a  rather  cold  and  windy 
October this year. It was alright if you 
were sheltered from the west/southwest 
winds. A few days with showers and 2 
days  with  an  inch  or  more  of  rain. 
There  were  few  days  with  a  bit  of 
sunshine but also a lot of cloudy days. 
Then the wind came and sucked all the 
rain  up  again.  You  will  be  needing  to 
watch those water tanks and supplies. I 
have  seen  the  water  tankers  delivering 
water  as  they  have  been  over  a  lot  of 
the year. The gardens were dry as were 
a  lot  farms  and  the  rain  came  just  in 
time to help out.   
We had 66mm of rain for October this 
year compared to 145mm last year.  
Our  wettest  October  since  1987  was 
2006  with  176mm  and  the  driest  was 
2000 with 17mm.   
The  first  10  months  of  2015  we  had 
955mm and the first 10 months of 2014 
we had 1439mm (a difference of about 
4¾ inches in old terms). We had 5 days 
with  rain  on  them  this  year  and  last 
year  we  had  11  days  with  rain  on 
them.   
A  good  way  to  get  rid  of  aphids  and 
greenfly  on  your  garden  is  to  soak 
crushed  garlic  in  warm  water.  Leave 
about  6  hours  or  more  then  strain.  Put 
the  strained  liquid  and  a  squirt  or  two 
of  dishwashing  detergent  into  a  spray 
bottle and use to spray affected plants. 
The  weather  is  good  for  gardening 
otherwise  it  is  good  as  well  for  doing 
what you like best.   
Take care out there.              ~ Bev.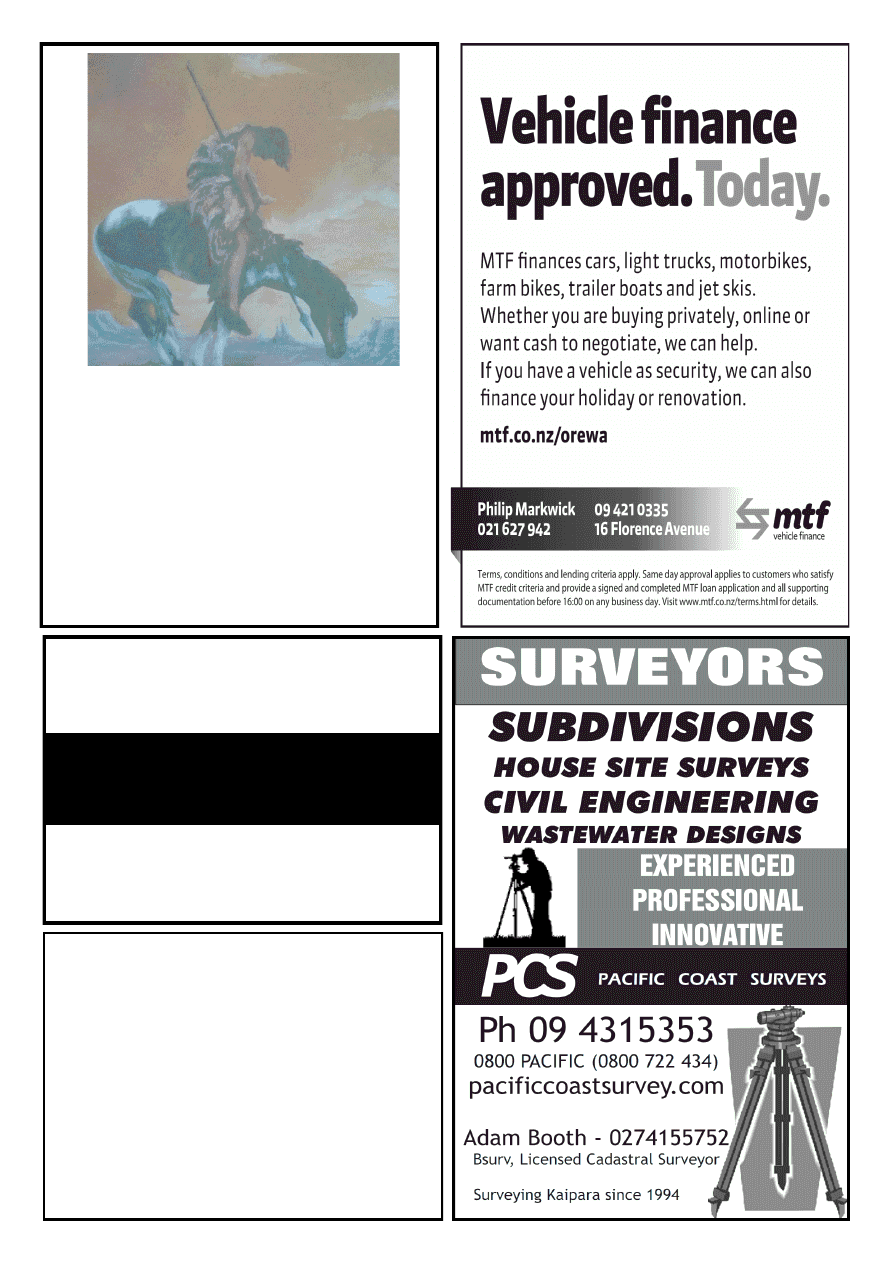 Trails end spiritualist church  
Last Sunday of every month  
10am tea/coffee provided  
$5koha for all inquiries  
0211652629 evenings 099450753 
Trail.end@hotmail.com 
Bringing together light minded people 
David Korach 
Your local Gib Stopper
DK PLASTERER LTD 
0274769221 
dkorach6@gmail.com 
LIFESTYLE PROPERTY  
MAINTENANCE 
Putting life back into your style
Working out of Kaiwaka; servicing Mangawhai, 
Maungaturoto, Waipu and surrounding areas. 
  With over 25 years' experience, I'm fully insured and any 
job considered so just call me – James on mob: 0273 
808622  or  09 431 2245 
email: lifestylesorted@gmail.com  
Mulching - gorse, 
scrub 
Tree & hedge work 
Hole boring 
Alkathene laying & 
repairs 
Paddock topping, 
slashing 
Electric fence 
installation 
Weed spraying 
Free quotes 
Land & section 
clearing 
Loader work 
Rubbish removal 
Fully insured 
Repairs to driveways, fencing & buildings 
www.kaiwaka.co.nz 
Kaiwaka Bugle - 10 November 2015 
Page 11 
HODGETTS
CONTRACTING
Digger Work   
Driveways 
House Sites  
Dams 
Drains, etc  
Also available 
for HIRE 
3 ton Vib Roller 
Heavy Duty Tow 
Waterblaster  
Lazer Level 
 
Phone Mark 4312877 
027 447 8554
www.mangawhaimassage.co.nz 
Community Drop-In Centre
Open 10am – 2pm
Monday – Wednesday – Friday 
Free WIFI now available
Colour and black/white laser 
printer 
JP on site Wednesdays @ 1.30pm  
OTAMATEA HIGH SCHOOL 
Congratulations  go  to  all  the  students 
who  won  prizes  and  awards  at  the 
Senior  Prize-giving  on  30th  October. 
Particular  mention  should  be  made  of 
the  winners  of  our  top  awards.  Nina 
Linnell  won  the  top  academic  award, 
Dux.  Caleb  Young  won  the  next 
highest  academic  prize  of  Proxime 
Accesit. Monica Jaques was the winner 
of  the  top  academic  award  in  Year  12 
and  Danielle  Hyland  the  equivalent 
award  in  Year  11.  The  top  sporting 
awards of Victrix and Victor Ludorum 
went to Tyler Porteous and Dylan Sims 
respectively.  The  Haydn  and  Mary 
Hutching Cup for Outstanding Sporting 
Achievement went to Cullen Curtis for 
his success with winning the 2015 New 
Zealand 
Motorcycle 
TT 
Championships 
(ATV 
450cc 
production). 
We  have  been  blessed  with  superb 
student  leaders  in  2015  and  they  were 
acknowledged  at  the  school  prize-
giving.  Well  done  to  all  of  you:  your 
efforts  have  been  outstanding.  The 
2016 student leaders are Ashton Coates 
(Head  Boy),  Rita  Hames  (Head  Girl), 
Jesper  Smyth  (Deputy  Head  Boy), 
Ruby-Rose  Halamore  (Deputy  Head 
Girl) and they will be supported by the 
following prefects covering all areas of 
the  school;  Monica  Jaques  (Student 
Learning),  Erin  Mooney  (Community 
Services), 
Kelly 
Mace 
(Senior 
Welfare),  Natasha  Tornquist  (Arts), 
Baylee  van  Dalsum  (Sports),  Kate 
Hallisey  (Environmental),  Samantha 
Allen  (BOT  Representative),  and 
House  Captains  Tamati  Abel  (Arawa), 
Emily  Parker  (Maniapoto)  Latina  Te 
Awa  (Ngapuhi)  and  Joshua  Royds 
(Whatua). For you, the bar has been set 
very  high  if  you  wish  to  emulate  the 
efforts of the 2015 leaders! 
Over  $60,000  has  been  secured  by 
Year  13 students  towards  their  tertiary 
studies.  The  scholarship  recipients  are 
listed below.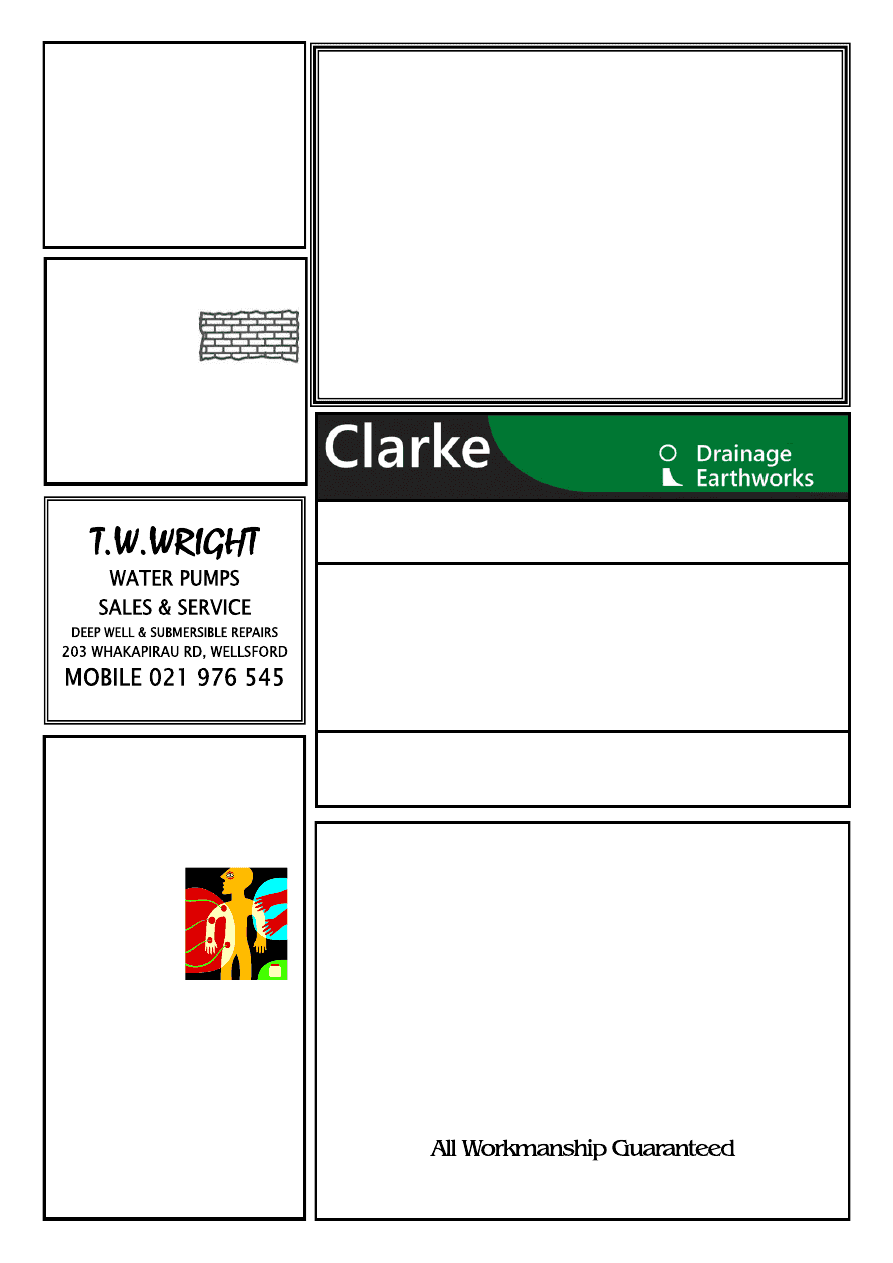 OWEN STEVENS 
Osteo Therapist
For careful adjustments to bones 
and joints 
Treatment for  
humans and 
their pets 
Clinics: 
Kate's Place, Kaiwaka: 
Last Friday of month 
For bookings:9.00am-5.00pm   
Phone 
09 4312661 
Or phone  
Owen  09 4317123  
anytime 
PLANNING A NEW KITCHEN?
CONTACT NOEL McDOWELL 
WELLSFORD KITCHENS
Ph/Fax 09 4312 888
KAIWAKA-any time 
QUALITY CUSTOM MADE KITCHENS
~Personal and Prompt Service~ 
~
~ 
~Over 20 Years in the Trade~ 
~Free Design & Quote~ 
Registered Drainlayer 
All Types of Earthworks  
> All Residential & Commercial Work 
> House Sites 
> Septic System Design & Install 
> Footings & Drilling to 10m 
> Sewer Connections 
> Dams 
> Water Tank Installation 
> Roading & Races 
> Farm Work 
THE ONE STOP SHOP  
Phone Nigel for an Obligation Free Quote  
Drainage & Earthmoving                         clarkedrainage@xtra.co.nz 
027 2233 185 
Laughing Dog 
Computers 
Hardware and Software 
Service and Repair 
www.laughingdog.co.nz 
09 4312 654 
BRICK/BLOCKLAYER 
All aspects of masonry:  
Fireplaces, 
Restoration  
& Remedial Work.
JAMES EAGLETON 
Tel. (09) 431 2514  
Mob. 0274 749 232 
jajueagles@yahoo.com.au 
210A Pukenui Road, RD2 Kaiwaka 0573 
g.a.s. Mangawhai
we have a 
GARDEN CENTRE 
for all your gardening needs 
Also a great range of 
STOCKFOOD 
Wide range of 
ORGANICS AND FRESH 
LOCAL PRODUCE 
All your motoring needs are taken care of by our friendly staff 
check us out… 
44 Moir Street, Mangawhai (09)431 4242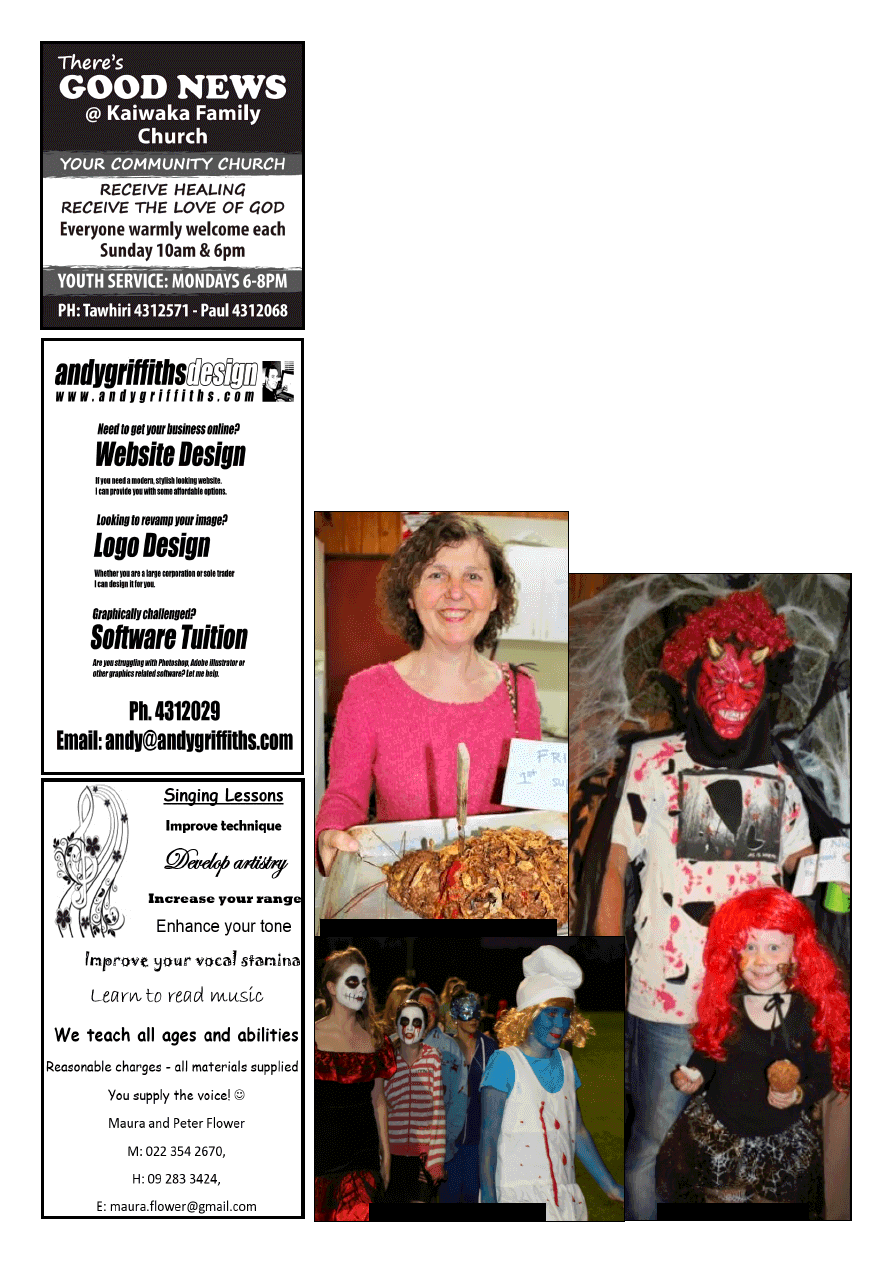 www.kaiwaka.co.nz 
Kaiwaka Bugle - 10 November 2015 
Page 13 
FRIGHT NIGHT 
What a spooktacular time everyone had 
at  the  Kaiwaka  Sports  Association's 
Fright  Night  last  Saturday.  Over  400 
people  attended  making  this  our  most 
successful Fright Night ever! 
There  was  facepainting,  a  lolly 
scramble,  a  costume  competition,  a 
photo  booth,  games,  glow  items  and  a 
supper  plate  competition,  but  the 
highlight  for  most  people  was  our 
freaky  haunted  house!  We  had 
transformed  our  downstairs  changing 
rooms  into  a  hair-raising  walk  and  if 
the  screams  coming  from  downstairs 
were  any  indication,  our  scarers  did  a 
great job!          
What  a  fabulous  array  of  scary 
costumes there  were  –  we  had  ghostly 
ghouls,  wicked  witches,  petrifying 
pirates, gruesome gremlins and more! 
Congratulations 
to 
the 
costume 
prizewinners: 
Girls:  1st  -  Poppy  Scott  (family  pass 
Planetarium North); 2nd - Tyla Stonex 
(family pass Spookers) 
Boys: 1st - Finn Cameron (family pass 
Whangarei  Aquatic  Centre);  2nd  - 
Teina  Whare-Paikea  (family  pass 
Spookers) 
Adults: 1st - Neal Stirling (family pass 
Sheepworld);  2nd  -  Lorena  Reynolds 
(family pass NZ Maritime Museum) 
Thank you to everyone who brought a 
halloween-themed  plate  for  supper. 
Our judges had a very tricky job as the 
tables  were  overflowing  with  creative 
food  –  we  had  bloodshot  eyeball 
cupcakes,  cobweb  biscuits,  deadman 
finger  sandwiches,  ghost  meringues 
and more!      
Congratulations  to  the  supper  plate 
winners: 
1st  -  Margaret  McCarthy,  rat  cake 
(family  pass  NZ  Maritime  Museum); 
2nd  -  Benito  Beyer,  graveyard  cake 
(family  pass  Leigh  Glass  Bottom 
Boat), 3rd - Megan Kenyon, strawberry 
ghosts (family pass Whangarei Aquatic 
Centre) 
Many  thanks  to  the  many  helpers  on 
the night - a special thanks goes to the 
very  creative  Willow  Boyd  for  all  her 
help.  
Photos  can  be  viewed  on  the Kaiwaka 
Sports Complex facebook page and our 
website www.kaiwakasports.co.nz.  
Thank  you  to  everyone  who  came 
along – I hope you had a frightful time! 
~Cheryl Anderson 
Kaiwaka Sports Association 
Brenda Ferguson as a smurf 
Neal & Reighley Stirling 
Margaret McCarthy with her Rat Cake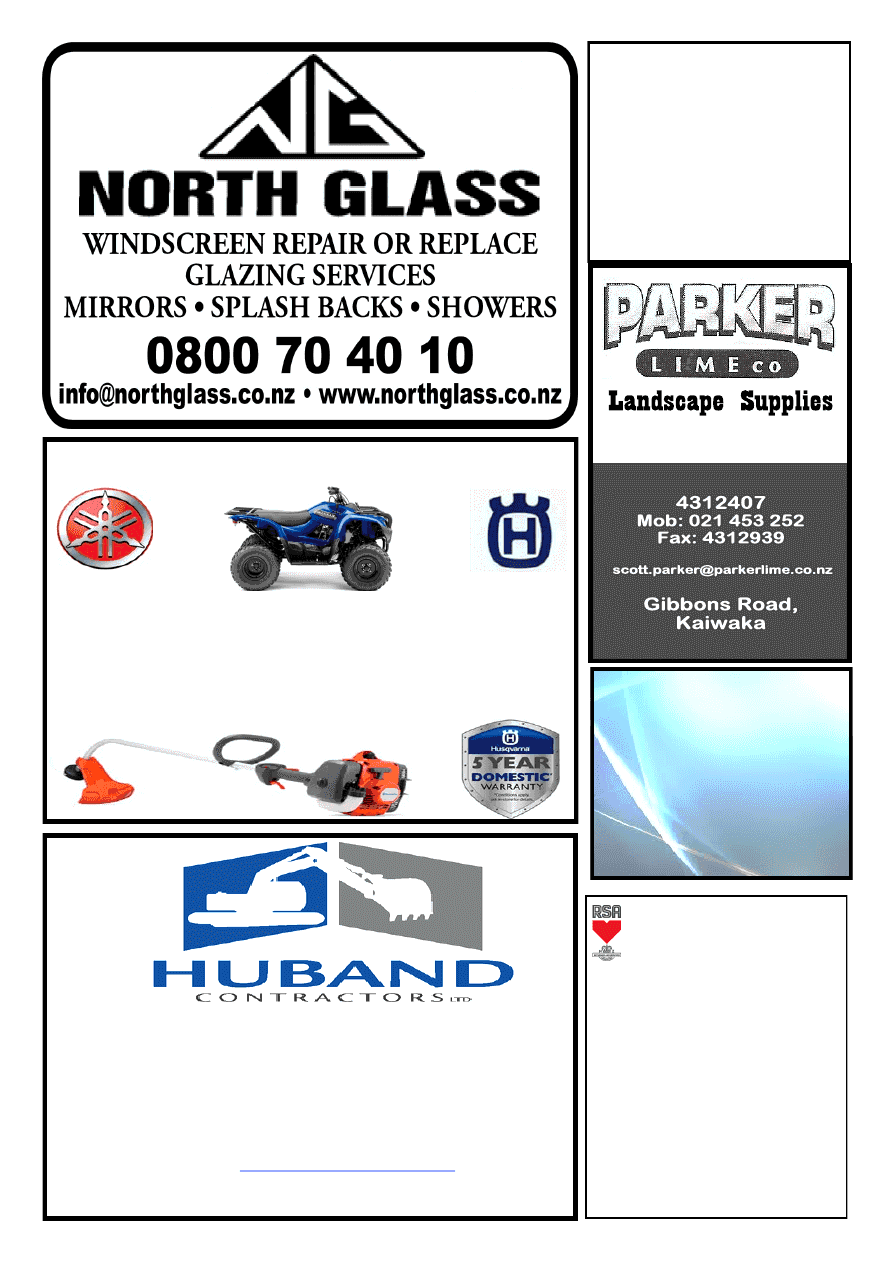 *   R O A D I N G   *   E A R T H W O R K S   *    
*   D R A I N A G E   *   S I T E W O R K S   *  
For any further enquiries, contact Shaun on: 
Cell: 021 222 0272 
Home: 09 4318339 
Email:   
Shaun Huband:  Registered Drainlayer 
Bulk Cartage 
 LEABOURNS 
Passenger Service
Car & Van Hire 
Bus & Coach Charters 
Airport Transfers 
 Monthly Shopper Bus 
Phone (09) 4237416 
Freeview  
Installations 
Richard Te Haara 
25 Marram Place 
Mangawhai Heads 
021 1104056 
kiwipride@xtra.co.nz
KAIWAKA MOTORCYCLES LTD
SALES – SERVICE – SPARES 
FARM BIKE SPECIALIST
PHONE 09 431-2127 
10 KAIWAKA-MANGAWHAI ROAD, KAIWAKA
TRIMMERS FROM $249 - CHAINSAWS FROM $329 
YAMAHA 
HUSQVARNA 
HAKARU & 
DISTRICTS RSA 
Inc 
Each Friday night from 6.30pm 
meals will be served. 
Members & invited guests, new 
members welcome.
Come along & enjoy our hospitality.
2nd Friday of the month -  roast 
dinner or board menu.
Last Friday of month - roast pork 
night & sing-along with Des Chitty.
Ph Heather 4314668 or Jan 4314512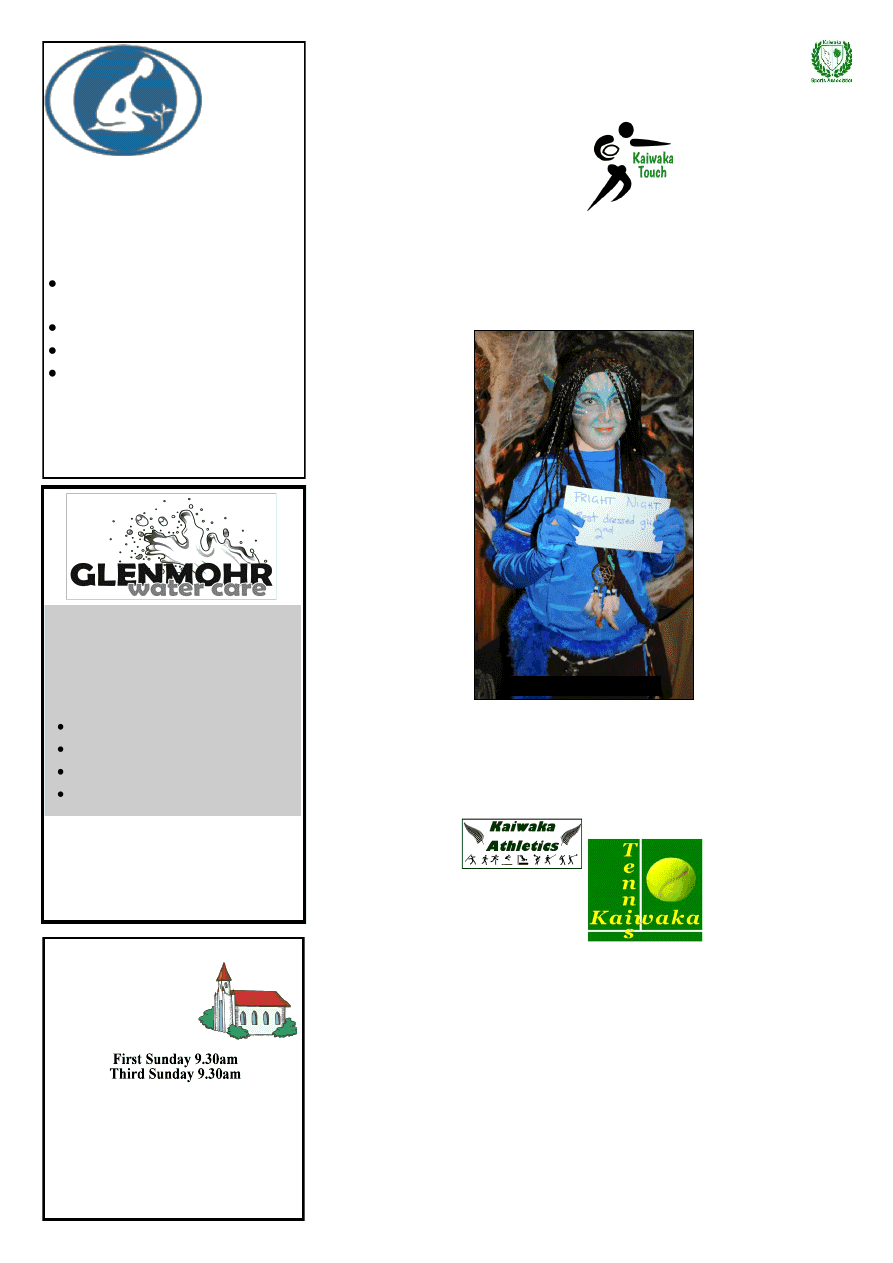 www.kaiwaka.co.nz 
Kaiwaka Bugle - 10 November 2015 
Page 15 
Water Tank  
Cleaning 
Keep your water safe & clean   
Removal of sediment, silt etc 
Vacuum or full scrub 
Minimal water loss 
Phone Mark  
(09) 432 0655  
or 0274 707607 
ST PAUL'S  
ANGLICAN  
SUNDAY  
SERVICES
St Pauls Church: Kaiwaka-Mangawhai Rd. 
1st Sun - Eucharist 
3rd Sun - Family Service 
Office 4314 122 
Contacts:M.Hargreaves 4312295, C.Bygrave 4312057  
or Rev. Wayne Thornton Ph 431 5650 
Magnetic Laser for Health
Using a low power laser I can help 
with a variety of conditions:
Joints pain, swelling, 
inflammation 
Back and neck pain 
Heel pain 
Injury or fracture recovery
Phone Gala 
431 2213 
021 486 611 
KAIWAKA SPORTS ASSOCIATION 
Fright Night 
A  huge  horde  of  wizards,  fairies, 
goblins,  ghouls,  trolls  and  skeletons 
descended  on  the  Sports  Complex  on 
Halloween  for  Fright  Night,  you  can 
read about the evening in this edition of 
the Bugle. 
This  is  turning  into  such  a  big  event 
that we need lots of volunteers to pull it 
off  –  from  facepainters  and  kitchen 
helpers  to  haunted  house  scarers  and 
judges. Many thanks to Sharlene, Paul, 
Melissa, Linzi, Teresa, Jeff, Callaghan, 
Rip,  Hamish,  Willow,  Kurt,  Pat, 
Puawai,  David,  Marge,  Natasha, 
Micaela, Carol, Lish, Adrian, Sara, Liz, 
Justin,  Lars,  TJ,  Jack, 
Mark,  Holly,  Jessika 
and Cheyanne.  
Squash 
The  squash  season  has 
now  come  to  a  close. 
Prizegiving  followed 
the 
club 
champs, 
congratulations 
to: 
Brody Shadbolt - Most 
Promising 
Junior 
Player,  Phillip  Tana  – 
Men's 
Champ, 
Annmarie 
Holst 
- 
Ladies  Champ,  and 
Chris  Sellars  -  Club 
Spirit. 
Active Movement 
Did you know we hold 
preschool 
active 
classes 
in 
our 
gymnasium? These are 
held  fortnightly  on 
Wednesday  mornings 
at  10am,  the  next  one 
will be on Wednesday 11th November. 
Bring  some  morning  tea  for  your 
kiddies and join  us  for lots  of fun  and 
excitement,  a  gold  coin  koha  is 
appreciated if you can.  
Queries to Tina Ball on 021 033 5128. 
Athletics 
The  athletics  season 
is about to start. The 
Kaiwaka 
Athletics 
Club  is  for  children  of  all  ages,  and 
club  nights  feature  a  mix  of  sprints, 
throws and jumps. 
Club Nights are held at Otamatea High 
School  (on  the  field  by  the  pool)  on 
Mondays,  5  –  6.30pm.  Parents/
caregivers  are  encouraged  to  stay  to 
help. Queries to Eileen Parsons on 021 
142 0357. 
Whanaunga Touch Tournament 
I  am  helping  organise  the  Whanaunga 
Touch  Tournament  to  be  held  at  the 
Sports Complex on 9th January. This is 
a  fundraiser  for  the  Otamatea  Marae 
and  descendants  from  the  marae  are 
given  first  priority  to  enter.  Keen  to 
register a team? Contact me and I will 
send you the registration form.  
Touch Module 
Would you like to play in my Summer 
Touch  Module?  The  Touch  module 
will be held at the Sports Complex for 
eight  weeks  on  Sunday  afternoons 
starting  on  Sunday  7th  February. 
Teams are 6 a-side with at 
least  three  females  on  the 
field,  double  points  for 
female  try-scorers.  You 
can have up to 14 players 
in  your  team,  team  fee  is 
$100.  This  is  a  casual,  friendly 
competition  for  mixed  teams  of  men, 
women and teenagers. Touch is easy to 
learn  and  just  about  anyone  can  play. 
Why not start getting a team together! 
Kaipara Sports Awards 
The  Silver  Fern  Farms  Kaipara  Sports 
Awards  were  held  in 
Maungaturoto 
on 
Friday  evening  and 
sportsmen  and  women 
affiliated to our Sports 
Association  featured 
amongst  the  winners. 
Congratulations to: 
• Matt  Moulds,  who 
plays  for  our  Hawks 
rugby 
team, 
on 
winning  the  Silver 
Fern Farms Sportsman 
of the Year Award. 
• Kevin 
Robinson, 
President 
of 
our 
Hawks  rugby  club,  on 
winning 
the 
Subdivideit  Team  of 
the  Year  along  with 
Wayne Wrack. 
• Local  sportspeople 
who  won  an  ASB 
Youth 
Achievement 
Award  were  Shuntel 
Rika  (netball),  Tyrone  de  Ardenne 
(rugby) and Samuel Stephens (hockey). 
A  full list  of  winners  can be  found  on 
Sport 
Northlands 
website 
www.sportnorthland.co.nz.  
Tennis 
Our junior tennis season is starting this 
Monday. 
Children 
will  be  coached  by 
John 
White 
on 
Monday  afternoons 
at our courts. 
Classes  will  be  split 
according  to  ages 
and  abilities.  To 
register  your  child  please  ring  Lindell 
Ferguson on 4312 542. 
Upcoming Annual General Meetings 
The  Otamatea  Rugby  Club  AGM  will 
be held on Tuesday 10th November at 
7pm at the Sports Complex.  
The Kaiwaka Sports Association AGM 
will  be  held  on  Wednesday  25th 
November  at  7.30pm  at  the  Sports 
Complex.  
The Rodney/Otamatea JMB AGM will 
be held on Thursday 26th November at 
7pm at the Sports Complex. 
Anyone 
interested 
in 
becoming 
involved  in  any  of  these  groups  is 
encouraged to attend. 
continued over... 
Tyla Stonex as an Avatar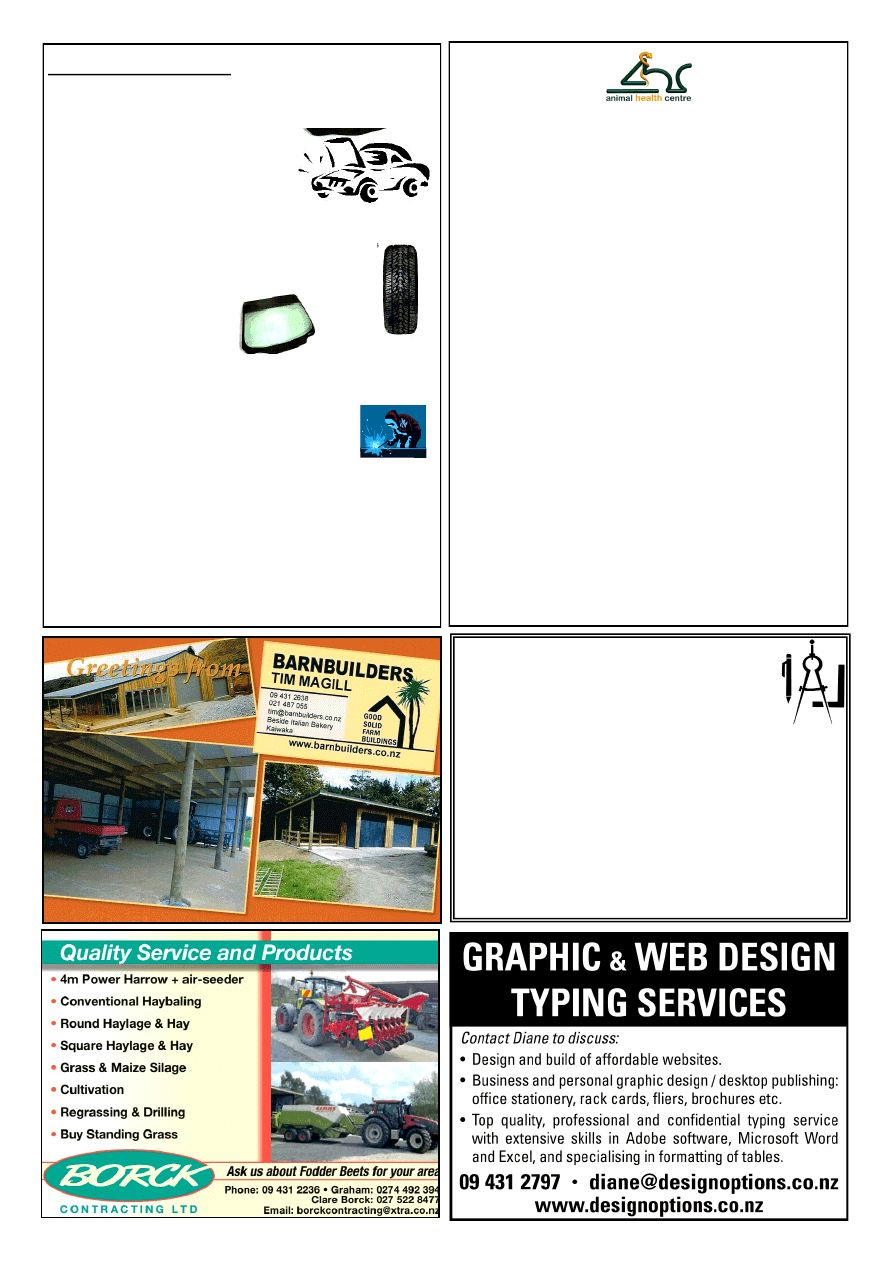 design drafting  
service 
Retired builder and manufacturer with over 40 years  
experience in the building industry is offering a design 
drafting service  
for domestic housing, sleepouts and sheds.  
Plans formulated in consultation with clients, with 
working drawings completed and submitted to  
council for processing.  Extensive practical experience,  
able to identify & resolve problems. 
Please ring Mike Lean on 
09 431 2260  
          or 
021 431 196 
ANIMAL HEALTH CENTRE 
KAIWAKA 
Stockists of Leading Brands Raw Meats: 
Pet Deli, Woofles, Purely Pets, Mighty Mix Concentrate,  
Bulk Buys. 
Stockists of Leading Brands Pet Food: 
Addiction, Orijen, Organix, Acana, Nutrience, Ziwi Peak, Mighty 
Mix, Vegan Pet, Tukka Thyme 
Vet Nurse Services: Nail Tr ims, Comfor t Gr ooms, Dental 
Checks. Microchipping. 
Animal Naturopath: Sarndra G Urwin Dip NAH (Hons)  Dip Cl.Hyp. 
Arthritis, Cancer, Auto Immune  & Skin Conditions, Endocrine 
Disorders, Behaviour Problems. 
"There is always a choice in health care" 
Homeopathic & Herbal alternatives to parasite & vaccination 
controls. 
Organic, chemical –free cosmetic products. 
Safe Leads, Collars and Toys
Open: Tuesday-Saturday 10.00-4.30   Sunday 10.00-2.00 
Next to Italian Bakery, Main Highway, Kaiwaka. 
PHONE 09 431 2217 
Want it done? 
Bring it to  
Twinkle Tow 'n' Tyre 
*W.O.F. 
*Tyres 
*Windscreen replacement 
*Chip repairs 
*Bulk Oil 
*Batteries 
*Welding 
*Custom built trailers 
*Trailer hire 
Think you'll get a better deal in the city? 
Go on, ring us; it won't cost  
anything! 
1837 State Highway 1, Kaiwaka       
Phone 431 2823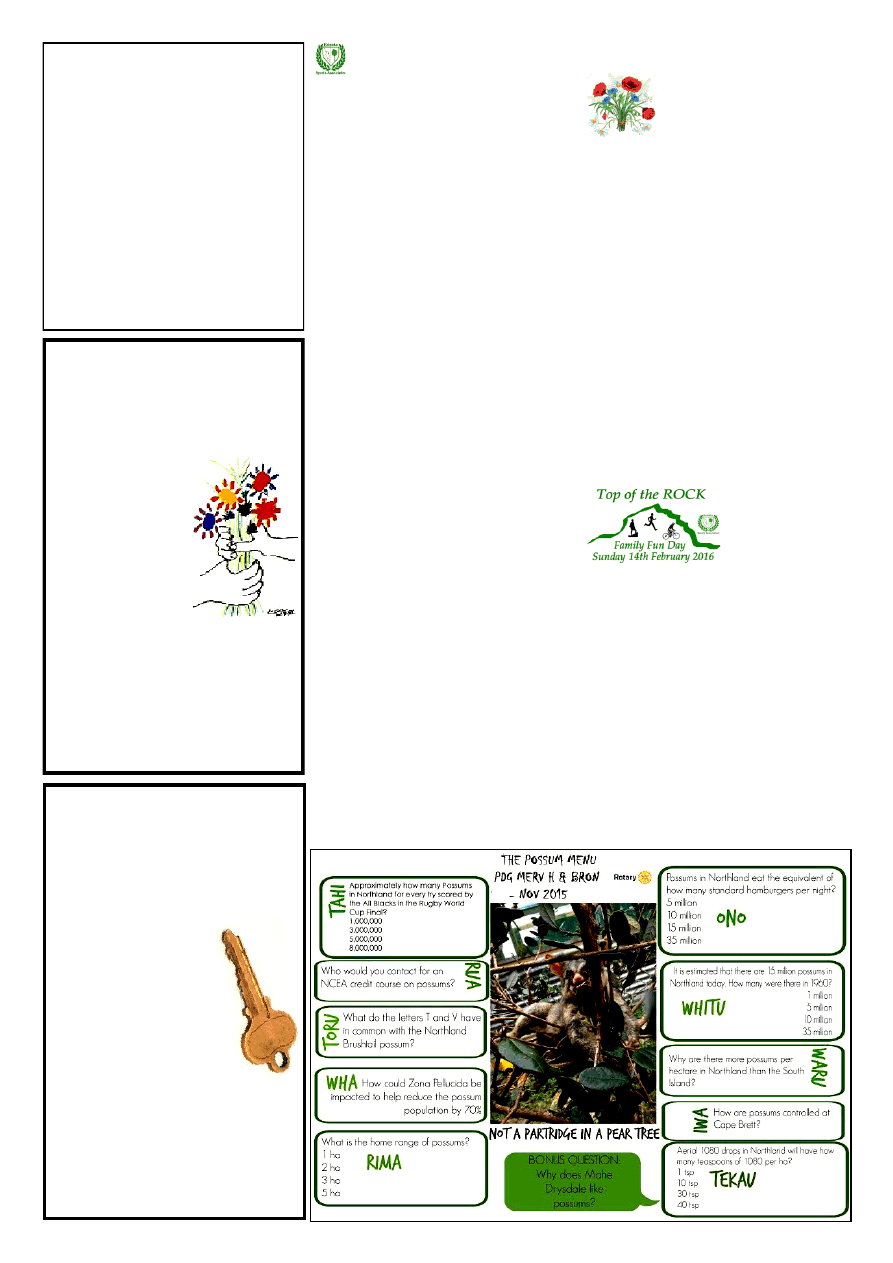 www.kaiwaka.co.nz 
Kaiwaka Bugle - 10 November 2015 
Page 17 
Kaiwaka  
Hardware  
&  
Key cutting 
 Phone 4312 063 
 022 041 6047 
 kaikey2015@gmail.com 
Keys Cut  
Household Hardware  
Curtain Tracks & Fittings
Not there? Call Doug and he'll sort
it for you.
(
Next to Kaiwaka Motorcycles)
Flowerpower 
Northland 
Long lasting 
flowers 
delivered 
from 
Mangawhai
www.flowerpower 
northland.co.nz 
Ring Martina 
4315161 
KAIWAKA SPORTS ASSOCIATION
 cont
Rotary talk on Kaiwaka 
The Maungaturoto and Districts Rotary 
Club  are  holding  a  function  at  the 
Sports Complex this month which will 
feature  a  talk  on  Kaiwaka's  identity. 
The  guest  speaker  will  be  Derek 
Christensen,  chairperson  of  Kaiwaka 
Can.  The  function  will  be  held  on 
Tuesday  24th  November,  6  –  8pm, 
tickets are $18 per head which includes 
a fully catered meal.  
There  are  a  lot  of  community-minded 
people  in  our  little  town,  and  this 
function is a great opportunity for us to 
come together to discuss Kaiwaka, our 
identity and strengths and where we are 
heading.  Derek  and  his  Kaiwaka  Can 
group  have  been  working  with  NZTA 
and  the  KDC  to  make  Kaiwaka  a 
designated  rest  town  for  motorists  – 
lots  of  exciting  progress  has  been 
made! Come along to hear all about it. 
To book your place, please contact me 
(details below). 
Have a read of the Possum Quiz below. 
Email  your  answers  to  Merv  Huxford 
at  merv@otsl.co.nz  and  if  you  answer 
all  questions  correctly  and  attend  the 
function, you will go in a draw to win 
one  of  three  $500  prizes  for  a 
charitable group of your choice! 
Thank you 
Many  thanks  to  Carolyn  Dymock  who 
has been our Treasurer for the last few 
years,  Carolyn  and  Gilbert  are  leaving 
Kaiwaka  to  travel  and  we  wish  them 
well. Carolyn has been a very capable, 
efficient  member  of  our  group,  so  we 
will miss her! We are looking for a new 
Treasurer  so  if  you  would  like  to 
volunteer  your  time  to  help  out  our 
dynamic  organisation,  please  contact 
me. 
Congratulations 
All the best to Millie Robert and Kane 
Hooper  who  got  married  at  the  Sports 
Complex on Saturday! 
Seeds Fundraiser 
I  am  running  a  Seeds  Fundraiser, 
offering  sweet  peas,  forget-
me-nots, cottage garden mix 
and  wildflowers  mix.  A 
couple  of  seed  packets 
would  make  a  great  little 
Christmas gift for those people in your 
life who are hard to buy for! An order 
form is in the last edition of the Bugle. 
Youth Night 
After  a  break  over  the  holidays,  our 
Youth Night is starting up again. Youth 
Night  is  a  sports  and  fitness  evening 
especially geared for young people and 
is  held  in  our  gymnasium  on  Friday 
evenings  from  6pm.  There  are  lots  of 
fun  active  games  as  well  as  a  sausage 
sizzle. This is for boys and girls under 
18  years  old,  all  fitness  levels  are 
welcome, gold coin donation. Enquiries 
to Siobhan on 027 9791203.  
Speech Finals 
The Kaiwaka School speech finals will 
be  held  at  our  Sports  Complex  on 
Tuesday  17th  November  at  9am, 
spectators welcome. 
Top of the Rock 
I am in the process 
of 
getting 
sponsorship 
for 
our  Top  of  the 
Rock  multi-sport 
event.  
Many  thanks  to  Steve  Elliott  from 
Kaiwaka Motorcycles who has offered 
to  donate  a  $650  lawnmower  to  raffle 
off for Top of the Rock – we appreciate 
Steve's support! 
A  big  thank  you  also  to  local  bone 
carver  Perry  Allen  who  has  offered  to 
donate one of his beautiful pendants as 
the prize for our Volunteers Draw, you 
can  check  out  Perry's  creations  at 
boneidolcarvings.weebly.com.  
If  you  are  keen  to  support  the  Top  of 
the  Rock  by  providing  sponsorship, 
please get in touch with me. 
~Cheryl Anderson 
4312 051, 027 3462702 
Just a thought about the 
old Dump site 
"Making  the  journey  from  our  home 
on Pukenui Road, I have noticed the 
nearly  abandoned  land  between  the 
tidal  creek  and  Oneriri  Road.  The 
bamboo  grove  is  steadily  creeping 
along, and on the old dump the gorse 
is  taking  over.  A  brief  flash  of 
inspiration and I envisaged this area 
planted and covered in native trees. 
I  have  put  the  idea  out  to  Kaiwaka 
Can Committee and they are working 
with the logistics of the idea. Too late 
for  this  year  now  but  perhaps  next 
season." 
Bryce Cullen, Ph 4312 818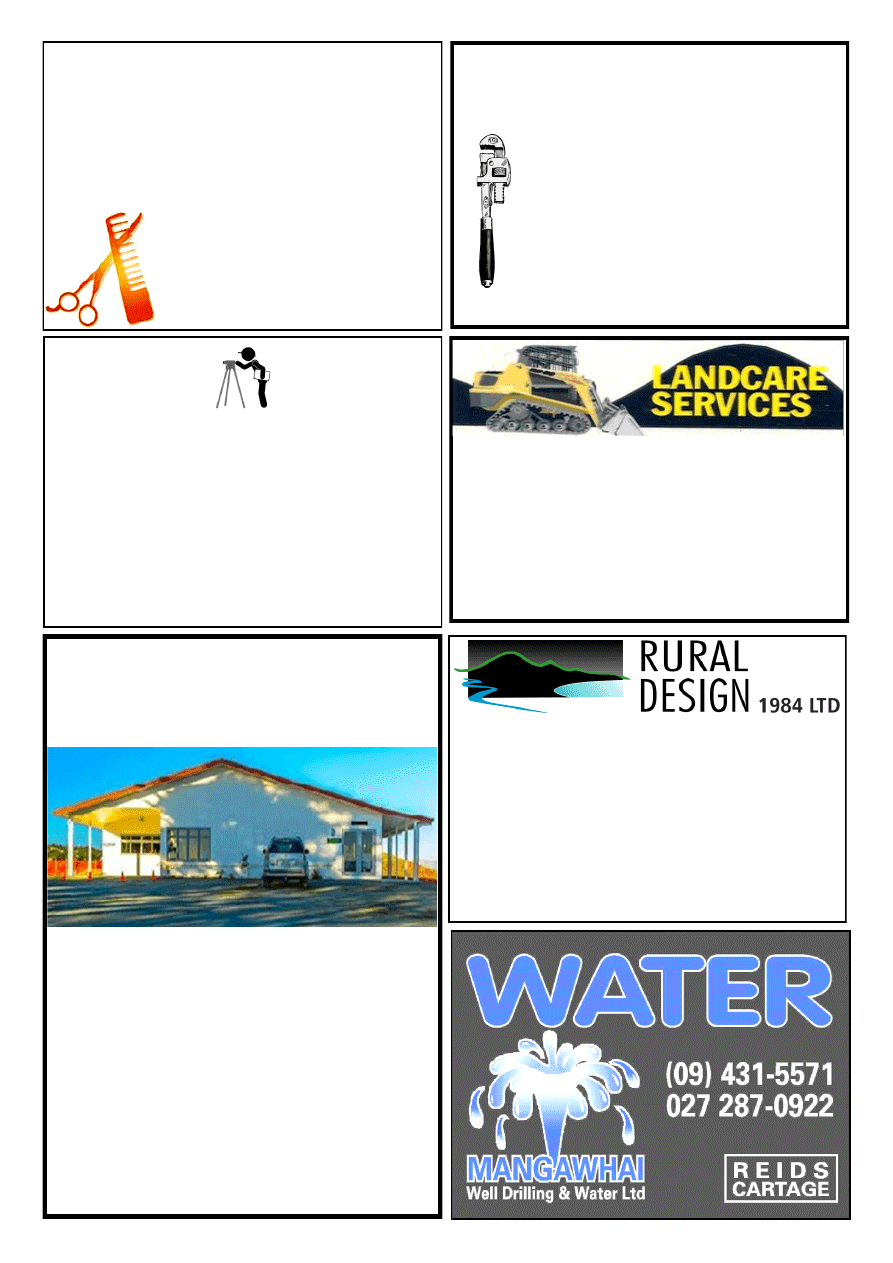 AFFORDABLE PRICES! 
MENS DRY CUT FROM $18.00 
LADIES DRY CUT FROM $28.00 
KIDS DRY CUT FROM $15.00 
COLOUR CUT FROM $90.00 
JUST CUTS'AND MORE 
021 165 2629 
NOW SELLING: scented tealights, incense, 
smudge sticks, copper bracelets, aurora ball 
crystals, dream catchers, healing stones, rose 
quartz, cds, and much more 
open 6 days 
Ken Urquhart 
BSurv Licensed Cadastral Surveyor 
KMU Surveys Ltd
467 Bickerstaffe Road 
RD 2 
Maungaturoto 0587 
Ph 09 431 8705 
Mob 021 161 2344 
kenurquhart@xtra.co.nz 
BARRY CURTIS PLUMBING LTD 
REGISTERED CRAFTSMAN PLUMBER 
Phone 4315572 
027 257 9884 
25 years experience 
Friendly reliable service 
All plumbing and maintenance 
Alterations and new housing 
Spouting 
Competitive rates 
PROMPT EFFICIENT  SERVICE 
WHOLESALE NATIVE PLANT NURSERY 
AND LANDSCAPING 
By Appointment 
Small and Large orders welcome 
Phone: 09 431 2481 
Email: info@ruraldesign.co.nz 
Te Pounga Marae 
130 Nathan Rd. Oneriri. Kaiwaka 0573 
COMPLEX FOR HIRE 
Functions 
* Weddings   *  Birthdays   *Anniversaries 
* Meetings   * Wananga 5 hour meeting 
* 12 hour stay   * Overnight 
*All welcome - No more Drink-driving 
Amenities: 
*Convo Combi Steamer * Bratt Pan * Dish 
Washer/Sterilizer * 3 Door Glass Chiller (walk in) 
etc…All Crockery * Linen Supplied * Central 
Heating and Air Conditioning and much more.  
Can also cater for small groups…. 
For more information please contact: 
Kim Wallace 
Home: 09 832 1133   Mob: 0211275340 
Email:  kimwallace@xtra.co.nz 
LANDSCAPING 
4 IN 1 BUCKET 
TRENCHER 
POLE HOLES 
ROTARY HOE 
COMPACT ROLLER 
OFFAL HOLES 
CAN SUPPLY WOODCHIP & POST PEEL 
5 TON TIPPER 
FOR RELIABLE AND FRIENDLY SERVICE CONTACT DAVE 
Dave Hyndman 
 
KAIWAKA 
PH: 09 4312302 
MOB: 021 431 238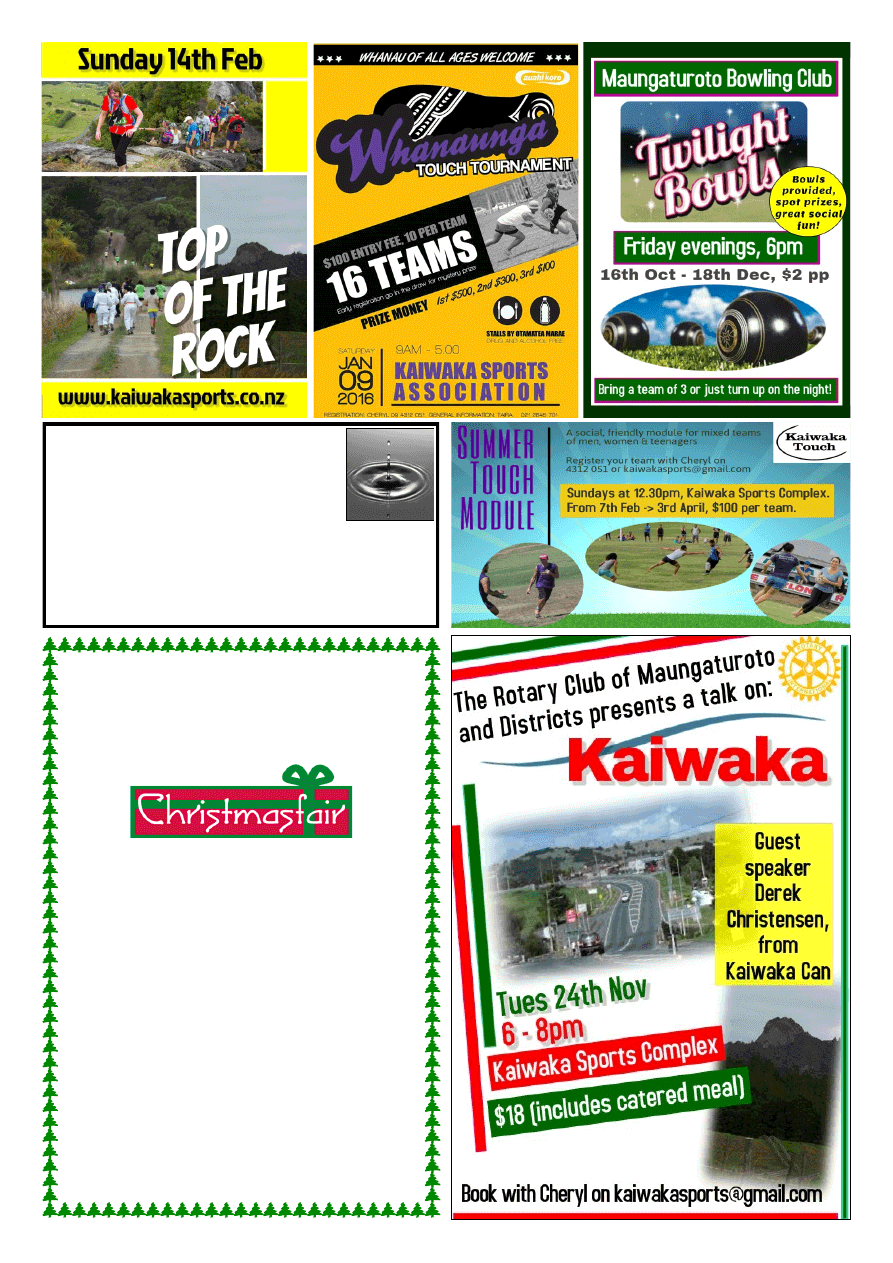 www.kaiwaka.co.nz 
Kaiwaka Bugle - 10 November 2015 
Page 19 
PROFESSIONAL 
COUNSELLING AVAILABLE 
Want to be content in your life? 
Men... need help with your relationship? 
Couples... communicating a problem? 
I can help you! 
Phone me for a preliminary talk. 
PETE WORSFOLD  
B. Soc.Sc. M. Soc.Sc. Dip Prof Couns. Prov. MNZAC 
Counsellor 
021 825 970 
MINI-FAIR - GARAGE SALE
ST PAUL'S CHURCH, 
KAIWAKA
Saturday 28
th
 November  9 am – 12.30
Christmas gifts, cakes, sweets, preserves,  
Devonshire teas, Kids Cafe, toys, 
clothing, books, garden plants, furniture 
trash & treasure - something for everyone! 
Guess the weight of the Christmas cake 
Lots of games and competitions for kids. 
Giant Christmas hamper raffle 
Auction for firewood & other items 
Christmas photo competition – send us your 
favourite family Christmas photo. A prize for 
the photo that  
receives the most votes 
Post to:  PO Box 58, Mangawhai 0540 
Donations for the garage sale much appreciated. 
We will pick up. 
Enquiries:  Ph. Fay 09 431 2449 
 or Margot, Ph 09 431 2600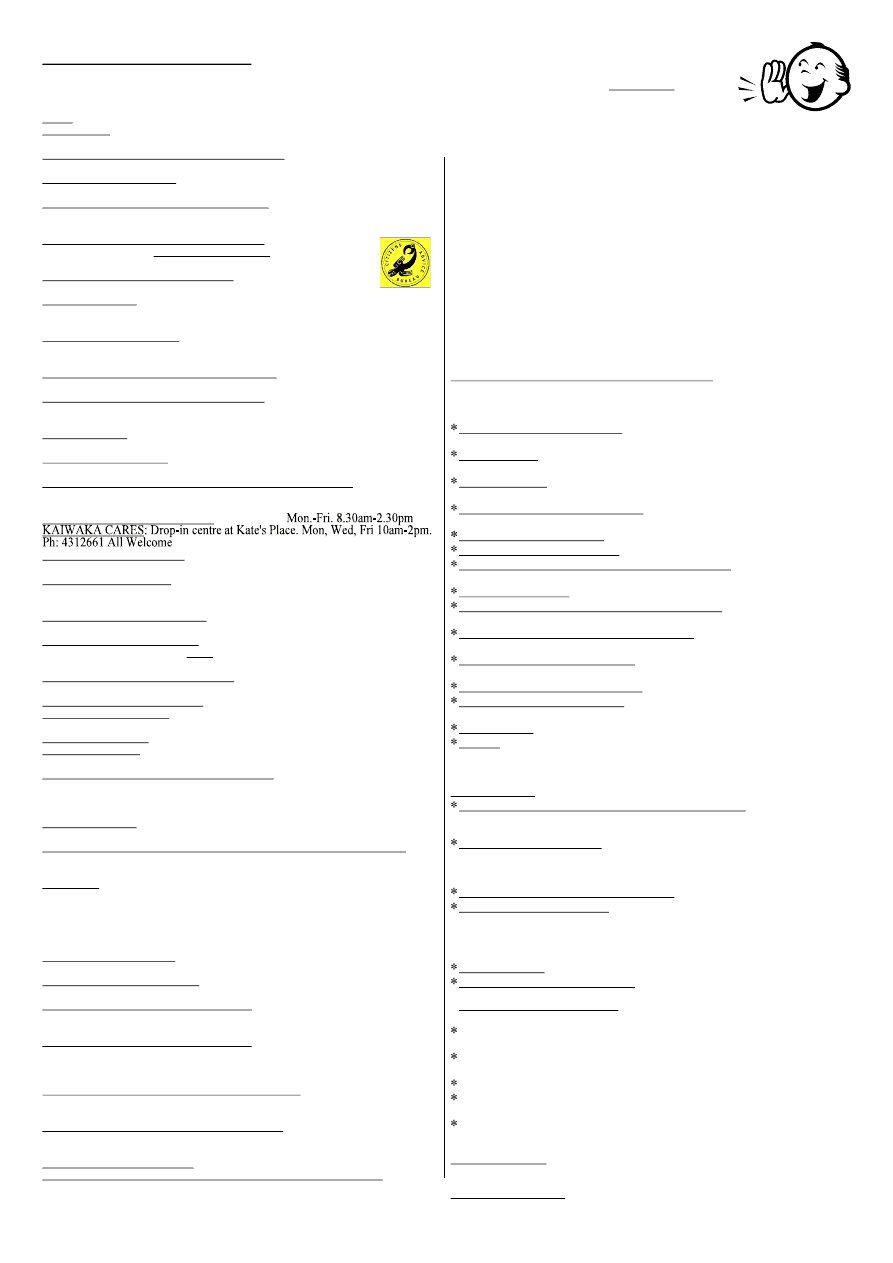 LOCAL SERVICES 
*Emergencies - Ambulance, Fire, Police - dial 111 
*Non-urgent Police phone 09 4311150
A A: Meets Wed., 8pm Kaiwaka Ph: 4312228, 4315543, 0800229 6757 
AL ANON: In recess, contact Ph: 4312228 
MINISTRY FOR PRIMARY INDUSTRIES - General inquiries Call 
Free 0800 008 333 
ASUREQUALITY LTD  (was AgriQuality) Call Free 0508 0011 22  
BUDGETING SERVICE, WELLSFORD:  Free confidential advice & 
support for all areas of personal finance. Ph (09) 423 7123 
CAB-Citizens Advice Bureau.Wellsford Ph: 4237333 
0800 367 222 email:cab.wells@xtra.co.nz  
DOG/STOCK /NOISE CONTROL 0800 105 890 
KATE'S PLACE with Govt.Day Agencies/Community Information /
Osteopathy/ IRD / Probation, etc Ph: 4312661 Hours: 9am-3pm. Mon - Fri 
FUNERAL SERVICES: Morris & Morris Ltd, 
Whangarei - Bev Jaques Ph:4312367 or 0800667747 
GRANDPARENTS Raising Grandchildren: Sarah Rogers Ph: 4312194 
HAKARU LANDFILL/Transfer Station:Open everyday except 
Tuesday10am-4pm.Ph4312629 Cost-$55 trailer load up to 1 cubic metre. 
Ph:4258567 - office 
HOMEOPATH: Donna Flavell Ph: 4314843 
INLAND REVENUE: Last Friday each month, 11-3pm Ph4312661 
KAIPARA DISTRICT COUNCIL www.kaipara.govt.nz:  
Help Desk FREEPHONE 0800 727 059  
KAIWAKA KOHANGA REO: Ph:4312620 
KAIWAKA CEMETERY: Ph: 4312045 
KAIWAKA LIBRARY: kaiwaka.library@gmail.com  
Mon. 4-6pm; Wed., Thurs., Fri., Sat.  10am-2pm Ph:4312539 
KAIWAKA PLAYCENTRE: Ph: 4312286. Hastie Lane 
Monday to  Friday  9.00am - 12 noon. 
KAIWAKA POST OFFICE:Ph:4312 431  
Post Code: 0573  for RD2  and  0542 for all Kaiwaka Post Office mail 
KAIWAKA PRIMARY SCHOOL: Ph: 4312309     
KAIWAKA SPORTS ASSN: Ph 4312005; 4312129 gym 
KAIWAKA ST JOHN: Manager Steve Rosser 09 4318403, 021 2316836 
LINKING HANDS Health Shuttle Ph 4314121 or 09 4318969 
NORTHPOWER: Faults Kaiwaka area 0800 104040 
OTAMATEA COMMUNITY SERVICES: Free counselling, parent 
coach, Family Support worker, budget advice, food bank. Mon-Fri 9am-
30m. Ph 09 431 9080 
PARENTPORT: Free, practical family support service Puhoi to Paparoa 
Ph or txt:  Dianne 027 2085093 
PERSONAL DEVELOPMENT COACHING, GROUP FACILITATION:  
Sabine Druckler 4312231 
PLUNKET: Kaiwaka - Kaiwaka War Memorial Hall: Clinic 1st Wednesday of the 
month; Coffee Group at 9:30. Mangawhai  - Rose Madsen Cottage, Mangawhai 
Domain,  Moir  St:  Clinic  1st  and  3rd  Monday  of  month;  Young  Babies  Coffee 
Group  2nd  and  4th  Monday  10  am;  Plunket  Playgroup  every  Thursday. 
Maungaturoto - Maungaturoto Congregational Church, 100 Hurndall Street East: 
Plunket clinic 2nd and 4th Wednesday. Cynthia 09 431 8187 or 027 675 3488 
PLUNKET HELPLINE -0800 933 922 (24 hours) 
PUBLIC HEALTH NURSE: Gloria Reid Ph: 094327634  
RETURNED AND SERVICES ASSN 733 Settlement Rd. Hakaru 
Ph.4312176 Bill Kerr (President) Ph.4314719 
TAITOKERAU COMMUNITY LAW: Free confidential legal advice and 
assistance, 2nd
Thursday
 of each month. Ph: 0800 155 529 for 
appointments.  
TE KOROWAI AROHA O NGATIWHATUA Ph: 4312675 
(The Cloak of Love of Ngatiwhatua) Support and Maori Consultancy.  
VETERINARY SERVICE MANGAWHAI: 
Ph: 4314535 Mon-Fri 8.00-5.00, Sat 9-12, a/h appt. 
WELLSFORD DOCTORS: Ph: 4238 086 
WOMEN'S WELFARE LEAGUE & Reaching Out For Youth:  
4 Kaiwaka-Mangawhai Rd, M Morgan 4312293 
Next Bugle Deadline midday Friday 20 November 2015
WHAT'S ON
PLEASE ~ do let us know what is on - email 
kaiwakabugle@kaiwaka.co.nz 
Advertising in WHAT'S ON is FREE  
*11Nov~Hakaru Hall AGM, 7:30pm 
*13Nov~Mr Holmes (PG), 7:30pm KWMH 
*13Nov~Kaipara Hunt AGM, 8pm Mgto Country Club 
*14-15Nov~Mangawhai Garden Ramble 
*15Nov~Sacred Sound Healing workshop 1-5pm, Absurdistan, 
021 209 3921 to register 
*18Nov~Mani-Pedi Party, 10am Kaiwaka Drop-In Centre 
*21-22Nov~Pt Curtis Open Fishing Competition 
*24Nov~Kaiwaka's Identity, 6pm KSA 
*25Nov~Kaiwaka Sports Assn AGM, 7:30pm KSA 
*27Nov~Trainwreck (R16), 7:30pm KWMH 
*27Nov-6Dec~A  Christmas Carol, Otamatea Repertory Theatre 
*28Nov~Mini-Fair, 9am St Paul's Church 
*10Nov~Otamatea Hawks AGM, 7pm KSA 
KWMH=Kaiwaka War Memorial Hall 
KSA=Kaiwaka Sports Association Complex 
See www.kaiwaka.co.nz for upcoming events. 
HOUSEHOLD RUBBISH COLLECTION - Kaiwaka Pick up: 
Mondays = Gr een bags (Northland Waste - 09 430 3273) 
Wednesdays = Blue bags and yellow r ecycling (at J aques $3.00 
and $1.50) (Kaurilands 09 4392146) 
 DIABETES  Support  Group  -for  Kaiwaka,  Mangawhai,  Wellsford 
10am, 3rd Friday of month Ph:A.Pert 4238242; J.Gardner 4238060 
 DRINK CAN 'tear tabs' - for Starship Hospital- please collect - 98 
Kaiwaka Mangawhai Rd, leave in mailbox, Ph. 4312625  
 GENEALOGY - Wellsford: 1st Thursday in month Ph: 423 7033; 
Waipu: 4th Monday in month Ph: 4312 725 
 GYMNASTICS  OTAMATEA  -  Tuesday  Ph:  Stephanie  022 
3624998 
 HAKARU PONY CLUB - Secretary Julie Rynne 09 4314520 
 KAIWAKA BADMINTON -Tuesdays 7.30pm Ph: 4312345 
 KAIWAKA  GARDEN  &  FLORAL  GROUP  -  2nd  Thursday  in 
month. Ph: 431 4767 
 KAIWAKA CUBS - Thursdays 5.30-7pm, Hakaru Ph:Bruce  4312542 
 KNITTING FOR WHANGAREI HOSPITAL - 2nd Tuesday in 
month, Apple Basket 10am Ph 4314827 
 MANGAWHAI COMBINED PROBUS CLUB - 2pm, 3rd 
Thursday month, Senior Citizens Hall Mangawhai. Ph: 4315777 
 OTAMATEA GREY POWER - Kath Pattinson 09 431 8960, 1pm 
last Wednesday of month, Anglican Church Hall, Maungaturoto 
 PT CURTIS CRUISING CLUB - Jean Ph: 4312 246 
 RSA,Hakaru & Dist.Women - meet 1.30pm 4th Thurs in month Ph: 
4314 668  
 TRAMPING - Mondays 9am-2:30pm  Karen Ph: 4312 090 
 YOGA - Tuesdays 6:15pm,  Friday 8:30am KWMH Carla Ph: 021 
296  8794;  Wednesday  5:30-7:00pm  Archie  Bull  Hall  Dalleise  Ph 
4312 108 
CHURCHES:
Kaiwaka Family Church - Your Community Church: Sundays 10am & 
6pm. Youth Service Mondays 6-8pm. Ph: Tawhiri 4312571 or Paul 
4312068 
St Paul's Anglican Church 1st Sun. 9.30 am (Eucharist), 3rd Sun. 9.30 
am (Family Service). Contacts:  Church Office 09 431 4122; M. 
Hargreaves 431 2295; C. Bygrave 431 2057; or Rev. Wayne Thornton 
Ph 431 5650 
Church of Christ the King, Mangawhai:9.30am every Sunday 
St.Mary's Catholic Church: Maungaturoto – Griffins Road, Saturday 
evening Vigil Mass 6pm; Mangawhai – Senior Citizens Hall, Sunday 
Mass 8:30am; Wellsford – Matheson Road, Sunday Mass 10:30am; 
Mid-week Mass times and all enquires to Fr. Bill Fletcher – phone 423 
8170 
Baptist Church: Sun. 10.30am Mangawhai Snr Cit.Hall.Ph:4312339 
Cause Way Church Mangawhai: Sundays 10.15am, Mangawhai 
Community Recreation Centre, Insley St. Ph: 09 4314782  
St.Pauls Archie Bull Hall HIRE  $20 half day, $40 full day per hire, R. 
Morgans, Ph 4312365 
Kaiwaka  War  Memorial  Hall  HlRE  -  Phone  4312725  or 
kaiwaka.hall.bookings@gmail.com 
Hakaru Community Hall HIRE -Ph. 4312256 or 4312110 
Te  Pounga  Marae  queries  -  R.  O'Leary  4312  423,  J.Nathan  021  186 
7382 
Kaiwaka  Sports  Association  hire/queries  -  C.  Anderson  4312051  or 
kaiwakasports@gmail.com
Justice  of  Peace:  B.FJaques;  L.Donaldson;  A.F.Hargreaves,  S.Dalziell, 
W.Howard  -  please  phone  to  make  sure  they  are  available 
www.justiceofthepeace.org.nz 
Marriage Celebrants: L.Donaldson; A.F.Hargreaves; C.Rosseels