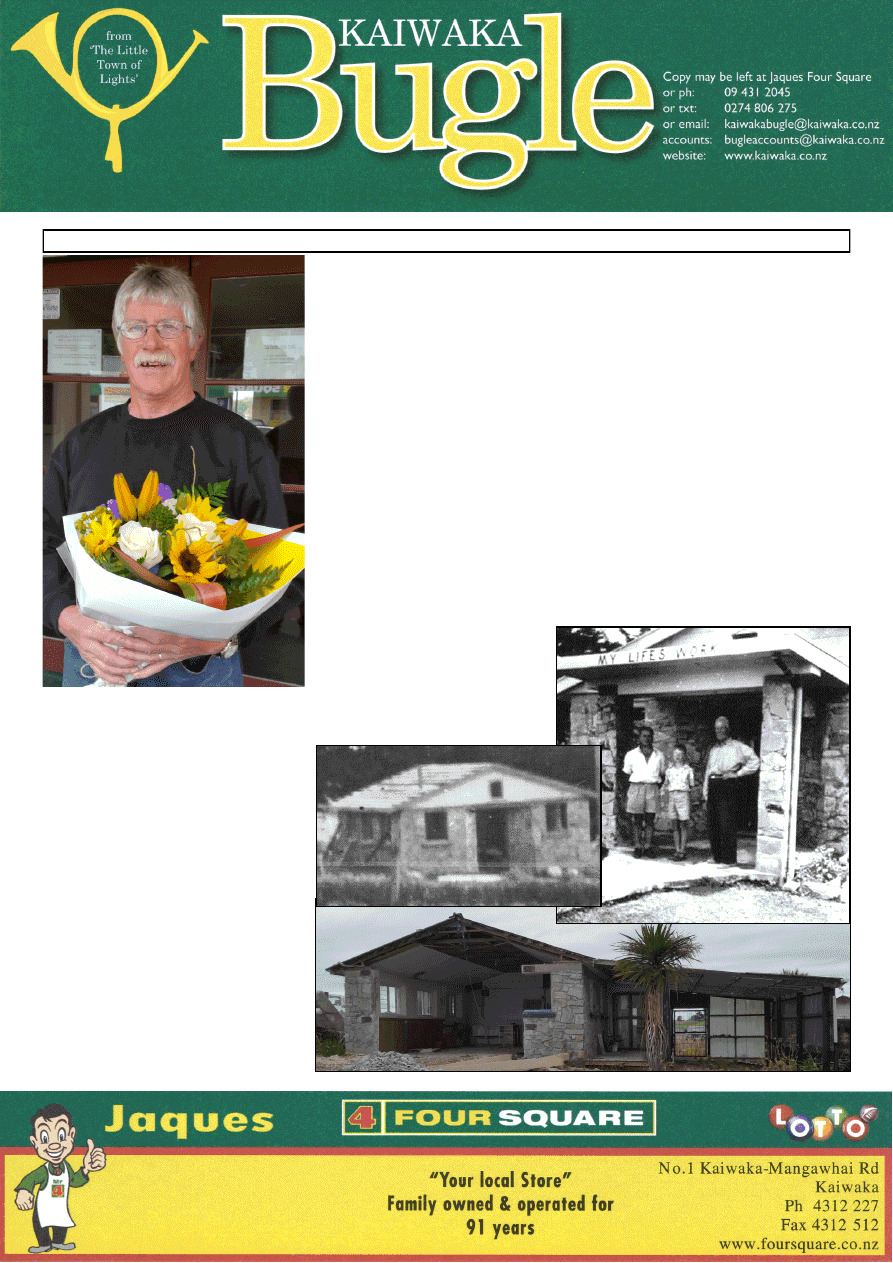 www.kaiwaka.co.nz 
Kaiwaka Bugle - 24 November 2015 
Page 1 
 No: 23
24 November 2015 
Trading Hours: 
Monday-Friday 8am to 6:30pm 
Saturday 8am to 7pm 
Sunday and public holidays 9am to 5pm 
KAIWAKA  
GOOD SORT 
Congratulations to Alistair Hoy, our 
latest  recipient  of  a  bunch  of 
flowers from  Lindy the flower girl. 
Alistair  was  nominated  by  Katie, 
who  said  "Alistair  and  his  wife 
Penny contribute a lot of their time 
to  our  community  (e.g.  the  movies 
at  the  hall)  but  recently  Alistair 
came  to  our  aid  when  we  really 
needed  his  hardware  expertise.  We 
opened  Kaiwaka  Hardware  then 
Doug  was  diagnosed  with  cancer 
that  involved  a  lot  of  time  in 
Auckland  Hospital.  When  I  had  to 
go  down  to  be  his  "caregiver" 
Alistair  stepped  in  an  ran  the 
business  for  us  and  would  not  take 
payment.  His  kindness  has  made  it 
possible to keep the business open." 
The  stone  building  situated  below  
Shamrock  Caltex  Service  Station  and 
Twinke  Tow  &  Tyre,  Kaiwaka  has 
stood  at  this  location  for  60  years. 
Fully  completed  on  1  October  1955
(1)
, 
it  was  originally  a  private  museum 
built  to  house  a  collection  of  curios 
obtained  by  Romaine  Dowson  (1873-
1958). Named My Life's Work, it was 
constructed  by  Romaine,  his  son 
William  H.  Dowson  (1903-1986),  and 
grandson  Melvyn  Dowson,  who 
currently 
resides 
in 
Wellsford. 
Constructed  of  bluestone  quarried 
locally  from  Baldrock  Mountain,  the 
55.7  square  meter  (600ft
2
)  building 
took two and a half years to complete. 
The  interior  was  finished  with 
cordwood  panels,  a  sawdust  and 
bitumen 
sound-proof 
floor, 
an 
elaborately  veneered  and  panelled 
ceiling, 
special 
lighting, 
and 
professionally-finished 
glass 
showcases  with  mirrored  bottoms, 
which  housed  nearly  200  coins  and 
bank  notes.  Romaine  opened  his 
museum  to  private  visitors,  at  his 
discretion. 
Over  his  lifetime,  Romaine  came  to 
possess a large and varied collection of 
Maori relics, and curios collected from 
the  district,  around  the  country,  and 
overseas  during  travels  undertaken  by 
his  father  in  the  1860s,  his  brother, 
Egbert  (Bertie)  and  himself.  Also 
displayed  were  family  items  such  as 
the  magic  lantern  used  by  Bertie 
Dowson  in  1899  to  show  the  first 
pictures  of  any  kind  in  Kaiwaka,  and 
the  first  crystal  radio  set  in  the  local 
area, built by William H. Dowson and 
Geoffrey 
KAIWAKA'S STONE BUILDING 
continued on page 5... 
Pictured below: left: The house under 
construction  c.  1954  (courtesy  of 
Patricia  Miller,  nee  Colson,  grand-
daughter of Romaine); right: Romaine 
Dowson  and  two  visitors  outside  his 
museum,  c.  1955;  bottom:  taken  20 
November 2015 during renovations.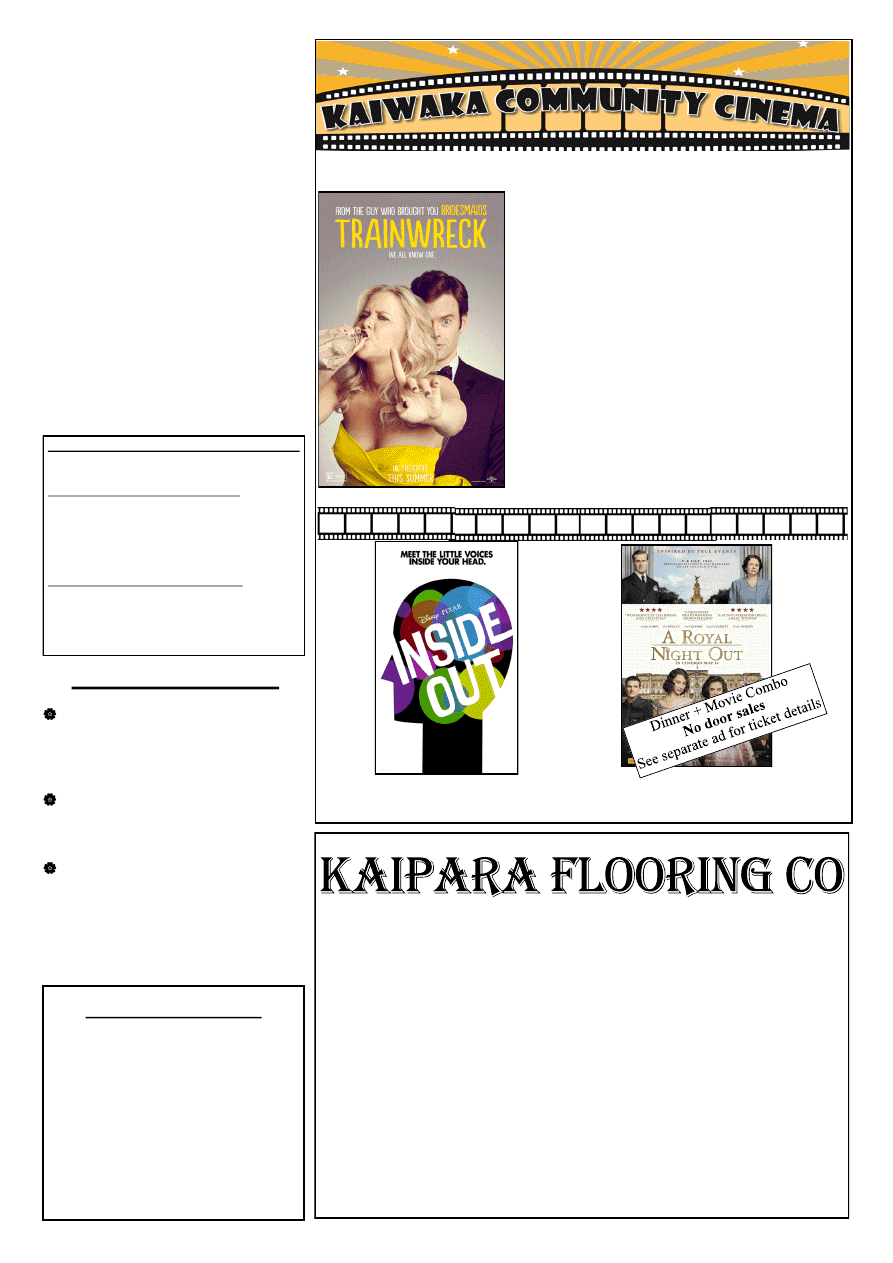 ABOUT TOWN 
The last movie for the  year at the 
Kaiwaka  War  Memorial  Hall  is  on 
Friday  18,  Love  and  Mercy  about 
the Beach Boys' Brian Wilson. 
Note  the  new  rubbish  pickup 
down the Oneriri peninsular - details 
in this issue. 
Ahead  of  the  book  swap  at 
Dargaville  Library  next  week, 
Kaiwaka  Library  already  has  a  new 
selection of DVDs on the shelves to 
choose from. 
KAIWAKA BUGLE No. 23 
24 NOVEMBER 2015 
CONTENTS 
Page 3: Public Notices, Classified 
Page 5: Kaiwaka's Stone Building cont 
Page 7: Kaiwaka School, Tranznorth 
Otamatea Hawks Rugby Club 
Page 9: Kaiwaka Sports Association 
Page 11: You Need Friends... 
Page 13: Kaiwaka Cares, KDC 
Rubbish collections 
Bugle 24 will appear 8 December - this 
is the last Bugle for 2015 
Contact for advertising, reports, articles 
or information can be made by 
Email kaiwakabugle@kaiwaka.co.nz 
Ph: 09 4312 045 (Lindsey) 
Txt:  0274 806 275 (Wendy) 
Copy  may  be  left  at  Jaques'  Four 
Square.
At Kaiwaka War Memorial Hall . Adults $10, Kids (under 16) $5, Family Pass (2 adults + 3 children) $25 
Kaiwaka Bugle Advertisements 2015: 
All 
copy 
and 
queries 
to: 
kaiwakabugle@kaiwaka.co.nz 
Classified  $3  (max  30  words);  1/16  page 
$4; 1/8 page $6; 1/4 page $12. 
Payments can be made online, posted or 
left at Jaques Four Square Store. 
Accounts: 
bugleaccounts@kaiwaka.co.nz 
The  Kaiwaka  Bugle  is  a  community 
newspaper run by volunteers.   
Articles, etc. printed are not necessarily 
the opinion of the Bugle Team. 
Trainwreck 
Friday 27 November 7:30pm (R16) 
Since she was a little girl, it's been drilled into 
Amy's  head  by  her  rascal  of  a  dad  that 
monogamy  isn't  realistic.  Now  a  magazine 
writer,  Amy  (Amy  Schumer)  lives  by  that 
credo  -  enjoying  what  she  feels  is  an 
uninhibited  life  free  from  stifling,  boring 
romantic commitment - but in actuality, she's 
kind  of  in  a  rut.  When  she  finds  herself 
starting  to  fall  for  the  subject  of  the  new 
article  she's  writing,  a  charming  and 
successful  sports  doctor  named  Aaron 
Conners (Bill Hader), Amy starts to wonder if 
other  grown-ups,  including  this  guy  who 
really  seems  to  like  her,  might  be  on  to 
something. 
Parents please note: R16 - people under 16 
years of age cannot be admitted. 
32 HURNDALL ST MAUNGATUROTO 
Ph: 09 9469886 or 021 515 415 
Carpet, vinyl, laminate wood look  flooring, vinyl planking, 
sanding & polyurethane service. 
Carpet Short Ends from $79pm + GST 
Vinyl D.I.Y. peel n stick tiles $10sq mtr + GST. 
Free measure & quote.   
Mobile Service 
Phone Christine or Howard anytime 
Open Saturdays by arrangement. 
Kaiwaka Bugle 
Founded May 1978 
Copies available in Kaiwaka at Jaques Four 
Square, Kaiwaka Postal Centre, Shamrock 
Service Station, Celena's Gifts, Animal Health 
Centre. Also outlets in Maungaturoto, 
Mangawhai and Paparoa. 
Can be viewed online at  Facebook or 
www.kaiwaka.co.nz/Bugle  
Or a copy can be posted to you if you supply 
stamped, self-addressed DLE envelopes. 
Inside Out 
Sunday 29 November 2:00pm (PG) 
A Royal Night Out 
Friday 4 December 6:30pm (M)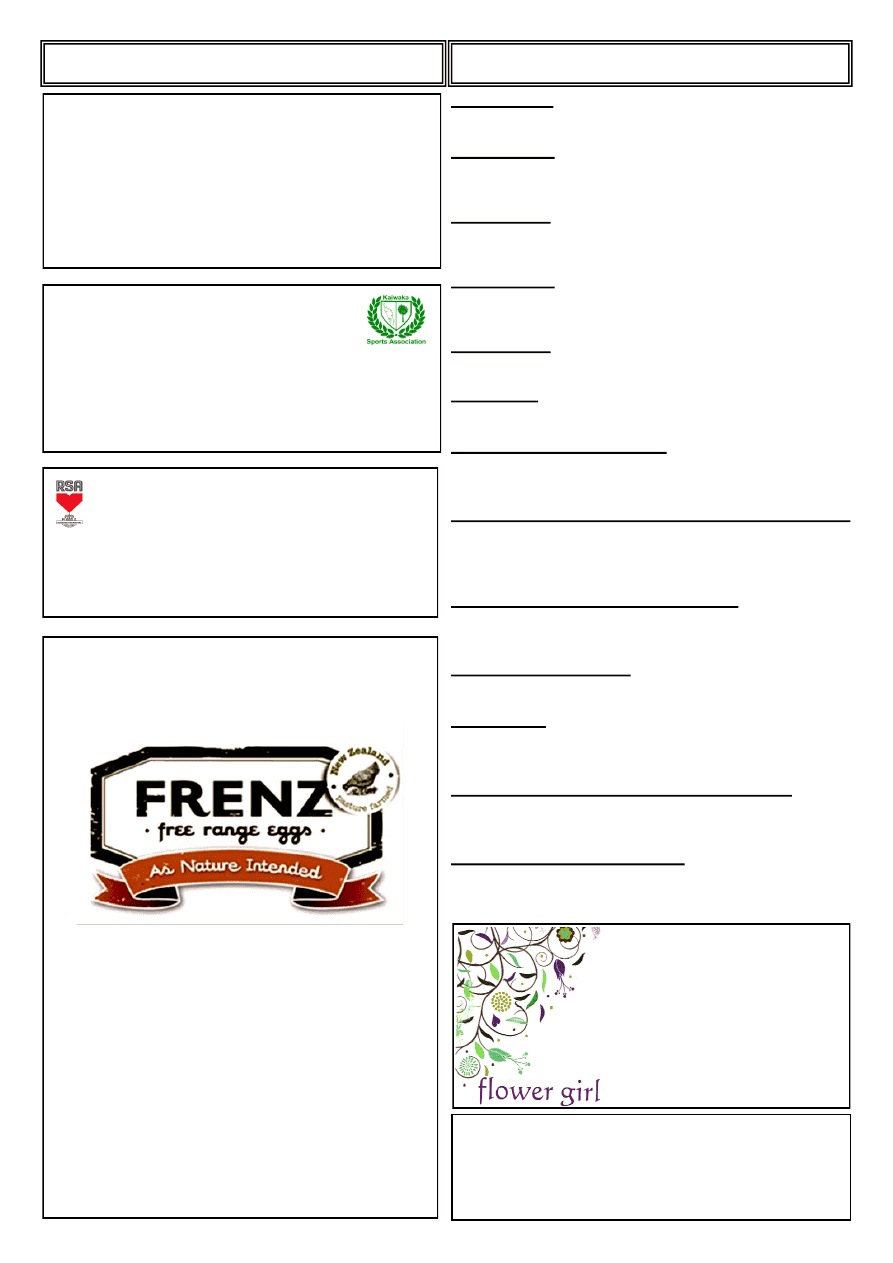 www.kaiwaka.co.nz 
Kaiwaka Bugle - 24 November 2015 
Page 3 
PUBLIC NOTICES 
CLASSIFIED 
FOR  SALE:  Original  wood  stove.  Esse  Century 
cooker.  Wet  back,  double  oven  ,  white  and  black 
enamel. Working order $2,200.00 Ph 4312 605 Karen 
FOR  SALE:  House,  $305k,  2  bdrm  Lockwood, 
Kaiwaka,  lifestyle,  views.  Decks  gardens  trees,  1  ha 
grazing,  water  solar/wetback.  Plus  share  175  ac 
organic pasture/forest. Ph 4312 992 
FOR  SALE:  Kayak,  4m;  4x4  house  piles  x10;  gas 
heater Delonghi; 'railway  sleeper';  galv.  wheelbarrow; 
futon  bed;  old  hand  concrete  mixer  -  gdn.feature!?; 
...any fair offers? Ph 431 2992 
FOR  SALE:  'Lady  Muck'(R)  Outdoor  Vacuum 
Cleaner.  Uses:-  horse  +  alpaca  manure,  chook  sheds, 
olives,  leaves,  cleaning  out  troughs  etc.  $1,050.00 
ONO Ph Eddie & Lynne Coates 09 4312 020 
FOR RENT: Apar tment style cottage. $250 pw incls 
power,  water  &  gas  cooking.  Carport  parking.  Rural 
views. Fully furnished. Ph 021 253 7661 
WANTED:  Lease  block,  any  size  considered  (10-
200acres). Ph 021 733 305 
THE  SUNSHINE  GIRLS:  Need  help  with  your 
house cleaning? Sometimes you just need another pair 
of hands. We offer two pair and a smile. Comparable 
hourly rate. Ph 431 2532 or 431 2711 
JILL SHIRES HOLISTIC ANIMAL THERAPIES: 
Cranio  Sacral  Therapy,  Herbal  Remedies  & 
Diatomaceous Earth for Pets, Horses & Farm Animals. 
www.jillshires.nz    or  Ph:  431  2080  Based  in  Oneriri 
Road 
PLANTING  AND  LANDSCAPING:  for  all  your 
advisory,  planting  and  maintenance  needs;  20  yrs 
experience; Pete Worsfold 'Sound Landscapes' Ph 021 
825 970 
BERYL  NOZEDAR:  (Middleton)  International  
Clairvoyant.  Numerology,  Tarot,  Clairvoyance,  
Mediumship. $60 for hour includes CD. Ph: 431 2080 
MASSAGE:  Relaxing  massage,  Energy  Work, 
Holistic Pulsing. Engine not running well? Need a tune
-up? Call Pete Worsfold 'Monsieur Masseur' 021 825 
970 
CLOTHING ALTERATIONS & REPAIRS: Hems, 
Zips,  Dressmaking  Phone:  Win  4312027    or  027  444 
8358 Winsome Designs. 
FREE GRAZING WANTED: Small or large block. 
Can  do  some  fencing  or  water.  Phone  after  6pm 
4312006 
Proverbs  17:22  A cheer ful spirit does good 
like a medicine, but a broken spirit makes one 
sick. 
KAIWAKA SPORTS 
ASSOCIATION 
Annual General Meeting 
Wednesday 25th November, 7.30pm 
Kaiwaka Sports Complex 
The annual audit shall be replaced with a Limited 
Review and the Auditor shall be appointed at the 
Annual General Meeting. 
BUGLE DATES 
The end of the year is coming up fast - there is only 
one more Bugle to come after this issue before our 
Christmas break. 
The deadline is: 
midday Friday 4 December.  
The first Bugle of 2016 will be published  
Tuesday 26 January 
The deadline for that issue is midday 22 January 
Kaiwaka Good Sorts 
Do you know someone in our 
community who is deserving of a 
beautiful bunch of flowers? 
Send an email or drop a note to 
Jaques Four Square to let the 
Bugle team know. We will choose 
a recipient to receive flowers from 
Lindy the flower girl. 
FREE RANGE EGG FARMERS 
WANTED 
FRENZ are looking for more dedicated farmers who 
love hens and love farming to supply our ever 
increasing demand for genuine Free Range and 
Organic eggs for discerning customers. 
If that sounds like you, email info@frenzs.co.nz and 
find out how you can join other Farmers supplying a 
company with over 30 years' experience producing 
the world's best eggs. 
For more information about FRENZ check out our 
website www.frenzs.co.nz 
HAKARU RSA  
WOMEN'S SECTION 
Reminder - members please note:- The next meeting will 
be our Christmas Luncheon, Please bring a plate and arrive 
at 11 a.m. on the 26th November. Wear Christmas colours 
and finery and bells and bobbles if you wish.  
New members are always welcome.     ~Ann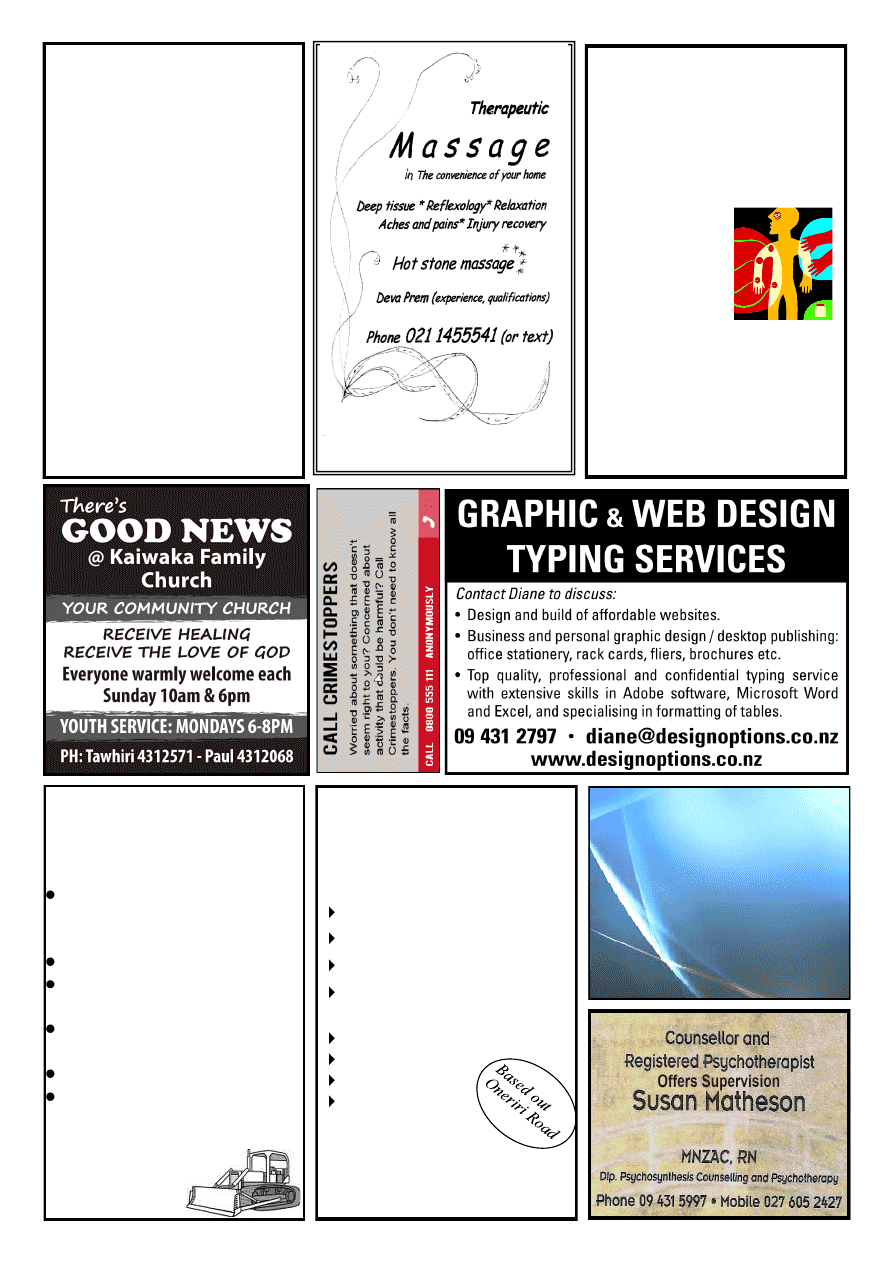 www.mangawhaimassage.co.nz 
HODGETTS 
CONTRACTING
Digger Work    
Driveways 
House Sites   
Dams 
Drains, etc
Also available for HIRE 
3 ton Vib Roller 
Heavy Duty Tow 
Waterblaster  
Lazer Level 
Phone Mark 
4312877 
027 447 8554
OWEN STEVENS 
Osteo Therapist
For careful adjustments to bones 
and joints 
Treatment for  humans and their 
pets 
Clinics: 
Kate's Place, 
Kaiwaka: 
Last Friday of 
month 
For bookings: 
9.00am-5.00pm   
Phone 
09 4312661 
Or phone Owen   
09 4317123  anytime 
Freeview  
Installations 
Richard Te Haara 
25 Marram Place 
Mangawhai Heads 
021 1104056 
kiwipride@xtra.co.nz
Willow Bend
HORSE  
HOTEL 
"   
Total Horse Care 
" 
Agistment 
" 
Riding Lessons 
" 
Arena Hire (60x40) 
" 
Young Horse Starting 
" 
Re-training/Exercising 
" 
Hoof Trimming 
" 
Problem Solving 
Phone Sue 09 431 
2817 or 021 623 776 
Or email sue.gray@xtra.co.nz 
Coates  
Contracting 
D41 Bulldozer with 6 
way blade, bush rigged 
with winch 
For all tree work 
General bulldozing and  
  stick raking. 
120hp Tractor for 
ground cultivation,  
tip trailer work. 
Fencing
All enquiries phone  
Brett Coates  
 094318720  
or 
 021431872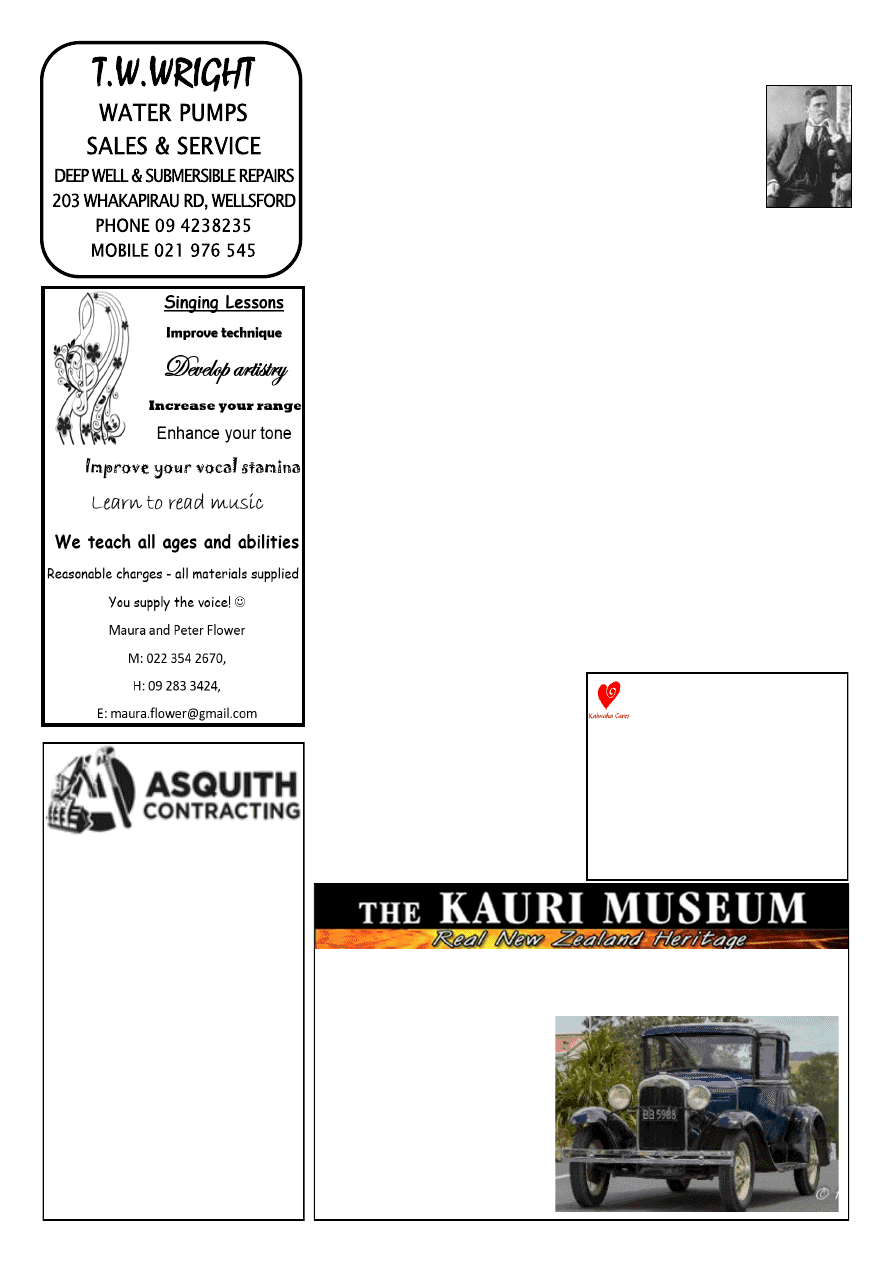 www.kaiwaka.co.nz 
Kaiwaka Bugle - 24 November 2015 
Page 5 
1.7tn Digger/Operator 
for Hire.
Daily/Hourly rates 
available.
Call Tam on 
027 211 1152 
or 
asquithcontracting 
@gmail.com 
KAIWAKA'S STONE BUILDING  
continued from front page 
Linnell  in  1919
(2)
.    Prior  to  the 
building's 
completion, 
museum 
contents  had  for  many  decades  been 
displayed  in  a  room  at  Romaine's 
residence, named Belmont (which until 
1994 had stood on the south side of the 
orange  brick  house  with  the  twisted 
pillars). 
After  Romaine's  death  in  1958,  the 
museum and its contents came into the 
possession  of  Melvyn  Dowson.  The 
building and many of its contents were 
sold in the early 1970s. Following this, 
it  was  used  as  a  private  residence  for 
many years. 
Dowson Family Background 
Romaine  Dowson's  father,  Thomas 
William  Dowson,  arrived  in  Kaiwaka 
in 1866 to claim his 80 acre land grant. 
He built a house on Pukenui Road, and 
the  following  year  married  Emily 
Turner in Auckland. The couple named 
their  farm  Heelyfield  and  there  they 
raised seven children. They based their 
life  on  a  strong  faith  in  God  and 
participation in the development of the 
fledgling  Kaiwaka  community.  Many 
Dowson  descendants  currently  live  in 
and  around  the  Kaiwaka,  Mangawhai 
and  Wellsford  area.  The  Heelyfield 
homestead was located inside a kink in 
the  railway  line  that  occurs  on  the 
southern approach to Kaiwaka Station. 
William  Romaine  Dowson  was  born, 
and  grew  up,  in  Kaiwaka.  He  spent 
several  years  away  from  the  district 
with the gum digging in the Far North, 
sheep  shearing  in  Australia,  and 
working  as  a  road  navvy  in  Taranaki, 
before he married Louie Ethel Hollard 
of  Kaponga,  Taranaki,  in  1902.  After 
his  marriage  he  purchased  the  house 
built  by  early  settler  Robert  Ross,  and 
lived out the rest of his life as farmer. 
He  came  to  own  all  the  land  bounded 
by  Settlement  Road  out  to  the  little 
gully  below  Pavel  Place,  south  to 
Otioro  Road,  and  State  Highway  1 
between  Tunnel  Hill  (also  known  as 
Ross Hill) and Settlement Road. 
The  majority  was  once  a 
farm  named  Eastfield 
which  he  sold  to  Bruce 
Hyndman.  Romaine  had 
also  owned  the  land  upon 
which  the  stone  building 
was  situated,  bounded  by 
State Highway 1, between 
Hasties  Lane,  to  the  house  opposite 
Canvas  Plus,  on  State  Highway  One 
(the majority of which was once a farm 
named  Wattle  Glen  owned  by  Terry 
Dowson  until  2000,  and  previously  by 
his  father,  Erwin  who  purchased  it 
from his father, Romaine).  
~Sharon Dowson-Middleton 
(Romaine's great grand-daughter), 
Perth, Australia. 
This  information  will  be  published  in 
the  book  Daffodils  Still  Grow  At 
Heelyfield,  Kaiwaka  which  is  to  be 
published shortly. 
(1)  The  Northern  Advocate.  3  December 
1955.  'Private  Museum  Fine  Amenity  for 
Kaiwaka:  Dowson  Collecting  Hobby 
Started 72 Years Ago.' 
(2)  Kaiwaka  Centennial  Association.  The 
Centennial  of  Kaiwaka,  Rautau  O 
Kaiwaka,  1859—1959:  Commemorative 
Booklet  and  Souvenir  Programme,  Etc. 
Kaiwaka.  (1959),  pp71.  Bertie's  magic 
lantern  is  now  displayed  at  the  Matakohe 
Kauri Museum. 
Editor's  note:  the  building  is  being 
renovated by the present owner. 
Pictured  above:  Romaine  Dowson, 
courtesy of Ancestry.com. 
Kaiwaka Cares  
Smile It's Summer 
Raffle 
Vouchers from Waipu Pizza Barn,  
Wood Street Freehouse, 
Mangawhai Tavern 
 and our own Three Furlongs 
Tickets $2 each or 3 for $5 
Available @ the drop-in centre or 
caring4kaiwaka@gmail.com 
SUNDAY 6 DEC 2015 - SETTLERS DAY 
OUT ON WHEELS 
A full programme of activities 
on offer for all ages. Tussie 
Mussies, Heritage Arts and 
Crafts, Gumpolishing, 
Ropemaking, Toolmaking, 
Billy Tea and Damper, Face 
painting.  
5 Church Road, Matakohe 
www.kaurimuseum.com 
Phone 09 431 7417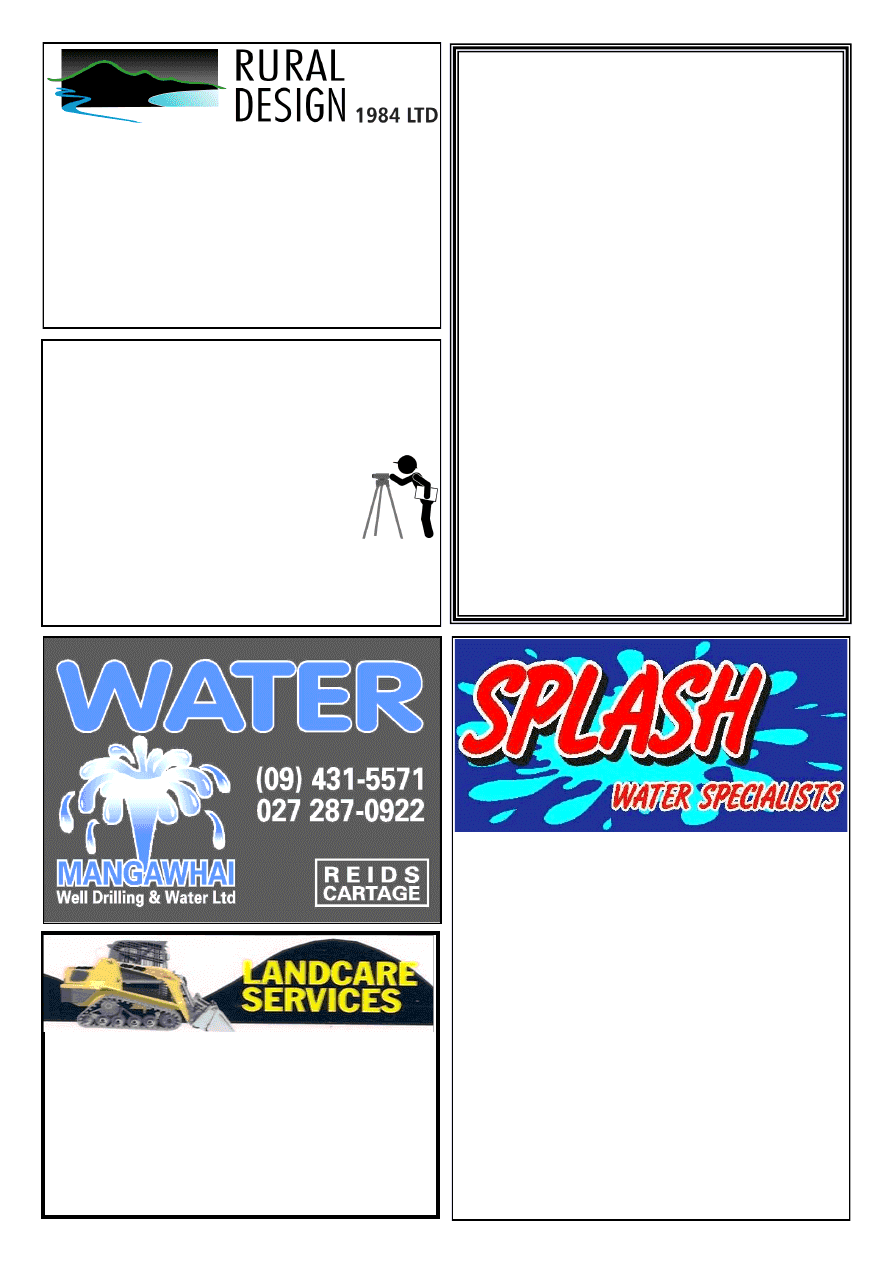 LANDSCAPING 
4 IN 1 BUCKET 
TRENCHER 
POLE HOLES 
ROTARY HOE 
COMPACT ROLLER 
OFFAL HOLES 
CAN SUPPLY WOODCHIP & POST PEEL 
5 TON TIPPER 
FOR RELIABLE AND FRIENDLY SERVICE CONTACT DAVE 
Dave Hyndman 
 
KAIWAKA 
PH: 09 4312302 
MOB: 021 431 238 
Ken Urquhart 
BSurv Licensed Cadastral Surveyor 
KMU Surveys Ltd
467 Bickerstaffe Road 
RD 2 
Maungaturoto 0587 
Ph 09 431 8705 
Mob 021 161 2344 
kenurquhart@xtra.co.nz 
g.a.s. 
Mangawhai 
we have now opened a 
GARDEN CENTRE 
for all your gardening needs 
Also a great range of 
STOCKFOOD 
Wide range of 
ORGANICS AND 
 FRESH LOCAL PRODUCE 
All your motoring needs are taken care of by 
our friendly staff check us out... 
44 Moir Street, Mangawhai (09)431 4242 
Wholesale Native Plant Nursery and Planting 
Small and Large orders welcome 
By Appointment 
300 Kaiwaka-Mangawhai Road, Kaiwaka 
Phone: 09 431 2481 
Email: info@ruraldesign.co.nz 
www.ruraldesign.co.nz 
NEW OUTLET FOR SPLASH 
Come and visit us at 
308 State Highway 1 
Te Hana
WATCH OUT FOR OPENING SPECIALS!
Authorised Grundfos/DAB Agent 
Master Davey Pump Dealer
Pool / Spa Chemicals 
Water Testing 
Filters and UV Systems
Mobile and/or Workshop Repairs 
Experienced and knowledgeable Team 
to help you
Te Hana and Warkworth: 09 425 9100 
splashwater@xtra.co.nz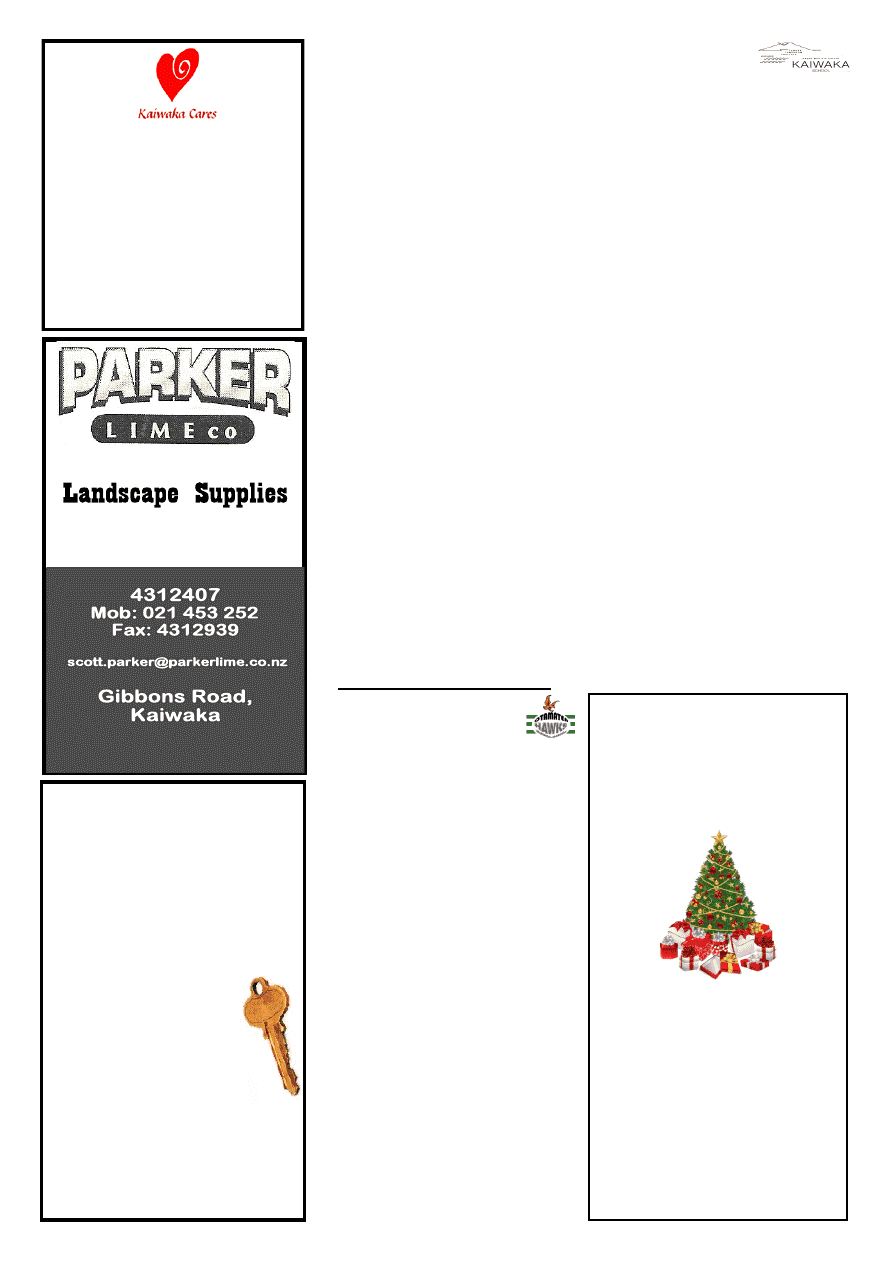 www.kaiwaka.co.nz 
Kaiwaka Bugle - 24 November 2015 
Page 7 
Kaiwaka  
Hardware  
&  
Key cutting 
Phone 4312 063 
 022 041 6047 
kaikey2015@gmail.com
Keys Cut  
Household Hardware  
Curtain Tracks & Fittings 
Not there? Call Doug and he'll 
sort
it for you. 
(
Next to Kaiwaka Motorcycles
)
TRANZNORTH 
OTAMATEA 
HAWKS 
RUGBY CLUB
We  had  a  fabulous  Athletics  Day. 
Everyone  was  tired  but  happy  at  the 
end of it. Thanks you very much Anna 
Elworthy  for  organising  the  event,  all 
the parents who helped with the events 
and the PTA parents who provided the 
Sausage Sizzle. 
Our  Noho  Marae  was  a  fabulous 
experience  for  everybody.  Our  adult 
help  was  marvellous  and  all  the 
teachers 
organised 
the 
days 
wonderfully.  Thank  you  to  Sharlene 
Tornquist  who  managed  the  whole 
experience  for  us.  We  also  give  a 
special  thanks  to  Len  Whitehead  and 
Sam  Danerio-Orange  who took  charge 
of the catering. Your donations of food 
for  the  Noho  were  very  much 
appreciated.  Also  thanks  goes  to 
Andrea  Mitcheson  and  Victoria  who 
stayed  the  entire time  and did  most  of 
the clean-up. Thank you.  
Our  Kereru  students  had  a  wonderful 
day  at  the  Mangawhai  skate  park, 
forest  and  museum.  Thank  you  to  the 
parents  and  staff  who  helped  with 
transport and supervision, and to Anna 
Elworthy for organising this.  
Last  week  we  had  our  Schoolwide 
Speech  Competition.  We  thank  Mrs 
Barbara Bronland and Mr Roger Smith 
for judging this for us, and congratulate 
all the students who participated at this 
advanced level. The overall winner was 
Lukas Rockell. 
~Rosie Ellis 
Accounts 
We  ask  that  everyone  who  has 
outstanding accounts to pay the school, 
do so before 30 November - the end of 
this  month.  We  need  the  year's 
finances  all  cleared  before  the  end  of 
this term. 
School Library 
The  first  half  year  of  my  being 
'Librarian'  has  whizzed  by  at  a  pretty 
good  clip,  and  as  I  write  this  I  must 
admit  it  is  with  a  feeling  of  great 
satisfaction that the Library is in 'good 
heart' and growing well. 
When I took the job of Librarian, it was 
at  the  time  that  we  had  changed 
servers,  for  our  computer  system. 
Coupled with that, there were problems 
in  the  system  that  I  was,  initially, 
unable to resolve. However, Alice (our 
system)  was  tweaked,  I  made  a  very 
productive  visit  to  Te  Kopuru  School 
and  with  Rosie's  support  purchased  a 
new  scanner.  Alice  is  now  working 
well! 
When  I  took  the  job,  we  had  a  huge 
backlog 
of 
books 
that 
were 
unprocessed,  and  thus  not  able  to  be 
issued. Most of Term 2 has been spent 
accessioning  and  processing  (covering 
etc)  these  books,  and  I  am  thrilled  to 
say  I  anticipate  feeding  30  plus  new 
books into the Library each week now 
till  the  end  of  the  year.  What  lucky 
children!! I will eventually cull out the 
damaged and dated books. 
It  has  been  especially  thrilling  to  hear 
the  comments  from  the  children  about 
how  cool  the  library  is,  and  to  hear 
their excitement as the classes come in 
week for their Library Time. 
~Sara McAulay, Librarian 
KAIWAKA SCHOOL 
We  held  our  AGM  on  the  10th 
November, thanks to all that attended. 
Officers  for  2016  season:  President 
Kev  Robinson,  Vice  president  Trevor 
Linnell,  Secretary/Treasurer  Jennie 
Reynolds. 
Kev  gave  his  President's  report  for 
2015  saying  we  have  had  our  best 
season  since  returning  to  the  premier 
division, with teams either in the semis 
or  finals  including  our  IMB  teams. 
These  teams  have  some  outstanding 
players  which  we  hope  to  see  playing 
for the seniors in a few years. 
We  will  lose  some  ITM  cup  players 
that  have  contracts  with  Super  Club; 
Matt  with  the  Blues  and  Dan  with  the 
Melbourne Storm. We wish them well. 
The  Hawks  also  would  like  to  thank 
our  major  sponsor  Scott  Massey  of 
Tranznorth  for  his  ongoing  support  of 
the club, also to all our other sponsors, 
we  could  not  have  such  a  successful 
club  without  you  all.  We  hope  to  see 
you  all  in  the  upcoming  2016  season 
starting  in  late  March.  If  you  are 
interested in becoming part of our club 
contact  -  Jennie 
021  0276  4171  or 
otahawks88@vodafone.co.nz 
Bulk Cartage 
Community Drop-In Centre
Open 10am – 2pm
Monday – Wednesday – Friday 
WIFI , printing & scanning 
available 
Kaiwaka's own drop-in social 
space.
CHRISTMAS 
GIFTS 
Help to make this Christmas 
special for children less 
fortunate  
Please leave gifts at Christ 
the King Church, Molesworth 
Drive, Mangawhai Village 
between 9 and 11 am, 
Tuesdays, Wednesdays, 
Fridays and Sundays.   
Please label your parcels, 
boy or girl and age. Gifts 
will be distributed in the 
Kaiwaka/Mangawhai area. 
Enquiries:   Ph Church 
Office 09 431 4122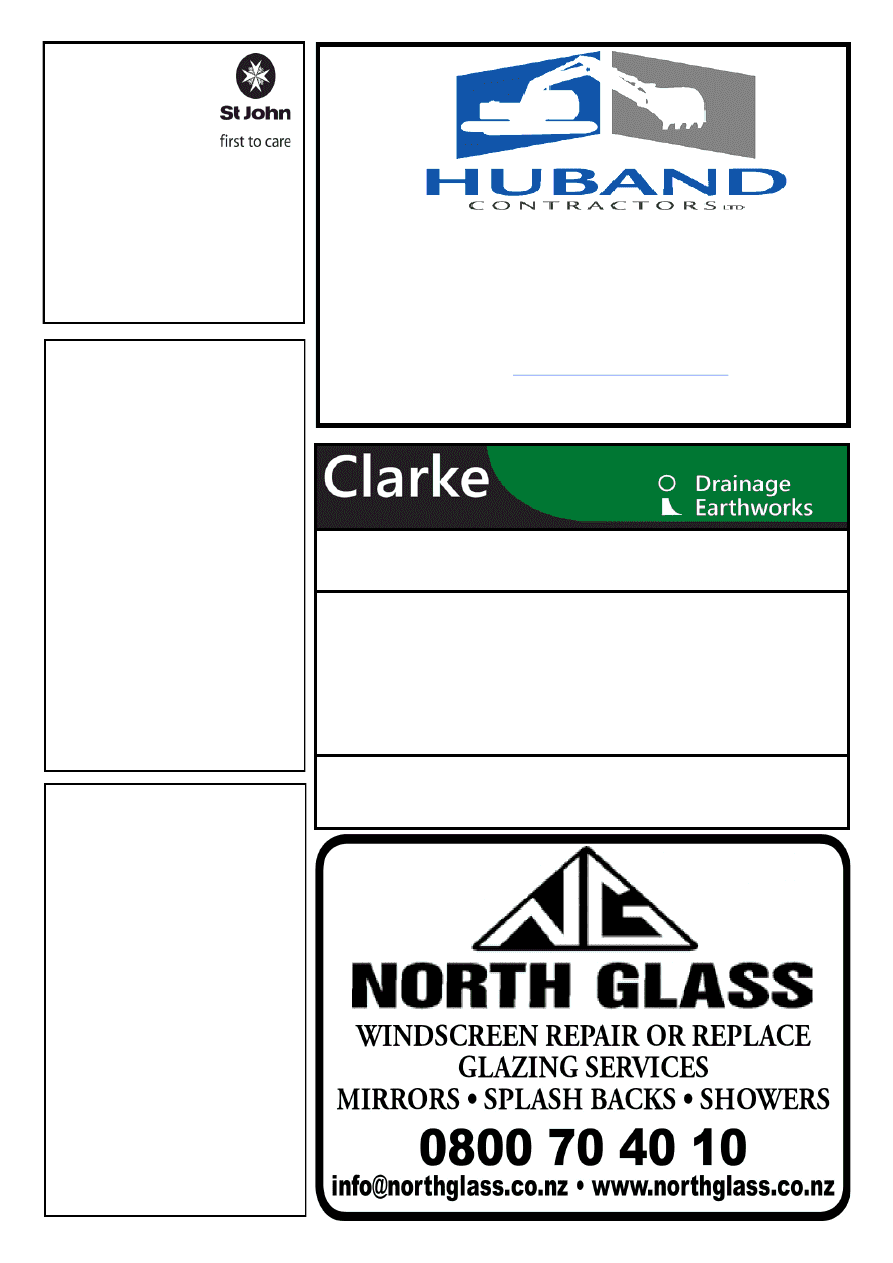 When you need St. 
John members at 
your function … 
Get a Community 
Services Form 
….. see Milly at the  
Kaiwaka St John  
Op Shop.  
Phone 4312650 
MORE MEMBERS REQUIRED FOR 
THE KAIWAKA STATION. 
Registered Drainlayer 
All Types of Earthworks  
> All Residential & Commercial Work 
> House Sites 
> Septic System Design & Install 
> Footings & Drilling to 10m 
> Sewer Connections 
> Dams 
> Water Tank Installation 
> Roading & Races 
> Farm Work 
THE ONE STOP SHOP  
Phone Nigel for an Obligation Free Quote  
Drainage & Earthmoving                  clarkedrainage@xtra.co.nz 
027 2233 185
*   R O A D I N G   *   E A R T H W O R K S   *    
*   D R A I N A G E   *   S I T E W O R K S   *  
For any further enquiries, contact Shaun on: 
Cell: 021 222 0272 
Home: 09 4318339 
Shaun Huband:  Registered Drainlayer 
UP-LINK 
CHRIS WARING 
FREEVIEW 
INSTALLATIONS
T.V. - HOME THEATRE & 
HI-FI ADVICE/SET UP
SKY ACCREDITED 
INSTALLER
MOB.0273403747 
HM.094312328 
EMAIL cwaring44@gmail.com
28 YRS EXPERIENCE 
OFFERING 
UNBIASED ADVICE 
LEE COOPER 
PAINTERS 
(Kaiwaka Based) 
*30 years Experience 
*Interior/Exterior 
*New and Restoration 
*Honest and Reliable 
*Free Quotes 
09 4312 918 
027 473 5171 
leecooper@xtra.co.nz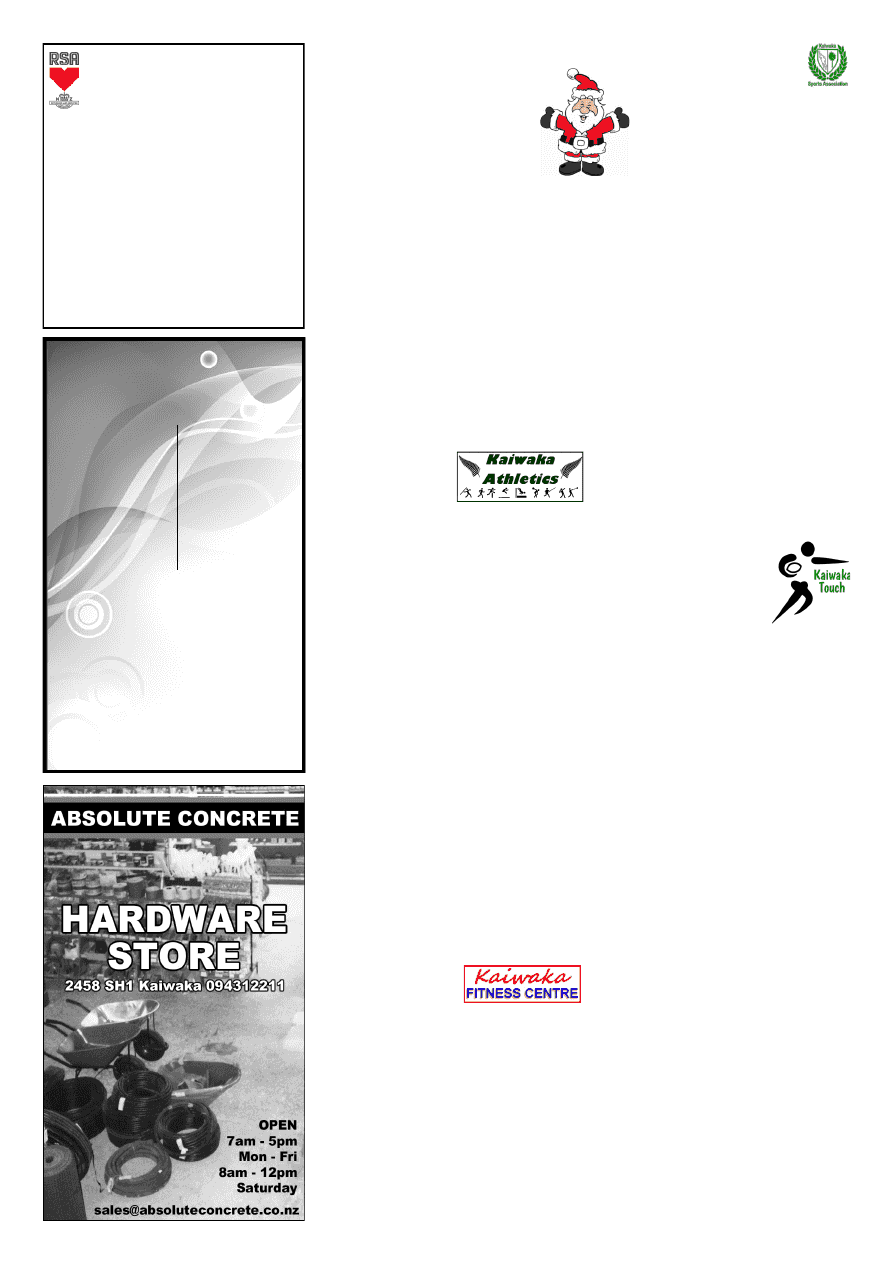 www.kaiwaka.co.nz 
Kaiwaka Bugle - 24 November 2015 
Page 9 
U Beauty 
Please call Nicole for bookings 
09 393 6336 or 022 0639450 
Qualified Beautician 
4 Kaiwaka – Mangawhai Rd 
Kaiwaka 
Underarm Wax  
$20 
Extended Bikini Wax 
$30 
15 min Back  Massage 
$25 
Eyebrow Wax  $10 
Eyebrow Tint  $10 
Eyelash Tint 
$20 
Lip Wax 
$10 
Chin Wax 
$10 
Bikini Wax 
$20 
Brazilian 
$50 
½ Leg Wax 
$30 
Full Leg Wax  $45 
Full Pedicure  $60 
Foot Tidy  
$35 
Manicure 
$45 
Nail Tidy 
$25 
Chest Wax 
$30 
Back Wax 
$40 
Nostrils 
$10 
Ears 
$10 
KAIWAKA SPORTS ASSOCIATION
HAKARU & 
DISTRICTS RSA 
Inc 
Each Friday night from 6.30pm 
meals will be served. 
Members & invited guests, new 
members welcome.
Come along & enjoy our hospitality.
2nd Friday of the month -  roast 
dinner or board menu.
Last Friday of month - roast pork 
night & sing-along with Des Chitty.
Ph Heather 4314668 or Jan 4314512 
Santa is coming! 
Our  Ready,  Steady,  Wriggle 
preschool  activity  classes  have 
been  very  popular,  and  our 
Christmas  Party  is  coming  up 
soon!  After  a  fun  morning  of 
games  and  activities  in  our 
gymnasium, Santa will arrive to spend 
some  time  with  us  and  then  we  will 
have a shared morning tea. This will be 
on  Wednesday  16th  December  at 
10am.  All  welcome,  please  bring  a 
plate to share. Queries to Tina Ball on 
021 033 5128. 
Junior Tennis 
Our  tennis  club  runs  lessons  on 
Monday  afternoons  for  school  age 
children with coach John White, in half 
hour  classes  depending  on  age  and 
ability. Please contact Lindell on 4312 
542  or  blferguson@vodafone.co.nz  to 
discuss the best option for your child.  
The  club's  AGM  will  be  held  on 
Monday 30th November at 4pm at the 
courts.  
Athletics 
Do you have a child 
interested 
in 
athletics? The Kaiwaka  Athletics  Club 
is  for  children  of  all  ages,  and  club 
nights  feature  a  mix  of  sprints,  throws 
and jumps. 
Club Nights are held at Otamatea High 
School  (on  the  field  by  the  pool)  on 
Mondays,  5  –  6.30pm.  Parents/
caregivers  are  encouraged  to  stay  to 
help. Queries to Eileen Parsons on 021 
142 0357. 
Martial Arts 
You  are  invited  to  attend  the  end  of 
year bow out of our Martial Arts Club, 
to  be  held  at  the  Sports  Complex  on 
Sunday  13th  from  8.30am.  There  will 
be Tai Chi and Kempo demonstrations 
as  well  as  grading  presentations  and  a 
shared brunch.  
Whanaunga Touch Tournament 
I  am  helping  organise  the  Whanaunga 
Touch  Tournament  to  be  held  at  the 
Sports Complex on 9th January. This is 
a  fundraiser  for  the  Otamatea  Marae 
and  descendants  from  the  marae  are 
given  first  priority  to  enter.  Keen  to 
register a team? Contact me and I will 
send  you  the  registration  form.  All 
teams who enter the tournament before 
17th December will go in the draw for 
a mystery prize. 
Fitness Centre 
Our  Fitness  Centre  is 
available  24/7  and  provides  extensive 
exercise  equipment  as  well  as  toilets 
and showers. The Centre now offers 6 
monthly  subs  instead  of  a  yearly  sub. 
The  cost  is  $90  and  the  changeover 
months  are  November  and  May  so  if 
you've  ever  thought  about  joining  the 
Fitness Centre now is a good time to do 
it! Memberships can be purchased from 
Jaques  Four  Square.  For  all  Fitness 
Centre 
enquiries 
please 
contact 
Siobhan  on  027  9791203 or  check  out 
our Facebook page. 
Gymnastics 
I'm  pleased  to  announce  that 
Gymnastics 
Otamatea 
will 
continue  operating  in  2016  as  a 
volunteer-led  club  with  fees 
remaining  the  same.  Thank  you 
to  the  people  that  have  taken 
time  to  attend  meetings  to  talk  this 
through,  and  special  thanks  to  those 
parents and volunteers who have made 
this  possible  by  stepping  forward  and 
committing  to  2016.  The  club  will  be 
looked  after  by  the  following  people: 
President:  Stephanie  Brown,  Head 
Coach/Manager: 
Amalie 
Brown, 
Administration: 
Jodie 
Hosford, 
Support:  Kirsty  Clapham  and  Susan 
Millard,  Set-up:  Rachel  Johnson, 
Rachel  Browne,  Susan  Millard, 
Treasurer: Jo Wood. 
We are now reopening the waiting list 
for new entrants. Enrolment forms can 
be 
requested 
from 
gymnasticsotamatea@gmail.com.  
Tuesday 8th December will be the last 
day  of  term.  Classes  will  run  as  usual 
but  parents  will  be  invited  onto  the 
gym floor 15 minutes before each class 
finishes  to  celebrate  the  achievements 
of  the  gymnasts  with  badge  and 
certificate presentations.  
Touch Module 
Would  you  like  to  play  in 
my 
Summer 
Touch 
Module? 
The 
Touch 
module  will  be  held  at  the 
Sports  Complex  for  eight  weeks  on 
Sunday  afternoons  starting  on  7th 
February.  This  is  a  casual,  friendly 
competition  for  mixed  teams  of  men, 
women and teenagers. Touch is easy to 
learn  and  just  about  anyone  can  play. 
Why not start getting a team together! 
Dream Big 
Thank  you  to  the  children  from  our 
Eastern  United  junior  rugby  club  who 
helped  me  create  a  video  to  submit  to 
ANZ's Dream Big funding programme. 
We  have  asked  for  rugby  equipment 
for  our  JMB  and  IMB  teams  plus 
seating  around  the  rubgy  fields,  so  we 
are keeping our fingers crossed! 
Annual General Meeting 
Our  AGM  will  be  held  tomorrow, 
Wednesday  25th,  at  7.30pm  at  the 
Sports  Complex.  All  welcome.  The 
annual  audit  shall  be  replaced  with  a 
"Limited  Review"  and  the  Auditor 
shall be appointed at the AGM. 
First Aid Kit Fundraiser 
I am selling first aid kits as a fundraiser 
for the KSA. At $39, these first aid kits 
are  excellent  value  for  money  and 
similar  kits  often  retail  for  over  $60. 
This  is  a  large  carry  kit  with 
transparent  fold-out  compartments 
which  contains  77  items  and  follows 
OSH  and  Consumer  regulations.  A 
great  Christmas  gift  idea  for  those 
people in your life who are hard to buy 
for!  An  order  form  is  in  this  editon  of 
the Bugle.                 ~Cheryl Anderson 
4312 051, 027 3462702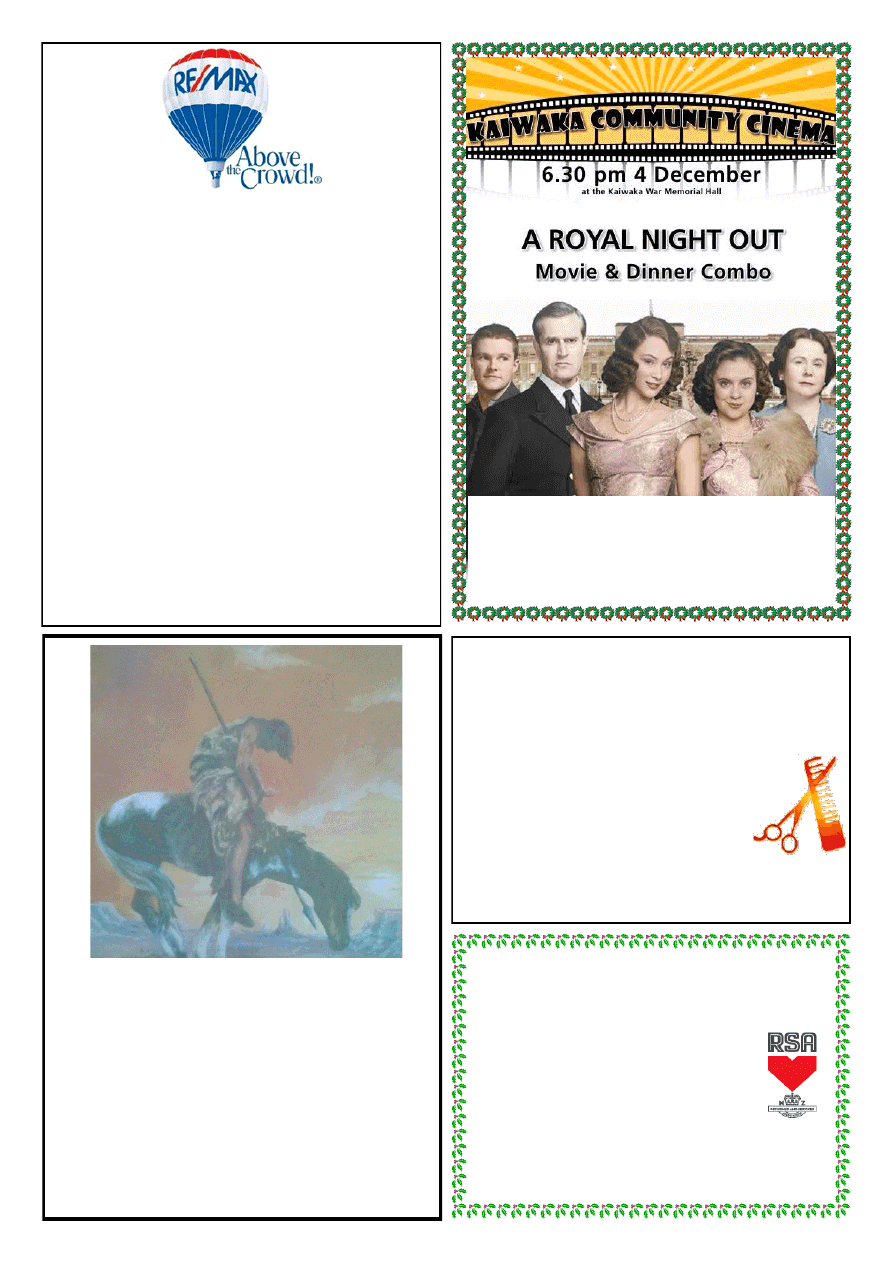 Trails end spiritualist church  
Last Sunday of every month  
10am tea/coffee provided  
$5koha for all inquiries  
0211652629 evenings 099450753 
Trail.end@hotmail.com 
Bringing together light minded people 
AFFORDABLE PRICES! 
MENS DRY CUT FROM $18.00 
LADIES DRY CUT FROM $28.00 
KIDS DRY CUT FROM $15.00 
COLOUR CUT FROM $90.00 
JUST CUTS'AND     
MORE 
021 165 2629 
NOW SELLING: scented tealights, incense, smudge sticks, 
copper bracelets, aurora ball crystals, dream catchers, healing 
stones, rose quartz, cds, and much more. Open 6 days. 
HAKARU RSA 
Settlement Road 
CHRISTMAS DINNER 
Friday 27 November 
From 6pm 
$25 per person 
Door & Spot Prizes 
Entertainment 
For more information & bookings 
phone 431 5589 Marlene or 431 4719 Valerie 
Members, families & friends all welcome 
For tickets ring: 
Ad 09 431 2234 or Penny 09 431 2225 
$25 (BYO alcohol) 
No door sales on the night 
Coffee, tea, soft drinks available 
Meal includes glazed champagne ham 
Beth Stone is your local  
Re/Max Associates 
representative.
I am available for chats anytime between 
10AM and 2 PM Tuesdays and Wednesdays in 
my ChatRoom in Kate's Place. Or by 
appointment. Join me for coffee and 
conversation.
Thinking about buying? Or selling? Or just 
wanting to talk over the options and 
understand more about the market? I can help. 
Use me as your sounding board. 
Phone Beth 0274 937 801 or call in. I look 
forward to meeting you. 
CHRISTMAS / NEW YEAR: I am round 
and about. Please call me if you need to talk or 
pop in if you see the Re/Max flag outside. 
www.kaiwaka.co.nz 
Kaiwaka Bugle - 24 November 2015 
Page 11 
 LEABOURNS 
Passenger Service
Car & Van Hire 
Bus & Coach Charters 
Airport Transfers 
 Monthly Shopper Bus 
Phone (09) 4237416 
Magnetic Laser for Health
Using a low power laser I can help 
with a variety of conditions:
Joints pain, swelling, 
inflammation 
Back and neck pain 
Heel pain 
Injury or fracture recovery
Phone Gala 
431 2213 
021 486 611 
BRICK/BLOCKLAYER 
All aspects of masonry:  
Fireplaces, 
Restoration  
& Remedial Work. 
JAMES EAGLETON 
Tel. (09) 431 2514  
Mob. 0274 749 232 
jajueagles@yahoo.com.au 
210A Pukenui Road, RD2 Kaiwaka 0573 
ST PAUL'S  
ANGLICAN  
SUNDAY  
SERVICES
St Pauls Church: Kaiwaka-Mangawhai Rd. 
1st Sun - Eucharist 
3rd Sun - Family Service 
Office 4314 122 
OTAMATEA HIGH SCHOOL 
IMPORTANT DATES FOR START OF YEAR 2016 
Wednesday 20th & Thursday 21st January  PTCA 2
ND
 Hand Uniform Sales 
School Hall 9.00am – 2.00pm 
Wednesday 27th January   Year  13 Leadership day 
Tuesday 2nd February (Buses will be r unning) 
School starts for all Year 7,  Year 9 and  Year 13 and all new students to OHS. 
Wednesday 3rd February  Whole school to attend (All Year s) 
Senior Course confirmation will take place.  School finishes at 2pm. 
Wednesday 3rd – Friday 5th February Year 9  & Year 13 Camp at Otamatea 
Marae 
Thursday 4th – Friday 5th February Year 7 & Year 13 Camp at Otamatea 
High School 
New Uniform Sales  / Year 13 Dress Uniform 
Paparoa Drapery stock a full range of Otamatea High School uniform   Phone 
09 431 7306 
Please phone the school office 09 4318230 or 0800 682 628 for any further 
information. Visit our website for 2016 school information including camp 
letters, uniform, stationery and school calendar.  www.otamatea.school.nz 
If 
you're 
wise, 
you'll 
surround 
yourself with people 
who  support  you 
emotionally 
and 
spiritually,  and  you 
can 
share 
your 
dreams  and  ideas 
with them. 
CS  Lewis  and  JRR 
Tolkien 
were 
members  of  The 
Inklings, 
an 
informal 
literary 
discussion  group  associated  with 
Oxford University. It was comprised of 
teachers,  writers  and  friends  who  met 
regularly  at  a  well-known  pub  to 
discuss  passages  from  their  favourite 
books as well as their own writings. In 
1936,  they  decided  the  world  needed 
more novels that had faith and morality 
as  their  central  theme.  Lewis  and 
Tolkien decided to write science fiction 
after  realising  the  inferior  quality  of 
similar  stories  at  the  time.  They 
literally  tossed  a  coin  to  decide  who 
would  write  a  book  on  space  travel 
versus time travel. Tolkien got the time 
travel  nod,  but  his  early  efforts  with 
such  a  story  never 
really  worked  out. 
Later,  however,  he 
achieved 
great 
success  with  The 
Lord  of  the  Rings. 
Lewis 
wrote 
his 
famous  series  of 
novels  called  The 
Space  Trilogy,  and 
from that momentum 
he eventually penned 
The  Chronicles  of 
Narnia. 
Now,  you  may  not  reach  that  level  of 
success,  but  you'll  go  further  with  the 
encouragement of true friends than you 
will without it. So ask yourself what's 
involved  in  cultivating  the  kinds  of 
friendships  that'll  help  you  fulfil  your 
potential.  It  may  mean  coming  out  of 
your  shell  and  reaching  out  to  others. 
Could  you  encounter  hurt  and 
rejection?  Sure!  But  you'll  succeed 
only if you're willing to take 
that chance. 
'A  friend  loves  at  all  times, 
and  a  brother  is  born  for  a 
time  of  adversity'  Proverbs 
17:17   ~The Word for Today 
YOU NEED FRIENDS WHO ENCOURAGE YOU 
ADVERTISERS 
Now  is  a  good  time  to  check  your  advertisements  to 
see  if  they  are  up-to-date  and  meeting  your  current 
needs, before we start the new year. 
If you need any alterations, please contact us with the 
details  -  email  kaiwakabugle@kaiwaka.co.nz  or  leave 
it at Jaques Four Square. 
Our  aim  is  to  keep  the  Bugle  to  the  current  size  for 
distribution  needs,  so  we  will  not  be  accepting  larger  ads  except  in  extreme 
circumstances. Small and simple (the KISS factor) is good! 
Advertising rates and sizes will be reviewed at our AGM in January, before the 
first issue of the year comes out.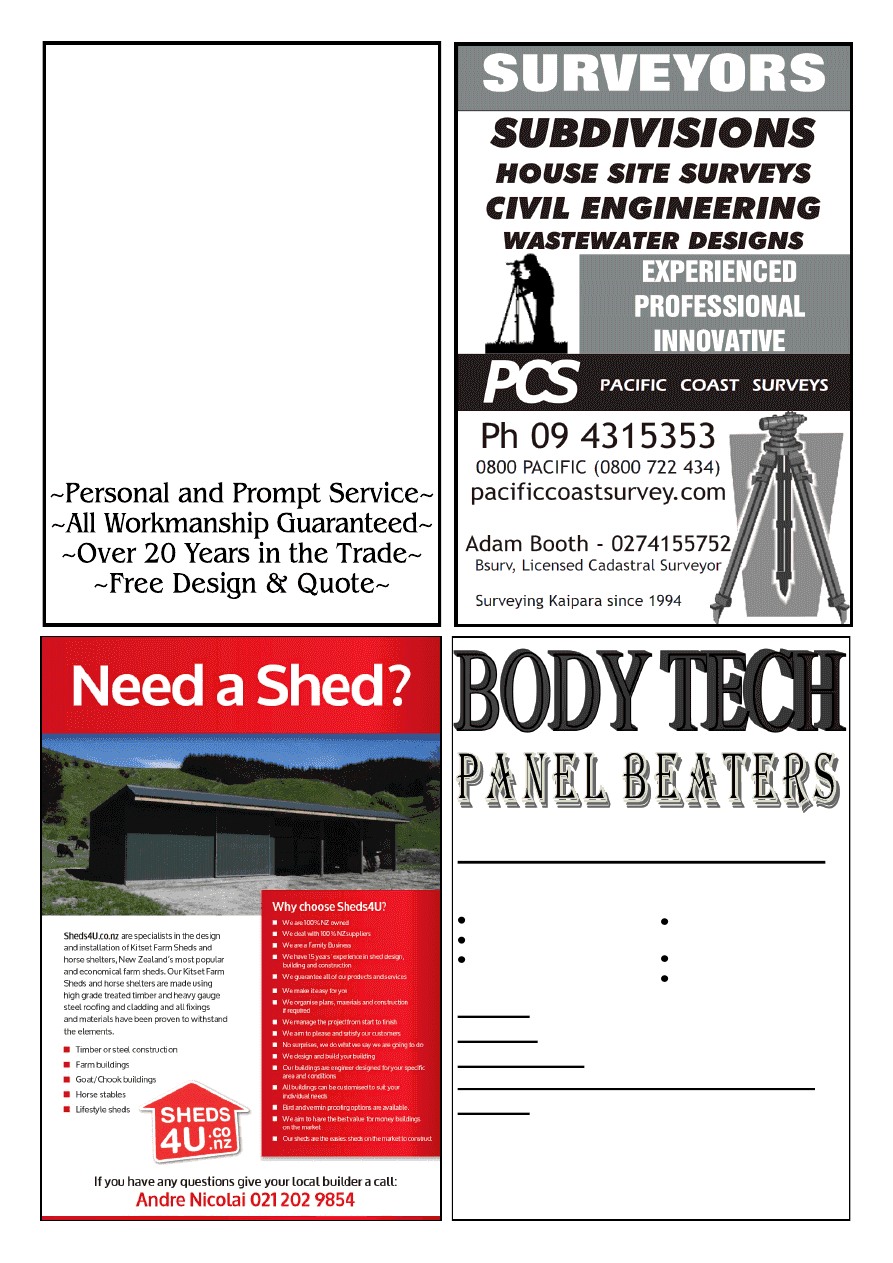 For all your body repair needs!! 
We do: 
Rust repairs 
Insurance work 
Anti-corrosion treatment         
Hours: 8.30am-5pm Monday-Friday  
Mobile: 021 118 0462 
After hours: 09 431 2384 
Phone: Craig or Call in for a free Quote 
e-mail: 
bodytech_panelbeaters@yahoo.com
We are located at 1837 SH1 Kaiwaka, behind Twin-
kle Tow 'n' Tyre call in anytime for a free quote.  
Large and minor vehicle  
  repairs 
Industrial vehicles 
Full Cut and polishes 
PLANNING A NEW 
KITCHEN? 
 CONTACT NOEL McDOWELL 
WELLSFORD 
KITCHENS
Ph/Fax 094312888  
KAIWAKA-Any time 
  QUALITY CUSTOM MADE 
KITCHENS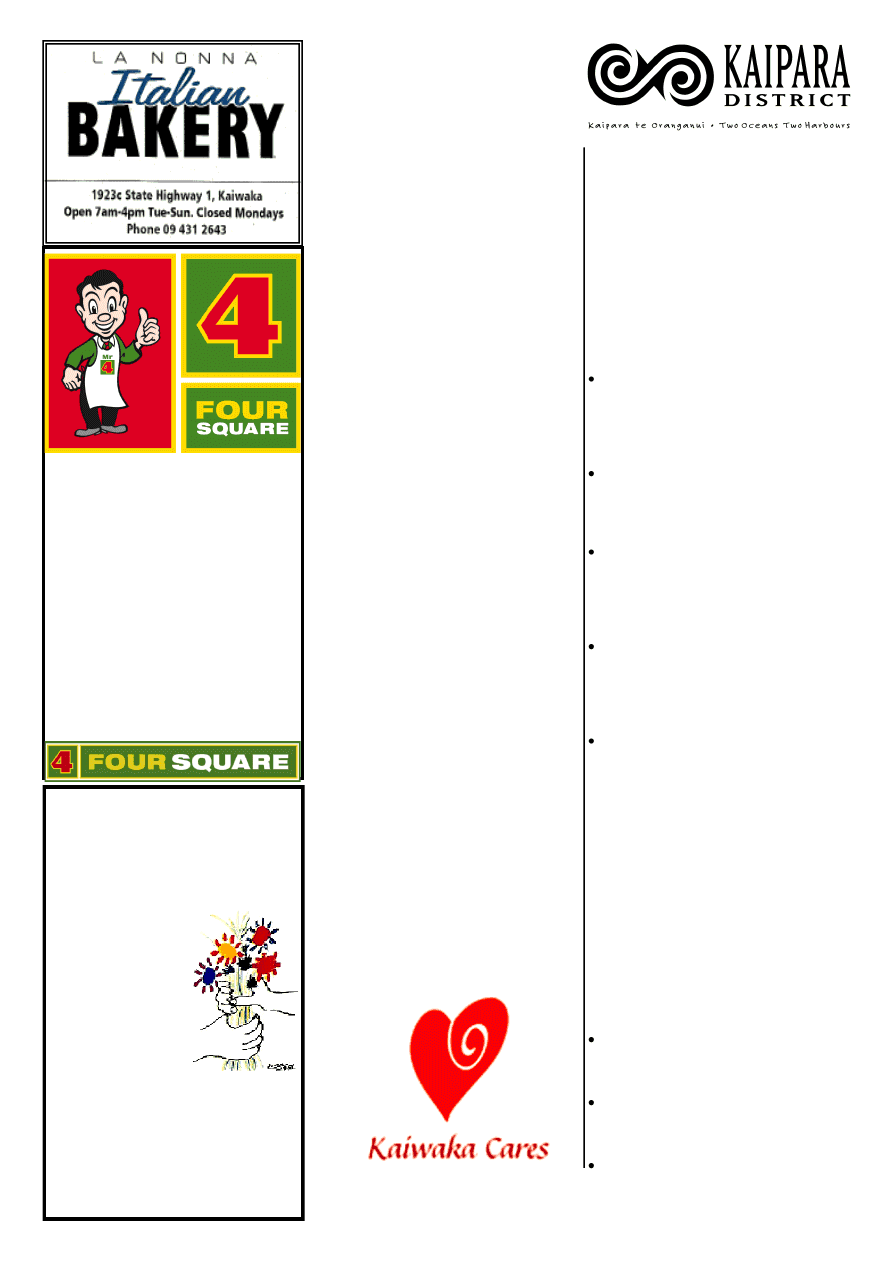 www.kaiwaka.co.nz 
Kaiwaka Bugle - 24 November 2015 
Page 13 
Flowerpower 
Northland 
Long lasting 
flowers 
delivered 
from 
Mangawhai
www.flowerpower 
northland.co.nz 
Ring Martina 
4315161 
Rug Doctor for hire from 
$39.99 for 4 hours 
9 kg gas bottles refills 
Sodastream Machines,  
Refills & Flavours 
Lots of Yummy Christmas 
treats in Store 
Only 4 weeks to go!! 
Jaques Four Square 
Phone: 4312227 
1 Kaiwaka-Mangawhai Road, 
Kaiwaka. 
KAIWAKA CARES 
This  year  has  gone  way  too  fast.    It's 
hard  to  believe  it's  only  five  weeks  to 
Christmas!!! 
Raffles:    Our  new  raffle  is  up  and 
running.    We've  called  it  the  "Smile 
It's  Summer  Raffle"  as  it  highlights  4 
of the great places nearby to go out and 
have  a  meal  and  have  some  fun.   Buy 
your tickets from the drop-in center or 
buy 
by 
emailing 
caring4kaiwaka@gmail.com  or  talk  to 
Yvonne at Kate's Place.  
Gloves:  We are starting to run low on 
our wonderful gardening gloves.  They 
are 
a 
fantastic 
price 
at 
$5.  
Unfortunately  they  are  only  for  small 
hands.    So  pop into  the  drop-in  centre 
or email caring4Kaiwaka@gmail.com. 
Justice  of  the  Peace:    Most  weeks  we 
have a JP on site for at least one of the 
days.  Look for the sign in the window 
or  give  us  a call  on  #4312661  and  we 
can  let  you  know  if  a  JP  is  there  that 
day.  We are lucky in Kaiwaka having 
so  many  JPs  available  to  assist  with 
signing documents.  So a big thank you 
to  our  local  JPs  for  helping  out, 
especially 
Scott 
Dalziell, 
Dave 
Edwards  and  Wendy  Howard  who 
have been giving their time to help out. 
What's coming up?  Next month we are 
planning  to  have  an  early  holiday 
season lunch for anyone who wants to 
come  along.  As  things  get  finalised 
details we will let you know 
In the meantime if you have a function 
that  you  need  a  spot  for  the  drop-in 
centre  is  available  for  hire  or  want  to 
offer  something  for  the  people  of 
Kaiwaka then let us know how we can 
help. 
Look  forward  to  seeing  you  over  the 
coming weeks. 
~Janine & the Kaiwaka Cares Team 
SMILE IT'S SUMMER FOOD & 
BEVERAGE RAFFLE 
1st Prize: $50 voucher Waipu Pizza 
Barn, $25 voucher Wood Street 
Freehouse, $25 voucher Mangawhai 
Tavern, $25 voucher Three Furlongs 
2nd Prize: $50 voucher Wood Street 
Freehouse, $25 voucher Mangawhai 
Tavern 
3rd Prize: $25 voucher Wood Street 
Freehouse 
Tickets $2 or 3 for $5 
ONERIRI 
HOUSEHOLD 
RUBBISH 
COLLECTION 
From  Wednesday  25  November  2015 
Council  is  extending  the  collection  of 
household  rubbish  along  Oneriri  Road 
to Parekura Road. We will be installing 
signage  at  the  current  rubbish 
collection  point  (old  landfill  site) 
advising that it is no longer a collection 
site. 
If you live on Oneriri Road, Pukenui 
Road  or  before  Parekura  Road,  you 
can  place  your  blue  rubbish  bags  at 
the  entrance  to  your  property  the 
morning 
of 
collection, 
being 
Wednesdays; 
If you live past or on Parekura Road, 
you  may  deposit  your  blue  rubbish 
bags  at  the  intersection  of  Parekura/
Oneriri  Roads  the  morning  of 
collection; 
If  you  live  on  Ranganui,  Nathan, 
Kaira,  Phillips  or  Rangiora  Roads 
you can place your blue rubbish bags 
at  the  intersection  of  your  road  and 
Oneriri  Road  on  the  morning  of 
collection; 
For  residents  on  Otara  Road  and 
Parekura  School  Road  you  will need 
to  deposit  your  blue  rubbish  bags  at 
the  intersection  of  Parekura/Oneriri 
Roads  on  the  morning  of  collection; 
and 
If  you  require  to  dispose  of  any 
rubbish that cannot be contained in a 
Kaipara District Council blue rubbish 
bag or prior to the collection date you 
will  need  to  take  it  to  your  nearest 
Transfer Station. 
Your  collection  day  is  Wednesday.  In 
the  interest  of  maintaining  a  better 
environment,  free  of  rats  and  vermin 
and  for  personal safety,  please  deposit 
your household rubbish no sooner than 
24 hours prior to, or before 8:00am on 
the  morning  of  collection.  Refuse  left 
outside  these  times  is  a  breach  of 
Council  Bylaw  404(1)  and  is  liable  to 
receive a $500 fine. 
~Kaipara District Council 
Editor's note:  
Information  about  this  change  in 
rubbish collections is not on the KDC 
web  site  at  the  time  of  printing  this 
issue of the Bugle. 
Blue and yellow (recycling) bags are 
available  in  Kaiwaka  from  Jaques 
Four  Square,  Kaiwaka  Foodmart, 
Shamrock Service Station. 
We have not been able to confirm, at 
the  time  of  printing,  if  WasteWorks 
will  be  making  any  changes  to  their 
collections as well.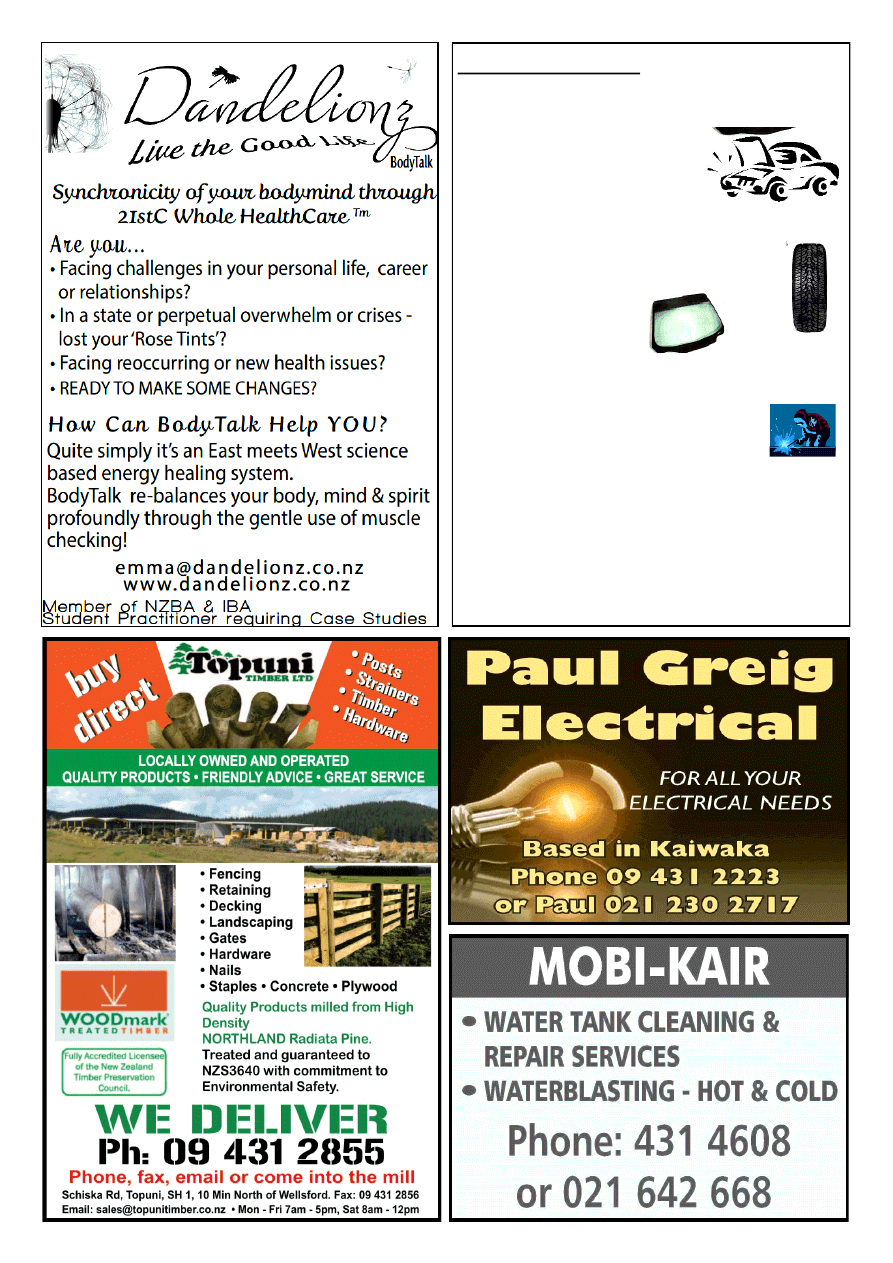 Want it done? 
Bring it to  
Twinkle Tow 'n' Tyre 
*W.O.F. 
*Tyres 
*Windscreen replacement 
*Chip repairs 
*Bulk Oil 
*Batteries 
*Welding 
*Custom built trailers 
*Trailer hire 
Think you'll get a better deal in 
the city? 
Go on, ring us; it won't cost  
anything! 
1837 State Highway 1, Kaiwaka       
Phone 431 2823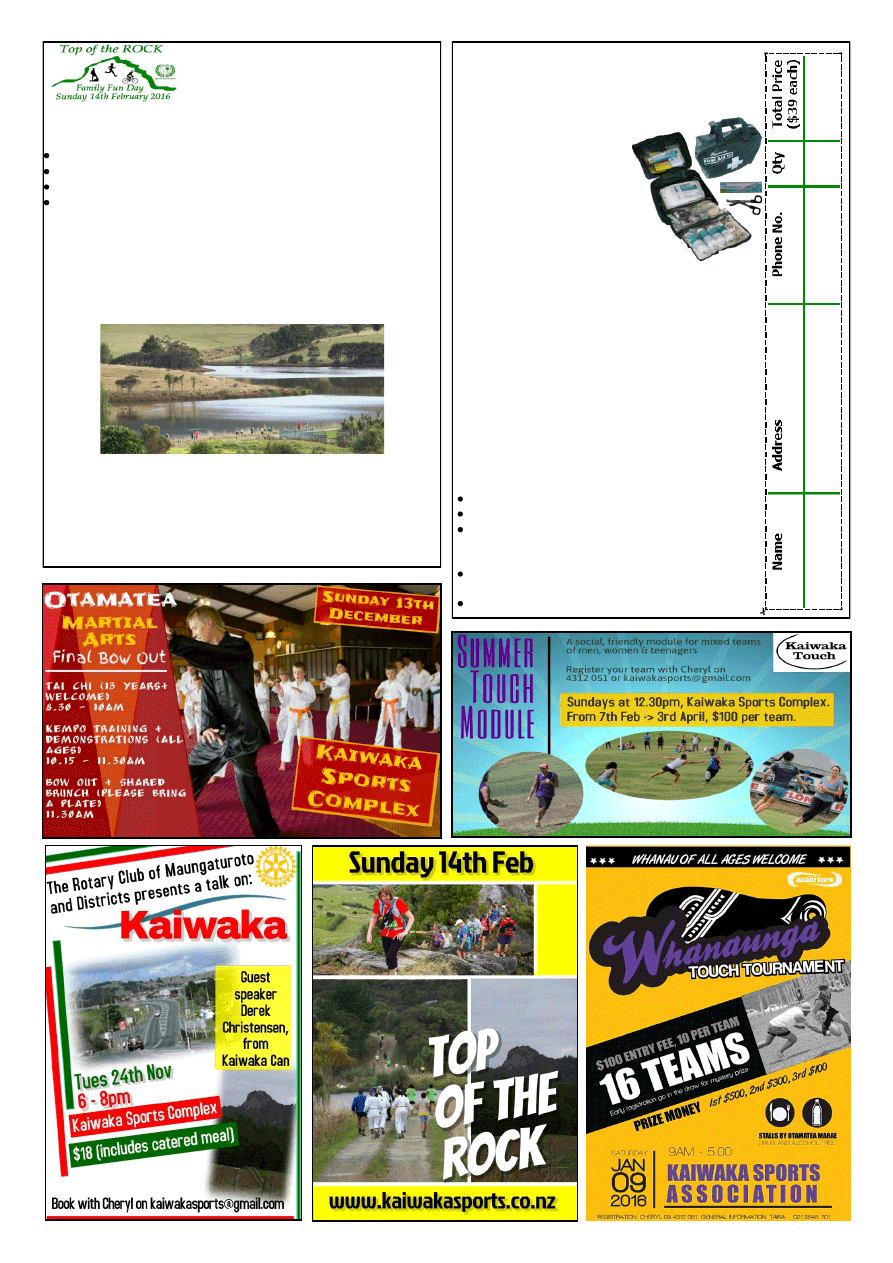 www.kaiwaka.co.nz 
Kaiwaka Bugle - 24 November 2015 
Page 15 
TOP OF THE ROCK 
Top of the Rock is the Kaiwaka Sports 
Association's major event of the year.  
It  is  a  multi-sport  event  and  also  a 
family  fun  day  with  bouncy  castles,  entertainment,  food 
stalls and more. There are plenty of options for you: 
5km or 10km walk or run 
10km run + 15km mountain bike ride 
14km or 30km mountain bike route 
and  new  this  year,  a  fun  bike  course  for  under  10  year 
olds! 
Routes  cross  through  some  of  Kaiwaka's  most  scenic 
countryside  –  bush,  lakes  and  farmland.  You  will  go  past 
two beautiful, bush-fringed lakes, which are on private land 
so  entering  Top  of  the  Rock  is  your  once-a-year 
opportunity to enjoy them! You also get the opportunity to 
climb iconic Baldrock Mountain. 
Entry 
forms 
will 
be 
on 
our 
website 
www.kaiwakasports.co.nz  shortly.  In  the  meantime,  why 
not write Sunday 14th February in your diary so you don't 
miss out! 
For  enquiries  on  Top  of  the  Rock,  please  contact  Cheryl 
Anderson on 4312 051 or kaiwakasports@gmail.com 
FIRST AID KIT 
ORDER FORM 
Kit Contents 
Digital 
Thermometer, 
Instant  Ice  Pack,  2  x 
Emergency  Blankets,  1  x 
CPR  Resuscitation  mask 
with valve, 1 x Eye  
Pad  5.5cm  x  7.5cm,  2  x 
Burns  Dressings  20cm  x 
30cm,  2  x  Conforming 
Bandage  Rolls  6cm  x 
400cm,  2  x  Conforming 
Bandage  Rolls  8cm  x 
400cm,  20  x  Band  Aid  strips  7.5cm  x  2cm,  2  x 
Triangular  Bandages  90cm  x  90cm  x  127cm, 
Long adhesive strip 6cm x 20cm, Adhesive Multi
-pore  Tape  Roll  13mm  x  5m,  3  x  Butterfly 
Adhesive Plasters 7.4cm x 4.5cm,  
2 x Knuckle Adhesive Plasters 7.5cm x 3.7cm, 4 
x  Semi-permeable  Dressings  6cm  x  7cm,  3  x 
Adhesive  Island  Dressings  6cm  x  7cm,  2  x 
Adhesive  Island  Dressings  6cm  x  10cm, 
Combined/Abdominal  absorbent  pad  23cm  x 
12.5cm, Scissors 15cm, Tweezers (metal), 4 pairs 
large  PVC  safety  gloves,  10  x  safety  pins,  4  x 
Soap  wipes 20cm  x 19cm, 4  x Saline  Cleansing 
Wipes 20cm x 19cm, First Aid Guide. 
Ways to pay: 
Cash             
Cheque (payable to KSA)          
Internet  banking  060365002247200  (use 
reference first aid & your name)  
Ways to return form:   
Post  to  Cheryl  Anderson,  233  Baldrock  Rd, 
RD2, Maungaturoto, 0587 
Drop off in box at Jaques Four Square 
PROFESSIONAL 
COUNSELLING 
AVAILABLE
Want to be content in your life? 
Men... need help with your 
relationship? 
Couples... communicating a 
problem? 
I can help you!
Phone me for a preliminary 
talk. 
PETE 
WORSFOLD  
B. Soc.Sc. M. 
Soc.Sc. Dip Prof 
Couns. Prov. 
MNZAC 
Counsellor 
021 825 970 
CARPET & UPHOLSTERY CLEANING 
QUICK DRYING – NON-TOXIC  - GREAT RESULTS
Mike and Marina Bagley have returned to your area and are 
delighted to offer carpet and upholstery cleaning 
Call 09 431 3016  or  027 2410414 
marina@ecocarpetclean.co.nz  
www.ecocarpetclean.co.nz 
Otamatea High School 
& Maungaturoto District High School 
50
th
 Reunion 
15
th
 – 17
th
 April 2016 
For more details visit:   
Contact: Phone: 0800 682628    
Email: ohs@otamatea.school.nz 
Registrations close 18
th
 March 2016 
oldfieldplumbing@gmail.com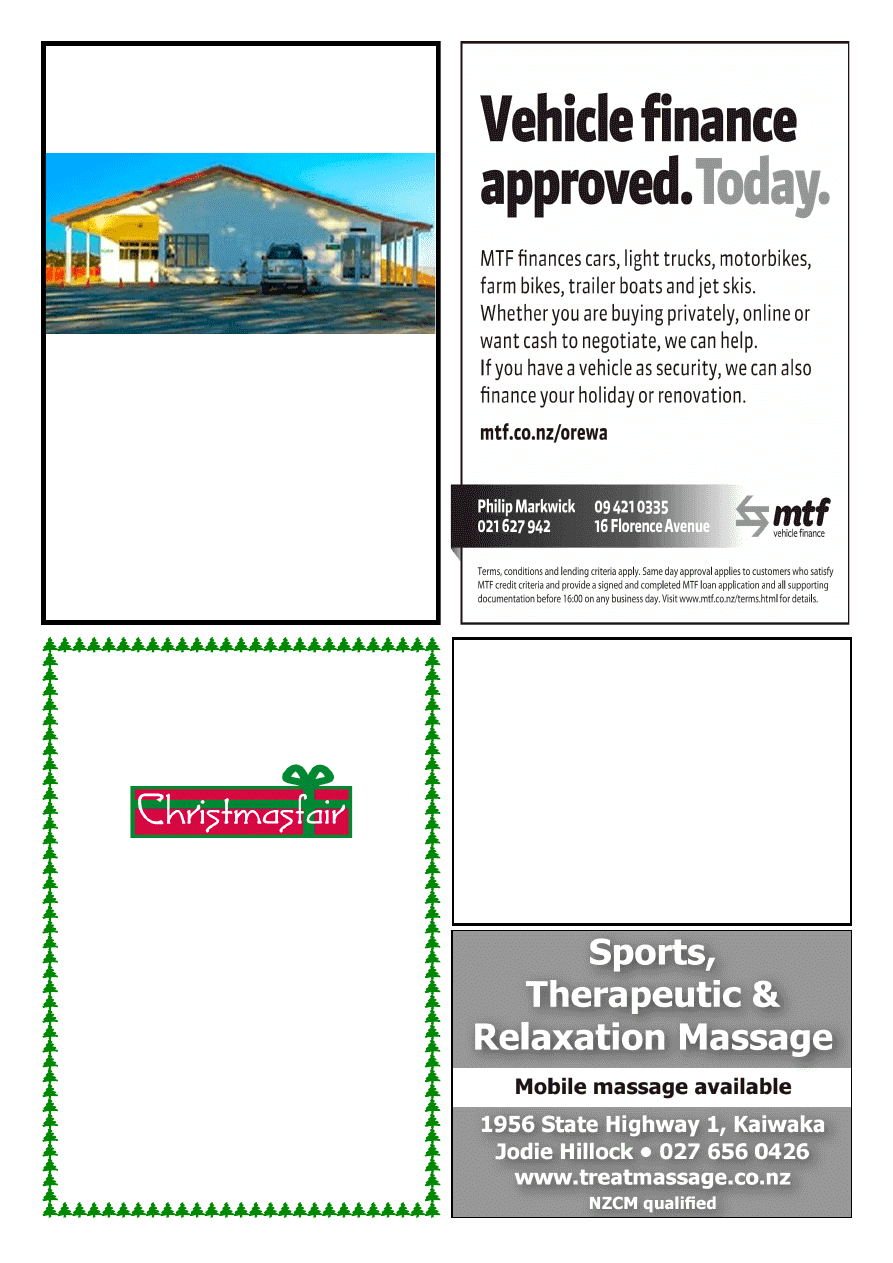 www.kaiwaka.co.nz 
Kaiwaka Bugle - 24 November 2015 
Page 17 
Te Pounga Marae 
130 Nathan Rd. Oneriri. Kaiwaka 0573 
COMPLEX FOR HIRE 
Functions 
* Weddings   *  Birthdays   *Anniversaries 
* Meetings   * Wananga 5 hour meeting 
* 12 hour stay   * Overnight 
*All welcome - No more Drink-driving 
Amenities: 
*Convo Combi Steamer * Bratt Pan * Dish 
Washer/Sterilizer * 3 Door Glass Chiller (walk in) 
etc…All Crockery * Linen Supplied * Central 
Heating and Air Conditioning and much more.  
Can also cater for small groups…. 
For more information please contact: 
Kim Wallace 
Home: 09 832 1133   Mob: 0211275340 
Email:  kimwallace@xtra.co.nz 
MINI-FAIR - GARAGE SALE
ST PAUL'S CHURCH, 
KAIWAKA
Saturday 28
th
 November  9 am – 12.30
Christmas gifts, cakes, sweets, preserves,  
Devonshire teas, Kids Cafe, toys, 
clothing, books, garden plants, furniture 
trash & treasure - something for everyone! 
Guess the weight of the Christmas cake 
Lots of games and competitions for kids. 
Giant Christmas hamper raffle 
Auction for firewood & other items 
Christmas photo competition – send us your 
favourite family Christmas photo. A prize for 
the photo that  
receives the most votes 
Post to:  PO Box 58, Mangawhai 0540 
Donations for the garage sale much appreciated. 
We will pick up. 
Enquiries:  Ph. Fay 09 431 2449 
 or Margot, Ph 09 431 2600
LIFESTYLE PROPERTY  
MAINTENANCE 
Putting life back into your style
Working out of Kaiwaka; servicing Mangawhai, 
Maungaturoto, Waipu and surrounding areas. 
  With over 25 years' experience, I'm fully insured and 
any job considered so just call me – James on mob: 0273 
808622  or  09 431 2245 
email: lifestylesorted@gmail.com  
Mulching - gorse, 
scrub 
Tree & hedge work 
Hole boring 
Alkathene laying & 
repairs 
Paddock topping, 
slashing 
Electric fence 
installation 
Weed spraying 
Free quotes 
Land & section 
clearing 
Loader work 
Rubbish removal 
Fully insured 
Repairs to driveways, fencing & buildings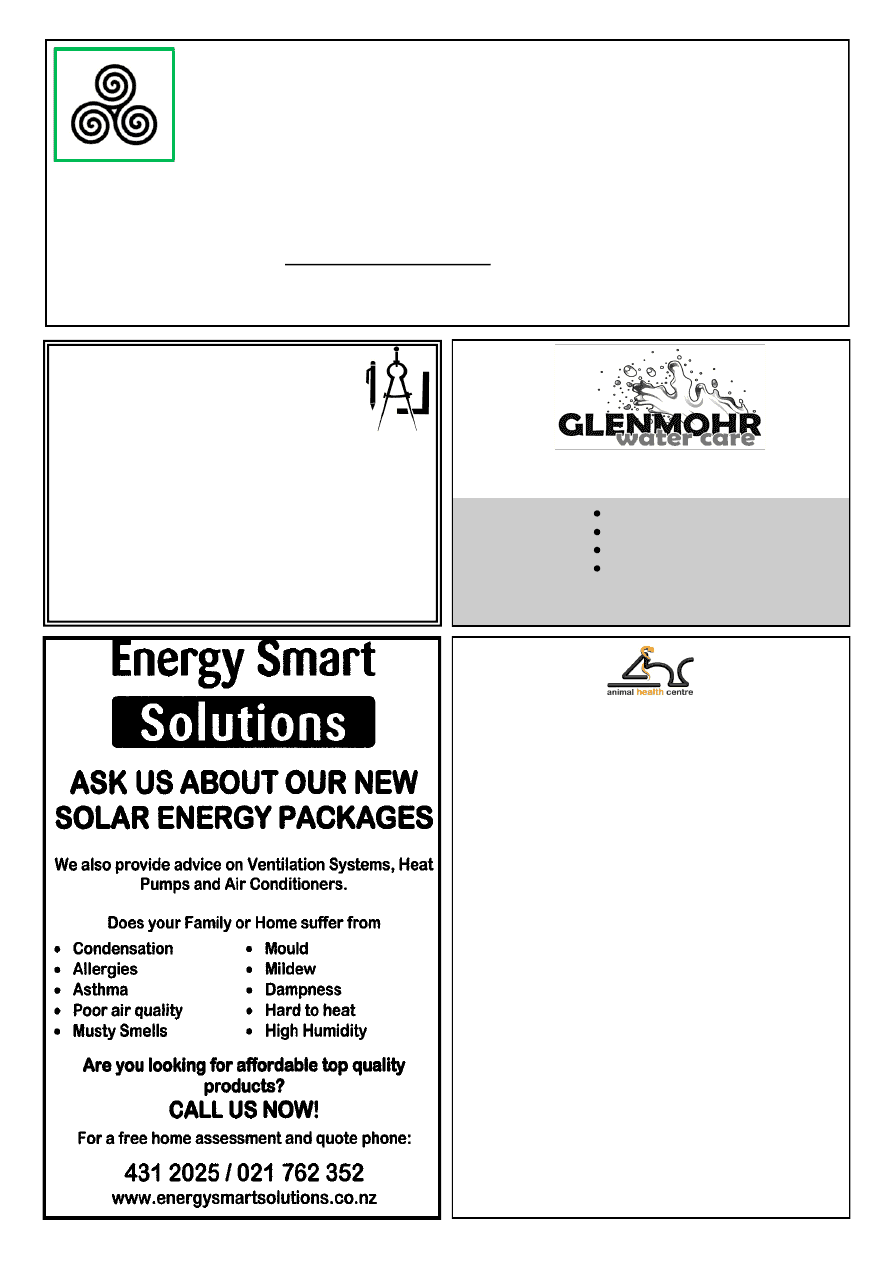 design drafting 
service 
Retired builder and manufacturer with over 40 years  
experience in the building industry is offering a design 
drafting service for domestic housing, sleepouts and 
sheds.  
Plans formulated in consultation with clients, with 
working drawings completed and submitted to  
council for processing.  Extensive practical experience,  
able to identify & resolve problems. 
Please ring Mike Lean on 
09 431 2260  
          or 
021 431 196 
Water Tank Cleaning 
Keep your water safe & clean   
Removal of sediment, silt etc. 
Vacuum or full scrub 
Minimal water loss 
Phone Mark (09) 432 0655 or 0274 707607 
ANIMAL HEALTH CENTRE 
KAIWAKA 
"choices in health care  
for your companion animal" 
Health problems - itchy skin, smelly ears, bad 
breath, diarrhea? 
On steroids, antibiotics, lifetime drugs.....  ? 
Diet may be a part of the problem!   
Call in and have a chat to our team of animal health 
practitioners. 
Nail Trims  Microchipping  Dental checks  Comfort 
grooms 
Great range of real food – no preservatives 
Alternatives to nasty chemical parasite controls 
OPEN:    Tues-Fri    10am – 4.30pm 
    Saturday   10am -  4.00pm 
    Sunday      11am -  3pm  (new hours) 
Next to Italian Bakery, Main Highway  Kaiwaka 
Ph:  09 431 2217 
PS: We're  open 7 days in Orewa if you missed us! 
RANA Health 
Naturopathy- Acupuncture- Massage
Open Mondays, Thursdays & Fridays 
4 Kaiwaka-Mangawhai Road; Room 4; Kaiwaka
Phone or Text for an appointment &/or price enquiry:  
Rebecca Wood 021854158 
Or visit www.ranahealth.co.nz & click BOOK NOW
Rebecca Wood Dip Th Mass; Dip Aroma; Dip Acu; 
Student Naturopath- Final semester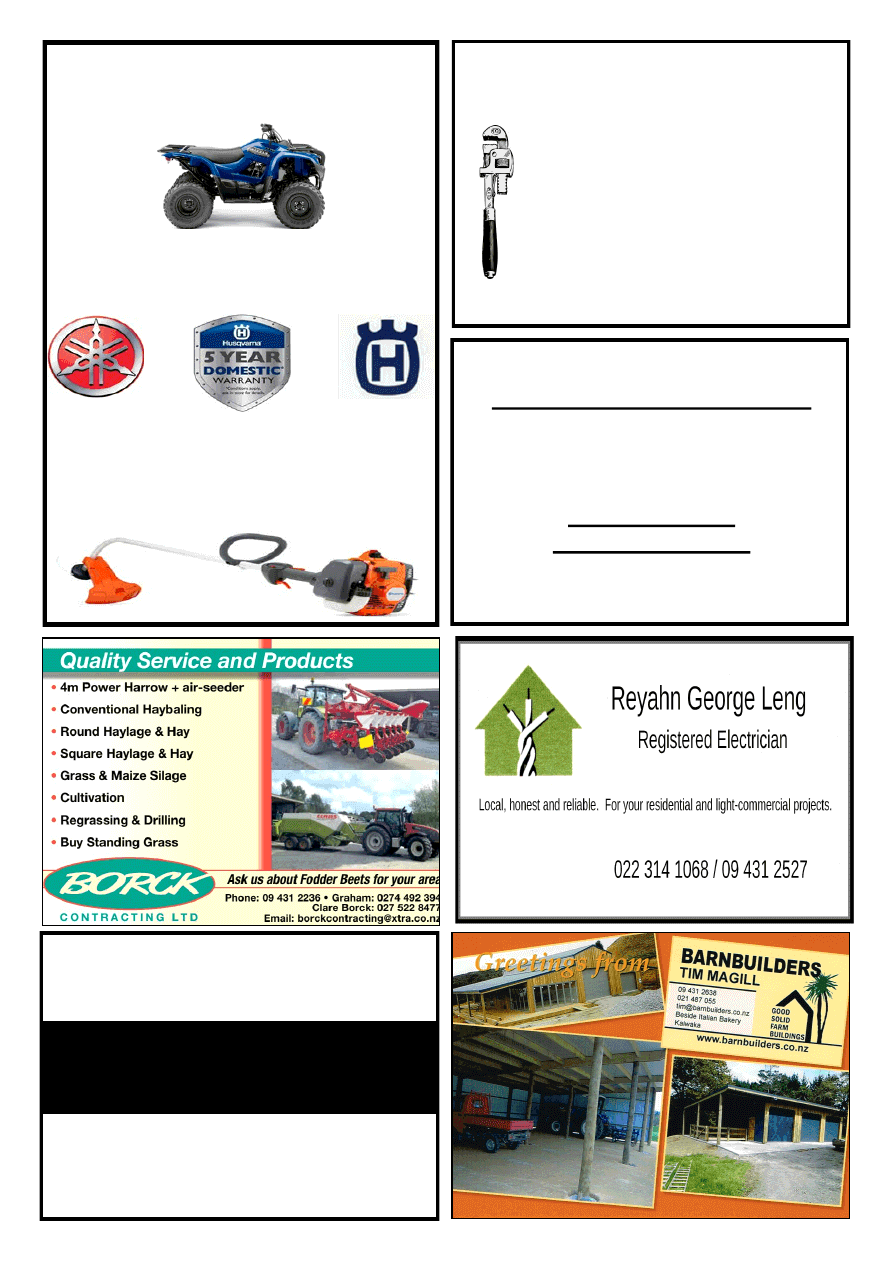 www.kaiwaka.co.nz 
Kaiwaka Bugle - 24 November 2015 
Page 19 
Natural Earth Ltd 
Landscape and Bobcat services 
 : Driveways  :Landscaping  :Retaining Walls 
 : Hole Boring: Land Levelling :Trenching 
 : Decks :Fences :Sections Cleared 
 : Plus much more
Tel 09 4312 885 
Mob 02102391280 
For A Fast Friendly Service  
Contact Tim Hicks 
BARRY CURTIS PLUMBING LTD 
REGISTERED CRAFTSMAN PLUMBER 
Phone 431 5572 
027 257 9884 
25 years' experience 
Friendly reliable service 
All plumbing & maintenance 
Alterations and new housing 
Spouting 
Competitive rates
PROMPT EFFICIENT  SERVICE
KAIWAKA 
MOTORCYCLES LTD
SALES – SERVICE – SPARES 
FARM BIKE SPECIALIST 
PHONE 09 431-2127 
10 KAIWAKA-MANGAWHAI ROAD, KAIWAKA
TRIMMERS FROM $249 - CHAINSAWS 
FROM $329 
YAMAHA 
HUSQVARNA 
David Korach 
Your local Gib Stopper
DK PLASTERER LTD 
0274769221 
dkorach6@gmail.com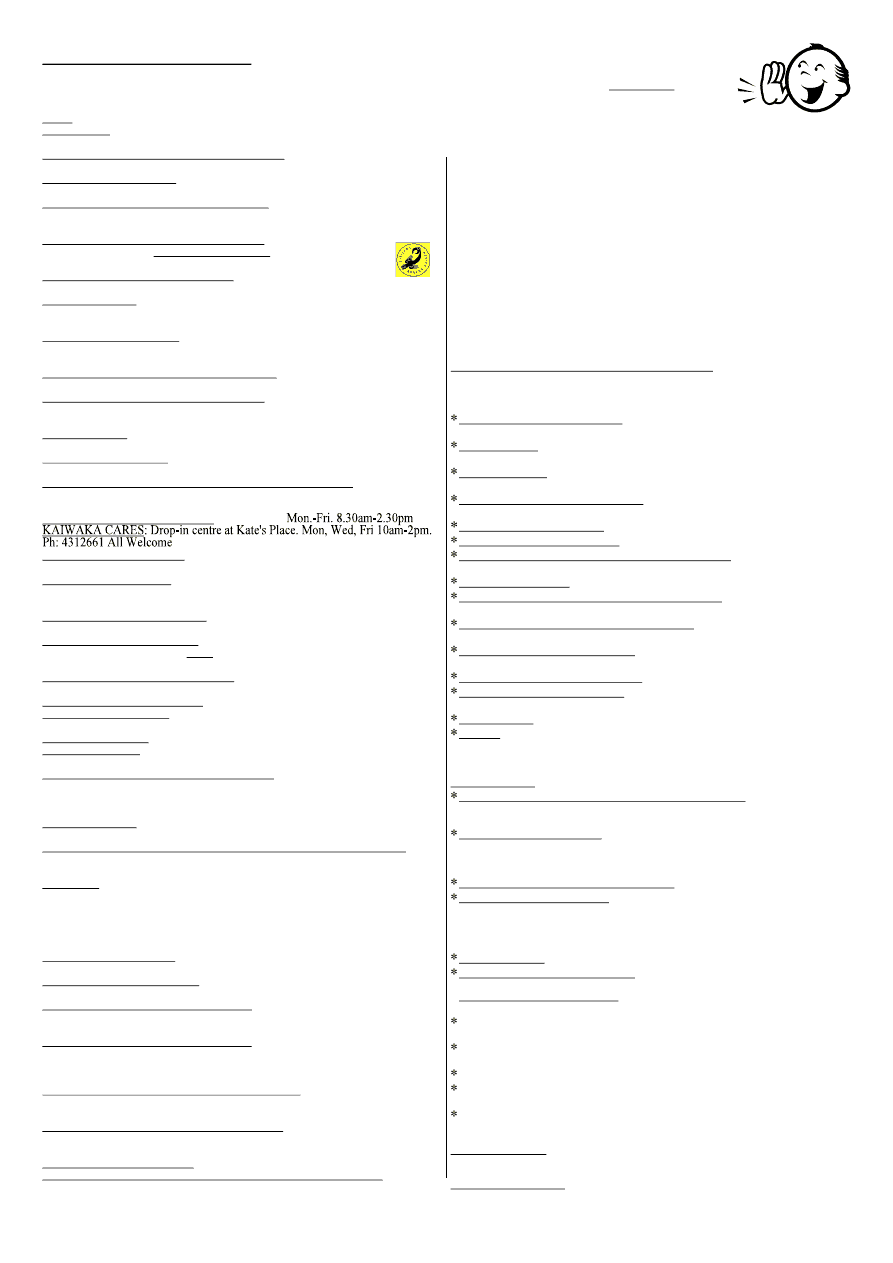 LOCAL SERVICES 
*Emergencies - Ambulance, Fire, Police - dial 111 
*Non-urgent Police phone 09 4311150
A A: Meets Wed., 8pm Kaiwaka Ph: 4312228, 4315543, 0800229 6757 
AL ANON: In recess, contact Ph: 4312228 
MINISTRY FOR PRIMARY INDUSTRIES - General inquiries Call 
Free 0800 008 333 
ASUREQUALITY LTD  (was AgriQuality) Call Free 0508 0011 22  
BUDGETING SERVICE, WELLSFORD:  Free confidential advice & 
support for all areas of personal finance. Ph (09) 423 7123 
CAB-Citizens Advice Bureau.Wellsford Ph: 4237333 
0800 367 222 email:cab.wells@xtra.co.nz  
DOG/STOCK /NOISE CONTROL 0800 105 890 
KATE'S PLACE with Govt.Day Agencies/Community Information /
Osteopathy/ IRD / Probation, etc Ph: 4312661 Hours: 9am-3pm. Mon - Fri 
FUNERAL SERVICES: Morris & Morris Ltd, 
Whangarei - Bev Jaques Ph:4312367 or 0800667747 
GRANDPARENTS Raising Grandchildren: Sarah Rogers Ph: 4312194 
HAKARU LANDFILL/Transfer Station:Open everyday except 
Tuesday10am-4pm.Ph4312629 Cost-$55 trailer load up to 1 cubic metre. 
Ph:4258567 - office 
HOMEOPATH: Donna Flavell Ph: 4314843 
INLAND REVENUE: Last Friday each month, 11-3pm Ph4312661 
KAIPARA DISTRICT COUNCIL www.kaipara.govt.nz:  
Help Desk FREEPHONE 0800 727 059  
KAIWAKA KOHANGA REO: Ph:4312620 
KAIWAKA CEMETERY: Ph: 4312045 
KAIWAKA LIBRARY: kaiwaka.library@gmail.com  
Mon. 4-6pm; Wed., Thurs., Fri., Sat.  10am-2pm Ph:4312539 
KAIWAKA PLAYCENTRE: Ph: 4312286. Hastie Lane 
Monday to  Friday  9.00am - 12 noon. 
KAIWAKA POST OFFICE:Ph:4312 431  
Post Code: 0573  for RD2  and  0542 for all Kaiwaka Post Office mail 
KAIWAKA PRIMARY SCHOOL: Ph: 4312309     
KAIWAKA SPORTS ASSN: Ph 4312005; 4312129 gym 
KAIWAKA ST JOHN: Manager Steve Rosser 09 4318403, 021 2316836 
LINKING HANDS Health Shuttle Ph 4314121 or 09 4318969 
NORTHPOWER: Faults Kaiwaka area 0800 104040 
OTAMATEA COMMUNITY SERVICES: Free counselling, parent 
coach, Family Support worker, budget advice, food bank. Mon-Fri 9am-
30m. Ph 09 431 9080 
PARENTPORT: Free, practical family support service Puhoi to Paparoa 
Ph or txt:  Dianne 027 2085093 
PERSONAL DEVELOPMENT COACHING, GROUP FACILITATION:  
Sabine Druckler 4312231 
PLUNKET: Kaiwaka - Kaiwaka War Memorial Hall: Clinic 1st Wednesday of the 
month; Coffee Group at 9:30. Mangawhai  - Rose Madsen Cottage, Mangawhai 
Domain,  Moir  St:  Clinic  1st  and  3rd  Monday  of  month;  Young  Babies  Coffee 
Group  2nd  and  4th  Monday  10  am;  Plunket  Playgroup  every  Thursday. 
Maungaturoto - Maungaturoto Congregational Church, 100 Hurndall Street East: 
Plunket clinic 2nd and 4th Wednesday. Cynthia 09 431 8187 or 027 675 3488 
PLUNKET HELPLINE -0800 933 922 (24 hours) 
PUBLIC HEALTH NURSE: Gloria Reid Ph: 094327634  
RETURNED AND SERVICES ASSN 733 Settlement Rd. Hakaru 
Ph.4312176 Bill Kerr (President) Ph.4314719 
TAITOKERAU COMMUNITY LAW: Free confidential legal advice and 
assistance, 2nd
Thursday
 of each month. Ph: 0800 155 529 for 
appointments.  
TE KOROWAI AROHA O NGATIWHATUA Ph: 4312675 
(The Cloak of Love of Ngatiwhatua) Support and Maori Consultancy.  
VETERINARY SERVICE MANGAWHAI: 
Ph: 4314535 Mon-Fri 8.00-5.00, Sat 9-12, a/h appt. 
WELLSFORD DOCTORS: Ph: 4238 086 
WOMEN'S WELFARE LEAGUE & Reaching Out For Youth:  
4 Kaiwaka-Mangawhai Rd, M Morgan 4312293 
Next Bugle Deadline midday Friday 4 December 2015
WHAT'S ON
PLEASE ~ do let us know what is on - email 
kaiwakabugle@kaiwaka.co.nz 
Advertising in WHAT'S ON is FREE  
*24Nov~Kaiwaka's Identity, 6pm KSA 
*25Nov~Kaiwaka Sports Assn AGM, 7:30pm KSA 
*27Nov~Trainwreck (R16), 7:30pm KWMH 
*27Nov-6Dec~A Christmas Carol, Otamatea Repertory Theatre 
*28Nov~Mini-Fair, 9am St Paul's Church 
*10Nov~Otamatea Hawks AGM, 7pm KSA 
*29Nov~Inside Out (PG), 2pm KWMH 
*25Nov~Kaiwaka Sports Assn AGM, 7:30pm KSA 
*27Nov~Hakaru RSA Christmas dinner, 6pm 
*28Nov~St Paul's Church Mini-fair, 9am 
*30Nov~Junior Tennis AGM, 4pm tennis courts 
*4Dec~deadline for last Bugle of 2015, midday 
*4Dec~A Royal Night Out
 (M-AT)
, dinner+movie 6:30pm KWMH 
*13Dec~Martial Arts end-of-year, 8:30am KSA 
*16Dec~Ready Steady Wriggle Xmas party, 10am KSA 
KWMH=Kaiwaka War Memorial Hall 
KSA=Kaiwaka Sports Association Complex 
See www.kaiwaka.co.nz for upcoming events. 
HOUSEHOLD RUBBISH COLLECTION - Kaiwaka Pick up: 
Mondays = Gr een bags (Nor thland Waste - 09 430 3273) 
Wednesdays = Blue bags and yellow r ecycling (at J aques $3.00 
and $1.50) (Kaurilands 09 4392146) 
 DIABETES  Support  Group  -for  Kaiwaka,  Mangawhai,  Wellsford 
10am, 3rd Friday of month Ph:A.Pert 4238242; J.Gardner 4238060 
 DRINK CAN 'tear tabs' - for Starship Hospital- please collect - 98 
Kaiwaka Mangawhai Rd, leave in mailbox, Ph. 4312625  
 GENEALOGY - Wellsford: 1st Thursday in month Ph: 423 7033; 
Waipu: 4th Monday in month Ph: 4312 725 
 GYMNASTICS  OTAMATEA  -  Tuesday  Ph:  Stephanie  022 
3624998 
 HAKARU PONY CLUB - Secretary Julie Rynne 09 4314520 
 KAIWAKA BADMINTON -Tuesdays 7.30pm Ph: 4312345 
 KAIWAKA  GARDEN  &  FLORAL  GROUP  -  2nd  Thursday  in 
month. Ph: 431 4767 
 KAIWAKA CUBS - Thursdays 5.30-7pm, Hakaru Ph:Bruce  4312542 
 KNITTING FOR WHANGAREI HOSPITAL - 2nd Tuesday in 
month, Apple Basket 10am Ph 4314827 
 MANGAWHAI COMBINED PROBUS CLUB - 2pm, 3rd 
Thursday month, Senior Citizens Hall Mangawhai. Ph: 4315777 
 OTAMATEA GREY POWER - Kath Pattinson 09 431 8960, 1pm 
last Wednesday of month, Anglican Church Hall, Maungaturoto 
 PT CURTIS CRUISING CLUB - Jean Ph: 4312 246 
 RSA,Hakaru & Dist.Women - meet 1.30pm 4th Thurs in month Ph: 
4314 668  
 TRAMPING - Mondays 9am-2:30pm  Karen Ph: 4312 090 
 YOGA - Tuesdays 6:15pm,  Friday 8:30am KWMH Carla Ph: 021 
296  8794;  Wednesday  5:30-7:00pm  Archie  Bull  Hall  Dalleise  Ph 
4312 108 
CHURCHES:
Kaiwaka Family Church - Your Community Church: Sundays 10am & 
6pm. Youth Service Mondays 6-8pm. Ph: Tawhiri 4312571 or Paul 
4312068 
St Paul's Anglican Church 1st Sun. 9.30 am (Eucharist), 3rd Sun. 9.30 
am (Family Service). Contacts:  Church Office 09 431 4122; M. 
Hargreaves 431 2295; C. Bygrave 431 2057; or Rev. Wayne Thornton 
Ph 431 5650 
Church of Christ the King, Mangawhai:9.30am every Sunday 
St.Mary's Catholic Church: Maungaturoto – Griffins Road, Saturday 
evening Vigil Mass 6pm; Mangawhai – Senior Citizens Hall, Sunday 
Mass 8:30am; Wellsford – Matheson Road, Sunday Mass 10:30am; 
Mid-week Mass times and all enquires to Fr. Bill Fletcher – phone 423 
8170 
Baptist Church: Sun. 10.30am Mangawhai Snr Cit.Hall.Ph:4312339 
Cause Way Church Mangawhai: Sundays 10.15am, Mangawhai 
Community Recreation Centre, Insley St. Ph: 09 4314782  
St.Pauls Archie Bull Hall HIRE  $20 half day, $40 full day per hire, R. 
Morgans, Ph 4312365 
Kaiwaka  War  Memorial  Hall  HlRE  -  Phone  4312725  or 
kaiwaka.hall.bookings@gmail.com 
Hakaru Community Hall HIRE -Ph. 4312256 or 4312110 
Te  Pounga  Marae  queries  -  R.  O'Leary  4312  423,  J.Nathan  021  186 
7382 
Kaiwaka  Sports  Association  hire/queries  -  C.  Anderson  4312051  or 
kaiwakasports@gmail.com
Justice  of  Peace:  B.FJaques;  L.Donaldson;  A.F.Hargreaves,  S.Dalziell, 
W.Howard  -  please  phone  to  make  sure  they  are  available 
www.justiceofthepeace.org.nz 
Marriage Celebrants: L.Donaldson; A.F.Hargreaves; C.Rosseels