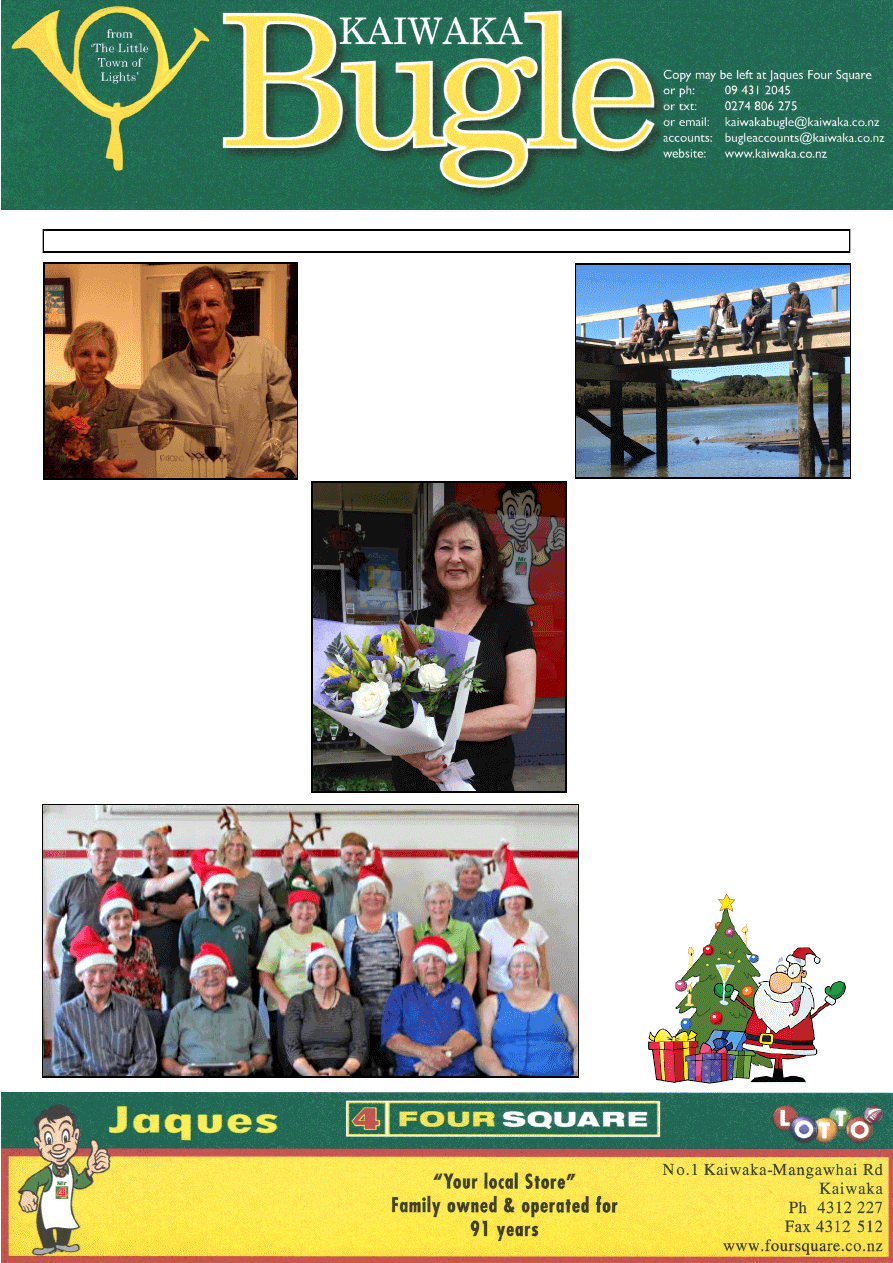 www.kaiwaka.co.nz 
Kaiwaka Bugle - 8 December 2015 
Page 1 
 No: 24
8 December 2015 
Trading Hours: 
Monday-Friday 8am to 6:30pm 
Saturday 8am to 7pm 
Sunday and public holidays 9am to 5pm 
KAIWAKA GOOD 
SORT 
Congratulations to Gale Matheson, the 
latest  recipient  of  our  Kaiwaka  Good 
Sorts bunch of flowers from Lindy, the 
Flower Girl 
Dianne  said  "Gale  organises  the 
knitting  for  the  Whangarei  hospital, 
teaches Bible in schools, and of course 
is our friendly and efficient Avon rep. 
We appreciate your contribution to our 
community so much, Gale." 
TARATAHI 
STUDENTS 
Pictured  above:  Taratahi  agricultural 
students  graduating  after  23  weeks, 
learning  everything  farming  plus  life 
skills,  work  ethic,  driver's  licenses.  All 
have gone on to get jobs. Students come 
from  Mangawhai  to  Ruawai  and 
everywhere  in  between.  From  left  are 
Geri  Webb,  Shania  Mackey,  Sam 
Gardiner,  Tama  Reid  Oleary  and  James 
Griggs.  Their  tutor  is  very  proud  of  the 
way they have all picked themselves up 
and got working. Another course will be 
run next year starting February for those 
that  want  to  give  everything,  from 
beekeeping  to  building  and  all  the 
everyday things a farmer does, a go.  
~Tracey Wildhaber, Taratahi tutor 
Merry Christmas and 
Happy New Year 
from the team at the 
Kaiwaka Bugle 
MANY THANKS, 
EVAN 
Evan  Wright  has  stepped  down  as 
President  of  the  Kaiwaka  Sports 
Association.  Evan  has  been  President 
for 21 years!  
At  the  KSA  Christmas  Dinner  held 
recently  at  the  Three  Furlongs,  Evan 
was  presented  with  several  gifts  in 
acknowledgment  of  his  tireless  work 
for  the  KSA,  our  affiliated  clubs  and 
our community. Evan's wife Michelle 
was  given  a  bouquet  of  flowers  as  a 
thank  you  for  her  support  of  Evan  in 
this role. 
We  welcome  Wayne  Leslie  as  our 
new President.  
Pictured above: Evan & Michelle Wright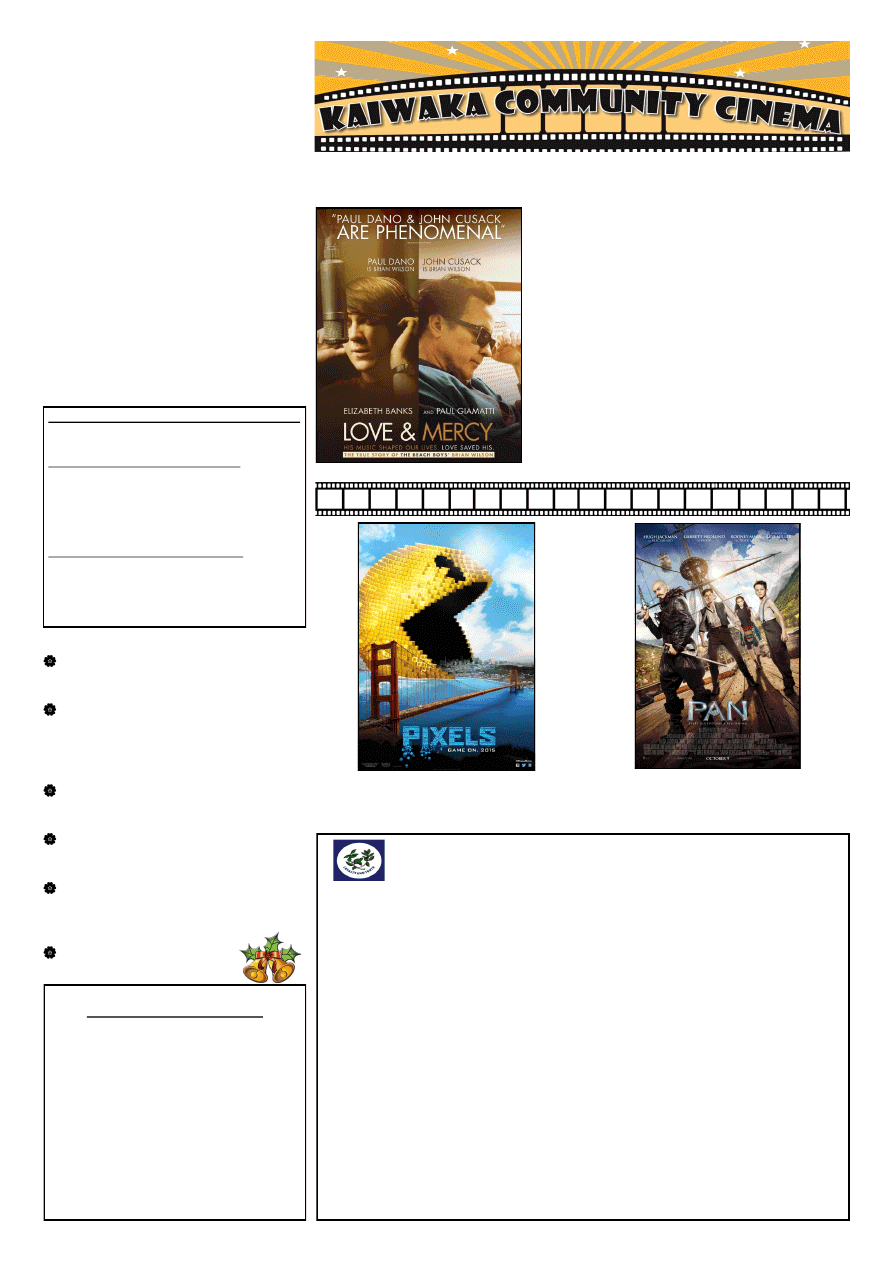 ABOUT TOWN 
......... 
 Perfect  evening  at  movies  on 
Friday  night!  Lovely  movie  and 
beautiful food. 
Kia Ora Kaiwaka on page 14 NZ 
Herald  travel  section  -  travellers 
were  stopping  in  Kaiwaka  on 
Wednesday to 'wet their whistle' as 
a result of the article! 
Condolences  to  the  family  of 
Hugh  Packard  who  has  just  passed 
away. 
Best  wishes  to  Heather  and 
Hadyn  Foster  as  they  start  their 
married life together. 
a total of $4,144.00 was raised in 
the  Movember  Fundraiser  2015  at 
the  Three  Furlongs  Bar  &  Grill 
event. 
Merry  Christmas  from 
the Bugle Crew! 
KAIWAKA BUGLE No: 24 
8 December 2015
Page 2: Kaiwaka Movies 
Page 3: Public Notices; Classifieds 
Page 5: Kaiwaka Library, Tennis 
Page 7: Kaiwaka Cubs & Scouts 
Page 9: Pt Curtis, Knitters, Weather 
Page 11: Kaiwaka School 
Page 13: Kaiwaka review 
Page 15: Zonta 
Page 17: Kaiwaka Cares 
Page 19:Kaiwaka Sports Association 
Page 21: KSA cont, Parekura Maori 
School 
Page 23: Christmas 
Bugle 1 will appear 26 January 2016 
Contact for advertising, reports, articles 
or information can be made by 
Email kaiwakabugle@kaiwaka.co.nz 
Ph: 09 4312 045 (Lindsey) 
Txt:  0274 806 275 (Wendy) 
Copy may be left at Jaques' Four Square.
Kaiwaka Bugle 
Founded May 1978 
Copies available in Kaiwaka at Jaques Four 
Square, Kaiwaka Postal Centre, Shamrock 
Service Station, Celena's Gifts, Animal Health 
Centre. Also outlets in Maungaturoto, 
Mangawhai and Paparoa. 
Can be viewed online at  Facebook or 
www.kaiwaka.co.nz/Bugle  
Or a copy can be posted to you if you supply 
stamped, self-addressed DLE envelopes. 
At Kaiwaka War Memorial Hall . Adults $10, Chn (under 16) $5, Family Pass (2 adults + 3 children) $25 
Love & Mercy 
Friday 18 December 7:30pm (M) 
In  the  1960s,  Beach  Boys  leader  Brian 
Wilson 
struggles 
with 
emerging 
psychosis as he attempts to craft his avant
-garde  pop  masterpiece.  In  the  1980s,  he 
is  a  broken,  confused  man  under  the  24-
hour watch of shady therapist Dr. Eugene 
Landy. 
Starring:  John  Cusack,  Paul  Dano, 
Elizabeth Banks 
Kaiwaka Bugle Advertisements 2015: 
All 
copy 
and 
queries 
to: 
kaiwakabugle@kaiwaka.co.nz 
Classified  $3  (max  30  words);  1/16  page 
$4; 1/8 page $6; 1/4 page $12. 
Payments can be made online, posted or 
left at Jaques Four Square Store. 
Accounts: 
bugleaccounts@kaiwaka.co.nz 
The  Kaiwaka  Bugle  is  a  community 
newspaper run by volunteers.   
Articles, etc. printed are not necessarily 
the opinion of the Bugle Team. 
Pixels 
Sunday 10 January 2:00pm (PG) 
Pan 
Sunday 24 January 2:00pm (PG)
OTAMATEA HIGH SCHOOL 
IMPORTANT DATES FOR START OF YEAR 2016 
Wednesday 20th & Thursday 21st January  PTCA 2
ND
 Hand Uniform Sales 
School Hall 9.00am – 2.00pm 
Wednesday 27th January   Year  13 Leadership day 
Tuesday 2nd February (Buses will be r unning) 
School starts for all Year 7,  Year 9 and  Year 13 and all new students to OHS. 
Wednesday 3rd February  Whole school to attend (All Year s) 
Senior Course confirmation will take place.  School finishes at 2pm. 
Wednesday 3rd – Friday 5th February Year 9  & Year 13 Camp at Otamatea 
Marae 
Thursday 4th – Friday 5th February Year 7 & Year 13 Camp at Otamatea 
High School 
New Uniform Sales  / Year 13 Dress Uniform 
Paparoa Drapery stock a full range of Otamatea High School uniform 
Phone 09 431 7306 
Please phone the school office 09 4318230 or 0800 682 628 for any further information. 
Visit our website for 2016 school information including camp letters, uniform, 
stationery and school calendar.  www.otamatea.school.nz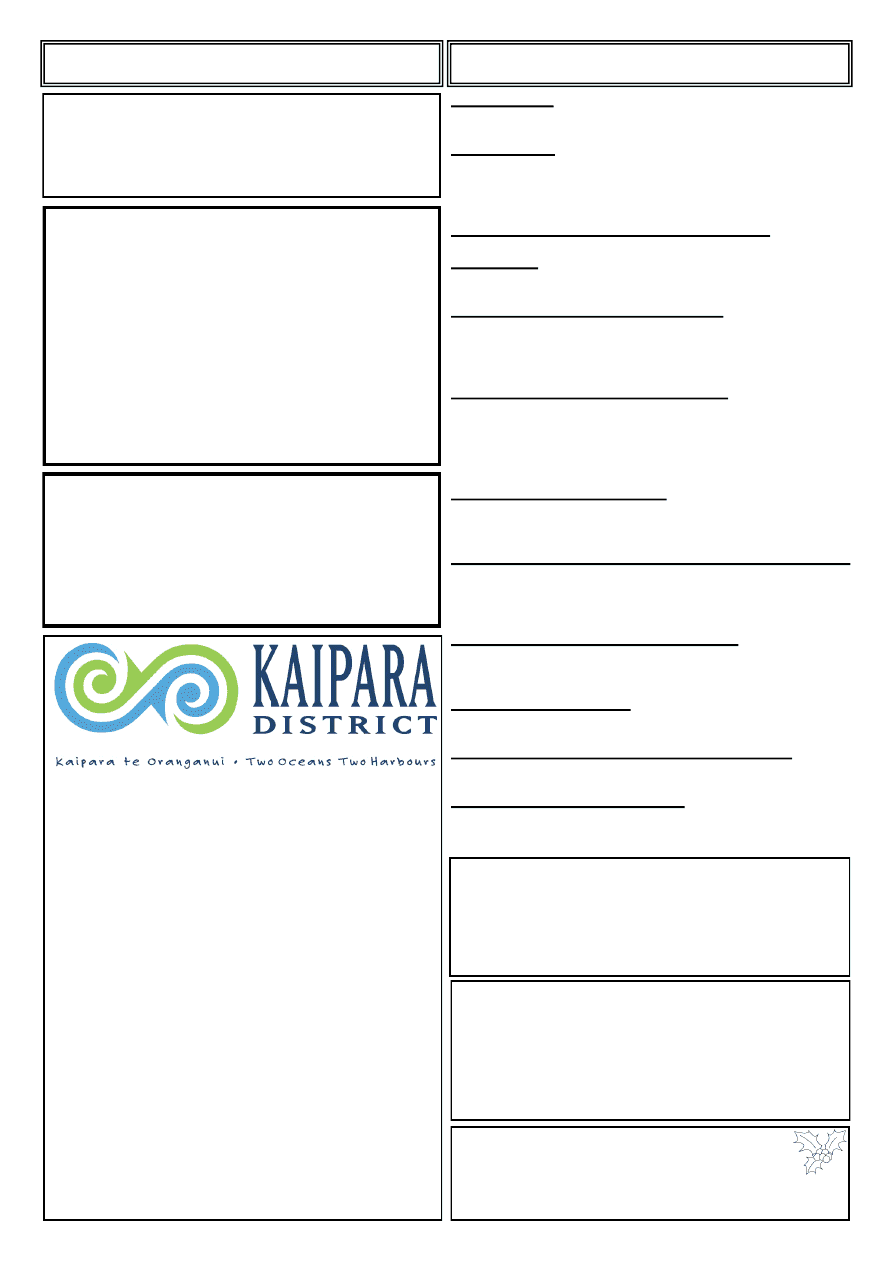 www.kaiwaka.co.nz 
Kaiwaka Bugle - 8 December 2015 
Page 3 
PUBLIC NOTICES 
CLASSIFIED 
Thought for the day:
Christmas  waves  a  magic  wand  over 
this  world,  and  behold,  everything  is  softer 
and more beautiful.  ~Norman Vincent Peale 
FOR  SALE:  Original  wood  stove.  Esse  Century 
cooker.  Wet  back,  double  oven,  white  and  black 
enamel. Working order $2,200.00 Ph 4312 605 Karen 
FOR  SALE:  House,  $305k,  2  bdrm  Lockwood, 
Kaiwaka,  lifestyle,  views.  Decks  gardens  trees,  1  ha 
grazing,  water  solar/wetback.  Plus  share  175  ac 
organic pasture/forest. Ph 4312 992 
WANTED  TO  BUY  OR  BARTER:  a  small 
glasshouse in any condition. Ph Adrian 09 945 0593 
WANTED:  Lease  block,  any  size  considered  (10-
200acres). Ph 021 733 305 
ACCOMMODATION  OFFERED: Roomy country 
accom. $200 pw incl pwr, gas cooking & water). 1wk 
bond.  Private  parking.  Sky  &  internet  connect.  Prefer 
working person(s). $250 for 2 ppl. Ph Adrian 021 253 
7661 
ACCOMMODATION  WANTED:  Mature  lady 
working  full  time  wanting  to  rent  1-2  bedroom  unit 
long  term,  unfurnished,  close  to  Kaiwaka/Mangawhai 
area.  $170-200.  Have  excellent  references.  Ph  021 
0813 6642 
THE  SUNSHINE  GIRLS:  Need  help  with  your 
house cleaning? Sometimes you just need another pair 
of hands. We offer two pair and a smile. Comparable 
hourly rate. Ph 431 2532 or 431 2711 
JILL SHIRES HOLISTIC ANIMAL THERAPIES: 
Cranio  Sacral  Therapy,  Herbal  Remedies  & 
Diatomaceous Earth for Pets, Horses & Farm Animals. 
www.jillshires.nz    or  Ph:  431  2080  Based  in  Oneriri 
Road 
PLANTING  AND  LANDSCAPING:  for  all  your 
advisory,  planting  and  maintenance  needs;  20  yrs 
experience; Pete Worsfold 'Sound Landscapes' Ph 021 
825 970 
BERYL  NOZEDAR:  (Middleton)  International  
Clairvoyant.  Numerology,  Tarot,  Clairvoyance,  
Mediumship. $60 for hour includes CD. Ph: 431 2080 
CLOTHING ALTERATIONS & REPAIRS: Hems, 
Zips,  Dressmaking  Phone:  Win  4312027    or  027  444 
8358 Winsome Designs. 
FREE GRAZING WANTED: Small or large block. 
Can  do  some  fencing  or  water.  Phone  after  6pm 
4312006 
BUGLE DATES 
This issue is the last before our Christmas break. 
The first Bugle of 2016 will be published  
Tuesday 26 January 
The deadline for that issue is midday 22 January 
KAIWAKA MEDIA GROUP 
Annual General Meeting 
Monday 18 January 2016 
5:30pm 
Kaiwaka War Memorial Hall 
All Welcome 
In  September  2014,  Kaipara  District  Council 
undertook  a  Community  Planning  exercise  with 
members  of  the  Kaiwaka  community  to  identify  the 
positive  things  that  make  Kaiwaka  a  great  place  to 
live, and any local issues. One of the issues expressed 
was around vehicle speeds on the State Highway and 
through the township. 
Council  has  since  been  working  with  local 
community  group  Kaiwaka  Can,  and  the  NZ 
Transport Agency to get a better understanding of the 
local  issues,  and  to  identify  potential  opportunities 
that  may  change  driver  behaviour  and  enhance  the 
amenity of the road environment. 
We would like your input on any additional areas of 
concern,  or  potential  opportunities  for  improvement 
you  think  should  be  included.  Maps,  information 
brochures  and  feedback  boxes  are  located  in  four 
locations  around  Kaiwaka;  Jaques  Four  Square, 
Kaiwaka  Library,  Three  Furlongs  Bar  and  Grill  and 
La Nonna Italian Bakery. Please take the time to look 
over this information and let us know your thoughts 
by Friday 18 December. 
SPIRITUAL READINGS 
with Iris Kelly
Clairvoyant/Medium 
Also Power Animals
For information phone 09 4312 136 
HELEN BETTY SIMPSON 
With deep regret Betty's family wish to advise of her 
passing  on  25  November  at  the  Maungaturoto  Rest 
Home. She was aged 88. 
A  service  was  held  at  the  Kaiwaka  Sports 
Association on Monday 30 November, followed by a 
private family burial at Kaiwaka Cemetery. 
DEAN EDWARD PHILLIPS 
On  behalf  of  Dean  Phillips'  whanau  we  would  like 
to  express  our  thanks  and  gratitude  for  all  the  love 
and  support  shown  during  the  loss  of  our  brother 
Dean. 
Special  thanks  to  all  those  who  went  in  search  of 
Dean  (Coastguard  and  locals),  for  the  donations  of 
food, and koha. 
Our  love  and  thanks  to  every  one  of  you.  Dean's 
daughters Jo, Dallas and Sascha were overwhelmed 
with  the  aroha  shown  to  their  father  for  the  short 
time he'd been home. 
What a beautiful, caring community we live in. 
Arohanui, Barbara, Nairi & Robyn.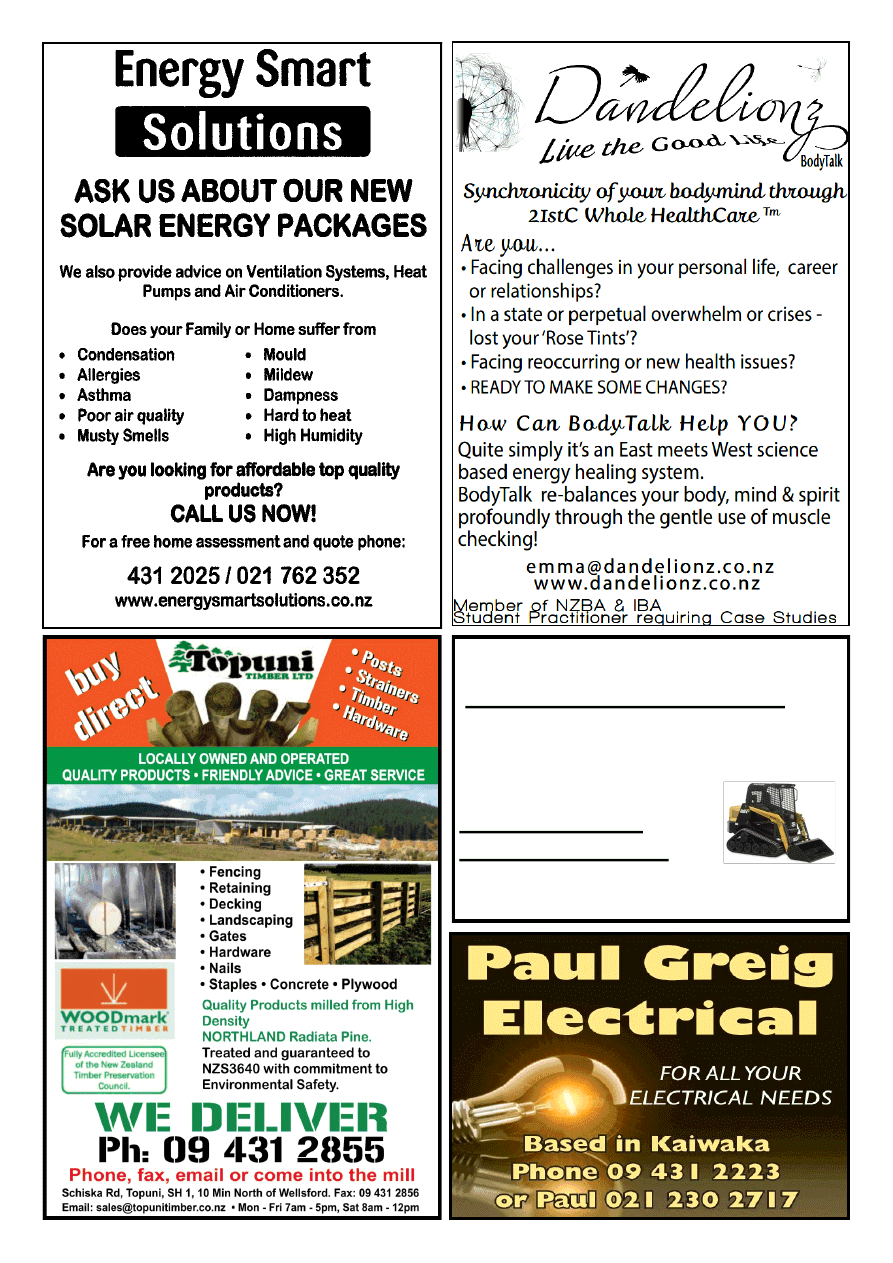 Natural Earth Ltd 
 Landscape and Bobcat services 
 : Driveways  :Landscaping  :Retaining Walls 
 : Hole Boring: Land Levelling :Trenching 
 : Decks :Fences :Sections Cleared: Plus much 
more 
Tel   09 4312885 
Mob 02102391280  
For A Fast Friendly  
Service Contact Tim Hicks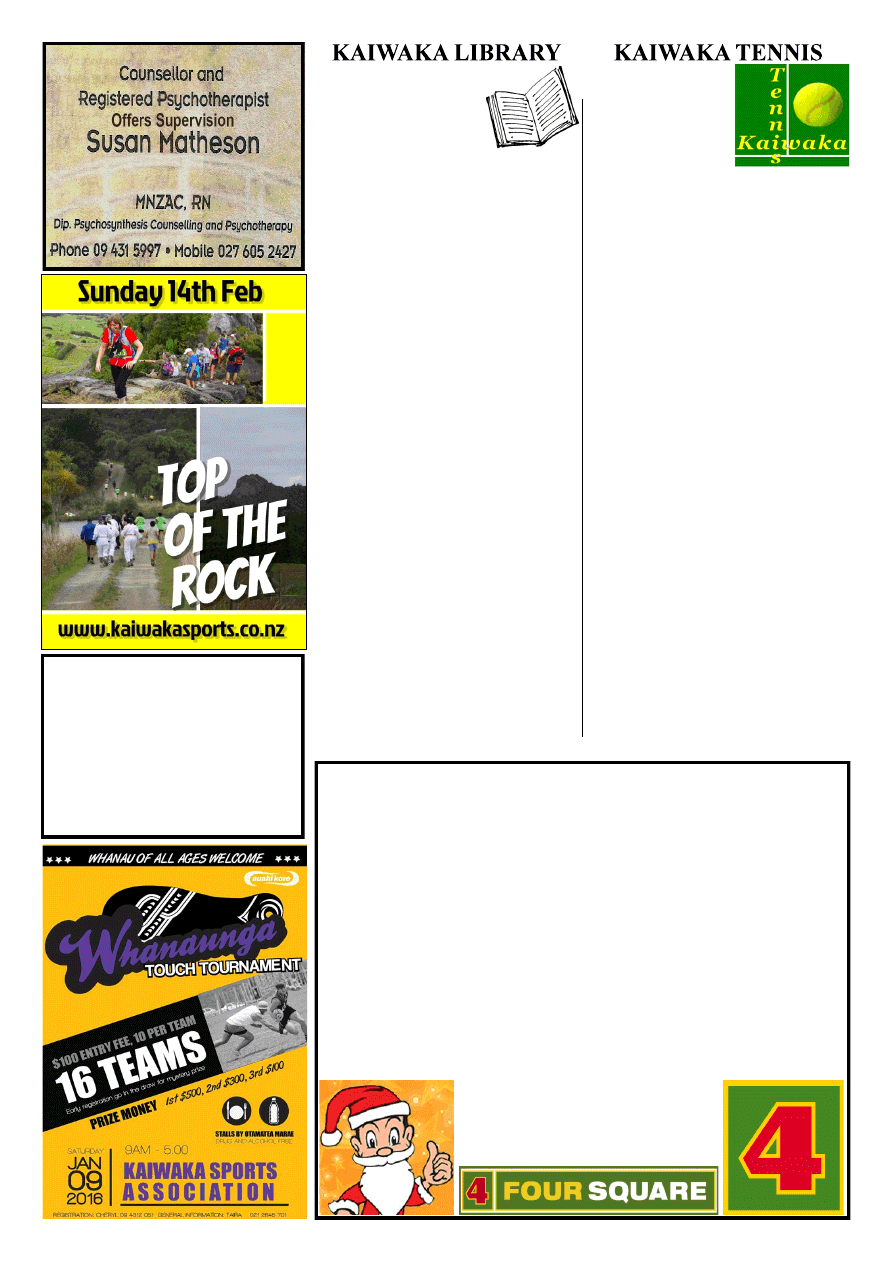 www.kaiwaka.co.nz 
Kaiwaka Bugle - 8 December 2015 
Page 5 
Jaques Four Square 
Family Owned since 1924 
Holiday Opening Hours:
Christmas Eve 8am - 6.30pm 
Christmas Day CLOSED 
Boxing Day 8am - 7pm 
New Years Eve 8am - 6.30pm 
New Years Day 9am - 5pm 
All other days normal hours 
$50 and $100 dollar Christmas gift hampers available for purchase  
in store now.  
Christmas gift bags, wrapping paper, decorations, cards and festive foods,  
as well as a large range of toys at great prices!  
To guarantee your order, Hot Roast Chickens, Strawberries, Cherries and 
cream please be pre-ordered by Monday 21st December.  
The team at Jaques Four Square wish 
all our valued customers a happy 
holiday  
Phone: 4312 227 
1 Kaiwaka-Mangawhai Road, 
Kaiwaka.
Christmas closing 
The library will be closed 
from 2pm Wednesday 23 
December 
and 
will 
reopen 
at 
4pm 
on  
Monday 4th January.  
Our  online  services  (Zinio  magazines, 
Overdrive  and  BorrowBox  for  e-  and 
audio  books)  are  not  affected  by 
holidays,  and  will  be  available  right 
throughout the holiday period. 
For all of our online services, including 
searching the library catalogue, first go 
to  the  Libraries  page  on  the  Kaipara 
District  Council  web  site  -  you  will 
find links and instructions there. 
If  you  want  to  use  any  of  these  but 
haven't  set  the  PIN  on  your  library 
account yet, come in and do that soon, 
before it's too late and we're closed for 
the holidays.  
If  you  have  difficulties  using  any  of 
these  services  send  me  an  email 
(kaiwaka.library@gmail.com)  with  the 
details and I'll do my best to help you. 
Dargaville book swap 
Thank  you  to  everyone  who  took  part 
in the book swap last week - there were 
10  people  altogether,  including  two  of 
our  former  library  team  who  have 
moved  away,  but  met  us  there  for  the 
swap  and  a  catch-up.  With  so  many 
involved it was a lightening-quick job, 
meaning  we  all  got  home  at  a 
reasonable time, with all the new books 
processed  and  on  the  shelves  ready  to 
be borrowed. 
We  haven't  set  the  date  for  the  next 
swap yet, but I expect it will be around 
June next year. I'll let you know closer 
to the time. 
The  library  team  wish  you  a  safe  and 
happy holiday season, whatever you're 
doing.                         ~Wendy 
Adult  tennis  will  be 
starting 
Mondays 
from  5pm  next  year. 
Any adults or skilled 
teens  who  are  keen 
to  play  socially  in 
Kaiwaka 
are 
welcome  to  attend  the  open  day  on 
February  22,  at  the  Kaiwaka  Sports 
Association courts. 
The  club  has  23  junior  players 
registered  this  season,  about  three 
quarters  of  whom  have  received 
coaching  in  previous  years.  We  are 
running three half-hour classes Monday 
afternoons  with  coach  John  White, 
between  3pm  and  4.30pm  for  school 
age  players  with  times  depending  on 
age and ability. 
At  the  AGM  30  November  Floyd 
Driver  was  elected  the  new  club 
secretary/treasurer,  Innes  Anderson 
was  elected  president  for  a  one  year 
term, and Andrea Orchard is new vice-
president.    Outgoing  club  secretary 
Lindell  Ferguson  was  thanked  for  her 
efforts in keeping the club going since 
2011,  and  for  organizing  the  start  of 
this season. 
The club is gearing up for the Otamatea 
Open  Tennis  Tournament for  senior 
players 
during 
Auckland 
Anniversary  weekend  January  30 
and  31.  This  tour nament  attr acts 
quality players from all over Northland 
and  Auckland,  so  feel  free  to  come 
along  to  watch  some  top tennis.  There 
will  be  food  and  drink  available 
throughout  the  day,  and  a  social 
Saturday evening.  
For  any  tournament  inquiries  please 
contact  Grant  van  Dalsum  on 
spiral.enterprises@xtra.co.nz 
TUX HANDY DOG EVENT 
Sunday 10 January
HASTIE FARM OTIORO ROAD 
Want to know more contact  
Rob H on 431 2192 or  
Tony H on 431 2045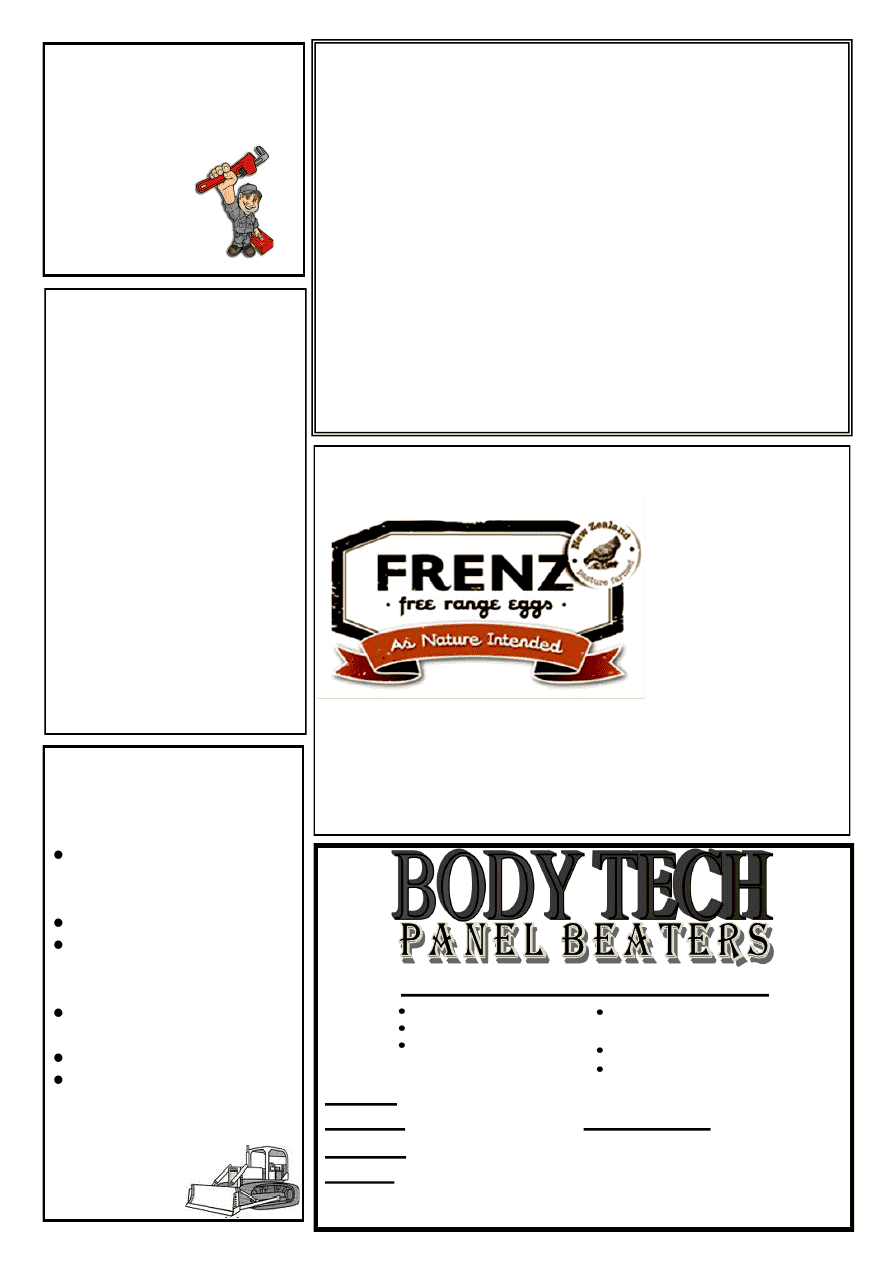 Coates  
Contracting 
D41 Bulldozer with 6 
way blade, bush rigged 
with winch 
For all tree work 
General bulldozing 
and  
  stick raking. 
120hp Tractor for 
ground cultivation,  
tip trailer work. 
Fencing
All enquiries phone  
Brett Coates  
094318720  
or  
 021431872
Ross Murphy 
PLUMBER 
Certifying Plumber 
09 431 7510 
021 424 252 
Paparoa Based 
+
New Housing  
+
Renovations  
+
Maintenance
KAIPARA FLOORING CO 
32 HURNDALL ST MAUNGATUROTO 
Phone 09 9469886  
or 021 515 415 
Carpet, vinyl, laminate wood look  flooring,  
vinyl planking, sanding & polyurethane service. 
Carpet Short Ends from $79pm + GST 
Vinyl D.I.Y. peel n stick tiles $10sq mtr + GST. 
Free measure & quote.   
Mobile Service 
Phone Christine or Howard anytime 
Open Saturdays by arrangement. 
For all your body repair needs!! 
Hours: 8.30am-5pm Monday-Friday  
Mobile: 021 118 0462       After hours: 09 431 2384 
Phone: Craig or Call in for a free Quote 
bodytech_panelbeaters@yahoo.com
We are located at 1837 SH1 Kaiwaka, behind Twinkle Tow 'n' Tyre 
Call in anytime for a free quote.  
Rust repairs 
Insurance work 
Anti-corrosion  
   treatment   
Large and minor 
vehicle repairs
Industrial vehicles
Full Cut and polishes
UP-LINK 
CHRIS WARING 
FREEVIEW 
INSTALLATIONS
T.V. - HOME THEATRE & 
HI-FI ADVICE/SET UP
SKY ACCREDITED 
INSTALLER
MOB.0273403747 
HM.094312328 
EMAIL cwaring44@gmail.com
28 YRS EXPERIENCE 
OFFERING 
UNBIASED ADVICE 
FREE RANGE EGG FARMERS WANTED 
FRENZ are looking for 
more dedicated farmers 
who love hens and love 
farming to supply our ever 
increasing demand for 
genuine Free Range and 
Organic eggs for 
discerning customers. 
If that sounds like you, 
email info@frenzs.co.nz and find out how you can join other Farmers 
supplying a company with over 30 years' experience producing the 
world's best eggs. 
For more information about FRENZ check out our website 
www.frenzs.co.nz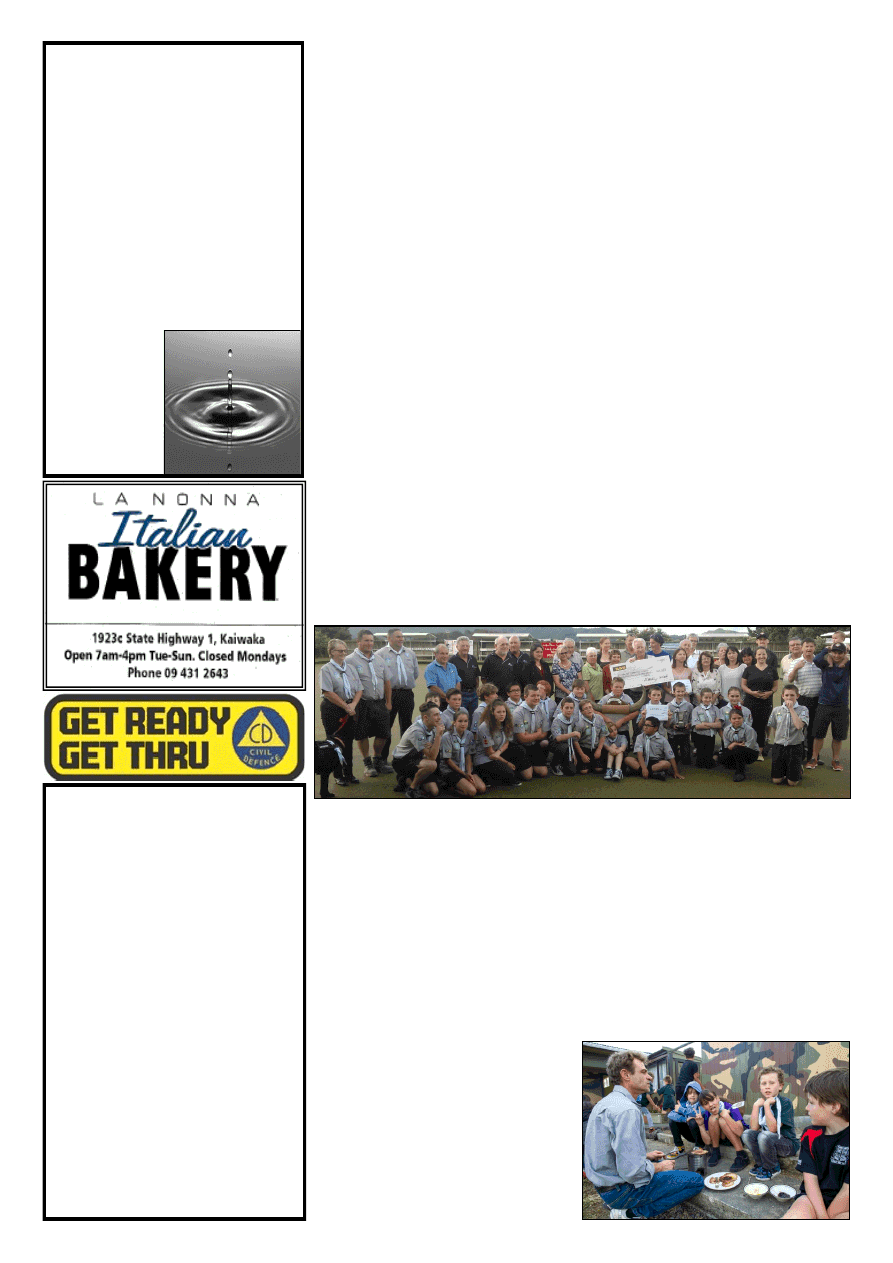 www.kaiwaka.co.nz 
Kaiwaka Bugle - 8 December 2015 
Page 7 
Willow Bend
HORSE  
HOTEL 
"  
Total Horse Care 
" 
Agistment 
" 
Riding Lessons 
" 
Arena Hire (60x40) 
" 
Young Horse Starting 
" 
Re-training/Exercising 
" 
Hoof Trimming 
" 
Problem Solving
Phone Sue 09 431 2817 
or 021 623 776 
Or email sue.gray@xtra.co.nz 
PROFESSIONAL 
COUNSELLING 
AVAILABLE
Want to be content in your life? 
Men... need help with your 
relationship? 
Couples... communicating a 
problem? 
I can help you!
Phone me for a preliminary 
talk. 
PETE 
WORSFOLD  
B. Soc.Sc. M. 
Soc.Sc. Dip Prof 
Couns. Prov. 
MNZAC 
Counsellor 
021 825 970 
KAIWAKA/MANGAWHAI CUBS & SCOUTS 
Congratulations  to  the  Kaiwaka-
Mangawhai Scout patrols entered in the 
Northland  Campcraft  competition  at 
Hukerenui,  November  20-22.  Moa 
patrol  led  by  Hamish  Ferguson  placed 
second  overall,  and  Takahe  patrol  led 
by Liam Leslie placed fourth overall. 
Moa 
patrol 
members: 
Hamish 
Ferguson,  Neitana  Blissett,  Tyler 
Young,  Toni  Tornquist,  Matthew 
Everson and Brenda Ferguson. Takahe 
patrol  members:  Liam  Leslie,  Loren 
Adams,  Eliana  Kerrigan,  Mackay 
Cormack,  BJ  Cormack,  Tara  Moyle, 
and  Beck  Goodyear.  Both  patrols 
included some first-time participants. 
Campcraft  is  a  huge  event  for  the 
Scouts,  having  to  plan  themselves  a 
whole  weekend  from  establishing  the 
participants, 
completing 
documentation, meal planning, grocery 
shopping, and collecting all equipment 
needed,  to  arranging  transport,  setting 
up 
camp 
correctly, 
cooking, 
presentation, teamwork and completing 
all challenges – whilst being judged for 
everything.  
Among  the  many  pennants  both 
Kaiwaka-Mangawhai 
patrols 
won 
throughout  the  weekend's  judging, 
notable  achievements  were  the  three 
first placings for meals won by Takahe, 
and 
teamwork, 
pioneering 
and 
leadership  by  Moa.  This  is  the  event 
where  all  they  have  been  taught  by 
their  leader  comes  under  the  spotlight. 
Well  done  Scouts  –  you  were  a  credit 
to  Kauri,  and  made  a  great  attempt  to 
bring  the  horns  home  two  years 
running. 
Jobs / Help Needed 
Kaiwaka-Mangawhai  Cubs  and  Scouts 
are  heading  off  to  Jamboree.  It  is  10 
days  of  activities,  challenges,  fun  and 
friendship for Scouts and Cubs who in 
2015  are  in  school  years  5  to  9,  from 
New  Zealand  and  around  the  world. 
NZ21  Jamboree  will  be  held  at 
Renwick  near  Blenheim  29  December 
2016 to 7 January 2017. 
Each child eligible needs to raise $100 
themselves  by  February  to  secure  a 
place  in  the  Jamboree  Contingent  that 
will be made up of young people from 
Kaiwaka-Mangawhai  and  Horahora 
Scout  Groups.  The  contingent  has  a 
target  of  $50,000  to  fundraise  by 
November  next  year.  If  you  have  any 
jobs  that  you  would  be  willing  to  pay 
boys and girls currently aged between 9 
and  13  to  do,  please  contact  Bruce 
Ferguson  Ph  431  2542  or  email 
blferguson@vodafone.co.nz  to  co-
ordinate  it.  The  young  people  live 
between 
Oneriri 
Station 
and 
Mangawhai  Heads.  Thank  you  to  the 
Mangawhai  Club  for  generously 
granting $10,000 towards the target. 
Kaiwaka-Mangawhai Scouts and representatives of other community groups, receiving their share of the 
$63,087.10 large cheque held by Mangawhai Club president Garry Mulligan ready for distribution in grants. 
Cubs  from  Kaiwaka-Mangawhai  Pack 
loved  their  overnight  camp  in  tents  at 
Tony 
and 
Lindsey 
Hargreaves' 
property  November  28/29.  Activities 
included  floundering,  making  and 
using  sling  shots,  a  first  aid  scenario, 
scavenger  hunt,  setting  up  tents, 
constructing a dining shelter, flag pole, 
washing  up  facilities  and  clothes  lines 
under the guidance of their leaders and 
four experienced Scouts.
Tony  and  Lindsey,  former  Scouting 
leaders,  added  a  few  special  extra 
dimensions  by  participating  in  the 
evening campfire and giving a dog trial 
demonstration  Sunday  morning  –  a 
new experience for many children and 
adults in the audience.
An  interesting,  varied  year  to  date  for 
the  Cubs  has  included  target  shooting, 
beach  trip,  sport,  swimming,  first  aid, 
tents,  compasses,  pioneering,  and 
cooking  –  eggs  over  gas,  international 
masterchef,  and  the  ever  popular 
pikelets  over  hobo  stoves.  Some  Cubs 
have  also  travelled  to  participate  in 
Zone 
Founders 
Day, 
National 
Mudslide,  Hobby  Show  and  JOTA/
JOTI  (Jamboree  on  the  Air/Internet). 
The  pack  is  in  good  heart,  with  20-25 
Cubs  from  Kaiwaka,  Mangawhai  and 
Maungaturoto  attending  regularly,  and 
the  investitures  of  new  Cub  leaders 
Dalleise Jaques and Christopher Booth, 
who  join  Paul  Tornquist  and  Gene 
Wintle. 
Photo  below:  Christopher  Booth  and  Cubs 
Minnie  Stratton,  Terehia  Taua,  Ryan  Stirling 
show  new  Cub  Thomas  Guy  how  to  cook 
pikelets on a hobo stove.  
KAIWAKA/MANGAWHAI CUBS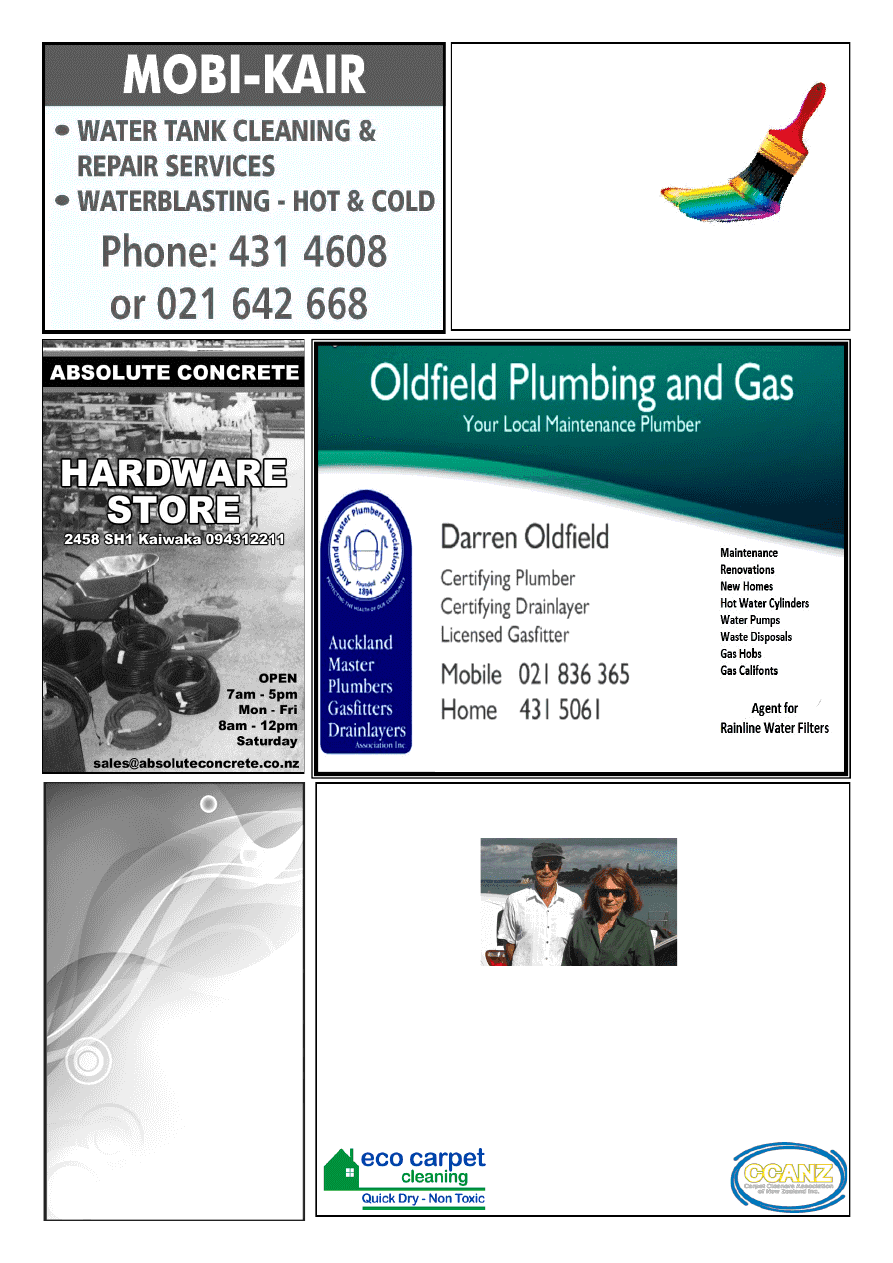 U Beauty 
            Underarm Wax  
    $20 
            Extended Bikini Wax   $30 
            15 min Back  Massage  $25 
            30 min Back Massage  $50 
Please call Nicole for bookings 
09 393 6336 or 022 0639450 
Qualified Beautician 
4 Kaiwaka – Mangawhai Rd 
Kaiwaka 
Eyebrow Wax  $10 
Eyebrow Tint  $10 
Eyelash Tint 
$20 
Lip Wax 
$10 
Chin Wax 
$10 
Bikini Wax 
$20 
Brazilian 
$50 
½ Leg Wax 
$30 
Full Leg Wax  $45 
Full Pedicure  $60 
Foot Tidy  
$35 
Manicure 
$45 
Nail Tidy 
$25 
Chest Wax 
$30 
Back Wax 
$40 
Nostrils 
$10 
Ears 
$10 
09 4312918 
0274735171 
leecooper@xtra.co.nz 
LEE COOPER PAINTERS 
(Kaiwaka Based) 
*30 yrs Experience 
*Interior/Exterior 
*New and Restoration 
*Honest and Reliable 
*Free Quotes 
CARPET & UPHOLSTERY CLEANING 
QUICK DRYING – NON-TOXIC  - GREAT RESULTS
Mike and Marina Bagley have returned to your area 
and are delighted to offer 
carpet and upholstery cleaning 
Call 09 431 3016  or  027 2410414 
marina@ecocarpetclean.co.nz  
www.ecocarpetclean.co.nz 
oldfieldplumbing@gmail.com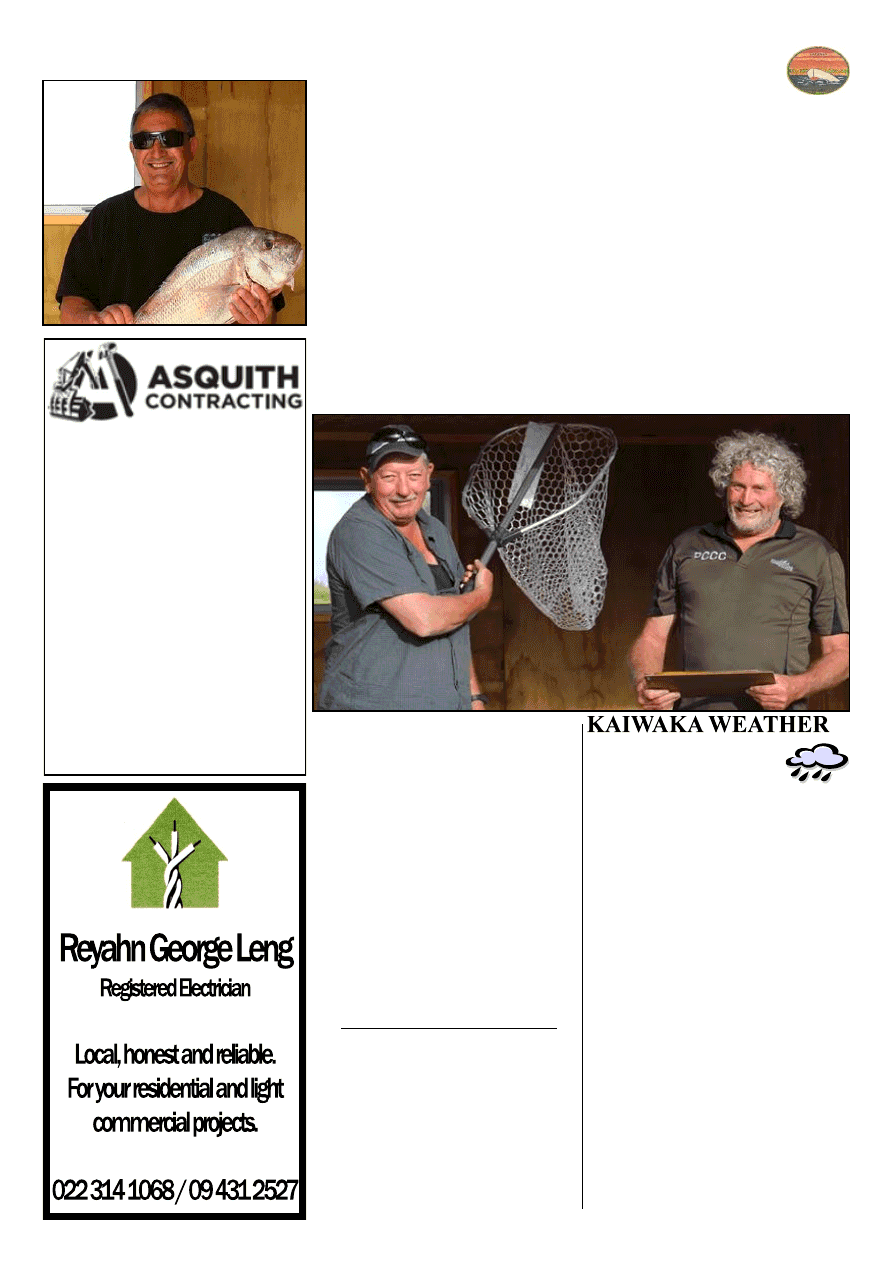 www.kaiwaka.co.nz 
Kaiwaka Bugle - 8 December 2015 
Page 9 
Results  for  open  fishing  contest  held 
21st and 22nd November 2015 
Junior  Section:  Snapper:  1st:  Hunter, 
0.825kg, 2nd: Bob Mills, 0.777kg, 3rd: 
Bob  Mills,  0.711kg.  Kahawai:  1st: 
Hunter,  1.245kg.  Eel:  1st:  Bob  Mills, 
2.633kg, 2nd: Bob Mills, 2.298kg, 3rd: 
Caleesto Mills, 1.563kg. 
Senior  Section:  Snapper:  1st:  Renna 
Brown,  4.820kg,  2nd:  Alan  Walker, 
4.039kg, 
3rd: 
Grabba, 
2.857kg. 
Kahawai:  1st:  Kevin  Ries,  2.350kg, 
2nd:  Carol  Welsford-Mills,  1.780kg, 
3rd: Justin Walker, 1.677kg. 
Average  Snapper  weight  prizewinner: 
Steve Maxwell 1.548kg. 
Thank  you  to  all  who  supported  the 
club and went fishing. Special thanks to 
Bob  Mills  for  helping  out  during  the 
auction,  Dave  Lincoln  the  auctioneer, 
Tony  and  Joss  for  bringing  a  power 
cord for the scales at short notice! and 
Renna for taking photos.  
12  players  plus  supporters 
visited  the  Wellsford  Inn  on 
Sunday 23rd November to compete in a 
pool competition. We lost the pool but 
won the boat race! 
Last  night  (7/12/15)  approximately  40 
Point  Curtis  Cruising  Club  Members 
enjoyed  a  Christmas  Dinner  at  the  3 
Furlongs Bar & Grill. Thank you to the 
staff, it was a fantastic meal! Thanks to 
those who attended. 
Fish  Of  The  Month:  Snapper  (  until 
next meeting). 
Next  Committee  Meeting:  7pm,  12 
January 2016. 
As this is my last Bugle report for 2015 
I would like to wish you all a safe and 
merry  Christmas  and  a  happy  new 
year!         ~Wayne Leslie, Commodore 
Pictured:  left:  Alan  Walker  with  his  4.039kg 
Snapper; bottom: Grabba receiving 3rd prize for 
his 2.857kg Snapper from Pongo.
1.7tn Digger/Operator 
for Hire.
Daily/Hourly rates 
available.
Call Tam on 
027 211 1152 
or 
asquithcontracting 
@gmail.com 
At  our  house  in  November 
we  had  61mm  of  rain  this 
year (I know some of you out 
Oneriri  had  at  least  82mm).  Last  year 
we had 117mm.  
For  the  11  months  this  year  we  had 
1016mm  and  last  year  we  had 
1556mm.  Our  driest  November  was 
1994 with 20mm and the wettest was in 
1999 340mm. 
We had 7 days with some kind of rain 
in  November  this  year  and  the  same 
time last year we had 11 days with rain. 
We  have  had  540mm  of  rain less  than 
last year so far. That is nearly 5 and a 
half inches in old terms. 
I  see  the  water  tankers  are  very  busy 
already.  Wishing  you  all  a  happy 
festive season and until next year take a 
lot of care out there.                      ~Bev 
A  Christmas  joke  or  just  to  put  you  right.  Did 
you know that according to the song  "Rudolph 
the  Red-Nosed  Reindeer",  Santa  has  twelve 
Reindeer?  Sure,  in  the  introduction  it  goes 
"There's  Dasher  and  Dancer  and  Prancer  and 
Vixen.  Comet  and  Cupid  and  Donner  and 
Blitzen....".  That  makes  eight  Reindeer.  Then 
there's  Rudolph  of  course,  so  that  makes  nine. 
Then there is Olive. You know, Olive the other 
Reindeer used to laugh...". That makes ten. The 
eleventh  Reindeer  is  Howe.  You  know,  then 
Howe  the  Reindeer  loved  him...".  Eleven 
Reindeer.  Oh  and  number  12?  That's  Andy! 
Andy shouted out with glee". The proof is in the 
song.  Best wishes till next year. Bev.  
KAIWAKA 
POINT CURTIS CRUISING CLUB
KAIWAKA WHANGAREI 
HOSPITAL KNITTERS 
Elaine  and  I  would  like  to  take  this 
opportunity  to  thank  all  those 
wonderful  people  who  have  donated 
wool  and  fabric  towards  the  Kaiwaka 
Whangarei  Hospital  Knitters  Group 
and to all those ladies who have knitted 
and  crocheted  some  of  the  most 
wonderful  garments  and  knee  rugs  for 
the  different  departments  at  the 
hospital. We know that everything that 
is donated is greatly appreciated at the 
hospital and surrounding area. 
Tuesday  8th  December  is  our  last 
meeting  for  the  year  and  we  will 
resume on the 9th February 2016. 
Have  a  Merry  Christmas  and  Happy 
New Year.              
~Gale Matheson 
ONERIRI RUBBISH 
Well  done  to  Oneriri  residents  on 
adjusting to the new rubbish collection! 
Remember  ONLY  KDC  blue  and 
yellow  bags  are  collected  along  this 
route. 
Just one let down - I spotted bags at the 
end  of  Rangiora  Road  on  Monday 
morning - collection day is Wednesday, 
and  sadly  at  the  same  place  cardboard 
boxes were left after  the collection.                                    
~LH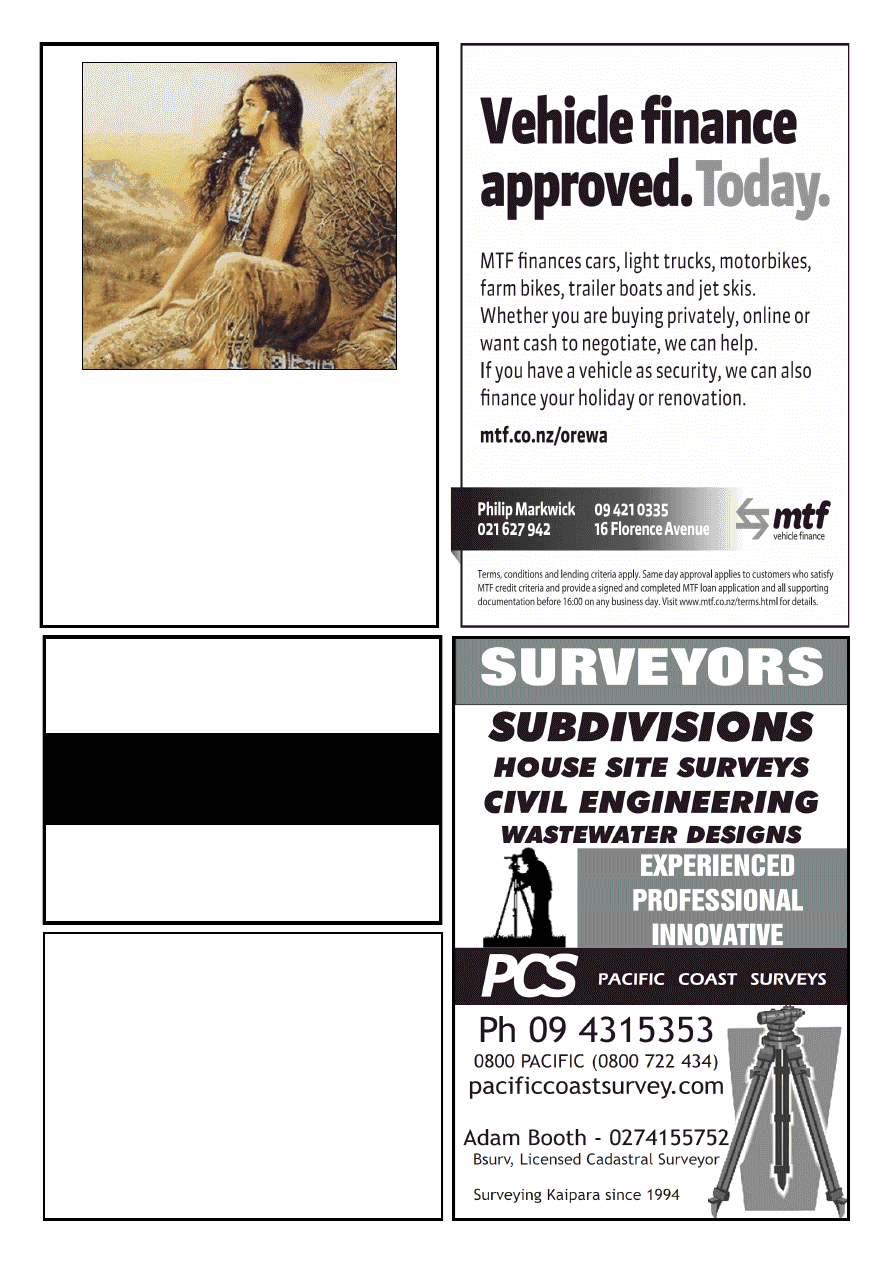 Trails end spiritualist gathering  
Last Sunday of every month  
11.30-2pm tea/coffee provided  
$5koha for all inquiries  
0211652629 evenings 099450753 
Trail.end@hotmail.com 
Bringing together light minded people 
Guest speaker each month and 
Workshops every 2nd Wednesday 7-8.30pm 
David Korach 
Your local Gib Stopper
DK PLASTERER LTD 
0274769221 
dkorach6@gmail.com 
LIFESTYLE PROPERTY  
MAINTENANCE 
Putting life back into your style
Working out of Kaiwaka; servicing Mangawhai, 
Maungaturoto, Waipu and surrounding areas. 
  With over 25 years' experience, I'm fully insured and any 
job considered so just call me – James on mob: 0273 
808622  or  09 431 2245 
email: lifestylesorted@gmail.com  
Mulching - gorse, 
scrub 
Tree & hedge work 
Hole boring 
Alkathene laying & 
repairs 
Paddock topping, 
slashing 
Electric fence 
installation 
Weed spraying 
Free quotes 
Land & section 
clearing 
Loader work 
Rubbish removal 
Fully insured 
Repairs to driveways, fencing & buildings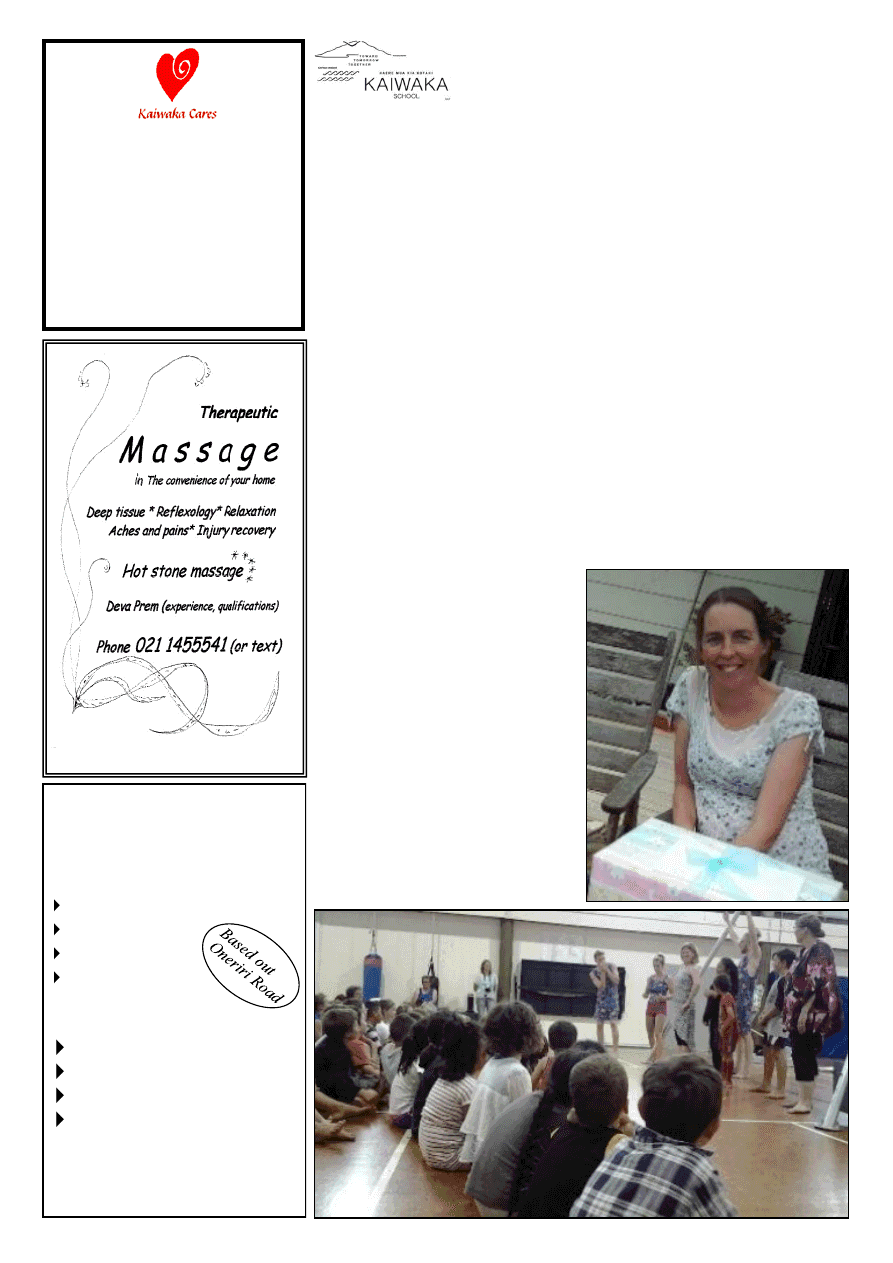 www.kaiwaka.co.nz 
Kaiwaka Bugle - 8 December 2015 
Page 11 
HODGETTS
CONTRACTING
Digger Work   
Driveways 
House Sites  
Dams 
Drains, etc  
Also available 
for HIRE 
3 ton Vib Roller 
Heavy Duty Tow 
Waterblaster  
Lazer Level 
 
Phone Mark 4312877 
027 447 8554
www.mangawhaimassage.co.nz 
We 
congratulate 
Mrs 
Sharlene 
Tornquist 
on 
her 
permanent 
appointment as the deputy principal of 
Kaiwaka School.  
Two new teachers will be with us next 
year.  Our  staffing  plan  for  2016  is  as 
follows: Room 2 – Mrs Anna Jamieson 
and  Mrs  Wilkinson;  Room  3  –  Ms 
Vanessa Hunter; Room 4 – Ms Martine 
Greig;  Room  5  –  Mrs  Sharlene 
Tornquist;  Room  6  –  Mrs  Rosie  Ellis 
and Ms Alex Cowie. 
On  the  last  day  of  school,  15th 
December,  the  school  will  close  at 
1.30pm. Buses will be early this day. 
The  swimming  pool  is  now  ready  for 
use.  The  water  temperature  is  over  18 
degrees  and  the  water  is  ready.  Please 
send  your  child  to  school  with  their 
swimming gear every day.  
Pool  keys  and  the  contract  will  be 
available from Thursday 3rd December 
until  Tuesday  15th  December.  Please 
be  aware  that  the  pool  will  be  under 
video surveillance at all times.  
We  would  welcome  your  feedback 
about  Noho  Marae  and  the  school 
reports  that  will  be  issued  next  week. 
Please 
email 
your 
thought 
to 
principal@kaiwaka.school.nz. 
~Rosie Ellis 
Library News Term 4 
We  were  lucky  enough,  earlier  this 
Term  to  receive  a  donation  from  the 
Pahi  Bookworms  (a  book  club  my 
mother  belongs  to).  The  children from 
Room  6  wrote  amazing  thank  you 
letters to them, and made a wish list of 
some  of  the  books  they  would  like  to 
see  me  purchase  for  the  Library. 
Coupled  with  our  bonus  points 
accumulated from the Scholastic Books 
throughout the year, I'm pleased to say 
I have bought many Geronimo Stilton, 
Wimpy Kid, Captain Underpants, Billy 
B  Brown,  Ivy  and  Bean  and  others  to 
add  to  our  shelves  in  2016!  How 
exciting!! 
As  we  count  down  to  the  end  of  the 
year,  can  I  ask  please,  that  all 
outstanding  and  overdue  books  are 
returned to the library, so that they may 
be checked in and tucked up ready for 
next year! Happy reading.            ~Sara 
Kaiwaka Primary School would like to 
give a massive thanks to local resident 
and  master  craftsman  Perry  Allan  for 
his  generous  koha  of  bone  carving 
taonga for our kapahaka group to wear 
at  performances.  Perry  made  these 
especially for our students after seeing 
a  recent  performance  and  we  are  very 
appreciative  and  humble  of  this 
amazing  gift  -  we  will  have  photos  of 
the pupils wearing these after they have 
been  blessed  and  worn  at  prizegiving 
next week.  
Kaiwaka Primary School pool is now 
open for it's students to use. Pool keys 
are  now  on  sale  for  the  community  to 
purchase  for  the  swimming  season 
(entire details available at the school) at 
the  cost  of  $60  which  includes  a  $10 
refundable  bond.  Security  camera 
surveillance of the pool is now in place 
due  to  a  history  of  vandalism  and 
disrespecting  the  rules.  The  school  is 
open  until  the  15th  of  December  for 
enquiries.         
~ Naomi Walker, BOT 
Pictured: There was a baby shower for 
Anna, and the circus came to Kaiwaka! 
KAIWAKA SCHOOL 
Community Drop-In Centre
Open 10am – 2pm
Monday – Wednesday – Friday 
Free WIFI now available
Colour and black/white laser 
printer 
JP on site Wednesdays @ 1.30pm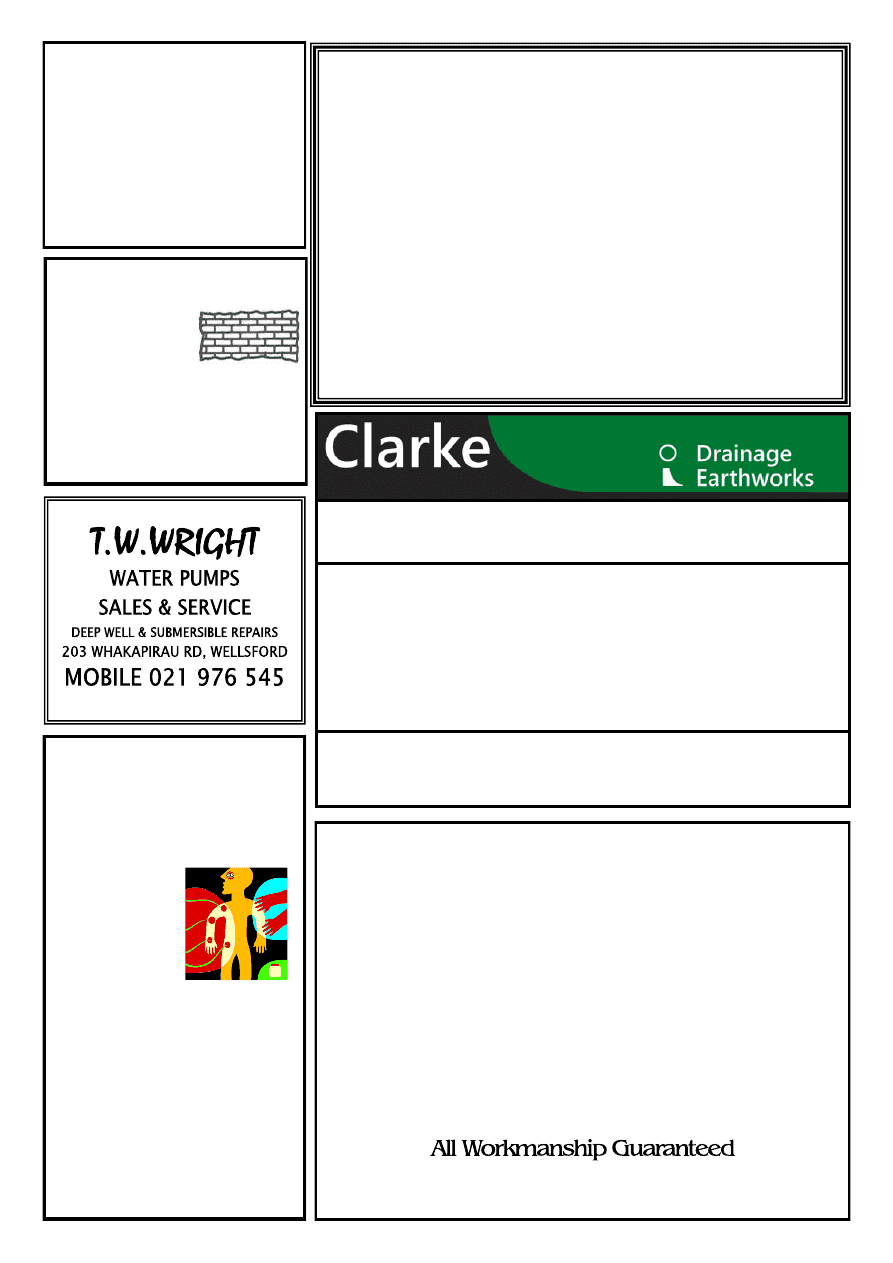 OWEN STEVENS 
Osteo Therapist
For careful adjustments to bones 
and joints 
Treatment for  
humans and 
their pets 
Clinics: 
Kate's Place, Kaiwaka: 
Last Friday of month 
For bookings:9.00am-5.00pm   
Phone 
09 4312661 
Or phone  
Owen  09 4317123  
anytime 
PLANNING A NEW KITCHEN?
CONTACT NOEL McDOWELL 
WELLSFORD KITCHENS
Ph/Fax 09 4312 888
KAIWAKA-any time 
QUALITY CUSTOM MADE KITCHENS
~Personal and Prompt Service~ 
~
~ 
~Over 20 Years in the Trade~ 
~Free Design & Quote~ 
Registered Drainlayer 
All Types of Earthworks  
> All Residential & Commercial Work 
> House Sites 
> Septic System Design & Install 
> Footings & Drilling to 10m 
> Sewer Connections 
> Dams 
> Water Tank Installation 
> Roading & Races 
> Farm Work 
THE ONE STOP SHOP  
Phone Nigel for an Obligation Free Quote  
Drainage & Earthmoving                         clarkedrainage@xtra.co.nz 
027 2233 185 
Laughing Dog 
Computers 
Hardware and Software 
Service and Repair 
www.laughingdog.co.nz 
09 4312 654 
BRICK/BLOCKLAYER 
All aspects of masonry:  
Fireplaces, 
Restoration  
& Remedial Work.
JAMES EAGLETON 
Tel. (09) 431 2514  
Mob. 0274 749 232 
jajueagles@yahoo.com.au 
210A Pukenui Road, RD2 Kaiwaka 0573 
g.a.s. Mangawhai
we have a 
GARDEN CENTRE 
for all your gardening needs 
Also a great range of 
STOCKFOOD 
Wide range of 
ORGANICS AND FRESH 
LOCAL PRODUCE 
All your motoring needs are taken care of by our friendly staff 
check us out… 
44 Moir Street, Mangawhai (09)431 4242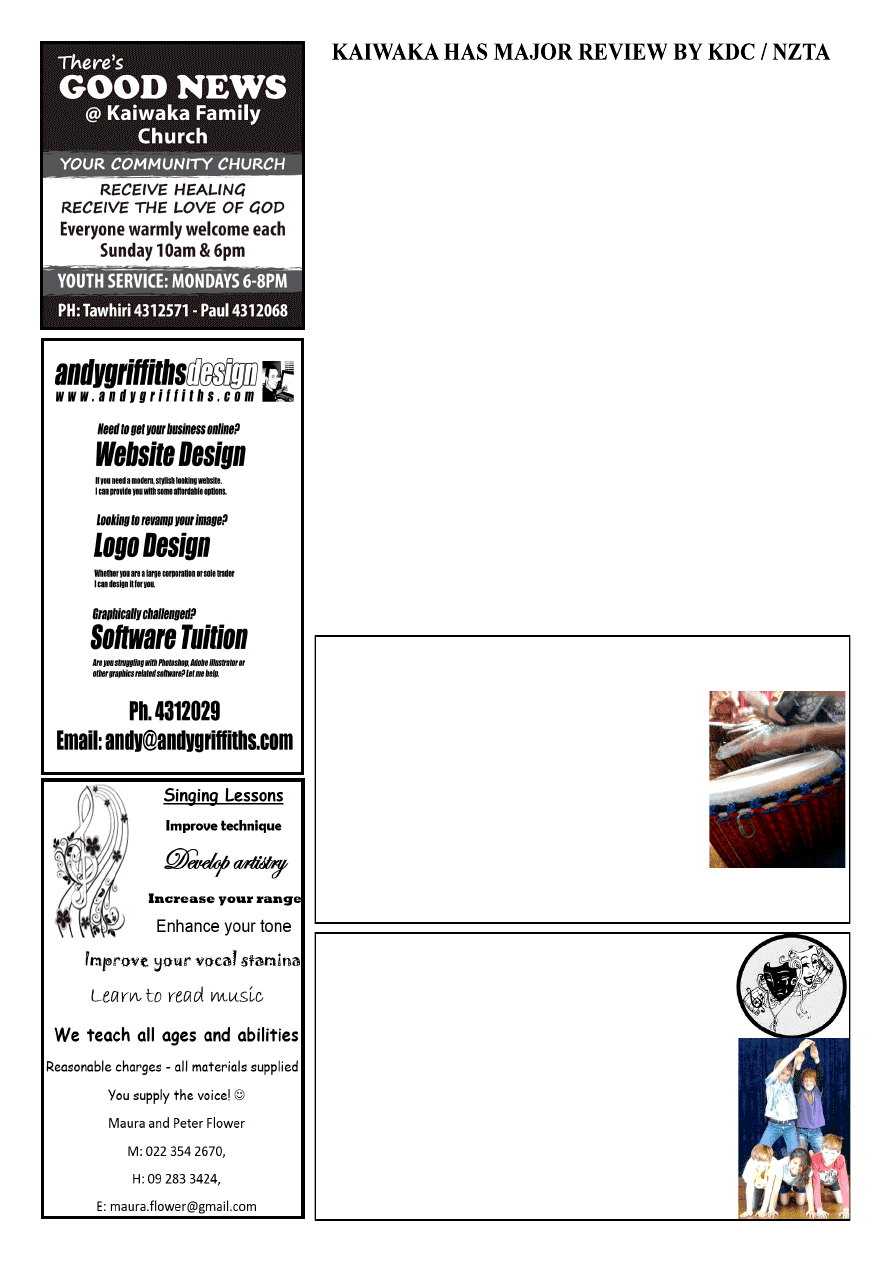 www.kaiwaka.co.nz 
Kaiwaka Bugle - 8 December 2015 
Page 13 
KAIWAKA DRAMA CLUB 
For children 5-15 Yrs 
What a great term ending 2015, our children have had their 
last session full of creativity, with a play presented to all, on 
the final session. 14 December at 18:30 start. All welcome. 
Drama Classes for 2016 
Kaiwaka  Drama  Club  organisers  are  calling  for  parents  to 
register their children for next year 2016 term 1 drama classes. 
Each  class  is  limited  to  12  students,  therefore  the  more 
children that come we can set up another class. 
Class group 5-12yrs and or Class group 12-15yrs 
The classes are from 5:30 - 7:00pm Mondays. Cost, $15 per 
class. 
Contact:  Dave  Edwards  by  email  skills4life@gmail.com  or 
phone 021 611198 for details. 
You can also like us on facebook to find more information 
www.facebook.com/KaiwakaDramaClub/ 
KAIWAKA HAND DRUMMING 
Classes for all  interested adults and older children for 2016 
Classes start at beginning term one 2016 
Time 7:30 to 9:00pm on Monday evenings. 
Where: Kaiwaka War Memorial Hall 
Cost $15 per class 
Bring your own drum if you have one there may be other 
types of drum available for hire. 
Classes  are  lead  by  Dave  Edwards  and  he  will  teach 
African rhythms in many different styles using; Djembe, 
Cajon, Bells, Dunduns and anything else that can be used 
as a hand drum. 
Note to the community, if there is a drum in your closet 
that is either broken or in need repair or you would like to 
donate  to  the  group  contact  Dave  021  611198  or 
djembenz@gmail.com   
Dave makes and repairs drums and sometimes other instruments. 
People  in Kaiwaka  have  been  working 
for  many  years  to  do  something  about 
traffic speed through Kaiwaka.  We are 
part  of  State  Highway  One  and  for 
many 
people, 
simply 
a 
brief 
interruption to their trip north or south.  
There  have  been  petitions  over  the 
years,  meetings,  representations,  all 
with little effect. 
However  we  now  seem  to  be  making 
some  progress.    Kaiwaka  Can  is  the 
community  group  set  up  over  a  year 
ago  by  Kaipara  District  Council.    As 
one  of its  agenda  items,  we  have  been 
looking  at  speed  issues  and  other 
difficulties  caused  by  State  Highway 
One.  Ruth Tidemann in particular has 
collected  over  900  signatures  for  a 
petition  presented  to  MP  Winston 
Peters.  Council has also been working 
hard  on  behalf  of  the  district  and  this 
has  led  to  two  very  useful  meetings 
between  NZTA  and  Council  and 
Kaiwaka Can.  Police also attended the 
first meeting to talk about enforcement 
problems.    At  the  second  meeting, 
NZTA presented a list of 29 issues that 
they  had  heard  from  us  in  the  petition 
and  at  our  meetings.    It  was  a  fine 
summary of both the problems and the 
possibilities.  For example not only did 
they  note  problems  with  speed, 
pedestrian  crossing,  footpaths,  parking 
and  signage,  but  they  also  noted  that 
there is room for a system of walkways 
through  the  township  that  would 
enhance  our  lifestyle.    They  talked  of 
signage  not  only  in  terms  of  a  single 
sign with the name of 'Kaiwaka' on it, 
but  the  possibility  of  a  gateway  that 
gave  an  idea  of  our  heritage  and  the 
nature of the town.  They also spoke of 
the  effect  of  planting  on  speed,  the 
greener the zone, the gentler the speed 
is likely to be. 
All of this has now been spelt out in a 
brochure  produced  by  NZTA  and 
available  in  the  town.    Copies  of  the 
brochures  have  been  put  in  Jaques, 
Three  Furlongs,  La  Nonna  and  the 
Library,  along  with  a  large  map 
spelling out the 29 issues identified. 
The idea is that people have a couple of 
weeks  to  study  this  and  note  any 
omissions  and  offer  any  suggestions 
they  have.    That  then  goes  back  to 
NZTA who will come back in the New 
Year  to  a  public  meeting  with  their 
recommended  solutions.    We  look 
forward with interest to what they have 
to  offer  and  also  express  our  gratitude 
to  NZTA  and  the  Council  staff  who 
have made this possible. 
Make  sure  you  get  a  copy  of  the 
brochure  and  have  your  say  and  also 
think about the possible future projects 
in  the  town  that  arise  out  of  this  that 
might be your sort of project. 
~Derek Christensen 
Chair, Kaiwaka Can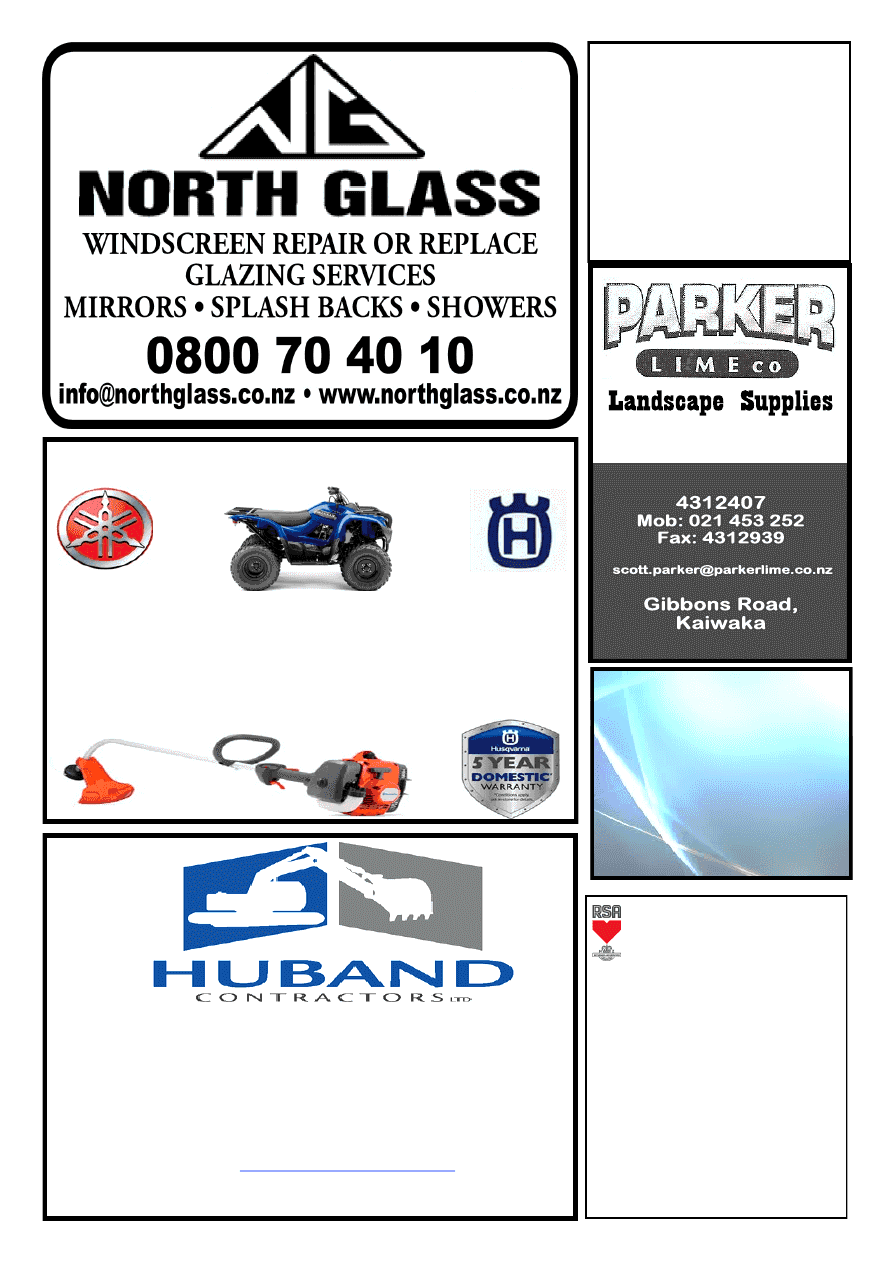 *   R O A D I N G   *   E A R T H W O R K S   *    
*   D R A I N A G E   *   S I T E W O R K S   *  
For any further enquiries, contact Shaun on: 
Cell: 021 222 0272 
Home: 09 4318339 
Email:   
Shaun Huband:  Registered Drainlayer 
Bulk Cartage 
 LEABOURNS 
Passenger Service
Car & Van Hire 
Bus & Coach Charters 
Airport Transfers 
 Monthly Shopper Bus 
Phone (09) 4237416 
Freeview  
Installations 
Richard Te Haara 
25 Marram Place 
Mangawhai Heads 
021 1104056 
kiwipride@xtra.co.nz
KAIWAKA MOTORCYCLES LTD
SALES – SERVICE – SPARES 
FARM BIKE SPECIALIST
PHONE 09 431-2127 
10 KAIWAKA-MANGAWHAI ROAD, KAIWAKA
TRIMMERS FROM $249 - CHAINSAWS FROM $329 
YAMAHA 
HUSQVARNA 
HAKARU & 
DISTRICTS RSA 
Inc 
Each Friday night from 6.30pm 
meals will be served. 
Members & invited guests, new 
members welcome.
Come along & enjoy our hospitality.
2nd Friday of the month -  roast 
dinner or board menu.
Last Friday of month - roast pork 
night & sing-along with Des Chitty.
Ph Heather 4314668 or Jan 4314512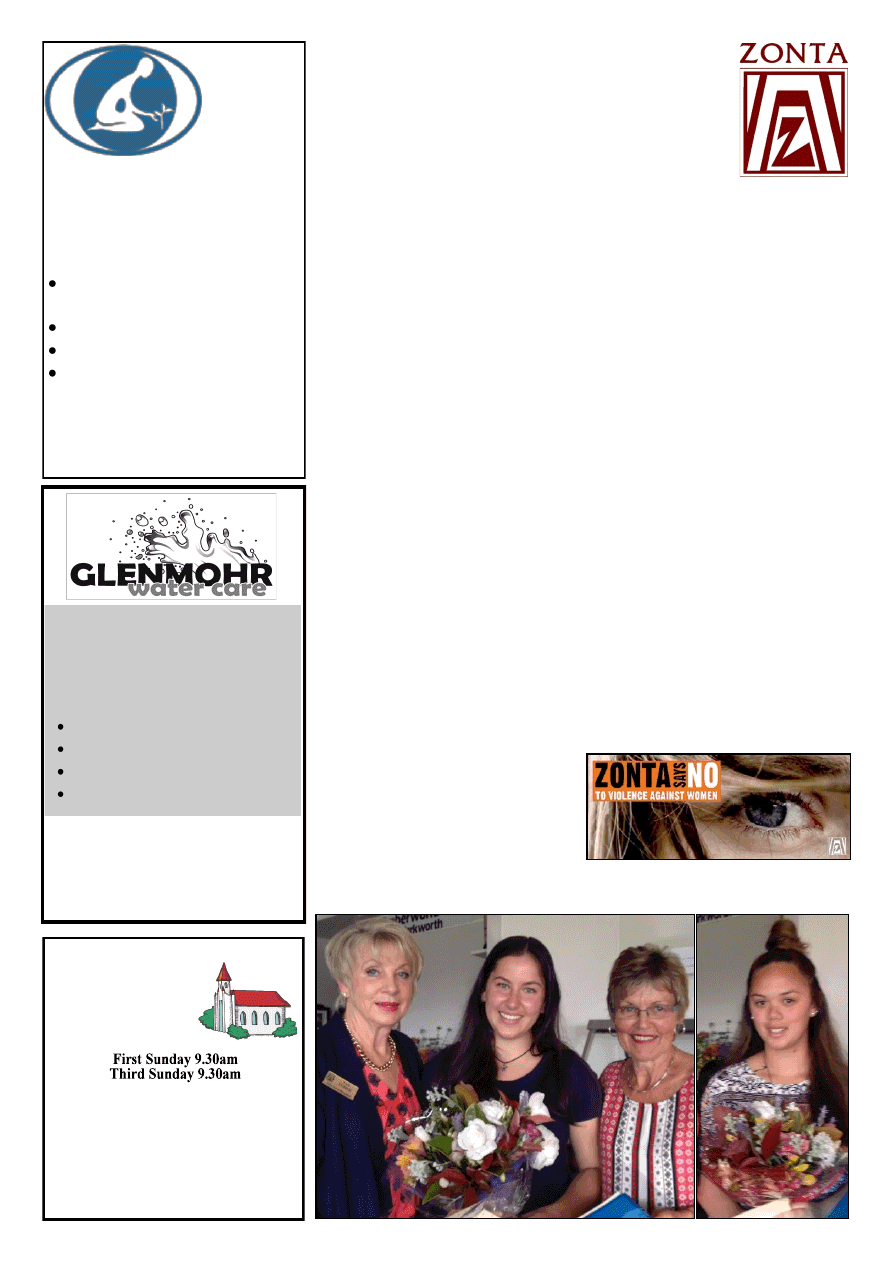 www.kaiwaka.co.nz 
Kaiwaka Bugle - 8 December 2015 
Page 15 
ZONTA
Water Tank  
Cleaning 
Keep your water safe & clean   
Removal of sediment, silt etc 
Vacuum or full scrub 
Minimal water loss 
Phone Mark  
(09) 432 0655  
or 0274 707607 
ST PAUL'S  
ANGLICAN  
SUNDAY  
SERVICES
St Pauls Church: Kaiwaka-Mangawhai Rd. 
1st Sun - Eucharist 
3rd Sun - Family Service 
Office 4314 122 
Contacts:M.Hargreaves 4312295, C.Bygrave 4312057  
or Rev. Wayne Thornton Ph 431 5650 
Magnetic Laser for Health
Using a low power laser I can help 
with a variety of conditions:
Joints pain, swelling, 
inflammation 
Back and neck pain 
Heel pain 
Injury or fracture recovery
Phone Gala 
431 2213 
021 486 611 
Awards  Night  Wraps  up  Busy 
Year 
for 
Zonta 
Club 
of 
Mangawhai 
On  Monday,  November  23,  the  Zonta 
Club  of  Mangawhai  presented  their 
Spirit of Adventure Awards to the two 
2015  recipients  of  this  annual  event  – 
Aimee  Stevens  from  Rodney  College, 
and  Latina  Te  Awa  from  Otamatea 
High School. Both these young women 
were  chosen  from  an  impressive  slate 
of  candidates  after  a  rigorous  process 
of shortlisting and interviews, and they 
now have the wonderful opportunity of 
a  fully  funded  10  day  Leadership 
Voyage  on  the  Spirit  of  New  Zealand 
to  further  develop  their  leadership 
skills, make new friends and overcome 
challenges.  
These  awards  are  enabled  by  the 
generosity  of  the  local  community  at 
fundraising  events  organised  by  the 
Zonta  Club  throughout  the  year.  Save 
the  date  in  2016  for  a  Midwinter 
Christmas  Ball  on June  25th  when the 
inaugural  winner  of  Zonta's  Second 
Chance  for  Women  Study  Award  will 
be  announced.  Details  for  this  award 
will be available early in the new year. 
On Saturday, November 28th, members 
of  the  Mangawhai  club  will  join  with 
Zontians from Whangarei and Hatea on 
a  'Zonta  Says  No'  walk  protesting 
against domestic violence. This walk is 
in  conjunction  with  the  White  Ribbon 
and  It's  Not  OK  Campaigns  and  also 
highlights  the  national  project  of 
support 
for 
the 
Sophie 
Elliot 
Foundation. 
At  the  AGM  of  Mangawhai  Zonta  on 
Monday  evening,  past  President  Jan 
Barnett passed the mantle of leadership 
to incoming President Jan Fisher.  The 
Club  welcomes  new  members  and 
would love to hear from you – contact 
zonta@mangawhai.org.nz,  like  our 
Facebook  page  for  further  information 
or  to  come  along  to  a  meeting  to  hear 
interesting  speakers  and  meet  new 
friends. 
Zonta  Says  No  to 
Violence 
against 
Women 
On  Saturday  28th 
November  2015,  the 
Zonta 
Club 
of 
Mangawhai  and  the 
other  28  Zonta  clubs  throughout  New 
Zealand  united  with  members  of  the 
local  community  to  make  a  stand 
against  gender  based  violence  at 
Whangarei Town Basin. 
Launched in 2012, the "Zonta Says No 
to Violence against Women" campaign 
is  a  call  to  action  to  end  violence 
against 
women 
and 
girls 
in 
communities  around  the  world.  Each 
year,  the  campaign  covers  16  days  of 
activism, from 25th November to 11th 
December. Nearly 1,200 Zonta clubs in 
67  countries  unite  at  this  time  for  this 
very important cause. 
Our  club  has  worked  with  local 
agencies and promoted the anti- family 
violence  message  wherever  possible. 
We have held public meetings and have 
made  four  life  size  orange  female 
figures  with  anti-  violence  messages 
printed  on  them  which  we  display  at 
most of our events.  We have recently 
made  a  resource  for  local  workplaces 
with contact details of local agencies. 
"We are very excited to be part of this 
national Orange March and hope that it 
makes  our  community  aware  of  the 
terrible statistics that are still associated 
with  the  issue  of  gender  based 
violence,"  says  Jan  President  of  the 
Zonta Club of Mangawhai 
See  examples  of  the  thousands  of 
events across the world and learn more 
about  the  campaign  by  visiting 
www.zontasaysno.com. 
Pictured below: left: Aimee with incoming President Jan Fisher on the left and 
member Sue Poynter, right: Latina.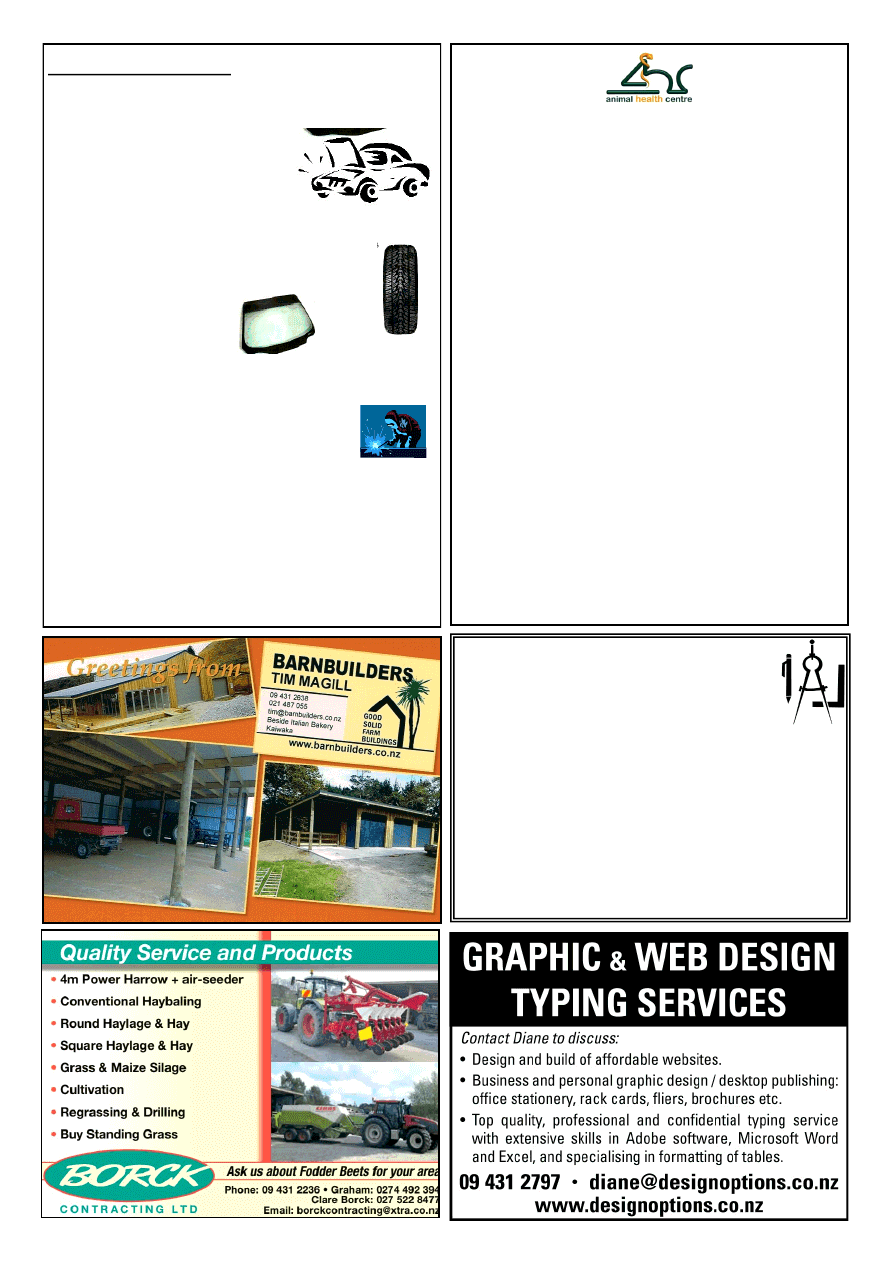 design drafting  
service 
Retired builder and manufacturer with over 40 years  
experience in the building industry is offering a design 
drafting service  
for domestic housing, sleepouts and sheds.  
Plans formulated in consultation with clients, with 
working drawings completed and submitted to  
council for processing.  Extensive practical experience,  
able to identify & resolve problems. 
Please ring Mike Lean on 
09 431 2260  
          or 
021 431 196 
Want it done? 
Bring it to  
Twinkle Tow 'n' Tyre 
*W.O.F. 
*Tyres 
*Windscreen replacement 
*Chip repairs 
*Bulk Oil 
*Batteries 
*Welding 
*Custom built trailers 
*Trailer hire 
Think you'll get a better deal in the city? 
Go on, ring us; it won't cost  
anything! 
1837 State Highway 1, Kaiwaka       
Phone 431 2823 
ANIMAL HEALTH CENTRE 
KAIWAKA 
"choices in health care  
for your companion animal" 
Health problems - itchy skin, smelly ears, bad 
breath, diarrhea? 
On steroids, antibiotics, lifetime drugs.....  ? 
Diet may be a part of the problem!   
Call in and have a chat to our team of animal health 
practitioners. 
Nail Trims  Microchipping  Dental checks   
Comfort grooms 
Great range of real food – no preservatives 
Alternatives to nasty chemical parasite controls 
OPEN:    Tues-Fri    10am – 4.30pm 
    Saturday   10am -  4.00pm 
    Sunday      11am -  3pm  (new hours) 
Next to Italian Bakery, Main Highway  Kaiwaka 
Ph:  09 431 2217 
PS: We're  open 7 days in Orewa if you missed us!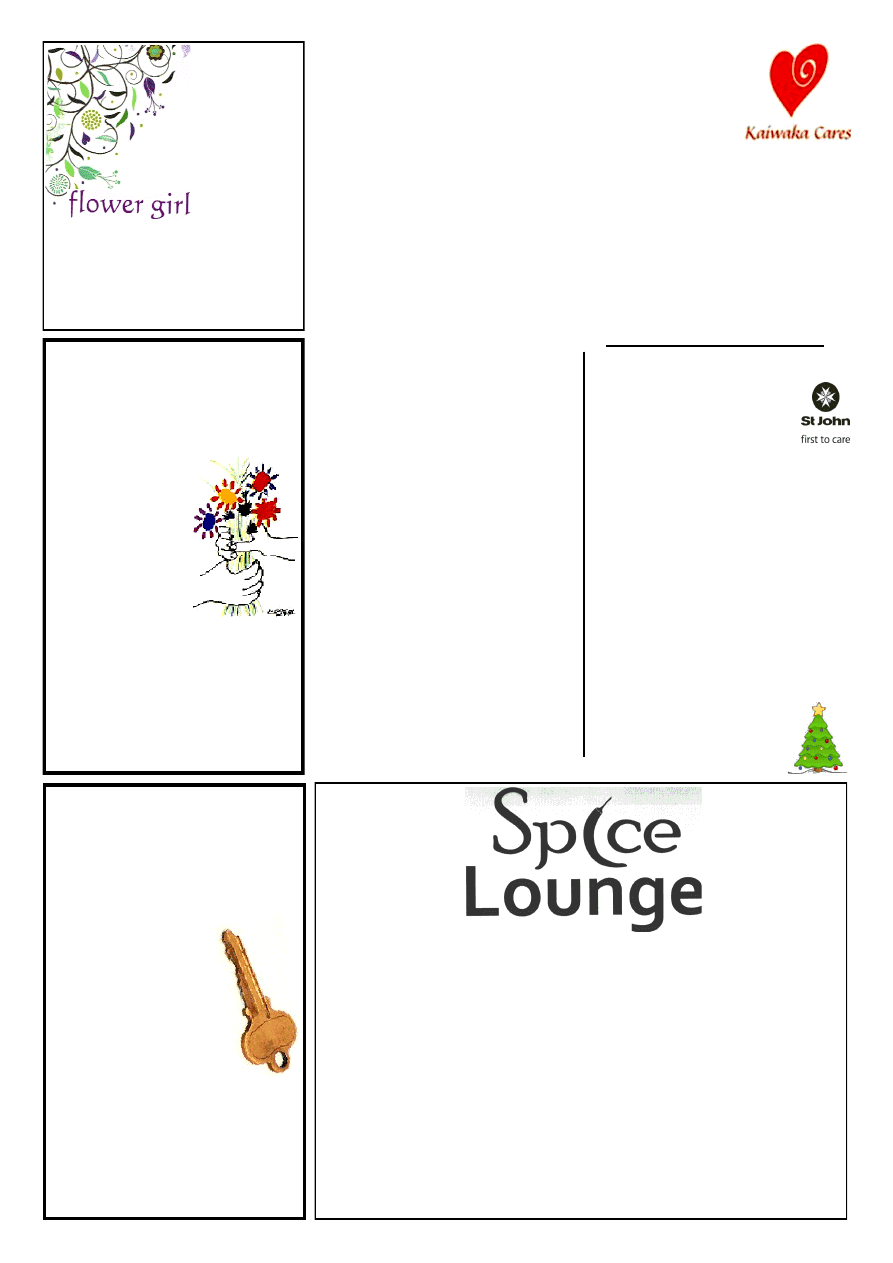 www.kaiwaka.co.nz 
Kaiwaka Bugle - 8 December 2015 
Page 17 
ST JOHN'S OP SHOP 
Back  in  July  2015  the  Kaiwaka  Drop 
In  Centre  opened  its  doors  as  a 
community  initiative  to  provide  a 
social  space  for  everyone.  We  are 
based  in  the  lounge  at  Kate's  Place 
opposite  the  Cheese  Shop  on  State 
Highway 1. 
The  centre is  open to  all  as  a  place  to 
meet,  share  resources,  teach,  learn, 
have  a  cuppa,  eat,  use  the  wifi  or  the 
printer,  ask  a  question,  listen,  be 
listened  to;  in  fact  whatever  is  needed 
by  the  community.  Run  by  Kaiwaka 
Cares  the  Centre  runs  on  the  basis  of 
usage  and  from  koha.  The  goal  is  for 
the  Centre  to  be  a  service  for  the 
community 
of 
Kaiwaka 
and 
surrounding areas. 
We  are  currently  open  Monday, 
Wednesday  and  Fridays  from  10am  to 
2pm.  Kaiwaka  Care's  current  team 
have  been  running  things  since  it 
opened and we need more volunteers to 
spread the workload. 
Over the past six months we have run a 
couple  of  'mini  workshops',  hosted 
meetings, been part of: the involvement 
of  community  in  ongoing  Eutopia 
sculptural  work,  the  renewal  of  the 
Kaiwaka  community  garden,  the 
Council  /NZTA  initiative  to  improve 
Kaiwaka  town  centre  and  the 
beginnings  of  a  Community  Safety 
liaison  with  the  police.  Some  of  this 
within  our  opening  hours  and  some 
outside of those hours when the Centre 
is available for hire. 
As it's almost Christmas we would like 
to issue an open invitation to all to our 
Christmas 
lunch 
on 
Monday, 
December  14th  at  12  o'clock  at  the 
centre. Bring a plate if you are able, if 
not  then  am  sure  there  will  enough  to 
share. We will have a suggestion book 
Another  year  gone  by!  We 
have  a  decorated  a  Xmas  tree 
with  lights,  lots  of  Xmas 
decorations  plus  new  Xmas 
presents. A whole lot of new stuff out, 
including  plants  (yellow  canna  lillies), 
$1  clothes  rack,  a  single  bed  & 
mattress. 
Wanted:  cooking  pots,  towels,  and 
anything else. Plastic bags. 
Thank  you  to  the  many  people  who 
support  and  help  us.  I  might  forget 
someone so I won't say any names. 
The  shop  will  close  24th  December 
4pm  and  open  29th to  31st  December. 
Open Tuesday 5th January for the new 
year. 
Our Christmas Hamper Raffle was won 
by Tracey, ticket No 098. 
Thank  you  everyone  for  buying  a 
ticket.  
The staff and I would like to 
wish  everyone  a  Merry 
Xmas & Happy New Year. 
                               ~Millie 
KAIWAKA CARES 
Kaiwaka  
Hardware  
&  
Key cutting 
 Phone 4312 063 
 022 041 6047 
 kaikey2015@gmail.com 
Keys Cut  
Household Hardware  
Curtain Tracks & Fittings
Not there? Call Doug and he'll sort
it for you.
(
Next to Kaiwaka Motorcycles)
Flowerpower 
Northland 
Long lasting 
flowers 
delivered 
from 
Mangawhai
www.flowerpower 
northland.co.nz 
Ring Martina 
4315161 
Indian Restaurant & Takeaways 
Phone 4312 737 
Open 7 days 
Lunch: 11:00am to 2:00pm 
Dinner: 5:00pm 'til late 
BYO welcome 
Beer & drinks available 
Gluten-free food available 
1917 State Highway 1, Kaiwaka 
Also: Spice Lounge Takeaway, 173 Rodney Street, 
Wellsford Ph 423 7879 
Kaiwaka 
Good Sorts 
Do you know 
someone in our 
community 
who is 
deserving of a 
beautiful bunch 
of flowers? 
Send an email 
or drop a note to Jaques Four 
Square to let the Bugle team know. 
We will choose a recipient to 
receive flowers from Lindy the 
flower girl. 
lindywatson@hotmail.com  or 4312847
at  the  luncheon  in 
which  we  hope  you 
will  share  your  ideas 
for  future  services  we 
can  provide  for  the 
community.  A  suggestion  box  will  be 
also available locally for your ideas and 
you  can  contact  us  by  email  at 
caring4kaiwaka@gmail.com  or  look 
for us on Facebook.  
Going  into  a  new  year  we  need  your 
guidance on your vision for this social 
space, and how we may be of service to 
the  community  in  2016.  Look  forward 
to meeting you at the Christmas Lunch 
if not before. 
~The Kaiwaka Cares team.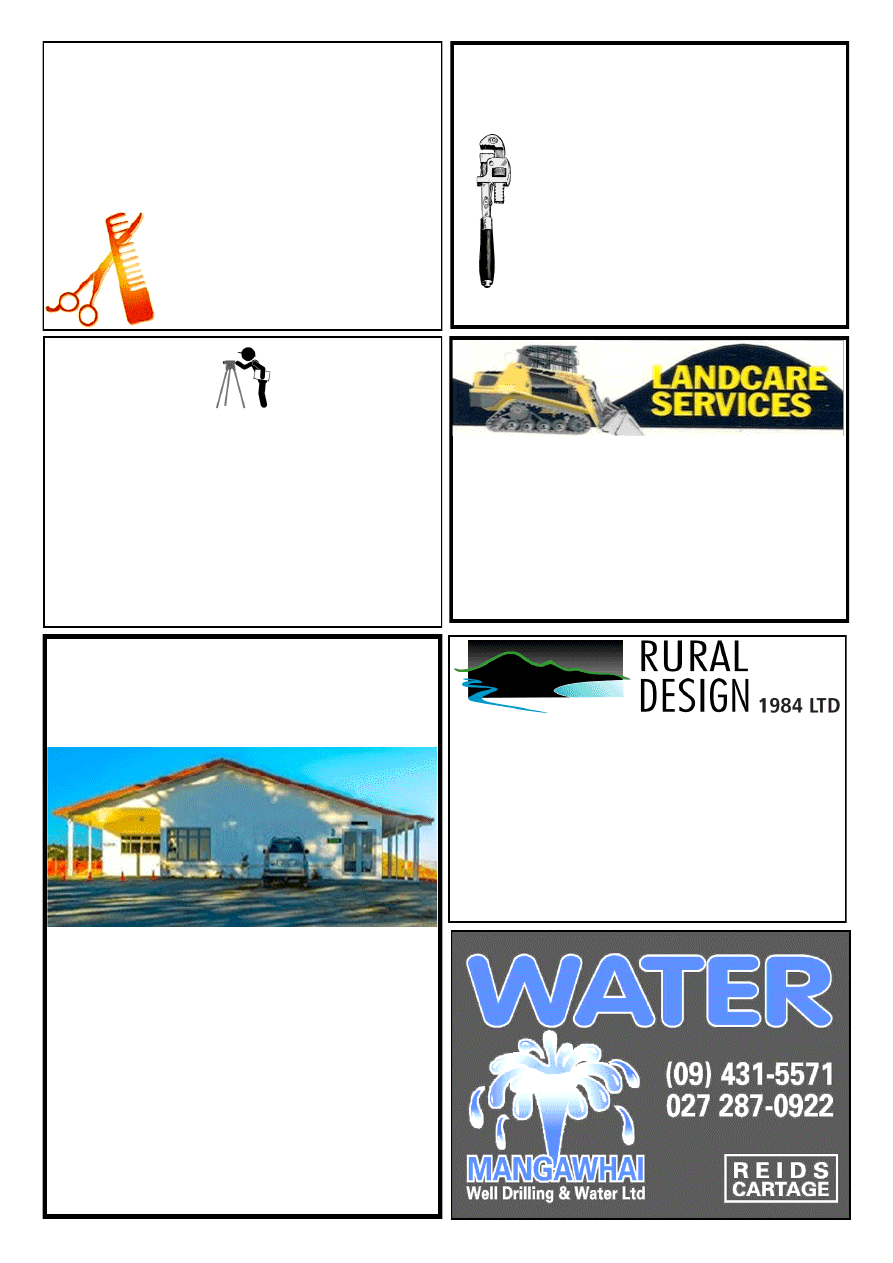 AFFORDABLE PRICES! 
MENS DRY CUT FROM $18.00 
LADIES DRY CUT FROM $28.00 
KIDS DRY CUT FROM $15.00 
COLOUR CUT FROM $90.00 
JUST CUTS'AND MORE 
021 165 2629 
NOW SELLING: scented tealights, incense, 
smudge sticks, copper bracelets, aurora ball 
crystals, dream catchers, healing stones, rose 
quartz, cds, and much more 
open 6 days 
Ken Urquhart 
BSurv Licensed Cadastral Surveyor 
KMU Surveys Ltd
467 Bickerstaffe Road 
RD 2 
Maungaturoto 0587 
Ph 09 431 8705 
Mob 021 161 2344 
kenurquhart@xtra.co.nz 
BARRY CURTIS PLUMBING LTD 
REGISTERED CRAFTSMAN PLUMBER 
Phone 4315572 
027 257 9884 
25 years experience 
Friendly reliable service 
All plumbing and maintenance 
Alterations and new housing 
Spouting 
Competitive rates 
PROMPT EFFICIENT  SERVICE 
WHOLESALE NATIVE PLANT NURSERY 
AND LANDSCAPING 
By Appointment 
Small and Large orders welcome 
Phone: 09 431 2481 
Email: info@ruraldesign.co.nz 
Te Pounga Marae 
130 Nathan Rd. Oneriri. Kaiwaka 0573 
COMPLEX FOR HIRE 
Functions 
* Weddings   *  Birthdays   *Anniversaries 
* Meetings   * Wananga 5 hour meeting 
* 12 hour stay   * Overnight 
*All welcome - No more Drink-driving 
Amenities: 
*Convo Combi Steamer * Bratt Pan * Dish 
Washer/Sterilizer * 3 Door Glass Chiller (walk in) 
etc…All Crockery * Linen Supplied * Central 
Heating and Air Conditioning and much more.  
Can also cater for small groups…. 
For more information please contact: 
Kim Wallace 
Home: 09 832 1133   Mob: 0211275340 
Email:  kimwallace@xtra.co.nz 
LANDSCAPING 
4 IN 1 BUCKET 
TRENCHER 
POLE HOLES 
ROTARY HOE 
COMPACT ROLLER 
OFFAL HOLES 
CAN SUPPLY WOODCHIP & POST PEEL 
5 TON TIPPER 
FOR RELIABLE AND FRIENDLY SERVICE CONTACT DAVE 
Dave Hyndman 
 
KAIWAKA 
PH: 09 4312302 
MOB: 021 431 238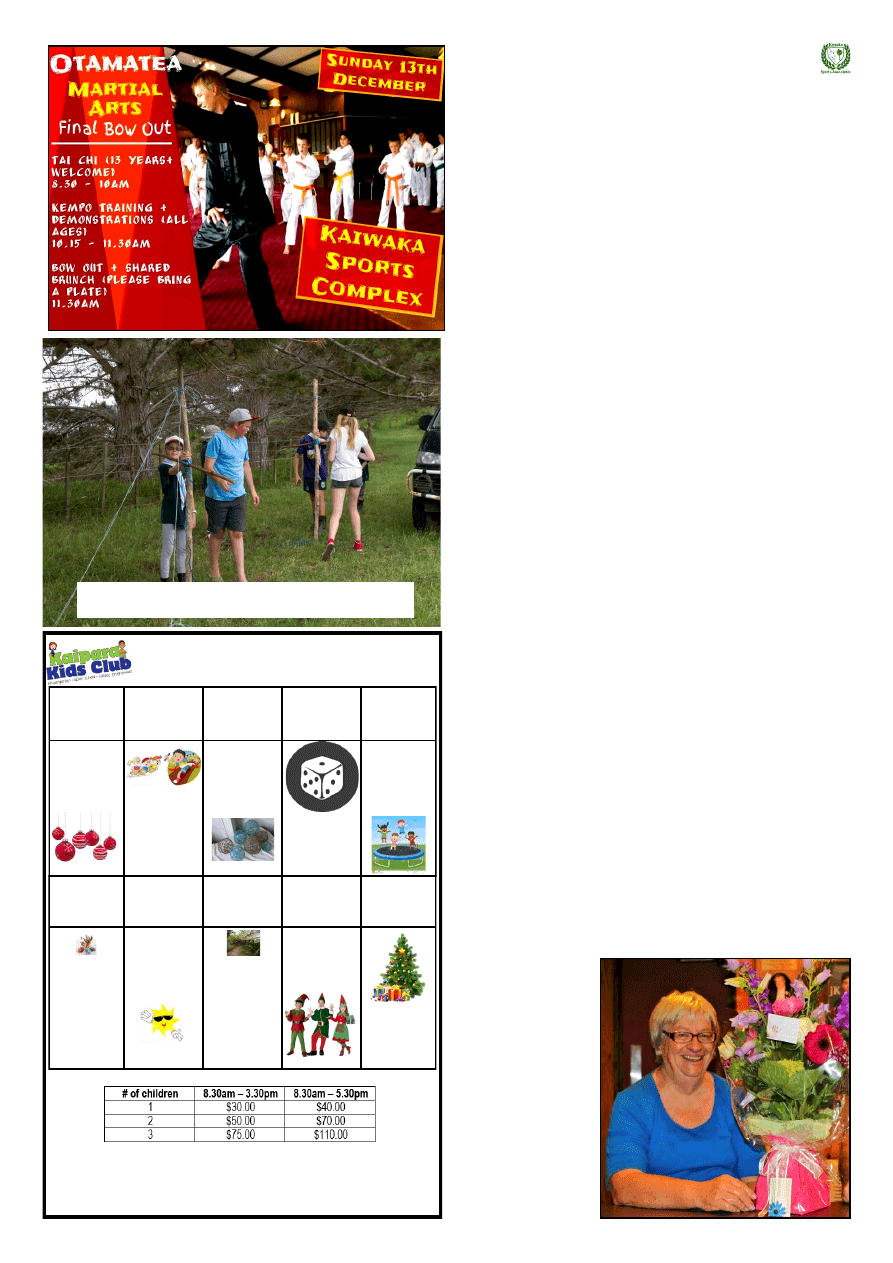 www.kaiwaka.co.nz 
Kaiwaka Bugle - 8 December 2015 
Page 19 
SCHOOL HOLIDAY PROGRAMME 
14th - 24th December 
Children aged 5 - 13 years
continued over... 
Monday 
14th 
December 
Xmas 
decoration 
creations 
Tuesday 
15th 
December 
Sports day 
at the 
school 
Wednesday 
16th 
December 
Rattan ball 
xmas craft 
Thursday 
17th 
December 
Make your 
own board 
game 
Friday 
18th 
December 
My Bounce 
trip 
$10 per 
person 
Monday 
21st  
December 
Art & 
Craft 
Xmas present 
wrapping day  
(bring your 
presents and 
wrap them 
pretty)
Tuesday 
22nd  
December 
Whakapirau 
Beach Trip 
Ratio 1:6 
Wednesday 
23rd  
December 
Paparoa or 
Maungaturoto 
bush walk 
& picnic at 
the park/
landing 
$5 per person 
Thursday 
24th 
December 
Dress up 
day 
Merry 
Xmas 
Session times & fees: per day 
Please note trip days have an extra cost - see time table 
Minimum numbers required for trip days - see staff 
What to bring: Lunch box, drink bottle, sunhat, sunscreen, changes 
of clothes. Club contact: 182 Hurndall St, Maungaturoto; p: 09 431 
8765, e: office@kaiparakidsclub.co.nz, fb: kaipara kids club 
Gymnastics 
This  Tuesday  8
th
  will be the  last  day  of term.  Classes  will 
run as usual but parents will be invited onto the gym floor 
15  minutes  before  each  class  finishes  to  celebrate  the 
achievements  of  the  gymnasts  with  badge  and  certificate 
presentations.  
Whanaunga Touch Tournament 
There  is  still  space  for  more  teams  to  enter  in  the 
Whanaunga  Touch  tournament  to  be  held  at  the  Sports 
Complex on 9
th
 January. The tournament is a fundraiser for 
Otamatea Marae and is open for anyone to play. There will 
be prizemoney for the top 3 teams plus lots of spot prizes. 
Keen to enter a team? Contact me and I will send you the 
registration  form.  All  teams  who  enter  before  17
th
December will go in the draw for a mystery prize. 
Badminton 
Our Badminton club will continue to hold their Club Nights 
on Tuesdays from 7pm, until 15th December and the season 
will  end  with  a  fun  Christmas  night.  After  a  break  over 
Christmas  and  the  New  Year,  we  will  start  again  on  12th 
January. 
Tennis 
Many  thanks  to  Lindell  Ferguson  who  is  stepping  down 
from our tennis club. Lindell has been involved in the club 
for  several  years  and  we  appreciate  her  hard  work  and 
dedication.  Welcome  to  Floyd  Driver  who  has  taken  over 
from Lindell. 
Touch Module 
Would you like to play in my Summer Touch Module? The 
Touch module will be held at the Sports Complex for eight 
weeks on Sunday afternoons starting on 7
th
 February. This 
is  a  casual,  friendly  competition  for  mixed  teams  of  men, 
women and teenagers. Touch is easy to learn and just about 
anyone can play. Why not start getting a team together! 
Martial Arts 
You  are  invited  to  attend  the  end  of  year  bow  out  of  our 
Martial  Arts  Club,  to  be  held  at  the  Sports  Complex  this 
Sunday 13
th
 from 8.30am. There will be Tai Chi and Kempo 
demonstrations  as  well  as  grading  presentations  and  a 
shared brunch.  
In  2016  Otamatea  Martial  Arts  will  continue  to  develop. 
The club has designed a new logo which you'll see on the 
new T-shirts, and they will be adding Sai and Tonfa to the 
weapons training for Blue belts and above. For Martial Arts 
enquiries, 
please 
contact 
Craig 
Bennetts 
on 
Farewell Carolyn 
Carolyn  Dymock  (pictured  below)  has  been  the  KSA's 
Treasurer for two years and is stepping down as she and her 
husband have decided to leave Kaiwaka to go traveling. 
Carolyn  has  been  a  very  capable,  efficient  member  of  our 
group,  so  we  will  miss  her!  All  the  best  for  your  travels 
Carolyn. 
Otamatea Tennis Tournament 
Our annual tennis tournament will be held at our courts over 
Anniversary Weekend. This tournament attracts top quality 
players from all over 
Northland 
and 
Auckland  and  we 
also  have  places  for 
locals  to  compete. 
So  dust  off  that 
racquet  and  get  in 
some  practice!  For 
any 
tournament 
enquiries, 
please 
contact  Grant  van 
Dalsum 
on 
KAIWAKA SPORTS ASSN 
Katie, Hamish, Zac and Toni, making a washing line 
at Cub Camp recently.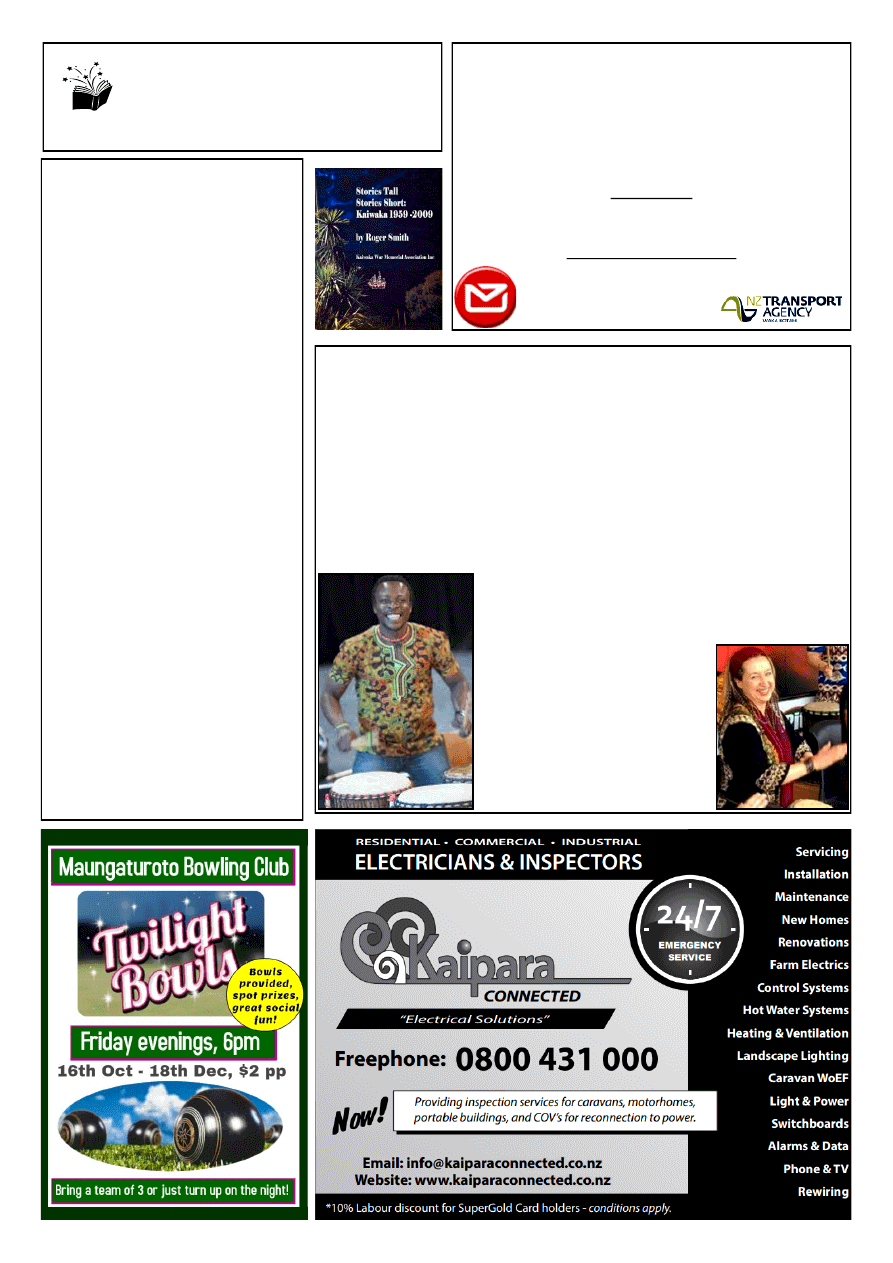 LIFE "SELF" 
COACHING 
COURSE 2016 
Learn  to  be  your  own  Life  'self' 
Coach.  Self  coaching  is  a  great  way 
to be self determined and self reliant. 
Design  the  life  you  deserve,  get 
proactive,  eliminate  procrastination. 
Classes will be covering the 10 major 
areas  of  your  life  -  Environment, 
Financial, 
Health, 
Relationship, 
Spirituality, 
Career, 
Family,  
Community, 
Educational, 
Recreational.  -  Learn  to  asses  your 
life  priorities  by  applying  the  wheel 
of life to your current situations. 
Communication skills - how to talk to 
yourself  and  convey  ideas  to  others. 
Setting 
realistic 
goals 
and 
implementation  with  accountability. 
Learn  to  use  a  range  of  coaching 
tools  that  support  your  efforts. 
Examine your current situation - plan 
to reshape your future.  
Register  your  interest  in  becoming 
your  life 'self' coach -  
Contact  Dave  Edwards,  Dip  Tchg, 
Dip Life Coaching, 
edwardslifecoaching@gmail.com  or 
call Dave 021611198.   
Venue  and  time  frame  to suit  clients 
requirements.  Classes  can  be  in  the 
daytime  or  evenings.  Classes  will 
take 2 hours, with home assignments. 
Cost  is  per  session,  $30.  You  will 
need  to  be  committed  to  make 
changes,  and  learn  how  to  get  these 
changes  into  actions.  This  self 
coaching  course  will  run  each  term 
with  an  option  for  previous 
participants to attend again. 
African Drum, Dance & Singing 
with Robert Koffie Fugah 
& Jennifer Moss 
Hosted by Kaiwaka Hand Drummers 
Jan 18th Kaiwaka War Memorial Hall 
Only $30 for the day 
10am Drumming, 11:30 Singing & body percussion, 12:30pm Shared 
lunch, 1:15pm Drumming, 2:15pm Dance. Drums available to hire 
'If you can talk, you can sing. 
If you can walk, you can dance.' 
Enquiries contact Dave 
Edwards:  
djembenz@gmail.com  
or 021 611 198 
www.robertfugah.co.nz 
www.jennifermoss.co.nz
Stories Tall, Stories Short  
Kaiwaka 1959-2009 
by Roger TW Smith.  $40 
Available from the Bugle Editors -  
Lindsey 4312 045, Wendy 027 480 6275 
KAIWAKA FOOD MART 
Mukesh and Pragna Patel 
1919A State Highway 1, Kaiwaka 
09 431 2431 
Opening hours: 
Groceries 
7.30am - 7.30pm daily 
(Monday to Sunday) 
NZ Post  and NZTA 
Mon to Fri. 8am - 5pm 
Saturday  8am - 1pm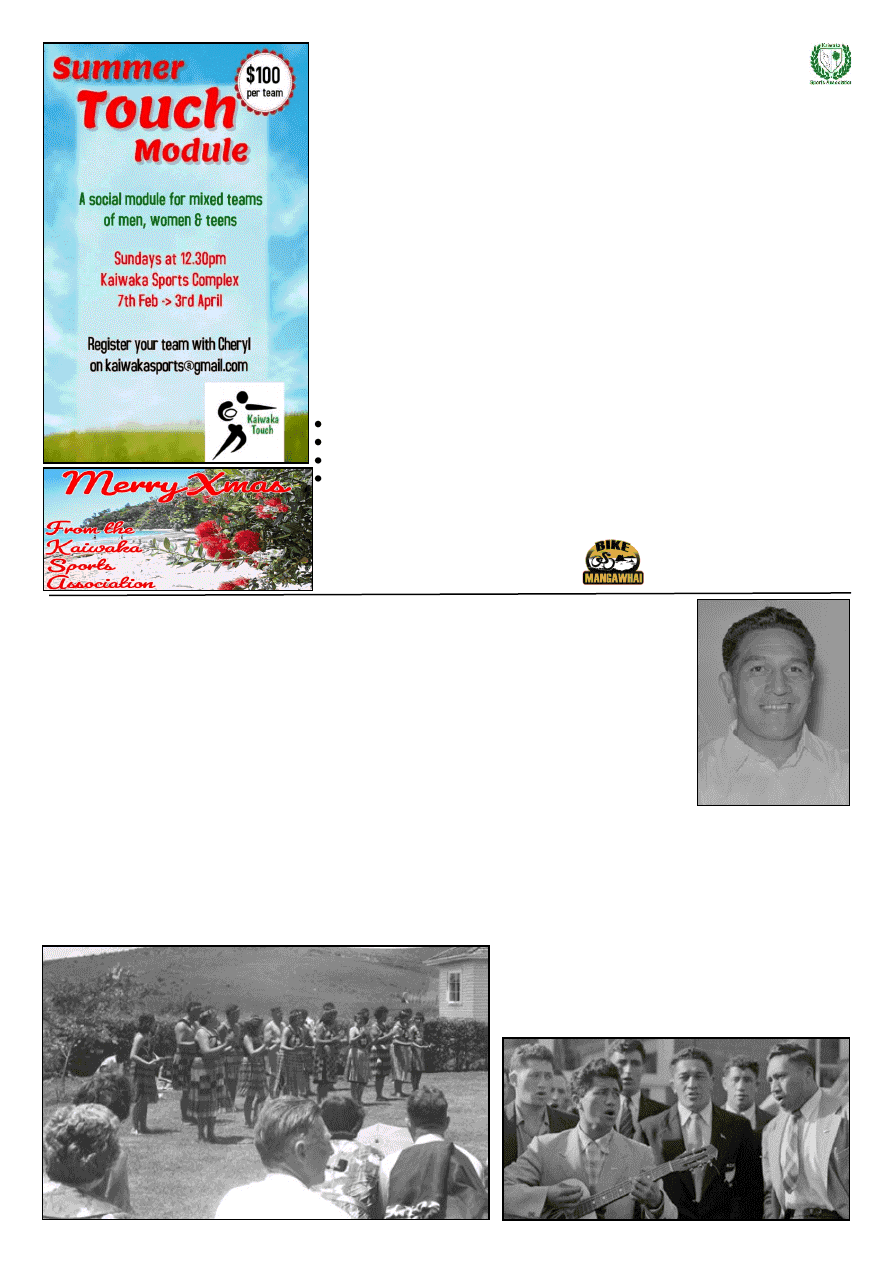 www.kaiwaka.co.nz 
Kaiwaka Bugle - 8 December 2015 
Page 21 
Santa is coming! 
Our Ready, Steady, Wriggle preschool 
activity classes have been very popular, 
and  our  Christmas  Party  is  coming  up 
soon!  After  a  fun  morning  of  games 
and activities in our gymnasium, Santa 
will arrive to spend some time with us 
and  then  we  will  have  a  shared 
morning  tea.  This  will  be  next 
Wednesday 16
th
 at 10am. All welcome, 
please bring a plate to share. Queries to 
Tina Ball on 021 033 5128. 
Top of the Rock 
Our 6
th
 annual multi-sport event Top of 
the  Rock  will  be  held  on  Sunday  14
th
February.  Entry  forms  will  be  on  our 
website 
The  event  caters  for  walkers,  runners 
and  mountain  bikers,  both  recreational 
and competitive as there are a range of 
options: 
5km or 10km walk or run 
10km run + 15km mountain bike ride 
14km or 30km mountain bike route 
plus, new this year, a fun bike course 
for under 10 year olds 
Routes  travel  through  some  of 
Kaiwaka's  most  scenic  countryside  – 
bush, lakes and farmland. And you get 
the  opportunity  to  climb  iconic 
Baldrock  Mountain,  which  is  easier 
than the  daunting  view  from  the 
road  suggests,  as  there  is  a  well 
formed  track  which  spirals  around  the 
mountain. 
TV3's  Brendon  'Money  Man'  Johnson 
will host the prizegiving with prizes for 
placegetters  plus  lots  of  great  spot 
prizes,  including  a  mountain  bike 
sponsored  by  Bike  Mangawhai.  Gotta 
be in to win! 
Who is keen for Basketball? 
I'm  thinking  of  running  a  basketball 
module, in our gymnasium probably on 
Sunday afternoons for 6 weeks or so. 
I'm  wanting  to  gauge  interest  to  see  if 
there  would  be  enough  people  keen to 
play. 
If  you're  interested,  please  let  me 
know. 
Thank you 
Many thanks to all the Kaiwaka Sports 
Association  committee  members  and 
club  committee  members  who  have 
worked  hard  throughout  the  year  to 
provide  sporting  and  recreational 
opportunities for our community. 
On  behalf  of  the  Kaiwaka  Sports 
Association I'd like to wish everyone a 
Merry  Christmas  and  a  Happy  New 
Year. 
Cheryl Anderson 
4312 051, 027 3462702 
KAIWAKA SPORTS ASSN 
continued
Fifty years ago - a Saturday in December 1965 - I attended 
the closing of the Parekura Maori  School and I took some 
photos - the one below has survived! 
Parekura  Maori  School  was  built  on  the  southern  shore  of 
the Otamatea River following a truly sad tragedy. Children 
from the Oneriri area were rowed across the Otamatea River 
to attend school at Tanoa, but  sadly on 18 October 1943 the 
boat overturned and six children were drowned [Ref. Papers 
Past - there are a number of NZ Herald and Auckland Star 
articles from 19 October 1943, searching under 'Tanoa']. 
A  new  school  at  Parekura  opened  in  1951  with  a 
headmaster's  house,  a  large  single  classroom,  shelter  shed 
and  toilet  block.  Page  22  of  Kaiwaka  -  a  Photographic 
History shows a number of photos of  the Parekura School 
pupils, including a large photo of them all - some you might 
recognise! I remember this school as been beautifully kept 
and  being  a  happy  place  -    for  me  winter  indoor  sports 
evenings were a real pleasure. 
Many  may  remember  the  last  principal  -  Reuben  Clarke. 
Reuben  was  also  the  player  coach  of  our  Eastern  rugby 
team  (fore-runner  to  Hawks 
Otamatea  rugby).  Reuben  Clarke 
was  a  Maori  All  Black  in  1952, 
1954,  1955  &  1956  (the  Maoris 
didn't play any games in 1953). He 
played 15 games for them. He also 
played  46  games  for  North 
Auckland  from  1952  to  1957;  he 
was  player  coach  for  Eastern  Red 
for  several  years  and  was  the  last 
coach  of  the  Otamatea  sub  union 
side  in  1965  -  a  year  when  they 
both won and then lost the Harding Shield.  
Reuben  moved  to  the  Auckland  area  after  his  time  in 
Kaiwaka.  His  two  sons,  TeRau  and  Teina  Clarke  also 
played  for  the  Maori  All  Blacks  in  1984  and  a  number  of 
years for Counties. His daughter,  TeAroha Keenan, was a 
Silver Fern. And grandson, Tamati Clarke, played under 19 
cricket for New Zealand.                                        ~ Lindsey 
Photos:  Above  -  Reuben  Clarke;  left  -  Parekura  Maori 
School, 1965 in the school grounds. Those  I could name: 
in the front Frances and Brian Linnell (with pipe); in the 
performing  group  -  3rd  from  left  Isabelle  Paikea,  6th 
Jimmy Connelly, 11th Connie Marsden, and the lass on the 
right  was  Connie's  daughter  Annette.  Below:  Reuben  in 
black jacket - on tour 
PAREKURA MAORI SCHOOL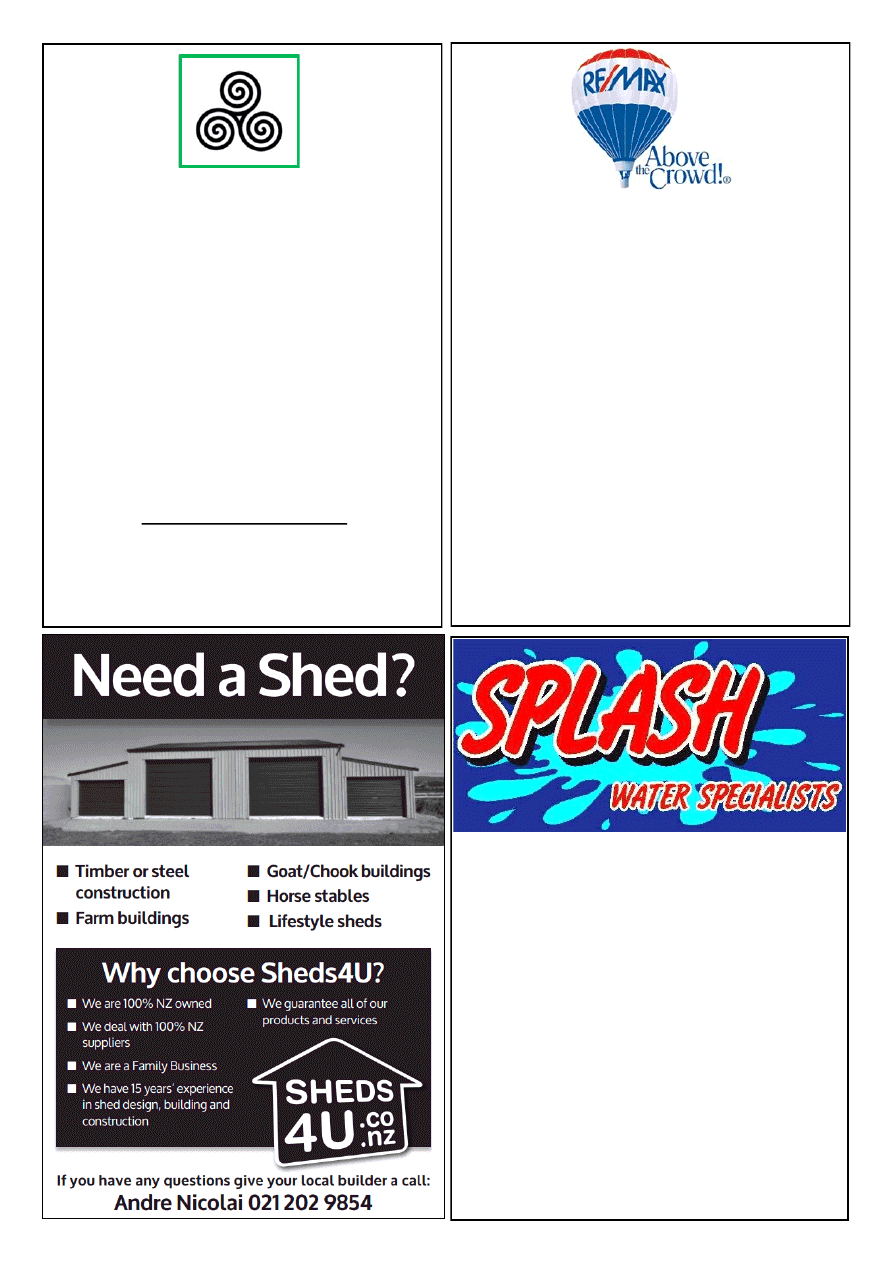 RANA Health 
Naturopathy- Acupuncture- Massage 
Open Mondays, Thursdays & Fridays 
4 Kaiwaka-Mangawhai Road; Room 4; Kaiwaka 
Phone or Text for an appointment &/or 
price enquiry:  
Rebecca Wood 021854158 
Or visit www.ranahealth.co.nz & click 
BOOK NOW
Rebecca Wood Dip Th Mass; Dip Aroma; Dip Acu; 
Student Naturopath- Final semester 
NEW OUTLET FOR SPLASH 
Come and visit us at 
308 State Highway 1 
Te Hana
WATCH OUT FOR OPENING SPECIALS!
Authorised Grundfos/DAB Agent 
Master Davey Pump Dealer
Pool / Spa Chemicals 
Water Testing 
Filters and UV Systems
Mobile and/or Workshop Repairs 
Experienced and knowledgeable Team 
to help you
Te Hana and Warkworth: 09 425 9100 
splashwater@xtra.co.nz 
Beth Stone is your local  
Re/Max Associates 
representative.
I am available for chats anytime between 
10AM and 2 PM Tuesdays and Wednesdays in 
my ChatRoom in Kate's Place. Or by 
appointment. Join me for coffee and 
conversation.
Thinking about buying? Or selling? Or just 
wanting to talk over the options and 
understand more about the market? I can help. 
Use me as your sounding board. 
Phone Beth 0274 937 801 or call in. I look 
forward to meeting you. 
CHRISTMAS / NEW YEAR: I am round 
and about. Please call me if you need to talk or 
pop in if you see the Re/Max flag outside.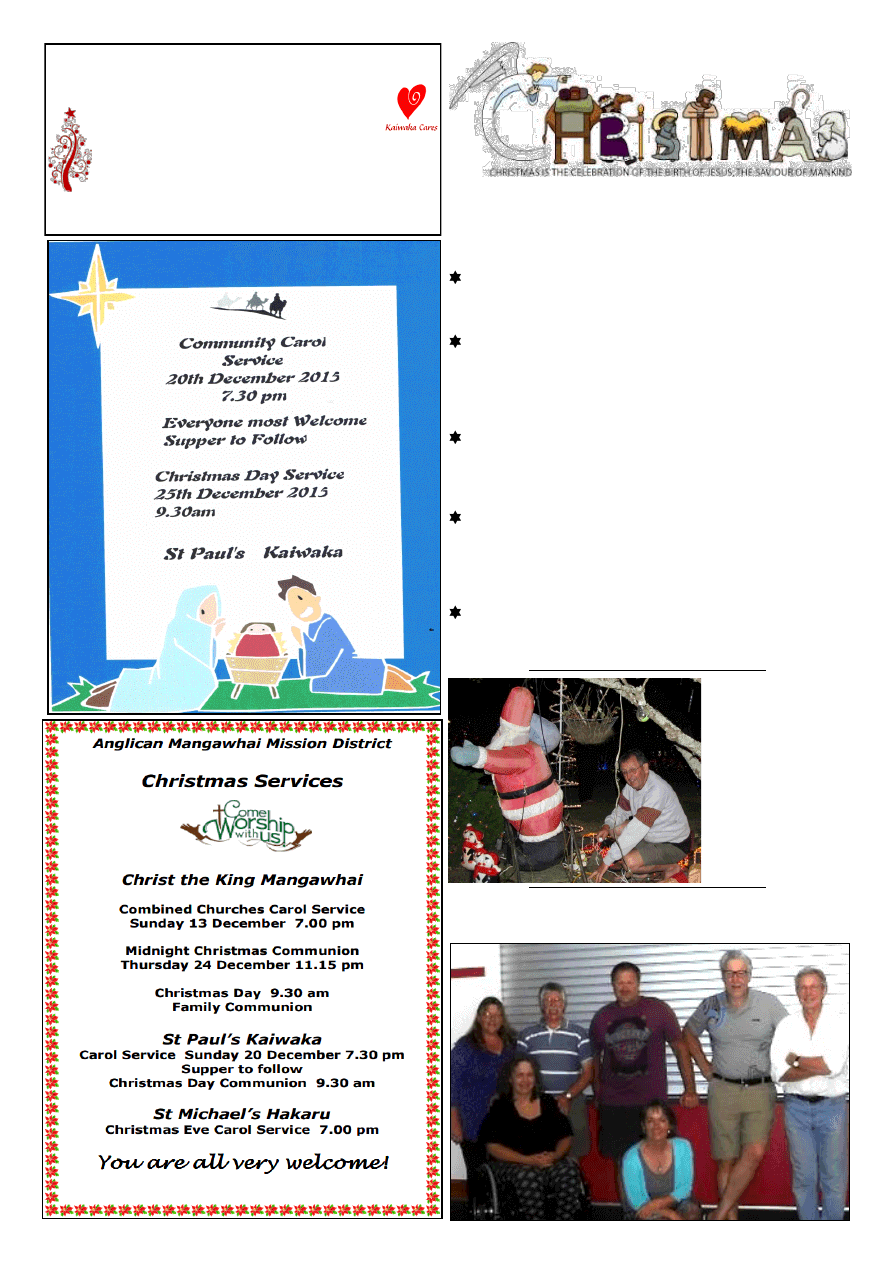 www.kaiwaka.co.nz 
Kaiwaka Bugle - 8 December 2015 
Page 23 
Time for some  festive community fun! 
CHRISTMAS LUNCH 
Monday December 14 Noon 
@ Kate's Place, 1960 SH1, Kaiwaka 
Christmas wouldn't be Merry without you! 
Bring yourself, bring a friend, 
bring a plate if you wish ... 
what is most important is that you are there. 
09 4312 661 or caring4kaiwaka@gmail.com 
WHAT CHRISTMAS MEANS
Th
e  event  we  call  "Christmas"  is  to  celebrate  the  fact  that 
God loved us so much that He sent His only Son to be our 
Saviour. 
The manner in which God sent His Son teaches us a lot. 
First, Jesus came in a humble way- not to the privileged 
people,  but  to  the  poor  and  needy,  and  to  a  cattle  shelter. 
This  fact  has  always  appealed  to  the  millions  in  the  world 
who have little influence or means. 
Second, He came in fulfilment of many prophecies given 
over centuries before, that the Messiah-Redeemer WOULD 
come. So many of these prophecies were fulfilled exactly in 
Christs'  birth  and  life  that  co-incidence  has  to  be  totally 
ruled out! 
Jesus Christ is who He claimed to be. 
Third, Jesus came miraculously, for He was virgin born, 
being  conceived  by  the  Holy  Spirit.  Centuries  before,  the 
prophet Isaiah had said that the virgin would conceive and 
bear a son and call His Name Emmanuel which means "God 
with us". 
Fourth, He was born to die as our Redeemer and Saviour. 
The shadow of the cross lies over the cradle. Jesus Himself 
was well aware of the purpose of His coming among us as a 
man. He said of Himself, "The Son of Man is come to give 
His  life  as  a  ransom  for  many."  Christmas  only  has TRUE 
meaning with that fact in view. 
Fifth,  God  gave  us  His  best  when  He  gave  us  Jesus. 
Thank you so much Father God for the gift of your Son on 
that  first  Christmas!  Wise  Men/Women  and  Children  still 
seek Him! 
Merry  Christmas  from  the  Kaiwaka  Community  Cinema 
team.  Pictured  below  standing  in  front  of  their  new  tuck 
shop: Penny, Amanda, Alistair, Dave, Heidelind, Ad, Rik.  
Pictured  left:  Mark 
Ottaway  getting  his 
Christmas  lights  ready 
for  display.  Mark  and 
Pam  put  on  a  huge 
display  at  their  house 
on  State  Highway  1 
every  December,  and 
cheerfully 
collect 
donations 
for 
the 
Kaiwaka  Fire  Brigade 
from  the  passers-by. 
Santa  will  be  there 
closer to Christmas.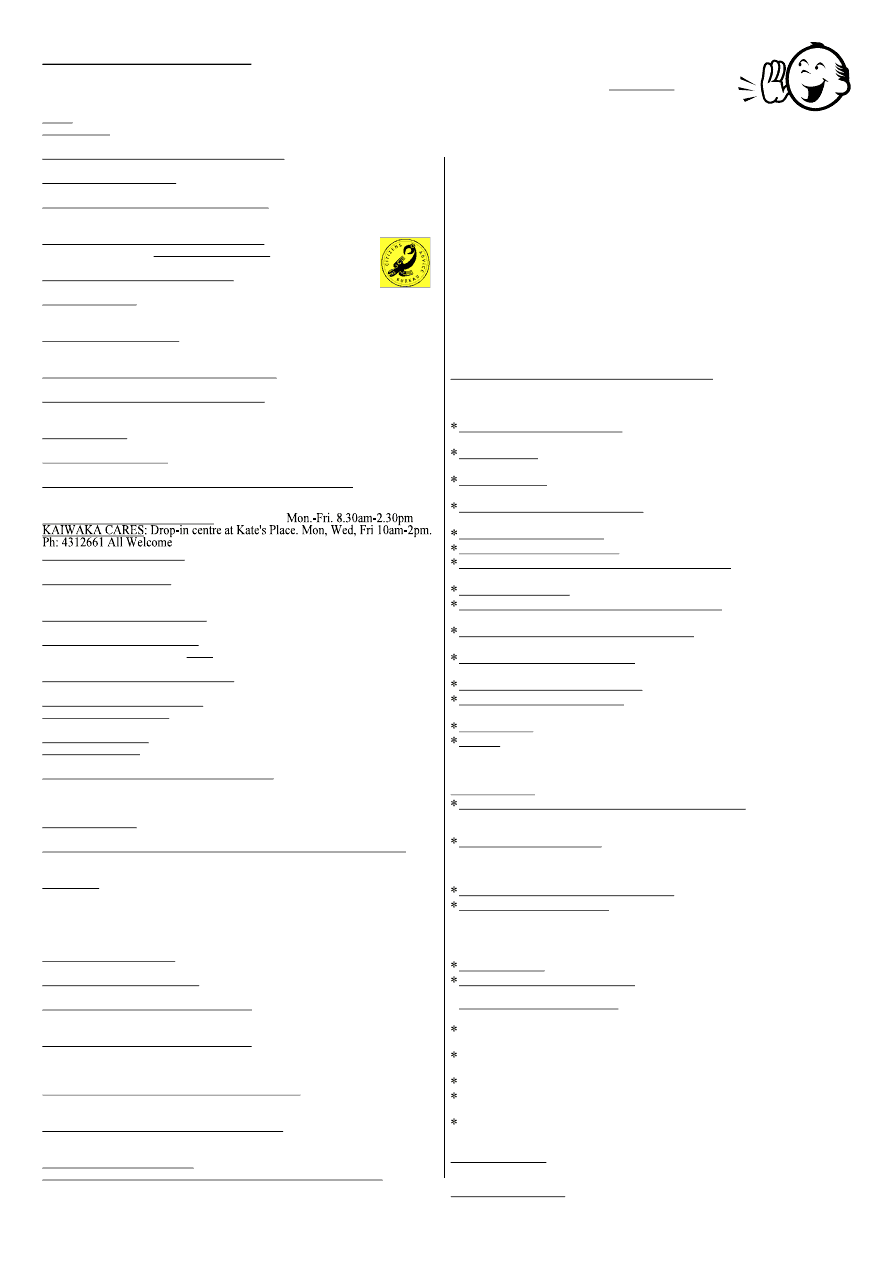 LOCAL SERVICES 
*Emergencies - Ambulance, Fire, Police - dial 111 
*Non-urgent Police phone 09 4311150
A A: Meets Wed., 8pm Kaiwaka Ph: 4312228, 4315543, 0800229 6757 
AL ANON: In recess, contact Ph: 4312228 
MINISTRY FOR PRIMARY INDUSTRIES - General inquiries Call 
Free 0800 008 333 
ASUREQUALITY LTD  (was AgriQuality) Call Free 0508 0011 22  
BUDGETING SERVICE, WELLSFORD:  Free confidential advice & 
support for all areas of personal finance. Ph (09) 423 7123 
CAB-Citizens Advice Bureau.Wellsford Ph: 4237333 
0800 367 222 email:cab.wells@xtra.co.nz  
DOG/STOCK /NOISE CONTROL 0800 105 890 
KATE'S PLACE with Govt.Day Agencies/Community Information /
Osteopathy/ IRD / Probation, etc Ph: 4312661 Hours: 9am-3pm. Mon - Fri 
FUNERAL SERVICES: Morris & Morris Ltd, 
Whangarei - Bev Jaques Ph:4312367 or 0800667747 
GRANDPARENTS Raising Grandchildren: Sarah Rogers Ph: 4312194 
HAKARU LANDFILL/Transfer Station:Open everyday except 
Tuesday10am-4pm.Ph4312629 Cost-$55 trailer load up to 1 cubic metre. 
Ph:4258567 - office 
HOMEOPATH: Donna Flavell Ph: 4314843 
INLAND REVENUE: Last Friday each month, 11-3pm Ph4312661 
KAIPARA DISTRICT COUNCIL www.kaipara.govt.nz:  
Help Desk FREEPHONE 0800 727 059  
KAIWAKA KOHANGA REO: Ph:4312620 
KAIWAKA CEMETERY: Ph: 4312045 
KAIWAKA LIBRARY: kaiwaka.library@gmail.com  
Mon. 4-6pm; Wed., Thurs., Fri., Sat.  10am-2pm Ph:4312539 
KAIWAKA PLAYCENTRE: Ph: 4312286. Hastie Lane 
Monday to  Friday  9.00am - 12 noon. 
KAIWAKA POST OFFICE:Ph:4312 431  
Post Code: 0573  for RD2  and  0542 for all Kaiwaka Post Office mail 
KAIWAKA PRIMARY SCHOOL: Ph: 4312309     
KAIWAKA SPORTS ASSN: Ph 4312005; 4312129 gym 
KAIWAKA ST JOHN: Manager Steve Rosser 09 4318403, 021 2316836 
LINKING HANDS Health Shuttle Ph 4314121 or 09 4318969 
NORTHPOWER: Faults Kaiwaka area 0800 104040 
OTAMATEA COMMUNITY SERVICES: Free counselling, parent 
coach, Family Support worker, budget advice, food bank. Mon-Fri 9am-
30m. Ph 09 431 9080 
PARENTPORT: Free, practical family support service Puhoi to Paparoa 
Ph or txt:  Dianne 027 2085093 
PERSONAL DEVELOPMENT COACHING, GROUP FACILITATION:  
Sabine Druckler 4312231 
PLUNKET: Kaiwaka - Kaiwaka War Memorial Hall: Clinic 1st Wednesday of the 
month; Coffee Group at 9:30. Mangawhai  - Rose Madsen Cottage, Mangawhai 
Domain,  Moir  St:  Clinic  1st  and  3rd  Monday  of  month;  Young  Babies  Coffee 
Group  2nd  and  4th  Monday  10  am;  Plunket  Playgroup  every  Thursday. 
Maungaturoto - Maungaturoto Congregational Church, 100 Hurndall Street East: 
Plunket clinic 2nd and 4th Wednesday. Cynthia 09 431 8187 or 027 675 3488 
PLUNKET HELPLINE -0800 933 922 (24 hours) 
PUBLIC HEALTH NURSE: Gloria Reid Ph: 094327634  
RETURNED AND SERVICES ASSN 733 Settlement Rd. Hakaru 
Ph.4312176 Bill Kerr (President) Ph.4314719 
TAITOKERAU COMMUNITY LAW: Free confidential legal advice and 
assistance, 2nd
Thursday
 of each month. Ph: 0800 155 529 for 
appointments.  
TE KOROWAI AROHA O NGATIWHATUA Ph: 4312675 
(The Cloak of Love of Ngatiwhatua) Support and Maori Consultancy.  
VETERINARY SERVICE MANGAWHAI: 
Ph: 4314535 Mon-Fri 8.00-5.00, Sat 9-12, a/h appt. 
WELLSFORD DOCTORS: Ph: 4238 086 
WOMEN'S WELFARE LEAGUE & Reaching Out For Youth:  
4 Kaiwaka-Mangawhai Rd, M Morgan 4312293 
Next Bugle Deadline midday Friday 22 January 2016
WHAT'S ON
PLEASE ~ do let us know what is on - email 
kaiwakabugle@kaiwaka.co.nz 
Advertising in WHAT'S ON is FREE  
*13Dec~Martial Arts end-of-year, 8:30am KSA 
*14Dec~Christmas Lunch, 12pm Kate's Place 
*16Dec~Ready Steady Wriggle Xmas party, 10am KSA 
*18Dec~Love & Mercy (M), 7:30pm KWMH 
*9Jan~Whanaunga Touch Tournament, 9am KSA 
*10Jan~Tux Handy Dog, Hastie Farm, Otioro Rd. Ph Rob 4312 
192, Tony 4312 045 
*10Jan~Pixels (PG) 2pm KWMH 
*24Jan~Pan (PG) 2pm KWMH 
*27Jan~OHS-Year 13 Leadership Day 
*30-31Jan~Otamatea Open Tennis Tournament, KSA 
*2Feb~OHS-Years 7,9,13 + all new students 
*3Feb~OHS-all students to attend 
KWMH=Kaiwaka War Memorial Hall 
KSA=Kaiwaka Sports Association Complex 
See www.kaiwaka.co.nz for upcoming events. 
HOUSEHOLD RUBBISH COLLECTION - Kaiwaka Pick up: 
Mondays = Gr een bags (Northland Waste - 09 430 3273) 
Wednesdays = Blue bags and yellow r ecycling (at J aques $3.00 
and $1.50) (Kaurilands 09 4392146) 
 DIABETES  Support  Group  -for  Kaiwaka,  Mangawhai,  Wellsford 
10am, 3rd Friday of month Ph:A.Pert 4238242; J.Gardner 4238060 
 DRINK CAN 'tear tabs' - for Starship Hospital- please collect - 98 
Kaiwaka Mangawhai Rd, leave in mailbox, Ph. 4312625  
 GENEALOGY - Wellsford: 1st Thursday in month Ph: 423 7033; 
Waipu: 4th Monday in month Ph: 4312 725 
 GYMNASTICS  OTAMATEA  -  Tuesday  Ph:  Stephanie  022 
3624998 
 HAKARU PONY CLUB - Secretary Julie Rynne 09 4314520 
 KAIWAKA BADMINTON -Tuesdays 7.30pm Ph: 4312345 
 KAIWAKA  GARDEN  &  FLORAL  GROUP  -  2nd  Thursday  in 
month. Ph: 431 4767 
 KAIWAKA CUBS - Thursdays 5.30-7pm, Hakaru Ph:Bruce  4312542 
 KNITTING FOR WHANGAREI HOSPITAL - 2nd Tuesday in 
month, Apple Basket 10am Ph 4314827 
 MANGAWHAI COMBINED PROBUS CLUB - 2pm, 3rd 
Thursday month, Senior Citizens Hall Mangawhai. Ph: 4315777 
 OTAMATEA GREY POWER - Kath Pattinson 09 431 8960, 1pm 
last Wednesday of month, Anglican Church Hall, Maungaturoto 
 PT CURTIS CRUISING CLUB - Jean Ph: 4312 246 
 RSA,Hakaru & Dist.Women - meet 1.30pm 4th Thurs in month Ph: 
4314 668  
 TRAMPING - Mondays 9am-2:30pm  Karen Ph: 4312 090 
 YOGA - Tuesdays 6:15pm,  Friday 8:30am KWMH Carla Ph: 021 
296  8794;  Wednesday  5:30-7:00pm  Archie  Bull  Hall  Dalleise  Ph 
4312 108 
CHURCHES:
Kaiwaka Family Church - Your Community Church: Sundays 10am & 
6pm. Youth Service Mondays 6-8pm. Ph: Tawhiri 4312571 or Paul 
4312068 
St Paul's Anglican Church 1st Sun. 9.30 am (Eucharist), 3rd Sun. 9.30 
am (Family Service). Contacts:  Church Office 09 431 4122; M. 
Hargreaves 431 2295; C. Bygrave 431 2057; or Rev. Wayne Thornton 
Ph 431 5650 
Church of Christ the King, Mangawhai:9.30am every Sunday 
St.Mary's Catholic Church: Maungaturoto – Griffins Road, Saturday 
evening Vigil Mass 6pm; Mangawhai – Senior Citizens Hall, Sunday 
Mass 8:30am; Wellsford – Matheson Road, Sunday Mass 10:30am; 
Mid-week Mass times and all enquires to Fr. Bill Fletcher – phone 423 
8170 
Baptist Church: Sun. 10.30am Mangawhai Snr Cit.Hall.Ph:4312339 
Cause Way Church Mangawhai: Sundays 10.15am, Mangawhai 
Community Recreation Centre, Insley St. Ph: 09 4314782  
St.Pauls Archie Bull Hall HIRE  $20 half day, $40 full day per hire, R. 
Morgans, Ph 4312365 
Kaiwaka  War  Memorial  Hall  HlRE  -  Phone  4312725  or 
kaiwaka.hall.bookings@gmail.com 
Hakaru Community Hall HIRE -Ph. 4312256 or 4312110 
Te  Pounga  Marae  queries  -  R.  O'Leary  4312  423,  J.Nathan  021  186 
7382 
Kaiwaka  Sports  Association  hire/queries  -  C.  Anderson  4312051  or 
kaiwakasports@gmail.com
Justice  of  Peace:  B.FJaques;  L.Donaldson;  A.F.Hargreaves,  S.Dalziell, 
W.Howard  -  please  phone  to  make  sure  they  are  available 
www.justiceofthepeace.org.nz 
Marriage Celebrants: L.Donaldson; A.F.Hargreaves; C.Rosseels