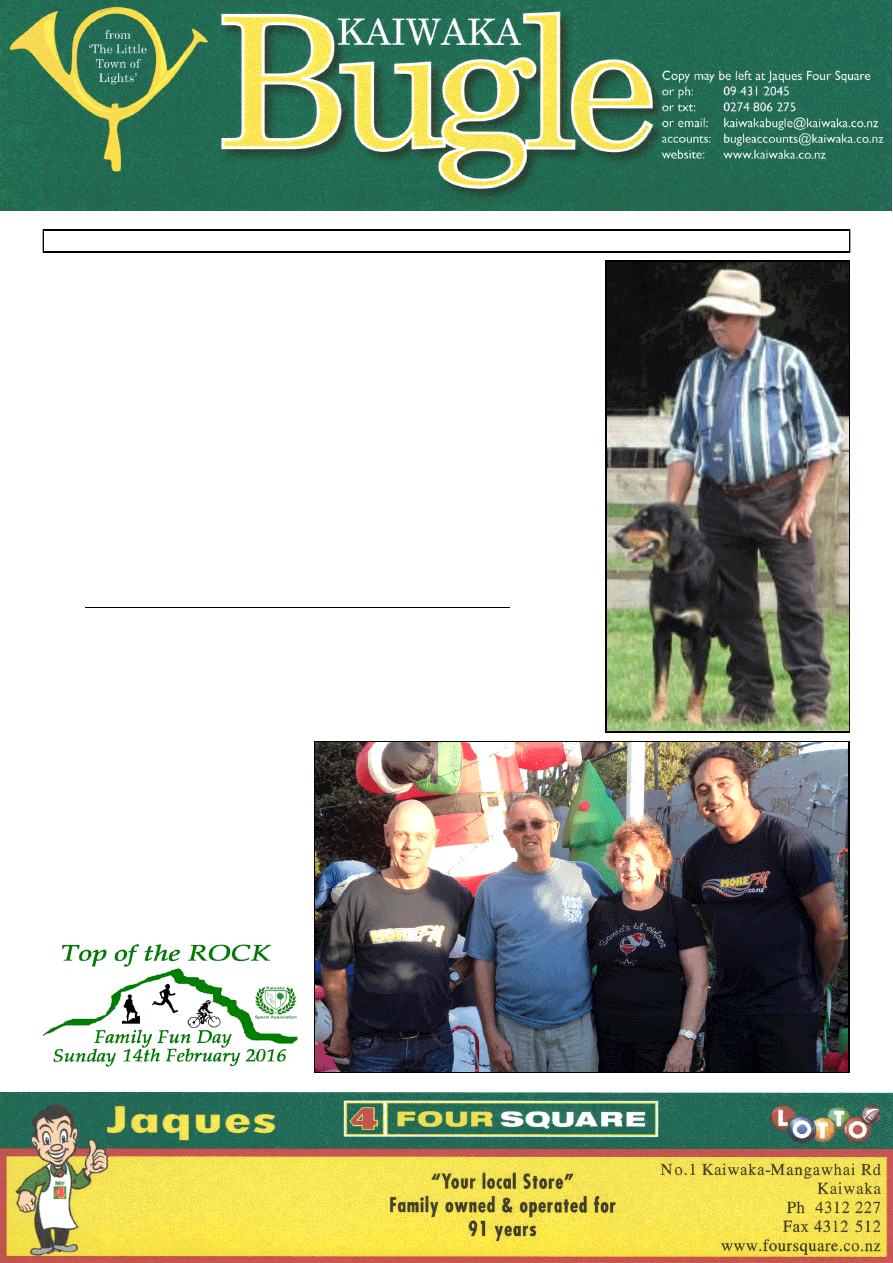 www.kaiwaka.co.nz 
Kaiwaka Bugle - 26 January 2016 
Page 1 
 No: 1
26 January 2016 
Trading Hours: 
Monday-Friday 8am to 6:30pm 
Saturday 8am to 7pm 
Sunday and public holidays 9am to 5pm 
Great to see Duncan and Dodge competing at Taumarunui after their success at 
Kaiwaka the week before. He scrubbed up well and managed to put a tie on with 
out any help. 
The  pair  got  off to  a  very  controlled  start;  Duncan  was  able to stay  composed 
and Dodge was all class. Perhaps a little loose between the drenching race and 
the  drafting  yard,  but  nothing  got  away,  a  very  good  draft,  the  loading  and 
unload of the "truck" was very smooth. With one tricky obstacle to finish, they 
made  that  look  easy,  the  five  lambs  managed  to  put  them  selves  into a  corner 
before the put away gate, a penalty they did not need, otherwise a nice finish. As 
we watched the remainder of the runs we be came confident of a high placing for 
D&D. Wow second 96 points and second in the North Island final. So with that 
behind  them  Duncan  and  Dodge  are  flying  to  Gore  with  another  combination 
Craig Pearson and Ben who will be familiar to many locals as they have been 
regulars around the trial scene in the north. 
Also  competing  were  Duncan  with  Tim  in  the  yarding.  97.5  was  not  good 
enough to make finals, also Rob Hastie and Dash missed by point two of a point. 
With Duncan's high placing the long drive home was very pleasant. We wish this 
combination only good luck in the South Island. 
~Rob H 
TUX HANDY DOG SUCCESS FOR LOCAL 
CONGRATULATIONS 
Congratulations to More FM's Most Valuable Person for 2015 – Kaiwaka's very 
own Mark Ottaway! 
Mark was nominated because of all the volunteer work he does, and has done 
over  many  years,  for  our  community.  More  FM's  Markby  and  Toast  travelled 
down to Kaiwaka a couple of days before Christmas and surprised Mark at his 
home with a radio interview and a $200 Pak N Save voucher. 
Mark  and  his  wife  Pam  put  on  a  daz-
zling display of lights at their home eve-
ry  Christmas,  attracting  hundreds  of 
delighted visitors into Kaiwaka.  
The  Ottaway's  have  been  putting  on 
their  Christmas  display  for  over  20 
years taking donations from the visitors, 
and this year they raised over $2,300 for 
the Kaiwaka Fire Brigade. 
Pictured from left: Markby, Mark, Pam 
and Toast.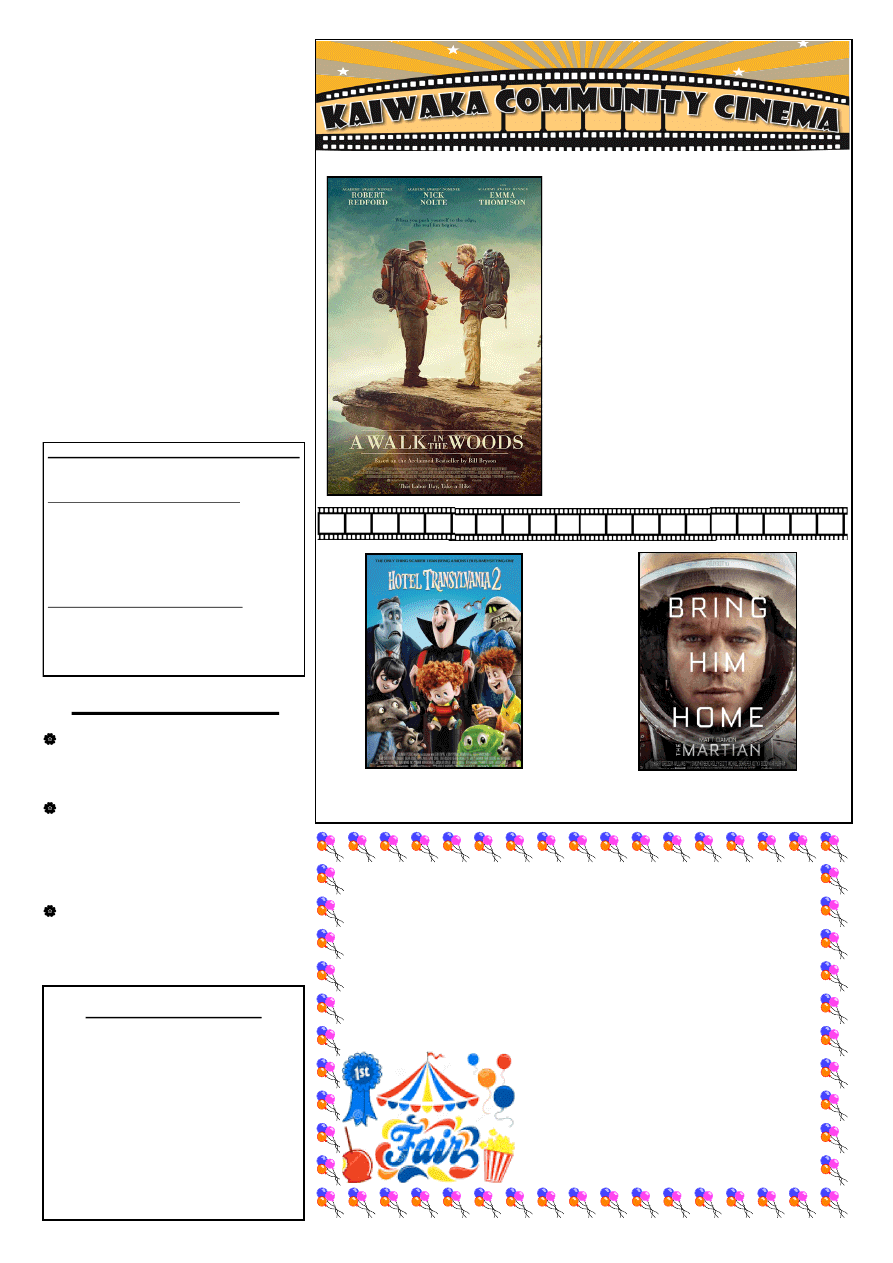 ABOUT TOWN 
Thank you to the Coffee Pot crew 
for  the  Bugle  Team's  excellent 
Christmas Dinner. 
Condolences  to  Marie  Martin  and  
family on the recent passing of  Len 
Martin,  a  long-time  resident  of 
Kaiwaka and surrounding towns and 
rugby personality. 
Condolences  to  the  family  of 
young  Tahu-Potiki  Taituha  who 
passed  away  last  week  in  an 
accident. 
KAIWAKA BUGLE No. 1 
26 JANUARY 2016 
CONTENTS 
Page 3: Public Notices, Classified 
Page 5: Top of the Rock 
Page 7: Kaiwaka Sports Association 
Page 9: KSA cont. 
Page 11: NorthTec, Pt Curtis Cruising 
Page 13: Weather, Blowing our Bugle 
Page 15: Library, Streets of Kaiwaka 
Page 17: Whanaunga Touch 
Bugle 2 will appear 9 February 
Contact for advertising, reports, articles 
or information can be made by 
Email kaiwakabugle@kaiwaka.co.nz 
Ph: 09 4312 045 (Lindsey) 
Txt:  0274 806 275 (Wendy) 
Copy  may  be  left  at  Jaques'  Four 
Square.
At Kaiwaka War Memorial Hall . Adults $10, Kids (under 16) $5, Family Pass (2 adults + 3 children) $25 
Kaiwaka Bugle Advertisements 2016: 
All 
copy 
and 
queries 
to: 
kaiwakabugle@kaiwaka.co.nz 
Classified  $4  (max  30  words,  4  repeats); 
1/16 page $5; 1/8 page $8; 3/16 (new size) 
$12 1/4 page $16. 
Payments can be made online, posted or 
left at Jaques Four Square Store. 
Accounts: 
bugleaccounts@kaiwaka.co.nz 
The  Kaiwaka  Bugle  is  a  community 
newspaper run by volunteers.   
Articles, etc. printed are not necessarily 
the opinion of the Bugle Team. 
A Walk in the Woods 
Friday 29 January 7:30pm (M) 
After  spending  two  decades  in 
England,  Bill  Bryson  returns  to  the 
U.S., where he decides the best way to 
connect  with  his  homeland  is  to  hike 
the  Appalachian  Trail  with  one  of  his 
oldest friends. 
Starring:  Robert  Redford,  Nick  Nolte, 
Emma Thompson, Mary Steenburgen. 
Kaiwaka Bugle 
Founded May 1978 
Copies available in Kaiwaka at Jaques Four 
Square, Kaiwaka Postal Centre, Shamrock 
Service Station, Animal Health Centre.  
Also outlets in Maungaturoto,  
Mangawhai and Paparoa. 
Can be viewed online at  Facebook or 
www.kaiwaka.co.nz/Bugle  
Or a copy can be posted to you if you supply 
stamped, self-addressed DLE envelopes. 
Hotel Transylvania 2 
Sunday 31 January 2:00pm (PG) 
The Martian 
Friday 12 February 7:30pm (M)
CHURCH GALA
CHRIST THE KING CHURCH  
9 Molesworth Drive, Mangawhai Village
Saturday 30th January 9am – 12.30pm
Luxury hamper raffle, home baking, morning tea, sweets, 
preserves, produce, clothing, kids games, balloons, toys, 
books, garden plants, furniture, white elephant, 
jewellery. 
Donations for the fair much 
appreciated. 
We will pick up.  
Enquiries: Ph. Margaret 09 431 5198 
or Trewby, Ph 09 431 4565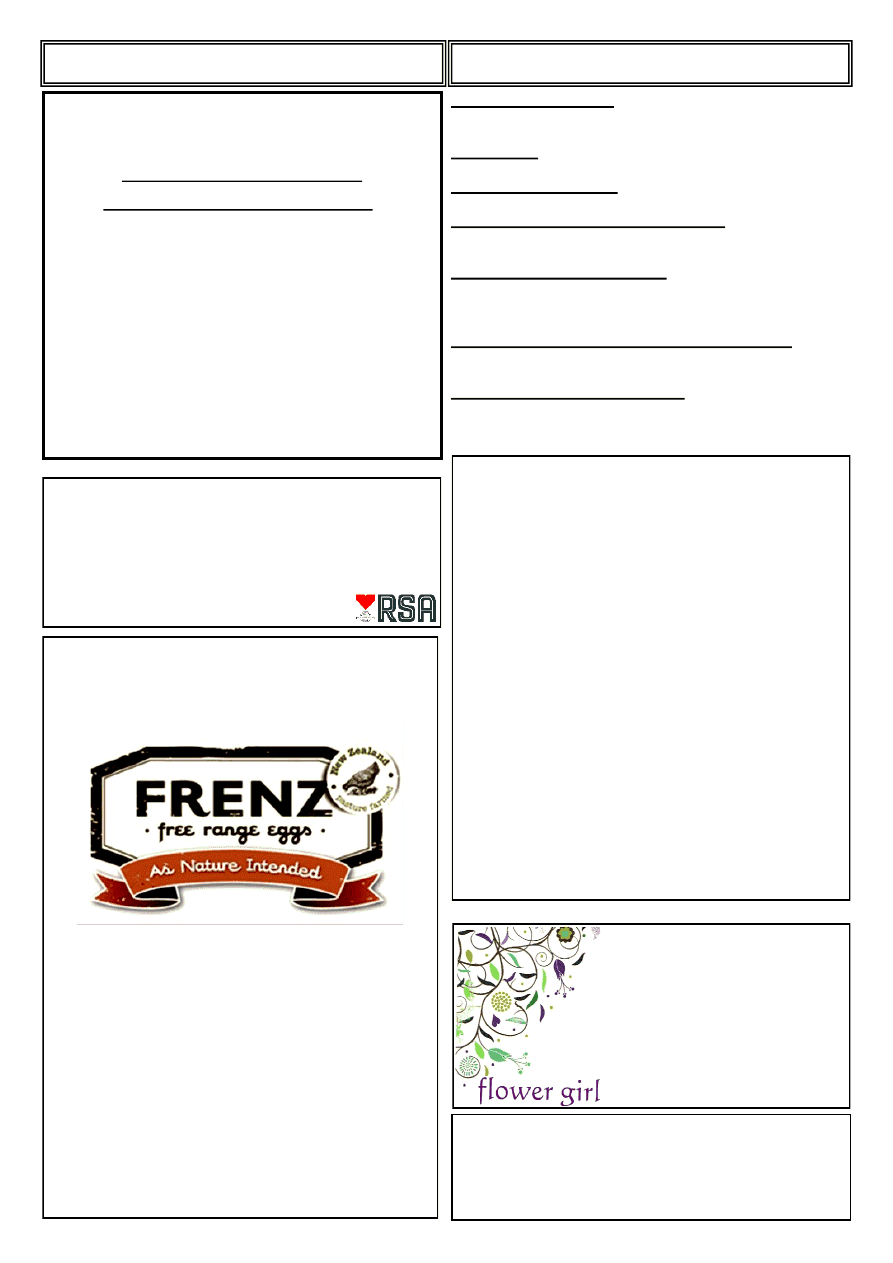 www.kaiwaka.co.nz 
Kaiwaka Bugle - 26 January 2016 
Page 3 
PUBLIC NOTICES 
CLASSIFIED 
WANTED PLEASE: Old swimming goggles – the 2-
eye  type,  for  Cub  activity.  Please  phone  Dalleise 
4312108 
WANTED:  Lease  block,  any  size  considered  (10-
200acres). Ph 021 733 305 
WANTED  TO  BUY: Used and/or older fence post 
will be needed in the Eco Village. Ph Peter 4312 718 
WANTED TO BUY OR BARTER: wing-back chair, 
the  bigger  the  wing  the  better.  Any  condition.  Ph  09 
945 093 
THE  SUNSHINE  GIRLS:  Need  help  with  your 
house cleaning? Sometimes you just need another pair 
of hands. We offer two pair and a smile. Comparable 
hourly rate. Ph 431 2532 or 431 2711 
CLOTHING ALTERATIONS & REPAIRS: Hems, 
Zips,  Dressmaking  Phone:  Win  4312027    or  027  444 
8358 Winsome Designs. 
FREE GRAZING WANTED: Small or large block. 
Can  do  some  fencing  or  water.  Phone  after  6pm 
4312006 
Proverbs  3:5+6  Trust in the Lord with all 
your  heart  and  lean  not  on  your  own 
understanding; in all your ways acknowledge 
Him and He will direct your paths. 
Kaiwaka Good Sorts 
Do you know someone in our 
community who is deserving of a 
beautiful bunch of flowers? 
Send an email or drop a note to 
Jaques Four Square to let the 
Bugle team know. We will choose 
a recipient to receive flowers from 
Lindy the flower girl. 
FREE RANGE EGG FARMERS 
WANTED 
FRENZ are looking for more dedicated farmers who 
love hens and love farming to supply our ever 
increasing demand for genuine Free Range and 
Organic eggs for discerning customers. 
If that sounds like you, email info@frenzs.co.nz and 
find out how you can join other Farmers supplying a 
company with over 30 years' experience producing 
the world's best eggs. 
For more information about FRENZ check out our 
website www.frenzs.co.nz 
Hakaru & Districts RSA (Inc) 
WOMENS SECTION  
ANNUAL GENERAL MEETING. 
To be held in the Clubrooms at Hakaru on Thursday 25th 
February 2016 at 1-30 pm. 
Members must be financial to vote. 
Nomination sheets available on notice board at RSA shortly. 
Heather Small President 4314668 
Jan Mann Secretary 4314512 
Bugle Advertising 
Prices 2016 
Please note changes 
 effective immediately:
1/16 page - $5 
1/8 page - $8 
3/16 page - $12 (new) 
1/4 page - $16
Classifieds, 30 words max, 
4 entries max - $4 
Existing advertisers - if you would like to change 
your current ad, please contact us. Small ads with 
well-chosen words are very effective. 
KAIWAKA MEDIA GROUP 
Chairman, Tony Hargreaves, expressed his appreciation to 
all  members  of  the  Kaiwaka  Media  Group  team  –  with 
special  reference  to  editors,  Lindsey  and  Wendy,  and 
Heather who does a massive job with the accounts.  It is 
not  an  objective  to  make  a  great  yearly  profit  but  it was 
nice  to  note  a  modest  one  for  all  the  volunteer  hours 
given, as we seek to upgrade our printer. 
Thanks  to  all  who  advertise,  send  articles,  news  and  the 
contribution of the Jaques Four Square in sponsoring the 
front page is immense. Also of mention is secretary Jane, 
webmasters  Corina  and  Nigel,  Lindy  Watson  who 
sponsors the flowers for "Good Sorts", and lastly grateful 
thanks to our posties – Norm Brown and Ann Brady. 
The Kaiwaka Media Group oversees the production of the 
Kaiwaka  Bugle,  the  website  www.kaiwaka.co.nz,  the 
Kaiwaka  Information  brochure,  and  keeps  an  eye  on  the 
noticeboard next to the Kaiwaka War Memorial Hall. 
The Kaiwaka Bugle advertising rates were reviewed, and 
there is very little change: - classified adverts $4 (min. 30 
words,  same  advert  4  times  only);  1/16  page  -  $5;  1/8  - 
$8; 3/16 - $12; 1/4 - $16. These adverts can be portrait or 
landscape. The new 3/16 size is slightly smaller than 1/4 
page advert and is still easy to read. 
The Kaiwaka Bugle can also be viewed in colour on the 
website www.kaiwaka.co.nz or on Facebook at the group 
Kaiwaka Community.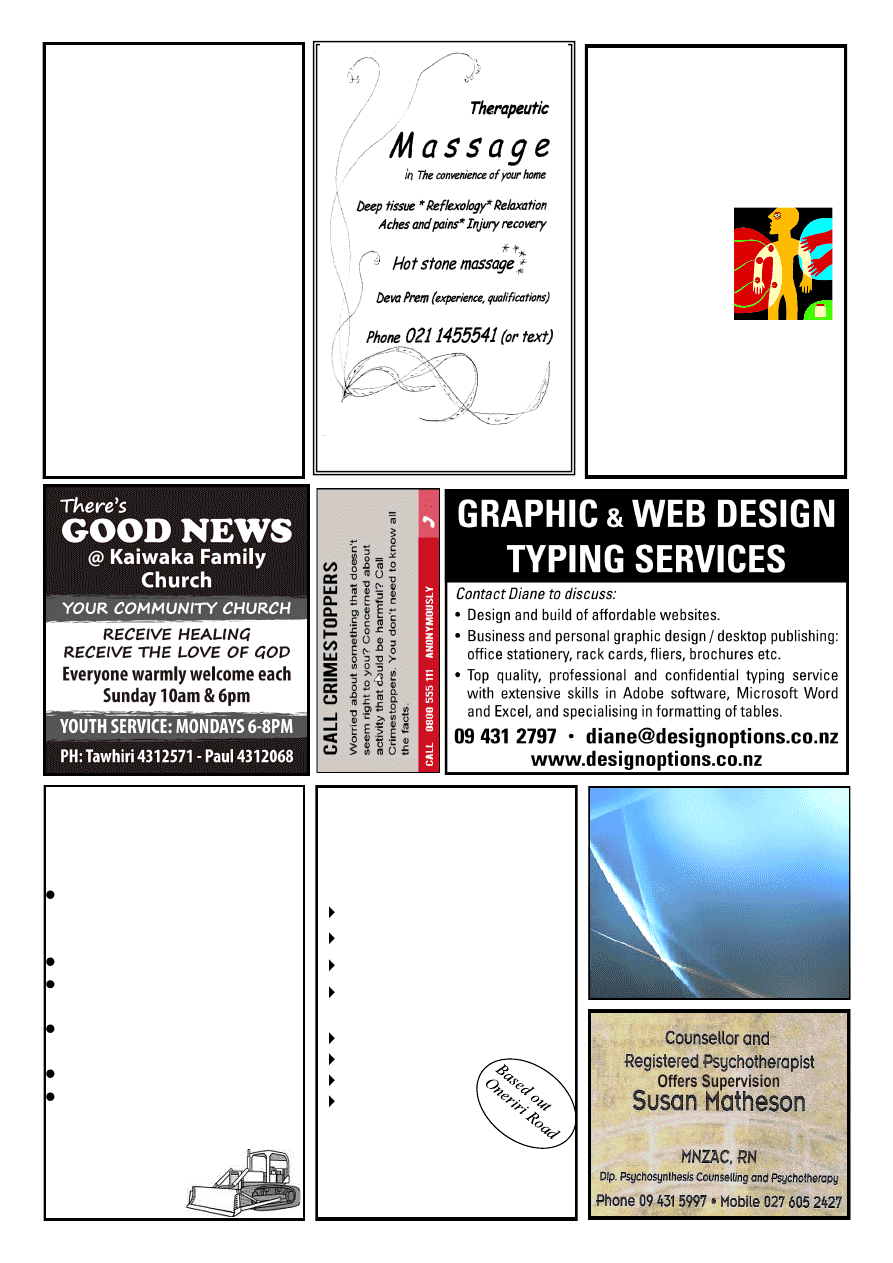 www.mangawhaimassage.co.nz 
HODGETTS 
CONTRACTING
Digger Work    
Driveways 
House Sites   
Dams 
Drains, etc
Also available for HIRE 
3 ton Vib Roller 
Heavy Duty Tow 
Waterblaster  
Lazer Level 
Phone Mark 
4312877 
027 447 8554
OWEN STEVENS 
Osteo Therapist
For careful adjustments to bones 
and joints 
Treatment for  humans and their 
pets 
Clinics: 
Kate's Place, 
Kaiwaka: 
Last Friday of 
month 
For bookings: 
9.00am-5.00pm   
Phone 
09 4312661 
Or phone Owen   
09 4317123  anytime 
Freeview  
Installations 
Richard Te Haara 
25 Marram Place 
Mangawhai Heads 
021 1104056 
kiwipride@xtra.co.nz
Willow Bend
HORSE  
HOTEL 
"   
Total Horse Care 
" 
Agistment 
" 
Riding Lessons 
" 
Arena Hire (60x40) 
" 
Young Horse Starting 
" 
Re-training/Exercising 
" 
Hoof Trimming 
" 
Problem Solving 
Phone Sue 09 431 
2817 or 021 623 776 
Or email sue.gray@xtra.co.nz 
Coates  
Contracting 
D41 Bulldozer with 6 
way blade, bush rigged 
with winch 
For all tree work 
General bulldozing and  
  stick raking. 
120hp Tractor for 
ground cultivation,  
tip trailer work. 
Fencing
All enquiries phone  
Brett Coates  
 094318720  
or 
 021431872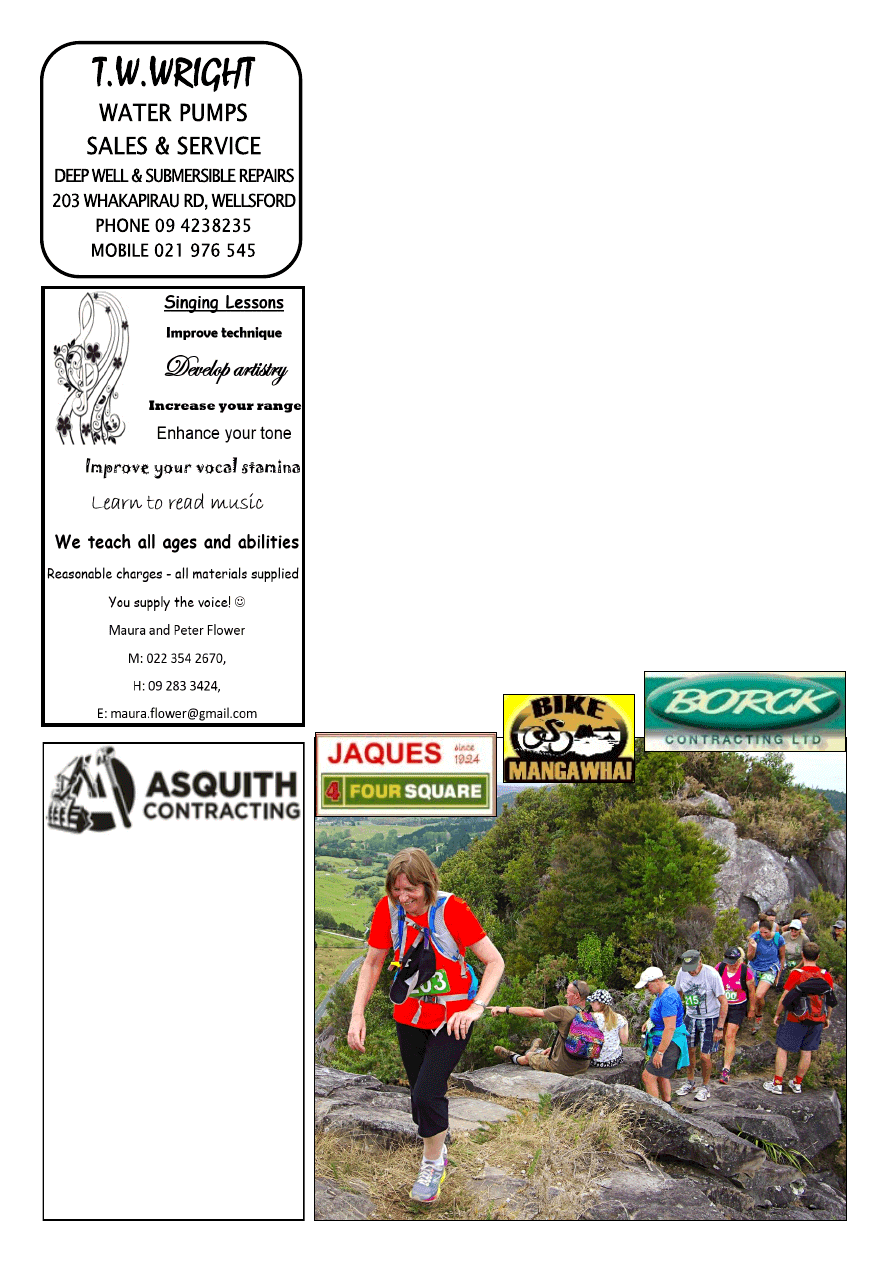 www.kaiwaka.co.nz 
Kaiwaka Bugle - 26 January 2016 
Page 5 
1.7tn Digger/Operator 
for Hire.
Daily/Hourly rates 
available.
Call Tam on 
027 211 1152 
or 
asquithcontracting 
@gmail.com 
Take  part  in  what  is  fast  becoming  a 
Kaiwaka favourite, the 6th annual Top 
of the Rock multisport event.  
On  Sunday  14th  February  join  in  the 
fun for a 5km or 10km walk or run, or 
if  you  like  to  race  on  wheels,  sign 
yourself  up  for  the  14km  or  30km 
mountain bike event or the 10km run + 
15km bike combo. Plus, new this year, 
there will be a fun bike ride for under 
10 year olds. 
Routes  cross  through  some  of 
Kaiwaka's  most  scenic  countryside  – 
bush, lakes and farmland. You will go 
past  two  beautiful,  bush-fringed  lakes 
(McCracken's  lake  and  Anderson's 
lake). These lakes are on private land, 
so  entering  Top  of  the  Rock  is  your 
once-a-year opportunity to enjoy them!  
You  also  get  the  opportunity  to  climb 
iconic  Baldrock  Mountain,  which  is 
easier than the daunting view from the 
road suggests, as there is a well formed 
track  which  spirals  around  the 
mountain. 
You  don't  need  to  be concerned  about 
your  fitness  level  as  there  is  no  time 
limit on completing the events and we 
even  have  marshalls  in  utes  who  will 
give  you  a  ride  back  if  you  get  tired! 
People  of  all  ages  enter  Top  of  the 
Rock,  from  pre-schoolers  upwards  – 
last  year  our  $50  prize  for  the  oldest 
participant went to an 84 year old! 
Participants  will  gather  at  the  Sports 
Complex  after  their  event  to  have 
lunch while waiting for the prizegiving 
to start – during this time we will have 
the  under  10  year  olds  bike  race  and 
other  kids  activites,  food 
stalls, 
facepainting, 
entertainment, 
bouncy 
castles and the swimming pool will be 
open, as well as live music from local 
band Happy Fish. 
TV3's  Brendon  'Money  Man'  Johnson 
will host the prizegiving with prizes for 
placegetters  plus  lots  of  great  spot 
prizes,  including  a  mountain  bike 
sponsored  by  Bike  Mangawhai    A 
raffle  will  also  be  drawn  for  a 
lawnmower,  kindly  donated  by  Steve 
from  Kaiwaka  Motorcyles.  We  are 
very  appreciative  of  the  support  from 
all 
sponsors, 
particularly 
major 
sponsors  Jaques  Four  Square  and 
Borck Contracting. 
Last year we had over 350 particpants 
and  we  are  hoping  to  build  on  that 
number  this  time.  Prices  are  very 
reasonable  –  for  example,  the  5km  or 
10km run or walk option is just $15 for 
adults  and  $5  for  kids  (pre-schoolers 
are  free).  And  we  have  two  great 
earlybird  prize  draws  for  people  who 
enter  before  this  Sunday.  So  why  not 
give  it  a  go!  Entry  forms  can  be 
downloaded 
from 
www.kaiwakasports.co.nz or picked up 
from: 
•  Jaques Four Square 
•  Kaiwaka Motorcyles 
•  Skeltons Drapery, Paparoa 
•  Mangawhai Vet Centre 
•  Wellsford Sports & Leisure 
•  Maungaturoto Carters 
~Cheryl Anderson  
027 3462702 , 
kaiwakasports@gmail.com  
TOP OF THE ROCK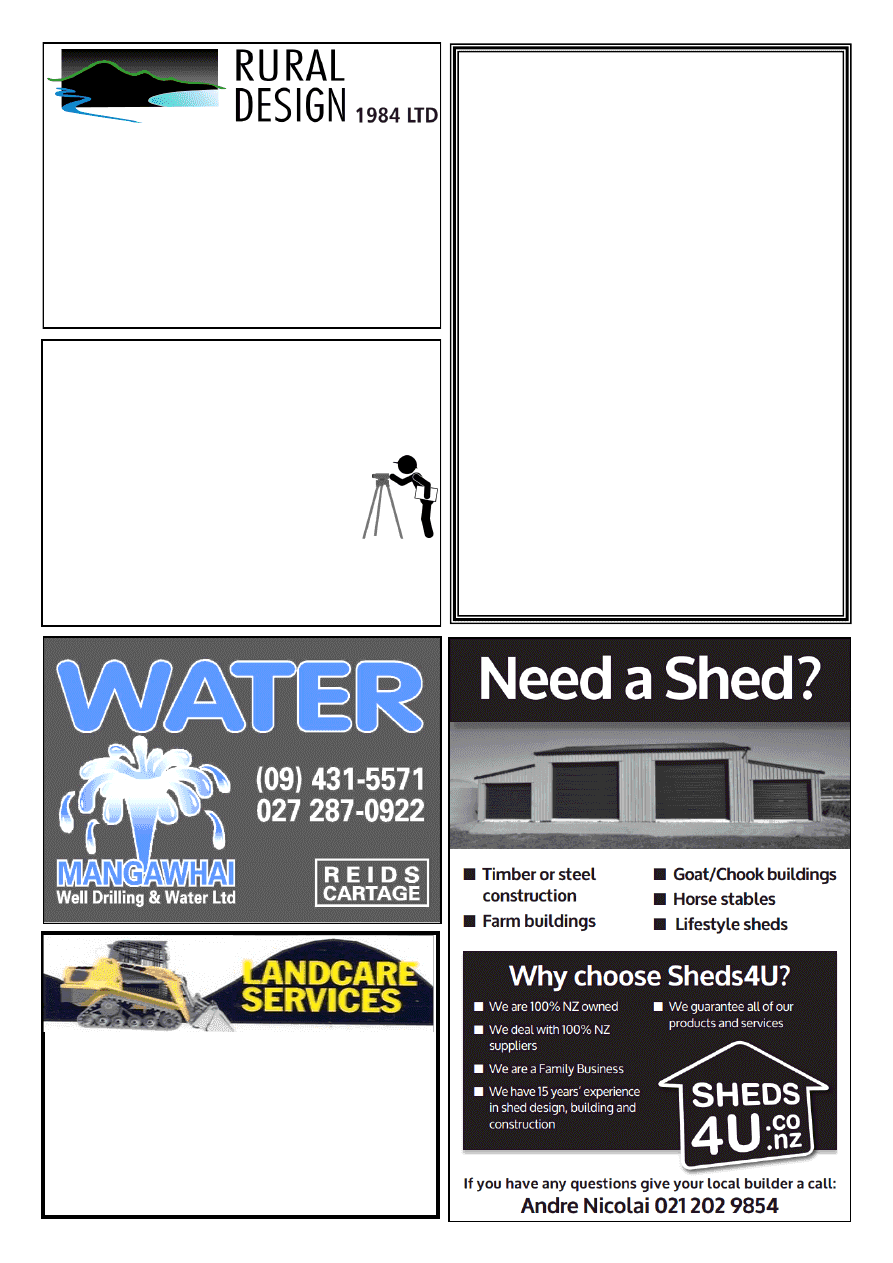 LANDSCAPING 
4 IN 1 BUCKET 
TRENCHER 
POLE HOLES 
ROTARY HOE 
COMPACT ROLLER 
OFFAL HOLES 
CAN SUPPLY WOODCHIP & POST PEEL 
5 TON TIPPER 
FOR RELIABLE AND FRIENDLY SERVICE CONTACT DAVE 
Dave Hyndman 
 
KAIWAKA 
PH: 09 4312302 
MOB: 021 431 238 
Ken Urquhart 
BSurv Licensed Cadastral Surveyor 
KMU Surveys Ltd
467 Bickerstaffe Road 
RD 2 
Maungaturoto 0587 
Ph 09 431 8705 
Mob 021 161 2344 
kenurquhart@xtra.co.nz 
g.a.s. 
Mangawhai 
we have now opened a 
GARDEN CENTRE 
for all your gardening needs 
Also a great range of 
STOCKFOOD 
Wide range of 
ORGANICS AND 
 FRESH LOCAL PRODUCE 
All your motoring needs are taken care of by 
our friendly staff check us out... 
44 Moir Street, Mangawhai (09)431 4242 
Wholesale Native Plant Nursery and Planting 
Small and Large orders welcome 
By Appointment 
300 Kaiwaka-Mangawhai Road, Kaiwaka 
Phone: 09 431 2481 
Email: info@ruraldesign.co.nz 
www.ruraldesign.co.nz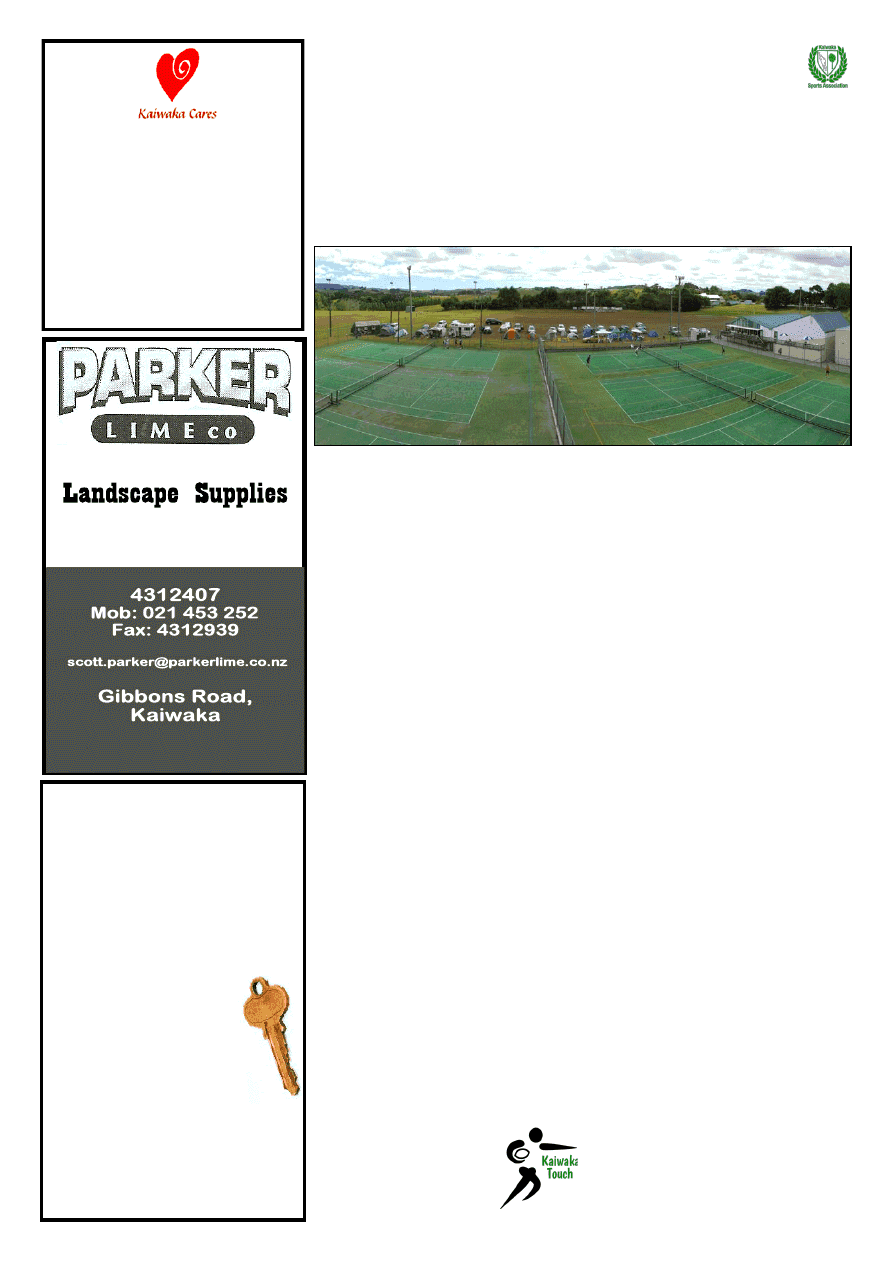 www.kaiwaka.co.nz 
Kaiwaka Bugle - 26 January 2016 
Page 7 
KAIWAKA SPORTS ASSOCIATION
Kaiwaka  
Hardware  
&  
Key cutting 
Phone 4312 063 
 022 041 6047 
kaikey2015@gmail.com
Keys Cut  
Household Hardware  
Curtain Tracks & Fittings 
Not there? Call Doug and he'll 
sort
it for you. 
(
Next to Kaiwaka Motorcycles
)
Bulk Cartage 
Community Drop-In Centre
Open 10am – 2pm
Monday – Wednesday – Friday 
WIFI , printing & scanning 
available 
Kaiwaka's own drop-in social 
space.
Otamatea Tennis Tournament 
Our  annual  tennis  tournament  will  be 
held  at  our  courts  this  weekend.  Did 
you know the tournament is in its 66th 
year!  This  tournament  attracts  top 
quality players from all over Northland 
and  Auckland  so  feel  free  to  come 
along to watch some top tennis. There 
will  be  food  and  drink  available 
throughout  the  day  and  a  social  on 
Saturday evening.  
Gymnastics 
Our  gymnastics  club  restarts  on 
Tuesday  16th  February.  If  you  haven't 
already  enrolled  your  child,  please 
contact 
Stephanie 
Brown 
on 
gymnasticsotamatea@gmail.com 
as 
she  will  be  opening  up  any  spaces  to 
those on the waiting list.  
Badminton 
Badminton has started up again for the 
new  year.  Players  of  all  ages  and 
abilities  are  welcome  so  if  you  are 
keen, simply turn up to our gymnasium 
on Tuesdays from 7.30pm. Only $3 per 
person,  play  as  long  as  you  like.  Club 
rackets are available for you to borrow 
at no cost. 
For  badminton  queries,  please  ring 
Kaye Fleming on 4312 345. 
Tennis 
Tennis  for  school  age  players  will 
restart  on  Monday  15th  February.  We 
are  running  three  half-hour  classes  on 
Monday  afternoons  with  coach  John 
White,  between  3pm  and  4.30pm  with 
times dependant upon age and ability.  
Adult  social  tennis  will  be  starting  on 
Mondays  from  5pm.  Any  adults  or 
skilled  teens  who  are  keen  to  play 
socially  in  Kaiwaka  are  welcome  to 
attend  the  open  day  on  Monday  22nd 
February, at our courts. 
Queries  for  club  tennis  to  our  new 
secretary/treasurer  Floyd  Driver  on 
floyd-driver@paradise.net.nz.  
Martial Arts 
Are you or your child keen to join our 
Martial  Arts  classes  this  year?  Black 
belt  instructor  Craig  Bennetts  offers  a 
variety  of  classes  out  of  our 
gymnasium  for  all  ages.  For  more 
information please phone Craig on 021 
152 4466. 
Touch Module 
Would  you  like  to  play  in 
my 
Summer 
Touch 
Module? 
The 
Touch 
module  will  be  held  at  the 
Sports Complex for eight weeks 
on Sunday afternoons starting on 
7th February. The team fee is $100 and 
there'll  be  prizemoney  up  for  grabs. 
This  is  a  casual,  friendly  competition 
for  mixed  teams  of  men,  women  and 
teenagers. Why not start getting a team 
together! 
Welcome 
Welcome  to  the  Sports  Association's 
new  Treasurer  Marilyn  Wright,  who 
has taken over from Carolyn Dymock. 
Many thanks to Marilyn for offering to 
do  this  voluntary  role,  and  we  look 
forward to working with her. 
School Holiday Boredom Busters 
If  you're  looking  for  something  to  do 
with the kids, you're welcome to bring 
them along to the Sports Complex: 
  * bring a basketball and shoot some 
hoops on our outside backboard 
  *  go  for  a  stroll  through  the  bush 
walk (the entrance is off the bottom of 
our  driveway  and  it  exits  by  our 
number 2 field) 
  * bring your frisbee/bike/golf clubs/
dog  and  take  advantage  of  the  wide 
spaces on our rugby fields 
  * have a swim in the pool (as long 
as you've got a key of course) 
  *  enjoy  our  playground  and  then 
have a picnic lunch - our BBQ takes $1 
coins for 20 minutes of heat. 
  *  pop  into  Jaques  to  borrow  our 
tennis  racquets  and  have  a  hit  on  our 
courts. 
  * bring your tent and have a family 
sleepover  at  our  grounds  -  the  bush-
fringed  grass  next  to  the  pergoda  is  a 
lovely spot. 
Pre-schoolers Activity Classes 
Ready,  Steady,  Wriggle  is  a  fun, 
activity-based  class  for  pre-schoolers 
run  by  Plunket.  Classes  will  be  held 
fortnightly  in  our  gymnasium  on 
Wednesday  mornings  at  11am  starting 
Wednesday 3rd February. 
Bring  some  morning  tea  for  your 
kiddies  and join  us  for lots  of  fun and 
excitement.  Everyone  is  welcome  to 
attend. A gold coin koha is appreciated 
if you can. 
Queries to Tina Ball on 021 0335128. 
Who's keen for Basketball? 
I'm  thinking  of  running  a  basketball 
module, in our gymnasium probably on 
Sunday afternoons for 6 weeks or so. 
I'm  wanting  to  gauge  interest  to  see  if 
(Continued on page 9)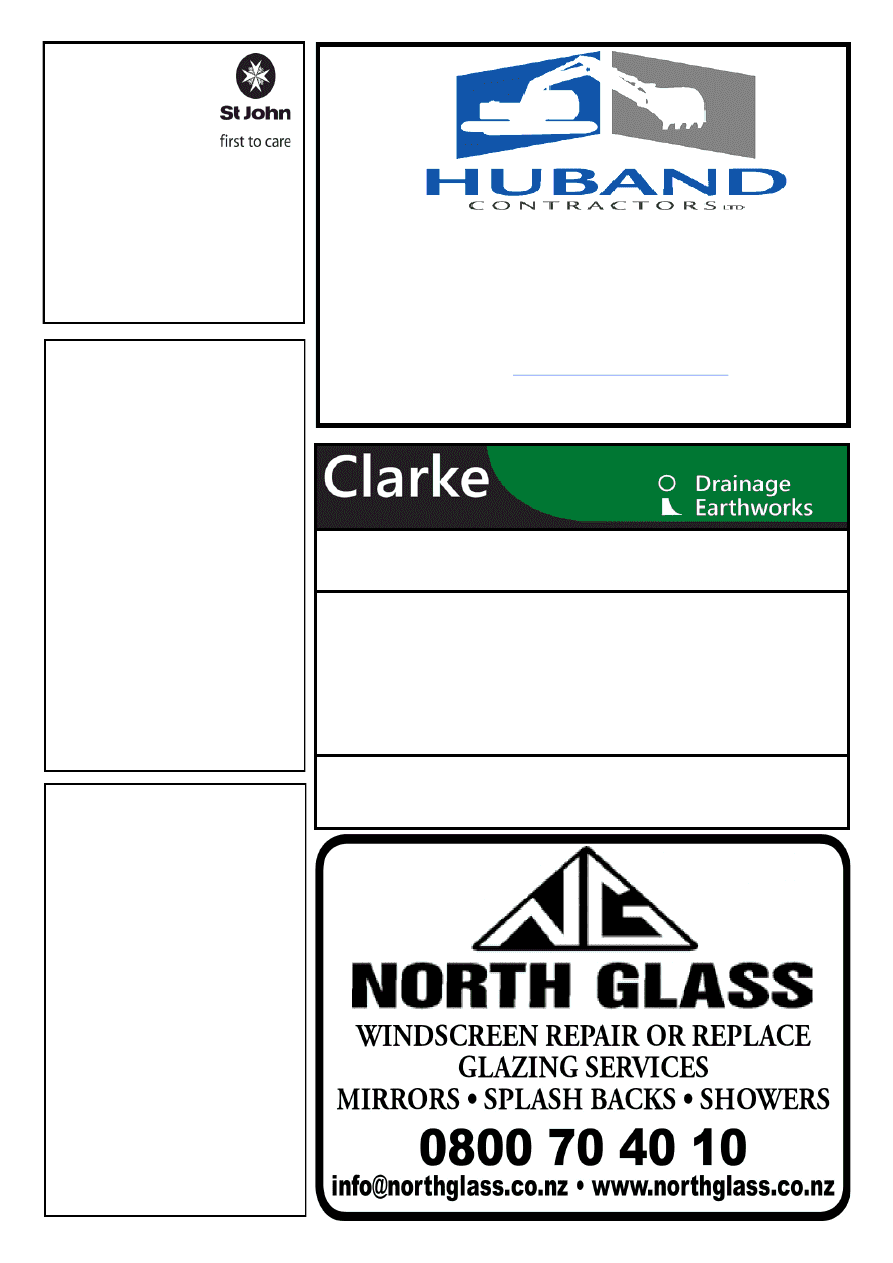 When you need St. 
John members at 
your function … 
Get a Community 
Services Form 
….. see Milly at the  
Kaiwaka St John  
Op Shop.  
Phone 4312650 
MORE MEMBERS REQUIRED FOR 
THE KAIWAKA STATION. 
Registered Drainlayer 
All Types of Earthworks  
> All Residential & Commercial Work 
> House Sites 
> Septic System Design & Install 
> Footings & Drilling to 10m 
> Sewer Connections 
> Dams 
> Water Tank Installation 
> Roading & Races 
> Farm Work 
THE ONE STOP SHOP  
Phone Nigel for an Obligation Free Quote  
Drainage & Earthmoving                  clarkedrainage@xtra.co.nz 
027 2233 185
*   R O A D I N G   *   E A R T H W O R K S   *    
*   D R A I N A G E   *   S I T E W O R K S   *  
For any further enquiries, contact Shaun on: 
Cell: 021 222 0272 
Home: 09 4318339 
Shaun Huband:  Registered Drainlayer 
UP-LINK 
CHRIS WARING 
FREEVIEW 
INSTALLATIONS
T.V. - HOME THEATRE & 
HI-FI ADVICE/SET UP
SKY ACCREDITED 
INSTALLER
MOB.0273403747 
HM.094312328 
EMAIL cwaring44@gmail.com
28 YRS EXPERIENCE 
OFFERING 
UNBIASED ADVICE 
LEE COOPER 
PAINTERS 
(Kaiwaka Based) 
*30 years Experience 
*Interior/Exterior 
*New and Restoration 
*Honest and Reliable 
*Free Quotes 
09 4312 918 
027 473 5171 
leecooper@xtra.co.nz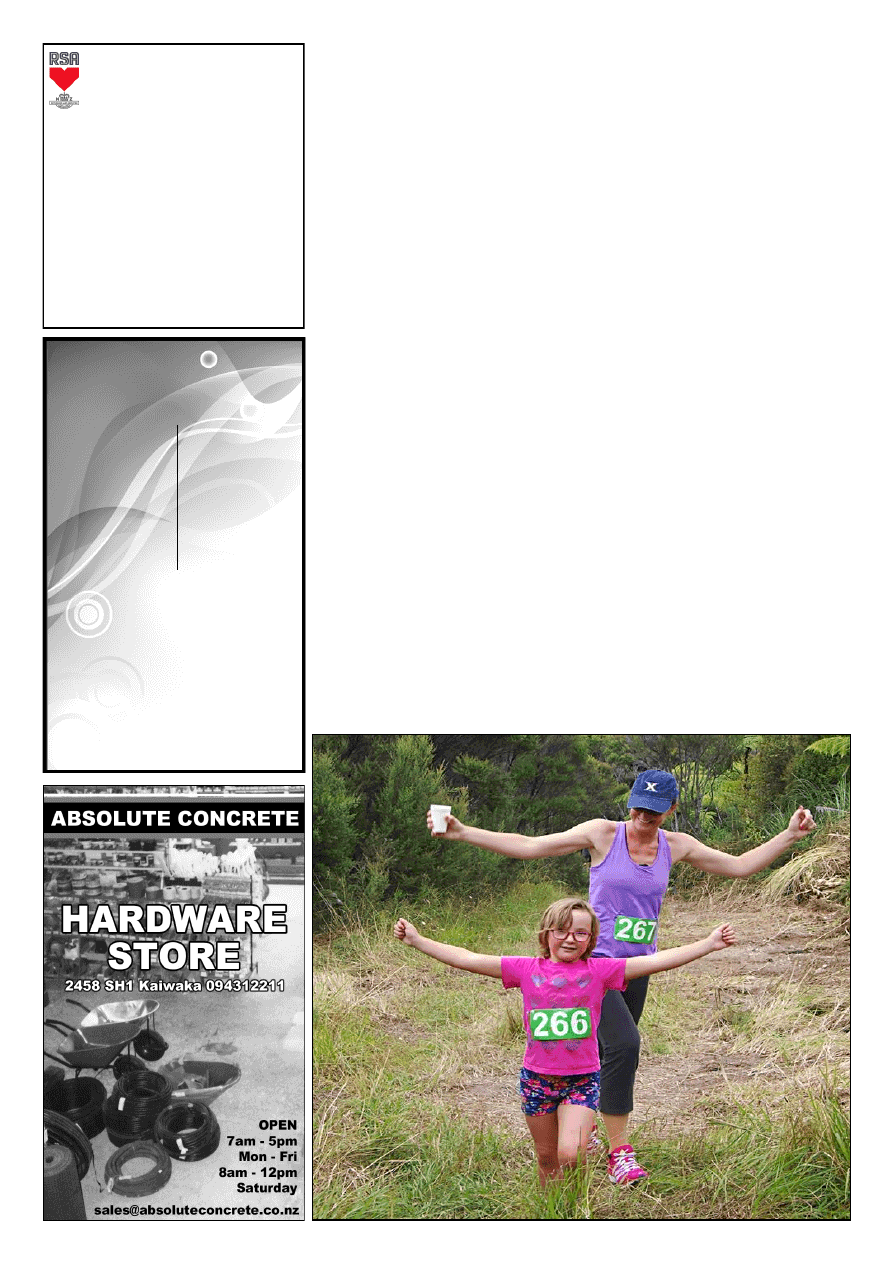 www.kaiwaka.co.nz 
Kaiwaka Bugle - 26 January 2016 
Page 9 
U Beauty 
Please call Nicole for bookings 
09 393 6336 or 022 0639450 
Qualified Beautician 
4 Kaiwaka – Mangawhai Rd 
Kaiwaka 
Underarm Wax  
$20 
Extended Bikini Wax 
$30 
15 min Back  Massage 
$25 
Eyebrow Wax  $10 
Eyebrow Tint  $10 
Eyelash Tint 
$20 
Lip Wax 
$10 
Chin Wax 
$10 
Bikini Wax 
$20 
Brazilian 
$50 
½ Leg Wax 
$30 
Full Leg Wax  $45 
Full Pedicure  $60 
Foot Tidy  
$35 
Manicure 
$45 
Nail Tidy 
$25 
Chest Wax 
$30 
Back Wax 
$40 
Nostrils 
$10 
Ears 
$10 
HAKARU & 
DISTRICTS RSA 
Inc 
Each Friday night from 6.30pm 
meals will be served. 
Members & invited guests, new 
members welcome.
Come along & enjoy our hospitality.
2nd Friday of the month -  roast 
dinner or board menu.
Last Friday of month - roast pork 
night & sing-along with Des Chitty.
Ph Heather 4314668 or Jan 4314512 
there  would  be  enough  people  keen  to 
play. If you're interested, please let me 
know. 
Rugby - Senior 
It  may  still  be  the  middle  of  summer, 
but  preparation  is  well  underway  for 
the  2016  season.  Trainings  for  our 
Otamatea  Hawks  are  on  Tuesdays  and 
Thursdays  at  6.30pm  at  our  grounds  – 
past and new players welcome.  
Rugby – Intermediate 
Our  Hawks  IMB  club  will  hold  their 
AGM  on  Thursday  18th  February  at 
7pm  at  the  Maungaturoto  Country 
Club.  It  is  crucial  that  all  interested 
parents attend as it is likely that we will 
need  a  new  President  and  Secretary. 
The club  may  only  be  able  to  field  an 
Under 16s team, as there doesn't appear 
to  be  the  numbers  at  this  stage  to 
support an Under 14s or an Under 18s 
team. 
Mike  Peeni  will  coach  the  Under  16s 
and will post details about trainings on 
facebook shortly. 
Any  IMB  queries,  please  ring  Heather 
Foster on 021 841115.  
Rugby – Junior 
Our  junior  rugby  club  Eastern  United 
JMB  is  looking  forward  to  another 
action-packed  season.  There  will  be  a 
Registration  Day  at  our  grounds  on 
Saturday 20th February, more details to 
follow.  
Top of the Rock 
Is  your  New  Years  resolution  to 
exercise  more?  To  participate  more  in 
community  events?  To  get  out  in  the 
countryside more? Entering our Top of 
the  Rock  event  fits  the  bill  for 
everything!  It  will  be  held  on  Sunday 
14th  February  (yes,  Valentines  Day!) 
Entry forms are at Jaques Four Square 
and 
on 
our 
website 
www.kaiwakasports.co.nz. 
The  event  caters  for  walkers,  runners 
and  mountain  bikers,  both  recreational 
and competitive as there are a range of 
options: 
•  5km or 10km walk or run 
•  10km  run  +  15km  mountain  bike 
ride 
•  14km or 30km mountain bike route 
•  plus,  new  this  year,  a  fun  bike 
course for under 10 year olds 
Routes  travel  through  some  of 
Kaiwaka's  most  scenic  countryside  – 
bush, lakes and farmland. And you get 
the  opportunity  to  climb  iconic 
Baldrock  Mountain,  which  is  easier 
than  the  daunting  view  from  the  road 
suggests,  as  there  is  a  well  formed 
track  which  spirals  around  the 
mountain. 
TV3's  Brendon  'Money  Man'  Johnson 
will host the prizegiving with prizes for 
placegetters  plus  lots  of  great  spot 
prizes,  including  a  mountain  bike 
sponsored by Bike Mangawhai.  
Prices  are  very  reasonable  for  a 
enjoyable  day  out  –  for  example  the 
5km  or  10km  run/walk  is  $15  for 
adults, $5 for children and preschoolers 
are free. 
Make  sure  you  enter  before  this 
Sunday  if  you  want  to  be  in  with  a 
chance  to  win  one  of  our  two  great 
earlybird prizes. 
~Cheryl Anderson 
4312 051, 027 3462702 
(Continued from page 7) 
KAIWAKA SPORTS ASSOCIATION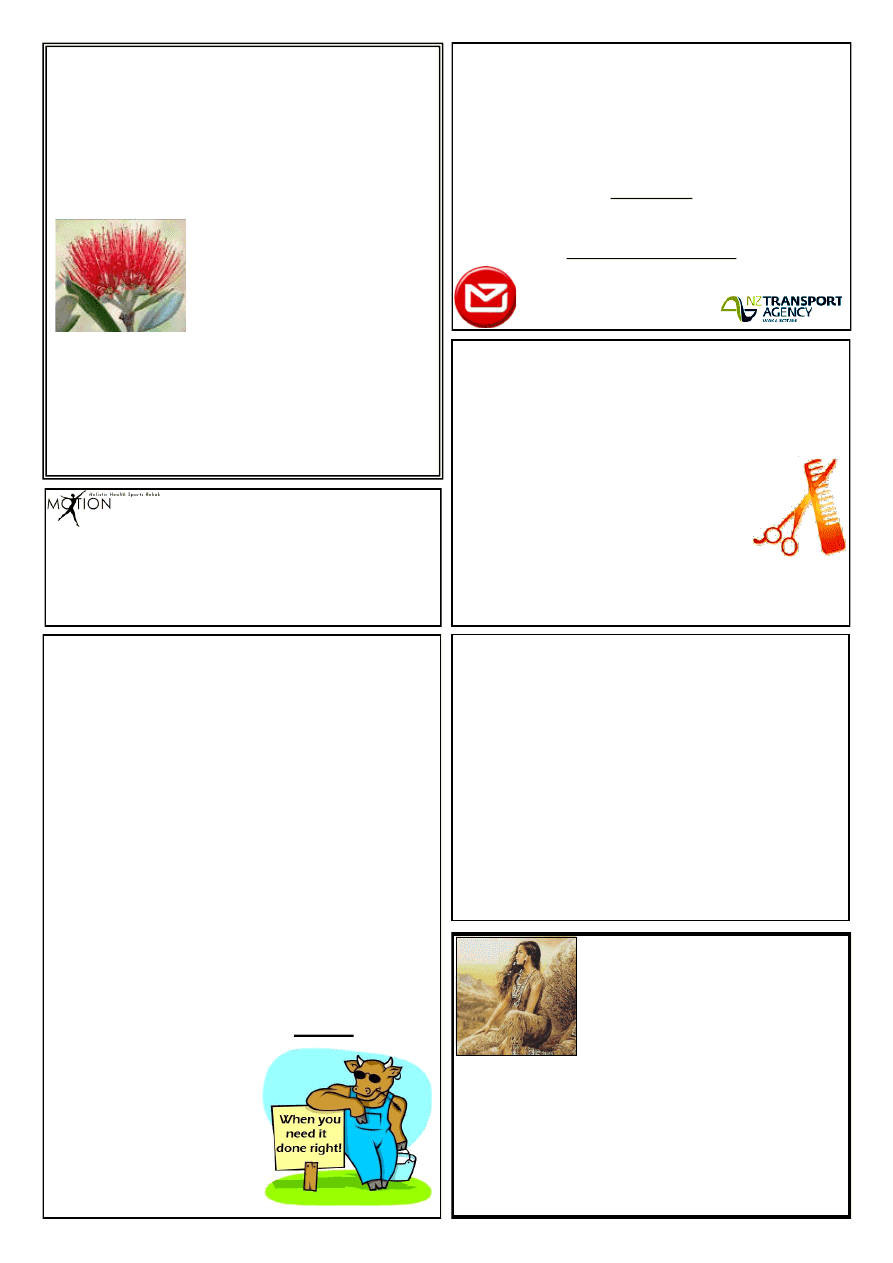 AFFORDABLE PRICES! 
MENS DRY CUT FROM $18.00 
LADIES DRY CUT FROM $28.00 
KIDS DRY CUT FROM $15.00 
COLOUR CUT FROM $90.00 
JUST CUTS'AND     
MORE 
021 165 2629 
NOW SELLING: scented tealights, incense, smudge sticks, 
copper bracelets, aurora ball crystals, dream catchers, healing 
stones, rose quartz, cds, and much more. Open 6 days. 
Trails end 
spiritualist gathering  
Last Sunday of every month  
11.30-2pm tea/coffee provided  
$5koha for all inquiries  
0211652629 evenings 099450753 
Trail.end@hotmail.com 
Bringing together light minded people 
Guest speaker each month and 
Workshops every 2nd Wednesday 7-8.30pm
KAIWAKA FOOD MART 
Mukesh and Pragna Patel 
1919A State Highway 1, Kaiwaka 
09 431 2431 
Opening hours: 
Groceries 
7.30am - 7.30pm daily 
(Monday to Sunday) 
NZ Post  and NZTA 
Mon to Fri. 8am - 5pm 
Saturday  8am - 1pm 
WAIPU OSTEOPATH 
Maria Gabriel ACC Registered Osteopath 
Waipu Natural Health 3 Cove Rd Waipu 
Monday, Wednesday & Thursday  
Freephone 0508 924786  (0508 WAIPUOSTEO) 
www.getinmotion.co.nz     No doctor referral 
required 
GORSE
IF YOU HAVE GORSE THAT YOU 
WANT ERADICATED
Call A Farmer
Bookings taken NOW  
for summer spraying
Phone 09 423 7585 
027 62 55 383 
info@callafarmer.co.nz 
KAIPARA FLOORING CO 
Independently owned & operated 
32 HURNDALL ST MAUNGATUROTO 
Supply & Installation of Carpet, Vinyl,  
Vinyl Wood Planking 
Stockists of 2m & 3m wide 
vinyl & carpet short ends 
Residential & Commercial 
First Class Installations 
For a free measure & quote phone 
Christine  
09 946 9886 or 021 515 415 
KAIWAKA MARKET 
Every Friday
Three Furlongs Hotel carpark 
State Highway 1, Kaiwaka 
10am - 3pm 
Local arts & crafts, fresh organic produce 
Entertainment 
To book a stall contact David Denton 
Phone 4312 184 or 021 210 3756 
Email magik2u@hotmail.com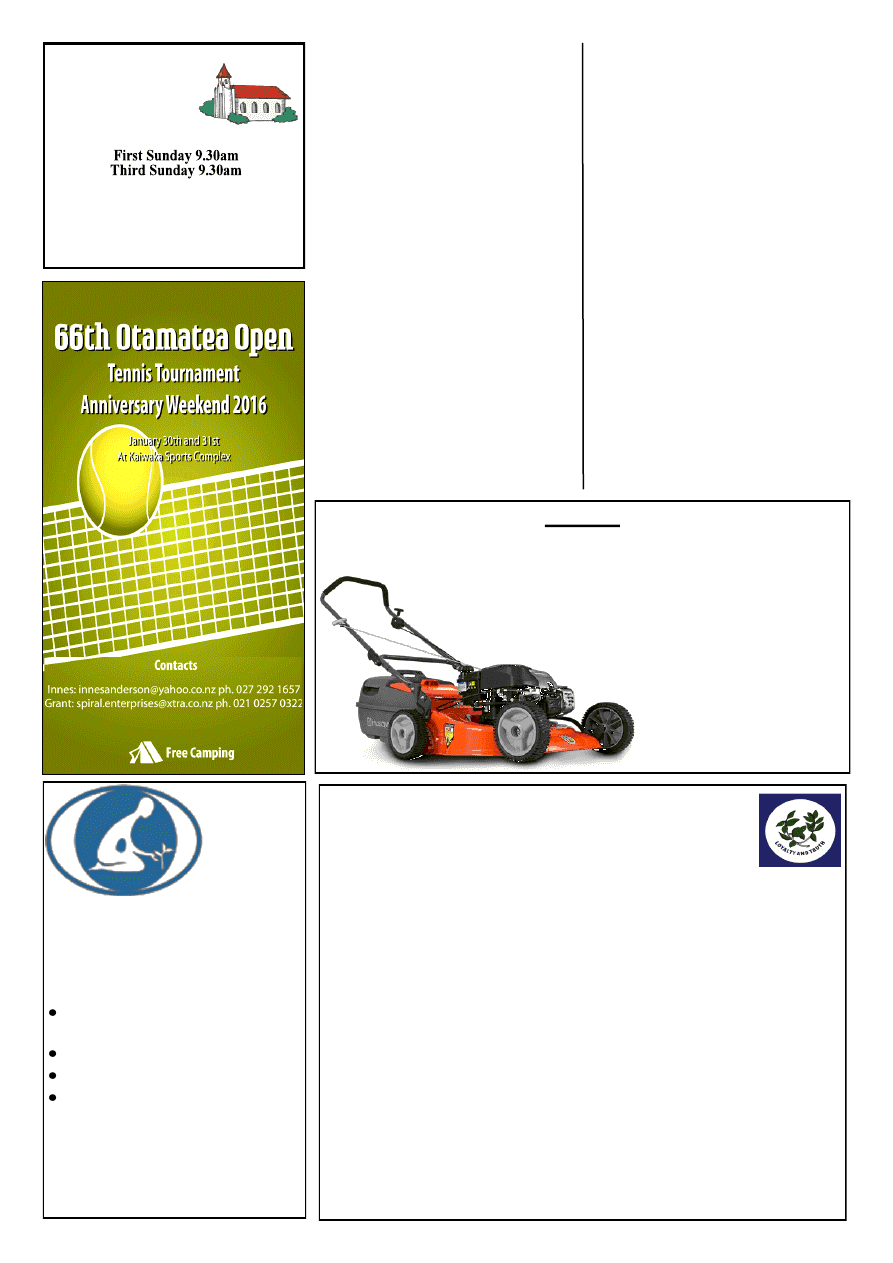 www.kaiwaka.co.nz 
Kaiwaka Bugle - 26 January 2016 
Page 11 
POINT CURTIS  
CRUISING CLUB 
Happy New Year To You All. 
Fish of the month results: 
Snapper:  1st:  Carol  Welsford-Mills 
2.760kg,  2nd:  Tony  Smith  2.182kg, 
3rd: 
Tony 
Smith 
1.959kg. 
Congratulations to the winners! 
New  fish  of  the  month:  SNAPPER.  
Cut  off  date  next  meeting,  9th 
February. 
Upcoming Events:  
-  North  VS  South  Pool  Comp  on  31st 
January  at  3  Furlongs  Bar  &  Grill. 
Come along for a game from 1pm! 
-  Picnic  at  Rangiora  Road  Boat  Ramp 
on  6th  February.  Bring  a  salad  and  a 
chair and your own refreshments. Keep 
an eye out for an e-mail with times. 
-  Club  Members  Only  Fishing 
Competition: 5 & 6 March 2016.   
-  East  VS  West  Open  Fishing 
Competition: 8, 9 & 10 April 2016. 
More 
details 
to 
come 
about 
competitions! 
Next  committee  meeting:  Tuesday 
9th February, 7pm at 3 Furlongs Bar & 
Grill.       ~ Wayne Leslie, Commodore 
Magnetic Laser for Health
Using a low power laser I can help 
with a variety of conditions:
Joints pain, swelling, 
inflammation 
Back and neck pain 
Heel pain 
Injury or fracture recovery
Phone Gala 
431 2213 
021 486 611 
NORTHTEC 
SUSTAINABLE 
RURAL 
DEVELOPMENT 
For the last time NorthTec is offering a 
fee's  free  year  of  the  Certificate  in 
'Sustainable  Rural  Development'  in 
Wellsford at Hauora Trust Community 
Garden,  72  School  Rd.  Level  2  is 
starting February 22nd to June 24th on 
Wednesday, Thursday and Friday from 
9am  to  3pm.  If  you  like  to  continue 
another  semester  follows  after  the 
school  break  with  level  3  for  another 
19  weeks.  The  focus  is  on  organic 
gardening, 
raising 
and 
growing 
vegetables,  building  a  raised  bed 
garden,  making  compost,  exploring 
common pests and diseases. The course 
is  for  beginner  gardeners,  or  just  to 
increase  your  knowledge  and  share 
your  love  for  growing  food  as  well  as 
working and learning together! 
Please  contact  Heidelind  Luschberger 
on 09 431 2887 or 021 0230 6465. 
ST PAUL'S  
ANGLICAN  
SUNDAY  
SERVICES
St Pauls Church: Kaiwaka-Mangawhai Rd. 
1st Sun - Eucharist 
3rd Sun - Family Service 
Office 4314 122 
www.mangawhaianglican.org.nz 
OTAMATEA HIGH SCHOOL 
IMPORTANT DATES FOR START OF YEAR 2016 
Wednesday 27th January   Year  13 Leadership day 
Tuesday 2nd February (Buses will be r unning) 
School starts for all Year 7,  Year 9 and  Year 13 and all new students to OHS. 
Wednesday 3rd February  Whole school to attend (All Year s) 
Senior Course confirmation will take place.  School finishes at 2pm. 
Wednesday 3rd – Friday 5th February Year 9  & Year 13 Camp at Otamatea 
Marae 
Thursday 4th – Friday 5th February Year 7 & Year 13 Camp at Otamatea 
High School 
New Uniform Sales  / Year 13 Dress Uniform 
Paparoa Drapery stock a full range of Otamatea High School uniform   Phone 
09 431 7306. Please phone the school office 09 4318230 or 0800 682 628 for 
any further information. Visit our website for 2016 school information 
including camp letters, uniform, stationery and school calendar.  
www.otamatea.school.nz 
WIN!! 
A Husqvarna lawnmower valued at $650. 
Kindly sponsored by Kaiwaka Motorcycles. Buy a raffle ticket: $2 per ticket or 
3 for $5. Drawn at the Kaiwaka 
Sports Association's Top of the 
Rock event on 14th Feb (you 
don't have to be present to claim 
the prize). 
Keen to buy a ticket? Contact 
me and you can either pay your 
money to the KSA online, or 
drop if off at Jaques Four 
Square. 
Cheryl Anderson 
4312051, 027 362702 
kaiwakasports@gmail.com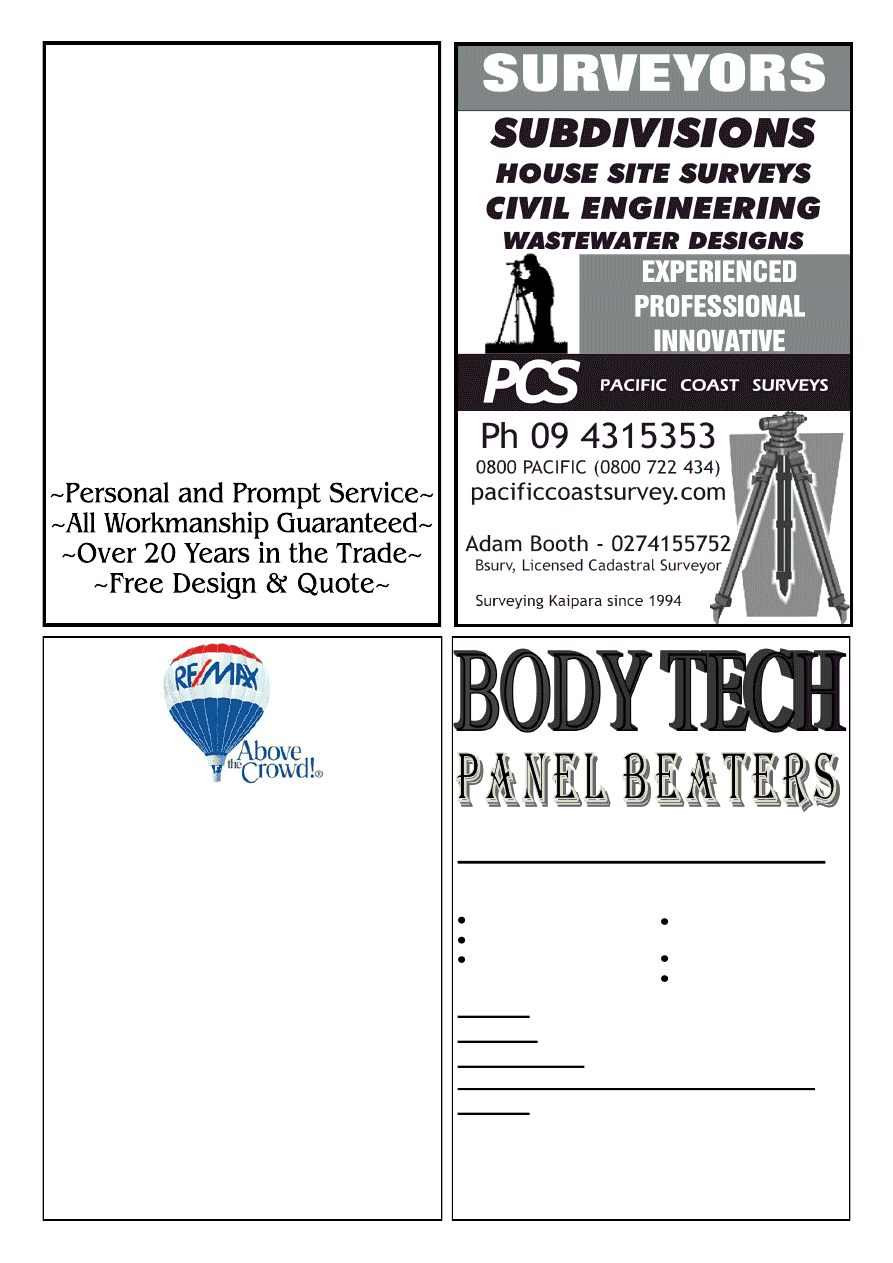 For all your body repair needs!! 
We do: 
Rust repairs 
Insurance work 
Anti-corrosion treatment         
Hours: 8.30am-5pm Monday-Friday  
Mobile: 021 118 0462 
After hours: 09 431 2384 
Phone: Craig or Call in for a free Quote 
e-mail: 
bodytech_panelbeaters@yahoo.com
We are located at 1837 SH1 Kaiwaka, behind Twin-
kle Tow 'n' Tyre call in anytime for a free quote.  
Large and minor vehicle  
  repairs 
Industrial vehicles 
Full Cut and polishes 
PLANNING A NEW 
KITCHEN? 
 CONTACT NOEL McDOWELL 
WELLSFORD 
KITCHENS
Ph/Fax 094312888  
KAIWAKA-Any time 
  QUALITY CUSTOM MADE 
KITCHENS  
Beth Stone is your local 
Re/Max Associates 
representative. 
I am available for chats anytime between 
10AM and2 PM Tuesdays and Wednesdays 
in my ChatRoom in Kate's Place. Or by 
appointment. Join me for coffee and 
conversation. 
Thinking about buying? Or selling? Or just 
wanting to talk over the options and 
understand more about the market? I can help. 
Use me as your sounding board.  
Phone Beth 0274 937 801 or call in. I look 
forward to meeting you.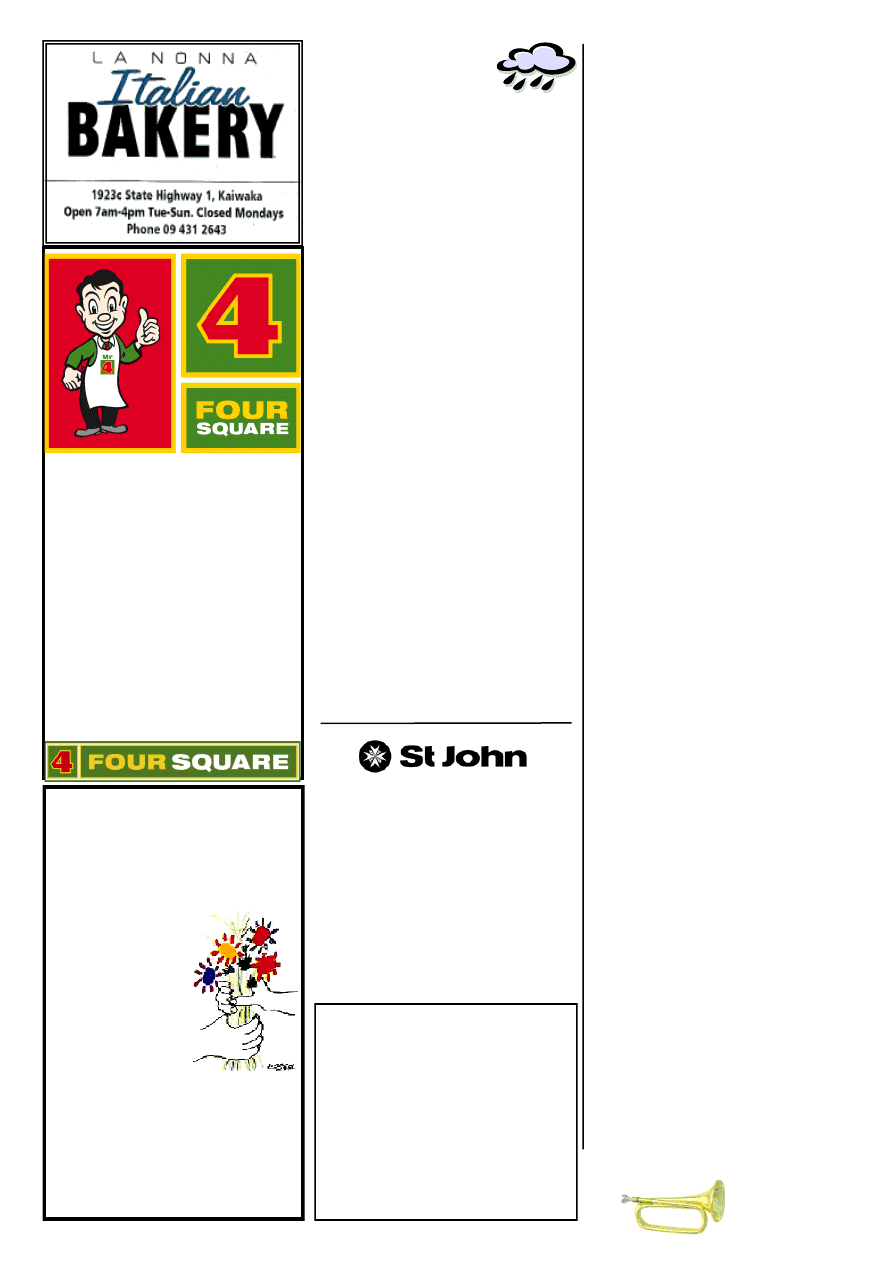 www.kaiwaka.co.nz 
Kaiwaka Bugle - 26 January 2016 
Page 13 
S.O.S Kaipara 
Support, advocacy, crisis and 
family therapy counselling, 
emergency housing to survivors of 
sexual abuse and domestic 
violence. Also Education 
prevention programmes for the 
community and clients.  
Office hours 9am to 3pm Monday to 
Friday 24/7 services available via the 
Police or phone 09 4396070 
We have single beds and matresses. 
1  Rocking  chair  vgc;  3  seater  lounge 
with matching table & 6 chairs in good 
condition;  1  BBQ  vgc;  $1.00  clothes; 
Shoes $1-50c each; 2 small drawers. 
We  need  bric-a-brac,  towels,  cooking 
pots, anything else you may be able to 
give us will be appreciated. 
~Milly & Staff 
Op Shop, SH1, Kaiwaka 
Mon-Fri 9am to 4pm 
Sat 9:30am to 1:30pm 
KAIWAKA 
WEATHER 
Flowerpower 
Northland 
Long lasting 
flowers 
delivered 
from 
Mangawhai
www.flowerpower 
northland.co.nz 
Ring Martina 
4315161 
BACK TO SCHOOL DEALS! 
Come in store to see our great 
range of back to school 
essentials – books, stationery, 
socks, lunchboxes and drink 
bottles. 
9kg Gas Bottle Refills 
Sodastream Machines, 
Flavours, & Refills 
Rug Doctor Hire from $39.99 
for 4 Hours 
Jaques Four Square 
Phone: 4312227 
1 Kaiwaka-Mangawhai Road, 
Kaiwaka. 
New  Year  Greetings  to  all  the  Bugle 
readers. What a great little newsletter it 
is. Well not so little all the time which 
means Kaiwaka is a busy place (as we 
know). 
December  treated  us  rather  well  with 
the  weather  although  the  wind  was  a 
nuisance and persistent. It dried up any 
rain that fell at last. Around the middle 
of the month we got that welcome rain 
that filled water tanks and let the grass 
come back to life. Thank goodness for 
a  fine  Christmas  Day  and  a  fine  New 
Year  Eve.  The  rain  did  set  in  later 
dampening everyone down and leaving 
New  Year  Revellers  wet  gear  to  pack 
up. 
In  December  2015  we  had  50mm  rain 
and  December  2014  we  had  211mm. 
Our wettest December since 1987 was 
December  2014  with  211mm  and  the 
driest was 1994 with 4mm. For the last 
12  months  we  had  1066mm  compared 
to 2014 which was 1767mm of rain. 
In  old  terms  we  are  down  6  inches  of 
rain  for  the  year  2015  as  compared  to 
2014.  No  wonder  things  are  dry.  So 
remember  your  birds  and  animals  that 
need water and their troughs and water 
holes etc are drying up. We cannot live 
without  fluid  and  function  properly  so 
neither can the animals. 
To  start  the  New  Year  is  just  a 
reminder  -  the  trouble  is  with  doing 
nothing  is  that  you  never  know  when 
you have finished. 
Wishing  you  all  better  health  this  and 
think of the good things to come. 
~Bev 
BLOWING OUR 
BUGLE 
The  Bugle  has  just  held  its  Annual 
Meeting.  Such  events  can  be  quite 
boring.  But  for  me  as  a  newcomer  to 
that  group,  there  were  some  exciting 
aspects.  There  were  a  couple  of 
comments  about  how  enjoyable  the 
people  present  found  their  regular 
involvement  in  putting  the  20-odd 
pages  of  each  issue  together.  That 
activity  is  an important  part  of  getting 
each  issue  out  to  the  community,  but 
the  interaction  between  10-15  people 
from various parts of the community as 
they  work  together  is  the  element  of 
the activity that they enjoy most. There 
is a great deal of good-natured teasing, 
but also a real sharing of interests held 
in  common.  It's  a  great  community-
building activity. 
That small group brings together some 
quite divergent interests that enrich the 
life  of  the  wider  community.  And  of 
course  that  is  only  one  activity  that 
brings together some of the diverse life
-styles within our community. 
That  is  one  of  the  intentions  of  The 
Bugle  as  a  community  newspaper.  It 
informs its readers about what has been 
happening in the community, and what 
is  about  to  happen,  so  that  we  can 
become  involved  in  interactions  with 
each other that interest us. It's a bit like 
oil  in  a  piece  of  machinery  (the 
community)  that  enables  the  machine 
to  work  smoothly  and  carry  out  its 
function. 
For  me,  the  function  of  a  community 
newspaper is to help maintain the local 
structures  that  build  a  sense  of 
community  and  enable  its  people  to 
interact  in  ways  that  add  to  their 
individual  health  and  sense  of  well-
being.  So  the  greater  the  range  of 
activities  and  ideas,  that  interest 
people,  that  get  expression  in  The 
Bugle, the richer the interaction will be 
between all the people who read it. 
I'm  certainly  interested  to  know  why 
people  are  seeking  to  live  on  lifestyle 
blocks,  or  why  a  small  but  growing 
number of creative artists have chosen 
this  community  as  a  place  to  live. 
That's  just  to  mention  two  of  a  wide 
range  of  the  more  recent  interests 
becoming part of this community. 
As  I  interact  with  an  increasingly 
diverse number of people I have come 
to  realise  the  limitation  involved  in 
only  seeking  interaction  with  those 
whose  views  and  values  are  similar  to 
those that have been instilled in me up 
to  this  moment  of  my  life  journey. 
Seeking  a  greater  appreciation  of  and 
acceptance  of  difference  can  be  a 
source of enrichment I can welcome to 
my life experience. 
The  Bugle  can,  and  should,  be  one  of 
the instruments available to me in this 
search. 
~Scott Dalziell 
Want it done? 
Bring it to  
Twinkle Tow 'n' Tyre 
*W.O.F. 
*Tyres 
*Windscreen replacement 
*Chip repairs 
*Bulk Oil 
*Batteries 
*Welding 
*Custom built trailers 
*Trailer hire 
Think you'll get a better deal in 
the city? 
Go on, ring us; it won't cost  
anything! 
1837 State Highway 1, Kaiwaka       
Phone 431 2823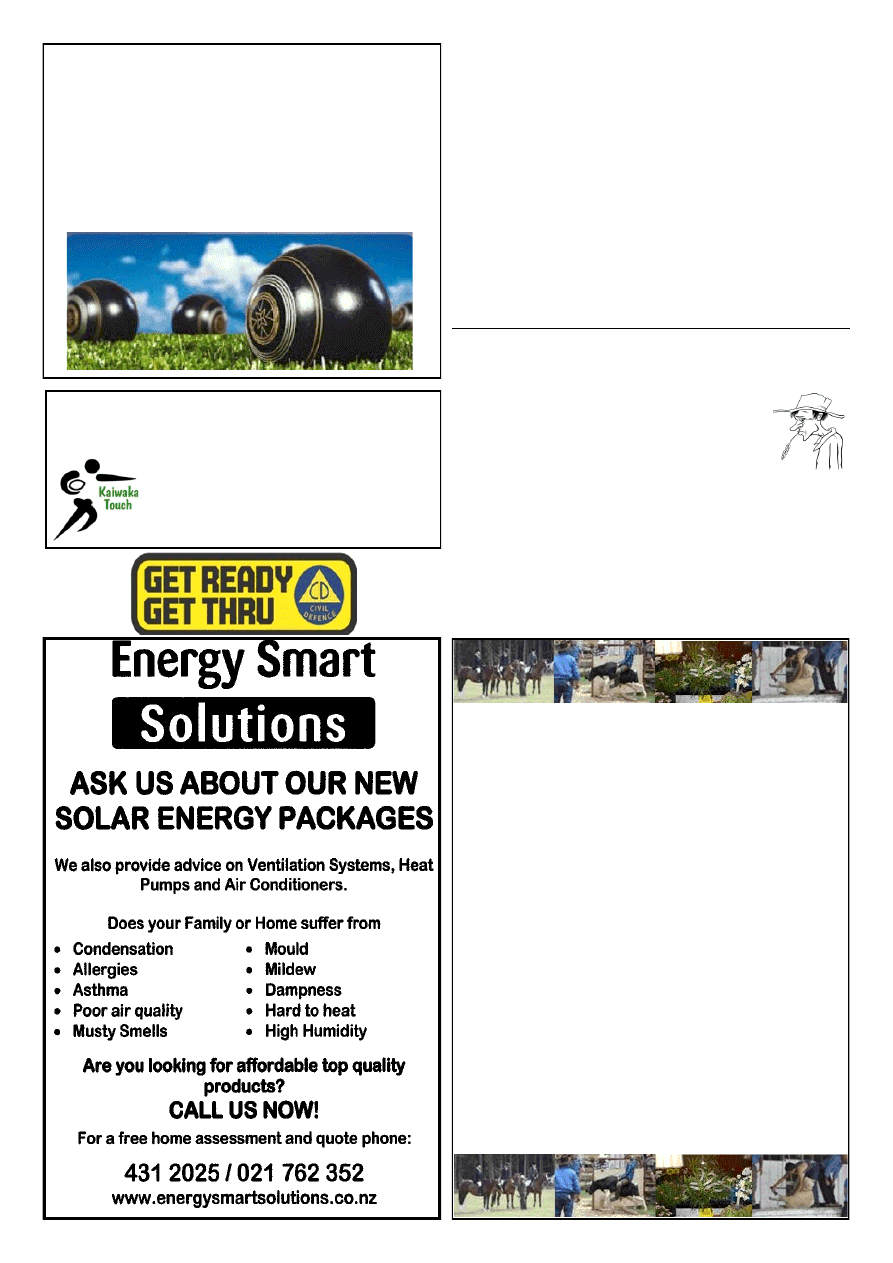 www.kaiwaka.co.nz 
Kaiwaka Bugle - 26 January 2016 
Page 15 
KAIWAKA LIBRARY
140th Paparoa A&P Show 
At Paparoa Showgrounds 
Saturday 6 February 
Entry $10 adults $5 children (first 2 children only)  
– under 5 free 
Gates open 9 am (EFTPOS available) 
Gate Prizes – great chance to win! 
• Calf & steer riding • Team roping (children can enter) 
• Side shows • Equestrian events  
• wood chopping • shearing 
• Cattle and dairy goat sections • alpaca 
• Large indoor section – entries close Friday 11.45 am   
• Market stalls and Trade sites  
• Red Arrows Dixie Jazz band – good music 
• Food and drink – great coffee  
• Lots of children and teenager attractions 
A FUN DAY OUT FOR THE WHOLE FAMILY! 
Schedules and more info online: www.paparoashow.org.nz   
Enquiries to Show Secretary Ann Butler 027 333 5589 or 
secretary@paparoashow.org.nz E2011 
TWILIGHT BOWLS 
Maungaturoto Bowling Club 
Friday evenings, 6pm 
Social bowls - fun for non-bowlers and bowlers! 
Bowls provided, lots of spot prizes. 
$2 per person per week 
Starts 12th February 
Queries to Albie, 09 4318 148 
Come in a team of 3, or rock up by yourself and you'll be 
put in a team. 
SUMMER TOUCH MODULE 
$100 per team 
A social module for mixed teams of men, women & teens 
Sundays at 12:30pm 
Kaiwaka Sports Complex 
7th Feb - 3rd April 
Register your team with Cheryl on 
kaiwakasports@gmail.com 
STREETS of KAIWAKA 
Found  during  a  clean  out  –  song  sheets  from  a  Kaiwaka 
School production in the 1970s: 
STREETS of KAIWAKA 
As I walked out on the streets of Kaiwaka 
As I walked out in Kaiwaka one day 
I spied a cow cocky, wrapped up in wet oilskins 
Wrapped up in wet oilskins, and having his say 
I see by your outfit that you are a townie 
These words he did say with a look of sheer woe. 
Come sit down beside me and hear my sad story 
For butterfat price has fallen so low. 
The seamen are striking, our exports are dropping 
The country's inflated and our luxuries must go … 
Just a quick note from me this time around. Our apologies 
for  the  library  being  closed  last  Saturday.  Circumstances 
beyond  our  control  meant  none  of  our  team  of  volunteers 
were able to be there that day. 
We  are  on  the  corner  of  State  Highway  1  and  Kaiwaka 
Mangawhai  Road,  opposite  Jaques  Four  Square.  It  is  free 
for  any  resident  of  the  district  to  join  the  library  upon 
completing  our  form  and  supplying  the  appropriate  ID. 
Come in and talk to us if you're interested in joining. 
Over  the  summer  break  I  read  several  of  the  DCI  Banks 
books  by  Peter  Robinson.  We  have  three  of  the  series  on 
our  shelves  at  the  moment,  but  I  was  reading  the  earlier 
books on my tablet via the library's free Overdrive service. 
Any library member with internet can use this - ask us for 
details, or look at the libraries page on the Kaipara District 
web site. Talk to you again soon!                             ~Wendy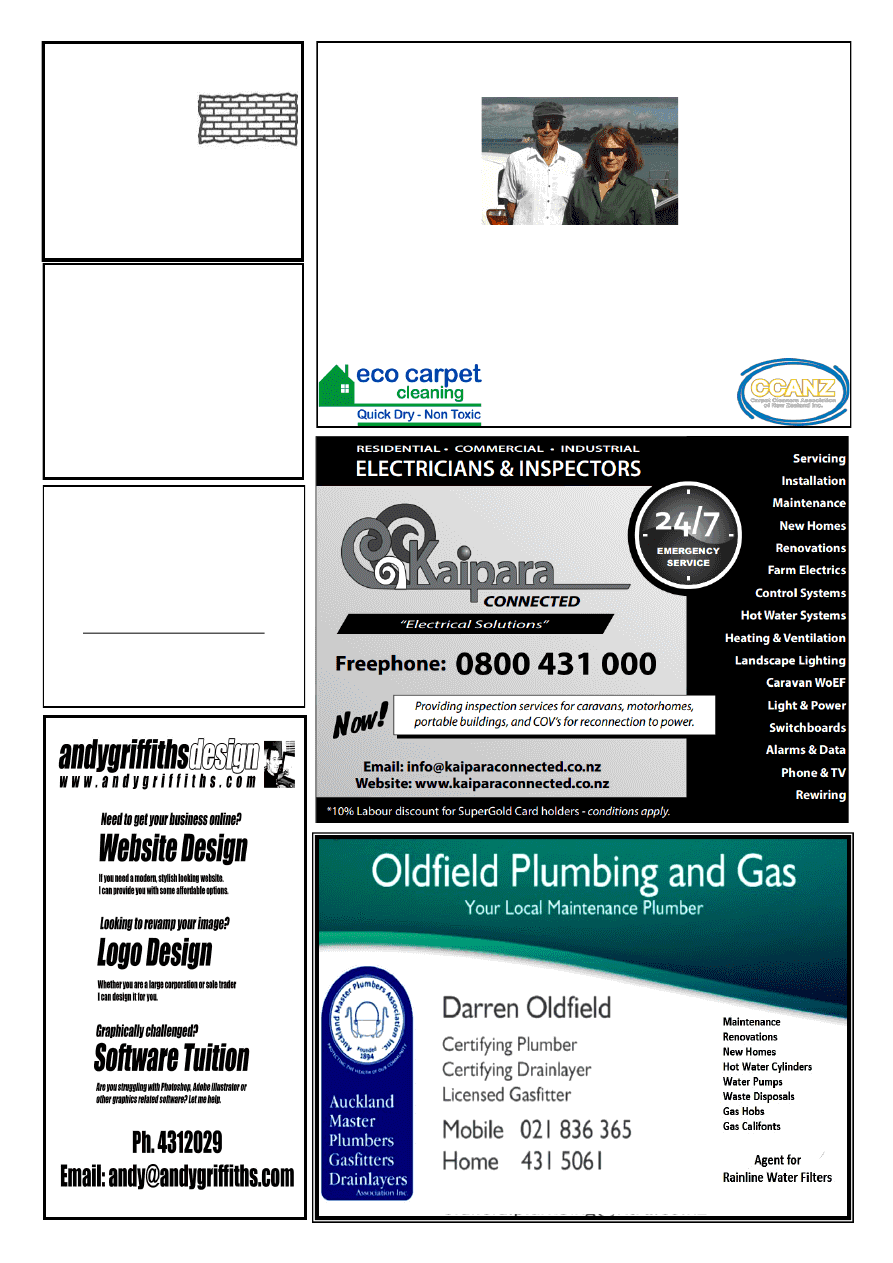 CARPET & UPHOLSTERY CLEANING 
QUICK DRYING – NON-TOXIC  - GREAT RESULTS
Mike and Marina Bagley have returned to your area and are 
delighted to offer carpet and upholstery cleaning 
Call 09 431 3016  or  027 2410414 
marina@ecocarpetclean.co.nz  
www.ecocarpetclean.co.nz 
Otamatea High School 
& Maungaturoto District High School 
50
th
 Reunion 
15
th
 – 17
th
 April 2016 
For more details visit:   
Contact: Phone: 0800 682628    
Email: ohs@otamatea.school.nz 
Registrations close 18
th
 March 2016 
oldfieldplumbing@gmail.com 
 LEABOURNS 
Passenger Service
Car & Van Hire 
Bus & Coach Charters 
Airport Transfers 
 Monthly Shopper Bus 
Phone (09) 4237416 
BRICK/BLOCKLAYER 
All aspects of masonry:  
Fireplaces, 
Restoration  
& Remedial Work. 
JAMES EAGLETON 
Tel. (09) 431 2514  
Mob. 0274 749 232 
jajueagles@yahoo.com.au 
210A Pukenui Road, RD2 Kaiwaka 0573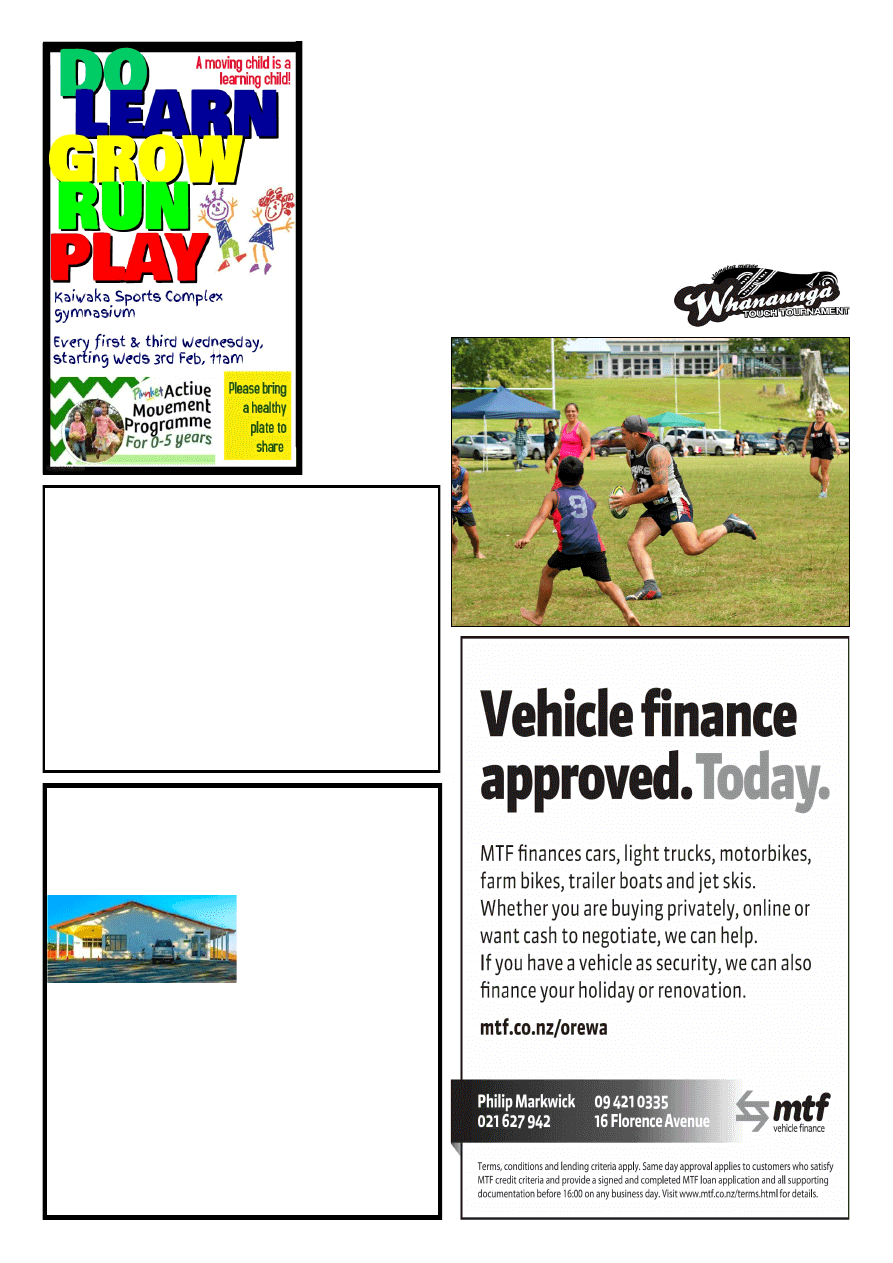 www.kaiwaka.co.nz 
Kaiwaka Bugle - 26 January 2016 
Page 17 
Te Pounga Marae 
130 Nathan Rd. Oneriri. Kaiwaka 0573 
COMPLEX FOR HIRE 
Functions 
* Weddings   *  Birthdays   
*Anniversaries 
* Meetings   * Wananga 
5 hour meeting 
* 12 hour stay   * 
Overnight 
*All welcome - No more Drink-driving 
Amenities: 
*Convo Combi Steamer * Bratt Pan * Dish 
Washer/Sterilizer * 3 Door Glass Chiller (walk in) 
etc…All Crockery * Linen Supplied * Central 
Heating and Air Conditioning and much more.  
Can also cater for small groups…. 
For more information please contact: 
Kim Wallace 
Home: 09 832 1133   Mob: 0211275340 
Email:  kimwallace@xtra.co.nz 
LIFESTYLE PROPERTY  
MAINTENANCE 
Putting life back into your style
Working out of Kaiwaka; servicing Mangawhai, 
Maungaturoto, Waipu and surrounding areas. 
  With over 25 years' experience, I'm fully insured and 
any job considered so just call me – James on mob: 0273 
808622  or  09 431 2245 
email: lifestylesorted@gmail.com  
Mulching - gorse, 
scrub 
Tree & hedge work 
Hole boring 
Alkathene laying & 
repairs 
Paddock topping, 
slashing 
Electric fence 
installation 
Weed spraying 
Free quotes 
Land & section 
clearing 
Loader work 
Rubbish removal 
Fully insured 
Repairs to driveways, fencing & buildings 
The  second  annual  Whanaunga  Touch 
Tournament  was  held  at  the  Kaiwaka 
Sports  Complex  recently.  Twelve 
whanau  teams  vied  for  the  chance  to 
win the title and a prestigious trophy. A 
large  crowd  enjoyed  the  Touch 
matches  as  well  as  stalls  and  kids 
activites.  Profit  from  the  day  went  to 
the Otamatea Marae. 
Congratulations to the winners: 
1st - Paparoa Point Rams 
2nd - Yeah Nah Roll Bounce 
3rd - Yeah Nah Avengers 
Bowls winner - Te Kotahitanga Black  
Congratulations  to  the  other  prize 
winners: 
Top 
try-scorer 
(male) - Nate Bull 
Top 
try-scorer 
(female)  -  Victoria 
Vakatini  
Youngest  Player  - 
Brody Broughton 
Oldest  Player  - 
Manu Hotene 
Team spirit - Kemp Whanau 
Best  presented  team  -  Te  Kotahitanga 
Black  
Most points scored in a game - Paparoa 
Point Rams 
Player  of  the  Tournament  -  Brooklyn 
Kaipo  
Many  thanks  to  the  organisers, 
referees,  sponsors,  stall  holders  and  to 
the  many  volunteers.  Photos  from  the 
day  can  be  found  on  the  Kaiwaka 
Sports Complex Facebook page.         
WHANAUNGA TOUCH TOURNAMENT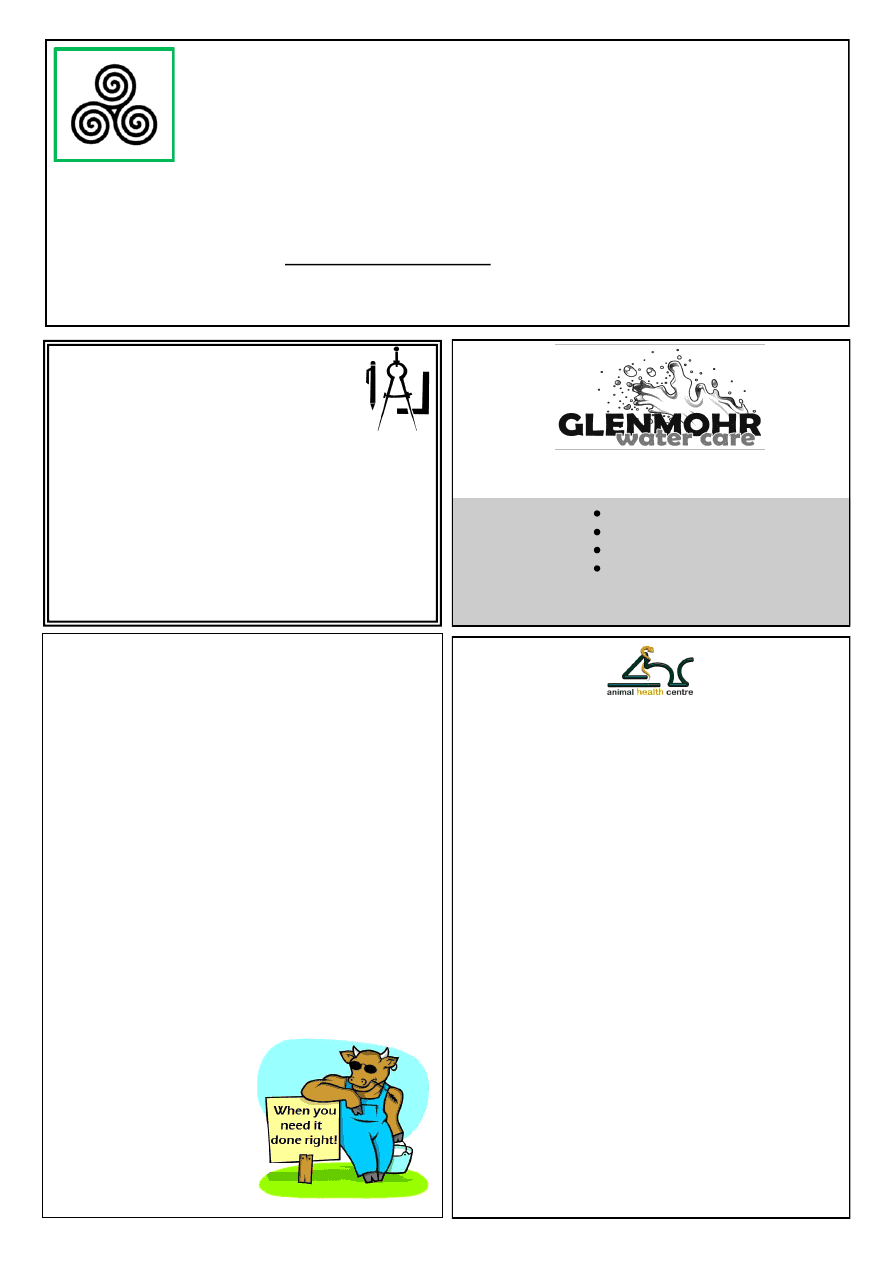 design drafting 
service 
Retired builder and manufacturer with over 40 years  
experience in the building industry is offering a design 
drafting service for domestic housing, sleepouts and 
sheds.  
Plans formulated in consultation with clients, with 
working drawings completed and submitted to  
council for processing.  Extensive practical experience,  
able to identify & resolve problems. 
Please ring Mike Lean on 
09 431 2260  
          or 
021 431 196 
Water Tank Cleaning 
Keep your water safe & clean   
Removal of sediment, silt etc. 
Vacuum or full scrub 
Minimal water loss 
Phone Mark (09) 432 0655 or 0274 707607 
ANIMAL HEALTH CENTRE 
KAIWAKA 
"choices in health care  
for your companion animal" 
Health problems - itchy skin, smelly ears, bad 
breath, diarrhea? 
On steroids, antibiotics, lifetime drugs.....  ? 
Diet may be a part of the problem!   
Call in and have a chat to our team of animal health 
practitioners. 
Nail Trims  Microchipping  Dental checks  Comfort 
grooms 
Great range of real food – no preservatives 
Alternatives to nasty chemical parasite controls 
OPEN:    Tues-Fri    10am – 4.30pm 
    Saturday   10am -  4.00pm 
    Sunday      11am -  3pm  (new hours) 
Next to Italian Bakery, Main Highway  Kaiwaka 
Ph:  09 431 2217 
PS: We're  open 7 days in Orewa if you missed us! 
RANA Health 
Naturopathy- Acupuncture- Massage
Open Mondays, Thursdays & Fridays 
4 Kaiwaka-Mangawhai Road; Room 4; Kaiwaka
Phone or Text for an appointment &/or price enquiry:  
Rebecca Wood 021854158 
Or visit www.ranahealth.co.nz & click BOOK NOW
Rebecca Wood Dip Th Mass; Dip Aroma; Dip Acu; 
Student Naturopath- Final semester
FENCING
COMPLETE NEW BUILD 
WIRE AND BATTEN 
ELECTRIC 
POST AND RAIL 
REPAIRS AND MAINTENANCE 
WHATEVER YOU NEED—IF YOU NEED A FENCER 
CALL A 
FARMER 
Phone 09 423 7585 
027 62 55 383 
info@callafarmer.co.nz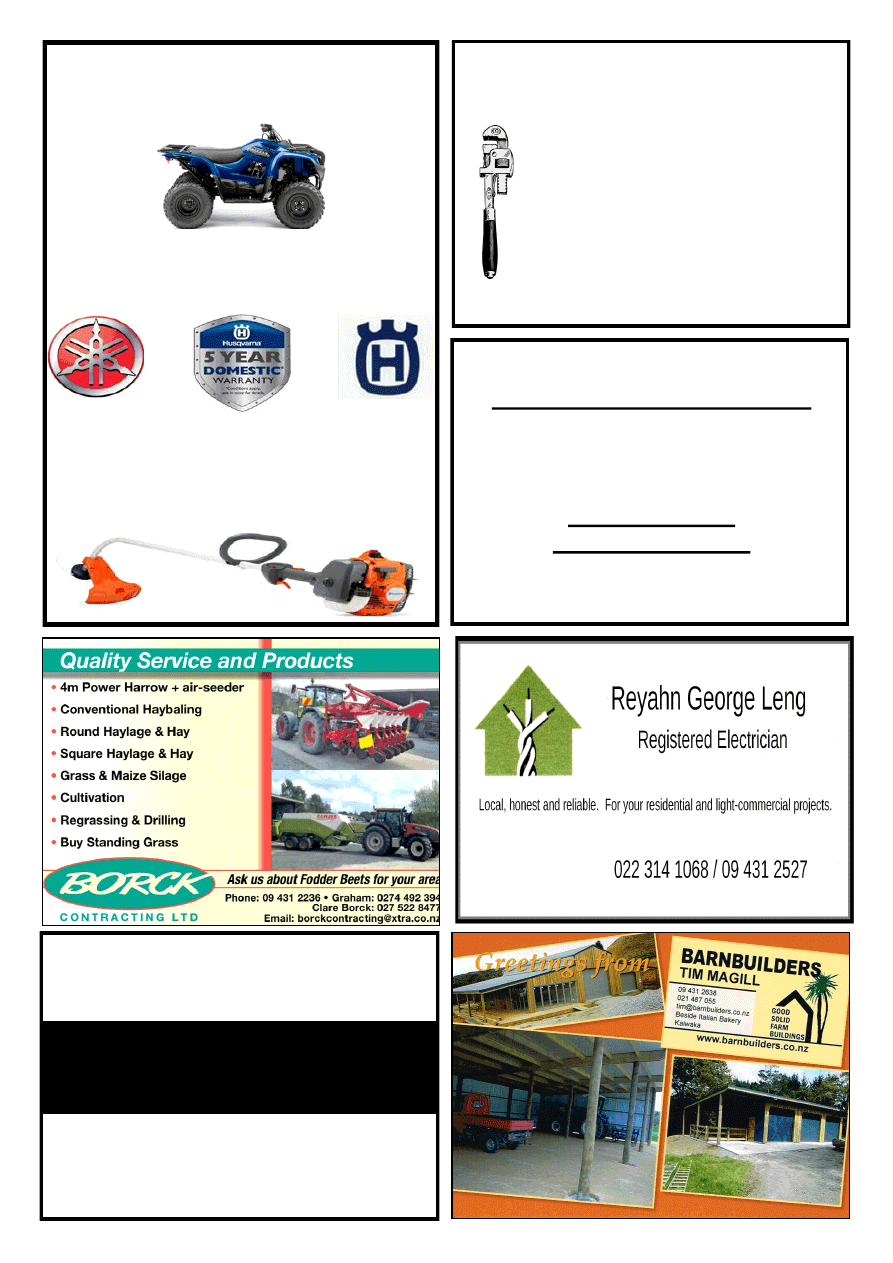 www.kaiwaka.co.nz 
Kaiwaka Bugle - 26 January 2016 
Page 19 
Natural Earth Ltd 
Landscape and Bobcat services 
 : Driveways  :Landscaping  :Retaining Walls 
 : Hole Boring: Land Levelling :Trenching 
 : Decks :Fences :Sections Cleared 
 : Plus much more
Tel 09 4312 885 
Mob 02102391280 
For A Fast Friendly Service  
Contact Tim Hicks 
BARRY CURTIS PLUMBING LTD 
REGISTERED CRAFTSMAN PLUMBER 
Phone 431 5572 
027 257 9884 
25 years' experience 
Friendly reliable service 
All plumbing & maintenance 
Alterations and new housing 
Spouting 
Competitive rates
PROMPT EFFICIENT  SERVICE
KAIWAKA 
MOTORCYCLES LTD
SALES – SERVICE – SPARES 
FARM BIKE SPECIALIST 
PHONE 09 431-2127 
10 KAIWAKA-MANGAWHAI ROAD, KAIWAKA
TRIMMERS FROM $249 - CHAINSAWS 
FROM $329 
YAMAHA 
HUSQVARNA 
David Korach 
Your local Gib Stopper
DK PLASTERER LTD 
0274769221 
dkorach6@gmail.com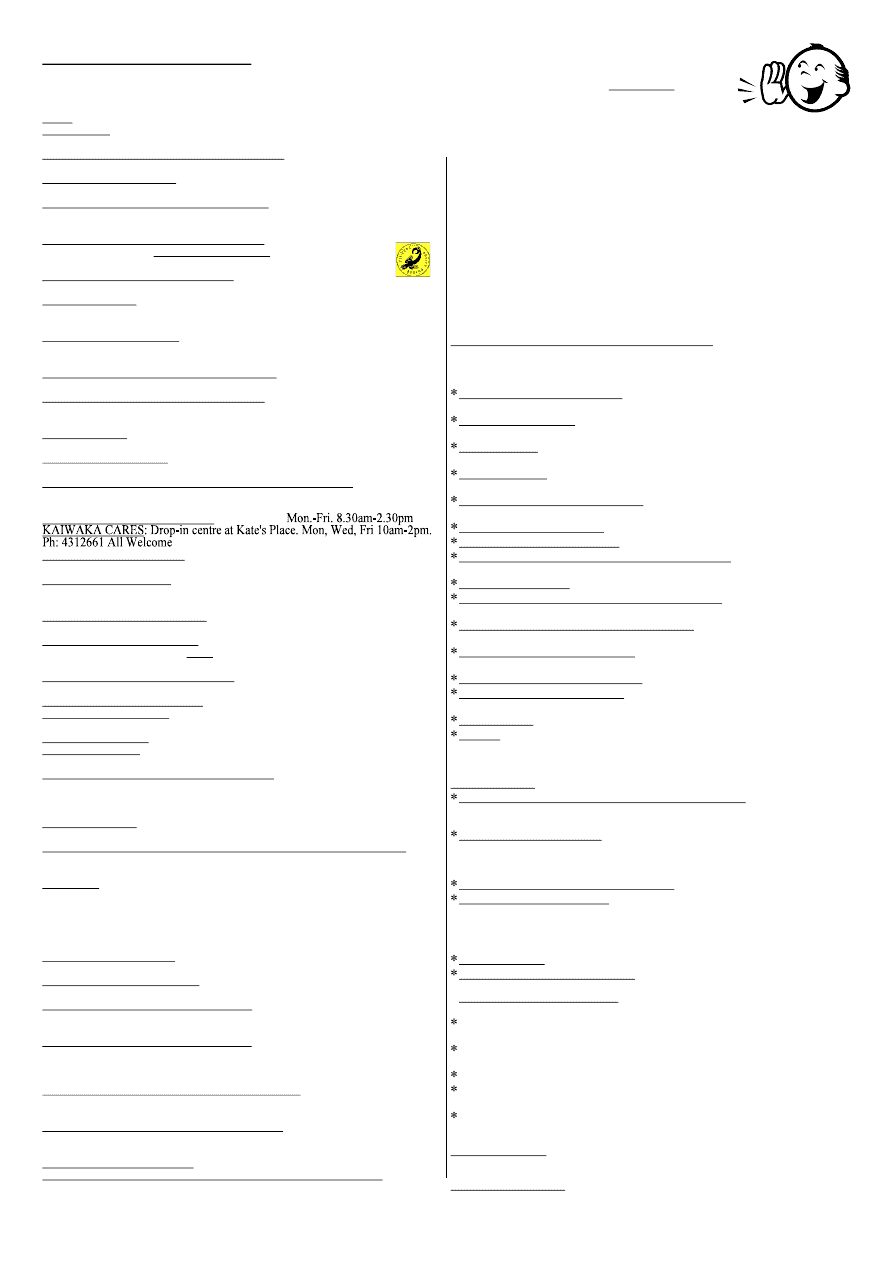 LOCAL SERVICES 
*Emergencies - Ambulance, Fire, Police - dial 111 
*Non-urgent Police phone 09 4311150
A A: Meets Wed., 8pm Kaiwaka Ph: 4312228, 4315543, 0800229 6757 
AL ANON: In recess, contact Ph: 4312228 
MINISTRY FOR PRIMARY INDUSTRIES - General inquiries Call 
Free 0800 008 333 
ASUREQUALITY LTD  (was AgriQuality) Call Free 0508 0011 22  
BUDGETING SERVICE, WELLSFORD:  Free confidential advice & 
support for all areas of personal finance. Ph (09) 423 7123 
CAB-Citizens Advice Bureau.Wellsford Ph: 4237333 
0800 367 222 email:cab.wells@xtra.co.nz  
DOG/STOCK /NOISE CONTROL 0800 105 890 
KATE'S PLACE with Govt.Day Agencies/Community Information /
Osteopathy/ IRD / Probation, etc Ph: 4312661 Hours: 9am-3pm. Mon - Fri 
FUNERAL SERVICES: Morris & Morris Ltd, 
Whangarei - Bev Jaques Ph:4312367 or 0800667747 
GRANDPARENTS Raising Grandchildren: Sarah Rogers Ph: 4312194 
HAKARU LANDFILL/Transfer Station:Open everyday except 
Tuesday10am-4pm.Ph4312629 Cost-$55 trailer load up to 1 cubic metre. 
Ph:4258567 - office 
HOMEOPATH: Donna Flavell Ph: 4314843 
INLAND REVENUE: Last Friday each month, 11-3pm Ph4312661 
KAIPARA DISTRICT COUNCIL www.kaipara.govt.nz:  
Help Desk FREEPHONE 0800 727 059  
KAIWAKA KOHANGA REO: Ph:4312620 
KAIWAKA CEMETERY: Ph: 4312045 
KAIWAKA LIBRARY: kaiwaka.library@gmail.com  
Mon. 4-6pm; Wed., Thurs., Fri., Sat.  10am-2pm Ph:4312539 
KAIWAKA PLAYCENTRE: Ph: 4312286. Hastie Lane 
Monday to  Friday  9.00am - 12 noon. 
KAIWAKA POST OFFICE:Ph:4312 431  
Post Code: 0573  for RD2  and  0542 for all Kaiwaka Post Office mail 
KAIWAKA PRIMARY SCHOOL: Ph: 4312309     
KAIWAKA SPORTS ASSN: Ph 4312005; 4312129 gym 
KAIWAKA ST JOHN: Manager Steve Rosser 09 4318403, 021 2316836 
LINKING HANDS Health Shuttle Ph 4314121 or 09 4318969 
NORTHPOWER: Faults Kaiwaka area 0800 104040 
OTAMATEA COMMUNITY SERVICES: Free counselling, parent 
coach, Family Support worker, budget advice, food bank. Mon-Fri 9am-
30m. Ph 09 431 9080 
PARENTPORT: Free, practical family support service Puhoi to Paparoa 
Ph or txt:  Dianne 027 2085093 
PERSONAL DEVELOPMENT COACHING, GROUP FACILITATION:  
Sabine Druckler 4312231 
PLUNKET: Kaiwaka - Kaiwaka War Memorial Hall: Clinic 1st Wednesday of the 
month; Coffee Group at 9:30. Mangawhai  - Rose Madsen Cottage, Mangawhai 
Domain,  Moir  St:  Clinic  1st  and  3rd  Monday  of  month;  Young  Babies  Coffee 
Group  2nd  and  4th  Monday  10  am;  Plunket  Playgroup  every  Thursday. 
Maungaturoto - Maungaturoto Congregational Church, 100 Hurndall Street East: 
Plunket clinic 2nd and 4th Wednesday. Cynthia 09 431 8187 or 027 675 3488 
PLUNKET HELPLINE -0800 933 922 (24 hours) 
PUBLIC HEALTH NURSE: Gloria Reid Ph: 094327634  
RETURNED AND SERVICES ASSN 733 Settlement Rd. Hakaru 
Ph.4312176 Bill Kerr (President) Ph.4314719 
TAITOKERAU COMMUNITY LAW: Free confidential legal advice and 
assistance, 2nd
Thursday
 of each month. Ph: 0800 155 529 for 
appointments.  
TE KOROWAI AROHA O NGATIWHATUA Ph: 4312675 
(The Cloak of Love of Ngatiwhatua) Support and Maori Consultancy.  
VETERINARY SERVICE MANGAWHAI: 
Ph: 4314535 Mon-Fri 8.00-5.00, Sat 9-12, a/h appt. 
WELLSFORD DOCTORS: Ph: 4238 086 
WOMEN'S WELFARE LEAGUE & Reaching Out For Youth:  
4 Kaiwaka-Mangawhai Rd, M Morgan 4312293 
Next Bugle Deadline midday Friday 5 February 2016
WHAT'S ON
PLEASE ~ do let us know what is on - email 
kaiwakabugle@kaiwaka.co.nz 
Advertising in WHAT'S ON is FREE  
*27Jan~OHS-Year 13 Leadership Day 
*29Jan~A Walk In The Woods (M), 7:30pm KWMH 
*30Jan~Church Gala, 9am-12:30pm Christ The King Church, 
Mangawhai 
*30-31Jan~Otamatea Open Tennis Tournament, KSA 
*31Jan~Hotel Transylvania 2 (PG), 2pm KWMH 
*2Feb~OHS-Years 7,9,13 + all new students 
*3Feb~OHS-all students to attend 
*6Feb~Paparoa A&P Show 
*7Feb~Touch Module starts 
*12Feb~The Martian (M), 7:30pm KWMH 
*14Feb~Top of the Rock 
KSA=Kaiwaka Sports Association Complex 
See www.kaiwaka.co.nz for upcoming events. 
HOUSEHOLD RUBBISH COLLECTION - Kaiwaka Pick up: 
Mondays = Gr een bags (Nor thland Waste - 09 430 3273) 
Wednesdays = Blue bags and yellow r ecycling (at J aques $3.00 
and $1.50) (Kaurilands 09 4392146) 
 DIABETES  Support  Group  -for  Kaiwaka,  Mangawhai,  Wellsford 
10am, 3rd Friday of month Ph:A.Pert 4238242; J.Gardner 4238060 
 DRAMA & VOICE - Making a Scene Drama and Voice Academy, 
Ruakaka Wednesdays after school, Ph 021 172 3568 
 DRINK CAN 'tear tabs' - for Starship Hospital- please collect - 98 
Kaiwaka Mangawhai Rd, leave in mailbox, Ph. 4312625  
 GENEALOGY - Wellsford: 1st Thursday in month Ph: 423 7033; 
Waipu: 4th Monday in month Ph: 4312 725 
 GYMNASTICS  OTAMATEA  -  Tuesday  Ph:  Stephanie  022 
3624998 
 HAKARU PONY CLUB - Secretary Julie Rynne 09 4314520 
 KAIWAKA BADMINTON -Tuesdays 7.30pm Ph: 4312345 
 KAIWAKA  GARDEN  &  FLORAL  GROUP  -  2nd  Thursday  in 
month. Ph: 431 4767 
 KAIWAKA CUBS - Thursdays 5.30-7pm, Hakaru Ph:Bruce  4312542 
 KNITTING FOR WHANGAREI HOSPITAL - 2nd Tuesday in 
month, Apple Basket 10am Ph 4314827 
 MANGAWHAI COMBINED PROBUS CLUB - 2pm, 3rd 
Thursday month, Senior Citizens Hall Mangawhai. Ph: 4315777 
 OTAMATEA GREY POWER - Kath Pattinson 09 431 8960, 1pm 
last Wednesday of month, Anglican Church Hall, Maungaturoto 
 PT CURTIS CRUISING CLUB - Jean Ph: 4312 246 
 RSA,Hakaru & Dist.Women - meet 1.30pm 4th Thurs in month Ph: 
4314 668  
 TRAMPING - Mondays 9am-2:30pm  Karen Ph: 4312 090 
 YOGA - Tuesdays 6:15pm,  Friday 8:30am KWMH Carla Ph: 021 
296  8794;  Wednesday  5:30-7:00pm  Archie  Bull  Hall  Dalleise  Ph 
4312 108 
CHURCHES:
Kaiwaka Family Church - Your Community Church: Sundays 10am & 
6pm. Youth Service Mondays 6-8pm. Ph: Tawhiri 4312571 or Paul 
4312068 
St Paul's Anglican Church 1st Sun. 9.30 am (Eucharist), 3rd Sun. 9.30 
am (Family Service). Contacts:  Church Office 09 431 4122; M. 
Hargreaves 431 2295; C. Bygrave 431 2057; or Rev. Wayne Thornton 
Ph 431 5650, www.mangawhaianglican.org.nz 
Church of Christ the King, Mangawhai:9.30am every Sunday 
St.Mary's Catholic Church: Maungaturoto – Griffins Road, Saturday 
evening Vigil Mass 6pm; Mangawhai – Senior Citizens Hall, Sunday 
Mass 8:30am; Wellsford – Matheson Road, Sunday Mass 10:30am; 
Mid-week Mass times and all enquires to Fr. Bill Fletcher – phone 423 
8170 
Baptist Church: Sun. 10.30am Mangawhai Snr Cit.Hall.Ph:4312339 
Cause Way Church Mangawhai: Sundays 10.15am, Mangawhai 
Community Recreation Centre, Insley St. Ph: 09 4314782  
St.Pauls Archie Bull Hall HIRE  $20 half day, $40 full day per hire, R. 
Morgans, Ph 4312365 
Kaiwaka  War  Memorial  Hall  HlRE  -  Phone  4312725  or 
kaiwaka.hall.bookings@gmail.com 
Hakaru Community Hall HIRE -Ph. 4312256 or 4312110 
Te  Pounga  Marae  queries  -  R.  O'Leary  4312  423,  J.Nathan  021  186 
7382 
Kaiwaka  Sports  Association  hire/queries  -  C.  Anderson  4312051  or 
kaiwakasports@gmail.com
Justice  of  Peace:  B.FJaques;  L.Donaldson;  A.F.Hargreaves,  S.Dalziell, 
W.Howard  -  please  phone  to  make  sure  they  are  available 
www.justiceofthepeace.org.nz 
Marriage Celebrants: L.Donaldson; A.F.Hargreaves; C.Rosseels