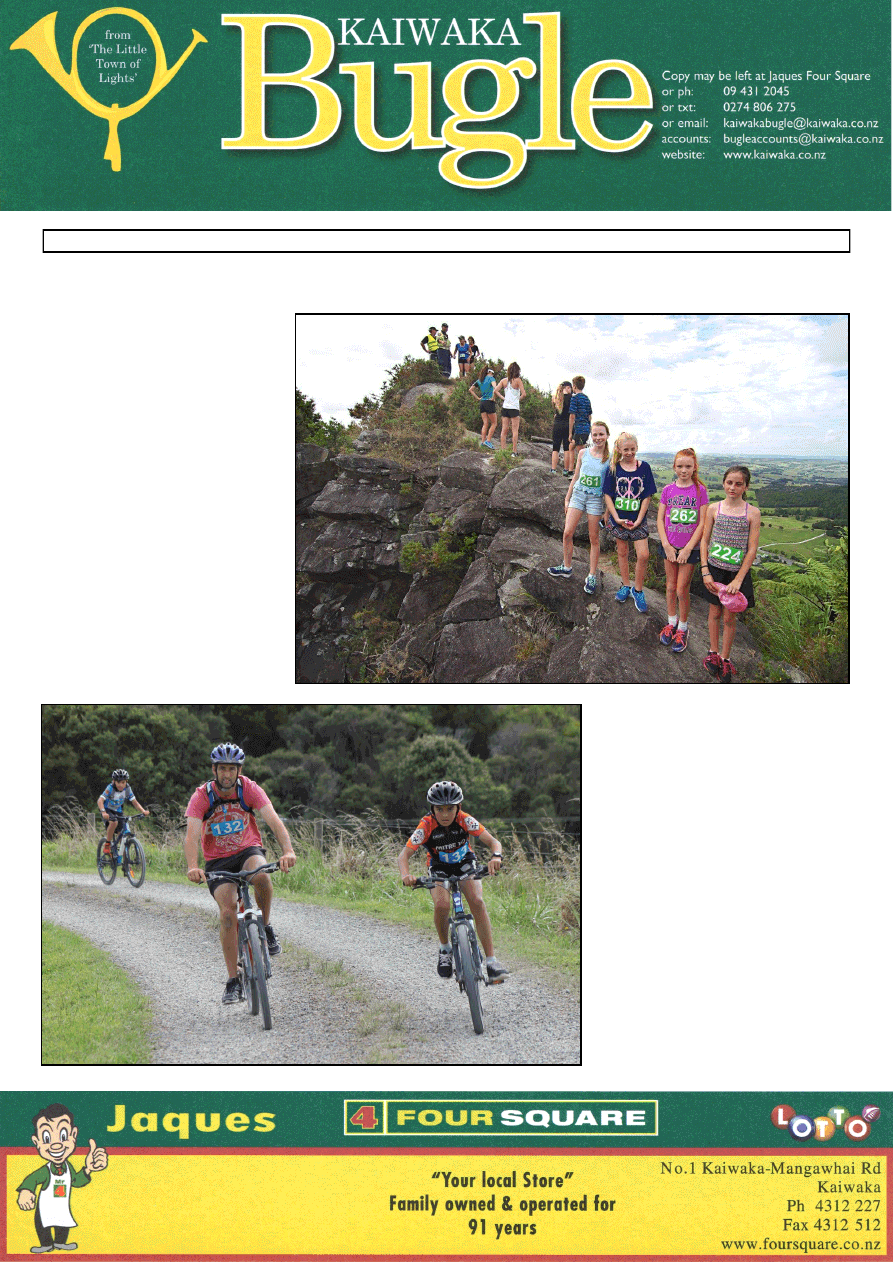 www.kaiwaka.co.nz 
Kaiwaka Bugle - 23 February 2016 
Page 1 
 No: 3
23 February 2016 
Trading Hours: 
Monday-Friday 8am to 6:30pm 
Saturday 8am to 7pm 
Sunday and public holidays 9am to 5pm 
TOP OF THE ROCK 
Kaiwaka's Iconic Annual Event 
The  promise  of  spectacular  views 
drew  a  record  number  of 
participants to the Kaiwaka Sports 
Association's  sixth  annual  multi-
sport event, the Top of the Rock.  
Three  hundred  and  fifty  enthusiasts 
from  as  far  away  as  Tauranga 
entered,  with  the  majority  choosing 
the  5km  or  10  km  walk/run  option 
with  the  opportunity  to  enjoy  iconic 
Baldrock 
Mountain's 
sweeping 
views. The more serious competitors 
tackled  the  challenging  10km  run  + 
15km  mountain  bike  course  or  the 
30km or 14km mountain bike routes. 
And,  new  this  year,  there  was  a  fun 
bike ride for Under 10 year olds. 
TV3's  Brendon  'The  Money  Man' 
Johnson  was  there  to  hand  out  the 
awards.  With  generous  sponsors, 
there  were  over  90  prizes  up  for 
grabs. Winners got first choice from 
the  prize  table,  then  the  remaining 
prizes were given out by a draw.  
Results:       
30km bike (male) Ben Hawkins, 30km 
bike  (female)  Catherine  Byars,  14km 
bike  (male)  Zack  Hamlin,  14km  bike 
(female)  Sadie  Parker,  Run  +  bike 
(male)  Aaron  Wright,  Run  +  bike 
(female) Ruth Hutchinson, Team run + 
bike  Austin  Puckett  &  Maurice 
Puckett, 10km run (male) Jerry Lynch, 
10km  run  (female)  Tanya  Cook,  5km 
run  (male)  Jackson  Brierly,  5km  run 
(female) Denise Limby. 
This year, because Top of the Rock fell 
on  Valentines  Day,  we  made  up  a 
basket of special goodies, and this was 
presented  to  newly-engaged  couple 
Shaun Huband and Martine Greig.  
Mangawhai  Tyres  kindly  donated  $50 
for the oldest competitor. This was won 
by 79 year old Neil McCaw. 
We  offered  two  earlybird  prize  draws 
to encourage people to register early. A 
(Continued on page 5)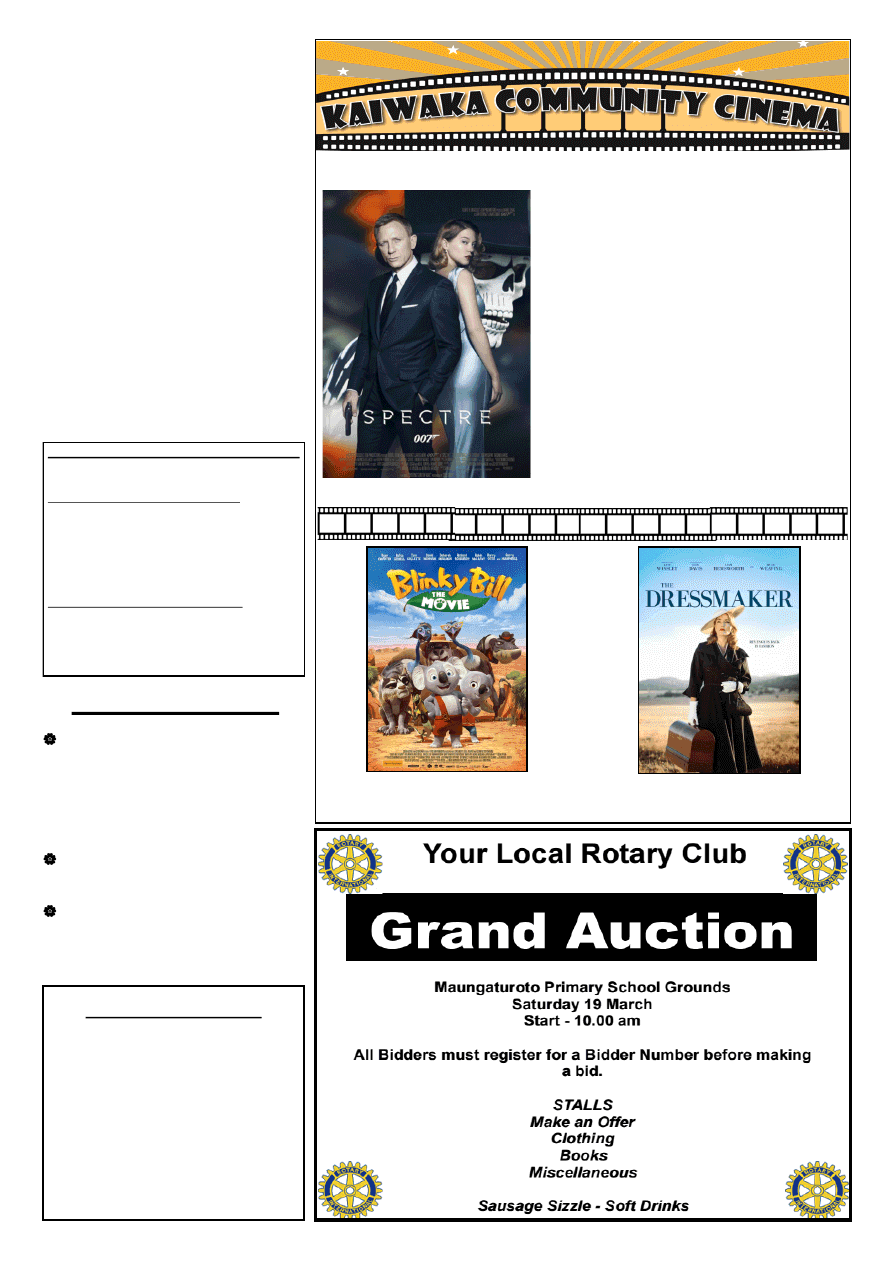 ABOUT TOWN 
We've  had  some  reports  that  the 
mobile number for the music lessons 
ad in the last Bugle wasn't working. 
The  number  is  correct,  and  a 
landline has been included this week 
as well. 
Order forms for the KSA bulbs are 
available at Jaques Four Square. 
NZ Champion - Jenny Leslie won 
the  Diner's  Club  Intl  Ladies  Golf 
Championship in 1985. 
KAIWAKA BUGLE No. 3 
23 FEBRUARY 2016 
CONTENTS 
Page 3: Public Notices, Classified 
Page 5: Top of the Rock 
Page 7: Remember When... 
Page 9: School, Red Knights, Day Camp 
Page 11: Sheep Dog Trials 
Page 13: KSA Grants, Pt Curtis 
Page 15: Otamatea Repertory Theatre 
Page 17: Kaiwaka Sports Assn 
Page 19: KSA cont 
Bugle 4 will appear 8 March 
Contact for advertising, reports, articles 
or information can be made by 
Email kaiwakabugle@kaiwaka.co.nz 
Ph: 09 4312 045 (Lindsey) 
Txt:  0274 806 275 (Wendy) 
Copy  may  be  left  at  Jaques'  Four 
Square.
At Kaiwaka War Memorial Hall . Adults $10, Kids (under 16) $5, Family Pass (2 adults + 3 children) $25 
Kaiwaka Bugle Advertisements 2016: 
All 
copy 
and 
queries 
to: 
kaiwakabugle@kaiwaka.co.nz 
Classified  $4  (max  30  words,  4  repeats); 
1/16 page $5; 1/8 page $8; 3/16 (new size) 
$12 1/4 page $16. 
Payments can be made online, posted or 
left at Jaques Four Square Store. 
Accounts: 
bugleaccounts@kaiwaka.co.nz 
The  Kaiwaka  Bugle  is  a  community 
newspaper run by volunteers.   
Articles, etc. printed are not necessarily 
the opinion of the Bugle Team. 
Kaiwaka Bugle 
Founded May 1978 
Copies available in Kaiwaka at Jaques Four 
Square, Kaiwaka Postal Centre, Shamrock 
Service Station, Animal Health Centre.  
Also outlets in Maungaturoto,  
Mangawhai and Paparoa. 
Can be viewed online at  Facebook or 
www.kaiwaka.co.nz/Bugle  
Or a copy can be posted to you if you supply 
stamped, self-addressed DLE envelopes. 
Blinky Bill 
Sunday 28 February 2:00pm (PG) 
The Dressmaker 
Friday 11 March 7:30pm (M)
Spectre 
Friday 26 February 7:30pm (M) 
A cryptic message from Bond's past sends 
him  on  a  trail  to  uncover  a  sinister 
organization.  While  M  battles  political 
forces  to  keep  the  secret  service  alive, 
Bond  peels  back  the  layers  of  deceit  to 
reveal 
the 
terrible 
truth 
behind 
SPECTRE. 
Starring:  Daniel  Craig,  Christoph  Waltz, 
Lea  Seydoux,  Ralph  Fiennes,  Rory 
Kinnear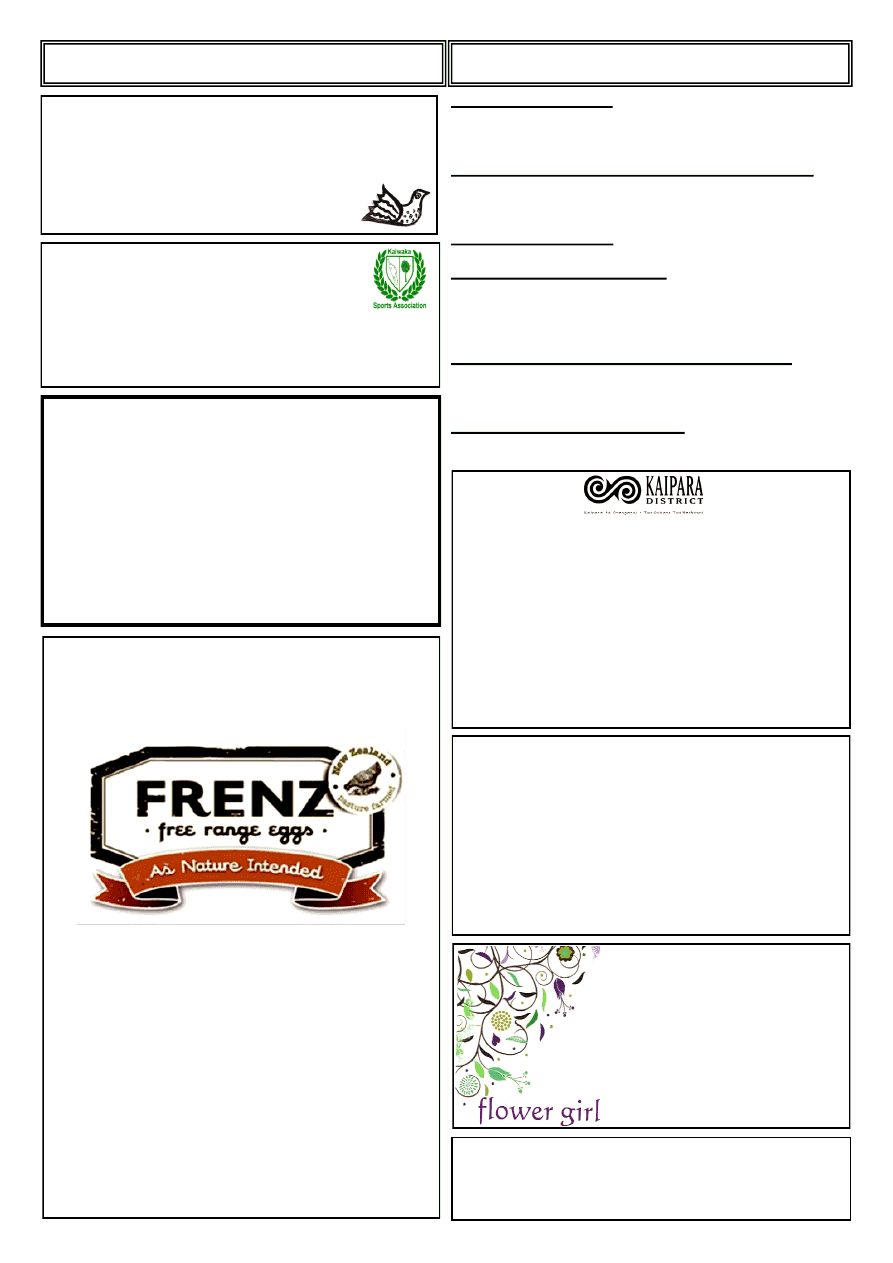 www.kaiwaka.co.nz 
Kaiwaka Bugle - 23 February 2016 
Page 3 
PUBLIC NOTICES 
CLASSIFIED 
MUSIC  LESSONS:  modern  &  classical  piano, 
keyboards, guitar, voice. Reasonable rates. Ph 021 161 
8446 or 4312 700 
RAWLEIGHS  HEALTHCARE  PRODUCTS  can 
be ordered from Pat  Riley, an independent  Rawleighs 
Distributor in Wellsford. Ph 423 8851 
CHIMNEY SWEEP: Ph Mark 021 457247 
THE  SUNSHINE  GIRLS:  Need  help  with  your 
house cleaning? Sometimes you just need another pair 
of hands. We offer two pair and a smile. Comparable 
hourly rate. Ph 431 2532 or 431 2711 
CLOTHING ALTERATIONS & REPAIRS: Hems, 
Zips,  Dressmaking  Phone:  Win  4312027    or  027  444 
8358 Winsome Designs. 
FREE GRAZING WANTED: Small or large block. 
Can  do  some  fencing  or  water.  Phone  after  6pm 
4312006 
Proverbs 
21:28
  - No one believes a liar, but 
everyone  respects  the  words  of  an  honest 
man/ woman/child.  
Kaiwaka Good Sorts 
Do you know someone in our 
community who is deserving of a 
beautiful bunch of flowers? 
Send an email or drop a note to 
Jaques Four Square to let the 
Bugle team know. We will choose 
a recipient to receive flowers from 
Lindy the flower girl. 
FREE RANGE EGG FARMERS 
WANTED 
FRENZ are looking for more dedicated farmers who 
love hens and love farming to supply our ever 
increasing demand for genuine Free Range and 
Organic eggs for discerning customers. 
If that sounds like you, email info@frenzs.co.nz and 
find out how you can join other Farmers supplying a 
company with over 30 years' experience producing 
the world's best eggs. 
For more information about FRENZ check out our 
website www.frenzs.co.nz 
Life Coaching / Energy Healing 
Ruth Tidemann
Dip Life Coaching/Reiki Master
Ph 022 160 4201   email: ruthktidemann@gmail.com 
At Kate's Place Kaiwaka 
Tuesdays 10am - 2pm  
or other times by arrangement 
Payment by Koha 
TOP OF THE ROCK 
Debrief meeting 
Wednesday 2
nd
 March, 7pm 
Kaiwaka Sports Complex 
If you have any ideas on how we can improve our event for 
next year, you are most welcome to come along. 
The family of Ruby Fairburn would like to sincerely 
thank everyone who supported us during our recent 
time of loss, as we farewelled our much loved mum 
and nana. 
The outpouring of love was truly humbling and there 
are far too many people to thank individually - so 
please accept this, as our heartfelt thanks and 
gratitude to everyone. 
Your support has been greatly appreciated. 
Love From Jared & Melisssa, Shona & Paul, Liza, 
Willie and all of Ruby's mokopuna. 
RUAWAI LIONS CLUB 
ANNUAL CHARITY AUCTION 
SATURDAY 12 MARCH  
Kaipara Kumara Forecourt 
VIEWING OF GOODS: 9.30 am 
AUCTION STARTS: 10.00 am 
Trading table 9.00 am 
Cash only 
Contact: Jim Simpson 09 4392557, 
jdsimpson@slingshot.co.nz 
OPEN FIRE SEASON 
Pursuant  to  Section  22(2)  of  the  Forest  and  Rural 
Fires  Act  1977  the  Whangarei  and  Kaipara  District 
Councils hereby declare an Open Fire Season to be in 
force  from  midnight  Friday  19  February  2016 
until further notice. 
The  "Open"  status  applies  to  all  Whangarei  and 
Kaipara District Council areas except Limestone and 
Rabbit Islands where a permanent Prohibited Season 
is in place.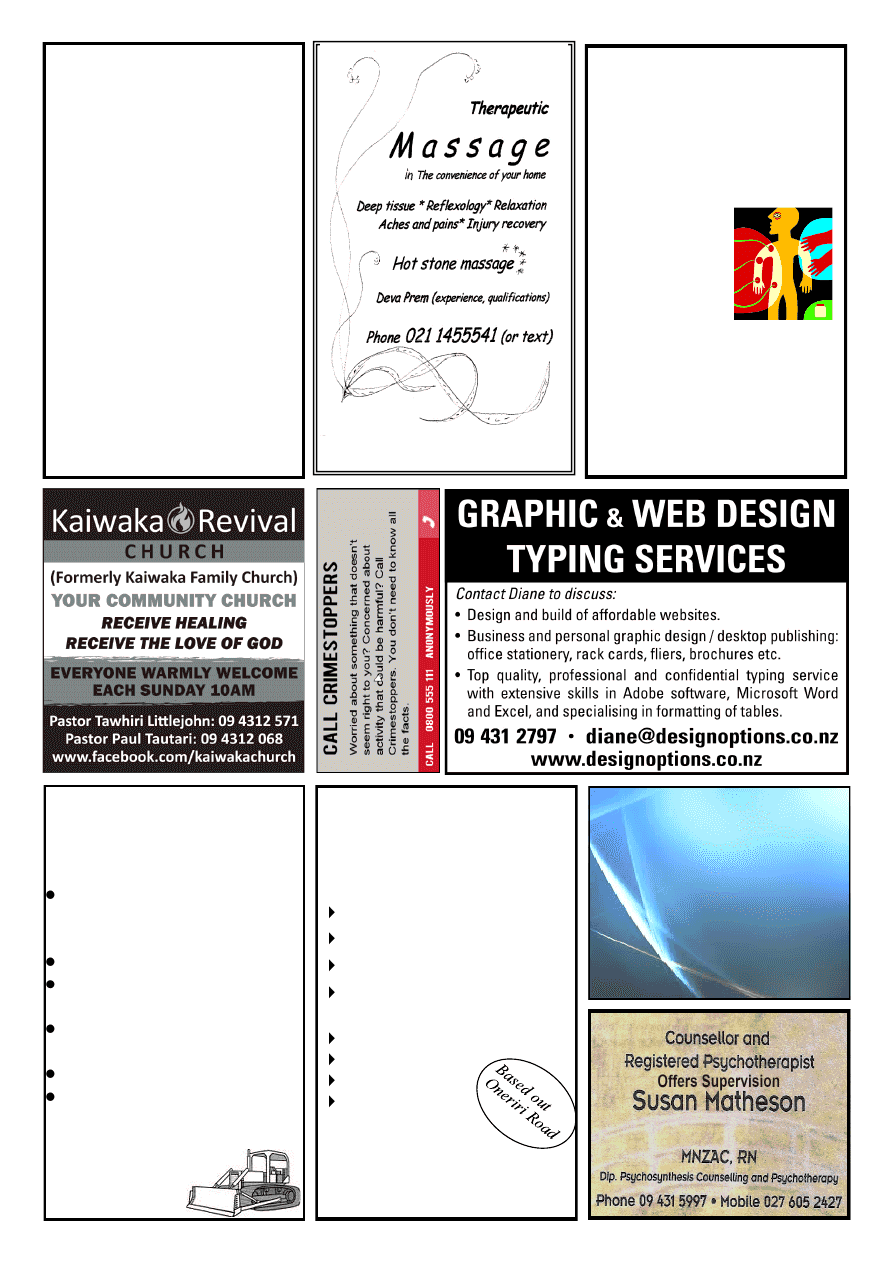 www.mangawhaimassage.co.nz 
HODGETTS 
CONTRACTING
Digger Work    
Driveways 
House Sites   
Dams 
Drains, etc
Also available for HIRE 
3 ton Vib Roller 
Heavy Duty Tow 
Waterblaster  
Lazer Level 
Phone Mark 
4312877 
027 447 8554
OWEN STEVENS 
Osteo Therapist
For careful adjustments to bones 
and joints 
Treatment for  humans and their 
pets 
Clinics: 
Kate's Place, 
Kaiwaka: 
Last Friday of 
month 
For bookings: 
9.00am-5.00pm   
Phone 
09 4312661 
Or phone Owen   
09 4317123  anytime 
Freeview  
Installations 
Richard Te Haara 
25 Marram Place 
Mangawhai Heads 
021 1104056 
kiwipride@xtra.co.nz
Willow Bend
HORSE  
HOTEL 
"   
Total Horse Care 
" 
Agistment 
" 
Riding Lessons 
" 
Arena Hire (60x40) 
" 
Young Horse Starting 
" 
Re-training/Exercising 
" 
Hoof Trimming 
" 
Problem Solving 
Phone Sue 09 431 
2817 or 021 623 776 
Or email sue.gray@xtra.co.nz 
Coates  
Contracting 
D41 Bulldozer with 6 
way blade, bush rigged 
with winch 
For all tree work 
General bulldozing and  
  stick raking. 
120hp Tractor for 
ground cultivation,  
tip trailer work. 
Fencing
All enquiries phone  
Brett Coates  
 094318720  
or 
 021431872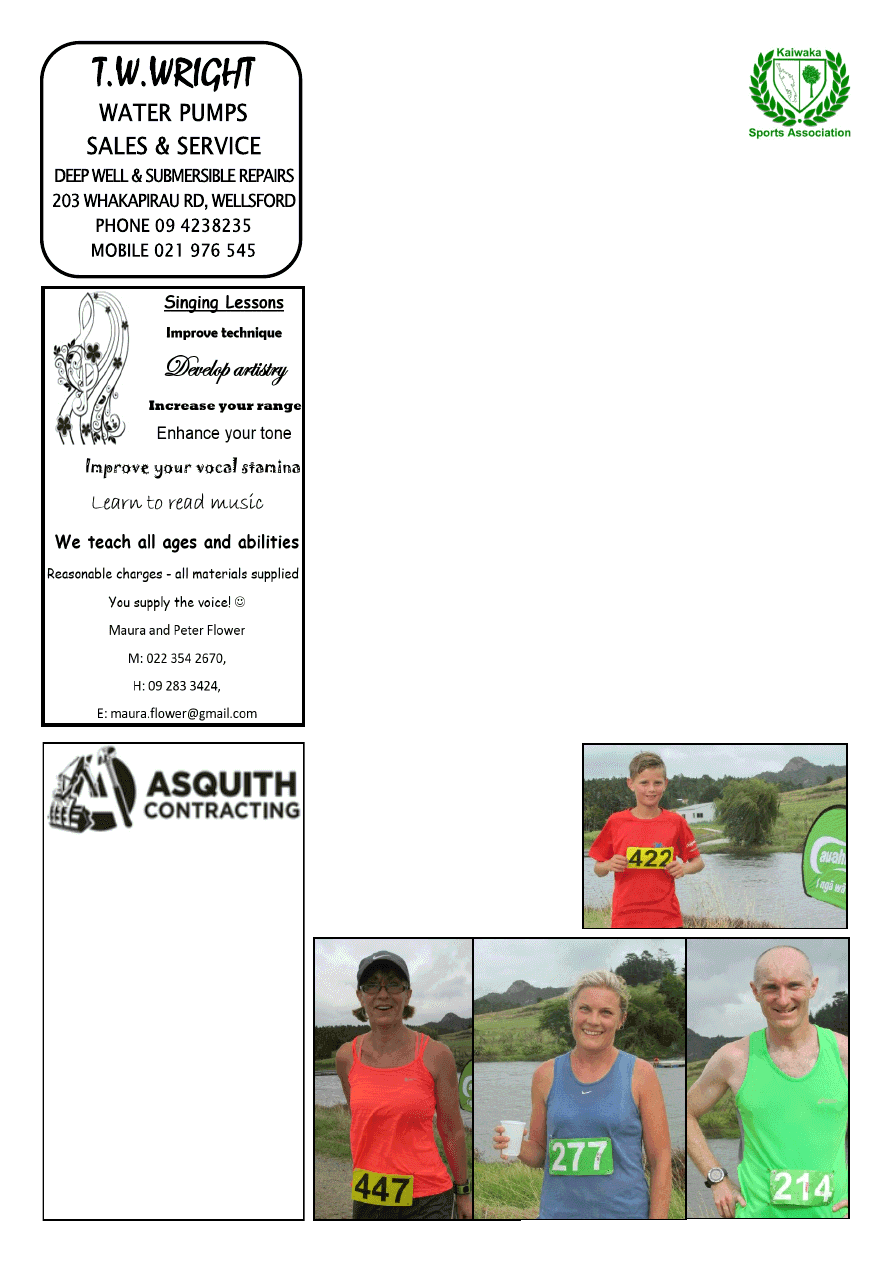 www.kaiwaka.co.nz 
Kaiwaka Bugle - 23 February 2016 
Page 5 
TOP OF THE ROCK 
1.7tn Digger/Operator 
for Hire.
Daily/Hourly rates 
available.
Call Tam on 
027 211 1152 
or 
asquithcontracting 
@gmail.com 
$100 Bike Mangawhai voucher went to 
Bevan  Woodward  and  a  voucher  pack 
was won by Maria Valkenburg.  
This  year  there  were  over  sixty 
volunteers  helping  run  the  event  –  the 
winner  of  the  volunteers  prize  draw 
was  Ian  Stewart.  Ian  won  a  beautiful 
hand-carved pendant, donated by Perry 
Allen of Bone Idol Carvings. 
A  lawnmower,  generously  donated  by 
Steve  Elliott  of  Kaiwaka  Motorcycles, 
was  raffled  off  and  went  to  Ilia  Petro. 
The  Fire  Brigade's  raffle  for  a  bar 
fridge went to Brett Maurice. 
The  main  spot  prize  of  a  mountain 
bike,  kindly  sponsored  by  Bike 
Mangawhai was won by Sam Comins. 
Photos  can  be  viewed  on  the Kaiwaka 
Sports Complex facebook page and on 
www.kaiwakasports.co.nz. 
As with most community events this is 
a team effort, so thank you to: 
•  the  many  marshals  and  registration 
officials 
•  the  various  groups  who  provided 
food stalls 
•  Kaiwaka  Fire  Brigade  for the  route 
supervision 
•  Coates Family Trust for permission 
to climb Baldrock Mountain 
•  Roxanne  Kelly  who  did  the  traffic 
management 
•  bar staff and photographers 
•  and the many landowners who gave 
permission  for  the  routes  to  go  over 
their farmland. 
Some  feedback  received  from  the 
competitors after the event: 
"A  well  organised,  fun  event,  thank 
you." 
"This  was  my  3rd  year  in  a  row 
running  the  10km  course  and  once 
again I thoroughly enjoyed myself, it's 
so awesome when you get to the top of 
Baldrock!  A  very  well  run  event  with 
lots  of  lovely  volunteers  from  the 
registration tent to the numerous drink 
stops along the course. Well done, can't 
wait to do it again next year!" 
"It was an awesome event! I enjoyed it 
very  much,  including  my  neat  spot 
prize – what an unexpected treat" 
"What  a  great  community!  The 
organisers,  volunteers  and  marshalls 
were  all  so  helpful  & 
loads  of  great  prizes 
from all those awesome 
sponsors." 
Many  thanks  to  our 
generous  sponsors: 
Jaques  Four  Square, 
Borck  Contracting,  Absolute  Concrete, 
Agridustrial,  Andrew  Powers,  ANZ,  Aoteoroa 
Surfing School, Apicare, Apple Basket, Auckland 
Stardome,  Baldrock  Kennels,  Barnbuilders, 
Bavage  &  Chapman,  Beauty  Within,  Bike 
Mangawhai,  Bone  Idol  Carvings,  Carters 
Mangawhai,  Colourline  Nurseries,  Confident 
Care, Doug & Lenore Donaldson, Eutopia Cafe, 
First  Aid  Fundraising,  Fonterra  Grassroots, 
Happy Fish, Hidden Valley Horse Treking, Ian 
&  Beverly  Stewart,  John  &  Jan  Hargreaves, 
Kaiwaka  Cheese  Shop,  Kaiwaka  Motorcyles, 
Kaiwaka  Salon,  Kakariki,  L'Art  Beauty,  La 
Nonna  Bakery,  Landcare  Services,  Laughing 
Dog  Computers,  Livestock  Improvement 
Corporation,  LJ  Hooker  (Craig  Kenyon), 
Mangawhai  Oesteopathy,  Mangawhai  Tyres, 
Mangawhai  Vet  Centre,  Marshwood  Apiaries, 
Matakana  Outfitters,  McLennan 
Groundspreading, Melbourne Aviation Precinct, 
More FM, Neil Jones, Northland Rugby Union, 
NZ  Alarm,  Oh  Natural,  Olsen  Contractors, 
Otamatea  Martial  Arts,  Phil  Keen  Concrete, 
Rob  &  Deb  Hastie,  Rob  Whitehead,  Rodney 
Marine, Rural Design, Rush Coffee, Silver Fern 
Farms,  Smashed  Pipi,  Smith  Construction, 
Speed  Stacks  (NZ),  Sport  Northland,  Three 
Furlongs  Bar  &  Grill,  Tony  &  Lindsey 
Hargreaves, Treat Massage, U Beauty, Well of 
Health,  Wellsford  Sports  &  Leisure,  Woody's 
Winners, 10 Pin Bowling. 
Pictured: Male Winner  of 5km - 422 
Jackson Brierly, Female  winner of 
5km - 447 Denise Limby, Male Winner  
of 10km - 214 Jerry Lynch, Female  
winner of 10km - 277 Tanya Cook. 
(Continued from page 1)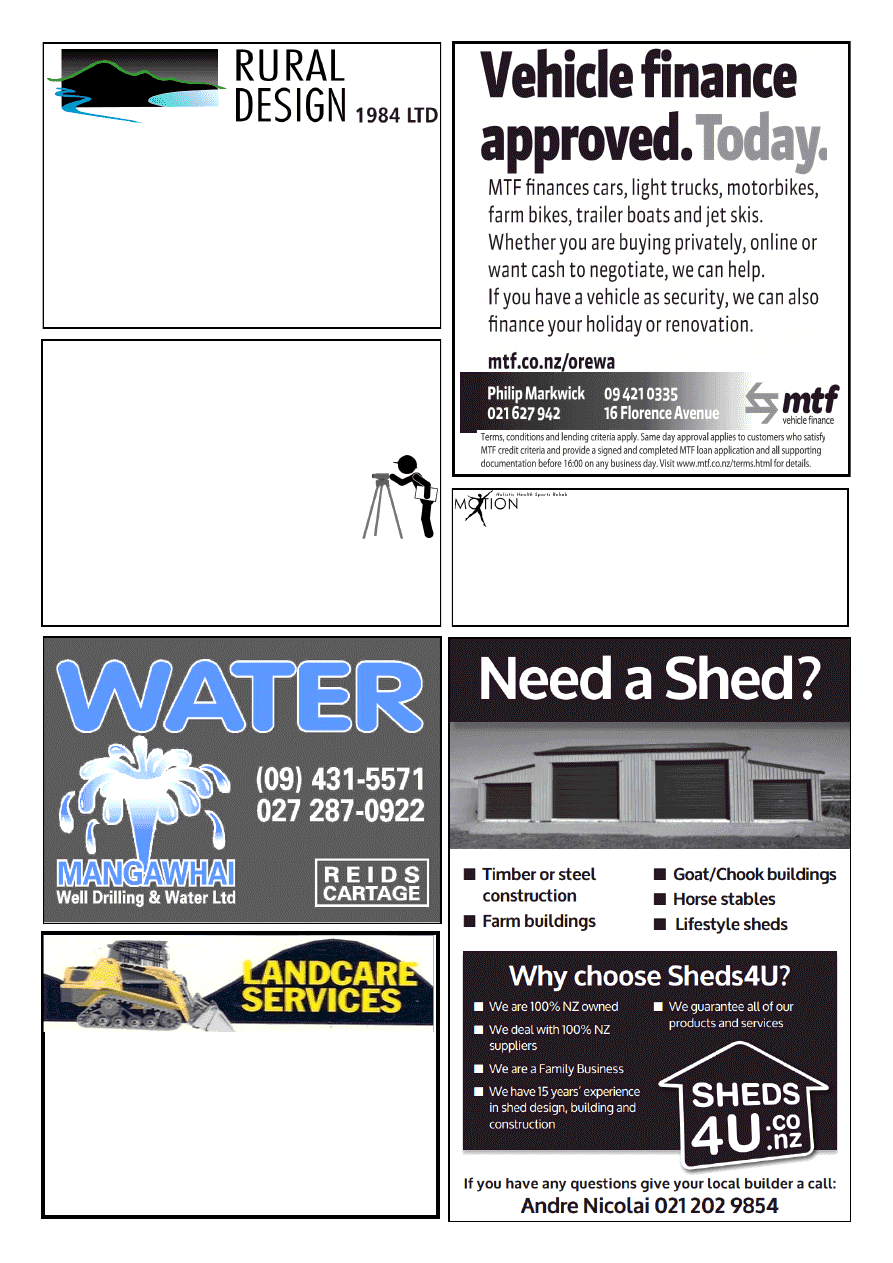 LANDSCAPING 
4 IN 1 BUCKET 
TRENCHER 
POLE HOLES 
ROTARY HOE 
COMPACT ROLLER 
OFFAL HOLES 
CAN SUPPLY WOODCHIP & POST PEEL 
5 TON TIPPER 
FOR RELIABLE AND FRIENDLY SERVICE CONTACT DAVE 
Dave Hyndman 
 
KAIWAKA 
PH: 09 4312302 
MOB: 021 431 238 
Ken Urquhart 
BSurv Licensed Cadastral Surveyor 
KMU Surveys Ltd
467 Bickerstaffe Road 
RD 2 
Maungaturoto 0587 
Ph 09 431 8705 
Mob 021 161 2344 
kenurquhart@xtra.co.nz 
Wholesale Native Plant Nursery and Planting 
Small and Large orders welcome 
By Appointment 
300 Kaiwaka-Mangawhai Road, Kaiwaka 
Phone: 09 431 2481 
Email: info@ruraldesign.co.nz 
www.ruraldesign.co.nz 
WAIPU OSTEOPATH 
Maria Gabriel ACC Registered Osteopath 
Waipu Natural Health 3 Cove Rd Waipu 
Monday, Wednesday & Thursday  
Freephone 0508 924786  (0508 WAIPUOSTEO) 
www.getinmotion.co.nz     No doctor referral 
required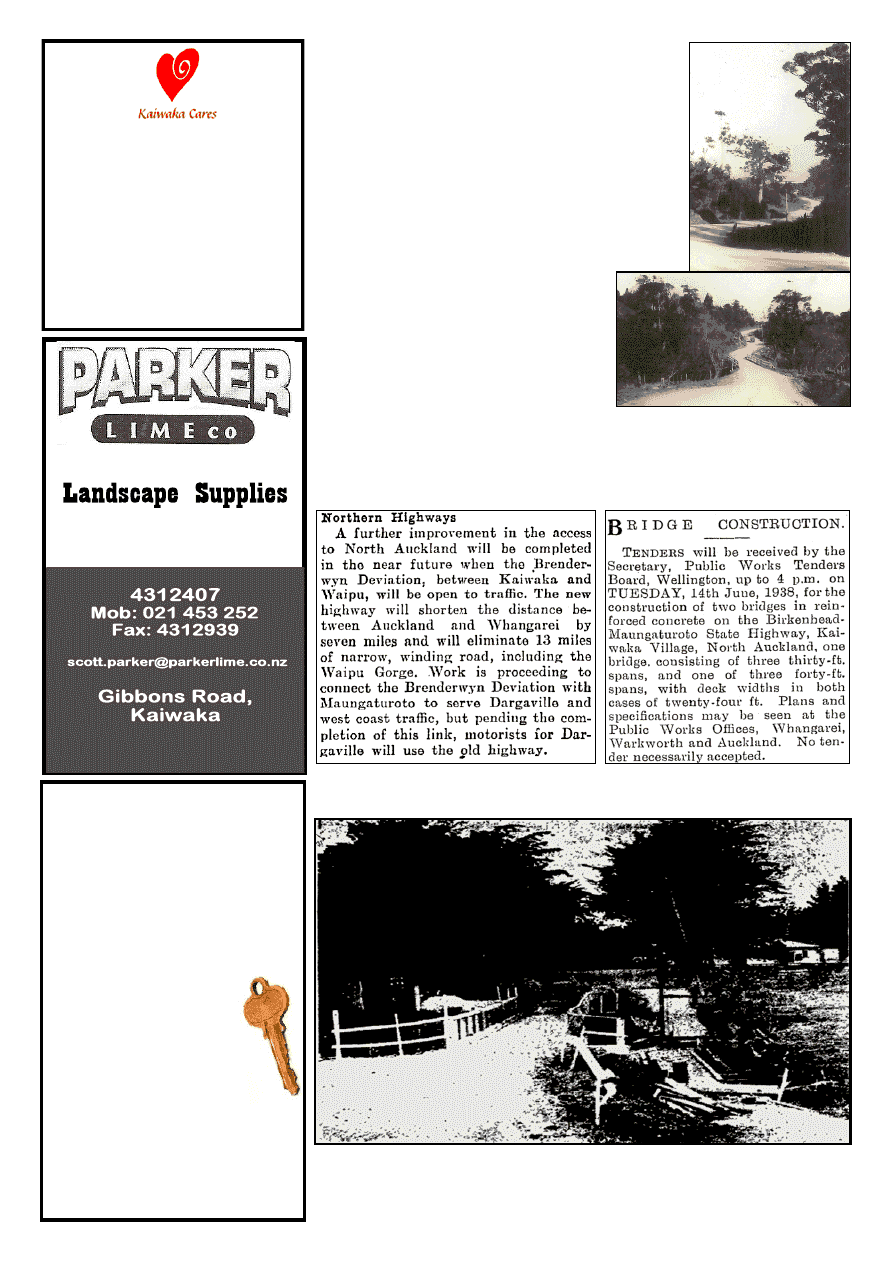 www.kaiwaka.co.nz 
Kaiwaka Bugle - 23 February 2016 
Page 7 
REMEMBER WHEN …. 
Thank you to our readers for the information regarding 
the  last  Bugle's  photograph  of  Kaiwaka's  main  road 
north.  Special  thanks  to  Bev  Jaques  who  has 
contributed  photos  of  Gibbons  Road  (
Top:  looking 
North.  Below:  looking  south  towards  Kaiwaka),
  when  it 
was  the  main  road  north  and  to  Brian  Jaques  with 
information  regarding  the  time  when  the  main  road 
came west and follows the current track. 
Brian has clear memory of the time during WWII when 
he and his brother Bill would sit on the large pine logs 
and watch the American troops who would travel north 
for manoeuvres; Yankies were stationed in Warkworth. 
Large  pine  logs  were  positioned  to  stop 
unwanted  traffic  at  the  ends  of  Kaiwaka's 
two  main  road  bridges.  The  army  trucks, 
jeeps  and  cannon  trucks  would  come 
through from 7am until about 1pm, and the 
soldiers often threw the boys chewing gum, 
chocolate and small cans of 'instant' coffee. 
He  also  remembers  the  very  large 
macrocarpa  trees  and  the  saleyards  (where 
'Bianca's' is now) - plus lots more! 
This information lead to a search of PapersPast, especially NZ Herald, Auckland 
Star, Rodney and Otamatea Times, Waitemata and Kaipara Gazette, where we 
can find  records  of  the road  improvements  between Kaiwaka  and Waipu. The 
District Highways Council, chaired by Mr Packwood (see New Zealand Herald 
21  May  1937,  Page  13)  began  planning  the  road  works  which  included  the 
deviation over the Brynderwyn hills in 1937. 
Kaiwaka  
Hardware  
&  
Key cutting 
Phone 4312 063 
 022 041 6047 
kaikey2015@gmail.com
Keys Cut  
Household Hardware  
Curtain Tracks & Fittings 
Not there? Call Doug and he'll 
sort
it for you. 
(
Next to Kaiwaka Motorcycles
)
Bulk Cartage 
Community Drop-In Centre
Open 10am – 2pm
Monday – Wednesday – Friday 
WIFI , printing & scanning 
available 
Kaiwaka's own drop-in social 
space.
Above: Auckland Star, 21 January 1939, Page 7 "As part of the extensive improvements 
to the highway between the  North Shore and Whangarei, the old bridges are gradually 
being  replaced  by  modern  two-car,  structures  in  reinforced  concrete.  This  one  is  at 
Kaiwaka, eighty-four miles from Auckland. The bridge is being made in two sections, 
one of which has already been finished." The Post Office and saleyards are to the right, 
Oneriri Road (then called Station Road) to left. 
Above newspaper clippings - Left: New Zealand Herald, 3 September 1938, Page 12 - 
one of the northern road works records. Right: Rodney and Otamatea Times, W aitemata 
and Kaipara Gazette, 1 June 1938, Page 5 - tender for the Kaiwaka bridges that changed 
the course of the main road through Kaiwaka.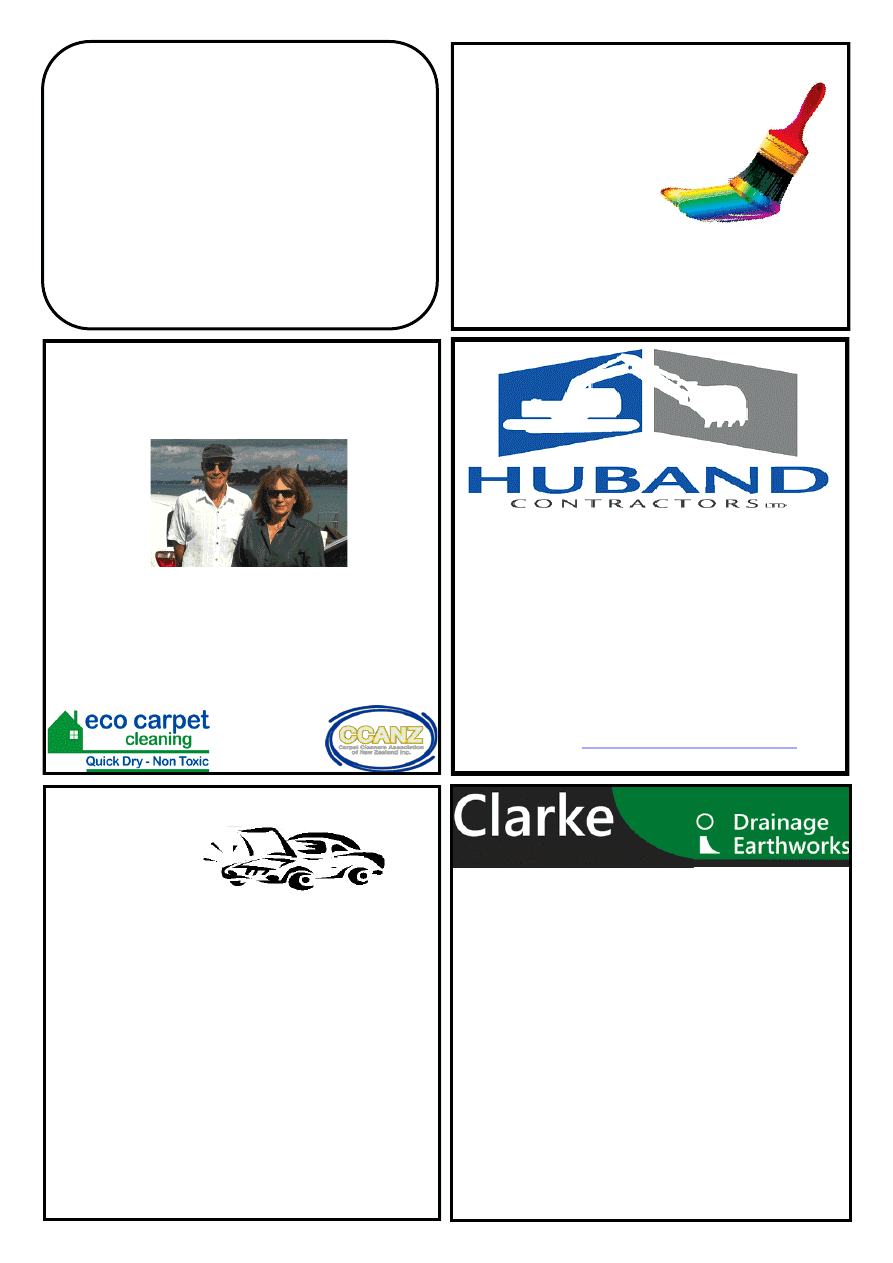 *   R O A D I N G   *   E A R T H W O R K S   *    
*   D R A I N A G E   *   S I T E W O R K S   *
Shaun Huband 
Registered Drainlayer
Cell: 021 222 0272 
Home: 09 4318339 
Email:   
UP-LINK 
CHRIS WARING 
FREEVIEW INSTALLATIONS 
T.V. - HOME THEATRE & 
HI-FI ADVICE/SET UP
SKY ACCREDITED INSTALLER
MOB.0273403747 HM.094312328 
EMAIL cwaring44@gmail.com
28 YRS EXPERIENCE 
OFFERING  UNBIASED ADVICE 
CARPET & UPHOLSTERY 
CLEANING 
QUICK DRYING – NON-TOXIC  - GREAT RESULTS 
Mike and Marina Bagley 
Call 09 431 3016  
or  027 2410414 
marina@ecocarpetclean.co.nz  
www.ecocarpetclean.co.nz 
Registered Drainlayer 
All Types of Earthworks  
> All Residential & Commercial Work  > House Sites 
> Septic System Design & Install 
> Footings & Drilling to 10m 
> Sewer Connections 
> Dams 
> Water Tank Installation 
> Roading & Races 
> Farm Work 
THE ONE STOP SHOP  
Phone Nigel for an Obligation Free Quote  
Drainage & Earthmoving 
clarkedrainage@xtra.co.nz 
027 2233 185 
09 4312918 
0274735171 
leecooper@xtra.co.nz 
LEE COOPER PAINTERS 
(Kaiwaka Based) 
*30 yrs Experience 
*Interior/Exterior 
*New and Restoration 
*Honest and Reliable 
*Free Quotes 
Twinkle Tow 'n' Tyre 
Think you'll get a better deal in the city? 
Ring us - it won't cost anything! 
1837 State Highway 1, Kaiwaka 
Phone 431 2823 
*W.O.F. 
*Tyres 
*Windscreen 
replacement 
*Chip repairs 
*Bulk Oil 
*Batteries 
*Welding 
*Custom built 
trailers 
*Trailer hire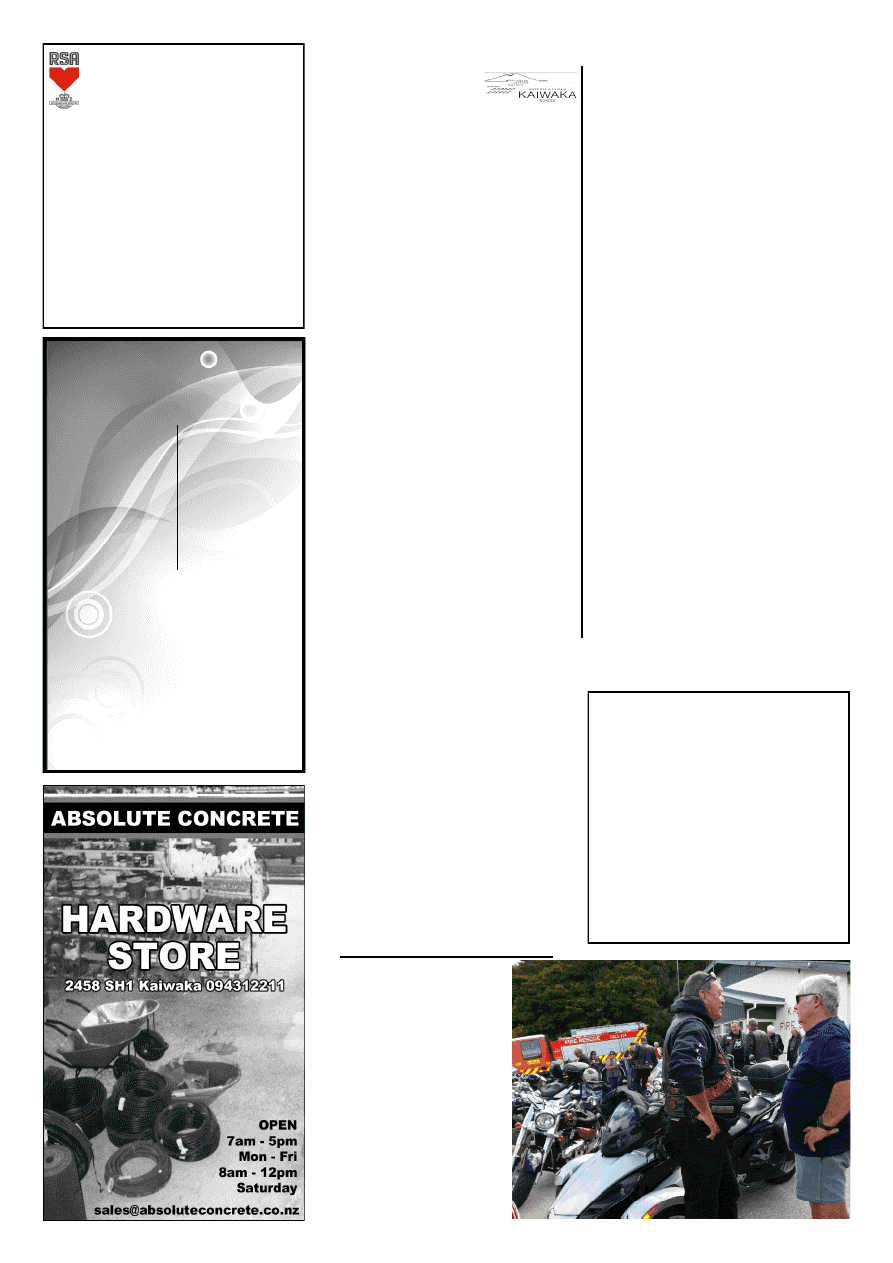 www.kaiwaka.co.nz 
Kaiwaka Bugle - 23 February 2016 
Page 9 
U Beauty 
Please call Nicole for bookings 
09 393 6336 or 022 0639450 
Qualified Beautician 
4 Kaiwaka – Mangawhai Rd 
Kaiwaka 
Underarm Wax  
$20 
Extended Bikini Wax 
$30 
15 min Back  Massage 
$25 
Eyebrow Wax  $10 
Eyebrow Tint  $10 
Eyelash Tint 
$20 
Lip Wax 
$10 
Chin Wax 
$10 
Bikini Wax 
$20 
Brazilian 
$50 
½ Leg Wax 
$30 
Full Leg Wax  $45 
Full Pedicure  $60 
Foot Tidy  
$35 
Manicure 
$45 
Nail Tidy 
$25 
Chest Wax 
$30 
Back Wax 
$40 
Nostrils 
$10 
Ears 
$10 
HAKARU & 
DISTRICTS RSA 
Inc 
Each Friday night from 6.30pm 
meals will be served. 
Members & invited guests, new 
members welcome.
Come along & enjoy our hospitality.
2nd Friday of the month -  roast 
dinner or board menu.
Last Friday of month - roast pork 
night & sing-along with Des Chitty.
Ph Heather 4314668 or Jan 4314512 
KAIWAKA SCHOOL 
BOT 
Clare  Borck,  one  of  our 
trustees resigned from our Board at the 
end  of  2015.  We  thank  Clare  for  her 
support and contribution to  our  school 
over  the  previous  18  months.  As  no 
requests  for  a  by­election  were 
received,  the  Board  has  resolved  to 
appoint a new trustee for the rest of the 
term.  We  welcome  Heath  Worsfold 
onto the Board. 
Meet The Teachers Evening 
Thank  you  to  all  the  parents  and 
caregivers  who  attended  our  Meet  the 
Teachers  Evening.  This  was  well 
attended.  We  hope  it  has  helped  your 
children  to  get  off  to  a  great  start  for 
2016. 
Sandpit 
Thanks to the hard fundraising work of 
the PTA, we have a new sail cloth over 
the  sandpit.  Thank  you  to  Lish 
Reynolds  and  the  PTA  supporters 
whose  hard  work  has  provided  this 
excellent  sun  shade  for  our  children 
while they play in the sandpit. 
Picnic 
The  School  Picnic  was  a  wonderful 
day.  It  was  great  to  have  so  many 
family  members  come  along  and  be 
with  us.  Thank  you  to  those  who 
helped supervise on the day. A special 
thanks  to  Sharlene  Tornquist  who 
organised the day for the school. 
Property 
During the summer holidays we had 2 
major property demands on the school. 
A  large  tree  blew  over  and  a  hole 
needed to be filled in. We thank Bruce 
Ferguson,  Adrian  Buxton,  Pat  Buxton 
and John Ferguson for their really hard 
work in clearing the tree and filling in 
the  hole.  Your  generosity  is  greatly 
appreciated. 
Camp 
School  Camp  for  Years  4,  5  and  6  on 
February  24.  Please  return  permission 
slips ASAP. Camp is from Wednesday 
the 24th of February to Friday the 26th 
of  February.  We  have  lots  of  great 
activities planned and it is going to be 
an awesome camp. 
A very big Thank You to the Kaiwaka 
Sports  Association  for  awarding  us  a 
grant to cover the transport to and from 
the camp. 
Kaiwaka School Library Books 
In 2015, twenty books were not 
returned to the Kaiwaka School 
Library at the end of the year. 
Kaiwaka School would really like to 
see these books returned as they were 
mostly new books and we know other 
children would like to read them. They 
are mainly novels that older children 
read, so at an 8 to 11 year old level. 
Could you please have a look at home, 
especially if you have a child who was 
a senior student last year. We would 
greatly appreciate the return of any 
books to the school office. 
OTAMATEA  
DAY CAMP 
Hey  You,  get  that  calendar  out  and 
mark  these  dates…  Tuesday  19th  to 
Thursday  21st  April  2016.    But  what 
will  you  put  on  those  dates  you  ask?  
2016 Otamatea Day Camp of course!! 
Yes it is that time again.  A whole year 
has nearly rolled around since last Day 
Camp.  These dates are the in the first 
week of the April Holidays, big tick for 
you,  week  one  covered.    What  a 
brilliant Parent/Caregiver you are. 
Now  there  will  be those  of  you  out in 
the community who are asking, what is 
this  woman  talking  about?    So  here 
goes  the  account  of  what  we  do  with 
180  6-12  year  olds,  numerous  teenage 
helpers  and  a  hardy,  dedicated  bunch 
of  adults,  in  the  middle  of  a  paddock 
down Paparoa Station Road: 
3  days  of  bush  hut  building,  Bible 
stories  and  songs,  horse  riding,  crafts 
and  art,  dam  building,  carpentry, 
archery, top town activities and the list 
goes on.   
Buses  are  arranged  to  transport  your 
children  each  day  with  the  Thursday 
closing  with  a  family  bbq  and  look 
around.   Day Camp is run by the local 
churches  with  support  from  our  local 
businesses.   
If this sounds like your families cup-of-
tea  registrations  will  be  out  on  24th 
March  in  your  local  school,  Dreams, 
100%  Electrical,  Skeltons,  St John  Op 
Shop  or  you  can  ring  Ruth  Rosser 
4318491  or  Debbie  Blythen  4316892 
for more information. 
RED 
KNIGHTS 
 MC NZ 
This  club,  for  members  of 
the  fire  service  and  their 
families  who  enjoy  riding 
motorcycles, 
visited 
Kaiwaka 
last 
Sunday, 
raising  funds  for  the  Burns 
Unit. 
Pictured:  Fire  Chief  John 
Bowmar  (right)  with  Red 
Knights' Chris McCarthy.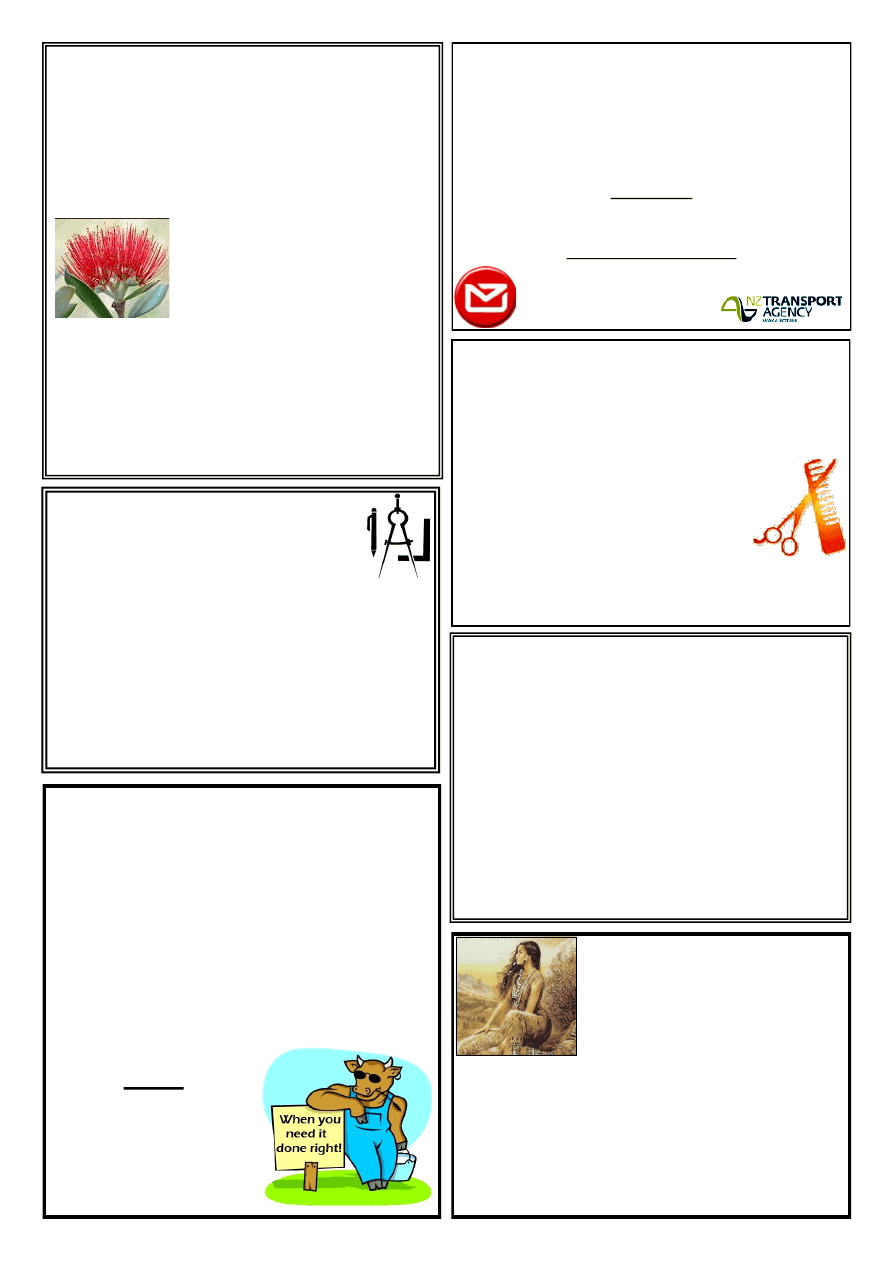 AFFORDABLE PRICES! 
MENS DRY CUT FROM $18.00 
LADIES DRY CUT FROM $28.00 
KIDS DRY CUT FROM $15.00 
COLOUR CUT FROM $90.00 
JUST CUTS'AND     
MORE 
021 165 2629 
NOW SELLING: scented tealights, incense, smudge sticks, 
copper bracelets, aurora ball crystals, dream catchers, healing 
stones, rose quartz, cds, and much more. Open 6 days. 
Trails end 
spiritualist gathering  
Last Sunday of every month  
11.30-2pm tea/coffee provided  
$5koha for all inquiries  
0211652629 evenings 099450753 
Trail.end@hotmail.com 
Bringing together light minded people 
Guest speaker each month and 
Workshops every 2nd Wednesday 7-8.30pm
KAIWAKA FOOD MART 
Mukesh and Pragna Patel 
1919A State Highway 1, Kaiwaka 
09 431 2431 
Opening hours: 
Groceries 
7.30am - 7.30pm daily 
(Monday to Sunday) 
NZ Post  and NZTA 
Mon to Fri. 8am - 5pm 
Saturday  8am - 1pm 
GORSE
IF YOU HAVE GORSE THAT YOU 
WANT ERADICATED
Call A Farmer
Bookings taken 
NOW  
for summer spraying
Phone 09 423 7585 
027 62 55 383 
info@callafarmer.co.nz 
KAIWAKA MARKET 
Every Friday
Three Furlongs Hotel carpark 
State Highway 1, Kaiwaka 
10am - 3pm 
Local arts & crafts, fresh organic produce 
Entertainment 
To book a stall contact David Denton 
Phone 4312 184 or 021 210 3756 
Email magik2u@hotmail.com 
KAIPARA FLOORING CO 
Independently owned & operated 
32 HURNDALL ST MAUNGATUROTO 
Supply & Installation of Carpet, Vinyl,  
Vinyl Wood Planking
Stockists of 2m & 3m wide 
vinyl & carpet short ends
Residential & Commercial 
First Class Installations 
For a free measure & quote 
phone Christine  
09 946 9886 or 021 515 415 
kaiparaflooring@gmail.com 
http://www.kaiparaflooring.co.nz/ 
design drafting 
service 
Retired builder and manufacturer with over 40 years  
experience in the building industry is offering a design 
drafting service for domestic housing, sleepouts and 
sheds.  
Plans formulated in consultation with clients, with 
working drawings completed and submitted to  
council for processing.  Extensive practical experience,  
able to identify & resolve problems. 
Please ring Mike Lean on 
09 431 2260  
          or 
021 431 196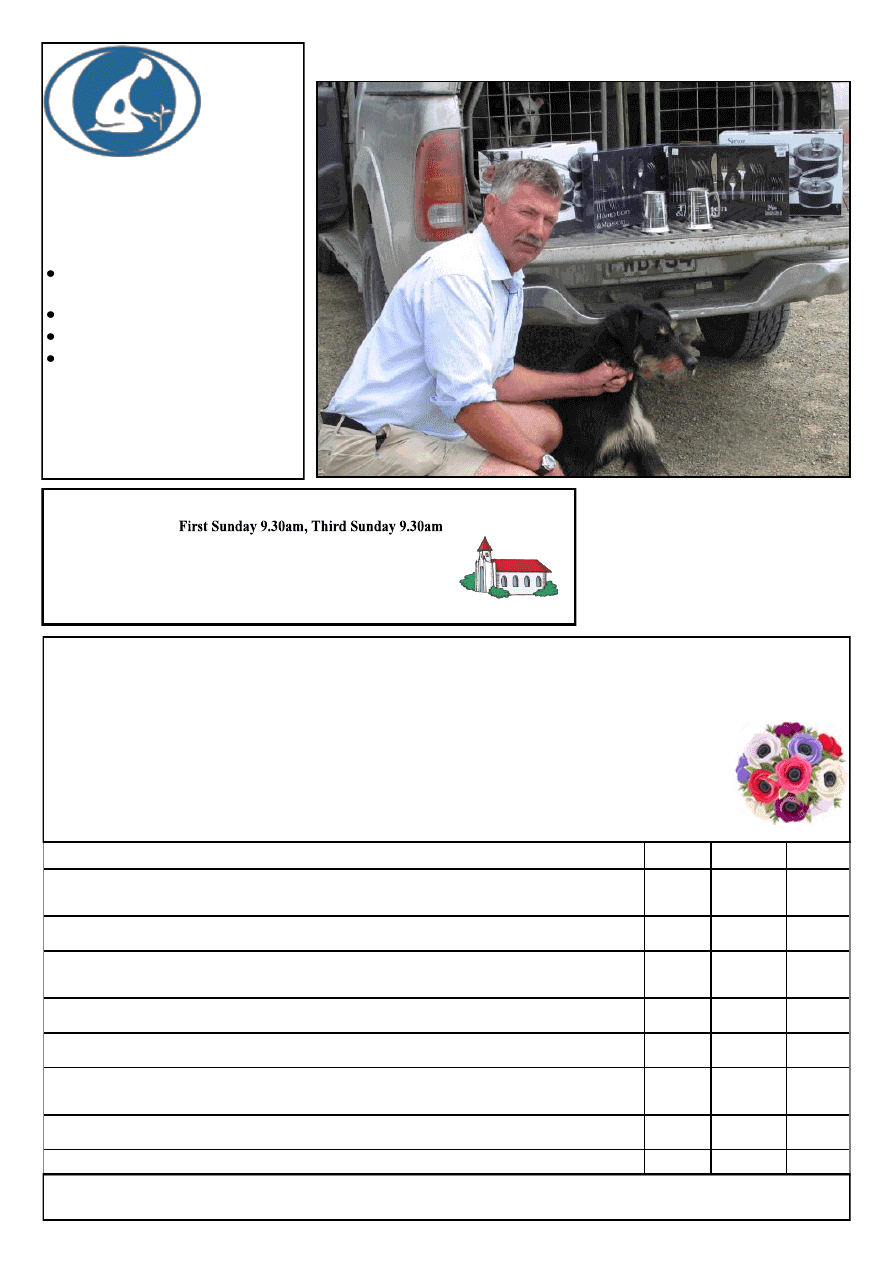 www.kaiwaka.co.nz 
Kaiwaka Bugle - 23 February 2016 
Page 11 
Magnetic Laser for Health
Using a low power laser I can help 
with a variety of conditions:
Joints pain, swelling, 
inflammation 
Back and neck pain 
Heel pain 
Injury or fracture recovery
Phone Gala 
431 2213 
021 486 611 
ST PAUL'S ANGLICAN SUNDAY SERVICES
St Pauls Church: Kaiwaka-Mangawhai Rd. 
1st Sun - Eucharist, 3rd Sun - Family Service 
Office 4314 122 www.mangawhaianglican.org.nz  
Contacts:M.Hargreaves 4312295, C.Bygrave 4312057  
or Rev. Wayne Thornton Ph 431 5650 
Bulb type  
Price  
# packs  
$ total  
10 Yellow Trumpet Daffodils  Everybody's favourite and the true essence of spring! Three varieties times to 
flower in succession from early to late spring. Large flowers with yellow trumpets and yellow petals. Height 
40cm  
$8.50 
10 Fragrant Daffodils - Bridal Crown  A double daffodil with clusters of white pom-pom flowers in mid 
spring. The multiple flower heads have a heavenly fragrance and thrive in sun or light shade. H 40cm 
$8.50 
10 Tulips - Mixed  Tulips are spectacular late spring flowering bulbs with colourful and 
attractive cup-shaped flowers. Top quality bulbs in a wide colour range will give an unsurpassable garden 
display. So easy to grow. Height 40cm 
$10.00 
10 Fragrant Single & Double Freesias - Mixed For the true scent of spring try this mix of popular single & 
double Freesias. They will give a long lasting, dazzling display and have long stems for picking. Height 30cm.  
$6.00 
10 Ranunculus Pink A profusion of fully double, ever-so-sweet, bright pink flowers. A large clump of this 
showy colour would be hard to beat. Ideal for borders or pots. H 30 - 40cm  
$4.00 
10 Anemone St Brigid Double Mix Also called windflowers because they seem to grow as spontaneously as 
if sown by the wind. Very showy, double flowers. They will grow in any type of soil and climate. Great for 
picking. H 30 - 40cm  
$4.00 
Sweet Pea Heirloom Mix 20 Seeds A vibrant and striking mix of Heirloom varieties. Everything from dark to 
lighter shades plus stripes and bicolours, all with that intoxicating fragrance. H 2m 
$4.00 
TOTAL  
BULBS FUNDRAISER - 
Kaiwaka Sports Association 
Here's a great opportunity to purchase spring flowering bulbs and seeds. Bulbs are easy to plant, fun to grow and will reward  
you with beautiful flowers year after year! Bulbs are supplied by Garden Post who source bulbs from New Zealand's best growers.  
Prices offered here are less than normal retail and the KSA will make 30% profit on all sales. Your order will be delivered to your home and a 
planting guide will be enclosed with each order. To order please return this form with your payment by 15
th
 March. Delivery will be the following 
week. Any enquiries to Cheryl Anderson on 4312 051. 
Bulb Order Form 
Name:   _________________________________________ 
Address:   _____________________________________________________________ 
Phone number:   __________________________________
Payment options: …... Cash …...Cheque (payable to KSA) …..Bank direct 060365002247200 (use reference bulbs and your full name)  
Ways to return form:   Post to Cheryl Anderson, 233 Baldrock Rd, RD2, Maungaturoto, 0587. Drop off in box at Jaques Four Square. Scan and 
email to Cheryl at kaiwakasports@gmail.com 
SHEEP DOG TRIAL SUCCESS 
Above: Scott McRae and Toby, winners 
of the Northland centre S.D.T. at Twin 
bridges  in  the  Mangakahia  Valley. 
They  won  both  the  Zig  Zag  and 
Straight  Hunts,  on  tough  sheep  and 
extremely  hot  conditions  over  the 
weekend.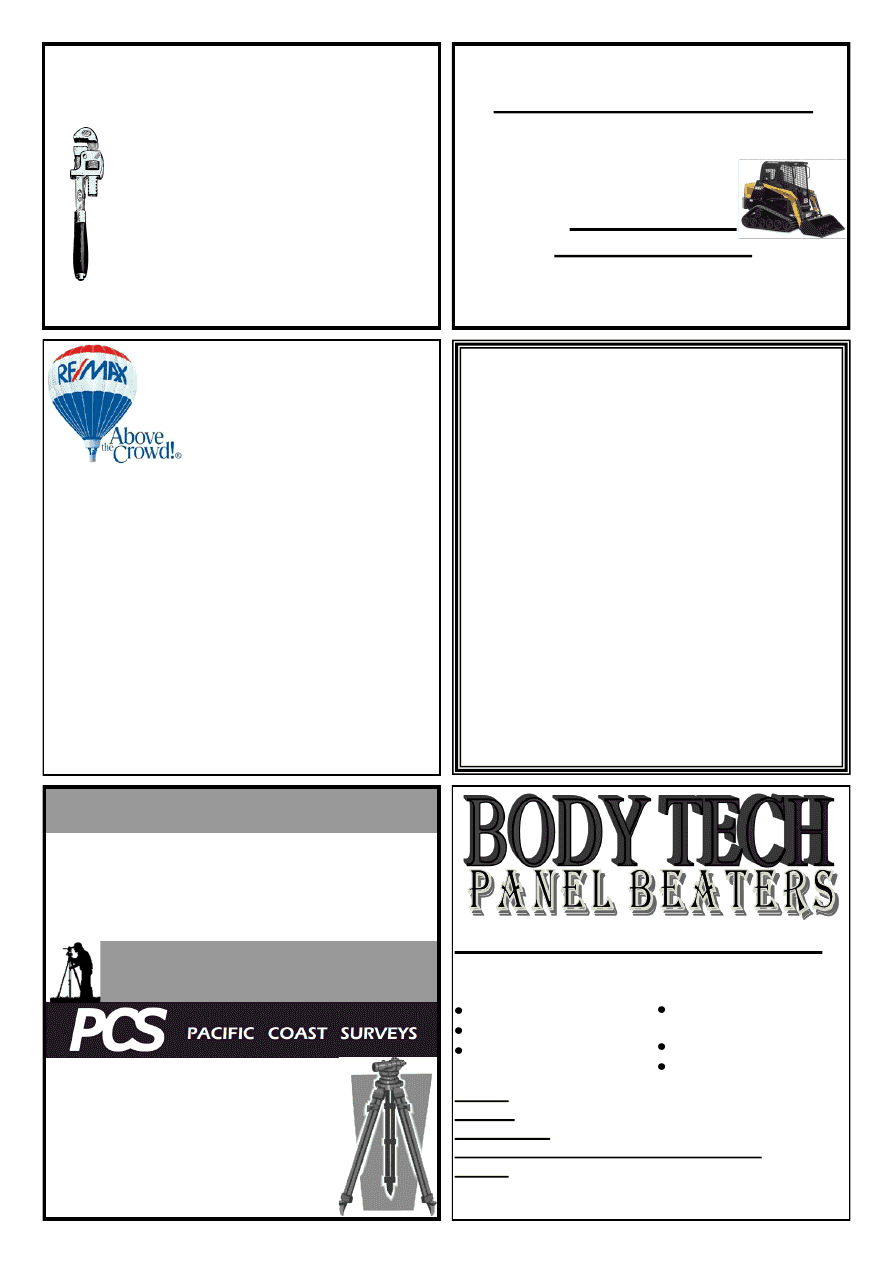 For all your body repair needs!! 
We do: 
Rust repairs 
Insurance work 
Anti-corrosion treatment         
Hours: 8.30am-5pm Monday-Friday  
Mobile: 021 118 0462 
After hours: 09 431 2384 
Phone: Craig or Call in for a free Quote 
bodytech_panelbeaters@yahoo.com
We are located at 1837 SH1 Kaiwaka, behind  
Twinkle Tow 'n' Tyre call in anytime for a free quote.  
Large and minor vehicle  
  repairs 
Industrial vehicles 
Full Cut and polishes 
SURVEYORS 
SUBDIVISIONS 
HOUSE SITE SURVEYS 
CIVIL ENGINEERING 
WASTEWATER DESIGNS 
EXPERIENCED 
PROFESSIONAL 
INNOVATIVE 
Ph 09 431 5353 
0800 PACIFIC (0800 722 434) 
pacificcoastsurvey.com
Adam Booth - 027 415 5752 
Bsurv, Licensed Cadastral Surveyor
Surveying Kaipara since 1994 
g.a.s. 
Mangawhai
GARDEN CENTRE 
for all your gardening needs
Also a great range of 
STOCKFOOD 
Wide range of 
ORGANICS AND 
 FRESH LOCAL PRODUCE
All your motoring needs are taken care of by 
our friendly staff check us out... 
44 Moir Street, Mangawhai (09)431 4242 
BARRY CURTIS PLUMBING LTD 
REGISTERED CRAFTSMAN PLUMBER 
Phone 431 5572 
027 257 9884 
25 years' experience 
Friendly reliable service 
All plumbing & maintenance 
Alterations and new housing 
Spouting 
Competitive rates
PROMPT EFFICIENT  SERVICE
Natural Earth Ltd 
Landscape and Bobcat services 
 : Driveways  :Landscaping  :Retaining Walls 
 : Hole Boring: Land Levelling :Trenching 
 : Decks :Fences :Sections Cleared 
 : Plus much more
Tel 09 4312 885 
Mob 02102391280 
For A Fast Friendly Service  
Contact Tim Hicks 
Beth Stone is your local 
Re/Max Associates 
representative. 
I am available for chats anytime between 10AM and 
2 PM Wednesdays and Thursdays in my ChatRoom 
at Kate's Place. Or by appointment. Join me for 
coffee and conversation. 
Thinking about buying? Or selling? Or just wanting 
to talk over the options and understand more about 
the market? I can help. Use me as your sounding 
board.  
PLEASE NOTE THE CHANGED DAYS OF 
ATTENDANCE. 
Phone Beth 09 4312668 or 0274 937 801 or call in. 
I look forward to meeting you.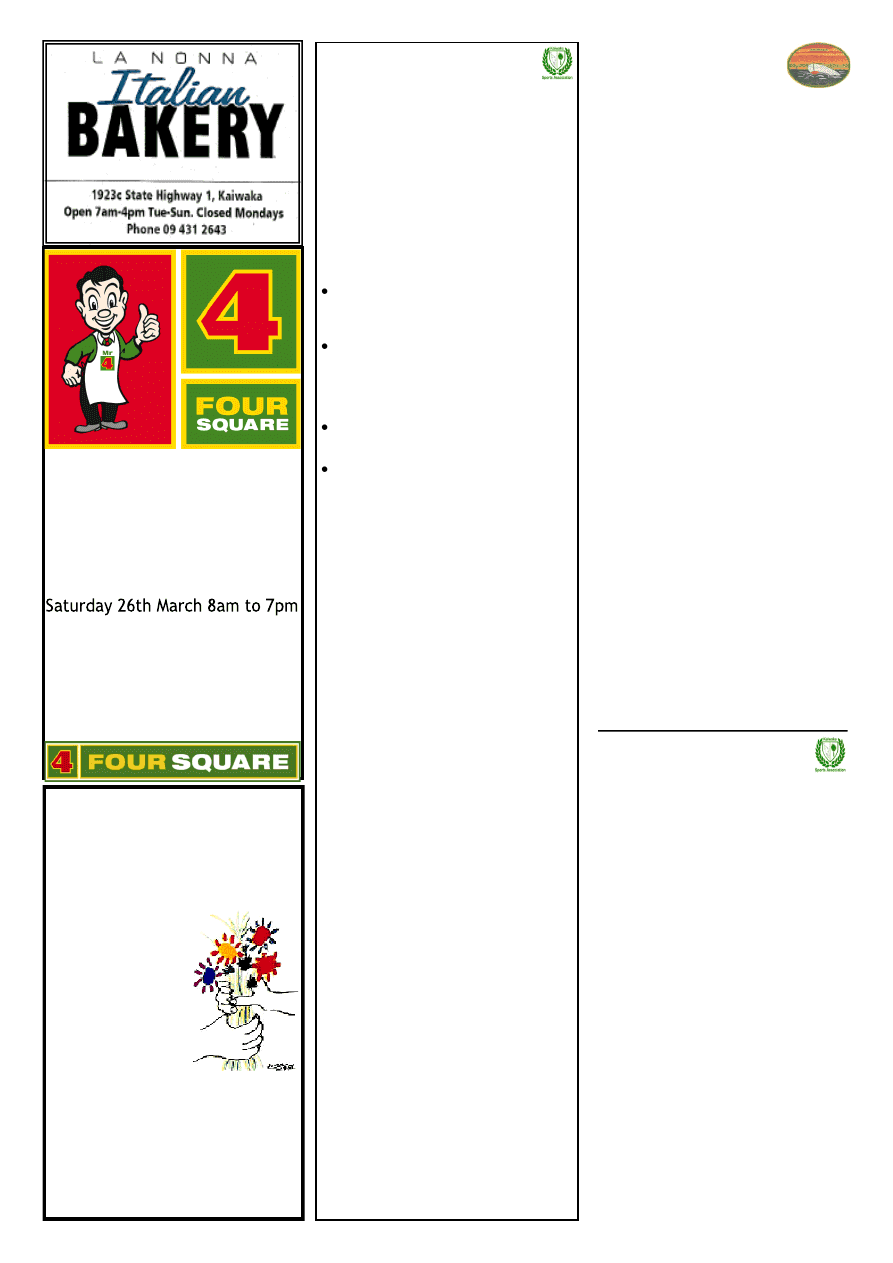 www.kaiwaka.co.nz 
Kaiwaka Bugle - 23 February 2016 
Page 13 
Flowerpower 
Northland 
Long lasting 
flowers 
delivered 
from 
Mangawhai
www.flowerpower 
northland.co.nz 
Ring Martina 
4315161 
ALL YOUR EASTER 
GOODIES AVAILBLE IN 
STORE! 
Trading Hours for  
Easter Weekend 
Friday 25th March CLOSED 
Sunday 27th March 9am to 5pm 
Monday 28th March 9am to 5pm 
9kg Gas Bottle & Sodastream Refills 
Jaques Four Square 
Phone: 4312227 
1 Kaiwaka-Mangawhai Road, Kaiwaka. 
Applications for grant 
funding  
are  being  accepted  for  the  following 
periods -  MARCH-APRIL 
APPLICATION  PROCESS-  HOW  TO 
APPLY: 
Applicants can uplift a KSA application form 
from  The  Three  Furlongs  Hotel  operating 
KSA 
gaming 
machines 
or 
www.kaiwakasports.co.nz 
Forms  can  also  be  requested  directly  from 
KSA. All relevant details are displayed below 
and are also displayed at the venue. 
Venue: The Three Furlongs Hotel 
Postal: PO Box 62 , Kaiwaka 
Tel: 094312329 
Fax: 094312229 
You  must  return  the  application  form  and 
any  associated  documentation  to  the 
Association  at  the  address  printed  on  the 
application form. 
The application form contains a checklist of 
important  information  that  must  be  included 
with the application in order for funding to be 
considered.  Failure  to  supply  all  Information 
requested  may  result  in  the  application  being 
declined or returned to you unprocessed. 
Applications  are  checked  for  completeness 
and considered by the Grants Committee on a 
regular basis. 
An application may take up to 6 weeks to be 
processed.  
CRITERIA: 
1. Applications  are  checked  for  compliance 
against  the  criteria  of  the  Department  of 
Internal  Affairs  and  the  definition  of 
Authorised  Purposes  as  set  out  in  the 
Gambling Act 2003. 
2.Funding  is  distributed  in  the  local 
community area -  
a. Provision, maintenance and development of 
club  buildings,  furniture,  fittings,  grounds 
and  equipment.  Excludes  any  bar  area  and/
or facilities; 
b. Assist  sporting  adjuncts  within  the  club 
through  the  provision  of  uniforms, 
equipment,  premises  and  the  actual  and 
reasonable  expenses  to  travel  to  and 
compete  in  tournaments  with  kindred 
groups; 
c. Excludes professional sports people/teams. 
d. Funds  for  the  promotion  of  amateur  sport 
within  the  local  community.  Excludes  the 
payment of wages/salaries; 
e. Donations to support recognized community 
organisations  within  the  local  community 
with  the  provision  of  facilities.    Excludes 
bar area and/or facilities. 
Applicants  should  be  aware  that  the  ultimate 
decision  on  funding  rests  with  the 
Association's  Grants  Committee  and  that 
there are no guarantees that the full amount of 
the application will be supported or indeed the 
application will be supported at all.  
WHO WILL CONSIDER APPLICATIONS: 
All  applications  will  be  considered  by  the 
Grants Committee which is made up of KSA 
Trustees. 
Applications are generally considered in the 
week following the closing date. Applicants 
are usually  notified in writing within 10 days.  
The Trustees of KSA are: 
Brian Jaques JP. QSM - Managing Director, 
Kaiwaka   
Evan Wright -Farmer, Kaiwaka 
Tony Hargreaves, JP -Farmer, Kaiwaka 
Wayne Leslie - Farmer, Kaiwaka 
Mark Ottaway  QSM - Baker. Kaiwaka 
Innes Anderson –Farmer, Kaiwaka 
Paula Jaques-Manager, Kaiwaka 
COMPLAINTS POLICY: 
Any  complaints  regarding  the  distribution  of 
grant  proceeds  must  be  sent  in  writing 
addressed to: 
The Principal Officer/Complaints.  
KSA. PO Box 62. Kaiwaka 
Complaints  received  in  this  manner  will  be 
acknowledged in writing.
Poker Machine Grants 
made for 2015 
EURFC  
$1155.75 
K.S.A 
$500.00 
Otamatea JMB 
$1000.00 
KSA 
$2412.18 
Otamatea JMB 
$1500.00 
ORFC 
$700.00 
Otamatea High School 
$900.00 
Otamatea High School Netball
$2000.00 
OHS  Te Roopu Tautoka 
$800.00 
OHS Squash 
$531.00 
K.S.A 
$12,811.25 
Otamatea JMB 
$600.00 
Otamatea Marae Touch 
$1000.00 
Kaiwaka School 
$280.00 
OHS Netball 
$600.00 
K.S.A. 
$4381.65 
Kaiwaka Cares 
$1000.00 
Pt. Curtis  C.C 
$4970.00 
K.S.A 
$25,000.00 
Declined 
North Rodney Blue Light 
Hukerenui Rural Team 
Campus Link Foundation 
NZ Council of Victim Support 
Groups 
Dargaville Rugby and Sports Club 
POINT CURTIS  
CRUISING CLUB 
New  fish  of  the  month: 
SNAPPER.  Cut off date next meeting, 
1
st
 March. 
Point  Curtis  Cruising  Club  Inc 
Calendar Of Events: 
5th 
& 
6th 
March 
Open 
Fishing 
Competition. 
Saturday & Sunday 
Seniors:  Snapper, Kingfish & Kahawai 
Juniors: Snapper, Kingfish Kahawai & Eel 
Fresh  Fish   Auction  to  follow  prize  giving 
on Sunday the 6th March at 3 Furlongs Bar 
& Grill (Approx. 6.45pm) Please see posters 
for  ticket  outlets  and  rules  for  this 
competition 
8th,  9th  &  10  April    East  VS  West  Open 
Fishing  Competition  -  Friday,  Saturday  & 
Sunday      
Seniors: 
Snapper, 
Kingfish, 
Kahawai, 
Tarakihi,  Trevally,  Gurnard,  John  Dory, 
Crayfish  &  Spearfish  Juniors:  Snapper, 
Kingfish,  Kahawai,  Tarakihi,  Trevally, 
Gurnard, John Dory, Crayfish & Eel 
7th  May  Opening  Day  Game  Bird  Season 
Competition- Saturday  
Annual  Prize  Giving  (Will  follow  straight 
after Opening Day Game Bird Season Prize 
Giving) 
12th,  13th  &  14th  August  3  Furlongs  Bar  & 
Grill Boar Hunt 
If  there  are  any  new  businesses  or 
individuals  keen  to  sponsor  our  boar 
hunt  please  see  Jean  at  Jaques  Four 
Square  or  contact  Vic  Birkenhead 
0211609588                 
Next  committee  meeting:  Tuesday  1
st
March, 7pm at 3 Furlongs Bar & Grill 
Wayne Leslie, Commodore 
KAIWAKA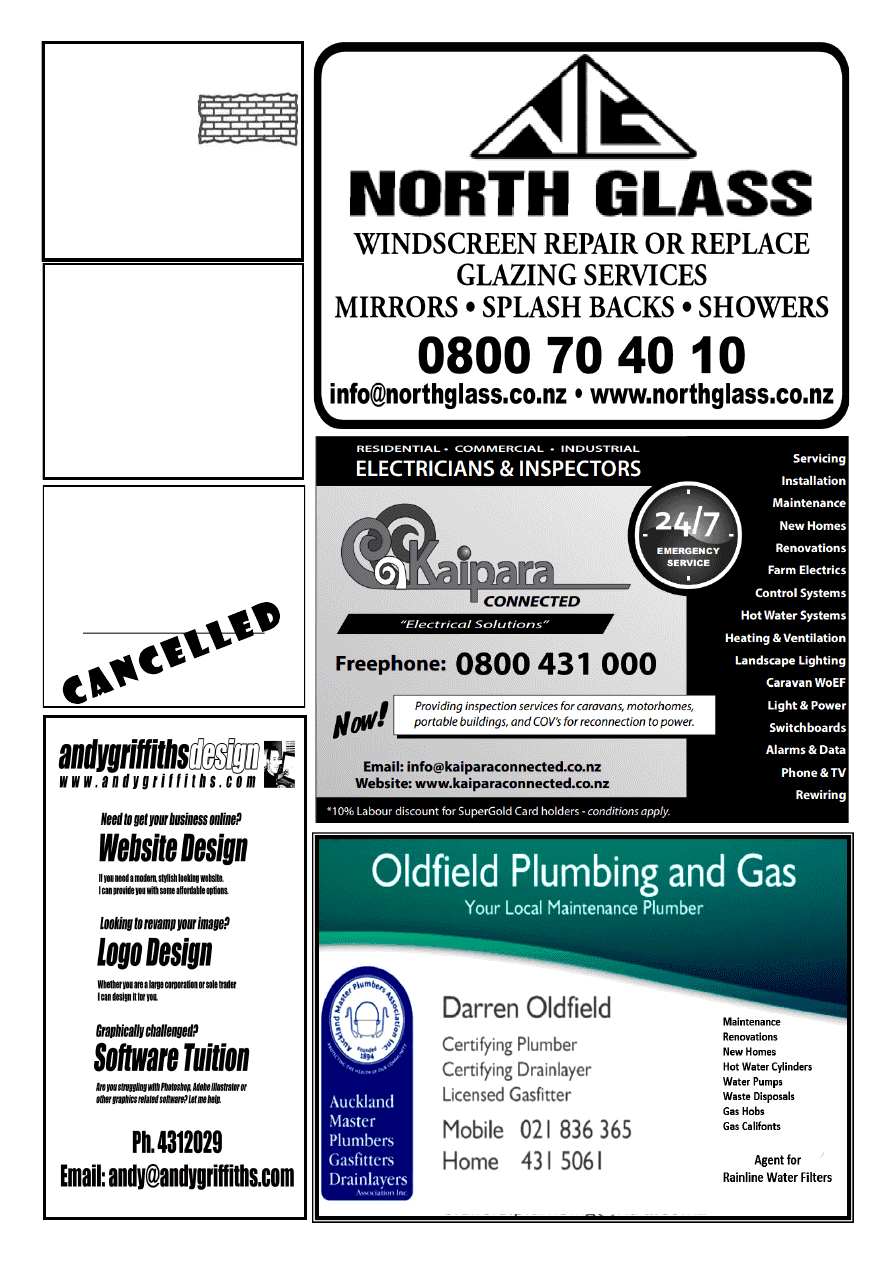 Otamatea High School 
& Maungaturoto District High School 
50
th
 Reunion 
15
th
 – 17
th
 April 2016 
For more details visit:   
Contact: Phone: 0800 682628    
Email: ohs@otamatea.school.nz 
Registrations close 18
th
 March 2016 
oldfieldplumbing@gmail.com 
 LEABOURNS 
Passenger Service
Car & Van Hire 
Bus & Coach Charters 
Airport Transfers 
 Monthly Shopper Bus 
Phone (09) 4237416 
BRICK/BLOCKLAYER 
All aspects of masonry:  
Fireplaces, 
Restoration  
& Remedial Work. 
JAMES EAGLETON 
Tel. (09) 431 2514  
Mob. 0274 749 232 
jajueagles@yahoo.com.au 
210A Pukenui Road, RD2 Kaiwaka 0573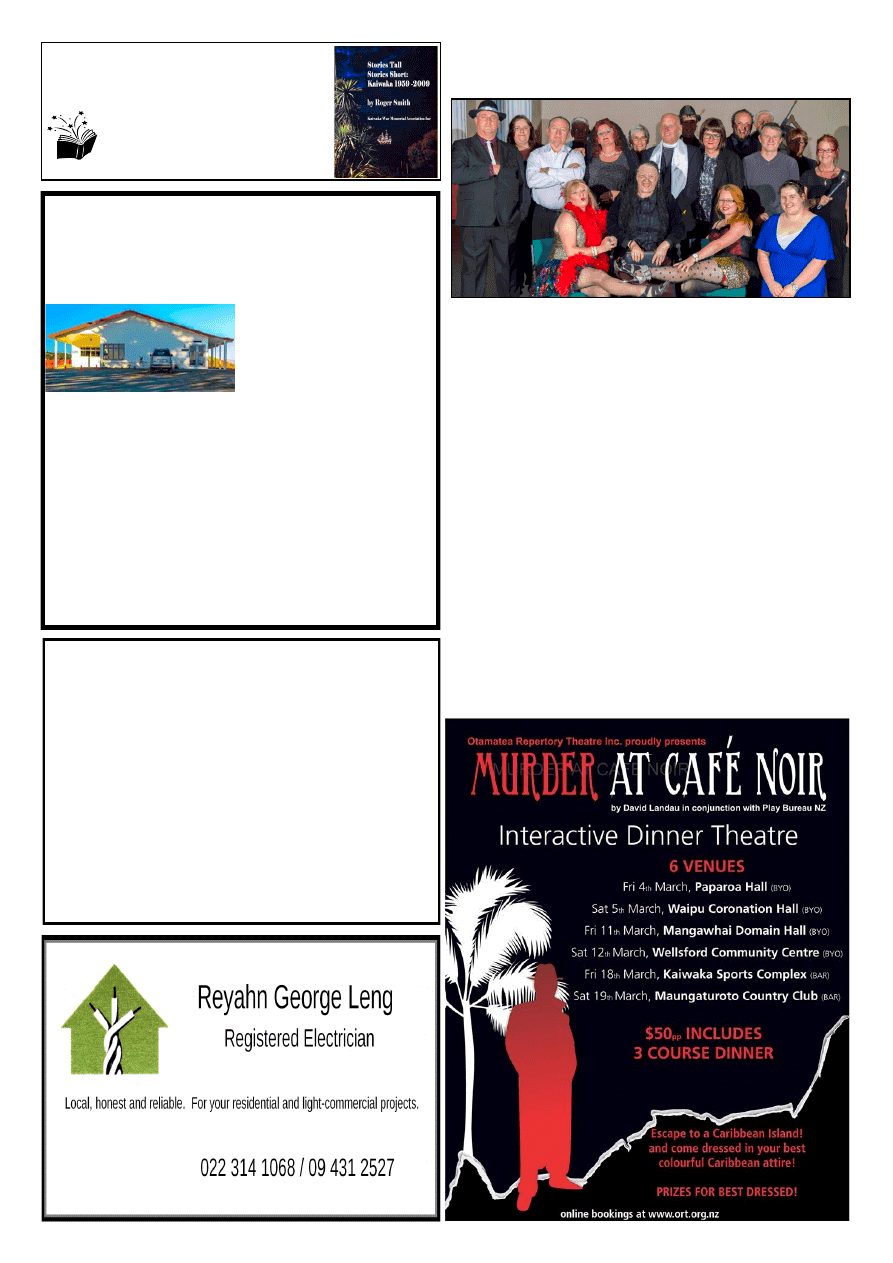 www.kaiwaka.co.nz 
Kaiwaka Bugle - 23 February 2016 
Page 15 
Te Pounga Marae 
130 Nathan Rd. Oneriri. Kaiwaka 0573 
COMPLEX FOR HIRE 
Functions 
* Weddings   *  Birthdays   
*Anniversaries 
* Meetings   * Wananga 
5 hour meeting 
* 12 hour stay   * 
Overnight 
*All welcome - No more Drink-driving 
Amenities: 
*Convo Combi Steamer * Bratt Pan * Dish 
Washer/Sterilizer * 3 Door Glass Chiller (walk in) 
etc…All Crockery * Linen Supplied * Central 
Heating and Air Conditioning and much more.  
Can also cater for small groups…. 
For more information please contact: 
Kim Wallace 
Home: 09 832 1133   Mob: 0211275340 
Email:  kimwallace@xtra.co.nz 
LIFESTYLE PROPERTY  
MAINTENANCE 
Putting life back into your style
Working out of Kaiwaka; servicing Mangawhai, 
Maungaturoto, Waipu and surrounding areas. 
  With over 25 years' experience, I'm fully insured and 
any job considered so just call me – James on mob: 0273 
808622  or  09 431 2245 
email: lifestylesorted@gmail.com  
Mulching - gorse, 
scrub 
Tree & hedge work 
Hole boring 
Alkathene laying & 
repairs 
Paddock topping, 
slashing 
Electric fence 
installation 
Weed spraying 
Free quotes 
Land & section 
clearing 
Loader work 
Rubbish removal 
Fully insured 
Repairs to driveways, fencing & buildings 
Stories Tall, Stories Short  
Kaiwaka 1959-2009 
by Roger TW Smith.  $40 
Available from  
the Bugle Editors -  
Lindsey 4312 045,  
Wendy 027 480 6275 
OTAMATEA REPERTORY 
THEATRE 
Escape to the Caribbean with ORT 
It  is  time  to  get  your  thinking  caps  on,    for  a  colourful 
Calypso-style  outfit  to  wear  to  ORT's  'Murder  at  Café 
Noir'.  Set in the Caribbean, with themed dress-up optional, 
the show  promises to be an evening of pure escapism and 
great food. 
After  the  success  of  last  year's  (photo  above)  murder 
mystery  dinner  show,  Otamatea  Repertory  Theatre  has 
decided  to  tour  another  interactive  show  around  Northland 
to  six  venues  -    Paparoa,  Kaiwaka,  Waipu,  Wellsford, 
Maungaturoto and Mangawhai.  'Murder at Café Noir' pays 
homage to the Bogart movies, and the audience is not only 
in the middle of the action, they also help Rick Archer P.I. 
decide on his next move, and shape the course of events for 
the evening. 
Written by award winning playwright, David Landau, who 
wrote  last  year's  show  'The  Altos',  the  play  is  one  of 
Landau's  first dinner-theatre works and remains one of the 
most enduring. 
Getting  a  group  of friends  together  is  a  guaranteed way  of 
making sure you have a great evening. There are prizes, if 
you  can  guess  Whodunnit,  and  also  for  Best  Dressed.  
Interactive dinner theatre promises fun and hilarity.   
Bookings  close  off  two  days  prior  to  each  show,  as  the 
caterer  needs  to  have  numbers  in  advance.    Kaiwaka's 
venue is the Kaiwaka Sports Complex on Friday 18th March 
– bookings at Jaques Superstore.  All venues can be booked 
online.  Details are on the theatre's website www.ort.org.nz 
Water Tank Cleaning 
Keep your water safe & clean   
Removal of sediment, silt etc. 
Vacuum or full scrub 
Minimal water loss 
Phone Mark (09) 432 0655 or 0274 707607 
KAIWAKA 
MOTORCYCLES LTD
SALES – SERVICE – SPARES 
FARM BIKE SPECIALIST 
PHONE 09 431-2127 
10 KAIWAKA-MANGAWHAI ROAD, KAIWAKA
YAMAHA 
HUSQVARNA 
ANIMAL HEALTH CENTRE 
KAIWAKA 
"choices in health care  
for your companion animal" 
Health problems - itchy skin, smelly ears, bad 
breath, diarrhea? 
On steroids, antibiotics, lifetime drugs.....  ? 
Diet may be a part of the problem!   
Call in and have a chat to our team of animal health 
practitioners. 
Nail Trims  Microchipping  Dental checks  Comfort 
grooms 
Great range of real food – no preservatives 
Alternatives to nasty chemical parasite controls 
OPEN:    Tues-Fri    10:00am – 5:00pm 
    Saturday   10:00am -  4.00pm 
    Sunday / Monday - Closed 
Next to Italian Bakery, Main Highway  Kaiwaka 
Ph:  09 431 2217 
PS: We're  open 7 days in Orewa if you missed us! 
FENCING
COMPLETE NEW BUILD 
WIRE AND BATTEN 
ELECTRIC 
POST AND RAIL 
REPAIRS AND MAINTENANCE 
WHATEVER YOU NEED—IF YOU NEED A FENCER 
CALL A 
FARMER 
Phone 09 423 7585 
027 62 55 383 
info@callafarmer.co.nz 
A one stop shop for all your organic 
gardening needs. Great gifts for all 
occasions available. 
Organic fruit trees, seasonal produce as 
available, seedlings, herbs, seeds, books, 
tools, fertilisers, gloves, worm farms 
and much, much more. 
Open - Thursday to Sunday, 
9.00am - 5.00pm, 5km north of Kaiwaka, 
2395 State Highway 1, RD2 
Maungaturoto. 
Tel: 09-431-2732. 
Email:taongagardens@gmail.com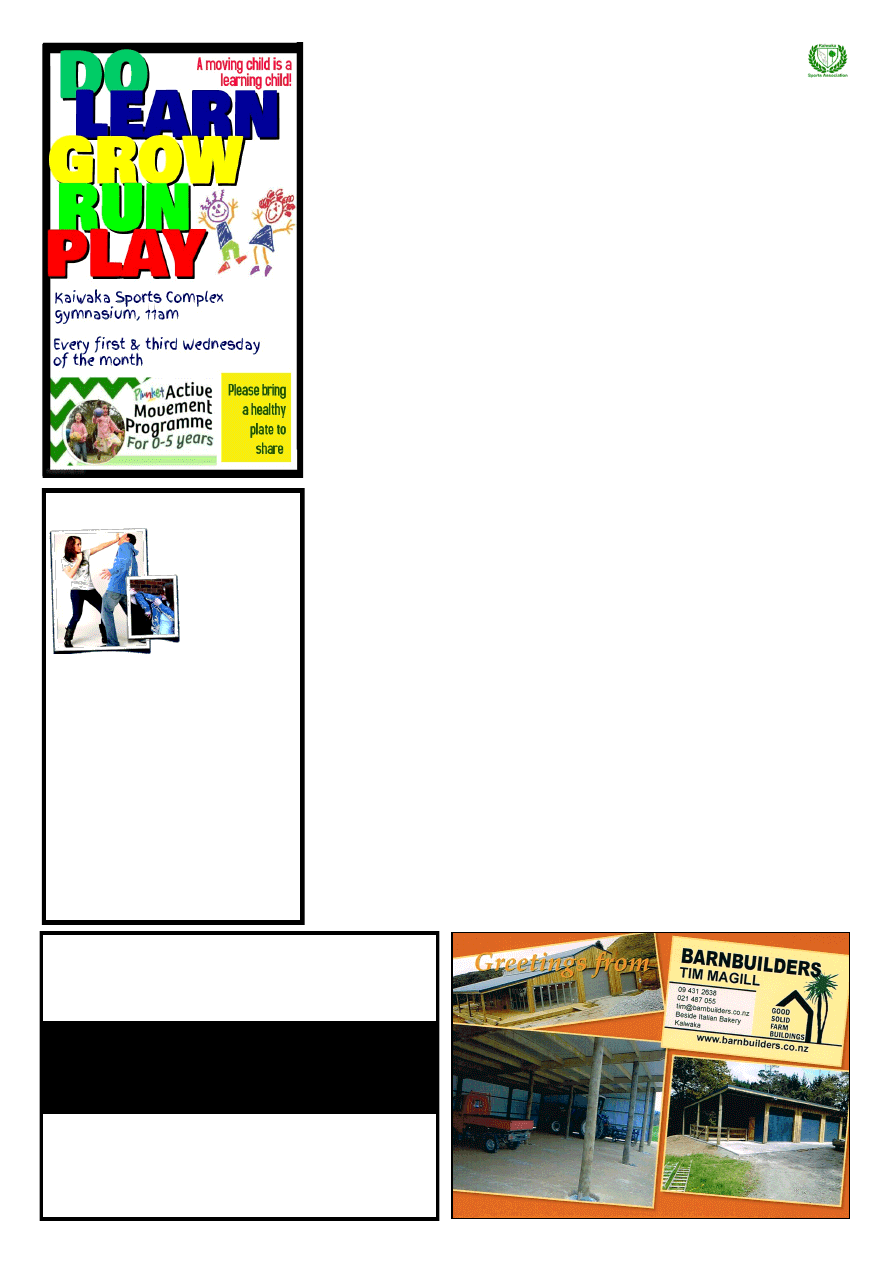 www.kaiwaka.co.nz 
Kaiwaka Bugle - 23 February 2016 
Page 17 
KAIWAKA SPORTS ASSOCIATION
David Korach 
Your local Gib Stopper
DK PLASTERER LTD 
0274769221 
dkorach6@gmail.com 
Top of the Rock 
Our  annual  multi-sport  challenge  the 
Top  of  the  Rock  was  a  wonderful 
success. With 350 competitors, the day 
surpassed  our  expectations.  This  is 
truly  a  community  event,  with  many 
volunteers  working  together.  Thank 
you  to  everyone  involved  for  their 
support.   
Rugby - Senior 
The  senior  rugby  season  kicks  off  on 
Saturday  19
th
  March,  and  our  Hawks 
have a home game! This match will be 
against  Mid  Western  -  come  along  to 
see how the boys are shaping up for the 
season. The  Reserves  start  at 12.30pm 
and the Premiers start at 2.15pm. 
A  Rugby  Smart  coaching  course  will 
be  held  at  our  Sports  Complex  on 
Wednesday 16
th
 March at 6.30pm. This 
is  a  requirement  for  all  coaches  of 
rugby  teams  from  Under  14's  and 
above. 
Rugby – IMB 
We  will  have  the  numbers  to  field  an 
Under 14s team and an Under 16s team 
this  season.  So  if  you  have  a  teenage 
boy  who  is  keen  to  play  rugby,  bring 
them along to trainings on Wednesdays 
at 5.30pm at the Maungaturoto Country 
Club. 
Welcome  to  the  IMB  Club's  new 
President  Craig  Hamlin  and  new 
Treasurer Jean McLeish. 
Rugby - JMB 
Do you have a boy or girl aged 4 – 12 
years,  who  is  wanting  to  play  rugby? 
Our  junior  rugby  club,  Eastern  United 
JMB, is a small, friendly club with the 
focus  on  kids  having  fun  and  learning 
ball  skills  and  team  work  within  a 
supportive  environment.  JMB's  annual 
subs are low – just $15 per child or $20 
for a family.  If you  missed the muster 
the  Saturday,  don't  worry,  ring  Naomi 
Walker  on  4312  750  to  register  your 
interest. 
JMB  trainings  will  be  held  on 
Tuesdays  at  our  grounds  at  5.30pm, 
beginning Tuesday 8
th
 March.  
Rugby – Rippa 
The 
inter-schools 
Rippa 
Rugby 
Tournament will be held at our grounds 
on  Tuesday  1st  March  from  9am. 
Spectators welcome. 
Athletics 
The  Kaiwaka  Athletics  Club  has 
started its season. Sessions are held on 
Mondays from 5 – 6.30pm at Otamatea 
High  School.  The  sessions  cover 
running,  long  jump,  high  jump,  shot 
put,  discus  and  javelin.  All  interested 
children  are  welcome.  Subs  are  $10 
(under  7yrs)  or  $15  (over  7yrs).  Any 
queries to Eileen Parsons on 4318 055. 
Tennis - Junior 
Tennis  lessons  for  school  age  players 
have  restarted.  We  are  running  three 
half-hour 
classes 
on 
Monday 
afternoons  with  coach  John  White, 
between  3pm  and  4.30pm  with  times 
dependant  upon  age  and  ability. 
Queries  for  tennis  to  Floyd  Driver  on 
022 476 9669. 
Badminton 
Due 
to 
popular 
demand, 
our 
Badminton  club  nights  are  continuing 
through  the  summer  months.  Keen  to 
have a go? Simply turn up on Tuesday 
nights  at  our  gymnasium  at  7.30pm. 
New  or  casual  members  welcome. 
Only $3 a night for casual players, and 
we have racquets you can borrow.   
Touch 
Our  Touch  Module  got  off  to  a  great 
start  with  six  teams  competing.  The 
results table and draw can be found on 
our website www.kaiwakasports.co.nz
Spectators are welcome, so feel free to 
come  along  to  the  Sports  Complex  on 
Sundays  at  12.30pm,  the  Module  runs 
through February and March. 
Self-defence course 
Our  Martial  Arts  club  is  putting  on  a 
Self-defence course in March. Four fun 
classes which can be done individually 
or together. The classes will be held in 
our  gymnasium  every  Wednesday  at 
6.30pm  from  2
nd
  -  23
rd
  March. 
The  course  is  suitable  for  women  and 
teenage  girls  and  will  be  run  by  black 
belt  instructor  Craig  Bennetts.  Bring 
your  friend/neighbour/daughter/mother 
etc and get a 'Best Friend' discount!  
Spaces are filling up fast, to book your 
place please contact Craig on 4315 170 
or otamatea.kempo@farmside.co.nz.  
Ready, Steady, Wriggle 
Ready,  Steady,  Wriggle  is  a  fun, 
activity-based  class  for  pre-schoolers 
run  by  Plunket.  Classes  are  held 
fortnightly  in  our  gymnasium  on 
Wednesday mornings at 11am, the next 
(Continued on page 19) 
OTAMATEA MARTIAL ARTS 
Women's self-defence course 
Build  
confidence 
Strengthen 
body & mind 
6.30pm every Wednesday  
KSA Kaiwaka  
from 2nd to 23rd March 
Four consecutive weeks of one hour classes. 
We've put together a collection of super effective 
self-defence  techniques  that  are  easy  for  all  to 
learn.  Specifically  designed  to  enable  women  to 
escape  from  a  multitude  of  undesirable 
situations.  Packaged  into  4  fun  workshops  that 
can  be  done  individually,  but  compliment  each 
other when done collectively.  
For Course costs and more information 
phone Craig on 09 4315170 or email  
otamatea.kempo@farmside.co.nz
Course co-ordinator: Craig Bennetts 
Course assistants: Michele Vandekerkhove, 
Sharlene Tornquist, Teresa Woolley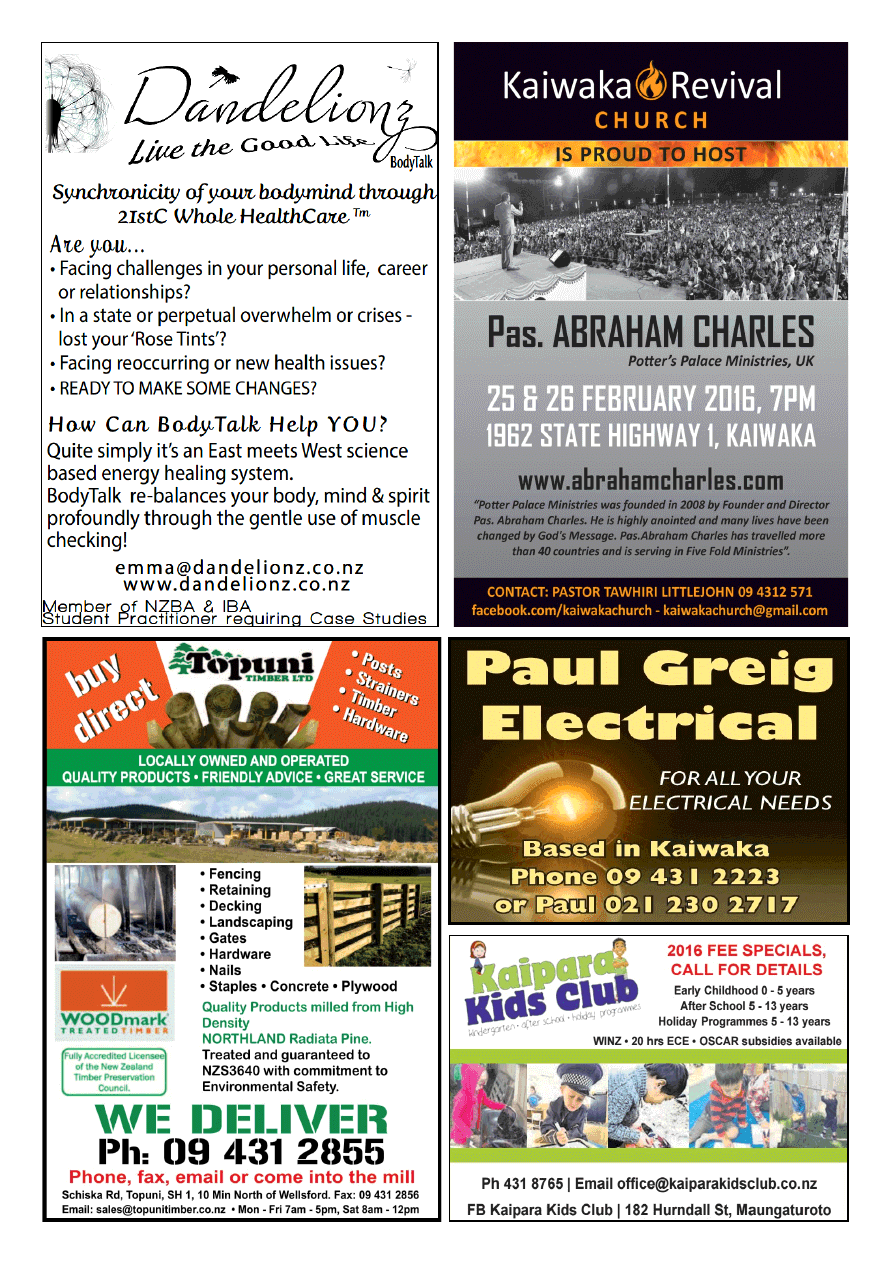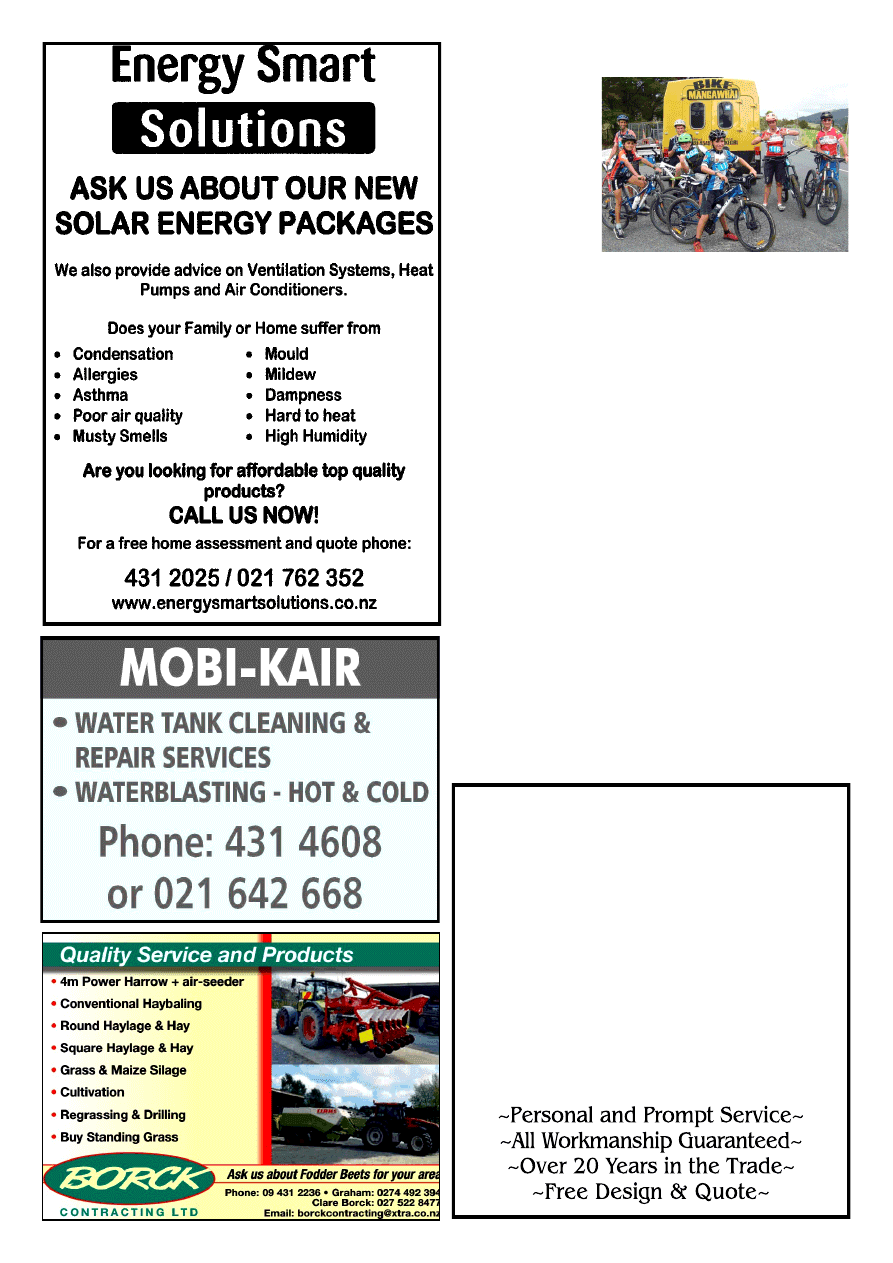 www.kaiwaka.co.nz 
Kaiwaka Bugle - 23 February 2016 
Page 19 
PLANNING A NEW KITCHEN? 
 CONTACT NOEL McDOWELL
WELLSFORD 
KITCHENS
Ph/Fax 094312888
KAIWAKA-Any time
  QUALITY CUSTOM MADE 
KITCHENS
one 
will 
be 
Wednesday 
24
th
February. 
Bring  some  morning 
tea  for  your  kiddies 
and join us for lots of 
fun and excitement.  
Netball - Senior 
Our  senior  netball 
club, Otamatea-Ex, is 
holding 
another 
muster,  this  Tuesday 
at 6pm at our courts. Come along and have a go! Otamatea-
Ex queries to Alex Cowie on 021 023 35814.  
Netball – OHS 
The  Otamatea  High  School  netball  club  will  hold  senior 
trials  this  Tuesday  at  3.30  –  5.30pm  and  junior  trials  this 
Wednesday  at  2  -  4pm.  OHS  netball  queries  to  Nikola 
Kemp on 4318 762. 
Netball – Junior 
Our junior netball club trials will be held at Kaiwaka school 
shortly. For junior netball queries, please phone Pat Buxton 
on 4312 677. 
"Murder at Cafe Noir" 
The Otamatea Repertory Theatre are bringing this fun-filled 
interactive dinner theatre to our Sports Complex on Friday 
18
th
 March at 6.30pm. Come in your best Caribbean attire! 
Whodunnit and skill questions. Tickets are $50 per person 
which  includes  a  three  course  dinner  and  the  bar  will  be 
open. Tickets are available at Jaques Four Square or online 
at www.ort.org.nz. Get a group together for a night of fun...  
Kaiwaka Sports Awards 
The  date  for  our  annual  Sports  Awards  evening  will  be 
published in the next Bugle. 
Bulbs Fundraiser 
I  had  a  lot  of  positive  feedback  about  the  quality  of  the 
bulbs  which  I  sold  through  my  last  Bulbs  Fundraiser,  so  I 
have  decided  to  run  it  again  this  year.  Bulbs  are  easy  to 
plant,  fun  to  grow  and  will  reward  you  with  beautiful 
flowers year after year! 
Prices  are  less  than  normal  retail  and  the  KSA  will  make 
30% profit on all sales. Your order will be delivered to your 
home along with a handy planting guide. An order form is 
in  this  edition  of  the  Bugle  and  can  also  be  found  on 
www.kaiwakasports.co.nz and at Jaques Four Square. 
Cheryl Anderson  
4312 051, 027 3462702  kaiwakasports@gmail.com 
(Continued from page 17) 
KAIWAKA SPORTS ASSN
LOCAL SERVICES 
*Emergencies - Ambulance, Fire, Police - dial 111 
*Non-urgent Police phone 09 4311150
A A: Meets Wed., 8pm Kaiwaka Ph: 4312228, 4315543, 0800229 6757 
AL ANON: In recess, contact Ph: 4312228 
ASUREQUALITY LTD  (was AgriQuality) Call Free 0508 0011 22  
BUDGETING SERVICE, WELLSFORD:  Free confidential advice & 
support for all areas of personal finance. Ph (09) 423 7123 
CAB-Citizens Advice Bureau.Wellsford Ph: 4237333 
0800 367 222 email:cab.wells@xtra.co.nz  
DOG/STOCK /NOISE CONTROL 0800 105 890 
FUNERAL SERVICES: Morris & Morris Ltd, 
Whangarei - Bev Jaques Ph:4312367 or 0800667747 
GRANDPARENTS Raising Grandchildren: Sarah Rogers Ph: 4312194 
HAKARU LANDFILL/Transfer Station:Open everyday except 
Tuesday10am-4pm.Ph4312629 Cost-$55 trailer load up to 1 cubic metre. 
Ph:4258567 - office 
HOMEOPATH: Donna Flavell Ph: 4314843 
INLAND REVENUE: Last Friday each month, 11-3pm Ph4312661 
KAIPARA DISTRICT COUNCIL www.kaipara.govt.nz:  
Help Desk FREEPHONE 0800 727 059  
KAIWAKA KOHANGA REO: Ph:4312620 
KAIWAKA CEMETERY: Ph: 4312045 
KAIWAKA LIBRARY: kaiwaka.library@gmail.com  
Mon. 4-6pm; Wed., Thurs., Fri., Sat.  10am-2pm Ph:4312539 
KAIWAKA PLAYCENTRE: Ph: 4312286. Hastie Lane 
Monday to  Friday  9.00am - 12 noon. 
KAIWAKA POST OFFICE:Ph:4312 431  
Post Code: 0573  for RD2  and  0542 for all Kaiwaka Post Office mail 
KAIWAKA PRIMARY SCHOOL: Ph: 4312309     
KAIWAKA SPORTS ASSN: Ph 4312005; 4312129 gym 
KAIWAKA ST JOHN: Manager Steve Rosser 09 4318403, 021 2316836 
KATE'S PLACE with Govt.Day Agencies/Community Information /
Osteopathy/ IRD / Probation, etc Ph: 4312661 Hours: 9am-3pm. Mon - Fri 
LINKING HANDS Health Shuttle Ph 4314121 or 09 4318969 
MINISTRY FOR PRIMARY INDUSTRIES - General inquiries Call 
Free 0800 008 333 
NORTHPOWER: Faults Kaiwaka area 0800 104040 
OTAMATEA COMMUNITY SERVICES: Free counselling, parent 
coach, Family Support worker, budget advice, food bank. Mon-Fri 9am-
30m. Ph 09 431 9080 
PARENTPORT: Free, practical family support service Puhoi to Paparoa 
Ph or txt:  Dianne 027 2085093 
PERSONAL DEVELOPMENT COACHING, GROUP FACILITATION:  
Sabine Druckler 4312231 
PLUNKET: Kaiwaka - Kaiwaka War Memorial Hall: Clinic 1st Wednesday of the 
month; Coffee Group at 9:30. Mangawhai  - Rose Madsen Cottage, Mangawhai 
Domain,  Moir  St:  Clinic  1st  and  3rd  Monday  of  month;  Young  Babies  Coffee 
Group  2nd  and  4th  Monday  10  am;  Plunket  Playgroup  every  Thursday. 
Maungaturoto - Maungaturoto Congregational Church, 100 Hurndall Street East: 
Plunket clinic 2nd and 4th Wednesday. Cynthia 09 431 8187 or 027 675 3488 
PLUNKET HELPLINE -0800 933 922 (24 hours) 
PUBLIC HEALTH NURSE: Gloria Reid Ph: 094327634  
RETURNED AND SERVICES ASSN 733 Settlement Rd. Hakaru 
Ph.4312176 Bill Kerr (President) Ph.4314719 
TAITOKERAU COMMUNITY LAW: Free confidential legal advice and 
assistance, 2nd
Thursday
 of each month. Ph: 0800 155 529 for 
appointments.  
TE KOROWAI AROHA O NGATIWHATUA Ph: 4312675 
(The Cloak of Love of Ngatiwhatua) Support and Maori Consultancy.  
VETERINARY SERVICE MANGAWHAI: 
Ph: 4314535 Mon-Fri 8.00-5.00, Sat 9-12, a/h appt. 
WELLSFORD DOCTORS: Ph: 4238 086 
WOMEN'S WELFARE LEAGUE & Reaching Out For Youth:  
4 Kaiwaka-Mangawhai Rd, M Morgan 4312293 
CHURCHES:
Kaiwaka Revival Church - Your Community Church: Sundays 10am 
Ph: Pastor Tawhiri 09 4312 571 or Pastor Paul 09 4312 068 
St Paul's Anglican Church 1st Sun. 9.30 am (Eucharist), 3rd Sun. 9.30 
am (Family Service). Contacts:  Church Office 09 431 4122; M. 
Hargreaves 431 2295; C. Bygrave 431 2057; or Rev. Wayne Thornton 
Ph 431 5650 www.mangawhaianglican.org.nz 
Church of Christ the King, Mangawhai:9.30am every Sunday 
St.Mary's Catholic Church: Maungaturoto – Griffins Road, Saturday 
evening Vigil Mass 6pm; Mangawhai – Senior Citizens Hall, Sunday 
Mass 8:30am; Wellsford – Matheson Road, Sunday Mass 10:30am; 
Mid-week Mass times and all enquires to Fr. Bill Fletcher – phone 423 
8170 
Baptist Church: Sun. 10.30am Mangawhai Snr Cit.Hall.Ph:4312339 
Cause Way Church Mangawhai: Sundays 10.15am, Mangawhai 
Community Recreation Centre, Insley St. Ph: 09 4314782  
Next Bugle Deadline midday Friday 4 March 2016
WHAT'S ON
PLEASE ~ do let us know what is on - email 
kaiwakabugle@kaiwaka.co.nz 
Advertising in WHAT'S ON is FREE  
*25Feb~School Camp, Kaiwaka School 
*25Feb~Hakaru RSA Womens' Section AGM, 1:30pm Hakaru 
RSA 
*25&26Feb~Pas.Abraham Charles, 7pm, Kaiwaka Revival 
Church 
*26Feb~Spectre (M), 7:30pm KWMH 
*27Feb~Solar Hot Water Workshop, 10am Ph 4312 408 
*28Feb~Blinky Bill (PG) 2pm KWMH 
*2Mar~TOTR Debrief 7pm KSA 
*11Mar~The Dressmaker (M) 7:30pm KWMH 
*12Mar~Ruawai Lions Auction 9:30am Kaipara Kumara 
Forecourt 
*15Mar~Bulb order deadline, KSA 
*18Mar~Murder at Cafe Noir, KSA book at www.ort.org.nz 
*19Mar~Rotary Auction 10am Maungaturoto School 
*20Mar~Fibre Fun, Kate's Place 10am Ph Faye 022 099 5467 
KWMH=Kaiwaka War Memorial Hall 
KSA=Kaiwaka Sports Association Complex 
See www.kaiwaka.co.nz for upcoming events. 
HOUSEHOLD RUBBISH COLLECTION - Kaiwaka Pick up: 
Mondays = Gr een bags (Nor thland Waste - 09 430 3273) 
Wednesdays = Blue bags and yellow r ecycling (at J aques $3.00 
and $1.50) (Kaurilands 09 4392146) 
 DIABETES  Support  Group  -for  Kaiwaka,  Mangawhai, 
Wellsford  10am,  3rd  Friday  of  month  Ph:A.Pert  4238242; 
J.Gardner 4238060 
 DRINK CAN 'tear tabs' - for Starship Hospital- please collect - 
98 Kaiwaka Mangawhai Rd, leave in mailbox, Ph. 4312625  
 GENEALOGY - Wellsford: 1st Thursday in month Ph: 423 
7033; Waipu: 4th Monday in month Ph: 4312 725 
 GYMNASTICS  OTAMATEA  -  Tuesday  Ph:  Stephanie  022 
3624998 
 HAKARU PONY CLUB - Secretary Julie Rynne 09 4314520 
 KAIWAKA BADMINTON -Tuesdays 7.30pm Ph: 4312345 
 KAIWAKA  DRAMA  CLUB  -  Dave  Edwards  021  611198  - 
KaiwakaDrama@gmail.com Monday 5:30-7:00pm KWMH - FB 
- "KaiwakaDramaClub" 
 KAIWAKA DRUM & DANCE CLASSES - Dave Edwards 021 
611198 - DjembeNZ@gmail.com Monday 7:00-9:00pm KWMH 
African Rhythms  
 KAIWAKA FIBRE FUN - spinning, weaving, felting. 3rd 
Sunday 10am-2pm Kate's Place Ph Faye Thomas 022 099 5467 
 KAIWAKA GARDEN & FLORAL GROUP - 2nd Thursday in 
month. Ph: 431 4767 
 KAIWAKA  CUBS  -  Thursdays  5.30-7pm,  Hakaru  Ph:Bruce  
4312542 
 KNITTING FOR WHANGAREI HOSPITAL - 2nd Tuesday in 
month, Apple Basket 10am Ph 4314827 
 MANGAWHAI COMBINED PROBUS CLUB - 2pm, 3rd 
Thursday month, Senior Citizens Hall Mangawhai. Ph: 4315777 
 OTAMATEA GREY POWER - Kath Pattinson 09 431 8960, 
1pm last Wednesday of month, Anglican Church Hall, 
Maungaturoto 
 PT CURTIS CRUISING CLUB - Jean Ph: 4312 246 
 RSA,Hakaru & Dist.Women - meet 1.30pm 4th Thurs in month 
Ph: 4314 668  
 TRAMPING - Mondays 9am-2:30pm  Karen Ph: 4312 090 
 YOGA  -  Tuesdays  6:15pm,  Friday  8:30am  KWMH  Carla  Ph: 
021  296  8794;  Wednesday  5:30-7:00pm  Archie  Bull  Hall 
Dalleise Ph 4312 108 
HALLS FOR HIRE: 
 St.Pauls Archie Bull Hall HIRE  $20 half day, $40 full day per 
hire, R. Morgans, Ph 4312365 
 Kaiwaka  War  Memorial  Hall  HlRE  -  Phone  4312725  or 
kaiwaka.hall.bookings@gmail.com 
 Hakaru Community Hall HIRE -Ph. 4312256 or 4312110 
 Te Pounga Marae queries - R. O'Leary 4312 423, J.Nathan 021 
186 7382 
 Kaiwaka Sports Association hire/queries - C. Anderson 4312051 
or kaiwakasports@gmail.com 
Justice  of  Peace:  B.FJaques;  L.Donaldson;  A.F.Hargreaves, 
S.Dalziell,  W.Howard  -  please  phone  to  make  sure  they  are 
available www.justiceofthepeace.org.nz 
Marriage Celebrants: L.Donaldson; A.F.Hargreaves; C.Rosseels