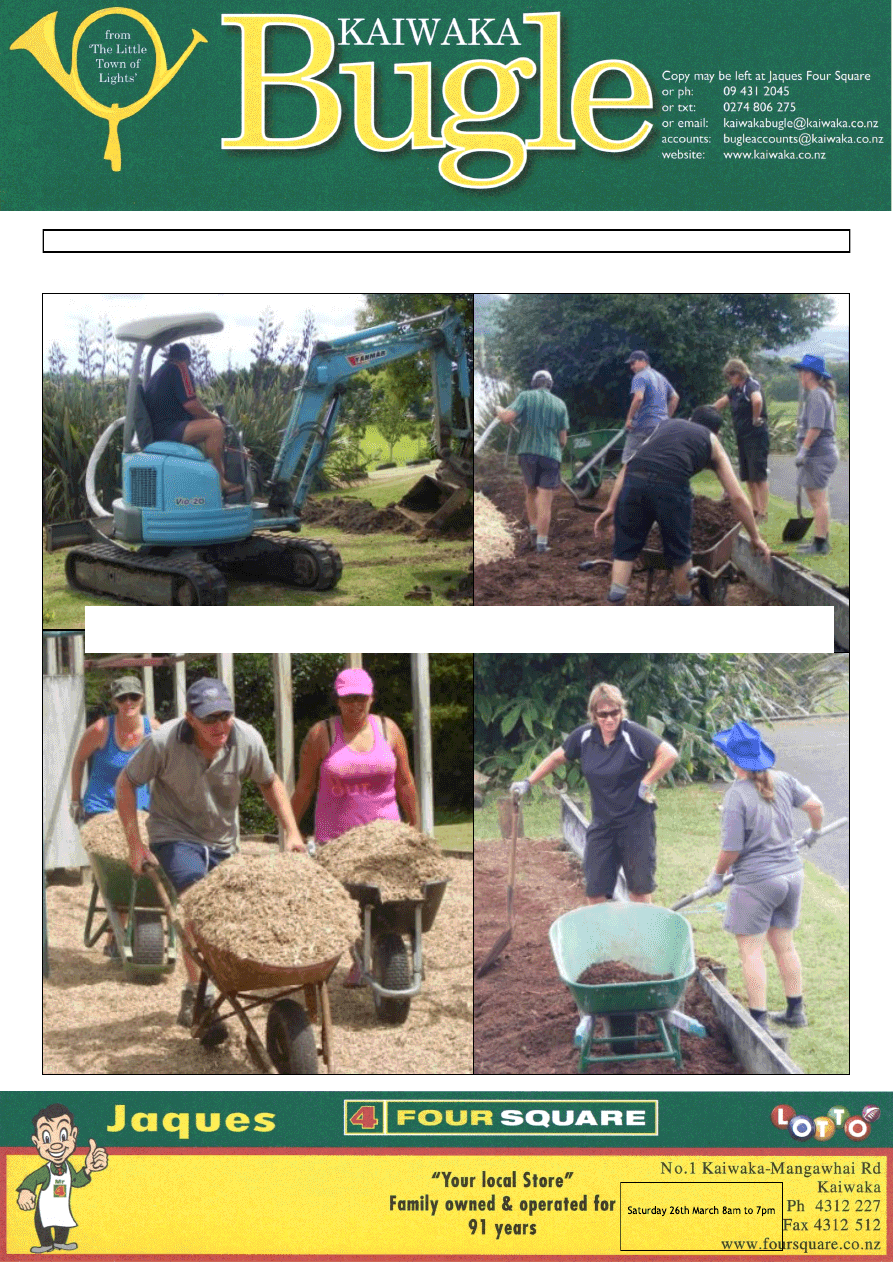 www.kaiwaka.co.nz 
Kaiwaka Bugle - 22 March 2016 
Page 1 
 No: 5
22 March 2016 
Trading Hours: 
Monday-Friday 8am to 6:30pm 
Saturday 8am to 7pm 
Sunday and public holidays 9am to 5pm 
Easter Weekend 
Friday 25th March CLOSED 
Sunday 27th March 9am to 5pm 
Monday 28th March 9am to 5pm 
KAIWAKA SCHOOL WORKING BEE 
Pictured: Parents at the recent working bee for Kaiwaka School's senior playground. See full report inside...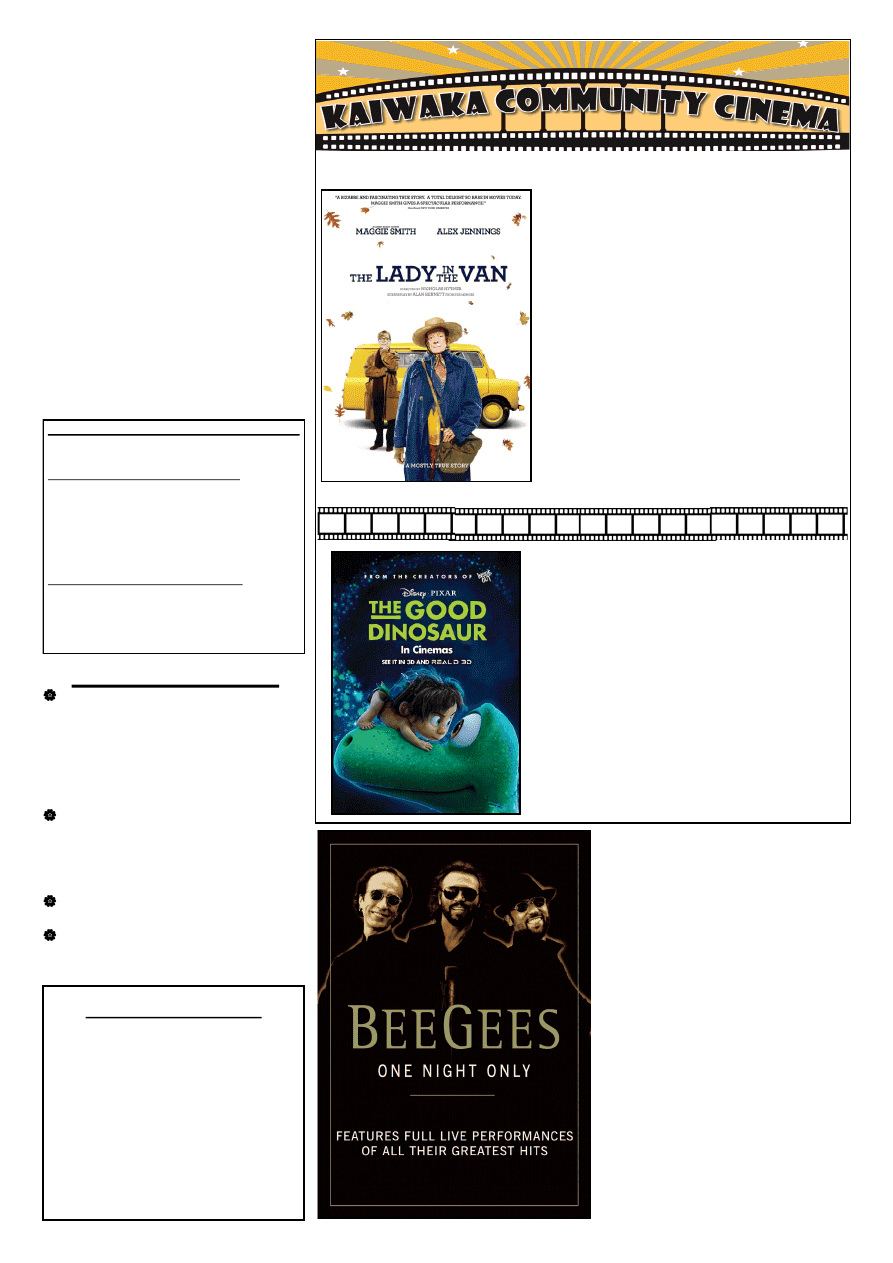 ABOUT TOWN 
When told the reason for Daylight 
Saving  time  the  old  Indian  said, 
"Only  a  white  man  would  believe 
that you could cut a foot off the top 
of a blanket and sew it to the bottom 
of  a  blanket  and  have  a  longer 
blanket." 
Please  remember  to  leave  your 
name  &  phone  number  when 
leaving a message for us. We've had 
a  few  left  lately  where  we've  no 
idea who phoned. 
Our  condolences  to  the  Hita  and 
Judd families on their recent losses. 
The  improved  safety  at  Kaitara 
Bridge due to the removal of nearby 
trees is greatly appreciated. 
KAIWAKA BUGLE No. 5 
22 MARCH 2016 
CONTENTS 
Page 3: Public Notices, Classified 
Page 5: Kaiwaka Library 
Page 7: Zonta 
Page 9: Kaiwaka School 
Page 11&13: Kaiwaka Sports Assn 
Page 15: Kaiwaka Cares 
Page 17&19: Remember When... 
McClean Park 
Page 21: Pt Curtis Cruising Club 
Bugle 6 will appear 5 April 
Contact for advertising, reports, articles 
or information can be made by 
Email kaiwakabugle@kaiwaka.co.nz 
Ph: 09 4312 045 (Lindsey) 
Txt:  0274 806 275 (Wendy) 
Copy  may  be  left  at  Jaques'  Four 
Square.
At Kaiwaka War Memorial Hall . Adults $10, Kids (under 16) $5, Family Pass (2 adults + 3 children) $25 
Kaiwaka Bugle Advertisements 2016: 
All 
copy 
and 
queries 
to: 
kaiwakabugle@kaiwaka.co.nz 
Classified  $4  (max  30  words,  4  repeats); 
1/16 page $5; 1/8 page $8; 3/16 (new size) 
$12 1/4 page $16. 
Payments can be made online, posted or 
left at Jaques Four Square Store. 
Accounts: 
bugleaccounts@kaiwaka.co.nz 
The  Kaiwaka  Bugle  is  a  community 
newspaper run by volunteers.   
Articles, etc. printed are not necessarily 
the opinion of the Bugle Team. 
Kaiwaka Bugle 
Founded May 1978 
Copies available in Kaiwaka at Jaques Four 
Square, Kaiwaka Postal Centre, Shamrock 
Service Station, Animal Health Centre.  
Also outlets in Maungaturoto,  
Mangawhai and Paparoa. 
Can be viewed online at  Facebook or 
www.kaiwaka.co.nz/Bugle  
Or a copy can be posted to you if you supply 
stamped, self-addressed DLE envelopes. 
The Lady in the Van 
Friday 25 March 7:30pm (M) 
A  man  forms  an  unexpected  bond 
with a transient woman living in her 
van that's parked in his driveway.  
Starring:  Maggie  Smith,  Jim 
Broadbent, Alex Jennings. 
Screenplay by Alan Bennett 
BeeGees 
One Night Only 
in Kaiwaka
Magic Music and  
Supper Night
8 April 
7:30pm 
$20.00 per ticket
Ph 4312 234 or 4312 225
No door sales 
BYO alcohol 
(G) 
The Good Dinosaur 
Sunday 27 March 2:00pm (PG) 
What  if  the  asteroid  that  forever 
changed  life  on  Earth  missed  the 
planet 
completely 
and 
giant 
dinosaurs never became extinct?  
In  a  world  where  dinosaurs  and 
humans  live  side-by-side,  an 
Apatosaurus  named  Arlo  makes  an 
unlikely 
human 
friend. 
and 
discovers  what  he  is  truly  capable 
of.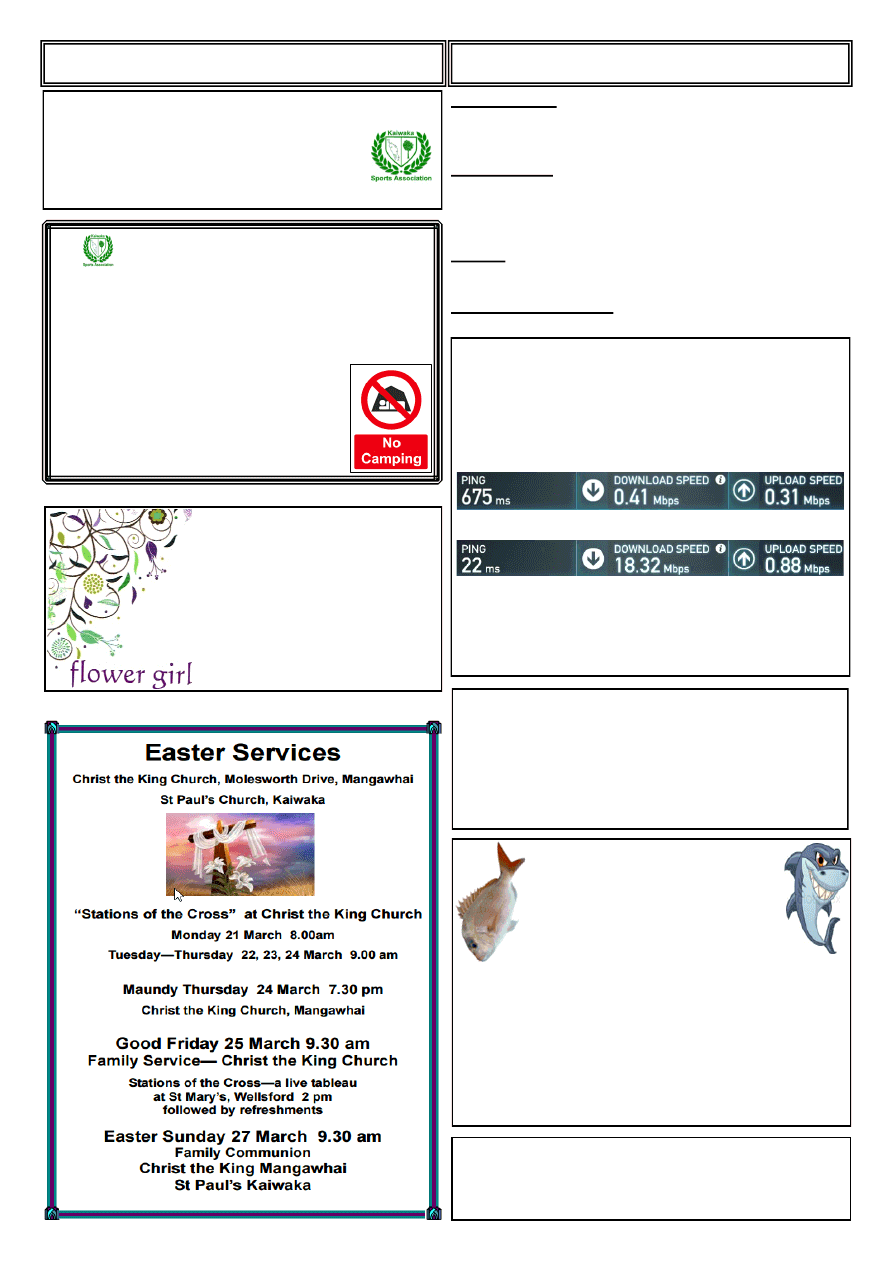 www.kaiwaka.co.nz 
Kaiwaka Bugle - 22 March 2016 
Page 3 
PUBLIC NOTICES 
CLASSIFIED 
FOR  RENT:  4  bedroom  house,  $335  per  week. 
Available April 1st. Ph or text 021 556 086 for further 
information. 
FOR  SALE:  2006  Mazda  Bounty  ute,  4WD,  2.5 
turbo  diesel,  double  cab,  302k's,  towball,  Tuff  Deck, 
running  boards,  new  AT  tyres,  new  WOF.  VG 
condition. $10,500. Ph Ian 4312 999 
LOST:  1  pair  green-handled  hedge  clippers,  in 
Kaiwaka Rest Area. Ph Liz 4312 707 
CHIMNEY SWEEP: Ph Mark 021 457247 
KAIWAKA SPORTS ASSN 
MEETING
Wednesday 6th April, 7pm 
Kaiwaka Sports Complex 
Proverbs 
13:3 
Self-control means controlling the tongue! 
A quick retort can ruin everything.  
Kaiwaka Good Sorts 
Do you know someone in our 
community who is deserving of a 
beautiful bunch of flowers? 
Send an email or drop a note to 
Jaques Four Square to let the 
Bugle team know. We will choose 
a recipient to receive flowers from 
Lindy the flower girl. 
CLOSED 
The Kaiwaka Sports Association's grounds and carparks are 
now closed to freedom campers, following escalating misuse 
including toilet, parking, water, rubbish and behaviour 
problems.
We trialled allowing freedom campers to use our grounds and 
while it seemed to work alright in the 
beginning, ongoing issues created problems for 
the club and at a recent meeting, the committee 
voted to close our Complex to campers.
Cheryl Anderson 
Kaiwaka Sports Association  
PAHI FISHING COMP 
SATURDAY 9 APRIL 2016 
FISHING STARTS 7:00am 
FINAL WEIGH IN 4:00pm 
AT PAHI CLUBROOMS 
Fish anywhere in the Kaipara 
Adults $20.00, Kids up to 15 $10.00 
Prizes for heaviest snapper, kahawai, gurnard, shark, 
stingray, kids' prizes.  
Duck Bucks and a chainsaw to be won. 
Tickets can be purchased on the day or at the Paparoa 
Hotel or Maungaturoto Auto Centre 
For further information call Mike 027 285 1408 or 
email jacq.donald@xtra.co.nz 
HELP WANTED 
KAIWAKA NEEDS AN UPGRADED and/
or NEW TELEPHONE EXCHANGE 
Do you have slow internet and/or no internet? 
Test your speed at http://www.speedtest.net/
Down Oneriri recently: 
In Kaiwaka township recently: 
How does yours compare? 
Please let me know if you are having difficulties or 
frustrations with your internet connection. ~ Lindsey 
Email: linz.harg@xtra.co.nz 
KAIWAKA LIBRARY 
cnr State Highway 1 & Kaiwaka Mangawhai Road 
Phone 4312 539              kaiwaka.library@gmail.com 
Mon: 4-6pm, Wed-Sat 10am-2pm 
Closed Public Holidays 
Membership is free to residents & ratepayers 
of the district.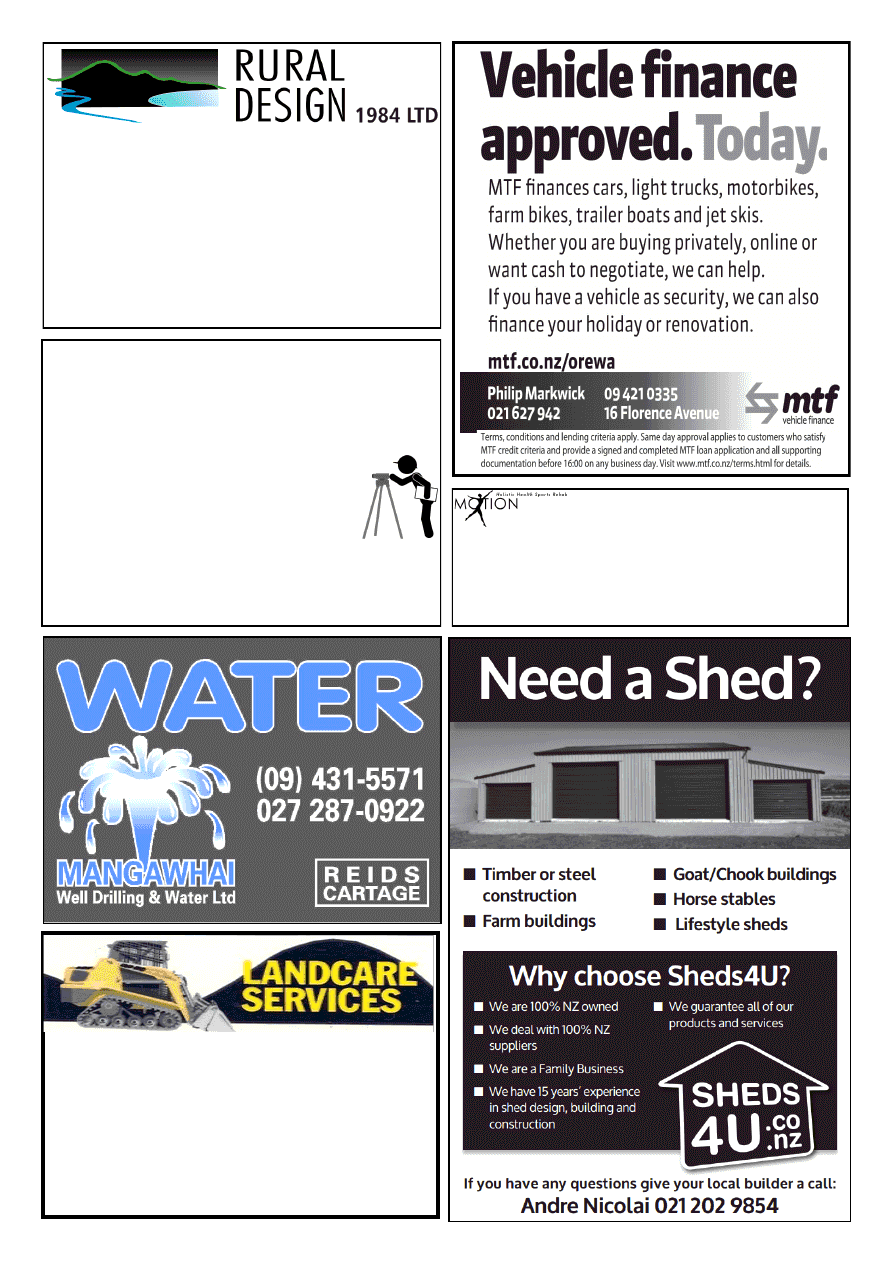 LANDSCAPING 
4 IN 1 BUCKET 
TRENCHER 
POLE HOLES 
ROTARY HOE 
COMPACT ROLLER 
OFFAL HOLES 
CAN SUPPLY WOODCHIP & POST PEEL 
5 TON TIPPER 
FOR RELIABLE AND FRIENDLY SERVICE CONTACT DAVE 
Dave Hyndman 
 
KAIWAKA 
PH: 09 4312302 
MOB: 021 431 238 
Ken Urquhart 
BSurv Licensed Cadastral Surveyor 
KMU Surveys Ltd
467 Bickerstaffe Road 
RD 2 
Maungaturoto 0587 
Ph 09 431 8705 
Mob 021 161 2344 
kenurquhart@xtra.co.nz 
Wholesale Native Plant Nursery and Planting 
Small and Large orders welcome 
By Appointment 
300 Kaiwaka-Mangawhai Road, Kaiwaka 
Phone: 09 431 2481 
Email: info@ruraldesign.co.nz 
www.ruraldesign.co.nz 
WAIPU OSTEOPATH 
Maria Gabriel ACC Registered Osteopath 
Waipu Natural Health 3 Cove Rd Waipu 
Monday, Wednesday & Thursday  
Freephone 0508 924786  (0508 WAIPUOSTEO) 
www.getinmotion.co.nz     No doctor referral 
required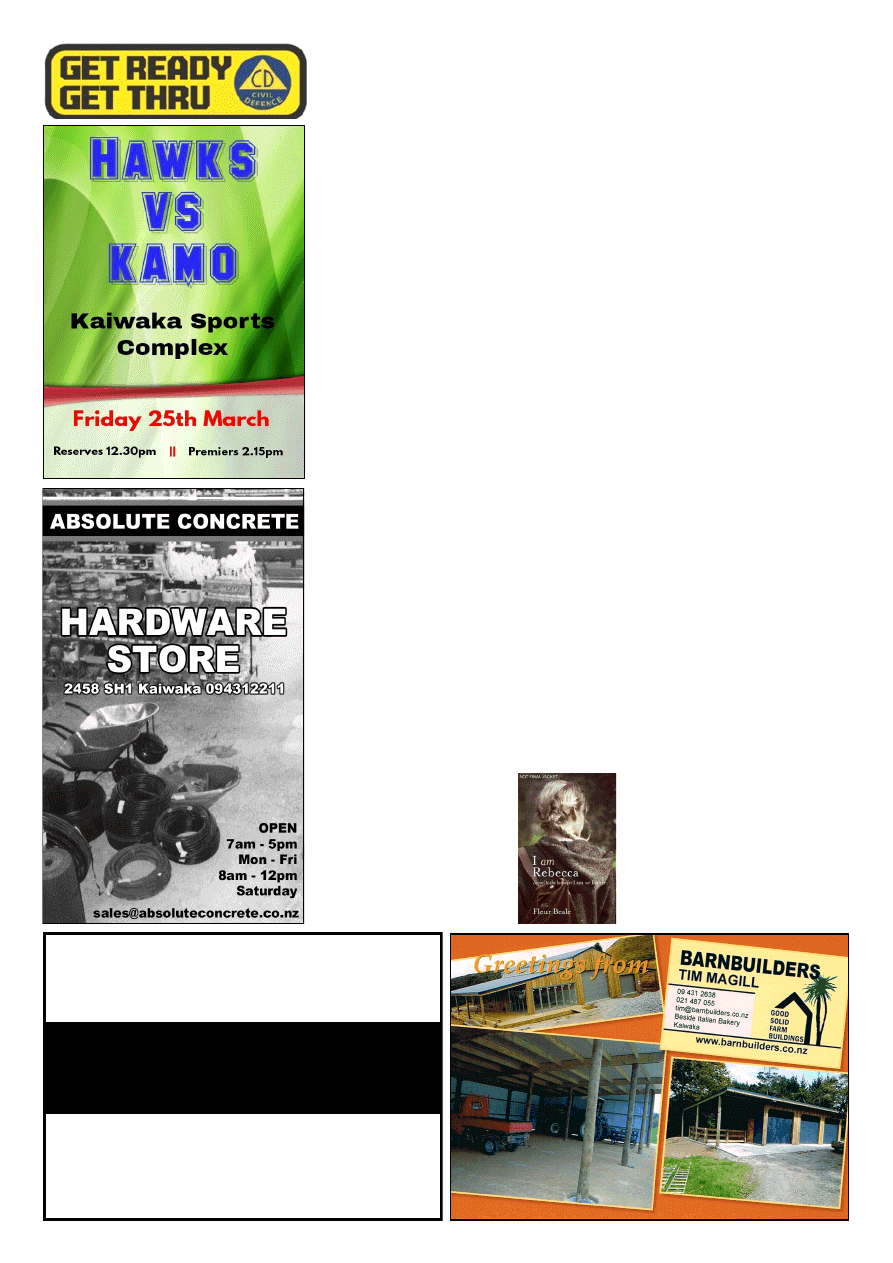 www.kaiwaka.co.nz 
Kaiwaka Bugle - 22 March 2016 
Page 5 
David Korach 
Your local Gib Stopper
DK PLASTERER LTD 
0274769221 
dkorach6@gmail.com 
KAIWAKA LIBRARY
Easter hours 
Over  the  Easter  weekend,  we  will  be 
closed  on  Good  Friday  (25th)  and 
Easter Monday (28th). We will be open 
on  the  Saturday  (26th)  for  our  usual 
hours. 
Our  normal  opening  hours  are  4pm  to 
6pm  Monday  and  10am  to  2pm 
Wednesday - Saturday. 
Book swap 
The Large Print and Audio book swap 
is  coming  up  soon,  on  Tuesday  19 
April. Now is the time to come in and 
see  if  there  are  any  titles  in  those 
collections that you want to read before 
they  disappear  until  who-knows-when 
(a  couple  of  years,  at  least,  all  things 
being equal). 
We need all of these books back in the 
library  before  the  swap  -  please  have 
them returned by Saturday 16 April. 
New members 
Welcome  to  everyone  who  has  joined 
the  library  recently.  We  have  a  steady 
trickle of new members signing up. 
Membership  to  the  library  is  free  for 
residents and ratepayers of the district. 
Come on in with a photo ID and proof 
of address not more than three months 
old  (bank  statement,  power  bill,  rental 
agreement...)  and  fill  in  our  form. 
There is no charge to join, thanks to a 
grant  from  Kaipara  District  Council. 
You  can  take  two  items  with  you  that 
day,  then  you  can  borrow  up  to  10 
items at a time once your card is ready. 
Online services 
Did you know that you can search our 
library  catalogue  from  the  comfort  of 
your  own  computer?  Anyone  can  do 
that,  you  don't  need  to  be  a  member. 
Members  can  also  reserve  books  from 
our shelves that are currently issued to 
another  reader,  renew  the  currently-
issued  books,  check  their 
borrowing  history,  borrow  e-
books  and  audio  books,  and 
get up-to-date magazines - all 
for  free.  See  the  library  page 
at  kaipara.govt.nz  for  details 
and to get started, or send me 
an  email  for  help.  You  need 
to  come  in  and  set  a  PIN  on 
your  account  to  access  the 
online  member  services.  These  are 
your  rates  in  action,  so  do  make  the 
most of it. 
Book review 
Recently  I've  read  I  am  Rebecca  by 
Fleur Beale. 
Thirteen-year-old  Rebecca  Pilgrim 
lives  with  her  parents,  twin  sister 
Rachel,  brothers  Abraham  and  Luke, 
and  sisters  Magdalene  and  Zillah.  We 
meet  them  as  the  family,  along  with 
other  families  of  the  Faith,  relocates 
from  Wanganui  to  Nelson,  to  be  with 
others  of  their  community  and  for  the 
children  to  attend  a  "godly"  school  - 
that  is,  one  that  has  no  "worldly" 
people running it. 
When  she  turns  14,  Rebecca  will  find 
out  who  she  is  to  marry.  It  will  be 
decided for her between her father and 
the  boy/man  who  wants  to  marry  her, 
and they will marry just after her 16th 
birthday, as do all the girls of the Faith. 
Rebecca wants a husband who is kind. 
But  both  girls  know  the  choice  is  not 
theirs to make. In Nelson, Rebecca and 
Rachel  make  new  friends,  and  meet 
boys  they  would  be  pleased  to  marry, 
and  who  seem  to  feel  the  same  way 
about them. 
"But  what  will  the  future  hold  for 
Rebecca?  Is  there  a  dark  side  to  the 
rules  that  have  kept  her  safe?  Can  the 
way  ahead  be  so  simple  when  the 
community  is  driven  by  secrets  and 
hidden desires?" (back cover) 
This  is  a  powerful  psychological 
thriller (according to the book's cover), 
which  I  found  hard  to  put  down  until 
I'd finished it. And even now, a month 
or  more  since  I  finished  the  book,  I'm 
easily transported back to the story just 
by thinking about it. 
This  book  is  a  sequel,  to  I  am  not 
Esther,  but  is  stands  well  on  its 
own. I want to read that first book 
to get the full story, though I think 
I know how it ends. 
This  book  is  on  the  Teen  Fiction 
(YP) shelves in our library, sorted 
with  the  Rental  Fiction  books 
(though free to borrow) until July 
2016. 
~Wendy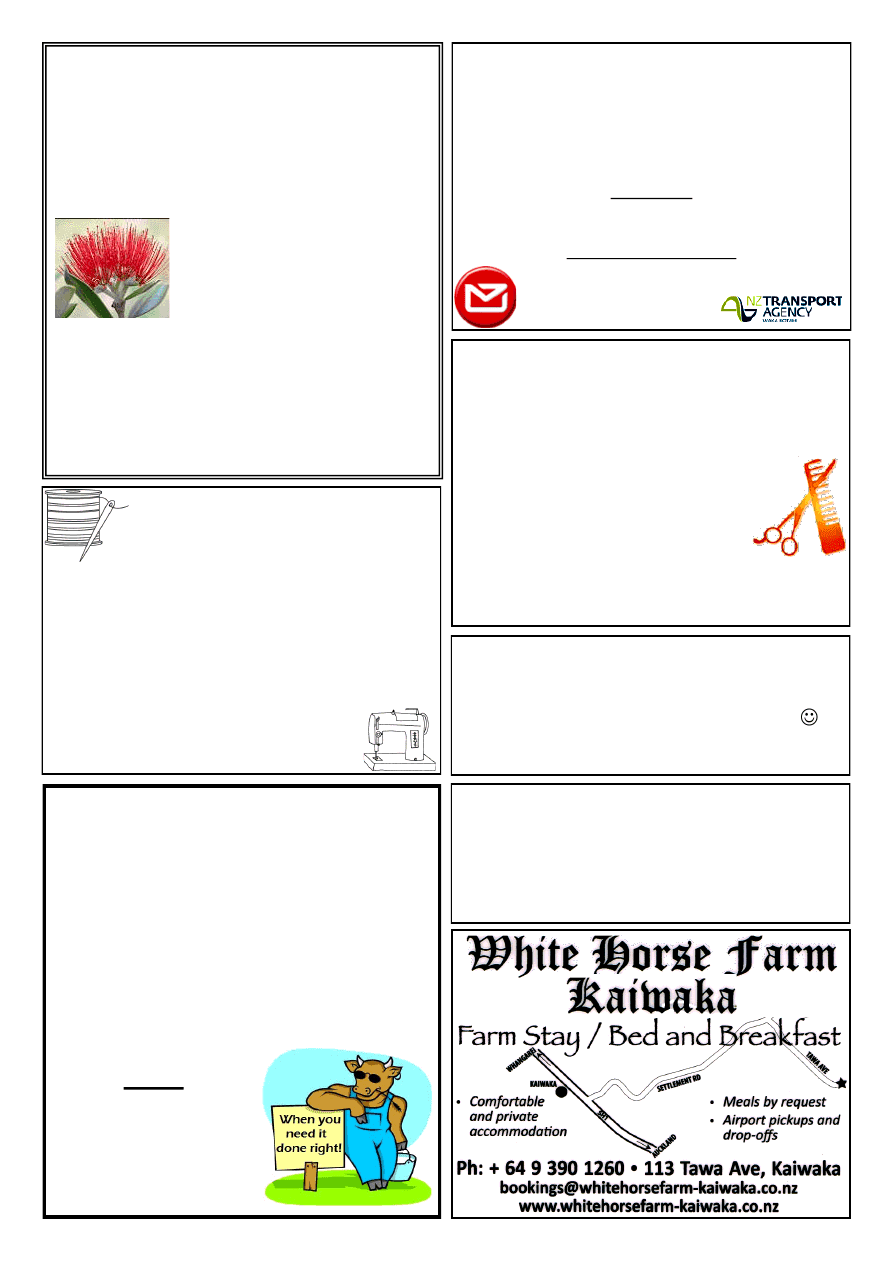 AFFORDABLE PRICES! 
MENS DRY CUT FROM $18.00 
LADIES DRY CUT FROM $28.00 
KIDS DRY CUT FROM $15.00 
COLOUR CUT FROM $90.00 
JUST CUTS'AND     
MORE 
021 165 2629 
NOW SELLING: scented tealights, incense, smudge sticks, 
copper bracelets, aurora ball crystals, dream catchers, healing 
stones, rose quartz, cds, and much more. Open 6 days. 
KAIWAKA FOOD MART 
Mukesh and Pragna Patel 
1919A State Highway 1, Kaiwaka 
09 431 2431 
Opening hours: 
Groceries 
7.30am - 7.30pm daily 
(Monday to Sunday) 
NZ Post  and NZTA 
Mon to Fri. 8am - 5pm 
Saturday  8am - 1pm 
GORSE
IF YOU HAVE GORSE THAT YOU 
WANT ERADICATED
Call A Farmer
Bookings taken 
NOW  
for summer spraying
Phone 09 423 7585 
027 62 55 383 
info@callafarmer.co.nz 
KAIPARA FLOORING CO 
Independently owned & operated 
32 HURNDALL ST MAUNGATUROTO 
Supply & Installation of Carpet, Vinyl,  
Vinyl Wood Planking
Stockists of 2m & 3m wide 
vinyl & carpet short ends
Residential & Commercial 
First Class Installations 
For a free measure & quote 
phone Christine  
09 946 9886 or 021 515 415 
kaiparaflooring@gmail.com 
http://www.kaiparaflooring.co.nz/ 
FREE GRAZING WANTED 
Small or large block 
Can do some fencing or water 
Phone after 6pm 
4312 006 
THE SUNSHINE GIRLS 
Need help with your house cleaning? 
Sometimes you just need another pair of 
hands. We offer two pair and a smile. 
Comparable hourly rate. 
Ph 4312 532 or 4312 711 
WINSOME DESIGNS 
Clothing Alterations and Repairs 
(Hems, zips, patches, darning etc.) 
Dressmaking 
Curtain making 
Contact Win: 
09 431 2027 or 027 444 8358 
winsomecutts@xtra.co.nz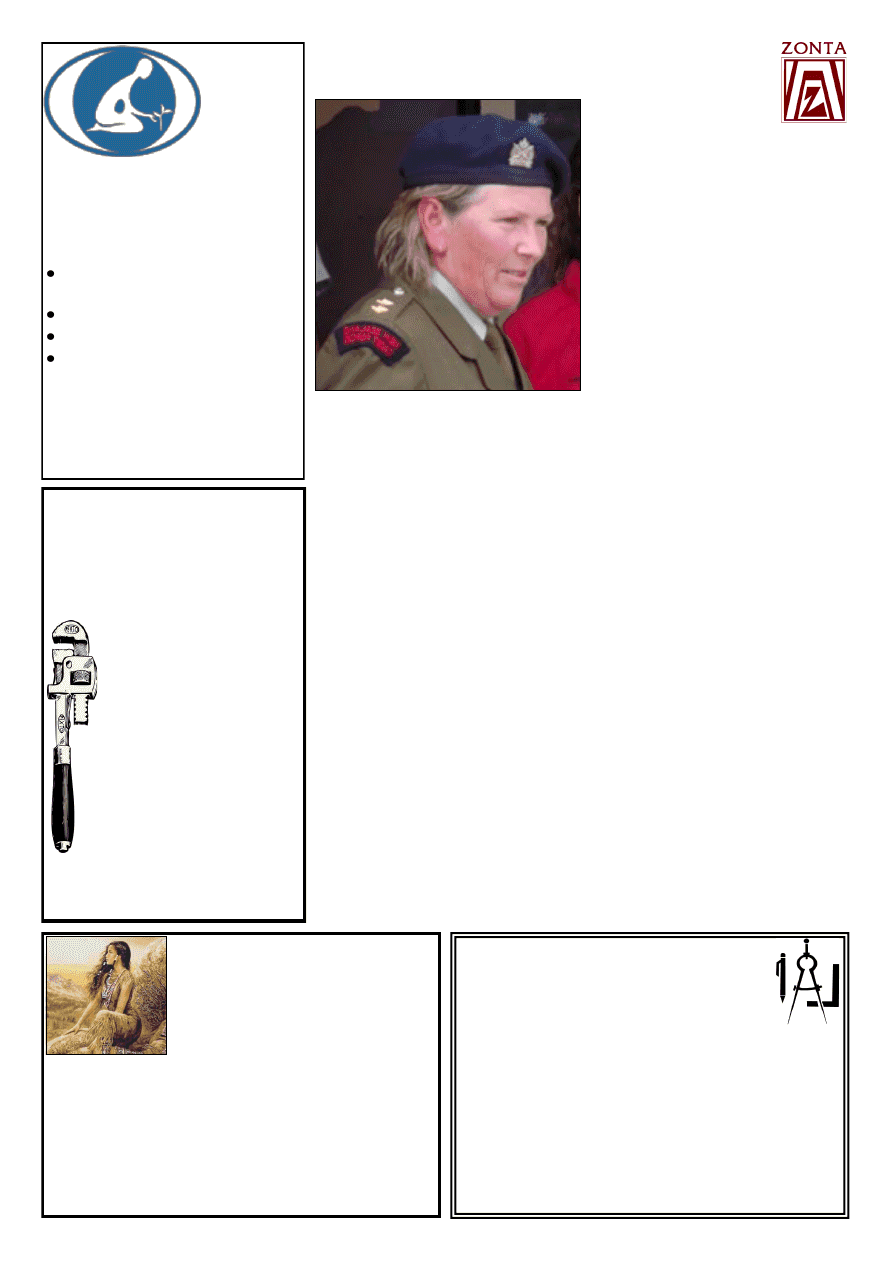 www.kaiwaka.co.nz 
Kaiwaka Bugle - 22 March 2016 
Page 7 
Magnetic Laser for Health
Using a low power laser I can help 
with a variety of conditions:
Joints pain, swelling, 
inflammation 
Back and neck pain 
Heel pain 
Injury or fracture recovery
Phone Gala 
431 2213 
021 486 611 
Trails end 
spiritualist gathering  
Last Sunday of every month  
11.30-2pm tea/coffee provided  
$5koha for all inquiries  
0211652629 evenings 099450753 
Trail.end@hotmail.com 
Bringing together light minded people 
Guest speaker each month and 
Workshops every 2nd Wednesday  
6:30-7:30pm
design drafting 
service 
Retired builder and manufacturer with over 40 years  
experience in the building industry is offering a design 
drafting service for domestic housing, sleepouts and 
sheds.  
Plans formulated in consultation with clients, with 
working drawings completed and submitted to  
council for processing.  Extensive practical experience,  
able to identify & resolve problems. 
Please ring Mike Lean on 
09 431 2260  
          or 
021 431 196 
Zonta  honours  local  woman  on 
International Women's Day. 
This  year  the  Zonta  Club  of 
Mangawhai  awarded  their  annual 
Yellow  Rose  Day  Award  for  services 
to  the  community  to  Sandra  Grayson, 
founder  and  Unit  Commander  of  the 
Mangawhai  Cadets.  Sandra  was 
honoured  at  a  special  breakfast  at 
Harvest Blue Café on Tuesday, March 
8th  attended  by  Zontians,  former 
Yellow  Rose  recipients  and  friends. 
Sandra  founded the Mangawhai Cadet 
Unit 8 years ago and in that time they 
have won the regional title for 7 years 
straight  in  addition  to  2  National 
Community  Service  Awards  and  5 
National  Skills  Competitions.  Two 
female cadets have also been chosen to 
travel  to  Gallipoli  and  Casino  to 
represent  New  Zealand  and  attend 
commemorative celebrations.   
Sandra  spoke  of  the  confidence  and 
leadership  skills  that  the  cadet  unit 
gives  to  young  people  and  the joy  she 
gets  from  watching  them  grow  and 
develop.  She  acknowledged  the  
inspiration of her own mother who was 
always  active  in  community  service, 
and  she  was  accompanied  by  her  own 
daughter  (one  of  her  5  children)  and 
her granddaughter to receive her award. 
Zonta  President,  Jan  Fisher  applauded 
Sandra's  achievements,  not  only  with 
the  cadets  but  also  as  a  successful 
farmer, 
entrepreneur, 
mother,  and  role  model  –  a 
truly worthy recipient of the 
2016 Yellow Rose Award. 
The  Zonta  Club  of  Mangawhai  is  a 
group of women from all walks of life 
who meet monthly over dinner for fun 
and  friendship.  They  raise  funds  to 
support  a  variety  of  projects  locally, 
nationally and internationally as part of 
Zonta    International,  a  service  and 
advocacy  organisation  to  improve  the 
status  of  women  and  promote  human 
rights  for  all.  They  work  closely  with 
other  local  organisations  to  help 
combat  domestic  violence;  support 
national  bodies  such  as  the  Sophie 
Elliot  Foundation,  Gynaecological 
Cancer and White Ribbon; and provide 
international  aid  to  projects  that  help 
women  overcome  barriers  to  equal 
education, health care, legal rights, and 
employment . 
The  local  club  is  now  receiving 
applications  for  their  Second  Chance 
Study Award. The successful applicant 
will receive $2500 towards tuition fees 
for an NZQA approved course of study 
towards a sustainable career path. Any 
woman  wishing  to  return  to  the 
workforce  who  is  resident  in  the  
Mangawhai,  Kaiwaka,  Maungaturoto, 
or Bream Bay area is eligible to apply.  
This  award  is  possible  because  of  the 
generosity  of  the  local  community  at 
Zonta  fundraising  events  such  as 
garage sales and Quiz Nights and is in 
addition  to  the  two  places  to  be 
awarded  to  young  women  on  Spirit  of 
Adventure Leadership voyages later in 
the year. 
The Club welcomes new members and 
would love to hear from you – contact 
mangawhai@zonta.org.nz    or  text/call 
Helen  on  027  236  1557  for  further 
information  or  to  come  along  to  a 
meeting  to  hear  interesting  speakers 
and meet new friends. 
SAVE  THE  DATE:  This  year  Zonta 
Managwhai's  major  fundraiser  will  be 
a Mid Winter Christmas Dinner &  Ball  
-  so  save  the  date  –  JUNE  25th  and 
watch out for details to come. 
ZONTA 
BARRY CURTIS 
PLUMBING LTD 
REGISTERED CRAFTSMAN 
PLUMBER 
Phone 431 5572 
027 257 9884 
25 years' experience 
Friendly reliable service 
All plumbing  
& maintenance 
Alterations and new   
housing 
Spouting 
Competitive rates 
PROMPT EFFICIENT  SERVICE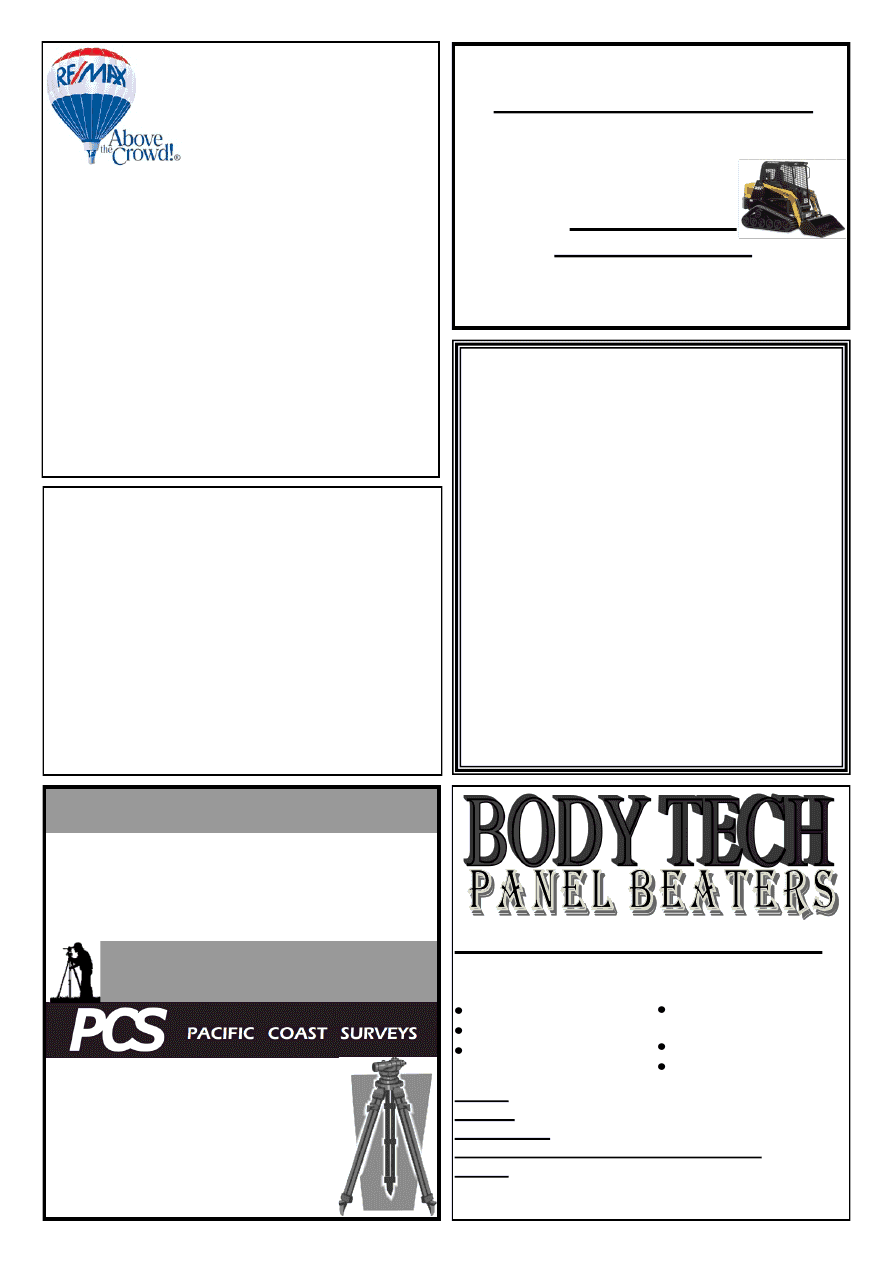 SURVEYORS 
SUBDIVISIONS 
HOUSE SITE SURVEYS 
CIVIL ENGINEERING 
WASTEWATER DESIGNS 
EXPERIENCED 
PROFESSIONAL 
INNOVATIVE 
Ph 09 431 5353 
0800 PACIFIC (0800 722 434) 
pacificcoastsurvey.com
Adam Booth - 027 415 5752 
Bsurv, Licensed Cadastral Surveyor
Surveying Kaipara since 1994 
For all your body repair needs!! 
We do: 
Rust repairs 
Insurance work 
Anti-corrosion treatment         
Hours: 8.30am-5pm Monday-Friday  
Mobile: 021 118 0462 
After hours: 09 431 2384 
Phone: Craig or Call in for a free Quote 
bodytech_panelbeaters@yahoo.com
We are located at 1837 SH1 Kaiwaka, behind  
Twinkle Tow 'n' Tyre call in anytime for a free quote.  
Large and minor vehicle  
  repairs 
Industrial vehicles 
Full Cut and polishes 
g.a.s. 
Mangawhai
GARDEN CENTRE 
for all your gardening needs
Also a great range of 
STOCKFOOD 
Wide range of 
ORGANICS AND 
 FRESH LOCAL PRODUCE
All your motoring needs are taken care of by 
our friendly staff check us out... 
44 Moir Street, Mangawhai (09)431 4242 
Natural Earth Ltd 
Landscape and Bobcat services 
 : Driveways  :Landscaping  :Retaining Walls 
 : Hole Boring: Land Levelling :Trenching 
 : Decks :Fences :Sections Cleared 
 : Plus much more
Tel 09 4312 885 
Mob 02102391280 
For A Fast Friendly Service  
Contact Tim Hicks 
Beth Stone is your local 
Re/Max Associates 
representative. 
I am available for chats anytime between 10AM and 
2 PM Wednesdays and Thursdays in my ChatRoom 
at Kate's Place. Or by appointment. Join me for 
coffee and conversation. 
Thinking about buying? Or selling? Or just wanting 
to talk over the options and understand more about 
the market? I can help. Use me as your sounding 
board.  
PLEASE NOTE THE CHANGED DAYS OF 
ATTENDANCE. 
Phone Beth 09 4312668 or 0274 937 801 or call in. 
I look forward to meeting you. 
The first Tuesday of April (4th)  
the whole team from  
Re/Max Warkworth will be in  
The Front Room of  
Kaiwaka Cares.  
Come along to meet us all and ask any 
questions about real estate that you have 
ever thought you wanted to know. This will 
be a regular thing as the year goes by. 
Coffee on us.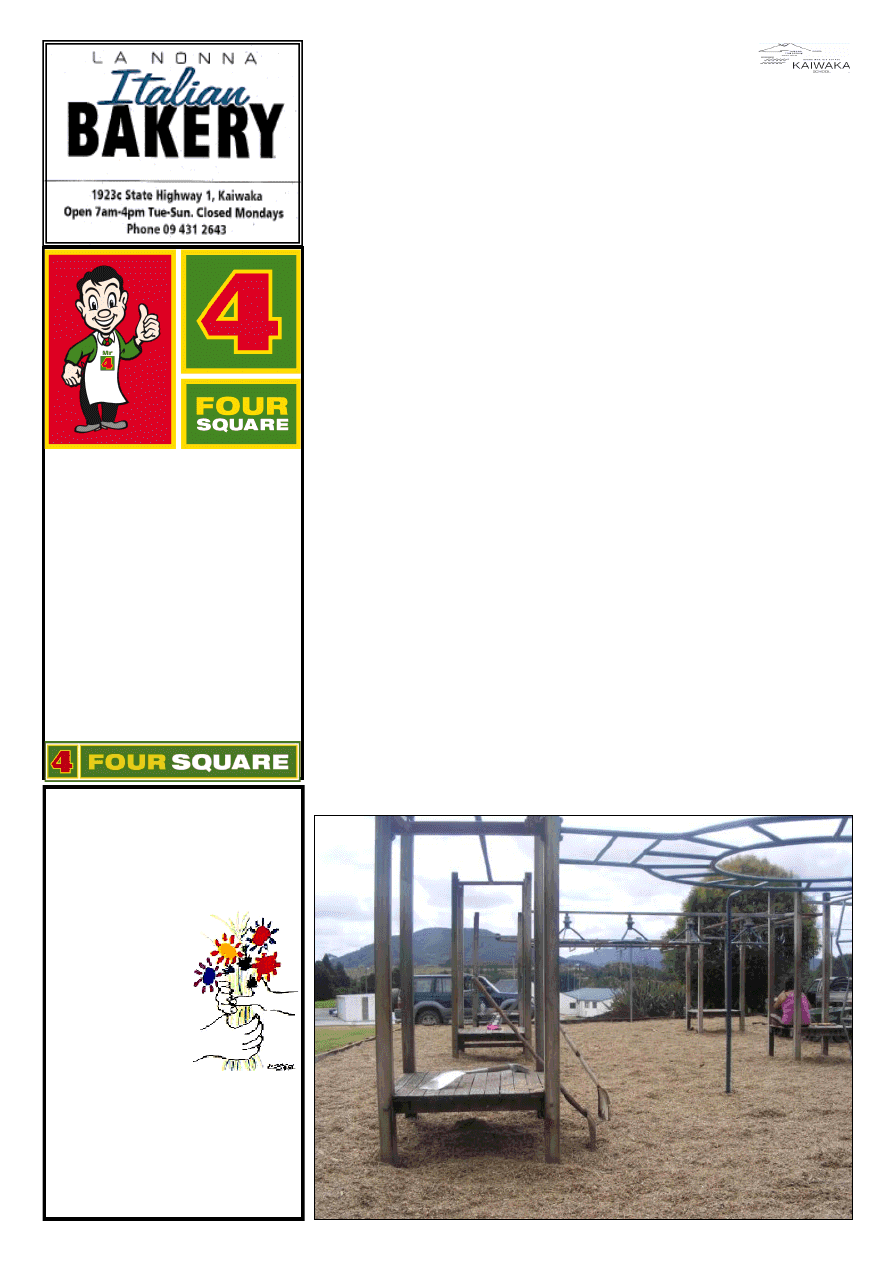 www.kaiwaka.co.nz 
Kaiwaka Bugle - 22 March 2016 
Page 9 
Flowerpower 
Northland 
Long lasting 
flowers 
delivered 
from 
Mangawhai
www.flowerpower 
northland.co.nz 
Ring Martina 
4315161 
IN STORE NOW!!
LIVE MUSSELS  
Everyday Low Price $3.49 per kg 
All your Easter goodies, Fresh Produce , 
Hot Chickens & Lotto 
Sodastream  & 9kg Gas Swap a bottle 
Closed Easter Friday 
Sunday 27th & Monday 28th  
9am to 5pm 
Happy Easter from the team at Jaques  
Jaques Four Square 
Phone: 4312227 
1 Kaiwaka-Mangawhai Road, Kaiwaka. 
KAIWAKA SCHOOL 
Working  Bee  -  Thank  you  to  the 
wonderful  parents  who  came  to  the 
Working Bee, and worked tirelessly all 
day. You have made a huge difference 
to  the  senior  playground,  correcting  a 
design  fault  that  created  ongoing 
flooding  issues,  as  well  as  laying 
maximum  soft  bark  to  cushion  any 
falls. The kids are really delighted with 
it,  they  love  springing  over  it  and 
bouncing  around  on  it.  The  junior 
playground 
has 
excellent 
bark 
cushioning too. I know there was a lot 
of  work  that  took  many  hours  to 
complete.  So  thank  you,  thank  you, 
thank you. 
Our  helpers  were:  Borck  Contracting 
and  Kevin  Wharfe  for  providing  the 
tractor.  Mark  Hodgetts  for  providing 
the  digger.  Topuni  Mill  for  providing 
the  lower  layer  of  post  peel.  Jodi  & 
Harmon Walker, Jac Busby and Marty 
De Ridder, Anna Jamieson, Barb, Lish 
&  Jenny  Reynolds,  Carla  Beyer,  Mike 
Mills,  Andy  &  Amy  Griffiths,  Paul 
Tornquist, Bruce and Lindell Ferguson, 
Pat  Buxton,  Adrian  Buxton,  Andrea 
Mitcheson & John Ferguson, also Deb 
Osbourne  next  door  who  ended  up 
looking after lots of workers' children!  
GIANT Pumpkin Competition 2016 - 
"Weigh  In"  Day  -  Tues  12th  April 
11.30  am.  It  has  been  an  unusual 
growing season - secret Giant Pumpkin 
spies  out  and  about  in  the  community 
report some impressive pumpkins have 
succumbed  to  humid  rainy  conditions 
and  rotted,  but  new  pumpkins  on  the 
plants are coming along. All pumpkins 
welcome  on  the  day  -  there  are  some 
great prizes to be won - remember that 
the  biggest  pumpkins  have  never  won 
the hill roll, and the dress-up section is 
determined by talent and entertainment 
value rather than size! Prize categories 
this  year  are:  BIG  BOY  -  heaviest 
pumpkin.  This  wins  the  amazing 
glowing  pumpkin  trophy  ARTY 
FARTY  -  dress-up  competition  HILL 
ROLL  -  The  pumpkin  that  rolls  the 
furthest  wins  For  extra  entertainment 
value  this  year  we  have  two  new 
categories:  SCHOOL  STAFF  BIG 
BOY  -  heaviest  pumpkin  grown  by  a 
staff member SCHOOL STAFF ARTY 
FARTY  -  best  dress-up  -  of  the 
pumpkin,  that  is!  Prizes  for  the  staff 
categories could be very interesting! So 
come along on the day!! Any queries or 
help  needed  to  get  ginormous 
pumpkins  brought  to  school,  please 
phone Andrea Mitcheson ph 4312 042. 
Swimming  -  On  the  4th  March, 
Kaiwaka  School  had  their  Swimming 
Sports  Day  and  then  some  selected 
swimmers  went  on  to  compete  at 
Bream Bay. There was a great standard 
of 
swimming 
and 
exceptional 
behaviour  from  all  of  our  students  at 
both  venues. Thank  you  to  the  parents 
who  gave  up  their  time  to  help  with 
making the days such a success. 
Congratulations to all the students who 
qualified for the Bream Bay Swimming 
Sports.  We  were  very  proud  of  their 
achievements 
and 
excellent 
sportsmanship  and  behaviour.  Thank 
you  to  the  parents  and  caregivers  who 
helped  and to  Martine  Greig  and  Alex 
Cowie who organised the event for our 
school.  
Triathlon  -  We  have  had  our  first 
triathlon,  a  great  new  sports  event  for 
our  kids.  About  95%  of  the  school 
participated 
and 
really 
enjoyed 
themselves.  Thanks  again  to  Martine 
and Alex.  
Instant  Messaging  -  At  last...  an  app 
for  instant  messaging  our  school 
community.  It  is  called  the  Parent 
Teacher  Calendar  App,  and  is  really 
easy  to  download.  To  download  the 
App,  please  search  your  Play  Store  or 
App  Store  for  the  Parent  Teacher 
Calendar App. This is a free download.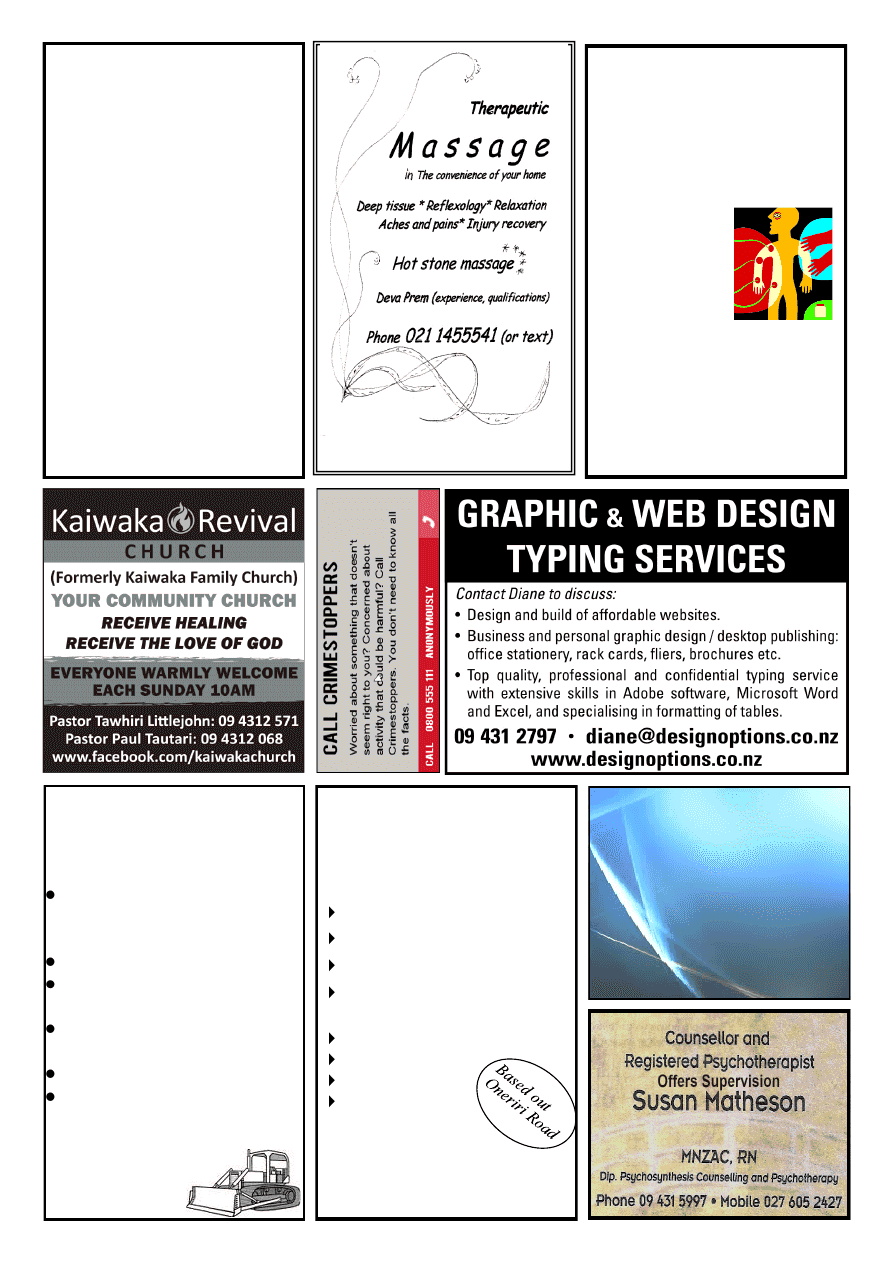 www.mangawhaimassage.co.nz 
HODGETTS 
CONTRACTING
Digger Work    
Driveways 
House Sites   
Dams 
Drains, etc
Also available for HIRE 
3 ton Vib Roller 
Heavy Duty Tow 
Waterblaster  
Lazer Level 
Phone Mark 
4312877 
027 447 8554
OWEN STEVENS 
Osteo Therapist
For careful adjustments to bones 
and joints 
Treatment for  humans and their 
pets 
Clinics: 
Kate's Place, 
Kaiwaka: 
Last Friday of 
month 
For bookings: 
9.00am-5.00pm   
Phone 
09 4312661 
Or phone Owen   
09 4317123  anytime 
Freeview  
Installations 
Richard Te Haara 
25 Marram Place 
Mangawhai Heads 
021 1104056 
kiwipride@xtra.co.nz
Willow Bend
HORSE  
HOTEL 
"   
Total Horse Care 
" 
Agistment 
" 
Riding Lessons 
" 
Arena Hire (60x40) 
" 
Young Horse Starting 
" 
Re-training/Exercising 
" 
Hoof Trimming 
" 
Problem Solving 
Phone Sue 09 431 
2817 or 021 623 776 
Or email sue.gray@xtra.co.nz 
Coates  
Contracting 
D41 Bulldozer with 6 
way blade, bush rigged 
with winch 
For all tree work 
General bulldozing and  
  stick raking. 
120hp Tractor for 
ground cultivation,  
tip trailer work. 
Fencing
All enquiries phone  
Brett Coates  
 094318720  
or 
 021431872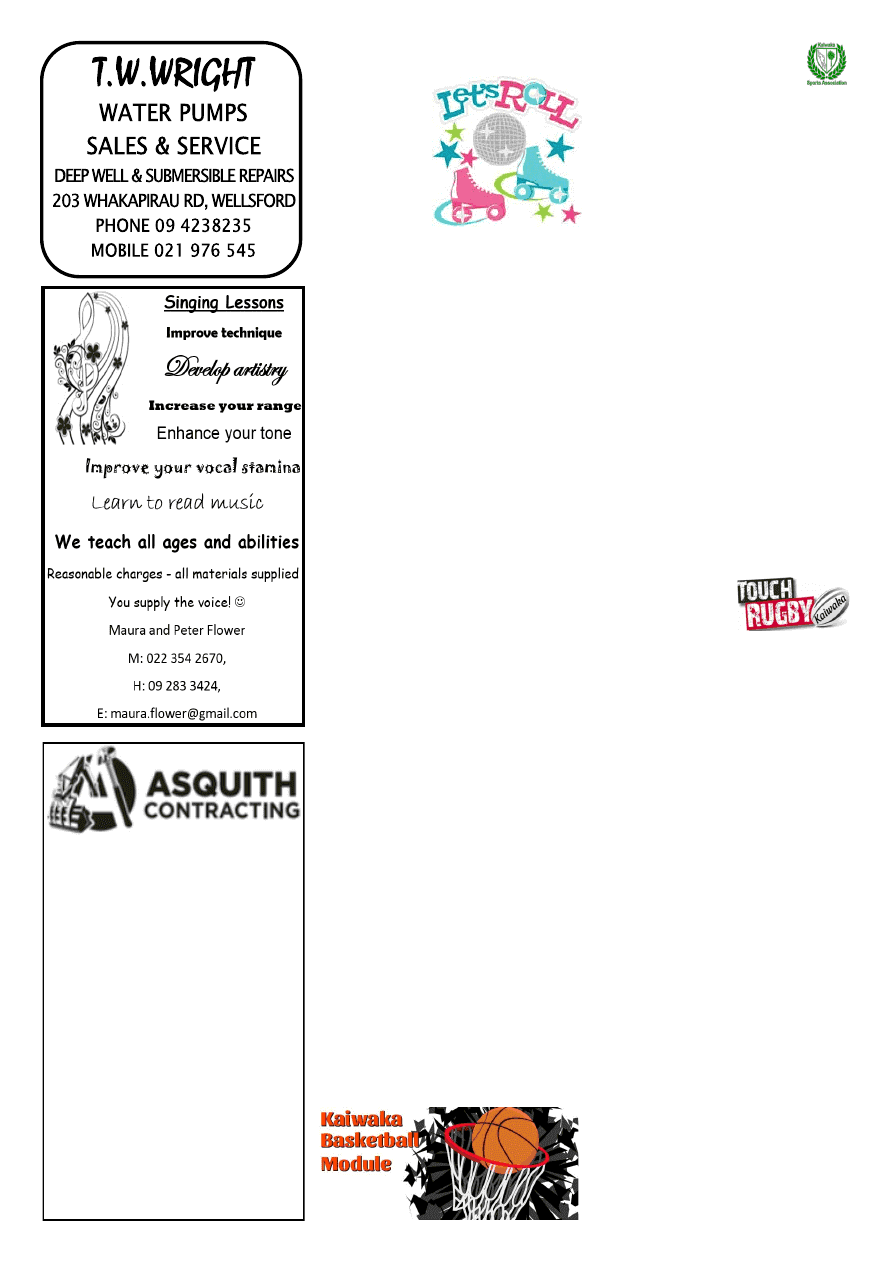 www.kaiwaka.co.nz 
Kaiwaka Bugle - 22 March 2016 
Page 11 
1.7tn Digger/Operator 
for Hire.
Daily/Hourly rates 
available.
Call Tam on 
027 211 1152 
or 
asquithcontracting 
@gmail.com 
Roller Disco 
Boogie 
on 
wheels - a Roller 
Disco!  This  will 
be a fun evening 
for  people  of  all 
ages,  so  note  it 
in  your  diary  – 
this 
Saturday 
26th,  in 
our 
gymnasium. 
A half hour coaching session will start 
at 6.30pm (for $5) where professionals 
from  Skatescool  will  guide  beginners 
through the basics and will also instruct 
experienced  skaters  with  advanced 
drills and good technique.  
The  Roller  Disco  will  run  from  7  – 
8.30pm  and  costs  $10  (preschoolers 
$5).  Skate  hireage  is  included  –  there 
will  be  old-style  quads  as  well  as 
inlines,  with  a  range  of  sizes  from  3 
year  olds  to  big  daddy  feet.  Discount 
for  a  family  of  four  (entry/coaching/
skates)  is  $50.  Bring  socks,  or  buy  a 
pair for $3. 
There will be great music, disco lights, 
glow  items,  drinks,  and  snacks  –  so 
join us for two hours of fun! 
Rugby - Senior 
If you've got no plans for Good Friday, 
then  pop  along  to  the  Sports  Complex 
to watch our Hawks take on Kamo. The 
Reserves  start  at  12.30pm  and  the 
Premiers  kick off at 2.15pm. 
Rugby – IMB 
If you have a teenage boy who is keen 
to play rugby, bring them along to IMB 
trainings  on  Wednesdays  at  5.30pm  at 
the  Maungaturoto  Country  Club,  this 
year  we  are  fielding  Under  14s  and 
Under  16s  teams.  Any  IMB  queries, 
ring Mike Peeni on 027 2637388. 
Rugby - JMB 
A  Small  Blacks  coaching  course  will 
be held at the Kaiwaka Sports Complex 
this Wednesday 23rd at 6.30pm. This is 
a requirement for all coaches of rugby 
teams from Under 7's → Under 13's. 
Martial Arts 
Our Martial Arts classes are going well 
with  several  new  students  signing  up. 
The Women's Self Defence course has 
been  well  received  with  around  20 
women  and  teenagers  having  a  blast 
learning some basic self defence. 
For  more  information,  contact  Craig 
Bennetts 
on 
otamatea.kempo@farmside.co.nz.  
Basketball 
Who's keen to play Basketball? 
I'm  going  to  run  a  social,  mixed 
Module  with  games  held  in  the  KSA 
gymnasium  on  Sunday  afternoons 
starting 15th May. The Module will run 
for  6  weeks  or  so  (depending  on  the 
number  of  teams  which  enter). 
The  team  fee  is  $100  and  you 
can  have  up  to  14  people  in  a  team. 
Men,  women  and  teenagers  welcome. 
A  registration  form  is  on  the  Kaiwaka 
Basketball  Module  facebook  page,  or 
contact me and I will email it to you. 
This will be a fun, friendly Module, so 
get  some  mates  together  and  give  it  a 
try! 
Soccer 
All interested  soccer  players  are asked 
to  come  along  to  the  Kaipara  Knights 
Registration  Day  on  Saturday  2nd 
April at 11.30am at our grounds, to fill 
out a form  so  we can  work  out teams. 
There  will  be  a  free  BBQ,  boot  swap 
and  some  friendly  games.  The  soccer 
season  runs  from  Sat  7  May  until  24 
Sept. Games are played on Saturdays at 
Port  Albert  Domain,  usually  at  the 
same  time  each  week.  The  Kaipara 
Knights  Soccer  Club  involves  players 
from Matakohe to Kaiwaka, from about 
4  years  old.  All  teams  are  mixed 
gender.  Club  practice  night  for  school 
age  players  has  been  Wednesday  at 
Maungaturoto.  Over  17s  play  open 
grade,  and  have  in  recent  years  made 
up  a  combined  team  with  Mangawhai 
Football  Club  with  practice  on 
Thursday evening at Mangawhai. 
Touch 
Our  Touch  Module 
will finish on Sunday 
3rd  April.  The  six 
teams 
have 
enjoyed 
playing 
competitive, fun matches, and there are 
several teams in the running to win the 
prizemoney. Spectators are welcome to 
come along to watch the finals, starting 
at  12.30pm  and  then  attend  the 
prizegiving. 
Netball – Junior 
Trainings  for  our  junior  netball  teams 
are  on  Wednesdays  at  2.30pm  at  our 
courts.  The  Saturday  matches  will  get 
underway shortly. 
Please  contact  Pat  Buxton  for  more 
information on 4312 677.  
Netball – Senior 
Following  trials  held  by  our  senior 
netball  club,  Otamatea-Ex,  the  teams 
have  been  announced.  Congratulations 
to: 
Premiers:  Tracey  Nathan,  Jahkodii 
Morunga, Maree Stewart, Sam Phillips, 
Alex Cowie, Bonnie Lenssen, Katarina 
Maxwell and Shontay Morunga. 
Green  team:  Delwyn  Mckenzie,  Te 
Awhina  Whitehead,  Grace  Phillips, 
Katie  Canavan,  Martine  Grieg,  Nicole 
Hill,  Emma  Jay  Hill  and  Jahkayla 
Morunga. 
White  team:  Liza  Fairburn,  Lish 
Reynolds,  Cheyenne  Rose,  Tasia 
Phillips,  Della  Phillips.  Moana  Philips 
and Jazz Peters. 
Many  thanks  to  Siobhan  Cole  who  is 
taking  the  teams  for  their  fitness 
trainings this season. 
Athletics 
The Kaiwaka Athletic Club operates at 
(Continued on page 13) 
KAIWAKA SPORTS ASSOCIATION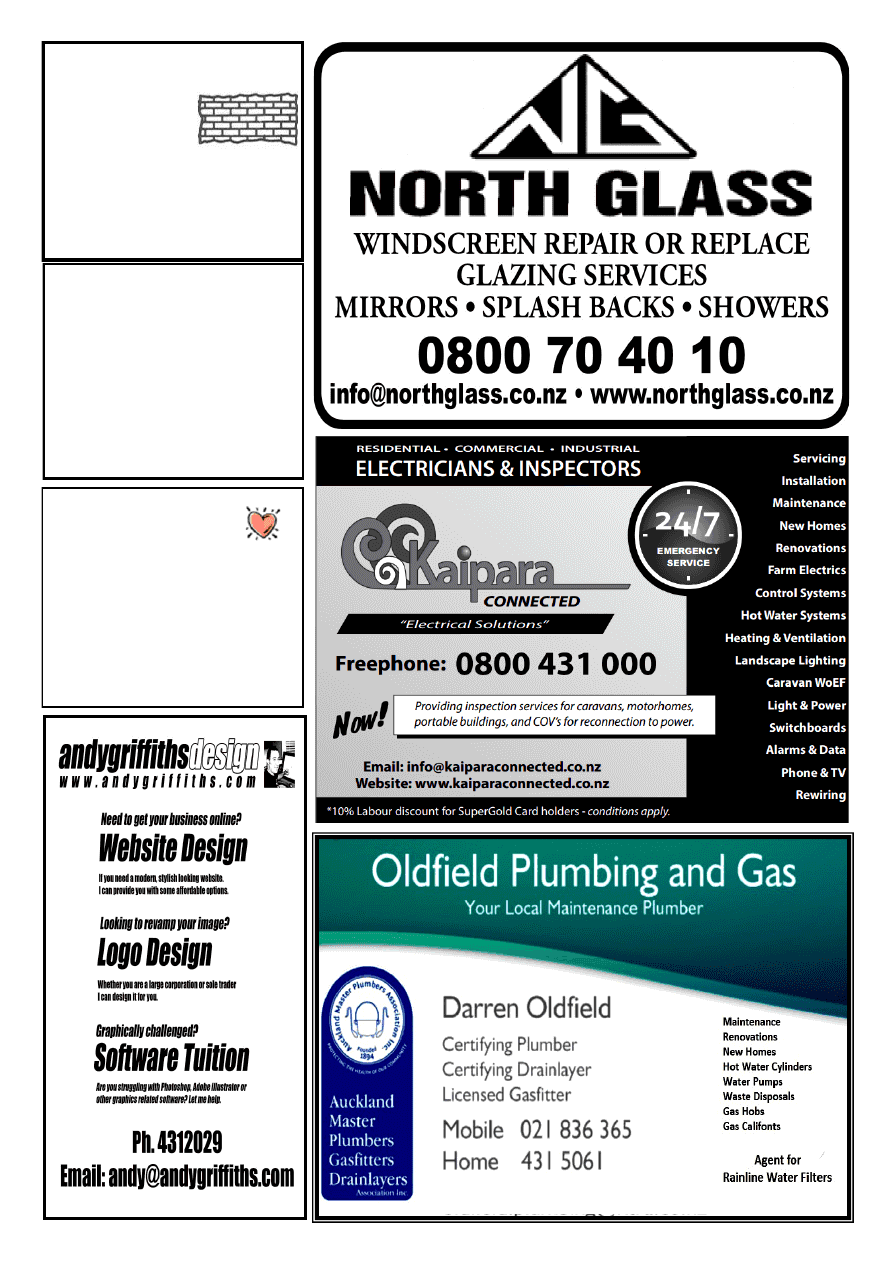 oldfieldplumbing@gmail.com 
 LEABOURNS 
Passenger Service
Car & Van Hire 
Bus & Coach Charters 
Airport Transfers 
 Monthly Shopper Bus 
Phone (09) 4237416 
BRICK/BLOCKLAYER 
All aspects of masonry:  
Fireplaces, 
Restoration  
& Remedial Work. 
JAMES EAGLETON 
Tel. (09) 431 2514  
Mob. 0274 749 232 
jajueagles@yahoo.com.au 
210A Pukenui Road, RD2 Kaiwaka 0573 
Healing from the 
Energy Balancing  
@ Kate's Place, Kaiwaka. 
1st Friday of each month 
9am-12pm. Koha. 
Txt 0273135440 
for an appointment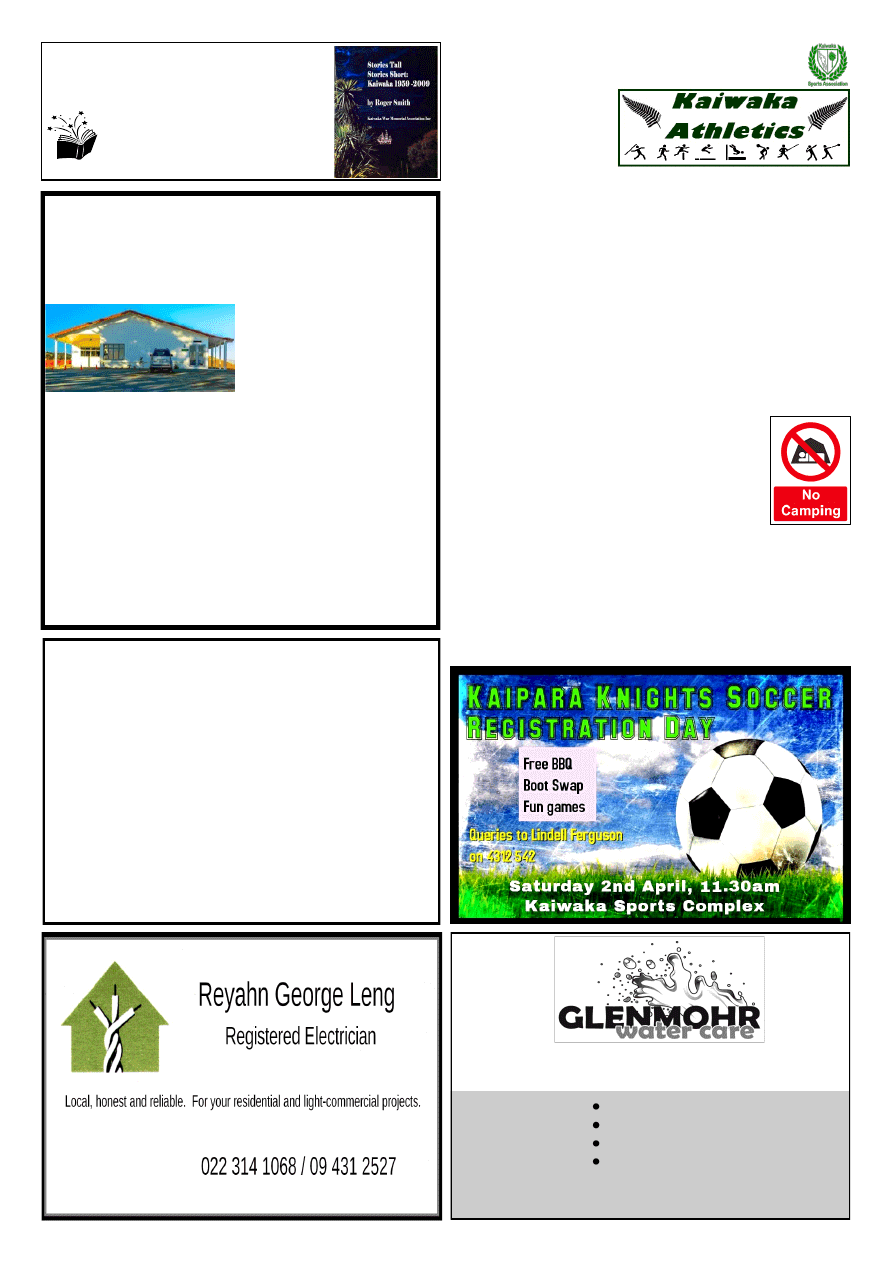 www.kaiwaka.co.nz 
Kaiwaka Bugle - 22 March 2016 
Page 13 
Te Pounga Marae 
130 Nathan Rd. Oneriri. Kaiwaka 0573 
COMPLEX FOR HIRE 
Functions 
* Weddings   *  Birthdays   
*Anniversaries 
* Meetings   * Wananga 
5 hour meeting 
* 12 hour stay   * 
Overnight 
*All welcome - No more Drink-driving 
Amenities: 
*Convo Combi Steamer * Bratt Pan * Dish 
Washer/Sterilizer * 3 Door Glass Chiller (walk in) 
etc…All Crockery * Linen Supplied * Central 
Heating and Air Conditioning and much more.  
Can also cater for small groups…. 
For more information please contact: 
Kim Wallace 
Home: 09 832 1133   Mob: 0211275340 
Email:  kimwallace@xtra.co.nz 
Water Tank Cleaning 
Keep your water safe & clean   
Removal of sediment, silt etc. 
Vacuum or full scrub 
Minimal water loss 
Phone Mark (09) 432 0655 or 0274 707607 
LIFESTYLE PROPERTY  
MAINTENANCE 
Putting life back into your style
Working out of Kaiwaka; servicing Mangawhai, 
Maungaturoto, Waipu and surrounding areas. 
  With over 25 years' experience, I'm fully insured and 
any job considered so just call me – James on mob: 0273 
808622  or  09 431 2245 
email: lifestylesorted@gmail.com  
Mulching - gorse, 
scrub 
Tree & hedge work 
Hole boring 
Alkathene laying & 
repairs 
Paddock topping, 
slashing 
Electric fence 
installation 
Weed spraying 
Free quotes 
Land & section 
clearing 
Loader work 
Rubbish removal 
Fully insured 
Repairs to driveways, fencing & buildings 
Stories Tall, Stories Short  
Kaiwaka 1959-2009 
by Roger TW Smith.  $40 
Available from  
the Bugle Editors -  
Lindsey 4312 045,  
Wendy 027 480 6275 
KAIWAKA SPORTS ASSN
Otamatea  High  School 
on  Monday  evenings 
from  5  to  6.30pm.  We 
provide  coaching  and 
support  for  all  the 
athletic 
events, 
including running, throws and jumps for all youngsters, but 
especially  those  aged  from  7  years  upwards.  We  are 
dependant upon parent support and are pleased to make use 
of  these  people's  relevant  athletic  skills.  Any  queries  to 
Eileen Parsons on 4318 055. 
Kaiwaka Sports Awards 
For our annual Sports Awards, our affiliated clubs nominate 
their  members  in  the  categories  of  Senior  Sportsperson  of 
the Year, Junior Sportsperson of the Year, Service to Sport 
and the Greg McRae Memorial Trophy. The awards will be 
held  on  Wednesday  27th  April,  with  emcee  John  Markby 
from  More  FM.  Tickets  on  sale  at  Jaques  Four  Square 
shortly. 
Meeting 
There  will  be  a  Kaiwaka  Sports  Association  meeting  on 
Wednesday 6th April at 7pm. All welcome. 
Closed 
Please note: our grounds and carparks are now 
closed  to  freedom  campers,  following 
escalating misuse. 
Shake Your Groove Thang! 
Back  by  popular  demand!  Yes,  we'll  be 
running  another  Kids  Disco,  so  if  you've  got 
children who like to boogie, please write Saturday 9th April 
in  your  diary.  There  will  be  great  music,  dancing,  games, 
refreshments, glow items and a lolly scramble. 
~Cheryl Anderson 
4312 051, 027 3462702 
kaiwakasports@gmail.com  
(Continued from page 11)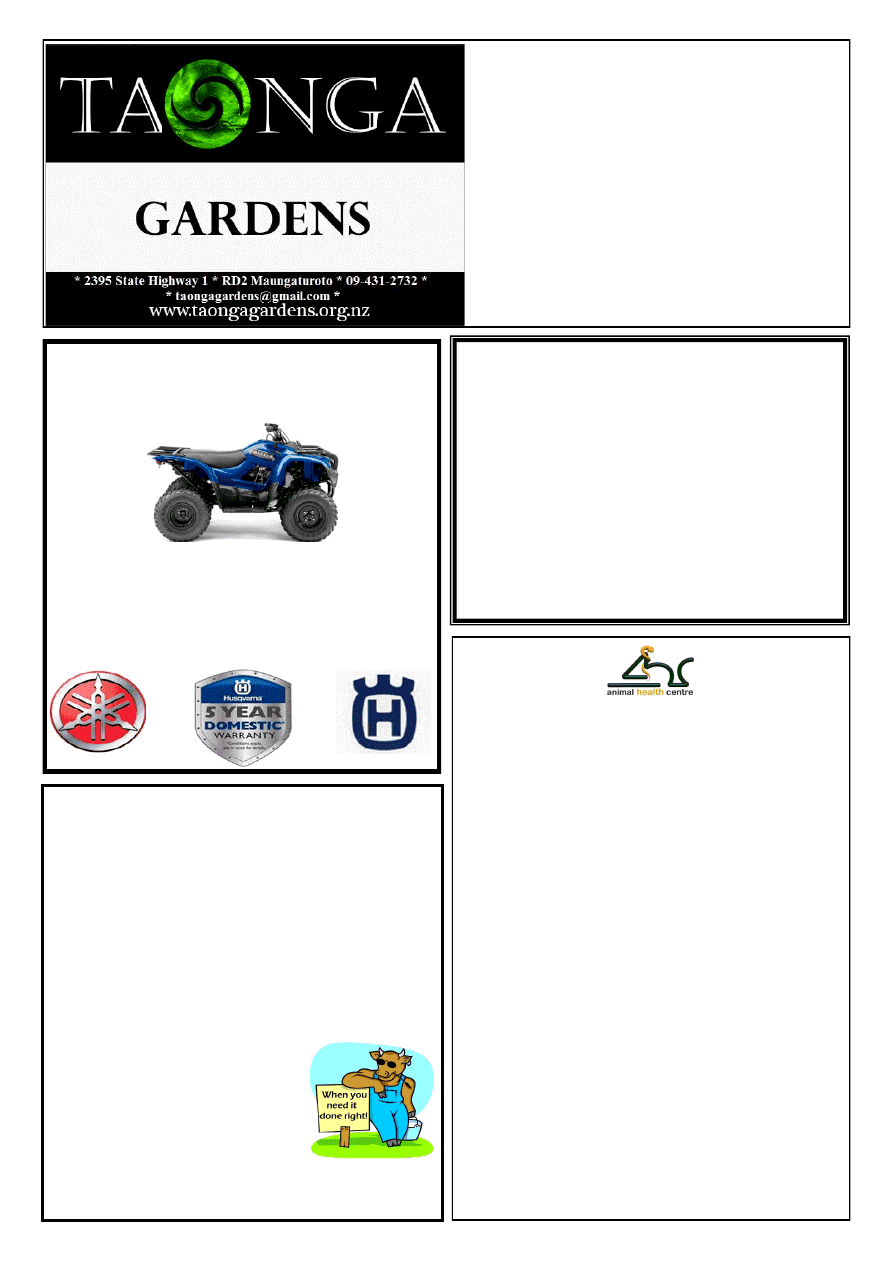 KAIWAKA 
MOTORCYCLES LTD
SALES – SERVICE – SPARES 
FARM BIKE SPECIALIST 
PHONE 09 431-2127 
10 KAIWAKA-MANGAWHAI ROAD, KAIWAKA
YAMAHA 
HUSQVARNA 
ANIMAL HEALTH CENTRE 
KAIWAKA 
"choices in health care  
for your companion animal" 
Health problems - itchy skin, smelly ears, bad 
breath, diarrhea? 
On steroids, antibiotics, lifetime drugs.....  ? 
Diet may be a part of the problem!   
Call in and have a chat to our team of animal health 
practitioners. 
Nail Trims  Microchipping  Dental checks  Comfort 
grooms 
Great range of real food – no preservatives 
Alternatives to nasty chemical parasite controls 
OPEN:    Tues-Fri    10:00am – 5:00pm 
    Saturday   10:00am -  4.00pm 
    Sunday / Monday - Closed 
Next to Italian Bakery, Main Highway  Kaiwaka 
Ph:  09 431 2217 
PS: We're  open 7 days in Orewa if you missed us! 
FENCING
COMPLETE NEW BUILD 
WIRE AND BATTEN 
ELECTRIC 
POST AND RAIL 
REPAIRS AND MAINTENANCE 
WHATEVER YOU NEED—IF YOU NEED A FENCER 
CALL A 
FARMER 
Phone 09 423 7585 
027 62 55 383 
info@callafarmer.co.nz 
A one stop shop for all your 
organic gardening needs. 
Great gifts for all occasions available. 
Organic fruit trees, seasonal produce as available, 
seedlings, herbs, seeds, books, tools, fertilisers, gloves, 
worm farms and much, much more. 
Open - Thursday to Sunday, 
9.00am - 5.00pm, 5km north of Kaiwaka 
2395 State Highway 1, 
RD2 Maungaturoto. 
Tel: 09-431-2732. 
Email: taongagardens@gmail.com 
Easter Weekend Sale 
20% off everything in store  
MULCHING 
GORSE,SCRUB ETC 
PADDOCK TOPPING OR MULCHING 
2.8m mulcher with 140HP tractor. 
Experienced operator. 
LIFESTYLE PROPERTY MAINTENANCE 
Putting life back into your style 
BOOK NOW. Phone James 
mob: 0273 808622 or 09 431 2245 
email: lifestylesorted@gmail.com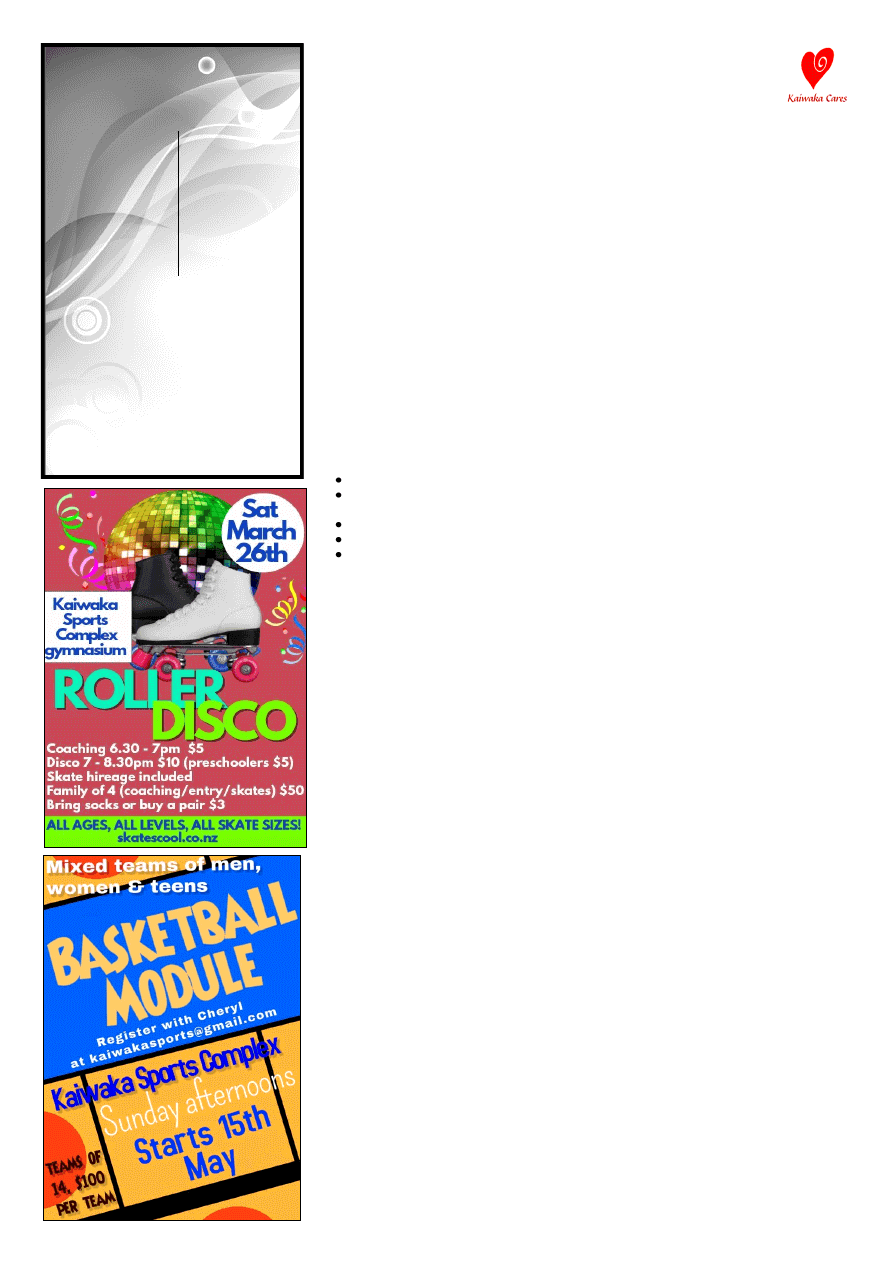 www.kaiwaka.co.nz 
Kaiwaka Bugle - 22 March 2016 
Page 15 
KAIWAKA CARES 
It's  been  a  busy  month  so  far  in  the 
drop-in  centre.  We  have  had  many 
people  pop  in  for  a  chat  or  to  gather 
some  information  on  the  area,  use  the 
WIFI or printing/copying and of course 
talking over concerns with the team. 
If  you  have  a  concern  of  any  nature 
please  feel  free  to  talk  to  one  of  our 
team, if it's not something we can help 
you  with  we  will  pass  you  on  to 
another  organisation  that  can  assist 
you.  Be  assured  privacy  is  really 
important to us as we have had people 
share  some  very  personal  stories  and 
challenges with us. 
It  can  be  difficult  to  go  somewhere 
new  when  you  may  not  know  the 
people you are talking to, especially if 
you are shy or have concerns you wish 
to discuss. Below is a letter we recently 
received from one of our visitors which 
will  give  you  some  insight  to  their 
experiences with Kaiwaka Cares. 
I  am  a  regular  visitor  at  the  Kaiwaka 
Drop-in Centre. 
Through the centre I have; 
met new people and made new friends 
Learned  new  skills  through  talking 
with people 
Discussed Kaiwaka issues 
Discovered the community garden 
Used the free WIFI 
But most of all it helps me to feel part of 
the  community.  I  may  be  able  to  help 
with projects, assist people, or be helped 
myself. 
I  live  alone  (happily!)  and  have  been 
unemployed  on  and  off  for  the  past  few 
years.  Some  days  I  know  that  I  need  to 
get away from myself and be with people. 
Sometimes  I  go  to  the  centre,  chat  with 
people,  and  leave  feeling  uplifted. 
Sometimes  I  go  to  the  centre,  say  that  I 
am  a  bit  unwell,  and  lie  on  the  sofa, 
knowing that I am in a safe environment. 
I  know  that  I  am  welcomed,  and  not 
judged. How important is this? For me, it 
is very important. The Drop-in Centre is 
a  good  place  to  visit,  and  a  safety  net 
when  my  mental/emotional  health  is 
flakey.  I  am  inspired  by  the  people,  and 
grateful that such a place exists. 
Healing  from  the  Heart    Energy 
Balancing 
New  to Kate's  place is  Heidi  Downey 
who  will  be  doing  Energy  Balancing 
on  the  1st  Friday  of  each  month  from 
9am to 12pm at Kate's Place. Payment 
for  this  is  by  Koha.  Bookings  can  be 
made via text on #0273135440. 
Healing  from  the  Heart    Evening 
Workshops 
Heidi  will  also  be  running  some 
evening  classes  during  the  second 
school  term,  starting  12  May  2016. 
Run  over  8  weeks  the  workshops 
explore  various  healing  and  relaxation 
techniques  in  a  safe,  supportive 
environment. These  will  take  place on 
Thursday  evenings  7-9pm  @  Kate's 
Place,  Kaiwaka.  Contact  Heidi  on 
#0273135440  to  enrol  or  for  further 
information. 
IRD @ Kate's Place 
If  you  want  to  have  a  1:1  chat  with 
IRD  their  last  visit  to  Kaiwaka  is  on 
Friday 1 April. After that date 
they  are  able  to  deal  with 
queries by phone or in certain 
circumstances will be able to come out 
and  visit.  So  if  you  have  a  query, 
especially with the end of the financial 
year just ahead call Yvonne to book in 
to see IRD on #4312661. 
IRD  also  run  3  free  seminars  each 
month,  in  both  Whangarei  and 
Auckland.  These  are:  Introduction  to 
Business,  GST  Workshop,  Employer 
Workshop.  They  also  have  Tools  for 
Business  on  their  website  (http://
www.ird.govt.nz/tool-for-business/tfb-
index.html)  and  Youtube  videos  to 
guide  you  (http://www.ird.govt.nz/
help/demo/intro-bus-vids/). 
The  IRD  free  Advisory  Service  is 
something  you  can  book  in  for.  The 
education  and  assistance  you  receive 
would  be  tailored  to  your  needs.  To 
submit  a  request  for  this  visit  http://
www.ird.govt.nz/online-services/
service-name/services-a/online-
business-advisory-visit.html 
Fibre Fun 
The group had a lot of fun at their first 
meeting  in  February.  Information  and 
skills  were  shared.  Remember  this  is 
on  the  3rd  Sunday  of  the  month  from 
10am to 2pm. Charge is $2 for 4 hours 
of  great  fun.  Bring  your  lunch,  fibre 
will  be  available  to  purchase  and 
spinning  wheels  to  use  if  you  need 
them. 
The  Fibre  Fun  group  is  for  folk  who 
are  interested  in  having  'fun  with 
fibre'.  Whether  you  have  played 
around  with  fibre,  a  beginner  or  just 
want  time  out.  Lots  of  fun  in  a  group 
sharing  ideas,  learning  new  crafts  and 
just  being  amongst  fibre  folk.  Crafts 
include spinning, weaving, and felting. 
Want  to  know  more  contact  Faye  on 
#0220995467  (text  only)  or  email 
fayzkff@gmail.com. 
Seniors 
Lunch 
@ 
Otamatea 
Community Services, Maungaturoto 
Otamatea  Community  Services  (OCS) 
in  Maungaturoto  run  a  seniors  lunch 
every  month.  And  it's  not  just  for 
people  in  Maungaturoto.  OCS  covers 
Kaiwaka, Hakaru and Mangawhai too. 
It  can  be  daunting  to  go  somewhere 
new,  especially  alone.  To  make 
transport  easier  Kaiwaka  Cares  is 
happy  to  give  anyone  who  needs  it  a 
ride over to Maungaturoto for the next 
lunch. All you need to do is contact Liz 
at  OCS  on  #094319080  and  tell  her 
you  want  to  be  included  in  the  lunch. 
Liz  will  let  us  know  numbers  and  we 
will  arrange  a  central  collection  and 
drop off point in Kaiwaka. 
What else … 
As  you  can  see  there  are  lots 
happening.  If  you  have  a  course  you 
would  like  to  run  out  of  the  centre  or 
wish  to  learn  more  about  what  is 
coming up please feel to pop in or get 
in touch caring4kaiwaka@gmail.com.  
~The Kaiwaka Cares team 
U Beauty 
Please call Nicole for bookings 
09 393 6336 or 022 0639450 
Qualified Beautician 
4 Kaiwaka – Mangawhai Rd 
Kaiwaka 
Underarm Wax  
$20 
Extended Bikini Wax 
$30 
15 min Back  Massage 
$25 
Eyebrow Wax  $10 
Eyebrow Tint  $10 
Eyelash Tint 
$20 
Lip Wax 
$10 
Chin Wax 
$10 
Bikini Wax 
$20 
Brazilian 
$50 
½ Leg Wax 
$30 
Full Leg Wax  $45 
Full Pedicure  $60 
Foot Tidy  
$35 
Manicure 
$45 
Nail Tidy 
$25 
Chest Wax 
$30 
Back Wax 
$40 
Nostrils 
$10 
Ears 
$10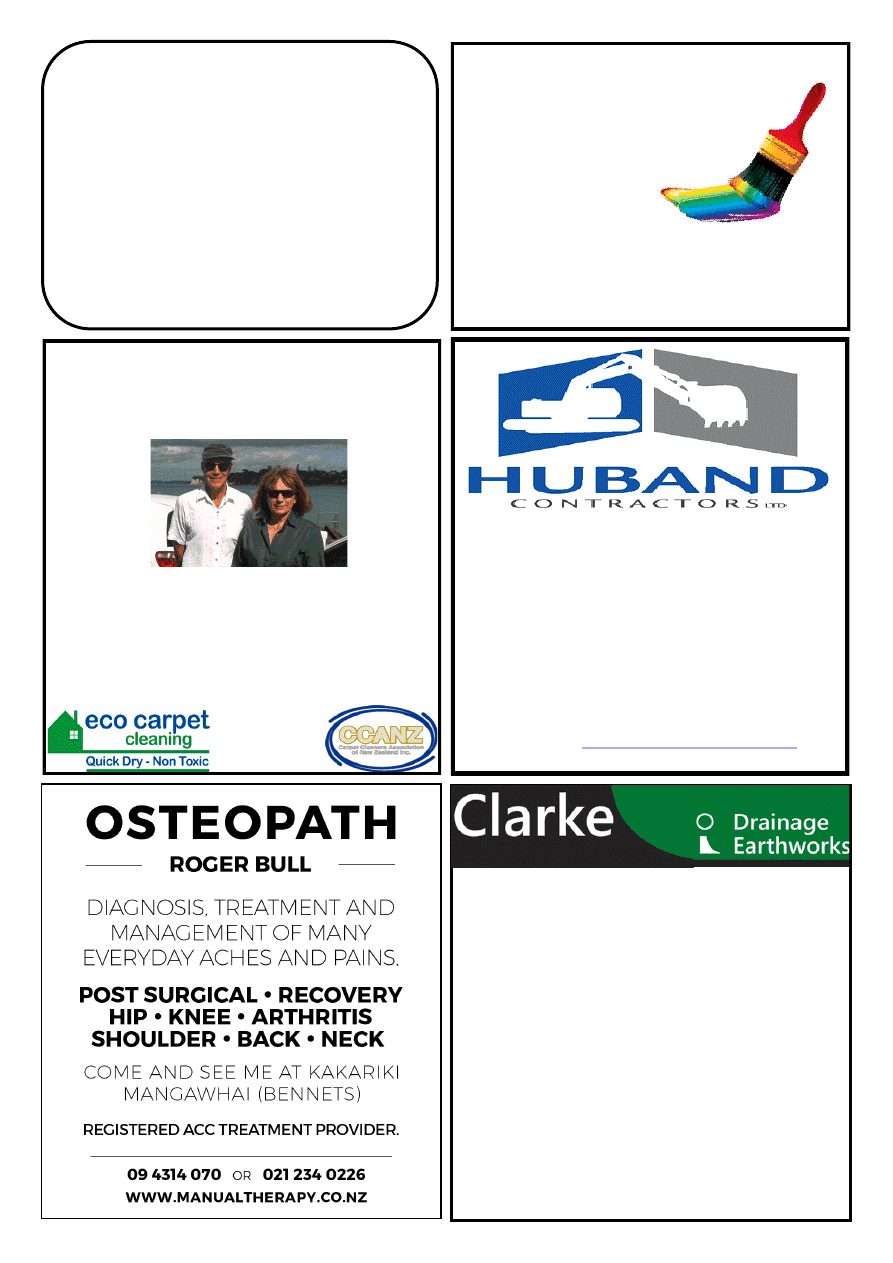 *   R O A D I N G   *   E A R T H W O R K S   *    
*   D R A I N A G E   *   S I T E W O R K S   *
Shaun Huband 
Registered Drainlayer
Cell: 021 222 0272 
Home: 09 4318339 
Email:   
UP-LINK 
CHRIS WARING 
FREEVIEW INSTALLATIONS 
T.V. - HOME THEATRE & 
HI-FI ADVICE/SET UP
SKY ACCREDITED INSTALLER
MOB.0273403747 HM.094312328 
EMAIL cwaring44@gmail.com
28 YRS EXPERIENCE 
OFFERING  UNBIASED ADVICE 
CARPET & UPHOLSTERY 
CLEANING 
QUICK DRYING – NON-TOXIC  - GREAT RESULTS 
Mike and Marina Bagley 
Call 09 431 3016  
or  027 2410414 
marina@ecocarpetclean.co.nz  
www.ecocarpetclean.co.nz 
Registered Drainlayer 
All Types of Earthworks  
> All Residential & Commercial Work  > House Sites 
> Septic System Design & Install 
> Footings & Drilling to 10m 
> Sewer Connections 
> Dams 
> Water Tank Installation 
> Roading & Races 
> Farm Work 
THE ONE STOP SHOP  
Phone Nigel for an Obligation Free Quote  
Drainage & Earthmoving 
clarkedrainage@xtra.co.nz 
027 2233 185 
09 4312918 
0274735171 
leecooper@xtra.co.nz 
LEE COOPER PAINTERS 
(Kaiwaka Based) 
*30 yrs Experience 
*Interior/Exterior 
*New and Restoration 
*Honest and Reliable 
*Free Quotes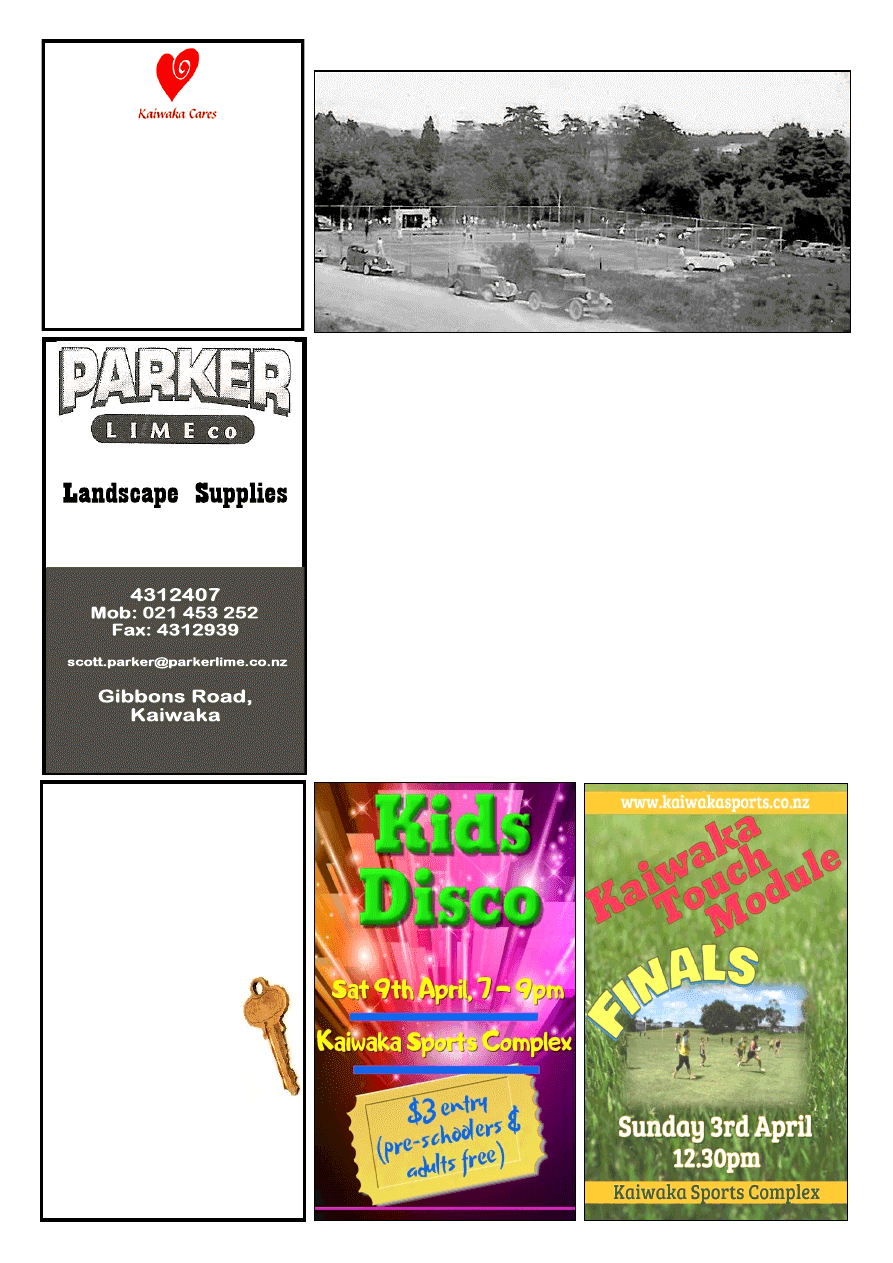 www.kaiwaka.co.nz 
Kaiwaka Bugle - 22 March 2016 
Page 17 
Following our 'Good Sorts' article in the last issue we have received information 
regarding the correct name for the rest area just north of Kaiwaka.  
Isabel McClean has sent in a copy of the Certificate of Title that shows the name 
'The McClean Park Society Incorp', along with the following explanation: "The 
land was gifted to the community by JA (Archie) McClean, Bryan's [and John's] 
father, in 1946, accepted in the Land Transfer Office in September of that year, 
as you can see in the attached map, with his father's signature at the bottom. It 
was named McClean Park. McClean Park Society Inc. was formed to look after 
it. This society was eventually wound up as rates were being paid on it. It was 
taken over by the Domain Board, because at that time no rates needed to be paid 
on Domain Board land, still named McClean Park." 
Above: Opening of the Kaiwaka Tennis Courts, on McClean Park, in 1947. See 
page 62 of Kaiwaka -A Photographic History. 
From  Centennial  of  Kaiwaka  1859-1959:  "McClean  Park,  so  named  after  its 
generous donor, J.Archie McClean, was prior to 1947, a rough swamp area, but 
with great possibilities. It is protected on two sides, the south and the west, by a 
beautiful  stand  of  native  bush,  and  faces  the  main  highway  north.  Much  hard 
work was done voluntarily, by local men, with horses and machinery and it was 
not long before it had the appearance of becoming a handsome playing area.  
"Of  approximately  one  and  a  half  acres  in  extent,  close  to  the  heart  of  the 
Kaiwaka  township,  it  will  continue  to  be  a  valuable  asset  to  the  growing 
population of the district. A society was formed on the 8th May, 1946, with F. 
Wright  as  chairman,  and  Harvey  Gubb  as  secretary.  Subscriptions  were 
arranged,  and  a  canvass  of  the  district  planned,  for  funds  toward  the 
improvements  agreed  upon  for  the  park,  in  which  it  had  been  decided  to  also 
build  three  tennis  courts.  This  was  accomplished  under  the  direction  and 
assistance of N. Cameron (Kaiwaka) and J. Powell of Maungaturoto. This work 
(Continued on page 19) 
Kaiwaka  
Hardware  
&  
Key cutting 
Phone 4312 063 
 022 041 6047 
kaikey2015@gmail.com
Keys Cut  
Household Hardware  
Curtain Tracks & Fittings 
Not there? Call Doug and he'll 
sort
it for you. 
(
Next to Kaiwaka Motorcycles
)
Bulk Cartage 
Community Centre
Open 10am – 2pm
Monday – Wednesday – Friday
WIFI , printing & scanning 
available 
Kaiwaka's own social space.
JP on site every Wednesday.
REMEMBER WHEN... McCLEAN PARK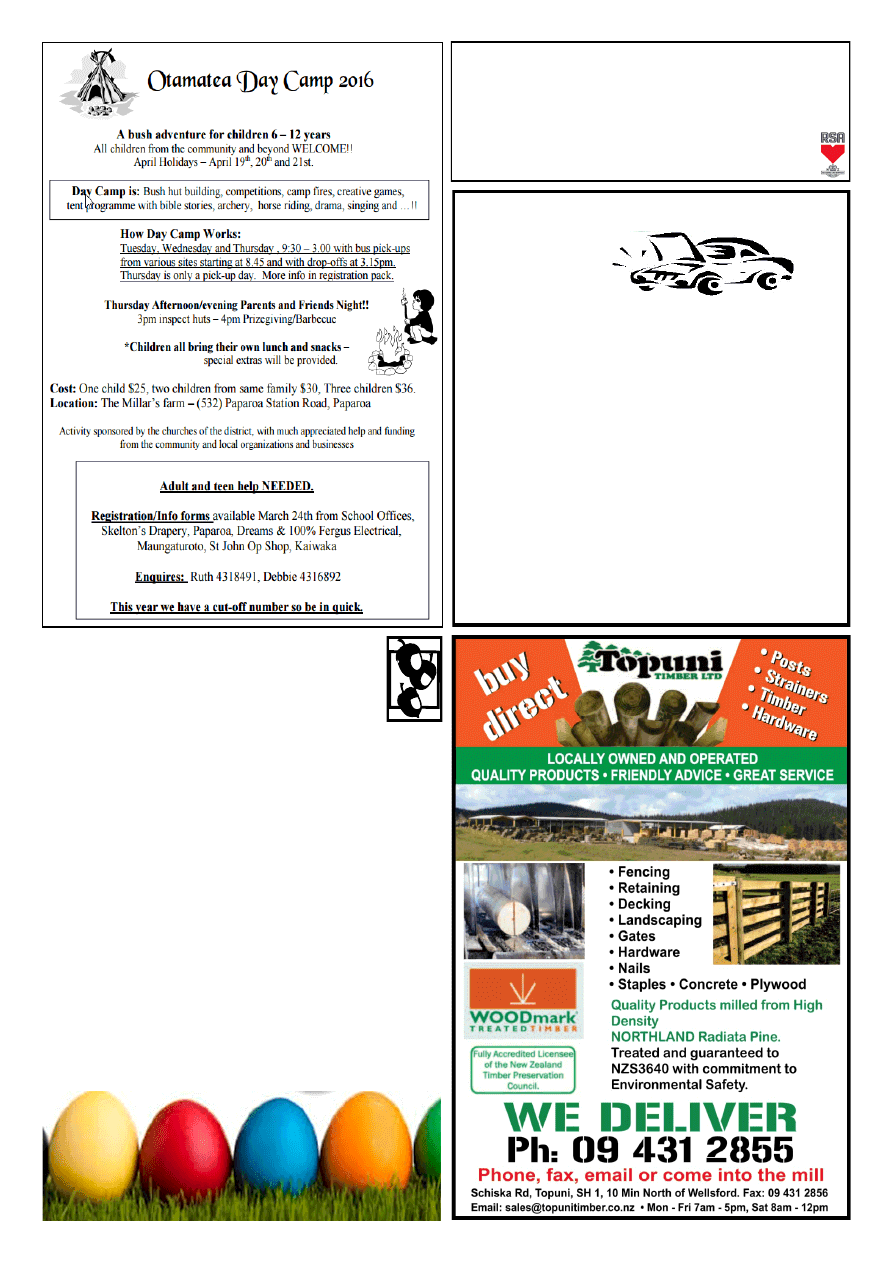 HAKARU & DISTRICTS RSA Inc 
Each Friday night from 6.30pm meals will be served. 
Members & invited guests, new members welcome. 
Come along & enjoy our hospitality. 
2nd Friday of the month -  roast dinner or board menu. 
Last Friday of month - roast pork night &  
sing-along with Des Chitty.  
Ph Heather 4314668 or Jan 4314512 
Twinkle Tow 'n' Tyre 
Think you'll get a better deal in the city? 
Ring us - it won't cost anything! 
1837 State Highway 1, Kaiwaka 
Phone 431 2823 
*W.O.F. 
*Tyres 
*Windscreen 
replacement 
*Chip repairs 
*Bulk Oil 
*Batteries 
*Welding 
*Custom built 
trailers 
*Trailer hire
HAPPY EASTER 
The story is told of a nine-year-old boy named 
Philip who suffered with Down's Syndrome. In 
Sunday School the other kids made fun of him 
because he was different. The Sunday before 
Easter, the teacher gave each of the children a plastic egg 
and asked them to look for symbols of new life, like seeds 
and leaves, and then place them inside the egg. The idea 
was to open their eggs on Easter Sunday and discuss what 
they found. 
When the children gathered, they had collected all sorts of 
things like flowers, butterflies and rocks. But when the 
teacher opened Philip's egg it was empty. One child said, 
'That's not fair, he didn't do it right!' But Philip tugged at 
the teacher's sleeve and said, 'I did do it right. It's empty 
because the tomb is empty That's why we have new life'. 
The class gasped - and from then on Philip rose to a new 
level of respect and became part of the group. 
Bur Philip's family knew his time was short - too many 
problems for one small body. So that summer her he died. 
As the class of eight year olds faced the reality of death, 
they marched up to the altar - but not with flowers. Together 
with their teacher, they each placed an empty plastic egg on 
their friend's tiny casket. 
'Anyone who believes in me will live, even after dying'. 
John 11:25 NLT. - The W ord for Today, Rhema Media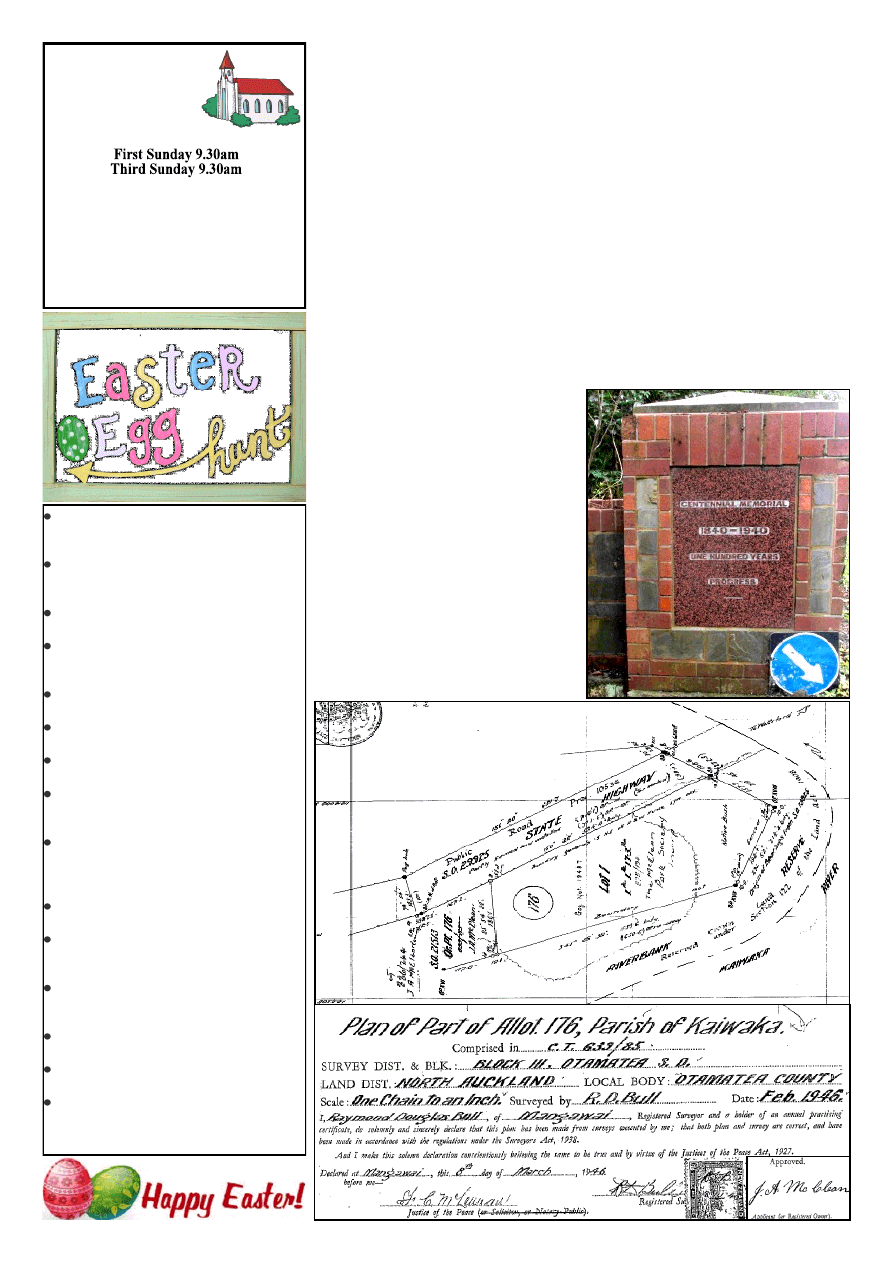 www.kaiwaka.co.nz 
Kaiwaka Bugle - 22 March 2016 
Page 19 
What do you need to have to get the 
cereal from the bowl to your mouth? 
(In the spoon spot in the drawer) 
You might find me hanging around 
the walls…. (Tops of the picture 
frames) 
Leafy and green is where I can be 
seen (Plants) 
I go up and down but I don`t move. 
Come and find me. (Eggs on the 
stairs.) 
I am getting dressed in my Easter 
best (Inside the closet door) 
Ring ring time to rise and 
shine. (Near the alarm clock) 
I love to see my reflection – I am 
such a pretty egg (Near the mirror) 
Soaking, soapy, sudsy bubbles, if you 
don`t find me I will be in 
trouble. (Bath) 
I have two wheels that spin, ride it 
fast and you may win, you choose the 
direction, but wear a helmet for 
protection! (Near their bike) 
Come find me before `the mouse' eats 
me! (Computer) 
Colour, black and white, doesn`t 
matter I am painted not 
printed. (Printer) 
If I take a spin I will come out all 
clean again (Washing machine, 
laundry room) 
Please fold me and put me away in 
your room (dryer, laundry room) 
If the Easter bunny left you a letter – 
where might you find it (Mailbox) 
 I play in it at the beach or in the yard, 
but there`s no need to build 
castle (Near or in the sandbox)   
was done with the co-operation of the tennis club, which agreed to pay £5 per 
annum for the use of the grounds.  
"This Park was opened on 15th November, 1947, together with the three courts. 
A  gathering  of  nearly  300  people  witnessed  the  opening,  when  Mr  Wright, 
chairman  of  the  McClean  Park  Society.  handed  to  Mrs  McClean,  wife  of  the 
donor, a pair of scissors with which she cut the ribbon across the entrance. The 
crowd then entered the Park, to reassemble at the tennis courts, where a second 
ceremony was carried out. T. G. Bowmar, chairman of the tennis club, with an 
appropriate  speech,  declared  the  courts  open.  He  then  called  upon  Mrs  W.  R. 
Dowson, life member, to serve the first ball. Play then commenced.  
Later on at the entrance to McClean Park gate-posts* were built of Bald Rock 
stone  and  brick,  on  which  are  plaques,  with  appropriate  wording,  to 
commemorate  the  centennial  of  New  Zealand  1840-1940.  The  construction  of 
these  was  the  culmination  of  the  big  effort  by  way  of  a  Queen  Carnival  in 
Otamatea  County.  Kaiwaka  Riding's  Queen  was  Miss  Gwen  Bowmar  (Mrs 
Nelson Smith), the Riding Chairman was A. Gibbons and the Secretary Miss N. 
Dowson  (Mrs  Blackstaffe),  with  a  committee  of  41.  This  memorial  was 
officially opened on 23rd of April, 1949 by the Hon. W.E. Parry, M.P., Minister 
for Internal Affairs, who was accompanied by R. M. Algie, M.P. (Remuera) and 
T.  P.  Paikea,  M.P.  (Northern  Maori). 
Two  members  of  the  Internal  Affairs 
Department,  and  W.  H.  Colson,  and 
Jack  Littin,  chairman  and  secretary 
respectively of the Centennial Memorial 
Committee  were  on  the  dais  with 
official party. 
"In  May  1949,  conveniences  and  other 
facilities were built on the Park, making 
it  also  an  ideal  camping  ground,  and 
some  tourists  have  taken  advantage  of 
it.  
A  meeting  was  held  early  in  1958,  to 
consider  asking  the  Domain  Board  to 
over  [sic]  the  Park."  Also  see  Roger 
Smith's book Stories Tall Stories Short, 
page  36  for further  interesting  notes  of 
this area. 
*These gateposts are now at the entrance to 
the  Kaiwaka  Domain  and  Kaiwaka  sports 
(Continued from page 17) 
ST PAUL'S  
ANGLICAN  
SUNDAY  
SERVICES
St Pauls Church: Kaiwaka-Mangawhai Rd. 
1st Sun - Eucharist 
3rd Sun - Family Service 
Office 4314 122 
Contacts:M.Hargreaves 4312295, C.Bygrave 4312057  
or Rev. Wayne Thornton Ph 431 5650 
www.mangawhaianglican.org.nz
REMEMBER WHEN... McCLEAN PARK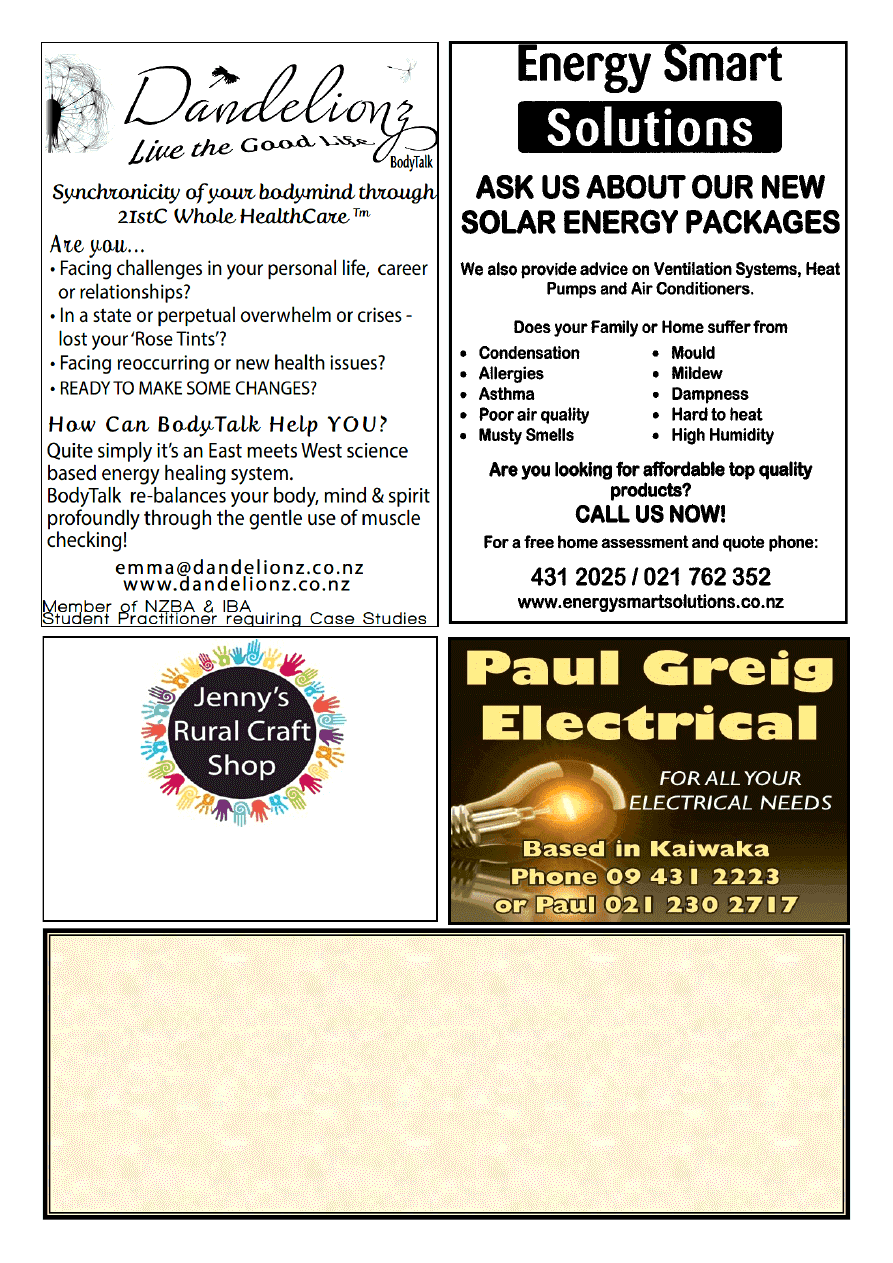 IRON FOR SALE 
New Coloursteel 
Various Pack Sizes, Colours and Lengths 
Hundreds of Metres 
Priced to Sell 
For viewing phone Vic 
0211609588 
134 Kaiwaka-Mangawhai Road, Kaiwaka 
Open: Wednesday to Sunday 
10.00am to 3pm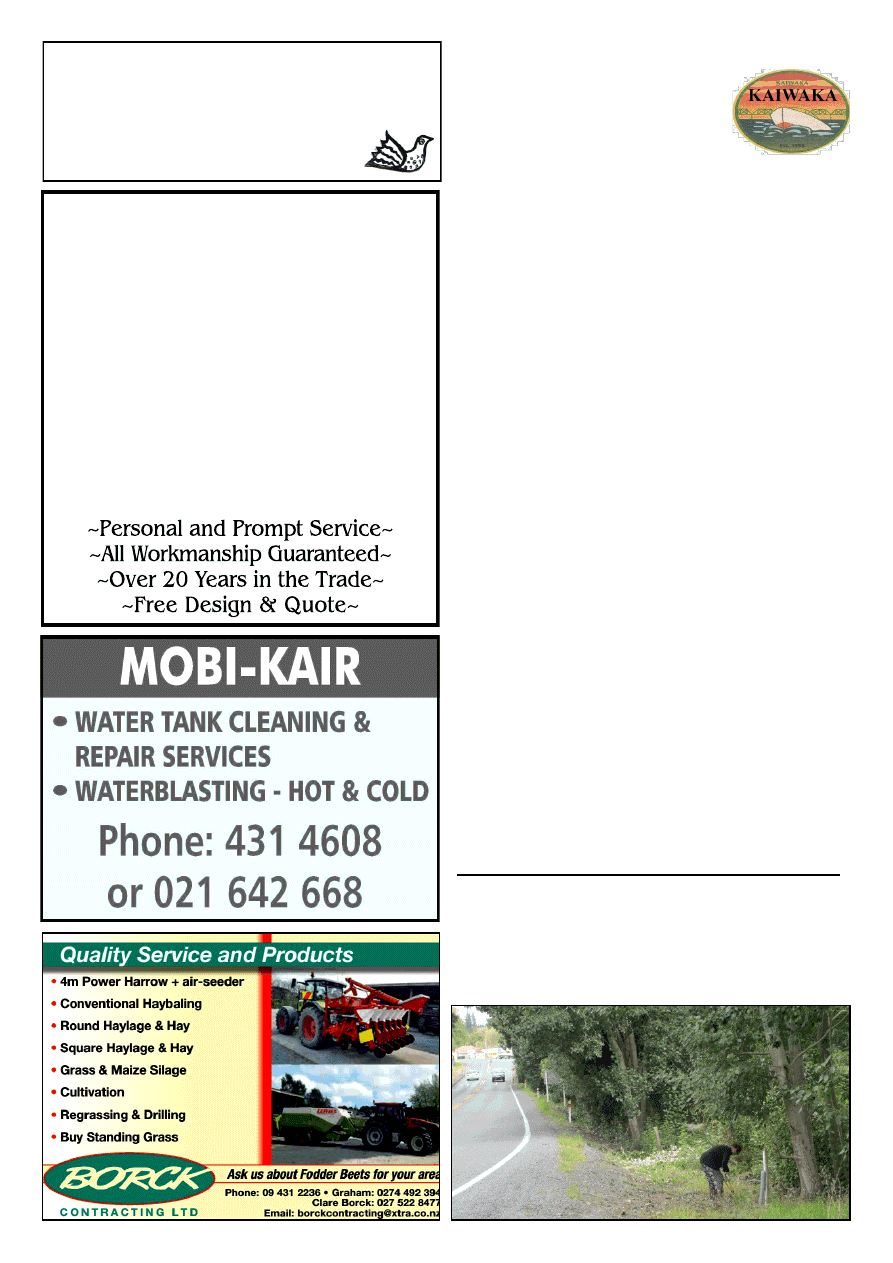 www.kaiwaka.co.nz 
Kaiwaka Bugle - 22 March 2016 
Page 21 
POINT CURTIS CRUISING CLUB 
PLANNING A NEW KITCHEN? 
 CONTACT NOEL McDOWELL
WELLSFORD 
KITCHENS
Ph/Fax 094312888
KAIWAKA-Any time
  QUALITY CUSTOM MADE 
KITCHENS
Results for   Point  Cur tis Cr uising  Club 
Open  Fishing  Competition  5  &  6  March 
2016 
Senior Section: 
Snapper: 1st: Kraig Steiner 6.419kg, 2nd: 
Kraig Steiner 5.761kg, 3rd: Arvind Dheda 
5.225kg; Kahawai: 1st: Carol Welsford-Mills 2.098kg, 2nd: 
Pongo  1.839kg,  3rd:  Pongo  1.692kg;  Kingfish:  1st:  Carol 
Welsford-Mills 12.073kg. 
Junior Section: 
Snapper: 1st: Jayden 2.933kg, 2nd: Bob Mills 1.510kg, 3rd: 
Bob Mills 1.152kg; Eel: 1st: Jayden 1.428kg, 2nd: Amanda 
0.664kg;  Kahawai:  1st:  Jayden  1.370kg,  2nd:  Hunter 
1.227kg, 3rd: Hunter 1.139kg. 
Thank you to all who supported this fishing competition by 
fishing,  weighing  in  fish,  selling  raffle  tickets,  bringing 
plates and buying fish at the auction. Thanks also to Dave 
Lincoln (auctioneer) and Ben Ries for donating sausages. 
Calendar Of Events 
8th,  9th  &  10  April:  East  VS  West  Open  Fishing 
Competition.  Start:  6am  Friday  8th,  finish:  6pm  Sunday 
10th. Weigh In: 5pm - 6pm each day at the Three Furlongs 
Bar  &  Grill,  Kaiwaka.  Maximum  Weigh  In:  2  of  each 
species  per  angler  per  day.  Prize  Giving:  6.45pm  Sunday 
10th.  Prize  winners  must  be  present.  BBQ:  Please  bring  a 
plate.  Tickets:  Must  be  purchased  before  11pm  Thursday 
7th  April.  Ticket  Outlets:  Three  Furlongs  Bar  &  Grill, 
Kaiwaka,  Jean  Mcleish  at  Jaques  Four  Square,  Wellsford 
Sports  &  Leisure.  Pay  for  tickets  by  Internet  Banking: 
Please  use  your  Name/Names  as  a  reference.  Bank  A/C 
details are: BNZ Wellsford 02 0364 0012950 00. 
Entry Fee: Seniors: $30, Juniors (Under 15) $10. 
Seniors:  Snapper,  Kingfish,  Kahawai,  Tarakihi,  Trevally, 
Gurnard, John Dory, Crayfish & Spearfish  
Juniors:  Snapper,  Kingfish,  Kahawai,  Tarakihi,  Trevally, 
Gurnard, John Dory, Crayfish, Spearfish & Eel 
All SENIOR snapper weighed in goes into the draw for the 
average weight prize which will be $500 CASH!!! 
Please see poster for Rules and Disclaimer 
7th May -Opening Day Game Bird Season - Competition 
Saturday  Annual  Prize  Giving  (Will  follow  straight  after 
Opening Day Game Bird Season Prize Giving) 
If  there  are  any  new  businesses  or  individuals  keen  to 
sponsor our boar hunt please see Jean at Jaques Four Square 
or contact Vic Birkenhead 021 160 9588. 
New fish of the month: Snapper and Kahawai Combo. One 
of  each  species  must  be  weighed  in  on  the  same  day!  Cut 
off date 5th April. 
Next  committee  meeting:  Tuesday  5th  April,  7pm  at  3 
Furlongs Bar & Grill 
~Wayne Leslie, Commodore 
Life Coaching / Energy Healing 
Ruth Tidemann
Dip Life Coaching/Reiki Master
Ph 022 160 4201   email: ruthktidemann@gmail.com 
At Kate's Place Kaiwaka 
Tuesdays 10am - 2pm  
or other times by arrangement 
Payment by Koha 
Pictured below: Elizabeth back in action at McClean Park, 
standing  approximately  where  the  Centennial  Gate-posts 
used to be located as the entrance to the tennis courts. The 
gate-posts  are  now  at  the  entrance  to  the  Kaiwaka  Sports 
Association's Domain grounds on Gibbons Road. 
Elizabeth would welcome help with her voluntary work any 
time.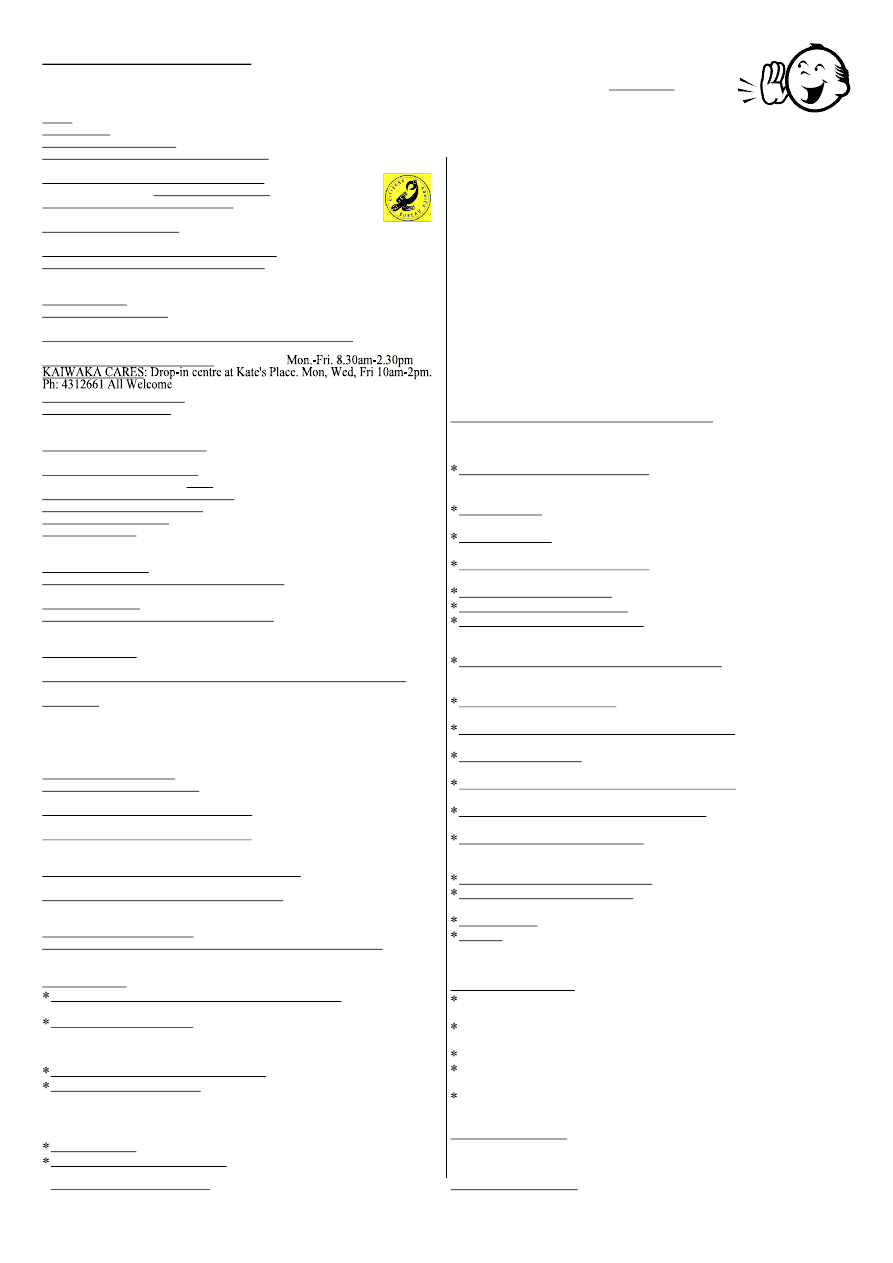 LOCAL SERVICES 
*Emergencies - Ambulance, Fire, Police - dial 111 
*Non-urgent Police phone 09 4311150
A A: Meets Wed., 8pm Kaiwaka Ph: 4312228, 4315543, 0800229 6757 
AL ANON: In recess, contact Ph: 4312228 
ASUREQUALITY LTD  (was AgriQuality) Call Free 0508 0011 22  
BUDGETING SERVICE, WELLSFORD:  Free confidential advice & 
support for all areas of personal finance. Ph (09) 423 7123 
CAB-Citizens Advice Bureau.Wellsford Ph: 4237333 
0800 367 222 email:cab.wells@xtra.co.nz  
DOG/STOCK /NOISE CONTROL 0800 105 890 
FUNERAL SERVICES: Morris & Morris Ltd, 
Whangarei - Bev Jaques Ph:4312367 or 0800667747 
GRANDPARENTS Raising Grandchildren: Sarah Rogers Ph: 4312194 
HAKARU LANDFILL/Transfer Station:Open everyday except 
Tuesday10am-4pm.Ph4312629 Cost-$55 trailer load up to 1 cubic metre. 
Ph:4258567 - office 
HOMEOPATH: Donna Flavell Ph: 4314843 
INLAND REVENUE: Last Friday each month, 11-3pm Ph4312661 
KAIPARA DISTRICT COUNCIL www.kaipara.govt.nz:  
Help Desk FREEPHONE 0800 727 059  
KAIWAKA KOHANGA REO: Ph:4312620 
KAIWAKA CEMETERY: Ph: 4312045 
KAIWAKA LIBRARY: kaiwaka.library@gmail.com  
Mon. 4-6pm; Wed., Thurs., Fri., Sat.  10am-2pm Ph:4312539 
KAIWAKA PLAYCENTRE: Ph: 4312286. Hastie Lane 
Monday to  Friday  9.00am - 12 noon. 
KAIWAKA POST OFFICE:Ph:4312 431  
Post Code: 0573  for RD2  and  0542 for all Kaiwaka Post Office mail 
KAIWAKA PRIMARY SCHOOL: Ph: 4312309     
KAIWAKA SPORTS ASSN: Ph 4312005; 4312129 gym 
KAIWAKA ST JOHN: Manager Steve Rosser 09 4318403, 021 2316836 
KATE'S PLACE with Govt.Day Agencies/Community Information /
Osteopathy/ IRD / Probation, etc Ph: 4312661 Hours: 9am-3pm. Mon - Fri 
LINKING HANDS Health Shuttle Ph 4314121 or 09 4318969 
MINISTRY FOR PRIMARY INDUSTRIES - General inquiries Call 
Free 0800 008 333 
NORTHPOWER: Faults Kaiwaka area 0800 104040 
OTAMATEA COMMUNITY SERVICES: Free counselling, parent 
coach, Family Support worker, budget advice, food bank. Mon-Fri 9am-
30m. Ph 09 431 9080 
PARENTPORT: Free, practical family support service Puhoi to Paparoa 
Ph or txt:  Dianne 027 2085093 
PERSONAL DEVELOPMENT COACHING, GROUP FACILITATION:  
Sabine Druckler 4312231 
PLUNKET: Kaiwaka - Kaiwaka War Memorial Hall: Clinic 1st Wednesday of the 
month; Coffee Group at 9:30. Mangawhai  - Rose Madsen Cottage, Mangawhai 
Domain,  Moir  St:  Clinic  1st  and  3rd  Monday  of  month;  Young  Babies  Coffee 
Group  2nd  and  4th  Monday  10  am;  Plunket  Playgroup  every  Thursday. 
Maungaturoto - Maungaturoto Congregational Church, 100 Hurndall Street East: 
Plunket clinic 2nd and 4th Wednesday. Cynthia 09 431 8187 or 027 675 3488 
PLUNKET HELPLINE -0800 933 922 (24 hours) 
PUBLIC HEALTH NURSE: Gloria Reid Ph: 094327634  
RETURNED AND SERVICES ASSN 733 Settlement Rd. Hakaru 
Ph.4312176 Bill Kerr (President) Ph.4314719 
TAITOKERAU COMMUNITY LAW: Free confidential legal advice and 
assistance, 2nd
Thursday
 of each month. Ph: 0800 155 529 for 
appointments.  
TE KOROWAI AROHA O NGATIWHATUA Ph: 4312675 
(The Cloak of Love of Ngatiwhatua) Support and Maori Consultancy.  
VETERINARY SERVICE MANGAWHAI: 
Ph: 4314535 Mon-Fri 8.00-5.00, Sat 9-12, a/h appt. 
WELLSFORD DOCTORS: Ph: 4238 086 
WOMEN'S WELFARE LEAGUE & Reaching Out For Youth:  
4 Kaiwaka-Mangawhai Rd, M Morgan 4312293 
CHURCHES:
Kaiwaka Revival Church - Your Community Church: Sundays 10am 
Ph: Pastor Tawhiri 09 4312 571 or Pastor Paul 09 4312 068 
St Paul's Anglican Church 1st Sun. 9.30 am (Eucharist), 3rd Sun. 9.30 
am (Family Service). Contacts:  Church Office 09 431 4122; M. 
Hargreaves 431 2295; C. Bygrave 431 2057; or Rev. Wayne Thornton 
Ph 431 5650 www.mangawhaianglican.org.nz 
Church of Christ the King, Mangawhai:9.30am every Sunday 
St.Mary's Catholic Church: Maungaturoto – Griffins Road, Saturday 
evening Vigil Mass 6pm; Mangawhai – Senior Citizens Hall, Sunday 
Mass 8:30am; Wellsford – Matheson Road, Sunday Mass 10:30am; 
Mid-week Mass times and all enquires to Fr. Bill Fletcher – phone 423 
8170 
Baptist Church: Sun. 10.30am Mangawhai Snr Cit.Hall.Ph:4312339 
Cause Way Church Mangawhai: Sundays 10.15am, Mangawhai 
Community Recreation Centre, Insley St. Ph: 09 4314782  
Next Bugle Deadline midday Friday 1 April 2016
WHAT'S ON
PLEASE ~ do let us know what is on - email 
kaiwakabugle@kaiwaka.co.nz 
Advertising in WHAT'S ON is FREE  
*23Mar~Small Blacks coaching 6:30pm KSA 
*24Mar~Hakaru RSA Women's Section, 1:30pm Hakaru RSA 
*25Mar~ Hawks v Kamo, 12:30pm & 2:15pm, KSA 
*25Mar~The Lady in the Van (M) 7:30pm KWMH 
*26Mar~Roller Disco, KSA 
*27Mar~The Good Dinosaur (PG) 2pm KWMH 
*1-3Apr~Mangawhai Walking Weekend 
www.mangawhaiwalking.co.nz or 09 431 5950 
*2Apr~Kaipara Knights Registration Day, 11:30am KSA 
*2Apr~Mangawhai Food & Wine Festival, 3pm The Olive Grove, 
www.mangawhaiwalking.co.nz 
*3Apr~Kaiwaka Touch Module Finals 12:30pm KSA 
*6Apr~Kaiwaka Sports Assn meeting 7pm KSA 
*8Apr~BeeGees One Night Only, 7:30pm KWMH tickets only 
4312 234 
KWMH=Kaiwaka War Memorial Hall 
KSA=Kaiwaka Sports Association Complex 
See www.kaiwaka.co.nz for upcoming events. 
HOUSEHOLD RUBBISH COLLECTION - Kaiwaka Pick up: 
Mondays = Gr een bags (Nor thland Waste - 09 430 3273) 
Wednesdays = Blue bags and yellow r ecycling (at J aques $3.00 
and $1.50) (Kaurilands 09 4392146) 
 DIABETES  Support  Group  -for  Kaiwaka,  Mangawhai, 
Wellsford  10am,  3rd  Friday  of  month  Ph:A.Pert  4238242; 
J.Gardner 4238060 
 DRINK CAN 'tear tabs' - for Starship Hospital- please collect - 
98 Kaiwaka Mangawhai Rd, leave in mailbox, Ph. 4312625  
 GENEALOGY - Wellsford: 1st Thursday in month Ph: 423 
7033; Waipu: 4th Monday in month Ph: 4312 725 
 GYMNASTICS  OTAMATEA  -  Tuesday  Ph:  Stephanie  022 
3624998 
 HAKARU PONY CLUB - Secretary Julie Rynne 09 4314520 
 KAIWAKA BADMINTON -Tuesdays 7.30pm Ph: 4312345 
 KAIWAKA  DRAMA  CLUB  -  Dave  Edwards  021  611198  - 
KaiwakaDrama@gmail.com Monday 5:30-7:00pm KWMH - FB 
- "KaiwakaDramaClub" 
 KAIWAKA DRUM & DANCE CLASSES - Dave Edwards 021 
611198 - DjembeNZ@gmail.com Monday 7:00-9:00pm KWMH 
African Rhythms  
 KAIWAKA FIBRE FUN - spinning, weaving, felting. 3rd 
Sunday 10am-2pm Kate's Place Ph Faye Thomas 022 099 5467 
 KAIWAKA GARDEN & FLORAL GROUP - 2nd Thursday in 
month. Ph: 431 4767 
 KAIWAKA  CUBS  -  Thursdays  5.30-7pm,  Hakaru  Ph:Bruce  
4312542 
 KNITTING FOR WHANGAREI HOSPITAL - 2nd Tuesday in 
month, Apple Basket 10am Ph 4314827 
 MANGAWHAI COMBINED PROBUS CLUB - 2pm, 3rd 
Thursday month, Senior Citizens Hall Mangawhai. Ph: 4315777 
 OTAMATEA GREY POWER - Kath Pattinson 09 431 8960, 
1pm last Wednesday of month, Anglican Church Hall, 
Maungaturoto 
 PT CURTIS CRUISING CLUB - Jean Ph: 4312 246 
 RSA,Hakaru & Dist.Women - meet 1.30pm 4th Thurs in month 
Ph: 4314 668  
 TRAMPING - Mondays 9am-2:30pm  Karen Ph: 4312 090 
 YOGA  -  Tuesdays  6:15pm,  Friday  8:30am  KWMH  Carla  Ph: 
021  296  8794;  Wednesday  5:30-7:00pm  Archie  Bull  Hall 
Dalleise Ph 4312 108 
HALLS FOR HIRE: 
 St.Pauls Archie Bull Hall HIRE  $20 half day, $40 full day per 
hire, R. Morgans, Ph 4312365 
 Kaiwaka  War  Memorial  Hall  HlRE  -  Phone  4312725  or 
kaiwaka.hall.bookings@gmail.com 
 Hakaru Community Hall HIRE -Ph. 4312256 or 4312110 
 Te Pounga Marae queries - R. O'Leary 4312 423, J.Nathan 021 
186 7382 
 Kaiwaka Sports Association hire/queries - C. Anderson 4312051 
or kaiwakasports@gmail.com 
Justice  of  Peace:  B.FJaques;  L.Donaldson;  A.F.Hargreaves, 
S.Dalziell,  W.Howard  -  please  phone  to  make  sure  they  are 
available www.justiceofthepeace.org.nz 
Marriage Celebrants: L.Donaldson; A.F.Hargreaves; C.Rosseels