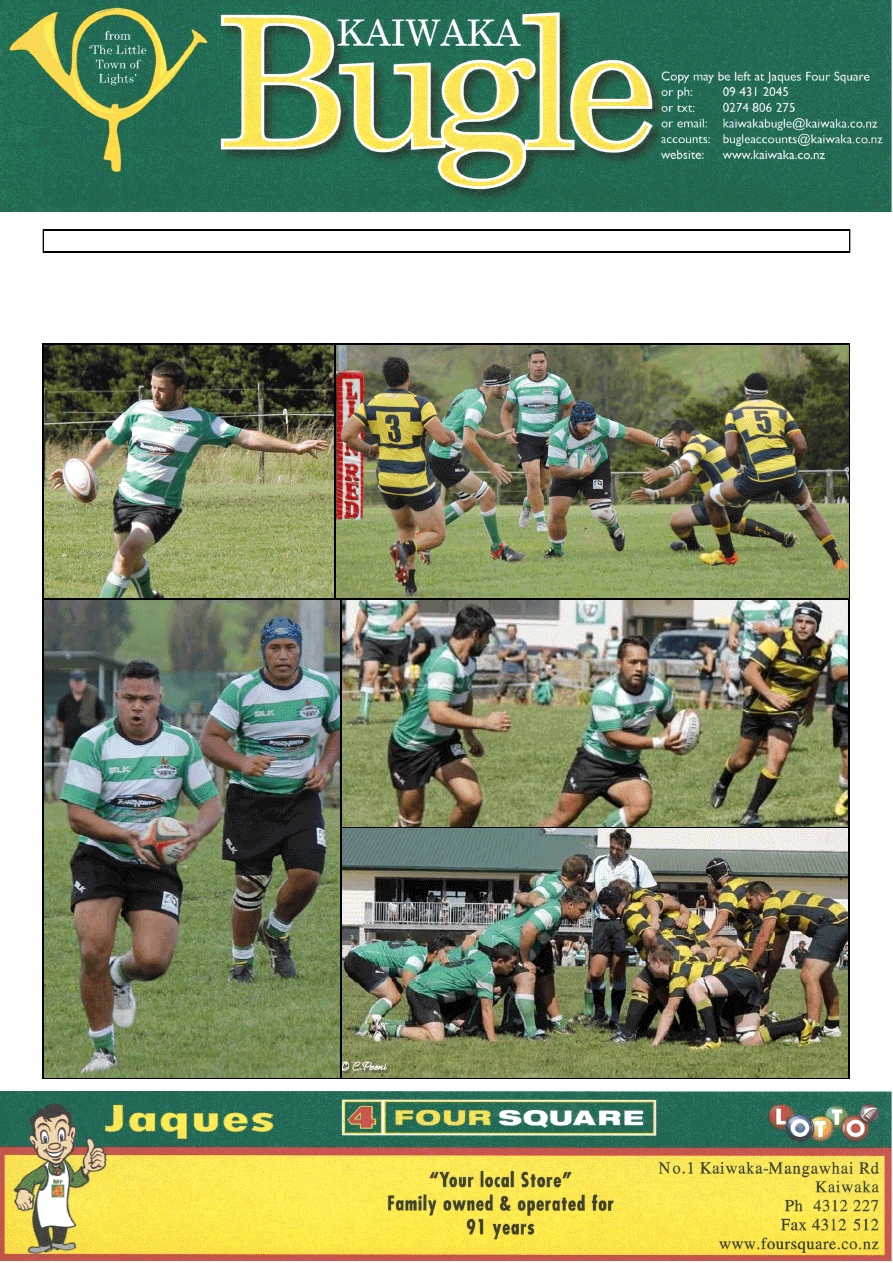 www.kaiwaka.co.nz 
Kaiwaka Bugle - 5 April 2016 
Page 1 
 No: 6
5 April 2016 
OTAMATEA HAWKS 
Our Hawks continued their good start to the season, with two great wins over Waipu last weekend at the Maungaturoto 
grounds. Premiers won 40 - 26; Reserves won 20 - 13. Thank you to Chantelle Peeni for the great photos. (© C Peeni) 
Winter Trading Hours: 
Mon, Tue, Thu, Fri 8am to 6pm 
Wed 8am to 6.30pm (Lotto) 
Sat 8am to 7pm (Lotto) 
Sun 9am to 5pm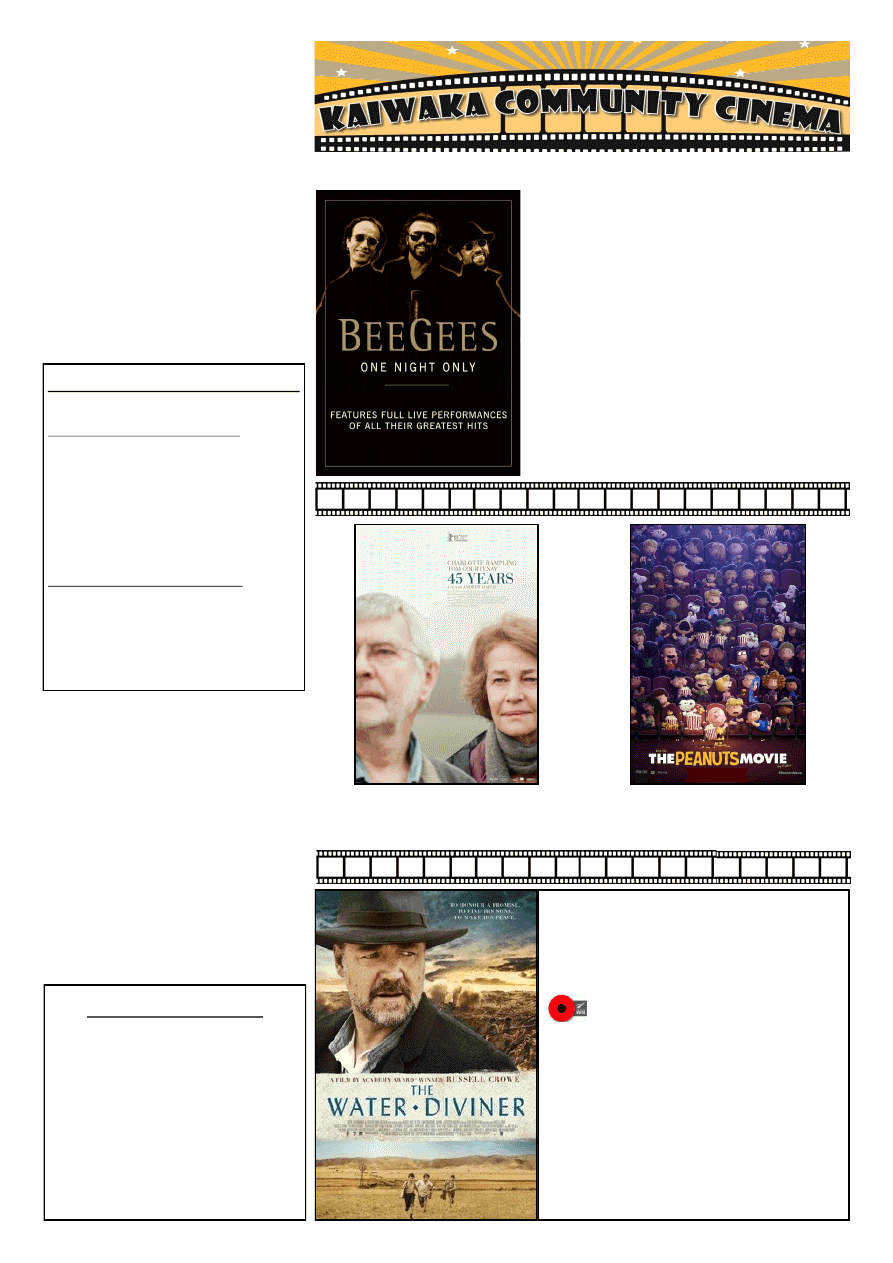 ABOUT TOWN 
......... 

Black  rubbish  sacks  ARE  NOT 
collected  by  the  rubbish  collectors, 
yet  many  are  seen  on  the  roadside 
each  week.  Please  use  the  proper 
blue, yellow or green bags, which can 
be purchased at several outlets around 
town, and put them out in time on the 
right day. 

Lovely  to  see  a  contribution  to  the 
Bugle  from  a  member  of  the  public. 
Thanks Huw! 

Northland  students  are  looking 
forward  to  the  Te  Tai  Tokerau 
Festival,  on  the  13th  and  14th  of 
April, at Otamatea High School. 
KAIWAKA BUGLE No: 6 
5 April 2016
Page 2: Kaiwaka Movies 
Page 3: Public Notices; Classifieds 
Page 5: Kaiwaka Weather, Good Sort 
Page 7: Zonta 
Page 9: Op Shop, Kaiwaka School 
Page 11: Friday Night Movies 
Page 13: Kaiwaka Sports Association 
Page 15: WW1 - Sgt Mikaera Miru 
Bugle 7 will appear 19 April 2016 
Contact for advertising, reports, articles 
or information can be made by: 
Email kaiwakabugle@kaiwaka.co.nz 
Ph: 09 4312 045 (Lindsey) 
Txt:  0274 806 275 (Wendy) 
Copy may be left at Jaques' Four Square.
Kaiwaka Bugle 
Founded May 1978 
Copies available in Kaiwaka at Jaques Four 
Square, Kaiwaka Postal Centre, Shamrock 
Service Station, Animal Health Centre. Also 
outlets in Maungaturoto, Mangawhai and 
Paparoa. 
Can be viewed online at  Facebook or 
www.kaiwaka.co.nz/Bugle  
Or a copy can be posted to you if you supply 
stamped, self-addressed DLE envelopes. 
At Kaiwaka War Memorial Hall . Adults $10, Chn (under 16) $5, Family Pass (2 adults + 3 children) $25 
45 Years 
Friday 22 April 7:30pm (M) 
The Peanuts Movie 
Sunday 24 April 2:00pm (G)
Kaiwaka Bugle Advertisements 2016: 
All 
copy 
and 
queries 
to: 
kaiwakabugle@kaiwaka.co.nz 
Classified  $4  per  entry  (max.  30  words, 
max. 4 repeats); 1/16 page $5; 1/8 page $8; 
3/16 $12; 1/4 page $16. 
Payments can be made online, posted or 
left at Jaques Four Square Store. 
Accounts: 
bugleaccounts@kaiwaka.co.nz 
The  Kaiwaka  Bugle  is  a  community 
newspaper run by volunteers.   
Articles, etc. printed are not necessarily 
the opinion of the Bugle Team. 
BeeGees 
One Night Only 
in Kaiwaka 
Magic Music and Supper Night
8 April 7:30pm 
$20.00 per ticket
Ph 4312 234 or 4312 225
No door sales                     BYO alcohol 
(G) 
The 
Kaiwaka War Memorial Hall 
Assn (Inc) presents 
The Water Diviner 
(M) 
ANZAC Day 
Monday 25 April 
7:30pm 
$10.00 per ticket 
Door sales only 
A donation from the proceeds will be 
made to the Hakaru RSA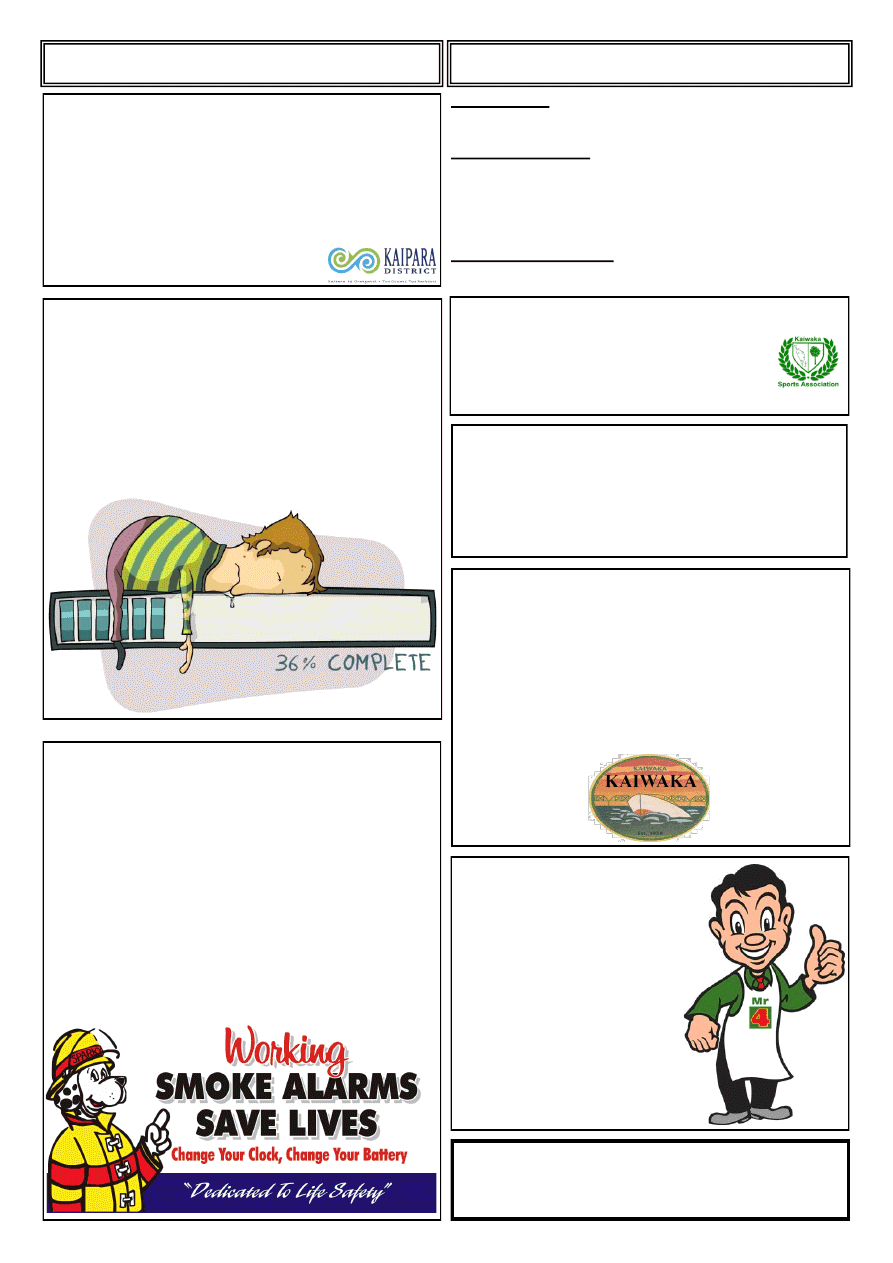 www.kaiwaka.co.nz 
Kaiwaka Bugle - 5 April 2016 
Page 3 
PUBLIC NOTICES 
CLASSIFIED 
Proverbs 13:10 
Pride leads to arguments; be humble, 
take advice, and become wise. 
FOR  SALE: Karda dehumidifier $50, Creda 4 fin oil 
heater $25, Moda foot spa $25. Ph 4312 052 
WANT to RENT: Semi retired couple wanting to rent 
2-3  bedroom  house  in  the  Kaiwaka  area,  town  or 
country.  Willing  to  relief  milk  or  do  odd  jobs.  For 
season  2016-17  and  beyond.  Contact  Grant  or 
Veronica 0221074436 after 6pm. 
CHIMNEY SWEEP: Ph Mark 021 457247 
POINT CURTIS CRUISING 
CLUB 
8th, 9th & 10 April 
East VS West Open Fishing Competition. 
Entry Fee: Seniors: $30, Juniors (Under 15) $10. 
Tickets must be purchased before  
11pm Thursday 7th April. 
Please see poster for more information, 
rules and disclaimer. 
KAIPARA DISTRICT COUNCIL 
Local Body Elections 
8 October 2016 
To find out about the election process and how to run 
for an office go to: 
http://www.kaipara.govt.nz/Elections/
Local+Elections+2016.html 
Check your electoral roll status at: 
http://www.elections.org.nz/ 
Daylight Savings ended last weekend. 
Have you changed your smoke alarm 
batteries? 
Have you checked to see if your elderly 
neighbours, friends and family need help 
with theirs? 
Kaiwaka Fire Brigade have a number 
of free smoke detectors/alarms 
available. 
Contact Fire Chief John Bowmar 
4312 248 
KAIWAKA SPORTS ASSN 
MEETING
Wednesday 6th April, 7pm 
Kaiwaka Sports Complex 
KAIWAKA LIBRARY 
NLN Large Print & Audio books 
Please have these items returned to the library 
by Saturday 16 April 
Thanks, 
Wendy 
JAQUES FOUR 
SQUARE 
Winter Trading Hours: 
Mon, Tue, Thu, Fri 8am to 6pm 
Wed 8am to 6.30pm (Lotto) 
Sat 8am to 7pm (Lotto) 
Sun 9am to 5pm 
INTERNET SPEEDS 
Do you have slow internet and/or no internet at your 
place? 
Test your speed at http://www.speedtest.net/ 
Thank you for the feedback received, 
please keep it coming. 
Would also like to hear from people who have 
changed to wireless or satellite for improved service. 
 ~ Lindsey 
Email: linz.harg@xtra.co.nz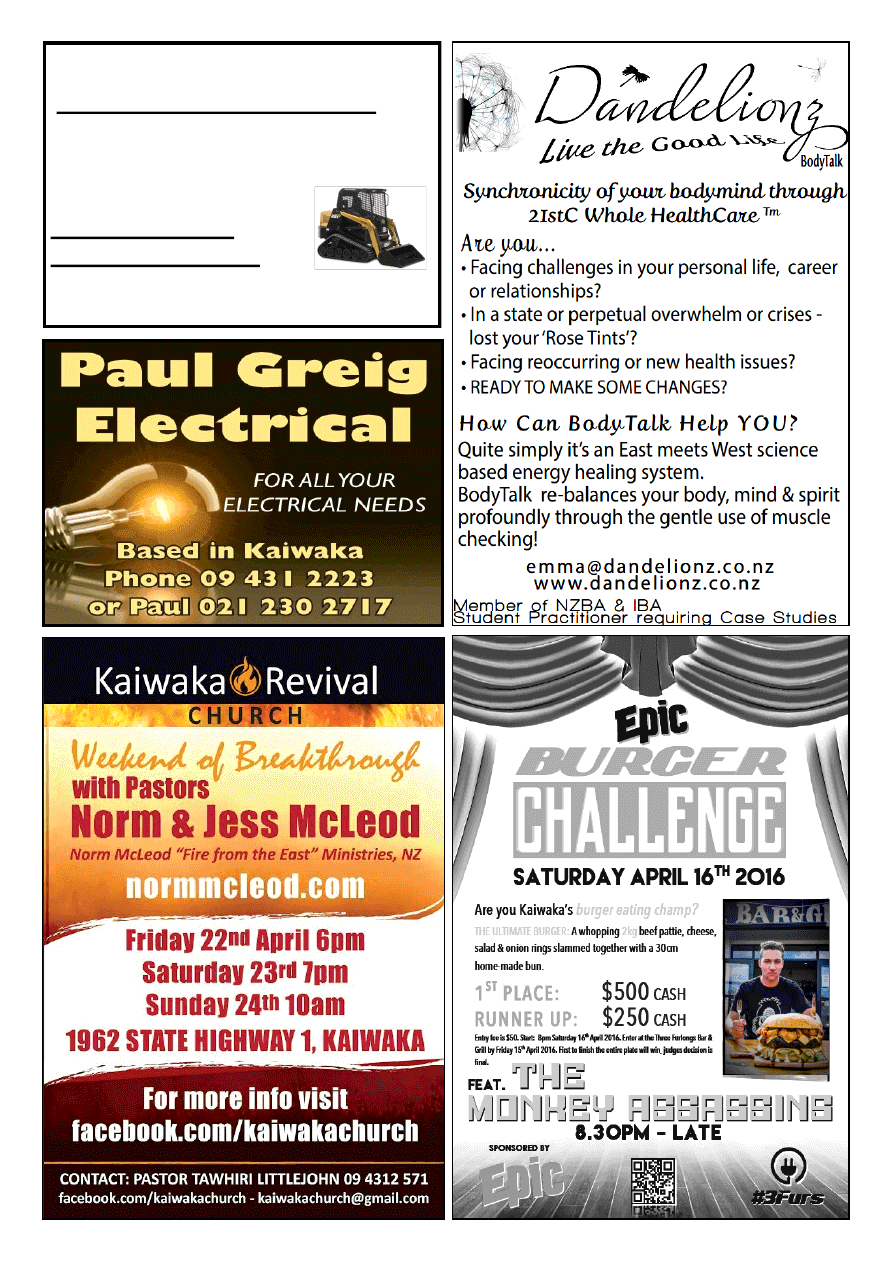 Natural Earth Ltd 
 Landscape and Bobcat services 
 : Driveways  :Landscaping  :Retaining Walls 
 : Hole Boring: Land Levelling :Trenching 
 : Decks :Fences :Sections Cleared: Plus much 
more 
Tel   09 4312885 
Mob 02102391280  
For A Fast Friendly  
Service Contact Tim Hicks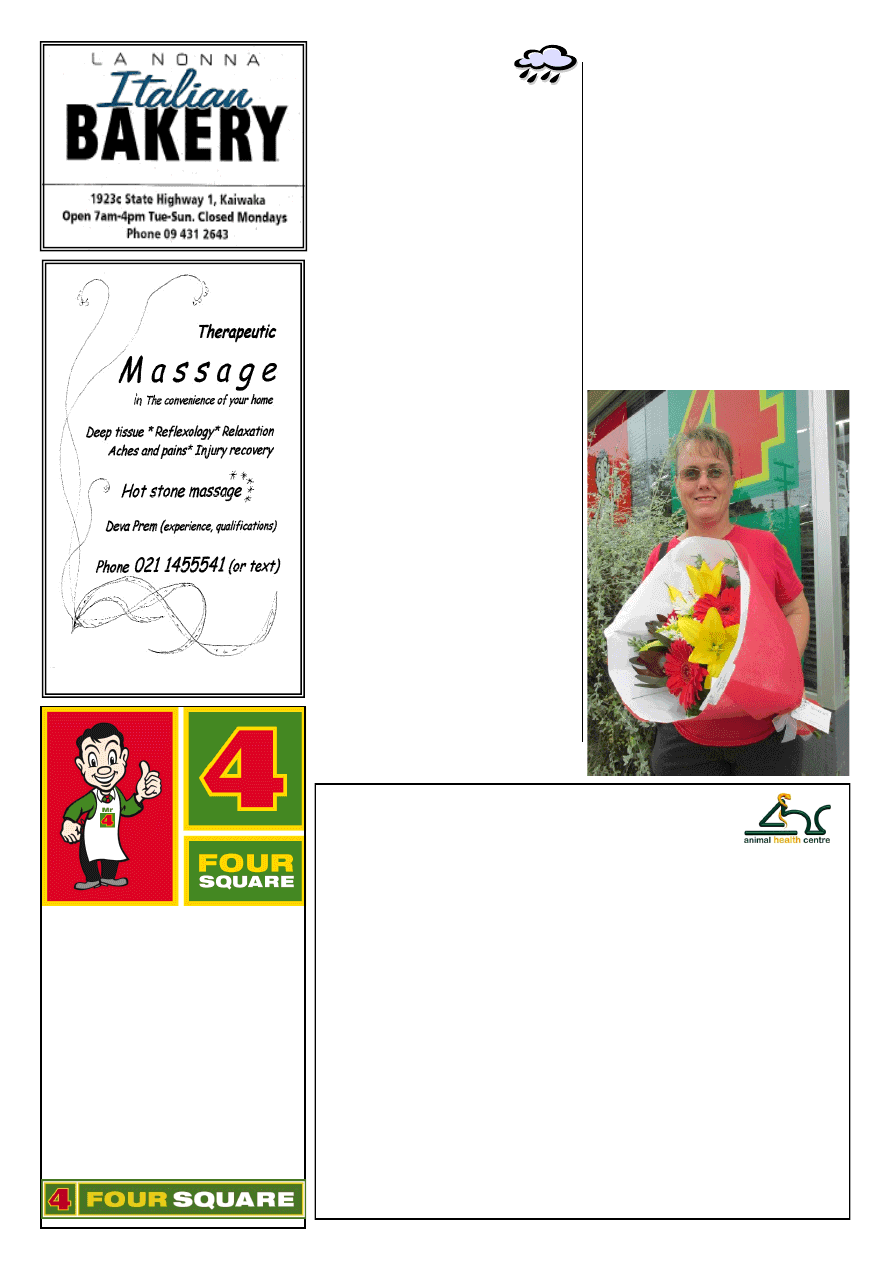 www.kaiwaka.co.nz 
Kaiwaka Bugle - 5 April 2016 
Page 5 
ANIMAL HEALTH CENTRE 
KAIWAKA 
"choices in health care for your companion animal" 
Health problems - itchy skin, smelly ears, bad breath, diarrhea? 
On steroids, antibiotics, lifetime drugs.....  ? 
Diet may be a part of the problem!   
Call in and have a chat to our team of animal health practitioners. 
Nail Trims  Microchipping  Dental checks  Comfort grooms 
Great range of real food – no preservatives 
Alternatives to nasty chemical parasite controls 
OPEN:    Tues-Fri    10:00am – 5:00pm 
    Saturday   10:00am -  4.00pm 
    Sunday / Monday - Closed 
Next to Italian Bakery, Main Highway  Kaiwaka 
Ph:  09 431 2217 
PS: We're  open 7 days in Orewa if you missed us! 
www.mangawhaimassage.co.nz 
KAIWAKA'S  
GOOD SORT
KAIWAKA 
WEATHER 
We  are  now  past  mad  March  weather-
wise.  Three  months  of  the  year  have 
gone, as if you needed reminding. I do 
hope you did not suffer too much storm 
damage. We had rather a mess to clean 
up  and  the  wind  flattened  the  bean 
fence.  All  sorted  now.  The  rain  was 
welcome  again.  The  middle  of the last 
two months has seen much-needed rain, 
and  those  dreadful  winds  of  which  we 
could  have  done  without.  Our  weather 
at  the  moment  is  sparkling  and  Easter 
was  wonderful.  The  traffic  was 
diabolical  and  Monday  night  Easter 
weekend  there  was  still  a  heavy  flow 
until about 9 to 10 o'clock. The sunrise 
on the 30th was beautiful. 
For March this year we had 44mm rain 
and  2015  we  had  70mm.  We  had  rain 
on  7  days  this  month  and last  year  we 
rain had on 8 days. Our wettest March 
since 1987 was 2007 with 260mm and 
the driest was 2004 with 8mm. The first 
three months of 2016 we had 388mm (I 
kid  you  not)  and  last  year  we  had 
155mm.  Our  wettest  first  3  months 
since 1987 was 2011 with 520mm and 
the driest was 2013 with 69mm.  
Driving to Whangarei on Thursday we 
noticed  very  little  water  is  coming 
down the Brynderwyn waterfall, so the 
water tables are still very low.  
Mushrooming?  Remember  please  ask 
the  landowner  if  you  can  go  on  to  his 
property  for  mushrooms  and  do  NOT 
climb  fences.  They  do  have  gates  for 
obvious reasons. 
Remember,  do  not  knock  the  weather. 
If it didn't change once in awhile, nine 
tenths  of  the  people  could  not  start  a 
conversation.  Take  care  out  there  and 
enjoy the beautiful weather we have. 
~Bev 
Lindell  Ferguson  was  nominated  as  a 
Kaiwaka Good Sort by Anne, who said 
"I  met  Lindell  when  I  first  moved 
here.  Lindell  (and  Bruce)  have  helped 
me  enormously  with  advice  and 
contacts  for  whom  I  should  call  when 
things  'happen'  .  They  have  made  me 
welcome  in  Kaiwaka  and  support  the 
community  so  much.  I  know  (at  the 
moment)  she  is  involved  in  Scouts, 
Soccer,  Tennis  and  the  Sports  Assn. 
She  always  seems  to  be  around  when 
you  need  somebody!  Lindell  also 
provides  fresh  milk  to  community 
organisations during the season." 
Thank you to Lindy the Flower Girl for 
donating  the  gorgeous  bouquet  of 
flowers. 
IN STORE NOW!!
LIVE MUSSELS  
Everyday Low Price $3.49 per kg 
Winter Trading Hours: 
Mon, Tue, Thu, Fri 8am to 6pm 
Wed 8am to 6.30pm (Lotto) 
Sat 8am to 7pm (Lotto) 
Sun 9am to 5pm 
Jaques Four Square 
Phone: 4312227 
1 Kaiwaka-Mangawhai Road, Kaiwaka.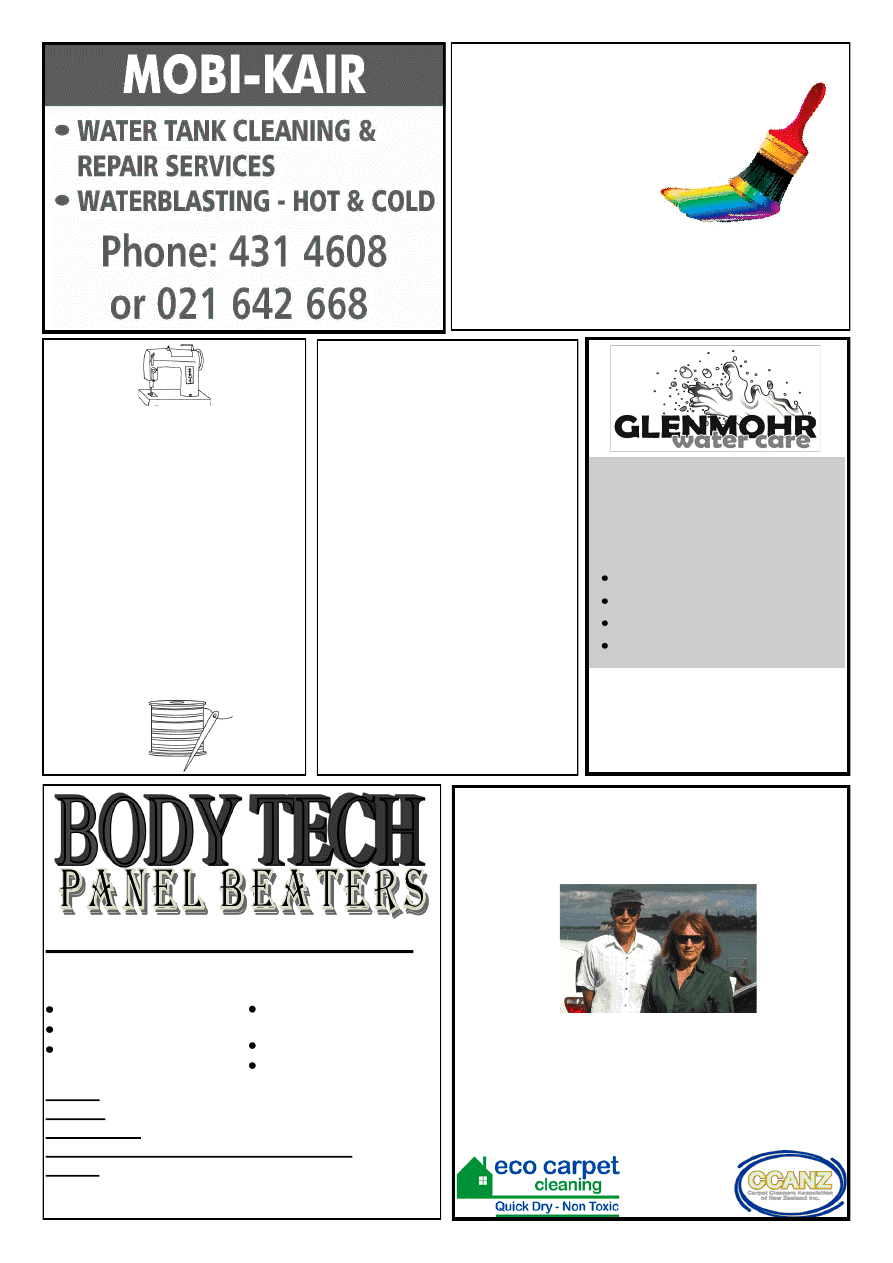 09 4312918 
0274735171 
leecooper@xtra.co.nz 
LEE COOPER PAINTERS 
(Kaiwaka Based) 
*30 yrs Experience 
*Interior/Exterior 
*New and Restoration 
*Honest and Reliable 
*Free Quotes 
CARPET & UPHOLSTERY 
CLEANING 
QUICK DRYING – NON-TOXIC  - GREAT RESULTS 
Mike and Marina Bagley 
Call 09 431 3016  
or  027 2410414 
marina@ecocarpetclean.co.nz  
www.ecocarpetclean.co.nz 
For all your body repair needs!! 
We do: 
Rust repairs 
Insurance work 
Anti-corrosion treatment         
Hours: 8.30am-5pm Monday-Friday  
Mobile: 021 118 0462 
After hours: 09 431 2384 
Phone: Craig or Call in for a free Quote 
e-mail: 
bodytech_panelbeaters@yahoo.com
We are located at 1837 SH1 Kaiwaka, behind  
Twinkle Tow 'n' Tyre call in anytime for a free quote.  
Large and minor vehicle  
  repairs 
Industrial vehicles 
Full Cut and polishes 
Are you Truly Happy?
Glo Treadaway 
Change Catalyst 
Compassionate Intuitive 
Spiritual Healer, 
Counsellor, 
Abundance Coach, 
Certified TheaHealing Practitioner.
4312 209 
027 363 8833 
glo@celestialconsulting.co.nz 
www.celestialconsulting.co.nz 
Consultations available 
Kaiwaka, Waipu, Browns Bay 
Water Tank  
Cleaning 
Keep your water safe & clean   
Removal of sediment, silt etc 
Vacuum or full scrub 
Minimal water loss 
Phone Mark  
(09) 432 0655  
or 0274 707607 
WINSOME 
DESIGNS 
Clothing Alterations and 
Repairs 
(Hems, zips, patches, 
darning etc.) 
Dressmaking 
Curtain making 
Contact Win: 
09 431 2027 or 027 444 
8358 
winsomecutts@xtra.co.nz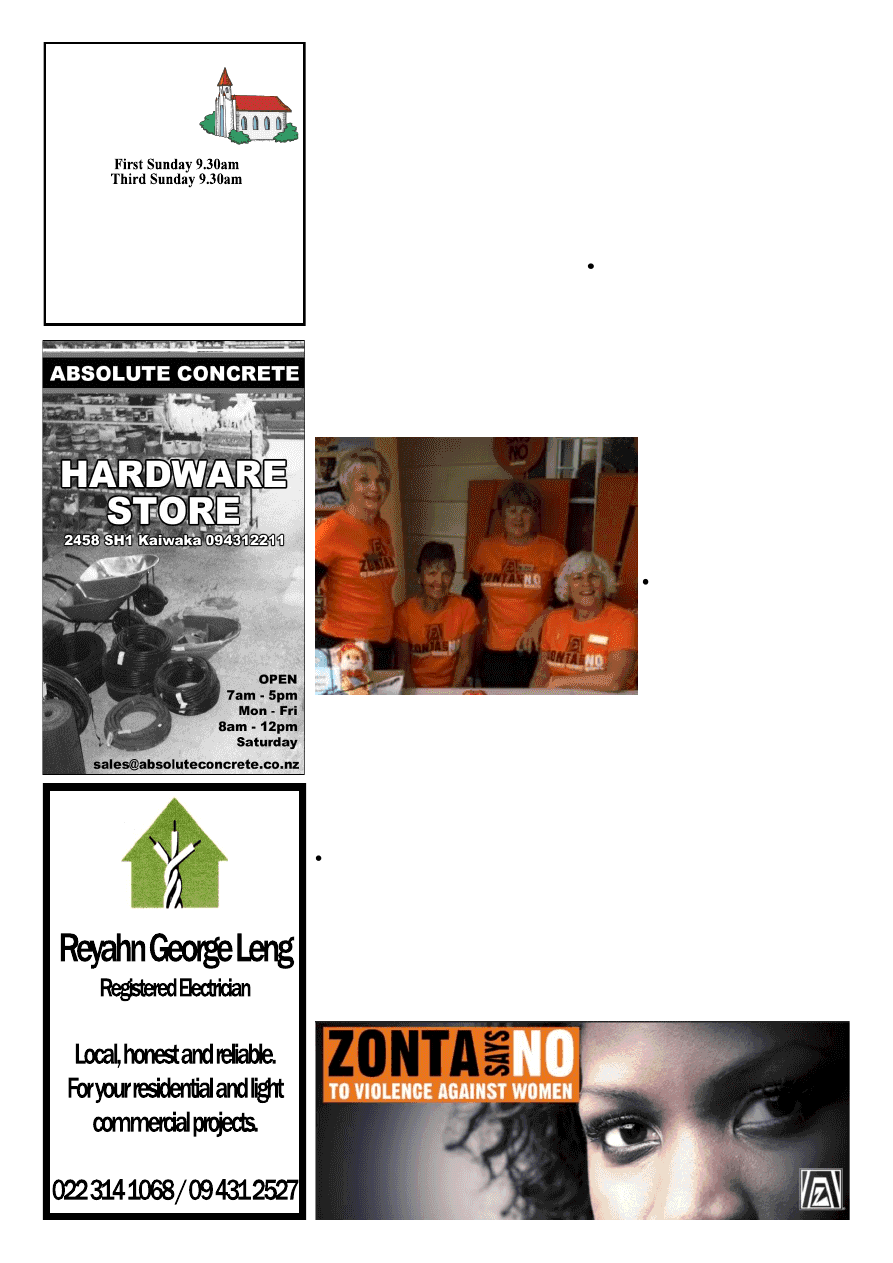 www.kaiwaka.co.nz 
Kaiwaka Bugle - 5 April 2016 
Page 7 
ST PAUL'S  
ANGLICAN  
SUNDAY  
SERVICES
St Pauls Church: Kaiwaka-Mangawhai Rd. 
1st Sun - Eucharist 
3rd Sun - Family Service 
Office 4314 122 
Contacts:M.Hargreaves 4312295, C.Bygrave 4312057  
or Rev. Wayne Thornton Ph 431 5650 
www.mangawhaianglican.org.nz
ZONTA
Zonta International Rose day 
Our  Zonta  breakfast  went very  well,  a 
really  tasty  breakfast  by  Harvest  Blue. 
Thank you Kris and the team. We had 
over 20 people attending, it was lovely 
to  catch  up  with  some  of  our  former 
yellow rose recipients. Sandra Grayson 
was  delighted  to  be  our  yellow  rose 
recipient for 2016. 
Service Committee Report  
6  mother  &  baby  packs  have  been 
distributed this month. 
Stall at the Mangawhai Market 
This  was  a  great  attraction  outside  the 
library  on  12th  March.  We  talked  to 
lots of people and may have got a new 
member from the event. These types of 
activities  not  only  get  us  out  into  the 
community,  it  gives  us  a  chance  to 
inform  people  of  the  work  that  Zonta 
does, 
locally, 
nationally 
and 
internationally.  Thank  you  to  the 
volunteers who "womanned' the stall. 
AGM & Speaker 
At  our  next  Mangawhai  Zonta  general 
meeting  on  April  25th  we  have  an 
amazing guest speaker in Lyn Dawson 
who was our club's nominee for one of 
the 50 Women of Achievement. 
Below  are  highlighted  some  of  her 
significant achievements around which 
she will frame her talk to us. 
Established  a  Charitable  Trust  to 
develop  reading,  writing  &  literacy 
programmes at Mt Eden Women's in 
1999,  culminating  in  the  programme 
launching  under  Lynn's  management 
that  year.  Under  this,  she  developed 
&  tutored  programmes  on  site  & 
establishing 
libraries, 
reading 
programme  &  other  initiatives  in  Mt 
Eden, South Auckland, Wellington & 
Christchurch  women's  correctional 
facilities  until  the  programmes  were 
closed  due  to  lack  of  funding  in 
2011  Lynn's  role  with  the  Books  in 
Prisons  project  gave  marginalised 
women  the  opportunity  that  most 
have never had  – the gift of literacy. 
This became a lynch-pin in changing 
the  lives  of  these  women  as  many 
went  on  to  further  education  which 
allowed them to break free from their 
violence-filled lives. 
Co-founded  Peggy  Purl  in  Your 
Community  programme  in  2012  – 
now supported by Jetstar Flying Start 
Grant.  Community  groups  meet  to 
knit  Peggy  Squares  to  be  made  into 
blankets  for  children  in  need.  In 
excess  of  1000  beautiful  blankets 
have  been  made  so  far  with  groups 
starting  all  the  time.  Now  including 
school  &  new  immigrant  groups. 
Women are meeting to do something 
meaningful  but  are  also 
enriched  by  the  sense  of 
camaraderie & chat Her Peggy 
Purl  project  is  giving  women 
the  opportunity  to  meet  & 
communicate 
with 
other 
women  in  a  friendly  non-
threatening  environment  while 
doing good for others. 
Magnolia  House  proposal  – 
to  benefit  homeless  women 
and  women  being  released 
from  prison.  Works  with  the 
Auckland  Regional  Homeless 
Action  task  force  in  this 
regard.  Lynn's  role  with  the 
Books  in  Prisons  project  gave 
marginalised  women  the  opportunity 
that most have never had – the gift of 
literacy. The Magnolia House project 
offers  hope  for  women  who  are 
discharged  from  the  Justice  system 
with nowhere to go, or who are being 
forced back to violent homes with no 
chance of changing that. 
Guests  are  welcome  to  come  to  hear 
Lyn speak - they can either join us  for 
dinner  (at  a  cost  of  $25  pp)  or  come 
just to hear Lyn's address. 
When: Monday, April 25 at 6pm 
Where: Mangawhai Golf Club 
RSVP:    To  Kay  on  0277158205 
before Sat April 23  
The  Zonta  Club  of  Mangawhai,  P  O 
Box  40104,  Mangawhai,  0505  or 
www.mangawhai@zonta.org.nz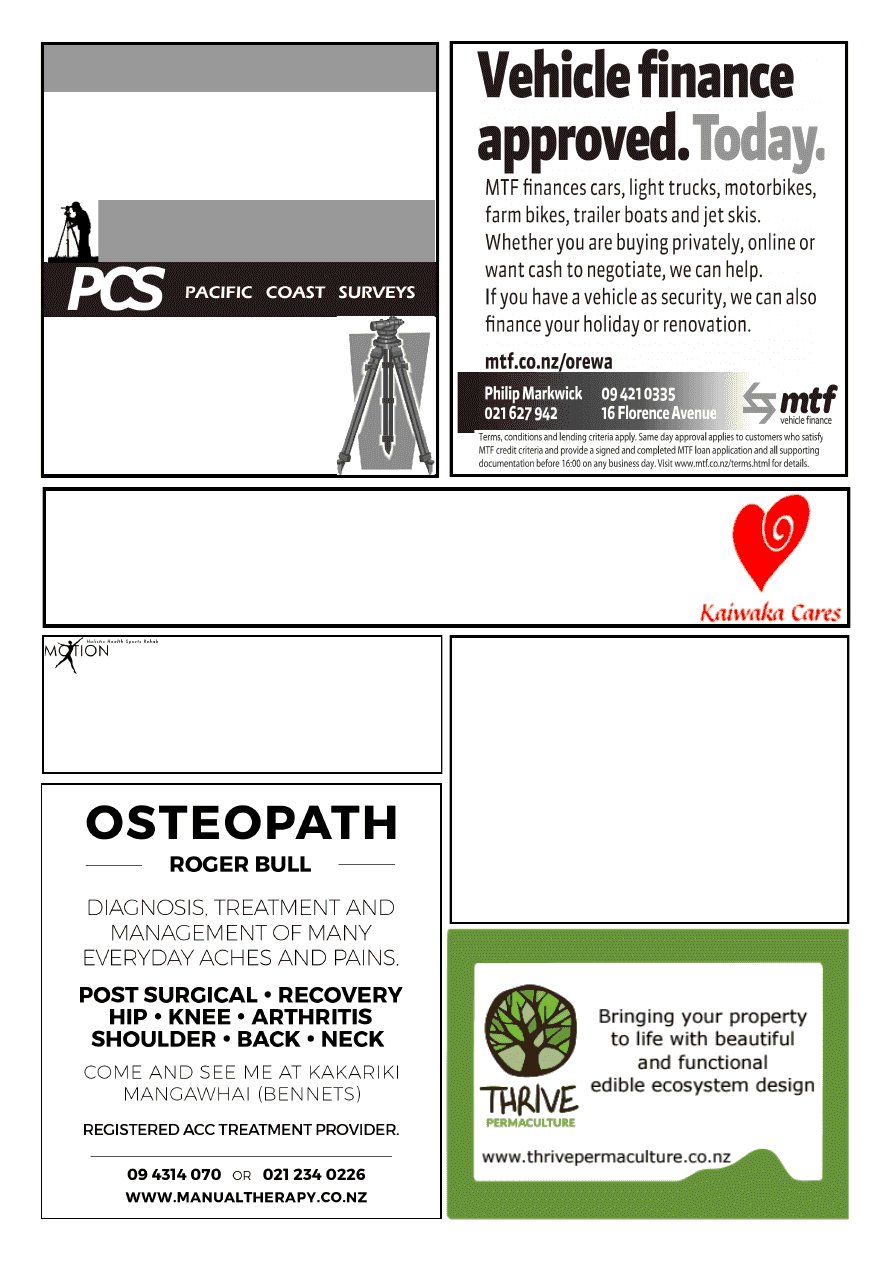 Community Centre
Open 10am – 2pm Monday – Wednesday – Friday 
WIFI, printing & scanning available 
Kaiwaka's own social space. 
JP on site every Wednesday 
LIFESTYLE PROPERTY  
MAINTENANCE 
Putting life back into your style
Working out of Kaiwaka; servicing Mangawhai, 
Maungaturoto, Waipu and surrounding areas. 
  With over 25 years' experience, I'm fully insured and any 
job considered so just call me – James on mob: 0273 
808622  or  09 431 2245 
email: lifestylesorted@gmail.com  
Mulching - gorse, 
scrub 
Tree & hedge work 
Hole boring 
Alkathene laying & 
repairs 
Paddock topping, 
slashing 
Electric fence 
installation 
Weed spraying 
Free quotes 
Land & section 
clearing 
Loader work 
Rubbish removal 
Fully insured 
Repairs to driveways, fencing & buildings 
SURVEYORS 
SUBDIVISIONS 
HOUSE SITE SURVEYS 
CIVIL ENGINEERING 
WASTEWATER DESIGNS 
EXPERIENCED 
PROFESSIONAL 
INNOVATIVE 
Ph 09 431 5353 
0800 PACIFIC (0800 722 434) 
pacificcoastsurvey.com
Adam Booth - 027 415 5752 
Bsurv, Licensed Cadastral Surveyor
Surveying Kaipara since 1994 
WAIPU OSTEOPATH 
Maria Gabriel ACC Registered Osteopath 
Waipu Natural Health 3 Cove Rd Waipu 
Monday, Wednesday & Thursday  
Freephone 0508 924786  (0508 WAIPUOSTEO) 
www.getinmotion.co.nz     No doctor referral 
required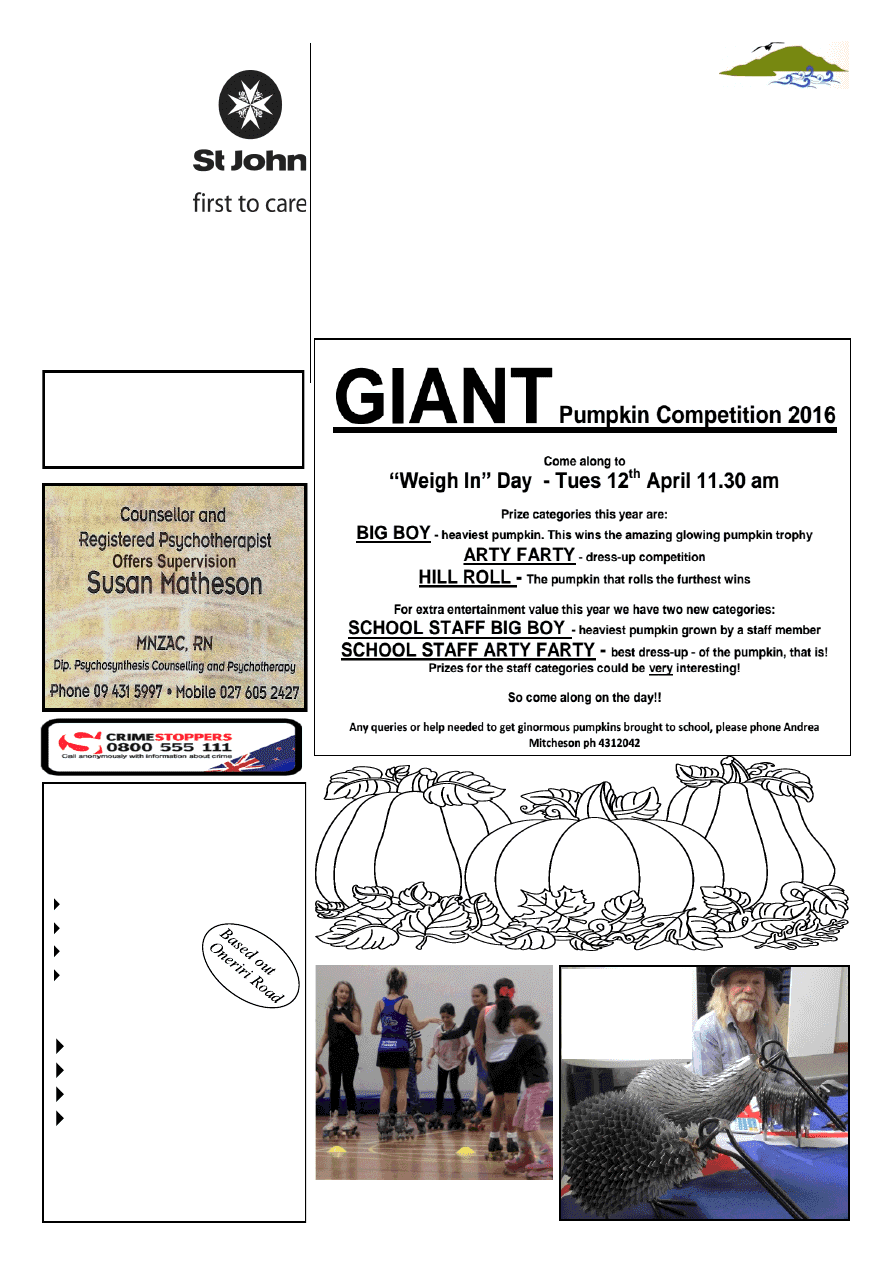 www.kaiwaka.co.nz 
Kaiwaka Bugle - 5 April 2016 
Page 9 
HODGETTS
CONTRACTING
Digger Work   
Driveways 
House Sites  
Dams 
Drains, etc  
Also available 
for HIRE 
3 ton Vib Roller 
Heavy Duty Tow 
Waterblaster  
Lazer Level 
 
Phone Mark 4312877 
027 447 8554
Parent Interviews 
5th and 7th April: Parent Interviews are 
most  important  -  these  are  next  week. 
We  are  hoping  for  100%  of  our 
families to come to these, they make an 
important difference to your children's 
progress.  Ring  or  email  Linda  in  the 
Office to make an appointment. 
Skin Infections & Sore Throats 
Skin  Infections,  such  as  scabies  and 
Impetigo  (school  sores)  are  common 
problems  in  school  children.  Public 
Health  Nurses  are  able  to  assess 
children  and  treat  uncomplicated  skin 
infections  and  sore  throats  in  school 
age children. 
Strep  A  throat  infections  can  cause 
Rheumatic  Fever. 
A  simple  throat 
swab  is  all  that  is  required  and  if 
positive  then  antibiotics  can  be  given. 
This preventable illness is prevalent in 
Northland  and  this  initiative  has  been 
established to help prevent more cases. 
This  is  a  free  service  and  fr ee 
medication  will  be  supplied.  Parental 
consent will be obtained before we can 
swab  or  treat  your  child  and  your 
child's  GP  will  be  informed  of  any 
treatment provided. 
If  you  have  any  questions  or  concerns 
please  contact  your  Public  Health 
Nurse  –  Dee  Millen  on  0800  223  358 
(option 4) or 021 735 313. 
KAIWAKA SCHOOL 
ST JOHN'S OP SHOP 
Sale 
Lots  of  VG  clothes, 
$5  a  bagful.  Some 
shoes, handbags and 
books. 
Furniture  in  about 
Wednesday 
- 
drawers,  2  single 
beds, 
bedside 
cabinets, 
large 
mirror,  small  computer  desk,  and 
carved sideboard. 
We need towels, teatowels, ornaments, 
anything else greatly appreciated. 
Please leave our plants alone. They are 
there to make the entrance look good. 
We want our gnome back. 
You want? You ask Milly. 
Kaiwaka St John  
Op Shop.  
Phone 4312650
Jim  Coats  at  the 
Kaiwaka  Market, 
at  the  Kaiwaka 
War 
Memorial 
Hall, 
with 
his 
metalcraft animals. 
Skating  practice  for  the  Roller 
Disco  in  the  Kaiwaka  Sports 
Assn's gymnasium. 
BARRY CURTIS PLUMBING LTD 
REGISTERED CRAFTSMAN PLUMBER 
Phone 4315572 
027 257 9884 
25 years experience 
Friendly reliable service 
All plumbing and maintenance 
Alterations and new housing 
Spouting 
Competitive rates 
PROMPT EFFICIENT  SERVICE 
Beth Stone is your local 
Re/Max Associates 
representative. 
I am available for chats anytime between 10AM and 
2 PM Wednesdays and Thursdays in my ChatRoom 
at Kate's Place. Or by appointment. Join me for 
coffee and conversation. 
Thinking about buying? Or selling? Or just wanting 
to talk over the options and understand more about 
the market? I can help. Use me as your sounding 
board.  
PLEASE NOTE THE CHANGED DAYS OF 
ATTENDANCE. 
Phone Beth 09 4312668 or 0274 937 801 or call in. 
I look forward to meeting you. 
GORSE
IF YOU HAVE GORSE THAT YOU 
WANT ERADICATED
Call A Farmer
Bookings taken 
NOW  
for summer spraying
Phone 09 423 7585 
027 62 55 383 
info@callafarmer.co.nz 
David Korach 
Your local Gib Stopper
DK PLASTERER LTD 
0274769221 
dkorach6@gmail.com 
The first Tuesday of April (5th)  
the whole team from  
Re/Max Warkworth will be in  
The Front Room of  
Kaiwaka Cares.  
Come along to meet us all and ask any 
questions about real estate that you have 
ever thought you wanted to know. This will 
be a regular thing as the year goes by. 
Coffee on us.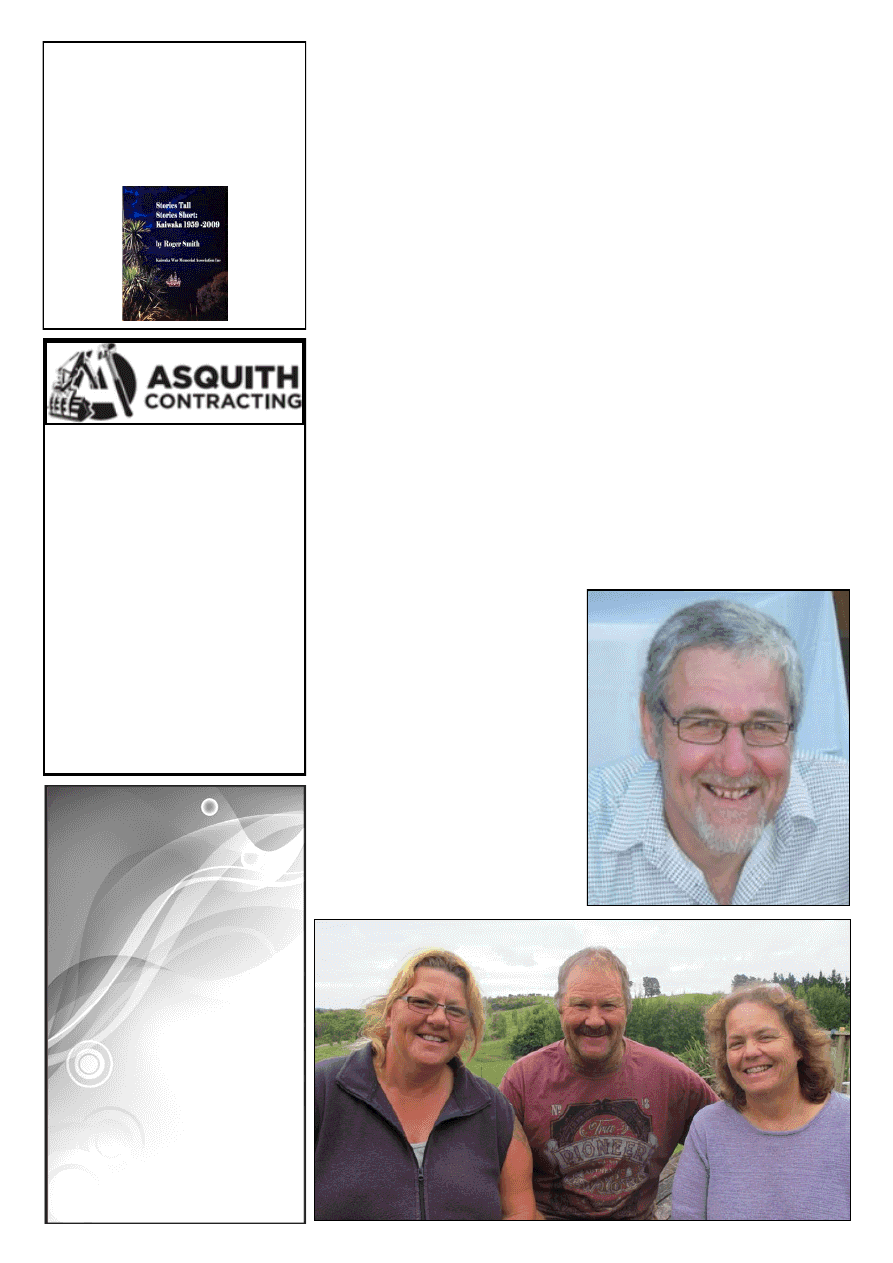 www.kaiwaka.co.nz 
Kaiwaka Bugle - 5 April 2016 
Page 11 
Crowds  regularly  abandon  home  tvs 
and  screens  for  Kaiwaka's  Friday 
Movie Night. 
The  showing  on  March  25,  Good 
Friday,  drew  133  plus  volunteers,  a 
new  record  since  the  Kaiwaka  War 
Memorial 
Association 
Inc. 
re-
established  fortnightly  movies  more 
than two years ago. 
KWMH  chairman  Ad  Clarijs  says 
Good  Friday's  crowd  for  The  Lady  in 
the  Van  is  "the  biggest  crowd  we've 
had.  We  had  about  100  in  for  Frozen, 
that  was  parents  and  kiddies,  and  on 
Friday  where  we  put  out  more  and 
more  of  the  good  padded  seats". 
Capacity  in  the  refurbished  Kaiwaka 
Hall is 250. 
How appealing? 
Ad  says,  "Probably,  on  Good  Friday, 
for  many  people  there  was  not  a  lot 
happening" and the previous fortnight's 
showing  of  The  Dressmaker  was  well 
received  though  the  audience  of  half 
the size. 
"If  we  could  predict  the  appeal  of  a 
movie  and  the  occasion,  we  would 
have  big  crowds  every  fortnight. 
"Sometimes for the adult movies, there 
are 20 to 30 people and as long as we 
can pay for the licence and buying the 
BluRay, we're doing all right," he says. 
The relaunch 
In  mid-December  2013,  the  Hall 
Committee relaunched the movie night 
following  a  short  break  to  upgrade 
equipment  from  reel  projectors  to 
digital and BluRay. 
Movie 
selections 
by 
Kaiwaka 
Community  Cinema  (which  Ad  also 
chairs)  are  made  to  appeal  to  different 
audiences. Besides movies for a mature 
audience,  there  are  showings  for 
younger viewers. 
"We average 30 to 40 for the kids. One 
week  we  had  The  Lego  Movie  for  the 
boys  and  another  week  Frozen  for  the 
girls," he says. 
"All the money we generate goes back 
into the hall. 
"We  only  charge  $5  for  kiddies,  and 
$10 for adults, so we think it's cheap." 
"Go get more" 
The  Good  Friday  turnout  surprised 
Kaiwaka 
Community 
Cinema 
committee member Dave Kearton who 
says  Ad  and  committee  member  Rik 
Schijf had to line up more seats on four 
occasions  as  people  flocked  to  the 
doors.  His  partner  Heidelind  and 
another 
KCC 
committee 
member  Amanda  Maxwell  says,  the 
initial setup was for 50 then Dave had 
to tell Rik and Ad to go and "get more, 
go  get  more",  holding  up  fingers  to 
indicate  chairs  for  parties  entering  the 
hall lobby.  
"We  were  really  chuffed.  It's  really 
gratifying  when  you're  there  as 
volunteers. The more people that come, 
the  bigger  you  see  the  smile  on  Ad's 
face,"  Amanda  chuckles.  She  and 
Heidelind  Luschberger  complete  the 
committee  and  serve  refreshments.  
"It  is  nice  to  have  one  out  of  the  bag 
like that, Ad Clarijs says. 
~Huw 
Pictured  below:  Ad  Clarijs,  Kaiwaka 
War Memorial Hall chairman 
Bottom: Penny Hoy, Dave Kearton and 
Amanda  Maxwell,  ticket  seller,  lobby 
boss  and  refreshments  dispenser, 
respectively. 
Stories Tall, Stories Short  
Kaiwaka 1959-2009 
by Roger TW Smith.  $40 
Available from  
the Bugle Editors -  
Lindsey 4312 045,  
Wendy 027 480 6275 
U Beauty 
            Underarm Wax  
    $20 
            Extended Bikini Wax   $30 
            15 min Back  Massage  $25 
            30 min Back Massage  $50 
Please call Nicole for bookings 
09 393 6336 or 022 0639450 
Qualified Beautician 
4 Kaiwaka – Mangawhai Rd 
Kaiwaka 
Eyebrow Wax  $10 
Eyebrow Tint  $10 
Eyelash Tint 
$20 
Lip Wax 
$10 
Chin Wax 
$10 
Bikini Wax 
$20 
Brazilian 
$50 
½ Leg Wax 
$30 
Full Leg Wax  $45 
Full Pedicure  $60 
Foot Tidy  
$35 
Manicure 
$45 
Nail Tidy 
$25 
Chest Wax 
$30 
Back Wax 
$40 
Nostrils 
$10 
Ears 
$10 
1.7tn Digger/Operator 
for Hire.
Daily/Hourly rates 
available.
Call Tam on 
027 211 1152 
or 
asquithcontracting 
@gmail.com 
FRIDAY NIGHT MOVIES FLOURISH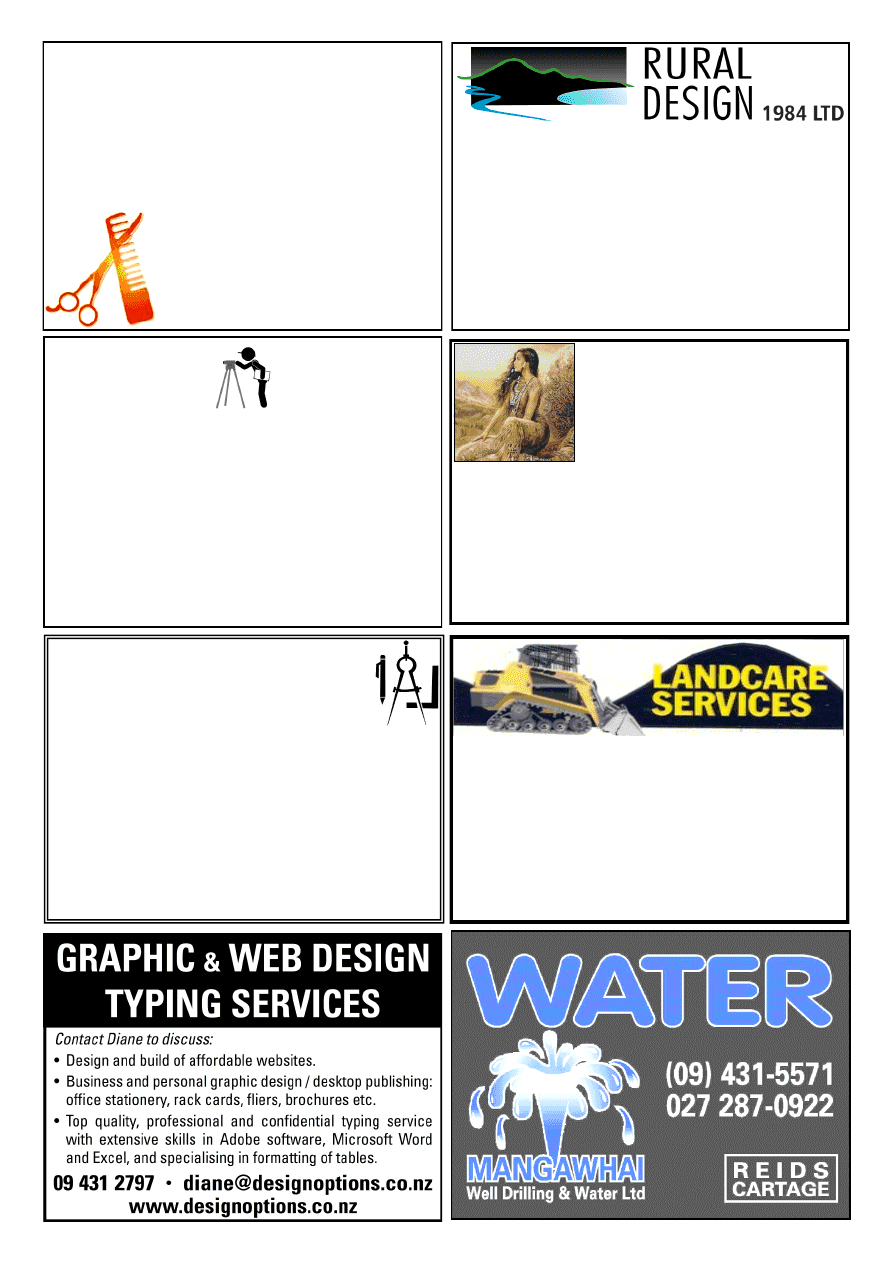 AFFORDABLE PRICES! 
MENS DRY CUT FROM $18.00 
LADIES DRY CUT FROM $28.00 
KIDS DRY CUT FROM $15.00 
COLOUR CUT FROM $90.00 
JUST CUTS'AND MORE 
021 165 2629 
NOW SELLING: scented tealights, incense, 
smudge sticks, copper bracelets, aurora ball 
crystals, dream catchers, healing stones, rose 
quartz, cds, and much more 
open 6 days 
Ken Urquhart 
BSurv Licensed Cadastral Surveyor 
KMU Surveys Ltd
467 Bickerstaffe Road 
RD 2 
Maungaturoto 0587 
Ph 09 431 8705 
Mob 021 161 2344 
kenurquhart@xtra.co.nz 
WHOLESALE NATIVE PLANT NURSERY 
AND LANDSCAPING 
By Appointment 
Small and Large orders welcome 
Phone: 09 431 2481 
Email: info@ruraldesign.co.nz 
LANDSCAPING 
4 IN 1 BUCKET 
TRENCHER 
POLE HOLES 
ROTARY HOE 
COMPACT ROLLER 
OFFAL HOLES 
CAN SUPPLY WOODCHIP & POST PEEL 
5 TON TIPPER 
FOR RELIABLE AND FRIENDLY SERVICE CONTACT DAVE 
Dave Hyndman 
 
KAIWAKA 
PH: 09 4312302 
MOB: 021 431 238 
design drafting  
service 
Retired builder and manufacturer with over 40 years  
experience in the building industry is offering a design 
drafting service  
for domestic housing, sleepouts and sheds.  
Plans formulated in consultation with clients, with 
working drawings completed and submitted to  
council for processing.  Extensive practical experience,  
able to identify & resolve problems. 
Please ring Mike Lean on 
09 431 2260  
          or 
021 431 196 
Trails end 
spiritualist gathering  
Last Sunday of every month  
11.30-2pm tea/coffee provided  
$5koha for all inquiries  
0211652629 evenings 099450753 
Trail.end@hotmail.com 
Bringing together light minded people 
Guest speaker each month and 
Workshops every 2nd Wednesday  
6:30-7:30pm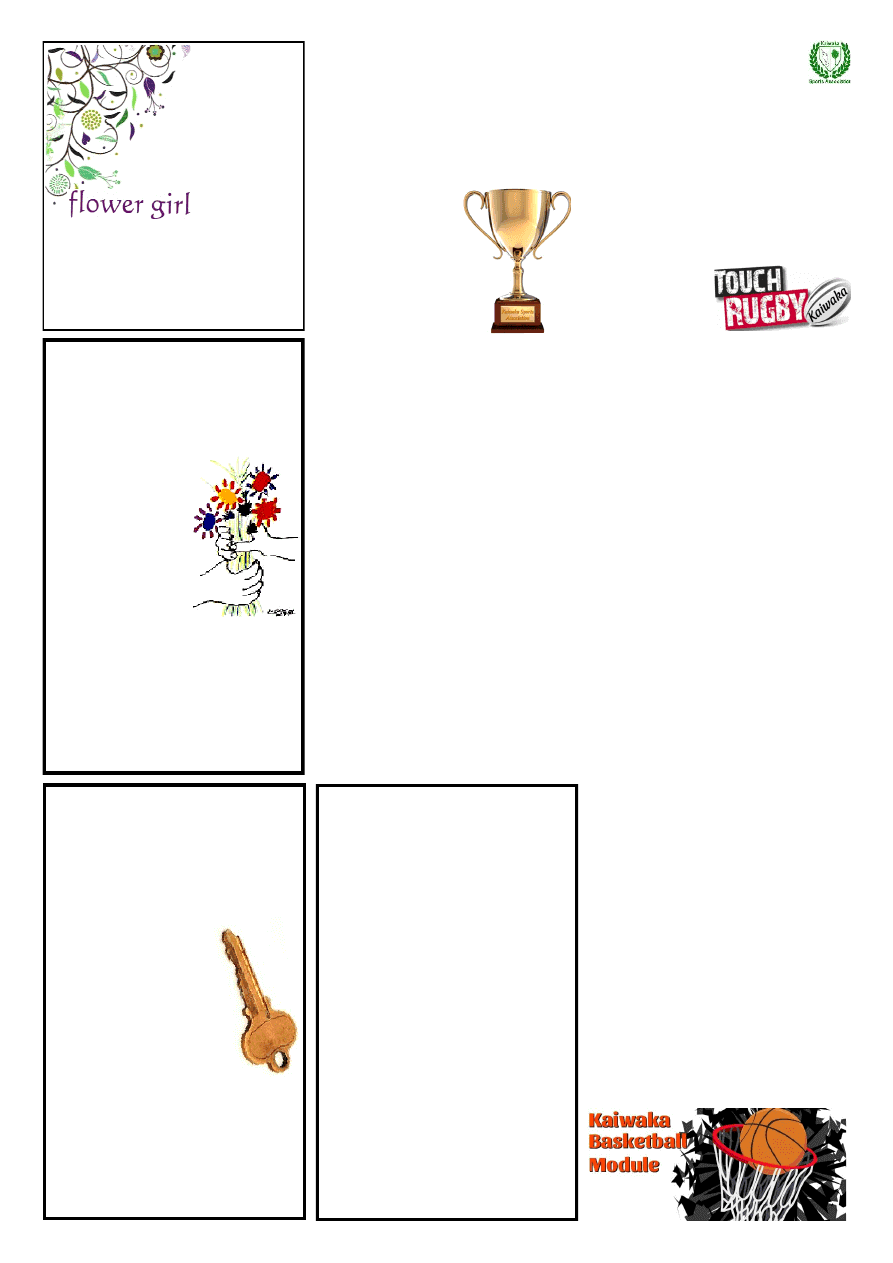 www.kaiwaka.co.nz 
Kaiwaka Bugle - 5 April 2016 
Page 13 
Kaiwaka  
Hardware  
&  
Key cutting 
 Phone 4312 063 
 022 041 6047 
 kaikey2015@gmail.com 
Keys Cut  
Household Hardware  
Curtain Tracks & Fittings
Not there? Call Doug and he'll sort
it for you.
(
Next to Kaiwaka Motorcycles)
Flowerpower 
Northland 
Long lasting 
flowers 
delivered 
from 
Mangawhai
www.flowerpower 
northland.co.nz 
Ring Martina 
4315161 
Kaiwaka 
Good Sorts 
Do you know 
someone in our 
community 
who is 
deserving of a 
beautiful bunch 
of flowers? 
Send an email 
or drop a note to Jaques Four 
Square to let the Bugle team know. 
We will choose a recipient to 
receive flowers from Lindy the 
flower girl. 
lindywatson@hotmail.com  or 4312847
KAIWAKA SPORTS ASSOCIATION 
Kaiwaka Sports Awards 
Our annual Sports Awards will be held 
on Wednesday 27th April. The evening 
which  will  be  emceed  by  More  FM's 
John  Markby  will  include  profiles  of 
the  nominees,  a  fun  sports  trivia 
competition  for  the  young  ones,  a 
bingo  sports  quiz  and 
of course one of Mark 
and  Pam's  delicious 
dinners!  Tickets  are 
$25 per adult and $10 
per  child  (Year  9  and 
under)  and  can  be 
purchased  at  Jaques 
Four  Square  or  from 
KSA club delegates. 
Congratulations to the nominees: 
Junior Sportsperson of the Year 
Emma Huband 
Otamatea Gymnastics 
Annmarie Holst 
Kaiwaka Squash 
Brenda Ferguson 
Kaipara Knights Soccer 
Hamuera Henderson 
Eastern United JMB 
Simon Parker 
Otamatea IMB 
Shuntel Rika 
OHS Netball 
Jonjon Johnson 
Kaiwaka Touch 
Aroha Lee Connelly  Kaiwaka School Netball 
Ocean Shadbolt 
Kaiwaka Fitness Centre 
Gareth Ferguson 
Kaiwaka Tennis 
Samuel Stephens 
OHS Hockey 
Senior Sportsperson of the Year 
Dan Hawkins 
Otamatea Hawks Rugby 
Jodie Bennetto 
Kaiwaka Touch 
Lance Nepia 
Kaiwaka Fitness Centre 
Merv Huxford 
OHS Hockey 
Service to Sport 
Naomi Walker 
Eastern United JMB 
Gerrin Taiaroa 
Kaiwaka Touch 
Nikola Kemp 
OHS Netball 
Gregg Nathan 
Fitness Centre 
Lindell Ferguson 
Kaipara Knights Soccer 
Hayden Foster 
Otamatea IMB 
Taira O'Hara-Lambert 
Otamatea-Ex Netball 
Peter Hargreaves 
Otamatea Hawks Rugby 
Greg McRae Memorial Award 
Hamish Ferguson 
Kaiwaka Tennis 
Maia Fairburn 
Kaiwaka School Netball 
Maddy Lemalu 
OHS Netball 
Jackson Brierly 
Kaiwaka Touch 
Branden Edwards 
Eastern United JMB 
Rhys Shadbolt 
Otamatea IMB 
Roller Disco 
We had an awesome time last Saturday 
at our very first Roller Disco! Over 50 
people  enjoyed  the  night  -  some  had 
coaching  first  up,  and  then  everyone 
skated  around  the  gymnasium  to  great 
music 
and 
disco 
lights. 
Many  thanks  to  Brigette  from 
Skatescool for running the show, and to 
all the helpers on the night. Photos are 
on  the  Kaiwaka  Sports  Complex 
Facebook page. 
Touch 
Our 
Touch 
Module will finish 
this  Sunday.  The 
six  teams  have 
enjoyed  playing  competitive,  fun 
matches, and there are several teams in 
the  running  to  win  the  prizemoney. 
Spectators are welcome to come along 
to watch the finals, starting at 12.30pm 
and then attend the prizegiving. 
Meeting 
There  will  be  a  Kaiwaka  Sports 
Association meeting this Wednesday at 
7pm. All welcome. 
Shake Your Groove Thang! 
Back by popular demand! Yes, we are 
running a Kids Disco this Saturday, so 
if  you've  got  children  who  like  to 
boogie, please bring them along to the 
Sports Complex at 7pm. There will be 
great 
music, 
dancing, 
games, 
refreshments,  glow  items  and  a  lolly 
scramble. Only $3 per child, and adults 
and  preschoolers  are  free.  A  fun 
evening out! 
Mixed Netball Tournament 
The  OHS  netball  club  are  holding  a 
Mixed Netball Tournament on 1st May 
at  our  courts,  as  part  of  their 
fundraising  to  get  their  AIMS  team  to 
Tauranga  in  September.  $80  per  team, 
up to 12 players in a team, at least two 
males on the court at any time. To enter 
a  team,  contact Jodie  Bennetto  on  021 
02663634. 
Basketball Module 
Our  Basketball  Module  starts  next 
month.  It  will  be  held  in  our 
gymnasium  on  Sunday  afternoons  and 
will  run  for  6  –  8  weeks  (depending 
upon  the  number  of  teams  entered).  It 
is a social Module, for mixed teams of 
men,  women  and teenagers.  There can 
be  up  to  14  players  in  a  team  and  the 
team fee is $100. Keen to enter a team? 
Check  out  the  Kaiwaka  Basketball 
Module  facebook  page  for  the 
registration form, or contact me and I'll 
email it to you. 
~Cheryl Anderson 
4312 051, 027 3462702 
kaiwakasports@gmail.com 
Willow Bend
HORSE  
HOTEL 
"  
Total Horse Care 
" 
Agistment 
" 
Riding Lessons 
" 
Arena Hire (60x40) 
" 
Young Horse Starting 
" 
Re-training/Exercising 
" 
Hoof Trimming 
" 
Problem Solving 
Phone Sue 09 431 
2817 or 021 623 776 
Or email sue.gray@xtra.co.nz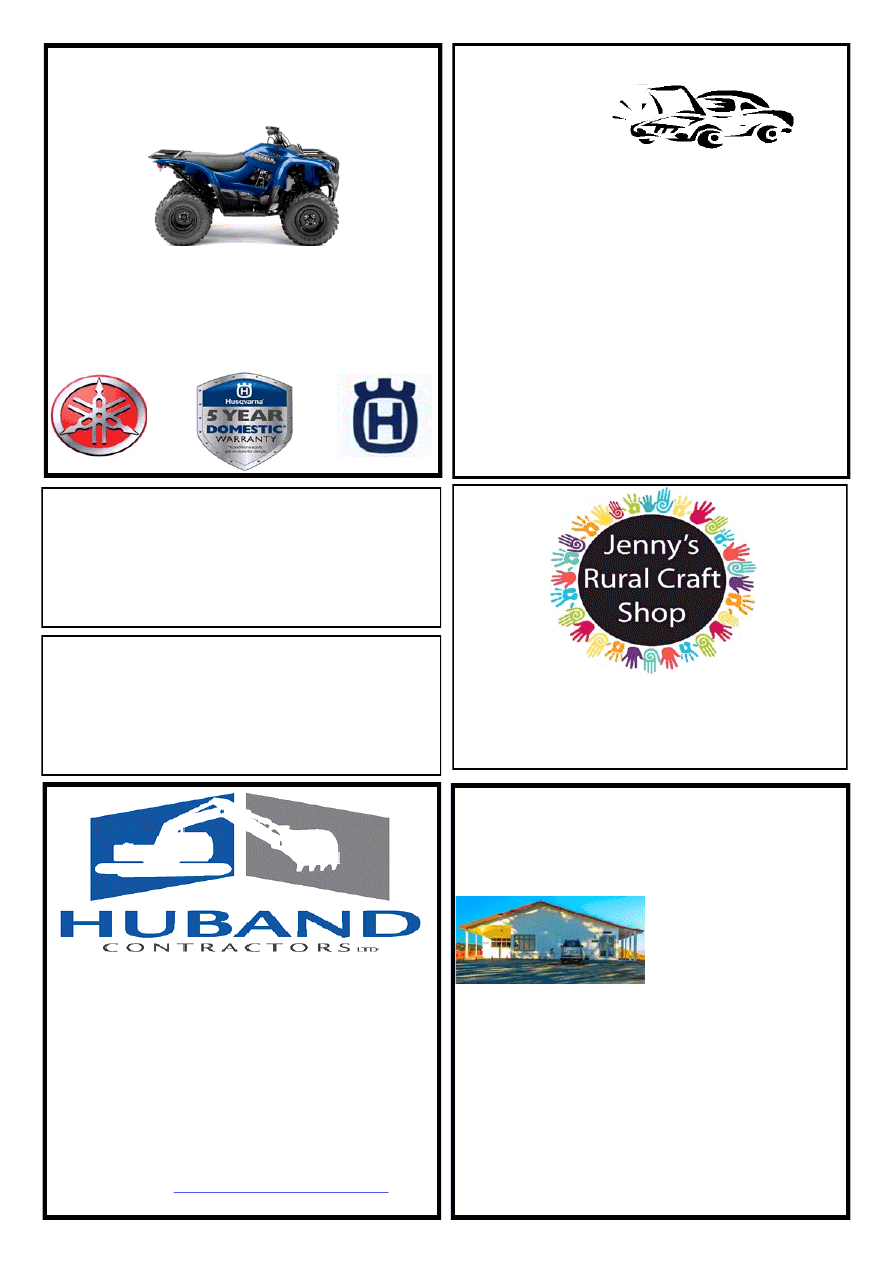 KAIWAKA 
MOTORCYCLES LTD
SALES – SERVICE – SPARES 
FARM BIKE SPECIALIST 
PHONE 09 431-2127 
10 KAIWAKA-MANGAWHAI ROAD, KAIWAKA
YAMAHA 
HUSQVARNA 
*   R O A D I N G   *   E A R T H W O R K S   *    
*   D R A I N A G E   *   S I T E W O R K S   *
Shaun Huband 
Registered Drainlayer
Cell: 021 222 0272 
Home: 09 4318339 
Email:   
Twinkle Tow 'n' Tyre 
Think you'll get a better deal in the city? 
Ring us - it won't cost anything! 
1837 State Highway 1, Kaiwaka 
Phone 431 2823 
*W.O.F. 
*Tyres 
*Windscreen 
replacement 
*Chip repairs 
*Bulk Oil 
*Batteries 
*Welding 
*Custom built 
trailers 
*Trailer hire
Te Pounga Marae 
130 Nathan Rd. Oneriri. Kaiwaka 0573 
COMPLEX FOR HIRE 
Functions 
* Weddings   *  Birthdays   
*Anniversaries 
* Meetings   * Wananga 
5 hour meeting 
* 12 hour stay   * 
Overnight 
*All welcome - No more Drink-driving 
Amenities: 
*Convo Combi Steamer * Bratt Pan * Dish 
Washer/Sterilizer * 3 Door Glass Chiller (walk in) 
etc…All Crockery * Linen Supplied * Central 
Heating and Air Conditioning and much more.  
Can also cater for small groups…. 
For more information please contact: 
Kim Wallace 
Home: 09 832 1133   Mob: 0211275340 
Email:  kimwallace@xtra.co.nz 
FREE GRAZING WANTED 
Small or large block 
Can do some fencing or water 
Phone after 6pm 
4312 006 
THE SUNSHINE GIRLS 
Need help with your house cleaning? 
Sometimes you just need another pair of 
hands. We offer two pair and a smile. 
Comparable hourly rate. 
Ph 4312 532 or 4312 711 
134 Kaiwaka-Mangawhai Road, 
Kaiwaka 
Open: Wednesday to Sunday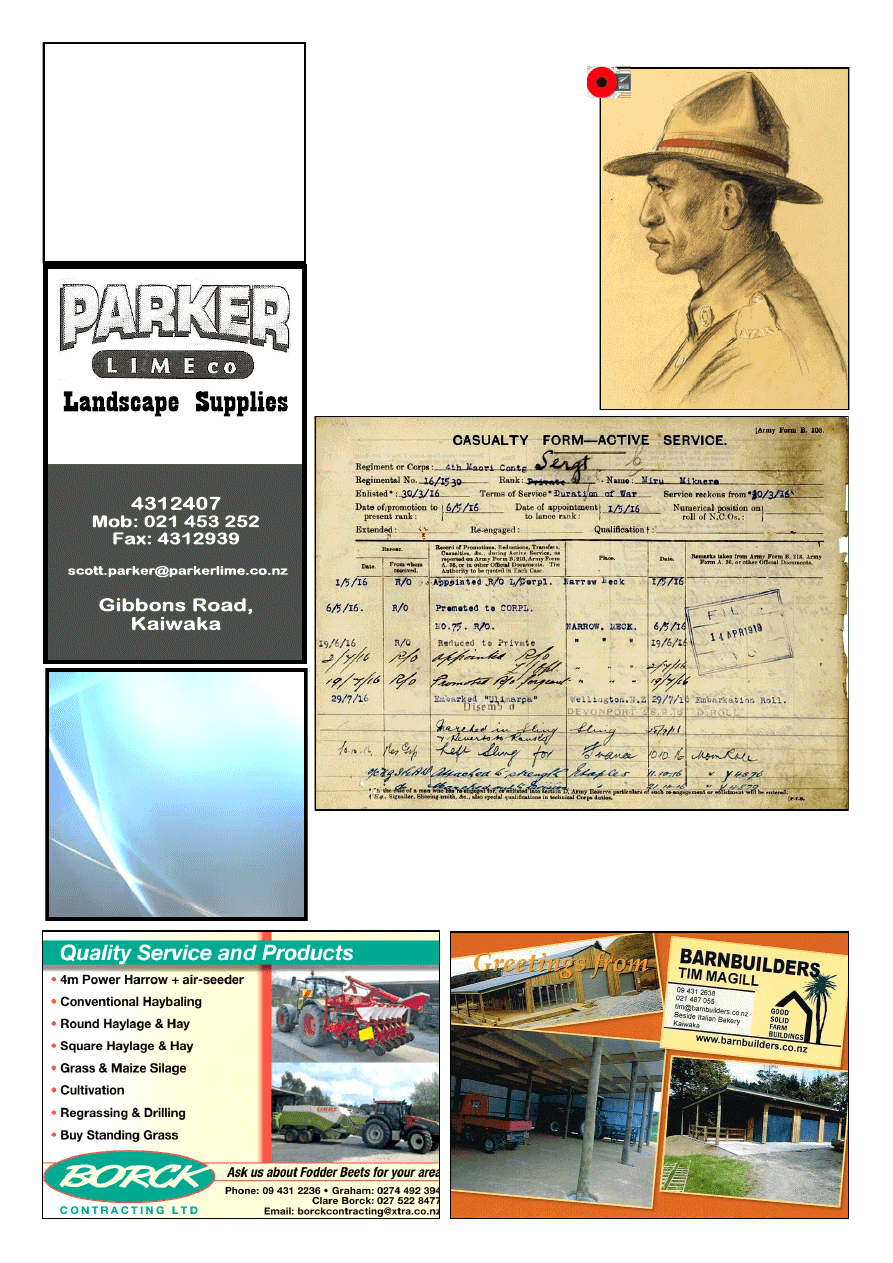 www.kaiwaka.co.nz 
Kaiwaka Bugle - 5 April 2016 
Page 15 
Bulk Cartage 
 LEABOURNS 
Passenger Service
Car & Van Hire 
Bus & Coach Charters 
Airport Transfers 
 Monthly Shopper Bus 
Phone (09) 4237416 
Freeview  
Installations 
Richard Te Haara 
25 Marram Place 
Mangawhai Heads 
021 1104056 
kiwipride@xtra.co.nz
British town seeks descendants of Kiwi soldiers 
An  English  town  is  trying  to  trace  descendants  of  local  women  who  married  New 
Zealand soldiers after meeting in World War I. The coastal Essex town of Brightlingsea 
was used as a training base for thousands of New Zealand and Australian troops during 
The  Great  War  1914-18.  If  anyone  has  information  on  Brightlingsea  descendants,  or 
seeks further information, they should contact Margaret Stone on 0044 1206 303286 or 
email: margaret@bright97.freeserve.co.uk.                                                   
~ NZ Herald 
Sergeant  Mikaera  Miru  16/1530  NZ 
Maori Pioneer Battalion, a farmer from 
Kaipara and married with four children, 
enlisted  on  30  March  1916  and  left 
New  Zealand  with  the  4th  Maori 
Contingent.  Maori  had  mixed  views 
about  the  First  World  War.  Some 
supported the war effort and were very 
keen  to  join  up.  Prominent  Maori 
leaders such as Apirana Ngata, Paraire 
Tomoana,  and  Maui  Pomare,  were  in 
favour  of  Maori  enlistment  and 
organised 
recruitment 
drives, 
particularly  in  the  Waikato  region  of 
Ngāti  Maniapoto  and  the  East  Coast 
Ngāti  Porou  region.  Their  recruitment 
campaign was particularly successful in 
Ngāti  Porou,  which  enlisted  enough 
men  to  form  its  own  company  in  the 
Native Contingent.      ~ww100.govt.nz 
Are there any other Maoris  from the 
district who served in WW1? 
SERGEANT MIKAERA MIRU 16/1530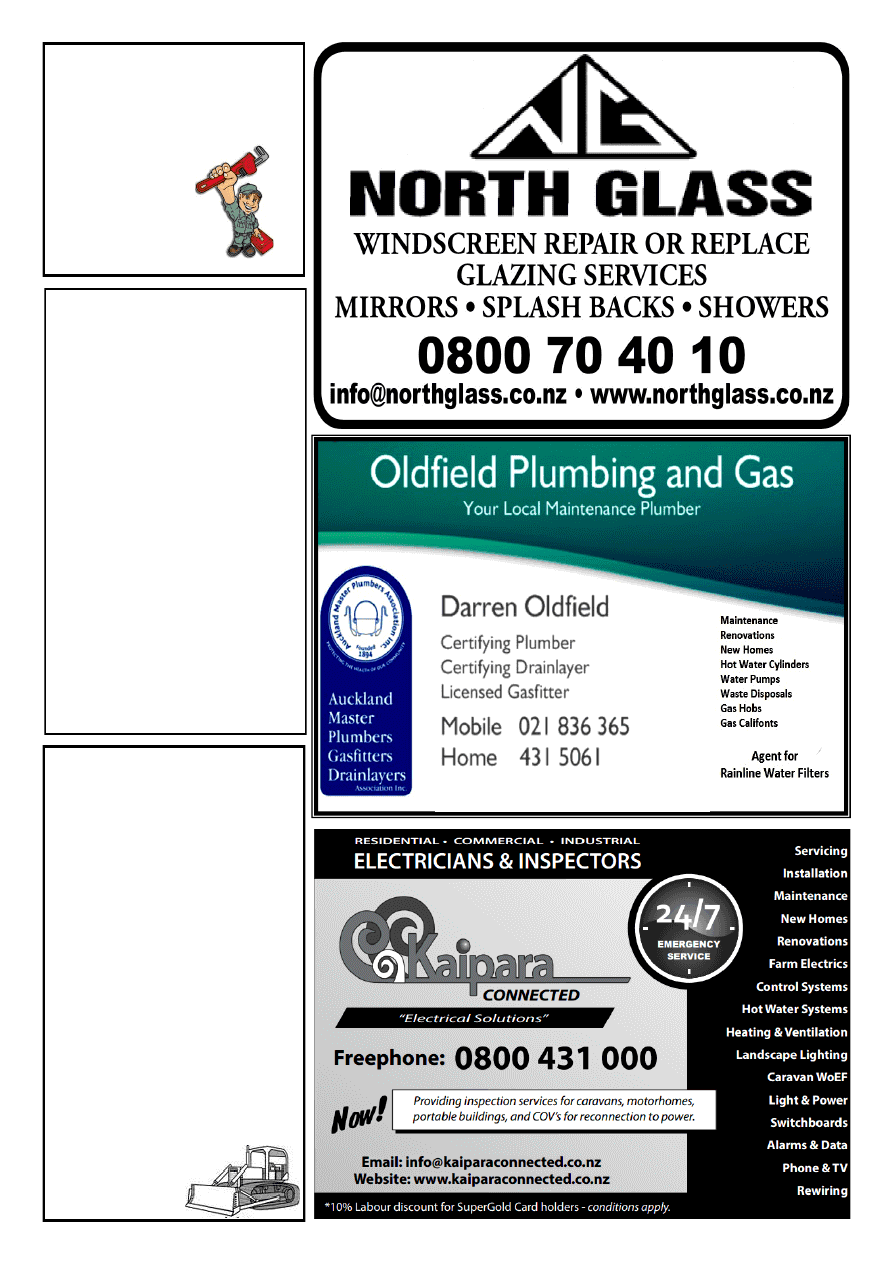 Coates  
Contracting 

D41 Bulldozer with 6 
way blade, bush rigged 
with winch 

For all tree work 

General bulldozing 
and  
  stick raking. 

120hp Tractor for 
ground cultivation,  

tip trailer work. 

Fencing
All enquiries phone  
Brett Coates  
094318720  
or  
 021431872
Ross Murphy 
PLUMBER 
Certifying Plumber 
09 431 7510 
021 424 252 
Paparoa Based 
+
New Housing  
+
Renovations  
+
Maintenance
UP-LINK 
CHRIS WARING 
FREEVIEW 
INSTALLATIONS
T.V. - HOME THEATRE & 
HI-FI ADVICE/SET UP
SKY ACCREDITED 
INSTALLER
MOB.0273403747 
HM.094312328 
EMAIL cwaring44@gmail.com
28 YRS EXPERIENCE 
OFFERING 
UNBIASED ADVICE 
oldfieldplumbing@gmail.com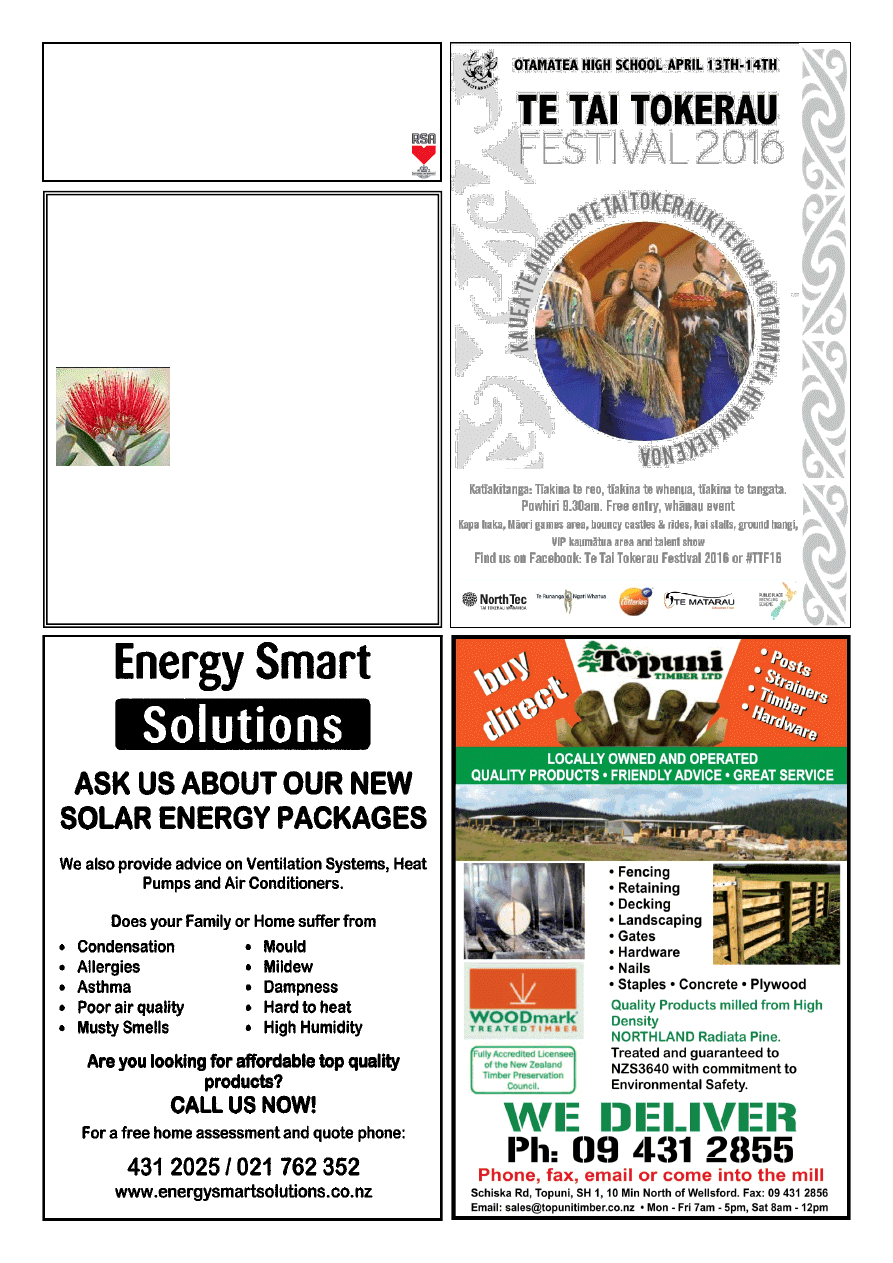 www.kaiwaka.co.nz 
Kaiwaka Bugle - 5 April 2016 
Page 17 
KAIPARA FLOORING CO 
Independently owned & operated 
32 HURNDALL ST MAUNGATUROTO 
Supply & Installation of Carpet, Vinyl,  
Vinyl Wood Planking
Stockists of 2m & 3m wide 
vinyl & carpet short ends
Residential & Commercial 
First Class Installations 
For a free measure & quote 
phone Christine  
09 946 9886 or 021 515 415 
kaiparaflooring@gmail.com 
http://www.kaiparaflooring.co.nz/ 
HAKARU & DISTRICTS RSA Inc 
Each Friday night from 6.30pm meals will be served. 
Members & invited guests, new members welcome. 
Come along & enjoy our hospitality. 
2nd Friday of the month -  roast dinner or board menu. 
Last Friday of month - roast pork night &  
sing-along with Des Chitty.  
Ph Heather 4314668 or Jan 4314512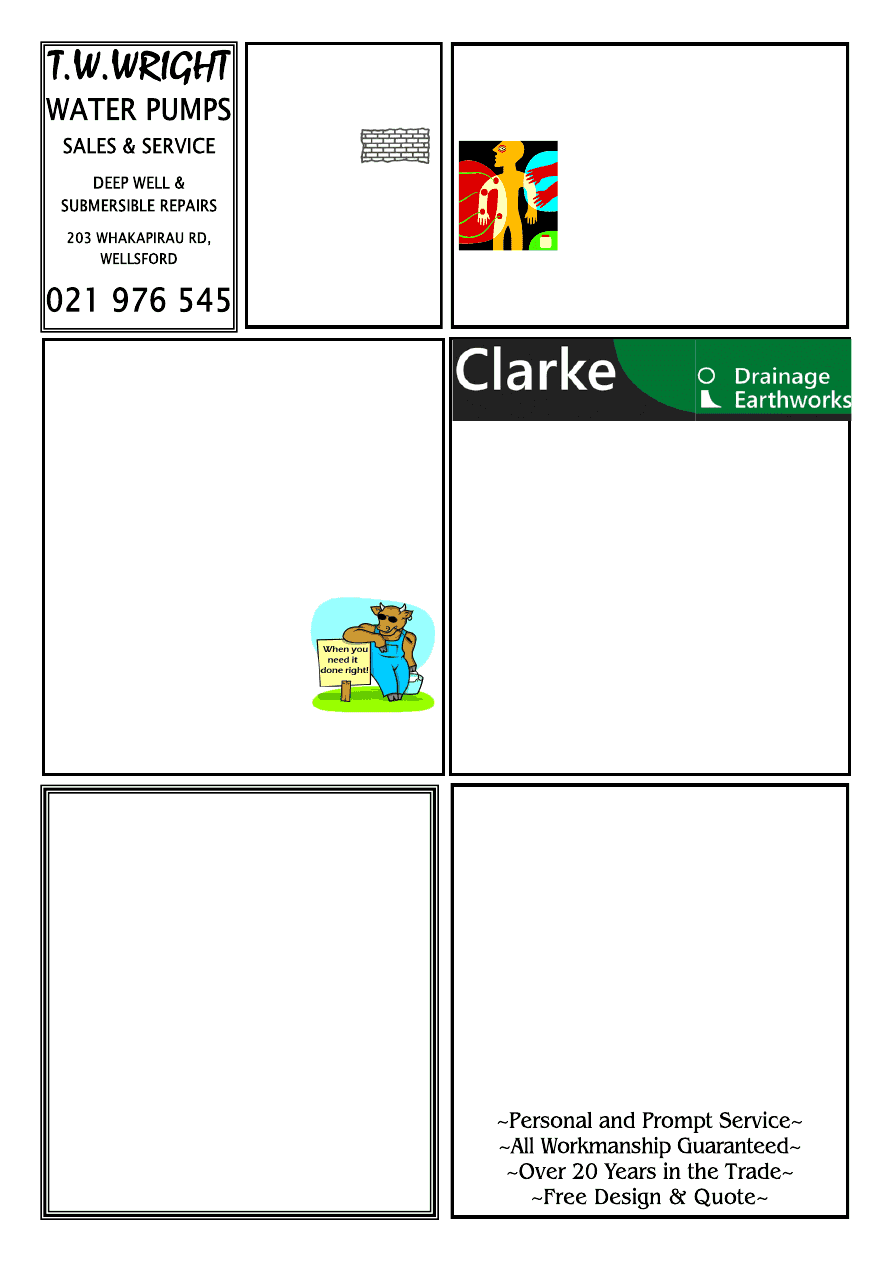 OWEN STEVENS 
Osteo Therapist
For careful adjustments to bones and joints 
Treatment for  humans and their pets 
Clinics: 
Kate's Place, Kaiwaka: 
Last Friday of month 
For bookings:9.00am-5.00pm 
Phone 
09 4312661 
Or phone Owen  09 4317123  anytime 
BRICK/
BLOCKLAYER 
All aspects of masonry: 
Fireplaces, 
Restoration  
& Remedial Work.
JAMES EAGLETON
Tel. (09) 431 2514  
Mob. 0274 749 232
jajueagles@yahoo.com.au 
210A Pukenui Road, 
RD2, Kaiwaka 0573 
g.a.s. 
Mangawhai
GARDEN CENTRE 
for all your gardening needs
Also a great range of 
STOCKFOOD 
Wide range of 
ORGANICS AND 
 FRESH LOCAL PRODUCE
All your motoring needs are taken care of by 
our friendly staff check us out... 
44 Moir Street, Mangawhai (09)431 4242 
Registered Drainlayer 
All Types of Earthworks  
> All Residential & Commercial Work  > House Sites 
> Septic System Design & Install 
> Footings & Drilling to 10m 
> Sewer Connections 
> Dams 
> Water Tank Installation 
> Roading & Races 
> Farm Work 
THE ONE STOP SHOP  
Phone Nigel for an Obligation Free Quote  
Drainage & Earthmoving 
clarkedrainage@xtra.co.nz 
027 2233 185 
PLANNING A NEW KITCHEN? 
 CONTACT NOEL McDOWELL
WELLSFORD 
KITCHENS
Ph/Fax 094312888
KAIWAKA-Any time
  QUALITY CUSTOM MADE 
KITCHENS
FENCING
COMPLETE NEW BUILD 
WIRE AND BATTEN 
ELECTRIC 
POST AND RAIL 
REPAIRS AND MAINTENANCE 
WHATEVER YOU NEED—IF YOU NEED A FENCER 
CALL A 
FARMER 
Phone 09 423 7585 
027 62 55 383 
info@callafarmer.co.nz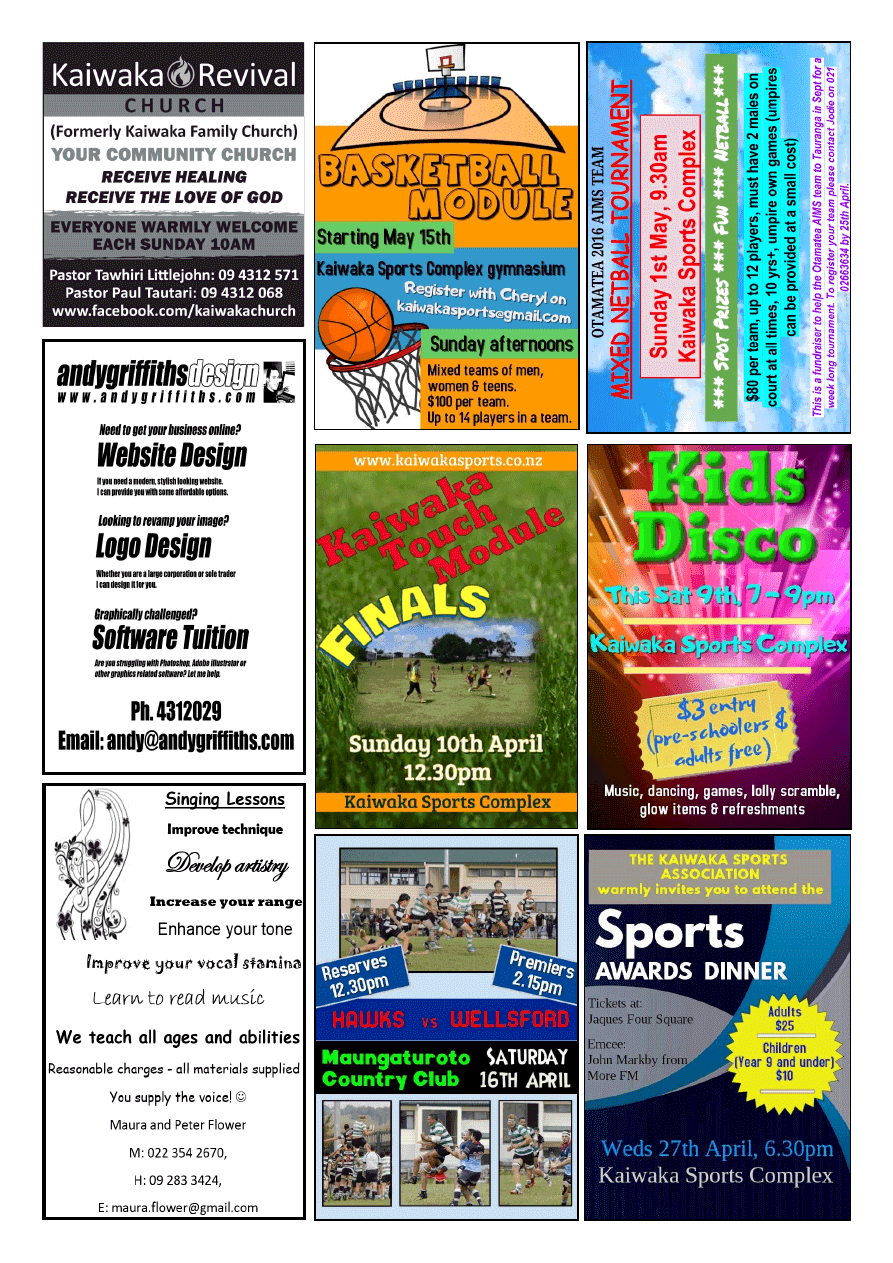 www.kaiwaka.co.nz 
Kaiwaka Bugle - 5 April 2016 
Page 19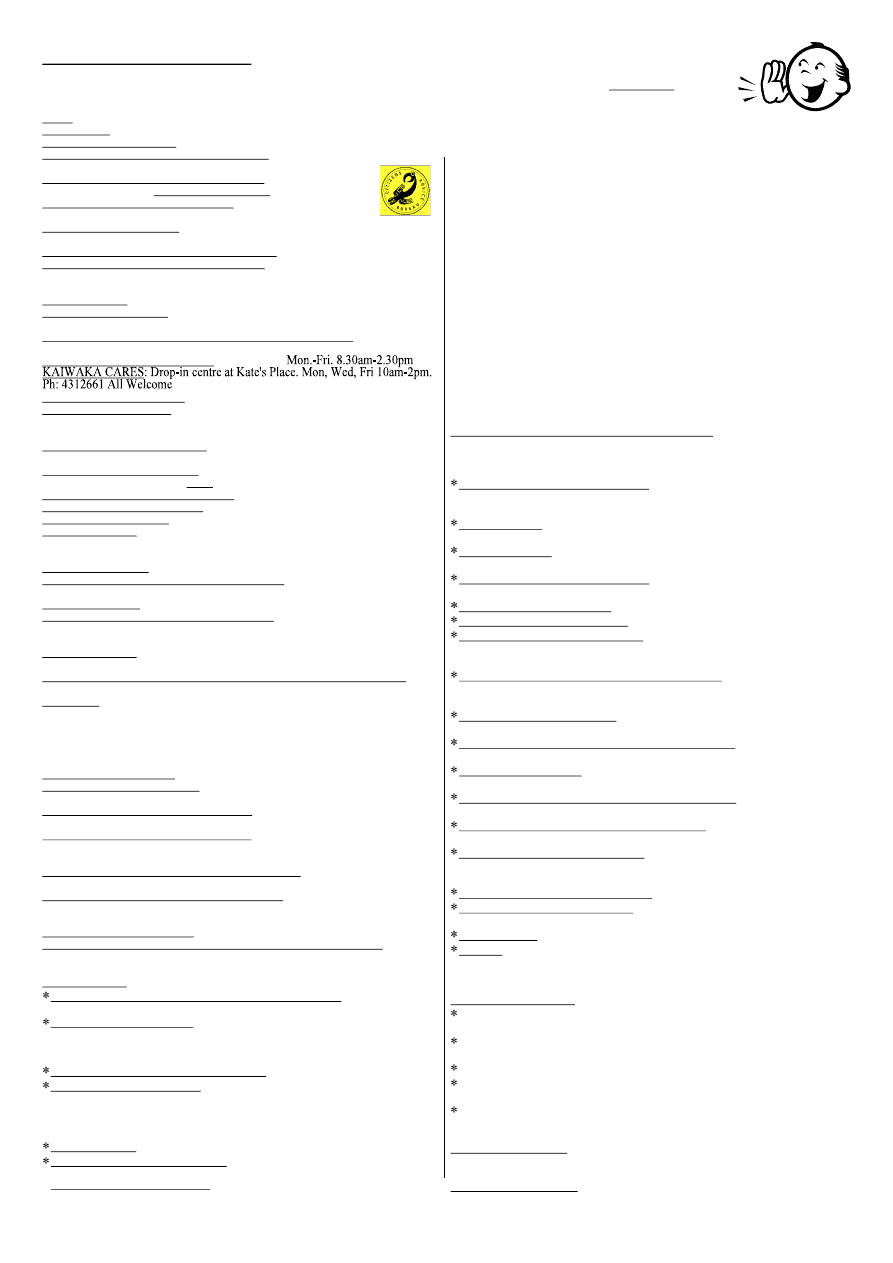 LOCAL SERVICES 
*Emergencies - Ambulance, Fire, Police - dial 111 
*Non-urgent Police phone 09 4311150
A A: Meets Wed., 8pm Kaiwaka Ph: 4312228, 4315543, 0800229 6757 
AL ANON: In recess, contact Ph: 4312228 
ASUREQUALITY LTD  (was AgriQuality) Call Free 0508 0011 22  
BUDGETING SERVICE, WELLSFORD:  Free confidential advice & 
support for all areas of personal finance. Ph (09) 423 7123 
CAB-Citizens Advice Bureau.Wellsford Ph: 4237333 
0800 367 222 email:cab.wells@xtra.co.nz  
DOG/STOCK /NOISE CONTROL 0800 105 890 
FUNERAL SERVICES: Morris & Morris Ltd, 
Whangarei - Bev Jaques Ph:4312367 or 0800667747 
GRANDPARENTS Raising Grandchildren: Sarah Rogers Ph: 4312194 
HAKARU LANDFILL/Transfer Station:Open everyday except 
Tuesday10am-4pm.Ph4312629 Cost-$55 trailer load up to 1 cubic metre. 
Ph:4258567 - office 
HOMEOPATH: Donna Flavell Ph: 4314843 
INLAND REVENUE: Last Friday each month, 11-3pm Ph4312661 
KAIPARA DISTRICT COUNCIL www.kaipara.govt.nz:  
Help Desk FREEPHONE 0800 727 059  
KAIWAKA KOHANGA REO: Ph:4312620 
KAIWAKA CEMETERY: Ph: 4312045 
KAIWAKA LIBRARY: kaiwaka.library@gmail.com  
Mon. 4-6pm; Wed., Thurs., Fri., Sat.  10am-2pm Ph:4312539 
KAIWAKA PLAYCENTRE: Ph: 4312286. Hastie Lane 
Monday to  Friday  9.00am - 12 noon. 
KAIWAKA POST OFFICE:Ph:4312 431  
Post Code: 0573  for RD2  and  0542 for all Kaiwaka Post Office mail 
KAIWAKA PRIMARY SCHOOL: Ph: 4312309     
KAIWAKA SPORTS ASSN: Ph 4312005; 4312129 gym 
KAIWAKA ST JOHN: Manager Steve Rosser 09 4318403, 021 2316836 
KATE'S PLACE with Govt.Day Agencies/Community Information /
Osteopathy/ IRD / Probation, etc Ph: 4312661 Hours: 9am-3pm. Mon - Fri 
LINKING HANDS Health Shuttle Ph 4314121 or 09 4318969 
MINISTRY FOR PRIMARY INDUSTRIES - General inquiries Call 
Free 0800 008 333 
NORTHPOWER: Faults Kaiwaka area 0800 104040 
OTAMATEA COMMUNITY SERVICES: Counselling, parent coach, 
Family Support worker, budget advice, food bank. Mon-Fri 9am-30m. Ph 
09 431 9080 
PARENTPORT: Free, practical family support service Puhoi to Paparoa 
Ph or txt:  Dianne 027 2085093 
PERSONAL DEVELOPMENT COACHING, GROUP FACILITATION:  
Sabine Druckler 4312231 
PLUNKET: Kaiwaka - Kaiwaka War Memorial Hall: Clinic 1st Wednesday of the 
month; Coffee Group at 9:30. Mangawhai  - Rose Madsen Cottage, Mangawhai 
Domain,  Moir  St:  Clinic  1st  and  3rd  Monday  of  month;  Young  Babies  Coffee 
Group  2nd  and  4th  Monday  10  am;  Plunket  Playgroup  every  Thursday. 
Maungaturoto - Maungaturoto Congregational Church, 100 Hurndall Street East: 
Plunket clinic 2nd and 4th Wednesday. Cynthia 09 431 8187 or 027 675 3488 
PLUNKET HELPLINE -0800 933 922 (24 hours) 
PUBLIC HEALTH NURSE: Gloria Reid Ph: 094327634  
RETURNED AND SERVICES ASSN 733 Settlement Rd. Hakaru 
Ph.4312176 Bill Kerr (President) Ph.4314719 
TAITOKERAU COMMUNITY LAW: Free confidential legal advice and 
assistance, 2nd
Thursday
 of each month. Ph: 0800 155 529 for 
appointments.  
TE KOROWAI AROHA O NGATIWHATUA Ph: 4312675 
(The Cloak of Love of Ngatiwhatua) Support and Maori Consultancy.  
VETERINARY SERVICE MANGAWHAI: 
Ph: 4314535 Mon-Fri 8.00-5.00, Sat 9-12, a/h appt. 
WELLSFORD DOCTORS: Ph: 4238 086 
WOMEN'S WELFARE LEAGUE & Reaching Out For Youth:  
4 Kaiwaka-Mangawhai Rd, M Morgan 4312293 
CHURCHES:
Kaiwaka Revival Church - Your Community Church: Sundays 10am 
Ph: Pastor Tawhiri 09 4312 571 or Pastor Paul 09 4312 068 
St Paul's Anglican Church 1st Sun. 9.30 am (Eucharist), 3rd Sun. 9.30 
am (Family Service). Contacts:  Church Office 09 431 4122; M. 
Hargreaves 431 2295; C. Bygrave 431 2057; or Rev. Wayne Thornton 
Ph 431 5650 www.mangawhaianglican.org.nz 
Church of Christ the King, Mangawhai:9.30am every Sunday 
St.Mary's Catholic Church: Maungaturoto – Griffins Road, Saturday 
evening Vigil Mass 6pm; Mangawhai – Senior Citizens Hall, Sunday 
Mass 8:30am; Wellsford – Matheson Road, Sunday Mass 10:30am; 
Mid-week Mass times and all enquires to Fr. Bill Fletcher – phone 423 
8170 
Baptist Church: Sun. 10.30am Mangawhai Snr Cit.Hall.Ph:4312339 
Cause Way Church Mangawhai: Sundays 10.15am, Mangawhai 
Community Recreation Centre, Insley St. Ph: 09 4314782  
Next Bugle Deadline midday Friday 15 April 2016
WHAT'S ON
PLEASE ~ do let us know what is on - email 
kaiwakabugle@kaiwaka.co.nz 
Advertising in WHAT'S ON is FREE  
*6Apr~Kaiwaka Sports Assn meeting 7pm KSA 
*8Apr~BeeGees One Night Only, 7:30pm KWMH tickets only 
4312 234 
*8-10Apr~East v West Open Fishing Competition, Pt Curtis 
Cruising Club 
*9Apr~Shake Your Groove Thang!, Kids Disco, 7pm KSA 
*10Apr~Touch Module Finals, 12:30pm KSA 
*12Apr~Giant Pumpkin Comp, 11:30am Kaiwaka School 
*13-14Apr~Te Tai Tokerau Festival, Otamatea High School 
*15Apr~Karaoke, Hakaru RSA 7:30pm 
*16Apr~Epic Burger Challenge, 8:30pm 3 Furlongs 
*22Apr~45 Years, 7:30pm KWMH 
*22-24Apr~Weekend of Breakthrough, Kaiwaka Revival Church 
*24Apr~The Peanuts Movie, 2pm KWMH 
*25Apr~Zonta AGM & speaker, 6pm Mangawhai Golf Club 
*25Apr~The Water Diviner, 7:30pm KWMH 
KWMH=Kaiwaka War Memorial Hall 
KSA=Kaiwaka Sports Association Complex 
See www.kaiwaka.co.nz for upcoming events. 
HOUSEHOLD RUBBISH COLLECTION - Kaiwaka Pick up: 
Mondays = Gr een bags (Northland Waste - 09 430 3273) 
Wednesdays = Blue bags and yellow r ecycling (at J aques $3.00 
and $1.50) (Kaurilands 09 4392146) 
 DIABETES  Support  Group  -for  Kaiwaka,  Mangawhai, 
Wellsford  10am,  3rd  Friday  of  month  Ph:A.Pert  4238242; 
J.Gardner 4238060 
 DRINK CAN 'tear tabs' - for Starship Hospital- please collect - 
98 Kaiwaka Mangawhai Rd, leave in mailbox, Ph. 4312625  
 GENEALOGY - Wellsford: 1st Thursday in month Ph: 423 
7033; Waipu: 4th Monday in month Ph: 4312 725 
 GYMNASTICS  OTAMATEA  -  Tuesday  Ph:  Stephanie  022 
3624998 
 HAKARU PONY CLUB - Secretary Julie Rynne 09 4314520 
 KAIWAKA BADMINTON -Tuesdays 7.30pm Ph: 4312345 
 KAIWAKA  DRAMA  CLUB  -  Dave  Edwards  021  611198  - 
KaiwakaDrama@gmail.com Monday 5:30-7:00pm KWMH - FB 
- "KaiwakaDramaClub" 
 KAIWAKA DRUM & DANCE CLASSES - Dave Edwards 021 
611198 - DjembeNZ@gmail.com Monday 7:00-9:00pm KWMH 
African Rhythms  
 KAIWAKA FIBRE FUN - spinning, weaving, felting. 3rd 
Sunday 10am-2pm Kate's Place Ph Faye Thomas 022 099 5467 
 KAIWAKA GARDEN & FLORAL GROUP - 2nd Thursday in 
month. Ph: 431 4767 
 KAIWAKA  CUBS  -  Thursdays  5.30-7pm,  Hakaru  Ph:Bruce  
4312542 
 KNITTING FOR WHANGAREI HOSPITAL - 2nd Tuesday in 
month, Apple Basket 10am Ph 4314827 
 MANGAWHAI COMBINED PROBUS CLUB - 2pm, 3rd 
Thursday month, Senior Citizens Hall Mangawhai. Ph: 4315777 
 OTAMATEA GREY POWER - Kath Pattinson 09 431 8960, 
1pm last Wednesday of month, Anglican Church Hall, 
Maungaturoto 
 PT CURTIS CRUISING CLUB - Jean Ph: 4312227 (wk), 4312520 (hm) 
 RSA,Hakaru & Dist.Women - meet 1.30pm 4th Thurs in month 
Ph: 4314 668  
 TRAMPING - Mondays 9am-2:30pm  Karen Ph: 4312 090 
 YOGA  -  Tuesdays  6:15pm,  Friday  8:30am  KWMH  Carla  Ph: 
021  296  8794;  Wednesday  5:30-7:00pm  Archie  Bull  Hall 
Dalleise Ph 4312 108 
HALLS FOR HIRE: 
 St.Pauls Archie Bull Hall HIRE  $20 half day, $40 full day per 
hire, R. Morgans, Ph 4312365 
 Kaiwaka  War  Memorial  Hall  HlRE  -  Phone  4312725  or 
kaiwaka.hall.bookings@gmail.com 
 Hakaru Community Hall HIRE -Ph. 4312256 or 4312110 
 Te Pounga Marae queries - R. O'Leary 4312 423, J.Nathan 021 
186 7382 
 Kaiwaka Sports Association hire/queries - C. Anderson 4312051 
or kaiwakasports@gmail.com 
Justice  of  Peace:  B.FJaques;  L.Donaldson;  A.F.Hargreaves, 
S.Dalziell,  W.Howard  -  please  phone  to  make  sure  they  are 
available www.justiceofthepeace.org.nz 
Marriage Celebrants: L.Donaldson; A.F.Hargreaves; C.Rosseels