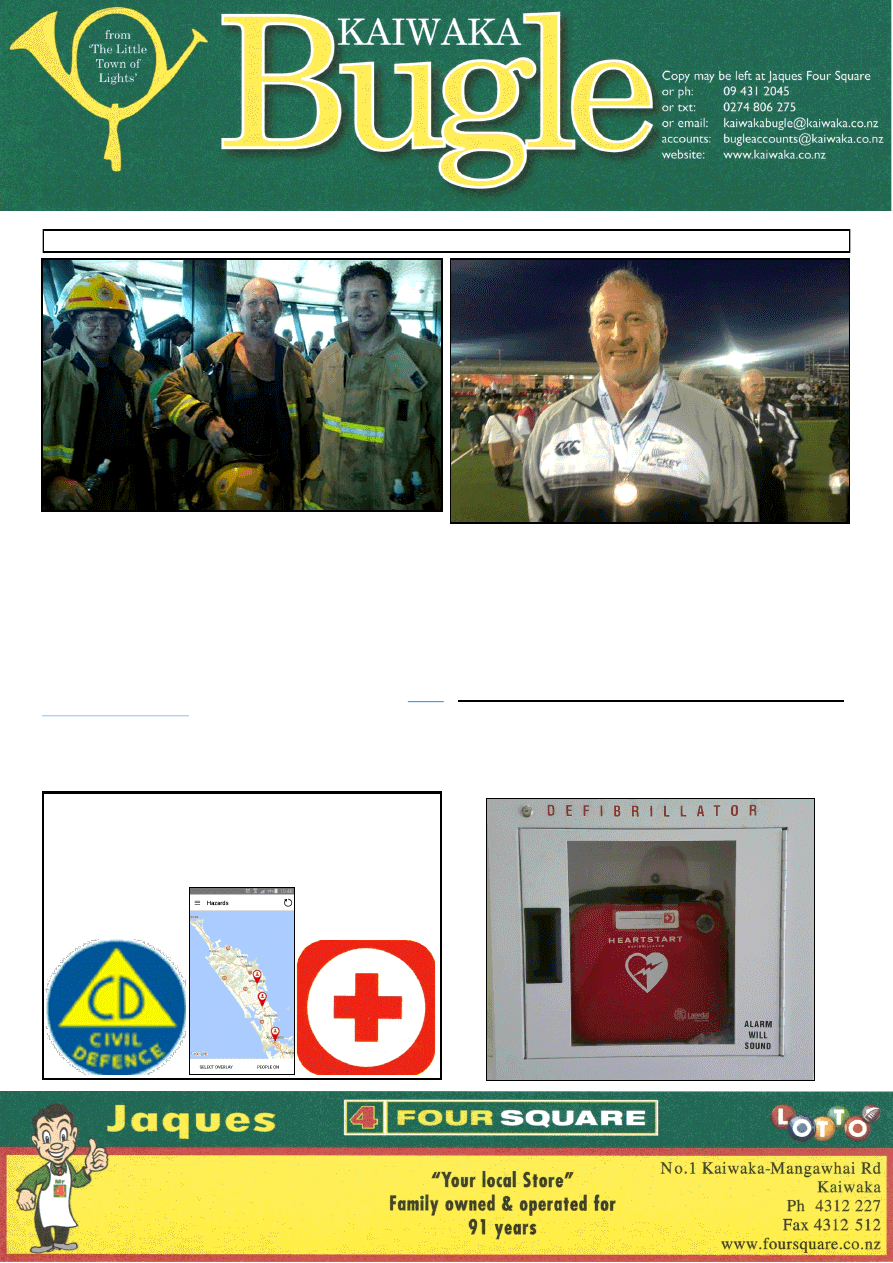 www.kaiwaka.co.nz 
Kaiwaka Bugle - 17 May 2016 
Page 1 
 No: 9
17 May 2016 
Winter Trading Hours: 
Mon, Tue, Thu, Fri 8am to 6pm 
Wed 8am to 6.30pm (Lotto) 
Sat 8am to 7pm (Lotto) 
Sun 9am to 5pm 
WELL DONE MERV ! 
Merv  Huxford  (the  Kaiwaka  Sports  Association's  Senior 
Sportsperson  of  the  Year)  has  continued  to  have  great 
success on the hockey field! 
Merv is currently in Australia playing for New Zealand in 
the  Masters  World  Hockey  tournament.  During  New 
Zealand's  opening  tournament  match  against  the 
Netherlands,  Merv  scored  the  deciding  goal  with  just  one 
minute left, to record a 3 - 2 win and New Zealand Masters 
first ever victory over Netherlands.  
KSA'S NEW DEFIBRILLATOR 
A defibrillator is an electrical device that provides a shock 
when there is a life-threatening irregularity to the heart beat, 
such as a heart attack. See Cheryl's report for details of this 
new device.  
Downloaded the Hazard app yet? 
Go to www.nrc.govt.nz/cdalert 
to find out how. It's free! 
Kaiwaka Volunteer Fire Brigade is doing the  
Sky Tower Stair Challenge on the 28 May 2016. 
This  year  the  Kaiwaka  Volunteer  Fire  Brigade  has  6  members 
doing  the  Sky  Tower  Stair  Challenge:  Kraig  Steiner,  Mickey 
Renton, Tim Brown, Wiremu Paikea, Keith Mills and Anton Falco 
Ter  Veer.  The  Sky  Tower  Stair  Challenge  includes 51 flights  of 
stairs, 1103 individual  steps  while  wearing  25  kg  of  firefighting 
kit. Each year 750 or more firefighters take part in the Sky Tower 
Challenge while fundraising for Leukaemia & Blood Cancer New 
Zealand. We would normally complete the challenge as a team in 
22 to 24 minutes.  
If  you  would  like  to  make  a  donation  to  "Leukaemia  &  Blood 
Cancer  New  Zealand  (LBC)"  please  go  to  the  website 
 and  search  for  "Kaiwaka"  or  any  of  the 
previously  mentioned  team  members.  The  Kaiwaka  Fire  Brigade 
is run by volunteers for our community with over a 100 call outs 
every year. 
Photo: May 2014 - Mike Law, Mickey Renton & Tim Brown.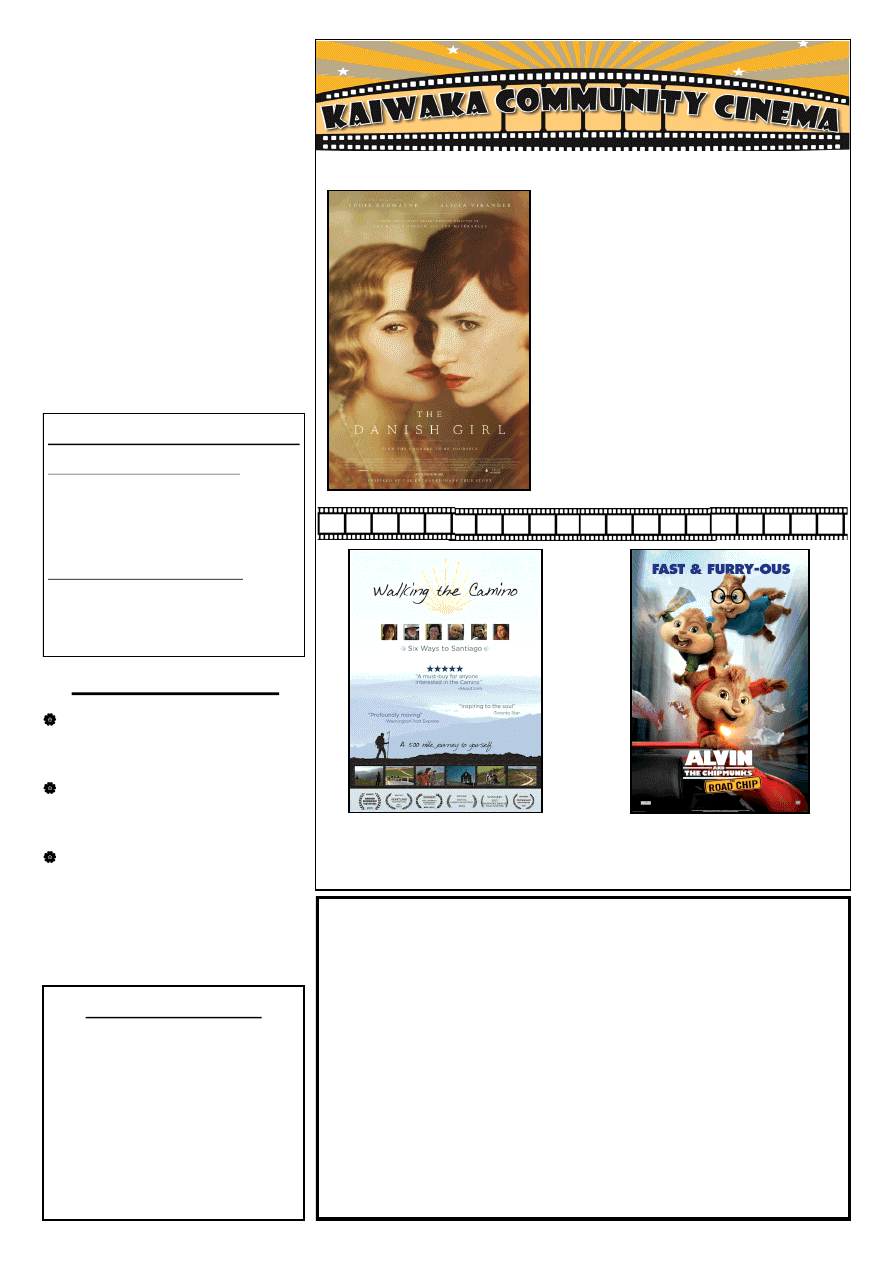 ABOUT TOWN 
Well  done  to  our  Fire  Brigade 
team,  who  have  been  very  busy 
lately. Did you see the video of them 
catching an emu? nzherald.co.nz 
Congratulations to the IMB Under 
16s  for  their  48-0  win  over  Marist! 
The whole day at  the KSA grounds 
was a great success. 
KDC  are  proposing  a  new  bylaw 
for  wastewater  -  this  could  include 
period checks of YOUR septic tank, 
which  you  may  have  to  pay  for. 
Please  get  yourself  informed  and 
make  a  submission  with  your 
opinions. See page 5. 
KAIWAKA BUGLE No. 9 
17 MAY 2016 
CONTENTS 
Page 3: Public Notices, Classified 
Page 5: Kaipara District Council, 
Internet 
Page 7: Kaiwaka Sports Association 
Page 9: Kaiwaka Can, World War II 
Page 11: Does anyone see the danger? 
Page 13: Otamatea Day Camp, 
Kaiwaka School 
Page 15: Otamatea Community 
Services, Pt Curtis Cruising 
Bugle 10 will appear 31 May 
Contact for advertising, reports, articles 
or information can be made by 
Email kaiwakabugle@kaiwaka.co.nz 
Ph: 09 4312 045 (Lindsey) 
Txt:  0274 806 275 (Wendy) 
Copy  may  be  left  at  Jaques'  Four 
Square.
At Kaiwaka War Memorial Hall . Adults $10, Kids (under 16) $5, Family Pass (2 adults + 3 children) $25 
Kaiwaka Bugle 
Founded May 1978 
Copies available in Kaiwaka at Jaques Four 
Square, Kaiwaka Postal Centre, Shamrock 
Service Station, Animal Health Centre.  
Also outlets in Maungaturoto,  
Mangawhai and Paparoa. 
Can be viewed online at  Facebook or 
www.kaiwaka.co.nz/Bugle  
Or a copy can be posted to you if you supply 
stamped, self-addressed DLE envelopes. 
The Danish Girl 
Friday 20 May 7:30pm (M) 
A  fictitious  love  story  loosely 
inspired  by  the  lives  of  Danish 
artists Lili Elbe and Gerda Wegener. 
Lili and Gerda's marriage and work 
evolve  as  they  navigate  Lili's 
groundbreaking  journey  as  a 
transgender pioneer.  
Starring:  Eddie  Redmayne,  Alicia 
Vikander, Amber Heard 
Kaiwaka Bugle Advertisements 2016: 
All 
copy 
and 
queries 
to: 
kaiwakabugle@kaiwaka.co.nz 
Classified  $4  per  entry  (max.  30  words, 
max. 4 repeats); 1/16 page $5; 1/8 page $8; 
3/16 $12; 1/4 page $16. 
Payments can be made online, posted or 
left at Jaques Four Square Store. 
Accounts: 
bugleaccounts@kaiwaka.co.nz 
The  Kaiwaka  Bugle  is  a  community 
newspaper run by volunteers.   
Articles, etc. printed are not necessarily 
the opinion of the Bugle Team. 
Walking the Camino 
Friday 27 May 7:30pm (PG) 
Alvin & the Chipmunks: 
The Road Chip 
Sunday 29 May 2:00pm (PG)
RON YOUNG 1.4.1929 - 5.4.2016 
Ron's  family  wish  to  personally  thank  extended  family 
and  friends  for  their  caring  support  during  his  stay  in 
hospital and since his death.
Thank  you  to  those  who  visited  Ron,  sent  cards  and 
flowers,  for  the  phone  calls  and  baking,  and  to 
everyone  who  came  from  near  and  far  to  farewell  him 
and share many memories with us.
Special  thanks  to  Nicola  Morrison,  the  Kaiwaka  Fire 
Brigade for their Guard of Honour, and to Reg and Bev 
for being there when needed.
Our love to you all.
Gay, Craig, Karen and Angela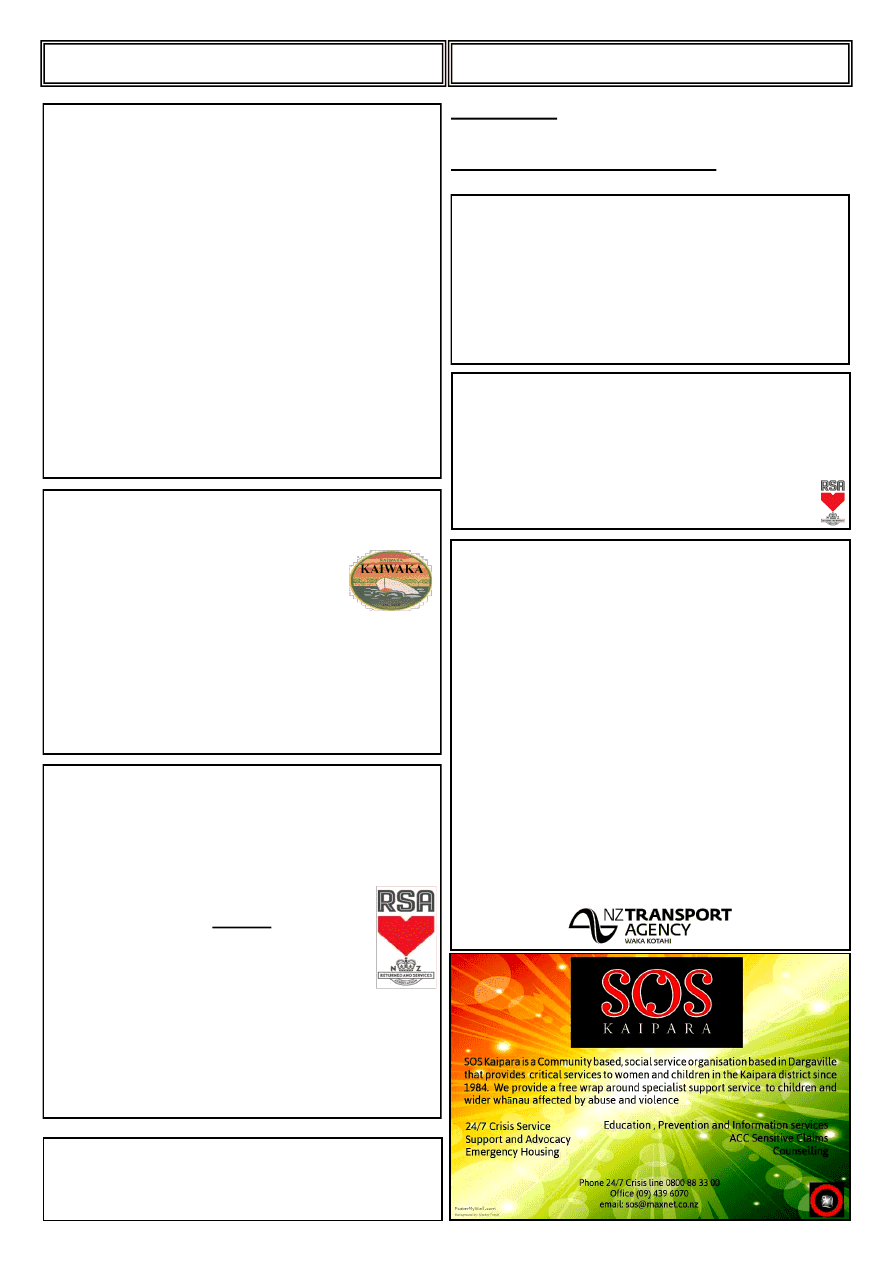 www.kaiwaka.co.nz 
Kaiwaka Bugle - 17 May 2016 
Page 3 
PUBLIC NOTICES 
CLASSIFIED 
Proverbs 
3:3
  Never tire of loyalty and 
kindness. Hold these virtues tightly. Write 
them deep within your heart.  
HAKARU & DISTRICTS RSA Inc 
Each Friday night from 6.30pm meals will be served. 
Members & invited guests, new members welcome. 
Come along & enjoy our hospitality. 
2nd Friday of the month -  roast dinner or board menu. 
Last Friday of month - roast pork night &  
sing-along with Des Chitty.  
Ph Heather 4314668 or Jan 4314512 
Point Curtis Cruising Club Inc 
Annual General Meeting
Tuesday 21st June 2016, 7pm  
at 3 Furlongs Bar & Grill
Agenda: 
Election of Officers and General Committee Members 
Treasurers Statement 
Commodore's Report 
Set Subscriptions for next year 
Changing of wording of club constitution 
Any other general business 
All welcome 
FOR  SALE:  OHS blue Maniapoto PE t-shirt, good 
condition,  medium,  $5.  OHS  girls  shorts,  good 
condition, size 77R medium), $10. Ph: 4312051. 
CREATIVE  HAIR  AND  BODY:  Woman's  Mobile 
Hairdresser. Contact Lucy 021 076 4463 
PARENT ELECTION NOTICE 
Kaiwaka School 
Board of trustees' election
Nominations are invited for the election of Two (2) 
parent representatives to the board of trustees. 
A nomination form and a notice calling for 
nominations will be posted to all eligible voters. 
You can nominate another person to stand as a 
candidate, or you can nominate yourself (make sure 
you sign both parts of the form). 
Additional nomination forms can be obtained from the 
school office. 
Nominations close at noon on Friday 20th May 2016 
and may be accompanied by signed candidates' 
statements. 
The voting roll will be open for inspection and can be 
viewed during normal school hours. 
There will also be a list of candidates' names, as they 
come to hand, for inspection at the school. 
Voting closes at noon on Friday 3rd June 2016.
Sara McAulay, Returning Officer 
KAIWAKA WATER SUPPLY 
Thanks to  everyone who paid  this  year's water rates 
before the end of April. The winner of a rebate is M. 
Watts. 
If  you  have  not  yet  paid  please  be  aware  that  these 
rates  pay  for    huge  power  bills  and  increasing 
maintenance  costs.  All  the  work  done  by  Mark  and 
Bruce is unpaid which keeps your rates so low. Just 
ask a friend in Maungaturoto how much they pay 
Hakaru and Districts 
Memorial RSA (Inc)
Annual General Meeting
Sunday 29
th
 May 2016 
1:30 pm in the Club Rooms
Agenda 
Apologies 
Financials and reports 
Election of new Committee 
General Business
Nominations for Committee and Notices of Motion 
need to be passed to the Secretary by Monday the 
23
rd
 May 2016 
Only financial Members permitted to attend 
Please Note:  Membership Fees will NOT be 
collected on the day
AUCKLAND TO WHANGAREI 
CORRIDOR STUDY 
As part of Connecting Northland, the Transport Agency is 
investigating  future  investment  in  the  state  highway 
between  Auckland  and  Whangarei.  SH1  between 
Auckland  and  Whangarei  is  a  National  Strategic  Route 
connecting freight, commuters and visitors. Improvements 
along  this  section  of  SH1  will  strengthen  the  route, 
making  it  safer  and  more  reliable  for  users  and  provide 
better  accessibility  between  Northland  and  Auckland  and 
the  Upper  North  Island  for  freight  vehicles,  tourists  or 
local travellers. 
We are now seeking public input into transport issues and 
opportunities  to  inform  this  programme  of  future 
investment  on  SH1.  Please  visit  the  Transport  Agency's 
Connecting Northland webpage to provide your feedback 
on  future  transport  investment  between  Auckland  and 
Whangarei. 
Online feedback closes on 30 May 2016. 
http://www.nzta.govt.nz/projects/connecting-northland 
https://www.nzta.govt.nz/projects/connecting-northland/auckland-to-
whangarei/tell-us-what-you-think/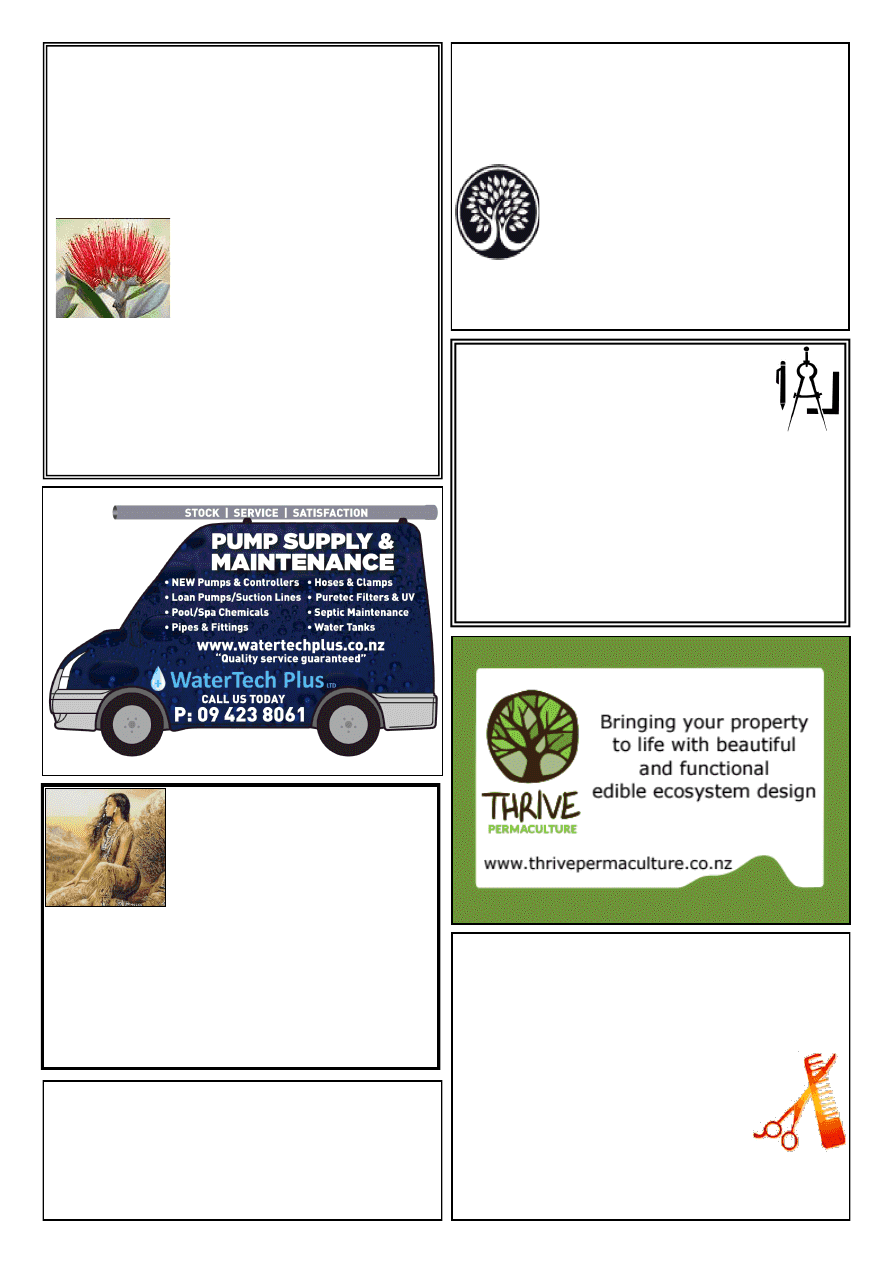 White Horse Farm 
Farm Stay/Bed and Breakfast 
Ph +64 9 390 1260        113 Tawa Ave, Kaiwaka 
bookings@whitehorsefarm-kaiwaka.co.nz 
www.whitehorsefarm-kaiwaka.co.nz 
AFFORDABLE PRICES! 
MENS DRY CUT FROM $18.00 
LADIES DRY CUT FROM $28.00 
KIDS DRY CUT FROM $15.00 
COLOUR CUT FROM $90.00 
JUST CUTS'AND     
MORE 
021 165 2629 
NOW SELLING: scented tealights, incense, smudge sticks, 
copper bracelets, aurora ball crystals, dream catchers, healing 
stones, rose quartz, cds, and much more. Open 6 days. 
Trails end 
spiritualist gathering  
Last Sunday of every month  
11.30-2pm tea/coffee provided  
$5koha for all inquiries  
0211652629 evenings 099450753 
Trail.end@hotmail.com 
Bringing together light minded people 
Guest speaker each month and 
Workshops every 2nd Wednesday  
6:30-7:30pm
KAIPARA FLOORING CO 
Independently owned & operated 
32 HURNDALL ST MAUNGATUROTO 
Supply & Installation of Carpet, Vinyl,  
Vinyl Wood Planking
Stockists of 2m & 3m wide 
vinyl & carpet short ends
Residential & Commercial 
First Class Installations 
For a free measure & quote 
phone Christine  
09 946 9886 or 021 515 415 
kaiparaflooring@gmail.com 
http://www.kaiparaflooring.co.nz/ 
design drafting 
service 
Retired builder and manufacturer with over 40 years  
experience in the building industry is offering a design 
drafting service for domestic housing, sleepouts and 
sheds.  
Plans formulated in consultation with clients, with 
working drawings completed and submitted to  
council for processing.  Extensive practical experience,  
able to identify & resolve problems. 
Please ring Mike Lean on 
09 431 2260  
          or 
021 431 196 
Waipu Natural Health 
3 Cove Road, Waipu    (opposite the Pizza Barn) 
Ph: 09 432 1325 
www.waipunaturalhealth.co.nz 
Clinical Nutritionist (Masked Allergy Testing), 
Registered Osteopath, Registered Massage 
Therapists, Reflexology, Beauty Therapy, 
Craniosacral Therapy, Hypnotherapy, 
Counselling, Change Catalyst, ThetaHealer, 
Naturopathic Prolotherapy & Scenar (joint & 
muscular therapy), and much more... 
GIFT VOUCHERS AVAILABLE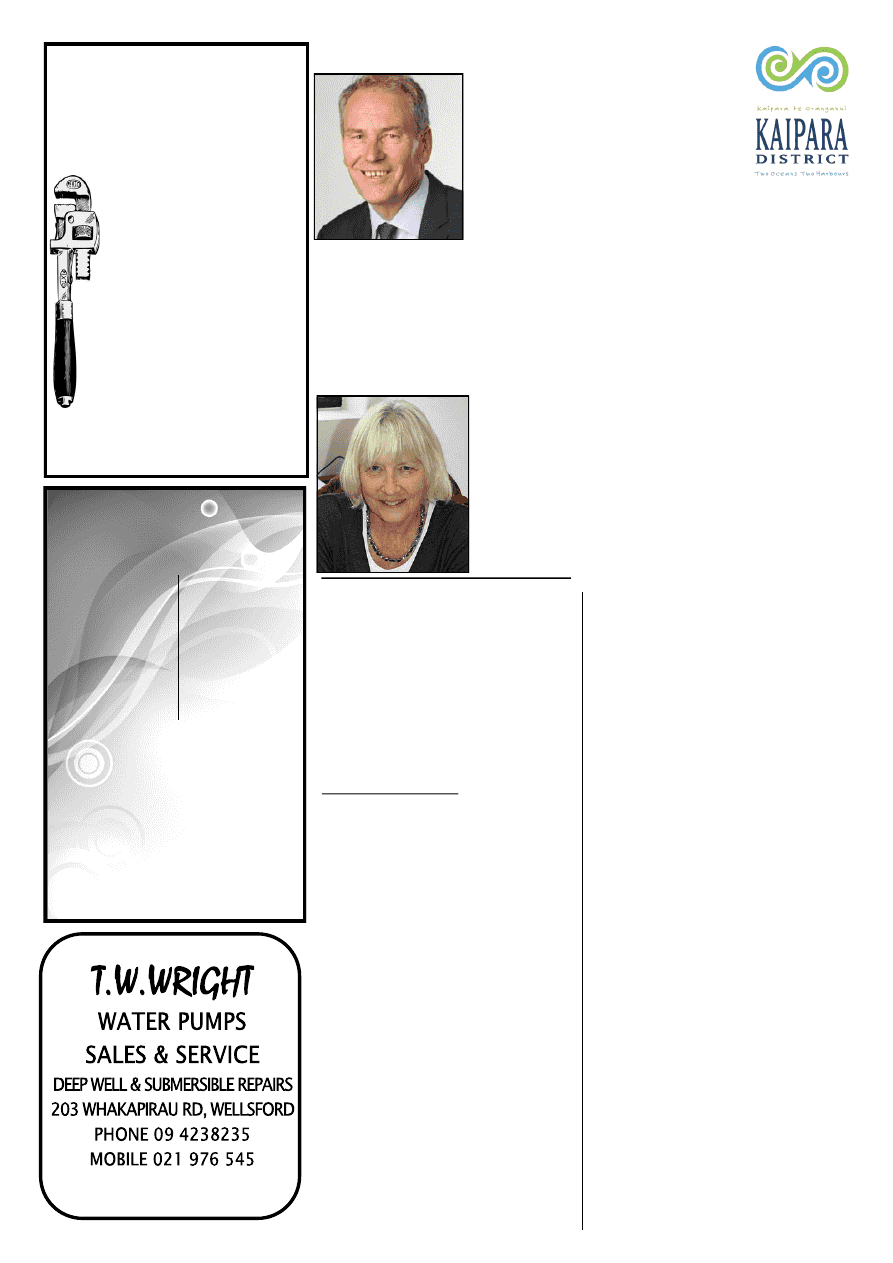 www.kaiwaka.co.nz 
Kaiwaka Bugle - 17 May 2016 
Page 5 
BARRY CURTIS 
PLUMBING LTD 
REGISTERED CRAFTSMAN 
PLUMBER 
Phone 431 5572 
027 257 9884 
25 years' experience 
Friendly reliable service 
All plumbing  
& maintenance 
Alterations and new   
housing 
  Spouting 
 
 
Competitive rates 
PROMPT EFFICIENT  SERVICE
U Beauty 
Please call Nicole for bookings 
09 393 6336 or 022 0639450 
Qualified Beautician 
4 Kaiwaka – Mangawhai Rd 
Kaiwaka 
Underarm Wax  
$20 
Extended Bikini Wax 
$30 
15 min Back  Massage 
$25 
Eyebrow Wax  $10 
Eyebrow Tint  $10 
Eyelash Tint 
$20 
Lip Wax 
$10 
Chin Wax 
$10 
Bikini Wax 
$20 
Brazilian 
$50 
½ Leg Wax 
$30 
Full Leg Wax  $45 
Full Pedicure  $60 
Foot Tidy  
$35 
Manicure 
$45 
Nail Tidy 
$25 
Chest Wax 
$30 
Back Wax 
$40 
Nostrils 
$10 
Ears 
$10 
Council 
appoints new 
Chief 
Executive 
Kaipara  District 
Council 
has 
appointed 
Graham  Sibery 
(pictured  left) 
as its new Chief 
Executive  for  a 
five-year term.  
Chair 
of 
Commissioners 
John 
Robertson  says  that  after  an  extensive 
recruitment  campaign,  the Council  has 
selected  Graham  Sibery  to  lead  the 
organisation  in  concert  with  the  new 
Council  due  to  be  elected  in  the 
October local government elections. 
Mr  Sibery  joins  the  Council  from  the 
Department  of 
Planning, 
Transport  and 
Infrastructure 
of 
the 
Government  of 
South Australia 
where  he  was 
Director 
of 
Operations  and 
Deputy 
Rail 
Commissioner. 
Before that he spent five 
years 
with 
Veolia 
Transdev 
Australasia 
including  two  years  as 
Managing  Director  of 
Veolia 
Transport 
Auckland  Ltd  running 
the  Auckland  passenger  train  network. 
He  holds  a  Master  of  Arts  in  Modern 
History from Oxford University, and a 
PHD  in  International  Studies  from  the 
University of South Carolina.  
"Graham  will  bring  extensive  public 
infrastructure  leadership  and  project 
management  skills  to  the  Kaipara 
community." Mr Robertson said.  
"He  has  run  large  organisations,  and 
has  leadership  experience  in  both  the 
public  and  private  sectors.  He 
understands  community  engagement 
and  will  enjoy  the  environment  that 
Kaipara provides."  
"The  Commissioners  will  be  handing 
over  a  strong,  capable  and  financially 
stable  organisation  to  the  new  Chief 
Executive  and  elected  Council  when 
their tenure ends in October."  
Graham  Sibery  will  commence  as 
Chief  Executive  on  4  July,  when 
Acting  Chief  Executive  Dr  Jill 
McPherson  (left)  completes  her  term. 
"We  much  appreciate  the  transition 
role  that  is  being  played  by  Dr 
McPherson" Mr Robertson says.  
"I look forward immensely to coming to 
Kaipara and meeting many new people 
across  the  district.  It  is  a  rich  and 
diverse  area  that  I  always  enjoyed 
visiting" Graham Sibery says. 
KAIPARA DISTRICT COUNCIL 
INTERNET SPEEDS 
I have received updates to our situation, 
the  main  one  is  from  Chorus.  In  short 
they  are  saying  it  would  cost  over 
$400,000  to  improve  the  connection 
speeds in our area, and it is not on their 
agenda  in  the  immediate  future. 
However, there is a possibility it could 
be  included  in  the  future  under  the 
Rural  Broadband  Initiative.  We  will 
follow 
this 
up 
with 
the 
Communications Minister. 
"CHORUS  RESPONSE:  To  give  you  some 
wider  context,  as  part  of  our  Rural 
Broadband  Initiative,  we  have  upgraded 
more  than  1200  broadband  cabinets  all 
over New Zealand. In Northland alone, we 
have upgraded nearly 250 cabinets, worth 
millions of dollars. 
 Yes,  there  is  fibre  along  a  section 
of Oneriri  Road.  This  fibre  was  laid  to 
upgrade  another  cabinet  in  the  area. 
Unfortunately,  this  fibre  is  still  a  long 
distance  from  the  cabinet  which  your 
constituents  are  connected  to,  and  hence 
why  it  would  cost  so  much  to  extend  the 
fibre to this cabinet. 
 As  I  mentioned,  the  Government  is 
currently  considering  proposals  for  the 
next  phase  of  the  Rural  Broadband 
Initiative.  I  would  recommend  you  talk  to 
Communications  Minister  Amy  Adams  to 
ensure  she  is  aware  of  the  issues  your 
community face."   
For more information contact Lindsey. 
Many  folk  are  trying  alternative  wireless/
satellite  for  better  broadband.  If  you  are 
interested  in  acquiring  Ubernet  Jenny 
Rooney is prepared to be a local contact on 
021 434 037. The more we have, the better 
it will get. 
~Lindsey, Bugle editor 
Wastewater Drainage  
Policy and Bylaw
Kaipara District Council wants to hear 
from  the  community  about  proposed 
amendments 
to 
its 
Wastewater 
Drainage  Policy  and  Bylaw,  with 
submissions  now  open  until  01  June 
2016. 
Of particular interest to the community 
will  be  the  proposal  for  a  wastewater 
Warrant  of  Fitness,  with  onsite 
wastewater  systems  being  regularly 
inspected  and  maintained  and  reports 
provided to the Council. 
The new Warrant of Fitness for onsite 
wastewater  systems  would  be  applied 
to  all  residentially  zoned  areas  as 
identified  in  the  Kaipara  District  Plan, 
and  to all  land,  irrespective  of  zoning, 
that  is  300m  from  the  east  coast/west 
coast,  300m  from  the  Mangawhai  and 
Kaipara  Harbours  and  300m  from  the 
Kai Iwi Lakes. 
Consultation  is  now  open,  and 
submissions  can  be  made  online  at 
www.kaipara.govt.nz, 
where 
the 
Statement  of  Proposal  can  also  be 
found. Submission forms and copies of 
the documents are also available at the 
Council's offices at 42 Hokianga Road, 
Dargaville,  and  Unit  6,  The  Hub,  6 
Molesworth  Drive,  Mangawhai,  at 
Kaiwaka 
Library, 
or 
email 
council@kaipara.govt.nz. 
Editor's Note: 'Coast' is yet to be defined.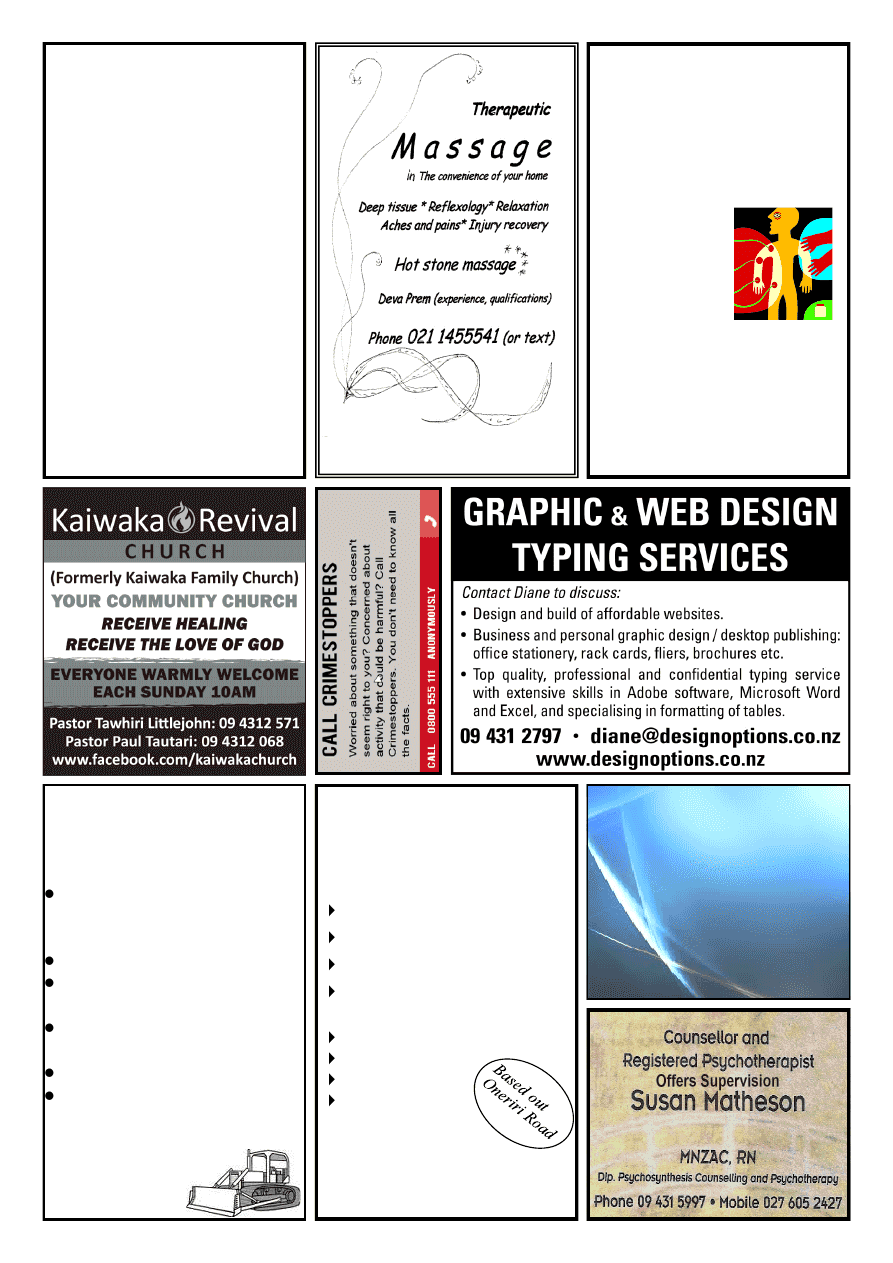 HODGETTS 
CONTRACTING
Digger Work    
Driveways 
House Sites   
Dams 
Drains, etc
Also available for HIRE 
3 ton Vib Roller 
Heavy Duty Tow 
Waterblaster  
Lazer Level 
Phone Mark 
4312877 
027 447 8554
www.mangawhaimassage.co.nz 
OWEN STEVENS 
Osteo Therapist
For careful adjustments to bones 
and joints 
Treatment for  humans and their 
pets 
Clinics: 
Kate's Place, 
Kaiwaka: 
Last Friday of 
month 
For bookings: 
9.00am-5.00pm   
Phone 
09 4312661 
Or phone Owen   
09 4317123  anytime 
Freeview  
Installations 
Richard Te Haara 
25 Marram Place 
Mangawhai Heads 
021 1104056 
kiwipride@xtra.co.nz
Willow Bend
HORSE  
HOTEL 
"   
Total Horse Care 
" 
Agistment 
" 
Riding Lessons 
" 
Arena Hire (60x40) 
" 
Young Horse Starting 
" 
Re-training/Exercising 
" 
Hoof Trimming 
" 
Problem Solving 
Phone Sue 09 431 2817 
or 021 623 776 
Or email  
suejoll11@gmail.com 
Coates  
Contracting 
D41 Bulldozer with 6 
way blade, bush rigged 
with winch 
For all tree work 
General bulldozing and  
  stick raking. 
120hp Tractor for 
ground cultivation,  
tip trailer work. 
Fencing
All enquiries phone  
Brett Coates  
 094318720  
or 
 021431872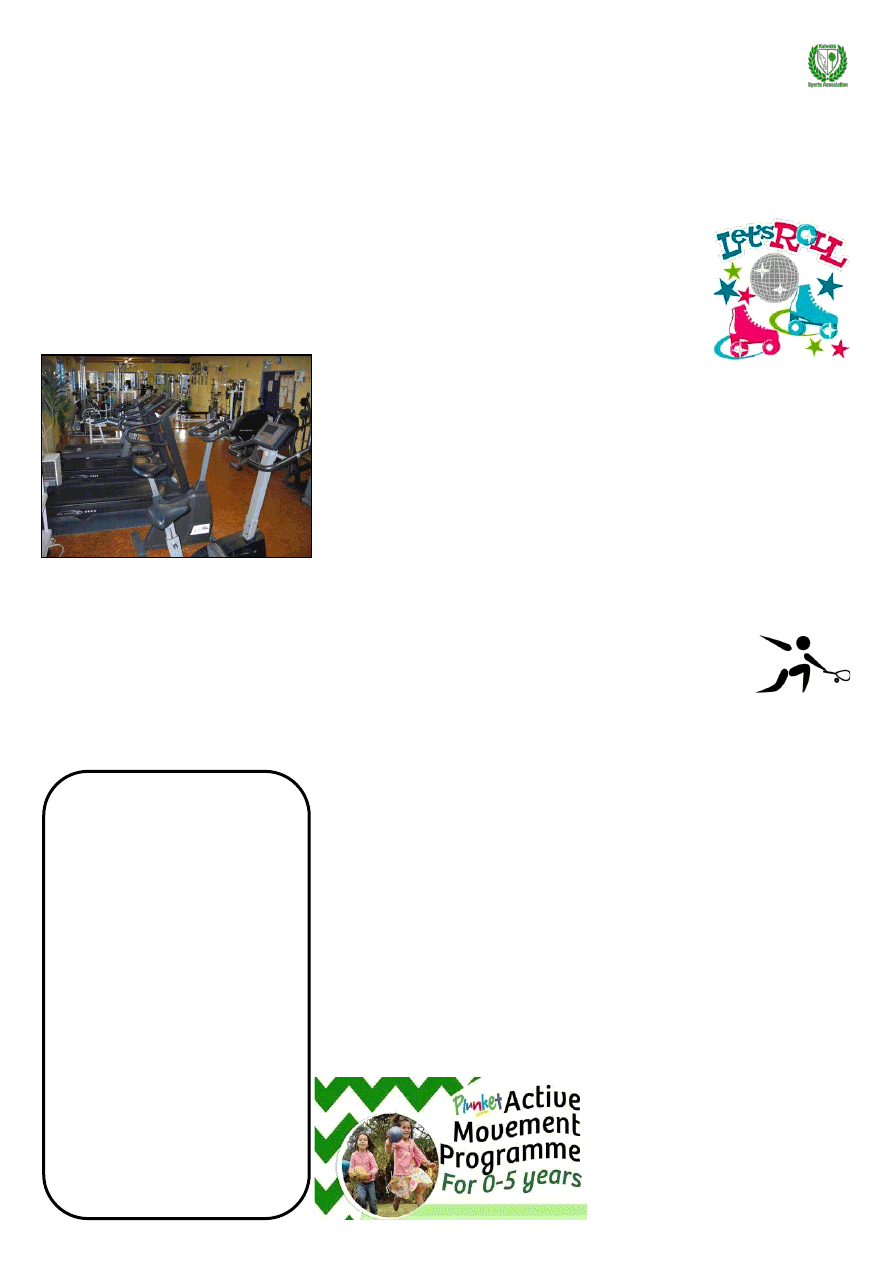 www.kaiwaka.co.nz 
Kaiwaka Bugle - 17 May 2016 
Page 7 
Fitness Centre 
Our Fitness Centre is holding an Open 
Day this Tuesday (17th) at 5pm. Come 
along  to  renew  your  membership,  or 
start  a  new  one.  Wine  and  cheese 
provided.  Everyone  who  attends  will 
go  in  a  draw  to  win  a  free  years 
membership 
(worth 
$150). 
A 
membership gives you 24/7 access to a 
centre  equipped  with  free  weights, 
bikes, climbers, rowers, treadmills, CV 
machines,  toilets  and  showers.  If  you 
are  on  Facebook,  please  like  the 
Kaiwaka  Fitness  page  to  keep  up  to 
date  with  news  and  events.  For  more 
information  on  the  Fitness  Centre, 
please  contact  Siobhan  on  027  979 
1203. 
Gymnastics 
Did  you  know  that  we  have  a 
gymnastics  club  at  the  Sports 
Complex? 
Gymnastics  Otamatea  is  a  recreational 
club  for  ages  2½  to  18  years.  We  are 
volunteer-run  and  currently  have  over 
100  gymnasts  participating  in  one  of 
our  six  classes  held  on  Tuesdays.  We 
will  be  accepting  a  new  intake  of 
gymnasts in term 3 in all age groups. If 
you'd  like  to  secure  a  place  in  this 
intake,  please  text  your  email  address 
to  022  362  4998  requesting  an 
application form. More information can 
be found on the gymnastics page of our 
website www.kaiwakasports.co.nz.  
Rugby – JMB 
All  five  JMB  clubs  (Paparoa, 
Maungaturoto, 
Eastern 
United, 
Wellsford and Tomarata) played at our 
grounds on Saturday for the JMB Rally 
Day.  Many  thanks  to  all  the  JMB 
parents  who  pulled  this  big  day  off. 
The next JMB Rally Day to be held at 
our grounds will be on Friday 3rd June. 
Rugby – IMB 
The  IMB  season  kicked  off  last 
weekend  and  both  of  our  IMB  teams, 
the  Under  14s  and  the  Under  16's, 
started  with  a  hiss  and  a  roar,  slotting 
huge  wins  over  their  opposition.  To 
keep up to date with IMB news, please 
like their facebook page. 
Rugby – Senior 
Our  Hawks  have  had  a  mixed  bag  of 
results,  but  are  still  sitting  in  the  top 
half  of  the  table.  Their  next  home 
match  is  at  the  Maungaturoto  Country 
Club on Saturday 11th June. 
Netball Mixed Tournament 
Well  done  to  Jodie  Bennetto  for 
running  an  enjoyable  Mixed  Netball 
Tournament at our courts recently as a 
fundraiser  for  the  High  School  AIMS 
team.  Congratulations  to  the  winners:  
1st  The Spartans and 2nd  The Metes. 
Defibrillator 
The  KSA  has  recently  purchased  a 
defibrillator. A defibrillator is a mobile 
electrical  device  that  provides  a  shock 
to  the  heart  when  there  is  a  life-
threatening  arrhythmia  present.  The 
defibrillator  features  voice  prompts 
which 
provide 
step-by-step 
instructions.  We  have  located  the 
defibrillator  in  the  toilet  block 
(opposite  the  swimming  pool)  as  this 
area is open to the public at all times. 
Ready, Steady, Wriggle 
Ready,  Steady,  Wriggle  is  a  fun, 
activity-based  class  for  pre-schoolers 
run  by  Plunket.  Classes  are  held 
fortnightly  in  our  gymnasium  on 
Wednesday mornings at 11am, the next 
one 
will 
be 
this 
Wednesday. 
Bring  some  morning  tea  for  your 
kiddies  and join  us for  lots  of  fun  and 
excitement.  
Badminton 
Keen  for  Badminton?  Turn  up  to  our 
gymnasium 
on 
Tuesday 
evenings,  from  7pm  -  all  ages 
and 
abilities 
welcome! 
A casual sub is only $3 per person per 
night. Badminton is lots of fun and an 
easy  game  to  pick  up.  New  members 
welcome,  just  bring  soft  soled  shoes 
and  a  sense  of  humour!  Club  racquets 
are available for you to borrow.  
Roller Disco 
We  are  going  to 
hold 
another 
Roller  Disco  in 
our  gymnasium. 
This will be a fun 
evening 
for 
people of all ages, 
so  note  it  in  your 
diary – next Saturday 28th May. 
A  free  half  hour coaching session  will 
start  at  6pm  where  professionals  from 
Skatescool  will  guide  beginners 
through the basics and will also instruct 
experienced  skaters  with  advanced 
drills and good technique.  
The Roller Disco will run from 6.30  – 
8pm  and  costs  $10  (preschoolers  $5). 
Skate hireage is included (if you bring 
your own skates, entry will be just $5). 
There will be great music, disco lights, 
glow  items,  drinks,  candy  floss  and 
other snacks – looking forward to it! 
Squash 
If  you  are  looking  to  try  out  a  new 
sport, 
how 
about 
Squash? 
Our  squash  club  has 
restarted  for  the  winter 
months.  Club  Nights  are  Mondays 
from 6pm and players can either pay a 
casual  fee  of  $2  per  club  night  or 
purchase  an  annual  sub  which  gives 
access  to  the  courts  24/7  with  free 
lights. 
Many  thanks  to  Mark  Ottaway  who 
upgraded  the  showers  in  our  squash 
court  area  –  no  more  clammy  shower 
curtains! 
Kaipara Knights Soccer 
The  soccer  season  kicked  off  last 
Saturday  with  players  in  each  of  the 
three  Under  10s  grades.  Our  older 
players have combined with Wellsford 
and  Mangawhai.  The  club  is  looking 
for  someone  to  referee  10th  grade 
matches  on  some  Saturdays  from  9  – 
9.50am at Port Albert. If you can help 
out, please contact Lindell Ferguson on 
4312 542. 
Advance notice 
Back by popular demand! Yes, another 
Kids  Disco!  The  disco  will  be  held  at 
the  Sports  Complex  on  Saturday  2nd 
July,  and  will  feature  great  music, 
dancing,  a  lolly  scramble,  glow  items 
and games. Mark it in your diary! 
~Cheryl Anderson 
4312 051, 027 3462702 
kaiwakasports@gmail.com 
KAIWAKA SPORTS ASSOCIATION
UP-LINK 
CHRIS WARING 
FREEVIEW 
INSTALLATIONS 
T.V. - HOME THEATRE & 
HI-FI ADVICE/SET UP
SKY ACCREDITED 
INSTALLER
MOB.0273403747 
HM.094312328 
EMAIL cwaring44@gmail.com
28 YRS EXPERIENCE 
OFFERING  UNBIASED ADVICE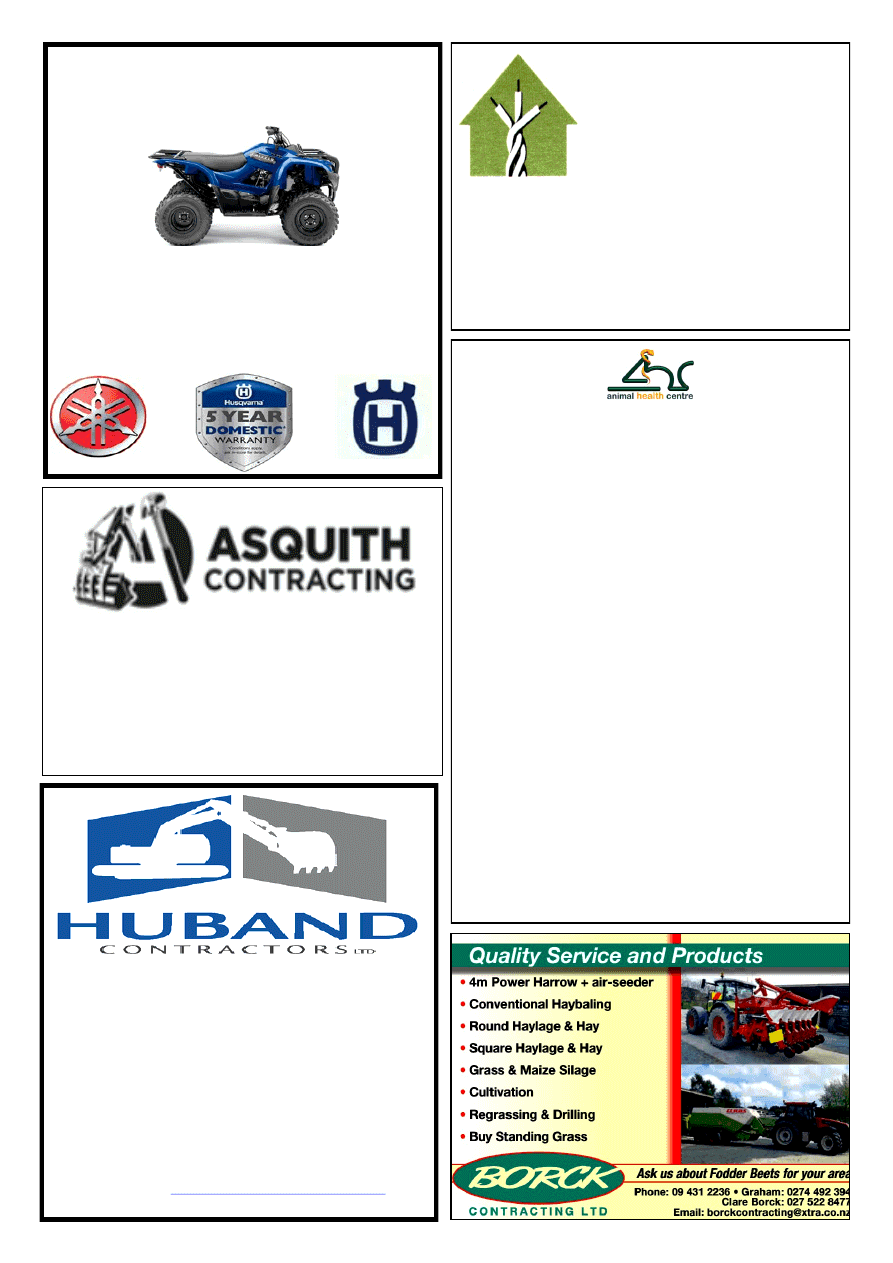 KAIWAKA 
MOTORCYCLES LTD
SALES – SERVICE – SPARES 
FARM BIKE SPECIALIST 
PHONE 09 431-2127 
10 KAIWAKA-MANGAWHAI ROAD, KAIWAKA
YAMAHA 
HUSQVARNA 
ANIMAL HEALTH CENTRE 
KAIWAKA 
"choices in health care  
for your companion animal" 
Health problems - itchy skin, smelly ears, bad 
breath, diarrhea? 
On steroids, antibiotics, lifetime drugs.....  ? 
Diet may be a part of the problem!   
Call in and have a chat to our team of animal health 
practitioners. 
Nail Trims  Microchipping  Dental checks  Comfort 
grooms 
Great range of real food – no preservatives 
Alternatives to nasty chemical parasite controls 
OPEN:    Tues-Fri    10:00am – 5:00pm 
    Saturday   10:00am -  4.00pm 
    Sunday / Monday - Closed 
Next to Italian Bakery, Main Highway  Kaiwaka 
Ph:  09 431 2217 
PS: We're  open 7 days in Orewa if you missed us! 
Reyahn George Leng 
Registered Electrician 
Local, honest and reliable. 
For your residential and 
light-commercial projects. 
022 314 1068 / 09 431 2527 
Small digger work, trenching and 
post hole drilling. 
$60 per hour.
Call Tam on 027 211 1152 or 
asquithcontracting@gmail.com 
*   R O A D I N G   *   E A R T H W O R K S   *    
*   D R A I N A G E   *   S I T E W O R K S   *
Shaun Huband 
Registered Drainlayer
Cell: 021 222 0272 
Home: 09 4318339 
Email: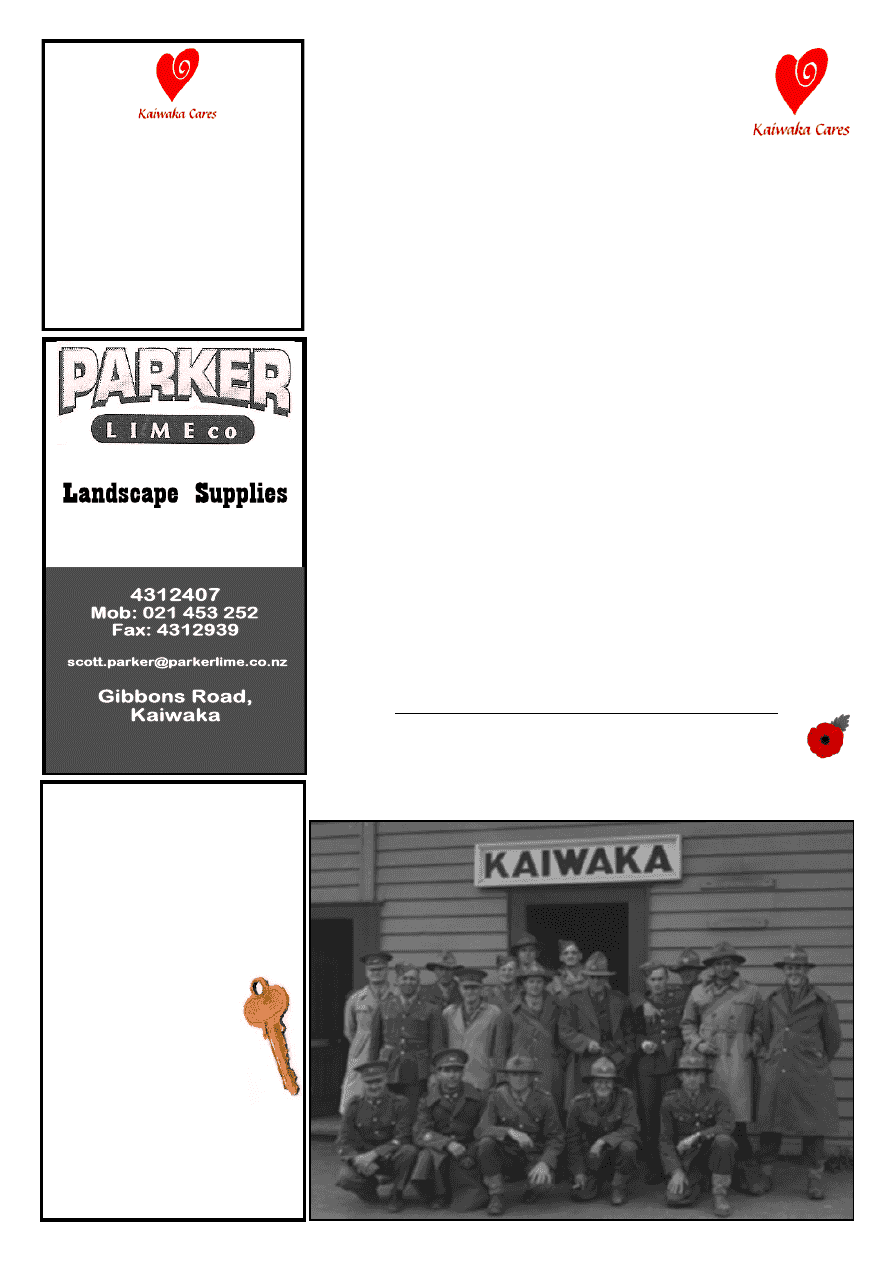 www.kaiwaka.co.nz 
Kaiwaka Bugle - 17 May 2016 
Page 9 
WORLD WAR II - Kaiwaka 
Please can you help with naming these soldiers? 
Some of the first to go away - Fred Leslie, Clarrie Hall,, Keith Marshall, Dave 
Balderston, Rolly Berger, Ian Macintosh. Four of them are wearing air force caps 
so would be so one would be D or A Rashleigh, who both died of wounds. 
Kaiwaka  
Hardware  
&  
Key cutting 
Phone 4312 063 
 022 041 6047 
kaikey2015@gmail.com
Keys Cut  
Household Hardware  
Curtain Tracks & Fittings 
Not there? Call Doug and he'll 
sort
it for you. 
(
Next to Kaiwaka Motorcycles
)
KAIWAKA CAN 
Bulk Cartage 
Community Centre
Open 10am – 2pm
Monday – Wednesday – Friday
WIFI , printing & scanning 
available 
Kaiwaka's own social space.
JP on site every Wednesday.
Aren't we lucky! The wonderful warm 
sunshine  is  still  shining  down  on 
Kaiwaka.  Whilst  a little  rain  would be 
good for the garden and the water tank, 
certainly  can't  complain  about  the 
weather so far this winter. 
Kaiwaka Holistic Market 
The first of the markets was held at the 
end of April, the second will happen as 
this  goes  to  print.  All  those  who 
attended reported having a great night. 
It  was  an  opportunity  for  like-minded 
people  to  get  together  and  learn  more 
from each other and try some types of 
healing they may not have tried before. 
All  whilst  having  a  cuppa  and  a  piece 
of  cake. These  will  continue  to be  run 
fortnightly on a Saturday evening from 
6pm.  For  more  information  contact 
Elise  on  #0211597778  or  email 
caring4kaiwaka@gmail.com. 
Healing  from  the  HeartEnergy 
Balancing 
New  to  Kate's  place  is  Heidi  Downey 
who will be doing Energy Balancing on 
the 1st Friday of each month from 9am 
to 12pm at Kate's Place. Her next date 
is 3 June, so book in now. Payment for 
this  is  by  Koha.  Bookings  via  text  on 
#0273135440. 
CAP  Money/Budgeting  &  Steps  to 
Employment Courses 
The  first  of  the  Money  courses  went 
really well. One of the participants told 
me  it  was  'really  eye-opening'  and 
gave  them  a  sense  of  hope  that  they 
could  get  their  finances  under  control. 
If you would like to attend one of these 
courses  contact  either  Kaiwaka  Cares 
or  email  yvonne.denize@capnz.org  or 
ring Yvonne or Brett on #09 431 3234. 
The eight-session 'Steps 
To  Employment'  course 
takes  you  through  each 
step  of  the  job-hunting 
process. 
Doing 
the 
course  equips  you  with  essential  tools 
such  as  how  to  apply  for jobs,  how  to 
write  a  great  CV  and  how  to  have 
confidence  in  interviews.  It's  also  an 
opportunity  to  have  a  look  at  your 
strengths  and  identify  your  hidden 
talents! Yvonne and Brett are currently 
running  one  of  these  for  some  local 
trainees. 
Both these courses will be run from the 
centre  and  Kate's  Place.  They  are 
designed  to  be  run  as  small  groups  so 
there  is  ample  time  for  questions  and 
discussions 
of 
individual 
circumstances. And best of all they are 
free.  If  you  are  interested  in  learning 
more 
visit 
the 
CAP 
website 
www.capnz.org 
or 
email 
yvonne.denize@capnz.org.  To  talk  to 
someone  about  either  of  these  courses 
ring Yvonne or Brett on #09 431 3234. 
Brand new clothes at bargain prices! 
A kind donor has given us some lovely 
fleece and poly/cotton women's clothes 
to  sell.  All  these  are  brand  new,  and 
made  in  New  Zealand.  We  are  selling 
them at the price of $5 a piece. Pop into 
the dropin space to have a look. 
What else … 
The  team  are  working  on  some  other 
ideas from members of the community.  
If  there  is  something  that  you  wish  to 
run  or  want  to  see  happen  in  Kaiwaka 
either  pop  in  and  tell  us  or  email 
caring4kaiwaka@gmail.com. 
~The Kaiwaka Cares team.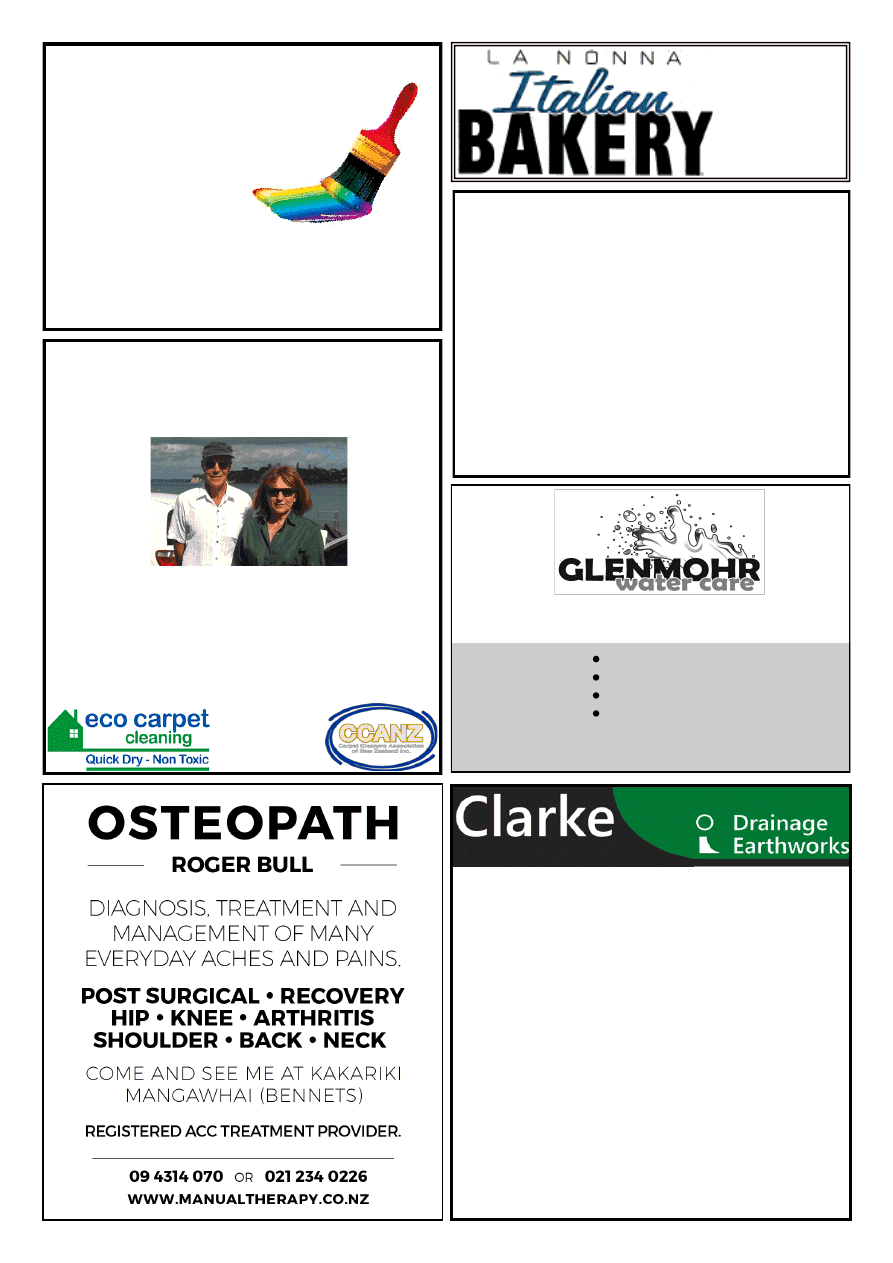 CARPET & UPHOLSTERY 
CLEANING 
QUICK DRYING – NON-TOXIC  - GREAT RESULTS 
Mike and Marina Bagley 
Call 09 431 3016  
or  027 2410414 
marina@ecocarpetclean.co.nz  
www.ecocarpetclean.co.nz 
1923c State 
Highway 1,  
Kaiwaka. 
Open 7am-4pm  
Tue to Sun. 
Closed Mondays. 
Phone 09 431 2643 
Registered Drainlayer 
All Types of Earthworks  
> All Residential & Commercial Work  > House Sites 
> Septic System Design & Install 
> Footings & Drilling to 10m 
> Sewer Connections 
> Dams 
> Water Tank Installation 
> Roading & Races 
> Farm Work 
THE ONE STOP SHOP  
Phone Nigel for an Obligation Free Quote  
Drainage & Earthmoving 
clarkedrainage@xtra.co.nz 
027 2233 185 
09 4312918 
0274735171 
leecooper@xtra.co.nz 
LEE COOPER PAINTERS 
(Kaiwaka Based) 
*30 yrs Experience 
*Interior/Exterior 
*New and Restoration 
*Honest and Reliable 
*Free Quotes 
Water Tank Cleaning 
Keep your water safe & clean   
Removal of sediment, silt etc. 
Vacuum or full scrub 
Minimal water loss 
Phone Mark (09) 432 0655 or 0274 707607 
LIFESTYLE PROPERTY  
MAINTENANCE 
Putting life back into your style
Working out of Kaiwaka; servicing Mangawhai, 
Maungaturoto, Waipu and surrounding areas. 
  With over 25 years' experience, I'm fully insured and 
any job considered so just call me – James on mob: 0273 
808622  or  09 431 2245 
email: lifestylesorted@gmail.com  
Mulching - gorse, 
scrub 
Tree & hedge work 
Hole boring 
Alkathene laying & 
repairs 
Paddock topping, 
slashing 
Electric fence 
installation 
Weed spraying 
Free quotes 
Land & section 
clearing 
Loader work 
Rubbish removal 
Fully insured 
Repairs to driveways, fencing & buildings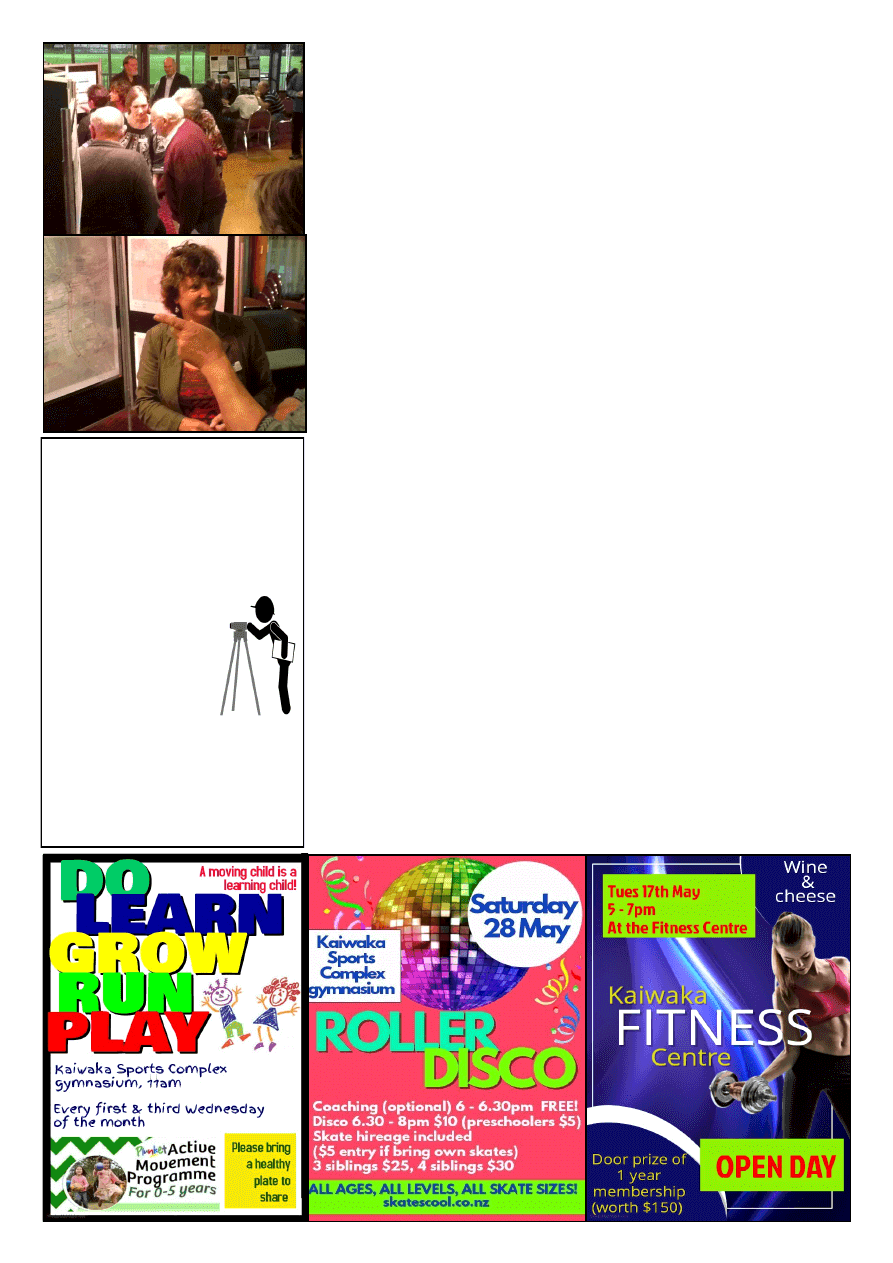 www.kaiwaka.co.nz 
Kaiwaka Bugle - 17 May 2016 
Page 11 
Ken Urquhart 
BSurv Licensed Cadastral 
Surveyor 
KMU Surveys Ltd
467 Bickerstaffe 
Road 
RD 2 
Maungaturoto 
0587 
Ph 09 431 8705 
Mob 021 161 2344 
kenurquhart@xtra.co.nz 
Highway  traffic  has  been  a  safety 
risk to Kaiwaka  and  those who  visit 
the village for years. 
And  for  years,  locals  have  implored 
Kaipara councils to take action. 
These calls came again during Monday 
night's  discussions  of  the  current 
council's  annual  plan*  at  Kaiwaka 
Sports Complex. 
"We  were  talking  about  the  same 
things 
and 
making 
the 
same 
suggestions  10  years  ago,"  one  couple 
said. 
Key  traffic  worries  include  the 
weekend  and  holiday  rush,  speeding 
and  the  risk  of  accidents  at 
intersections and bridges. 
Council  planners  are  keen  to  address 
the  issue,  and  have  come  up  with 
'traffic  calming'**  solutions  which 
include improved signage and roadside 
plantings. 
Not addressed 
Not addressed directly are issues raised 
by  more  traffic  on  the  Oneriri  and 
Mangawhai  Roads  and  effective  ways 
of allowing the side road traffic to enter 
the  highway  when  the  highway  is 
packed and speeds excessive. 
However,  the  arithmetic  that  governs 
speed  and  positioning  of  signs  are  not 
in  Kaiwaka's  favour  so  this,  and 
budgeting restraints hamstring council. 
When  population  and  side  roads  are 
counted,  the  New  Zealand  Transport 
Authority  [NZTA]  formula  rules 
Kaiwaka  can  be  traversed  at  70kph. 
The only reason the 'temporary'  50kph 
zone is between The Furlongs Bar and 
Grill  and  just  south  of  the  Spice 
Lounge is because of recent roadworks. 
Recognising 
our 
safety 
issue, 
authorities  have  turned  a  blind  eye  to 
the these 50kph signs. 
What can be done? 
We  in  the  community  recognise  the 
risk.  Some  years  back,  on  Oneriri 
Peninsula, 
there 
were 
concerns 
regarding  the  safety  of  children 
crossing  the  harbour  daily  to  go  to 
school  at  Tanoa.  In  October  1943,  six 
children  drowned  when  their  boat 
swamped,  and  the  Government  of  the 
time  built  a  new  school  on  Parekura 
Road. 
We  don't  want  injury  accidents  in 
Kaiwaka,  when  we  can  see  these 
coming. Those at risk also include our 
children, now riding in buses. 
We  want  a  responsive  government  at 
local and national level. 
And we have a plan. 
Island of safety 
We  want  the  main  Oneriri  Road 
rerouted  to  Jaques  Corner  on 
Mangawhai  Road  with  a  prominent 
traffic  island  like  that  on  State 
Highway  One  at  Ruakaka,  or 
Gordonton  in  the  Waikato,  and  we 
want  the  passing  lane  to  the  north  to 
start  after  the  Coffee  Pot  Café/Motel 
and the 100kph zone to begin there too. 
Also,  some  traffic  calming,  by  speed 
camera  and  police  presence,  will  win 
local  applause.  That  would  be  more 
effective. 
*See, 
Annual 
Plan 
2016/2017 
consultation document on the KDC site 
[http://www.kaipara.govt.nz/]. 
** Traffic calming consists of physical 
design  and  other  measures,  including 
narrowed roads  and  speed  humps,  put 
in  place  on  roads  for  the  intention  of 
slowing  down  or  reducing  motor-
vehicle  traffic  as  well  as  to  improve 
safety  for  pedestrians  and  cyclists. 
Urban  planners  and  traffic  engineers 
have  many  strategies  for  traffic 
calming. – source: Wikipedia 
DOES ANYONE SEE THE DANGER? 
Photos  above  taken  at  the  KDC/NZTA 
meeting at the local Sports Pavilion 9 May. 
Copies  of  the  Kaipara  District  Council 
Annual 
Plan 
were 
also 
available 
(submissions closed 13 May). Some notable 
points  for  Kaiwaka  included  a  new 
playground,  a  wastewater  scheme  upgrade 
($40,000  pond  curtain),  Settlement  Road 
seal extension ($60,000), and Oneriri Road 
roadworks. 
Did  you  know  there  are  165  parks  and 
reserves in Kaipara?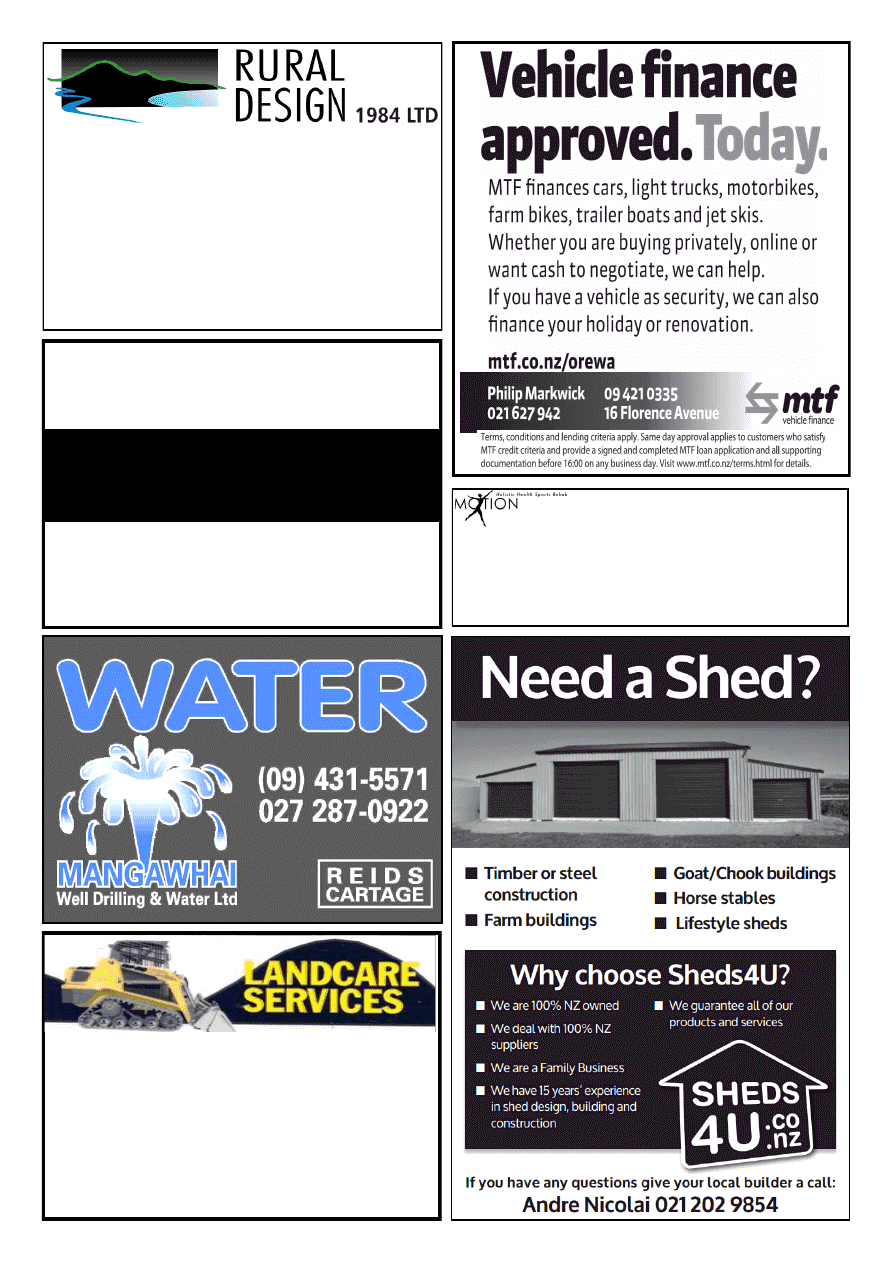 LANDSCAPING 
4 IN 1 BUCKET 
TRENCHER 
POLE HOLES 
ROTARY HOE 
COMPACT ROLLER 
OFFAL HOLES 
CAN SUPPLY WOODCHIP & POST PEEL 
5 TON TIPPER 
FOR RELIABLE AND FRIENDLY SERVICE CONTACT DAVE 
Dave Hyndman 
 
KAIWAKA 
PH: 09 4312302 
MOB: 021 431 238 
David Korach 
Your local Gib Stopper
DK PLASTERER LTD 
0274769221 
dkorach6@gmail.com 
Wholesale Native Plant Nursery and Planting 
Small and Large orders welcome 
By Appointment 
300 Kaiwaka-Mangawhai Road, Kaiwaka 
Phone: 09 431 2481 
Email: info@ruraldesign.co.nz 
www.ruraldesign.co.nz 
WAIPU OSTEOPATH 
Maria Gabriel ACC Registered Osteopath 
Waipu Natural Health 3 Cove Rd Waipu 
Monday, Wednesday & Thursday  
Freephone 0508 924786  (0508 WAIPUOSTEO) 
www.getinmotion.co.nz     No doctor referral 
required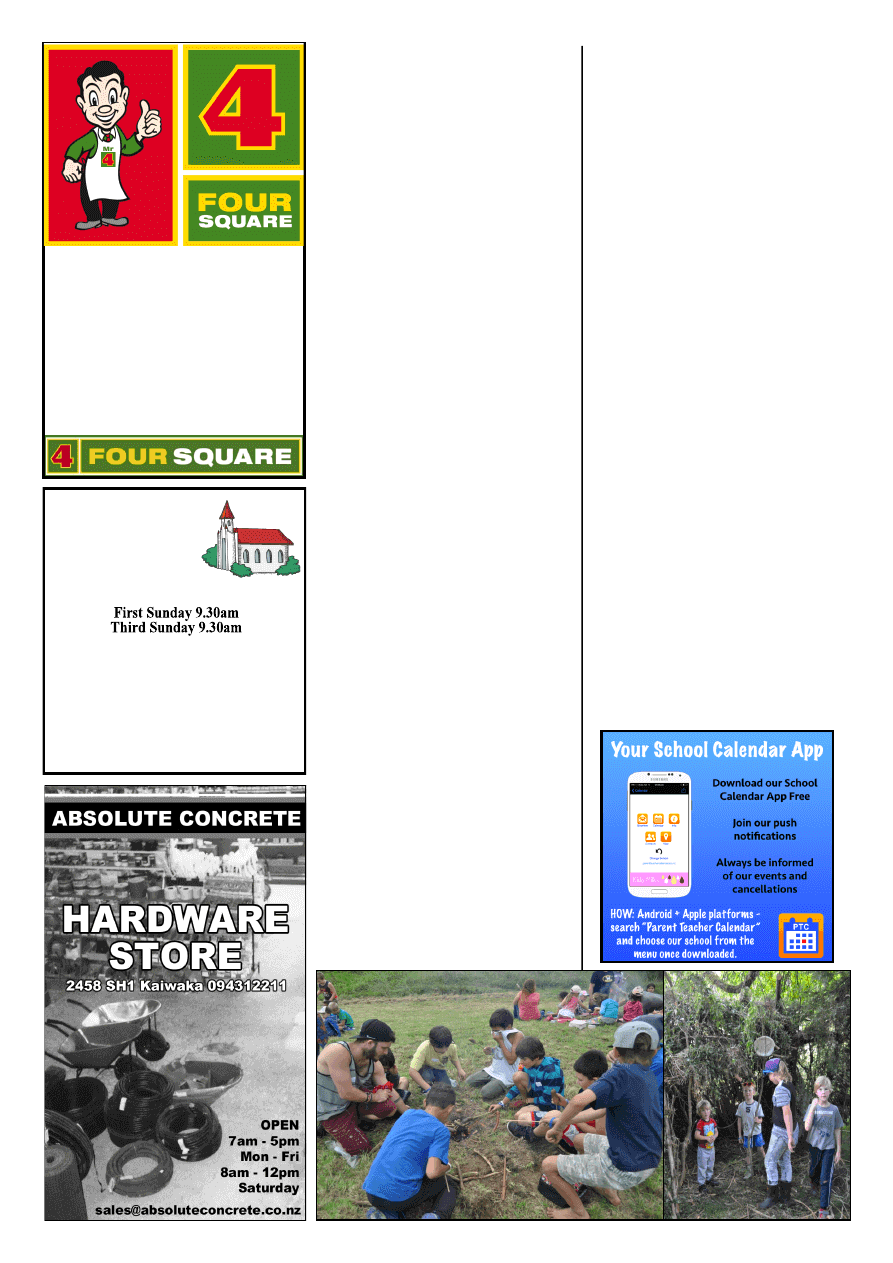 www.kaiwaka.co.nz 
Kaiwaka Bugle - 17 May 2016 
Page 13 
ST PAUL'S  
ANGLICAN  
SUNDAY  
SERVICES
St Pauls Church: Kaiwaka-Mangawhai Rd. 
1st Sun - Eucharist 
3rd Sun - Family Service 
Office 4314 122 
Contacts:M.Hargreaves 4312295, C.Bygrave 4312057  
or Rev. Wayne Thornton Ph 431 5650 
www.mangawhaianglican.org.nz
Fresh live Mussels 3.49 Kg 
Also Fresh FISH FISH FISH 
Fresh fish fillets - snapper, gurnard, tarakihi 
Fresh smoked fish fillets -ruby fish, trevally, 
kahawai. Smoked Salmon fillets 
Varieties change weekly depending on 
availability & price 
Jaques Four Square 
Phone: 4312227 
1 Kaiwaka-Mangawhai Road, Kaiwaka. 
What do 185 6-12 year olds, 38 teenage 
leaders, a huge marquee, great outdoors 
and  3  days  have  in  common?… 
Otamatea Day Camp 2016 is what. 
Yes we have just finished our 12th Day 
Camp and what a time it was. We (the 
committee from various local churches) 
have had the privilege of organizing for 
our  children  in  our  area  3  days  of  fun 
and experiences.   
Our registered children are bussed into 
a  property  on  Paparoa  Station  Road to 
find  a  huge  marquee  and  numerous 
other  tents  sitting  in  a  paddock.  They 
are  drawn  to  the  marquee  by  the  Day 
Camp  Song  and  welcomed,  briefed  by 
SAFETY  BILL  (a  local  electrician), 
listen to  a  biblical  message, join in  on 
some more rousing songs and then split 
up into 26 different groups according to 
their  age.  Then  it's  off  to  the  bush  to 
locate the ideal place to build their bush 
hut,  all  systems  go.  Foraging, 
transporting and collecting materials to 
build their huts. Next it's time for lunch 
and  campfires  where  the  kids  get  to 
cook  a  sausage  on  a  stick.  After lunch 
we  are  all  split  up  again  for  electives. 
These  could  be  anything  from  dam 
building,  horse  riding,  to  lots  of  craft 
ideas.  Back  to  the  marquee  for  more 
songs and dramas, until reluctantly the 
kids have to get back on the buses and 
head home. Day Two is a repeat of Day 
One. Day Three is half repeated except 
this time they have judges coming into 
the bush to examine their amazing huts 
and  ideas.  What  a  hard  job.  After  a 
quick  lunch  we  are  off  to  do  a  10 
station rotation of various sporting and 
thinking  challenges.  3pm  sees  all  our 
parents arriving, the bush hut winner's 
ceremony,  and  a  wind  up  bbq.  360 
burgers and 200 sausages later it is time 
to  pack  up  and  head  home,  tired  but 
blessed  to  be  able  to  be  a  part  of  this 
event. 
A  special  thank  you  to  the  YWAM 
students  who  came  this  year,  we 
couldn't  have  had the numbers  we  did 
without you. The many volunteers that 
go  into  manning  this  event,  from  tea 
ladies to bus drivers to elective leaders 
to  teenagers  who  give  up  part  of  their 
holidays is huge. Thank you to you all 
our  volunteers  and  businesses  that 
support  us  on  behalf  of  the  kids  who 
attended.  Camp photos below. 
OTAMATEA DAY 
CAMP 
KAIWAKA SCHOOL 
We  welcome  our  new  entrant  students 
into  our  school  community,  Kierra 
Hastie,  Levi  Walker,  Liam  Lusty  and 
Naomi Paikea.  
This  term  will  be  exciting  as  we  are 
planning a big trip to Auckland to visit 
MOTAT. We are doing this because the 
senior school are studying Inventions  - 
what  better  place  to  go!  The  whole 
school is going and we are looking for 
helpers  for  this  trip.  We  will  be 
travelling  by  bus  and  the  cost  will  be 
$6.00  each.  On  this  day  the  buses  will 
run  as  normal  in  the  morning  but  we 
will not be back until about 4.30pm so 
all  the  students  will  need  to  be  picked 
up  from  school  between  4.30  and 
5.00pm. 
It  is  trustee  election  time  -  please  get 
your  nominations  in  to  Sara.  Every 
parent  and  caregiver  on  the  Electoral 
Roll  at  Kaiwaka  school  should  have 
received nomination papers in the mail 
by now. If for any reason you haven't, 
please  contact  the  school  to  check  we 
have  your  correct  postal  address. 
Should  you  wish  to  nominate  yourself 
or  someone  else,  extra  nomination 
papers  are  available  from  the  school 
office.  
Thank  you  for  helping  your  children 
learn  their  speeches.  Being  able  to 
deliver a speech is such a valuable skill 
-  that's  why  we  start  really  early  with 
this  learning  activity.  The  competition 
is on 31st May where the top speakers 
in  every  year  group  present  their 
speeches. ~ Rosie Ellis 
Swimming  Pool  Keys:  The  swimming 
pool  is  now  closed  so  please  could  all 
keys  be  returned  to  the  school  ASAP. 
We  hope  you  all  had  a  great  summer. 
The  $10  refund  will  be  available  up 
until 31st May.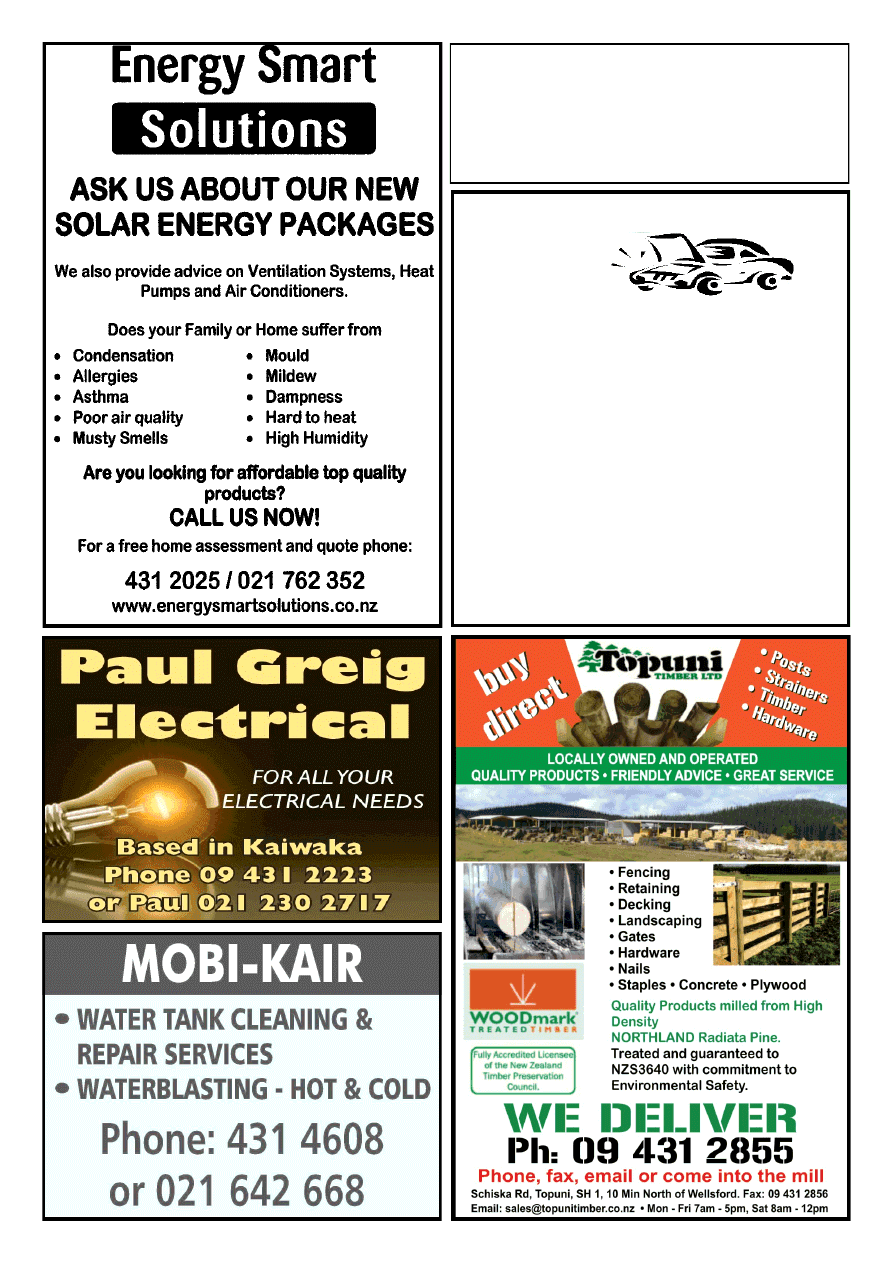 Twinkle Tow 'n' Tyre 
Think you'll get a better deal in the city? 
Ring us - it won't cost anything! 
1837 State Highway 1, Kaiwaka 
Phone 431 2823 
*W.O.F. 
*Tyres 
*Windscreen 
replacement 
*Chip repairs 
*Bulk Oil 
*Batteries 
*Welding 
*Custom built 
trailers 
*Trailer hire
FREE GRAZING WANTED 
Small or large block 
Can do some fencing or water 
Phone after 6pm 
4312 006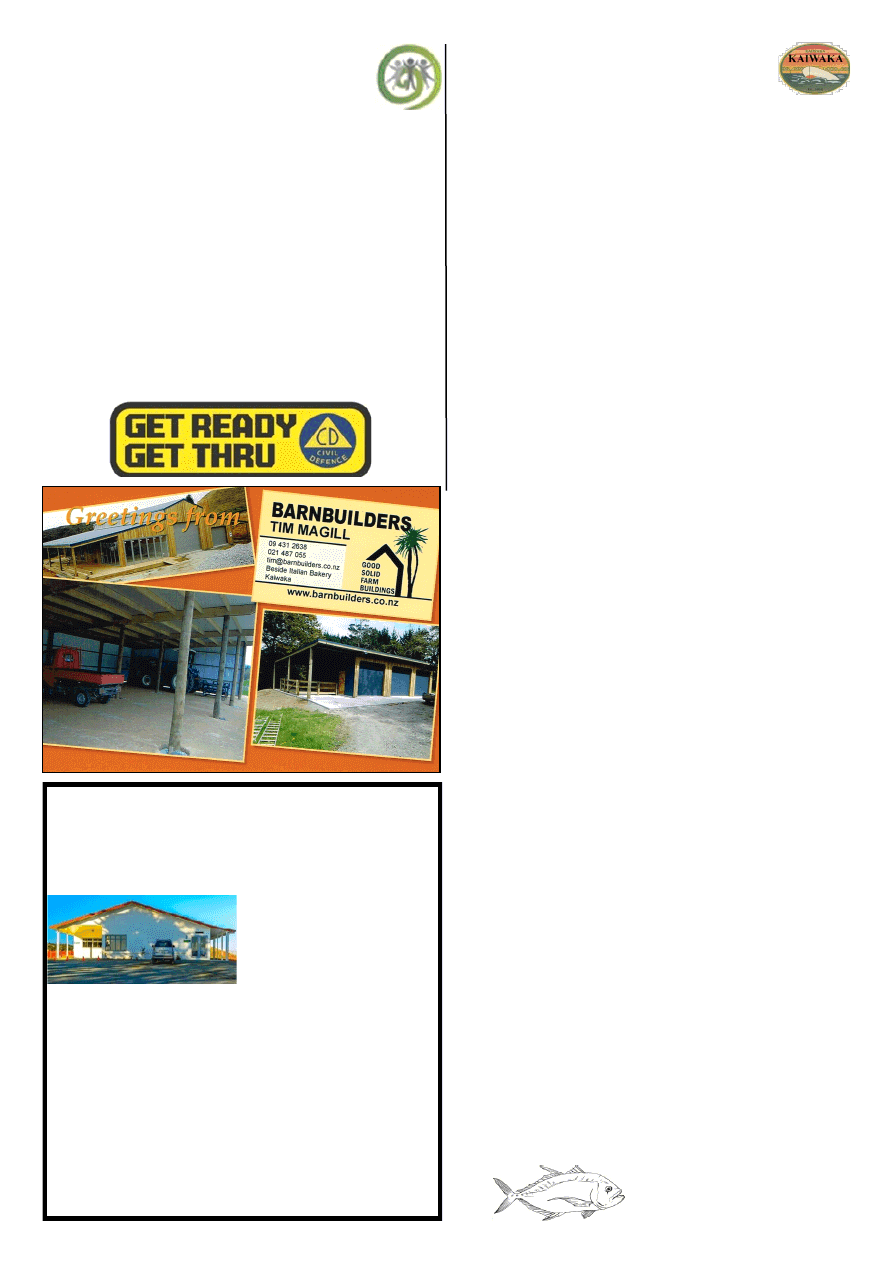 www.kaiwaka.co.nz 
Kaiwaka Bugle - 17 May 2016 
Page 15 
Results for Opening Day Duck Shoot 7th May 2016 
Junior  Section:  Mallard:  1st: Jayden  Wilson  1.267kg,  2nd: 
Caleesto  Mills  1.177kg,  3rd:  Lloyd  Clarke  1.104kg;  Grey: 
1st:  Jayden  Wilson  0.885kg;  Parry:  1st:  Lloyd  Clarke 
1.767kg,  2nd:  Koby  Worsell  1.747kg,  3rd:  Mikayla 
Kennedy 1.615kg; Pukeko: 1st: Mikayla Kennedy 0.971kg, 
2nd: Koby Worsell 0.880kg, 3rd: Bob Mills 0.841kg; Black 
Swan:  1st:  Koby  Worsell  4.498kg;  Peacock:  1st:  Koby 
Worsell  3.703kg;  Turkey:  1st:  Mikayla  Kennedy  8.743kg, 
2nd:  Koby  Worsell  7.276kg,  3rd:  Mikayla  Kennedy 
6.797kg. 
Senior  Section:  Mallard:  1st:  Kevin  Ries  1.418kg,  2nd: 
Dozey 1.326kg, 3rd: Tony Smith 1.324kg; Grey: 1st: Trevor 
Wright  1.099kg,  2nd:  Keith  Mills  1.087kg,  3rd:  Dave 
Kennedy  1.067kg;  Parry:  1st:  Joss  Tolley  1.896kg,  2nd: 
Nimmo  1.811kg,  3rd:  Trevor  Wright  1.800kg;  Pheasant: 
1st:  Dave  Kennedy  1.422kg,  2nd:  Trevor  Wright  1.162kg; 
Pukeko:  1st:  Ben  Ries  1.201kg,  2nd:  Pongo  1.187kg,  3rd: 
Nimmo  1.140kg;  Black  Swan:  1st:  Joss  Tolley  5.605kg, 
2nd: Dave Kennedy 5.055kg; Peacock: 1st: Pongo 4.751kg 
Turkey: 1st: Dave Kennedy 7.897kg, 2nd: Nimmo 7.855kg, 
3rd: Pongo 6.011kg. 
Thank you to all who entered and to all the helpers on the 
day. Thanks also to 3 Furlongs Bar & Grill for hosting us. 
Also on the 7th of May the club held its End Of Year Prize 
giving. Results for this: 
Junior  Section:  Pheasant:  Mikayla  Kennedy  1.241kg; 
Pukeko:  Caleesto  Mills  1.145kg;  Snapper:  Bob  Mills 
4.565kg;  Kahawai:  Bradley  Kennedy  2.270kg;  Trevally: 
Bradley  Kennedy  0.724kg;  Peacock:  Jayden  Wilson 
4.677kg;  Mallard:  Jayden  Wilson  1.420kg;  Grey:  Jayden 
Wilson  1.054kg;  Parry:  Jayden  Wilson  1.926kg;  Black 
Swan:  Jayden  Wilson  6.120kg;  Gurnard:  Hunter  Ries 
0.528kg;  Eel:  Jack  Smith  3.779kg;  Turkey:  Jack  Smith 
8.358kg. 
Senior Section: Snapper: Iraia Maxwell 11.528kg; Kingfish: 
Carol  Welsford-Mills  13.889kg;  Kahawai:  Frank  Steiner 
3.215kg;  Terekihi:  Grabba  1.074kg;  John  Dory:  Linda 
Leslie  1.178kg;  Trevally:  Pongo  2.086kg;  Gurnard:  Dave 
Kennedy  1.202kg;  Crayfish:  Dave  Kennedy  2.512kg; 
Spearfish: Dave Kennedy 1.260 (Red Moki); Mallard: Dave 
Kennedy 1.506kg; Parry: Dave Kennedy 2.083kg; Pukeko: 
Dave  Kennedy  1.203kg;  Peacock:  Keith  Mills  4.756kg; 
Turkey:  Chris  Ries  8.047kg;  Grey:  Tony  Smith:  1.291kg; 
Pheasant:    Nimmo  1.559kg;  Canadian  Goose:  Kevin  Ries 
3.982kg; Black Swan: Hayden Smith 7.320kg. 
Also presented at the End Of Year Prize giving was a new 
award  for  the  Point  Curtis  Cruising  Club.    A  special 
presentation  of  the  "Boots  "N"  All"  Shield  in  memory  of 
Dean Phillips was presented to its first recipient Pongo for 
being  the  most  supportive  member  this  year.  This  shield 
was  donated  to  the  club  by  Robyn  Sibsten  and  Nigel 
(Dozey) Clarke. Thank you so much Robyn and Dozey for 
this wonderful award which will honour Dean's memory in 
the future. 
Congratulations to all winners.   
Subs are due 1st June.  Please see Jean or pay at 3 Furlongs 
Bar  &  Grill.    Please  leave  your  contact  details  and  email 
address with your sub. 
Upcoming  Events:  Maungatur oto  Boar   Hunt:3rd,  4th 
and 5th June. 
3  Furlongs  Bar  &  Grill  Boar  Hunt,  12th,  13th  and  14th 
August. 
Fish  Of  The  Month:  Trevally:  1st:  Br adley  Kennedy 
0.724kg, 2nd: Dave Kennedy 0.690kg. 
New Fish Of The Month: Snapper , cut off date 21st June. 
Next  Meeting: AGM,  7pm, 21st June 2016. All welcome. 
Followed by committee meeting. 
~Wayne Leslie, Commodore 
Te Pounga Marae 
130 Nathan Rd. Oneriri. Kaiwaka 0573 
COMPLEX FOR HIRE 
Functions 
* Weddings   *  Birthdays   
*Anniversaries 
* Meetings   * Wananga 
5 hour meeting 
* 12 hour stay   * 
Overnight 
*All welcome - No more Drink-driving 
Amenities: 
*Convo Combi Steamer * Bratt Pan * Dish 
Washer/Sterilizer * 3 Door Glass Chiller (walk in) 
etc…All Crockery * Linen Supplied * Central 
Heating and Air Conditioning and much more.  
Can also cater for small groups…. 
For more information please contact: 
Kim Wallace 
Home: 09 832 1133   Mob: 0211275340 
Email:  kimwallace@xtra.co.nz 
OTAMATEA 
COMMUNITY SERVICES 
Auction:  OCS  is  holding  a  get-together  and 
fund-raising auction Friday June 10 at 7pm - St John Hall, 
Maungaturoto. All welcome to this fun event. There will be 
light refreshment and entertainment. 
Volunteers  wanted:  we  ar e  looking  for   mor e  people  to 
help  us  out  in  the  Community  House.    One  of  these  is  a 
front-desk role and could be for a morning or two a week, 
maybe even a whole day. We need people to welcome our 
visitors  to  the  house  and  answer  the  phones,  and  other 
general duties, just as much or as little as feels right for you. 
Come and join our team. 
Sign: You may have noticed that the lar ge sign has gone 
from our roof.  In time there will be a new one showing our 
new  logo,  so  yes,  we  are  still  here  providing  our  usual 
services for you. 
Don't forget your community house is open five days week, 
9am till 3pm.                                              
~The Team at OCS 
155 Hurndall Street, P O Box 117 Maungaturoto 0547 
Ph 09 431 9080, www.otamateacs.org.nz 
POINT CURTIS 
CRUISING CLUB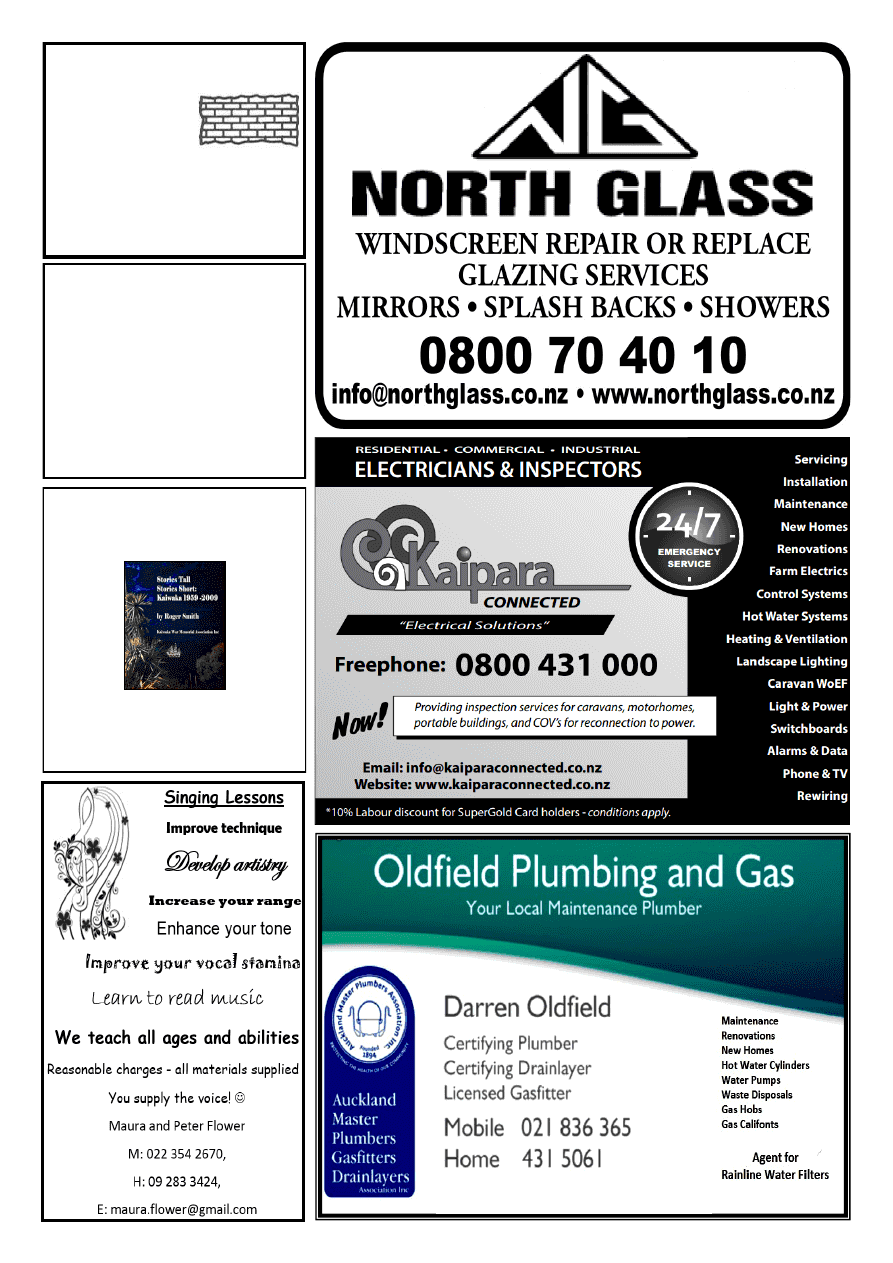 oldfieldplumbing@gmail.com 
 LEABOURNS 
Passenger Service
Car & Van Hire 
Bus & Coach Charters 
Airport Transfers 
 Monthly Shopper Bus 
Phone (09) 4237416 
BRICK/BLOCKLAYER 
All aspects of masonry:  
Fireplaces, 
Restoration  
& Remedial Work. 
JAMES EAGLETON 
Tel. (09) 431 2514  
Mob. 0274 749 232 
jajueagles@yahoo.com.au 
210A Pukenui Road, RD2 Kaiwaka 0573 
Stories Tall, Stories Short:  
Kaiwaka 1959-2009 
by Roger TW Smith
$40
Available from the Bugle Editors -  
Lindsey 4312 045,  
Wendy 027 480 6275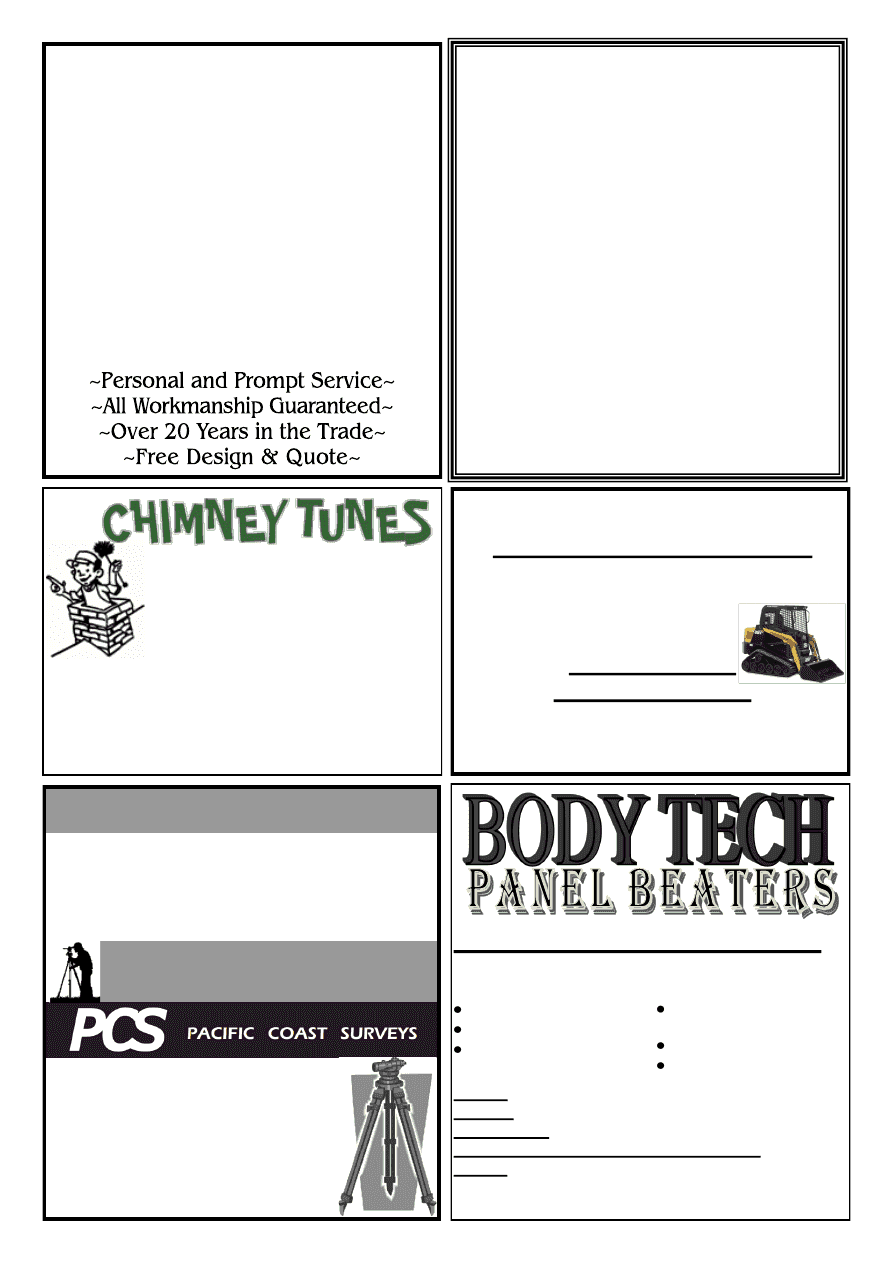 www.kaiwaka.co.nz 
Kaiwaka Bugle - 17 May 2016 
Page 17 
SURVEYORS 
SUBDIVISIONS 
HOUSE SITE SURVEYS 
CIVIL ENGINEERING 
WASTEWATER DESIGNS 
EXPERIENCED 
PROFESSIONAL 
INNOVATIVE 
Ph 09 431 5353 
0800 PACIFIC (0800 722 434) 
pacificcoastsurvey.com
Adam Booth - 027 415 5752 
Bsurv, Licensed Cadastral Surveyor
Surveying Kaipara since 1994 
For all your body repair needs!! 
We do: 
Rust repairs 
Insurance work 
Anti-corrosion treatment         
Hours: 8.30am-5pm Monday-Friday  
Mobile: 021 118 0462 
After hours: 09 431 2384 
Phone: Craig or Call in for a free Quote 
bodytech_panelbeaters@yahoo.com
We are located at 1837 SH1 Kaiwaka, behind  
Twinkle Tow 'n' Tyre call in anytime for a free quote.  
Large and minor vehicle  
  repairs 
Industrial vehicles 
Full Cut and polishes 
g.a.s. 
Mangawhai
GARDEN CENTRE 
for all your gardening needs
Also a great range of 
STOCKFOOD 
Wide range of 
ORGANICS AND 
 FRESH LOCAL PRODUCE
All your motoring needs are taken care of by 
our friendly staff check us out... 
44 Moir Street, Mangawhai (09)431 4242 
Natural Earth Ltd 
Landscape and Bobcat services 
 : Driveways  :Landscaping  :Retaining Walls 
 : Hole Boring: Land Levelling :Trenching 
 : Decks :Fences :Sections Cleared 
 : Plus much more
Tel 09 4312 885 
Mob 02102391280 
For A Fast Friendly Service  
Contact Tim Hicks 
PLANNING A NEW KITCHEN? 
 CONTACT NOEL McDOWELL
WELLSFORD 
KITCHENS
Ph/Fax 094312888
KAIWAKA-Any time
  QUALITY CUSTOM MADE 
KITCHENS
Chimney and Fireplace 
Maintenance,  
Parts & Repairs
MARK O'DONNELL 
021 457 247 
Whangarei – Mangawhai – Maungaturoto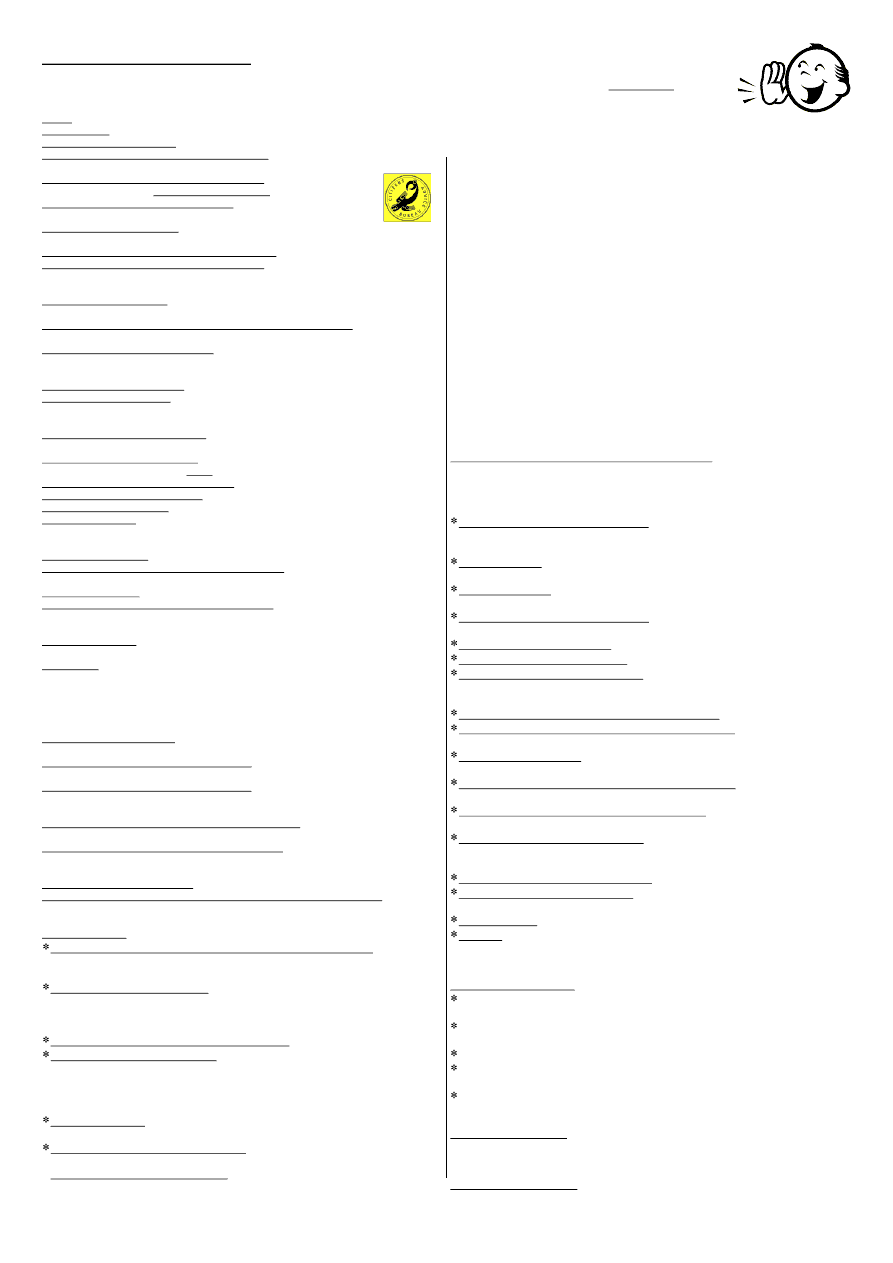 Next Bugle Deadline midday Friday 10 June 2016
LOCAL SERVICES 
*Emergencies - Ambulance, Fire, Police - dial 111 
*Non-urgent Police phone 09 4311150
A A: Meets Wed., 8pm Kaiwaka Ph: 4312228, 4315543, 0800229 6757 
AL ANON: In recess, contact Ph: 4312228 
ASUREQUALITY LTD  (was AgriQuality) Call Free 0508 0011 22  
BUDGETING SERVICE, WELLSFORD:  Free confidential advice & 
support for all areas of personal finance. Ph (09) 423 7123 
CAB-Citizens Advice Bureau.Wellsford Ph: 4237333 
0800 367 222 email:cab.wells@xtra.co.nz  
DOG/STOCK /NOISE CONTROL 0800 105 890 
FUNERAL SERVICES: Morris & Morris Ltd, 
Whangarei - Bev Jaques Ph:4312367 or 0800667747 
GRANDPARENTS Raising Grandchildren: Sarah Rogers Ph: 4312194 
HAKARU LANDFILL/Transfer Station:Open everyday except 
Tuesday10am-4pm.Ph4312629 Cost-$55 trailer load up to 1 cubic metre. 
Ph:4258567 - office 
INLAND REVENUE: Last Friday each month, 11-3pm Ph 4312661 
KAIPARA DISTRICT COUNCIL www.kaipara.govt.nz:  
Help Desk FREEPHONE 0800 727 059  
KAIWAKA KOHANGA REO: Ph:4312620  Mon.-Fri. 8.30am-2.30pm 
KAIWAKA CARES: Drop-in centre at Kate's Place. Mon, Wed, Fri 
10am-2pm. Ph: 4312661 All Welcome 
KAIWAKA CEMETERY: Ph: 4312045 
KAIWAKA LIBRARY: kaiwaka.library@gmail.com  
Mon. 4-6pm; Wed., Thurs., Fri., Sat.  10am-2pm Ph:4312539 
KAIWAKA PLAYCENTRE: Ph: 4312286. Hastie Lane 
Monday to  Friday  9.00am - 12 noon. 
KAIWAKA POST OFFICE:Ph:4312 431  
Post Code: 0573  for RD2  and  0542 for all Kaiwaka Post Office mail 
KAIWAKA PRIMARY SCHOOL: Ph: 4312309     
KAIWAKA SPORTS ASSN: Ph 4312005; 4312129 gym 
KAIWAKA ST JOHN: Manager Steve Rosser 09 4318403, 021 2316836 
KATE'S PLACE with Govt.Day Agencies/Community Information /
Osteopathy/ IRD / Probation, etc Ph: 4312661 Hours: 9am-3pm. Mon - Fri 
LINKING HANDS Health Shuttle Ph 4314121 or 09 4318969 
MINISTRY FOR PRIMARY INDUSTRIES - General inquiries Call 
Free 0800 008 333 
NORTHPOWER: Faults Kaiwaka area 0800 104040 
OTAMATEA COMMUNITY SERVICES: Counselling, parent coach, 
Family Support worker, budget advice, food bank. Mon-Fri 9am-30m. Ph 
09 431 9080 http://www.otamateacs.org/ 
PARENTPORT: Free, practical family support service Puhoi to Paparoa 
Ph or txt:  Dianne 027 2085093 
PLUNKET: Kaiwaka - Kaiwaka War Memorial Hall: Clinic 1st Wednesday of the 
month; Coffee Group at 9:30. Mangawhai  - Rose Madsen Cottage, Mangawhai 
Domain,  Moir  St:  Clinic  1st  and  3rd  Monday  of  month;  Young  Babies  Coffee 
Group  2nd  and  4th  Monday  10  am;  Plunket  Playgroup  every  Thursday. 
Maungaturoto - Maungaturoto Congregational Church, 100 Hurndall Street East: 
Plunket clinic 2nd and 4th Wednesday. Cynthia 09 431 8187 or 027 675 3488 
PLUNKET HELPLINE -0800 933 922 (24 hours) 
RETURNED AND SERVICES ASSN 733 Settlement Rd. Hakaru 
Ph.4312176 Bill Kerr (President) Ph.4314719 
TAITOKERAU COMMUNITY LAW: Free confidential legal advice and 
assistance, 2nd
Thursday
 of each month. Ph: 0800 155 529 for 
appointments.  
TE KOROWAI AROHA O NGATIWHATUA Ph: 4312675 
(The Cloak of Love of Ngatiwhatua) Support and Maori Consultancy.  
VETERINARY SERVICE MANGAWHAI: 
Ph: 4314535 Mon-Fri 8.00-5.00, Sat 9-12, a/h appt. 
WELLSFORD DOCTORS: Ph: 4238 086 
WOMEN'S WELFARE LEAGUE & Reaching Out For Youth:  
4 Kaiwaka-Mangawhai Rd, M Morgan 4312293 
CHURCHES:
 Kaiwaka Revival Church - Your Community Church: Sundays 
10am Ph: Pastor Tawhiri 09 4312 571 or Pastor Paul 09 4312 
068 
 St Paul's Anglican Church 1st Sun. 9.30 am (Eucharist), 3rd Sun. 
9.30 am (Family Service). Contacts:  Church Office 09 431 
4122; M. Hargreaves 431 2295; C. Bygrave 431 2057; or Rev. 
Wayne Thornton Ph 431 5650 www.mangawhaianglican.org.nz 
 Church of Christ the King, Mangawhai:9.30am every Sunday 
 St.Mary's Catholic Church: Maungaturoto – Griffins Road, 
Saturday evening Vigil Mass 6pm; Mangawhai – Senior Citizens 
Hall, Sunday Mass 8:30am; Wellsford – Matheson Road, 
Sunday Mass 10:30am; Mid-week Mass times and all enquires 
to Fr. Bill Fletcher – phone 423 8170 
 Baptist Church: Sun. 10.30am Mangawhai Snr 
Cit.Hall.Ph:4312339 
 Cause Way Church Mangawhai: Sundays 10.15am, Mangawhai 
Community Recreation Centre, Insley St. Ph: 09 4314782  
WHAT'S ON
PLEASE ~ do let us know what is on - email 
kaiwakabugle@kaiwaka.co.nz 
Advertising in WHAT'S ON is FREE  
*20May~BOT nominations close 12pm, Kaiwaka School 
*20May~The Danish Girl, 7:30pm KWMH 
*20May~Karaoke, Hakaru RSA 7:30pm 
*27May~Walking the Camino, 7:30pm 
*28May~Roller Disco, 6:30pm KSA 
*28May~Happy Dayz Rock 'N' Roll Hop, 7pm Paparoa Hall ORT 
*29May~Hakaru RSA AGM, 1:30pm 
*29May~Alvin & the Chipmunks: The Road Chip, 2pm KWMH 
*3Jun~BOT voting closes 12pm, Kaiwaka School 
*10Jun~OCS Auction, 7pm St John Hall Maungaturoto 
*17Jun~Karaoke, Hakaru RSA 7:30pm 
*21Jun~Pt Curtis Cruising Club AGM 7pm 3 Furlongs 
*2Jul~Kids' Disco, KSA 
*2Jul~The Mikado season starts, ORT 
*15Jul~Nominations open for local body elections 
*15Jul~Karaoke, Hakaru RSA 7:30pm 
*2Aug~KDC Candidate Seminar, 12:30pm KSA 
*12Aug~Nominations close for local body elections 
KWMH=Kaiwaka War Memorial Hall 
KSA=Kaiwaka Sports Association Complex 
ORT=Otamatea Repertory Theatre 
See www.kaiwaka.co.nz for upcoming events. 
HOUSEHOLD RUBBISH COLLECTION - Kaiwaka Pick up: 
Mondays = Gr een bags (Nor thland Waste - 09 430 3273) 
Wednesdays = Blue bags and yellow r ecycling (at J aques $3.00 
and $1.50) (Kaurilands 09 4392146) 
 DIABETES  Support  Group  -for  Kaiwaka,  Mangawhai, 
Wellsford  10am,  3rd  Friday  of  month  Ph:A.Pert  4238242; 
J.Gardner 4238060 
 DRINK CAN 'tear tabs' - for Starship Hospital- please collect - 
98 Kaiwaka Mangawhai Rd, leave in mailbox, Ph. 4312625  
 GENEALOGY - Wellsford: 1st Thursday in month Ph: 423 
7033; Waipu: 4th Monday in month Ph: 4312 725 
 GYMNASTICS  OTAMATEA  -  Tuesday  Ph:  Stephanie  022 
3624998 
 HAKARU PONY CLUB - Secretary Julie Rynne 09 4314520 
 KAIWAKA BADMINTON -Tuesdays 7.30pm Ph: 4312345 
 KAIWAKA  DRAMA  CLUB  -  Dave  Edwards  021  611198  - 
KaiwakaDrama@gmail.com Monday 5:30-7:00pm KWMH - FB 
- "KaiwakaDramaClub" 
 KAIWAKA DRUM & DANCE CLASSES - 021 611198 
 KAIWAKA GARDEN & FLORAL GROUP - 2nd Thursday in 
month. Ph: 431 4767 
 KAIWAKA  CUBS  -  Thursdays  5.30-7pm,  Hakaru  Ph:Bruce  
4312542 
 KNITTING FOR WHANGAREI HOSPITAL - 2nd Tuesday in 
month, Apple Basket 10am Ph 4314827 
 MANGAWHAI COMBINED PROBUS CLUB - 2pm, 3rd 
Thursday month, Senior Citizens Hall Mangawhai. Ph: 4315777 
 OTAMATEA GREY POWER - Kath Pattinson 09 431 8960, 
1pm last Wednesday of month, Anglican Church Hall, 
Maungaturoto 
 PT CURTIS CRUISING CLUB - Jean Ph: 4312227 (wk), 4312520 (hm) 
 RSA,Hakaru & Dist.Women - meet 1.30pm 4th Thurs in month 
Ph: 4314 668  
 TRAMPING - Mondays 9am-2:30pm  Karen Ph: 4312 090 
 YOGA  -  Tuesdays  6:15pm,  Friday  8:30am  KWMH  Carla  Ph: 
021  296  8794;  Wednesday  5:30-7:00pm  Archie  Bull  Hall 
Dalleise Ph 4312 108 
HALLS FOR HIRE: 
 St.Pauls Archie Bull Hall HIRE  $20 half day, $40 full day per 
hire, R. Morgans, Ph 4312365 
 Kaiwaka  War  Memorial  Hall  HlRE  -  Phone  4312725  or 
kaiwaka.hall.bookings@gmail.com 
 Hakaru Community Hall HIRE -Ph. 4312256 or 4312110 
 Te Pounga Marae queries - R. O'Leary 4312 423, J.Nathan 021 
186 7382 
 Kaiwaka Sports Association hire/queries - C. Anderson 4312051 
or kaiwakasports@gmail.com 
Justice  of  Peace:  B.FJaques;  L.Donaldson;  A.F.Hargreaves, 
S.Dalziell,  W.Howard  -  please  phone  to  make  sure  they  are 
available www.justiceofthepeace.org.nz 
Marriage Celebrants: L.Donaldson; A.F.Hargreaves; C.Rosseels