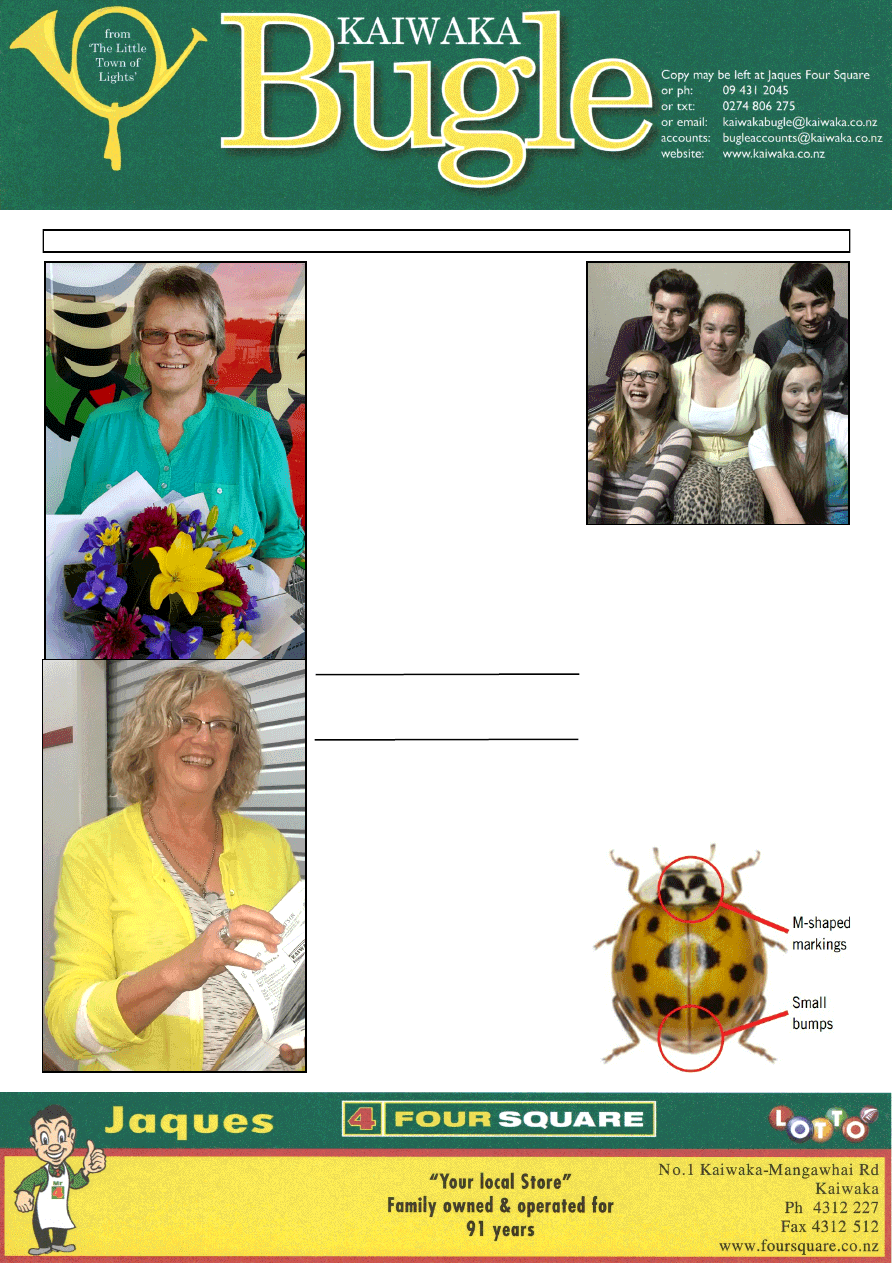 www.kaiwaka.co.nz 
Kaiwaka Bugle - 31 May 2016 
Page 1 
 No: 10
31 May 2016 
KAIWAKA'S  
GOOD SORT
Winter Trading Hours: 
Mon - Fri: 8am to 6pm 
Sat: 8am to 7pm (Lotto) 
Sun & Public Holidays: 9am to 5pm 
BON VOYAGE 
JANE! 
Farewell to our good friend Jane (left), 
who has moved overseas to be with her 
family.  In  her  time  here  in  Kaiwaka, 
Jane  has  been  involved  with  many 
groups,  including  the  Kaiwaka  Sports 
Association's  catering  team,  the 
Kaiwaka 
War 
Memorial 
Hall 
Association's  committee,  a  Kaiwaka 
Library  volunteer,  the  Molesworth 
Sheep  Dog  Trials'  crew,  and  here  on 
our own Bugle team. She has in recent 
years  been  secretary  for  the  hall  and 
Bugle. And all the while working in the 
Building  team  at  Kaipara  District 
Council. We will miss her, but wish her 
well in her new life. 
~Lindsey & Wendy 
Congratulations  to  Jennie  Reynolds, 
(left), the latest recipient of a bunch of 
flowers from The Flower Girl. She was 
nominated by Justin, who said "Jennie 
does  many  things  in  a  volunteer 
capacity  for  the  Kaiwaka  community 
including with the local primary school 
and  rugby  from  JMB  level  through  to 
the  Otamatea  Hawks.  I  would  like  to 
specifically  nominate  Jennie  for  the 
work  she  has  done  for  the  Rodney 
Otamatea  JMB  Sub  Union  -  she  has 
had the official job as secretary for the 
last  few  years  but  has  been  heavily 
involved  due  to  the  absence  of  a 
president  this  past  season  and  has 
ensured  the  sub  union  continues  to 
function.    Jennie  has  very  recently 
stepped  down  from  this  role  and  I 
would like to thank her on behalf of the 
sub union for her valuable contribution 
to local junior rugby." 
HAVE YOU SEEN 
THE HARLEQUIN 
LADYBIRD? 
Harlequin 
ladybirds 
(Harmonia 
axyridis)  have  been  detected  in 
Auckland.  The  Ministry  for  Primary 
Industries  (MPI)  and  industry  want  to 
know  if  it  is  present  in  other  parts  of 
New Zealand. 
Why  is  the  Harlequin  Ladybird  a 
threat? 
The harlequin ladybird is considered an 
invasive  species  in  many  countries.  It 
feeds  on  aphids,  usually  from  willow, 
oak,  maple  and  poplar  trees.  This  has 
made it useful as a biological control of 
pests in some countries. Unfortunately, 
(Continued on page 19) 
Photo  above  right:  The  Mikado  at 
ORT - see page 15 for details.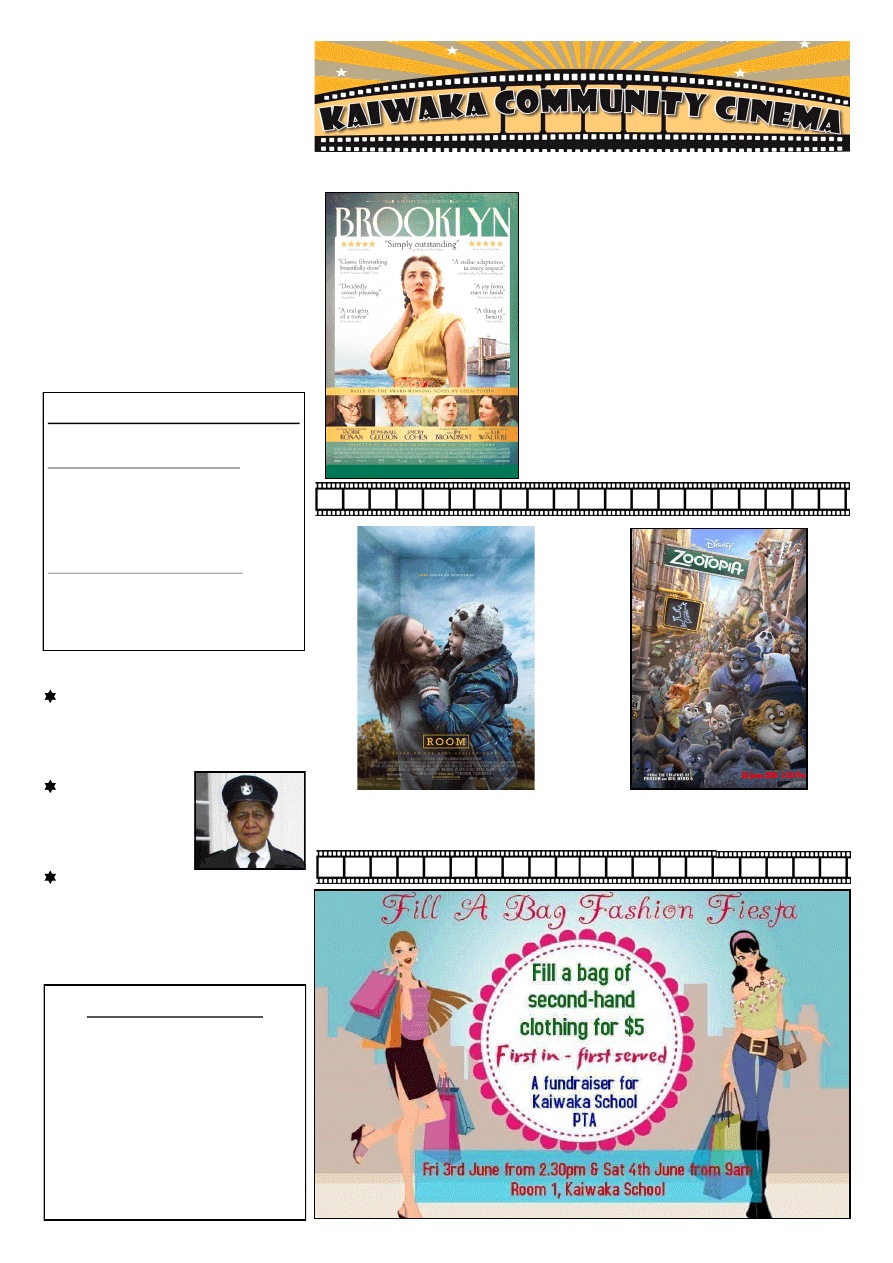 ABOUT TOWN 
......... 
Lindsey  is  seeking  information  on 
quarries  around  Kaiwaka,  past  and 
present,  to  compile  a  history.  If  you 
can  help,  please  phone  her  on  431 
2045 or send an email to the Bugle. 
Our condolences to 
all  the  whanau  of 
Pauline 
Manukau 
who  passed  away 
last week.  
Congratulations  to 
local  band  Alien  W eaponry  for 
winning 
this 
year's 
Smokefreerockquest 
Northland 
regional title. The national final is on 
Saturday 24 September in Auckland - 
good luck boys! 
KAIWAKA BUGLE No: 10 
31 May 2016
Page 2: Kaiwaka Movies 
Page 3: Public Notices; Classifieds 
Page 5: Kaiwaka Community Garden 
Page 7: Kaiwaka Cares 
Page 9: Kaiwaka Sports Association 
Page 11: RSA Women, Roads 
Page 13: Otamatea High School 
Page 15: Otamates Repertory Theatre 
Page 17: Kaiwaka School 
Page 19: Sport Northland 
Bugle 11 will appear 14 June 2016 
Contact for advertising, reports, articles 
or information can be made by: 
Email kaiwakabugle@kaiwaka.co.nz 
Ph: 09 4312 045 (Lindsey) 
Txt:  0274 806 275 (Wendy) 
Copy may be left at Jaques' Four Square.
Kaiwaka Bugle 
Founded May 1978 
Copies available in Kaiwaka at Jaques Four 
Square, Kaiwaka Postal Centre, Shamrock 
Service Station, Animal Health Centre. Also 
outlets in Maungaturoto, Mangawhai and 
Paparoa. 
Can be viewed online at  Facebook or 
www.kaiwaka.co.nz/Bugle  
Or a copy can be posted to you if you supply 
stamped, self-addressed DLE envelopes. 
At Kaiwaka War Memorial Hall . Adults $10, Chn (under 16) $5, Family Pass (2 adults + 3 children) $25 
Room 
Friday 17 June 7:30pm (M) 
Zootopia 
Sunday 26 June 2:00pm (PG)
Kaiwaka Bugle Advertisements 2016: 
All 
copy 
and 
queries 
to: 
kaiwakabugle@kaiwaka.co.nz 
Classified  $4  per  entry  (max.  30  words, 
max. 4 repeats); 1/16 page $5; 1/8 page $8; 
3/16 $12; 1/4 page $16. 
Payments can be made online, posted or 
left at Jaques Four Square Store. 
Accounts: 
bugleaccounts@kaiwaka.co.nz 
The  Kaiwaka  Bugle  is  a  community 
newspaper run by volunteers.   
Articles, etc. printed are not necessarily 
the opinion of the Bugle Team. 
Brooklyn 
Friday 3 June 7:30pm (M) 
An  Irish  immigrant  lands  in  1950s 
Brooklyn,  where  she  quickly  falls  into  a 
romance  with  a  local.  When  her  past 
catches  up  with  her,  however,  she  must 
choose  between  two  countries  and  the 
lives that exist within.  
Starring:  Saoirse  Ronan,  Domhnall 
Gleeson,  Emory  Cohen,  Jim  Broadbent, 
Julie Waters 
www.kaiwaka.co.nz 
Kaiwaka Bugle - 31 May 2016 
Page 3 
PUBLIC NOTICES 
CLASSIFIED 
Proverbs 22:17-19 
Listen to this wise advice; follow it closely, 
for it will do you good, and you can pass it 
on to others: Trust in the Lord. 
FOR SALE; 14 plastic self feeders for either chickens 
or hens. Can be hung up or will sit on ground. $5 each. 
Please phone E & L Coates 4312 020 
CREATIVE  HAIR  AND  BODY:  Woman's  Mobile 
Hairdresser. Contact Lucy 021 076 4463 
Declaration if no Staff Election held 
School Name Kaiwaka School 1027 
Board of Trustees Election 
Declaration of Staff Election Results 
At the close of nominations, as there was only one 
valid nomination received I hereby declare: 
Sharlene Tornquist duly elected. 
Sara McAulay 
Returning Officer, Kaiwaka School. 
Declaration if no Parent Election held 
School Name Kaiwaka School 1027 
Board of Trustees Election 
Declaration of Parent Election Results 
At the close of nominations, as the number of valid 
nominations was equal to the number of vacancies 
required to be filled, I hereby declare the following 
duly elected: 
Josie Gritten 
Benji Woodman 
Sara McAulay 
Returning Officer, Kaiwaka School. 
Kia Ora Kaiwaka Community, 
The Kaiwaka School BOT would like to bring an 
ongoing concern about the use of school grounds 
to the attention of all. 
We (members of the school) are pleased that the 
wider  community  feels  comfortable  using  our 
school  grounds  outside  of  school  hours  for 
example on weekends and when events are held 
at  the  local  sports  and  recreational  grounds. 
However there is often a large amount of rubbish 
left behind - some of it dangerous to our tamariki 
as was the case this month when a broken glass 
alcohol  bottle  was  found  by  a  child  in  the 
sandpit.  This  caused  temporary  closure  of  this 
much loved resource and significant teacher time 
to  sift  through  the  sand  to  eliminate  any  further 
glass, fortunately no one was injured this time. 
We would like to ask assistance of you the wider 
community  members  in  promoting  correct 
disposal  of  rubbish  on  our  grounds  –  if  you  see 
someone  chucking  their  rubbish  around  our 
school,  please  feel  free  to  ask  them  to  put  it  in 
the rubbish bin! 
On related topic  – all school grounds (including 
the  hillside  that  slopes  down  towards  the  rugby 
fields)  are  alcohol,  drug  and  cigarette  free  so 
please  refrain  from  consuming  these  on  school 
property.  We  are  in  the  process  of  getting  signs 
to promote this as an alcohol, drug and cigarette 
free zone. 
We look forward to community support on these 
matters,  any  queries  please  feel  free  to  contact 
myself  as  Vice-Chairperson  of  the  BOT  or  the 
school directly. 
Regards, 
Naomi Walker 
Point Curtis Cruising Club Inc 
Annual General Meeting
Tuesday 21st June 2016, 7pm  
at 3 Furlongs Bar & Grill
Agenda: 
Election of Officers and General Committee Members 
Treasurers Statement 
Commodore's Report 
Set Subscriptions for next year 
Changing of wording of club constitution 
Any other general business 
All welcome 
SMART POWER METERS
Letters  are  being  sent  out  telling  people  about  the 
installation of 'new', 'advanced' or 'smart' meters. 
The installation of these meters is NOT compulsory. 
They are different to our old analog meters and come 
with  different  'side  effects'.  It  is  easier  to  prevent 
these  meters  being  installed,  but  once  installed  it  is 
currently still possible to have them removed. 
There are companies who supply 'non-smart' meters 
to  their  customers,  like  Contact  Energy,  and  other 
companies  with  a  helpful  attitude,  like  PowerShop 
and Nova. 
To inform  yourself before  you give  your consent  to 
have one of these new meters on your property, look 
up  stopsmartmeters.org.nz/health-issues,  also  search 
"Barrie Trower and smartmeters". 
Be safe. 
Kindest regards, 
Gina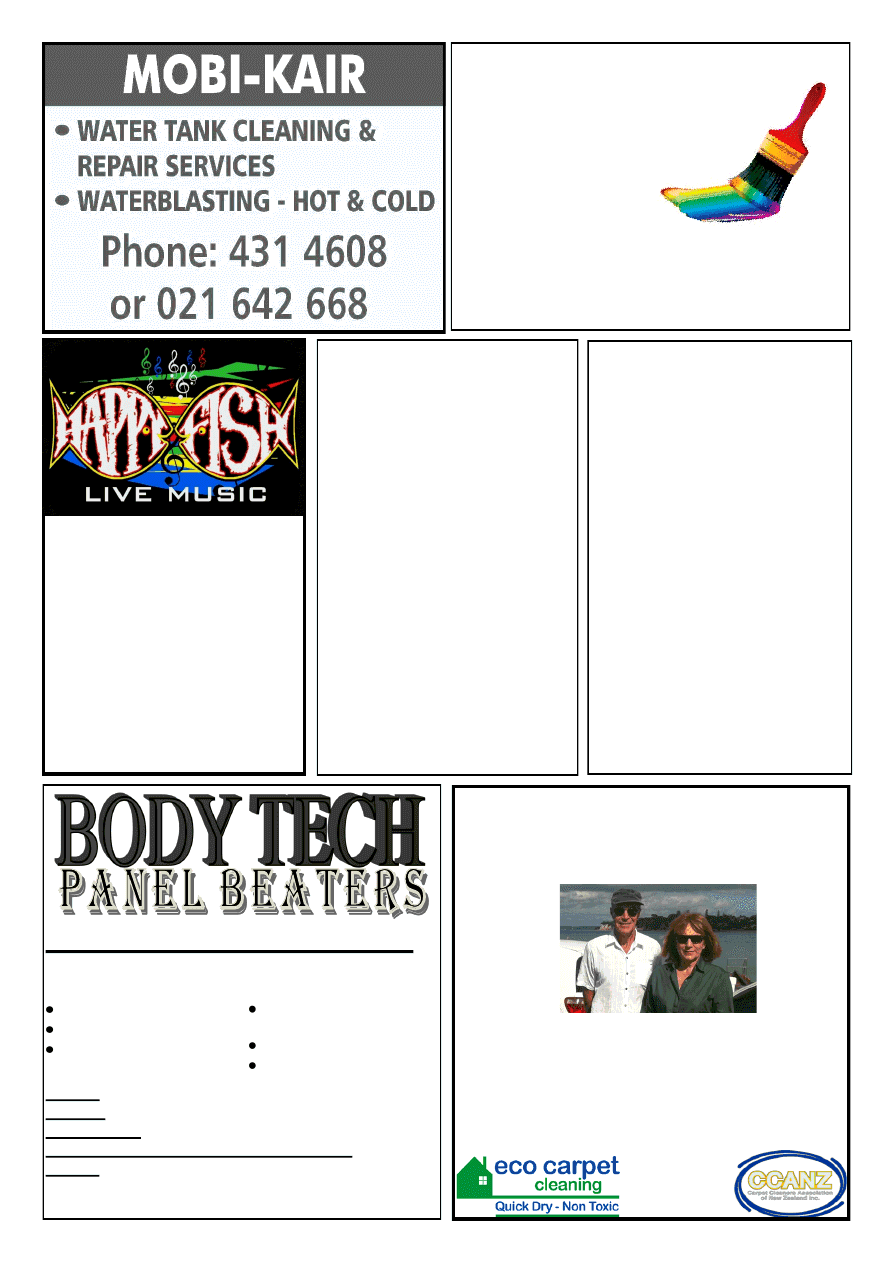 09 4312918 
0274735171 
leecooper@xtra.co.nz 
LEE COOPER PAINTERS 
(Kaiwaka Based) 
*30 yrs Experience 
*Interior/Exterior 
*New and Restoration 
*Honest and Reliable 
*Free Quotes 
CARPET & UPHOLSTERY 
CLEANING 
QUICK DRYING – NON-TOXIC  - GREAT RESULTS 
Mike and Marina Bagley 
Call 09 431 3016  
or  027 2410414 
marina@ecocarpetclean.co.nz  
www.ecocarpetclean.co.nz 
For all your body repair needs!! 
We do: 
Rust repairs 
Insurance work 
Anti-corrosion treatment         
Hours: 8.30am-5pm Monday-Friday  
Mobile: 021 118 0462 
After hours: 09 431 2384 
Phone: Craig or Call in for a free Quote 
e-mail: 
bodytech_panelbeaters@yahoo.com
We are located at 1837 SH1 Kaiwaka, behind  
Twinkle Tow 'n' Tyre call in anytime for a free quote.  
Large and minor vehicle  
  repairs 
Industrial vehicles 
Full Cut and polishes 
Are you Truly Happy?
Glo Treadaway 
Change Catalyst 
Compassionate Intuitive 
Spiritual Healer, 
Counsellor, 
Abundance Coach, 
Certified TheaHealing Practitioner.
4312 209 
027 363 8833 
glo@celestialconsulting.co.nz 
www.celestialconsulting.co.nz 
Consultations available 
Kaiwaka, Waipu, Browns Bay 
TAONGA  
HERITAGE GARDEN 
taongagardens@gmail.com 
www.taongagardens.org.nz
SHOP HOURS - Sat/Sun 9am - 5pm 
    If the flag is out, we're open!
QUEENS BIRTHDAY SPECIALS 
 Heritage Apple Trees $30.00
Ask how you can donate  
an apple tree for just $25. 
You choose the Kura Kapapa, an area school's 
Community Garden or Food Forest in the area
SEEDS 
 Organic Vegetable Seed in store 
 Heritage Seedlings 
WORKSHOPS 
Two upcoming workshops 
Beginner Gardener 
Maori Flax Weaving 
Evening Presentations of  
Constitutional Order
Email us of your interest.
INITIATIVES FOR 
NORTHLAND 
Kia for Kids 
Food Forests for Northland  
ROCKIN' POPULAR, OLD AND 
NEW PARTY SONGS WITH LOADS 
OF KIWI MUSIC AND A FEW 
ORIGINAL TUNES IN THE MIX. 
AN ELECTRIC DUO FEATURING:  
GORDON JOLL 
(NZ Music Hall of Fame)
ON DRUMS AND SUE JOLL ON 
GUITAR AND VOCALS. 
A BAND FOR ANY OCCASION 
BACKED BY YEARS OF 
EXPERIENCE. 
Contact: Sue 021 623 776 
Email: happyfishband@gmail.com   
Website: www.happyfishband.co.nz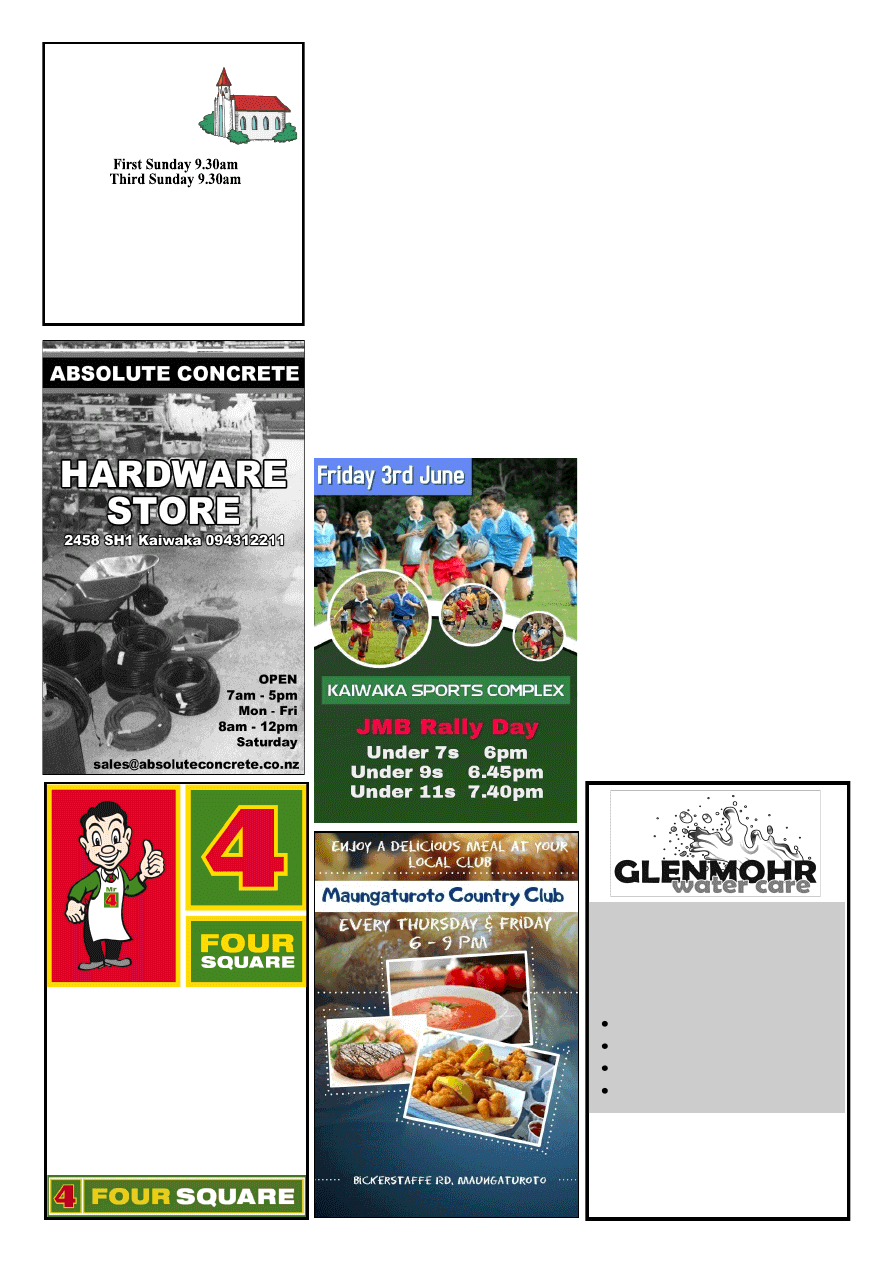 www.kaiwaka.co.nz 
Kaiwaka Bugle - 31 May 2016 
Page 5 
ST PAUL'S  
ANGLICAN  
SUNDAY  
SERVICES
St Pauls Church: Kaiwaka-Mangawhai Rd. 
1st Sun - Eucharist 
3rd Sun - Family Service 
Office 4314 122 
Contacts:M.Hargreaves 4312295, C.Bygrave 4312057  
or Rev. Wayne Thornton Ph 431 5650 
www.mangawhaianglican.org.nz
Water Tank  
Cleaning 
Keep your water safe & clean   
Removal of sediment, silt etc 
Vacuum or full scrub 
Minimal water loss 
Phone Mark  
(09) 432 0655  
or 0274 707607 
Winter Stock 
Socks, gloves, & slippers 
Gas swap a bottle 
Firewood & Kindling 
Jaques Four Square 
Phone: 4312227 
1 Kaiwaka-Mangawhai Road, Kaiwaka. 
We  have  quite  a  few  people  keeping 
the  Community  Garden  going  but  we 
rarely  manage  to  meet  together  so  we 
are  having  a  meeting  on  Tuesday  31 
May to review the past year and decide 
together  what  to  do  for  the  coming 
season.  We  will  meet  in  the  Front 
Room at Kate's Place at 11am. 
Everyone  is  welcome,  you  don't  have 
to have helped in the Garden, come and 
tell us what you would like to see in the 
Garden.  If  you  can't  come  you  can 
email  Helen  at  hgmarsh@xtra.co.nz 
with your ideas. Our policy is that you 
are  welcome  to  take  crops  from  the 
garden if you can use them. You don't 
have  to  pay  by  working  in  the  garden 
or  any  other  way  but  if  you  want  to, 
you  can  leave  a  donation  of  seeds, 
plants or money at Jaques Four Square. 
It  is  a  "pay  it  forward"  system.  Older 
people  may  have  contributed  to  the 
community  in  the  past  and  we  are 
offering you the crops from our garden 
to  pay  you  back.  Younger  people 
maybe  busy  with  young  families  and 
difficult  work  times.  You may  be  able 
to  do  something  for  the  community  in 
the future. It is only a small garden so  
we can't feed everyone but let us know 
what you need and we will try to make 
it as useful and productive as it can be. 
Our  group  started  in  the  community 
garden  about  this  time  last  year.  We 
planted carrots, broad beans and lupins 
and a few garlic, bunching onions, kale 
and  broccoli.  I  find  carrots  difficult  at 
home  but  they  did  well  in  the 
community  garden  as  did  the  broad 
beans and lupins. Did you enjoy them? 
Should we grow them again? We were 
not so good at harvesting the garlic and 
bunching  onions.  Perhaps  we  would 
need  to  advertise  them  better  if  we 
grow  them  again?  The  broccoli  has 
been providing a bunch of nice sprouts 
nearly  every  week.  The  problem  with 
that  is  that  they  need  to  be  picked 
regularly but if I pick them then there is 
none  left  for  anyone  else.  I  don't  like 
kale  so  there  is  usually  some  of  that. 
Early  on  we  planted  a  few  peas  but 
they did not do well, They were badly 
affected by slugs. We tried some wood 
chips  to  protect  them  but  perhaps  we 
wer  too  late  with  that.  Any  ideas  how 
we could do better?  
In  the  summer  we  had  more  broccoli 
and  kale,  several  types  of  beans, 
several  kinds  of  tomatoes  and  a  few 
courgettes. The runner beans and other 
climbing  beans  did  quite  well.  The 
French  beans  struggled  but  the  ones 
that  survived  rewarded  small  visitors 
with beans for a long period. The later 
broccoli  did  not  do  as  well  as  the 
earlier  plants.  Did  you  enjoy  the 
tomatoes?  I  think  a  lot  of  them  were 
(Continued on page 7) 
KAIWAKA COMMUNITY GARDEN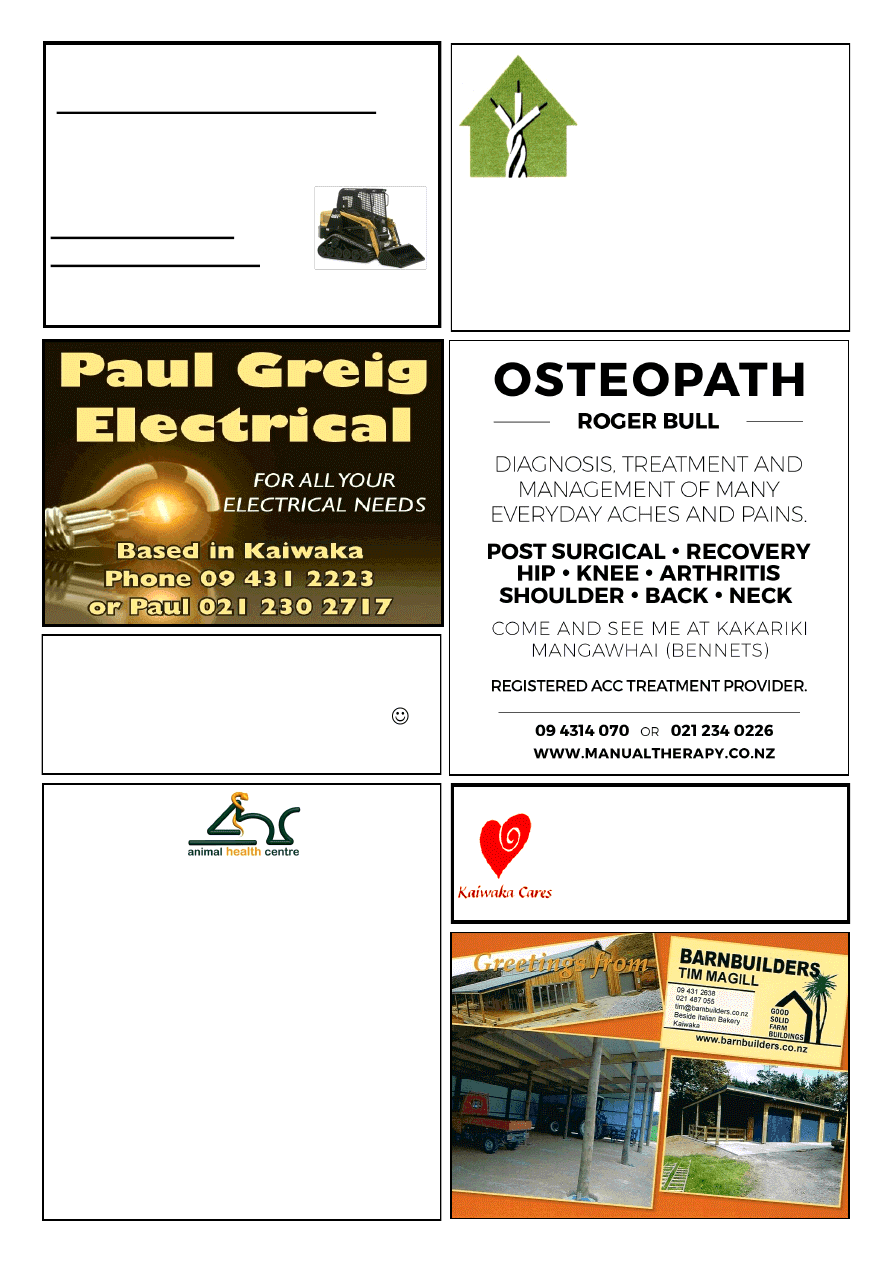 Natural Earth Ltd 
 Landscape and Bobcat services 
 : Driveways  :Landscaping  :Retaining Walls 
 : Hole Boring: Land Levelling :Trenching 
 : Decks :Fences :Sections Cleared: Plus much 
more 
Tel   09 4312885 
Mob 02102391280  
For A Fast Friendly  
Service Contact Tim Hicks 
ANIMAL HEALTH CENTRE 
KAIWAKA 
"choices in health care for your companion animal" 
Health problems - itchy skin, smelly ears,  
bad breath, diarrhea? 
On steroids, antibiotics, lifetime drugs.....  ? 
Diet may be a part of the problem!   
Call in and have a chat to our team  
of animal health practitioners.
Nail Trims,  Microchipping , 
Dental checks,  Comfort grooms. 
Great range of real food – no preservatives. 
Alternatives to nasty chemical parasite controls.
OPEN:   Tues-Fri - 10:00am – 5:00pm 
Saturday - 10:00am -  4.00pm, Sunday/Monday - Closed 
Next to Italian Bakery, Main Highway  Kaiwaka 
Ph:  09 431 2217 
PS: We're  open 7 days in Orewa if you missed us! 
Reyahn George 
Leng 
Registered Electrician 
Local, honest and reliable. 
For your residential and 
light-commercial projects. 
022 314 1068 / 09 431 2527 
Community Centre
Open 10am – 2pm  
Monday – Wednesday – Friday 
WIFI, printing & scanning available 
Kaiwaka's own social space. 
JP on site most Fridays 
THE SUNSHINE GIRLS 
Need help with your house cleaning? 
Sometimes you just need another pair of 
hands. We offer two pair and a smile. 
Comparable hourly rate. 
Ph 4312 532 or 4312 711 
www.kaiwaka.co.nz 
Kaiwaka Bugle - 31 May 2016 
Page 7 
Well  the  weather  has  certainly  turned 
and it's certainly getting chilly. We are 
lucky in the front room at Kate's Place 
that  we  have  a  heat  pump.  So  even  if 
it's cold outside we are cosy inside.  
Recently we were featured in an article 
in  the  Kaipara  Lifestyler.  It  was  great 
to  see  a  part  of  Kaiwaka  promoted  to 
those  outside  our  town.  Although  one 
thing  they  did  get  wrong  was  how 
much  of  a  team  effort  the  creation  of 
Kaiwaka Cares was and it continues to 
be. 
Kaiwaka  Cares  was  born  out  of  a 
meeting  of  like-minded  people  at  a 
Kaiwaka  Can  meeting.  From  there 
Rhona,  Glo,  Helen,  Scott,  Janine,  Iris 
and  Sarah  worked  tirelessly  towards 
getting  the  drop-in  center  up  and 
running.  Even  though  it's  been  said 
before  a  huge  thank  you  to  everyone 
who helped us get started. 
Nearly a year later and it is going from 
strength  to  strength  getting  busier  by 
the  day.  We  are  still  open  Monday, 
Wednesday  and  Friday  from  10am  to 
2pm.  Whilst  the  faces  may  swap 
around between days there is always a 
smile  to  greet  anyone  who  comes 
through  the  door.  Our  current 
volunteers are Elise, Beth, Helen, Scott 
(our resident JP) and Janine. 
Brand new clothes at bargain prices! 
Our  kind  donor  has  given  us  some 
more  lovely  fleece  and  poly/cotton 
women's  clothes  to  sell.  All  these  are 
brand new, and made in New Zealand. 
We are selling them at the price of $5 a 
piece.  The  first  lot  have  sold  well  so 
pop in and look at the new stock. There 
are also a few fleece children's jackets 
and cardigans as well. 
Keep warm with a book. 
We  have  a  number  of  books  which 
have been donated to us. These are all 
priced at $1 and our magazines at 50c. 
Come  and  get  something  to  entertain 
you.  There  is  something  for  almost 
every taste. 
Kaiwaka Holistic Market 
The  market  has  been  going  well. 
Essentially  it's  a  time  to  meet  others 
and  find  out  about  different  types  of 
healing  without  having  to 
make 
an 
appointment. 
There 
is 
reflexology, 
massage, energy healing, hypnotherapy 
and  much  more.  All  whilst  having  a 
cuppa  and  a  piece  of  cake.  These  will 
continue  to  be  run  fortnightly  on  a 
Saturday  evening  from  6pm.  Next 
market  is  11  June  2016.  For  more 
information 
contact 
Elise 
on 
#0211597778 
or 
email 
caring4kaiwaka@gmail.com. 
Healing  from  the  HeartEnergy 
Balancing 
This  week  at  Kate's  place  Heidi 
Downey  who  will  be  doing  Energy 
Balancing  on  the  1st  Friday  of  each 
month  from  9am  to  12pm  at  Kate's 
Place. Her next date is 3 June, so book 
in  now.  Payment  for  this  is  by  Koha. 
Bookings via text on #0273135440. 
CAP  Money/Budgeting  &  Steps  to 
Employment Courses 
The  Taratahi  agriculture  students  have 
been working on the money course and 
the  steps  to  employment.  It  has  been 
great  hearing  of  their  experiences  and 
seeing  their  eyes  open  to  the 
opportunities they might not have seen 
before. We are looking to book more of 
these workshops. They are designed to 
be  run  as  small  groups  so  there  is 
ample  time  for  questions  and 
discussions 
of 
individual 
circumstances. And best of all they are 
free. If you would like to attend one of 
these  courses  contact  either  Kaiwaka 
Cares 
or 
email 
yvonne.denize@capnz.org 
or 
ring 
Yvonne or Brett on #09 431 3234. 
Volunteers needed 
We  have  a  core  group  of  volunteers 
who  are  working  for  the  community 
and  running  the  drop-in  space.  If  you 
are  interested  in  volunteering  come  in 
and  see  us.  Even  if  you  can  only 
volunteer  a  few  hours  a  month  it  all 
helps. 
If  there  is  something  that  you  wish  to 
run  or  want  to  see  happen  in  Kaiwaka 
either  pop  in  and  tell  us  or  email 
caring4kaiwaka@gmail.com. 
~The Kaiwaka Cares team  
www.mangawhaimassage.co.nz 
HAKARU & 
DISTRICTS RSA Inc 
Each Friday night from 6.30pm meals 
will be served. 
Members & invited guests, new 
members welcome. 
Come along & enjoy our hospitality. 
2nd Friday of the month -  roast dinner or 
board menu. 
Last Friday of month - roast pork night 
&  
sing-along with Des Chitty.  
Ph Heather 4314668 or Jan 4314512 
Freeview  
Installations 
Richard Te Haara 
25 Marram Place 
Mangawhai Heads 
021 1104056 
kiwipride@xtra.co.nz
KAIWAKA CARES 
KAIWAKA COMMUNITY GARDEN 
cont
rotting  on  the  vines.  Some 
of the courgettes got too big 
as  well.  We  sowed  some 
more carrot seed but this did 
not do well probably we did 
not  keep  it  watered  well 
enough at the start.  
When we started there were 
already  some  rocket  plants 
and silver beet going to seed 
so  there  has  been  plenty  of 
rocket seedlings popping up 
all  around  the  garden  and 
these  fill  in  the  spaces.  We 
have  usually  had  a  few 
lettuce to go with them. Are 
there  other  salad  crops  that 
you  would  like  to  see?  Can  we  have 
too  much  rocket?  We 
planted some Calendula and 
some Tagetes marigolds and 
let some of them go to seed 
so their seedlings are adding 
to the variety and, we hope, 
discouraging 
unwanted 
insects.  If you want rocket, 
calendula or tagetes you are 
welcome to take home some 
seedlings. 
Come  to  our  garden  review 
and  let  us  know  what  you 
can  do  for  us  or  what  we 
can grow for you. 
~Helen 
(Continued from page 5)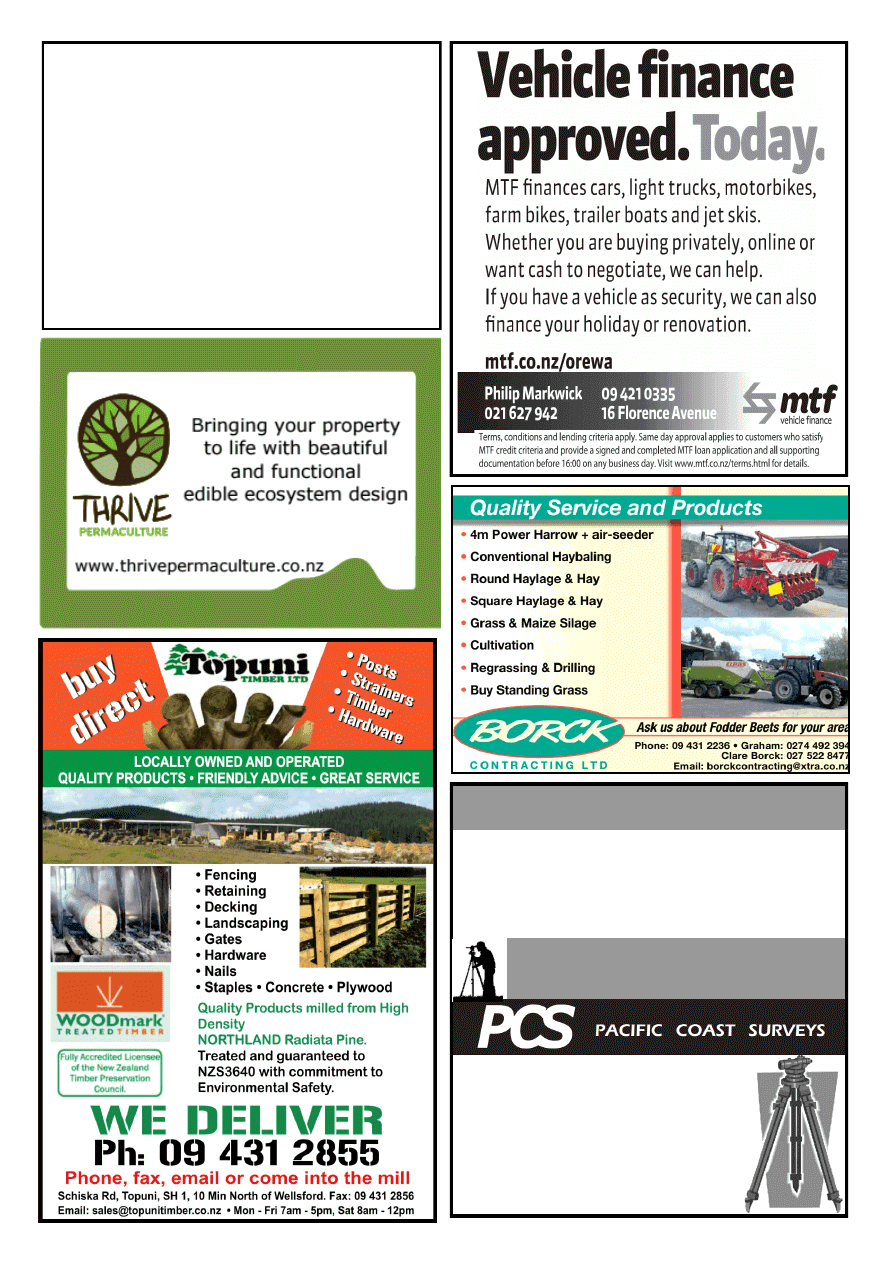 LIFESTYLE PROPERTY  
MAINTENANCE 
Putting life back into your style
Working out of Kaiwaka; servicing Mangawhai, 
Maungaturoto, Waipu and surrounding areas. 
  With over 25 years' experience, I'm fully insured and any 
job considered so just call me – James on mob: 0273 
808622  or  09 431 2245 
email: lifestylesorted@gmail.com  
Mulching - gorse, 
scrub 
Tree & hedge work 
Hole boring 
Alkathene laying & 
repairs 
Paddock topping, 
slashing 
Electric fence 
installation 
Weed spraying 
Free quotes 
Land & section 
clearing 
Loader work 
Rubbish removal 
Fully insured 
Repairs to driveways, fencing & buildings 
SURVEYORS 
SUBDIVISIONS 
HOUSE SITE SURVEYS 
CIVIL ENGINEERING 
WASTEWATER DESIGNS 
EXPERIENCED 
PROFESSIONAL 
INNOVATIVE 
Ph 09 431 5353 
0800 PACIFIC (0800 722 434) 
pacificcoastsurvey.com
Adam Booth - 027 415 5752 
Bsurv, Licensed Cadastral Surveyor
Surveying Kaipara since 1994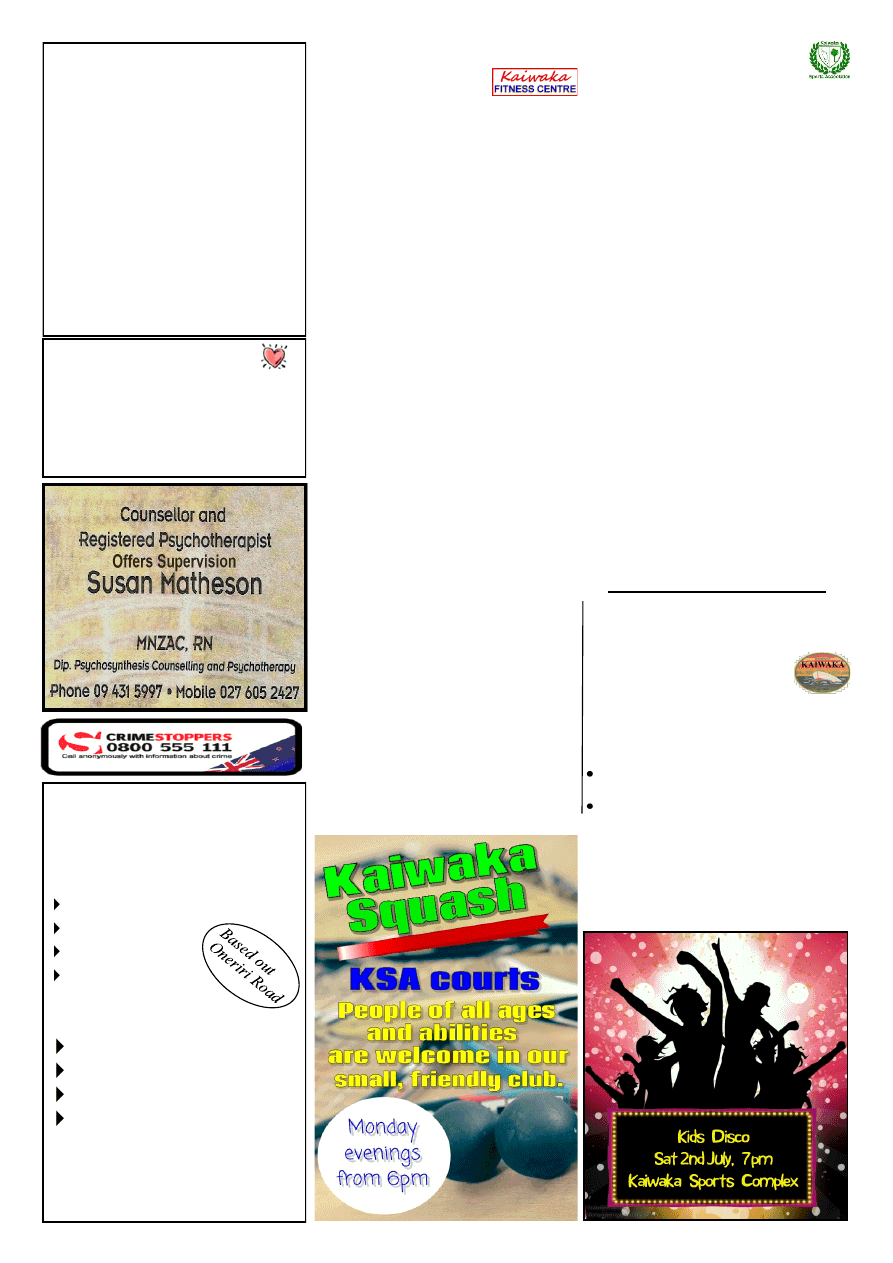 www.kaiwaka.co.nz 
Kaiwaka Bugle - 31 May 2016 
Page 9 
Fitness Centre 
There was a great turnout 
to  our  Fitness  Centre's  open  day  last 
week,  thank  you  to  everyone  who 
came.  Congratulations  to  Claudia 
Paikea-Fuerst  who  won  the  door  prize 
of a free years membership. Thank you 
also to Bianca from Cafe Bianca for the 
wonderful platters. 
Keys  to  our  Fitness  Centre  have  just 
changed over, so if you've ever thought 
about  taking  out  a  membership  –  now 
is  the  perfect  time  to  do  it!  You  can 
purchase a years membership for $150 
which  will  give  you  24/7  access  to  a 
centre  equipped  with  free  weights, 
bikes, climbers, rowers, treadmills, CV 
machines, toilets and showers. You can 
buy a key from Jaques Four Square, or 
for  more  information  please  contact 
Fitness  Centre  President  Siobhan  Cole 
on 027 9791203. 
Squash 
If  you  are  looking  to  try  out  a  new 
sport,  how  about  Squash?  Squash  is  a 
wonderful  game  for  your  fitness,  so  if 
you would like to give it a try, just turn 
up  to  our  courts  on  Monday  evenings 
from  6pm  and  we'll  sort  you  out  for a 
game.  Players  can  either  pay  a  casual 
fee of $2 per club night or purchase an 
annual  sub  which  gives  access  to  the 
courts 24/7 with free lights. 
Martial Arts 
Did you know we have a  Martial Arts 
club  which  operates  out  of  our 
gymnasium? The club offers classes in 
Tai  Chi  and  Kempo,  for  a  variety  of 
ages,  on  Wednesday  afternoons  and 
Sunday mornings. 
For  more  information  please  contact 
Craig Bennetts on 021 1524466. 
Rippa Rugby 
The 
inter-schools 
Rippa 
Rugby 
Tournament will be held at our grounds 
on  Wednesday  15th  June  from  9am. 
Spectators welcome.  
Netball – Primary School 
Our  junior  netball  club  has 
purchased  new  uniforms  for  their 
players  and  would  like  to  thank  the 
Kaiwaka  Sports  Association's  Pokies 
Committee  for  the  generous  grant. 
Looking  smart  girls! 
(See  photo  on 
Kaiwaka School page)
Netball – High School 
The  OHS  netball  girls  are  continuing 
their  fundraising  efforts.  This  Friday 
3rd,  they  will  be  running  a  food  stall 
outside 
Tony's 
Lotto 
shop 
in 
Maungaturoto,  selling  cakes,  sausages, 
burgers,  chocolates  and  bacon  &  egg 
sandwiches.  
Netball – Senior 
Our senior netball club Otamatea-Ex is 
off  to  a  flying  start,  with  two  of  their 
teams  making  it  into  premier  grade. 
Awesome  effort  ladies!  Thank  you  to 
Chichi  Whitehead  for  designing  the 
Otamatea-Ex  logo  for  their  new 
hoodies. For any senior netball queries, 
please 
email 
Alex 
Cowie 
on 
cowiealex@hotmail.com.  
Advance notice 
Back by popular demand! Yes, another 
Kids  Disco!  The  disco  will  be  held  at 
the  Sports  Complex  on  Saturday  2nd 
July,  and  will  feature  great  music, 
dancing,  a  lolly  scramble,  glow  items 
and games. Save the date! 
~Cheryl Anderson 
KAIWAKA SPORTS ASSOCIATION 
HODGETTS
CONTRACTING
Digger Work   
Driveways 
House Sites  
Dams 
Drains, etc  
Also available 
for HIRE 
3 ton Vib Roller 
Heavy Duty Tow 
Waterblaster  
Lazer Level 
 
Phone Mark 4312877 
027 447 8554
Healing from the 
Energy Balancing 
@ Kate's Place, Kaiwaka. 
1st Friday of each month 
9am-12pm. Koha. 
Txt 0273135440 
for an appointment 
Subs are due 1st June.  Please 
see  Jean  or  pay  at  3  Furlongs 
Bar & Grill.  Subs are $30 for 
a  family  and  $20  for  single.  Please 
leave  your  contact  details  and  email 
address with your sub. 
Upcoming Events: 
Maungaturoto  Boar  Hunt:3rd,  4th 
and 5th June. 
3  Furlongs  Bar  &  Grill  Boar  Hunt, 
12th, 13th and 14th August. 
Fish Of The Month: Snapper, cut off 
date 21st June 
Next  Meeting:  AGM, 7pm, 21st June 
2016.  All  welcome.  Followed  by 
committee meeting. 
~Wayne Leslie, Commodore 
POINT CURTIS 
CRUISING CLUB 
Did you know? 
- "Stewardesses" is the longest 
word typed with only the left 
hand. 
- And "lollipop" is the longest 
word typed with your right 
hand. 
- No word in the English 
language rhymes with month, 
orange, silver, or purple. 
- "Dreamt" is the only English 
word that ends in the letters "mt".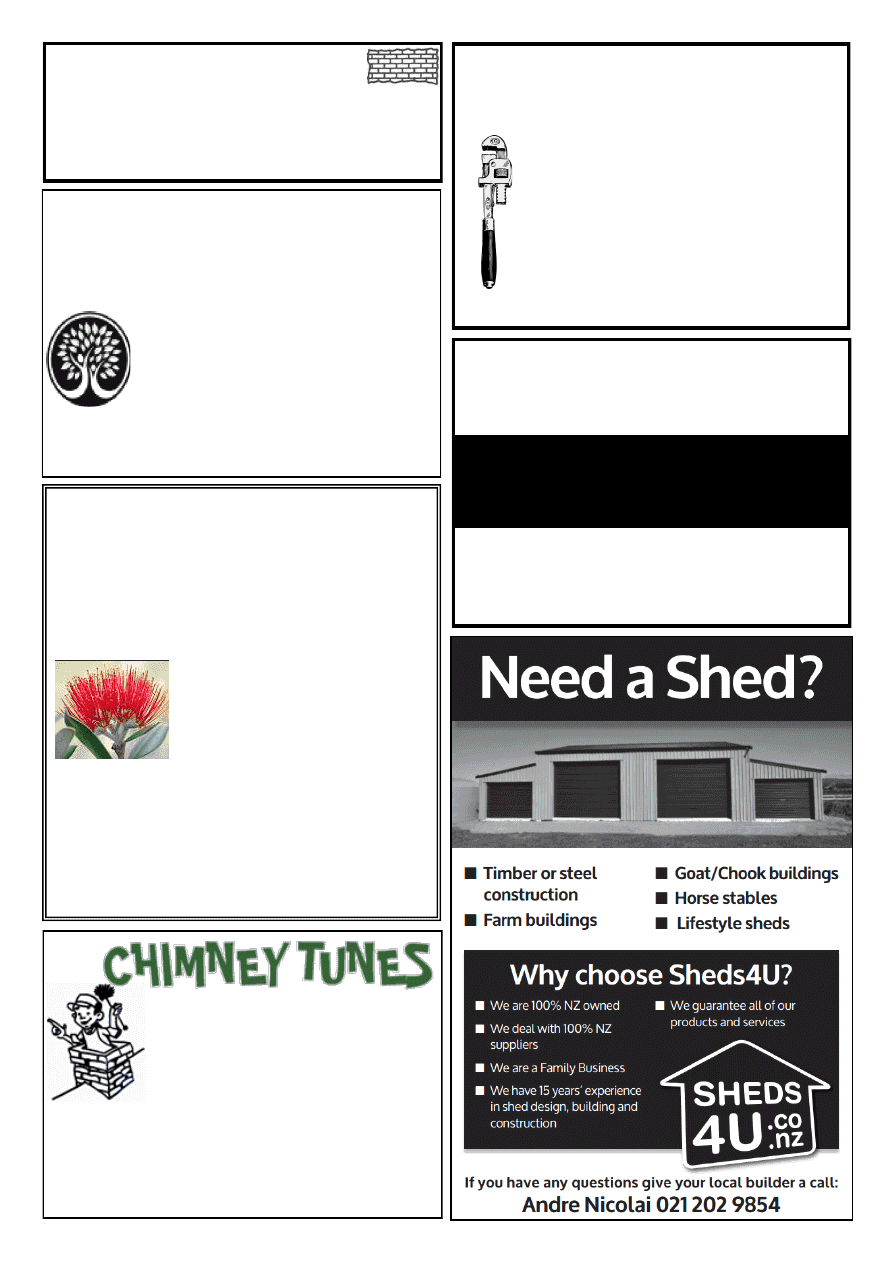 BARRY CURTIS PLUMBING LTD 
REGISTERED CRAFTSMAN PLUMBER 
Phone 4315572 
027 257 9884 
25 years experience 
Friendly reliable service 
All plumbing and maintenance 
Alterations and new housing 
Spouting 
Competitive rates 
PROMPT EFFICIENT  SERVICE 
David Korach 
Your local Gib Stopper
DK PLASTERER LTD 
0274769221 
dkorach6@gmail.com 
Chimney and Fireplace 
Maintenance,  
Parts & Repairs
MARK O'DONNELL 
021 457 247 
Whangarei – Mangawhai – Maungaturoto 
Waipu Natural Health 
3 Cove Road, Waipu    (opposite the Pizza Barn) 
Ph: 09 432 1325 
www.waipunaturalhealth.co.nz 
Clinical Nutritionist (Masked Allergy Testing), 
Registered Osteopath, Registered Massage 
Therapists, Reflexology, Beauty Therapy, 
Craniosacral Therapy, Hypnotherapy, 
Counselling, Change Catalyst, ThetaHealer, 
Naturopathic Prolotherapy & Scenar (joint & 
muscular therapy), and much more... 
GIFT VOUCHERS AVAILABLE 
KAIPARA FLOORING CO 
Independently owned & operated 
32 HURNDALL ST MAUNGATUROTO 
Supply & Installation of Carpet, Vinyl,  
Vinyl Wood Planking
Stockists of 2m & 3m wide 
vinyl & carpet short ends
Residential & Commercial 
First Class Installations 
For a free measure & quote 
phone Christine  
09 946 9886 or 021 515 415 
kaiparaflooring@gmail.com 
http://www.kaiparaflooring.co.nz/ 
BRICK/BLOCKLAYER 
All aspects of masonry: 
Fireplaces, Restoration & Remedial Work.
JAMES EAGLETON
Tel. (09) 431 2514     Mob. 0274 749 232
jajueagles@yahoo.com.au 210A Pukenui Road, RD2, Kaiwaka 0573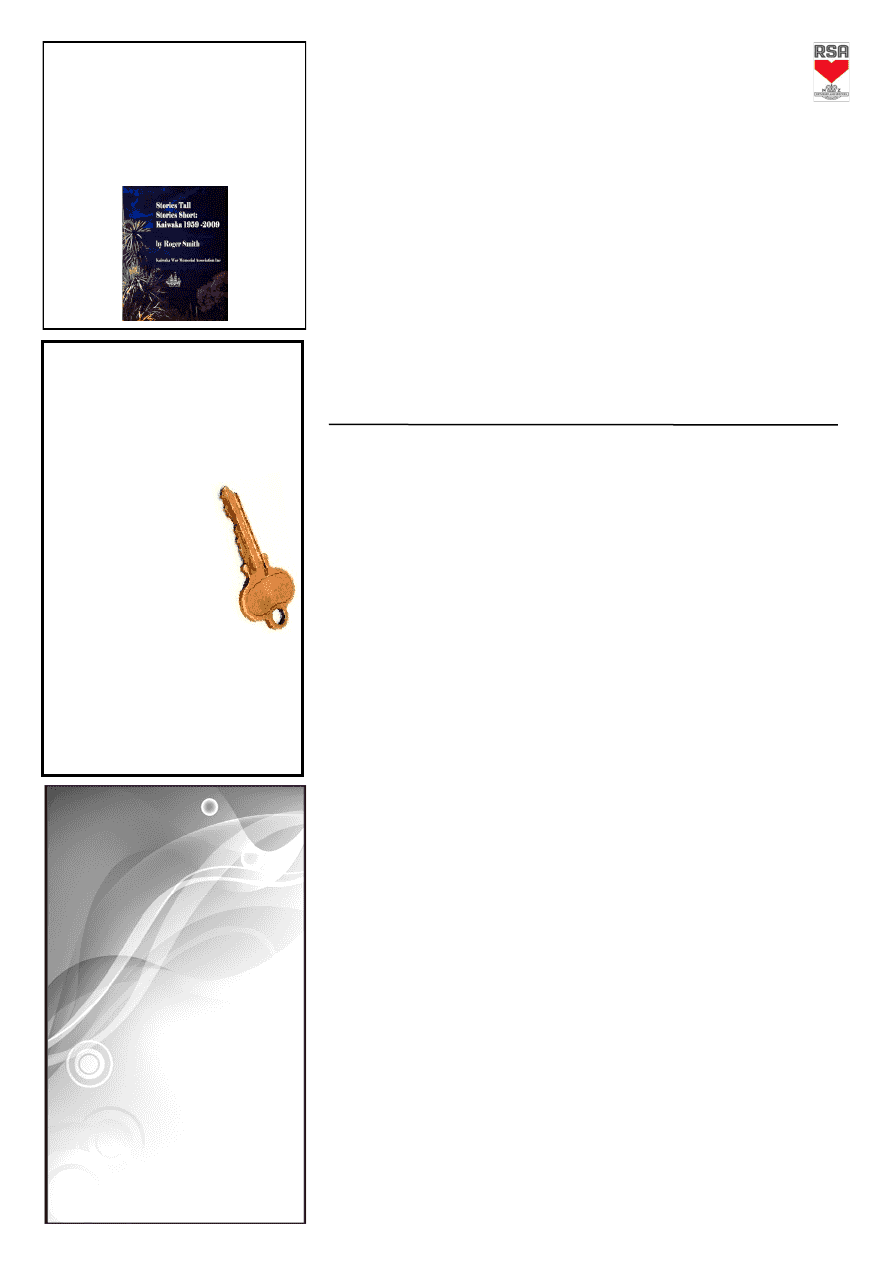 www.kaiwaka.co.nz 
Kaiwaka Bugle - 31 May 2016 
Page 11 
Thank  you  for  the  article  last  Bugle, 
'Does  anyone  see  the  danger"  talking 
about  the  highway  traffic  risk  in 
Kaiwaka.    You  make  a  number  of 
comments about what is happening and 
some of them need clarification.  
Firstly,  we  are  well  aware  that  the 
community  has  talked  about  these 
roading  concerns  for  years,  made 
submissions  and  been  disappointed.  
However  that  is  no  reason  to  stop 
trying.  Council,  NZTA  and  Kaiwaka 
Can  are  working  together  to  see  if  we 
can  get  better  results  this  time.  The 
presentation at the Council meeting on 
May 9th was the result of a lot of hard 
work over the best part of a year. 
So  what  has  been  done  so  far?  The 
whole thing ramped up with a petition 
about  speeding  on  SH  1  through 
Kaiwaka, organised by Ruth Tidemann 
early  2015.  This  achieved  a  total  of 
more  than  900  signatures  and  was 
presented to Winston Peters at Bianca's 
Café in the second half of the year. At 
the  same  time,  Council  had  been 
working  very  hard  to  bring  NZTA  to 
the table and as a result we have been 
working with the NZTA team for about 
nine  months  now.  We  began  by 
spelling  out  all  of  our  concerns  and 
NZTA  and  Council  came  back  with 
what they  heard,  a  total of  29 areas  in 
Kaiwaka that need attention, related in 
some  way  to  SH  1.  We  believe  they 
heard us pretty accurately. 
In  November  they    pulled  together  a 
brochure  and  response  form  which 
were distributed very widely round the 
community,  allowing  people  to  make 
comment,  add  suggestions  and  get  to 
know  what  was  happening.  The 
meeting on May 9th was the end result 
of  what  they  heard  and  what  they 
believe they can do to fix the problems 
we spoke about. 
The most obvious and urgent problem, 
lowering  the  speed  limit,  is  not 
currently  being  recommended  by 
NZTA  because  of  the  regulations 
around  setting  speed  limits.  The 
Government is currently revising these.  
However,  we  have  been  told  that  the 
temporary 50 speed zone will be made 
permanent.  Reduction  of  the  70kph  to 
50kph  and  extension  of  the  northern 
50kph  zone  are  being  strongly  lobbied 
by  a  group  within  Kaiwaka  Can  and 
have not been put aside. 
The  suggestion of  a roundabout as the 
Oneriri  Road  solution,  we  hear  has 
been  raised  in  the  past.  It  was  not 
raised 
during 
the 
community 
consultations.  Council  and  NZTA 
acknowledge that this area is a concern, 
and state that further work is needed to 
investigate  a  solution.  However,  it  is 
considered  a  longer  term  solution  due 
to the costs involved.  
The  traffic  calming  solutions  come 
from  NZTA,  in  conjunction  with 
Council. Improved pedestrian access is 
part  of  this  and  we  want  this  as  a  top 
priority. We are also engaging with the 
police  over  enforcement  measures  in 
the township. 
In  the  shorter  term  there  are  lots  of 
other recommendations we are working 
on,  such  as  entrance  signs  to  give 
Kaiwaka  real  identity,  new  NZTA 
speed  threshold  signage  at  the 
boundaries,  walkway  connections, 
footpath  improvements  and  improved 
pedestrian  access.  Council  has  a 
permanent  staff  member  meeting  each 
month  with  Kaiwaka  Can  and  we  are 
grateful  to  Annie  van  der  Plas  for  her 
commitment  and  hard  work.  The 
NZTA  team  has  also  been  responsive 
in their dealings with us.  
The  plan  that  was  presented  on  9th 
May  is  available  to  view  on  the 
Community 
Planning 
page 
of 
Council's website. 
You are welcome to come to any of the 
meetings of Kaiwaka Can and you can 
see  comments  from  our  last  meeting 
and  details  of  the  next  meeting 
elsewhere in this Bugle.  
~Derek Christensen 
Chair, Kaiwaka Can 
Stories Tall, Stories Short  
Kaiwaka 1959-2009 
by Roger TW Smith.  $40 
Available from  
the Bugle Editors -  
Lindsey 4312 045,  
Wendy 027 480 6275 
U Beauty 
            Underarm Wax  
    $20 
            Extended Bikini Wax   $30 
            15 min Back  Massage  $25 
            30 min Back Massage  $50 
Please call Nicole for bookings 
09 393 6336 or 022 0639450 
Qualified Beautician 
4 Kaiwaka – Mangawhai Rd 
Kaiwaka 
Eyebrow Wax  $10 
Eyebrow Tint  $10 
Eyelash Tint 
$20 
Lip Wax 
$10 
Chin Wax 
$10 
Bikini Wax 
$20 
Brazilian 
$50 
½ Leg Wax 
$30 
Full Leg Wax  $45 
Full Pedicure  $60 
Foot Tidy  
$35 
Manicure 
$45 
Nail Tidy 
$25 
Chest Wax 
$30 
Back Wax 
$40 
Nostrils 
$10 
Ears 
$10 
Kaiwaka  
Hardware  
&  
Key cutting 
 Phone 4312 063 
 022 041 6047 
 kaikey2015@gmail.com 
Keys Cut  
Household Hardware  
Curtain Tracks & Fittings
Not there? Call Doug and he'll sort
it for you.
(
Next to Kaiwaka Motorcycles)
YES, LOTS OF US SEE THE DANGER 
16 members attended the May meeting. 
Our  condolences  to  Margaret  Schutt 
and her family on the death of Ashley. 
The Women's Section appreciated very 
much the extra donations of food from 
the  public  for  Anzac  Day  and  help 
from  Mangawhai  CWI,  and  Kaiwaka/
Mangawhai Garden Club with flowers, 
and helping make the wreaths. 
Also  thanks  to  the  Scouts  and  Cadets 
for clearing the chairs away and setting 
up  the  tables  for  lunch.  It  was  also 
great having daughters of our members 
helping with the dishes, Thank you all. 
Our "Over 80's Afternoon Tea" is now 
on 12th June at 2 p.m. 
On  23rd  June,  our  next  meeting  day, 
we are car pooling to Kaiwaka for our 
"Mid  Christmas  Dinner"  at  the  Three 
Furlongs.  Partners  welcome,  members 
$20,  Partners  $25  (pay  on  the  day  to 
Helen)  -  arrive  at  11-30  for  midday 
lunch.  Anyone  not  included  in 
transport  please  contact  Ann  on 
4315913. 
Congratulations  to  the  birthday  girls  – 
March:  Dawn  Be  Hague.  April:  Jan 
Mann,  Doreen  Woodhouse.  May: 
Petronella  Brom,  Shirley  DeVries. 
Hope you all had "Happy Days". 
The  Tripe  and  Onion  Luncheon  is  on 
Sunday  3rd  July  at  1-30.  Alternative 
food available. 
The  NWA  Northland  Conference  is  to 
be  hosted  by  Hakaru  on  28th  July; 
there will be 13 clubs invited from the 
North.  Members  -  we  welcome 
donations for a raffle and contributions 
to the trading table. Raffle donations to 
Heather please. 
Raffle was won by Ann Dowson. 
New  members  most  welcome-  please 
contact Lena Carleton - 4315034. 
~Ann 
HAKARU RSA WOMEN'S SECTION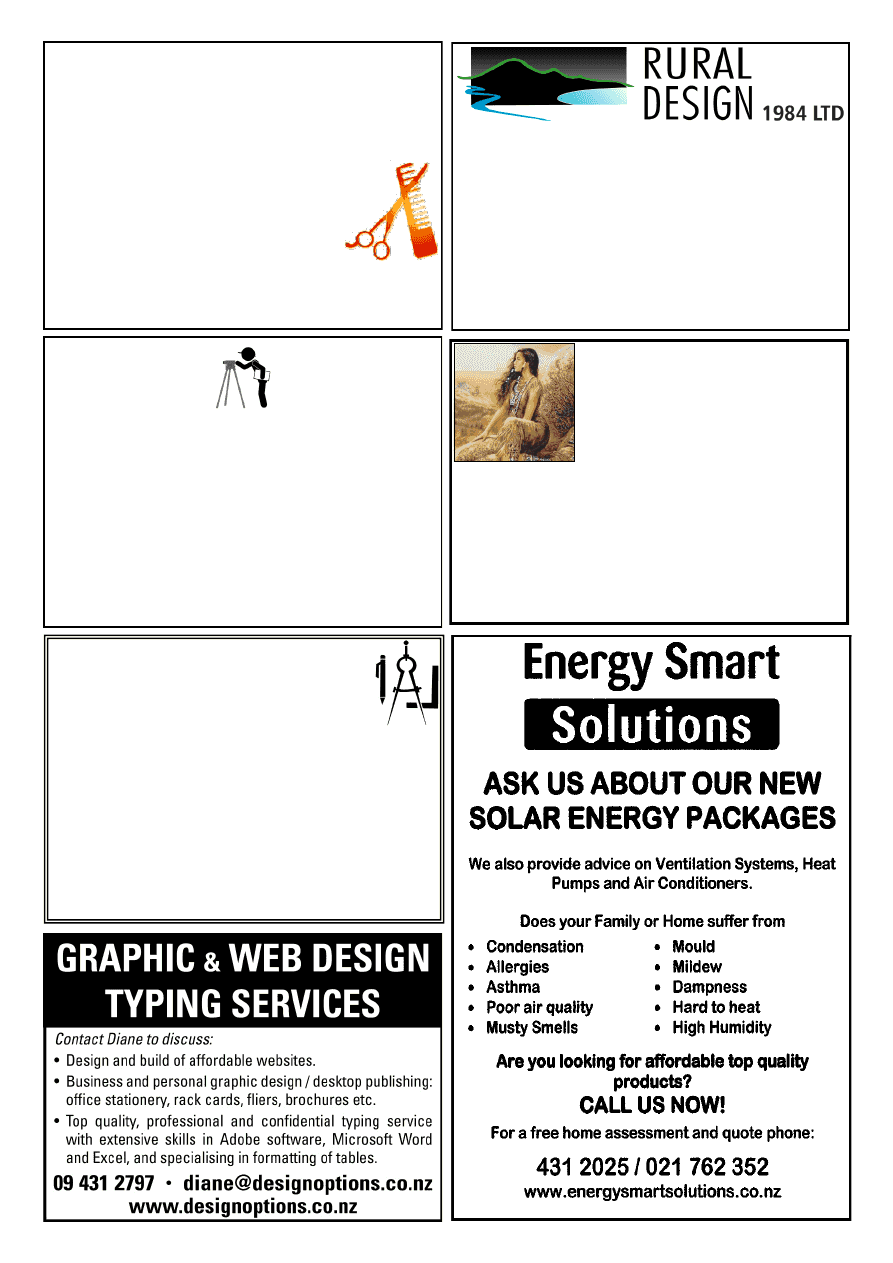 Ken Urquhart 
BSurv Licensed Cadastral Surveyor 
KMU Surveys Ltd
467 Bickerstaffe Road 
RD 2 
Maungaturoto 0587 
Ph 09 431 8705 
Mob 021 161 2344 
kenurquhart@xtra.co.nz 
WHOLESALE NATIVE PLANT NURSERY 
AND LANDSCAPING 
By Appointment 
Small and Large orders welcome 
Phone: 09 431 2481 
Email: info@ruraldesign.co.nz 
design drafting  
service 
Retired builder and manufacturer with over 40 years  
experience in the building industry is offering a design 
drafting service  
for domestic housing, sleepouts and sheds.  
Plans formulated in consultation with clients, with 
working drawings completed and submitted to  
council for processing.  Extensive practical experience,  
able to identify & resolve problems. 
Please ring Mike Lean on 
09 431 2260  
          or 
021 431 196 
Trails end 
spiritualist gathering  
Last Sunday of every month  
11.30-2pm tea/coffee provided  
$5koha for all inquiries  
0211652629 evenings 099450753 
Trail.end@hotmail.com 
Bringing together light minded people 
Guest speaker each month and 
Workshops every 2nd Wednesday  
6:30-7:30pm
AFFORDABLE PRICES! 
MENS DRY CUT FROM $18.00 
LADIES DRY CUT FROM $28.00 
KIDS DRY CUT FROM $15.00 
COLOUR CUT FROM $90.00 
JUST CUTS'AND     
MORE 
021 165 2629 
NOW SELLING: scented tealights, incense, smudge sticks, 
copper bracelets, aurora ball crystals, dream catchers, healing 
stones, rose quartz, cds, and much more. Open 6 days.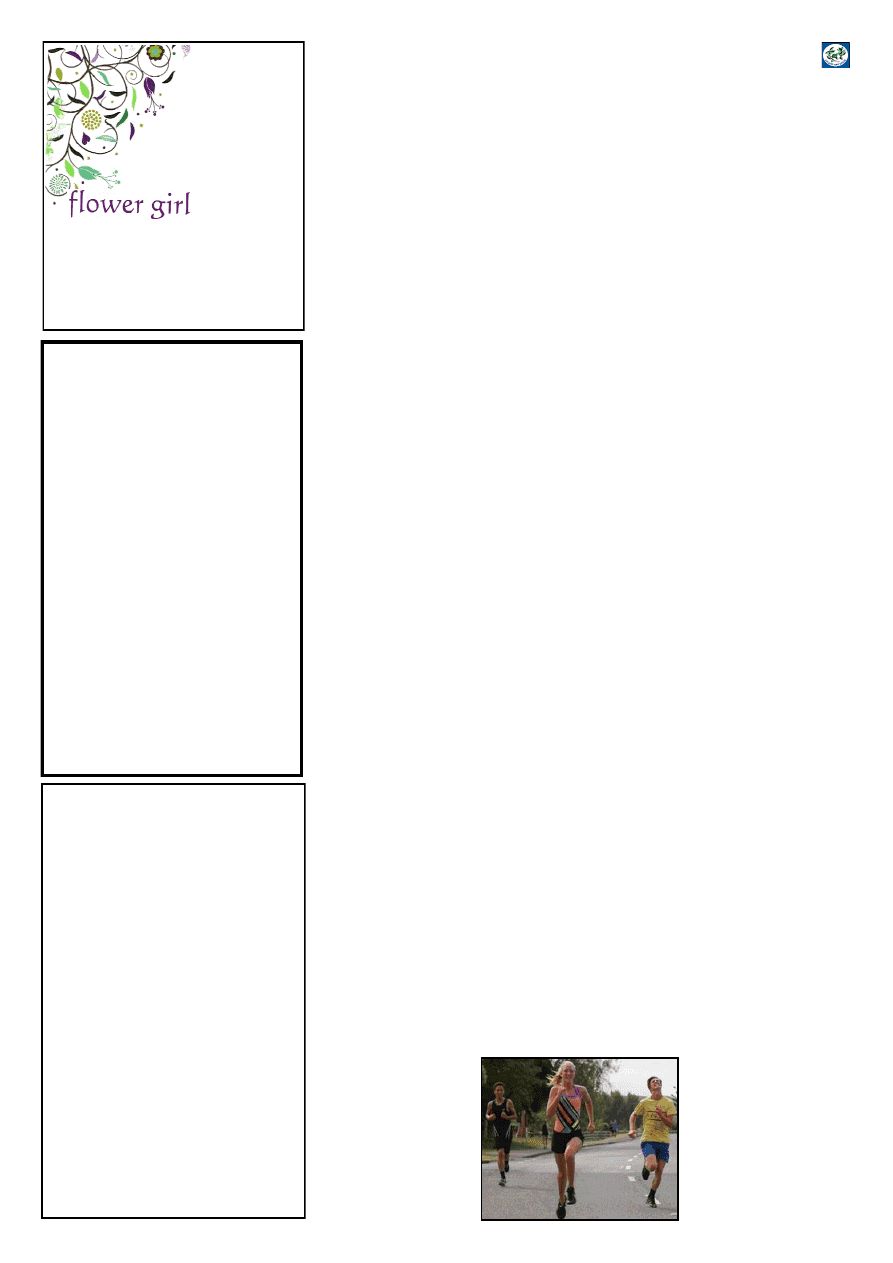 www.kaiwaka.co.nz 
Kaiwaka Bugle - 31 May 2016 
Page 13 
OTAMATEA HIGH SCHOOL 
Kaiwaka 
Good Sorts 
Do you know 
someone in our 
community 
who is 
deserving of a 
beautiful bunch 
of flowers? 
Send an email 
or drop a note to Jaques Four 
Square to let the Bugle team know. 
We will choose a recipient to 
receive flowers from Lindy the 
flower girl. 
lindywatson@hotmail.com  or 4312847
Willow Bend
HORSE  
HOTEL 
"  
Total Horse Care 
" 
Agistment 
" 
Riding Lessons 
" 
Arena Hire (60x40) 
" 
Young Horse Starting 
" 
Re-training/Exercising 
" 
Hoof Trimming 
" 
Problem Solving 
Phone Sue 09 431 
2817 or 021 623 776 
suejoll11@gmail.com 
Full Circle 
Landscaping 
Pete Worsfold 
Cert. LScp/Des 
20yrs experience 
021 825 970 
peteworsfold@xtra.co.nz
Landscape Design 
Gardener 
Nurseryman 
Functional, practical, aesthetic.
Lush native plantings, shelter, wetlands, 
grey water system plantings, home 
orchards, firewood lots, vege gardens... 
Planning, planting, project estimates, 
tree lists and species suitable for your 
site/sight, maintenance training...
Call or email me for an onsite 
estimate at your place!
Completion...Clarity 
Principal's Comment 
Otamatea  High  School  students  were 
involved  in  many  activities  during  the 
recent 
holidays. 
The 
prefects 
represented  the  school  at  the  various 
local  ANZAC  services  –  Matakohe, 
Maungaturoto,  Hakaru  and  Waipu  by 
laying 
wreaths 
alongside 
other 
community  groups,  organisations  and 
the  armed  services.  On  the  final 
Saturday  I  had  the  pleasure  to  once 
again  attend  the  Gold  Duke  of 
Edinburgh  ceremony  in  Auckland. 
Three  of  our  former  students  were 
recognised  at  this  prestigious  event. 
Their  parents,  Mrs  Bruce,  Mr 
Maclennan  and  I  couldn't  have  been 
more proud of their achievements. Mrs 
Bruce's  tireless  commitment  to  the 
ongoing  success  of  the  Duke  of 
Edinburgh  programme  at  Otamatea 
High  School  is  just  extraordinary. 
Thirty  six  students  have  received  their 
gold awards over the years, which is a 
phenomenal achievement. 
Recently,  a  representative  from  the 
Cancer  Society  came  to  the  school 
assembly  to  present  certificates  for 
Relay  for  Life.  Nikki  Donaldson  was 
awarded 
a 
certificate 
for 
her 
organisation  of  the  OTA  Kids  team 
over  the  years;  a  mammoth  task  of 
ensuring  the  year  13  students  have 
everything  they  need  for  the  event, 
meeting  deadlines  and  generally 
getting  the  year  13s  organised  and 
enthused.  Sam  Allen  also  received  a 
certificate  for  her  huge  fundraising 
effort  of  raising  $1,700  towards  the 
cause  by  completing  a  horse  trek. 
Finally  Eileen  Parsons  was  honoured 
for her efforts with organising the staff 
team  and  the  fact  that  she  has 
persevered over the years through rain, 
hail  or  shine.  Eileen  does  not  take  a 
break,  she  just  keeps  going  for  the 
whole  18  hours  –  it  is  quite  inspiring! 
Eileen,  is  affectionately  known  as  the 
'pink lady' because of her famous pink 
crocheted  outfit  which  she  wears  each 
year.  In  the  six  years  that  Otamatea 
High School have been participating in 
Relay  for  Life  we  have  raised  over 
$27,000,  which  is  a  magnificent 
achievement!  This  year  we  were  also 
raised the most money out of all of the 
schools involved. 
On  Friday  3rd  June  we  have  a  staff 
only day. The school will be closed for 
instruction  so  that  the  staff  can  attend 
the Digital Horizons Conference which 
is  being  held  at  Whangarei  Boys'  and 
Girls'  School  for  all 
Northland 
Secondary 
Schools. 
The 
conference  is  designed 
to  upskill  staff  on  all 
aspects  of  information 
and 
computer 
technology.  Last  year's 
conference  was  very 
beneficial  and  many 
staff brought back ideas 
which they have put into practice with 
their classes. 
~Rachel Clothier-Simmonds, Principal 
Te Whare o Rongo 
The new student support centre is now 
up  and  running  in  the  old  caretaker's 
house, next to the whare. The building 
has  been  named  'Te  Whare  o  Rongo', 
referring  to  it's  function  as  a  place  of 
peace.  The  building  has  been 
revamped,  and  lots  of  work  has  been 
put 
into 
creating 
a 
peaceful 
environment  where  our  students  can 
access a range of supports and services. 
The front of the building will be where 
the  Deans  are  based  for  their  pastoral 
support  work  and  where  Jenny  Reid, 
our  Student  Support  Admin  has  her 
new office. Students signing in late do 
so  here,  and  this  is  where  students 
come  for  first  aide  and  uniform 
support. The sick bay is also in this part 
of the building. 
The back part of the building is where 
counselling  and  health  services  can  be 
accessed.  The  school  counsellor  is 
working  from  one  of  the  rooms,  and 
the  GP,  nurse,  and  other  external 
services are using the other room. 
It's great to have a space where student 
support 
needs 
are 
centralised, 
prioritised and accessibility improved. 
We wish to extend a huge thanks to all 
who have worked on this space, and to 
the PTCA for the funding support. Kia 
ora. 
~J. Mackenzie 
OHS  Senior  Triathlon  -  New  Girls 
Record set 
Swim 500m – Bike approx. 15km – run 
approx. 4km 
Northland 
Secondary 
School 
intermediate  winner  Ocean  Shadbolt 
makes  it  two  wins  in  a  row  for 
triathlons this year. 
Ocean  showed  her  expert  form  in  the 
swim and the bike sections to be within 
seconds  of  the  top  team's  athletes  for 
both disciplines even though she had to 
do  a  gear  transition  between  the  swim 
and  bike.  It  was  only  when  it  came  to 
the  run  section  where  the  teams  had 
fresh  runners  that  she  dropped  back. 
Ocean  broke  last  year's record   set by 
Tayla  Perkinson  by  a  whopping  24 
minutes  and  8  seconds  and  also  came 
3rd overall. 
Congratulations to Monica Jaques who 
was  second  in  the  girls  and  the  only 
other  competitor  to  enter  as  an 
individual. Monica also did really well 
coming 8th overall. 
The  teams  were  hotly 
contested  with  Rhys 
Shadbolt  and  Lee  Holst 
coming in from the bike 
with Rhys only having a 
few  seconds  lead.  Isaac 
Noser  came  out  the 
stronger runner and took 
out  first  place  for  his 
team  of  Zelda  Sims  and 
Rhys Shadbolt.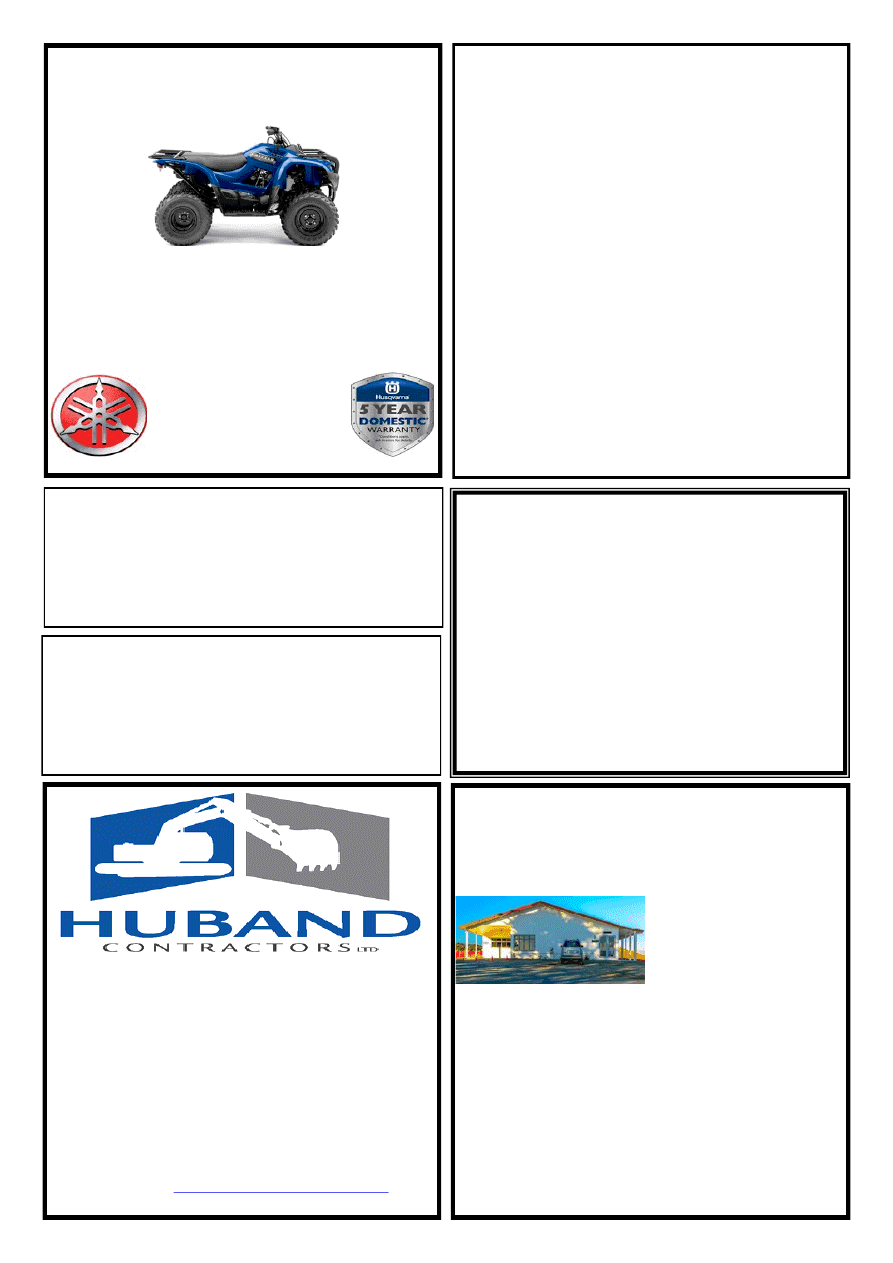 KAIWAKA 
MOTORCYCLES LTD
SALES – SERVICE – SPARES 
FARM BIKE SPECIALIST
PHONE 09 431-2127 
10 KAIWAKA-MANGAWHAI ROAD, KAIWAKA
Trimmers  
from $279
Chainsaws  
from $339
YAMAHA 
HUSQVARNA 
*   R O A D I N G   *   E A R T H W O R K S   *    
*   D R A I N A G E   *   S I T E W O R K S   *
Shaun Huband 
Registered Drainlayer
Cell: 021 222 0272 
Home: 09 4318339 
Email:   
Twinkle Tow 'n' Tyre 
Think you'll get a better deal in the city? 
Ring us - it won't cost anything! 
1837 State Highway 1, Kaiwaka 
Phone 431 2823 
*W.O.F. 
*Tyres 
*Windscreen 
replacement 
*Chip repairs 
*Bulk Oil 
*Batteries 
*Welding 
*Custom built 
trailers 
*Trailer hire
Te Pounga Marae 
130 Nathan Rd. Oneriri. Kaiwaka 0573 
COMPLEX FOR HIRE 
Functions 
* Weddings   *  Birthdays   
*Anniversaries 
* Meetings   * Wananga 
5 hour meeting 
* 12 hour stay   * 
Overnight 
*All welcome - No more Drink-driving 
Amenities: 
*Convo Combi Steamer * Bratt Pan * Dish 
Washer/Sterilizer * 3 Door Glass Chiller (walk in) 
etc…All Crockery * Linen Supplied * Central 
Heating and Air Conditioning and much more.  
Can also cater for small groups…. 
For more information please contact: 
Kim Wallace 
Home: 09 832 1133   Mob: 0211275340 
Email:  kimwallace@xtra.co.nz 
FREE GRAZING WANTED 
Small or large block 
Can do some fencing or water 
Phone after 6pm 
4312 006 
White Horse Farm 
Farm Stay/Bed and Breakfast 
Ph +64 9 390 1260        113 Tawa Ave, Kaiwaka 
bookings@whitehorsefarm-kaiwaka.co.nz 
www.whitehorsefarm-kaiwaka.co.nz 
MULCHING 
GORSE,SCRUB ETC 
PADDOCK TOPPING OR MULCHING 
2.8m mulcher with 140HP tractor. 
Experienced operator. 
LIFESTYLE PROPERTY MAINTENANCE 
Putting life back into your style 
BOOK NOW. Phone James 
mob: 0273 808622 or 09 431 2245 
email: lifestylesorted@gmail.com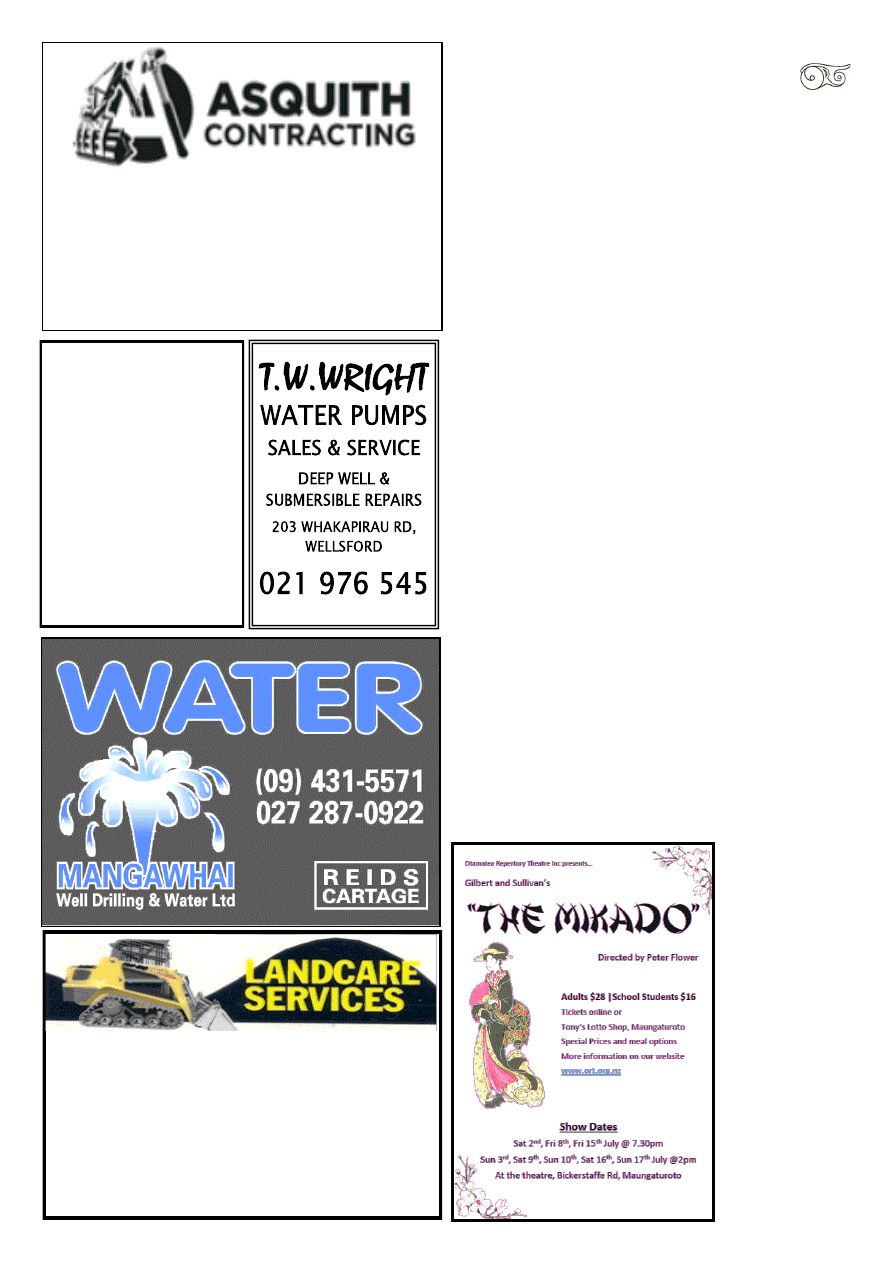 www.kaiwaka.co.nz 
Kaiwaka Bugle - 31 May 2016 
Page 15 
 LEABOURNS 
Passenger Service
Car & Van Hire 
Bus & Coach 
Charters 
Airport Transfers 
 Monthly Shopper 
Bus 
Phone 09 4237416 
LANDSCAPING 
4 IN 1 BUCKET 
TRENCHER 
POLE HOLES 
ROTARY HOE 
COMPACT ROLLER 
OFFAL HOLES 
CAN SUPPLY WOODCHIP & POST PEEL 
5 TON TIPPER 
FOR RELIABLE AND FRIENDLY SERVICE CONTACT DAVE 
Dave Hyndman 
 
KAIWAKA 
PH: 09 4312302 
MOB: 021 431 238 
Kaiwaka  Young  Talent  in 
Classic Show 
Kaiwaka locals, Haydn Dyer 
and  Brianna  Thurgood,  both 
have  lead  roles  in  Otamatea 
Repertory  Theatre's  The 
Mikado.  Haydn  plays  the 
role 
of 
Pish-Tush, 
a 
Nobleman,  and  Brianna  is 
acting as Peep-Bo.   
Haydn  Dyer  has  a  splendid 
baritone  voice.  Two  years 
ago  he  won  the  teenage 
section  of  the  championship 
for  vocal  excellence  at  the 
Northland  Performing  Arts 
Festival 
in 
Whangarei.  
Haydn  has  a  great  love  of 
music and theatre in general, 
and is keen to make a living 
as  a  composer.  Haydn's 
entire  family  is  involved  in 
ORT  –  adding  their  creative 
talents both on and off stage.   
Brianna is well-known in the 
area, as her parents Paul and 
Natasha  own  the  GAS 
station 
at 
Mangawhai 
Village.  Brianna  is  a  keen 
singer 
and 
has 
been 
performing 
in 
singing 
competitions  and  doing  well 
with  Trinity  exams  in 
singing  for  the  past  few 
years.   
The  Mikado  is  'laugh  out 
loud'  fun  for  the  entire 
family, as Victorian England 
meets  an  imaginary  imperial 
Japan.  
Originally  staged  at  the 
Savoy  Theatre  in  London  in 
1885, 
The 
Mikado 
is 
arguably the most popular of 
all  the  Operettas  by  the 
masters of the genre, Gilbert 
& Sullivan.  
Sparkling  satire,  marvellous 
melodies,  and  scintillating 
silliness  abound  in 
this  topsy-turvy  tale 
of  love  and  misadventures. 
Leave  your  worries  behind 
and  journey  to  a  make-
believe 
land 
of 
lotus 
blossoms, 
levity, 
and 
laughter with The Mikado! 
Legend  has  it,  that  the  idea 
for  The  Mikado  first  sprang 
into  William  S.  Gilbert's 
mind  when  an  old  Japanese 
sword,  which  had  been 
hanging  on  the  wall  of  his 
study for years, suddenly fell 
from  its  place.  Gilbert  took 
this  as  an  omen  and 
determined to turn his biting 
satire  towards  the  East. 
Gilbert  did  not  have  to  look 
far to research the subject of 
his  new  play.  He  found  all 
the  material  he  wanted  in 
Knightsbridge,  London.  A 
magnificent  exhibition  The 
Japanese Village had opened 
there,  to  much  popular 
acclaim.  
W.S.  Gilbert  visited  the 
exhibition  and  learnt,  from 
over  100  Japanese  men  and 
women  employed  there, 
proper  aspects  of  their 
culture. His resulting libretto 
incorporates 
evocative 
imagery  of  an  imaginary 
Japanese 
town 
crafted 
lovingly, 
while 
simultaneously 
taking 
stinging 
satirical 
aim 
squarely 
at 
his 
own 
contemporary  England.  For 
rather  than  a  representation 
or  reflection  of  actual 
Japanese  society,  the  setting 
in  a  fictitious  land  serves  to 
not  so  thinly  veil  the  true 
subject  of  its  satire,  namely 
Victorian political and social 
hypocrisy…  with  a 
large 
dose 
of 
frivolity and FUN! 
Opening  night  is 
Saturday  July  2nd 
and  the  show  will 
run 
for 
eight 
performances  over 
three weekends. 
Ticket  sales  are 
open  at  Tony's 
Lotto  Shop,  or 
online 
at 
www.ort.org.nz  
Adult  $28  School 
student $16. 
An  optional  $20 
two-course 
meal 
package 
is 
available for Friday 
and 
Saturday 
shows, 
at 
the 
Country Club.  
OTAMATEA REPERTORY THEATRE
Small digger work, trenching and 
post hole drilling. 
$60 per hour.
Call Tam on 027 211 1152 or 
asquithcontracting@gmail.com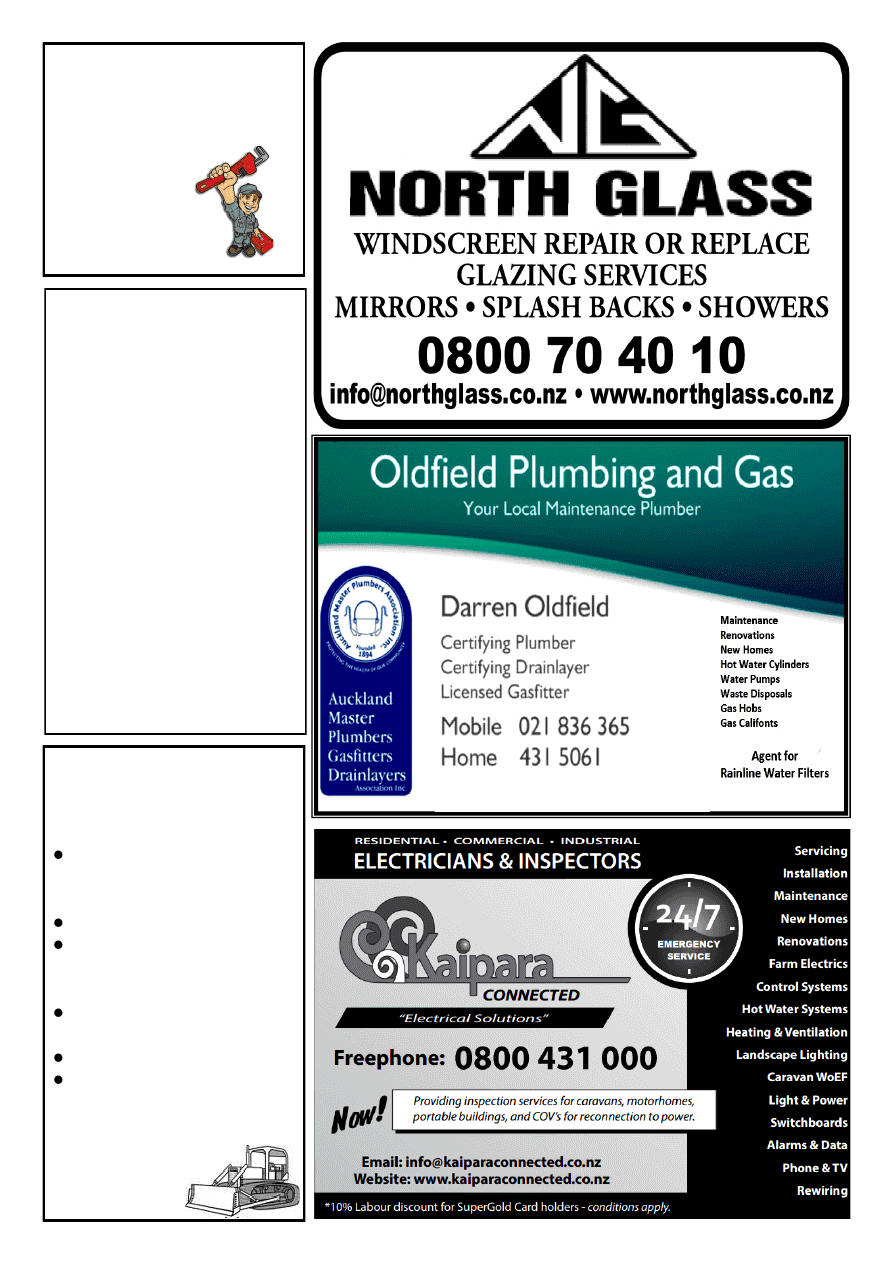 Coates  
Contracting 
D41 Bulldozer with 6 
way blade, bush rigged 
with winch 
For all tree work 
General bulldozing 
and  
  stick raking. 
120hp Tractor for 
ground cultivation,  
tip trailer work. 
Fencing
All enquiries phone  
Brett Coates  
094318720  
or  
 021431872
Ross Murphy 
PLUMBER 
Certifying Plumber 
09 431 7510 
021 424 252 
Paparoa Based 
+
New Housing  
+
Renovations  
+
Maintenance
UP-LINK 
CHRIS WARING 
FREEVIEW 
INSTALLATIONS
T.V. - HOME THEATRE & 
HI-FI ADVICE/SET UP
SKY ACCREDITED 
INSTALLER
MOB.0273403747 
HM.094312328 
EMAIL cwaring44@gmail.com
28 YRS EXPERIENCE 
OFFERING 
UNBIASED ADVICE 
oldfieldplumbing@gmail.com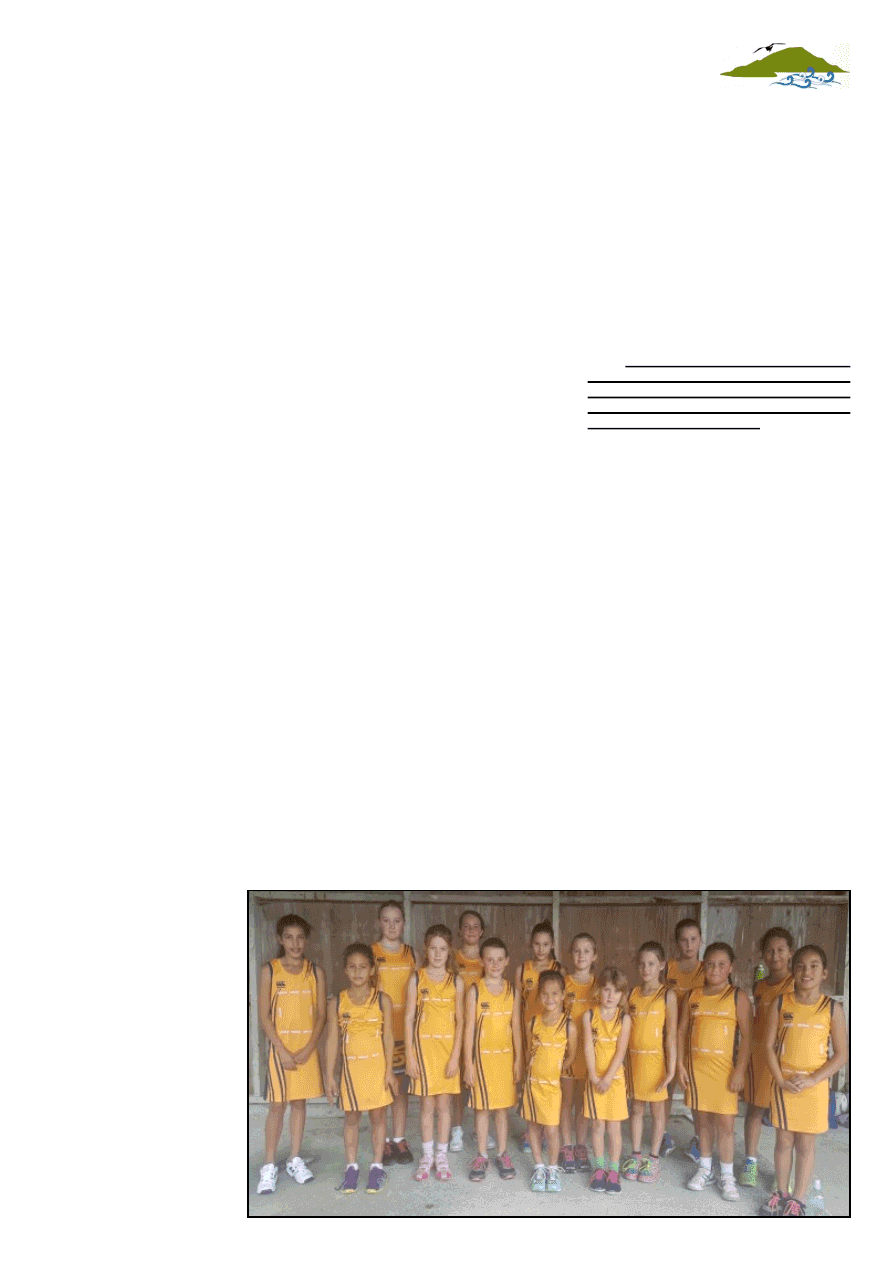 www.kaiwaka.co.nz 
Kaiwaka Bugle - 31 May 2016 
Page 17 
Flying fox maintenance 
Thank  you  to  John  Ferguson  and 
Adrian Buxton for giving up their time 
on  a  recent  Sunday  to  upgrade  all  the 
flying foxes. 
Thank you 
Thank  you  to  those  who  attended  the 
Whanau  and  PTA  meetings  last  week. 
Your  support  for  the  school  helps  all 
our  students  get  a  better  deal.  Please 
see  the  wonderful  initiative  being 
planned  in  the  letter  from  the Whanau 
group below. The PTA is also going to 
try new things ­ all good things to look 
forward to. 
Phone app 
The Parent teacher app is a really easy 
way  to  send  a  message  to  school  ­ 
about  anything.  It  is  also how  we  will 
get a message to you in an emergency. 
Please  let  us  know  when  you  down 
load it  (a  message  in  the  absentee  app 
will  work),  or  if  you  have  any 
problems downloading it. The calendar 
in it is easy to use. 
Sabbatical 
From  July  4th  2016  until  October  2nd 
2016  I  will  be  away  from  school,  as  I 
have  been  granted  a  sabbatical  by  the 
Ministry of Education. It is study leave 
and  refreshment  leave  for  a  term. 
During  this  time  Mrs  Sharlene 
Tornquist will be Acting Principal and 
Mrs Anna Jamieson the Acting Deputy 
Principal.  Room  6  will  be  taught  by 
Alex  Cowie  and  Sharlene  Tornquist. 
We  are  currently  advertising  for  a 
relieving  teacher  for  Room  6  ­  we  are 
looking  for  a  really  special  person  for 
this position. 
Board of Trustees 
Two very longstanding Board members 
finished  their  Trusteeship  this  week. 
We  thank  Melissa  Watts  and  John 
Ferguson for their dedicated service to 
our school over a long time. We really 
appreciate  all  your  hard  work,  advice 
and  leadership  over  the  years.  Both 
John  and  Melissa  have  been  BOT 
chairpersons on the Board. 
Congratulations  to  our  2  new  Board 
members,  Josie  Gritten  and  Benji 
Woodman.  We  wish  you  a 
long and happy trusteeship. 
Caretaker 
Our  caretaker,  Mr  Craig 
Prouting  is  retiring  on  June 
2nd.  We  thank  Craig  for  his 
dedicated  service  to  our 
school over the last nearly 14 
years.  We  wish  him  the  very 
best for his retirement. 
Field trip 
Our  juniors  had  a  wonderful 
trip  last  week,  learning  all 
about  a  career  in  pottery  and 
being  on  the  St  John's 
Ambulance.  Thank  you  to 
Miss  Hunter,  Mrs  Wilkinson 
and  ,  Mrs  Jamieson  for 
organising this trip. 
Illnesses 
This week we have sent home 
quite  a  few  students  who  came  to 
school  unwell.  They  had  stomach 
aches,  felt  dizzy  and  may  have  been 
been  sick  during  the  previous  night. 
Some  have  diarrhoea.  Please  do  not 
send your child to school if they are not 
well,  as  this  is  spreading  illness 
throughout the school. 
School hours 
The  school  is  open  from  8.00am. 
Please  be  aware  that  students  who 
arrive  earlier  are  totally  unsupervised, 
and  there  is  no  guarantee  that  there  is 
an adult on site. 
Whanau Committee - Kapa Tamariki 
Kapa  Tamariki  (Kids  Group)  is  a 
concept  that  has  been  formed  by  the 
Whanau  Committee  of  Kaiwaka 
School – this is a parent collective that 
was  established  to  support  the  school 
for  all  students  with  Kapa  Haka, 
Ngatumanako and cultural support. 
The  idea  of  having  an  after  school, 
parent  led,  group  to  help  with 
homework was inspired by the goal of 
raising  academic  achievement  for 
students. At the moment it is still in the 
planning stages and we are wanting to 
guage parent/student interest.  
It  would  likely  run  on  an  afternoon 
where  a  core  group  of  parents  will 
facilitate the group from 2.30­4pm and 
incorporate  a  nutritious  afternoon 
snack, homework and fun activities (in 
that  order).  This  is  available  for  all 
students  of  Kaiwaka  School  so  please 
register  your  interest  with  the  school 
office. 
Nga Mihi (Kind Regards), 
~Naomi Walker, on behalf of the 
Whanau Committee. 
Measles 
Measles is spreading around the North 
Island,  after  an  outbreak  in  the 
Waikato. 
There have been four notified cases in 
Northland and we expect to see more. 
Measles  is  VERY  infectious  ­  and  if 
you  are  not  immune,  there  is  a  high 
chance  you  will  get  sick.Measles  can 
be  a  very  serious  illness,  with  one  in 
three 
sufferers 
experiencing 
complications  such  as  ear  infections, 
pneumonia,  bronchitis  or  diarrhoea. 
About  one  in  ten  people  will  be 
admitted to hospital. 
The  best  protection  is  to  have 
measles  vaccination.  If  you  have  not 
had  confirmed  measles  illness  in  the 
past,  or  you  have  not  received  TWO
doses  of  MMR  or  measles  containing 
vaccine,  you  cannot  be  sure  to  be 
protected.  Immunisation  protects  not 
only  the  individual,  but  also  stops  the 
spread  of  this  disease  within  our 
communities. 
In  Northland,  MMR  vaccine  coverage 
has not been very high for many years, 
and  older  children,  teenagers  and 
young  adults,  as  well  as  young 
children  under  15  months  (that  is, 
not  yet  old  enough  to  receive  the 
vaccine) are most at risk. 
If you are exposed to someone who has 
measles  and  you  are  not  immune,  you 
will  be asked  to self­quarantine  for  up 
to  14  days  after  exposure.  As  this  is 
highly disruptive to families, work and 
school,  I  strongly  recommend  MMR 
vaccination for all school students who 
have not received two doses. 
Please see your GP or Practice Nurse 
- vaccination is free. 
~Dr Clair Mills, Medical Officer of 
Health, Public Health, Northland 
District Health Board 
Dental Clinic 
Due to staff shortages the Dental Clinic 
is not available for a couple of months. 
If  you  have  an  emergency  please  ring 
0800 MY TEETH (698 3384). 
Swimming Pool 
The  swimming  pool  is  now  closed  so 
please could all keys be returned to the 
school ASAP. 
We  hope  you  all  had  a  great  summer. 
The  $10  refund  will  be  available  up 
until 31st May. 
Pictured: our netball team showing off 
their  new  uniforms,  courtesy  of 
sponsorship from the KSA. 
KAIWAKA SCHOOL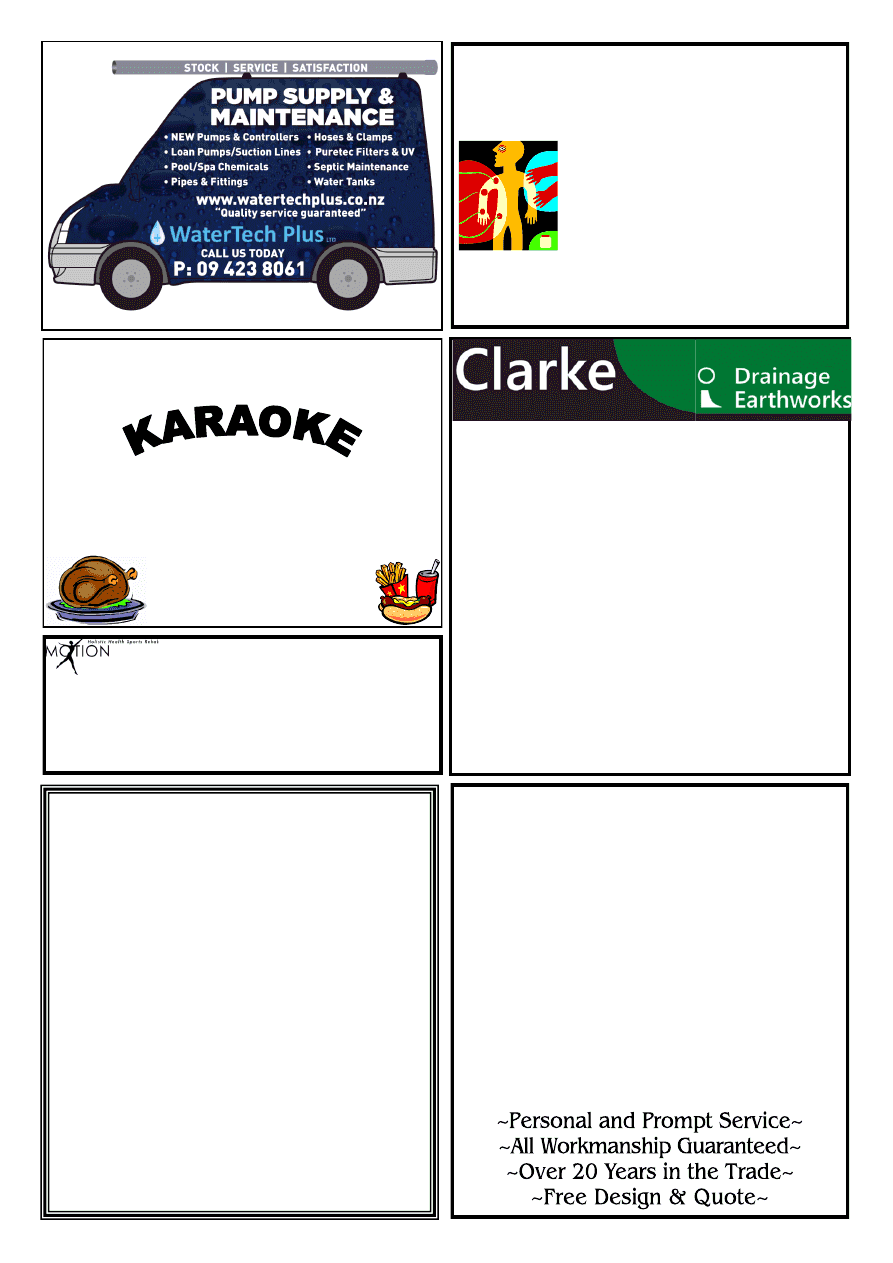 OWEN STEVENS 
Osteo Therapist
For careful adjustments to bones and joints 
Treatment for  humans and their pets 
Clinics: 
Kate's Place, Kaiwaka: 
Last Friday of month 
For bookings:9.00am-5.00pm 
Phone 
09 4312661 
Or phone Owen  09 4317123  anytime 
g.a.s. 
Mangawhai
GARDEN CENTRE 
for all your gardening needs
Also a great range of 
STOCKFOOD 
Wide range of 
ORGANICS AND 
 FRESH LOCAL PRODUCE
All your motoring needs are taken care of by 
our friendly staff check us out... 
44 Moir Street, Mangawhai (09)431 4242 
Registered Drainlayer 
All Types of Earthworks  
> All Residential & Commercial Work  > House Sites 
> Septic System Design & Install 
> Footings & Drilling to 10m 
> Sewer Connections 
> Dams 
> Water Tank Installation 
> Roading & Races 
> Farm Work 
THE ONE STOP SHOP  
Phone Nigel for an Obligation Free Quote  
Drainage & Earthmoving 
clarkedrainage@xtra.co.nz 
027 2233 185 
PLANNING A NEW KITCHEN? 
 CONTACT NOEL McDOWELL
WELLSFORD 
KITCHENS
Ph/Fax 094312888
KAIWAKA-Any time
  QUALITY CUSTOM MADE 
KITCHENS
THE HAKARU RSA 
PRESENTS 
3
RD
 FRIDAY OF THE MONTH 
7.30 pm TO 9.00 pm 
Thousands of titles to choose from 
Bring your friends and enjoy yourselves
Free entry 
[Courtesy:  Jon Bell] 
Meals as normal
WAIPU OSTEOPATH 
Maria Gabriel ACC Registered Osteopath 
Waipu Natural Health 3 Cove Rd Waipu 
Monday, Wednesday & Thursday  
Freephone 0508 924786  (0508 WAIPUOSTEO) 
www.getinmotion.co.nz     No doctor referral 
required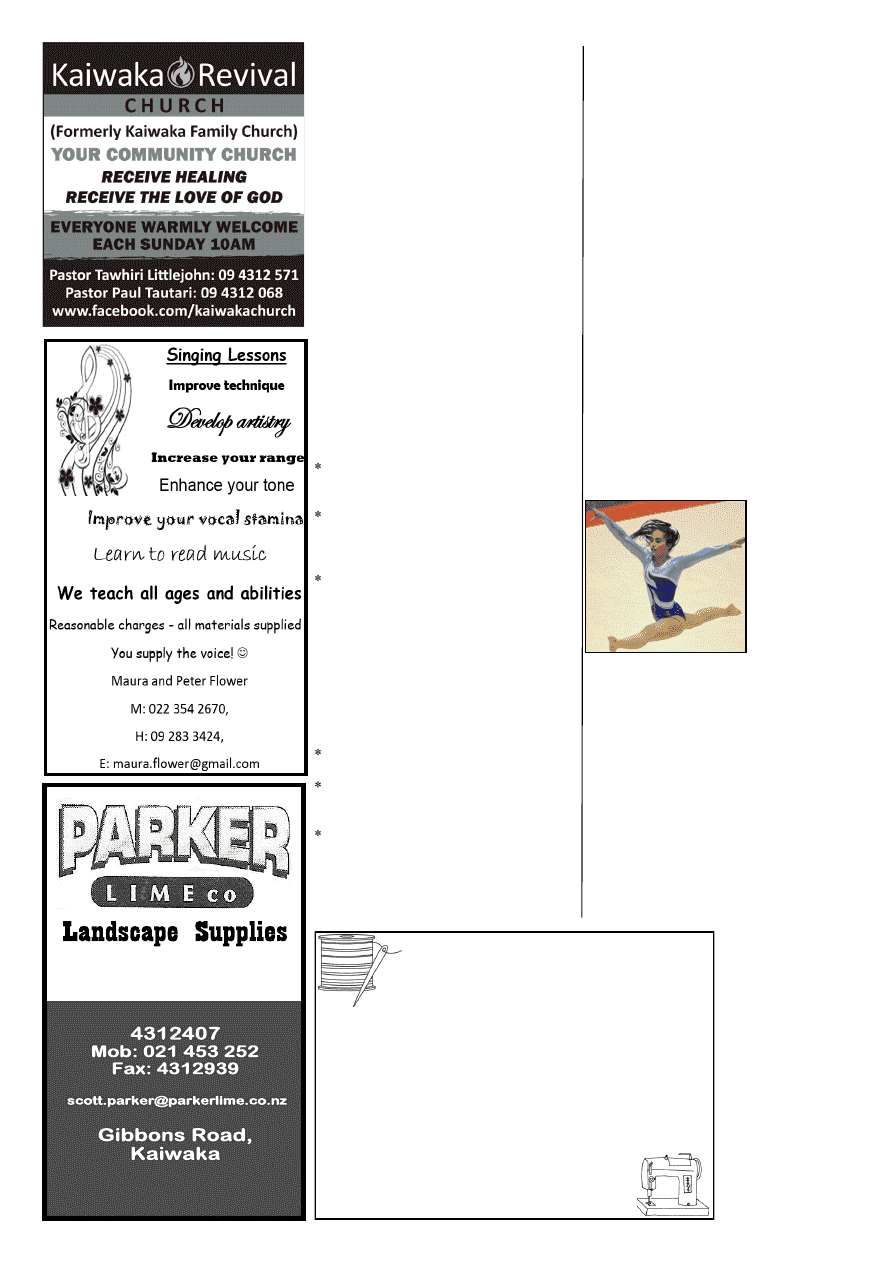 www.kaiwaka.co.nz 
Kaiwaka Bugle - 31 May 2016 
Page 19 
Bulk Cartage 
Northland's 
Talented 
Athletes 
Receive Support 
Applications  submitted  to  the  Kauri 
Club,  from  Northland  Regional  Sports 
Organisations  for  grants  for  talented 
young  Northland  sportspeople,  saw 
nine  athletes  from  six  sports  codes 
receive  funding.  Applications  are 
assessed  by  the  Northland  Sports 
Talent Development Panel  made up of 
representatives  from  the  Far  North, 
Kaipara  and  Whangarei  Districts  and 
Sport  Northland.  This  funding  mainly 
assists  athletes  to  cover  some  of  the 
many expenses incurred in travelling to 
events outside the region. 
These new grants now make a total of 
$197,500  being  allocated  to  talented 
Northland Sportspeople since the Kauri 
Club was formed in 2000 from funding 
received  from  the  family  of  the  late 
Garry  Frew  and  the  Brian  Maunsell 
Memorial Trust fund. 
Also during this judging round, the new 
athletes  for  the  Educare  Northland 
Sports  Talent 
Hub 
were 
selected.  Eight 
athletes  were 
chosen  for  the 
regional  talent 
development 
programme  to 
assist 
them 
with  reaching 
their 
high 
performance  sporting  goals  through 
providing  local  support  services  and 
education. Many of these athletes have 
been  previous  Kauri  Club  grant 
recipients  who  compete  regularly 
outside  of  the  region  to  achieve 
national honours and selection. 
Northland also had one new Pathway to 
Podium  athlete  selected  by  their 
National  Sporting  Organisation  to  be 
part  of  the  Northland  Pathway  to 
Podium  programme.  Nau  Puriri  was 
selected by Paralympics NZ in the Para
-cycling  discipline  to  help  him  excel 
towards  being  selected  for  the  World 
Champs 
in 
2018 
and 
Tokyo 
Paralympics in 2020.  
WINSOME DESIGNS 
Clothing Alterations and Repairs 
(Hems, zips, patches, darning etc.) 
Dressmaking 
Curtain making 
Contact Win: 
09 431 2027 or 027 444 8358 
winsomecutts@xtra.co.nz 
its  huge  appetite  allows  it  to  out-
compete  native  ladybirds.  It  will  also 
eat  other  ladybirds  and  beneficial 
insects  if  it  runs  out  of  aphids.  It  may 
also  feed  on  pip  fruit,  causing 
blemishes  on  the  fruit.  It  has  been 
known  to  cluster  within  bunches  of 
grapes  before  harvest,  resulting  in  the 
tainting of the juice and any wine made 
from  the  juice.  Ladybirds  also 
aggregate  during  the  winter  in  dark, 
concealed  spaces.  This  can  create  a 
nuisance for home owners. The species 
spreads  very  quickly,  making  it 
difficult to manage. It is native to Asia, 
but  has  spread  through  Europe,  North 
America  (Canada,  USA  and  Mexico), 
throughout  most  of  South  America, 
UK,  Egypt,  Kenya  and  South  Africa, 
and Russia. 
What  does  the  Harlequin  Ladybird 
look like? 
The  harlequin  is  large  by  ladybird 
standards  –  5–8  mm  long  and  4–6.5 
mm wide. 
It is well known for its very variable 
colouration  and  patterning,  which 
makes  it  difficult  to  distinguish  from 
other ladybird species. 
It  looks  similar  to  the  common 
spotted 
ladybird 
(Harmonia 
conformis).  The  harlequin  ladybird 
usually has M-shaped makings on the 
pronotum (the area between the head 
and abdomen), although this pattern is 
not present with darker specimens. In 
contrast, the pronotum of the common 
spotted ladybird features a W-shaped 
black mark or two separate U-shaped 
patches. 
The  harlequin  also  has  small  bumps 
on the rear of its back. 
Harlequin  larvae  and  pupae  have  a 
spikier skin than the common spotted 
ladybird. 
See the image on page 1. 
What  should  I  do  if  I  think  I  have 
found Harlequin Ladybirds? 
Please  collect  a  specimen.  Photograph 
it. Contact MPI's free 24-hour pest and 
disease hotline 0800 80 99 66.  
(Continued from page 1) 
HARLEQUIN  
LADYBIRD 
cont.
SPORT 
NORTHLAND 
Sport  Northland  is 
Northland's 
Regional 
Sports 
Trust  –  a  charitable 
trust  with  a  core 
purpose 
of 
'enriching 
lives 
through sport' and a 
vision 
of 
'All 
Northlanders 
leading  better  lives 
through  involvement 
in sport'. For further 
information  please 
contact: 
Anna 
Markwick, Senior  
Recreation Manager  
annam 
@sportnorth.co.nz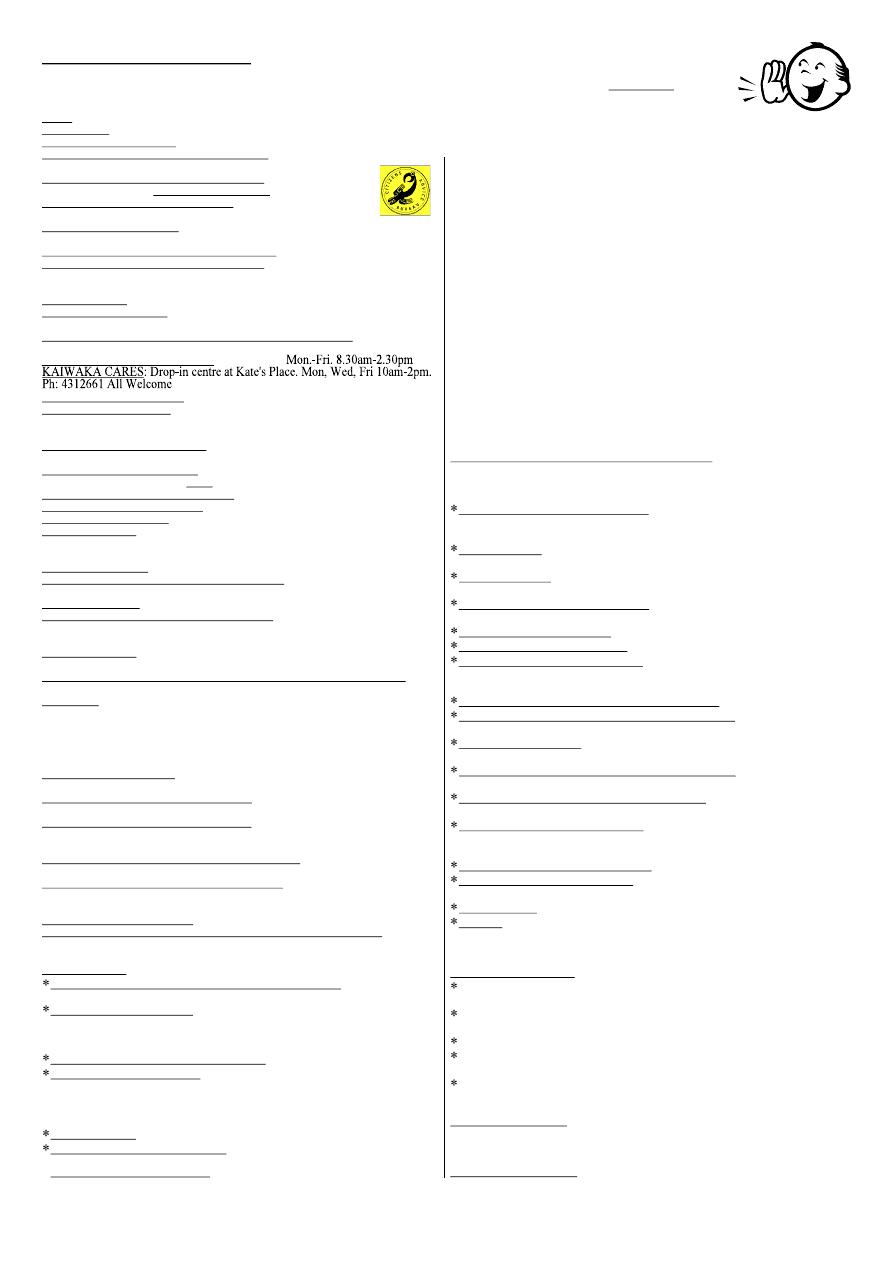 Next Bugle Deadline midday Friday 10 June 2016
LOCAL SERVICES 
*Emergencies - Ambulance, Fire, Police - dial 111 
*Non-urgent Police phone 09 4311150
A A: Meets Wed., 8pm Kaiwaka Ph: 4312228, 4315543, 0800229 6757 
AL ANON: In recess, contact Ph: 4312228 
ASUREQUALITY LTD  (was AgriQuality) Call Free 0508 0011 22  
BUDGETING SERVICE, WELLSFORD:  Free confidential advice & 
support for all areas of personal finance. Ph (09) 423 7123 
CAB-Citizens Advice Bureau.Wellsford Ph: 4237333 
0800 367 222 email:cab.wells@xtra.co.nz  
DOG/STOCK /NOISE CONTROL 0800 105 890 
FUNERAL SERVICES: Morris & Morris Ltd, 
Whangarei - Bev Jaques Ph:4312367 or 0800667747 
GRANDPARENTS Raising Grandchildren: Dianah Roberts 0223819539 
HAKARU LANDFILL/Transfer Station:Open everyday except 
Tuesday10am-4pm.Ph4312629 Cost-$55 trailer load up to 1 cubic metre. 
Ph:4258567 - office 
HOMEOPATH: Donna Flavell Ph: 4314843 
INLAND REVENUE: Last Friday each month, 11-3pm Ph4312661 
KAIPARA DISTRICT COUNCIL www.kaipara.govt.nz:  
Help Desk FREEPHONE 0800 727 059  
KAIWAKA KOHANGA REO: Ph:4312620 
KAIWAKA CEMETERY: Ph: 4312045 
KAIWAKA LIBRARY: kaiwaka.library@gmail.com  
Mon. 4-6pm; Wed., Thurs., Fri., Sat.  10am-2pm Ph:4312539 
KAIWAKA PLAYCENTRE: Ph: 4312286. Hastie Lane 
Monday to  Friday  9.00am - 12 noon. 
KAIWAKA POST OFFICE:Ph:4312 431  
Post Code: 0573  for RD2  and  0542 for all Kaiwaka Post Office mail 
KAIWAKA PRIMARY SCHOOL: Ph: 4312309     
KAIWAKA SPORTS ASSN: Ph 4312005; 4312129 gym 
KAIWAKA ST JOHN: Manager Steve Rosser 09 4318403, 021 2316836 
KATE'S PLACE with Govt.Day Agencies/Community Information /
Osteopathy/ IRD / Probation, etc Ph: 4312661 Hours: 9am-3pm. Mon - Fri 
LINKING HANDS Health Shuttle Ph 4314121 or 09 4318969 
MINISTRY FOR PRIMARY INDUSTRIES - General inquiries Call 
Free 0800 008 333 
NORTHPOWER: Faults Kaiwaka area 0800 104040 
OTAMATEA COMMUNITY SERVICES: Counselling, parent coach, 
Family Support worker, budget advice, food bank. Mon-Fri 9am-30m. Ph 
09 431 9080 http://www.otamateacs.org/ 
PARENTPORT: Free, practical family support service Puhoi to Paparoa 
Ph or txt:  Dianne 027 2085093 
PERSONAL DEVELOPMENT COACHING, GROUP FACILITATION:  
Sabine Druckler 4312231 
PLUNKET: Kaiwaka - Kaiwaka War Memorial Hall: Clinic 1st Wednesday of the 
month; Coffee Group at 9:30. Mangawhai  - Rose Madsen Cottage, Mangawhai 
Domain,  Moir  St:  Clinic  1st  and  3rd  Monday  of  month;  Young  Babies  Coffee 
Group  2nd  and  4th  Monday  10  am;  Plunket  Playgroup  every  Thursday. 
Maungaturoto - Maungaturoto Congregational Church, 100 Hurndall Street East: 
Plunket clinic 2nd and 4th Wednesday. Cynthia 09 431 8187 or 027 675 3488 
PLUNKET HELPLINE -0800 933 922 (24 hours) 
RETURNED AND SERVICES ASSN 733 Settlement Rd. Hakaru 
Ph.4312176 Bill Kerr (President) Ph.4314719 
TAITOKERAU COMMUNITY LAW: Free confidential legal advice and 
assistance, 2nd
Thursday
 of each month. Ph: 0800 155 529 for 
appointments.  
TE KOROWAI AROHA O NGATIWHATUA Ph: 4312675 
(The Cloak of Love of Ngatiwhatua) Support and Maori Consultancy.  
VETERINARY SERVICE MANGAWHAI: 
Ph: 4314535 Mon-Fri 8.00-5.00, Sat 9-12, a/h appt. 
WELLSFORD DOCTORS: Ph: 4238 086 
WOMEN'S WELFARE LEAGUE & Reaching Out For Youth:  
4 Kaiwaka-Mangawhai Rd, M Morgan 4312293 
CHURCHES:
Kaiwaka Revival Church - Your Community Church: Sundays 10am 
Ph: Pastor Tawhiri 09 4312 571 or Pastor Paul 09 4312 068 
St Paul's Anglican Church 1st Sun. 9.30 am (Eucharist), 3rd Sun. 9.30 
am (Family Service). Contacts:  Church Office 09 431 4122; M. 
Hargreaves 431 2295; C. Bygrave 431 2057; or Rev. Wayne Thornton 
Ph 431 5650 www.mangawhaianglican.org.nz 
Church of Christ the King, Mangawhai:9.30am every Sunday 
St.Mary's Catholic Church: Maungaturoto – Griffins Road, Saturday 
evening Vigil Mass 6pm; Mangawhai – Senior Citizens Hall, Sunday 
Mass 8:30am; Wellsford – Matheson Road, Sunday Mass 10:30am; 
Mid-week Mass times and all enquires to Fr. Bill Fletcher – phone 423 
8170 
Baptist Church: Sun. 10.30am Mangawhai Snr Cit.Hall.Ph:4312339 
Cause Way Church Mangawhai: Sundays 10.15am, Mangawhai 
Community Recreation Centre, Insley St. Ph: 09 4314782  
WHAT'S ON
PLEASE ~ do let us know what is on - email 
kaiwakabugle@kaiwaka.co.nz 
Advertising in WHAT'S ON is FREE  
*3Jun~Fill A Bag, 2:30pm Kaiwaka School 
*3Jun~JMB Rugby Rally Day, 6pm KSA 
*3Jun~Brooklyn, 7:30pm KWMH 
*4Jun~Fill A Bag, 9am Kaiwaka School 
*10Jun~OCS Auction, 7pm St John Hall Maungaturoto 
*12Jun~Over 80s afternoon tea, 2pm Kakaru RSA 
*17Jun~Room, 7:30pm KWMH 
*17Jun~Karaoke, Hakaru RSA 7:30pm 
*21Jun~Pt Curtis Cruising Club AGM 7pm 3 Furlongs 
*26Jun~Zootopia, 2pm KWMH 
*2Jul~Kids' Disco, 7pm KSA 
*2Jul~The Mikado season starts, Otamatea Repertory Theatre 
*15Jul~Nominations open for local body elections 
*15Jul~Karaoke, Hakaru RSA 7:30pm 
*2Aug~KDC Candidate Seminar, 12:30pm KSA 
*12Aug~Nominations close for local body elections 
*12-14Aug~Boar Hunt, Pt Curtis Cruising Club 
*19Aug~Karaoke, Hakaru RSA 7:30pm 
*16Sep~Voting opens for local body elections 
KWMH=Kaiwaka War Memorial Hall 
KSA=Kaiwaka Sports Association Complex 
See www.kaiwaka.co.nz for upcoming events. 
HOUSEHOLD RUBBISH COLLECTION - Kaiwaka Pick up: 
Mondays = Gr een bags (Northland Waste - 09 430 3273) 
Wednesdays = Blue bags and yellow r ecycling (at J aques $3.00 
and $1.50) (Kaurilands 09 4392146) 
 DIABETES  Support  Group  -for  Kaiwaka,  Mangawhai, 
Wellsford  10am,  3rd  Friday  of  month  Ph:A.Pert  4238242; 
J.Gardner 4238060 
 DRINK CAN 'tear tabs' - for Starship Hospital- please collect - 
98 Kaiwaka Mangawhai Rd, leave in mailbox, Ph. 4312625  
 GENEALOGY - Wellsford: 1st Thursday in month Ph: 423 
7033; Waipu: 4th Monday in month Ph: 4312 725 
 GYMNASTICS  OTAMATEA  -  Tuesday  Ph:  Stephanie  022 
3624998 
 HAKARU PONY CLUB - Secretary Julie Rynne 09 4314520 
 KAIWAKA BADMINTON -Tuesdays 7.30pm Ph: 4312345 
 KAIWAKA  DRAMA  CLUB  -  Dave  Edwards  021  611198  - 
KaiwakaDrama@gmail.com Monday 5:30-7:00pm KWMH - FB 
- "KaiwakaDramaClub" 
 KAIWAKA DRUM & DANCE CLASSES - 021 611198 
 KAIWAKA GARDEN & FLORAL GROUP - 2nd Thursday in 
month. Ph: 431 4767 
 KAIWAKA  CUBS  -  Thursdays  5.30-7pm,  Hakaru  Ph:Bruce  
4312542 
 KNITTING FOR WHANGAREI HOSPITAL - 2nd Tuesday in 
month, Apple Basket 10am Ph 4314827 
 MANGAWHAI COMBINED PROBUS CLUB - 2pm, 3rd 
Thursday month, Senior Citizens Hall Mangawhai. Ph: 4315777 
 OTAMATEA GREY POWER - Kath Pattinson 09 431 8960, 
1pm last Wednesday of month, Anglican Church Hall, 
Maungaturoto 
 PT CURTIS CRUISING CLUB - Jean Ph: 4312227 (wk), 4312520 (hm) 
 RSA,Hakaru & Dist.Women - meet 1.30pm 4th Thurs in month 
Ph: 4314 668  
 TRAMPING - Mondays 9am-2:30pm  Karen Ph: 4312 090 
 YOGA  -  Tuesdays  6:15pm,  Friday  8:30am  KWMH  Carla  Ph: 
021  296  8794;  Wednesday  5:30-7:00pm  Archie  Bull  Hall 
Dalleise Ph 4312 108 
HALLS FOR HIRE: 
 St.Pauls Archie Bull Hall HIRE  $20 half day, $40 full day per 
hire, R. Morgans, Ph 4312365 
 Kaiwaka  War  Memorial  Hall  HlRE  -  Phone  4312725  or 
kaiwaka.hall.bookings@gmail.com 
 Hakaru Community Hall HIRE -Ph. 4312256 or 4312110 
 Te Pounga Marae queries - R. O'Leary 4312 423, J.Nathan 021 
186 7382 
 Kaiwaka Sports Association hire/queries - C. Anderson 4312051 
or kaiwakasports@gmail.com 
Justice  of  Peace:  B.FJaques;  L.Donaldson;  A.F.Hargreaves, 
S.Dalziell,  W.Howard  -  please  phone  to  make  sure  they  are 
available www.justiceofthepeace.org.nz 
Marriage Celebrants: L.Donaldson; A.F.Hargreaves; C.Rosseels