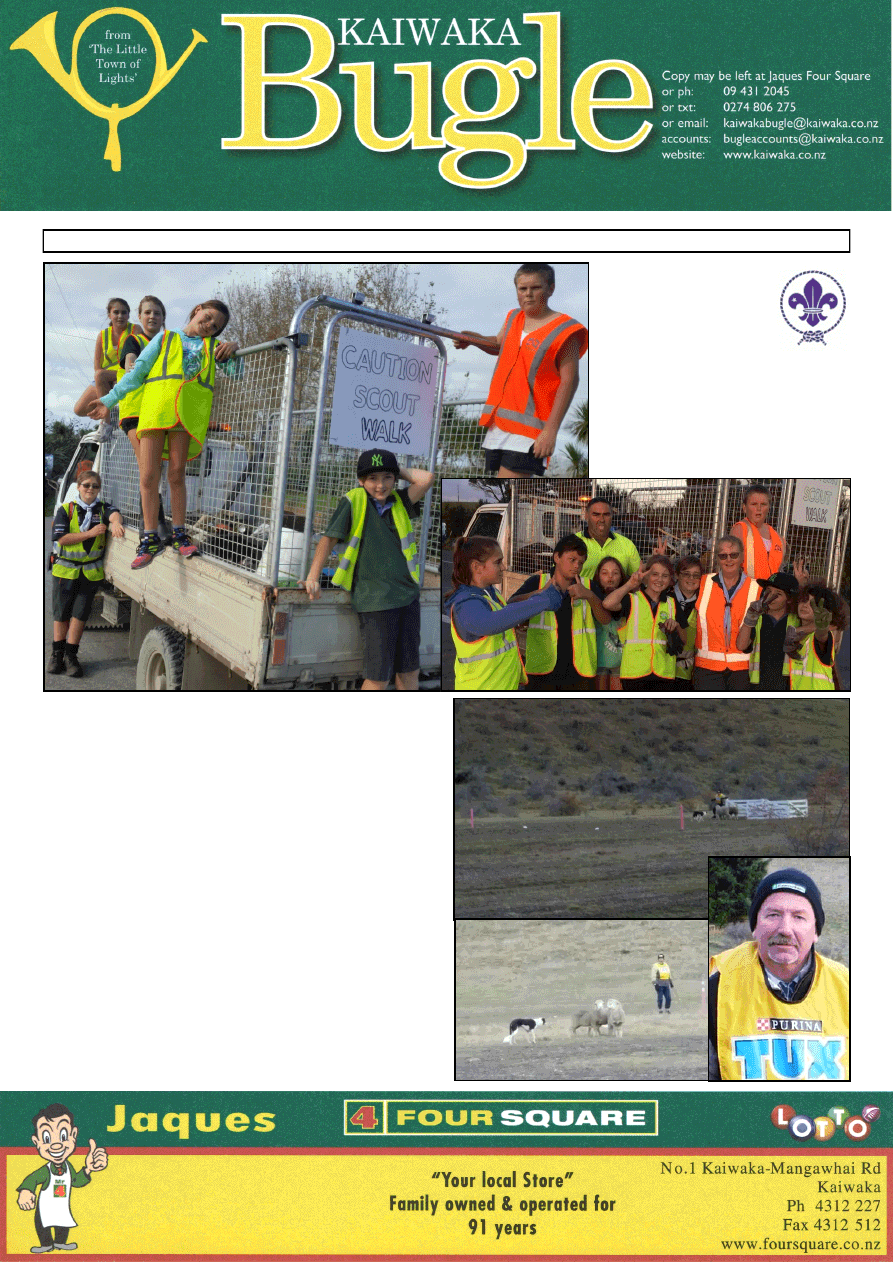 www.kaiwaka.co.nz 
Kaiwaka Bugle - 14 June 2016 
Page 1 
 No: 11
14 June 2016 
Winter Trading Hours: 
Mon - Fri: 8am to 6pm 
Sat: 8am to 7pm (Lotto) 
Sun & Public Holidays: 9am to 5pm 
Omarama,  with  a  background  of  snow  covered  mountains,  
was the scene for the South Island New Zealand Sheep Dog 
Trial Championships where we were proud to see our local 
(Molesworth) dog trial president, Scott McRae, and his dog 
Skeata  continue  their  success.  This  time  on  the  the  cold 
grounds  with  matagouri  and  briar,  Skeata  bounded  up  the 
steep  hill  and  brought  his  three  sheep  down  to  Scott  and 
drove them with great skill to the pen. 
They made the 'Board' – the top seven dogs for the day on 
Tuesday  –  and  stayed  there  to  be  4
th
  in  the  South  Island 
competition  till  the  Saturday.  On  the  Saturday  of  Queens 
Birthday  weekend  with  the  other  six  top  shorthead  dogs 
they ran off for the the NZ title – Scott and Skeata had an 
excellent run to be 3
rd
 in the final. 
The  shorthead  competition  was  won  by  Ginger  Anderson, 
owner  of  Ben  Omar  Station  which  is  just  next  to  the 
Omarama town and the trial grounds. 
Photos right: Scott & Skeata on the course, 
(top)
 at the start 
of the drive, and 
(bottom)
 penning below the matagouri. 
SCOUTS 
Well done to our Kaiwaka
-Mangawhai  Scouts  for 
their  clean-up  of  the 
roadside between Kaiwaka 
and Mangawhai this past weekend. 
Pictured  left:  posing  for  the  camera 
during  a  pit  stop  along  the  way, 
below:  celebrating  at  the  end  of  the 
first day. 
SUCCESS for  
SCOTT and SKEATA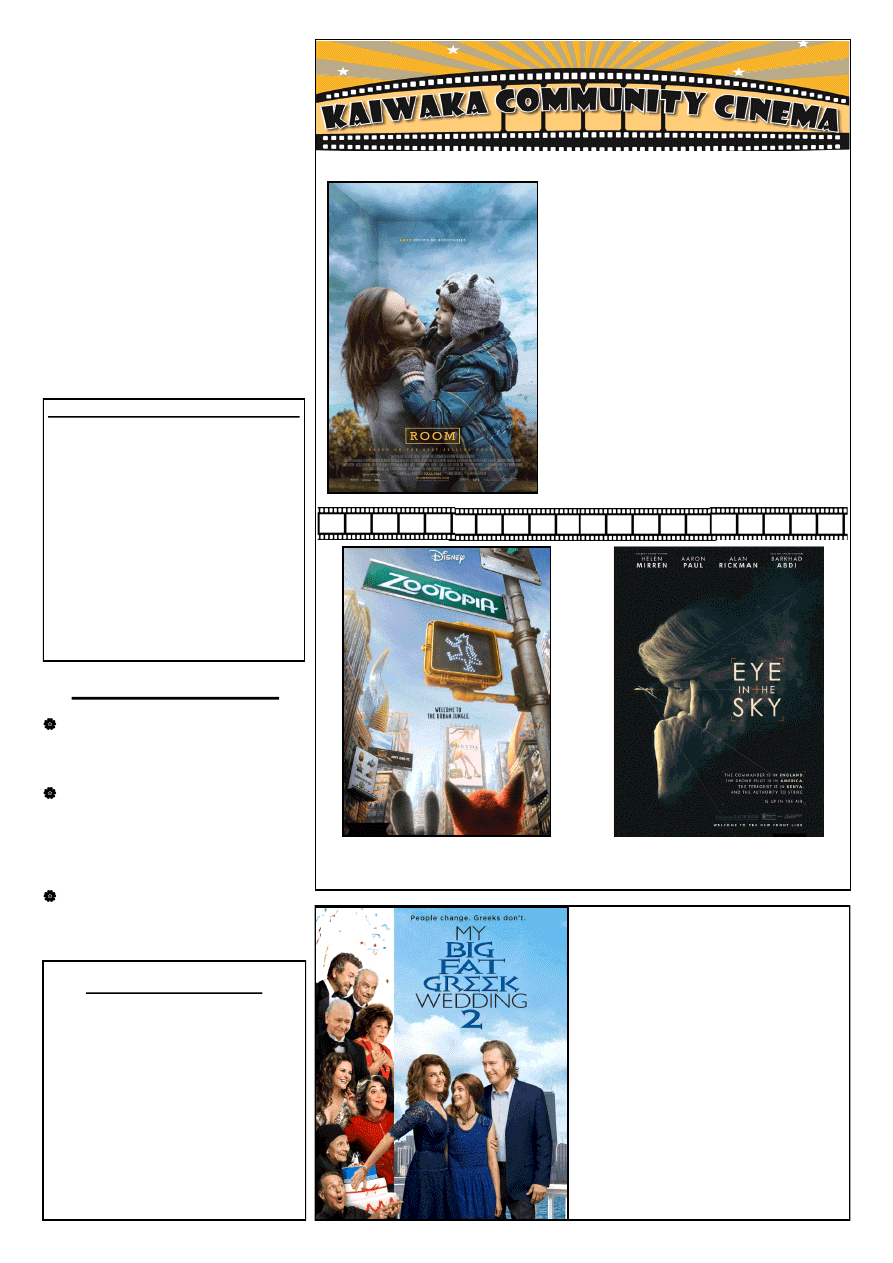 Greek Movie + Dinner Night Out 
1 July 
$35.00 
Tickets only, no door sales 
6:30pm dinner start 
09 4312 234 or 09 4312 225 
Limited tickets available 
MAIN 
Moussaka (Greek-style lasagne) 
Spanakopita (ricotta and spinach pie) 
SIDE DISHES 
Green beans and almonds with tzatziki 
Orzo and roast pepper salad 
Greek salad 
DESSERT 
Apple and walnut baklava with lemon-infused 
mascarpone 
ABOUT TOWN 
Condolences  to  the  Stewart  and 
Wearmouth  families  on  the  tragic 
loss of  their loved ones recently. 
Rumour  has  it  that  the  Wellsford 
branch of the BNZ is closing from 1 
July.  Three  staff  members  will  be 
moved  to  the  Warkworth  branch, 
according to stuff.co.nz. 
Very  disappointing  to  hear  that 
Jaques  Four  Square  has  been 
burgled recently. 
KAIWAKA BUGLE No. 11 
14 JUNE 2016 
CONTENTS 
Page 3: Public Notices, Classified 
Page 5: Weather, St John, Pt Curtis 
Page 7: Kaiwaka School 
Page 9: Kaiwaka Sports Association 
Page 11: Kaiwaka Can, Sir Graham 
Latimer 
Page 13: Kaiwaka Library 
Page 15: Kaiwaka Quarries 
Bugle 12 will appear 28 June 
Contact for advertising, reports, articles 
or information can be made by 
Email kaiwakabugle@kaiwaka.co.nz 
Ph: 09 4312 045 (Lindsey) 
Txt: 0274 806 275 (Wendy) 
Copy  may  be  left  at  Jaques'  Four 
Square.
At Kaiwaka War Memorial Hall . Adults $10, Kids (under 16) $5, Family Pass (2 adults + 3 children) $25 
Kaiwaka Bugle 
Founded May 1978 
We appreciate articles and photos about local 
events, etc, plus ads and suggestions. 
Copies available in Kaiwaka at Jaques Four 
Square, Kaiwaka Postal Centre, Shamrock 
Service Station, Animal Health Centre, 
Kaiwaka St Johns shop.  
Also outlets in Maungaturoto,  
Mangawhai and Paparoa. 
Can be viewed online at Facebook or 
www.kaiwaka.co.nz/Bugle  
Or a copy can be posted to you if you supply 
stamped, self-addressed DLE envelopes. 
Room 
Friday 17 June 7:30pm (M) 
Jack  is  a  spirited  5-year-old,  looked 
after  by  his  loving  mother.  Their  life 
is  anything  but  typical  -  they  are 
confined  to  a  10x10-foot  space  that 
Ma has euphemistically named Room. 
Ma  has  created  a  whole  universe  for 
Jack  within  Room,  and  she  will  stop 
at  nothing  to  ensure  that  Jack  is  able 
to  live  a  complete  and  fulfilling  life. 
But  as  Jack's  curiosity  about  their 
situation  grows,  and  Ma's  resilience 
reaches  its  breaking  point,  they  enact 
a risky plan to escape.
Kaiwaka Bugle Advertisements 2016: 
All 
copy 
and 
queries 
to: 
kaiwakabugle@kaiwaka.co.nz 
Our A4 page is divided into 6 columns & 
8 rows (48 blocks), with a 1cm margin. 
Ad sizes: 1/16 page  (3 blocks)  $5;  1/8 (6 
blocks) $8; 3/16 (9 blocks) $12. 
Classified  ads:  $4  per  entry  (max.  30 
words, max. 4 repeats). 
Payments can be made online, posted or 
left at Jaques Four Square Store. 
Accounts: 
bugleaccounts@kaiwaka.co.nz 
The  Kaiwaka  Bugle  is  a  community 
newspaper run by volunteers.  
Articles, etc. printed are not necessarily 
the opinion of the Bugle Team. 
Zootopia 
Sunday 26 June 2:00pm (PG) 
Eye In The Sky 
Friday 15 July 7:30pm (M)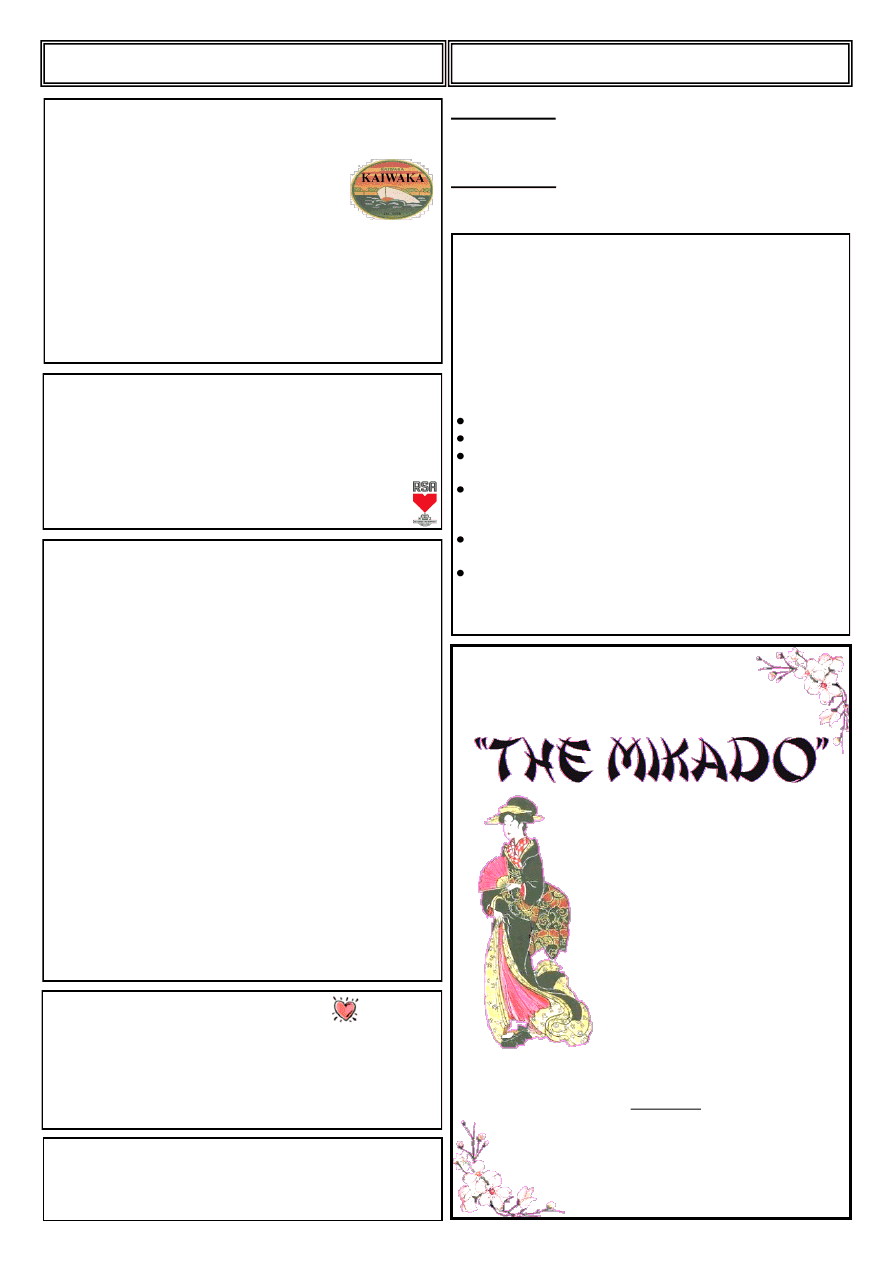 www.kaiwaka.co.nz 
Kaiwaka Bugle - 14 June 2016 
Page 3 
PUBLIC NOTICES 
CLASSIFIED 
Proverbs 
25:11
 - Timely advice is as lovely 
as gold apples in a silver basket.  
HAKARU & DISTRICTS RSA Inc 
Each Friday night from 6.30pm meals will be served. 
Members & invited guests, new members welcome. 
Come along & enjoy our hospitality. 
2nd Friday of the month - roast dinner or board menu. 
Last Friday of month - roast pork night &  
sing-along with Des Chitty.  
Ph Heather 4314668 or Jan 4314512 
Point Curtis Cruising Club Inc 
Annual General Meeting
Tuesday 21st June 2016, 7pm  
at 3 Furlongs Bar & Grill
Agenda: 
Election of Officers and General Committee Members 
Treasurers Statement 
Commodore's Report 
Set Subscriptions for next year 
Changing of wording of club constitution 
Any other general business 
All welcome 
FOR  RENT:  near  Kaiwaka,  sunny,  warm,  large 
open-plan cottage. $225 per week incl power, water & 
gas. Prefer single, working. Ph 09 945 0593 or 021 253 
7661 
FOR  SALE:  Plants  -  Dahlia  tubers,  ornamental 
grasses, ornamental flax, canna lillies, iris, etc. All $1, 
$2, or $3 each. Ph 021 188 3945 
ALCOHOLICS ANONYMOUS 
Open Meeting 
Saturday 16 July 
7:00 - 8:30pm 
Wellsford Community Centre 
Matheson Road 
No cost 
All welcome 
Contact Doug on 09 431 2228 
for more info 
The meeting's purpose is to raise awareness of the 
disease of alcoholism in our community. If you are 
concerned about a family member or friend, or feel 
your own drinking is getting out of hand, you 
are very welcome to attend.  
Speakers from AA, Al Anon, and a professional in 
the field of alcoholism, will share their experiences, 
strength and hope and how the 12 step programme of 
AA has given them a new freedom and worth.  
You are welcome to stay for a light supper and a chat 
afterwards  
Anonymity is Assured. 
Energy Balancing @ Kate's Place, Kaiwaka. 
1st Friday of each month 
9am-12pm. Koha. 
Txt 0273135440 
for an appointment 
Healing from the
Otamatea Repertory Theatre Inc presents...
Gilbert and Sullivan's 
Directed by Peter Flower 
Adults $28 | School Students $16 
Tickets online or 
Tony's Lotto Shop, Maungaturoto 
Special Prices and meal options 
More information on our website 
www.ort.org.nz 
Show Dates 
Sat 2nd, Fri 8th, Fri 15th July @ 7:30pm 
Sun 3rd, Sat 9th, Sun 10th, Sat 16th, Sun 17th July @ 2pm 
At the theatre, Bickerstaffe Rd, Maungaturoto 
Kaipara District Council  
Local Elections 2016 
Triennial  elections  for  elected  members  of  all  local 
authorities  throughout  New  Zealand  are  to  be 
conducted  by  postal  vote  on  Saturday  08  October 
2016. 
Nominations  will open on Friday 15 July 2016 and 
close at noon on Friday 12 August 2016. 
Nomination  forms  will  be  available  during  this 
period from Council offices at: 
42 Hokianga Road, Dargaville 
Unit 6, The Hub, 6 Molesworth Drive, Mangawhai 
By accessing www.kaipara.govt.nz (when these are 
available) 
By telephoning the electoral office on 0800 922 822 
To be eligible to stand for election, a candidate must 
be: 
enrolled  as  a  Parliamentary  elector  (anywhere  in 
New Zealand); and 
a New Zealand citizen 
Detailed  candidate  information  handbooks  will  be 
available  from  the  electoral  office  (telephone  0800 
922 822) from May 2016.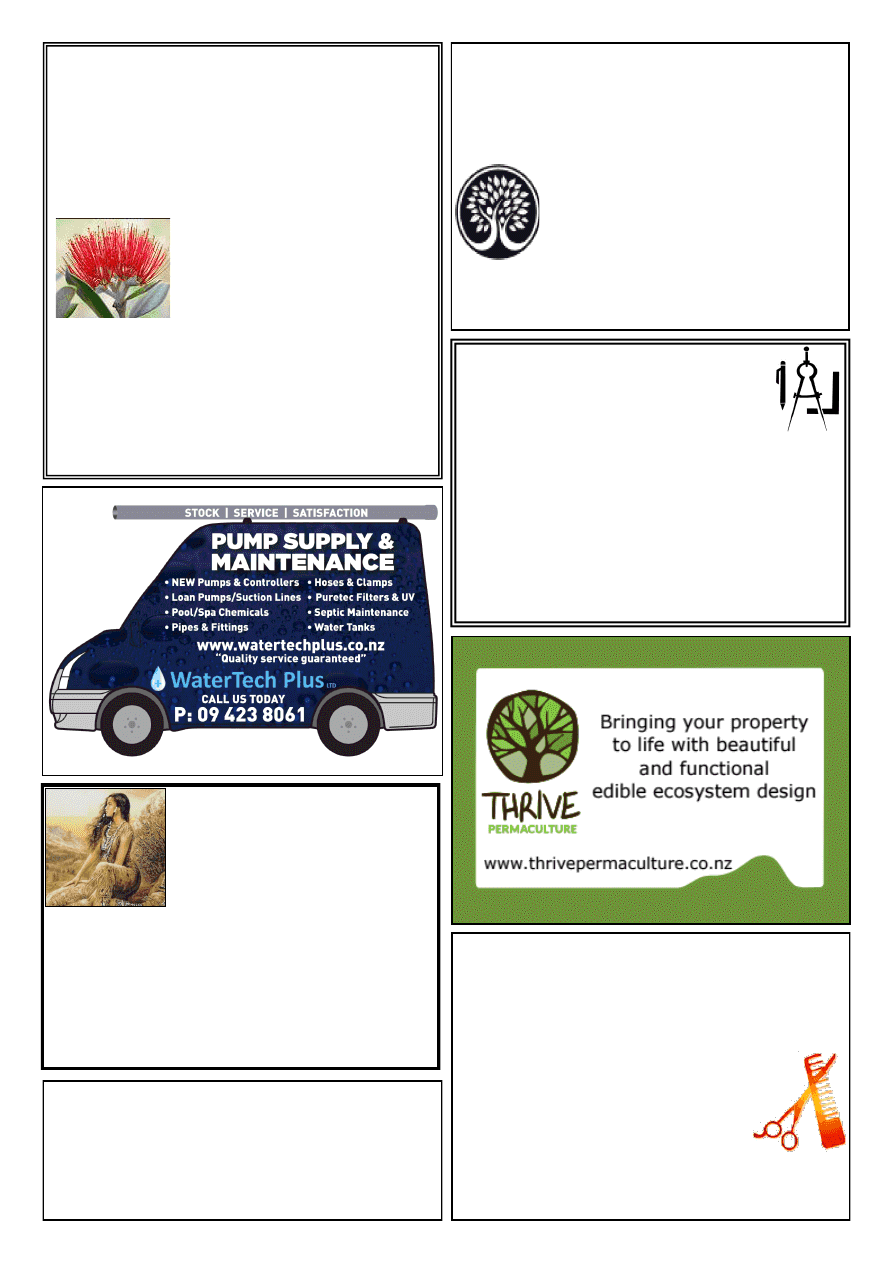 White Horse Farm 
Farm Stay/Bed and Breakfast 
Ph +64 9 390 1260    113 Tawa Ave, Kaiwaka 
bookings@whitehorsefarm-kaiwaka.co.nz 
www.whitehorsefarm-kaiwaka.co.nz 
AFFORDABLE PRICES! 
MENS DRY CUT FROM $18.00 
LADIES DRY CUT FROM $28.00 
KIDS DRY CUT FROM $15.00 
COLOUR CUT FROM $90.00 
JUST CUTS'AND   
MORE 
021 165 2629 
NOW SELLING: scented tealights, incense, smudge sticks, 
copper bracelets, aurora ball crystals, dream catchers, healing 
stones, rose quartz, cds, and much more. Open 6 days. 
Trails end 
spiritualist gathering  
Last Sunday of every month  
11.30-2pm tea/coffee provided  
$5koha for all inquiries  
0211652629 evenings 099450753 
Trail.end@hotmail.com 
Bringing together light minded people 
Guest speaker each month and 
Workshops every 2nd Wednesday  
6:30-7:30pm
KAIPARA FLOORING CO 
Independently owned & operated 
32 HURNDALL ST MAUNGATUROTO 
Supply & Installation of Carpet, Vinyl,  
Vinyl Wood Planking
Stockists of 2m & 3m wide 
vinyl & carpet short ends
Residential & Commercial 
First Class Installations 
For a free measure & quote 
phone Christine  
09 946 9886 or 021 515 415 
kaiparaflooring@gmail.com 
http://www.kaiparaflooring.co.nz/ 
design drafting 
service 
Retired builder and manufacturer with over 40 years  
experience in the building industry is offering a design 
drafting service for domestic housing, sleepouts and 
sheds.  
Plans formulated in consultation with clients, with 
working drawings completed and submitted to  
council for processing. Extensive practical experience,  
able to identify & resolve problems. 
Please ring Mike Lean on 
09 431 2260  
          or 
021 431 196 
Waipu Natural Health 
3 Cove Road, Waipu  (opposite the Pizza Barn) 
Ph: 09 432 1325 
www.waipunaturalhealth.co.nz 
Clinical Nutritionist (Masked Allergy Testing), 
Registered Osteopath, Registered Massage 
Therapists, Reflexology, Beauty Therapy, 
Craniosacral Therapy, Hypnotherapy, 
Counselling, Change Catalyst, ThetaHealer, 
Naturopathic Prolotherapy & Scenar (joint & 
muscular therapy), and much more... 
GIFT VOUCHERS AVAILABLE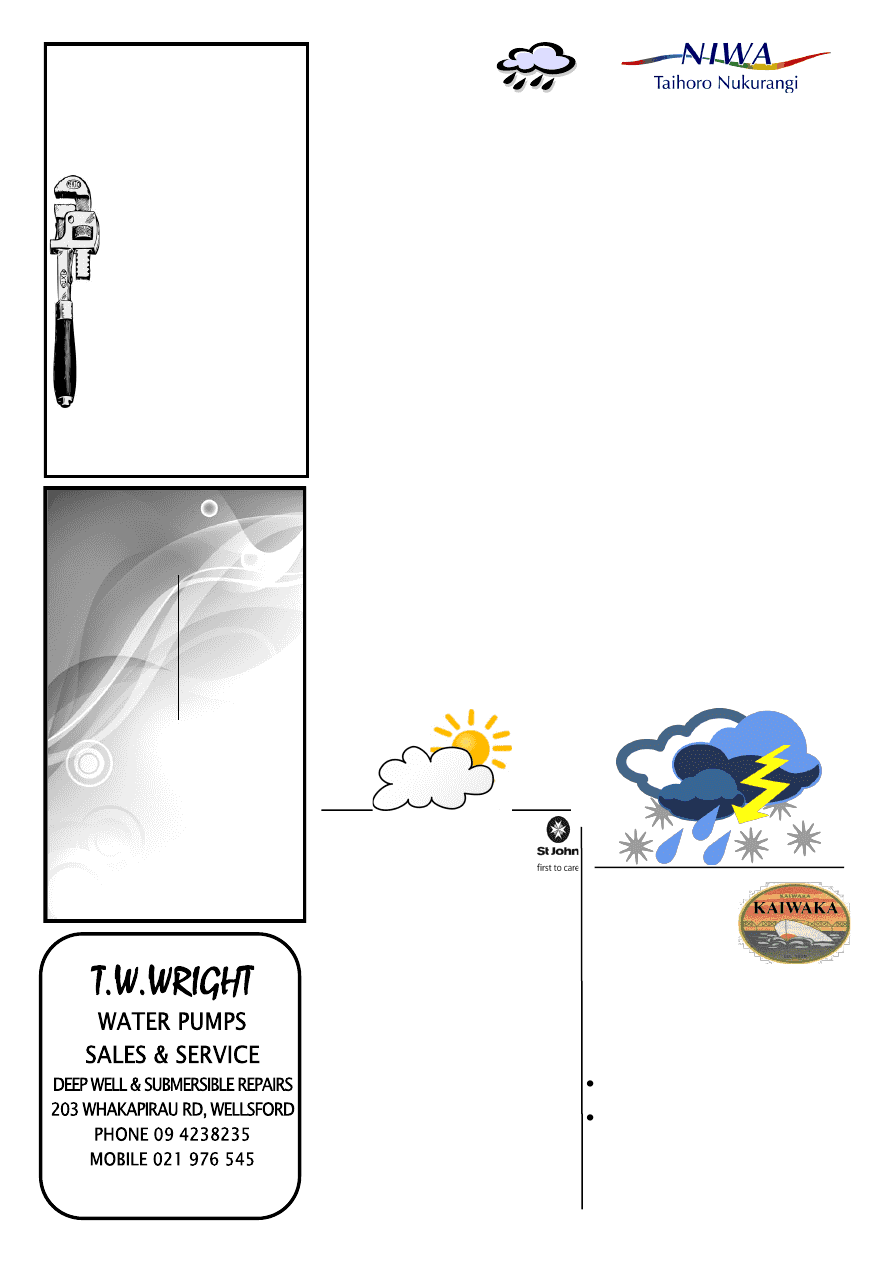 www.kaiwaka.co.nz 
Kaiwaka Bugle - 14 June 2016 
Page 5 
KAIWAKA 
WEATHER 
BARRY CURTIS 
PLUMBING LTD 
REGISTERED CRAFTSMAN 
PLUMBER 
Phone 431 5572 
027 257 9884 
25 years' experience 
Friendly reliable service 
All plumbing  
& maintenance 
Alterations and new   
housing 
  Spouting 
 
 
Competitive rates 
PROMPT EFFICIENT SERVICE
U Beauty 
Please call Nicole for bookings 
09 393 6336 or 022 0639450 
Qualified Beautician 
4 Kaiwaka – Mangawhai Rd 
Kaiwaka 
Underarm Wax  
$20 
Extended Bikini Wax 
$30 
15 min Back Massage 
$25 
Eyebrow Wax  $10 
Eyebrow Tint  $10 
Eyelash Tint 
$20 
Lip Wax 
$10 
Chin Wax 
$10 
Bikini Wax 
$20 
Brazilian 
$50 
½ Leg Wax 
$30 
Full Leg Wax  $45 
Full Pedicure  $60 
Foot Tidy  
$35 
Manicure 
$45 
Nail Tidy 
$25 
Chest Wax 
$30 
Back Wax 
$40 
Nostrils 
$10 
Ears 
$10 
POINT 
CURTIS 
CRUISING 
CLUB 
Greetings folk. No, I am not really late 
with the report however that is how the 
dates on the calendar fell or did not fall. 
We slipped into May the last month of 
a  rather  lovely  warm  autumn.  Starting 
off  with  a  rather  cold  day  warming  up 
then  of  course  the  middle  like  a 
sandwich  was  not  very  nice  at  all.  It 
slowly picked up a bit but was bearable 
although  the  showers  were  rather 
persistent and some nasty windy days. I 
did not hear of too many great shooting 
stories. There was one or two but not as 
years gone by. 
For  May  2016  we  had  at  our  house 
101mm rain and 2015 we had 156mm. 
For the first 5 months of 2016 we had 
538mm and for 2015 was 392mm.  
Our wettest May since 1987 was 2001 
with  281mm.  and  the  driest  was  2007 
with 21mm. 
Our  wettest  first  5  months  since  1987 
was  2011  with  854mm  and  the  driest 
was 1999 with 108mm.  
We recorded rain of some sorts (being 
drizzle  to  heavy)  on  15  days  of  May 
this year and on 14 days last year. 
On  the  day  this  Bugle  is  published 
there  will  only  be  7  days  left  till  the 
shortest  day  of  the  year.  In  January  it 
seemed  like  it  would  be  6  months 
away, well guess what, that 6 months is 
up,  then  it  will  only  be  6  months  to 
Christmas. (You have been warned!) 
Did  you  hear about  the  new  restaurant 
on  the  moon?  Great  food  but  no 
atmosphere. 
Please take care on the roads out there. 
~Bev 
Subs are due 1st June. Please see Jean 
or pay at 3 Furlongs Bar & Grill. Subs 
are $30 for a family and $20 for single. 
Please  leave  your  contact  details  and 
email address with your sub. 
Upcoming Events: 
 3  Furlongs  Bar  &  Grill  Boar  Hunt, 
12th, 13th and 14th August. 
 Fish Of The Month: Snapper, cut off 
date 21st June 
Next  Meeting: AGM, 7pm, 21st June 
2016.  All  welcome.  Followed  by 
committee meeting 
~Wayne Leslie, Commodore 
KAIWAKA 
 ST JOHN  
Clothes lots off. All reduced. 
Coats and jackets $5-$7, very good 
condition. 
Book sale 1/2 price. 
Lots  of  big  plants  needed,  towels, 
cooking  pots,  CDs,  DVDs,  anything 
else much appreciated. 
I have been asked if I really was getting 
an award - I'm off to see the Governor 
General  to  receive  my  M.O.StJohn 
(Member of the Order of St John) next 
month in Auckland, on 2 July. 
A  number  of  people  weren't  sure, 
because  it  wasn't  in  the  paper.  To  the 
best  of  my  knowledge,  our  awards 
aren't  advertised,  we  have  a  Gazette 
where they're published. 
Thanks  for  your  enquiries.  This  award 
is for me and my staff, I like to include 
them too. 
~Milly 
We have had the warmest autumn since 
1938. 
May Summary 
Sunshine: Near normal for most. 
Autumn  sunshine  was  near  normal  for 
the  majority  of  the  country.  Above 
normal  sunshine  (110-125%)  was 
observed  in  Northland,  parts  of 
Auckland  and  eastern  parts  of 
Gisborne,  Wellington,  Canterbury  and 
Otago. Timaru has the sunniest autumn 
on  record  with  records  extending  back 
to 1930.  
Also  of  note:  NZ  has  just  experienced 
the  warmest  May  on  record  and  the 
first  five  months  of  this  year  have  all 
been warmer than normal. 
Winter Outlook 
Waters  surrounding  New  Zealand 
remain  exceptionally  warm,  and  ocean 
models  predict  that  these  warm 
conditions  will  persist  through  June  – 
August  2016.  Given  the  higher 
moisture  source  from  the  warmer 
surface  waters,  together  with  more 
troughs  and  low  pressure  systems  that 
typically  enter  the  Tasman  Sea  in  the 
winter  season,  it  is  possible  that  New 
Zealand  will  experience  more  severe 
storms  than  usual  this  winter.  The 
warmer  sea  surface  waters  are  also  a 
major  driving  influence  behind  the 
forecast  of  very  likely  above  average 
temperatures  across  the  country  over 
the next three months. 
To  find  out  more  about  normal 
conditions for this outlook period, refer 
to  NIWA's  website,  where  daily 
updates on climate maps are available.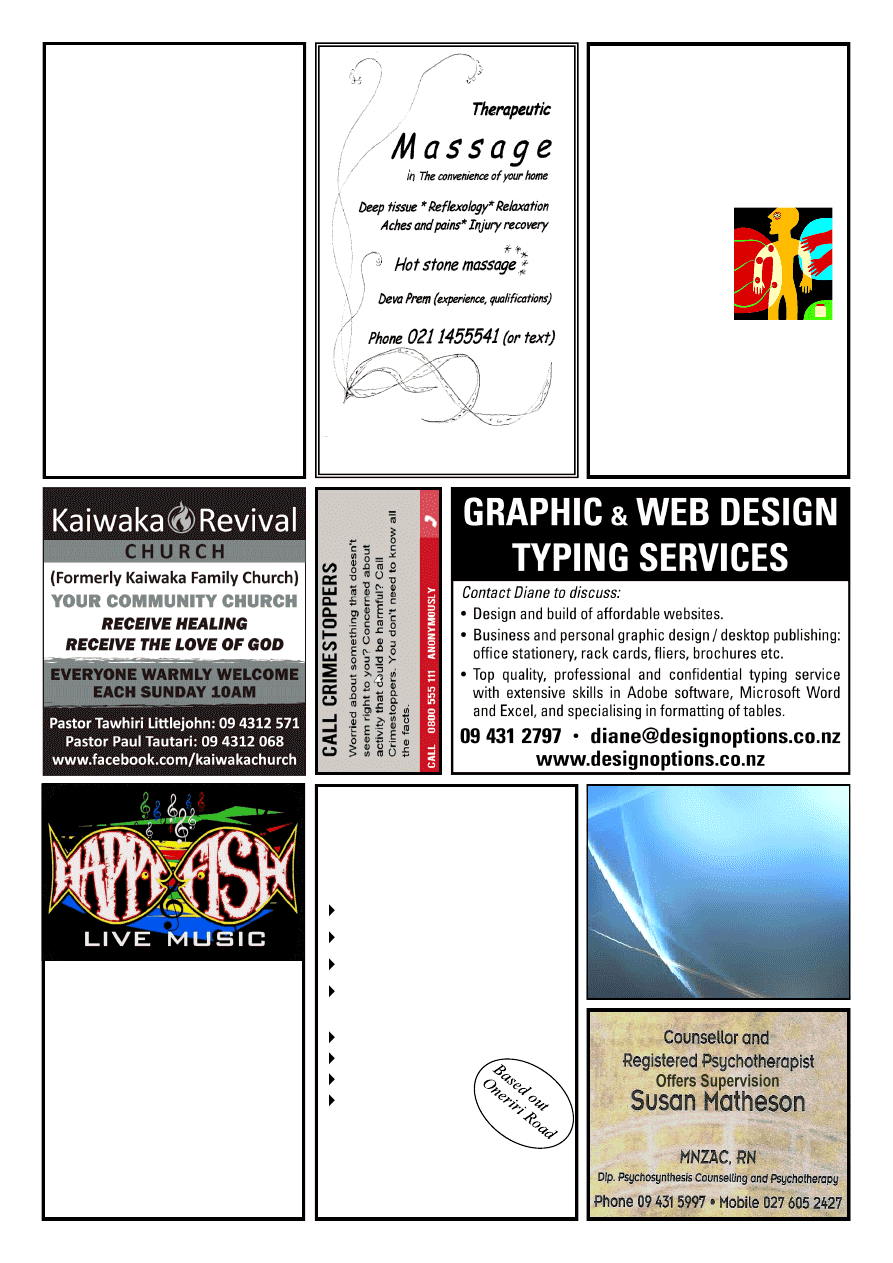 HODGETTS 
CONTRACTING
Digger Work    
Driveways 
House Sites   
Dams 
Drains, etc
Also available for HIRE 
3 ton Vib Roller 
Heavy Duty Tow 
Waterblaster  
Lazer Level 
Phone Mark 
4312877 
027 447 8554
www.mangawhaimassage.co.nz 
OWEN STEVENS 
Osteo Therapist
For careful adjustments to bones 
and joints 
Treatment for humans and their 
pets 
Clinics: 
Kate's Place, 
Kaiwaka: 
Last Friday of 
month 
For bookings: 
9.00am-5.00pm  
Phone 
09 4312661 
Or phone Owen  
09 4317123 anytime 
Freeview  
Installations 
Richard Te Haara 
25 Marram Place 
Mangawhai Heads 
021 1104056 
kiwipride@xtra.co.nz
Willow Bend
HORSE  
HOTEL 
"   
Total Horse Care 
" 
Agistment 
" 
Riding Lessons 
" 
Arena Hire (60x40) 
" 
Young Horse Starting 
" 
Re-training/Exercising 
" 
Hoof Trimming 
" 
Problem Solving 
Phone Sue 09 431 2817 
or 021 623 776 
Or email  
suejoll11@gmail.com 
ROCKIN' POPULAR, OLD AND 
NEW PARTY SONGS WITH LOADS 
OF KIWI MUSIC AND A FEW 
ORIGINAL TUNES IN THE MIX. 
AN ELECTRIC DUO FEATURING:  
GORDON JOLL 
(NZ Music Hall of Fame)
ON DRUMS AND SUE JOLL ON 
GUITAR AND VOCALS. 
A BAND FOR ANY OCCASION 
BACKED BY YEARS OF 
EXPERIENCE. 
Contact: Sue 021 623 776 
Email: happyfishband@gmail.com   
Website: www.happyfishband.co.nz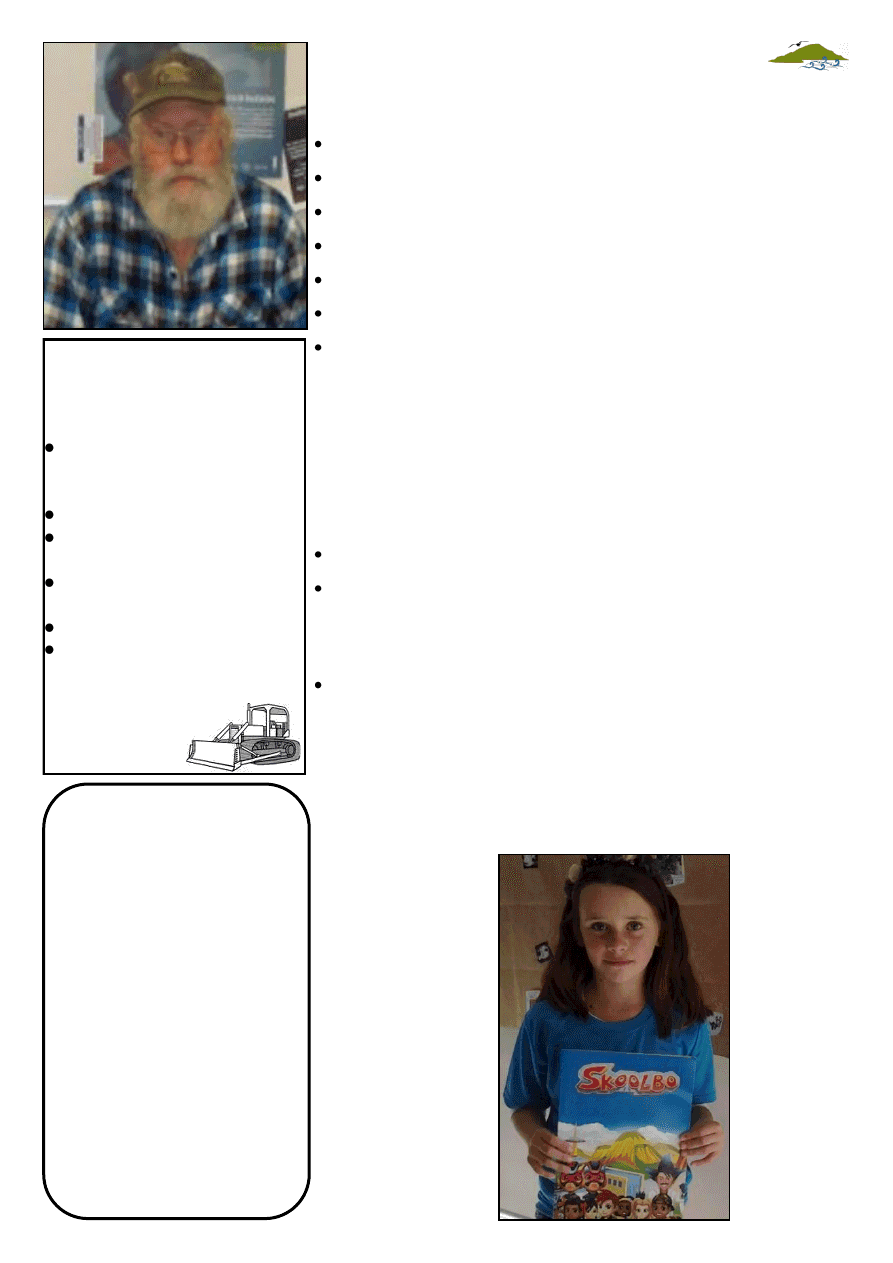 www.kaiwaka.co.nz 
Kaiwaka Bugle - 14 June 2016 
Page 7 
KAIWAKA SCHOOL 
Coates  
Contracting 
D41 Bulldozer with 6 
way blade, bush rigged 
with winch 
For all tree work 
General bulldozing and  
 stick raking. 
120hp Tractor for 
ground cultivation,  
tip trailer work. 
Fencing
All enquiries phone  
Brett Coates  
 094318720  
or 
 021431872
UP-LINK 
CHRIS WARING 
FREEVIEW 
INSTALLATIONS 
T.V. - HOME THEATRE & 
HI-FI ADVICE/SET UP
SKY ACCREDITED 
INSTALLER
MOB.0273403747 
HM.094312328 
EMAIL cwaring44@gmail.com
28 YRS EXPERIENCE 
OFFERING UNBIASED ADVICE 
Speech Competition 
We  congratulate  all  our  Speech 
Finalists  and  Year  Group  winners  for 
2016. 
 Year  1:  Penny  Worsfold,  Nikau 
Tandy; winner Logan Burkill. 
 Year  2:  Lucy  Lawrie,  Olive 
Woodman; winner Bella Holden. 
 Year  3:  Willow  Woodman,  Casey 
Greig; winner, Pyper Buxton. 
 Year  4:  Morgan  Jansen,  Zackery-
Ryan Wintle; winner Sienna Burkill. 
 Year 5: Jade Johnson, Rizyiah Gray ; 
winner Ryan Stirling. 
 Year  6:  Jacob  Kake,  Morgan  Bull; 
winner William Holden. 
 The overall winner for the school was 
Sienna 
Burkill. 
Congratulations 
Sienna  -  you  are  a  very  talented 
public speaker. 
After-school Transport 
Thank you so much for helping us out 
with  the  after  school  transport 
arrangements. There have been no calls 
at the last minute to change things, and 
the  number  of  changes  to  the  routine 
plans has decreased. We would like to 
get  this  even  better,  so  please  help  us 
by: 
 Sticking  to  the  correct  bus  route  or 
arrangement as much as possible. 
 Letting the school know by 1.30pm if 
there  is  to  be  a  really  necessary 
change. Please don't change the route 
unless  absolutely  necessary.  A 
written note is by far the best method 
of notifying a change. 
 Pick ups are at 2.20pm. Please do not 
be late, it causes everyone anxiety. 
When  we  have  a  delay  because  we 
need to clarify an instruction by phone, 
we not only hold up our buses, but the 
High  School  bus  services  too.  This 
causes 
problems 
for 
everyone, 
including the bus drivers. 
We are appealing for your help and co-
operation  over  this.  I  know  we  can 
manage  this  much  more 
smoothly 
and 
satisfactorily,  with  your 
help. 
Fashion Fiesta 
Thank  you  Lish  and  her 
team  for  the  Fashion 
Fiesta. I know it was really 
enjoyed by many. 
Parent 
Information 
Evening 
On  June  21st  Sharlene 
Tornquist  is  going  to 
present 
a 
Parent 
Information Evening about 
the  School  Reports  and 
Assessment Tasks we use. 
This  will  be  her  first 
action  as  Acting  Principal 
and  it  would  be  great  to 
have a big turnout for this. 
You are warmly invited to 
attend. It will be at 7.00pm 
until 8.00pm in the library. 
Plumbing Issues 
We  have  had  two  serious  problems 
with the burst pipes at the school over 
the  last  2  weeks,  and  three  of  our 
amazing  parents  have  come  to  the 
rescue  both  times.  Thank  you  Paul 
Tornquist, Bruce Ferguson and Adrian 
Buxton. We  are  very  grateful for  your 
work  at  the  school  over  the  long 
weekend and during the previous week.  
Mr Prouting's Retirement 
On  Thursday  2  June,  our  long-serving 
caretaker,  Mr  Craig  Prouting  (pictured 
far  left)  retired.  Craig  had  been  the 
caretaker  of  the  school  for  14  years, 
and  his  association  with  the  school 
goes back even further than that. 
Craig was a student here himself, when 
his  father,  Harold  Prouting  was  the 
Principal,  and  he  has  a  great 
knowledge of the history of our school. 
Craig has done an amazing job over the 
years,  cleaning  and  looking  after  our 
buildings,  keeping  the  swimming  pool 
running  in  tip-top  condition,  mowing 
our  huge  lawns  and  maintaining  the 
beautiful flower-beds. 
He  will be  greatly  missed by  all  of  us 
here at Kaiwaka School. As it was his 
express  wish  that  a  farewell  function 
not  be  held,  to  mark  his  retirement, 
Craig  was  presented  with  gifts  and 
cards from the students and staff of the 
school.  
~Rosie Ellis 
Advanced Notice 
Interschool 
Cross 
Country 
- 
Wednesday  24th  August  (pp  day 
Thursday  25th)  Interschool  Athletics  - 
24th  November  (pp  day  25th 
November). 
Reading Together 
Kaiwaka  School  would  like  to  offer 
parents and interested adults the chance 
to take part in a series of 4 workshops 
which  develop  specific,  constructive 
ways  to  make  home  reading  a  success 
with  a  Government  funded  initiative 
called: 'READING TOGETHER.' 
The  workshops 
will 
start 
in 
Term 
3: 
Thursday 
28th 
July, after school 
3:00-  4:15  or 
Thursday 
28th 
July,  at  night 
6:30  to  7:45. 
Please  see  the 
form 
in 
the 
school 
newsletter 
for 
more  details  and 
to  register  your 
interest. 
Pictured 
left: 
Jade 
Johnson, 
the  first  student 
at  our  school  to 
correctly  answer 
more 
than 
20,000  questions 
in Skoolbo.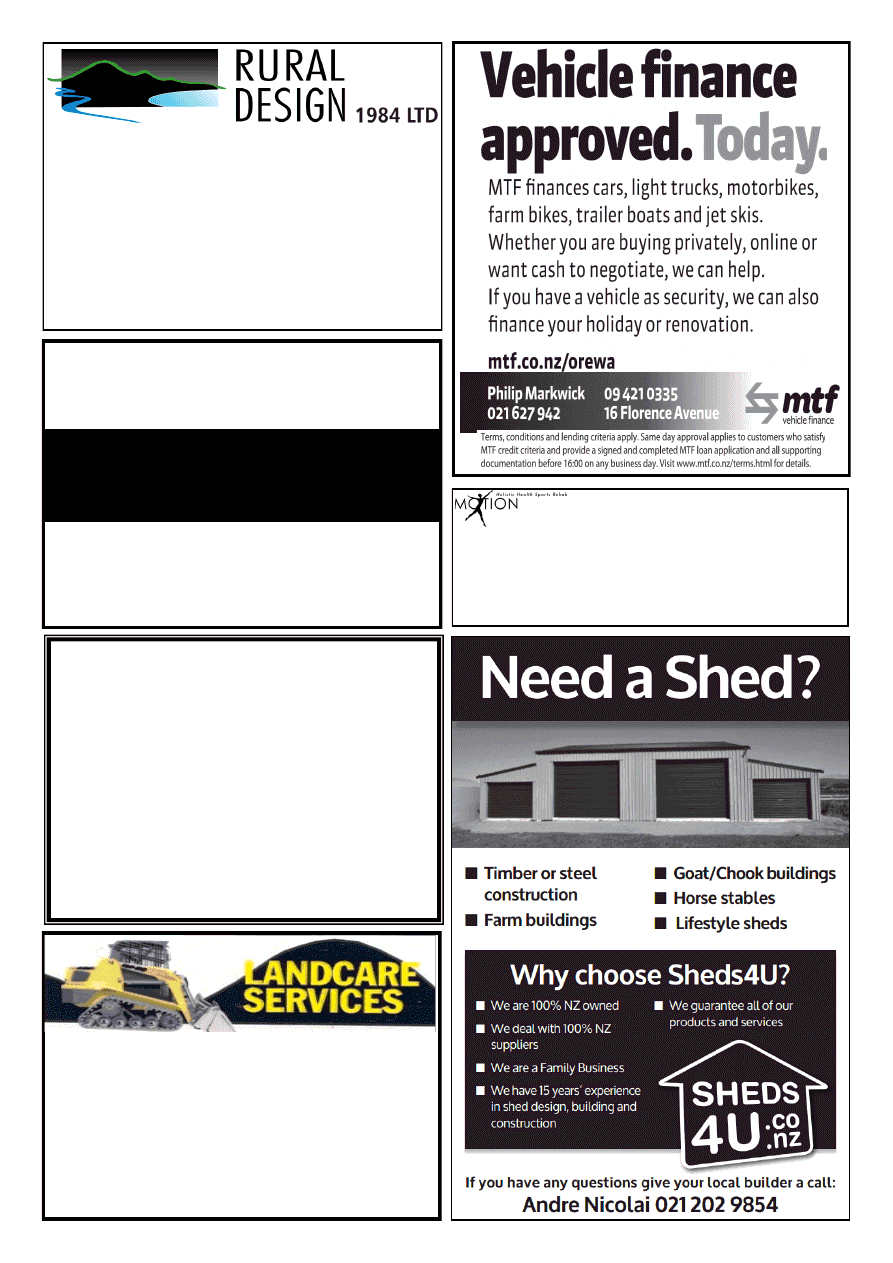 LANDSCAPING 
4 IN 1 BUCKET 
TRENCHER 
POLE HOLES 
ROTARY HOE 
COMPACT ROLLER 
OFFAL HOLES 
CAN SUPPLY WOODCHIP & POST PEEL 
5 TON TIPPER 
FOR RELIABLE AND FRIENDLY SERVICE CONTACT DAVE 
Dave Hyndman 
 
KAIWAKA 
PH: 09 4312302 
MOB: 021 431 238 
David Korach 
Your local Gib Stopper
DK PLASTERER LTD 
0274769221 
dkorach6@gmail.com 
Wholesale Native Plant Nursery and Planting 
Small and Large orders welcome 
By Appointment 
300 Kaiwaka-Mangawhai Road, Kaiwaka 
Phone: 09 431 2481 
Email: info@ruraldesign.co.nz 
www.ruraldesign.co.nz 
WAIPU OSTEOPATH 
Maria Gabriel ACC Registered Osteopath 
Waipu Natural Health 3 Cove Rd Waipu 
Monday, Wednesday & Thursday  
Freephone 0508 924786 (0508 WAIPUOSTEO) 
www.getinmotion.co.nz   No doctor referral 
required 
MULCHING 
GORSE,SCRUB ETC 
PADDOCK TOPPING OR MULCHING 
2.8m mulcher with 140HP tractor. 
Experienced operator. 
LIFESTYLE PROPERTY MAINTENANCE 
Putting life back into your style 
BOOK NOW. Phone James 
mob: 0273 808622 or 09 431 2245 
email: lifestylesorted@gmail.com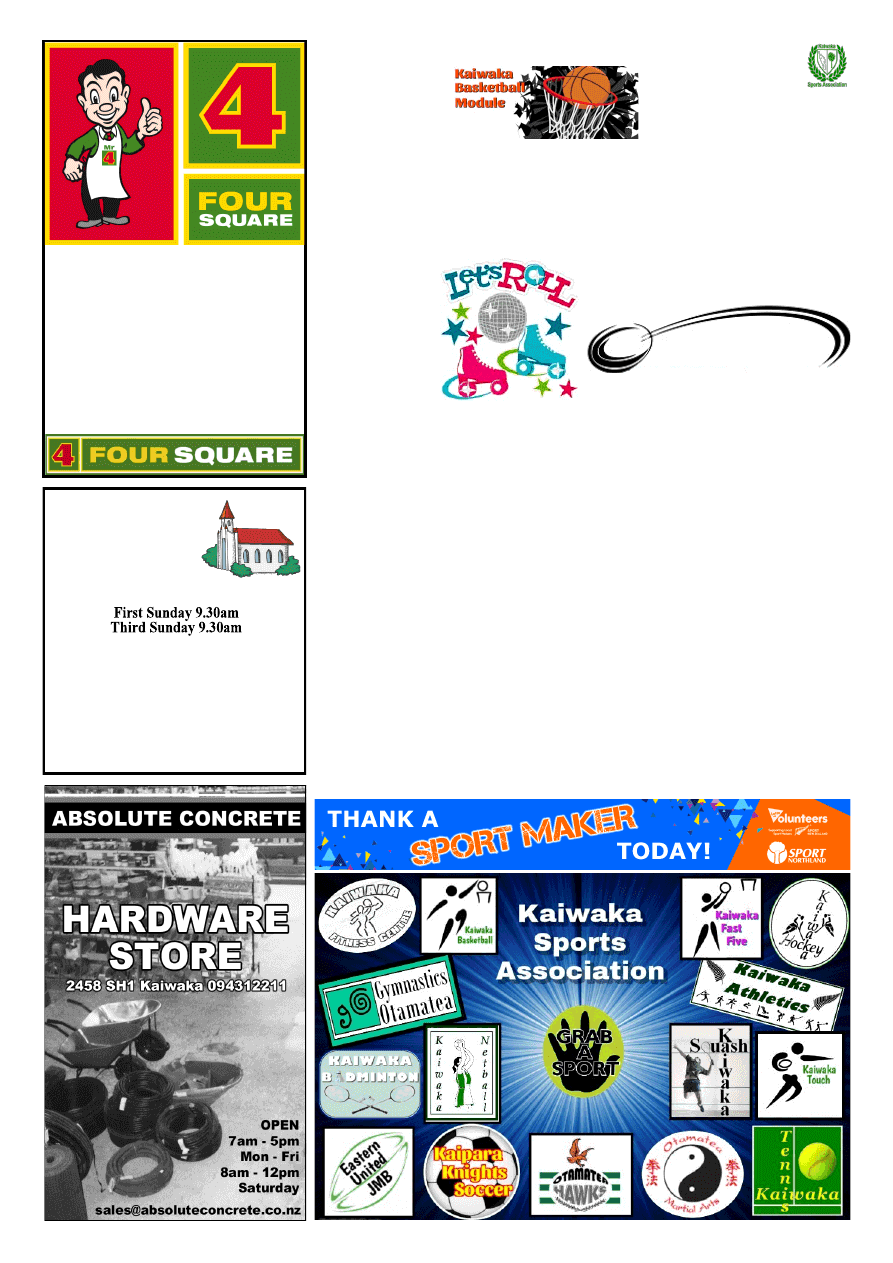 www.kaiwaka.co.nz 
Kaiwaka Bugle - 14 June 2016 
Page 9 
ST PAUL'S  
ANGLICAN  
SUNDAY  
SERVICES
St Pauls Church: Kaiwaka-Mangawhai Rd. 
1st Sun - Eucharist 
3rd Sun - Family Service 
Office 4314 122 
Contacts:M.Hargreaves 4312295, C.Bygrave 4312057  
or Rev. Wayne Thornton Ph 431 5650 
www.mangawhaianglican.org.nz
Winter Stock 
Socks, gloves, & slippers 
Gas swap a bottle 
Firewood & Kindling 
Jaques Four Square 
Phone: 4312227 
1 Kaiwaka-Mangawhai Road, Kaiwaka. 
Basketball 
Module 
Over  70  people 
have  been  turning 
up 
to 
our 
gymnasium  each  Sunday  afternoon  to 
participate  in  our  Basketball  Module. 
There  have  been  some  close  matches 
and  everyone  seems  to  be  enjoying 
themselves.  Finals  will  be  held  on 
Sunday  26th  June,  from  1.30pm, 
spectators welcome. 
Roller Disco 
We 
had 
an 
awesome  time  at 
our  Roller  Disco! 
Over  50  people 
enjoyed  the  night 
- 
some 
had 
coaching  first  up, 
and then everyone 
skated  around  the 
gymnasium  to  great  music  and  disco 
lights. 
Many  thanks  to  Brigette  from 
Skatescool for running the show, and to 
all the helpers on the night.  
Photos  and  a  few  videos  are  on  the 
Kaiwaka  Sports  Complex  facebook 
page. 
Kids Disco 
We  are  running  a  Kids  Disco  on 
Saturday  2nd  July,  so  if  you've  got 
children  who  like    to  boogie,  please 
mark  it  in  your  diary!  This  disco  will 
feature  great  music,  dancing,  a  lolly 
scramble,  glow  items  and  games.  The 
entry  fee  is  $4  per  child  (adults  and 
preschoolers are free). 
Thank a Sport Maker 
The  Lotto  Volunteer  Foundation  and 
Sport  NZ  have  teamed  up  to  support 
and  celebrate  the  sport  volunteers  in 
our community who make sport happen 
-  the  Sport  Makers.  From  the  coaches 
and  officials,  to  the  uniform  washers 
and  administrators,  a 
Sport Maker is someone 
who  volunteers  their  time  and 
effort  for  sport  in  the 
Northland  region.  Tell  them 
about  an  awesome  sports  volunteer  in 
our  community  and  they're  in  to  win 
$2,000 worth of sports gear. 
Visit  www.lottovolunteers.co.nz  and 
click on the Nominate button. 
Rippa Rugby 
The 
inter-schools 
Rippa 
Rugby 
Tournament will be held at our grounds 
this  Wednesday  15th  June  from  9am. 
Spectators welcome.  
KSA Clubs 
Did  you  all  know  that  all  these  sports 
clubs  are  affiliated  to  the  Kaiwaka 
Sports Association: 
Squash 
Rugby (JMB, IMB and Seniors) 
Gymnastics 
Martial Arts 
Tennis 
Netball  (Primary  School,  High  School 
and Seniors) 
Basketball 
Hockey 
Soccer 
Fast Five 
Touch Rugby 
Fitness Centre 
Athletics 
Badminton 
For details on any of these clubs, check 
out 
our 
website 
www.kaiwakasports.co.nz, 
our 
Facebook page, or contact me. 
~Cheryl Anderson 
4312 051, 027 3462702 
kaiwakasports@gmail.com  
KAIWAKA SPORTS ASSOCIATION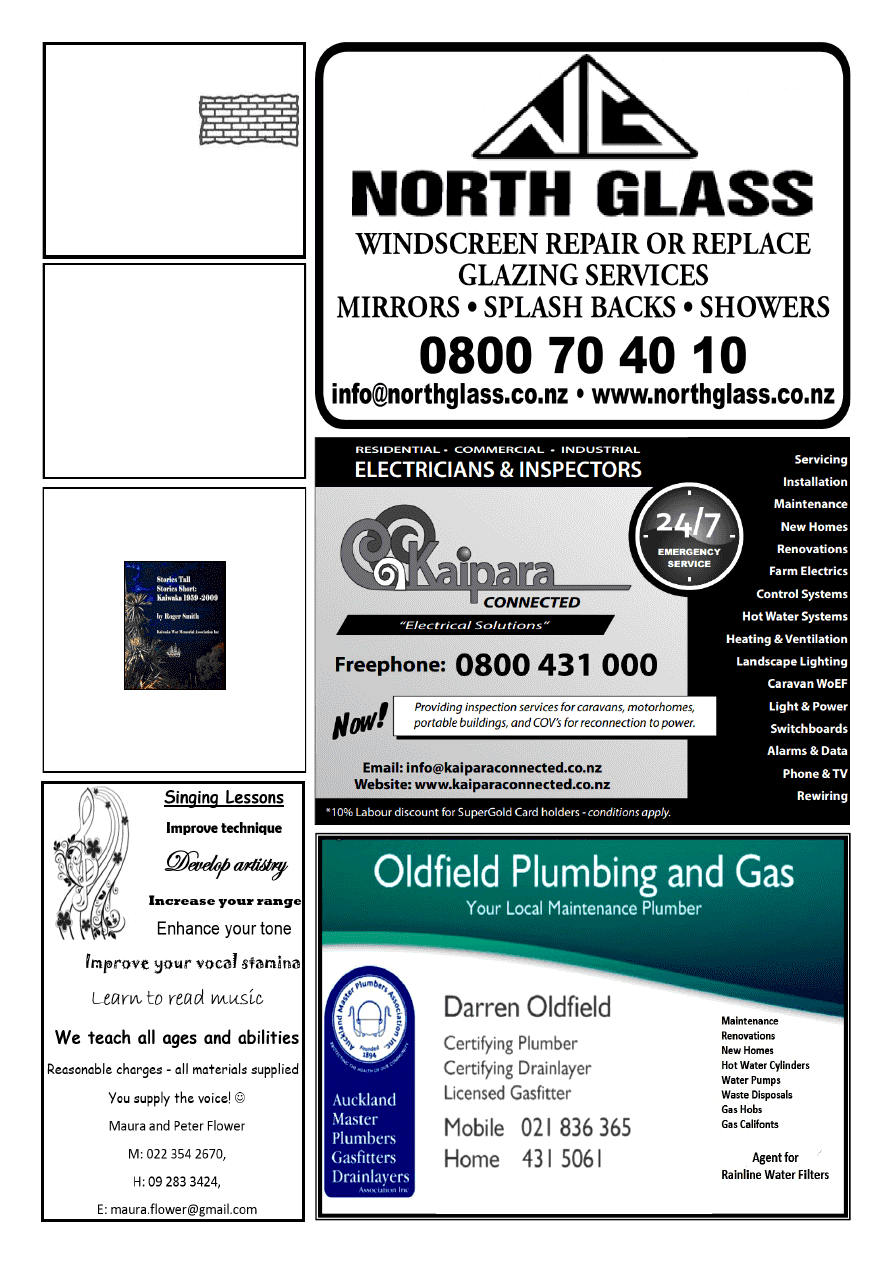 oldfieldplumbing@gmail.com 
 LEABOURNS 
Passenger Service
Car & Van Hire 
Bus & Coach Charters 
Airport Transfers 
 Monthly Shopper Bus 
Phone (09) 4237416 
BRICK/BLOCKLAYER 
All aspects of masonry:  
Fireplaces, 
Restoration  
& Remedial Work. 
JAMES EAGLETON 
Tel. (09) 431 2514  
Mob. 0274 749 232 
jajueagles@yahoo.com.au 
210A Pukenui Road, RD2 Kaiwaka 0573 
Stories Tall, Stories Short:  
Kaiwaka 1959-2009 
by Roger TW Smith
$40
Available from the Bugle Editors -  
Lindsey 4312 045,  
Wendy 027 480 6275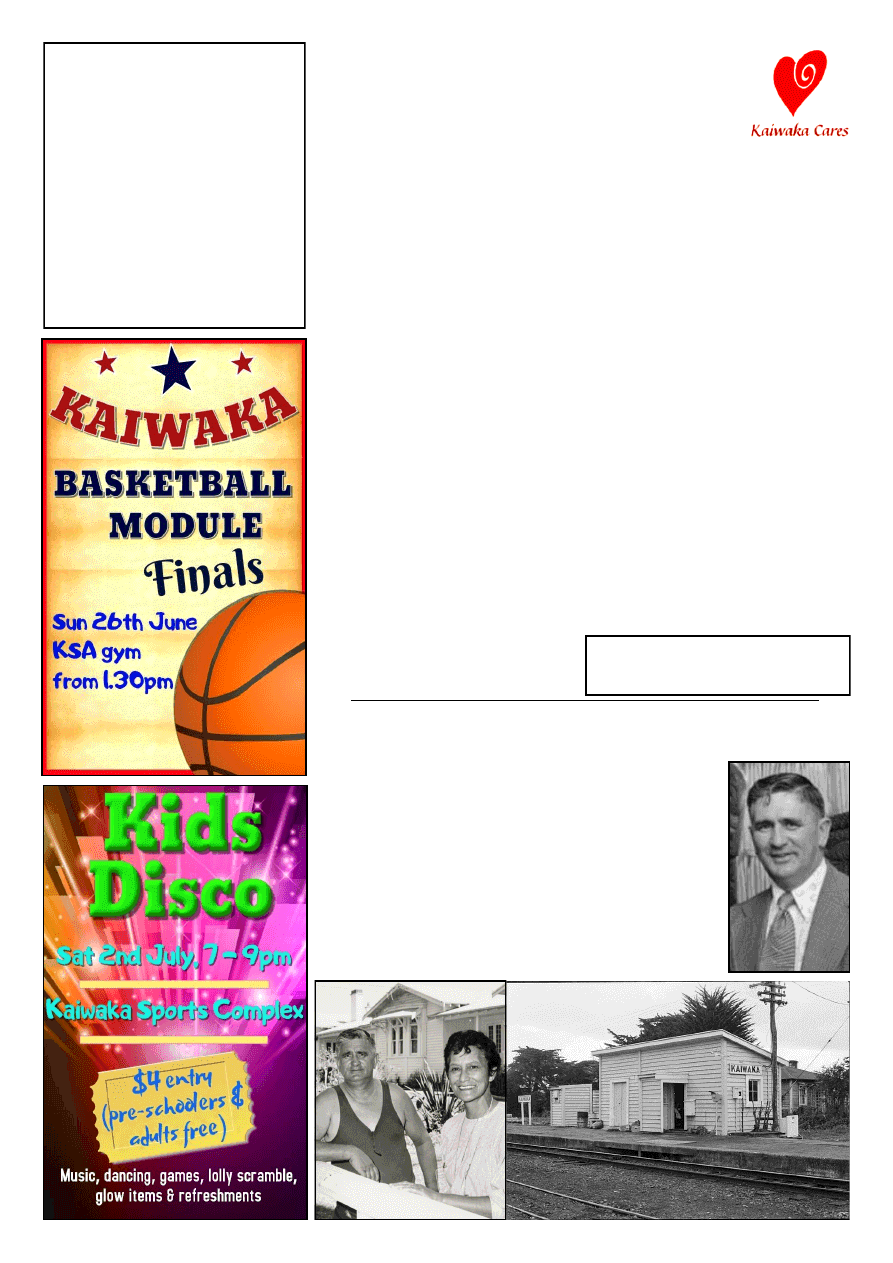 www.kaiwaka.co.nz 
Kaiwaka Bugle - 14 June 2016 
Page 11 
HELP 
PHONE NUMBERS 
HEALTHLINE 
0800 611 116
SAMARITANS 
0800 787 797
YOUTHLINE 
0800 376 633 
LIFELINE 
0800 543 354
DEPRESSION HELPLINE 
0800 111 756 
ALCOHOL & DRUG HELPLINE 
0800 787 797 
URGENT MENTAL HEALTHLINE  
0800 223 371
WARMLINE 
0800 200 207 
As this goes to print we are coming up 
on a year of being open, wow has that 
gone  fast.  We  will  be  having  a  get-
together  in  the  front  room  at  Kate's 
Place  to  celebrate  in  early  July.  So 
watch this space! 
Looking  for  work?  We're  here  to 
help. 
One  of  the  most  frequent  things  we 
seem  to  be  assisting  with  is  helping 
people to gain some skills to find a new 
job.  Whether  it's  helping  to  update  a 
cv, using the computer to look for roles 
that might be suitable, or brainstorming 
what may be the right direction for you, 
we are more than happy to help out.  
The  first  step  is  popping  in  to  see  us, 
messaging  us  on  Facebook,  or  just 
popping in. 
Janine  has  started  compiling  some  of 
the  job  opportunities  that  are  coming 
up  with  commuting  distance  and  will 
endeavour to pop these on Facebook at 
the beginning of each week. 
So if you know of a job going and want 
us to promote it then please email us. 
Escape your life by dropping in. 
The whole idea with the drop-in space 
is  to  have  a  social  area  where  people 
can  literally  drop  in.  Some  people 
come  in  for  a  reason,  some  are  just 
passing,  and  some  just  need  to  escape 
their  normal  day  to  day  and  want  to 
chat. We have a comfortable space, tea 
and  coffee  etc,  and  even  have  some 
toys to keep the little ones busy.  
CAP Money Course – June 2016 
We have a confirmed date for our next 
course. It is on Monday 19th and 26th 
June 2016 from 11am. It 
goes each day for 1 ½ to 
2  hours.  Past  attendees 
have  really  benefited 
from  learning  to  take 
better control of their finances. One of 
the best things about this course is that 
they  show  you  how  to  do  it  yourself, 
and  the  only  person  who  has  to  know 
exactly what your finances are is you.  
Brett  who  runs  the  course  is  a  retired 
accountant  who  really  knows  how  to 
break down the subject of budgeting so 
that  it  makes  sense.  If  you  would  like 
to  join  this  course  contact  either 
Kaiwaka Cares or ring Yvonne or Brett 
on 
09 
431 
3234 
or 
email 
yvonne.denize@capnz.org 
What  do  you  think  is  a  service  that 
Kaiwaka  doesn't  have  that  is 
needed? 
One  of  the  things  we  talk  to  people 
about  when  they  come  in  is  what 
services 
in 
Kaiwaka, 
and 
the 
surrounding  area,  that  we  can  access. 
Sometimes  we  find  that  there  is  a  gap 
and we need to do a wee bit of research 
to find the right assistance for the right 
person. We don't mind helping, so tell 
us - how we can help you to make your 
life better? 
If  there  is  something  that  you  wish  to 
run  or  want  to  see  happen  in  Kaiwaka 
either pop in and tell us or email us. 
~The Kaiwaka Cares team  
caring4kaiwaka@gmail.com 
KAIWAKA CAN 
Sir GRAHAM LATIMER 1926 - 2016 
In  1952  Graham  Latimer  came  to  live  in  Kaiwaka,  and  became  the  Kaiwaka 
Railway stationmaster until 1961. 
Older Kaiwaka residents  remember him and his  family 
living in one of the half dozen houses on the east side of 
the railway station (only one house remains). They also 
remember  him  playing  on  the  wing  for  the  local 
Kaiwaka  rugby  team.  He  may  have  played  a  game  or 
two  for  Eastern  Red  (the  Kaiwaka  rugby  team  became 
two Eastern teams in 1959). 
He was also a member of the Kaiwaka Tennis Club, but 
it  was  his  wife,  Lady  Emily,  who  was  the  very  good 
tennis player. 
Sir  Graham  is  buried  at  Kaitaia,  in  the  Pamapuria 
cemetery, next to his late wife. 
Our eyes are always the same size from 
birth, but our nose and ears never stop 
growing.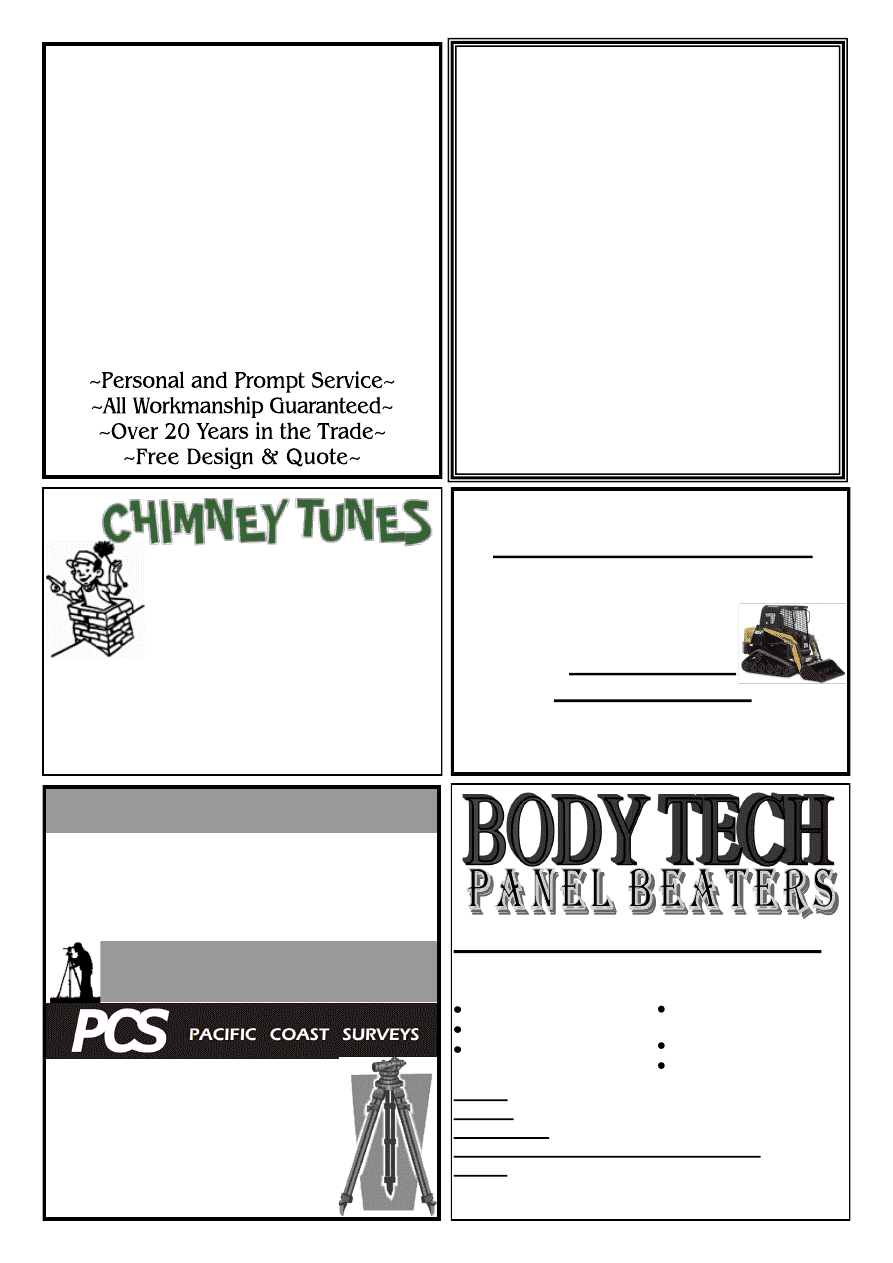 For all your body repair needs!! 
We do: 
Rust repairs 
Insurance work 
Anti-corrosion treatment     
Hours: 8.30am-5pm Monday-Friday  
Mobile: 021 118 0462 
After hours: 09 431 2384 
Phone: Craig or Call in for a free Quote 
bodytech_panelbeaters@yahoo.com
We are located at 1837 SH1 Kaiwaka, behind  
Twinkle Tow 'n' Tyre call in anytime for a free quote.  
Large and minor vehicle  
 repairs 
Industrial vehicles 
Full Cut and polishes 
SURVEYORS 
SUBDIVISIONS 
HOUSE SITE SURVEYS 
CIVIL ENGINEERING 
WASTEWATER DESIGNS 
EXPERIENCED 
PROFESSIONAL 
INNOVATIVE 
Ph 09 431 5353 
0800 PACIFIC (0800 722 434) 
pacificcoastsurvey.com
Adam Booth - 027 415 5752 
Bsurv, Licensed Cadastral Surveyor
Surveying Kaipara since 1994 
g.a.s. 
Mangawhai
GARDEN CENTRE 
for all your gardening needs
Also a great range of 
STOCKFOOD 
Wide range of 
ORGANICS AND 
 FRESH LOCAL PRODUCE
All your motoring needs are taken care of by 
our friendly staff check us out... 
44 Moir Street, Mangawhai (09)431 4242 
Natural Earth Ltd 
Landscape and Bobcat services 
 : Driveways :Landscaping :Retaining Walls 
 : Hole Boring: Land Levelling :Trenching 
 : Decks :Fences :Sections Cleared 
 : Plus much more
Tel 09 4312 885 
Mob 02102391280 
For A Fast Friendly Service  
Contact Tim Hicks 
PLANNING A NEW KITCHEN? 
 CONTACT NOEL McDOWELL
WELLSFORD 
KITCHENS
Ph/Fax 094312888
KAIWAKA-Any time
 QUALITY CUSTOM MADE 
KITCHENS
Chimney and Fireplace 
Maintenance,  
Parts & Repairs
MARK O'DONNELL 
021 457 247 
Whangarei – Mangawhai – Maungaturoto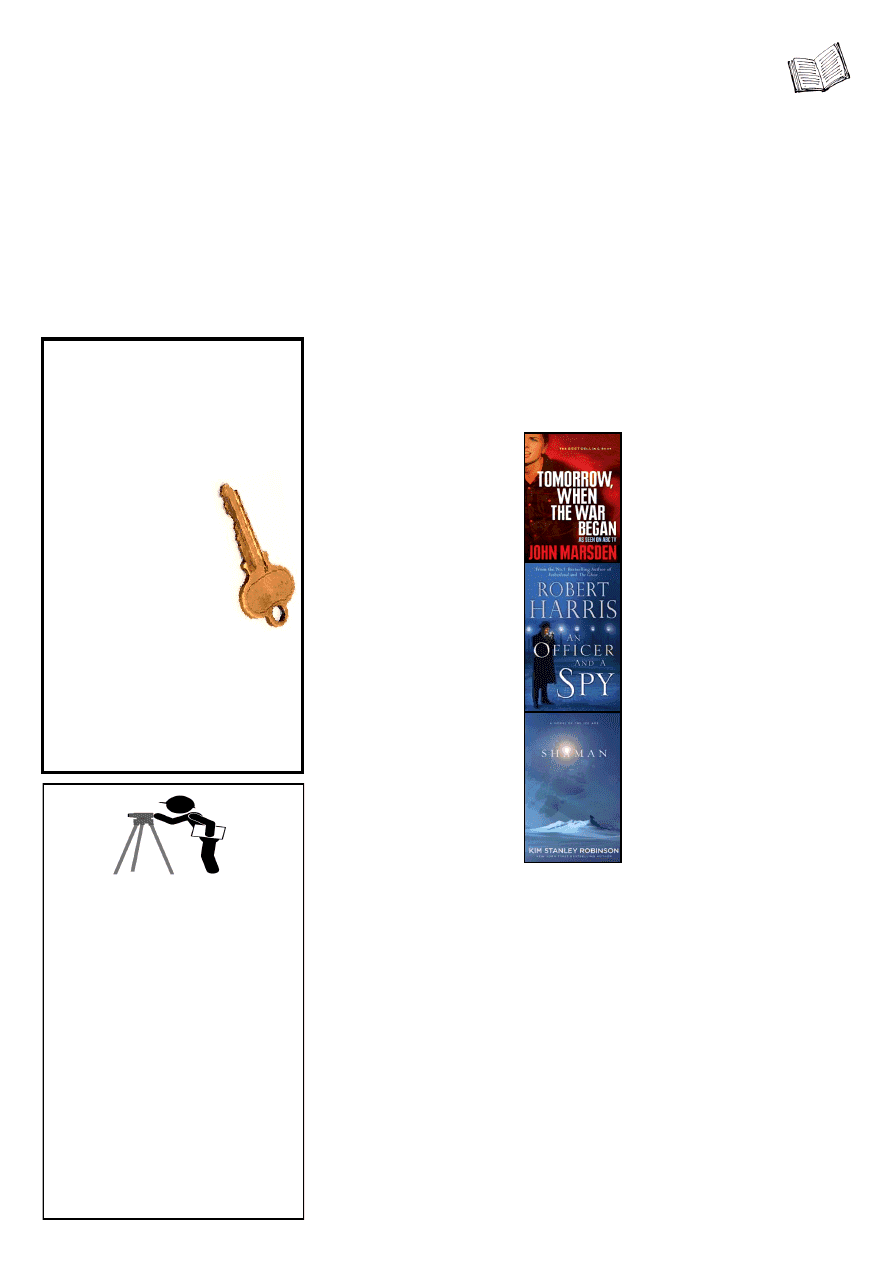 www.kaiwaka.co.nz 
Kaiwaka Bugle - 14 June 2016 
Page 13 
I've been totally hopeless at keeping in 
touch with you lately - I will try to do 
better! 
Book swap 
Many  thanks  to  everyone  who  helped 
with  the  Dargaville  book  swap  last 
week.  It  was  a  good  day  out,  despite 
the  appalling  weather,  and  we  picked 
out  a  great  range  of  books  for  our 
shelves.  We  will  have  these  for  the 
next  six  months,  and  will  be  swapped 
again in December. 
As I type this, we don't have our DVD 
collection  from  Dargaville  yet  as  it 
needed  further processing at their end, 
but this should arrive next week. 
There's  a  bit  of  a  gap  now  until  our 
next  swap,  which  will  be  the  Large 
Print  and  Audio  book  collections  in 
October. 
Shelf space 
If  you've  been  in  to  the  library  in  the 
past few weeks, you may have noticed 
that  there's  more  space  on  the  fiction 
shelves than there used to be. I've been 
having a 'bit' of a cull - partly to make 
way for new stock, and partly working 
towards a background project of having 
carpet  laid  in  the  main  room.  There's 
more work to be done in respect of the 
latter,  so  watch  out  for  more 
announcements  in  future  Bugles,  on 
our Facebook page, and in the windows 
of  the  library  itself  (it  involves 
reducing  the  amount  of  "stuff"  that 
needs to be shifted off the floor so the 
carpet can go down!). I'll be yelling it 
from  the  rafters,  so  to  speak,  when 
we're ready for the next step. 
Book review 
Tomorrow,  When  the  War  Began  by 
John Marsden 
Ellie  is  a  fairly  typical 
teenager  living  on  a  farm  on 
the outskirts of a country town 
with  her  parents.  She  takes  a 
group of her school friends on 
a  camping  trip  during  the 
summer holidays, forgoing the 
town's  annual  Show  Day 
which  she  and  some  of  her 
friends  usually  take  part  in 
annually and is a major part of 
the social life in these parts. 
One  night  some  of  the  group 
of  seven  hear  airplanes 
overhead,  which  is  a  bit  odd, 
but they don't think much of it 
at  the  time  -  until  they  return 
to  Ellie's  home  and  find  it 
abandoned. 
While the teenagers have been 
away,  the  country  has  been 
invaded. 
Everyone  in  their  town  who 
went  to  the  Show  Day  is  still 
there  -  imprisoned  at  the 
showgrounds. 
As  the  reality  of  the  situation 
dawns,  they  have  to  start 
making  some  decisions  -  do 
they  give  themselves  up  and join their 
families,  or  do they  strike  out  on their 
own and hide from the enemy soldiers? 
This  is  a  series  of  seven  books*, 
following Ellie and her friends as they 
try to survive in a world that is so very 
comfortably  familiar  to  them,  but 
suddenly  hostile.  It  takes  everything 
they've  got  - a range of skills between 
them  -  to  survive,  and  to  try  and  hit 
back  at  the  forces  that  have  overrun 
their country in 
whatever way they can. 
All  seven  books  are  on  the  shelves  at 
Dargaville  Library  and  can  be 
requested for free via Kaiwaka Library, 
and  six  of  them  are  also  on  the 
Overdrive online service. 
These  books  were  a  great  read,  and  I 
have  no  hesitation  in  recommending 
them. 
*(1) Tomorrow, When the War Began, 
(2)  The  Dead  of  Night,  (3)  A  Killing 
Frost  (also  known  as  The 
Third  Day,  the  Frost),  (4) 
Darkness,  Be  My  Friend,  (5)  Burning 
for  Revenge,  (6)  The  Night  is  for 
Hunting, (7) The Other Side of Dawn. 
An Officer and a Spy by Robert Harris 
"Paris, January 1895. An army officer, 
Georges Picquart, watches a convicted 
spy,  Alfred  Dreyfus,  as  his  is  publicly 
humiliated  in  front  of  a  vast  crowd 
baying  "Death  to  the  Jew".  Dreyfus  is 
exiled  for  life  to  Devil's  Island; 
Picquart  is  promoted  to  run  the 
intelligence  units  that  tracked  him 
down. 
"But  when  Picquart  discovers  that  a 
traitor  is  still  betraying  secrets  to  the 
Germans,  he  is  forced  to  confront  the 
dangerous  truth  that  Dreyfus  may  be 
innocent. The more he investigates, the 
further  he  is  drawn  into  a  labyrinth  of 
deceit,  corruption  and  cover-up  that 
ulitmately threatens not just his honour 
but his life." (back cover) 
Being a Robert Harris novel, this 
was  as  good  a  read  as  I'd 
expected  -  I've  not  been 
disappointed by him yet, and I've 
read six of his novels now. It was 
exciting  and  a  page-turner,  I 
wanted  to  know  what  happened 
next. 
At  times  I  did  think  things  were 
getting  a  bit  preposterous  and 
unreasonable - but this is a novel 
set  around  real  events,  and  the 
things  I  was  thinking  a  bit  over 
the  top  actually  happened.  As 
they say, the truth is stranger than 
fiction! 
This  book  is  on  our  Rental 
Fiction shelves until 1 July 2016, 
then  will  be  moved  to  the  Free 
Fiction shelves. 
Shaman 
by 
Kim 
Stanley 
Robinson 
We  meet  Loon as  he  sets out  on 
his  wander,  his  journey  of  self-
discovery  and  survival  which  he 
must pass before he can continue 
his training to become a Shaman, 
a spiritual leader. He is cast adrift 
from  his  tribe,  naked  and  with 
nothing,  to  survive  -  or  not  -  on 
his  own  wits  and  what  he  can  gather 
and  make  from  his  surroundings  for 
thirteen nights. 
There  is  a  storm  coming,  and  there  is 
still  snow  on  the  ground,  and  he  is 
going  to  be  miserable  for  at  least  the 
first night, if he can't get a fire started. 
Loon is just twelve years old. 
Kim  Stanley  Robinson  is  a  master 
storyteller. I've been a fan of his work 
for many years, having read a few titles 
of his before. We have Galileo's Dream 
on our shelves, and I loved that, too. I 
have  no  hesitation  in  recommending 
both of these books. 
Shaman  is  on  the  Rental  Fiction 
shelves in our library until 1 July 2017, 
when  it  will  move  to  the  Free  Fiction 
shelves. 
See you in the library! 
~Wendy Howard, Librarian 
Open Wed-Sat 10am-2pm, Mon 4-6pm. 
Membership is available to all residents in the 
Kaiwaka area. 
KAIWAKA LIBRARY
Ken Urquhart 
BSurv Licensed Cadastral 
Surveyor 
KMU Surveys Ltd
467 Bickerstaffe Road 
RD 2  
Maungaturoto 0587 
Ph 09 431 8705 
Mob 021 161 2344 
kenurquhart@xtra.co.nz 
Kaiwaka  
Hardware  
&  
Key cutting 
 Phone 4312 063 
 022 041 6047 
 kaikey2015@gmail.com 
Keys Cut  
Household Hardware  
Curtain Tracks & Fit-
tings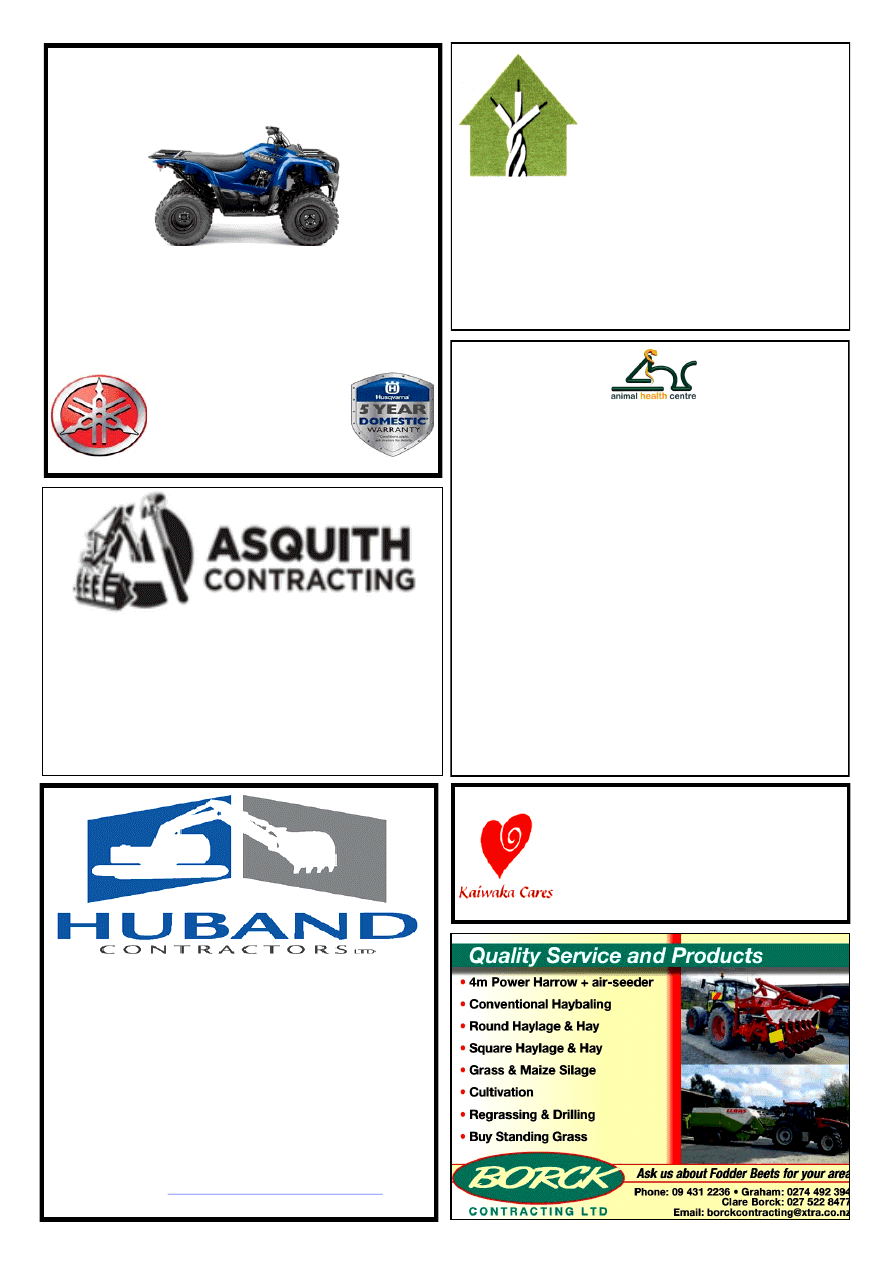 ANIMAL HEALTH CENTRE 
KAIWAKA 
"choices in health care for your companion animal" 
Health problems - itchy skin, smelly ears,  
bad breath, diarrhea? 
On steroids, antibiotics, lifetime drugs..... ? 
Diet may be a part of the problem!  
Call in and have a chat to our team  
of animal health practitioners.
Nail Trims, Microchipping , 
Dental checks, Comfort grooms. 
Great range of real food – no preservatives. 
Alternatives to nasty chemical parasite controls.
OPEN:   Tues-Fri - 10:00am – 5:00pm 
Saturday - 10:00am - 4.00pm, Sunday/Monday - Closed 
Next to Italian Bakery, Main Highway Kaiwaka 
Ph: 09 431 2217 
PS: We're open 7 days in Orewa if you missed us! 
Reyahn George Leng 
Registered Electrician 
Local, honest and reliable. 
For your residential and 
light-commercial projects. 
022 314 1068 / 09 431 2527 
Small digger work, trenching and 
post hole drilling. 
$60 per hour.
Call Tam on 027 211 1152 or 
asquithcontracting@gmail.com 
*   R O A D I N G   *   E A R T H W O R K S   *    
*   D R A I N A G E   *   S I T E W O R K S   *
Shaun Huband 
Registered Drainlayer
Cell: 021 222 0272 
Home: 09 4318339 
Email:  
KAIWAKA 
MOTORCYCLES LTD
SALES – SERVICE – SPARES 
FARM BIKE SPECIALIST
PHONE 09 431-2127 
10 KAIWAKA-MANGAWHAI ROAD, KAIWAKA
Trimmers  
from $279
Chainsaws  
from $339
YAMAHA 
HUSQVARNA 
Community Centre
Open 10am – 2pm  
Monday – Wednesday – Friday 
WIFI, printing & scanning available 
Kaiwaka's own social space. 
JP on site most Fridays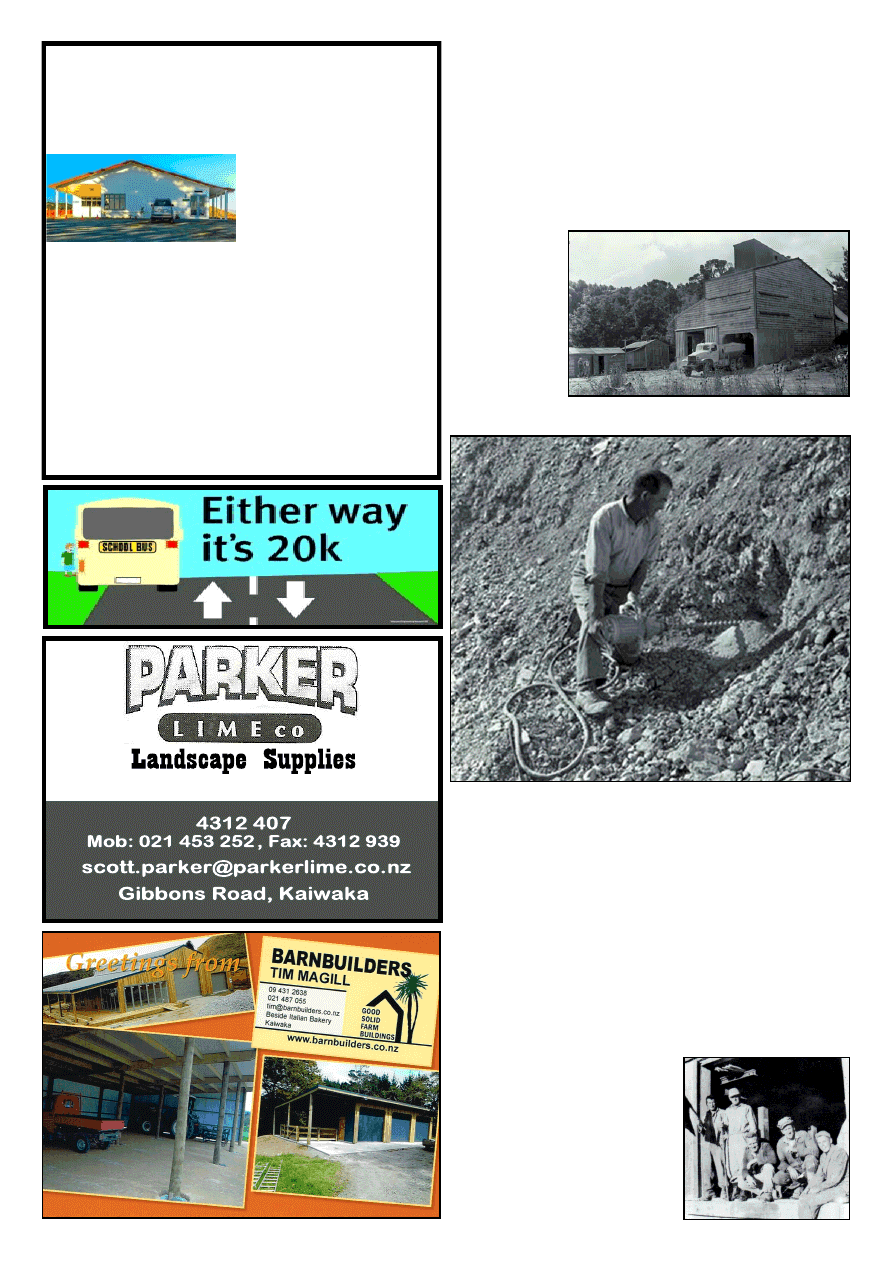 www.kaiwaka.co.nz 
Kaiwaka Bugle - 14 June 2016 
Page 15 
Te Pounga Marae 
130 Nathan Rd. Oneriri. Kaiwaka 0573 
COMPLEX FOR HIRE 
Functions 
* Weddings  * Birthdays  
*Anniversaries 
* Meetings  * Wananga 5 
hour meeting 
* 12 hour stay  * 
Overnight 
*All welcome - No more Drink-driving 
Amenities: 
*Convo Combi Steamer * Bratt Pan * Dish 
Washer/Sterilizer * 3 Door Glass Chiller (walk in) 
etc…All Crockery * Linen Supplied * Central 
Heating and Air Conditioning and much more. 
Can also cater for small groups…. 
For more information please contact: 
Kim Wallace 
Home: 09 832 1133  Mob: 0211275340 
Email: kimwallace@xtra.co.nz 
Bulk Cartage 
KAIWAKA QUARRIES 
Kaiwaka has a number of quarries in the area. 
Colin  and  Nelson  Cameron  had  a  small lime  works  in  the 
30s,  40s  and  50s  -  Ian  Cameron  donated  the  old  single 
piston engine circa 1910 from Cameron's lime works to the 
Mangawhai  museum.  Tony  Tomas  had  a  portable  crusher 
working out of Basil Jefferies' Quarry. 
Our  most  well-known  quarry  is  on  Gibbons  Road,  now 
Parker  Lime.  This  quarry  came  into  production  in  1950  – 
see  page  111,  Centennial  of  Kaiwaka  1859-1959,  on  the 
first nine years of  Kaiwaka Lime Ltd. 
Pictured 
right: 
1952: A view of a 
large  shed  and 
two  smaller  sheds 
at  the  Kaiwaka 
quarry.  A  truck 
parked  there  has 
written on it: "A.I. 
Tomas, 
Bulk 
Lime  Contractors, 
Wellsford".  The 
truck  would  be  a 
G.M.C. ex-Army. 
Pictured below: Bill Tate at work in the Kaiwaka Quarry. 
These two photos from Auckland Libraries Digital Images Collection 
From  Bill  Leslie:  "The  drill  had  three shafts  -  4ft,  6ft  and 
8ft - when the drill reached eight feet in the hardest area, a 
half plug of gelignite was inserted with detonator and fuse.  
The  drill  shafts  were  slightly  larger  than  the  then-used 
gelignite; this was set off and the half plug would make a 
chamber at the end of the 8ft hole. This was called "bulling 
the hole". 
Up to one dozen plugs were then inserted into the bull hole, 
the last  having  a  detonator  attached  to  the  fuse  cable.  The 
hole  was  then  carefully  filled  with  fine  earth,  stone  and 
tamped or pressed-in tight for the whole eight-foot length of 
the hole. 
Several  holes  may  have  been  done  at  the  same  time  on  a 
long  face  with  the  fuse  lighter  moving  faster  and  faster  as 
he lit the charges, so that all charges went off within a few 
seconds of each other. 
As a 19 year-old I thought I was pretty good at it, but then 
big  bulldozers,  carry  -alls,  and 
rippers  came  along  and  spoiled 
the fun." 
Pictured right: Taking a break at the 
Kaiwaka  lime  works,  Gibbons  road, 
Bill  Tate,  Ray  Parker,  Phil  Gibbons, 
Don  Radonich  and  A  Bull.  Page  90 
Kaiwaka A Photographic History. 
NB.  If 
you  have  further 
information  on  Kaiwaka  quarries 
or  photographs  please  let  me 
know – Lindsey.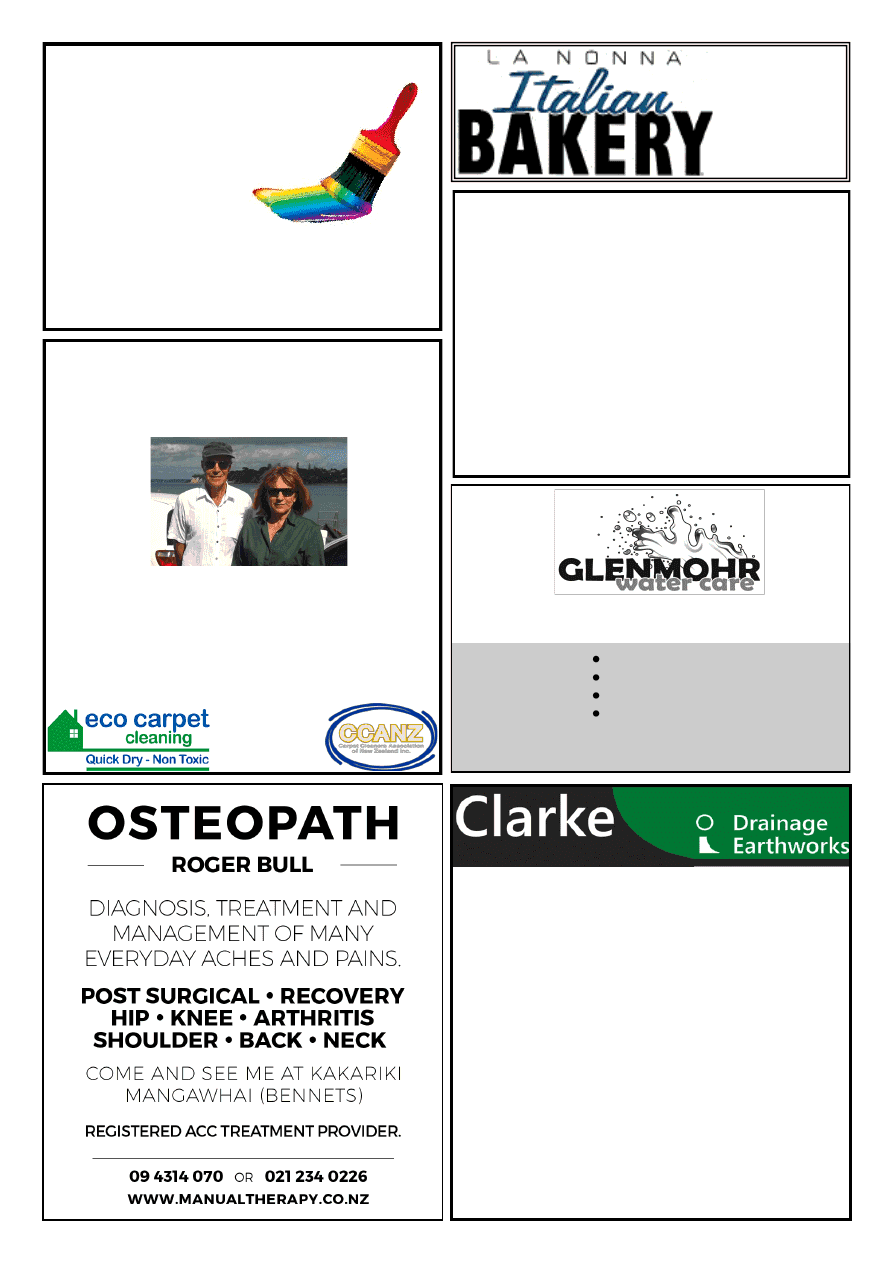 CARPET & UPHOLSTERY 
CLEANING 
QUICK DRYING – NON-TOXIC - GREAT RESULTS 
Mike and Marina Bagley 
Call 09 431 3016  
or 027 2410414 
marina@ecocarpetclean.co.nz  
www.ecocarpetclean.co.nz 
1923c State 
Highway 1,  
Kaiwaka. 
Open 7am-4pm  
Tue to Sun. 
Closed Mondays. 
Phone 09 431 2643 
Registered Drainlayer 
All Types of Earthworks  
> All Residential & Commercial Work  > House Sites 
> Septic System Design & Install 
> Footings & Drilling to 10m 
> Sewer Connections 
> Dams 
> Water Tank Installation 
> Roading & Races 
> Farm Work 
THE ONE STOP SHOP  
Phone Nigel for an Obligation Free Quote  
Drainage & Earthmoving 
clarkedrainage@xtra.co.nz 
027 2233 185 
09 4312918 
0274735171 
leecooper@xtra.co.nz 
LEE COOPER PAINTERS 
(Kaiwaka Based) 
*30 yrs Experience 
*Interior/Exterior 
*New and Restoration 
*Honest and Reliable 
*Free Quotes 
Water Tank Cleaning 
Keep your water safe & clean  
Removal of sediment, silt etc. 
Vacuum or full scrub 
Minimal water loss 
Phone Mark (09) 432 0655 or 0274 707607 
LIFESTYLE PROPERTY  
MAINTENANCE 
Putting life back into your style
Working out of Kaiwaka; servicing Mangawhai, 
Maungaturoto, Waipu and surrounding areas. 
  With over 25 years' experience, I'm fully insured and 
any job considered so just call me – James on mob: 0273 
808622 or 09 431 2245 
email: lifestylesorted@gmail.com  
Mulching - gorse, 
scrub 
Tree & hedge work 
Hole boring 
Alkathene laying & 
repairs 
Paddock topping, 
slashing 
Electric fence 
installation 
Weed spraying 
Free quotes 
Land & section 
clearing 
Loader work 
Rubbish removal 
Fully insured 
Repairs to driveways, fencing & buildings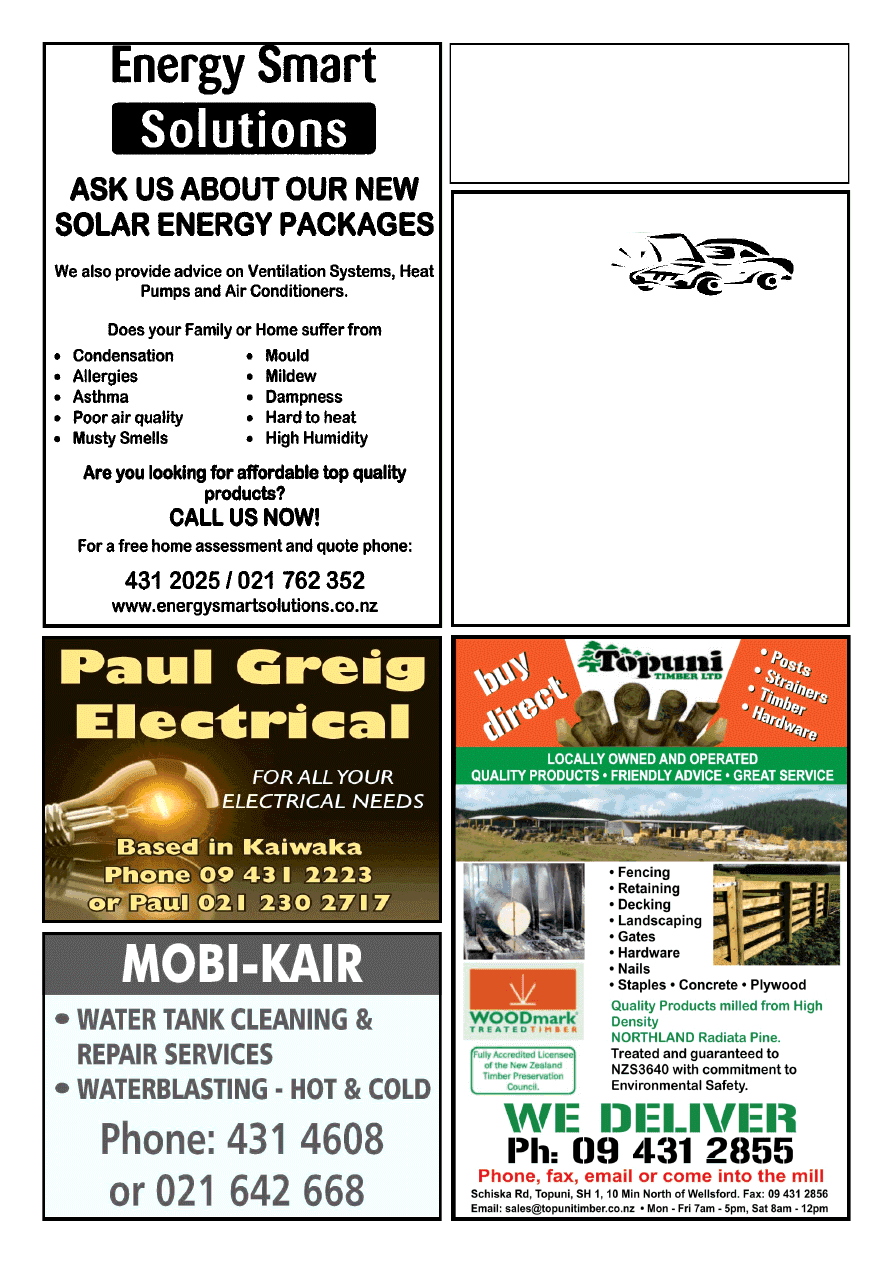 www.kaiwaka.co.nz 
Kaiwaka Bugle - 14 June 2016 
Page 17 
Twinkle Tow 'n' Tyre 
Think you'll get a better deal in the city? 
Ring us - it won't cost anything! 
1837 State Highway 1, Kaiwaka 
Phone 431 2823 
*W.O.F. 
*Tyres 
*Windscreen 
replacement 
*Chip repairs 
*Bulk Oil 
*Batteries 
*Welding 
*Custom built 
trailers 
*Trailer hire
FREE GRAZING WANTED 
Small or large block 
Can do some fencing or water 
Phone after 6pm 
4312 006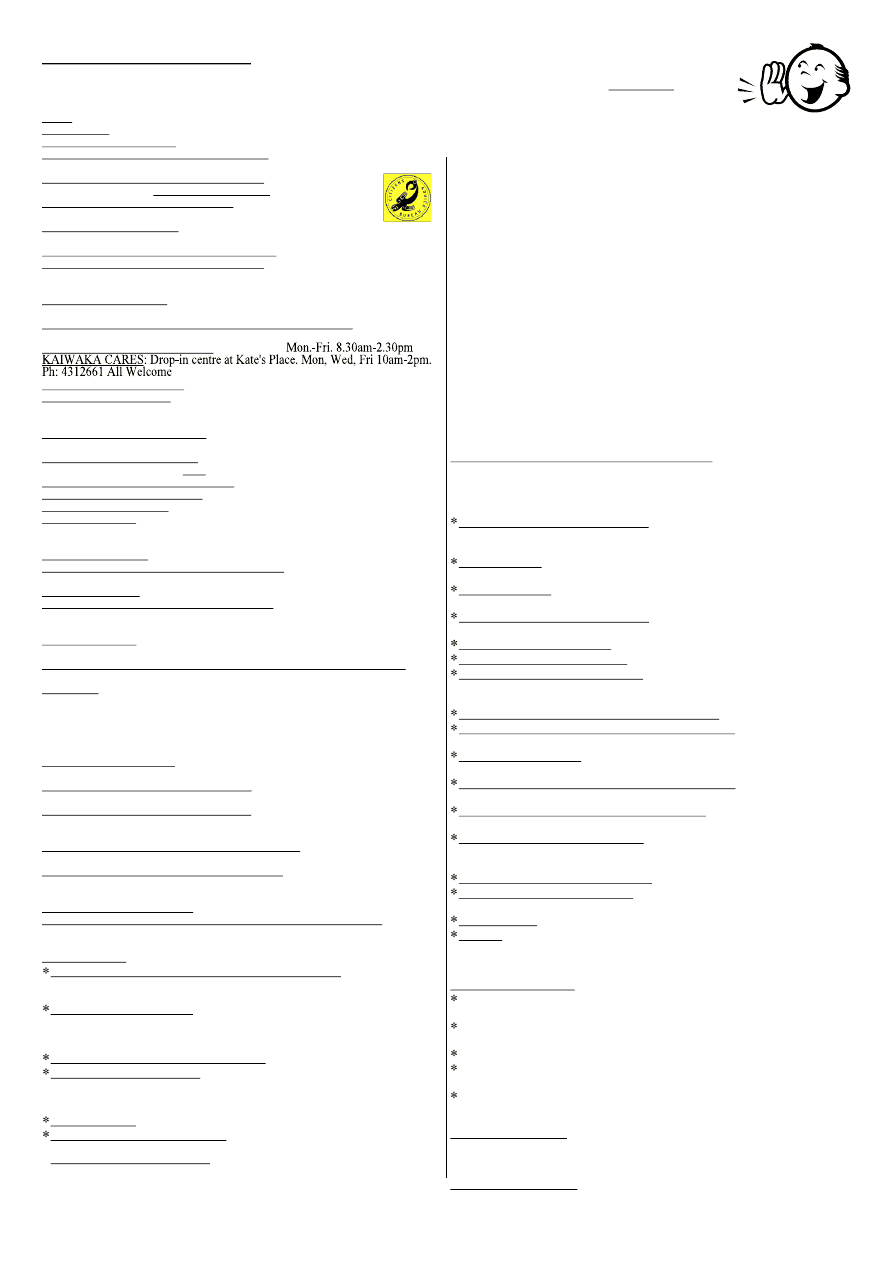 Next Bugle Deadline midday Friday 24 June 2016
WHAT'S ON
PLEASE ~ do let us know what is on - email 
kaiwakabugle@kaiwaka.co.nz 
Advertising in WHAT'S ON is FREE  
*17Jun~Room, 7:30pm KWMH 
*17Jun~Karaoke, Hakaru RSA 7:30pm 
*19&26Jun~CAP Money Course, Kate's Place 4313 234 
*21Jun~Pt Curtis Cruising Club AGM 7pm 3 Furlongs 
*26Jun~Basketball module finals, 1:30pm KSA 
*26Jun~Zootopia, 2pm KWMH 
*1Jul~My Big Fat Greek Wedding 2 + dinner (tickets only), 
6:30pm KWMH 
*2Jul~Kids' Disco, 7pm KSA 
*2Jul~The Mikado season starts, Otamatea Repertory Theatre 
*15Jul~Nominations open for local body elections 
*15Jul~Eye In The Sky, 7:30pm KWMH 
*15Jul~Karaoke, Hakaru RSA 7:30pm 
*16Jul~AA Open Meeting, 7pm Wellsford Community Centre Ph 
Doug 4312 228 
*2Aug~KDC Candidate Seminar, 12:30pm KSA 
*12Aug~Nominations close for local body elections 
*12-14Aug~Boar Hunt, Pt Curtis Cruising Club 
KWMH=Kaiwaka War Memorial Hall 
KSA=Kaiwaka Sports Association Complex 
ORT=Otamatea Repertory Theatre 
See www.kaiwaka.co.nz for upcoming events. 
HOUSEHOLD RUBBISH COLLECTION - Kaiwaka Pick up: 
Mondays = Gr een bags (Nor thland Waste - 09 430 3273) 
Wednesdays = Blue bags and yellow r ecycling (at J aques $3.00 
and $1.50) (Kaurilands 09 4392146) 
 DIABETES  Support  Group  -for  Kaiwaka,  Mangawhai, 
Wellsford  10am,  3rd  Friday  of  month  Ph:A.Pert  4238242; 
J.Gardner 4238060 
 DRINK CAN 'tear tabs' - for Starship Hospital- please collect - 
98 Kaiwaka Mangawhai Rd, leave in mailbox, Ph. 4312625  
 GENEALOGY - Wellsford: 1st Thursday in month Ph: 423 
7033; Waipu: 4th Monday in month Ph: 4312 725 
 GYMNASTICS  OTAMATEA  -  Tuesday  Ph:  Stephanie  022 
3624998 
 HAKARU PONY CLUB - Secretary Julie Rynne 09 4314520 
 KAIWAKA BADMINTON -Tuesdays 7.30pm Ph: 4312345 
 KAIWAKA  DRAMA  CLUB  -  Dave  Edwards  021  611198  - 
KaiwakaDrama@gmail.com Monday 5:30-7:00pm KWMH - FB 
- "KaiwakaDramaClub" 
 KAIWAKA DRUM & DANCE CLASSES - 021 611198 
 KAIWAKA GARDEN & FLORAL GROUP - 2nd Thursday in 
month. Ph: 431 4767 
 KAIWAKA  CUBS  -  Thursdays  5.30-7pm,  Hakaru  Ph:Bruce 
4312542 
 KNITTING FOR WHANGAREI HOSPITAL - 2nd Tuesday in 
month, Apple Basket 10am Ph 4314827 
 MANGAWHAI COMBINED PROBUS CLUB - 2pm, 3rd 
Thursday month, Senior Citizens Hall Mangawhai. Ph: 4315777 
 OTAMATEA GREY POWER - Kath Pattinson 09 431 8960, 
1pm last Wednesday of month, Anglican Church Hall, 
Maungaturoto 
 PT CURTIS CRUISING CLUB - Jean Ph: 4312227 (wk), 4312520 (hm) 
 RSA,Hakaru & Dist.Women - meet 1.30pm 4th Thurs in month 
Ph: 4314 668  
 TRAMPING - Mondays 9am-2:30pm Karen Ph: 4312 090 
 YOGA  -  Tuesdays  6:15pm,  Friday  8:30am  KWMH  Carla  Ph: 
021  296  8794;  Wednesday  5:30-7:00pm  Archie  Bull  Hall 
Dalleise Ph 4312 108 
HALLS FOR HIRE: 
 St.Pauls Archie Bull Hall HIRE $20 half day, $40 full day per 
hire, R. Morgans, Ph 4312365 
 Kaiwaka  War  Memorial  Hall  HlRE  -  Phone  4312725  or 
kaiwaka.hall.bookings@gmail.com 
 Hakaru Community Hall HIRE -Ph. 4312256 or 4312110 
 Te Pounga Marae queries - R. O'Leary 4312 423, J.Nathan 021 
186 7382 
 Kaiwaka Sports Association hire/queries - C. Anderson 4312051 
or kaiwakasports@gmail.com 
Justice  of  Peace:  B.FJaques;  L.Donaldson;  A.F.Hargreaves, 
S.Dalziell,  W.Howard  -  please  phone  to  make  sure  they  are 
available www.justiceofthepeace.org.nz 
Marriage Celebrants: L.Donaldson; A.F.Hargreaves; C.Rosseels
LOCAL SERVICES 
*Emergencies - Ambulance, Fire, Police - dial 111 
*Non-urgent Police phone 09 4311150
A A: Meets Wed., 8pm Kaiwaka Ph: 4312228, 4315543, 0800229 6757 
AL ANON: In recess, contact Ph: 4312228 
ASUREQUALITY LTD (was AgriQuality) Call Free 0508 0011 22  
BUDGETING SERVICE, WELLSFORD: Free confidential advice & 
support for all areas of personal finance. Ph (09) 423 7123 
CAB-Citizens Advice Bureau.Wellsford Ph: 4237333 
0800 367 222 email:cab.wells@xtra.co.nz  
DOG/STOCK /NOISE CONTROL 0800 105 890 
FUNERAL SERVICES: Morris & Morris Ltd, 
Whangarei - Bev Jaques Ph:4312367 or 0800667747 
GRANDPARENTS Raising Grandchildren: Dianah Roberts 0223819539 
HAKARU LANDFILL/Transfer Station:Open everyday except 
Tuesday10am-4pm.Ph4312629 Cost-$55 trailer load up to 1 cubic metre. 
Ph:4258567 - office 
INLAND REVENUE: Last Friday each month, 11-3pm Ph4312661 
KAIPARA DISTRICT COUNCIL www.kaipara.govt.nz:  
Help Desk FREEPHONE 0800 727 059  
KAIWAKA KOHANGA REO: Ph:4312620 
KAIWAKA CEMETERY: Ph: 4312045 
KAIWAKA LIBRARY: kaiwaka.library@gmail.com  
Mon. 4-6pm; Wed., Thurs., Fri., Sat. 10am-2pm Ph:4312539 
KAIWAKA PLAYCENTRE: Ph: 4312286. Hastie Lane 
Monday to Friday 9.00am - 12 noon. 
KAIWAKA POST OFFICE:Ph:4312 431  
Post Code: 0573 for RD2 and 0542 for all Kaiwaka Post Office mail 
KAIWAKA PRIMARY SCHOOL: Ph: 4312309   
KAIWAKA SPORTS ASSN: Ph 4312005; 4312129 gym 
KAIWAKA ST JOHN: Manager Steve Rosser 09 4318403, 021 2316836 
KATE'S PLACE with Govt.Day Agencies/Community Information /
Osteopathy/ IRD / Probation, etc Ph: 4312661 Hours: 9am-3pm. Mon - Fri 
LINKING HANDS Health Shuttle Ph 4314121 or 09 4318969 
MINISTRY FOR PRIMARY INDUSTRIES - General inquiries Call 
Free 0800 008 333 
NORTHPOWER: Faults Kaiwaka area 0800 104040 
OTAMATEA COMMUNITY SERVICES: Counselling, parent coach, 
Family Support worker, budget advice, food bank. Mon-Fri 9am-30m. Ph 
09 431 9080 http://www.otamateacs.org/ 
PARENTPORT: Free, practical family support service Puhoi to Paparoa 
Ph or txt: Dianne 027 2085093 
PERSONAL DEVELOPMENT COACHING, GROUP FACILITATION:  
Sabine Druckler 4312231 
PLUNKET: Kaiwaka - Kaiwaka War Memorial Hall: Clinic 1st Wednesday of the 
month; Coffee Group at 9:30. Mangawhai  - Rose Madsen Cottage, Mangawhai 
Domain,  Moir  St:  Clinic  1st  and  3rd  Monday  of  month;  Young  Babies  Coffee 
Group  2nd  and  4th  Monday  10  am;  Plunket  Playgroup  every  Thursday. 
Maungaturoto - Maungaturoto Congregational Church, 100 Hurndall Street East: 
Plunket clinic 2nd and 4th Wednesday. Cynthia 09 431 8187 or 027 675 3488 
PLUNKET HELPLINE -0800 933 922 (24 hours) 
RETURNED AND SERVICES ASSN 733 Settlement Rd. Hakaru 
Ph.4312176 Bill Kerr (President) Ph.4314719 
TAITOKERAU COMMUNITY LAW: Free confidential legal advice and 
assistance, 2nd
Thursday
 of each month. Ph: 0800 155 529 for 
appointments.  
TE KOROWAI AROHA O NGATIWHATUA Ph: 4312675 
(The Cloak of Love of Ngatiwhatua) Support and Maori Consultancy.  
VETERINARY SERVICE MANGAWHAI: 
Ph: 4314535 Mon-Fri 8.00-5.00, Sat 9-12, a/h appt. 
WELLSFORD DOCTORS: Ph: 4238 086 
WOMEN'S WELFARE LEAGUE & Reaching Out For Youth:  
4 Kaiwaka-Mangawhai Rd, M Morgan 4312293 
CHURCHES:
Kaiwaka Revival Church - Your Community Church: Sundays 10am & 
6pm. Ph: Pastor Tawhiri 09 4312 571 or Pastor Paul 09 4312 068 Visit 
us at www.facebook.com/kaiwakachurch 
St Paul's Anglican Church 1st Sun. 9.30 am (Eucharist), 3rd Sun. 9.30 
am (Family Service). Contacts: Church Office 09 431 4122; M. 
Hargreaves 431 2295; C. Bygrave 431 2057; or Rev. Wayne Thornton 
Ph 431 5650 www.mangawhaianglican.org.nz 
Church of Christ the King, Mangawhai:9.30am every Sunday 
St.Mary's Catholic Church: Maungaturoto – Griffins Road, Saturday 
evening Vigil Mass 6pm; Mangawhai – Senior Citizens Hall, Sunday 
Mass 8:30am; Wellsford – Matheson Road, Sunday Mass 10:30am;  
Mid-week Mass times and all enquires to Fr. Bill Fletcher – phone 423 8170
Baptist Church: Sun. 10.30am Mangawhai Snr Cit.Hall.Ph:4312339 
Cause Way Church Mangawhai: Sundays 10.15am, Mangawhai 
Community Recreation Centre, Insley St. Ph: 09 4314782