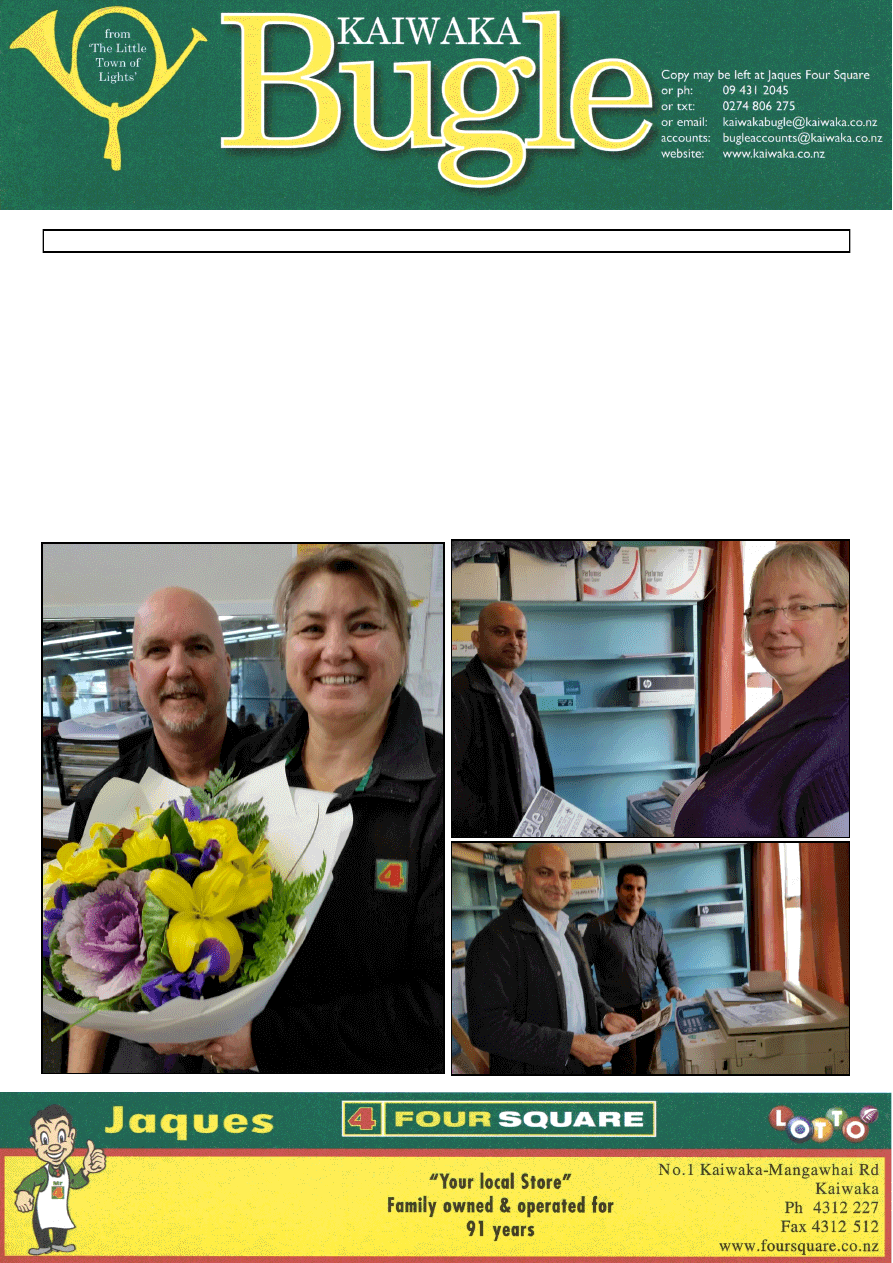 www.kaiwaka.co.nz 
Kaiwaka Bugle - 28 June 2016 
Page 1 
 No: 12
28 June 2016 
Winter Trading Hours: 
Mon - Fri: 8am to 6pm 
Sat: 8am to 7pm (Lotto) 
Sun & Public Holidays: 9am to 5pm 
KAIWAKA GOOD SORTS 
Congratulations  to  Paula  and  Greg  Jaques,  the  latest 
recipients  of  a  bunch  of  flowers  from  the  Flower  Girl  for 
their good works in the community. 
They  were  nominated  by  Cheryl,  who  said  they  are 
"running a busy, well-stocked supermarket, sponsor lots of 
local events, allow the shop to be a drop-off point for lots of 
things, keep Bugles, Avon, courier parcels, etc there for the 
public to collect, keep track of keys to various community 
facilities,  are  the  collection  point  for  the  food  bank,  allow 
groups to fundraise outside the shop etc." And we all know 
they do so much more for the community. 
Well  done!  And  well  done  to  the  shop  staff  who  kept  it 
quiet from them, too! 
The Bugle team also appreciate their support, and think this 
nomination is well deserved. 
OUR NEW BUGLE PRINTER 
The  Bugle  Team  has  upgraded  its  printer  to  a  Riso  9000-
series machine. Similar in functions to the old Riso printer 
(meaning  your  Bugle  team  doesn't  have  a  steep  learning 
curve with this transition), it is faster and produces clearer 
photos, graphics and type. Can you see the difference in this 
issue? 
The old printer (a 5000-series machine) was purchased mid-
2010 (we think! memories are fading), and has printed more 
than two and a quarter million pages since then. 
The  ProPrinter  (two  printers  ago)  had  a  top  speed  of  130 
pages  per  minute,  which  the  team  thought  was  brilliant  at 
the  time.  The  new  Riso  has  a  top  speed  of  185  sheets  per 
minute - almost 50% faster. It's significantly quieter, too! 
Photos  below:  bottom:  Praveen  Kumar  and  Nitin  Kumar, 
Watermans  Innovations  Ltd,  top:  Praveen  and  Bugle 
assistant editor Wendy Howard, with the new printer.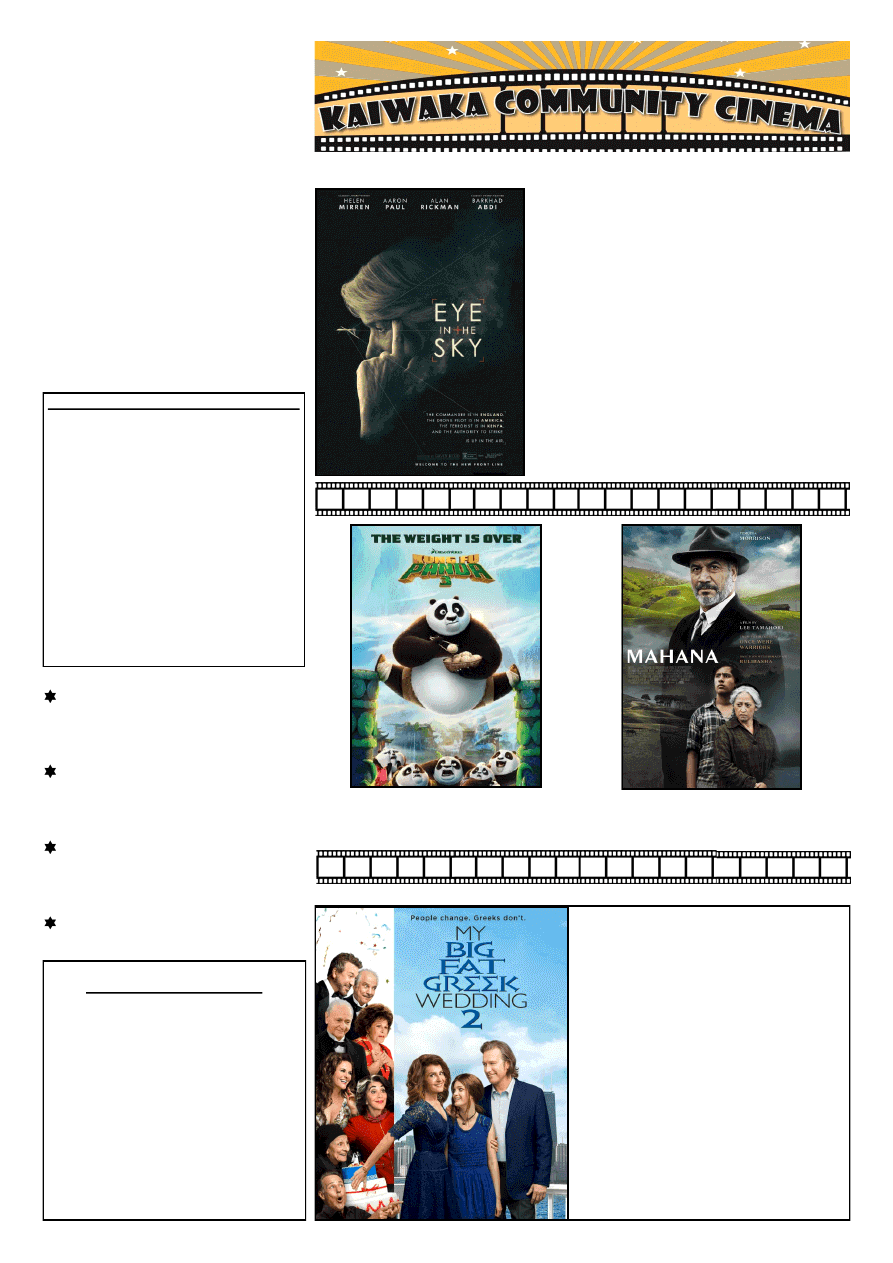 ABOUT TOWN 
......... 
Take a bow! The Bugle Editors have 
just had a visitor from Hamilton pop 
in to say  'What a lovely clean town' 
Kaiwaka is a really lovely place!" 
Congratulations  Rob  Hastie!  He  has 
been  appointed  to  judge  at  the  2017 
NZ 
Sheep 
Dog 
Trials 
Championships. 
Cheryl  now  needs  8  weeks'  notice 
for bookings at the KSA that require 
a  special  licence  -  see  the  sports 
report. 
Confirmed  -  the  BNZ  Wellsford 
closes 1st July. 
KAIWAKA BUGLE No: 10 
28 June 2016
Page 2: Kaiwaka Movies 
Page 3: Public Notices; Classifieds 
Page 5: Kaiwaka-Mangawhai Scouts 
Page 7: Otamatea Community 
Services, Maungaturoto Rotary 
Page 9: One Million Birds & Counting 
Page 11: Cycle/Walkway Trail 
Page 13: Leadership, Pt Curtis, School 
Page 15: Kaiwaka Sports Association 
Page 17: Otamatea High School 
Page 19: Kaiwaka Cemetery 
Bugle 13 will appear 12 July 2016 
Contact for advertising, reports, articles 
or information can be made by: 
Email kaiwakabugle@kaiwaka.co.nz 
Ph: 09 4312 045 (Lindsey) 
Txt:  0274 806 275 (Wendy) 
Copy may be left at Jaques' Four Square.
Kaiwaka Bugle 
Founded May 1978 
We appreciate articles and photos about local 
events, etc, as well as ads and suggestions. 
Copies available in Kaiwaka at Jaques Four 
Square, Kaiwaka Postal Centre, Shamrock 
Service Station, Animal Health Centre, 
Kaiwaka St John shop. 
Also outlets in Maungaturoto, 
Mangawhai and Paparoa. 
Can be viewed online at  Facebook or 
www.kaiwaka.co.nz/Bugle  
Or a copy can be posted to you if you supply 
stamped, self-addressed DLE envelopes. 
At Kaiwaka War Memorial Hall . Adults $10, Chn (under 16) $5, Family Pass (2 adults + 3 children) $25 
Kung Foo Panda 3 
Sunday 17 July 2:00pm (PG)
Mahana 
Friday 29 July 7:30pm (M)
Kaiwaka Bugle Advertisements 2016: 
All 
copy 
and 
queries 
to: 
kaiwakabugle@kaiwaka.co.nz 
Our A4 page is divided into 6 columns & 8 
rows (48 blocks), with a 1cm margin. 
Ad  sizes:  1/16  page  (3  blocks)  $5;  1/8 
(6 blocks) $8; 3/16 (9 blocks) $12.  
Classified  ads:  $4  per  entry  (max.  30 
words, max. 4 repeats). 
Payments can be made online, posted or 
left at Jaques Four Square Store. 
Accounts: 
bugleaccounts@kaiwaka.co.nz 
The  Kaiwaka  Bugle  is  a  community 
newspaper run by volunteers.   
Articles, etc. printed are not necessarily 
the opinion of the Bugle Team. 
Eye In The Sky 
Friday 15 July 7:30pm (M)
Colonel  Katherine  Powell,  a  military 
officer  in  command  of  an  operation  to 
capture  terrorists  in  Kenya,  sees  her 
mission  escalate  when  a  girl  enters  the 
kill  zone  triggering  an  international 
dispute  over  the  implications  of  modern 
warfare. 
Starring: Helen Mirren, Aaron Paul, Alan 
Rickman. 
Directed by Gavin Hood. 
Greek Movie + Dinner Night Out 
1 July 
$35.00 
Tickets only, no door sales 
6:30pm dinner start 
09 4312 234 or 09 4312 225 
Limited tickets available 
MAIN 
Moussaka (Greek-style lasagne) 
Spanakopita (ricotta and spinach pie) 
SIDE DISHES 
Green beans and almonds with tzatziki 
Orzo and roast pepper salad 
Greek salad 
DESSERT 
Apple and walnut baklava with lemon-infused 
mascarpone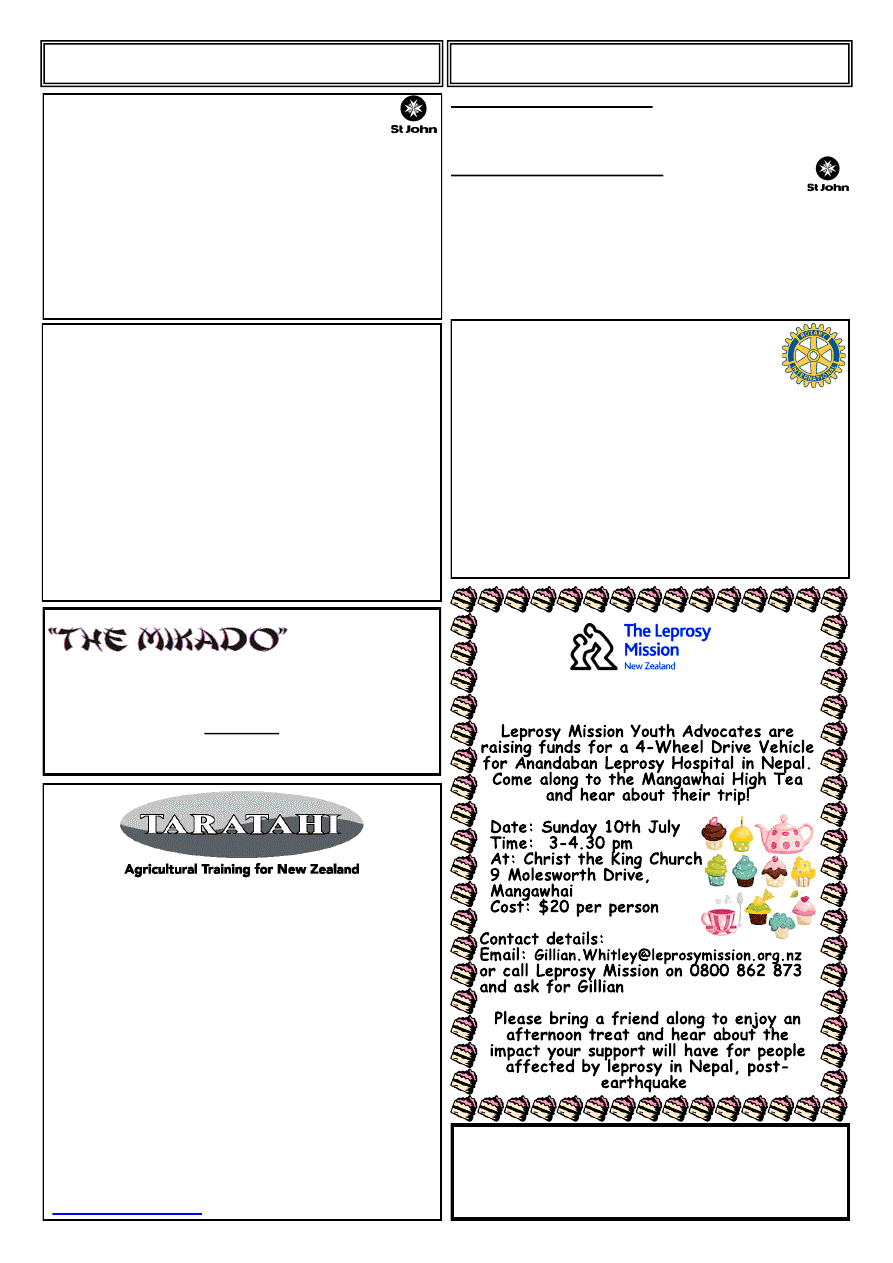 www.kaiwaka.co.nz 
Kaiwaka Bugle - 28 June 2016 
Page 3 
PUBLIC NOTICES 
CLASSIFIED 
Proverbs 27:19 
A mirror reflects a man's (woman's, child's) face, 
but what he is really like is shown by the kind of 
friends he chooses. 
FINDER'S  REWARD:  Thank  you  to  whoever  
returned the remote control for my hearing aids. Could 
you please contact me on 4312231 for a reward? 
PART-TIME  CLEANER:  Otamatea  Area 
Committee  St  John    r equire the services of a 
part-time cleaner to clean our stations in Maungaturoto 
and  Kaiwaka.  The  hours  will  be  negotiable,  but 
approx. 7 hours one week and 10 the other. Should you 
be interested and require a Job description, please call: 
021355734.  Applications,  in  writing,  will  close  on 
Friday 15 July. 
Caterer Required 
Expressions of Interest 
Maungaturoto  Rotary  Club  is  seeking  a  Caterer  to 
supply  two  course  meals  (up  to  three  Tuesdays  a 
month)  for  Rotary  Meetings  for  15-25  members  - 
numbers provided prior to the Meeting.  
Twice a year numbers could be up to 60 people.  
Meetings  held  at  Centennial  Hall,  Maungaturoto  - 
commercial kitchen onsite. 
For more information Contact Vern Dark 
email vern.dark@xtra.co.nz 
phone 021 934 923 
Agricultural Training Options 
-  
Level 2 – MAUNGATUROTO AREA 
 
Enrolling 
now, 12 and 24 week options.  
Gain  essential  skills  or  update  and    refresh  your 
current  ones  to    secure  your  future  in  the  industry. 
Suitable for age 16 and over, support given to gain a 
driver's  license,  build  CVs,    and  pathway  onto 
further  study  or  employment.  Assistance  with 
transport.
Topics  covered  include:-  health  and  safety, 
livestock  handling,  agricultural-vehicles,  fencing, 
chainsaws 
and 
agri-chemicals. 
Limited 
places.  Starts July 4
th
.  
ENROLL NOW! 0800 TARATAHI. 
OTAMATEA AREA COMMITTEE  
ST JOHN SUPPORTERS' SCHEME 
We have been advised by the Region that as from 1 July 
2016, the cost of this will increase by $5 as follows: 
Individual (1 person) – was $45, will be $50 pa. Joint (2 
people living permanently at the same address) – was $60, 
now  $65pa.  Household  (3+  people  living  permanently  at 
the address) – was $75, now $80pa. 
It  is  to  be  remembered  that  this  money  stays  in  our area 
for  our  use.  However,  part  of  it  is  used  to  pay  for 
emergency transport for our supporters when they require 
it. 
Mangawhai High Tea 
Help us make a difference 
.  
KAIWAKA SCHOOL 
Board of Trustees 
Casual Vacancy for an elected trustee 
A casual vacancy has occurred on the board of trustees for 
an  elected  parent  representative.  The  Board  has  resolved 
under  section  105  of  the  Education  Act  1989  to  fill  the 
vacancy  by  selection.  If  ten  percent  or  more  of  eligible 
voters on the school roll ask the board, within 28 days of 
this notice being published, to hold a by-election to fill the 
vacancy, then a by-election will be held. 
Any eligible voter who wishes to ask the board to hold a 
by-election should write to: 
Mr Adrian Buxton 
Chairperson, Board of Trustees 
Kaiwaka School 
PO Box 104 Kaiwaka.  
by: 21
st
 July 2016 
Otamatea Repertory Theatre Inc presents... 
Directed by Peter Flower 
Adults $28 | School Students $16 
Tickets online or Tony's Lotto Shop, Maungaturoto 
Special Prices and meal options 
More information on our website www.ort.org.nz 
Show Dates 
Sat 2nd, Fri 8th, Fri 15th July @ 7:30pm 
Sun 3rd, Sat 9th, Sun 10th, Sat 16th, Sun 17th July @ 2pm 
At the theatre, Bickerstaffe Rd, Maungaturoto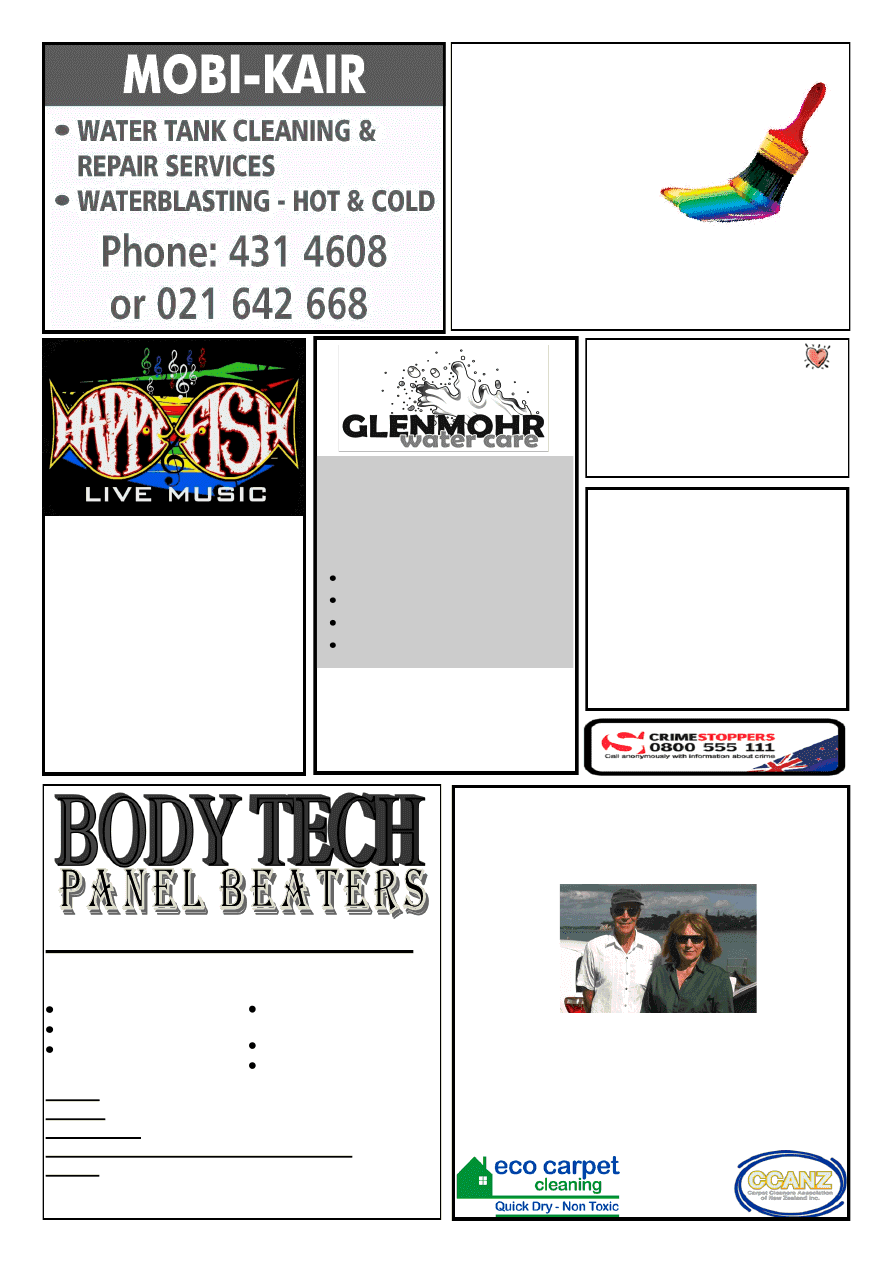 09 4312918 
0274735171 
leecooper@xtra.co.nz 
LEE COOPER PAINTERS 
(Kaiwaka Based) 
*30 yrs Experience 
*Interior/Exterior 
*New and Restoration 
*Honest and Reliable 
*Free Quotes 
CARPET & UPHOLSTERY 
CLEANING 
QUICK DRYING – NON-TOXIC  - GREAT RESULTS 
Mike and Marina Bagley 
Call 09 431 3016  
or  027 2410414 
marina@ecocarpetclean.co.nz  
www.ecocarpetclean.co.nz 
For all your body repair needs!! 
We do: 
Rust repairs 
Insurance work 
Anti-corrosion treatment         
Hours: 8.30am-5pm Monday-Friday  
Mobile: 021 118 0462 
After hours: 09 431 2384 
Phone: Craig or Call in for a free Quote 
e-mail: 
bodytech_panelbeaters@yahoo.com
We are located at 1837 SH1 Kaiwaka, behind  
Twinkle Tow 'n' Tyre call in anytime for a free quote.  
Large and minor vehicle  
  repairs 
Industrial vehicles 
Full Cut and polishes 
Water Tank  
Cleaning 
Keep your water safe & clean   
Removal of sediment, silt etc 
Vacuum or full scrub 
Minimal water loss 
Phone Mark  
(09) 432 0655  
or 0274 707607 
ROCKIN' POPULAR, OLD AND 
NEW PARTY SONGS WITH LOADS 
OF KIWI MUSIC AND A FEW 
ORIGINAL TUNES IN THE MIX. 
AN ELECTRIC DUO FEATURING:  
GORDON JOLL 
(NZ Music Hall of Fame)
ON DRUMS AND SUE JOLL ON 
GUITAR AND VOCALS. 
A BAND FOR ANY OCCASION 
BACKED BY YEARS OF 
EXPERIENCE. 
Contact: Sue 021 623 776 
Email: happyfishband@gmail.com   
Website: www.happyfishband.co.nz 
Healing from the 
Energy Balancing 
@ Kate's Place, Kaiwaka. 
1st Friday of each month 
9am-12pm. Koha. 
Txt 0273135440 
for an appointment 
Counsellor and 
Registered Psychotherapist 
Offers Supervision
Susan Matheson 
MNZAC, RN 
Dip. Psychosynthesis Counselling and Psychotherapy 
Phone 09 431 5997 
Mobile 027 605 2427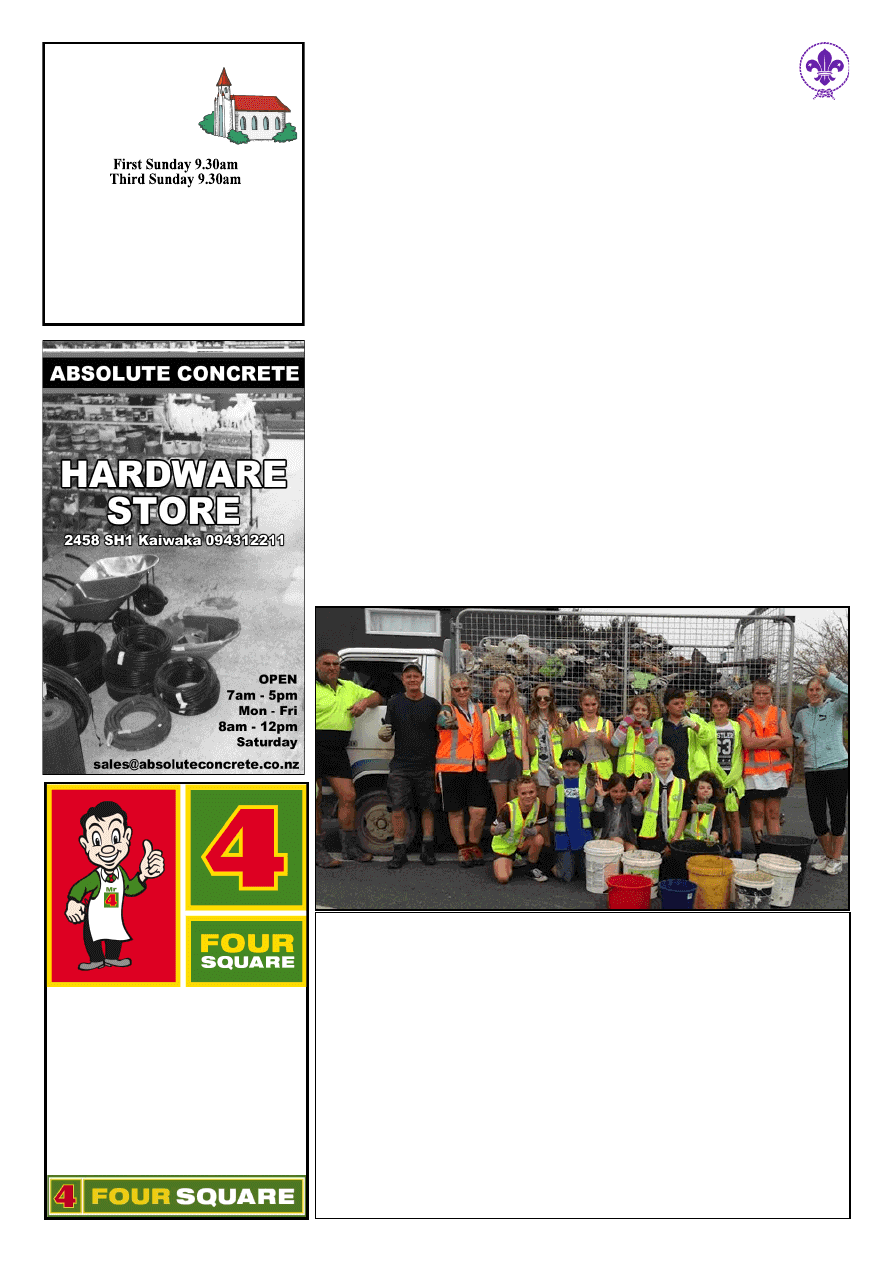 www.kaiwaka.co.nz 
Kaiwaka Bugle - 28 June 2016 
Page 5 
ST PAUL'S  
ANGLICAN  
SUNDAY  
SERVICES
St Pauls Church: Kaiwaka-Mangawhai Rd. 
1st Sun - Eucharist 
3rd Sun - Family Service 
Office 4314 122 
Contacts:M.Hargreaves 4312295, C.Bygrave 4312057  
or Rev. Wayne Thornton Ph 431 5650 
www.mangawhaianglican.org.nz
Winter Stock 
Socks, gloves, & slippers 
Gas swap a bottle 
Firewood & Kindling 
Jaques Four Square 
Phone: 4312227 
1 Kaiwaka-Mangawhai Road, Kaiwaka. 
Scouts 
from 
Kaiwaka-Mangawhai 
Scout group walked between the towns 
picking 
up 
roadside 
rubbish, 
fundraising  for  Scout  Jamboree  on  the 
11th and 12th June. 
  We  collected  two  truck  and  trailer 
loads  of  rubbish.    We  were  well 
supported by courteous drivers and lots 
of  toots  to  keep  us  going.    What  we 
now know about our community is they 
drink  a  lot  of  coffee  and  alcohol  as 
there  were  100's  of  bottles  and  coffee 
cups  on  the  verge.    The  Scouts  were 
amazing  and  thank  you  to  the  parent 
helpers that kept us safe. 
The 
Scouts 
were 
collecting 
sponsorship for the walk which will go 
towards the cost of the 10 day 21st NZ 
Scout  Jamboree.  Along  with  Scouts 
from  Dargaville  and  Horahora  and 
Australia, they form a troop of 36 who 
will  be  among  more  than  3000  Scouts 
and  leaders  from  NZ  and  around  the 
world  attending.  We  had  many  people 
asking 
us 
how 
they 
could 
donate.    Donations  can  be  made  to 
Scouting  Association  of  New  Zealand 
Kaiwaka BNZ  02 0484 0022539 01 
Jamboree  is  a  once  in  a  life-time 
experience,  with  activities,  adventure, 
challenges,  friendship  and  fun.    The 
Scouts  put  into  practice  their  planning 
and  leadership  skills  as  they  make 
many  of  the  decisions  around  all 
aspects  of  the  Jamboree.    They  have 
been  involved  in  the  planning  process 
right from the beginning.  At a 
recent  meeting  they  designed 
their  own  troop  badge,  special  camp 
uniform,  site  entrance  and  market  day 
activity. 
The  event  includes  a  visit  to  Sir  Peter 
Jackson's  WW1  aircraft  display,  as 
well as exploring on land, in the water 
and  around  the  Blenheim  and  Picton 
area. 
Leader Jenny Webb says the Kaiwaka-
Mangawhai scouts have almost reached 
the halfway point with their fundraising 
goal  of  $1700 per  Scout.  "It  is  a  huge 
undertaking,  as  many  of  the  families 
have more than one child eligible. Each 
individual needs to raise funds for him/
herself,  and  support  their  contingent's 
fundraising efforts to cover the cost of 
activities, meals, and airfares." 
Kaiwaka-Mangawhai  Scouts  meet  on 
Thursdays  at  Hakaru.  The  group's 
activities  this  year  are  designed  to 
prepare the 10-15 year olds for 10 days 
under canvas. "The standing camp held 
during  the  holidays  with  lots  of 
tramping  was  brilliant,"  Jenny  says. 
"They have learnt to cook meals, light 
fires,  they  also  will  attend  training 
courses, and pre-Jamboree camps to get 
to  know  each  other  and  work  together 
to get the most from the experience."  
Scouts  meet  at  Hakaru  Hall  on 
Thursdays  during  school  terms 
from 5.30pm to 7.30pm.  Rock on up. 
KAIWAKA-MANGAWHAI SCOUTS 
WORKSHOP: 
Solar Hot Water or Solar Power... to do or not to do!
See the latest state-of-the art solar systems and learn how to maximize 
your savings.
114 Vista Lane, Kaiwaka, 10am 16 July 2016
FREE
Bookings essential so give us a call or email!
ericjansseune1957@gmail.com  
(09) 4312 408, 021 022 31 700
www.ewatec-global.com
EWA-TEC Ltd  Energy-Water-Air Technologies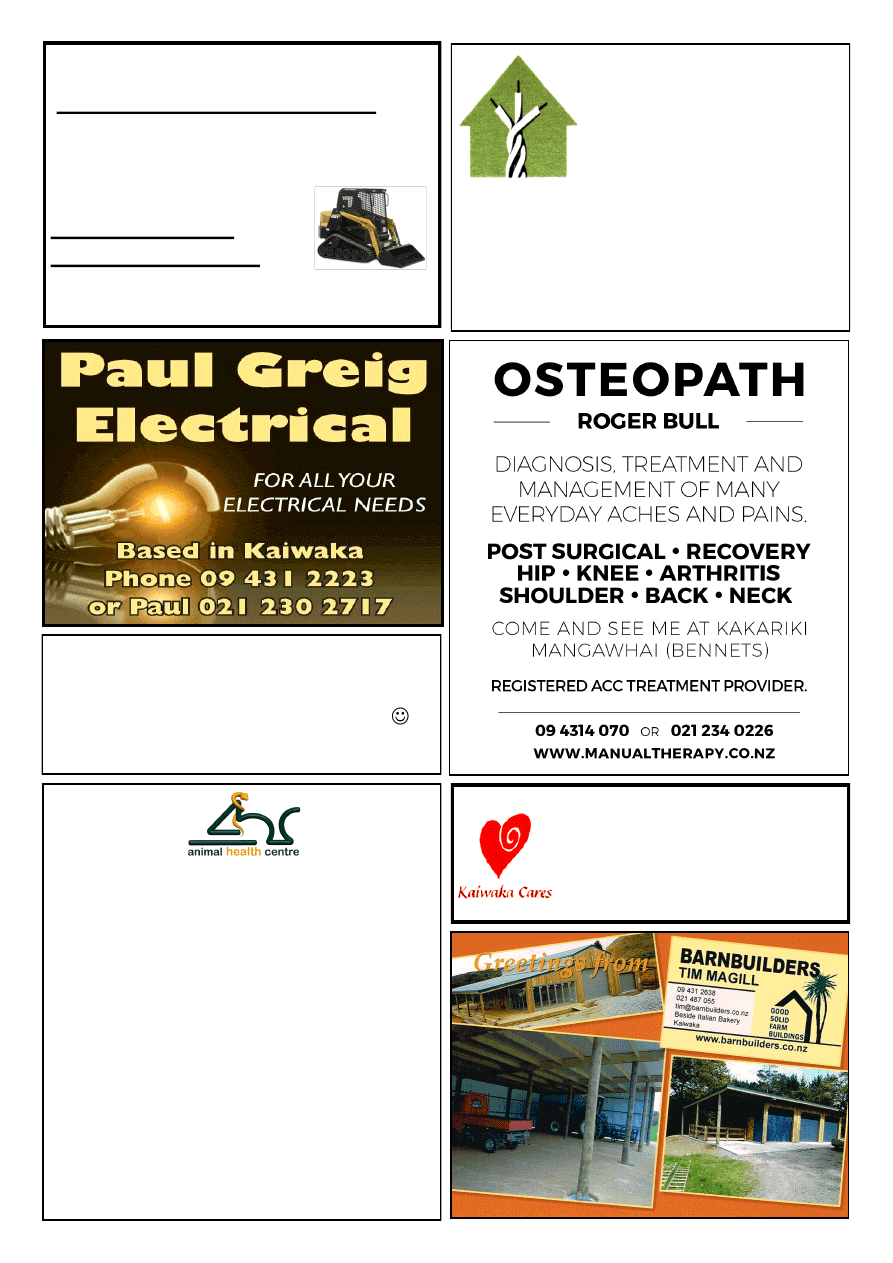 Natural Earth Ltd 
 Landscape and Bobcat services 
 : Driveways  :Landscaping  :Retaining Walls 
 : Hole Boring: Land Levelling :Trenching 
 : Decks :Fences :Sections Cleared: Plus much 
more 
Tel   09 4312885 
Mob 02102391280  
For A Fast Friendly  
Service Contact Tim Hicks 
ANIMAL HEALTH CENTRE 
KAIWAKA 
"choices in health care for your companion animal" 
Health problems - itchy skin, smelly ears,  
bad breath, diarrhea? 
On steroids, antibiotics, lifetime drugs.....  ? 
Diet may be a part of the problem!   
Call in and have a chat to our team  
of animal health practitioners.
Nail Trims,  Microchipping , 
Dental checks,  Comfort grooms. 
Great range of real food – no preservatives. 
Alternatives to nasty chemical parasite controls.
OPEN:   Tues-Fri - 10:00am – 5:00pm 
Saturday - 10:00am -  4.00pm, Sunday/Monday - Closed 
Next to Italian Bakery, Main Highway  Kaiwaka 
Ph:  09 431 2217 
PS: We're  open 7 days in Orewa if you missed us! 
Reyahn George 
Leng 
Registered Electrician 
Local, honest and reliable. 
For your residential and 
light-commercial projects. 
022 314 1068 / 09 431 2527 
Community Centre
Open 10am – 2pm  
Monday – Wednesday – Friday 
WIFI, printing & scanning available 
Kaiwaka's own social space. 
JP on site most Fridays 
THE SUNSHINE GIRLS 
Need help with your house cleaning? 
Sometimes you just need another pair of 
hands. We offer two pair and a smile. 
Comparable hourly rate. 
Ph 4312 532 or 4312 711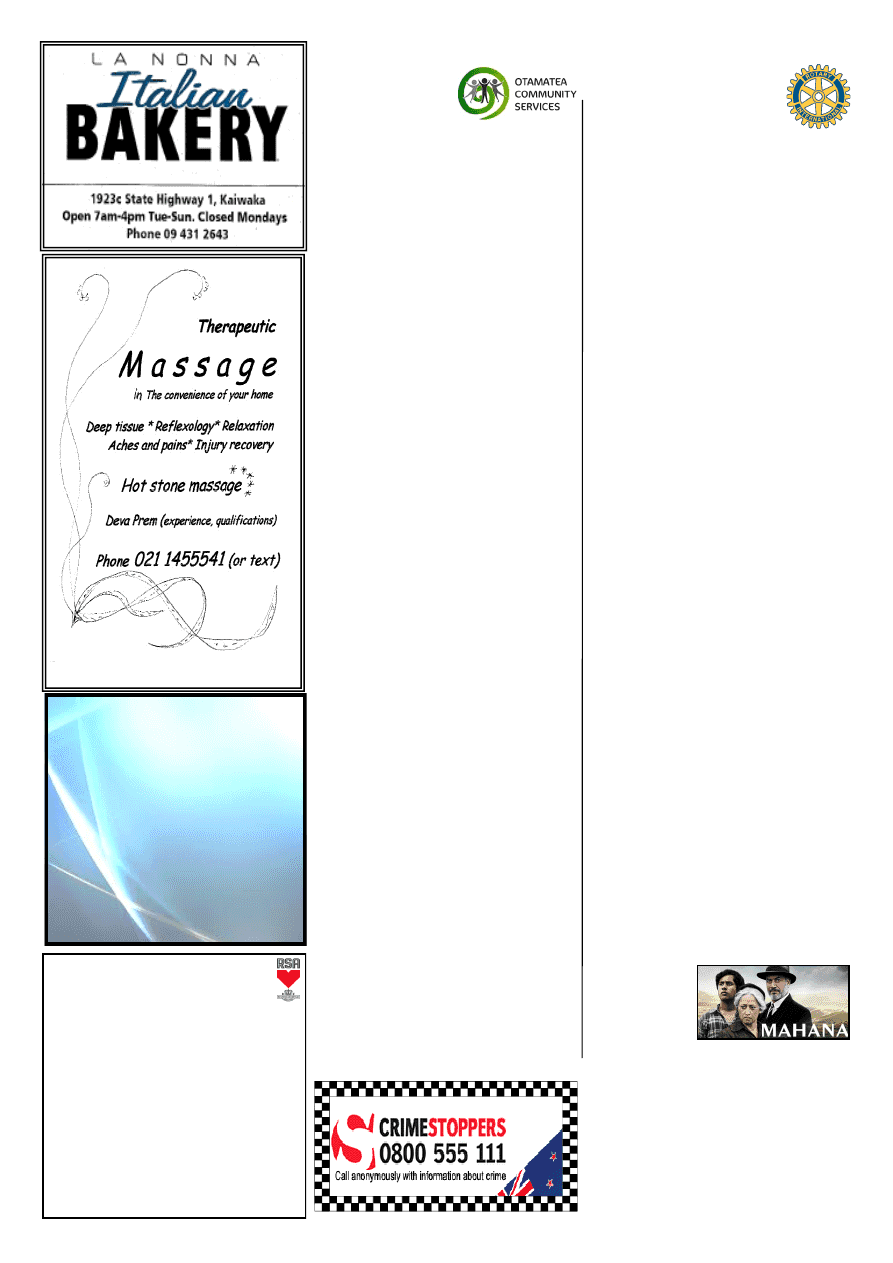 www.kaiwaka.co.nz 
Kaiwaka Bugle - 28 June 2016 
Page 7 
www.mangawhaimassage.co.nz 
HAKARU & 
DISTRICTS RSA Inc 
Each Friday night from 6.30pm meals 
will be served. 
Members & invited guests, new 
members welcome. 
Come along & enjoy our hospitality. 
2nd Friday of the month -  roast dinner or 
board menu. 
Last Friday of month - roast pork night 
&  
sing-along with Des Chitty.  
Ph Heather 4314668 or Jan 4314512 
Freeview  
Installations 
Richard Te Haara 
25 Marram Place 
Mangawhai Heads 
021 1104056 
kiwipride@xtra.co.nz
When you read this, one President will 
have  completed  his  term  and  joint 
Presidents  –  Tim  Magill  and  Merv 
Huxford  will  be  in  office.  Each  year, 
the  leadership  bring  their own  style  to 
the club and this year we are aiming to 
meet  away  from  Maungaturoto  more 
frequently  as  well  as  having  a  more 
specific focus in relation to the projects 
we undertake. The main areas of focus 
are:  Health,  Education  and  the 
Environment.  In  the  past  we  have 
traditionally  met  every  Tuesday,  but 
we  will  now  have  one  Tuesday  night 
free  to  focus  on  other  community 
activities.  You  will  also  notice 
elsewhere  in  this  publication  an 
advertisement  for  expressions  of 
interest  for  catering  as  we  are  losing 
the services of Pam Chapman who has 
catered  for  the  club  over  many  years, 
always  providing  superb  meals, 
whether  on  a  club  night  or  special 
occasion. 
We  were  fortunate  to  have  one  of  the 
Commissioners  for  KDC  speak  at  a 
recent  meeting  that  was  attended  by 
approx. 60 people from throughout the 
area. For many of us, this was the first 
time we heard a succinct talk on where 
the  Council  was  pre-commissioners, 
what  they  have  done  and  what  the 
expectation  for  the  future  is.  This  was 
an  excellent  presentation  which 
clarified many aspects of the past three 
years. 
As  a  club,  we  also  sponsor  young 
people  on  Rotary  organised  activities 
and at the moment we have sponsored 
a young lad from Ruawai who will go 
to South Australia in late June. He will 
travel with his "twin" who has been at 
Ruawai  College  for  three  months. 
Because  these  youngsters  are  usually 
In Year 10, their NCEA studies are not 
hindered  and  they  are  able  to  forge 
long-lasting  friendships  with  people 
from another country. We are fortunate 
that  there  are  host  families  in  both 
countries that are willing to take these 
young people in for the duration of the 
stay. 
Watch  for  the  movie  "MAHANA" 
which  is  being 
held 
on 
a 
Friday29  July 
at  7.30pm,  in 
Kaiwaka 
– 
some of the proceeds from this will go 
towards helping send Hakaru Scouts to 
Jamboree this year. 
We are also looking to support students 
who want to visit "Shadows of Shoah", 
a  presentation  by  holocaust  survivors 
that is running at the Hub in Whangarei 
for the next two to three months. Entry 
is  by  gold  coin  as  is  entry  to  "Digital 
Rembrandt", in the same venue for the 
next month.                     ~ Eileen 
We  owe  a  great  big  thank  you  to  all 
who  helped  make  our  fund-raiser 
auction  a  great  success
. 
From  those 
generous  businesses and  individuals in 
Maungaturoto,    Kaiwaka,  Paparoa, 
Mangawhai  and  surrounding  areas,  to 
the members of those communities who 
came  to  enjoy  the  festivities  and  our 
delicious supper.  It was great fun and 
we  all  enjoyed  the  whole  preparation 
and  planning  so  much  there's  been  a 
feeling 
of 
elation 
around 
the 
Community  House  for  weeks.    Not 
forgetting  of  course  the  whole  reason 
for  the  event;  we  raised  a  tidy  sum  to 
help  us  continue  to  do  what  we  do  in 
the community for the community. 
We could not have done it without the 
fantastic  talents  of  Stephen  Rosser  as 
our  auctioneer;  thank  you  Stephen, 
you're a star. 
At  the  time  of  printing  we  will  have 
been  to  the  Ministry  of  Social 
Development  Hui  at  the  Otamatea 
Marae.    This  event  has  been  planned 
for  some  time  as  an  important  event 
involving  all  social  agencies  and 
interested individuals with the option to 
contribute to discussions. 
We  at the  Community  House  continue 
to  provide  parcels  from  our  food  bank 
to  those  in  desperate  need  to  keep 
going in their daily struggles to survive 
hardship  and  the  colder  days  and 
nights. We thank those who are always 
ready  to  provide  surplus  produce  and 
grocery items for the food bank. 
We  have  a  great  team  of  willing 
volunteer  helpers;  without  whom  it 
would  be  extremely  difficult  to  run  as 
smoothly  as  we  do;  however  there  are 
sometimes  occasions  when  illness  or 
other  commitments  take  place  and 
things  become  a  little  difficult.    We 
would love to have some more on hand 
to  be  able  to  call  on  in  these 
circumstances, especially when the first 
Wednesday  of  each  month  comes 
around  bringing  with  it  the  seniors' 
luncheon.  Are you a capable cook who 
would love  to  showcase  your  skills  by 
producing  a  tasty  meal  for  our  senior 
residents?    It's  just  once  a  month  and 
you will be rewarded for your efforts. 
Also  there  are  other  ways  we  could 
make use of some willing helpers in the 
Community House. 
Come and see Liz, or phone the House 
on 431 9080. 
Otamatea 
Community  
Services 
MAUNGATUROTO 
& DISTRICTS  
ROTARY CLUB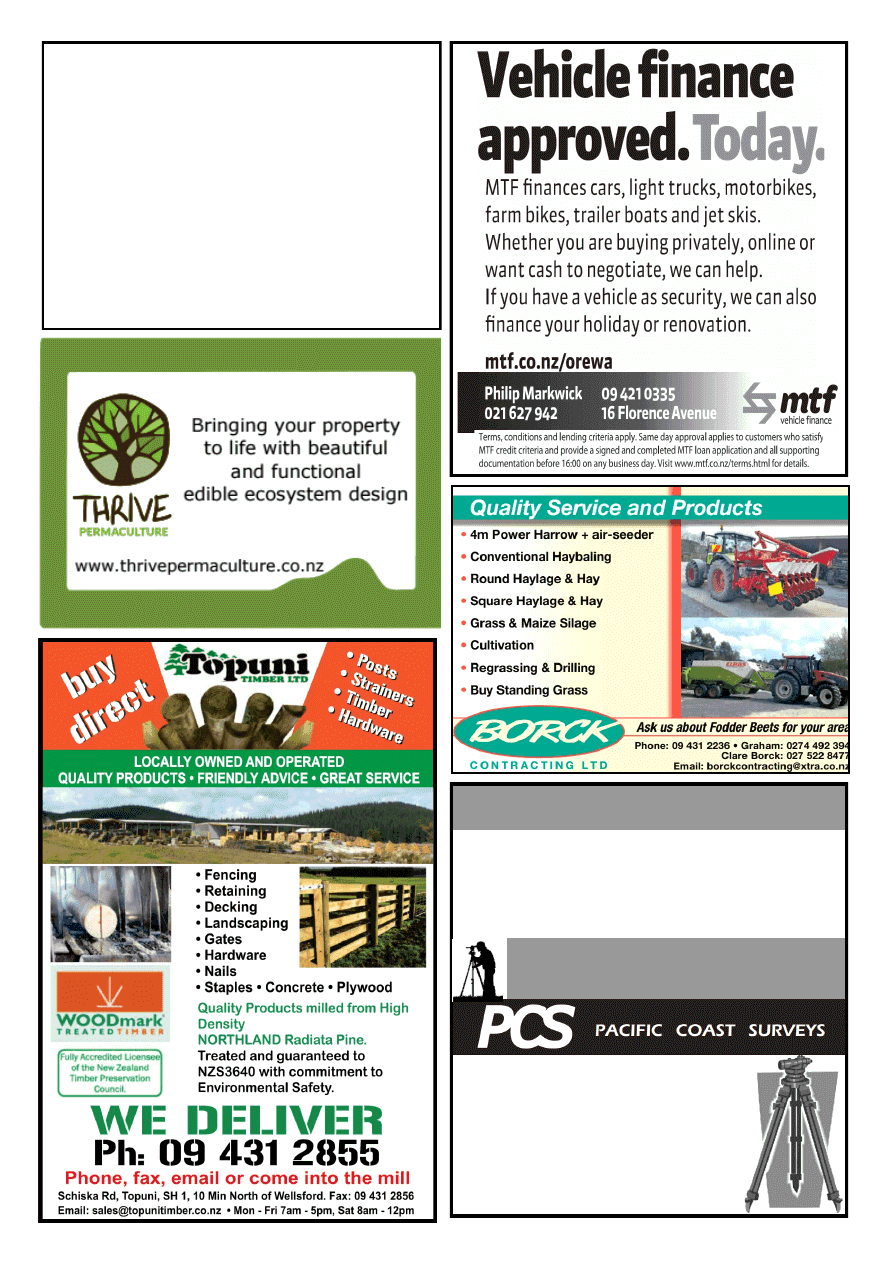 LIFESTYLE PROPERTY  
MAINTENANCE 
Putting life back into your style
Working out of Kaiwaka; servicing Mangawhai, 
Maungaturoto, Waipu and surrounding areas. 
  With over 25 years' experience, I'm fully insured and any 
job considered so just call me – James on mob: 0273 
808622  or  09 431 2245 
email: lifestylesorted@gmail.com  
Mulching - gorse, 
scrub 
Tree & hedge work 
Hole boring 
Alkathene laying & 
repairs 
Paddock topping, 
slashing 
Electric fence 
installation 
Weed spraying 
Free quotes 
Land & section 
clearing 
Loader work 
Rubbish removal 
Fully insured 
Repairs to driveways, fencing & buildings 
SURVEYORS 
SUBDIVISIONS 
HOUSE SITE SURVEYS 
CIVIL ENGINEERING 
WASTEWATER DESIGNS 
EXPERIENCED 
PROFESSIONAL 
INNOVATIVE 
Ph 09 431 5353 
0800 PACIFIC (0800 722 434) 
pacificcoastsurvey.com
Adam Booth - 027 415 5752 
Bsurv, Licensed Cadastral Surveyor
Surveying Kaipara since 1994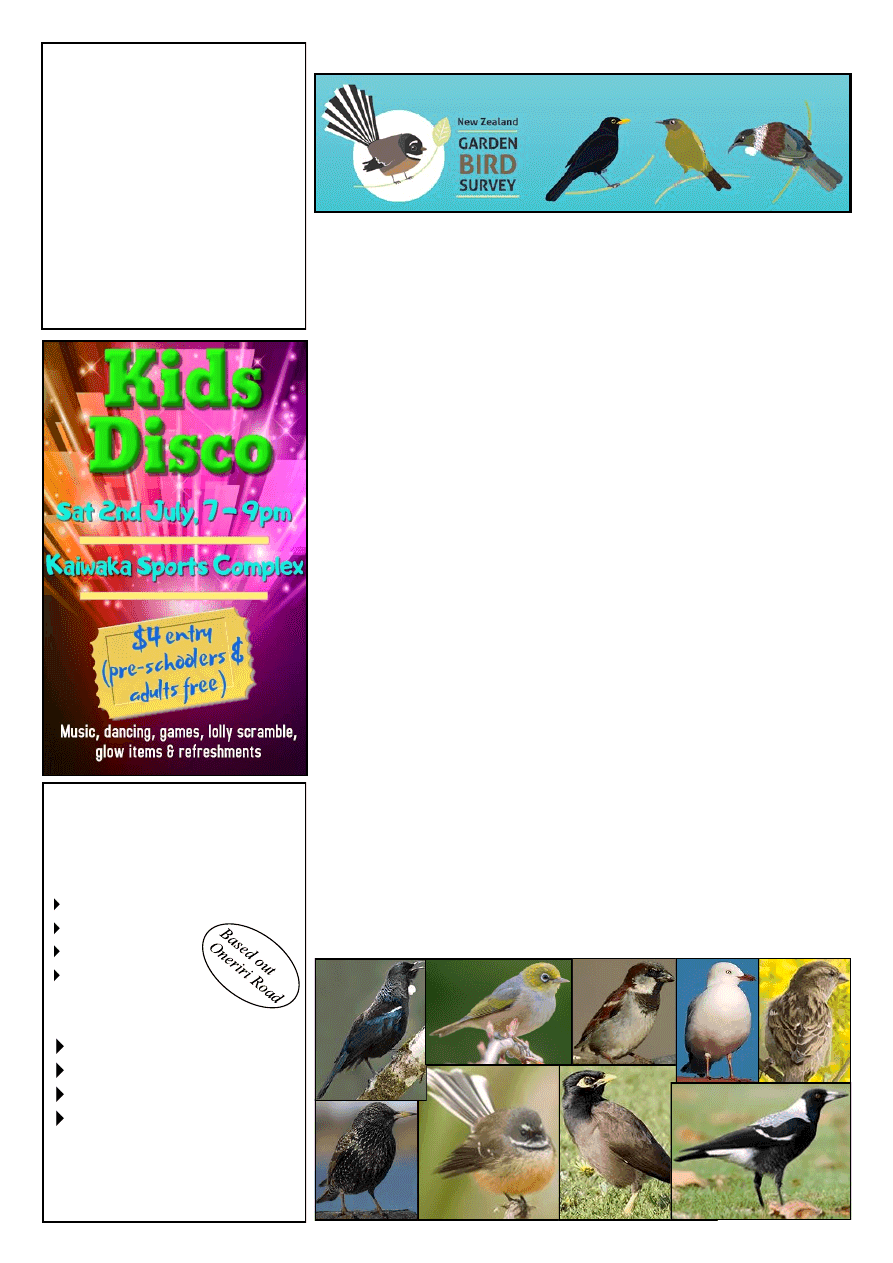 www.kaiwaka.co.nz 
Kaiwaka Bugle - 28 June 2016 
Page 9 
HODGETTS
CONTRACTING
Digger Work   
Driveways 
House Sites  
Dams 
Drains, etc  
Also available 
for HIRE 
3 ton Vib Roller 
Heavy Duty Tow 
Waterblaster  
Lazer Level 
 
Phone Mark 4312877 
027 447 8554
Chose  one  hour  on  one  day  this  week 
and  count  the  birds  you  see  in  your 
garden, paddock, park or school and by 
using 
the 
Tally 
Sheet 
from 
www.landcareresearch.co.nz  check  out 
your birds. There is a lot of information 
available  to  help  identify  the  birds. 
Then send your results to the NZ Bird 
Survey. 
This year marks the 10th anniversary of 
the New Zealand Garden Bird Survey. 
The  Landcare  Research  led  citizen 
science project started last Saturday (25 
June) and runs until Sunday 3 July. 
Last  year,  about  138,000  birds  were 
counted  nationwide,  up  38,000  on  the 
previous  year  and  one  of  the  highest 
counts on record. 
Survey  founder  and  organiser  Eric 
Spurr, a research associate at Landcare 
Research,  said  harsh  conditions  last 
winter  probably  forced  more  birds  to 
move into gardens in search of food. 
"So  far  the  weather  this  autumn  has 
been  really  mild  and  NIWA  has 
predicted  temperatures  to  be  above 
average  this  winter  in  all  regions,  so 
this  may  have  an  impact  on  bird 
numbers," Spurr said. 
"Last  year,  the  top  10  birds  were 
similar  to  the  previous  year  with  the 
exception that the song thrush dropped 
out  and  the  goldfinch  swooped in," he 
said. 
Since  the  survey  began  in  2007, 
volunteers have counted more than one 
million  birds  in  over  25,000  gardens 
across the country. 
Over  that  time,  the  top  two  most 
abundant  species  have  remained  the 
same: the house sparrow and silvereye. 
The third and fourth position have been 
battled  out  between  the  blackbird  and 
the starling. While fifth and sixth place 
has typically either been myna or tui – 
although  the  myna  does  not  occur  in 
the South Island. 
Landcare  Research  ecologist  Catriona 
MacLeod 
said 
studying 
bird 
populations 
provided 
valuable 
information  about  the  state  of  the 
environment. 
"Birds not only bring enjoyment to our 
everyday  lives,  they  also  tell  us  about 
the  health  of  the  environment  we  live 
in.  To  understand  our  environment  we 
need  to  build  a  picture  of  birdlife 
across New Zealand," she said. 
"All you need is an hour, a comfy seat, 
record  what  you  see,  and  then  submit 
the results online.  
"The  more  people  involved,  the  more 
we can learn." 
MacLeod has been using the survey as 
a  case  study  for  her  building 
trustworthy  biodiversity  indicators 
research,  funded  by  the  Ministry  for 
Business, Innovation and Employment. 
Full instructions on how to take part in 
the survey, including the tally 
sheet and bird identification guide, are 
available on the Landcare Research 
"The guide takes the guess work out of 
identifying  what  bird  you  see  and 
makes  the  survey  an  activity  for  all 
ages," she said. 
MacLeod  also  came  up  with  the 
"Chocolate Fish Index", a way to make 
it easier to identify birds by comparing 
their  size  with  a  20  gram  chocolate 
fish.  At  one  end  of  the  scale  a  fantail 
weighs  the  same  as  a  chocolate  fish 
tail, while at the other extreme a kererū 
is the equivalent of 30 chocolate fish. 
Ed: The Chocolate Fish Index is a fun 
watch at 
https://www.youtube.com/watch?
v=o9U6IsHckIk&feature=youtube  
Go to www. landcaresearch.co.nz for 
more information on this easy, fun way 
to learn about our birds. 
S.O.S Kaipara 
Support, advocacy, crisis and 
family therapy counselling, 
emergency housing to survivors 
of sexual abuse and domestic 
violence.  
Also Education prevention 
programmes for the community 
and clients.  
Office hours 9am to 3pm Monday to 
Friday 24/7 services available via 
the Police 
Or phone 09 4396070 
ONE MILLION BIRDS AND COUNTING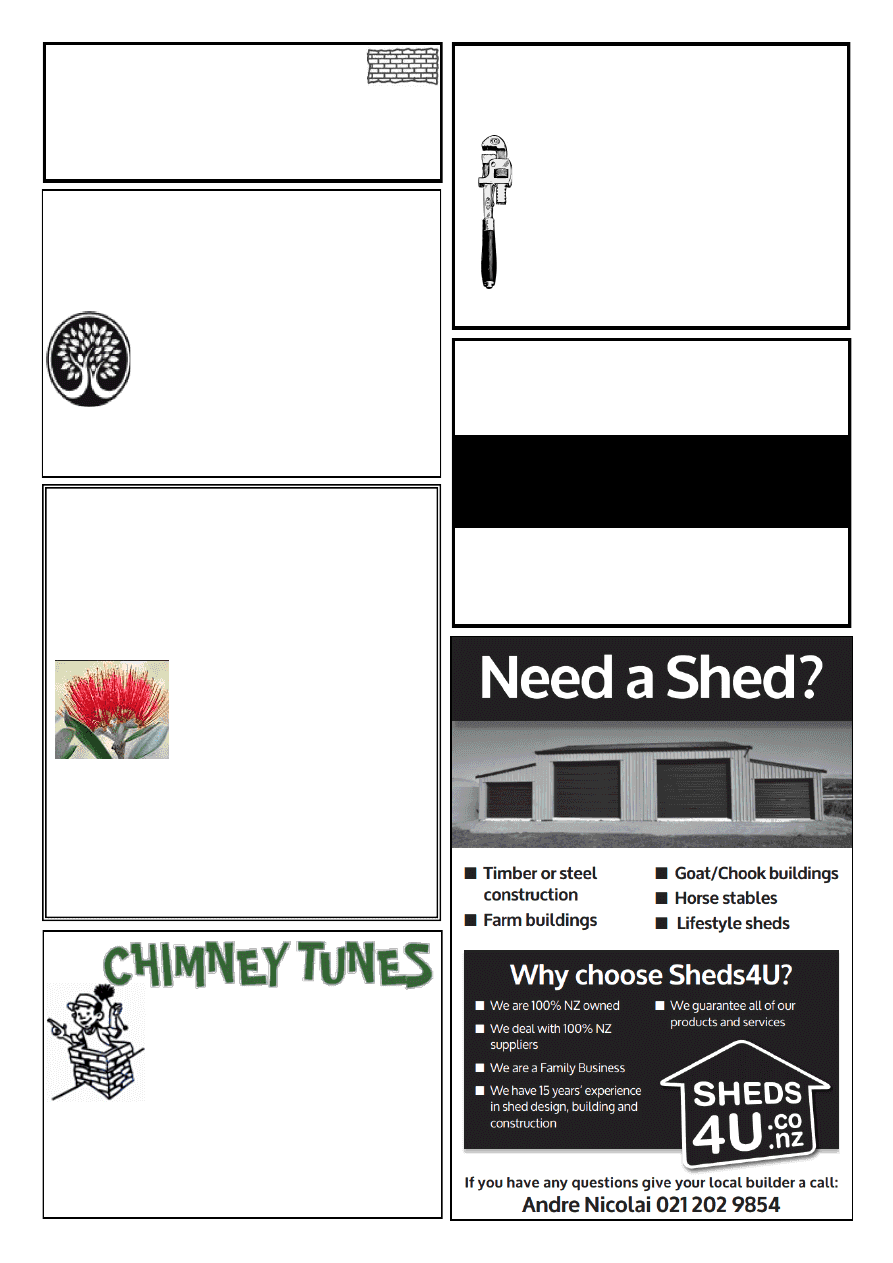 BARRY CURTIS PLUMBING LTD 
REGISTERED CRAFTSMAN PLUMBER 
Phone 4315572 
027 257 9884 
25 years experience 
Friendly reliable service 
All plumbing and maintenance 
Alterations and new housing 
Spouting 
Competitive rates 
PROMPT EFFICIENT  SERVICE 
David Korach 
Your local Gib Stopper
DK PLASTERER LTD 
0274769221 
dkorach6@gmail.com 
Chimney and Fireplace 
Maintenance,  
Parts & Repairs
MARK O'DONNELL 
021 457 247 
Whangarei – Mangawhai – Maungaturoto 
Waipu Natural Health 
3 Cove Road, Waipu    (opposite the Pizza Barn) 
Ph: 09 432 1325 
www.waipunaturalhealth.co.nz 
Clinical Nutritionist (Masked Allergy Testing), 
Registered Osteopath, Registered Massage 
Therapists, Reflexology, Beauty Therapy, 
Craniosacral Therapy, Hypnotherapy, 
Counselling, Change Catalyst, ThetaHealer, 
Naturopathic Prolotherapy & Scenar (joint & 
muscular therapy), and much more... 
GIFT VOUCHERS AVAILABLE 
KAIPARA FLOORING CO 
Independently owned & operated 
32 HURNDALL ST MAUNGATUROTO 
Supply & Installation of Carpet, Vinyl,  
Vinyl Wood Planking
Stockists of 2m & 3m wide 
vinyl & carpet short ends
Residential & Commercial 
First Class Installations 
For a free measure & quote 
phone Christine  
09 946 9886 or 021 515 415 
kaiparaflooring@gmail.com 
http://www.kaiparaflooring.co.nz/ 
BRICK/BLOCKLAYER 
All aspects of masonry: 
Fireplaces, Restoration & Remedial Work.
JAMES EAGLETON
Tel. (09) 431 2514     Mob. 0274 749 232
jajueagles@yahoo.com.au 210A Pukenui Road, RD2, Kaiwaka 0573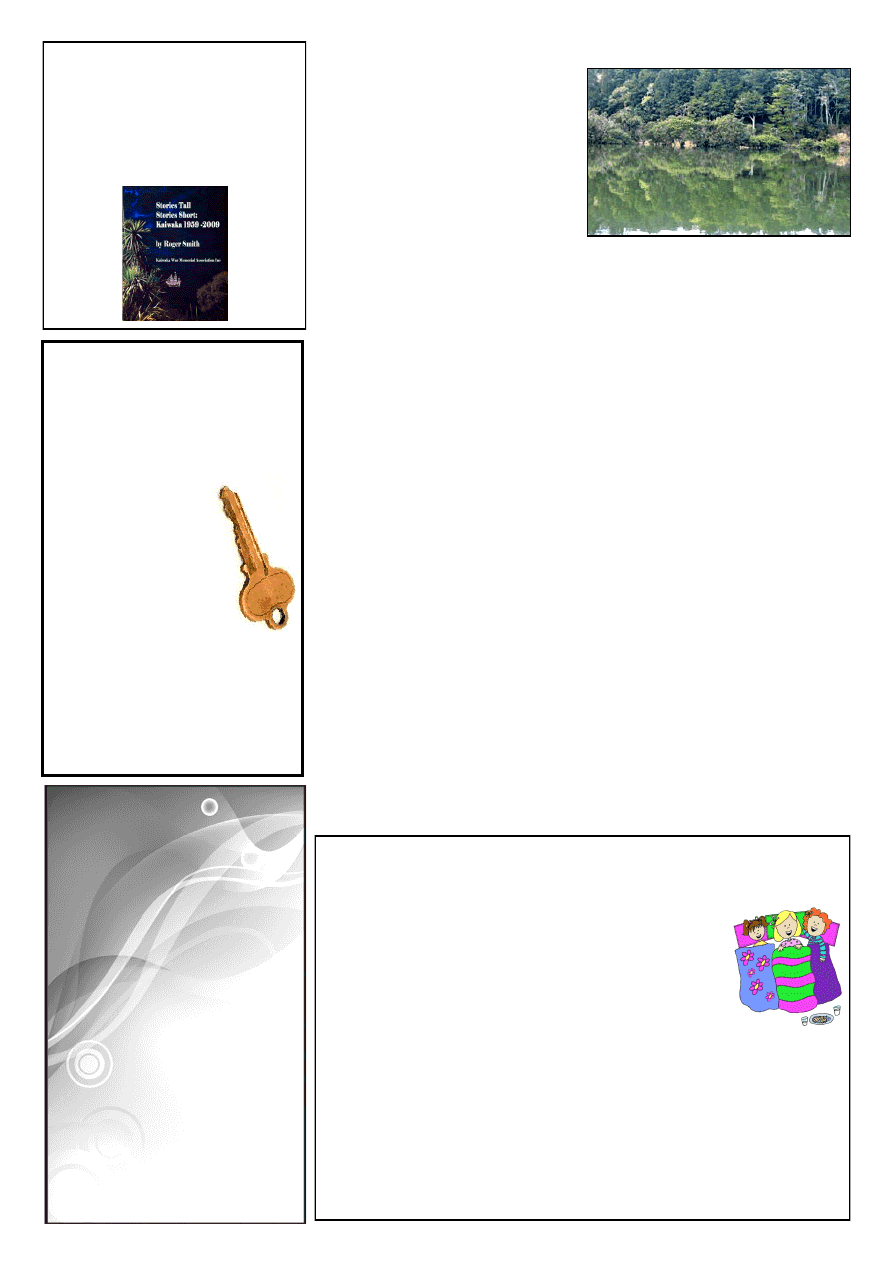 www.kaiwaka.co.nz 
Kaiwaka Bugle - 28 June 2016 
Page 11 
Stories Tall, Stories Short  
Kaiwaka 1959-2009 
by Roger TW Smith.  $40 
Available from  
the Bugle Editors -  
Lindsey 4312 045,  
Wendy 027 480 6275 
U Beauty 
            Underarm Wax  
    $20 
            Extended Bikini Wax   $30 
            15 min Back  Massage  $25 
            30 min Back Massage  $50 
Please call Nicole for bookings 
09 393 6336 or 022 0639450 
Qualified Beautician 
4 Kaiwaka – Mangawhai Rd 
Kaiwaka 
Eyebrow Wax  $10 
Eyebrow Tint  $10 
Eyelash Tint 
$20 
Lip Wax 
$10 
Chin Wax 
$10 
Bikini Wax 
$20 
Brazilian 
$50 
½ Leg Wax 
$30 
Full Leg Wax  $45 
Full Pedicure  $60 
Foot Tidy  
$35 
Manicure 
$45 
Nail Tidy 
$25 
Chest Wax 
$30 
Back Wax 
$40 
Nostrils 
$10 
Ears 
$10 
Kaiwaka  
Hardware  
&  
Key cutting 
 Phone 4312 063 
 022 041 6047 
 kaikey2015@gmail.com 
Keys Cut  
Household Hardware  
Curtain Tracks & Fittings
Not there? Call Doug and he'll sort
it for you.
(
Next to Kaiwaka Motorcycles)
A Cycle/Walkway Trail for Kaipara? 
The  Otago  Rail  Trail,  The  A2O  (Alps 
to  Ocean),  the  Mountain  to  Sea,  the 
Hauraki  Cycle  Trail,  the  West  Coast 
Trail  and  many  more  I  have  yet  to 
explore – but – no Kaipara Trail. Who 
wants  a  cycle  trail?  Who  would  like 
more money from tourists coming into 
our small towns? Who needs more jobs 
for our local people? 
Common sights on Cycle Trails – over 
100  cycles  outside  a  coffee  shop  in 
Otago,  old  hotels  being  done  up  and 
extended  with  lounges  full  of  people 
eating  locally  produced  food.  But  -no 
one  really  wants  lots  more  cyclists  on 
roads  –  they  cause  problems  slowing 
traffic – and quite a few die. The tonne 
of  raw  metal  travelling  at  100k  per 
hour soon demolishes a 70k person on 
a  push  bike.  Our  Northland  roads  are 
not  particularly  wide  and  we  have 
many blind corners. 
The  answer  is  cycle/walkway  trails 
with  as  much  of  them  as  possible  off 
the road. This of course means we need 
the help of land owners. The A2O trail 
is  only  partly  off  the  road  as  some 
farmers  did  not  want  strangers  riding 
across their land. Fair enough. But after 
a  few  years  of  increasing  numbers  of 
cyclists  using  the  back  roads  they  are 
changing  their  minds.  The  problems 
associated with cycle paths crossing the 
farms have not been realised and in fact 
many  have  erected  cabins  to  make  a 
nice bit of extra income. After cycling 
with  family  and  grandchildren  over 
many trails I have seen no rubbish at all 
on  the  trails  –  unlike  the  roadsides 
where I can pick up a rubbish bag full 
easily  every  few  weeks.  The  farmers 
who  were  originally  against  the  trails 
are now very much in favour of them. 
The Otago Rail Trail is now the biggest 
financial earner in the district. Ohakune 
has found a way of generating income 
in  the  summer  through  cycle/walking 
trails.  
Kaipara can do this too. 
So back to the Kaipara Cycle/Walkway 
Trail  idea  –  where  to  start?  Where 
would  it  go?  My  thoughts  are  that  it 
should  start  in  Kaiwaka  go  through 
Maungaturoto,  Paparoa,  Matakohe, 
Ruawai, Tokatoka to Dargaville. From 
Dargaville there are already some plans 
at the Kaipara District Council for it to 
go  right  through  to  Waima  via 
Donnelly's  Crossing  and  the  Old 
Coach Rd. 
For  me,  I  think  it's  best  to  start  at  the 
easiest  point  with  the  Matakohe/
Ruawai  section  using  the  stop  banks 
and  then  back  roads  or  farm  land 
crossings from Matakohe West Road to 
Ruawai. The other sections, I have lots 
of ideas  of where it may go but need to 
have  local  people  involved  in  these 
decisions.  Funding  can  be  applied  for. 
The  Kaipara  District  Council  is  happy 
to  help  where  possible.  We  have  a 
labour  source  that  we  may  be  able  to 
tap into. 
So  what  I  need  to  ask  -  are  there  any 
people  in  these  areas  that  would  be 
interested  in  helping  to  make  this 
happen in the near future? If so please 
email stella.clyde@gmail.com ~ 
Stella 
Editor's  Note:    I  have  been  discussing 
the  cycle/walkway  with  Stella.  She 
envisions the southern starting point, at 
this  stage,  to  be  from  McClean  Park 
and  following  the  Kaipara  Harbour 
foreshore. 
SLEEPOVER PARTY 
KAIWAKA SPORTS COMPLEX
My name is Holly Anderson, I am a student at 
Otamatea High School. I'm fundraising to go on a 
school arts trip to America next year. I've come up with 
a new fundraising idea & I hope you like it! 
I am going to offer a Sleepover Party at the Kaiwaka 
Sports Complex! This is the first time anything like this 
has been held at the Sports Complex   
It will be for kids 6 - 12 years old on Saturday 6
th
 August. I've planned 
lots of neat activities such as: night-time walk through the bush, 
possum spotting, fun gymnastics session, photo booth, movie with 
popcorn, games in the gymnasium etc plus I will be feeding the kids 
dinner, dessert, supper & breakfast. Adults will be staying over too. The 
cost is $20 per child. Numbers are limited, so it's first in, first served. 
If you have a kid who is keen to have a fun time, please ring me on 
4312 051 or email my Mum, Cheryl Anderson at 
kaiwakasports@gmail.com and we'll send you the information sheet.  
Thank you, 
Holly Anderson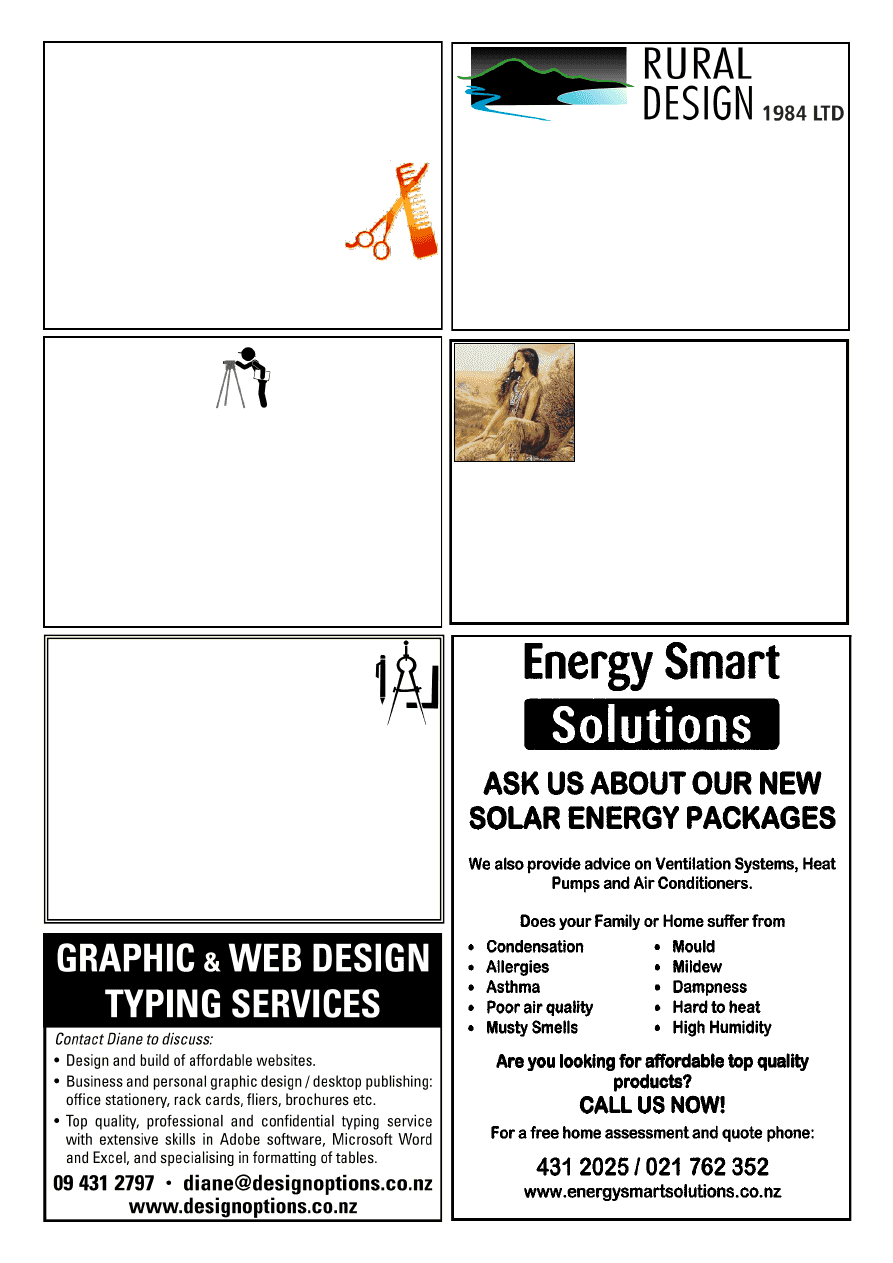 Ken Urquhart 
BSurv Licensed Cadastral Surveyor 
KMU Surveys Ltd
467 Bickerstaffe Road 
RD 2 
Maungaturoto 0587 
Ph 09 431 8705 
Mob 021 161 2344 
kenurquhart@xtra.co.nz 
WHOLESALE NATIVE PLANT NURSERY 
AND LANDSCAPING 
By Appointment 
Small and Large orders welcome 
Phone: 09 431 2481 
Email: info@ruraldesign.co.nz 
design drafting  
service 
Retired builder and manufacturer with over 40 years  
experience in the building industry is offering a design 
drafting service  
for domestic housing, sleepouts and sheds.  
Plans formulated in consultation with clients, with 
working drawings completed and submitted to  
council for processing.  Extensive practical experience,  
able to identify & resolve problems. 
Please ring Mike Lean on 
09 431 2260  
          or 
021 431 196 
Trails end 
spiritualist gathering  
Last Sunday of every month  
11.30-2pm tea/coffee provided  
$5koha for all inquiries  
0211652629 evenings 099450753 
Trail.end@hotmail.com 
Bringing together light minded people 
Guest speaker each month and 
Workshops every 2nd Wednesday  
6:30-7:30pm
AFFORDABLE PRICES! 
MENS DRY CUT FROM $18.00 
LADIES DRY CUT FROM $28.00 
KIDS DRY CUT FROM $15.00 
COLOUR CUT FROM $90.00 
JUST CUTS'AND     
MORE 
021 165 2629 
NOW SELLING: scented tealights, incense, smudge sticks, 
copper bracelets, aurora ball crystals, dream catchers, healing 
stones, rose quartz, cds, and much more. Open 6 days.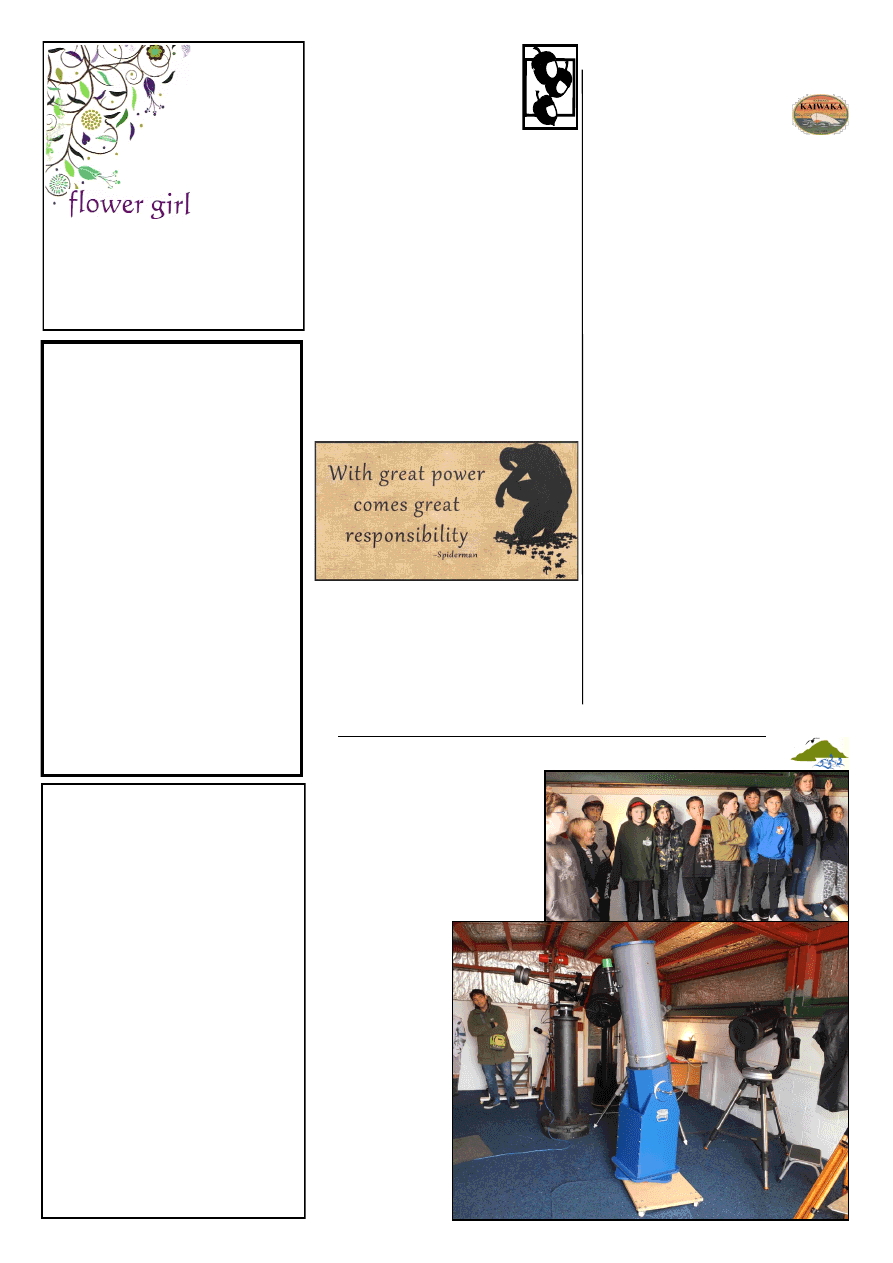 www.kaiwaka.co.nz 
Kaiwaka Bugle - 28 June 2016 
Page 13 
Kaiwaka 
Good Sorts 
Do you know 
someone in our 
community 
who is 
deserving of a 
beautiful bunch 
of flowers? 
Send an email 
or drop a note to Jaques Four 
Square to let the Bugle team know. 
We will choose a recipient to 
receive flowers from Lindy the 
flower girl. 
lindywatson@hotmail.com  or 4312847
Willow Bend
HORSE  
HOTEL 
"  
Total Horse Care 
" 
Agistment 
" 
Riding Lessons 
" 
Arena Hire (60x40) 
" 
Young Horse Starting 
" 
Re-training/Exercising 
" 
Hoof Trimming 
" 
Problem Solving 
Phone Sue  
09 431 2817  
or 021 623 776 
suejoll11@gmail.com 
Full Circle 
Landscaping 
Pete Worsfold 
Cert. LScp/Des 
20yrs experience 
021 825 970 
peteworsfold@xtra.co.nz
Landscape Design 
Gardener 
Nurseryman 
Functional, practical, aesthetic.
Lush native plantings, shelter, wetlands, 
grey water system plantings, home 
orchards, firewood lots, vege gardens... 
Planning, planting, project estimates, 
tree lists and species suitable for your 
site/sight, maintenance training...
Call or email me for an onsite 
estimate at your place!
Completion...Clarity 
Point  Curtis  Cruising  Club 
held  its'  AGM  on  Tuesday 
21st June. 
Officers elected at AGM are: 
Patron: Dan Mills 
Commodore: Wayne Leslie 
Vice Commodore: Tony Smith 
Secretary/Treasurer: Jean Mcleish 
Thank  you  to  all  who  attended  this 
meeting. 
Fish of the month winners for Snapper: 
1st:  Gravy  5.226kg,  2nd:  Carol  Mills 
4.808kg, 3rd: Carol Mills 4.592kg 
Upcoming Events: 
End Of Season Duck Shoot: 2nd & 3rd 
July  2016.   Entry  Fees:  $20  per  adult 
and $10 per junior (under 15) competi-
tor.   Weigh  in  times: Saturday  2nd  Ju-
ly 4-5pm and Sunday 3rd July 3-4pm at 
3  Furlongs  Bar  &  Grill,  Kai-
waka.   Prizegiving  and  shared  meal  to 
follow on Sunday.  Please bring a plate 
for the shared meal.  Tickets will be on 
sale  for  this  competition  from  Jean  at 
Jaques,  3  Furlongs  Bar  &  Grill  and 
Wellsford Sports and Leisure. 
Boar  Hunt:  12th, 13th  &  14th  August 
2016. More information to come about 
this competition! Keep the date free!   
New Fish Of The Month: Kahawai (Cut 
off date 12th July). 
Subs  are  due  now!  Subs  are  $20  per 
single  and  $30  per  family.   Subs  are 
payable  at  3  Furlongs  Bar  &  Grill,  or 
see Jean at Jaques Four Square.  Please 
include up to date contact details when 
you pay your sub.   
Next  committee  meeting: Tuesday  12 
July, 7pm at 3 Furlongs Bar & Grill. 
Wayne Leslie, Commodore 
POINT CURTIS 
CRUISING CLUB 
Kaiwaka  School  Room  6  visited 
the  Planetarium  on  Thursday  9th 
June.  This  trip  was  very  kindly 
sponsored  by  the  Matakohe 
Museum  as  a  part  of  their 
Matariki  celebrations.  Schools 
were  invited  to  send  20  students 
each.  
Our  students  really  loved  this 
experience, 
especially 
the 
planetarium,  where 
unfortunately 
photos  could  not 
be  taken  as  it  was 
completely 
dark. 
They 
saw 
our 
current  night  sky 
and  learnt  about 
each  of the  planets 
and  some  major 
constellations 
in 
our  southern  skies. 
The  Observatory 
was  filled  with 
really  interesting 
telescopes  and  the 
roof  opened  up  so 
they 
could 
be 
used.  
~ Rosie Ellis 
KAIWAKA SCHOOL 
HOW TO  
BECOME A 
GOOD LEADER 
When you have been called to 
be a leader in business, in church or at 
home there are important principles you 
must always practise. 
One is to realise there are trade-offs. 
As  responsibilities  increase,  rights 
decrease.  In  a  world  where  perks  and 
privileges  often  accompany  the  climb 
to  success,  sometimes  little  thought  is 
given  to  the  responsibilities  of  the 
upward journey. 
As  John  D.  Rockefeller  Jnr  once  said, 
'Every  right  implies  a  responsibility; 
every opportunity, an obligation; every 
possession, a duty.' 
And  from  Luke  12:48  -  'To  whom 
much is given, from him much will be 
required;  and  to  whom  much  has  been 
committed,  of  him  they  will  ask  the 
more.' ~ 
Ref. Rhema Media 
"When I was a boy of fourteen, my 
father was so ignorant I could hardly 
stand to have the old man around. 
But when I got to be twenty-one, 
I was astonished at how much he had 
learned in seven years." 
-Mark Twain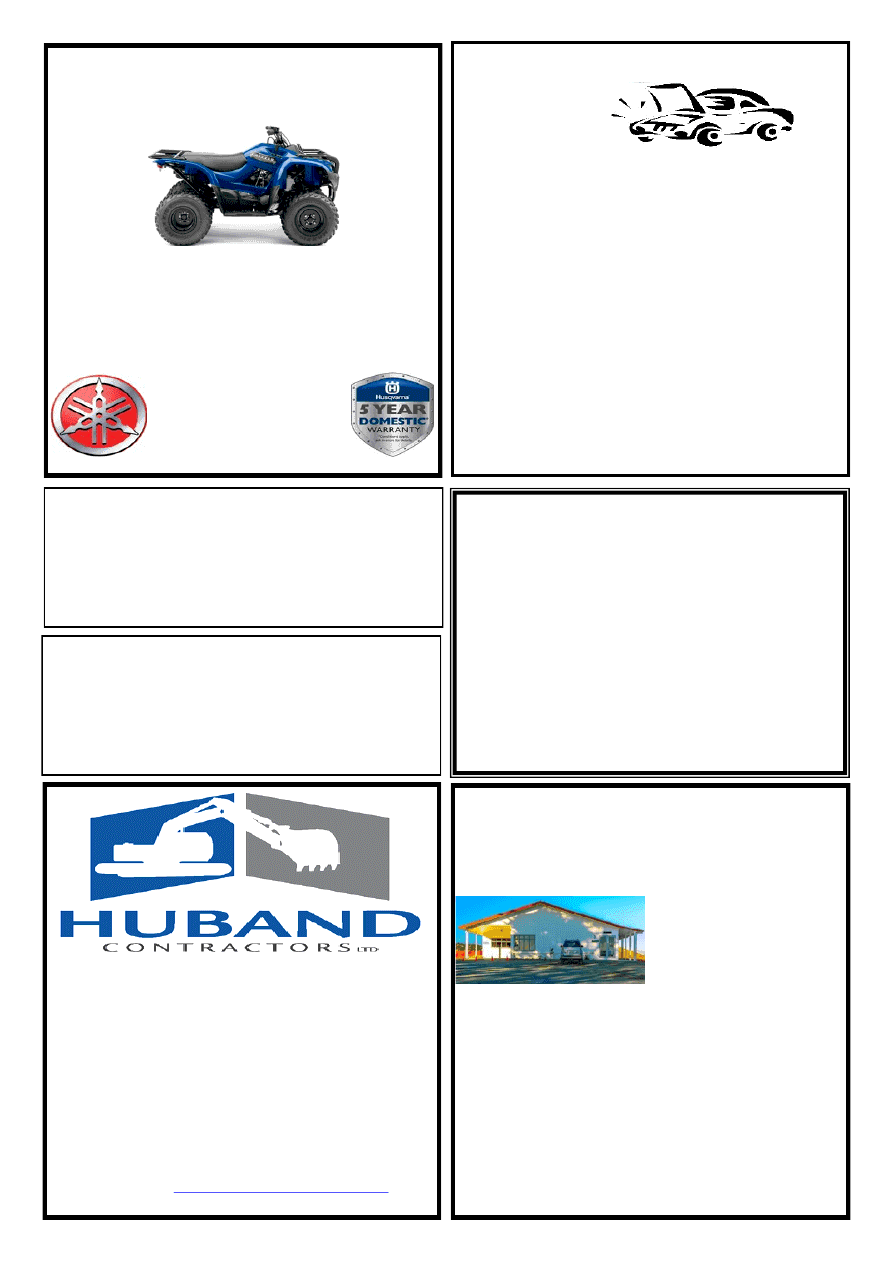 KAIWAKA 
MOTORCYCLES LTD
SALES – SERVICE – SPARES 
FARM BIKE SPECIALIST
PHONE 09 431-2127 
10 KAIWAKA-MANGAWHAI ROAD, KAIWAKA
Trimmers  
from $279
Chainsaws  
from $339
YAMAHA 
HUSQVARNA 
*   R O A D I N G   *   E A R T H W O R K S   *    
*   D R A I N A G E   *   S I T E W O R K S   *
Shaun Huband 
Registered Drainlayer
Cell: 021 222 0272 
Home: 09 4318339 
Email:   
Te Pounga Marae 
130 Nathan Rd. Oneriri. Kaiwaka 0573 
COMPLEX FOR HIRE 
Functions 
* Weddings   *  Birthdays   
*Anniversaries 
* Meetings   * Wananga 
5 hour meeting 
* 12 hour stay   * 
Overnight 
*All welcome - No more Drink-driving 
Amenities: 
*Convo Combi Steamer * Bratt Pan * Dish 
Washer/Sterilizer * 3 Door Glass Chiller (walk in) 
etc…All Crockery * Linen Supplied * Central 
Heating and Air Conditioning and much more.  
Can also cater for small groups…. 
For more information please contact: 
Kim Wallace 
Home: 09 832 1133   Mob: 0211275340 
Email:  kimwallace@xtra.co.nz 
FREE GRAZING WANTED 
Small or large block 
Can do some fencing or water 
Phone after 6pm 
4312 006 
White Horse Farm 
Farm Stay/Bed and Breakfast 
Ph +64 9 390 1260        113 Tawa Ave, Kaiwaka 
bookings@whitehorsefarm-kaiwaka.co.nz 
www.whitehorsefarm-kaiwaka.co.nz 
MULCHING 
GORSE,SCRUB ETC 
PADDOCK TOPPING OR MULCHING 
2.8m mulcher with 140HP tractor. 
Experienced operator. 
LIFESTYLE PROPERTY MAINTENANCE 
Putting life back into your style 
BOOK NOW. Phone James 
mob: 0273 808622 or 09 431 2245 
email: lifestylesorted@gmail.com 
Twinkle Tow 'n' Tyre 
Think you'll get a better deal in the city? 
Ring us - it won't cost anything! 
1837 State Highway 1, Kaiwaka 
Phone 431 2823 
*W.O.F. 
*Tyres 
*Windscreen 
replacement 
*Chip repairs 
*Bulk Oil 
*Batteries 
*Welding 
*Custom built 
trailers 
*Trailer hire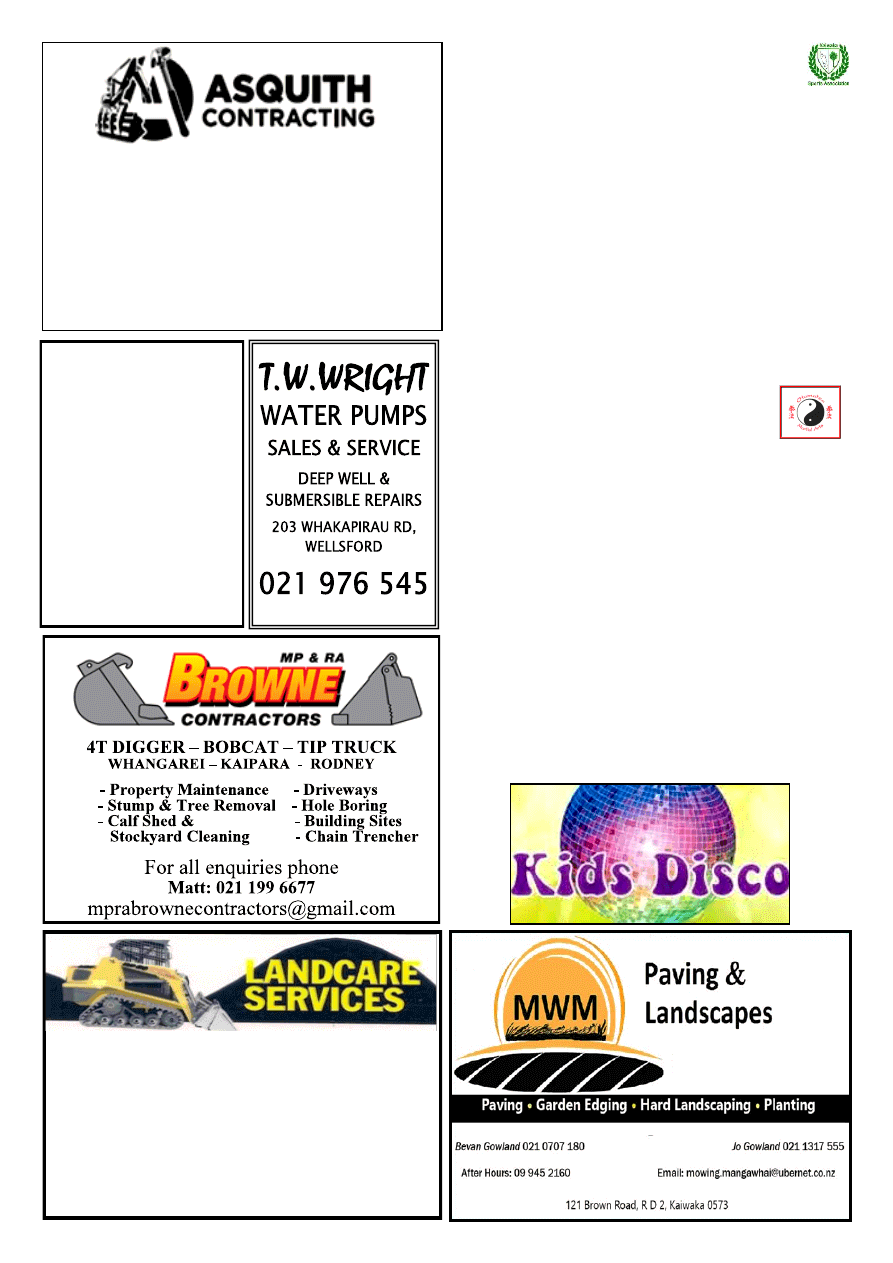 www.kaiwaka.co.nz 
Kaiwaka Bugle - 28 June 2016 
Page 15 
 LEABOURNS 
Passenger Service
Car & Van Hire 
Bus & Coach 
Charters 
Airport Transfers 
 Monthly Shopper 
Bus 
Phone 09 4237416 
LANDSCAPING 
4 IN 1 BUCKET 
TRENCHER 
POLE HOLES 
ROTARY HOE 
COMPACT ROLLER 
OFFAL HOLES 
CAN SUPPLY WOODCHIP & POST PEEL 
5 TON TIPPER 
FOR RELIABLE AND FRIENDLY SERVICE CONTACT DAVE 
Dave Hyndman 
 
KAIWAKA 
PH: 09 4312302 
MOB: 021 431 238 
Small digger work, trenching and 
post hole drilling for retaining 
walls, piles, etc. 
$60+gst per hour.
Call Tam on 027 124 5216 or 
asquithcontracting@gmail.com 
4T DIGGER – BOBCAT – TIP TRUCK 
WHANGAREI – KAIPARA  -  RODNEY 
           - 
Property Maintenance      - Driveways
            - Stump & Tree Removal    - Hole Boring 
            - Calf Shed &                       - Building Sites 
              Stockyard Cleaning           - Chain Trencher 
For all enquiries phone 
Matt: 021 199 6677 
mprabrownecontractors@gmail.com 
Kids Disco 
We  are  running  a  Kids  Disco  this  Saturday  at  the  Sports 
Complex,  so  if  you've  got  children  who  like  to  boogie, 
please  bring  them  along!  This  disco  will  feature  great 
music,  dancing,  a  lolly  scramble,  glow  items  and  games. 
The  entry  fee  is  $4  per  child  (adults  and  preschoolers  are 
free). 
Rippa Rugby 
Children  from  our  local  primary  schools  competed  in  an 
Inter-schools  Rippa  Rugby  tournament  at  our  grounds  last 
week. Photos can be found on our facebook page. 
Senior Rugby 
Our  Otamatea  Hawks  will  play  the  Western  Sharks  at  our 
grounds on Saturday 9
th
 July. Reserves kickoff at 12.30pm 
and the Premiers kick off at 2.15pm. Come along to cheer 
on our boys. 
Martial Arts 
Our  Martial  Arts  club,  led  by  black  belt  instructor  Craig 
Bennetts,  offers  Kempo  &  Tai  Chi  classes  out  of  our 
gymnasium. 
Kempo is held on Wednesdays: 
  5 – 9 yrs        3:15 – 4pm 
  10 – 15 yrs     4:15 – 5:15pm 
  16+ yrs          5:30 – 6:30pm 
Tai  Chi  classes  are  held  on  Wednesdays  7  –  8am  and  on 
Sundays 8:30 – 10am. Check out the Martial Arts flyer on 
www.kaiwakasports.co.nz  for  the  opportunity  to  redeem  a 
free offer. 
For more information on Martial Arts please contact Craig 
on 4315 170. 
Bookings 
If you would like to book the Sports Complex for a private 
function and have the bar open, I need to apply for a Special 
Licence.  The  time  the  KDC  takes  to  process  this  has  now 
been extended to 8 weeks - so if you would like to book an 
event where alcohol will be served, you need to give me at 
least 8 weeks notice. 
A Special Licence will only be granted for an event where 
substantial  food  will  be  supplied  to  the  guests  ie:  a  full 
meal,  not  just  nibbles  and  snacks.  So  this  is  something  to 
keep  in  mind  before  you  book  an  event  with  us.  For  any 
questions on licensing requirements, please ring me on 4312 
051. 
Cheryl Anderson 
4312 051, 027 3462702, kaiwakasports@gmail.com 
   KAIWAKA SPORTS ASSN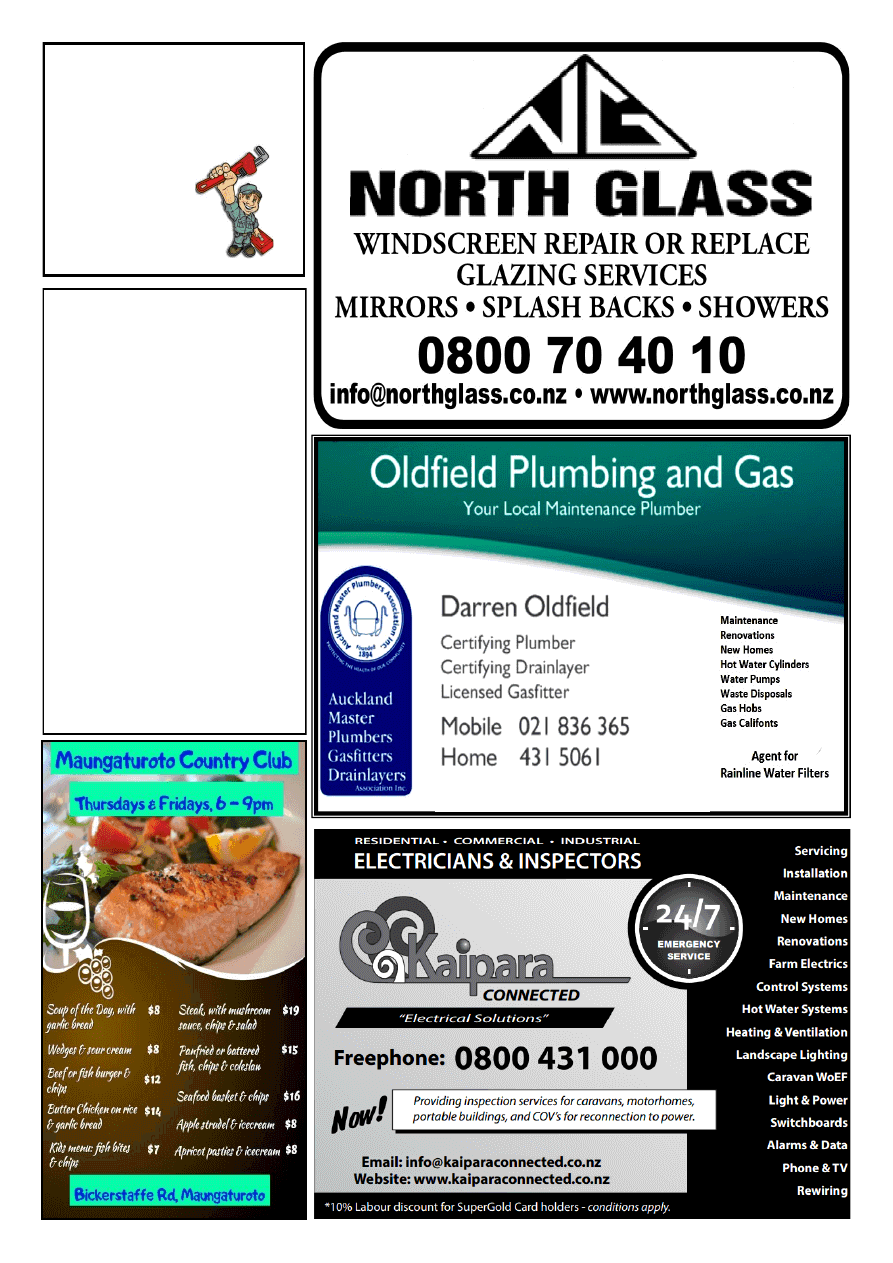 Ross Murphy 
PLUMBER 
Certifying Plumber 
09 431 7510 
021 424 252 
Paparoa Based 
+
New Housing  
+
Renovations  
+
Maintenance
UP-LINK 
CHRIS WARING 
FREEVIEW 
INSTALLATIONS
T.V. - HOME THEATRE & 
HI-FI ADVICE/SET UP
SKY ACCREDITED 
INSTALLER
MOB.0273403747 
HM.094312328 
EMAIL cwaring44@gmail.com
28 YRS EXPERIENCE 
OFFERING 
UNBIASED ADVICE 
oldfieldplumbing@gmail.com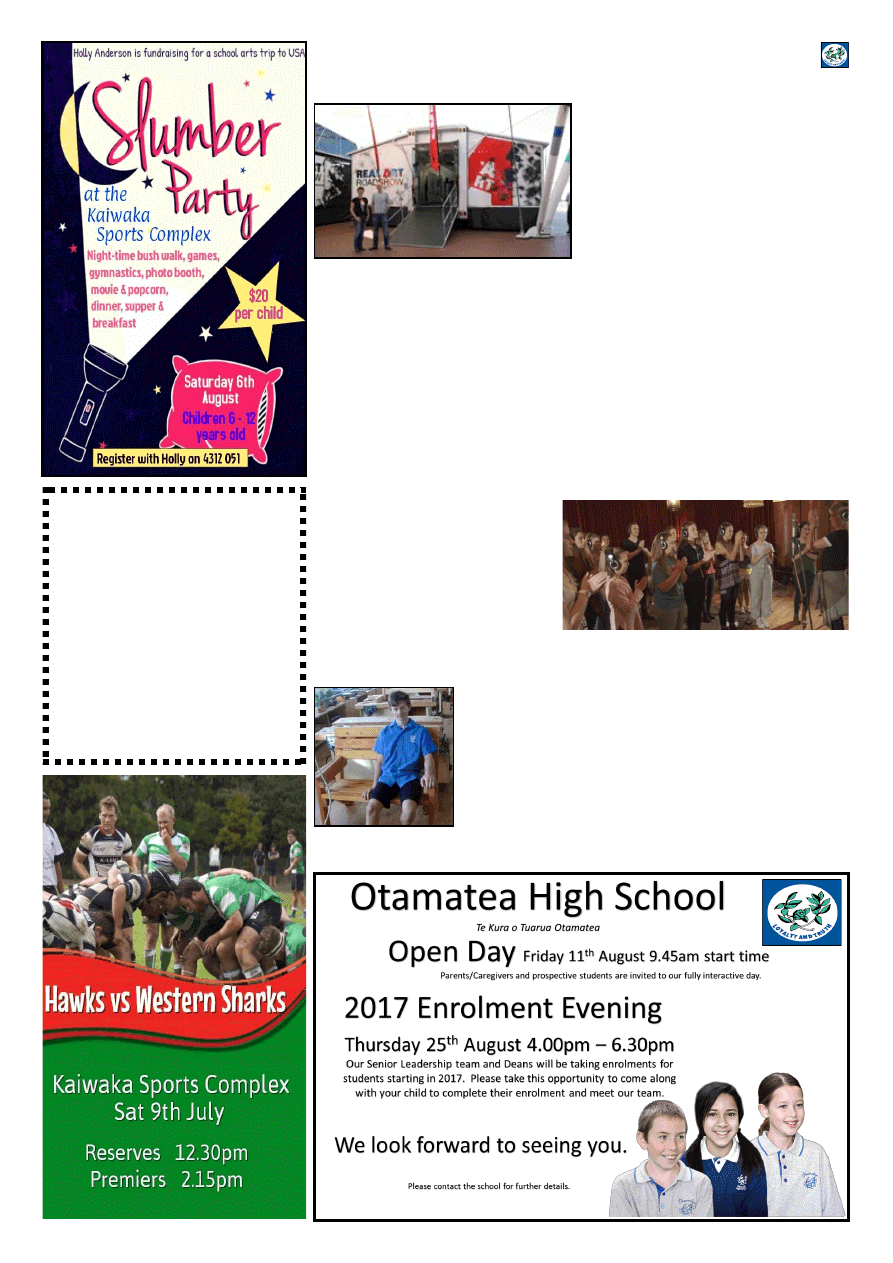 www.kaiwaka.co.nz 
Kaiwaka Bugle - 28 June 2016 
Page 17 
 Otamatea Hawks 
Saturday 9th July 
V 
Western Sharks 
12.30 and 2.15 
At Kaiwaka  
You are invited to come 
and help celebrate  
Ian 'Wuzz' Phillips'  
rugby career
OTAMATEA HIGH SCHOOL 
The Real Art Roadshow is coming to 
Otamatea High School 
The  Real  Art  Roadshow  is  a  fantastic 
collection of real New 
 Zealand  art  that  wheels  its  way  to 
schools  throughout  the  country.  The 
mobile  art  gallery  unfolds  to  form  an 
80  square  metre  space  and  displays 
over  60  original  artworks  by  some  of 
New  Zealand's  leading  artists.  New 
Zealand's 
biggest 
travelling 
art 
collection.  Otamatea  High  School  is 
fortunate enough to have the collection 
visit us on the 28th and 29th of June. 
For  more  information  and  the 
collection 
images 
see 
http://
www.realartroadshow.co.nz/  
The public are welcome to come and 
see  the  collection  on  Tuesday  28th 
of  June  from  3.45-  4.45pm,  please 
email 
rebecca.clist@otamatea.school.nz  to 
book  in.  There  is  a  people  access 
limit  that  we  need  to  observe,  so 
bookings are essential 
Year 12 Building & Construction  
The  students  are  just  finishing  their 
first project, a garden bench. The focus 
of  this  project 
was 
getting 
students  to  mark 
out 
and 
cut 
timber  accurately 
and  produce  a 
project  to  plans 
supplied. 
The 
completed 
benches are being 
finished  to  a  high 
standard  and  the 
students 
are 
proud 
of 
their 
achievements.  The  next  project  in  this 
course  are  children's  picnic  tables 
which are being made for Happy Steps 
Early  Learning  Centre  in  Dargaville. 
This  will  be  the  students'  first  time 
doing  a  project  for  a  client.                                      
~
M. North
.  
Molly  Curnow  sings  for  the  Maui 
Dolphins  
Son  of the  Ocean  is  a  song  written  by 
Jamie  McDowell  and  it  is  about  the 
Maui  dolphin  of  which  there  are  only 
55  left.  Recently  Ms  McDowell  called 
for singers to join her in recording this 
song  –  'Son  of  the  Ocean'  and  she 
called for 55 people to be exact. Molly 
Curnow,  from  our  school,  decided  to 
send  in  an  audition  song  and  was  one 
of  the  55  people  selected  to  sing  as  a 
backing  vocalist.  Molly  said  that  her 
and  54  others  sang  harmonies,  echoes 
and stamped and clapped parts to create 
a  depth  of  sound  in  Jamie's  song. 
Molly  said  she  found  the  whole 
experience  inspiring  to  be  around 
successful  artists  such  as  Jamie,  and 
humbling  because  she  was  with others 
who  were  so  passionate  about  music 
and  saving  dolphins.  Any  proceeds 
raised  through  this  song  will  be  given 
to  the  world  wildlife  fund  to  support 
their  efforts  in  saving  and  protecting 
the  Maui  dolphins.  The  song  is 
available  on  itunes  if  you  want  to 
support this cause. Thanks to the team 
of  people  keeping  us  informed  and 
making  us  aware  of  such  situations. 
Here  is  a  link  if  you  want  to  check  it 
out. 
https://youtu.be/9GZZCeEJd6Q 
Keep an eye out for Molly in the clip.  
~R. Clist 
Daniel Osbourne with 
his completed bench.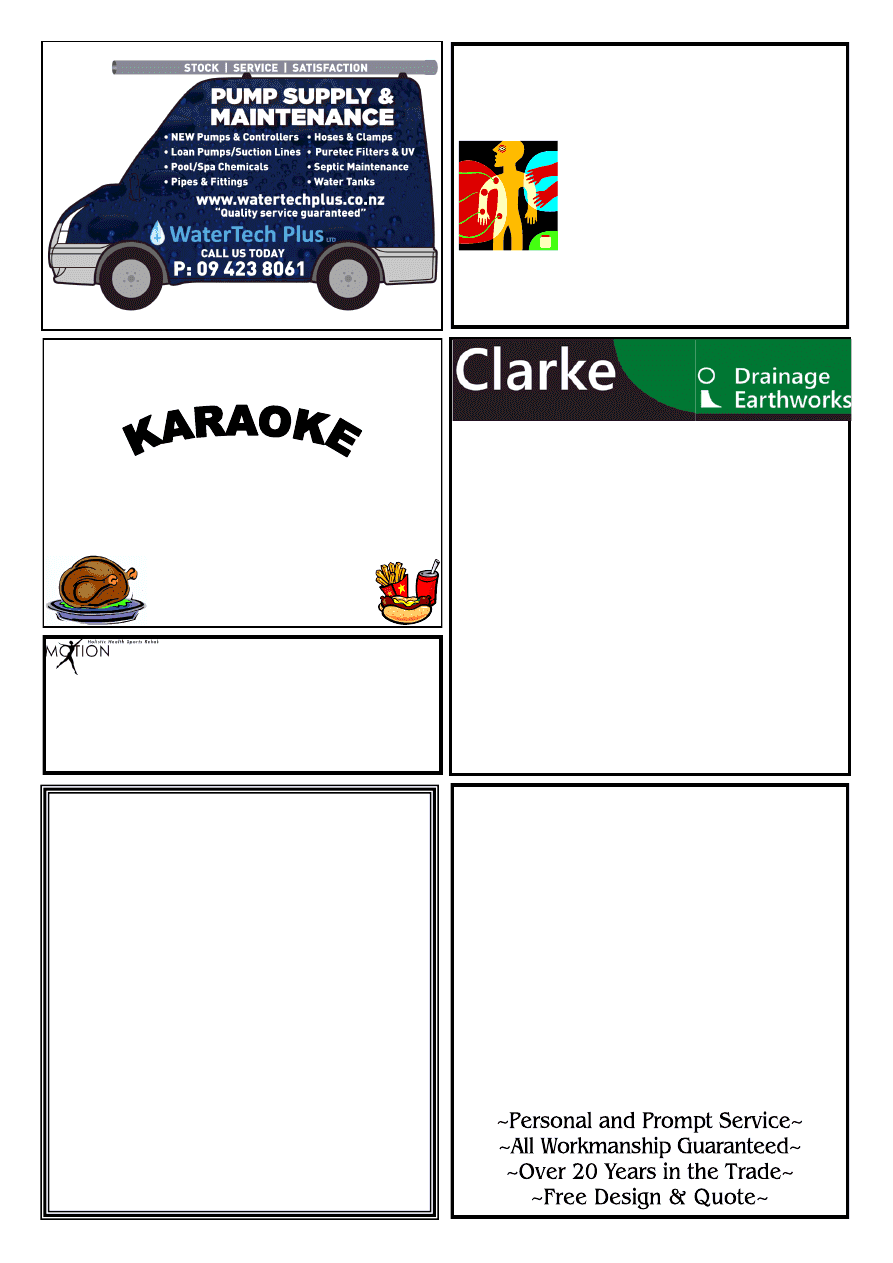 OWEN STEVENS 
Osteo Therapist
For careful adjustments to bones and joints 
Treatment for  humans and their pets 
Clinics: 
Kate's Place, Kaiwaka: 
Last Friday of month 
For bookings:9.00am-5.00pm 
Phone 
09 4312661 
Or phone Owen  09 4317123  anytime 
g.a.s. 
Mangawhai
GARDEN CENTRE 
for all your gardening needs
Also a great range of 
STOCKFOOD 
Wide range of 
ORGANICS AND 
 FRESH LOCAL PRODUCE
All your motoring needs are taken care of by 
our friendly staff check us out... 
44 Moir Street, Mangawhai (09)431 4242 
Registered Drainlayer 
All Types of Earthworks  
> All Residential & Commercial Work  > House Sites 
> Septic System Design & Install 
> Footings & Drilling to 10m 
> Sewer Connections 
> Dams 
> Water Tank Installation 
> Roading & Races 
> Farm Work 
THE ONE STOP SHOP  
Phone Nigel for an Obligation Free Quote  
Drainage & Earthmoving 
clarkedrainage@xtra.co.nz 
027 2233 185 
PLANNING A NEW KITCHEN? 
 CONTACT NOEL McDOWELL
WELLSFORD 
KITCHENS
Ph/Fax 094312888
KAIWAKA-Any time
  QUALITY CUSTOM MADE 
KITCHENS
THE HAKARU RSA 
PRESENTS 
3
RD
 FRIDAY OF THE MONTH 
7.30 pm TO 9.00 pm 
Thousands of titles to choose from 
Bring your friends and enjoy yourselves
Free entry 
[Courtesy:  Jon Bell] 
Meals as normal
WAIPU OSTEOPATH 
Maria Gabriel ACC Registered Osteopath 
Waipu Natural Health 3 Cove Rd Waipu 
Monday, Wednesday & Thursday  
Freephone 0508 924786  (0508 WAIPUOSTEO) 
www.getinmotion.co.nz     No doctor referral 
required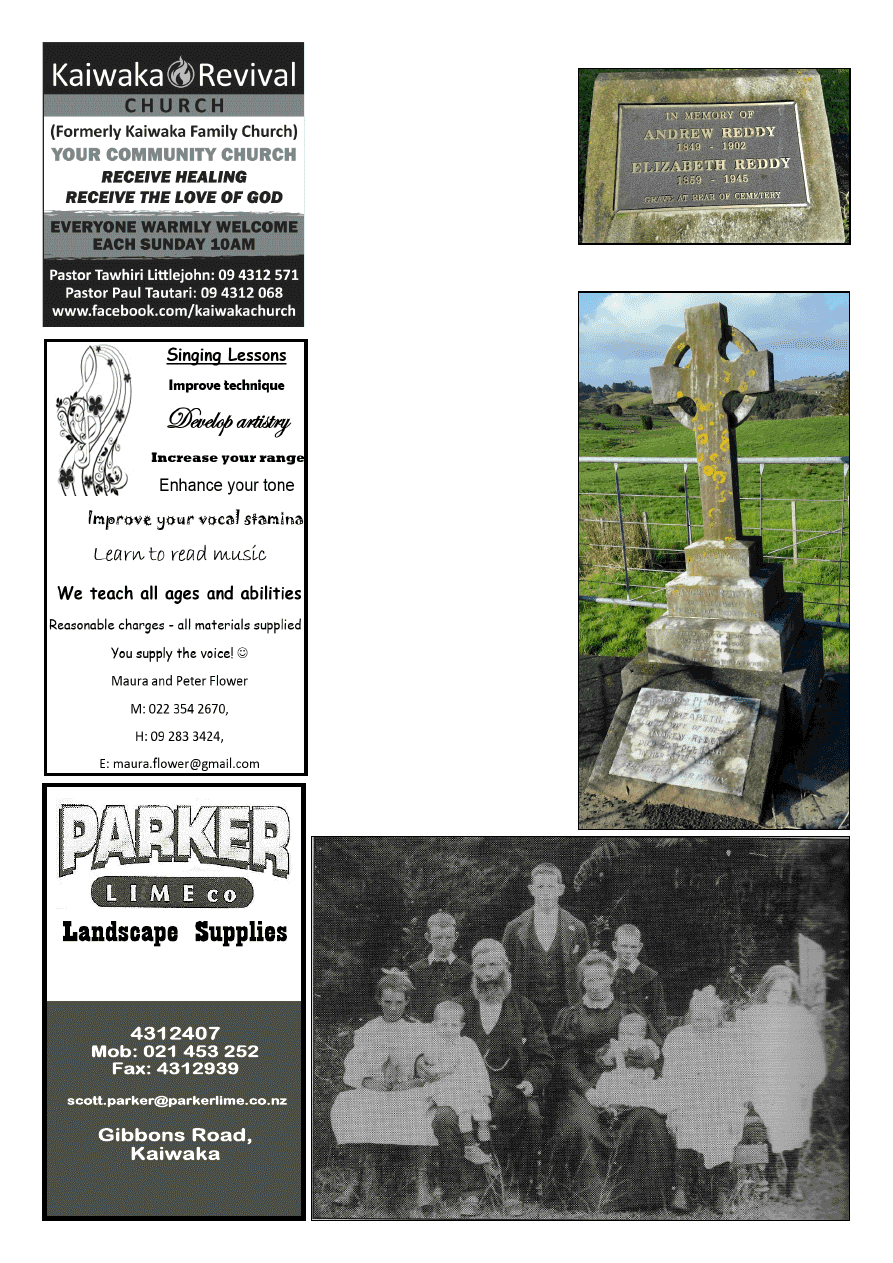 www.kaiwaka.co.nz 
Kaiwaka Bugle - 28 June 2016 
Page 19 
Bulk Cartage 
KAIWAKA CEMETERY - A Distant Grave. 
Folk  have  asked  about  the  gravestone 
in  the  distance  at  the  Kaiwaka 
Cemetery.  This  lovely  big    memorial 
marks the burial place of Andrew and 
Elizabeth Reddy. 
Andrew Reddy, Pukekaroro, was born 
in  Laois,  Ireland  and  came  to  New 
Zealand  with  his  brother    (one  source 
states  it  was  with  his  cousin  William 
who went to live in Thames) in 1879. 
He met and married Elizabeth Lethaby 
in  Auckland  18  May  1884.  Elizabeth 
was  from  Devon,  England.  They 
moved  north  to  work  for  the  Coates 
family at Pukekaroro. 
Andrew  and  Elizabeth  had  nine 
children. The 1893 and 1896 Electoral 
Rolls record Andrew as a ploughman. 
Sadly  the  youngest,  Andrew  or  Andy 
as many folk knew him,  was born just 
2 months after his father died of illness 
at  the  age  of    53  on  29  August  1902. 
When  Andrew  was  buried  the 
Kaiwaka  Cemetery  had  just  opened. 
At this time only one burial had taken 
place    and  with  Andrew  being  of  a 
Catholic  upbringing  a  distance  was 
marked out for his resting place, and in 
1945 that of his wife. "It is a measure 
of  the  distance  that  has  been  covered 
in  change  of  attitude,  in  the 
intervening  years,  that  the  last 
members of the Roman Catholic family 
were  buried,  in  the  early  nineteen-
eighties,  among  all  the  other 
settlers..." ref. AP Watson. 
Elizabeth stayed on in the family home 
and  "continued  her  skills  as  a 
breadmaker over an even wider area." 
In a bakery with long ovens. 
AP  Watson,  in  his  book  'Hill  of  the 
Sea  Bird',  pages  149-150,  tells 
something of the Reddy family.  
The photo below is from page 150. The 
Reddy family, 1899-1900, Andrew Snr 
and  his  wife  Elizabeth  -  centre;  Back 
row: John, Pat and Bill; Front: Nora, 
Henry, Mary, Annie, Ellen. 
The gravestones of Andrew and Elizabeth 
Reddy. Top, the memorial plaque within the 
main cemetery grounds.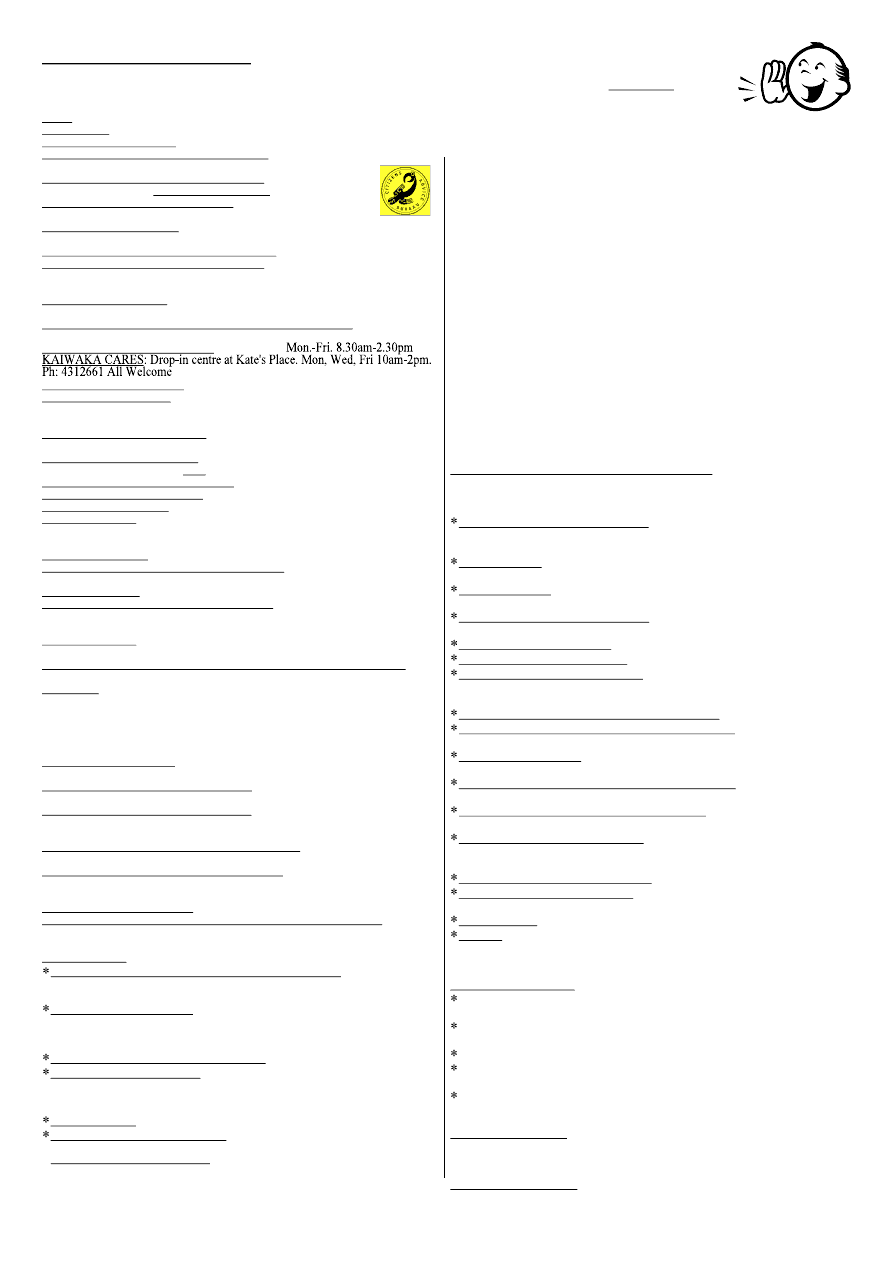 Next Bugle Deadline midday Friday 8 July 2016
WHAT'S ON
PLEASE ~ do let us know what is on - email 
kaiwakabugle@kaiwaka.co.nz 
Advertising in WHAT'S ON is FREE  
*1Jul~My Big Fat Greek Wedding 2 + dinner (tickets only), 
6:30pm KWMH 
*2Jul~Kids' Disco, 7pm KSA 
*2Jul~The Mikado season starts, Otamatea Repertory Theatre 
*9Jul~Hawks v Western Sharks, from 12:30pm KSA 
*10Jul~Mangawhai High Tea, 3pm Christ the King Church, Mwi. 
Ph Gillian 0800 862 873 
*15Jul~Nominations open for local body elections 
*15Jul~Eye In The Sky, 7:30pm KWMH 
*15Jul~Karaoke, Hakaru RSA 7:30pm 
*16Jul~Solar Energy Workshop, 10am. Ph Eric 4312 408 
*16Jul~AA Open Meeting, 7pm Wellsford Community Centre Ph 
Doug 4312 228 
*17Jul~Kung Fu Panda 3, 2pm KWMH 
*29Jul~Mahana, 7:30pm KWMH 
*31Jul~The BFG, 2pm KWMH 
*2Aug~KDC Candidate Seminar, 12:30pm KSA 
*6Aug~Slumber Party, KSA Ph Holly 4312 051 
*12Aug~Nominations close for local body elections 
*12Aug~A Coat of Many Colours, 7:30pm KWMH 
*12-14Aug~Boar Hunt, Pt Curtis Cruising Club 
KWMH=Kaiwaka War Memorial Hall 
KSA=Kaiwaka Sports Association Complex 
See www.kaiwaka.co.nz for upcoming events. 
HOUSEHOLD RUBBISH COLLECTION - Kaiwaka Pick up: 
Mondays = Gr een bags (Northland Waste - 09 430 3273) 
Wednesdays = Blue bags and yellow r ecycling (at J aques $3.00 
and $1.50) (Kaurilands 09 4392146) 
 DIABETES  Support  Group  -for  Kaiwaka,  Mangawhai, 
Wellsford  10am,  3rd  Friday  of  month  Ph:A.Pert  4238242; 
J.Gardner 4238060 
 DRINK CAN 'tear tabs' - for Starship Hospital- please collect - 
98 Kaiwaka Mangawhai Rd, leave in mailbox, Ph. 4312625  
 GENEALOGY - Wellsford: 1st Thursday in month Ph: 423 
7033; Waipu: 4th Monday in month Ph: 4312 725 
 GYMNASTICS  OTAMATEA  -  Tuesday  Ph:  Stephanie  022 
3624998 
 HAKARU PONY CLUB - Secretary Julie Rynne 09 4314520 
 KAIWAKA BADMINTON -Tuesdays 7.30pm Ph: 4312345 
 KAIWAKA  DRAMA  CLUB  -  Dave  Edwards  021  611198  - 
KaiwakaDrama@gmail.com Monday 5:30-7:00pm KWMH - FB 
- "KaiwakaDramaClub" 
 KAIWAKA DRUM & DANCE CLASSES - 021 611198 
 KAIWAKA GARDEN & FLORAL GROUP - 2nd Thursday in 
month. Ph: 431 4767 
 KAIWAKA  CUBS  -  Thursdays  5.30-7pm,  Hakaru  Ph:Bruce  
4312542 
 KNITTING FOR WHANGAREI HOSPITAL - 2nd Tuesday in 
month, Apple Basket 10am Ph 4314827 
 MANGAWHAI COMBINED PROBUS CLUB - 2pm, 3rd 
Thursday month, Senior Citizens Hall Mangawhai. Ph: 4315777 
 OTAMATEA GREY POWER - Kath Pattinson 09 431 8960, 
1pm last Wednesday of month, Anglican Church Hall, 
Maungaturoto 
 PT CURTIS CRUISING CLUB - Jean Ph: 4312227 (wk), 4312520 (hm) 
 RSA,Hakaru & Dist.Women - meet 1.30pm 4th Thurs in month 
Ph: 4314 668  
 TRAMPING - Mondays 9am-2:30pm  Karen Ph: 4312 090 
 YOGA  -  Tuesdays  6:15pm,  Friday  8:30am  KWMH  Carla  Ph: 
021  296  8794;  Wednesday  5:30-7:00pm  Archie  Bull  Hall 
Dalleise Ph 4312 108 
HALLS FOR HIRE: 
 St.Pauls Archie Bull Hall HIRE  $20 half day, $40 full day per 
hire, R. Morgans, Ph 4312365 
 Kaiwaka  War  Memorial  Hall  HlRE  -  Phone  4312725  or 
kaiwaka.hall.bookings@gmail.com 
 Hakaru Community Hall HIRE -Ph. 4312256 or 4312110 
 Te Pounga Marae queries - R. O'Leary 4312 423, J.Nathan 021 
186 7382 
 Kaiwaka Sports Association hire/queries - C. Anderson 4312051 
or kaiwakasports@gmail.com 
Justice  of  Peace:  B.FJaques;  L.Donaldson;  A.F.Hargreaves, 
S.Dalziell,  W.Howard  -  please  phone  to  make  sure  they  are 
available www.justiceofthepeace.org.nz 
Marriage Celebrants: L.Donaldson; A.F.Hargreaves; C.Rosseels
LOCAL SERVICES 
*Emergencies - Ambulance, Fire, Police - dial 111 
*Non-urgent Police phone 09 4311150
A A: Meets Wed., 8pm Kaiwaka Ph: 4312228, 4315543, 0800229 6757 
AL ANON: In recess, contact Ph: 4312228 
ASUREQUALITY LTD (was AgriQuality) Call Free 0508 0011 22  
BUDGETING SERVICE, WELLSFORD: Free confidential advice & 
support for all areas of personal finance. Ph (09) 423 7123 
CAB-Citizens Advice Bureau.Wellsford Ph: 4237333 
0800 367 222 email:cab.wells@xtra.co.nz  
DOG/STOCK /NOISE CONTROL 0800 105 890 
FUNERAL SERVICES: Morris & Morris Ltd, 
Whangarei - Bev Jaques Ph:4312367 or 0800667747 
GRANDPARENTS Raising Grandchildren: Dianah Roberts 0223819539 
HAKARU LANDFILL/Transfer Station:Open everyday except 
Tuesday10am-4pm.Ph4312629 Cost-$55 trailer load up to 1 cubic metre. 
Ph:4258567 - office 
INLAND REVENUE: Last Friday each month, 11-3pm Ph4312661 
KAIPARA DISTRICT COUNCIL www.kaipara.govt.nz:  
Help Desk FREEPHONE 0800 727 059  
KAIWAKA KOHANGA REO: Ph:4312620 
KAIWAKA CEMETERY: Ph: 4312045 
KAIWAKA LIBRARY: kaiwaka.library@gmail.com  
Mon. 4-6pm; Wed., Thurs., Fri., Sat. 10am-2pm Ph:4312539 
KAIWAKA PLAYCENTRE: Ph: 4312286. Hastie Lane 
Monday to Friday 9.00am - 12 noon. 
KAIWAKA POST OFFICE:Ph:4312 431  
Post Code: 0573 for RD2 and 0542 for all Kaiwaka Post Office mail 
KAIWAKA PRIMARY SCHOOL: Ph: 4312309   
KAIWAKA SPORTS ASSN: Ph 4312005; 4312129 gym 
KAIWAKA ST JOHN: Manager Steve Rosser 09 4318403, 021 2316836 
KATE'S PLACE with Govt.Day Agencies/Community Information /
Osteopathy/ IRD / Probation, etc Ph: 4312661 Hours: 9am-3pm. Mon - Fri 
LINKING HANDS Health Shuttle Ph 4314121 or 09 4318969 
MINISTRY FOR PRIMARY INDUSTRIES - General inquiries Call 
Free 0800 008 333 
NORTHPOWER: Faults Kaiwaka area 0800 104040 
OTAMATEA COMMUNITY SERVICES: Counselling, parent coach, 
Family Support worker, budget advice, food bank. Mon-Fri 9am-30m. Ph 
09 431 9080 http://www.otamateacs.org/ 
PARENTPORT: Free, practical family support service Puhoi to Paparoa 
Ph or txt: Dianne 027 2085093 
PERSONAL DEVELOPMENT COACHING, GROUP FACILITATION:  
Sabine Druckler 4312231 
PLUNKET: Kaiwaka - Kaiwaka War Memorial Hall: Clinic 1st Wednesday of the 
month; Coffee Group at 9:30. Mangawhai  - Rose Madsen Cottage, Mangawhai 
Domain,  Moir  St:  Clinic  1st  and  3rd  Monday  of  month;  Young  Babies  Coffee 
Group  2nd  and  4th  Monday  10  am;  Plunket  Playgroup  every  Thursday. 
Maungaturoto - Maungaturoto Congregational Church, 100 Hurndall Street East: 
Plunket clinic 2nd and 4th Wednesday. Cynthia 09 431 8187 or 027 675 3488 
PLUNKET HELPLINE -0800 933 922 (24 hours) 
RETURNED AND SERVICES ASSN 733 Settlement Rd. Hakaru 
Ph.4312176 Bill Kerr (President) Ph.4314719 
TAITOKERAU COMMUNITY LAW: Free confidential legal advice and 
assistance, 2nd
Thursday
 of each month. Ph: 0800 155 529 for 
appointments.  
TE KOROWAI AROHA O NGATIWHATUA Ph: 4312675 
(The Cloak of Love of Ngatiwhatua) Support and Maori Consultancy.  
VETERINARY SERVICE MANGAWHAI: 
Ph: 4314535 Mon-Fri 8.00-5.00, Sat 9-12, a/h appt. 
WELLSFORD DOCTORS: Ph: 4238 086 
WOMEN'S WELFARE LEAGUE & Reaching Out For Youth:  
4 Kaiwaka-Mangawhai Rd, M Morgan 4312293 
CHURCHES:
Kaiwaka Revival Church - Your Community Church: Sundays 10am & 
6pm. Ph: Pastor Tawhiri 09 4312 571 or Pastor Paul 09 4312 068 Visit 
us at www.facebook.com/kaiwakachurch 
St Paul's Anglican Church 1st Sun. 9.30 am (Eucharist), 3rd Sun. 9.30 
am (Family Service). Contacts: Church Office 09 431 4122; M. 
Hargreaves 431 2295; C. Bygrave 431 2057; or Rev. Wayne Thornton 
Ph 431 5650 www.mangawhaianglican.org.nz 
Church of Christ the King, Mangawhai:9.30am every Sunday 
St.Mary's Catholic Church: Maungaturoto – Griffins Road, Saturday 
evening Vigil Mass 6pm; Mangawhai – Senior Citizens Hall, Sunday 
Mass 8:30am; Wellsford – Matheson Road, Sunday Mass 10:30am;  
Mid-week Mass times and all enquires to Fr. Bill Fletcher – phone 423 8170
Baptist Church: Sun. 10.30am Mangawhai Snr Cit.Hall.Ph:4312339 
Cause Way Church Mangawhai: Sundays 10.15am, Mangawhai 
Community Recreation Centre, Insley St. Ph: 09 4314782