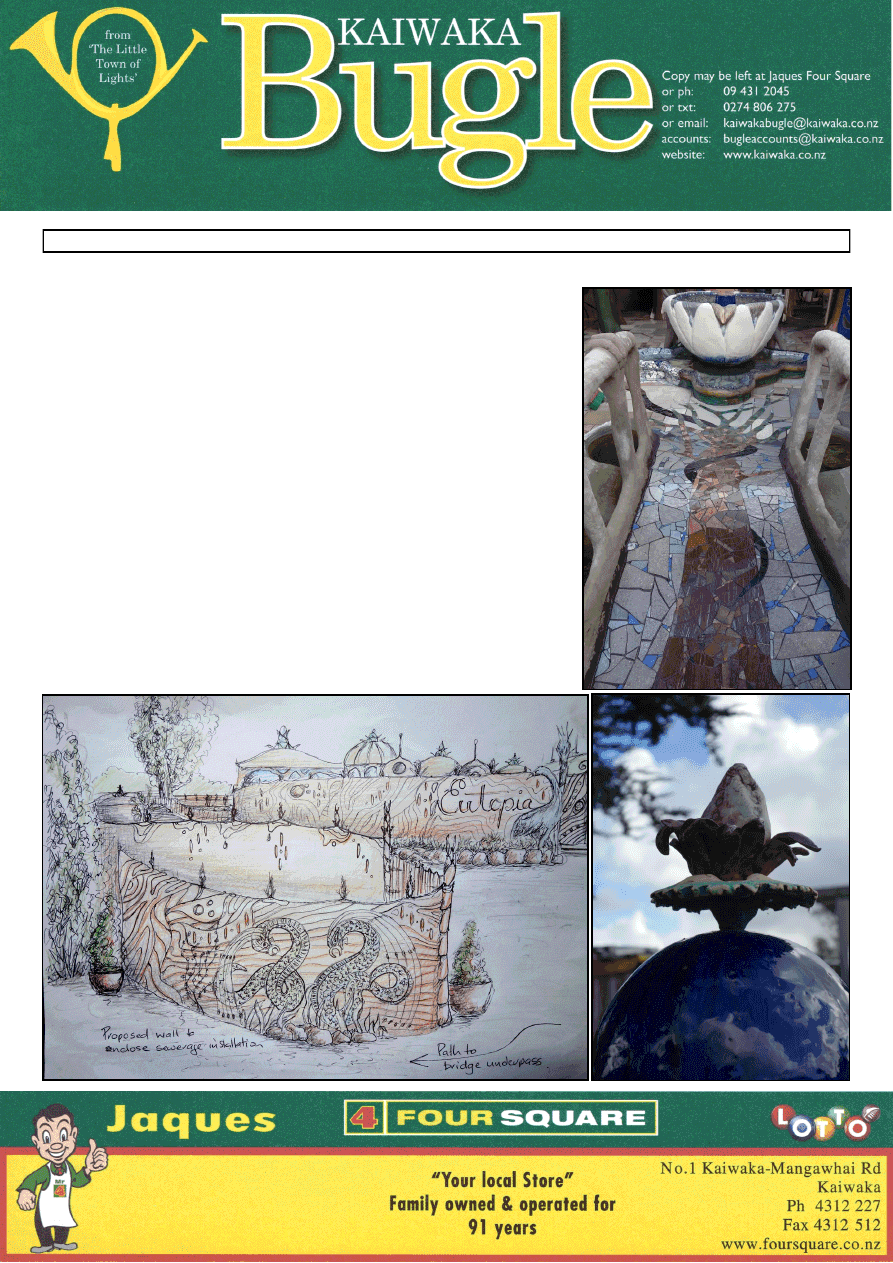 www.kaiwaka.co.nz 
Kaiwaka Bugle - 12 July 2016 
Page 1 
It is over 2 years ago now since Robert 
and  I  purchased  Eutopia  Cafe  from 
Peter  and  Raewyn  Harris.  It  was 
unfinished  and  falling  into  a  state  of 
disrepair.  We  planned  to  bring  it  back 
to  life,  make  it  even  more  notably 
unique  and  in  doing  so  create 
something  that  Kaiwaka  could  be 
proud  of  again.  Progress  has  been 
made, in fits and starts, but it is taking 
us  a  lot  longer  to  complete  than 
anticipated.  
We have had a number of set backs and 
many  things  have  taken  us  off  the  job 
for 
weeks, 
sometimes 
months, 
including  family  illness  and  injuries, 
income  obligations  and  various  other 
commitments. 
We  are  presently  working  to  get  the 
funding to continue the project, which, 
at  the  moment,  is  requiring  a  2  month 
stint in Auckland. 
The Eutopia project has involved a lot 
of  planning  and  thought.  It  has  been a 
challenge  on  many  levels  -  we  have 
proven  to  be  pretty  good  at  presenting 
ourselves  with  challenges!  We  tend  to 
be  perfectionists  and  everything  must 
be made with the best materials and the 
strongest  construction  methods,  every 
piece must fit exactly. On our part this 
can be a strength, and a weakness. 
We  are  incorporating  many  different 
art  forms  and  construction  methods 
into Eutopia. Many of the art works can 
be excessively time consuming. We are 
creating  extensive  new  and  revamped 
concrete  work,  intricate  mosaic  work, 
both  ceramic  and  glass,  bespoke 
wooden  joinery,  ceramic  sculpture  as 
well as murals and water features. 
Considerable  concrete  sculptural  work 
is 
being 
completed. 
We 
are 
constructing  ferrocement  walls  which 
we  then  carve,  and  into  these  we  are 
incorporating  many  glass  and  some 
ceramic  features.  We  are  also 
experimenting  with  different  paint  and 
stain effects. 
(Continued on page 9) 
 No: 13
12 July 2016 
Winter Trading Hours: 
Mon - Fri: 8am to 6pm 
Sat: 8am to 7pm (Lotto) 
Sun & Public Holidays: 9am to 5pm 
EUTOPIA UPDATE 
ABOUT TOWN 
Our  condolences  to  Lynda  and 
family on the recent passing of Paul 
Loughnane. 
Cafe  Bianca  is  closed  for  a 
holiday, reopening Friday 22 July. 
It  was a great day for  Ian  'Wuzz' 
Phillips  last  Saturday  at  the  rugby, 
celebrating his rugby career. 
Did  you see Country Calendar on 
Saturday  9  July  featuring  Bill 
Worsfold and family? 
KAIWAKA BUGLE No. 13 
12 JULY 2016 
CONTENTS 
Page 3: Public Notices, Classified 
Page 5: Pt Curtis Cruising, Weather 
Page 7: Kaiwaka Sports Association 
Page 9: St John, Eutopia cont, photos 
Page 11: Rotary, Tinopai book fair 
Page 13: Kaiwaka Cares 
Page 15: Kauri Museum 
Page 17: Kaiwaka Can 
Page 19: Obituaries  
Bugle 14 will appear 26 July 
Contact for advertising, reports, articles 
or information can be made by 
Email kaiwakabugle@kaiwaka.co.nz 
Ph: 09 4312 045 (Lindsey) 
Txt: 0274 806 275 (Wendy) 
Copy  may  be  left  at  Jaques'  Four 
Square.
At Kaiwaka War Memorial Hall . Adults $10, Kids (under 16) $5, Family Pass (2 adults + 3 children) $25 
Kaiwaka Bugle Advertisements 2016: 
All 
copy 
and 
queries 
to: 
kaiwakabugle@kaiwaka.co.nz 
Our A4 page is divided into 6 columns & 8 
rows (48 blocks), with a 1cm margin. 
Ad  sizes:  1/16  page  (3  blocks)  $5;  1/8 
(6 blocks) $8; 3/16 (9 blocks) $12.  
Classified  ads:  $4  per  entry  (max.  30 
words, max. 4 repeats). 
Payments can be made online, posted or 
left at Jaques Four Square Store. 
Accounts: 
bugleaccounts@kaiwaka.co.nz 
The  Kaiwaka  Bugle  is  a  community 
newspaper run by volunteers.   
Articles, etc. printed are not necessarily 
the opinion of the Bugle Team. 
Kaiwaka Bugle 
Founded May 1978 
We appreciate articles and photos about local 
events, etc, as well as ads and suggestions. 
Copies available in Kaiwaka at Jaques Four 
Square, Kaiwaka Postal Centre, Shamrock 
Service Station, Animal Health Centre, 
Kaiwaka St John shop. 
Also outlets in Maungaturoto, 
Mangawhai and Paparoa. 
Can be viewed online at  Facebook or 
www.kaiwaka.co.nz/Bugle  
Or a copy can be posted to you if you supply 
stamped, self-addressed DLE envelopes. 
Kaiwaka Movies - Kaiwaka Movies - Kaiwaka Movies - Kaiwaka Movies - Kaiwaka Movies
MAHANA
written and directed by Lee Tamahori
The story of a rivalry between two sheep shearing families 
set on the east coast of NZ in the 60s starrig Temuera Morrison
at 
Kaiwaka War Memorial Hall 
on 
Friday 29 July 2016 at 7:30pm
Come and support a 
Maungaturoto & Districts Rotary Club generated project 
to help support the local Scouts
good people - having fun - doing good things 
Kung Foo Panda 3 
Sunday 17 July 2:00pm (PG)
Mahana 
Friday 29 July 7:30pm (M)
Eye In The Sky 
Friday 15 July 7:30pm (M)
Colonel  Katherine  Powell,  a  military 
officer  in  command  of  an  operation  to 
capture  terrorists  in  Kenya,  sees  her 
mission  escalate  when  a  girl  enters  the 
kill  zone  triggering  an  international 
dispute  over  the  implications  of  modern 
warfare. 
Starring: Helen Mirren, Aaron Paul, Alan 
Rickman. 
Directed by Gavin Hood. 
www.kaiwaka.co.nz 
Kaiwaka Bugle - 12 July 2016 
Page 3 
PUBLIC NOTICES 
CLASSIFIED 
Proverbs 
20:21
  Quick wealth is not a 
blessing in the end.  
HAKARU & DISTRICTS RSA Inc 
Each Friday night from 6.30pm meals will be served. 
Members & invited guests, new members welcome. 
Come along & enjoy our hospitality. 
2nd Friday of the month - roast dinner or board menu. 
Last Friday of month - roast pork night &  
sing-along with Des Chitty.  
Ph Heather 4314668 or Jan 4314512 
FOR SALE: Babies & toddlers crochet & knitwear. 
All brand new. All enquiries welcome. Ph Carole 4312 
909 
FOR  SALE:  End  of  first  lay  hens  in  lovely 
condition.  $5  per  hen.  Ready 
25th  July
.  Phone    Eddie 
Coates 4312020
FOR  RENT:  Kaiwaka  cottage,  insulated,  sunny 
decks,  carport.  $200pw  inc  power,  gas  cooking  & 
water,  Sat  tv  &  internet  connection.  Ph  09  945  0593 
for more info. 
ALCOHOLICS ANONYMOUS 
Open Meeting 
Saturday 16 July 
7:00 - 8:30pm 
Wellsford Community Centre 
Matheson Road 
No cost 
All welcome 
Contact Doug on 09 431 2228 
for more info 
The meeting's purpose is to raise awareness of the 
disease of alcoholism in our community. If you are 
concerned about a family member or friend, or feel 
your own drinking is getting out of hand, you 
are very welcome to attend.  
Speakers from AA, Al Anon, and a professional in 
the field of alcoholism, will share their experiences, 
strength and hope and how the 12 step programme of 
AA has given them a new freedom and worth.  
You are welcome to stay for a light supper and a chat 
afterwards  
Anonymity is Assured. 
Energy Balancing @ Kate's Place, Kaiwaka. 
1st Friday of each month 
9am-12pm. Koha. 
Txt 0273135440 
for an appointment 
Healing from the
Certificate in Sustainable Rural 
Development (Level 3)
Location: Wellsford                                         Start date: 3 August 2016 
Duration: 19 weeks        Contact day: Wednesday, Thursday and Friday
Take your learning of sustainable living practices 
to the next level.
This qualification is ideal if you want to gain land-based 
skills and knowledge, learn to develop your own or 
community land in a truly sustainable manner and 
increase the productivity of land using sustainable and 
organic principles. 
Papers offered: Practicum, Plan & plant a home orchard, 
Plant propagation, Introduction to beekeeping.
Tutor: Heidelind Luschber ger  
Contact: 
Nikki 
McMillan 
09 
470 
3625 
or  
nmcmillan@northtec.ac.nz 
Enrolments: 0800 162 100
Fees-Free! Enrol now! 
Please note fees free courses may incur course related costs such as stationery 
and suitable work wear. Students enrolling on a full time course are eligible to 
apply for a student allowance through StudyLink. 
Courses and programmed may be cancelled, postponed or have their content or 
configuration changed from time to time (including during the academic year) at 
the  discretion  of  NorthTec.  Fees  indicated  are  for  domestic  students. 
Programmes will run subject to minimum enrolment numbers. See our website 
for Terms and Conditions.
For more information: 0800 162 
100, www.northtec.ac.nz 
CIVIL DEFENCE 
KAIWAKA COMMUNITY 
RESPONSE GROUP
Meeting for all interested in contributing to the 
community via this group. We are not here to save the 
world, but to be prepared to open a Welfare Centre in 
our community should the need ever arise. 
It's not a huge commitment, occasional meetings, 
training offered. Interested? Come along: 
Thursday 28 July 
5:30pm 
Kaiwaka War Memorial Hall 
KAIWAKA WAR MEMORIAL HALL 
Unveiling of Front Doors 
Friday 5 August, 5pm
The Rolls of Honour from WWI and WWII are now 
etched on the front doors of the hall. 
The original Honours Boards are still placed either 
side of the stage. 
You are all welcome to the cutting of the ribbon and 
a cup of tea following. 
Kaiwaka Library 
Used Book Sale 
Clearance 
$1 each, 3 for $2 or 10 for $5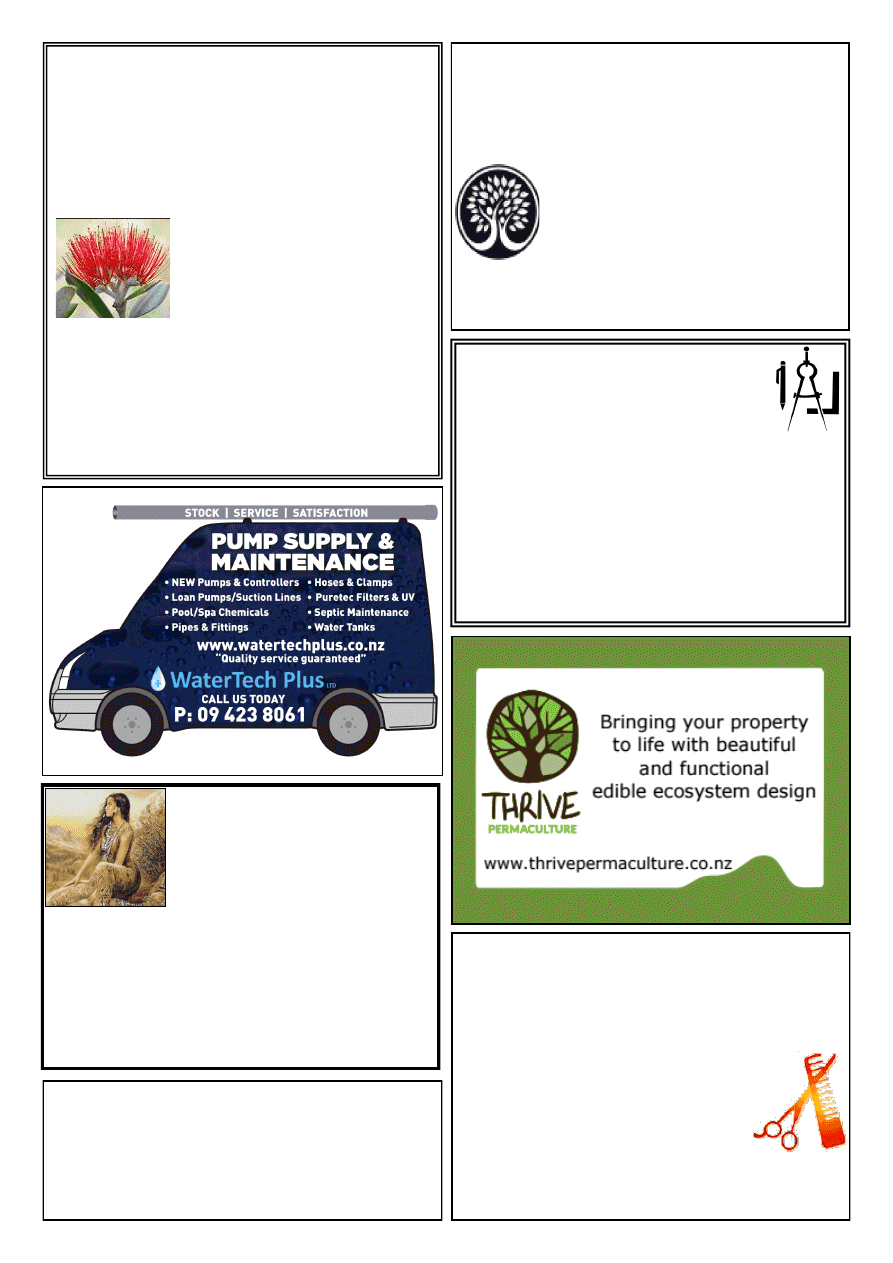 White Horse Farm 
Farm Stay/Bed and Breakfast 
Ph +64 9 390 1260    113 Tawa Ave, Kaiwaka 
bookings@whitehorsefarm-kaiwaka.co.nz 
www.whitehorsefarm-kaiwaka.co.nz 
AFFORDABLE PRICES! 
MENS DRY CUT FROM $18.00 
LADIES DRY CUT FROM $28.00 
KIDS DRY CUT FROM $15.00 
COLOUR CUT FROM $90.00 
JUST CUTS'AND   
MORE 
021 165 2629 
NOW SELLING: scented tealights, incense, smudge sticks, 
copper bracelets, aurora ball crystals, dream catchers, healing 
stones, rose quartz, cds, and much more. Open 6 days. 
Trails end 
spiritualist gathering  
Last Sunday of every month  
11.30-2pm tea/coffee provided  
$5koha for all inquiries  
0211652629 evenings 099450753 
Trail.end@hotmail.com 
Bringing together light minded people 
Guest speaker each month and 
Workshops every 2nd Wednesday  
6:30-7:30pm
KAIPARA FLOORING CO 
Independently owned & operated 
32 HURNDALL ST MAUNGATUROTO 
Supply & Installation of Carpet, Vinyl,  
Vinyl Wood Planking
Stockists of 2m & 3m wide 
vinyl & carpet short ends
Residential & Commercial 
First Class Installations 
For a free measure & quote 
phone Christine  
09 946 9886 or 021 515 415 
kaiparaflooring@gmail.com 
http://www.kaiparaflooring.co.nz/ 
design drafting 
service 
Retired builder and manufacturer with over 40 years  
experience in the building industry is offering a design 
drafting service for domestic housing, sleepouts and 
sheds.  
Plans formulated in consultation with clients, with 
working drawings completed and submitted to  
council for processing. Extensive practical experience,  
able to identify & resolve problems. 
Please ring Mike Lean on 
09 431 2260  
          or 
021 431 196 
Waipu Natural Health 
3 Cove Road, Waipu  (opposite the Pizza Barn) 
Ph: 09 432 1325 
www.waipunaturalhealth.co.nz 
Clinical Nutritionist (Masked Allergy Testing), 
Registered Osteopath, Registered Massage 
Therapists, Reflexology, Beauty Therapy, 
Craniosacral Therapy, Hypnotherapy, 
Counselling, Change Catalyst, ThetaHealer, 
Naturopathic Prolotherapy & Scenar (joint & 
muscular therapy), and much more... 
GIFT VOUCHERS AVAILABLE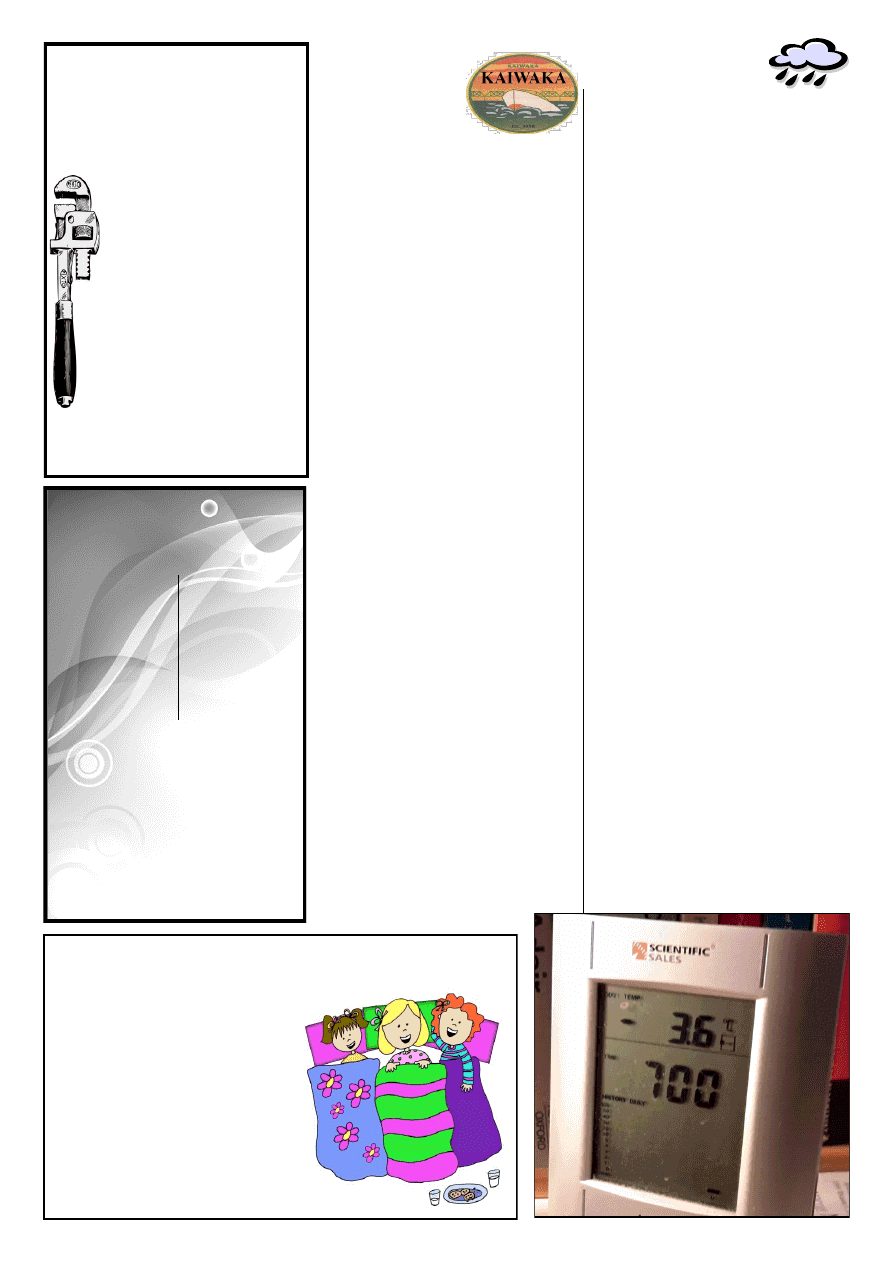 www.kaiwaka.co.nz 
Kaiwaka Bugle - 12 July 2016 
Page 5 
KAIWAKA 
WEATHER 
Greetings folk. As I type out this report 
the  heavens  have  opened  the  flood 
gates  again.  Well  actually  it  is  the 
middle of winter so is to be expected. It 
is  very  wet  underfoot  now  and  boggy. 
You know, the stuff you can leave your 
gumboots behind in if they are too big. 
Well  we  have  had  those  very  cold 
spells and a frost or two as well. A very 
heavy  one  on  22nd  June  along  with 
those  dreadful  winds.  Oh  yes  not 
forgetting  those  very  beautiful  fine 
calm  sunny  days.  They  are  hard  to 
remember  when  you  get  weather  like 
today. 
At  our  house  for  June  2016  we  had 
138mm  rain  and  for  2015  we  had 
94mm.  For  the  first  6  months  of  2016 
we had 676mm and the fist 6months of 
2015 we had 486mm. 
Yes that is a difference of 190mm, or if 
converted  is  7  and  half  inches  approx. 
We  had  rain  of  some  sort  on  18  days 
for  the  month  of June  and  in  2015  we 
had  rain  on  15  days  for  the  month  of 
June. Our wettest June since 1987 was 
2009  with  301mm  and  the  driest  was 
2012  with  52mm.  The  wettest  first  6 
months  of  any  year  since  1987  was 
2011  with 1041mm  and  the  driest  was 
1987 with 333mm. 
I have been told of lambs being born. I 
hope  they  are  being  looked  after  with 
this wet weather. 
Please  take  care  on  our  wet  roads  or 
even dry as far as that goes. If you are 
being  troubled  with  fruit  fly  around 
your fruit bowl it means there is a piece 
of fruit starting to go rotten so remove 
or  use  it.  You  can  also  crush  a  garlic 
clove or two and place strategically on 
a small dish among the fruit or nearby. 
They certainly do not like the smell and 
will  disappear.  That  is  all  till  next 
month. 
~Bev 
Editor's  note:  Wendy  saw  -3.6
o
C  on 
her  temperature  gauge  on  the  morning 
of  that  big  frost  (3  July,  see  photo 
below  taken  at  7am!),  down  Marshall 
Road.  We  saw  a  report  of  -3
o
C  on 
Oneriri Road the same day. 
BARRY CURTIS 
PLUMBING LTD 
REGISTERED CRAFTSMAN 
PLUMBER 
Phone 431 5572 
027 257 9884 
25 years' experience 
Friendly reliable service 
All plumbing  
& maintenance 
  Alterations and new   
 
housing 
Spouting 
Competitive rates 
PROMPT EFFICIENT SERVICE
U Beauty 
Please call Nicole for bookings 
09 393 6336 or 022 0639450 
Qualified Beautician 
4 Kaiwaka – Mangawhai Rd 
Kaiwaka 
Underarm Wax  
$20 
Extended Bikini Wax 
$30 
15 min Back Massage 
$25 
Eyebrow Wax  $10 
Eyebrow Tint  $10 
Eyelash Tint 
$20 
Lip Wax 
$10 
Chin Wax 
$10 
Bikini Wax 
$20 
Brazilian 
$50 
½ Leg Wax 
$30 
Full Leg Wax  $45 
Full Pedicure  $60 
Foot Tidy  
$35 
Manicure 
$45 
Nail Tidy 
$25 
Chest Wax 
$30 
Back Wax 
$40 
Nostrils 
$10 
Ears 
$10 
Results for End Of Season Duck Shoot 
2nd & 3rd July 2016 
Junior Section 
Mallard:  1st:  Michayla  Kennedy 
1.139kg, 2nd: Jayden Wilson 1.137kg 
Grey:1st:  Michayla  Kennedy  1.057kg, 
2nd: Michayla Kennedy 1.034kg 
Parry: 1st: Michayla Kennedy 1.393kg, 
2nd: Michayla Kennedy 1.251kg 
Pukeko:1st:  Caleesto  Mills  1.000kg, 
2nd: Caleesto Mills 0.925kg 
Black Swan: 1st: Michayla 6.061kg 
Peacock:  1st:  Michayla  Kennedy 
4.197kg, Michayla Kennedy 3.104Kg 
Turkey: 
1st: 
Michayla 
Kennedy 
7.094kg, Michayla Kennedy 6.614kg 
Senior Section 
Mallard:  1st:  Nigel  Ball  1.406kg,  2nd: 
Dale Hamlin 1.398kg 
Grey:  1st:  Joss  Tolley  1.206kg,  2nd: 
Dave Kennedy 1.191kg 
Parry: 1st: Nimmo 1.952kg, 2nd: Tony 
Smith 1.898kg 
Pheasant:  1st:  Dale  Hamlin  1.446kg, 
2nd: Hayden Smith 1.197kg 
Pukeko:  1st:  Nimmo  1.251kg,  2nd: 
Trevor Wright 1.179kg 
Black  Swan:  1st:  Dave  Kennedy 
6.090kg, 2nd: Grabba 5.084kg 
Peacock: 1st: Keith Mills 4.797kg, 2nd: 
Pongo 4.278kg 
Turkey:  1st:  Dave  Kennedy  8.832kg, 
2nd: Nigel Ball 7.726kg 
Thanks  to  all  who  entered  and  those 
who brought plates.  Thank you to staff 
and  management  at  3  Furlongs  Bar  & 
Grill. 
Upcoming event:  
Boar Hunt 12, 13 & 14 August. 
Fish  Of  The  Month  is Kahawai.  Cut 
off date, Tuesday 12th July 2016. 
Next 
committee 
meeting 
date  7pm,  Tuesday  12th  July    at  3 
Furlongs Bar & Grill, Kaiwaka 
POINT 
CURTIS 
CRUISING 
CLUB 
SLEEPOVER PARTY 
KAIWAKA SPORTS COMPLEX 
Hi there, 
Thank you to all the parents who have 
registered their children for my KSA 
Sleepover Party on 6th August. 
If you are wanting to send your kids, but 
you haven't got around to registering them 
yet, please note that the deadline for 
registrations is this Friday. 
If you have a kid who is keen to have a 
fun time, please email my Mum Cheryl 
Anderson at kaiwakasports@gmail.com 
and she will email you the permission slip.  
Thank you 
Holly Anderson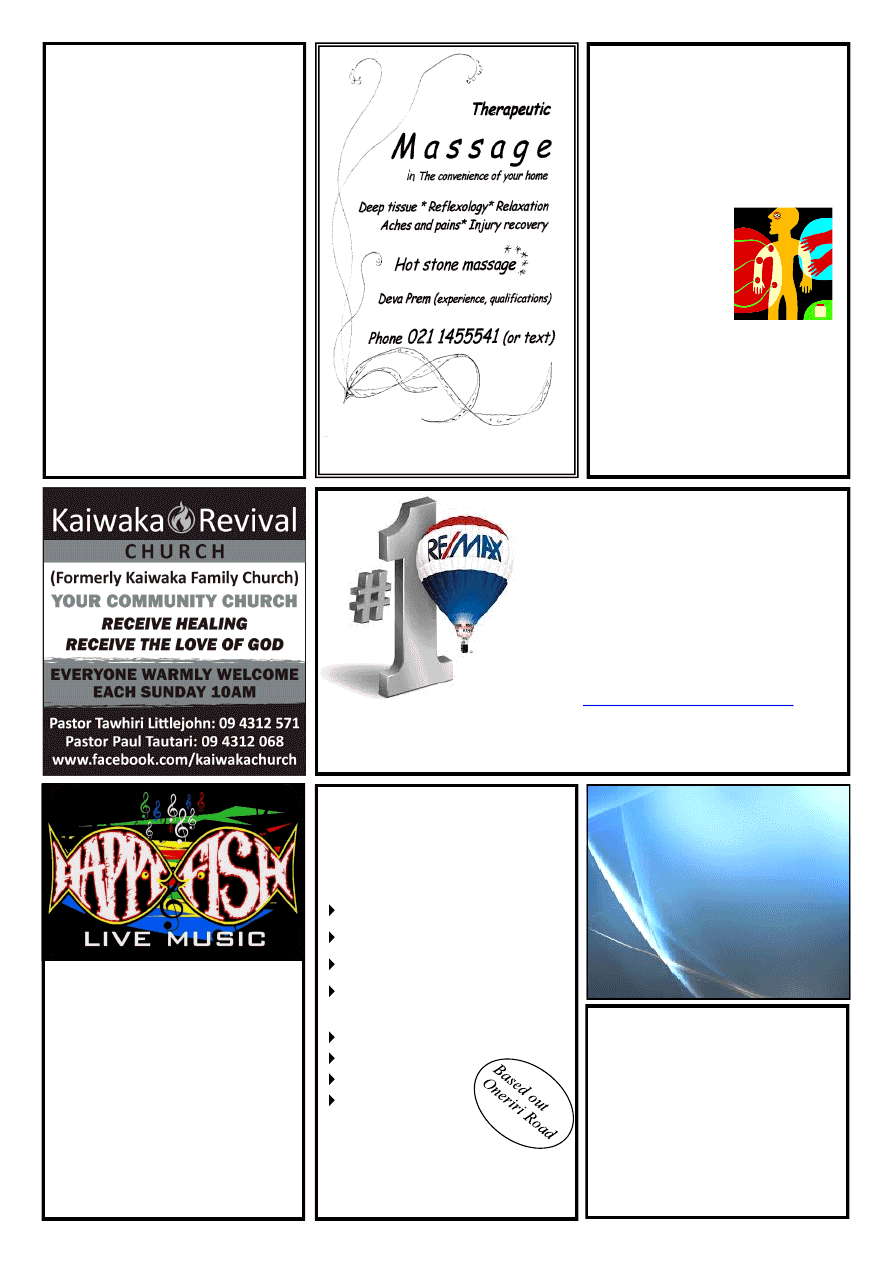 Thinking of selling?   Wanting some 
insights into the real estate market 
in Kaiwaka? 
Talk to Beth Stone, your local Real 
Estate agent, at Kate's Place on 
Wednesdays or give her a call to meet 
for coffee. 
Mob: 0274 938 801 
Email: 
RE/MAX Realty Group MREINZ 
Northern Properties Limited 
Licensed REAA 2008 
HODGETTS 
CONTRACTING
Digger Work    
Driveways 
House Sites   
Dams 
Drains, etc
Also available for HIRE 
3 ton Vib Roller 
Heavy Duty Tow 
Waterblaster  
Lazer Level 
Phone Mark 
4312877 
027 447 8554
www.mangawhaimassage.co.nz 
OWEN STEVENS 
Osteo Therapist
For careful adjustments to bones 
and joints 
Treatment for humans and their 
pets 
Clinics: 
Kate's Place, 
Kaiwaka: 
Last Friday of 
month 
For bookings: 
9.00am-5.00pm  
Phone 
09 4312661 
Or phone Owen  
09 4317123 anytime 
Freeview  
Installations 
Richard Te Haara 
25 Marram Place 
Mangawhai Heads 
021 1104056 
kiwipride@xtra.co.nz
Willow Bend
HORSE  
HOTEL 
"   
Total Horse Care 
" 
Agistment 
" 
Riding Lessons 
" 
Arena Hire (60x40) 
" 
Young Horse Starting 
" 
Re-training/Exercising 
" 
Hoof Trimming 
" 
Problem Solving 
Phone Sue 09 431 2817 
or 021 623 776 
Or email  
susanjoll11@gmail.com 
ROCKIN' POPULAR, OLD AND 
NEW PARTY SONGS WITH LOADS 
OF KIWI MUSIC AND A FEW 
ORIGINAL TUNES IN THE MIX. 
AN ELECTRIC DUO FEATURING:  
GORDON JOLL 
(NZ Music Hall of Fame)
ON DRUMS AND SUE JOLL ON 
GUITAR AND VOCALS. 
A BAND FOR ANY OCCASION 
BACKED BY YEARS OF 
EXPERIENCE. 
Contact: Sue 021 623 776 
Email: happyfishband@gmail.com   
Website: www.happyfishband.co.nz 
Counsellor and 
Registered Psychotherapist 
Offers Supervision
Susan Matheson 
MNZAC, RN 
Dip. Psychosynthesis Counselling and Psychotherapy 
Phone 09 431 5997 
Mobile 027 605 2427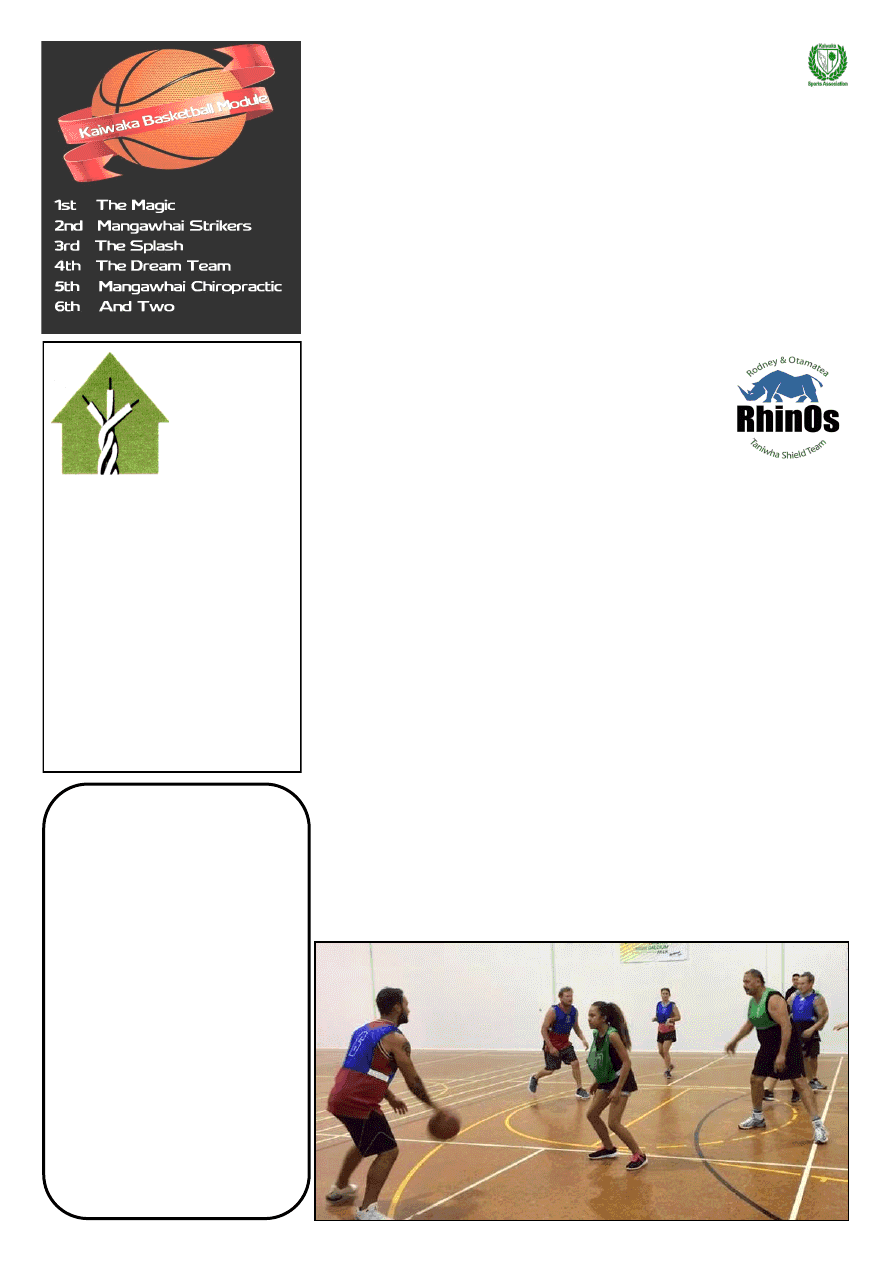 www.kaiwaka.co.nz 
Kaiwaka Bugle - 12 July 2016 
Page 7 
Reyahn George Leng 
Registered Electrician 
Local, honest and reliable. 
For your residential and 
light-commercial projects. 
022 314 1068  
 09 431 2527 
UP-LINK 
CHRIS WARING 
FREEVIEW 
INSTALLATIONS 
T.V. - HOME THEATRE & 
HI-FI ADVICE/SET UP
SKY ACCREDITED 
INSTALLER
MOB.0273403747 
HM.094312328 
EMAIL cwaring44@gmail.com
28 YRS EXPERIENCE 
OFFERING UNBIASED ADVICE 
Basketball Module 
Seventy  people  participated  in  the 
Kaiwaka 
Sports 
Association's 
Basketball  Module,  held  over  six 
weeks  on  Sunday  afternoons  in  the 
KSA gymnasium. 
The six teams were a mixture of young 
& old, male & female and experienced 
basketballers  &  novices  with  players 
coming  from  Kaiwaka,  Mangawhai, 
Wellsford and Maungaturoto. 
The  finals  were  hotly  contested  with 
The  Magic  taking  on  Mangawhai 
Strikers.  The  Magic  came  out  on  top 
and  took  home  the  winners  purse  of 
$300  and  Mangawhai  Strikers  took 
away  the  second  place  prize  of  $200. 
The  third  prize  of  $100  went  to  The 
Splash. 
After the finals, players moved into the 
pavilion 
for 
prizegiving, 
congratulations to the prizewinners: 
Youngest – Monique (11 yrs) 
Oldest player – Peter (50 yrs) 
Top female point scorer – Jennifer 
Top male point scorer – Danyon 
Team  managers  nominated  one  person 
from  their  team  to  receive  a  special 
prize: 
The Dream Team  – Ben, for going from a 
novice to a valued player 
The Magic – Brendon, best masters player 
Mangawhai  Strikers  -  Fetu,  most  valuable 
player 
The  Splash  -  Rodney,  most reliable  player 
Mangawhai Chiropractic - Matt, soft hands 
And  Two  -  Lish,  most  consistent  player 
plus most supportive  
A  gift  was  also  given  to  Hannah  for 
taking  photos  and  to  Gerrin,  Shaye  & 
Danyon  for  umpiring  –  many  thanks 
guys!  
People asked me if it could become an 
annual event, so I will run it again next 
year. To keep up to date with Kaiwaka 
Basketball  Module  news,  please  like 
my Facebook page. 
Exhibtion Basketball Match 
The  Northland  Under  19s  team  came 
down to Kaiwaka last week to play our 
KSA All Stars team (a selection of top 
players  from  our  Basketball  Module) 
It was a fast-paced game, with our All 
Stars  matching  the  young  guns  basket 
for basket. The final score was a draw: 
49  each.  Photos  and  a  few  videos  can 
be  found  on  the  Kaiwaka 
Basketball Module page. 
Mary Kay Party 
There will be a Mary Kay Party at the 
Sports Complex this Friday at noon. If 
you're  interested  in  make-up  or  skin 
care products, you're welcome to come 
along,  free  admission,  children  are 
welcome, bring a friend! 
Squash 
The  Clash  of  the  Brynderwyns  is 
coming  up!  Our  squash  club  will  be 
playing  against  the  Maungaturoto 
squash club on 18th July and fighting it 
out  for  the  chance  to  retain  the 
prestigious potty trophy! 
Taniwha Shield Tournament 
Northland's 
prestigious 
Primary 
Schools 
Rugby 
Tournament, 
the 
Taniwha  Shield,  is 
being 
held 
this 
week  in  Dargaville. 
All  the  best  to  our 
local 
boys, 
the 
Rodney/Otamatea 
RhinO's. 
Upcoming events 
We  may  still  be  in  the  middle  of 
winter,  but  summer  will  roll  around 
fast  enough,  so  if  you're  looking  for  a 
reason to get into shape for the warmer 
months, you could start training for one 
of our major summer sporting events: 
  * our annual Top of the Rock multi-
sport event will be held on Sunday 12th 
February  and  features  options  for 
running, cycling or walking. 
  *  our  annual  Otamatea  tennis 
tournament  is  held  over  Anniversary 
Weekend  in  January  and  players  can 
enter  in  the  doubles,  combines  or 
singles. 
  *  the  Kaiwaka  Touch  Module  will 
be held over the summer months. Start 
date to be confirmed.  *  and,  although 
this is not a sporting event, it is one of 
our  most  popular  annual  events  –  yes, 
it's Fright Night! Mark it in your diary, 
Saturday 29th October. 
~Cheryl Anderson 
4312 051, 027 3462702 
kaiwakasports  
KAIWAKA SPORTS ASSOCIATION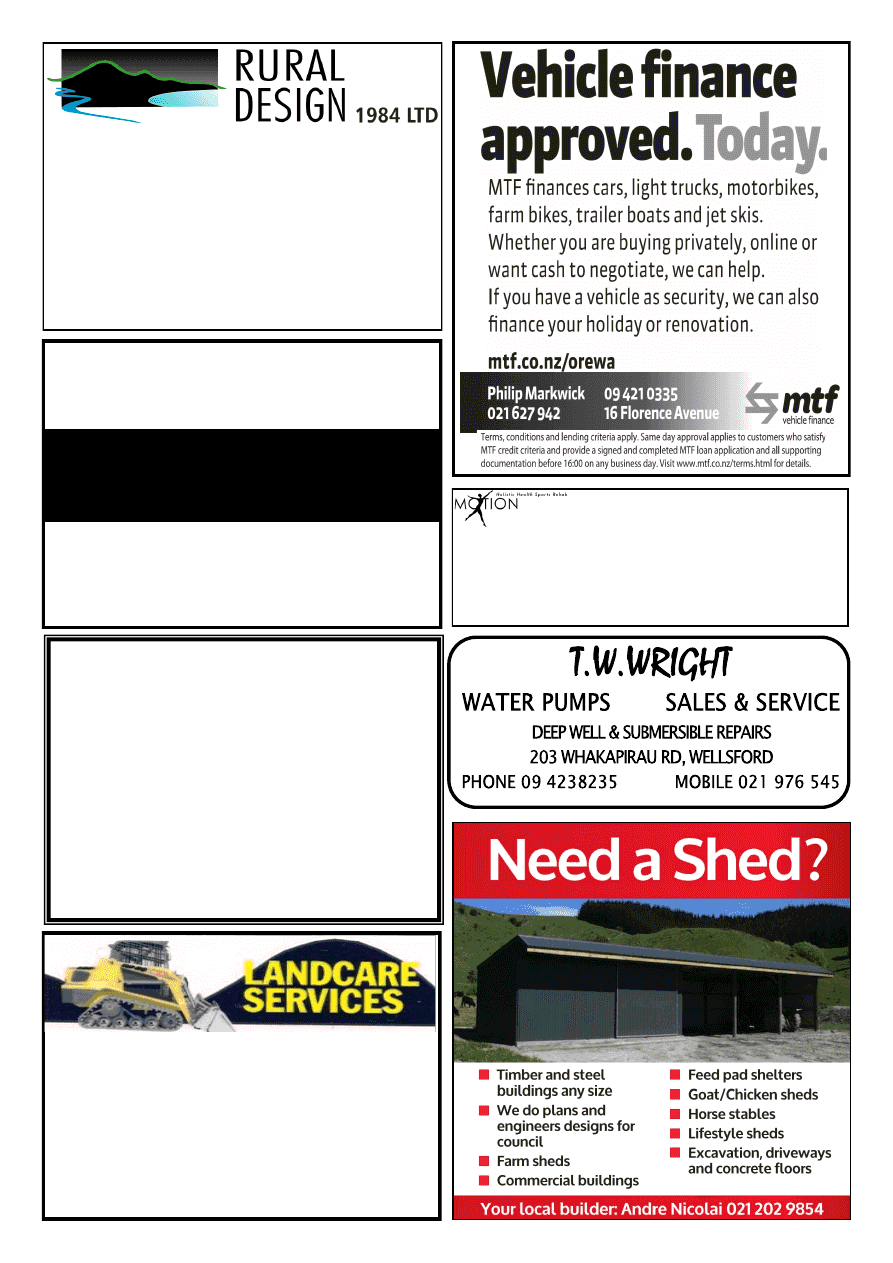 LANDSCAPING 
4 IN 1 BUCKET 
TRENCHER 
POLE HOLES 
ROTARY HOE 
COMPACT ROLLER 
OFFAL HOLES 
CAN SUPPLY WOODCHIP & POST PEEL 
5 TON TIPPER 
FOR RELIABLE AND FRIENDLY SERVICE CONTACT DAVE 
Dave Hyndman 
 
KAIWAKA 
PH: 09 4312302 
MOB: 021 431 238 
David Korach 
Your local Gib Stopper
DK PLASTERER LTD 
0274769221 
dkorach6@gmail.com 
Wholesale Native Plant Nursery and Planting 
Small and Large orders welcome 
By Appointment 
300 Kaiwaka-Mangawhai Road, Kaiwaka 
Phone: 09 431 2481 
Email: info@ruraldesign.co.nz 
www.ruraldesign.co.nz 
WAIPU OSTEOPATH 
Maria Gabriel ACC Registered Osteopath 
Waipu Natural Health 3 Cove Rd Waipu 
Monday, Wednesday & Thursday  
Freephone 0508 924786 (0508 WAIPUOSTEO) 
www.getinmotion.co.nz   No doctor referral 
required 
MULCHING 
GORSE,SCRUB ETC 
PADDOCK TOPPING OR MULCHING 
2.8m mulcher with 140HP tractor. 
Experienced operator. 
LIFESTYLE PROPERTY MAINTENANCE 
Putting life back into your style 
BOOK NOW. Phone James 
mob: 0273 808622 or 09 431 2245 
email: lifestylesorted@gmail.com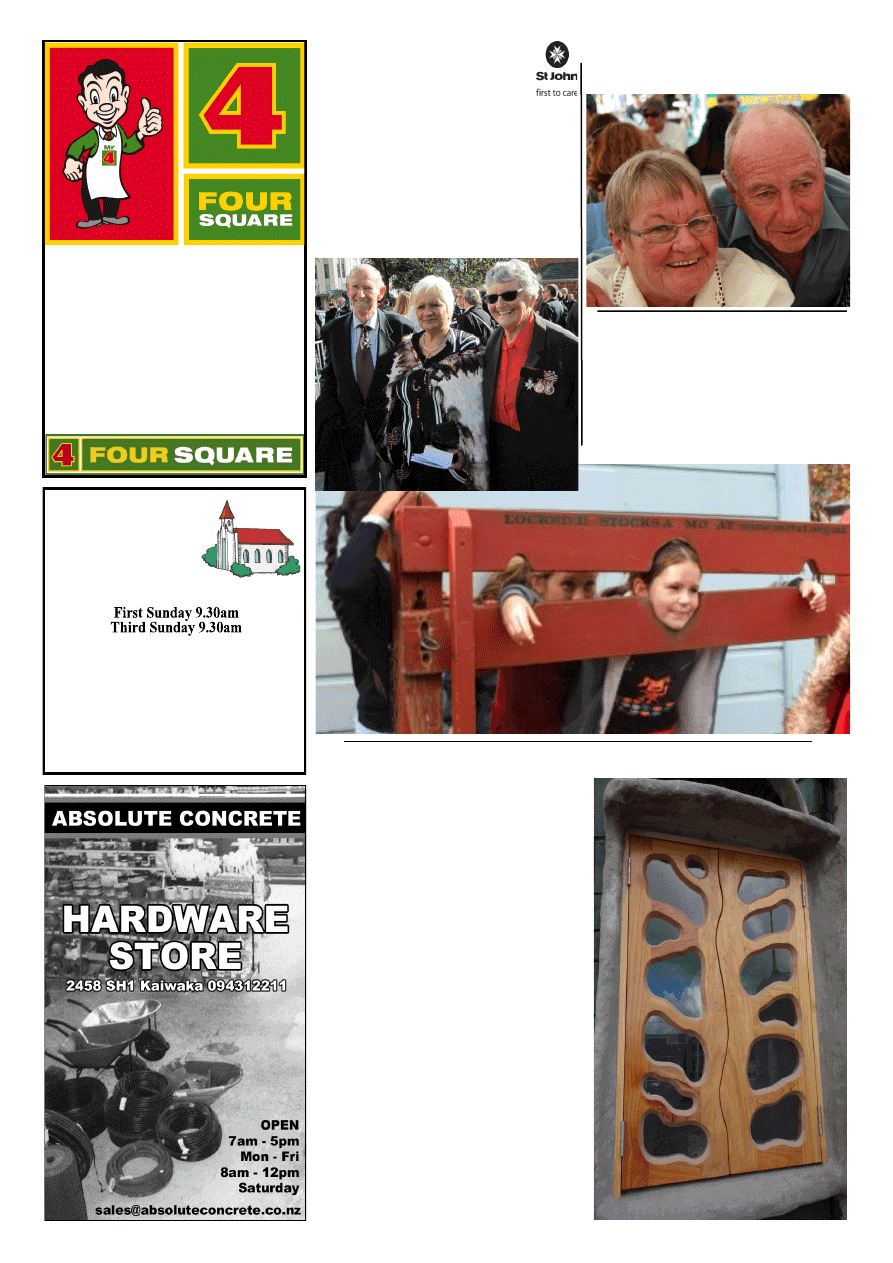 www.kaiwaka.co.nz 
Kaiwaka Bugle - 12 July 2016 
Page 9 
ST PAUL'S  
ANGLICAN  
SUNDAY  
SERVICES
St Pauls Church: Kaiwaka-Mangawhai Rd. 
1st Sun - Eucharist 
3rd Sun - Family Service 
Office 4314 122 
Contacts:M.Hargreaves 4312295, C.Bygrave 4312057  
or Rev. Wayne Thornton Ph 431 5650 
www.mangawhaianglican.org.nz
KAIWAKA 
 ST JOHN  
Winter Stock 
Socks, gloves, & slippers 
Gas swap a bottle 
Firewood & Kindling 
Jaques Four Square 
Phone: 4312227 
1 Kaiwaka-Mangawhai Road, Kaiwaka. 
We hope to bring the little town of lights 
back  to  life  in  an  unusual  way.  We  are 
attempting  to  make  every  aspect  of 
Eutopia including many of the tables and 
chairs unique and unusual. It is all taking 
time  but  ultimately  we  envisage  that  it 
will  be  spectacular  and  a  drawcard  for 
the town. 
If  anyone  in  the  community  would  like 
to have some involvement, we have very 
kindly  been  given  some  funding  by 
council  to  construct  a  wall  around  the 
sewerage installation below Eutopia in a 
complimentary style. We hope to get this 
started  early  July.  We  are  looking  for 
some  voluntary  help  to  work  on  this. 
When possible I also provide a workshop 
opportunity  where  people  can  try  their 
hand  at  making  a  Eutopian  chair  for 
instance, or get involved in what ever we 
are  working  on  at  the  time.  Anyone  is 
welcome  to  join  us,  just  contact  myself 
or  Robert  on  021  891  484,  or 
email thefarside11@gmail.com. 
Also  check  us  out  on  Facebook  https://
www.facebook.com/eutopiacafe 
~Marijke Valkenburg 
(Continued from page 1) 
EUTOPIA UPDATE 
Congratulations  to  Milly  O'Leary  for 
becoming a Member of the Order of St 
John. 
She  joins  earlier  Kaiwaka  recipients 
Pam Ottaway, Lindsey Hargreaves, the 
late Earl Boyd, and Yvonne Boyd. 
Pictured  below:  Trevor  Brljevich, 
(Commander  of  the  Order  of  St  John) 
Milly  O'Leary,  Eileen  Parsons  QSM 
(MStJ). 
Congratulations to Graham Dowson on 
his 80th birthday. He is pictured below 
with his wife Peggy. 
Students at Kaiwaka  School  enjoyed  a 
trip  to  MOTAT  recently,  and  a  great 
time was had by all. The students really 
seemed to enjoy the Education Outside 
the  Classroom  experience,  and  their 
behaviour was exemplary. 
Pictured  below:  students  try  out  the 
stocks!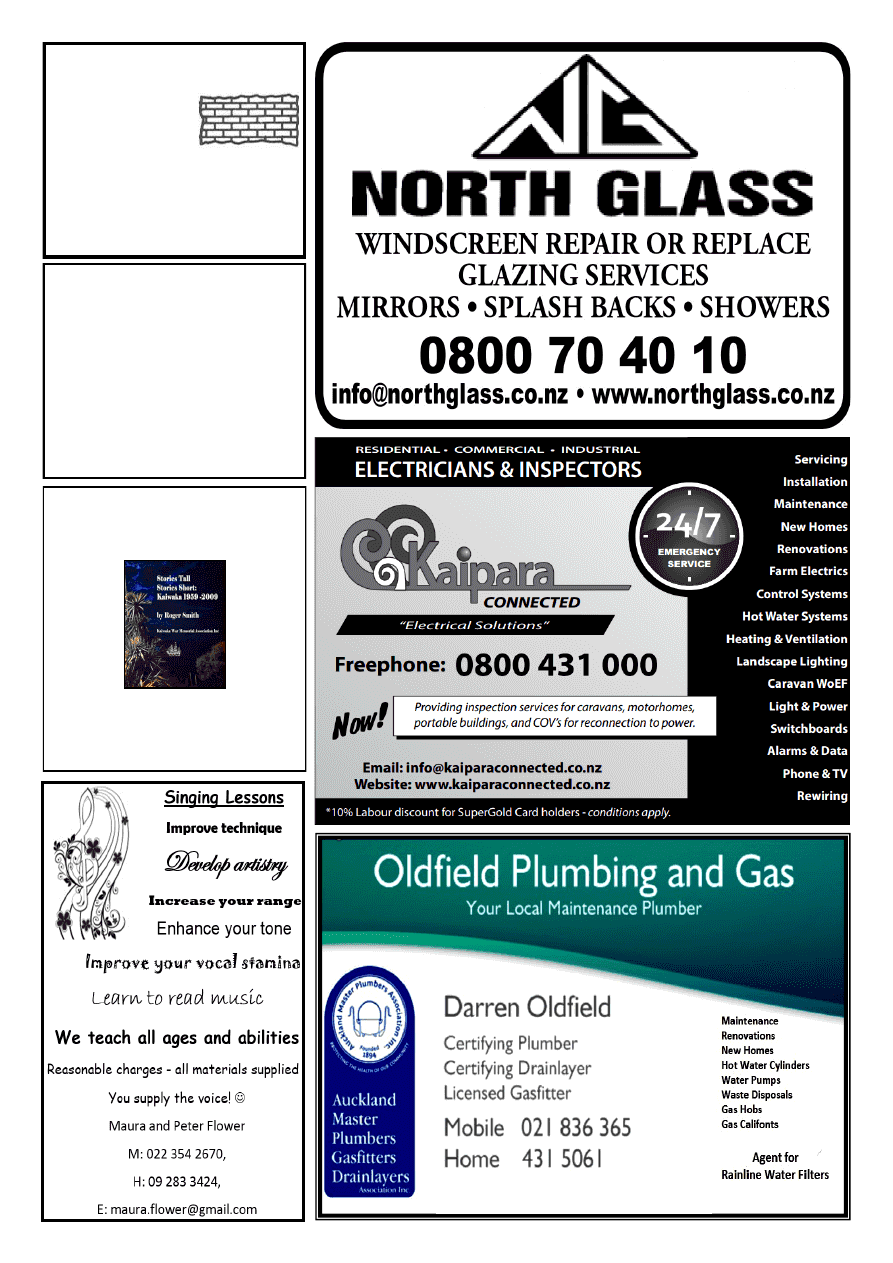 oldfieldplumbing@gmail.com 
 LEABOURNS 
Passenger Service
Car & Van Hire 
Bus & Coach Charters 
Airport Transfers 
 Monthly Shopper Bus 
Phone (09) 4237416 
BRICK/BLOCKLAYER 
All aspects of masonry:  
Fireplaces, 
Restoration  
& Remedial Work. 
JAMES EAGLETON 
Tel. (09) 431 2514  
Mob. 0274 749 232 
jajueagles@yahoo.com.au 
210A Pukenui Road, RD2 Kaiwaka 0573 
Stories Tall, Stories Short:  
Kaiwaka 1959-2009 
by Roger TW Smith
$40
Available from the Bugle Editors -  
Lindsey 4312 045,  
Wendy 027 480 6275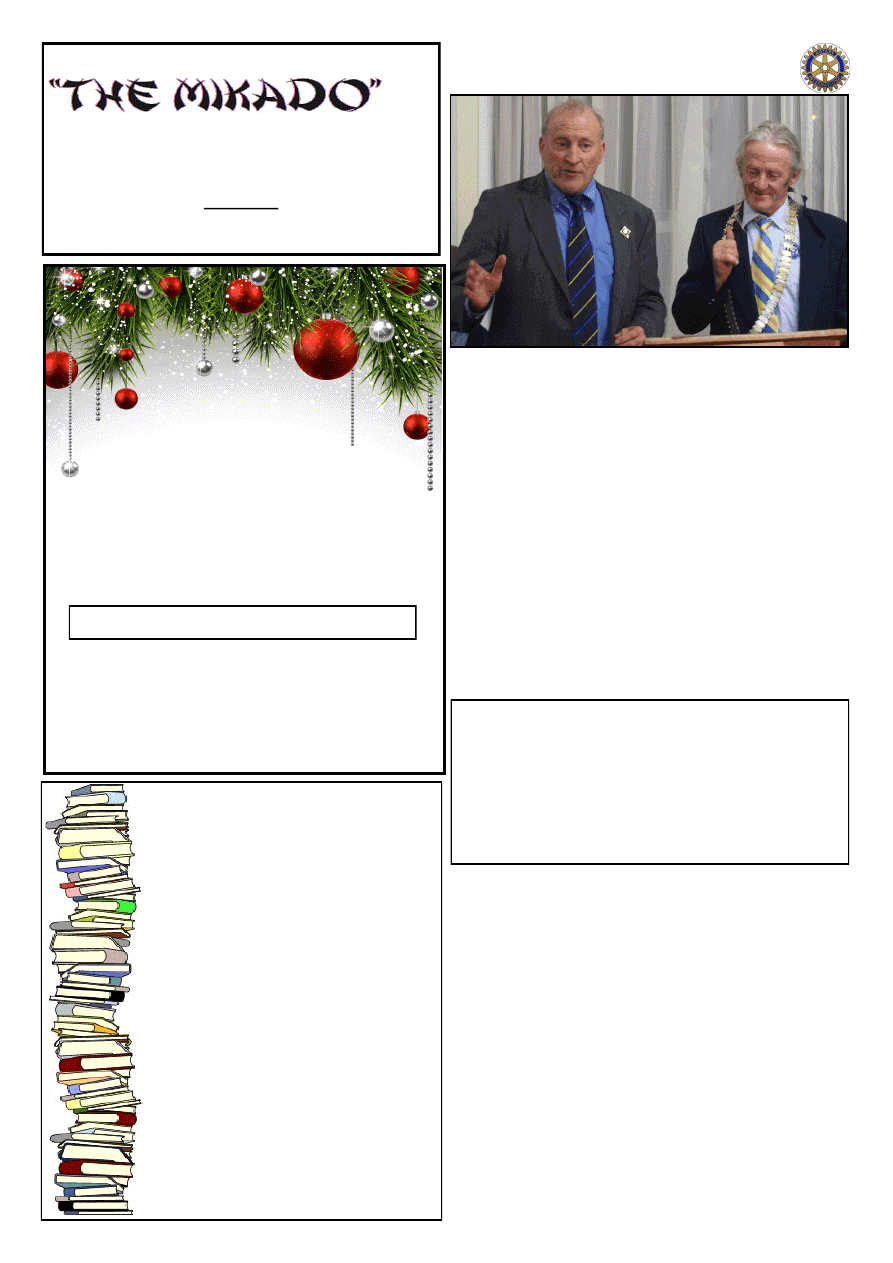 www.kaiwaka.co.nz 
Kaiwaka Bugle - 12 July 2016 
Page 11 
Hakaru RSA 
Mid Winter 
Christmas Dinner 
Friday 29 July 
6pm 
$25 Per Person
For more information & bookings 
phone Marlene on 431 5589 
Door & Spot Prizes 
~
 Entertainment 
BOOK FAIR 
and 
CAKE STALL 
Paparoa Hall 
9am-2pm 
Saturday 20 August 
Raising funds for the 
Tinopai Volunteer Emergency 
Services Incorp 
TINOPAI VOLUNTEER 
EMERGENCY SERVICES  
Book fair and cake stall to be held in Paparoa Hall, Saturday 
20 August from 9am to 2pm. 
The  Tinopai  Volunteer  Emergency  Services  Incorp  are 
raising  funds  to  erect  a  building  to  house  Tinopai  Rural 
Volunteer  Fire  Force  vehicles  and  a  North  Kaipara 
Coastguard rescue vessel. 
Both of these organisations do amazing work in Tinopai and 
the  surrounding  districts.    Our  fire  truck  at  the  moment  is 
kept in a member's garage which is not ideal. 
Resource consent has been granted for the building plans to 
contain the truck, a further rescue vehicle and a Coastguard 
boat.  We are now raising funds for the next stage. 
All the books for our book fair have been kindly donated by 
the  Dargaville  Public  Library.    They  will  be  priced  at  $1 
each,  5  for  $3  or  10 for  $5.    We have  a  wide  selection  of 
novels covering romance, thrillers, fantasy and sci-fi, drama 
and non-fiction as well. 
We  will  also  be  having  a  cake  stall  and  a  stall  with  some 
unusual flower decorations as well. 
GOOD  PEOPLE  -  HAVING  FUN-  DOING  GOOD 
THINGS 
There  has  been  a  change  of  Officers  at the  Maungaturoto 
and Districts Rotary Club and new Presidents always bring 
their own style to the Chair.  This year there will be a joint 
leadership  of  Tim  McGill  and  Merv  Huxford.  Their 
continuity  of  focus  introduced  by  recent  presidents  Jim 
Taylor  and  Bruce  Nelder  will  be"  Good  People,  Having 
Fun, Doing Good Things".   
Complementing each other extremely well, Merv with his 
professional  and  sporting  skills  and  Tim  with  his  affable 
and  down  to  earth  number  eight  wire  experience,  will  be 
forging  ahead  with  a  new  look  Rotary  experience,  but 
without  abandoning  all  of  the  proven  tradition.    New 
developments  will  allow  for  greater  community 
involvement  particularly  in  the  health,  environment  and 
youth  education  and  leadership.    A  trial  of  a  new  tier  of 
membership level will also develop. 
The  Maungaturoto  and  Districts  Rotary  Club  cover  the 
districts  of  Matakohe,  Paparoa,  Maungaturoto,  Kaiwaka 
and Mangawhai.  For those interested please contact Betty 
Nelley 094318249     
MAUNGATUROTO & 
DISTRICTS ROTARY CLUB  
Otamatea Repertory Theatre Inc presents... 
Directed by Peter Flower 
Adults $28 | School Students $16 
Tickets online or Tony's Lotto Shop, Maungaturoto 
Special Prices and meal options 
More information on our website www.ort.org.nz 
Show Dates 
Fri 15th July @ 7:30pm 
Sat 16th, Sun 17th July @ 2pm 
At the theatre, Bickerstaffe Rd, Maungaturoto 
Arthritis New Zealand has received concerned calls from Palmerston North 
residents  over  the  past  two  days,  who  are  being  offered  home  visits  to 
provide help for their arthritis.  
"Arthritis  New  Zealand  does  not  offer  home  visits"  says  Sandra  Kirby, 
CEO  "Nor  do  we  pass  on  names  of  members  or  clients  to  any  other 
company."  The advice for people who receive calls offering a home visit is 
to take the name and contact number of the caller and if you do arrange a 
home  visit  have  a  family  member  or  friend  with  you  at  the  time  of  the 
visit.   
Ms  Kirby  does  note  "We  do  have  volunteer   staff  making calls to  people 
around the country at the moment  – specifically looking for volunteers to 
help with our September Appeal.  This is the only call that is likely to come 
from Arthritis New Zealand"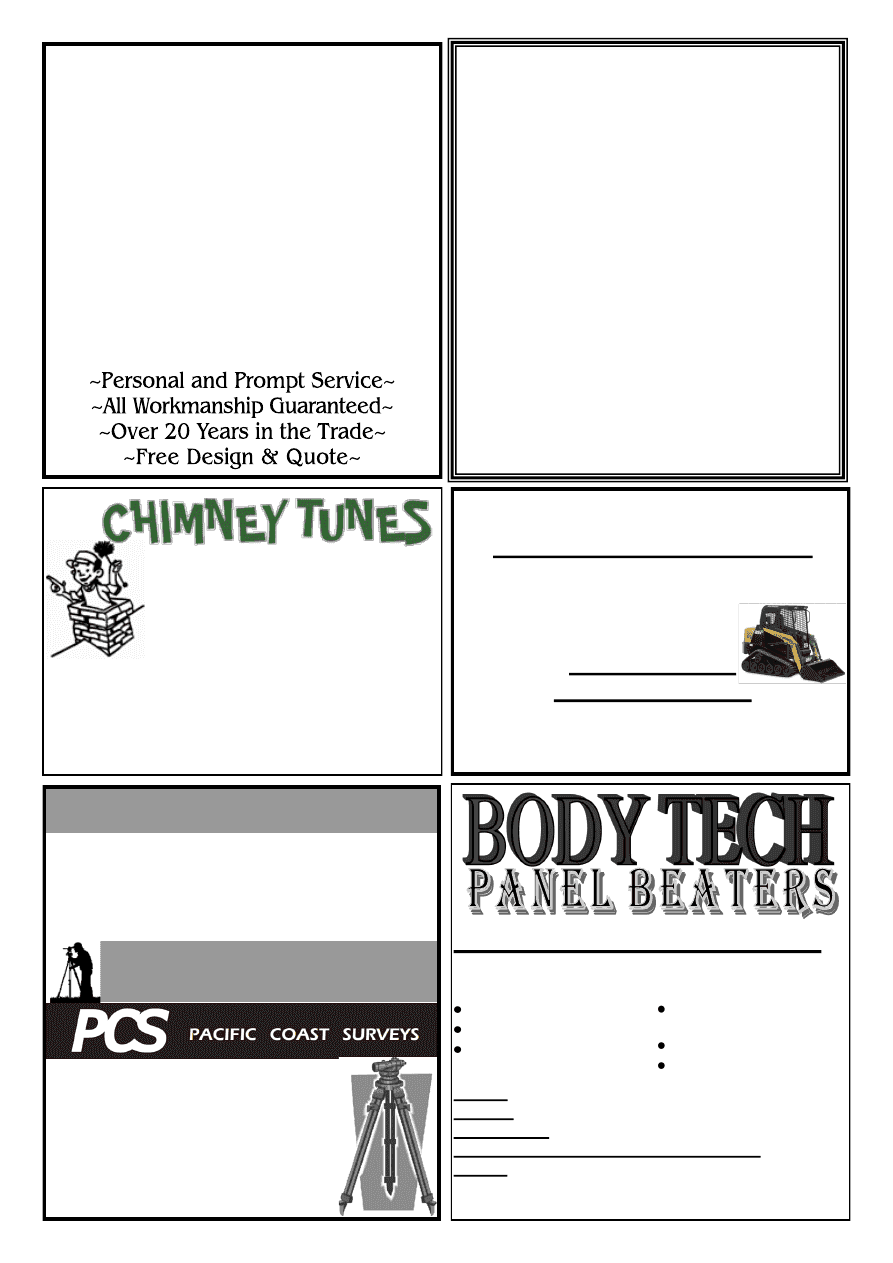 For all your body repair needs!! 
We do: 
Rust repairs 
Insurance work 
Anti-corrosion treatment     
Hours: 8.30am-5pm Monday-Friday  
Mobile: 021 118 0462 
After hours: 09 431 2384 
Phone: Craig or Call in for a free Quote 
bodytech_panelbeaters@yahoo.com
We are located at 1837 SH1 Kaiwaka, behind  
Twinkle Tow 'n' Tyre call in anytime for a free quote.  
Large and minor vehicle  
 repairs 
Industrial vehicles 
Full Cut and polishes 
SURVEYORS 
SUBDIVISIONS 
HOUSE SITE SURVEYS 
CIVIL ENGINEERING 
WASTEWATER DESIGNS 
EXPERIENCED 
PROFESSIONAL 
INNOVATIVE 
Ph 09 431 5353 
0800 PACIFIC (0800 722 434) 
pacificcoastsurvey.com
Adam Booth - 027 415 5752 
Bsurv, Licensed Cadastral Surveyor
Surveying Kaipara since 1994 
g.a.s. 
Mangawhai
GARDEN CENTRE 
for all your gardening needs
Also a great range of 
STOCKFOOD 
Wide range of 
ORGANICS AND 
 FRESH LOCAL PRODUCE
All your motoring needs are taken care of by 
our friendly staff check us out... 
44 Moir Street, Mangawhai (09)431 4242 
Natural Earth Ltd 
Landscape and Bobcat services 
 : Driveways :Landscaping :Retaining Walls 
 : Hole Boring: Land Levelling :Trenching 
 : Decks :Fences :Sections Cleared 
 : Plus much more
Tel 09 4312 885 
Mob 02102391280 
For A Fast Friendly Service  
Contact Tim Hicks 
PLANNING A NEW KITCHEN? 
 CONTACT NOEL McDOWELL
WELLSFORD 
KITCHENS
Ph/Fax 094312888
KAIWAKA-Any time
 QUALITY CUSTOM MADE 
KITCHENS
Chimney and Fireplace 
Maintenance,  
Parts & Repairs
MARK O'DONNELL 
021 457 247 
Whangarei – Mangawhai – Maungaturoto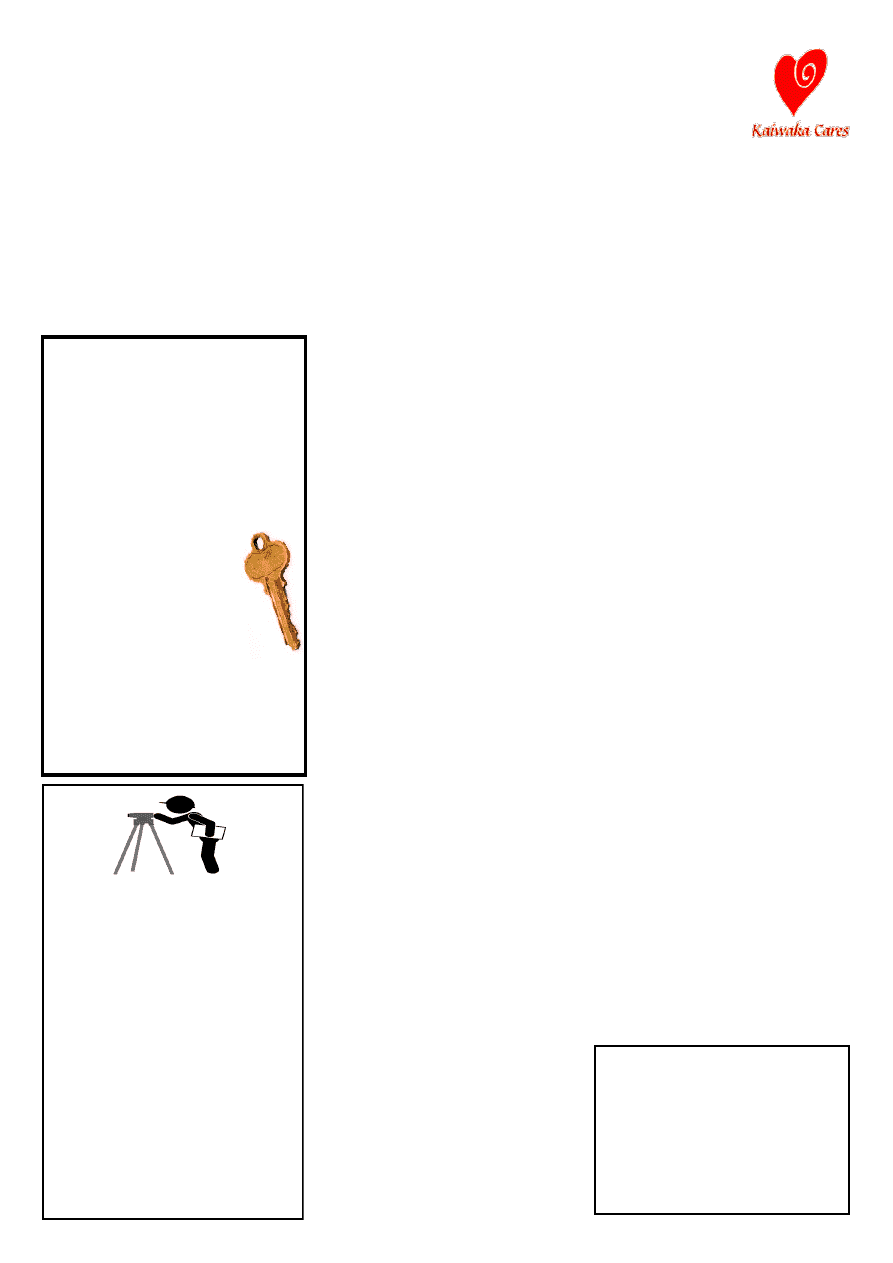 www.kaiwaka.co.nz 
Kaiwaka Bugle - 12 July 2016 
Page 13 
The Year That's Been 
Would  you  believe  it  is  almost  a  year 
since  the  drop-in  centre  opened  its 
doors? When you start something like a 
social  space  you  are  never  100%  sure 
how  it  will  work  and  fit  within  the 
needs of the community. 
As time has gone by more people have 
come  in  and  utilised  the  space.  So 
many 
wonderful 
and 
unique 
individuals have visited. 
We have our regulars that pop in to use 
the computer  or  have  a  chat. We  have 
travellers who are passing through who 
need  advice  or  a  warm  spot  to  charge 
their  phone.  And  we  have  people  in 
crisis, who are in need of a shoulder, or 
advocacy  to  find  a  way  through  a 
particularly  challenging  moment  in 
their life's journey. 
Yvonne and Norm 
And  that  is  what  the  drop-in  centre  is 
all about. It's a place for the people of 
Kaiwaka to use, to share, to meet, and 
for  many  to  just  see  a  different  set  of 
four walls than what they see at home. 
All  of  this  would  not  have  been 
possible  without  the  support  and 
generosity  of  Yvonne  and  Norm 
Brown.  They  have  been  great 
supporters  of  Kaiwaka  Cares  from  the 
beginning.  Without  their  help  and 
provision  of  space  Kaiwaka  Cares 
would  most  likely  have  remained  just 
an  idea  and  never  really  come  into 
being. 
Thank  you  also  to  those  of  you  who 
have supported Kaiwaka Cares through 
raffles, donations of goods and money, 
KSA 
funding 
and 
generally 
encouraging  us  to  keep  going.  Every 
little word of encouragement has made 
a huge difference. 
Kaiwaka  Cares  volunteers  are:  Helen 
Marsh,  Scott  Dalziell,  Beth  Stone, 
Elisa  Denton,  and  Janine  Boult  -  with 
backup  and  encouragement  from  Iris 
Kelly. 
The Year Ahead 
Recently I attended a Hui at Otamatea 
Marae  with  the  Ministry  of  Social 
Development looking at social services 
available  in  the  Kaipara  and  seeing 
what  gaps  there  are.  I  met  some 
amazing  people  who  are  providing 
services which are underfunded and yet 
so needed to help people. 
One  of  the  biggest  things  I  took  away 
was  something  that  Russell  Kemp 
mentioned  to  those  who  attended.  He 
took a leaf from his mentor Sir Graham 
Latimer  and  challenged  us  to  think 
about  whether  we  were  being  the  best 
we  could  be.  And  were  we  doing  the 
best we could for our people. 
For  myself  this  was  particularly 
poignant. It has forced me to reflect on 
what  I  am  doing  and  what  is  the  best 
use of the limited resources of time that 
I have. In a perfect world we would be 
the best version of ourselves every day. 
But let's be honest, some days our best 
is not so perfect. We are tired, or sick, 
or  have  many  pressures  which  affect 
how we are in the world. As long as we 
are  doing  the  best  that  we  can  on  any 
particular day then that is what is most 
important. 
So I ask myself multiple times a day if 
I  am  being  the  best  I  can  be.  And  I 
would like to think it is making  me to 
be a better person, parent and friend. 
In  terms  of  Kaiwaka  Cares  it  is  all 
about caring for the people of Kaiwaka. 
There is so much we would love to be 
able  to  do, services  we  wish  we  could 
provide,  and  yet  we  are  hampered  by 
two  major  constraints.  The  same 
constraints many social agencies have: 
time and money. 
More 
Volunteers, 
Please 
In the year ahead we are 
hoping 
to 
gain 
additional  funding  from 
new  sources  to  enable  us  to  take  on 
some  more  social  assistance  and 
community  advocacy  work.  But  to 
make  this  work  we  need  more 
volunteers.  Whilst  we  are  able  to 
function  as  we  are  at  present.  To  be 
able  to  do  more  for  Kaiwaka  we  need 
more people willing to give their time. 
It  doesn't  have  to  be  a  daily  or  even 
weekly  commitment.  Even  if  it's  4 
hours a fortnight or a month. By giving 
some of your time to be there for others 
you  will  meet  some  of  the  amazing 
people  who  call  Kaiwaka  home.  And 
like  myself  will  make  some  enduring 
friends who I could not live without. 
More Workshops 
Over  the  next  year  you  will  see  more 
workshops  from  the  Kate's  Place. The 
Healing Heart workshops run by Heidi 
have  been  a tremendous  success.  Both 
the CAP Money and Job Club courses 
have been helping improve lives, so we 
definitely will be having more of those. 
Helen and the community garden team 
have  been  doing  a  tremendous  job  at 
growing  kai  for  the  community  to 
share. The  drop-in  space will continue 
to  be  used  for  meetings  and  evenings 
such  as  the  holistic  evenings  which 
have been running so well. 
We have many little things coming up 
that take so long to come to fruition, as 
we  all  have  many  other  commitments 
in our lives. So watch this space. In the 
next  Bugle  we  will  be  able  to  tell  you 
more  about  some  of  the  exciting 
developments.  And  of  course  we  will 
be  having  a  wee  birthday  bash  to 
celebrate  1  year  since  our  doors 
opened. 
Thank you as always for supporting the 
work  that  we  do,  for  popping  in  and 
putting  smiles  on  our  faces  and  for 
ultimately  sharing  your  lives  with  the 
Kaiwaka Cares team. 
If  you  have  a  concern  of  any  nature 
please  feel  free  to  talk  to  one  of  our 
team, if it's not something we can help 
you  with  we  will  pass  you  on  to 
another  organisation  who  can  assist 
you.  Be  assured  privacy  is  really 
important to us as we have had people 
share  some  very  personal  stories  and 
challenges with us.  
~Janine Boult, Chair Kaiwaka Cares  
KAIWAKA CARES 
Ken Urquhart 
BSurv Licensed Cadastral 
Surveyor 
KMU Surveys Ltd
467 Bickerstaffe Road 
RD 2  
Maungaturoto 0587 
Ph 09 431 8705 
Mob 021 161 2344 
kenurquhart@xtra.co.nz 
Kaiwaka  
Hardware  
&  
Key cutting 
Phone 4312 063 
 022 041 6047 
kaikey2015@gmail.com
Keys Cut  
Household Hardware  
Curtain Tracks & Fittings 
Not there? Call Doug and he'll 
sort
it for you. 
(
Next to Kaiwaka Motorcycles
)
No matter how much you push the 
envelope, it'll still be stationery. 
Two silk worms had a race, they 
ended up in a tie.  
A backward poet writes inverse.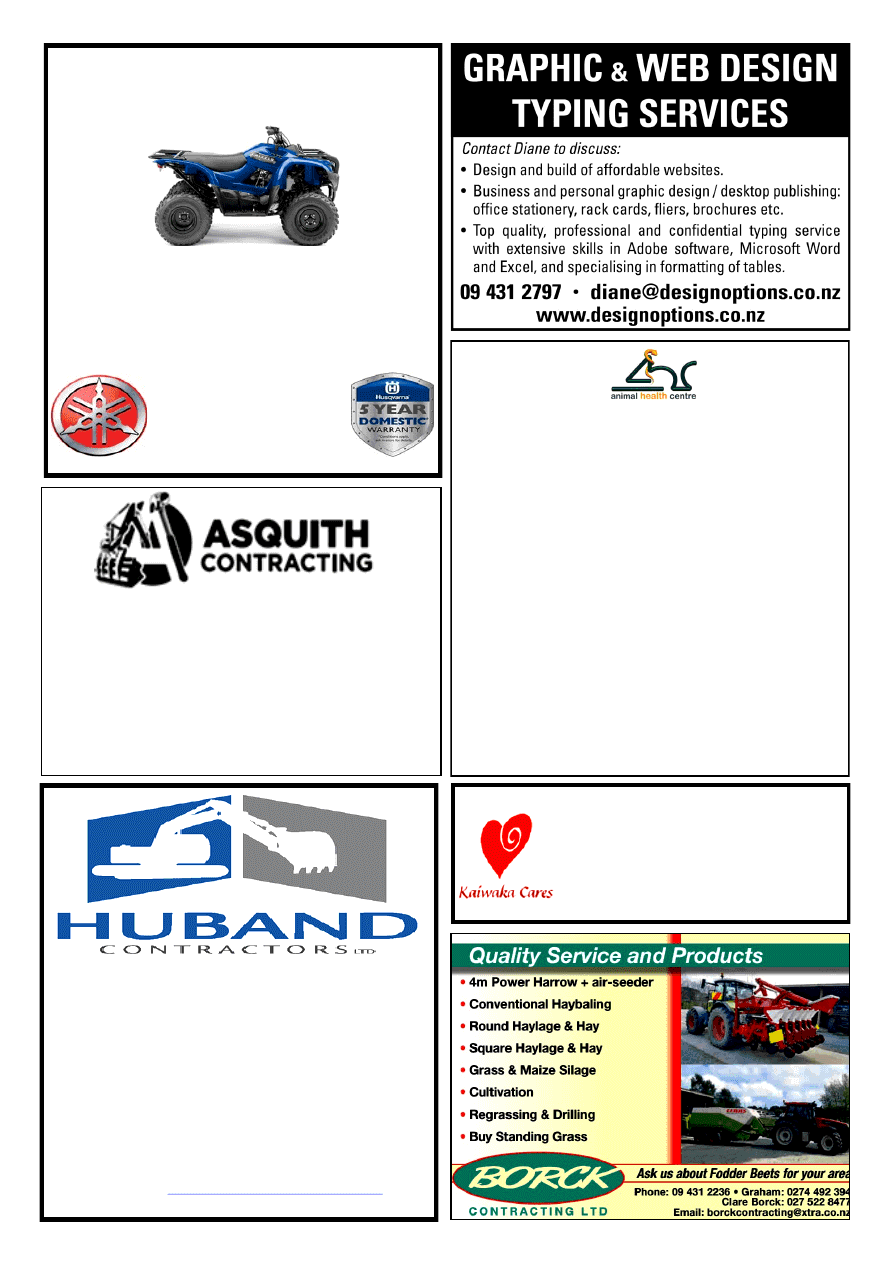 ANIMAL HEALTH CENTRE 
KAIWAKA 
"choices in health care for your companion animal" 
Health problems - itchy skin, smelly ears,  
bad breath, diarrhea? 
On steroids, antibiotics, lifetime drugs..... ? 
Diet may be a part of the problem!  
Call in and have a chat to our team  
of animal health practitioners.
Nail Trims, Microchipping , 
Dental checks, Comfort grooms. 
Great range of real food – no preservatives. 
Alternatives to nasty chemical parasite controls.
OPEN:   Tues-Fri - 10:00am – 5:00pm 
Saturday - 10:00am - 4.00pm, Sunday/Monday - Closed 
Next to Italian Bakery, Main Highway Kaiwaka 
Ph: 09 431 2217 
PS: We're open 7 days in Orewa if you missed us! 
*   R O A D I N G   *   E A R T H W O R K S   *    
*   D R A I N A G E   *   S I T E W O R K S   *
Shaun Huband 
Registered Drainlayer
Cell: 021 222 0272 
Home: 09 4318339 
Email:  
KAIWAKA 
MOTORCYCLES LTD
SALES – SERVICE – SPARES 
FARM BIKE SPECIALIST
PHONE 09 431-2127 
10 KAIWAKA-MANGAWHAI ROAD, KAIWAKA
Trimmers  
from $279
Chainsaws  
from $339
YAMAHA 
HUSQVARNA 
Community Centre
Open 10am – 2pm  
Monday – Wednesday – Friday 
WIFI, printing & scanning available 
Kaiwaka's own social space. 
JP on site most Fridays 
Small digger work, trenching and 
post hole drilling for retaining 
walls, piles, etc. 
$60+gst per hour.
Call Tam on 027 124 5216 or 
asquithcontracting@gmail.com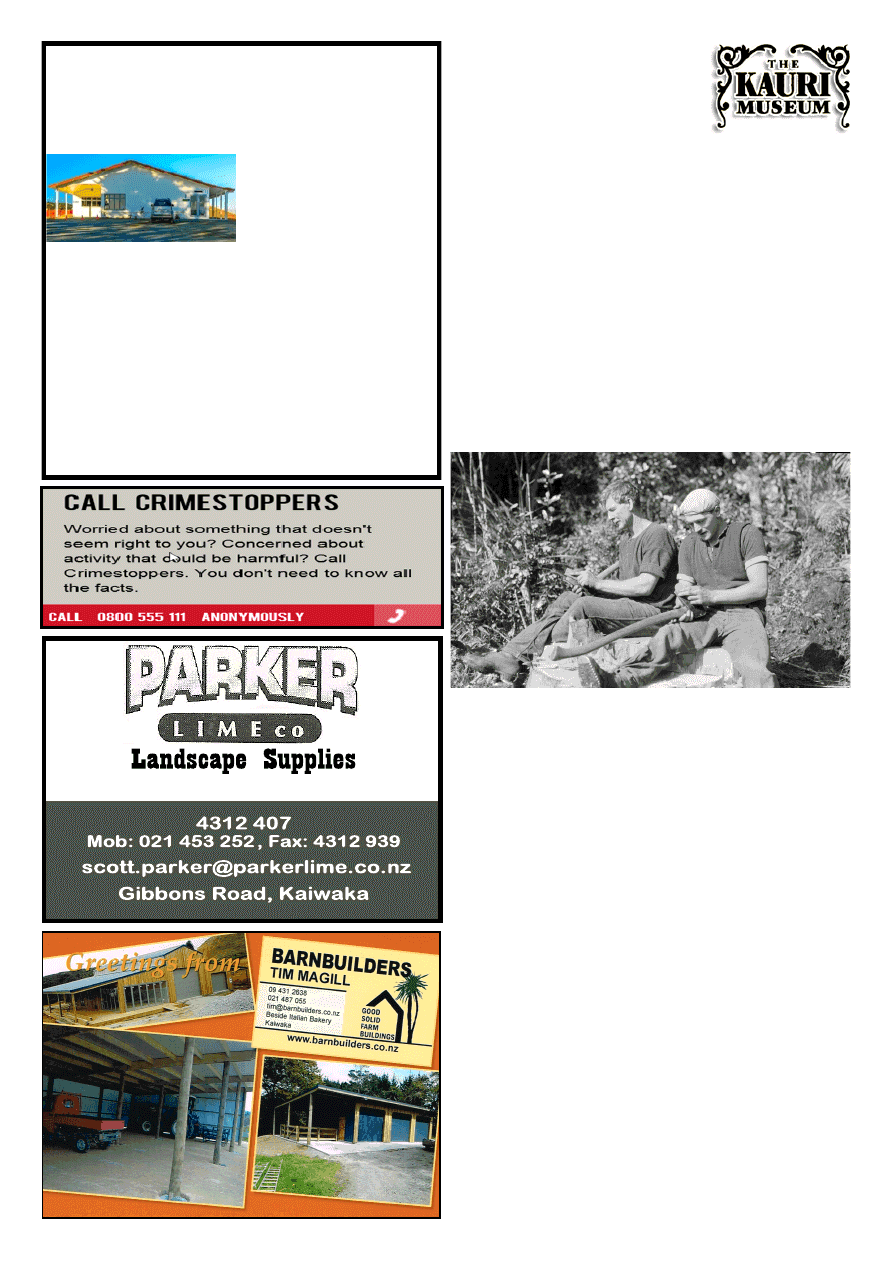 www.kaiwaka.co.nz 
Kaiwaka Bugle - 12 July 2016 
Page 15 
Te Pounga Marae 
130 Nathan Rd. Oneriri. Kaiwaka 0573 
COMPLEX FOR HIRE 
Functions 
* Weddings  * Birthdays  
*Anniversaries 
* Meetings  * Wananga 5 
hour meeting 
* 12 hour stay  * 
Overnight 
*All welcome - No more Drink-driving 
Amenities: 
*Convo Combi Steamer * Bratt Pan * Dish 
Washer/Sterilizer * 3 Door Glass Chiller (walk in) 
etc…All Crockery * Linen Supplied * Central 
Heating and Air Conditioning and much more. 
Can also cater for small groups…. 
For more information please contact: 
Kim Wallace 
Home: 09 832 1133  Mob: 0211275340 
Email: kimwallace@xtra.co.nz 
Bulk Cartage 
MATARIKI: This year , each of the 
seven  schools  in  the  old  Otamatea 
District  have  co-curated  our  Matariki 
exhibition "Seven Stars, Seven Stories".   
The  cluster  of  stars  that  we  call  Matariki  and  astronomers 
call the Pleiades are known all over the world and through 
history.  Although  there  are  many  stars  in  the  cluster,  only 
six  or  seven  can  be  seen  without  a  telescope.  In  common 
with  Maori,  the  rising  of  these  bright  stars  heralded  the 
turning of the agricultural year for many different cultures, 
and many explanations of their origin are attached to them. 
A  FEW  OF  OUR  FAVOURITE  THINGS-THE 
TEXTILES EDITION  
15 June- 7 October 
Every  day,  our  staff  and  volunteers  at The  Kauri  Museum 
work alongside approximately 100,000 individual items that 
make up the collection. 
Over  time,  we  have  all  established  our  favourites,  and  we 
have  brought  items  from  our  textiles  collection  together 
here to share with our visitors. 
We hope you will enjoy them as much as we do. 
LEGENDARY AXEMEN OF NORTHLAND 
Opened 13th July 
Over  the  past  century,  Northland  has  produced  many 
axemen  and  sawyers  of  stature.  Names  such  as  Mick 
Griffen,  Joe  Julian,  Denny  Hoey,  Bill  Shelford  and  Innes 
Davidson have joined the ranks of New Zealand's legendary 
sporting greats, and Northland axemen continue to excel.  
Featuring  highlights  from  interviews  recorded  with  a 
selection  of  contemporary  Northland  axemen,  this  dual 
online  and  onsite  exhibition  aims  to  summarise  this 
enduring  vigorous  heritage  sport  through  their  eyes:  its 
events,  equipment,  technique  and  organisation.  For  more 
information visit axemen.kau.nz 
DIY SCHOOL HOLIDAY FUN 
Make your own Bird Box Workshops 
Wednesdays, 13th  and 20th July 10am-2pm 
$15 per child- bring a packed lunch 
Come and enjoy school holiday fun this term break at The 
Kauri  Museum!  Choice  of  two  creative  workshops  where 
each  child  will  learn  to  construct  and  paint  their  own 
bird box to take home in preparation for spring. 
Take  time  out  from  Netflix  and  put  down  your  digital 
devices-  get  up  close  and  personal  with  wildlife  while 
watching from your window. 
Bookings  essential  email:  admin@kaurimusem.com  or 
phone  09  431  7417.    Come  prepared  with  an  old  shirt  or 
coveralls to protect your clothing from paint. 
SCHOOL HOLIDAYS AT THE KAURI MUSEUM 
Monday, 11th July 2016 – Friday, 22nd July 2016 
Come  and  enjoy  school  holiday  fun  this  term  break  at  The 
Kauri  Museum!  Activity  packs  are  available  for  purchase 
from the front desk.
KAURI MUSEUM 
MATAKOHE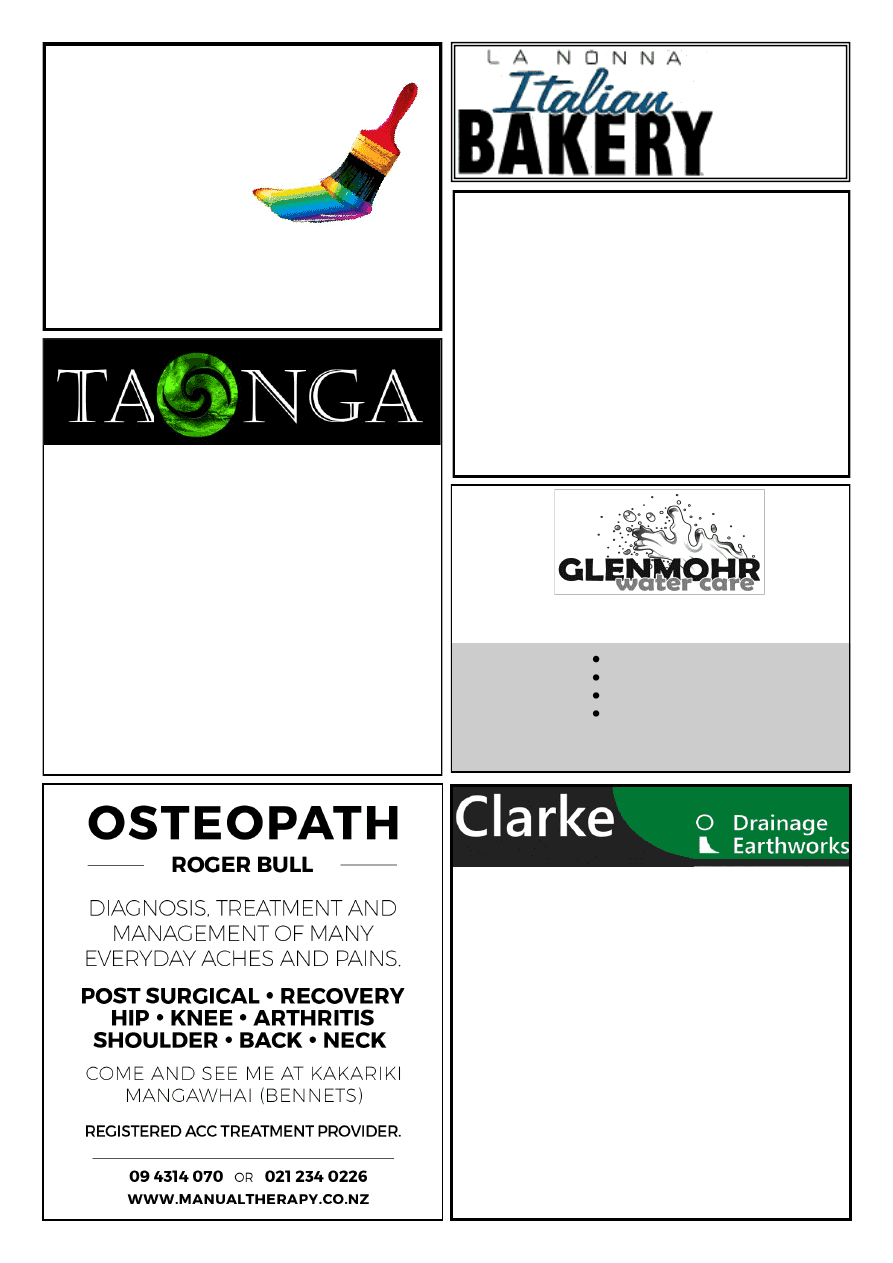 1923c State 
Highway 1,  
Kaiwaka. 
Open 7am-4pm  
Tue to Sun. 
Closed Mondays. 
Phone 09 431 2643 
Registered Drainlayer 
All Types of Earthworks  
> All Residential & Commercial Work  > House Sites 
> Septic System Design & Install 
> Footings & Drilling to 10m 
> Sewer Connections 
> Dams 
> Water Tank Installation 
> Roading & Races 
> Farm Work 
THE ONE STOP SHOP  
Phone Nigel for an Obligation Free Quote  
Drainage & Earthmoving 
clarkedrainage@xtra.co.nz 
027 2233 185 
09 4312918 
0274735171 
leecooper@xtra.co.nz 
LEE COOPER PAINTERS 
(Kaiwaka Based) 
*30 yrs Experience 
*Interior/Exterior 
*New and Restoration 
*Honest and Reliable 
*Free Quotes 
Water Tank Cleaning 
Keep your water safe & clean  
Removal of sediment, silt etc. 
Vacuum or full scrub 
Minimal water loss 
Phone Mark (09) 432 0655 or 0274 707607 
LIFESTYLE PROPERTY  
MAINTENANCE 
Putting life back into your style
Working out of Kaiwaka; servicing Mangawhai, 
Maungaturoto, Waipu and surrounding areas. 
  With over 25 years' experience, I'm fully insured and 
any job considered so just call me – James on mob: 0273 
808622 or 09 431 2245 
email: lifestylesorted@gmail.com  
Mulching - gorse, 
scrub 
Tree & hedge work 
Hole boring 
Alkathene laying & 
repairs 
Paddock topping, 
slashing 
Electric fence 
installation 
Weed spraying 
Free quotes 
Land & section 
clearing 
Loader work 
Rubbish removal 
Fully insured 
Repairs to driveways, fencing & buildings 
TAONGA  GARDEN 
5km North on State Highway 1 
 http://www.taongagardens.org.nz
SHOP HOURS Sat/Sun 9-5 
If the flag is out we're in the garden & the shop is open 
or give us a call - 09 4312 770 Ana 020 4002 5025
SCHOOL HOLIDAY SPECIALS 
20% of Niwashi Tools 
Try our New Trilux Niwashi double blade.
Spend $50 and receive a free pair of 
Biodegradable garden gloves. 
  Product of the Month - Biogrow Biochar
WORKSHOPS 
Beginner Gardener, Maori Flax Weaving, Pruning Workshop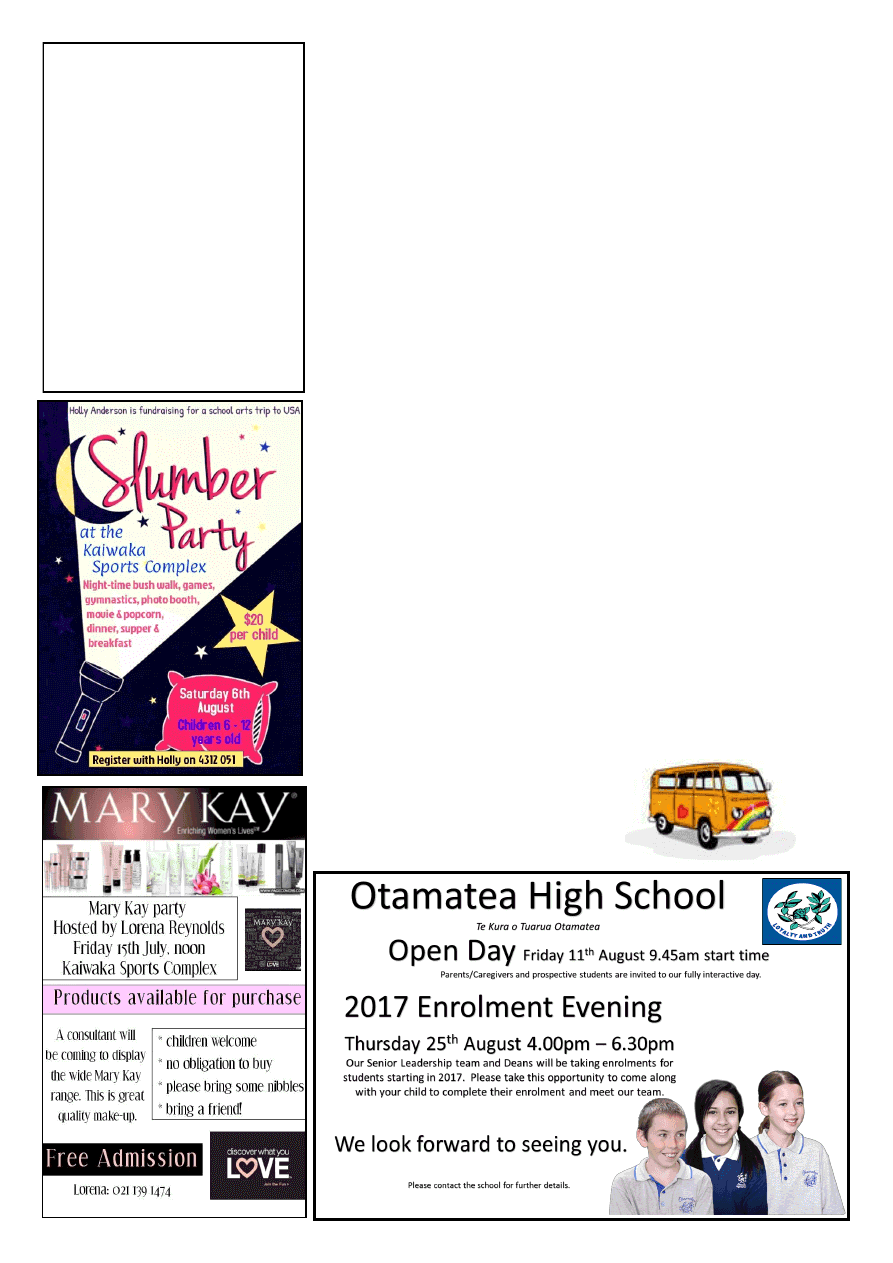 www.kaiwaka.co.nz 
Kaiwaka Bugle - 12 July 2016 
Page 17 
KAIWAKA CAN 
At  the  last  meeting  of  Kaiwaka  Can, 
we  worked  through  a  number  of  very 
promising items that will bring positive 
changes to our community 
Speeding trucks 
Annie  van  der  Plas,  our  Council 
representative, outlined progress on the 
speeding  problems  in  Kaiwaka.  We 
expect  announcements  soon  on  some 
major  changes  that  will  help  slow 
down the traffic on SH 1. Some of our 
members  are  also  keeping  an  informal 
watch  on  speeding  trucks.  They  note 
the number and firm and then ring the 
company  involved,  to  express  our 
concern  about  driver  behaviour.  They 
have  met  with  a  very  good  response 
from  companies  who  recognise  this  as 
a  major  problem.  If  you  notice  bad 
driving like this, do the same. You will 
be  surprised  how  much  difference  it 
makes. 
Walkway 
Council  is  also  working  on  final  plans 
for  a  walkway  under  the  northern 
bridge to connect with the reserve that 
was known as McClean Park, the land 
just  below  the  motel.  NZTA  is  also 
planning a guard rail along the footpath 
over  the  bridge  which  currently  is  a 
dangerous walk. 
Oneriri Road access 
An  engineer  has  been  engaged  by 
NZTA  to  look  at  the  possibilities  for 
improving  Oneriri  Road  access, 
including  the  suggestion  of  a 
roundabout at the Kaiwaka-Mangawhai 
Road intersection. 
Down below the Eutopia Café, Council 
is  assisting  with  funds  to  improve  the 
appearance 
of 
the 
wastewater 
machinery, giving it an odour proof lid 
and artistic covering. 
McClean Park  
Another  area  we  have  been  discussing 
is  McClean  Park  (at  least  that  is  its 
original  name).  This  is  a  large  area  of 
land,  carefully  tended  by  Elizabeth 
Preston  and  we  are  looking  to  explore 
its  full  potential.  Many  suggestions 
have  been  made  including  a  place  for 
Freedom  Campers  (opposed  by  some 
but  the  Government  is  funding  toilet 
blocks in some of these areas), a picnic 
area  linked  to  a  walkway,  using  some 
of  it  for  a  dog  exercise  park  for 
travellers, 
community 
garden, 
marketplace. It is a great piece of land 
and  we  would  like  to  see  it  become 
even  more  of  an  asset  to  the 
community.  Let's  know  if  you  would 
be  interested  in  helping  explore  the 
options. 
Playground and Lighting 
Plans  are  well  advanced  for  fencing 
round the playground next to the Hall. 
Lighting is slowly progressing with the 
Anglican  Church  pricing  replacement 
lights  and  the  windmill  coming  back 
soon to the Cheese Shop. Lots of other 
buildings  have  the  framework  of  their 
old  lights  left.  If  you  are  interested  in 
checking  out  lighting  up  again,  get  in 
touch. 
Much improved signage for our public 
toilets is underway. 
The  Drop  in  Centre  is  coming  up  one 
year  old  and  is  planning  a  celebration 
soon. 
Beautification  through  tree  planting  is 
also planned for a number of areas and 
we are just waiting on the final details 
of  the  NZTA  proposals  so  we  can  go 
ahead. 
Lots to  keep  us  busy  –  so  come  along 
to  our  next  meeting  if  you  have  any 
thoughts about how to make Kaiwaka a 
better place to live and want help to put 
these ideas into action. 
Next meeting 
Our next meeting is on Monday July 18 
at 5.30 pm (3rd Monday of the Month) 
at Archie Bull Hall. 
~Derek Christensen 
MANGAWHAI 
WALKING 
WEEKEND FUNDS 
The  Mangawhai  Tracks  Charitable 
Trust  is  the  main  recipient  of  funds 
raised  by  the  Walking  Weekend/
Wine and Food Festival, to be invest-
ed  in  the  development  of new  tracks 
and facilities associated with walking 
and  cycling.  However,  the  Walking 
Weekend  Trust  also  supports  other 
organisations  and  initiatives  encour-
aging access and use to our local en-
vironment.  Presentations  will  be 
made  to  the  Tracks  Trust,  Man-
gawhai Recreational Charitable Trust 
and Hakaru Scouts on Saturday 23 rd 
July at 11am at the Mangawhai Club. 
All welcome.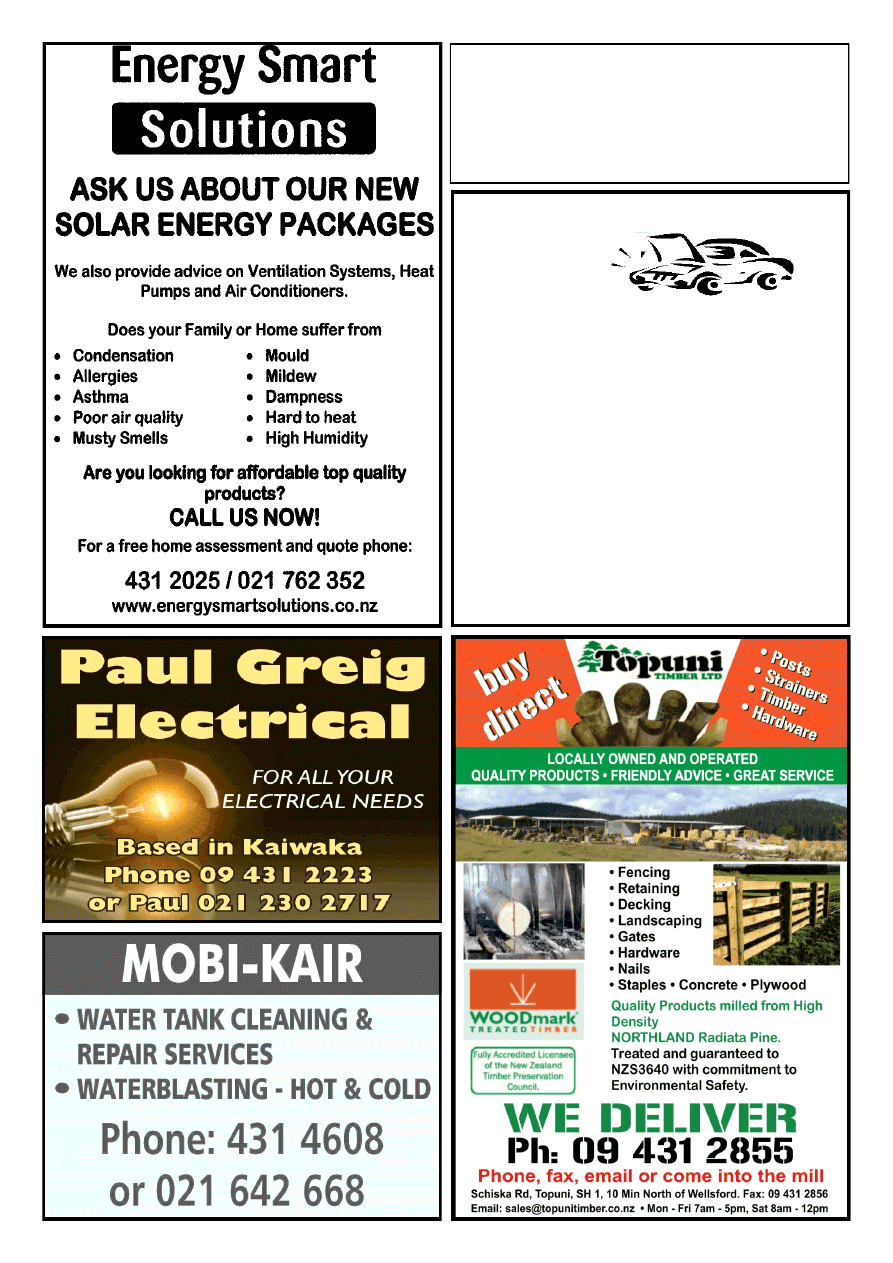 Twinkle Tow 'n' Tyre 
Think you'll get a better deal in the city? 
Ring us - it won't cost anything! 
1837 State Highway 1, Kaiwaka 
Phone 431 2823 
*W.O.F. 
*Tyres 
*Windscreen 
replacement 
*Chip repairs 
*Bulk Oil 
*Batteries 
*Welding 
*Custom built 
trailers 
*Trailer hire
FREE GRAZING WANTED 
Small or large block 
Can do some fencing or water 
Phone after 6pm 
4312 006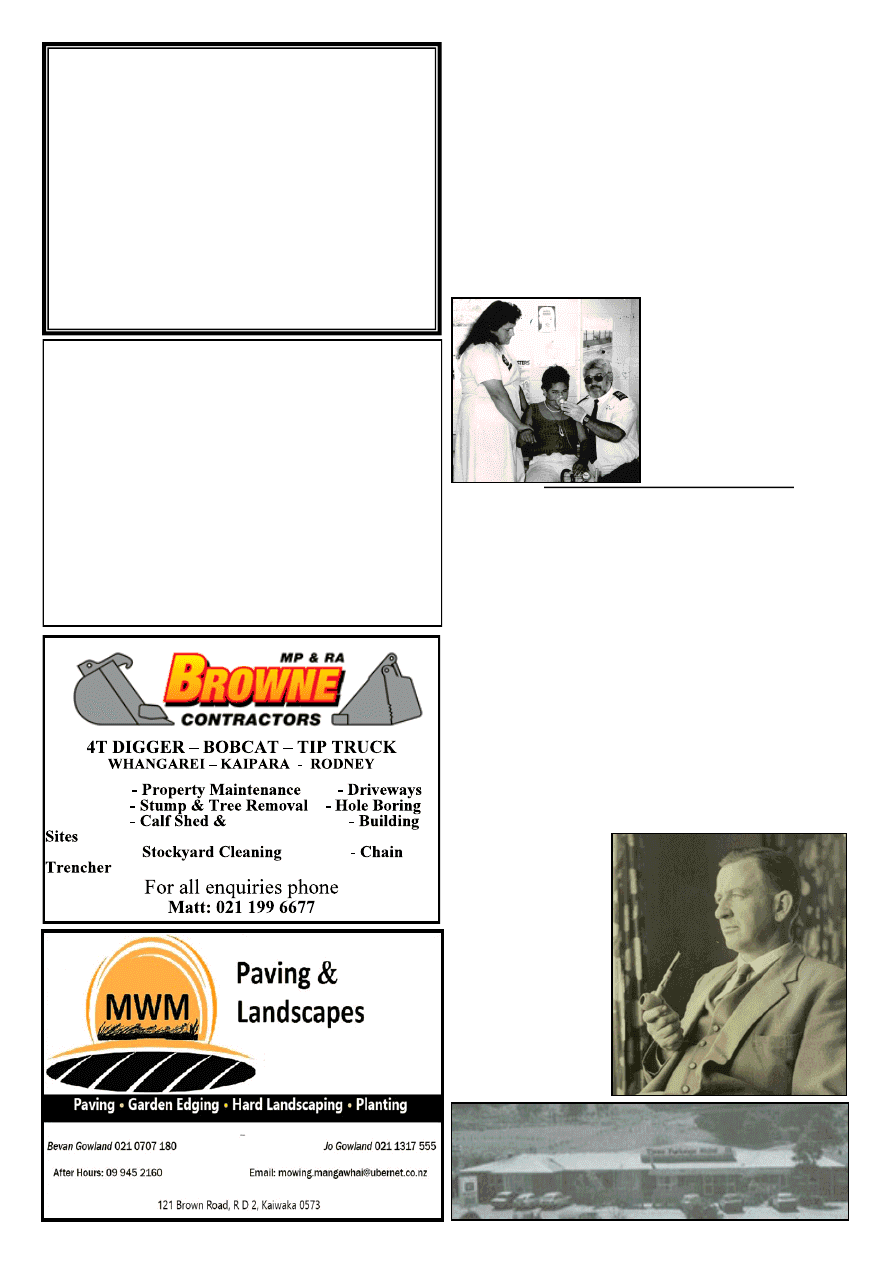 www.kaiwaka.co.nz 
Kaiwaka Bugle - 12 July 2016 
Page 19 
4T DIGGER – BOBCAT – TIP TRUCK 
WHANGAREI – KAIPARA  -  RODNEY 
           - 
Property Maintenance       - Driveways
            - Stump & Tree Removal    - Hole Boring 
            - Calf Shed &                       - Building 
Sites 
              Stockyard Cleaning            - Chain 
Trencher 
For all enquiries phone 
Matt: 021 199 6677 
Mangawhai Heads 
Garden Centre
1758 Cove Road
945 0707 
021 165 2629
Natural Kitchens
Now available to design and 
build your new kitchen 
Ring Sam at 431 2203 
naturalkitchens.co.nz 
EARL BOYD MStJ.  
Our sympathies go to the whanau and friends of Earl Boyd 
who passed away 27th June 2016, aged 71 years. 
Earl was a long-time resident of Kaiwaka. Earl was a most 
enthusiastic  'strapper'  for  rugby  players,  especially  for 
Eastern,  Otamatea  Hawks,  Waipu,  Rodney  and  Northland 
Rugby.  He  was  made  a  Life  Member  of  the  Otamatea 
Hawks.  
Earl joined St John in 1977 and was a mainstay of St John 
in  the  Kaiwaka  area,  as  an  Events  officer  and  Ambulance 
Officer.  Earl  gave  thousands  of  hours  of  service  to  his 
community  and  St  John.  He  was  admitted  to  the  Order  in 
1998  as  a  Member.  Earl  will  be  remembered  for  his 
willingness to stand in at short notice to man the Kaiwaka 
ambulance. He was a colourful 
character  who  was  not  afraid 
to  speak  his  mind,  but  always 
had  St  John  at  his  heart.  He 
gave  wonderful  service  in  his 
37-year  association  with  St 
John. 
He  passed  away  peacefully  at 
Ranburn Rest Home, Waipu.  
Pictured left: Yvonne, Amanda 
&  Earl  Boyd,  practising  their 
skills.  
TED PIPE  
Kaiwaka's  'Three  Furlong'  man  Died  on  June  24  2016, 
aged 95. 
Ted Pipe qualified as an architect, married Olive Ford and 
had four children. He practised for several years, designed, 
built  and  ran  several  of  his  own  hotels  mainly  in  the 
Waikato  and  trained  racehorses  as  a  hobby.  He  also 
designed churches in Tauranga and Rotorua.  
The  hotel  Kaiwaka  folk  remember  Ted  for  is  The  Three 
Furlongs. A publican's licence for a hotel in Kaiwaka was 
awarded to Ted in March 1962. He designed the hotel, but it 
wasn't until October 1966 his 'Three Furlongs' was opened. 
See Roger Smith's book 'Stories Tall, Stories Short', pages 
55-60 – A long road to the pub, for more information. Why 
'Three  Furlongs'?  Ted,  as  a  racing  man,  said  his  horses 
usually stopped at the 3-furlong post. His daughter Dorothy 
also  said  he  reckoned  that  Kaiwaka  was  halfway  between 
Auckland and Whangarei so an excellent place to stop. 
Prior  to  training  as  an  architect  Ted  served  in  WWII  - 
FX81929  Fleet  AirArm,  HMS  'Formidable'  820  Squadron, 
Sub  Lt/Navigator.  He  saw more  than  2000  German  sailors 
perish when the 50,000
-tonne 
battleship 
Bismarck  was  sunk  in 
1941  in  the  north 
Atlantic. 
Two  years  later,  he 
spent  seven  days  in  a 
rubber  raft  without 
food  or  water  after  his 
Albacore 
bi-plane 
crashed 
into 
the 
Mediterranean 
Sea, 
killing the pilot and the 
other crew member.   
(Ref.  NZ  Herald  Apr  23, 
2012) Photo from his family 
taken mid 1960s  
OBITUARIES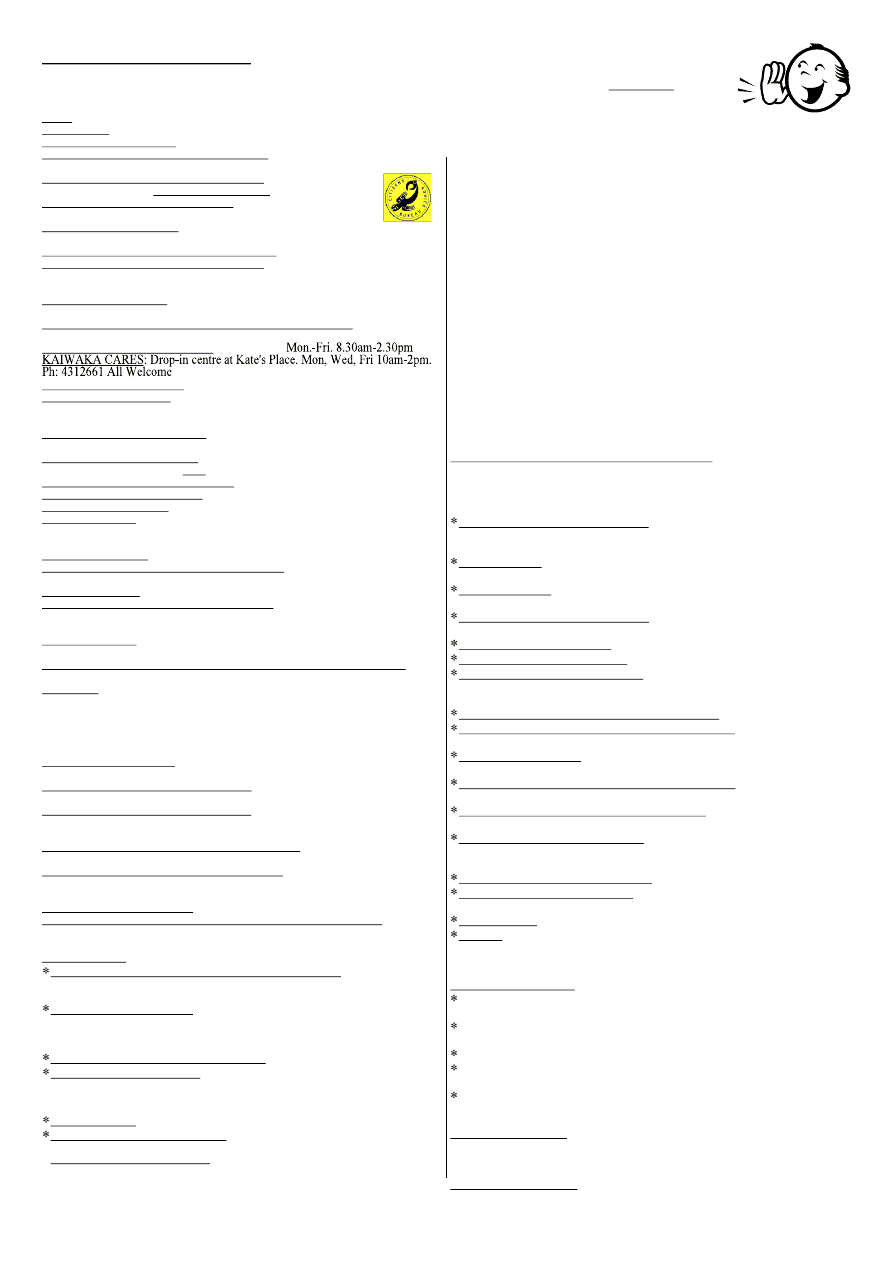 Next Bugle Deadline midday Friday 22 July 2016
WHAT'S ON
PLEASE ~ do let us know what is on - email 
kaiwakabugle@kaiwaka.co.nz 
Advertising in WHAT'S ON is FREE  
*15Jul~Nominations open for local body elections 
*15Jul~Eye In The Sky, 7:30pm KWMH 
*15Jul~Karaoke, Hakaru RSA 7:30pm 
*16Jul~Solar Energy Workshop, 10am. Ph Eric 4312 408 
*16Jul~AA Open Meeting, 7pm Wellsford Community Centre Ph 
Doug 4312 228 
*17Jul~Kung Fu Panda 3, 2pm KWMH 
*28Jul~Civil Defence group meeting 5:30pm KWMH 
*29Jul~Hakaru RSA Mid Winter Christmas dinner 6pm 
*29Jul~Mahana, 7:30pm KWMH 
*31Jul~The BFG, 2pm KWMH 
*2Aug~KDC Candidate Seminar, 12:30pm KSA 
*5Aug~KWMH unveling of front doors 5pm 
*6Aug~Slumber Party, KSA Ph Holly 4312 051 
*12Aug~Nominations close for local body elections 
*12Aug~A Coat of Many Colours, 7:30pm KWMH 
*12-14Aug~Boar Hunt, Pt Curtis Cruising Club 
*14Aug~Otamatea High School Open Day, from 9:45am 
KWMH=Kaiwaka War Memorial Hall 
KSA=Kaiwaka Sports Association Complex 
ORT=Otamatea Repertory Theatre 
See www.kaiwaka.co.nz for upcoming events. 
HOUSEHOLD RUBBISH COLLECTION - Kaiwaka Pick up: 
Mondays = Gr een bags (Nor thland Waste - 09 430 3273) 
Wednesdays = Blue bags and yellow r ecycling (at J aques $3.00 
and $1.50) (Kaurilands 09 4392146) 
 DIABETES  Support  Group  -for  Kaiwaka,  Mangawhai, 
Wellsford  10am,  3rd  Friday  of  month  Ph:A.Pert  4238242; 
J.Gardner 4238060 
 DRINK CAN 'tear tabs' - for Starship Hospital- please collect - 
98 Kaiwaka Mangawhai Rd, leave in mailbox, Ph. 4312625  
 GENEALOGY - Wellsford: 1st Thursday in month Ph: 423 
7033; Waipu: 4th Monday in month Ph: 4312 725 
 GYMNASTICS  OTAMATEA  -  Tuesday  Ph:  Stephanie  022 
3624998 
 HAKARU PONY CLUB - Secretary Julie Rynne 09 4314520 
 KAIWAKA BADMINTON -Tuesdays 7.30pm Ph: 4312345 
 KAIWAKA  DRAMA  CLUB  -  Dave  Edwards  021  611198  - 
KaiwakaDrama@gmail.com Monday 5:30-7:00pm KWMH - FB 
- "KaiwakaDramaClub" 
 KAIWAKA DRUM & DANCE CLASSES - 021 611198 
 KAIWAKA GARDEN & FLORAL GROUP - 2nd Thursday in 
month. Ph: 431 4767 
 KAIWAKA  CUBS  -  Thursdays  5.30-7pm,  Hakaru  Ph:Bruce 
4312542 
 KNITTING FOR WHANGAREI HOSPITAL - 2nd Tuesday in 
month, Apple Basket 10am Ph 4314827 
 MANGAWHAI COMBINED PROBUS CLUB - 2pm, 3rd 
Thursday month, Senior Citizens Hall Mangawhai. Ph: 4315777 
 OTAMATEA GREY POWER - Kath Pattinson 09 431 8960, 
1pm last Wednesday of month, Anglican Church Hall, 
Maungaturoto 
 PT CURTIS CRUISING CLUB - Jean Ph: 4312227 (wk), 4312520 (hm) 
 RSA,Hakaru & Dist.Women - meet 1.30pm 4th Thurs in month 
Ph: 4314 668  
 TRAMPING - Mondays 9am-2:30pm Karen Ph: 4312 090 
 YOGA  -  Tuesdays  6:15pm,  Friday  8:30am  KWMH  Carla  Ph: 
021  296  8794;  Wednesday  5:30-7:00pm  Archie  Bull  Hall 
Dalleise Ph 4312 108 
HALLS FOR HIRE: 
 St.Pauls Archie Bull Hall HIRE $20 half day, $40 full day per 
hire, R. Morgans, Ph 4312365 
 Kaiwaka  War  Memorial  Hall  HlRE  -  Phone  4312725  or 
kaiwaka.hall.bookings@gmail.com 
 Hakaru Community Hall HIRE -Ph. 4312256 or 4312110 
 Te Pounga Marae queries - R. O'Leary 4312 423, J.Nathan 021 
186 7382 
 Kaiwaka Sports Association hire/queries - C. Anderson 4312051 
or kaiwakasports@gmail.com 
Justice  of  Peace:  B.FJaques;  L.Donaldson;  A.F.Hargreaves, 
S.Dalziell,  W.Howard  -  please  phone  to  make  sure  they  are 
available www.justiceofthepeace.org.nz 
Marriage Celebrants: L.Donaldson; A.F.Hargreaves; C.Rosseels
LOCAL SERVICES 
*Emergencies - Ambulance, Fire, Police - dial 111 
*Non-urgent Police phone 09 4311150
A A: Meets Wed., 8pm Kaiwaka Ph: 4312228, 4315543, 0800229 6757 
AL ANON: In recess, contact Ph: 4312228 
ASUREQUALITY LTD (was AgriQuality) Call Free 0508 0011 22  
BUDGETING SERVICE, WELLSFORD: Free confidential advice & 
support for all areas of personal finance. Ph (09) 423 7123 
CAB-Citizens Advice Bureau.Wellsford Ph: 4237333 
0800 367 222 email:cab.wells@xtra.co.nz  
DOG/STOCK /NOISE CONTROL 0800 105 890 
FUNERAL SERVICES: Morris & Morris Ltd, 
Whangarei - Bev Jaques Ph:4312367 or 0800667747 
GRANDPARENTS Raising Grandchildren: Dianah Roberts 0223819539 
HAKARU LANDFILL/Transfer Station:Open everyday except 
Tuesday10am-4pm.Ph4312629 Cost-$55 trailer load up to 1 cubic metre. 
Ph:4258567 - office 
INLAND REVENUE: Last Friday each month, 11-3pm Ph4312661 
KAIPARA DISTRICT COUNCIL www.kaipara.govt.nz:  
Help Desk FREEPHONE 0800 727 059  
KAIWAKA KOHANGA REO: Ph:4312620 
KAIWAKA CEMETERY: Ph: 4312045 
KAIWAKA LIBRARY: kaiwaka.library@gmail.com  
Mon. 4-6pm; Wed., Thurs., Fri., Sat. 10am-2pm Ph:4312539 
KAIWAKA PLAYCENTRE: Ph: 4312286. Hastie Lane 
Monday to Friday 9.00am - 12 noon. 
KAIWAKA POST OFFICE:Ph:4312 431  
Post Code: 0573 for RD2 and 0542 for all Kaiwaka Post Office mail 
KAIWAKA PRIMARY SCHOOL: Ph: 4312309   
KAIWAKA SPORTS ASSN: Ph 4312005; 4312129 gym 
KAIWAKA ST JOHN: Manager Steve Rosser 09 4318403, 021 2316836 
KATE'S PLACE with Govt.Day Agencies/Community Information /
Osteopathy/ IRD / Probation, etc Ph: 4312661 Hours: 9am-3pm. Mon - Fri 
LINKING HANDS Health Shuttle Ph 4314121 or 09 4318969 
MINISTRY FOR PRIMARY INDUSTRIES - General inquiries Call 
Free 0800 008 333 
NORTHPOWER: Faults Kaiwaka area 0800 104040 
OTAMATEA COMMUNITY SERVICES: Counselling, parent coach, 
Family Support worker, budget advice, food bank. Mon-Fri 9am-30m. Ph 
09 431 9080 http://www.otamateacs.org/ 
PARENTPORT: Free, practical family support service Puhoi to Paparoa 
Ph or txt: Dianne 027 2085093 
PERSONAL DEVELOPMENT COACHING, GROUP FACILITATION:  
Sabine Druckler 4312231 
PLUNKET: Kaiwaka - Kaiwaka War Memorial Hall: Clinic 1st Wednesday of the 
month; Coffee Group at 9:30. Mangawhai  - Rose Madsen Cottage, Mangawhai 
Domain,  Moir  St:  Clinic  1st  and  3rd  Monday  of  month;  Young  Babies  Coffee 
Group  2nd  and  4th  Monday  10  am;  Plunket  Playgroup  every  Thursday. 
Maungaturoto - Maungaturoto Congregational Church, 100 Hurndall Street East: 
Plunket clinic 2nd and 4th Wednesday. Cynthia 09 431 8187 or 027 675 3488 
PLUNKET HELPLINE -0800 933 922 (24 hours) 
RETURNED AND SERVICES ASSN 733 Settlement Rd. Hakaru 
Ph.4312176 Bill Kerr (President) Ph.4314719 
TAITOKERAU COMMUNITY LAW: Free confidential legal advice and 
assistance, 2nd
Thursday
 of each month. Ph: 0800 155 529 for 
appointments.  
TE KOROWAI AROHA O NGATIWHATUA Ph: 4312675 
(The Cloak of Love of Ngatiwhatua) Support and Maori Consultancy.  
VETERINARY SERVICE MANGAWHAI: 
Ph: 4314535 Mon-Fri 8.00-5.00, Sat 9-12, a/h appt. 
WELLSFORD DOCTORS: Ph: 4238 086 
WOMEN'S WELFARE LEAGUE & Reaching Out For Youth:  
4 Kaiwaka-Mangawhai Rd, M Morgan 4312293 
CHURCHES:
Kaiwaka Revival Church - Your Community Church: Sundays 10am & 
6pm. Ph: Pastor Tawhiri 09 4312 571 or Pastor Paul 09 4312 068 Visit 
us at www.facebook.com/kaiwakachurch 
St Paul's Anglican Church 1st Sun. 9.30 am (Eucharist), 3rd Sun. 9.30 
am (Family Service). Contacts: Church Office 09 431 4122; M. 
Hargreaves 431 2295; C. Bygrave 431 2057; or Rev. Wayne Thornton 
Ph 431 5650 www.mangawhaianglican.org.nz 
Church of Christ the King, Mangawhai:9.30am every Sunday 
St.Mary's Catholic Church: Maungaturoto – Griffins Road, Saturday 
evening Vigil Mass 6pm; Mangawhai – Senior Citizens Hall, Sunday 
Mass 8:30am; Wellsford – Matheson Road, Sunday Mass 10:30am;  
Mid-week Mass times and all enquires to Fr. Bill Fletcher – phone 423 8170
Baptist Church: Sun. 10.30am Mangawhai Snr Cit.Hall.Ph:4312339 
Cause Way Church Mangawhai: Sundays 10.15am, Mangawhai 
Community Recreation Centre, Insley St. Ph: 09 4314782