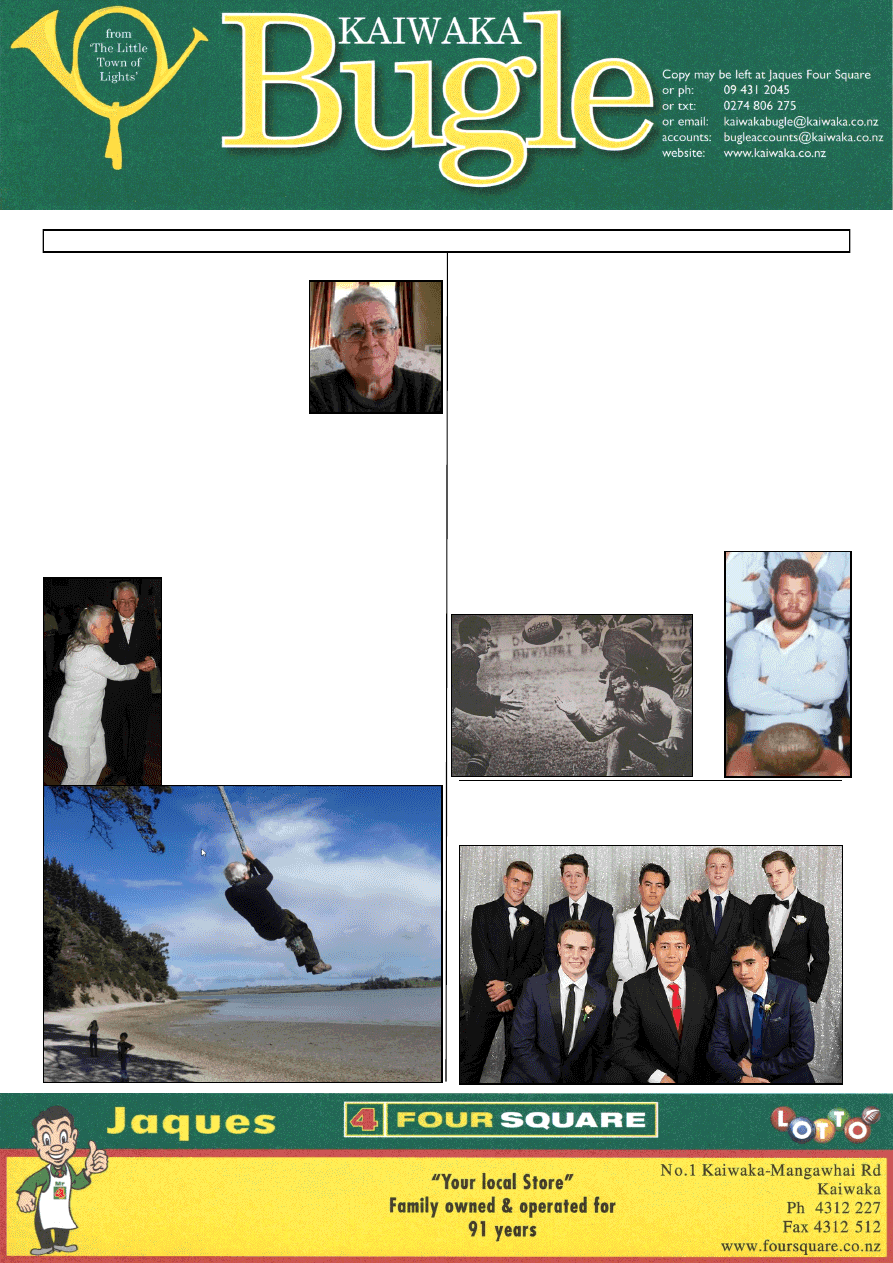 www.kaiwaka.co.nz 
Kaiwaka Bugle - 26 July 2016 
Page 1 
On Thursday 21
st
 July a large gathering 
farewelled  Scott  Dalziell  at  the 
Kaiwaka  Sports  Assn.  Scott  had  been 
tragically killed in a traffic accident in 
the middle of Kaiwaka on the 11
th
 July. 
Ironically,  as  a  key  member  of 
Kaiwaka  Can,  Scott  had  been  very 
active  in  his  push  for  road  safety 
through Kaiwaka. 
He  was  from  a  farming  background.  The  last farm  Scott's 
parents owned was in Mangawhai. During his working life 
Scott  held  many  roles  –  Presbyterian  minister,  school 
guidance  counsellor,  Lower  Hutt  city  councillor,  rugby 
referee  and  a  keen  golfer.  Over  those  years  Scott  and  his 
wife Anne raised four children. 
After  Anne  died  Scott  met  Helen.  They  found  what  they 
were  looking  for  at  Kohatu  Toa  Eco  Village  here  in 
Kaiwaka. At first they lived in a caravan while they crafted, 
with  the  help  of  family  and  friends,  the  many  mudbricks 
necessary to build their home. 
He  collated  with  the  Kaiwaka  Bugle 
team  and  was  a  local  Justice  of  the 
Peace, 
but 
his 
biggest 
recent 
contribution  was  in  his  volunteering 
commitment to Kaiwaka Cares. 
Our  condolences  to  Helen  and  Scott's 
family. He will be sadly missed by all. 
Kua hinga te totara i te wao nui a Tane.   
A totara has fallen in the great forest of 
Tane. 
Photos:  left:  Helen  &  Scott  at 
Kaiwaka's  Sesquicentennial  Ball  in  2009 
(Wendy 
Howard); 
below: 
Scott 
at 
Whakapirau in 2014 (Janet Dalziell photo). 
 No: 14
26 July 2016 
Winter Trading Hours: 
Mon - Fri: 8am to 6pm 
Sat: 8am to 7pm (Lotto) 
Sun & Public Holidays: 9am to 5pm 
FAREWELL SCOTT DALZIELL 
IAN 'WUZZ' PHILLIPS  
Otamatea Hawks Rugby celebrated the playing career of Ian 
'Wuzz'  Phillips  on  Saturday  9
th
 July  . We had a  good  turn 
out  and  the  Hawks  had  a  win  against  the Western  Sharks.  
Wuzz was born and bred in Kaiwaka.  He started his playing 
career  in  Kaiwaka's  Eastern  JMB,  and  is  remembered  by 
some  as  one  of  the  most  outstanding  players  to  wear  an 
Eastern jersey. He played his first senior game as a 16 year 
old against Southern in Northern Wairoa and was part of a 
memorable Eastern victory. Wuzz was an integral part of the  
merger  with  Maungaturoto  in  1988,  and  so  becoming 
Otamatea Hawks. 
Wuzz  had  his  last  game  for  the  Hawks  only  2  years  ago 
when  he  was  well  in  his  50's.  Wuzz  represented  Rodney, 
Northern Maoris, North Auckland (now Northland), playing 
89 games and scoring 48 points.  
Wuzz  was  also  Coach  for  the  Hawks  winning  the 
Competition in his first year. Thanks Wuzz for all that you 
have put in to rugby. 
Photo:  Wuzz,  captain  of  the  Eastern 
Maori    Hone  Heke  Challenge;  playing 
for North Auckland. 
From the Otamatea High School Ball 
Photo  courtesy  Jason  Stitt  Photography.  Back  row:  Bailey  Hudson, 
Matthew  Riddlestone,  Curtis  Stanaway,  Rory  Matheson,  Caleb  Hayes. 
Front: Patrick Butler, Xavier Brown, Reuben Paikea.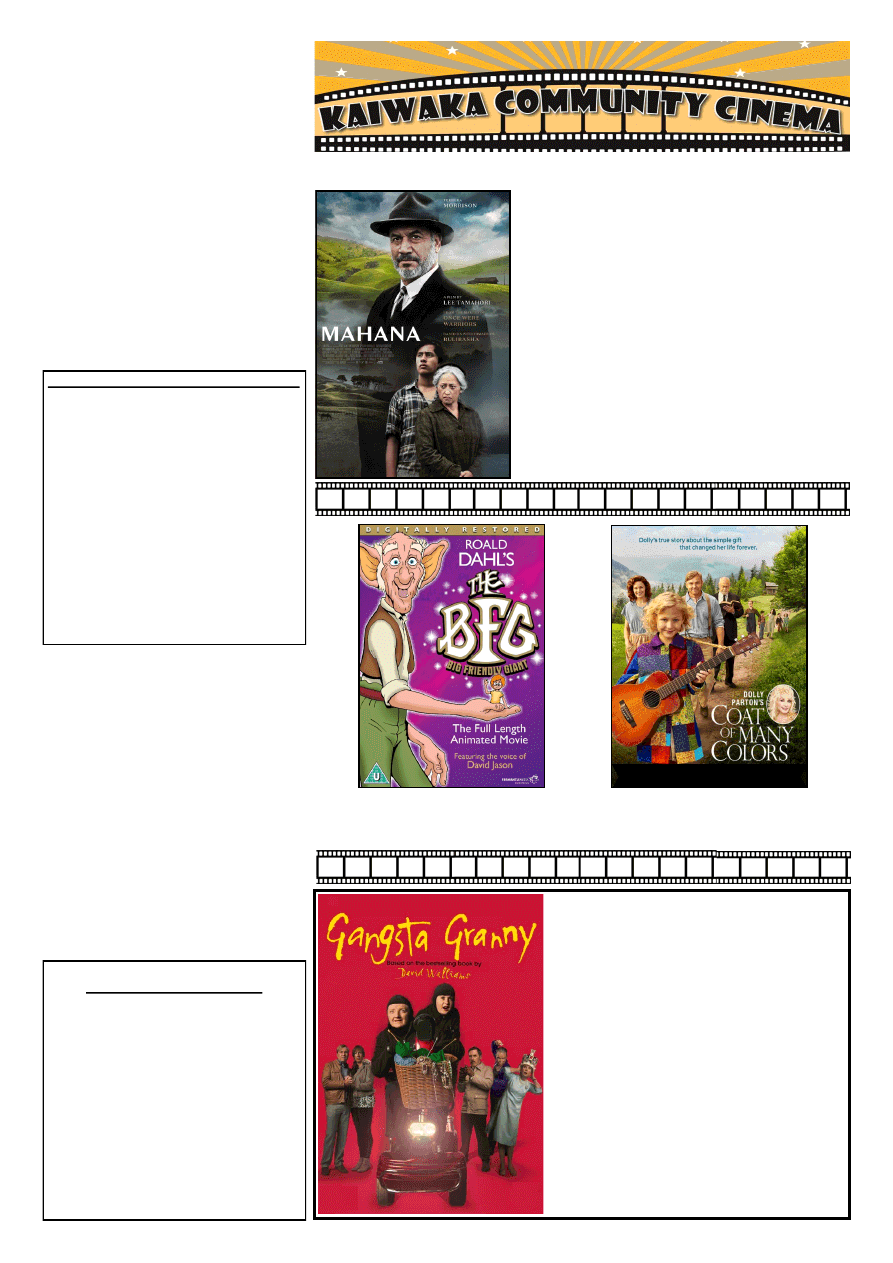 ABOUT TOWN 
......... 

Our  most  heartfelt  condolences  to 
the  family  of  Scott  and    Helen,  on 
Scott's  recent  passing.  Scott  was  a 
member  of  the  Bugle  team,  and  he 
will be missed. 

Condolences  to  the  family  of  Bryce 
Cullen on his recent passing. 

Have  you  seen  Jaques'  broken 
window?! Sad to see that once again 
someone has broken into the store. 

Speed cameras - check the article on 
page  13.  Coming  to  our  town  soon. 
Make  sure  you're  not  caught  out 
yourself by sticking to the limits. 
KAIWAKA BUGLE No: 14 
26 July 2016
Page 2: Kaiwaka Movies 
Page 3: Public Notices; Classifieds 
Page 5: Hakaru Women's RSA, Ross 
Stolwerk 
Page 7: Traffic Woes, Rescue 
Helicopter 
Page 9: Kaiwaka Cares 
Page 11: Kaiwaka Sports Association 
Page 13: Kaiwaka Can, Boar Hunt 
Page 15: Mrs Ann Leslie 
Bugle 15 will appear 9 August 2016 
Contact for advertising, reports, articles 
or information can be made by: 
Email kaiwakabugle@kaiwaka.co.nz 
Ph: 09 4312 045 (Lindsey) 
Txt:  0274 806 275 (Wendy) 
Copy may be left at Jaques' Four Square.
Kaiwaka Bugle 
Founded May 1978 
We appreciate articles and photos about local 
events, etc, as well as ads and suggestions. 
Copies available in Kaiwaka at Jaques Four 
Square, Kaiwaka Postal Centre, Shamrock 
Service Station, Animal Health Centre, 
Kaiwaka St John shop. 
Also outlets in Maungaturoto, 
Mangawhai and Paparoa. 
Can be viewed online at  Facebook or 
www.kaiwaka.co.nz/Bugle  
Or a copy can be posted to you if you supply 
stamped, self-addressed DLE envelopes. 
At Kaiwaka War Memorial Hall . Adults $10, Chn (under 16) $5, Family Pass (2 adults + 3 children) $25 
The BFG 
Sunday 31 July 2:00pm (PG)
The Coat of Many Colours 
Friday 12 August 7:30pm (PG)
Kaiwaka Bugle Advertisements 2016: 
All 
copy 
and 
queries 
to: 
kaiwakabugle@kaiwaka.co.nz 
Our A4 page is divided into 6 columns & 
8 rows (48 blocks), with a 1cm margin. 
Ad  sizes:  1/16  page  (3  blocks)  $5;  1/8 
(6 blocks) $8; 3/16 (9 blocks) $12.  
Classified  ads:  $4  per  entry  (max.  30 
words, max. 4 repeats). 
Payments  can  be  made  online,  posted 
or left at Jaques Four Square Store. 
Accounts: 
bugleaccounts@kaiwaka.co.nz 
The  Kaiwaka  Bugle  is  a  community 
newspaper run by volunteers.   
Articles, etc. printed are not necessarily 
the opinion of the Bugle Team. 
Mahana 
Friday 29 July 7:30pm (M)
From  the  author  of  "The  Whale  Rider",  a 
tale of family rivalry and reconciliation, set 
against the stunning backdrop of rural New 
Zealand in the 1960's.  
Starring Temuera Morrison, Akuhata Keefe, 
Nancy  Brunning,  Jim  Moriaty.  Directed  by 
Lee Tamahori 
Fundraiser  by  Maungaturoto  &  Districts 
Rotary Club to support the local Scouts. 
Special Screening 
30 July  5:30pm
GANGSTA GRANNY
Based on the bestselling book by 
David Walliams
A young bored boy and his grandma 
decide to join hands and steal the 
crown jewels, after discovering that 
she used to be a jewel thief. 
Tickets $5.00 
Mangawhai Soccer Fundraiser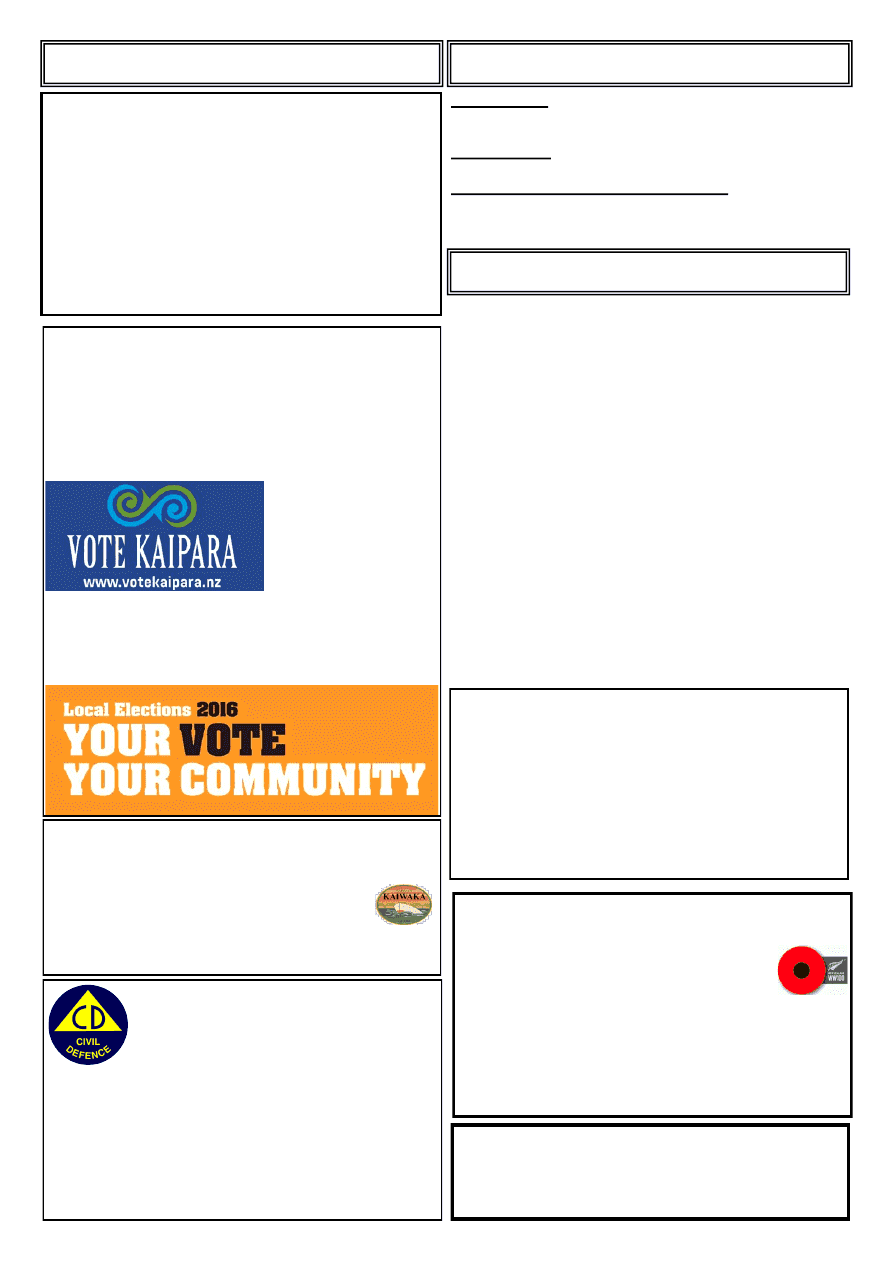 www.kaiwaka.co.nz 
Kaiwaka Bugle - 26 July 2016 
Page 3 
PUBLIC NOTICES 
CLASSIFIED 
Proverbs 13:10 
Pride leads to arguments; be humble, take advice, 
and become wise. 
FOR SALE: Babies & toddlers crochet & knitwear. 
All brand new. All enquiries welcome. Ph Carole 4312 
909 
FOR  SALE:  Jigsaws  -  WASGIJ  1000  piece,  $4  ea, 
second hand, 7 different editions. Ph John  4312 400 
KAIWAKA OP SHOP - WANTED: 
Towels, tea towels, pillows and cooking pots, please. 
CIVIL DEFENCE 
KAIWAKA COMMUNITY 
RESPONSE GROUP
Meeting for all interested in contributing to 
the community via this group. We are not here to save 
the world, but to be prepared to open a Welfare Centre 
in our community should the need ever arise. 
It's not a huge commitment, occasional meetings, 
training offered. Interested? Come along: 
Thursday 28 July 
5:30pm 
Kaiwaka War Memorial Hall 
Kaiwaka Library 
Used Book Sale 
Clearance 
$1 each, 3 for $2 or 10 for $5
KAIWAKA WAR MEMORIAL HALL 
Unveiling of Front Doors 
Friday 5 August, 5pm
The Rolls of Honour from WWI and WWII are now 
etched on the front doors of the hall. 
The original Honours Boards are still placed either 
side of the stage. 
You are all welcome to the cutting of the ribbon and 
a cup of tea following. 
Nominations for Kaipara District 
Council are open now, and close 
at noon on Friday 12th August.
Nomination forms will be available from the Kaipara 
District Council website, by telephoning 0800 922 
822 or from the KDC Dargaville or Mangawhai 
offices. 
If you are considering 
standing as a candidate 
please ensure you have 
read the Candidate 
Information Handbook 
also available from the 
KDC website.
There will be two candidate information 
meetings. Monday 1 August at 5.30 pm in Dargaville 
(Northern Wairoa War Memorial Hall) and Tuesday 
2 August at the Kaiwaka Sports Association. 
Open letter to Kaiwaka,  
from Scott Dalziell's family 
We  are  so  very  grateful  to  those  who  assisted  at  the 
accident  scene  last  Monday.  We  want  to  express  our 
care and best wishes to everyone involved in the crash 
and its aftermath. 
We  have  been  surrounded  with  practical  support  and 
assistance from the Kaiwaka community over the past 
few  days.    From  Kaiwaka  Sports  Association's 
generous offer of the venue, to those who coordinated, 
decorated, catered, served, cleaned, spoke, performed, 
comforted,  donated  and  participated  in  Scott's  final 
farewell - we thank you all.  We have received many, 
many  messages  of  love  and  care  from  around  the 
region and beyond. 
 We  have  enjoyed  sharing  stories  with  Helen  and 
Scott's  Kaiwaka  friends,  colleagues  and  neighbours.   
It  has  been  lovely  to  hear  just  how  respected  and 
treasured Scott was around here.  Ngā mihi maioha ki 
a koutou! 
POINT CURTIS CRUISING CLUB  
Boar Hunt 12, 13 & 14 August. 
This will be a huge weekend! Please see poster in this 
issue of the Bugle for all the details. 
Fish Of The Month is Gurnard. 
Cut-off date is 9th August.  
Next committee meeting date 7pm, 9th August  
at 3 Furlongs Bar & Grill, Kaiwaka 
Healing Meetings
Christian Fellowship Wellsford has invited Katherine 
Ruonala to speak at the Wellsford Community Centre 
at  7pm  on  Friday  2
nd
  September,  Saturday 
3
rd
 September and Sunday 4
th
September.  
Katherine  ministers  both  in  her  home  base,  Australia  and 
internationally  and  with  a  strong  message  of  God's  love  for 
us.  She carries a prophetic and miracle anointing and many are 
instantly  healed  in  her  meetings.    Katherine  and  Tom  Ruonala 
are the founders and Senior Ministers of the International Glory 
City Church network. 
PUBLIC NOTICES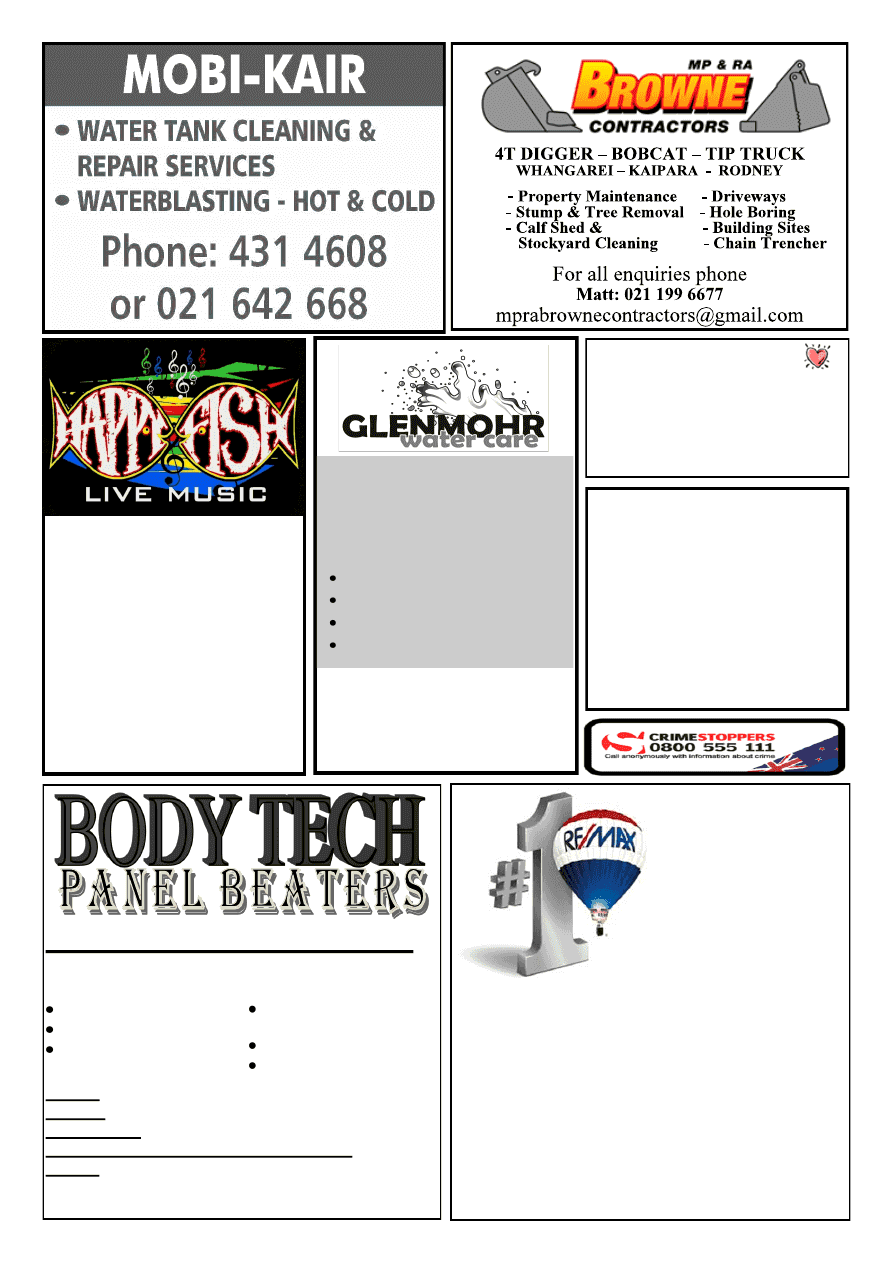 For all your body repair needs!! 
We do: 
Rust repairs 
Insurance work 
Anti-corrosion treatment         
Hours: 8.30am-5pm Monday-Friday  
Mobile: 021 118 0462 
After hours: 09 431 2384 
Phone: Craig or Call in for a free Quote 
e-mail: 
bodytech_panelbeaters@yahoo.com
We are located at 1837 SH1 Kaiwaka, behind  
Twinkle Tow 'n' Tyre call in anytime for a free quote.  
Large and minor vehicle  
  repairs 
Industrial vehicles 
Full Cut and polishes 
Water Tank  
Cleaning 
Keep your water safe & clean   
Removal of sediment, silt etc 
Vacuum or full scrub 
Minimal water loss 
Phone Mark  
(09) 432 0655  
or 0274 707607 
ROCKIN' POPULAR, OLD AND 
NEW PARTY SONGS WITH LOADS 
OF KIWI MUSIC AND A FEW 
ORIGINAL TUNES IN THE MIX. 
AN ELECTRIC DUO FEATURING:  
GORDON JOLL 
(NZ Music Hall of Fame)
ON DRUMS AND SUE JOLL ON 
GUITAR AND VOCALS. 
A BAND FOR ANY OCCASION 
BACKED BY YEARS OF 
EXPERIENCE. 
Contact: Sue 021 623 776 
Email: happyfishband@gmail.com   
Website: www.happyfishband.co.nz 
Healing from the 
Energy Balancing 
@ Kate's Place, Kaiwaka. 
1st Friday of each month 
9am-12pm. Koha. 
Txt 0273135440 
for an appointment 
Counsellor and 
Registered Psychotherapist 
Offers Supervision
Susan Matheson 
MNZAC, RN 
Dip. Psychosynthesis Counselling and Psychotherapy 
Phone 09 431 5997 
Mobile 027 605 2427 
4T DIGGER – BOBCAT – TIP TRUCK 
WHANGAREI – KAIPARA  -  RODNEY 
           - 
Property Maintenance      - Driveways
            - Stump & Tree Removal    - Hole Boring 
            - Calf Shed &                       - Building Sites 
              Stockyard Cleaning           - Chain Trencher 
For all enquiries phone 
Matt: 021 199 6677 
mprabrownecontractors@gmail.com 
Thinking of 
selling? 
Wanting some 
insights into the 
local real estate 
market?
Talk to Beth Stone, your local Real Estate agent,  
at Kate's Place in Kaiwaka on Wednesdays  
or give her a call to meet for coffee.
Mob: 0274 937 801 
Email: beths@remaxrealty.net.nz 
RE/MAX Realty Group MREINZ 
Northern Properties Limited 
Licensed REAA 2008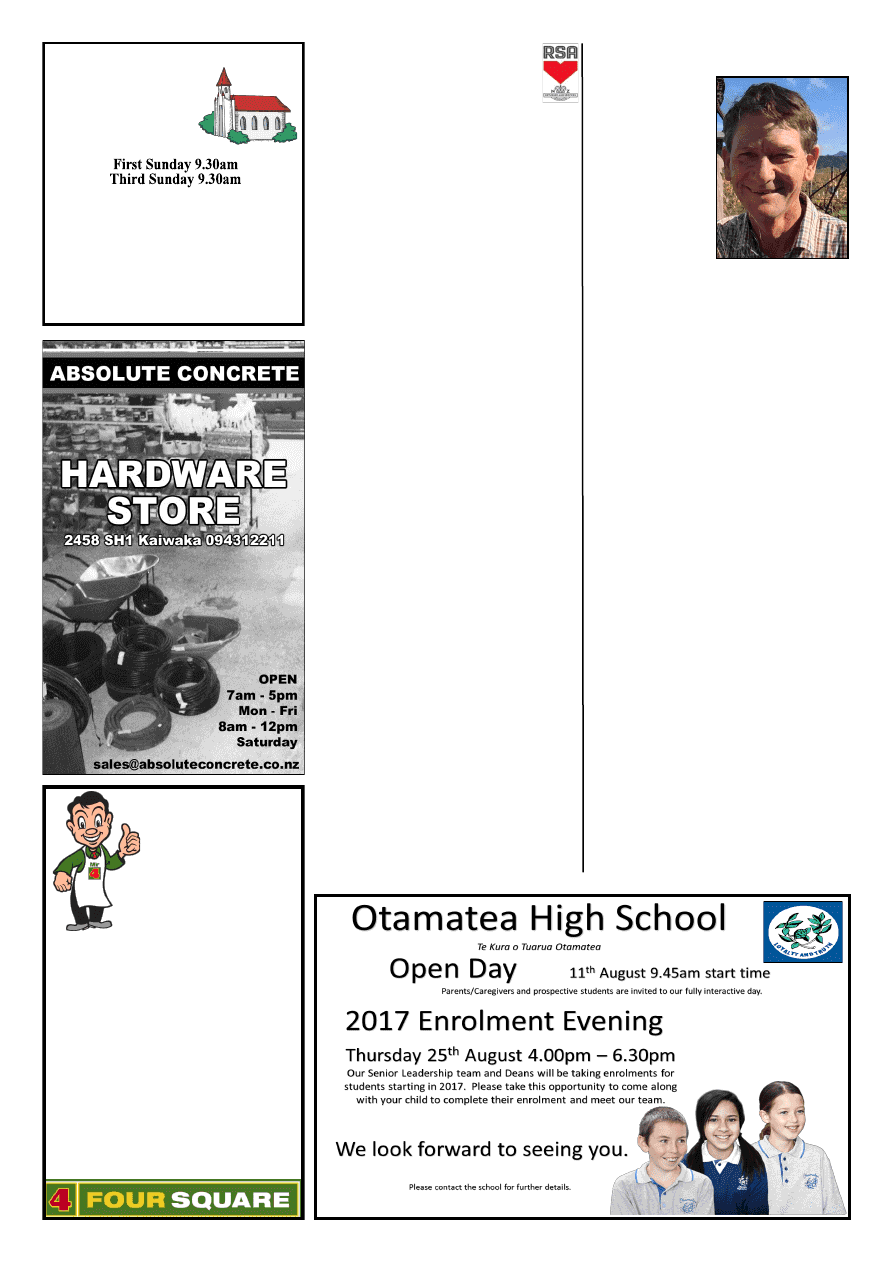 www.kaiwaka.co.nz 
Kaiwaka Bugle - 26 July 2016 
Page 5 
ST PAUL'S  
ANGLICAN  
SUNDAY  
SERVICES
St Pauls Church: Kaiwaka-Mangawhai Rd. 
1st Sun - Eucharist 
3rd Sun - Family Service 
Office 4314 122 
Contacts:M.Hargreaves 4312295, C.Bygrave 4312057  
or Rev. Wayne Thornton Ph 431 5650 
www.mangawhaianglican.org.nz
HAKARU RSA 
WOMEN'S 
SECTION 
Our  Mid-year  Luncheon  at  the  3 
Furlongs Bar & Grill in Kaiwaka went 
off really well; the food was great and 
the company excellent. 
We  are  missing  our  dear  treasurer 
Helen who met with an accident on the 
bowling green - "I thought bowls was a 
"Gentle Game!". Get well soon Helen, 
and  Jan  our  secretary  is  still  not  back 
with us - keep improving girl. 
The attendance at the Tripe and Onion 
was  disappointing,  I  think  we  slipped 
up  on  the  advertising,  however  those 
who  attended  enjoyed  their  meal 
including  the  options  -  Heather's 
shepherds'  pie  and  Lena's  pumpkin 
soup. Thank you ladies. 
Nine  members  are  off  to  Birkenhead 
RSA  Women's  birthday  on  19th  July, 
and  four  to  Northern  Wairoa's  60th 
birthday on 1st August. 
Plans  for  the  Northland  Conference 
on  28th  July  are  going  well. 
MEMBERS  please  support  the  trading 
table - we need home baking, which is 
always  very  popular,  plus  jams, 
pickles, veges, fruit and plants. 
If  you  are  able  to  help  please 
arrive 8am, otherwise morning tea is at 
9:30 
and 
the 
meeting 
starts  10am.  There  will  also  be 
entertainment. 
In  closing,  members  and  public  please 
support  the  RSA  Christmas  Party 
on  Friday  29th  July  6pm  -  $25  p.p. 
Names to Dianne Osborne 431 2797 or 
Marlene  431  5589    for  catering 
purposes. 
There will also be entertainment! 
Noeline  Davies  and  I  attended  an  Ex-
WRNZN's  annual  church  service  and 
the  NZ  AGM.  If  there  are  any  ex-
WRNZN's  or  ex-Naval  women  out 
there  we  would  love  to  have  you  join 
us at Women's Section; ring Ann on 09 
431  5913.  We  welcome  any  new 
members  from  ex-Services  or  the 
general public. Bye for now 
~Ann 
To  the  residents 
of  the  Kaiwaka 
District 
Hello  my  name  is 
Rick Stolwerk and 
I  am  standing  for 
Northland 
Regional  Council 
in  2016  –  Coastal 
South 
Constituency. This 
is 
a 
massive 
electorate 
going 
from  Kaiwaka  in  the  south  through  to 
Kokopu in the north. 
I  am  passionate  about  our  Northland 
environment,  protecting  it  as  well  as 
encouraging  sustainable  economic 
development 
in 
the 
region. 
Encouraging healthy communities is an 
important  part  of  this  development, 
enabling us all to move forward. 
I have lived at Langs Beach since 1993, 
having  owned  a  property  there  since 
1987. My wife Angela and I have two 
girls Ella 20 and Emily 12. 
Currently I am President of the Waipu 
Cove  Surf  Life  Saving  Club,  for  the 
past two years I have been a member of 
the  Surf  Life  Saving  New  Zealand 
Board. 
My  previous  governance  experience 
includes  4  terms  as  a  trustee  on  the 
Waipu  Primary  School  Board  of 
Trustees, a past Chairman of the Bream 
Bay BOT and a term on the Northland 
Conservation  Board.  From  1999  until 
2004  I  was  Chairperson  of  the  Waipu 
Museum.  From  1995  until  2005  I 
tutored environmental and conservation 
papers  at  North  Tec.  In  2001  I 
completed  a  Master  of  Science  In 
Environmental  and  Marine  Science  at 
Auckland  University.  Presently  I  am 
self  employed,  having  business  and 
farming  interests.  I  have  retained  my 
trained teachers certificate. 
I look forward to catching up with you 
at  upcoming  community  meetings  and 
events. 
Please contact me should you have any 
questions: 
stolwerk@clear.net.nz
  or  021 
823 770. 
Authorised  by:  R  Stolwerk,  27  Lang 
Road, Langs Beach, WAIPU 
ROSS STOLWERK 
Thursday 
Mrs Rogers  
Herbs, Spices & Salt  
Huge range at great prices  
from $2.79 each, in Eco packaging 
ALSO 
Buy 6 packs of Vittoria Coffee Capsules 
& get a FREE CAPSULE ESPRESSO 
MACHINE 
Call in & ask any of our friendly staff. 
Jaques Four Square 
Phone: 4312227 
1 Kaiwaka-Mangawhai Road, Kaiwaka. 
In Store               
Now!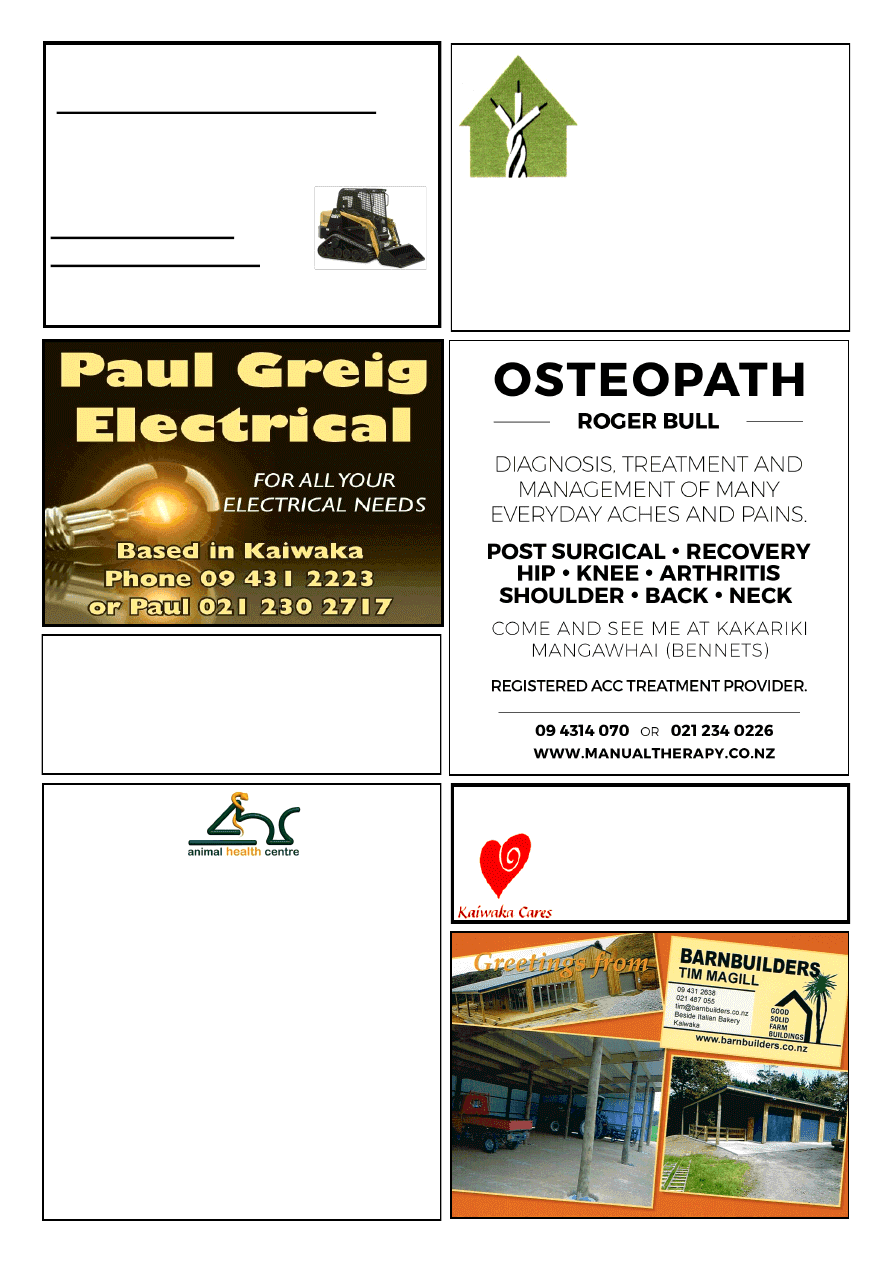 Natural Earth Ltd 
 Landscape and Bobcat services 
 : Driveways  :Landscaping  :Retaining Walls 
 : Hole Boring: Land Levelling :Trenching 
 : Decks :Fences :Sections Cleared: Plus much 
more 
Tel   09 4312885 
Mob 02102391280  
For A Fast Friendly  
Service Contact Tim Hicks 
ANIMAL HEALTH CENTRE 
KAIWAKA 
"choices in health care for your companion animal" 
Health problems - itchy skin, smelly ears,  
bad breath, diarrhea? 
On steroids, antibiotics, lifetime drugs.....  ? 
Diet may be a part of the problem!   
Call in and have a chat to our team  
of animal health practitioners.
Nail Trims,  Microchipping , 
Dental checks,  Comfort grooms. 
Great range of real food – no preservatives. 
Alternatives to nasty chemical parasite controls.
OPEN:   Tues-Fri - 10:00am – 5:00pm 
Saturday - 10:00am -  4.00pm, Sunday/Monday - Closed 
Next to Italian Bakery, Main Highway  Kaiwaka 
Ph:  09 431 2217 
PS: We're  open 7 days in Orewa if you missed us! 
Reyahn George 
Leng 
Registered Electrician 
Local, honest and reliable. 
For your residential and 
light-commercial projects. 
022 314 1068 / 09 431 2527 
Community Drop-In Centre
Open 10am – 2pm  
Monday – Wednesday – Friday 
WIFI, printing & scanning available at 
Kaiwaka's own drop-in social space.
THE SUNSHINE GIRLS 
Need help with your house cleaning? 
Sometimes you just need another pair of 
hands. We offer two pair and a smile. 
Comparable hourly rate. 
Ph 4312 532 or 4312 711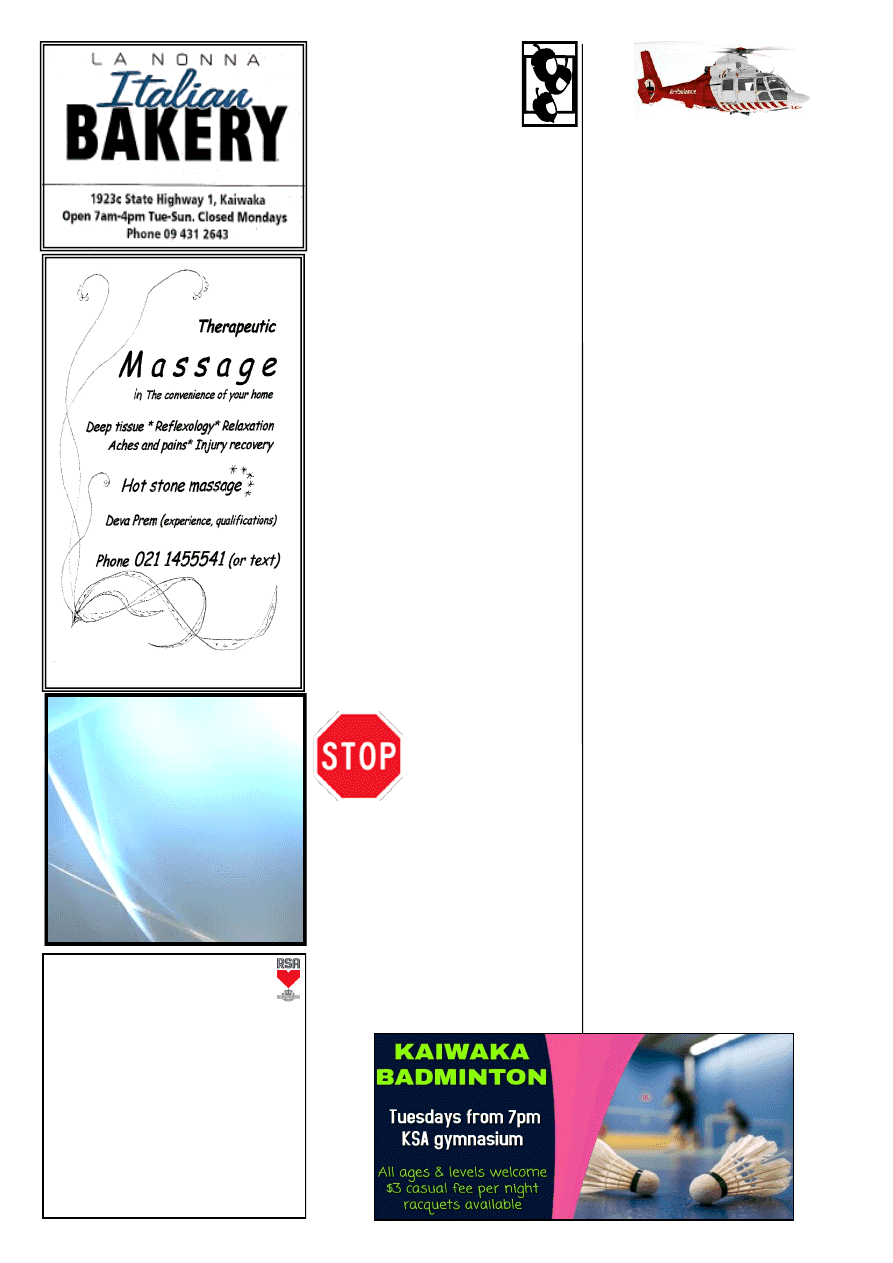 www.kaiwaka.co.nz 
Kaiwaka Bugle - 26 July 2016 
Page 7 
www.mangawhaimassage.co.nz 
HAKARU & 
DISTRICTS RSA Inc 
Each Friday night from 6.30pm meals 
will be served. 
Members & invited guests, new 
members welcome. 
Come along & enjoy our hospitality. 
2nd Friday of the month -  roast dinner or 
board menu. 
Last Friday of month - roast pork night 
&  
sing-along with Des Chitty.  
Ph Heather 4314668 or Jan 4314512 
Freeview  
Installations 
Richard Te Haara 
25 Marram Place 
Mangawhai Heads 
021 1104056 
kiwipride@xtra.co.nz
Recently,  a  Kaiwaka  local 
observed  a  truck  roll  out  of 
the 
Kaiwaka 
Mangawhai 
Road 
intersection  onto  State  Highway  1, 
without  stopping  at  the  stop  sign.  He 
reported  this  to  the  company  whose 
name  was  on  the  truck,  and  received 
this reply: 
"I'm  the  owner  of  Gilmours  North 
Shore  and  it  was  one  of  my  drivers 
you saw not stopping at a stop sign on 
State Highway 1 yesterday. 
I'd  like  to  thank  you  for  taking  the 
time  to  bring  this  to  my  attention, 
particularly  given  the  very  sad 
circumstances  your  community  is 
going through at the moment. 
I  have  this  morning  explained  at 
length  to  the  driver  concerned  what 
you  witnessed,  that  it  was  unlawful 
and that it  is  not tolerated within  my 
business. 
This  was  accepted  by  my  staff 
member (which I would expect given 
it was a mandatory Stop) and as such 
I would now expect his driving to be 
much improved. 
I  appreciate  what  you  are  doing  for 
your  community  and  I  would  like  to 
assure  you  that  I  support  this  good 
work.  By  contacting  me  you  have 
already made a difference. 
Please  don't  hesitate  to  get  in  touch 
with  me  directly  if  you  witness  any 
further  indiscretions  and  I  will  take 
the matter up immediately. 
Keep up the good work." 
Well done that man! 
A stop sign means that you must stop  
and then give way. 
If  you  observe  any 
marked vehicles failing to 
come  to  a  complete  stop 
before  travelling  through 
an  intersection  controlled 
on that side by a stop sign, you can do 
the same as we've reported here - note 
the  details,  and  contact  the  company 
who 
owns 
the 
vehicle. 
Their 
management  will  not  be  impressed  by 
their  driver's  actions,  and  like  Hamish 
above will thank you for bringing it to 
their attention. They would rather give 
a driver a ticking-off for this and have 
the driver learn a lesson, than having to 
deal  with  the  fall-out  from  a  nasty 
accident  caused  by  their  driver's 
actions  (or  lack  of  them)  that  could 
have been prevented. 
TRAFFIC 
WOES 
RESCUE 
HELICOPTER 
Recently in Kaiwaka, a man had a life-
threatening  medical  emergency  during 
the  night  and  the  rescue  helicopter 
wasn't  able  to  land  at  the  Kaiwaka 
Sports Complex because the floodlights 
were  not  on.  This  meant  that  an 
ambulance  had  to  be  dispatched  for 
him  from  Wellsford,  which  lead  to  a 
longer  wait  for  assistance.  The  man  in 
this  instance  is  fine,  but  a  longer  wait 
time  could  potentially  mean  the 
difference between life and death. 
For  the  safety  of  our  community,  we 
want the helicopter to be able to land in 
Kaiwaka during the hours of darkness, 
as well as during the day. 
I  have  talked  to  the  Operations 
Manager  at  the  Northland  Emergency 
Services Trust and his suggestion is for 
a  "PAL"  (Pilot  Operated  Lighting) 
system  to  be  installed  at  the  Sports 
Complex. This is a unit which attaches 
to  the  rugby  field  floodlights  and  the 
pilot  can  turn  the  lights  on  from  the 
helicopter by remote control.  
The  Kaiwaka  Sports  Association  is 
happy  to  have  this  system  installed  at 
the Sports Complex, and is also willing 
to build a helipad to the side of the #2 
field.  This  would  be  adjacent  to  the 
existing  carpark  and  would  provide 
access  for  ambulance  and  other 
emergency  vehicles.  The  cost  of  the 
helipad will be covered by sponsorship 
from  the  Sports  Association  and  from 
the Three Furlongs Bar & Grill. 
The cost of the Pilot Operated Lighting 
system  is  over  $2,000.  Having  the 
rescue  helicopter  being  able  to  land  in 
Kaiwaka  24/7  will  benefit  our 
community,  and  so  I  am  hoping  that 
our  townspeople  will  see  this  as  a 
worthwhile  community  project  and  be 
happy to donate money towards it. 
All  donations  (big  or  small)  would  be 
gratefully  received.  You  can  donate 
online  into  the  Kaiwaka  Sports 
Association's 
bank 
account 
0603650022472 
00 
(please 
use 
reference  Rescue  Helicopter)  or  you 
could  drop  money  off  at  Jaques  Four 
Square  (there  is  a  box  behind  the 
checkout  for  Sports  Association 
money). 
Thank you for supporting this project.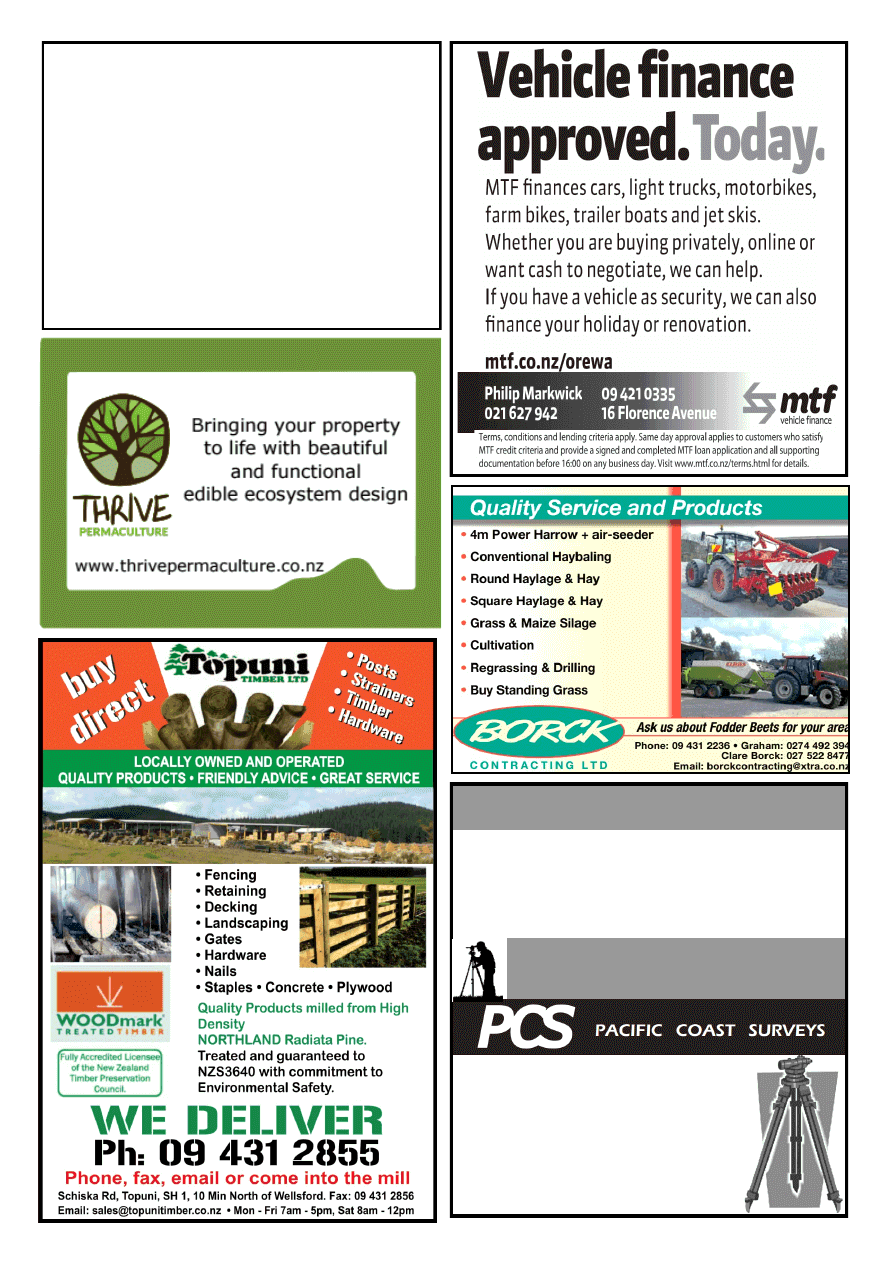 LIFESTYLE PROPERTY  
MAINTENANCE 
Putting life back into your style
Working out of Kaiwaka; servicing Mangawhai, 
Maungaturoto, Waipu and surrounding areas. 
  With over 25 years' experience, I'm fully insured and any 
job considered so just call me – James on mob: 0273 
808622  or  09 431 2245 
email: lifestylesorted@gmail.com  
Mulching - gorse, 
scrub 
Tree & hedge work 
Hole boring 
Alkathene laying & 
repairs 
Paddock topping, 
slashing 
Electric fence 
installation 
Weed spraying 
Free quotes 
Land & section 
clearing 
Loader work 
Rubbish removal 
Fully insured 
Repairs to driveways, fencing & buildings 
SURVEYORS 
SUBDIVISIONS 
HOUSE SITE SURVEYS 
CIVIL ENGINEERING 
WASTEWATER DESIGNS 
EXPERIENCED 
PROFESSIONAL 
INNOVATIVE 
Ph 09 431 5353 
0800 PACIFIC (0800 722 434) 
pacificcoastsurvey.com
Adam Booth - 027 415 5752 
Bsurv, Licensed Cadastral Surveyor
Surveying Kaipara since 1994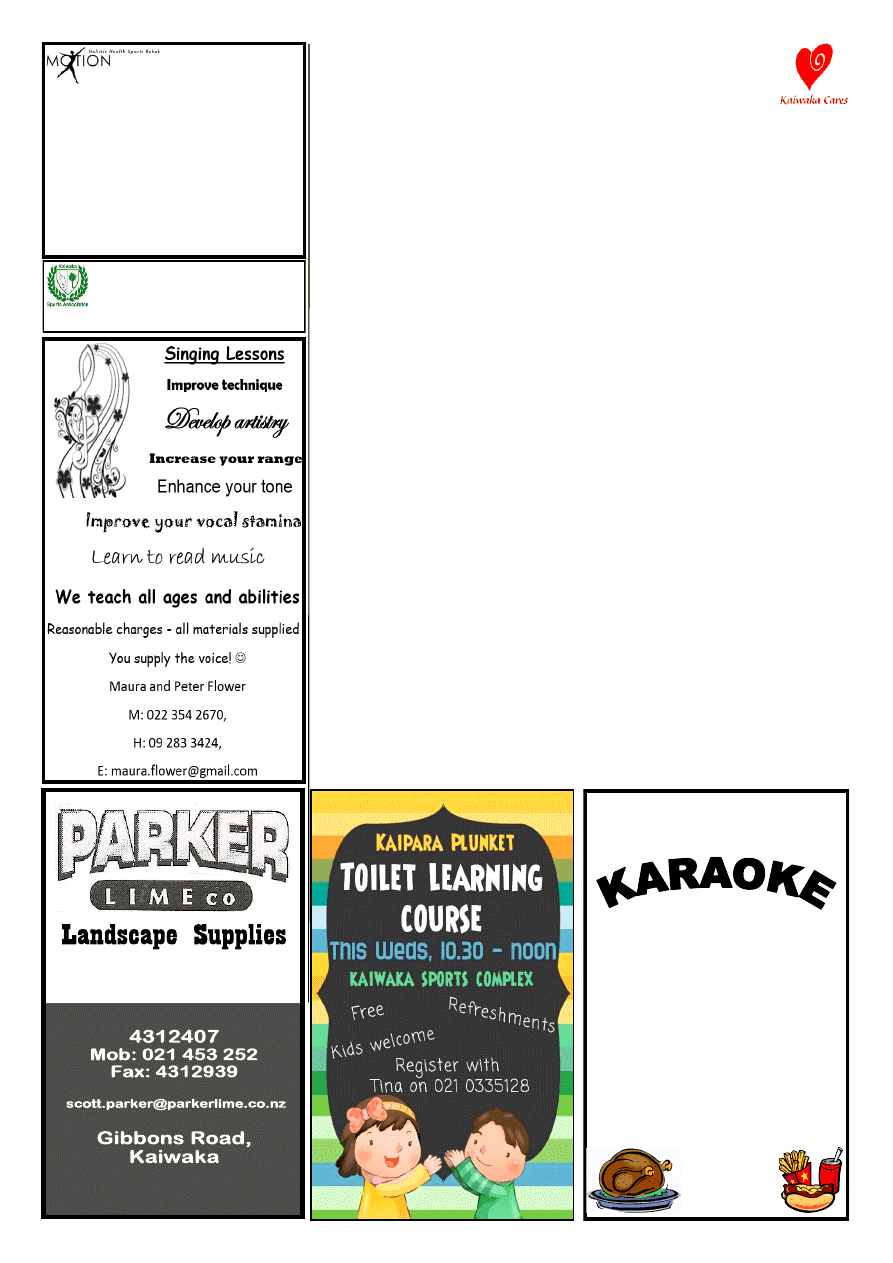 www.kaiwaka.co.nz 
Kaiwaka Bugle - 26 July 2016 
Page 9 
THE HAKARU RSA 
PRESENTS 
3
RD
 FRIDAY OF THE 
MONTH 
7.30 pm TO 9.00 pm 
Thousands of titles to choose from 
Bring your friends  
and enjoy yourselves
Free entry 
[Courtesy:  Jon Bell] 
Meals as normal
WAIPU 
OSTEOPATH 
Maria Gabriel 
ACC Registered Osteopath 
8 The Centre, Waipu 
Monday to Thursday  
Freephone 0508 924786 
(0508 WAIPUOSTEO) 
www.getinmotion.co.nz 
No doctor referral 
required 
Thank you! 
So  much  has  happened  in  the  past 
fortnight.  As  most  of  you  will  know 
there  was  an  accident  outside  Kate's 
Place on Monday 11 July 2016. One of 
our  founders  and  ardent  volunteers, 
Scott  Dalziell,  passed  away.  His 
partner  Helen  Marsh,  who  also 
volunteers  with  us,  was  injured  and 
spent a week in hospital. 
This  has  greatly  affected  our  small 
group. Not only because of the accident 
but because it occurred so close to our 
home and we were some of the first on 
the  scene  as  we  had  just  finished  a 
group meeting. 
I extend my thanks and gratitude to the 
wonderful  Kaiwaka  community  who 
have  shown  such  compassion  and 
caring  in  such  emotional  times.  I  also 
thank  the  ambulance  crews  who 
attended  both  from  Maungaturoto  and 
Whangarei,  the  Northland  Rescue 
Helicopter 
team, 
the 
Kaiwaka 
Volunteer  Fire  Brigade,  our  local 
Police, the many locals who assisted on 
scene,  those  who  prepared  meals  for 
the families, and of course the amazing 
team  at  Whangarei  Hospital.  The  care 
and  professionalism  was  evident  in  all 
that  happened  that  day  and  the 
following  days.  The  words  thank  you 
will  never  convey  how  much  we 
appreciate  all  that  was  done  for  both 
Scott and Helen. 
Volunteers Needed 
I know we have asked before, however 
we  must  ask  again.  Is  anyone  able  to 
volunteer to help in the drop-in centre. 
Even if it's only one day a month. We 
would love to have you join us. Don't 
worry  -  full  training  and  support  is 
provided by the existing team. 
Thank  you  to  Tatjana  Panyoczki  who 
will  be  taking  over  Scott's  role  as 
Treasurer for Kaiwaka Cares. 
Charity Auction 
A  big  project  we  are 
currently  working  on  is  a 
charity  auction.  We  are  doing  this  in 
conjunction 
with 
the 
Kaiwaka 
Foodbank,  our  local  Scout  troop,  and 
the  Defence  Cadets.  The  auction  will 
also  contribute  to  the  funding  of  an 
auto-turn-on  device  for  the  floodlights 
at  the  Sports  Complex  for  the 
Northland Rescue Helicopter to enable 
night pickups. This auction will be on 3 
September at the Hakaru Hall.  
If  there  is  something  that  you  would 
like to contribute to be auctioned please 
do  get  in  touch  with  one  of  these 
groups 
or 
email 
Janine 
at 
caring4Kaiwaka@gmail.com. 
More  information  on  the  auction  will 
be  coming  up.  So  put  the date  in  your 
diary and watch this space. 
Community Garden 
Whilst  Helen  is  resting  up  from  the 
accident  Beth  Stone  will  be  taking 
charge  of  making  sure  the  garden  is 
looked  after.  She  will  be  assisted  by 
Rhona  and  the  other  gardeners.  If  you 
would like to assist please contact Beth 
on 0274 937 801. 
Neighbourhood Support 
The  first  Neighbourhood  Support 
meeting is coming up on Tuesday 26th 
at  Kate's  Place  at  5.30pm.  Maria 
Paikea  (027  531  2746)  and  Barry 
Wallace  (0274  922  975)  have  stepped 
up to be our local co-ordinators. Aunty 
Ma is known to most of us through her 
community work with the Foodbank as 
well  as  Otamatea  Marae.  Barry  has  a 
background  as  a  retired  police  officer 
and  brings  a  wealth  of  knowledge  to 
the role.  
If  there  is  anything  else  the  Kaiwaka 
Cares  can  do  for  you  or  someone  you 
know  in  the  community  please  do  not 
hesitate  to  pop  in  and  talk  to  us  or 
email caring4kaiwaka@gmail.com 
~Janine Boult, Chair Kaiwaka Cares  
KAIWAKA CARES 
Bulk Cartage 
Otamatea Hawks Rugby 
PRIZEGIVING 
Sunday 21st August, noon 
Kaiwaka Sports Complex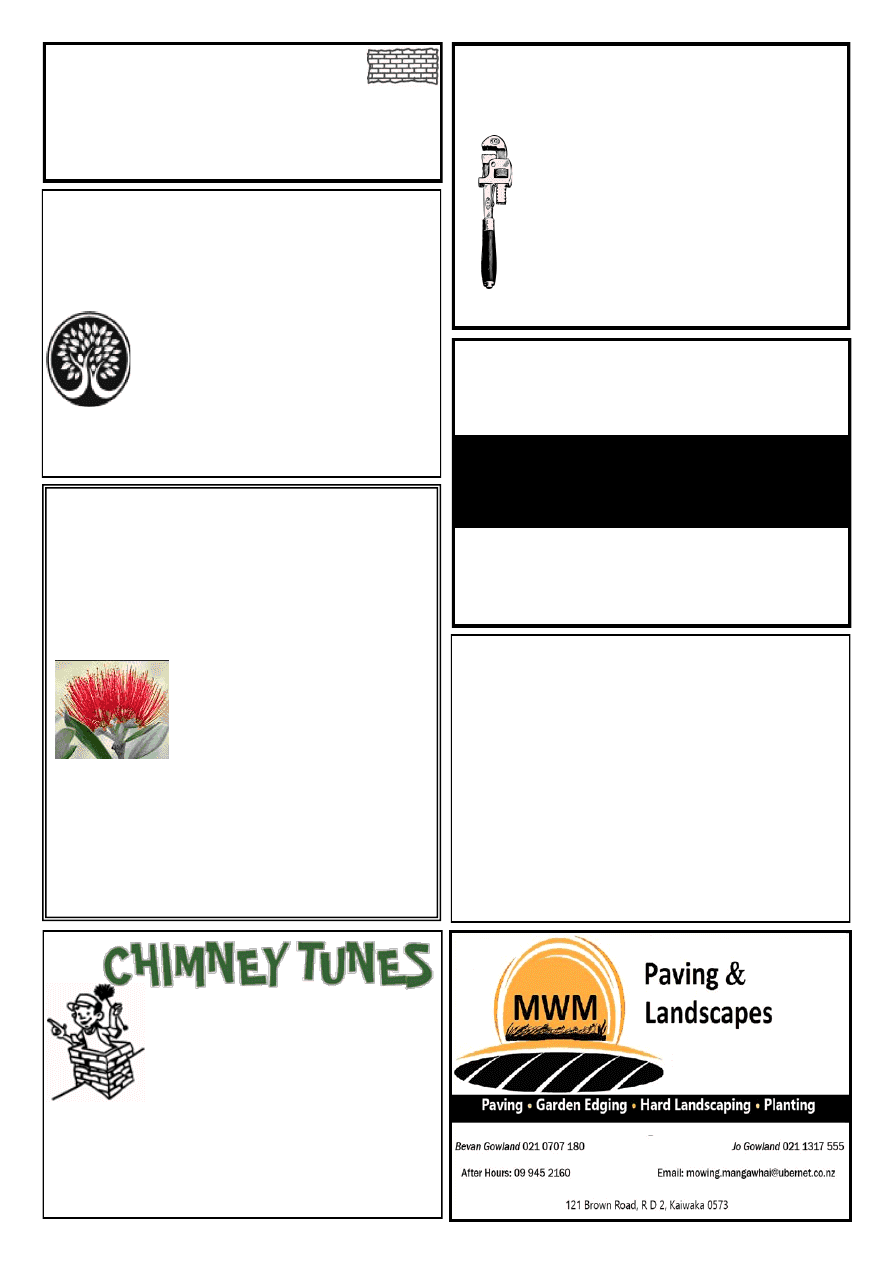 BARRY CURTIS PLUMBING LTD 
REGISTERED CRAFTSMAN PLUMBER 
Phone 4315572 
027 257 9884 
25 years experience 
Friendly reliable service 
All plumbing and maintenance 
Alterations and new housing 
Spouting 
Competitive rates 
PROMPT EFFICIENT  SERVICE 
David Korach 
Your local Gib Stopper
DK PLASTERER LTD 
0274769221 
dkorach6@gmail.com 
Chimney and Fireplace 
Maintenance,  
Parts & Repairs
MARK O'DONNELL 
021 457 247 
Whangarei – Mangawhai – Maungaturoto 
Waipu Natural Health 
3 Cove Road, Waipu    (opposite the Pizza Barn) 
Ph: 09 432 1325 
www.waipunaturalhealth.co.nz 
Clinical Nutritionist (Masked Allergy Testing), 
Registered Osteopath, Registered Massage 
Therapists, Reflexology, Beauty Therapy, 
Craniosacral Therapy, Hypnotherapy, 
Counselling, Change Catalyst, ThetaHealer, 
Naturopathic Prolotherapy & Scenar (joint & 
muscular therapy), and much more... 
GIFT VOUCHERS AVAILABLE 
KAIPARA FLOORING CO 
Independently owned & operated 
32 HURNDALL ST MAUNGATUROTO 
Supply & Installation of Carpet, Vinyl,  
Vinyl Wood Planking
Stockists of 2m & 3m wide 
vinyl & carpet short ends
Residential & Commercial 
First Class Installations 
For a free measure & quote 
phone Christine  
09 946 9886 or 021 515 415 
kaiparaflooring@gmail.com 
http://www.kaiparaflooring.co.nz/ 
BRICK/BLOCKLAYER 
All aspects of masonry: 
Fireplaces, Restoration & Remedial Work.
JAMES EAGLETON
Tel. (09) 431 2514     Mob. 0274 749 232
jajueagles@yahoo.com.au 210A Pukenui Road, RD2, Kaiwaka 0573 
Mangawhai Heads 
Garden Centre
1758 Cove Road
945 0707 
021 
165 
2629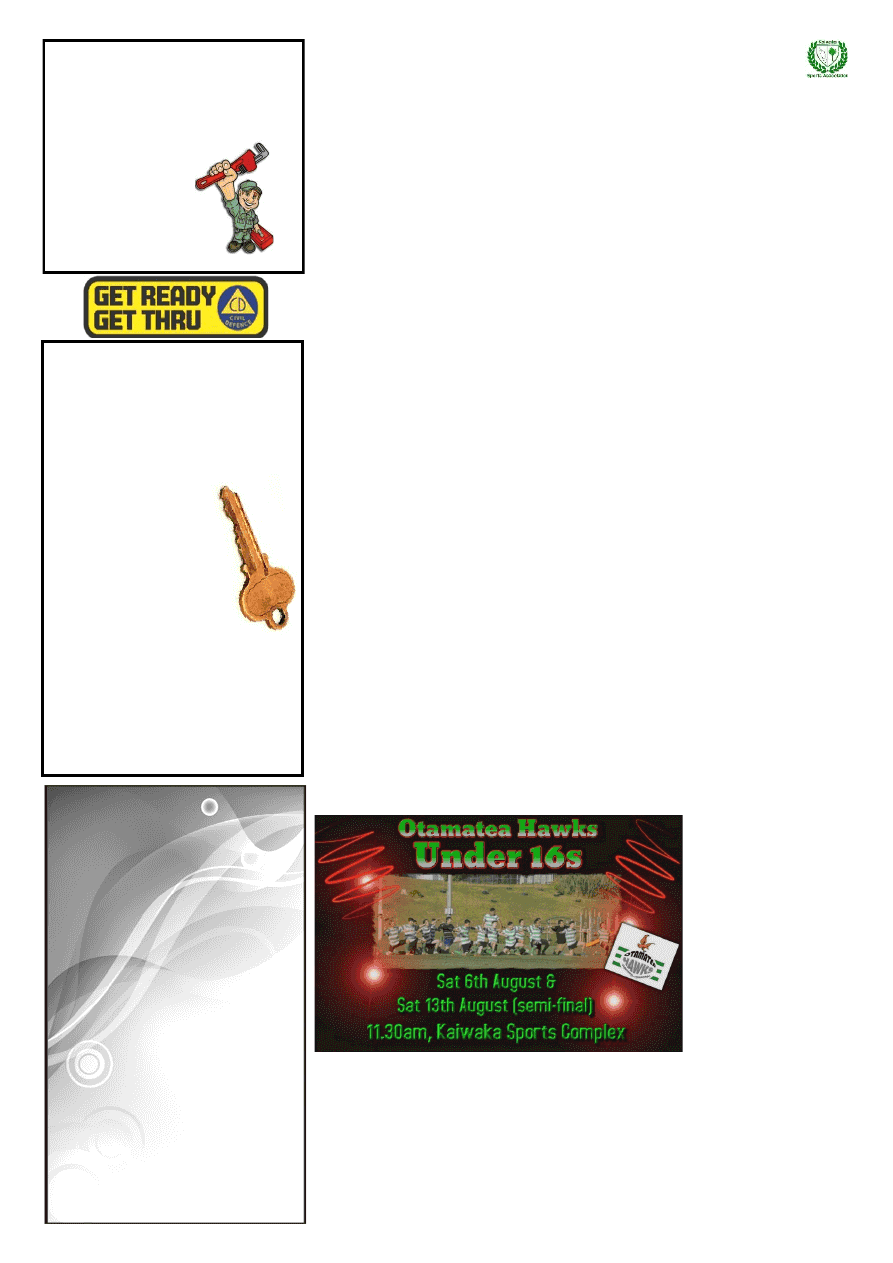 www.kaiwaka.co.nz 
Kaiwaka Bugle - 26 July 2016 
Page 11 
Rugby – JMB 
Our  junior  rugby  club  has  had  a  great 
season and will be celebrating it with a 
prizegiving  and  pot  luck  dinner  at  our 
Sports  Complex  this  Tuesday  at 
5.30pm.  Families  to  bring  a  plate 
please. 
The  club  is  winding  up  their  season 
with  a  fun  trip  to  My  Bounce  in 
Whangarei this Saturday. Many thanks 
to  Naomi  Walker  and  her  team  for 
running  another  successful  JMB 
season. 
Rugby – IMB 
It's been an exciting season for our two 
IMB  teams,  with  both  the  Under  16s 
and  the  Under  14s  slotting  some  huge 
wins. The season isn't over just yet, and 
the Under 16s have two more matches 
at our grounds, on Saturday 6
th
 August 
and Saturday 13
th
 August (semi-finals). 
Both  matches  kickoff  at  11.30am,  so 
come along to cheer on our boys. 
The  IMB  prizegiving  will  be  held  on 
Sunday  21
st
  August  at  our  Sports 
Complex at noon, this will be a shared 
prizegiving  with  our  Hawks  seniors 
club. 
Rugby – Senior 
The  season  for  our  Otamatea  Hawks 
has  come  to  a  close  and  it's  been  a 
season  of  mixed  results  for  our 
Premiers  and  our  Reserves,  and 
unfortunately many injuries.  
After one of the Hawks recent matches 
at our grounds, the club celebrated the 
rugby career of Ian 'Wuzz' Phillips with 
many people coming along to catch up 
with  Wuzz  and  share  stories  of  the 
early days. 
Thank  you  to  all  the  club's  sponsors 
and spectators for their support over the 
season. The Hawks prizegiving will be 
held  on  Sunday  21
st
  August  at  our 
Sports Complex at noon, this will be a 
shared prizegiving with our IMB club. 
All welcome. 
Rugby 
- 
Taniwha 
Shield 
Tournament 
Well  done  to  our  local  Year  7  &  8 
team,  the  Rodney/Otamatea  RhinO's 
who  competed  in  the  Northland 
Taniwha Shield week long tournament 
in Dargaville. The team finished 7
th
. 
Squash 
Our  squash  club  played  against  the 
Maungaturoto  squash  club  recently  in 
the  annual  Potty  Challenge. 
Although we weren't victorious, lots of 
fun was had by all. 
If  you're  keen  to  give  squash  a  try, 
simply turn up to the courts on our club 
nights, Mondays from 6pm (the door to 
the squash courts is opposite the tennis 
courts). People of all ages and abilities 
are  welcome  in  our  small,  friendly 
club.  
For  squash  queries,  contact  Heath 
Worsfold on 021 431320. 
Toilet Training course 
Kaipara  Plunket  is  hosting  a  course  at 
our  Sports  Complex  this  Wednesday 
for parents to learn more about toileting 
their  kids.  Come  along  at  10.30am  to 
learn some tips and discuss your ideas. 
This is a free course, refreshments will 
be available and children are welcome. 
Please  register  with  Tina Ball  on    021 
033 5128. 
Four  other  Plunket  parenting  courses 
will be held at our Sports Complex (all 
from 10.30 – noon): 
Brain Development (10
th
 August) 
Tantrums (24
th
 August) 
Toddlers  Challenging  Behaviours 
(31
st
 August) 
Parenting Styles (14
th
 Sept) 
Badminton 
Would you or your children like to give 
Badminton  a  try?  Turn  up  to  our 
gymnasium on Tuesday evenings, from 
7pm  -  all  ages  and  abilities  welcome! 
Badminton  is  lots  of  fun  and  an  easy 
game  to  pick  up.  New  members 
welcome,  just  bring  soft  soled  shoes, 
$3  and  a  sense  of  humour.  Club 
racquets  are  available  for  you  to 
borrow. 
KSA Sleepover 
Unfortunately the KSA Sleepover Party 
has  been  cancelled  due  to  a  lack  of 
registrations. 
Roller Disco 
Yes,  we  are  going  to  hold  another 
Roller  Disco!  Little 
kids (and big kids!) had 
a blast last time, so I've 
decided  to  put  it  on 
again.  Date  to  be 
confirmed.   
Rescue Helicopter 
Our rugby fields are an 
ideal  place  for  the 
Rescue  Helicopter  to 
land  when  there  is  a 
medical  emergency  in 
Kaiwaka.  We  would 
like  them  to  be  able  to 
land  here  during  the 
hours  of  darkness  as 
well as during the day, so we have got 
a  solution  to  the  issue  of  lighting. 
Please read the article in the Bugle for 
more  details  and  how  you  can  help  us 
achieve this. 
~Cheryl Anderson 
4312 051, 027 3462702 
kaiwakasports@gmail.com 
KAIWAKA SPORTS ASSOCIATION 
U Beauty 
            Underarm Wax  
    $20 
            Extended Bikini Wax   $30 
            15 min Back  Massage  $25 
            30 min Back Massage  $50 
Please call Nicole for bookings 
09 393 6336 or 022 0639450 
Qualified Beautician 
4 Kaiwaka – Mangawhai Rd 
Kaiwaka 
Eyebrow Wax  $10 
Eyebrow Tint  $10 
Eyelash Tint 
$20 
Lip Wax 
$10 
Chin Wax 
$10 
Bikini Wax 
$20 
Brazilian 
$50 
½ Leg Wax 
$30 
Full Leg Wax  $45 
Full Pedicure  $60 
Foot Tidy  
$35 
Manicure 
$45 
Nail Tidy 
$25 
Chest Wax 
$30 
Back Wax 
$40 
Nostrils 
$10 
Ears 
$10 
Kaiwaka  
Hardware  
&  
Key cutting 
 Phone 4312 063 
 022 041 6047 
 kaikey2015@gmail.com 
Keys Cut  
Household Hardware  
Curtain Tracks & Fittings
Not there? Call Doug and he'll sort
it for you.
(
Next to Kaiwaka Motorcycles)
Ross Murphy 
PLUMBER 
Certifying Plumber 
09 431 7510 
021 424 252 
Paparoa Based 
+
New Housing  
+
Renovations  
+
Maintenance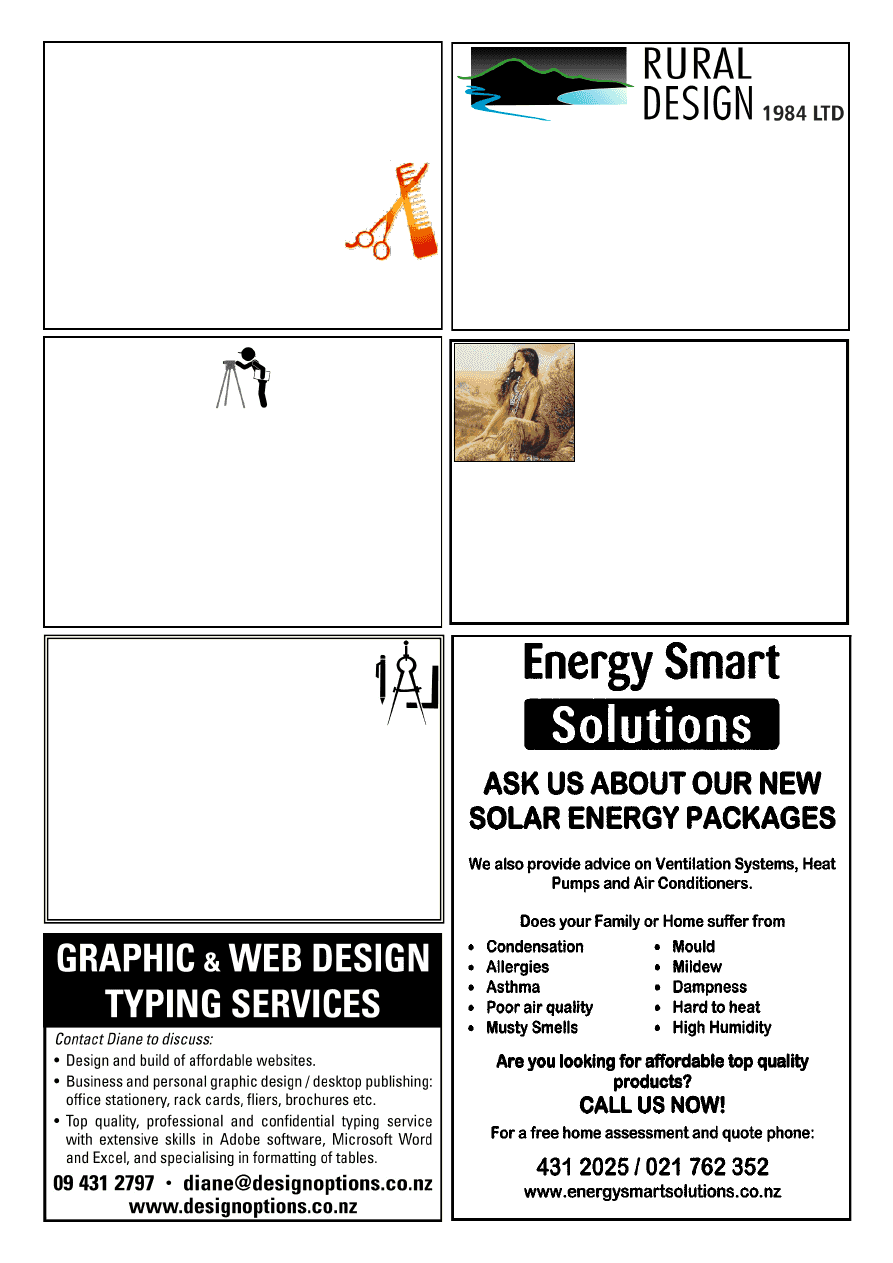 Ken Urquhart 
BSurv Licensed Cadastral Surveyor 
KMU Surveys Ltd
467 Bickerstaffe Road 
RD 2 
Maungaturoto 0587 
Ph 09 431 8705 
Mob 021 161 2344 
kenurquhart@xtra.co.nz 
WHOLESALE NATIVE PLANT NURSERY 
AND LANDSCAPING 
By Appointment 
Small and Large orders welcome 
Phone: 09 431 2481 
Email: info@ruraldesign.co.nz 
design drafting  
service 
Retired builder and manufacturer with over 40 years  
experience in the building industry is offering a design 
drafting service  
for domestic housing, sleepouts and sheds.  
Plans formulated in consultation with clients, with 
working drawings completed and submitted to  
council for processing.  Extensive practical experience,  
able to identify & resolve problems. 
Please ring Mike Lean on 
09 431 2260  
          or 
021 431 196 
Trails end 
spiritualist gathering  
Last Sunday of every month  
11.30-2pm tea/coffee provided  
$5koha for all inquiries  
0211652629 evenings 099450753 
Trail.end@hotmail.com 
Bringing together light minded people 
Guest speaker each month and 
Workshops every 2nd Wednesday  
6:30-7:30pm
AFFORDABLE PRICES! 
MENS DRY CUT FROM $18.00 
LADIES DRY CUT FROM $28.00 
KIDS DRY CUT FROM $15.00 
COLOUR CUT FROM $90.00 
JUST CUTS'AND     
MORE 
021 165 2629 
NOW SELLING: scented tealights, incense, smudge sticks, 
copper bracelets, aurora ball crystals, dream catchers, healing 
stones, rose quartz, cds, and much more. Open 6 days.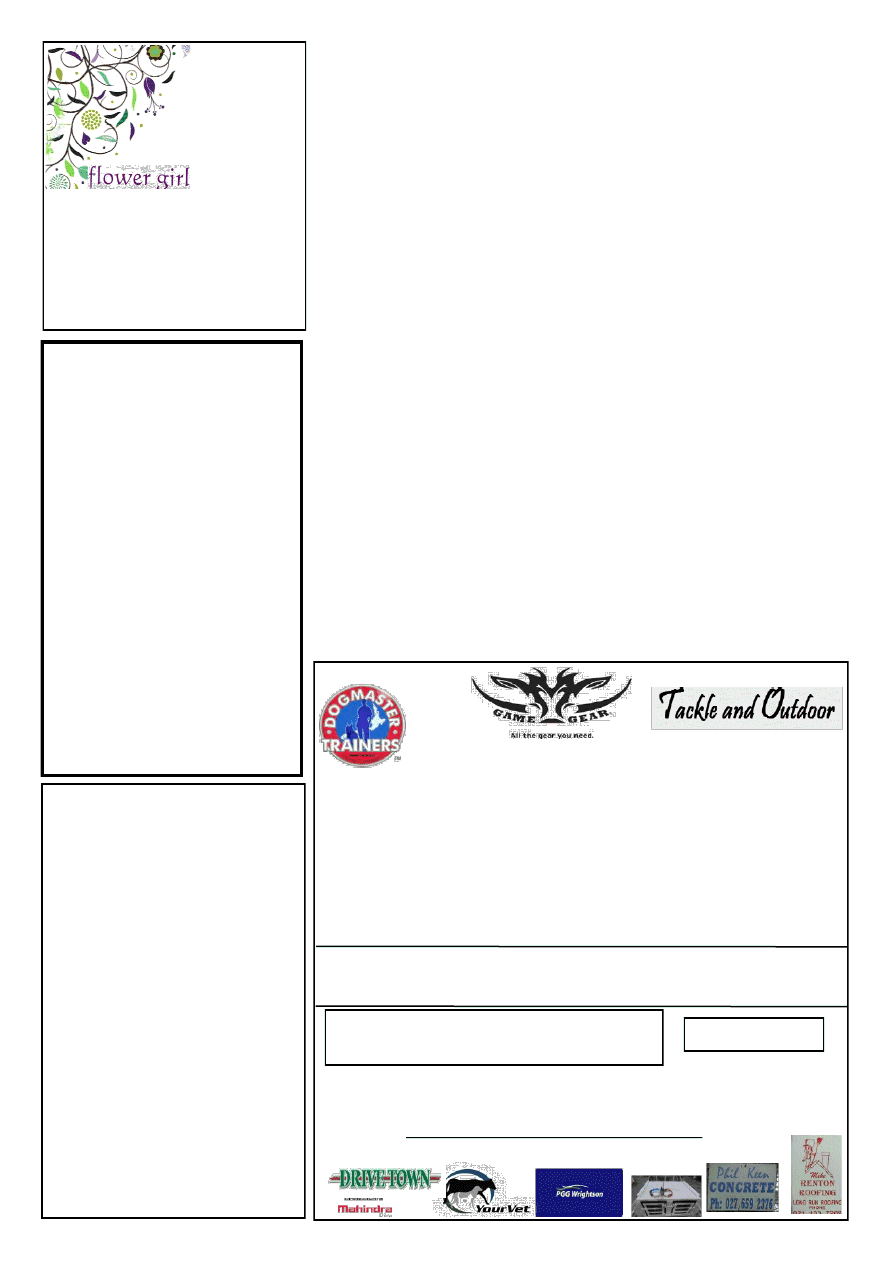 www.kaiwaka.co.nz 
Kaiwaka Bugle - 26 July 2016 
Page 13 
Willow Bend
HORSE  
HOTEL 
"  
Total Horse Care 
" 
Agistment 
" 
Riding Lessons 
" 
Arena Hire (60x40) 
" 
Young Horse Starting 
" 
Re-training/Exercising 
" 
Hoof Trimming 
" 
Problem Solving 
Phone Sue  
09 431 2817  
or 021 623 776 
susanjoll11@gmail.com 
Full Circle 
Landscaping 
Pete Worsfold 
Cert. LScp/Des 
20yrs experience 
021 825 970 
peteworsfold@xtra.co.nz
Landscape Design 
Gardener 
Nurseryman 
Functional, practical, aesthetic.
Lush native plantings, shelter, wetlands, 
grey water system plantings, home 
orchards, firewood lots, vege gardens... 
Planning, planting, project estimates, 
tree lists and species suitable for your 
site/sight, maintenance training...
Call or email me for an onsite 
estimate at your place!
Completion...Clarity 
Kaiwaka 
Good 
Sorts 
Do you know 
someone in our 
community who is 
deserving of a 
beautiful bunch of 
flowers? 
Send an email to us at 
kaiwakabugle@kaiwaka.co.nz 
or drop a note to Jaques Four Square to let 
the Bugle team know. 
We will choose a recipient to receive 
flowers from Lindy the flower girl. 
lindywatson@hotmail.com 
4312 847 
Watch  out  Kaiwaka!    You  have  been 
worried  for  years  about  people 
speeding  through  Kaiwaka.    But  soon 
we  will  need  to  make  sure  we  are  not 
the speedsters. 
At  our  last  meeting  of  Kaiwaka  Can, 
Annie  van  der  Plas    from  Kaipara 
District  Council  confirmed  that  two 
major  steps  can  now  be  made  public.  
NZ  Police  are  going  to  install  a  speed 
camera,  probably  in  the  southern  area 
of the town and NZTA is going to put 
up  a  "Your  speed  is"  flashing  sign.  
Great  news  after  years  and  years  of 
hard work by many people to achieve a 
safer State Highway One. 
And these two announcements are just 
the  first  of  several  more  that  are 
waiting  sign  off  at  the  moment.    The 
response  to  our  speed  worries  by 
NZTA  has  been  comprehensive  and 
creative and we look forward to all the 
good things coming.   
Thanks for KDC 
We  also  want  to  acknowledge  the 
crucial  role  played  by  Kaipara  District 
Council  in  this,  getting  NZTA  to  the 
table and working very hard behind the 
scenes  with  all  the  parties  concerned.  
Annie van der Plas has been the face of 
KDC  for  Kaiwaka  but  is  backed  by  a 
team  of  others  including  community 
liaison, traffic and parks.  
An apology 
Which  brings  me  to  an  apology.    Last 
month we said that NZTA had engaged 
an  engineer  to  explore  options  for  the 
very difficult Oneriri Road intersection.  
That  is  in  fact  KDC  and  the 
investigation is ongoing. 
And some other projects 
Access  across  State  Highway  One 
under the northern bridge is also going 
well  with  plans  for  a  walking  track 
looping under the bridge to the reserve 
on  the  other  side.    Again  Council  is 
waiting for final sign off from NZTA. 
We  are  working  on  several  other 
projects,  too  many  to  mention  but 
included are fencing for the playground 
by the hall, a welcome sign to Kaiwaka 
from both north and south, screening of 
the waste water structure near Eutopia, 
extra 
parking 
space, 
roadside 
beautification  and  better  broadband 
access. 
The  reserve  north  of  the  bridge, 
formerly  known  as  McClean  Park  is  a 
project of special interest as we set up a 
group to explore all the ways that space 
might be used to the full. 
Lights seem to be a never ending topic 
of discussion but we keep on exploring 
options  for  durable  and  effective 
lighting  with  two  or  three  groups 
actively working on putting lights back 
up. 
And a note of sadness 
The  saddest  note  of  our  last  meeting 
was time in silence to remember Scott 
Dalziell,  a  member  of  Kaiwaka  Can, 
tragically  killed  in  Kaiwaka  on  July 
11
th
  and  remember  also  Helen  his 
partner  as  she  recovers  from  serious 
injuries.    An  outstanding  funeral 
service  was  held  for  Scott  last 
Thursday.  
~Derek Christensen, Chair Kaiwaka Can 
ACTION COMING ON KAIWAKA SPEED PROBLEM 
POINT CURTIS CRUISING CLUB INC. PRESENTS 
Kaiwaka Boar Hunt 2016 
12th, 13th and 14th August 2016 
3 Furlongs Bar & Grill, State Highway 1, Kaiwaka. 
Total Prize Pool over $13,000 
Starts Midnight Thursday -3pm Sunday 
Entries close 11pm Thursday 11
th
 August 2016 
$30 per ticket includes wild pork or lamb spit roast (Sunday Only) or $5 non ticket holders 
Weigh in Friday & Saturday 4-5pm, Sunday 1-3pm Final weigh in (Publicans watch) 
Lucky ticket draw Saturday 6-8pm $500 worth of dog biscuits followed by 5 x spot prizes valued at $100ea 
Lucky ticket draw Sunday Prize giving $500 worth of Game Gear apparel followed by lots of spot prizes 
(ticket holders must be present or redraw)
Boar 
Average weight - Garmin Alpha GPS Tracking gear 2 collar bundle and gear bag valued at $1600 + $500 cash 
Heaviest Boar overall 1st $800, 2nd $500, 3rd $300, 4th Sponsored prize valued at $200 & 5th Sponsored prize valued at $100 
Best measured tusk sponsored prize valued at $300 
Heaviest Boar Friday sponsored prize valued at $200 
Heaviest Boar Saturday sponsored prize valued at $200 
Mystery Draws - drawn from non-prize winning boars (5 x$100 cash)
HUNTERS: 
If you entered both Maungaturoto & Kaiwaka Boar Hunts 2016 you could win the average weight overall package valued at $3000. This will 
be calculated on average weight over all the Boars weighed and accepted in both Maungaturoto & Kaiwaka Boar hunts 2016, but to be eligible 
you must have entered both hunts and you must be present or prize will go to next closest to average weight overall. 
Package includes: Gamin Alpha GPS Tracking Gear 2 collar bundle sponsored by Dogmaster ph 0800 364627, Double alloy dog box 
sponsored by Custom Engineering ph John 0211503466 & Game Gear Apparel ph 0508 699665 
Hunters must take their boars after prize giving. All snapper and eels become the property of PCC Club & will be auctioned after prize giving but Senior prize winning 
snapper have the option of keeping or donating their fish back for auction. Maximum 2 hooks, minimum length 32cm, maximum of 2 fish per day, all snapper must be 
gutted and gilled prior to weigh in (these rules also apply to juniors). 
Juniors 14yrs and under free entry - no ticket required - junior average weight snapper sponsored prize valued at $200 
1st, 2nd & 3rd cash pr izes for  heaviest snapper and eel (weigh in for eels on Sunday only) 
Prize giving 4pm Sunday followed by auction of snapper and eels 
Competition rules are on the back of the tickets. Judges decision is final. 
Live band Saturday – FAT 32 8-30pm till late                           Live band Sunday Happy Fish 5-30pm till late
All enquiries to Vic Birkenhead (Event Organizer) Ph 0211609588 
Tickets on sale at: 3 Furlongs Bar & Grill, Wellsford Sports & Leisure, Thirsty Liquor Wellsford, Tackle & Outdoor 
Warkworth, Gas Maungaturoto, Paparoa Hotel, Nolas Sports Dargaville, Aratapu Tavern, Hikurangi Hotel, & Ruakaka Tavern 
SNAPPER 
Average weight Snapper: sponsor ed package valued at $1000 
Heaviest Snapper overall 1st $500 (plus $200 if won by Point Curtis Cruising Club member) 
2nd Sponsored prize valued at $300 
3rd Sponsored prize valued at $200 
PHEASANT 
Heaviest Pheasant overall 
$250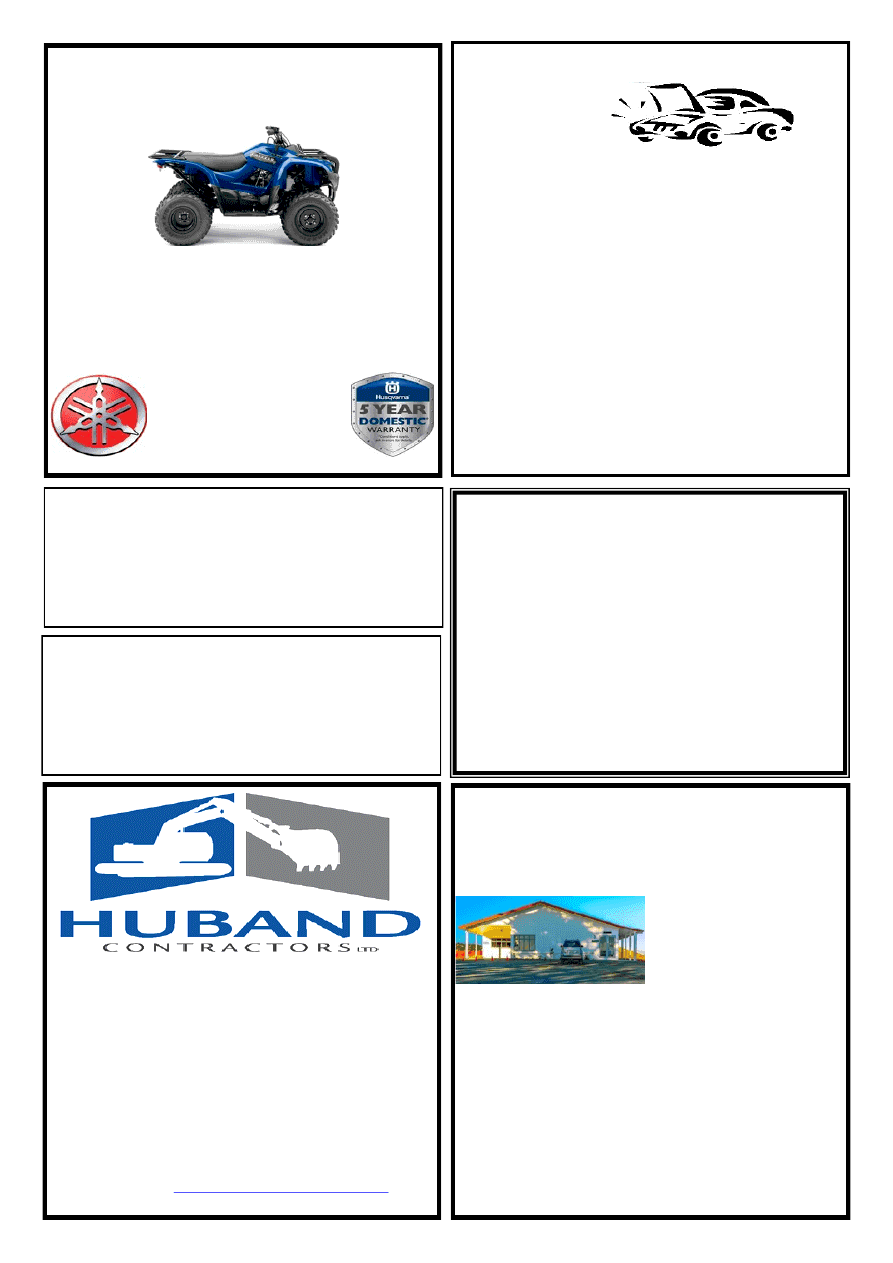 KAIWAKA 
MOTORCYCLES LTD
SALES – SERVICE – SPARES 
FARM BIKE SPECIALIST
PHONE 09 431-2127 
10 KAIWAKA-MANGAWHAI ROAD, KAIWAKA
Trimmers  
from $279
Chainsaws  
from $339
YAMAHA 
HUSQVARNA 
*   R O A D I N G   *   E A R T H W O R K S   *    
*   D R A I N A G E   *   S I T E W O R K S   *
Shaun Huband 
Registered Drainlayer
Cell: 021 222 0272 
Home: 09 4318339 
Email:   
Te Pounga Marae 
130 Nathan Rd. Oneriri. Kaiwaka 0573 
COMPLEX FOR HIRE 
Functions 
* Weddings   *  Birthdays   
*Anniversaries 
* Meetings   * Wananga 
5 hour meeting 
* 12 hour stay   * 
Overnight 
*All welcome - No more Drink-driving 
Amenities: 
*Convo Combi Steamer * Bratt Pan * Dish 
Washer/Sterilizer * 3 Door Glass Chiller (walk in) 
etc…All Crockery * Linen Supplied * Central 
Heating and Air Conditioning and much more.  
Can also cater for small groups…. 
For more information please contact: 
Kim Wallace 
Home: 09 832 1133   Mob: 0211275340 
Email:  kimwallace@xtra.co.nz 
FREE GRAZING WANTED 
Small or large block 
Can do some fencing or water 
Phone after 6pm 
4312 006 
White Horse Farm 
Farm Stay/Bed and Breakfast 
Ph +64 9 390 1260        113 Tawa Ave, Kaiwaka 
bookings@whitehorsefarm-kaiwaka.co.nz 
www.whitehorsefarm-kaiwaka.co.nz 
MULCHING 
GORSE,SCRUB ETC 
PADDOCK TOPPING OR MULCHING 
2.8m mulcher with 140HP tractor. 
Experienced operator. 
LIFESTYLE PROPERTY MAINTENANCE 
Putting life back into your style 
BOOK NOW. Phone James 
mob: 0273 808622 or 09 431 2245 
email: lifestylesorted@gmail.com 
Twinkle Tow 'n' Tyre 
Think you'll get a better deal in the city? 
Ring us - it won't cost anything! 
1837 State Highway 1, Kaiwaka 
Phone 431 2823 
*W.O.F. 
*Tyres 
*Windscreen 
replacement 
*Chip repairs 
*Bulk Oil 
*Batteries 
*Welding 
*Custom built 
trailers 
*Trailer hire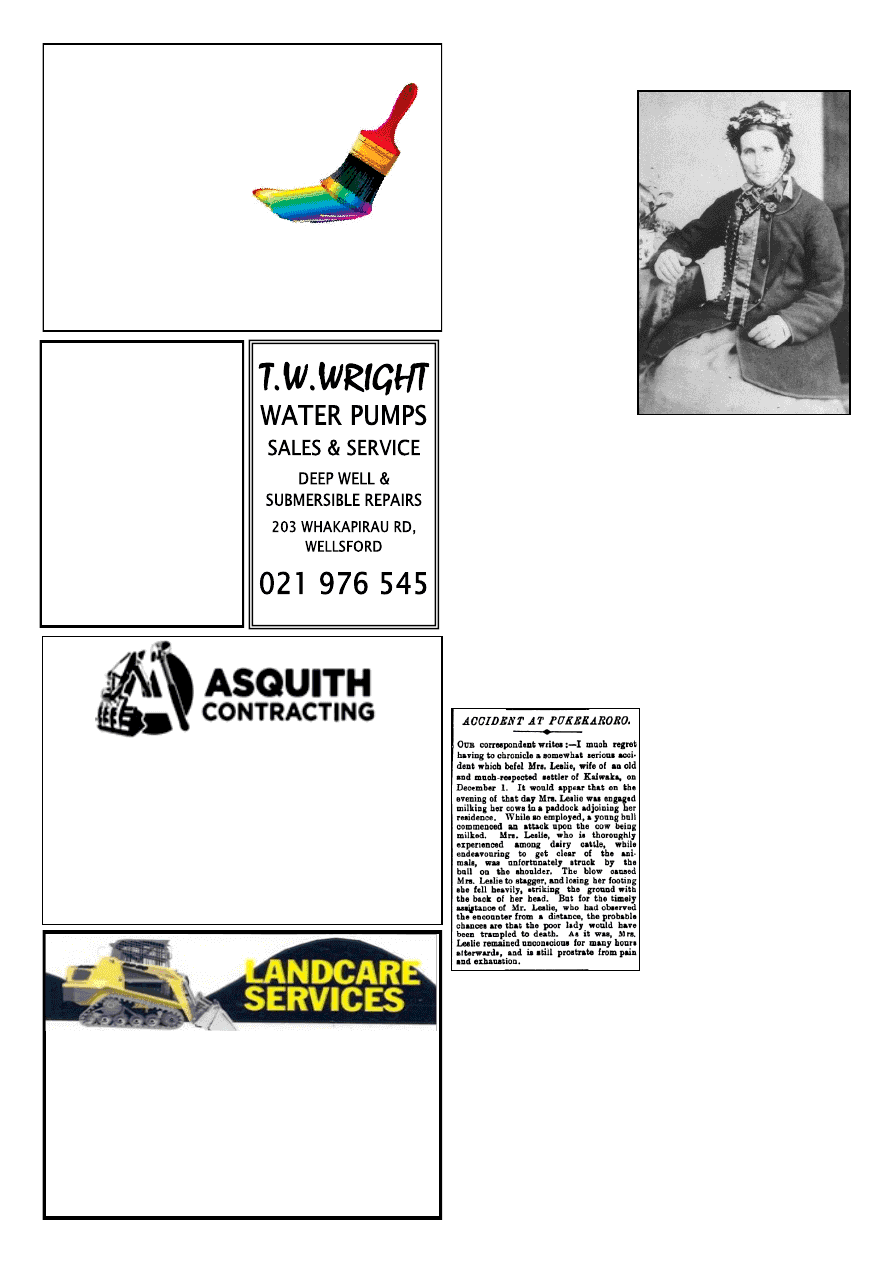 www.kaiwaka.co.nz 
Kaiwaka Bugle - 26 July 2016 
Page 15 
 LEABOURNS 
Passenger Service
Car & Van Hire 
Bus & Coach 
Charters 
Airport Transfers 
 Monthly Shopper 
Bus 
Phone 09 4237416 
LANDSCAPING 
4 IN 1 BUCKET 
TRENCHER 
POLE HOLES 
ROTARY HOE 
COMPACT ROLLER 
OFFAL HOLES 
CAN SUPPLY WOODCHIP & POST PEEL 
5 TON TIPPER 
FOR RELIABLE AND FRIENDLY SERVICE CONTACT DAVE 
Dave Hyndman 
 
KAIWAKA 
PH: 09 4312302 
MOB: 021 431 238 
Small digger work, trenching and 
post hole drilling for retaining 
walls, piles, etc. 
$60+gst per hour.
Call Tam on 027 124 5216 or 
asquithcontracting@gmail.com 
09 4312918 
0274735171 
leecooper@xtra.co.nz 
LEE COOPER PAINTERS 
(Kaiwaka Based) 
*30 yrs Experience 
*Interior/Exterior 
*New and Restoration 
*Honest and Reliable 
*Free Quotes 
Ann 
Leslie, 
wife 
of 
William  Leslie  was  born  at 
Brew, 
Dunrossness, 
Shetland  Islands  on  4 
January  1827.  She  was  the 
7th  of  10  children  of 
Thomas  Bairnson  and  his 
wife 
Urslala 
Goodlad, 
whose families had lived in 
the area for many centuries 
-  being  of  Viking  descent. 
Her  father  was  a  merchant 
seaman  as  well  as  a 
fisherman  and  so  she 
received  schooling  that 
enabled  her  to  read  and 
write  in  English.  As  she 
grew  up  her  three  older 
brothers 
became 
ship 
owners and captains trading 
to America, with her future 
husband  sailing  with  them. 
During  the  American  Civil  War  they  were  considered  pirates 
as they did a lot of smuggling. 
Her future husband William had sailed to New Zealand on the 
William Hyde, which almost wrecked on the Hokianga bar, in 
1852. He spent several months in NZ while the ship was being 
repaired. He then went gold prospecting in Ballarat, Australia, 
in  1853  for  a  couple  of  years,  and  was  successful,  before 
returning to the Shetland Islands in 1855. 
William and Ann were married on 6 November 1856 and two 
years later her first son William was born. 
William  Snr  had  been  impressed  with  NZ  so  they  left  the 
Shetlands  for  Glasgow  where  they  caught  the  sailing  ship 
Maori on its 5th voyage to NZ. After 3 and a half months they 
arrived  in  Auckland  in  November  1859,  soon  leaving  for 
Mangawai by cutter to take up land on Settlement Road. 
During  the  wagon  ride  it  tipped  over  when  crossing  a  creek, 
which  was  named  Swamp  Bridge  in  later  years  -  William 
wanted to return to Auckland, but Ann said, "William, I have 
come thus far, I will nae turn back". After living in a tent for 
their  first  year  while  a  house 
was being built, Ann gave birth 
to  four  more  sons  -  Thomas 
(1861),  Charles  (1863),  James 
(1868)  and  Andrew  John 
(1870). 
Ann  is  mentioned  many  times 
in the early history of Kaiwaka 
in regards to schooling, and her 
knitting skills were often talked 
about.  She  could  be  seen  with 
her  hands  busy  knitting  as  she 
rode  the  horse  to  Mangawai  to 
get  stores  and  then  doing  the 
same  as  she  led  the  loaded 
horse  home.  Shetland  women 
used 3 needles to knit with. 
In  the  Shetlands  milking  cows 
was traditional women's work and so it was maintained in NZ 
as the above newspaper clip tells us! 
Ref. paperspast.natlib.govt.nz 
New Zealand Herald,   9 December 1886
Ann  led  a  full  life  and  lived  longer  than  two  of  her  sons  - 
James who died of typhoid while gold prospecting in Australia 
in 1887, and Thomas who was killed by a falling tree in 1897. 
When  her  husband  William  gave  up  farming  and  moved  to 
Auckland  she  refused  to  go  with  him  and  stayed  in  Kaiwaka 
where her eldest and youngest sons lived - as when she arrived 
in  Kaiwaka  she  vowed  she  would  never  get  on  a  boat  again. 
She  saw,  and  indeed  acted  as  midwife  to  many  of  her  28 
grandchildren before she died on 31 March 1900. At that time 
Shetland  women  when  they  married  retained  their  maiden 
name,  and  so  her  death  notice  in  the  Shetlands  read  as  Ann 
Bairnson, wife of William Leslie
. ~ 
William Leslie 7/7/2016 
NB. See her obituary in paperspast -New Zealand Herald  9 April 1900 Page 4 
MRS ANN LESLIE nee BAIRNSON 
First Burial in Kaiwaka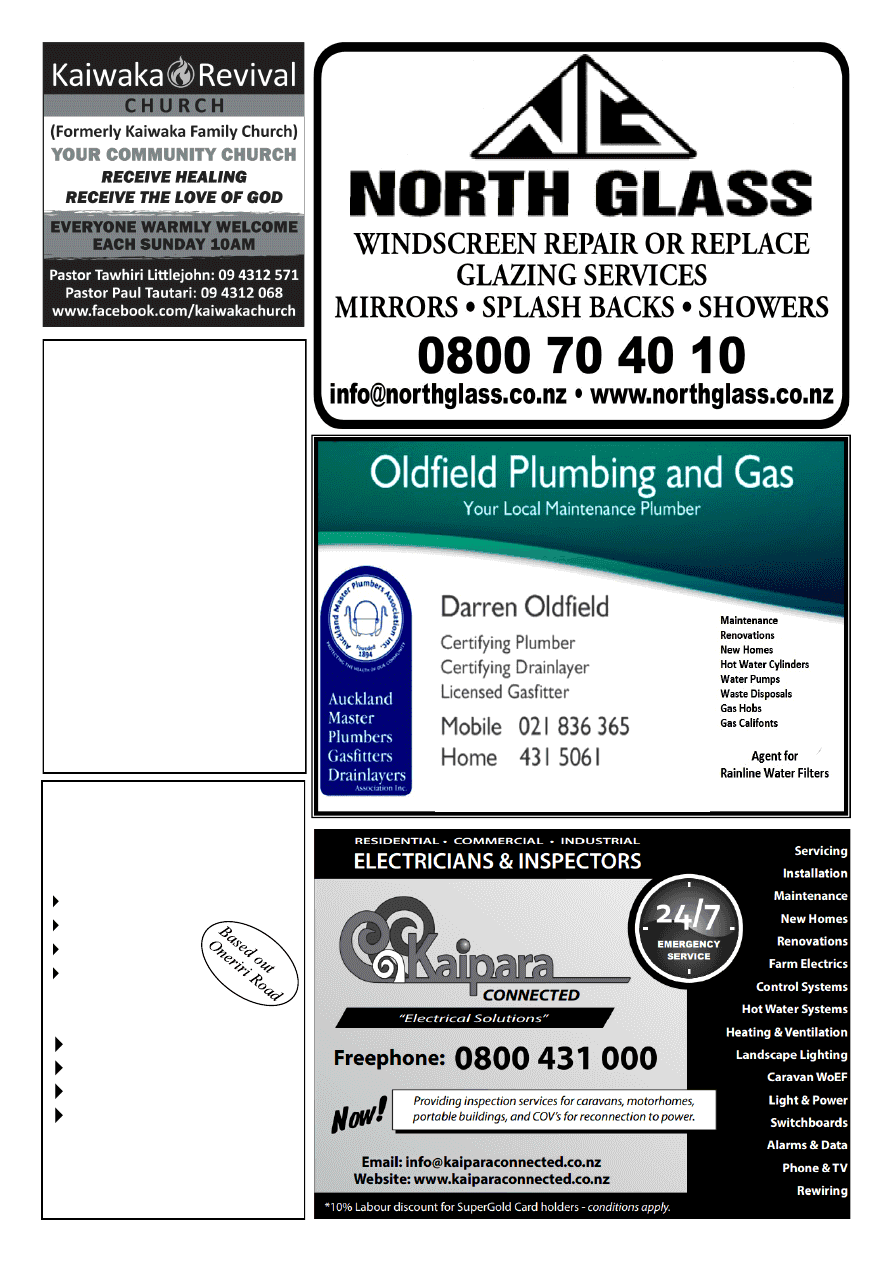 UP-LINK 
CHRIS WARING 
FREEVIEW 
INSTALLATIONS
T.V. - HOME THEATRE & 
HI-FI ADVICE/SET UP
SKY ACCREDITED 
INSTALLER
MOB.0273403747 
HM.094312328 
EMAIL cwaring44@gmail.com
28 YRS EXPERIENCE 
OFFERING 
UNBIASED ADVICE 
oldfieldplumbing@gmail.com 
HODGETTS
CONTRACTING
Digger Work   
Driveways 
House Sites  
Dams 
Drains, etc  
Also available 
for HIRE 
3 ton Vib Roller 
Heavy Duty Tow 
Waterblaster  
Lazer Level 
 
Phone Mark 4312877 
027 447 8554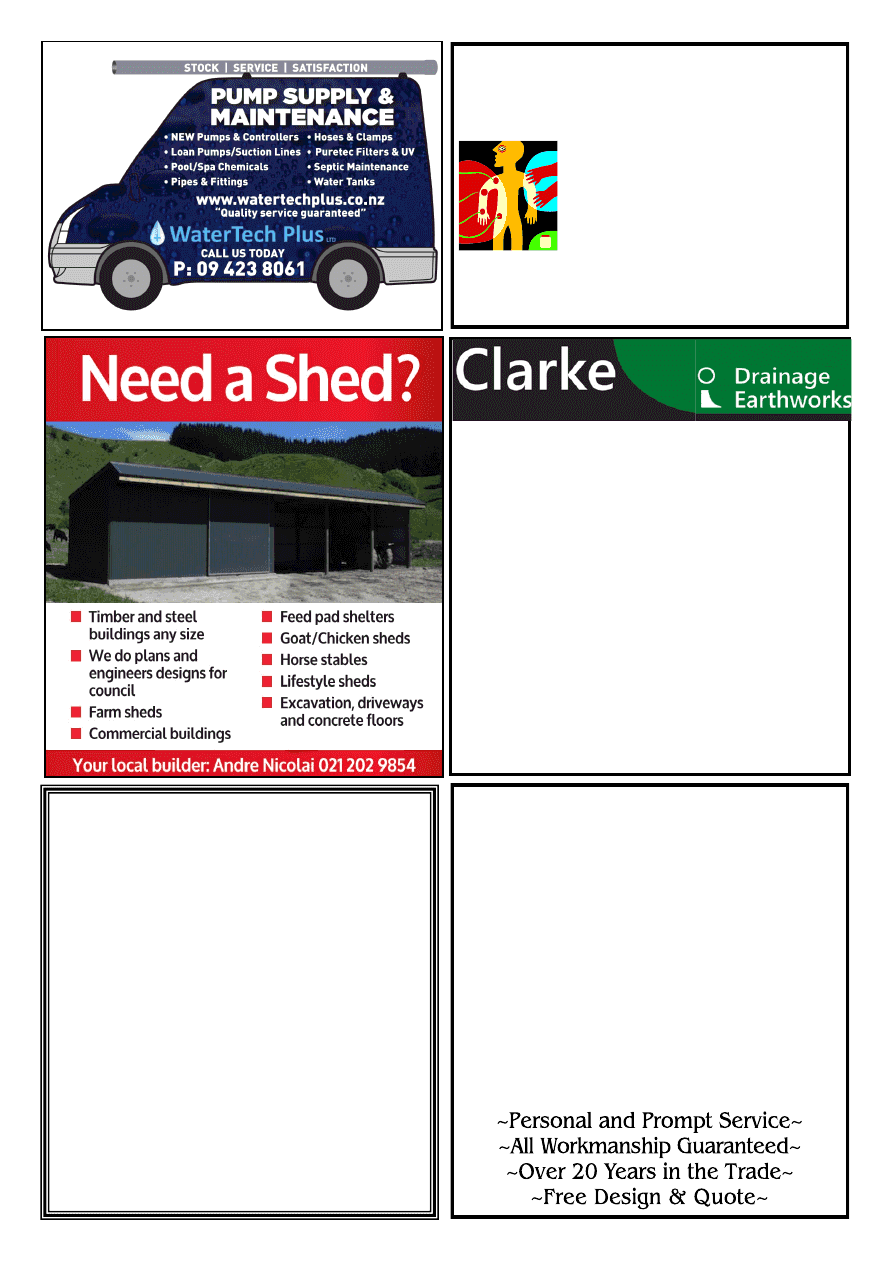 www.kaiwaka.co.nz 
Kaiwaka Bugle - 26 July 2016 
Page 17 
OWEN STEVENS 
Osteo Therapist
For careful adjustments to bones and joints 
Treatment for  humans and their pets 
Clinics: 
Kate's Place, Kaiwaka: 
Last Friday of month 
For bookings:9.00am-5.00pm 
Phone 
09 4312661 
Or phone Owen  09 4317123  anytime 
g.a.s. 
Mangawhai
GARDEN CENTRE 
for all your gardening needs
Also a great range of 
STOCKFOOD 
Wide range of 
ORGANICS AND 
 FRESH LOCAL PRODUCE
All your motoring needs are taken care of by 
our friendly staff check us out... 
44 Moir Street, Mangawhai (09)431 4242 
Registered Drainlayer 
All Types of Earthworks  
> All Residential & Commercial Work  > House Sites 
> Septic System Design & Install 
> Footings & Drilling to 10m 
> Sewer Connections 
> Dams 
> Water Tank Installation 
> Roading & Races 
> Farm Work 
THE ONE STOP SHOP  
Phone Nigel for an Obligation Free Quote  
Drainage & Earthmoving 
clarkedrainage@xtra.co.nz 
027 2233 185 
PLANNING A NEW KITCHEN? 
 CONTACT NOEL McDOWELL
WELLSFORD 
KITCHENS
Ph/Fax 094312888
KAIWAKA-Any time
  QUALITY CUSTOM MADE 
KITCHENS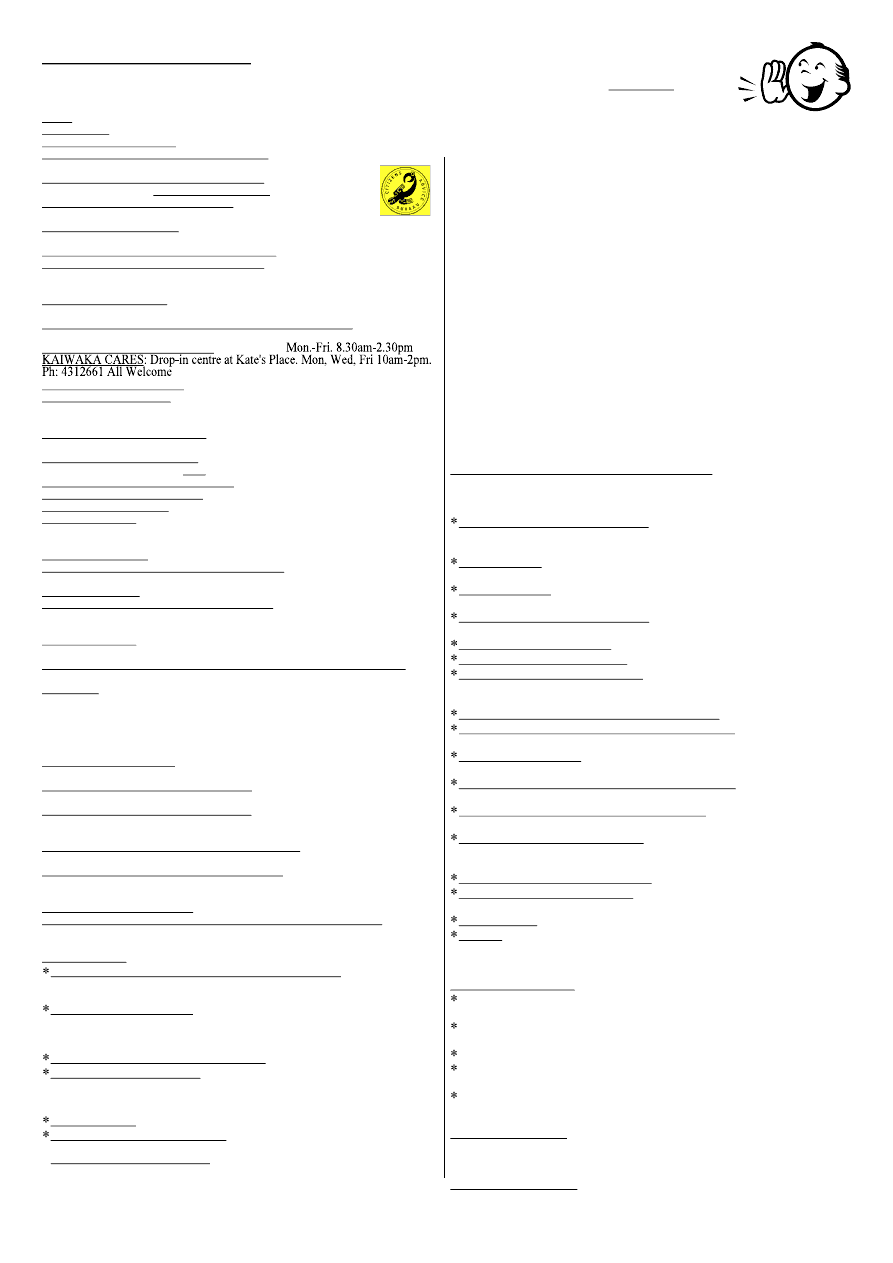 Next Bugle Deadline midday Friday 5 August 2016
WHAT'S ON
PLEASE ~ do let us know what is on - email 
kaiwakabugle@kaiwaka.co.nz 
Advertising in WHAT'S ON is FREE  
*26Jul~Neighbourhood Support, 5:30pm Kate's Place 
*28Jul~Civil Defence group meeting 5:30pm KWMH 
*29Jul~Hakaru RSA Mid Winter Christmas dinner 6pm 
*29Jul~Mahana, 7:30pm KWMH 
*30Jul~Gangsta Granny, 5:30pm KWMH 
*31Jul~The BFG, 2pm KWMH 
*2Aug~KDC Candidate Seminar, 12:30pm KSA 
*5Aug~KWMH unveiling of front doors 5pm 
*6Aug~IMB Under-16s 11:30am KSA 
*11Aug~Otamatea High School Open Day, from 9:45am 
*12Aug~Nominations close for local body elections 
*12Aug~A Coat of Many Colors, 7:30pm KWMH 
*12-14Aug~Boar Hunt, Pt Curtis Cruising Club 
*13Aug~IMB Under-16s 11:30am KSA 
*14Aug~Otamatea High School Open Day, from 9:45am 
*19Aug~Karaoke, Hakaru RSA 7:30pm 
*20Aug~Book Fair & Cake Stall 9am Paparoa Hall 
*21Aug~Otamatea Hawks Rugby Prizegiving, 12pm KSA 
*25Aug~Otamatea High School enrolment evening, 4-6:30pm 
*26Aug~Eddie the Eagle, 7:30pm KWMH 
*3Sep~Charity Auction, Hakaru Hall 
KWMH=Kaiwaka War Memorial Hall 
KSA=Kaiwaka Sports Association Complex 
See www.kaiwaka.co.nz for upcoming events. 
HOUSEHOLD RUBBISH COLLECTION - Kaiwaka Pick up: 
Mondays = Gr een bags (Northland Waste - 09 430 3273) 
Wednesdays = Blue bags and yellow r ecycling (at J aques $3.00 
and $1.50) (Kaurilands 09 4392146) 
 DIABETES  Support  Group  -for  Kaiwaka,  Mangawhai, 
Wellsford  10am,  3rd  Friday  of  month  Ph:A.Pert  4238242; 
J.Gardner 4238060 
 DRINK CAN 'tear tabs' - for Starship Hospital- please collect - 
98 Kaiwaka Mangawhai Rd, leave in mailbox, Ph. 4312625  
 GENEALOGY - Wellsford: 1st Thursday in month Ph: 423 
7033; Waipu: 4th Monday in month Ph: 4312 725 
 GYMNASTICS  OTAMATEA  -  Tuesday  Ph:  Stephanie  022 
3624998 
 HAKARU PONY CLUB - Secretary Julie Rynne 09 4314520 
 KAIWAKA BADMINTON -Tuesdays 7.30pm Ph: 4312345 
 KAIWAKA  DRAMA  CLUB  -  Dave  Edwards  021  611198  - 
KaiwakaDrama@gmail.com Monday 5:30-7:00pm KWMH - FB 
- "KaiwakaDramaClub" 
 KAIWAKA DRUM & DANCE CLASSES - 021 611198 
 KAIWAKA GARDEN & FLORAL GROUP - 2nd Thursday in 
month. Ph: 431 4767 
 KAIWAKA  CUBS  -  Thursdays  5.30-7pm,  Hakaru  Ph:Bruce  
4312542 
 KNITTING FOR WHANGAREI HOSPITAL - 2nd Tuesday in 
month, Apple Basket 10am Ph 4314827 
 MANGAWHAI COMBINED PROBUS CLUB - 2pm, 3rd 
Thursday month, Senior Citizens Hall Mangawhai. Ph: 4315777 
 OTAMATEA GREY POWER - Kath Pattinson 09 431 8960, 
1pm last Wednesday of month, Anglican Church Hall, 
Maungaturoto 
 PT CURTIS CRUISING CLUB - Jean Ph: 4312227 (wk), 4312520 (hm) 
 RSA,Hakaru & Dist.Women - meet 1.30pm 4th Thurs in month 
Ph: 4314 668  
 TRAMPING - Mondays 9am-2:30pm  Karen Ph: 4312 090 
 YOGA  -  Tuesdays  6:15pm,  Friday  8:30am  KWMH  Carla  Ph: 
021  296  8794;  Wednesday  5:30-7:00pm  Archie  Bull  Hall 
Dalleise Ph 4312 108 
HALLS FOR HIRE: 
 St.Pauls Archie Bull Hall HIRE  $20 half day, $40 full day per 
hire, R. Morgans, Ph 4312365 
 Kaiwaka  War  Memorial  Hall  HlRE  -  Phone  4312725  or 
kaiwaka.hall.bookings@gmail.com 
 Hakaru Community Hall HIRE -Ph. 4312256 or 4312110 
 Te Pounga Marae queries - R. O'Leary 4312 423, J.Nathan 021 
186 7382 
 Kaiwaka Sports Association hire/queries - C. Anderson 4312051 
or kaiwakasports@gmail.com 
Justice  of  Peace:  B.FJaques;  L.Donaldson;  A.F.Hargreaves, 
S.Dalziell,  W.Howard  -  please  phone  to  make  sure  they  are 
available www.justiceofthepeace.org.nz 
Marriage Celebrants: L.Donaldson; A.F.Hargreaves; C.Rosseels
LOCAL SERVICES 
*Emergencies - Ambulance, Fire, Police - dial 111 
*Non-urgent Police phone 09 4311150
A A: Meets Wed., 8pm Kaiwaka Ph: 4312228, 4315543, 0800229 6757 
AL ANON: In recess, contact Ph: 4312228 
ASUREQUALITY LTD (was AgriQuality) Call Free 0508 0011 22  
BUDGETING SERVICE, WELLSFORD: Free confidential advice & 
support for all areas of personal finance. Ph (09) 423 7123 
CAB-Citizens Advice Bureau.Wellsford Ph: 4237333 
0800 367 222 email:cab.wells@xtra.co.nz  
DOG/STOCK /NOISE CONTROL 0800 105 890 
FUNERAL SERVICES: Morris & Morris Ltd, 
Whangarei - Bev Jaques Ph:4312367 or 0800667747 
GRANDPARENTS Raising Grandchildren: Dianah Roberts 0223819539 
HAKARU LANDFILL/Transfer Station:Open everyday except 
Tuesday10am-4pm.Ph4312629 Cost-$55 trailer load up to 1 cubic metre. 
Ph:4258567 - office 
INLAND REVENUE: Last Friday each month, 11-3pm Ph4312661 
KAIPARA DISTRICT COUNCIL www.kaipara.govt.nz:  
Help Desk FREEPHONE 0800 727 059  
KAIWAKA KOHANGA REO: Ph:4312620 
KAIWAKA CEMETERY: Ph: 4312045 
KAIWAKA LIBRARY: kaiwaka.library@gmail.com  
Mon. 4-6pm; Wed., Thurs., Fri., Sat. 10am-2pm Ph:4312539 
KAIWAKA PLAYCENTRE: Ph: 4312286. Hastie Lane 
Monday to Friday 9.00am - 12 noon. 
KAIWAKA POST OFFICE:Ph:4312 431  
Post Code: 0573 for RD2 and 0542 for all Kaiwaka Post Office mail 
KAIWAKA PRIMARY SCHOOL: Ph: 4312309   
KAIWAKA SPORTS ASSN: Ph 4312005; 4312129 gym 
KAIWAKA ST JOHN: Manager Steve Rosser 09 4318403, 021 2316836 
KATE'S PLACE with Govt.Day Agencies/Community Information /
Osteopathy/ IRD / Probation, etc Ph: 4312661 Hours: 9am-3pm. Mon - Fri 
LINKING HANDS Health Shuttle Ph 4314121 or 09 4318969 
MINISTRY FOR PRIMARY INDUSTRIES - General inquiries Call 
Free 0800 008 333 
NORTHPOWER: Faults Kaiwaka area 0800 104040 
OTAMATEA COMMUNITY SERVICES: Counselling, parent coach, 
Family Support worker, budget advice, food bank. Mon-Fri 9am-30m. Ph 
09 431 9080 http://www.otamateacs.org/ 
PARENTPORT: Free, practical family support service Puhoi to Paparoa 
Ph or txt: Dianne 027 2085093 
PERSONAL DEVELOPMENT COACHING, GROUP FACILITATION:  
Sabine Druckler 4312231 
PLUNKET: Kaiwaka - Kaiwaka War Memorial Hall: Clinic 1st Wednesday of the 
month; Coffee Group at 9:30. Mangawhai  - Rose Madsen Cottage, Mangawhai 
Domain,  Moir  St:  Clinic  1st  and  3rd  Monday  of  month;  Young  Babies  Coffee 
Group  2nd  and  4th  Monday  10  am;  Plunket  Playgroup  every  Thursday. 
Maungaturoto - Maungaturoto Congregational Church, 100 Hurndall Street East: 
Plunket clinic 2nd and 4th Wednesday. Cynthia 09 431 8187 or 027 675 3488 
PLUNKET HELPLINE -0800 933 922 (24 hours) 
RETURNED AND SERVICES ASSN 733 Settlement Rd. Hakaru 
Ph.4312176 Bill Kerr (President) Ph.4314719 
TAITOKERAU COMMUNITY LAW: Free confidential legal advice and 
assistance, 2nd
Thursday
 of each month. Ph: 0800 155 529 for 
appointments.  
TE KOROWAI AROHA O NGATIWHATUA Ph: 4312675 
(The Cloak of Love of Ngatiwhatua) Support and Maori Consultancy.  
VETERINARY SERVICE MANGAWHAI: 
Ph: 4314535 Mon-Fri 8.00-5.00, Sat 9-12, a/h appt. 
WELLSFORD DOCTORS: Ph: 4238 086 
WOMEN'S WELFARE LEAGUE & Reaching Out For Youth:  
4 Kaiwaka-Mangawhai Rd, M Morgan 4312293 
CHURCHES:
Kaiwaka Revival Church - Your Community Church: Sundays 10am & 
6pm. Ph: Pastor Tawhiri 09 4312 571 or Pastor Paul 09 4312 068 Visit 
us at www.facebook.com/kaiwakachurch 
St Paul's Anglican Church 1st Sun. 9.30 am (Eucharist), 3rd Sun. 9.30 
am (Family Service). Contacts: Church Office 09 431 4122; M. 
Hargreaves 431 2295; C. Bygrave 431 2057; or Rev. Wayne Thornton 
Ph 431 5650 www.mangawhaianglican.org.nz 
Church of Christ the King, Mangawhai:9.30am every Sunday 
St.Mary's Catholic Church: Maungaturoto – Griffins Road, Saturday 
evening Vigil Mass 6pm; Mangawhai – Senior Citizens Hall, Sunday 
Mass 8:30am; Wellsford – Matheson Road, Sunday Mass 10:30am;  
Mid-week Mass times and all enquires to Fr. Bill Fletcher – phone 423 8170
Baptist Church: Sun. 10.30am Mangawhai Snr Cit.Hall.Ph:4312339 
Cause Way Church Mangawhai: Sundays 10.15am, Mangawhai 
Community Recreation Centre, Insley St. Ph: 09 4314782