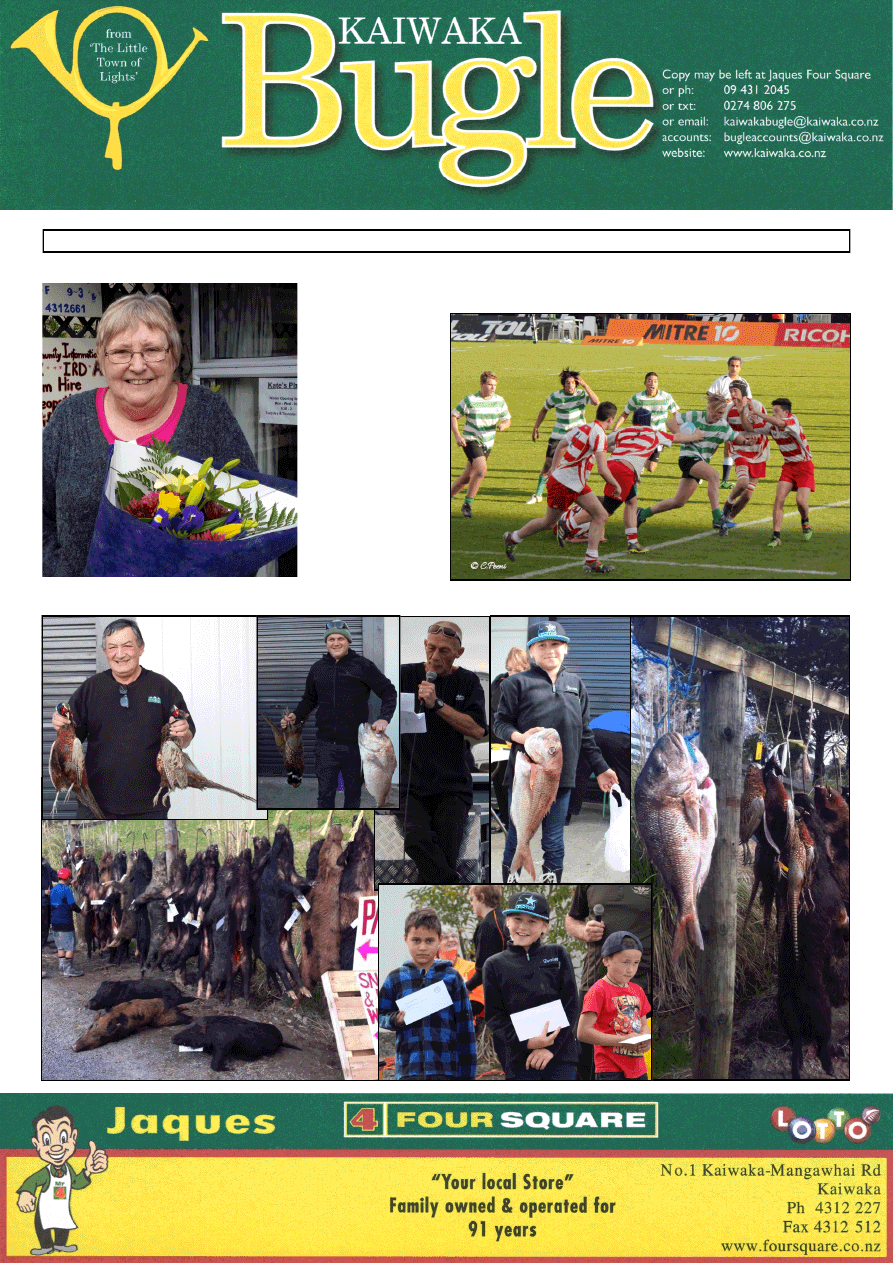 www.kaiwaka.co.nz 
Kaiwaka Bugle - 23 August 2016 
Page 1 
 No: 16
23 August 2016 
Winter Trading Hours: 
Mon - Fri: 8am to 6pm 
Sat: 8am to 7pm (Lotto) 
Sun & Public Holidays: 9am to 5pm 
LAST MINUTE WIN 
Otamatea Under 16s played Kaihu in their season finals at Toll 
Stadium in Whangarei last week, winning 25-22. Well done! 
KAIWAKA GOOD SORT 
Heather  nominated 
Iris  Kelly  as  a 
Kaiwaka Good Sort, 
for  the  voluntary 
work  she  has  been 
doing 
at 
Kate's 
Place. Thank you for 
your  efforts,  they're 
much  appreciated, 
Iris! 
Iris was thrilled with 
the  irises  in  the 
beautiful  bouquet  - 
Lindy  the  Flower 
Girl 
made 
a 
wonderful 
presentation 
as 
always. 
PT CURTIS CRUISING CLUB ANNUAL BOAR HUNT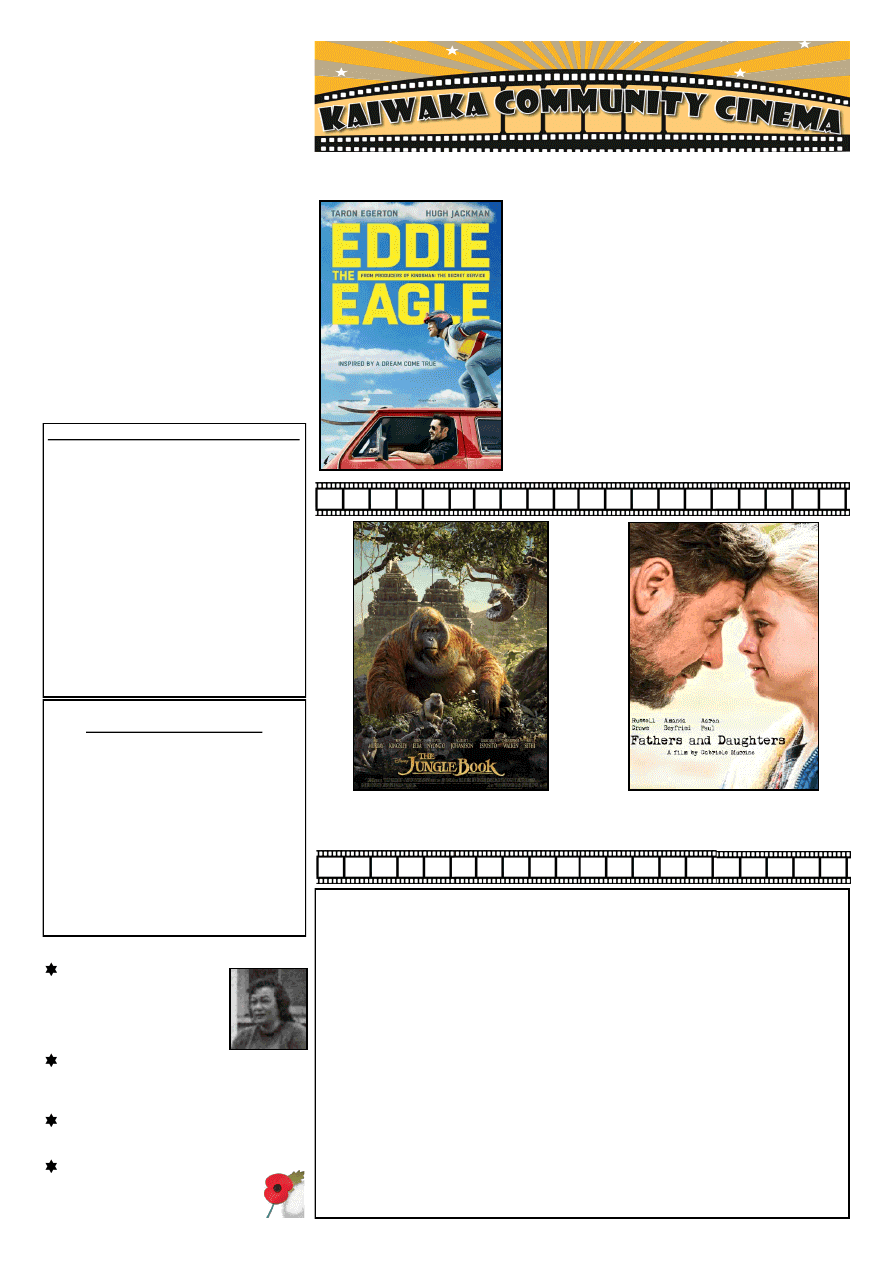 ABOUT TOWN 
......... 
Condolences 
to 
the 
families 
of 
Yvonne 
Brown  and  Bob  Larsen 
who  both  passed  away 
last weekend. 
Thank  you  to  KSA  and 
3 Furlongs Bar and Grill for the new 
bus stop benches. 
Thank you Ronan for your article on 
plastic bags and recycling (see p5) 
It  has  been  50  years  since 
New  Zealand  first  sent  troops 
to Vietnam. Lest we forget. 
KAIWAKA BUGLE No: 16 
23 August 2016
Page 2: Kaiwaka Movies 
Page 3: Public Notices; Classifieds 
Page 5: Pt Curtis, Plastic Bags 
Page 7: Kaiwaka School 
Page 9: Kaiwaka Sports Association 
Page 11: Otamatea High School, 
Kaiwaka Cares 
Page 13: Otamatea Grey Power 
Page 15: Peter Wethey, Hakaru Pony 
Club, Debbie Evans 
Page 17:Adrian Bonner 
Page 19:Victor Person 
Page 21: Hawks Under 16s photos 
Bugle 17 will appear 6 September 2016 
Contact for advertising, reports, articles 
or information can be made by: 
Email kaiwakabugle@kaiwaka.co.nz 
Ph: 09 4312 045 (Lindsey) 
Txt:  0274 806 275 (Wendy) 
Copy may be left at Jaques' Four Square.
Kaiwaka Bugle 
Founded May 1978 
We appreciate articles and photos about local 
events, etc., as well as ads and suggestions. 
Copies available in Kaiwaka at Jaques Four 
Square, Kaiwaka Postal Centre, Shamrock 
Service Station, Animal Health Centre, 
Kaiwaka St John shop. 
Also outlets in Maungaturoto, 
Mangawhai and Paparoa. 
Can be viewed online at  Facebook or 
www.kaiwaka.co.nz/Bugle  
Or a copy can be posted to you if you supply 
stamped, self-addressed DLE envelopes. 
At Kaiwaka War Memorial Hall . Adults $10, Chn (under 16) $5, Family Pass (2 adults + 3 children) $25 
The Jungle Book 
Sunday 28 August 2:00pm (PG)
Fathers and Daughters 
Friday 9 September 7:30pm (M)
Kaiwaka Bugle Advertisements 2016: 
All 
copy 
and 
queries 
to: 
kaiwakabugle@kaiwaka.co.nz 
Our A4 page is divided into 6 columns & 
8 rows (48 blocks), with a 1cm margin. 
Ad  sizes:  1/16  page  (3  blocks)  $5;  1/8 
(6 blocks) $8; 3/16 (9 blocks) $12.  
Classified  ads:  $4  per  entry  (max.  30 
words, max. 4 repeats). 
Payments  can  be  made  online,  posted 
or left at Jaques Four Square Store. 
Accounts: 
bugleaccounts@kaiwaka.co.nz 
The  Kaiwaka  Bugle  is  a  community 
newspaper run by volunteers.   
Articles, etc. printed are not necessarily 
the opinion of the Bugle Team. 
Eddie the Eagle 
Friday 26 August 7:30pm (PG)
The story of Eddie Edwards, the notoriously 
tenacious  British  underdog  ski  jumper  who 
charmed  the  world  at  the  1988  Winter 
Olympics.  
Starring: 
Taron 
Egerton, 
Hugh 
Jackman, Tom Costello , Tim McInnerny 
 KAIPARA DISTRICT COUNCIL 
ELECTIONS 
Candidates Meetings:  
Otamatea Ward, Kaipara  
Paparoa: Monday, 12 September 7:30pm; Paparoa 
Hall (Progressive Paparoa) 
Maungaturoto: Tuesday, 13 September, 7pm; 
Maungaturoto Hall (Rotary Club, Maungaturoto) 
Kaiwaka: Wednesday, 14 September 7pm; 
Kaiwaka Sports Hall (Kaiwaka Sports Association) 
Mangawhai: Thursday, 15 September 7pm, 
Mangawhai Golf Club (Mangawhai Golf Club & 
Mangawhai Business Development Association )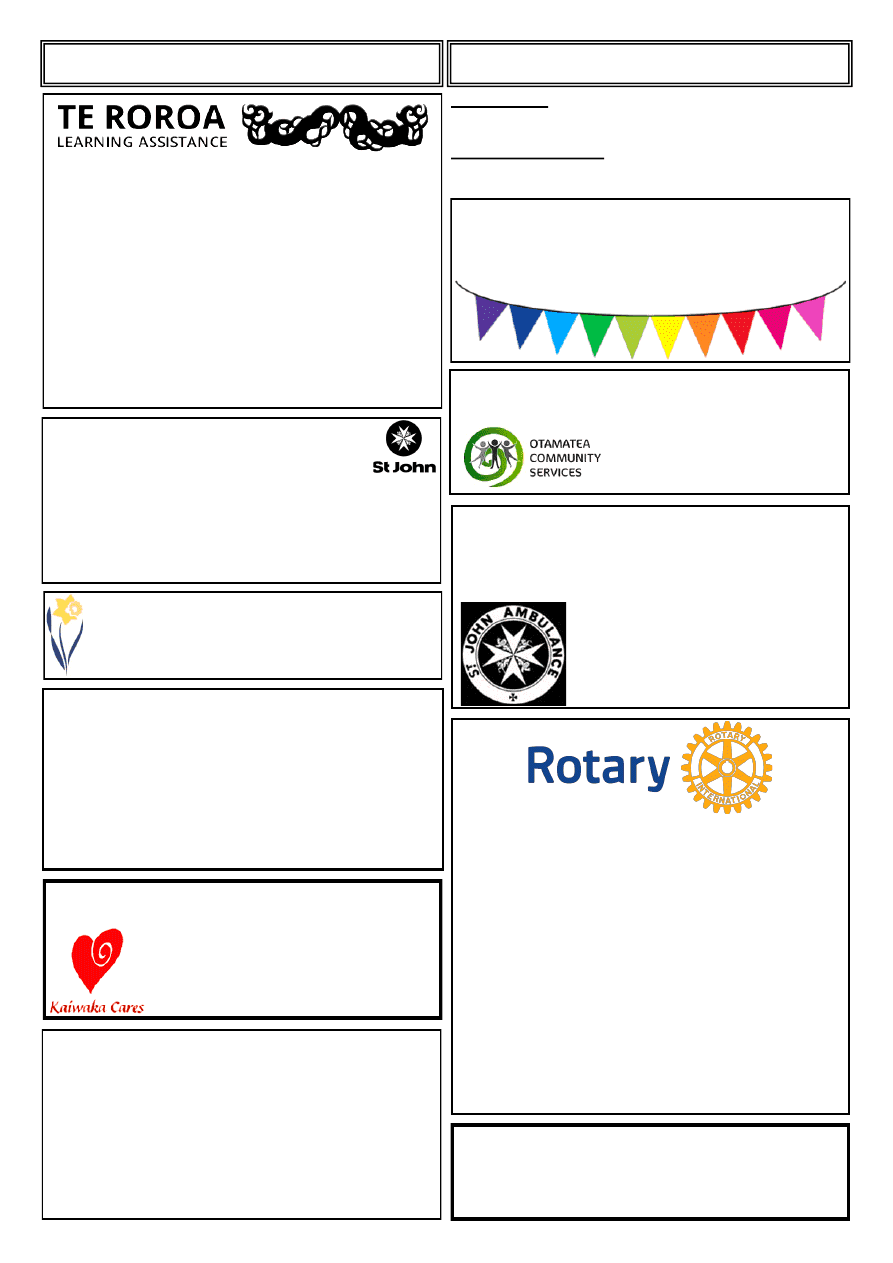 www.kaiwaka.co.nz 
Kaiwaka Bugle - 23 August 2016 
Page 3 
PUBLIC NOTICES 
CLASSIFIED 
Proverbs 16:16 
How much better to get wisdom than gold, to 
choose understanding rather than silver.  
FOR SALE: Babies & toddlers crochet & knitwear. 
All brand new. All enquiries welcome. Ph Carole 4312 
909 
WORK  WANTED: If you are looking for someone 
to clean your home / business or housesit. Call Priscilla 
021 267 5786.  References available 
ST JOHN OP SHOP 
The shop has been really busy and we could do 
with some more goods: 
Towels,  cooking  pots,  garden  pots,  table  &  chairs, 
microwave,  sets  of  drawers,  double  &  queen-size  beds 
with mattresses, and anything else would be appreciated. 
Beds and mattresses must be in good saleable condition. 
Shop 4312 650, home 4312 423. 
~Milly 
Kaiwaka Library 
Used Book Sale 
Clearance 
$1 each, 3 for $2 or 10 for $5
Healing Meetings
Christian  Fellowship  Wellsford  has  invited  Katherine 
Ruonala  to  speak  at  the  Wellsford  Community  Centre  at 
7pm on Friday 2
nd
 September, Saturday 3
rd
 September and 
Sunday 4
th
September.  
Katherine ministers both in her home base, Australia and 
internationally  and  with  a  strong  message  of  God's  love 
for us.  She carries a prophetic and miracle anointing and 
many are instantly healed in her meetings.  Katherine and 
Tom Ruonala are the founders and Senior Ministers of the 
International Glory City Church network. 
Community Drop-In Centre
Open 10am – 2pm  
Wednesday & Friday 
WIFI, printing & scanning available at 
Kaiwaka's own drop-in social space.
Good people – Having fun – Doing good things
Maungaturoto and Districts Rotary Club 
(Serving the area of Mangawhai, Kaiwaka, Maungaturoto, Matakohe,  
Paparoa and Waipu)
President's Scholarship 2016
We are pleased to invite applicants for a $1500 grant 
known  as  the  'Presidents  Scholarship'.  The  grant  is 
intended  to  assist  those  who  wish  to  further  their 
education  with  a  recognised  provider  of  tertiary 
education i.e. university, polytechnic.
Areas  of  consideration  when  awarding  the  Presidents 
Scholarship  could  be  involvement  in  community  work, 
sport, arts, academic achievement or financial need. 
Application format available -  
website www.rotarymgto.club   
Applications close 10 September 2016. 
All applications and attachments to be sent by email to 
bnelder@slingshot.co.nz.  
OTAMATEA COMMUNITY SERVICES 
Annual General Meeting 
21 September 3pm 
155 Hurndall St Maungaturoto 
All welcome 
OTAMATEA ST JOHN 
AREA  COMMITTEE 
ANNUAL  GENERAL  MEETING 
to be held in the Ambulance Station, Maungaturoto 
at 7.30pm on Monday 19 September 
2016 
BUSINESS:  Presentation of annual 
reports 
ALL  WELCOME  
DAFFODIL DAY 
Friday 26 August 
Kaiwaka collectors will be outside  
Jaques Four Square and La Nonna. 
Adult Learners' Week Activities 
Monday 5 September to Friday 9 September 2016 
Maungaturoto 
above Four Square, 163 Hurndall Street 
Freephone 0800 555 635 
Monday 5 September 2016 – Scavenger Hunt 
The around the town scavenger hunt begins.  To 
participate you will need to visit our office (above Four 
Square) to collect your scavenger hunt 'passport' and 
begin collecting stamps.   
Tuesday 6 September 2016 – Open Day at our Centre 
Open Day – Come along and join in the activities set up, 
learn about our services and enjoy a nice hot soup and 
buns. 
Fundraising Auction 
Hakaru Hall - Sat 24 Sept - 2pm 
Supporting local groups 
Kaiwaka Cares - Kaiwaka Foodbank - 
Kaiwaka/Mangawhai Scouts - Mangawhai 
Defence Cadets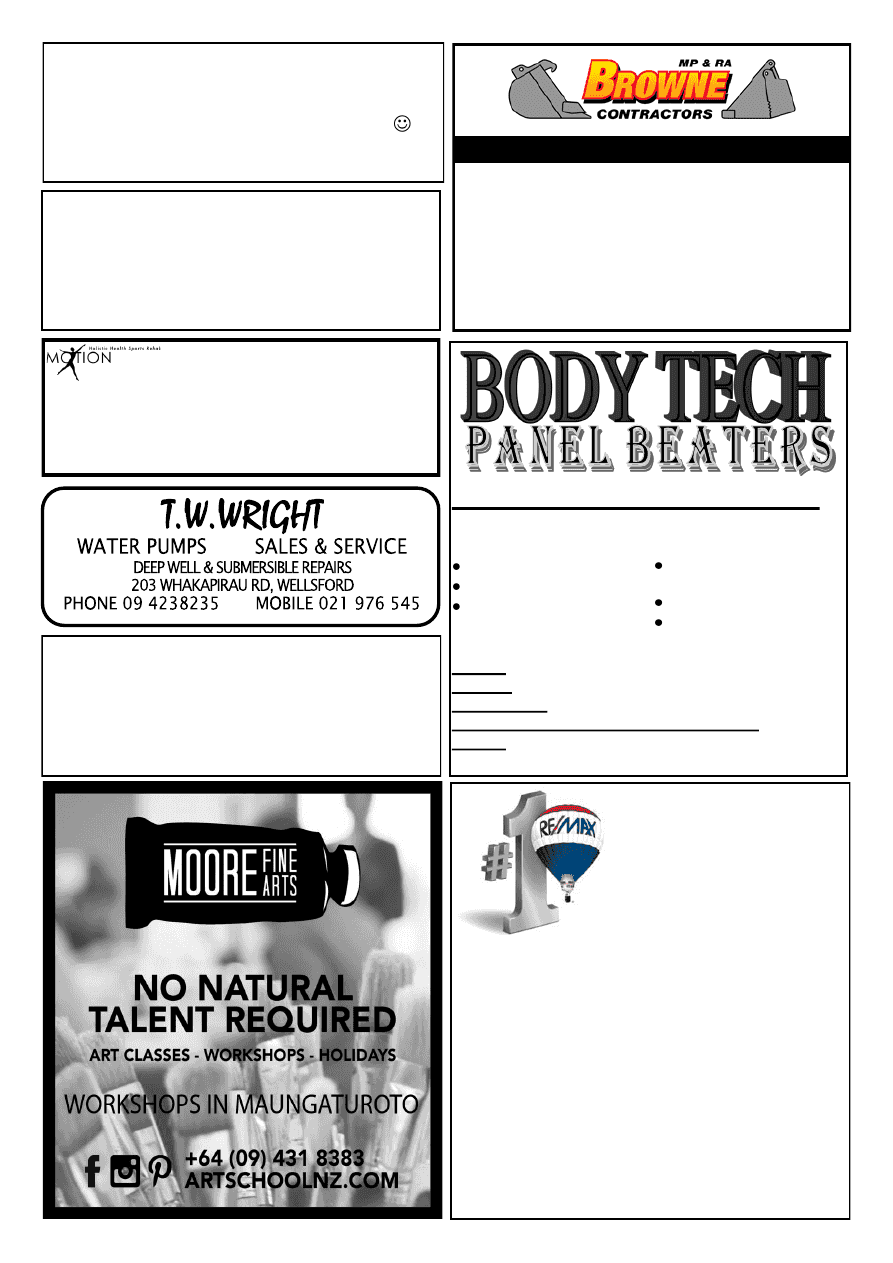 There are more people 
wanting to buy than 
there are houses 
available!
Vacant land, home and income, DIY dream … 
whatever your property's condition there is a buyer 
out there waiting to give you their money. 
Get your local agent's appraisal of your property to 
find out what's it's really worth. 
Contact Beth Stone today! 
Mob: 0274 937 801 
Email: beths@remaxrealty.net.nz 
RE/MAX Realty Group MREINZ 
Northern Properties Limited 
Licensed REAA 2008 
4T DIGGER – BOBCAT – TIP TRUCK 
Property Maintenance - Driveways - Building Sites 
Stump & Tree Removal - Hole Boring - Chain Trencher 
Calf Shed and  Stockyard Cleaning
KAIPARA - WHANGAREI - RODNEY 
Phone Matt: 021 199 6677 
Email: mprabrownecontractors@gmail.com 
FREE GRAZING WANTED 
Small or large block 
Can do some fencing or water 
Phone after 6pm 
4312 006 
THE SUNSHINE GIRLS 
Need help with your house cleaning? 
Sometimes you just need another pair of 
hands. We offer two pair and a smile. 
Comparable hourly rate. 
Ph 4312 532 or 4312 711 
For all your body repair needs!! 
We do: 
Rust repairs 
Insurance work 
Anti-corrosion treat-
ment         
Hours: 8.30am-5pm Monday-Friday  
Mobile: 021 118 0462 
After hours: 09 431 2384 
Phone: Craig or Call in for a free Quote 
bodytech_panelbeaters@yahoo.com
We are located at 1837 SH1 Kaiwaka, behind  
Large and minor vehicle  
  repairs 
Industrial vehicles 
Full Cut and polishes 
White Horse Farm 
Farm Stay/Bed and Breakfast 
Ph +64 9 390 1260        113 Tawa Ave, Kaiwaka 
bookings@whitehorsefarm-kaiwaka.co.nz 
www.whitehorsefarm-kaiwaka.co.nz 
WAIPU OSTEOPATH 
Maria Gabriel  ACC Registered Osteopath 
8 The Centre, Waipu 
Monday to Thursday  
Freephone 0508 924786 (0508 WAIPUOSTEO) 
www.getinmotion.co.nz  No doctor referral required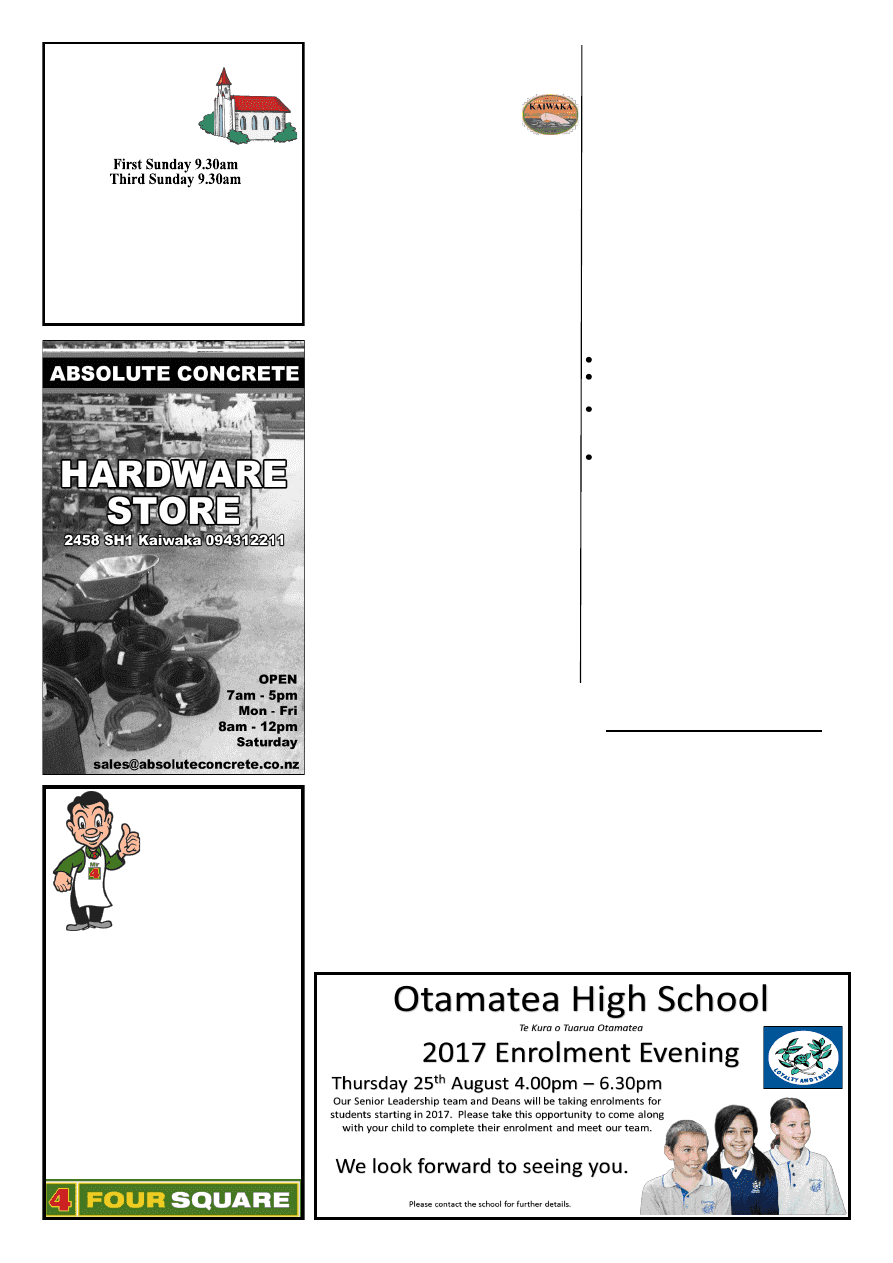 www.kaiwaka.co.nz 
Kaiwaka Bugle - 23 August 2016 
Page 5 
ST PAUL'S  
ANGLICAN  
SUNDAY  
SERVICES
St Pauls Church: Kaiwaka-Mangawhai Rd. 
1st Sun - Eucharist 
3rd Sun - Family Service 
Office 4314 122 
Contacts:M.Hargreaves 4312295, C.Bygrave 4312057  
or Rev. Wayne Thornton Ph 431 5650 
www.mangawhaianglican.org.nz
Kaiwaka  Boar  Hunt  2016 
Prize  winners (all weights in 
Kilos) 1st, 2nd, 3rd: 
Junior Eels: Weight 4.292 Bob Mills; 
Weight  3.710  Trent;  Weight  2.870 
Jaide 
Junior Snapper: Weight 3.196 Kiani; 
Weight  3.056  Te  Hira;  Weight  1.688 
Khazia; Average Weight 1.688 Khazia 
Senior  Pheasant:  Weight 1.624 Ryan 
Fedarb 
Senior  Snapper:  Weight 7.726 Jamie 
Smith; 
Weight 
7.460 
Laurence 
German; 
Weight 
6.766 
Heath 
Worsfold;  Average  Weight  2.680  Jade 
Tierney 
Heaviest  Boar  Saturday:  Weight 
65.45 Kristal Cole 
Best  Measured  Tusk:  33.5mms 
Jamie Smith 
Heaviest Boar: 70 Warr en Martin 
2nd Heaviest Boar: 65.45 Kristal Cole 
3rd Heaviest Boar: 64.30 Colin Hall 
4th Heaviest Boar: 58.40 Jamie Smith 
5th Heaviest Boar: 56.45 Ryan Fedarb 
Average  Weight  for  Kaiwaka  Boar 
Hunt: 48.30 Jade Tierney 
Grand  Prize  Package  held  over 
Maungaturoto  &  Kaiwaka  Comps: 
50.15 Joel Harrison 
$500 worth of Game Gear Apparel won 
by Greg Rawaha 
5  Mystery  Draws  of  $100  -  Troy 
Stanley, 
Cilla 
Horeke, 
Tahu 
Warmington, Lachlan Sidwell, & Craig 
Hardisty 
A huge thank you to all of our sponsors 
that  made  it  possible  to  run  this  event 
and make it a success! 
Sponsors: 
Game Gear, Tackle & Outdoor-
Warkworth,  Dogmaster,  Custom 
Engineering,  Carters-Maungaturoto,  PGG 
Wrightsons-Wellsford,  Your  Vet-Waipu, 
Drivetown,  Mike  Renton  Roofing,  Phil 
Keen  Concrete,  3  Furlongs  Bar  &  Grill, 
Headhunters  Motorcycle  Club,  Farmlands, 
Kaiwaka  Clothing,  Ries  Family,  Fox 
Earthmovers  Ltd,  Wellsford  Sports  & 
Leisure,  RD1  Wellsford  &  Maungaturoto, 
Nigel  Clarke  Drainage  &  Earthmoving, 
Maungaturoto  Panel  Beaters,  Animal 
Health  Centre-Kaiwaka,  New  World-
Warkworth, Frank Steiner, Doidges Tyres-
POINT CURTIS 
CRUISING CLUB 
Mrs Rogers  
Herbs, Spices & Salt  
Huge range at great prices  
from $2.79 each, in Eco packaging 
ALSO 
Buy 6 packs of Vittoria Coffee Capsules 
& get a FREE CAPSULE ESPRESSO 
MACHINE 
Call in & ask any of our friendly staff. 
Jaques Four Square 
Phone: 4312227 
1 Kaiwaka-Mangawhai Road, Kaiwaka. 
In Store               
Now! 
**PLASTIC BAGS** 
By Ronan Smythe (aged 10) 
Did  you  know  that  the  average  New 
Zealander  uses  about  36kg  of  plastic 
packaging every year?  
Here  is  another  fact  for  you:    about  1 
million  plastic  bags  are  used  every 
minute!   
It's  true  that  plastic  bags  are  very 
useful but a single plastic bag can take 
up to 1000 years to disintegrate.  
I  feel  sad  that  part  of  our  land  and 
ocean  are  full  of  plastic.  There  are 
islands  of  rubbish  in  the  ocean,  for 
example,  The  Great  Pacific  Garbage 
Patch is bigger than Texas! I feel angry 
about this. 
Here  are  some  ideas  of  how  you  can 
help: 
Take cloth bags shopping with you. 
Try  not  to  buy  foods  with  plastic 
packaging around them. 
Do three apples or a bunch of bananas 
really need to go in their own plastic 
bag? 
Say 'No thank you' to plastic bags in 
shops.  
Did  you  know  that  plastic  packaging 
can be recycled?  
Out  of  the  36kg  of  plastic  packaging 
used  by  each  New  Zealander  every 
year only 8kgs are recycled! 
It's  true  that  you  can't  put  soft  plastic 
packaging  in  your  recycling  bags 
because  the  plastic  get  clogged  in  the 
recycling  separators.  So  what  you  can 
do  is  put  your  plastic  in  the 
supermarket recycling bins. These bins 
are 
for 
collecting 
soft 
plastic 
packaging. It is then turned into useful 
things like park benches.  
So make a difference today: 
REFUSE ~ REDUCE ~ REUSE ~ RECYCLE 
Wellsford,  Bridgestone-Wellsford,  Feral 
Designs,  La  Nonna  Bakery,  Maungaturoto 
Motorcycles,  CJ  Autos-Wellsford,  Absolute 
Concrete,  Glen  Jaques,  Timberworld-
Warkworth,  Grow  &  Brew,Kaiwaka  Liquor 
Centre,  Wellsford  Coast  to  Coast  Vets,, 
Wellsford  Vet  Clinic,  Jaques  Four  Square 
and Pongo & Linda Leslie. 
Fish  of  the  month:  Kahawai  until 
next meeting 
Next  committee  meeting: Tuesday 6th 
September,  7pm  at  3  Furlongs  Bar  & 
Grill. ~W ayne Leslie, Commodore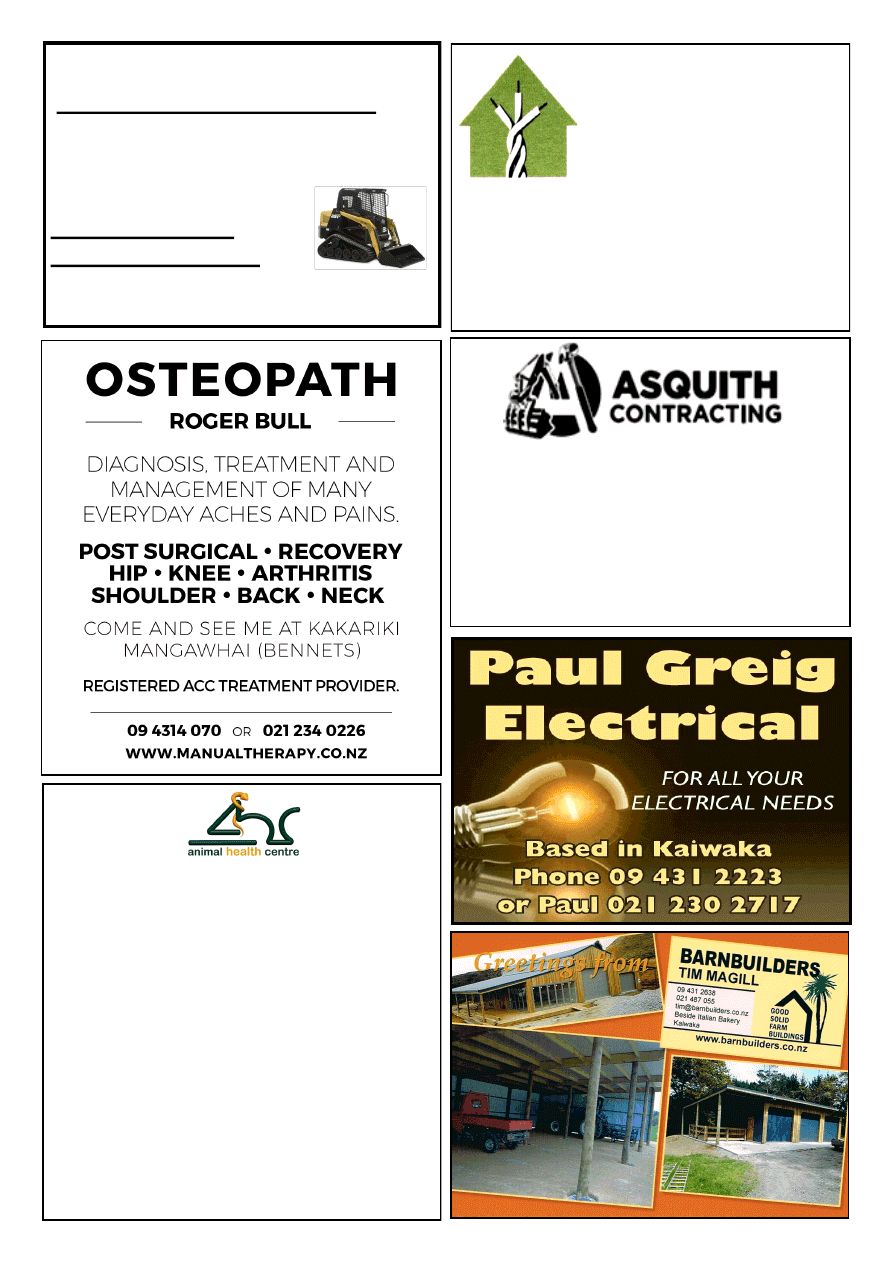 Natural Earth Ltd 
 Landscape and Bobcat services 
 : Driveways  :Landscaping  :Retaining Walls 
 : Hole Boring: Land Levelling :Trenching 
 : Decks :Fences :Sections Cleared: Plus much 
more 
Tel   09 4312885 
Mob 02102391280  
For A Fast Friendly  
Service Contact Tim Hicks 
ANIMAL HEALTH CENTRE 
KAIWAKA 
"choices in health care for your companion animal" 
Health problems - itchy skin, smelly ears,  
bad breath, diarrhea? 
On steroids, antibiotics, lifetime drugs.....  ? 
Diet may be a part of the problem!   
Call in and have a chat to our team  
of animal health practitioners.
Nail Trims,  Microchipping , 
Dental checks,  Comfort grooms. 
Great range of real food – no preservatives. 
Alternatives to nasty chemical parasite controls.
OPEN:   Tues-Fri - 10:00am – 5:00pm 
Saturday - 10:00am -  4.00pm, Sunday/Monday - Closed 
Next to Italian Bakery, Main Highway  Kaiwaka 
Ph:  09 431 2217 
PS: We're  open 7 days in Orewa if you missed us! 
Reyahn George 
Leng 
Registered Electrician 
Local, honest and reliable. 
For your residential and 
light-commercial projects. 
022 314 1068 / 09 431 2527 
Small digger work, trenching and 
post hole drilling for retaining 
walls, piles, etc. 
$60+gst per hour.
Call Tam on 027 124 5216 or 
asquithcontracting@gmail.com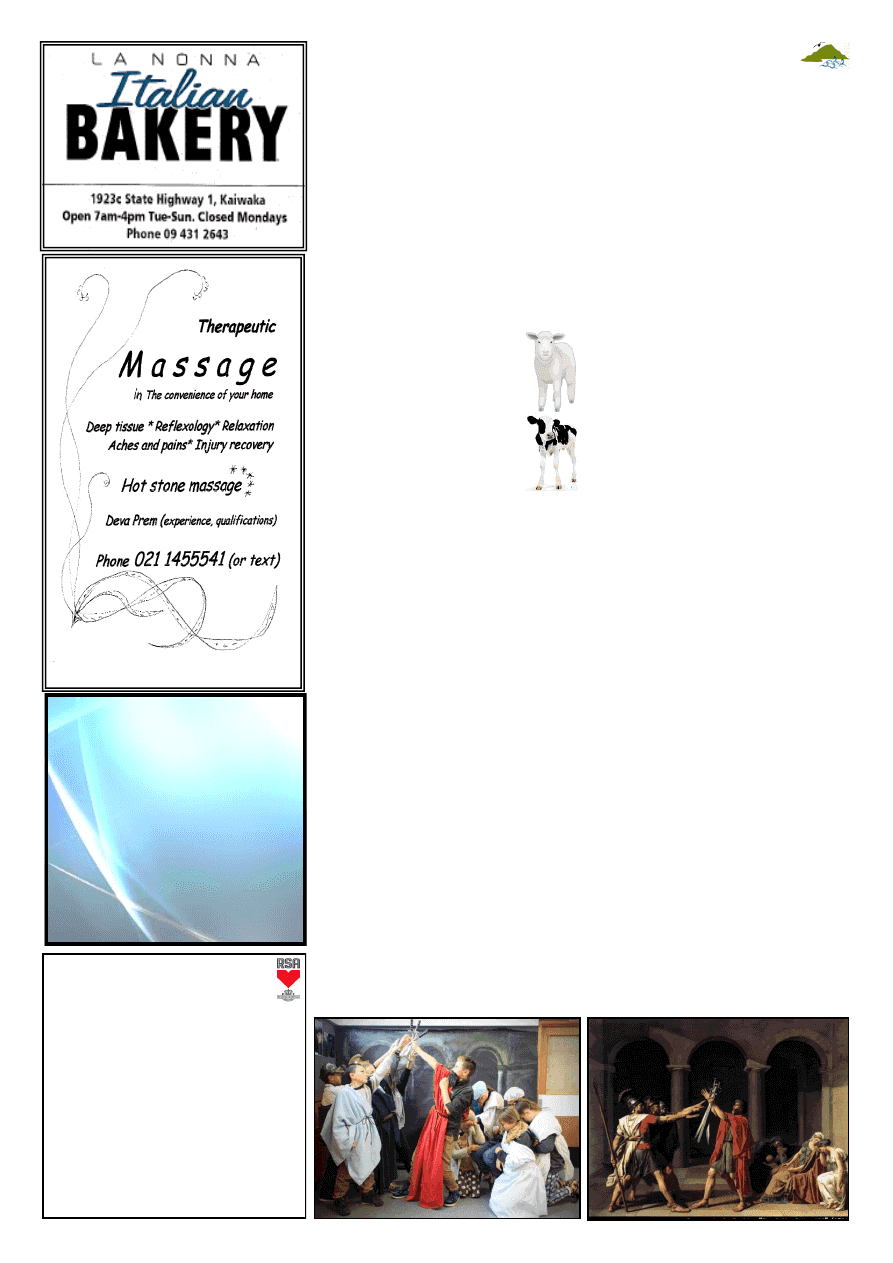 www.kaiwaka.co.nz 
Kaiwaka Bugle - 23 August 2016 
Page 7 
www.mangawhaimassage.co.nz 
HAKARU & 
DISTRICTS RSA Inc 
Each Friday night from 6.30pm meals 
will be served. 
Members & invited guests, new 
members welcome. 
Come along & enjoy our hospitality. 
2nd Friday of the month -  roast dinner or 
board menu. 
Last Friday of month - roast pork night 
&  
sing-along with Des Chitty.  
Ph Heather 4314668 or Jan 4314512 
Freeview  
Installations 
Richard Te Haara 
25 Marram Place 
Mangawhai Heads 
021 1104056 
kiwipride@xtra.co.nz
KAIWAKA SCHOOL 
Cross Country 
A  big  thank-you  to  Alex  Cowie  and 
Martine Greig who organised the Cross 
Country. Just before the wet weather - 
good  timing.  It  was  a  very  successful 
day  with  many  children  participating. 
Having the water slide was a bonus and 
lots of fun. Thank-you Bruce Ferguson 
for  coming  in  and  setting  that  up.  It 
was great to see so many parents come 
and  support  the  children  as  they  ran. 
Thank-you  to  the  Whanau  Committee 
for  organising  the  hot  dogs.  They  are 
always  yummy!  Thank  -you  so  much 
to  La  Nonna  Bakery  for  baking  the 
buns for us. 
Calf Club Day 
We  now  have  a  good  team  of 
parents  organising  the  Calf 
Club  day.  Thank-you  for 
putting  yourself  forward.  This 
is a special day that reflects the 
rural 
character 
of 
our 
community.  This  year  Calf 
Club  Day  is  on  Thursday  the 
20th of October. 
Board of Trustees 
A big welcome to Heath Worsfold who 
is  now  a  Board  of  Trustees  member. 
Our  board  members  play  an  important 
role  in  our  school  and  are  one  way 
parent's  voices  can  be  heard.  I  would 
like to take the opportunity to thank all 
the BOT members for the commitment 
and  time  they  put  into  supporting  our 
school. 
OHS Open Day 
The  Year  6's  had  a  great  time  at  the 
Otamatea High School Open Day. See 
below photos of some art they explored 
Enrolment forms are coming home this 
week. 
Interviews 
Interviews  will  be  on  Tuesday  the  6th 
and Thursday the 8th of September.  
Literacy 
Do  you  want  to  get  better  at  reading 
and  writing,  or  does  someone  you 
know have so much trouble they can't 
read this? The Adult Literacy Trust has 
free  one-to-one  coaches  who  can  help 
you for half an hour a day by phone or 
video  conference.  The  Trust  also  have 
some  easy  and  fun  online  practice 
software  you  can  use  from  a  library 
computer  or  from  home.  Contact 
Wendy:  Tuesday  –  Friday  9.00am  to 
2.00pm, Phone 0800891339 
Lucky Book Order 
We have decided to extend the 'Lucky 
Book  Order'  draw  for  another  week 
because  only  five  people  have 
contacted  the  school  to  let  us  know 
they  have  downloaded  the  Parent 
Calendar App. To be in to win all you 
need  to  do  is  contact  the  school  to  let 
them  know  you  have  the  Parent 
Calendar  App  downloaded  on  your 
phone. We will put you in the draw to 
win.  You  have  until  Wednesday 
morning  the  24th  of  August  to  let  us 
know. 
Our  thanks  go  to  the  local  businesses 
who support the Parent Calendar App: 
Leabourn  Passenger  Service,  Three 
Furlongs Bar & Grill, Parker Lime Ltd, 
Kaiwaka  Motorcycles,  Agridustrial, 
Rural  Design,  Kaiwaka  Cheese  Shop, 
Jaques  Four  Square,  U  Beauty, 
REMAX. 
~Sharlene Tornquist 
Ladies' Lunch 
Ladies Lunch – A special thank you to 
everyone  who  supplied  us  with 
delicious food for the lunch. Also to all 
those  who  helped  set  up  and  tidy  up. 
We couldn't have done it without you. 
An extra shout out goes to Carla Beyer-
Dias  who  organised  the  event  along 
with the PTA. 
Cross Country Placings: 
5  year  olds:  1st  Toby  Walker ,  2nd  
William  Fairburn,  3rd  Carter  Sanford. 
6  year  old  girls:  1st  Elena  Paikea, 
2nd  Olive  Woodman,  3rd  Penny 
Worsfold. 6  year old  boys: 1st  Ian van 
Blerk, 2nd Leyton Greig, 3rd = Paikea 
Littlejohn  +  Nikau  Tandy.  7  year  old 
girls:  1st  Willow  Woodman,  2nd 
Caitlin  van  Waveren,  3rd  Sapphire 
Parata.  7  year  old  boys:  1st  John 
Jansen, 2nd Jaedeah Paikea, 3rd Carlos 
Ellis.  8  year  old  girls:  1st  Morgan 
Jansen, 2nd Dalana Stonex, 3rd Sienna 
Burkill. 8  year  old  boys: 1st Toby Lee, 
2nd Tane Thomas, 3rd Joseph Walker. 
9  year  old  girls:  1st  Anaher a 
Worsfold, 2nd = Lisa van Blerk + Mya 
Adolph, 3rd Leayah Buxton. 9 year old 
boys:  1st  Egor   Shefer ,  2nd  Lincoln 
Morgan, 3rd Rico Franks. 10  year  old 
girls:  1st  Leonie  Beyer ,  2nd  Ashley 
Greig,  3rd  Daesharn  Paikea-Peters.  10 
year  old  boys: 1st Gar eth Fer guson, 
2nd  Hamuera  Henderson,  3rd  Ethan 
van  Waveren.  11  year  old  girls:  1st 
Devine  Henderson,  2nd  Destiny 
Paikea. 11  year  old  boys: 1st Branden 
Edwards,  2nd  Morgan  Bull,  3rd 
William Holden. Winning House: Rata.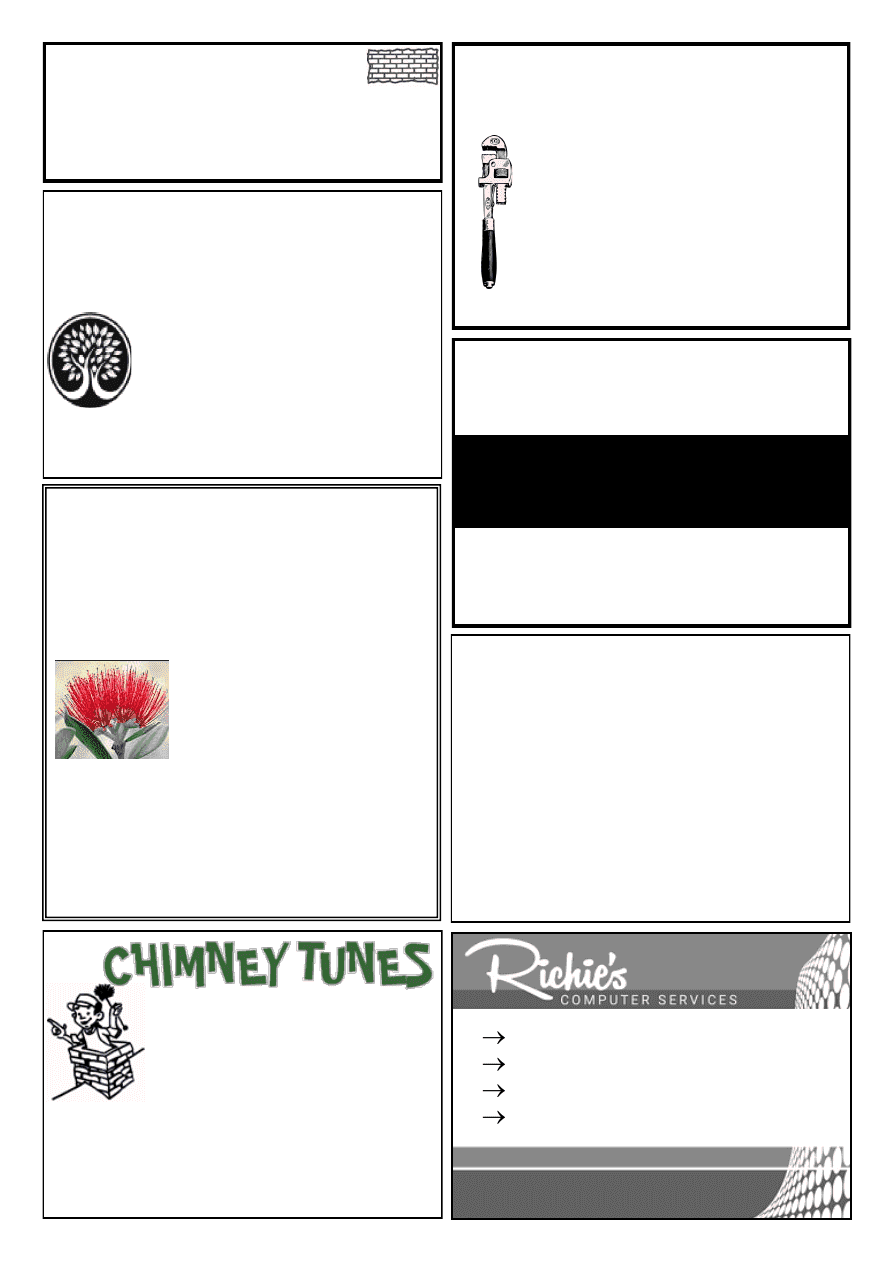 BARRY CURTIS PLUMBING LTD 
REGISTERED CRAFTSMAN PLUMBER 
Phone 4315572 
027 257 9884 
25 years experience 
Friendly reliable service 
All plumbing and maintenance 
Alterations and new housing 
Spouting 
Competitive rates 
PROMPT EFFICIENT  SERVICE 
David Korach 
Your local Gib Stopper
DK PLASTERER LTD 
0274769221 
dkorach6@gmail.com 
Chimney and Fireplace 
Maintenance,  
Parts & Repairs
MARK O'DONNELL 
021 457 247 
Whangarei – Mangawhai – Maungaturoto 
KAIPARA FLOORING CO 
Independently owned & operated 
32 HURNDALL ST MAUNGATUROTO 
Supply & Installation of Carpet, Vinyl,  
Vinyl Wood Planking
Stockists of 2m & 3m wide 
vinyl & carpet short ends
Residential & Commercial 
First Class Installations 
For a free measure & quote 
phone Christine  
09 946 9886 or 021 515 415 
kaiparaflooring@gmail.com 
http://www.kaiparaflooring.co.nz/ 
BRICK/BLOCKLAYER 
All aspects of masonry: 
Fireplaces, Restoration & Remedial Work.
JAMES EAGLETON
Tel. (09) 431 2514     Mob. 0274 749 232
jajueagles@yahoo.com.au 210A Pukenui Road, RD2, Kaiwaka 0573 
Mangawhai Heads 
Garden Centre
1758 Cove Road
945 0707 
021 
165 
2629
Waipu Natural Health 
3 Cove Road, Waipu  (opposite the Pizza Barn) 
Ph: 09 432 1325 
www.waipunaturalhealth.co.nz 
Clinical Nutritionist (Masked Allergy Testing), 
Naturopaths, Registered Medical Herbalist , 
Registered Massage Therapists, 
Reflexology, Beauty Therapy, Craniosacral 
Therapy, Hypnotherapy, Counselling, 
Change Catalyst, ThetaHealer, Naturopathic 
Prolotherapy & Scenar (joint & muscular 
therapy), and much more... 
GIFT VOUCHERS AVAILABLE 
15 years  commercial IT experience 
Computer and Laptop Repairs 
Smart Phone and Tablet Support 
Virus and Malware Removal 
Richard Harding
T 09 945 0376        M 021 124 7358 
E richo_harding@hotmail.com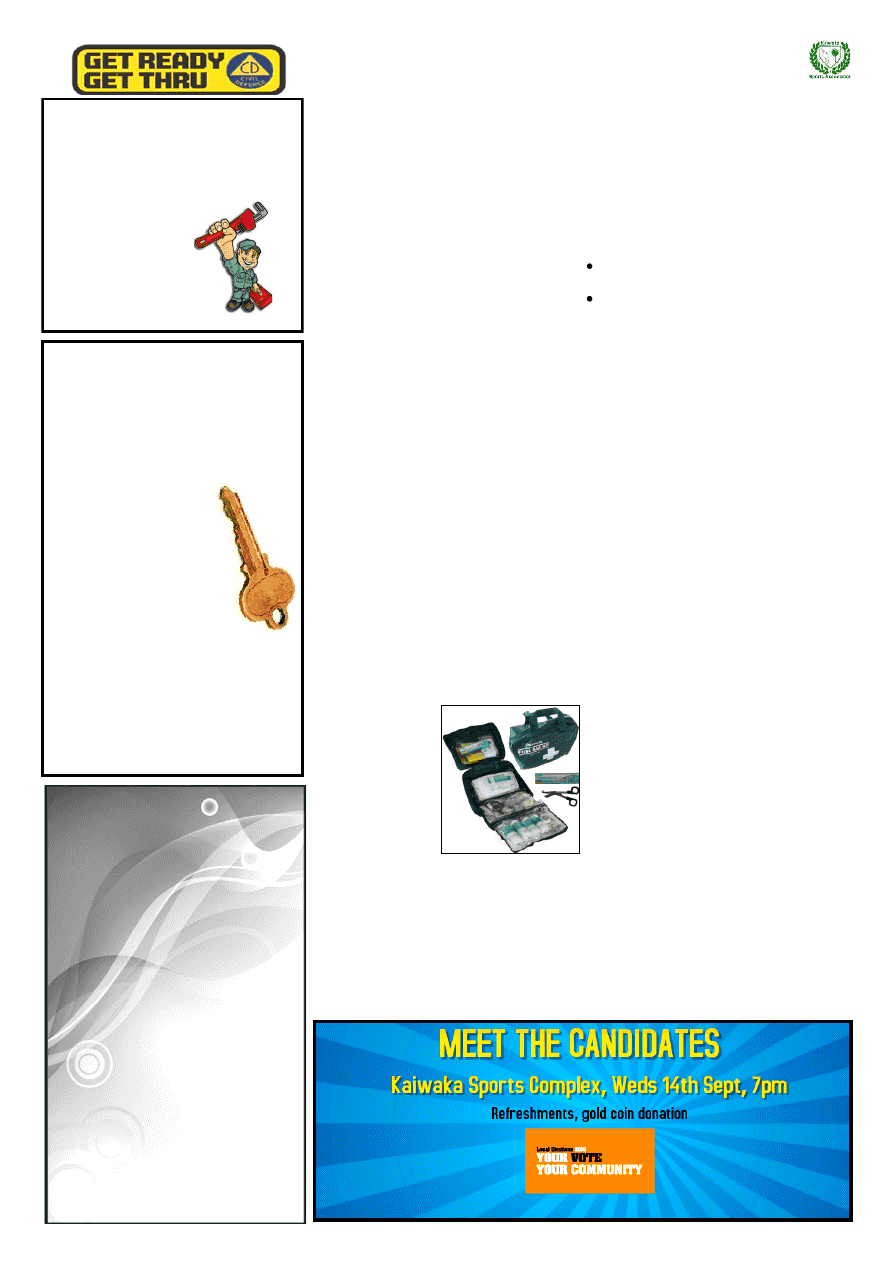 www.kaiwaka.co.nz 
Kaiwaka Bugle - 23 August 2016 
Page 9 
KAIWAKA SPORTS ASSOCIATION 
U Beauty 
            Underarm Wax  
    $20 
            Extended Bikini Wax   $30 
            15 min Back  Massage  $25 
            30 min Back Massage  $50 
Please call Nicole for bookings 
09 393 6336 or 022 0639450 
Qualified Beautician 
4 Kaiwaka – Mangawhai Rd 
Kaiwaka 
Eyebrow Wax  $10 
Eyebrow Tint  $10 
Eyelash Tint 
$20 
Lip Wax 
$10 
Chin Wax 
$10 
Bikini Wax 
$20 
Brazilian 
$50 
½ Leg Wax 
$30 
Full Leg Wax  $45 
Full Pedicure  $60 
Foot Tidy  
$35 
Manicure 
$45 
Nail Tidy 
$25 
Chest Wax 
$30 
Back Wax 
$40 
Nostrils 
$10 
Ears 
$10 
Kaiwaka  
Hardware  
&  
Key cutting 
 Phone 4312 063 
 022 041 6047 
 kaikey2015@gmail.com 
Keys Cut  
Household Hardware  
Curtain Tracks & Fittings
Not there? Call Doug and he'll sort
it for you.
(
Next to Kaiwaka Motorcycles)
Ross Murphy 
PLUMBER 
Certifying Plumber 
09 431 7510 
021 424 252 
Paparoa Based 
+
New Housing  
+
Renovations  
+
Maintenance
Fast Five Netball 
Who's keen to give Fast Five netball a 
go? 
This  will  be  a  social,  mixed  module 
with  games  held  in  the  KSA 
gymnasium  on  Sunday  afternoons 
starting 11th September. You can have 
up  to  12  players  in  a  team,  and  the 
team fee is $100. Men, women & kids 
welcome. Email me for the registration 
form.  Deadline  for  entries  is  29th 
August. 
This will be a fun, friendly module, so 
why not get a group of mates together 
and give it a try! 
Netball – junior 
Well done to our junior netball teams, 
coaches,  managers  and  parents  on 
another enjoyable season. 
The  junior  netball  prizegiving  will  be 
held  at  our  Sports  Complex  on 
Saturday 3rd  September at 4pm. 
Rugby – Reps 
We  are  proud  to  be  hosting  two 
Northland IMB matches at our grounds 
next  month.  Northland  (South  Zone) 
will  be  taking  on  North  Harbour,  the 
Under  14s  kick  off  at  noon  and  the 
Under 16s will kick off at 1.30pm.  
We are also hosting the JMB reps this 
Sunday,  featuring  matches  from 
Mangonui,  Northern  Wairoa  and 
Rodney/Otamatea.  See  the  poster  in 
this edition of the Bugle for the times. 
Summer Sports 
With  our  winter  sports  winding  up 
shortly,  we  will  soon  be  looking  at 
starting  up  our  summer  sports  –  touch 
and tennis. More details to follow. 
First Aid Kit Fundraiser 
I  am  selling  first 
aid  kits  as  a 
fundraiser for the 
KSA.  At  $39.95, 
these first aid kits 
are 
excellent 
value  for  money 
and  similar  kits 
often  retail  for 
over  $60.  This  is 
a  large  carry  kit 
with 
transparent 
fold-out 
compartments which contains 77 items 
and  follows  OSH  and  Consumer 
regulations. These will be delivered to 
you  in  time  for  Father  Day,  so  this 
could solve  your  gift buying  problem! 
An order form is in the last edition of 
the  Bugle.  The  deadline  for  orders  is 
this Wednesday. 
Brain Development course 
Kaipara  Plunket is  hosting  a  course  at 
our  Sports  Complex  this  Wednesday 
for  parents  to  learn  how  to  manage 
tantrums. Come along at 10.30am. This 
is  a  free  course,  refreshments  will  be 
available  and  children  are  welcome. 
Please  register  with  Tina  Ball  on  021 
033 5128. 
Two  other  Plunket  parenting  courses 
will be held at our Sports Complex (all 
from 10.30 – noon): 
Toddlers  Challenging  Behaviours 
(31st August) 
Parenting Styles (14th September) 
Meet the Candidates 
Interested to hear from people standing 
to  represent  our  community?  Come 
along  to  the  Sports  Complex  on 
Wednesday  14th  September  at  7pm  to 
listen  to  the  candidates  and  ask 
questions.  A  gold  coin  donation  is 
appreciated. All welcome. 
Kaipara Sports Awards 
Sports  clubs  from  around  the  district 
are  now  welcome  to  nominate  their 
high 
achieving 
athletes 
for 
consideration  in  various  categories  at 
the 
Kaipara 
Sports 
Awards. 
Nominations  are  due  by  3rd  October. 
You 
can 
nominate 
online 
at 
www.sportnorthland.co.nz.  
Fright Night 
Our  annual  Fright  Night  is  coming  up 
in October. Last year we had over 400 
people at Fright Night – making it one 
of  Kaiwaka's  biggest  events  of  the 
year!  As  part  of  the  evening  we 
transform  the  rugby  changing  rooms 
into  a  'haunted  house'  which  children 
can  choose  to  walk  through.  We  have 
an  earlier  session  for  the  younger 
children  and  then  dial  up  the  scare-
factor  for  a  later  session  for  the  older 
children! 
So,  I  am  looking  for  some  ideas  to 
make  that later session  really  scary.  If 
you have any suggestions, please get in 
touch with me (contact details below). 
I'm  also  looking  for  some  creative 
people  who  are  interested  in  helping 
make  decorations  for  the  haunted 
house.  Any  help  would  be  much 
appreciated. 
Top of the Rock 
Advance  notice:  the  date  for  our  next 
Top of the Rock multi-sport challenge 
has been set at Sunday 12th February.  
~Cheryl Anderson  
4312 051, 027 3462702 
kaiwakasports@gmail.com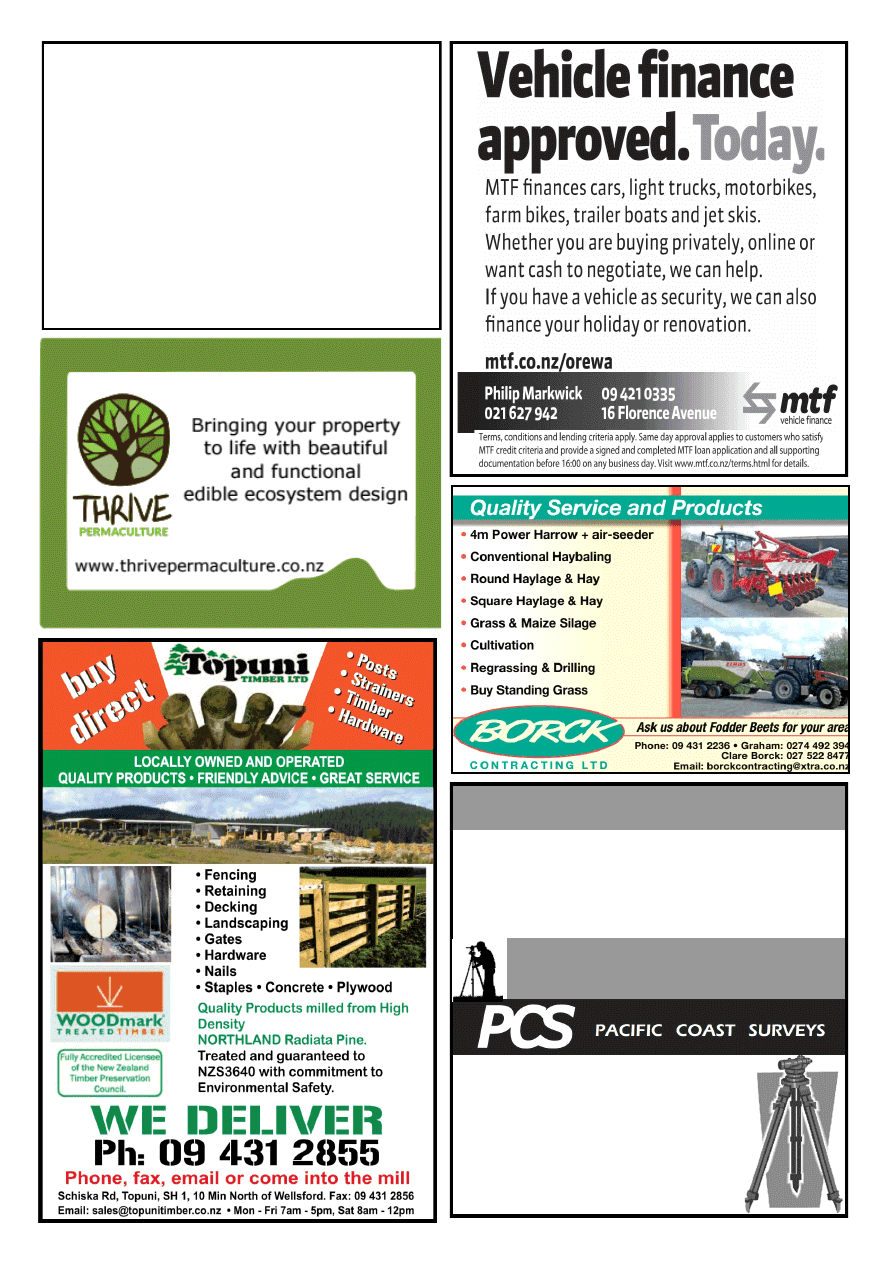 LIFESTYLE PROPERTY  
MAINTENANCE 
Putting life back into your style
Working out of Kaiwaka; servicing Mangawhai, 
Maungaturoto, Waipu and surrounding areas. 
  With over 25 years' experience, I'm fully insured and any 
job considered so just call me – James on mob: 0273 
808622  or  09 431 2245 
email: lifestylesorted@gmail.com  
Mulching - gorse, 
scrub 
Tree & hedge work 
Hole boring 
Alkathene laying & 
repairs 
Paddock topping, 
slashing 
Electric fence 
installation 
Weed spraying 
Free quotes 
Land & section 
clearing 
Loader work 
Rubbish removal 
Fully insured 
Repairs to driveways, fencing & buildings 
SURVEYORS 
SUBDIVISIONS 
HOUSE SITE SURVEYS 
CIVIL ENGINEERING 
WASTEWATER DESIGNS 
EXPERIENCED 
PROFESSIONAL 
INNOVATIVE 
Ph 09 431 5353 
0800 PACIFIC (0800 722 434) 
pacificcoastsurvey.com
Adam Booth - 027 415 5752 
Bsurv, Licensed Cadastral Surveyor
Surveying Kaipara since 1994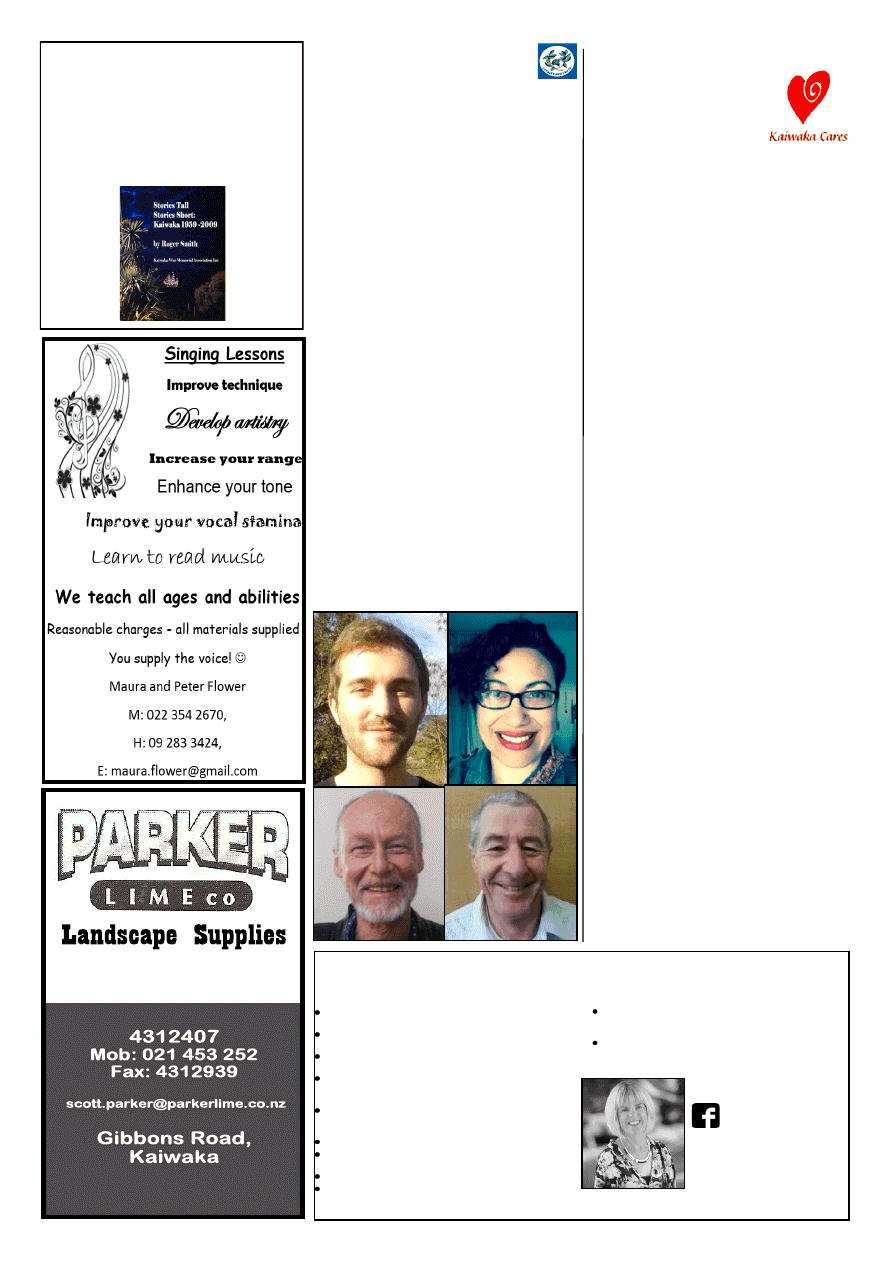 www.kaiwaka.co.nz 
Kaiwaka Bugle - 23 August 2016 
Page 11 
Stories Tall, Stories Short  
Kaiwaka 1959-2009 
by Roger TW Smith.  $40 
Available from  
the Bugle Editors -  
Lindsey 4312 045,  
Wendy 027 480 6275 
KAIWAKA CARES 
Bulk Cartage 
It's almost Spring! 
Although,  lets  be  fair,  we 
have  had  a  very  mild 
winter. 
It's 
been 
a 
difficult  season  for  us.  
We've  all  experienced  serious  illness 
this  winter  so  we  won't  be  sad  to  see 
winter pass. 
A number of people in our community 
have  had  bad  illnesses  so  I  think  we 
will all be glad for the days to lengthen 
and the  nights  to  be  warmer.  I  hope if 
you  have  been  sick  you  are  starting  to 
come through the worst of it. 
Books, Books and more Books! 
We  have  had  another  lot  of  books 
donated  to  us.  Feel  free  to  pop  in  and 
see  us  and  have  a  look  at  our 
collection.  Or  even  look  in  the 
window! Books are $1 each or 3 for $2. 
Fundraising Auction 
The auction is getting closer. It will be 
on Saturday 24 September at 2pm. The 
lovely Hakaru Hall will be hosting the 
auction. Refreshments will be available 
as  well  as  lots  of  exciting  items  and 
services.  Thanks  to  Ben  Kloppers  at 
Remax  who  will  be  our  auctioneer.  If 
you have something you wish to donate 
or  a  service/time  you  are  able  to  offer 
we  would  love  to  hear  from  you.  
Contact 
Beth 
Stone 
on 
beths@remaxrealty.net.nz 
or 
027 493 7801. 
How you can help us … 
We  are  short  of  volunteers  at  the 
moment  so  have  had  to  cut  our  hours.  
This has meant we are not able to open 
on  a  Monday  at  present.  As  we  are 
such  a  small  team  we  don't  have 
enough  people  to  cover  when  the 
unthinkable  happens  and  two  or  more 
of us are sick at the same time. 
Do  you  have  a  few  hours  to  spare,  or 
could  you  be  on  call  if  we  need 
emergency cover? If so pop in and talk 
to  us  or  Iris  at  Kate's  Place  or  email 
caring4Kaiwaka@gmail.com. 
If  there  is  anything  else  the  Kaiwaka 
Cares  can  do  for  you  or  someone  you 
know  in  the  community  please  do  not 
hesitate  to  pop  in  and  talk  to  us  or 
email caring4kaiwaka@gmail.com 
~Janine Boult, 
Chair Kaiwaka Cares 
VOTE 1 Libby Jones 
Kaipara District Council and Northland District Health Board 
Want to help Kaipara become a progressive 
innovative district 
25 years working in health and social services 
in Northland 
Governance roles for over 15 years in health, 
education, social services and rural sectors 
Previous Director on Northland District Health 
Board, and current appointee on Hospital 
Advisory Committee of NDHB 
Member of Institute of Directors since 2012 
and have completed governance, leadership 
and finance training 
Deputy chair OHS Board of Trustees 
Nine years chair Paparoa Primary School Board 
of Trustees 
Kaipara voice on Volunteering Northland 
Farming near Paparoa with husband Pete, and 
mother to Rita and Maggie Hames 
Advocate for health education, prevention of 
illness, timely access to services and healthy 
strong communities 
Willing to ask questions, bring fresh ideas, 
and work hard to achieve positive, affordable 
solutions 
www.libbyjones.co.nz 
Vote Libby Jones 
Please be in touch to let me 
know the important issues 
for you in our area
       Libby 021 2080093 
   hames.jones@xtra.co.nz  
Authorised by Pete Hames 397 Central Road RD 1 Paparoa   
OTAMATEA HIGH 
SCHOOL 
The  enrolment  evening  will  be  on 
Thursday 25th August. Parents/caregivers 
can  come  at  any  point  between  4:00pm 
and  6:30pm  with  their  child  on  this 
evening to enrol for 2017.  
Congratulations to the following students 
who have recently achieved the following 
sporting honours: Tyler Porteous who has 
been  representing  New  Zealand  in  an 
equestrian  team  in  England.  South  Zone 
Under  16  Rugby  Team  –  Tyler  Foster, 
Zack  Hamlin,  Chas  Mikaere,  Simon 
Parker,  Cory  Slimo  and  Sunil  Tohu 
Wider  Northland  Roller  Mills  Squad 
(Years 7 and 8) – Kyrin Harris. 
APSMO 
Leading  scores  after Round  Three  of  the 
Australasian 
Problem 
Solving 
Mathematical 
Olympiads 
(APSMO) 
competition  are:  Junior  Year  7s:  Alana 
Yardley  (7  points) followed by Billie  Le 
Mesurier-Cowbourne 
and 
Michael 
Ferguson (both on 5 points). Senior Year 
8s:  Cory  Browne  (6  points)  followed  by 
Lola  Smyth  (5  points),  Senior  Year  9s: 
Maggie  Hames  (6  points)  followed  by 
Tyler Young (5 points). 
OHS New Staff  
Photos  below-clockwise:  Fionn  Murphy, 
the new Music teacher; Fiona 'Ofamo'oni, 
also known  as  Ona,  teaching  Drama  and 
English; Mike Blackstock is the Assistant 
Mathematics teacher; Warren Lockie has 
been  appointed  as  Assistant  Guidance 
Counsellor  for  two  days  per  week 
(Thursday  and  Friday)  for  Term  3  and 
part of Term 4.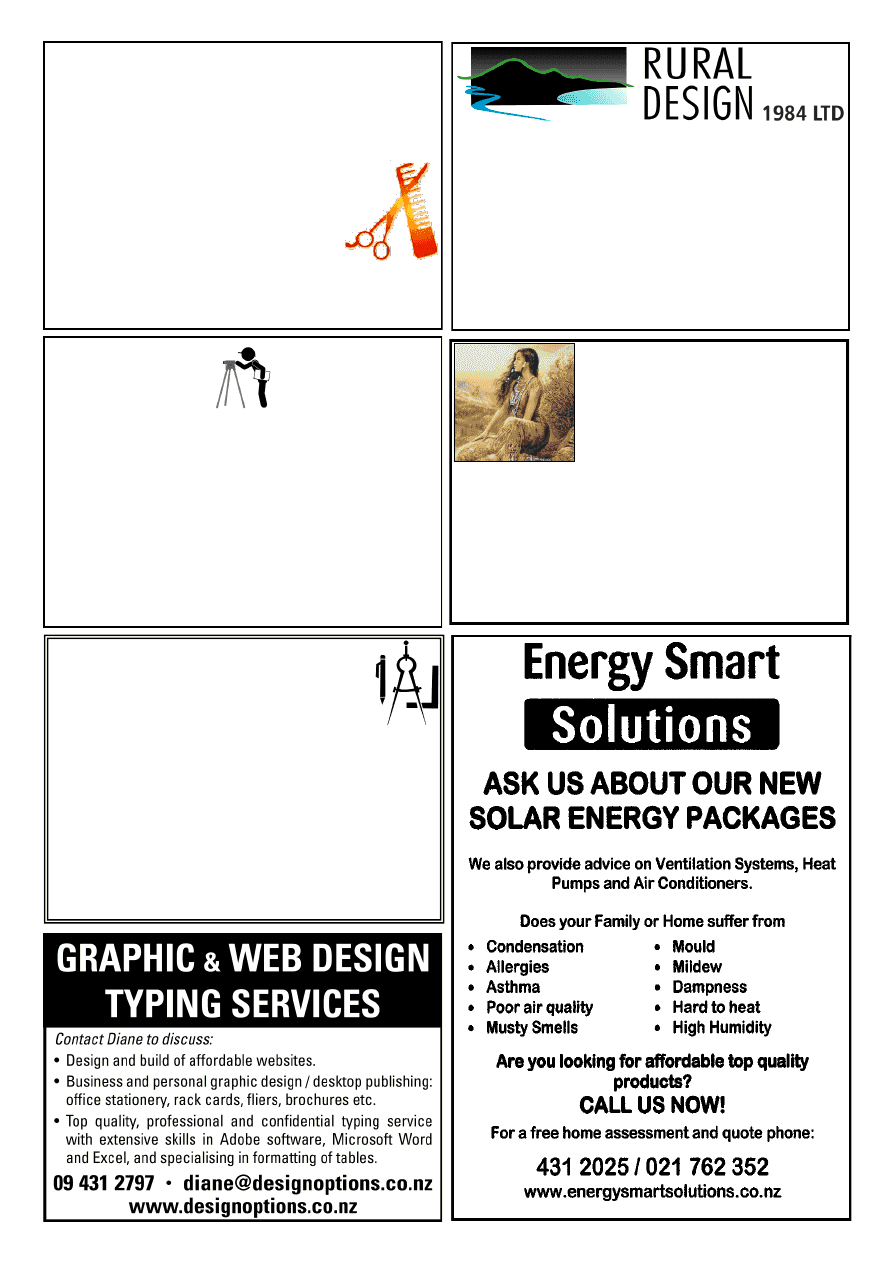 Ken Urquhart 
BSurv Licensed Cadastral Surveyor 
KMU Surveys Ltd
467 Bickerstaffe Road 
RD 2 
Maungaturoto 0587 
Ph 09 431 8705 
Mob 021 161 2344 
kenurquhart@xtra.co.nz 
WHOLESALE NATIVE PLANT NURSERY 
AND LANDSCAPING 
By Appointment 
Small and Large orders welcome 
Phone: 09 431 2481 
Email: info@ruraldesign.co.nz 
design drafting  
service 
Retired builder and manufacturer with over 40 years  
experience in the building industry is offering a design 
drafting service  
for domestic housing, sleepouts and sheds.  
Plans formulated in consultation with clients, with 
working drawings completed and submitted to  
council for processing.  Extensive practical experience,  
able to identify & resolve problems. 
Please ring Mike Lean on 
09 431 2260  
          or 
021 431 196 
Trails end 
spiritualist gathering  
Last Sunday of every month  
11.30-2pm tea/coffee provided  
$5koha for all inquiries  
0211652629 evenings 099450753 
Trail.end@hotmail.com 
Bringing together light minded people 
Guest speaker each month and 
Workshops every 2nd Wednesday  
6:30-7:30pm
AFFORDABLE PRICES! 
MENS DRY CUT FROM $18.00 
LADIES DRY CUT FROM $28.00 
KIDS DRY CUT FROM $15.00 
COLOUR CUT FROM $90.00 
JUST CUTS'AND     
MORE 
021 165 2629 
NOW SELLING: scented tealights, incense, smudge sticks, 
copper bracelets, aurora ball crystals, dream catchers, healing 
stones, rose quartz, cds, and much more. Open 6 days.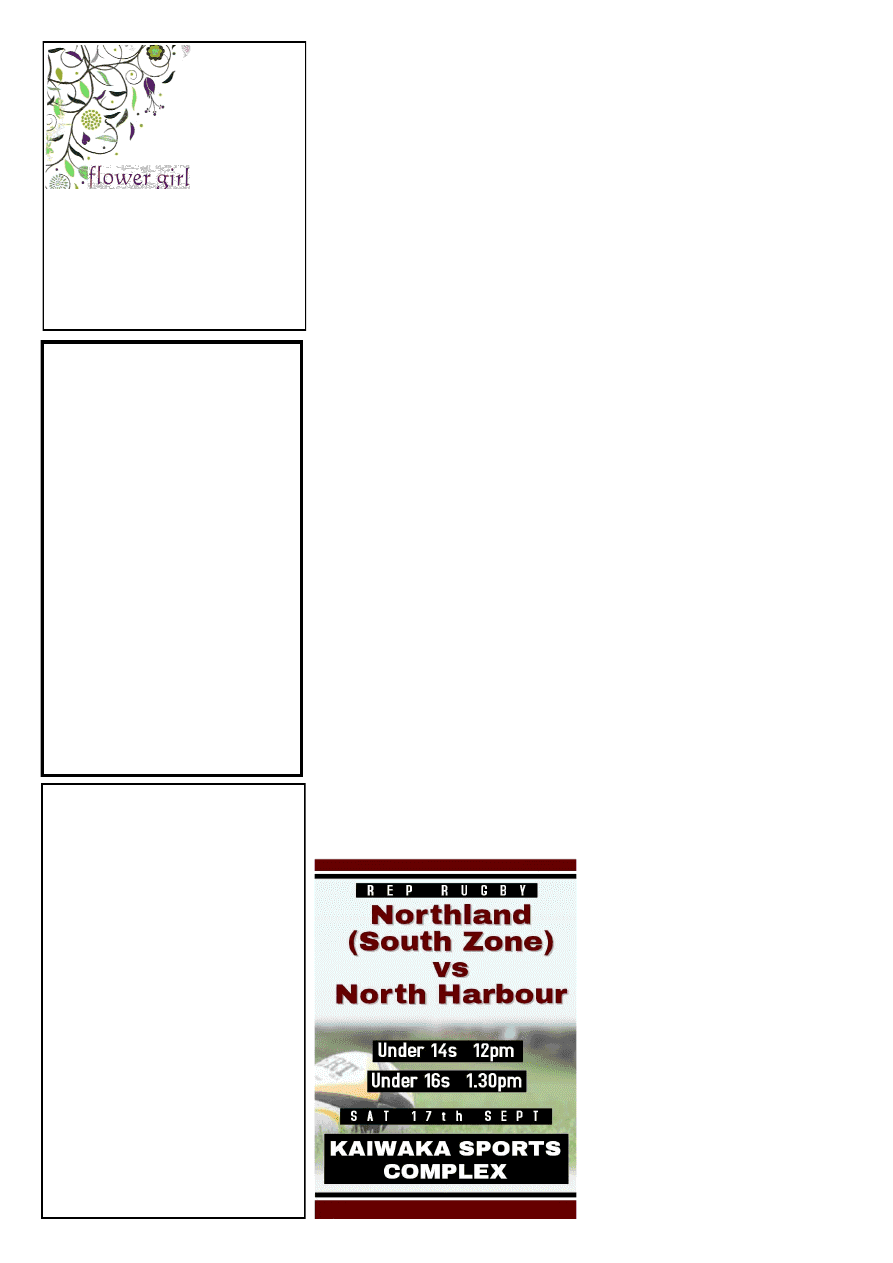 www.kaiwaka.co.nz 
Kaiwaka Bugle - 23 August 2016 
Page 13 
Willow Bend
HORSE  
HOTEL 
"  
Total Horse Care 
" 
Agistment 
" 
Riding Lessons 
" 
Arena Hire (60x40) 
" 
Young Horse Starting 
" 
Re-training/Exercising 
" 
Hoof Trimming 
" 
Problem Solving 
Phone Sue  
09 431 2817  
or 021 623 776 
susanjoll11@gmail.com 
Full Circle 
Landscaping 
Pete Worsfold 
Cert. LScp/Des 
20yrs experience 
021 825 970 
peteworsfold@xtra.co.nz
Landscape Design 
Gardener 
Nurseryman 
Functional, practical, aesthetic.
Lush native plantings, shelter, wetlands, 
grey water system plantings, home 
orchards, firewood lots, vege gardens... 
Planning, planting, project estimates, 
tree lists and species suitable for your 
site/sight, maintenance training...
Call or email me for an onsite 
estimate at your place!
Completion...Clarity 
Kaiwaka 
Good 
Sorts 
Do you know 
someone in our 
community who is 
deserving of a 
beautiful bunch of 
flowers? 
Send an email to us at 
kaiwakabugle@kaiwaka.co.nz 
or drop a note to Jaques Four Square to let 
the Bugle team know. 
We will choose a recipient to receive 
flowers from Lindy the flower girl. 
lindywatson@hotmail.com 
4312 847 
We had two visitors to our meeting this 
month,  the  President  of  the  Dargaville 
Grey  Power  group  and  Area  Delegate.  
Much  of  our  first  meeting  after  our 
AGM was taken up with discussion on 
the  re-legalisation  of  cannabis,  so  that 
we can have a painkiller that works far 
better  than  morphine  for  people  who 
are  dying  in  great  pain.    There  have 
been many newspaper articles since the 
original  interview  with  Kath  and 
Beverley,  which  resulted  in  RNZ 
interviews and articles in papers around 
the  country.    Our  petition  is  still 
ongoing 
at 
www.facebook.com/
nzlegalise/  for  anyone  who  would  like 
to  sign  (the  close-off  date  has  been 
extended).  If you would like us to send 
you  a  copy  of  the  petition,  please 
phone  us  –  the  phone  numbers  are 
below.   
The meeting was very disappointed not 
to  receive  a  reply  from  Dr  Jonathan 
Coleman  on  the  Natural  Health  and 
Supplements Bill.  Legislation has or is 
making illegal the choice of natural and 
healthy  plants  and  now  our  health 
supplements,  many  of  which  we 
depend on to maintain optimum health 
in 
our 
senior 
years. 
Only 
pharmaceutical  substances/chemicals, 
with  all  of  the  warnings  on  every 
prescribed  drug,  will  be  available  to 
heal/ameliorate symptoms.  Those with 
compromised organs cannot safely take 
prescribed  pharmaceutical  pain-relief 
medicines,  as  they  will  kill  their 
already  compromised  organs,  e.g.  a 
person  with  a  stomach  ulcer  cannot 
safely  take  a  painkiller  for  arthritis.  
Also,  by  giving  the  DHBs  the  right  to 
add fluoride to our water supplies, it is 
another 
chemical 
that 
scientific 
evidence proves is not safe.  Those on 
tank water now will be subjected to this 
fluoridated  water  when  visiting  the 
larger  centres  or  on  admission  to 
hospitals.    Our  perception  is  that  that 
keeping clean, green and healthy is not 
something  this  Government  wants  for 
New Zealanders.  It seems the days are 
long-gone  when  the  Government  was 
elected to serve the people – the people 
now  serve  the  Government.    We  feel 
decisions are  made  for  us,  our  choices 
on  all  levels  are  fast-going,  and  our 
voices are ignored.   
We have just received advice that there 
is  a  submission  that  can  be  made  to 
Food  Safety  ANZ  (FSANZ)  on 
legalising  hemp  foods,  pursuant  to 
section  61  of  the  Food  Standards 
Australia  New  Zealand  Act  1991 
(FSANZ Act), the deadline for which is 
25 August at 6pm (Canberra time). We 
are  now  beginning  to  understand  that 
we have lost our sovereignty regarding 
foods and food supplements under this 
Act,  and  none  of  us  even  knew  it  had 
even  been  passed!  Australians'  access 
to  health  supplements  are  far  more 
restrictive than those for NZers, so this 
bill  that  is  currently  before  Parliament 
will  be  to  bring  us  in  line  with 
Australia  under  this  Act.    It  is 
imperative  that  we  make  Dr  Jonathan 
Coleman  understand  that  we  demand 
we  regain  our  sovereignty  over  foods 
and health supplements.   
We  have  received  notification  that 
there  is  evidence  of  abuse  of  Gold 
Cards,  people  copying  cards  and  the 
same  card  being  used  by  many 
different  people,  who  did  not  qualify 
for the card. We are concerned that this 
could jeopardise our access if not dealt 
with now. 
The  long  awaited  upgrade  to  the 
Matakohe  Bridge  is  now  underway.  
Tenders have been sent out and NZTA 
are having a series of Public Meetings.  
Look  out  for  the  dates  in  the  local 
newspapers. 
There is to be a meeting in Whangarei 
in  September,  organised  by  a  group 
CommunityCan,  to  discuss  the  re-
legalisation of cannabis at a community 
level.    There  will  be  guest  speakers 
organised to give justification for their 
viewpoints.  If  our  monthly  meetings 
are anything  to  go  by,  there  should  be 
stimulating  discussions.  We  have  not 
got  the  final  details,  but  please  phone 
either Kath or Beverley if you wish to 
attend, want the details or need a ride.  
It  is  only  by  numbers  that  we  will 
achieve any changes.  
The Rt Hon Winston Peters has agreed 
to attend our 28 September meeting at 
1.00 p.m., to receive our Petition to Re-
legalise  Cannabis  for  Health  Benefits.  
Members  are  asked  to  make  every 
endeavour  to  attend  this  meeting.  
Community members are also welcome 
to  attend,  as  his  presentations  are 
always  stimulating  and  interesting,  but 
please phone if you intend to come so 
we may ensure sufficient seating. Also, 
if  there  is  a  change  in  plan,  we  may 
phone and let you know. 
New  members  are  always  welcome, 
please  contact  either  Beverley  on  09 
431 9188 or Kath on 09 283 2052.  
OTAMATEA GREY POWER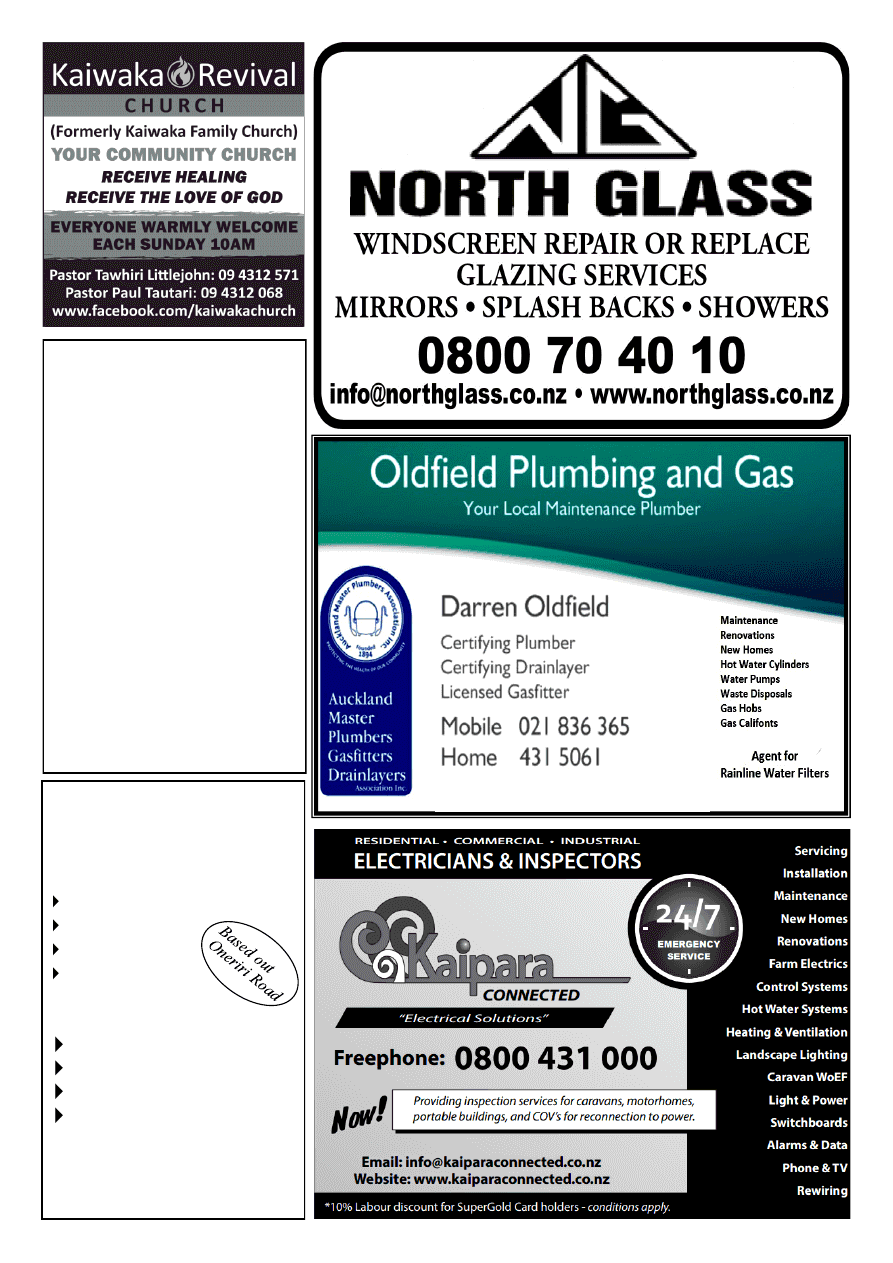 UP-LINK 
CHRIS WARING 
FREEVIEW 
INSTALLATIONS
T.V. - HOME THEATRE & 
HI-FI ADVICE/SET UP
SKY ACCREDITED 
INSTALLER
MOB.0273403747 
HM.094312328 
EMAIL cwaring44@gmail.com
28 YRS EXPERIENCE 
OFFERING 
UNBIASED ADVICE 
oldfieldplumbing@gmail.com 
HODGETTS
CONTRACTING
Digger Work   
Driveways 
House Sites  
Dams 
Drains, etc  
Also available 
for HIRE 
3 ton Vib Roller 
Heavy Duty Tow 
Waterblaster  
Lazer Level 
 
Phone Mark 4312877 
027 447 8554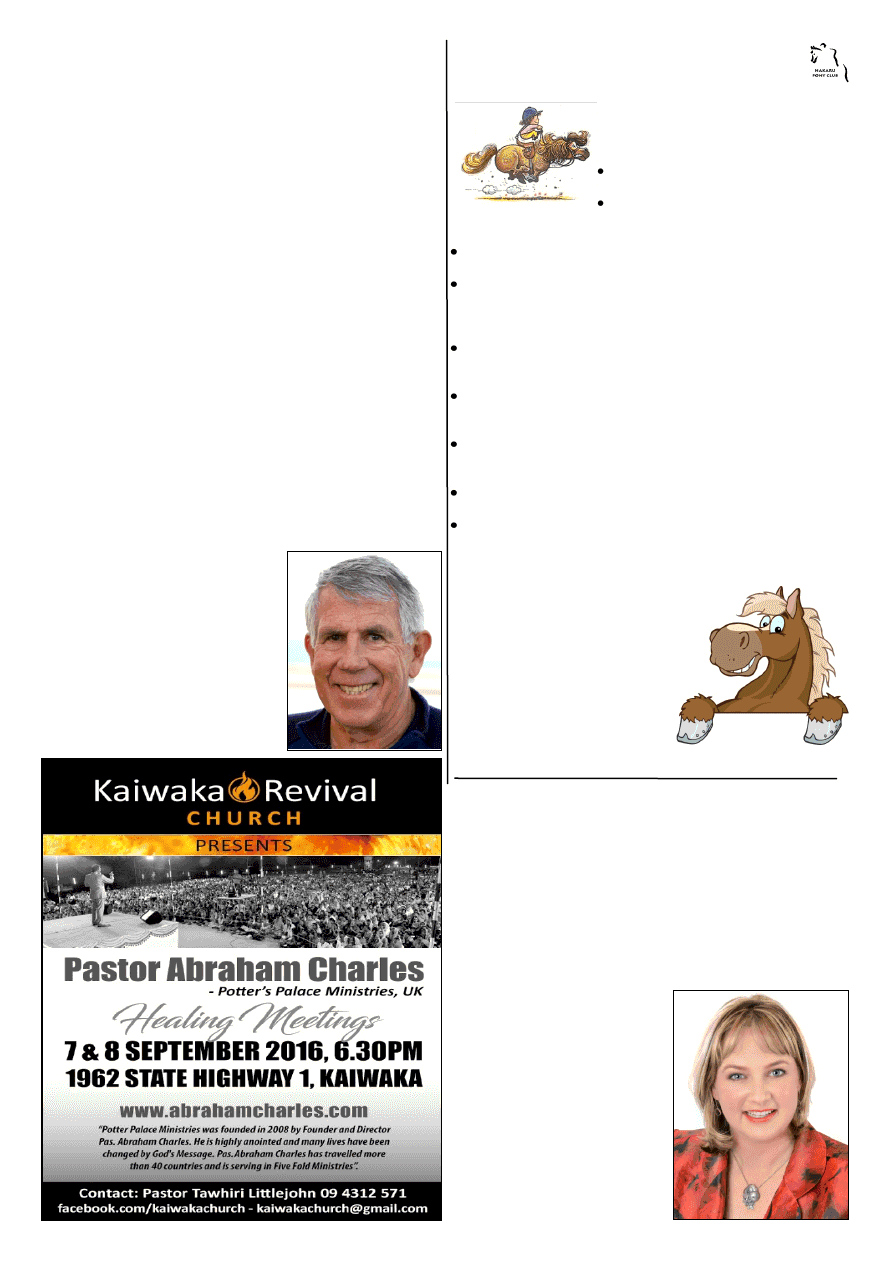 www.kaiwaka.co.nz 
Kaiwaka Bugle - 23 August 2016 
Page 15 
PETER WETHEY - KDC 
OTAMATEA WARD 
Standing for Otamatea  
Semi-retired Mangawhai resident, Peter Wethey, is standing 
for  the  Otamatea  Ward  in  the  upcoming  Local  Body 
Elections  in  October  under  the  tag  line  "A  Fresh  Start  for 
Kaipara".  
Peter  emphasizes  the  importance  of  building  on  the 
turnaround  in  Council  performance  achieved  in  recent 
years.  He  believes  the  Council  must  be  focused  on  the 
future of Kaipara, not the past. The elected Councilors must 
provide  strong  governance  and  clear  guidance  to  the 
Council  Executive  with  a  focus  on  maximizing  Kaipara's 
potential.  
Peter hopes that the elections will deliver a strong Council 
of  forward  looking  councilors  with  the  ability  to  consider 
district wide issues without being ambushed by conflicts of 
interest or pet project agendas. "I stand for transparency and 
accountability; 
consultation, 
collaboration 
and 
communication," said Mr Wethey.  
Having  spent  most  of  his  working  life  in  the  corporate 
world, and holding a number of senior executive positions 
in  the  pulp  and  paper  and  meat  industries,  Peter  has 
experience  and  understanding  of  governance  and  its 
boundaries as well as strong financial literacy skills.   
Mr  Wethey  said,  "There  is  no  "one  size  fits  all"  for  the 
Kaipara district. We have areas of high growth to areas of 
no growth and spread through the district are a number of 
business  activities  and  a  range  of  farming  activities.  With 
all of the issues created from these sectors facing Council, 
infrastructure  will  be  a  key  consideration  for  many 
communities  within  Kaipara.  I  support  planned 
development  and  infrastructure, 
underpinned 
by 
responsible 
financial policies. I also have a keen 
interest 
in 
responsible 
environmental matters."  
In recent times, Peter has voluntarily 
given his time and experience (with 
a  degree in chemistry), to assist  the 
Kaipara DC with water quality trials 
in Mangawhai Harbour.  
Peter  is  committed  to  representing 
the  interests  of  the  Otamatea  Ward 
while  advancing  those  of  the  wider 
Kaipara community.  
HAKARU PONY CLUB 
Enrolment Day Satur day 3r d September  
10am to 2pm. 
Come  along  –  Hakaru  Pony  Club 
Grounds, Settlement Road, Hakaru.   
Welcome old and new members. 
Members – please bring Helmet for 
checking and re-tagging. 
If you stay for the full time, this will 
count  for  two  unmounted  rallies…    But  if  you  are  late, 
only one will count… 
Subscriptions  are  due  now,  so  bring  along  your  cheque 
book. 
There is also  a  Bring  and Buy  opportunity.    Bring  along 
your  old  saddlery  and  equipment,  jodphurs,  boots, 
uniforms etc. 
Programme for the Day: 
10am  registration  and  gear  /  helmet  check.    It  is  a  good 
idea to bring along all your saddlery you put on your horse 
so we can give it a good check 
11am  rider  meeting.    Brooklyn  Wilson  is  our  new  Rider 
Rep and she has some very awesome ideas on how we can 
make the season an awesome experience. 
11am  parent  meeting.    This  is  really  important.    Learn 
about  our  branch  and  how  we  can  make  it  the  best  one 
around 
12 noon:  bring along a shared lunch.  A great time to mix 
and mingle and get to know each other a bit more. 
1 -2pm:  arena craft.  We are in the middle of our dressage 
series and this is a good time to learn how to make some 
extra points on those tests.  There is a whisper that there 
may be a treasure hunt as well. 
We  are  planning  a  very  exciting 
year, so come along and get your 
enrolments  all  completed  on  the 
3rd.  See you there . 
All enquiries please contact Marj 
(Head  Coach)  027  2941227  or 
frank.marj@gmail.com or Denise 
(Secretary) 
02123376 
or 
deniserogers81@gmail.com  
Check  out  our  Website:    http://
www.sportsground.co.nz/
hakarupc/ And our Hakaru Pony Club Facebook page 
DEBBIE EVANS - DHB 
Debbie  Evans  is  currently  serving  her  sixth  year  on  the 
Northland District Health Board, initially as a Government 
Appointee and then Publicly Elected.   
Debbie would like to use her knowledge and experience to 
continue serving Northland.   
Known as a 'voice for the community', Debbie is CEO of 
Kaipara  Community  Health  Trust  and  has  significant 
governance training through NZ Institute of Directors.  
She's  involved  in  several  Northland  Funding  Allocation 
Committees and is passionate about social housing.   
Raised  in  Ruawai,  married  to  Maungakaramea  Dairy 
Farmer Rex Buisman, Debbie is 
committed  to  Northland  and 
focused on making sure we have 
a  quality  public  health  system 
that  services  the  needs  of  all 
Northlanders.  
She  will  dedicate  her  energy  to 
get  the  best  from  your  taxpayer 
dollar.   
Debbie's  mission  is  to  ensure 
locals  have  access  to  the  best 
health  care  as  close  to  home  as 
possible.   
Voting Debbie Evans Number 1 
is a sound investment.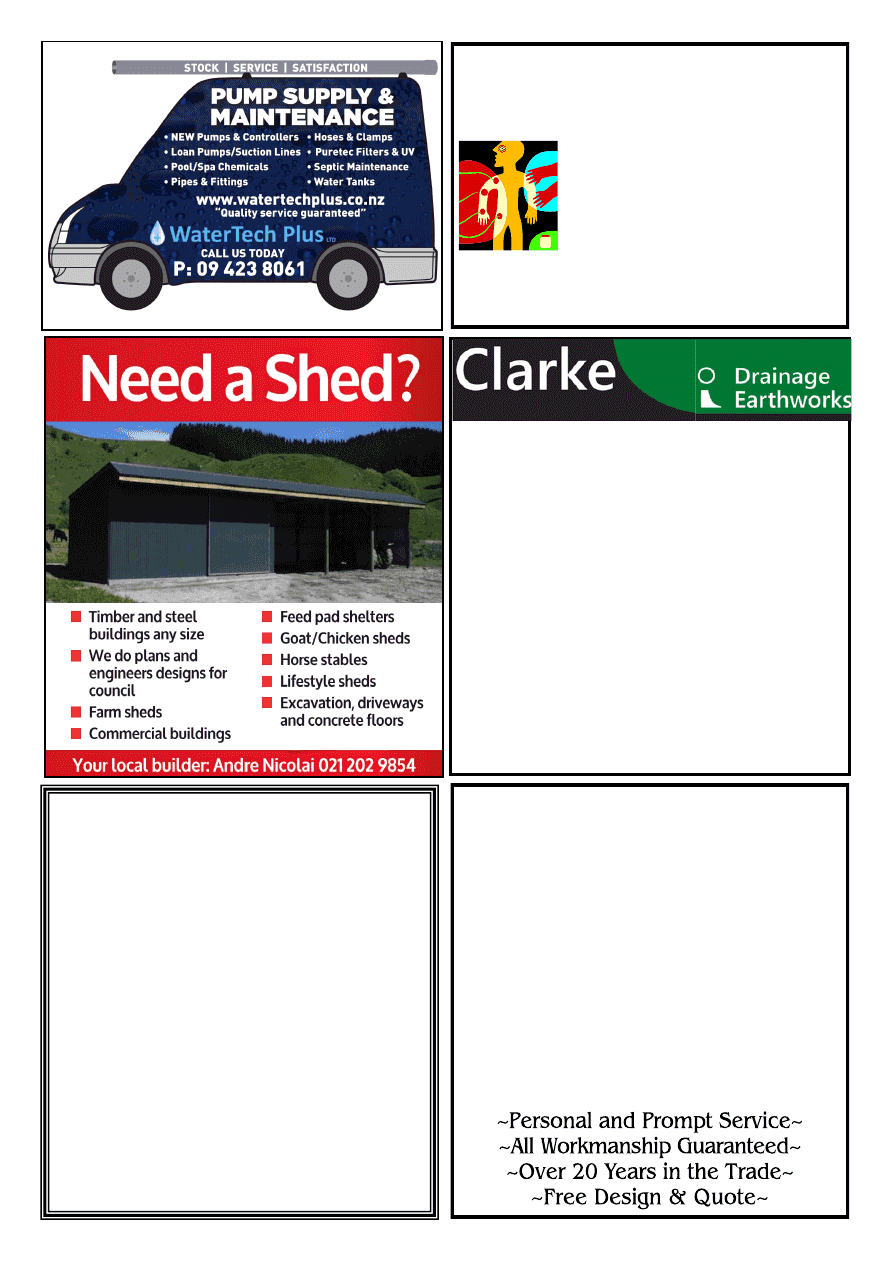 OWEN STEVENS 
Osteo Therapist
For careful adjustments to bones and joints 
Treatment for  humans and their pets 
Clinics: 
Kate's Place, Kaiwaka: 
Last Friday of month 
For bookings:9.00am-5.00pm 
Phone 
09 4312661 
Or phone Owen  09 4317123  anytime 
g.a.s. 
Mangawhai
GARDEN CENTRE 
for all your gardening needs
Also a great range of 
STOCKFOOD 
Wide range of 
ORGANICS AND 
 FRESH LOCAL PRODUCE
All your motoring needs are taken care of by 
our friendly staff check us out... 
44 Moir Street, Mangawhai (09)431 4242 
Registered Drainlayer 
All Types of Earthworks  
> All Residential & Commercial Work  > House Sites 
> Septic System Design & Install 
> Footings & Drilling to 10m 
> Sewer Connections 
> Dams 
> Water Tank Installation 
> Roading & Races 
> Farm Work 
THE ONE STOP SHOP  
Phone Nigel for an Obligation Free Quote  
Drainage & Earthmoving 
clarkedrainage@xtra.co.nz 
027 2233 185 
PLANNING A NEW KITCHEN? 
 CONTACT NOEL McDOWELL
WELLSFORD 
KITCHENS
Ph/Fax 094312888
KAIWAKA-Any time
  QUALITY CUSTOM MADE 
KITCHENS www.kaiwaka.co.nz 
Kaiwaka Bugle - 23 August 2016 
Page 17 
Kia 
Ora Introducing ADRIAN BONNER 
Standing  as  an  Independent  candidate  for  the  Otamatea 
Ward of the Kaipara District Council (KDC). 
Born  in  Wellington  in  1958,  studied  at  Victoria 
University  and  began  teaching  at  Sacred  Heart  College, 
Auckland  in  1978.  In  1987  while  visiting  my  brothers 
farm,  I  had  the  opportunity  to  see  honeybees  in  action. 
Moving  to  Kaiwaka  in  1988,  I  began  a  beekeeping 
business, supplying honey to customers around the North 
Island and overseas. 
From 1991-97 I was secretary of the Kaiwaka Residents 
&  Ratepayers  Association  and  was  pleased  to  persuade 
then Mayor Peter Brown to establish the 0800 Help Desk 
for the Kaipara District. 
I first stood for the KDC in 1992, age 34, with the slogan 
"Doing  things  better,"  and  subsequently  Northpower, 
Northland  Regional  Council  and  the  Parliamentary  by-
election last year. 
"Among  many  issues,  this  election  is  about  the  roads, 
water quality, sewage, the Harbours, the mangroves, the 
railway, the elderly, the young and our future." 
1.  CONSULTATION:  During  the  1990's  till  the  early 
2000's consultation barely existed in Otamatea. From this 
October a culture  of  consultation  needs to  be  embedded 
in  the  Council  by  accessibility,  transparency  and 
accountability. 
2.  CIVIL  DEFENCE:  I  believe  the  Otamatea  Ward  is 
poorly  prepared  for  a  civil  emergency.  Safe  assembly 
points  and  properly  trained  evacuation  procedures  are 
needed to deal with situations as diverse as toxic spills on 
our highways to tsunami events and flooding. 
3.  ROAD  MAINTENANCE:  To  begin  with,  Otamatea 
roads need to be graded PROPERLY. I would like to see 
us have a leased grader and a professional driver hired as 
the Far North Council has done, and the metal put ON the 
middle of the road NOT swept to the side, as is the case 
now. 
4.  ROAD-MATS:  I  propose  that  we  investigate  using 
road-mat  technology  on  the  worst  of  our  metal  roads. 
Road-mats have many advantages such as stabilising the 
base  coarse  of  existing  muddy  roads  over  winter,  to 
reducing dust and carcinogens in that dust over summer. 
5. SEWAGE &  WETLANDS: An aerated effluent pond 
with  filtration,  which  is  then  flushed  into  the  Kaiwaka 
River  on  the  high  tide  each  day  is  NOT  a  wastewater 
treatment  scheme.  This  applies  to  other  towns  in  the 
Otamatea  and  costs  a  significant  part  of  the  $5.7million 
spent  each  year  to  "maintain".  Wetland  wastewater 
treatments  are  now  used around  the  world, at  a tenth  of 
the cost of current systems. 
6.  CLEAN  WATER  FOR  KAIWAKA:  The  present 
situation  has  spring  water  being  piped  from  Kaiwaka  to 
Maungaturoto.  I  fail  to  see  why  Kaiwaka  should  not  be 
enjoying the same quality of water. Also, I propose that a 
160,000 litre (40,000 gallon) tank be built to feed water 
to  the  township  and  provide  a  water  supply  for  civil 
emergencies and to fight forest fires. 
7. RATES: In regard to the burden of increased rates, the 
government  had  a  "duty  of  care"  toward  the  people  of 
Kaipara  through  its  agent,  the  Audit  Office.  In 
compensation  to  equal  the  loss  incurred  and  neglect  of 
this  Agency,  the  government  should  pay  a  further  $10 
million  OR  allow  the  KDC  under  the  amended  Local 
Government  (2002)  Act  to  hold  a  one-off  Lottery  up  to 
$30 million. 
8. ELDERLY RESIDENTS & RATEPAYERS:  I  would 
like to see a purpose built retirement facility in Otamatea. 
Elderly homeowners who wish to remain in their homes, 
but  increasingly  cannot  afford  the  high  rates  demanded, 
especially  in  Mangawhai,  should  be  able  to  defer  a 
portion or all of their rates till they pass away or retire to 
the  new  facility.  Their  houses  would  then  revert  to  the 
Council providing a housing pool to rent which would, in 
part, finance the retirement facility. 
9.  RAILWAY  PASSENGERS:  It  is  doubtful  that  truck 
cargoes  will  be  shifting  to  rail  any  time  soon.  I  suggest 
we  turn  our  attention  to  passenger  rail  transport  in  the 
form  of  small  carriages,  about  the  size  of  a  bendy-bus, 
with  the  capacity  to  be  electrified  at  a  later  date.  These 
small  carriages  would  be  parked  one-by-one,  at  various 
towns along the rail route going North (in the morning) to 
create  mobile/stationary  "stations".  Passengers  would 
climb aboard, pay automatically and their carriage would 
be picked up by the engine and other carriages returning 
South  (in  the  afternoon).  Security  would  be  ensured  by 
remote  cameras  for  all  mobile/stationary  carriages.  This 
system would also save on fuel costs. 
10.  ONE-STOP  SHOP  FOR  COUNCIL  CONSENTS: 
One  complaint  often  made  by  farmers  developing  their 
land  (putting  in  a  road  for  example)  is  the  number  of 
Council staff involved in gaining approval. Two Council 
staff,  in  the  field  to  approve  and  issue  consents  would 
simplify the process and reduce costs. 
11.  KAIPARA'S  YOUNG  PEOPLE:  Council  has  a 
responsibility to future ratepayers in the District's schools 
by  supporting  extra-mural  projects  such  as  aviation  and 
sailing  academies.  Also  by  providing  opportunities  to 
School-leavers  seeking  apprenticeships  with  local 
businesses in the form of student loans of 5%. 
12.  KAIPARA  GREEN  BELT  &  HERITAGE 
DISTRICT: As Auckland sprawls northwards it would be 
wise  to  establish  a  "green-belt"  similar  to  that  which 
exists  around  London.  Also  many  people  would  like  to 
see  Kaipara  declared  a  Heritage  District  with  guidelines 
as to what kind of urban and rural development is best. 
Please  Note:  Proposals  3,  5,  6,  10  &  12  will  require  no 
further  cost  to  the  ratepayer  as  resources  allocated  to 
these activities already would be used more effectively. 
Finally,  while  many  ratepayers  would  wish  that  the 
$82,000  application  for  funds  by  the  Mangawhai 
Museum be spent on exhibits etc, I would support a one-
off ex gratia payment on the grounds that employing an 
enterprising  CEO  would  generate  his/her  salary  in  the 
first year, and then some. 
Remember this election -  
KAIPARA NEEDS YOUR VOTE 
Contacts: 
 Mobile: 021 253 7661 
 Home: 09 945 0543 (local call) 
 Email: apb.apiaries@gmail.com 
 Post: RD 5, Wellsford 0975   
 Election Office: 76 Kaiwaka-Mangawhai Road, Kaiwaka 
ADRIAN BONNER - KDC OTAMATEA WARD 
KAIWAKA 
MOTORCYCLES LTD
SALES – SERVICE – SPARES 
FARM BIKE SPECIALIST
PHONE 09 431-2127 
10 KAIWAKA-MANGAWHAI ROAD, KAIWAKA
Trimmers  
from $279
Chainsaws  
from $339
YAMAHA 
HUSQVARNA 
*   R O A D I N G   *   E A R T H W O R K S   *    
*   D R A I N A G E   *   S I T E W O R K S   *
Shaun Huband 
Registered Drainlayer
Cell: 021 222 0272 
Home: 09 4318339 
Email:   
Te Pounga Marae 
130 Nathan Rd. Oneriri. Kaiwaka 0573 
COMPLEX FOR HIRE 
Functions 
* Weddings   *  Birthdays   
*Anniversaries 
* Meetings   * Wananga 
5 hour meeting 
* 12 hour stay   * 
Overnight 
*All welcome - No more Drink-driving 
Amenities: 
*Convo Combi Steamer * Bratt Pan * Dish 
Washer/Sterilizer * 3 Door Glass Chiller (walk in) 
etc…All Crockery * Linen Supplied * Central 
Heating and Air Conditioning and much more.  
Can also cater for small groups…. 
For more information please contact: 
Kim Wallace 
Home: 09 832 1133   Mob: 0211275340 
Email:  kimwallace@xtra.co.nz 
MULCHING 
GORSE,SCRUB ETC 
PADDOCK TOPPING OR MULCHING 
2.8m mulcher with 140HP tractor. 
Experienced operator. 
LIFESTYLE PROPERTY MAINTENANCE 
Putting life back into your style 
BOOK NOW. Phone James 
mob: 0273 808622 or 09 431 2245 
email: lifestylesorted@gmail.com 
Twinkle Tow 'n' Tyre 
Think you'll get a better deal in the city? 
Ring us - it won't cost anything! 
1837 State Highway 1, Kaiwaka 
Phone 431 2823 
*W.O.F. 
*Tyres 
*Windscreen 
replacement 
*Chip repairs 
*Bulk Oil 
*Batteries 
*Welding 
*Custom built 
trailers 
*Trailer hire
All your outdoor needs sorted so you don't have to... 
I can prune, chop, tidy, spray, mow, plant 
- you name it, I can do it! 
Residential & Commercial 
Lawn & Garden Care 
Call Rodney, your local  
lawnmowing contractor 
021 138 2344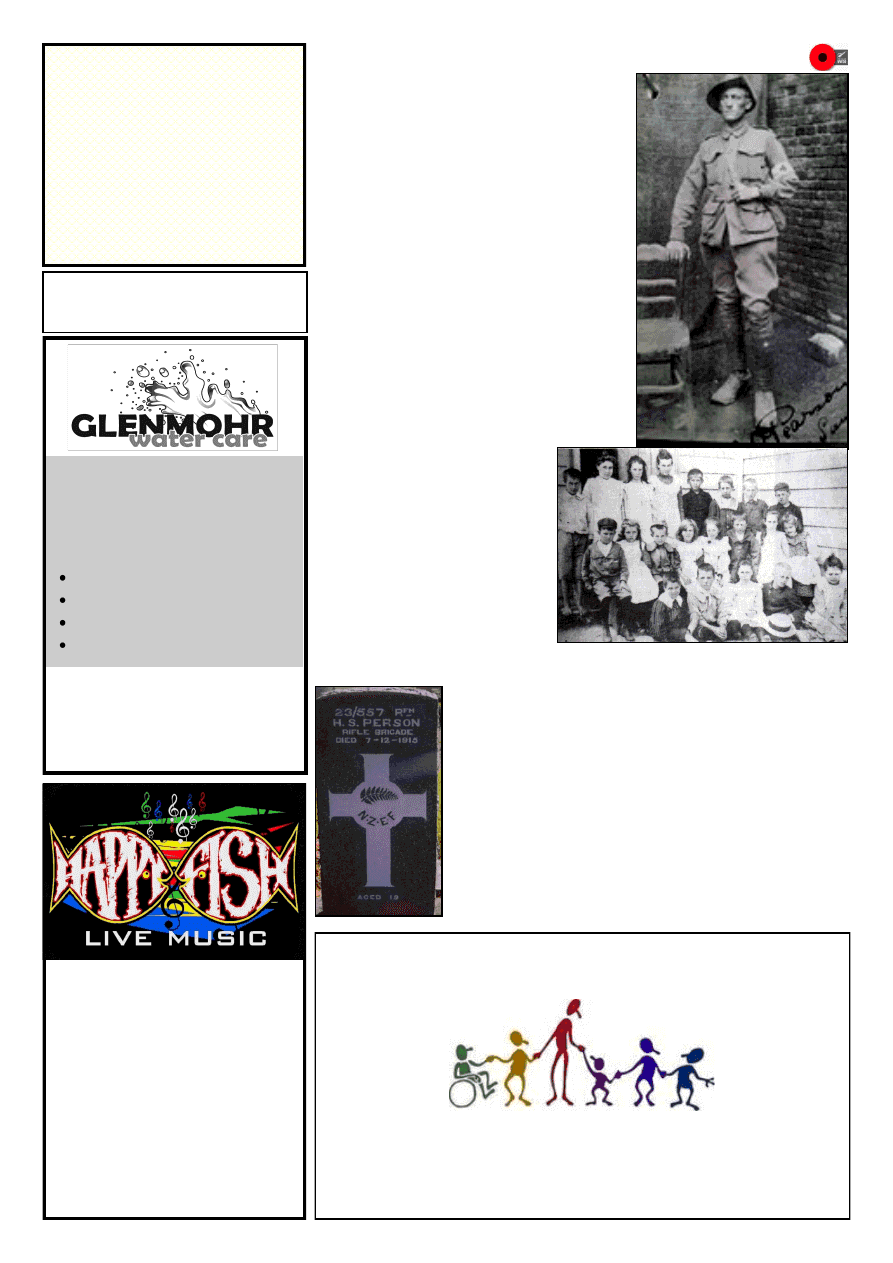 www.kaiwaka.co.nz 
Kaiwaka Bugle - 23 August 2016 
Page 19 
S A N D S  
SANDS supports parents and families 
after the loss of a baby 
Phone 0800SANDS4U  0800 726374 
ROCKIN' POPULAR, OLD AND 
NEW PARTY SONGS WITH LOADS 
OF KIWI MUSIC AND A FEW 
ORIGINAL TUNES IN THE MIX. 
AN ELECTRIC DUO FEATURING:  
GORDON JOLL 
(NZ Music Hall of Fame)
ON DRUMS AND SUE JOLL ON 
GUITAR AND VOCALS. 
A BAND FOR ANY OCCASION 
BACKED BY YEARS OF 
EXPERIENCE. 
Contact: Sue 021 623 776 
Email: happyfishband@gmail.com   
Website: www.happyfishband.co.nz 
Water Tank  
Cleaning 
Keep your water safe & clean   
Removal of sediment, silt etc 
Vacuum or full scrub 
Minimal water loss 
Phone Mark  
(09) 432 0655  
or 0274 707607 
Counsellor and 
Registered Psychotherapist 
Offers Supervision
Susan Matheson 
MNZAC, RN 
Dip. Psychosynthesis Counselling and Psychotherapy 
Phone 09 431 5997 
Mobile 027 605 2427 
Victor Person: Not Killed But Returned to Australia 
Our  Kaiwaka  War  Memorial  Hall  Honours' 
Board  for  WWI  shows  V  Person  as  having 
died during the war, but on research Jennie and 
I  have  not  been  able  to  find  any  such  record. 
We were unable to find out much about Victor 
except that Victor Albert Person was enrolled 
at  Kaiwaka  School  on  26  August  1899  by  a 
Mrs  Collins,  with  no  leaving  date.  His  last 
school  was  Gisborne. 
(Ref.  Kaiwaka  School 
Admission Records)
 We have a Kaiwaka School 
photograph  of  Victor  in  1902  -  second  from 
the right in  the  back  row 
(see page 13 Kaiwaka 
Photographic History)
. 
During  a  new  search  just  a  week  before  the 
unveiling of the hall front doors we found that 
Victor  had  joined  the  Australian  Army  and 
returned to Australia! 
We  also  found  his  parents  Johan  (born  in 
Sweden  1846,  a  fisherman,  died  age  66  in 
1912  in  Gisborne)  and  Marie  (nee  Hanson 
born  in  1852  Denmark  and  died  1930  in 
Auckland).  Johan  and  Marie  are  recorded  as 
having  6  children: 
1884  Johan  Frederick,  1886 
Anna  Louise  (married  1914  Frank  Streate),  1888 
Elvina  Johanna  (married  1913 
William  Alexander  Gudsell),  1890 
Albert  Victor,  1892  Charles  Edward, 
1896 Henry Stanley. 
From  our  research  Victor  joined 
the  NZ  Army  then  went  to 
Australia 
and 
joined 
the 
Australian  Imperial  Army  on  21
st
January  1915  as  a  Private  in  the 
13
th
  Battalion,  3
rd
  Reinforcement, 
where he was listed as being born 
in  Gisborne,  Presbyterian  and  a 
carpenter.  He  was  single  and 
listed his mother Mrs M Pearson, 
13 Leamington Road, Mount Eden, Auckland as next of kin. (As often happened 
names were not always spelt the same!) 
Victor  left  Sydney,  Australia  on  11
th
  February  1915  on 
board  HMAT  A49  Seang  Choon,  and  served  in  Egypt, 
Gallipoli  and  the  Western  Front,  and  returned  to  Australia 
on 14
th
 December 1918. 
He married, in Australia, in 1919 and spent the rest of life in 
Australia until he died 1969. 
Victor's  brother,  Henry  Stanley  Person,  also  joined  the 
army,  stating  his  mother  Mrs.  Marie  Person,  of 
"Brightelstone," Kohimarama, Auckland as next of kin. He 
was  a  Rifleman,  Serial  No.  23/557,  in  the    New  Zealand 
Rifle  Brigade.  Sadly,  Henry  died  of  meningitis  while 
training in Auckland, on the 7 December 1915 age just 19 
years  old.  He  is  buried  at  the  Purewa  Cemetery  and 
Crematorium,  Meadowbank,  Auckland,  New  Zealand, 
Block F, Row 45, Grave 135.                                  ~Lindsey 
LINKING HANDS INC 
Maungaturoto - Kaiwaka - Mangawhai 
Meeting the needs of the community 
HEALTH SHUTTLE SERVICES 
Ph/fax 09 431 8969 
OFFICE HOURS 
Maungaturoto - Monday to Friday - 10am to 4pm 
Closed Public Holidays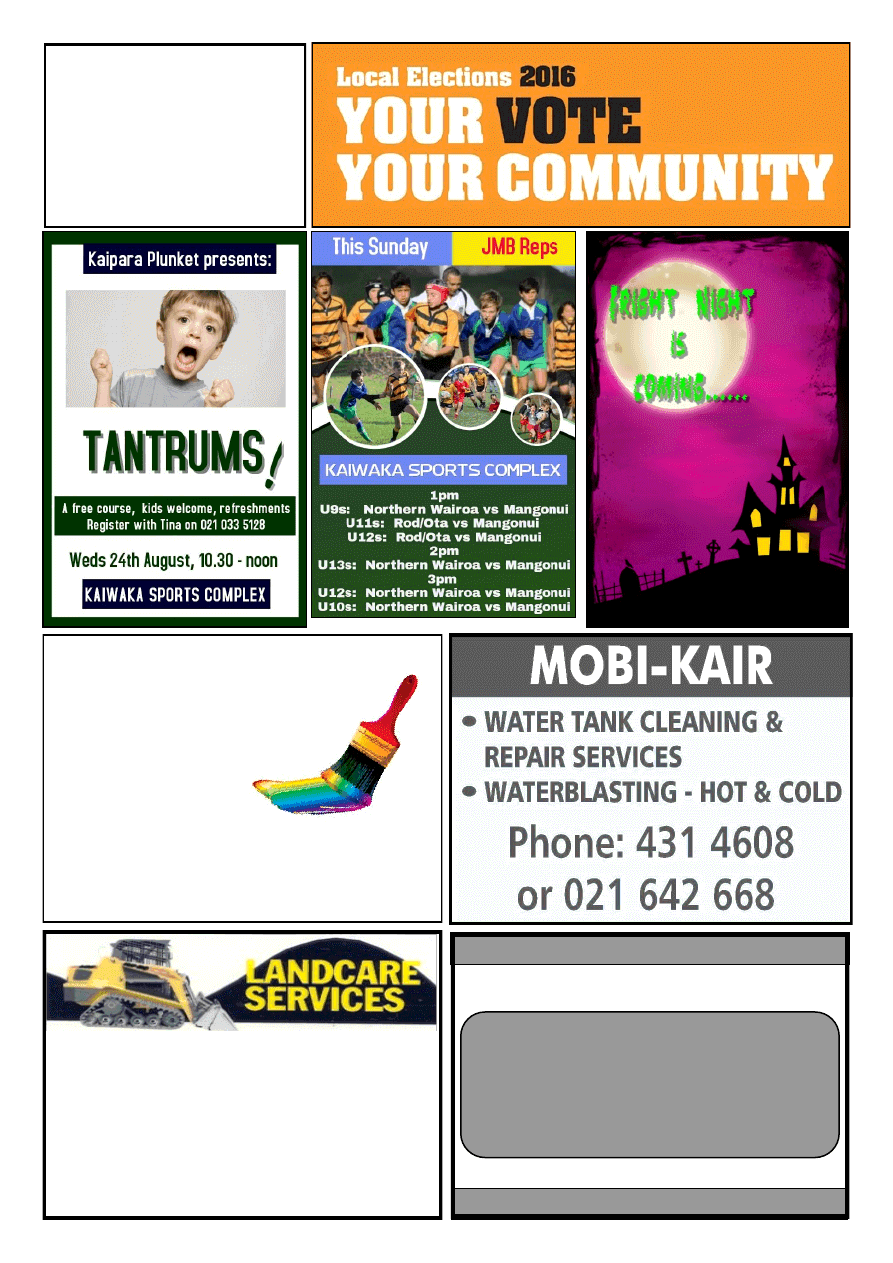 LANDSCAPING 
4 IN 1 BUCKET 
TRENCHER 
POLE HOLES 
ROTARY HOE 
COMPACT ROLLER 
OFFAL HOLES 
CAN SUPPLY WOODCHIP & POST PEEL 
5 TON TIPPER 
FOR RELIABLE AND FRIENDLY SERVICE CONTACT DAVE 
Dave Hyndman 
 
KAIWAKA 
PH: 09 4312302 
MOB: 021 431 238 
09 4312918 
0274735171 
leecooper@xtra.co.nz 
LEE COOPER PAINTERS 
(Kaiwaka Based) 
*30 yrs Experience 
*Interior/Exterior 
*New and Restoration 
*Honest and Reliable 
*Free Quotes 
THE
 KAURI MUSEUM 
Real New Zealand Heritage 
What's On at your Museum 
Kaipara Art Awards & Exhibition 
An exhibition showcasing the creativity  
of Kaipara region art groups. 
6 August - 18 September 
Axemen legends of Northland 
A presentation on the origins and evolution of this sport 
Now open visit axeman.kau.nz 
Free entry to the Museum for residents of the old Otamatea District 
5 Church Road, Matakohe, Northland. Ph09 4317417 www.kaurimuseum.com 
 LEABOURNS 
Passenger Service
Car & Van Hire 
Bus & Coach Charters 
Airport Transfers 
 Monthly Shopper Bus 
Phone 09 4237416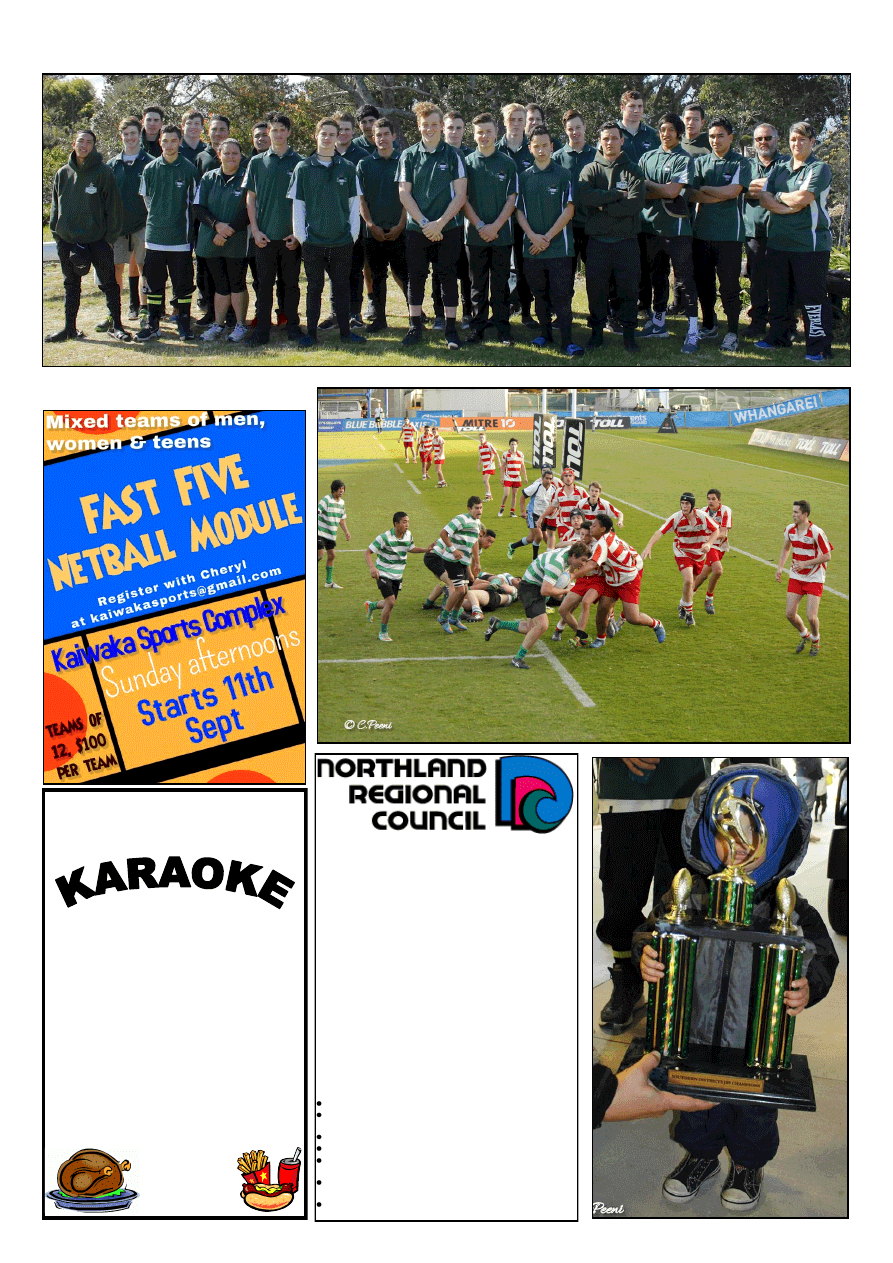 www.kaiwaka.co.nz 
Kaiwaka Bugle - 23 August 2016 
Page 21 
THE HAKARU RSA 
PRESENTS 
3
RD
 FRIDAY OF THE 
MONTH 
7.30 pm TO 9.00 pm 
Thousands of titles to choose from 
Bring your friends  
and enjoy yourselves
Free entry 
[Courtesy:  Jon Bell] 
Meals as normal
OTAMATEA HAWKS UNDER 16s 
Otamatea Hawks Under 16 
photos courtesy of Chantelle Peeni 
We will be having some informal drop
-in sessions around the region during 
August and September where staff will 
be available to answer questions on the 
draft Regional Plan and draft 
catchment plans. 
For more information about the draft 
catchment plans and additional session 
times, visit: www.nrc.govt.nz/
waiorafeedback   
or phone 0800 002 004. 
Wednesday 7 September 
2pm - 7pm 
Kaiwaka War Memorial 
Hall 
The draft plan may affect you if you: 
  Have a resource consent. 
  Own livestock that have access to streams, rivers, 
lakes, wetlands or the sea. 
  Take water from a stream, river, lake or a bore, 
  Discharge waste water onto land or into water. 
  Want to do things in rivers, like build erosion 
protection, construct culverts or divert streams. 
  Carry out earthworks, burn or bury farm waste, or 
spray weeds. 
  Identify as tangata whenua.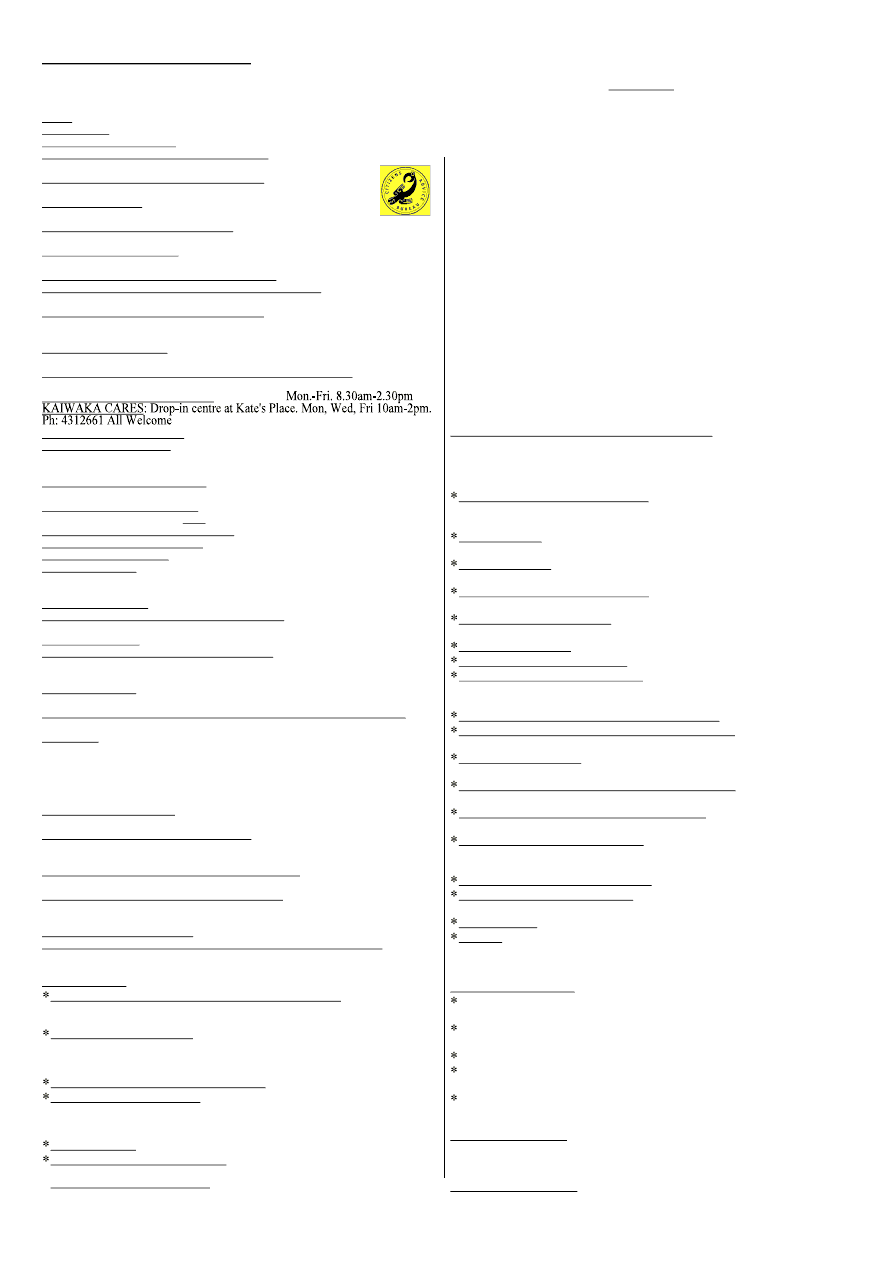 Next Bugle Deadline midday Friday 2 September 2016
WHAT'S ON
PLEASE ~ do let us know what is on - email 
kaiwakabugle@kaiwaka.co.nz 
Advertising in WHAT'S ON is FREE  
*24Aug~last day for First Aid Kit orders 
*25Aug~Otamatea High School enrolment evening, 4-6:30pm 
*26Aug~Daffodil Day, collectors at La Nonna & Jaques' 
*26Aug~Eddie the Eagle, 7:30pm KWMH 
*28Aug~JMB Reps, from 1pm KSA 
*28Aug~The Jungle Book, 2pm KWMH 
*3Sep~Junior Netball Prizegiving, 4pm KSA 
*5Sep~Scavenger Hunt, Te Roroa, 163 Hurndall St, Mgto 
*6Sep~Open Day, Te Roroa, 163 Hurndall St, Maungaturoto 
*7&8Sep~Pastor Abraham Charles, 6:30pm Kaiwaka Revival 
Church 
*9Sep~Fathers and Daughters, 7:30pm KWMH 
*10Sep~Applications close for President's Scholarship, 
Maungaturoto & Districts Rotary 
*11Sep~Fast Five Netball starts, KSA 
*14Sep~KDC Meet The Candidates, 7pm KSA 
KWMH=Kaiwaka War Memorial Hall 
KSA=Kaiwaka Sports Association Complex 
ORT=Otamatea Repertory Theatre 
See www.kaiwaka.co.nz for more information 
HOUSEHOLD RUBBISH COLLECTION - Kaiwaka Pick up: 
Mondays = Gr een bags (Northland Waste - 09 430 3273) 
Wednesdays = Blue bags and yellow r ecycling (at J aques $3.00 
and $1.50) (Kaurilands 09 4392146) 
 DIABETES  Support  Group  -for  Kaiwaka,  Mangawhai, 
Wellsford  10am,  3rd  Friday  of  month  Ph:A.Pert  4238242; 
J.Gardner 4238060 
 DRINK CAN 'tear tabs' - for Starship Hospital- please collect - 
98 Kaiwaka Mangawhai Rd, leave in mailbox, Ph. 4312625  
 GENEALOGY - Wellsford: 1st Thursday in month Ph: 423 
7033; Waipu: 4th Monday in month Ph: 4312 725 
 GYMNASTICS  OTAMATEA  -  Tuesday  Ph:  Stephanie  022 
3624998 
 HAKARU PONY CLUB - Secretary Denise Rogers 021423376 
secretary@hakaruponyclub.co.nz  
 KAIPARA HUNT - Secretary Albert Doonenbal Ph 4312059 
 KAIWAKA BADMINTON -Tuesdays 7.30pm Ph: 4312345 
 KAIWAKA  DRAMA  CLUB  -  Dave  Edwards  021  611198  - 
KaiwakaDrama@gmail.com Monday 5:30-7:00pm KWMH - FB 
- "KaiwakaDramaClub" 
 KAIWAKA DRUM & DANCE CLASSES - 021 611198 
 KAIWAKA GARDEN & FLORAL GROUP - 2nd Thursday in 
month. Ph: 431 4767 
 KAIWAKA  CUBS  -  Thursdays  5.30-7pm,  Hakaru  Ph:Bruce 
4312542 
 KNITTING FOR WHANGAREI HOSPITAL - 2nd Tuesday in 
month, Apple Basket 10am Ph 4314827 
 MANGAWHAI COMBINED PROBUS CLUB - 2pm, 3rd 
Thursday month, Senior Citizens Hall Mangawhai. Ph: 4315777 
 OTAMATEA GREY POWER - Kath Pattinson 09 431 8960, 
1pm last Wednesday of month, Anglican Church Hall, 
Maungaturoto 
 PT CURTIS CRUISING CLUB - Jean Ph: 4312227 (wk), 4312520 (hm) 
 RSA,Hakaru & Dist.Women - meet 1.30pm 4th Thurs in month 
Ph: 4314 668  
 TRAMPING - Mondays 9am-2:30pm Karen Ph: 4312 090 
 YOGA  -  Tuesdays  6:15pm,  Friday  8:30am  KWMH  Carla  Ph: 
021  296  8794;  Wednesday  5:30-7:00pm  Archie  Bull  Hall 
Dalleise Ph 4312 108 
HALLS FOR HIRE: 
 St.Pauls Archie Bull Hall HIRE $20 half day, $40 full day per 
hire, R. Morgans, Ph 4312365 
 Kaiwaka  War  Memorial  Hall  HlRE  -  Phone  4312725  or 
kaiwaka.hall.bookings@gmail.com 
 Hakaru Community Hall HIRE -Ph. 4312256 or 4312110 
 Te Pounga Marae queries - R. O'Leary 4312 423, J.Nathan 021 
186 7382 
 Kaiwaka Sports Association hire/queries - C. Anderson 4312051 
or kaiwakasports@gmail.com 
Justice  of  Peace:  B.FJaques;  L.Donaldson;  A.F.Hargreaves, 
W.Howard  -  please  phone  to  make  sure  they  are  available 
www.justiceofthepeace.org.nz 
Marriage Celebrants: L.Donaldson; A.F.Hargreaves; C.Rosseels
LOCAL SERVICES 
*Emergencies - Ambulance, Fire, Police - dial 111 
*Non-urgent Police phone 09 4311150
A A: Meets Wed., 8pm Kaiwaka Ph: 4312228, 4315543, 0800229 6757 
AL ANON: In recess, contact Ph: 4312228 
ASUREQUALITY LTD (was AgriQuality) Call Free 0508 0011 22  
BUDGETING SERVICE, WELLSFORD: Free confidential advice & 
support for all areas of personal finance. Ph (09) 423 7123 
CAB-Citizens Advice Bureau.Wellsford Ph: 4237333 
0800 367 222 email:cab.wells@xtra.co.nz  
CIVIL DEFENCE - Kaiwaka Community Response Group: 
kaiwaka.civildefencecrg@gmail.com, 4312725 Wendy 
DOG/STOCK /NOISE CONTROL 0800 105 890 
FUNERAL SERVICES: Morris & Morris Ltd, 
Whangarei - Bev Jaques Ph:4312367 or 0800667747 
GRANDPARENTS Raising Grandchildren: Dianah Roberts 0223819539 
HAKARU & DISTRICTS MEMORIAL RSA (Inc) 733 Settlement Rd, 
Hakaru. Ph 4312 176 or Graeme Hitchcock (President) 431 3064 
HAKARU LANDFILL/Transfer Station:Open everyday except 
Tuesday10am-4pm.Ph4312629 Cost-$55 trailer load up to 1 cubic metre. 
Ph:4258567 - office 
INLAND REVENUE: Last Friday each month, 11-3pm Ph4312661 
KAIPARA DISTRICT COUNCIL www.kaipara.govt.nz:  
Help Desk FREEPHONE 0800 727 059  
KAIWAKA KOHANGA REO: Ph:4312620 
KAIWAKA CEMETERY: Ph: 4312045 
KAIWAKA LIBRARY: kaiwaka.library@gmail.com  
Mon. 4-6pm; Wed., Thurs., Fri., Sat. 10am-2pm Ph:4312539 
KAIWAKA PLAYCENTRE: Ph: 4312286. Hastie Lane 
Monday to Friday 9.00am - 12 noon. 
KAIWAKA POST OFFICE:Ph:4312 431  
Post Code: 0573 for RD2 and 0542 for all Kaiwaka Post Office mail 
KAIWAKA PRIMARY SCHOOL: Ph: 4312309   
KAIWAKA SPORTS ASSN: Ph 4312005; 4312129 gym 
KAIWAKA ST JOHN: Manager Steve Rosser 09 4318403, 021 2316836 
KATE'S PLACE with Govt.Day Agencies/Community Information /
Osteopathy/ IRD / Probation, etc Ph: 4312661 Hours: 9am-3pm. Mon - Fri 
LINKING HANDS Health Shuttle Ph 4314121 or 09 4318969 
MINISTRY FOR PRIMARY INDUSTRIES - General inquiries Call 
Free 0800 008 333 
NORTHPOWER: Faults Kaiwaka area 0800 104040 
OTAMATEA COMMUNITY SERVICES: Counselling, parent coach, 
Family Support worker, budget advice, food bank. Mon-Fri 9am-30m. Ph 
09 431 9080 http://www.otamateacs.org/ 
PARENTPORT: Free, practical family support service Puhoi to Paparoa 
Ph or txt: Dianne 027 2085093 
PERSONAL DEVELOPMENT COACHING, GROUP FACILITATION:  
Sabine Druckler 4312231 
PLUNKET: Kaiwaka - Kaiwaka War Memorial Hall: Clinic 1st Wednesday of the 
month; Coffee Group at 9:30. Mangawhai  - Rose Madsen Cottage, Mangawhai 
Domain,  Moir  St:  Clinic  1st  and  3rd  Monday  of  month;  Young  Babies  Coffee 
Group  2nd  and  4th  Monday  10  am;  Plunket  Playgroup  every  Thursday. 
Maungaturoto - Maungaturoto Congregational Church, 100 Hurndall Street East: 
Plunket clinic 2nd and 4th Wednesday. Cynthia 09 431 8187 or 027 675 3488 
PLUNKET HELPLINE -0800 933 922 (24 hours) 
TAITOKERAU COMMUNITY LAW: Free confidential legal advice and 
assistance, 2nd
Thursday
 of each month. Ph: 0800 155 529 for 
appointments.  
TE KOROWAI AROHA O NGATIWHATUA Ph: 4312675 
(The Cloak of Love of Ngatiwhatua) Support and Maori Consultancy.  
VETERINARY SERVICE MANGAWHAI: 
Ph: 4314535 Mon-Fri 8.00-5.00, Sat 9-12, a/h appt. 
WELLSFORD DOCTORS: Ph: 4238 086 
WOMEN'S WELFARE LEAGUE & Reaching Out For Youth:  
4 Kaiwaka-Mangawhai Rd, M Morgan 4312293 
CHURCHES:
Kaiwaka Revival Church - Your Community Church: Sundays 10am & 
6pm. Ph: Pastor Tawhiri 09 4312 571 or Pastor Paul 09 4312 068 Visit 
us at www.facebook.com/kaiwakachurch 
St Paul's Anglican Church 1st Sun. 9.30 am (Eucharist), 3rd Sun. 9.30 
am (Family Service). Contacts: Church Office 09 431 4122; M. 
Hargreaves 431 2295; C. Bygrave 431 2057; or Rev. Wayne Thornton 
Ph 431 5650 www.mangawhaianglican.org.nz 
Church of Christ the King, Mangawhai:9.30am every Sunday 
St.Mary's Catholic Church: Maungaturoto – Griffins Road, Saturday 
evening Vigil Mass 6pm; Mangawhai – Senior Citizens Hall, Sunday 
Mass 8:30am; Wellsford – Matheson Road, Sunday Mass 10:30am;  
Mid-week Mass times and all enquires to Fr. Bill Fletcher – phone 423 8170
Baptist Church: Sun. 10.30am Mangawhai Snr Cit.Hall.Ph:4312339 
Cause Way Church Mangawhai: Sundays 10.15am, Mangawhai 
Community Recreation Centre, Insley St. Ph: 09 4314782