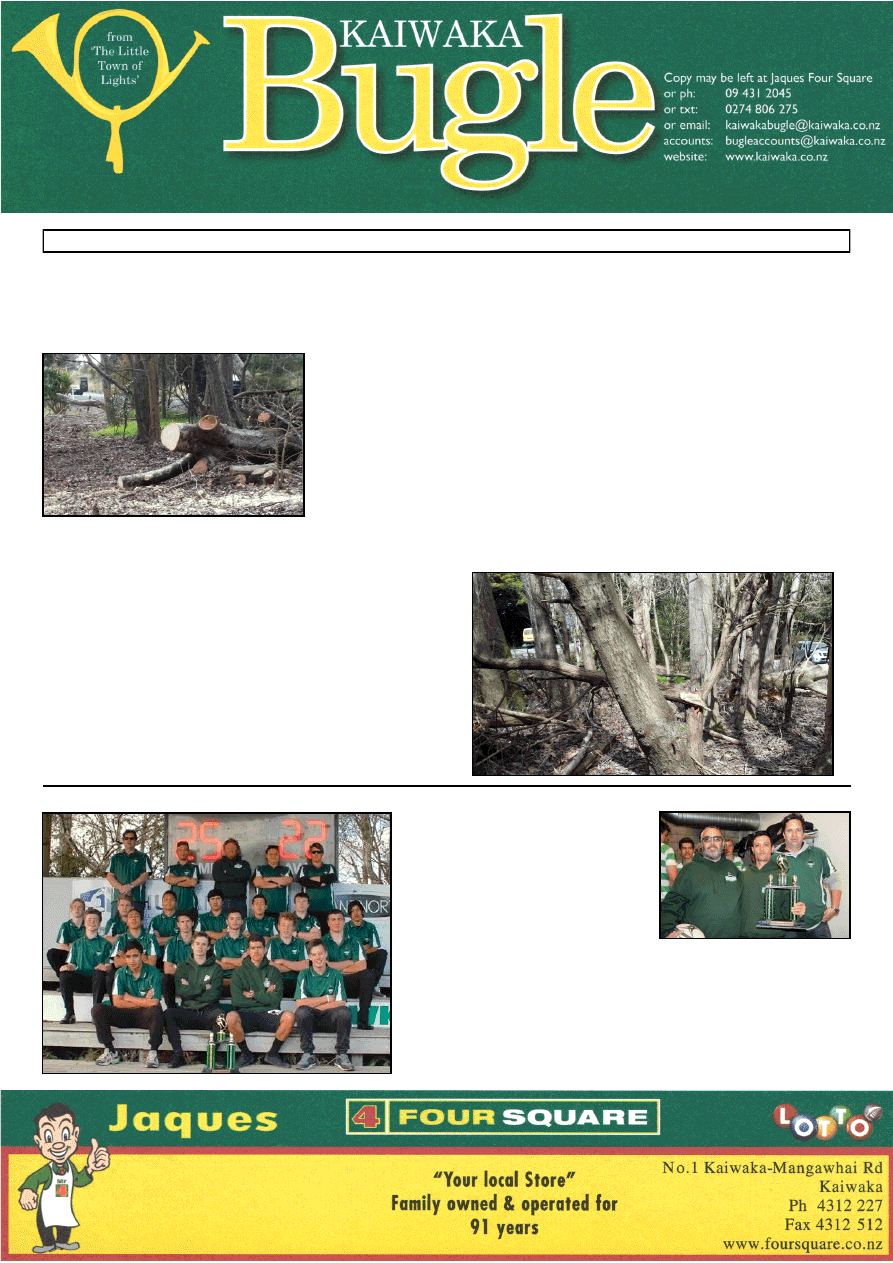 www.kaiwaka.co.nz 
Kaiwaka Bugle - 6 September 2016 
Page 1 
OTAMATEA HAWKS UNDER 16 RUGBY 2016 
Just last week a very large tree crashed over the roadway at 
the Kaiwaka rest area - McClean Park. In view of the size of 
the tree, photo below looking north, it is very lucky no-one 
was 'resting' there at the time it fell. 
There  are  a  large 
number 
of 
the 
poplars  on  the  side 
of  State  Highway 
One  and  the  rest 
area 
that 
are 
rotting, 
splitting 
and  being  held  up 
by other trees. Who 
is  responsible  for 
the 
maintenance 
and  safety  around  these  trees?  From  information  gathered 
the  rest  area  is  currently  owned  by  NZTA,  Doc  and  KDC 
(New  Zealand  Transport  Agency,  Department  of 
Conservation,  Kaipara  District  Council.  But  with  trees  on 
the  side  of  State  Highway  One  they  will  need  the  correct 
safety procedures to be dealt with. 
The  latest  large  tree  that  fell  was  expertly  dealt  with  by 
Steve  Hare.  Steve  is  a  professional 
silviculturist
    of  more 
than  35  years.  He  says  the  dead  trees leaning  on  others  at 
the  rest  area  "are  accidents  waiting  to  happen.  Some  may 
fall on the highway or into the rest area. These need to be 
cleared away by professional tree managers." Steve has an 
idea for a fresh new planting plan to beautify the Park. 
The  one  who  knows  the  most  about  McClean  Park  is  our 
Elizabeth  Preston.  80-year-old  Elizabeth  is  at  the  rest  area 
nearly  every  day  checking  and  clearing  the  rubbish  –  she 
truly cares for this rest area, which is the first real pull-off 
picnic  area  when  travelling  north  out  of  Auckland. 
Elizabeth knows the regulars that stop by and goes quietly 
around when the drivers are having a kip. She also knows 
the 'ratbags' and gets very upset when they steal the flowers 
she plants – "to give the place a bit of colour!". She is not 
happy with those who "do wheelies at night!" either. 
Elizabeth was very grateful for Steve's assistance with the 
fallen  tree.  She  deals  with  the  poplar  'suckers',  but  these 
bigger trees are beyond her control. She doesn't want to see 
a  wall  of  trees  and  shrubbery  that  will  create  a  'hiding 
place' and making it less safe for people to stop and relax. 
Elizabeth  would  dearly  love  some  help  with  keeping  this 
Kaiwaka  rest  area  a  beautiful  spot  to  stop.  Thank  you, 
Elizabeth! 
Our district council has proposed signage and is willing to 
explore  a  management  plan  for  McClean  Park.  But  how 
long do we wait for dangerous trees to be safely removed?
 No: 17
6 September 2016 
Winter Trading Hours: 
Mon - Fri: 8am to 6pm 
Sat: 8am to 7pm (Lotto) 
Sun & Public Holidays: 9am to 5pm 
U16's Prize Giving: 
Player  of  the  Year:  Tamati  Abel  and 
Rhys Shadbolt 
Best Back: Kingi Herewini 
Best Forward: Simon Parker 
Most Improved: Chaz Mikaere 
Player of Year U15: Zack Hamlin 
Most Improved U15: Brian Wellington 
Spirit Cup: The Abel Family 
Coaches: Mike Abel, Mike Peeni, Karl Shadbolt (photo above). 
The  Under  16s  were  undefeated  all  season.  Last  time  this  season 
finals trophy was won was in 1996, when Mike Peeni was a player 
in the team coached by Wayne Leslie (Pongo). 
It  has  been  an  awesome  pleasure  and  honour  to  have  been  part  of 
such  a  successful  team  of  boys,  Mike  Peeni  you  deserve  this  and 
congratulations on one of your best seasons. 
WHOSE TREES ARE THESE?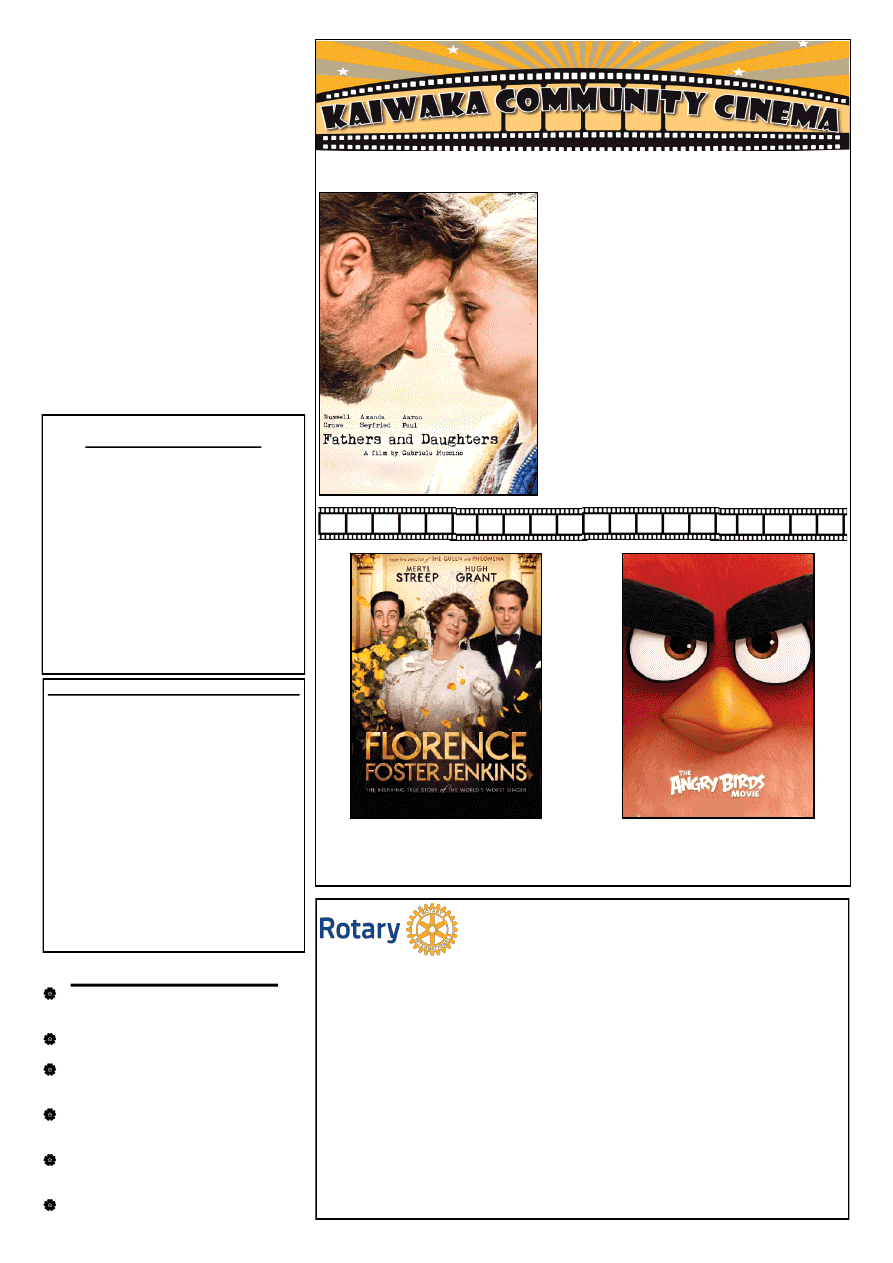 ABOUT TOWN 
Neighbourhood Watch meeting. Tuesday 
6th  September  at  5.30pm  at  Kate's  Place. 
Led by Auntie Ma and Barry Wallace.  
Were  you  affected  by  the  armed  police 
callout last week? 
The ground work for the Heli Pad at the 
KSA is  now  underway. Donations are  still 
needed for its completion, please. 
Voting  documents  for  the  KDC,  NRC 
and  Northland  DHB  elections  will  be 
delivered between 16 and 21 September. 
Congratulations  to  Maungaturoto  for 
their  cotton  bags  with  the  town  logo,  and 
their aim to be plastic bag-free. 
Tomarata  Tag registration day  -  22 Sep, 
tomaratatag@yahoo.co.nz 
KAIWAKA BUGLE No. 17 
6 SEPTEMBER 2016 
CONTENTS 
Page 3: Public Notices, Classified 
Page 5: Pine pollen, Kaiwaka Weather 
Page 7: Kaiwaka School 
Page 9: Kaiwaka Sports Association 
Page 11: Kaiwaka Library 
Page 13: Otamatea High School 
Page 15: Kaiwaka Can, Rotary 
Page 17: Nga Tapuwae, Gardening 
Page 19: Zonta, NRC boundaries 
Bugle 18 will appear 20 September 
Contact for advertising, reports, articles 
or information can be made by 
Email kaiwakabugle@kaiwaka.co.nz 
Ph: 09 4312 045 (Lindsey) 
Txt: 0274 806 275 (Wendy) 
Copy  may  be  left  at  Jaques'  Four 
Square.
At Kaiwaka War Memorial Hall . Adults $10, Kids (under 16) $5, Family Pass (2 adults + 3 children) $25 
Kaiwaka Bugle Advertisements 2016: 
All 
copy 
and 
queries 
to: 
kaiwakabugle@kaiwaka.co.nz 
Our A4 page is divided into 6 columns & 8 
rows (48 blocks), with a 1cm margin. 
Ad  sizes:  1/16  page  (3  blocks)  $5;  1/8 
(6 blocks) $8; 3/16 (9 blocks) $12.  
Classified  ads:  $4  per  entry  (max.  30 
words, max. 4 repeats). 
Payments can be made online, posted or 
left at Jaques Four Square Store. 
Accounts:  
Email: bugleaccounts@kaiwaka.co.nz 
The  Kaiwaka  Bugle  is  a  community 
newspaper run by volunteers.   
Articles, etc. printed are not necessarily 
the opinion of the Bugle Team. 
Kaiwaka Bugle 
Founded May 1978 
We appreciate articles and photos about local 
events, etc, as well as ads and suggestions. 
Copies available in Kaiwaka at Jaques Four 
Square, Kaiwaka Postal Centre, Shamrock 
Service Station, Animal Health Centre, 
Kaiwaka St John shop. 
Also outlets in Maungaturoto, 
Mangawhai and Paparoa. 
Can be viewed online at  Facebook or 
www.kaiwaka.co.nz/Bugle  
Or a copy can be posted to you if you supply 
stamped, self-addressed DLE envelopes. 
Florence Foster Jenkins 
Friday 23 September 7:30pm (PG)
The Angry Birds Movie 
Sunday 25 September 2:00pm (G)
Fathers and Daughters 
Friday 9 September 7:30pm (M)
A Pulitzer-winning writer grapples with 
being  a  widower  and  father  after  a 
mental  breakdown,  while,  27  years 
later,  his  grown  daughter  struggles  to 
forge connections of her own.  
Starring:  Russell  Crowe,  Amanda 
Seyfriend,  Aaron  Paul,  Diane  Kruger, 
Bruce Greenwood, Jane Fonda 
Good people – Having fun – Doing good things
The Challenge of NCEA
On  Tuesday  20  September  at  it's  6pm  dinner  meeting  at  Mangawhai  Golf 
Club,  the  Rotary  Club  of  Maungaturoto  &  Districts  will  be  hosting  Dr 
Deborah Lambie and David Cameron. 
Deborah Lambie, Miss World New Zealand 2015, and a Doctor at Wellington 
Hospital, will talk about both her challenge in dealing with the pressures of the 
Miss World  competition, including  her  determination  to  learn  and  perform  a 
contemporary haka, and her passion for LearnCOACH, a charitable foundation 
established by Deborah and her partner David Cameron. 
LearnCOACH is 'on a mission to change lives through education by making 
learning free, fun and accessible to all New Zealand students'.
"I would definitely recommend LearnCOACH and I am so glad I found 
out about it"  OHS Student
Cost  is  $25.00  per  person.    For  catering  purposes,  please  book  your  interest 
with Vic at 09 431 3347, email vicfranklin@rocketmail.com or go to events on 
www.rotarymgto.club/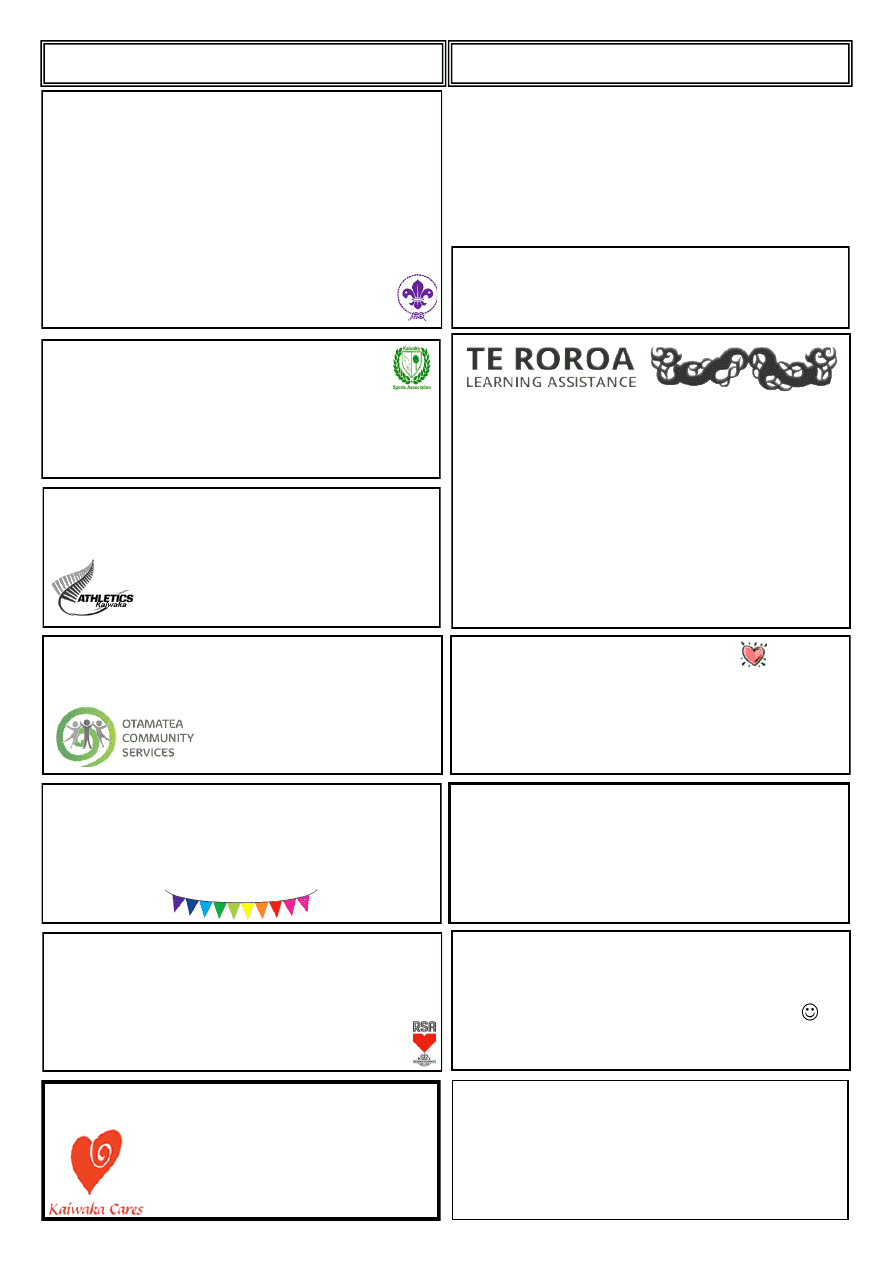 www.kaiwaka.co.nz 
Kaiwaka Bugle - 6 September 2016 
Page 3 
PUBLIC NOTICES 
CLASSIFIED 
Proverbs 12:24   
Work hard and become a leader: 
be lazy and never succeed.  
HAKARU & DISTRICTS RSA Inc 
Each Friday night from 6.30pm meals will be served. 
Members & invited guests, new members welcome. 
Come along & enjoy our hospitality. 
2nd Friday of the month - roast dinner or board menu. 
Last Friday of month - roast pork night &  
sing-along with Des Chitty.  
Ph Heather 4314668 or Jan 4314512 
BALLROOM  DANCING:  Anyone  inter ested  in 
learning  or  already  a  ballroom  dancer  contact  Beryl 
Nozedar. Hoping to organise a fun night once a month 
in Kaiwaka.  09 4312 080  
YOGA  FOR  OLDIES:  I  am  76  a  qualified  yoga 
teacher  wanting  to  encourage  oldies  of  any  health 
condition to join me in a gentle yoga class in Kaiwaka. 
Beryl Nozedar 09 4312 080. 
Energy Balancing @ Kate's Place, Kaiwaka. 
1st Friday of each month 
9am-12pm. Koha. 
Txt 0273135440 for an appointment 
Healing from the
Kaiwaka Library 
Used Book Sale 
Clearance 
$1 each, 3 for $2 or 10 for $5
THE SUNSHINE GIRLS 
Need help with your house cleaning? 
Sometimes you just need another pair of 
hands. We offer two pair and a smile. 
Comparable hourly rate. 
Ph 4312 532 
Community Drop-In Centre
Open 10am – 2pm  
Wednesday & Friday 
WIFI, printing & scanning available at 
Kaiwaka's own drop-in social space.
Adult Learners' Week Activities 
Monday 5 September to Friday 9 September 2016 
163 Hurndall Street, Maungaturoto - above Four Square, 
Freephone 0800 555 635 
Monday 5 September 2016 – Scavenger Hunt 
The around the town scavenger hunt begins.   
To participate you will need to visit our office (above 
Four Square) to collect your scavenger hunt 'passport' and 
begin collecting stamps.   
Tuesday 6 September 2016 – Open Day at our Centre 
Come along and join in the activities set up, learn about 
our services and enjoy a nice hot soup and buns. 
Fundraising Auction 
Hakaru Hall - Saturday 24 September - 2pm 
Supporting local groups 
Kaiwaka Cares - Kaiwaka Foodbank - 
Kaiwaka/Mangawhai Scouts - Mangawhai 
Defence Cadets
OTAMATEA COMMUNITY SERVICES 
Annual General Meeting
21 September 3pm 
155 Hurndall St  
Maungaturoto 
All welcome 
SCOUTS 
The Kaiwaka Mangawhai Scouts will be picking up 
rubbish on the side of the road on the  
17 and 18th September.  
We will walk our way from the School to the Heads. 
There will be young people on the road so please drive 
carefully around this area.  
The rubbish collection is to raise funds for our scouts 
to attend the Blenheim Scout Jamboree  at the end of 
the year. If you would like to sponsor us please follow 
the link below. Thank you  
https://givealittle.co.nz/cause/
kaiwakamangawhaiscoutrubbishcollection 
KAIWAKA ATHLETICS CLUB 
Annual General Meeting 
Wednesday 7 September, 5.45pm 
Otamatea High School staffroom
KAIWAKA SPORTS 
ASSOCIATION 
Meeting 
Thursday 8 September, 7pm 
Kaiwaka Sports Complex 
Did you know? 
An ostrich's eye is bigger than its brain. 
(I know some people like that also)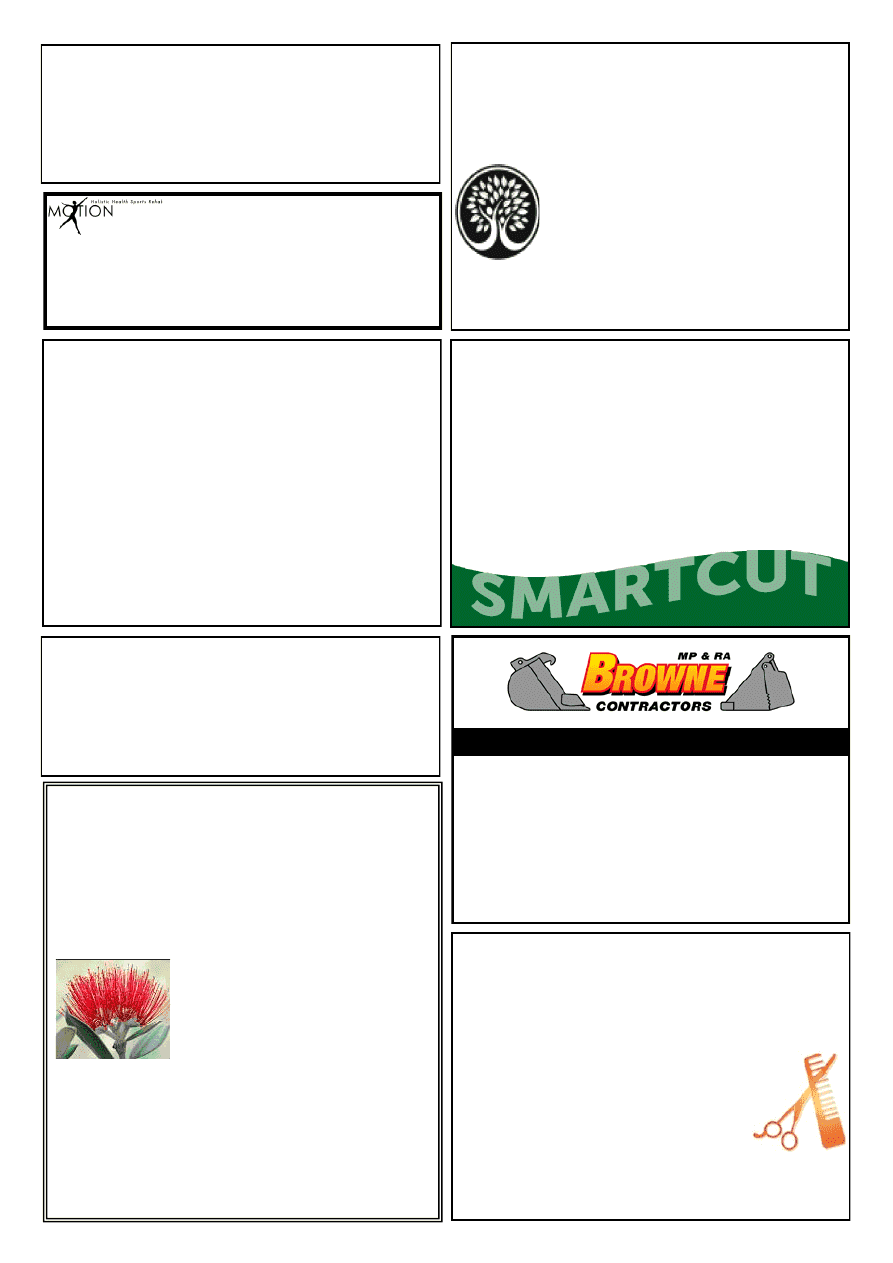 White Horse Farm 
Farm Stay/Bed and Breakfast 
Ph +64 9 390 1260    113 Tawa Ave, Kaiwaka 
bookings@whitehorsefarm-kaiwaka.co.nz 
www.whitehorsefarm-kaiwaka.co.nz 
AFFORDABLE PRICES! 
MENS DRY CUT FROM $18.00 
LADIES DRY CUT FROM $28.00 
KIDS DRY CUT FROM $15.00 
COLOUR CUT FROM $90.00 
JUST CUTS'AND   
MORE 
021 165 2629 
NOW SELLING: scented tealights, incense, smudge sticks, 
copper bracelets, aurora ball crystals, dream catchers, healing 
stones, rose quartz, cds, and much more. Open 6 days. 
KAIPARA FLOORING CO 
Independently owned & operated 
32 HURNDALL ST MAUNGATUROTO 
Supply & Installation of Carpet, Vinyl,  
Vinyl Wood Planking
Stockists of 2m & 3m wide 
vinyl & carpet short ends
Residential & Commercial 
First Class Installations 
For a free measure & quote 
phone Christine  
09 946 9886 or 021 515 415 
kaiparaflooring@gmail.com 
http://www.kaiparaflooring.co.nz/ 
Waipu Natural Health 
3 Cove Road, Waipu  (opposite the Pizza Barn) 
Ph: 09 432 1325 
www.waipunaturalhealth.co.nz 
Clinical Nutritionist (Masked Allergy Testing), 
Naturopaths, Registered Medical Herbalist , 
Registered Massage Therapists, 
Reflexology, Beauty Therapy, Craniosacral 
Therapy, Hypnotherapy, Counselling, 
Change Catalyst, ThetaHealer, Naturopathic 
Prolotherapy & Scenar (joint & muscular 
therapy), and much more... 
GIFT VOUCHERS AVAILABLE 
4T DIGGER – BOBCAT – TIP TRUCK 
Property Maintenance - Driveways - Building Sites 
Stump & Tree Removal - Hole Boring - Chain Trencher 
Calf Shed and  Stockyard Cleaning
KAIPARA - WHANGAREI - RODNEY 
Phone Matt: 021 199 6677 
Email: mprabrownecontractors@gmail.com 
Mangawhai Heads 
Garden Centre
1758 Cove Road
945 0707 
021 165 2629
All your outdoor needs sorted so you don't have to... 
I can prune, chop, tidy, spray, mow, plant 
- you name it, I can do it! 
Residential & Commercial 
Lawn & Garden Care 
Call Rodney, your local  
lawnmowing contractor 
021 138 2344 
WAIPU OSTEOPATH 
Maria Gabriel  ACC Registered Osteopath 
8 The Centre, Waipu 
Monday to Thursday  
Freephone 0508 924786 (0508 WAIPUOSTEO) 
www.getinmotion.co.nz  No doctor referral required 
FREE GRAZING WANTED 
Small or large block 
Can do some fencing or water 
Phone after 6pm 
4312 006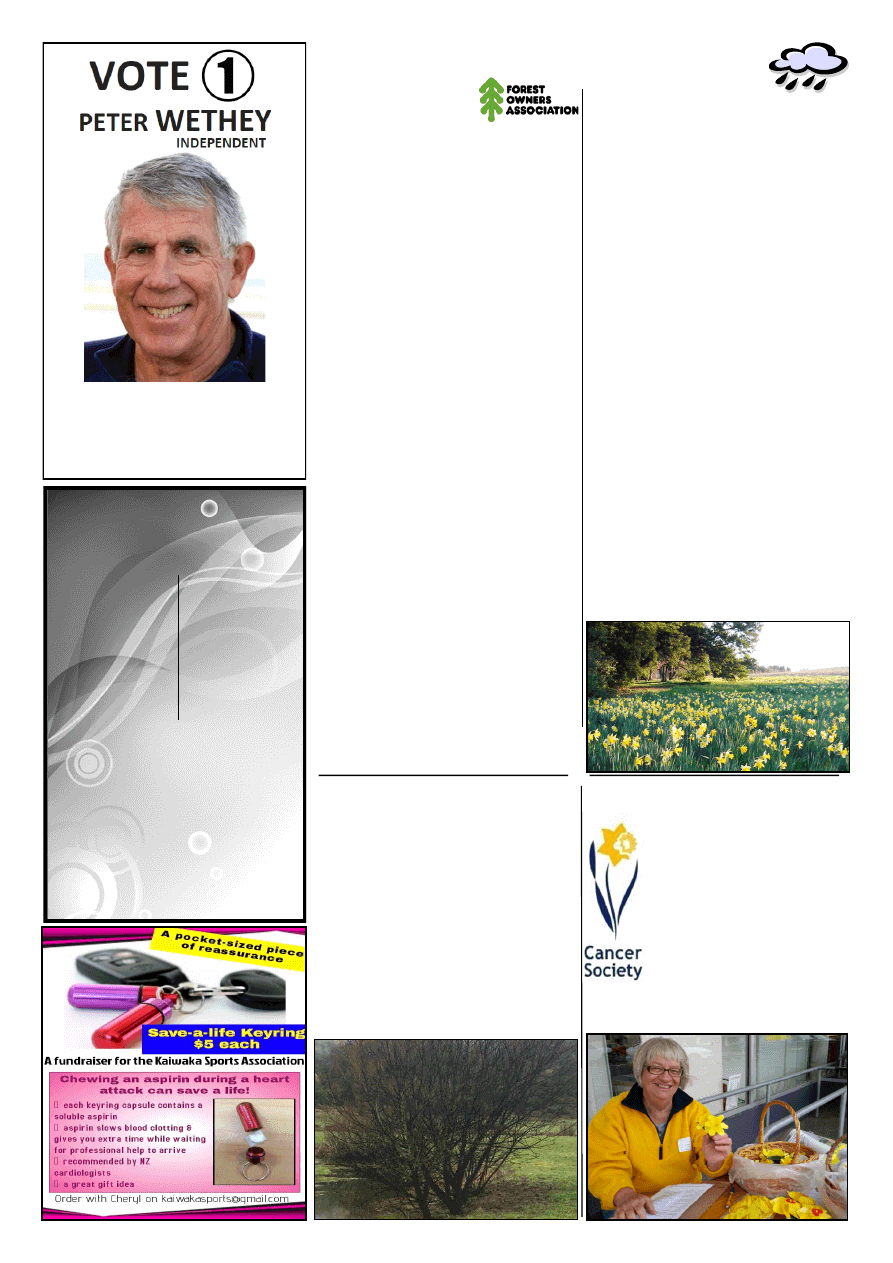 www.kaiwaka.co.nz 
Kaiwaka Bugle - 6 September 2016 
Page 5 
KAIWAKA 
WEATHER 
U Beauty 
Please call Nicole for bookings 
09 393 6336 or 022 0639450 
Qualified Beautician 
4 Kaiwaka – Mangawhai Rd 
Kaiwaka 
Underarm Wax  
$20 
Extended Bikini Wax 
$30 
15 min Back Massage 
$25 
Eyebrow Wax  $10 
Eyebrow Tint  $10 
Eyelash Tint 
$20 
Lip Wax 
$10 
Chin Wax 
$10 
Bikini Wax 
$20 
Brazilian 
$50 
½ Leg Wax 
$30 
Full Leg Wax  $45 
Full Pedicure  $60 
Foot Tidy  
$35 
Manicure 
$45 
Nail Tidy 
$25 
Chest Wax 
$30 
Back Wax 
$40 
Nostrils 
$10 
Ears 
$10 
"I wandered lonely as a cloud  
That floats on high o'er vales and hills,  
When all at once I saw a crowd,  
A host, of golden daffodils;  
Beside the lake, beneath the trees,  
Fluttering and dancing in the breeze." 
~William Wordsworth 
Welcome  to  spring  and  it  has  been 
beautiful  with  those  fine  sunny  days.  The 
earth takes on a new look (well our side of 
the  earth  does).  As  they  say  take  time  to 
smell the flowers.  
Yes  we  had  a  wet  August  although  not  as 
bad  as  some.  Most  of  the  month  was 
relatively  calm  and  not  too  much  wind. 
Those sunny days we had during the month 
were great to charge your personal batteries 
if you were fortunate enough to do so. 
The first half of the month poured it down 
and then a  bit  more  later on  in the  month. 
Recording for 2016 14 days of rain and in 
2015 16 days of rain. 
We recorded for August 2016 226mm rain 
and for 2015 was 131mm. 
First 8 months of 2016 was 1076mm and in 
2015 it was 1132. 
Our  driest  August  since  1987  was  2001 
with 54mm and the wettest was 1989 with 
318mm  Our  driest  first  8  months  of  any 
year since 1987 was 1994 with 612mm and 
the  wettest  was  1987  with  1373mm.  I 
believe  there  would  have  been  bigger 
tallies around than ours.  
Look after each other.                          
~Bev 
A FRESH START 
FOR KAIPARA
Facebook: www.facebook.com/peterwethey1 
Authorised by: Peter Wethey, 42 Cheviot Street, Mangawhai Heads 
Pine pollen not to blame 
for hay fever
This  time  of  the  year 
pine  pollen  becomes  a 
visible  cover  over  puddles  and  ponds 
and  commentators  habitually  blame 
pine trees for causing hay fever. 
However,  pine  pollen  only  affects  a 
very  small  proportion  of  people  with 
allergies.  
According 
to 
forest 
research 
organisation  Scion  Principal  Scientist 
Dr Tim Payn this is due to its relatively 
large size and waxy coating and so it is 
far less reactive up people's noses than 
grass pollen.  
"The science shows that pine pollen is 
unlikely  to  cause  a  reaction  in  people 
because  of  that  layer  between  the 
pollen  and  the  sinuses  of  the  people 
who breath it in," Dr Payn says.  
"The  wax  inhibits  protein  leaking  out 
and causing an allergic reaction as well 
as  it  having  not  much  protein  in  the 
pollen in the first place.  Much smaller 
grass pollen, in contrast, is much more 
likely  to  penetrate  deeper  into  the 
respiratory  system  and  cause  a 
reaction."  
Dr  Payn  says  it  is  not  impossible  for 
people to react to Pinus radiata pollen, 
especially  as  a  pollen  cross-reaction 
where  the  body's  immune  system 
generalises an allergic reaction.  But he 
says most cases of hay fever are either 
from  grass  pollen  or  some  other  tree 
species such as silver birch.  
He  also  says  people  shouldn't  be 
concerned  about  seeing  pine  pollen  on 
ponds and lakes and its potential to add 
nitrogen into the water.  
"It  mightn't  look  good,  but  the  pollen 
soon  breaks  down  harmlessly  and  has 
minimal 
impact on the environment."  
2  September  2016.  For  further  information 
contact Dr Tim Payn on  021 866 137 
DAFFODIL DAY 
A  big  'Thank  You'  to 
everyone 
who 
gave 
so 
generously  to  this  year's 
Daffodil Day Appeal.  
A  total  of  $1275  was  raised. 
Thanks  also  to  Jaques  Four 
Square,  La  Nonna  Bakery, 
Shamrock Service Station, the 
Coffee  Pot  Cafe  and  the 
collectors and helpers for their 
continued support. 
Well done everyone!  
~Gay Young 
Photo:  Daffodil  Day  volunteer  Carolyn 
Dymock outside Jaques Four Square. 
BLACK WILLOWS 
Have  you  seen  that  our  willow  trees 
now  have  unsightly  black  trunks  and 
branches? 
The black soot is the result of the giant 
willow  aphid  -  first  detected  in  2013. 
The aphids suck the sap of willow trees 
and  as  they  feed  they  secrete 
honeydew,  which  attracts  a  number  of 
insects, including wasps. The stems and 
ground under the willow trees blacken, 
as the sooty mould grows on the energy
-rich honeydew. 
Ladybirds  and  a few  native  birds  have 
been making the most of the new food 
resource. 
See  poplarandwillow.org.nz 
for further information.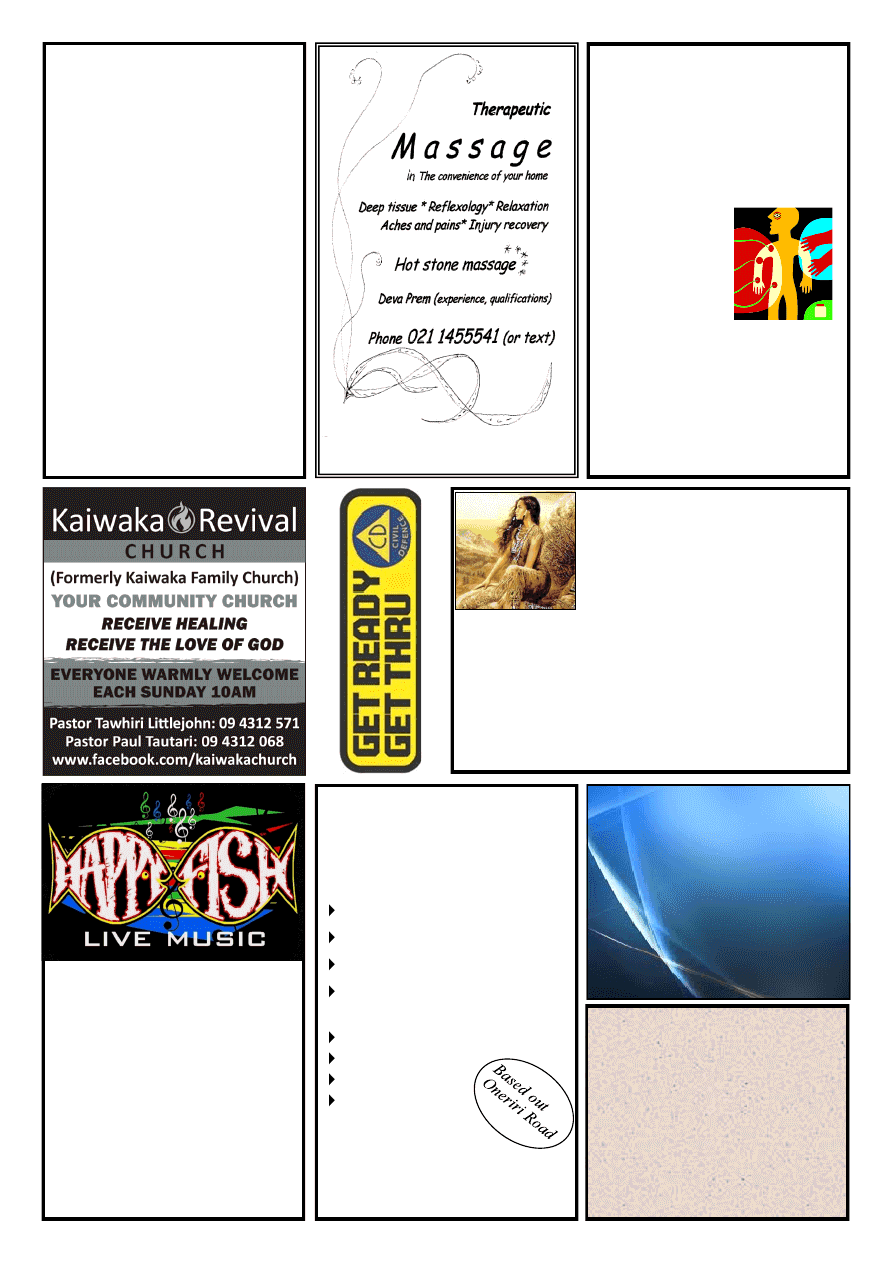 HODGETTS 
CONTRACTING
Digger Work    
Driveways 
House Sites   
Dams 
Drains, etc
Also available for HIRE 
3 ton Vib Roller 
Heavy Duty Tow 
Waterblaster  
Lazer Level 
Phone Mark 
4312877 
027 447 8554
www.mangawhaimassage.co.nz 
OWEN STEVENS 
Osteo Therapist
For careful adjustments to bones 
and joints 
Treatment for humans and their 
pets 
Clinics: 
Kate's Place, 
Kaiwaka: 
Last Friday of 
month 
For bookings: 
9.00am-5.00pm  
Phone 
09 4312661 
Or phone Owen  
09 4317123 anytime 
Freeview  
Installations 
Richard Te Haara 
25 Marram Place 
Mangawhai Heads 
021 1104056 
kiwipride@xtra.co.nz
Willow Bend
HORSE  
HOTEL 
"   
Total Horse Care 
" 
Agistment 
" 
Riding Lessons 
" 
Arena Hire (60x40) 
" 
Young Horse Starting 
" 
Re-training/Exercising 
" 
Hoof Trimming 
" 
Problem Solving 
Phone Sue 09 431 2817 
or 021 623 776 
Or email  
susanjoll11@gmail.com 
ROCKIN' POPULAR, OLD AND 
NEW PARTY SONGS WITH LOADS 
OF KIWI MUSIC AND A FEW 
ORIGINAL TUNES IN THE MIX. 
AN ELECTRIC DUO FEATURING:  
GORDON JOLL 
(NZ Music Hall of Fame)
ON DRUMS AND SUE JOLL ON 
GUITAR AND VOCALS. 
A BAND FOR ANY OCCASION 
BACKED BY YEARS OF 
EXPERIENCE. 
Contact: Sue 021 623 776 
Email: happyfishband@gmail.com   
Website: www.happyfishband.co.nz 
Counsellor and 
Registered Psychotherapist 
Offers Supervision
Susan Matheson 
MNZAC, RN 
Dip. Psychosynthesis Counselling and Psychotherapy 
Phone 09 431 5997 
Mobile 027 605 2427 
Trails end 
spiritualist gathering  
Last Sunday of every month  
11.30-2pm tea/coffee provided  
$5koha for all inquiries  
0211652629 evenings 099450753 
Trail.end@hotmail.com 
Bringing together light minded people 
Guest speaker each month and 
Workshops every 2nd Wednesday  
6:30-7:30pm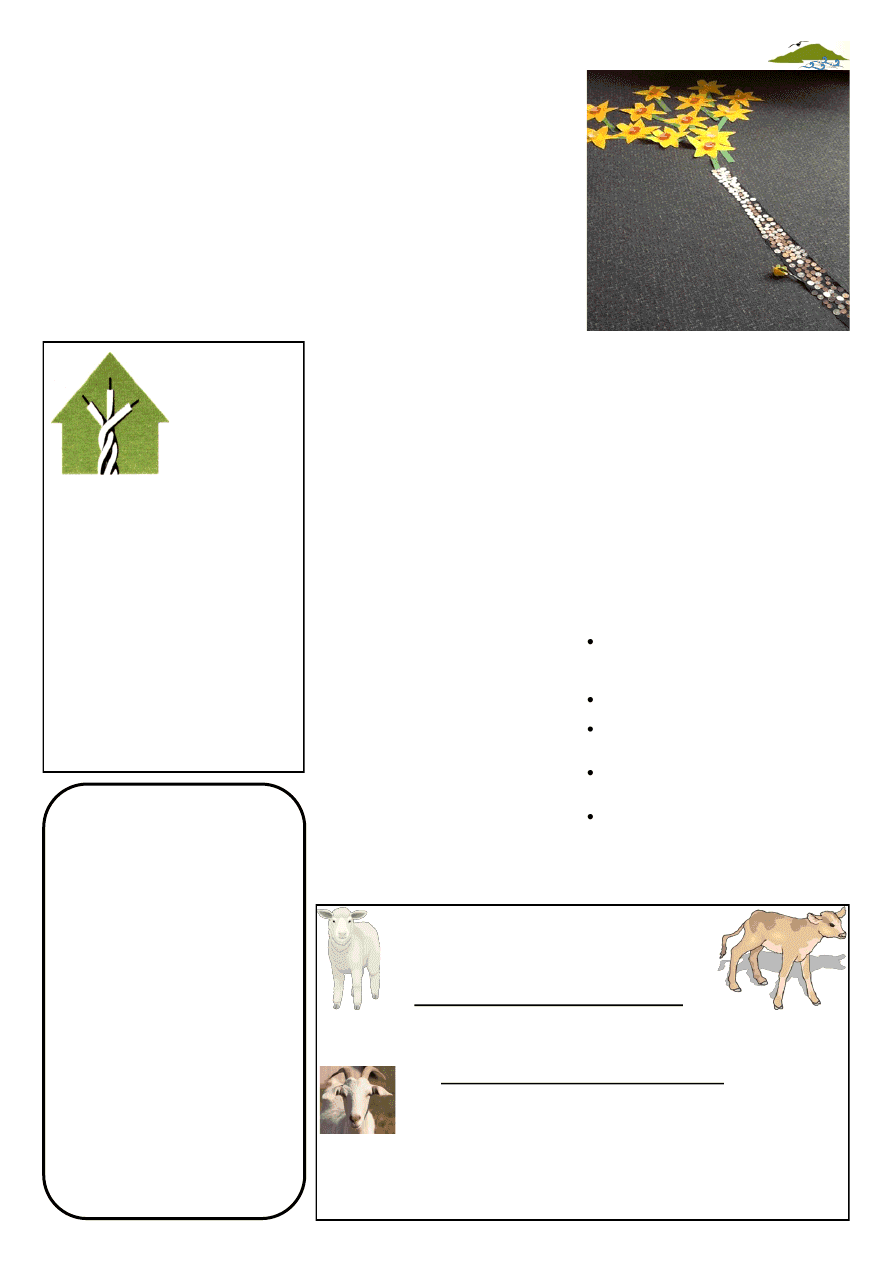 www.kaiwaka.co.nz 
Kaiwaka Bugle - 6 September 2016 
Page 7 
KAIWAKA SCHOOL 
Arts Festival 
The children are currently getting ready 
for our Arts Festival. The show will be 
on Wednesday the 21st of September at 
6:00 pm. On the night students need to 
arrive at school at 5:00 pm. Once ready 
we  will  walk  down  to  the  Memorial 
Hall (at around 5:45 pm). There will be 
a  gold  coin  donation  to  watch  the 
show.  
Cross Country 
A big thank-you to Martine Greig who 
took  the  children  to  the  Bream  Bay 
Cross  Country.  From  the  sounds  of  it, 
it was a great day.  
"Last 
Wednesday, 
I 
took 
an 
exceptional group of students out to the 
Maungaturoto 
Country 
Club 
to 
compete  in  the  Bream  Bay  Cross 
Country competition. 
"The  students  showed  exceptional 
sportsmanship,  were  well-behaved  and 
ran to an outstanding standard. 
"I  would  particularly  like  to  recognise 
Morgan Jansen, who came 1st in the 8 
year  old  girls  race  and  Leonie  Beyer, 
who  came  4th  in  the  10/11  year  old 
girls race. 
"Special  thanks  also  goes  to  Justin 
Walker  for  providing  transport  to  the 
event  and  Bruce  Ferguson  for 
providing transport and being a course 
marshal. 
"Ka pai all of you! It was a pleasure to 
take  you  away  to  represent  Kaiwaka 
School. 
"Thank you, Martine" 
Ag Day Trophies 
Can  people  please  return  Ag  Day 
trophies to the school office ASAP. 
Interviews 
A reminder: Interviews are on Tuesday 
the  6th  and  Thursday  the  8th  of 
September. The 6th is our late night. 
Go onto the website 
www.schoolinterviews.co.nz  and  type 
in  the  code  tudk3  to  book  interviews 
with  your  children's  teachers.  Please 
contact  the  office  if  you  have  any 
questions.  
Monday 12 September - Buses 
A  reminder:  Buses  will  be  leaving 
school at 1:00 pm on Monday the 12th 
of September.  This is due to the NZEI 
and  PPTA  meeting  being  held  at  1:30 
pm  in  Wellsford  on  this  day.  Most  of 
the teachers and support staff are NZEI 
members and will be attending to vote 
on  the  future  of  Education  in  New 
Zealand.  This  means  there  will  be  no 
classroom lessons from 1:00 pm on this 
day.  
Parent Calendar App 
Congratulations  to  Amy  Griffiths  who 
has won the 'Lucky Book Order' draw 
for  downloading  the  Parent  Calendar 
App and letting us know.  
We  have  been  told  today  (Wednesday 
31  August)  that  87  people  have  now 
downloaded  the  Parent  Calendar  App. 
Thank-you.  It  was  good  to  know  that 
we  could  easily  contact  you  all  on 
Friday  when  the  police  advised  us  to 
keep the school open. 
Our  thanks  go  to  the  local  businesses 
who support the Parent Calendar App: 
Leabourn  Passenger  Service,  Three 
Furlongs  Bar  &  Grill,  Parker  Lime  Ltd, 
Kaiwaka  Motorcycles,  Agridustrial,  Rural 
Design,  Kaiwaka  Cheese  Shop,  Jaques 
Four Square, U Beauty, REMAX. 
~Sharlene Tornquist 
Public Health 
There  appears  to  be  an  increase  in 
students 
away 
with 
'stomach 
bugs'    (vomiting  and  diarrhoea)  in 
schools currently. 
A few points to remember : 
Please  keep  your  child  at  home  from 
school for a further two days (48 Hours) 
once  they  are  no  longer  sick,    (after  the 
last vomit or episode of diarrhoea). 
Remember  to  keep  hydrated  should  you 
become sick, by increasing fluids. 
Should  symptoms  persist  or  become 
worse  please  take  your  child  to  the 
Doctor. 
Washing  hands  with  soap  and  warm 
water and drying are essential to prevent 
further spread of stomach bugs. 
Should  someone  you  know  have  a 
stomach bug  : stay away if possible. 
Many thanks and stay well. 
~Dee Millen 
Public Health Nurse 
UP-LINK 
CHRIS WARING 
FREEVIEW 
INSTALLATIONS 
T.V. - HOME THEATRE & 
HI-FI ADVICE/SET UP
SKY ACCREDITED 
INSTALLER
MOB.0273403747 
HM.094312328 
EMAIL cwaring44@gmail.com
28 YRS EXPERIENCE 
OFFERING UNBIASED ADVICE 
Reyahn George Leng 
Registered Electrician 
Local, honest and reliable. 
For your residential and 
light-commercial projects. 
022 314 1068  
 09 431 2527 
KAIWAKA SCHOOL 
AGRICULTURAL DAY 
OCTOBER 20, 2016 
Entry 9am – Judging starting at 10am 
Any queries please ring Linda at the office on 431 2309 or e-mail: 
admin@kaiwaka.school.nz Entry forms available at the Kaiwaka School Office  
This year there will also be a Goat Class  
The PTA will be doing a Sausage Sizzle 
Tea and Coffee will be available for a Koha/Donation 
*The food provided in the pavilion is for Judges and Organising Committee only* 
=====================================================  
We are looking for volunteers to help out on Calf Club Day. Please contact 
Linda at the office to leave your details. Thank you. 
Our  Daffodil  Day 
Coin  Trail  raised 
$100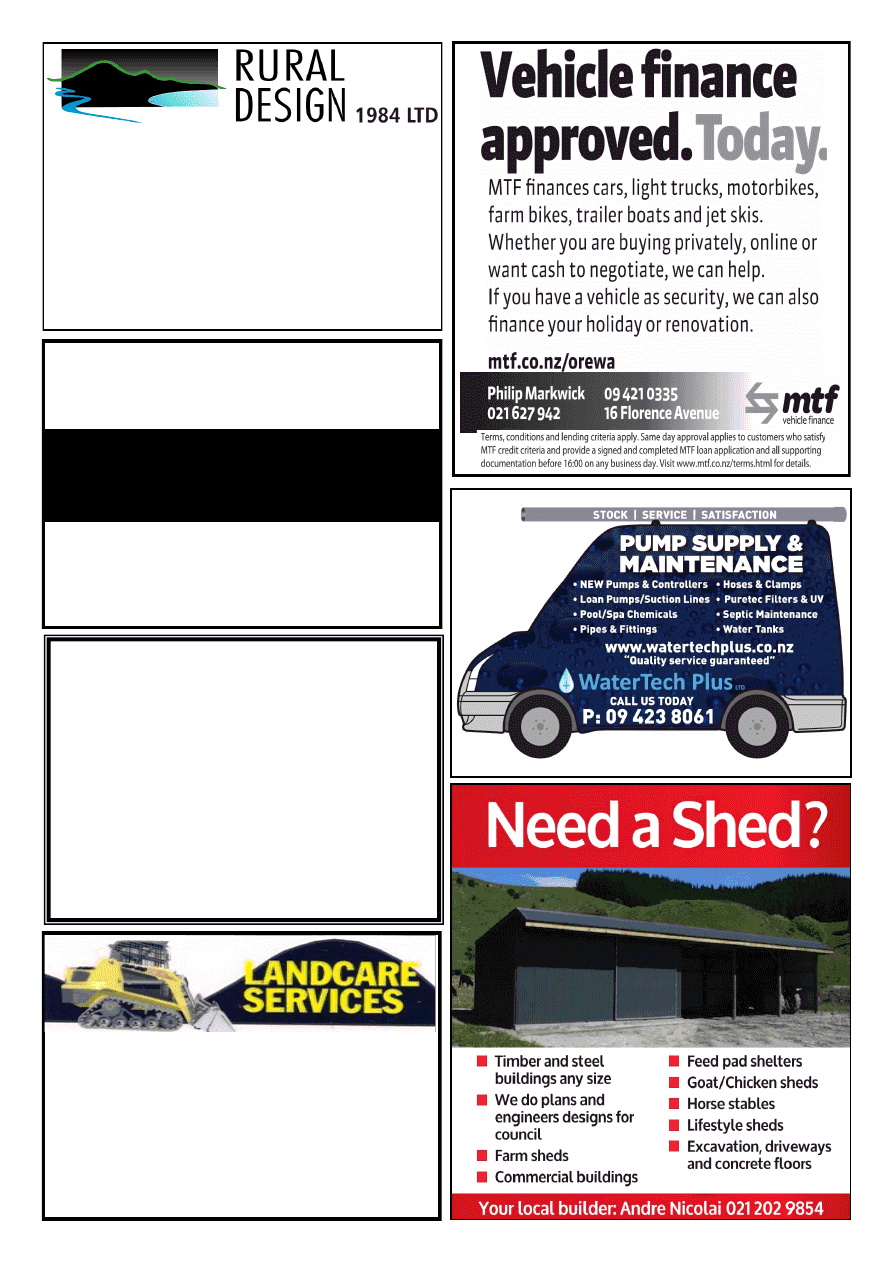 LANDSCAPING 
4 IN 1 BUCKET 
TRENCHER 
POLE HOLES 
ROTARY HOE 
COMPACT ROLLER 
OFFAL HOLES 
CAN SUPPLY WOODCHIP & POST PEEL 
5 TON TIPPER 
FOR RELIABLE AND FRIENDLY SERVICE CONTACT DAVE 
Dave Hyndman 
 
KAIWAKA 
PH: 09 4312302 
MOB: 021 431 238 
David Korach 
Your local Gib Stopper
DK PLASTERER LTD 
0274769221 
dkorach6@gmail.com 
Wholesale Native Plant Nursery and Planting 
Small and Large orders welcome 
By Appointment 
300 Kaiwaka-Mangawhai Road, Kaiwaka 
Phone: 09 431 2481 
Email: info@ruraldesign.co.nz 
www.ruraldesign.co.nz 
MULCHING 
GORSE,SCRUB ETC 
PADDOCK TOPPING OR MULCHING 
2.8m mulcher with 140HP tractor. 
Experienced operator. 
LIFESTYLE PROPERTY MAINTENANCE 
Putting life back into your style 
BOOK NOW. Phone James 
mob: 0273 808622 or 09 431 2245 
email: lifestylesorted@gmail.com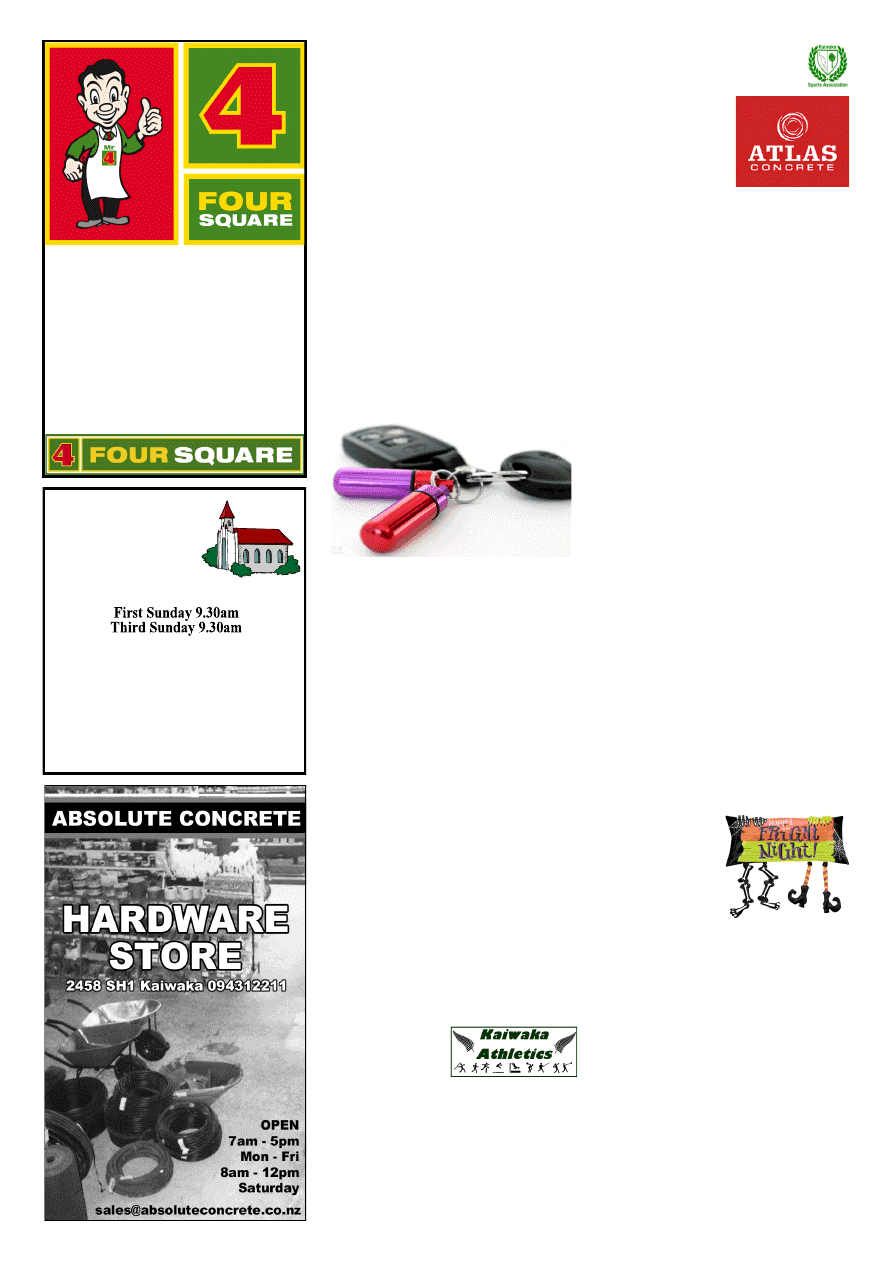 www.kaiwaka.co.nz 
Kaiwaka Bugle - 6 September 2016 
Page 9 
ST PAUL'S  
ANGLICAN  
SUNDAY  
SERVICES
St Pauls Church: Kaiwaka-Mangawhai Rd. 
1st Sun - Eucharist 
3rd Sun - Family Service 
Office 4314 122 
Contacts:M.Hargreaves 4312295, C.Bygrave 4312057  
or Rev. Wayne Thornton Ph 431 5650 
www.mangawhaianglican.org.nz
Winter Stock 
Socks, gloves, & slippers 
Gas swap a bottle 
Firewood & Kindling 
Jaques Four Square 
Phone: 4312227 
1 Kaiwaka-Mangawhai Road, Kaiwaka. 
KAIWAKA SPORTS ASSOCIATION
KSA Fundraiser:  
Save-a-Life keyring 
If you have one of these keyrings, you 
could save a life! 
The  Save-a-Life  keyring  has  a  capsule 
which  contains  a  soluble  aspirin. 
Chewed or placed under the tongue, an 
aspirin  can  make  all  the  difference 
when someone is experiencing signs of 
a  heart  attack.  The  aspirin  potentially 
helps  keep  a  patient  alive  for  what 
paramedics  call  "The  Golden  Hour". 
This  is  the  time  between  when  the 
attack  begins,  paramedics  arriving  on 
the  scene  and  the  time  it  takes  to 
transport the patient to hospital. 
The  keyrings  are  $5  each  -  a  small 
price  to  pay  for  potentially  saving 
somebody's  life.  Buy  one for someone 
you love.  
Contact me (details below) to place an 
order. 
Fast Five Netbal Module 
Our  Fast  Five  Module  starts  this 
Sunday.  Spectators  are  welcome,  so 
come  along  to  our  gymnasium  from 
2pm to watch the action. 
Rugby Reps 
We  are  proud  to  be  hosting  two 
Northland IMB matches at our grounds 
next  Saturday. Northland (South Zone) 
will  be  taking  on  North  Harbour,  the 
Under  14s  kick  off  at  noon  and  the 
Under  16s  will  kick  off  at  1.30pm. 
Refreshments available. 
Parenting course 
Kaipara  Plunket is  hosting  a  Parenting 
Styles  course  at  our  Sports  Complex 
next  Wednesday  from  10.30am  until 
noon.  This  is  a  free  course, 
refreshments  will  be  available  and 
children  are  welcome.  Please  register 
with Tina Ball on 021 033 5128. 
Sports Day 
An  inter-schools  Sports  Day  for  Years 
7  and  8  will  be  held  at  our  Sports 
Complex  on  Tuesday  20th  September. 
Spectators welcome. 
Kaiwaka Athletics Club 
The Kaiwaka Athletics Club AGM will 
be  held  this  Wednesday  in  the 
Otamatea 
High 
School staffroom at 
5.45pm. 
All 
welcome. 
Meet the Candidates 
Interested to hear from people standing 
to  represent  our  community?  Come 
along  to  the  Sports  Complex  next 
Wednesday  at  7pm  to  listen  to  the 
candidates  and  ask  questions.  A  gold 
coin  donation  is  appreciated.  All 
welcome. 
KSA Helipad 
Many thanks to Atlas 
Quarries  who  have 
offered  to  donate 
some  of  the  concrete 
and aggregate needed 
for 
the 
Rescue 
Helicopter's  helipad. 
We really appreciate their support! 
The  helipad  will  cost  a  bit  more  than 
we  originally  thought  -  this  is  mainly 
because the helipad needs to withstand 
the  very  heavy  load  of  the  helicopter 
and will need extra thick concrete with 
strong  reinforcing.  The  Northland 
Emergency 
Services 
Trust 
recommended  that  we  extend  the 
concreting into the carpark (for smooth 
patient  transfer  from  the  ambulance) 
and  that  we  also  have  a  floodlight 
directed onto the area. And the site will 
need extensive drainage.  
If  you  have  been  thinking  about 
donating  towards  this  community 
project,  it's  not  too  late,  and  all 
donations  (big  or  small)  would  be 
gratefully  received.  You  can  donate 
online  into  the  Kaiwaka  Sports 
Association's 
bank 
account 
06  0365  0022472  00  (please  use 
reference  Rescue  Helicopter).  Or  you 
could drop money off in an envelope at 
Jaques  Four  Square,  there  is  a  box 
behind  the  checkout  for  Sports 
Association  money  (please  write 
Rescue Helicopter on the envelope).  
KSA Meeting 
There  will  be  a  Kaiwaka  Sports 
Association  meeting  this  Thursday  at 
7pm,  at  the  Sports  Complex.  All 
welcome.  
Thank you to Pub Charity 
Recently I applied to Pub Charity for a 
grant to purchase asymmetrical bars for 
our  gymnastics  club,  and  $7,500  was 
approved! Many thanks to Pub Charity 
for supporting our young gymnasts. 
Fright Night 
Our  annual  Fright 
Night is next month. 
Last  year  we  had 
over  400  people  at 
Fright 
Night 
– 
making  it  one  of 
Kaiwaka's  biggest 
events  of  the  year!  As  part  of  the 
evening  we  transform  the  rugby 
changing  rooms  into  a  'haunted  house' 
which  children  can  choose  to  walk 
through. We have an earlier session for 
the  younger  children  and  then  dial  up 
the  scare-factor  for  a  later  session  for 
the older children! 
So,  I  am  looking  for  some  ideas  to 
make  that  later  session  really  scary.  If 
you have any suggestions, please get in 
touch  with  me  (contact  details  below). 
I'm  also  looking  for  some  creative 
people  who  are  interested  in  helping 
make  decorations  for  the  haunted 
house.  Any  help  would  be  much 
appreciated.              ~Cheryl Anderson
4312 051, 027 3462702, kaiwakasports@gmail.com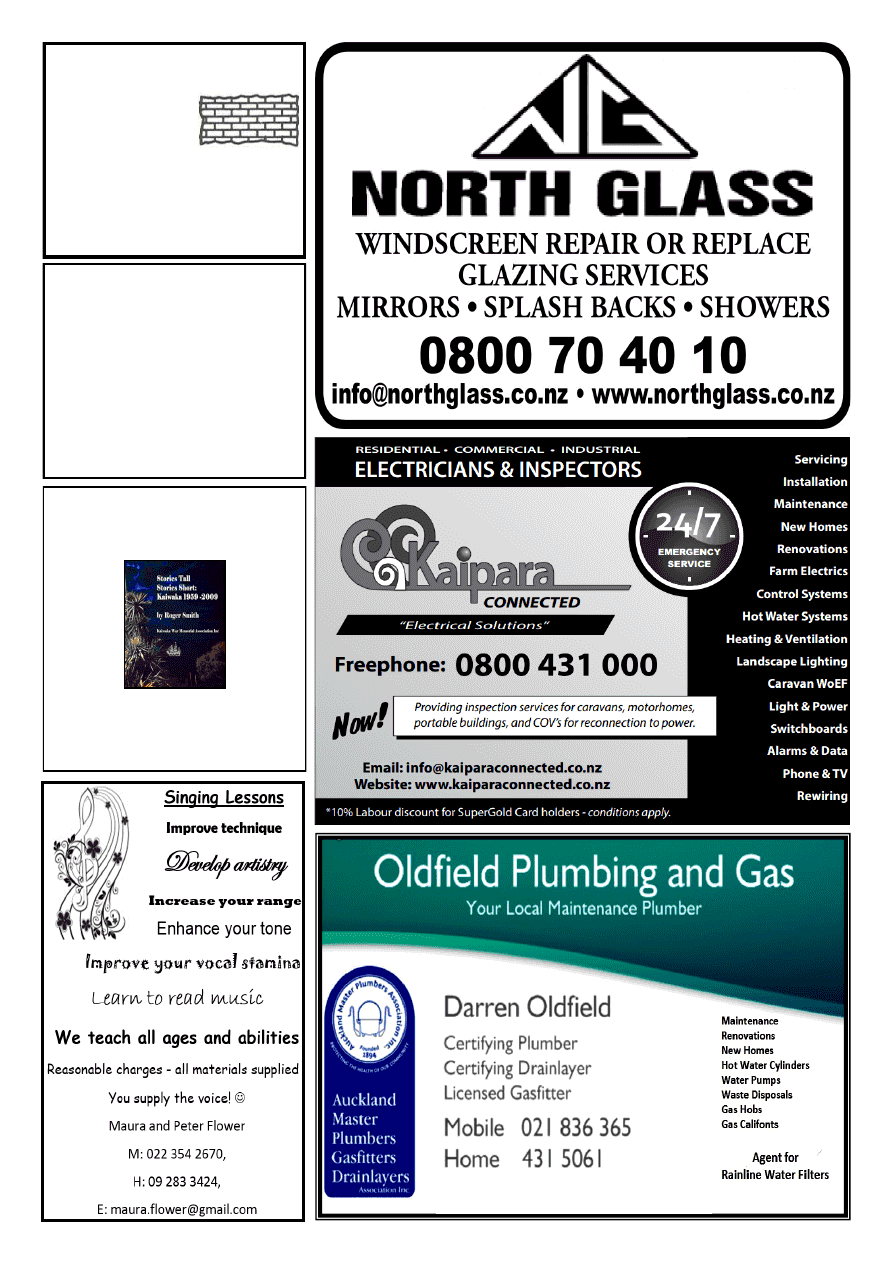 oldfieldplumbing@gmail.com 
 LEABOURNS 
Passenger Service
Car & Van Hire 
Bus & Coach Charters 
Airport Transfers 
 Monthly Shopper Bus 
Phone (09) 4237416 
BRICK/BLOCKLAYER 
All aspects of masonry:  
Fireplaces, 
Restoration  
& Remedial Work. 
JAMES EAGLETON 
Tel. (09) 431 2514  
Mob. 0274 749 232 
jajueagles@yahoo.com.au 
210A Pukenui Road, RD2 Kaiwaka 0573 
Stories Tall, Stories Short:  
Kaiwaka 1959-2009 
by Roger TW Smith
$40
Available from the Bugle Editors -  
Lindsey 4312 045,  
Wendy 027 480 6275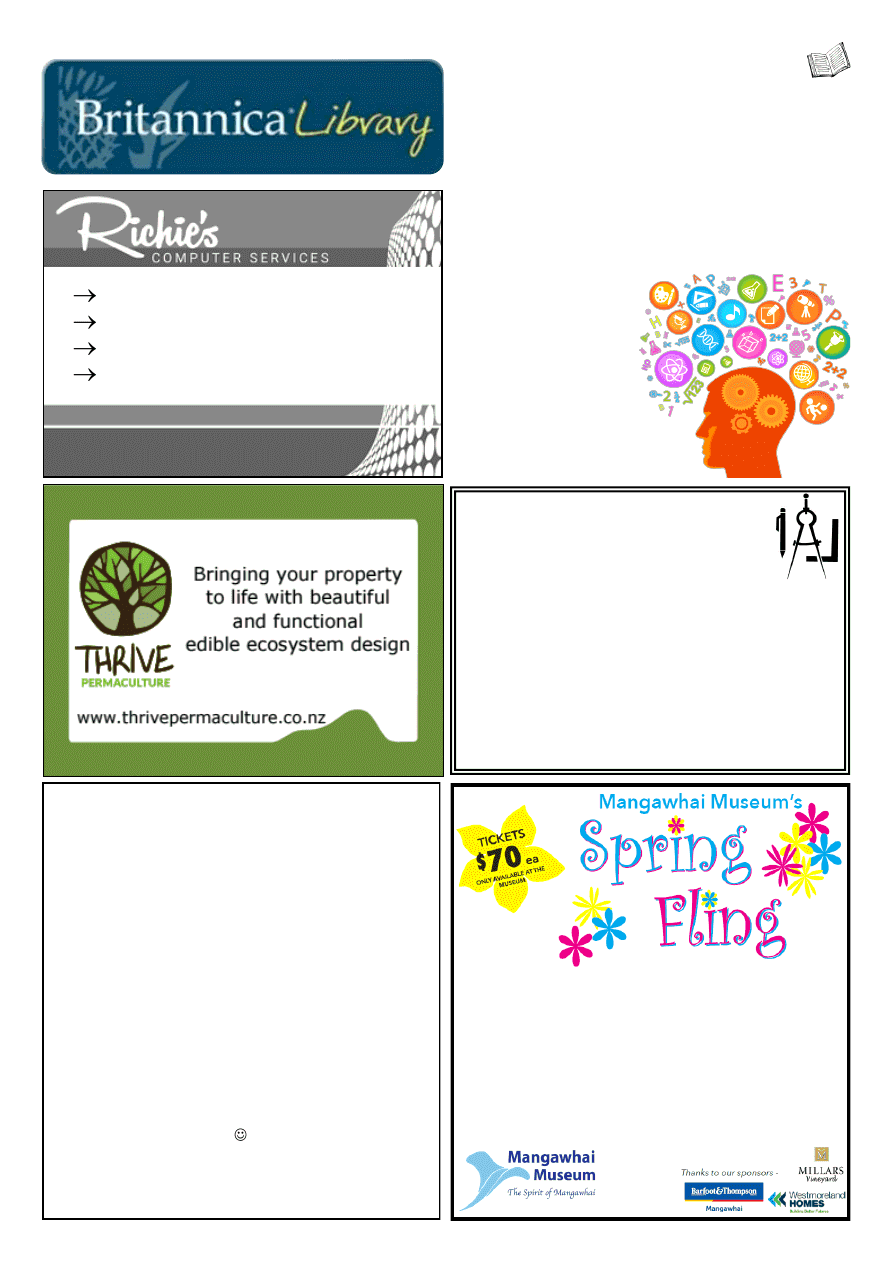 www.kaiwaka.co.nz 
Kaiwaka Bugle - 6 September 2016 
Page 11 
EWA-TEC Ltd …..SOLAR ENERGY 
with European state-of-the-art technologies
We invite you to our  Positive Energy House to learn how to 
tackle your energy bill.
Workshop: Solar Hot Water ... to do or not to do!
We have analysed the many quality and performance issues of 
SolarHotWater systems in New Zealand.  
Short life span, low performing systems, wrong concepts, non 
suited materials, freezing and overheating problems,  and 
inefficient backup heating are the main shortcomings.
WHY this workshop ? In the field of solar  ener gy, NZ is not 
keeping pace with the rest of the world.
It is time for clear and transparent information 
about the DO's and the DONT's in NZ.
We will demonstrate all the latest state-of-the art solar systems 
and will explain how to maximize your savings.
Location: 114 Vista Lane, Kaiwaka 
Workshop: 08/10/2016 at 10 am            Coffee at 9.30 am
Cost: FREE… yes some things in life are for free or just for fun 
Bookings essential so give us a call or email! 
Email: ericjansseune1957@gmail.com 
Home: 09 431 24 08    Cell: 021 022 31 700 
Web: www.ewatec-global.com 
design drafting 
service 
Retired builder and manufacturer with over 40 years  
experience in the building industry is offering a design 
drafting service for domestic housing, sleepouts and 
sheds.  
Plans formulated in consultation with clients, with 
working drawings completed and submitted to  
council for processing. Extensive practical experience,  
able to identify & resolve problems. 
Please ring Mike Lean on 
09 431 2260  
          or 
021 431 196 
Britannica Week at Kaipara Libraries 
Monday 5 September - Friday 9 September 
Kaipara  Library  customers  now  have  free  access  to 
Encyclopedia Britannica online. 
During Britannica Week answer our quiz questions to 
go into the draw to win a 7" Android tablet to access 
Britannica as well as the rest of our digital services! 
Stop  in  and  find  out  how  easy  it  is  to  use  Britannica  any 
place,  any  time,  any  device.  With  three  levels  of  search 
(children,  teens  and  adults)  it's  great  for  homework  and 
projects. It's more reliable than Wikipedia!  
~Lisa Salter, Library Manager, Kaipara District 
Entry  forms  available  at 
Kaiwaka Library. 
~Wendy 
KAIWAKA LIBRARY 
cnr State Highway 1 & Kaiwaka 
Mangawhai Road 
Phone 4312 539 
kaiwaka.library@gmail.com 
Mon: 4-6pm,  
Wed-Sat 10am-2pm 
Closed Public Holidays 
Membership is free to residents 
& ratepayers of the district. 
KAIWAKA LIBRARY
15 years  commercial IT experience 
Computer and Laptop Repairs 
Smart Phone and Tablet Support 
Virus and Malware Removal 
Richard Harding
T 09 945 0376        M 021 124 7358 
E richo_harding@hotmail.com 
Dine and 
Dance to the music of 
The Aloha Corner. 
A fun night with Live and Silent Auctions and raffles. 
Lots of great items from our many sponsors.
WHERE:
 The Cow Shed, Pebblebrook Rd, Mangawhai 
WHEN: 
Saturday, 17th September 2016 
TIME: 
6.30pm - midnight 
For all your body repair needs!! 
We do: 
Rust repairs 
Insurance work 
Anti-corrosion treatment     
Hours: 8.30am-5pm Monday-Friday  
Mobile: 021 118 0462 
After hours: 09 431 2384 
Phone: Craig or Call in for a free Quote 
bodytech_panelbeaters@yahoo.com
We are located at 1837 SH1 Kaiwaka, behind  
Twinkle Tow 'n' Tyre call in anytime for a free quote.  
Large and minor vehicle  
 repairs 
Industrial vehicles 
Full Cut and polishes 
SURVEYORS 
SUBDIVISIONS 
HOUSE SITE SURVEYS 
CIVIL ENGINEERING 
WASTEWATER DESIGNS 
EXPERIENCED 
PROFESSIONAL 
INNOVATIVE 
Ph 09 431 5353 
0800 PACIFIC (0800 722 434) 
pacificcoastsurvey.com
Adam Booth - 027 415 5752 
Bsurv, Licensed Cadastral Surveyor
Surveying Kaipara since 1994 
g.a.s. 
Mangawhai
GARDEN CENTRE 
for all your gardening needs
Also a great range of 
STOCKFOOD 
Wide range of 
ORGANICS AND 
 FRESH LOCAL PRODUCE
All your motoring needs are taken care of by 
our friendly staff check us out... 
44 Moir Street, Mangawhai (09)431 4242 
Natural Earth Ltd 
Landscape and Bobcat services 
 : Driveways :Landscaping :Retaining Walls 
 : Hole Boring: Land Levelling :Trenching 
 : Decks :Fences :Sections Cleared 
 : Plus much more
Tel 09 4312 885 
Mob 02102391280 
For A Fast Friendly Service  
Contact Tim Hicks 
PLANNING A NEW KITCHEN? 
 CONTACT NOEL McDOWELL
WELLSFORD 
KITCHENS
Ph/Fax 094312888
KAIWAKA-Any time
 QUALITY CUSTOM MADE 
KITCHENS
Chimney and Fireplace 
Maintenance,  
Parts & Repairs
MARK O'DONNELL 
021 457 247 
Whangarei – Mangawhai – Maungaturoto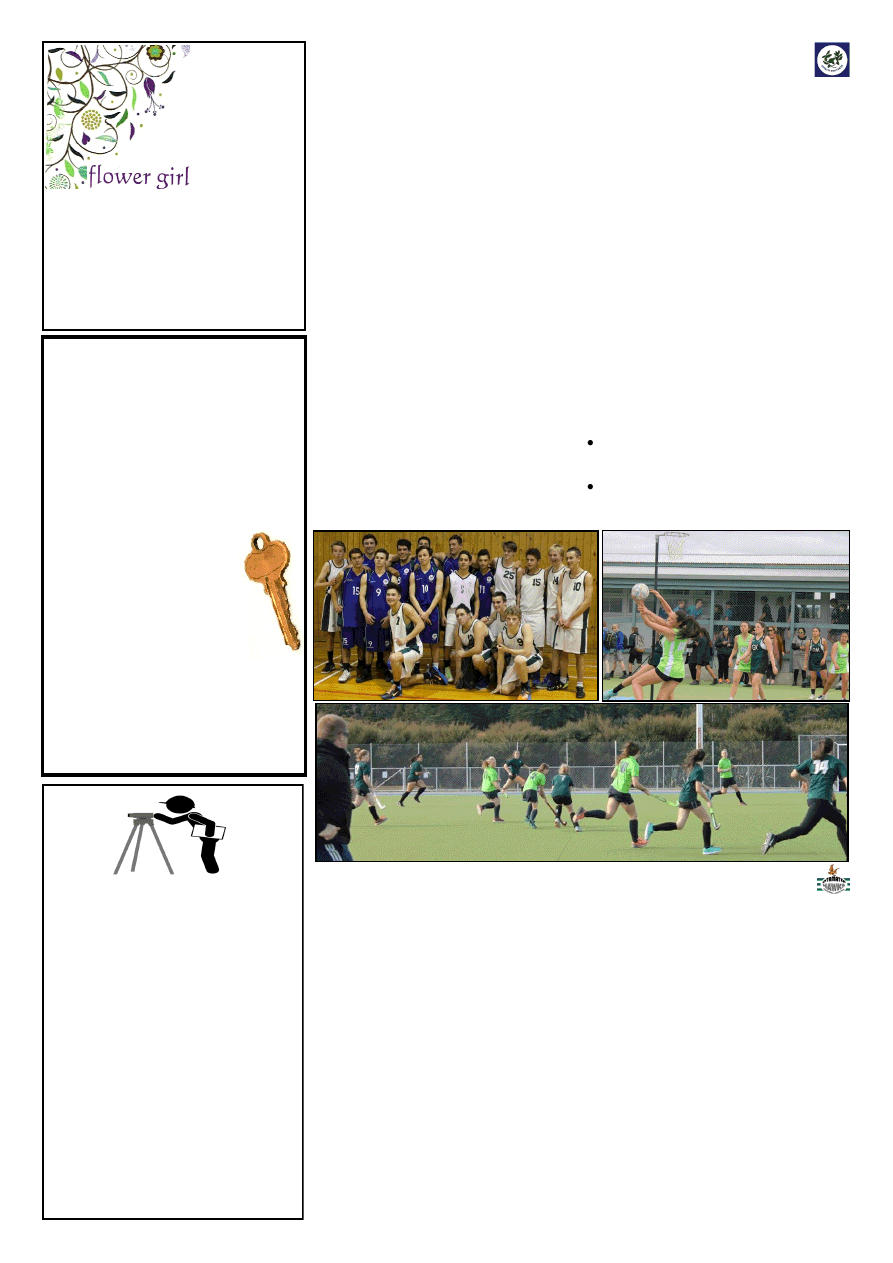 www.kaiwaka.co.nz 
Kaiwaka Bugle - 6 September 2016 
Page 13 
H.K Nathan Cup: Most Improved Player (over 15yrs) 
Cullen Curtis 
Colin Williams Memorial Cup: (U18 player to try is to succeed) 
Cam Lupton 
Otamatea Hawks : U19 Player of the Year 
Ashton Coates 
Wright Trophy: U21 Player of the Year 
Jayden Johnson 
Mgto Recreational Society Trophy: Club Spirit & Personality 
Patrick Grundy 
Pascoe Trophy: Most Conscientious Club Player 
Fono Vakalahi 
 Dale Hutchinson (Hutchy) Memorial Cup :  Top Try Scorer 
Solomon Alaimalo 
Bill Taurua Most Outstanding Achievement: Solomon Alaimalo 
Reserves 
Linnell Family Cup :Senior Reserve Most Improved 
Nathaniel Taylor 
Ian Hargreaves Family Trophy: Senior Reserve Back 
Ashton Coates 
Otamatea Hawks Rugby Club: Senior Reserve Forward 
Drew Whitehead 
Otamatea Hawks Rugby Club: Senior Reserve Player of the 
Year 
Daniel Pool 
Premiers 
Wallis Cup: Most Improved Senior 1st Year Player 
Sesimani Tupou 
Grant Eager Trophy: Senior  Premier Back Solomon Alaimalo 
Maungaturoto Panelbeaters: Senior Premier Forward 
Asaeli Vehekite 
Z J Sloane Trophy: Best all Round Senior Club Player 
Logan Eager 
Russell Hargreaves Family Trophy: -Senior Premier Player of 
the Year 
Solomon Alaimalo 
Under 14 
Most Improved: Danny and Debbie Farr  Bijontaye Eparima 
Best Back 
Lewis Harris 
Best Forward 
Te Whetu McNeil 
Player of the Year: Wayne Leslie   
Jesse Manuel 
Under 16 
Most Improved:   
Chaz Mikaere 
Best Back: 
Kingi Herewini 
Best Forward: 
Simon Parker 
Player of the Year:  Mr & Mrs Ian Hargreaves 
Rhys Shadbolt / Tamati Abel 
Angels Under 16: Junior Club Sprit 
The Abel Family 
Thompson Trophy: Merit Award for Under 15  Zack Hamlin 
Thornton Trophy: Most Improved Under 15  Brian Wellington 
Ken Urquhart 
BSurv Licensed Cadastral 
Surveyor 
KMU Surveys Ltd
467 Bickerstaffe Road 
RD 2  
Maungaturoto 0587 
Ph 09 431 8705 
Mob 021 161 2344 
kenurquhart@xtra.co.nz 
Kaiwaka  
Hardware  
&  
Key cutting 
Phone 4312 063 
 022 041 6047 
kaikey2015@gmail.com
Keys Cut  
Household Hardware  
Curtain Tracks & Fittings 
Not there? Call Doug and he'll 
sort
it for you. 
(
Next to Kaiwaka Motorcycles
)
Kaiwaka 
Good 
Sorts 
Do you know 
someone in our 
community who is 
deserving of a 
beautiful bunch of 
flowers? 
Send an email to us at 
kaiwakabugle@kaiwaka.co.nz 
or drop a note to Jaques Four Square to let 
the Bugle team know. 
We will choose a recipient to receive 
flowers from Lindy the flower girl. 
lindywatson@hotmail.com 
4312 847 
Reporoa  College  Sports  Exchange 
2016 
This year's exchange had a completely 
different feel as Reporoa students were 
billeted  at  Otamatea  High  School,  and 
Otamatea parents provided the evening 
meal.  The  change  from  the  traditional 
billeting  arrangements  were  due  to  the 
new 
Vulnerable 
Children's 
Act 
affecting  schools.  Still,  both  schools 
showed  the  true  spirit  of  this  long-
lasting school rivalry. 
The hockey was played on the new turf 
at Warkworth. The Otamatea girls won, 
7-0,  with  goals  scored  by  Monica 
Jaques  (3),    Annmarie  Holst  (2), 
Hayley Linton and Bridgette Holst. 
On  the  Sunday  evening  both  the  girls 
and boys basketball teams played. The 
girls,  with  only  two  games  behind 
them,  played  well  but  suffered  a  loss. 
The  OHS  boys  team,  coached  by 
Danyon  Tana,  had  an  excellent  all-
round team game and came home with 
a win, 64-33. 
Monday  morning's  assembly  was 
followed  by  the  student's  debate  - 
'Should  teenagers  have  a  stronger 
voice  in  society'.  Reporoa  won  by 
arguing  that  teenagers  do  not  need  a 
stronger voice. 
There  was  an  overall  win  for  OHS  in 
squash  -  both  Lee  Holst  and  Brody 
Shadbolt showing dominance. 
Otamatea  dominated  in  the  First  XI 
football  game  with  a  6-3  win.  Goals 
from Flannagan (2), Josh Nishitana (2), 
M Damsted and Tyler Flanagan. 
Excellent  goal  shooting  from  Shuntel 
Rika and Jayme Curtis along with great 
teamwork  gave  a  win  to  the  OHS 
netballers, 55-24. 
Rhys  Shadbolt  led  a  strong  and 
confident OHS Sevens rugby team to a 
55-15 win. 
Well  done  to  the  Otamatea  High 
School students.  
Photos  below:  Basketball  -  OHS  in  dark 
singlets;  Netball  and  hockey  -  OHS  in  the 
lighter green tops. 
Notices: 
Otamatea High School Closing for Tuition 
at 12.30pm Monday 12th September due to 
staff attending a Paid Union Meeting 
Senior Prizegiving  - Friday 28 October at 
1.30pm (please be seated in the school hall 
by 1.15pm). 
OTAMATEA HIGH SCHOOL 
Tranznorth OTAMATEA HAWKS 2016 PRIZE LIST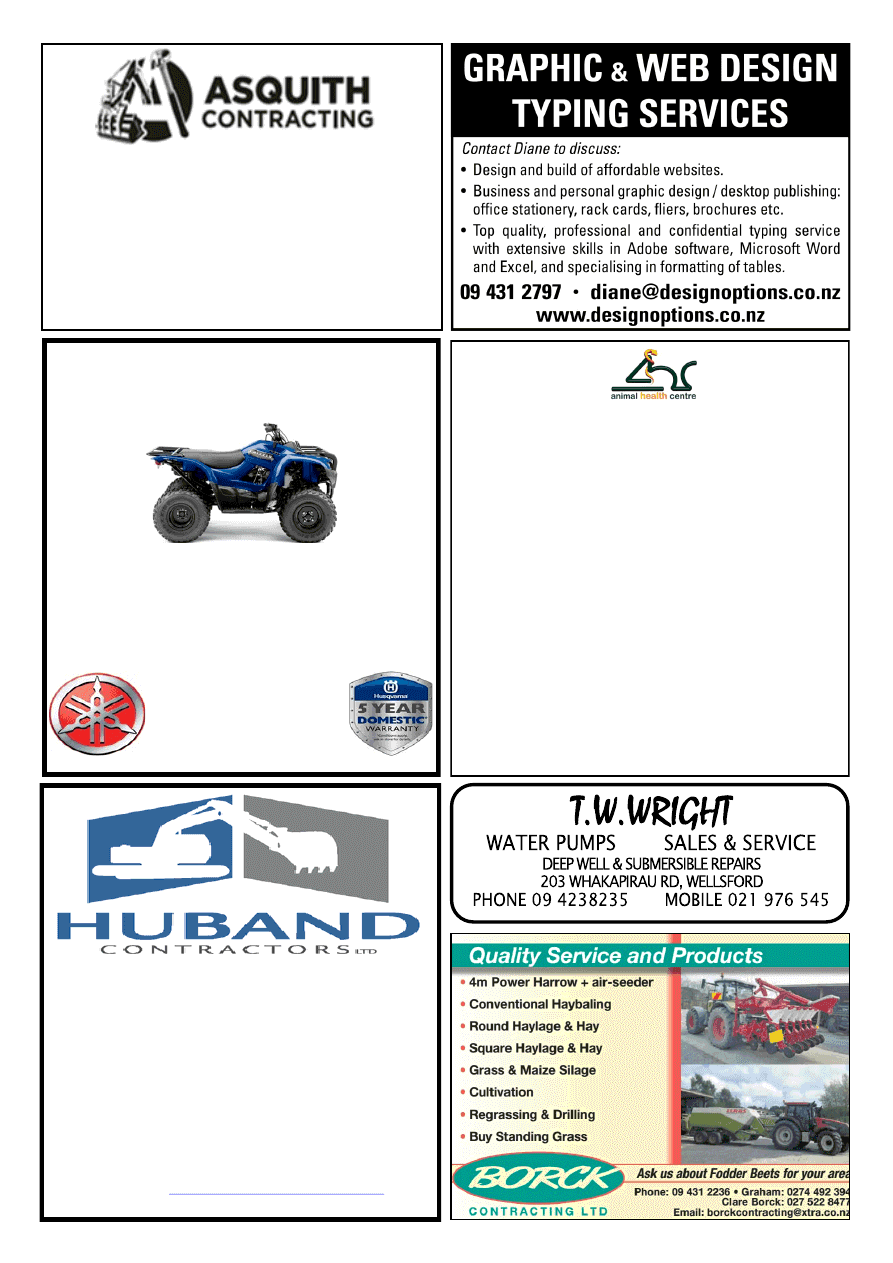 ANIMAL HEALTH CENTRE 
KAIWAKA 
"choices in health care for your companion animal" 
Health problems - itchy skin, smelly ears,  
bad breath, diarrhea? 
On steroids, antibiotics, lifetime drugs..... ? 
Diet may be a part of the problem!  
Call in and have a chat to our team  
of animal health practitioners.
Nail Trims, Microchipping , 
Dental checks, Comfort grooms. 
Great range of real food – no preservatives. 
Alternatives to nasty chemical parasite controls.
OPEN:   Tues-Fri - 10:00am – 5:00pm 
Saturday - 10:00am - 4.00pm, Sunday/Monday - Closed 
Next to Italian Bakery, Main Highway Kaiwaka 
Ph: 09 431 2217 
PS: We're open 7 days in Orewa if you missed us! 
*   R O A D I N G   *   E A R T H W O R K S   *    
*   D R A I N A G E   *   S I T E W O R K S   *
Shaun Huband 
Registered Drainlayer
Cell: 021 222 0272 
Home: 09 4318339 
Email:  
KAIWAKA 
MOTORCYCLES LTD
SALES – SERVICE – SPARES 
FARM BIKE SPECIALIST
PHONE 09 431-2127 
10 KAIWAKA-MANGAWHAI ROAD, KAIWAKA
Trimmers  
from $279
Chainsaws  
from $339
YAMAHA 
HUSQVARNA 
Small digger work, trenching and 
post hole drilling for retaining 
walls, piles, etc. 
$60+gst per hour.
Call Tam on 027 124 5216 or 
asquithcontracting@gmail.com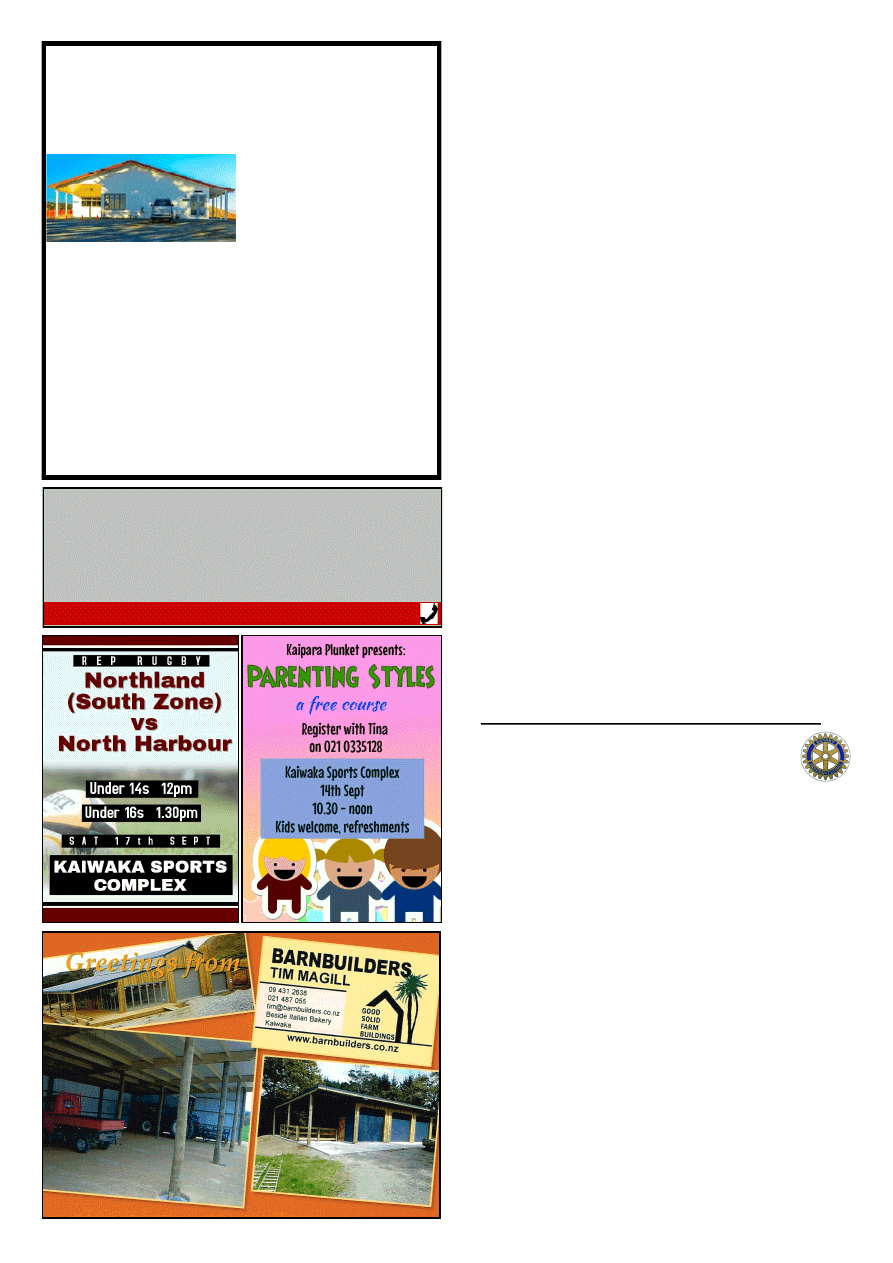 www.kaiwaka.co.nz 
Kaiwaka Bugle - 6 September 2016 
Page 15 
Te Pounga Marae 
130 Nathan Rd. Oneriri. Kaiwaka 0573 
COMPLEX FOR HIRE 
Functions 
* Weddings  * Birthdays  
*Anniversaries 
* Meetings  * Wananga 5 
hour meeting 
* 12 hour stay  * 
Overnight 
*All welcome - No more Drink-driving 
Amenities: 
*Convo Combi Steamer * Bratt Pan * Dish 
Washer/Sterilizer * 3 Door Glass Chiller (walk in) 
etc…All Crockery * Linen Supplied * Central 
Heating and Air Conditioning and much more. 
Can also cater for small groups…. 
For more information please contact: 
Kim Wallace 
Home: 09 832 1133  Mob: 0211275340 
Email: kimwallace@xtra.co.nz 
MAUNGATUROTO & 
DISTRICTS ROTARY CLUB  
KAIWAKA CAN 
NEW CAMERA, NEW TREES AND NEW ARTWORK 
Traffic Speed 
Things  are  starting  to  happen  along  the  highway  for 
Kaiwaka.    As  announced  earlier,  we  are  waiting  for  the 
installation  of  a  speed  camera  and  also  a  flashing  speed 
sign.    These  will  make  a  big  difference  to  the  traffic 
concerns experienced through Kaiwaka. 
Also coming up are safe pedestrian refuges to enable people 
to cross the road more easily, something very much needed 
as  people  risk  life  and  limb  so  often  getting  across  the 
highway. Two of these are planned in the near future. 
One  of  the  solutions  to  help  with  speed  was  'traffic 
calming', something that sounds very vague but in fact has 
proved to make a difference to the way traffic acts in a built 
up  area.  To  this  end  there  is  a  street  tree  planting 
programme being finalised by Council in conjunction with 
Kaiwaka Can and some local landowners. This will work to 
narrow  the  road  and  therefore  help  slow  traffic  down  and 
make our town more beautiful. 
Thursday Morning Working Bee 
One  ugly  part  of  Kaiwaka  has  been  the  pipework  for  the 
sewerage  system  down  below  Eutopia.  Council  has  made 
funds available for beautifying this and Marijke and Robert, 
owners  of  Eutopia,  are  overseeing  the  artwork  being 
installed to cover it. Working bees are Thursday mornings – 
see the note about it elsewhere in the Bugle. 
We need your help with other volunteers too. The Drop In 
Centre is very short of staff at present. Anyone who could 
help  with  this  would  be  very  welcome.  Please  contact 
Janine  at  the  Drop  In  Centre  if  you  can  help  or  ring  me 
(number below). 
McLean Park 
We  are  also  still  looking  for  the  right  people  to  form  an 
action  group  planning  a  future  for  what  is  known  as 
'McLean  Park',  the  rest  area  below  the  motel  and  the 
township.  Elizabeth  Preston  does  a  great job  of  keeping  it 
tidy  but  we  would  like  to  see  it  potentially  developed  to 
maximise the location and river environment. Let me know 
(Derek on 09 946 9077 ) if you are interested in this. 
Great  to  see  spring  here  as  we  look  forward  to  these 
changes to our Kaiwaka landscape
.        ~Derek Christensen 
(Chair Kaiwaka Can
)  
SOUTHERN ZONE FINAL OF THE  
ANNUAL ROTARY CLUB OF WHANGAREI  
SPEECH CONTEST 
Three  finalists  from  secondary  schools  in  the  lower  north 
gave  speeches  at  the  Maungaturoto  and  Districts  Rotary 
Club dinner meeting on Tuesday 30th August. The winner 
will go forward to compete with other Northland schools in 
Whangarei.   
1st Blake Sims, Otamatea High School – Male Suicide - the 
Silent Epidemic, 2nd Heath Kewnne, Bream Bay College  – 
Civics,  3rd  Emma  Rankin,  Otamatea  High  School  –  Does 
Social Media Control Us. 
Marks are given for subject matter, introduction, points and 
flow  of  the  speech,  topic,  conclusion,  delivery,  style, 
technique and content. They were also judged on a 1 minute 
30 second – 2 minute impromptu speech. 
Adjudicators  Beth  Dalebrook,  Bruce  Nelder  and  Natalie 
Epsom  said  that  the  speeches  were  of  an  extremely  high 
standard and that all finalists were to be congratulated. 
The  Rotary  Club  of  Whangarei  started  this  speech 
competition in 1961 when the late Huge Rishworth, a past 
president of the Whangarei Rotary Club donated a cup as a 
prize  for  the  winner  of  the  speech  contest.      The  annual 
event has now become a prestigious event and a challenge 
for senior students throughout Northland.  The specific aim 
of  the  contest  is  to  promote  the  art  of  public  speaking 
amongst  young  people  and  to  encourage  all  Northland 
secondary schools to do likewise.  
CALL CRIMESTOPPERS 
Worried about something that doesn't seem right to 
you? Concerned about activity that could be 
harmful? Call Crimestoppers.  
You don't need to know all the facts.
CALL 0800 555 111 ANONYMOUSLY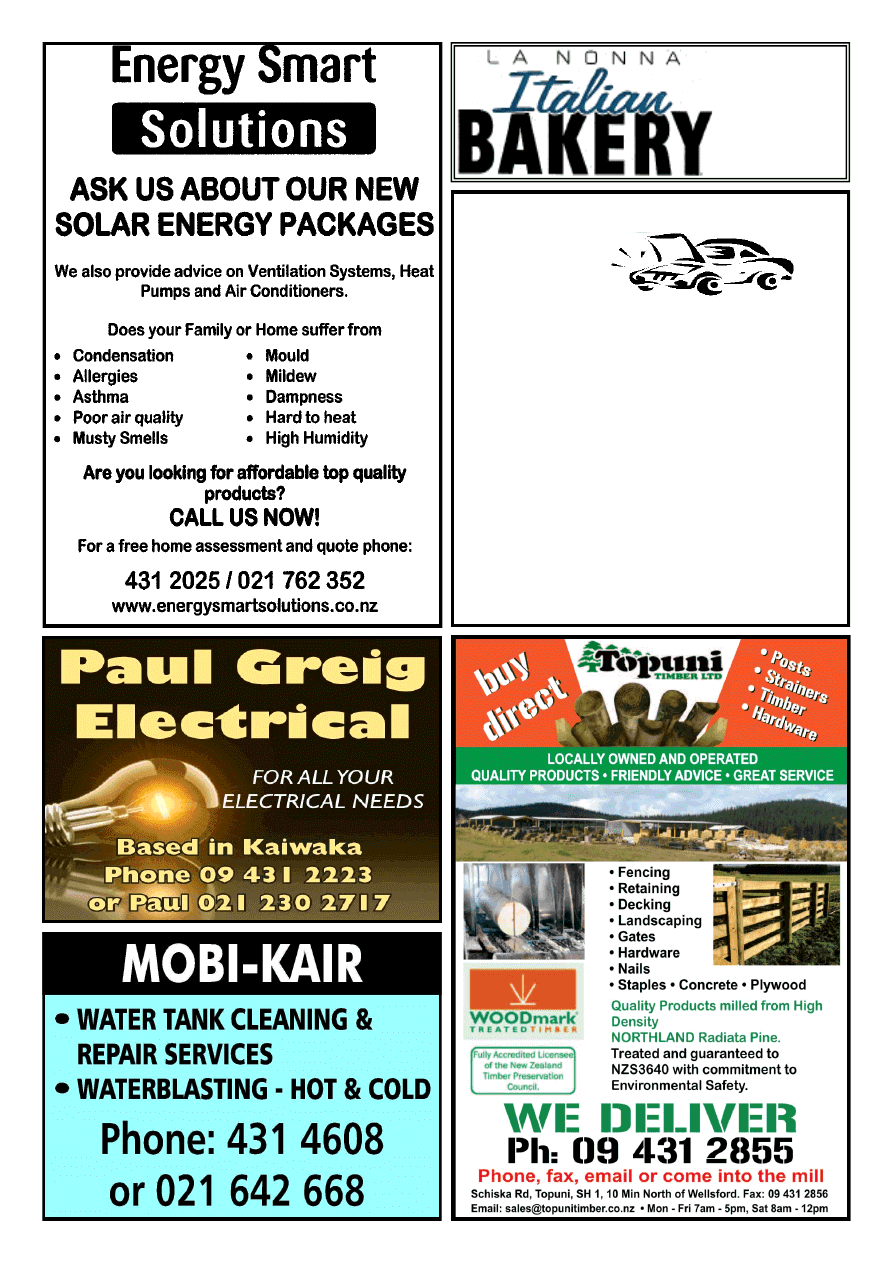 Twinkle Tow 'n' Tyre 
Think you'll get a better deal in the city? 
Ring us - it won't cost anything! 
1837 State Highway 1, Kaiwaka 
Phone 431 2823 
*W.O.F. 
*Tyres 
*Windscreen 
replacement 
*Chip repairs 
*Bulk Oil 
*Batteries 
*Welding 
*Custom built 
trailers 
*Trailer hire
1923c State 
Highway 1,  
Kaiwaka. 
Open 7am-4pm  
Tue to Sun. 
Closed Mondays. 
Phone 09 431 2643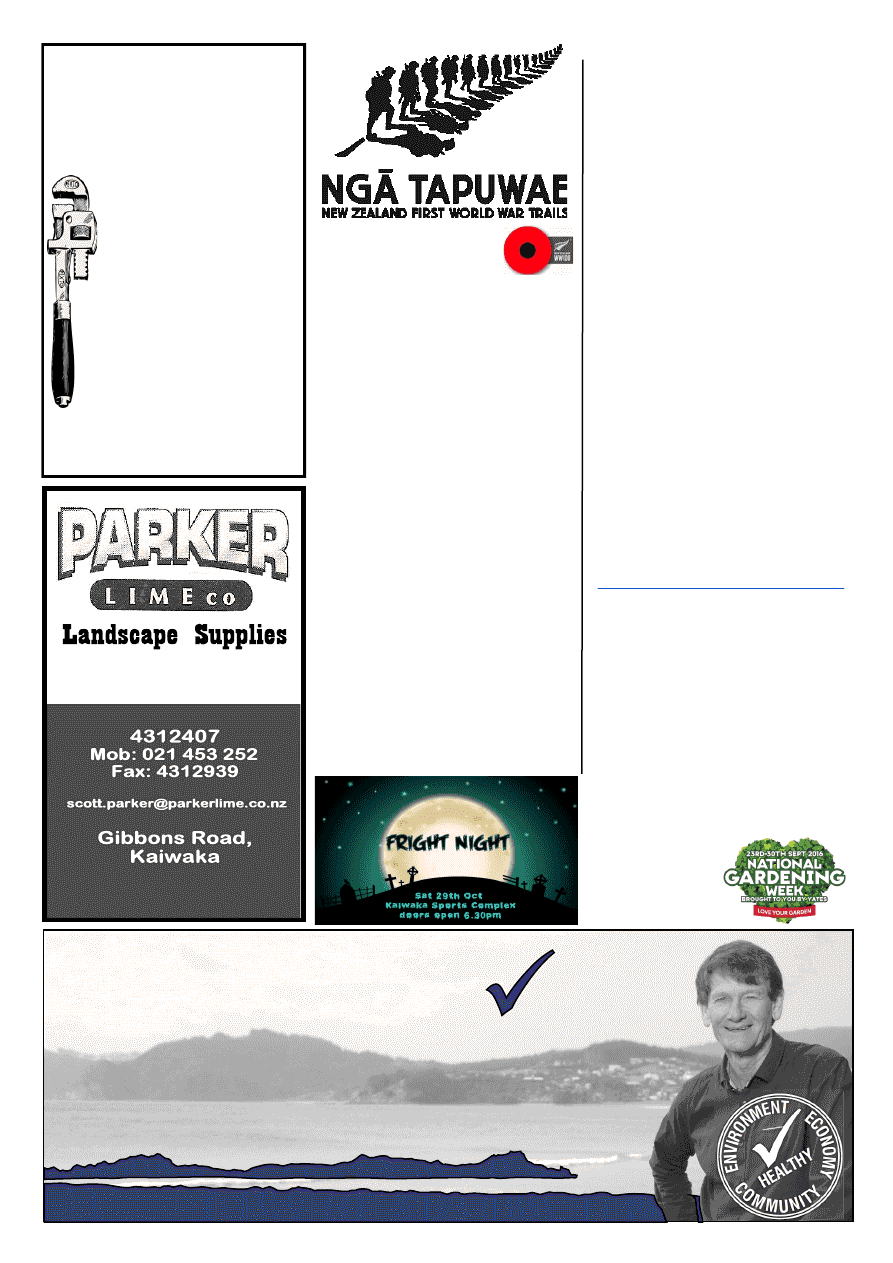 www.kaiwaka.co.nz 
Kaiwaka Bugle - 6 September 2016 
Page 17 
STOLWERK
   Tick       Rick
WHAT IS MY STANCE?
The interconnections between community, economy and environment are the driving factors and this relationship must be a HEALTHY and INTEGRATED one. 
A HEALTHY COMMUNITY 
-  by listening and connecting through accountable and transparent governance. 
A HEALTHY ECONOMY 
-  by sustainable use of the council's current resources 
A HEALTHY ENVIRONMENT 
-  by the protection of our environment with increased environmental awareness  
 
 
 
Candidate NRC Coastal South
    Authorised by: R Stolwerk, 27 Lang Road, WAIPU 
I look forward to catching up with you at  
upcoming community meetings and events. 
Please contact me should you have any  
questions: 021 823 770  
or stolwerk@clear.net.nz
BARRY CURTIS 
PLUMBING LTD 
REGISTERED CRAFTSMAN 
PLUMBER 
Phone 431 5572 
027 257 9884 
25 years' experience 
Friendly reliable service 
All plumbing  
& maintenance 
  Alterations and new   
 
housing 
Spouting 
Competitive rates 
PROMPT EFFICIENT SERVICE
Bulk Cartage 
NATIONAL GARDENING WEEK 
23-30 September 2016 
New  Zealand's  inaugural  National 
Gardening  Week  is  taking  place 
between 23-30 September 2016.  
The  week,  which  celebrates  a  national 
love  of  gardening,  will  see  the  release 
of independent survey findings on Kiwi 
gardeners'  attitudes  together  with 
interesting  facts  around  the  health 
benefits  of  gardening.      Some  of  New 
Zealand's  great  gardeners,  young  and 
old  will  be  sharing  their  inspiring 
stories. 
National  Gardening  Week  aims  to 
foster a love of gardening with a focus 
on  growing  not  only  plants  but 
friendships, 
good 
health, 
strong 
communities  and  closer  connections 
with nature.  Whether it's a few pots on 
the  balcony,  a  small  patch  or  an 
extensive 
garden, 
everyone 
can 
experience  the  joy  of  gardening.    It's 
good for the soul! 
Novices  and  green  fingers  are  being 
called  upon  to  get  into  their  gardens, 
volunteer  for  a  local  replanting 
programme, join a gardening club, help 
out in a community garden or have fun 
with  children  and  grandchildren  in  the 
garden.  
To kick off National Gardening Week, 
Yates is giving a free packet of seeds 
to 
everyone 
who 
registers 
online 
at
www.yates.co.nz/nationalgardeningweek
10 things to do during National 
Gardening Week: 
1. Plant some vegies, flowers or herbs 
2. Feed your plants to get them ready for 
the Spring growth spurt 
3. Volunteer for a local replanting 
programme 
4. Join your local garden club 
5. Visit your Botanical Gardens 
6. Lend a hand in your community gardens 
7. Contact your local school to see if you 
can help with their gardening programme 
8. Talk to your children/grandchildren 
about what is happening in your garden 
9. Share some produce or flowers from 
your garden with a neighbour, friend or a 
group in your community 
10. Take time to sit in 
your own garden or a 
public garden, close 
your eyes and breathe 
deeply!
Ngā Tapuwae New Zealand 
First  World  War  Trails  is  a 
WW100  legacy  project  that 
guides 
people 
through 
historic landscapes and sites of the First 
World. 
Ngā  Tapuwae  uses  narrative  to  lead 
you  through  New  Zealand's  First 
World  War  story.  For  those  on  the 
ground, the trails are a self-guided tour 
that  provides  information  for  you  to 
visit  key  sites  that  are  significant  to 
New Zealand.   
Both  Ngā  Tapuwae  Gallipoli  and  Ngā 
Tapuwae Western Front are packed full 
of features. Soldiers' letters and diaries 
let  you  experience  the  war  through 
their eyes. Fascinating articles by New 
Zealand 
historians 
bring 
the 
achievements  of  the  soldiers  to  life. 
Helpful  planning  information,  travel 
tips  and  driving  directions  will  give 
those 
travelling 
an 
enriched 
experience.  
See  website  http://ngatapuwae.govt.nz/
western-front  Not  only  is  this  an 
excellent website for planning a trip to 
the WWI sites in Europe and England, 
but  an easy and interesting way to see 
and  hear  about  the  places  from  your 
home!  
Do you know where Sling Camp is? Or 
Brockenhurst  where  many  wounded 
New Zealand soldiers were, and where 
our  Nurse Saunders worked.?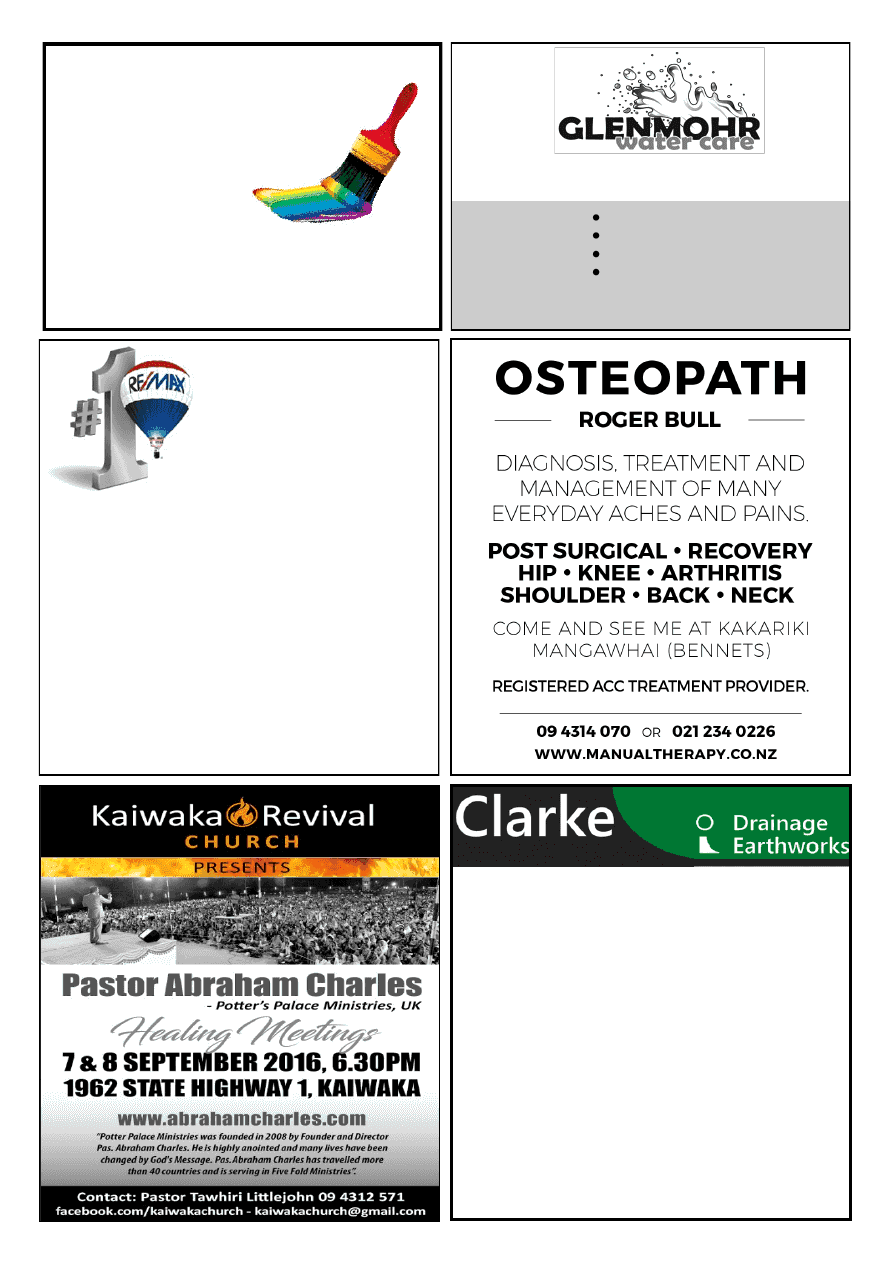 Registered Drainlayer 
All Types of Earthworks  
> All Residential & Commercial Work  > House Sites 
> Septic System Design & Install 
> Footings & Drilling to 10m 
> Sewer Connections 
> Dams 
> Water Tank Installation 
> Roading & Races 
> Farm Work 
THE ONE STOP SHOP  
Phone Nigel for an Obligation Free Quote  
Drainage & Earthmoving 
clarkedrainage@xtra.co.nz 
027 2233 185 
09 4312918 
0274735171 
leecooper@xtra.co.nz 
LEE COOPER PAINTERS 
(Kaiwaka Based) 
*30 yrs Experience 
*Interior/Exterior 
*New and Restoration 
*Honest and Reliable 
*Free Quotes 
Water Tank Cleaning 
Keep your water safe & clean  
Removal of sediment, silt etc. 
Vacuum or full scrub 
Minimal water loss 
Phone Mark (09) 432 0655 or 0274 707607 
There are more people 
wanting to buy than 
there are houses 
available!
Vacant land, home and income, DIY dream … 
whatever your property's condition there is a buyer 
out there waiting to give you their money. 
Get your local agent's appraisal of your property to 
find out what's it's really worth. 
Contact Beth Stone today! 
Mob: 0274 937 801 
Email: beths@remaxrealty.net.nz 
RE/MAX Realty Group MREINZ 
Northern Properties Limited 
Licensed REAA 2008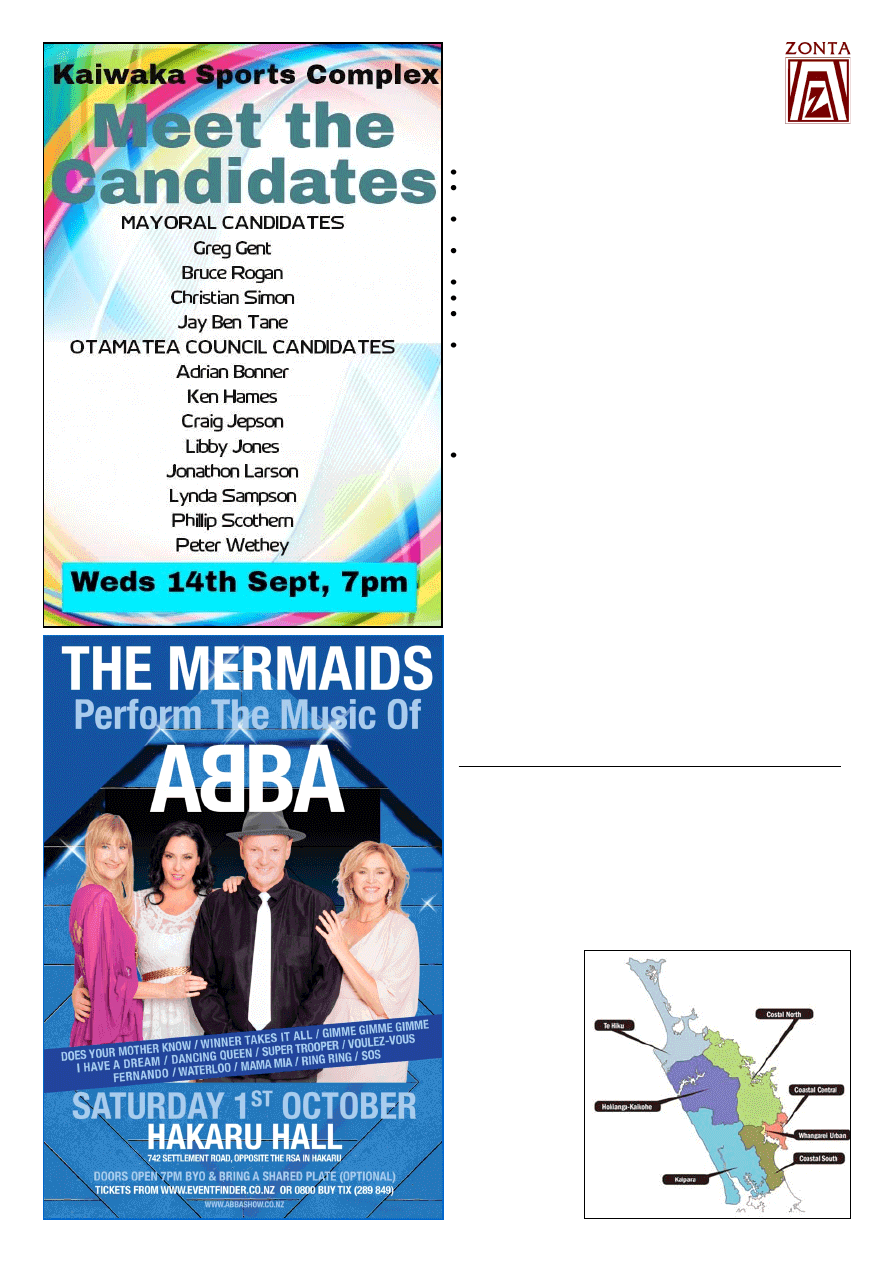 www.kaiwaka.co.nz 
Kaiwaka Bugle - 6 September 2016 
Page 19 
NORTHLAND REGIONAL COUNCIL 
CONSTITUENT BOUNDARIES 
Which constituency are you in? 
Folk in the Kaiwaka area 
are either in 'Coastal South' or 'Kaipara'. It almost - but not 
quite  -  follows the  railway  line  through  the Kaiwaka  area. 
You can check the map at  
http://www.nrc.govt.nz/Your-Council/online-maps/  
Zoom in and see which side of the boundary line you live 
on.  For  example  Oneriri  and  Oruawharo  are  mostly  in 
'Kaipara' 
and 
Kaiwaka  township 
is 
in 
'Coastal 
South'. 
Coastal 
South 
candidates  standing 
are  Craig  Brown 
and  Rick  Stolwerk, 
and  for  Kaipara 
there  are  four  - 
Sarah 
Kennett, 
Penny  Smart,  Rob 
Stevenson, 
Mark 
Vincent.  
Only  one  position 
in 
each 
constituency will be 
elected. 
The Zonta Club of Mangawhai is delighted to 
offer our 6th Annual Award for young women 
in  the  form  of  a  10  Day  Youth  Development 
Voyage on the Spirit of New Zealand.  
Criteria for application are as follows: 
The applicant 
is a young woman from 15-18 years of age  
Is    a  New  Zealand citizen or  permanent resident of New 
Zealand  
Is    a  resident  of  Mangawhai,  Tomorata,  Wellsford, 
Kaiwaka, Maungaturoto or Waipu areas  
has  shown  leadership  potential  or  would  like  to  develop 
leadership skills  
meets the medical criteria of the Spirit of Adventure Trust  
must be able to swim 100 metres unaided  
will report back to the Zonta Club of Mangawhai after the 
voyage  
Application  to  include  letter  from  applicant  outlining 
reasons for application 
e.g. involvement in community activities or associations? 
How does the voyage fit into your personal goals and how 
do you think this experience will help you achieve them? 
How  you  will  share  your  voyage  experiences  with  your 
school or local community. 
Application to include 2 referees (not a family member)  
Application forms are available by request by emailing 
mangawhai@zonta.org.nz 
or text Sue on 027 555 6636 with your email address  
 APPLICATIONS ARE DUE BY SEPTEMBER 23, 
2016 
Previous  recipients  have  been  Briar  Lomas,  Charlene 
Kahotea-Smith, Hayley Aldworth and Aimee Stevens from 
Rodney  College  and  Leila  Stephens  and  Latina  Te  Awa, 
from Otamatea High School. 
These  awards  are  made  possible  by  the  generosity  of  the 
local  community  and  this  year  our  Midwinter  Ball  and 
Auction raised enough funds to support this award and our 
Second Chance Scholarship which benefits women who are 
studying to return to the workforce. 
Zonta  is  a  global  organisation  that  empowers  women 
through  service  and  advocacy  and  the  Zonta  Club  of 
Mangawhai meets on the 4th Monday of each month  - for 
further  information  go  to  www.zonta.org  or  call  Helen  on 
027 236 1557 
ZONTA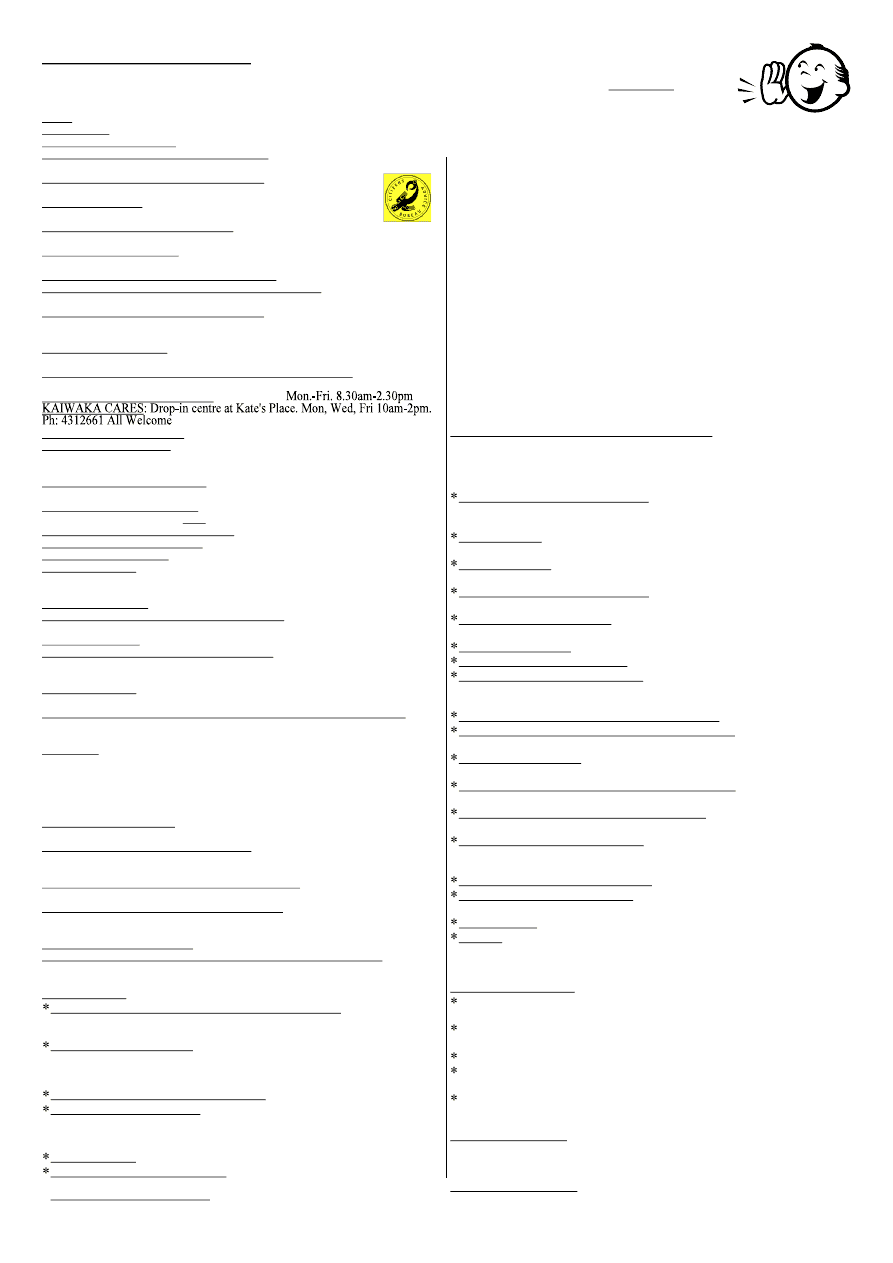 WHAT'S ON
PLEASE ~ do let us know what is on - email 
kaiwakabugle@kaiwaka.co.nz 
Advertising in WHAT'S ON is FREE  
*7Sep~Kaiwaka Athletics Club AGM 5:45pm OHS staffroom 
*7&8Sep~Pastor Abraham Charles, 6:30pm Kaiwaka Revival 
Church 
*8Sep~Kaiwaka Sports Association meeting, 7pm KSA 
*9Sep~Fathers and Daughters, 7:30pm KWMH 
*10Sep~Applications close for Rotary President's Scholarship 
*11Sep~Fast Five Netball starts, KSA 
*14Sep~Parenting Styles course, 10:30 KSA Ph Tina 0210335128 
*14Sep~Meet The Candidates, 7pm KSA 
*16Sep~Voting opens for local body elections 
*16-17Sep~Scouts collecting rubbish on roadsides 
*17Sep~Rep Rugby, from 12pm KSA 
*17Sep~Charity Auction, Hakaru Hall 
*17Sep~Mangawhai Museum's Spring Fling 6:30pm, tickets 431 
4645 
*19Sep~Otamatea St John Area Committee AGM, 7:30pm 
Ambulance Station Maungaturoto 
*20Sep~The Challenge of NCEA, Rotary, 6pm Mangawhai Golf 
Club 
KWMH=Kaiwaka War Memorial Hall 
KSA=Kaiwaka Sports Association Complex 
ORT=Otamatea Repertory Theatre 
See www.kaiwaka.co.nz for more information 
HOUSEHOLD RUBBISH COLLECTION - Kaiwaka Pick up: 
Mondays = Gr een bags (Nor thland Waste - 09 430 3273) 
Wednesdays = Blue bags and yellow r ecycling (at J aques $3.00 
and $1.50) (Kaurilands 09 4392146) 
 DIABETES  Support  Group  -for  Kaiwaka,  Mangawhai, 
Wellsford  10am,  3rd  Friday  of  month  Ph:A.Pert  4238242; 
J.Gardner 4238060 
 DRINK CAN 'tear tabs' - for Starship Hospital- please collect - 
98 Kaiwaka Mangawhai Rd, leave in mailbox, Ph. 4312625  
 GENEALOGY - Wellsford: 1st Thursday in month Ph: 423 
7033; Waipu: 4th Monday in month Ph: 4312 725 
 GYMNASTICS  OTAMATEA  -  Tuesday  Ph:  Stephanie  022 
3624998 
 HAKARU PONY CLUB - Secretary Denise Rogers 021423376 
secretary@hakaruponyclub.co.nz  
 KAIPARA HUNT - Secretary Albert Doonenbal Ph 4312059 
 KAIWAKA BADMINTON -Tuesdays 7.30pm Ph: 4312345 
 KAIWAKA  DRAMA  CLUB  -  Dave  Edwards  021  611198  - 
KaiwakaDrama@gmail.com Monday 5:30-7:00pm KWMH - FB 
- "KaiwakaDramaClub" 
 KAIWAKA DRUM & DANCE CLASSES - 021 611198 
 KAIWAKA GARDEN & FLORAL GROUP - 2nd Thursday in 
month. Ph: 431 4767 
 KAIWAKA  CUBS  -  Thursdays  5.30-7pm,  Hakaru  Ph:Bruce 
4312542 
 KNITTING FOR WHANGAREI HOSPITAL - 2nd Tuesday in 
month, Apple Basket 10am Ph 4314827 
 MANGAWHAI COMBINED PROBUS CLUB - 2pm, 3rd 
Thursday month, Senior Citizens Hall Mangawhai. Ph: 4315777 
 OTAMATEA GREY POWER - Kath Pattinson 09 431 8960, 
1pm last Wednesday of month, Anglican Church Hall, 
Maungaturoto 
 PT CURTIS CRUISING CLUB - Jean Ph: 4312227 (wk), 4312520 (hm) 
 RSA,Hakaru & Dist.Women - meet 1.30pm 4th Thurs in month 
Ph: 4314 668  
 TRAMPING - Mondays 9am-2:30pm Karen Ph: 4312 090 
 YOGA  -  Tuesdays  6:15pm,  Friday  8:30am  KWMH  Carla  Ph: 
021  296  8794;  Wednesday  5:30-7:00pm  Archie  Bull  Hall 
Dalleise Ph 4312 108 
HALLS FOR HIRE: 
 St.Pauls Archie Bull Hall HIRE $20 half day, $40 full day per 
hire, R. Morgans, Ph 4312365 
 Kaiwaka  War  Memorial  Hall  HlRE  -  Phone  4312725  or 
kaiwaka.hall.bookings@gmail.com 
 Hakaru Community Hall HIRE -Ph. 4312256 or 4312110 
 Te Pounga Marae queries - R. O'Leary 4312 423, J.Nathan 021 
186 7382 
 Kaiwaka Sports Association hire/queries - C. Anderson 4312051 
or kaiwakasports@gmail.com 
Justice  of  Peace:  B.FJaques;  L.Donaldson;  A.F.Hargreaves, 
W.Howard  -  please  phone  to  make  sure  they  are  available 
www.justiceofthepeace.org.nz 
Marriage Celebrants: L.Donaldson; A.F.Hargreaves; C.Rosseels
Next Bugle Deadline midday Friday 16 September 2016
LOCAL SERVICES 
*Emergencies - Ambulance, Fire, Police - dial 111 
*Non-urgent Police phone 09 4311150
A A: Meets Wed., 8pm Kaiwaka Ph: 4312228, 4315543, 0800229 6757 
AL ANON: In recess, contact Ph: 4312228 
ASUREQUALITY LTD (was AgriQuality) Call Free 0508 0011 22  
BUDGETING SERVICE, WELLSFORD: Free confidential advice & 
support for all areas of personal finance. Ph (09) 423 7123 
CAB-Citizens Advice Bureau.Wellsford Ph: 4237333 
0800 367 222 email:cab.wells@xtra.co.nz  
CIVIL DEFENCE - Kaiwaka Community Response Group: 
kaiwaka.civildefencecrg@gmail.com, 4312725 Wendy 
DOG/STOCK /NOISE CONTROL 0800 105 890 
FUNERAL SERVICES: Morris & Morris Ltd, 
Whangarei - Bev Jaques Ph:4312367 or 0800667747 
GRANDPARENTS Raising Grandchildren: Dianah Roberts 0223819539 
HAKARU & DISTRICTS MEMORIAL RSA (Inc) 733 Settlement Rd, 
Hakaru. Ph 4312 176 or Graeme Hitchcock (President) 431 3064 
HAKARU LANDFILL/Transfer Station:Open everyday except 
Tuesday10am-4pm.Ph4312629 Cost-$55 trailer load up to 1 cubic metre. 
Ph:4258567 - office 
INLAND REVENUE: Last Friday each month, 11-3pm Ph4312661 
KAIPARA DISTRICT COUNCIL www.kaipara.govt.nz:  
Help Desk FREEPHONE 0800 727 059  
KAIWAKA KOHANGA REO: Ph:4312620 
KAIWAKA CEMETERY: Ph: 4312045 
KAIWAKA LIBRARY: kaiwaka.library@gmail.com  
Mon. 4-6pm; Wed., Thurs., Fri., Sat. 10am-2pm Ph:4312539 
KAIWAKA PLAYCENTRE: Ph: 4312286. Hastie Lane 
Monday to Friday 9.00am - 12 noon. 
KAIWAKA POST OFFICE:Ph:4312 431  
Post Code: 0573 for RD2 and 0542 for all Kaiwaka Post Office mail 
KAIWAKA PRIMARY SCHOOL: Ph: 4312309   
KAIWAKA SPORTS ASSN: Ph 4312005; 4312129 gym 
KAIWAKA ST JOHN: Manager Steve Rosser 09 4318403, 021 2316836 
KATE'S PLACE with Govt.Day Agencies/Community Information /
Osteopathy/ IRD / Probation, etc Ph: 4312661 Hours: 9am-3pm. Mon - Fri 
LINKING HANDS Health Shuttle Ph 4314121 or 09 4318969 
MINISTRY FOR PRIMARY INDUSTRIES - General inquiries Call 
Free 0800 008 333 
NORTHPOWER: Faults Kaiwaka area 0800 104040 
OTAMATEA COMMUNITY SERVICES: Counselling, parent coach, 
Family Support worker, budget advice, food bank. Mon-Fri 9am-30m. Ph 
09 431 9080 http://www.otamateacs.org/ 
PARENTPORT: Free, practical family support service Puhoi to Paparoa 
Ph or txt: Dianne 027 2085093 
PERSONAL DEVELOPMENT COACHING, GROUP FACILITATION:  
Sabine Druckler 4312231 
PLUNKET: Kaiwaka - Kaiwaka War Memorial Hall: Clinic 1st Wednesday of the 
month; Coffee Group at 9:30. Mangawhai  - Rose Madsen Cottage, Mangawhai 
Domain,  Moir  St:  Clinic  1st  and  3rd  Monday  of  month;  Young  Babies  Coffee 
Group  2nd  and  4th  Monday  10  am;  Plunket  Playgroup  every  Thursday. 
Maungaturoto - Maungaturoto Congregational Church, 100 Hurndall Street East: 
Plunket clinic 2nd and 4th Wednesday. Cynthia 09 431 8187 or 027 675 3488 
PLUNKET HELPLINE -0800 933 922 (24 hours) 
TAITOKERAU COMMUNITY LAW: Free confidential legal advice and 
assistance, 2nd
Thursday
 of each month. Ph: 0800 155 529 for 
appointments.  
TE KOROWAI AROHA O NGATIWHATUA Ph: 4312675 
(The Cloak of Love of Ngatiwhatua) Support and Maori Consultancy.  
VETERINARY SERVICE MANGAWHAI: 
Ph: 4314535 Mon-Fri 8.00-5.00, Sat 9-12, a/h appt. 
WELLSFORD DOCTORS: Ph: 4238 086 
WOMEN'S WELFARE LEAGUE & Reaching Out For Youth:  
4 Kaiwaka-Mangawhai Rd, M Morgan 4312293 
CHURCHES:
Kaiwaka Revival Church - Your Community Church: Sundays 10am & 
6pm. Ph: Pastor Tawhiri 09 4312 571 or Pastor Paul 09 4312 068 Visit 
us at www.facebook.com/kaiwakachurch 
St Paul's Anglican Church 1st Sun. 9.30 am (Eucharist), 3rd Sun. 9.30 
am (Family Service). Contacts: Church Office 09 431 4122; M. 
Hargreaves 431 2295; C. Bygrave 431 2057; or Rev. Wayne Thornton 
Ph 431 5650 www.mangawhaianglican.org.nz 
Church of Christ the King, Mangawhai:9.30am every Sunday 
St.Mary's Catholic Church: Maungaturoto – Griffins Road, Saturday 
evening Vigil Mass 6pm; Mangawhai – Senior Citizens Hall, Sunday 
Mass 8:30am; Wellsford – Matheson Road, Sunday Mass 10:30am;  
Mid-week Mass times and all enquires to Fr. Bill Fletcher – phone 423 8170
Baptist Church: Sun. 10.30am Mangawhai Snr Cit.Hall.Ph:4312339 
Cause Way Church Mangawhai: Sundays 10.15am, Mangawhai 
Community Recreation Centre, Insley St. Ph: 09 4314782