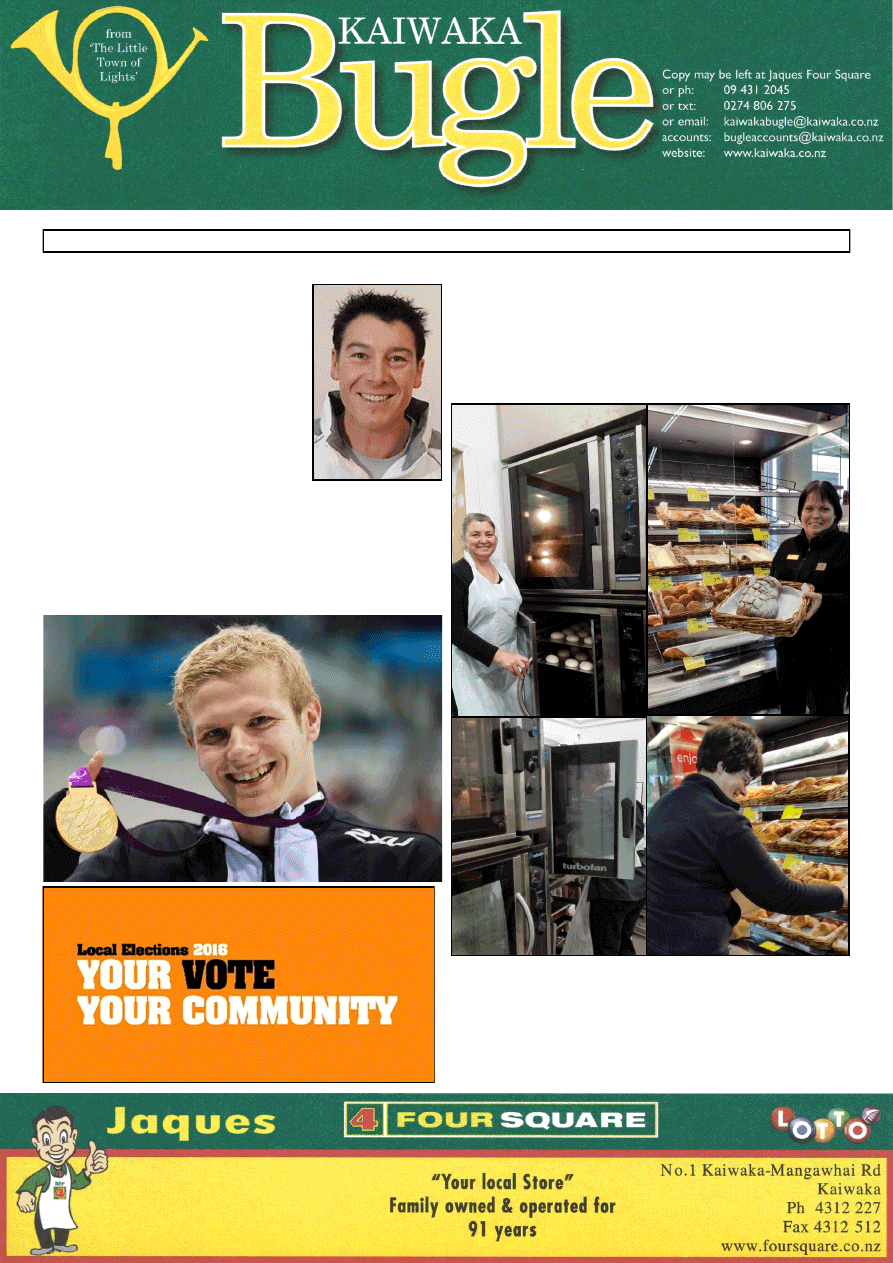 www.kaiwaka.co.nz 
Kaiwaka Bugle - 20 September 2016 
Page 1 
 No: 18
20 September 2016 
Winter Trading Hours: 
Mon - Fri: 8am to 6pm 
Sat: 8am to 7pm (Lotto) 
Sun & Public Holidays: 9am to 5pm 
Well done, Cameron Leslie and Simon 
Mayne! Para-swimmer Cameron Leslie  
(below) smashed his own world record 
by  two  seconds  to  win  his  third 
consecutive Paralympics gold medal in 
the 150m individual medley SM4 final 
at  the  at  the  Rio  Paralympics  2016.  In 
the  background  was  his  swimming 
coach,  Simon  Mayne  of  Kaiwaka 
(right). Simon who has just flown back 
from    Rio  to  Kaiwaka,  ahead  of 
Cameron,  says  that  "Cameron  is  a 
hardworking and humorous young man, 
and that he will be returning to live in Whangarei." 
Simon,  who  has  been  a  swimming  coach  for  a  number  of 
years, has really enjoyed coaching Cameron, as he has done 
since 2006 as the lead up to the Beijing 2008 Paralympics 
where  Cameron  won  his  first  gold  medal.  He  also 
appreciates the support given to Cameron by his family and  
friends. Simon would love to see an Ironman event based in 
Whangarei. 
CAMERON'S KAIWAKA COACH  NEW BAKERY AT JAQUES' 
Have  you  seen  the  new  bakery  cabinet  in  use  at  Jaques' 
Four Square yet? It holds a range of breads, buns, etc that 
have been freshly-baked on the premises. They are proving 
to  be  such  a  delight,  they  are  "flying  out  the  door".  Your 
editors can personally recommend them! 
Photos: clockwise from below left: Paula at work, Lee at the 
cabinet with a loaf of rye bread, shopper Jenny Borck at the 
cabinet, Karen at the oven.
ELECTIONS 
Electors may post their completed voting documents back to 
the electoral officer using the orange pre-paid envelope sent 
with  their  voting  document.  To  be  counted,  all  completed 
voting documents must be in the hands of the electoral officer 
or an electoral official by noon Saturday 08 October 2016.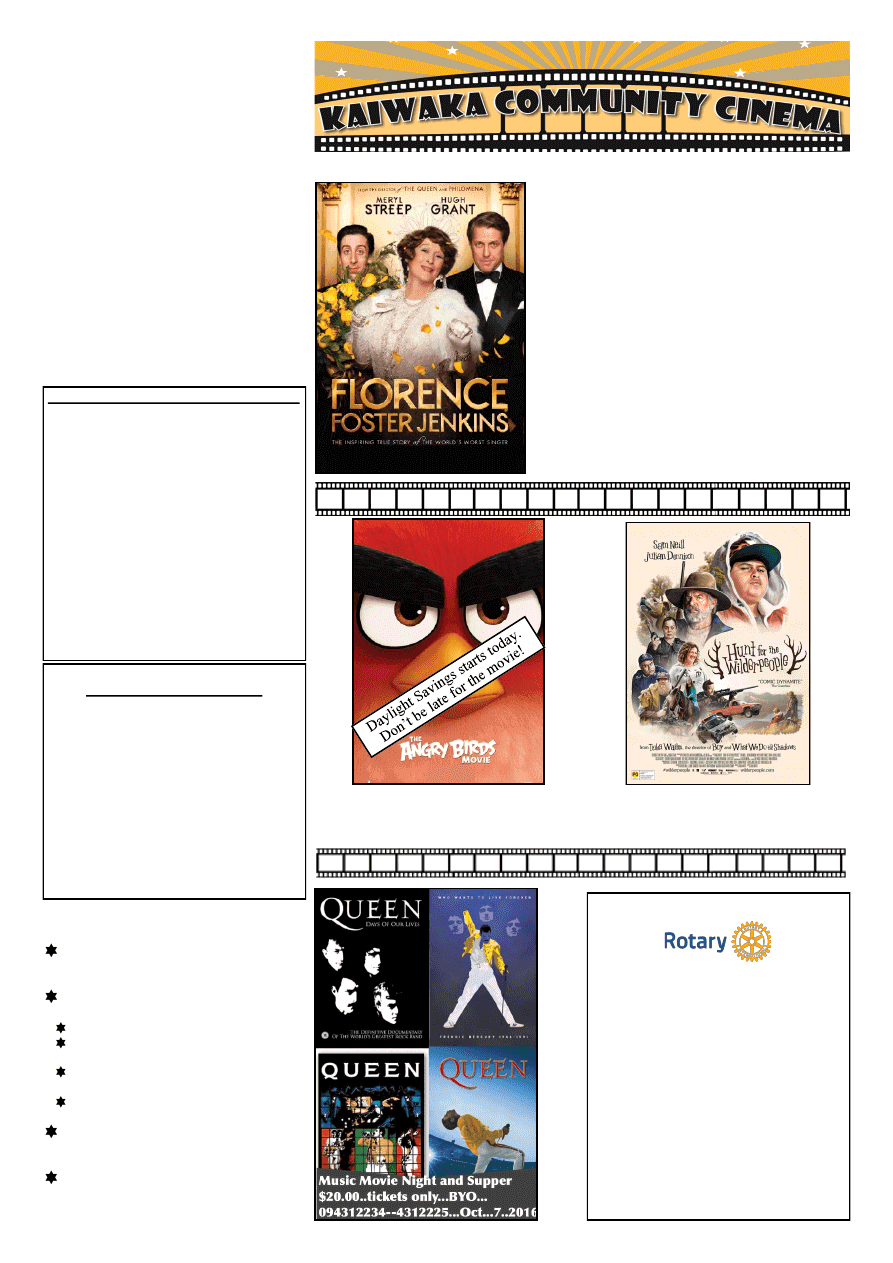 ABOUT TOWN 
......... 
Firewood available –1 metre lengths 
for KSA helipad donation –see Mark 
Ottaway 
Condolences  to  the  families  on  the 
recent losses of: 
Sis, wife of Noel McDowell; 
Satbodhi,  a  friend  and  resident  of 
Absurdistan; 
Bill  Skinner,  husband  of  Carol, 
residents of Kaiwaka until recently; 
and  to  Nina  Smeets  and  family  on 
the recent loss of her father. 
Big  Happy  Birthday  to  Bugle  Crew 
member  Kelvin  Foster,  who  turned 
80 recently. 
Check  the  back  page  for  "What's 
On" in the coming weeks. 
KAIWAKA BUGLE No: 18 
20 September 2016
Page 2: Kaiwaka Movies 
Page 3: Public Notices; Classifieds 
Page 5: Kaiwaka School 
Page 7: Kaiwaka Cares, Kate's Place 
Page 9: William Thomas Jaques 
Page 11: Otamatea Grey Power 
Page 13: Local Elections 2016 
Page 15: OHS Netball, IMB Rugby 
Page 17: Kaiwaka Sports Association 
Page 19:Otamatea Christian School, 
Otamatea Repertory Theatre 
Bugle 19 will appear 4 October 2016 
Contact for advertising, reports, articles 
or information can be made by: 
Email kaiwakabugle@kaiwaka.co.nz 
Ph: 09 4312 045 (Lindsey) 
Txt:  0274 806 275 (Wendy) 
Copy may be left at Jaques' Four Square.
Kaiwaka Bugle 
Founded May 1978 
We appreciate articles and photos about local 
events, etc., as well as ads and suggestions. 
Copies available in Kaiwaka at Jaques Four 
Square, Kaiwaka Postal Centre, Shamrock 
Service Station, Animal Health Centre, 
Kaiwaka St John shop. 
Also outlets in Maungaturoto, 
Mangawhai and Paparoa. 
Can be viewed online at  Facebook or 
www.kaiwaka.co.nz/Bugle  
Or a copy can be posted to you if you supply 
stamped, self-addressed DLE envelopes. 
At Kaiwaka War Memorial Hall . Adults $10, Chn (under 16) $5, Family Pass (2 adults + 3 children) $25 
The Angry Birds Movie 
Sunday 25 September 2:00pm (G)
Hunt for the Wilderpeople 
Friday 30 September 7:30pm (PG)
Kaiwaka Bugle Advertisements 2016: 
All 
copy 
and 
queries 
to: 
kaiwakabugle@kaiwaka.co.nz 
Our A4 page is divided into 6 columns & 
8 rows (48 blocks), with a 1cm margin. 
Ad  sizes:  1/16  page  (3  blocks)  $5;  1/8 
(6 blocks) $8; 3/16 (9 blocks) $12.  
Classified  ads:  $4  per  entry  (max.  30 
words, max. 4 repeats). 
Payments  can  be  made  online,  posted 
or left at Jaques Four Square Store. 
Accounts: 
bugleaccounts@kaiwaka.co.nz 
The  Kaiwaka  Bugle  is  a  community 
newspaper run by volunteers.   
Articles, etc. printed are not necessarily 
the opinion of the Bugle Team. 
Florence Foster Jenkins 
Friday 23 September 7:30pm (PG)
Florence  Foster  Jenkins,  an  heiress  form 
NYC always wanted to be a concert pianist 
and  play  Carnegie  Hall.  An  injury  in  her 
youth  deterred  that  dream,  so  she  sets  out 
to sing her way to Carnegie Hall knowing 
the  only  way  to  get  there  would  be 
"Practice  Practice  Practice".  Her  husband 
supports  her  venture  and  the  true  story  of 
Florence  Foster  Jenkins  playing  Carnegie 
Hall becomes a truly historic event. 
Starring: Meryl Streep, Hugh Grant,  
Kaiwaka Community Movies 
Rotary Club of Maungaturoto and Districts 
HUNT FOR THE  
WILDERPEOPLE
A national manhunt for a rebellious kid 
and foster uncle who go missing in the 
New Zealand bush
at 
Kaiwaka War Memorial Hall 
on 
Friday 30 September 2016  
at 7:30pm 
Come and enjoy a 
Maungaturoto and Districts Rotary Club 
generated project 
to help support the local Scouts 
good people - having fun - doing good things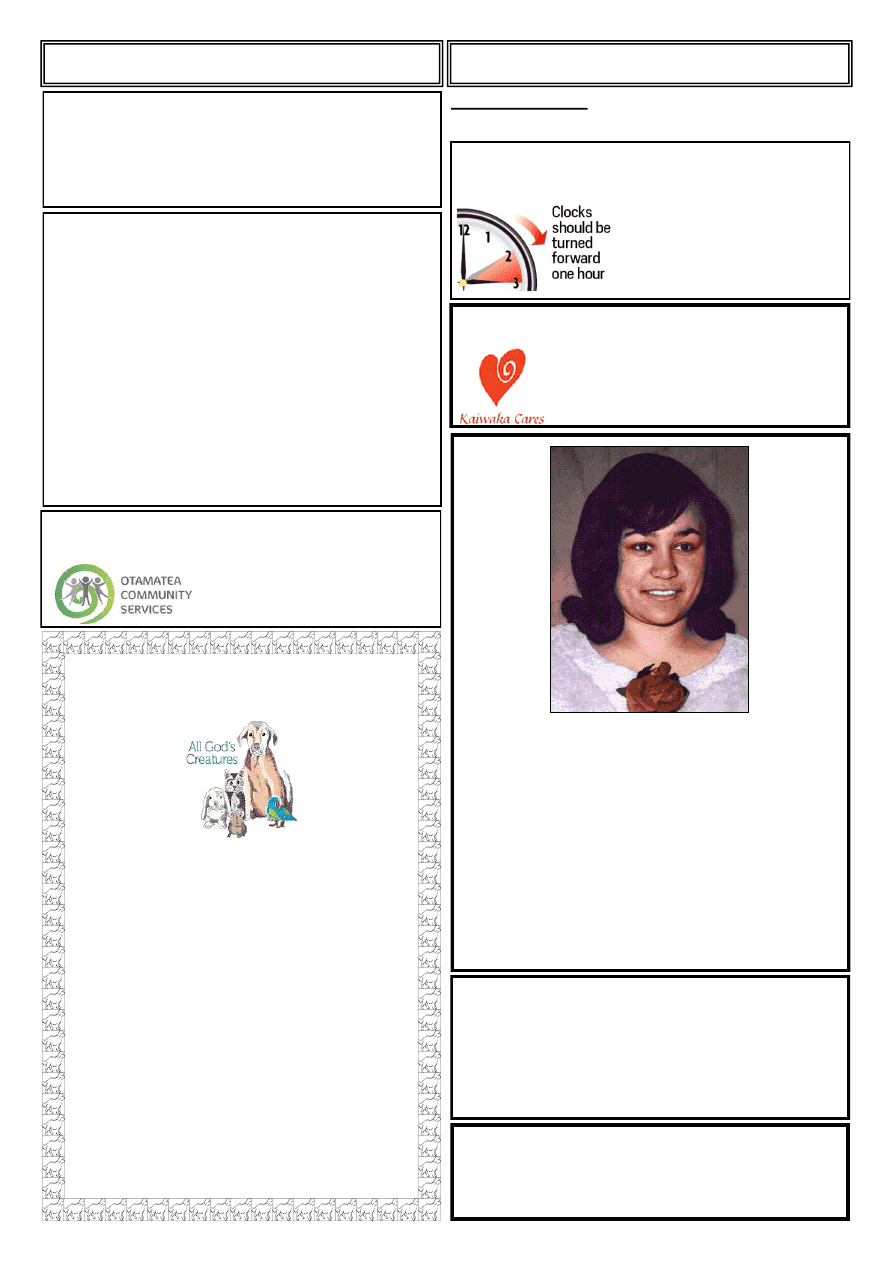 www.kaiwaka.co.nz 
Kaiwaka Bugle - 20 September 2016 
Page 3 
PUBLIC NOTICES 
CLASSIFIED 
Proverbs 18:1
The selfish man/woman/child 
quarrels against every sound principle of 
conduct by demanding his/her own way. 
GARAGE SALE: 9 Hastie Lane, Kaiwaka, 27 
September. Everything must go. Enquiries ph 4312078 
Community Social Space
Open 10am – 2pm  
Monday - Wednesday - Friday 
WIFI, printing & scanning available at 
Kaiwaka's own drop-in social space.
OTAMATEA COMMUNITY SERVICES 
Annual General Meeting 
21 September 3pm 
155 Hurndall St Maungaturoto 
All welcome 
KAIWAKA WAR 
MEMORIAL HALL
Annual General Meeting 
5pm Tuesday 11 October 2016 
All welcome 
Daylight Savings starts 
at 2am on Sunday 25 September 2016
... and change the 
batteries 
in your smoke alarms, too. 
TE POUNGA MARAE 
Annual General Meeting 
Saturday 1st October 2016 at 10.30 am 
Nathan Road, Kaiwaka. 
Agenda: Karakia timatanga; Apologies; Minutes of 
the 2015 AGM; Financial Report 2015/16; 
Chairpersons Report; Election of two Trustees 
(Nomination including CV to be posted to the 
Secretary Wednesday 28th September 2016. 
Nominations may be taken from the floor 
accompanied with CV.); Stage two of the Marae 
complex to be discussed; General Business; Karakia 
whakamutunga. 
By order of the Secretary: Elaine Tweed 
8 Allington Road, Royal Heights, Auckland 0656.  
Phone: (09)833 6055 
BILL SKINNER 
Bill Skinner died peacefully at his home in Arapohue 
Monday 5th September. His wishes were just to say 
Goodbye  to  everyone.    Thanks  to  everyone  who 
supported us. 
No service by request, communications to  
highbalm@gmail.com 
YVONNE BROWN 1948-2016 
A  massive  Thank  You  to  the  Kaiwaka  community 
and  surrounding  area  for  your  support  and 
condolences  with  Yvonne/Mum's  passing.  Kaiwaka 
Fire Brigade, St Johns, Kaiwaka's local store owners 
and  families,  and  all  the  people  who  have  had  a 
connection  with  Mum  in  all  her  years  living  and 
working  in  Kaiwaka.  Your  awesome  support  is 
helping  the  healing;  she  has  left  a  big  hole  in  our 
hearts.  ♥♥♥♥  We  have  to  carry  on  with  life  and  it 
will be a struggle. Our family acknowledges you all, 
many thanks. 
Norm, Shirley, Donna & Renna Brown. 
RD 2, Kaiwaka 
BLESSING OF THE  
ANIMALS
St Francis of Assisi 
Service 
SUNDAY 2nd OCTOBER 
2016 – 9.30 AM 
MANGAWHAI CHRIST THE KING  
ANGLICAN CHURCH 
Molesworth Drive, Mangawhai Village 
ALL PETS WELCOME 
Bring all living creatures, whether they 
be pets, birds, farm animals, etc 
(suitably restrained).  Where people 
are not able to bring an animal, they 
may like to bring a photo or picture of 
an animal they love or a soft toy 
Enquiries: Ph Sue, 09 431 5494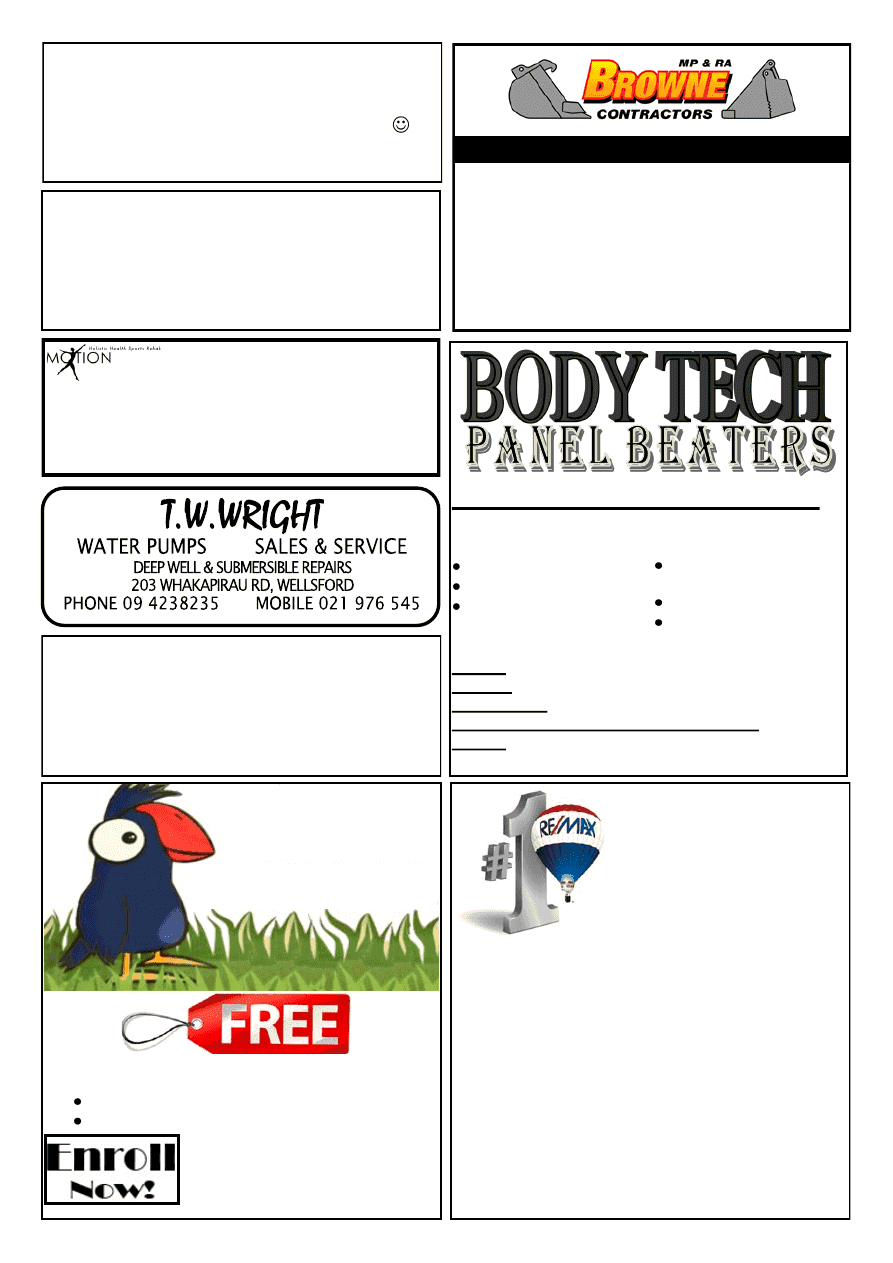 There are more people 
wanting to buy than 
there are houses 
available!
Vacant land, home and income, DIY dream … 
whatever your property's condition there is a buyer 
out there waiting to give you their money. 
Get your local agent's appraisal of your property to 
find out what's it's really worth. 
Contact Beth Stone today! 
Mob: 0274 937 801 
Email: beths@remaxrealty.net.nz 
RE/MAX Realty Group MREINZ 
Northern Properties Limited 
Licensed REAA 2008 
4T DIGGER – BOBCAT – TIP TRUCK 
Property Maintenance - Driveways - Building Sites 
Stump & Tree Removal - Hole Boring - Chain Trencher 
Calf Shed and  Stockyard Cleaning
KAIPARA - WHANGAREI - RODNEY 
Phone Matt: 021 199 6677 
Email: mprabrownecontractors@gmail.com 
FREE GRAZING WANTED 
Small or large block 
Can do some fencing or water 
Phone after 6pm 
4312 006 
For all your body repair needs!! 
We do: 
Rust repairs 
Insurance work 
Anti-corrosion treat-
ment         
Hours: 8.30am-5pm Monday-Friday  
Mobile: 021 118 0462 
After hours: 09 431 2384 
Phone: Craig or Call in for a free Quote 
bodytech_panelbeaters@yahoo.com
We are located at 1837 SH1 Kaiwaka, behind  
Large and minor vehicle  
  repairs 
Industrial vehicles 
Full Cut and polishes 
White Horse Farm 
Farm Stay/Bed and Breakfast 
Ph +64 9 390 1260        113 Tawa Ave, Kaiwaka 
bookings@whitehorsefarm-kaiwaka.co.nz 
www.whitehorsefarm-kaiwaka.co.nz 
WAIPU OSTEOPATH 
Maria Gabriel  ACC Registered Osteopath 
8 The Centre, Waipu 
Monday to Thursday  
Freephone 0508 924786 (0508 WAIPUOSTEO) 
www.getinmotion.co.nz  No doctor referral required 
THE SUNSHINE GIRLS 
Need help with your house cleaning? 
Sometimes you just need another pair of 
hands. We offer two pair and a smile. 
Comparable hourly rate. 
Ph 4312 532 
for children over 3 
Day care for children from 0 to 5 yrs old 
After school care for children over 5yrs old
 
Phone: 09 431 2842 
Email: smallpukekos@gmail.com 
Address: 8 Kaiwaka-Mangawhai Rd 
Website: www.smallpukekos.co.nz 
Small Pukeko's 
Early Learning Centre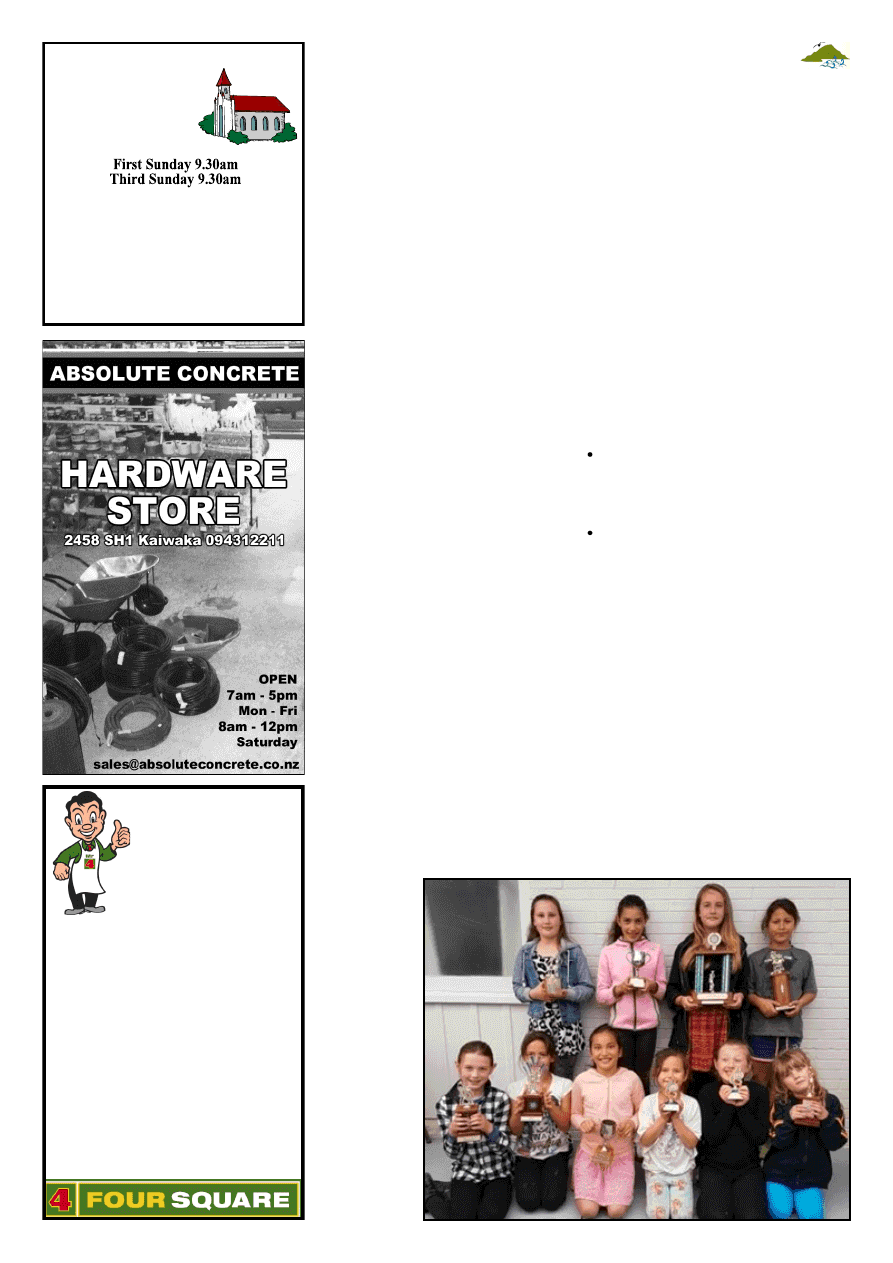 www.kaiwaka.co.nz 
Kaiwaka Bugle - 20 September 2016 
Page 5 
ST PAUL'S  
ANGLICAN  
SUNDAY  
SERVICES
St Pauls Church: Kaiwaka-Mangawhai Rd. 
1st Sun - Eucharist 
3rd Sun - Family Service 
Office 4314 122 
Contacts:M.Hargreaves 4312295, C.Bygrave 4312057  
or Rev. Wayne Thornton Ph 431 5650 
www.mangawhaianglican.org.nz
KAIWAKA SCHOOL 
NEW NEW NEW!! 
FRESH DAILY BAKED ON 
OUR PREMISES 
Breads, French Sticks, Rolls, Savory & 
Sweet pastries, 
Croissants & muffins 
Great Supermarket Prices!! 
Grab a coffee to go & treat yourself  
Jaques Four Square 
Phone: 4312227 
1 Kaiwaka-Mangawhai Road, Kaiwaka. 
In Store               
Now! 
A  lot  is  going  on  at  the  school  at  the 
moment  making  Kaiwaka  School  a 
busy and vibrant place. 
Arts Festival 
The children are currently getting ready 
for our Kaiwaka School  Arts Festival, 
on Wednesday the 21st of September at 
6:00  pm.  This  year  the  theme  is 
Kiwiana. On the night students need to 
arrive  at  school  at  5:00  pm.  Please 
make  sure  your  child  has  had  dinner 
before they arrive (we don't want to get 
food on the costumes). Once ready we 
will  walk  down  to  the  Memorial  Hall 
(at  around  5:45  pm).  There  will  be  a 
gold coin donation at the door.  
On  the  night  of  the  Kaiwaka  School 
Arts  Festival  the  PTA  will  be  selling 
sausages  in  bread  and  drinks  down  at 
the Kaiwaka Memorial Hall for parents 
from 5 o'clock to 6 o'clock.   
School Gala 
Our  School  Gala  is  happening  next 
term  on  Friday  November  the  18th.  It 
will  be  a  twilight  gala.  Please  start 
putting  aside  good  quality,  unwanted 
household  goods  such  as,  clothes, 
books,  jewellery,  kitchen  items, 
children's  games  and  toys.  The  PTA 
will let you know at a later date when 
and  where  to  bring  your  goods.  The 
PTA  will  also  need  lots  of  helpers  on 
the night so can you please contact the 
office if you are available to help.  
Noho Marae 
Noho  Marae  is  another  event 
happening in term 4. We  have booked 
Otamatea Marae for Thursday the 27th 
and  Friday  the  28th  of  October.  We 
would  like  parent  help  for  Noho  as 
well.  Please  put  this  date  in  your 
calendar.  The  Kaipara  Festival  will  be 
held on Saturday the 29th of October at 
Helensville  Primary  School.  This  is 
where  the  students  perform  their 
Kapahaka show for an audience.  
Lost Property 
I  hope  you  have  noticed  the  new 
'LOST  PROPERTY'  boards  made  by 
the  Kereru  Group  and  lead  by  Mrs 
Wilkinson. These are at the front of the 
school 
attached 
to 
Room  2  so 
you  can  check 
for 
clothes, 
shoes 
and 
socks  as  you 
enter 
the 
school.  If  the 
lost  property 
has  not  been 
claimed within 
the  month  we 
will  wash  it 
and  take  it  to 
the 
second 
hand shop. 
Gardens 
The 
Kereru 
Group 
have 
also 
been 
working 
on 
new school gardens and have made two 
amazing raised gardens. They are now 
ready to be planted so if you have any 
vegetable  seeds  or  seedlings  that  you 
would be happy to donate please bring 
them to school for us to plant.  
Calf Club Day 
Calf  club  entry  forms  are  ready  and 
available at the office.  
The school is in need of plastic bags to 
protect our library books when they go 
home  in  school  bags.  If  you  have  any 
spare plastic bags at home please bring 
them in. 
Speakers 
A  big  thank-you  to  the  Whanau 
Committee 
for 
arranging 
guest 
speakers to visit our school. Our guest 
speaker  Greg  Nathan  talked  to  our 
students  about  overcoming  challenges 
and being successful as Maori. 
Reminders 
School  starts  at  8:30  am.  Most 
teachers  arrive  around  8:00  am. 
Please  don't  drop  your  child  off 
earlier  than  this  as  there  may  not  be 
someone here to look after them. 
Radio  New  Zealand  has  a  site  with 
lots  of  great  stories  for  children  to 
listen  to.  It  is  free  so  check  it  out: 
http://www.radionz.co.nz/collections/
storytime-treasure-chest 
~Sharlene Tornquist 
Netball 
Congratulations to our girls: 
Kaiwaka 1&2:  
Player of the Year: Devine Henderson 
Most Improved: Ashley Greig  
Most Consistent Effort: Leayah Buxton 
Shining Star Award: Leonie Beyer 
Kaiwaka Tigers: 
Fair Play Award: Dalana Stonex 
Shining Star Award: Hinemarama Saua 
Most Outstanding Player:Pyper Buxton 
Most Improved:   Ruby Stonex, 
Molleigh Buxton and Penny Worsfold  
An  amazing  end  to  a  fab  season.  
Thanks to all.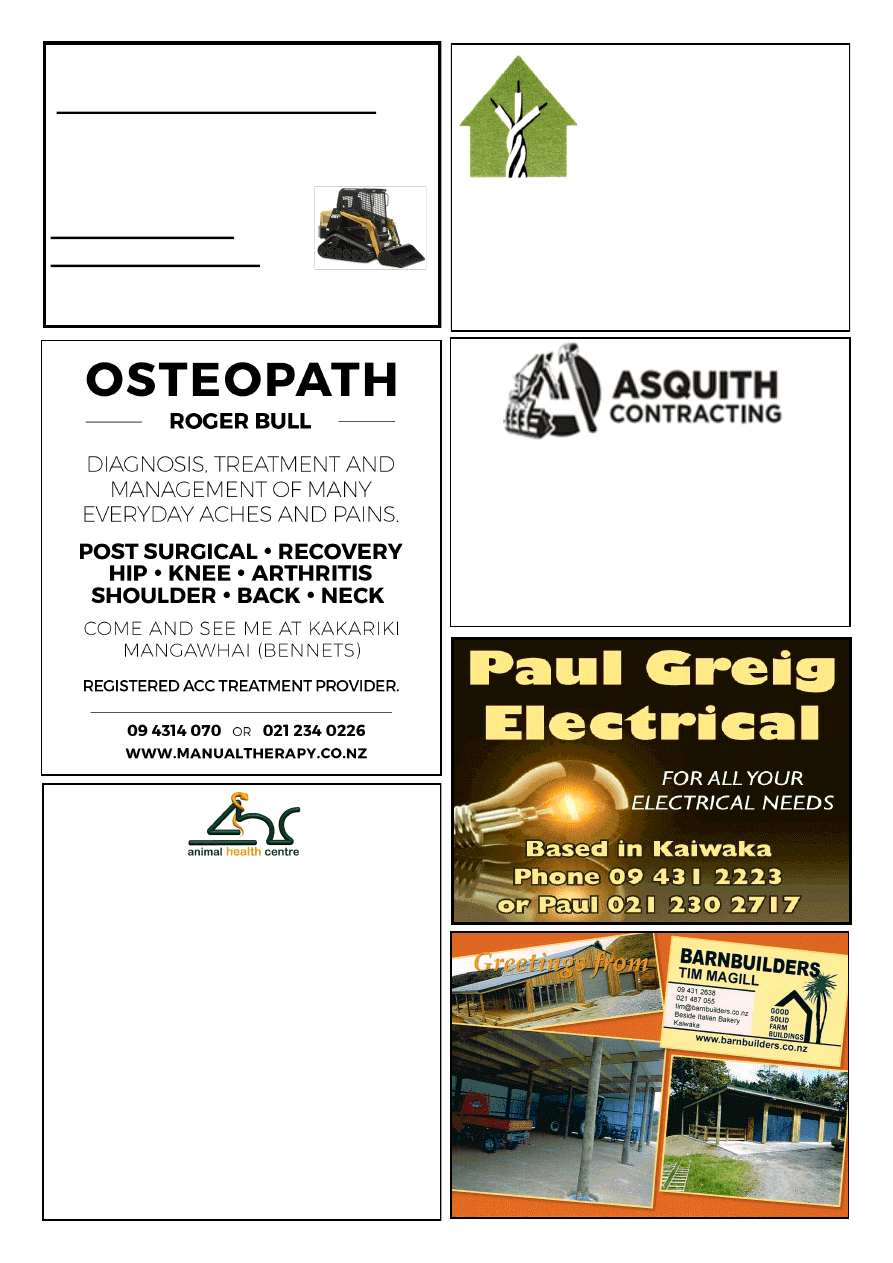 Natural Earth Ltd 
 Landscape and Bobcat services 
 : Driveways  :Landscaping  :Retaining Walls 
 : Hole Boring: Land Levelling :Trenching 
 : Decks :Fences :Sections Cleared: Plus much 
more 
Tel   09 4312885 
Mob 02102391280  
For A Fast Friendly  
Service Contact Tim Hicks 
ANIMAL HEALTH CENTRE 
KAIWAKA 
"choices in health care for your companion animal" 
Health problems - itchy skin, smelly ears,  
bad breath, diarrhea? 
On steroids, antibiotics, lifetime drugs.....  ? 
Diet may be a part of the problem!   
Call in and have a chat to our team  
of animal health practitioners.
Nail Trims,  Microchipping , 
Dental checks,  Comfort grooms. 
Great range of real food – no preservatives. 
Alternatives to nasty chemical parasite controls.
OPEN:   Tues-Fri - 10:00am – 5:00pm 
Saturday - 10:00am -  4.00pm, Sunday/Monday - Closed 
Next to Italian Bakery, Main Highway  Kaiwaka 
Ph:  09 431 2217 
PS: We're  open 7 days in Orewa if you missed us! 
Reyahn George 
Leng 
Registered Electrician 
Local, honest and reliable. 
For your residential and 
light-commercial projects. 
022 314 1068 / 09 431 2527 
Small digger work, trenching and 
post hole drilling for retaining 
walls, piles, etc. 
$60+gst per hour.
Call Tam on 027 124 5216 or 
asquithcontracting@gmail.com 
www.kaiwaka.co.nz 
Kaiwaka Bugle - 20 September 2016 
Page 7 
www.mangawhaimassage.co.nz 
HAKARU & 
DISTRICTS RSA Inc 
Each Friday night from 6.30pm meals 
will be served. 
Members & invited guests, new 
members welcome. 
Come along & enjoy our hospitality. 
2nd Friday of the month -  roast dinner or 
board menu. 
Last Friday of month - roast pork night 
&  
sing-along with Des Chitty.  
Ph Heather 4314668 or Jan 4314512 
Freeview  
Installations 
Richard Te Haara 
25 Marram Place 
Mangawhai Heads 
021 1104056 
kiwipride@xtra.co.nz
Kate's Place & Kaiwaka 
Cares – working towards 
a better community! 
Kaiwaka  Cares  is  very 
lucky to be located within 
Kate's Place.  Iris is continuing on the 
wonderful work first done by Kate and 
then Yvonne.  We work alongside each 
other  to  compliment  the  needs  of  the 
community  and  help  each  other  out  as 
needed. 
The  goals  of  both  groups  is  to  provid 
better services and wellbeing within the 
community.    None  of  those  involved 
are  paid  for  the  work  they  do,  it  is  all 
for the love of our community.  If you 
would  like  to  come  along  and  help  us 
don't  hesitate  to  strike  up  a 
conversation with us or phone #09 431 
2661 
or 
email 
caring4kaiwaka@gmail.com. 
Fundraising Auction 
Less  than  a  week  to  go  until  the 
Auction.  There are all sorts of exciting 
things  that  will  be  going  under  the 
hammer.    Looking  forward  to  helping 
towards  the  helipad,  foodbank  and 
scouts.  Would love to see you all there 
at 2pm at the Hakaru Hall on Saturday 
24  September.    If  you  are  wanting  to 
add  another  item  for  us  to  auction 
(either goods or a service) contact Beth 
Stone  on  #0274  397  801  or  email 
beths@remaxrealty.net.nz. 
Scrabble Mondays 
We've  had  a  number  of  games 
available  to  play  here  at  the  social 
space.  On Mondays those interested in 
Scrabble  or  Chess  pop  in  for  a  game.  
You  don't  have  to  be  an  expert,  just 
willing to give it a go. 
Soup & Music Wednesdays 
Our lovely volunteer Kirstie whips up a 
large  pot  of  soup  each  Wednesday.  
Pop  in  say  hello  and  grab  yourself  a 
cup.  Soup is a great way to get all the 
nutrients  into  you  in  a  warm  and  tasty 
way.  The Soup is free, although if you 
are  able  to  provide  some  koha  that  is 
always appreciated.   
Also  on  a  Wednesday  Sharon  is  here 
willing to teach guitar or just to discuss 
music.    Come  along  and  give  it  a  go 
and see if it's for you. 
Do you want more of us? 
We've  had  a  number  of  people  ask 
recently  if  the  social  space  could  be 
open  Monday  to  Friday,  so  5  days 
instead of 3.  Nothing would please us 
more  than  being  there  for  you  when 
you need us.   
To  make  this  happen  we  need  some 
more  people  to  be  able  to  help  out.  
Even a couple of hours will do.  We are 
a  supportive  and  caring  bunch  and 
would  love  to  welcome  some  more 
helpers  into  our  team.    If  you  are 
interested,  pop  in  and  say  hi  or  email 
caring4kaiwaka@gmail.com. 
We have so many ideas and things we 
want  to  do  for  our  community,  so 
watch this space!  
KAIWAKA CARES 
KATE'S PLACE 
After our recent sad loss of Yvonne we 
want  to  acknowledge  what  a  big  gap 
she  has  left  in  our  community  and 
centre. Our love goes out to her family. 
In her honour we want to continue her 
good work and the legacy she has left, 
and  the  legacy  that  Kate  left  and 
Yvonne continued. 
Iris  Kelly  is  now  co-ordinating  Kate's 
Place,  Monday  -  Wednesday  -  Friday. 
We  have  been  opening  with  restricted 
hours,  but  are  looking  at  increasing 
them back to five days per week soon. 
Kate's Place currently has an Osteopath 
(Owen Stephens), who visits on the last 
Friday  of  every  month.  AA  have  a 
weekly meeting. We offer office space 
to  rent  either  on  an  hourly  rate  or 
permanent  basis,  with  reception 
services, wifi, and printing. 
We  are  currently  looking  into  the 
possibility  of  adding  more  health  and 
well-being  services  into  the  centre. 
Nurse  visits,  a  mental  health  support 
group,  diabetes,  counselling,  stop-
smoking  support  and  spiritual  healing 
are possibilities. 
If  you have any questions, suggestions 
or feedback, please pop in and see Iris, 
or phone Kate's Place on 4312 661. 
We  look  forward  to  supporting 
Kaiwaka for many years to come. 
FUNDRAISING AUCTION 
SATURDAY 24 SEPTEMBER 2016
@ 2PM @ HAKARU HALL
IF YOU HAVE SOMETHING YOU 
WISH TO DONATE OR WANT TO 
CONTACT THE ORGANISING 
TEAM PHONE BETH STONE @ 
REMAX 0274 937 801 
SETTLERS DAY FUN FAIR 
Matakohe Kauri Museum 
Saturday1st October, 10 –3pm 
A full programme of fairground activities 
on offer for families of all ages!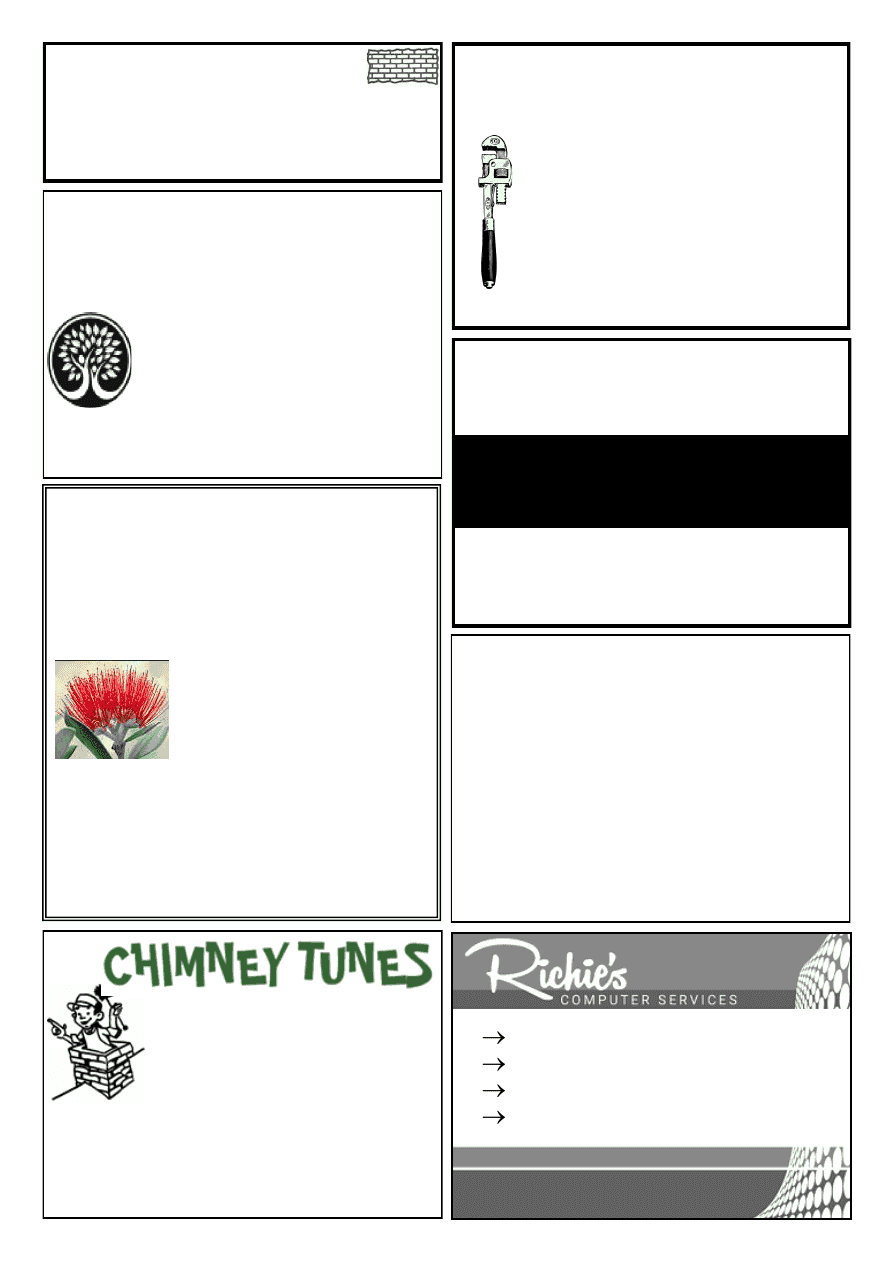 BARRY CURTIS PLUMBING LTD 
REGISTERED CRAFTSMAN PLUMBER 
Phone 4315572 
027 257 9884 
25 years experience 
Friendly reliable service 
All plumbing and maintenance 
Alterations and new housing 
Spouting 
Competitive rates 
PROMPT EFFICIENT  SERVICE 
David Korach 
Your local Gib Stopper
DK PLASTERER LTD 
0274769221 
dkorach6@gmail.com 
Chimney and Fireplace 
Maintenance,  
Parts & Repairs
MARK O'DONNELL 
021 457 247 
Whangarei – Mangawhai – Maungaturoto 
KAIPARA FLOORING CO 
Independently owned & operated 
32 HURNDALL ST MAUNGATUROTO 
Supply & Installation of Carpet, Vinyl,  
Vinyl Wood Planking
Stockists of 2m & 3m wide 
vinyl & carpet short ends
Residential & Commercial 
First Class Installations 
For a free measure & quote 
phone Christine  
09 946 9886 or 021 515 415 
kaiparaflooring@gmail.com 
http://www.kaiparaflooring.co.nz/ 
BRICK/BLOCKLAYER 
All aspects of masonry: 
Fireplaces, Restoration & Remedial Work.
JAMES EAGLETON
Tel. (09) 431 2514     Mob. 0274 749 232
jajueagles@yahoo.com.au 210A Pukenui Road, RD2, Kaiwaka 0573 
Mangawhai Heads 
Garden Centre
1758 Cove Road
945 0707 
021 
165 
2629
Waipu Natural Health 
3 Cove Road, Waipu  (opposite the Pizza Barn) 
Ph: 09 432 1325 
www.waipunaturalhealth.co.nz 
Clinical Nutritionist (Masked Allergy Testing), 
Naturopaths, Registered Medical Herbalist , 
Registered Massage Therapists, 
Reflexology, Beauty Therapy, Craniosacral 
Therapy, Hypnotherapy, Counselling, 
Change Catalyst, ThetaHealer, Naturopathic 
Prolotherapy & Scenar (joint & muscular 
therapy), and much more... 
GIFT VOUCHERS AVAILABLE 
15 years  commercial IT experience 
Computer and Laptop Repairs 
Smart Phone and Tablet Support 
Virus and Malware Removal 
Richard Harding
T 09 945 0376        M 021 124 7358 
E richo_harding@hotmail.com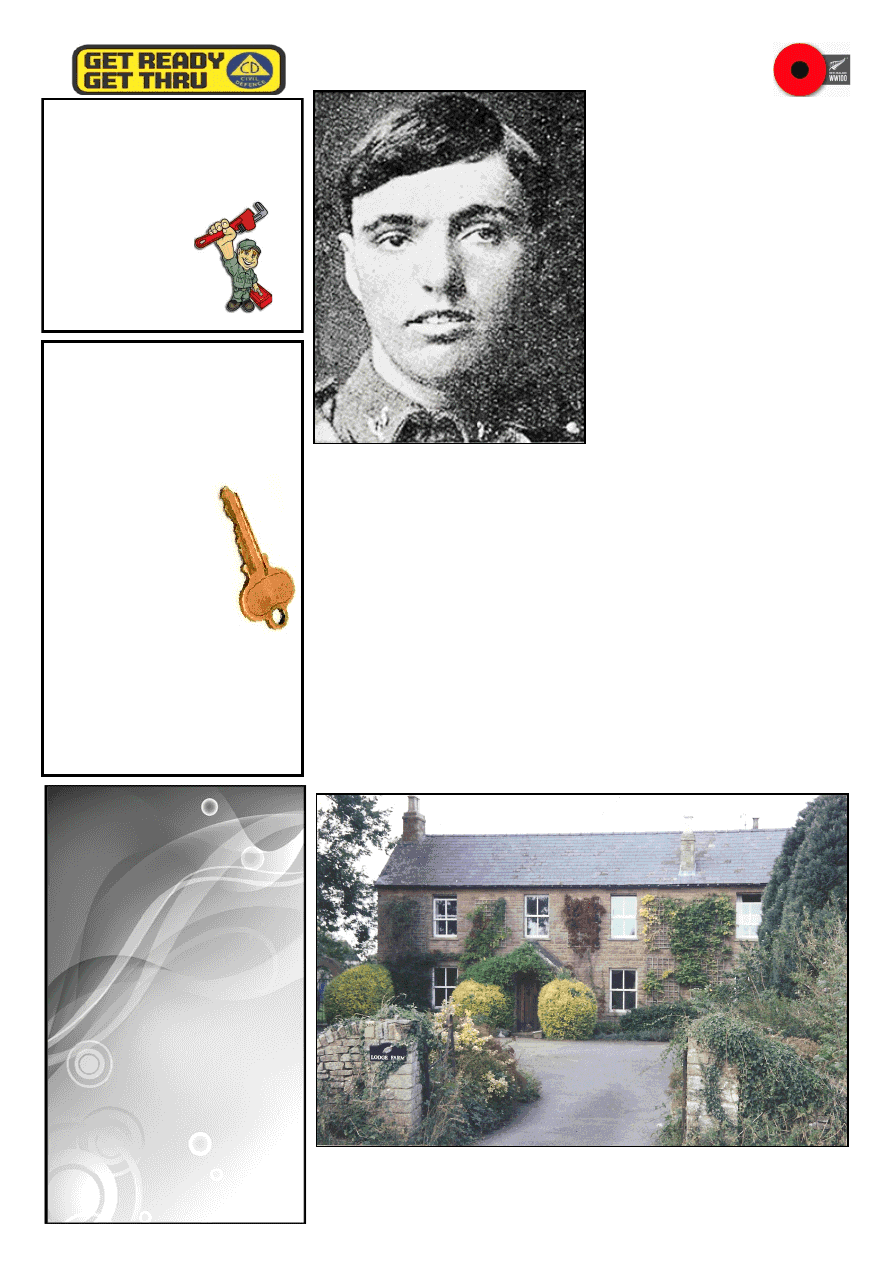 www.kaiwaka.co.nz 
Kaiwaka Bugle - 20 September 2016 
Page 9 
U Beauty 
            Underarm Wax  
    $20 
            Extended Bikini Wax   $30 
            15 min Back  Massage  $25 
            30 min Back Massage  $50 
Please call Nicole for bookings 
09 393 6336 or 022 0639450 
Qualified Beautician 
4 Kaiwaka – Mangawhai Rd 
Kaiwaka 
Eyebrow Wax  $10 
Eyebrow Tint  $10 
Eyelash Tint 
$20 
Lip Wax 
$10 
Chin Wax 
$10 
Bikini Wax 
$20 
Brazilian 
$50 
½ Leg Wax 
$30 
Full Leg Wax  $45 
Full Pedicure  $60 
Foot Tidy  
$35 
Manicure 
$45 
Nail Tidy 
$25 
Chest Wax 
$30 
Back Wax 
$40 
Nostrils 
$10 
Ears 
$10 
Kaiwaka  
Hardware  
&  
Key cutting 
 Phone 4312 063 
 022 041 6047 
 kaikey2015@gmail.com 
Keys Cut  
Household Hardware  
Curtain Tracks & Fittings
Not there? Call Doug and he'll sort
it for you.
(
Next to Kaiwaka Motorcycles)
Ross Murphy 
PLUMBER 
Certifying Plumber 
09 431 7510 
021 424 252 
Paparoa Based 
+
New Housing  
+
Renovations  
+
Maintenance
William  was  the  son  of  Philip  and 
Maria  Jaques  and  brother  to  Frank 
Jaques  of  Kaiwaka,  and  according  to 
his  records  was  wounded  on  17 
September  and  killed  20  September 
1916  at  the  Battle  of  the  Somme.  He 
was 20. 
William  Jaques,  a  farmhand  living 
with  his  family  at  Camp  Farm 
Otahuhu,  joined  the  Army  in  New 
Zealand  as  a  Private,  1st  Battalion, 
Auckland  Regiment,  New  Zealand 
Expeditionary  Force.  Army  No. 
10126.  He left  New  Zealand  with  his 
contingent for Suez, Egypt on 1 April 
1916.  From  there  he  went  to  Etaples 
and on to the battlefield in France by 
the  end  of  July  1916.  Sadly  he  died 
only a few weeks later. 
He  is  remembered  on  Caterpillar 
Valley  (New  Zealand)  Memorial, 
France; on the Otahuhu Memorial and 
on a brass plate in St. Peter's Church, Hook Norton, England 
The Jaques family -Philip (
an accomplished horse man often hosting Hunts on a 
grand scale)
 and Maria (
a teacher and fine seamstress and pianist and played the 
church  organ)
  and  their  nine  children  left  Hook  Norton,  Oxfordshire,  England 
came  to  New  Zealand  in  1911  aboard  the  Tainui.  The  children-Evelyn, 
Margaret, William Thomas, Philip, Francis*, Irene, Olive, Arthur and Lily, first 
farmed  at  Camp  farm,  Otahuhu,  for  Amburys. 
Then  shifted  to  Tolaga  Bay,  to 
farm in May 1919
. Except for William, they all married. 
Francis or Frank as we knew him was born in 1898 was only a teenager when he 
came to New Zealand. He worked in a number of places including 
the Matangi 
Mutual  Stores  and  rode  horseback  to  collect  orders.  He  moved  to    Rawene 
working for AS Andrews, and then back to Auckland. In 1924
he was persuaded 
to  go  and  look  at  a  store  in  Kaiwaka  as  Mr  Randell  had  died  and  his  wife 
couldn't manage, so he caught the train and came up only to return and say "No, 
I'm not impressed". He was persuaded to go back and have another look which 
he did and bought it. 
His parents followed him to Kaiwaka - they are both buried 
in the Kaiwaka Cemetery.  
And  so  92  years  ago  Jaques  Store  was  established.  Frank  married  Ella  Cullen 
and their children are William (known as Bill), Brian, Reg, Ken, Alan and Pam.  
Photograph  of  William  Thomas  Jaques  (above)  is  from  the  Auckland  Weekly 
News 22 March 1917 page 45. 
William Thomas JAQUES 
Killed in action on the Somme 1916 
Photo above: 'Lodge Farm' in Hook Norton, England, where Philip and Maria Jaques 
lived and their children were born. Pam Ottaway, granddaughter of Philip and Maria 
and daughter of  Francis (Frank) Jaques took this photo when she visited in September 
2000.  The  farm  and  outbuildings  are  well  maintained  and  are  just  as  they  were  on 
hundred years ago.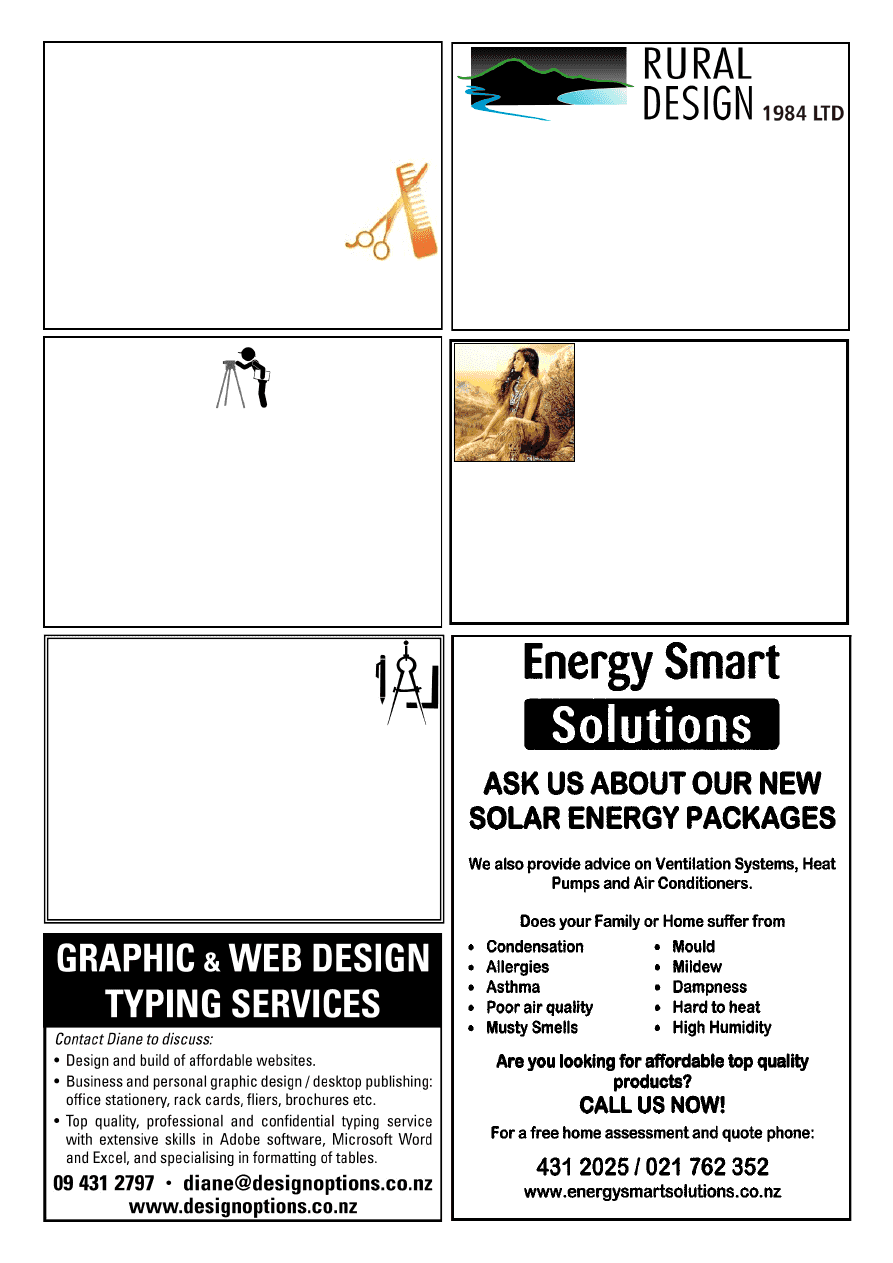 Ken Urquhart 
BSurv Licensed Cadastral Surveyor 
KMU Surveys Ltd
467 Bickerstaffe Road 
RD 2 
Maungaturoto 0587 
Ph 09 431 8705 
Mob 021 161 2344 
kenurquhart@xtra.co.nz 
WHOLESALE NATIVE PLANT NURSERY 
AND LANDSCAPING 
By Appointment 
Small and Large orders welcome 
Phone: 09 431 2481 
Email: info@ruraldesign.co.nz 
design drafting  
service 
Retired builder and manufacturer with over 40 years  
experience in the building industry is offering a design 
drafting service  
for domestic housing, sleepouts and sheds.  
Plans formulated in consultation with clients, with 
working drawings completed and submitted to  
council for processing.  Extensive practical experience,  
able to identify & resolve problems. 
Please ring Mike Lean on 
09 431 2260  
          or 
021 431 196 
Trails end 
spiritualist gathering  
Last Sunday of every month  
11.30-2pm tea/coffee provided  
$5koha for all inquiries  
0211652629 evenings 099450753 
Trail.end@hotmail.com 
Bringing together light minded people 
Guest speaker each month and 
Workshops every 2nd Wednesday  
6:30-7:30pm
AFFORDABLE PRICES! 
MENS DRY CUT FROM $18.00 
LADIES DRY CUT FROM $28.00 
KIDS DRY CUT FROM $15.00 
COLOUR CUT FROM $90.00 
JUST CUTS'AND     
MORE 
021 165 2629 
NOW SELLING: scented tealights, incense, smudge sticks, 
copper bracelets, aurora ball crystals, dream catchers, healing 
stones, rose quartz, cds, and much more. Open 6 days.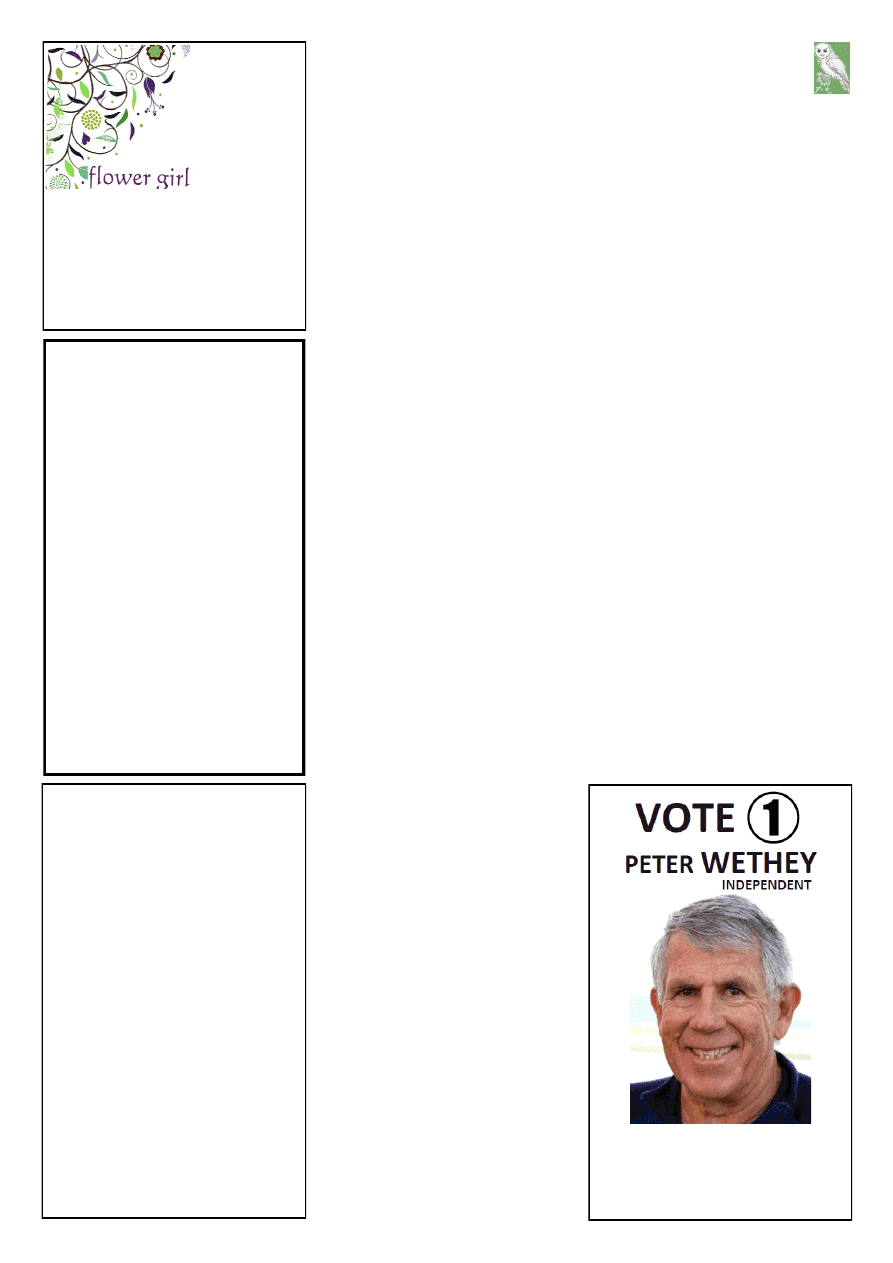 www.kaiwaka.co.nz 
Kaiwaka Bugle - 20 September 2016 
Page 11 
Willow Bend
HORSE  
HOTEL 
"  
Total Horse Care 
" 
Agistment 
" 
Riding Lessons 
" 
Arena Hire (60x40) 
" 
Young Horse Starting 
" 
Re-training/Exercising 
" 
Hoof Trimming 
" 
Problem Solving 
Phone Sue  
09 431 2817  
or 021 623 776 
susanjoll11@gmail.com 
Full Circle 
Landscaping 
Pete Worsfold 
Cert. LScp/Des 
20yrs experience 
021 825 970 
peteworsfold@xtra.co.nz
Landscape Design 
Gardener 
Nurseryman 
Functional, practical, aesthetic.
Lush native plantings, shelter, wetlands, 
grey water system plantings, home 
orchards, firewood lots, vege gardens... 
Planning, planting, project estimates, 
tree lists and species suitable for your 
site/sight, maintenance training...
Call or email me for an onsite 
estimate at your place!
Completion...Clarity 
Kaiwaka 
Good 
Sorts 
Do you know 
someone in our 
community who is 
deserving of a 
beautiful bunch of 
flowers? 
Send an email to us at 
kaiwakabugle@kaiwaka.co.nz 
or drop a note to Jaques Four Square to let 
the Bugle team know. 
We will choose a recipient to receive 
flowers from Lindy the flower girl. 
lindywatson@hotmail.com 
4312 847 
Health and Disability 
At our meeting this month a lady from 
the  Health  and  Disability  Advocacy 
came  to  speak  to  us  about  our 
consumer rights.  
This  means  that,  in  the  health  system,  
you  should  have:  1)  Respect  and 
privacy – to be treated with respect. 2) 
Fair  treatment-  to  be  treated  fairly 
without  pressure.  3)  Dignity  and 
Independence – to respect your dignity 
and  independence.  4)  Appropriate 
standards – service delivered with care 
and skill. 5) Effective communication – 
to  have  full  access  to  communication. 
6)  Information  –  to  have  full 
information and questions answered. 7) 
Choice  and  consent  –  it's  your 
decision,  you  can  say  no  or  change 
your  mind  at  any  time.  8)  Support  – 
family  or  friend  to  help  and  support 
you.  9)  Rights  during  teaching  and 
research – all 10 rights apply. 10) Your 
complaints  taken  seriously  –  it's  ok  to 
complain,  you  can  have  help  from  a 
health  and  disability  advocate.  The 
bulk  of  their  work  was  writing 
complaints  for  people  in  hospital  and 
supporting  them  face-to-face.  It's  all 
about  empowering  consumers.  Their 
number  is  0800  555  050. Give  them  a 
ring if you are ever in hospital and you 
feel  that  you  are  not  being  cared  for 
properly. They are happy to help. 
Elections 
Mark  Vincent  also  came  to  talk  to  us 
about his putting his name forward as a 
candidate  for  NRC  in  the  upcoming 
elections  in  October  –  he  advocates  a 
better service for consumers. 
Cannabis legislation 
Our 
campaign 
for 
re-legalising 
cannabis  for  pain  relief  is  going  well. 
Results from the latest UMR poll show 
76% 
of 
people 
now 
support 
legalisation,  with  only  12%  against. 
Letters  we  have  written  to  papers 
around  the  country  have  been  printed, 
and we have received letters and phone 
calls thanking us for our stance. Many 
countries  have,  or  in  the  case  of 
Australia  and  Canada,  are  in  the 
process  of  legalising  cannabis  (in 
November),  and  where  cannabis  has 
been  legal  for  many  years,  their  crime 
rates  have  dropped  by  up  to  25%, 
"sickies"  have  dropped  by  8%, 
adolescent  pick-up  has  decreased  by 
10%, and deaths from opioid overdoses 
have  dropped  by  25%.  Hopefully,  we 
won't be far behind, and the problem of 
murder by "king hits" will be relegated 
to an historical nightmare. Next month 
we will be able to tell you all about our 
meeting with Winston Peters, when we 
will be handing him our petition at our 
28th  September  meeting,  which  starts 
at  1.00  p.m.  The  community  is 
welcome  to  attend,  but  please  phone 
and let  us  know  if  you  are  coming,  so 
we  may  ensure  sufficient  seating  is 
available. 
Membership & advocacy 
We are getting a lot more interest 
in  membership  now,  with  people 
joining  because  they,  too,  are 
concerned  that  we  are  losing  so  many 
freedoms. The latest is Councils (which 
comprise 
of 
members 
of 
our 
community) may lose the right keep us 
GE-free.  The  Councils  have  lost  the 
right  to  declare  our  districts'  water 
supplies to be fluoride-free, and we are 
now  at  the  mercy  of  DHBs 
(Government) as to whether we will be 
medicated  through  our  water  supply. 
Our access to many health supplements 
will  be  limited,  forcing  people  to  take 
pharmaceutical  drugs  with  their  many 
side-effects, including death. We don't 
want  our  country  swamped  with 
pesticides,  poisoning  the  aquifers  (the 
EU has banned glyphosate for ten years 
whilst 
further 
tests 
are 
being 
undertaken)  and  chemicals  destroying 
our  bee  population,  which  will  affect 
our ability to grow food/fruit, and make 
us  sick.  Problems  from  Government's 
immigration  policy  have  moved  into 
our area, such that rentals are becoming 
unaffordable  and  unavailable,  as  are 
houses to buy. 
Community Can is organising a forum 
in  Whangarei,  with  key  note  speakers, 
a political panel and community panel . 
These  panels  will  be  presenting  views 
on re-legalising cannabis. Beverley and 
Kath  will  be  representing  Otamatea 
Grey  Power  on  the  Community  Panel. 
It  will  be  held  mid-October.  This 
should  be  an  interesting  event.  Please 
phone 
Beverley 
or 
Kath 
for 
information  on  final  event  details.  If 
you wish to join us, and new members 
are  most  welcome,  please  ring 
Beverley  on  09  431  9188,  or  Kath  on 
09 283 2052.  
~Beverley Aldridge, President 
OTAMATEA GREY POWER  
A FRESH START 
FOR KAIPARA
Facebook: www.facebook.com/peterwethey1 
Authorised by: Peter Wethey, 42 Cheviot Street, Mangawhai Heads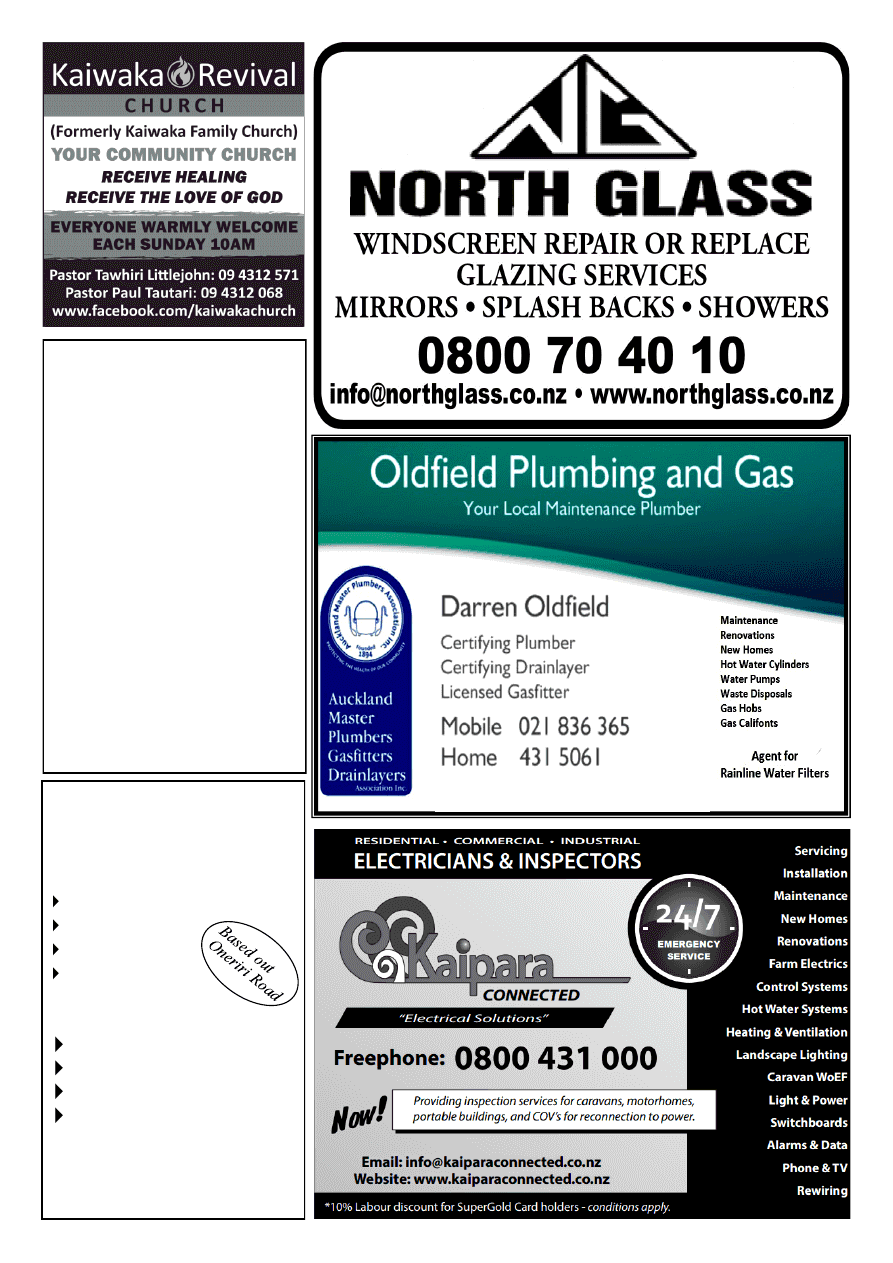 UP-LINK 
CHRIS WARING 
FREEVIEW 
INSTALLATIONS
T.V. - HOME THEATRE & 
HI-FI ADVICE/SET UP
SKY ACCREDITED 
INSTALLER
MOB.0273403747 
HM.094312328 
EMAIL cwaring44@gmail.com
28 YRS EXPERIENCE 
OFFERING 
UNBIASED ADVICE 
oldfieldplumbing@gmail.com 
HODGETTS
CONTRACTING
Digger Work   
Driveways 
House Sites  
Dams 
Drains, etc  
Also available 
for HIRE 
3 ton Vib Roller 
Heavy Duty Tow 
Waterblaster  
Lazer Level 
 
Phone Mark 4312877 
027 447 8554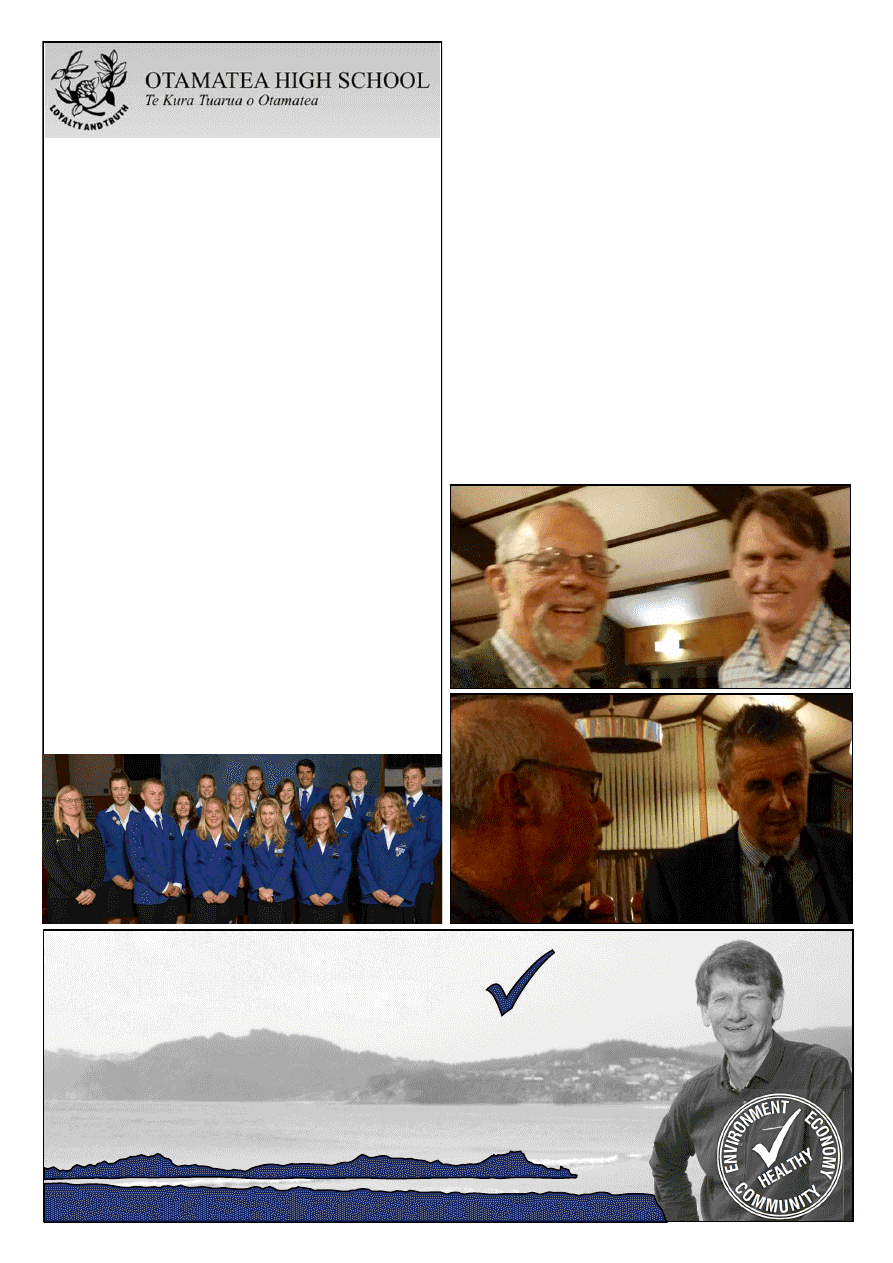 www.kaiwaka.co.nz 
Kaiwaka Bugle - 20 September 2016 
Page 13 
STOLWERK
   Tick       Rick
WHAT IS MY STANCE?
The interconnections between community, economy and environment are the driving factors and this relationship must be a HEALTHY and 
INTEGRATED one. 
A HEALTHY COMMUNITY 
-  by listening and connecting through accountable and transparent governance. 
A HEALTHY ECONOMY 
-  by sustainable use of the council's current resources 
A HEALTHY ENVIRONMENT 
-  by the protection of our environment with increased environmental awareness   
Candidate NRC Coastal South
    Authorised by: R Stolwerk, 27 Lang Road, WAIPU 
I look forward to catching up with you at  
upcoming community meetings and events. 
Please contact me should you have any  
questions: 021 823 770  
or stolwerk@clear.net.nz
Otamatea  High  School  is  a  year  7  –  13  school  that  is 
committed  to  ensuring  that  all  students  receive  a  quality 
well-rounded education.   Our year 7 and 8 students enjoy 
the expertise of homeroom teachers whilst also benefitting 
from quality tuition in specialist rooms. Our commitment 
to providing a broad curriculum at all levels of the school 
enables our students to strive to be the best they can be in 
many chosen fields.  Many year 13 students go on to study 
at tertiary level across the country with more than $70,000 
worth  of  scholarships  being  awarded  to  our  students  in 
2015.   
The  Gateway  work  experience  programme,  Academies 
(Hospitality,  Primary  Industries  and  starting  in  2017  - 
Construction  and  Whakairo)  and  the  Self-Driven 
Pathways class compliment the traditional pathways at the 
school.    Students  are  encouraged  to  become  involved  in 
the  life  of  the  school  through  a  variety  of  activities 
including sporting, cultural, service and the arts.   
Flagships  of  the  school  include  the  Duke  of  Edinburgh 
programme where students are supported to work towards 
and  complete  their  Gold  Hillary  Award,  our  annual  Olla 
Podriga  Talent  Quest,  the  Smokefree  Rockquest 
competitions, and our annual participation in the Relay for 
Life,  World  Vision  40  Hour  Famine  and  Samaritan's 
Purse fundraising events.  
2016 sporting success has included winning the respective 
league  competitions  for  Boys'  Football,  Under  16  Boys' 
Rugby,  Junior  Netball  A  and  B  grades  and  making  the 
finals in the Mixed Hockey competition.   
Otamatea  High  School  is  now  taking  enrolments  for 
2017 at all year levels. 
Please  contact  ohs@otamatea.school.nz  or  ring  0800 
682628  for  an  enrolment  interview  or  a  tour  of  the 
school.  
LOCAL ELECTIONS 2016:  
CANDIDATES GATHER 
Thank  you  Kaiwaka  Sports  Association  for  hosting  a  
'Candidates'  meeting  on  14  September.  Also  thank  you  to 
Wayne  Leslie,  president  of  KSA,  for  most  competently 
chairing this meeting. Along with the candidates there were 
60 folk present.   
All candidates spoke well and informatively, making it very 
interesting and giving rise to good questions. 
Three  of  the  four  mayoral  candidates  were  present  -  Greg 
Gent,  Bruce  Rogan,  Christian  Simon;  seven  of  the  eight 
candidates  for  the  Otamatea  Ward  of  Kaipara  District 
Council; two for NRC; and two of the 21 standing for the 
Northland Health Board. 
Voting:  You  will  have  alr eady  r eceived  your   Voting 
papers,  or  will  shortly.  On  selection  of  your  preferred 
candidates  post  the  envelope  by  Wednesday  5  October  or 
hand  them  into  the  Kaipara  District  Council  offices  at 
Mangawhai or Dargaville   - the closing date is Saturday 8 
October. 
In  our  local  area-vote  for  1  mayor,  3  Otamatea  ward 
councillors, one Northland Regional Council representatives 
(check  if  you  are  in  Coastal  South  or  Kaipara)  and  7 
Northland Health Board representatives. 
Photos  below:  Hugh  Paterson  with  Otamatea  Ward 
candidate  Jonathan  Larsen;  Roger  Farr  with  mayoral 
candidate Greg Gent.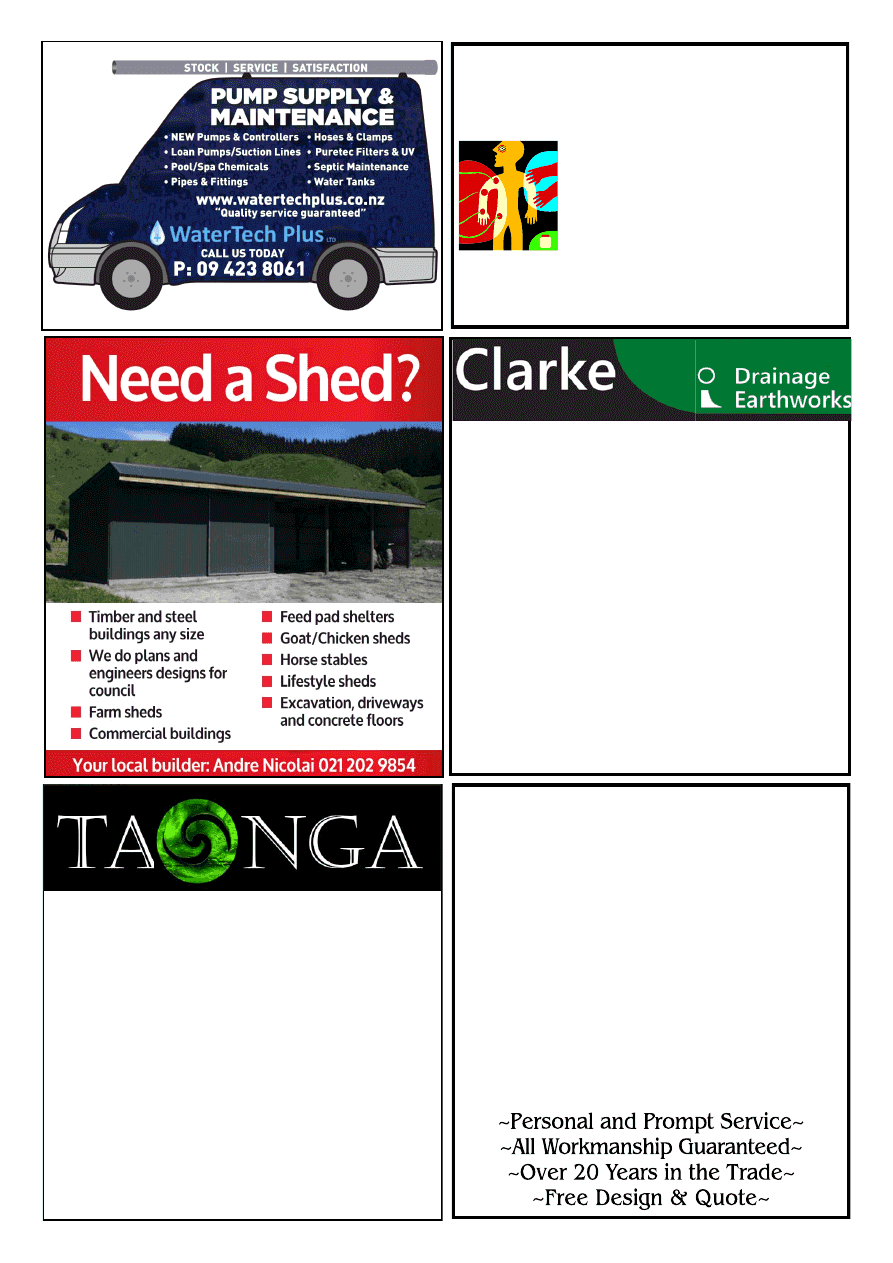 OWEN STEVENS 
Osteo Therapist
For careful adjustments to bones and joints 
Treatment for  humans and their pets 
Clinics: 
Kate's Place, Kaiwaka: 
Last Friday of month 
For bookings:9.00am-5.00pm 
Phone 
09 4312661 
Or phone Owen  09 4317123  anytime 
Registered Drainlayer 
All Types of Earthworks  
> All Residential & Commercial Work  > House Sites 
> Septic System Design & Install 
> Footings & Drilling to 10m 
> Sewer Connections 
> Dams 
> Water Tank Installation 
> Roading & Races 
> Farm Work 
THE ONE STOP SHOP  
Phone Nigel for an Obligation Free Quote  
Drainage & Earthmoving 
clarkedrainage@xtra.co.nz 
027 2233 185 
TAONGA  GARDENS 
5km North on State Highway 1 
 http://www.taongagardens.org.nz
New Daylight Saving hours 
Thurs, Fri, Sat, Sun 9-5 
Starting 29 September 
Holiday Special
Hemp Bags 20% off 
Fruit trees still available
Spend $50 and receive 
 a free pair of Bamboo Garden Gloves
Product of the month: Bio Char (Org Cert). 
Ph 09 4312 770 Ana 020 4002 5025
PLANNING A NEW KITCHEN? 
 CONTACT NOEL McDOWELL
WELLSFORD 
KITCHENS
Ph/Fax 094312888
KAIWAKA-Any time
  QUALITY CUSTOM MADE 
KITCHENS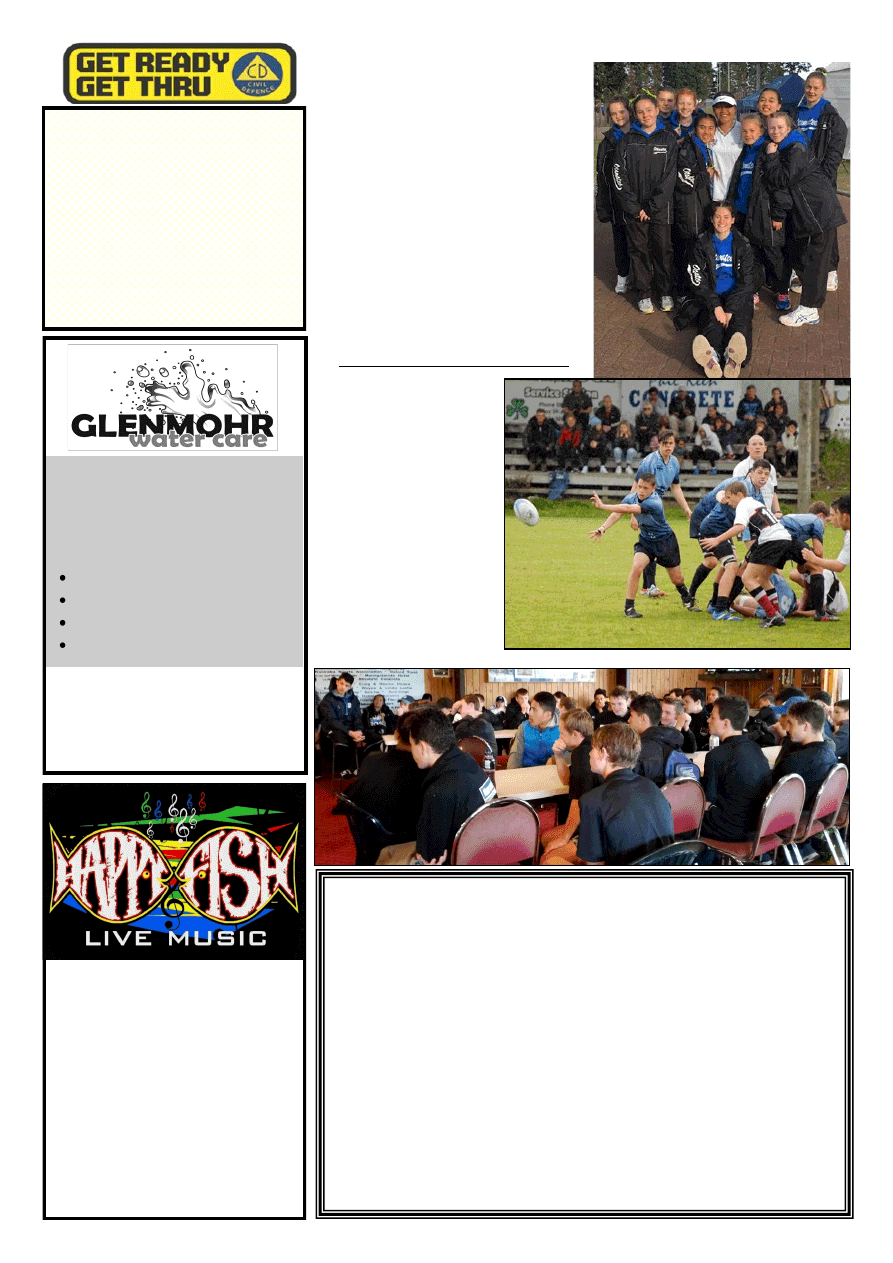 www.kaiwaka.co.nz 
Kaiwaka Bugle - 20 September 2016 
Page 15 
g.a.s. 
Mangawhai
GARDEN CENTRE 
for all your gardening needs
Also a great range of 
STOCKFOOD 
Wide range of 
ORGANICS AND 
 FRESH LOCAL PRODUCE
All your motoring needs are taken care of by our friendly staff 
check us out... 
44 Moir Street, Mangawhai (09)431 4242 
ROCKIN' POPULAR, OLD AND 
NEW PARTY SONGS WITH LOADS 
OF KIWI MUSIC AND A FEW 
ORIGINAL TUNES IN THE MIX. 
AN ELECTRIC DUO FEATURING:  
GORDON JOLL 
(NZ Music Hall of Fame)
ON DRUMS AND SUE JOLL ON 
GUITAR AND VOCALS. 
A BAND FOR ANY OCCASION 
BACKED BY YEARS OF 
EXPERIENCE. 
Contact: Sue 021 623 776 
Email: happyfishband@gmail.com   
Website: www.happyfishband.co.nz 
Water Tank  
Cleaning 
Keep your water safe & clean   
Removal of sediment, silt etc 
Vacuum or full scrub 
Minimal water loss 
Phone Mark  
(09) 432 0655  
or 0274 707607 
Counsellor and 
Registered Psychotherapist 
Offers Supervision
Susan Matheson 
MNZAC, RN 
Dip. Psychosynthesis Counselling and Psychotherapy 
Phone 09 431 5997 
Mobile 027 605 2427 
IMB  RUGBY 
Northland  U14s  played 
North Harbour at Kaiwaka 
on  September  17th  at 
12pm.    A  large  crowd 
turned up despite the wind 
and rain. 
Northland  dominated  the 
first half scoring early and 
holding the visitors out for 
a 12-0 half time lead. 
The  second  half  was 
evenly  contested  with 
some  great  rugby  played 
by  both  teams  in  trying 
conditions.    Northland 
proved  too  strong,  taking 
the match 22-7. 
Finals will be in Auckland next weekend. 
Photos: Team in action in the rain; the after-match speech time 
This year has seen both of the Otamatea 
Junior  teams  undefeated  in  the  Rodney 
competition,  with  Team  4  winning  A 
grade  and  winning  Overall  Top  Junior 
team and Team 5 taking out B grade. 
Team  4  also  continued  their  success  at 
the  recent  AIMS  Games  in  Tauranga  -
finishing  58th  out  of 122  teams.  This  is 
the  highest  Otamatea  have  ever  been 
placed  at  the  Games,  and  ranking  40 
places  higher  than  last  year.  All 
netballers  played  their  hearts  out  and 
represented  Otamatea  High  School  to  a 
very high standard.  
Thank  you  to  all  our  sponsors  and 
supporters who  helped.  Without  you  the 
AIMS Games trip wouldn't have been so 
successful. 
OTAMATEA HIGH SCHOOL NETBALL SUCCESS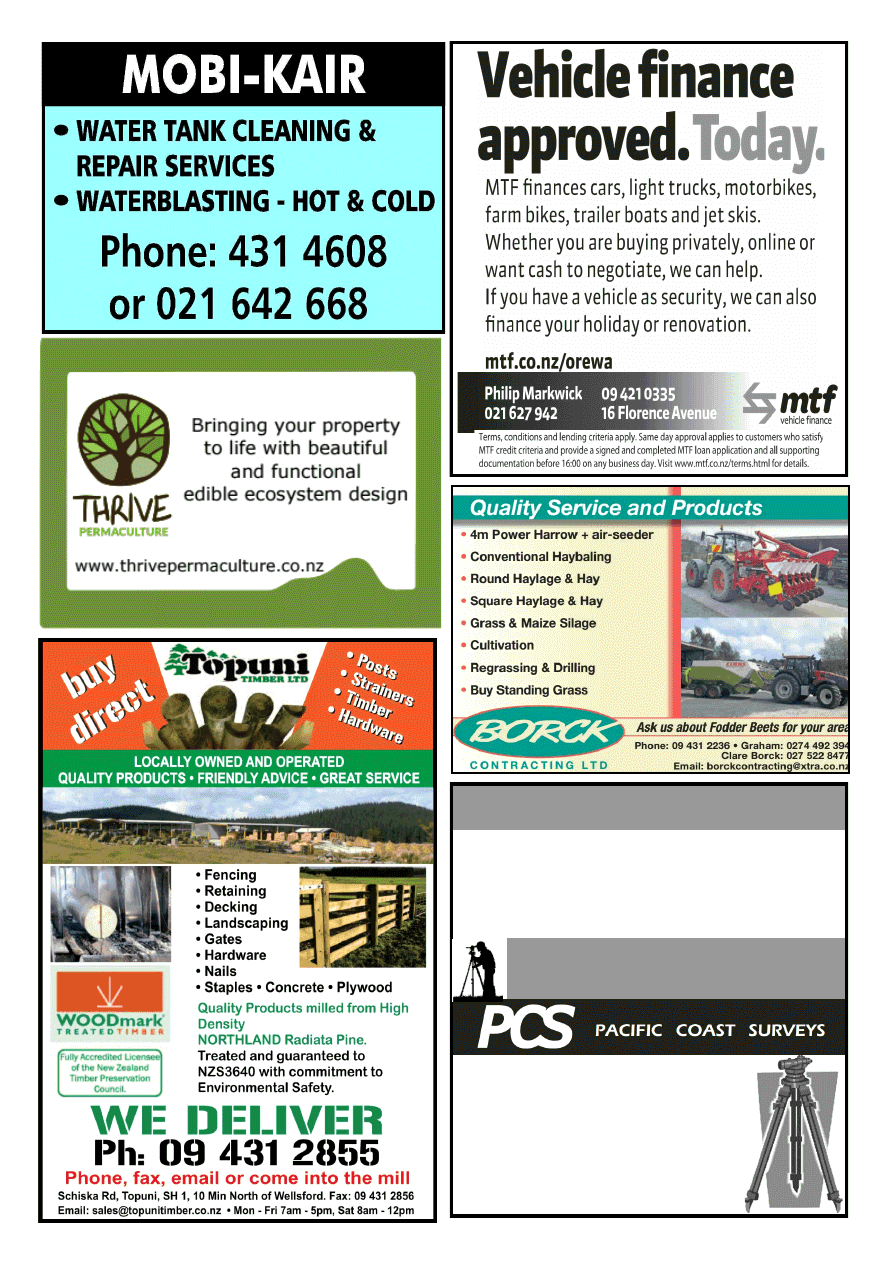 SURVEYORS 
SUBDIVISIONS 
HOUSE SITE SURVEYS 
CIVIL ENGINEERING 
WASTEWATER DESIGNS 
EXPERIENCED 
PROFESSIONAL 
INNOVATIVE 
Ph 09 431 5353 
0800 PACIFIC (0800 722 434) 
pacificcoastsurvey.com
Adam Booth - 027 415 5752 
Bsurv, Licensed Cadastral Surveyor
Surveying Kaipara since 1994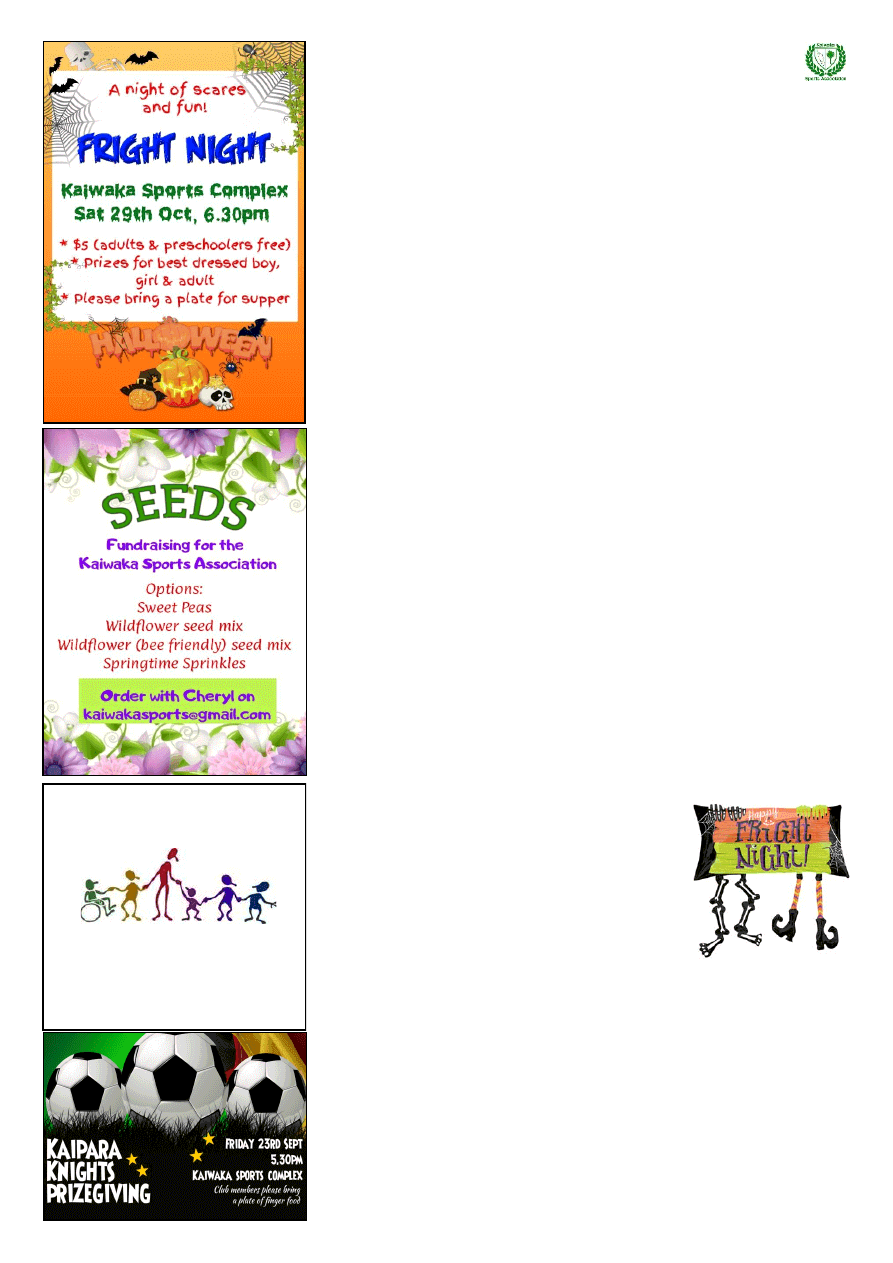 www.kaiwaka.co.nz 
Kaiwaka Bugle - 20 September 2016 
Page 17 
KAIWAKA SPORTS ASSOCIATION 
Fast Five Netball Module 
We had a fantastic start to our Fast Five 
Module  last  Sunday  with  70  people 
participating  in  mixed  teams  of  men, 
women  and  teenagers.  Everyone 
seemed  to  enjoy  themselves  -  at  times 
there  was  more  giggling  than  goal 
shooting! 
The Module will run for six weeks and 
there  will  be  prizemoney  for  the  top 
three  winning  teams.  Results,  photos 
and the draw are posted on our website 
Soccer prizegiving 
Our  soccer  club,  the  Kaipara  Knights, 
is  holding  their  prizegiving  at  the 
Sports  Complex  Friday  23  September 
at  5.30pm.  Club  members  to  bring  a 
plate of finger food please.  
Kaiwaka Athletics Club 
The  first  night  of  the  season  will  be 
Monday  31
st
  October  at  5  -  6.30pm. 
Training  nights  are  held  at  Otamatea 
High  School.  Registration  forms  and 
information  will  be  available  on  first 
night.  The  Athletics  Club  runs  on 
Mondays 5 – 6.30pm. The season dates 
are 31
st
 October - 5
th
 December, a short 
break for Christmas then starts back on 
13
th
  February  until  end  of  Term  1. 
Contact  Eileen  Parsons  on  021 
1420357 for more information. 
Ready, Steady, Wriggle Class 
Ready,  Steady,  Wriggle  is  a  fun, 
activity-based  class  for  pre-schoolers 
run  by  Plunket.  Classes  are  held  at 
11am on the first and third Wednesday 
of  each  month  in  our  gymnasium,  so 
the  next  one  is  this  Wednesday. 
Bring  some  morning  tea  for  your 
kiddies and join  us  for lots  of fun  and 
excitement.  Everyone  is  welcome  to 
attend. A gold coin koha is appreciated 
if you can. 
Queries to Tina Ball on 021 0335128. 
Charity Auction 
Many  thanks  to  Janine  and  Beth  from 
Kaiwaka  Cares  who  have  decided  that 
our  helipad  appeal  will  be  one  of  the 
recipients of their Charity Auction. The 
auction will be held at the Hakaru Hall 
on Saturday 24
th
 September, from 2pm. 
Netball – junior 
Congratulations  to  the  main  award 
winners  for  the  2016  season.  Award 
winners  results  are  included  in  the 
Kaiwaka School news.   
School Holiday Boredom Busters 
The  school  holidays  are  coming  up,  if 
you're looking for something to do with 
the kids, you're welcome to bring them 
along  to  the  Sports  Complex: 
*  bring  a  basketball  and  shoot  some 
hoops  on  our  outside  backboard 
* go for a stroll through the bush walk 
(the  entrance  is  off  the  bottom  of  our 
driveway and it exits by our number 2 
field) 
* bring your frisbee/bike/golf clubs/dog 
and take advantage of the wide spaces 
on our rugby fields 
* enjoy our playground and then have a 
picnic lunch - our BBQ takes $1 coins 
for 20 minutes of heat. 
* pop into Jaques to borrow our tennis 
racquets and have a hit on our courts. 
Seeds Fundraiser 
I  am  running  a  Seeds  Fundraiser.  A 
couple  of  seed  packets  would  make  a 
great  little  Christmas  gift  for  those 
people in your life who are hard to buy 
for! An order form is in this edition of 
the Bugle. 
Thank you to Mark 
Where would the Sports Association be 
without  Mark  Ottaway?  In  the  last 
week, on top of his usual maintenance 
and cleaning of the Sports Complex, he 
has  planted  the  bank  with  shrubs, 
organised  the  chem  washing  of  the 
building, painted the gymnasium walls, 
installed extra lighting around the deck, 
overseen the earthworks for the helipad 
and  painted  the  handrails  on  the  deck. 
And probably lots more things that I'm 
not aware of! Thanks Mark for all that 
you do for us. 
Top of the Rock 
Our annual Top of the Rock multi-sport 
challenge  will  be  held  on  Sunday  12
th 
February.  
Every  year  we  get  wonderful 
sponsorship from  our local  businesses, 
this  is  either  as  a  donation  of  product 
for  the  prize  table,  or  as  a  monetary 
donation.  If  you  would  like  to  show 
your  support  for  the  Kaiwaka  Sports 
Association and the Top of the Rock by 
offering  sponsorship,  please  get  in 
touch  with  me  (contact  details  are 
below). 
Fright Night 
Our 
annual 
Fright 
Night 
will  be  held  on 
Saturday  29
th
October 
at 
6.30pm.  Start 
thinking  about 
your 
scary 
costume 
(there'll be prizes for best dressed boy, 
girl  and  adult).  We  will  have  music, 
dancing,  games,  a  photo  booth,  face 
painting,  lolly  scramble  and  a  haunted 
house!  The  entry  fee  is  $5  (adults  and 
preschoolers  free).  There  will  also  be 
prizes  for  the  best  halloween-inspired 
supper  plates  –  last  year  we  had 
chocolate  spiders,  bloodshot  eyeball 
eggs,  cobweb  cupcakes,  deadman 
finger sandwiches and more! 
Cheryl Anderson 
4312 051, 027 3462702 
kaiwakasports@gmail.com 
LINKING HANDS INC 
Maungaturoto - Kaiwaka - Mangawhai 
Meeting the needs of the community 
HEALTH SHUTTLE SERVICES 
Ph/fax 09 431 8969 
OFFICE HOURS 
Maungaturoto - Monday to Friday - 
10am to 4pm 
Closed Public Holidays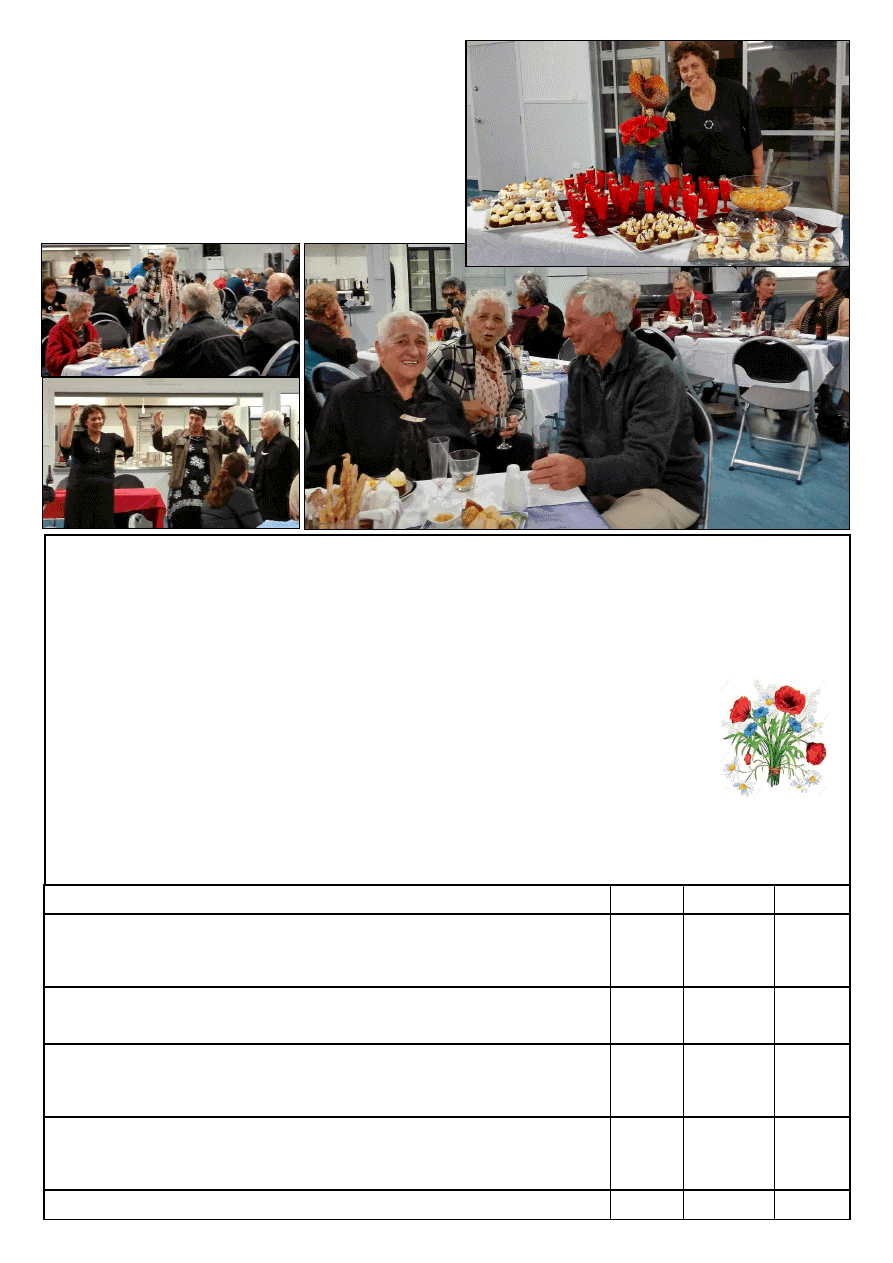 Seed type
Price
# packs
$ total
Springtime Sprinkles 3 grams
A mini pack of 8 wildflowers species in shades of blue, white, lemon
and pink. Low growing mix ideal to sprinkle on your garden border
edges or pot on a terrace. H 20-35cm
$5
Sweet Peas Royal Mix 20 seeds
Best of modern climbing sweet peas in a wide colour range. Lovely fragrance. 
Plant against a fence or trellis. Height 2 metres.
$4
Wildflower Bee Friendly Seed Mix 15grams
Plant wildflower seeds in your garden to provide essential nutrition for
bees and other pollinating insects. Mix contains a range of bright and
colourful flowers. Covers 15 square metres. Full instructions provided
$13
Wildflower Seed Mix—Butterfly Garden 10 grams
This mix of seeds will help attract butterflies into your garden.
A colourful mix that will cover an area of 10 square metres. H20-70cm.
So easy to grow. Full instructions in each packet.
$12
TOTAL
SEEDS FUNDRAISER 
Fundraiser for the Kaiwaka Sports Association 
Here is a great opportunity to purchase seeds to show your support. Seeds are easy to sow, fun 
to grow and will reward you with gorgeous flowers year after year! 
We have some great choices here - why not try them all. Prices are less than normal retail and 
we will make 30% profit on all sales. Growing information is on each packet. Seed packets would 
make a great Xmas stocking stuffer! 
To order please return this form with your payment by 6th October . Delivery will be the 
following week. Enquiries to Cheryl Anderson on 4312 051. 
Name:   _________________________________________ 
Address:   _____________________________________________________________ 
Phone number:   __________________________________ 
Payment options: ____ Cash ____ Cheque (payable to KSA) ____ internet banking 060365002247200 (use reference 
seeds and your full name)  
Ways to return form:   1) Post to Cheryl Anderson, 233 Baldrock Rd, RD2, Maungaturoto, 0587.   2) Drop off in box at 
Jaques Four Square.   3) Scan and email to Cheryl at kaiwakasports@gmail.com. 
TE POUNGA MARAE 
Local folk were made most welcome at a special dinner at the 
Te Pounga Marae last Saturday evening. 
Te  Pounga,  on  Nathan  Road,  is  our  local  marae  and  is 
available  for  a  variety  of  functions  and  celebrations  (see 
advertisement in the Bugle).  
The Wharekai that was opened last year has brilliant facilities 
and the ability to cater for a sizeable crowd-up to 200. 
Photos - clockwise: Jeanette  Nathan at the dessert table; Wikitoria 
Wright, Martha Nathan and Tony Hargreaves sharing a good story; 
a waiata from Jeanette, Rhonda and Wikitoria; Martha helping the 
diners.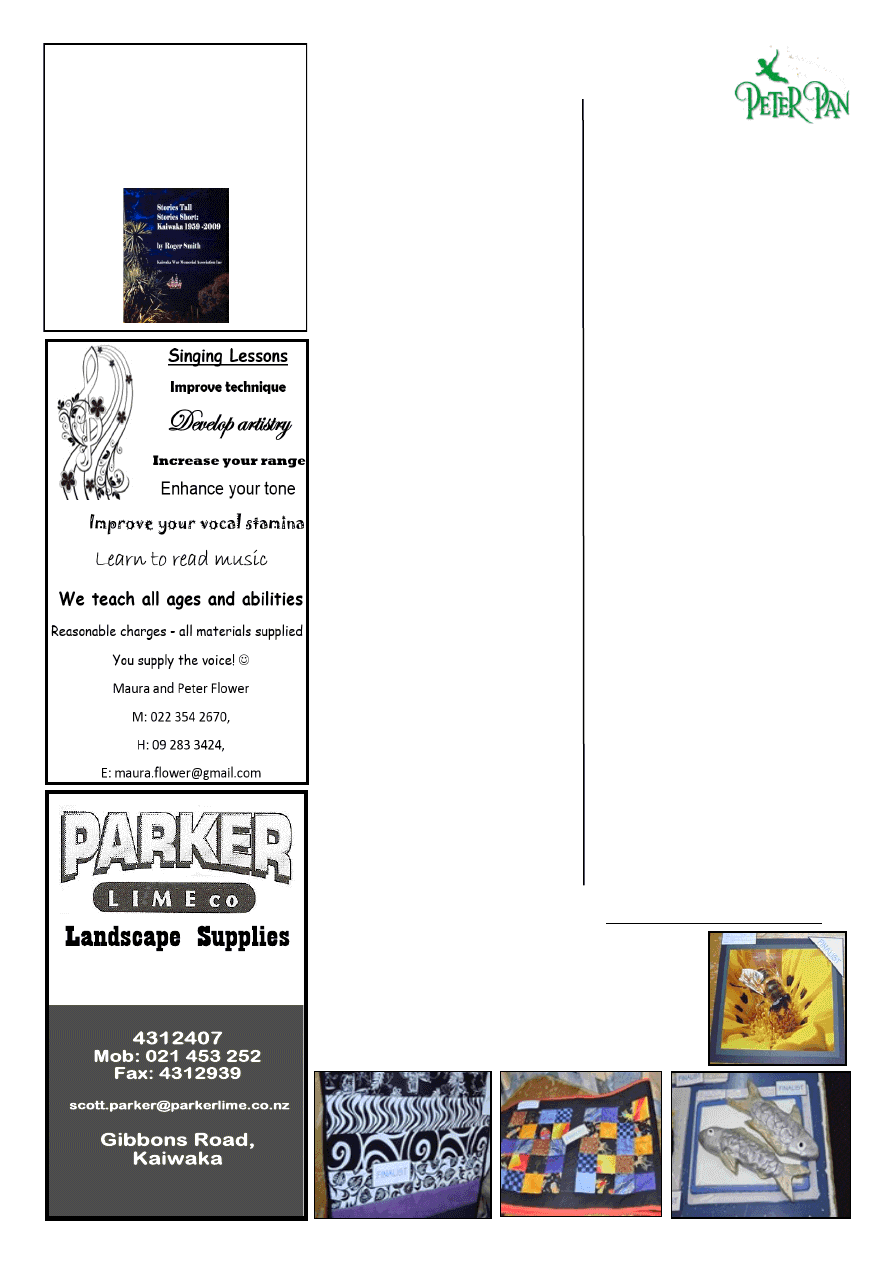 www.kaiwaka.co.nz 
Kaiwaka Bugle - 20 September 2016 
Page 19 
Stories Tall, Stories Short  
Kaiwaka 1959-2009 
by Roger TW Smith.  $40 
Available from  
the Bugle Editors -  
Lindsey 4312 045,  
Wendy 027 480 6275 
Bulk Cartage 
Otamatea 
Repertory 
Theatre Inc 
Peter Pan  
Rehearsals  are  well-underway  at  the 
theatre for the classic family favourite, 
'Peter Pan'.   
Be sure to mark this on your calendars 
as a treat for the family.  The director is 
Maureen  Skinner  of  Mangawhai  who 
brings a wealth of experience with her. 
Show  dates  –  November  25,  26  and 
27, December 2, 3 and 4. 
Adults $22 and School students $7. 
Tickets  will  be  on  sale  after  Labour 
Weekend,  at  Tony's  Lotto  Shop  in 
Maungaturoto 
and 
online 
at 
While 'Peter Pan' is on, ORT will have 
a  Christmas  tree  in  the  foyer,  for  the 
collection  of  gifts  to  distribute  among 
the less-fortunate in our community. 
The Catch 
Simon Mark-Brown's film 'The Catch' 
will  have  its  premier  viewing  at  the 
theatre  on  Saturday  October  15
th
  at 
7.30pm.  
Tickets  are  $5  per  person  with  the 
proceeds  going  to  the  theatre.    Many 
locals  were  involved  in  the  making  of 
this  film  –  come  along  and  be 
entertained! 
Christmas Carols 
Last  year,  many  of  us  had  great  fun 
singing Christmas Carols together, and 
performing  for  the  community  at 
various events.  If you would like to be 
a part of this year's choir, keep an eye 
out  on  our  advertising  boards  for 
rehearsal  dates.    They  will  start  on  30 
November  for  a  total  of  six  practices, 
and  will  culminate  in  a  special  free 
family concert to be held at the theatre, 
on Friday December 23
rd
. 
Youth Theatre 2017 
Our week-long theatre programme will 
be  held  from  23  to  27  January  2017.  
More details to follow next month. 
Performing Arts Festival in August 
Congratulations  to  all  those  who  took 
part  in  the  Northland  Performing  Arts 
Festival  in  August.    ORT  members 
won many trophies and awards against 
some very fierce competition.  
Otamatea 
Christian 
School  Achieves  Highly 
at  National 
Regional 
Convention 
Eight students from 11 years of age to 
15  years  of  age  attended  National 
Regional Convention at Willow Park in 
Auckland from the 5
th
 of September to 
the  9
th
  of  September.    National 
Convention is a residential event where 
students use the gifts and abilities they 
have  discovered  and  developed  over 
the  year.    Students  may  choose  from 
over 140 different events to compete in.  
The  events  are  spread  across  eight 
different 
categories: 
Academics, 
Athletics,  Visual  Arts,  Media  Arts, 
Manual 
Arts, 
Music 
(Vocal, 
Instrumental, 
and 
Combined), 
Scripture,  and  Platform  (Speech  and 
Drama).  
Lynette  Bell,  the  senior  teacher  at  the 
school  commented,  "The  Convention 
went very well and the students gained 
many  placings.    They  came  back 
ecstatically  happy  and  asking  to  go  to 
the  Convention  again  next  year.  
Already students have started selecting 
their  entries  for  next  year.    It  is 
wonderful  to  see  them  so  motivated 
and enthusiastic about their learning." 
The majority of placings achieved were 
1sts, followed closely by 2nds and then 
3rds.    The  students  were  judged  by  3 
judges  and  the  scores  were  averaged.  
To  get  a  placing  of  1
st
,  2
nd
  or  3
rd
  the 
students needed to gain marks over 70 
%. 
The  hard  work  and  diligence  of  the 
students,  support  from  parents  and 
community  members  who  work 
alongside the students during the yearly 
preparation  is  an  intrinsic  part  of  the 
success  the  students  experienced.    A 
special  thanks  goes  out  from  the 
students  and  the  staff  at  Otamatea 
Christian School to Maura Flower, Wes 
Cullen,  Betty  Cairnes,  Julia  Leaf  and 
Robbie  Parker  for  their  support  and 
input.    The  results  speak  for 
themselves.  
Out  of  a  field  of  60  students  this  year 
the  8  Otamatea  Christian  School 
students gained 34 1
st
 place awards, 32 
2
nd
  place  awards,  24  3
rd
  place  awards, 
16  4
th
  place awards,  6 5th  place  and  3 
6th  place  awards  over  the  eight 
categories. 
Other  Awards  or  Recognition  of 
Achievement;  Media  Arts  Trophy:  
Lilyanne  Parker;  Under  14  Spelling: 
1
st
,  2
nd
  and  3
rd
  Places;  2  Command 
Performances  -  Vocal  Solo:    Tyga 
Daniero  and    Vocal  Duet:    Tegan  and 
Chloe Leaf. 
The 
Otamatea 
Christian  School 
students  'Table 
Runners'  will  be 
displayed  at  the 
Matakohe 
Museum 
from 
October  21
st
  till 
November  27th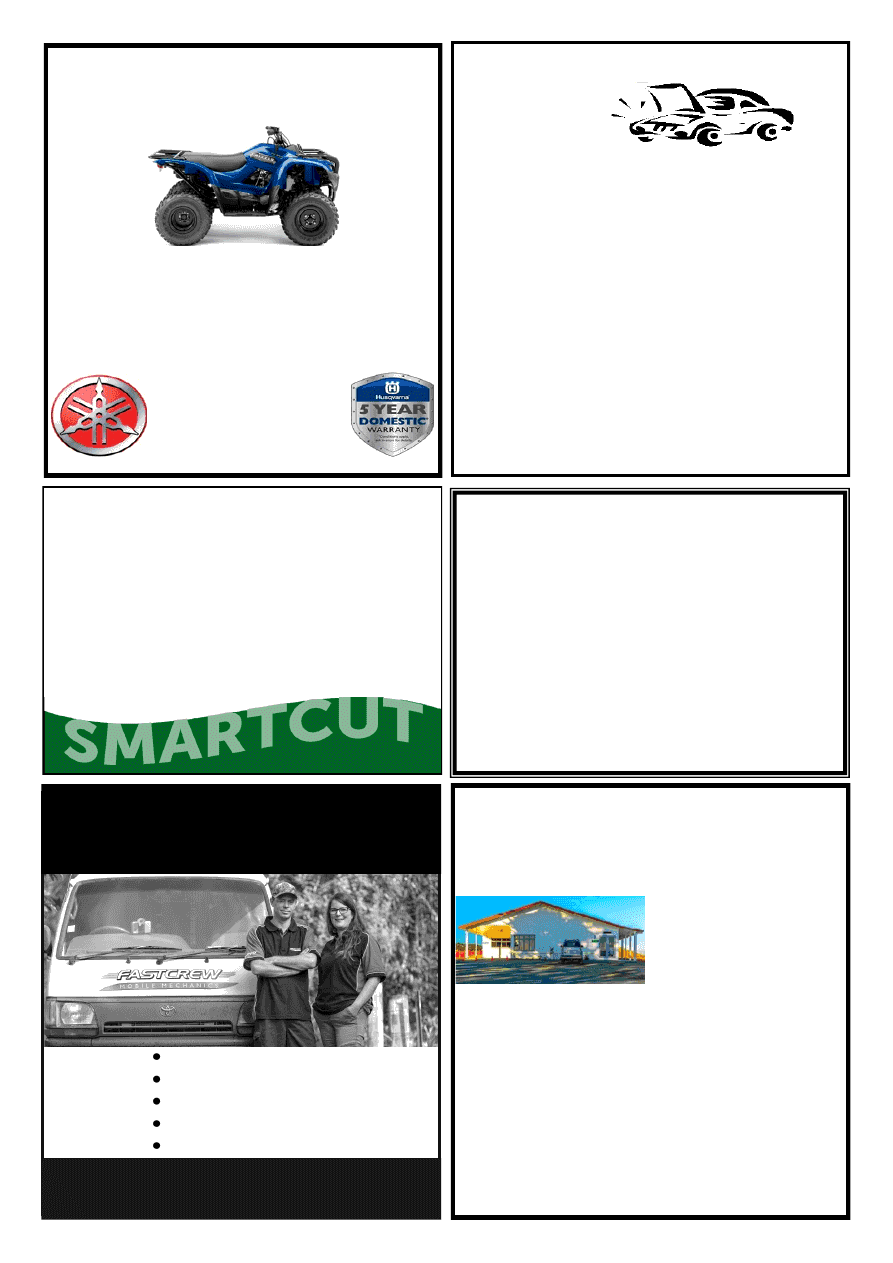 KAIWAKA 
MOTORCYCLES LTD
SALES – SERVICE – SPARES 
FARM BIKE SPECIALIST
PHONE 09 431-2127 
10 KAIWAKA-MANGAWHAI ROAD, KAIWAKA
Trimmers  
from $279
Chainsaws  
from $339
YAMAHA 
HUSQVARNA 
Te Pounga Marae 
130 Nathan Rd. Oneriri. Kaiwaka 0573 
COMPLEX FOR HIRE 
Functions 
* Weddings   *  Birthdays   
*Anniversaries 
* Meetings   * Wananga 
5 hour meeting 
* 12 hour stay   * 
Overnight 
*All welcome - No more Drink-driving 
Amenities: 
*Convo Combi Steamer * Bratt Pan * Dish 
Washer/Sterilizer * 3 Door Glass Chiller (walk in) 
etc…All Crockery * Linen Supplied * Central 
Heating and Air Conditioning and much more.  
Can also cater for small groups…. 
For more information please contact: 
Kim Wallace 
Home: 09 832 1133   Mob: 0211275340 
Email:  kimwallace@xtra.co.nz 
MULCHING 
GORSE,SCRUB ETC 
PADDOCK TOPPING OR MULCHING 
2.8m mulcher with 140HP tractor. 
Experienced operator. 
LIFESTYLE PROPERTY MAINTENANCE 
Putting life back into your style 
BOOK NOW. Phone James 
mob: 0273 808622 or 09 431 2245 
email: lifestylesorted@gmail.com 
Twinkle Tow 'n' Tyre 
Think you'll get a better deal in the city? 
Ring us - it won't cost anything! 
1837 State Highway 1, Kaiwaka 
Phone 431 2823 
*W.O.F. 
*Tyres 
*Windscreen 
replacement 
*Chip repairs 
*Bulk Oil 
*Batteries 
*Welding 
*Custom built 
trailers 
*Trailer hire
All your outdoor needs sorted so you don't have to... 
I can prune, chop, tidy, spray, mow, plant 
- you name it, I can do it! 
Residential & Commercial 
Lawn & Garden Care 
Call Rodney, your local  
lawnmowing contractor 
021 138 2344 
"WE'LL COME TO YOU 
AT AFFORDABLE PRICES" 
Wayne and Leanne 
are 
FAST CREW
, the garage that comes to you. 
Ph:0800 484 327  fastcrewautomotive.co.nz 
Petrol and diesel large or small 
Servicing, cambelts, tune-ups 
Shocks, brakes, batteries 
Transmission servicing, suspension 
Steering and much more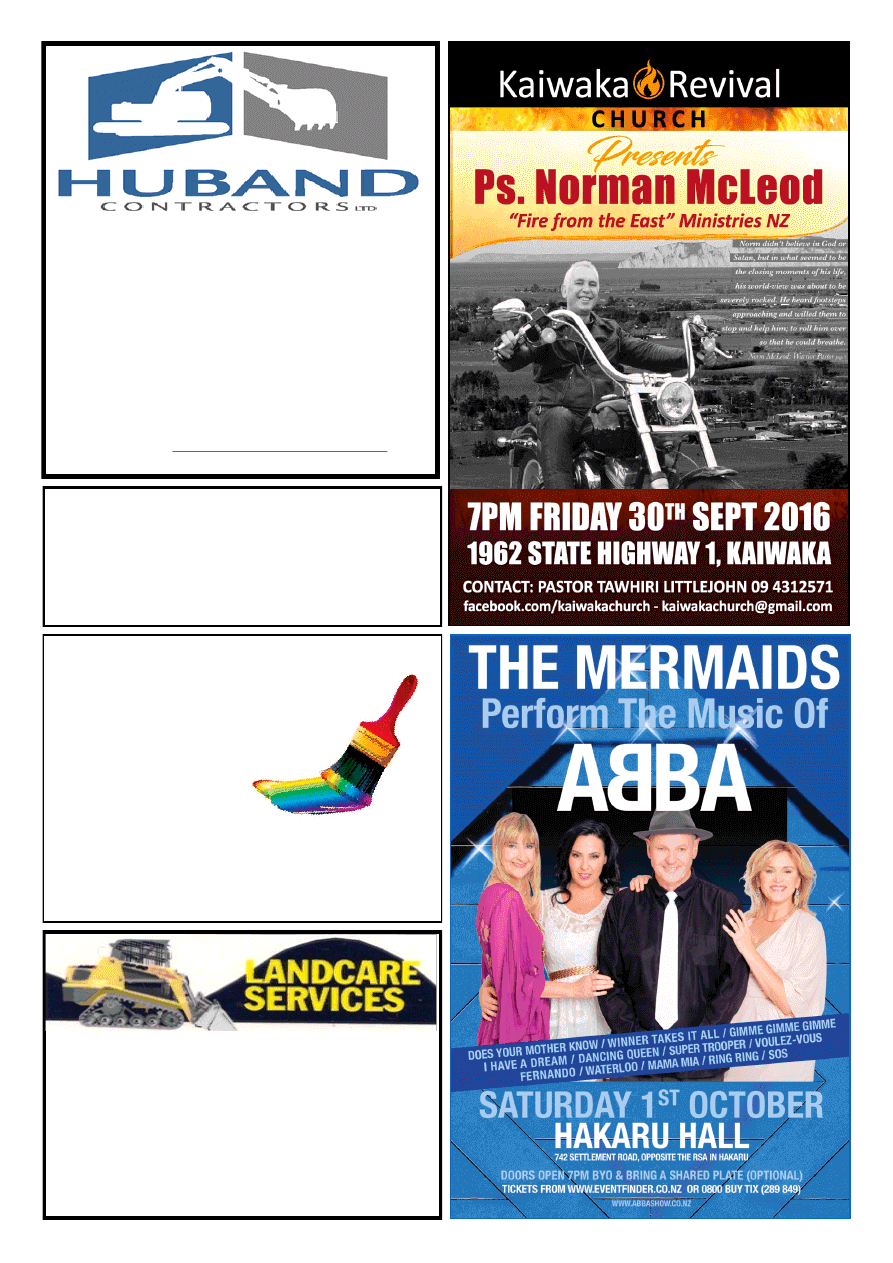 www.kaiwaka.co.nz 
Kaiwaka Bugle - 20 September 2016 
Page 21 
*   R O A D I N G   *   E A R T H W O R K S   *    
*   D R A I N A G E   *   S I T E W O R K S   *
Shaun Huband 
Registered Drainlayer
Cell: 021 222 0272 
Home: 09 4318339 
LANDSCAPING 
4 IN 1 BUCKET 
TRENCHER 
POLE HOLES 
ROTARY HOE 
COMPACT ROLLER 
OFFAL HOLES 
CAN SUPPLY WOODCHIP & POST PEEL 
5 TON TIPPER 
FOR RELIABLE AND FRIENDLY SERVICE CONTACT DAVE 
Dave Hyndman 
 
KAIWAKA 
PH: 09 4312302 
MOB: 021 431 238 
09 4312918 
0274735171 
leecooper@xtra.co.nz 
LEE COOPER PAINTERS 
(Kaiwaka Based) 
*30 yrs Experience 
*Interior/Exterior 
*New and Restoration 
*Honest and Reliable 
*Free Quotes 
LEABOURNS 
Passenger Service 
Car & Van Hire, Bus & Coach Charters, 
Airport Transfers, Monthly Shopper Bus 
Phone 09 423 7416 
WHAT'S ON
PLEASE ~ do let us know what is on - email 
kaiwakabugle@kaiwaka.co.nz 
Advertising in WHAT'S ON is FREE  
*20Sep~The Challenge of NCEA, Rotary, 6pm Mangawhai Golf 
Club 
*21Sep~Kaiwaka School Arts Festival, 6pm KWMH 
*21Sep~Otamatea Community Services AGM, 3pm 155 Hurndall 
St Maungaturoto 
*23Sep~Zonta Youth Development Voyage applications close 
*23Oct~Kaipara Knights prizegiving, 5:30pm KSA 
*23Sep~Florence Foster Jenkins, 7:30pm KWMH 
*24Sep~Fundraising Auction, 2pm Hakaru Hall 
*25Sep~Daylight Savings starts, put clock forward 1 hour 
*25Sep~The Angry Birds Movie, 2pm KWMH 
*30Sep~Hunt for the Wilderpeople, 7:30pm KWMH 
*1Oct~Te Pounga Marae AGM, 10:30am Nathan Road 
*2Oct~St Francis of Assisi Service, 9:30am Mangawhai Anglican 
*3Oct~Kaipara Sports Awards nominations close 
www.sportnorthland.co.nz 
KWMH=Kaiwaka War Memorial Hall 
KSA=Kaiwaka Sports Association Complex 
ORT=Otamatea Repertory Theatre 
See www.kaiwaka.co.nz for more information 
HOUSEHOLD RUBBISH COLLECTION - Kaiwaka Pick up: 
Mondays = Gr een bags (Northland Waste - 09 430 3273) 
Wednesdays = Blue bags and yellow r ecycling (at J aques $3.00 
and $1.50) (Kaurilands 09 4392146) 
 DIABETES  Support  Group  -for  Kaiwaka,  Mangawhai, 
Wellsford  10am,  3rd  Friday  of  month  Ph:A.Pert  4238242; 
J.Gardner 4238060 
 DRINK CAN 'tear tabs' - for Starship Hospital- please collect - 
98 Kaiwaka Mangawhai Rd, leave in mailbox, Ph. 4312625  
 GENEALOGY - Wellsford: 1st Thursday in month Ph: 423 
7033; Waipu: 4th Monday in month Ph: 4312 725 
 GYMNASTICS  OTAMATEA  -  Tuesday  Ph:  Stephanie  022 
3624998 
 HAKARU PONY CLUB - Secretary Denise Rogers 021423376 
secretary@hakaruponyclub.co.nz  
 KAIPARA HUNT - Secretary Albert Doonenbal Ph 4312059 
 KAIWAKA BADMINTON -Tuesdays 7.30pm Ph: 4312345 
 KAIWAKA  DRAMA  CLUB  -  Dave  Edwards  021  611198  - 
KaiwakaDrama@gmail.com Monday 5:30-7:00pm KWMH - FB 
- "KaiwakaDramaClub" 
 KAIWAKA DRUM & DANCE CLASSES - 021 611198 
 KAIWAKA GARDEN & FLORAL GROUP - 2nd Thursday in 
month. Ph: 431 4767 
 KAIWAKA  CUBS  -  Thursdays  5.30-7pm,  Hakaru  Ph:Bruce 
4312542 
 KNITTING FOR WHANGAREI HOSPITAL - 2nd Tuesday in 
month, Apple Basket 10am Ph 4314827 
 MANGAWHAI COMBINED PROBUS CLUB - 2pm, 3rd 
Thursday month, Senior Citizens Hall Mangawhai. Ph: 4315777 
 OTAMATEA GREY POWER - Kath Pattinson 09 431 8960, 
1pm last Wednesday of month, Anglican Church Hall, 
Maungaturoto 
 PT CURTIS CRUISING CLUB - Jean Ph: 4312227 (wk), 4312520 (hm) 
 RSA,Hakaru & Dist.Women - meet 1.30pm 4th Thurs in month 
Ph: 4314 668  
 TRAMPING - Mondays 9am-2:30pm Maria 4312 234 
 YOGA  -  Tuesdays  6:15pm,  Friday  8:30am  KWMH  Carla  Ph: 
021  296  8794;  Wednesday  5:30-7:00pm  Archie  Bull  Hall 
Dalleise Ph 4312 108 
HALLS FOR HIRE: 
 St.Pauls Archie Bull Hall HIRE $20 half day, $40 full day per 
hire, R. Morgans, Ph 4312365 
 Kaiwaka  War  Memorial  Hall  HlRE  -  Phone  4312725  or 
kaiwaka.hall.bookings@gmail.com 
 Hakaru Community Hall HIRE -Ph. 4312256 or 4312110 
 Te Pounga Marae queries - R. O'Leary 4312 423, J.Nathan 021 
186 7382 
 Kaiwaka Sports Association hire/queries - C. Anderson 4312051 
or kaiwakasports@gmail.com 
Justice  of  Peace:  B.FJaques;  L.Donaldson;  A.F.Hargreaves, 
W.Howard  -  please  phone  to  make  sure  they  are  available 
www.justiceofthepeace.org.nz 
Marriage Celebrants: L.Donaldson; A.F.Hargreaves; C.Rosseels
Next Bugle Deadline midday Friday 30 September 2016
LOCAL SERVICES 
*Emergencies - Ambulance, Fire, Police - dial 111 
*Non-urgent Police phone 09 4311150
A A: Meets Wed., 8pm Kaiwaka Ph: 4312228, 4315543, 0800229 6757 
AL ANON: In recess, contact Ph: 4312228 
ASUREQUALITY LTD (was AgriQuality) Call Free 0508 0011 22  
BUDGETING SERVICE, WELLSFORD: Free confidential advice & 
support for all areas of personal finance. Ph (09) 423 7123 
CAB-Citizens Advice Bureau.Wellsford Ph: 4237333 
0800 367 222 email:cab.wells@xtra.co.nz  
CIVIL DEFENCE - Kaiwaka Community Response Group: 
kaiwaka.civildefencecrg@gmail.com, 4312725 Wendy 
DOG/STOCK /NOISE CONTROL 0800 105 890 
FUNERAL SERVICES: Morris & Morris Ltd, 
Whangarei - Bev Jaques Ph:4312367 or 0800667747 
GRANDPARENTS Raising Grandchildren: Dianah Roberts 0223819539 
HAKARU & DISTRICTS MEMORIAL RSA (Inc) 733 Settlement Rd, 
Hakaru. Ph 4312 176 or Graeme Hitchcock (President) 431 3064 
HAKARU LANDFILL/Transfer Station:Open everyday except 
Tuesday10am-4pm.Ph4312629 Cost-$55 trailer load up to 1 cubic metre. 
Ph:4258567 - office 
INLAND REVENUE: Last Friday each month, 11-3pm Ph4312661 
KAIPARA DISTRICT COUNCIL www.kaipara.govt.nz:  
Help Desk FREEPHONE 0800 727 059  
KAIWAKA KOHANGA REO: Ph:4312620 
KAIWAKA CEMETERY: Ph: 4312045 
KAIWAKA LIBRARY: kaiwaka.library@gmail.com  
Mon. 4-6pm; Wed., Thurs., Fri., Sat. 10am-2pm Ph:4312539 
KAIWAKA PLAYCENTRE: Ph: 4312286. Hastie Lane 
Monday to Friday 9.00am - 12 noon. 
KAIWAKA POST OFFICE:Ph:4312 431  
Post Code: 0573 for RD2 and 0542 for all Kaiwaka Post Office mail 
KAIWAKA PRIMARY SCHOOL: Ph: 4312309   
KAIWAKA SPORTS ASSN: Ph 4312005; 4312129 gym 
KAIWAKA ST JOHN: Manager Steve Rosser 09 4318403, 021 2316836 
KATE'S PLACE with Govt.Day Agencies/Community Information /
Osteopathy/ IRD / Probation, etc Ph: 4312661 Hours: 9am-3pm. Mon - Fri 
LINKING HANDS Health Shuttle Ph 4314121 or 09 4318969 
MINISTRY FOR PRIMARY INDUSTRIES - General inquiries Call 
Free 0800 008 333 
NORTHPOWER: Faults Kaiwaka area 0800 104040 
OTAMATEA COMMUNITY SERVICES: Counselling, parent coach, 
Family Support worker, budget advice, food bank. Mon-Fri 9am-30m. Ph 
09 431 9080 http://www.otamateacs.org/ 
PARENTPORT: Free, practical family support service Puhoi to Paparoa 
Ph or txt: Dianne 027 2085093 
PERSONAL DEVELOPMENT COACHING, GROUP FACILITATION:  
Sabine Druckler 4312231 
PLUNKET: Kaiwaka - Kaiwaka War Memorial Hall: Clinic 1st Wednesday of the 
month; Coffee Group at 9:30. Mangawhai  - Rose Madsen Cottage, Mangawhai 
Domain,  Moir  St:  Clinic  1st  and  3rd  Monday  of  month;  Young  Babies  Coffee 
Group  2nd  and  4th  Monday  10  am;  Plunket  Playgroup  every  Thursday. 
Maungaturoto - Maungaturoto Congregational Church, 100 Hurndall Street East: 
Plunket clinic 2nd and 4th Wednesday. Cynthia 09 431 8187 or 027 675 3488 
PLUNKET HELPLINE -0800 933 922 (24 hours) 
TAITOKERAU COMMUNITY LAW: Free confidential legal advice and 
assistance, 2nd
Thursday
 of each month. Ph: 0800 155 529 for 
appointments.  
TE KOROWAI AROHA O NGATIWHATUA Ph: 4312675 
(The Cloak of Love of Ngatiwhatua) Support and Maori Consultancy.  
VETERINARY SERVICE MANGAWHAI: 
Ph: 4314535 Mon-Fri 8.00-5.00, Sat 9-12, a/h appt. 
WELLSFORD DOCTORS: Ph: 4238 086 
WOMEN'S WELFARE LEAGUE & Reaching Out For Youth:  
4 Kaiwaka-Mangawhai Rd, M Morgan 4312293 
CHURCHES:
Kaiwaka Revival Church - Your Community Church: Sundays 10am & 
6pm. Ph: Pastor Tawhiri 09 4312 571 or Pastor Paul 09 4312 068 Visit 
us at www.facebook.com/kaiwakachurch 
St Paul's Anglican Church 1st Sun. 9.30 am (Eucharist), 3rd Sun. 9.30 
am (Family Service). Contacts: Church Office 09 431 4122; M. 
Hargreaves 431 2295; C. Bygrave 431 2057; or Rev. Wayne Thornton 
Ph 431 5650 www.mangawhaianglican.org.nz 
Church of Christ the King, Mangawhai:9.30am every Sunday 
St.Mary's Catholic Church: Maungaturoto – Griffins Road, Saturday 
evening Vigil Mass 6pm; Mangawhai – Senior Citizens Hall, Sunday 
Mass 8:30am; Wellsford – Matheson Road, Sunday Mass 10:30am;  
Mid-week Mass times and all enquires to Fr. Bill Fletcher – phone 423 8170
Baptist Church: Sun. 10.30am Mangawhai Snr Cit.Hall.Ph:4312339 
Cause Way Church Mangawhai: Sundays 10.15am, Mangawhai 
Community Recreation Centre, Insley St. Ph: 09 4314782