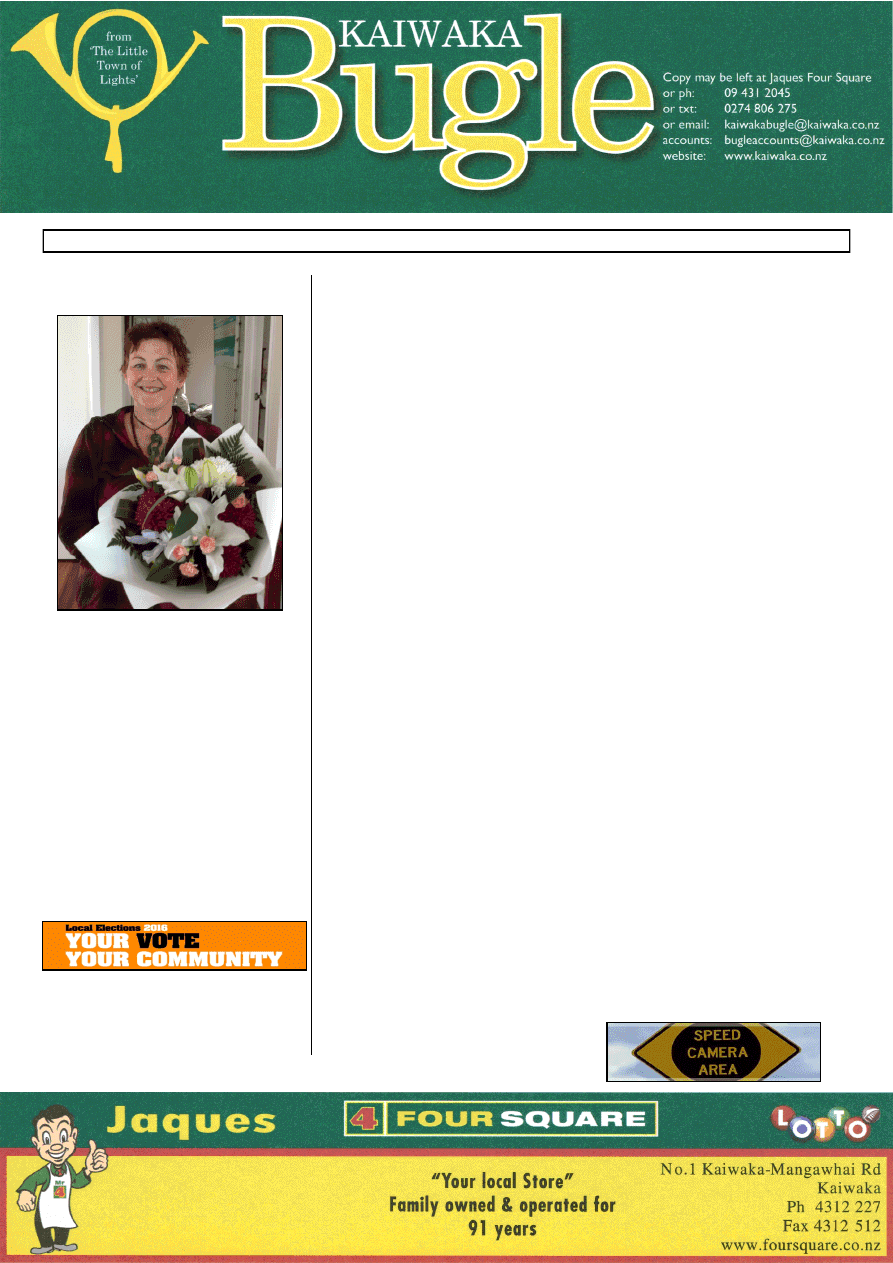 www.kaiwaka.co.nz 
Kaiwaka Bugle - 4 October 2016 
Page 1 
 No: 19
4 October 2016 
KAIWAKA GOOD 
SORT
Winter Trading Hours: 
Mon - Fri: 8am to 6pm 
Sat: 8am to 7pm (Lotto) 
Sun & Public Holidays: 9am to 5pm 
Wendy  is  our  latest  recipient  of  a 
bunch  of  flowers.  She  was  nominated 
by  her  friend  and  neighbour  Lee,  who 
is pictured here with the flowers. 
Lee  wrote  to  us  "Now  in  our  50's,  we 
met at kindy when our eldest kids were 
just 3 and she's the kind of friend that 
NEVER  falters.  She  truly  is  the 
kindest,  most  loving  woman  I've  ever 
met and I don't know how I would have 
survived  without  her  support  over  the 
last 30 years. 
"She  is  a  giver...  to  her  family,  her 
friends, her community, always putting 
herself last. She asks for very little and 
lives  a  very  simple  life.  She  is  a  part 
time  rural  postie,  rising  at  4  to  begin 
the run, always greeting everyone with 
a smile." 
KAIWAKA: GETTING THERE 
Progress on Traffic and Other Matters 
Kaiwaka  Can  has  now  been  working 
for about 18 months, pushing for traffic 
improvements in Kaiwaka. The District 
Council  and  NZ  Transport  Authority 
are the partners in the process and both 
have worked very hard indeed to see an 
improvement  in  traffic  behaviour, 
especially speeding in the town. 
"Your speed is" 
Now  we  are  within  days  of  visible 
proof of all of this. A "Your speed is" 
flashing sign is due in the week ending 
October  7
th
,  placed  within  the  50kmh 
zone.  A  pedestrian  safety  crossing 
point 
with 
adequate 
footpath 
approaches  is  scheduled  towards  the 
end  of  November.  And  other  projects 
are in the budget for the 2016-17 year. 
These include working with Council on 
a  walkway  underpass  on  the  northern 
bridge,  to  give  access  to  the  rest  area 
(formerly known as McClean Park). A 
railing  on  the  bridge  will  also  mean 
pedestrians are much safer.  
Gateway signs 
Another aspect of 'traffic calming' is a 
tree  planting  project  alongside  the 
highway to narrow the road. This is in 
the final design stage at the moment. 
We  want  our  town  to  be  visible  and 
unique.  To  that  end  local  artist  Peter 
Panyoczki  is  leading  the  design  of 
gateway  signs,  one  each  end  of  town. 
A  sign  indicating  the  walkway  to  the 
school  is  also  on  the  way  thanks  to 
Council. 
Art Installation  
Another project making progress is the 
Art  Installation  around  the  sewer 
piping  below  Eutopia.  We  have  been 
calling  for  volunteers  for  this,  so  far 
without  much  success.  This  is  NOT 
part  of  Eutopia  but  the  oversight  is  in 
the hands of Marijke from Eutopia and 
the  art  work  will  blend  in  with  what 
Eutopia is doing. This is a great chance 
for  any  who  would  like  to  learn  some 
of  the  skills  that  go  into  building  the 
plaster  walls  that  are  a  feature  of  the 
Eutopia project. If you are interested in 
being involved, please contact Marijke 
on  thefarside11@gmail.com.  or  Derek 
on 099469077. Money for this and for 
the  gateway  signs  is  coming  from 
Council who continue to be supportive 
and generous towards Kaiwaka. 
Oneriri Road intersection 
An  ongoing  project  is  exploration  of 
ways  to  improve  the  Oneriri  Road 
intersection, a nightmare at present for 
regular  users.  Engineering  consultants 
have  been  engaged  by  Council  to 
review  this  and  how  it  might  be 
improved. 
Speed camera  
One  other  project  about  to  happen  is 
the  installation  of  a  speed  camera  by 
the Police. It was our hope and request 
that  this  be  in  the  township  where  the 
real  speed  problems  lie  and  Council 
supported  us  and  advocated  for  this. 
However, it seems it is going to be put 
outside  the  southern  boundary  of  the 
town and its impact on town speeds is 
likely  to  be  less  than  we  hoped. 
However, Council will still advocate to 
the  Police  to  have  a  speed  camera 
within the township. The community is 
also encouraged to advocate for this.  
Next meeting  17 October  
As a small group, we have a very long 
list  of  possibilities  and  if  you  have 
ideas  for  our  community  or  think  you 
can  help  with  ongoing  ones,  the  next 
meeting  is  October  17
th
,  Archie  Bull 
Hall,  (behind  the  Anglican  Church) 
5.30pm.  Next  report  will  have  an 
update  on  some  of  the  other  ongoing 
discussions, including  lighting,  a  topic 
well designed to bring out a wide range 
of opinions!  
Derek Christensen,  
Chair Kaiwaka Can 
To  be  counted,  all  completed  voting 
documents  must  be  in  the  hands  of  the 
electoral  officer  or  an  electoral  official  by 
noon Saturday 8 October 2016. 
Preliminary  results  will  be  known  by  7am 
on  Sunday  9  October  2016.  These  will  be 
accessible  on  Kaipara  Council's  website 
www.kaipara.govt.nz 
ABOUT TOWN 
Have  you voted  yet? Get  your complete 
papers  into  the  post  by  Wednesday  5 
October, or drop it into a ballot box at the 
Kaipara  District  Council  offices  at 
Dargaville  or  Mangawhai  before  noon  on 
Saturday 8 October. 
Preliminary  election  results  will  be 
available  on  the  KDC  web  site 
(www.kaipara.govt.nz) from 7am Sunday 9 
October. 
Kaiwaka  Library  members  -  the  next 
Large  Print  and  Audio  book  swap  is 
coming  up  this  month.  Please  have  any 
books  you've  borrowed  from  these 
collections  back  to  us  by  Sunday  16 
October. Thanks!  ~Wendy 
KAIWAKA BUGLE No. 19 
4 OCTOBER 2016 
CONTENTS 
Page 3: Public Notices, Classified 
Page 5: Weather, Hakaru RSA Women 
Page 7: School, Scouts, Rest Home 
Page 9: Kaiwaka Sports Association 
Page 11: Eutopia Update 
Page 13: Northland to Rio, Possums 
Page 15: Alien Weaponry 
Page 17: The line to the Kaitara 
Page 19: Kate's Place, Kaiwaka Cares 
Bugle 20 will appear 18 October 
Contact for advertising, reports, articles 
or information can be made by 
Email kaiwakabugle@kaiwaka.co.nz 
Ph: 09 4312 045 (Lindsey) 
Txt: 0274 806 275 (Wendy) 
Copy  may  be  left  at  Jaques'  Four 
Square.
At Kaiwaka War Memorial Hall . Adults $10, Kids (under 16) $5, Family Pass (2 adults + 3 children) $25 
Kaiwaka Bugle Advertisements 2016: 
All 
copy 
and 
queries 
to: 
kaiwakabugle@kaiwaka.co.nz 
Our A4 page is divided into 6 columns & 8 
rows (48 blocks), with a 1cm margin. 
Ad  sizes:  1/16  page  (3  blocks)  $5;  1/8 
(6 blocks) $8; 3/16 (9 blocks) $12.  
Classified  ads:  $4  per  entry  (max.  30 
words, max. 4 repeats). 
Payments can be made online, posted or 
left at Jaques Four Square Store. 
Accounts:  
Email: bugleaccounts@kaiwaka.co.nz 
The  Kaiwaka  Bugle  is  a  community 
newspaper run by volunteers.   
Articles, etc. printed are not necessarily 
the opinion of the Bugle Team. 
Kaiwaka Bugle 
Founded May 1978 
We appreciate articles and photos about local 
events, etc, as well as ads and suggestions. 
Copies available in Kaiwaka at Jaques Four 
Square, Kaiwaka Postal Centre, Shamrock 
Service Station, Animal Health Centre, 
Kaiwaka St John shop. 
Also outlets in Maungaturoto, 
Mangawhai and Paparoa. 
Can be viewed online at  Facebook or 
www.kaiwaka.co.nz/Bugle  
Or a copy can be posted to you if you supply 
stamped, self-addressed DLE envelopes. 
Love and Friendship 
Friday 21 October 7:30pm (PG)
The Wild Life 
Sunday 30 October 2:00pm (PG)
Queen Live 
Friday 7 October (PG)
A  night  of  fun  and  dancing,  to  the 
music  and  videos  of  the  legendary 
band Queen. 
Entrance  is  by  pre-purchased  ticket 
only.  Contact  4312  234  or  4312  225 
to order yours. 
It's a night not to be missed - get your 
tickets now!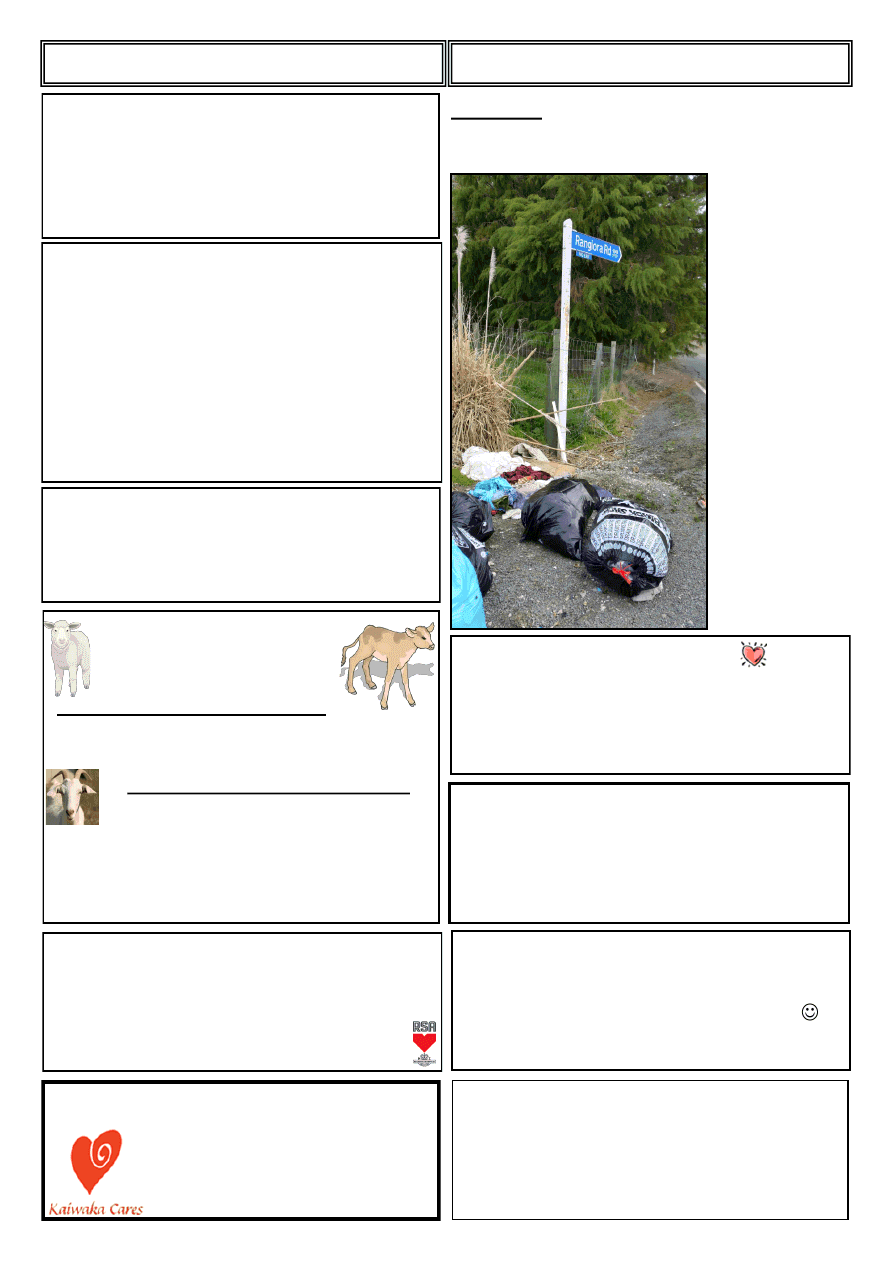 www.kaiwaka.co.nz 
Kaiwaka Bugle - 4 October 2016 
Page 3 
PUBLIC NOTICES 
CLASSIFIED 
Proverbs 19:18 
Discipline your son/daughter in their early 
years while there is hope. If you don't you 
will ruin his/her life.  
HAKARU & DISTRICTS RSA Inc 
Each Friday night from 6.30pm meals will be served. 
Members & invited guests, new members welcome. 
Come along & enjoy our hospitality. 
2nd Friday of the month - roast dinner or board menu. 
Last Friday of month - roast pork night &  
sing-along with Des Chitty.  
Ph Heather 4314668 or Jan 4314512 
TO  RENT:  spacious,  1  br m  cottage,  $200pw  incls 
power,  etc,  sat  tv,  views,  sunny  decks,  no  pets  pls. 
Near town. Ph 021 253 7661 or 09 945 0593 
Energy Balancing @ Kate's Place, Kaiwaka. 
1st Friday of each month 
9am-12pm. Koha. 
Txt 0273135440 for an appointment 
Healing from the
Kaiwaka Library 
Used Book Sale 
Clearance 
$1 each, 3 for $2 or 10 for $5
THE SUNSHINE GIRLS 
Need help with your house cleaning? 
Sometimes you just need another pair of 
hands. We offer two pair and a smile. 
Comparable hourly rate. 
Ph 4312 532 
Community Drop-In Centre
Open 10am – 2pm  
Monday - Wednesday - Friday 
WIFI, printing & scanning available at 
Kaiwaka's own drop-in social space.
Kaipara Refuse  
are now accepting empty aerosol cans for recycling. 
You can put them in your yellow bags. 
Please remember Kaurilands staff sort all recycling 
by hand at Porritt St transfer station in Ruawai.  
For their health & safety wash & squash plastic 
containers.  
Check out their flyer for more zero waste tips! 
PLASTIC BAGS 
I would like to thank Ronan Smythe (10) for his well 
researched  article  on  Plastic  Bags  (Bugle  23  August 
2016). 
As I have used cloth recyclable bags for my shopping 
for many years, it is alarming how many plastic bags 
still  accumulate  at  my  place.  There  are  bread  bags, 
plastic from around toilet rolls, kitchen paper, etc. 
I  appreciate  the  move  by  New  World  supermarkets 
and  The  Warehouse  (there  may  be  others  I'm  not 
aware of) to provide a collection place for all the soft 
plastic that cannot go in the recycling system. 
Well done, Ronan.       ~ Mariann Mear 
KAIWAKA SCHOOL 
AGRICULTURAL DAY 
OCTOBER 20, 2016 
Entry 9am – Judging starting at 10am 
Any queries please ring Linda at the office on 431 2309 or 
e-mail: admin@kaiwaka.school.nz Entry forms available at 
the Kaiwaka School Office  
This year there will also be a Goat Class  
The PTA will be doing a Sausage Sizzle 
Tea and Coffee will be available for a Koha/Donation 
*The food provided in the pavilion is for Judges and Organising Committee only 
We are looking for volunteers to help out on Calf Club Day. 
Please contact Linda at the office to leave your details. 
KAIWAKA WAR 
MEMORIAL HALL
Annual General Meeting 
5pm Tuesday 11 October 2016 
All welcome 
W
ho 
lef
t 
thi
s 
rubbish 
on
 the 
corne
r 
of 
On
erir
i 
and 
R
ang
iora
R
oa
ds 
last 
we
ek?
 A 
white 
va
n 
and 
an 
older
 ge
nt 
we
re
 s
ee
n 
around
 the
 ti
me 
the
 mattre
ss 
and
 other
 rubbish 
appe
are
d,
 the
da
y 
afte
r 
th
e 
coll
ec
tors 
ca
me 
throu
gh. 
Our
 roa
ds 
are
 not 
a 
dumpi
ng
 g
round
 for
 a
ll
 manne
r 
of 
w
aste!
 P
lea
se
 put 
rubbish 
in 
the 
prope
r 
blue 
or 
ye
ll
ow 
ba
gs, 
and 
onl
y 
put 
them 
out 
on
coll
ec
ti
on da
y (W
edne
sd
ay
 in K
aiwa
ka
)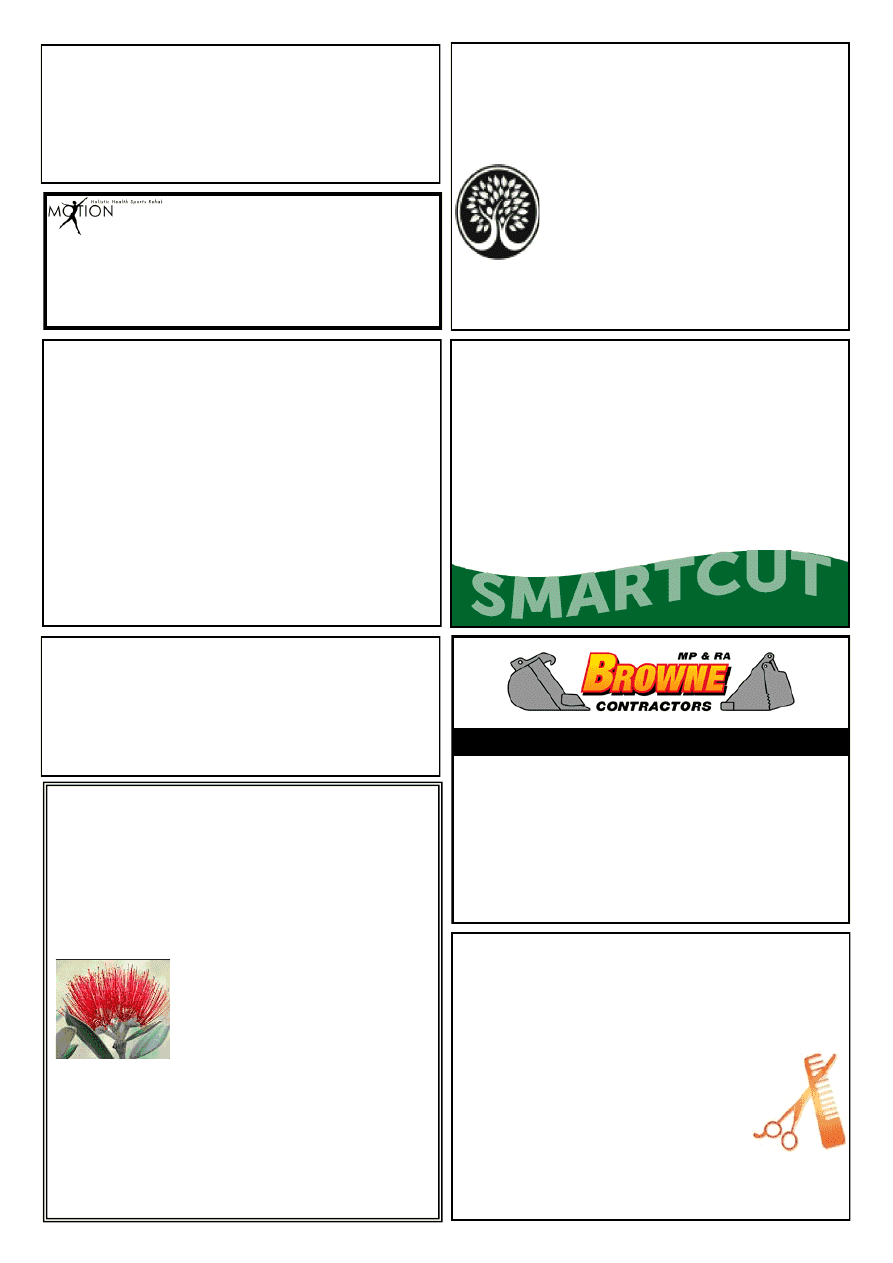 White Horse Farm 
Farm Stay/Bed and Breakfast 
Ph +64 9 390 1260    113 Tawa Ave, Kaiwaka 
bookings@whitehorsefarm-kaiwaka.co.nz 
www.whitehorsefarm-kaiwaka.co.nz 
AFFORDABLE PRICES! 
MENS DRY CUT FROM $18.00 
LADIES DRY CUT FROM $28.00 
KIDS DRY CUT FROM $15.00 
COLOUR CUT FROM $90.00 
JUST CUTS'AND   
MORE 
021 165 2629 
NOW SELLING: scented tealights, incense, smudge sticks, 
copper bracelets, aurora ball crystals, dream catchers, healing 
stones, rose quartz, cds, and much more. Open 6 days. 
KAIPARA FLOORING CO 
Independently owned & operated 
32 HURNDALL ST MAUNGATUROTO 
Supply & Installation of Carpet, Vinyl,  
Vinyl Wood Planking
Stockists of 2m & 3m wide 
vinyl & carpet short ends
Residential & Commercial 
First Class Installations 
For a free measure & quote 
phone Christine  
09 946 9886 or 021 515 415 
kaiparaflooring@gmail.com 
http://www.kaiparaflooring.co.nz/ 
Waipu Natural Health 
3 Cove Road, Waipu  (opposite the Pizza Barn) 
Ph: 09 432 1325 
www.waipunaturalhealth.co.nz 
Clinical Nutritionist (Masked Allergy Testing), 
Naturopaths, Registered Medical Herbalist , 
Registered Massage Therapists, 
Reflexology, Beauty Therapy, Craniosacral 
Therapy, Hypnotherapy, Counselling, 
Change Catalyst, ThetaHealer, Naturopathic 
Prolotherapy & Scenar (joint & muscular 
therapy), and much more... 
GIFT VOUCHERS AVAILABLE 
4T DIGGER – BOBCAT – TIP TRUCK 
Property Maintenance - Driveways - Building Sites 
Stump & Tree Removal - Hole Boring - Chain Trencher 
Calf Shed and  Stockyard Cleaning
KAIPARA - WHANGAREI - RODNEY 
Phone Matt: 021 199 6677 
Email: mprabrownecontractors@gmail.com 
Mangawhai Heads 
Garden Centre
1758 Cove Road
945 0707 
021 165 2629
All your outdoor needs sorted so you don't have to... 
I can prune, chop, tidy, spray, mow, plant 
- you name it, I can do it! 
Residential & Commercial 
Lawn & Garden Care 
Call Rodney, your local  
lawnmowing contractor 
021 138 2344 
WAIPU OSTEOPATH 
Maria Gabriel  ACC Registered Osteopath 
8 The Centre, Waipu 
Monday to Thursday  
Freephone 0508 924786 (0508 WAIPUOSTEO) 
www.getinmotion.co.nz  No doctor referral required 
FREE GRAZING WANTED 
Small or large block 
Can do some fencing or water 
Phone after 6pm 
4312 006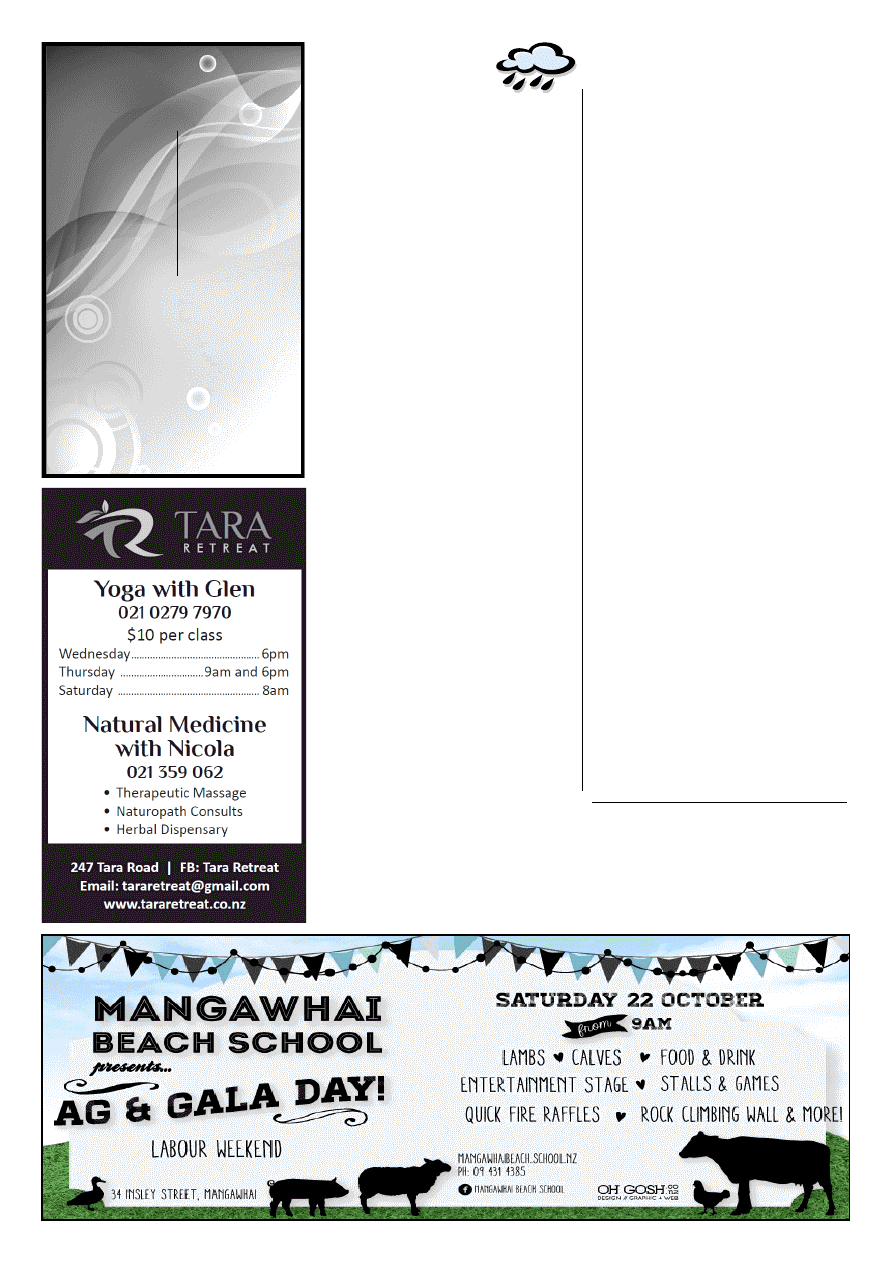 www.kaiwaka.co.nz 
Kaiwaka Bugle - 4 October 2016 
Page 5 
KAIWAKA 
WEATHER 
HAKARU RSA 
WOMEN'S SECTION 
U Beauty 
Please call Nicole for bookings 
09 393 6336 or 022 0639450 
Qualified Beautician 
4 Kaiwaka – Mangawhai Rd 
Kaiwaka 
Underarm Wax  
$20 
Extended Bikini Wax 
$30 
15 min Back Massage 
$25 
Eyebrow Wax  $10 
Eyebrow Tint  $10 
Eyelash Tint 
$20 
Lip Wax 
$10 
Chin Wax 
$10 
Bikini Wax 
$20 
Brazilian 
$50 
½ Leg Wax 
$30 
Full Leg Wax  $45 
Full Pedicure  $60 
Foot Tidy  
$35 
Manicure 
$45 
Nail Tidy 
$25 
Chest Wax 
$30 
Back Wax 
$40 
Nostrils 
$10 
Ears 
$10 
19 Members attended the 22 September 
meeting.  We  are  sorry  to  hear  we  are 
losing  two  of  our  long  time  members, 
Raewyn  Keane  and  Bev  Ogilvy. 
Raewyn,  who  has  been  a  member  for 
over 30 years, is moving to Whangarei, 
and  Bev  to  Warkworth.  Our  best 
wishes  and  "God  Bless"  to  you  both, 
we will miss you. 
We  are  sorry  to  hear  Secretary  Jan  is 
not well at the moment, but we are sure 
she  will  'bounce  back',  as  long  as  she 
takes it easy! 
Birthday  cards  and  wishes  for 
September  went  to  Margaret  Schutt, 
and for October to Helen, Noeline and 
Lorraine. We will probably make those 
three sing at our 61st Birthday which is 
to  be  held  on  Thursday  27th  October. 
Speaking  of  which  –  Members  please 
bring  items  for  the  sales  table 
particularly  baking,  fruit  plants, 
vegetables, pot plants (non-smoke able) 
jams and jellies, pickles. 
Sewing  and  crafts  and  non-perishables 
could be given to a committee member. 
Items  for  raffle  prizes  would  also  be 
welcome,  and  please  get  them  to 
Heather or Ann as soon as possible. 
On  Saturday  24th  September  3 
members attended the NDWS AGM at 
Kawakawa. 
Some  of  our  members  attended 
Franklin  RSA  Women's  Section  71st 
Birthday and had a very enjoyable day 
even  managing  to  bring  home  a  nice 
raffle. 
On the 4th October 4 members plan to 
attend Warkworth's 55th Birthday 
In  closing,  Members  please  keep 
Thursday  24th  November  free  for  our 
"Pot  Luck  Christmas  Dinner"  and 
arrive at 10.45 for 11 a.m. 
That is all for now, cheers Ann
Well folk, 'Spring has sprung the grass 
is ris'. Where have all the boidies gone. 
The  boidies  are  on  the  wing.  No.  The 
wings  are  on  the  boidie.  The  grass  is 
certainly rising. 
Now we are unable to mow our lawns 
after the rain this week. What a deluge 
on Sunday we had at our house, 50mm 
in  about  an  hour  and  a  half.  Derek 
phoned  from  the  Hakaru  Valley  and 
they  had  85mm  in  one  and  half  hours 
and  just  down  the  road  from  them  the 
neighbours  had  56mm.Then  again  on 
Wednesday  there  was  another  36mm. 
Hence  no  lawn  mowing  until  we  dry 
out a bit again. There would have been 
a  lot  higher  rainfall around  us at  other 
places.  Thank  you,  Derek,  good  to 
know. 
We have had a very calm September as 
far  as  Septembers  go.  A  bit  of  wind 
early  on  in  the  month  but  most  every 
other day has been calm. (I can handle 
that).  A  shame  my  sun  radar  is  not 
working.  That  may  be  because  we  do 
not  have  one.  We  have  not  had  the 
equinox winds yet. Hopefully they will 
not happen. 
At  our  house  for  September  we  had 
135mm of rain, for September 2015 we 
had  190mm.  We  had  rain  on  13  days 
and for 2015 we had rain on 14 days. 
Our  first  9  months  of  2016  we  had 
1211mm  of  rain  and  for  2015  we  had 
889mm. 
Our wettest first 9 months of any year 
since 1987 was 2008 with 1439mm. 
Our  driest  9  months  of  any  year  since 
1987 was 1987 with 687mm. 
Our wettest September since 1987 was 
1989  with  249mm.  Our  driest 
September  since  1987  was  2000  with 
40mm. 
The  waterfall  on  the  Brynderwyn  is 
flowing  very  nicely  again  so  maybe, 
just  maybe  the  water  table  has  risen 
again. We are well into daylight saving 
again. It is good to see a bit of evening 
light again but not so good for the dairy 
farmers getting up in the dark again to 
milk  the  moolies.  After  that  rain  we 
had  they  will  plodding  around  in  the 
bog again.  
Take  care  of  each  other  out  there  and 
be  careful.  With  the  school  holidays 
half  way  through  there  is  a  terrific  lot 
of traffic on the roads so be patient and 
do not take risks it is not worth it. Well 
that's  all  folks.  Safe  journeys  through 
life.                                  ~Bev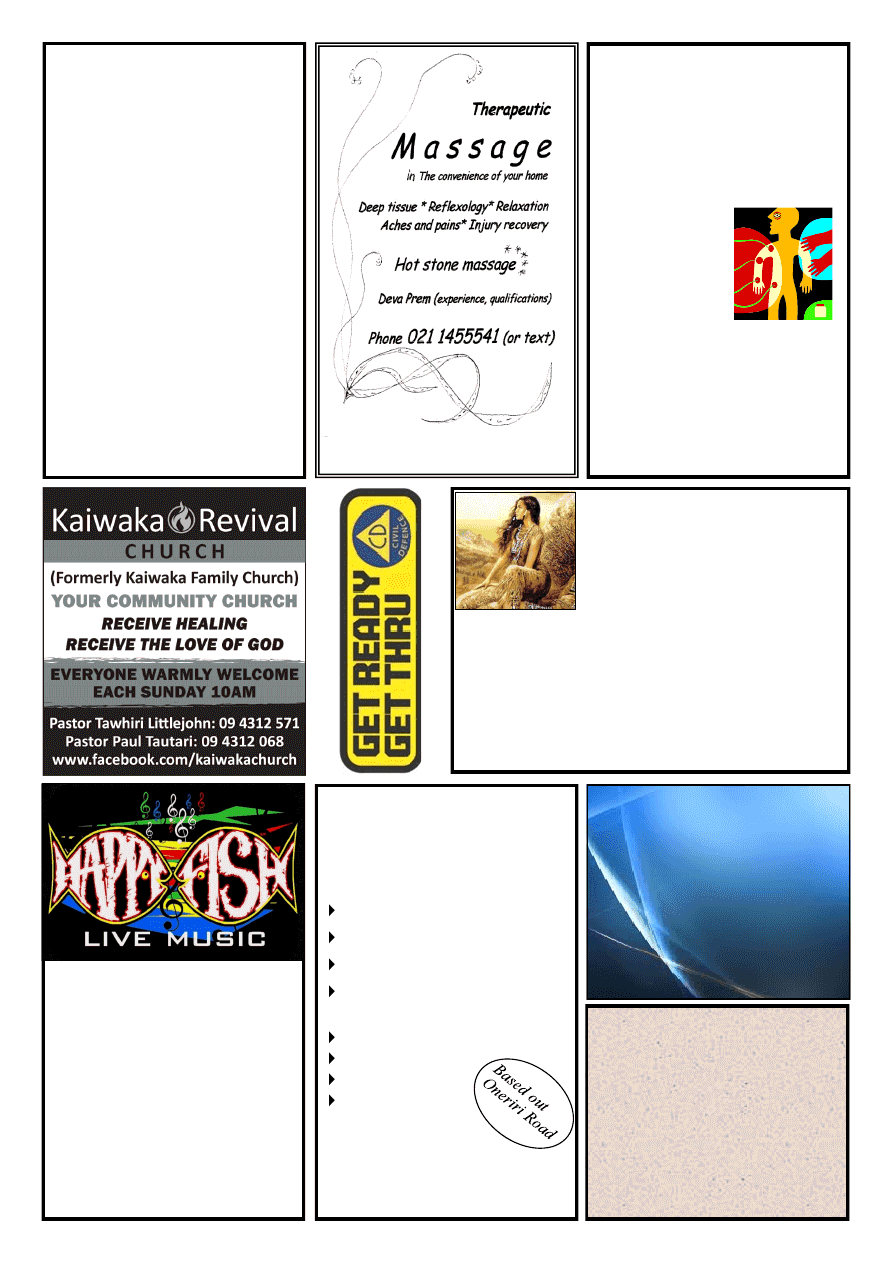 HODGETTS 
CONTRACTING
Digger Work    
Driveways 
House Sites   
Dams 
Drains, etc
Also available for HIRE 
3 ton Vib Roller 
Heavy Duty Tow 
Waterblaster  
Lazer Level 
Phone Mark 
4312877 
027 447 8554
www.mangawhaimassage.co.nz 
OWEN STEVENS 
Osteo Therapist
For careful adjustments to bones 
and joints 
Treatment for humans and their 
pets 
Clinics: 
Kate's Place, 
Kaiwaka: 
Last Friday of 
month 
For bookings: 
9.00am-5.00pm  
Phone 
09 4312661 
Or phone Owen  
09 4317123 anytime 
Freeview  
Installations 
Richard Te Haara 
25 Marram Place 
Mangawhai Heads 
021 1104056 
kiwipride@xtra.co.nz
Willow Bend
HORSE  
HOTEL 
"   
Total Horse Care 
" 
Agistment 
" 
Riding Lessons 
" 
Arena Hire (60x40) 
" 
Young Horse Starting 
" 
Re-training/Exercising 
" 
Hoof Trimming 
" 
Problem Solving 
Phone Sue 09 431 2817 
or 021 623 776 
Or email  
susanjoll11@gmail.com 
ROCKIN' POPULAR, OLD AND 
NEW PARTY SONGS WITH LOADS 
OF KIWI MUSIC AND A FEW 
ORIGINAL TUNES IN THE MIX. 
AN ELECTRIC DUO FEATURING:  
GORDON JOLL 
(NZ Music Hall of Fame)
ON DRUMS AND SUE JOLL ON 
GUITAR AND VOCALS. 
A BAND FOR ANY OCCASION 
BACKED BY YEARS OF 
EXPERIENCE. 
Contact: Sue 021 623 776 
Email: happyfishband@gmail.com   
Website: www.happyfishband.co.nz 
Counsellor and 
Registered Psychotherapist 
Offers Supervision
Susan Matheson 
MNZAC, RN 
Dip. Psychosynthesis Counselling and Psychotherapy 
Phone 09 431 5997 
Mobile 027 605 2427 
Trails end 
spiritualist gathering  
Last Sunday of every month  
11.30-2pm tea/coffee provided  
$5koha for all inquiries  
0211652629 evenings 099450753 
Trail.end@hotmail.com 
Bringing together light minded people 
Guest speaker each month and 
Workshops every 2nd Wednesday  
6:30-7:30pm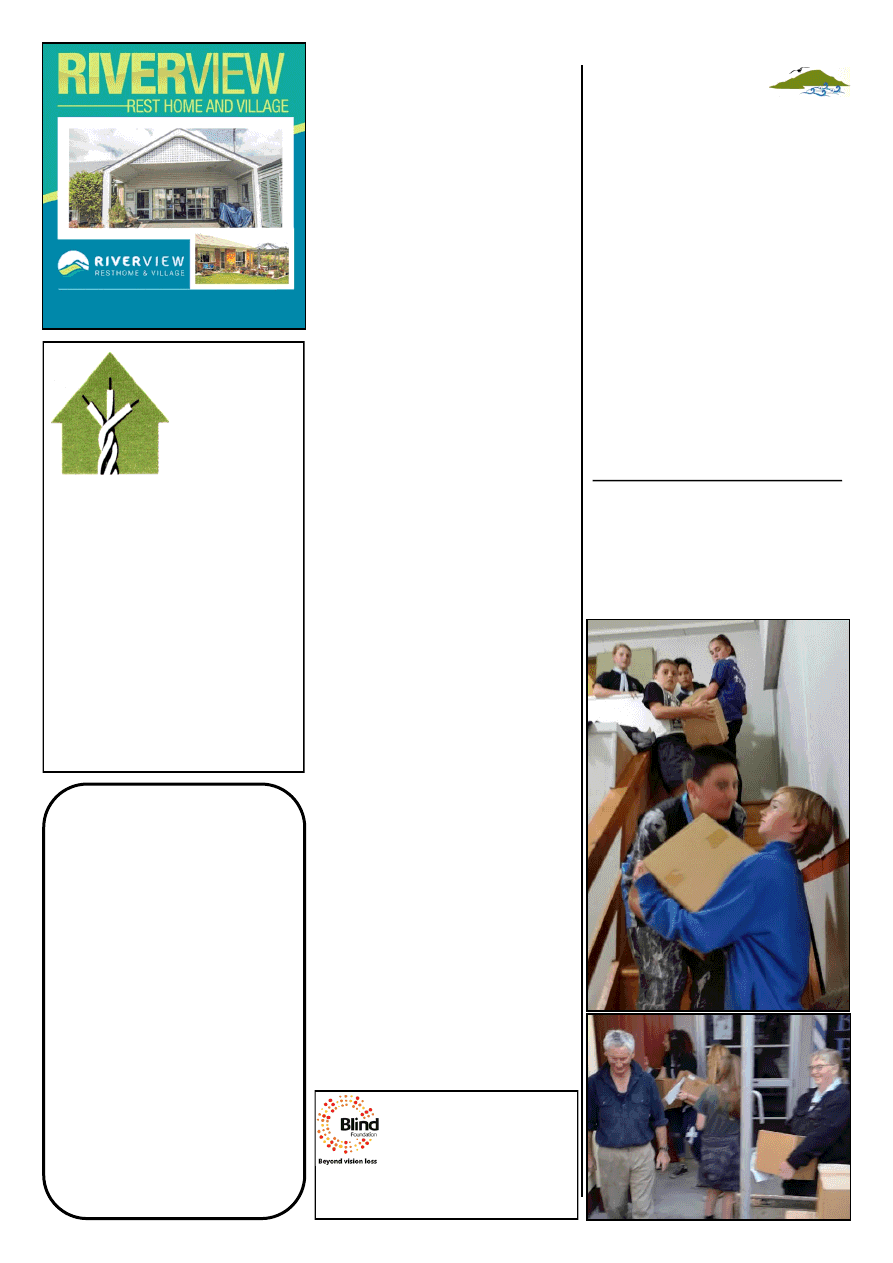 www.kaiwaka.co.nz 
Kaiwaka Bugle - 4 October 2016 
Page 7 
Noho  marae  is  early  next 
term.  We  will  be  leaving 
school on the morning of Thursday the 
27th  of  October  and  staying  for  one 
night.  We  will  return  on  Friday  the 
28th in time for the buses. We need lots 
of support for Noho so please book it in 
your diaries. Permission slips as well as 
requests for food donations will go out 
in the first week of Term 4.  
The  Kaipara  Kapahaka  Festival  is  on 
Saturday  the  29th  of  October.  This  is 
the  day  after  we  get  back  from  the 
Noho.  Permission  slips  and  more 
information will come out next term.  
Calf  club  entry  forms  are  ready  and 
available at the office.  
I  would  like  to  thank  all  whanau  for 
their support of our children this term.  
I  have  enjoyed  my  role  as  acting 
Principal  and  know  that  it  is  everyone 
working  as  a  team  that  makes  our 
school so successful.  
I hope you all have a fun filled and safe 
holiday.  
Warm regards, ~Sharlene Tornquist  
KAIWAKA SCHOOL 
UP-LINK 
CHRIS WARING 
FREEVIEW 
INSTALLATIONS 
T.V. - HOME THEATRE & 
HI-FI ADVICE/SET UP
SKY ACCREDITED 
INSTALLER
MOB.0273403747 
HM.094312328 
EMAIL cwaring44@gmail.com
28 YRS EXPERIENCE 
OFFERING UNBIASED ADVICE 
Reyahn George Leng 
Registered Electrician 
Local, honest and reliable. 
For your residential and 
light-commercial projects. 
022 314 1068  
 09 431 2527 
RIVERVIEW REST 
HOME & VILLAGE 
The  Maungaturoto  Rest  home  and 
Village  has  been  established  over  the 
last  twenty  years  by  the  Maungaturoto 
Community  Charitable  Trust  Inc 
(MCCT)  to  serve  the  Maungaturoto 
District. 
Originally  set  up  as  the  sixteen-bed 
Maungaturoto Rest home, the complex 
has grown to include the 13 rental units 
and 14 OYO units. 
Changing needs 
As  our  local  population  continues  to 
age  and  live  longer,  our  needs  also 
become  more  complex.  Our  current 
facility  is  now  at capacity  and  we  risk 
being unable to meet future demands or 
provide  for  those  who  need  a  higher 
level  of  care  which  at  present  is  only 
available  in  Dargaville,  Waipu  or 
Whangarel.  The  value  of  this  higher 
level  of  care  "at  home"  has  been 
appreciated  by  the  families  in  some 
recent  cases  where  the  Rest  home  has 
been  able  to  offer  this  high  care  to  a 
limited degree. 
Future development 
We  have  developed  a  "Plan  for  the 
future" – staged development to deliver 
increased  services  to  the  community. 
Stage  one  will  see  an  8  bed  Dementia 
unit  added  to  the  current  rest  home. 
Further  stages  will  give  the  Trust  the 
ability  to  respond  to  the  increasing 
complexity  of  aged  care  -  updated 
kitchen and dining /lounges – a further 
8  dementia  beds  –  a  further  6  Rest 
home  rooms  and  the ability  to  provide 
hospital level care as the need dictates. 
Currently  the  rise  in  the  number  of 
people  needing  residential  dementia 
care  outstrips  population  growth. 
Demand  for  dementia  services  are 
predicted to grow by 7% per year as the 
risk  of  suffering  from  dementia 
increases  after  65yrs.  At  present  the 
nearest  dementia  units  are  at  Waipu, 
Whangarel  or  Dargaville,  so  the 
development  of  a  secure  and  stable 
dementia  unit  in  Maungaturoto  will 
allow local families to stay together for 
longer. 
The  Trust  is  currently  working  on 
obtaining  the  necessary  consents  and 
bank  lending  support,  to  compliment 
the "future plan" as substantial ongoing 
funding  stream  will  be  required  from 
the community. 
It  is  intended  to  launch  the  appeal  to 
community  in  the  very  near  future 
which  includes  the  rebranding  of  our 
Rest 
home 
to- 
RIVERVIEW 
Maungaturoto's 
Rest 
home 
and 
Village.  
Maungaturoto Rest Home | 136 Hurndall Street 
Maungaturoto, Kaipara | PH: 09 431 8696 
SCOUTS 
Our  local  Kaiwaka-Mangawhai  Scouts 
continue  their  help  around  town.  Last 
week they not only did a huge clean up 
on  Mangawhai  roadsides,  but  also 
worked a chain gang, photos below. to 
relocate heavy boxes of books. This all 
added to their jamboree fundraising. 
Support Blind 
Week and life 
without limits   
Keep an eye out for street collectors 
on October 7 and 8 or donate online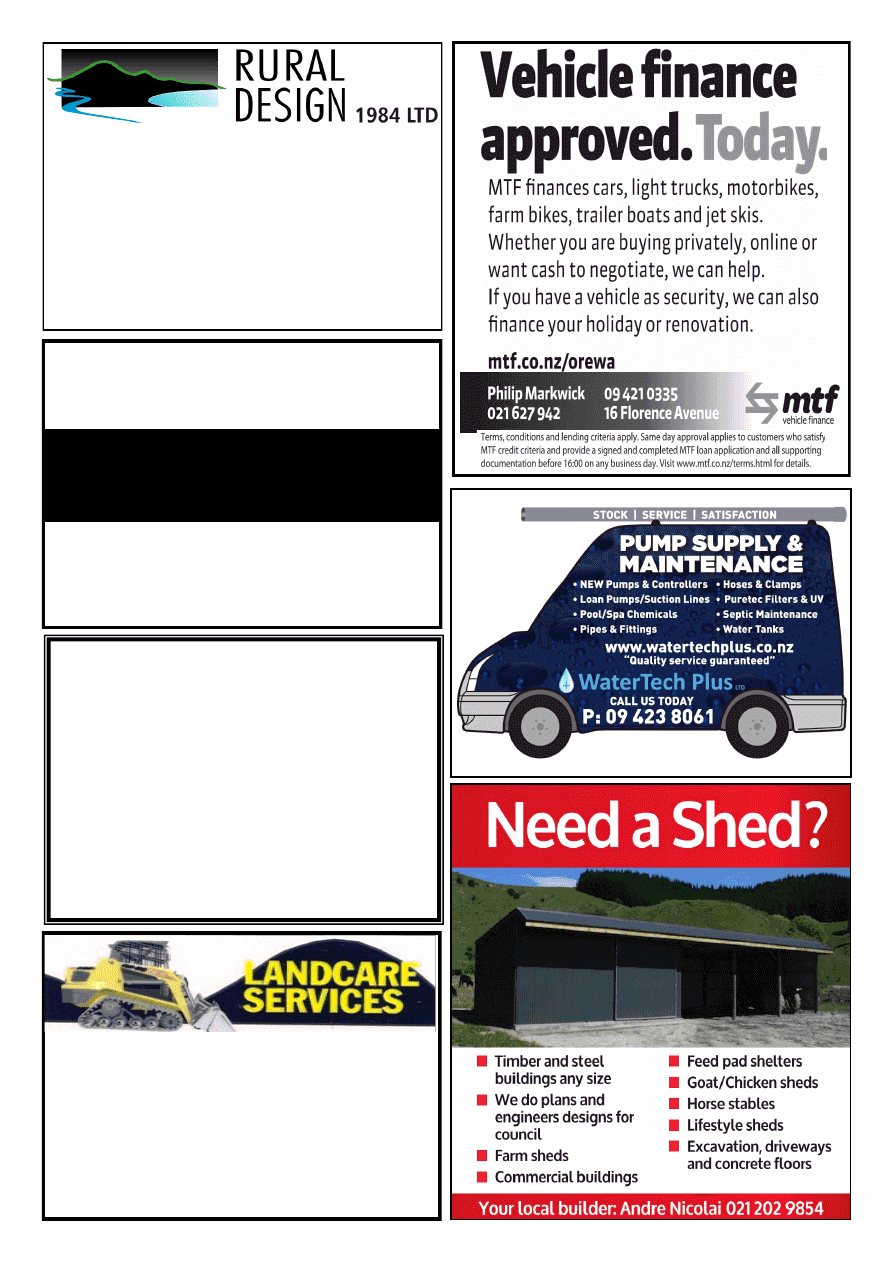 LANDSCAPING 
4 IN 1 BUCKET 
TRENCHER 
POLE HOLES 
ROTARY HOE 
COMPACT ROLLER 
OFFAL HOLES 
CAN SUPPLY WOODCHIP & POST PEEL 
5 TON TIPPER 
FOR RELIABLE AND FRIENDLY SERVICE CONTACT DAVE 
Dave Hyndman 
 
KAIWAKA 
PH: 09 4312302 
MOB: 021 431 238 
David Korach 
Your local Gib Stopper
DK PLASTERER LTD 
0274769221 
dkorach6@gmail.com 
Wholesale Native Plant Nursery and Planting 
Small and Large orders welcome 
By Appointment 
300 Kaiwaka-Mangawhai Road, Kaiwaka 
Phone: 09 431 2481 
Email: info@ruraldesign.co.nz 
www.ruraldesign.co.nz 
MULCHING 
GORSE,SCRUB ETC 
PADDOCK TOPPING OR MULCHING 
2.8m mulcher with 140HP tractor. 
Experienced operator. 
LIFESTYLE PROPERTY MAINTENANCE 
Putting life back into your style 
BOOK NOW. Phone James 
mob: 0273 808622 or 09 431 2245 
email: lifestylesorted@gmail.com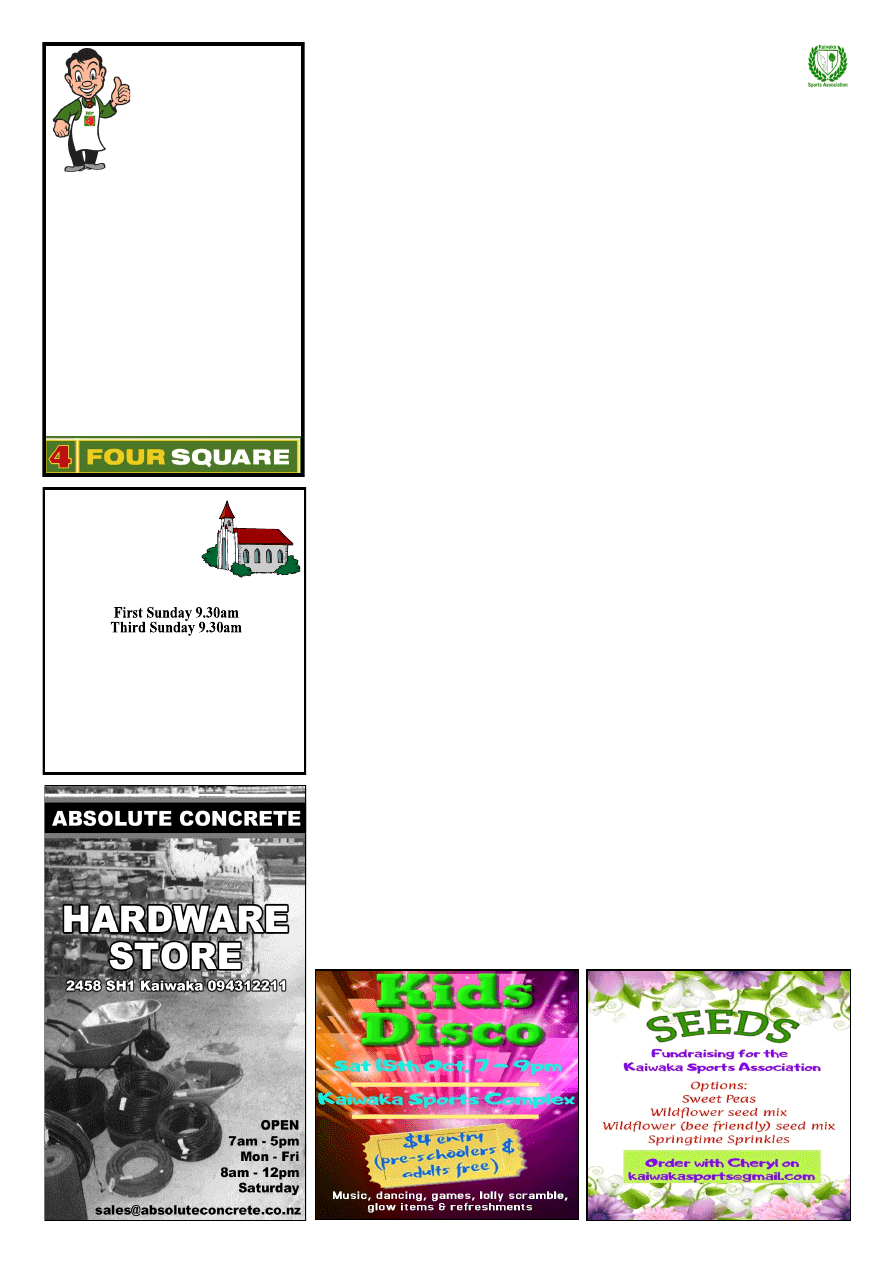 www.kaiwaka.co.nz 
Kaiwaka Bugle - 4 October 2016 
Page 9 
ST PAUL'S  
ANGLICAN  
SUNDAY  
SERVICES
St Pauls Church: Kaiwaka-Mangawhai Rd. 
1st Sun - Eucharist 
3rd Sun - Family Service 
Office 4314 122 
Contacts:M.Hargreaves 4312295, C.Bygrave 4312057  
or Rev. Wayne Thornton Ph 431 5650 
www.mangawhaianglican.org.nz
KAIWAKA SPORTS ASSOCIATION
NEW NEW NEW!! 
FRESH DAILY BAKED ON 
OUR PREMISES 
Breads, French Sticks, Rolls, Savory & 
Sweet pastries, 
Croissants & muffins 
Great Supermarket Prices!! 
Grab a coffee to go & treat yourself  
Jaques Four Square 
Phone: 4312227 
1 Kaiwaka-Mangawhai Road, Kaiwaka. 
In Store               
Now! 
Fast Five Netball Module 
We are now over half way through our 
Fast Five Module. Results, photos and 
the  draw  are  posted  on  our  website 
Finals  and  prizegiving  will  be  held  on 
Sunday  16
th
  October  at  2pm  in  our 
gymnasium, spectators are welcome. 
Soccer prizegiving 
The  following  players  were  awarded 
trophies at the Kaipara Knights Soccer 
Club  prizegiving  at  the  Sports 
Complex: 
6
th
  grade:  Most  Improved  –  Maddie 
Schultz;  Sportsperson  of  the  Year  – 
Shavana  Hampshire;  Player  of  the  Year  – 
Noach Finlayson. 
8
th
  grade:  Most  Improved  –  Jamie 
Cotching; Sportsperson of the Year – Zack 
Scultz;  Player  of  the  Year  –  Evan  Fisher 
and Marino Wiapo. 
10
th
  grade:  Most  Improved  –  TW  Rangi; 
Sportsperson  of  the  Year  –  Tai  Cotter-
Nakazono  and  Emma  Browne;  Player  of 
the Year – Gareth Ferguson. 
15
th
  grade  combined  Kaipara  Knights/
Mangawhai Warriors team: Most Valuable 
Player – Brenda Ferguson. 
Coaches of the  Year  –  8
th
  grade  team Phil 
Cotching and Reno Skipper. 
Kaiwaka Athletics Club 
Club Nights are held at Otamatea High 
School  on  Mondays,  5  –  6.30pm,  the 
first  night  of  the  season  will  be 
Monday 31
st
 October.  
This is for children of all ages and club 
nights feature running, long jump, high 
jump, shot put, discus and javelin. 
Queries to Eileen Parsons on 4318 055. 
Tennis 
Time to get into the swing of it! Junior 
tennis  starts  up  on  Monday  17
th
October,  with  coach  John  White. 
Lessons for young children will start at 
3.15pm, intermediate children will start 
at  3.45pm  and  secondary  children  will 
start at 4.15pm. To register your child, 
please contact Floyd Driver on 022 476 
9669. 
The tennis club will hold their AGM on 
Monday  17
th
  October  at  4pm  in  the 
Sports Complex, all welcome. 
Charity Auction 
How  awesome!  Kaiwaka  Care's 
Charity  Auction  last  Saturday  raised 
$3,400! As our helipad appeal was one 
of  the  recipients,  the  appeal  will  get 
$850. 
Many thanks to Janine Boult and Beth 
Stone who organised it all. 
Agricultural Days 
Kaiwaka  School  will  hold  their 
Agricultural  Day  at  our  grounds  on 
Thursday  20
th
  October.  Group  Day 
(regional  Agricultural  Day)  will  be 
held  at  our  grounds  the  following 
Monday.  Our  fields  will  be  packed 
with mobs of calves, lambs and excited 
children! 
Kids Disco 
Shake Your Groove Thing! Yes, we are 
putting  on  another  Kids  Disco.  The 
disco  will  be  held  at  the  Sports 
Complex  next  Saturday  15
th
  October 
from  7  till  9pm,  and  will  feature  great 
music  and  dancing,  a  lolly  scramble, 
glow  items  and  games.  A  parent  or 
caregiver  to  stay  with  the  children, 
thanks. 
Seeds Fundraiser 
I  am  running  a  Seeds  Fundraiser.  A 
couple  of  seed  packets  would  make  a 
great  little  Christmas  gift  for  those 
people in your life who are hard to buy 
for! Download an order form from our 
website  www.kaiwkasports.co.nz  and 
support the KSA. 
Top of the Rock 
Our  annual  Top  of  the  Rock  multi-
sport challenge will be held on Sunday 
12
th 
February.  
Every  year  we  get  wonderful 
sponsorship from our local businesses, 
this  is  either  as  a  donation  of  product 
for  the  prize  table,  or  as  a  monetary 
donation.  If  you  would  like  to  show 
your  support  for  the  Kaiwaka  Sports 
Association and the Top of the Rock by 
offering  sponsorship,  please  get  in 
touch  with  me  (contact  details  are 
below). 
Fright Night 
Our annual Fright Night will be held on 
Saturday 29
th
 October at 6.30pm. Start 
thinking  about  your  scary  costume 
(there'll be prizes for best dressed boy, 
girl  and  adult).  We  will  have  music, 
dancing,  games,  a  photo  booth,  face 
painting,  lolly  scramble  and  a  haunted 
house! The  entry  fee  is  $5  (adults  and 
preschoolers  free).  There  will  also  be 
prizes  for  the  best  halloween-inspired 
supper plates – time to get creative! 
Cheryl Anderson 
4312 051, 027 3462702 
kaiwakasports@gmail.com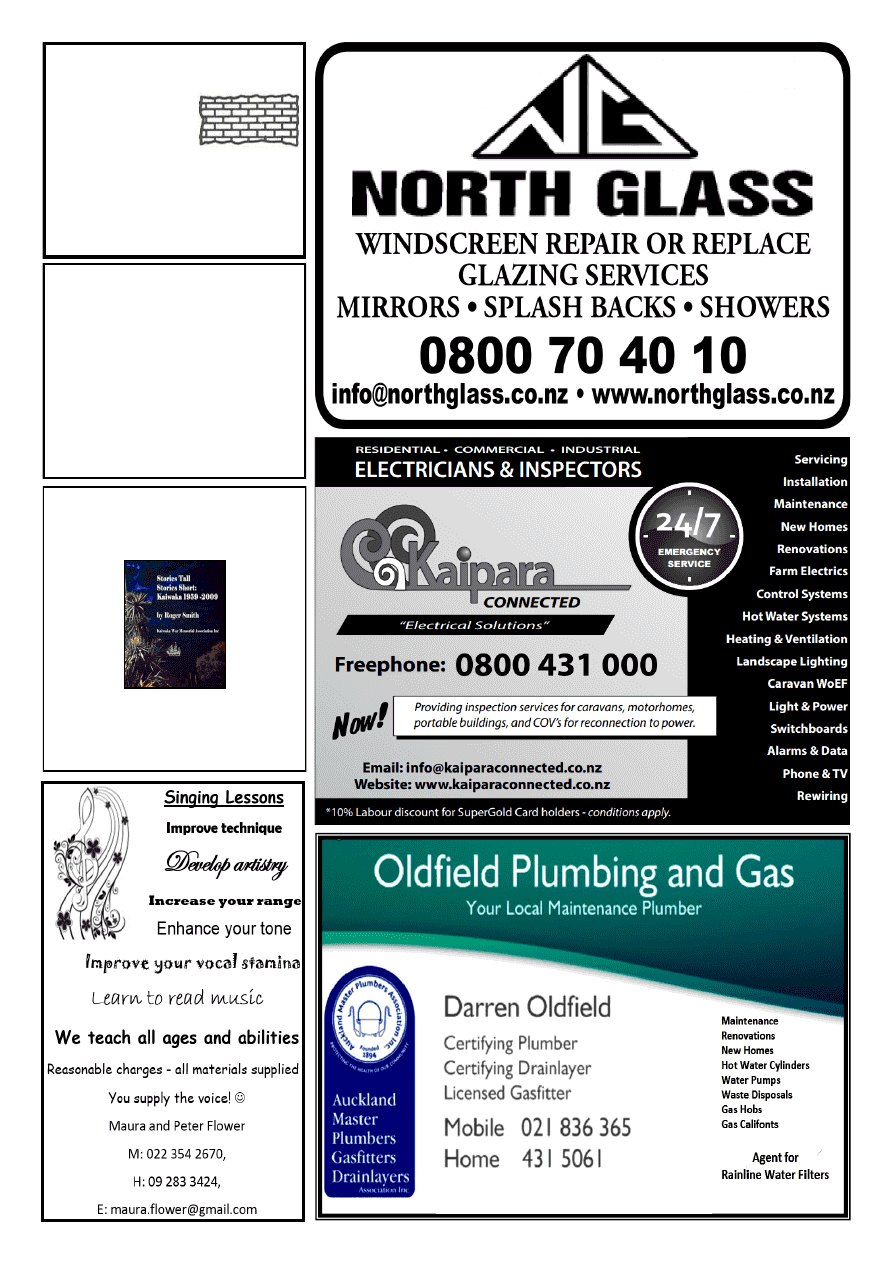 oldfieldplumbing@gmail.com 
 LEABOURNS 
Passenger Service
Car & Van Hire 
Bus & Coach Charters 
Airport Transfers 
 Monthly Shopper Bus 
Phone (09) 4237416 
BRICK/BLOCKLAYER 
All aspects of masonry:  
Fireplaces, 
Restoration  
& Remedial Work. 
JAMES EAGLETON 
Tel. (09) 431 2514  
Mob. 0274 749 232 
jajueagles@yahoo.com.au 
210A Pukenui Road, RD2 Kaiwaka 0573 
Stories Tall, Stories Short:  
Kaiwaka 1959-2009 
by Roger TW Smith
$40
Available from the Bugle Editors -  
Lindsey 4312 045,  
Wendy 027 480 6275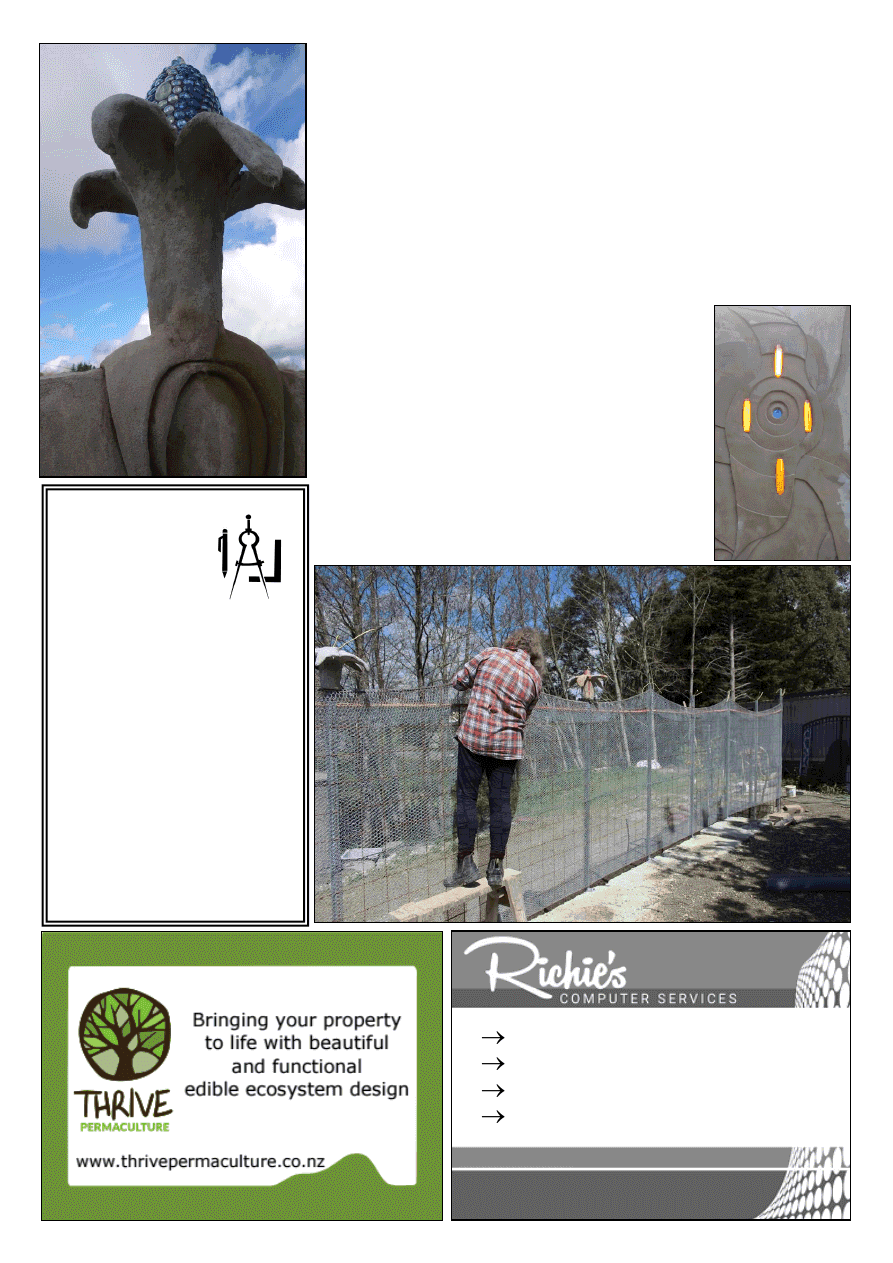 www.kaiwaka.co.nz 
Kaiwaka Bugle - 4 October 2016 
Page 11 
15 years  commercial IT experience 
Computer and Laptop Repairs 
Smart Phone and Tablet Support 
Virus and Malware Removal 
Richard Harding
T 09 945 0376        M 021 124 7358 
E richo_harding@hotmail.com 
design  
drafting  
service 
Retired builder and manufacturer 
with over 40 years experience in the 
building industry is offering a design 
drafting service for domestic housing, 
sleepouts and sheds.  
Plans formulated in consultation 
with clients, with working drawings 
completed and submitted to council 
for processing.  
Extensive practical experience,  
able to identify & resolve problems. 
Please ring Mike Lean on 
09 431 2260          
      or 
021 431 196 
EUTOPIA UPDATE 
It 
is all go again at Eutopia and the big face lift continues. We have finished a 3-
month  stint  working  in  Auckland  and  we  are  back  on  the  job,  the  place  is 
changing again. 
The  ugly  old  'book  nook'  which  occluded  the  Northern  sun  has  gone,  making 
much more space and opening the area up further.  We are erecting new walls 
and incorporating gates to fully enclose the back courtyard.  We hope one day, in 
the  not  too  distant  future,  this  will  make  an  ideal  music  venue  as  well  as  a 
pleasant outdoor space. The ferro walls should reduce the truck rumble from the 
road.  We are trying to get the new walls meshed up, plastered and carved before 
it  gets  too  hot,  so  this  is  a  bit  of  a  race  against  time.    The  concrete  work, 
especially the carving is hindered, and the work time massively reduced, by hot, 
dry weather.   
There  is  a  lot  of  renovation  and  rebuilding  work  still  to  be  completed,  some 
resurfacing  still  to  do  and  most  surfaces  still  need  to  be  painted.  The  final 
touches to the courtyard mosaics are being completed between rain showers and 
Robert,  amongst  other  things,  is  working  to  finish the  last  remaining  windows 
and  doors,  making  the  frames  and  glazing  them.  We  are 
working on many fronts, lots of sculptures are being made 
behind the scenes and there are still a lot more to be made. 
We  are  in  the  process  of  planning  and  fitting  out  a  new 
commercial  kitchen  and  we  also  have  a  lot  of  outdoor 
furniture to make. 
We  have  constructed  the  framework  for  a  sculptural  wall 
being  erected  around  the  sewerage  installation  by  State 
Highway 1 below Eutopia. It will be very noticeable from 
the road. It is part of the beautification of Kaiwaka project 
done  in  conjunction  with  Council.  We  are  looking  for 
volunteers  to  help  with  this  community  project.  If  you 
would like to get involved with this or any other aspect of 
what  we  are  doing,  please  get  in  contact  with  us 
welcome to come and check out the progress.  
Marijke Valkenburg (photo below) and Robert ter Veer.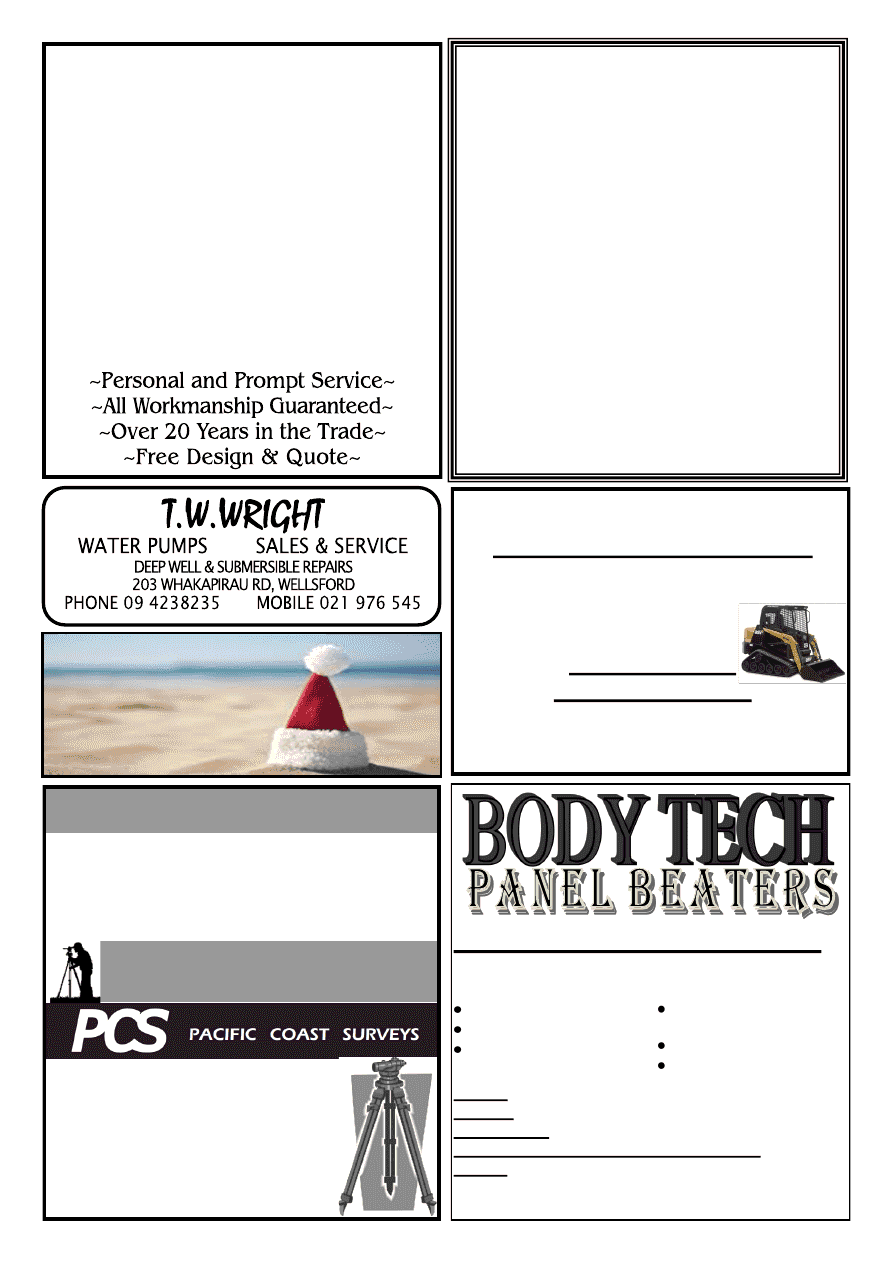 For all your body repair needs!! 
We do: 
Rust repairs 
Insurance work 
Anti-corrosion treatment     
Hours: 8.30am-5pm Monday-Friday  
Mobile: 021 118 0462 
After hours: 09 431 2384 
Phone: Craig or Call in for a free Quote 
bodytech_panelbeaters@yahoo.com
We are located at 1837 SH1 Kaiwaka, behind  
Twinkle Tow 'n' Tyre call in anytime for a free quote.  
Large and minor vehicle  
 repairs 
Industrial vehicles 
Full Cut and polishes 
SURVEYORS 
SUBDIVISIONS 
HOUSE SITE SURVEYS 
CIVIL ENGINEERING 
WASTEWATER DESIGNS 
EXPERIENCED 
PROFESSIONAL 
INNOVATIVE 
Ph 09 431 5353 
0800 PACIFIC (0800 722 434) 
pacificcoastsurvey.com
Adam Booth - 027 415 5752 
Bsurv, Licensed Cadastral Surveyor
Surveying Kaipara since 1994 
g.a.s. 
Mangawhai
GARDEN CENTRE 
for all your gardening needs
Also a great range of 
STOCKFOOD 
Wide range of 
ORGANICS AND 
 FRESH LOCAL PRODUCE
All your motoring needs are taken care of by 
our friendly staff check us out... 
44 Moir Street, Mangawhai (09)431 4242 
Natural Earth Ltd 
Landscape and Bobcat services 
 : Driveways :Landscaping :Retaining Walls 
 : Hole Boring: Land Levelling :Trenching 
 : Decks :Fences :Sections Cleared 
 : Plus much more
Tel 09 4312 885 
Mob 02102391280 
For A Fast Friendly Service  
Contact Tim Hicks 
PLANNING A NEW KITCHEN? 
 CONTACT NOEL McDOWELL
WELLSFORD 
KITCHENS
Ph/Fax 094312888
KAIWAKA-Any time
 QUALITY CUSTOM MADE 
KITCHENS
Kaiwaka Christmas  
Shopping Night 
Wednesday 26 October 2016 
6pm – 8pm 
Kaiwaka War Memorial Hall 
For information or to book a stall contact 
Janine 027 663 6802 allaroundtownnz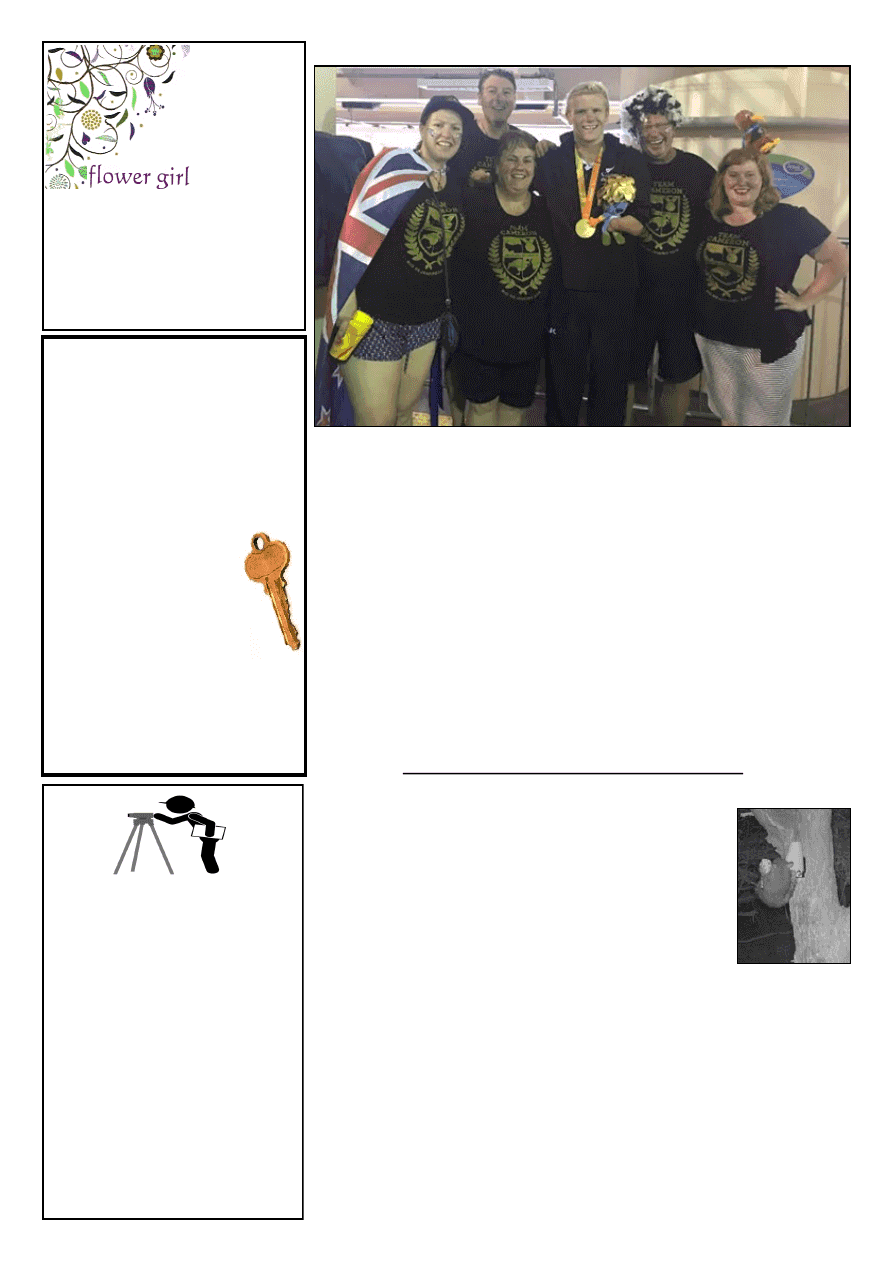 www.kaiwaka.co.nz 
Kaiwaka Bugle - 4 October 2016 
Page 13 
Ken Urquhart 
BSurv Licensed Cadastral 
Surveyor 
KMU Surveys Ltd
467 Bickerstaffe Road 
RD 2  
Maungaturoto 0587 
Ph 09 431 8705 
Mob 021 161 2344 
kenurquhart@xtra.co.nz 
Kaiwaka  
Hardware  
&  
Key cutting 
Phone 4312 063 
 022 041 6047 
kaikey2015@gmail.com
Keys Cut  
Household Hardware  
Curtain Tracks & Fittings 
Not there? Call Doug and he'll 
sort
it for you. 
(
Next to Kaiwaka Motorcycles
)
Kaiwaka 
Good 
Sorts 
Do you know 
someone in our 
community who is 
deserving of a 
beautiful bunch of 
flowers? 
Send an email to us at 
kaiwakabugle@kaiwaka.co.nz 
or drop a note to Jaques Four Square to let 
the Bugle team know. 
We will choose a recipient to receive 
flowers from Lindy the flower girl. 
lindywatson@hotmail.com 
4312 847 
Paralympic  swimmer  Cameron  Leslie 
and  local  Kaiwaka  man  Simon  Mayne 
have just  return  from  Rio  Paralympics 
2016.      Cameron  from  Whangarei, 
broke  his  own  world  record  in  the 
Men's  150  Individual  Medley  SM4, 
which  is  his  third  consecutive  title  in 
the event after Gold in 2012 and 2008 
games in London and Beijing 
Simon  has  been  Cameron's  coach  for 
the  past  10  years,  based  out  of 
Henderson,  West  Auckland.    He  says 
"It is pretty special for Cameron to win 
3  consecutive  golds  over  the  past  8 
years.  Cameron  and  I  have  a  solid 
working relationship and we know how 
to get the best out of each other." 
Before flying to Rio, the New Zealand 
swim team spent 3 weeks on Camp, in 
Orlando, Florida. This was to minimize 
distractions  and  focus  on  swimming 
fast.  Although  they  did  have  to  watch 
out  for  the  lightning  bolts  as  it  was 
Hurricane season!! 
Rio  is  a  vibrant  city  and  there  was  a 
carnival  atmosphere  to  all  the 
swimming  sessions.    Although  the 
Paralympics  games  are  competitive 
everyone  is  friendly  and  encouraging 
regardless  of  what  country  you  are 
from. 
After  his  race  Cameron  said  "I  felt 
confident after my heat swim and knew 
that  all  the  training  would  pay  off  in 
the final which it did!  And then it was 
awesome  to  celebrate  with  my  family 
and  coach  who  came  out  to  support 
me." 
~ from 'Team Cameron'. 
FROM NORTHLAND TO RIO… 
The self-setting possum traps trialed 
on Oneriri peninsula appear to have 
been a success. 
Cameras registered kills on two of the 
traps over a three-week period. While a 
third  camera  misfired,  animal  remains 
suggested  more  kills  which  had  been 
food for vermin and other predators. 
The trial was run by locals taking part 
in 
the 
year-old 
Kaira-Oneriri 
Biosecurity  Area  (Koba)  supported  by 
the  Northern  Regional  Council  [April 
Bugle]. 
Koba  spokesperson  Hugh  Patterson 
says the gas-fired traps are being used 
on  larger  blocks  but  the  best  effect  of 
setting  up  pest  control  is  that  is  has 
inspired people into action. 
"We  had  a  problem  with  possums  on 
our block and between us and our near 
neighbour  we  have  taken  80  with 
Timms traps supplied by the NRC. 
"Last  year  we  had  no  feijoas  or  citrus 
and  that  wasn't  the  case  this  year.  In 
June we got one and another six in the 
Spring coming over the borders. 
Hugh says one of the 
farms  has  called  in 
live  trappers  to  get 
numbers  down  to  a 
manageable level. 
"Using  the  legtraps, 
the  trappers  caught 
450." 
Koba  has  stoat  traps, 
cat 
traps, 
ammunition,  rat  stations  and  baits  for 
use in the 1570 hectares it covers. It is 
set up as a community-led programme 
supporting landholders and residents to 
work together to manage pests in order 
to  restore  living  conditions  for  native 
plants, birds, and insects and reduce the 
possibility  of  possum-borne  disease  to 
stock. 
"Some  people  like  the  old  live  cage 
traps,  which  are  no  risk  to  domestic 
pets,  and  we  don't  have  any  of  those. 
But  if  people  in  the  near  area  want 
some  support,  please  make  contact.", 
Hugh Patterson says. Phone him on 09-
4512 787. 
Photo  above:  Left  to  right:  Rebecca  Leslie,  Simon  Mayne,  Theresa,  Cameron 
and Ross Leslie, and Emma Gosling 
POSSUMS SWING IN GAS TRAPS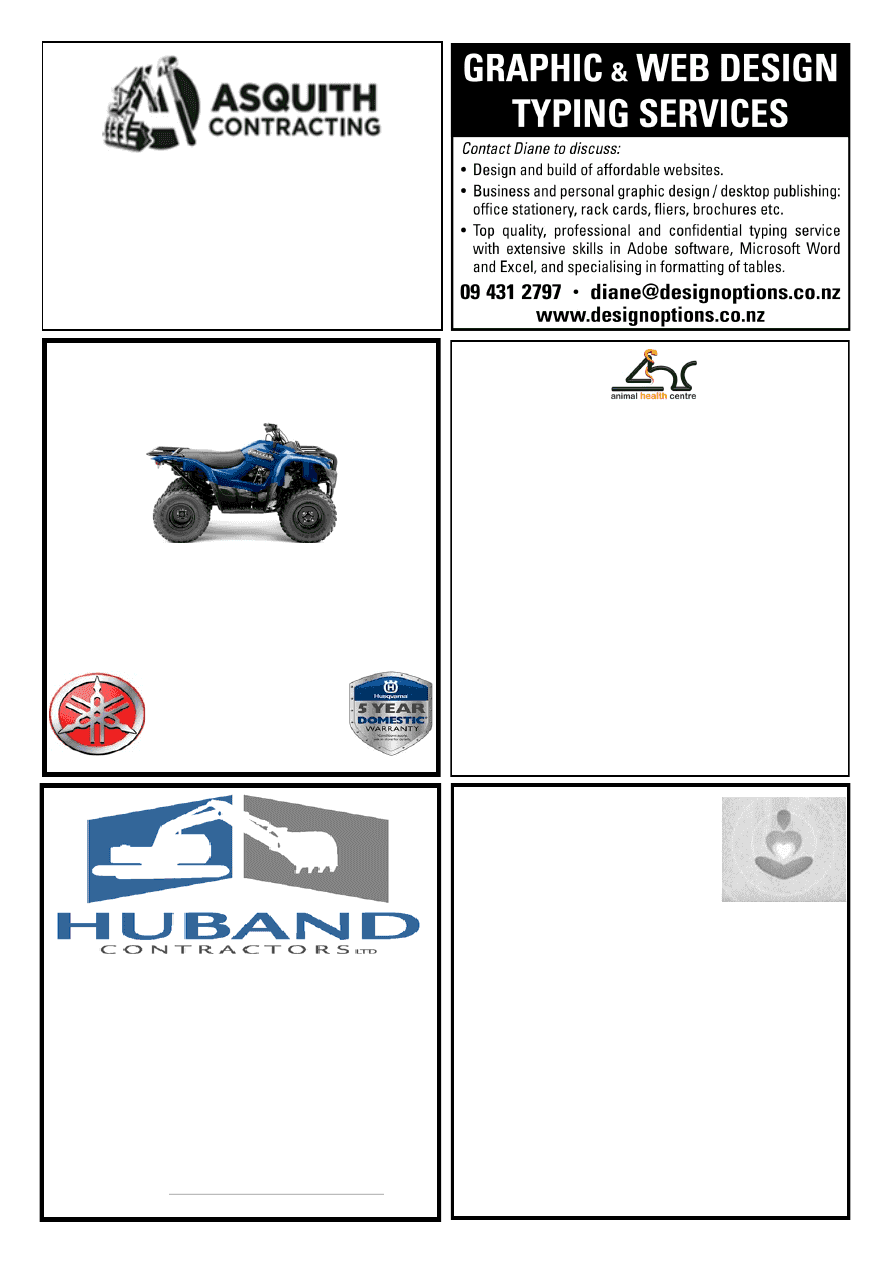 ANIMAL HEALTH CENTRE 
KAIWAKA 
"choices in health care for your companion animal" 
Health problems - itchy skin, smelly ears,  
bad breath, diarrhea? 
On steroids, antibiotics, lifetime drugs..... ? 
Diet may be a part of the problem!  
Call in and have a chat to our team  
of animal health practitioners.
Nail Trims, Microchipping , 
Dental checks, Comfort grooms. 
Great range of real food – no preservatives. 
Alternatives to nasty chemical parasite controls.
OPEN:   Tues-Fri - 10:00am – 5:00pm 
Saturday - 10:00am - 4.00pm, Sunday/Monday - Closed 
Next to Italian Bakery, Main Highway Kaiwaka 
Ph: 09 431 2217 
PS: We're open 7 days in Orewa if you missed us! 
*   R O A D I N G   *   E A R T H W O R K S   *    
*   D R A I N A G E   *   S I T E W O R K S   *
Shaun Huband 
Registered Drainlayer
Cell: 021 222 0272 
Home: 09 4318339 
Email:  
KAIWAKA 
MOTORCYCLES LTD
SALES – SERVICE – SPARES 
FARM BIKE SPECIALIST
PHONE 09 431-2127 
10 KAIWAKA-MANGAWHAI ROAD, KAIWAKA
Trimmers  
from $279
Chainsaws  
from $339
YAMAHA 
HUSQVARNA 
Small digger work, trenching and post hole 
drilling for retaining walls, piles, etc.
$60+gst per hour.
Call Tam on 021 124 5216 or 
asquithcontracting@gmail.com
Musculoskeletal, chronic pain, women's health, infertility, 
pregnancy, general wellbeing, stress, anxiety, headaches, 
depression, insomnia, respiratory, gastrointestinal,  
cosmetic acupuncture and much more.
Certified in kinesio taping.
For more information about treatments please 
visit our website or contact Lara: 
3 Cove Rd Waipu, Northland 
Tel: 0221 557811 or 09 432 1325 
Email: info@acubalance.co.nz 
www.acubalance.co.nz
Acupuncture treatments provided at Waipu Natural Health 
AcuBalance 
Lara Tremain
Registered Acupuncturist and 
ACC Treatment Provider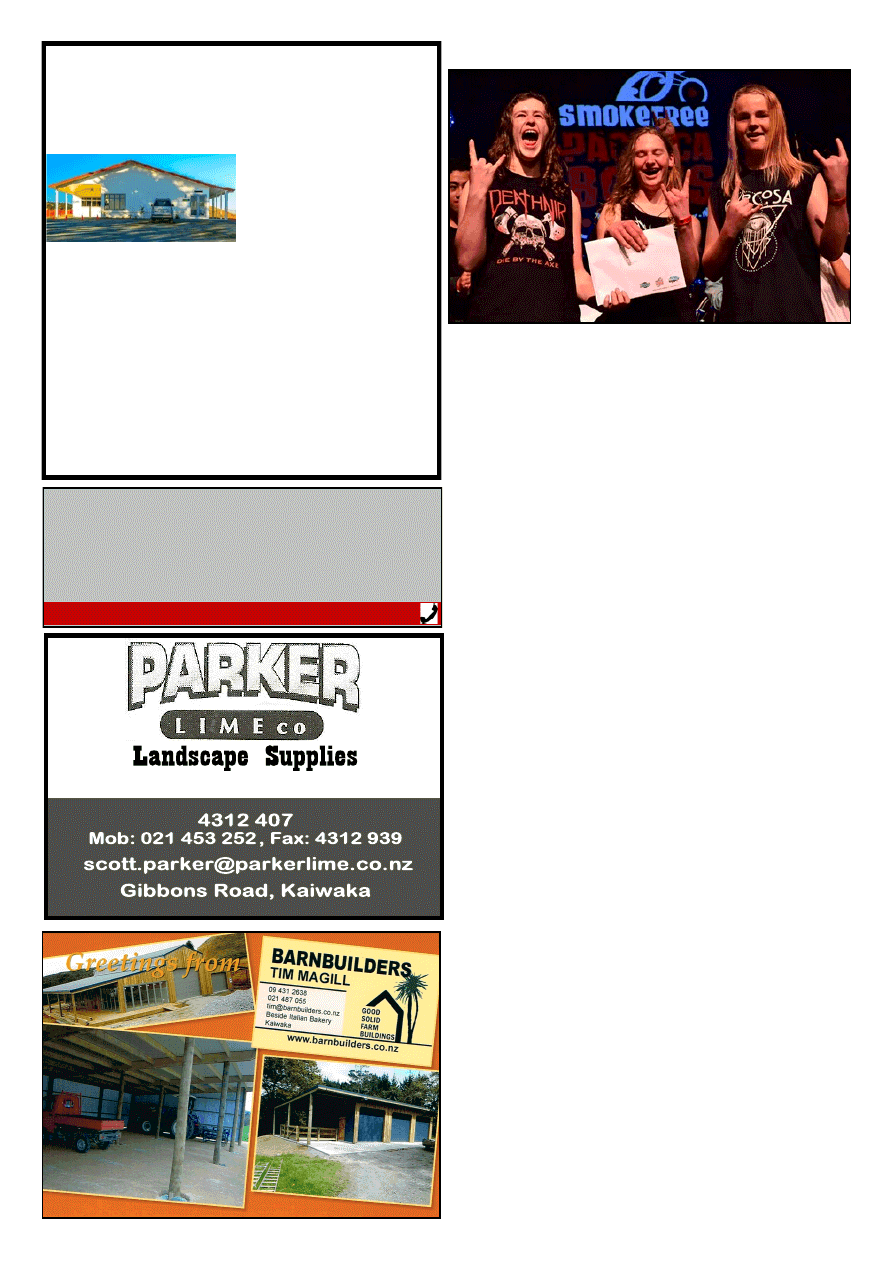 www.kaiwaka.co.nz 
Kaiwaka Bugle - 4 October 2016 
Page 15 
Te Pounga Marae 
130 Nathan Rd. Oneriri. Kaiwaka 0573 
COMPLEX FOR HIRE 
Functions 
* Weddings  * Birthdays  
*Anniversaries 
* Meetings  * Wananga 5 
hour meeting 
* 12 hour stay  * 
Overnight 
*All welcome - No more Drink-driving 
Amenities: 
*Convo Combi Steamer * Bratt Pan * Dish 
Washer/Sterilizer * 3 Door Glass Chiller (walk in) 
etc…All Crockery * Linen Supplied * Central 
Heating and Air Conditioning and much more. 
Can also cater for small groups…. 
For more information please contact: 
Kim Wallace 
Home: 09 832 1133  Mob: 0211275340 
Email: kimwallace@xtra.co.nz 
Bulk Cartage 
CALL CRIMESTOPPERS 
Worried about something that doesn't seem right to 
you? Concerned about activity that could be 
harmful? Call Crimestoppers.  
You don't need to know all the facts.
CALL 0800 555 111 ANONYMOUSLY 
ONE:  
It  was  Northland's  night  at  the  Smokefree  Pacifica  Beats 
national final with Alien Weaponry from Waipu taking the 
band section and Huia & Zaia from Whangarei winning the 
solo duo section, at the Raye Freedman Centre in Auckland 
on 23 September. 
Smokefree  Pacifica  Beats  is  the  sister  event  to 
Smokefreerockquest - it reflects the unique cultural identity 
of  Aotearoa  New  Zealand  and  numbers  Nesian  Mystik 
among its standout successes. 
The  judges,  Jeff  Newton  from  NZ  on  Air  and  musicians 
Anika Moa, Priya Sami, and Jason Kerrison said that Alien 
Weaponry nailed everything on stage. 
"Their drummer was the best of the night, their songs told 
moving stories of their Maori history and it's pretty unique 
to be a metal band with a Pacifica sound," said Anika Moa. 
Three-piece metal band Alien Weaponry is from Bream Bay 
College  and  Otamatea  High  School.  The  members  are 
brothers  Lewis  de  Jong  (guitar/vocals)  and  Henry  de  Jong 
(drums),  and  Ethan  Trembath  (bass).  They  win  a  $10,000 
New  Zealand  on  Air  song  and  video  recording  package, 
$3,000  in  vouchers  for  musical  equipment  from  Rockshop 
and ongoing mentoring from the Smokefreerockquest team. 
The band is also in the Smokefreerockquest finals. 
Bassist  Ethan  Trembath  said  the  competition  was  really 
stiff.
  "I  think  we  brought  our  game  and  went  pretty  hard, 
but  we  were  shocked  to  win,"  he  said.  "It's  not  often  you 
have  a  metal  band  at  this  event  so  we  had  that  level  of 
difference." 
AND TWO:  
Northland  metal  band  Alien  Weaponry  won  this  year's 
Smokefreeroquest  on  Saturday  night  24  September  at 
Auckland's Raye Freedman Centre, capping off their win of 
Smokefree  Pacifica  Beats  on  Friday  night  -  a  first  in  the 
events'  history.  Alien  Weaponry  drummer  Henry  de  Jong 
said  the  band  extracted all  the  energy  they  could  while  on 
stage:
  "It's  just  such  an  awesome  feeling  after  coming 
second last year - we're really stoked," he said. "We want 
to  share  our  music  and  get  out  albums  and  singles  as 
quickly as we can."
The  judges  were  Jeff  Newton  from  NZ  on  Air,  Edge 
Musical  Director  Reagan  White,  Dave  Munro from  Eccles 
Entertainment, and musicians Anika Moa and Evan Sinton 
from MAALA. 
Newton  said  the  judges  couldn't  fault  Alien  Weaponry, 
whom he described as a band that was beyond their years. 
"They believed in their identity as a metal band, their use of 
Te Reo was impressive, there's really not anything else like 
this in the world at the moment."
Their  Smokefreerockquest  prize  is  $10,000  in  Rockshop 
vouchers,  a  $10,000  NZ  On  Air    recording,  video  and 
promo  package'  a  'Decent  Exposure'  campaign  on  The 
Edge  TV,  a  photo  shoot  and  branding  package  from 
Imaginary Friends.  
Photo:  Alien  Weaponry  -  Henry  de  Jong,  Lewis  de  Jong  and 
Ethan Trembath. Credit Alex Hargreaves 
WINNERS: ALIEN WEAPONRY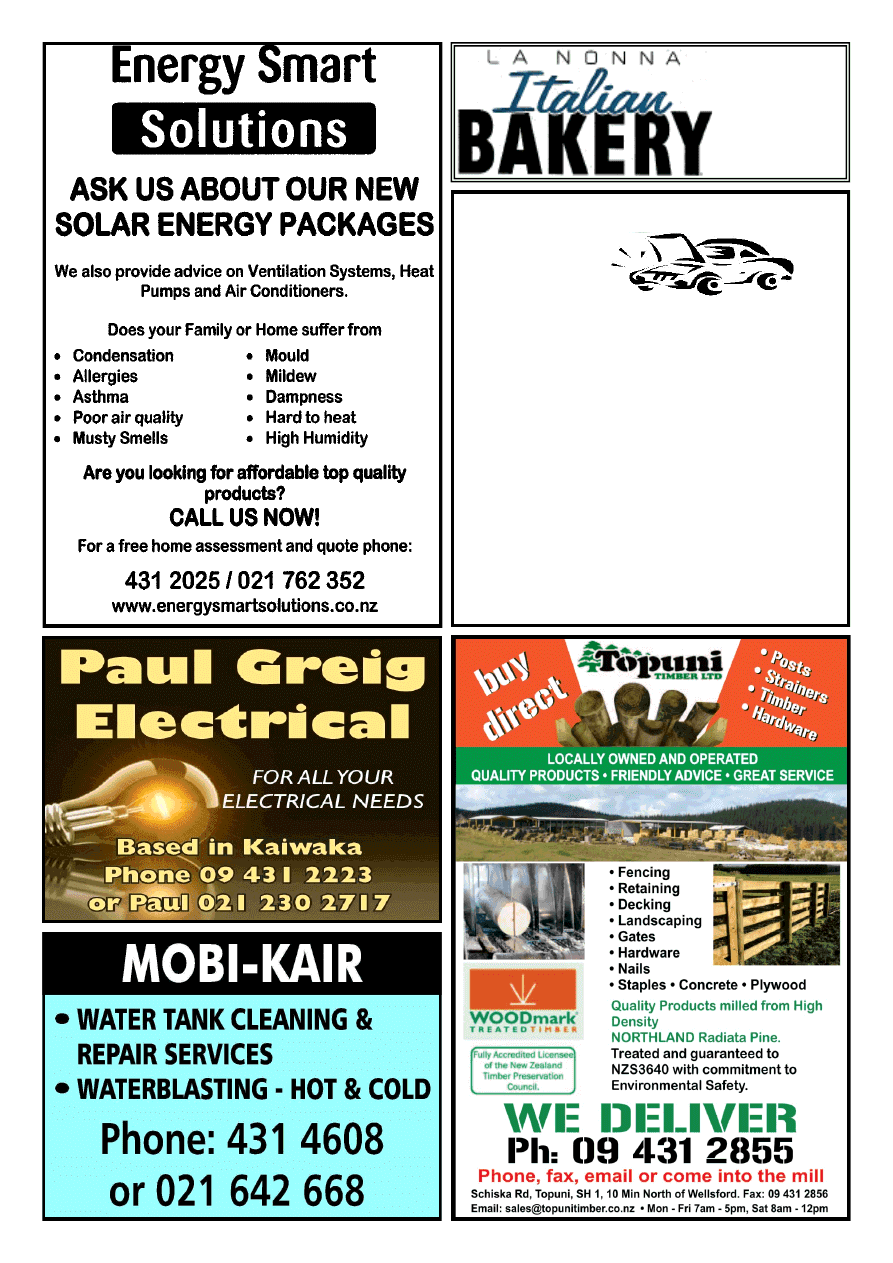 Twinkle Tow 'n' Tyre 
Think you'll get a better deal in the city? 
Ring us - it won't cost anything! 
1837 State Highway 1, Kaiwaka 
Phone 431 2823 
*W.O.F. 
*Tyres 
*Windscreen 
replacement 
*Chip repairs 
*Bulk Oil 
*Batteries 
*Welding 
*Custom built 
trailers 
*Trailer hire
1923c State 
Highway 1,  
Kaiwaka. 
Open 7am-4pm  
Tue to Sun. 
Closed Mondays. 
Phone 09 431 2643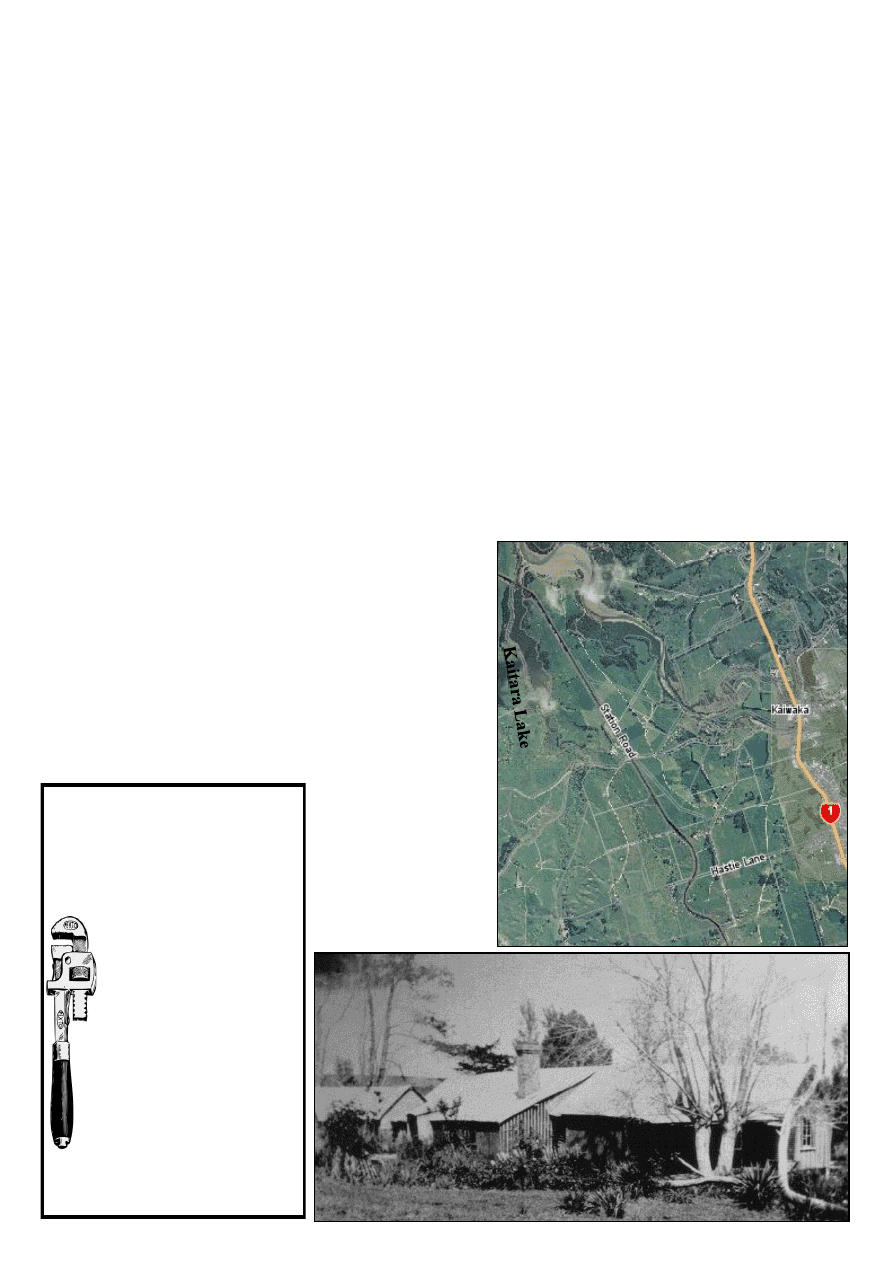 www.kaiwaka.co.nz 
Kaiwaka Bugle - 4 October 2016 
Page 17 
The  wee  'beaver'  dam  at  the  Kaitara 
bridge on Oneriri Road made me think 
of the Kaitara Creek, the Kaitara Lake 
and now there is Kaitara Lane south of 
here – off Pukenui Road. 
Back  in  the  early  1900s  the  rail  line 
was  progressing  northward.  The  Ross 
Hill  tunnel  was  completed  in  1910, 
then there was to be the easy downhill 
to the Otamatea River, but a couple of 
'bumps' happened on the way …. from 
"Hill  of  the  Sea  Bird"  by  AP  Watson 
"One  such  was  encountered  a  mere 
mile  beyond  the  Ross  Hill  tunnel. 
Thomas  William  Dowson,  pioneer 
settler  in  the  Kaipara,  was  a  man  of 
versatility,  a  capacity  for  hard  work, 
and with wide interests in local affairs. 
He was an observant man with a mind 
and will of his own - qualifications that 
led  him  to  become  the  first  local 
correspondent  for  the  Auckland 
Weekly  News.  As  pointed  out  in  the 
previous  chapter,  it  was  he,  as  a  lone 
settler,  who  was  responsible  for  an 
amusing  encounter  with  the  railway 
surveyors.  His  land  lay  across  the 
likely  route  for  the  railway,  and  his 
house in the centre of it. A man of such 
stature  could  afford  to  be  un-co-
operative.  He  objected  to  the  thought 
of  steam  engines  whistling  and 
clattering  through  his  lounge.  The 
railways  offered  free  house  removal  a 
chain  or  two  to  one  side.  Lands  and 
Survey  maps  of  the  fifties  and  sixties 
showed  clearly  who  was  the  one  who 
moved.  The  permanent  way  continued 
for  a  mile  beyond  the  tunnel  then,  in 
country devoid of any natural obstacle, 
took  a  short,  sharp  sidestep,  then,  as 
quickly,  resumed  its  previous  general 
direction. Eventually the track reached 
the  bottom  of  the  long  hill  and 
straightened  for  the  run  to  the  tiny 
Kaiwaka station." 
Sharon  Dowson  also  writes  of  this 
change  of  direction  in  her  book 
"Daffodils  Still  Grow  at  Heely  Field". 
'Heelyfield'  was  the  name  of  the  first 
Dowson homestead. She continued the 
story,  "so  close  is  the  line  that  smoke 
blew  into  the  house  from  passing 
trains.  He  [
Sharon's  great  grandfather  TW 
Dowson
]  persuaded  the  government  to 
build a bridge across the line so he that 
he had access to the rest of the farm". 
Continuing,  "A  mile  beyond  this  was 
the Kaitara  Creek,  leading  in from  the 
Kaiwaka  River,  beside  which  the 
railway  was  to  run  to  Young's  Point. 
Narrow at the mouth, it broadened out 
ran  inland  for  a  mile  as  a  tidal  flow, 
into  which  a  sluggish  creek  fed  fresh 
water  and,  at  that  point,  provided 
several crossings used as a shortcut by 
settlers living lower down the [Oneriri] 
peninsula.  Engineers  decided  on  a 
filling, rather than a bridge, to cross the 
mouth of the Kaitara. It would be five 
to  six  chains  in  length  and  would 
require  up  to  15,000  cubic  yards  of 
ballast, which would be brought to the 
site  by  rail  from  Wayby,  fifteen  miles 
to  the  south,  not  from  the  nearby 
Pukekaroro,  via  a  branch 
line.  In  the  event  the 
metal was unloaded from 
the  trucks  into  barrows 
wheeled  on  planks  either 
side  of  a  temporary 
bridge. 
When  completed  the 
crossing  sealed  off  for 
ever  the  tidal  flow  from 
the  Kaiwaka  river,  and 
held  captive  the  fresh 
water  running  into  it. 
Under  this  restriction  the 
small  estuary  became  an 
inland  lake,  and  the 
spillway,  built  into  the 
crossing 
immediately 
beneath the rails, ensured 
that  the  discharge  kept 
pace with the recharge, so 
the  captive  water  in  the 
new 
lake 
enjoyed 
constant  breadth  and 
depth.  Nature's  eventual 
response  was  to  invest 
the man-made lake with an abundance 
of  raupo  and a rich  mixture  of  swamp 
vegetation.  In  due  course  eels  found  a 
congenial home there, and the wildlife 
a  sheltered  breeding  ground"  AP 
Watson  then  records  a  wonderful  wee 
story about an eel told by the late Joker 
Donaldson.  "Regularly  in  May  and 
June  the  lake  provided  excellent 
shooting. Joker Donaldson, born at the 
turn of the century, drawing on a great 
storehouse  of  memories,  told  with 
undiminished relish of the time seventy 
years  back  when  he  dropped  his  gun 
overboard  from  his  home-made  punt 
among the reeds close to the bank. He 
stripped to his underpants, leapt in, and 
scrabbled round for it among the roots 
of  the  bulrushes.  A  very  large  eel 
wrapped its broad tail tight around his 
thigh. He shot to the surface and landed 
on  the  bank,  all  in  one  movement,  it 
seemed,  like  a  mullet  into  a  boat.  The 
sequel places Joker in a category of his 
own. "W hen I'd got over that I dived in 
again  and  recovered  the  gun."  There 
were some monster eels there all right, 
and plenty of them.". 
~ Lindsey 
Photo below: Google map showing railway and 
SH1; Heelyfield pre 1920 (Dowson).
BARRY CURTIS 
PLUMBING LTD 
REGISTERED CRAFTSMAN 
PLUMBER 
Phone 431 5572 
027 257 9884 
25 years' experience 
Friendly reliable service 
All plumbing  
& maintenance 
Alterations and new   
housing 
Spouting 
Competitive rates 
PROMPT EFFICIENT SERVICE
X Heelyfield 
THE LINE TO THE KAITARA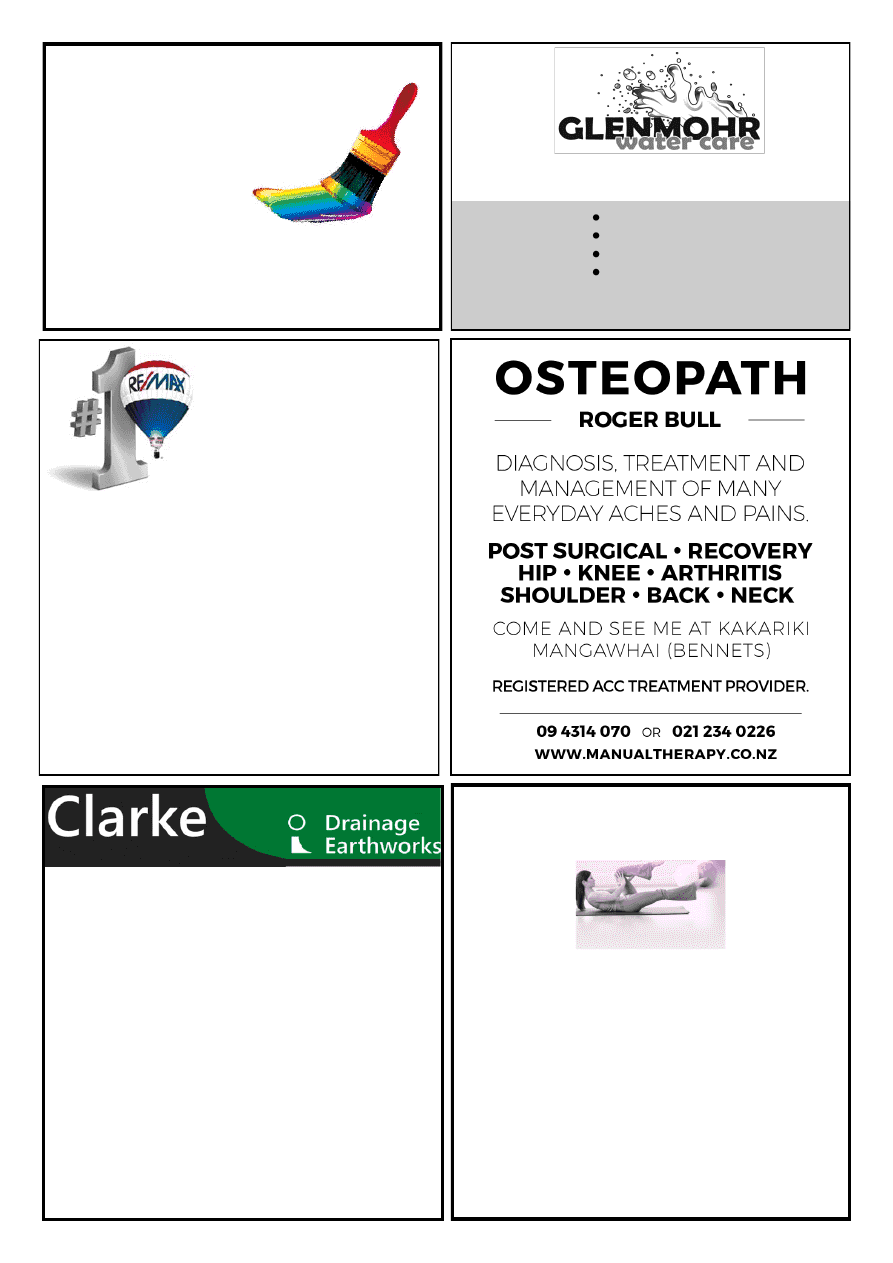 Registered Drainlayer 
All Types of Earthworks  
> All Residential & Commercial Work  > House Sites 
> Septic System Design & Install 
> Footings & Drilling to 10m 
> Sewer Connections 
> Dams 
> Water Tank Installation 
> Roading & Races 
> Farm Work 
THE ONE STOP SHOP  
Phone Nigel for an Obligation Free Quote  
Drainage & Earthmoving 
clarkedrainage@xtra.co.nz 
027 2233 185 
09 4312918 
0274735171 
leecooper@xtra.co.nz 
LEE COOPER PAINTERS 
(Kaiwaka Based) 
*30 yrs Experience 
*Interior/Exterior 
*New and Restoration 
*Honest and Reliable 
*Free Quotes 
Water Tank Cleaning 
Keep your water safe & clean  
Removal of sediment, silt etc. 
Vacuum or full scrub 
Minimal water loss 
Phone Mark (09) 432 0655 or 0274 707607 
There are more people 
wanting to buy than 
there are houses 
available!
Vacant land, home and income, DIY dream … 
whatever your property's condition there is a buyer 
out there waiting to give you their money. 
Get your local agent's appraisal of your property to 
find out what's it's really worth. 
Contact Beth Stone today! 
Mob: 0274 937 801 
Email: beths@remaxrealty.net.nz 
RE/MAX Realty Group MREINZ 
Northern Properties Limited 
Licensed REAA 2008 
Kaiwaka Pilates 
Beginners and Intermediate
Pilates mat classes with Amy Griffiths, local 
Physiotherapist and certified Pilates instructor.
Pilates aims to improve posture, 
flexibility and breathing. 
It strengthens and tones muscles, including the 
pelvic floor, and helps prevent injury
When:  6.15-7.45pm Thursday evenings
Where: Archie Bull Hall, Kaiwaka
Cost: $12/class. Each class is 1.5 hrs and 
includes a relaxation session at the end
Phone Amy on 
021 207 2729
 or 
4312 029
 for further enquiries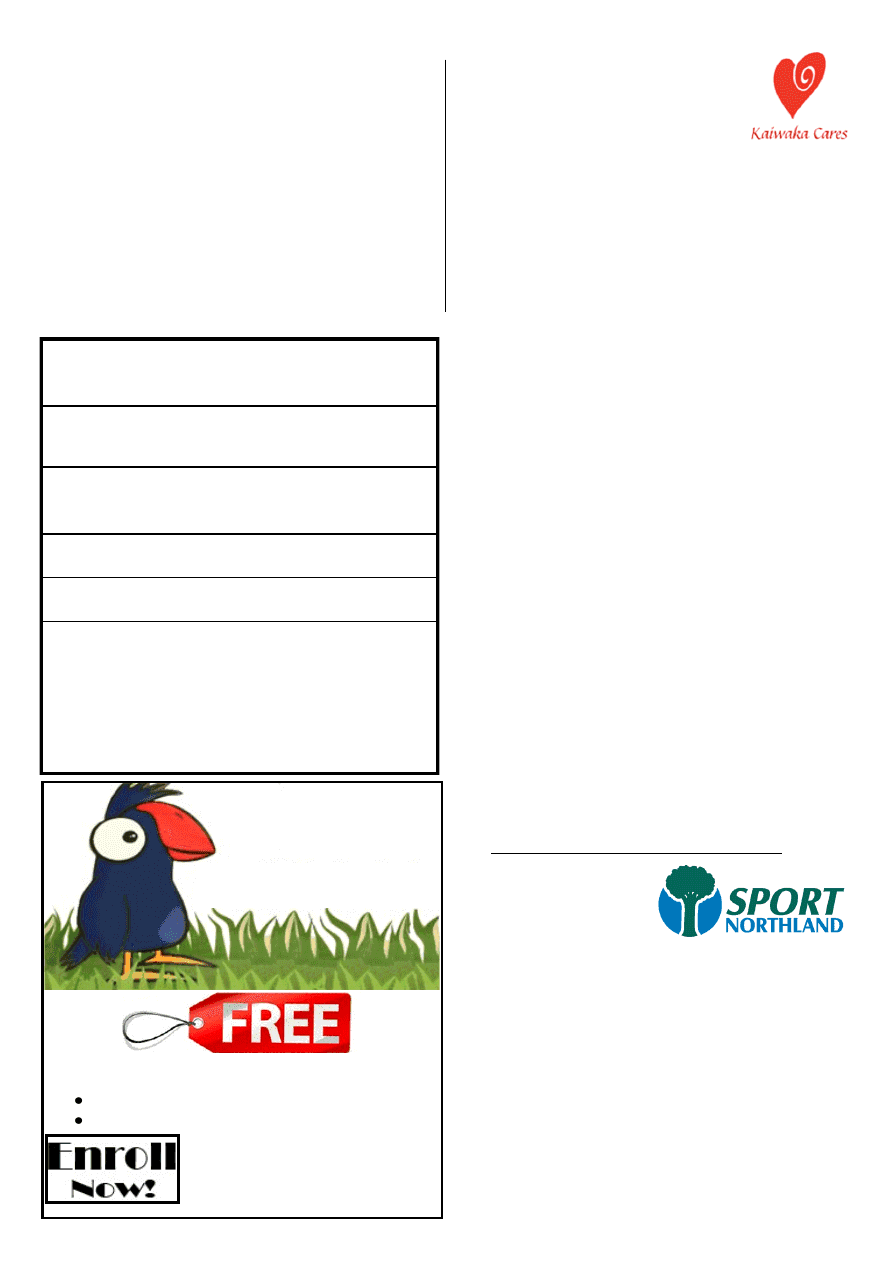 www.kaiwaka.co.nz 
Kaiwaka Bugle - 4 October 2016 
Page 19 
for children over 3 
Day care for children from 0 to 5 yrs old 
After school care for children over 5yrs old
 
Phone: 09 431 2842 
Email: smallpukekos@gmail.com 
Address: 8 Kaiwaka-Mangawhai Rd 
Website: www.smallpukekos.co.nz 
Small Pukeko's 
Early Learning Centre 
KATE'S PLACE 
We are making some exciting changes from October 2016. 
Our hours will be 9am to 3pm Monday to Friday. 
We  are  now  running  a  Community  Employment  Service, 
providing  support,  training,  CVs  and  assistance  to  anyone 
within Kaiwaka, Mangawhai, Maungaturoto and Wellsford 
areas. 
If  you  are  an  employer,  we  can  provide  you  with  all  the 
potential  employees  on  our  books,  so  email  us  your  jobs 
and we will also advertise for you. 
We are also offering free advocacy services for those who 
need  support  or  advice  on  legal  issues,  disputes,  either 
business or personal. 
We  want to  be  a  strong  force  in  the  community  and  hope 
you will come and see us soon.  
Contact us - phone  4312 661, iris.katesplace
@
gmail.com 
See us on Facebook at 'Kates Place'.
COMMUNITY EMPLOYMENT SERVICE 
Looking for work? Looking for staff?
Advocacy Service 
Advice - Support - Personal or Business
OSTEOPATH 
Owen Stevens - Last Friday of month
Weekly AA Meetings
Offices to Rent
@ Kate's Place, Main Highway, Kaiwaka 
 (side entrance) 
Ph 4312 661 
iris.katesplace@gmail.com 
fb: Kates Place 
Monday to Friday 9am to 3pm 
Thank You! 
It  would  be  an  understatement  to  say  we 
were  overwhelmed  by  the  support  for  the 
Auction.  Thank  you  to  everyone  who 
assisted.  Especially  the  Hakaru  Hall  team 
who  allowed  us  to  use  their  amazing  space  for  free.  To 
Bruce Ferguson and the Scouts who not only do an amazing 
bbq sausage, they went above and beyond and to help out. 
To Aunty Ma and Rau, Paula and Greg for everything they 
do  for  our  community,  especially  for  the  work  of  the 
Foodbank.  To  Cheryl  Anderson  and  the  KSA  who  are 
working tirelessly to get the Helipad installed and running, 
and also I found out on the day that Cheryl makes a great 
cup of tea. To Beth for coming up with the idea and running 
with it. For the rest of the Kaiwaka Cares team, as well as 
the Kate's Place team, who put up with the madness to get 
everything done. And to Nola and Ben Kloppers from RE/
MAX  who  were  great  help  on  the  day.  Especially  Ben for 
his great skills as an auctioneer. 
And  last,  but  not  least,  all  the  companies  who  donated. 
Whether  it  was  something  big  or  something  small  every 
dollar will make a big difference to our community so thank 
you. 
Now  I  know  a  lot  of  people  want  to  know  how  much  we 
made …. The total was just under $3400 so each group gets 
$850. So thank you Kaiwaka and surrounding districts.  
This was the first time that our team has run an auction. At 
times  it  was  a  steep  learning  curve.  In  the  end  it  was  a 
success and we know better now for next year. 
Donations for Scott Dalziel 
In  addition  to  the  money  from  the  auction  the  Kaiwaka 
Cares team were also gifted money that was donated in lieu 
of flowers at Scott's funeral. This money we have put aside 
and  we  are  going  to  come  up  with  a  fitting  way  to 
memorialise  Scott.  So  if  you  also  contributed  to  the 
memorial fund thank you. If anyone has ideas on what they 
think  would  be  the  best  way  to  use  this  money,  please 
contact  Janine  on  caring4kaiwaka@gmail.com  or  pop  into 
the social space. 
Give us your time … 
I know we are heading into a busy time of year. Whilst we 
will have a short break over Christmas we still need to keep 
going.  If  you  are  able to  give  some  time  even  a  couple  of 
hours  will  do.  We  are  a  supportive  and  caring  bunch  and 
would love to welcome some more helpers into our team. If 
you  are  interested  in  pop  in  and  say  hi  or  email 
We  have  so  many  ideas  and  things  we  want  to  do  for  our 
community, so watch this space! ~ Janine Boult, Chair 
KAIWAKA CARES 
ASB NORTHLAND 
SECONDARY 
SCHOOLS SPORTS 
AWARDS  
With  a  record  340  nominations,  163  individuals  and  three 
teams  have  been  named  as  finalists  at  the  2016  ASB 
Northland Secondary Schools Sports Awards. A total of 21 
Northland Secondary Schools are represented from Kaitaia 
to Wellsford. 
The  regional  annual  awards  acknowledge  outstanding 
student  sporting  achievements  in  recognised  secondary 
school sport, like golf and rowing as well as achievements 
in  sporting  codes  not  offered  at  a  secondary  school  level, 
like boxing and pistol shooting. A total of 43 sporting codes 
will be represented. 
The  2016  ASB  Northland  Secondary  Schools  Sports 
Awards will take place in the ASB Stadium, Whangarei, on 
Thursday October 27. 
Otamatea High School nominees: Tyler  Por teous – equestrian, 
Joshua Nishitani-Hart - football, Shuntel Rika - netball, Annmarie 
Holst - squash.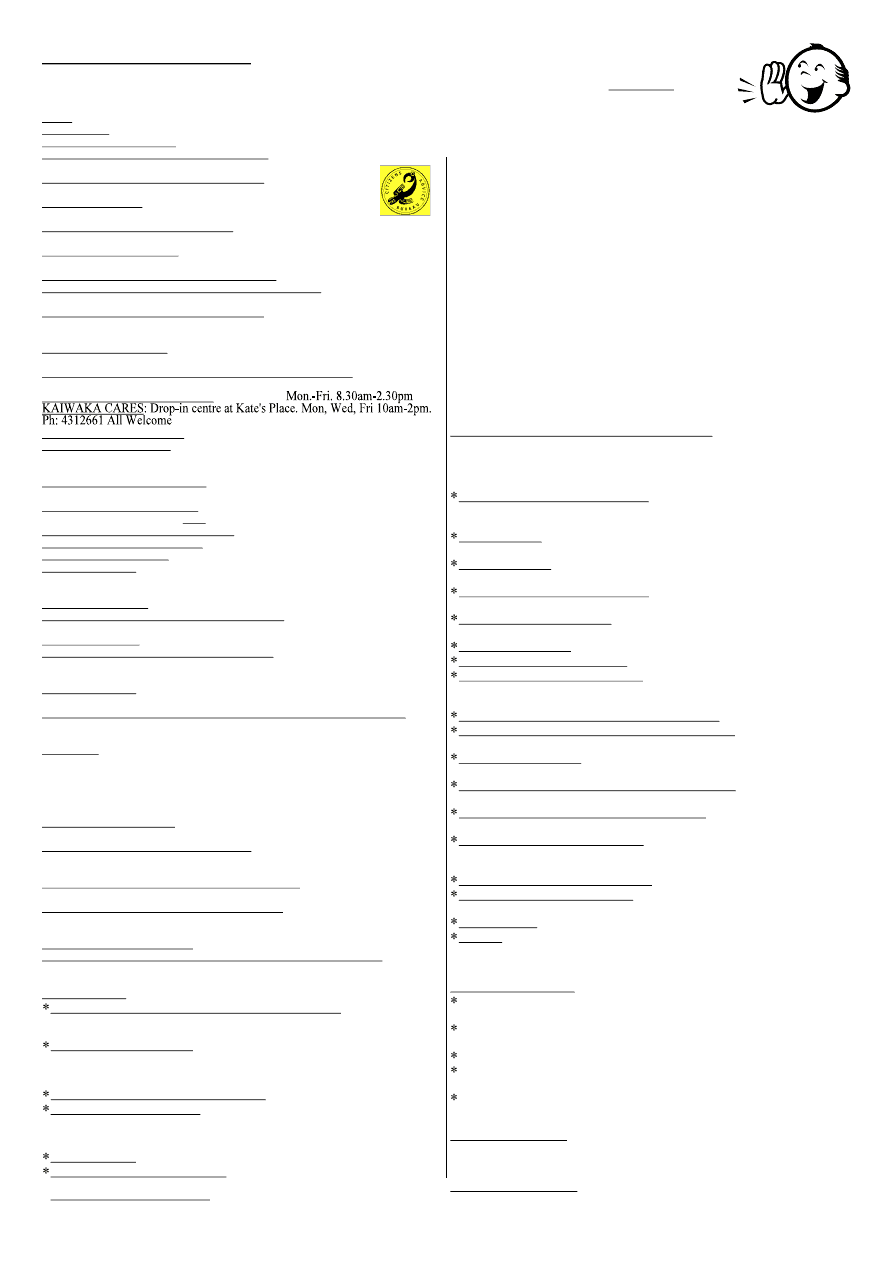 LOCAL SERVICES 
*Emergencies - Ambulance, Fire, Police - dial 111 
*Non-urgent Police phone 09 4311150
A A: Meets Wed., 8pm Kaiwaka Ph: 4312228, 4315543, 0800229 6757 
AL ANON: In recess, contact Ph: 4312228 
ASUREQUALITY LTD (was AgriQuality) Call Free 0508 0011 22  
BUDGETING SERVICE, WELLSFORD: Free confidential advice & 
support for all areas of personal finance. Ph (09) 423 7123 
CAB-Citizens Advice Bureau.Wellsford Ph: 4237333 
0800 367 222 email:cab.wells@xtra.co.nz  
CIVIL DEFENCE - Kaiwaka Community Response Group: 
kaiwaka.civildefencecrg@gmail.com, 4312725 Wendy 
DOG/STOCK /NOISE CONTROL 0800 105 890 
FUNERAL SERVICES: Morris & Morris Ltd, 
Whangarei - Bev Jaques Ph:4312367 or 0800667747 
GRANDPARENTS Raising Grandchildren: Dianah Roberts 0223819539 
HAKARU & DISTRICTS MEMORIAL RSA (Inc) 733 Settlement Rd, 
Hakaru. Ph 4312 176 or Graeme Hitchcock (President) 431 3064 
HAKARU LANDFILL/Transfer Station:Open everyday except 
Tuesday10am-4pm.Ph4312629 Cost-$55 trailer load up to 1 cubic metre. 
Ph:4258567 - office 
INLAND REVENUE: Last Friday each month, 11-3pm Ph4312661 
KAIPARA DISTRICT COUNCIL www.kaipara.govt.nz:  
Help Desk FREEPHONE 0800 727 059  
KAIWAKA KOHANGA REO: Ph:4312620 
KAIWAKA CEMETERY: Ph: 4312045 
KAIWAKA LIBRARY: kaiwaka.library@gmail.com  
Mon. 4-6pm; Wed., Thurs., Fri., Sat. 10am-2pm Ph:4312539 
KAIWAKA PLAYCENTRE: Ph: 4312286. Hastie Lane 
Monday to Friday 9.00am - 12 noon. 
KAIWAKA POST OFFICE:Ph:4312 431  
Post Code: 0573 for RD2 and 0542 for all Kaiwaka Post Office mail 
KAIWAKA PRIMARY SCHOOL: Ph: 4312309   
KAIWAKA SPORTS ASSN: Ph 4312005; 4312129 gym 
KAIWAKA ST JOHN: Manager Steve Rosser 09 4318403, 021 2316836 
KATE'S PLACE with Govt.Day Agencies/Community Information /
Osteopathy/ IRD / Probation, etc Ph: 4312661 Hours: 9am-3pm. Mon - Fri 
LINKING HANDS Health Shuttle Ph 4314121 or 09 4318969 
MINISTRY FOR PRIMARY INDUSTRIES - General inquiries Call 
Free 0800 008 333 
NORTHPOWER: Faults Kaiwaka area 0800 104040 
OTAMATEA COMMUNITY SERVICES: Counselling, parent coach, 
Family Support worker, budget advice, food bank. Mon-Fri 9am-30m. Ph 
09 431 9080 http://www.otamateacs.org/ 
PARENTPORT: Free, practical family support service Puhoi to Paparoa 
Ph or txt: Dianne 027 2085093 
PERSONAL DEVELOPMENT COACHING, GROUP FACILITATION:  
Sabine Druckler 4312231 
PLUNKET: Kaiwaka - Kaiwaka War Memorial Hall: Clinic 1st Wednesday of the 
month; Coffee Group at 9:30. Mangawhai  - Rose Madsen Cottage, Mangawhai 
Domain,  Moir  St:  Clinic  1st  and  3rd  Monday  of  month;  Young  Babies  Coffee 
Group  2nd  and  4th  Monday  10  am;  Plunket  Playgroup  every  Thursday. 
Maungaturoto - Maungaturoto Congregational Church, 100 Hurndall Street East: 
Plunket clinic 2nd and 4th Wednesday. Cynthia 09 431 8187 or 027 675 3488 
PLUNKET HELPLINE -0800 933 922 (24 hours) 
TAITOKERAU COMMUNITY LAW: Free confidential legal advice and 
assistance, 2nd
Thursday
 of each month. Ph: 0800 155 529 for 
appointments.  
TE KOROWAI AROHA O NGATIWHATUA Ph: 4312675 
(The Cloak of Love of Ngatiwhatua) Support and Maori Consultancy.  
VETERINARY SERVICE MANGAWHAI: 
Ph: 4314535 Mon-Fri 8.00-5.00, Sat 9-12, a/h appt. 
WELLSFORD DOCTORS: Ph: 4238 086 
WOMEN'S WELFARE LEAGUE & Reaching Out For Youth:  
4 Kaiwaka-Mangawhai Rd, M Morgan 4312293 
CHURCHES:
Kaiwaka Revival Church - Your Community Church: Sundays 10am & 
6pm. Ph: Pastor Tawhiri 09 4312 571 or Pastor Paul 09 4312 068 Visit 
us at www.facebook.com/kaiwakachurch 
St Paul's Anglican Church 1st Sun. 9.30 am (Eucharist), 3rd Sun. 9.30 
am (Family Service). Contacts: Church Office 09 431 4122; M. 
Hargreaves 431 2295; C. Bygrave 431 2057; or Rev. Wayne Thornton 
Ph 431 5650 www.mangawhaianglican.org.nz 
Church of Christ the King, Mangawhai:9.30am every Sunday 
St.Mary's Catholic Church: Maungaturoto – Griffins Road, Saturday 
evening Vigil Mass 6pm; Mangawhai – Senior Citizens Hall, Sunday 
Mass 8:30am; Wellsford – Matheson Road, Sunday Mass 10:30am;  
Mid-week Mass times and all enquires to Fr. Bill Fletcher – phone 423 8170
Baptist Church: Sun. 10.30am Mangawhai Snr Cit.Hall.Ph:4312339 
Cause Way Church Mangawhai: Sundays 10.15am, Mangawhai 
Community Recreation Centre, Insley St. Ph: 09 4314782 
Next Bugle Deadline midday Friday 30 September 2016
WHAT'S ON
PLEASE ~ do let us know what is on - email 
kaiwakabugle@kaiwaka.co.nz 
Advertising in WHAT'S ON is FREE  
*2Oct~St Francis of Assisi Service, 9:30am Mangawhai Anglican 
*3Oct~Kaipara Sports Awards nominations close 
www.sportnorthland.co.nz 
*6Oct~Seeds Fundraiser orders close 
*7Oct~Queen Live, 7:30pm KWMH (tickets only) 
*8Oct~Voting closes for local body elections 
*1Oct~Te Pounga Marae AGM, 10:30am Nathan Road 
*11Oct~KWMH AGM 5pm KWMH 
*15Oct~Kids Disco, 7pm KSA 
*16Oct~Fast Five Finals, 2pm KSA gymnasium 
*17Oct~Kaiwaka Tennis AGM, 4pm KSA 
*17Oct~Kaiwaka Tennis starts, Ph Floyd 022 4769669 
*20Oct~Agricultural Day, 9am Kaiwaka School 
*21Oct~Love and Friendship, 7:30pm KWMH 
*26Oct~Kaiwaka Christmas Shopping Night, 6pm KWMH Ph 
Janine 0276636802 
KWMH=Kaiwaka War Memorial Hall 
KSA=Kaiwaka Sports Association Complex 
OHS=Otamatea High School 
See www.kaiwaka.co.nz for more information 
HOUSEHOLD RUBBISH COLLECTION - Kaiwaka Pick up: 
Mondays = Gr een bags (Nor thland Waste - 09 430 3273) 
Wednesdays = Blue bags and yellow r ecycling (at J aques $3.00 
and $1.50) (Kaurilands 09 4392146) 
 DIABETES  Support  Group  -for  Kaiwaka,  Mangawhai, 
Wellsford  10am,  3rd  Friday  of  month  Ph:A.Pert  4238242; 
J.Gardner 4238060 
 DRINK CAN 'tear tabs' - for Starship Hospital- please collect - 
98 Kaiwaka Mangawhai Rd, leave in mailbox, Ph. 4312625  
 GENEALOGY - Wellsford: 1st Thursday in month Ph: 423 
7033; Waipu: 4th Monday in month Ph: 4312 725 
 GYMNASTICS  OTAMATEA  -  Tuesday  Ph:  Stephanie  022 
3624998 
 HAKARU PONY CLUB - Secretary Denise Rogers 021423376 
secretary@hakaruponyclub.co.nz  
 KAIPARA HUNT - Secretary Albert Doonenbal Ph 4312059 
 KAIWAKA BADMINTON -Tuesdays 7.30pm Ph: 4312345 
 KAIWAKA  DRAMA  CLUB  -  Dave  Edwards  021  611198  - 
KaiwakaDrama@gmail.com Monday 5:30-7:00pm KWMH - FB 
- "KaiwakaDramaClub" 
 KAIWAKA DRUM & DANCE CLASSES - 021 611198 
 KAIWAKA GARDEN & FLORAL GROUP - 2nd Thursday in 
month. Ph: 431 4767 
 KAIWAKA  CUBS  -  Thursdays  5.30-7pm,  Hakaru  Ph:Bruce 
4312542 
 KNITTING FOR WHANGAREI HOSPITAL - 2nd Tuesday in 
month, Apple Basket 10am Ph 4314827 
 MANGAWHAI COMBINED PROBUS CLUB - 2pm, 3rd 
Thursday month, Senior Citizens Hall Mangawhai. Ph: 4315777 
 OTAMATEA GREY POWER - Kath Pattinson 09 431 8960, 
1pm last Wednesday of month, Anglican Church Hall, 
Maungaturoto 
 PT CURTIS CRUISING CLUB - Jean Ph: 4312227 (wk), 4312520 (hm) 
 RSA,Hakaru & Dist.Women - meet 1.30pm 4th Thurs in month 
Ph: 4314 668  
 TRAMPING - Mondays 9am-2:30pm Maria 4312 234 
 YOGA  -  Tuesdays  6:15pm,  Friday  8:30am  KWMH  Carla  Ph: 
021  296  8794;  Wednesday  5:30-7:00pm  Archie  Bull  Hall 
Dalleise Ph 4312 108 
HALLS FOR HIRE: 
 St.Pauls Archie Bull Hall HIRE $20 half day, $40 full day per 
hire, R. Morgans, Ph 4312365 
 Kaiwaka  War  Memorial  Hall  HlRE  -  Phone  4312725  or 
kaiwaka.hall.bookings@gmail.com 
 Hakaru Community Hall HIRE -Ph. 4312256 or 4312110 
 Te Pounga Marae queries - R. O'Leary 4312 423, J.Nathan 021 
186 7382 
 Kaiwaka Sports Association hire/queries - C. Anderson 4312051 
or kaiwakasports@gmail.com 
Justice  of  Peace:  B.FJaques;  L.Donaldson;  A.F.Hargreaves, 
W.Howard  -  please  phone  to  make  sure  they  are  available 
www.justiceofthepeace.org.nz 
Marriage Celebrants: L.Donaldson; A.F.Hargreaves; C.Rosseels