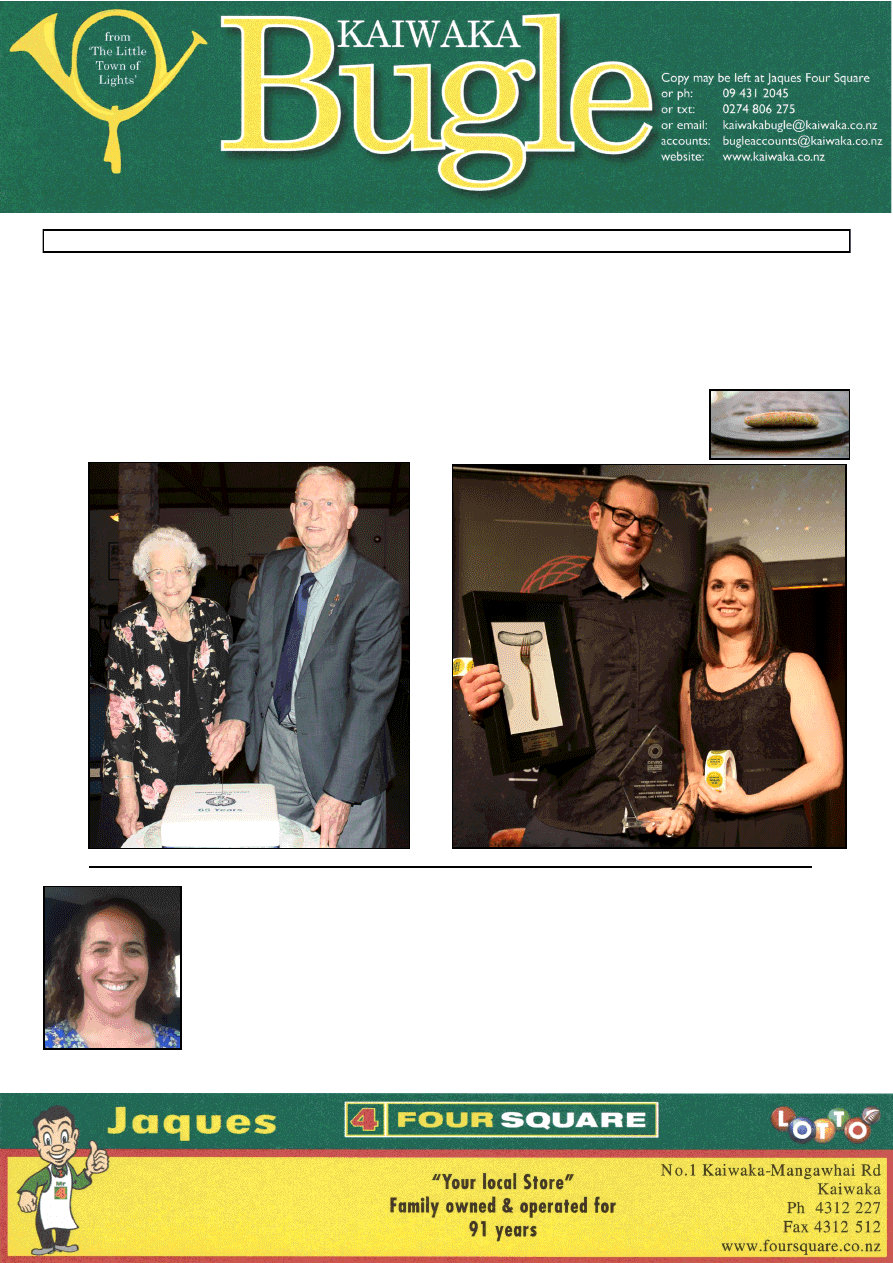 www.kaiwaka.co.nz 
Kaiwaka Bugle - 18 October 2016 
Page 1 
 No: 20
18 October 2016 
Winter Trading Hours: 
Mon - Fri: 8am to 6pm 
Sat: 8am to 7pm (Lotto) 
Sun & Public Holidays: 9am to 5pm 
TE HĀ ORANGA  
BRINGS NURSING CLINIC BACK TO KAIWAKA 
Te Hā Oranga is a Ngāti Whātua led health provider covering the wider Kaipara area. Our mission 
statement is 'Kaua e mahue te tahi atu ki waho' which means in English 'We don't leave anyone 
out'. We accept anyone and every culture to utilise the health services that we are able to provide. 
Our  Kaiwaka  local  Naomi  Walker  (pictured  left)  who  is  a  registered  nurse  with  Te  Hā,  will  be 
facilitating the free weekly nursing clinic at Kates Place in Kaiwaka.  
The blessing of the nursing clinic will be Wednesday 26th October at 10am followed with morning 
tea. The  clinic  will be open to the  community the following day on Thursday 27th October from 
9am. 
(Continued on page 2) 
DAN KLINK MAKES THE 
BEST SAUSAGES IN THE 
COUNTRY! 
Congratulations  to Kaiwaka local Dan Klink, owner of the 
Mangawhai Meat Shop, for winning  the Supreme Award at 
the  Devro  Great  New  Zealand  Sausage  Competition  2016, 
for 
his 
Chicken, 
Lime 
and 
Lemongrass sausages last week. 
Pictured:  the  now-famous  sausage, 
and  Dan  and  Ange  Klink  with  their 
award. 
BRIAN JAQUES JP, QSM 
Last  weekend,  the  Northland  Justices  of  the  Peace 
Association  held  its  Annual  General  Meeting,  and 
celebrated its 65th anniversary. Joan Howse, retired JP, and 
Kaiwaka's Brian Jaques cut a cake to mark the occasion. 
Brian  has  been  a  JP  for  45  years,  having  been  sworn  in  at 
the Maungaturoto Court in 1971. He was nominated by the 
then Otamatea County Council, while he was running the FJ 
Jaques Store, now known as Jaques Four Square. 
There  are  four  Justices  of  the  Peace  in  Kaiwaka  -  Brian, 
Tony Hargreaves, Lenore Donaldson and Wendy Howard.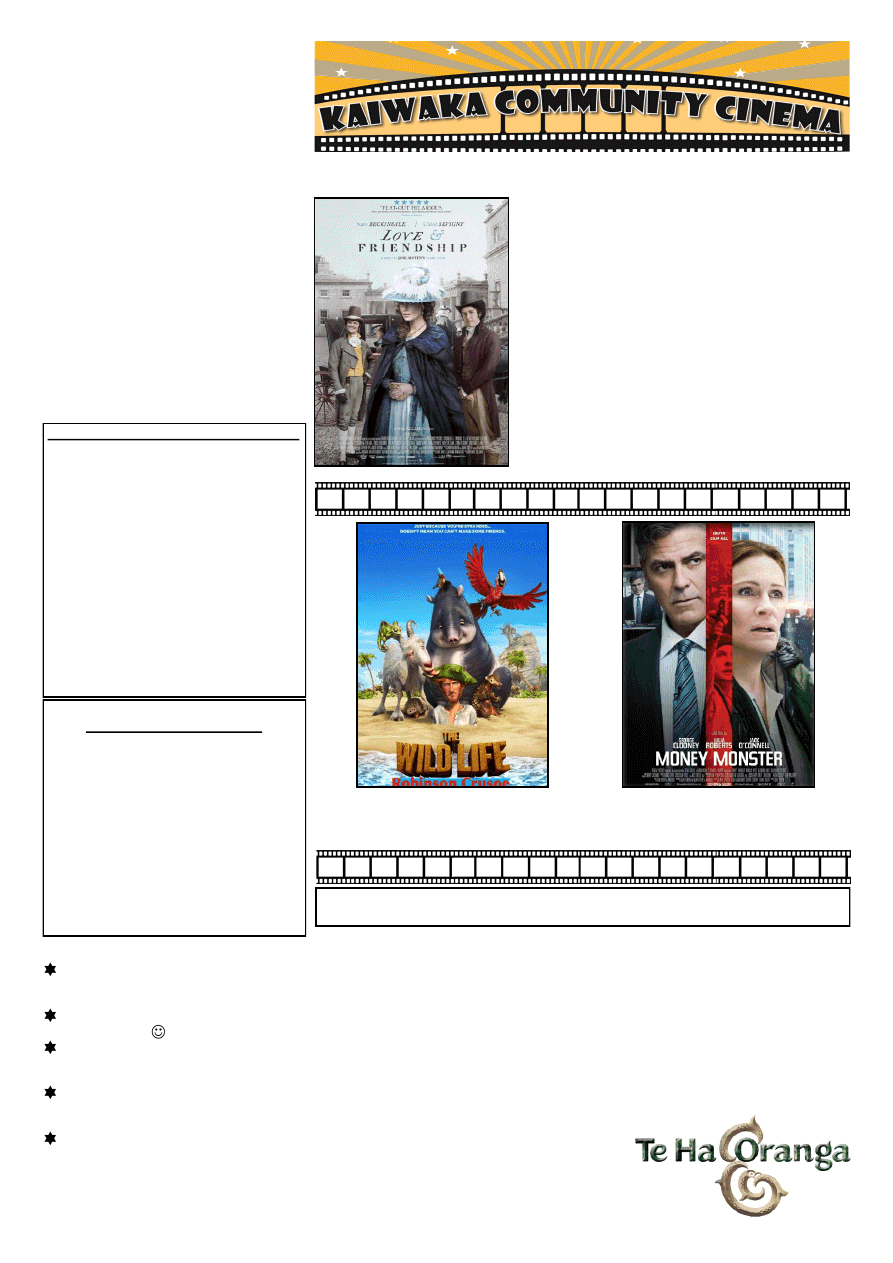 ABOUT TOWN 
......... 
See  you  at  the  breakfast  for  the 
Helipad fundraising, 7am-9am Friday 
21 Oct at the Fire Station. 
Great  to  see  the  KSA's  Kids  Disco 
was a success.   
Labour  Day  was  first  celebrated  in 
New Zealand on 28 October 1890; the 
holiday was 'Mondayised' in 1910. 
Thank  you  to  Sharon  Middleton, 
who  reads  the  Bugle  from  Perth,  for 
her Dowson family article. 
If  your  printed  copy  does  not  look 
clear,  please  go  to  our  web  site  to 
view  it.  We  had  technical  difficulties 
with  this  issue  which  meant  some 
pages aren't of our usual quality. 
KAIWAKA BUGLE No: 20 
18 October 2016
Page 2: Kaiwaka Movies 
Page 3: Public Notices; Classifieds 
Page 5: What The Planners Forgot 
Page 7: St John, Have A Heart 
Page 9: Kaiwaka School 
Page 11: Kaiwaka Cares, Fright Night 
Page 13: Speed Limits 
Page 15: Kaiwaka Sports Association 
Page 17: Kaiwaka History—Dowsons 
Page 19: Kaipara District Council 
Page 21: Grey Power, OHS, KWMH 
Bugle 21 will appear 1 November 2016 
Contact for advertising, reports, articles 
or information can be made by: 
Email kaiwakabugle@kaiwaka.co.nz 
Ph: 09 4312 045 (Lindsey) 
Txt:  0274 806 275 (Wendy) 
Copy may be left at Jaques' Four Square.
Kaiwaka Bugle 
Founded May 1978 
We appreciate articles and photos about local 
events, etc., as well as ads and suggestions. 
Copies available in Kaiwaka at Jaques Four 
Square, Kaiwaka Postal Centre, Shamrock 
Service Station, Animal Health Centre, 
Kaiwaka St John shop. 
Also outlets in Maungaturoto, 
Mangawhai and Paparoa. 
Can be viewed online at  Facebook or 
www.kaiwaka.co.nz/Bugle  
Or a copy can be posted to you if you supply 
stamped, self-addressed DLE envelopes. 
At Kaiwaka War Memorial Hall . Adults $10, Chn (under 16) $5, Family Pass (2 adults + 3 children) $25 
The Wild Life 
Sunday 30 October 2:00pm (PG)
Money Monster 
Friday 9 September 7:30pm (M)
Kaiwaka Bugle Advertisements 2016: 
All 
copy 
and 
queries 
to: 
kaiwakabugle@kaiwaka.co.nz 
Our A4 page is divided into 6 columns & 
8 rows (48 blocks), with a 1cm margin. 
Ad  sizes:  1/16  page  (3  blocks)  $5;  1/8 
(6 blocks) $8; 3/16 (9 blocks) $12.  
Classified  ads:  $4  per  entry  (max.  30 
words, max. 4 repeats). 
Payments  can  be  made  online,  posted 
or left at Jaques Four Square Store. 
Accounts: 
bugleaccounts@kaiwaka.co.nz 
The  Kaiwaka  Bugle  is  a  community 
newspaper run by volunteers.   
Articles, etc. printed are not necessarily 
the opinion of the Bugle Team. 
Love & Friendship 
Friday 21 October 7:30pm (PG)
Set  in  the  1790s,  Love  and  Friendship 
centers  on  beautiful  widow  Lady  Susan 
Vernon, who has come to the estate of her in
-laws to wait out colorful rumors about her 
dalliances circulating through polite society. 
Whilst  there,  she  decides  to  secure  a 
husband  for  herself  and  her  rather  reluctant 
debutante daughter, Frederica.  
Starring: Kate Beckinsale, Chloe Sevigny 
The  community  voiced  the  need  to  have  a  health  service  of  some  sort  after 
losing previous GP and nursing services some years ago. Te Ha was approached 
by  Iris  Kelly  of  Kate's  Place  who  requested  the  possibility  of  such  a  service, 
Clinical  Manager  for  Te  Ha  Oranga  Rhonda  Zielinski-Toki  was  more  than 
willing  to  trial  the  provision  of  this  service.  We  encourage  the  community  of 
Kaiwaka 
to 
make 
full 
use 
of 
this 
free 
weekly 
clinic. 
Services  available  are  Well  Child  checks,  Before  School  checks,  Ear 
assessments, Chronic Care assistance and General Health checks. The clinic can 
also  do  vaccinations  and  smears  by  prior 
arrangement. 
Clinic day is every Thursday from 9am to 3pm. 
If  you  need  to  make  an  appointment  you  can 
phone  Kates  Place  on  431  2661 otherwise  you 
can  phone  Te  Hā  for  more  information  on 
0800  MY TE HA (0800 69 8342).  
(Continued from page 1) 
TE HĀ ORANGA NURSING CLINIC 
The average person's left hand does 56% of the typing. TYPEWRITER is the 
longest word that can be made using the letters only on one row of the keyboard.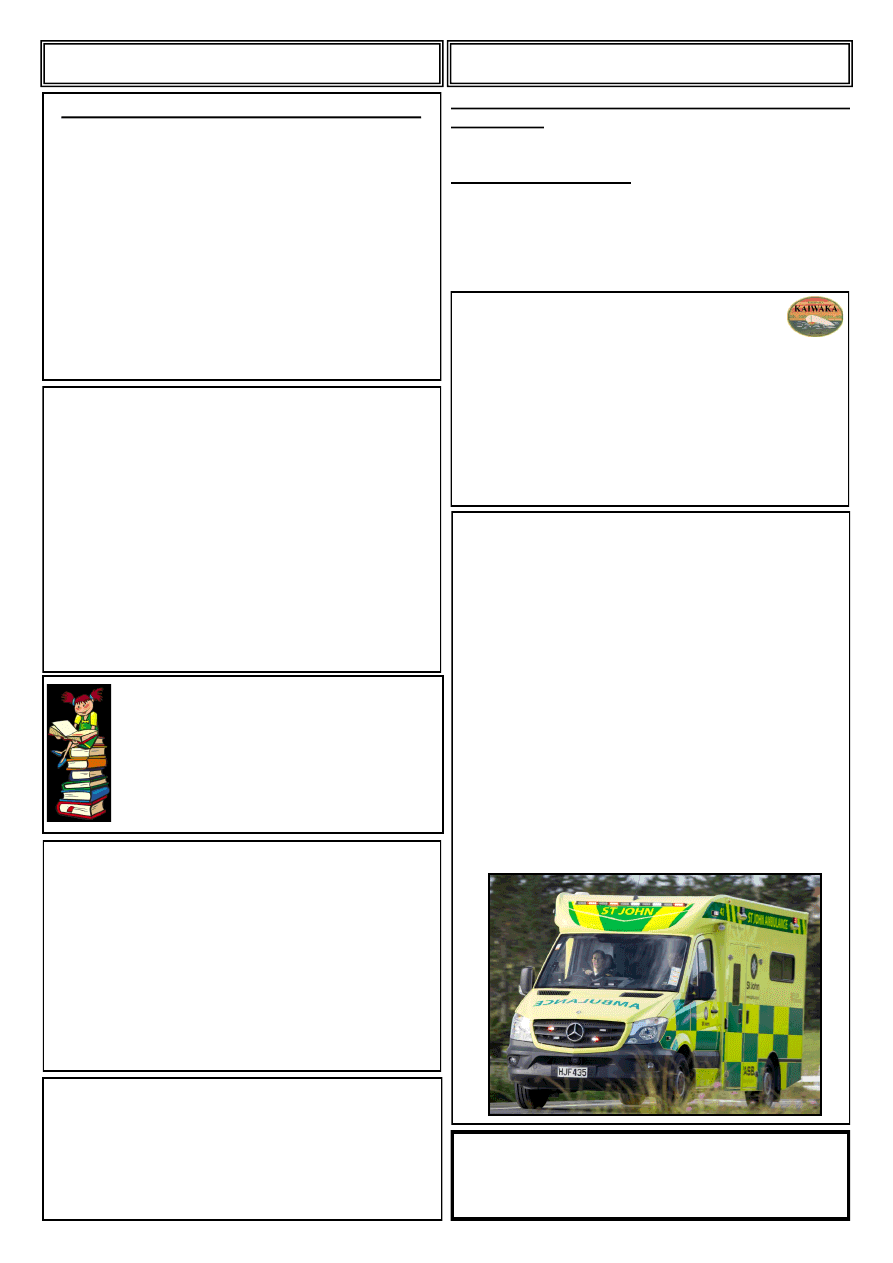 www.kaiwaka.co.nz 
Kaiwaka Bugle - 18 October 2016 
Page 3 
PUBLIC NOTICES 
CLASSIFIED 
Proverbs 12:19 
Truth stands the test of time: lies are soon exposed.  
MARRIAGE CELEBRANT / WEDDING EVENTS 
PLANNER: Yvonne Osborne Ph 0274 989 814, 
yvonne.osborne@xtra.co.nz  
CHRISTMAS TREES: Kaiwaka/Maungatur oto  St. 
John  will  be  selling  Christmas  trees  this  year  in 
December they will be available from the Kaiwaka Op 
shop  and  from  the  Maungaturoto  Station.  Remember 
you  can  pre  order  these  from  Monique  by  either 
ringing or texting her on 0211622482. We will let you 
know the exact date later in November of their arrival. 
Kaiwaka Library 
Used Book Sale 
$1 each, 3 for $2 or 10 for $5 
NEW SELECTION OF BOOKS! 
MAUNGATUROTO BOWLING CLUB
Would you like to try lawn bowls?
The Maungaturoto Bowling. Club extends a warm 
welcome to those wanting to learn to play bowls. 
There are casual roll ups every Tuesday mornings at 
9.30am. Twilight bowls will be starting Friday 28th 
October from 5.30pm and will be running Friday 
evenings through the summer.
The Maungaturoto Bowling Club is over 100 years 
old and is a proud and successful Club. All people, 
all ages would be made very welcome. The Club is in 
Bickerstaffe Road, Maungaturoto, next to the 
Country Club.
Any enquiries please phone Ted 431 8249, 
Rex 431 8266, or Margaret 431 8296 
ST JOHN AMBULANCE 
St  John  is  looking  for  people  to  become  ambulance 
operational volunteers.  
Both Kaiwaka and Maungaturoto ambulance stations 
have  dedicated  volunteers  who  respond  to  medical 
emergencies in areas such as Tinopai, to the north of 
the  Brynderwyns,  south  to  Ross  Road,  and  East  to 
Mangawhai. 
With  a  large  area  to  cover,  St  John  is  looking  for 
people who care about their community and are keen 
to  work  out  of  both  these  Stations.  Training  is 
provided  and  it  can  be  the  start  of  an  exceptional 
career in the ambulance service. 
Our stations have a supportive management team and 
area  committee.  Come  join  the  St  John  team  and 
make  a  difference  in  your  community.  If  you  are 
interested  please  contact  the  Station  Manager  at: 
021355734 or just have a chat to any of the members. 
We do need you….  
The St. John Team 
KAIWAKA ST.JOHN OP SHOP 
 Many thanks to the Kaiwaka Community for your 
support of our shop. At present we have a shortage of 
the following; Towels, Face cloths, Hand towels, 
Single, Double and King Sheets, Cooking Pots, 
Garden Pots, but not plastic ones. 
Thank you, Milly 
POINT CURTIS 
CRUISING CLUB 
Congratulations to the  fish of the month winners for Snapper: 
1st: Keith Mills 4.06kg 
2nd: Gravy 3.409kg 
3rd: Keith Mills 3.20kg 
New fish of the month is Snapper.  You can weigh your 
Snapper in at 3 Furlongs Bar & Grill, cut off date for this 
months competition is 8th November 2016. 
Next committee meeting Tuesday at 7pm, 8th November 
2016 at 3 Furlongs Bar & Grill. 
Wayne Leslie, Commodore 
THE ANNUAL MANGAWHAI 
WOMEN'S INSTITUTE 
FLORAL AND CRAFT SHOW 
 is to be held on November 11th at the Mangawhai 
Village Hall. 
Classes for ages and abilities 
Cut flowers, floral displays, vegetables, cooking, art, 
craft and photography sections. 
Only 20c per entry which need to be brought to the 
Village Hall on November 11th between 8.30 and 
10.45am. 
The show will then be opened to the public. 
Please phone either Tricia on 09 4314154 or Jill on 
022 414 0073 if you have any queries. 
KATE'S PLACE 
Summer  is  on  its  way...  and  so  are  more  and  more 
exciting additions to Kate's Place. 
From  Thursday  27  October  we  will  offer  FREE  nurse 
checks,  general  family  care,  well-child  checks,  home 
visits, chronic care, diabetes and much more. Phone us for 
an appointment, or drop in and see us. Phone 4312 661. 
If you require legal advice, support and advocacy, we can 
now  provide  this  to  you.  And  don't  forget  we  have  a 
community  employment  service  -  we  will  support  you 
into jobs and work closely with employers. 
See our ad for more details. 
Regards, Iris & Kirstie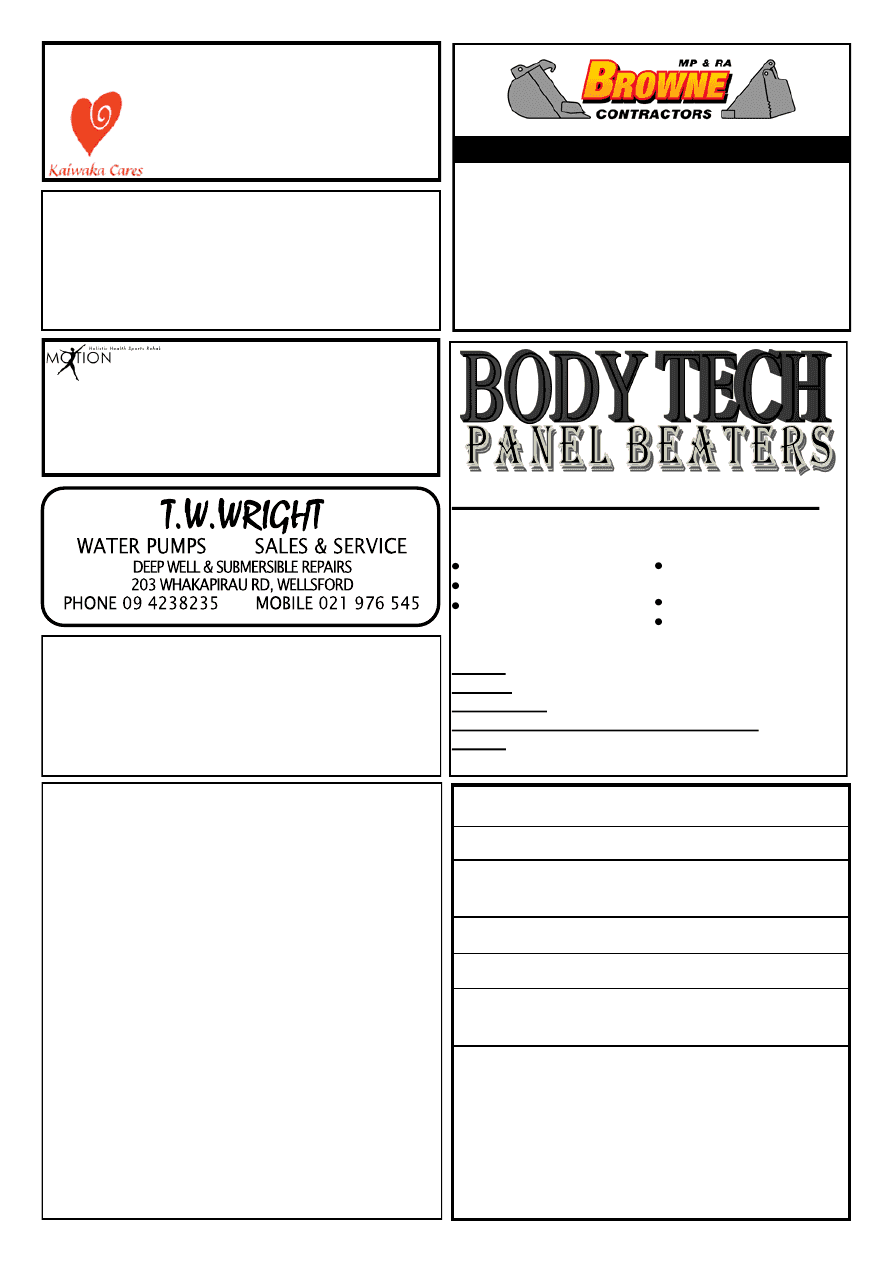 4T DIGGER – BOBCAT – TIP TRUCK 
Property Maintenance - Driveways - Building Sites 
Stump & Tree Removal - Hole Boring - Chain Trencher 
Calf Shed and  Stockyard Cleaning
KAIPARA - WHANGAREI - RODNEY 
Phone Matt: 021 199 6677 
Email: mprabrownecontractors@gmail.com 
FREE GRAZING WANTED 
Small or large block 
Can do some fencing or water 
Phone after 6pm 
4312 006 
For all your body repair needs!! 
We do: 
Rust repairs 
Insurance work 
Anti-corrosion treat-
ment         
Hours: 8.30am-5pm Monday-Friday  
Mobile: 021 118 0462 
After hours: 09 431 2384 
Phone: Craig or Call in for a free Quote 
bodytech_panelbeaters@yahoo.com
We are located at 1837 SH1 Kaiwaka, behind  
Large and minor vehicle  
  repairs 
Industrial vehicles 
Full Cut and polishes 
White Horse Farm 
Farm Stay/Bed and Breakfast 
Ph +64 9 390 1260        113 Tawa Ave, Kaiwaka 
bookings@whitehorsefarm-kaiwaka.co.nz 
www.whitehorsefarm-kaiwaka.co.nz 
WAIPU OSTEOPATH 
Maria Gabriel  ACC Registered Osteopath 
8 The Centre, Waipu 
Monday to Thursday  
Freephone 0508 924786 (0508 WAIPUOSTEO) 
www.getinmotion.co.nz  No doctor referral required 
PILATES is for everyBODY! 
New Saturday Class @ 9am in Mangawhai 
Let your body move mindfully, 
meet new people, 
mosey down to the market after.
What a great way to end the week & 
start the weekend!
Classes are designed at a general, gentle level and 
open to all 
Relax, Restore, Stretch, Strengthen & more! 
Enquire now, must book your mat! 
Mangawhai Pilates with Mary. 
STUDIO 110 
Tomarata / Mangawhai Rd,  
Ph: (09) 431 4351 
Mob: 021 034 8450 
Email: mary_madden@xtra.co.nz 
Facebook.com/MangawhaiPilatesWithMary 
COMMUNITY EMPLOYMENT SERVICE
ADVOCACY  & LEGAL SUPPORT & ADVICE 
FREE NURSE & MEDICAL CHECKS 
every Thursday & home visits
Weekly AA Meetings
Offices to Rent
OSTEOPATH 
Owen Stevens - Last Friday of month
@ Kate's Place Community Centre,  
Main Highway, Kaiwaka  (side entrance) 
Ph 4312 661 
iris.katesplace@gmail.com 
kirstie.katesplace@gmail.com 
Monday to Friday 9am - 3pm 
fb: Kates Place 
Community Drop-In Centre
Open 10am – 2pm  
Monday - Wednesday - Friday 
WIFI, printing & scanning available at 
Kaiwaka's own drop-in social space.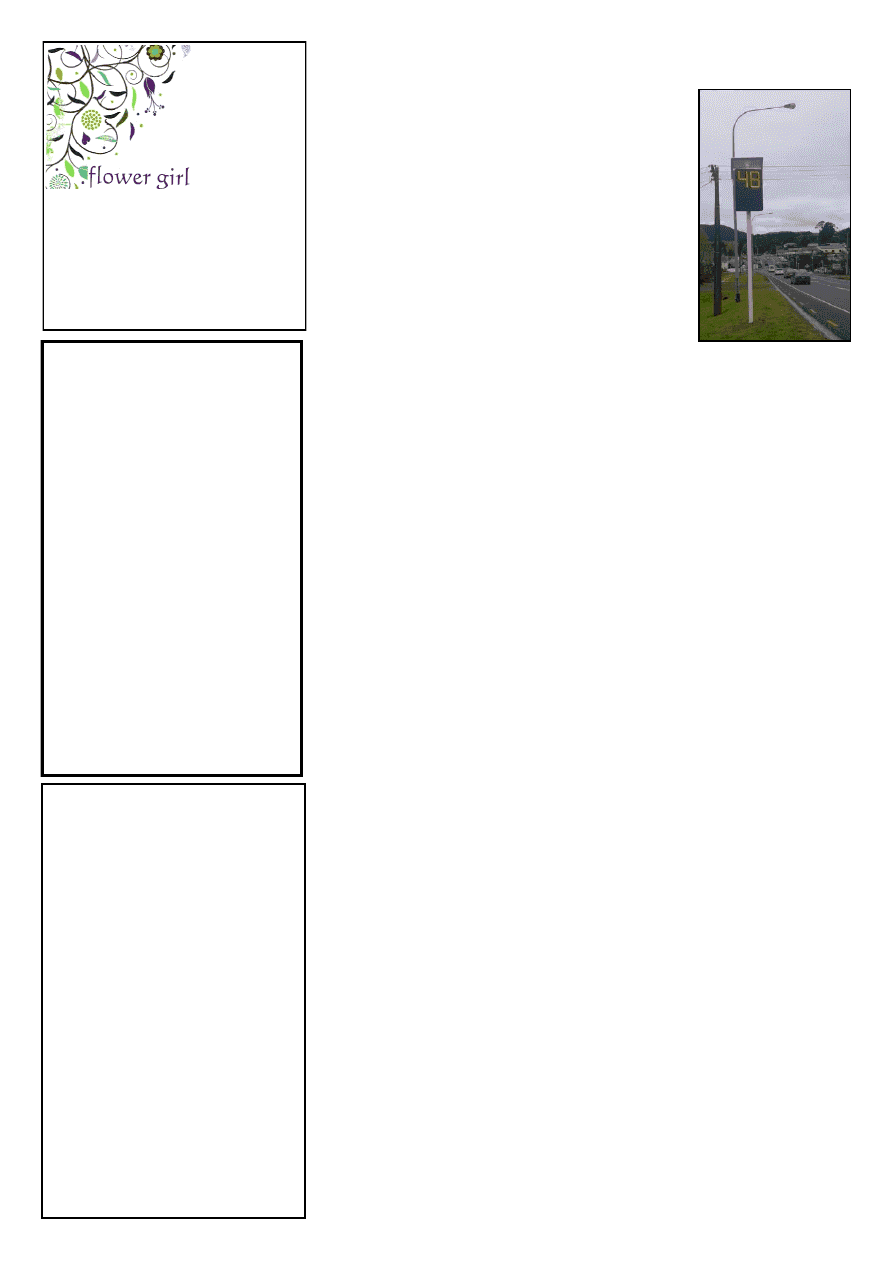 www.kaiwaka.co.nz 
Kaiwaka Bugle - 18 October 2016 
Page 5 
Willow Bend
HORSE  
HOTEL 
"  
Total Horse Care 
" 
Agistment 
" 
Riding Lessons 
" 
Arena Hire (60x40) 
" 
Young Horse Starting 
" 
Re-training/Exercising 
" 
Hoof Trimming 
" 
Problem Solving 
Phone Sue  
09 431 2817  
or 021 623 776 
susanjoll11@gmail.com 
Full Circle 
Landscaping 
Pete Worsfold 
Cert. LScp/Des 
20yrs experience 
021 825 970 
peteworsfold@xtra.co.nz
Landscape Design 
Gardener 
Nurseryman 
Functional, practical, aesthetic.
Lush native plantings, shelter, wetlands, 
grey water system plantings, home 
orchards, firewood lots, vege gardens... 
Planning, planting, project estimates, 
tree lists and species suitable for your 
site/sight, maintenance training...
Call or email me for an onsite 
estimate at your place!
Completion...Clarity 
Kaiwaka 
Good 
Sorts 
Do you know 
someone in our 
community who is 
deserving of a 
beautiful bunch of 
flowers? 
Send an email to us at 
kaiwakabugle@kaiwaka.co.nz 
or drop a note to Jaques Four Square to let 
the Bugle team know. 
We will choose a recipient to receive 
flowers from Lindy the flower girl. 
lindywatson@hotmail.com 
4312 847 
For  eighteen  months,  Kaiwaka  Can, 
our  local  community  group  has  been 
working  with  Council  and  with  NZ 
Transport  Authority  on  the  problems 
caused by speed on State Highway One 
through Kaiwaka. 
Before  that,  another  group  worked  on 
the  same  problem…  and  before  that, 
another  group  worked  on  the  same 
problem… and still the cars and trucks 
sped through Kaiwaka.  
We learned to live with it but as traffic 
got  heavier,  we  decided  we  wanted  a 
change. This time we really thought we 
were  making  progress.  NZTA  listened 
to us and listed 28 concerns they heard 
us  express.  They  worked  on  them  and 
came up with a whole raft of responses 
(thank  you  Sarah  and  your  team  in 
NZTA).  They  even  looked  at  what  we 
would look like in a few years time and 
it  looked  good  (thank  you  Yoko,  the 
landscape  architect).  And  all  the  time 
our  Council  representative  kept  the 
lines 
of 
communication 
open, 
smoothed  over  the  waters  (sometimes 
we  got  a  bit  angry)  and  has  been  our 
open line to the decision makers (thank 
you Annie for all you have done). 
But wait, there's more 
However  a  few  days  ago  we  heard  a 
decision  had  been  made  about  speed 
(which is where it all started).  The 70 
zone  would  be  dropped  to  60  (that's 
great,  make  it  a  bit  safer  out  of 
Settlement  Road)  but  the  current  50 
zone  would  be  raised  to  60.  The 
reasons?  It  would  make  it  less 
confusing  to  motorists  to  have  two 
different  speed  zones.  And  so  many 
motorists  were  already  way  over  the 
limit,  a  higher  speed  limit  would  be 
more  credible  to  those  behind  the 
wheel. Just to rub it in, they told us that 
according  to  some  awfully  important 
document  in  Wellington,  we  should 
really  have  a  speed  limit  of  70  all  the 
way  through  because  we  didn't  have 
enough  driveways  emptying  on  to  the 
highway. So really they have been very 
kind to us and let us get away with 60. 
Pity  about  the  new  "Your  speed  is" 
sign set for 50! But it was fun to watch 
while  it  lasted.  Now  to  be  fair,  the 
decision  is  not  yet  law  but  the  major 
stakeholders  (AA,  National  Road 
Carriers,  Police  and  Council)  have  all 
been  consulted.  The  Council  Roading 
team  think  from  an  engineering  point 
of view it is a good idea. The Police of 
course, after consulting an independent 
company,  have  put  our  longed  for 
speed camera out on the highway south 
because 'it is a high accident zone". 
A  media  release  has  been  made  by 
NZTA (released Thursday October 13) 
but NZTA still do need to consider  all 
submissions  made  before  the  final 
stamp is put on the proposal. 
But the planners forgot something. 
They  forgot  the  people,  those  of  us 
who live here and study here and work 
here  and  love 
this  little  blip 
on  the  great 
highway.  Yes, 
we are allowed 
to  have  a  say 
and  there  are 
forms all round 
town. 
These 
should  then  be 
gathered 
up 
and  a  single 
submission 
made 
by 
Kaiwaka  Can 
through 
Council. 
They  forgot  the  anxiety  and  often  fear 
felt  by  residents  turning  south  out  of 
Oneriri  Road.  They  forgot  the  frights 
many have got trying to cross the road 
over  to  the  Cheese  Shop  as  50  tons  of 
logs  suddenly  appears  round  the 
corner.  They  forgot  how  scary  it  is  to 
come  down  the  hill  from  the  shops  by 
the  bakery  heading  north  as  some 
impatient  holiday  maker  with  a  large 
boat  in  tow  sits  on  your  bumper  and 
gives you the hurry up. Or how hard it 
can  be  to  get  out  of  the  Mangawhai 
Road  on  to  SH  1  on  a  busy  weekend. 
Or the scary times the clothing factory 
workers  experience  trying  to  go  home 
from work. 
So where to from here? 
Yes,  NZTA,  we  are  grateful  for  the 
work you have done, your patience, the 
measures done on 'traffic calming", the 
speed  sign,  the  pedestrian  safety  zone 
going  in  soon,  the  tree  planting  in  the 
near  future  and  all  the  other  longer 
term  plans  you  have  provided.  But 
sadly  for  many  people,  there  has  been 
no people calming. 
Now if I sound worked up on the issue, 
excuse me and I write this not as Chair 
of  Kaiwaka  Can  but  as  one  of  the 
people  who  chugs  around  town  and 
gets  the  odd  scare  or  two.  After  the 
Bugle  is  published,  I  will  behave  and 
put  together  a  calm  and  logical 
summary  of  the  views  gathered  by 
Kaiwaka Can. 
Incidentally  Kaiwaka  is  getting  new 
claims to fame, not as  the Little  Town 
of Lights (we are working on that) but 
as  the  fastest  main  street  in  Kaipara 
District and the longest stretch of main 
street with no parking allowed! Also of 
course  the  town  with  the  heaviest 
traffic  flow.  Maybe  call  it  "little  town 
of frights"! 
So  Kaiwaka  people,  be  careful  out 
there.  If you have retired and got a bit 
slower, if you have a new hip or knee, 
if  you  want  to  get  home  from  school 
over  to  the  other  side  of  the  highway 
and if you are crossing the road and see 
a  friend  to  wave  to,  watch  out  or  you 
will  become  a  statistic.  And  the 
planners know how to handle statistics. 
~Derek Christensen 
WHAT THE PLANNERS FORGOT: 
reflections on the proposed speed changes in Kaiwaka.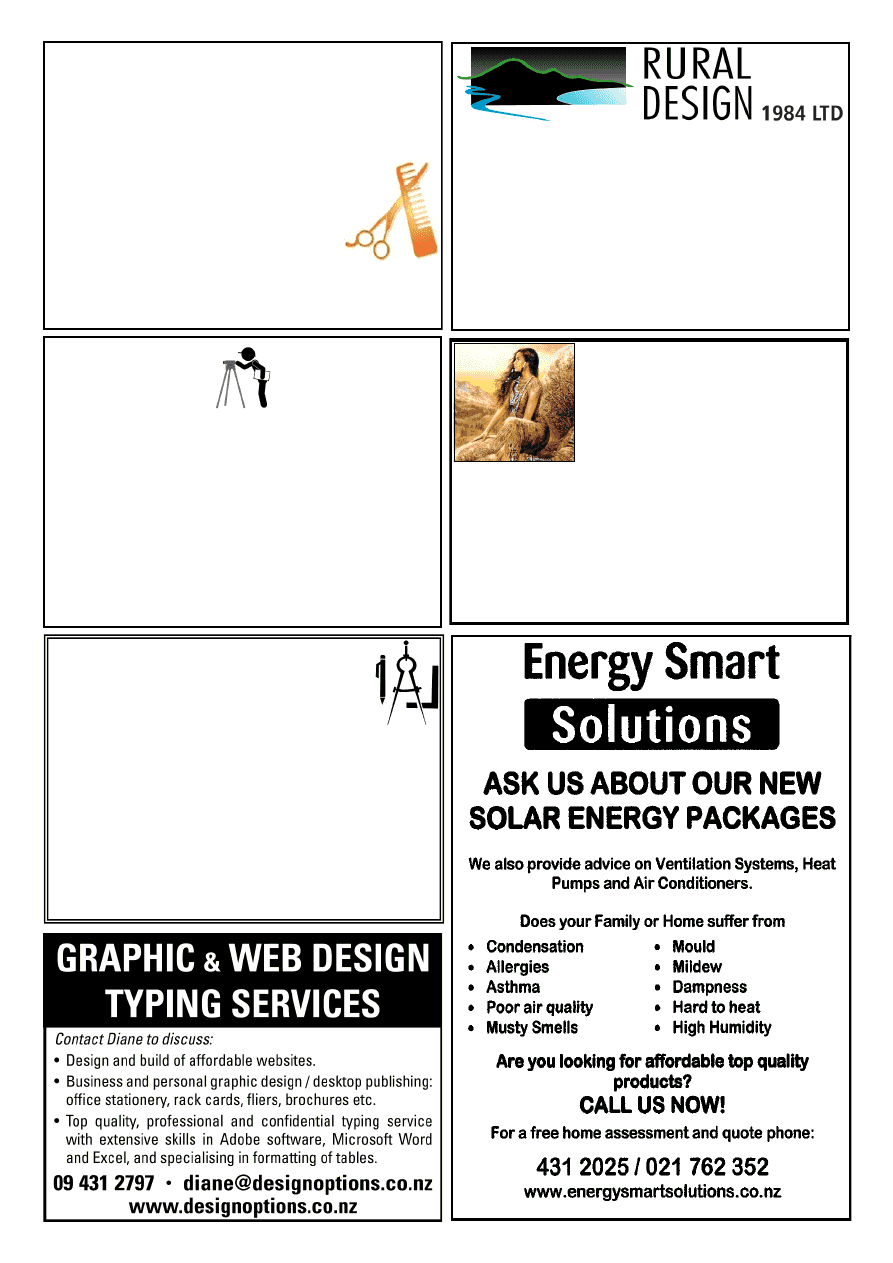 Ken Urquhart 
BSurv Licensed Cadastral Surveyor 
KMU Surveys Ltd
467 Bickerstaffe Road 
RD 2 
Maungaturoto 0587 
Ph 09 431 8705 
Mob 021 161 2344 
kenurquhart@xtra.co.nz 
WHOLESALE NATIVE PLANT NURSERY 
AND LANDSCAPING 
By Appointment 
Small and Large orders welcome 
Phone: 09 431 2481 
Email: info@ruraldesign.co.nz 
design drafting  
service 
Retired builder and manufacturer with over 40 years  
experience in the building industry is offering a design 
drafting service  
for domestic housing, sleepouts and sheds.  
Plans formulated in consultation with clients, with 
working drawings completed and submitted to  
council for processing.  Extensive practical experience,  
able to identify & resolve problems. 
Please ring Mike Lean on 
09 431 2260  
          or 
021 431 196 
Trails end 
spiritualist gathering  
Last Sunday of every month  
11.30-2pm tea/coffee provided  
$5koha for all inquiries  
0211652629 evenings 099450753 
Trail.end@hotmail.com 
Bringing together light minded people 
Guest speaker each month and 
Workshops every 2nd Wednesday  
6:30-7:30pm
AFFORDABLE PRICES! 
MENS DRY CUT FROM $18.00 
LADIES DRY CUT FROM $28.00 
KIDS DRY CUT FROM $15.00 
COLOUR CUT FROM $90.00 
JUST CUTS'AND     
MORE 
021 165 2629 
NOW SELLING: scented tealights, incense, smudge sticks, 
copper bracelets, aurora ball crystals, dream catchers, healing 
stones, rose quartz, cds, and much more. Open 6 days.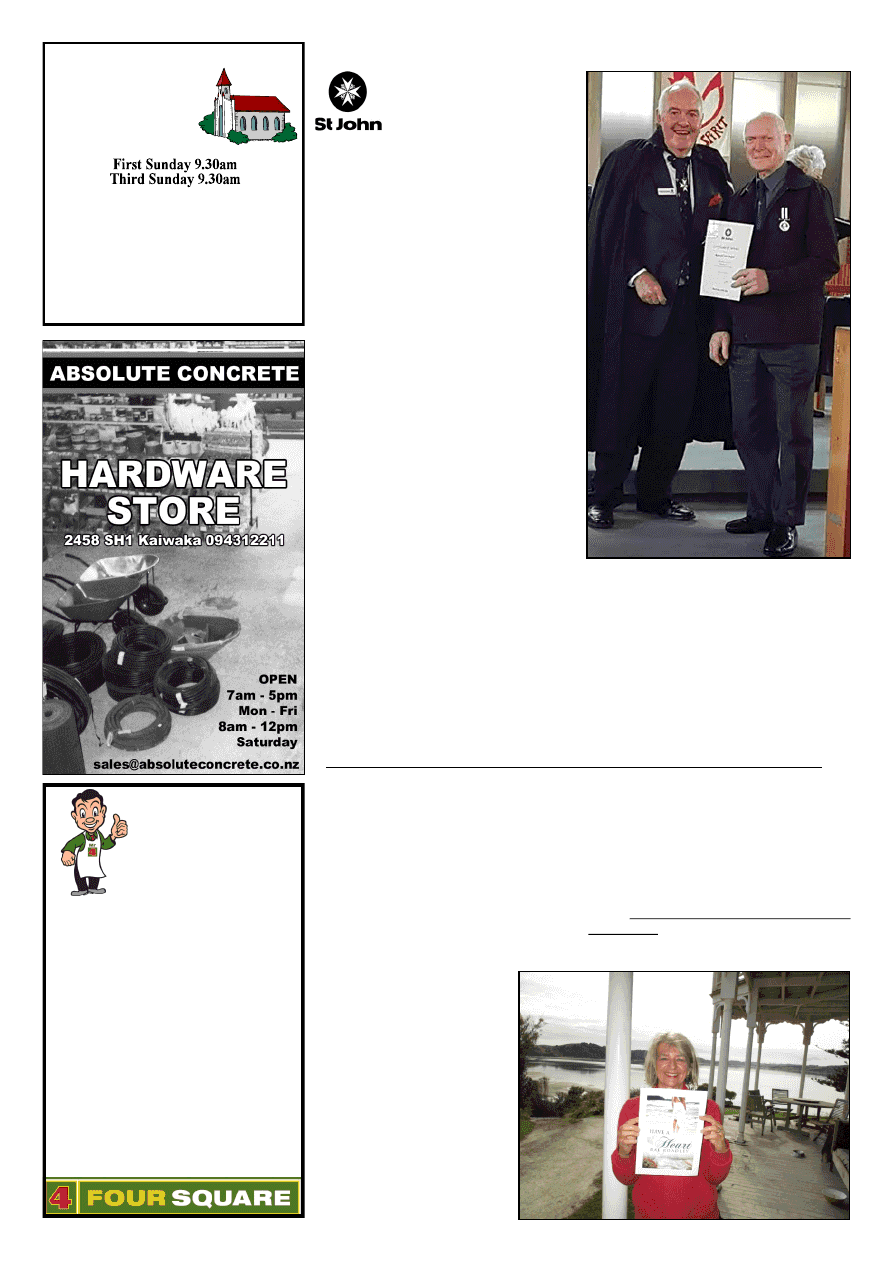 www.kaiwaka.co.nz 
Kaiwaka Bugle - 18 October 2016 
Page 7 
ST PAUL'S  
ANGLICAN  
SUNDAY  
SERVICES
St Pauls Church: Kaiwaka-Mangawhai Rd. 
1st Sun - Eucharist 
3rd Sun - Family Service 
Office 4314 122 
Contacts:M.Hargreaves 4312295, C.Bygrave 4312057  
or Rev. Wayne Thornton Ph 431 5650 
www.mangawhaianglican.org.nz
Sunday 9 October 2016 saw 
Reg  Jaques  from  Kaiwaka 
receive  a  well-deserved 
17 years' service bar for St. 
John Otamatea. 
Reg started his service with St. John in 
1978. He is a life member of Kaiwaka 
and 
was 
involved 
with 
the  
Maungaturoto Station before that. 
Reg  was  keen  to  embark  on  the 
required  courses  which  were  First  Aid 
entrance  receiving  his  certificate  on 
27 August 1978 he then went on to do 
his  home  nursing  and  also  received  a 
certificate the same  year on 15 August 
1978. 
Reg  faithfully  served  the  Kaiwaka 
Station  for  five  years  before  he  joined 
up  with  the  Local  Fire  Brigade  where 
he spent 33 years as an active member 
in this service. 
He  then  returned  to  St.  John  in  2004 
where  he  has  actively  served  on  the 
Otamatea  St.  John  Area  Committee. 
Reg  been  very  instrumental  in  the 
Kaiwaka  Station  particularly  in  the 
maintenance,  general  work  around  the 
Station  and  in  the  last  five  years  has 
been an asset to the Kaiwaka Op Shop. 
Born  in  Kaiwaka  and  grown  up  as  a 
local lad, he has lived there all his life. 
He met his wife Bev (nee Dowson) and 
they  have  been  married  53  years.  Reg 
and Bev have a daughter and son along 
with  a  number  of  grandchildren  who 
have  stood  alongside  him  tirelessly 
over this time. 
Over  the  many  years  of  service  that 
Reg  has  put  in  there  has  been  many 
sacrifices  that  he  and  his  family  have 
made  to  support  St.  John  and  the 
Kaiwaka  community  in  making  a 
difference in many lives. 
Reg  is  also  well  known  in  the 
community  for  his  involvement  in 
bands  since  the  age  of  twelve  he  has 
been in and organised many gigs. 
Reg  has  a  passion  for  his  volunteer 
work  to  the  community  and  this 
certainly  shows  in  his  many  years  of 
dedication.  
From  all  of  the  Otamatea  Area 
Committee  and  the  Maungaturoto/ 
Kaiwaka volunteers well done Reg and 
we  look  forward  to  working  alongside 
you in the future. 
MAUNGATUROTO / KAIWAKA ST JOHN 
SPRING GARDENING,  
GREAT SPECIAL PRICES
TUI PRODUCTS IN STORE NOW!! 
20L compost $8.89 
30L Strawberry growing mix $14.95 
1.5kg SEED POTATOES $9.95 , Rua, Agria, 
Nadine & Red Racal 
Blood & Bone, Dolomite, Tui Quash & more.
Halloween supplies in store now 
masks, capes, make-up and more. 
Jaques Four Square 
Phone: 4312227 
1 Kaiwaka-Mangawhai Road, Kaiwaka. 
In Store               
Now! 
Author Rae Roadley has published her 
second  book,  a  novel  titled  Have  a 
Heart  which,  tells  the  story  of  two 
families  in  a  community  on  the  east 
coast of New Zealand. 
In  2011,  Penguin  NZ  published  Rae's 
non-fiction book Love at the End of the 
Road  which  tells  of  about  her  life  at 
Batley on the Kaipara Harbour and the 
history of the area. 
She  says  Have  a  Heart  is  a 
love  story  that  touches  on 
issues  that  face  any  small 
community  –  pressures  from 
an  increasing  population  and 
popularity,  family  discord, 
domestic  violence  and  long-
held grudges.  
The  Omahu  and  Gunn 
families have been in conflict 
every  since  Jack  Gunn's 
ancestors 
'stole' 
Glory 
Omahu's  family  land.  Can 
love overcome generations of 
mistrust,  a  clash  of  cultures 
and stolen family treasures? 
Rae  is  a  creative  writer, 
writing  tutor  at  NorthTec,  a  qualified 
journalist  and  columnist  who  has 
worked in publishing and as a freelance 
writer.  She  blogs  about  rural  life  and 
her  writing  has  won  recognition  in 
contests and media awards. 
Both ebooks can be found on Amazon 
at 
https://www.amazon.com/author/
Photo: Rae outside her Batley home. 
'HAVE A HEART'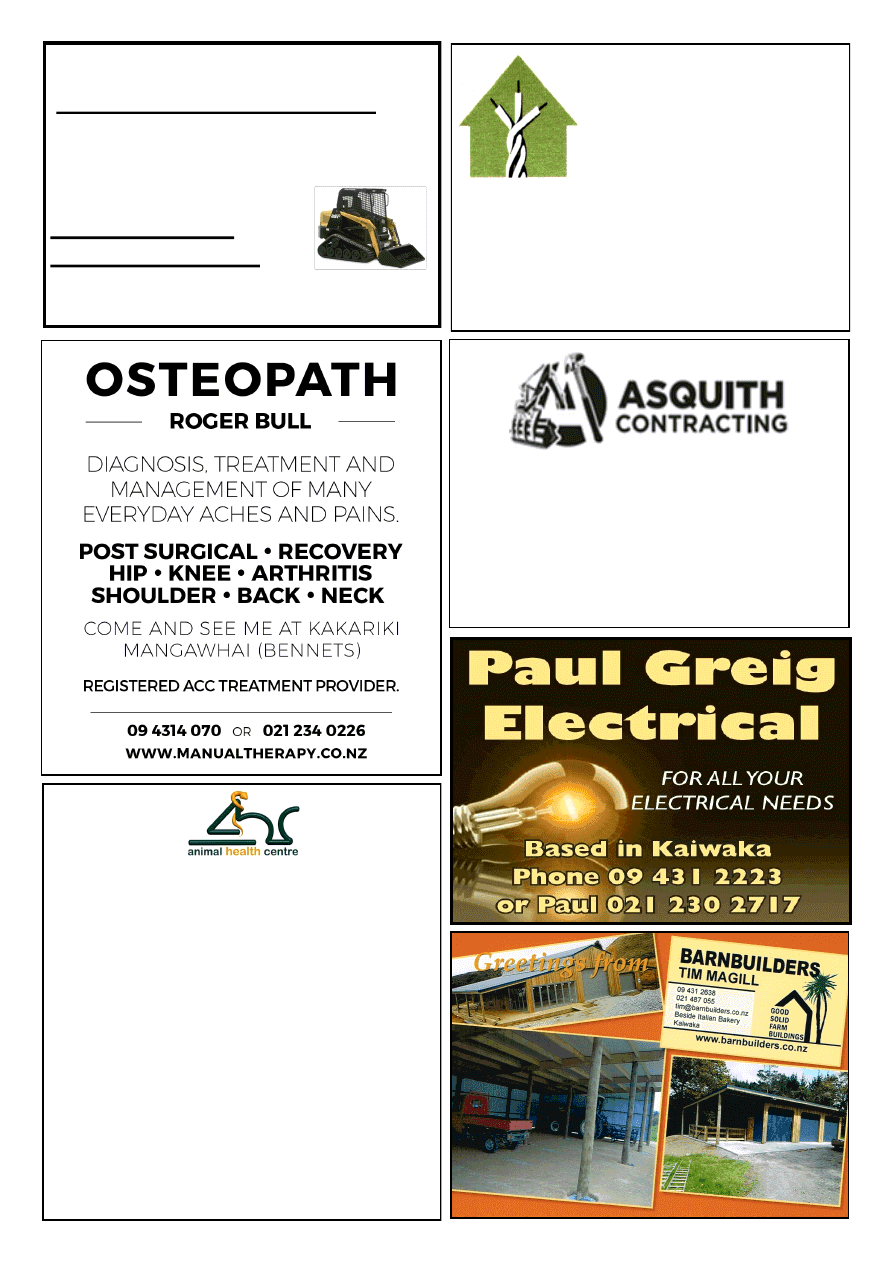 Natural Earth Ltd 
 Landscape and Bobcat services 
 : Driveways  :Landscaping  :Retaining Walls 
 : Hole Boring: Land Levelling :Trenching 
 : Decks :Fences :Sections Cleared: Plus much 
more 
Tel   09 4312885 
Mob 02102391280  
For A Fast Friendly  
Service Contact Tim Hicks 
ANIMAL HEALTH CENTRE 
KAIWAKA 
"choices in health care for your companion animal" 
Health problems - itchy skin, smelly ears,  
bad breath, diarrhea? 
On steroids, antibiotics, lifetime drugs.....  ? 
Diet may be a part of the problem!   
Call in and have a chat to our team  
of animal health practitioners.
Nail Trims,  Microchipping , 
Dental checks,  Comfort grooms. 
Great range of real food – no preservatives. 
Alternatives to nasty chemical parasite controls.
OPEN:   Tues-Fri - 10:00am – 5:00pm 
Saturday - 10:00am -  4.00pm, Sunday/Monday - Closed 
Next to Italian Bakery, Main Highway  Kaiwaka 
Ph:  09 431 2217 
PS: We're  open 7 days in Orewa if you missed us! 
Reyahn George 
Leng 
Registered Electrician 
Local, honest and reliable. 
For your residential and 
light-commercial projects. 
022 314 1068 / 09 431 2527 
Small digger work, trenching and post hole 
drilling for retaining walls, piles, etc.
$60+gst per hour.
Call Tam on 021 124 5216 or 
asquithcontracting@gmail.com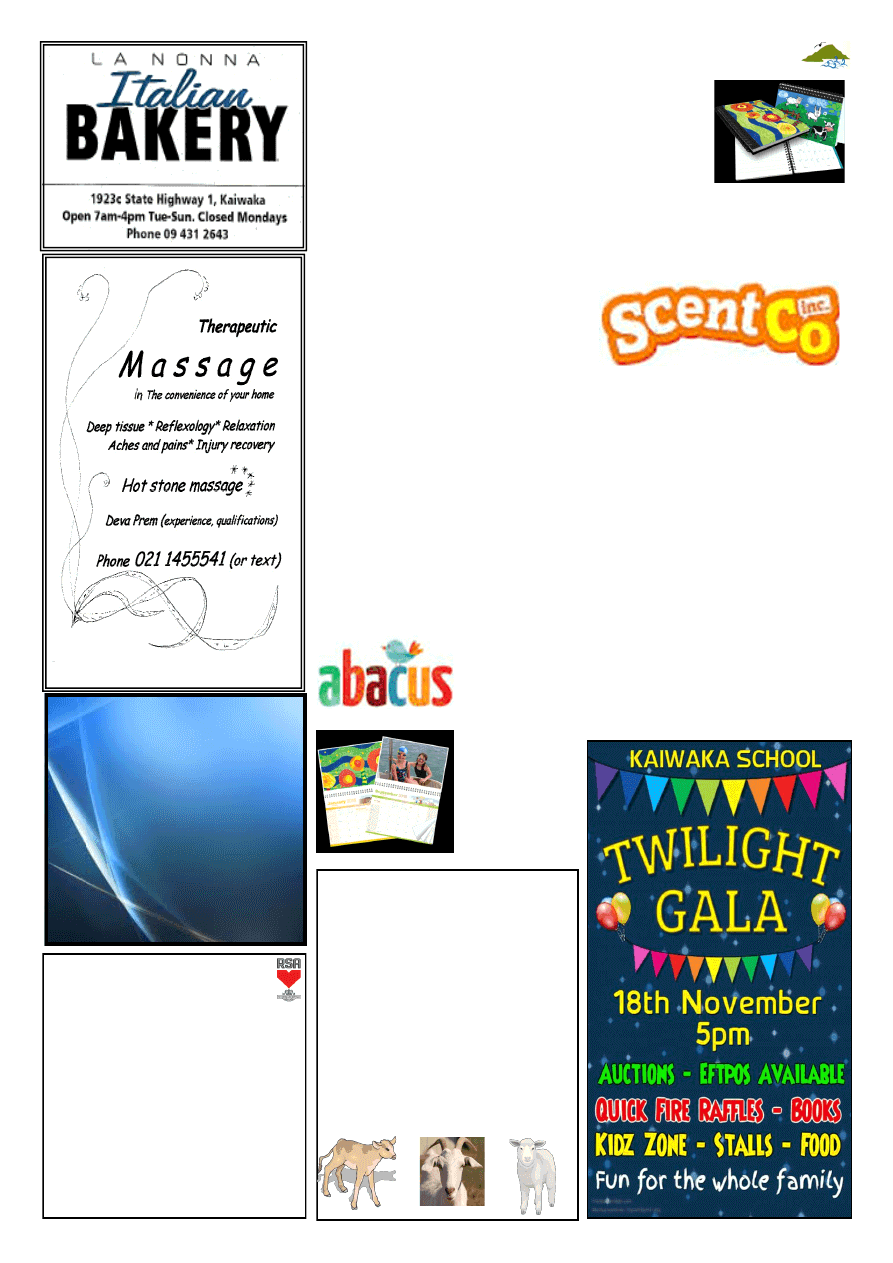 www.kaiwaka.co.nz 
Kaiwaka Bugle - 18 October 2016 
Page 9 
www.mangawhaimassage.co.nz 
HAKARU & 
DISTRICTS RSA Inc 
Each Friday night from 6.30pm meals 
will be served. 
Members & invited guests, new 
members welcome. 
Come along & enjoy our hospitality. 
2nd Friday of the month -  roast dinner or 
board menu. 
Last Friday of month - roast pork night 
&  
sing-along with Des Chitty.  
Ph Heather 4314668 or Jan 4314512 
Freeview  
Installations 
Richard Te Haara 
25 Marram Place 
Mangawhai Heads 
021 1104056 
kiwipride@xtra.co.nz
KAIWAKA SCHOOL 
Welcome to Term 4 of the school year. 
It  is  great  to  be  back  after  my 
sabbatical    -  well  and  truly  rested  and 
ready  to  go.  I  thank  Sharlene  and  all 
the  staff  for  their  support  and  good 
work while I was away.   
Noho Marae  
We  will  be  leaving  school  on  the 
morning  of  Thursday  the  27th  of 
October and staying for one night. We 
will  return  on  Friday  the  28th  in  time 
for  the  buses.  We  need  lots  of  support 
for  Noho  so  please  book  it  in  your 
diaries. 
Kapahaka  
The  Kaipara  Kapahaka  Festival  is  on 
Saturday  the  29th  of  October.  This  is 
the  day  after  we  get  back  from  the 
Noho.  This  is  a  very  exciting  day  for 
our  school  -  we  have  the  longest 
history  of  attendance  in  the  Kaipara 
and our students are a real credit to our 
school. 
Photographs  
School  photographs  will  be  taken  on 
Wednesday  2nd  November  between 
9am and 10am. 
Calf Club  
Calf  club  entry  forms  are  ready  and 
available at the office.   
Warm regards,  Rosie 
Kaiwaka School P.T.A. 
The  P.T.A  is  running  the  Abacus 
fundraiser again this year! 
Every  child  will  be  getting  a  piece  of 
paper  to  do  their 
art work on and an 
instruction  sheet... 
if  you  choose  to 
order 
anything 
please do so by the 4th of November to 
ensure 
that 
delivery  will  be 
made  to  school 
before 
the 
Christmas 
holidays…  if  you 
want  any  more 
paper 
please 
contact  Lish  or  if 
you need any more 
information.  
Prices:  art,  photo 
calendars, packs of 
cards are $10 each 
…  diaries,  mouse 
mats,  notepads  are 
$15  each…these  make  awesome 
Christmas gifts for the whole family… 
Also coming soon: 
This  year  we  are  going  to  sell  smelly 
pencils and smelly coloured pencils… I 
know  how  much  the  children  of  ALL 
ages love these smelly things… 
Packs of 5 will be around $10 each. We 
may  also  sell  them  individually.  More 
information to come soon… 
If  you  have  any  questions  about  these 
two  fundraisers  or  any  enquires  about 
the Kaiwaka School PTA you can find 
me …Lish at school or txt me 021 293 
6761  also  you  can  PM  me  on 
Facebook… 
Twilight Gala 
Friday  18  November!  It's  time  to 
prepare for our Twilight Gala.  
We  would  prefer  that  items  for  the 
White  Elephant  and  other  sales  are 
delivered to school between the 1st and 
17th  of  November.  There  is  very  little 
space available before this time. Please 
start  preparing  for  this  great  school 
event. 
KAIWAKA SCHOOL 
AGRICULTURAL DAY 
THURSDAY OCTOBER 20 
Entry 9am  
 Judging starting at 10am 
The PTA will be doing a Sausage 
Sizzle; Tea and Coffee will be 
available for a Koha/Donation
We are looking for volunteers to help 
out on Calf Club Day. Please contact 
Linda at the office 
on 431 2309 T
o 
leave your details.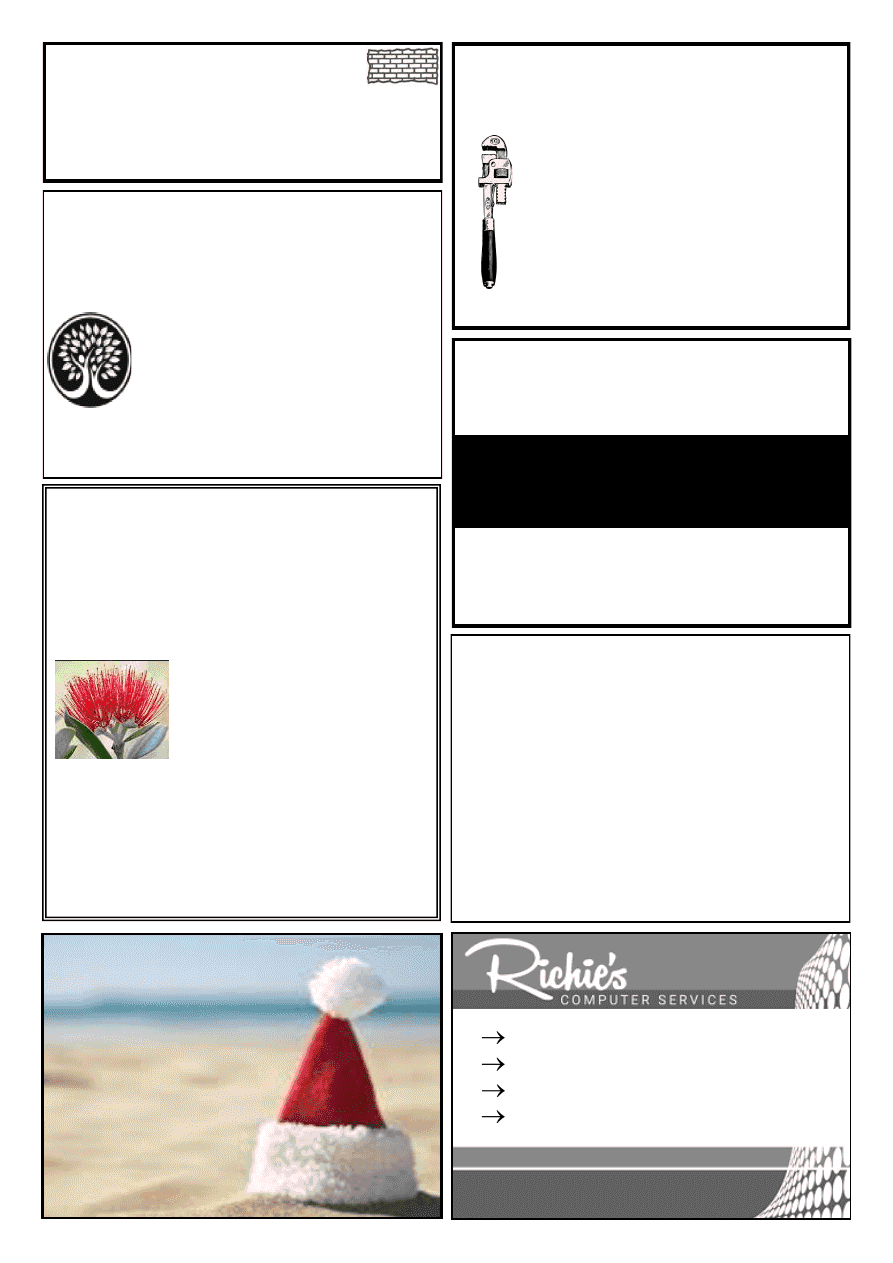 BARRY CURTIS PLUMBING LTD 
REGISTERED CRAFTSMAN PLUMBER 
Phone 4315572 
027 257 9884 
25 years experience 
Friendly reliable service 
All plumbing and maintenance 
Alterations and new housing 
Spouting 
Competitive rates 
PROMPT EFFICIENT  SERVICE 
David Korach 
Your local Gib Stopper
DK PLASTERER LTD 
0274769221 
dkorach6@gmail.com 
KAIPARA FLOORING CO 
Independently owned & operated 
32 HURNDALL ST MAUNGATUROTO 
Supply & Installation of Carpet, Vinyl,  
Vinyl Wood Planking
Stockists of 2m & 3m wide 
vinyl & carpet short ends
Residential & Commercial 
First Class Installations 
For a free measure & quote 
phone Christine  
09 946 9886 or 021 515 415 
kaiparaflooring@gmail.com 
http://www.kaiparaflooring.co.nz/ 
BRICK/BLOCKLAYER 
All aspects of masonry: 
Fireplaces, Restoration & Remedial Work.
JAMES EAGLETON
Tel. (09) 431 2514     Mob. 0274 749 232
jajueagles@yahoo.com.au 210A Pukenui Road, RD2, Kaiwaka 0573 
Mangawhai Heads 
Garden Centre
1758 Cove Road
945 0707 
021 
165 
2629
Waipu Natural Health 
3 Cove Road, Waipu  (opposite the Pizza Barn) 
Ph: 09 432 1325 
www.waipunaturalhealth.co.nz 
Clinical Nutritionist (Masked Allergy Testing), 
Naturopaths, Registered Medical Herbalist , 
Registered Massage Therapists, 
Reflexology, Beauty Therapy, Craniosacral 
Therapy, Hypnotherapy, Counselling, 
Change Catalyst, ThetaHealer, Naturopathic 
Prolotherapy & Scenar (joint & muscular 
therapy), and much more... 
GIFT VOUCHERS AVAILABLE 
15 years  commercial IT experience 
Computer and Laptop Repairs 
Smart Phone and Tablet Support 
Virus and Malware Removal 
Richard Harding
T 09 945 0376        M 021 124 7358 
E richo_harding@hotmail.com 
Kaiwaka Christmas  
Shopping Night
Wednesday 26 October 2016 
* 6pm – 8pm * 
Kaiwaka War Memorial Hall 
For information or to book a stall contact 
Janine 027 663 6802 
allaroundtownnz@gmail.com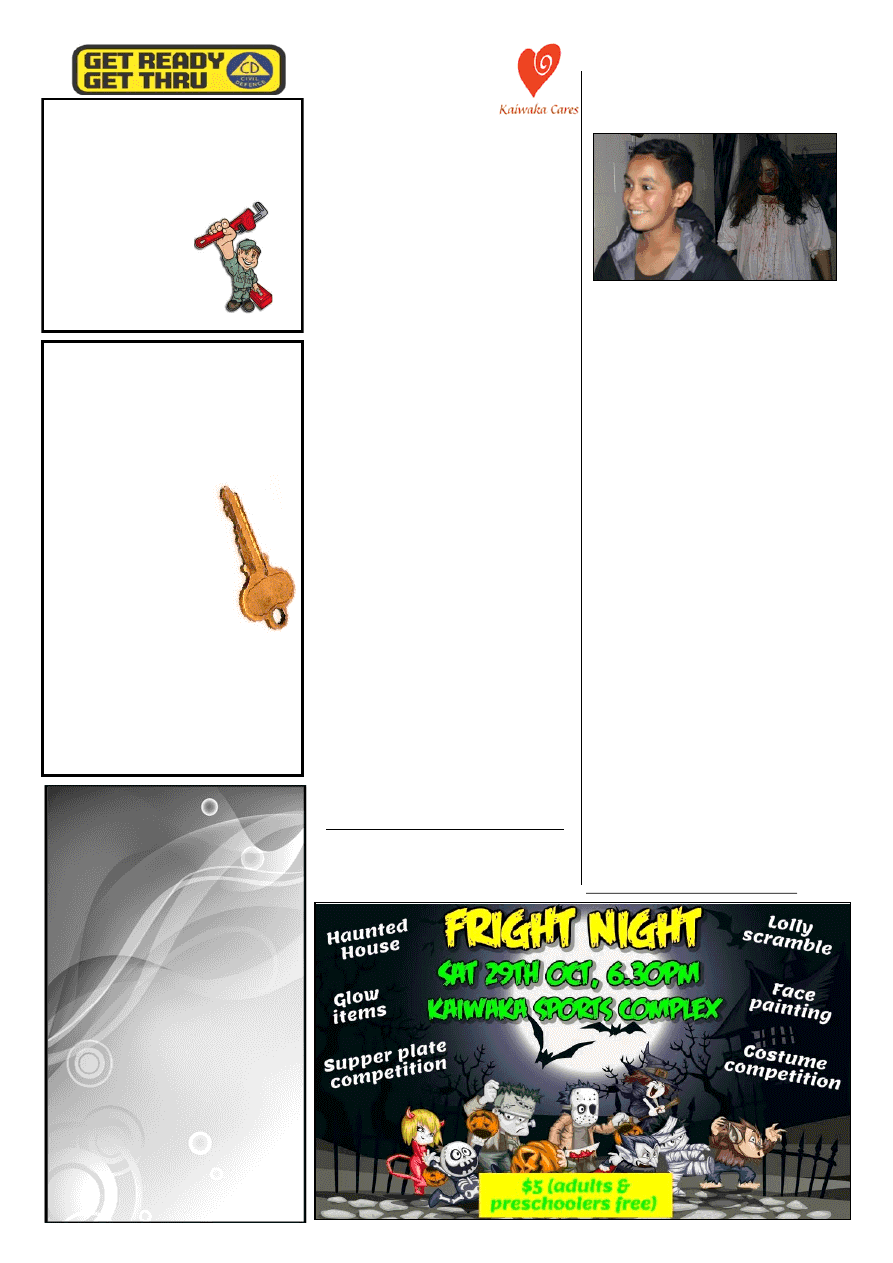 www.kaiwaka.co.nz 
Kaiwaka Bugle - 18 October 2016 
Page 11 
U Beauty 
            Underarm Wax  
    $20 
            Extended Bikini Wax   $30 
            15 min Back  Massage  $25 
            30 min Back Massage  $50 
Please call Nicole for bookings 
09 393 6336 or 022 0639450 
Qualified Beautician 
4 Kaiwaka – Mangawhai Rd 
Kaiwaka 
Eyebrow Wax  $10 
Eyebrow Tint  $10 
Eyelash Tint 
$20 
Lip Wax 
$10 
Chin Wax 
$10 
Bikini Wax 
$20 
Brazilian 
$50 
½ Leg Wax 
$30 
Full Leg Wax  $45 
Full Pedicure  $60 
Foot Tidy  
$35 
Manicure 
$45 
Nail Tidy 
$25 
Chest Wax 
$30 
Back Wax 
$40 
Nostrils 
$10 
Ears 
$10 
Kaiwaka  
Hardware  
&  
Key cutting 
 Phone 4312 063 
 022 041 6047 
 kaikey2015@gmail.com 
Keys Cut  
Household Hardware  
Curtain Tracks & Fittings
Not there? Call Doug and he'll sort
it for you.
(
Next to Kaiwaka Motorcycles) 
Ross Murphy 
PLUMBER 
Certifying Plumber 
09 431 7510 
021 424 252 
Paparoa Based 
+
New Housing  
+
Renovations  
+
Maintenance
FRIGHT NIGHT 
One 
of 
the 
Kaiwaka 
Sports 
Association's most popular events  
of the year is on Saturday 29 October – 
yes, it's Fright Night! 
Each  year  the  numbers  attending  get 
bigger  and  bigger,  and  last  year  there 
were  over  400  people  there,  so  we're 
hoping for another spooktacular night!  
Fright  Night  is  fun  for  the  whole 
family,  there  will  be  a  photo  booth, 
lolly  scramble,  face  painting,  games 
with  prizes,  dancing  and  glow  items. 
Polish  your  vampire  fangs,  dust  off 
your cobweb coat and strut your stuff at 
our  Costume  Parade.  There  are  some 
great  prizes  to  be  won  for  the  best 
dressed boy, girl and adult. 
Take  your  bravest  friends  and  venture 
into the haunted house – but beware of 
creatures which might be lurking in the 
shadows!  First  up  there  will  be  a 
haunted  house  session  for  primary 
school  children,  then  the  scare  factor 
will  be  ramped  up  for  the  second 
session  for  highschoolers  and  adults. 
After  that,  we  will  run  an  extra  scary 
session in darkness  – only for the very 
brave! 
Please  bring  a  halloween-themed  plate 
for supper. There will be prizes for the 
best  three  plates,  last  year  the  tables 
were  overflowing  with  very  creative 
food:  ghost  meringues,  graveyard 
cakes, 
cobweb 
biscuits, 
eyeball 
cupcakes and more. 
Be  at  the  Kaiwaka  Sports  Complex  on 
Saturday 29
th
 at 6.30pm, the entry fee is 
$5  (adults  and  preschoolers  are  free). 
You  don't  need  to  have  dinner  before 
you  arrive,  as  the  local  food  truck  Off 
The  Grill  will  be  there,  serving  up 
delicious halloween-inspired meals. 
Any 
queries 
to 
Cheryl 
on 
Join us for Breakfast! 
Next Friday 21st there is a 
breakfast  at  Kaiwaka  Fire  Station  to 
celebrate  all  that  has  been  achieved  in 
fundraising so far for the Helipad. And 
to help things be even bigger More FM 
will be broadcasting live. What a great 
way  of  celebrating  what  an  amazing 
community we live in. 
Traffic – too fast or too slow?! 
Ask a speeding driver what they dislike 
and  it's  slower  drivers.  And  yet 
particularly  along  SH1  in  the  Kaiwaka 
Township  the  speed  is  50km.  Which 
most  people  seem  to  struggle  to  keep 
to. 
The latest initiative of a flashing speed 
sign  seems  to  make  people  think  more 
about their speed coming down the hill. 
I  have  noticed that  the speed is  less so 
that has to be a good thing.  
Unfortunately  NZTA  are  currently 
looking  at  increasing  the  speed  along 
SH1  to  60km.  Yes,  they  will  extend 
that to cover most of the 70km area as 
well.  However  if  people  are  already 
speeding  in  both  the  70km  and  50km 
areas will they travel at lower speeds in 
a 60km area? 
NZTA  thinks  yes.  Most  people  I  have 
spoken  to  that  live  in  Kaiwaka  say  no. 
We  have  until  Thursday  20th  to  get 
submissions  in.  Forms  are  available  at 
various 
locations 
around 
town 
including the Drop In space at the front 
of Kate's Place.  
Have  your  say  –  tell  NZTA  whether 
you  agree  or  disagree  with  the  speed 
change.  Let  the  voice  of  those  in 
Kaiwaka be heard. 
Christmas is coming! 
Whether  it  is  something  you  celebrate 
or  not  it  is  an  inevitable  busy  time  on 
the calendar. We have some fun things 
planned for the whole family. So watch 
this space    ~Janine Boult, Chair 
KAIWAKA 
CARES 
In  WWI,  Harriet  Gardiner,  a  pensioner  from 
Rangataua,  made  300  pairs  of  socks  for  New 
Zealand troops serving overseas. That's almost 
1.5  pairs  a  week  for  all 220  weeks  of  the  war. 
~http://ww100.govt.nz/the-story-of-our-war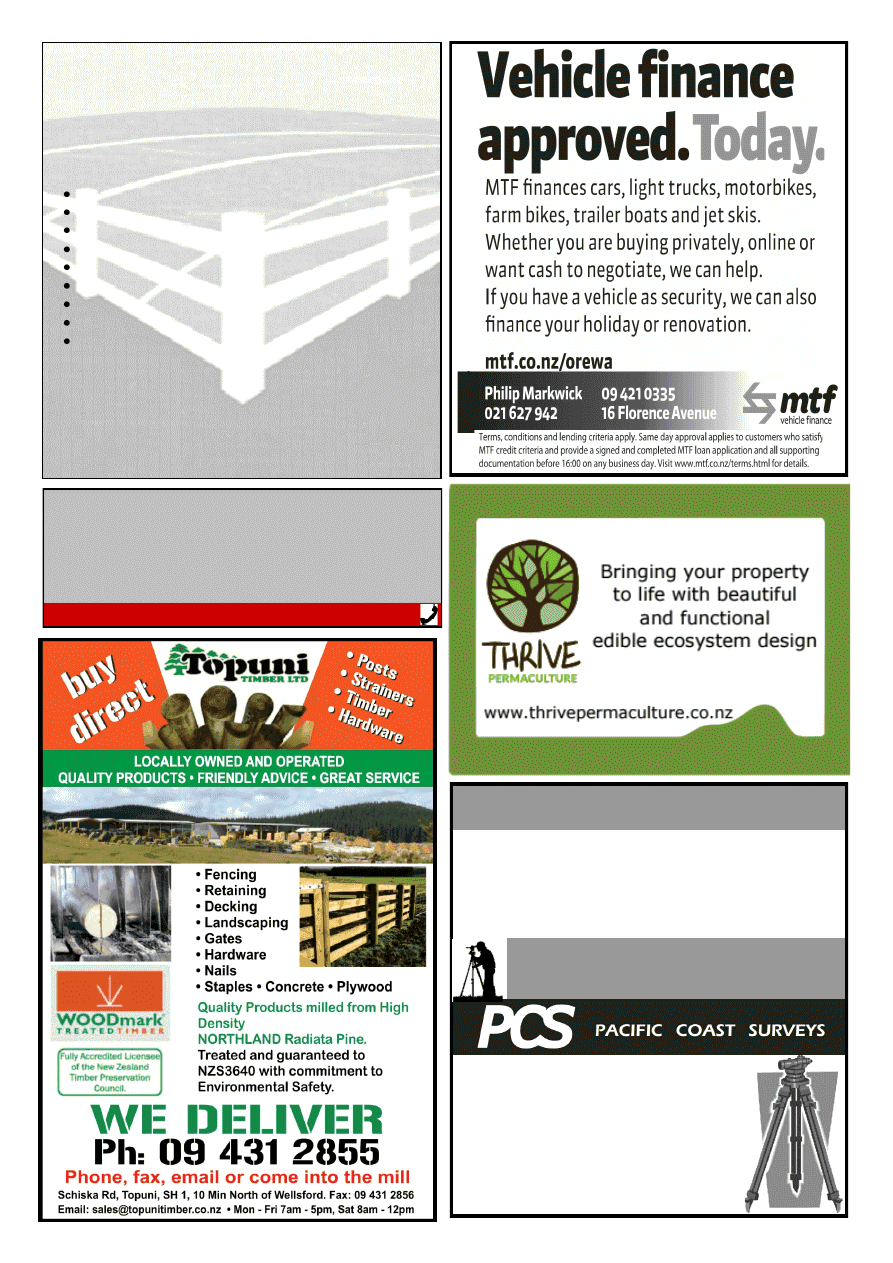 SURVEYORS 
SUBDIVISIONS 
HOUSE SITE SURVEYS 
CIVIL ENGINEERING 
WASTEWATER DESIGNS 
EXPERIENCED 
PROFESSIONAL 
INNOVATIVE 
Ph 09 431 5353 
0800 PACIFIC (0800 722 434) 
pacificcoastsurvey.com
Adam Booth - 027 415 5752 
Bsurv, Licensed Cadastral Surveyor
Surveying Kaipara since 1994 
LIFESTYLE BLOCK SERVICES
36 YEARS FARMING EXPERIENCE 
SPECIALISING IN LIFESTYLE BLOCKS 
  SMALL HAY/SILAGE BALING & WRAPPING 
  FENCING – NEW OR FIX 
  SPRAYING – GORSE, THISTLES, ETC.  
  MULCHING 
  DRIVEWAY & TRACK MAINTENANCE 
  STOCKWORK – MANAGEMENT 
  STOCK WATER SYSTEMS 
  UNDER SOWING 
  TREE TRIMMING – DEAD FALL CLEAR UP/ 
FIREWOOD
PHONE MARK or KATHY BYGRAVE 
on 09 431 4816 or 021 801065 
GIVE US A CALL FOR A HAND WITH YOUR LAND 
CALL CRIMESTOPPERS 
Worried about something that doesn't seem right to 
you? Concerned about activity that could be 
harmful? Call Crimestoppers.  
You don't need to know all the facts.
CALL 0800 555 111 ANONYMOUSLY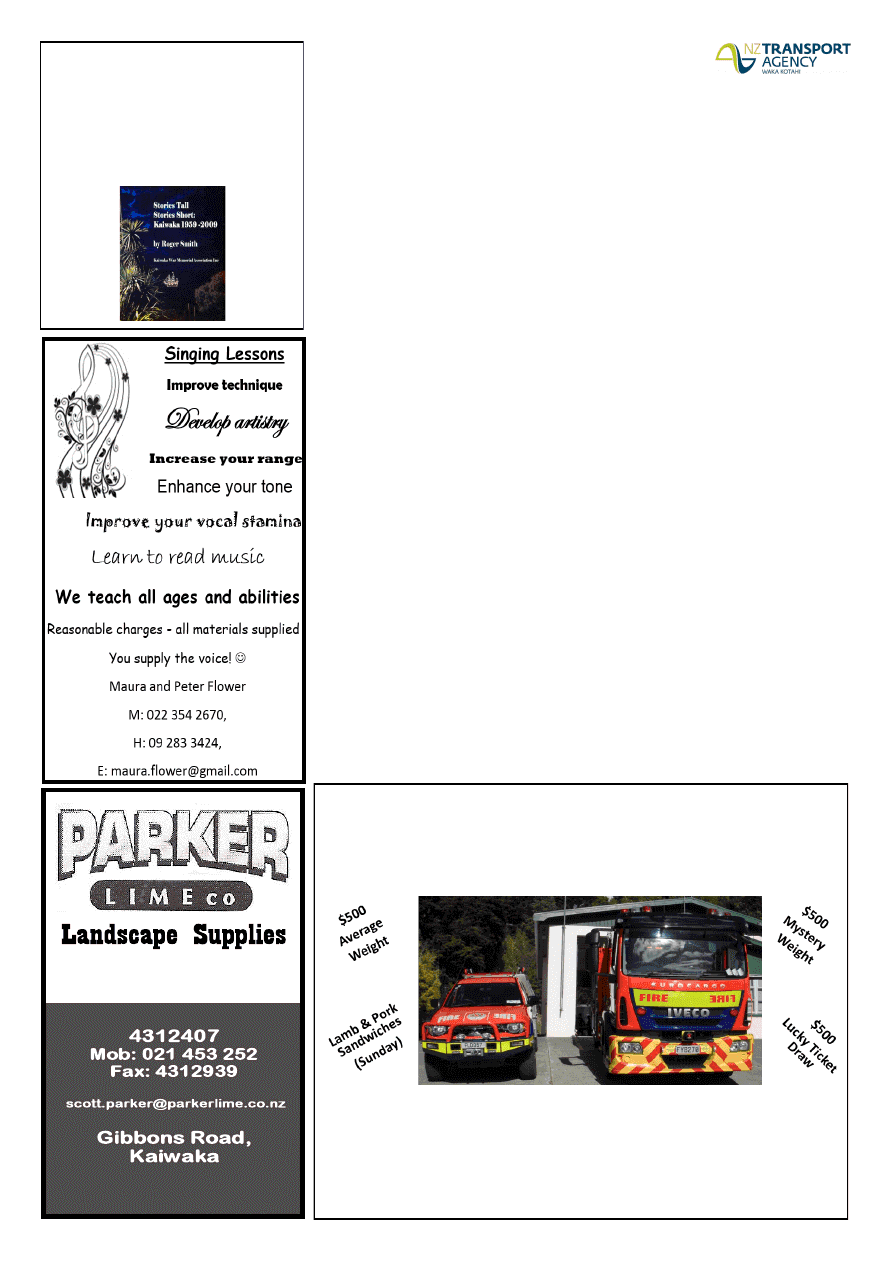 www.kaiwaka.co.nz 
Kaiwaka Bugle - 18 October 2016 
Page 13 
Stories Tall, Stories Short  
Kaiwaka 1959-2009 
by Roger TW Smith.  $40 
Available from  
the Bugle Editors -  
Lindsey 4312 045,  
Wendy 027 480 6275 
Bulk Cartage 
MORE CONSISTENT SPEED LIMITS WILL 
IMPROVE SAFETY THROUGH KAIWAKA 
The NZ Transport Agency is proposing changes to the speed limits on State Highway 1 
through Kaiwaka township to make it safer for residents and road users. 
More  consistent  speeds  are  planned  to  be  introduced,  replacing  the  variations  and 
changes that are currently  in place, which will  mean  lower speed  limits over a greater 
stretch of the highway. 
"By introducing just one speed limit that is clearly signposted and doesn't change part 
way  through  the  township,  it's  anticipated  that  more  motorists  will  know  what's 
expected  of  them  and  are  more  likely  to  drive  within  the  limits,"  says  Tim  Crow  the 
Transport Agency's Network Performance and Safety Manager. 
The  proposals  involve  introducing  a  60km  an  hour  speed  limit  from  130  metres 
northwest of Kaiwaka/Mangawhai Road to 300 metres south of Settlement Road. 
This means the current 100km an hour speed limit will be lowered to 60km an hour over 
a length of 55 metres from the south side of the bridge to the north side of the bridge at 
the  northern  end  of  the township,  and  the  current  section  of  the  road  with  a  70km  an 
hour speed limit will also be reduced to 60km an hour. The area currently 50km an hour 
will rise to 60km. 
Large signs and road markings will also be installed on the road and roadsides at both 
ends of the town which will  more clearly  signal  and reinforce the drop in speed  from 
100km an hour to 60km. Repeater signs will be installed every kilometre to reinforce the 
reduced speed limit. 
"We know that reducing speeds and improving safety is a top priority for the Kaiwaka 
community  and  the  Transport  Agency  believes  these  changes  will  strike  a  chord  with 
more motorists passing through and encourage them to drop their speeds." 
"This will create a better balance in helping freight and commuter vehicles travel safely 
and efficiently through Kaiwaka without compromising the safety and amenity of local 
residents  and  will  help  enhance  and  support  the  goals  of  the  Kaiwaka  Township 
Improvement Plan." 
This  week  the  Agency  installed  a  sign  which  displays  the  speed  that  vehicles  are 
travelling at to improve visual cues and encourage people to slow down. There are also 
plans for a pedestrian refuge to be built on the highway near the shops to improve safety 
for  pedestrians.  The  changes  also  support  the  work  of  the  NZ  Police  which  will  be 
increasing speed enforcement within the Kaiwaka Corridor. 
"Encouraging safer speeds and reducing deaths and serious injuries on our roads is a top 
priority for the Transport Agency and in many cases the consequences of a crash can be 
significantly reduced or even completely avoided if drivers reduce their speeds." 
What is the process for changing a speed limit? 
Speed limits are outlined in the Land Transport Rule: Setting of Speed Limits 2003.  As 
part of this process the density of roadside development and features of the roadway that 
contribute  to  speed  are  assessed.  These  guidelines  suggested  a  speed  limit  of  70km/h 
would  be  appropriate  for  the  entire  township  of  Kaiwaka.  However  the  Agency  has 
decided that 60km an hour would be more beneficial. 
An  assessment  is  then  carried  out  against  the  Draft  Speed  Management  Guide.    This 
suggested a speed limit of 60km/h would be appropriate for the entire township.  
The NZ Transport Agency is now seeking feedback from key stakeholders that include: 
Kaipara District Council (including the local community board for that ward); 
New  Zealand  Police;  New  Zealand  Automobile  Association  Inc.;  National  Road 
Carriers Inc. 
Considering  all  of  the  responses  received  during  the  consultation  process,  a 
recommendation  is  then  made  to  the  NZ  Transport  Agency  National  Office  for  final 
approval  and  publishing  the  change  in  the  NZ  Gazette.  28  days  after  the  change  has 
been published in the NZ Gazette, the signs must be erected and are legally enforceable. 
13 Oct 2016 12:53 pm | 
NZ Transport Agency: Auckland & Northland
KAIWAKA VOLUNTEER FIRE BRIGADE 
OPEN FISHING CONTEST  
Saturday the 5th & Sunday the 6th  November 2016 
Start time 12am on Saturday 5th.
Adult species: Snapper, Gurnard, Kingfish, Kahawai & Crayfish.  
1st Prize Snapper $300*,1st Prize Gurnard $300*, 1st Prize Kingfish $300*, 1st Prize 
Kahawai category $300*, 1st Prize Crayfish category $300*, Mystery Weight Prize 
$500*, Average Weight Prize $500*, Lucky Draw Prize $500*.  
Junior prizes for Snapper & Kahawai.  
*  Prize can be in cash or equivalent value of a sponsored prize.  
See full poster for rules and details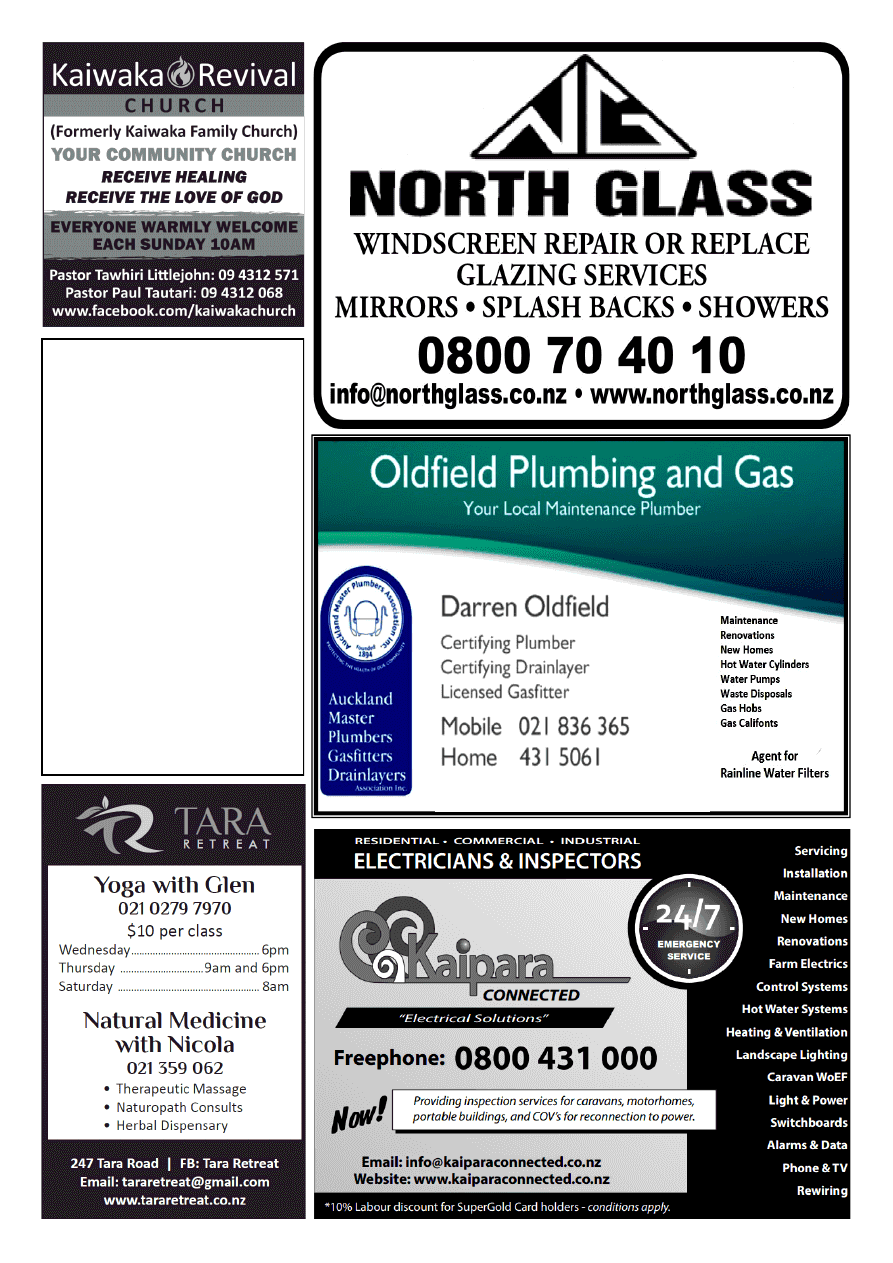 oldfieldplumbing@gmail.com 
Robyn's Beauty Therapy
Express Facial 30mins 
$45.00 
Deluxe Facial 60mins 
$60.00 
Half Leg Wax 
$25.00 
Full Leg Wax 
$40.00 
Full Leg & Bikini wax 
$55.00 
Bikini Wax 
$20.00 
Extended Bikini Wax 
$30.00 
Brazilian Wax 
$50.00 
Under Arm Wax 
$15.00 
Arm Wax 
$20.00 
Eye Brow Wax 
$10.00 
Lip Wax 
$10.00 
Chin Wax 
$10.00 
Combo Eyebrow/Lip/chin 
$25.00 
Back Wax 
$20.00 
Chest Wax 
$20.00 
Eye Brow Trim 
$10.00 
Lash Tint 
$20.00 
Brow Tint 
$10.00 
Lash & Brow Tint 
$25.00 
Combo Lash/Brow Tint/Brow Wax  $35.00 
Express Pedicure 30mins 
$40.00 
Delux Pedicure 60mins 
$60.00 
Express Manicure 30mins 
$30.00 
Delux Manicure 60mins 
$50.00 
Trim & File (hands & feet) 
$15.00
Qualified Beautician with 15 years experience 
Phone Robyn on 027 293 1521 
Gibbons Road Kaiwaka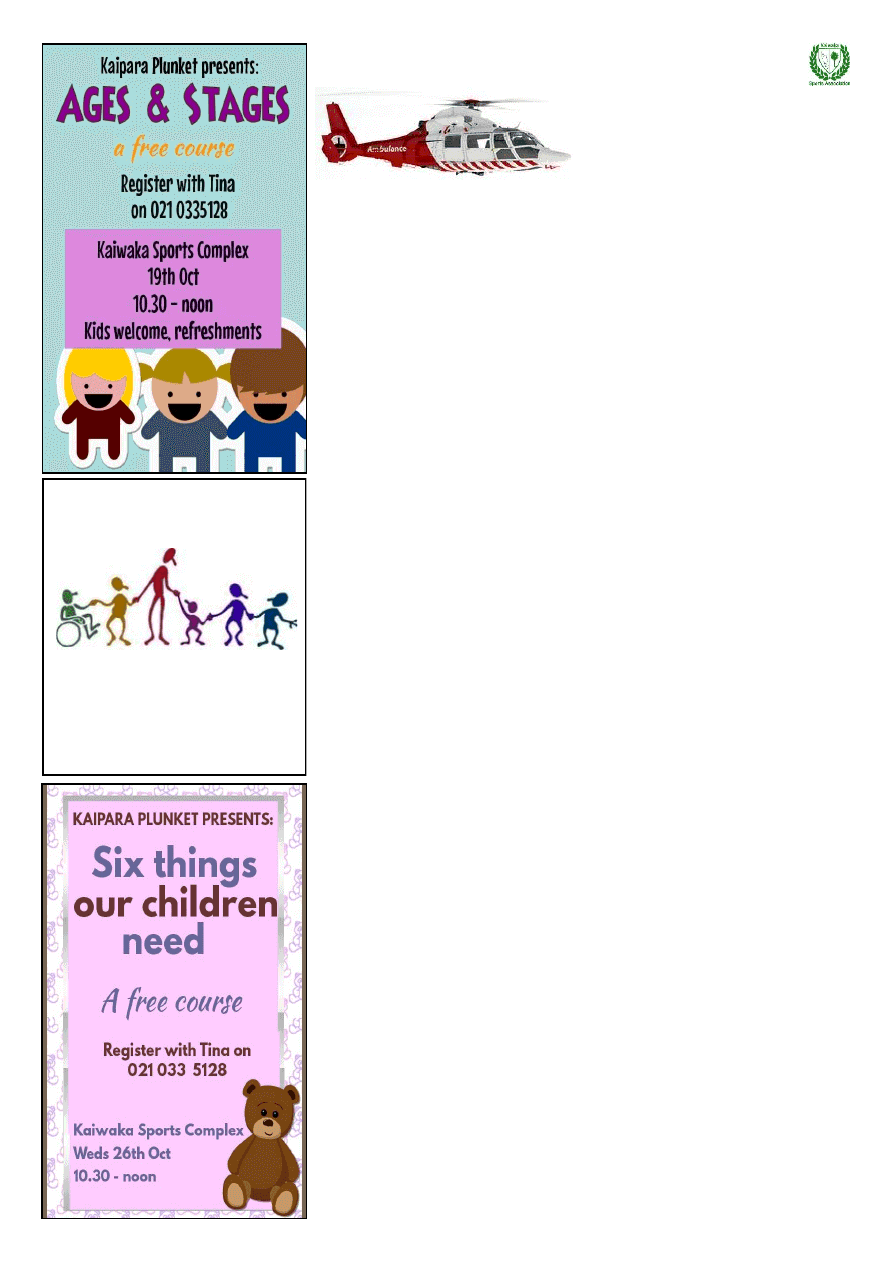 www.kaiwaka.co.nz 
Kaiwaka Bugle - 18 October 2016 
Page 15 
Fabulous news! 
More FM were so impressed when they 
heard  about  how  our  community  got 
behind  building  the  helipad  at  the 
Sports  Complex,  that  they're  going  to 
come  to  Kaiwaka  to  broadcast  their 
breakfast show! 
The  show  is  being  broadcast  live  this 
Friday 21st October, from 7am till 9am 
at  the  Kaiwaka  Fire  Station.  Everyone 
is  invited  –  helipad  sponsors, 
community groups and members of the 
public.  Our  wonderful  volunteer  Fire 
Brigade  is  putting  on  a  free  breakfast. 
The  radio  hosts  Markby,  Flash  and 
Toast,  will  be  fundraising  for  the 
Northland  Rescue  Helicopter  -  if  you 
come  along  to  the  Fire  Station  and 
make a donation, you'll go in the draw 
for a fabulous prize!  
Fright Night 
Fright  Night  is  next  Saturday,  29th 
October.  Have  you  got  your  costume 
sorted?  I've  had  donations  of  family 
passes  for  Spookers,  Whangarei 
Aquatic Centre, NZ Maritime Museum, 
Planetarium  North,  Leigh  Glass 
Bottom Boat and Sheepworld, to use as 
prizes for the best dressed. Imaginative, 
creative  costumes  and  makeup  will 
take the eye of our judges, so put your 
thinking  cap  on!  You  can  read  more 
about Fright Night in the article in this 
edition of the Bugle. 
Whanaunga  Touch  Tournament 
We are proud to announce that we will 
be  hosting  the  Whanaunga  Touch 
Tournament  again.  To  be  held  on 
January 14
th
. More details to follow.  
Hawks Rugby 
Our  senior  rugby  club  is  looking  for  a 
Premier  and  Reserve  Coach  for  2017. 
The  Hawks  have  a  passionate  pool  of 
players,  the  coach  will  work  closely 
with our club coaching committee. 
Applications  close  27
th
  October. 
Contact  Jennie  on  021  20764171  or 
email 
CV 
to 
Kaiwaka Athletics Club 
Club Nights are held at Otamatea High 
School  on  Mondays,  5  –  6.30pm,  the 
first  night  of  the  season  will  be 
Monday 31
st
 October.  
This is for children of all ages and club 
nights feature running, long jump, high 
jump, shot put, discus and javelin. 
Queries to Eileen Parsons on 4318 055. 
Kaipara Sports Awards 
The  2016  Kaipara  Sports  Awards  will 
be  held  on  Friday  4
th
  November  at  the 
Lighthouse  Function  Centre  in 
Dargaville. Tickets are $50 per person. 
You  can  purchase  a  ticket  by 
contacting 
Sport 
Northland 
representative  Roxanne  Kelly  on 
Tennis 
Time to get into the swing of it! Junior 
tennis  starts  up  this  Monday,  with 
coach  John  White.  Lessons  for  young 
children 
will  start  at  3.15pm, 
intermediate  children  will  start  at 
3.45pm  and  secondary  children  will 
start at 4.15pm. To register your child, 
please  contact  Floyd  Driver  on  022 
4769669. 
Agricultural Days 
Kaiwaka  School  will  hold  their 
Agricultural  Day  at  our  grounds  this 
Thursday  20th  October.  Group  Day 
(regional  Agricultural  Day)  will  be 
held  at  our  grounds  the  following 
Monday, Labour Day. 
Touch Module 
Would you like to play in my Summer 
Touch  Module?  The  Touch  module 
will be held at the  Sports Complex for 
eight  weeks  on  Sunday  afternoons 
starting  on  Sunday  19
th
  February. 
Teams  are  6  a-side  with  at  least  three 
females  on  the  field,  double  points  for 
female try-scorers. You can have up to 
14  players  in  your  team,  team  fee  is 
$100.  This  is  a  casual,  friendly 
competition  for  mixed  teams  of  men, 
women and teenagers. Touch is easy to 
learn  and  just  about  anyone  can  play. 
Why not start getting a team together! 
Parenting course 
Kaipara  Plunket  is  hosting  a  course  at 
our  Sports  Complex  this  Wednesday, 
19  October,  for  parents  to  learn  about 
the  stages  of  development  of  young 
children. Come along at 10.30am. This 
is  a  free  course,  refreshments  will  be 
available  and  children  are  welcome. 
Please  register  with  Tina  Ball  on  021 
033 5128. They are putting on another 
course, Six Things Our Children Need, 
the  following  Wednesday,  26  October. 
All welcome.  
Top of the Rock 
Many  thanks  to  Paula  and  Greg  from 
Jaques  Four  Square  who  have  very 
generously  offered  sponsorship  of 
$1,000 for Top of the Rock – we are so 
lucky to have such community-minded 
people in our town. 
A  big  thank  you  also  to  local  bone 
carver  Perry  Allen  who  has  offered  to 
donate one of his beautiful pendants as 
the  prize  for  our  Volunteers  Draw  – 
thank you Perry. 
If  you  are  keen  to  support  the  Top  of 
the  Rock  by  providing  sponsorship, 
please get in touch with me. 
Cheryl Anderson 
4312 051, 027 3462702 
kaiwakasports@gmail.com 
KAIWAKA SPORTS ASSOCIATION 
LINKING HANDS INC 
Maungaturoto - Kaiwaka - Mangawhai 
Meeting the needs of the community 
HEALTH SHUTTLE SERVICES 
Ph/fax 09 431 8969 
OFFICE HOURS 
Maungaturoto - Monday to Friday - 
10am to 4pm 
Closed Public Holidays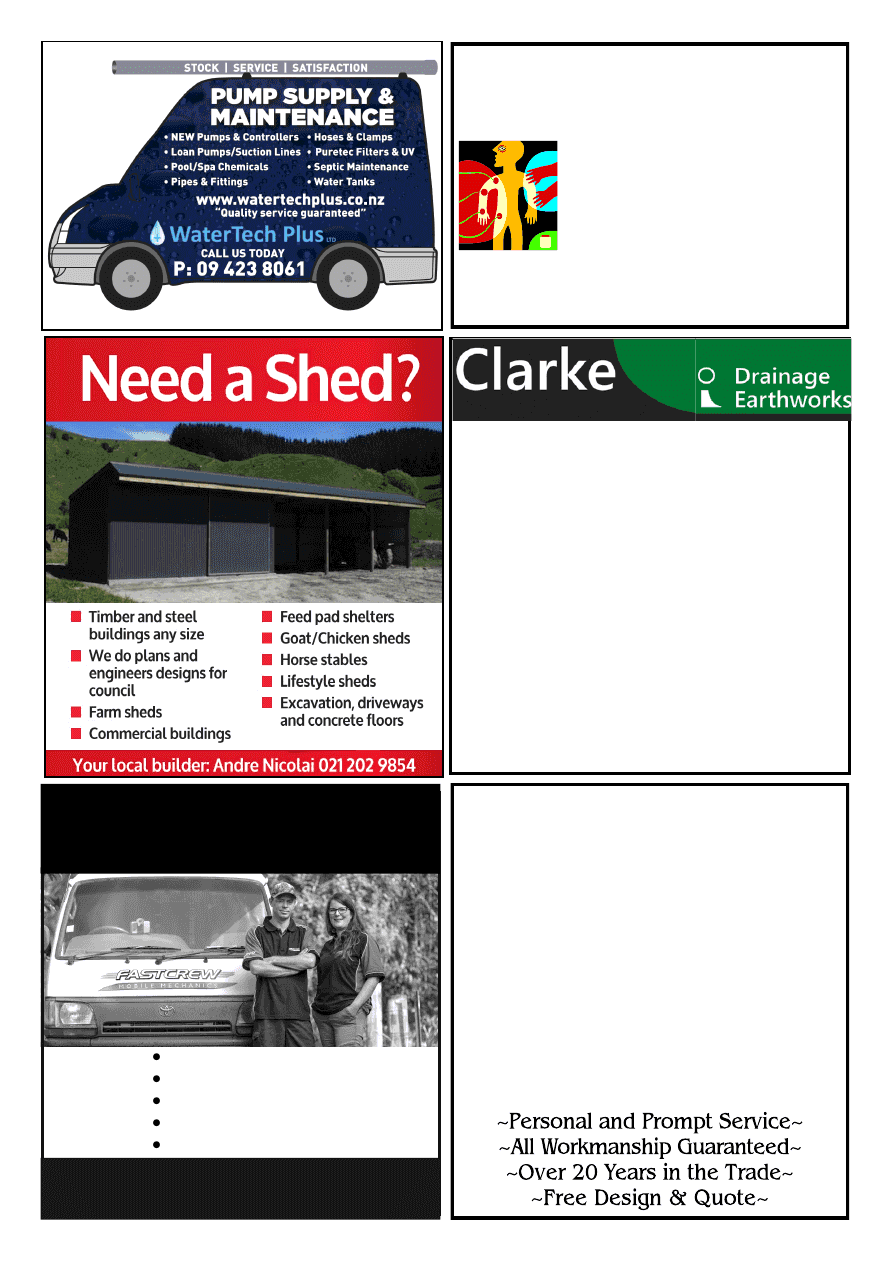 OWEN STEVENS 
Osteo Therapist
For careful adjustments to bones and joints 
Treatment for  humans and their pets 
Clinics: 
Kate's Place, Kaiwaka: 
Last Friday of month 
For bookings:9.00am-5.00pm 
Phone 
09 4312661 
Or phone Owen  09 4317123  anytime 
Registered Drainlayer 
All Types of Earthworks  
> All Residential & Commercial Work  > House Sites 
> Septic System Design & Install 
> Footings & Drilling to 10m 
> Sewer Connections 
> Dams 
> Water Tank Installation 
> Roading & Races 
> Farm Work 
THE ONE STOP SHOP  
Phone Nigel for an Obligation Free Quote  
Drainage & Earthmoving 
clarkedrainage@xtra.co.nz 
027 2233 185 
PLANNING A NEW KITCHEN? 
 CONTACT NOEL McDOWELL
WELLSFORD 
KITCHENS
Ph/Fax 094312888
KAIWAKA-Any time
  QUALITY CUSTOM MADE 
KITCHENS
"WE'LL COME TO YOU 
AT AFFORDABLE PRICES" 
Wayne and Leanne 
are 
FAST CREW, the garage that comes to you. 
Ph:0800 484 327  fastcrewautomotive.co.nz 
Petrol and diesel large or small 
Servicing, cambelts, tune-ups 
Shocks, brakes, batteries 
Transmission servicing, suspension 
Steering and much more 
www.kaiwaka.co.nz 
Kaiwaka Bugle - 18 October 2016 
Page 17 
HODGETTS
CONTRACTING
Digger Work   
Driveways 
House Sites  
Dams 
Drains, etc  
Also available 
for HIRE 
3 ton Vib Roller 
Heavy Duty Tow 
Waterblaster  
Lazer Level 
 
Phone Mark 4312877 
027 447 8554
Water Tank  
Cleaning 
Keep your water safe & clean   
Removal of sediment, silt etc 
Vacuum or full scrub 
Minimal water loss 
Phone Mark  
(09) 432 0655  
or 0274 707607 
The 
arrival  of  the  railway  line  in 
Kaiwaka  didn't  just  divide  the  farm  of 
my  great-great  grandfather  Thomas 
Dowson,  it  divided  the  Kaiwaka 
community too. It was not popular with 
many of the locals and pitted neighbour 
against  neighbour.  Thomas  wrote  his 
daughter,  Millie  Green  of  Ruakaka,  in 
1911,  that  he  had  fallen  out  with 
neighbour  James  Hastie,  senior. 
Several  men  who  had  been  in  the  for 
camp  were  now  unhappy  with  the 
imposition  on  their  properties,  and 
furthermore,  locals  were  not  speaking 
to  them.  Thomas  thundered,  'They  are 
traitors  to  the  districts  of  Mangawai 
(sic)  and  Hakaru  settlements  and 
everybody  (save  these  hounds)  in 
Kaiwaka  wanted  the  rail  way  line  via 
Pukekaroro.' I picture him  writing this 
in his study, train smoke pouring in the 
window,  china  and  cutlery  rattling  in 
the  cupboards.  Thomas  didn't  live  to 
see Kaiwaka station open, on 22 March 
1913.  I  can  almost  imagine  that  if  he 
had,  he'd  have  set  up  a  picket  line  in 
protest! 
There  were  (and  still  are!)  many 
colourful  characters  in  the  Dowson 
family.  Thomas'  son,  Egbert  (Bertie), 
was fascinated by the projecting magic 
lantern.  He  travelled  around  the  world 
twice, met Thomas Edison, held magic 
lantern shows around the area in 1899, 
and  died  in  the  Boer  War.  His  magic 
lantern  is  now  in  the  Matakohe 
Museum. 
A  whale  jaw  was  once  a  prominent 
Kaiwaka landmark, for about 25 years. 
It was erected in the 1930s by Romaine 
Dowson,  Thomas'  son,  on  the  State 
Highway  at  the  entrance  to  his 
property. This was Belmont, located on 
the  south  side  of  the  red  brick  house 
with twisted pillars. Romaine also built 
a  museum,  the  once  beautiful  blue-
stone building south of Shamrock. 
Kaiwaka  had a poet in residence once. 
Twenty-seven  poems  written  by 
Thomas'  wife, Emily (nee  Turner) still 
exist,  and  many  were  published  in  the 
Auckland  Weekly  News.  Some  were 
religious,  some  inspirational,  funny, 
sad,  about  personal  experiences  or 
daily life.
The  first  radio  in  town  was  a  crystal 
radio,  built  by  William  Dowson 
(Romaine's  son)  and  Geoffrey  Linnell, 
in  1919.  William  once  set  up  loud 
speakers  of  his  own  making  in  the 
whale jaw arch, and played music loud 
enough  to  be  heard  by  folks  playing 
tennis  down  at  McClean  Park  (1km 
away). He tried to own the first TV set 
in Kaiwaka but  was pipped at the post 
by  Ray  Parker.  William  had  a  taxi 
service  from  the  1930s,  and  built  the 
original petrol station where Shamrock 
Caltex is today. 
Tennis  was  a  Dowson  family  passion, 
and  Erwin  Dowson  (Romaine's  son) 
put  a  lot  of  time  into  developing  the 
first  of  the  current  tennis  courts.  A 
court  was  named  in  his  honour, 
posthumously, in 1987. Erwin was also 
a keen on flying, and gained his pilot's 
license.      Erwin  was  also  a  passionate 
gardener,  and  left  farming  to  develop 
huge  glasshouses  and  orchards,  on  the 
hill 1 km  north of town. Kaiwaka folk 
purchased  his  delicious  and  well 
tended  fresh  produce  during  the  1970s 
and 80s. 
Many  descendants  of  Thomas  and  his 
wife  Emily  (nee  Turner)  reside  in  the 
Kaiwaka,  Mangawhai  and  Wellsford 
area  today.  Many  are  not  named 
Dowson.  Many  have  moved  away: 
Auckland,  Whangarei,  Te  Aroha, 
Australia,  Canada,  Hong  Kong. 
Dowsons  are  proud  of  their  Kaiwaka 
connection.  We  have  a  great  sense  of 
the contributions our family have made 
to  the  town  during  the  past  150  years, 
and  the  wonderful  opportunities 
Kaiwaka  offered  in  return.  This  is  all 
outlined in my book The Daffodils Still 
Grow  at  Heelyfield,  Kaiwaka.  Sharon 
Middleton (Dowson). 
Below:  Outside  the  whale  jaw, 
Belmont, Kaiwaka, looking north along 
State  Highway  1  towards  the  Kaiwaka 
township  and  Mt  Pukekaroro.  Today, 
Shamrock  Caltex  Service  Station  is 
located to the left of this photograph. c. 
1940. 
KAIWAKA HISTORY with the DOWSONS 
SHARON MIDDLETON 
Sharon,  the  eldest 
daughter 
of 
Rowena 
and 
Wayne  Dowson, 
has  published  a 
history 
of 
the 
ancestors 
and 
descendants 
of 
Thomas 
and 
Emily 
Dowson 
family  -  'The  Daffodils  Still  Grow  at 
Heelyfield,  Kaiwaka"  This  book  is 
brilliantly  produced,  with  lots  of 
wonderful  photographs.  Sharon  has 
referenced  her  hours  of  research  very 
carefully,  and  is  grateful  for    family 
encouragement she has received.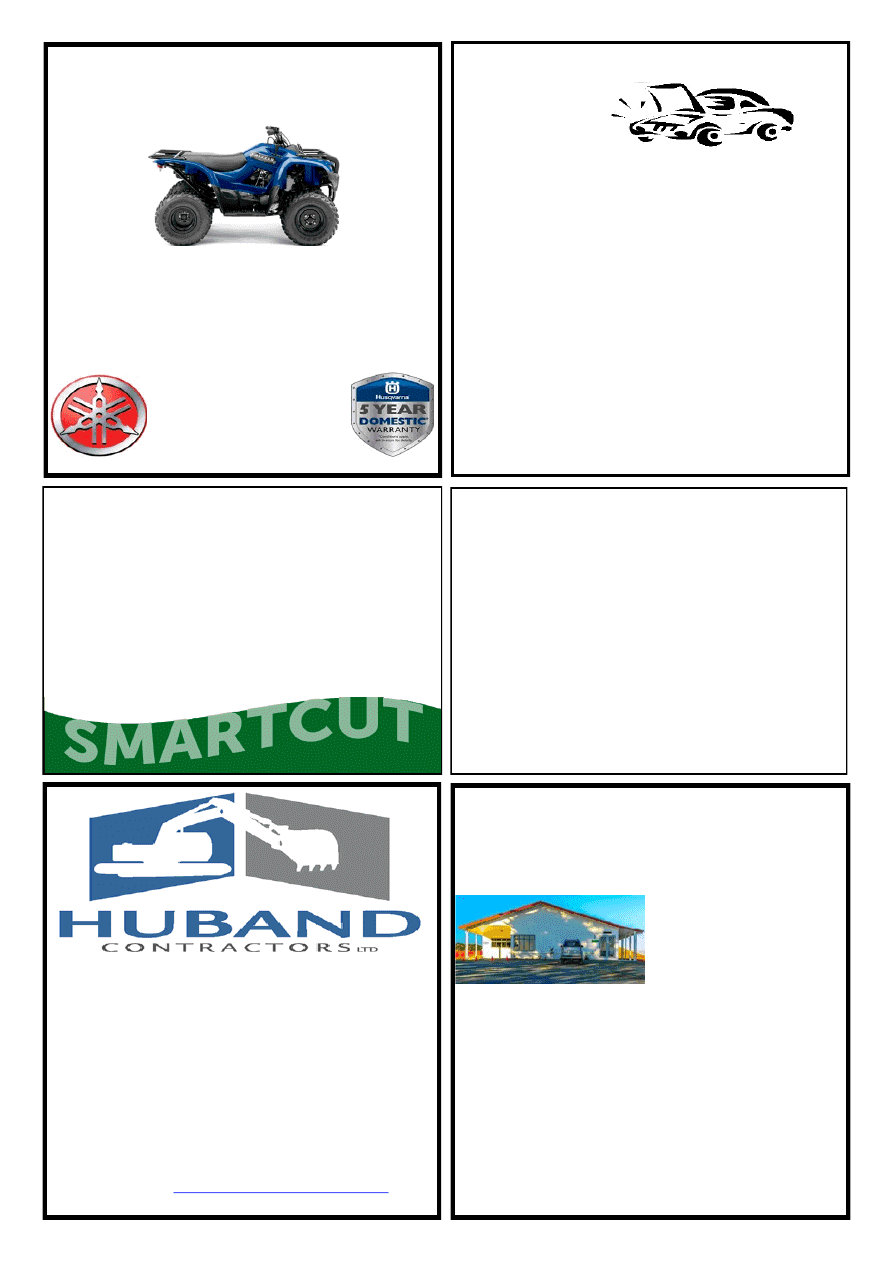 KAIWAKA 
MOTORCYCLES LTD
SALES – SERVICE – SPARES 
FARM BIKE SPECIALIST
PHONE 09 431-2127 
10 KAIWAKA-MANGAWHAI ROAD, KAIWAKA
Trimmers  
from $279
Chainsaws  
from $339
YAMAHA 
HUSQVARNA 
*   R O A D I N G   *   E A R T H W O R K S   *    
*   D R A I N A G E   *   S I T E W O R K S   *
Shaun Huband 
Registered Drainlayer
Cell: 021 222 0272 
Home: 09 4318339 
Te Pounga Marae 
130 Nathan Rd. Oneriri. Kaiwaka 0573 
COMPLEX FOR HIRE 
Functions 
* Weddings   *  Birthdays   
*Anniversaries 
* Meetings   * Wananga 
5 hour meeting 
* 12 hour stay   * 
Overnight 
*All welcome - No more Drink-driving 
Amenities: 
*Convo Combi Steamer * Bratt Pan * Dish 
Washer/Sterilizer * 3 Door Glass Chiller (walk in) 
etc…All Crockery * Linen Supplied * Central 
Heating and Air Conditioning and much more.  
Can also cater for small groups…. 
For more information please contact: 
Kim Wallace 
Home: 09 832 1133   Mob: 0211275340 
Email:  kimwallace@xtra.co.nz 
Twinkle Tow 'n' Tyre 
Think you'll get a better deal in the city? 
Ring us - it won't cost anything! 
1837 State Highway 1, Kaiwaka 
Phone 431 2823 
*W.O.F. 
*Tyres 
*Windscreen 
replacement 
*Chip repairs 
*Bulk Oil 
*Batteries 
*Welding 
*Custom built 
trailers 
*Trailer hire
All your outdoor needs sorted so you don't have to... 
I can prune, chop, tidy, spray, mow, plant 
- you name it, I can do it! 
Residential & Commercial 
Lawn & Garden Care 
Call Rodney, your local  
lawnmowing contractor 
021 138 2344 
UP-LINK 
CHRIS WARING 
FREEVIEW INSTALLATIONS 
T.V. - HOME THEATRE & 
HI-FI ADVICE/SET UP 
SKY ACCREDITED INSTALLER 
MOB.0273403747 HM.094312328 
EMAIL cwaring44@gmail.com  
28 YRS EXPERIENCE OFFERING UNBIASED ADVICE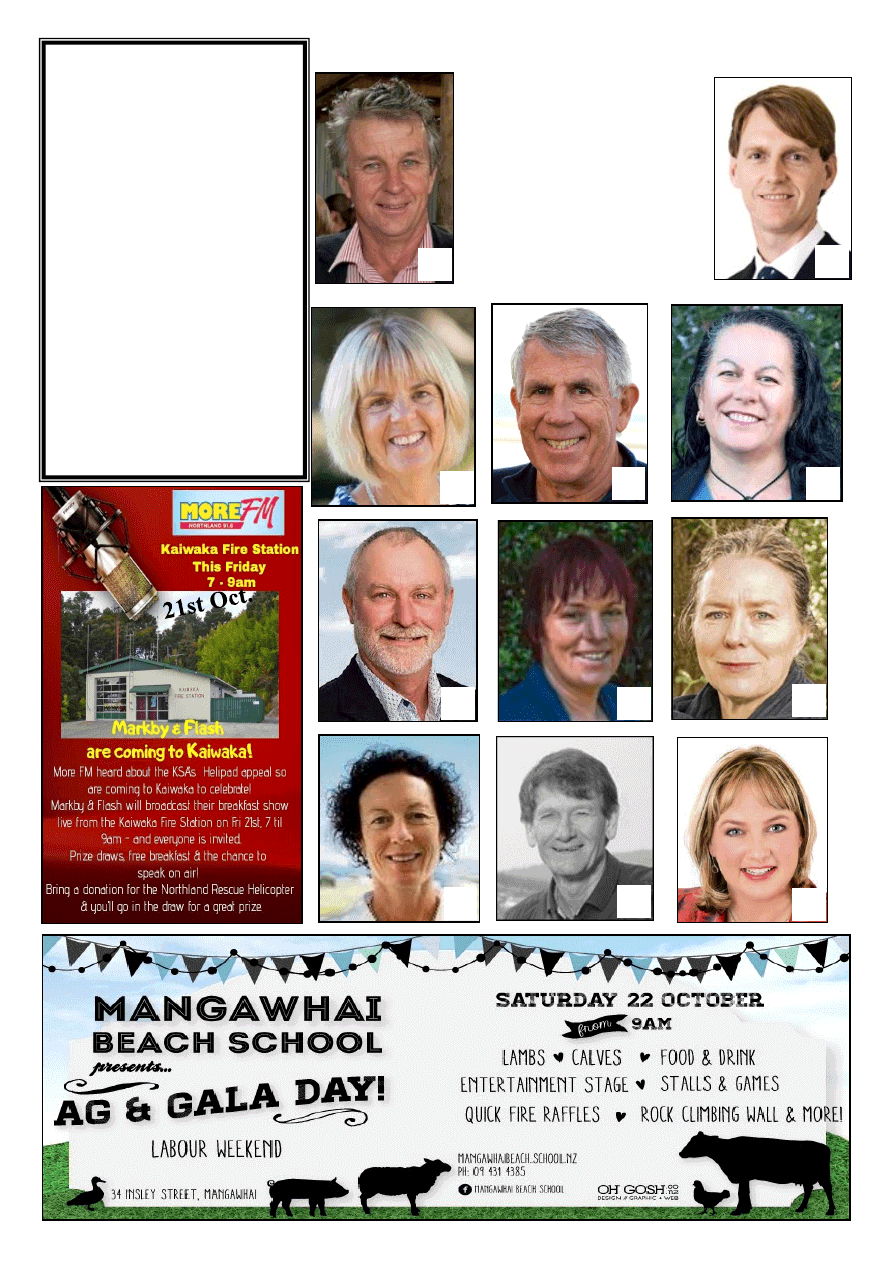 www.kaiwaka.co.nz 
Kaiwaka Bugle - 18 October 2016 
Page 19 
MULCHING 
GORSE,SCRUB ETC 
PADDOCK TOPPING OR 
MULCHING 
2.8m mulcher with 140HP tractor. 
Experienced operator. 
LIFESTYLE PROPERTY 
MAINTENANCE 
Putting life back into your style 
BOOK NOW. Phone James 
mob: 0273 808622  
or 09 431 2245 
email: 
lifestylesorted@gmail.com 
KAIPARA DISTRICT COUNCIL 
Mayor  Greg  Gent  (A).  Councillors: 
Otamatea  Ward-  Libby  Jones  (C), 
Jonathan  Larsen  (B),  Peter  Wethey  (D); 
Dargaville Ward - Karen Joyce-Paki (E), 
Andrew  Wade  (F);  West  Coast-Central 
Ward  -  Victoria  del  la  Varis  Woodcock 
(H), Julie Geange (G). 
Northland  Regional  Council:  Coastal 
South  -  Rick  Stolwerk  (J);  Kaipara  - 
Penny Smart (I). 
Northland  District  Health  Board  (from 
Kaipara  area):  Debbie  Evans  (K),  Libby 
Jones (C). 
The  Government  has  appointed  a  crown 
observer,  Barry  Harris,  to  work  with  the 
newly  elected  Council  for  a  year..  He  is 
there to advise and guide the council and 
would not have a decision-making role. 
J 
I 
H 
G 
F 
E 
D 
C 
A 
B 
K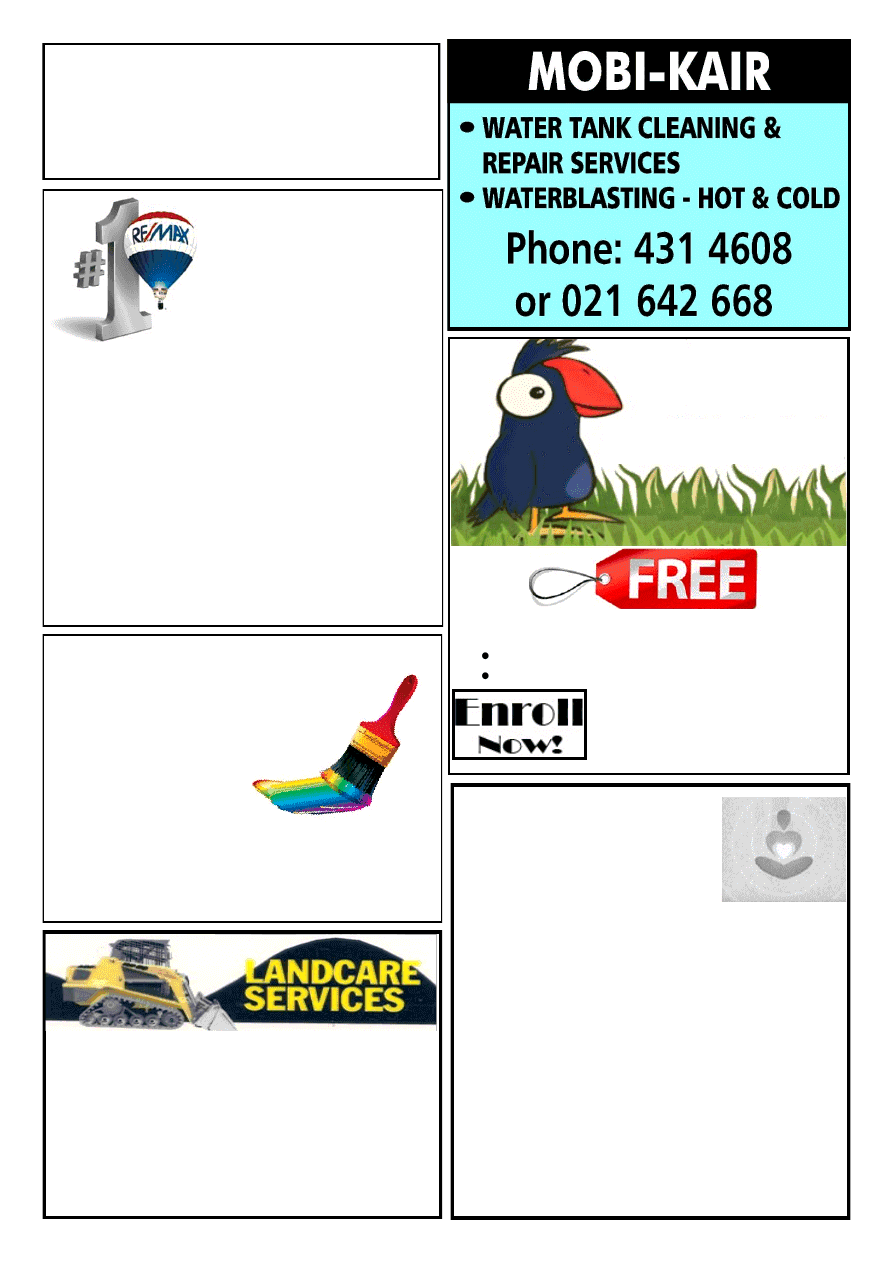 LANDSCAPING 
4 IN 1 BUCKET 
TRENCHER 
POLE HOLES 
ROTARY HOE 
COMPACT ROLLER 
OFFAL HOLES 
CAN SUPPLY WOODCHIP & POST PEEL 
5 TON TIPPER 
FOR RELIABLE AND FRIENDLY SERVICE CONTACT DAVE 
Dave Hyndman 
 
KAIWAKA 
PH: 09 4312302 
MOB: 021 431 238 
09 4312918 
0274735171 
leecooper@xtra.co.nz 
LEE COOPER PAINTERS 
(Kaiwaka Based) 
*30 yrs Experience 
*Interior/Exterior 
*New and Restoration 
*Honest and Reliable 
*Free Quotes 
There are more people 
wanting to buy than 
there are houses 
available!
Vacant land, home and income, DIY dream … 
whatever your property's condition there is a buyer 
out there waiting to give you their money. 
Get your local agent's appraisal of your property to 
find out what's it's really worth. 
Contact Beth Stone today! 
Mob: 0274 937 801 
Email: beths@remaxrealty.net.nz 
RE/MAX Realty Group MREINZ 
Northern Properties Limited 
Licensed REAA 2008 
 LEABOURNS 
Passenger Service
Car & Van Hire, Bus & Coach Charters, Airport 
Transfers, Monthly Shopper Bus 
Phone 09 4237416 
Musculoskeletal, chronic pain, women's health, infertility, 
pregnancy, general wellbeing, stress, anxiety, headaches, 
depression, insomnia, respiratory, gastrointestinal,  
cosmetic acupuncture and much more.
Certified in kinesio taping.
For more information about treatments please 
visit our website or contact Lara: 
3 Cove Rd Waipu, Northland 
Tel: 0221 557811 or 09 432 1325 
Email: info@acubalance.co.nz 
www.acubalance.co.nz
Acupuncture treatments provided at Waipu Natural Health 
AcuBalance 
Lara Tremain
Registered Acupuncturist and 
ACC Treatment Provider 
for children over 3 
Day care for children from 0 to 5 yrs old 
After school care for children over 5yrs old
 
Phone: 09 431 2842 
Email: smallpukekos@gmail.com 
Address: 8 Kaiwaka-Mangawhai Rd 
Website: www.smallpukekos.co.nz 
Small Pukeko's 
Early Learning Centre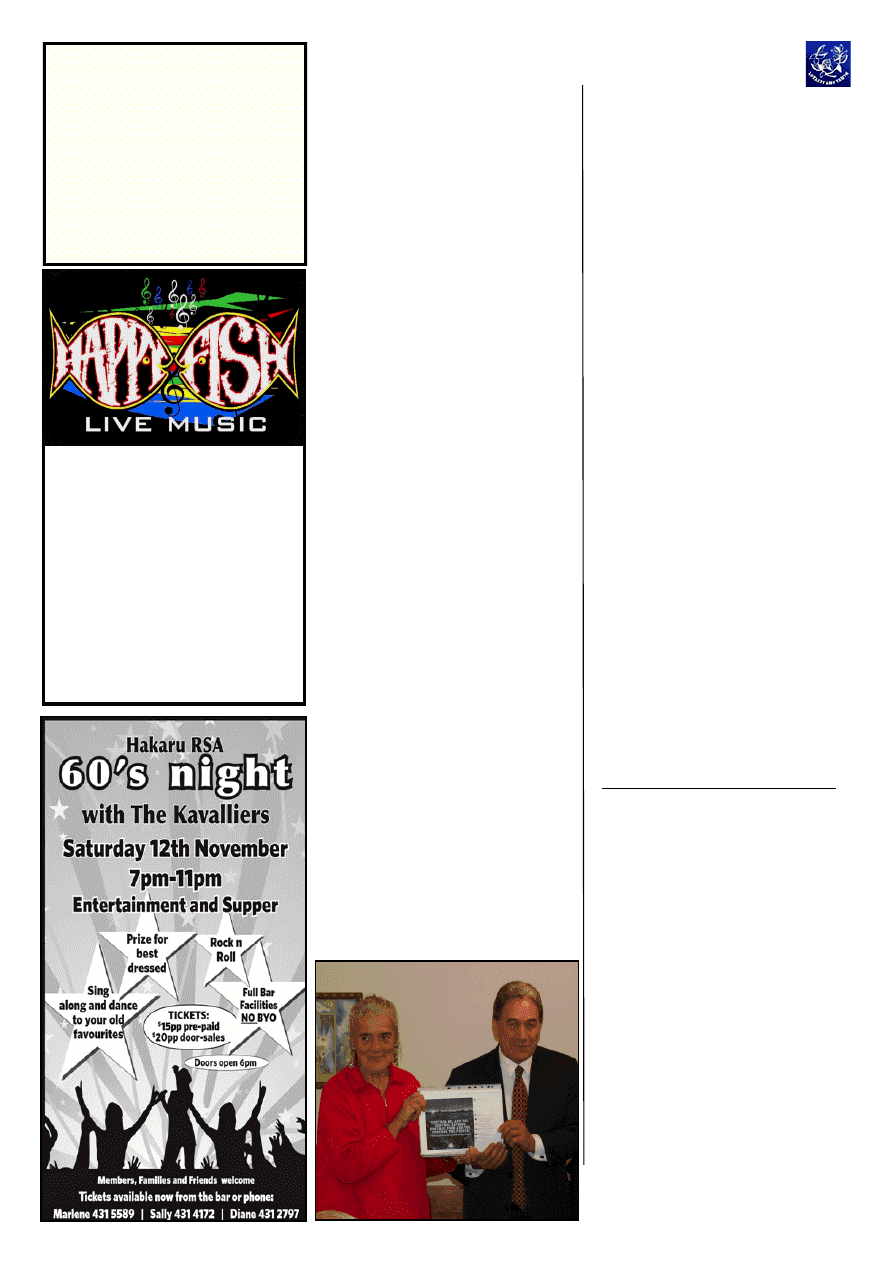 www.kaiwaka.co.nz 
Kaiwaka Bugle - 18 October 2016 
Page 21 
OTAMATEA GREY 
POWER  
ROCKIN' POPULAR, OLD AND 
NEW PARTY SONGS WITH LOADS 
OF KIWI MUSIC AND A FEW 
ORIGINAL TUNES IN THE MIX. 
AN ELECTRIC DUO FEATURING:  
GORDON JOLL 
(NZ Music Hall of Fame)
ON DRUMS AND SUE JOLL ON 
GUITAR AND VOCALS. 
A BAND FOR ANY OCCASION 
BACKED BY YEARS OF 
EXPERIENCE. 
Contact: Sue 021 623 776 
Email: happyfishband@gmail.com   
Website: www.happyfishband.co.nz 
Our  meeting  with  the  Rt  Hon  Winston 
Peters,  to  present  our  petition,  was  a 
resounding success.  The hall was filled 
with  members  of  the  community  as 
well as our Grey Power members, with 
two  journalists  who  came  to  report  on 
our meeting as well. 
For  those  who  were  from  the 
community, 
Beverley 
gave 
a 
presentation, giving the background for 
the  creation  of  the  Petition  to  Re-
legalise  Cannabis  for  Health  Benefits. 
She advised of the countries as well as 
states  within  the  USA  that  have  now 
legalised cannabis.    
We  also  would  like  to  thank  all  those 
who  signed  our  petition  which  we 
handed  to  Winston  Peters,  and  those 
who  signed  our  petition  at  the  end  of 
the  meeting.  The  more  people  who 
know  the  truth,  the  more  likely  it  will 
be that we will succeed in re-legalising 
this wonderful plant. 
Winston  was  most  informative,  with 
his  talk.  He  explained  how  our 
superannuation fund tops the OECD in 
its capability to pay superannuitants not 
only  the  60%  but  65%  of  the  average 
wage.  This  is  contrary  to  the 
scaremongering  from  politicians  and 
the  Superannuation  Commissioner.  He 
is  committed  to  the  Gold  Card.  He  is 
also committed to conducting a binding 
referendum on cannabis. 
After his talk, he allowed for a lengthy 
question  and  answer  session.  Issues, 
such  as  a  conflict  of  interests  with  a 
school donating proceeds of its event to 
the National Party, were discussed.  We 
were most impressed with his talk, and 
he  was  applauded  for  attending  our 
meeting, and accepting our petition. 
We  are  planning  our  Christmas  lunch 
for  our  November  meeting.    Those 
wishing to attend are asked to pay their 
$5 at our October meeting, please. 
We  welcome  new  members  so,  if  you 
would like to join us, our meetings are 
on the last Wednesday of the month, at 
1.00  p.m.  in  the  Maungaturoto 
Anglican Church Hall. 
Beverley Aldridge 431 9188,  Kath 
Pattinson 09 283 2052 
Photo  below:  Beverley  presenting  the 
petition to Rt Hon Winston Peters 
Counsellor and 
Registered Psychotherapist 
Offers Supervision
Susan Matheson 
MNZAC, RN 
Dip. Psychosynthesis Counselling and Psychotherapy 
Phone 09 431 5997 
Mobile 027 605 2427 
Senior  Prizegiving  -  Friday  28 
October at 1.30pm 
Congratulations  to  Holly  Anderson  for 
being  elected  as  the  new  Student 
Representative on the BOT. Thank you 
to  Sam  Allen  for  her  outstanding 
service  as  BOT  student  Representative 
for the past two years. 
Official  Otamatea  High  School 
Facebook page  
We have recently launched the Official 
Facebook  page.  Our  aim  is  to  use  this 
page,  in  addition  to  our  current 
newsletters  and  emails,  to  keep  our 
school 
community 
informed 
of 
activities,  upcoming  events  and  school 
notices.  We  also  look  forward  to 
sharing  and  celebrating  our  successes 
on  this  page. 
https://www.facebook.com/
otamateahighschool/ 
Our school website is another valuable 
source of information:  
http://www.otamatea.school.nz/ 
Community Service 
The 
Samaritan's 
Purse 
Project 
Operation  Christmas  Child  collects 
shoe  boxes-filled  with  school  supplies, 
hygiene  items,  fun  toys  and  notes  of 
encouragement-and  delivers  them  to 
children in need around the world when 
disaster  strikes  and  at  Christmas. 
Otamatea  High  School  has  been 
involved  in  providing  filled  boxes  for 
this project for a number of years. This 
year,  the  Otamatea  High  School 
community  service  group  has  decided 
to  make  the  fundraising  for  this  event 
an  Iwi  competition  with  house  points 
available for the winning Iwi. Over the 
past few weeks' seniors have  collected 
from each whanau on a daily basis. At 
this  stage,  over  $600  has  been  raised 
which  will  be  enough  to  provide  21 
boxes for young people, aged 2 to 14. 
OTAMATEA 
HIGH SCHOOL 
KAIWAKA WAR 
MEMORIAL HALL 
ASSN. INC 
The annual meeting was held last week, 
with little change to the committee. 
Chairman,  Ad  Clarijs,  reported  that  a 
number  of    projects  have  been 
completed:  the  front  doors  now  show 
the  names  listed  on  the  WWI  and 
WWII  Honours  Boards,  the  new 
outside  LED  lights,  a  new  tuck  shop 
with a  counter donated by Beauticraft, 
a  new  water  pump,  and  under  stage 
storage  -  the  three  big  'bins'  on  castor 
wheels easily store the hall tables. 
The  public  toilet  water  pump  has 
caused problems with flooding again. 
The  Kaiwaka  Community  Movie  team 
have gone from strength to strength. A 
number  of  the  screenings  have  had  a 
full  house.  The  children  appreciate  the 
large  cushions  provided  too.  The  team 
is  looking  for  black  and  white  photos 
depicting Kaiwaka's history  - to screen 
before the main movie.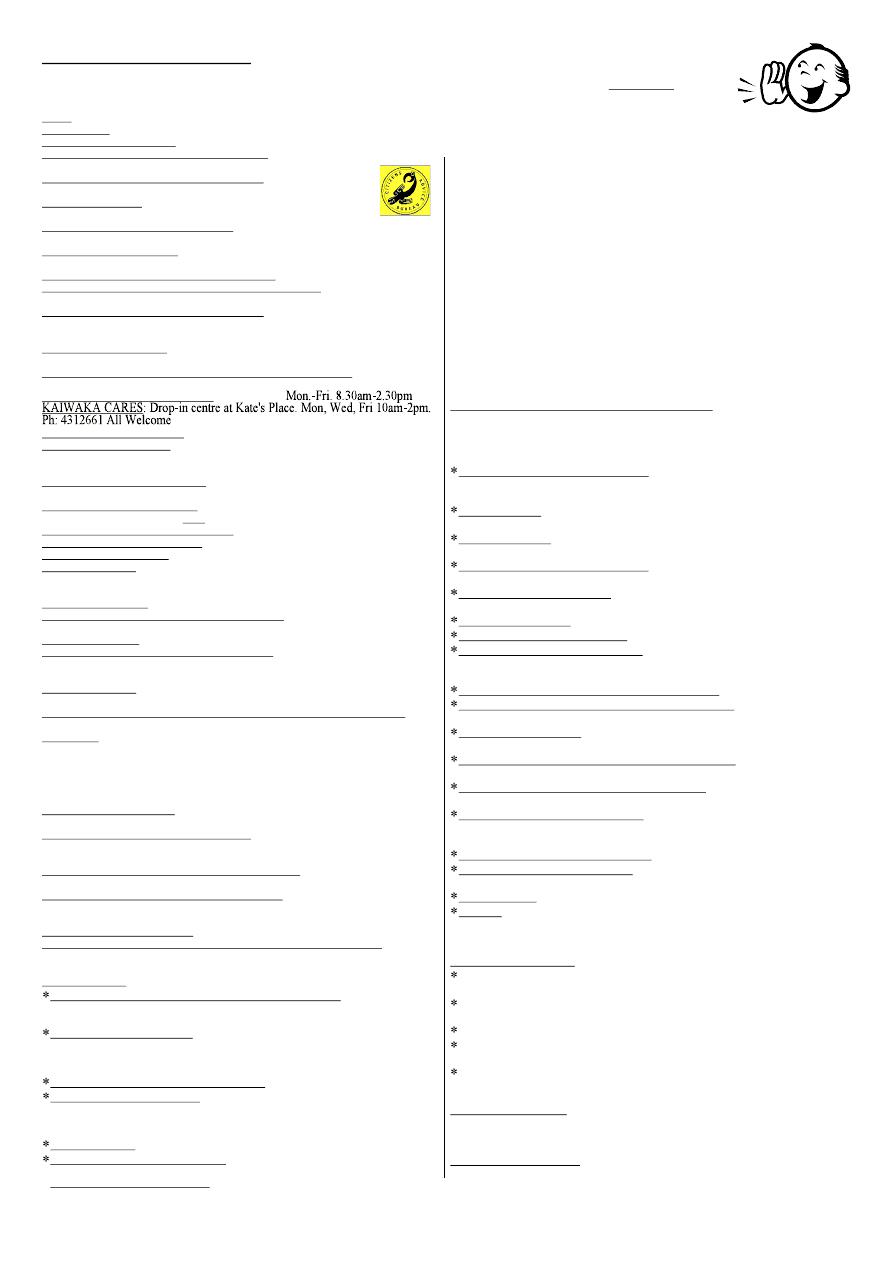 Next Bugle Deadline midday Friday 28 October 2016
LOCAL SERVICES 
*Emergencies - Ambulance, Fire, Police - dial 111 
*Non-urgent Police phone 09 4311150
A A: Meets Wed., 8pm Kaiwaka Ph: 4312228, 4315543, 0800229 6757 
AL ANON: In recess, contact Ph: 4312228 
ASUREQUALITY LTD (was AgriQuality) Call Free 0508 0011 22  
BUDGETING SERVICE, WELLSFORD: Free confidential advice & 
support for all areas of personal finance. Ph (09) 423 7123 
CAB-Citizens Advice Bureau.Wellsford Ph: 4237333 
0800 367 222 email:cab.wells@xtra.co.nz  
CIVIL DEFENCE - Kaiwaka Community Response Group: 
kaiwaka.civildefencecrg@gmail.com, 4312725 Wendy 
DOG/STOCK /NOISE CONTROL 0800 105 890 
FUNERAL SERVICES: Morris & Morris Ltd, 
Whangarei - Bev Jaques Ph:4312367 or 0800667747 
GRANDPARENTS Raising Grandchildren: Dianah Roberts 0223819539 
HAKARU & DISTRICTS MEMORIAL RSA (Inc) 733 Settlement Rd, 
Hakaru. Ph 4312 176 or Graeme Hitchcock (President) 431 3064 
HAKARU LANDFILL/Transfer Station:Open everyday except 
Tuesday10am-4pm.Ph4312629 Cost-$55 trailer load up to 1 cubic metre. 
Ph:4258567 - office 
INLAND REVENUE: Last Friday each month, 11-3pm Ph4312661 
KAIPARA DISTRICT COUNCIL www.kaipara.govt.nz:  
Help Desk FREEPHONE 0800 727 059  
KAIWAKA KOHANGA REO: Ph:4312620 
KAIWAKA CEMETERY: Ph: 4312045 
KAIWAKA LIBRARY: kaiwaka.library@gmail.com  
Mon. 4-6pm; Wed., Thurs., Fri., Sat. 10am-2pm Ph:4312539 
KAIWAKA PLAYCENTRE: Ph: 4312286. Hastie Lane 
Monday to Friday 9.00am - 12 noon. 
KAIWAKA POST OFFICE:Ph:4312 431  
Post Code: 0573 for RD2 and 0542 for all Kaiwaka Post Office mail 
KAIWAKA PRIMARY SCHOOL: Ph: 4312309   
KAIWAKA SPORTS ASSN: Ph 4312005; 4312129 gym 
KAIWAKA ST JOHN: Manager Steve Rosser 09 4318403, 021 2316836 
KATE'S PLACE Community Centre - Employment services, Free Health 
Nurse, Advocacy, Osteopath, A.A., Legal Advice. 4312 661 
LINKING HANDS Health Shuttle Ph 4314121 or 09 4318969 
MINISTRY FOR PRIMARY INDUSTRIES - General inquiries Call 
Free 0800 008 333 
NORTHPOWER: Faults Kaiwaka area 0800 104040 
OTAMATEA COMMUNITY SERVICES: Counselling, parent coach, 
Family Support worker, budget advice, food bank. Mon-Fri 9am-30m. Ph 
09 431 9080 http://www.otamateacs.org/ 
PARENTPORT: Free, practical family support service Puhoi to Paparoa 
Ph or txt: Dianne 027 2085093 
PERSONAL DEVELOPMENT COACHING, GROUP FACILITATION:  
Sabine Druckler 4312231 
PLUNKET: Kaiwaka - Kaiwaka War Memorial Hall: Clinic 1st Wednesday of the 
month; Coffee Group at 9:30. Mangawhai - Rose Madsen Cottage, Mangawhai 
Domain,  Moir  St:  Clinic  1st  and 3rd  Monday  of  month;  Young  Babies  Coffee 
Group  2nd  and  4th  Monday  10  am;  Plunket  Playgroup  every  Thursday. 
Maungaturoto - Maungaturoto Congregational Church, 100 Hurndall Street East: 
Plunket clinic 2nd and 4th Wednesday. Cynthia 09 431 8187 or 027 675 3488 
PLUNKET HELPLINE -0800 933 922 (24 hours) 
TAITOKERAU COMMUNITY LAW: Free confidential legal advice and 
assistance, 2nd
Thursday
 of each month. Ph: 0800 155 529 for 
appointments.  
TE KOROWAI AROHA O NGATIWHATUA Ph: 4312675 
(The Cloak of Love of Ngatiwhatua) Support and Maori Consultancy.  
VETERINARY SERVICE MANGAWHAI: 
Ph: 4314535 Mon-Fri 8.00-5.00, Sat 9-12, a/h appt. 
WELLSFORD DOCTORS: Ph: 4238 086 
WOMEN'S WELFARE LEAGUE & Reaching Out For Youth:  
4 Kaiwaka-Mangawhai Rd, M Morgan 4312293 
CHURCHES:
Kaiwaka Revival Church - Your Community Church: Sundays 10am & 
6pm. Ph: Pastor Tawhiri 09 4312 571 or Pastor Paul 09 4312 068 Visit 
us at www.facebook.com/kaiwakachurch 
St Paul's Anglican Church 1st Sun. 9.30 am (Eucharist), 3rd Sun. 9.30 
am (Family Service). Contacts: Church Office 09 431 4122; M. 
Hargreaves 431 2295; C. Bygrave 431 2057; or Rev. Wayne Thornton 
Ph 431 5650 www.mangawhaianglican.org.nz 
Church of Christ the King, Mangawhai:9.30am every Sunday 
St.Mary's Catholic Church: Maungaturoto – Griffins Road, Saturday 
evening Vigil Mass 6pm; Mangawhai – Senior Citizens Hall, Sunday 
Mass 8:30am; Wellsford – Matheson Road, Sunday Mass 10:30am;  
Mid-week Mass times and all enquires to Fr. Bill Fletcher – phone 423 8170
Baptist Church: Sun. 10.30am Mangawhai Snr Cit.Hall.Ph:4312339 
Cause Way Church Mangawhai: Sundays 10.15am, Mangawhai 
Community Recreation Centre, Insley St. Ph: 09 4314782 
WHAT'S ON
PLEASE ~ do let us know what is on - email 
kaiwakabugle@kaiwaka.co.nz 
Advertising in WHAT'S ON is FREE  
*19Oct~Parenting Course, 10:30am KSA Ph 021 033 5128 
*20Oct~Agricultural Day, 9am Kaiwaka School 
*21Oct~More FM breakfast, 7am Kaiwaka Fire Station 
*21Oct~Love and Friendship, 7:30pm KWMH 
*22Oct~Mangawhai Beach School Ag & Gala Day, 9am 
*24Oct~Regional Group Ag Day, Kaiwaka School 
*26Oct~Kaiwaka Christmas Shopping Night, 6pm KWMH Ph 
Janine 0276636802 
*28Oct~Otamatea High School Senior Prizegiving, 1:30pm OHS 
*29Oct~Fright Night, 6:30pm KSA 
*30Oct~The Wild Life (Robinson Crusoe), 2pm KWMH 
*31Oct~Kaiwaka Athletics starts, 5pm OHS 
*4Nov~Money Monster, 7:30pm KWMH 
*5-6Nov~Kaiwaka Volunteer Fire Brigade Open Fishing Contest 
KWMH=Kaiwaka War Memorial Hall 
KSA=Kaiwaka Sports Association Complex 
OHS=Otamatea High School 
See www.kaiwaka.co.nz for more information 
HOUSEHOLD RUBBISH COLLECTION - Kaiwaka Pick up: 
Mondays = Green bags (Northland Waste - 09 430 3273) 
Wednesdays = Blue bags and yellow recycling (at Jaques $3.00 
and $1.50) (Kaurilands 09 4392146) 
 DIABETES  Support  Group  -for  Kaiwaka,  Mangawhai, 
Wellsford  10am,  3rd  Friday  of  month  Ph:A.Pert  4238242; 
J.Gardner 4238060 
 DRINK CAN 'tear tabs' - for Starship Hospital- please collect - 
98 Kaiwaka Mangawhai Rd, leave in mailbox, Ph. 4312625  
 GENEALOGY - Wellsford: 1st Thursday in month Ph: 423 
7033; Waipu: 4th Monday in month Ph: 4312 725 
 GYMNASTICS  OTAMATEA  -  Tuesday  Ph:  Stephanie  022 
3624998 
 HAKARU PONY CLUB - Secretary Denise Rogers 021423376 
secretary@hakaruponyclub.co.nz  
 KAIPARA HUNT - Secretary Albert Doonenbal Ph 4312059 
 KAIWAKA BADMINTON -Tuesdays 7.30pm Ph: 4312345 
 KAIWAKA  DRAMA  CLUB  -  Dave  Edwards  021  611198  - 
KaiwakaDrama@gmail.com Monday 5:30-7:00pm KWMH - FB 
- "KaiwakaDramaClub" 
 KAIWAKA DRUM & DANCE CLASSES - 021 611198 
 KAIWAKA GARDEN & FLORAL GROUP - 2nd Thursday in 
month. Ph: 431 4767 
 KAIWAKA  CUBS  -  Thursdays  5.30-7pm,  Hakaru  Ph:Bruce 
4312542 
 KNITTING FOR WHANGAREI HOSPITAL - 2nd Tuesday in 
month, Apple Basket 10am Ph 4314827 
 MANGAWHAI COMBINED PROBUS CLUB - 2pm, 3rd 
Thursday month, Senior Citizens Hall Mangawhai. Ph: 4315777 
 OTAMATEA GREY POWER - Kath Pattinson 09 431 8960, 
1pm last Wednesday of month, Anglican Church Hall, 
Maungaturoto 
 PT CURTIS CRUISING CLUB - Jean Ph: 4312227 (wk), 4312520 (hm) 
 RSA,Hakaru & Dist.Women - meet 1.30pm 4th Thurs in month 
Ph: 4314 668  
 TRAMPING - Mondays 9am-2:30pm Maria 4312 234 
 YOGA  -  Tuesdays  6:15pm,  Friday  8:30am  KWMH  Carla  Ph: 
021  296  8794;  Wednesday  5:30-7:00pm  Archie  Bull  Hall 
Dalleise Ph 4312 108 
HALLS FOR HIRE: 
 St.Pauls  Archie  Bull  Hall  HIRE  $20  half  day,  $40  full  day  per 
hire, R. Morgans, Ph 4312365 
 Kaiwaka  War  Memorial  Hall  HlRE  -  Phone  4312725  or 
kaiwaka.hall.bookings@gmail.com 
 Hakaru Community Hall HIRE -Ph. 4312256 or 4312110 
 Te Pounga Marae queries - R. O'Leary 4312 423, J.Nathan 021 
186 7382 
 Kaiwaka Sports Association hire/queries - C. Anderson 4312051 
or kaiwakasports@gmail.com 
Justice  of  Peace:  B.FJaques;  L.Donaldson;  A.F.Hargreaves, 
W.Howard  -  please  phone  to  make  sure  they  are  available 
www.justiceofthepeace.org.nz 
Marriage  Celebrants:  L.Donaldson;  A.F.Hargreaves;  C.Rosseels, 
Y Osborne