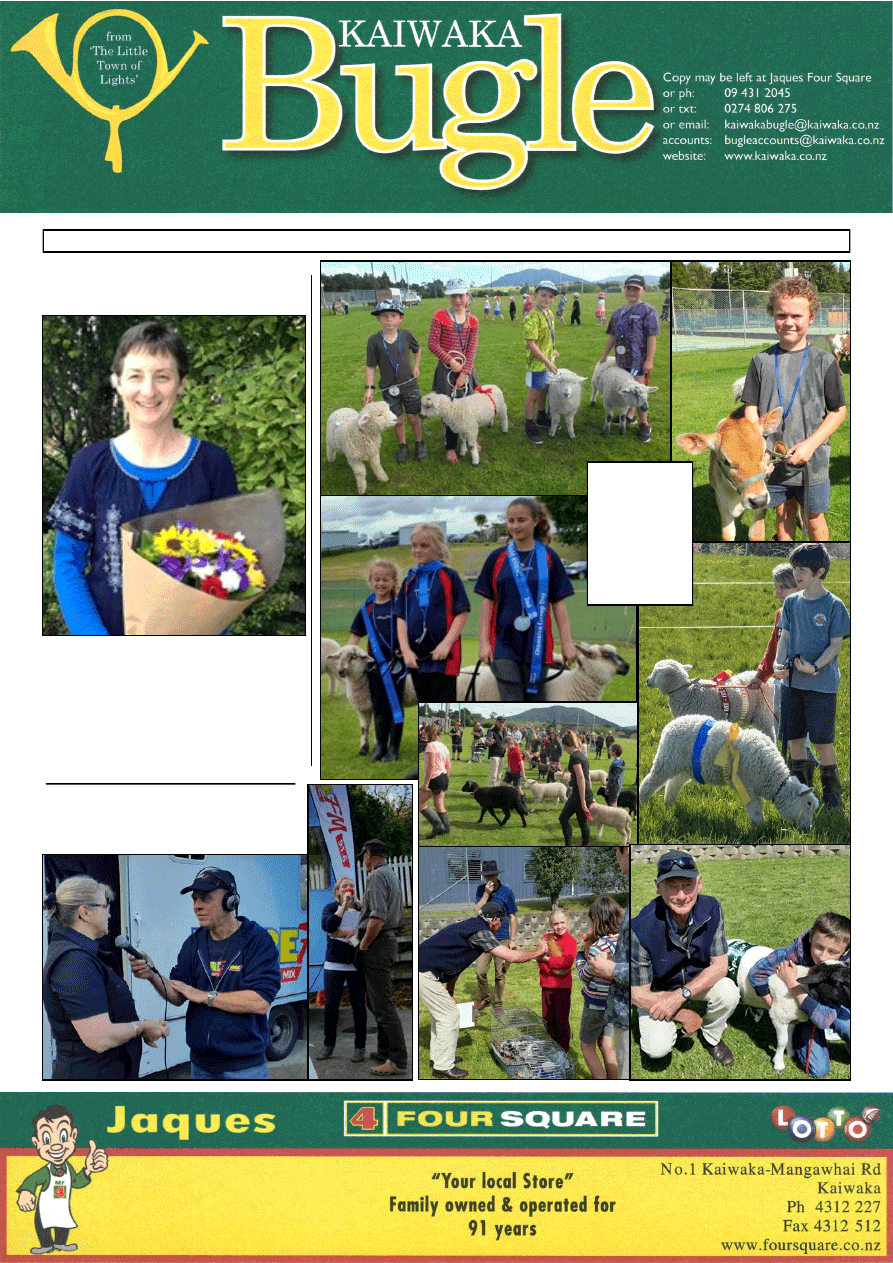 www.kaiwaka.co.nz 
Kaiwaka Bugle - 1 November 2016 
Page 1 
 No: 21
1 November 2016 
KAIWAKA GOOD 
SORT
Summer Trading Hours: 
Monday to Friday 8:00am - 6:30pm 
Saturday 8:00am - 7:00pm 
Sunday & Public Holidays 9:00am - 5:00pm  
Kaiwaka 
Mangawhai 
Scouts 
nominated  Carol  Mills  for  a  Kaiwaka 
Good  Sort  award.  She  has  done  an 
amazing amount of work for Scouts, as 
treasurer,  organising  Jamboree,  and  as 
an  integral  part  of  the  Scouts 
management for the past eight years. 
Pictured  above,  Carol  with  her 
beautiful flowers from Lindy. 
PET DAYS:  
Kaiwaka School, 
Otamatea Group 
Day, Otamatea 
Christian School, 
Living Way 
Wellsford. 
Pictured below: John Markby talking to 
Paula Jaques, and right: Flash talking to 
Robert Klink at Kaiwaka Fire Station for 
the helicopter fundraiser.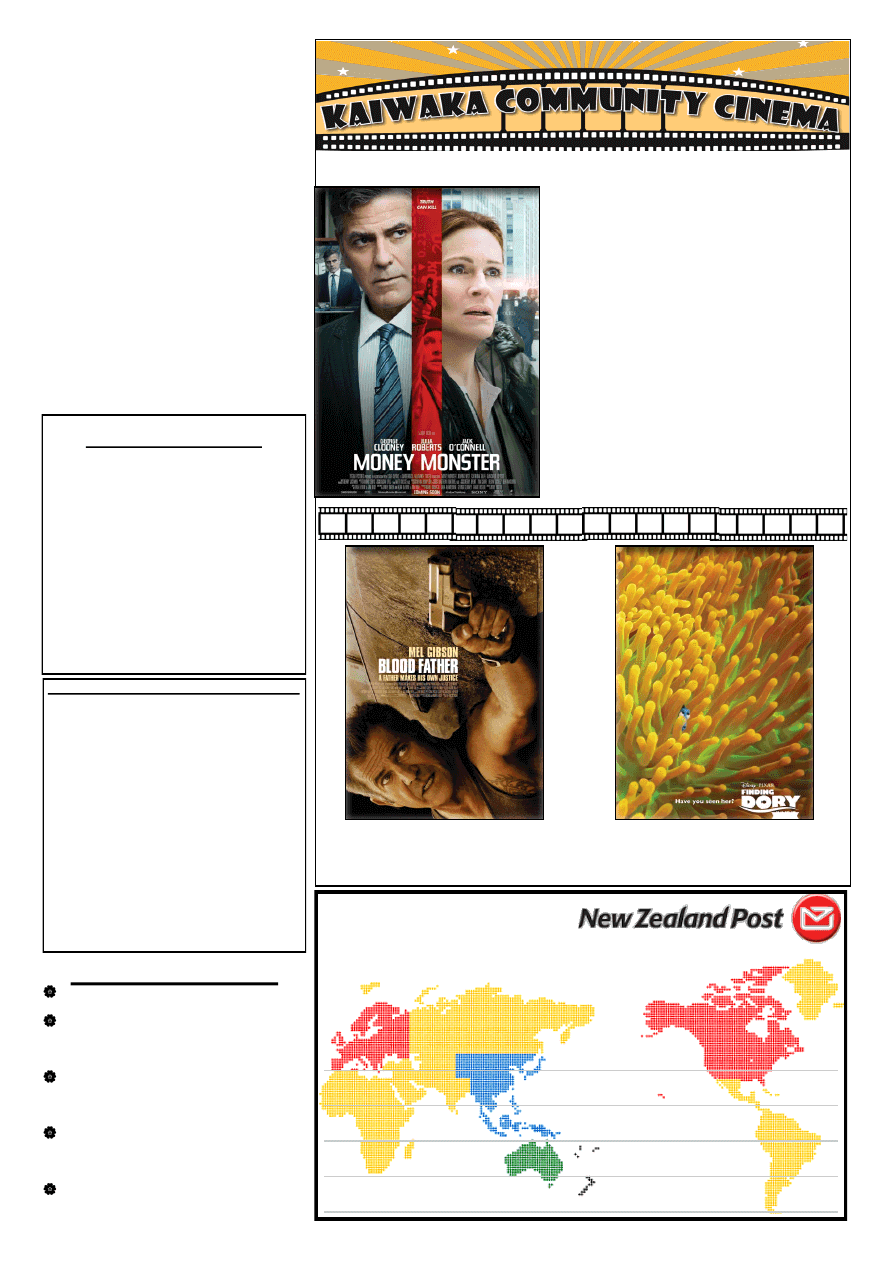 ABOUT TOWN 
Condolences to the family of Clare Holst 
who passed away recently. 
We've had a good number of community 
activities  recently,  from  Fright  Night,  Pet 
Days,  and  the  helicopter  fundraiser.  Great 
to see, and well done to everyone involved! 
Congratulations  to  two  of  our  Hawks 
U16s boys  who have  been selected for the 
Blues U17s squad - Simon Parker & Kingi 
Herewini. 
Dental therapist & assistant  - Karen and 
Kelly,  are  now  at  Kaiwaka  School.  Phone 
4312165 or  0800  698  3384  if  you  wish  to 
contact them. 
Big  thanks  again  to  Jaques  Four  Square 
for  supplying  our  updated  Bugle  front 
page. 
KAIWAKA BUGLE No. 21 
1 NOVEMBER 2016 
CONTENTS 
Page 3: Public Notices, Classified 
Page 5: Otamatea Repertory Theatre 
Page 7: Kaiwaka School 
Page 9: Speed, Fireworks, Kate's Place 
Page 11: Kaiwaka Fire Brigade 
Page 13: Sports Assn, Fright Night 
Page 15: Francis Richard Linnell 
Page 17: OCS Pet Day, Paparoa Day 
Page 19: Stoat Traps, Fast Five Netball 
Page 21: St John 
Bugle 22 will appear 15 November 
Contact for advertising, reports, articles 
or information can be made by 
Email kaiwakabugle@kaiwaka.co.nz 
Ph: 09 4312 045 (Lindsey) 
Txt: 0274 806 275 (Wendy) 
Copy  may  be  left  at  Jaques'  Four 
Square.
At Kaiwaka War Memorial Hall . Adults $10, Kids (under 16) $5, Family Pass (2 adults + 3 children) $25 
Kaiwaka Bugle Advertisements 2016: 
All 
copy 
and 
queries 
to: 
kaiwakabugle@kaiwaka.co.nz 
Our A4 page is divided into 6 columns & 8 
rows (48 blocks), with a 1cm margin. 
Ad  sizes:  1/16  page  (3  blocks)  $5;  1/8 
(6 blocks) $8; 3/16 (9 blocks) $12.  
Classified  ads:  $4  per  entry  (max.  30 
words, max. 4 repeats). 
Payments can be made online, posted or 
left at Jaques Four Square Store. 
Accounts:  
Email: bugleaccounts@kaiwaka.co.nz 
The  Kaiwaka  Bugle  is  a  community 
newspaper run by volunteers.   
Articles, etc. printed are not necessarily 
the opinion of the Bugle Team. 
Kaiwaka Bugle 
Founded May 1978 
We appreciate articles and photos about local 
events, etc, as well as ads and suggestions. 
Copies available in Kaiwaka at Jaques Four 
Square, Kaiwaka Postal Centre, Shamrock 
Service Station, Animal Health Centre, 
Kaiwaka St John shop. 
Also outlets in Maungaturoto, 
Mangawhai and Paparoa. 
Can be viewed online at  Facebook or 
www.kaiwaka.co.nz/Bugle  
Or a copy can be posted to you if you supply 
stamped, self-addressed DLE envelopes. 
Blood Father 
Friday 18 November 7:30pm (R16)
Finding Dory 
Sunday 27 November 2:00pm (PG)
Money Monster 
Friday 4 November 7:30pm (M)
Financial  TV  host  Lee  Gates  and  his 
producer  Patty  are  put  in  an  extreme 
situation  when  an  irate  investor  who 
has  lost  everything  forcefully  takes 
over  their  studio.  During  a  tense 
standoff broadcast to millions on live 
TV,  Lee  and  Patty  must  work 
furiously against the clock to unravel 
the  mystery  behind  a  conspiracy  at 
the  heart  of  today's  fast-paced,  high-
tech global markets.  
Starring:  George  Clooney,  Julia 
Roberts 
MAILING DATES  
FOR CHRISTMAS 
Sending within New Zealand dates: 
Standard Post, ParcelPost, ParcelPost Tracked - Tuesday 20 December 
FastPost, Courier Parcel, Courier & Signature Parcel - Thursday 22 December 
International sending dates: 
International 
Australia 
South Pacific, Asia, North 
America, UK & Europe 
Rest of the world 
International Air 
Wednesday 7 
December 
Friday 2 December 
Wednesday 30 
November 
International Courier  Monday 12 
December 
Friday 9 December 
Monday 5  
December 
International Express 
Courier 
Wednesday 
14 December 
Monday 12 December 
Friday 9  
December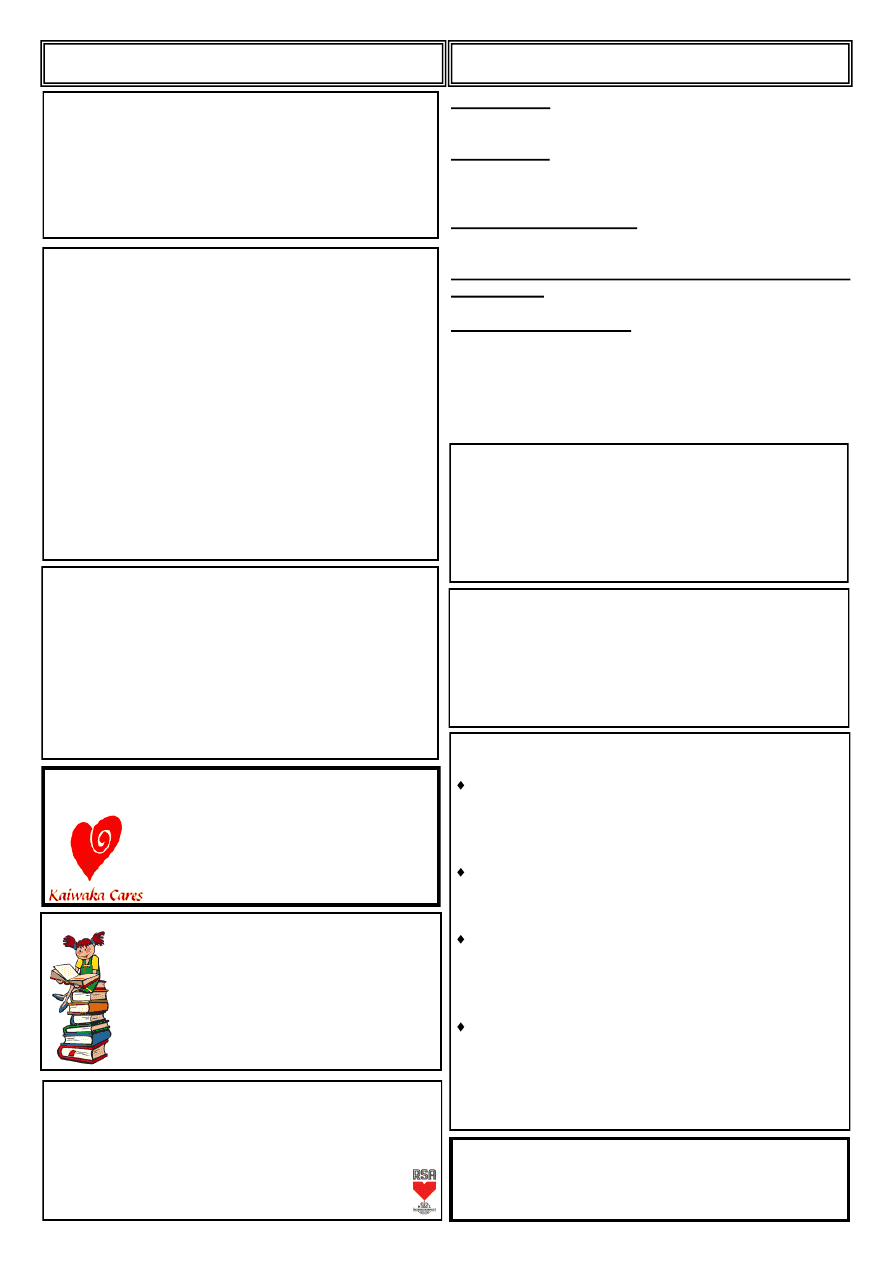 www.kaiwaka.co.nz 
Kaiwaka Bugle - 1 November 2016 
Page 3 
PUBLIC NOTICES 
CLASSIFIED 
Proverbs 19:27 
Stop listening to teaching 
that contradicts what you know is right.
HAKARU & DISTRICTS RSA Inc 
Each Friday night from 6.30pm meals will be served. 
Members & invited guests, new members welcome. 
Come along & enjoy our hospitality. 
2nd Friday of the month - roast dinner or board menu. 
Last Friday of month - roast pork night &  
sing-along with Des Chitty.  
Ph Heather 4314668 or Jan 4314512 
FOR  SALE:  4-drawer  metal  filing  cabinet.  Has  key, 
can  be  locked.  Hanging  files  and  tags.  1320H  500W 
640D. $50. Ph 4312 890 
FOR  SALE: 
40inch Panasonic LED T.V  – 8 months 
old. $350; DeLonghi Oil Filled 8 fin Heater- 6 months 
old. $100. Ph Eddie and Lynne 4312 020 
GRAZING  OFFERED:  15  acres  available  to  lease 
off Settlement Rd. Very near Kaiwaka village. Ph 4312 
532 
MARRIAGE CELEBRANT / WEDDING EVENTS 
PLANNER:  Yvonne  Osborne  Ph  0274  989  814, 
yvonne.osborne@xtra.co.nz  
CHRISTMAS TREES: Kaiwaka/Maungaturoto  St. 
John  will  be  selling  Christmas  trees  this  year  in 
December they will be available from the Kaiwaka Op 
shop  and  from  the  Maungaturoto  Station.  Remember 
you  can  pre  order  these  from  Monique  by  either 
ringing or texting her on 0211622482. We will let you 
know the exact date later in November of their arrival. 
Community Drop-In Centre
Open 10am – 2pm  
Monday - Wednesday - Friday 
WIFI, printing & scanning available at 
Kaiwaka's own drop-in social space.
Thank You from Libby Jones  
Thanks very much to everyone who voted for me for 
the  Kaipara  District  Council  and  the  Northland 
District Health Board. I am delighted to be elected to 
both  roles  and  have  the  opportunity  to  make  a 
difference  for  our  communities.  I  will  work  hard  for 
our area as well as the wider district. 
Thanks for your support. 
To the constituents of Northland 
Regional Council – Coastal South 
Following  the  release  of  the  official  results  on 
Thursday  October  13th  I  would  like  to  take  this 
opportunity to thank you for your support in electing 
me to the NRC Council. 
Craig Brown has represented this constituency and the 
entire Northland region diligently over the past twelve 
years  and  I  would  like  to  personally  thank  him  for 
that. 
I bring a new perspective to this role, as I have stated 
previously  I  believe  the  integration  of  community, 
economy and environment is the key factor here. 
Once  again  thank  you  and  please  do  not  hesitate  to 
contact me should you have any issues that you would 
like to discuss. 
Kind regards, Rick Stolwerk 021 823 770 
SUBARU OMEGA LE 
1989,  1600cc,  5-speed,  2-wheel  drive,  towbar,  roof 
rack.  285,000  km.  Rego  on  hold.  Needs  battery. 
Some rust. Tyres ok. $600. Ph 021 044 7461 
FOR SALE 
Small  dingy,  wooden,  $500.  2x  DVD  players,  $50. 
Baby changing table with bath, $80. Craft table $50. 
Still,  holds  2  washes,  $300.  4x  demijohn  jars,  $25 
each.  12-foot  dingy  with  2-horse  Johnston  outboard 
& trailer, $1400. Ph 021 0820 6418. 
FOR SALE
2 single beds with innerspring mattresses 
and electric blankets, can be clipped together 
to make super king bed. Near new. 
$100 ea or $175 the pair.
2 chests of drawers. Rimu finish on MDF. 
800L x 390D x 865H. 4 drawers. Little use, 
near new. $35 ea.
3-seater couch mid-brown "raisin" colour, 
little used near-new condition plus matching 
box ottoman (or storage foot piece), unused. 
$150.
Dressing table dark mahogany stain on rimu. 
Beautiful pivoting mirror, plate glass top, 4 
drawers, cabriole legs. 1145L x 462D x 
715H. Very good order. $225.
Ph 021 036 8929 
Kaiwaka Library 
Used Book Sale 
$1 each, 3 for $2 or 10 for $5 
NEW SELECTION OF 
BOOKS! 
OTAMATEA KAURI  
AND PIONEER TRUST BOARD 
(Operating as the Kauri Museum) 
Annual General Meeting and Election of Trustees 
To be held in the Matakohe Community Hall 
Wednesday 9 November at 7pm 
All welcome 
Enquiries to Colleen Glass (Administration Manager)  
Ph: 09 431 7417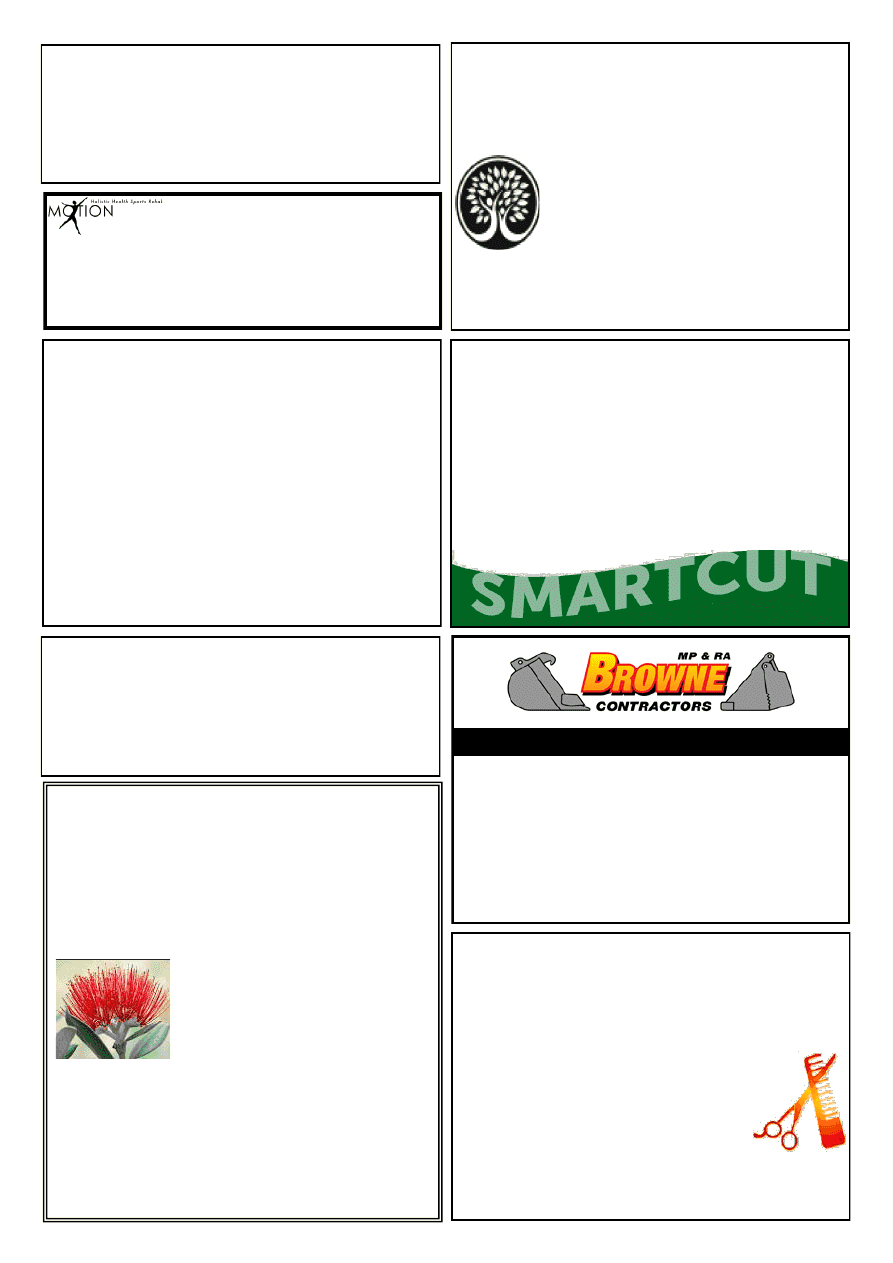 White Horse Farm 
Farm Stay/Bed and Breakfast 
Ph +64 9 390 1260    113 Tawa Ave, Kaiwaka 
bookings@whitehorsefarm-kaiwaka.co.nz 
www.whitehorsefarm-kaiwaka.co.nz 
AFFORDABLE PRICES! 
MENS DRY CUT FROM $18.00 
LADIES DRY CUT FROM $28.00 
KIDS DRY CUT FROM $15.00 
COLOUR CUT FROM $90.00 
JUST CUTS'AND   
MORE 
021 165 2629 
NOW SELLING: scented tealights, incense, smudge sticks, 
copper bracelets, aurora ball crystals, dream catchers, healing 
stones, rose quartz, cds, and much more. Open 6 days. 
KAIPARA FLOORING CO 
Independently owned & operated 
32 HURNDALL ST MAUNGATUROTO 
Supply & Installation of Carpet, Vinyl,  
Vinyl Wood Planking
Stockists of 2m & 3m wide 
vinyl & carpet short ends
Residential & Commercial 
First Class Installations 
For a free measure & quote 
phone Christine  
09 946 9886 or 021 515 415 
kaiparaflooring@gmail.com 
http://www.kaiparaflooring.co.nz/ 
Waipu Natural Health 
3 Cove Road, Waipu  (opposite the Pizza Barn) 
Ph: 09 432 1325 
www.waipunaturalhealth.co.nz
Clinical Nutritionist-Hair Analysis for Masked 
Allergies, Ozone Therapy, Prolotherapy, 
Naturopath-Medical Herbalist, Registered 
Massage Therapists, Reflexology-
Craniosacral Therapy, Acupuncture-Facial 
Acupuncture, Kineso Taping, Hypnotherapy, 
Counselling, ThetaHealing, Beauty Therapy
KIDS DAY – AFFORDABLE HEALTH SUPPORT 
FOR KIDS – every Wednesday 
(call us or drop in)
Gift Vouchers available
4T DIGGER – BOBCAT – TIP TRUCK 
Property Maintenance - Driveways - Building Sites 
Stump & Tree Removal - Hole Boring - Chain Trencher 
Calf Shed and  Stockyard Cleaning
KAIPARA - WHANGAREI - RODNEY 
Phone Matt: 021 199 6677 
Email: mprabrownecontractors@gmail.com 
Mangawhai Heads 
Garden Centre
1758 Cove Road
945 0707 
021 165 2629
All your outdoor needs sorted so you don't have to... 
I can prune, chop, tidy, spray, mow, plant 
- you name it, I can do it! 
Residential & Commercial 
Lawn & Garden Care 
Call Rodney, your local  
lawnmowing contractor 
021 138 2344 
WAIPU OSTEOPATH 
Maria Gabriel  ACC Registered Osteopath 
8 The Centre, Waipu 
Monday to Thursday  
Freephone 0508 924786 (0508 WAIPUOSTEO) 
www.getinmotion.co.nz  No doctor referral required 
FREE GRAZING WANTED 
Small or large block 
Can do some fencing or water 
Phone after 6pm 
4312 006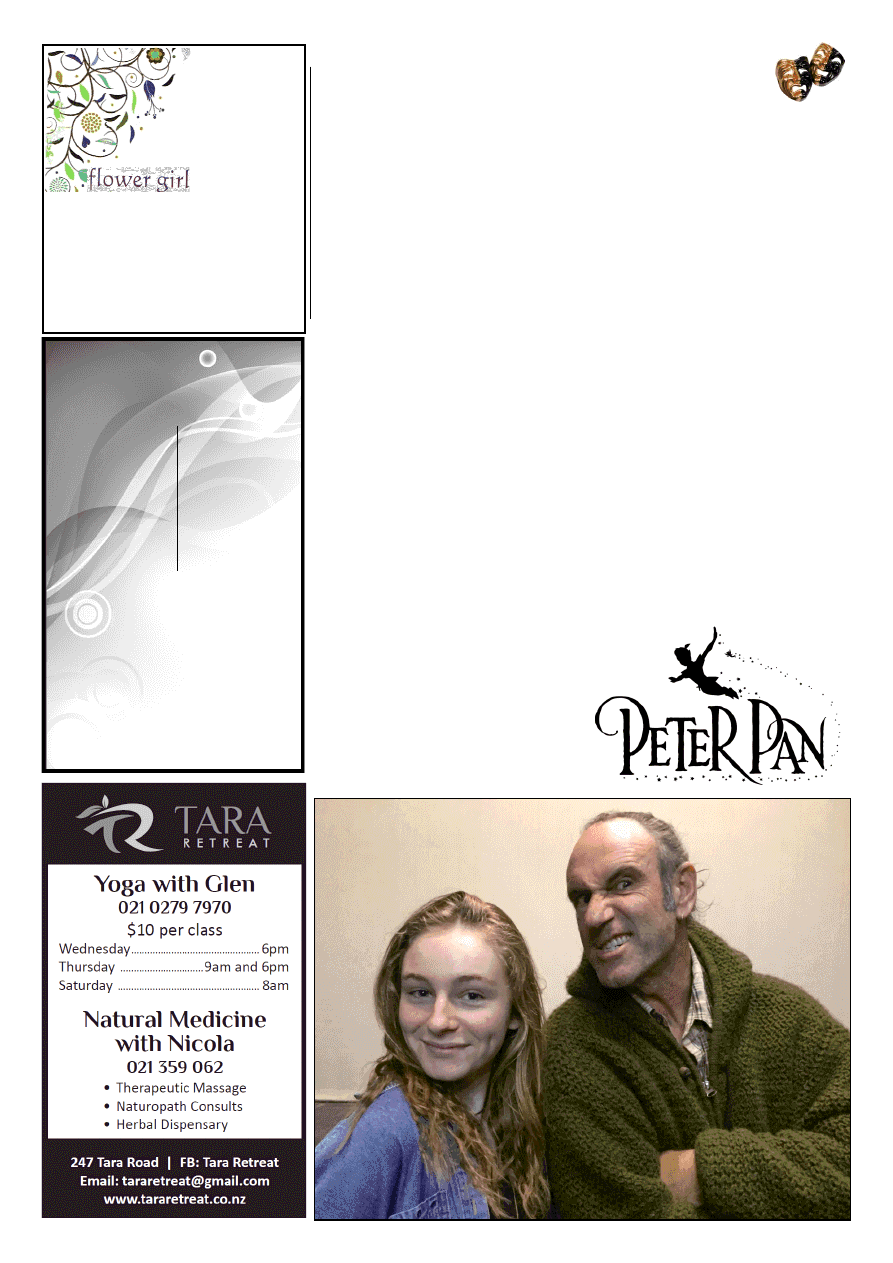 www.kaiwaka.co.nz 
Kaiwaka Bugle - 1 November 2016 
Page 5 
Peter  Pan  -  directed  by  Maureen 
Skinner. 
Peter  Pan  is  the  legendary  tale  of  the 
boy  who  never  grows  old.  This 
adaptation  is  recognised  in  England  as 
the  best  available  of  J.M.  Barrie's 
masterpiece. 
First 
produced 
professionally  in  1993,  it  has  been 
revived dozens of times. 
A  play  with  music,  it  has  all  the 
delights of the original story with Peter 
Pan, Wendy, the Lost Boys, Tinkerbell, 
Captain  Hook  and  the  hungry 
crocodile,  Smee  and features  gorgeous 
mermaids,  brave  Red  Indians  and  a 
motley crew of pirates. 
This  production  is  a  winner  because it 
retains all the fun of the original story - 
sheer magic in every sense of the word!  
Be sure to mark this on your calendars 
as  a  treat  for  the  family.  And 
remember,  we  have  air-conditioned 
premises,  comfortable  seating  and 
EFTPOS 
available 
for 
your 
convenience. 
Show dates 
November 25 and December 2, 7.30pm  
November 26, 27 and December 3 and 
4, 2pm 
Adults $22 and School students $7  
Tickets are on sale now at Tony's Lotto 
Shop  in  Maungaturoto  and  online  at 
www.ort.org.nz 
Christmas Tree  
While 'Peter Pan' is on, ORT will have 
a  Christmas  tree  in  the  foyer,  for  the 
collection  of  gifts  to  distribute  among 
the less-fortunate in our community. 
Christmas Carols 
Last  year,  many  of  us  had  great  fun 
singing  Christmas  carols  together,  and 
performing  for  the  community  at 
various events. If you would like to be 
a  part  of  this  year's  choir, 
keep  an  eye  out  on  our 
advertising  boards  for  rehearsal  dates. 
They  will  start  in  late  November  for a 
total  of  six  practices,  and  will 
culminate  in  a  special  free  family 
concert  to  be  held  at  the  theatre,  in 
December. 
Youth Theatre 2017 
Our 
week-long 
Youth 
Theatre 
programme will be held from 23 to 27 
January 2017. From Monday to Friday, 
9am  till  3pm,  with  the  show  on  the 
Friday evening. It is a good way to get 
the young ones involved in the theatre. 
And  it  helps  them  get  back  in  the 
routine  of  school,  which  starts  the 
following week.  
Youth  Theatre  is  hugely  popular  and 
registrations  will  be  open  from 
1  November,  2016.  Phone  or  text 
Maura Flower 022 354 2670 to register 
your  interest.  Be  quick  –  this 
programme  is  sure  to  fill  up  very 
quickly! 
ORT's Annual General Meeting 
Thursday  November  10th  7pm  at  the 
theatre. Everyone is welcome. 
See you in Neverland! 
~Maura Flower  
Pictured: Molly Curnow and her Dad, 
Nat  are  playing  Wendy  and  Captain 
Hook respectively, in ORT's 'Peter Pan'  
U Beauty 
Please call Nicole for bookings 
09 393 6336 or 022 0639450 
Qualified Beautician 
4 Kaiwaka – Mangawhai Rd 
Kaiwaka 
Underarm Wax  
$20 
Extended Bikini Wax 
$30 
15 min Back Massage 
$25 
Eyebrow Wax  $10 
Eyebrow Tint  $10 
Eyelash Tint 
$20 
Lip Wax 
$10 
Chin Wax 
$10 
Bikini Wax 
$20 
Brazilian 
$50 
½ Leg Wax 
$30 
Full Leg Wax  $45 
Full Pedicure  $60 
Foot Tidy  
$35 
Manicure 
$45 
Nail Tidy 
$25 
Chest Wax 
$30 
Back Wax 
$40 
Nostrils 
$10 
Ears 
$10 
OTAMATEA REPERTORY THEATRE 
Kaiwaka 
Good 
Sorts 
Do you know 
someone in our 
community who is 
deserving of a 
beautiful bunch of 
flowers? 
Send an email to us at 
kaiwakabugle@kaiwaka.co.nz 
or drop a note to Jaques Four Square to let 
the Bugle team know. 
We will choose a recipient to receive 
flowers from Lindy the flower girl. 
lindywatson@hotmail.com 
4312 847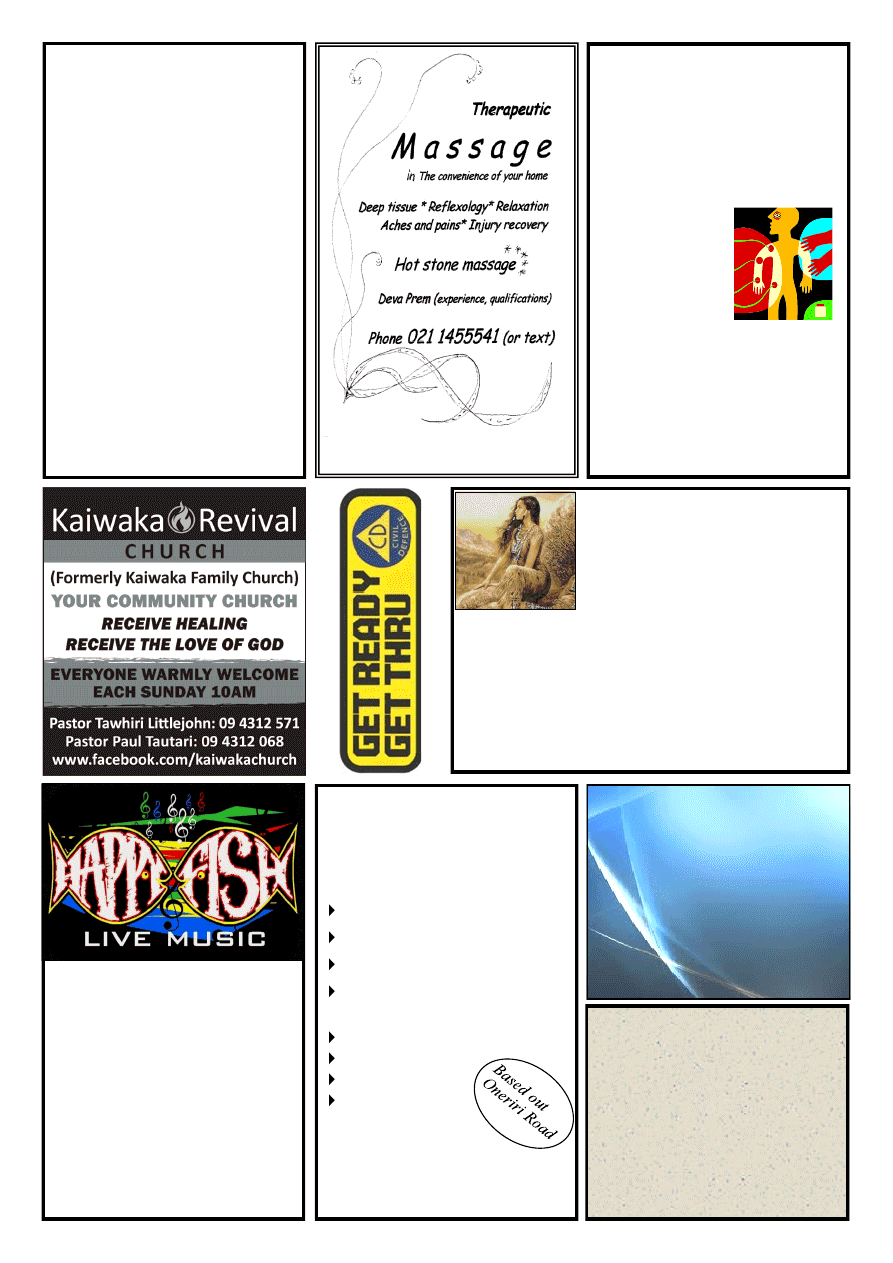 HODGETTS 
CONTRACTING
Digger Work    
Driveways 
House Sites   
Dams 
Drains, etc
Also available for HIRE 
3 ton Vib Roller 
Heavy Duty Tow 
Waterblaster  
Lazer Level 
Phone Mark 
4312877 
027 447 8554
www.mangawhaimassage.co.nz 
OWEN STEVENS 
Osteo Therapist
For careful adjustments to bones 
and joints 
Treatment for humans and their 
pets 
Clinics: 
Kate's Place, 
Kaiwaka: 
Last Friday of 
month 
For bookings: 
9.00am-5.00pm  
Phone 
09 4312661 
Or phone Owen  
09 4317123 anytime 
Freeview  
Installations 
Richard Te Haara 
25 Marram Place 
Mangawhai Heads 
021 1104056 
kiwipride@xtra.co.nz
Willow Bend
HORSE  
HOTEL 
"   
Total Horse Care 
" 
Agistment 
" 
Riding Lessons 
" 
Arena Hire (60x40) 
" 
Young Horse Starting 
" 
Re-training/Exercising 
" 
Hoof Trimming 
" 
Problem Solving 
Phone Sue 09 431 2817 
or 021 623 776 
Or email  
susanjoll11@gmail.com 
ROCKIN' POPULAR, OLD AND 
NEW PARTY SONGS WITH LOADS 
OF KIWI MUSIC AND A FEW 
ORIGINAL TUNES IN THE MIX. 
AN ELECTRIC DUO FEATURING:  
GORDON JOLL 
(NZ Music Hall of Fame)
ON DRUMS AND SUE JOLL ON 
GUITAR AND VOCALS. 
A BAND FOR ANY OCCASION 
BACKED BY YEARS OF 
EXPERIENCE. 
Contact: Sue 021 623 776 
Email: happyfishband@gmail.com   
Website: www.happyfishband.co.nz 
Counsellor and 
Registered Psychotherapist 
Offers Supervision
Susan Matheson 
MNZAC, RN 
Dip. Psychosynthesis Counselling and Psychotherapy 
Phone 09 431 5997 
Mobile 027 605 2427 
Trails end 
spiritualist gathering  
Last Sunday of every month  
11.30-2pm tea/coffee provided  
$5koha for all inquiries  
0211652629 evenings 099450753 
Trail.end@hotmail.com 
Bringing together light minded people 
Guest speaker each month and 
Workshops every 2nd Wednesday  
6:30-7:30pm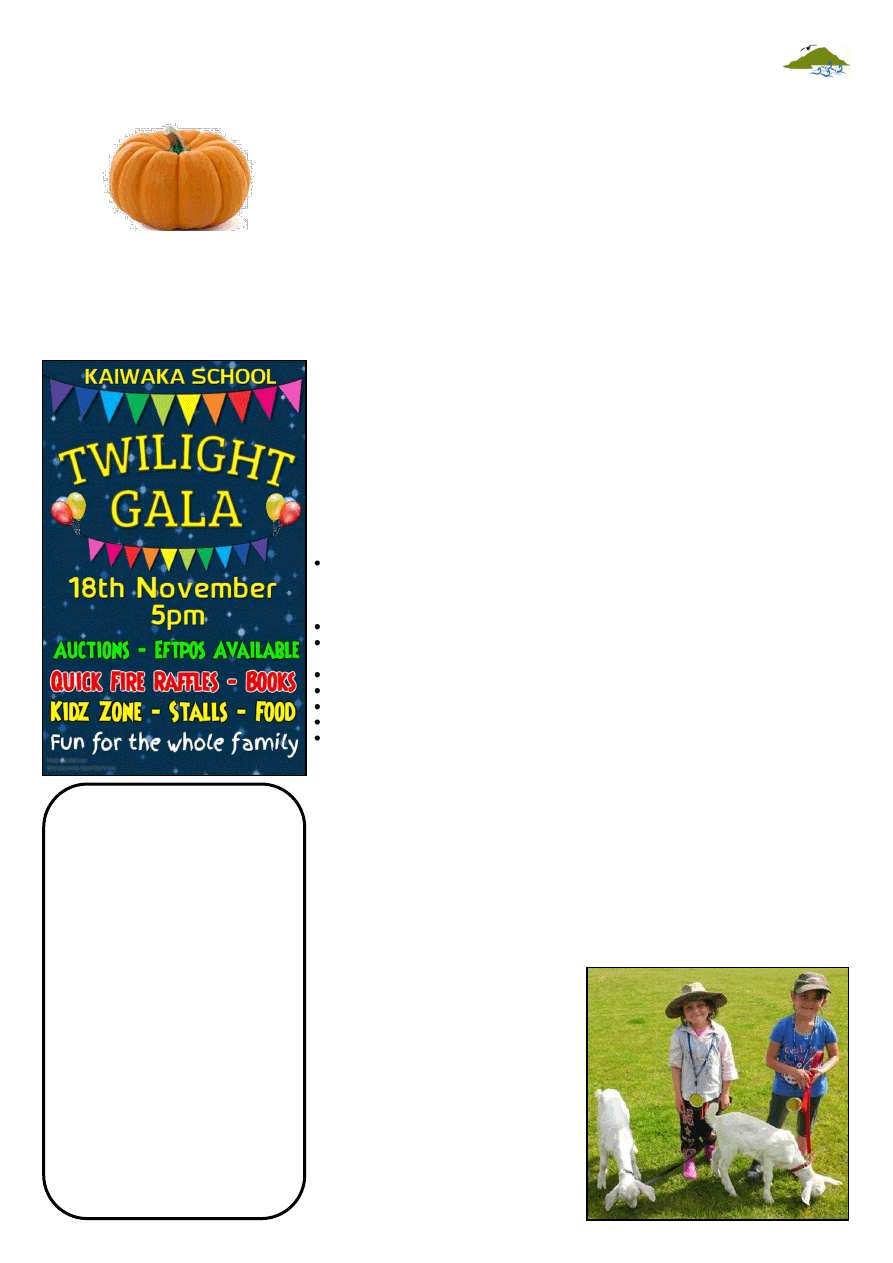 www.kaiwaka.co.nz 
Kaiwaka Bugle - 1 November 2016 
Page 7 
Parking at School 
We are still having trouble with parents 
and visitors using the staff carpark, and 
staff  not  being  able  to  find  a  park. 
Please park in the outer area. 
Thank you 
We  thank  Jennie  Reynolds  for  her 
tremendous  helping  hand  with  taping 
and  stamping  all  the  new  readers. 
Hundreds of new books are now ready 
for our students to use.  
Staff Changes 
We  welcome  Miss  Alex  Cowie  onto 
our  permanent  staff,  commencing  full 
time  next  year.  After  Christmas  time 
this year, our secretary, Mrs Linda Van 
Der Linde is leaving us to return to the 
UK.  We  thank  her  for  all  her  work  in 
our school over the last 18 months, and 
wish  her  well  for  the  future.  Mrs 
Heather Gilligan will be taking over as 
our school secretary. 
Warm regards, Rosie Ellis 
School Photos 
Please  remember  we  have  school 
photographs  on  Wednesday  next 
week  the  2nd  November.    Forms  can 
be collected at the office or sent home. 
GALA 
Can you help with: 
Manning  a  stall  for  1  hour  -  Cakes, 
Books,  Kid  Zone,  White  Elephant, 
numerous  food  stalls,  plants,  tea  and 
coffee; 
Selling Quick Fire Raffle tickets; 
Asking  stall  holders  to  support us  -  $20 
per stall; 
Donating books; 
Getting raffle items; 
Donating meat or groceries for big raffles; 
Setting up on the day; 
Cleaning up afterwards 
Please  contact  Lish,  Rosie,  Sharlene, 
Lorena,  Jody  Walker,  or  Jennie  if  you 
have any queries, suggestions or offers 
of help. The idea is for everyone to do 
a  little  bit  so  we  can  all  enjoy  our 
Twilight Gala. 
Programme for the Gala: 
5
:00 Gala Opens, Kapa Haka Performance 
5:30 Dinner Time - All the food stalls 
open 
6:00 Quick Fire Raffles, Games Zone, All 
stalls 
7:30 Draw Big Raffles and Silent Auction 
8:00 Tidy Up. 
Giant Pumpkin Competition 
It's  time  to  plant  seeds  without  delay 
for  the  annual  Kaiwaka  School  Giant 
pumpkin competition! Seeds have been 
distributed at school in packets of 3. 
More  seeds  can  be  obtained  from  the 
school  office  if  the  seeds  fail  to 
germinate  after  about  10  days.    You 
can  also  purchase  your  own  seeds  or 
seedlings.  Once  plants  are  established 
they need plenty of water and feeding. 
Lincoln  Morgan,  last  year's  winner 
with  a  93kg  school  record  whopper, 
recommends 
sheep 
poo! 
Prize 
categories  are:  Heaviest  pumpkin  Best 
dressed  Furthest  roll  down 
the  hill  An  impressive  trophy  crafted 
by  the  Kenyon  Family  is  up  for  grabs 
for the heaviest pumpkin. There will be 
plenty  of  other  prizes  too.  There  will 
also  be  a  category  for  staff  members' 
heaviest pumpkin and dress-up.  
Agricultural Day 
Well  done  to  all  of  the  children  and 
their  families  who  participated  in 
Agricultural  Day  on  Thursday.  There 
were 10 lambs, two goats and one calf 
entered.  Thank  you  to  organizers 
Lindell  Ferguson,  Kerry  Law  and 
Melanie Hansen for the work put in to 
preparing  and  running  the  event;  Sara 
McAulay  for  screenprinting  ribbons, 
making  beautiful  rosettes  to  be 
presented  with  each  trophy  and 
providing the judges morning tea; Evan 
Wright, Rae and Chris Ries for judging 
the pets; Ross McAulay for stewarding 
lambs  and  co-judging  fancy  dress; 
Daniel  Hansen  for  helping  with 
recording; Bruce Ferguson – setting up 
rings;  Linda  van  der  Linde  for 
administration  support  and  judges 
morning tea; the PTA for providing the 
sausage  sizzle  and  organising  parent 
volunteers  to  cook;  farmers  who  lend 
calves,  lambs  and  goats  for  our 
children  to  rear;  Barbara  Brom  and 
pupils  for  photography;  past  organizer 
Rebecca  Harris  and  Kate  Packard  for 
guidance; 
and 
importantly 
our 
sponsors:  ASB  –  certificates;  LIC  – 
ribbon;  Farmlands  –  ribbon;  FMG  – 
goodie  bags;  RD1  Wellsford  – 
vouchers  and  spot  prizes;  Fonterra  – 
flavoured  milk.  We  appreciate  your 
contribution.  It  would  be  great  to  see 
entries increase next year to be able to 
continue  holding  this  special  day  that 
reflects  the  rural  character  of  our 
community.  Agricultural  Day,  or  calf 
club,  has  a  proud  history,  with  some 
trophies first presented in 1947.  
The children who participated were:   
Calf – Gareth Ferguson  
Goats – Heidi Holden, Bella Holden  
Lambs  –  Amelia  Hastie  (pre-school), 
Kierra  Hastie,  Rylie  Stirling,  Nathan 
Gilligan, Kayne Holden, Ruby Stonex, 
William  Holden,  Erica  Julian,  Lincoln 
Morgan, Dalana Stonex.  
Photo:  Heidi  Holden,  Bella  Holden    with 
their goats 
KAIWAKA SCHOOL 
UP-LINK 
CHRIS WARING 
FREEVIEW 
INSTALLATIONS 
T.V. - HOME THEATRE & 
HI-FI ADVICE/SET UP
SKY ACCREDITED 
INSTALLER
MOB.0273403747 
HM.094312328 
EMAIL cwaring44@gmail.com
28 YRS EXPERIENCE 
OFFERING UNBIASED ADVICE 
THE ANNUAL KAIWAKA 
SCHOOL GIANT  
PUMPKIN COMPETITION 
Time to plant your pumpkin seeds! 
Go to www.giantpumpkins.co.nz for 
lots of giant pumpkin growing tips.  
Happy pumpkin growing!  
For more information or queries please 
phone Amy Griffiths: 4312029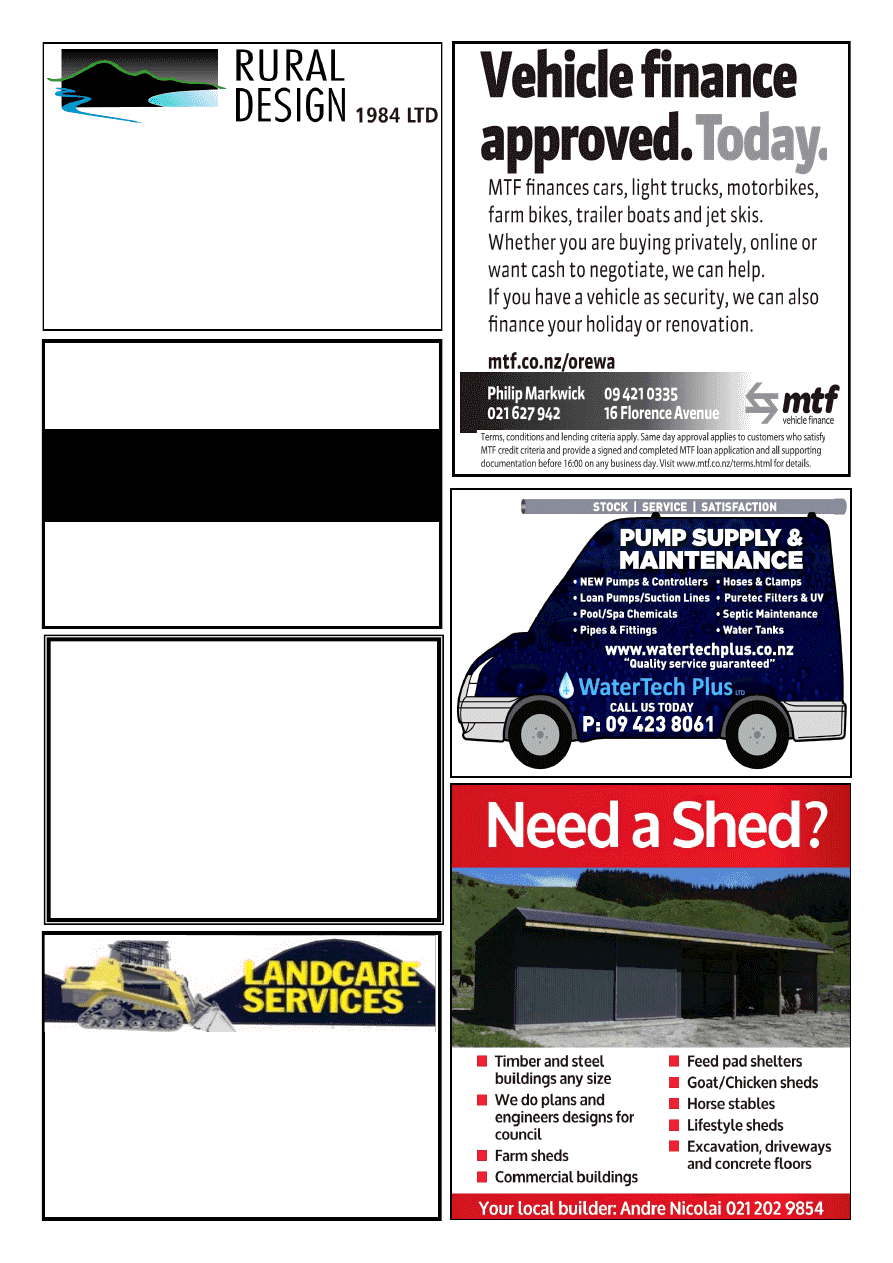 LANDSCAPING 
4 IN 1 BUCKET 
TRENCHER 
POLE HOLES 
ROTARY HOE 
COMPACT ROLLER 
OFFAL HOLES 
CAN SUPPLY WOODCHIP & POST PEEL 
5 TON TIPPER 
FOR RELIABLE AND FRIENDLY SERVICE CONTACT DAVE 
Dave Hyndman 
 
KAIWAKA 
PH: 09 4312302 
MOB: 021 431 238 
David Korach 
Your local Gib Stopper
DK PLASTERER LTD 
0274769221 
dkorach6@gmail.com 
Wholesale Native Plant Nursery and Planting 
Small and Large orders welcome 
By Appointment 
300 Kaiwaka-Mangawhai Road, Kaiwaka 
Phone: 09 431 2481 
Email: info@ruraldesign.co.nz 
www.ruraldesign.co.nz 
MULCHING 
GORSE,SCRUB ETC 
PADDOCK TOPPING OR MULCHING 
2.8m mulcher with 140HP tractor. 
Experienced operator. 
LIFESTYLE PROPERTY MAINTENANCE 
Putting life back into your style 
BOOK NOW. Phone James 
mob: 0273 808622 or 09 431 2245 
email: lifestylesorted@gmail.com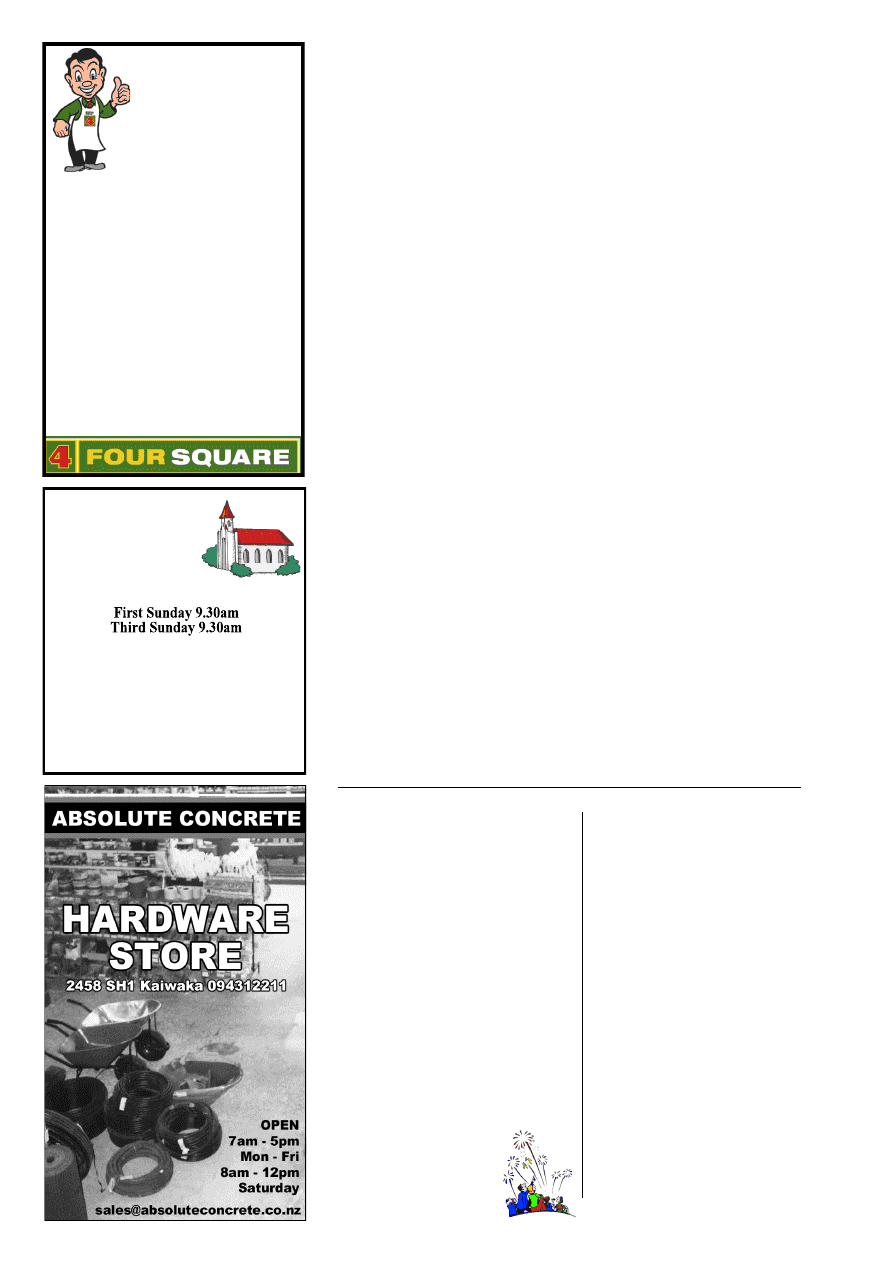 www.kaiwaka.co.nz 
Kaiwaka Bugle - 1 November 2016 
Page 9 
ST PAUL'S  
ANGLICAN  
SUNDAY  
SERVICES
St Pauls Church: Kaiwaka-Mangawhai Rd. 
1st Sun - Eucharist 
3rd Sun - Family Service 
Office 4314 122 
Contacts:M.Hargreaves 4312295, C.Bygrave 4312057  
or Rev. Wayne Thornton Ph 431 5650 
www.mangawhaianglican.org.nz
SPRING GARDENING,  
GREAT SPECIAL PRICES
TUI PRODUCTS IN STORE NOW!! 
20L compost $8.89 
30L Strawberry growing mix $14.95 
1.5kg SEED POTATOES $9.95 , Rua, Agria, 
Nadine & Red Racal 
Blood & Bone, Dolomite, Tui Quash & more. 
Quality Kericell Seedlings $2.96 per 
punnet Great Range  
Jaques Four Square 
Phone: 4312227 
1 Kaiwaka-Mangawhai Road, Kaiwaka. 
In Store               
Now! 
The  Bugle  is  asking  Wellington  to 
explain why it will let traffic speed 
through  town  at  60kph  against  the 
recommendations of locals. 
In  a  series  of  questions  to  New 
Zealand  Transport  Agency  road 
safety engineer Mark Newsome, the 
Bugle also asks why a speed camera 
is to be located south of town when 
the danger is on the main street. 
In  a  heartfelt  and  vigorous  report  last 
issue  [Bugle,  Oct  4  2016,  page  5] 
Kaiwaka 
Can 
chairman 
Derek 
Christensen applauded NZTA for their 
"patience...  and  traffic  calming"  but 
expressed  disappointment  that  the 
authority "forgot the people". 
In  its  announcement  of  changes  to 
improve  safety  [Bugle,  Oct  4  2016, 
page  13],  NZTA  indicated  it  would 
abandon a 50kph zone we have enjoyed 
since April and replace it with a 60kph 
zone,  to  run  in  the  north  from  just 
before The  Coffee  Pot  to just  south of 
Shamrock Service Station. 
This,  as  Derek  has  noted,  is  on  "the 
fastest  main  street  in  Kaipara  District 
and  the  longest  stretch  of  main  street 
with no parking allowed". 
A need to listen 
Unfortunately, NZTA is not consulting 
Kaiwaka  locals  -  although,  as  Derek 
also points out, they have spoken with 
"major  stakeholders",  namely  the 
Automobile  Association,  the  Road 
Transport  Association,  New  Zealand 
Police and Kaipara District Council. 
This is despite 18 months of work with 
NZTA  and  KDC  to  address  problems 
that  have  existed  for  years  and  have 
been raised with authorities for years. 
We understand that Winston Peters MP 
has already raised matters with NZTA. 
Our questions 
Now, the Bugle has put these questions 
in writing to NZTA and its road safety 
engineer Mark Newsome: 
Is NZTA aware that: 
1,  the  no-stopping  lines  in  Kaiwaka 
stretch  1800  metres  (the  length  of  the 
village)  and  are  unbroken  except  for 
three bus/bay areas and road entrances? 
2,  the  village  is  in  a  dip  down  which 
traffic is encouraged to speed? 
3, two bridges constrict flow next to the 
two major points of entry to SH1? 
4,  wait  times  at  these  entry  points  can 
be up to 15 minutes at peak times - and 
control  is  by  compulsory  stop  on  the 
feeder roads? 
5,  a  third  point  of  entry  (by  the  left-
sited  shops  heading  south)  allows  a 
right turn into SH1 traffic? 
6,  a  fatality  (car  v  truck)  has  occurred 
already this year at this right turn? The 
casualty was local. 
Camera mislocation 
Is  the  NZTA  engineer  charged  with 
approval  of  roading  changes  aware 
that: 
7,  the  police  are  recommending  the 
siting  of  a  speed  camera  on  a  stretch 
south of Kaiwaka where the last fatality 
is  understood  to  have  happened  30 
years  ago  before  recent  increases  in 
traffic volumes? 
8,  the local community  consider this a 
revenue  gathering  exercise  rather  than 
a safety measure as the proposed site is 
near passing lanes? 
NZTA  spokesman  Andy  Knackstedt 
says  NZTA  is  "not  in  a  position  to 
provide  specific  responses  to    the 
questions above in the short timeframe 
[the Bugle] allowed" but has referred it 
on for consideration. 
The Bugle will keep you posted. 
WELLINGTON SPEED SAFETY DECISIONS 
QUESTIONED 
KATE'S PLACE 
We are busy, busy down here at Kate's 
Community 
Centre… 
our 
Free 
Community  Nurse  started  last  week 
and we had an awesome response from 
our  community.  Keep  supporting  this 
service  so  we  can  keep  it  going  and 
adding more services for you, the nurse 
is here every Thursday from 9am make 
an appointment or just drop in. 
On the 8 November 2016 a "Journey to 
Health" - health and weight loss group 
run  by  Jo  Bowden  begins,  every 
Tuesday  night  from  6pm  at  our  place 
$5  per  week  and  bring  a  journal  for 
notes  and  recipes  etc.  Please  give  us a 
call if you would like to register. 
We  have  placed  several  people  into 
jobs this week and are having more and 
more  people  contacting  us  every  day. 
We  are  contacting  employers  and  are 
building  a  list  of  jobs  and  people 
available;  if  you  require  assistance  or 
support we are here for you. 
Contact us Monday - Friday from 9am 
09  431-2661  or  visit  us  on  fb:  kates 
place community centre. 
FIREWORKS 
On  Saturday  5th  November  come 
down  to  the  Tomarata  Domain  on 
Pakiri  Block  Road,  Tomarata  (just 
past the school) to see an incredible 
pyrotechnic  display.  Gates  open  at 
5pm.  There  will  be  live  music, 
sideshow  games,  a  climbing  wall, 
bouncy  castles  and  much,  much 
more  to  entertain  all  the  family. 
There will also be hot and cold food 
for  sale,  sweet  treats  to  tempt  your 
taste buds and a wide range of glow 
items  for  sale.  Bring  a  picnic  rug 
and all the family.  
Family  Pass  Pre-sale  tickets  are 
available  from  ThereasaMay  Flora, 
1  Worker  Road,  Wellsford  and  at 
the Tomarata School Office – these 
are  $25  for  two  adults  and  up  to  4 
children.  On  the  night 
these  Family  Passes  will 
be  $30,  adults  $10  and 
children $5 - at the gate. 
This is a cash only event.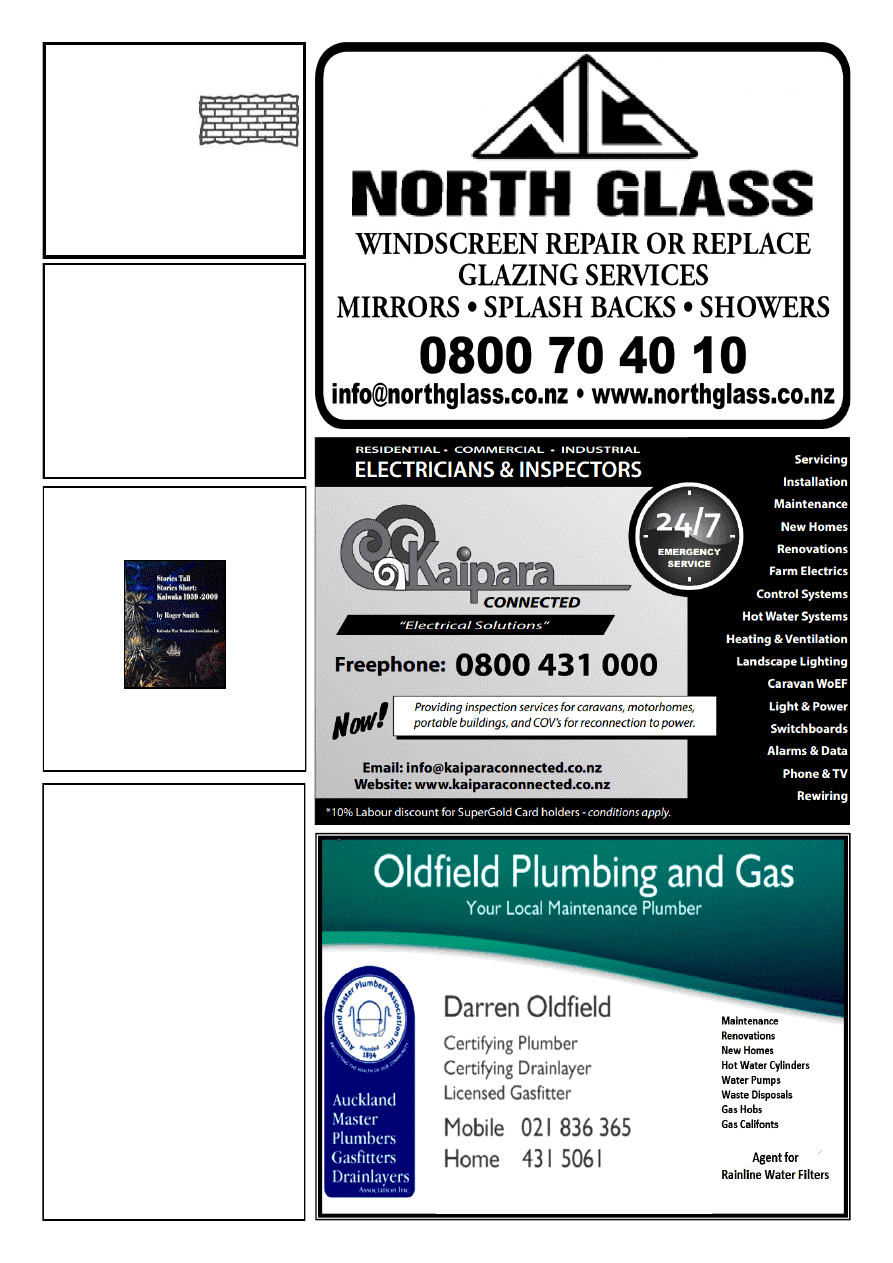 oldfieldplumbing@gmail.com 
 LEABOURNS 
Passenger Service
Car & Van Hire 
Bus & Coach Charters 
Airport Transfers 
 Monthly Shopper Bus 
Phone (09) 4237416 
BRICK/BLOCKLAYER 
All aspects of masonry:  
Fireplaces, 
Restoration  
& Remedial Work. 
JAMES EAGLETON 
Tel. (09) 431 2514  
Mob. 0274 749 232 
jajueagles@yahoo.com.au 
210A Pukenui Road, RD2 Kaiwaka 0573 
Stories Tall, Stories Short:  
Kaiwaka 1959-2009 
by Roger TW Smith
$40
Available from the Bugle Editors -  
Lindsey 4312 045,  
Wendy 027 480 6275 
Robyn's Beauty Therapy
Express Facial 30mins 
$45.00 
Deluxe Facial 60mins 
$60.00 
Half Leg Wax 
$25.00 
Full Leg Wax 
$40.00 
Full Leg & Bikini wax 
$55.00 
Bikini Wax 
$20.00 
Extended Bikini Wax 
$30.00 
Brazilian Wax 
$50.00 
Under Arm Wax 
$15.00 
Arm Wax 
$20.00 
Eye Brow Wax 
$10.00 
Lip Wax 
$10.00 
Chin Wax 
$10.00 
Combo Eyebrow/Lip/chin 
$25.00 
Back Wax 
$20.00 
Chest Wax 
$20.00 
Eye Brow Trim 
$10.00 
Lash Tint 
$20.00 
Brow Tint 
$10.00 
Lash & Brow Tint 
$25.00 
Combo Lash/Brow Tint/Brow Wax  $35.00 
Express Pedicure 30mins 
$40.00 
Delux Pedicure 60mins 
$60.00 
Express Manicure 30mins 
$30.00 
Delux Manicure 60mins 
$50.00 
Trim & File (hands & feet) 
$15.00
Qualified Beautician with 15 years experience 
Phone Robyn on 027 293 1521 
Gibbons Road Kaiwaka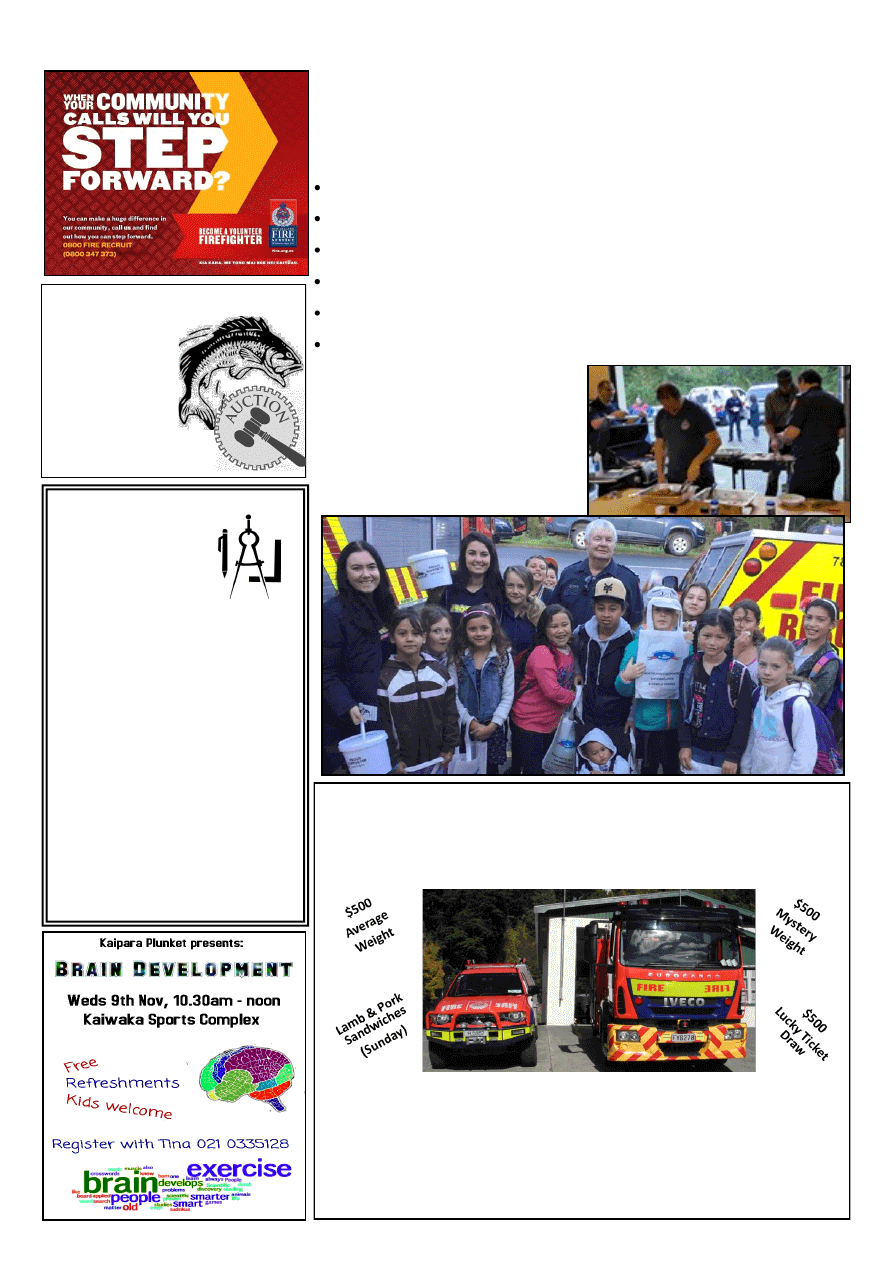 www.kaiwaka.co.nz 
Kaiwaka Bugle - 1 November 2016 
Page 11 
design  
drafting  
service 
Retired builder and manufacturer 
with over 40 years experience in the 
building industry is offering a design 
drafting service for domestic housing, 
sleepouts and sheds.  
Plans formulated in consultation 
with clients, with working drawings 
completed and submitted to council 
for processing.  
Extensive practical experience,  
able to identify & resolve problems. 
Please ring Mike Lean on 
09 431 2260          
      or 
021 431 196 
KAIWAKA VOLUNTEER FIRE BRIGADE 
KAIWAKA VOLUNTEER FIRE 
BRIGADE 
OPEN FISHING CONTEST  
Saturday the 5th & Sunday the 6th  November 2016
Start time 12am on Saturday 5th.
Adult species: Snapper, Gurnard, Kingfish, Kahawai & Crayfish.  
1st Prize Snapper $300*,1st Prize Gurnard $300*, 1st Prize Kingfish $300*, 1st Prize Kahawai 
category $300*, 1st Prize Crayfish category $300*, Mystery Weight Prize $500*, Average Weight 
Prize $500*, Lucky Draw Prize $500*.  
Junior prizes for Snapper & Kahawai.  
*  Prize can be in cash or equivalent value of a sponsored prize. 
Tickets at Jaques Four Square, 3 Furlongs Bar & Grill, Fire Brigade members, 
or Mike Renton 021 133 7269 
See full poster for rules and details 
Rescue Helicopter Fundraiser 
Everyone  had  a  great  time  at  the  Fire 
Station  the  other  week,  when  Markby 
and  Flash  from  MoreFM  came  for 
breakfast. 
A total of $5,347 was raised on the day. 
Thank you to: 
Cheryl  Anderson  for  advertising  the 
event, 
Robert  Klink  from  the  Mangawhai 
Meat Shop, 
the 
generous 
donations 
from 
businesses and the community, 
Jaques  Four  Square  for  supplying 
food for the barbeque, 
Fire Brigade members and helpers for 
running the barbeque, 
MoreFM  for  giving  our  community 
some great advertising and coverage. 
New members needed 
Kaiwaka  Volunteer  Fire  brigade  are 
looking for 5 new members. 
To be a volunteer you must be 16 years 
of  age  or  over.  If  you're  not  yet  18 
years old, you will need the consent of 
your  parent  or  guardian.  Apart  from 
this  requirement,  almost  anybody  can 
join  a  Brigade,  male  or  female,  young 
or  old,  those  looking  for  adventure  or 
those just wanting to contribute to their 
community. There are opportunities for 
people  from  all  backgrounds  within  a 
Volunteer Fire Brigade. 
The role you play in a Brigade depends 
completely  on  what  you  would  like  to 
do.  You  can  be  hands-on  at  an 
emergency, or you can provide support 
to those people who are. You can even 
have  a  role  that  doesn't  expose  you  to 
emergency  incidents.  The  one  aspect 
the  roles  all  have  in  common  is  that 
they  require  you  to  attend  a  weekly 
Brigade  training  night,  and  that  you 
participate in Brigade activities. 
For  more  information,  please  contact 
the Chief Fire Officer John Bowmar on 
4312248  or  go  to  our  website  at 
http://
www.fire.org.nz/Jobs/Volunteer-Firefighters/
Pages/AnIntroductiontoVolunteering.html
FISH AUCTION 
Sunday  
6 November 
at 5pm  
Kaiwaka  Fire 
Station 
Following the  
Kaiwaka Fire Brigades' open 
fishing contest.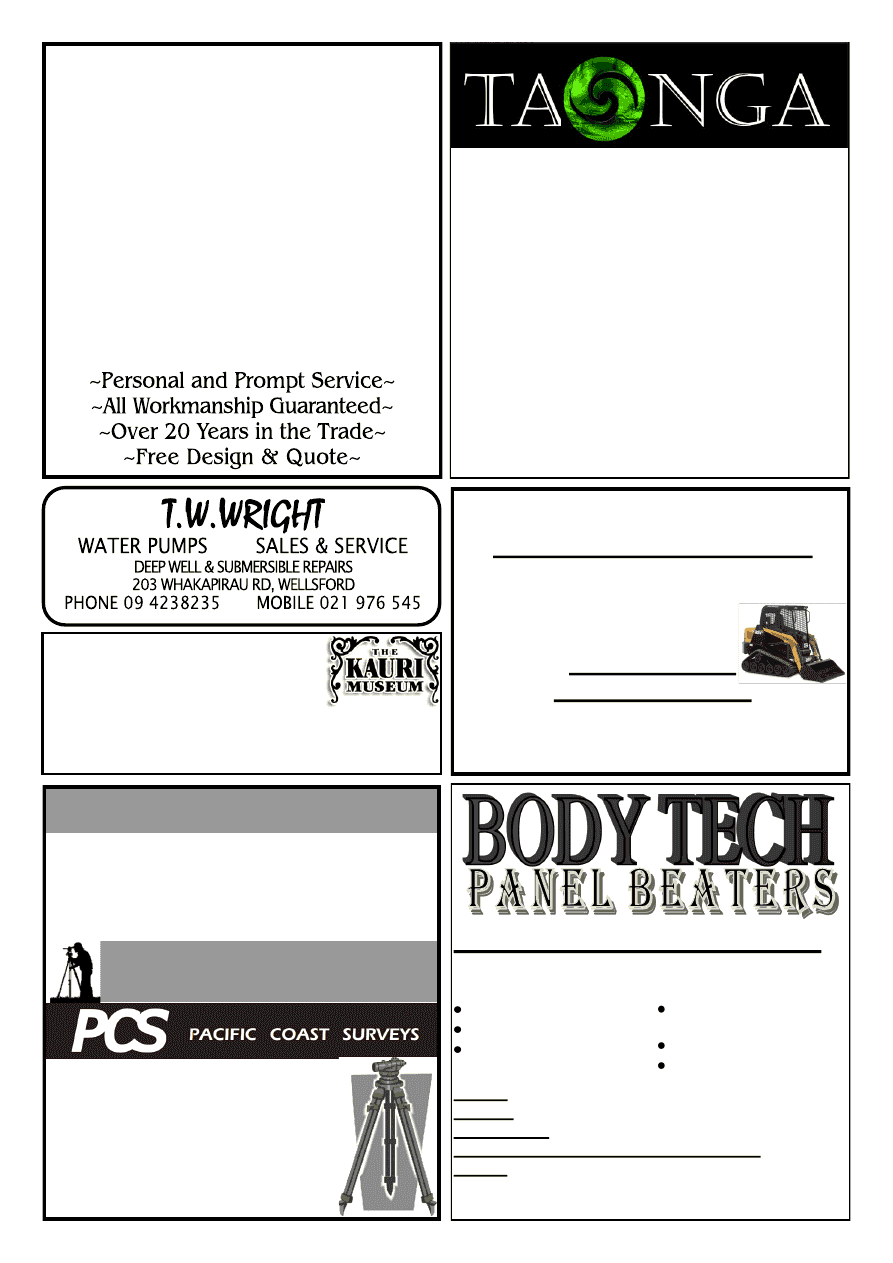 For all your body repair needs!! 
We do: 
Rust repairs 
Insurance work 
Anti-corrosion treatment     
Hours: 8.30am-5pm Monday-Friday  
Mobile: 021 118 0462 
After hours: 09 431 2384 
Phone: Craig or Call in for a free Quote 
bodytech_panelbeaters@yahoo.com
We are located at 1837 SH1 Kaiwaka, behind  
Twinkle Tow 'n' Tyre call in anytime for a free quote.  
Large and minor vehicle  
 repairs 
Industrial vehicles 
Full Cut and polishes 
SURVEYORS 
SUBDIVISIONS 
HOUSE SITE SURVEYS 
CIVIL ENGINEERING 
WASTEWATER DESIGNS 
EXPERIENCED 
PROFESSIONAL 
INNOVATIVE 
Ph 09 431 5353 
0800 PACIFIC (0800 722 434) 
pacificcoastsurvey.com
Adam Booth - 027 415 5752 
Bsurv, Licensed Cadastral Surveyor
Surveying Kaipara since 1994 
Natural Earth Ltd 
Landscape and Bobcat services 
 : Driveways :Landscaping :Retaining Walls 
 : Hole Boring: Land Levelling :Trenching 
 : Decks :Fences :Sections Cleared 
 : Plus much more
Tel 09 4312 885 
Mob 02102391280 
For A Fast Friendly Service  
Contact Tim Hicks 
PLANNING A NEW KITCHEN? 
 CONTACT NOEL McDOWELL
WELLSFORD 
KITCHENS
Ph/Fax 094312888
KAIWAKA-Any time
 QUALITY CUSTOM MADE 
KITCHENS
TAONGA  GARDENS 
5km North on State Highway 1 
http://www.taongagardens.org.nz
Thurs, Fri, Sat, Sun 9-5 
Spend $50 and receive 
 a free pair of Bamboo Garden Gloves
Good selection of seedlings available 
Christmas Gifts coming into stock weekly
Ph 09 4312 770 Ana 020 4002 5025
Otamatea Quilters Annual Exhibition runs 
until 20 November. 
For further information phone Glennys McKenzie 09 432 0409 
The Kauri Museum is open 9am to 5pm daily and entry is free 
for Otamatea residents. 
KAURI MUSEUM 
MATAKOHE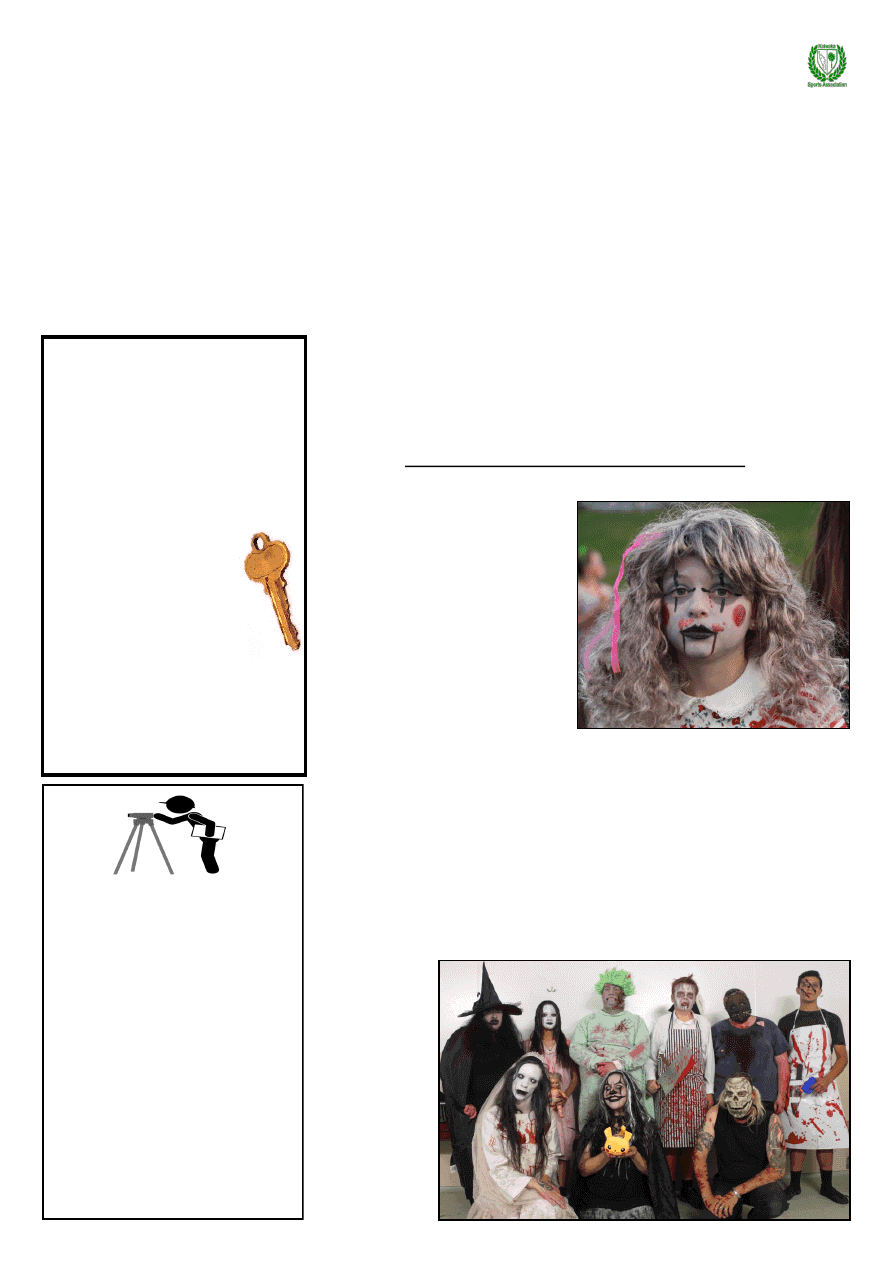 www.kaiwaka.co.nz 
Kaiwaka Bugle - 1 November 2016 
Page 13 
More FM Broadcast 
More FM travelled to Kaiwaka last week 
to  broadcast  their  breakfast  show  live 
from  the  Kaiwaka  Fire  Station.  Many 
people who have helped with building or 
sponsoring  the  KSA  helipad  spoke  on 
air.  
Donations  poured  in  for  the  rescue 
helicopter  and  the  total  raised  from  the 
morning was over $5,300!More FM gave 
away  a  few  prizes  –  congratulations  to 
Branden  Edwards,  Demelza  Steiner  and 
Bevan Stonex. 
Kaiwaka Athletics Club 
Club  Nights  are  held  at  Otamatea  High 
School  on  Mondays,  5  –  6.30pm. 
This  is  for  children  of  all  ages  and  club 
nights'  feature  running,  long  jump,  high 
jump, shot put, discus and javelin. 
Queries to Eileen Parsons on 4318 055. 
Kaipara Sports Awards 
Great  to  see  several  locals  nominated  in 
the  Kaipara  Sports  Awards.  The  awards 
will be held this Friday at the Lighthouse 
Function  Centre  in  Dargaville.  Tickets 
are  $50  per  person. You  can  purchase  a 
ticket  by  contacting  Sport  Northland 
representative 
Roxanne 
Kelly 
on 
KSA AGM 
Our  AGM  will  be  held  on  Wednesday 
23
rd
 November in our JK Lounge at 7pm. 
All welcome. 
Tennis 
Junior  tennis  lessons,  with  coach  John 
White  have  started.  Lessons  for  young 
children  start  at  3.15pm,  intermediate 
children  start  at  3.45pm  and  secondary 
children  at  4.15pm.  To  register  your 
child, please contact Floyd Driver on 022 
4769669. 
Kaiwaka Touch Module 
Would  you  like  to  play  in  my  Summer 
Touch  Module?  The  Touch  module  will 
be  held  at  the  Sports  Complex  for  eight 
weeks  on  Wednesday  evenings  starting 
on Wednesday 18
th
 January. Teams are 6 
a-side  with  at  least  three  females 
on  the  field,  double  points  for 
female  try-scorers.  You  can  have  up  to 
14  players  in  your  team,  team  fee  is 
$100.  This  is  a  casual,  friendly 
competition  for  mixed  teams  of  men, 
women  and  teenagers.  Touch  is  easy  to 
learn  and  just  about  anyone  can  play. 
Why not start getting a team together! 
Parenting course 
Kaipara  Plunket  is  hosting  a  course  at 
our Sports Complex next Wednesday 9
th
for  parents  to  learn  about  the  brain 
development  of  young  children.  Come 
along  at  10.30am.  This  is  a  free  course; 
refreshments  will  be  available  and 
children  are  welcome.  Please  register 
with Tina Ball on 021 033 5128. 
Scentsy Fundraiser 
I  am  running  a  Scentsy  Scent  Pak 
Fundraiser,  with  the  support  of  local 
Scentsy consultant Janine Boult A couple 
of  Scent  Paks  would  make  a  great 
stocking  stuffer!  Only  $13  each.  An 
order form is in this edition of the Bugle. 
Cheryl Anderson, 4312 051, 027 
3462702, kaiwakasports@gmail.com 
Ken Urquhart 
BSurv Licensed Cadastral 
Surveyor 
KMU Surveys Ltd
467 Bickerstaffe Road 
RD 2  
Maungaturoto 0587 
Ph 09 431 8705 
Mob 021 161 2344 
kenurquhart@xtra.co.nz 
Kaiwaka  
Hardware  
&  
Key cutting 
Phone 4312 063 
 022 041 6047 
kaikey2015@gmail.com
Keys Cut  
Household Hardware  
Curtain Tracks & Fittings 
Not there? Call Doug and he'll 
sort
it for you. 
(
Next to Kaiwaka Motorcycles
)
KAIWAKA SPORTS ASSOCIATION
FRIGHT NIGHT 
What a spooktacular time everyone had 
at  the  Kaiwaka  Sports  Association's 
Fright  Night  on  Saturday.  Nearly  600 
people  attended  making  this  our  most 
successful Fright Night ever! 
There  was  facepainting,  a  lolly 
scramble,  a  costume  competition,  a 
photo  booth,  games  with  prizes,  glow 
items  and  a  supper-plate  competition, 
with the highlight for most people being 
our  freaky  haunted  house!  We  had 
transformed  our  downstairs  changing 
rooms into a hair-raising walk and if the 
screams  coming  from  downstairs  were 
any  indication,  our  scarers  did  a  great 
job!  What  a  fabulous  array  of  scary 
costumes  there  were  –  we  had  ghostly 
ghouls,  wicked  witches,  petrifying 
pirates, gruesome gremlins and more! 
Congratulations 
to 
the 
costume 
prizewinners:  Girls:  1st  Delana  Stonex  
(family pass NZ Maritime Museum), 2nd 
Molleigh  Buxton    (family  pass 
Whangarei  Aquatic  Centre).  Boys:  1st 
Lucien Chase (family pass NZ Maritime 
Museum), 2nd Lachlan Hill (family pass 
Whangarei  Aquatic  Centre).  Adults:  1st   
Jamie  Dodd  (family  pass  NZ  Maritime 
Museum),  2nd  Anita  Granville  (family 
pass Spookers). 
Thank  you  to  everyone  who  brought  a 
halloween-themed  plate  for  supper.  Our 
judges  had  a  very 
tricky  job  as  the 
tables 
were 
overflowing  with 
creative food – we 
had 
bloodshot 
eyeball  cupcakes, 
cobweb  biscuits, 
deadman 
finger 
sandwiches,  ghost 
meringues 
and 
more! 
Congratulations  to 
the  supper  plate 
winners: 
1st 
Sonya 
Dickson 
(family  pass  NZ 
Maritime 
Museum),  2nd  Rachel  Stirling  (family 
pass  Sheepworld),  3rd  Sonya  Lynde  
(family pass Spookers). 
A big thank you to the  many helpers on 
the  night.  A  special  thanks  goes  to  the 
'scarers' in the Haunted House who did a 
wonderful  job  and  will  no  doubt  have 
featured  in  the  nightmares  of  some 
children that night!  
Photos  can  be  viewed  on  the  Kaiwaka 
Sports  Complex  facebook  page  and  our 
website www.kaiwakasports.co.nz.  
Thank you to everyone who came along 
– I hope you had a frightful time! 
~Cheryl Anderson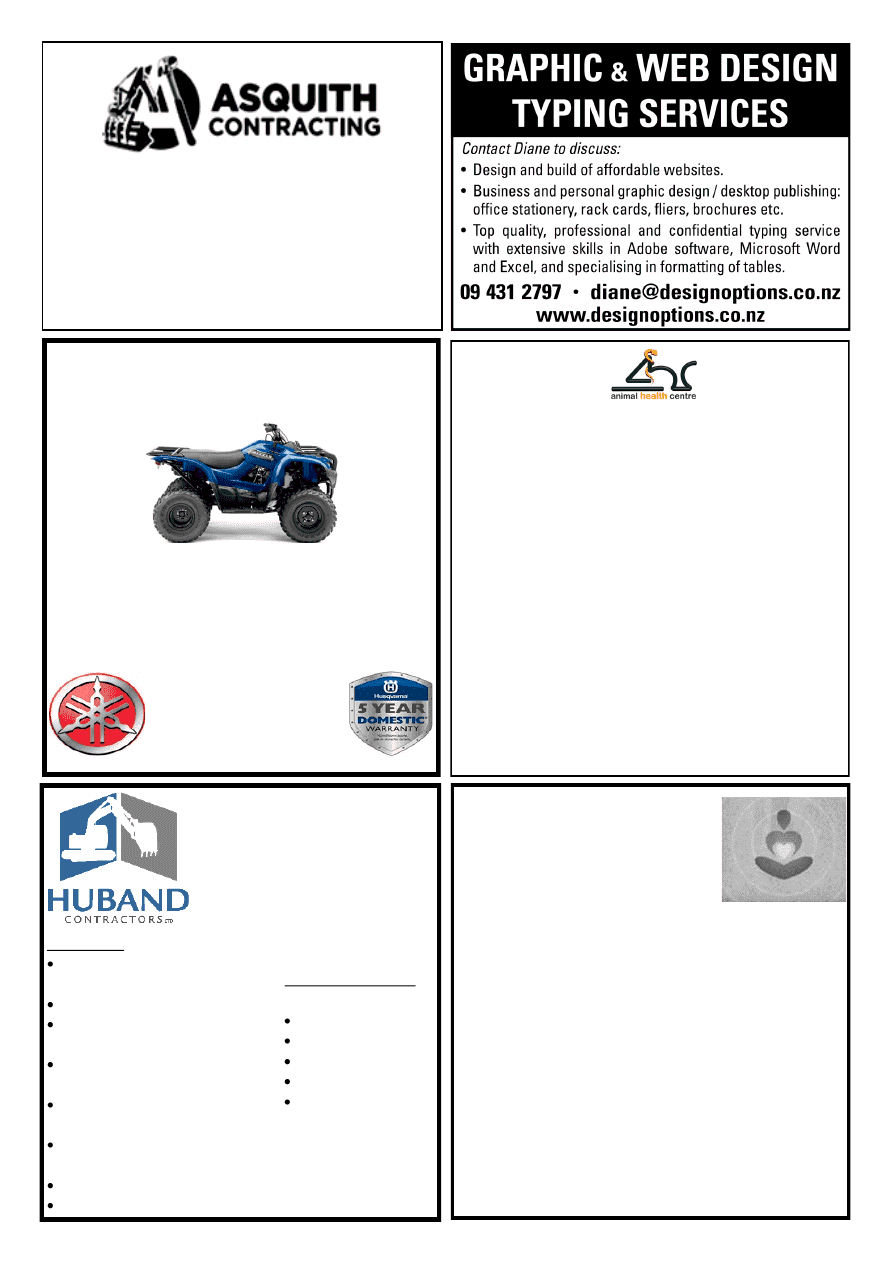 ANIMAL HEALTH CENTRE 
KAIWAKA 
"choices in health care for your companion animal" 
Health problems - itchy skin, smelly ears,  
bad breath, diarrhea? 
On steroids, antibiotics, lifetime drugs..... ? 
Diet may be a part of the problem!  
Call in and have a chat to our team  
of animal health practitioners.
Nail Trims, Microchipping , 
Dental checks, Comfort grooms. 
Great range of real food – no preservatives. 
Alternatives to nasty chemical parasite controls.
OPEN:   Tues-Fri - 10:00am – 5:00pm 
Saturday - 10:00am - 4.00pm, Sunday/Monday - Closed 
Next to Italian Bakery, Main Highway Kaiwaka 
Ph: 09 431 2217 
PS: We're open 7 days in Orewa if you missed us! 
KAIWAKA 
MOTORCYCLES LTD
SALES – SERVICE – SPARES 
FARM BIKE SPECIALIST
PHONE 09 431-2127 
10 KAIWAKA-MANGAWHAI ROAD, KAIWAKA
Trimmers  
from $279
Chainsaws  
from $339
YAMAHA 
HUSQVARNA 
Small digger work, trenching and post hole 
drilling for retaining walls, piles, etc.
$60+gst per hour.
Call Tam on 021 124 5216 or 
asquithcontracting@gmail.com
Musculoskeletal, chronic pain, women's health, infertility, 
pregnancy, general wellbeing, stress, anxiety, headaches, 
depression, insomnia, respiratory, gastrointestinal,  
cosmetic acupuncture and much more.
Certified in kinesio taping.
For more information about treatments please 
visit our website or contact Lara: 
3 Cove Rd Waipu, Northland 
Tel: 0221 557811 or 09 432 1325 
Email: info@acubalance.co.nz 
www.acubalance.co.nz
Acupuncture treatments provided at Waipu Natural Health 
AcuBalance 
Lara Tremain
Registered Acupuncturist and 
ACC Treatment Provider 
Open Monday-Friday  
8am-5pm 
Saturday 8am-noon 
2088 Paparoa Valley Road 
0800 234449 
We stock:
All gardening and 
landscaping supplies 
All grades of metal 
Fencing and farming 
supplies 
Culverts and water 
irrigation 
PVC, plumbing & drainage 
materials 
Water pumps & water 
tanks 
Septic systems 
Most grades of oils 
We specialise in: 
 
Earthworks 
Roading 
Drainage 
Site works 
Landscaping 
Supplies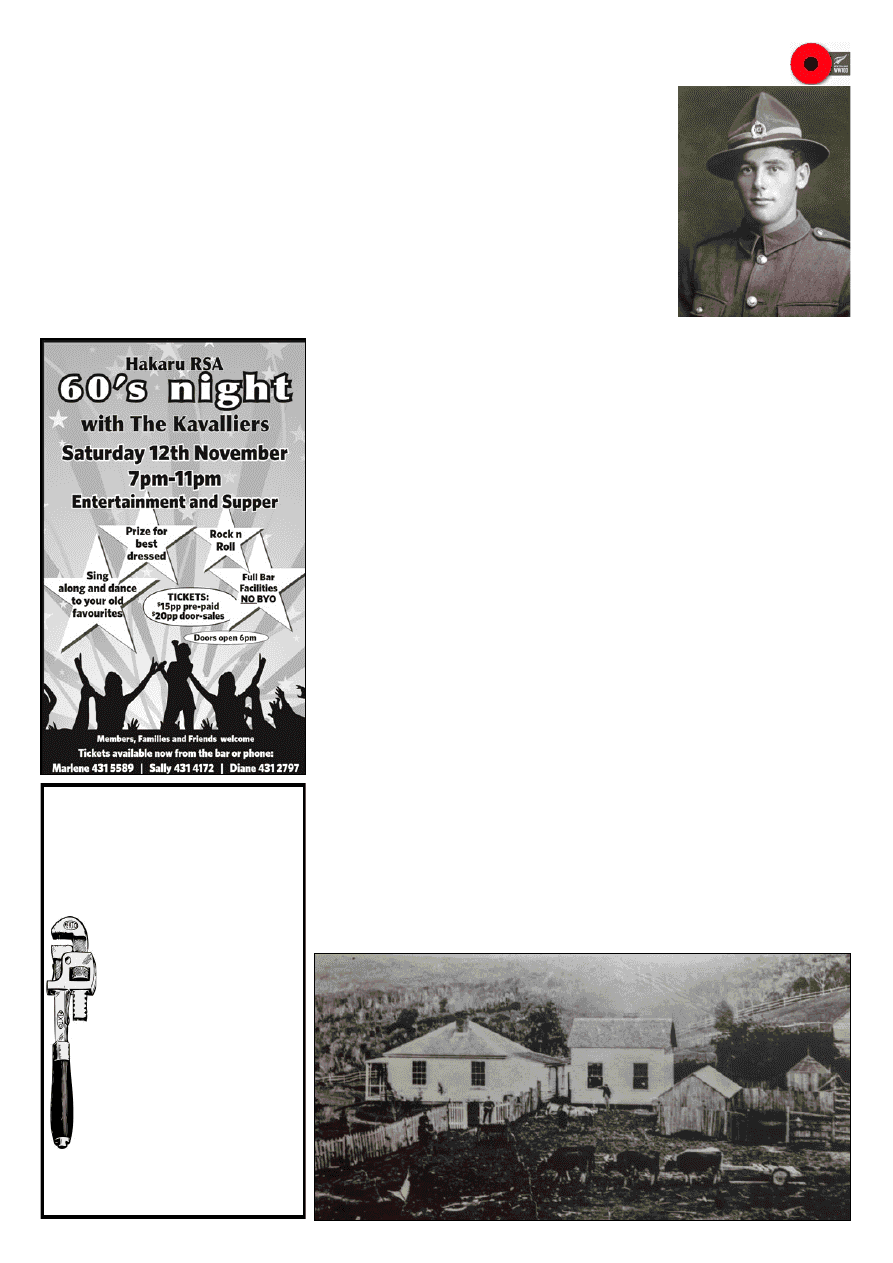 www.kaiwaka.co.nz 
Kaiwaka Bugle - 1 November 2016 
Page 15 
In  August  I  received  a  phone  call  from 
David  Williams  whose  family  formerly 
owned  land  on  Settlement  Road  at  the 
corner  of  Valley  Road,  up  to  the  hall  and 
opposite the R.S.A. 
David was doing research on men from the 
district  who  had  fallen  in  the  world  wars 
and asked if I could source a photo of Dick 
Linnell who is listed on the Honours Board 
in St Michael's Church, Hakaru. 
I didn't  know  where  to start  but contacted 
different relatives, with varying amounts of 
encouragement until a call to cousin Rosie 
Grayson  (whose  mother  was  originally 
Theodora Linnell), yielded gold. Surprising 
even  herself  she  found  a  photo  of  Dick  in 
uniform  and  also  a  complete  family  shot 
circa 1890. 
With  these  photos  discovered,  it  still 
remained  for  me  to  find  out  more  about 
Dick and his life, of which I knew nothing. 
The  Kauri  Museum  at  Matakohe  has  on 
permanent  loan  various  family  diaries 
going back to his mother's shipboard diary, 
written  enroute  to  New  Zealand,  with  her 
parents and siblings, in 1859/60. 
Copies  of  selected  diaries  were  borrowed 
so  as  to  try  and  picture  a  little  of  his  life 
and that of his family. 
Mary Hull, his mother, was sixteen years of 
age  when  she  wrote  her  diary;  at  times  an 
amusing and perceptive record, undertaken 
on  the  well-appointed,  Boston  built,  1790 
tonne clipper the Blue Jacket. 
She  and  her  family  boarded  ship  at 
Holyhead  (Wales)  on  2
nd
  December  1859 
in soon to be stormy conditions leading to 
the  hawser  to  the  tug  being  broken  before 
getting as far as Cork. 
On 17
th
 February 1860 she wrote – 
"What  a  little  world  it  is  on  board  ship.  I 
never in all my life before knew as much of 
'human  nature'  but  the  worst  of  it  is  that 
you begin to mistrust everybody. They turn 
out  so  differently  from  what  you  expect 
sometimes."  
Maybe  her  12
th
  January  entry  gives  some 
insight as to her feelings – 
"Mr  Good  has  turned  out  quite  differently 
from  what  we  first supposed. He  is coarse 
and vulgar. At first he was so good natured, 
covering us up when we were cold, that we 
began  to  like  him.  But  now  we  are  quite 
disgusted with him…………." 
And as Samuel Johnson put it – "travelling 
by  sea  was  so  dangerous  that  it  was  like 
being  in  prison  but  with  the  added 
probability of being drowned" 
The  voyage  to  Auckland  was  a  slow  one 
taking  111  days  in  the  clipper  which,  on 
another similar voyage, took only 75 days. 
Mary's parents, Francis and Eliza Hull had 
a  home  built  on  a  land  grant  north  east  of 
Kaiwaka. Named 'Fairburn', it was situated 
on  Baldrock  Road  (about  a  kilometre  east 
of  Gibbons  Road,  now  indicated  by  a 
remaining Norfolk pine in the valley). They 
tried to farm and opened a store for trading 
with the local gum-diggers and others. This 
would have been from 1861 onwards as the 
house  took  a  year  to  build  while  they 
waited in Auckland. 
Around  this  time  this  Mary  Hull  met 
George Linnell, who had left England as an 
18 year old in 1862. He had sailed for NZ 
with  friends  Captain  and  Mrs  Frederick 
Forde.  George  obtained  a  40  acre  land 
grant 
at 
Pukekaroro 
which 
he 
cleared  and, 
in  1869  sold 
to 
George 
Washington 
Charters  for 
20 pounds. 
He  was  in 
partnership 
for  a  short 
time 
with 
Samuel 
Clayton, 
grazing  and 
cattle  dealing  on  land  owned  by  Mrs 
Suzanne  Clayton  (Mrs  Brayton  in  Jane 
Mander's  book  –  "The  Story  of  a  New 
Zealand River" – which many believe to be 
the basis for Jane Campion's movie – "The 
Piano") 
Mary and George Linnell were married in a 
double  wedding  with  her  sister  Lily  and 
Charles  McMurdo  at  Fairburn  in  1867. 
Bishop  Selwyn  walked  from  Auckland  to 
officiate. 
They  lived  initially  in  a  small  cottage  on 
the  2300  acre  Kaitara  block,  farmed  in 
partnership  with  Francis  Geldheart,  (now 
the  Donaldsons,  McAulays  and  others,  on 
Ranganui  Road),  which  the  bride  groom, 
assisted  by  an  old  sailor,  had  built  from 
timber  cut  and  pit-sawn  himself.  It  was 
there that their first five of eventually eight 
children were born. 
On  2
nd
  July  1879,  George's  35
th
  birthday, 
he and Mary moved into their new home at 
Waihakari, an adjoining property which he 
leased  and  later  purchased  from  a  Maori 
Chief named Hemara. 
The  house  was  built  by  Thomas  William 
Dowson with timber sourced from the mill 
at  Aratapu  on  the  Northern  Wairoa  river, 
carried  by  the  schooner  Sea  Breeze.  This 
voyage  was  made  hazardous  apparently 
due to the drunken pilot. 
Three  more  children  were  born  at 
Waihakari  (meaning  'feast  by  the  water'), 
Francis  (Dick)  being  the  second  to 
youngest,  with  James  (Jim)  the  last  born 
(father of R.T.V. Dick Linnell who married 
Vivienne). 
At the time of Dick's birth, Waihakari was 
then  a  farm  of  1552  acres  (including  the 
Raepare;  now  the  eco-village).  It  was  a 
hive of activity with many different sources 
of  income  and  sustenance  and  the  work 
force  consisting  of  the  family,  both  boys 
and girls. 
Part Two in Bugle 22 ~ P.Linnell
BARRY CURTIS 
PLUMBING LTD 
REGISTERED CRAFTSMAN 
PLUMBER 
Phone 431 5572 
027 257 9884 
25 years' experience 
Friendly reliable service 
  All plumbing  
 
& maintenance 
Alterations and new   
housing 
Spouting 
Competitive rates 
PROMPT EFFICIENT SERVICE
PART ONE: Francis Richard LINNELL (Dick) 
1882 – 1916  
16
th
 Reinforcements, N.Z.E.F. Trentham Camp 
Fairburn, Baldrock Road ,Kaiwaka 1869...home of Hull family and district's first store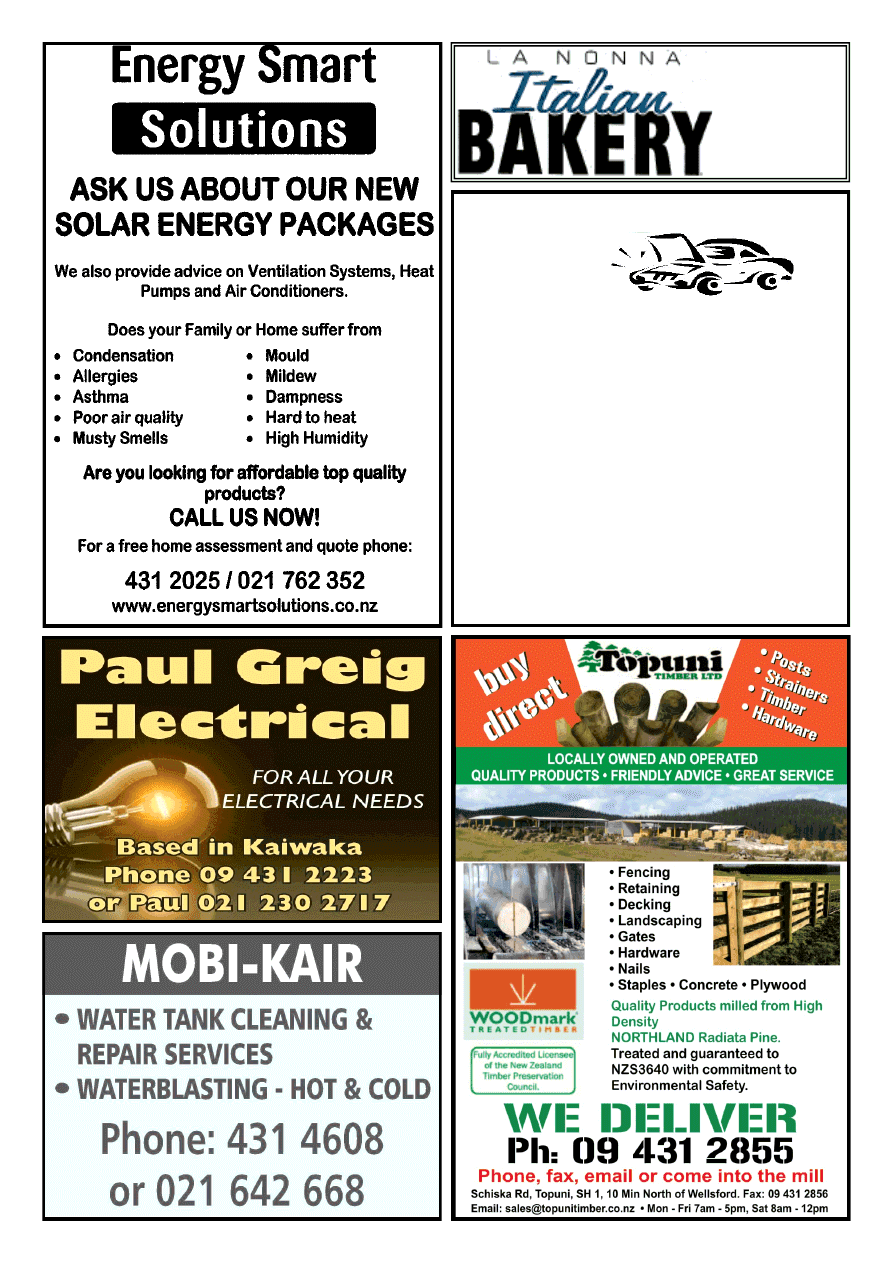 Twinkle Tow 'n' Tyre 
Think you'll get a better deal in the city? 
Ring us - it won't cost anything! 
1837 State Highway 1, Kaiwaka 
Phone 431 2823 
*W.O.F. 
*Tyres 
*Windscreen 
replacement 
*Chip repairs 
*Bulk Oil 
*Batteries 
*Welding 
*Custom built 
trailers 
*Trailer hire
1923c State 
Highway 1,  
Kaiwaka. 
Open 7am-4pm  
Tue to Sun. 
Closed Mondays. 
Phone 09 431 2643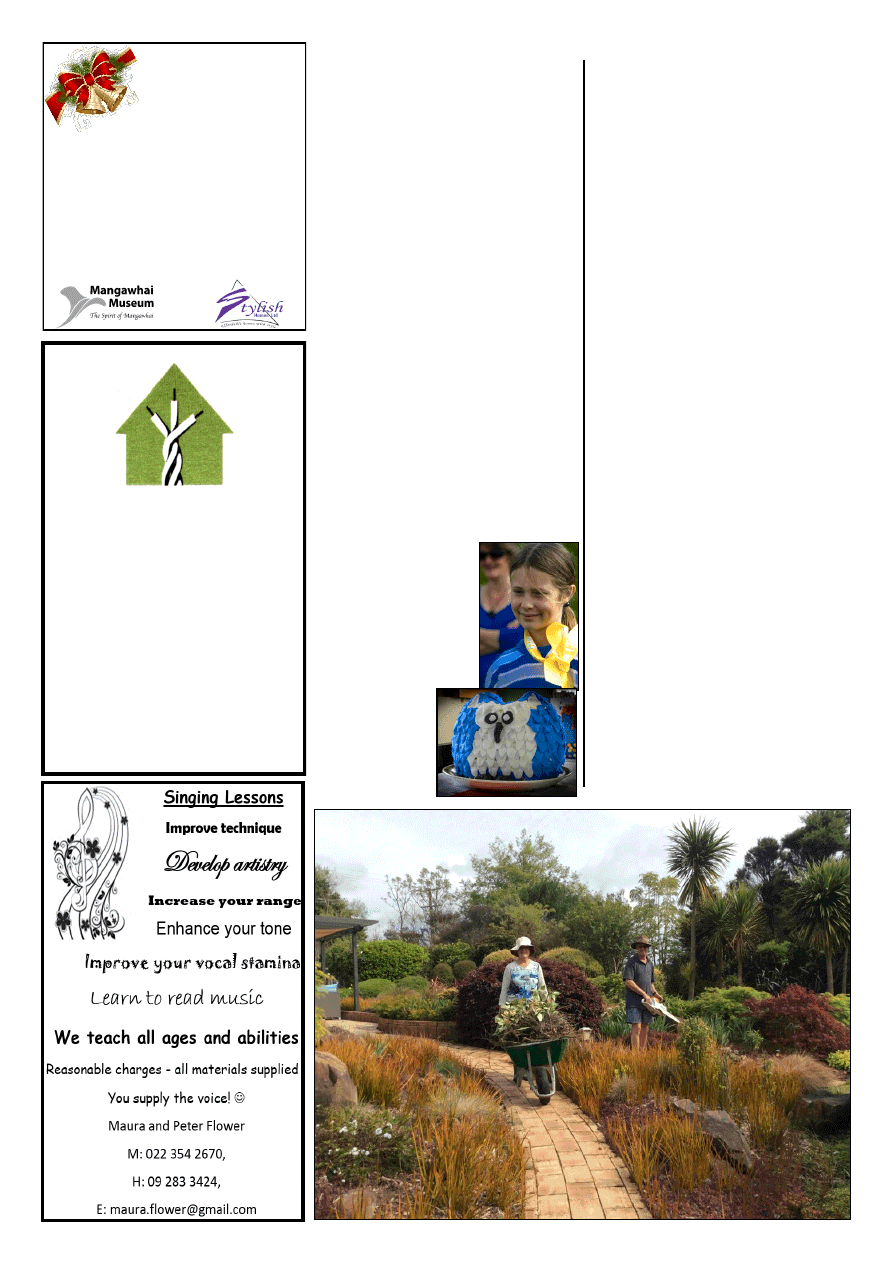 www.kaiwaka.co.nz 
Kaiwaka Bugle - 1 November 2016 
Page 17 
PROUDLY 
PAPAROA DAY 
Paparoa's  150th  anniversary  of  the 
arrival  of  the  Albertland  settlers  was 
such a success in 2012, that ever since 
there  have  been  mutterings  about 
another event to celebrate the beautiful 
area  and  diverse  community  in  which 
we live.   
Beginning at 9.00am, Proudly Paparoa 
Day  will  be  filled  with  a  range  of 
activities  to  showcase  the  talent, 
beauty  and  way  of  living  in  our 
charming village and surrounding area.  
Most events are free but tickets for the 
garden  and  gallery  trails  must  be 
purchased at Flat Rock Gallery, in the 
village,  on  the  day.    View  gorgeous 
gardens,  the  creations  of  local  artists 
and crafters, enjoy nature walks and do
-it-yourself  heritage  trails  plus  a  90 
minute  guided  tour  of  the  village.  
Visit  our  local  cheesemaker,  enjoy 
tastings  at  the  brew  shop,  the  regular 
Saturday  market  and  partake  of 
refreshments  in  the  gardens  on  the 
way.    Local  community  organisations 
will be set up on the Village Green to 
increase  community  awareness  of 
village services and places to visit.  To 
keep the small fry happy, pony and fire 
engine rides will be operating.  For the 
coffeeholics, there is good coffee at the 
market  and  village  cafes,  and  for 
shoppers,  a  great  array  of  products  at 
the  village  shops.    Food  will  also  be 
available  at  the  Village  Green  and  in 
the market.   
So don't stay home and think about it; 
JOIN  US  in  Paparoa  on  5  November 
and help us celebrate 'our place'. 
Pictured: Co-organisers, Janice Booth 
and  Stuart  Robertson,  hard  at  work 
preparing  their  garden  for  Proudly 
Paparoa Day  
OTAMATEA 
CHRISTIAN 
SCHOOL PET DAY 
Otamatea Christian School holds a Pet 
and Flower Day every year.  This year 
it  was  held  on  October  14th.    Pet  and 
Flower  Day  at  Otamatea  Christian 
School provides opportunities for those 
that are schooled at home to join in the 
events  of  the  day  with  the  children  of 
the school.   
Attendance  this  year  by  families  that 
school  at  home  was  high  and  the  day 
was enjoyed by all.  A highlight of the 
day is the 'Cake Competition' in which 
students  are invited  to  make  cupcakes, 
novelty  cakes,  small  cakes  and  large 
cakes  and  decorate  them.    Students 
work  is  judged  by  two  judges  and  the 
cakes are auctioned off for fundraising 
purposes. 
Any  students  that  school  at  home  are 
always  welcome  to  join  in  the  day's 
events  in  which  placings  are  awarded 
for all categories of pets, floral displays 
and cake decorating.  Those that Home 
School  that  wish  to  attend  next  year 
please  contact  the  school  and  leave  us 
your  email  so  that  we  can  contact  you 
before next year's event.   
The  next  event  that 
will  be  held  at  the 
school  is  a  Cross 
Country  event  with  a 
Chess  and  Checkers 
Championship  which 
is  planned  for  the  7th 
of  November.    Once 
again  this  is  open  to 
those  that  Home 
School.  
Pictured: Estella 
Hinsch  with  3rd 
place;  a  novelty 
cake entry. 
Reyahn George Leng 
Registered Electrician 
Local, honest and reliable. 
For your residential and 
light-commercial projects. 
022 314 1068  
 09 431 2527 
Bows  
and Bells 
Mangawhai Museum and Stylish Homes 
2016 Christmas Decorating Event 
Saturday 3rd and Sunday 4th December 
Visit 9 local homes, 9 rooms decorated in a 
different Christmas theme. 
Tickets now on sale at the Museum and Bammas - 
$25 or $50 for a family of 2 adults and 2 children
.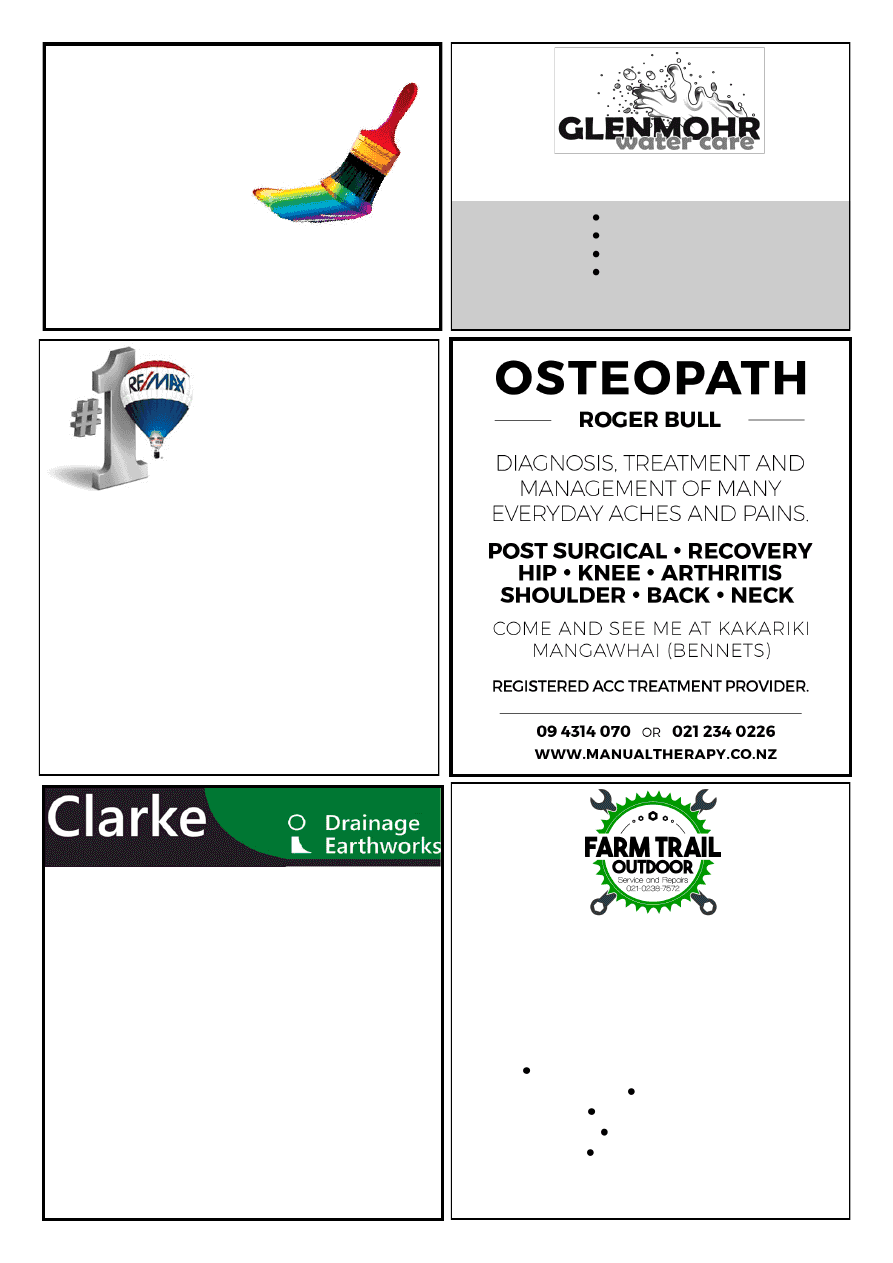 Registered Drainlayer 
All Types of Earthworks  
> All Residential & Commercial Work  > House Sites 
> Septic System Design & Install 
> Footings & Drilling to 10m 
> Sewer Connections 
> Dams 
> Water Tank Installation 
> Roading & Races 
> Farm Work 
THE ONE STOP SHOP  
Phone Nigel for an Obligation Free Quote  
Drainage & Earthmoving 
clarkedrainage@xtra.co.nz 
027 2233 185 
09 4312918 
0274735171 
leecooper@xtra.co.nz 
LEE COOPER PAINTERS 
(Kaiwaka Based) 
*30 yrs Experience 
*Interior/Exterior 
*New and Restoration 
*Honest and Reliable 
*Free Quotes 
Water Tank Cleaning 
Keep your water safe & clean  
Removal of sediment, silt etc. 
Vacuum or full scrub 
Minimal water loss 
Phone Mark (09) 432 0655 or 0274 707607 
There are more people 
wanting to buy than 
there are houses 
available!
Vacant land, home and income, DIY dream … 
whatever your property's condition there is a buyer 
out there waiting to give you their money. 
Get your local agent's appraisal of your property to 
find out what's it's really worth. 
Contact Beth Stone today! 
Mob: 0274 937 801 
Email: beths@remaxrealty.net.nz 
RE/MAX Realty Group MREINZ 
Northern Properties Limited 
Licensed REAA 2008 
Brendon and Jaimee Browne 
farmtrailoutdoor@gmail.com 
www.facebook.com/farmtrailoutdoor 
021 0238 7572 
SERVICE AND REPAIRS 
 ON AND OFF ROAD MOTOCYCLES 
 ATVs 
 LAWNMOWERS 
 CHAINSAWS 
 SMALL ENGINES 
Onsite Service, Pickup and Delivery Available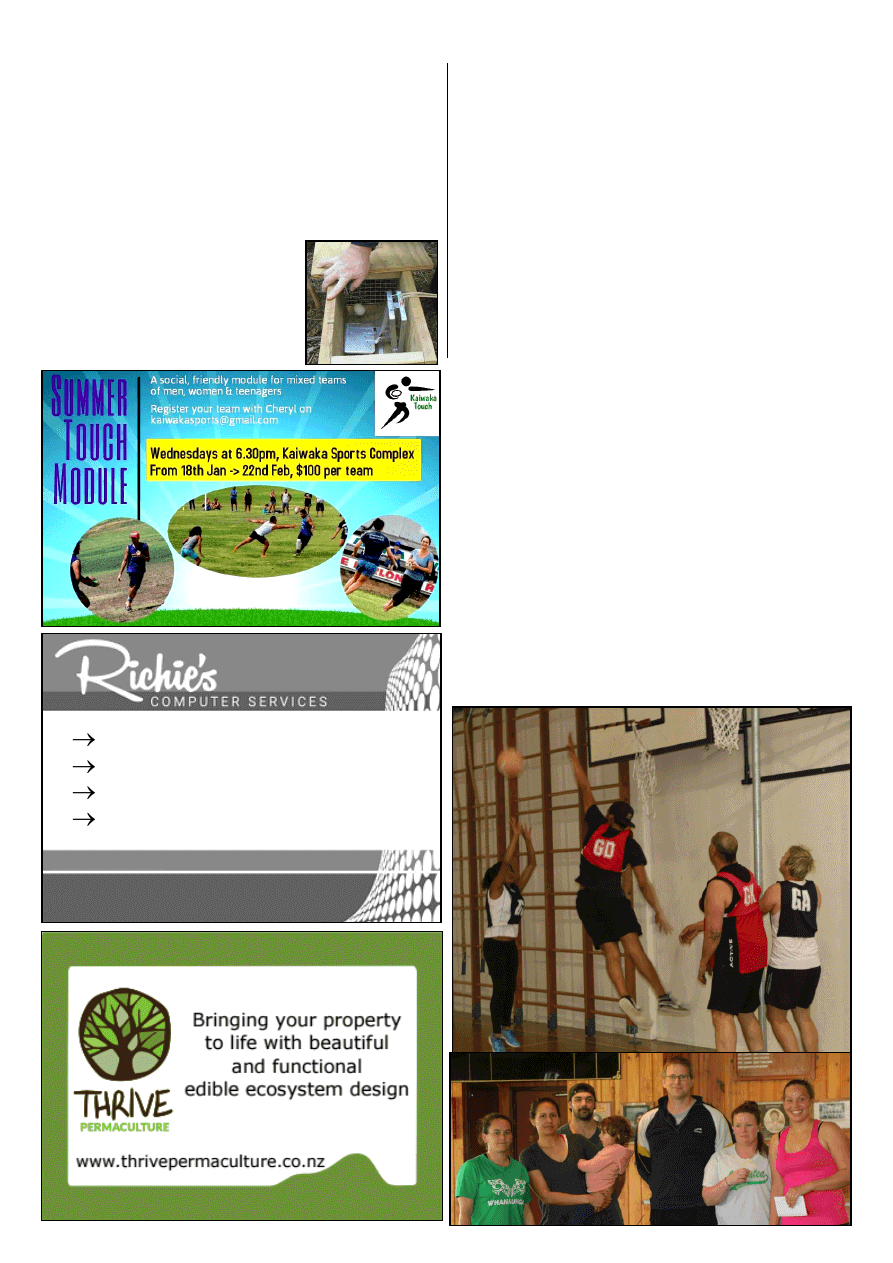 www.kaiwaka.co.nz 
Kaiwaka Bugle - 1 November 2016 
Page 19 
FAST FIVE NETBALL MODULE 
Over  seventy  people  participated  in  the  Kaiwaka  Sports 
Association's  Fast  Five  Module,  held  over  six  weeks  on 
Sunday afternoons in the KSA gymnasium. 
The  six  teams  were  a  mixture  of  young  &  old,  male  & 
female  and  experienced  netballers  &  novices  with  players 
coming from Kaiwaka, Mangawhai, Wellsford, Waipu and 
Maungaturoto. 
With  only  five  players  on  court  in  each  team,  Fast  Five 
games are very quick and intense, and several older players 
mentioned that they really appreciated the rolling subs! 
The  finals  were  hotly  contested  with  Fairy  Nuff  taking  on 
the  unbeaten  Spartans.  The  Spartans  came  out  on  top  and 
took home the winners purse of $300 and Fairy Nuff took 
away  the  second  place  prize  of  $200.  The  third  prize  of 
$100 went to Wrong Direction. 
After  the  finals,  players  moved  into  the  pavilion  for 
prizegiving, congratulations to the prize winners: 
Youngest player – Sara Kemp  
Oldest player – Neville Nathan 
Top female defender – Jayme Curtis 
Top male defender – Jack Brown 
Top female shooter – Shanelle Kemp 
Top male shooter – Jason Taiaroa 
The prize for Most Organised Team went to Netballs to the 
Wall – a $50 voucher kindly donated by the Three Furlongs 
Bar & Grill. 
Team  managers  nominated  one  person  from  their  team  to 
receive a special prize: 
Hot Shotz – Most improved: Ben Saua 
Ks Up – Best defender: Quorie Wilson 
Spartans  –  Best  shooter:  Sam  Phillips  &  Most  Improved: 
Daniel Kawana-Pool 
Netballs to the Wall – Most Reliable: Sunita Kaleta 
Wrong  Direction  –  Ladies  travelling  each  week  from 
Waipu: Shannon Marie, Lisa Cowan & Jenna Smeehuyzen 
Fairy Nuff – Best shooter: Shontay Morunga. 
Gifts  were  also  given  to  Jodie,  Nikola  and  Rebecca  for 
umpiring – many thanks guys! 
Photos  and  videos  from  the  Module  are  on  the  Fast  Five 
Facebook  page.  Thank  you  to  everyone  who  participated 
and we hope to see you back next year!  
15 years  commercial IT experience 
Computer and Laptop Repairs 
Smart Phone and Tablet Support 
Virus and Malware Removal 
Richard Harding
T 09 945 0376        M 021 124 7358 
E richo_harding@hotmail.com 
STOAT TRAPS 
This is stoat season. Anyone wishing to borrow a trap for a 
month  to  protect  kiwi  and  another  ground-nesting  birds, 
please  contact  us  at  the  KOBA  (Kaira  Oneriri  Biosecurity 
Area). 
To  quote  Wikipedia:  "Stoats  were  introduced  into  New 
Zealand during the late 19th century to control rabbits and 
hares, but are now a major threat to native bird populations. 
The introduction of stoats was opposed by scientists in New 
Zealand  and  Britain,  including  the  New  Zealand 
ornithologist Walter Buller. The warnings were ignored and 
stoats  began  to  be  introduced  from 
Britain  in  the  1880s,  resulting  in  a 
noticeable decline in bird populations 
within  six  years.  Stoats  are  a  serious 
threat  to  ground-  and  hole-nesting 
birds, since they have very few means 
of escaping predation." 
KOBA contact 09 4312 787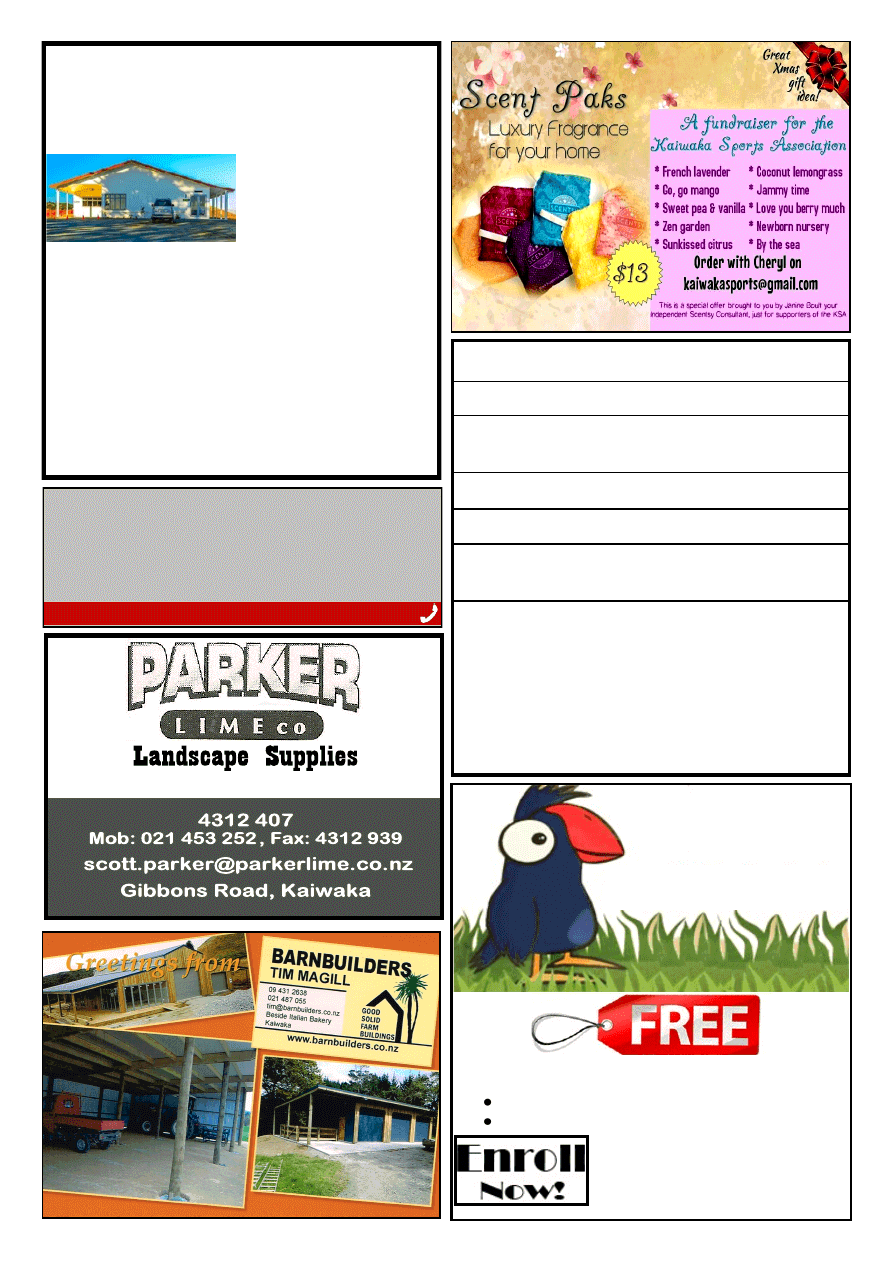 Te Pounga Marae 
130 Nathan Rd. Oneriri. Kaiwaka 0573 
COMPLEX FOR HIRE 
Functions 
* Weddings  * Birthdays  
*Anniversaries 
* Meetings  * Wananga 5 
hour meeting 
* 12 hour stay  * 
Overnight 
*All welcome - No more Drink-driving 
Amenities: 
*Convo Combi Steamer * Bratt Pan * Dish 
Washer/Sterilizer * 3 Door Glass Chiller (walk in) 
etc…All Crockery * Linen Supplied * Central 
Heating and Air Conditioning and much more. 
Can also cater for small groups…. 
For more information please contact: 
Kim Wallace 
Home: 09 832 1133  Mob: 0211275340 
Email: kimwallace@xtra.co.nz 
Bulk Cartage 
CALL CRIMESTOPPERS 
Worried about something that doesn't seem right to 
you? Concerned about activity that could be 
harmful? Call Crimestoppers.  
You don't need to know all the facts.
CALL 0800 555 111 ANONYMOUSLY 
for children over 3 
Day care for children from 0 to 5 yrs old 
After school care for children over 5yrs old
 
Phone: 09 431 2842 
Email: smallpukekos@gmail.com 
Address: 8 Kaiwaka-Mangawhai Rd 
Website: www.smallpukekos.co.nz 
Small Pukeko's 
Early Learning Centre 
COMMUNITY EMPLOYMENT SERVICE
ADVOCACY  & LEGAL SUPPORT & ADVICE 
FREE NURSE & MEDICAL CHECKS 
every Thursday & home visits
Weekly AA Meetings
Offices to Rent
OSTEOPATH 
Owen Stevens - Last Friday of month
@ Kate's Place Community Centre,  
Main Highway, Kaiwaka  (side entrance) 
Ph 4312 661 
iris.katesplace@gmail.com 
kirstie.katesplace@gmail.com 
Monday to Friday 9am - 3pm 
fb: Kates Place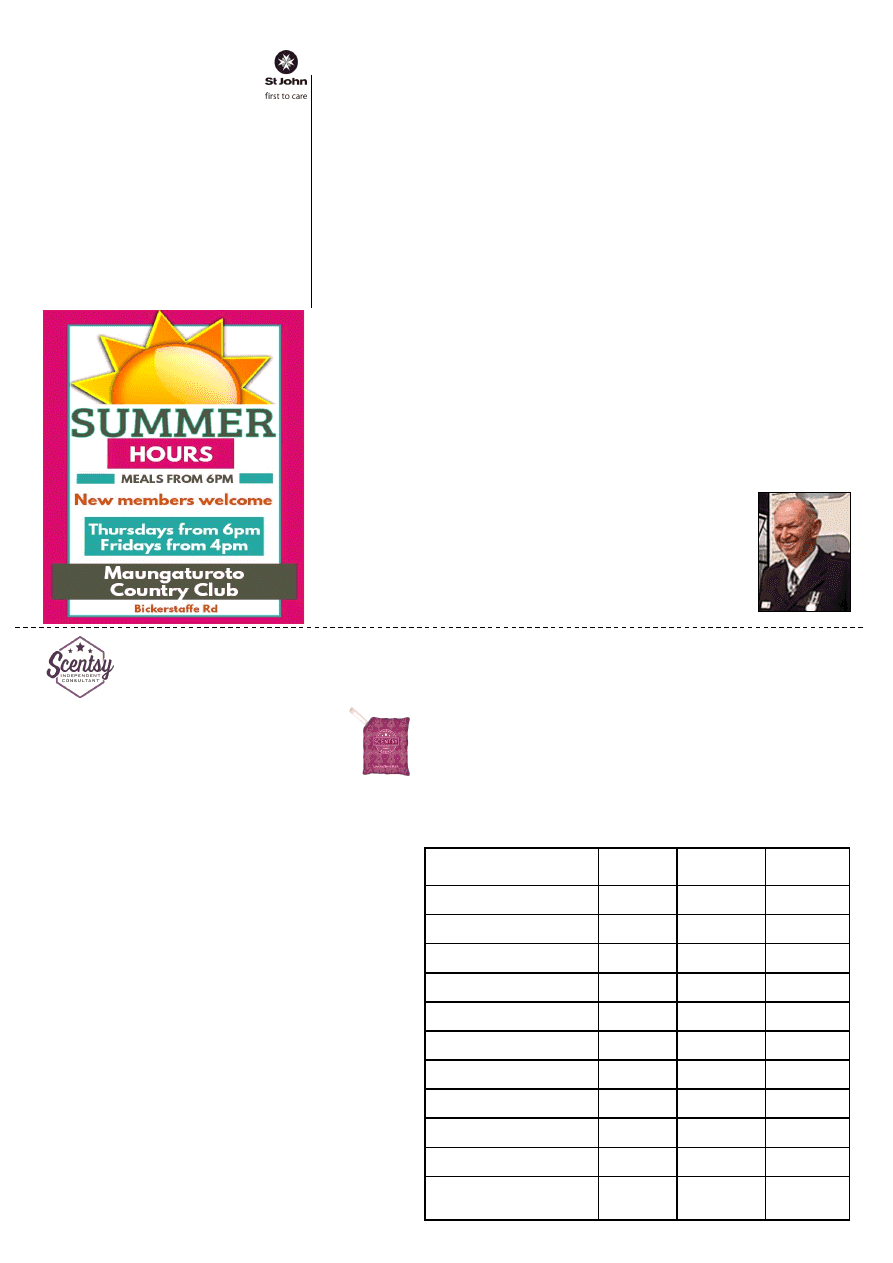 www.kaiwaka.co.nz 
Kaiwaka Bugle - 1 November 2016 
Page 21 
SCENT PAKS 
FUNDRAISER  
Fundraising for the Kaiwaka Sports Association
Here's an opportunity to purchase genuine Scentsy 
Scent Paks & support the KSA!  
Scent Paks can be used in your car, wardrobe, rooms, 
drawers etc & last 30 - 90 days depending on location. 
They cost $13 & we have 10 wonderful fragrances to 
choose from. They make a great Xmas stocking 
stuffer! 
To order, please return this form with your payment 
by 19
th
 Nov. Delivery will be the following fortnight.   
This offer comes to you from Janine Boult, your local 
Scentsy Independent Consultant. It is a special offer 
of free shipping along with a donation built in from 
her just for supporters of the Kaiwaka Sports 
Association.  
Any queries to Cheryl Anderson on 4312 051.  
Payment options:    
       Cash         Cheque (payable to KSA)          
Bank direct 060365002247200 (use reference 
Scentsy and your full name)  
Ways to return form:   Post to Cheryl Anderson, 233 
Baldrock Rd, RD2, Maungaturoto, 0587. Drop off in 
KSA folder behind checkout at Jaques Four Square. 
Scan and email to Cheryl at kaiwakasports@gmail.com 
Fragrance
Price
# packs
$ total
French lavender
$13
Go, go mango
$13
Sweet pea & vanilla
$13
Zen garden
$13
Sunkissed citrus
$13
Coconut lemongrass
$13
Jammy time
$13
Love you berry much
$13
Newborn nursery
$13
By the sea
$13
TOTAL
Scent Paks Order Form 
Name: ___________________________________ 
Address: _________________________________ 
Phone number: ___________________________ 
As  members  of  the  Otamatea  Area 
committee we were proud to be present 
at  a  recent  awards  ceremony  in 
Whangarei.  With  Trevor  Brljevich 
(62yrs),  Vic  Rosser  (52yrs)  and  Reg 
Jaques  (27yrs)  –  a  total  of  141  years' 
service  that  has  been  given  (and  they 
are all very active in St John) 
Since the Division was formed in 1955 
we  have  efficiently  provided  a  service 
for  the  wider  Otamatea  Area  – 
originally  we  went  through  to  the 
Causeway  in  Mangawhai.  While  we 
have effectively provided this from two 
stations  we  have  aimed  to  provide 
services  and  equipment  to  both 
Kaiwaka  and  Maungaturoto  on  an  'as 
needs' basis. 
We  have  provided  buildings  as  they 
have  been  needed  and  upgraded  them 
as we found a need. While the running 
of the vehicles is met by the Region, as 
is  the  Station  Manager's  salary  (an 
estimated  cost  of  approximately  
$400,000)    we  have  provided  all  the 
training  and  equipment  that  is  needed 
for  our  volunteers.  We  are  also  very 
proud of our Cadet unit which currently 
has  52  members  from  throughout  our 
area. Nyree and her helpers do a great 
job. 
While in the past six years our funding 
has been boosted by a very efficient Op 
Shop  run  by  Milly  based  in  Kaiwaka, 
net  income  is  used  for  the  benefit  of 
people  throughout  our  Otamatea  Area. 
Whenever  we  are  made  aware  of  any 
needs  that  will  assist  our  community, 
we endeavour to meet them.  
Most 
equipment 
is 
incredibly 
expensive and to purchase one Resusci 
Anne  and  have  another  one  repaired, 
we had to outlay more than $10,000. In 
the  past  year  we  have  also  purchased 
defibrillators to be used by the Hakaru 
Pony  club  and  the  Otamatea  Marae  (a 
combined cost of $4,000). 
In the past few years we have upgraded 
the ambulance building in Kaiwaka and 
have  had  the  trees  removed  (this  cost 
almost  $5,000).  We  have  also  had  to 
pay for consultants for earthquake risk 
on both stations – this cost us $8,000. 
Apart from large items we have to meet 
our  other  expenses  include  general 
running  costs  that  are  incurred  at  both 
stations.  It  is  important  that  we  look 
after  our  volunteers  (which  includes 
our  Op  shop  ladies),  whether  it  be  for 
Op  shop  rental  (last  year  $18,000), 
training,  equipment,  or  conference 
costs. 
Having  a  larger  pool  of 
money  available  has 
meant  that  we  have 
been  able  to  better 
support 
all 
those 
involved  in  St  John  in 
Otamatea. 
~Eileen Parsons 
Photo: Trevor Brljevich
ST.JOHN: OTAMATEA AREA COMMITTEE 
KAIWAKA 
 ST JOHN OP SHOP 
At  the  Op  Shop  we  need  large 
ornaments,  nic-nacs,  pictures…  Our 
shelves  are  looking  bare.  We  have  a 
lot of kitchen stuff, but not a lot of the 
above. 
Also  much  appreciated  would  be 
towels,  tea  towels,  pillows,  CDs  and 
DVDs, pot plants, and anything else. 
Clean and tidy donations only, please - 
all dirty clothes go to the dump, which 
is a waste. Thanks. ~Milly 
Op Shop, SH1, Kaiwaka 
Mon-Fri 9am to 4pm ~ Sat 9:30am to 1:30pm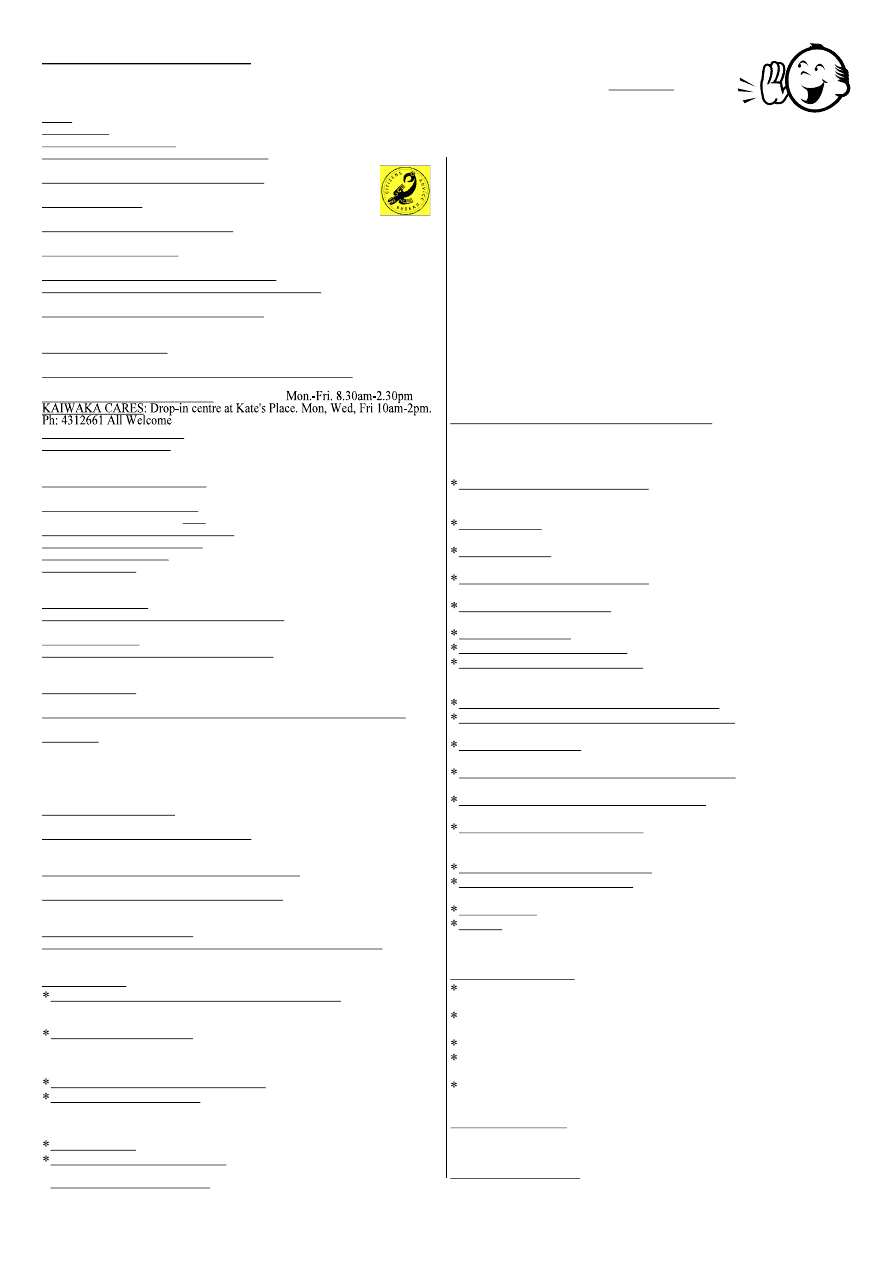 Next Bugle Deadline midday Friday 11 November 2016
LOCAL SERVICES 
*Emergencies - Ambulance, Fire, Police - dial 111 
*Non-urgent Police phone 09 4311150
A A: Meets Wed., 8pm Kaiwaka Ph: 4312228, 4315543, 0800229 6757 
AL ANON: In recess, contact Ph: 4312228 
ASUREQUALITY LTD (was AgriQuality) Call Free 0508 0011 22  
BUDGETING SERVICE, WELLSFORD: Free confidential advice & 
support for all areas of personal finance. Ph (09) 423 7123 
CAB-Citizens Advice Bureau.Wellsford Ph: 4237333 
0800 367 222 email:cab.wells@xtra.co.nz  
CIVIL DEFENCE - Kaiwaka Community Response Group: 
kaiwaka.civildefencecrg@gmail.com, 4312725 Wendy 
DOG/STOCK /NOISE CONTROL 0800 105 890 
FUNERAL SERVICES: Morris & Morris Ltd, 
Whangarei - Bev Jaques Ph:4312367 or 0800667747 
GRANDPARENTS Raising Grandchildren: Dianah Roberts 0223819539 
HAKARU & DISTRICTS MEMORIAL RSA (Inc) 733 Settlement Rd, 
Hakaru. Ph 4312 176 or Graeme Hitchcock (President) 431 3064 
HAKARU LANDFILL/Transfer Station:Open everyday except 
Tuesday10am-4pm.Ph4312629 Cost-$55 trailer load up to 1 cubic metre. 
Ph:4258567 - office 
INLAND REVENUE: Last Friday each month, 11-3pm Ph4312661 
KAIPARA DISTRICT COUNCIL www.kaipara.govt.nz:  
Help Desk FREEPHONE 0800 727 059  
KAIWAKA KOHANGA REO: Ph:4312620 
KAIWAKA CEMETERY: Ph: 4312045 
KAIWAKA LIBRARY: kaiwaka.library@gmail.com  
Mon. 4-6pm; Wed., Thurs., Fri., Sat. 10am-2pm Ph:4312539 
KAIWAKA PLAYCENTRE: Ph: 4312286. Hastie Lane 
Monday to Friday 9.00am - 12 noon. 
KAIWAKA POST OFFICE:Ph:4312 431  
Post Code: 0573 for RD2 and 0542 for all Kaiwaka Post Office mail 
KAIWAKA PRIMARY SCHOOL: Ph: 4312309   
KAIWAKA SPORTS ASSN: Ph 4312005; 4312129 gym 
KAIWAKA ST JOHN: Manager Steve Rosser 09 4318403, 021 2316836 
KATE'S PLACE Community Centre - Employment services, Free Health 
Nurse, Advocacy, Osteopath, A.A., Legal Advice. 4312 661 
LINKING HANDS Health Shuttle Ph 4314121 or 09 4318969 
MINISTRY FOR PRIMARY INDUSTRIES - General inquiries Call 
Free 0800 008 333 
NORTHPOWER: Faults Kaiwaka area 0800 104040 
OTAMATEA COMMUNITY SERVICES: Counselling, parent coach, 
Family Support worker, budget advice, food bank. Mon-Fri 9am-30m. Ph 
09 431 9080 http://www.otamateacs.org/ 
PARENTPORT: Free, practical family support service Puhoi to Paparoa 
Ph or txt: Dianne 027 2085093 
PERSONAL DEVELOPMENT COACHING, GROUP FACILITATION:  
Sabine Druckler 4312231 
PLUNKET: Kaiwaka - Kaiwaka War Memorial Hall: Clinic 1st Wednesday of the 
month; Coffee Group at 9:30. Mangawhai  - Rose Madsen Cottage, Mangawhai 
Domain,  Moir  St:  Clinic  1st  and  3rd  Monday  of  month;  Young  Babies  Coffee 
Group  2nd  and  4th  Monday  10  am;  Plunket  Playgroup  every  Thursday. 
Maungaturoto - Maungaturoto Congregational Church, 100 Hurndall Street East: 
Plunket clinic 2nd and 4th Wednesday. Cynthia 09 431 8187 or 027 675 3488 
PLUNKET HELPLINE -0800 933 922 (24 hours) 
TAITOKERAU COMMUNITY LAW: Free confidential legal advice and 
assistance, 2nd
Thursday
 of each month. Ph: 0800 155 529 for 
appointments.  
TE KOROWAI AROHA O NGATIWHATUA Ph: 4312675 
(The Cloak of Love of Ngatiwhatua) Support and Maori Consultancy.  
VETERINARY SERVICE MANGAWHAI: 
Ph: 4314535 Mon-Fri 8.00-5.00, Sat 9-12, a/h appt. 
WELLSFORD DOCTORS: Ph: 4238 086 
WOMEN'S WELFARE LEAGUE & Reaching Out For Youth:  
4 Kaiwaka-Mangawhai Rd, M Morgan 4312293 
CHURCHES:
Kaiwaka Revival Church - Your Community Church: Sundays 10am & 
6pm. Ph: Pastor Tawhiri 09 4312 571 or Pastor Paul 09 4312 068 Visit 
us at www.facebook.com/kaiwakachurch 
St Paul's Anglican Church 1st Sun. 9.30 am (Eucharist), 3rd Sun. 9.30 
am (Family Service). Contacts: Church Office 09 431 4122; M. 
Hargreaves 431 2295; C. Bygrave 431 2057; or Rev. Wayne Thornton 
Ph 431 5650 www.mangawhaianglican.org.nz 
Church of Christ the King, Mangawhai:9.30am every Sunday 
St.Mary's Catholic Church: Maungaturoto – Griffins Road, Saturday 
evening Vigil Mass 6pm; Mangawhai – Senior Citizens Hall, Sunday 
Mass 8:30am; Wellsford – Matheson Road, Sunday Mass 10:30am;  
Mid-week Mass times and all enquires to Fr. Bill Fletcher – phone 423 8170
Baptist Church: Sun. 10.30am Mangawhai Snr Cit.Hall.Ph:4312339 
Cause Way Church Mangawhai: Sundays 10.15am, Mangawhai 
Community Recreation Centre, Insley St. Ph: 09 4314782 
WHAT'S ON
PLEASE ~ do let us know what is on - email 
kaiwakabugle@kaiwaka.co.nz 
Advertising in WHAT'S ON is FREE  
*4Nov~Money Monster, 7:30pm KWMH 
*5Nov~Fireworks, 5pm Tomarata Domain 
*5Nov~Proudly Paparoa Day, from 9am 
*5-6Nov~Kaiwaka Volunteer Fire Brigade Open Fishing Contest 
*9Nov~Brain Development, 10:30am KSA Ph Tina 0210335128 
*10Nov~Otamatea Repertory Theatre AGM, 7pm ORT 
*11Nov~Mangawhai Women's Institute Floral & Carft Show, Ph 
431 4154 
*12Nov~60's Night, 7pm Hakaru RSA 
*18Nov~Kaiwaka School Gala, 5pm 
*18Nov~Blood Father, 7:30pm KWMH 
*25Nov-4Dec~Peter Pan, Otamatea Repertory Theatre 
*27Nov~Finding Dory, 2pm KWMH 
*2Dec~Wild Oats, 7:30pm KWMH 
*14Jan~Whanaunga Touch tournament, KSA 
KWMH=Kaiwaka War Memorial Hall 
KSA=Kaiwaka Sports Association Complex 
OHS=Otamatea High School 
See www.kaiwaka.co.nz for more information 
HOUSEHOLD RUBBISH COLLECTION - Kaiwaka Pick up: 
Mondays = Gr een bags (Nor thland Waste - 09 430 3273) 
Wednesdays  = Blue bags and yellow recycling (at Jaques $3.00 
and $1.50) (Kaurilands 09 4392146) 
 DIABETES  Support  Group  -for  Kaiwaka,  Mangawhai, 
Wellsford  10am,  3rd  Friday  of  month  Ph:A.Pert  4238242; 
J.Gardner 4238060 
 DRINK CAN 'tear tabs' - for Starship Hospital- please collect - 
98 Kaiwaka Mangawhai Rd, leave in mailbox, Ph. 4312625  
 GENEALOGY - Wellsford: 1st Thursday in month Ph: 423 
7033; Waipu: 4th Monday in month Ph: 4312 725 
 GYMNASTICS  OTAMATEA  -  Tuesday  Ph:  Stephanie  022 
3624998 
 HAKARU PONY CLUB - Secretary Denise Rogers 021423376 
secretary@hakaruponyclub.co.nz  
 KAIPARA HUNT - Secretary Albert Doonenbal Ph 4312059 
 KAIWAKA BADMINTON -Tuesdays 7.30pm Ph: 4312345 
 KAIWAKA  DRAMA  CLUB  -  Dave  Edwards  021  611198  - 
KaiwakaDrama@gmail.com Monday 5:30-7:00pm KWMH - FB 
- "KaiwakaDramaClub" 
 KAIWAKA DRUM & DANCE CLASSES - 021 611198 
 KAIWAKA GARDEN & FLORAL GROUP - 2nd Thursday in 
month. Ph: 431 4767 
 KAIWAKA  CUBS  -  Thursdays  5.30-7pm,  Hakaru  Ph:Bruce 
4312542 
 KNITTING FOR WHANGAREI HOSPITAL - 2nd Tuesday in 
month, Apple Basket 10am Ph 4314827 
 MANGAWHAI COMBINED PROBUS CLUB - 2pm, 3rd 
Thursday month, Senior Citizens Hall Mangawhai. Ph: 4315777 
 OTAMATEA GREY POWER - Kath Pattinson 09 431 8960, 
1pm last Wednesday of month, Anglican Church Hall, 
Maungaturoto 
 PT CURTIS CRUISING CLUB - Jean Ph: 4312227 (wk), 4312520 (hm) 
 RSA,Hakaru & Dist.Women - meet 1.30pm 4th Thurs in month 
Ph: 4314 668  
 TRAMPING - Mondays 9am-2:30pm Maria 4312 234 
 YOGA  -  Tuesdays  6:15pm,  Friday  8:30am  KWMH  Carla  Ph: 
021  296  8794;  Wednesday  5:30-7:00pm  Archie  Bull  Hall 
Dalleise Ph 4312 108 
HALLS FOR HIRE: 
 St.Pauls Archie Bull Hall HIRE $20 half day, $40 full day per 
hire, R. Morgans, Ph 4312365 
 Kaiwaka  War  Memorial  Hall  HlRE  -  Phone  4312725  or 
kaiwaka.hall.bookings@gmail.com 
 Hakaru Community Hall HIRE -Ph. 4312256 or 4312110 
 Te Pounga Marae queries - R. O'Leary 4312 423, J.Nathan 021 
186 7382 
 Kaiwaka Sports Association hire/queries - C. Anderson 4312051 
or kaiwakasports@gmail.com 
Justice  of  Peace:  B.FJaques;  L.Donaldson;  A.F.Hargreaves, 
W.Howard  -  please  phone  to  make  sure  they  are  available 
www.justiceofthepeace.org.nz 
Marriage  Celebrants:  L.Donaldson;  A.F.Hargreaves;  C.Rosseels, 
Y Osborne