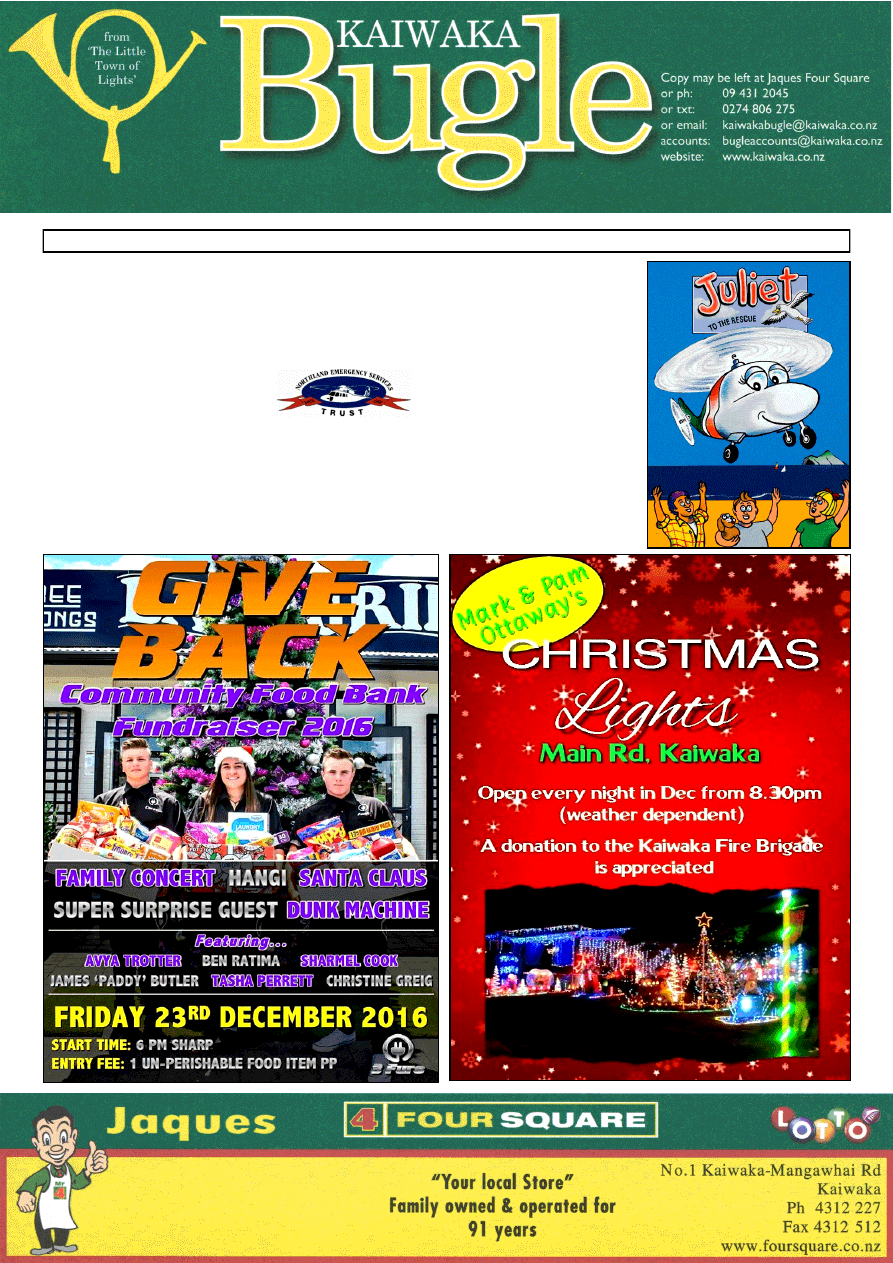 www.kaiwaka.co.nz 
Kaiwaka Bugle - 13 December 2016 
Page 1 
 No: 24
14 December 2016 
Summer Trading Hours: 
Monday to Friday 8:00am - 6:30pm 
Saturday 8:00am - 7:00pm 
Sunday & Public Holidays 9:00am - 5:00pm 
Closed Christmas Day  
"JULIET TO THE RESCUE"
-
Flying out the hangar doors! 
Northland's  rescue  helicopter  service  has 
brought  its  three  choppers  to  life  in  a 
children's  story  book  –  with  the  helicopter 
nicknamed Juliet in a starring role.  
Juliet  to  the  Rescue  is  Northland  Rescue 
Helicopter's (NRH) first children's 
book  which  went  on  sale  this 
week.  All  proceeds  go  to  the 
Northland  Emergency  Services 
Trust which operates the NRH.  
Illustrated  by  Auckland  artist  Tony 
McNeight,  the  book  features  the  NRH 
choppers  in  an  adventure  tale  that  follows 
Jack, Poppy and Tama as they go in search 
of  Northland  landmark  the  Hole  In  the 
Rock.  
The  ambitious  trio,  along  with  their  dog 
Monty,  strike  some  bad  luck  when  the 
weather turns nasty and destroys their home
-made raft.  
NRH General Manager, Vanessa Furze, says 
because  NRH  relies  heavily  on  donations 
the book  is  a fun  fundraising  idea 
but  also  a  way  of  bringing  its 
helicopters to life.  
Across  the  region  over  the  last 
three months NRH has attended 206 rescue 
missions. It makes 2016 the busiest year on 
record  for  the  rescue  service  having 
responded to 832 requests so far. 
*Buy  Juliet  to  the  Rescue  here  http://
www.nest.org.nz/product/juliet-to-the-rescue/  
The  Kaiwaka  Helipad  will  be  opened  on 
Thursday 15 December, 7pm at the KSA.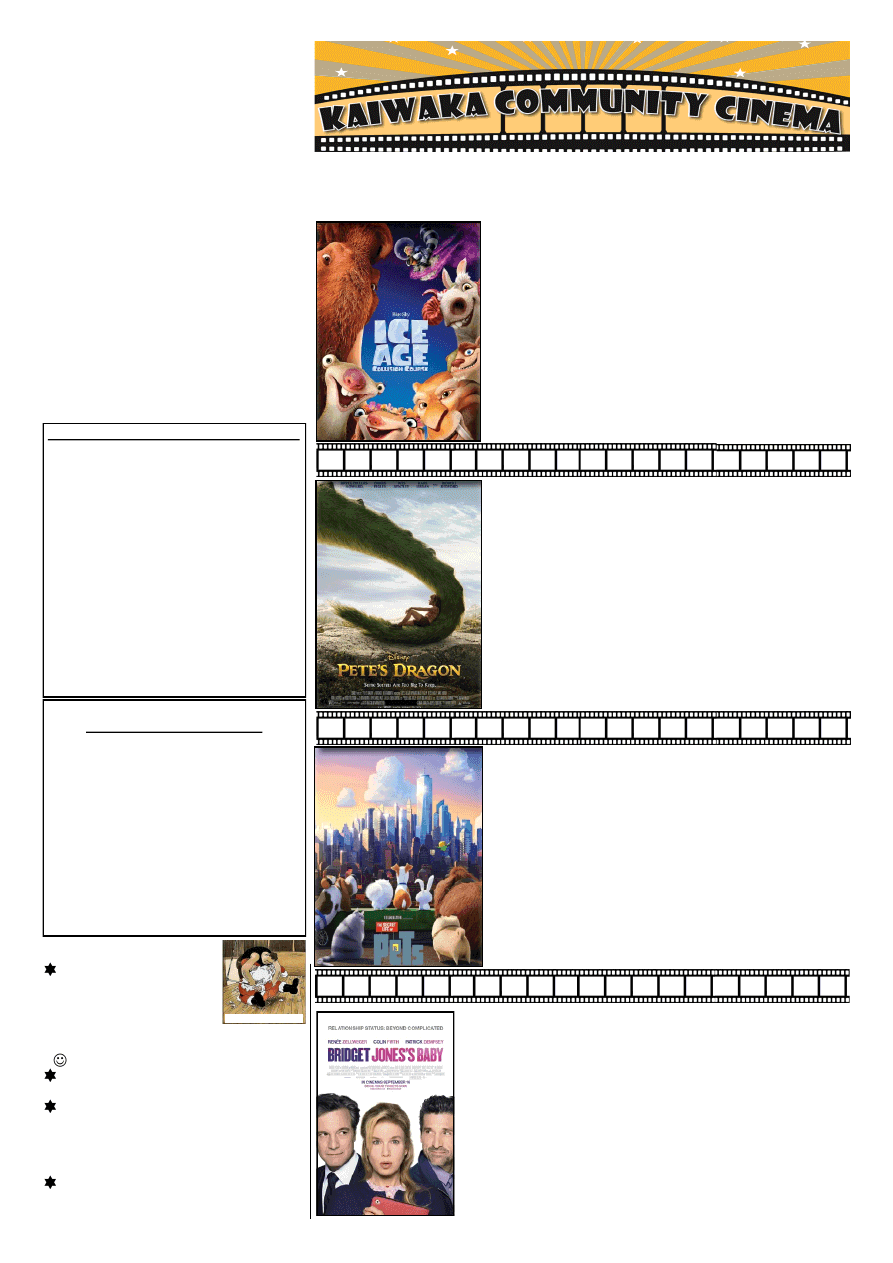 ABOUT TOWN 
... 
Merry  Christmas  and  a 
Happy  New  Year  from 
the team at the Kaiwaka 
Bugle. We look forward 
to  seeing  you  back  here 
in late January  after a  bit of  a  break. 
Do  you  have  a  story  for  us?  We 
welcome contributions. 
Our  condolences  to  the  family  of 
Alex Pert, who farmed in Oneriri, and 
also  ran  the  movies,  in  Kaiwaka  for 
many years. He passed away recently, 
aged 90. 
Thank  you  to  the  Scouts  for 
upgrading  the  Kauri  Walk  at  the 
Domain. It's much appreciated. 
KAIWAKA BUGLE No: 24 
13 December 2016
Page 2: Kaiwaka Movies 
Page 3: Public Notices; Classifieds 
Page 5: Weather, Te Roroa 
Page 7: Top of the Rock, Tudor Collins 
Page 9: Traffic, Kaiwaka War 
Memorial Hall, Pt Curtis 
Page 11: School, Library, Roads 
Page 13: Kates, Zonta, Op Shop 
Page 15: Kaiwaka Sports Association 
Page 17: Playcentre, Christmas, WWI 
Page 19: Kaiwaka Cares 
Page 21: Bayley Coates, Christmas 
Smile 
Bugle 1 will appear 24 January 2017 
Contact for advertising, reports, articles 
or information can be made by: 
Email kaiwakabugle@kaiwaka.co.nz 
Ph: 09 4312 045 (Lindsey) 
Txt:  0274 806 275 (Wendy) 
Copy may be left at Jaques' Four Square.
Kaiwaka Bugle 
Founded May 1978 
We appreciate articles and photos about local 
events, etc., as well as ads and suggestions. 
Copies available in Kaiwaka at Jaques Four 
Square, Kaiwaka Postal Centre, Shamrock 
Service Station, Animal Health Centre, 
Kaiwaka St John shop. 
Also outlets in Maungaturoto, 
Mangawhai and Paparoa. 
Can be viewed online at  Facebook or 
www.kaiwaka.co.nz/Bugle  
Or a copy can be posted to you if you supply 
stamped, self-addressed DLE envelopes. 
At Kaiwaka War Memorial Hall . Adults $10, Chn (under 16) $5, Family Pass (2 adults + 3 children) $25 
Kaiwaka Bugle Advertisements 2016: 
All 
copy 
and 
queries 
to: 
kaiwakabugle@kaiwaka.co.nz 
Our A4 page is divided into 6 columns & 
8 rows (48 blocks), with a 1cm margin. 
Ad  sizes:  1/16  page  (3  blocks)  $5;  1/8 
(6 blocks) $8; 3/16 (9 blocks) $12.  
Classified  ads:  $4  per  entry  (max.  30 
words, max. 4 repeats). 
Payments  can  be  made  online,  posted 
or left at Jaques Four Square Store. 
Accounts: 
bugleaccounts@kaiwaka.co.nz 
The  Kaiwaka  Bugle  is  a  community 
newspaper run by volunteers.   
Articles, etc. printed are not necessarily 
the opinion of the Bugle Team. 
Ice Age Collision Course 
Sunday 8 January 2:00pm (G)
Manny,  Diego,  and  Sid  join  up  with  Buck 
to  fend  off  a  meteor  strike  that  would 
destroy the world.  
Starring the voices of: Ray Romano, Denis 
Leary,  John  Leguizamo,  Neil  deGrasse 
Tyson, Queen Latifah, Jennifer Lopez 
SCHOOL HOLIDAY MOVIES  
The Secret Life of Pets 
Sunday 22 January 2:00pm (PG)
The  quiet  life  of  a  terrier  named  Max  is 
upended  when  his  owner  takes  in  Duke,  a 
stray whom Max instantly dislikes.  
Starring  the  voices  of:  Louis  CK,  Kevin 
Hart, Dana Carvey, Steve Coogan 
COMING UP FOR THE ADULTS: 
Bridget Jones's Baby 
Friday 27 January 7:30pm (M)
Bridget's  focus  on  single  life  and  her  career  is 
interrupted  when  she  finds  herself  pregnant,  but 
with one hitch ...  
Starring:  Renee  Zellwegger,  Gemma  Jones,  Jim 
Broadbent,  Sally  Phillips,  Shirley  Henderson, 
Colin Firth 
Pete's Dragon 
Sunday 15 January 2:00pm (PG)
The adventures of an orphaned boy named 
Pete and his best friend Elliot, who just so 
happens to be a dragon.  
Starring:  Robert  Redford,  Bryce  Dallas 
Howard, Karl Urban 
Our Chairman at work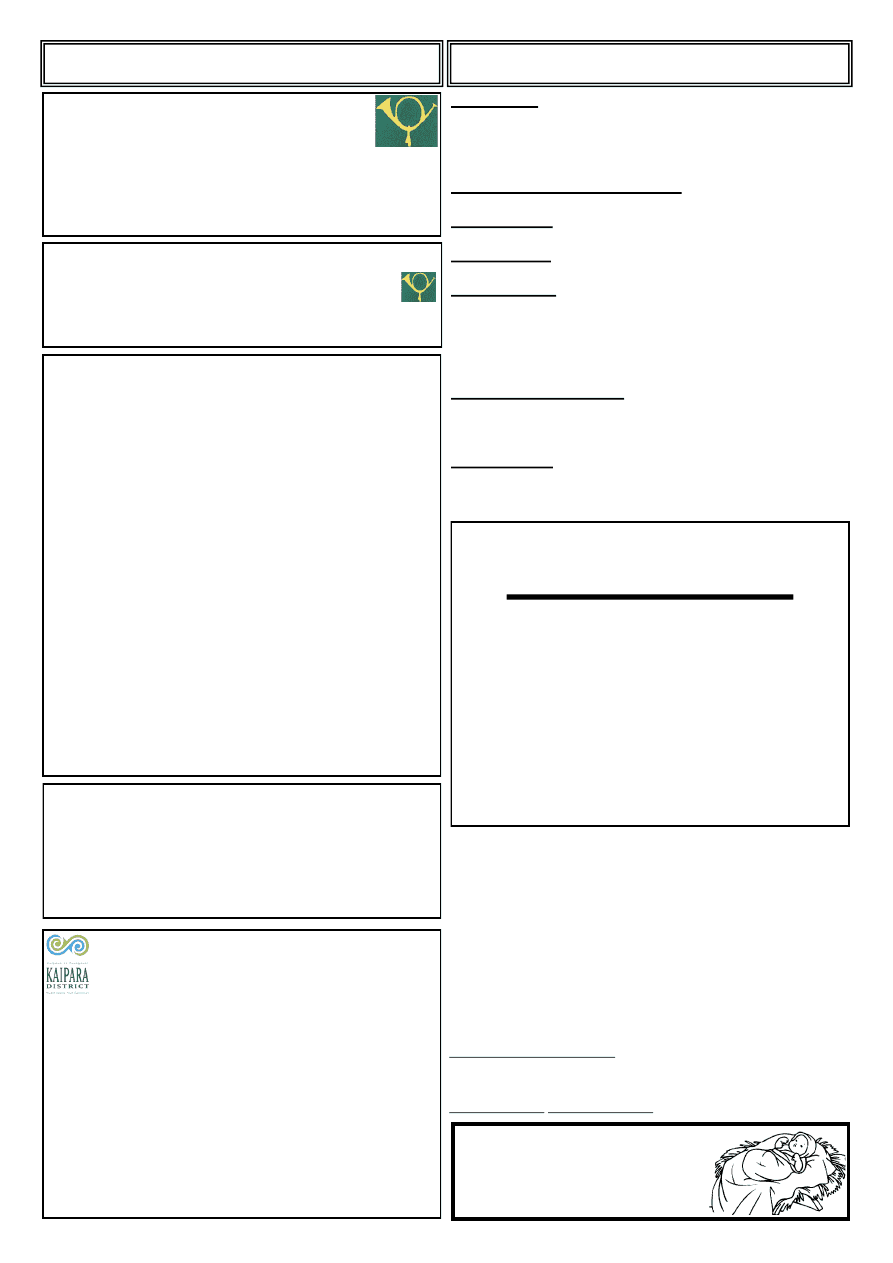 www.kaiwaka.co.nz 
Kaiwaka Bugle - 13 December 2016 
Page 3 
PUBLIC NOTICES 
CLASSIFIED 
"Christmas is not as much about 
opening our presents as opening 
our hearts." ~ Janice Maeditere  
WANTED:  any  Scout  patches,  badges  or  uniform 
(preferably pre-1980) or Scout blankets I could add to 
our  collection.  I'm  a  Scout  Leader  and  collector  of 
Scouting  memorabilia.  Please  phone  or  text  Matt  on 
027 722 2548 if you may be able to help.  
LEASE  BLOCK  WANTED:  any  size  considered. 
Ph Josi 021 733 305 
FOR  SALE:  Four  storey  dollshouse  -  new  -  incl 
furniture and yellow VW Beetle. $350. Ph 4312 532 
FOR  SALE:  WASJ IG  1000  piece  puzzles  Assorted 
titles 2nd hand $5 each Call John 431 2400  
FOR  SALE:  Olympus  Digital  Camera  VH-520 
Bought  2  years ago for  $195.  Includes:  camera, setup 
CD-ROM,  instruction  manual,  USB  cable,  battery, 
1GB  memory  card  and  8GB  memory  card. 
Recently  the  battery  doesn't  hold  its  charge,  so  I'm 
guessing a new battery is needed. $40. Ph: 4312051 
SHEEP  FOR  SALE:  4  ewes  with  1  lamb  each. 
Together  $150.  Arapawa  or  A/Wiltshire  X.  Hardy  ex 
lambing/mothering.  Worm  tolerant.  Lots  of  character. 
Totally organic. Ideal lifestyle block. Ph Don 431 5890 
FOR  SALE:  TV  43"  flat  screen  LG,  TV  15"  flat 
screen  ex.  tele,  Trifold  shower  doors,  toilet  pan  S-
bend, SS shower base 36" square. All offers. Ph 4312 
367 
BUGLE DATES 2017
This is the last Kaiwaka Bugle for 2016.
The deadline for the first issue in 2017  
is midday Friday 20 January; 
this issue will be dated 24 January 2017. 
Seasons Greetings from the Bugle Team 
KAIWAKA MEDIA GROUP 
Annual General Meeting 
Monday 16 January 2017 5pm 
Kaiwaka War Memorial Hall 
All welcome 
OTAMATEA WARD ELECTED COUNCILLORS 
Three councillors were elected from the Otamatea ward – 
myself  from  Paparoa,  Jonathan  Larsen  from  Topuni  and 
Peter  Wethey  from  Mangawhai.  Since  the  election  we 
have  had  our  swearing  in  ceremony,  several  induction 
days to get up to speed with the workings of Council and 
local  government,  and  a  full  Council  meeting.  We  have 
also had a number of community groups or organisations 
come to meet with us to help us understand what is going 
on in our communities. We look forward to more of these 
over  the  next  month  or so.  If  your  group  is  interested  in 
making a half an hour presentation about projects in your 
area,  contact  Sean  at  KDC  smahoney@kaipara.govt.nz. 
Even  though  we  are  elected  by  our  ward,  it  is  important 
for  all  of  us  to  get  up  to  speed  with  the  needs  and 
activities of the whole district. 
There are a number of issues facing the Council including 
the perennial one of road maintenance and improvement. 
With  1500km  of  unsealed  roads  in  Kaipara  district  and 
large debt it is an ongoing challenge. However if there is 
an  issue  in  your  area  make  sure  you  do  contact  the 
Council  on  council@kaipara..govt.nz  or  phone  0800 
727059.  If  you  wish  to  contact  me  as  one  of  your  local 
Councillors 
I 
am 
available 
on Cr.jones@kaipara.govt.nz or 021 2080093. 
Regards, Libby Jones 
PROPOSED TEMPORARY 
ROAD CLOSURE 
Pursuant to the Transport (Vehicular Traffic Road Closure) 
Regulations 1965, the Kaipara District Council hereby 
gives notice that the Northern Bass Event has made an 
application to have the following street temporarily closed 
on the day and at the time below for the purpose of holding 
the Northern Bass 2016 Event.
Thursday 29 December - 12:00am (midnight) until 
Sunday 01 January 2017 11:59pm 
Settlement Road, Kaiwaka - Northland resident only 
access 
Any objections to this proposal should be in the hands of 
the Kaipara District Council no later than 04:00pm on 
Monday 19 December 2016. 
FOR SALE:
Barbeque 
6-burner + gas ring. 
Good order 
$50 
Ph 4312 995 
NORTHERN BASS MUSIC FESTIVAL  
The annual Northern Bass Music festival will take place at 
Worsfolds  Farm,  420  Settlement  Road,  Kaiwaka  on  the 
29th, 30th and 31st December 2016. Music will begin from 
around  11am  each  day.  This  year  Event  Organisers  will 
introduce a new traffic management plan aimed at reducing 
traffic's  impact  on  Settlement  Road  residents.  A  managed 
Road closure will be in place at the State Highway 1 end of 
Settlement  Road  from  around  7am  on  the  29th,  30th  and 
31st  December  to  divert  event  traffic  via  Kaiwaka 
Mangawhai  Road  and  onto  the  event  via  Hakaru.  All 
Residents, locals and their visitors will be granted access as 
required. Northern Bass regrets any inconvenience this may 
cause. 
For  further  information 
contact 
us 
on 
info@northernbass.co.nz  A  fireworks  display  will  take 
place  at 12  am  midnight, 31st  December 2016  and  run  for 
approximately 5 minutes. 
Gareth Popham, Director Fuzen Entertainment  
HAKARU TRANSFER STATION 
Will be open from 1st December till 31st January,  
10am till 4pm. 
From 1st February back to normal hours - closed Tuesdays. 
Closed Christmas Eve at 1.30pm, Christmas Day, Boxing 
Day and New Years Day. 
www.northlandwaste.co.nz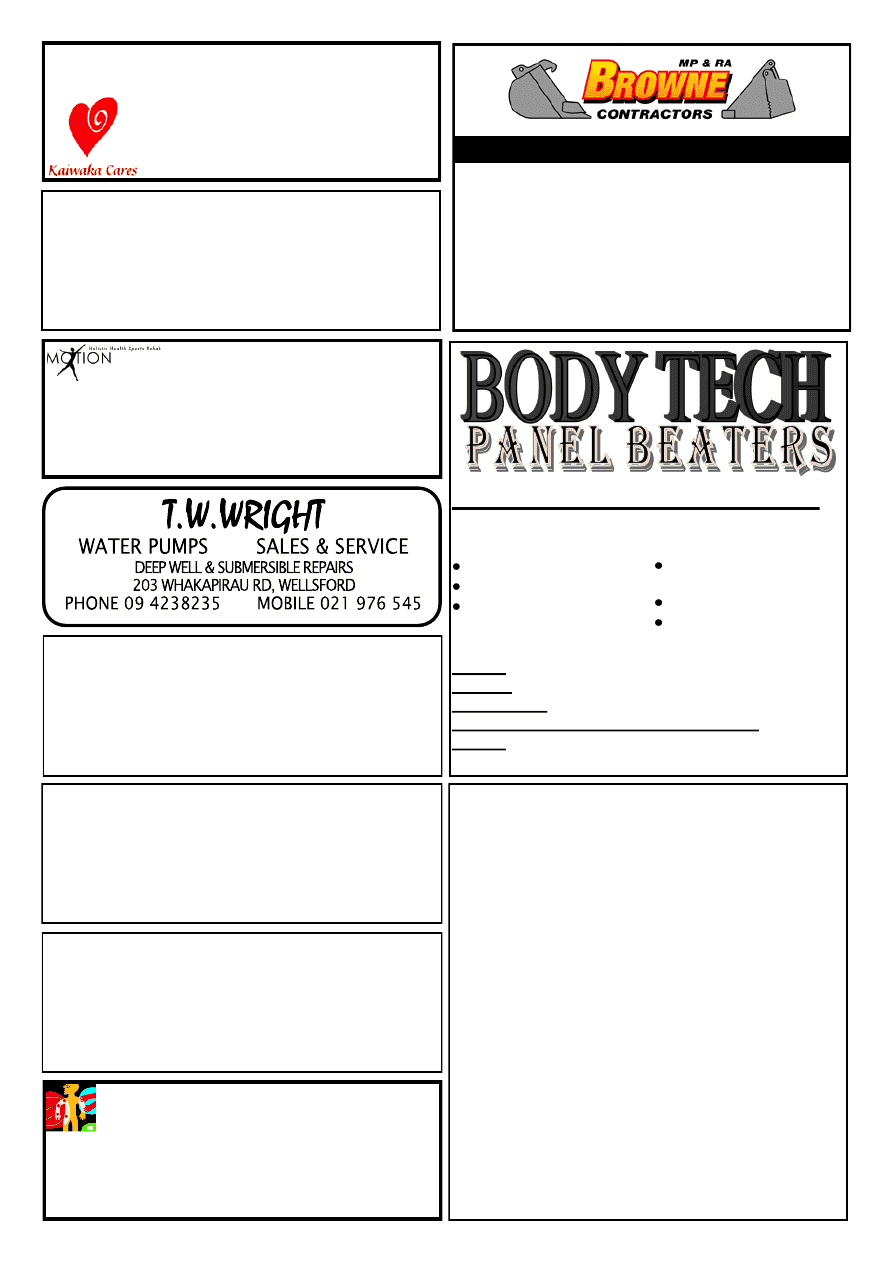 4T DIGGER – BOBCAT – TIP TRUCK 
Property Maintenance - Driveways - Building Sites 
Stump & Tree Removal - Hole Boring - Chain Trencher 
Calf Shed and  Stockyard Cleaning
KAIPARA - WHANGAREI - RODNEY 
Phone Matt: 021 199 6677 
Email: mprabrownecontractors@gmail.com 
FREE GRAZING WANTED 
Small or large block 
Can do some fencing or water 
Phone after 6pm 
4312 006 
For all your body repair needs!! 
We do: 
Rust repairs 
Insurance work 
Anti-corrosion treat-
ment         
Hours: 8.30am-5pm Monday-Friday  
Mobile: 021 118 0462 
After hours: 09 431 2384 
Phone: Craig or Call in for a free Quote 
bodytech_panelbeaters@yahoo.com
We are located at 1837 SH1 Kaiwaka, behind  
Large and minor vehicle  
  repairs 
Industrial vehicles 
Full Cut and polishes 
White Horse Farm 
Farm Stay/Bed and Breakfast 
Ph +64 9 390 1260        113 Tawa Ave, Kaiwaka 
bookings@whitehorsefarm-kaiwaka.co.nz 
www.whitehorsefarm-kaiwaka.co.nz 
WAIPU OSTEOPATH 
Maria Gabriel  ACC Registered Osteopath 
8 The Centre, Waipu 
Monday to Thursday  
Freephone 0508 924786 (0508 WAIPUOSTEO) 
www.getinmotion.co.nz  No doctor referral required 
Community Drop-In Centre
We wish you a safe and happy Holiday season. 
Kaiwaka Cares will be closed from Friday 16 
December to Monday 9 January. 
Thank you for all your support and aroha over 
2016. We look forward to giving back to all of 
you in 2017. 
Are you truly Happy?
Intuitive Emotional & Spiritual Healing: Psychic 
Readings: Archangel guidance:
ThetaHealer®
Glo Treadaway – Kaiwaka based
Confidential respectful practitioner
Experienced, professionally trained and certified  
ThetaHealing® Life & Abundance Coach: Parent 
Coach: Archangel Life Coach
I work with all cultures and religions. Helping all ages 
including children & babies. And pets. 
Tap into your deepest aspirations, heal past wounds, 
current anxieties, let go of stress, embrace deep inner 
peace, wisdom and power to embrace a positive outlook 
as you plan for today and create your future.
Appointments available in Kaiwaka and  
at Waipu Natural Health.
To book:
027 363 8833 
glo@celestialconsulting.co.nz   
www.celestialconsulting.co.nz
THE SUNSHINE GIRLS
Efficient and reliable help with your 
housework. 
Ph 4312 532 
Kates Community Centre, Kaiwaka 
Wednesday mornings
Wellness Practitioner 
Diann Glucina 
Harmonyum, Homeopathy, Kinesiology, Theta healing, Reiki Master 
mobile 021 250 7461             www.diglucina.com 
OWEN STEVENS Osteo Therapist
For careful adjustments to bones and joints 
Treatment for  humans and their pets 
Clinic Kate's Place, Kaiwaka: 
Last Friday of month
For booking 9.00am-5.00pm              Phone 
09 4312661 
Or phone Owen  09 4317123  anytime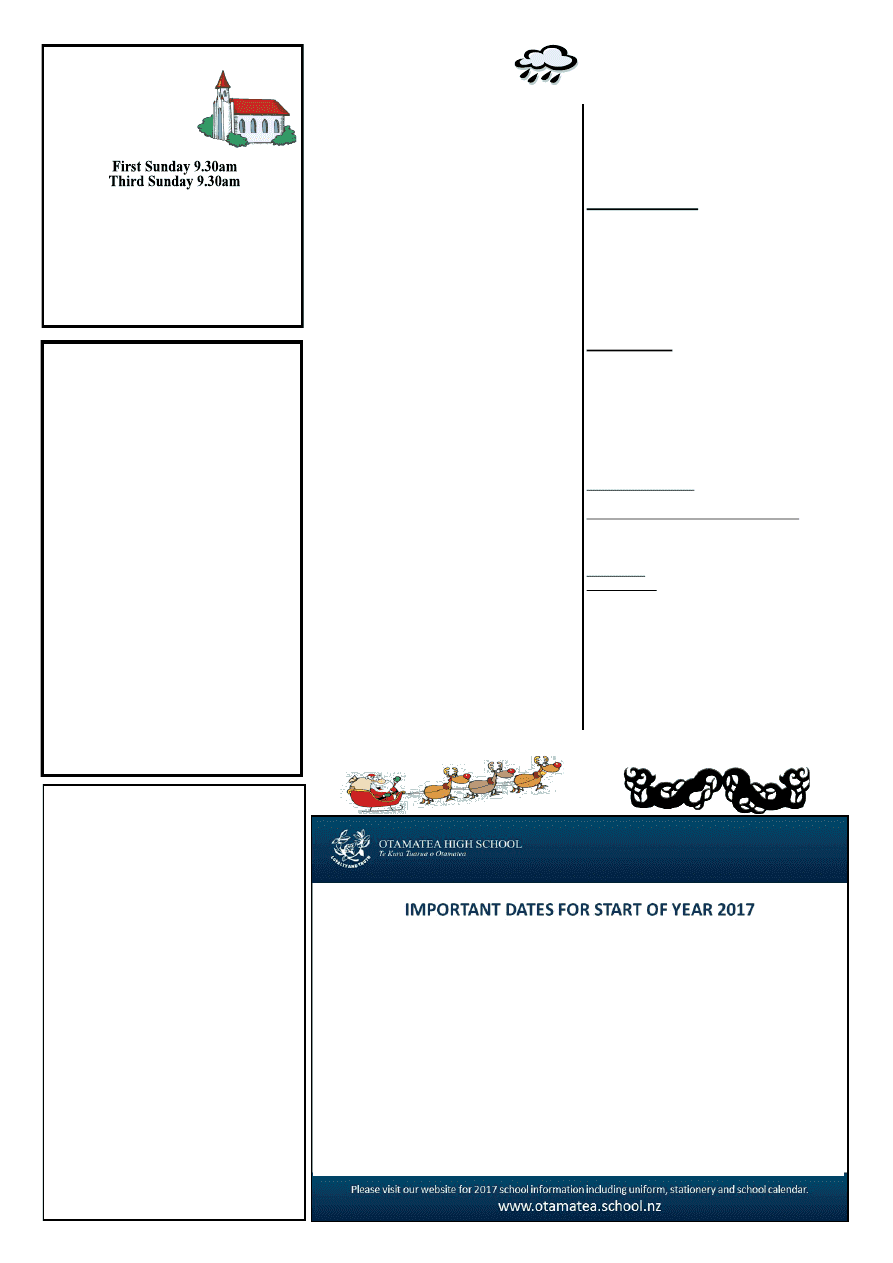 www.kaiwaka.co.nz 
Kaiwaka Bugle - 13 December 2016 
Page 5 
ST PAUL'S  
ANGLICAN  
SUNDAY  
SERVICES
St Pauls Church: Kaiwaka-Mangawhai Rd. 
1st Sun - Eucharist 
3rd Sun - Family Service 
Office 4314 122 
Contacts:M.Hargreaves 4312295, C.Bygrave 4312057  
or Rev. Wayne Thornton Ph 431 5650 
www.mangawhaianglican.org.nz
Willow Bend
HORSE  
HOTEL 
"  
Total Horse Care 
" 
Agistment 
" 
Riding Lessons 
" 
Arena Hire (60x40) 
" 
Young Horse Starting 
" 
Re-training/Exercising 
" 
Hoof Trimming 
" 
Problem Solving 
Phone Sue  
09 431 2817 or  
021 623 776 
susanjoll11@gmail.com 
KAIWAKA 
WEATHER 
Robyn's Beauty Therapy
Express Facial 30mins 
$45.00 
Deluxe Facial 60mins 
$60.00 
Half Leg Wax 
$25.00 
Full Leg Wax 
$40.00 
Full Leg & Bikini wax 
$55.00 
Bikini Wax 
$20.00 
Extended Bikini Wax 
$30.00 
Brazilian Wax 
$50.00 
Under Arm Wax 
$15.00 
Arm Wax 
$20.00 
Eye Brow Wax 
$10.00 
Lip Wax 
$10.00 
Chin Wax 
$10.00 
Combo Eyebrow/Lip/chin 
$25.00 
Back Wax 
$20.00 
Chest Wax 
$20.00 
Eye Brow Trim 
$10.00 
Lash Tint 
$20.00 
Brow Tint 
$10.00 
Lash & Brow Tint 
$25.00 
Combo Lash/Brow Tint/Brow Wax  $35.00 
Express Pedicure 30mins 
$40.00 
Delux Pedicure 60mins 
$60.00 
Express Manicure 30mins 
$30.00 
Delux Manicure 60mins 
$50.00 
Trim & File (hands & feet) 
$15.00
Qualified Beautician with 15 years experience 
Phone Robyn on 027 293 1521 
Gibbons Road Kaiwaka 
Summertime  greetings  to  you  all.  We 
got  the  rid  of  the  November  blows  to 
those  that  it  affected  and  had  a  lovely 
few last days of the month.  
We had a lovely sunny greeting to the 
last  month  of  the  year  with  a  light 
breeze.  School  holidays  are  nearly 
upon  us  so  extra  care  is  needed  with 
traffic  and  coping  with  the  shops  with 
more  people  in  them  plus  the  extra 
summertime happenings. 
Well  what  a  windy  November.  If  you 
were sheltered you were fortunate as it 
never ceased till late in the month. The 
temperatures are creeping up now. We 
recorded  23  degrees  a  couple  of  days 
ago. 
The rainfall at our house for November 
2016 was 104mm and November 2015 
was  61mm.  The  year  to  date  is 
1415mm and 2015 was 1016mm. 
Our wettest 11 months since 1987 was 
1990  with  1938mm  and  the  driest  11 
months  since  1987  was  1994  with 
888mm. 
Our wettest November since 1987 was 
1999  with  340mm  and  the  driest  was 
1994 with 20mm. 
We  had  rain  on  9  days  of  the  month 
this  year  and  2015  we  had  rain  on  7 
days of the month. 
Only 13 days to Christmas (depending 
when you get your Bugle) and 18 days 
until we start a new calendar year. 
One night a Viking named Rudolph the 
Red was looking out the window when 
he  said  "It  is  going  to  rain."  His  wife 
asked "How do you know." He replied 
"Because Rudolph knows rain, dear." 
Have a happy and safe festive season to 
you  all  and  please  take  care  as  yes,  it 
can happen to you.    ~Bev 
TE ROROA 
LEARNING ASSISTANCE 
Christmas Break 
Our  office  will  be  closed  from  Friday 
16th  December  2016  and  reopen  on 
Monday 16th January 2017. 
Courses/Programmes.  All  courses  at 
Dargaville  and  Maungaturoto  unless 
otherwise stated. 
Digital Literacy 
Basic Computing: 100 hour programme 
learning  basic  uses  of  a  computer 
including Microsoft Office and Google 
Chrome (internet). 
Digital  Devices:  25  to  100  hour 
programme learning how to use digital 
devices  including  basic  function  and 
apps. 
20/20/ Trust 
Kiwiskills:  100  hour  programme  for 
more  advanced  computing  students.  
Some at home work is required so you 
will need a computer and internet. 
Stepping Up: 2 hour modules delivered 
one a week during the school term for 
students  wanting  to  learn  specific 
computer topics. 
Driver Education: Learner Licence; 
Restricted Driver Mentoring 
Literacy, Language and Numeracy: 
Literacy/Numeracy 
Te Reo Maori: Taumata, Karanga, Waiata. 
(Dargaville);Whanau Literacy; ESOL 
Creative: Korowai (Dargaville) 
Workplace: Workplace Literacy 
New programme coming in 2017… 
Maori Land Development 
Please  contact  us  if  you  would  like  to
(a)  learn  something  that  is  not  listed, 
(b) become a literacy/numeracy trainee 
tutor  in  Dargaville  or  Maungaturoto, 
(c)  become  a  volunteer    restricted 
licence  driver  mentor  in  Dargaville  or  
Maungaturoto. 
To  enrol  or  for  more  information, 
contact Stephanie on 0800 555 635  
IMPORTANT DATES FOR START OR YEAR 2017 
Tuesday 31
st 
January (Buses will be running)    School starts for all Year 7, all Year 13 and all new students to OHS. 
On the first day of school students should bring pen, paper, morning tea, togs and a towel. Sausage sizzle lunch provided. 
Wednesday 1
st
 February   Whole school to attend (all Year s) School finishes at 2pm. 
Senior Course confirmation will take place. 
Thursday 2
nd
- Friday 3
rd
 February   Year  7 & Prefect Camp at Otamatea High School 
Thursday 9
th
 February   School Swimming Spor ts 
Wednesday 15
th 
February   Meet the Teachers Evening 
Tuesday 28
th
 February   School Athletics Day 
New Uniform Sales / Year 13 Dress Uniform 
Paparoa Drapery stock a full range of Otamatea High School uniform  Phone 09 431 7306 
PTCA 2ND Hand Uniform Sales 
Please contact Karen Flannagan 021 128 1670 
The school office opens Monday 23 January, 2017. Please phone 09 431 8230 or 0800 682 628 for any further information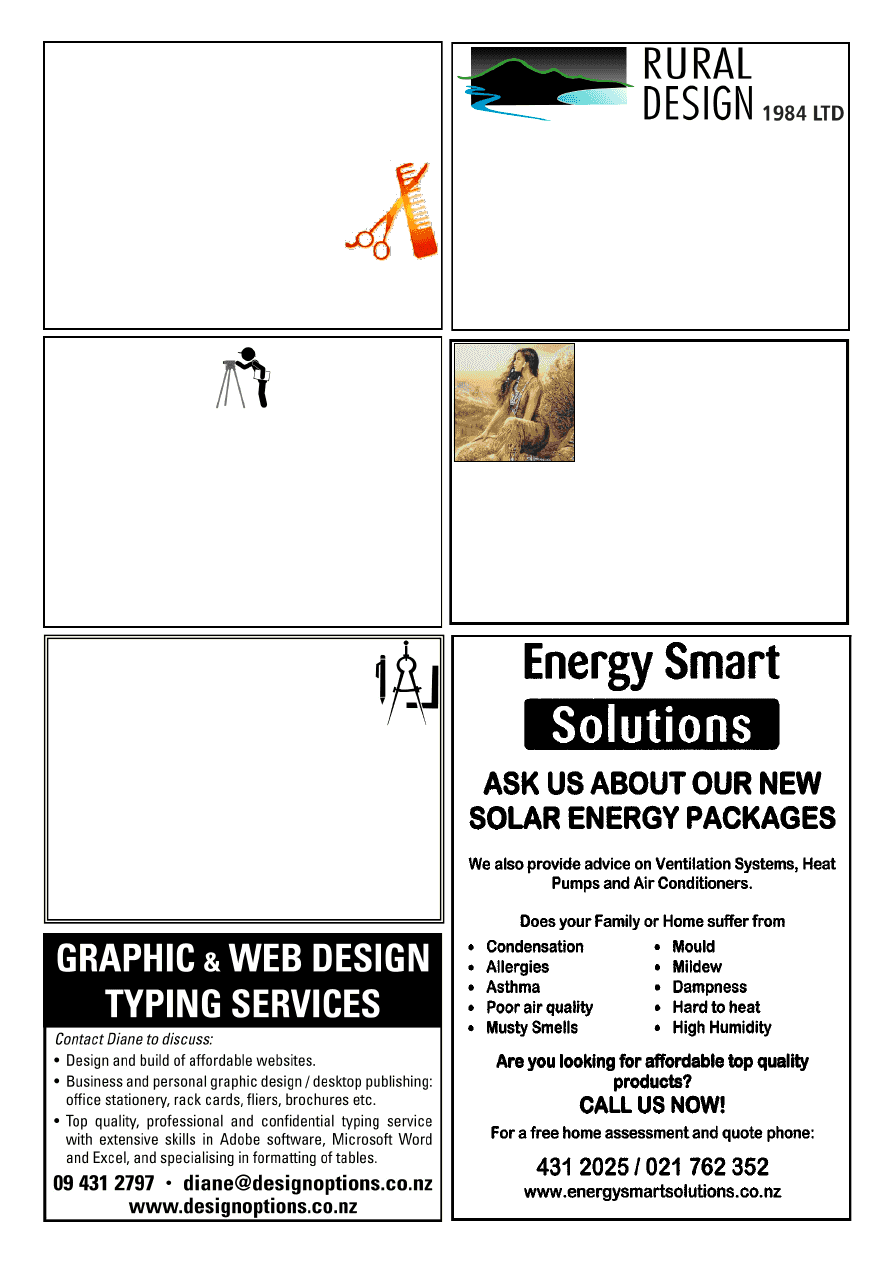 Ken Urquhart 
BSurv Licensed Cadastral Surveyor 
KMU Surveys Ltd
467 Bickerstaffe Road 
RD 2 
Maungaturoto 0587 
Ph 09 431 8705 
Mob 021 161 2344 
kenurquhart@xtra.co.nz 
WHOLESALE NATIVE PLANT NURSERY 
AND LANDSCAPING 
By Appointment 
Small and Large orders welcome 
Phone: 09 431 2481 
Email: info@ruraldesign.co.nz 
design drafting  
service 
Retired builder and manufacturer with over 40 years  
experience in the building industry is offering a design 
drafting service  
for domestic housing, sleepouts and sheds.  
Plans formulated in consultation with clients, with 
working drawings completed and submitted to  
council for processing.  Extensive practical experience,  
able to identify & resolve problems. 
Please ring Mike Lean on 
09 431 2260  
     or 
021 431 196 
Trails end 
spiritualist gathering  
Last Sunday of every month  
11.30-2pm tea/coffee provided  
$5koha for all inquiries  
0211652629 evenings 099450753 
Trail.end@hotmail.com 
Bringing together light minded people 
Guest speaker each month and 
Workshops every 2nd Wednesday  
6:30-7:30pm
AFFORDABLE PRICES! 
MENS DRY CUT FROM $18.00 
LADIES DRY CUT FROM $28.00 
KIDS DRY CUT FROM $15.00 
COLOUR CUT FROM $90.00 
JUST CUTS'AND     
MORE 
021 165 2629 
NOW SELLING: scented tealights, incense, smudge sticks, 
copper bracelets, aurora ball crystals, dream catchers, healing 
stones, rose quartz, cds, and much more. Open 6 days.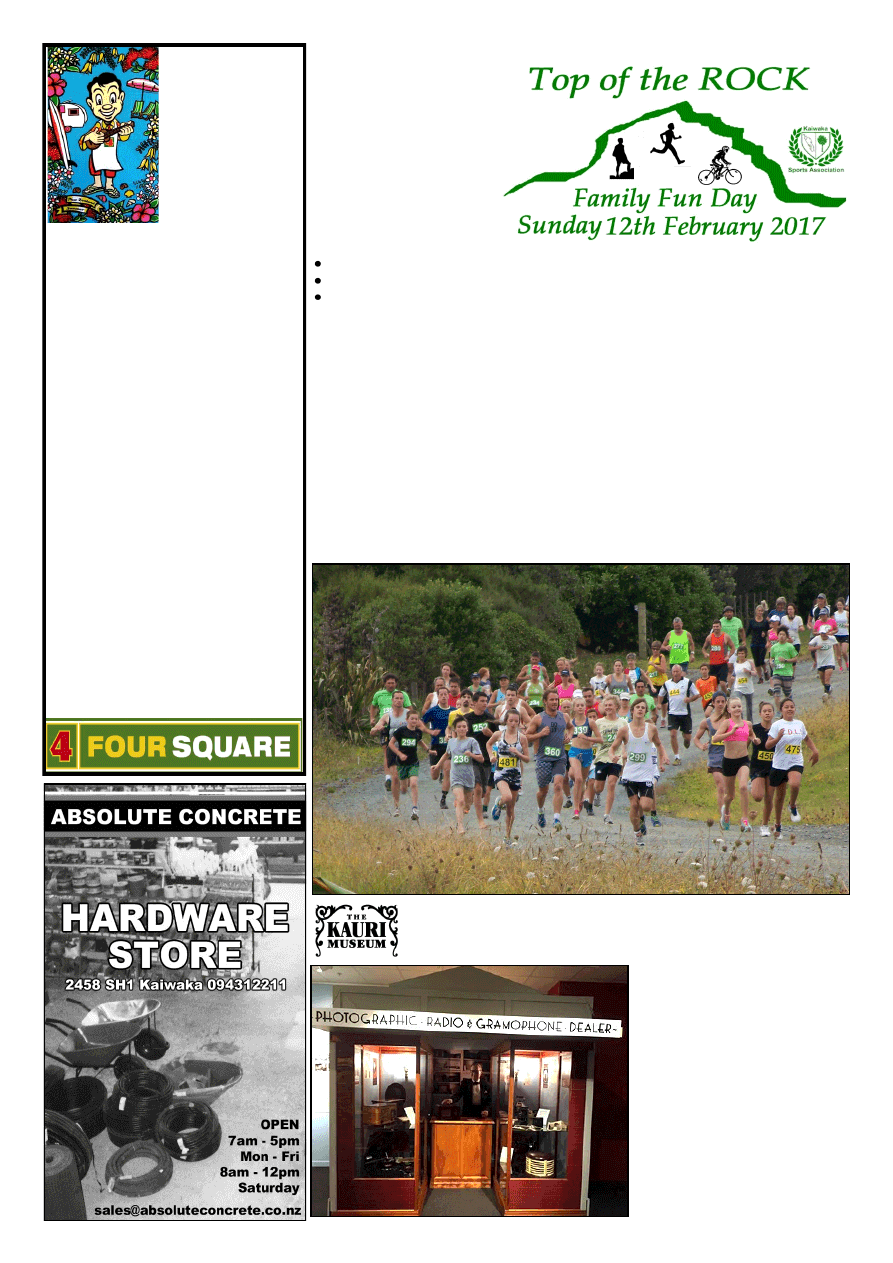 www.kaiwaka.co.nz 
Kaiwaka Bugle - 13 December 2016 
Page 7 
EVERYTHING 
You Need for the 
Holidays!! 
Bon Bons, Wrapping paper, 
stocking fillers, Toys at great 
prices, Pav's, Christmas cakes, 
lovely chocolates
Large range of gift cards  
& Visa Prezzie 
Orders for Fresh Bakery,  
Hot Chickens, Cream, Custard, 
Berries etc 
Please order by  
MONDAY 21st DEC  
so we can have fresh stock in & 
you won't be disappointed 
We are Open everyday except 
Christmas Day
We wish you and your families 
a Safe & Happy Holidays 
From the Team at Jaques Four Square
Jaques Four Square 
Phone: 4312227 
1 Kaiwaka-Mangawhai Road, Kaiwaka. 
In 
Store 
Now! 
The 
Kaiwaka 
Sports 
Association's 
seventh 
annual  multi-sport  event, 
the  Top  of  the  Rock,  will 
be  held  on  Sunday  12th 
February.  
The  event  caters  for 
walkers, 
runners 
and 
mountain 
bikers, 
both 
recreational 
and 
competitive  as  there  are  a 
range of options: 
5km or 11km walk or run 
10km run + 15km mountain bike ride 
10km or 30km mountain bike route 
plus,  a  fun  bike  course  for  under  10 
year olds 
Routes  travel  through  some  of 
Kaiwaka's  most  scenic  countryside  – 
bush, lakes and farmland. And you get 
the  opportunity  to  climb  iconic 
Baldrock  Mountain,  which  is  easier 
than  the  daunting  view  from  the  road 
suggests,  as  there  is  a  well  formed 
track  which  spirals  around  the 
mountain. 
You  don't  need  to  be  concerned  about 
your  fitness  level  as  there  is  no  time 
limit on completing the events and we 
even  have  marshalls  in  utes  following 
the tailenders who will give you a ride 
back if you get tired! Participants of all 
ages  enter  Top  of the  Rock,  from  pre-
schoolers  upwards  –  last  year  the  $50 
prize for the oldest participant went to 
a 79 year old! 
TV3's  Brendon  'Money  Man'  Johnson 
will host the prizegiving with prizes for 
placegetters as well as lots of great spot 
prizes, including a mountain bike. 
Last  year  there  were  over  400 
particpants and we are hoping to build 
on that number this time.  
Please  note  that  there  will  be  NO 
ENTRIES  ON  THE  DAY  –  the  last 
day to enter is Friday 10th February.  
Entry  forms  can  be  downloaded  from 
www.kaiwakasports.co.nz 
Enquiries,  please  contact  Cheryl 
Anderson on 
kaiwakasports@gmail.com
TOP OF THE ROCK 
Tudor Collins: Man of Many Faces 
Opened  9  December  2016.  Our  next  special  exhibition  dives  into 
the  world  of  renowned  photographer  Tudor  Collins.  Famous  for 
capturing  an  essence  of  early 
New  Zealand  through  his  skill 
with  photography,  Tudor  led  a 
varied life, pursuing the various 
careers  of  soldier,  sailor, 
entrepreneur,  bushman  and 
farmer.  Take  a  glimpse  into 
Tudor's 
past 
through 
an 
amazing 
collection 
of 
photographs 
from 
the 
collections  of  The  Kauri 
Museum, the National Museum 
of  the  Royal  New  Zealand 
Navy, Auckland War Memorial 
Museum, 
Albertland 
and 
Districts 
Museum 
and 
Warkworth Districts Museum.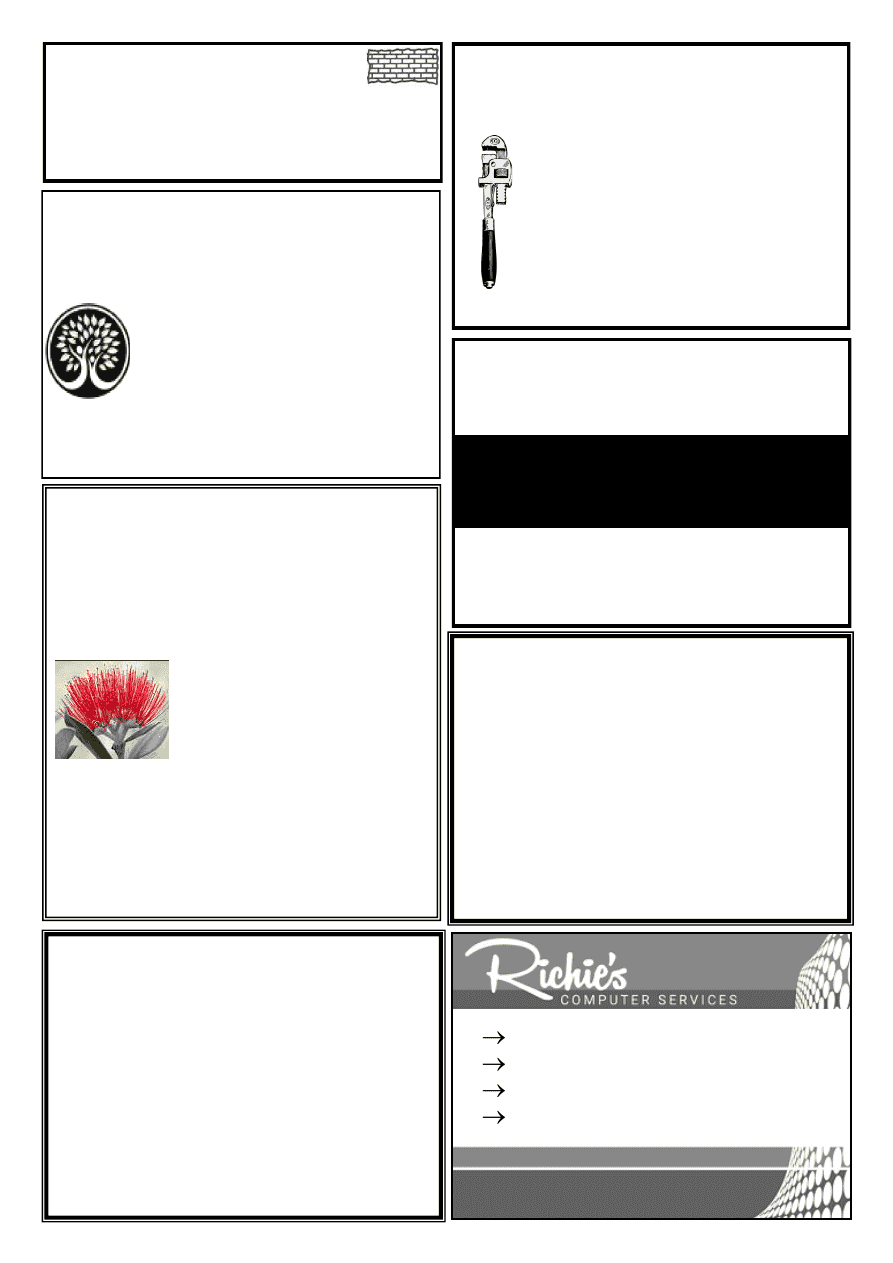 BARRY CURTIS PLUMBING LTD 
REGISTERED CRAFTSMAN PLUMBER 
Phone 4315572 
027 257 9884 
25 years experience 
Friendly reliable service 
All plumbing and maintenance 
Alterations and new housing 
Spouting 
Competitive rates 
PROMPT EFFICIENT  SERVICE 
David Korach 
Your local Gib Stopper
DK PLASTERER LTD 
0274769221 
dkorach6@gmail.com 
KAIPARA FLOORING CO 
Independently owned & operated 
32 HURNDALL ST MAUNGATUROTO 
Supply & Installation of Carpet, Vinyl,  
Vinyl Wood Planking
Stockists of 2m & 3m wide 
vinyl & carpet short ends
Residential & Commercial 
First Class Installations 
For a free measure & quote 
phone Christine  
09 946 9886 or 021 515 415 
kaiparaflooring@gmail.com 
http://www.kaiparaflooring.co.nz/ 
BRICK/BLOCKLAYER 
All aspects of masonry: 
Fireplaces, Restoration & Remedial Work.
JAMES EAGLETON
Tel. (09) 431 2514     Mob. 0274 749 232
jajueagles@yahoo.com.au 210A Pukenui Road, RD2, Kaiwaka 0573 
Mangawhai Heads 
Garden Centre
1758 Cove Road
945 0707 
021 
165 
2629
15 years  commercial IT experience 
Computer and Laptop Repairs 
Smart Phone and Tablet Support 
Virus and Malware Removal 
Richard Harding
T 09 945 0376        M 021 124 7358 
E richo_harding@hotmail.com 
Waipu Natural Health 
3 Cove Road, Waipu  (opposite the Pizza Barn) 
Ph: 09 432 1325 
www.waipunaturalhealth.co.nz
Clinical Nutritionist-Hair Analysis for Masked 
Allergies, Ozone Therapy, Prolotherapy, 
Naturopath-Medical Herbalist, Registered 
Massage Therapists, Reflexology-
Craniosacral Therapy, Acupuncture-Facial 
Acupuncture, Kineso Taping, Hypnotherapy, 
Counselling, ThetaHealing, Beauty Therapy
KIDS DAY – AFFORDABLE HEALTH SUPPORT 
FOR KIDS – every Wednesday 
(call us or drop in)
Gift Vouchers available
MULCHING
GORSE,SCRUB ETC 
PADDOCK TOPPING OR MULCHING 
2.8m mulcher with 140HP tractor. 
Experienced operator. 
LIFESTYLE PROPERTY MAINTENANCE 
Putting life back into your style 
BOOK NOW. Phone James 
mob: 0273 808622  
or 09 431 2245 
email: lifestylesorted@gmail.com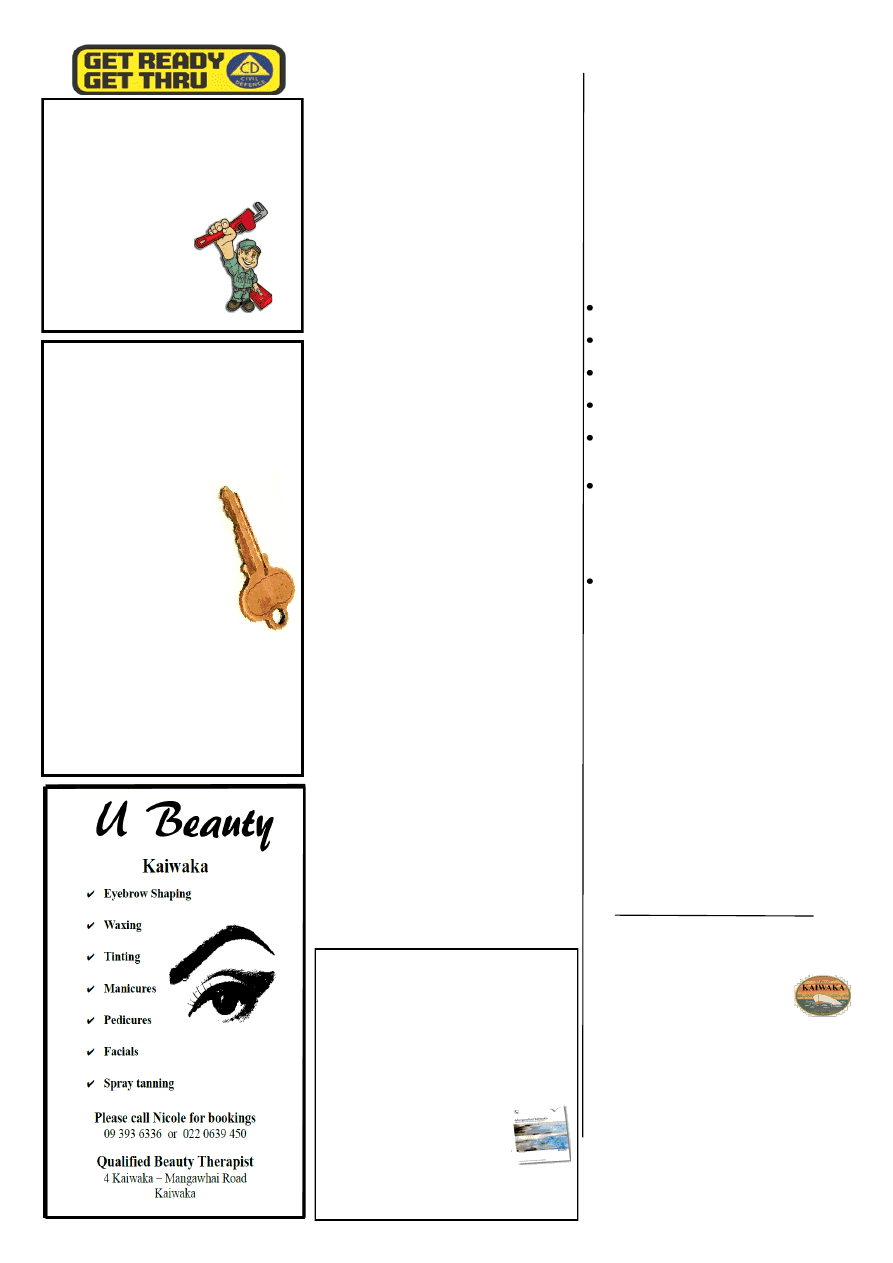 www.kaiwaka.co.nz 
Kaiwaka Bugle - 13 December 2016 
Page 9 
Kaiwaka  
Hardware  
&  
Key cutting 
 Phone 4312 063 
 022 041 6047 
 kaikey2015@gmail.com 
Keys Cut  
Household Hardware  
Curtain Tracks & Fittings
Not there? Call Doug and he'll sort
it for you.
(
Next to Kaiwaka Motorcycles)
Saturday  14  January:  Please 
keep  the  date  for  the  club's 
picnic  at  Rangiora  Road  Boat 
Ramp free! All are welcome to join us 
from  12pm  (noon)  on  14th  January 
2017.  Please  bring  a  plate  and  don't 
forget your blanket, chair and sunhat! 
New fish of the month is Snapper (until 
14 February 2017) 
Thank  you  all  for  you  support  and 
contributions  throughout  the  year.  We 
look forward to another successful year 
in 2017! 
~Wayne Leslie, Commodore 
POINT CURTIS 
CRUISING CLUB 
Ross Murphy 
PLUMBER 
Certifying Plumber 
09 431 7510 
021 424 252 
Paparoa Based 
+
New Housing  
+
Renovations  
+
Maintenance
KAIWAKA WAR 
MEMORIAL HALL 
Merry  Xmas  and  a  Happy  New  Year 
from  the Kaiwaka War Memorial Hall 
Committee  and  the  Kaiwaka  Movie 
Group. 
A year in retrospect…  
We all have worked hard to re-establish 
the  Kaiwaka  Movies,  back  into  a 
regular    meeting  place  for  young  and 
old  and  make  it  as  comfortable  as 
possible, with the new big cushions for 
the kids to sit on and the  two extra big 
fans to keep you cool.  
This year we have: 
installed  carpets  throughout  the  hall, 
foyer and Supper Room; 
built  a  tuckshop,  including  an  
icecream freezer; 
created  under-stage  storage  for  the 
tables; 
finished  painting  the  outside  of  the 
hall; 
installed  new  LED  outside  lights, 
these  have  been  running  for  four 
months; 
the  front  entrance  doors    now  show 
the  names  from    the  Honour  Boards  
for  WW1  and  WW2  on  the  glass; 
these  were  unveiled  in  August  as  an 
ANZAC  100    project,  and  include 
reinforced safety glass in both doors; 
after  flooding  our  hall  toilet  ceilings 
twice  we  convinced  the  KDC  to 
reposition  the  pump  that  supplies 
water  to  their  public  toilets;  it's  now 
outside  in  a  specially  designed 
pumphouse; 
Our  regular  "Dinner  and  Movie 
Nights" (twice a year) and our popular 
"Music/Movie 
and 
Supper 
Night"  (twice  a  year)  are  becoming  a 
popular  community  event.  We  have 
had two very successful movies run as 
fundraisers  for  Rotary.  Our  special 
ANZAC  Day  movie    was  a  great 
success,  with  profits  going  to  the 
Hakaru RSA. 
We  wish  you  all  a  Merry  Xmas  and  a 
Happy  New  Year,  from  the  Kaiwaka 
War  Memorial  Hall  Committee  and 
Kaiwaka Movie Group. 
~Ad Clarijs, Chairman 
UPDATE ON 
KAIWAKA SPEED 
PROPOSALS
When 
NZ 
Transport 
Authority 
proposed  to  make  all  of  Kaiwaka  a 
60kph  speed  zone,  the  community 
expressed  its  opposition  very  clearly.  
We  did  not  believe  you  solve  a  speed 
problem by raising the limit. 
But  there  is  a  problem,  the  temporary 
50 problem.  This temporary zone was 
put in more than six years ago when a 
slip was being repaired.  Now it has to 
go because it has no legal status.   
That  means  if  our  objections  were 
successful,  and  NZTA  has  certainly 
heard  us,  then  the  current  70  coming 
north  would  end  right  outside  the 
bakery  car  park,  hardly  the  best  place 
for  motorists  taking  time  to  react  to  a 
different speed limit. 
Reluctantly therefore Kaiwaka Can has 
told NZTA that our absolute preference 
is  50kph  right  through  Kaiwaka  but 
failing  that,  we  will  work  with  the 
60kph  speed  limit.    We  have  made  it 
clear  though  that  the  supporting 
measures promised, need to be in place 
as  well.    This  includes  threshold 
treatments each end of the town, better 
signage  and  speed  signage  on  the 
roadway through the town. 
We  have  also  asked  for  urgent  action 
on a pedestrian safety zone in the area 
near the cheese shop, a real danger for 
anyone  crossing  there.    The  underpass 
beneath the bridge is either too difficult 
for some or not seen by most. 
In  addition  we  have  asked  for  serious 
consideration  of  a  number  of  other 
features,  mainly  footpaths  at  the 
northern  end  of  town  and  also  a 
pedestrian  safety  zone  between  Four 
Square and the Memorial Hall.   
We  also  believe  another  "Your  speed 
is…"  sign  would  make  a  great 
difference,  one  for  traffic  going  south 
as  the  one  for  northbound  traffic 
appears to be having a real impact. 
Now we wait and see.  Thank you to all 
who supported the original petition and 
protest.    We  still  look  for  a  safer  and 
brighter  Kaiwaka  for  all  of  us  and  for 
visitors as well. 
Derek Christensen, Kaiwaka Can
MANGAWHAI/KAIWAKA 
PHONE DIRECTORY
We will soon be publishing the 2017 
edition telephone directory of all the 
Business and Residential phone numbers 
which will be delivered free to homes and 
businesses in the Mangawhai and 
Kaiwaka free-calling areas.
Are you listed in the local directory? 
Is your business listed? 
Do you want a listing? 
Do you want to advertise 
your business?
Please contact us for full particulars on 
021 454 814 or send details to 
mkdirectory@mangawhaifocus.nz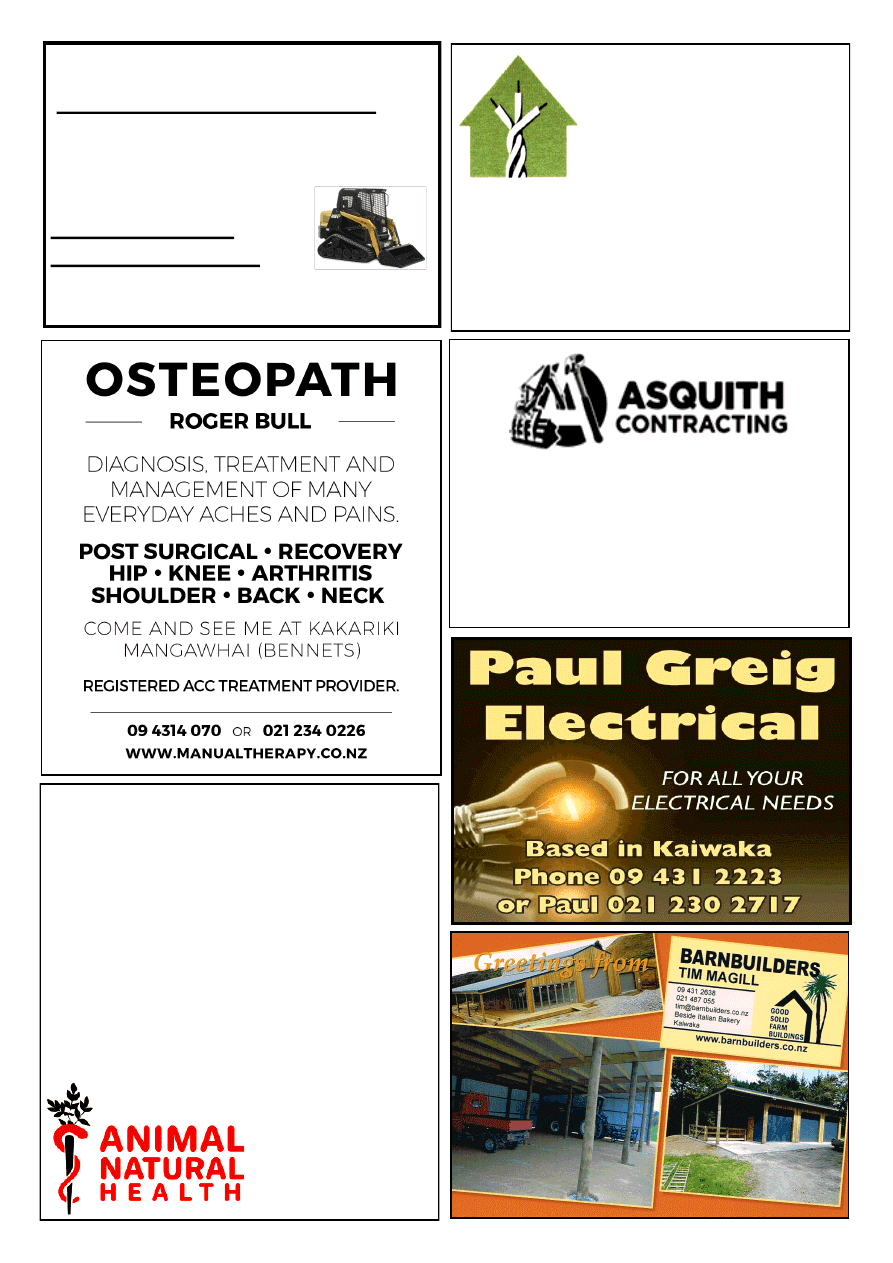 Natural Earth Ltd 
 Landscape and Bobcat services 
 : Driveways  :Landscaping  :Retaining Walls 
 : Hole Boring: Land Levelling :Trenching 
 : Decks :Fences :Sections Cleared: Plus much 
more 
Tel   09 4312885 
Mob 02102391280  
For A Fast Friendly  
Service Contact Tim Hicks 
Reyahn George 
Leng 
Registered Electrician 
Local, honest and reliable. 
For your residential and 
light-commercial projects. 
022 314 1068 / 09 431 2527 
Small digger work, trenching and post hole 
drilling for retaining walls, piles, etc.
$60+gst per hour.
Call Tam on 021 124 5216 or 
asquithcontracting@gmail.com
Pet Accessories, Toiletries, 1st Aid Kits, 
Natural Products
Food  
Free-range, crate/cage-free, organic, wild 
game. NZ's Top Brands pre-prepared food 
Now OPEN Monday- Friday 9.30-5.00 
Saturday 9.30-4.00
Next to Italian Bakery, Kaiwaka 
Also at Orewa & (NEW) Matakana
Ph: 0800 NATPET (628 738) 
www.natpet.nz 
"your lifestyle choice 
in animal health 
care"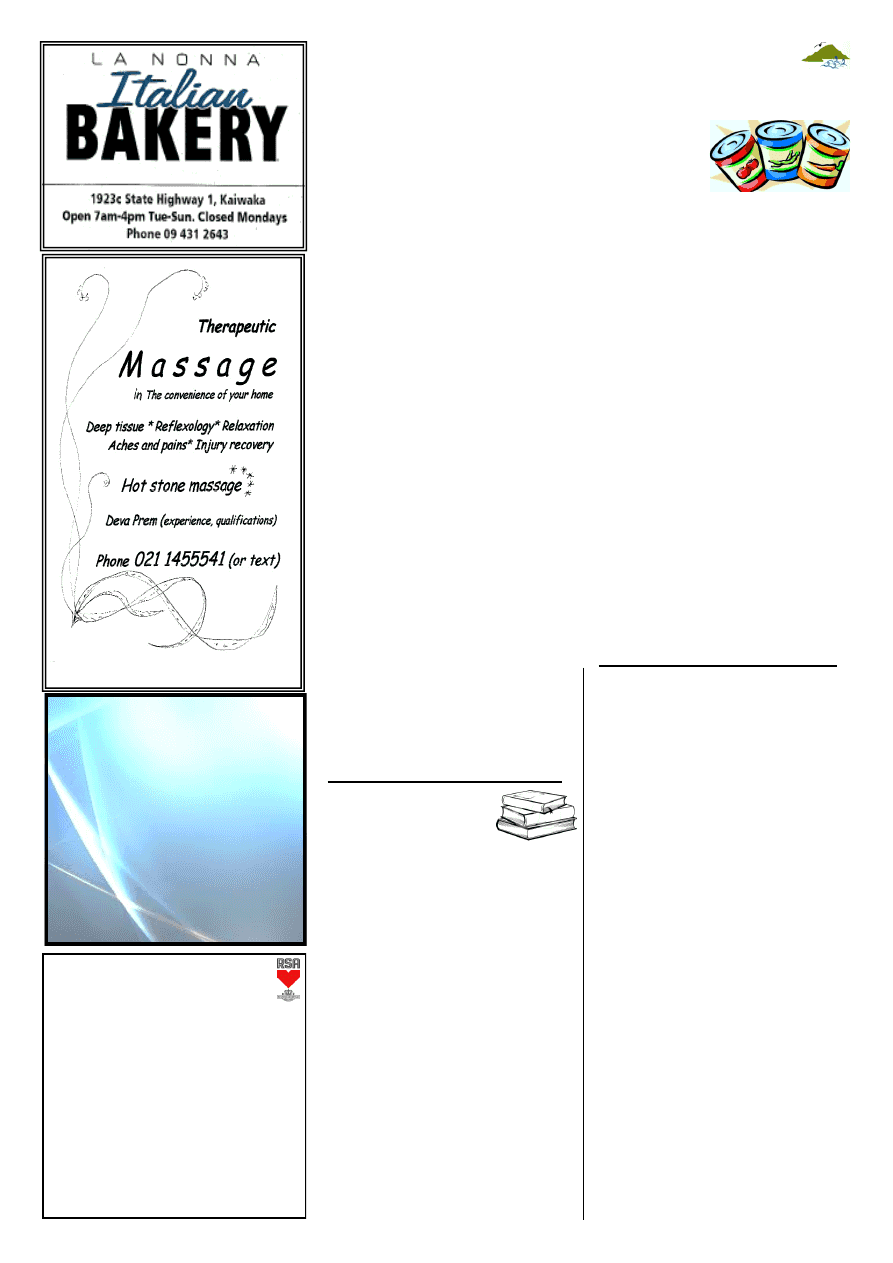 www.kaiwaka.co.nz 
Kaiwaka Bugle - 13 December 2016 
Page 11 
www.mangawhaimassage.co.nz 
HAKARU & 
DISTRICTS RSA Inc 
Each Friday night from 6.30pm meals 
will be served. 
Members & invited guests, new 
members welcome. 
Come along & enjoy our hospitality. 
2nd Friday of the month -  roast dinner or 
board menu. 
Last Friday of month - roast pork night 
&  
sing-along with Des Chitty.  
Ph Heather 4314668 or Jan 4314512 
Freeview  
Installations 
Richard Te Haara 
25 Marram Place 
Mangawhai Heads 
021 1104056 
kiwipride@xtra.co.nz
KAIWAKA SCHOOL 
History has been made!!! 
Kaiwaka  School  came  FIRST  in  the 
Bream  Bay  Interschool  Athletics 
Competition. 
What 
a 
fabulous 
achievement. 
Thanks 
and 
congratulations  to  the  students  who 
represented our school.  
Caitlin  Van  Waveren,  Ethan  Van 
Waveren, Anahera Worsfold, Hamuera 
Henderson,  Leonie  Beyer,  Branden 
Edwards,  Gene  Gil  Sario,  Aaron 
Cooper, Gareth Ferguson, Carlos Ellis, 
Morgan  Jansen,  John  Jansen,  Leayah 
Buxton,  Willow  Woodman,  Pyper 
Buxton,  Zackery-Ryan  Wintle,  Devine 
Henderson, 
Harry 
Paikea-Peters, 
Keidis  de  Ridder,  Tane  Thomas,  Egor 
Shefer. 
Special  mention:  High  Jump  Finals  – 
Leonie  Beyer  2nd;  Long  Jump  Finals 
Junior  –  Anahera  Worsfold  2nd,  Egor 
Shefer 4th; Long Jump Finals Senior – 
Leonie Beyer 2nd; 11yr 100m Finals  -  
Leonie  Beyer  1st,  Gene  Sario  1st, 
Aaron Cooper 3rd; 10yr 100m Finals – 
Hamuera  Henderson  2nd;  9yr  100m 
Finals  –  Anahera  Worsfold  1st;  7yr 
75m Finals – Caitlin Van Waveren 4th; 
11yr  75m  Finals  –  Leonie  Beyer  1st, 
Gene Gil Sario 1st, Aaron Cooper 4th; 
9yr  75m  Finals  –  Anahera  Worsfold 
1st,  Hamuera  Henderson  1st;  700m 
Open  –  Leonie  Beyer  4th.  Special 
thanks  to:  Lindell  Ferguson,  Pat  & 
Adrian Buxton and Jacs Busby.  
Dates for 2017  
Term 1 - 31st January to 13th April  
Term 2 - 1st May to 7th July  
Term 3 - 24th July to 9th September  
Term  4  -  16th  October  to  15th 
December  
Therefore the first day of term for 2017 
will be Tuesday 31st January. 
We  thank  the  PTA  for  their  generous 
donation  of  $5000  to  the  school, 
following our Twilight Gala. 
This  is  the  last  newsletter  for  2016.  I 
thank  you  for  your  support  and 
kindness  for  our 
school.  The  staff 
wish  you  a  really 
happy  Christmas 
and  a  safe  and 
enjoyable summer holiday. 
~Warm regards, Rosie Ellis  
Kaiwaka 
School 
Pumpkin 
Competition  
How are everyone's pumpkin seedlings 
coming along? They should be well on 
their  way  now,  however,  I'm  sure  it's 
not too late to get some seeds in or to 
buy a pumpkin seedling. Let me know 
if you need any more seeds.  
You may have to shelter your seedling 
from  the  wind.  Also  be  alert  for  any 
slugs,  snails  and  greenfly.  Oh,  and 
remember the sheep poo!  
~Amy Griffiths, 4312029 or 
0212072729 
Senior Camp 2017 
The  dates  for  the  Senior  Camp  2017 
(Year  4,  5  &  6)  are  Wednesday  the 
15th  of  March  to  Friday  the  17th  of 
March. 
Support Our Kaiwaka Food Bank 
The  PTA  is  asking  for  non  perishable 
food items to be brought to school and 
put into  the  box in the office.    One or 
two  items,  it  is  all  very  much 
appreciated.  
At  the  end  of  term  this  will  be 
presented to Aunty Ma to give to needy 
families. 
KAIWAKA 
LIBRARY 
Season's Greetings to all. 
Closed for holidays 
The library will be closed for a couple 
of  weeks  over  the  festive  season.  Our 
last  day  will  be  Friday  23  December, 
and  we  reopen  again  on  Wednesday  4 
January. 
Our  regular  hours  are  4pm  to  6pm 
Mondays, 
and 
10am 
to 
2pm 
Wednesdays to Saturdays. 
Dargaville book swap 
Many  thanks  to  all  the  hands  who 
helped  out  at  the  swap  last  week.  It 
made  a  huge  job  a  much  smaller  one, 
with a bit of fun along the way. Lovely 
to  catch  up  with  Vera,  who  was  a 
library  volunteer  before  she  moved 
away,  and  have  her  help  on  the  day, 
too. 
There's  now  a  new  range  of  books  on 
our  Dargaville  shelves  for  you  to 
browse. We've got them until June next 
year. There are some DVDs, too. 
Until next year,                         ~Wendy 
SAFETY on the ROAD 
for OURSELVES and 
OTHERS
Without  wanting  to  make  a  big  noise, 
we  Kaiwaka  folk  are  having  to  take  a 
stand on highway safety. 
Kaiwaka Can led by Derek Christensen 
has  negotiated  patiently  with  Council 
and  Government  authorities  and 
reluctantly  accepts  a  60km  control 
on speeding cars and trucks. 
To 
not 
accept 
60 
risks 
an 
imposed  road  speed  of  70.  The 
authorities won't accept 50! 
Nevertheless, 
the 
Kaiwaka's 
community  voice  has  been  heard. 
Under  a  proposed  traffic  code,  a 
small  community  is  able  to  be  heard 
when big guys like the Road Transport 
Association,  the  National  Carriers 
rep, the AA and Council talk to NZTA. 
 A small victory for us. 
We  applaud  Derek  and  his  people  for 
their efforts.  
Road safety here must include: 
*  A  "Your  Speed  Is  ..."  sign  north  of 
The  Coffeepot  and  Mountain  Creek 
Bridge 
*  60km  painted  warning  signs  on  the 
road 
* Protected off-road parking. 
We  do  not  want  more  injuries  and 
deaths.  Or,  our  masters  should 
note, highway closures and diversions.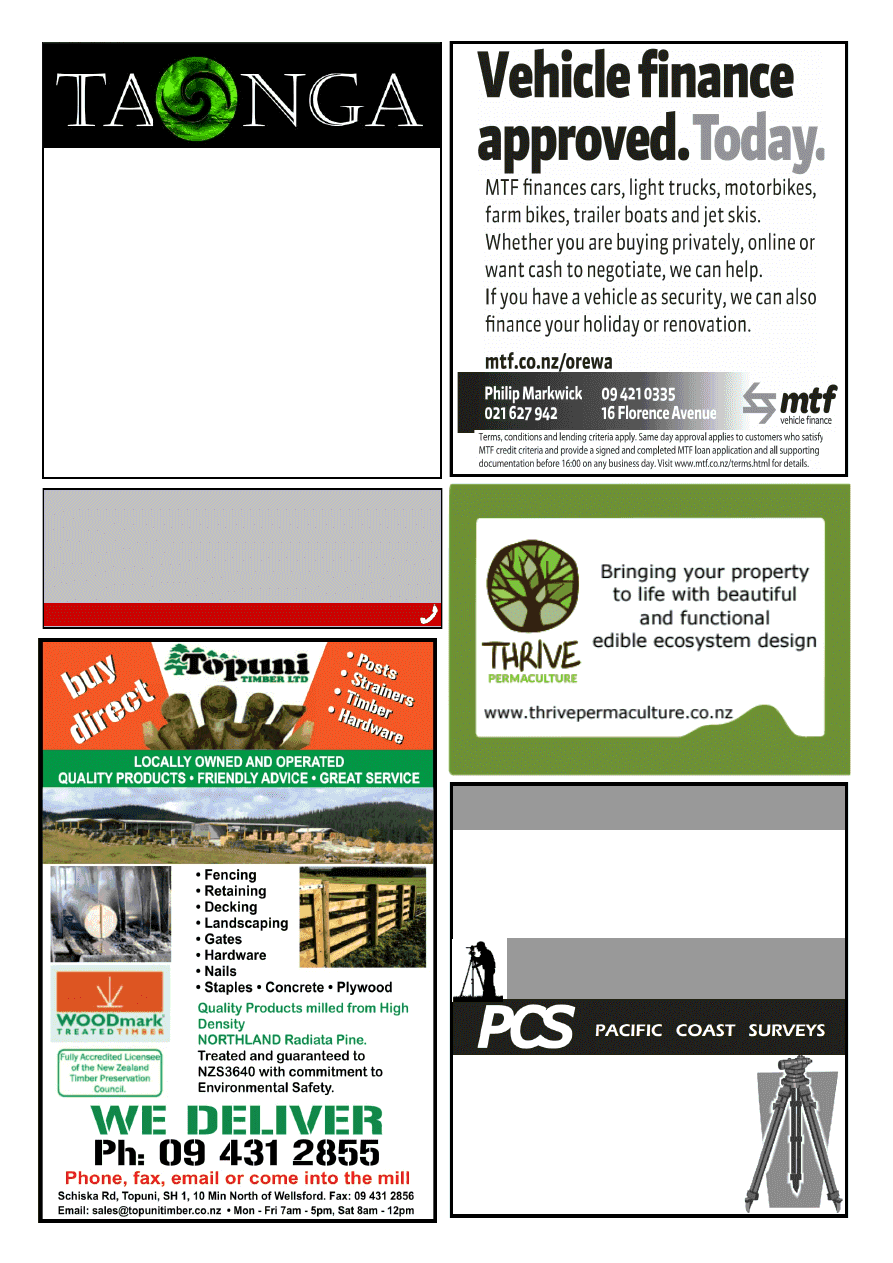 SURVEYORS 
SUBDIVISIONS 
HOUSE SITE SURVEYS 
CIVIL ENGINEERING 
WASTEWATER DESIGNS 
EXPERIENCED 
PROFESSIONAL 
INNOVATIVE 
Ph 09 431 5353 
0800 PACIFIC (0800 722 434) 
pacificcoastsurvey.com
Adam Booth - 027 415 5752 
Bsurv, Licensed Cadastral Surveyor
Surveying Kaipara since 1994 
CALL CRIMESTOPPERS 
Worried about something that doesn't seem right to 
you? Concerned about activity that could be 
harmful? Call Crimestoppers.  
You don't need to know all the facts.
CALL 0800 555 111 ANONYMOUSLY 
TAONGA  GARDENS 
5km North on State Highway 1 
http://www.taongagardens.org.nz
Thurs, Fri, Sat, Sun 9-5 
Spend $50 and receive 
 a free pair of Bamboo Garden Gloves
Good selection of seedlings available 
Christmas Gifts coming into stock weekly
Ph 09 4312 770 Ana 020 4002 5025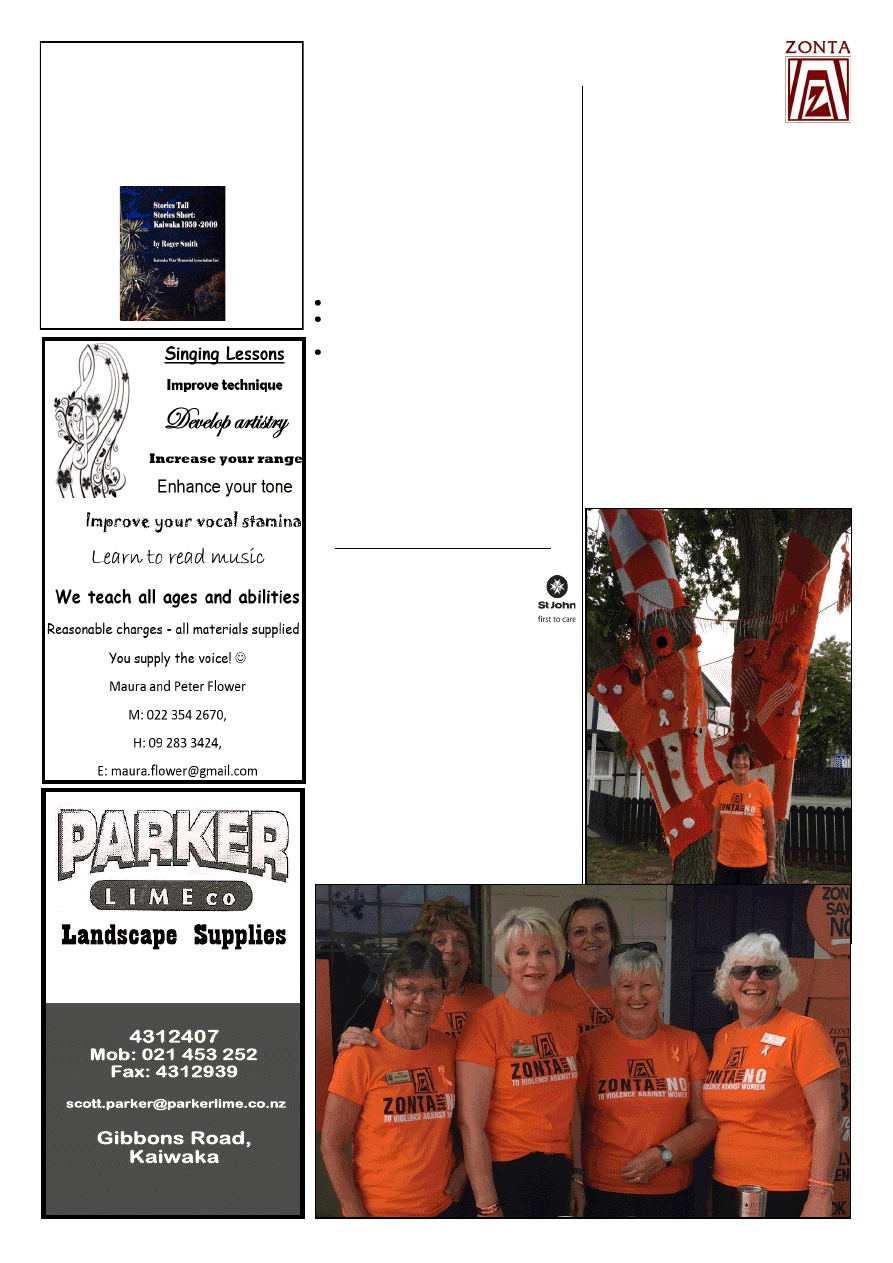 www.kaiwaka.co.nz 
Kaiwaka Bugle - 13 December 2016 
Page 13 
Stories Tall, Stories Short  
Kaiwaka 1959-2009 
by Roger TW Smith.  $40 
Available from  
the Bugle Editors -  
Lindsey 4312 045,  
Wendy 027 480 6275 
Bulk Cartage 
The    Zonta  Club  of 
Mangawhai has been holding 
knitting bees weekly over the 
last 
few 
months 
in 
preparation for their "knit-bomb" of the 
large  oak  tree  located  outside  the  Art 
Gallery in the village. 
On  the  evening  of  Fri  25th  members 
braved  the  rain  and  gathered  to  wrap, 
stitch,  climb,  stretch  and  decorate  the 
tree  to  the  curiosity  of  local  residents. 
The  following  morning  they  hosted, 
along  with  their  life-size  orange 
dolls,    an  advocacy  stall  at  the  village 
market, distributing orange ribbons and 
Zonta  Says  No  bookmarks  with  all 
proceeds  earmarked  for  Women's 
Refuge.  
To continue the 16 days of activism the 
orange  dolls  will  be  providing  static 
displays  in  the  local  library,  museum, 
chemist and op shop, and watch out for 
Zonta  Says  No  messages  with 
appropriate statistics on  the Zonta and 
the  local  Facebook  pages.  The  club  is 
delighted with the visibility and impact 
of their initiative, and the support from 
the local community. 
ZONTA 
KATES  
COMMUNITY  
CENTRE 
Merry  Xmas  to  Our  Community  from 
us at Kates Community Centre. 
Iris  and  I  hope  you  have  an  amazing 
festive season. We would like to thank 
all those have supported us over the last 
few months and thank you to those who 
have trusted us to assist them and have 
allowed us into their lives. 
We  are  available  throughout  the 
holiday  season  if  anyone  has  any 
urgent needs, our hours are as follows: 
Closing lunchtime 23rd December 
Reopening  from  4,  5,  6  January  from 
12-2pm 
Back to normal hours from 9 January 
9am-4pm Monday to Friday 
If  you  require  family  support,  medical 
or have any urgent enquiries please call 
or  text  029  7739085  outside  of  these 
hours. 
Please be kind this Christmas season; if 
you know of someone on their own, or 
a  family  struggling,  a  bit  of  kindness 
and non judgement can go a long way 
to  support  those  people  and  create  a 
more positive community. 
Regards, Kirstie and Iris 
KAIWAKA OP SHOP 
Merry  Christmas  everyone  and 
Happy 
New 
Year. 
We  would  like  to  thank  all  those 
people  who  have  supported  the 
shop  with  their  generous  donations  and 
who  continue  to  support  us  all  the  time. 
To  Paula  and  Greg,  always  supporting 
us, to the girls from Mangawhai Op shop 
when I have needed help...to Ngaire from 
the Mangawhai Memo who advertises for 
us and also our Bugle ....THANK YOU. 
Our  shop  will  close  at  1.30pm  on  24th 
Dec. until 28th Dec. We will close again 
from 1st Jan and open on 4th Jan. 
To my staff, thank you with all my heart 
for being here all the time .. you are my 
backbone. 
Please take care on the road, safe driving, 
be kind to one another and have a Happy 
Time                              . 
~ Milly and staff.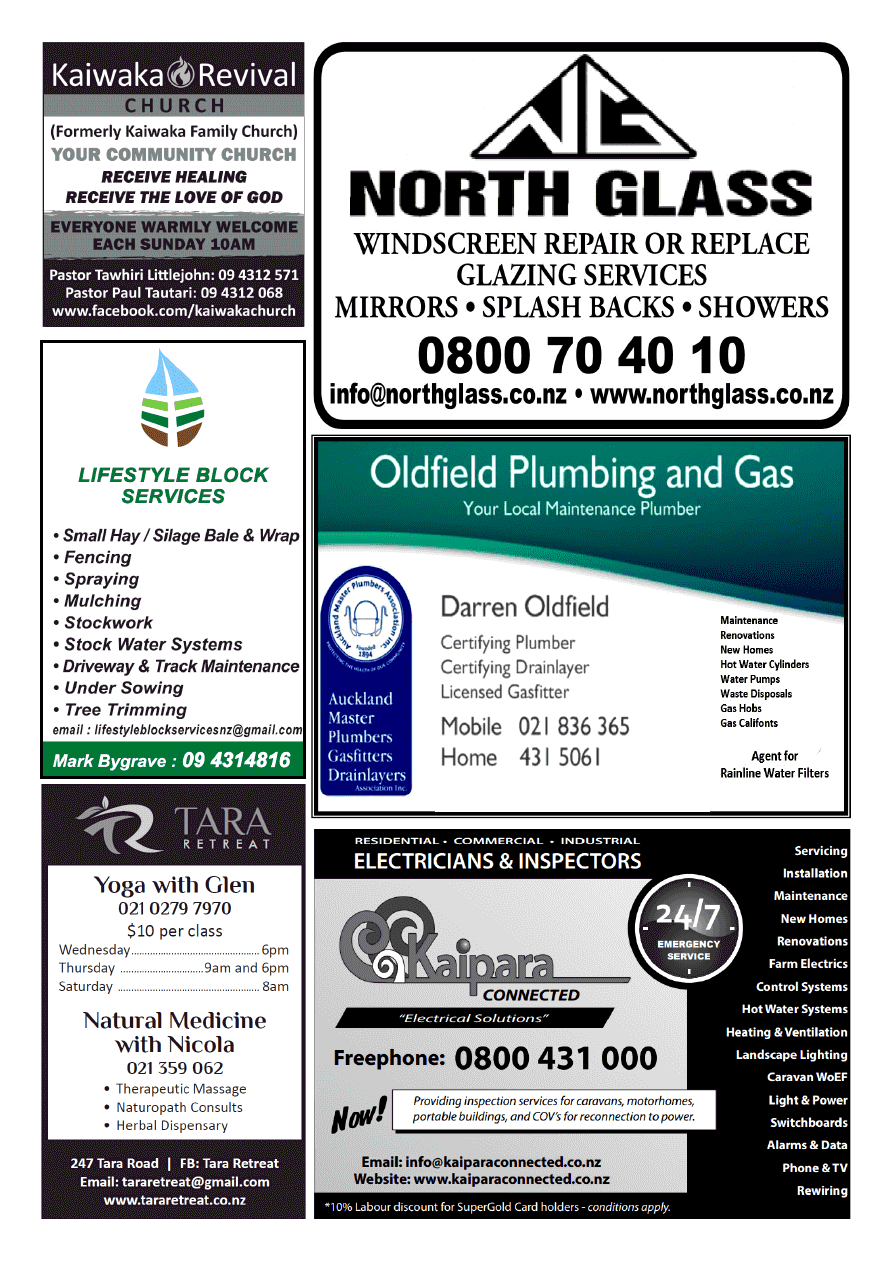 oldfieldplumbing@gmail.com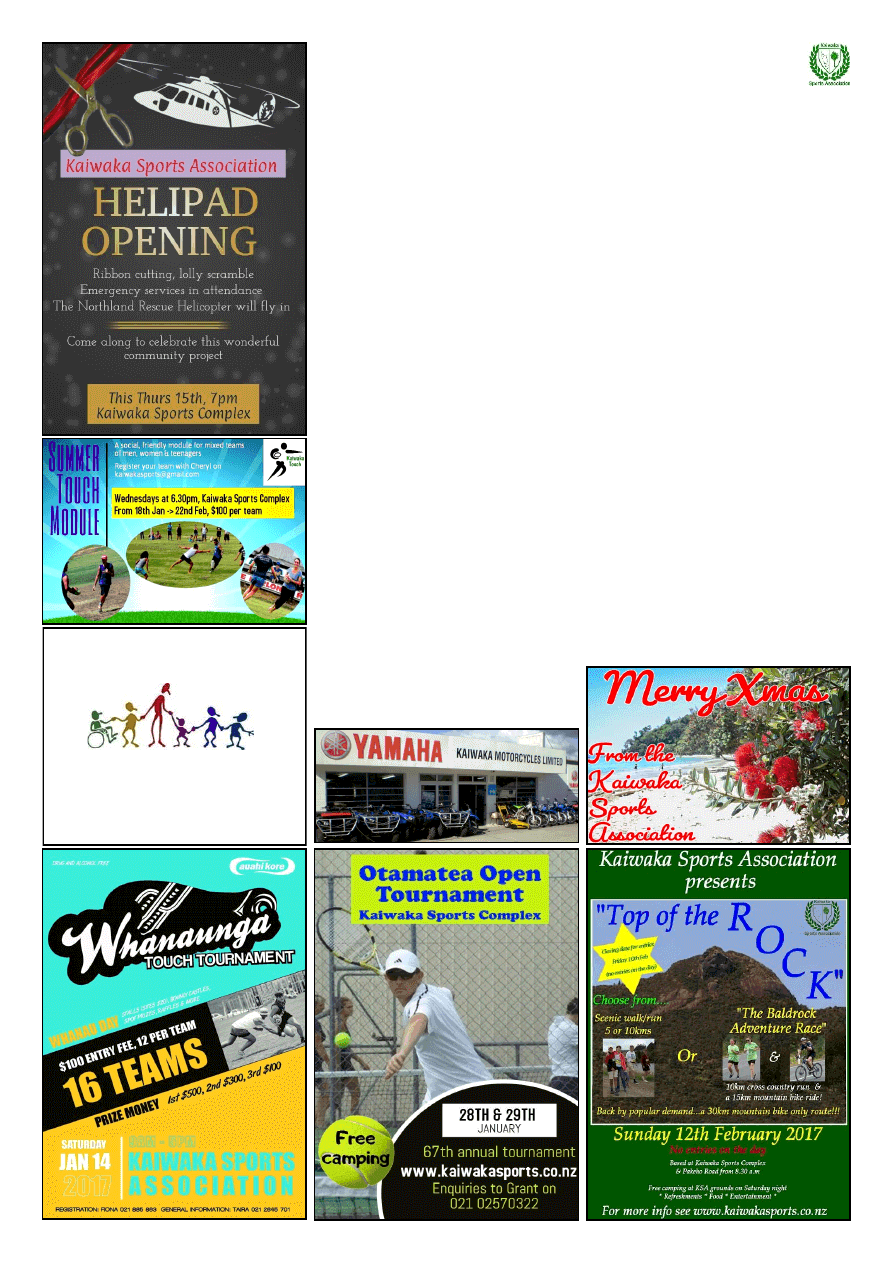 www.kaiwaka.co.nz 
Kaiwaka Bugle - 13 December 2016 
Page 15 
LINKING HANDS INC 
Maungaturoto - Kaiwaka - Mangawhai 
Meeting the needs of the community 
HEALTH SHUTTLE SERVICES 
Ph/fax 09 431 8969 
OFFICE HOURS 
Maungaturoto - Monday to Friday - 
10am to 4pm 
Closed Public Holidays 
KAIWAKA SPORTS ASSOCIATION 
KSA Helipad 
Our helipad and lighting system is now 
finished, so we are holding an Opening 
Ceremony 
this 
Thursday 
15th 
December  at  7pm.  The  Northland 
Rescue Helicopter will fly in, our local 
emergency  services  will  be  in 
attendance,  we'll  cut  the  ribbon  and 
there'll be a lolly scramble for the kids. 
The  helipad  has  been  entirely  funded 
by  the  community's  donations  –  how 
wonderful is that! Please come along to 
show  your  support  for  this  valuable 
community project. 
Otamatea Tennis Tournament 
Our  annual  tennis  tournament  will  be 
held  at  our  courts  over  Anniversary 
Weekend. This tournament attracts top 
quality players from all over Northland 
and Auckland and we also have places 
for  locals  to  compete.  So  dust  off  that 
racquet  and  get  in  some  practice!  For 
any  tournament  enquiries,  please 
contact  Grant  van  Dalsum  on  021 
02570322. 
Whanaunga Touch Tournament 
The 
annual 
Whanaunga 
Touch 
Tournament will be held at our grounds 
on  Saturday  14
th
  January.  Registration 
forms  are  available  at  Jaques  Four 
Square 
or 
email 
Badminton 
Our  Badminton  club  will  continue  to 
hold  their  Club  Nights  on  Tuesdays 
from  7pm,  until  20
th
  December  when 
the  season  will  end  with  a  fun 
Christmas  night.  After  a  break  over 
Christmas and the New Year, they will 
start again on 10
th
 January. 
Kaiwaka Touch Module 
Would you like to play in my Summer 
Touch Module? The Touch  
module  will  be  held  at  the  Sports 
Complex  for  8  weeks  on  Wednesday 
evenings  starting  on  18
th
  January. 
Teams  are  6  a-side  with  at  least  three 
females  on  the field,  double  points  for 
female try-scorers. You can have up to 
14  players  in  your  team,  team  fee  is 
$100.  This  is  a  casual,  friendly 
competition  for  mixed  teams  of  men, 
women and teenagers. Touch is easy to 
learn  and  just  about  anyone  can  play. 
Why not start getting a team together! 
Top of the Rock 
Our 7
th
 annual multi-sport event Top of 
the  Rock  will  be  held  on  Sunday  12
th
February.  Details  are  in  the  article  in 
Many  thanks  to  Steve  Elliott  from 
Kaiwaka Motorcycles who has donated 
a $650 lawnmower to raffle off for Top 
of  the  Rock  –  we  really  appreciate 
Steve's  support!  You  can  buy  a  ticket 
for  $2  (or  3  for  $5),  contact  me  if 
you're interested. 
Thank you 
Many thanks to all the Kaiwaka Sports 
Association  committee  members  and 
club  committee  members  who  have 
worked  hard  throughout  the  year  to 
provide  sporting  and  recreational 
opportunities for our community. 
On  behalf  of  the  Kaiwaka  Sports 
Association I'd like to wish everyone 
a  Merry  Christmas  and  a  Happy 
New Year.
Cheryl Anderson 4312 051, 027 3462702 
kaiwakasports@gmail.com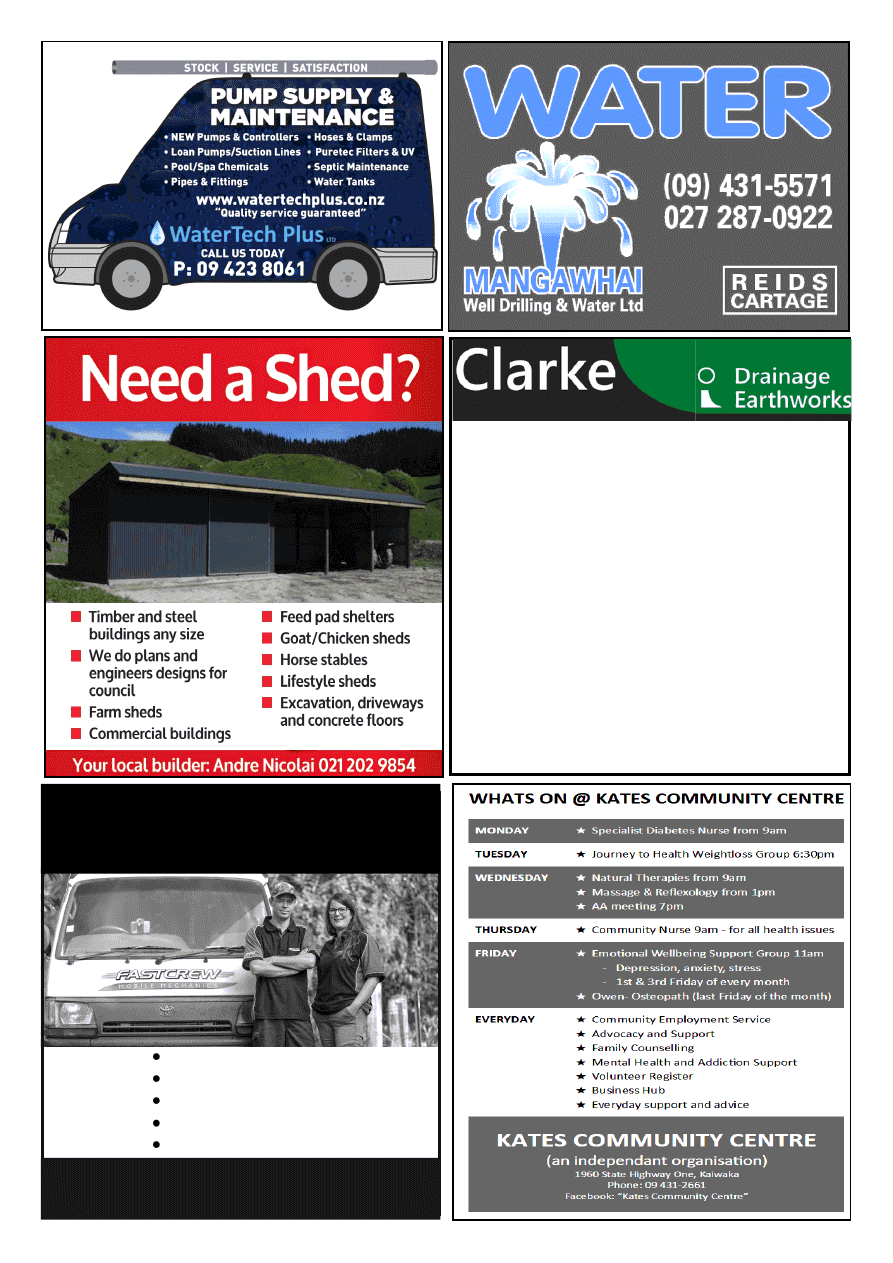 Registered Drainlayer 
All Types of Earthworks  
> All Residential & Commercial Work  > House Sites 
> Septic System Design & Install 
> Footings & Drilling to 10m 
> Sewer Connections 
> Dams 
> Water Tank Installation 
> Roading & Races 
> Farm Work 
THE ONE STOP SHOP  
Phone Nigel for an Obligation Free Quote  
Drainage & Earthmoving 
clarkedrainage@xtra.co.nz 
027 2233 185 
"WE'LL COME TO YOU 
AT AFFORDABLE PRICES" 
Wayne and Leanne 
are 
FAST CREW
, the garage that comes to you. 
Ph:0800 484 327  fastcrewautomotive.co.nz 
Petrol and diesel large or small 
Servicing, cambelts, tune-ups 
Shocks, brakes, batteries 
Transmission servicing, suspension 
Steering and much more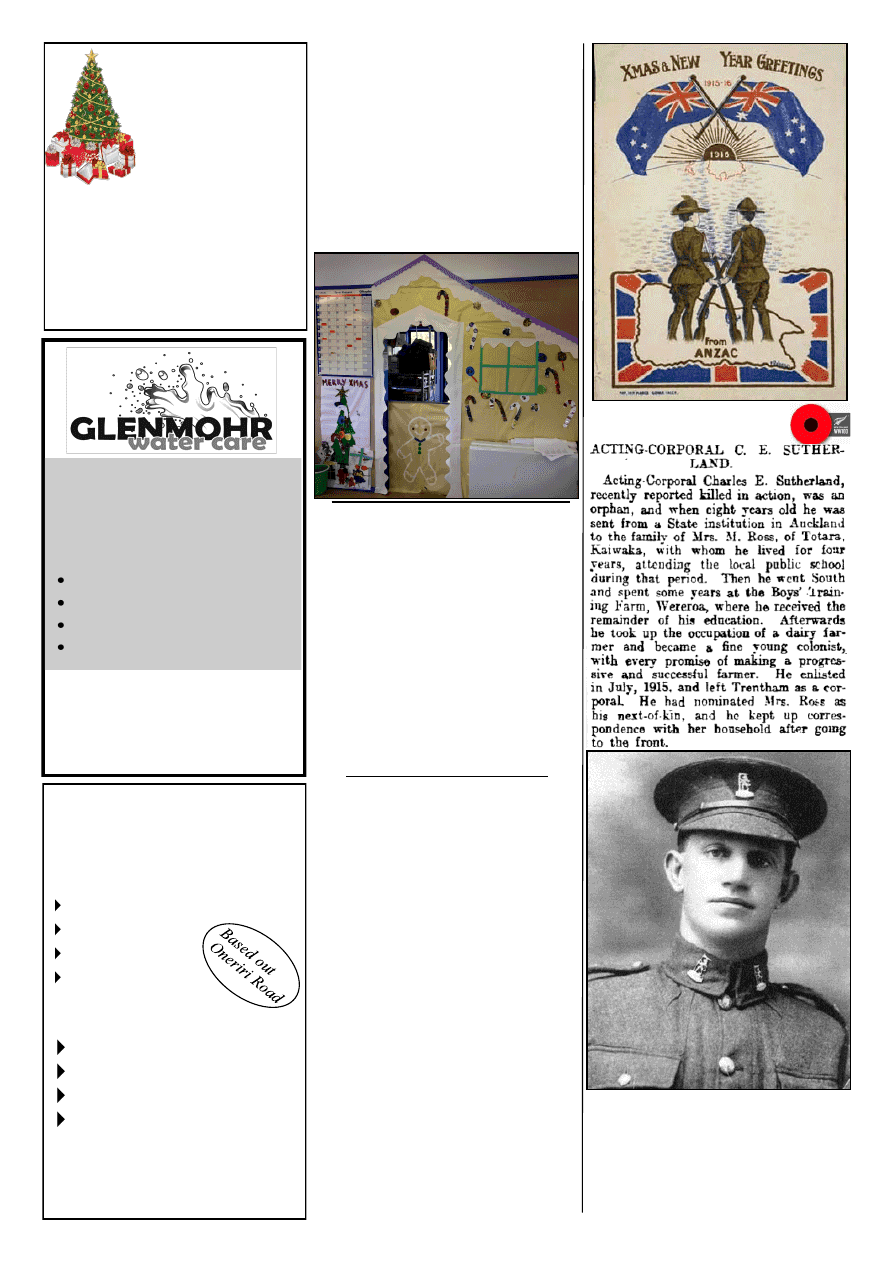 www.kaiwaka.co.nz 
Kaiwaka Bugle - 13 December 2016 
Page 17 
HODGETTS
CONTRACTING
Digger Work  
Driveways 
House Sites  
Dams 
Drains, etc  
Also available 
for HIRE 
3 ton Vib Roller 
Heavy Duty Tow 
Waterblaster  
Lazer Level 
 
Phone Mark 4312877 
027 447 8554
Water Tank  
Cleaning 
Keep your water safe & clean   
Removal of sediment, silt etc 
Vacuum or full scrub 
Minimal water loss 
Phone Mark  
(09) 432 0655  
or 0274 707607 
LEST WE FORGET 
NZ  Herald 15 Dec 1916: 
CHRISTMAS 
GIFTS 
Help to make this 
Christmas special 
for children less 
fortunate  
Please leave gifts at Christ the King 
Church, Molesworth Drive, Mangawhai 
Village between 9 and 11 am, Monday - 
Friday and Sundays.    
Please label your parcels, boy or girl 
and age.  
Gifts will be distributed in the 
Kaiwaka/Mangawhai area. 
Enquiries: Ph Church Office 
09 431 4122 
KAIWAKA 
PLAYCENTRE 
Christmas  fever  has  hit  in  Kaiwaka 
Playcentre!  
We  have  been  making  decorations, 
gingerbread  biscuits  and  all  things 
merry! Bring in the family for some fun 
and learning.  
Open  on  Monday,  Wednesday  and 
Friday 9.00am -12.00, 17 Hastie Lane. 
Keep  up  to  date  with  us  on  our 
Facebook page Kaiwaka Playcentre 
Charles  Edward  Sutherland,  b  1895. 
23/1474  NZ  Rifle  Brigade  First 
Battalion.  Corporal  Sutherland  was  in 
the  Battle  of  the  Somme  and  died  on 
16th November 1916. Killed in action. 
His next of kin his foster mother Mary 
(May)  Ross  nee  Starch,  married  to 
William Ross, of Kaiwaka.   
ABEL TASMAN'S NEW 
ZEALAND CHRISTMAS  
The first celebration of Christmas in New 
Zealand  coincided  with  Abel  Tasman's 
voyage to New Zealand in 1642.  On 20 
December,  his  expedition  reached  the 
Manawatu  coast  of  the  North  Island 
before  crossing  the  entrance  of  Cook 
Strait and anchoring east of Stephens and 
D'Urville  islands.  Here  the  crew 
encountered  what  many  Wellingtonians 
have become used to at Christmas time – 
poor  weather.  While  sheltering  from  a 
storm,  the  Dutch  enjoyed  the  first 
Christmas  dinner  in  New  Zealand  – 
freshly  killed  pork  from  the  ship's 
menagerie  washed  down  with  extra 
rations of wine.
CHRISTMAS BECOMES A 
PUBLIC HOLIDAY  
It's hard for most of us today to imagine 
Christmas Day not being a holiday, but a 
day  off  on  25  December  hasn't  always 
been a legal entitlement. 
Christmas,  like  New  Year  and  Easter, 
came  to  New  Zealand  with  the  earliest 
European  settlers.  At  first  it  was  a 
common-law holiday – a custom but not 
a legal right. In the mid-19th century, 25 
December  (unless  it  was  a  Sunday)  was 
just  another  working  day  for  many 
people  although  some  of  the  provinces 
(such as Otago) made it a holiday. 
Shops 
and 
pubs 
often 
opened. 
Newspapers 
were 
published 
on 
Christmas  Day,  some  of  them  even  into 
the  early  20th  century.  In  some  early 
issues,  Christmas  was  not  even 
mentioned.  The  25  December  1841 
edition  of  the  New  Zealand  Gazette  was 
no  different  from  any  other  issue  of  the 
paper.  
New  Zealand's  first  holiday  law  was  the 
Bank  Holidays  Act  1873,  modelled  on 
British  legislation,  which  confirmed  the 
banks'  existing  practice  of  closing  on  25 
December and certain other holidays.  
~  
nzhistory.govt.nz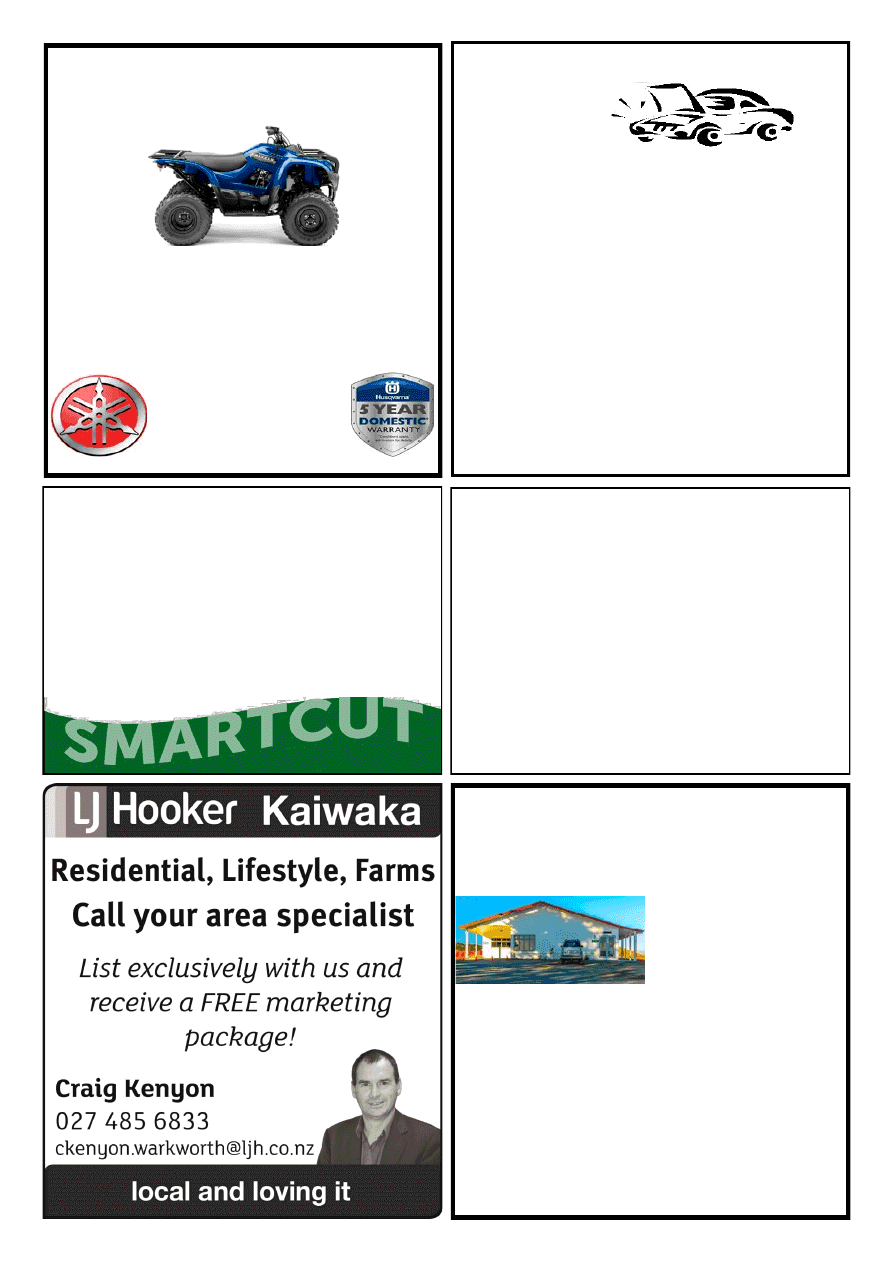 KAIWAKA 
MOTORCYCLES LTD
SALES – SERVICE – SPARES 
FARM BIKE SPECIALIST
PHONE 09 431-2127 
10 KAIWAKA-MANGAWHAI ROAD, KAIWAKA
Trimmers  
from $279
Chainsaws  
from $339
YAMAHA 
HUSQVARNA 
Te Pounga Marae 
130 Nathan Rd. Oneriri. Kaiwaka 0573 
COMPLEX FOR HIRE 
Functions 
* Weddings   *  Birthdays   
*Anniversaries 
* Meetings   * Wananga 
5 hour meeting 
* 12 hour stay   * 
Overnight 
*All welcome - No more Drink-driving 
Amenities: 
*Convo Combi Steamer * Bratt Pan * Dish 
Washer/Sterilizer * 3 Door Glass Chiller (walk in) 
etc…All Crockery * Linen Supplied * Central 
Heating and Air Conditioning and much more.  
Can also cater for small groups…. 
For more information please contact: 
Kim Wallace 
Home: 09 832 1133   Mob: 0211275340 
Email:  kimwallace@xtra.co.nz 
Twinkle Tow 'n' Tyre 
Think you'll get a better deal in the city? 
Ring us - it won't cost anything! 
1837 State Highway 1, Kaiwaka 
Phone 431 2823 
*W.O.F. 
*Tyres 
*Windscreen 
replacement 
*Chip repairs 
*Bulk Oil 
*Batteries 
*Welding 
*Custom built 
trailers 
*Trailer hire
All your outdoor needs sorted so you don't have to... 
I can prune, chop, tidy, spray, mow, plant 
- you name it, I can do it! 
Residential & Commercial 
Lawn & Garden Care 
Call Rodney, your local  
lawnmowing contractor 
021 138 2344 
UP-LINK 
CHRIS WARING 
FREEVIEW INSTALLATIONS 
T.V. - HOME THEATRE & 
HI-FI ADVICE/SET UP 
SKY ACCREDITED INSTALLER 
MOB.0273403747 HM.094312328 
EMAIL cwaring44@gmail.com  
28 YRS EXPERIENCE OFFERING UNBIASED ADVICE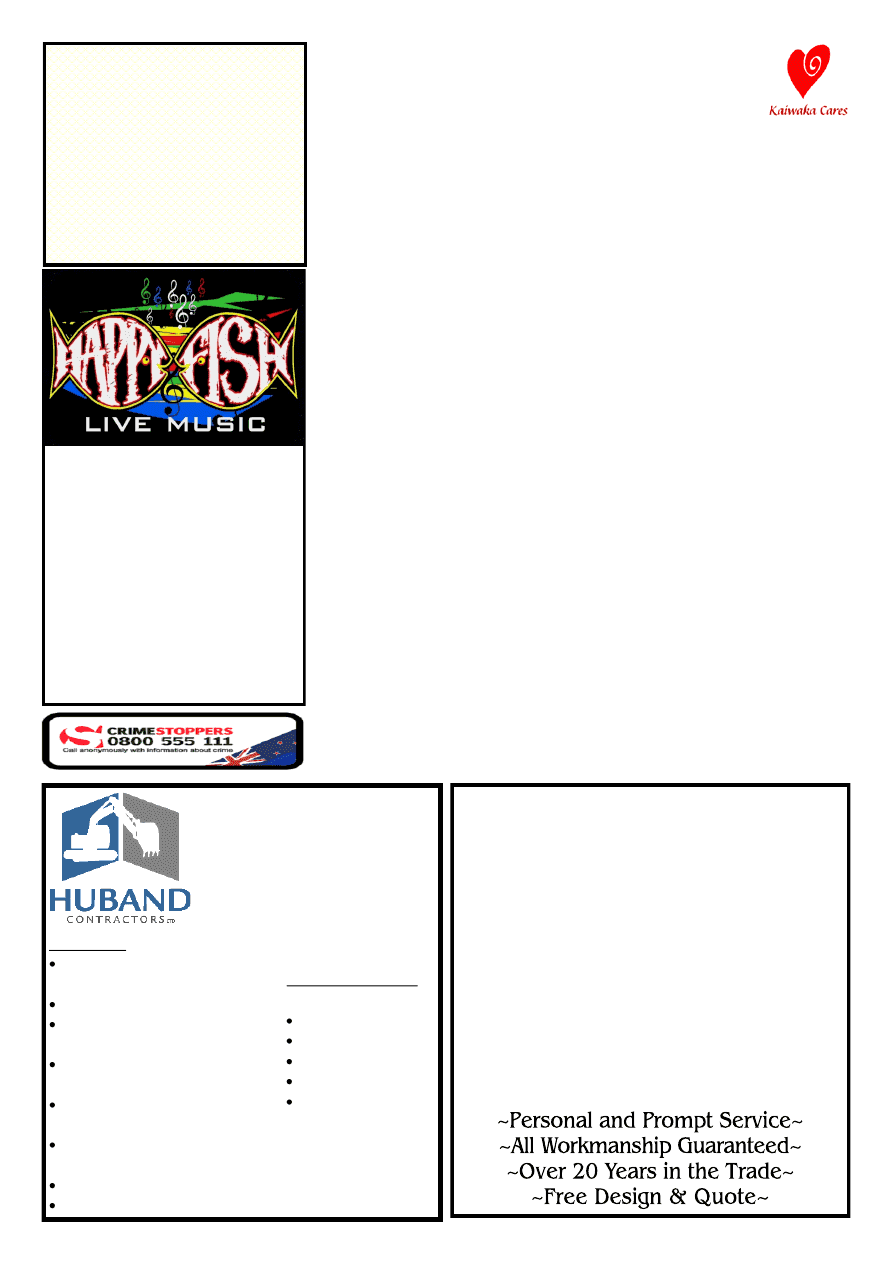 www.kaiwaka.co.nz 
Kaiwaka Bugle - 13 December 2016 
Page 19 
Open Monday-Friday  
8am-5pm 
Saturday 8am-noon 
2088 Paparoa Valley Road 
0800 234449 
We stock:
All gardening and 
landscaping supplies 
All grades of metal 
Fencing and farming 
supplies 
Culverts and water 
irrigation 
PVC, plumbing & drainage 
materials 
Water pumps & water 
tanks 
Septic systems 
Most grades of oils 
We specialise in: 
 
Earthworks 
Roading 
Drainage 
Site works 
Landscaping 
Supplies  
ROCKIN' POPULAR, OLD AND 
NEW PARTY SONGS WITH LOADS 
OF KIWI MUSIC AND A FEW 
ORIGINAL TUNES IN THE MIX. 
AN ELECTRIC DUO FEATURING:  
GORDON JOLL 
(NZ Music Hall of Fame)
ON DRUMS AND SUE JOLL ON 
GUITAR AND VOCALS. 
A BAND FOR ANY OCCASION 
BACKED BY YEARS OF 
EXPERIENCE. 
Contact: Sue 021 623 776 
Email: happyfishband@gmail.com  
Website: www.happyfishband.co.nz 
Counsellor and 
Registered Psychotherapist 
Offers Supervision
Susan Matheson 
MNZAC, RN 
Dip. Psychosynthesis Counselling and Psychotherapy 
Phone 09 431 5997 
Mobile 027 605 2427 
PLANNING A NEW KITCHEN? 
 CONTACT NOEL McDOWELL
WELLSFORD 
KITCHENS
Ph/Fax 094312888
KAIWAKA-Any time
 QUALITY CUSTOM MADE 
KITCHENS
What a Year! 
The  weather  is  heating  up,  which 
means  only  one  thing,  Summer  is 
almost  here.    Here  at  Kaiwaka  Cares 
we know that with Christmas it can be 
a  challenging  time  whatever  your 
situation. 
We  hope  that  you  find  company  in 
others and also are able to navigate this 
time in a way that enables your sanity 
and 
health 
to 
stay 
intact.  
I hope you have lots of enjoyment and 
stay safe over the holiday period. 
Neighbourhood Support 
A  number  of  our  team  are  working 
with  Maria  Paikea  and  Barry  Wallace 
to  help  facilitate  the  setting  up  of  a 
Neighbour  Support  network  here  in 
Kaiwaka.  Because we are a little bit of 
town  and  country  it  is  important  that 
we  all  look  out  for  one  another.    This 
group is continuing to develop and will 
work  closely  with  emergency  service 
groups, civil defence and social support 
groups  to  make  sure  that  whatever  is 
ahead for Kaiwaka that we all make it 
through together. 
The Year as it Was 
This  year  has  been  a  particularly 
turbulent one for our group.  We have 
had a number of changes of volunteers 
as people move on to other journeys in 
their  lives.    The  biggest  challenge  we 
faced  was  the  loss  of  Scott  to  our 
group.    I  can  never  fully  express  how 
amazing  our  community  was  in  their 
support  of  Helen  and  Scott's  family 
and  of  our  team  as  we  journeyed 
through  what  had  occurred.    The 
strength 
and 
love 
within 
our 
community  is  never  more  prevalent 
than when faced with adversity.  Thank 
you will never seem like quite enough. 
As we come to the end of the year we 
are all looking forward to what will be 
for  the  new  year.    We  have  big  plans 
for  a  number  of  projects 
that  have  been  on  the 
burner  finally  coming  to 
the fore.   
One of the groups that we are working 
more  and  more  with  is  the  Kaiwaka 
Foodbank  with  Aunty  Ma  and  Rau.  
They  are  such  amazing  examples  of 
what one person can do to assist others.  
It  is  a  great  honour  to  be  able  to 
support  them  in  what  they  do  and  we 
look forward to working together more 
in the new year. 
What  do  you  want  for  the  New 
Year? 
We  have  a  number  of  plans  in  the 
pipeline  for  the  New  Year.    Is  there 
anything you are wishing and hoping to 
happen in Kaiwaka.  If so let us know 
either  by  popping  in  to  say  hi  and tell 
us 
or 
email 
Moving into 2017 
In  an  ideal  world  we  would  stay  open 
right  through  the  holiday  season.  
Saying  that,  we  all  have  families  and 
other  commitments  that  need  our 
attention. 
We will be finishing up for the year on 
Friday  16  December  2016  and 
reopening on Monday 9 January 2017.  
If  you  need  us  in  the  meantime  for 
anything 
please 
email 
caring4kaiwaka@gmail.com  as  I  will 
be checking it a couple of times a day 
to deal with anything urgent that comes 
up. 
On behalf of Beth Stone, Helen Marsh 
and  myself  we  wish  you  and  your 
whanau  the  very  best  of  joy,  love  and 
laughter  over  the  coming  weeks.    We 
hope  you  have  a  time  of  togetherness 
and  love  and  of  course  peace.    Please 
keep  safe  as  we  want  to  see  each  and 
every one of you in the New Year. 
~Janine Boult, Chair 
KAIWAKA CARES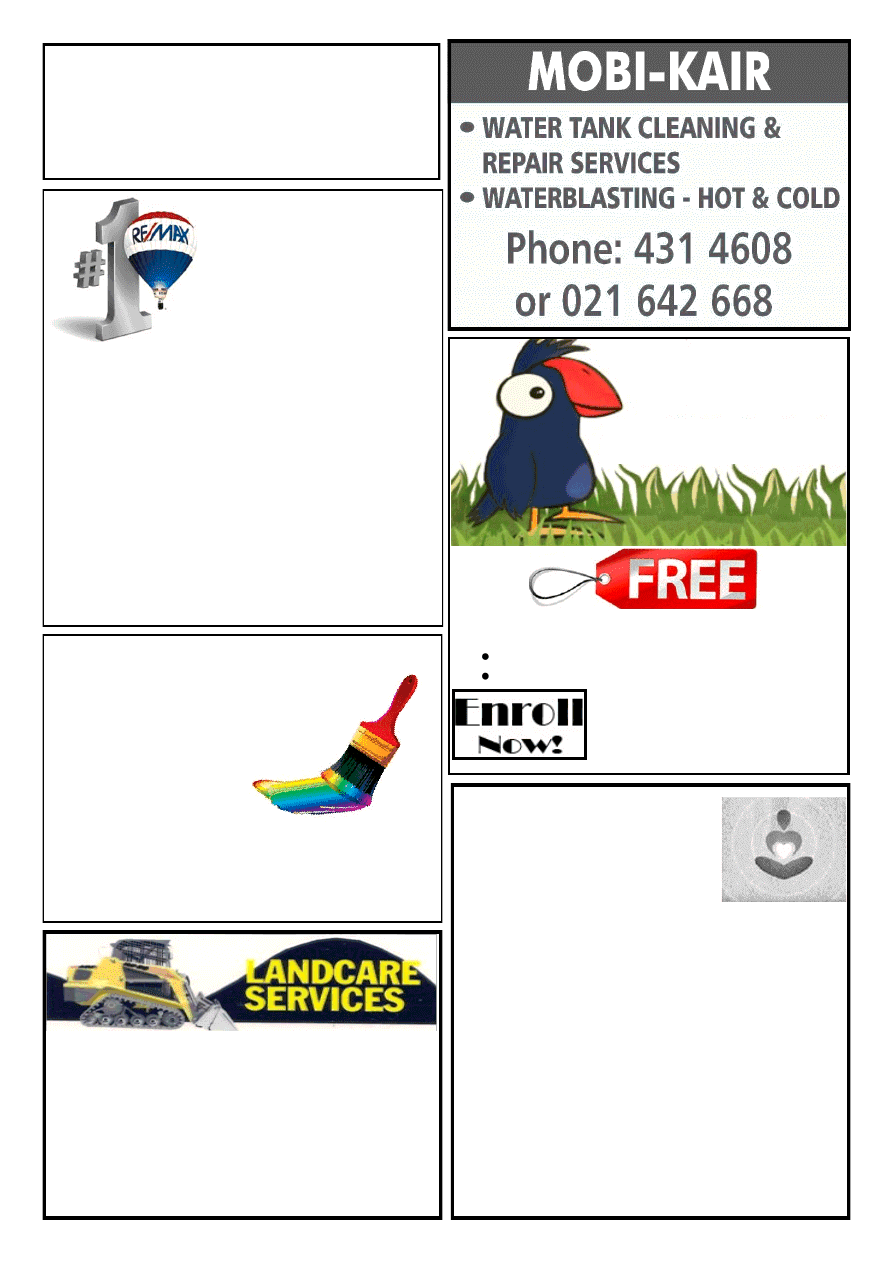 LANDSCAPING 
4 IN 1 BUCKET 
TRENCHER 
POLE HOLES 
ROTARY HOE 
COMPACT ROLLER 
OFFAL HOLES 
CAN SUPPLY WOODCHIP & POST PEEL 
5 TON TIPPER 
FOR RELIABLE AND FRIENDLY SERVICE CONTACT DAVE 
Dave Hyndman 
 
KAIWAKA 
PH: 09 4312302 
MOB: 021 431 238 
09 4312918 
0274735171 
leecooper@xtra.co.nz 
LEE COOPER PAINTERS 
(Kaiwaka Based) 
*30 yrs Experience 
*Interior/Exterior 
*New and Restoration 
*Honest and Reliable 
*Free Quotes 
There are more people 
wanting to buy than 
there are houses 
available!
Vacant land, home and income, DIY dream … 
whatever your property's condition there is a buyer 
out there waiting to give you their money. 
Get your local agent's appraisal of your property to 
find out what's it's really worth. 
Contact Beth Stone today! 
Mob: 0274 937 801 
Email: beths@remaxrealty.net.nz 
RE/MAX Realty Group MREINZ 
Northern Properties Limited 
Licensed REAA 2008 
 LEABOURNS 
Passenger Service
Car & Van Hire, Bus & Coach Charters, Airport 
Transfers, Monthly Shopper Bus 
Phone 09 4237416 
Musculoskeletal, chronic pain, women's health, infertility, 
pregnancy, general wellbeing, stress, anxiety, headaches, 
depression, insomnia, respiratory, gastrointestinal,  
cosmetic acupuncture and much more.
Certified in kinesio taping.
For more information about treatments please 
visit our website or contact Lara: 
3 Cove Rd Waipu, Northland 
Tel: 0221 557811 or 09 432 1325 
Email: info@acubalance.co.nz 
www.acubalance.co.nz
Acupuncture treatments provided at Waipu Natural Health 
AcuBalance 
Lara Tremain
Registered Acupuncturist and 
ACC Treatment Provider 
for children over 3 
Day care for children from 0 to 5 yrs old 
After school care for children over 5yrs old
 
Phone: 09 431 2842 
Email: smallpukekos@gmail.com 
Address: 8 Kaiwaka-Mangawhai Rd 
Website: www.smallpukekos.co.nz 
Small Pukeko's 
Early Learning Centre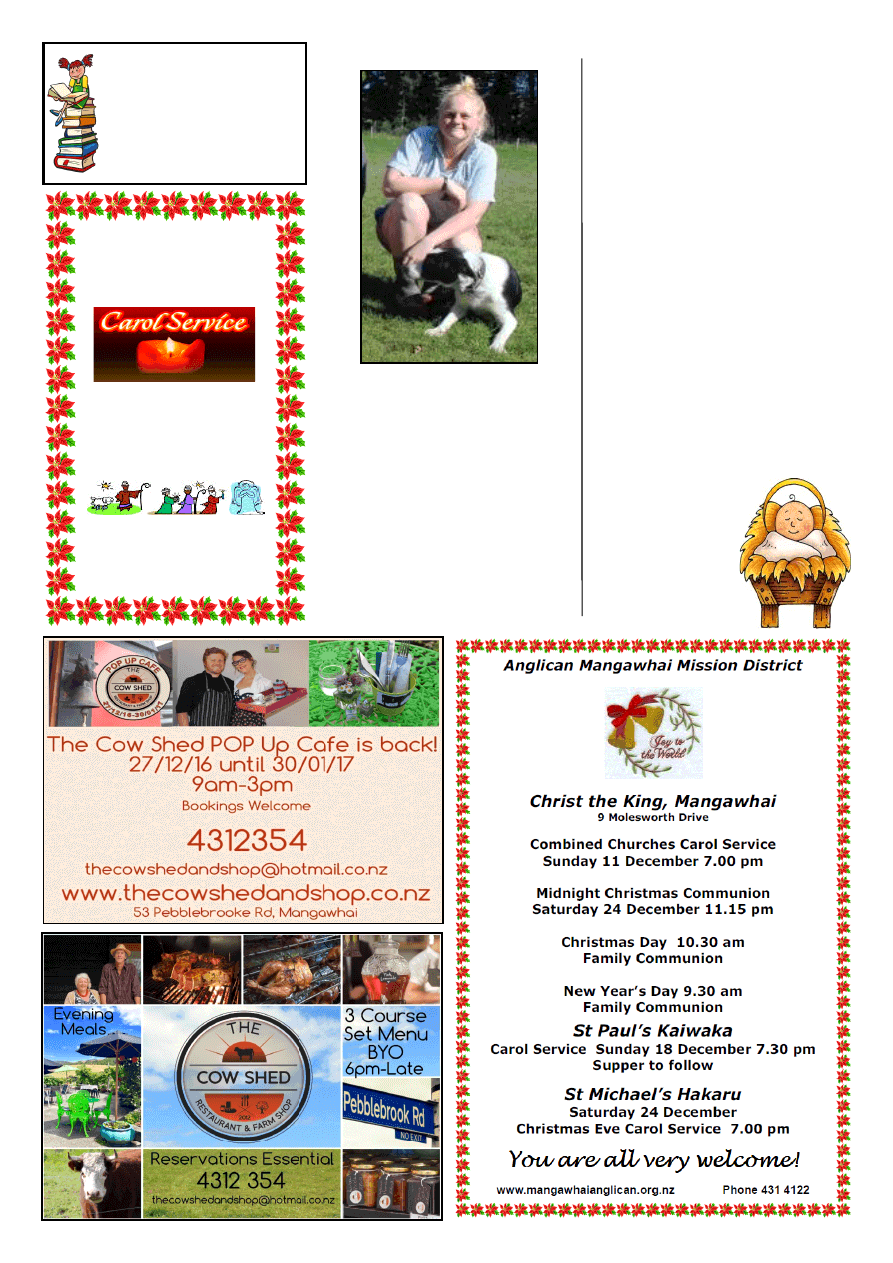 www.kaiwaka.co.nz 
Kaiwaka Bugle - 13 December 2016 
Page 21 
CONGRATULATIONS 
Bayley  Coates, Maungaturoto,  has just 
completed  two  years  of  training  at 
Telford. Bayley, pictured here with one 
of  her  dogs,  won  the  best  overall 
diploma  student  award  plus  best 
financial skills award  - well done. She 
will continue her farming career in the 
South Island. 
The  Telford  campus  of  Lincoln 
University  is  located  6km  from 
Balclutha  in  South  Otago  and  is  home 
to  120 residential  students  undertaking 
certificates  and  diplomas  in  practical 
land-based  subjects  –  agriculture, 
equine,  and  rural  veterinary  technician 
skills.  
Anglican Mangawhai 
Mission District
St Paul's Church 
Kaiwaka
Sunday 18 
December 7.30 pm  
Supper to follow 
You are all very 
welcome! 
Christmas Service 9am Christmas Day 
And Christmas Service  
At 9am on Christmas Day 
CHRISTMAS SMILE       
One  Christmas  a  big  department  store 
posted this sign: 'The Value of a Smile: 
it  costs  nothing,  but  creates  much.  It 
enriches those who receive it, without 
impoverishing  those  who  give  it.  It 
happens in a flash, and the memory of 
it sometimes lasts forever. None are so 
rich that they can get along without it, 
and  none  so  poor  but  are richer  for its 
benefits.  It  creates  happiness  in  the 
home,  fosters  good  will  in  business, 
and  is  the  countersign  of  friends.  It  is 
rest  to  the  weary,  daylight  to  the 
discouraged,  sunshine  to  the  sad,  and 
nature's best antidote for trouble. Yet it 
cannot be bought, begged, borrowed, or 
stolen, for it is no earthly good until it 
is given away. 
And  if  in  the  last  minute  rush  of 
Christmas  buying  some  of  our 
salespeople should be too tired to give 
you  a  smile,  may  we  ask  you  to  leave 
one of yours. For nobody needs a smile 
so much as those who have none left to 
give!' 
Start  a  chain  reaction  this  Christmas! 
Walk  round  around 
with  a  smile  on  your 
face  and  see  what 
happens. 
"I  smiled  on  them  … 
my  cheerful  face  gave 
them  comfort"  Job 
29:24 
Ref. Word for Today    
Kaiwaka Library 
Used Book Sale 
$1 each, 3 for $2 or 10 for $5 
NEW SELECTION OF 
BOOKS!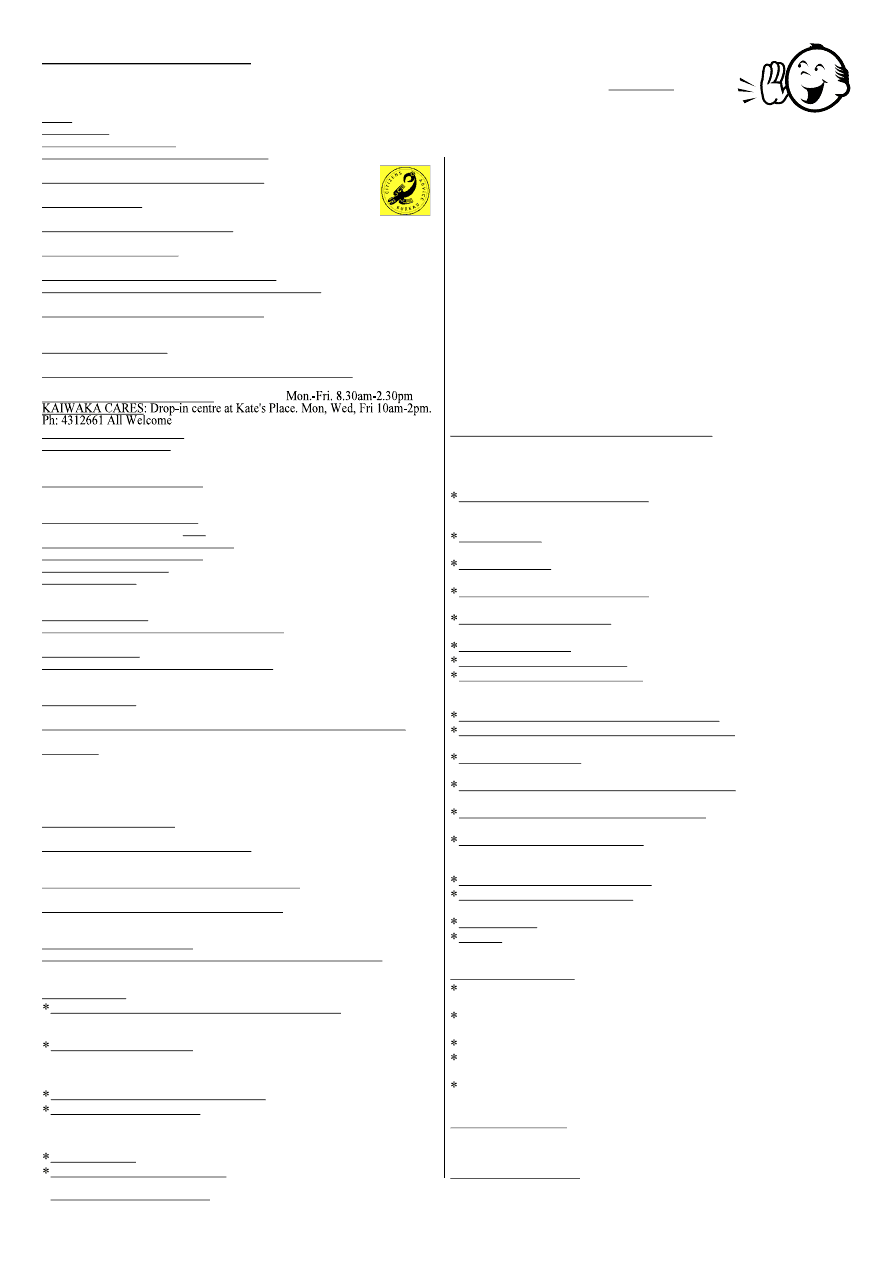 Next Bugle Deadline midday Friday 20 January 2017
LOCAL SERVICES 
*Emergencies - Ambulance, Fire, Police - dial 111 
*Non-urgent Police phone 09 4311150
A A: Meets Wed., 8pm Kaiwaka Ph: 4312228, 4315543, 0800229 6757 
AL ANON: In recess, contact Ph: 4312228 
ASUREQUALITY LTD (was AgriQuality) Call Free 0508 0011 22  
BUDGETING SERVICE, WELLSFORD: Free confidential advice & 
support for all areas of personal finance. Ph (09) 423 7123 
CAB-Citizens Advice Bureau.Wellsford Ph: 4237333 
0800 367 222 email:cab.wells@xtra.co.nz  
CIVIL DEFENCE - Kaiwaka Community Response Group: 
kaiwaka.civildefencecrg@gmail.com, 4312725 Wendy 
DOG/STOCK /NOISE CONTROL 0800 105 890 
FUNERAL SERVICES: Morris & Morris Ltd, 
Whangarei - Bev Jaques Ph:4312367 or 0800667747 
GRANDPARENTS Raising Grandchildren: Dianah Roberts 0223819539 
HAKARU & DISTRICTS MEMORIAL RSA (Inc) 733 Settlement Rd, 
Hakaru. Ph 4312 176 or Graeme Hitchcock (President) 431 3064 
HAKARU LANDFILL/Transfer Station:Open everyday except 
Tuesday10am-4pm.Ph4312629 Cost-$55 trailer load up to 1 cubic metre. 
Ph:4258567 - office 
INLAND REVENUE: Last Friday each month, 11-3pm Ph4312661 
KAIPARA DISTRICT COUNCIL www.kaipara.govt.nz:  
Help Desk FREEPHONE 0800 727 059  
KAIWAKA KOHANGA REO: Ph:4312620 
KAIWAKA CEMETERY: Ph: 4312045 
KAIWAKA LIBRARY: kaiwaka.library@gmail.com  
Mon. 4-6pm; Wed., Thurs., Fri., Sat. 10am-2pm Ph:4312539 
KAIWAKA PLAYCENTRE: Ph Juanita 0274134904; open Mon, Wed, 
Fri 9am-12pm. Hastie Lane 
Monday to Friday 9.00am - 12 noon. 
KAIWAKA POST OFFICE:Ph:4312 431  
Post Code: 0573 for RD2 and 0542 for all Kaiwaka Post Office mail 
KAIWAKA PRIMARY SCHOOL: Ph: 4312309   
KAIWAKA SPORTS ASSN: Ph 4312005; 4312129 gym 
KAIWAKA ST JOHN: Manager Steve Rosser 09 4318403, 021 2316836 
KATE'S PLACE Community Centre - Employment services, Free Health 
Nurse, Advocacy, Osteopath, A.A., Legal Advice. 4312 661 
LINKING HANDS Health Shuttle Ph 4314121 or 09 4318969 
MINISTRY FOR PRIMARY INDUSTRIES - General inquiries Call 
Free 0800 008 333 
NORTHPOWER: Faults Kaiwaka area 0800 104040 
OTAMATEA COMMUNITY SERVICES: Counselling, parent coach, 
Family Support worker, budget advice, food bank. Mon-Fri 9am-30m. Ph 
09 431 9080 http://www.otamateacs.org/ 
PARENTPORT: Free, practical family support service Puhoi to Paparoa 
Ph or txt: Dianne 027 2085093 
PERSONAL DEVELOPMENT COACHING, GROUP FACILITATION:  
Sabine Druckler 4312231 
PLUNKET: Kaiwaka - Kaiwaka War Memorial Hall: Clinic 1st Wednesday of the 
month; Coffee Group at 9:30. Mangawhai  - Rose Madsen Cottage, Mangawhai 
Domain,  Moir  St:  Clinic  1st  and  3rd  Monday  of  month;  Young  Babies  Coffee 
Group  2nd  and  4th  Monday  10  am;  Plunket  Playgroup  every  Thursday. 
Maungaturoto - Maungaturoto Congregational Church, 100 Hurndall Street East: 
Plunket clinic 2nd and 4th Wednesday. Cynthia 09 431 8187 or 027 675 3488 
PLUNKET HELPLINE -0800 933 922 (24 hours) 
TAITOKERAU COMMUNITY LAW: Free confidential legal advice and 
assistance, 2nd
Thursday
 of each month. Ph: 0800 155 529 for 
appointments.  
TE KOROWAI AROHA O NGATIWHATUA Ph: 4312675 
(The Cloak of Love of Ngatiwhatua) Support and Maori Consultancy.  
VETERINARY SERVICE MANGAWHAI: 
Ph: 4314535 Mon-Fri 8.00-5.00, Sat 9-12, a/h appt. 
WELLSFORD DOCTORS: Ph: 4238 086 
WOMEN'S WELFARE LEAGUE & Reaching Out For Youth:  
4 Kaiwaka-Mangawhai Rd, M Morgan 4312293 
CHURCHES:
Kaiwaka Revival Church - Your Community Church: Sundays 10am & 
6pm. Ph: Pastor Tawhiri 09 4312 571 or Pastor Paul 09 4312 068 Visit 
us at www.facebook.com/kaiwakachurch 
St Paul's Anglican Church 1st Sun. 9.30 am (Eucharist), 3rd Sun. 9.30 
am (Family Service). Contacts: Church Office 09 431 4122; M. 
Hargreaves 431 2295; C. Bygrave 431 2057; or Rev. Wayne Thornton 
Ph 431 5650 www.mangawhaianglican.org.nz 
Church of Christ the King, Mangawhai:9.30am every Sunday 
St.Mary's Catholic Church: Maungaturoto – Griffins Road, Saturday 
evening Vigil Mass 6pm; Mangawhai – Senior Citizens Hall, Sunday 
Mass 8:30am; Wellsford – Matheson Road, Sunday Mass 10:30am;  
Mid-week Mass times and all enquires to Fr. Bill Fletcher – phone 423 8170
Baptist Church: Sun. 10.30am Mangawhai Snr Cit.Hall.Ph:4312339 
Cause Way Church Mangawhai: Sundays 10.15am, Mangawhai 
Community Recreation Centre, Insley St. Ph: 09 4314782 
WHAT'S ON
PLEASE ~ do let us know what is on - email 
kaiwakabugle@kaiwaka.co.nz 
Advertising in WHAT'S ON is FREE  
*15Dec~Helipad Opening, 7pm KSA 
*18Dec~Christmas Carols, 7:30pm St Pauls Kaiwaka 
*23Dec~Give Back Community Food Bank Fundraiser, 6pm 
3 Furlongs Bar & Grill 
*24Dec~Christmas Eve Carol Service, 7pm St Michael's Hakaru 
*25Dec~Christmas Service, 9am St Paul's Kaiwaka 
*8Jan~Ice Age Collision Course, 2pm KWMH 
*14Jan~Whanaunga Touch tournament, KSA 
*14Jan~Pt Curtis Cruising Club picnic, 12pm Rangiora boat ramp 
*15Jan~Pete's Dragon, 2pm KWMH 
*18Jan~Summer Touch Module starts, 6:30pm KSA 
*22Jan~The Secret Life of Pets, 2pm KWMH 
*27Jan~Bridget Jones's Baby, 7:30pm KWMH 
*28-29Jan~Otamatea Open Tennis Tournament, KSA 
*31Jan~School starts (check with your school for details) 
*4Feb~Paparoa A&P Show 
KWMH=Kaiwaka War Memorial Hall 
KSA=Kaiwaka Sports Association Complex 
OHS=Otamatea High School 
See www.kaiwaka.co.nz for more information 
HOUSEHOLD RUBBISH COLLECTION - Kaiwaka Pick up: 
Mondays = Gr een bags (Northland Waste - 09 430 3273) 
Wednesdays  = Blue bags and yellow recycling (at Jaques $3.00 
and $1.50) (Kaurilands 09 4392146) 
 DIABETES  Support  Group  -for  Kaiwaka,  Mangawhai, 
Wellsford  10am,  3rd  Friday  of  month  Ph:A.Pert  4238242; 
J.Gardner 4238060 
 DRINK CAN 'tear tabs' - for Starship Hospital- please collect - 
98 Kaiwaka Mangawhai Rd, leave in mailbox, Ph. 4312625  
 GENEALOGY - Wellsford: 1st Thursday in month Ph: 423 
7033; Waipu: 4th Monday in month Ph: 4312 725 
 GYMNASTICS  OTAMATEA  -  Tuesday  Ph:  Stephanie  022 
3624998 
 HAKARU PONY CLUB - Secretary Denise Rogers 021423376 
secretary@hakaruponyclub.co.nz  
 KAIPARA HUNT - Secretary Albert Doonenbal Ph 4312059 
 KAIWAKA BADMINTON -Tuesdays 7.30pm Ph: 4312345 
 KAIWAKA  DRAMA  CLUB  -  Dave  Edwards  021  611198  - 
KaiwakaDrama@gmail.com Monday 5:30-7:00pm KWMH - FB 
- "KaiwakaDramaClub" 
 KAIWAKA DRUM & DANCE CLASSES - 021 611198 
 KAIWAKA GARDEN & FLORAL GROUP - 2nd Thursday in 
month. Ph: 431 4767 
 KAIWAKA  CUBS  -  Thursdays  5.30-7pm,  Hakaru  Ph:Bruce 
4312542 
 KNITTING FOR WHANGAREI HOSPITAL - 2nd Tuesday in 
month, Apple Basket 10am Ph 4314827 
 MANGAWHAI COMBINED PROBUS CLUB - 2pm, 3rd 
Thursday month, Senior Citizens Hall Mangawhai. Ph: 4315777 
 OTAMATEA GREY POWER - Kath Pattinson 09 283 2052, 
1pm last Wednesday of month, Anglican Church Hall, 
Maungaturoto 
 PT CURTIS CRUISING CLUB - Jean Ph: 4312227 (wk), 4312520 (hm) 
 RSA,Hakaru & Dist.Women - meet 1.30pm 4th Thurs in month 
Ph: 4314 668  
 TRAMPING - Mondays 9am-2:30pm Maria 4312 234 
 YOGA  -  Tuesdays  6:15pm,  Friday  8:30am  KWMH  Carla  Ph: 
021 296 8794 
HALLS FOR HIRE: 
 St.Pauls Archie Bull Hall HIRE $20 half day, $40 full day per 
hire, R. Morgans, Ph 4312365 
 Kaiwaka  War  Memorial  Hall  HlRE  -  Phone  4312725  or 
kaiwaka.hall.bookings@gmail.com 
 Hakaru Community Hall HIRE -Ph. 4312256 or 4312110 
 Te Pounga Marae queries - R. O'Leary 4312 423, J.Nathan 021 
186 7382 
 Kaiwaka Sports Association hire/queries - C. Anderson 4312051 
or kaiwakasports@gmail.com 
Justice  of  Peace:  B.FJaques;  L.Donaldson;  A.F.Hargreaves, 
W.Howard  -  please  phone  to  make  sure  they  are  available 
www.justiceofthepeace.org.nz 
Marriage  Celebrants:  L.Donaldson;  A.F.Hargreaves;  C.Rosseels, 
Y Osborne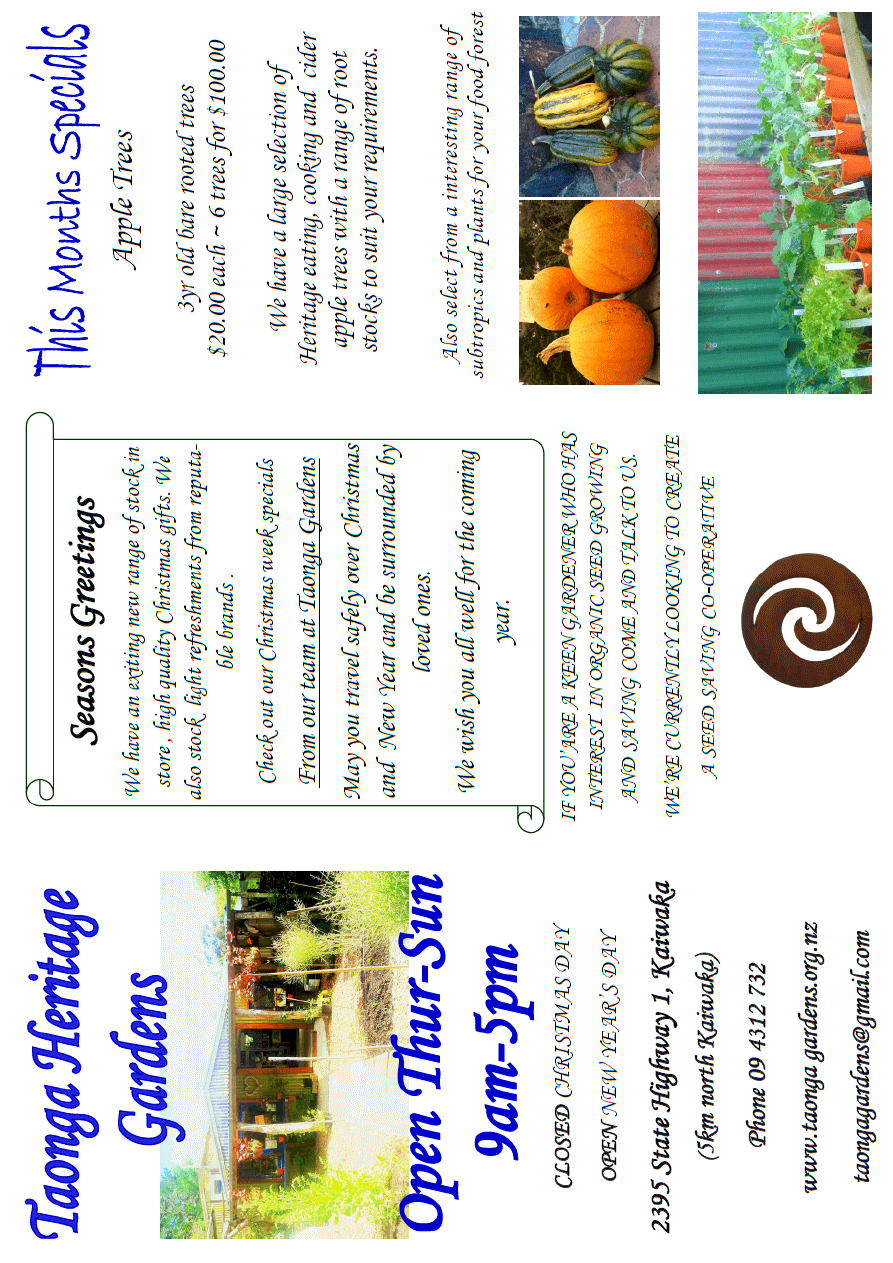 www.kaiwaka.co.nz 
Kaiwaka Bugle - 13 December 2016 
Page 23