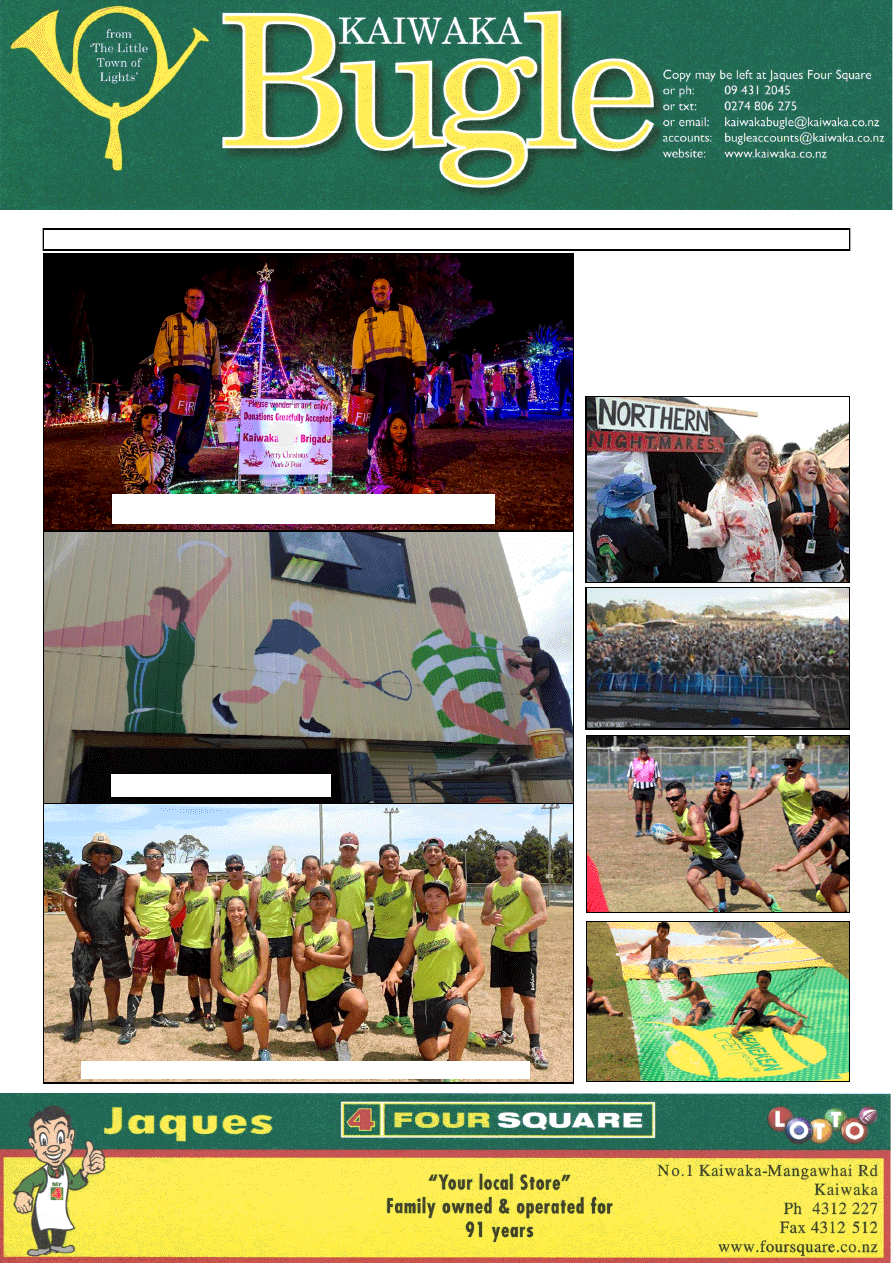 www.kaiwaka.co.nz 
Kaiwaka Bugle - 24 January 2017 
Page 1 
No: 01 
24 January 2017 
Summer Trading Hours: 
Monday to Friday 8:00am - 6:30pm 
Saturday 8:00am - 7:00pm 
Sunday & Public Holidays 9:00am - 5:00pm  
Whanaunga winning team Te Kotahitanga Kaipara, coached by Johnston Peters 
Kaiwaka Fire Brigade received $2,910 from Mark and Pam's brilliant  
Christmas lights display. Photo - Ross Setford 
OVER THE 
HOLIDAYS 
Below:  Kaiwaka-Mangawhai  Scouts 
at  Jamboree;  Northern  Bass  crowds 
at  Worsfold's  Farm;  Whanaunga 
Touch Tournament. 
Kaiwaka Sports Assn mural in progress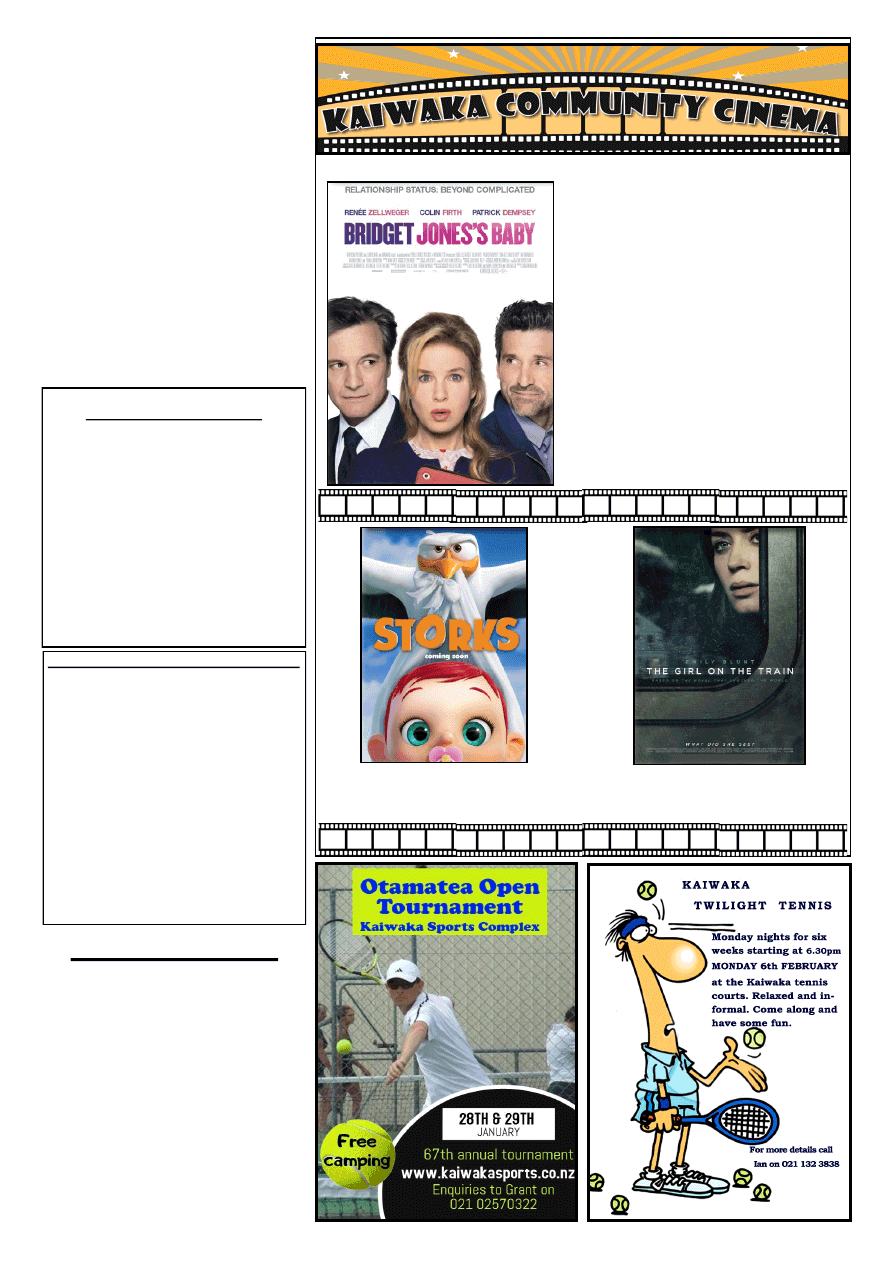 At Kaiwaka War Memorial Hall . Adults $10, Kids (under 16) $5, Family Pass (2 adults + 3 children) $25 
ABOUT TOWN 

Congratulations  to  Brian  &  Gay  Jaques 
on  celebrating  their  60th  wedding 
anniversary recently. 

Congratulations  to  Kay  Baxter,  former 
Kaiwaka  resident,  on  becoming  a  member 
of  the  New  Zealand  Order  of  Merit,  for 
services  to  conservation  and  sustainable 
food  production,  in  the  recent  New  Year 
Honours. 

Disappointing to hear that St John's had 
water stolen from their tank at the Kaiwaka 
station.  Well  done  to  Robin  Dickens  and 
others for coming to the rescue. 

The St John Op Shop in Kaiwaka is now 
being called the Otamatea Op Shop. 

Condolences  to  the  family  of  Bill 
Worsfold, who passed away last week. 
KAIWAKA BUGLE No. 1 
24 JANUARY 2017 
CONTENTS 
Page 3: Public Notices, Classified 
Page 5: Weather, Pt Curtis, Community 
Garden, Playcentre 
Page 7: Kaiwaka School 
Page 9: Kaiwaka Cares 
Page 11: Kaiwaka/Mangawhai Scouts 
Page 13: Kaiwaka Sports Association 
Page 15: St John, Whanaunga Touch 
Page 17: Kaiwaka Can, Kates 
Community Centre 
Bugle 2 will appear 7 February 
Contact for advertising, reports, articles 
or information can be made by 
Email kaiwakabugle@kaiwaka.co.nz 
Ph: 09 4312 045 (Lindsey) 
Txt: 0274 806 275 (Wendy) 
Copy  may  be  left  at  Jaques'  Four 
Square. 
Kaiwaka Bugle Advertisements 2017: 
All 
copy 
and 
queries 
to: 
kaiwakabugle@kaiwaka.co.nz 
Our A4 page is divided into 6 columns & 8 
rows (48 blocks), with a 1cm margin. 
Ad  sizes:  1/16  page  (3  blocks)  $5;  1/8 
(6 blocks) $8; 3/16 (9 blocks) $12.  
Classified  ads:  $4  per  entry  (max.  30 
words, max. 4 repeats). 
Payments can be made online, posted or 
left at Jaques Four Square Store. 
Accounts:  
Email: bugleaccounts@kaiwaka.co.nz 
The  Kaiwaka  Bugle  is  a  community 
newspaper run by volunteers.   
Articles, etc. printed are not necessarily 
the opinion of the Bugle Team. 
Kaiwaka Bugle 
Founded May 1978 
We appreciate articles and photos about local 
events, etc, as well as ads and suggestions. 
Copies available in Kaiwaka at Jaques Four 
Square, Kaiwaka Postal Centre, Shamrock 
Service Station, Animal Health Centre, 
Kaiwaka St John shop. 
Also outlets in Maungaturoto, 
Mangawhai and Paparoa. 
Can be viewed online at  Facebook or 
www.kaiwaka.co.nz/Bugle  
Or a copy can be posted to you if you supply 
stamped, self-addressed DLE envelopes. 
Bridget Jones's Baby 
Friday 27 January 7:30pm (M)
Bridget's focus on single life and her 
career  is  interrupted  when  she  finds 
herself pregnant, but with one hitch ... 
she  can  only  be  fifty  percent  sure  of 
the identity of her baby's father.  
Starring:  Renee  Zellweger,  Colin 
Firth, 
Patrick 
Dempsey, 
Jim 
Broadbent,  Gemma  Jones,  Shirley 
Henderson, Sally Phillips. 
Storks 
Sunday 29 January 2pm (G) 
The Girl on the Train 
Friday 10 February 7:30pm (M)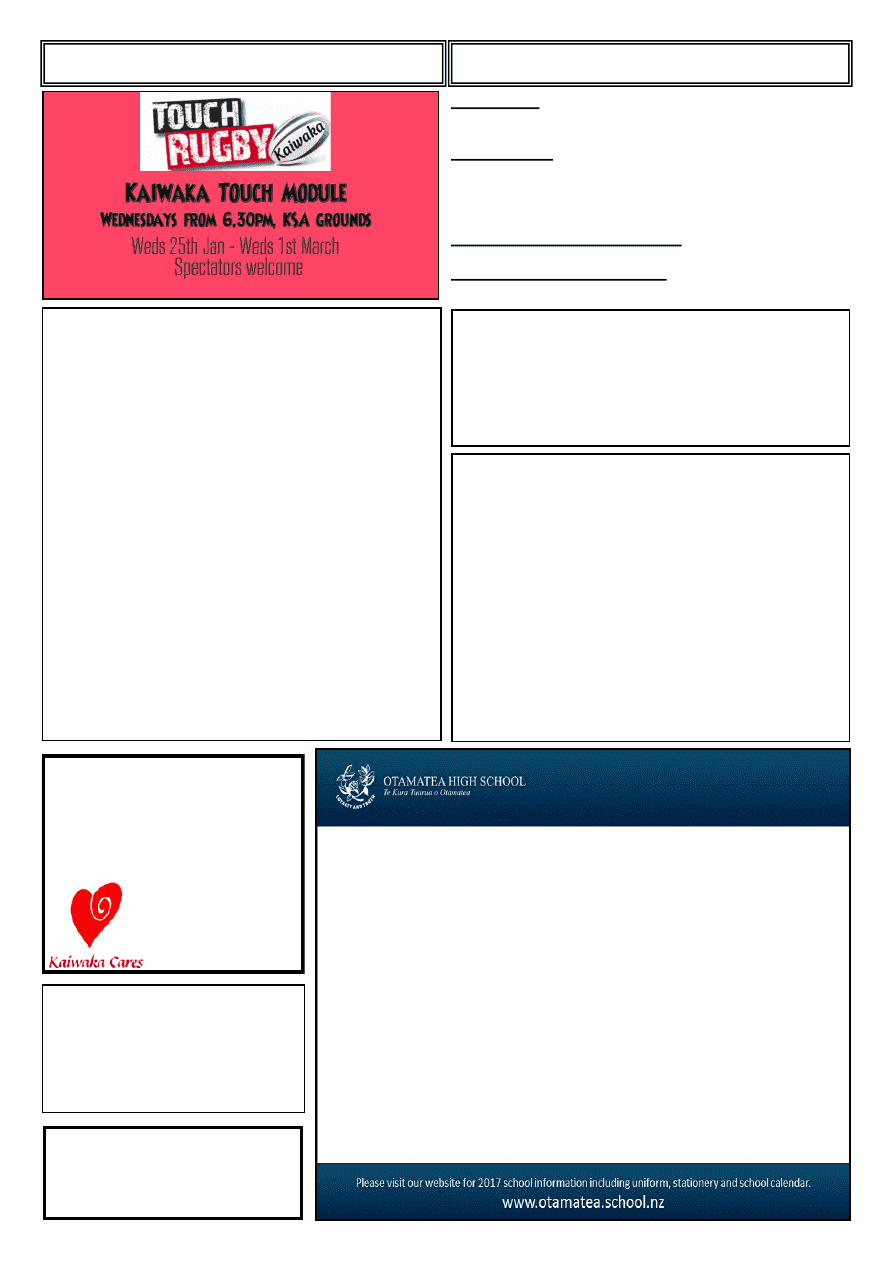 www.kaiwaka.co.nz 
Kaiwaka Bugle - 24 January 2017 
Page 3 
PUBLIC NOTICES 
CLASSIFIED 
TO RENT: Two bedroom cottage to r ent at Oneriri 
with or without 10 acres of grazing, rent negotiable. Ph 
Sue 022 044 5114  
FOR  SALE:  Sheridan  Quick  Dry  Luxury  Robe, 
very  soft  and  luxurious  feel.  Fast-drying,  lightweight 
bath  robe.  Brand  new.  Retails  for  over  $120.  Selling 
for  half  price  at  $60.  Colour:  graphite,  size:  L/XL, 
unisex. Ph: 4312051. 
LEASE  BLOCK  WANTED:  any  size  considered. 
Ph Josi 021 733 305 
THE  SUNSHINE  GIRLS:  Efficient  and  reliable 
help with your housework. Ph 4312 532 
HOUSE CLEANER
available
Ph Sue 027 678 8325 
Community  
Drop-In Centre
Open 10am – 2pm  
Monday - Wednesday - Friday 
WIFI, printing & 
scanning available at 
Kaiwaka's own drop-in 
social space.
SOLARISE YOUR HOME… 
...SOLARISE YOUR HOME
We are specialists in Solar Energy and invite you to 
our Positive Energy House for:
Workshop: Solar Hot Water 
state-of-the-art demonstration!
We design and install European state-of-the-art solar systems with 
certified performance and proven lifespan of 30 years. An advanced 
Solar Hot Water system delivers you free hot water with more comfort 
all year long. In our workshops we introduce you to all the knowledge 
you need to make the right decision on solar energy for your home. 
Quality of materials, solar concepts, performance, freezing, overheating 
and back-up heating options are all covered and demonstrated.
A reliable solar hot water systems can save you 
70% on the hot water bill.
We will demonstrate the latest state-of-the-art solar systems and 
will explain how to maximize your savings.
114 Vista Lane, Kaiwaka 0573 
Workshop : 25 February 2017 at 9:30-10am  
Cost: FREE 
…yes some things in life are for free or just for fun  
Bookings essential so give us a call or email!
ericjansseune1957@gmail.com 
(09) 431 24 08 
021 022 31 700 
www.ewatec-global.com 
EWA-TEC Ltd. for Energy Water 
 Air Technologies  
SITUATION VACANT
Jenny's Rural 
Cleaning Services
P.O .Box 87, Kaiwaka
Looking for a Part-time worker that can do 15 hours 
or more a week. Must be flexible. Must have clean 
drivers' license and be trustworthy and be able to 
work in a team.
Please send your C.V to jennychellew@hotmail.com 
or to the above address, 
or phone 431 2826 after 7pm. 
IMPORTANT DATES FOR START OR YEAR 2017 
Tuesday 31
st 
January 
(Buses will be running)
School starts for all Year 7, all Year 13 and all new students to OHS. 
On the first day of school students should bring pen, paper, morning tea, togs and a towel. Sausage sizzle lunch provided. 
Wednesday 1
st
 February   Whole school to attend (All Years) School finishes at 2pm. 
Senior Course confirmation will take place. 
Thursday 2
nd
- Friday 3
rd
 February   Year 7 & Prefect Camp at Otamatea High School 
Thursday 9
th
 February   School Swimming Sports 
Wednesday 15
th 
February   Meet the Teachers Evening 
Tuesday 28
th
 February   School Athletics Day 
New Uniform Sales / Year 13 Dress Uniform 
Paparoa Drapery stock a full range of Otamatea High School uniform  Phone 09 431 7306 
PTCA 2ND Hand Uniform Sales 
Please contact Karen Flannagan 021 128 1670 
The school office opens Monday 23 January, 2017. Please phone 09 431 8230 or 0800 682 628 for any further information 
Proverbs 21:5  Good 
planning and hard work lead 
to prosperity  
"Cheers to a new year and 
another chance for us to get 
it right." 
Oprah Winfrey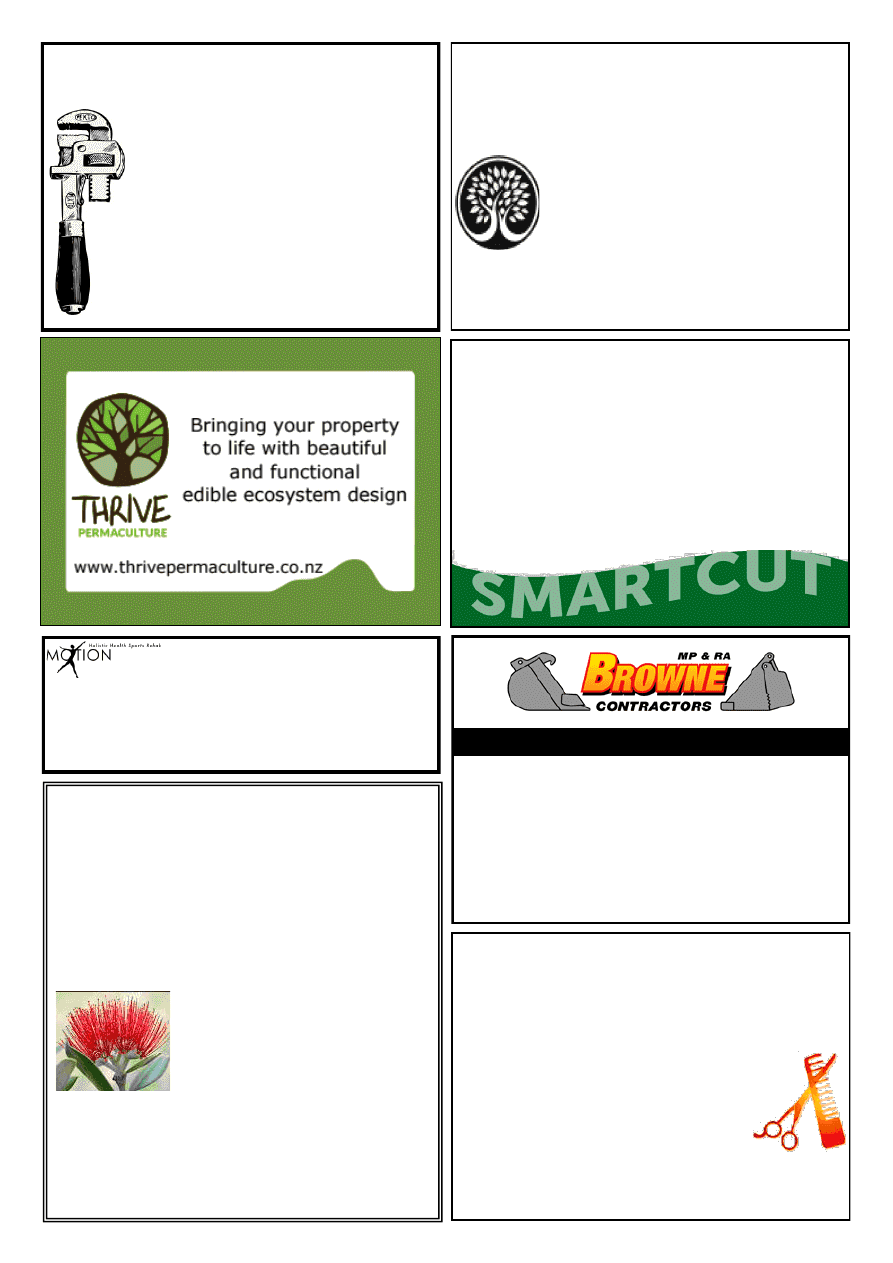 AFFORDABLE PRICES! 
MENS DRY CUT FROM $18.00 
LADIES DRY CUT FROM $28.00 
KIDS DRY CUT FROM $15.00 
COLOUR CUT FROM $90.00 
JUST CUTS'AND   
MORE 
021 165 2629 
NOW SELLING: scented tealights, incense, smudge sticks, 
copper bracelets, aurora ball crystals, dream catchers, healing 
stones, rose quartz, cds, and much more. Open 6 days. 
KAIPARA FLOORING CO 
Independently owned & operated 
32 HURNDALL ST MAUNGATUROTO
Supply & Installation of Carpet, Vinyl,  
Vinyl Wood Planking
Stockists of 2m & 3m wide 
vinyl & carpet short ends
Residential & Commercial
Q Card Finance Approved 
6-18 month terms 
6 mth interest free
First Class Installations
For a free measure & quote 
phone Christine  
09 946 9886 or 021 515 415 
kaiparaflooring@gmail.com 
http://www.kaiparaflooring.co.nz/ 
Waipu Natural Health 
3 Cove Road, Waipu  (opposite the Pizza Barn) 
Ph: 09 432 1325 
www.waipunaturalhealth.co.nz
Clinical Nutritionist-Hair Analysis for Masked 
Allergies, Ozone Therapy, Prolotherapy, 
Naturopath-Medical Herbalist, Registered 
Massage Therapists, Reflexology-
Craniosacral Therapy, Acupuncture-Facial 
Acupuncture, Kineso Taping, Hypnotherapy, 
Counselling, ThetaHealing, Beauty Therapy
KIDS DAY – AFFORDABLE HEALTH SUPPORT 
FOR KIDS – every Wednesday 
(call us or drop in)
Gift Vouchers available
4T DIGGER – BOBCAT – TIP TRUCK 
Property Maintenance - Driveways - Building Sites 
Stump & Tree Removal - Hole Boring - Chain Trencher 
Calf Shed and  Stockyard Cleaning
KAIPARA - WHANGAREI - RODNEY 
Phone Matt: 021 199 6677 
Email: mprabrownecontractors@gmail.com 
All your outdoor needs sorted so you don't have to... 
I can prune, chop, tidy, spray, mow, plant 
- you name it, I can do it! 
Residential & Commercial 
Lawn & Garden Care 
Call Rodney, your local  
lawnmowing contractor 
021 138 2344 
BARRY CURTIS PLUMBING LTD 
REGISTERED CRAFTSMAN PLUMBER 
Phone 431 5572 
027 257 9884 
25 years' experience 
Friendly reliable service 
All plumbing & maintenance 
Alterations and new   housing 
Spouting  
C
ompetitive rates 
PROMPT EFFICIENT SERVICE 
WAIPU OSTEOPATH 
Maria Gabriel  ACC Registered Osteopath 
8 The Centre, Waipu 
Monday to Thursday  
Freephone 0508 924786 (0508 WAIPUOSTEO) 
www.getinmotion.co.nz  No doctor referral required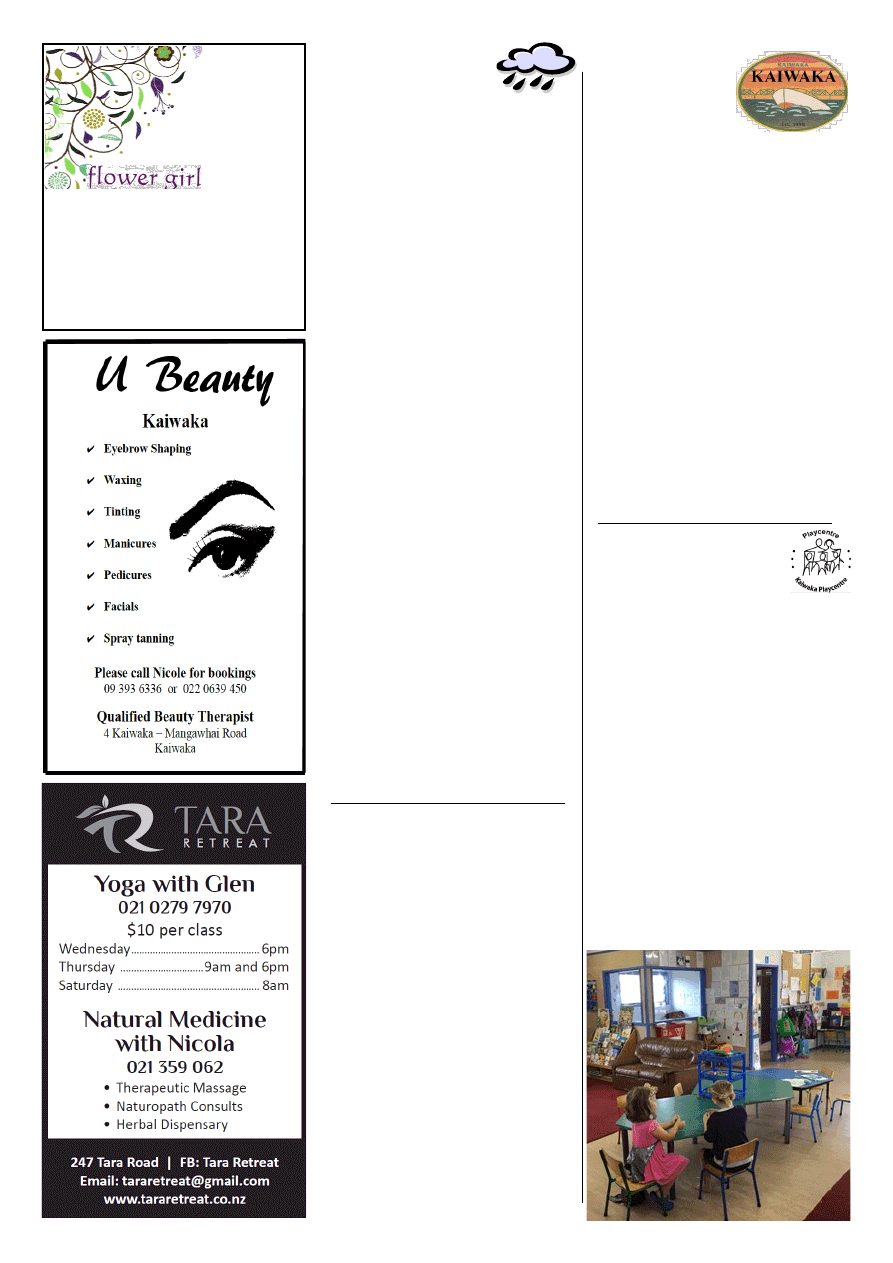 www.kaiwaka.co.nz 
Kaiwaka Bugle - 24 January 2017 
Page 5 
Kaiwaka 
Good 
Sorts 
Do you know 
someone in our 
community who 
is deserving of a 
beautiful bunch 
of flowers? 
Send an email to us at 
kaiwakabugle@kaiwaka.co.nz 
or drop a note to Jaques Four Square to let 
the Bugle team know. 
We will choose a recipient to receive 
flowers from Lindy the flower girl. 
lindywatson@hotmail.com 
4312 847 
POINT 
CURTIS 
CRUISING 
CLUB 
KAIWAKA 
WEATHER 
Happy New Year to you all out there. I 
hope  you  were  able  to  have  festive 
Christmas  and  a  happy  one.  It  was  a 
shame  it  was  a  bit  cold  and  windy 
although  we  should  be  used  to  the 
wind by now and the very cloudy days. 
At least the month (December) started 
off  with  beautiful  sunny  weather.  We 
did  have  a  few  more  brilliant  days  of 
sunshine  about  the  middle  of  the 
month.  The  paddocks  started  drying 
out  and  the  country  (up  this  way) 
started losing its beautiful green looks. 
There  were  a  few  more  water  tankers 
on  the  roads  again.  The  traffic  on  the 
roads  again  was  diabolical  and  is 
getting  worse  every  day.  At  least  we 
had  tenting  and  camping  weather  this 
Christmas  holidays.  As  long  as  your 
tents  and  awnings  were  well  pegged 
down you were ok.  
December 2016 we had 37mm rain and 
in  2015  we  had  50mm  rain.  Our 
wettest December since 1987 was 2014 
with  211mm  and  the  driest  was  1994 
with 4mm. 
January 2016 to end of December we 
had  1452mm  and  January  to  end 
December  2015  we  had  1066mm. 
Our  wettest  12  months  since  1987 
was  1990  with  1947mm  and  the 
driest was 1994 with 892mm. 
The  number  of  days  with  rain  for 
December  2016  was  7  and  for  2015 
was 6. 
A perfect summer day is when the sun 
is  shining,  a  breeze  is  blowing,  the 
birds  are  singing  and  the  lawn  mower 
is  broken.  (James  Dent).  Also,  it  is  a 
sure sign of summer if the chair gets up 
when you do. (W alter Winchell). 
Well  folk  wishing  you  a  very  happy 
and  pleasant  New  Year.  Please  take 
care  out  there  and  look  after  each 
other.   
~Bev 
Happy new year to you all! 
Thank  you  to  all  that  attended  our 
annual  picnic  at  the  Rangiora  Road 
boat ramp on the 15th January. It was 
a  great  turnout  and  a  good  afternoon 
was  had  by  all  with  plenty  of  food, 
laughter and even music this year! 
Joining the Point Curtis Cruising Club 
is  easy!  Subs  are  $30  for  a  family  or 
$20  for  a  single.  To  join  just  leave 
your money and contact details (Name, 
address, contact phone numbers and e-
mail  address)  at  3  Furlongs  Bar  & 
Grill or see Jean (Secretary/Treasurer) 
at Jaques Four Square. 
Fish of the month is Snapper - until 14 
February 2017. 
Please  keep  an  eye  out  in  upcoming 
Bugles 
for 
dates 
for 
fishing 
competitions this year. 
Next committee meeting Tuesday 14th 
February,  7pm  at  3  Furlongs  Bar  & 
Grill. Hope to see you all there. 
~Wayne Leslie, Commodore 
More  hands  needed  for  the 
Community Garden 
Did  you  know  we  have  a  community 
garden?    Down  behind  the  Kaiwaka 
War Memorial Hall, opposite the Small 
Pukekos  Daycare.  Take  a  look  some 
time to see what is growing there. 
And  if  you  can,  how  about  lending  a 
hand with its maintenance and growth? 
Helen  Marsh  has  carried  much  of  the 
load  for  quite  some  time  but  needs 
some help to give her a break. We need 
people  with  expertise  and  also  people 
willing  to  learn  and  who  enjoy  seeing 
things grow and making food available 
for the community. 
The  garden  is  well  set  up  and  we 
would love your help. If you can help, 
contact 
Derek 
Christensen 
on 
09 946 9077 or the staff in the Drop In 
centre.  
KAIWAKA 
COMMUNITY 
GARDEN 
Welcome  back  everyone  after  our 
lovely Christmas break. We have had a 
wonderful  holiday  programme  thanks 
to  all  the  big  kids  that  wanted  to  join 
us. So much fun learning how to make 
pretend  edible  blood,  arts  and  crafts, 
exploding volcanoes etc. 
We are planning exciting activities for 
term  1,  which  begins  on  1  February. 
We  are  starting  the  term  off  at 
Mangawhai  Beach  estuary,  go  to  the 
Mangawhai  Heads  campground  as  we 
are meeting at the playground at 10am. 
It's  going  to  be  an  amazing  year.  We 
have  vacancies  for  any  families 
wanting to join Playcentre. Everyone is 
welcome.  If  you  are  new  to  the  area 
come and make some new friends and 
get to know others in the community. 
Kaiwaka  Playcentre,  17  Hastie  Lane, 
Kaiwaka. Monday, Wednesday, Friday 
9am-12pm 
KAIWAKA 
PLAYCENTRE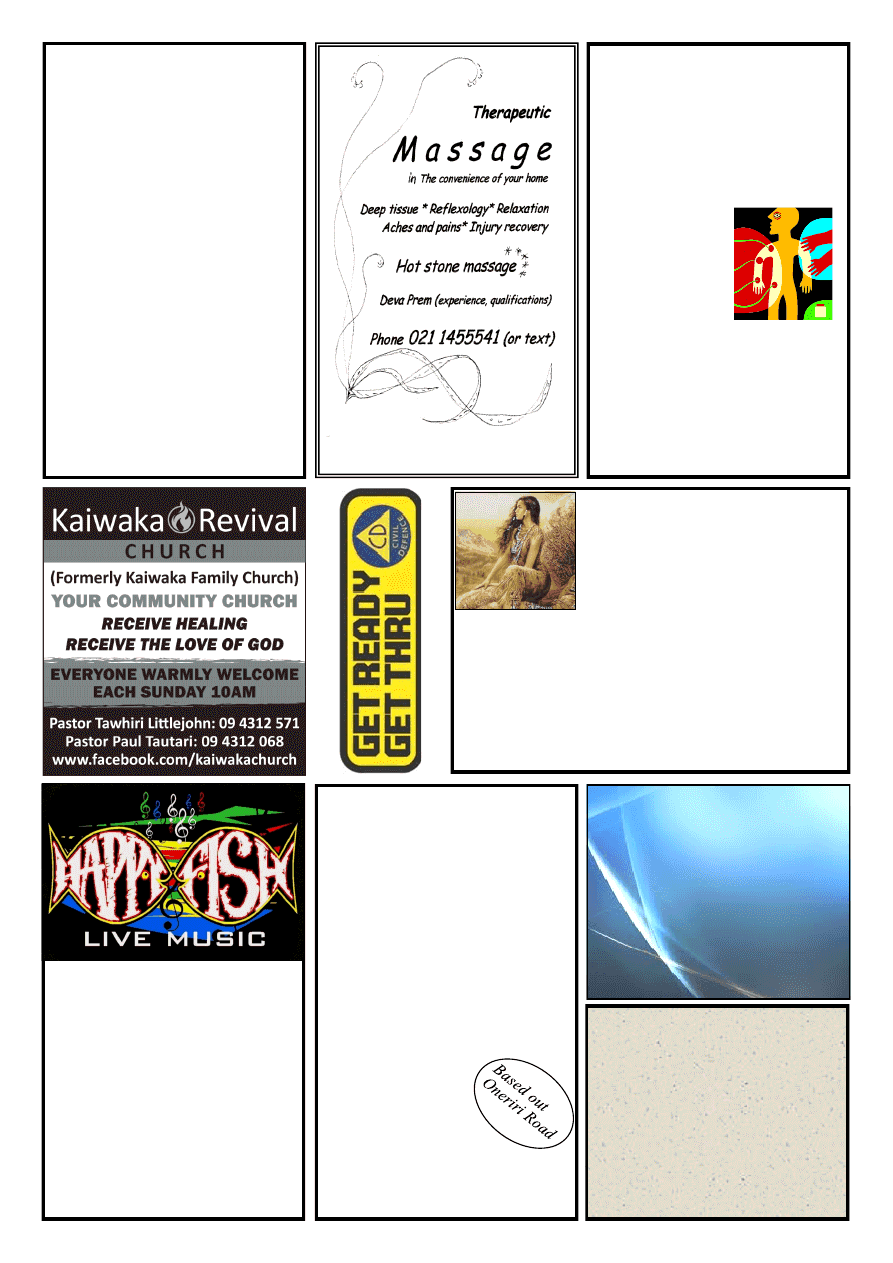 HODGETTS 
CONTRACTING
Digger Work 

Driveways   

House Sites  

Dams 

Drains, etc
Also available for HIRE 
4
3 ton Vib Roller 
4
Heavy Duty Tow  
4
Waterblaster  
4
Lazer Level 
Phone 
Mark 
4312877 
027 447 8554 
www.mangawhaimassage.co.nz 
OWEN STEVENS 
Osteo Therapist
For careful adjustments to bones 
and joints 
Treatment for humans and their 
pets 
Clinics: 
Kate's Place, 
Kaiwaka: 
Last Friday of 
month 
For bookings: 
9.00am-5.00pm  
Phone 
09 4312661 
Or phone Owen  
09 4317123 anytime 
Freeview  
Installations 
Richard Te Haara 
25 Marram Place 
Mangawhai Heads 
021 1104056 
kiwipride@xtra.co.nz
Willow Bend
HORSE  
HOTEL 
  
Total Horse Care 
 
Agistment 
 
Riding Lessons 
 
Arena Hire (60x40) 
 
Young Horse Starting 
 
Re-training/Exercising 
 
Hoof Trimming 
 
Problem Solving 
Phone Sue 09 431 2817 
or 021 623 776 
Or email  
susanjoll11@gmail.com 
ROCKIN' POPULAR, OLD AND 
NEW PARTY SONGS WITH LOADS 
OF KIWI MUSIC AND A FEW 
ORIGINAL TUNES IN THE MIX. 
AN ELECTRIC DUO FEATURING:  
GORDON JOLL 
(NZ Music Hall of Fame)
ON DRUMS AND SUE JOLL ON 
GUITAR AND VOCALS. 
A BAND FOR ANY OCCASION 
BACKED BY YEARS OF 
EXPERIENCE. 
Contact: Sue 021 623 776 
Email: happyfishband@gmail.com 
Website: www.happyfishband.co.nz 
Counsellor and 
Registered Psychotherapist 
Offers Supervision
Susan Matheson 
MNZAC, RN 
Dip. Psychosynthesis Counselling and Psychotherapy 
Phone 09 431 5997 
Mobile 027 605 2427 
Trails end 
spiritualist gathering  
Last Sunday of every month  
11.30-2pm tea/coffee provided  
$5koha for all inquiries  
0211652629 evenings 099450753 
Trail.end@hotmail.com 
Bringing together light minded people 
Guest speaker each month and 
Workshops every 2nd Wednesday  
6:30-7:30pm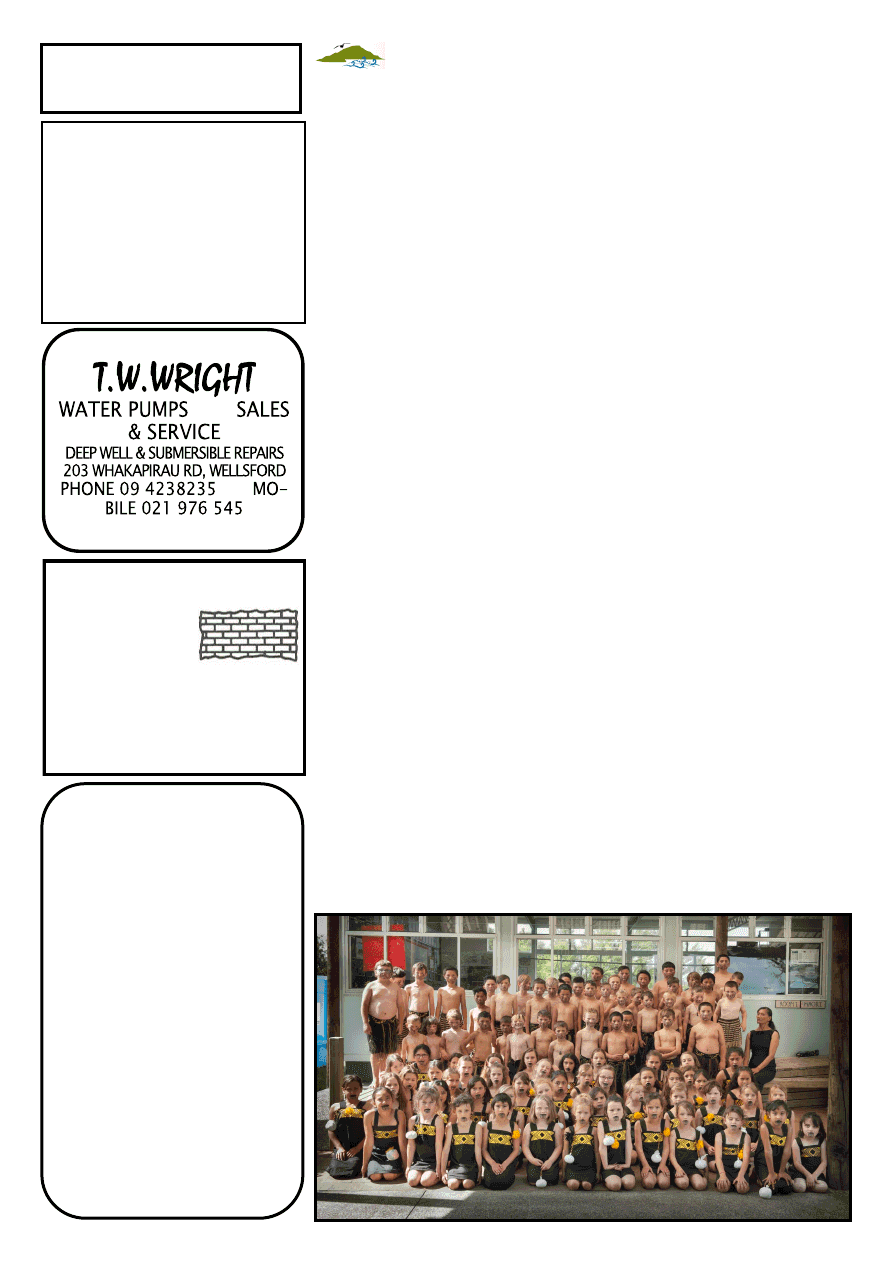 www.kaiwaka.co.nz 
Kaiwaka Bugle - 24 January 2017 
Page 7 
Twin 
Coasts 
Community 
of 
Learning 
Improvement  through  collaboration   is  
the    motivating  force  behind  the 
development of the newly formed CoL 
–  Community  of  Learning  -  Twin 
Coasts.  
The chairpersons  and the principals  of 
5 Kaipara Schools have agreed to work 
together  to  improve  teaching  and 
learning  in  all  of  the  schools,  through 
sharing  expertise,    resources    and 
problem solving.  
These schools are:  
Kaiwaka Primary 
Mangawhai Beach School 
Maungaturoto Primary 
Otamatea High School  
Paparoa Primary 
Rodney  College  is  also  cooperating  as 
a co-opted member 
The different schools have individually 
analysed  their  needs  and  aspirations 
and  believe  that  working  as  a 
Community  of  Learning  will  be  a 
positive  and  progressive  step  forward 
for everyone.  
It  is  expected  that  the  management  of 
the CoL will be set up early 2017, with 
every  Board  of  Trustees  having 
representation, and appointments made 
in  Terms  1  and  2.  Effective  writing 
skills  and  supported  transitions  have 
been mooted as the first focus areas. 
Board of Trustees 
Kia Ora Kaiwaka School Community. 
The  BOT  meets  monthly  with  dates 
advertised  on  the  calendar  and  PTC 
app, the  minutes  are  kept  in  the  office 
as per policy. 
Current  BOT  members  are  Rosie  Ellis 
(principal),  Sharlene  Tornquist  (staff 
rep),  Adrian  Buxton  (Chairperson  and 
Property  Portfolio),  myself  as  Vice-
Chairperson  (Naomi  Walker),  Heath 
Worsfold  (Property  Portfolio)  and  we 
have 
recently 
welcomed 
Benji 
Woodman and Josie Gritten as elected 
by  you  our  school  voters.  Heath  has 
recently  resigned  from  the  BOT  –  we 
thank  him  immensely  for  his 
significant  input  into  the  work  of  the 
board  particularly  in  the  aspects  of 
property and financial management.  
With regards to the school environment 
there are few things in the pipeline – a 
fence will be erected around the school 
grounds  in  the  near  future  (possibly 
this  summer)  as  a  MOE  response  to 
minimising  risk.  Our  school  exterior 
will  be  getting  painted  as  part  of  the 
property  maintenance  schedule,  again 
this  will  be  soon.  There  are  plans 
underway  to  beautify  our  grounds,  the 
first  step  in  this  is  well  underway 
thanks to our care taking team (Len and 
Sam)  in  removal  of  weeds/clearing 
overgrown  brush  etc.  and  the 
establishment  of  the  gardens,  look  out 
for  information  on  a  working  bee  too. 
The  BOT  has  initiated  plans  to  erect 
shade over the deck on the senior block 
to  enable  better  use  of  the  deck  area 
(recognising that learning does not just 
occur in the class) as well as sun safety.  
Renovation  and  improvement  of  the 
junior block is planned and will include 
integration 
of 
appropriate 
and 
progressive  resources  such  as  not  just 
standard  seating  which  is  exciting.  It 
has  been  strongly  indicated  that  our 
website is not meeting our community 
needs  so  this  will  be  addressed  in  the 
New Year. 
 The  BOT  would  like  to  acknowledge 
the  recent  and  very  positive  Principal 
Appraisal  that  Rosie  has  received  via 
an  external  assessment,  we  have  the 
utmost 
confidence 
in 
Rosie's 
leadership  and  vision  to  maintain  and 
improve  on  our  wonderful  learning 
environment  here  at  Kaiwaka  School. 
Thank you to all of our wonderful staff 
for  their  varied  and  hard  work  in  all 
aspects  of  school  functioning  and 
delivery.  We  sincerely  wish  Joss 
Tolley,  Annmarie  Wilkinson,  Vanessa 
Hunter, Hannah Taylor-Rose and Linda 
Van  Der  Linde  all  the  best  in  their 
futures  and  in  2017  we  welcome  back 
Anna  Elworthy  from  maternity  leave 
and Karima Bencheikh into Room 3. 
Nga Mihi, 
Naomi 
Walker, 
Vice-Chairperson 
Kaiwaka School BOT. 
UP-LINK 
CHRIS WARING 
FREEVIEW 
INSTALLATIONS 
T.V. - HOME THEATRE & 
HI-FI ADVICE/SET UP
SKY ACCREDITED INSTALLER
MOB.0273403747 
HM.094312328 
EMAIL 
chrisandlorrainew@gmail.com 
28 YRS EXPERIENCE 
OFFERING UNBIASED ADVICE 
BRICK/BLOCKLAYER 
All aspects of masonry:  
Fireplaces, 
Restoration  
& Remedial Work. 
JAMES EAGLETON 
Tel. (09) 431 2514  
Mob. 0274 749 232 
jajueagles@yahoo.com.au 
210A Pukenui Road, RD2 Kaiwaka 0573 
FREE GRAZING 
WANTED 
Small or large block 
Can do some fencing or 
water 
Phone after 6pm 
4312 006 
KAIWAKA SCHOOL  
Term One 2017: First day - 
Tuesday 31 January, 8.30am start 
KAIWAKA SCHOOL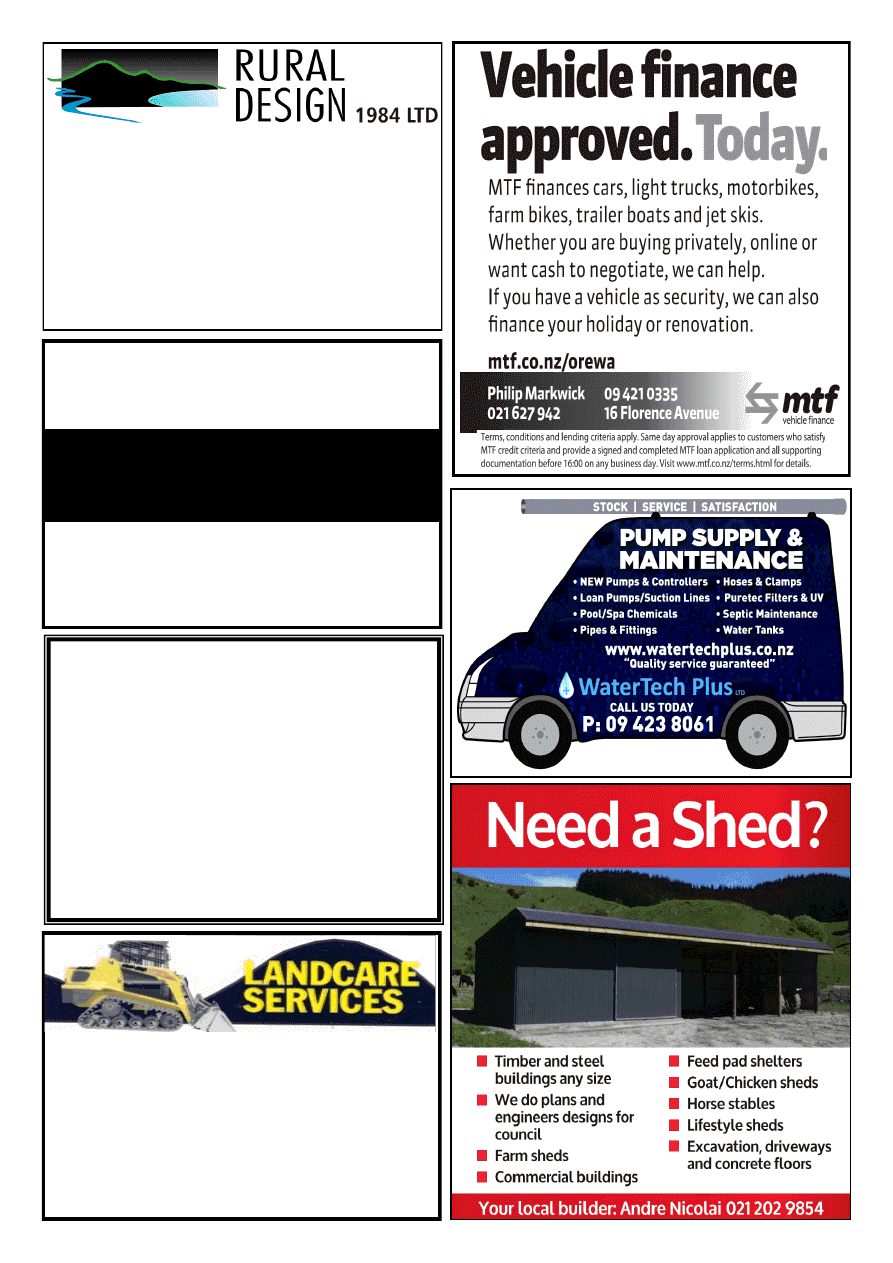 LANDSCAPING 
4 IN 1 BUCKET 
TRENCHER 
POLE HOLES 
ROTARY HOE 
COMPACT ROLLER 
OFFAL HOLES 
CAN SUPPLY WOODCHIP & POST PEEL 
5 TON TIPPER 
FOR RELIABLE AND FRIENDLY SERVICE CONTACT DAVE 
Dave Hyndman 
 
KAIWAKA 
PH: 09 4312302 
MOB: 021 431 238 
David Korach 
Your local Gib Stopper
DK PLASTERER LTD 
0274769221 
dkorach6@gmail.com 
Wholesale Native Plant Nursery and Planting 
Small and Large orders welcome 
By Appointment 
300 Kaiwaka-Mangawhai Road, Kaiwaka 
Phone: 09 431 2481 
Email: info@ruraldesign.co.nz 
www.ruraldesign.co.nz 
MULCHING 
GORSE,SCRUB ETC 
PADDOCK TOPPING OR MULCHING 
2.8m mulcher with 140HP tractor. 
Experienced operator. 
LIFESTYLE PROPERTY MAINTENANCE 
Putting life back into your style 
BOOK NOW. Phone James 
mob: 0273 808622 or 09 431 2245 
email: lifestylesorted@gmail.com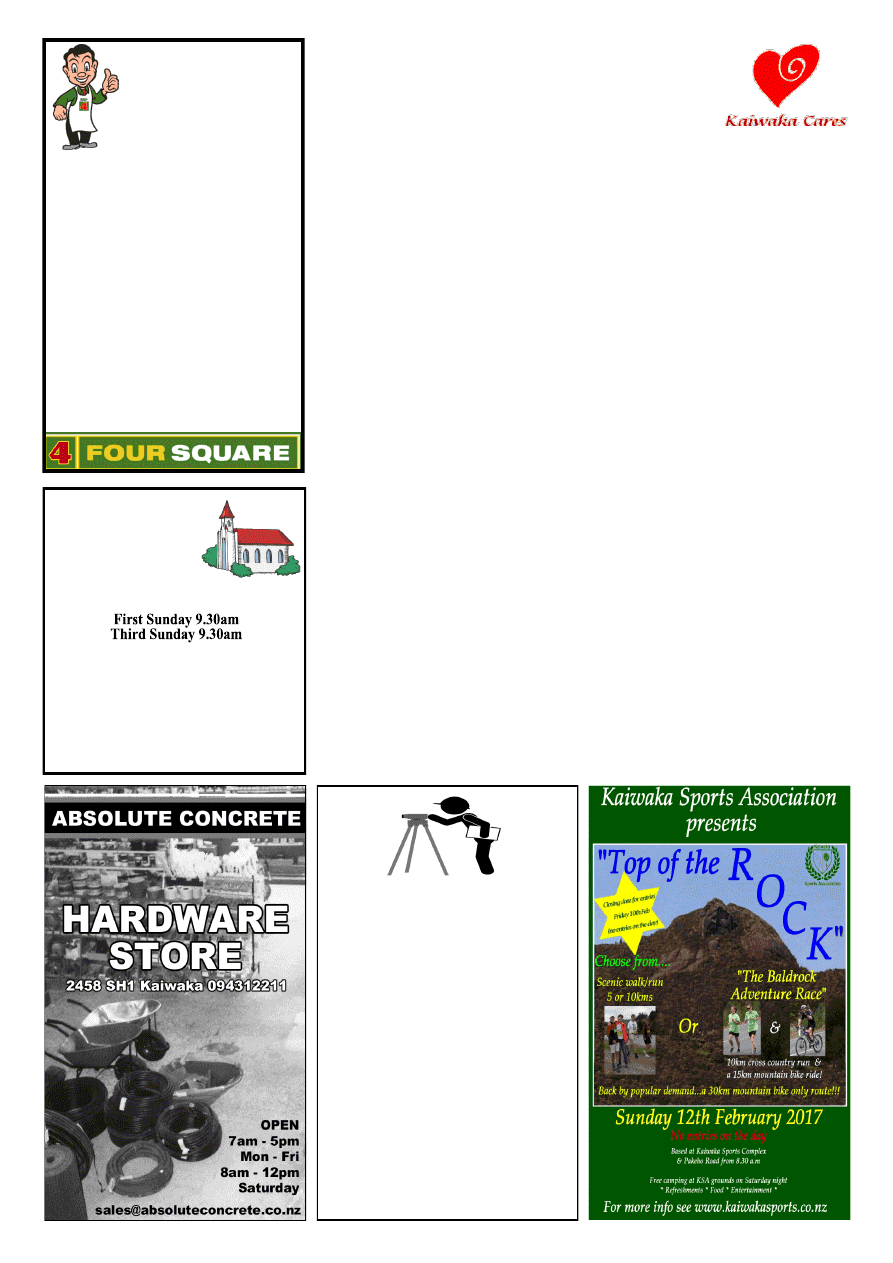 www.kaiwaka.co.nz 
Kaiwaka Bugle - 24 January 2017 
Page 9 
ST PAUL'S  
ANGLICAN  
SUNDAY  
SERVICES
St Pauls Church: Kaiwaka-Mangawhai Rd. 
1st Sun - Eucharist 
3rd Sun - Family Service 
Office 4314 122 
Contacts:M.Hargreaves 4312295, C.Bygrave 4312057  
or Rev. Wayne Thornton Ph 431 5650 
www.mangawhaianglican.org.nz
Back to school is nearly here! 
We have all your supplies 
lunchboxes, drink bottles & 
stationery 
For those summer nights  
grab a hot chicken 
& some freshly baked breads 
Sodastream & 9kg Gas bottle 
swaps here also 
Jaques Four Square 
Phone: 4312227 
1 Kaiwaka-Mangawhai Road, Kaiwaka. 
In Store               
Now! 
Welcome to a New Year 
We've been back open for a couple of 
weeks after all having a well deserved 
break.  After  the  busy  year  last  year  it 
was  nice  to  kick  back  and  relax  for  a 
couple of weeks. 
The social space has been open for 18 
months  now.  We've  gotten  into  a 
rhythm  of  supporting  our  community. 
We  look  forward  to  doing  more  with 
Kaiwaka in 2017. 
Who are we? 
The  Kaiwaka  Care  team  has  evolved 
over  the  time  we  have  been  going. 
Currently our team is made up of Beth 
Stone, Helen Marsh and Janine Boult. 
Monday  is  Janine's  day  at  Kaiwaka 
Cares.  I  have  a  background  in 
corporate 
training 
for 
sales, 
management,  customer  service,  public 
speaking  etc.  Am  also  experienced 
with  doing  advocacy,  parenthood, 
computers and general knowledge. 
Wednesday  sees  Beth  available  to 
discuss  community  and  property 
issues.  Beth  is  also  a  local  real  estate 
salesperson as well as running her own 
business, Valley Vista. 
Friday  is  the  day  where  Helen  can  be 
found at Kaiwaka Cares. She has great 
skills  with  crocheting,  knitting, 
discussing  the  problems  of  the  world, 
and discussing the good old days. 
Feel  free  to  pop  in  and  chat  with  us, 
ask us questions, or just hang out. 
Koha Corner 
The  motto  of  this  section  is  "Take 
what you need, pay what you can." 
We  often  get  given  clothes  and 
household  items  to  rehome.  So  much 
so  that  we  have  now  setup  a  corner 
where  items  can  be  displayed.  Feel 
free to come in and 'rummage'. This is 
for everyone, come and find something 
for  yourself  or  for 
someone 
you 
know. Koha can be 
money  or  in  the 
form  of  donating  something  that  you 
no longer need to go to someone who 
will need it. 
As  the  year  gets  going  we  are  hoping 
to start up a rack of clothes suitable for 
job  interviews  to  help  people  get 
dressed to start a new journey of their 
lives. 
Upcoming events 
Going  into  February  we  will  start 
running  regular  seminars  on  topics 
ranging  from  skills  for  working,  for 
life  or  for  interest.  If  there  is  a  topic 
you specifically want then let us know 
either by popping in to say hi and tell 
us 
or 
email 
to 
caring4kaiwaka@gmail.com. 
We  are  working  to  setup  a  parents' 
group  which  will  meet  one  morning 
per month. It will give those with pre-
schoolers a chance to meet others in a 
child  friendly  space.  More  details  to 
come once we have it all confirmed. 
Volunteers 
Whilst we love helping the community 
there  are  times  we  aren't  always  able 
to  run  the  social  space.  If  you  have 
ever thought of giving some time, even 
a couple of hours, not only would you 
be helping your community you would 
be helping yourself. 
Doing  volunteer  work  looks  great  on 
your CV and you often gain some new 
skills  as  well  as  meeting  others.  It's  a 
win-win situation. If you are interested 
in  discussing  more  either  pop  in  and 
talk  to  one  of  the  team  or  give  me  a 
call on #0276636802. 
~Janine Boult, Chair 
Ken Urquhart 
BSurv Licensed Cadastral 
Surveyor 
KMU Surveys Ltd
467 Bickerstaffe Road 
RD 2  
Maungaturoto 0587 
Ph 09 431 8705 
Mob 021 161 2344 
kenurquhart@xtra.co.nz 
KAIWAKA CARES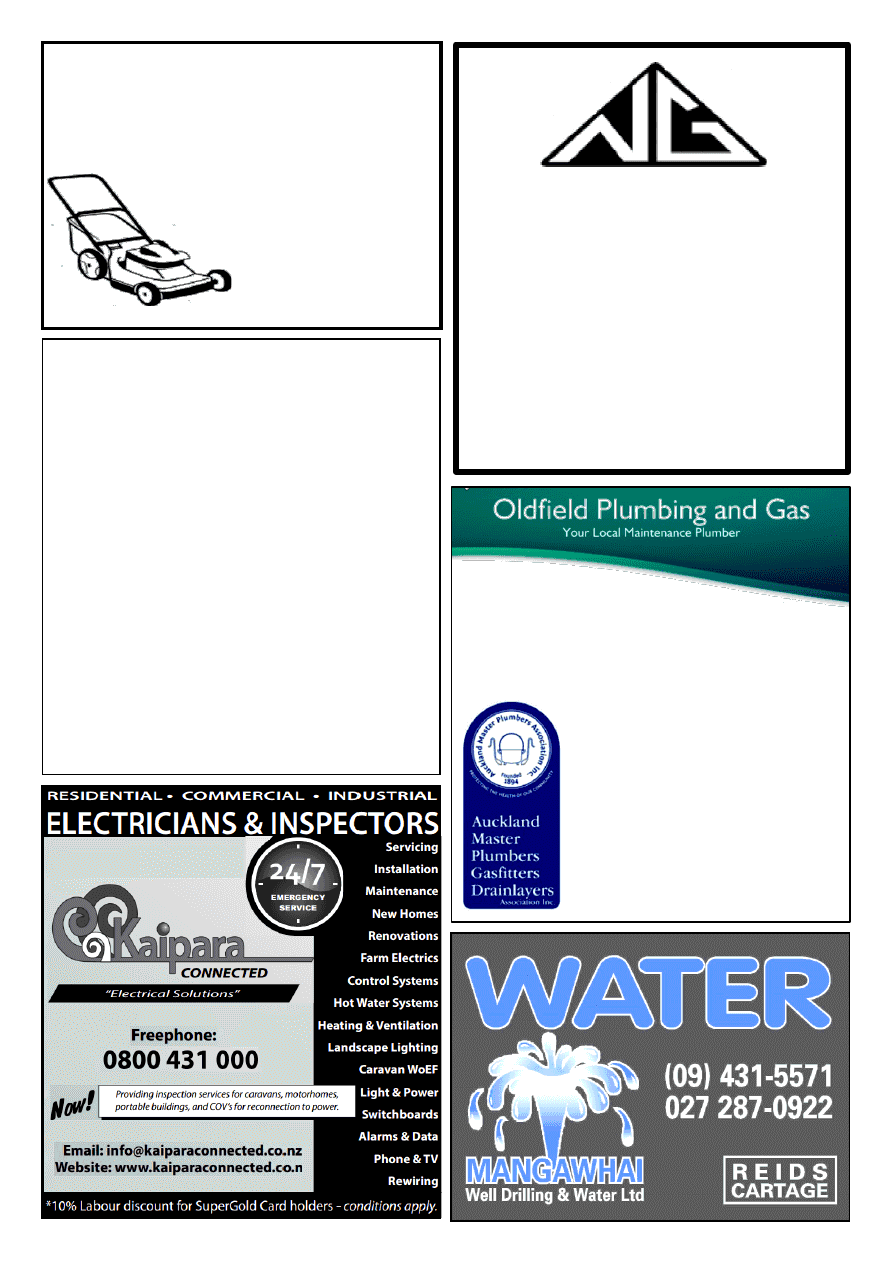 NORTH GLASS 
WINDSCREEN REPAIR OR REPLACE 
GLAZING SERVICES 
MIRRORS  •  SPLASH BACKS  •  SHOWERS 
0800 70 40 10
info@northglass.co.nz 
www.northglass.co.nz 
Darren Oldfield 
Certifying Plumber 
Certifying Drainlayer 
Licensed Gasfitter 
Mobile  021 836 365 
Home  431 5061 
oldfieldplumbing@gmail.com 
 
Agent for 
Rainline Water Filters 
Maintenance 
Renovations 
New Homes 
Hot Water Cylinders 
Water Pumps 
Waste Disposal 
Gas Hobs 
Gas Califonts 
EASTERN LAWN & PROPERTY CARE
Lawn Mowing – Trimming – Spraying – 
Pruning – Weeding – Water Blasting – 
Rubbish Removal – House Cleans 
Taking care of your property needs
ETHAN DOWSON 
021 217 7075 
easternlawncare@outlook.com 
SOLAR ENERGY SERVICES ...  
SOLAR TROUBLESHOOTING
We are specialists in Solar Energy and offer 
European know-how and expertise to upgrade your 
existing Solar Hot Water (SHW) system.
We have analysed the many quality and performance 
issues of SHW in New Zealand .  
Short life span, low performing systems, wrong concepts, 
unsuitable materials, freezing and overheating problems, 
and inefficient backup heating are the main shortcomings.
Repair, replacement or fixing of components can 
increase the lifespan and increase your solar 
energy savings with 30-50 %. An advanced solar 
hot water system can save you 70 % on the hot 
water bill.
After inspection on site, we send you a full report with cost-
effective actions and guarantee no-nonsense solutions.
Also contact us for free workshop and demonstration on 25 th 
February in Kaiwaka. 
ericjansseune1957@gmail.com 
(09) 431 24 08 
021 022 31 700 
www.ewatec-global.com 
EWA-TEC Ltd. for Energy Water 
 Air Technologies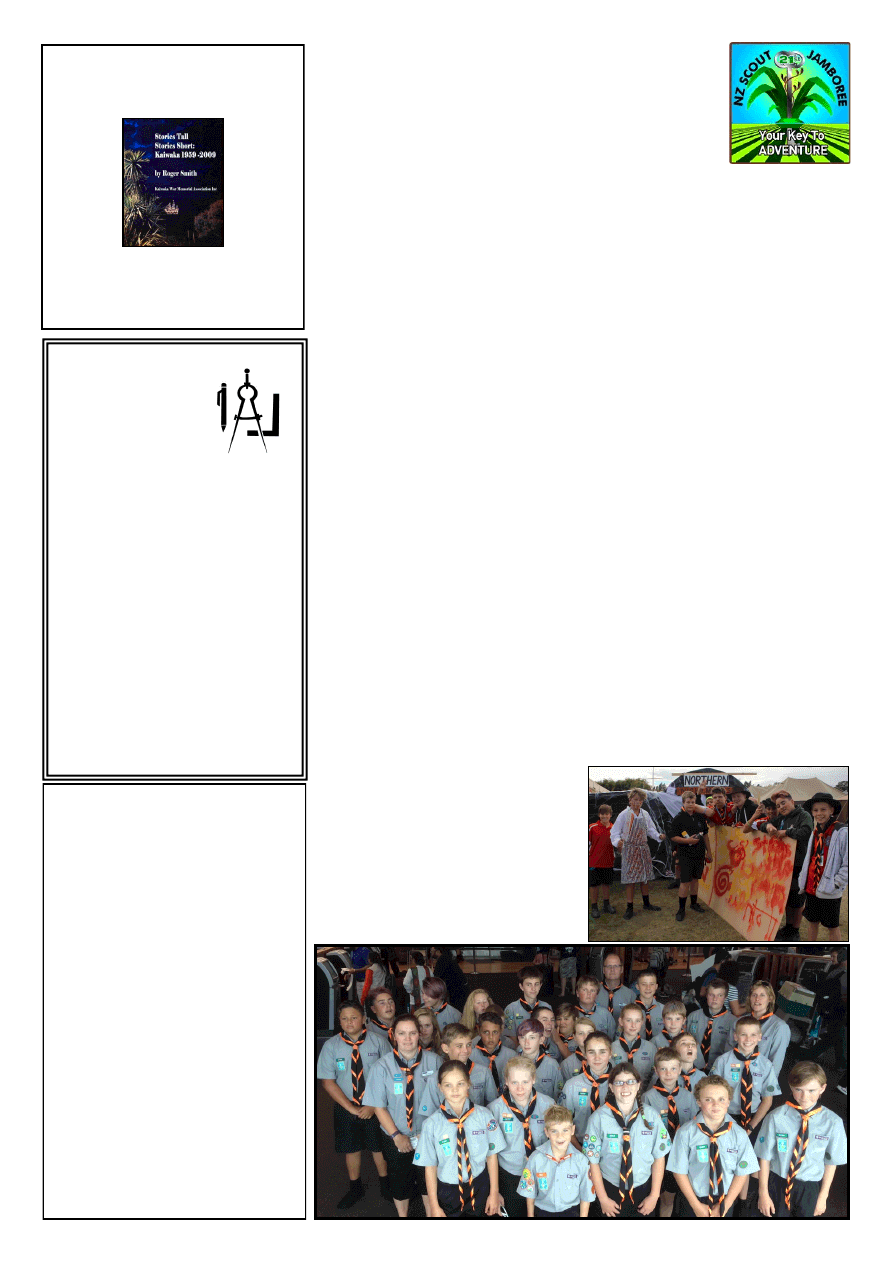 www.kaiwaka.co.nz 
Kaiwaka Bugle - 24 January 2017 
Page 11 
Stories Tall, Stories Short:  
Kaiwaka 1959-2009 
by Roger TW Smith
$40
Available from the Bugle Editors -  
Lindsey 4312 045,  
Wendy 027 480 6275 
design  
drafting  
service 
Retired builder and manufacturer 
with over 40 years experience in the 
building industry is offering a design 
drafting service for domestic hous-
ing, sleepouts and sheds.  
Plans formulated in consultation 
with clients, with working drawings 
completed and submitted to council 
for processing.  
Extensive practical experience,  
able to identify & resolve problems. 
Please ring Mike Lean on 
09 431 2260    
Mangawhai 
Heads 
Garden 
Centre
1758 Cove 
Road
945 0707 
021 165 2629 
KAIWAKA/MANGAWHAI SCOUTS 
The 21st New Zealand Jamboree was a 
huge success.  Over the ten days, 4,500 
Scouts  from  around  the  world  have 
called  a  small  town  called  Renwick  in 
Marlborough, home. 
The  Kaiwaka  and  Mangawhai  Scout 
Troop  had  the  most  amazing  time  and 
would like to thank our Community for 
their  support.  Your  support  has  made 
this  an  incredible  event  that  has 
changed the lives of many Scouts, and 
will be remembered forever. 
The  Jamboree  is  all  about  fun,  while 
teaching  life  skills  from  planning, 
taking  responsibility,  working  with 
others 
and 
making 
good 
decision.    These  young  people  pushed 
themselves  physically  and  mentally, 
and  now  know  that  anything  is 
possible.  Jamboree is undoubtable the 
highlight  of  their  lives.    Many  of  our 
Scout  went  away  as  children,  they 
came home as young adults. We could 
not  have  achieved  this  without  our 
generous  Community's  support  says 
Scout Leader Jenny Webb. 
At the Jamboree! 
A  helicopter  ride  and  their  first  plane 
flight  were  the  highlights  for  many 
Scouts  camped  at  Jamboree  in 
Blenheim. 
 'Awesome' was the description of the 
10  day  action  packed event,  according 
to the Northern Nightmares contingent 
of  Scouts  from  Dargaville,  Kaiwaka-
Mangawhai and Whangarei.  
The  10  to  15  year  olds  were  among 
thousands  Scouts  from  New  Zealand 
and  overseas  who  enjoyed  a  wide 
variety of activities, from 28 December 
to  7  January.  First-time  experiences 
also  featured  seeing  snow  on  the 
hilltops  one  cold  morning,  shotgun 
target  shooting,  archery,  paddle 
boarding,  smashing  wrecked  cars, 
rockwall  climbing,  abseiling  and,  for 
some,  simply  the  journey  south  of 
Auckland. 
The  group  flew  to  Blenheim  via 
Wellington  experiencing  a  bumpy 
cross-wind double attempt landing. On 
camp  set  up  at  Renwick,  they  met  the 
Australian members of their troop who 
were to become fast friends. 
A  visit  to  Sir  Peter  Jackson's  Knights 
of  the  Sky  exhibition  at  Omaka,  a 
vintage  car  museum,  water  events  at 
Ngakuta  Bay,  the  Blenheim  train tour, 
and  overnight  bush  survival  camping 
were  among  the 
five challenge filled 
activity pods.  
International  night, 
New  Year,  a  mock 
medieval  war,  and 
the  opening  and 
closing ceremonies were special events 
throughout  the  Jamboree.  Northern 
Nightmares  hosted  a  Halloween  style 
horror  crawl  way  market  day  activity 
for visitors and Scouts, who spent their 
'beaver bucks' for a scare.  
Badge  swapping  and  'gang  show' 
drama  added  to  the  experiences,  plus 
life skills such as patrol team building, 
cooking,  grocery  shopping  and  doing 
laundry  while  under  canvas  for  a  long 
period. 
The Scouts also built wooden rat traps 
and  shoveled  stones  for  a  concrete 
hangar  pad  at  Omaka,  in  the 
community service modules.  
Two  strong  earthquakes  occurred  at 
nearby  Seddon  during  Jamboree, 
though most never felt them. 
Leader  Bruce  Ferguson  from  Kaiwaka 
said, "Jamboree was such an awesome 
experience.  Our  group  took  19  of  the 
36 Scouts in the contingent, plus adult 
leaders and staff members. We loved it. 
The  Scouts  have  done  things  that  will 
be  with them  for life, and have  grown 
so much in confidence. We could never 
have  got  there  without  the  whole 
community  behind  us,  who  supported 
our  huge  fundraising  effort  and  gave 
materials – thank you all." 
For  Scout  Bayden  Waka  Puke,  it  was 
an  11th  birthday  week  of  a  lifetime. 
His  special  day  was  celebrated  with  a 
cake  and  decorating  the  dining 
marquee. 
  Conner  Quirk,  who  had  never  used  a 
shotgun before, held the Jamboree clay 
target shooting record of five in a row 
for a few days.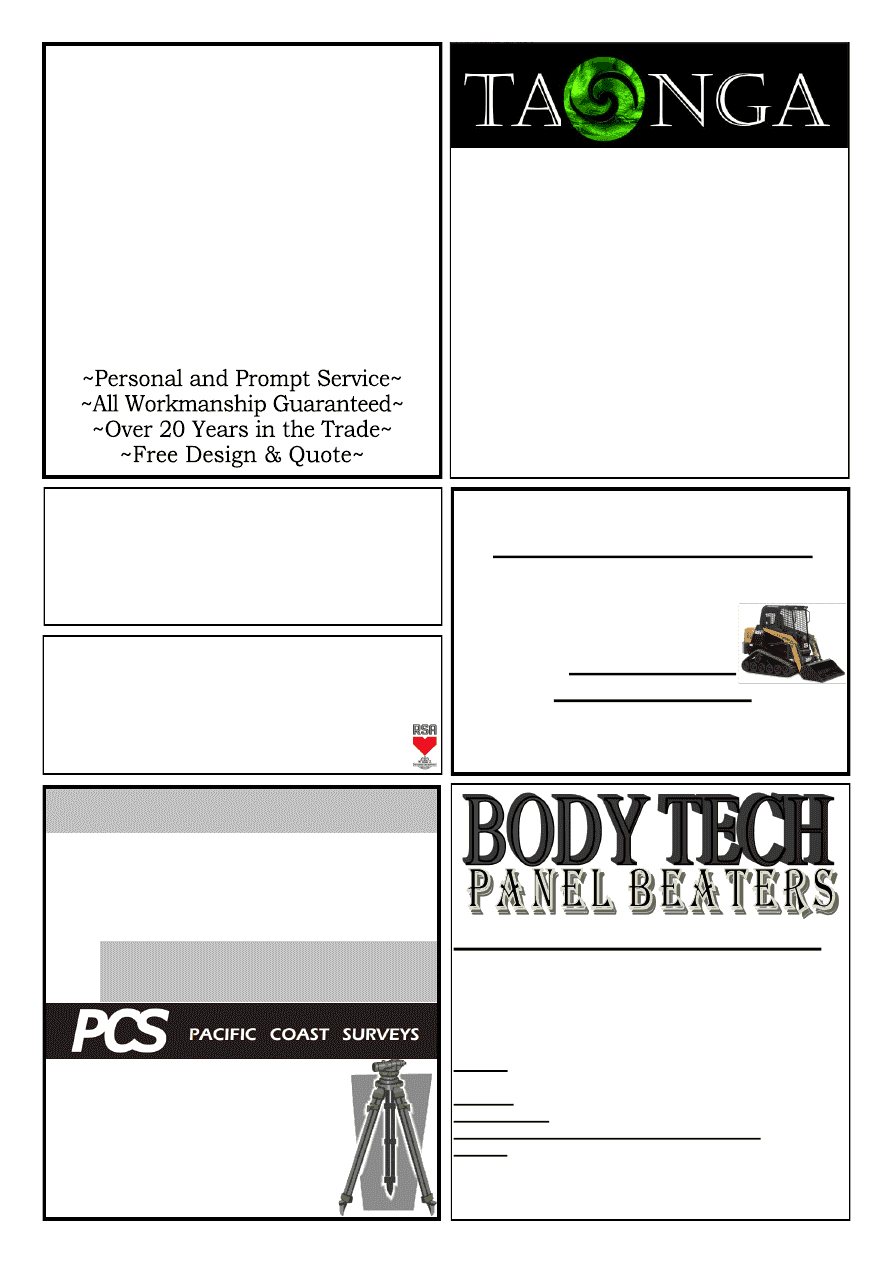 For all your body repair needs!! 
We do: 
Rust repairs 
Insurance work 
Anti-corrosion treatment     
Hours: 8.30am-5pm Mon-
day-Friday  
Mobile: 021 118 0462 
After hours: 09 431 2384 
Phone: Craig or Call in for a free Quote 
bodytech_panelbeaters@yahoo.com
We are located at 1837 SH1 Kaiwaka, behind  
Twinkle Tow 'n' Tyre call in anytime for a free quote.  
Large and minor vehicle  
 repairs 
Industrial vehicles 
Full Cut and polishes 
SURVEYORS 
SUBDIVISIONS 
HOUSE SITE SURVEYS 
CIVIL ENGINEERING 
WASTEWATER DESIGNS 
EXPERIENCED 
PROFESSIONAL 
INNOVATIVE 
Ph 09 431 5353 
0800 PACIFIC (0800 722 434) 
pacificcoastsurvey.com
Adam Booth - 027 415 5752 
Bsurv, Licensed Cadastral Surveyor
Surveying Kaipara since 1994 
Natural Earth Ltd 
Landscape and Bobcat services 
 : Driveways :Landscaping :Retaining Walls 
 : Hole Boring: Land Levelling :Trenching 
 : Decks :Fences :Sections Cleared 
 : Plus much more
Tel 09 4312 885 
Mob 02102391280 
For A Fast Friendly Service  
Contact Tim Hicks 
PLANNING A NEW KITCHEN?
 CONTACT NOEL McDOWELL
WELLSFORD 
KITCHENS
Ph/Fax 094312888
KAIWAKA-Any time
 QUALITY CUSTOM MADE 
KITCHENS
TAONGA  GARDENS 
5km North on State Highway 1 
http://www.taongagardens.org.nz
Thurs, Fri, Sat, Sun 9-5 
Spend $50 and receive 
 a free pair of Bamboo Garden Gloves
Good selection of seedlings available 
Christmas Gifts coming into stock weekly
Ph 09 4312 770 Ana 020 4002 5025
HAKARU & DISTRICTS RSA Inc 
Each Friday night from 6.30pm meals will be served. 
Members & invited guests, new members welcome. 
Come along & enjoy our hospitality. 
2nd Friday of the month - roast dinner or board menu. 
Last Friday of month - roast pork night &  
sing-along with Des Chitty.  
Ph Heather 4314668 or Jan 4314512 
White Horse Farm 
Farm Stay/Bed and Breakfast
Ph +64 9 390 1260     
113 Tawa Ave, Kaiwaka 
bookings@whitehorsefarm-kaiwaka.co.nz 
www.whitehorsefarm-kaiwaka.co.nz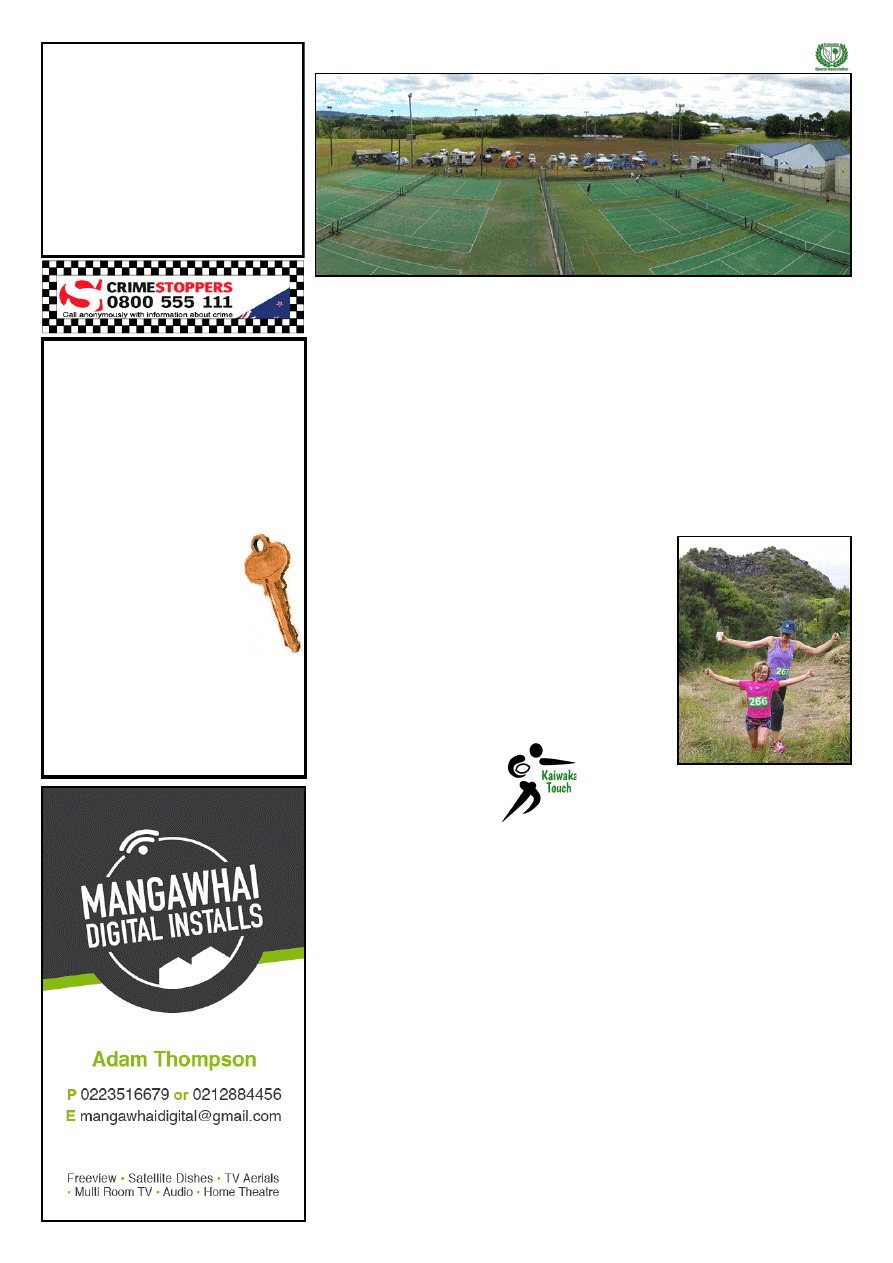 www.kaiwaka.co.nz 
Kaiwaka Bugle - 24 January 2017 
Page 13 
Otamatea Tennis Tournament 
Our  annual  tennis  tournament  will  be 
held  at  our  courts  this  weekend.  Did 
you know the tournament is in its 67th 
year?!  This  tournament  attracts  top 
quality players from all over Northland 
and  Auckland  so  feel  free  to  come 
along to watch some top tennis. There 
will  be  food  and  drink  available 
throughout  the  day  and  a  social  on 
Saturday evening.  
Badminton 
Badminton has started up again for the 
new  year.  Players  of  all  ages  and 
abilities  are  welcome  so  if  you  are 
keen, simply turn up to our gymnasium 
on  Tuesdays  from  7pm.  Only  $3  per 
person,  play  as  long  as  you  like.  Club 
rackets are available for you to borrow 
at no cost.  
For  badminton  queries,  please  ring 
Kaye Fleming on 4312 345. 
Martial Arts 
Are you or your child keen to join our 
Martial  Arts  classes  this  year?  Black 
belt  instructor  Craig  Bennetts  offers  a 
variety  of  classes  out  of  our 
gymnasium  for  all  ages.  For  more 
information  please  phone  Craig  on 
021 152 4466. 
Touch Module 
Our  six  week  Touch 
Module 
starts 
this 
Wednesday  at  6.30pm.  Six 
teams  have  entered,  feel  free  to  come 
along to watch the action. 
Twilight Tennis 
Introducing  Twilight  Tennis!  Come 
along  to  our  courts  on  Monday 
evenings  at  6.30pm  for  an  casual  hit. 
Starts  Monday  6th  February  and  will 
run for six weeks. 
Queries to Ian on 021 132 3838. 
Rugby 
It  may  still  be  the  middle  of  summer, 
but  trainings  have  already  started  for 
the  2017  season.  Training  for  our 
Otamatea  Hawks  (seniors  and  juniors) 
are on Thursdays at 6pm at our grounds 
– past and new players welcome.  
School Holiday Boredom Busters 
If  you're  looking  for  something  to  do 
with the kids, you're welcome to bring 
them along to the Sports Complex: 
 
bring  a  basketball  and  shoot  some 
hoops on our outside backboard 
 
go for a stroll through the bush walk 
(the entrance is off the bottom of our 
driveway and it exits by our number 2 
field) 
 
bring your frisbee/bike/golf clubs/dog 
and take advantage of the wide spaces 
on our rugby fields 
 
have  a  swim  in  the  pool  (as  long  as 
you've got a key of course) 
 
enjoy our playground and then have a 
picnic  lunch  -  our  BBQ  takes  $1 
coins for 20 minutes of heat. 
 
have a hit of tennis on our courts. 
 
bring  your  tent  and  have  a  family 
sleepover  at  our  grounds  -  the  bush-
fringed grass next to the pergola is a 
lovely spot. 
Top of the Rock 
Is 
your 
New  Years 
resolution 
to  exercise 
more?  To 
participate 
more 
in 
community 
events?  To 
get  out  in 
the 
countryside 
more? 
Entering 
our  Top  of 
the 
Rock 
event fits the bill for everything! It will 
be held on Sunday 12th February.  
The  event  is  for  walkers,  runners  and 
mountain  bikers,  and  is  suitable  for  a 
range of ages and fitness levels: 
5km or 11km walk or run 
10km  run  +  15km  mountain  bike 
ride 
10km or 30km mountain bike route 
a fun bike course for under 10 year 
olds – free! 
TV3's  Brendon  'Money  Man'  Johnson 
will host the prizegiving with prizes for 
place-getters  plus  lots  of  great  spot 
prizes,  including  a  mountain  bike 
sponsored by Bike Mangawhai.  
Prices  are  very  reasonable  for  a 
enjoyable  day  out  –  for  example  the 
5km  and  11km  run/walk  is  $20  for 
adults, 
$10 
for 
children 
and 
preschoolers are free. 
There  are  NO  ENTRIES  ON  THE 
DAY  –  your  last  chance  to  register  is 
Friday  10th  February.  Easy  to  enter: 
email me  your form, or just hand it in 
at Jaques Four Square. 
~Cheryl Anderson 
4312 051, 027 346 2702  
KAIWAKA SPORTS ASSOCIATION
 LEABOURNS 
Passenger Service
Car & Van Hire 
Bus & Coach Charters 
Airport Transfers 
 Monthly Shopper Bus 
Phone (09) 4237416 
Kaiwaka  
Hardware  
&  
Key cutting
Phone 4312 063 
022 041 6047 
kaikey2015@gmail.com
Keys Cut  
Household Hardware  
Curtain Tracks & Fittings
Not there? Call Doug and he'll 
sort
it for you. 
(
Next to Kaiwaka Motorcycles)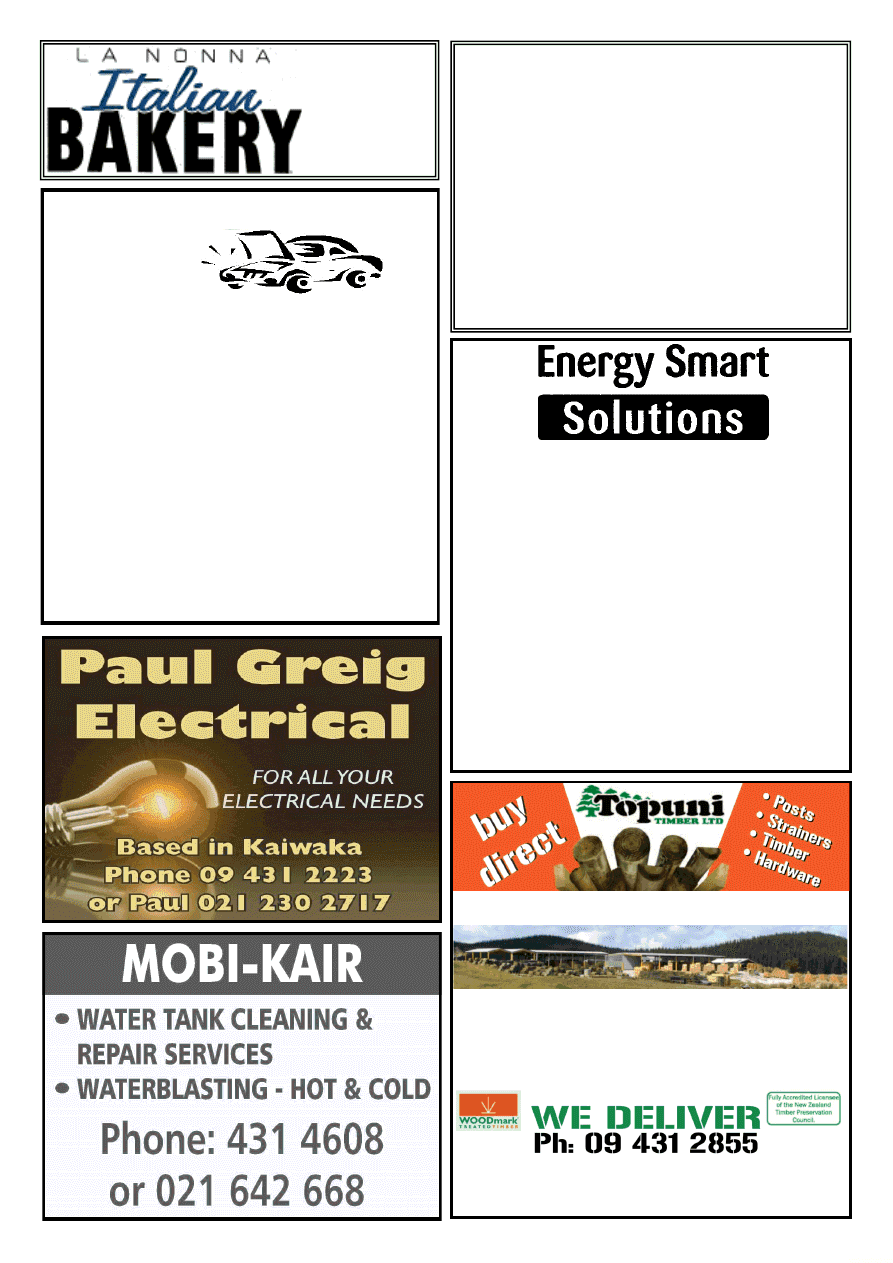 Twinkle Tow 'n' Tyre 
Think you'll get a better deal in the city? 
Ring us - it won't cost anything! 
1837 State Highway 1, Kaiwaka 
Phone 431 2823 
*W.O.F. 
*Tyres 
*Windscreen 
replacement 
*Chip repairs 
*Bulk Oil 
*Batteries 
*Welding 
*Custom built 
trailers 
*Trailer hire
1923c State 
Highway 1,  
Kaiwaka. 
Open 7am-4pm  
Tue to Sun. 
Closed Mondays. 
Phone 09 431 2643 
LOCALLY OWNED AND OPERATED 
QUALITY PRODUCTS • FRIENDLY ADVICE • GREAT SERVICE 
Quality Products milled from High Density NORTHLAND Radiata Pine. 
Treated and guaranteed to NZS3640 with commitment to 
Environmental Safety.
Phone, fax, email, or come into the mill 
Schiska Rd, Topuni, SH1, 10 min north of Wellsford. Fax: 09 431 2856 
Email: sales@topunitimber.co.nz  Mon - Fri 7am-5pm, Sat 8am-12pm 
 Fencing 
 Retaining 
 Decking 
 Landscaping 
 Gates 
 Hardware 
 Nails 
•
 Staples 
 Concrete 
 Plywood 
Vera's Reflexology 
& Therapeutic Massage
Now at Kate's Community Centre 
Every Tue, Wed 1pm - 6pm
Treat your whole body through the 
microcosmic intelligence of your feet
20% OFF Your 1st Treatment
Vera 021-888307 
ASK US ABOUT OUR NEW 
SOLAR ENERGY PACKAGES
We also provide advice on Ventilation Systems, Heat 
Pumps and Air Conditioners.
Does your Family or Home suffer from 
Are you looking for affordable top quality 
products? 
CALL US NOW!
For a free assessment and quote phone:
431 2025 / 021 762 352 
www.energysmartsolutions.co.nz 
 Condensation 
 Allergies 
 Asthma 
 Poor air quality 
 Musty smells 
 Mould 
 Mildew 
 Dampness 
 Hard to heat 
 High humidity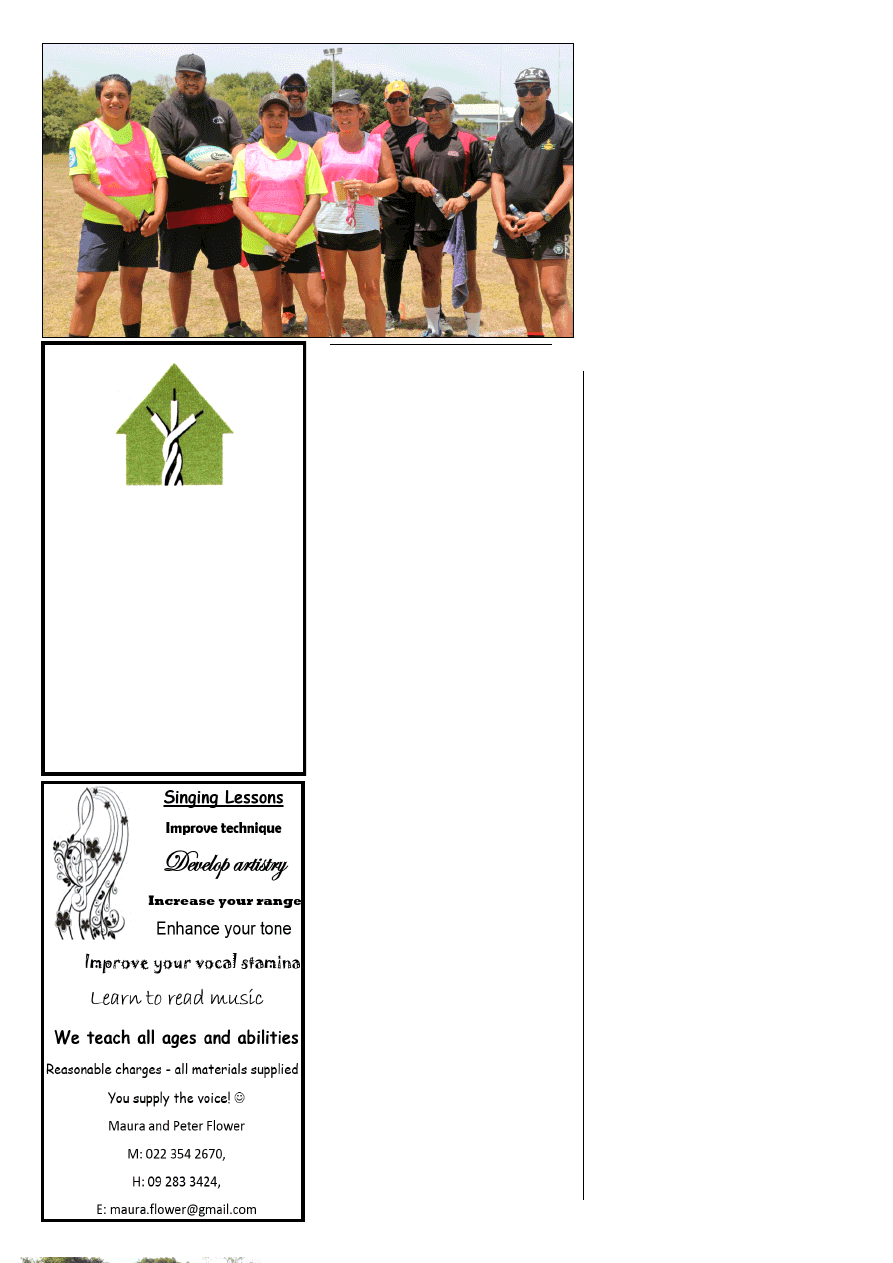 www.kaiwaka.co.nz 
Kaiwaka Bugle - 24 January 2017 
Page 15 
Reyahn George Leng 
Registered Electrician 
Local, honest and reliable. 
For your residential and 
light-commercial projects. 
022 314 1068  
 09 431 2527 
The  3rd  consecutive  Whanaunga 
Touch  Tournament  was  held  at  the 
Kaiwaka  Sports  Complex  on  the  14th 
January 2017. Nine whanau teams vied 
for  the  chance  to  win  the  title  and  a 
prestigious  Kerry  Strongman  Trophy 
and $500 cash prize. 
As well as touch there were stalls, kids 
water  slide,  bouncy  castle  and  health 
checks by Te Hau Oranga. Profits from 
the day went to the Otamatea Marae. 
Congratulations to the winners: 
1st – Te Kotahitanga Kaipara 
2nd – Roll Bounce 
3rd – Paparoa Point 
Congratulations  to  the  other  prize 
winners: 
Top try-scorer (male) – 1st Lani Junior 
Manukau,  2nd  Malachi  Peters,  3rd 
Vinny Paul. 
Top  try-scorer  (female)  –  1st  Julia 
Peters, 2nd Diva Ratu 
Youngest  Player  –  Joy  Manukau  and 
Max Kemp (8 years old) 
Oldest Player - Naomi Maki (50 years 
old) 
Team spirit – The Unknowns 
Best  presented  team  –  Te  Kotahitanga 
Kaipara 
Player  of  the  Tournament  –  Johny 
Peters 
Many  thanks  to  the  Otamatea  Marae 
committee and those that koha, special 
mention  to  Matua  Reno  Skipper  our 
MC, Thomaseena Paul, Matua Rau and 
Aunty  Ma.  Big  thank  to  our  referees, 
Gerrin  Taiaroa,  Leonard  Thompson, 
Joseph  Kapea,  Johnboy,  Wiremu,  and 
Rhonda  Connelly,  Kym  Manukau  and 
Heavenly  Manukau.  Thank  you  to  all 
the  stall  holders  and  to  the  many 
volunteers,  namely  Moana  Phillips, 
Sam Phillips, Grace Phillips, and Della 
Phillips.  Special  thanks  to  Teresa 
Brown  photographer  extraordinare.  
Special  mention  to  Te  Ha  Oranga 
Health check team – awesome to have 
you on site. 
We are very grateful for the support of 
the  tournaments  major  sponsors 
Kaiwaka  Sports  Association,  Pumps 
and  Plumping  Supplies  and  Te 
Runanga o Ngati Whatua. 
Many  thanks  also  to  our  other 
sponsors: 
Phil  Keen  Concrete,  Rural 
Design, Wellsford Sports & Leisure, Three 
Furlongs,  Dreams,  Noel  Radd,  Ottaways 
Bakery,  GAS  Maungaturoto,  Big  Fun 
Events, 
Jaques 
Four 
Square 
and 
Maungaturoto  Four  Square,  Naomi  Maki, 
Pita  Pit  Helensville,  Kaiwaka  Motorcycle 
Ltd, Maungaturoto Butchery.  
Lots  of  positive  feedback  from  all  the 
teams - this was such a successful day 
that  the  organisers  are  hoping  to  open 
the tournament up to an open grade and 
social grade in 2018.  
All  updates  of  this tournament  will  be 
posted 
on 
"Whanaunga 
Touch 
Tournament"  on  Facebook  or  contact 
us on whanaungatouch@gmail.com 
Photo above: The Tournament referees 
WHANAUNGA TOUCH TOURNAMENT 
Kaiwaka  and  Maungaturoto  St  John 
wish you all a Happy New Year. Some 
of our valued customers and volunteers 
have asked what sort of things does the 
Otamatea  St  John  Op  Shop  contribute 
to so we have put together a brief list of 
some  of  the  things  that  the  shop  has 
contributed to. 
 
AEDs for local Maraes. 
 
New  foundational  piles  for  Kaiwaka 
Station 
 
Recladding  of  rear  wall  Kaiwaka 
Station 
 
New  bathroom  and  hot  water 
Kaiwaka Station. 
 
Remodelling of hall Kaiwaka Station 
 
Painting inside Kaiwaka Station 
 
Refurbishment  of  garage  Kaiwaka 
Station 
 
Replacement  of  position  water  tank 
Kaiwaka Station 
 
Removal  of  trees  around  Kaiwaka 
Station 
 
Fortnightly  Cleaning    Kaiwaka 
Station 
 
General  repairs  and  maintenance 
Kaiwaka Station 
 
Purchase of new training manikin 
 
Purchase of other training equipment 
 
Operational volunteers training 
 
Operational  volunteer  recognition 
dinners 
 
Purchase of new wheelchair 
 
Milly's weekly honorarium 
 
Purchase of new till for shop 
 
Op shop fittings manufactured 
 
Op shop mileage reimbursements 
 
Op  shop  manager  and  Staff 
conference fees 
 
Support  for  Milly  in  her  Manager 
position 
 
Op shop uniforms 
 
First Aid kits for Op shop use 
 
Promotional Merchandise 
 
Op Shop Rental    
 
Spark land line     
 
Epos rental           
 
Power  costs        
 
Waste Management bin        
 
General Op shop expenses 
Thank  you  for  your  on-going  support 
to St John.       ~The Otamatea St John 
Area Committee 
KAIWAKA ST JOHN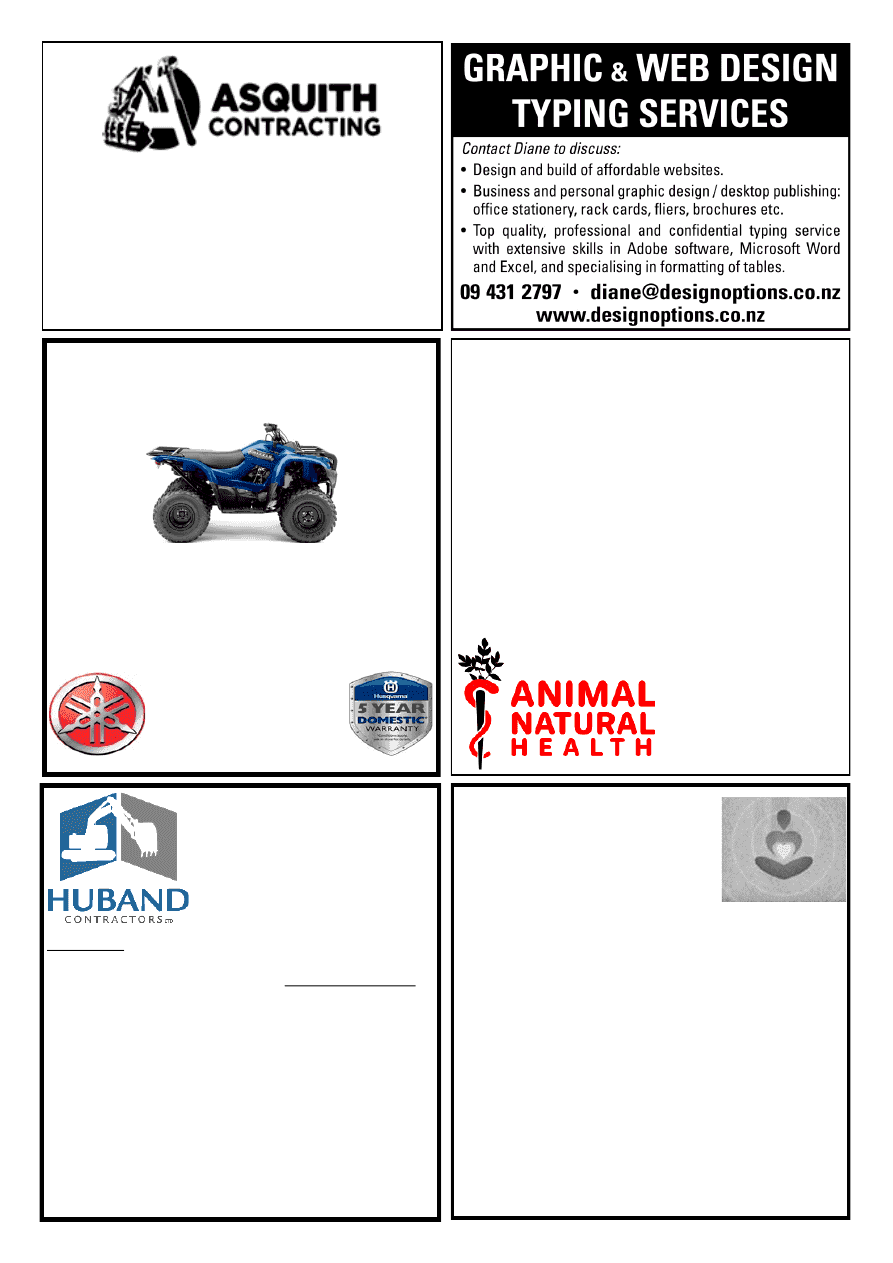 KAIWAKA 
MOTORCYCLES LTD
SALES – SERVICE – SPARES 
FARM BIKE SPECIALIST
PHONE 09 431-2127 
10 KAIWAKA-MANGAWHAI ROAD, KAIWAKA
Trimmers  
from $279
Chainsaws  
from $339
YAMAHA 
HUSQVARNA 
Small digger work, trenching and post hole 
drilling for retaining walls, piles, etc.
$60+gst per hour.
Call Tam on 021 124 5216 or 
asquithcontracting@gmail.com
Musculoskeletal, chronic pain, women's health, infertility, 
pregnancy, general wellbeing, stress, anxiety, headaches, 
depression, insomnia, respiratory, gastrointestinal,  
cosmetic acupuncture and much more.
Certified in kinesio taping.
For more information about treatments please 
visit our website or contact Lara: 
3 Cove Rd Waipu, Northland 
Tel: 0221 557811 or 09 432 1325 
Email: info@acubalance.co.nz 
www.acubalance.co.nz
Acupuncture treatments provided at Waipu Natural Health 
AcuBalance 
Lara Tremain
Registered Acupuncturist and 
ACC Treatment Provider 
Open Monday-Friday  
8am-5pm 
Saturday 8am-noon 
2088 Paparoa Valley Road 
0800 234449 
We stock:
 
All gardening and 
landscaping supplies 
 
All grades of metal 
 
Fencing and farming 
supplies 
 
Culverts and water 
irrigation 
 
PVC, plumbing & drainage 
materials 
 
Water pumps & water 
tanks 
 
Septic systems 
 
Most grades of oils 
We specialise in: 
 
 
Earthworks 
 
Roading 
 
Drainage 
 
Site works 
 
Landscaping 
Supplies  
Pet Accessories, Toiletries, 1st Aid Kits, 
Natural Products
Food  
Free-range, crate/cage-free, organic, wild 
game. NZ's Top Brands pre-prepared food 
Now OPEN Monday- Friday 9.30-5.00 
Saturday 9.30-4.00
Next to Italian Bakery, Kaiwaka 
Also at Orewa & (NEW) Matakana
Ph: 0800 NATPET (628 738) 
www.natpet.nz 
"your lifestyle choice 
in animal health 
care"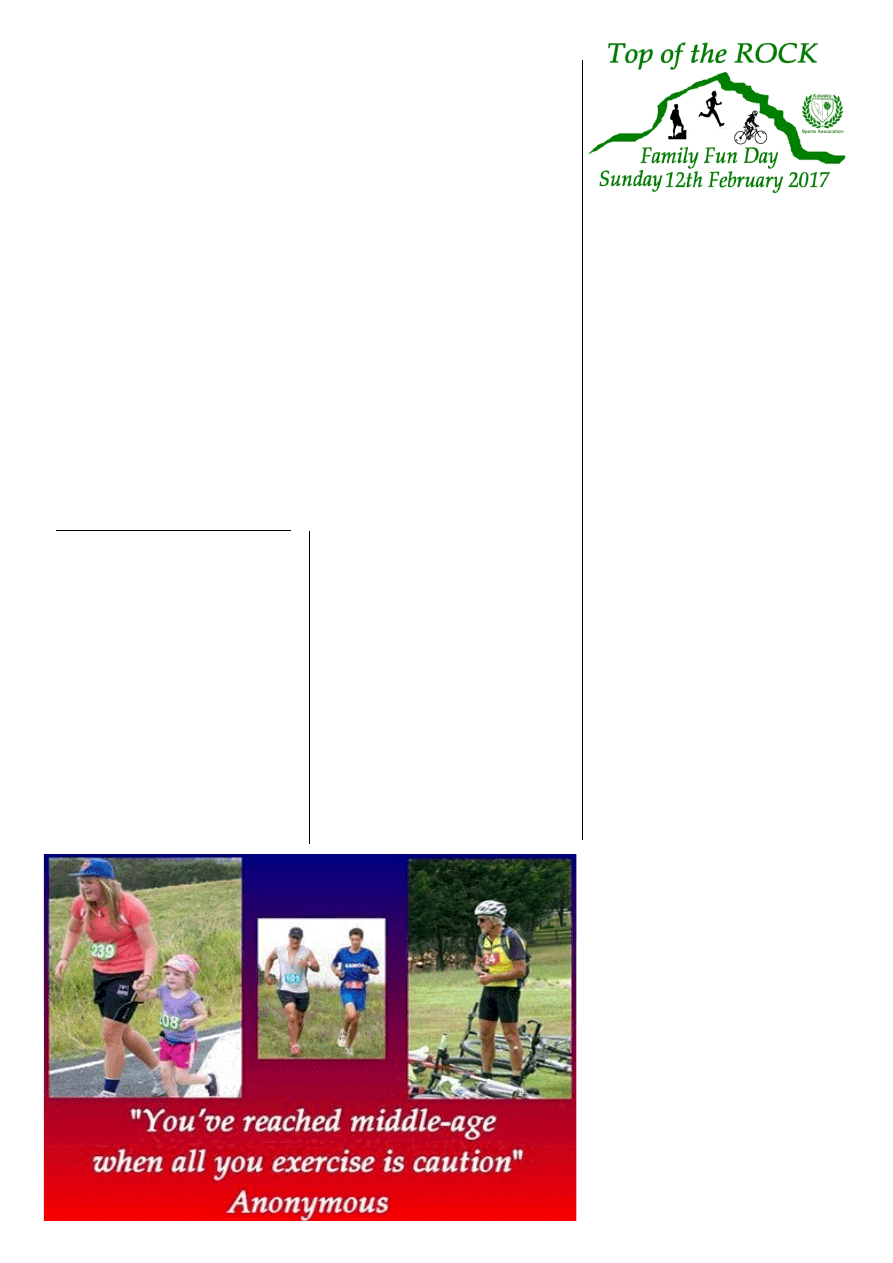 www.kaiwaka.co.nz 
Kaiwaka Bugle - 24 January 2017 
Page 17 
Under way for 2017 
Kaiwaka  Can  has  been  dominated  for 
the past 18 months by the problems of 
traffic  and  speed  through  the  town. 
Now  our  final  proposal is with  NZTA 
and  we  simply  wait  to  see  what  they 
decide  and  what  they  will  provide. 
Time  now  to  focus  on  other  projects 
around the town. 
Last  Monday  night  we  began  to  set 
priorities for the year. Here are some of 
the  projects  in  our  sights  at  the 
moment. 
The  playground  fencing  hopefully  is 
almost  ready  to  go  ahead.  We  learned 
the  other  day  that  the  playground 
equipment  is  going  to  be  renewed  to 
bring it up to standard so that will be a 
double benefit for the town. 
We have dreamed for a long time of a 
gateway  sign  that  will  make  Kaiwaka 
memorable,  something  that  speaks  of 
our  unique  identity.  We  now  have  a 
number  of  sketches  that  do  just  that. 
They  have  to  be  narrowed  down, 
finalised  and  then  we  can  work  on 
something  that  will  make  people  say, 
"Yes,  I  remember  Kaiwaka.  That's 
where they have that amazing sign." 
Beautification is all set on the drawing 
board.  Now  we  need  rain  and  autumn 
to  get  on  with  the  planting.  When  the 
time  comes  we  will  need  a  hand  with 
planting,  putting  up  protective  fencing 
and giving the trees a good start. 
McClean Park is also on the list and a 
few of us meet this week to talk about 
making  the  most  of  its  possibilities. 
That  will  also  include  the  plans  for  a 
loop under the northern bridge to make 
it more accessible. 
There are lots of other projects waiting 
in  the  wings.  One  thing  we  need 
though is more people, people who see 
a  project  that  interests  them  and  join 
with  others  to  see  it  through.  We  are 
not  interested  in  asking  you  to  lots  of 
meetings  though  the  team  we  have 
meeting  each  month  is  vital  to  the 
process.  But  we  want  your  unique 
skills  and  enthusiasm  to  help  us  make 
the  town  an  even  better  place  to  live. 
Some  of  the  ideas  on  our  longer  term 
list  include  a  welcome  pack  for 
newcomers,  getting  an  information 
centre  up  and  running  again  and  a 
business  expo  which  will  let  everyone 
see just  how  much  creativity  and  hard 
work is going on in our district.  Lights 
too are on the agenda, because we are 
still  known  on  Wikipedia  as  the  little 
town of lights. 
Have  you  noticed  the  new  wall  round 
the  effluent  plant  below  Eutopia?  
Thanks  for  those  who  have  helped, 
especially  Marijke  who  has  driven  the 
project.  It  is  not  finished  yet  and 
another burst of energy will be needed 
for  the  final  touches,  including  gates 
and  art  work.  Incidentally,  Eutopia 
itself  is  making  real  progress  and  we 
look  forward  to  its  Version  2  opening 
later this year. 
If you would like to be involved in any 
of  these  projects  or  have  ideas  about 
other  things  we  need  for  our  little 
town, get in touch with us or drop into 
one  of  our  meetings,  third  Monday 
each  month  at  the  Archie  Bull  Hall 
behind the Anglican Church. 
~Derek Christensen (Chair)  
KATES COMMUNITY 
CENTRE 
KAIWAKA CAN 
The  Kaiwaka  Sports  Association's 
seventh  annual  multi-sport  event,  the 
Top  of  the  Rock,  will  be  held  on 
Sunday 12th February.  
The  event  caters  for  walkers,  runners 
and  mountain  bikers,  and  there  are  a 
range  of  options  to  suit  all  ages  and 
levels of fitness : 

5km or 11km walk or run 

10km run + 15km mountain bike ride 

10km or 30km mountain bike route 

plus,  a  fun  bike  course  for  under  10 
year olds – free! 
Routes  travel  through  some  of 
Kaiwaka's  most  scenic  countryside  – 
bush, lakes and farmland. And you get 
the  opportunity  to  climb  iconic 
Baldrock  Mountain,  which  is  easier 
than  the  daunting  view  from  the  road 
suggests,  as  there  is  a  well  formed 
track  which  spirals  around  the 
mountain. 
You  don't  need  to  be  concerned  about 
your  fitness  level  as  there  is  no  time 
limit on completing the events and we 
even  have  marshals  in  utes  following 
the tailenders who will give you a ride 
back if you get tired! Participants of all 
ages enter Top of the Rock, from pre-
schoolers  upwards  –  last  year  the  $50 
prize for the oldest participant went to 
a 79 year old! 
TV3's  Brendon  'Money  Man'  Johnson 
will host the prizegiving with prizes for 
placegetters as well as lots of great spot 
prizes,  including  a  mountain  bike 
kindly sponsored by Bike Mangawhai. 
Last  year  there  were  over  400 
participants and we are hoping to build 
on  that  number  this  time.  Please  note 
that  there  will  be  NO  ENTRIES  ON 
THE  DAY  –  the  last  day  to  enter  is 
Friday 10th February. Entry forms can 
be picked up from Jaques Four Square 
or 
downloaded 
from 
www.kaiwakasports.co.nz. 
Ways to enter: 
 
scan and email your form to Cheryl at 
kaiwakasports@gmail.com 
 
hand  your  form  in  at  Jaques  Four 
Square 
 
register  in  person  at  the  Kaiwaka 
Sports  Complex  on  Friday  10th  Feb 
6.30  –  8pm  (this  is  your  LAST 
CHANCE TO REGISTER) 
This is one of Kaiwaka's major events 
for the year so it would be wonderful if 
lots  of  locals  entered  to  support  the 
Sports  Association  –  and  it  will  be  a 
fun  day  out!  Why  not  talk  to  your 
friends,  workmates  or  neighbours  and 
get a group together.                 ~Cheryl 
4312 051 
Happy New Year to everyone.  
Here  at  Kate's  we  are  we  are  up  and 
running  looking  forward  to  2017  and 
all it has to offer. 
Naomi,  our  Community  Health  Nurse 
will be back on Thursday 26th January 
and available for before school checks, 
give us a call and book an appointment. 
Osteopath  Owen  Stevens  is  back  on 
Friday 27th January. We also have our 
two  massage  ladies  back  on  a 
Wednesday,  Dianne  from  10-12  and 
Vera from 1-4. 
In 2016 we had a really great response 
to all the services we offer, this year we 
will be expanding our services, keep an 
eye out for advertising. ~Iris & Kirstie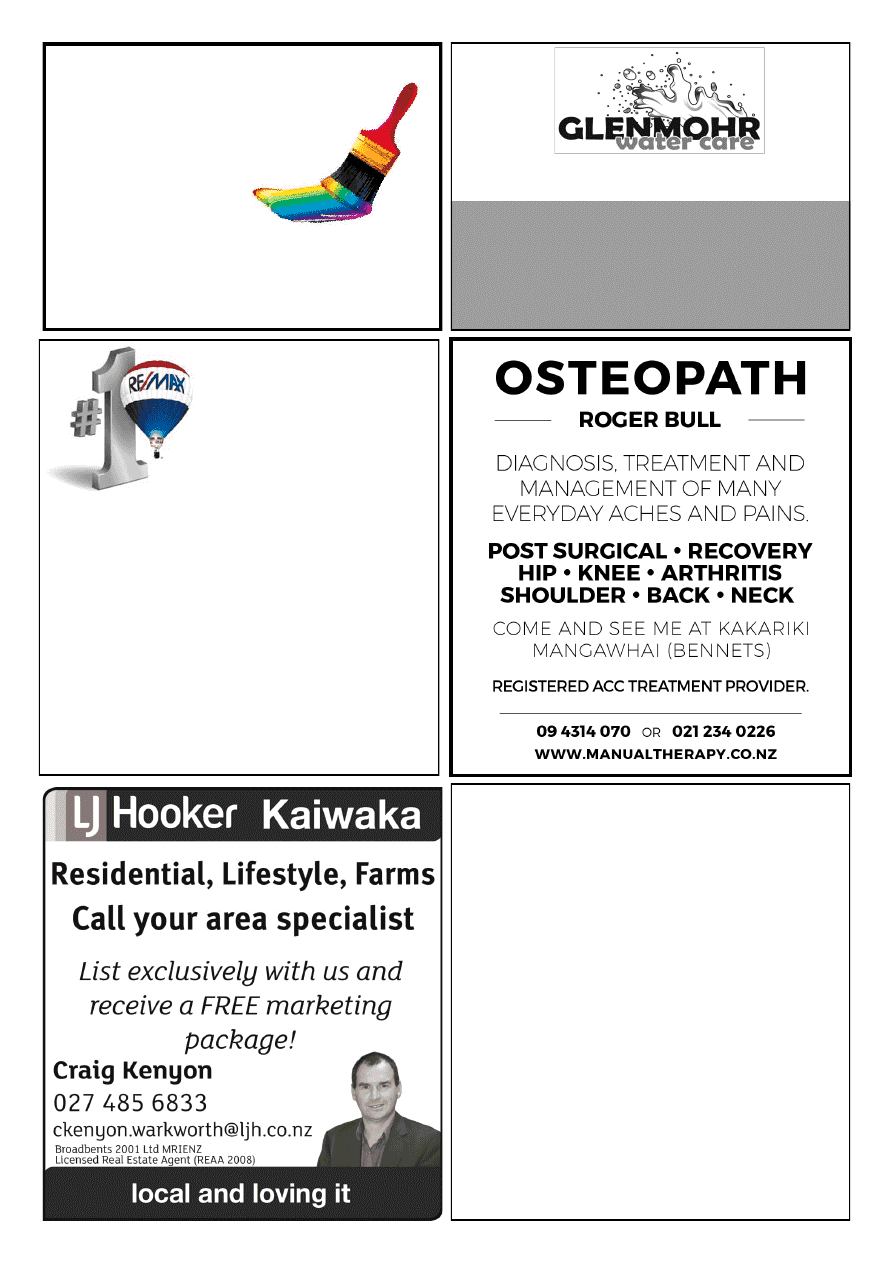 Water Tank Cleaning 
 
Keep your water safe & clean  
 
Removal of sediment, silt etc. 
 
Vacuum or full scrub 
 
Minimal water loss 
Phone Mark (09) 432 0655 or 0274 707607 
09 4312918 
0274735171 
leecooper@xtra.co.nz 
LEE COOPER PAINTERS 
(Kaiwaka Based) 
*30 yrs Experience 
*Interior/Exterior 
*New and Restoration 
*Honest and Reliable 
*Free Quotes 
There are more people 
wanting to buy than 
there are houses 
available!
Vacant land, home and income, DIY dream … 
whatever your property's condition there is a buyer 
out there waiting to give you their money. 
Get your local agent's appraisal of your property to 
find out what's it's really worth. 
Contact Beth Stone today! 
Mob: 0274 937 801 
Email: beths@remaxrealty.net.nz 
RE/MAX Realty Group MREINZ 
Northern Properties Limited 
Licensed REAA 2008 
Are you truly Happy?
Intuitive Emotional & Spiritual Healing: Psychic 
Readings: Archangel guidance:
ThetaHealer®
Glo Treadaway – Kaiwaka based
Confidential respectful practitioner
Experienced, professionally trained and certified  
ThetaHealing® Life & Abundance Coach: Parent 
Coach: Archangel Life Coach
I work with all cultures and religions. Helping all ages 
including children & babies. And pets. 
Tap into your deepest aspirations, heal past wounds, 
current anxieties, let go of stress, embrace deep inner 
peace, wisdom and power to embrace a positive outlook 
as you plan for today and create your future.
Appointments available in Kaiwaka and  
at Waipu Natural Health.
To book:
027 363 8833 
glo@celestialconsulting.co.nz  
www.celestialconsulting.co.nz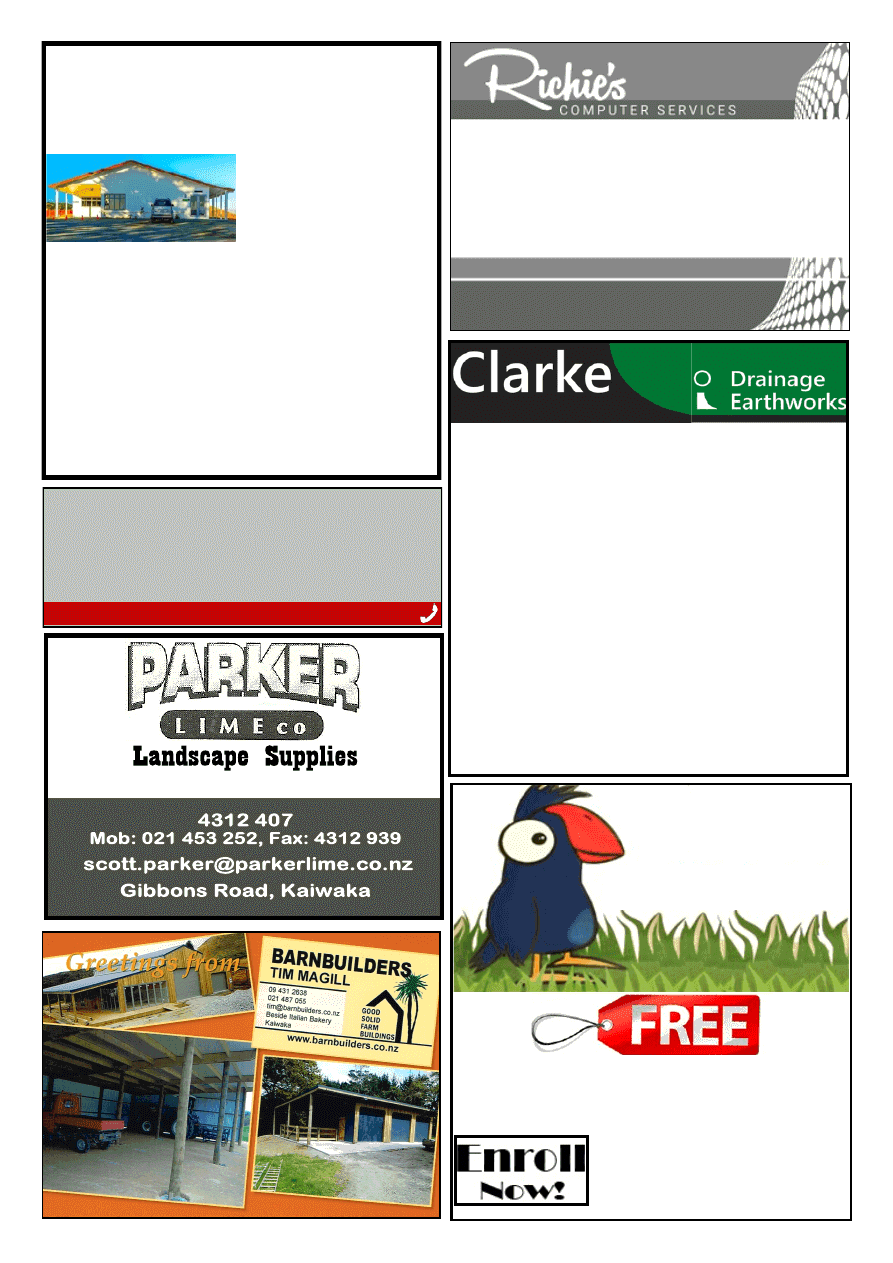 www.kaiwaka.co.nz 
Kaiwaka Bugle - 24 January 2017 
Page 19 
Registered Drainlayer 
All Types of Earthworks  
> All Residential & Commercial Work  > House Sites 
> Septic System Design & Install 
> Footings & Drilling to 10m 
> Sewer Connections 
> Dams 
> Water Tank Installation 
> Roading & Races 
> Farm Work 
THE ONE STOP SHOP  
Phone Nigel for an Obligation Free Quote  
Drainage & Earthmoving 
clarkedrainage@xtra.co.nz 
027 2233 185 
Te Pounga Marae 
130 Nathan Rd. Oneriri. Kaiwaka 0573 
COMPLEX FOR HIRE 
Functions 
* Weddings  * Birthdays  
*Anniversaries 
* Meetings  * Wananga 5 
hour meeting 
* 12 hour stay  * 
Overnight 
*All welcome - No more Drink-driving 
Amenities: 
*Convo Combi Steamer * Bratt Pan * Dish 
Washer/Sterilizer * 3 Door Glass Chiller (walk in) 
etc…All Crockery * Linen Supplied * Central 
Heating and Air Conditioning and much more. 
Can also cater for small groups…. 
For more information please contact: 
Kim Wallace 
Home: 09 832 1133  Mob: 0211275340 
Email: kimwallace@xtra.co.nz 
Bulk Cartage 
CALL CRIMESTOPPERS 
Worried about something that doesn't seem right to 
you? Concerned about activity that could be 
harmful? Call Crimestoppers.  
You don't need to know all the facts.
CALL 0800 555 111 ANONYMOUSLY 
for children over 3 
 
Day care for children from 0 to 5 yrs old 
 
After school care for children over 5yrs old
 
Phone: 09 431 2842 
Email: smallpukekos@gmail.com 
Address: 8 Kaiwaka-Mangawhai Rd 
Website: www.smallpukekos.co.nz 
Small Pukeko's 
Early Learning Centre 
 
15 years  commercial IT experience 
 
Computer and Laptop Repairs 
 
Smart Phone and Tablet Support 
 
Virus and Malware Removal 
Richard Harding
T 09 945 0376        M 021 124 7358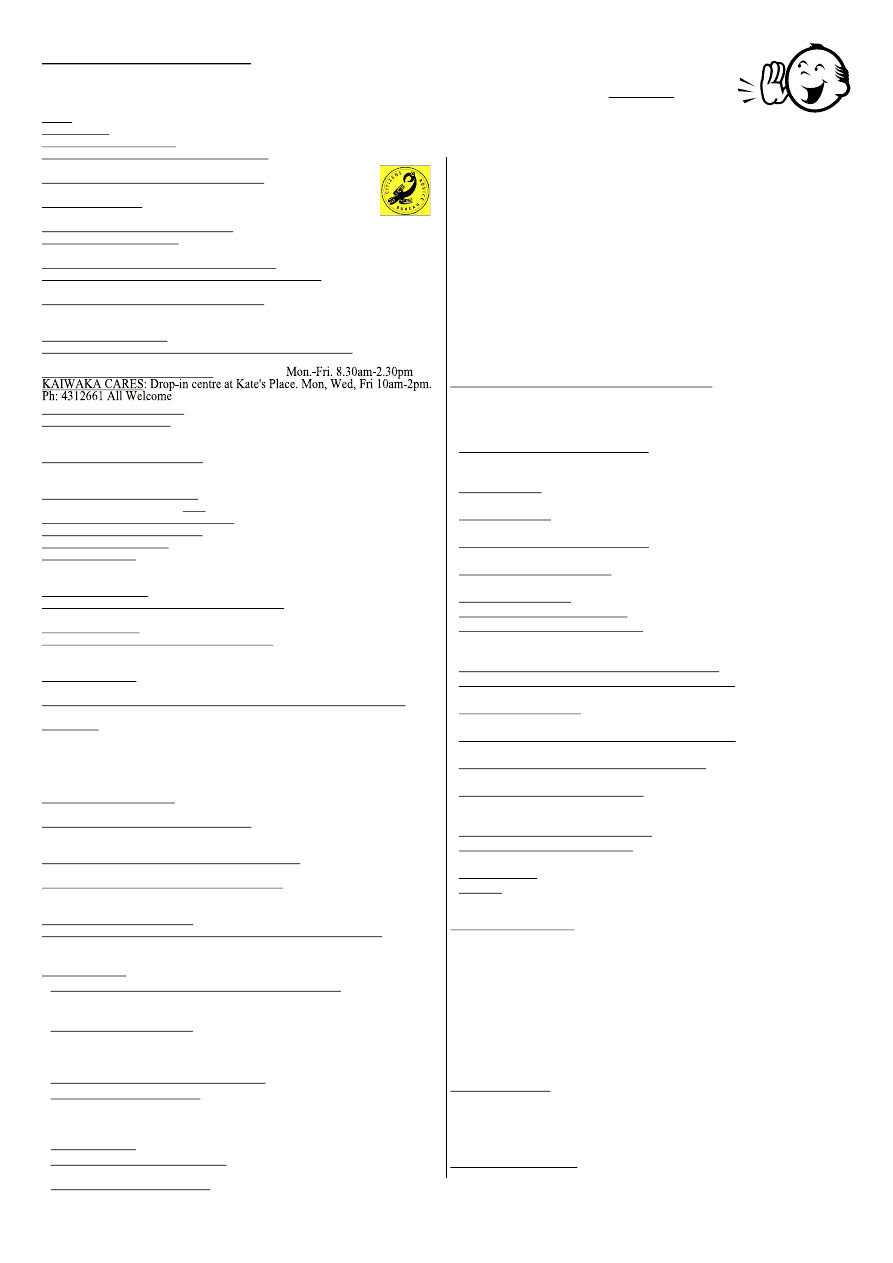 Next Bugle Deadline midday Friday 3 February 2017
WHAT'S ON
PLEASE ~ do let us know what is on - email 
kaiwakabugle@kaiwaka.co.nz 
Advertising in WHAT'S ON is FREE  
*25Jan~Kaiwaka Touch Rugby Module starts, 6:30pm KSA 
*27Jan~Bridget Jones's Baby, 7:30pm KWMH 
*28-29Jan~Otamatea Open Tennis Tournament, KSA 
*29Jan~Storks, 2pm KWMH 
*31Jan~School starts (check with your school for details) 
*4Feb~Paparoa A&P Show 
*6Feb~Twilight Tennis starts, 6:30pm KSA 
*10Feb~The Girl on the Train, 7:30pm KWMH 
*12Feb~Top of the Rock 
*24Feb~Poi-e the movie, 7:30pm KWMH 
KWMH=Kaiwaka War Memorial Hall 
KSA=Kaiwaka Sports Association Complex 
OHS=Otamatea High School 
See www.kaiwaka.co.nz for more information 
HOUSEHOLD RUBBISH COLLECTION - Kaiwaka Pick up: 
Mondays = Gr een bags (Nor thland Waste - 09 430 3273) 
Wednesdays  = Blue bags and yellow recycling (at Jaques $3.00 
and $1.50) (Kaurilands 09 4392146) 
 DIABETES  Support  Group  -for  Kaiwaka,  Mangawhai, 
Wellsford  10am,  3rd  Friday  of  month  Ph:A.Pert  4238242; 
J.Gardner 4238060 
 DRINK CAN 'tear tabs' - for Starship Hospital- please collect - 
98 Kaiwaka Mangawhai Rd, leave in mailbox, Ph. 4312625  
 GENEALOGY - Wellsford: 1st Thursday in month Ph: 423 
7033; Waipu: 4th Monday in month Ph: 4312 725 
 GYMNASTICS  OTAMATEA  -  Tuesday  Ph:  Stephanie  022 
3624998 
 HAKARU PONY CLUB - Secretary Denise Rogers 021423376 
secretary@hakaruponyclub.co.nz  
 KAIPARA HUNT - Secretary Albert Doonenbal Ph 4312059 
 KAIWAKA BADMINTON -Tuesdays 7.30pm Ph: 4312345 
 KAIWAKA  DRAMA  CLUB  -  Dave  Edwards  021  611198  - 
KaiwakaDrama@gmail.com Monday 5:30-7:00pm KWMH - FB 
- "KaiwakaDramaClub" 
 KAIWAKA DRUM & DANCE CLASSES - 021 611198 
 KAIWAKA GARDEN & FLORAL GROUP - 2nd Thursday in 
month. Ph: 431 4767 
 KAIWAKA  CUBS  -  Thursdays  5.30-7pm,  Hakaru  Ph:Bruce 
4312542 
 KNITTING FOR WHANGAREI HOSPITAL - 2nd Tuesday in 
month, Apple Basket 10am Ph 4314827 
 MANGAWHAI COMBINED PROBUS CLUB - 2pm, 3rd 
Thursday month, Senior Citizens Hall Mangawhai. Ph: 4315777 
 OTAMATEA GREY POWER - Kath Pattinson 09 283 2052, 
1pm last Wednesday of month, Anglican Church Hall, 
Maungaturoto 
 PT CURTIS CRUISING CLUB - Jean Ph: 4312227 (wk), 4312520 (hm) 
 RSA,Hakaru & Dist.Women - meet 1.30pm 4th Thurs in month 
Ph: 4314 668  
 TRAMPING - Mondays 9am-2:30pm Maria 4312 234 
 YOGA  -  Tuesdays  6:15pm,  Friday  8:30am  KWMH  Carla  Ph: 
021 296 8794 
HALLS FOR HIRE: 
 St.Pauls Archie Bull Hall HIRE $20 half day, $40 full day per 
hire, R. Morgans, Ph 4312365 
 Kaiwaka  War  Memorial  Hall  HlRE  -  Phone  4312725  or 
kaiwaka.hall.bookings@gmail.com 
 Hakaru Community Hall HIRE -Ph. 4312256 or 4312110 
 Te Pounga Marae queries - R. O'Leary 4312 423, J.Nathan 021 
186 7382 
 Kaiwaka Sports Association hire/queries - C. Anderson 4312051 
or kaiwakasports@gmail.com 
Justice of Peace:  
B.FJaques  4312  048;  L.Donaldson  4312  228;  A.F.Hargreaves 
4312 045, W.Howard 4312 725 - please phone to make sure they 
are available www.justiceofthepeace.org.nz 
Marriage Celebrants:  
L.Donaldson; A.F.Hargreaves; C.Rosseels, Y Osborne
LOCAL SERVICES 
*Emergencies - Ambulance, Fire, Police - dial 111 
*Non-urgent Police phone 09 4311150
A A: Meets Wed., 8pm Kaiwaka Ph: 4312228, 4315543, 0800229 6757 
AL ANON: In recess, contact Ph: 4312228 
ASUREQUALITY LTD (was AgriQuality) Call Free 0508 0011 22  
BUDGETING SERVICE, WELLSFORD: Free confidential advice & 
support for all areas of personal finance. Ph (09) 423 7123 
CAB-Citizens Advice Bureau.Wellsford Ph: 4237333 
0800 367 222 email:cab.wells@xtra.co.nz  
CIVIL DEFENCE - Kaiwaka Community Response Group: 
kaiwaka.civildefencecrg@gmail.com, 4312725 Wendy 
DOG/STOCK /NOISE CONTROL 0800 105 890 
FUNERAL SERVICES: Morris & Morris Ltd, 
Whangarei - Bev Jaques Ph:4312367 or 0800667747 
GRANDPARENTS Raising Grandchildren: Dianah Roberts 0223819539 
HAKARU & DISTRICTS MEMORIAL RSA (Inc) 733 Settlement Rd, 
Hakaru. Ph 4312 176 or Graeme Hitchcock (President) 431 3064 
HAKARU LANDFILL/Transfer Station:Open everyday except 
Tuesday10am-4pm.Ph4312629 Cost-$55 trailer load up to 1 cubic metre. 
Ph:4258567 - office 
INLAND REVENUE: Last Friday each month, 11-3pm Ph4312661 
KAIPARA DISTRICT COUNCIL www.kaipara.govt.nz:  
Help Desk FREEPHONE 0800 727 059  
KAIWAKA KOHANGA REO: Ph:4312620 
KAIWAKA CEMETERY: Ph: 4312045 
KAIWAKA LIBRARY: kaiwaka.library@gmail.com  
Mon. 4-6pm; Wed., Thurs., Fri., Sat. 10am-2pm Ph:4312539 
KAIWAKA PLAYCENTRE: Ph Juanita 0274134904; open Mon, Wed, 
Fri 9am-12pm. Hastie Lane 
Monday to Friday 9.00am - 12 noon. 
KAIWAKA POST OFFICE:Ph:4312 431  
Post Code: 0573 for RD2 and 0542 for all Kaiwaka Post Office mail 
KAIWAKA PRIMARY SCHOOL: Ph: 4312309   
KAIWAKA SPORTS ASSN: Ph 4312005; 4312129 gym 
KAIWAKA ST JOHN: Manager Steve Rosser 09 4318403, 021 2316836 
KATE'S PLACE Community Centre - Employment services, Free Health 
Nurse, Advocacy, Osteopath, A.A., Legal Advice. 4312 661 
LINKING HANDS Health Shuttle Ph 4314121 or 09 4318969 
MINISTRY FOR PRIMARY INDUSTRIES - General inquiries Call 
Free 0800 008 333 
NORTHPOWER: Faults Kaiwaka area 0800 104040 
OTAMATEA COMMUNITY SERVICES: Counselling, parent coach, 
Family Support worker, budget advice, food bank. Mon-Fri 9am-3pm. Ph 
09 431 9080 http://www.otamateacs.org/ 
PARENTPORT: Free, practical family support service Puhoi to Paparoa 
Ph or txt: Dianne 027 2085093 
PERSONAL DEVELOPMENT COACHING, GROUP FACILITATION:  
Sabine Druckler 4312231 
PLUNKET: Kaiwaka - Kaiwaka War Memorial Hall: Clinic 1st Wednesday of the 
month; Coffee Group at 9:30. Mangawhai  - Rose Madsen Cottage, Mangawhai 
Domain,  Moir  St:  Clinic  1st  and  3rd  Monday  of  month;  Young  Babies  Coffee 
Group  2nd  and  4th  Monday  10  am;  Plunket  Playgroup  every  Thursday. 
Maungaturoto - Maungaturoto Congregational Church, 100 Hurndall Street East: 
Plunket clinic 2nd and 4th Wednesday. Cynthia 09 431 8187 or 027 675 3488 
PLUNKET HELPLINE -0800 933 922 (24 hours) 
TAITOKERAU COMMUNITY LAW: Free confidential legal advice and 
assistance, 2nd
Thursday
 of each month. Ph: 0800 155 529 for 
appointments.  
TE KOROWAI AROHA O NGATIWHATUA Ph: 4312675 
(The Cloak of Love of Ngatiwhatua) Support and Maori Consultancy.  
VETERINARY SERVICE MANGAWHAI: 
Ph: 4314535 Mon-Fri 8.00-5.00, Sat 9-12, a/h appt. 
WELLSFORD DOCTORS: Ph: 4238 086 
WOMEN'S WELFARE LEAGUE & Reaching Out For Youth:  
4 Kaiwaka-Mangawhai Rd, M Morgan 4312293 
CHURCHES:
 
Kaiwaka Revival Church - Your Community Church: Sundays 10am & 
6pm. Ph: Pastor Tawhiri 09 4312 571 or Pastor Paul 09 4312 068 Visit 
us at www.facebook.com/kaiwakachurch 
 
St Paul's Anglican Church 1st Sun. 9.30 am (Eucharist), 3rd Sun. 9.30 
am (Family Service). Contacts: Church Office 09 431 4122; M. 
Hargreaves 431 2295; C. Bygrave 431 2057; or Rev. Wayne Thornton 
Ph 431 5650 www.mangawhaianglican.org.nz 
 
Church of Christ the King, Mangawhai:9.30am every Sunday 
 
St.Mary's Catholic Church: Maungaturoto – Griffins Road, Saturday 
evening Vigil Mass 6pm; Mangawhai – Senior Citizens Hall, Sunday 
Mass 8:30am; Wellsford – Matheson Road, Sunday Mass 10:30am;  
Mid-week Mass times and all enquires to Fr. Bill Fletcher – phone 423 8170
 
Baptist Church: Sun. 10.30am Mangawhai Snr Cit.Hall.Ph:4312339 
 
Cause Way Church Mangawhai: Sundays 10.15am, Mangawhai 
Community Recreation Centre, Insley St. Ph: 09 4314782