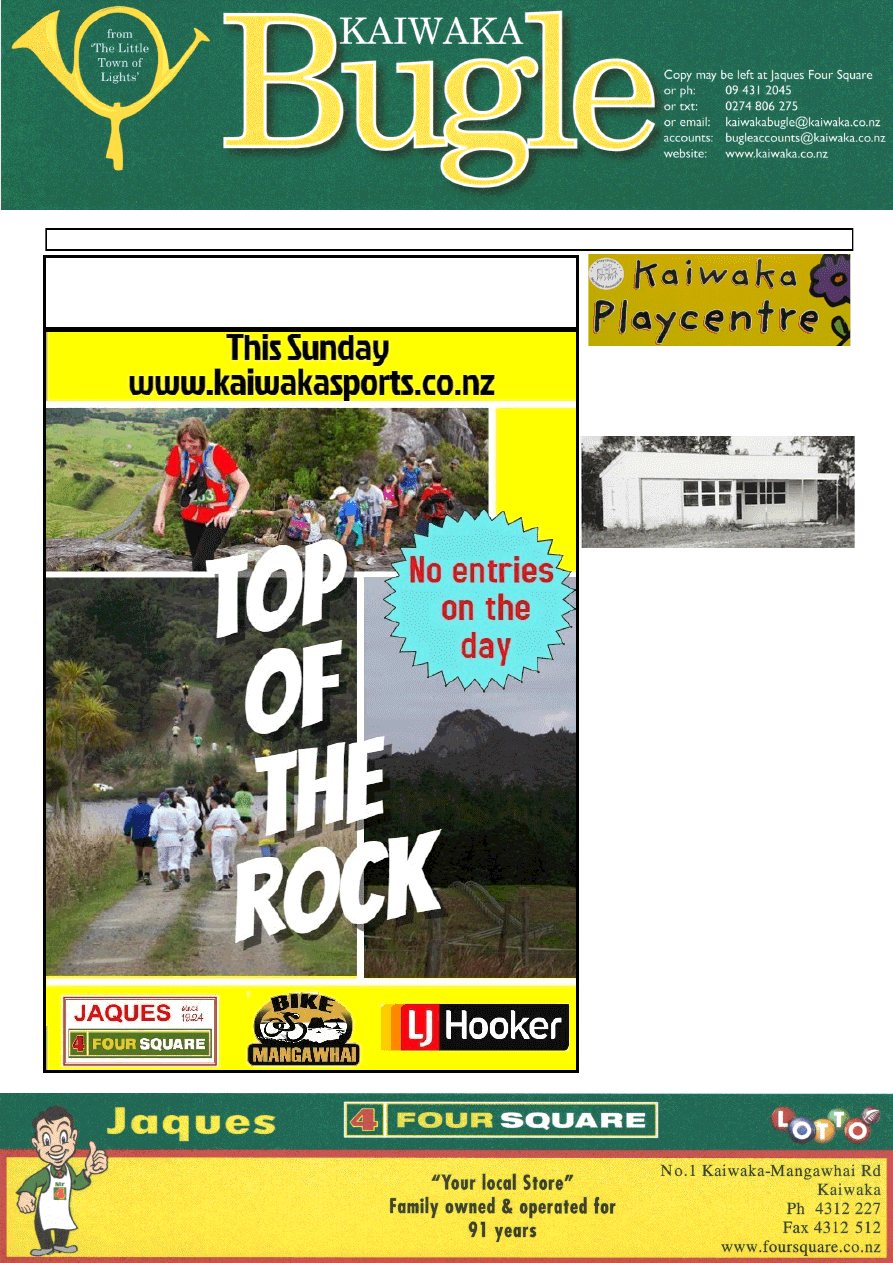 www.kaiwaka.co.nz 
Kaiwaka Bugle - 7 February 2017 
Page 1 
No:2 
7 February 2017 
Summer Trading Hours: 
Monday to Friday 8:00am - 6:30pm 
Saturday 8:00am - 7:00pm 
Sunday & Public Holidays 9:00am - 5:00pm  
Fifty years ago today, 7 February 1967, 
the  first  session  of  the  Kaiwaka 
Playcentre  was  held  in  the  original 
Kaiwaka  Sports  pavilion  where  the 
gym now sits - pictured below. 
The  first  committee  -  Joy  Sceats 
president,  Vivienne  Linnell  secretary, 
Enid McClean treasurer,  Gayle  Brown 
roster  mother,  Vera  Hall  equipment 
officer  and  other  interested  parents  - 
made arrangements to rent the Domain 
pavilion for their Play Centre sessions. 
This was made possible by a wonderful 
response  from  the  members  of  the 
community,  and  some  quick  money-
raising  in  order  to  buy  the  necessary 
equipment.  With  a  roll  of  up  to  28 
children  two  days  a  week,  the  Centre 
soon  began  to  look  for  a  permanent 
home. 
By September that year they were able 
to  purchase  the  Vallana  Knitwear 
factory  in  Hastie  Lane.  The  building 
has  since  increased  in  size  and  has 
become  spacious  and  welcoming,  but 
is still in the same position. 
There  are  many  wonderful  memories 
from  the  former  pre-schoolers  -  some 
now 54! And from the supervisors and 
parents - the time Peter Wilkinson MP 
opened  the  new  outdoor  playground 
equipment,  the  fantastic  Balls  held  in 
the  Kaiwaka  War  Memorial  Hall 
during  the  70s,  the  dads  remember 
working on the building extensions and 
the  tremendous  fellowship  that  was 
built  up.  The  mothers  worked  through 
(Continued on page 11) 
SUNDAY 12 FEBRUARY 
KAIWAKA'S FUN MULTI SPORT EVENT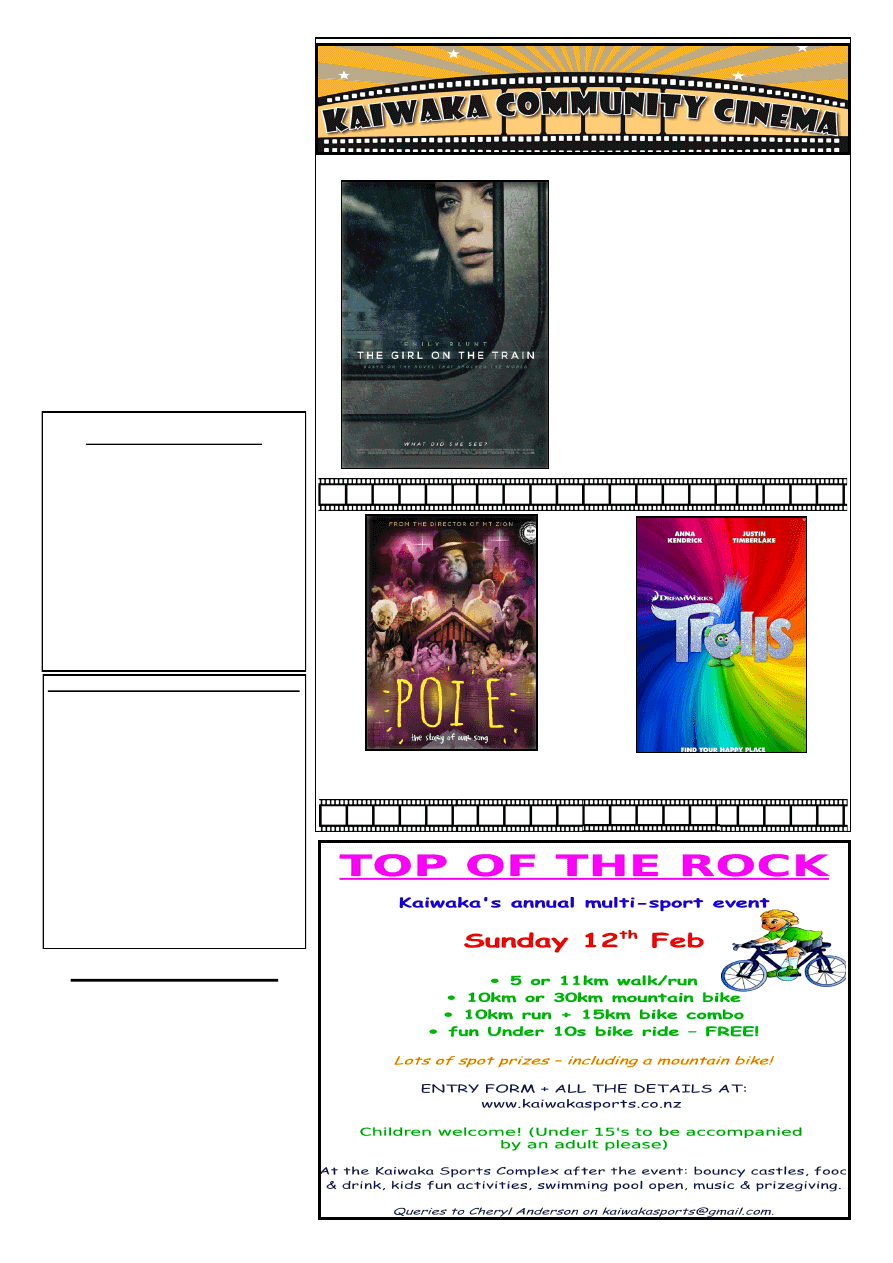 At Kaiwaka War Memorial Hall . Adults $10, Kids (under 16) $5, Family Pass (2 adults + 3 children) $25 
ABOUT TOWN 

Congratulations  to  Kaiwaka  Playcentre  
on 50 successful years in our community. 

Free  Wi-Fi  now  available  at  Kaiwaka 
Library  -  no  password  needed,  running 
24/7 for now. 

Top  of  the  Rock  -  marshalls'  meeting 
Friday  10  Feb  -  this  is  the  last  chance  to 
register. 

Sorry,  no  Otamatea  Tennis  Tournament 
results available to us in time to print. 

Don't  forget  Valentine's  Day  on  14 
February!
"All you need is love. But a little chocolate 
now and then doesn't hurt." 
                         - Charles M. Schulz
KAIWAKA BUGLE No. 2 
7 FEBRUARY 2017 
CONTENTS 
Page 3: Public Notices, Classified 
Page 5: Hakaru RSA Women's 
Section, Pt Curtis, 100 Years Ago 
Page 7: Weather, Library 
Page 9: Kaiwaka School 
Page 11: Kaiwaka Playcentre's 50th 
Page 13: Kaiwaka Sports Association 
Page 15: Heed the Warnings, OHS 
Page 17: Mangawhai SeniorNet, ORT 
Bugle 3 will appear 21 February 
Contact for advertising, reports, articles 
or information can be made by 
Email kaiwakabugle@kaiwaka.co.nz 
Ph: 09 4312 045 (Lindsey) 
Txt: 0274 806 275 (Wendy) 
Copy  may  be  left  at  Jaques'  Four 
Square. 
Kaiwaka Bugle Advertisements 2017: 
All 
copy 
and 
queries 
to: 
kaiwakabugle@kaiwaka.co.nz 
Our A4 page is divided into 6 columns & 8 
rows (48 blocks), with a 1cm margin. 
Ad  sizes:  1/16  page  (3  blocks)  $5;  1/8 
(6 blocks) $8; 3/16 (9 blocks) $12.  
Classified  ads:  $4  per  entry  (max.  30 
words, max. 4 repeats). 
Payments can be made online, posted or 
left at Jaques Four Square Store. 
Accounts:  
Email: bugleaccounts@kaiwaka.co.nz 
The  Kaiwaka  Bugle  is  a  community 
newspaper run by volunteers.   
Articles, etc. printed are not necessarily 
the opinion of the Bugle Team. 
Kaiwaka Bugle 
Founded May 1978 
We appreciate articles and photos about local 
events, etc, as well as ads and suggestions. 
Copies available in Kaiwaka at Jaques Four 
Square, Kaiwaka Postal Centre, Shamrock 
Service Station, Animal Health Centre, 
Kaiwaka St John shop. 
Also outlets in Maungaturoto, 
Mangawhai and Paparoa. 
Can be viewed online at  Facebook or 
www.kaiwaka.co.nz/Bugle  
Or a copy can be posted to you if you supply 
stamped, self-addressed DLE envelopes. 
The Girl on the Train 
Friday 10 February 7:30pm (M)
A  woman  becomes  entangled  in  a 
missing  persons  investigation  that 
promises 
to 
send 
shockwaves 
throughout her life. 
Starring: Emily Blunt, Haley Bennett, 
Rebecca  Ferguson,  Justin  Theroux, 
Luke  Evans,  Allison  Janney,  Lisa 
Kudrow. 
Poi-E 
Friday 24 February 2pm (G) 
Trolls 
Sunday 26 February 2:00pm (G)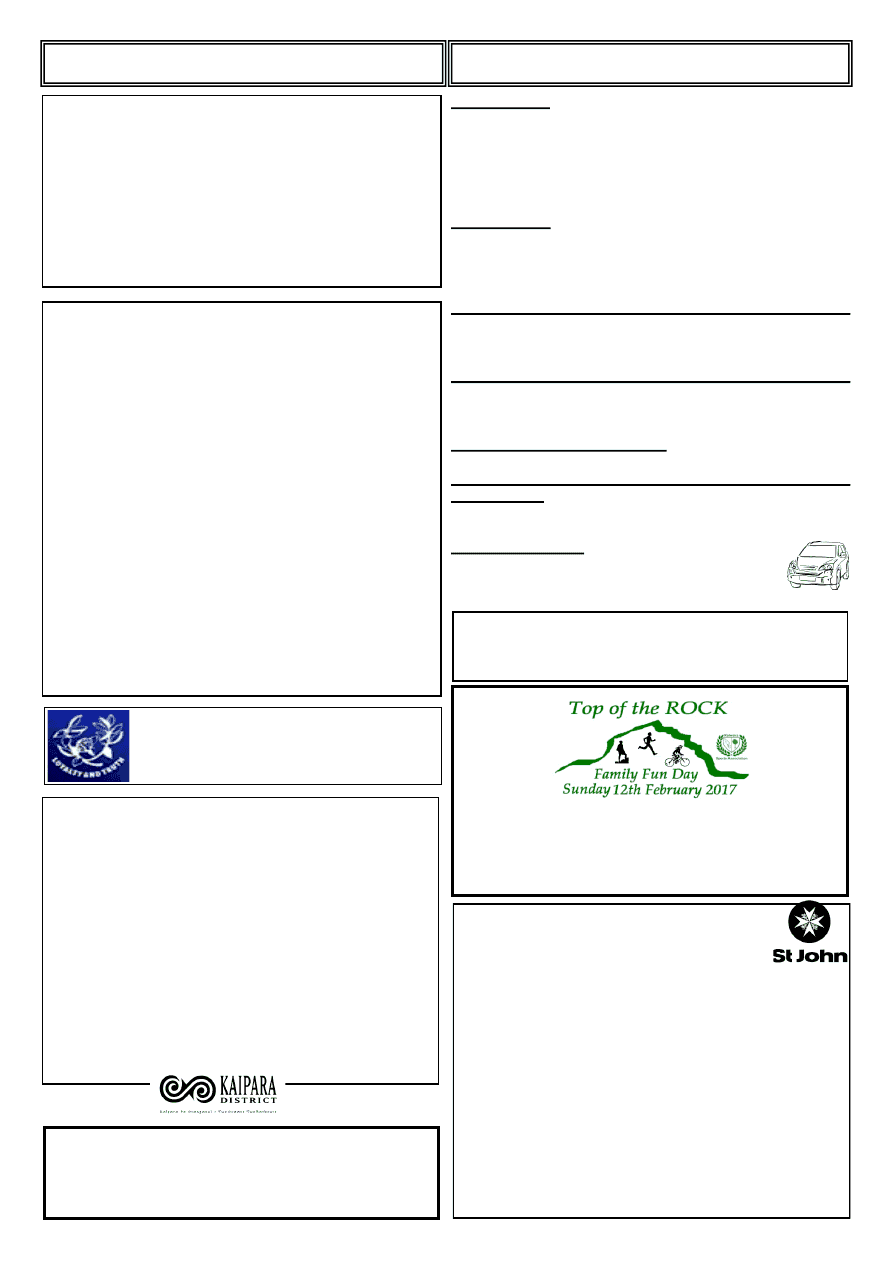 www.kaiwaka.co.nz 
Kaiwaka Bugle - 7 February 2017 
Page 3 
PUBLIC NOTICES 
CLASSIFIED 
FOR  SALE: Br eville bench oven, a r eal gem, 1 yr  
old, had little use, $280 (cost $436). Chrome wardrobe 
organiser  on  wheels,  3  shelves,  $80.  Suitcase, 
Voyager,  has  wheels,  teal  blue  &  black,  L  50cm  W 
35cm  D  20cm-25cm,  never  used,  cost  $80  -  $$40. 
Sony CD-radio cassette-corder, as new, $50. Ph 09 423 
7226 
FOR  SALE:  Single  colonial  style,  dark  wood,  slat 
bed, with an excellent mattress. $75; Bar fridge, new. 
$70;  Austrian  blind,  lined,  sheer  navy  blue  with 
antique  gold  swirls  1660  w  x  1700  long.  $30.  Ph:  09 
4312244 
RENTAL 
ACCOMMODATION 
WANTED: 
Looking  for  a  house  with  grazing  for  farm  animals. 
Very  Good  Tenants,  can  provide  references.  Deidre 
021 370 818 or 09 4312 031 
RENTAL 
ACCOMMODATION 
OFFERED: 
Large  1  bdrm  insulated  cottage  surrounded  by  sunny 
decks, near town on seal. $210 pw incl power, water, 
gas, tv). Ph 09 945 0593 
THE  SUNSHINE  GIRLS:  Efficient  and  reliable 
help with your housework. Ph 4312 532 
MARRIAGE CELEBRANT / WEDDING EVENTS 
PLANNER:  Yvonne  Osborne  Ph  0274  989  814, 
yvonne.osborne@xtra.co.nz 
PLEASE NOTE: on page 14, the FastCrew 
ad  should  include:  "Wayne  and  Leanne  are 
FAST CREW, the garage that comes to  you. 
Ph:0800 484 327  fastcrewautomotive.co.nz" 
Proverbs 27:2  Don't praise yourself;  
let others do it!   
ST JOHN'S OP SHOP 
Happy belated New Year everyone. 
We have been very busy. 
I thank people who have responded to my request on 
Facebook  as  once  again  I  missed  the  Bugle. 
Apologies  also  for  the  raffle  result  not  being 
published.  It  was  won  by  ticket  no.  56  Diva  Ratu. 
Many  thanks  to  those  who  bought  tickets. 
We  could  do  with  beds  and  mattresses…  singles, 
doubles and queen size (must be in clean condition, 
no  rips)  pillows,  toys,  jewellery,  plants,  fruit,  corn 
etc. Also small pieces of furniture like drawers etc.  
All  this  would  be  greatly  appreciated  as  well  as 
anything else. ~Milly 
Op Shop, 1919 SH1, Kaiwaka 
Mon-Fri 9am to 4pm 
Sat 9:30am to 1:30pm 
Kaiwaka Library 
Free Wi-Fi 
Thank you to Kaipara District Council for providing 
this service to our community.  
This is your rates in action. 
Hakaru & Districts Memorial RSA (Inc) 
Women's Section 
Annual General Meeting  
Thursday 23rd February 2017 
at the RSA Club, 733 Settlement Road, Hakaru 
at 1:30 p.m. 
Nomination sheets on the main noticeboard. 
Members must be financial 
to stand for nomination and to vote. 
Jan Mann, Secretary. 
Kaiwaka Primary School 
Board of Trustees 
Casual Vacancy for an Elected Trustee
A casual vacancy has occurred on the board of 
trustees for an elected parent representative.
The board has resolved under section 105 of the 
Education Act 1989 to fill the vacancy by selection.
If ten percent or more of eligible voters on the school 
roll ask the board, within 28 days of this notice being 
published, to hold a by-election to fill the vacancy, 
then a by-election will be held.
Any eligible voter who wishes to ask the board to 
hold a by-election should write to:
Chairperson 
Board of Trustees 
Kaiwaka School 
PO Box 104 
Kaiwaka 0528
by March 10th 2017 
OTAMATEA HIGH SCHOOL 
52nd Swimming Sports 
Thursday 9 February 
TOP of the ROCK 
Marshalls meeting 
Friday 10 February, 6.30pm 
Kaiwaka Sports Complex 
Waiho ma te tangata e mihi 
Leave your praises for someone else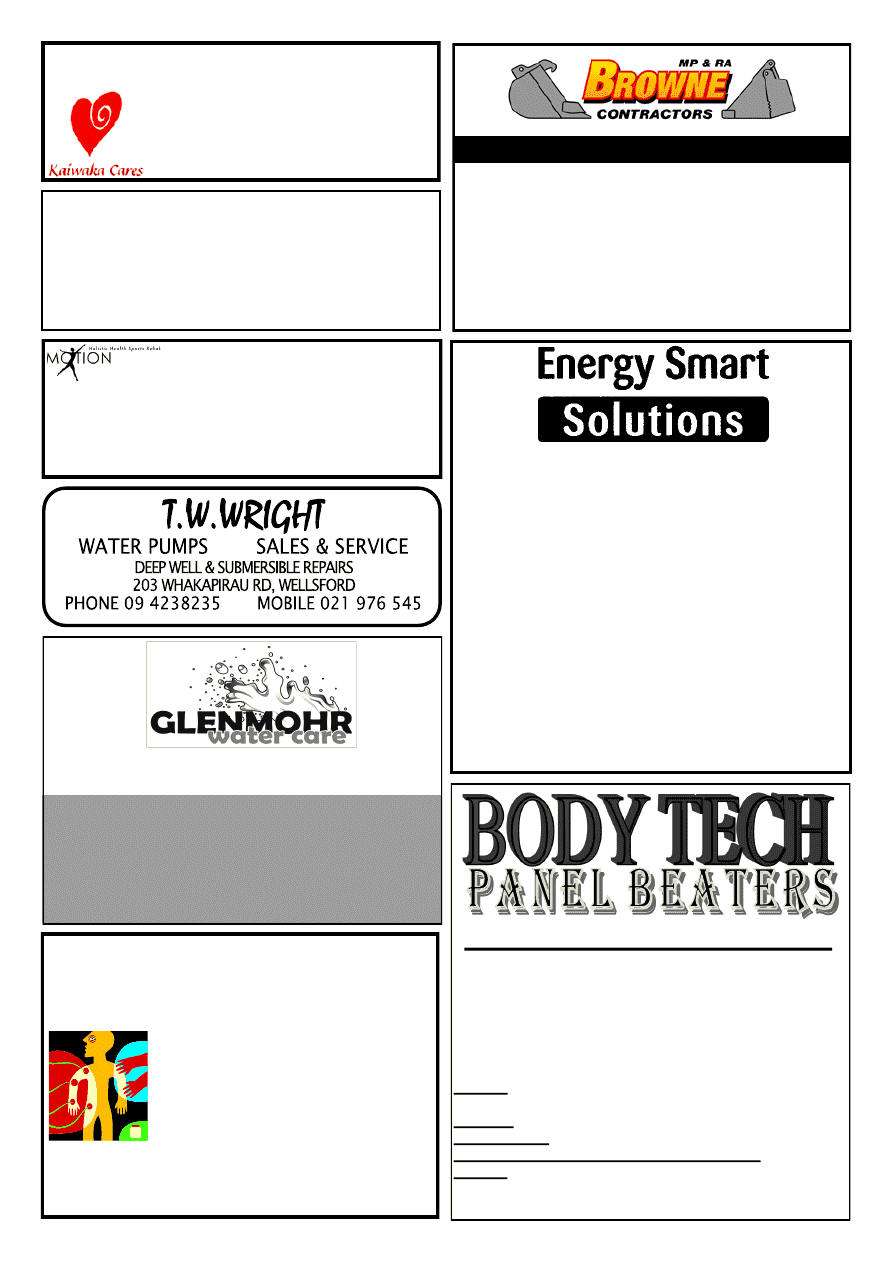 FREE GRAZING WANTED 
Small or large block 
Can do some fencing or water 
Phone after 6pm 
4312 006 
WAIPU OSTEOPATH 
Maria Gabriel  ACC Registered Osteopath 
8 The Centre, Waipu 
Monday to Thursday  
Freephone 0508 924786 (0508 WAIPUOSTEO) 
www.getinmotion.co.nz  No doctor referral required 
Community Drop-In Centre
Open 10am – 2pm  
Monday - Wednesday - Friday 
WIFI, printing & scanning available at 
Kaiwaka's own drop-in social space.
OWEN STEVENS 
Osteo Therapist
For careful adjustments to bones and joints 
Treatment for  humans and their pets 
Clinics: 
Kate's Place, Kaiwaka: 
Last Friday of month 
For bookings:9.00am-5.00pm 
Phone 
09 4312661 
Or phone Owen  09 4317123  anytime 
4T DIGGER – BOBCAT – TIP TRUCK 
Property Maintenance - Driveways - Building Sites 
Stump & Tree Removal - Hole Boring - Chain Trencher 
Calf Shed and  Stockyard Cleaning
KAIPARA - WHANGAREI - RODNEY 
Phone Matt: 021 199 6677 
Email: mprabrownecontractors@gmail.com 
For all your body repair needs!! 
We do: 
Rust repairs 
Insurance work 
Anti-corrosion treatment     
Hours: 8.30am-5pm Mon-
day-Friday  
Mobile: 021 118 0462 
After hours: 09 431 2384 
Phone: Craig or Call in for a free Quote 
bodytech_panelbeaters@yahoo.com
We are located at 1837 SH1 Kaiwaka, behind  
Twinkle Tow 'n' Tyre call in anytime for a free quote.  
Large and minor vehicle  
 repairs 
Industrial vehicles 
Full Cut and polishes 
Water Tank Cleaning 
 
Keep your water safe & clean  
 
Removal of sediment, silt etc. 
 
Vacuum or full scrub 
 
Minimal water loss 
Phone Mark (09) 432 0655 or 0274 707607 
ASK US ABOUT OUR NEW 
SOLAR ENERGY PACKAGES
We also provide advice on Ventilation Systems, Heat 
Pumps and Air Conditioners.
Does your Family or Home suffer from 
Are you looking for affordable top quality 
products? 
CALL US NOW!
For a free assessment and quote phone:
431 2025 / 021 762 352 
www.energysmartsolutions.co.nz 
 Condensation 
 Allergies 
 Asthma 
 Poor air quality 
 Musty smells 
 Mould 
 Mildew 
 Dampness 
 Hard to heat 
 High humidity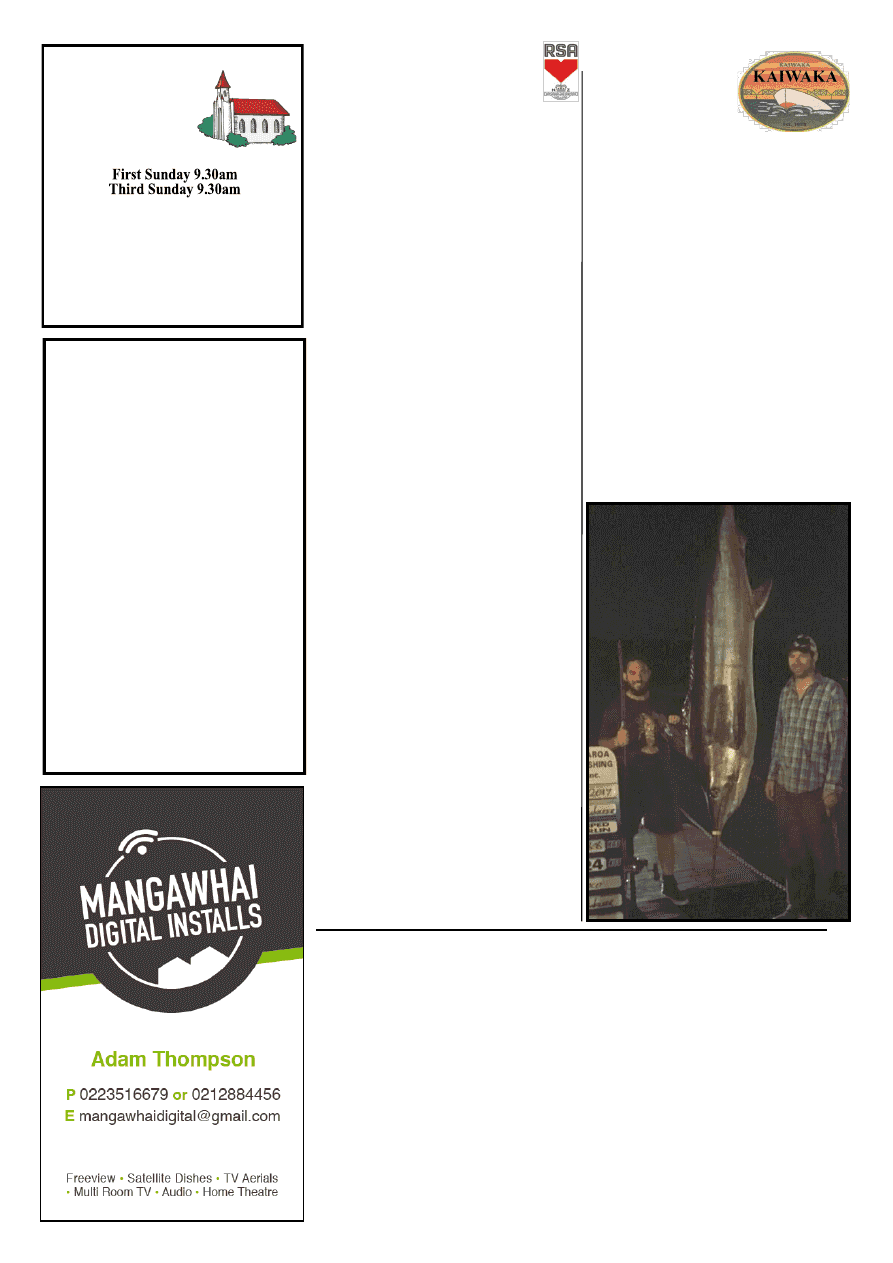 www.kaiwaka.co.nz 
Kaiwaka Bugle - 7 February 2017 
Page 5 
ST PAUL'S  
ANGLICAN  
SUNDAY  
SERVICES
St Pauls Church: Kaiwaka-Mangawhai Rd. 
1st Sun - Eucharist 
3rd Sun - Family Service 
Office 4314 122 
Contacts:M.Hargreaves 4312295, C.Bygrave 4312057  
or Rev. Wayne Thornton Ph 431 5650 
www.mangawhaianglican.org.nz
Willow Bend
HORSE  
HOTEL 
  
Total Horse Care 
 
Agistment 
 
Riding Lessons 
 
Arena Hire (60x40) 
 
Young Horse Starting 
 
Re-training/Exercising 
 
Hoof Trimming 
 
Problem Solving 
Phone Sue 09 431 2817 
or 021 623 776 
Or email  
susanjoll11@gmail.com 
HAKARU RSA 
WOMEN'S 
SECTION 
16  members  attended  our  first 
meeting for 2017 which was preceded 
by a committee meeting. 
President  Lena  welcomed  everyone, 
including  Pamela  Truscott  a  new 
member;  nice  to  have  you  with  us 
Pamela. 
The Women's Section Song was sung 
reminding us of our obligations to the 
main RSA to lend a hand in any way 
to the Diggers of the RSA 
It  was  nice  to  receive  a  thank  you 
from our Scouts for the donation from 
the Women's Section to assist them to 
attend  the  Jamboree  which,  from  all 
accounts they enjoyed very much. 
The Birthday Girl for this month was 
our  Patroness  Fay  Wintle  –  Happy 
Birthday Fay. 
We  were  sorry  to  hear  of  Noeline 
Davies'  involvement  in  a  car 
accident,  and  we  wish  her  a  full 
recovery, and Lorraine Lusty we miss 
you too, get well and come back soon, 
plus anyone else who couldn't attend 
because of ill health. 
Our  Annual  Bowls  Day  where  we 
invite all the other Women's Sections 
in  the  North  is  on  Monday  13th 
February,  members  please  bring  a 
plate  and  we  would  love  a 
contribution  for  the  raffle,  please  get 
it to Heather or Ann before that date. 
Ann will collect items if you have no 
way to get them there 431 5913. 
Bowlers to wear your whites and take 
your  lunch.  Members  helping  in  the 
morning please arrive by 8:30 a.m 
Next  meeting  is  on  23rd  February, 
1:15p.m.  This  meeting  will  be 
followed  by  the  A.G.M.  Members 
urged to attend. 
There  will  be  a  nomination  sheet  on 
the  main  noticeboard  by  the  2nd 
April,  please  ask  the  nominee  before 
you put their name up and get them to 
sign the sheet. 
That is all for now, Happy New Year 
everyone  and  we  love  to  get  new 
members! 
~Ann 
Joining the Point Curtis Cruising Club 
is  easy!  Subs  are  $30  for  a  family  or 
$20 for a single. To join just leave your 
money  and  contact  details  (Name, 
address, contact phone numbers and e-
mail address) at 3 Furlongs Bar & Grill 
or  see  Jean  (Secretary/Treasurer)  at 
Jaques Four Square. 
Fish of the month is Snapper (until 14 
February 2017) 
Please  keep  an  eye  out  in  upcoming 
Bugles 
for 
dates 
for 
fishing 
competitions this year. 
Next committee meeting Tuesday 14th 
February,  7pm  at  3  Furlongs  Bar  & 
Grill. Hope to see you all there. 
~Wayne Leslie, Commodore 
Pictured:  Club  member  Justin  Walker 
and  friend  with  their  148kg  Striped 
Marlin caught on 27 January. 
POINT 
CURTIS 
CRUISING 
CLUB 
From the Rodney and Otamatea Times, 
Waitemata  and  Kaipara  Gazette  14 
February 1917: 
"THE RECORD FLOOD. 
FURTHER PARTICULARS. 
PAKIRI. The flood did a good deal of damage at 
Pakiri,  of  the  same  kind  as  reported  in  other 
districts. Mr T. Hoult had 50 sheep washed out 
to sea.  
KAIWAKA.  Residents  of  this  part  of  the 
district hope that there will not be any more big 
floods  for  at  least  half  a  century.  Considerable 
loss  and  inconvenience  have  been  caused.  The 
sweeping  away  of  the  Topuni  bridge  is  much 
felt.  
WARKWORTH.  As  showing  the  quantity  of 
water  about  Warkworth,  …  The  clearing  and 
repair  of  the  Kaipara  line  may  take  another 
week. 
We  have  heard  that  Mr  C.  Walker  lost  a 
valuable  young  stallion,  …  Eight  bridges  were 
destroyed  in  Otamatea  County,  and  slips  and 
washouts  were  numerous.  The  Minister  for 
Works has been requested to send an officer to 
inspect  the  general  damage,  with  a  view  to 
special assistance." 
It  is  sad  to  read  of  the  loss  of  lives 
further north in these disastrous floods 
reported  in  the  Waikato  Times  6th 
February  1917  where  two  Kaihu 
children  and  a  Towai  settler  were 
drowned in the rushing flood waters. 
FEBRUARY 100 YEARS AGO
: 
Rain, Rain, Rain
design drafting  
service 
Retired builder and manufacturer with over 40 years  
experience in the building industry is offering a design 
drafting service  
for domestic housing, sleepouts and sheds.  
Plans formulated in consultation with clients, with 
working drawings completed and submitted to  
council for processing.  Extensive practical experience,  
able to identify & resolve problems. 
Please ring Mike Lean on 
09 431 2260 
or 
021 431 196 
AFFORDABLE PRICES! 
MENS DRY CUT FROM $18.00 
LADIES DRY CUT FROM $28.00 
KIDS DRY CUT FROM $15.00 
COLOUR CUT FROM $90.00 
JUST CUTS'AND     
MORE 
021 165 2629 
NOW SELLING: scented tealights, incense, smudge sticks, copper 
bracelets, aurora ball crystals, dream catchers, healing stones, 
rose quartz, cds, and much more. Open 6 days. 
Ken Urquhart 
BSurv Licensed Cadastral Surveyor 
KMU Surveys Ltd
467 Bickerstaffe Road 
RD 2 
Maungaturoto 0587 
Ph 09 431 8705 
Mob 021 161 2344 
kenurquhart@xtra.co.nz 
WHOLESALE NATIVE PLANT NURSERY 
AND LANDSCAPING 
By Appointment 
Small and Large orders welcome 
Phone: 09 431 2481 
Email: info@ruraldesign.co.nz 
Trails end 
spiritualist gathering  
Last Sunday of every month  
11.30-2pm tea/coffee provided  
$5koha for all inquiries  
0211652629 evenings 099450753 
Trail.end@hotmail.com 
Bringing together light minded people 
Guest speaker each month and 
Workshops every 2nd Wednesday  
6:30-7:30pm
Rockin' popular, 
old and new party 
songs with loads of 
Kiwi music and a 
few original tunes 
in the mix.
An electric duo 
featuring: 
Gordon Joll 
(NZ Music Hall of Fame)
 on drums and Sue Joll on guitar and 
vocals, a band for any occasion backed by years of 
experience.
Contact: Sue 021 623 776 
Email: happyfishband@gmail.com 
Website: www.happyfishband.co.nz 
Kaiwaka Hardware  
& 
Key cutting
Phone 4312 063 or 022 041 6047
kaikey2015@gmail.com
Keys Cut  
Household Hardware  
Curtain Tracks & Fittings
Not there? Call Doug and he'll sort
it for you. 
(
Next to Kaiwaka Motorcycles)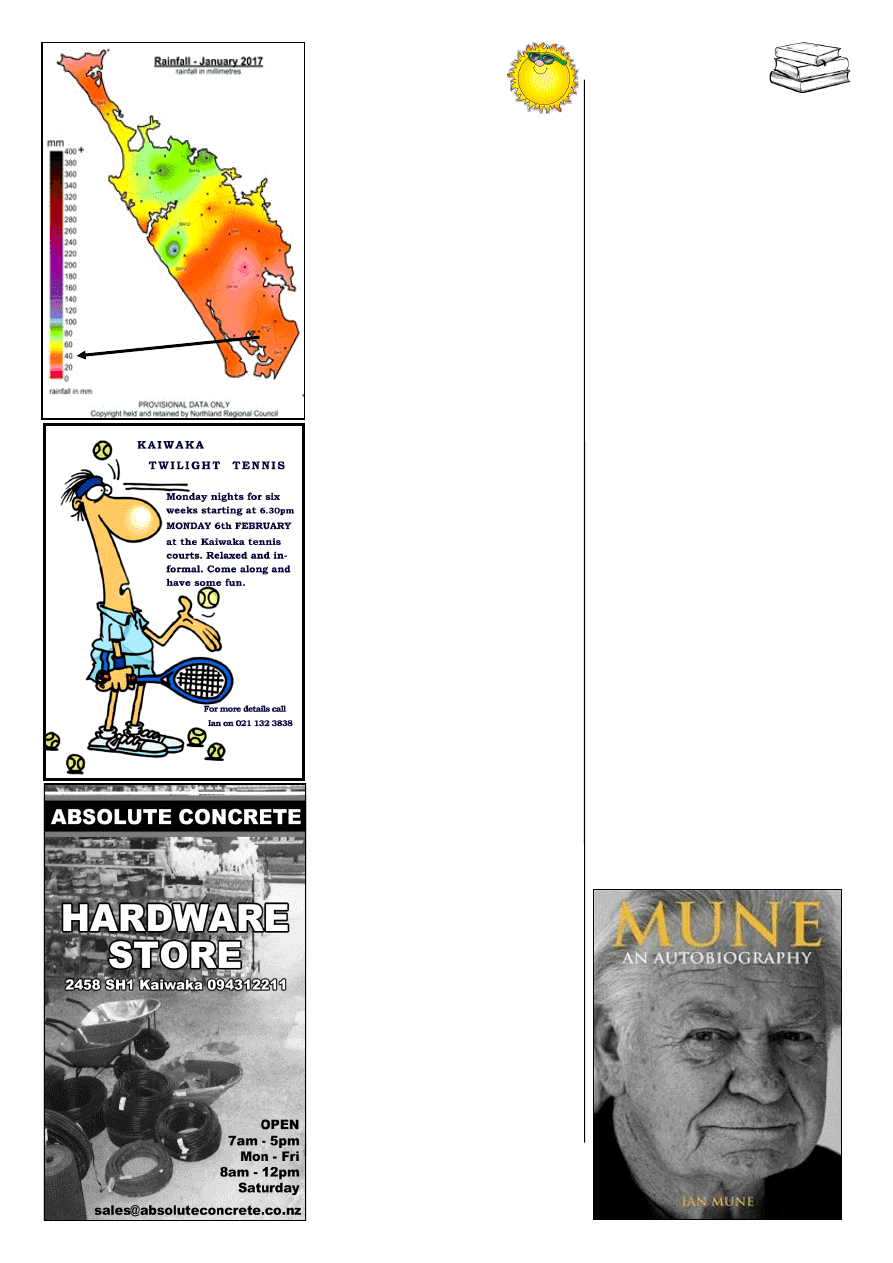 www.kaiwaka.co.nz 
Kaiwaka Bugle - 7 February 2017 
Page 7 
WEATHER
KAIWAKA 
LIBRARY 
Free Wi-Fi 
Many  thanks  to  Kaipara  District 
Council,  and  especially  to  Lisa  Salter, 
the  Libraries  Manager,  for  arranging 
our  free  Wi-Fi  service.  You  can  now 
come  to  the  library  -  or  sit  outside  in 
the comfort your vehicle - and use this 
internet  connection  with  your  own 
devices.  At  this  stage  we  will  leave  it 
running  day  and  night,  subject  to 
review a bit further down the line. 
Book swaps 
Don't panic, there isn't a swap due for 
a  while,  but  the  Northland  Libraries 
Network  swap  -  the  large  print  and 
audio books - is due in April. Do come 
in and take a look at the great range of 
titles  on  these  shelves  before  it's  too 
late. 
Mune:  an  autobiography  by  Ian 
Mune 
"Ian Mune is an institution in the world 
of New Zealand theatre, television and 
film.  Known  to  generations  of  New 
Zealanders, he has been a central figure 
of the stage and screen in this country 
since the mid-1960s... 
"This beautifully written autobiography 
is  deeply  insightful  about  the  personal 
process, the challenges and the rewards 
of the acting and directing life. But Ian 
Mune's  story  also  has  a  much  wider 
significance,  as  it  provides  a  unique 
insider's  view  of  the  roots  and 
development  of  contemporary  theatre, 
and  the  modern  television  and  film 
industry in New Zealand." (inside front 
cover) 
Couldn't  have  said  it  better  myself.  I 
really  enjoyed  this  book,  and  have  no 
hesitation  in  recommending  it.  Not 
only does it tell his story, but for me it 
brought  back  memories  of  films  and 
programs I'd seen over the years that he 
was  involved  with,  adding  to  the 
background of it all. 
This book is on the Rental Non-Fiction 
shelves in the library until 1 July 2017, 
when  it  will  move  to  the  free  shelves. 
791 MUN 
Welcome  to  February  2017 
all  you  weather  readers.  Wishing  you 
all a happy new year, and hope it goes 
well  for  you.  11  months  to  go  before 
another year turns over. 
What  does  one  say  about  January 
weather? Wind-wind-wind. No wonder 
our country is now officially in drought 
mode.  At  least the  holidays  have  been 
free of rain and no one up this way got 
rained  out,  although  a  few  tents  were 
ripped with the wind. 
It is very sad to think that some people 
have  to  steal  water  out  of  other  folks 
tanks.  Do  they  not  have  a  conscious 
and think that the other person does not 
need the water and has the resources to 
fill  their  tanks  up  again  at  your 
expense?  –  sad.  Especially  when  it 
comes  to  stealing  the  water  from  our 
local volunteer services who go out of 
their way to save life and limb. 
We welcomed the 24mm of rain we got 
at our house on 21
st
-22
nd
 January. You 
may  have  had  more  than  us  in  some 
places. 
As  in  January  2016,  our  weather  this 
January  was  cloudy  and  windy.  The 
wind was rather cold at times, keeping 
the  temperature  down,  warming  up 
near  the  end  of  the  month  when  the 
winds  slowly  died  away  a  bit.  The 
garden  has  not  produced  the  fruit  this 
year  due  to  lack  of  the  bees  not 
pollinating  during  the  rainy  days.  The 
vege  garden  is  not  bad  though, 
although  catching  household  water  to 
keep it going takes time. 
Ok,  at  our  house  for January  2017  we 
had  27mm  rain  and  for  2016  we  had 
139mm.  We  had  rain  on  2  days  this 
year and last year we rain on 10 days. 
Our  driest  January  since  1987  was 
2013  with  10mm  and  the  wettest  was 
1989 with 343mm. 
Remembering  Valentines  Day  on  the 
14
th
  February:  "Working  in  a  lawn-
mower-parts warehouse and not having 
much  time  to  buy  a  Valentine's  Day 
card  for  his  wife,  he  was  looking 
through  the  mower  magazines  in  the 
office  and  got  an  idea,  using  scissors 
and glue he created a card with pictures 
of mowers and flowers on to which he 
wrote,  "I  lawn  for  you  mower  and 
mower".  The  card  now  graces  the 
refrigerator  as  the  wife  loved  it  so 
much".  
Remember  to  put  water  out  for  your 
pets  and  flower and fauna of  our little 
paradise. By saving the washing water 
and hand basin water to use outside in 
the garden or where it is needed - it is 
amazing  how  much  you  save,  and  by 
not flushing every time if possible you 
will  save  a  heap.  A  bucket  in  the 
shower  catches  and  overflows  and  is 
good  for  plants  as  well.  Being  from  a 
large  family  it  was  necessary  to  save 
water, and we did. 
~Well, take care out there. Bev.  
KAIWAKA 
WEATHER 
View  colour 
online! 
The  south  is 
dry! 
BRICK/BLOCKLAYER 
All aspects of masonry: 
Fireplaces, Restoration & Remedial Work.
JAMES EAGLETON
Tel. (09) 431 2514     Mob. 0274 749 232
jajueagles@yahoo.com.au 210A Pukenui Road, RD2, Kaiwaka 0573 
Waipu Natural Health 
3 Cove Road, Waipu  (opposite the Pizza Barn) 
Ph: 09 432 1325 
www.waipunaturalhealth.co.nz
Clinical Nutritionist-Hair Analysis for Masked 
Allergies, Ozone Therapy, Prolotherapy, 
Naturopath-Medical Herbalist, Registered 
Massage Therapists, Reflexology-
Craniosacral Therapy, Acupuncture-Facial 
Acupuncture, Kineso Taping, Hypnotherapy, 
Counselling, ThetaHealing, Beauty Therapy
KIDS DAY – AFFORDABLE HEALTH SUPPORT 
FOR KIDS – every Wednesday 
(call us or drop in)
Gift Vouchers available
MULCHING
GORSE,SCRUB ETC 
PADDOCK TOPPING OR MULCHING 
2.8m mulcher with 140HP tractor. 
Experienced operator. 
LIFESTYLE PROPERTY MAINTENANCE 
Putting life back into your style 
BOOK NOW. Phone James 
mob: 0273 808622  
or 09 431 2245 
email: lifestylesorted@gmail.com 
KAIPARA FLOORING CO 
Independently owned & operated 
32 HURNDALL ST MAUNGATUROTO
Supply & Installation of Carpet, Vinyl,  
Vinyl Wood Planking
Stockists of 2m & 3m wide 
vinyl & carpet short ends
Residential & Commercial
Q Card Finance Approved 
6-18 month terms 
6 mth interest free
First Class Installations
For a free measure & quote 
phone Christine  
09 946 9886 or 021 515 415 
kaiparaflooring@gmail.com 
http://www.kaiparaflooring.co.nz/ 
BARRY CURTIS PLUMBING LTD 
REGISTERED CRAFTSMAN PLUMBER 
Phone 4315572 
027 257 9884 
25 years experience 
Friendly reliable service 
All plumbing and maintenance 
Alterations and new housing 
Spouting 
Competitive rates 
PROMPT EFFICIENT  SERVICE 
David Korach 
Your local Gib Stopper
DK PLASTERER LTD 
0274769221 
dkorach6@gmail.com 
Mangawhai Heads 
Garden Centre
1758 Cove Road
945 0707 
021 
165 
2629
 
15 years  commercial IT experience 
 
Computer and Laptop Repairs 
 
Smart Phone and Tablet Support 
 
Virus and Malware Removal 
Richard Harding
T 09 945 0376        M 021 124 7358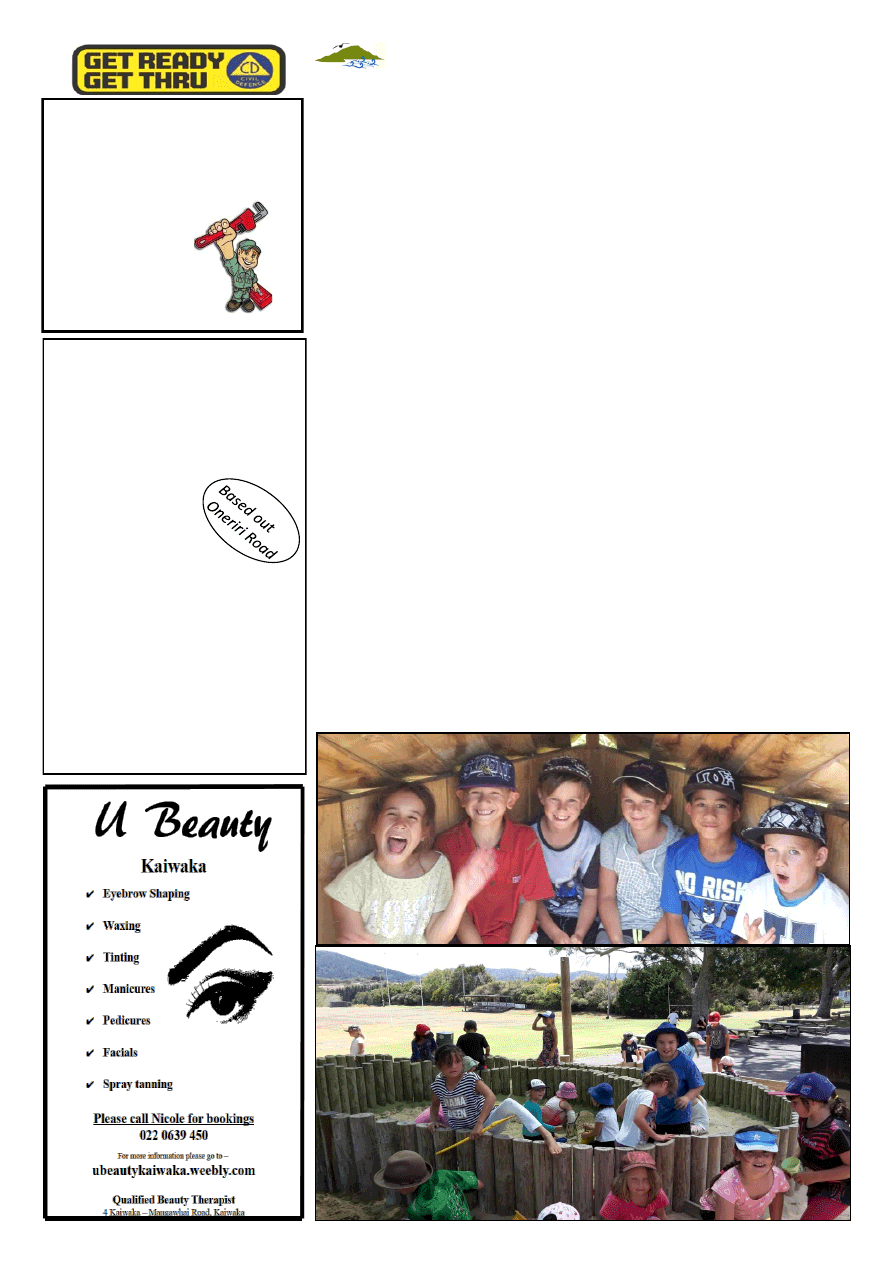 www.kaiwaka.co.nz 
Kaiwaka Bugle - 7 February 2017 
Page 9 
Ross Murphy 
PLUMBER 
Certifying Plumber
09 431 7510 
021 424 252 
Paparoa Based 

New Housing  

Renovations  

Maintenance
KAIWAKA SCHOOL 
Welcome Back to School for 2017 
We hope you have all had a wonderful 
Christmas and refreshing break. 
We  have  2  new  teachers  this  year. 
They  are  Miss  Karima  Bencheikh,  in 
Room  3  and  Mrs Katherine  Brown,  in 
Room  6.  We  welcome  them  both  into 
our school community. 
We have 14 new students commencing 
at  our  school  this  week.  We  welcome 
all  of  these  students  and  their  families 
into our school community. 
A  special  thank  you  goes  to  Sam 
Orange  and  Len  Whitelaw,  our 
cleaners  and  caretakers,  for  their 
excellent preparation of the school, for 
the new year.  
~ Rosie Ellis, Principal 
Being Sun Smart at School  
Children  must  have  a  hat  at  school 
during  term  1  and  term  4.  It  is  used 
many  times  during  the  day.  Please 
make  sure  your  child  has  a  named, 
wide brimmed hat every day.  
Please consider :  

making  sure  your  child  has  well 
covered  skin,  e.g.  longer  sleeves  and 
shorts.  

sending  some  roll  on  sunblock  in 
with your child so they can reapply it 
at lunchtime.  
Swimming and the Pool 
We swim every day, so everyone needs 
their togs and towel please. 
The  swimming  pool  gate  is  never 
allowed 
to 
be 
propped 
open. 
Complying  with  this  is  a  condition  of 
use.  Keys  will  be  withdrawn  from 
people contravening this safety rule. 
Thank you 
Thanks  to  everyone's  massive  effort 
last  year  at  our  School  Gala,  we  have 
been  able  to  purchase  15  new 
Chromebook laptops. Thank you to the 
PTA, the staff members, and everyone 
who made this possible. 
Picnic 
Our  school  picnic  will  be  on  Friday 
10th  February,  at  Mangawhai  Beach. 
Please  send the  permission  form  back, 
with  $3  for  the  bus  fare.  Family  and 
friends are welcome to join us there.  
Vision & Hearing 
The  DHB  Vision  and  Hearing  Service 
will be here 8th February at 9.00am. 
2016 Awards and Prizegiving  
Hargreaves  Cup  for  Boys'  Academic 
Achievement:  Morgan  Bull.  Hyndman 
Cup for Girls' Academic Achievement: 
Leonie  Beyer.  Kaiwaka  Sports  Assn 
Cups:  Boys:  Branden  Edwards,  Girls: 
Leonie  Beyer.  McAulay  Cup  for  Best 
Speech:  Sienna  Burkill.  Prouting 
House  Cup:  Rata  House.  Leabourn 
Citizenship  Cup:  Gareth  Ferguson. 
Helen  George  Nga  Tumanako  Trophy 
for  Boys:  Branden  Edwards.  Whanau 
Committee Nga Tumanako Trophy for 
Girls:  Devine  Henderson.  PTA  School 
Spirit Cup: Leonie Beyer. 
New Awards for 2016,  
Progress / Achievement: 
Year 6: Gene Gil Sario / Morgan Bull. 
Year 5: Max Bull / Max Bull. Year 4: 
Tane  Thomas  /  Toby  Lee.  Year  3: 
Kazia  Horn-Leaf  /  Ella  McDonald. 
Year  2:  Awaroa  Fairburn  /  Harper 
Dowson.  Year  1:  Brooklyn  Hemara  / 
Alexus Tamiti. 
10 Feb - Picnic  
15/16/17 March  - Room 5 and 6 Camp 
3 April - End of Term 1 
HODGETTS
CONTRACTING
Digger Work    

Driveways 

House Sites   

Dams 

Drains, etc
Also available for HIRE 
3 ton Vib Roller 
Heavy Duty Tow  
Waterblaster  
Lazer Level
Phone Mark 4312877 
027 447 8554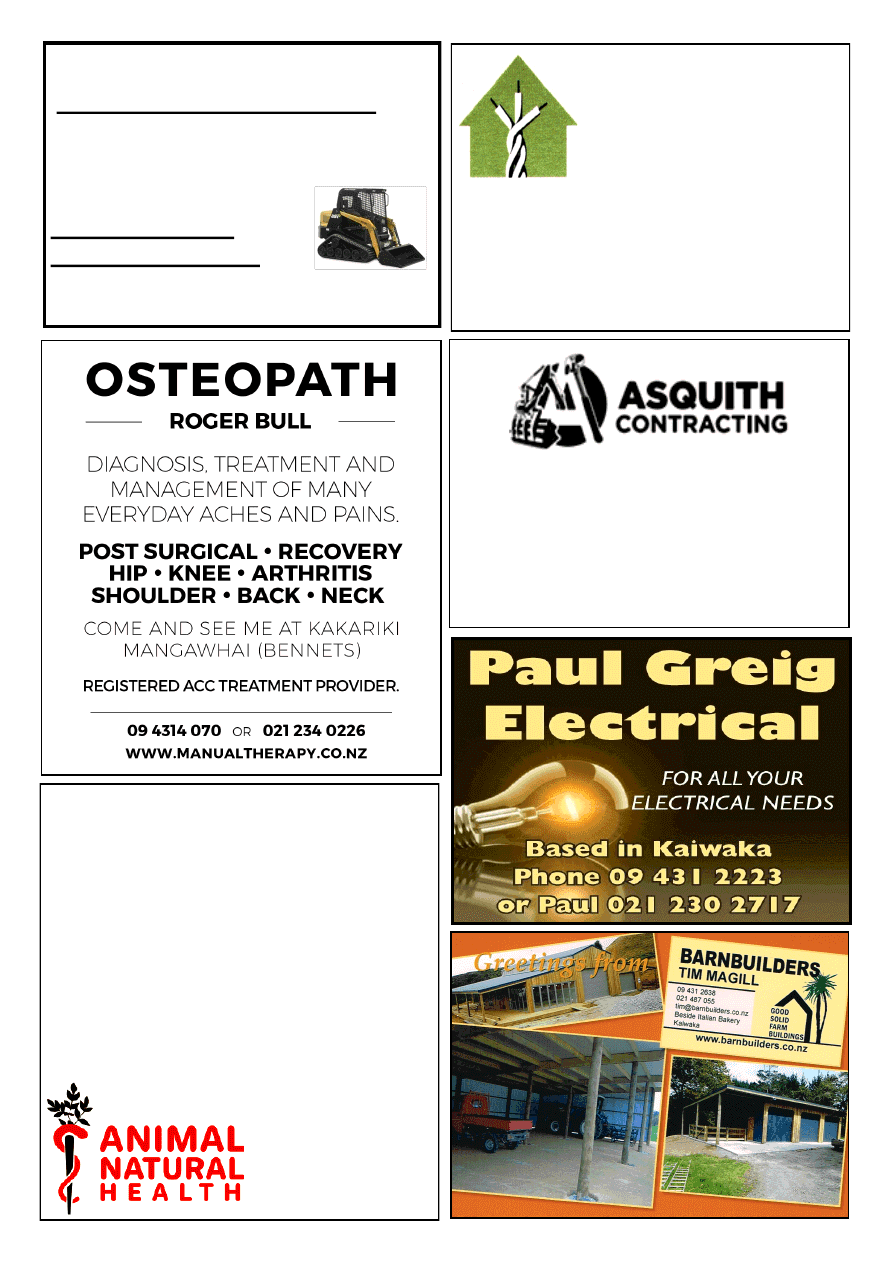 Natural Earth Ltd 
 Landscape and Bobcat services 
 : Driveways  :Landscaping  :Retaining Walls 
 : Hole Boring: Land Levelling :Trenching 
 : Decks :Fences :Sections Cleared: Plus much 
more 
Tel   09 4312885 
Mob 02102391280  
For A Fast Friendly  
Service Contact Tim Hicks 
Pet Accessories, Toiletries, 1st Aid Kits, 
Natural Products
Food  
Free-range, crate/cage-free, organic, wild 
game. NZ's Top Brands pre-prepared food 
Now OPEN Monday- Friday 9.30-5.00 
Saturday 9.30-4.00
Next to Italian Bakery, Kaiwaka 
Also at Orewa & (NEW) Matakana
Ph: 0800 NATPET (628 738) 
www.natpet.nz 
"your lifestyle choice 
in animal health 
care" 
Reyahn George 
Leng 
Registered Electrician 
Local, honest and reliable. 
For your residential and 
light-commercial projects. 
022 314 1068 / 09 431 2527 
Small digger work, trenching and post hole 
drilling for retaining walls, piles, etc.
$60+gst per hour.
Call Tam on 021 124 5216 or 
asquithcontracting@gmail.com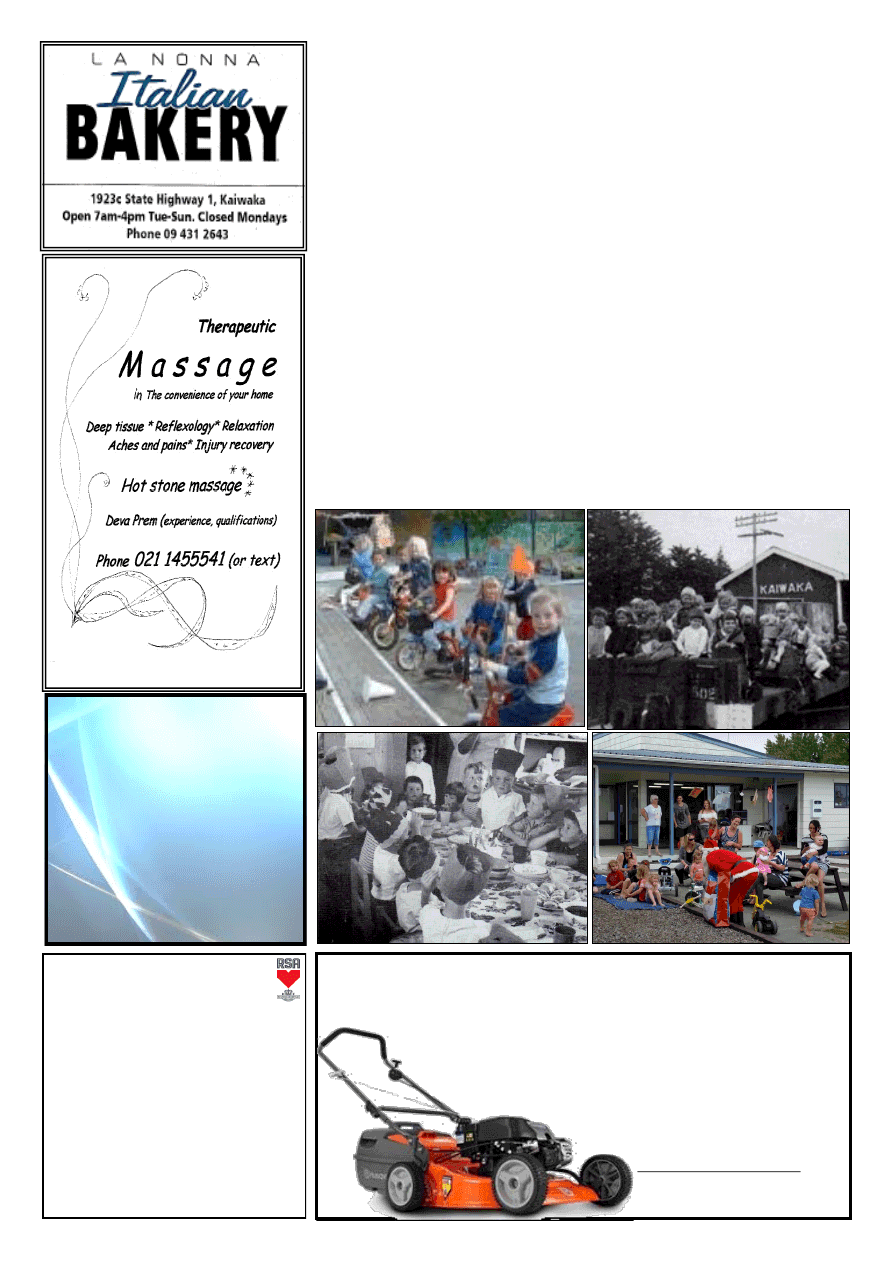 www.kaiwaka.co.nz 
Kaiwaka Bugle - 7 February 2017 
Page 11 
www.mangawhaimassage.co.nz 
HAKARU & 
DISTRICTS RSA Inc 
Each Friday night from 6.30pm meals 
will be served. 
Members & invited guests, new 
members welcome. 
Come along & enjoy our hospitality. 
2nd Friday of the month -  roast dinner or 
board menu. 
Last Friday of month - roast pork night 
&  
sing-along with Des Chitty.  
Ph Heather 4314668 or Jan 4314512 
Freeview  
Installations 
Richard Te Haara 
25 Marram Place 
Mangawhai Heads 
021 1104056 
kiwipride@xtra.co.nz
WIN!!
A Husqvarna lawnmower valued at $650. 
Kindly sponsored by Kaiwaka Motorcycles 
Buy a raffle ticket: $2 per ticket or 3 for $5 
Drawn at the Kaiwaka Sports Association's Top of the Rock 
event this Sunday (you don't have to be present to claim the 
prize). 
Keen to buy a ticket? Contact me and you can either 
pay  your  money  to  the  KSA  online,  or  drop  if 
off at Jaques Four Square. 
Cheryl Anderson 
4312051, 027 362702 
education  courses  that  gave  a  greater 
understanding  of  their  children's 
development. 
A  keynote  to  the  success  of  our  local 
playcentre is the co-operation of all the 
families involved over all these years. 
A  memory  from  Cheryl  Anderson  on 
her 
involvement 
at 
Kaiwaka 
Playcentre: 'I really enjoyed my time at 
Playcentre  -  I  always  thought  that 
Playcentre  was  a  positive  place,  as 
much  for  the  mums  as  it  was  for  the 
kids, giving mums some time out and a 
chance  to  meet  other  mums  and  relax 
and  find  support  by  sharing  stories.  I 
guess my main memories of Playcentre 
are the field trips that we did - we took 
the  kiddies  to  places  like  Rangitoto 
Island,  Serendipity  Farmpark,    Kelly 
Tarlton's,  Tiritiri  Island,  Auckland 
Zoo, etc. 
'I  was  wondering  how  many  years 
Playcentre has been around for
one of 
our  bike  days  2003  -  not  sure  how  I 
managed  to  get  the  photo  below,  as  I 
didn't have a digital camera back then. I 
do remember that over the 8 years that 
I  was  there,  we  took  photos  quite 
regularly  and  kept  them  in  albums  - 
maybe  those  albums  are  still  in  the 
centre?'  Cheryl  organised  the  40  year 
Playcentre reunion in 2007. 
And  a  memory  from  Jennie  Reynolds: 
'Playcentre was a great place for mums 
and  some  dads  to  come  and  have  fun 
with their children. It was great to have 
the  dads  come  and  help  with  making 
trucks  and  doing  dad-things  and 
it  made  a  difference  to  the  4-year-old 
sessions  that  I  was  supervisor  for 
during  the  late  1980-1990s,  now  those 
children  have  their  children  attending 
Playcentre. 
Building  the  new  building  was  a  great 
experience. 
It 
meant 
lots 
of 
fundraising, picking kumara crate-after
-crate,  then  picking  the  colours  of  the 
building  -  this  caused  a  lot  of 
discussion, but I think we got it right!' 
Photos:  clockwise  from  top  right:  Bike  Day  
2003;  Kaiwaka  Railway  visit  1971;  Christmas 
party 1969; Christmas 2016. 
NB: Kaiwaka School 150 in 2020! 
(Continued from page 1) 
KAIWAKA PLAYCENTRE'S 50TH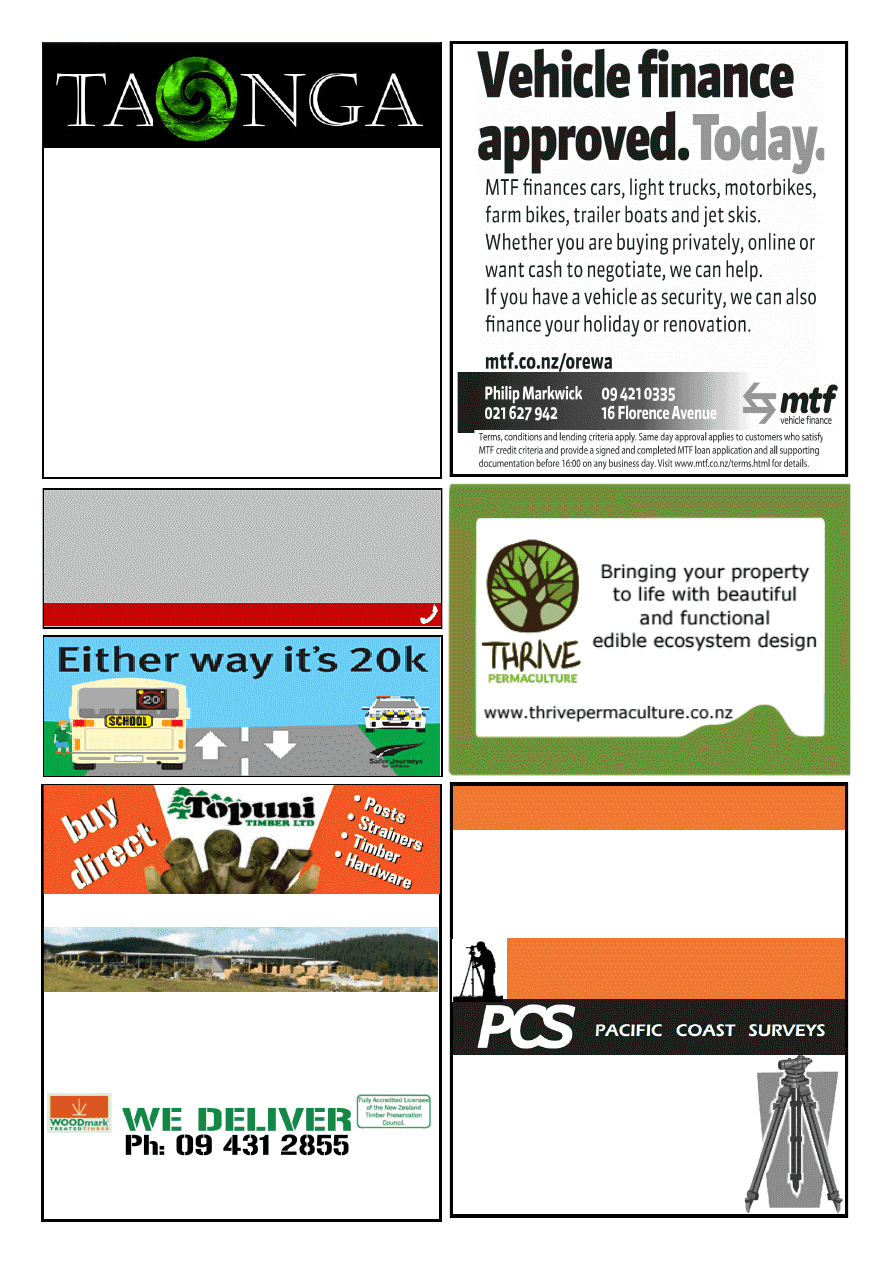 CALL CRIMESTOPPERS 
Worried about something that doesn't seem right to 
you? Concerned about activity that could be 
harmful? Call Crimestoppers.  
You don't need to know all the facts.
CALL 0800 555 111 ANONYMOUSLY 
TAONGA  GARDENS 
5km North on State Highway 1 
http://www.taongagardens.org.nz
Thurs, Fri, Sat, Sun 9-5 
Spend $50 and receive 
 a free pair of Bamboo Garden Gloves
Good selection of seedlings available 
Christmas Gifts coming into stock weekly
Ph 09 4312 770 Ana 020 4002 5025
LOCALLY OWNED AND OPERATED 
QUALITY PRODUCTS • FRIENDLY ADVICE • GREAT SERVICE 
Quality Products milled from High Density NORTHLAND Radiata Pine. 
Treated and guaranteed to NZS3640 with commitment to 
Environmental Safety.
Phone, fax, email, or come into the mill 
Schiska Rd, Topuni, SH1, 10 min north of Wellsford. Fax: 09 431 2856 
Email: sales@topunitimber.co.nz  Mon - Fri 7am-5pm, Sat 8am-12pm 
 Fencing 
 Retaining 
 Decking 
 Landscaping 
 Gates 
 Hardware 
SURVEYORS 
SUBDIVISIONS 
HOUSE SITE SURVEYS 
CIVIL ENGINEERING 
WASTEWATER DESIGNS 
EXPERIENCED 
PROFESSIONAL 
INNOVATIVE 
Ph 09 431 5353 
0800 PACIFIC (0800 722 434) 
pacificcoastsurvey.com
Adam Booth - 027 415 5752 
Bsurv, Licensed Cadastral Surveyor
Surveying Kaipara since 1994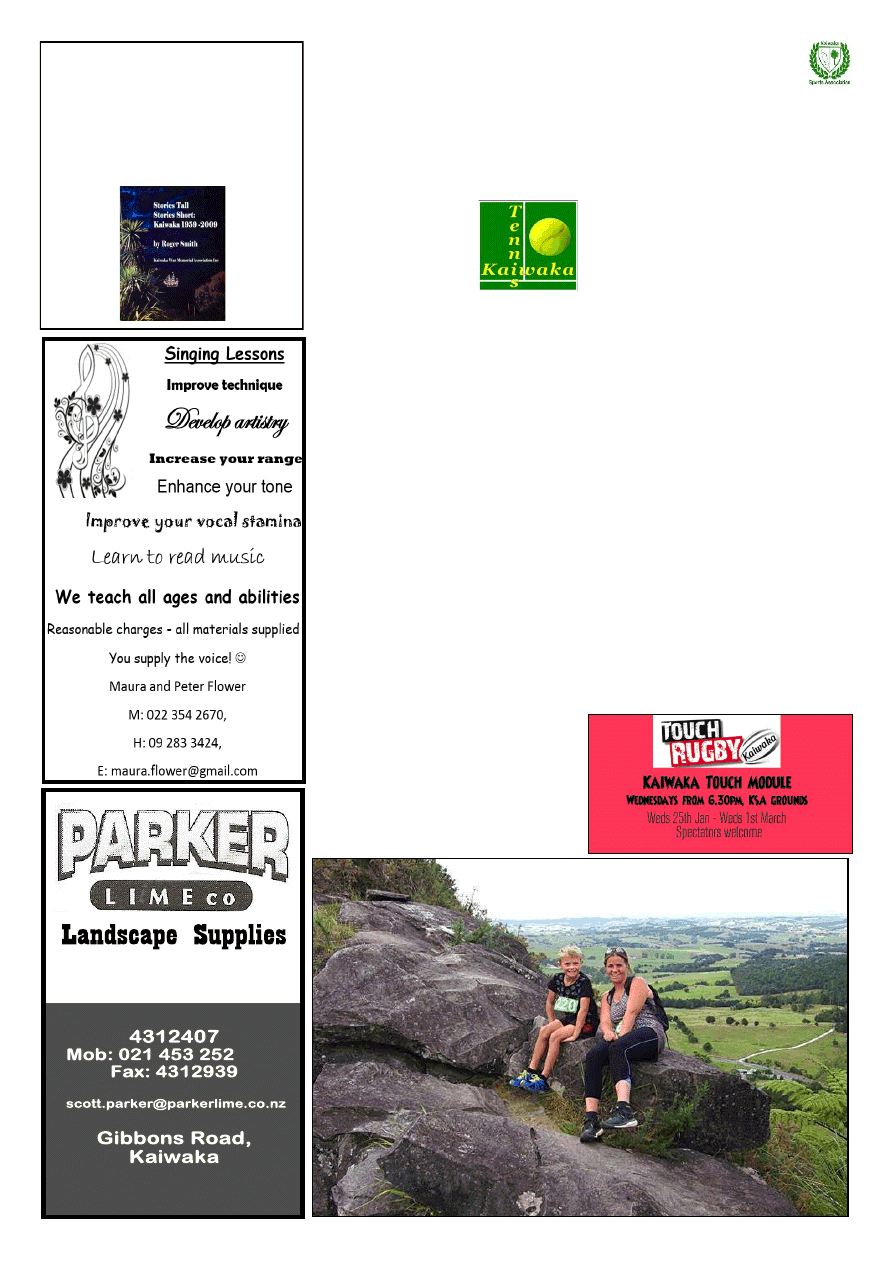 www.kaiwaka.co.nz 
Kaiwaka Bugle - 7 February 2017 
Page 13 
Stories Tall, Stories Short  
Kaiwaka 1959-2009 
by Roger TW Smith.  $40 
Available from  
the Bugle Editors -  
Lindsey 4312 045,  
Wendy 027 480 6275 
Bulk Cartage 
KAIWAKA SPORTS ASSOCIATION 
 Netball Trials 
Our  senior  netball  club,  Otamatea-Ex, 
will  hold  trials  on  Tuesday  14
th
February  and  Thursday  23
rd
  February 
at  6.30pm  at  our  courts.  This  is  a 
muster  for  anyone  who  wants  to  trial 
for the premier grade or social grade. 
Twilight Tennis 
Introducing  Twilight 
Tennis! Come along to 
our  courts  on  Monday 
evenings at 6.30pm for 
an  casual  hit.  Bring  a 
friend. Starts Monday 6
th
 February and 
will run for six weeks. 
Queries to Ian on 021 132 3838. 
Rugby 
It  may  be  the  middle  of  summer,  but 
trainings  are  underway  for  the  2017 
rugby  season.  Our  Hawks  are  training 
at  our  grounds  on  Tuesdays  and 
Thursdays  at  6pm  –  past  and  new 
players welcome.  
Eastern United JMB 
Our junior rugby club, Eastern United, 
are also gearing up for the new season. 
There  will  be  a  JMB  meeting  at  the 
Sports  Complex  this  Wednesday  at 
5pm, all welcome.  
The JMB registration day will be at the 
Sports  Complex  on  Saturday  18
th
February  at  noon.  Bring  along  your 
child  4  –  11  years  old,  and  remember 
to  bring  their  togs  because  the  ever-
popular water slide will be there! 
JMB queries to Naomi Walker on 021 
2143180. 
Website
Would  you  like  more  detailed 
information about our affiliated clubs?
We  offer:  Athletics,  Badminton, 
Basketball, 
Fitness 
Centre, 
Gymnastics,  Hockey,  Martial  Arts, 
Netball,  Rugby,  Soccer,  Squash, 
Tennis  and  Touch.
Check  our  our 
website 
for 
more 
information: 
Top of the Rock
It's a mountain of a climb, but the view 
from  the  top  is  worth  the  trek!
Our  Top  of  the  Rock  event  is  your 
opportunity  to  climb  iconic  Baldrock 
Mountain  (and  can  you  really  call 
yourself  a  local  if  you've  never 
climbed it!) You get a spectacular view 
of  Pukekaroro  Mountain  and  you  can 
see  down  into  the  Kaipara  and  across 
towards Mangawhai and Kaiwaka. The 
mountain  has  a  well-formed  track 
which spirals around the mountain,  so 
it's not as steep to climb as it may look 
from the road.
It's  easy  to  enter:  download  an  entry 
form  from  www.kaiwakasports.co.nz, 
then either email it to me, or drop it off 
at Jaques Four Square.  
There  are  NO  ENTRIES  ON  THE 
DAY.  Your  last chance to r egister  is 
this Friday, 10 February  - I'll be at the 
Sports  Complex  taking  registrations 
from 6.30 – 8pm.  
If  you  don't  want  to  enter,  you're  still 
welcome  to  come  along  to  the  Sports 
Complex  to  cheer  on  the  participants 
as they arrive at the finish line. There'll 
be  live  music,  bouncy  castles,  food 
stalls, kids activities and the swimming 
pool  will  be  open.  Bring  the  whole 
family  along  for  a  fun,  community 
morning. 
Cheryl Anderson 
4312 051, 027 3462702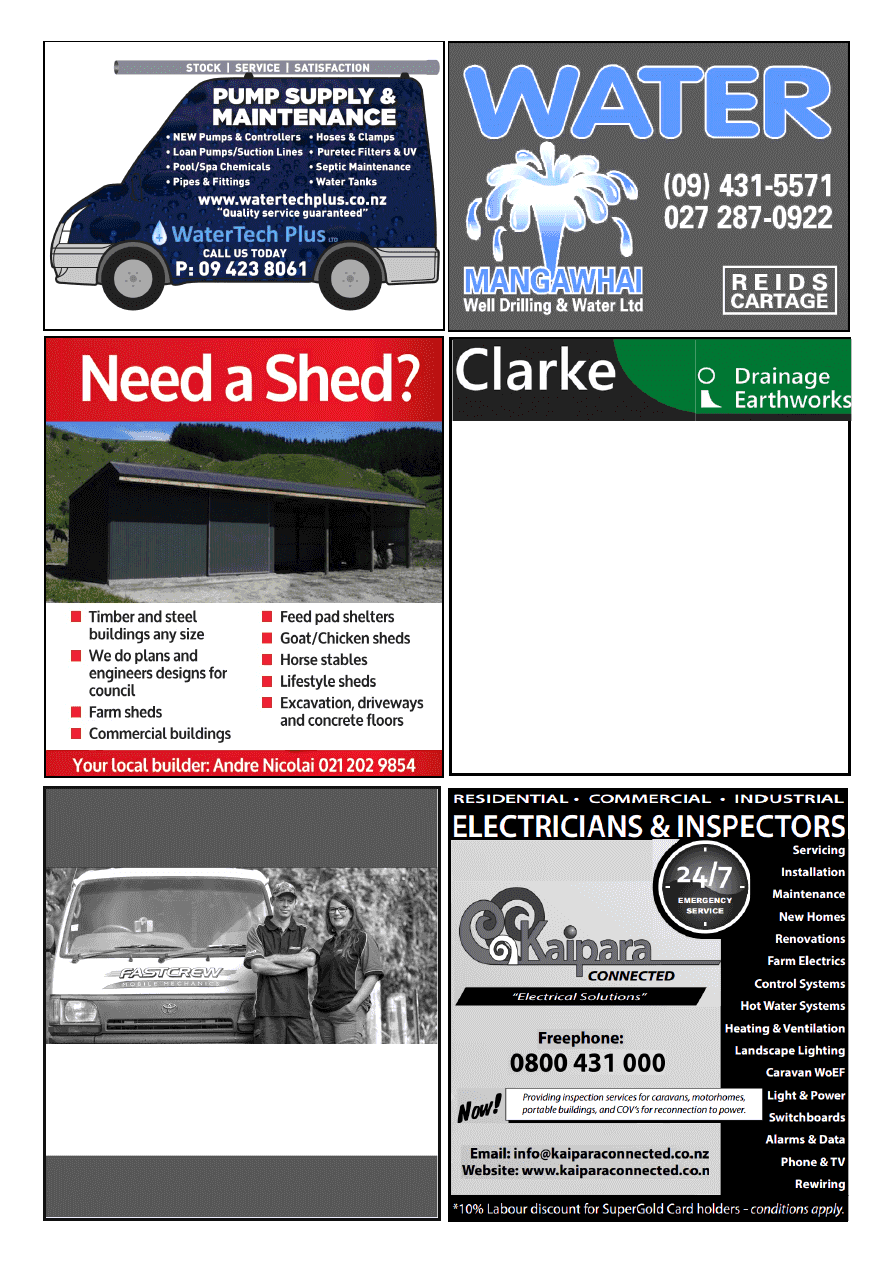 "WE'LL COME TO YOU 
AT AFFORDABLE PRICES" 
Wayne and Leanne 
are FAST CREW, the garage that comes to you. 
Ph:0800 484 327  fastcrewautomotive.co.nz 
 
Petrol and diesel large or small 
 
Servicing, cambelts, tune-ups 
 
Shocks, brakes, batteries 
 
Transmission servicing, suspension 
 
Steering and much more 
Registered Drainlayer 
All Types of Earthworks  
> All Residential & Commercial Work  > House Sites 
> Septic System Design & Install 
> Footings & Drilling to 10m 
> Sewer Connections 
> Dams 
> Water Tank Installation 
> Roading & Races 
> Farm Work 
THE ONE STOP SHOP  
Phone Nigel for an Obligation Free Quote  
Drainage & Earthmoving 
clarkedrainage@xtra.co.nz 
027 2233 185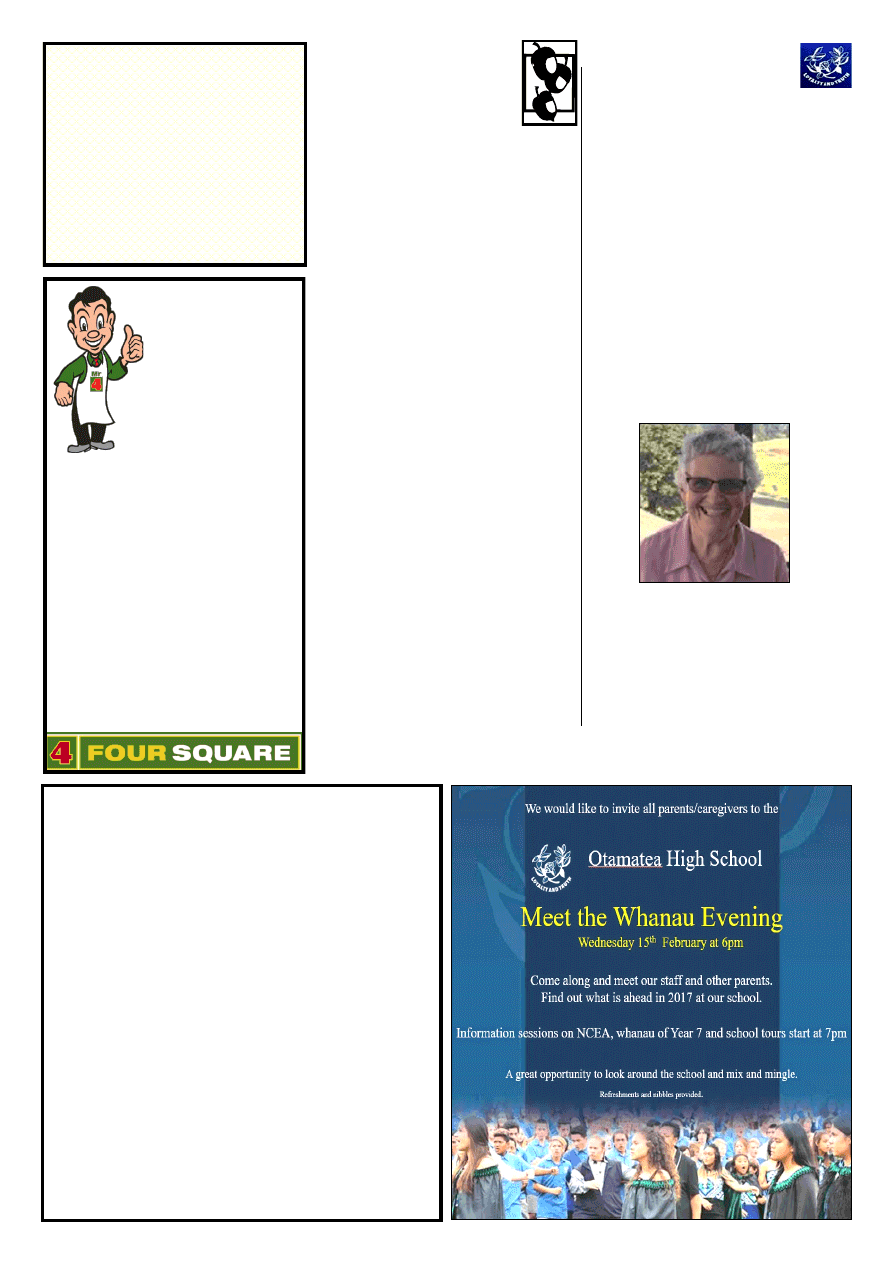 www.kaiwaka.co.nz 
Kaiwaka Bugle - 7 February 2017 
Page 15 
Counsellor and 
Registered Psychotherapist 
Offers Supervision
Susan Matheson 
MNZAC, RN 
Dip. Psychosynthesis Counselling and Psychotherapy 
Phone 09 431 5997 
Mobile 027 605 2427 
HEED THE 
WARNINGS 
In the official magazine of the 
naval  Institute,  Frank  Koch 
reported  on  a  very  unusual 
encounter  at  sea.  A  battleship  was 
coming  in  for  manoeuvres  in  heavy 
weather.  Shortly  after  the  sun  went 
down,  the  lookout  reported  a  light  in 
the  distance,  so  the  captain  had  the 
signal man send a message: "We're on 
a  collision  course.  Advise  you  change 
your course 20 degrees."  
Minutes  later  a  signal  came  back: 
"Advisable  you  change  your  course." 
The  captain  angrily  ordered  that 
another  signal  be  sent:  "I  am  the 
captain. 
Change 
course 
twenty 
degrees." 
Again  came  the  reply:  "I'm  a  seaman, 
second class. You'd better change your 
course." 
Furious  by  this  point,  the  captain 
barked a final threat: "I'm a battleship! 
Change your course!" 
The  signal  came  back:  "I'm  a 
lighthouse."  
The captain changed his course. 
It  is  foolhardy  to  ignore  the  beacons 
that  warn  you  of  danger.  They  take 
various  forms;  symptoms  of  health 
problems,  excessive  debt,  stress  that 
ties  you  in  knots  -  the  list  goes  on.  It 
matters not whether you are successful, 
influential,  and  busy.  When  you  are 
sent a warning that tells you to change 
course,  be  wise,  don't  argue.  Instead 
you will do it with haste. 
Proverbs 29:1 If you get more stubborn 
every time you are corrected, one  day 
you will be crushed and never recover. 
~ from Word for Today, Radio Rhema. 
Couples and Individual Counselling
Have you … 
Serious relationship issues 
Heading for Family Court? 
Destroying each other? 
Children involved?
Before you go down that dark dingy road 
into the judicial system:
Stop The Rot! 
Give me a call first! Before it's too late! 
It's never too late to act! There is always HOPE!
No lawyers, no debt, no judges, no Protection Orders, no court 
appearances, no bitterness, no anxiety or anguish 
What about the effect on your children's lives ? 
Being caught (pun) in the court system is NO FUN!
I'm Here To Help! 
Call me to arrange an appointment 
Keep trying if phone is busy
Pete Worsfold 
B.Soc.Sc., M.Soc. Sc, Dip Prof Counselling NZIPC, 
'Man Alive' Counsellor/ Facilitator, Prov NZAC 
Professional service in your local area. 
Individuals, couples, any issue, males and/or females 
Private or WINZ Clients 
Experienced Counsellor/Facilitator 
Ph 021825970 or 0210630302, peteworsfold@xtra.co.nz
OTAMATEA 
HIGH SCHOOL 
Impressive  2016  NCEA  Results  at 
Otamatea High School 
Preliminary  NCEA  results  are  in  and 
there are fantastic improvements across 
all levels! 
98%  pass  rates  in  NCEA  Level  1 
literacy and numeracy. Over 90% pass 
rate  at  NCEA  level  2  as  well  as 
considerable  gains  at  NCEA  level  3 
and University Entrance. Full results to 
follow (once these are finalised by the 
NZQA). 
A  huge  congratulations  to  all  of  our 
students. Thank you to the staff and the 
families  who  have  provided  valuable 
support  to  enable  our  students  to 
succeed.  
OTAMATEA HIGH SCHOOL 
52nd Swimming Sports 
Thursday 9 February 
Please  join  us  to  celebrate  Eileen 
Parsons'  inspiring  contribution  to 
Otamatea  High  School.  Eileen's  first 
association  with  our  school  was  in 
1974. Her kindness, thoughtfulness and 
tireless  work  has  influenced  our  entire 
school  community.  The  celebration 
will be on Tuesday 28 February at 4pm 
(after OHS Athletic Sports) in E Block 
at Otamatea High School. 
31 January www.otamatea.school.nz 
Back to school 
 is here! 
We have all your supplies 
lunchboxes, drink bottles & 
stationery 
For those summer nights  
grab a hot chicken 
& some freshly baked breads 
Sodastream & 9kg Gas bottle 
swaps here also 
Jaques Four Square 
Phone: 4312227 
1 Kaiwaka-Mangawhai Road, Kaiwaka. 
In Store               
Now!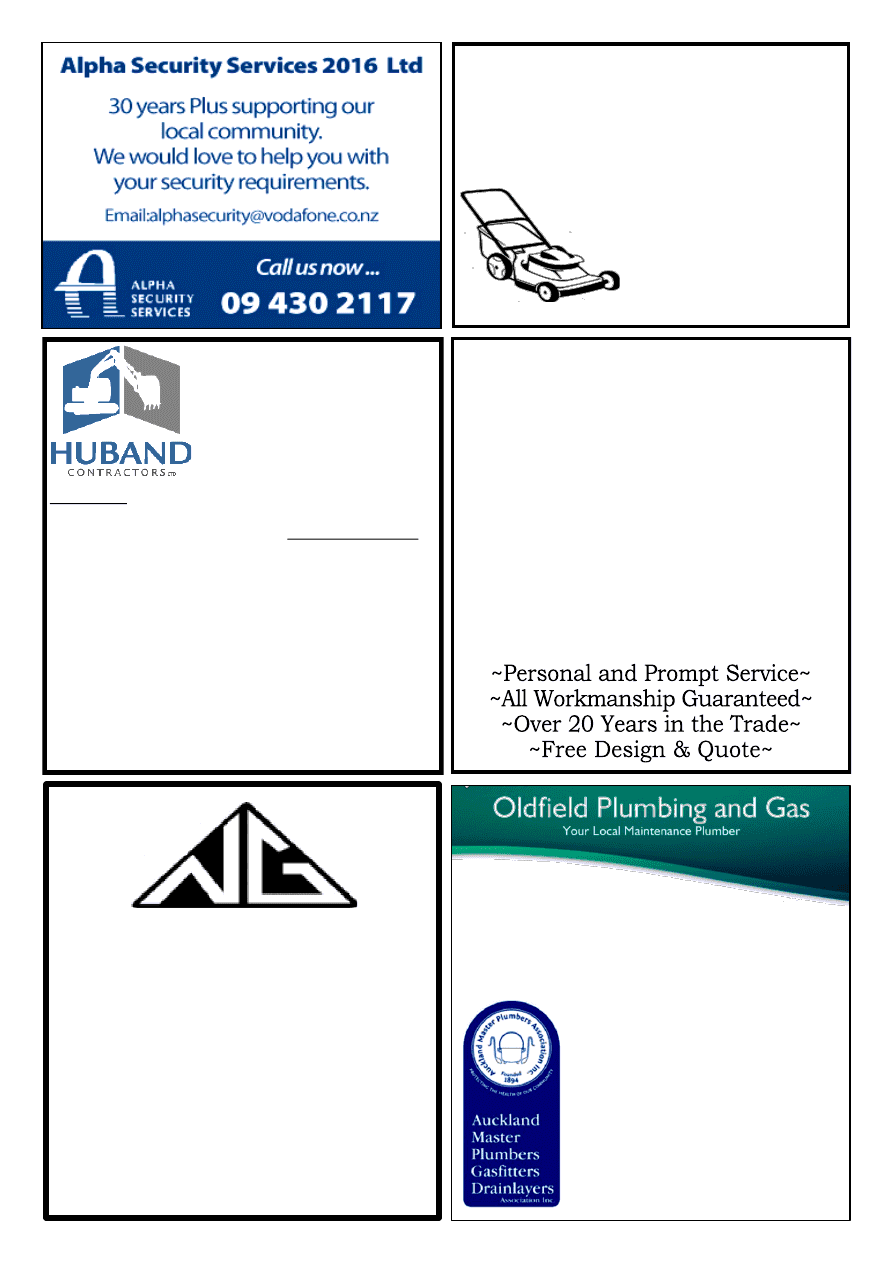 NORTH GLASS 
WINDSCREEN REPAIR OR REPLACE 
GLAZING SERVICES 
MIRRORS  •  SPLASH BACKS  •  SHOWERS 
0800 70 40 10
info@northglass.co.nz 
www.northglass.co.nz 
Darren Oldfield 
Certifying Plumber 
Certifying Drainlayer 
Licensed Gasfitter 
Mobile  021 836 365 
Home  431 5061 
oldfieldplumbing@gmail.com 
 
Agent for 
Rainline Water Filters 
Maintenance 
Renovations 
New Homes 
Hot Water Cylinders 
EASTERN LAWN & PROPERTY 
CARE
Lawn Mowing – Trimming – Spraying 
Weeding – Water Blasting 
Rubbish Removal – House Cleans 
Taking care of your property needs
ETHAN DOWSON 
021 217 7075 
easternpropertycare@outlook.com 
Open Monday-Friday  
8am-5pm 
Saturday 8am-noon 
2088 Paparoa Valley Road 
0800 234449 
We stock:
 
All gardening and 
landscaping supplies 
 
All grades of metal 
 
Fencing and farming 
supplies 
 
Culverts and water 
irrigation 
 
PVC, plumbing & drainage 
materials 
 
Water pumps & water 
tanks 
 
Septic systems 
 
Most grades of oils 
We specialise in: 
 
 
Earthworks 
 
Roading 
 
Drainage 
 
Site works 
 
Landscaping 
Supplies  
PLANNING A NEW KITCHEN?
 CONTACT NOEL McDOWELL
WELLSFORD 
KITCHENS
Ph/Fax 094312888
KAIWAKA-Any time
 QUALITY CUSTOM MADE 
KITCHENS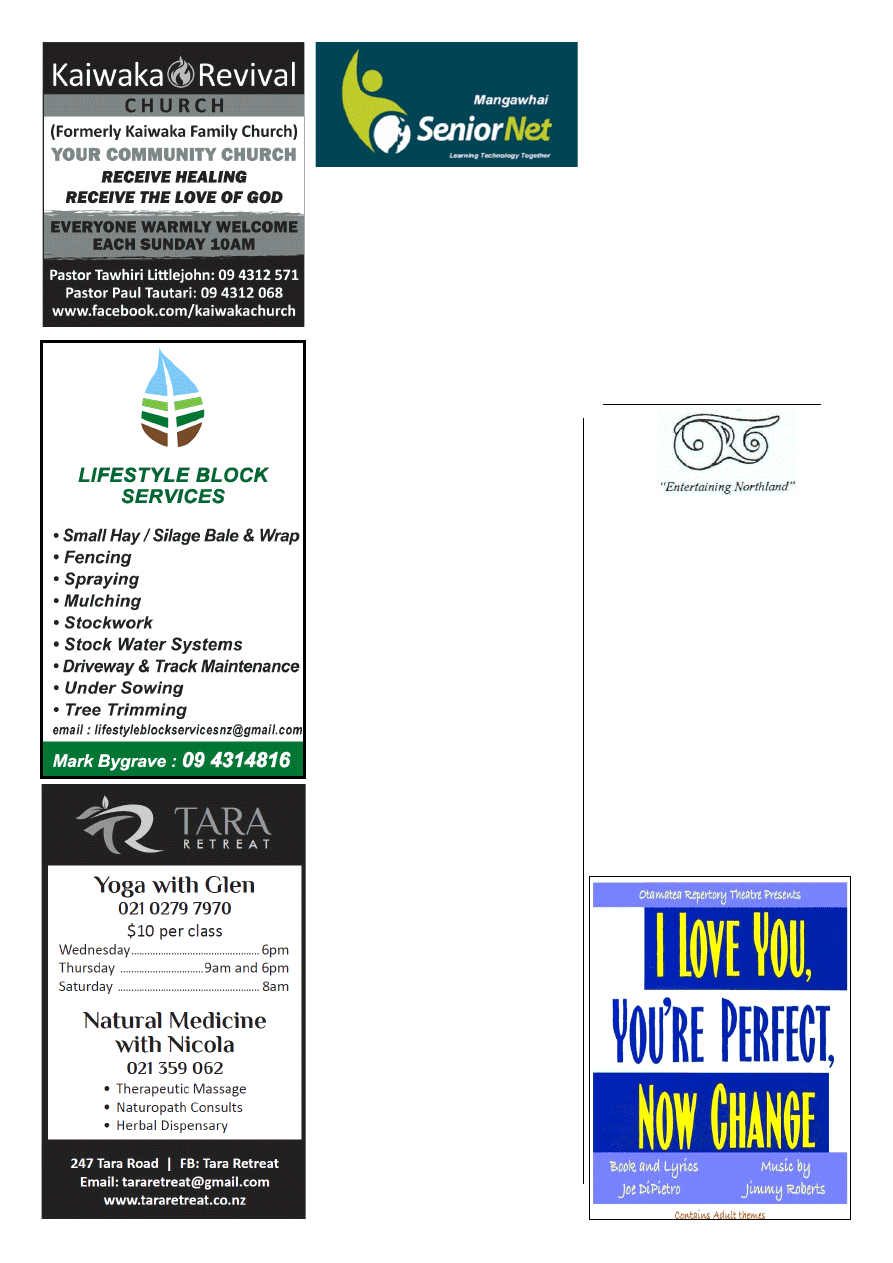 www.kaiwaka.co.nz 
Kaiwaka Bugle - 7 February 2017 
Page 17 
Our  Annual  General  Meeting  will  be 
held  on  Friday  10  February  2017  at 
10.30  am  at  The  Club,  Molesworth 
Street, Mangawhai.  Morning Tea will 
be  provided.  No  pressure  to  join  the 
Committee! Plus be in the draw to win 
a  free  SeniorNet  Course,  Help  Clinic 
or Tech Tuesday time. 
Again  a  very  big  thank  you  to  The 
Club for their help and hospitality.    
Membership  Subscriptions  for  2017 
are due now. Please join or renew your 
membership 
soon. 
Individual 
Membership $25 - Couple $45  
Our courses and clinics will be held at 
The 
Club, 
Molesworth 
Street, 
Mangawhai (the Bowling Club).   
Courses  
You're  very  welcome  to  enrol  for  a 
Course,  or  to  come  to  a  Workshop  or 
Help  Clinic  soon.  Registration  has 
started  for  2017  courses.  BYO 
equipment or use ours. Topics include 
Win  10,  MS  Word  and  Excel,  Apple 
iPad, 
Samsung 
Tablet, 
Picasa, 
Facebook,  Internet,  Email  etc.  Cost 
$30  
Four  week  Courses  start  14  February. 
They  are  held  for  two  hours  on 
Tuesday  and  Wednesday  mornings, 
plus Wednesday afternoons. You must 
be a member to enrol for a Course.  
To  enquire  or  register  your  interest 
please  phone  Val  431  4042  or  Tony 
431 2269  
Help Clinic  
Bring  along  your  questions,  or  just 
come  along,  listen  and  learn.  All 
questions  are  welcome.  Often  a 
question  from  one  member  voices 
exactly  what  another  person  wants  to 
know!  Recent  Help  Clinic  questions 
range from Windows 10 and Facebook 
to  Spark  changes  and  smart  phones. 
The  first  Help  Clinic  in  2017  will  be 
on  Thursday  23  February  at  10  am. 
The  Help  Clinics  are  friendly  and 
fairly  informal  with  time  to  socialise 
over a cuppa and meet other people. If 
the  Committee  can't  answer  your 
question  on  the  day  we'll  try  to  get 
back to you later, or perhaps ask you to 
book  a  Tech  Tuesday  or  Wired 
Wednesday 
time 
for 
more 
individualised  help.  Bring  your 
equipment  or  use  ours,  or  watch 
demonstrations on the screen. Cost $10 
members/$15 non-members  
Discounts from Sponsors 
 Remember  that  membership  entitles 
you  to  discounts  with  SeniorNet 
sponsors.  Our  sponsors  keep  track  of 
SeniorNet  patronage  and  often  base 
their  contributions  to  SeniorNet  on 
how  much  the  members  spend.  Visit 
the  SeniorNet  website  for  details,  or 
search  for  "SeniorNet  Discounts" 
www.seniornet.co.nz/specials.html  At 
Noel  Leeming  the  SeniorNet  discount 
is  usually  more  than  the  Gold  Card 
one,  so  be  sure  to  check  that  your 
purchase  is  given  the  SeniorNet 
discount.  Apple  don't  allow  discounts 
on  their  products,  but  please  ask  for 
your Apple purchase to be registered to 
SeniorNet,  and  remember  screen 
protectors,  cases  and  other  peripherals 
get a discount!  
Computer  Food  offer  free,  next  day 
delivery  of  printer  inks  at  excellent 
prices  -  check  out  the  discount  codes 
on  the  SeniorNet  webpage  -  Click 
Computer  Food  to  open  the  link  and 
see the code.  
Membership  is  open  to  all  who  are 
50+. 
MANGAWHAI SENIORNET 
'I  Love  You,  You're  Perfect,  Now 
Change'  -  our  next  production  with 
only  4  weeks  to  polish  it  before 
opening night. We are again hitting the 
road  to  bring  live  theatre  to  the 
district.  
'I  Love  You,  You're  Perfect,  Now 
Change'  is  presented  in  the  form  of  a 
series  of  vignettes  connected  by  the 
central theme of love and relationships. 
The  play's  tagline  is  "Everything  you 
have  ever  secretly  thought  about 
dating,  romance,  marriage,  lovers, 
husbands, wives and in-laws, but were 
afraid to admit."  
Be  warned  it  contains  Adult  themes 
hence only one price - $28. 
More information at www.ort.org.nz or 
on their Facebook page. 
OTAMATEA REPERTORY 
THEATRE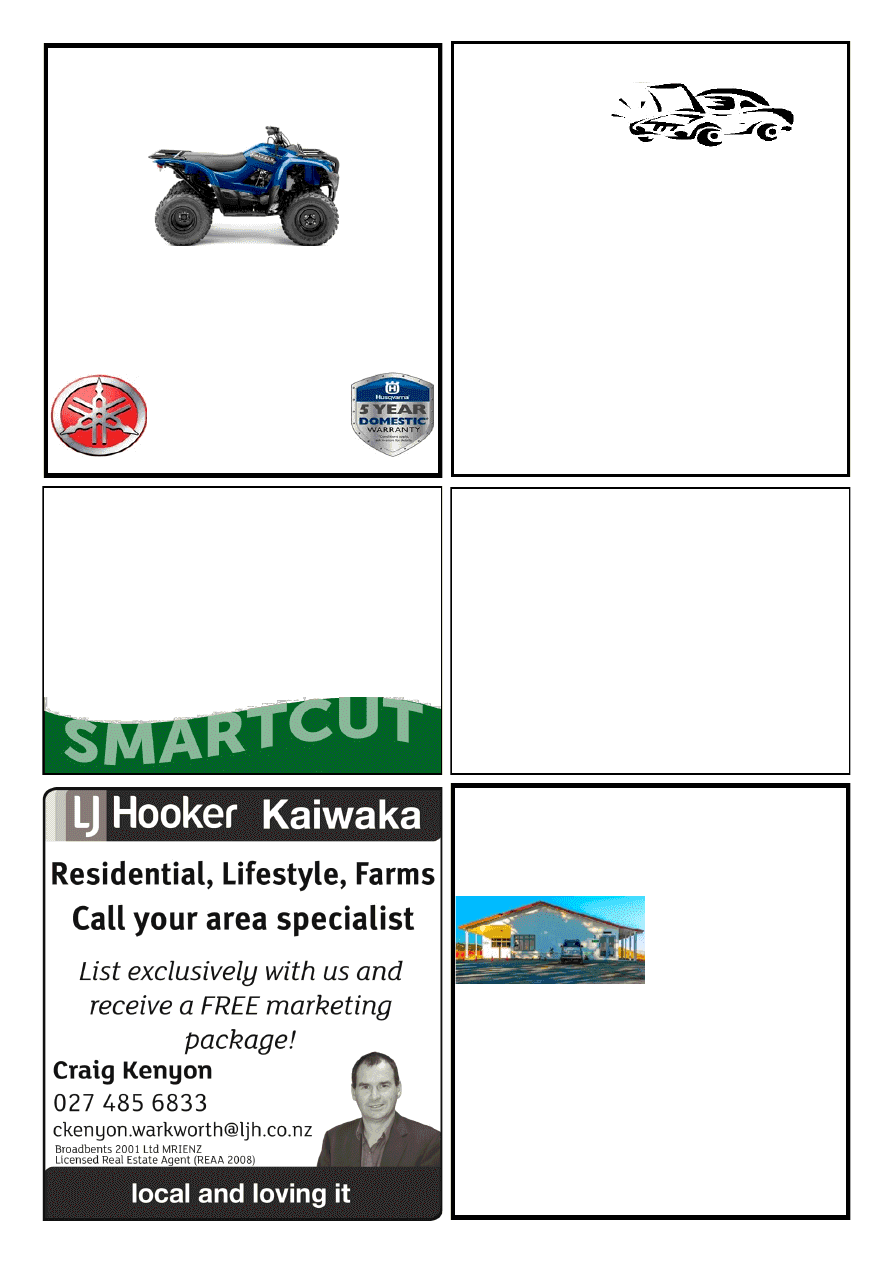 All your outdoor needs sorted so you don't have to... 
I can prune, chop, tidy, spray, mow, plant 
- you name it, I can do it! 
Residential & Commercial 
Lawn & Garden Care 
Call Rodney, your local  
lawnmowing contractor 
021 138 2344 
KAIWAKA 
MOTORCYCLES LTD
SALES – SERVICE – SPARES 
FARM BIKE SPECIALIST
PHONE 09 431-2127 
10 KAIWAKA-MANGAWHAI ROAD, KAIWAKA
Trimmers  
from $279
Chainsaws  
from $339
YAMAHA 
HUSQVARNA 
Te Pounga Marae 
130 Nathan Rd. Oneriri. Kaiwaka 0573 
COMPLEX FOR HIRE 
Functions 
* Weddings   *  Birthdays   
*Anniversaries 
* Meetings   * Wananga 
5 hour meeting 
* 12 hour stay   * 
Overnight 
*All welcome - No more Drink-driving 
Amenities: 
*Convo Combi Steamer * Bratt Pan * Dish 
Washer/Sterilizer * 3 Door Glass Chiller (walk in) 
etc…All Crockery * Linen Supplied * Central 
Heating and Air Conditioning and much more.  
Can also cater for small groups…. 
For more information please contact: 
Kim Wallace 
Home: 09 832 1133   Mob: 0211275340 
Email:  kimwallace@xtra.co.nz 
Twinkle Tow 'n' Tyre 
Think you'll get a better deal in the city? 
Ring us - it won't cost anything! 
1837 State Highway 1, Kaiwaka 
Phone 431 2823 
*W.O.F. 
*Tyres 
*Windscreen 
replacement 
*Chip repairs 
*Bulk Oil 
*Batteries 
*Welding 
*Custom built 
trailers 
*Trailer hire
UP-LINK 
CHRIS WARING 
FREEVIEW INSTALLATIONS 
T.V. - HOME THEATRE & 
HI-FI ADVICE/SET UP 
SKY ACCREDITED INSTALLER 
MOB.0273403747 HM.094312328 
EMAIL 
chrisandlorrainew@gmail.com
28 YRS EXPERIENCE OFFERING UNBIASED ADVICE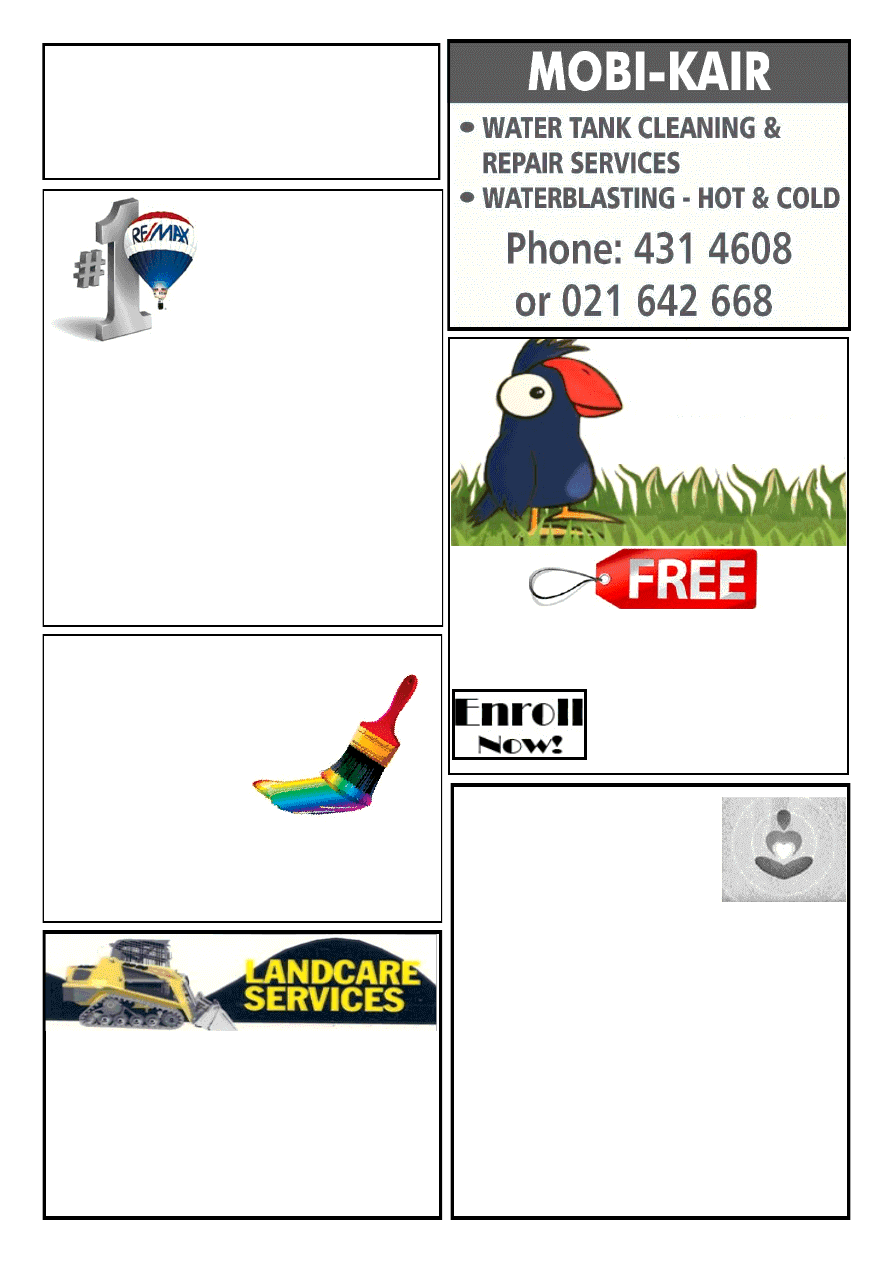 www.kaiwaka.co.nz 
Kaiwaka Bugle - 7 February 2017 
Page 19 
LANDSCAPING 
4 IN 1 BUCKET 
TRENCHER 
POLE HOLES 
ROTARY HOE 
COMPACT ROLLER 
OFFAL HOLES 
CAN SUPPLY WOODCHIP & POST PEEL 
5 TON TIPPER 
FOR RELIABLE AND FRIENDLY SERVICE CONTACT DAVE 
Dave Hyndman 
 
KAIWAKA 
PH: 09 4312302 
MOB: 021 431 238 
09 4312918 
0274735171 
leecooper@xtra.co.nz 
LEE COOPER PAINTERS 
(Kaiwaka Based) 
*30 yrs Experience 
*Interior/Exterior 
*New and Restoration 
*Honest and Reliable 
*Free Quotes 
There are more people 
wanting to buy than 
there are houses 
available!
Vacant land, home and income, DIY dream … 
whatever your property's condition there is a buyer 
out there waiting to give you their money. 
Get your local agent's appraisal of your property to 
find out what's it's really worth. 
Contact Beth Stone today! 
Mob: 0274 937 801 
Email: beths@remaxrealty.net.nz 
RE/MAX Realty Group MREINZ 
Northern Properties Limited 
Licensed REAA 2008 
 LEABOURNS 
Passenger Service
Car & Van Hire, Bus & Coach Charters, Airport 
Transfers, Monthly Shopper Bus 
Phone 09 4237416 
Musculoskeletal, chronic pain, women's health, infertility, 
pregnancy, general wellbeing, stress, anxiety, headaches, 
depression, insomnia, respiratory, gastrointestinal,  
cosmetic acupuncture and much more.
Certified in kinesio taping.
For more information about treatments please 
visit our website or contact Lara: 
3 Cove Rd Waipu, Northland 
Tel: 0221 557811 or 09 432 1325 
Email: info@acubalance.co.nz 
www.acubalance.co.nz
Acupuncture treatments provided at Waipu Natural Health 
AcuBalance 
Lara Tremain
Registered Acupuncturist and 
ACC Treatment Provider 
for children over 3 
 
Day care for children from 0 to 5 yrs old 
 
After school care for children over 5yrs old
 
Phone: 09 431 2842 
Email: smallpukekos@gmail.com 
Address: 8 Kaiwaka-Mangawhai Rd 
Website: www.smallpukekos.co.nz 
Small Pukeko's 
Early Learning Centre 
Next Bugle Deadline midday Friday 17 February 2017
WHAT'S ON
PLEASE ~ do let us know what is on - email 
kaiwakabugle@kaiwaka.co.nz 
Advertising in WHAT'S ON is FREE  
*9Feb~OHS Swimming Sports 
*10Feb~Mangawhai SeniorNet AGM, 10:30am The Club 
*10Feb~Top of the Rock Marshalls' Meeting, 6:30pm KSA 
*10Feb~The Girl on the Train, 7:30pm KWMH 
*12Feb~Top of the Rock 
*14Feb~Otamatea-Ex Netball trials, 6:30pm KSA 
*15Feb~Meet the Whanau Evening, 6pm OHS 
*18Feb~JMB Rugby registration day, 12pm KSA 
*23Feb~Hakaru RSA Women's Section AGM, 1:30pm Hakaru 
RSA 
*23Feb~Otamatea-Ex Netball trials, 6:30pm KSA 
*24Feb~Poi-e the movie, 7:30pm KWMH 
*26Feb~Trolls, 2pm KWMH 
*28Feb~Eileen Parsons' farewell, 4pm OHS 
KWMH=Kaiwaka War Memorial Hall 
KSA=Kaiwaka Sports Association Complex 
OHS=Otamatea High School 
See www.kaiwaka.co.nz for more information 
HOUSEHOLD RUBBISH COLLECTION - Kaiwaka Pick up: 
Mondays = Gr een bags (Nor thland Waste - 09 430 3273) 
Wednesdays  = Blue bags and yellow recycling (at Jaques $3.00 
and $1.50) (Kaurilands 09 4392146) 
 DIABETES  Support  Group  -for  Kaiwaka,  Mangawhai, 
Wellsford  10am,  3rd  Friday  of  month  Ph:A.Pert  4238242; 
J.Gardner 4238060 
 DRINK CAN 'tear tabs' - for Starship Hospital- please collect - 
98 Kaiwaka Mangawhai Rd, leave in mailbox, Ph. 4312625  
 GENEALOGY - Wellsford: 1st Thursday in month Ph: 423 
7033; Waipu: 4th Monday in month Ph: 4312 725 
 GYMNASTICS  OTAMATEA  -  Tuesday  Ph:  Stephanie  022 
3624998 
 HAKARU PONY CLUB - Secretary Denise Rogers 021423376 
secretary@hakaruponyclub.co.nz  
 KAIPARA HUNT - Secretary Albert Doonenbal Ph 4312059 
 KAIWAKA BADMINTON -Tuesdays 7.30pm Ph: 4312345 
 KAIWAKA  DRAMA  CLUB  -  Dave  Edwards  021  611198  - 
KaiwakaDrama@gmail.com Monday 5:30-7:00pm KWMH - FB 
- "KaiwakaDramaClub" 
 KAIWAKA DRUM & DANCE CLASSES - 021 611198 
 KAIWAKA GARDEN & FLORAL GROUP - 2nd Thursday in 
month. Ph: 431 4767 
 KAIWAKA  CUBS  -  Thursdays  5.30-7pm,  Hakaru  Ph:Bruce 
4312542 
 KNITTING FOR WHANGAREI HOSPITAL - 2nd Tuesday in 
month, Apple Basket 10am Ph 4314827 
 MANGAWHAI COMBINED PROBUS CLUB - 2pm, 3rd 
Thursday month, Senior Citizens Hall Mangawhai. Ph: 4315777 
 OTAMATEA GREY POWER - Kath Pattinson 09 283 2052, 
1pm last Wednesday of month, Anglican Church Hall, 
Maungaturoto 
 PT CURTIS CRUISING CLUB - Jean Ph: 4312227 (wk), 4312520 (hm) 
 RSA,Hakaru & Dist.Women - meet 1.30pm 4th Thurs in month 
Ph: 4314 668  
 TRAMPING - Mondays 9am-2:30pm Maria 4312 234 
 YOGA  -  Tuesdays  6:15pm,  Friday  8:30am  KWMH  Carla  Ph: 
021 296 8794 
HALLS FOR HIRE: 
 St.Pauls Archie Bull Hall HIRE $20 half day, $40 full day per 
hire, R. Morgans, Ph 4312365 
 Kaiwaka  War  Memorial  Hall  HlRE  -  Phone  4312725  or 
kaiwaka.hall.bookings@gmail.com 
 Hakaru Community Hall HIRE -Ph. 4312256 or 4312110 
 Te Pounga Marae queries - R. O'Leary 4312 423, J.Nathan 021 
186 7382 
 Kaiwaka Sports Association hire/queries - C. Anderson 4312051 
or kaiwakasports@gmail.com 
Justice of Peace:  
B.FJaques  4312  048;  L.Donaldson  4312  228;  A.F.Hargreaves 
4312 045, W.Howard 4312 725 - please phone to make sure they 
are available www.justiceofthepeace.org.nz 
Marriage Celebrants:  
L.Donaldson; A.F.Hargreaves; C.Rosseels, Y Osborne
LOCAL SERVICES 
*Emergencies - Ambulance, Fire, Police - dial 111 
*Non-urgent Police phone 09 4311150
A A: Meets Wed., 8pm Kaiwaka Ph: 4312228, 4315543, 0800229 6757 
AL ANON: In recess, contact Ph: 4312228 
ASUREQUALITY LTD (was AgriQuality) Call Free 0508 0011 22  
BUDGETING SERVICE, WELLSFORD: Free confidential advice & 
support for all areas of personal finance. Ph (09) 423 7123 
CAB-Citizens Advice Bureau.Wellsford Ph: 4237333 
0800 367 222 email:cab.wells@xtra.co.nz  
CIVIL DEFENCE - Kaiwaka Community Response Group: 
kaiwaka.civildefencecrg@gmail.com, 4312725 Wendy 
DOG/STOCK /NOISE CONTROL 0800 105 890 
FUNERAL SERVICES: Morris & Morris Ltd, 
Whangarei - Bev Jaques Ph:4312367 or 0800667747 
GRANDPARENTS Raising Grandchildren: Dianah Roberts 0223819539 
HAKARU & DISTRICTS MEMORIAL RSA (Inc) 733 Settlement Rd, 
Hakaru. Ph 4312 176 or Graeme Hitchcock (President) 431 3064 
HAKARU LANDFILL/Transfer Station:Open everyday except 
Tuesday10am-4pm.Ph4312629 Cost-$55 trailer load up to 1 cubic metre. 
Ph:4258567 - office 
INLAND REVENUE: Last Friday each month, 11-3pm Ph4312661 
KAIPARA DISTRICT COUNCIL www.kaipara.govt.nz:  
Help Desk FREEPHONE 0800 727 059  
KAIWAKA KOHANGA REO: Ph:4312620 
KAIWAKA CEMETERY: Ph: 4312045 
KAIWAKA LIBRARY: kaiwaka.library@gmail.com  
Mon. 4-6pm; Wed., Thurs., Fri., Sat. 10am-2pm Ph:4312539 
KAIWAKA PLAYCENTRE: Ph Juanita 0274134904; open Mon, Wed, 
Fri 9am-12pm. Hastie Lane 
Monday to Friday 9.00am - 12 noon. 
KAIWAKA POST OFFICE:Ph:4312 431  
Post Code: 0573 for RD2 and 0542 for all Kaiwaka Post Office mail 
KAIWAKA PRIMARY SCHOOL: Ph: 4312309   
KAIWAKA SPORTS ASSN: Ph 4312005; 4312129 gym 
KAIWAKA ST JOHN: Manager Steve Rosser 09 4318403, 021 2316836 
KATE'S PLACE Community Centre - Employment services, Free Health 
Nurse, Advocacy, Osteopath, A.A., Legal Advice. 4312 661 
LINKING HANDS Health Shuttle Ph 4314121 or 09 4318969 
MINISTRY FOR PRIMARY INDUSTRIES - General inquiries Call 
Free 0800 008 333 
NORTHPOWER: Faults Kaiwaka area 0800 104040 
OTAMATEA COMMUNITY SERVICES: Counselling, parent coach, 
Family Support worker, budget advice, food bank. Mon-Fri 9am-3pm. Ph 
09 431 9080 http://www.otamateacs.org/ 
PARENTPORT: Free, practical family support service Puhoi to Paparoa 
Ph or txt: Dianne 027 280 5093 or 09 425 9357 
PERSONAL DEVELOPMENT COACHING, GROUP FACILITATION:  
Sabine Druckler 4312231 
PLUNKET: Kaiwaka - Kaiwaka War Memorial Hall: Clinic 1st Wednesday of the 
month; Coffee Group at 9:30. Mangawhai  - Rose Madsen Cottage, Mangawhai 
Domain,  Moir  St:  Clinic  1st  and  3rd  Monday  of  month;  Young  Babies  Coffee 
Group  2nd  and  4th  Monday  10  am;  Plunket  Playgroup  every  Thursday. 
Maungaturoto - Maungaturoto Congregational Church, 100 Hurndall Street East: 
Plunket clinic 2nd and 4th Wednesday. Cynthia 09 431 8187 or 027 675 3488 
PLUNKET HELPLINE -0800 933 922 (24 hours) 
TAITOKERAU COMMUNITY LAW: Free confidential legal advice and 
assistance, 2nd
Thursday
 of each month. Ph: 0800 155 529 for 
appointments.  
TE KOROWAI AROHA O NGATIWHATUA Ph: 4312675 
(The Cloak of Love of Ngatiwhatua) Support and Maori Consultancy.  
VETERINARY SERVICE MANGAWHAI: 
Ph: 4314535 Mon-Fri 8.00-5.00, Sat 9-12, a/h appt. 
WELLSFORD DOCTORS: Ph: 4238 086 
WOMEN'S WELFARE LEAGUE & Reaching Out For Youth:  
4 Kaiwaka-Mangawhai Rd, M Morgan 4312293 
CHURCHES:
 
Kaiwaka Revival Church - Your Community Church: Sundays 10am & 
6pm. Ph: Pastor Tawhiri 09 4312 571 or Pastor Paul 09 4312 068 Visit 
us at www.facebook.com/kaiwakachurch 
 
St Paul's Anglican Church 1st Sun. 9.30 am (Eucharist), 3rd Sun. 9.30 
am (Family Service). Contacts: Church Office 09 431 4122; M. 
Hargreaves 431 2295; C. Bygrave 431 2057; or Rev. Wayne Thornton 
Ph 431 5650 www.mangawhaianglican.org.nz 
 
Church of Christ the King, Mangawhai:9.30am every Sunday 
 
St.Mary's Catholic Church: Maungaturoto – Griffins Road, Saturday 
evening Vigil Mass 6pm; Mangawhai – Senior Citizens Hall, Sunday 
Mass 8:30am; Wellsford – Matheson Road, Sunday Mass 10:30am;  
Mid-week Mass times and all enquires to Fr. Bill Fletcher – phone 423 8170
 
Baptist Church: Sun. 10.30am Mangawhai Snr Cit.Hall.Ph:4312339 
 
Cause Way Church Mangawhai: Sundays 10.15am, Mangawhai 
Community Recreation Centre, Insley St. Ph: 09 4314782