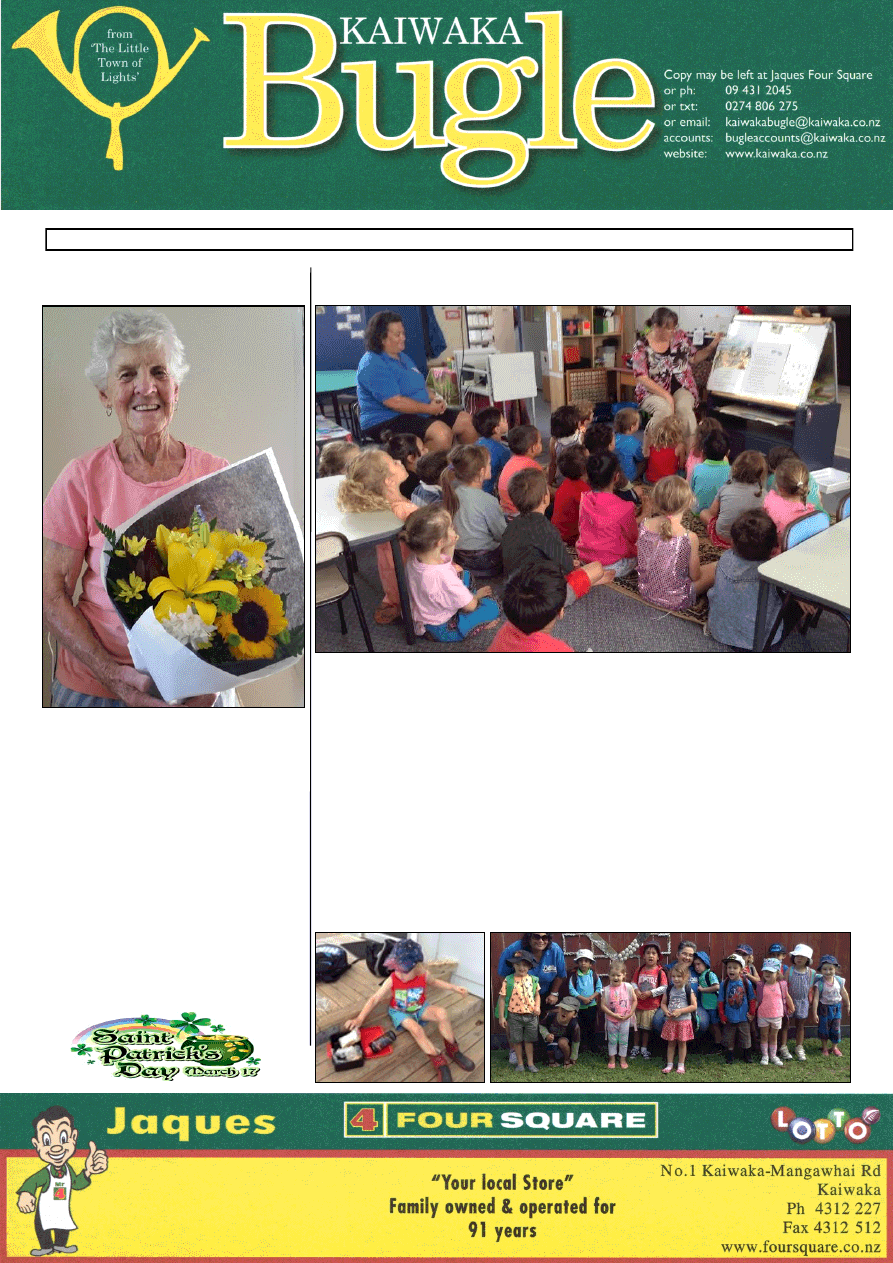 www.kaiwaka.co.nz 
Kaiwaka Bugle - 7 March 2017 
Page 1 
No:4 
7 March 2017 
Summer Trading Hours: 
Monday to Friday 8:00am - 6:30pm 
Saturday 8:00am - 7:00pm 
Sunday & Public Holidays 9:00am - 5:00pm  
KAIWAKA GOOD 
SORT 
On  Wednesday  22  February,  some  of 
our  four-year-old  children  from 
Small  Pukeko's  Early  Learning  Centre 
visited  Mrs  Jamieson  and  the  new 
entrant  children  at  Kaiwaka  School. 
After a short play in the playground the 
bell rang and it was straight into class. 
We were super proud of our children as 
they  joined  in  confidently,  sitting  on 
the mat and listening to a story about a 
crocodile. 
Some 
other 
morning 
activities  included  writing,  maths  play 
and  dance  time!  We  are  lucky  to  be 
able to do this every term, but this time 
was  extra  special  as  we  stayed  for 
lunch time too. The children had lunch 
boxes  that  our  cook  made  each  child. 
School  visits  provide  an  important 
opportunity for the children to explore 
the school environment alongside their 
friends  and  with  the  support  of  their 
teachers.  It  is  an  important  feature  of 
our four-year-old programme which we 
really  value.  Such  an  exciting 
adventure for everyone!
A  giant  thank  you  to  Kaiwaka  School 
for  helping  this  to  happen  and 
especially  to  Mrs  Jamieson  who  goes 
the  "extra  mile"  to  get  to  know  our 
children,  often  popping  in  to  see  them 
in  her  own  time  while  they  are  at  our 
centre.  And  also  to  parents  and 
whanau members who help us on field 
trips.  
Eighty-year-old Beryl Adams has lived 
in Kaiwaka for more than 18 years and 
is  a  wonderful  volunteer  in  our 
community.  Not  only  has  she 
volunteered  for  more  than  12  years 
every  Friday  and  the  first  Saturday  of 
the  month  at  the  Wellsford  Hospice 
shop  she  also  volunteers  in  the 
Kaiwaka Op Shop. This is usually on a 
Monday,  but  one  can  often  find  her 
there on a Tuesday, a Wednesday or a 
Thursday  and  even  a  Saturday.  She 
loves  meeting  people  and  listening  to 
what they have to tell her. 
Beryl is also president of the Women's 
Section  of  Wellsford  RSA.  And  to 
keep fit she plays bowls! 
She  was  delighted,  yet  surprised  to 
receive Lindy's bouquet! 
PRESCHOOLERS VISIT KAIWAKA 
SCHOOL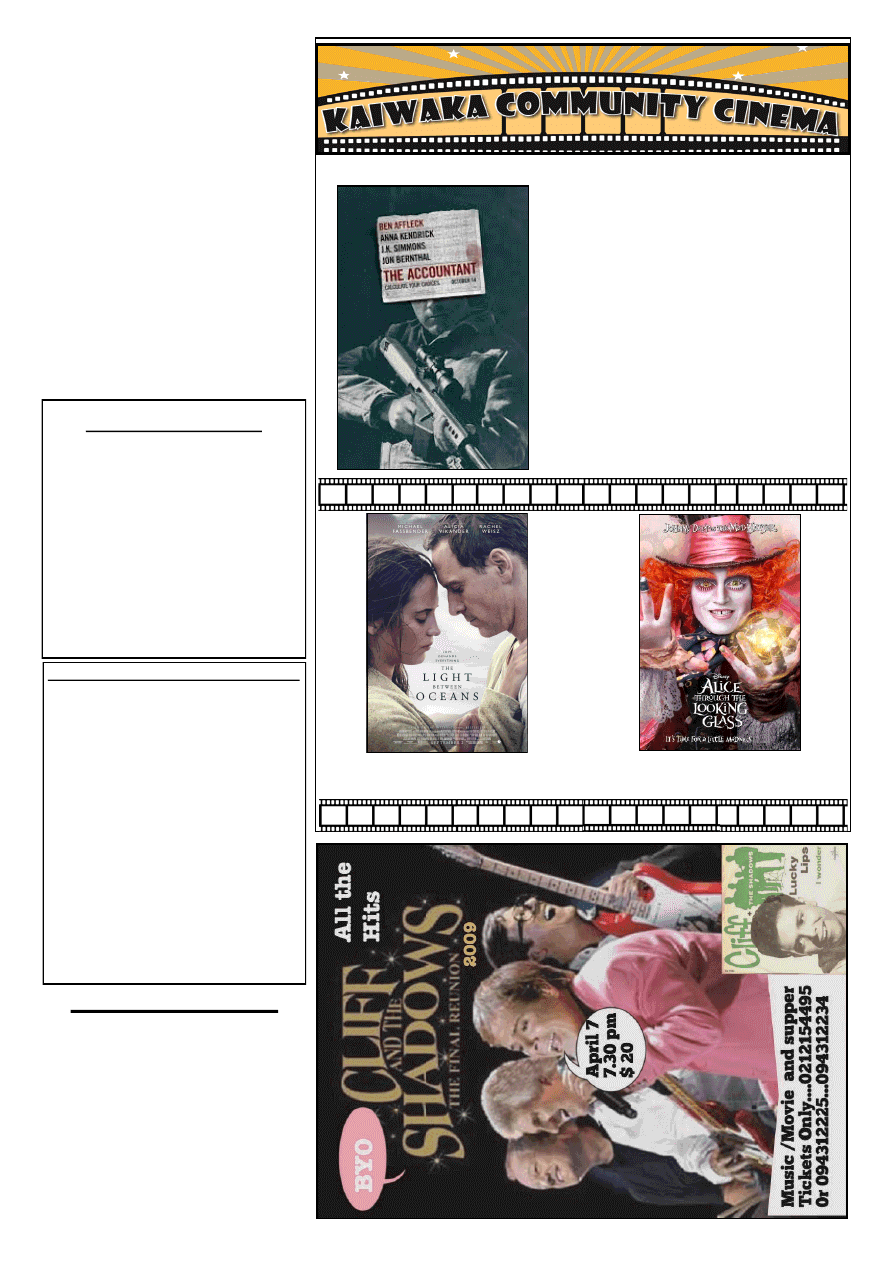 At Kaiwaka War Memorial Hall . Adults $10, Kids (under 16) $5, Family Pass (2 adults + 3 children) $25 
ABOUT TOWN 

Thank  you,  Kieran  McKay,  on 
leading  the  Blenheim  cave  rescue 
last  week.  Kieran,  who  attended 
Otamatea  High,  began  his  passion 
for  caving  with  our  local  Venturer 
Scout Unit. 

Marj Steiner, one of our volunteer 
St.John  crew,  is  also  our  local 
Rawleighs contact.  

Check  our  noticeboards  for  local 
activities  -  see  in  Jaques,  the  Cob 
Cottage  Building  Workshop  19-30 
March 
KAIWAKA BUGLE No. 4 
7 MARCH 2017 
CONTENTS 
Page 3: Public Notices, Classified 
Page 5: Women's Section RSA; Turbo 
Touch 
Page 7:  History - Scouts; Rubbish 
Page 9:  Kaipara Zero Waste 
Page 11:  Walks; Roads 
Page 13:  Kaiwaka School 
Page 15:  Kaiwaka Sports Assn 
Page 17:  Kaiwaka Can 
Page 19: Weather 
Bugle 5 will appear 21 March 
Contact for advertising, reports, articles 
or information can be made by 
Email kaiwakabugle@kaiwaka.co.nz 
Ph: 09 4312 045 (Lindsey) 
Txt: 0274 806 275 (Wendy) 
Copy  may  be  left  at  Jaques'  Four 
Square. 
Kaiwaka Bugle 
Founded May 1978 
We appreciate articles and photos about local 
events, etc, as well as ads and suggestions. 
Copies available in Kaiwaka at Jaques Four 
Square, Kaiwaka Postal Centre, Shamrock 
Service Station, Animal Health Centre, 
Kaiwaka St John shop. 
Also outlets in Maungaturoto, 
Mangawhai and Paparoa. 
Can be viewed online at  Facebook or 
www.kaiwaka.co.nz/Bugle  
Or a copy can be posted to you if you supply 
stamped, self-addressed DLE envelopes. 
The Accountant 
Friday 10 March 7:30pm (R16) 
(please note classification - persons under 16 years will 
not be admitted)
As  a  math  savant  uncooks  the  books 
for  a  new  client,  the  Treasury 
Department closes in on his activities 
and the body count starts to rise. 
Starring: 
Ben 
Affleck, 
Anna 
Kendrick,  JK  Simmons,  Jeffrey 
Tambor, John Lithgow 
The Light Between Oceans 
Friday 24 March 7:30pm (M) 
Alice Through the Looking Glass 
Sunday 26 March 2:00pm (PG)
Kaiwaka Bugle Advertisements 2017: 
All 
copy 
and 
queries 
to: 
kaiwakabugle@kaiwaka.co.nz 
Our A4 page is divided into 6 columns & 
8 rows (48 blocks), with a 1cm margin. 
Ad  sizes:  1/16  page  (3  blocks)  $5;  1/8 
(6 blocks) $8; 3/16 (9 blocks) $12.  
Classified  ads:  $4  per  entry  (max.  30 
words, max. 4 repeats). 
Payments  can  be  made  online,  posted 
or left at Jaques Four Square Store. 
We  use  Microsoft  Publisher,  and  can 
work  with  most  common  image 
formats, Word, Excel, and PDF files. 
Accounts:  
Email: bugleaccounts@kaiwaka.co.nz 
The  Kaiwaka  Bugle  is  a  community 
newspaper run by volunteers.   
Articles, etc. printed are not necessarily 
the opinion of the Bugle Team. 
Supper Movie Special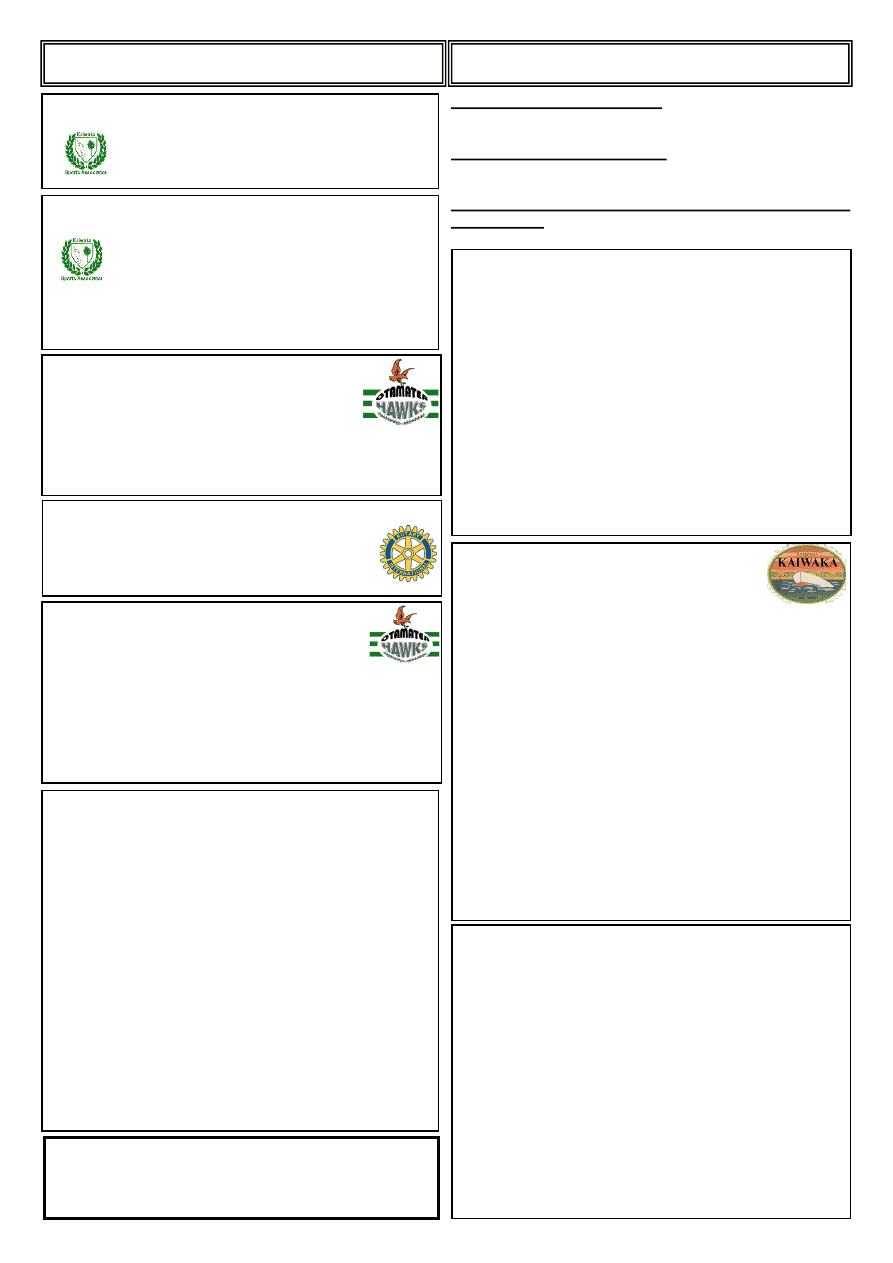 www.kaiwaka.co.nz 
Kaiwaka Bugle - 7 March 2017 
Page 3 
PUBLIC NOTICES 
CLASSIFIED 
CLEAN  FILL  WANTED:  Oneriri  Road.  Text  or  
phone 021 0239 1630 
THE  SUNSHINE  GIRLS:  Efficient  and  reliable 
help with your housework. Ph 4312 532 
MARRIAGE CELEBRANT / WEDDING EVENTS 
PLANNER:  Yvonne  Osborne  Ph  0274  989  814, 
yvonne.osborne@xtra.co.nz 
Proverbs 30:33  As the churning of cream 
yields butter and a blow to the nose causes 
bleeding, so anger causes quarrels.  
KAIWAKA SPORTS ASSOCIATION 
MEETING 
Wednesday 15th March, 7pm 
Kaiwaka Sports Complex  
ROGER TWISS 
WHERE ARE YOU??? 
HIDING OUT FROM YOUR MATES! 
COME ON OUT AND JOIN IN back with us.
TONY GUMMER NEEDS A FRIEND BACK 
027 7724866 
Otamatea Hawks IMB
Annual General Meeting 
Tuesday 14th March 2017 
7pm at Kaiwaka Sport Association 
Agenda Items: IMB teams for the 2017 season, 
Subs to be set. 
All Welcome 
Otamatea Hawks IMB
All interested players are invited to attend 
rugby trainings at the  
Kaiwaka Sports Association,  
Tuesdays and Thursday nights from 6pm.   
Looking to have Under 14, Under 15 and Under  17 
teams  for  the  2017  season.    Looking  for  coaches, 
managers  and  parent  support  for  these  teams  so 
please come along if you are keen to help out. 
TE POUNGA MARAE /OTAMATEA 
MARAE REO WANANGA
5 FREE Wananga Reo for all levels of Te Reo Maori 
Speakers are available at our local Marae. Te Pounga 
in Kaiwaka and Otamatea in Tanoa 
1. 3-5 March 2017 
Otamatea Marae 
2. 17-19 March 2017 
Te Pounga Marae 
3. 31 st March -2 April 2017  Otamatea Marae 
4. 12-14 May 2017 
Te Pounga Marae 
5. 9-11 June 2017 
Otamatea Marae 
Whakapirpiri mai koutou e pikoko ana ki te reka o to 
tatou reo rangatira. 
Please contact Reno Skipper for information on 
021713506 or Email: matuareno@gmail.com 
House for Sale and Removal 
Due to the planned extension  
to the Maungaturoto Rest Home
Tenders are invited for the sale  
and removal of 5 Bedroom House 
(approx 170sq m)
 situated  
134 Hurndall St, Maungaturoto
For inspection and conditions contact: 
Rest Home Manager Tracy 09 4318 696 
Tenders Close 4pm Friday 31st March 2017
MCCT Tender, PO Box 52 Maungaturoto 
New fish of the month is: Snapper.   
Cut off date 14th March 2017. 
25th & 26th March 2017 
OPEN FISHING COMPETITION.   
Species: Snapper, Kingfish and Kahawai, with 
auction to follow prizegiving.   
All fish must be gilled and gutted.   
See page 9 for  information, rules, and regulations. 
21,22 & 23 April 2017  
EAST VS WEST OPEN FISHING 
COMPETITION.   
More information to follow 
Next committee meeting 14th March 2017, 7pm at 3 
Furlongs Bar & Grill. 
~Wayne Leslie, Commodore 
POINT CURTIS 
CRUISING CLUB 
TOP OF THE ROCK 
Debrief meeting 
Wednesday 15th March, 5.30pm 
Kaiwaka Sports Complex 
If you have any ideas on how we can improve our 
event for next year, you are most welcome to come 
along. 
The ROTARY CLUB of MAUNGATUROTO  
and Districts Inc. 
GARAGE SALE  10am, Saturday 18 March   
Maungaturoto Primary School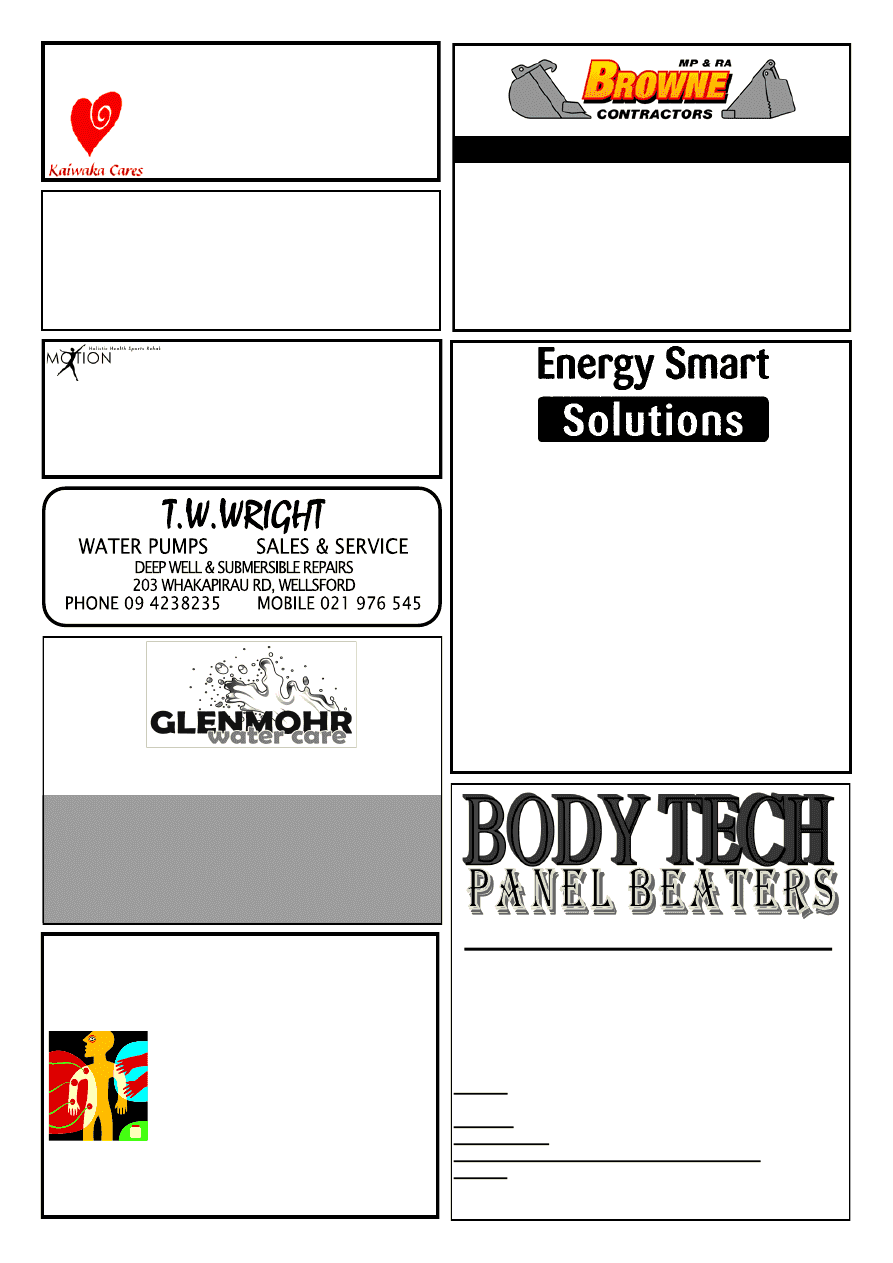 FREE GRAZING WANTED 
Small or large block 
Can do some fencing or water 
Phone after 6pm 
4312 006 
WAIPU OSTEOPATH 
Maria Gabriel  ACC Registered Osteopath 
8 The Centre, Waipu 
Monday to Thursday  
Freephone 0508 924786 (0508 WAIPUOSTEO) 
www.getinmotion.co.nz  No doctor referral required 
Community Drop-In Centre
Open 10am – 2pm  
Monday - Wednesday - Friday 
WIFI, printing & scanning available at 
Kaiwaka's own drop-in social space.
OWEN STEVENS 
Osteo Therapist
For careful adjustments to bones and joints 
Treatment for  humans and their pets 
Clinics: 
Kate's Place, Kaiwaka: 
Last Friday of month 
For bookings:9.00am-5.00pm 
Phone 
09 4312661 
Or phone Owen  09 4317123  anytime 
4T DIGGER – BOBCAT – TIP TRUCK 
Property Maintenance - Driveways - Building Sites 
Stump & Tree Removal - Hole Boring - Chain Trencher 
Calf Shed and  Stockyard Cleaning
KAIPARA - WHANGAREI - RODNEY 
Phone Matt: 021 199 6677 
Email: mprabrownecontractors@gmail.com 
For all your body repair needs!! 
We do: 
Rust repairs 
Insurance work 
Anti-corrosion treatment     
Hours: 8.30am-5pm Mon-
day-Friday  
Mobile: 021 118 0462 
After hours: 09 431 2384 
Phone: Craig or Call in for a free Quote 
bodytech_panelbeaters@yahoo.com
We are located at 1837 SH1 Kaiwaka, behind  
Twinkle Tow 'n' Tyre call in anytime for a free quote.  
Large and minor vehicle  
 repairs 
Industrial vehicles 
Full Cut and polishes 
Water Tank Cleaning 
 
Keep your water safe & clean  
 
Removal of sediment, silt etc. 
 
Vacuum or full scrub 
 
Minimal water loss 
Phone Mark (09) 432 0655 or 0274 707607 
ASK US ABOUT OUR NEW 
SOLAR ENERGY PACKAGES
We also provide advice on Ventilation Systems, Heat 
Pumps and Air Conditioners.
Does your Family or Home suffer from 
Are you looking for affordable top quality 
products? 
CALL US NOW!
For a free assessment and quote phone:
431 2025 / 021 762 352 
www.energysmartsolutions.co.nz 
 Condensation 
 Allergies 
 Asthma 
 Poor air quality 
 Musty smells 
 Mould 
 Mildew 
 Dampness 
 Hard to heat 
 High humidity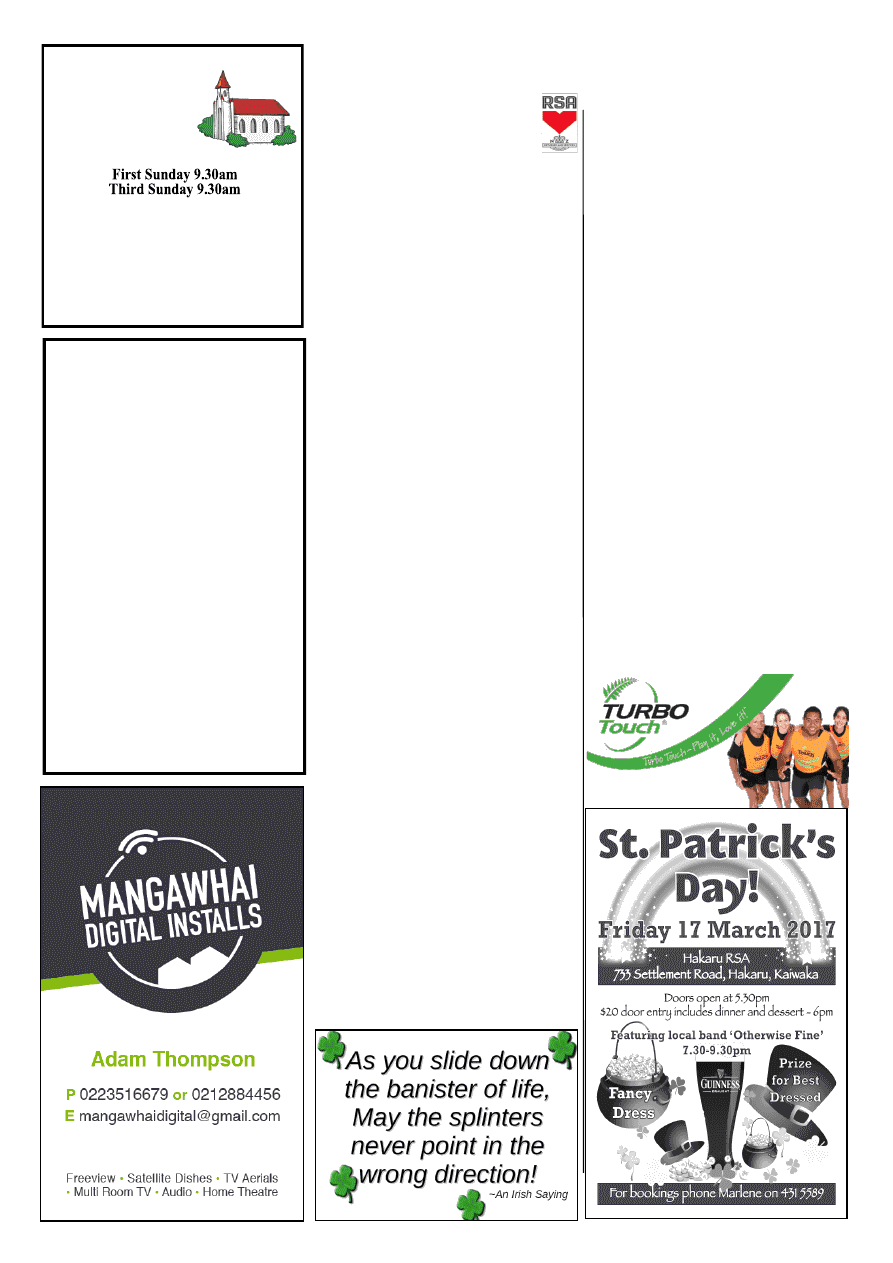 www.kaiwaka.co.nz 
Kaiwaka Bugle - 7 March 2017 
Page 5 
ST PAUL'S  
ANGLICAN  
SUNDAY  
SERVICES
St Pauls Church: Kaiwaka-Mangawhai Rd. 
1st Sun - Eucharist 
3rd Sun - Family Service 
Office 4314 122 
Contacts:M.Hargreaves 4312295, C.Bygrave 4312057  
or Rev. Wayne Thornton Ph 431 5650 
www.mangawhaianglican.org.nz
Willow Bend
HORSE  
HOTEL 
  
Total Horse Care 
 
Agistment 
 
Riding Lessons 
 
Arena Hire (60x40) 
 
Young Horse Starting 
 
Re-training/Exercising 
 
Hoof Trimming 
 
Problem Solving 
Phone Sue 09 431 2817 
or 021 623 776 
Or email  
susanjoll11@gmail.com 
HAKARU RSA 
WOMEN'S SECTION 
Our numbers were down to 14 at 
the February meeting which was 
followed  by  the  A.G.M.  Gloria 
Durrant, our Jnr Vice President, 
was  in  the  chair  in  the  absence  of 
President Lena who had an emergency 
at  the  last  moment.  Gloria  welcomed 
all  present  and  we  sang  the  Women's 
Section Song. 
There  was  only  one  Birthday  for 
February  and  that  was  Dawn  Powell, 
hope  you  had  a  great  day  Dawn.  The 
raffle  was  won  by  Noeline  Davies,  it 
was good to see Noeline back after her 
recent car accident, and we are glad to 
hear Trish Black is feeling better each 
day after her sudden illness. 
The bowls day went off well with three 
visiting  Women's  sections  plus  the 
Mangawhai  Club.  We  had  7  members 
from Waipu, 9 from Warkworth, and 4 
from  Dargaville; regrettably  Wellsford 
did not receive their invitation so were 
not present. 
The  following  are  the  Officers  and 
committee elected for the 2017-18  
year: Patroness - Fay Wintle, President 
-  Gloria  Durrant,  No  Snr  or  Jnr  Vice 
Presidents  elected  as  yet,  Secretary  -
Jan Mann, Treasurer - Helen Hawkins, 
Delegate  to  Conference  -  Lena 
Carleton,  Reporter  -  Ann  Dowson. 
Committee:-  Shirley  DeVries,  Pat 
Judd,  June  Wilson,  Bettie  Marchant, 
Noeline  Davies,  Ann  Dowson,  and 
Lena  as  of  right.  Trading  table:-  June 
Wilson, Dawn Powell, Heather Small. 
The Women's Section are very grateful 
to  Tony  Perry  for  being  our  Auditor 
and a "Vote of thanks" was recorded to 
him. 
Members  were  urged  to  attend  the 
working  bee  on  Sunday  12th  March 
1  p.m  to  clean    up  Clubrooms  and 
grounds  and  will  be  followed  by  a 
sausage sizzle. 
Poppy  Day  selling  will  take  place  on 
Friday  21st  April  if  you  are  able  to 
help please phone Heather on 4312668 
Flowers and help with wreaths are also 
needed on 24th April. Kaiwaka Garden 
club  members  welcome  to  come  and 
help also. 
More  help  would  be  appreciated  from 
all  members  with  the  Friday  night 
meals  so  please  volunteer.  Ladies  and 
men are also welcome. 
Next meeting on Thursday 23rd March 
1:15 p.m. New members very welcome 
TURBO TOUCH 
Have you heard of Turbo Touch? It's a 
new sport sweeping the country! 
Turbo  Touch  combines  elements  of 
Touch, 
Netball, 
Basketball 
and 
Ultimate Frisbee. 
Unlike  traditional  Touch,  the  ball  can 
be  passed  forwards  (and  backwards, 
sideways,  any  way  you  like!)  with 
teams  only  having  two  possessions  to 
create  a  Touchdown;  this  creates  an 
expressive style of play. 
Turbo Touch is a fast-paced game like 
no other – it's jam-packed with action 
and  perfect  for  all  fitness  levels  and 
abilities. The game is simple in concept 
and easy to learn – great for people of 
all ages.  To learn more, check out the 
Kaiwaka Turbo Touch facebook page – 
watch the video I posted there to get an 
idea of the game. 
I'm  organising  a  1  day  'have-a-go' 
tournament in the KSA gymnasium on 
Sunday  19th  March  -  if  you're 
interested  in  entering  a  team,  please 
email 
me 
on 
cherylanderson051@gmail.com.  
You'll  need  10  players  for  your  team 
($10 per player). Each team will get 2 
games.  There  are  five  players  are  on 
the  court  and  two  of  them  have  to  be 
females, so make sure you get plenty of 
females in your team. Under 11yr olds 
count  as  females,  so  get  some  young 
un's ! 
This  is  a  casual,  'have-a-go'  day,  so 
why  not  enter  a  team  of  friends  or 
family for a fun, active day out. 
~Cheryl Anderson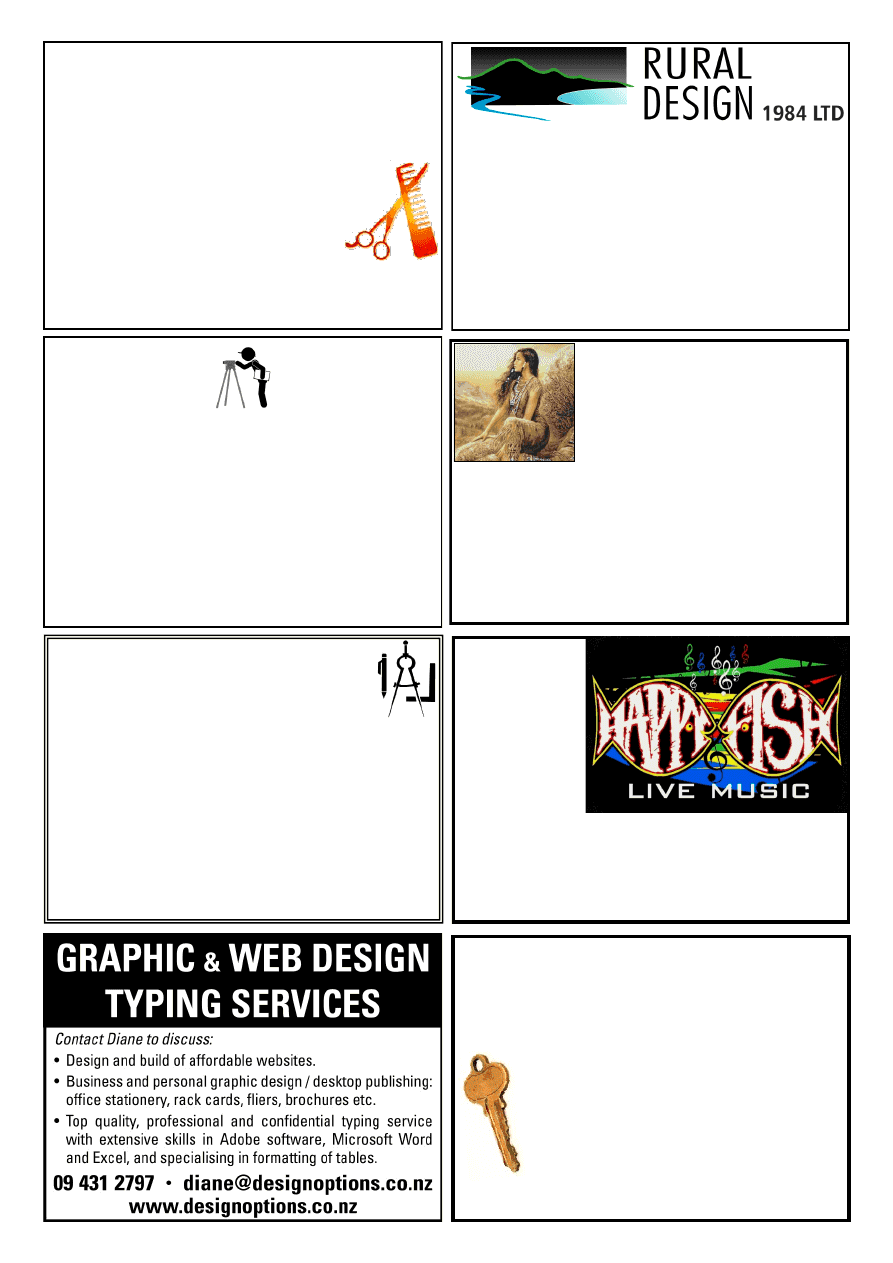 design drafting  
service 
Retired builder and manufacturer with over 40 years  
experience in the building industry is offering a design 
drafting service  
for domestic housing, sleepouts and sheds.  
Plans formulated in consultation with clients, with 
working drawings completed and submitted to  
council for processing.  Extensive practical experience,  
able to identify & resolve problems. 
Please ring Mike Lean on 
09 431 2260 
or 
021 431 196 
AFFORDABLE PRICES! 
MENS DRY CUT FROM $18.00 
LADIES DRY CUT FROM $28.00 
KIDS DRY CUT FROM $15.00 
COLOUR CUT FROM $90.00 
JUST CUTS'AND     
MORE 
021 165 2629 
NOW SELLING: scented tealights, incense, smudge sticks, copper 
bracelets, aurora ball crystals, dream catchers, healing stones, 
rose quartz, cds, and much more. Open 6 days. 
Ken Urquhart 
BSurv Licensed Cadastral Surveyor 
KMU Surveys Ltd
467 Bickerstaffe Road 
RD 2 
Maungaturoto 0587 
Ph 09 431 8705 
Mob 021 161 2344 
kenurquhart@xtra.co.nz 
WHOLESALE NATIVE PLANT NURSERY 
AND LANDSCAPING 
By Appointment 
Small and Large orders welcome 
Phone: 09 431 2481 
Email: info@ruraldesign.co.nz 
Trails end 
spiritualist gathering  
Last Sunday of every month  
11.30-2pm tea/coffee provided  
$5koha for all inquiries  
0211652629 evenings 099450753 
Trail.end@hotmail.com 
Bringing together light minded people 
Guest speaker each month and 
Workshops every 2nd Wednesday  
6:30-7:30pm
Rockin' popular, 
old and new party 
songs with loads of 
Kiwi music and a 
few original tunes 
in the mix.
An electric duo 
featuring: 
Gordon Joll 
(NZ Music Hall of Fame)
 on drums and Sue Joll on guitar and 
vocals, a band for any occasion backed by years of 
experience.
Contact: Sue 021 623 776 
Email: happyfishband@gmail.com 
Website: www.happyfishband.co.nz 
Kaiwaka Hardware  
& 
Key cutting
Phone 4312 063 or 022 041 6047
kaikey2015@gmail.com
Keys Cut  
Household Hardware  
Curtain Tracks & Fittings
Not there? Call Doug and he'll sort
it for you. 
(
Next to Kaiwaka Motorcycles)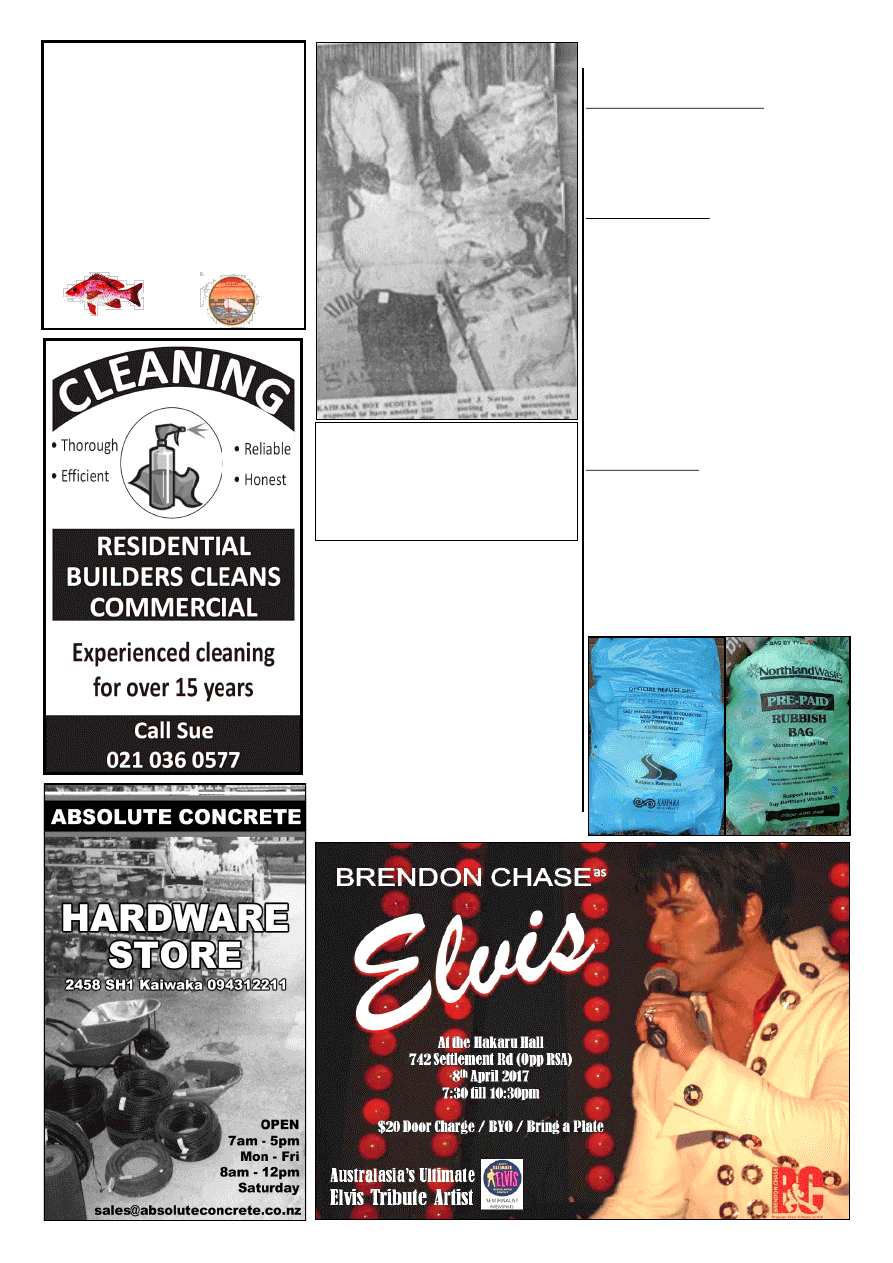 www.kaiwaka.co.nz 
Kaiwaka Bugle - 7 March 2017 
Page 7 
WEATHER
RUBBISH 
COLLECTIONS 
Kaipara  District  Council:  BLUE  and 
Yellow  bags  are  collected  on 
Wednesday  mornings  in  the  Kaiwaka 
area.  This includes Oneriri Road to the 
end of the tarseal. The KDC Blue Bag 
contractor  is  Kaipara  Refuse  Ltd.  
09 439 2146 
Northland  Waste:  GREEN  Bags  are 
collected  on  Monday  mornings.    No 
recycling  bag  collection  -  recycling 
(paper,  cans,  bottles)  can  be  taken  to 
the  Hakaru  Landfill  on  Kaiwaka-
Mangawhai  Road.  The  GREEN  BAG 
collection  route  comes  south  on  SH1 
from  the  Brynderwyn  corner  to  the 
Caltex  Service  Station,  and  includes 
Hastie  Lane,  Settlement  Road  to  just 
beyond  Tawa  Lane,  Puawai  Street  and 
Marshall  Road,  Gibbons  Road  and 
Kaiwaka-Mangawhai  Road.  There  is 
NO  GREEN  BAG  collection  on 
ONERIRI  ROAD.  Northland  Waste 
Ltd -  09 4380802 or  0800499246. 
Both  contractors  ask  that  bags,  which 
can  be  purchased  throughout  the 
district at most supermarkets, be at the 
kerbside  by  7.30am  on  day  of 
collection  and  must  not  be  deposited 
more  than  24  hours  prior  to  collection 
day.  
Rubbish  collection  is  a  user  pays 
system  and  does  not  include  black 
bags,  loose  rubbish,  tins,  plastic 
containers.  
SCOUT  FUNDRAISING 
1958 
Peter  Linnell  recently  found  this  1958 
Northern  Advocate  photo.  He  then 
found  references  in  father,  Brian 
Linnell's, diary: 
Bottle drive - 22nd March 1958 - collected 
100doz. from Oneriri, sorted and put on rail 
about 5pm 
Paper  drive  -  Sat.Sept.13th  1958:  packed 
11 bales and wouldn't be halfway!! 
Mon.22Sept/58-in  arvo.  went  to  Kaiwaka 
and met Scout Cmte. Re-site for den...
Sept.23/58-went  to  Gubbs  and  shipped  20 
bales of paper, it took most of morning.... 
The original scout den was on Gibbons 
Road. The paper collection went on for 
a few decades after this.
AUCTION AUCTION AUCTION 
Fish    Fish    Fish    Fish 
FRESH FISH AUCTION 
(Gilled and gutted) 
6.45pmish Sunday 26 March 2017 
@ 3 Furlongs bar & Grill 
(ATM on site) 
Point Curtis Cruising Club Inc 
Fundraiser for upgrades at  
Rangiora Boat Ramp 
KAIWAKA  BOY  SCOUTS  are  expecting  to  have 
another  £50  towards  their  proposed  den  as a  result 
of a paper drive held in Kaiwaka. Over five tons of 
paper was collected last Saturday and more is yet to 
come. In the picture Mesdames A McDonald and J 
Norton are shown sorting the mountainous stack of 
waste  paper,  while  it  is  being  baled  by  Messrs  B 
Linnell  and  H  Gubb.  The  scout  committee  has  al-
ready about £150 in hand towards the den, which is 
expected to cost about £500.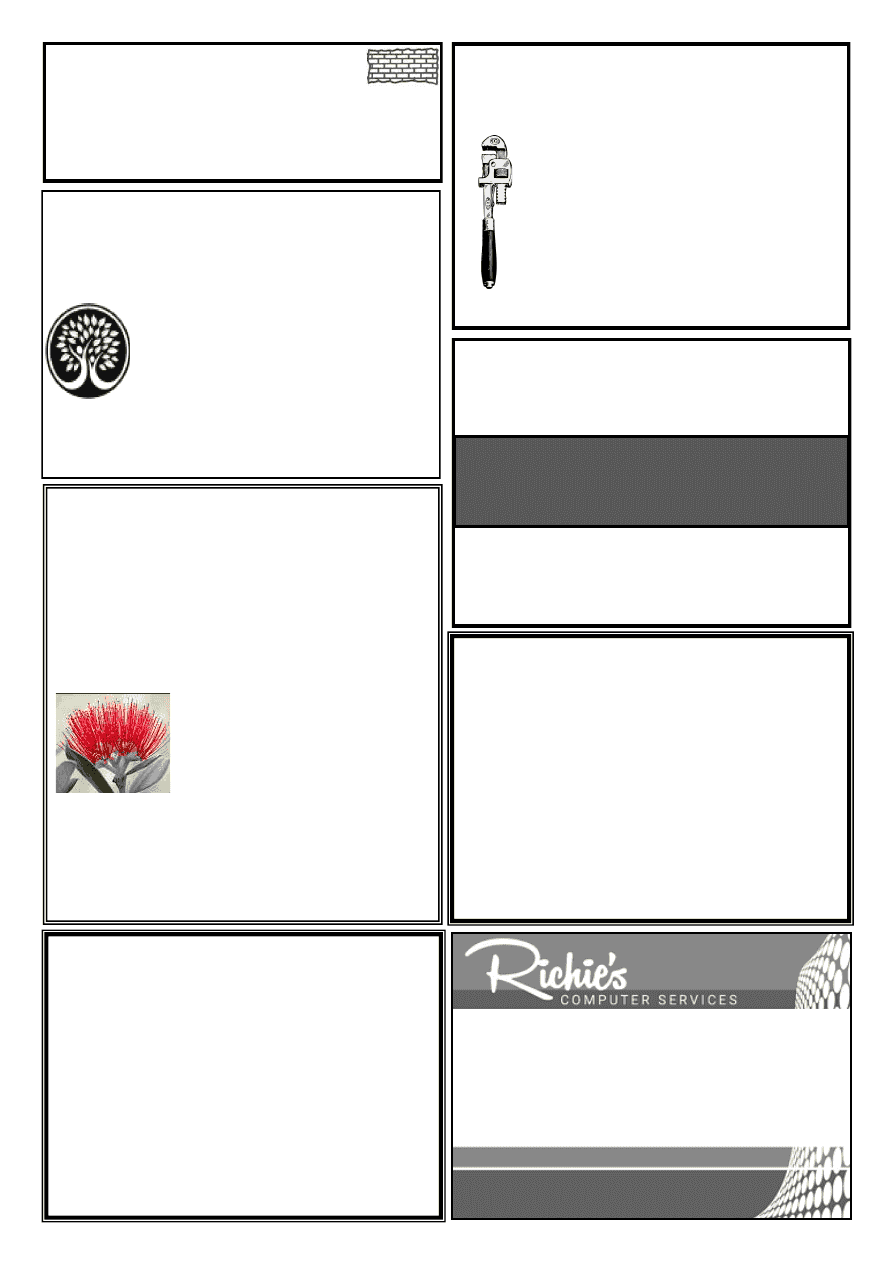 David Korach 
Your local Gib Stopper
DK PLASTERER LTD 
0274769221 
dkorach6@gmail.com 
BRICK/BLOCKLAYER 
All aspects of masonry: 
Fireplaces, Restoration & Remedial Work.
JAMES EAGLETON
Tel. (09) 431 2514     Mob. 0274 749 232
jajueagles@yahoo.com.au 210A Pukenui Road, RD2, Kaiwaka 0573 
Waipu Natural Health 
3 Cove Road, Waipu  (opposite the Pizza Barn) 
Ph: 09 432 1325 
www.waipunaturalhealth.co.nz
Clinical Nutritionist-Hair Analysis for Masked 
Allergies, Ozone Therapy, Prolotherapy, 
Naturopath-Medical Herbalist, Registered 
Massage Therapists, Reflexology-
Craniosacral Therapy, Acupuncture-Facial 
Acupuncture, Kineso Taping, Hypnotherapy, 
Counselling, ThetaHealing, Beauty Therapy
KIDS DAY – AFFORDABLE HEALTH SUPPORT 
FOR KIDS – every Wednesday 
(call us or drop in)
Gift Vouchers available
MULCHING
GORSE,SCRUB ETC 
PADDOCK TOPPING OR MULCHING 
2.8m mulcher with 140HP tractor. 
Experienced operator. 
LIFESTYLE PROPERTY MAINTENANCE 
Putting life back into your style 
BOOK NOW. Phone James 
mob: 0273 808622  
or 09 431 2245 
email: lifestylesorted@gmail.com 
KAIPARA FLOORING CO 
Independently owned & operated 
32 HURNDALL ST MAUNGATUROTO
Supply & Installation of Carpet, Vinyl,  
Vinyl Wood Planking
Stockists of 2m & 3m wide 
vinyl & carpet short ends
Residential & Commercial
Q Card Finance Approved 
6-18 month terms 
6 mth interest free
First Class Installations
For a free measure & quote 
phone Christine  
09 946 9886 or 021 515 415 
kaiparaflooring@gmail.com 
http://www.kaiparaflooring.co.nz/ 
BARRY CURTIS PLUMBING LTD 
REGISTERED CRAFTSMAN PLUMBER 
Phone 4315572 
027 257 9884 
25 years experience 
Friendly reliable service 
All plumbing and maintenance 
Alterations and new housing 
Spouting 
Competitive rates 
PROMPT EFFICIENT  SERVICE 
Mangawhai Heads 
Garden Centre
1758 Cove Road
945 0707 
021 
165 
2629
 
15 years  commercial IT experience 
 
Computer and Laptop Repairs 
 
Smart Phone and Tablet Support 
 
Virus and Malware Removal 
Richard Harding
T 09 945 0376        M 021 124 7358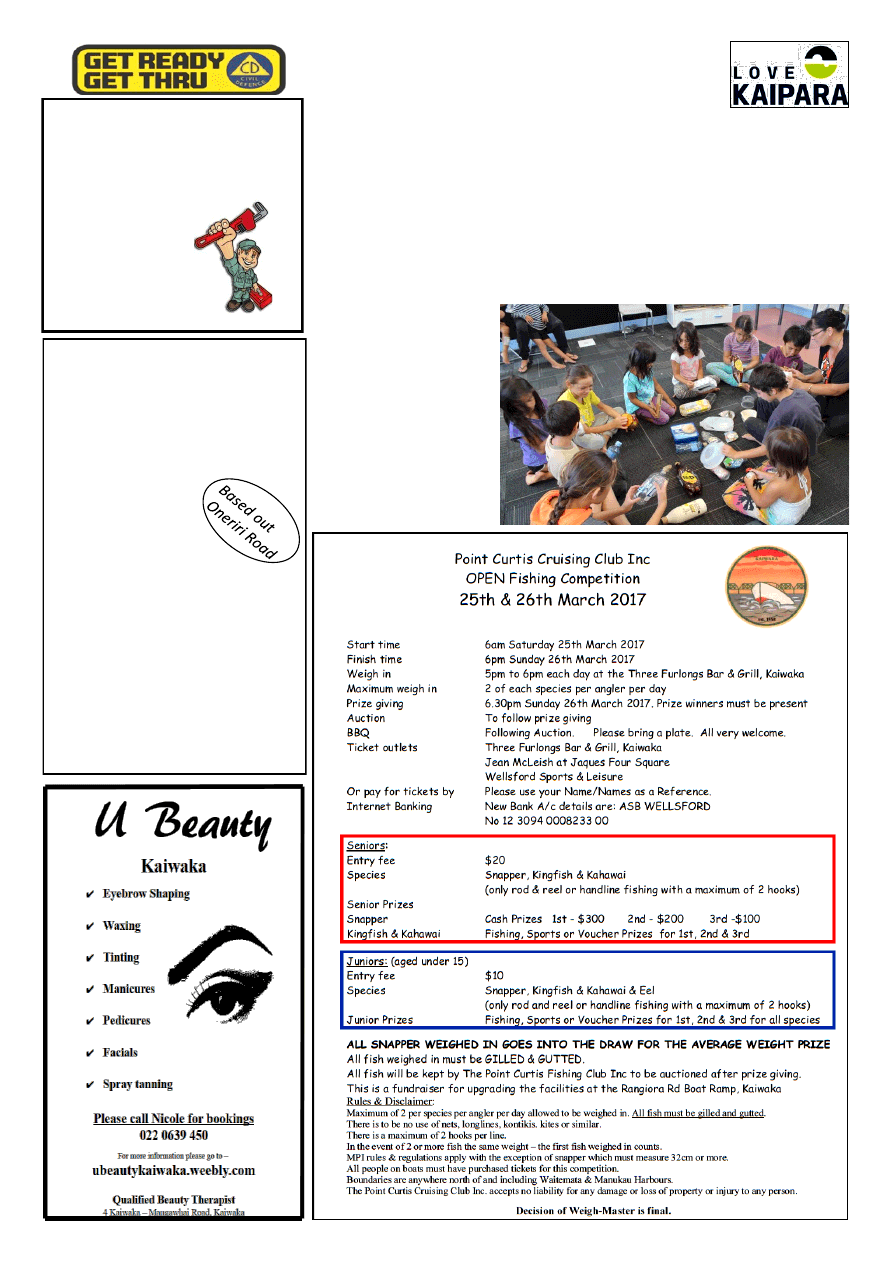 www.kaiwaka.co.nz 
Kaiwaka Bugle - 7 March 2017 
Page 9 
Ross Murphy 
PLUMBER 
Certifying Plumber
09 431 7510 
021 424 252 
Paparoa Based 

New Housing  

Renovations  

Maintenance
HODGETTS
CONTRACTING
Digger Work    

Driveways 

House Sites   

Dams 

Drains, etc
Also available for HIRE 
3 ton Vib Roller 
Heavy Duty Tow  
Waterblaster  
Lazer Level
Phone Mark 4312877 
027 447 8554 
The  Love  Kaipara  Reduce  Reuse 
Recycle  education  programme  has 
started  again,  and  so  far,  Tangiteroria 
School  and  Tinopai  School  students 
have enjoyed taking part. 
Last week, the educator Victoria del la 
Varis  (Lady  V,  the  Very  Good 
Recycler)  delivered  classes  in  these 
two  schools.  The  students  loved 
learning  about the resources  embodied 
in the recyclable  containers  we  all  use 
every day, such as plastics being made 
from  crude  oil;  glass  from  sand; 
aluminium  from  bauxite,  black  and 
white  sand  and  alumina; 
and  tin  cans  being  made 
from  steel,  which  comes 
from  iron.  Lady  V    says 
that  by  teaching  the 
younger  generation  we 
also  teach  households,  as 
children  go  home  and 
share  their  knowledge  at 
home. Ultimately Victoria 
del la Varis would like to 
see  homes,  sports  clubs, 
marae  and  businesses  all 
working  toward  the  same 
zero  waste  goal  in  the 
Kaipara: 
"Every 
organisation 
and 
dwelling should have 
a  three-bin  system:  one  big  bin  for 
recyclables, one bin for 'compostables' 
or chook scraps, and the smallest bin - 
well  that's  for  rubbish  that  goes  to 
landfill,"  says  Ms  del la Varis,  "When 
we  get  a  consistent  approach  to 
minimising  waste  at  work,  home,  and 
play  through  the  three  bin  system,  it 
becomes 
easy 
to 
adopt 
good 
behaviour."  
Photo: 
Tinopai  School  playing  Wash  & 
Squash, the recycling relay game. 
Kaipara Communities for Zero Waste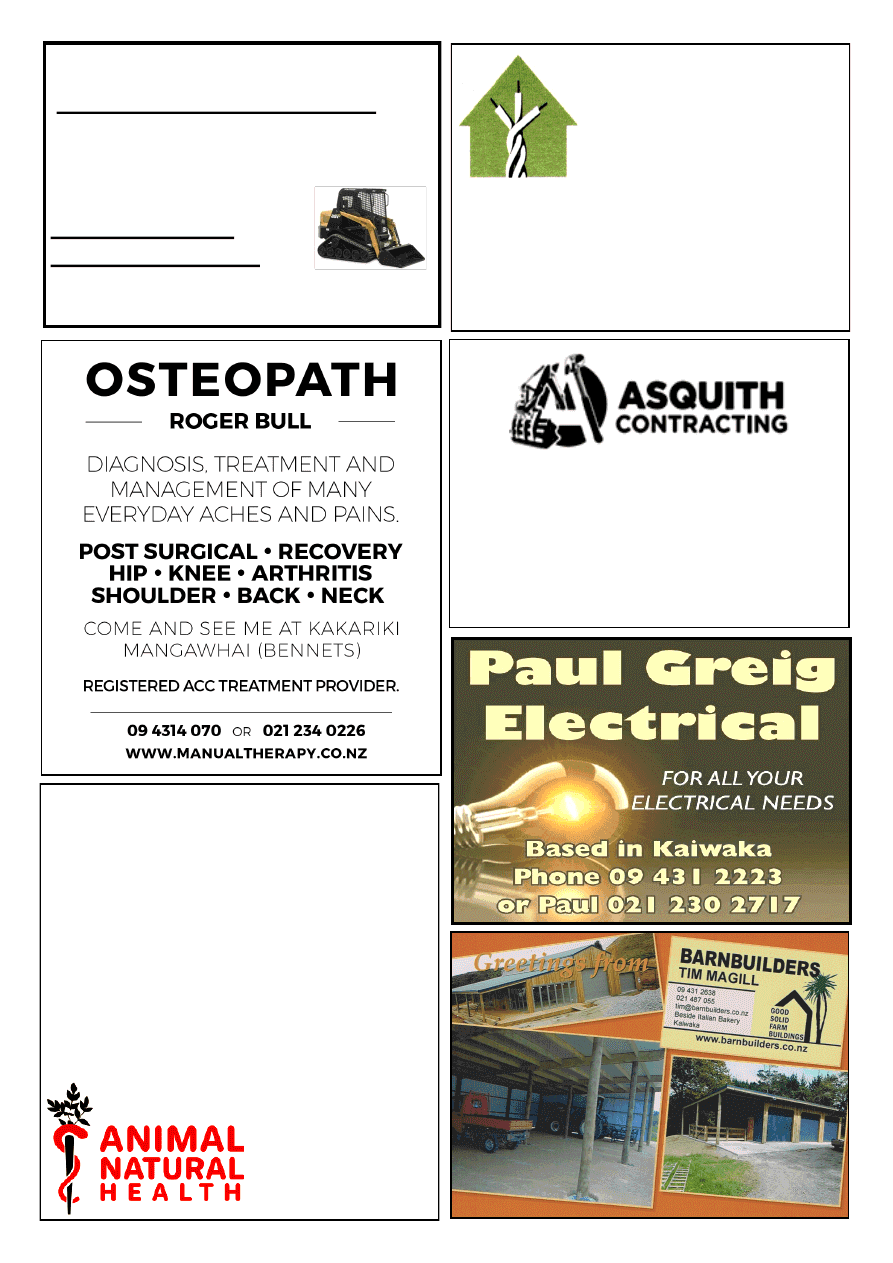 Natural Earth Ltd 
 Landscape and Bobcat services 
 : Driveways  :Landscaping  :Retaining Walls 
 : Hole Boring: Land Levelling :Trenching 
 : Decks :Fences :Sections Cleared: Plus much 
more 
Tel   09 4312885 
Mob 02102391280  
For A Fast Friendly  
Service Contact Tim Hicks 
Pet Accessories, Toiletries, 1st Aid Kits, 
Natural Products
Food  
Free-range, crate/cage-free, organic, wild 
game. NZ's Top Brands pre-prepared food 
Now OPEN Monday- Friday 9.30-5.00 
Saturday 9.30-4.00
Next to Italian Bakery, Kaiwaka 
Also at Orewa & (NEW) Matakana
Ph: 0800 NATPET (628 738) 
www.natpet.nz 
"your lifestyle choice 
in animal health 
care" 
Reyahn George 
Leng 
Registered Electrician 
Local, honest and reliable. 
For your residential and 
light-commercial projects. 
022 314 1068 / 09 431 2527 
Small digger work, trenching and post hole 
drilling for retaining walls, piles, etc.
$60+gst per hour.
Call Tam on 021 124 5216 or 
asquithcontracting@gmail.com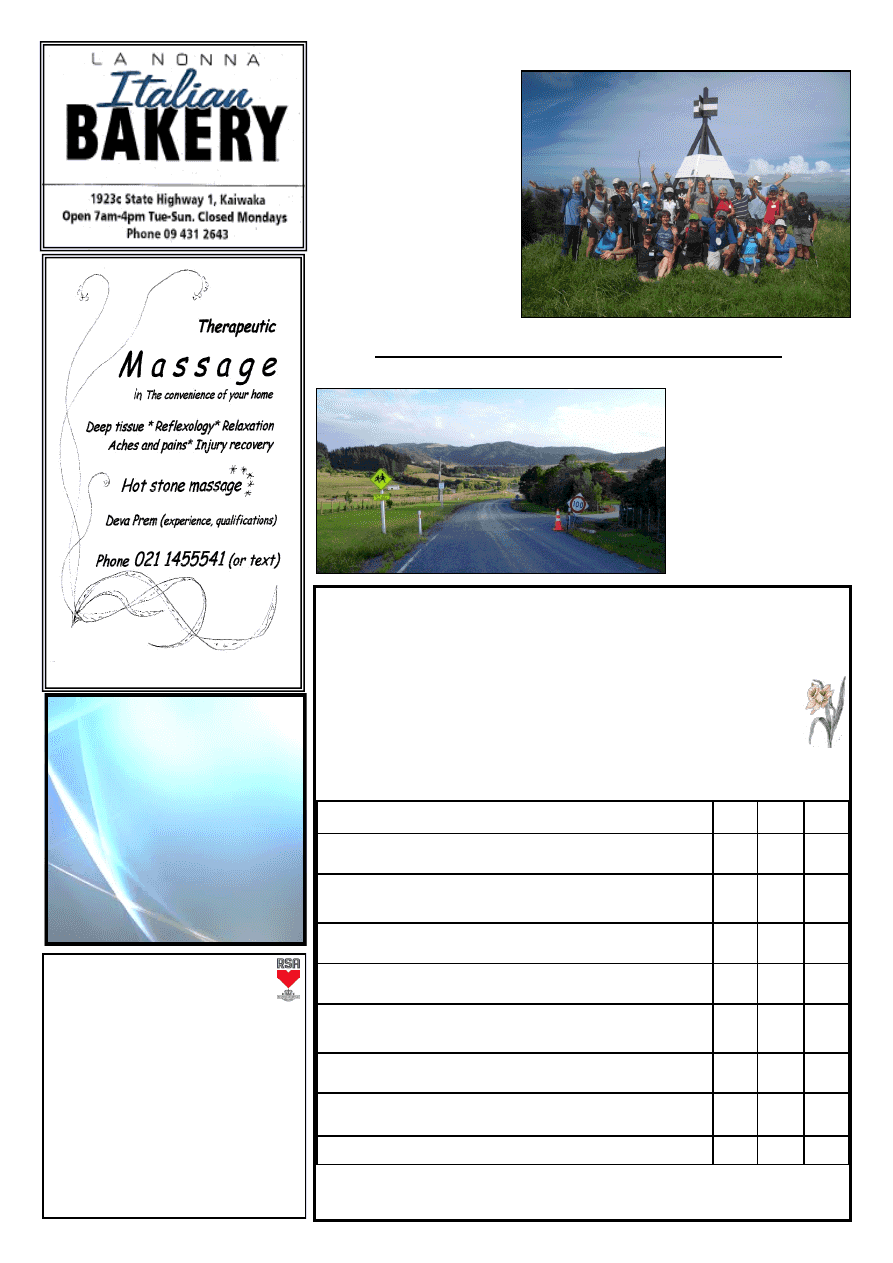 www.kaiwaka.co.nz 
Kaiwaka Bugle - 7 March 2017 
Page 11 
www.mangawhaimassage.co.nz 
HAKARU & 
DISTRICTS RSA Inc 
Each Friday night from 6.30pm meals 
will be served. 
Members & invited guests, new 
members welcome. 
Come along & enjoy our hospitality. 
2nd Friday of the month -  roast dinner or 
board menu. 
Last Friday of month - roast pork night 
&  
sing-along with Des Chitty.  
Ph Heather 4314668 or Jan 4314512 
Freeview  
Installations 
Richard Te Haara 
25 Marram Place 
Mangawhai Heads 
021 1104056 
kiwipride@xtra.co.nz
Organiser of the Mangawhai 
Walking  Weekend,  Dorothy 
Freeman,  tells  us  bookings 
are  strongly  ahead  of  last 
year, with a large number of 
new  participants  joining  in.  
There  is  an  enthusiastic  cast 
of  local  guides  waiting  to 
show  you  secret  pathways 
and byways, and entertainers 
Shane  and  the  Shazam  band 
will  be  with  us  for  the 
Mangawhai  Food  and  Wine 
Festival.    So  if  you  don't 
have  your  tickets  yet,  please 
shake  a  leg.    We  look 
forward to meeting you from Friday 24 to Sunday the 26 March.   
The booking office is open until 22 March.    www.mangawhaiwalking.co.nz  
FAVOURITE MANGAWHAI WALKS 
SPRING BULBS FUNDRAISER 
Here's a great opportunity to purchase spring flowering bulbs & seeds and 
support  the  Kaiwaka  Sports  Association.  Bulbs  are  easy  to  plant,  fun  to 
grow and will reward you with beautiful flowers for years! 
Bulbs  are supplied by Garden Post  who  source bulbs  from New Zealand's 
best growers. Prices offered here are less than normal retail. Your 
order  will  be  delivered  to  your  home  and  a  planting  guide  will  be 
enclosed  with  each  order.  To  order  please  return  this  form  with 
your payment by 15th March, and delivery will be the following week.  
Enquiries to Cheryl Anderson on 4312 051. 
Name:   ________________________ Phone number: ______________ 
Address:________________________________________________
Bulb type 
Price  # 
packs 
$ 
total 
10 Daffodils mixed 
An exceptional assortment of superior varieties 
blended for continual blooming throughout spring. Each top quality bulb will 
produce bright, long lasting, picture perfect flowers. H 40cm. 
$8.50 
10 Fragrant Daffodils – Earlicheer 
A delightful and popular 
variety for picking. Bunches of highly scented, double flowers in a soft creamy 
yellow make this a favourite, must have choice. Flowers for a long period early in 
the season. H 40cm. 
$8.50 
10 Double Daffodils – Tahiti 
Large double blooms with deep 
golden yellow petals interspersed with smaller centre petals of orange/red. Very 
popular flowers for late season. Great for picking. H 40cm. 
$10 
10 Tulips mixed 
Tulips are spectacular late spring flowering bulbs with 
colourful and attractive cup-shaped flowers. Top quality bulbs in a wide colour 
range will give an unsurpassable garden display. So easy to grow. H 40cm.
$10
10 Fragrant Single & Double Freesias mixed 
For the 
true scent of spring try this mix of popular single & double Freesias. They will give 
a long lasting, dazzling display and have long stems for picking. Protect from 
heavy frosts. H 30cm. 
$6
10 Ranunculus 
A profusion of fully double, ever-so-sweet flowers in a 
wide colour range. Large clumps of these showy flowers are hard to beat. Ideal for 
$4
Sweet Peas Early Multiflora
 - 20 
seeds A vibrant & striking 
mix of early flowering Heirloom sweet peas. Lavender, pink, purple, white & red 
flowers with that intoxicating fragrance. Climber to 2m 
$4
GRAND TOTAL
Circle  Payment  options:  Cash;  Cheque  (payable  to  KSA);  Bank  direct  060365002247200  (use  reference 
bulbs and your full name)  
Ways to return form:   Post to Cheryl Anderson, 233 Baldrock Rd, RD2, Maungaturoto, 0587. Drop off in 
box at Jaques Four Square or Scan and Email to Cheryl at kaiwakasports@gmail.com 
LOCAL ROADS 
Concern  is  being  voiced 
about  the  condition  of  a 
number  of  our  roads, 
especially the signage the 
dust, the corrugations and 
the speed signs.  
Have 
you 
felt 
the 
corrugations  on  Rangiora 
Road?  Or  seen  the  speed 
sign on Pakeho Road - the 
wee  road  where  Top  of 
the Rock starts?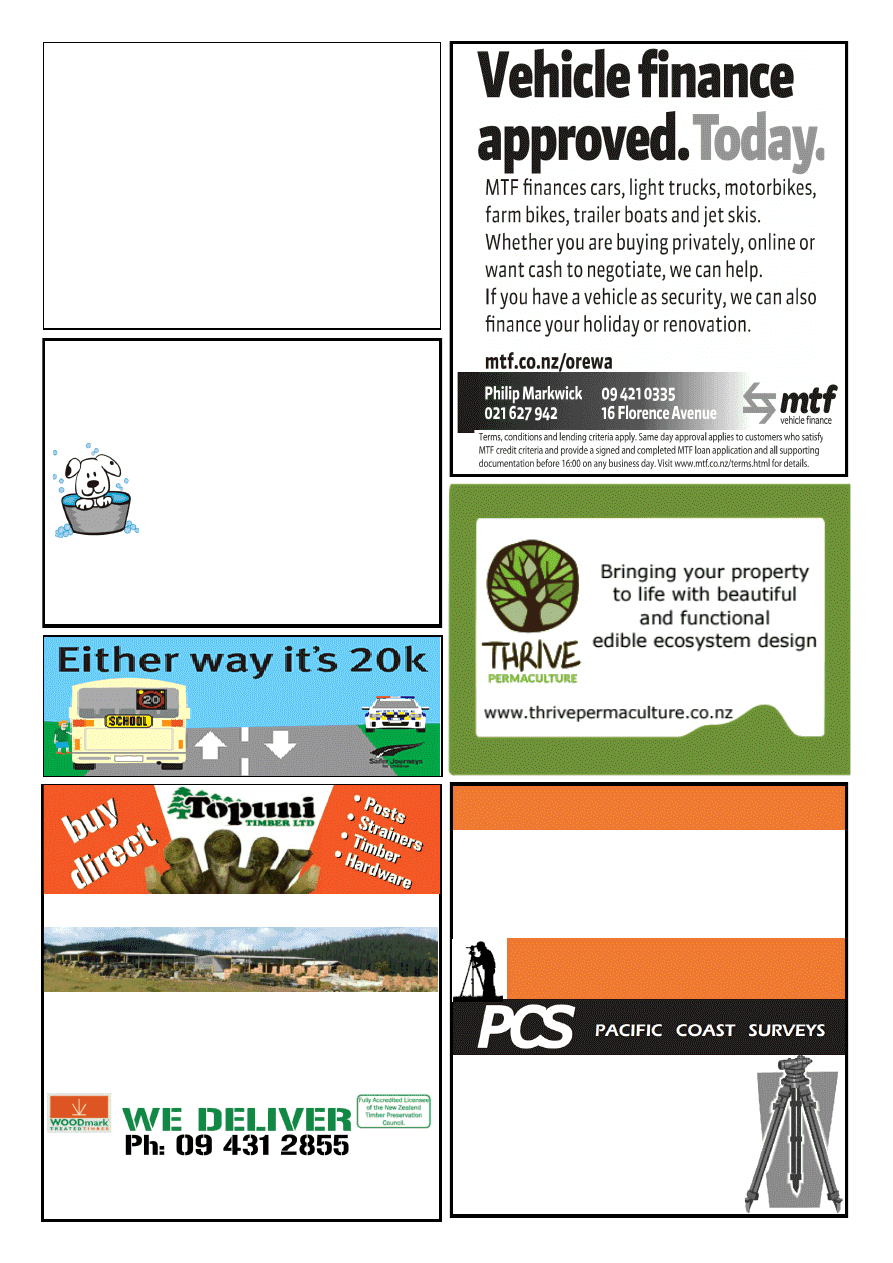 LOCALLY OWNED AND OPERATED 
QUALITY PRODUCTS • FRIENDLY ADVICE • GREAT SERVICE 
Quality Products milled from High Density NORTHLAND Radiata Pine. 
Treated and guaranteed to NZS3640 with commitment to 
Environmental Safety.
Phone, fax, email, or come into the mill 
Schiska Rd, Topuni, SH1, 10 min north of Wellsford. Fax: 09 431 2856 
Email: sales@topunitimber.co.nz  Mon - Fri 7am-5pm, Sat 8am-12pm 
 Fencing 
 Retaining 
 Decking 
 Landscaping 
 Gates 
 Hardware 
SURVEYORS 
SUBDIVISIONS 
HOUSE SITE SURVEYS 
CIVIL ENGINEERING 
WASTEWATER DESIGNS 
EXPERIENCED 
PROFESSIONAL 
INNOVATIVE 
Ph 09 431 5353 
0800 PACIFIC (0800 722 434) 
pacificcoastsurvey.com
Adam Booth - 027 415 5752 
Bsurv, Licensed Cadastral Surveyor
Surveying Kaipara since 1994 
Hot Diggity Dog 
DOG GROOMING 
All breeds dog grooming 
Professional Experienced Groomer 
Short practical grooms - summer 
Breed Standard Grooms 
Designer fusion Grooms 
Oneriri Road
By appt Phone Pam 09 4312143 
Or text only 0273335380 
Email  hot.diggitydog@outlook.com 
Couples and Individual Counselling
Have you … 
Serious relationship issues? Heading for Family 
Court? Destroying each other? Children involved?
I'm Here To Help! 
Call me to arrange an appointment 
Keep trying if phone is busy
Pete Worsfold 
B.Soc.Sc., M.Soc. Sc, Dip Prof Counselling NZIPC, 'Man Alive' Counsellor/ 
Facilitator, Prov NZAC. Professional service in your local area. Individuals, 
couples, any issue, males and/or females.
Private or WINZ Clients, Experienced Counsellor/Facilitator 
021 825 970 or 021 063 0302
peteworsfold@xtra.co.nz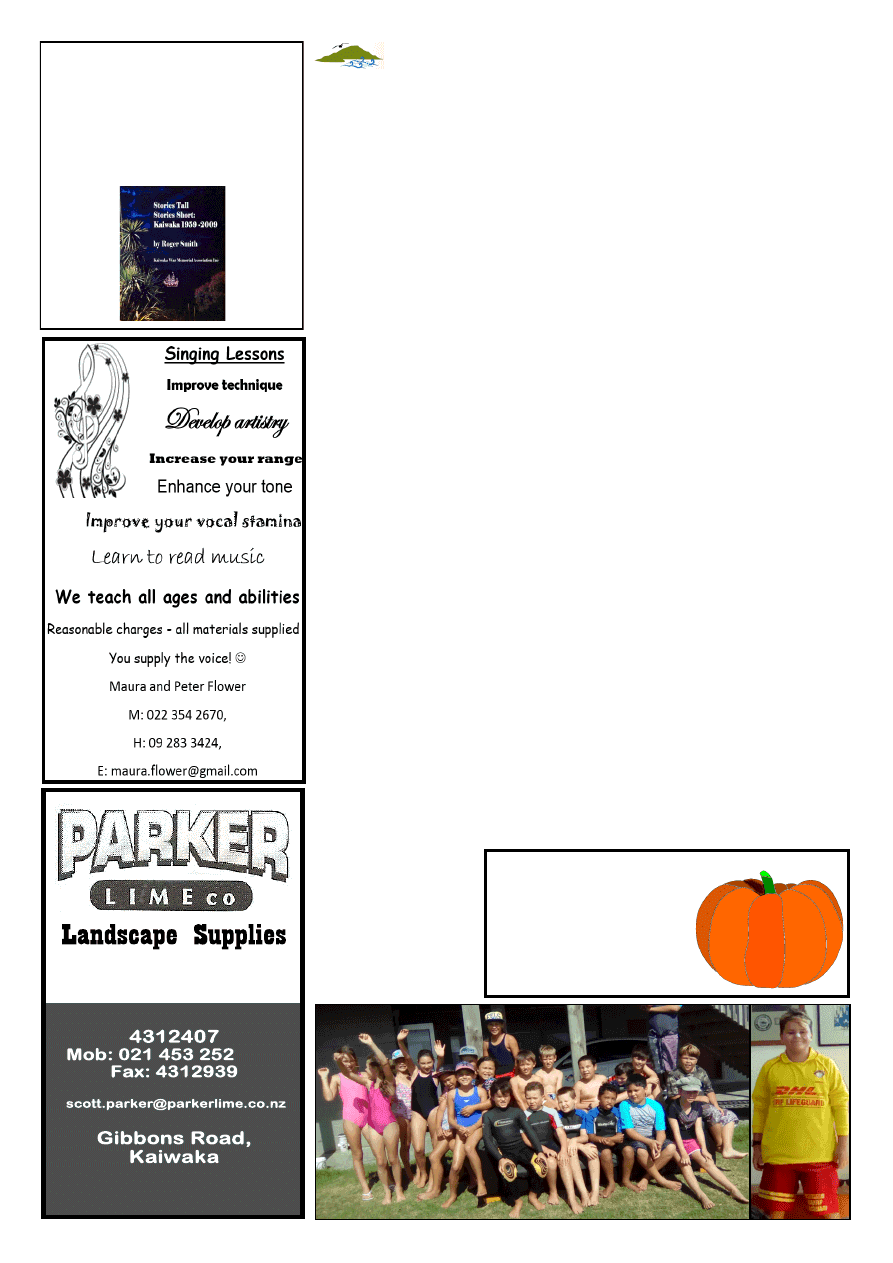 www.kaiwaka.co.nz 
Kaiwaka Bugle - 7 March 2017 
Page 13 
Stories Tall, Stories Short  
Kaiwaka 1959-2009 
by Roger TW Smith.  $40 
Available from  
the Bugle Editors -  
Lindsey 4312 045,  
Wendy 027 480 6275 
Bulk Cartage 
From the Principal 
The  year  5  and  6  Surf  Lifesaving 
Beach  Day  was  really  successful  and 
enjoyed  by  all.  Thanks  go  to  Renee-
Gay  Nathan,  Pat  Buxton,  Paul  Greig 
and  Justin  Walker  for  giving  up  their 
day to supervise in the water.  
Congratulations to  Leayah  Buxton for 
being  selected  for  the  Otamatea  High 
School No.1 Junior Netball team. This 
is  a  mighty  achievement  for  a  Year  6 
student.  We  also  congratulate  Ashley 
Greig,  Erica Julian,  Rizyiah  Gray  and 
Jade Johnson for being selected for the 
Otamatea  High  School  No.  2  Junior 
Netball  Team  -  again  a  very 
impressive  achievement.  Well  done 
girls and very well done coach. 
Lucky Us! Our school is the recipient 
of  300  containers  of  Raglan  Coconut 
Yoghurt  thanks  to  Kisayne  Barber, 
who  nominated  us  for  this  prize.  It  is 
very delicious. Thank you.  
~Rosie Ellis 
School web site 
We are up-grading our website. Please 
tell  us  what  you  would  like  to  see  on 
our  school  website.  What  else  should 
be on it? What should come off? Is the 
format  easy  to  use  and  useful?  What 
would be better? kaiwaka.school.nz 
Library 
Everyone is making really good use of 
the library, with lot of books in and out 
every  week.  New  books  are  being 
introduced  and  old  books  are  being 
culled. 
Rippa Rugby 
On Tuesday our Year 5 and 6 students 
entered  our  interschool  Rippa  Rugby 
tournament.  Our  Number  One  team 
did exceptionally well, getting into the 
semi-finals.  Our  Number  Two  team 
also played their best. We are so proud 
of them all.  
Thank you very much Blake Worsfold 
for  managing  and  coaching  the 
Number One team on the day.  
We  especially  thank  Anna  Elworthy 
for  coaching  these 
teams over the last few 
weeks,  and  getting 
everyone ready for this 
tournament.  There  will 
be  a  Year  3  and  4 
tournament 
in 
November.  
Thanks  also  goes  to 
Josie  and  Charmaine 
for  selling  ice  cream,  drinks  and 
watermelon for the school. 
Kaiwaka Board of Trustees (BOT) 
The  role  of  BOT  is  governance  body 
concerned  with  such  things  as  a 
schools  vision,  performance,  policy 
and  legal  aspects  including  financial 
accountability 
and 
property 
management.  The  operation  of  the 
school  falls  under  the  role  of  the 
principal. If you are interested in more 
info 
check 
out 
http://
www.nzsta.org.nz/representation/
board-of-trustees. 

Painting  the  School:  Kicking  off 
2017  you  would  have  noticed  the 
scaffolding  and  painters  in  action. 
This is exciting.  

Tree Removed: The ash tree has been 
removed, due to the safety risk. It was 
in poor health.  

Fence:  This  year  will  see  a  fence  be 
erected  around  the  school  -  as  you 
will remember from the update at the 
end  of  2016  this  was  a  Ministry 
directive related to a specific need.  

New  Chromebooks  and  screens:  In 
the classrooms there is some exciting 
new technology so come along to the 
Meet the Teachers evening to check it 
out. 7th of March from 5pm.  

Ukuleles:  You  may  have  heard  we 
are  the  lucky  recipients  of  30 
BRAND NEW ukuleles from a kind, 
anonymous benefactor-so the teachers 
and  kids  have  been  learning  to  play 
together!  

Reading  Recovery:  We  have  had 
reports of successful outcomes in our 
reading  recovery  programme  thanks 
Mrs Jamieson.  

Shade Sails: Up and coming you will 
see  some  lovely  new  shade  sails  in 
our  house  colours  (think  book  bags) 
up over the deck on the senior block.  

Permaculture  Conference:  We  are 
going to be the admin base for a large 
Permaculture  Wananga  over  the 
Easter Holidays.  
KAIWAKA SCHOOL 
The Great Pumpkin 
Growing 
Competition will be 
Wednesday 22 
March at 1.30pm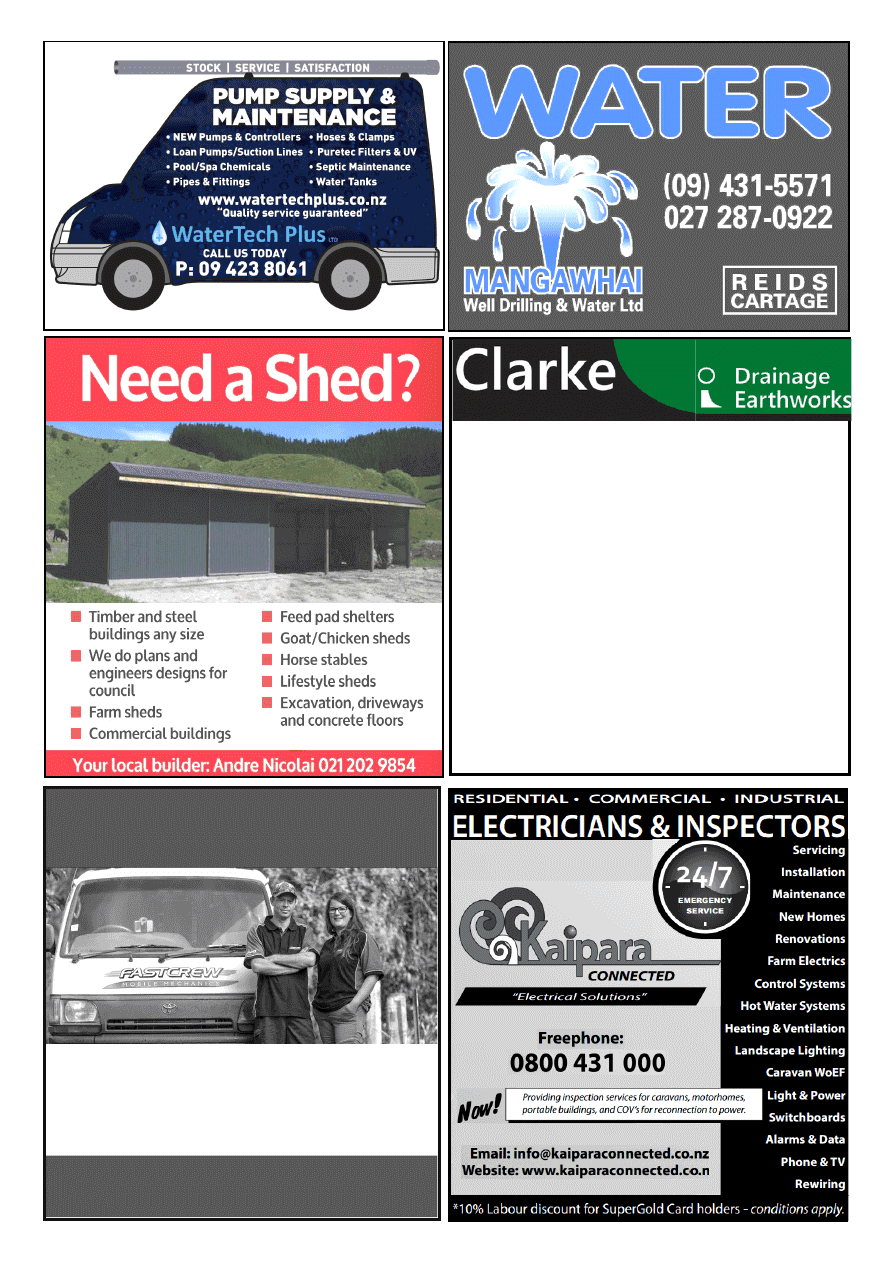 "WE'LL COME TO YOU 
AT AFFORDABLE PRICES" 
Wayne and Leanne 
are FAST CREW, the garage that comes to you. 
Ph:0800 484 327  fastcrewautomotive.co.nz 
 
Petrol and diesel large or small 
 
Servicing, cambelts, tune-ups 
 
Shocks, brakes, batteries 
 
Transmission servicing, suspension 
 
Steering and much more 
Registered Drainlayer 
All Types of Earthworks  
> All Residential & Commercial Work  > House Sites 
> Septic System Design & Install 
> Footings & Drilling to 10m 
> Sewer Connections 
> Dams 
> Water Tank Installation 
> Roading & Races 
> Farm Work 
THE ONE STOP SHOP  
Phone Nigel for an Obligation Free Quote  
Drainage & Earthmoving 
clarkedrainage@xtra.co.nz 
027 2233 185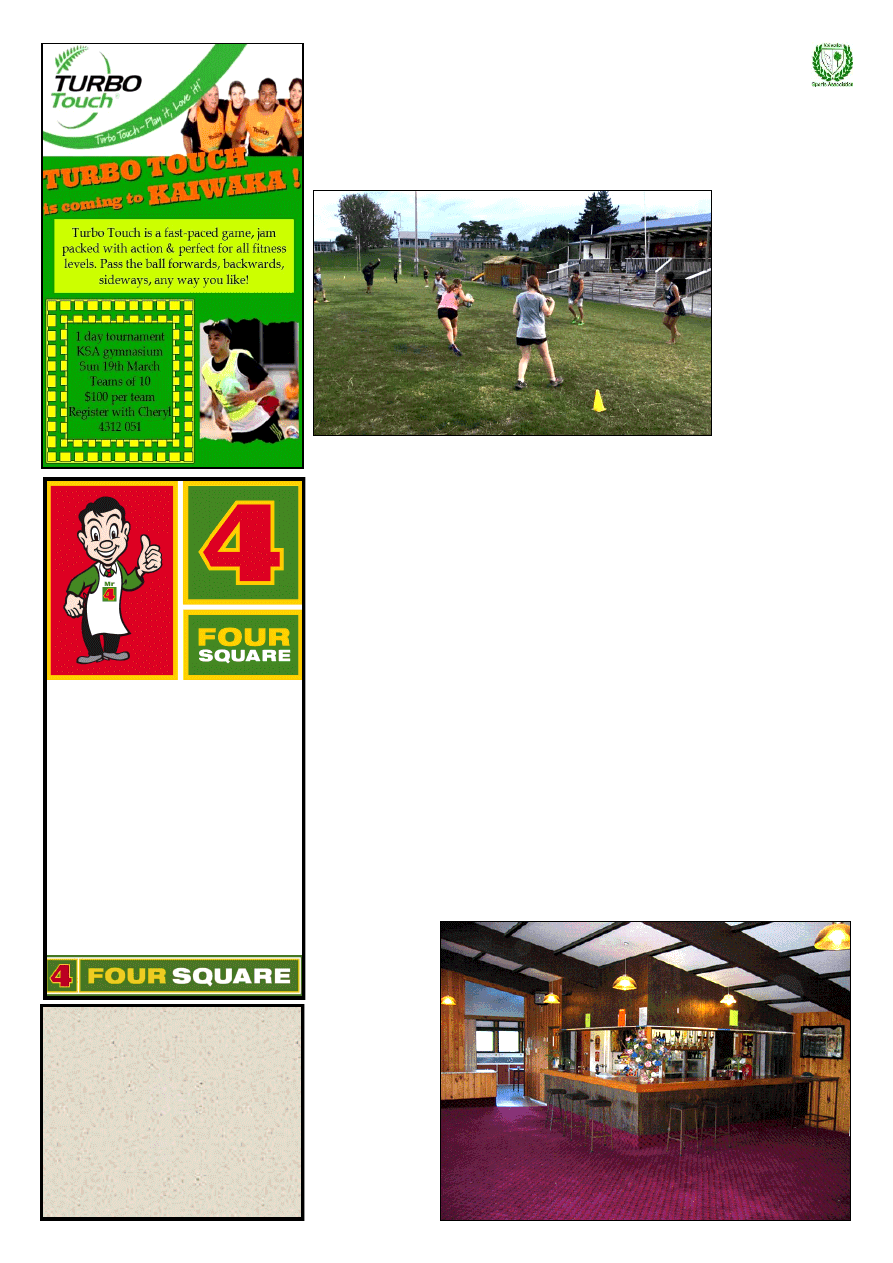 www.kaiwaka.co.nz 
Kaiwaka Bugle - 7 March 2017 
Page 15 
Touch 
Our  Touch  Module  will  finish  this 
Wednesday.  The  six  teams  have 
enjoyed  playing  competitive,  fun 
matches, and there are several teams in 
the  running  to  win  the  prizemoney. 
Spectators are welcome to come along 
to watch the finals, starting at 6pm and 
then attend the prizegiving. 
Twilight Tennis 
Come  along  to  our  courts  on  Monday 
evenings  at  6.30pm  for  a  casual  hit. 
Bring  a  friend.  Queries  to  Ian  on  021 
132 3838. 
Turbo Touch 
Keen to give a new sport a whirl? Try 
Turbo  Touch!  I'm  organising  a  1  day 
'have-a-go'  tournament  next  Sunday 
19th  March.  You  can  read  about  it  in 
the article in this edition of the Bugle, 
or  check  out  the  Facebook  page 
Kaiwaka Turbo Touch.  
Athletics 
Sessions  are  held  at  Otamatea  High 
School on Monday evenings from 5 to 
6.30pm.  We  provide  coaching  and 
support  for  all  the  athletic  events, 
including  running,  throws  and  jumps 
for all youngsters, but especially those 
aged  from  7  years  upwards.  We  are 
dependent upon parent support and are 
pleased  to  make  use  of  these  people's 
relevant  athletic  skills.  Any  queries  to 
Eileen Parsons on 4318 055. 
Bookings 
If  you  would  like  to  book  the  Sports 
Complex  for  a 
private  function 
and  have  the  bar 
open,  I  need  to 
apply 
for 
a 
Special  Licence. 
The  time  the 
KDC  takes  to 
process  this  is 
about six weeks - 
so  if  you  would 
like  to  book  an 
event 
where 
alcohol  will  be 
served,  you  need 
to  give  me  at 
least  six  weeks 
notice. 
A 
Special 
Licence  will  only  be  granted  for  an 
event  where  substantial  food  will  be 
supplied  to  the  guests  ie:  a  full  meal, 
not  just  nibbles  and  snacks.  So  this  is 
something to keep in mind before you 
book  an  event  with  us.  For  any 
questions 
on 
licensing 
requirements, 
please  ring  me  on 
4312 051. 
Kaiwaka 
Sports 
Awards 
For  our  annual 
Sports  Awards,  our 
affiliated 
clubs 
nominate 
their 
members  in  the 
categories of Senior 
Sportsperson  of  the 
Year, 
Junior 
Sportsperson  of  the 
Year,  Service  to 
Sport  and  the  Greg  McRae  Memorial 
Trophy.  The  awards  will  be  held  on 
Wednesday  26th  April,  with  emcee 
John  Markby  from  More  FM.  Tickets 
on sale at Jaques Four Square shortly. 
Meetings 
There will be a Top of the Rock debrief 
meeting  on  Wednesday  15th  March  at 
5.30pm.  Everyone  is  welcome  to 
attend, to share your photos on how the 
day went, and any suggestions for how 
we can improve things for next year. 
There  will  be  a  Kaiwaka  Sports 
Association  meeting  directly  after  the 
TOTR  meeting,  starting  at  7pm.  All 
welcome. 
Bulbs Fundraiser 
I'm  running  my  annual  Spring  Bulbs 
fundraiser. Bulbs are easy to plant, fun 
to  grow  and  will  reward  you  with 
beautiful flowers year after year! 
Prices  are  less  than  normal  retail  and 
the  KSA  will  make  30%  profit  on  all 
sales.  Your  order  will  be  delivered  to 
your home along with a planting guide. 
An order form is in this edition of the 
Bugle and can also be found at Jaques 
Four Square. 
         ~
Cheryl Anderson 
4312 051, 027 3462702  
KAIWAKA SPORTS ASSOCIATION 
Counsellor and 
Registered Psychotherapist 
Offers Supervision
Susan Matheson 
MNZAC 
Dip. Psychosynthesis Counselling and Psychotherapy 
Phone 09 431 2996 
Mobile 027 605 2427 
Baked Fresh Daily  
in store 
Yummy 
Hot Cross Buns 
$1.40 each 
$7.99  for a 6 Pack 
Phone us for any orders  
Jaques Four Square 
Phone: 4312227 
1 Kaiwaka-Mangawhai Road, Kaiwaka.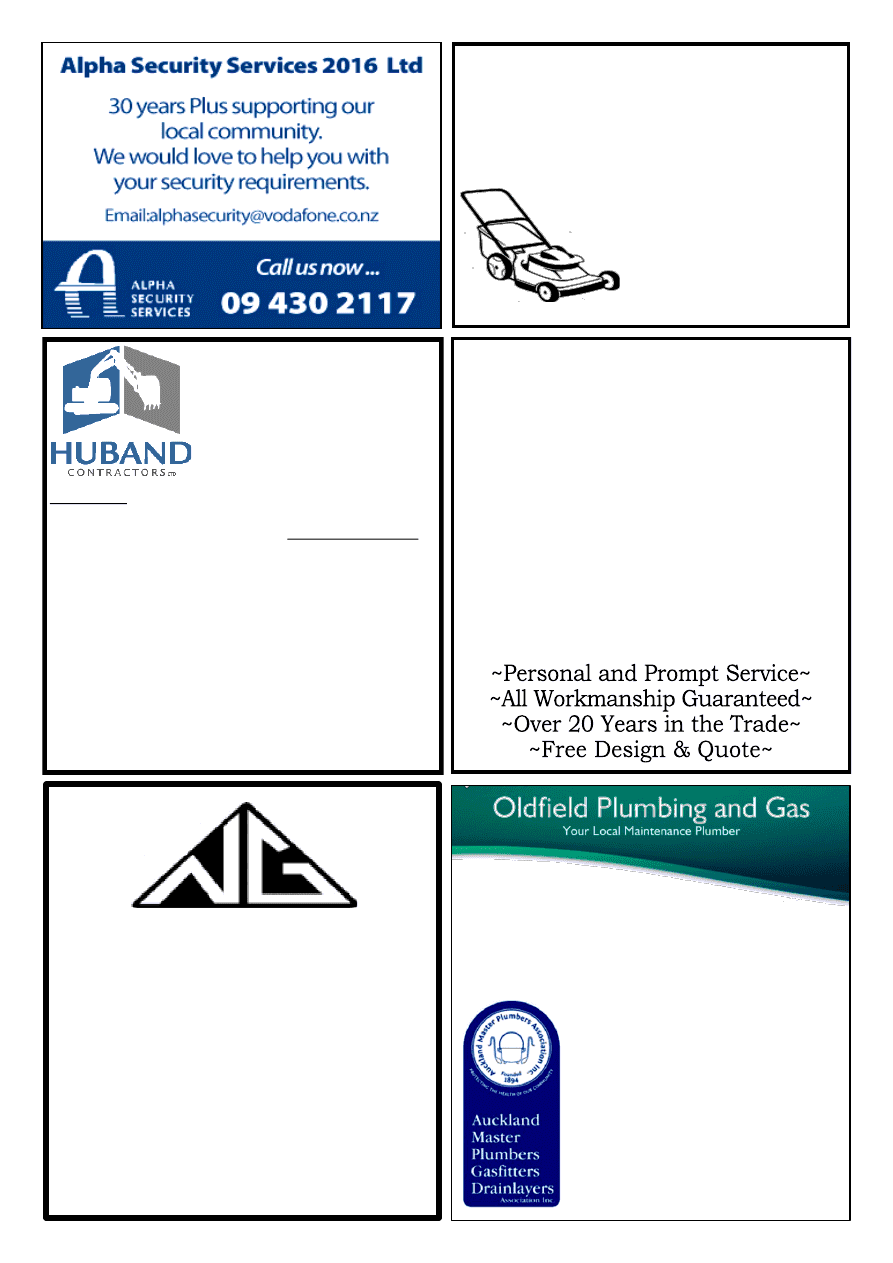 NORTH GLASS 
WINDSCREEN REPAIR OR REPLACE 
GLAZING SERVICES 
MIRRORS  •  SPLASH BACKS  •  SHOWERS 
0800 70 40 10
info@northglass.co.nz 
www.northglass.co.nz 
Darren Oldfield 
Certifying Plumber 
Certifying Drainlayer 
Licensed Gasfitter 
Mobile  021 836 365 
Home  431 5061 
oldfieldplumbing@gmail.com 
 
Agent for 
Rainline Water Filters 
Maintenance 
Renovations 
New Homes 
Hot Water Cylinders 
EASTERN LAWN & PROPERTY 
CARE
Lawn Mowing – Trimming – Spraying 
Weeding – Water Blasting 
Rubbish Removal – House Cleans 
Taking care of your property needs
ETHAN DOWSON 
021 217 7075 
easternpropertycare@outlook.com 
Open Monday-Friday  
8am-5pm 
Saturday 8am-noon 
2088 Paparoa Valley Road 
0800 234449 
We stock:
 
All gardening and 
landscaping supplies 
 
All grades of metal 
 
Fencing and farming 
supplies 
 
Culverts and water 
irrigation 
 
PVC, plumbing & drainage 
materials 
 
Water pumps & water 
tanks 
 
Septic systems 
 
Most grades of oils 
We specialise in: 
 
 
Earthworks 
 
Roading 
 
Drainage 
 
Site works 
 
Landscaping 
Supplies  
PLANNING A NEW KITCHEN?
 CONTACT NOEL McDOWELL
WELLSFORD 
KITCHENS
Ph/Fax 094312888
KAIWAKA-Any time
 QUALITY CUSTOM MADE 
KITCHENS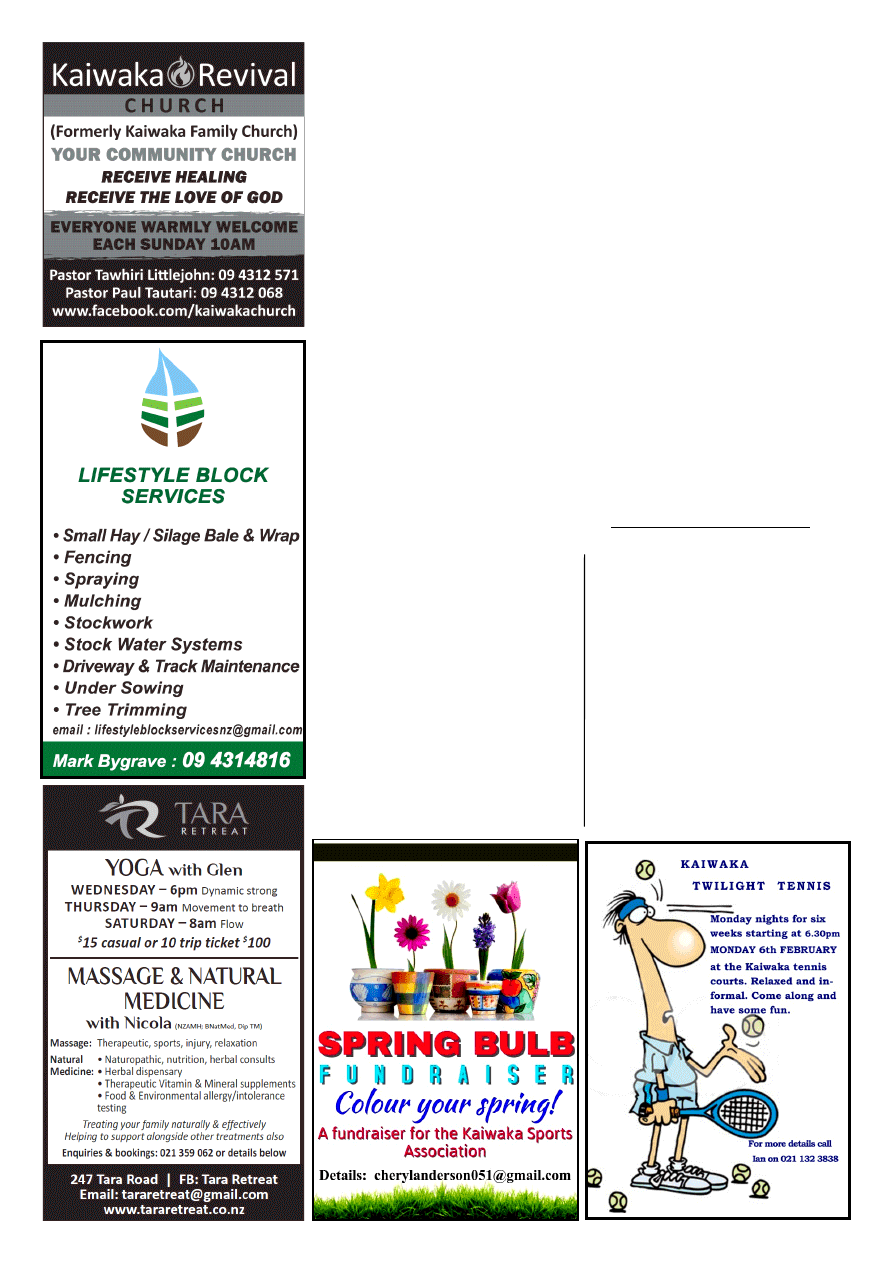 www.kaiwaka.co.nz 
Kaiwaka Bugle - 7 March 2017 
Page 17 
After  the  best  part  of  two  years 
working  on  speed  problems  through 
Kaiwaka,  Kaiwaka  Can  is now  free  to 
get on with other projects and we will 
soon start to enjoy the benefits of these.  
Here  is  an  update  on  some  of  our 
projects: 
PLAYGROUND FENCING 
There  has  been  an  unexpected 
development with this project. Council, 
following a safety audit, is replacing all 
the  equipment  in  the  playground  and 
then our fence is ready to go up. So we 
are  to  get  a  brand  new  playground  as 
well as the fence! We have appreciated 
the  real  help  from  Parks  and  Reserve 
staff on this issue. We are also hopeful 
the old equipment will find a very good 
new home. 
McCLEAN PARK REST AREA 
Again  there  has  been  a  lot  of  input 
from  Council  and  a  concept  plan  is 
being drawn up to make greater use of 
this  valuable  area  which  is  used  by 
many  people  passing  through.  Ideas 
include removing some of the frontage 
trees to make it more open and visible, 
creating a dog exercise area, looking at 
a  small  landing  for  use  by  kayakers, 
more  tables,  a  walkway  in  the  native 
bush  area  and  this  whole  area  will 
connect  under  the  bridge  to  a  loop 
access  on  the  eastern  side  allowing 
people to cross the road safely and use 
the  footpath  on  the  bridge.  The  loop 
under the bridge is ready to start soon. 
WALKWAY PROPOSAL 
A potential walking track along mostly 
public  land  around  the  river  is 
proposed  and  further  scoping  and 
discussion  with  private  land  owners  is 
needed. It will be 2 to 3 km long so a 
real addition to our township. 
GATEWAY SIGNS 
We have seen some really creative and 
exciting designs for welcome signs for 
Kaiwaka.  They  are  really  more  like 
sculptures  incorporating  motifs  that 
talk  about  our  history  and  identity. 
Samples  of  the  possible  designs  will 
soon  be  available  for  you  to  see  in 
various places round town. 
STORY BOARDS 
These are designed to tell some of the 
stories  about  the  history  of  Kaiwaka 
under  the  guidance  of  local  iwi.  We 
plan  to  have  several  round  town 
making us and our visitors more aware 
of  who  we  are  and  the  journey  to  this 
time. 
LANDSCAPING 
ALONG 
THE 
HIGHWAY 
This is part of the NZTA plan and we 
hope  to  plant  shortly  as  autumn 
advances.  These  will  improve  the 
landscaping  round  the  highway  and 
also  hopefully  make  motorists  slow  a 
little to enjoy the drive. 
There  are  other  projects  under  way  as 
well but this is enough for one article. 
Get  in  touch  with  your  responses  to 
these projects and let us know of other 
things you think could make us a more 
attractive and functional community. 
  ~ Derek Christensen 
Sadly the new KDC and NZTA signs  at 
McClean Park have gone missing. ED. 
GOOD THINGS STARTING TO HAPPEN… 
CAN YOU HELP? 
The  Kaiwaka  Knitting  Group  meets 
every second Tuesday of the month at 
the Archie Bull Hall at 10am until 12 
noon. All welcome. 
A new venture for us 
We  are  making  stretchy  trousers  for 
toddlers  and  require  sewers.  The 
trousers, which are very basic, need to 
be  sewn  at  home.  Fabric  and  patterns 
are supplied.  
The  finished  trousers  will  go  to 
Whangarei 
Hospital 
and 
are 
distributed  around  the  northern 
hospitals. 
Can  you  help?  If  so  please  phone 
431 4827 or 4312 338. 
~Elaine Reddy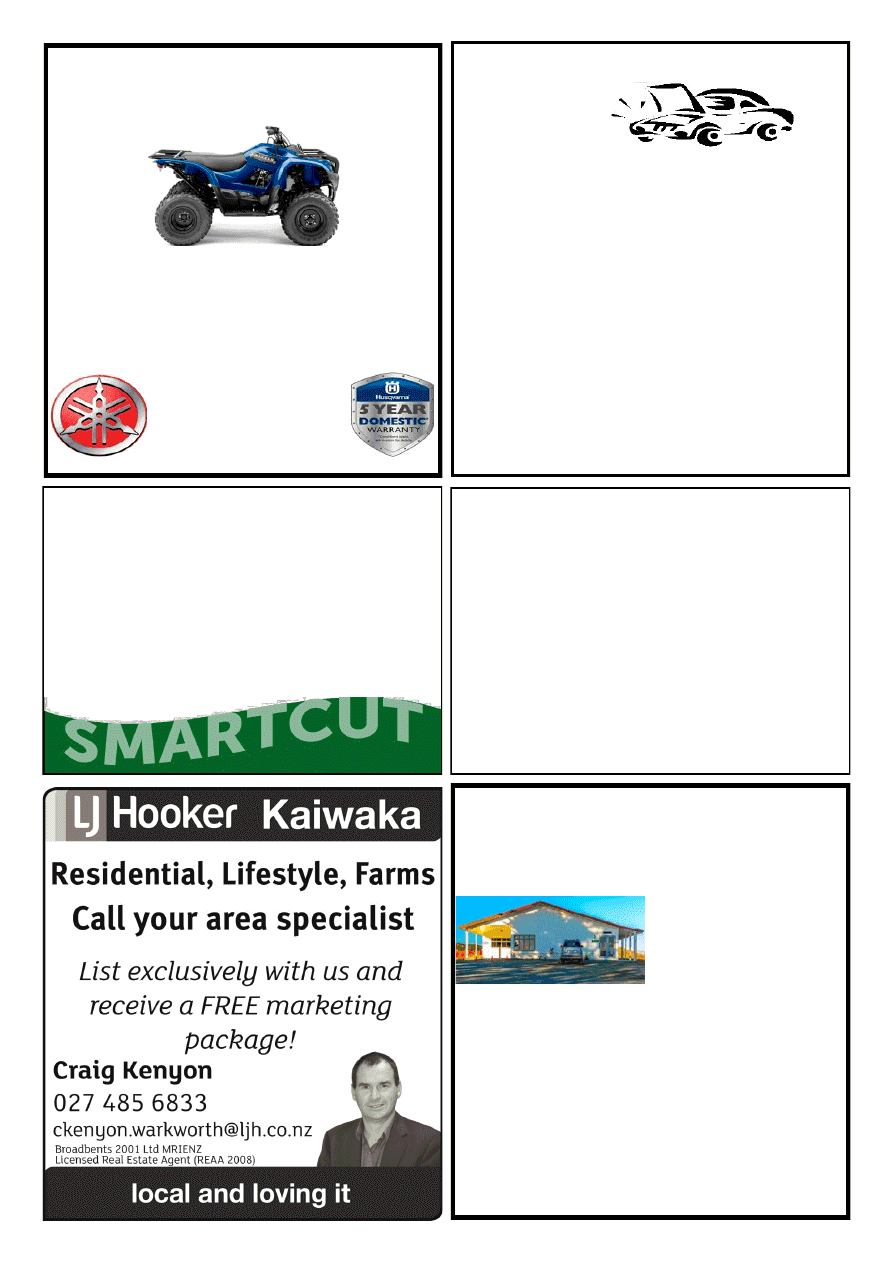 All your outdoor needs sorted so you don't have to... 
I can prune, chop, tidy, spray, mow, plant 
- you name it, I can do it! 
Residential & Commercial 
Lawn & Garden Care 
Call Rodney, your local  
lawnmowing contractor 
021 138 2344 
KAIWAKA 
MOTORCYCLES LTD
SALES – SERVICE – SPARES 
FARM BIKE SPECIALIST
PHONE 09 431-2127 
10 KAIWAKA-MANGAWHAI ROAD, KAIWAKA
Trimmers  
from $279
Chainsaws  
from $339
YAMAHA 
HUSQVARNA 
Te Pounga Marae 
130 Nathan Rd. Oneriri. Kaiwaka 0573 
COMPLEX FOR HIRE 
Functions 
* Weddings   *  Birthdays   
*Anniversaries 
* Meetings   * Wananga 
5 hour meeting 
* 12 hour stay   * 
Overnight 
*All welcome - No more Drink-driving 
Amenities: 
*Convo Combi Steamer * Bratt Pan * Dish 
Washer/Sterilizer * 3 Door Glass Chiller (walk in) 
etc…All Crockery * Linen Supplied * Central 
Heating and Air Conditioning and much more.  
Can also cater for small groups…. 
For more information please contact: 
Kim Wallace 
Home: 09 832 1133   Mob: 0211275340 
Email:  kimwallace@xtra.co.nz 
Twinkle Tow 'n' Tyre 
Think you'll get a better deal in the city? 
Ring us - it won't cost anything! 
1837 State Highway 1, Kaiwaka 
Phone 431 2823 
*W.O.F. 
*Tyres 
*Windscreen 
replacement 
*Chip repairs 
*Bulk Oil 
*Batteries 
*Welding 
*Custom built 
trailers 
*Trailer hire
UP-LINK 
CHRIS WARING 
FREEVIEW INSTALLATIONS 
T.V. - HOME THEATRE & 
HI-FI ADVICE/SET UP 
SKY ACCREDITED INSTALLER 
MOB.0273403747 HM.094312328 
EMAIL 
chrisandlorrainew@gmail.com
28 YRS EXPERIENCE OFFERING UNBIASED ADVICE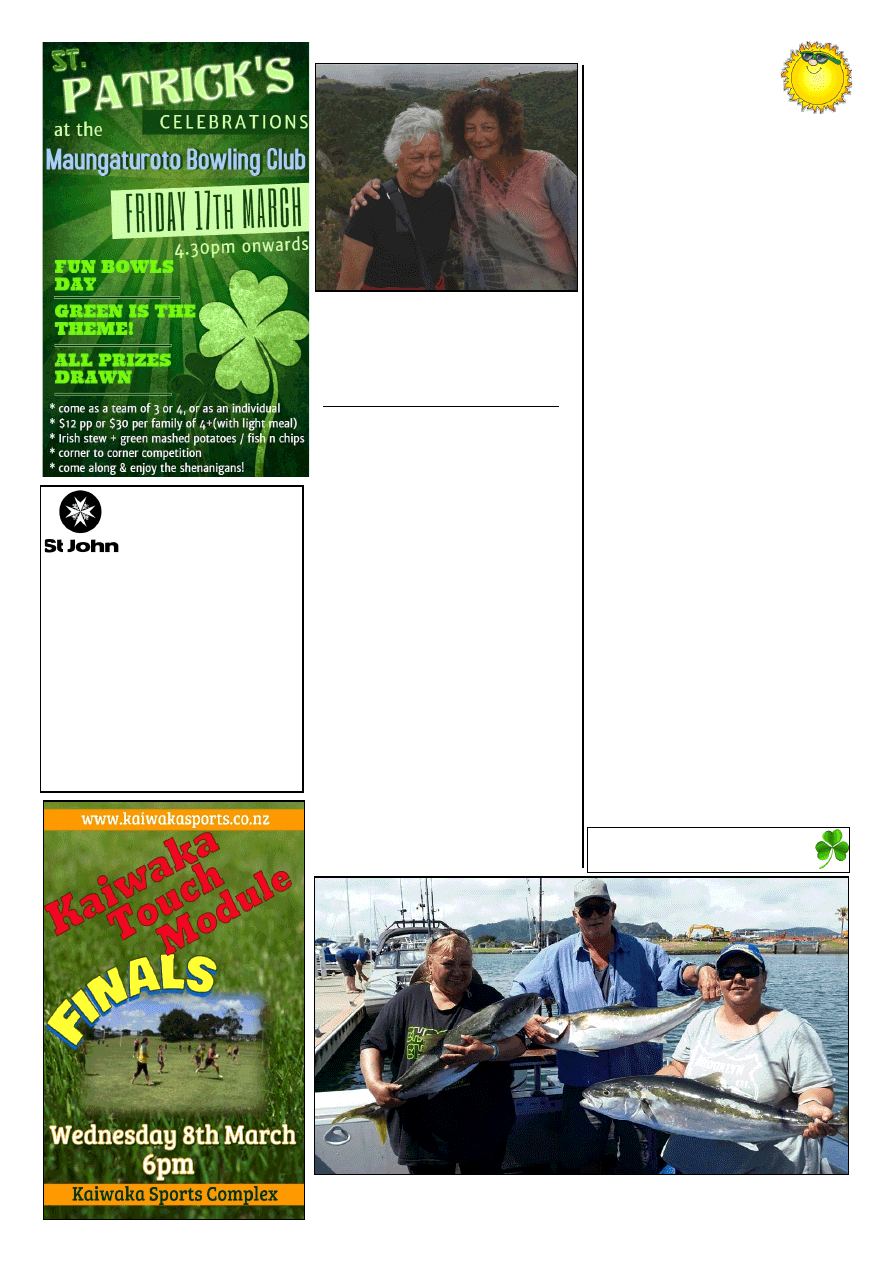 www.kaiwaka.co.nz 
Kaiwaka Bugle - 7 March 2017 
Page 19 
KAIWAKA 
WEATHER 
Pictured  above:  Carol,  Grabba  and  Renna,  all  Point  Curtis  Cruising  members, 
and some of their fish caught during the Beach and Boat Competition.
Welcome to Autumn, my friends.  
What  a  gorgeous  start  we  are  having 
(yes, I realize we need some rain) nice 
sunny  and  partly  cloudy  days  and  not 
much  wind.  We  leave  behind  us 
summer  and  hot  and  dry  (as  it  should 
be),  especially  in  the  last  6  weeks  or 
so.  The wind eventually subsided half 
way  through  February  -    thank 
goodness.  We  were  up  in  the  30's 
again  this  year.  Well  we  are  in  real 
drought  mode  now  and  I  read  in  the 
Advocate  where  the  farmers  up  north 
are calling this a green drought. There 
have been many trucks carting loads of 
baleage  up  north for some  weeks  now 
to help farmers out.   
Uh  oh,  as  I  type  out  this  report  the 
wind  is  getting  up  again,  only  from  a 
westerly  quarter  instead  of  east.  Not 
forgetting  also  that  March  is  the 
autumn  equinox  and  with  it  usually 
brings the equinoxial winds. 
The  rainfall  at  our  house  for  February 
this  year  was  109  mm,  and  for  2016 
was 205mm. 
Our  wettest  February  since  1987  was 
2004  with  260mm  and  the  driest  was 
1990 with 3mm. 
Our first two months of rainfall for this 
year  is  136mm  and  for  2016  was 
344mm. 
We had rain on 6 days of February this 
year  and  last  year  we  had  rain  on  11 
days. 
I have seen the odd mushroom around, 
especially  after  that  welcome  rain. 
Travelling  over  the  Brynderwyns 
yesterday  we  noticed  how  little  was 
falling down the waterfall again. 
Q. What did the autumn leaf say to the 
tree.  A.  Leaf  me  alone.  Oh,  yes  and 
why  do  we  not  have  a  twelve-inch 
nose?  Well  then  that  would  be  a  foot. 
Stay  cool,  look  after  each  other,  and 
take care out there.  
~ Bev 
On  the  12th  February  2017  -  81  year 
old Whaea Elizabeth Mitchelson of Te 
Pounga Marae and daughter of the late 
Tuhiwai 
Purdy 
Nathan 
proudly 
completed the 11km scenic walk up to 
the  top  of  Baldrock  with  her  daughter 
in law, Priscilla Mitchelson.  
On Top of the Rock 
KAIWAKA 
ST JOHN'S 
OP SHOP 
Needed:  single  &  queen-size  beds 
with  good  clean  mattresses,  flowers, 
veges,  fruit,  please.  Anything  else 
appreciated. 
To  the  person  or  persons  who 
dropped  of  their  DIRTY  and  broken 
furniture  and  goods  last  Friday  or 
Thursday  evening  -  you  may  well 
laugh,  but  what  goes  around  comes 
around.  Take  your  rubbish  to  the 
dump  and  stop  using  us.  I'm  past 
being polite. ~Milly 
OPEN: 9am- 4pm Monday to Friday 
9.30am - 1.30pm Saturdays. 
NZTA UPDATE 
The sod has been turned to mark the start 
of  the  two  new  two-lane  bridges  at 
Matakohe. Hardies  Bridge  and  Anderson 
Bridge  will  be  replaced  with  two-way 
structures  as  well  as  realigning  the 
approach  roads  to  the  bridges  to  remove 
tight bends.   
The  Brynderwyn  Hills  Safer  System 
Project  is  also  complete.  The  $18  million 
project  involved  widening  the  existing 
road, removing tight corners and installing 
a median wire rope barrier.  
The  first  stage  of  the  $6.4  million 
Warkworth Western Collector is complete, 
extending  Mansel  Drive  (near  Mitre  10), 
including  a  new  road  over  the  Mahurangi 
River,  with  a  new  intersection  at  Falls 
Road.   
NZ  Transport  Agency  is  working  to 
ensure  significant  improvements  to  a 
section  of  SH  1  between  Whangarel  and 
Port  Marsden  Highway  with  construction 
planned  to  start  by  2019.  22km  of  state 
highway  will  be  upgraded  to  four  lanes, 
with the section between Oakleigh and Port 
Marsden  Highway  expected  to  be 
completed within 3 to 5 years, followed by 
an  upgrade  between  Whangarei  and 
Oakleigh, to be finished in 5 to 7 years.  
More  than  3  million  tonnes  of  freight  is 
exported from Northport each year. 
'Every St. Patrick's Day every Irishman goes out to find 
another Irishman to make a speech to.' — Shane Leslie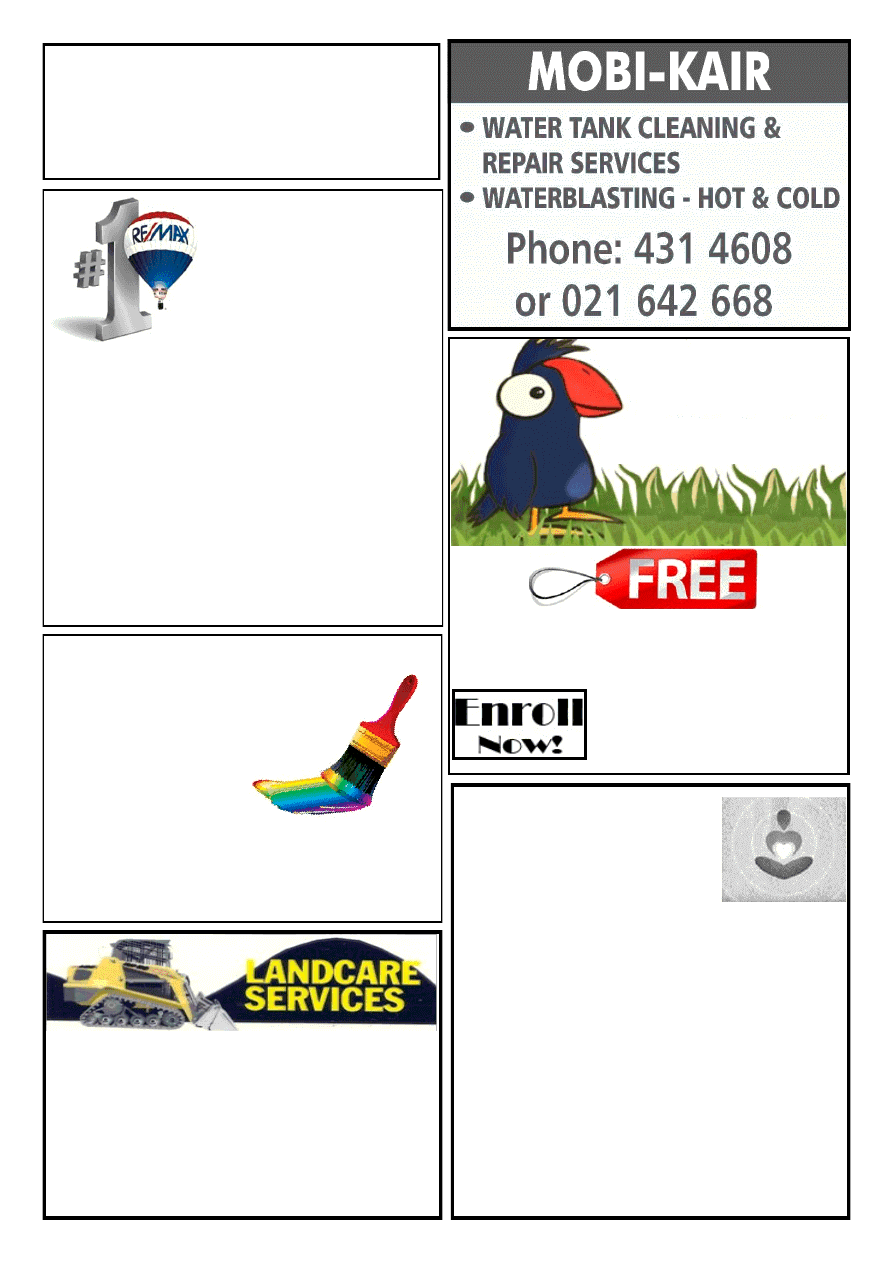 LANDSCAPING 
4 IN 1 BUCKET 
TRENCHER 
POLE HOLES 
ROTARY HOE 
COMPACT ROLLER 
OFFAL HOLES 
CAN SUPPLY WOODCHIP & POST PEEL 
5 TON TIPPER 
FOR RELIABLE AND FRIENDLY SERVICE CONTACT DAVE 
Dave Hyndman 
 
KAIWAKA 
PH: 09 4312302 
MOB: 021 431 238 
09 4312918 
0274735171 
leecooper@xtra.co.nz 
LEE COOPER PAINTERS 
(Kaiwaka Based) 
*30 yrs Experience 
*Interior/Exterior 
*New and Restoration 
*Honest and Reliable 
*Free Quotes 
There are more people 
wanting to buy than 
there are houses 
available!
Vacant land, home and income, DIY dream … 
whatever your property's condition there is a buyer 
out there waiting to give you their money. 
Get your local agent's appraisal of your property to 
find out what's it's really worth. 
Contact Beth Stone today! 
Mob: 0274 937 801 
Email: beths@remaxrealty.net.nz 
RE/MAX Realty Group MREINZ 
Northern Properties Limited 
Licensed REAA 2008 
 LEABOURNS 
Passenger Service
Car & Van Hire, Bus & Coach Charters, Airport 
Transfers, Monthly Shopper Bus 
Phone 09 4237416 
Musculoskeletal, chronic pain, women's health, infertility, 
pregnancy, general wellbeing, stress, anxiety, headaches, 
depression, insomnia, respiratory, gastrointestinal,  
cosmetic acupuncture and much more.
Certified in kinesio taping.
For more information about treatments please 
visit our website or contact Lara: 
3 Cove Rd Waipu, Northland 
Tel: 0221 557811 or 09 432 1325 
Email: info@acubalance.co.nz 
www.acubalance.co.nz
Acupuncture treatments provided at Waipu Natural Health 
AcuBalance 
Lara Tremain
Registered Acupuncturist and 
ACC Treatment Provider 
for children over 3 
 
Day care for children from 0 to 5 yrs old 
 
After school care for children over 5yrs old
 
Phone: 09 431 2842 
Email: smallpukekos@gmail.com 
Address: 8 Kaiwaka-Mangawhai Rd 
Website: www.smallpukekos.co.nz 
Small Pukeko's 
Early Learning Centre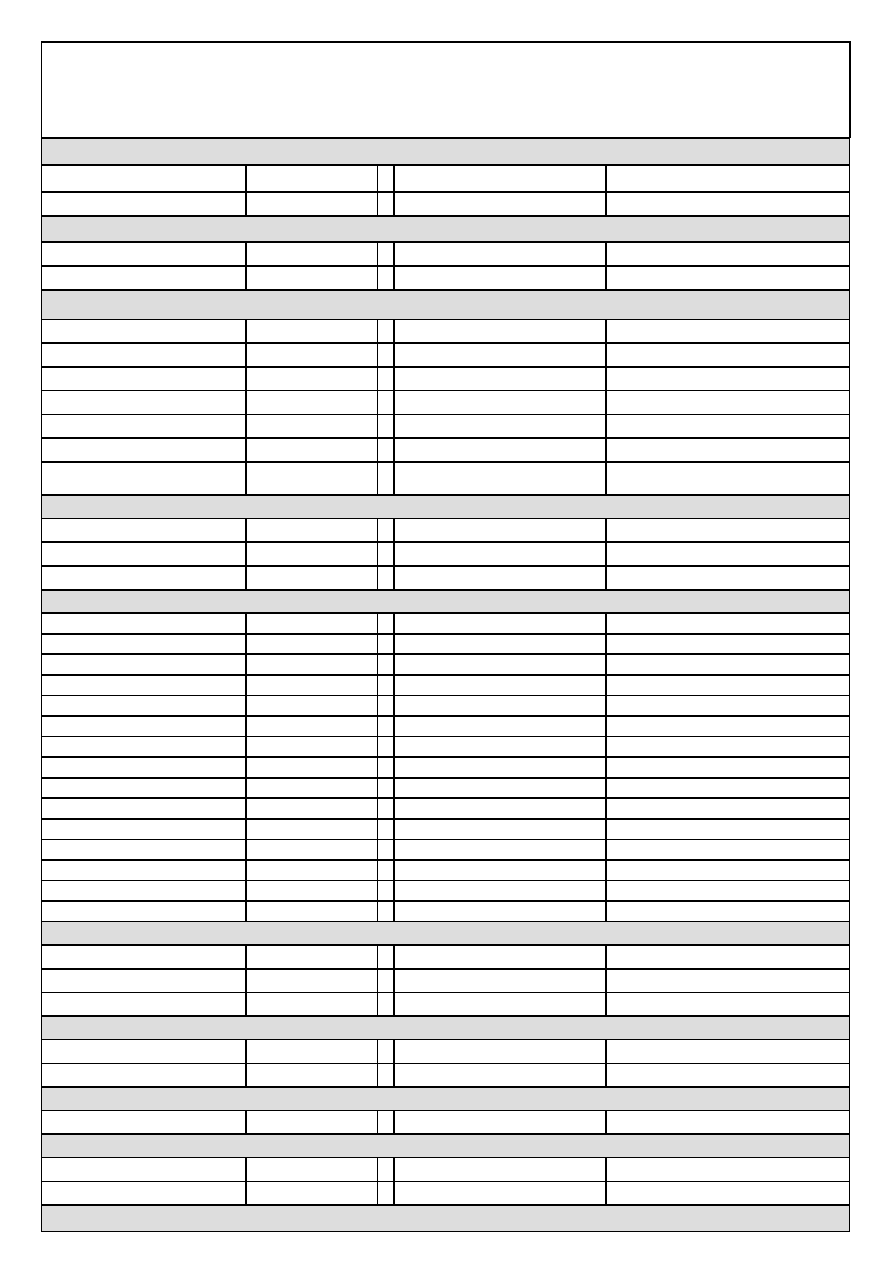 www.kaiwaka.co.nz 
Kaiwaka Bugle - 7 March 2017 
Page 21 
KAIWAKA ORGANISATIONS & SERVICES 2017
These are the listings on our web site. Please check that your details below are correct. Contact 
kaiwakabugle@kaiwaka.co.nz or drop a note to Jaques Four Square with updates. Businesses are also listed on 
the web site - see http://www.kaiwaka.co.nz/ 
Justices of the Peace
BF Jaques
4312048
AF Hargreaves
4312045
L Donaldson
4312228
W Howard
4612725
Marriage Celebrants
L Donaldson
4312228
AF Hargreaves
4312045
C Rosseels
0212968794
Services
Fire Brigade J Bowmar
4312248
St.John- S Rosser
0212316836
Kwk/Mwi Plunket
4318187
AA
08002296757
RSA Hakaru & District
4314719
RSA Women's Section
4314668
Family Support Services
4312661
Kaiwaka Cemetery
4312045
Kaiwaka Cares Drop In
4312661
Kaiwaka Library
4312539
Hakaru Landfill
4312629
Kaiwaka Post Office
4312431
Te Korowai Aroha O 
Ngatiwatua 
4312675
Linking Hands Shuttle
4314121
EDUCATION
Kaiwaka School
4312309
Kaiwaka Kohanga Reo
4312620
Kaiwaka Playcentre
4312286
Parent Port
0272085093
Kaiwaka Scouts/Cubs
4312542
SPORT and RECREATION
Athletics
4318055
Badminton
4312345
Drum & Dance Class
021611198
Drama Club
021611198
Fitness
0221550180
Fishing -Pt Curtis Club
4312246
Floral & Garden Club
4314767
Gymnastics
0223624998
Historical Society
4312045
Kaipara Hunt
4312059
Kaiwaka Sports Assn
4312051
Hakaru Pony Club
4314520
Hockey
4318145
Molesworth Sheep Dog Trials 
4312192
Netball Kaiwaka
4312239
Netball Otamatea High
0211848444
Netball Otamatea Ex
4237767
Nth Western Riding
4312040
Martial Arts
4315170
Rugby JMB
9450502
Repertory Otamatea
4318728
Rugby IMB
4319199
Rugby Senior
02102764171
Squash
021431320
Soccer
4318494
Kaiwaka Touch
4312051
Tennis
4312542
Yoga
4312108
Tramping
4312090
Yoga
0212968794
CHURCHES
St. Pauls Anglican
4312295
Kaiwaka Revival Church
4312571
St.Pauls Co-operating
4312057
Gateway Worship Centre
4312528
St.Michaels Anglican
4315913
Brethren
HALLS for HIRE
Kaiwaka War Memorial Hall
4312725
Archie Bull Hall
4312365
Kaiwaka Sports Complex
4312051
Hakaru Hall
4312256
MARAE
Oruawharo Marae
4238858
Te Pounga Marae
4312423
INFORMATION
Kaipara District Council
0800727059
Kaiwaka Bugle
4312045
CAB Wellsford
4237333
Kaiwaka Bugle text
0274806275
 www.kaiwaka.co.nz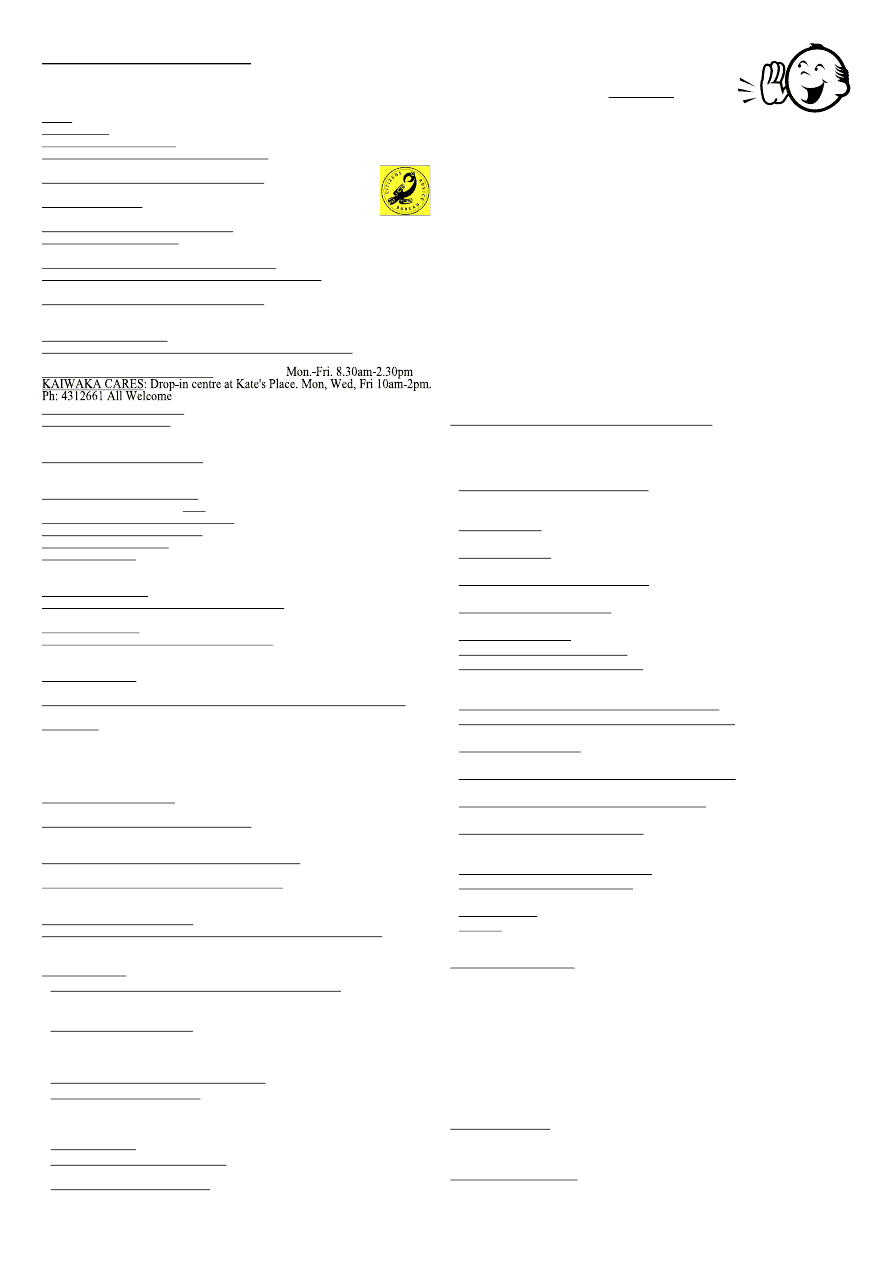 Next Bugle Deadline midday Friday 17 March 2017
WHAT'S ON
PLEASE ~ do let us know what is on - email 
kaiwakabugle@kaiwaka.co.nz 
Advertising in WHAT'S ON is FREE  
*8Mar~Touch Module finals, 6:30pm KSA 
*10Mar~The Accountant, 7:30pm KWMH 
*11Mar~Ruawai Lions Charity Auction, 10am Kaipara Kumara 
*14Mar~Otamatea Hawks IMB AGM, 7pm KSA 
*15Mar~Top of the Rock debrief, 5:30pm KSA 
*15Apr~Kaiwaka Sports Association meeting, 7pm KSA 
*17Mar~St Patrick's Day, 4:30pm Maungaturoto Bowling Club 
*17Mar~St Patrick's Day, 5:30pm Hakaru RSA 
*18Mar~Rotary Garage Sale, 10am Maungaturoto Primary 
School 
*19Mar~Turbo Touch, KSA 
*22Mar~Giant Pumpkin Growing Competition, 1:30pm Kaiwaka 
School 
*24Mar~The Light Between Oceans, 7:30pm KWMH 
*25Mar~Neighbour Day 
*25-26Mar~Open Fishing Competition 
*26Mar~Fish Auction, 6:45pm 3 Furlongs 
*26Mar~Alice Through the Looking Glass, 2pm KWMH 
See www.kaiwaka.co.nz for more information 
HOUSEHOLD RUBBISH COLLECTION - Kaiwaka Pick up: 
Mondays = Gr een bags (Nor thland Waste - 09 430 3273) 
Wednesdays  = Blue bags and yellow recycling (at Jaques $3.00 
and $1.50) (Kaurilands 09 4392146) 
 DIABETES  Support  Group  -for  Kaiwaka,  Mangawhai, 
Wellsford  10am,  3rd  Friday  of  month  Ph:  Colleen  James  09 
4314238 
 DRINK CAN 'tear tabs' - for Starship Hospital- please collect - 
98 Kaiwaka Mangawhai Rd, leave in mailbox, Ph. 4312625  
 GENEALOGY - Wellsford: 1st Thursday in month Ph: 423 
7033; Waipu: 4th Monday in month Ph: 4312 725 
 GYMNASTICS  OTAMATEA  -  Tuesday  Ph:  Stephanie  022 
3624998 
 HAKARU PONY CLUB - Secretary Denise Rogers 021423376 
secretary@hakaruponyclub.co.nz  
 KAIPARA HUNT - Secretary Albert Doonenbal Ph 4312059 
 KAIWAKA BADMINTON -Tuesdays 7.30pm Ph: 4312345 
 KAIWAKA  DRAMA  CLUB  -  Dave  Edwards  021  611198  - 
KaiwakaDrama@gmail.com Monday 5:30-7:00pm KWMH - FB 
- "KaiwakaDramaClub" 
 KAIWAKA DRUM & DANCE CLASSES - 021 611198 
 KAIWAKA GARDEN & FLORAL GROUP - 2nd Thursday in 
month. Ph: 431 4767 
 KAIWAKA  CUBS  -  Thursdays  5.30-7pm,  Hakaru  Ph:Bruce 
4312542 
 KNITTING FOR WHANGAREI HOSPITAL - 2nd Tuesday in 
month, Archie Bull Hall 10am Ph 4314827 
 MANGAWHAI COMBINED PROBUS CLUB - 2pm, 3rd 
Thursday month, Senior Citizens Hall Mangawhai. Ph: 4315777 
 OTAMATEA GREY POWER - Kath Pattinson 09 283 2052, 
1pm last Wednesday of month, Anglican Church Hall, 
Maungaturoto 
 PT CURTIS CRUISING CLUB - Jean Ph: 4312227 (wk), 4312520 (hm) 
 RSA,Hakaru & Dist.Women - meet 1.30pm 4th Thurs in month 
Ph: 4314 668  
 TRAMPING - Mondays 9am-2:30pm Maria 4312 234 
 YOGA  -  Tuesdays  6:15pm,  Friday  8:30am  KWMH  Carla  Ph: 
021 296 8794 
HALLS FOR HIRE: 
 St.Pauls Archie Bull Hall HIRE $20 half day, $40 full day per 
hire, R. Morgans, Ph 4312365 
 Kaiwaka  War  Memorial  Hall  HlRE  -  Phone  4312725  or 
kaiwaka.hall.bookings@gmail.com 
 Hakaru Community Hall HIRE -Ph. 4312256 or 4312110 
 Te Pounga Marae queries - R. O'Leary 4312 423, J.Nathan 021 
186 7382 
 Kaiwaka Sports Association hire/queries - C. Anderson 4312051 
or kaiwakasports@gmail.com 
Justice of Peace:  
B.FJaques  4312  048;  L.Donaldson  4312  228;  A.F.Hargreaves 
4312 045, W.Howard 4312 725 - please phone to make sure they 
are available www.justiceofthepeace.org.nz 
Marriage Celebrants:  
L.Donaldson; A.F.Hargreaves; C.Rosseels, Y Osborne
LOCAL SERVICES 
*Emergencies - Ambulance, Fire, Police - dial 111 
*Non-urgent Police phone 09 4311150
A A: Meets Wed., 8pm Kaiwaka Ph: 4312228, 4315543, 0800229 6757 
AL ANON: In recess, contact Ph: 4312228 
ASUREQUALITY LTD (was AgriQuality) Call Free 0508 0011 22  
BUDGETING SERVICE, WELLSFORD: Free confidential advice & 
support for all areas of personal finance. Ph (09) 423 7123 
CAB-Citizens Advice Bureau.Wellsford Ph: 4237333 
0800 367 222 email:cab.wells@xtra.co.nz  
CIVIL DEFENCE - Kaiwaka Community Response Group: 
kaiwaka.civildefencecrg@gmail.com, 4312725 Wendy 
DOG/STOCK /NOISE CONTROL 0800 105 890 
FUNERAL SERVICES: Morris & Morris Ltd, 
Whangarei - Bev Jaques Ph:4312367 or 0800667747 
GRANDPARENTS Raising Grandchildren: Dianah Roberts 0223819539 
HAKARU & DISTRICTS MEMORIAL RSA (Inc) 733 Settlement Rd, 
Hakaru. Ph 4312 176 or Graeme Hitchcock (President) 431 3064 
HAKARU LANDFILL/Transfer Station:Open everyday except 
Tuesday10am-4pm.Ph4312629 Cost-$55 trailer load up to 1 cubic metre. 
Ph:4258567 - office 
INLAND REVENUE: Last Friday each month, 11-3pm Ph4312661 
KAIPARA DISTRICT COUNCIL www.kaipara.govt.nz:  
Help Desk FREEPHONE 0800 727 059  
KAIWAKA KOHANGA REO: Ph:4312620 
KAIWAKA CEMETERY: Ph: 4312045 
KAIWAKA LIBRARY: kaiwaka.library@gmail.com  
Mon. 4-6pm; Wed., Thurs., Fri., Sat. 10am-2pm Ph:4312539 
KAIWAKA PLAYCENTRE: Ph Juanita 0274134904; open Mon, Wed, 
Fri 9am-12pm. Hastie Lane 
Monday to Friday 9.00am - 12 noon. 
KAIWAKA POST OFFICE:Ph:4312 431  
Post Code: 0573 for RD2 and 0542 for all Kaiwaka Post Office mail 
KAIWAKA PRIMARY SCHOOL: Ph: 4312309   
KAIWAKA SPORTS ASSN: Ph 4312005; 4312129 gym 
KAIWAKA ST JOHN: Manager Steve Rosser 09 4318403, 021 2316836 
KATE'S PLACE Community Centre - Employment services, Free Health 
Nurse, Advocacy, Osteopath, A.A., Legal Advice. 4312 661 
LINKING HANDS Health Shuttle Ph 4315906 or 09 4318969 
MINISTRY FOR PRIMARY INDUSTRIES - General inquiries Call 
Free 0800 008 333 
NORTHPOWER: Faults Kaiwaka area 0800 104040 
OTAMATEA COMMUNITY SERVICES: Counselling, parent coach, 
Family Support worker, budget advice, food bank. Mon-Fri 9am-3pm. Ph 
09 431 9080 http://www.otamateacs.org/ 
PARENTPORT: Free, practical family support service Puhoi to Paparoa 
Ph or txt: Dianne 027 280 5093 or 09 425 9357 
PERSONAL DEVELOPMENT COACHING, GROUP FACILITATION:  
Sabine Druckler 4312231 
PLUNKET: Kaiwaka - Kaiwaka War Memorial Hall: Clinic 1st Wednesday of the 
month; Coffee Group at 9:30. Mangawhai  - Rose Madsen Cottage, Mangawhai 
Domain,  Moir  St:  Clinic  1st  and  3rd  Monday  of  month;  Young  Babies  Coffee 
Group  2nd  and  4th  Monday  10  am;  Plunket  Playgroup  every  Thursday. 
Maungaturoto - Maungaturoto Congregational Church, 100 Hurndall Street East: 
Plunket clinic 2nd and 4th Wednesday. Cynthia 09 431 8187 or 027 675 3488 
PLUNKET HELPLINE -0800 933 922 (24 hours) 
TAITOKERAU COMMUNITY LAW: Free confidential legal advice and 
assistance, 2nd
Thursday
 of each month. Ph: 0800 155 529 for 
appointments.  
TE KOROWAI AROHA O NGATIWHATUA Ph: 4312675 
(The Cloak of Love of Ngatiwhatua) Support and Maori Consultancy.  
VETERINARY SERVICE MANGAWHAI: 
Ph: 4314535 Mon-Fri 8.00-5.00, Sat 9-12, a/h appt. 
WELLSFORD DOCTORS: Ph: 4238 086 
WOMEN'S WELFARE LEAGUE & Reaching Out For Youth:  
4 Kaiwaka-Mangawhai Rd, M Morgan 4312293 
CHURCHES:
 
Kaiwaka Revival Church - Your Community Church: Sundays 10am & 
6pm. Ph: Pastor Tawhiri 09 4312 571 or Pastor Paul 09 4312 068 Visit 
us at www.facebook.com/kaiwakachurch 
 
St Paul's Anglican Church 1st Sun. 9.30 am (Eucharist), 3rd Sun. 9.30 
am (Family Service). Contacts: Church Office 09 431 4122; M. 
Hargreaves 431 2295; C. Bygrave 431 2057; or Rev. Wayne Thornton 
Ph 431 5650 www.mangawhaianglican.org.nz 
 
Church of Christ the King, Mangawhai:9.30am every Sunday 
 
St.Mary's Catholic Church: Maungaturoto – Griffins Road, Saturday 
evening Vigil Mass 6pm; Mangawhai – Senior Citizens Hall, Sunday 
Mass 8:30am; Wellsford – Matheson Road, Sunday Mass 10:30am;  
Mid-week Mass times and all enquires to Fr. Bill Fletcher – phone 423 8170
 
Baptist Church: Sun. 10.30am Mangawhai Snr Cit.Hall.Ph:4312339 
 
Cause Way Church Mangawhai: Sundays 10.15am, Mangawhai 
Community Recreation Centre, Insley St. Ph: 09 4314782