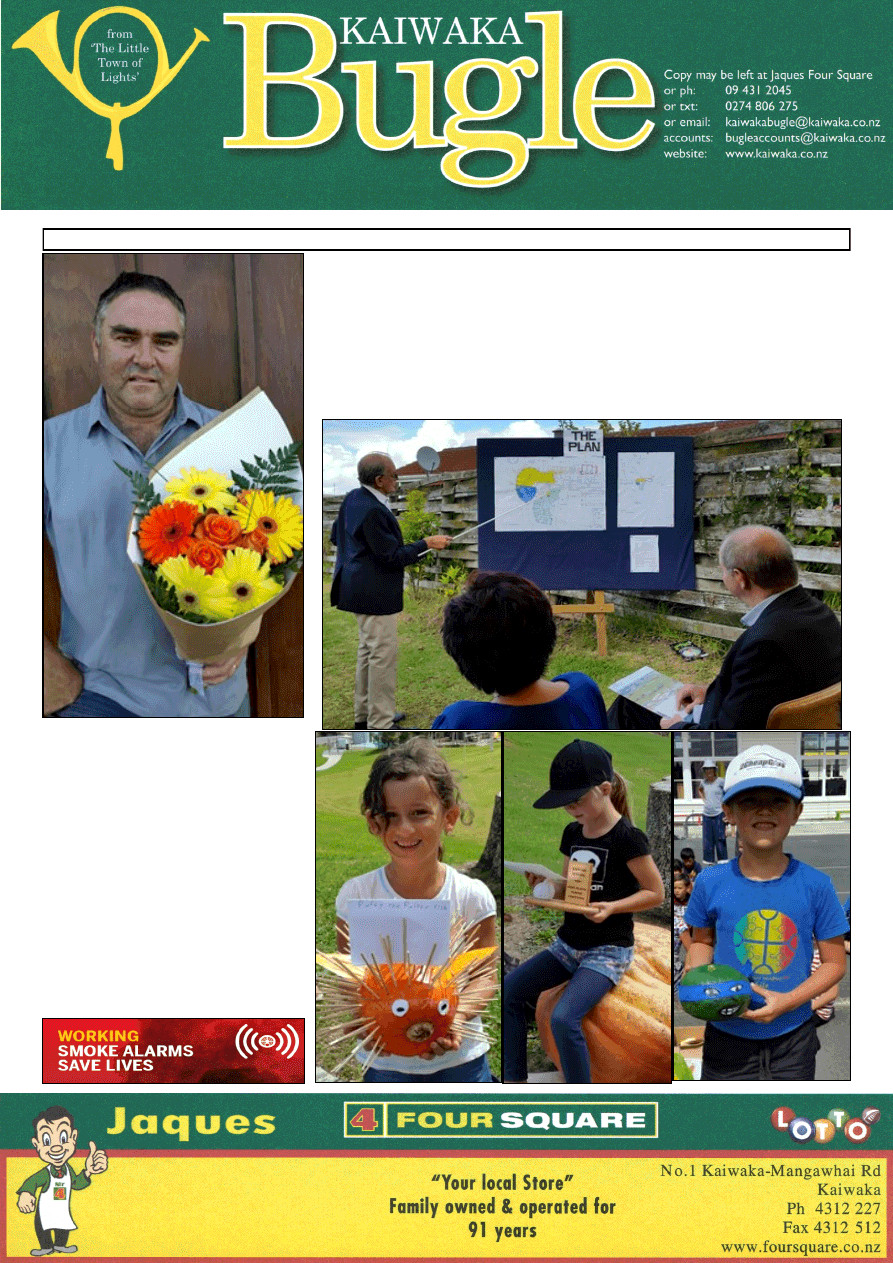 www.kaiwaka.co.nz 
Kaiwaka Bugle - 4 April 2017 
Page 1 
No:6 
4 April 2017 
Summer Trading Hours: 
Monday to Friday 8:00am - 6:30pm 
Saturday 8:00am - 7:00pm 
Sunday & Public Holidays 9:00am - 5:00pm  
KAIWAKA  
GOOD SORT 
I  nominate  Bruce  Ferguson  for  a 
Kaiwaka  Good  Sort  because  weeks 
before the Scout Jamboree in Blenheim 
he  had  sleepless  nights  organising, 
preparing  and  freaking  out  that  things 
were  done.  He  left  his  home  earlier 
than  the  rest  of  us  -  driving  his  truck 
with  all  our  Scout  gear,  and  returned 
home days later than us. 
He  is  Mark  Ottaway's  right  and  left  hand 
man  when  he  is  away.  Bruce  delivers  and 
lends  the  massive  waterslide  to  various 
groups  whoever  they  may  be.  He  has 
helped me lately with my water and car. He 
would  give  you  his  jacket  in  a  storm  ... 
Bruce you truly are a good sort! ~ Lish 
LAUNCHING A PLAN FOR THE FUTURE. 
On  28  March,  Don  McKay,  chairman  Maungaturoto  Charitable  Community 
Trust, led the preview of the plans for the extension of Riverview Resthome and 
Village. 
The current facility on Hurndall street is now at capacity. Stage 1 is the addition 
of  an  8  bed  dementia  unit.  Further  stages include  updating  kitchen  and  dining 
services and more general care beds. 
Further information at maungaturotoresthome.co.nz 
Photo:  Don  McKay  with  pointer;  Sally  McAulay  (Chair,  Northland  DBH)  and  Kevin  Salmon 
(General Manager of Alzheimer's Northland)   
Kaiwaka School Pumpkin Competition - see School news 
...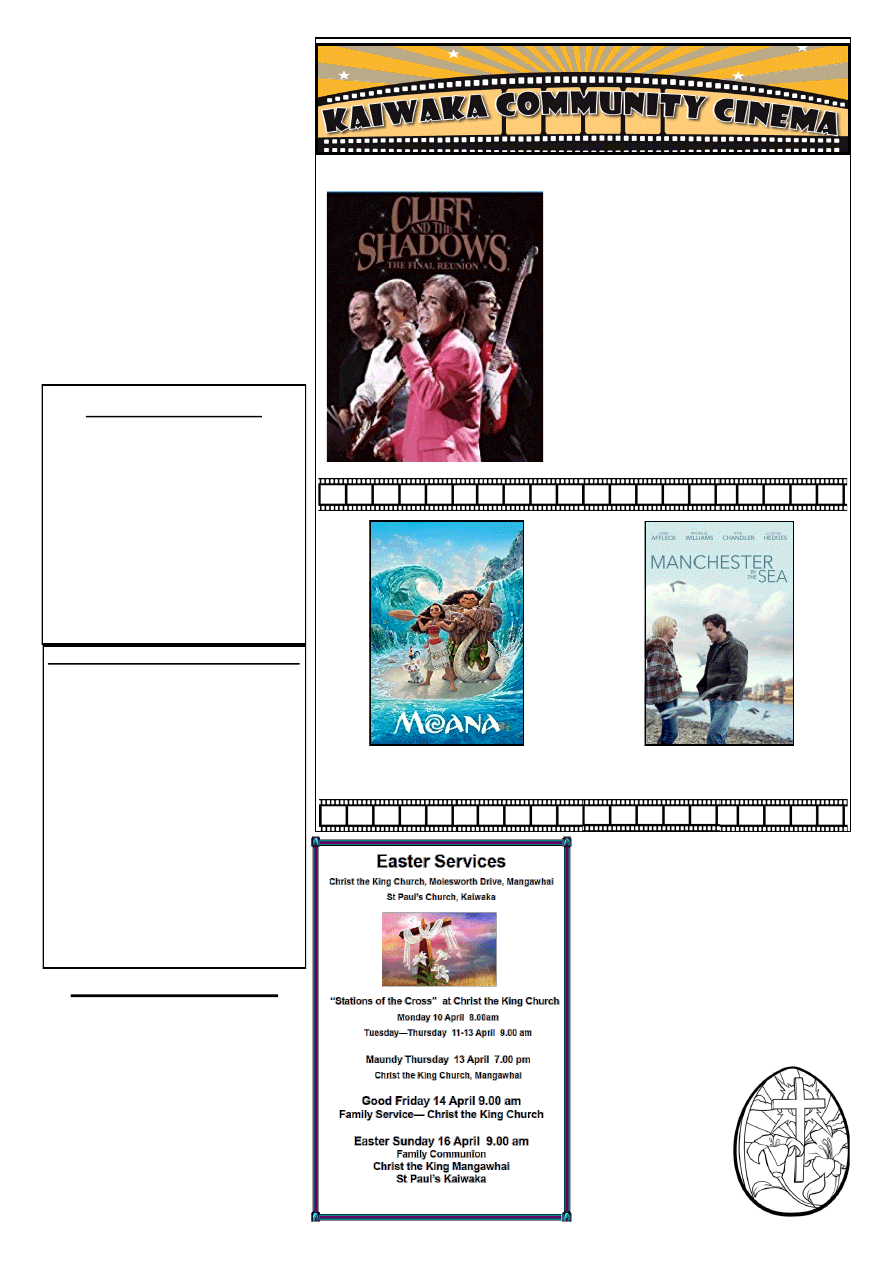 At Kaiwaka War Memorial Hall . Adults $10, Kids (under 16) $5, Family Pass (2 adults + 3 children) $25 
ABOUT TOWN 
Condolences  to  the  family  of 
Lorraine  Lusty,  who  passed  away 
recently. 
Who  dumped  the  mattresses  at 
McClean Park?! 
Batteries  for  smoke  alarms  -  the 
ones from  the Two Dollar shop are 
just as good as the dearer ones. 
Shop  local  -  support  our 
businesses as they support us! 
KDC will permit shops to trade in 
the  Kaipara  district  on  Easter 
Sunday  as  provided  for  under  the 
Shop Trading Hours Act 1990. 
KAIWAKA BUGLE No. 6 
4 APRIL 2017 
CONTENTS 
Page 3: Public Notices, Classified 
Page 5: Cemeteries Week, Local 
Vocals 
Page 7: Kaiwaka School 
Page 9: Sports Assn Grants, Library 
Page 11: Weather, RSA Women 
Page 13: Kaiwaka Sports Association 
Page 15: Easter in Kaiwaka 
Page 17: Pt Curtis Cruising Club 
Page 19: Hawks Rugby, Kate's Place 
Bugle 7 will appear 18 April 
Contact for advertising, reports, articles 
or information can be made by 
Email kaiwakabugle@kaiwaka.co.nz 
Ph: 09 4312 045 (Lindsey) 
Txt: 0274 806 275 (Wendy) 
Copy  may  be  left  at  Jaques'  Four 
Square. 
Kaiwaka Bugle 
Founded May 1978 
We appreciate articles and photos about local 
events, etc, as well as ads and suggestions. 
Copies available in Kaiwaka at Jaques Four 
Square, Kaiwaka Postal Centre, Shamrock 
Service Station, Animal Health Centre, 
Kaiwaka St John shop. 
Also outlets in Maungaturoto, 
Mangawhai and Paparoa. 
Can be viewed online at  Facebook or 
www.kaiwaka.co.nz/Bugle  
Or a copy can be posted to you if you supply 
stamped, self-addressed DLE envelopes. 
Cliff Richard and The Shadows 
Final Reunion 2009 
Friday 7 April 7:30pm (G)
Music/movie and supper 
BYO 
$20 
Tickets only 
Phone 021 215 4495 or 4312 225 or 
4312 234 
Get your tickets before it sells out! 
Moana 
Sunday 16 April 2:00pm (PG) 
Manchester By The Sea 
Friday 21 April 7:30pm (R13)
Kaiwaka Bugle Advertisements 2017: 
All 
copy 
and 
queries 
to: 
kaiwakabugle@kaiwaka.co.nz 
Our A4 page is divided into 6 columns & 
8 rows (48 blocks), with a 1cm margin. 
Ad  sizes:  1/16  page  (3  blocks)  $5;  1/8 
(6 blocks) $8; 3/16 (9 blocks) $12.  
Classified  ads:  $4  per  entry  (max.  30 
words, max. 4 repeats). 
Payments  can  be  made  online,  posted 
or left at Jaques Four Square Store. 
We  use  Microsoft  Publisher,  and  can 
work  with  most  common  image 
formats, Word, Excel, and PDF files. 
Accounts:  
Email: bugleaccounts@kaiwaka.co.nz 
The  Kaiwaka  Bugle  is  a  community 
newspaper run by volunteers.   
Articles, etc. printed are not necessarily 
the opinion of the Bugle Team. 
Supper Movie Special  
Easter Egg Tradition 
Eggs  have  been  associated  with  the  Christian  festival  of 
Easter, which celebrates the death and resurrection of Christ, 
since the early days of the church. The egg has long been a 
symbol of 'fertility', 'rebirth' and 'the beginning'. With the rise 
of Christianity in Western Europe, the church adapted many 
pagan customs and the egg, as a symbol of new life, came to 
represent the Resurrection. Some Christians regarded the egg 
as a symbol for the stone being rolled from the sepulchre. 
Eggs as an Easter Gift 
The earliest Easter eggs were hen or duck eggs decorated at 
home  in  bright  colours  with  vegetable  dye  and  charcoal. 
Orthodox  Christians  and  many  cultures  continue  to  dye 
Easter  eggs,  often  decorating  them  with  flowers.  The  17th 
and 18th centuries saw the manufacture of egg-shaped toys, 
which were given to children at Easter. The Victorians had 
cardboard, 'plush' and satin covered eggs filled with Easter 
gifts and chocolates. The ultimate 
egg-shaped Easter gifts must have 
been  the  fabulous  jewelled 
creations  of  Carl  Fabergé  made 
during  the  19th  century  for  the 
Russian  Czar  and  Czarina,  now 
precious 
museum 
pieces. 
Chocolate  Easter  eggs  were  first 
made in Europe in the early 19th 
century,  with  France  and 
Germany  taking  the  lead  in  this 
new artistic confectionery.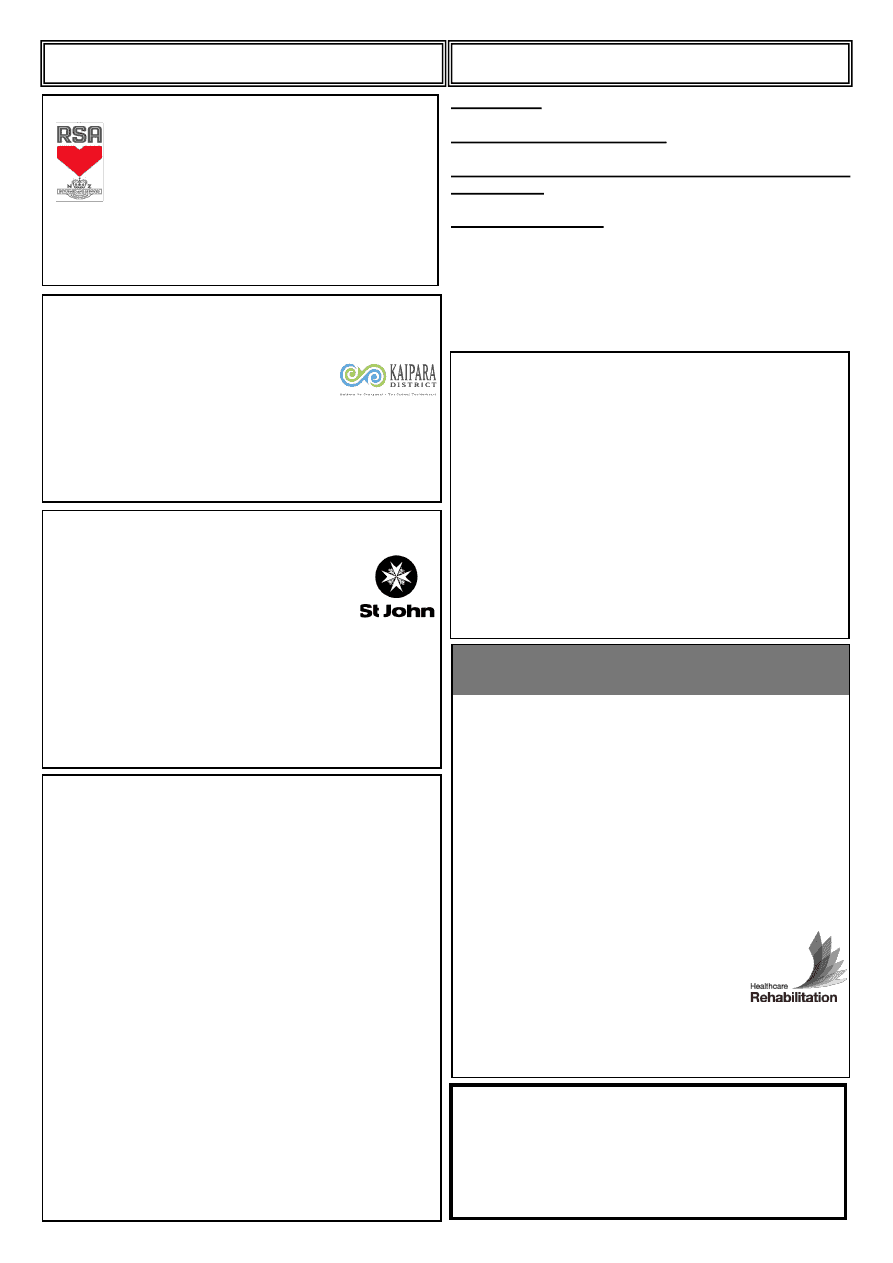 www.kaiwaka.co.nz 
Kaiwaka Bugle - 4 April 2017 
Page 3 
PUBLIC NOTICES 
CLASSIFIED 
FOR SALE: Tractor, Fergie 28 - good condition. Ideal 
boat or block tractor. $1500 Ph: 4312248 
CLEAN  FILL  WANTED:  Oneriri  Road.  Text  or 
phone 021 0239 1630 
MARRIAGE CELEBRANT / WEDDING EVENTS 
PLANNER:  Yvonne  Osborne  Ph  0274  989  814, 
yvonne.osborne@xtra.co.nz 
CAN  YOU  HELP? 
The Kaiwaka Knitting Group meets 
every second Tuesday of the month at the Archie Bull Hall 
at  10am  until  12  noon.  All  welcome.  We  are  making 
stretchy  trousers  for  toddlers  and  require  sewers.  The 
trousers,  which  are  very  basic,  need  to  be  sewn  at  home. 
Fabric and patterns are supplied. The finished trousers will 
go  to  Whangarei  Hospital  and  are  distributed  around  the 
northern  hospitals.  Please  phone  431  4827  or  4312  338. 
~Elaine Reddy
Proverbs 3:5+6  Trust God from the bottom 
of your heart; don't try to figure out 
everything on your own. Listen for GOD'S 
voice in everything you do, everywhere you 
go; He's the one who will keep you on track.
(The Message Bible)  
Te Pounga Marae Fundraiser 2017
Maori Kakahu Fashion Parade
Venue: Te Pounga Marae 
Date: 29th April 2017 
Time: 5.30pm 
Cost: $25.00pp or $180 per table 8 per table
Includes: 
Fashion Parade 
Band 
Meal: Te Pounga Tasty Platters... 
Auctions 
Raffles 
Fun and Laughter
BYO…
Come see our Mokopuna, Rangatahi and Kaumatua 
walk down the red carpet showing some of the latest 
fashions around today, and some of the kakahu that 
have been given as koha we will be auctioning on 
the night, you can place orders or buy… come and 
have a bit of fun and share a meal with 
us  ..Naumai...Haeremai...Whanau
Please contact Kim on 0211275340, Tina  on 
0224162080, or Jeanette on 0211867382... 
Hakaru and Districts Memorial RSA (Inc) 
Annual General Meeting 
Sunday 7th May 2017 
1.30pm in the Hakaru RSA 
Agenda: Apologies, Financial and Reports, 
Election of New Committee, General Business. 
Nomination for Committee and Notices of Motion need to 
be passed to the Secretary by Sunday 30th April 2017 
Only Financial Members permitted to attend 
Community Support Worker 
Wellsford | Part Time
We  are  urgently  looking  for  a  support  worker  to  provide 
support to our client who has a spinal injury.  You will be 
supporting  him  in  his  home,  which  is  located  in  the 
Wellsford  area,  towards  gaining  his  independence  over 
the long term.
The role is a part time position working approximately 12 
hours per week, with shifts spread across Monday, Friday 
and  Saturday.  This  position  would suit an  energetic  and 
dedicated person who is committed to assisting our client 
towards his rehabilitation goals.
You must have clear communication skills and fluency  in 
English,  be  trustworthy,  reliable  and  have  a  'can  do' 
attitude.   A full driver's licence and reliable transport  is a 
must as well as being eligible to work in NZ.
We offer: 
• 
competitive hourly rate  
• 
full induction and training 
• 
a great team support network
To  apply  please  send  your  CV  to: 
carey.fletcher@healthcarerehab.co.nz 
Healthcare Rehabilitation is a wholly owned  subsidiary of Healthcare of 
New Zealand Holdings Limited  
KAIWAKA OP SHOP 
Wanted please: Queen size sheets 
(summer), pillows, cooking pots, nic-nacs, 
framed pictures, fruit, veges, furniture, 
beds and mattresses, anything else much 
appreciated. ~Milly 
Phone: 4312650 
Hours: 9am - 4pm Monday to Friday 
9.30am - 1.30pm Saturday 
1919 SH1, Kaiwaka 
The shop will be closed from Friday 14th to 
Tuesday 18th April, for Easter.  
Café Assistant  & Kitchen Positions 
Part Time & Full Time 
The Coffeepot and Gateway North Motorlodge have 
full and part time positions available in our busy café. 
Experience preferred, Barista skills an advantage. 
Some weekends and public holidays are required. 
Mature, good presentation, excellent customer 
service skills and a team player are essential. 
Please send CV to:  The Coffeepot, 1999 State 
Highway 1, RD 2, Kaiwaka 0573 
Email: info@gatewaynorth.co.nz 
Ph: 09 - 431-2389 
FREE BOOKS FOR 
FUNDRAISING 
The  libraries  are  always  purchasing 
new  books.    To  make  room  for  them 
we  have  to  find  homes  for  older 
stock.    Discarded  books  are  available  for  your 
community group fundraiser.  Last year three groups 
each  earned  over  $1,000.  selling  discarded 
books.  For further information phone Lisa Salter 09 
439 3150 or email library@kaipara.govt.nz.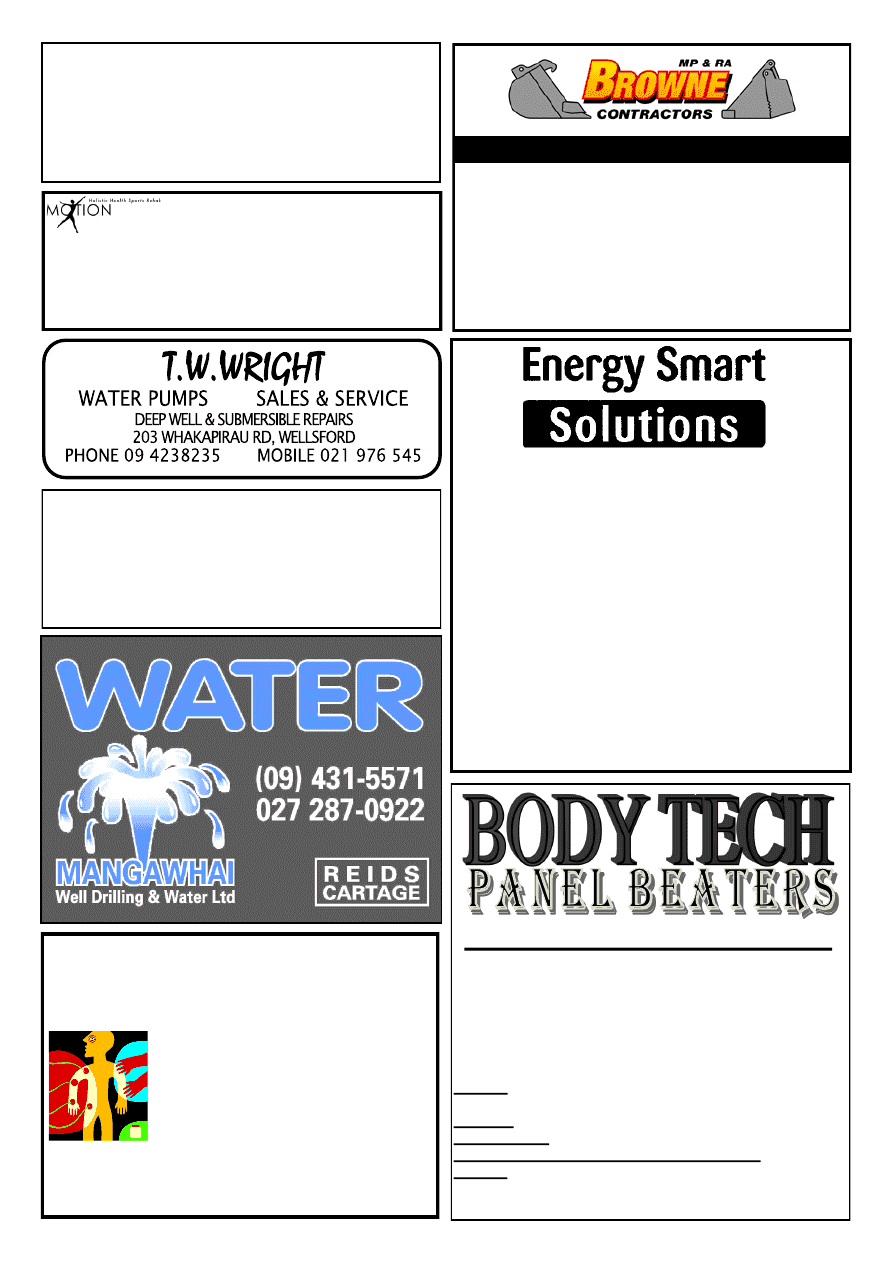 FREE GRAZING WANTED 
Small or large block 
Can do some fencing or water 
Phone after 6pm 
4312 006 
WAIPU OSTEOPATH 
Maria Gabriel  ACC Registered Osteopath 
8 The Centre, Waipu 
Monday to Thursday  
Freephone 0508 924786 (0508 WAIPUOSTEO) 
www.getinmotion.co.nz  No doctor referral required 
OWEN STEVENS 
Osteo Therapist
For careful adjustments to bones and joints 
Treatment for  humans and their pets 
Clinics: 
Kate's Place, Kaiwaka: 
Last Friday of month 
For bookings:9.00am-5.00pm 
Phone 
09 4312661 
Or phone Owen  09 4317123  anytime 
4T DIGGER – BOBCAT – TIP TRUCK 
Property Maintenance - Driveways - Building Sites 
Stump & Tree Removal - Hole Boring - Chain Trencher 
Calf Shed and  Stockyard Cleaning
KAIPARA - WHANGAREI - RODNEY 
Phone Matt: 021 199 6677 
Email: mprabrownecontractors@gmail.com 
For all your body repair needs!! 
We do: 
•Rust repairs 
•Insurance work 
•Anti-corrosion treatment     
Hours: 8.30am-5pm Mon-
day-Friday  
Mobile: 021 118 0462 
After hours: 09 431 2384 
Phone: Craig or Call in for a free Quote 
bodytech_panelbeaters@yahoo.com
We are located at 1837 SH1 Kaiwaka, behind  
Twinkle Tow 'n' Tyre call in anytime for a free quote.  
•Large and minor vehicle  
 repairs 
•Industrial vehicles 
•Full Cut and polishes 
ASK US ABOUT OUR NEW 
SOLAR ENERGY PACKAGES
We also provide advice on Ventilation Systems, Heat 
Pumps and Air Conditioners.
Does your Family or Home suffer from 
Are you looking for affordable top quality 
products? 
CALL US NOW!
For a free assessment and quote phone:
431 2025 / 021 762 352 
www.energysmartsolutions.co.nz 
• Condensation 
• Allergies 
• Asthma 
• Poor air quality 
• Musty smells 
• Mould 
THE SUNSHINE GIRLS
Efficient and reliable help with your 
housework. 
Ph 4312 532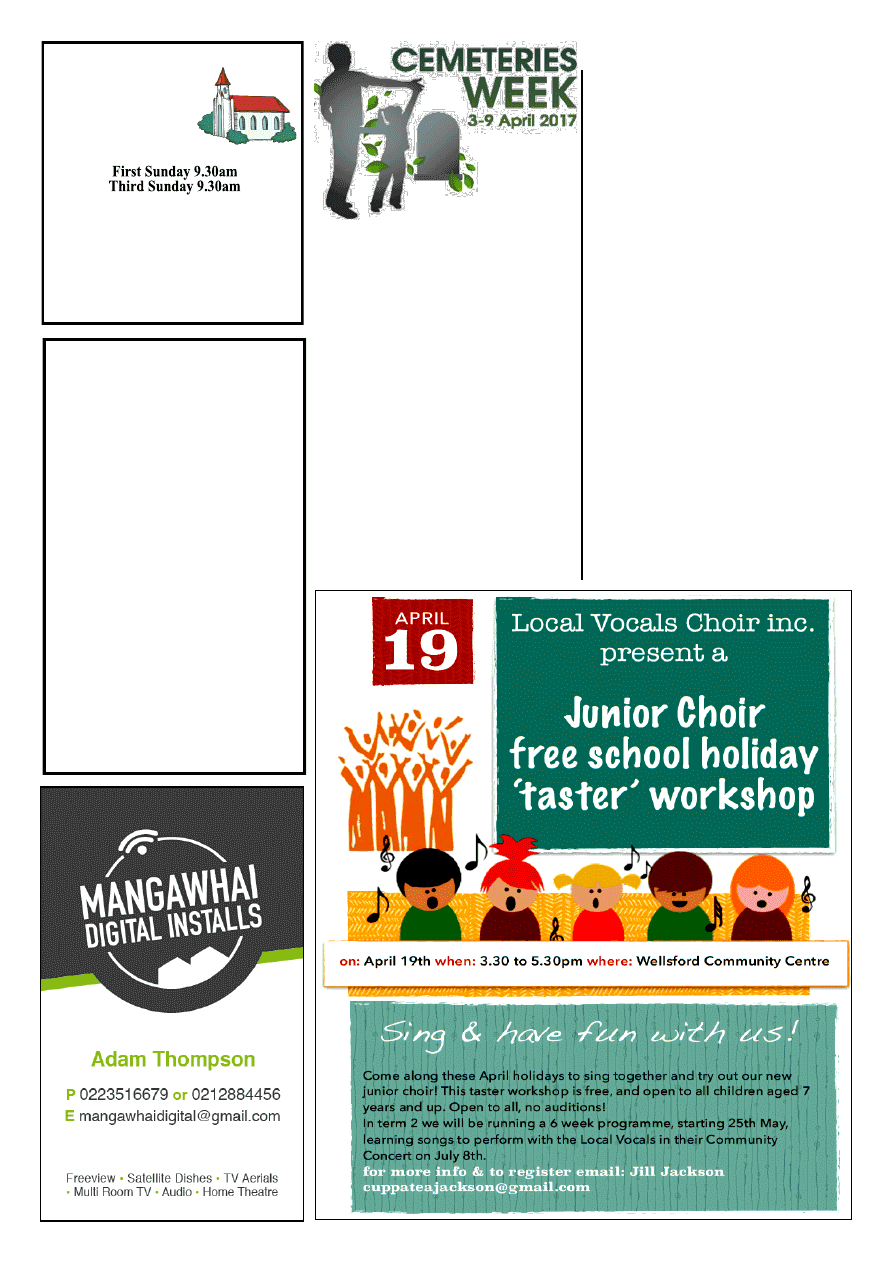 www.kaiwaka.co.nz 
Kaiwaka Bugle - 4 April 2017 
Page 5 
ST PAUL'S  
ANGLICAN  
SUNDAY  
SERVICES
St Pauls Church: Kaiwaka-Mangawhai Rd. 
1st Sun - Eucharist 
3rd Sun - Family Service 
Office 4314 122 
Contacts:M.Hargreaves 4312295, C.Bygrave 4312057  
or Rev. Wayne Thornton Ph 431 5650 
www.mangawhaianglican.org.nz
Willow Bend
HORSE  
HOTEL 
  
Total Horse Care 
 
Agistment 
 
Riding Lessons 
 
Arena Hire (60x40) 
 
Young Horse Starting 
 
Re-training/Exercising 
 
Hoof Trimming 
 
Problem Solving 
Phone Sue 09 431 2817 
or 021 623 776 
Or email  
susanjoll11@gmail.com 
LOCAL VOCALS 
JUNIOR SINGING GROUP 
PROPOSED FOR LOCAL CHOIR 
The  Local  Vocals  are  keen  to  extend 
the  joy  of  singing  to  school  age 
students 
around 
Wellsford 
and 
surrounding  districts,  with  a  free 
'taster'  workshop  in  the  April  school 
holidays. 
This  will  be  followed  by  6  singing 
group  lessons  to  be  run  at  the 
Community  Centre  in  Wellsford 
starting in Term 2. 
The junior group will be taught by Jill 
Jackson, a member of the Local Vocals 
and  an  experienced  Primary  trained 
teacher. 
Jill  hopes  the  taster  workshop  will 
encourage  young  singers  to  attend  the 
short  singing  course  which  will  finish 
with a combined concert with the Local 
Vocals,  in  the  Wellsford  Community 
Centre on July 8.  
The initial workshop will be run in the 
school  holidays  on  Wednesday  19 
April  from  3.30  to  5.30  pm  at  the 
Community  Centre,  Rodney  Street, 
Wellsford.  All  Primary  school-aged 
children over 7 are welcome to attend. 
The series of 6 sessions will be held on 
Thursday afternoons starting 25th May, 
from  5.30  to  6.30pm,  at  the 
Community Centre. 
Cemetery 
heritage 
walks 
and 
crematoria 
tours  are  among  the 
events  taking  place  across  New 
Zealand  during  the  inaugural  national 
Cemeteries  Week.  The  week,  which 
runs from 3-9 April, brings together the 
public,  councils,  businesses,  industry 
associations  and  community  groups  to 
raise  awareness  of  the  social  value  of 
cemeteries and crematoria. 
New 
Zealand 
Cemeteries 
and 
Crematoria  Collective  Chair  Michelle 
Rivers said Cemeteries Week aimed to 
demystify  cemeteries  and  crematoria 
and highlight the role they play in our 
communities.  
"Aside  from  being  sites  to  remember 
loved  ones,  they  also  provide  places 
where  people  can  relax,  interact  and 
connect with their communities." 
New  Zealand  has  around  300  council-
owned cemeteries, as well as a number 
of  church-owned  cemeteries,  Maori 
urupa, and private burial plots.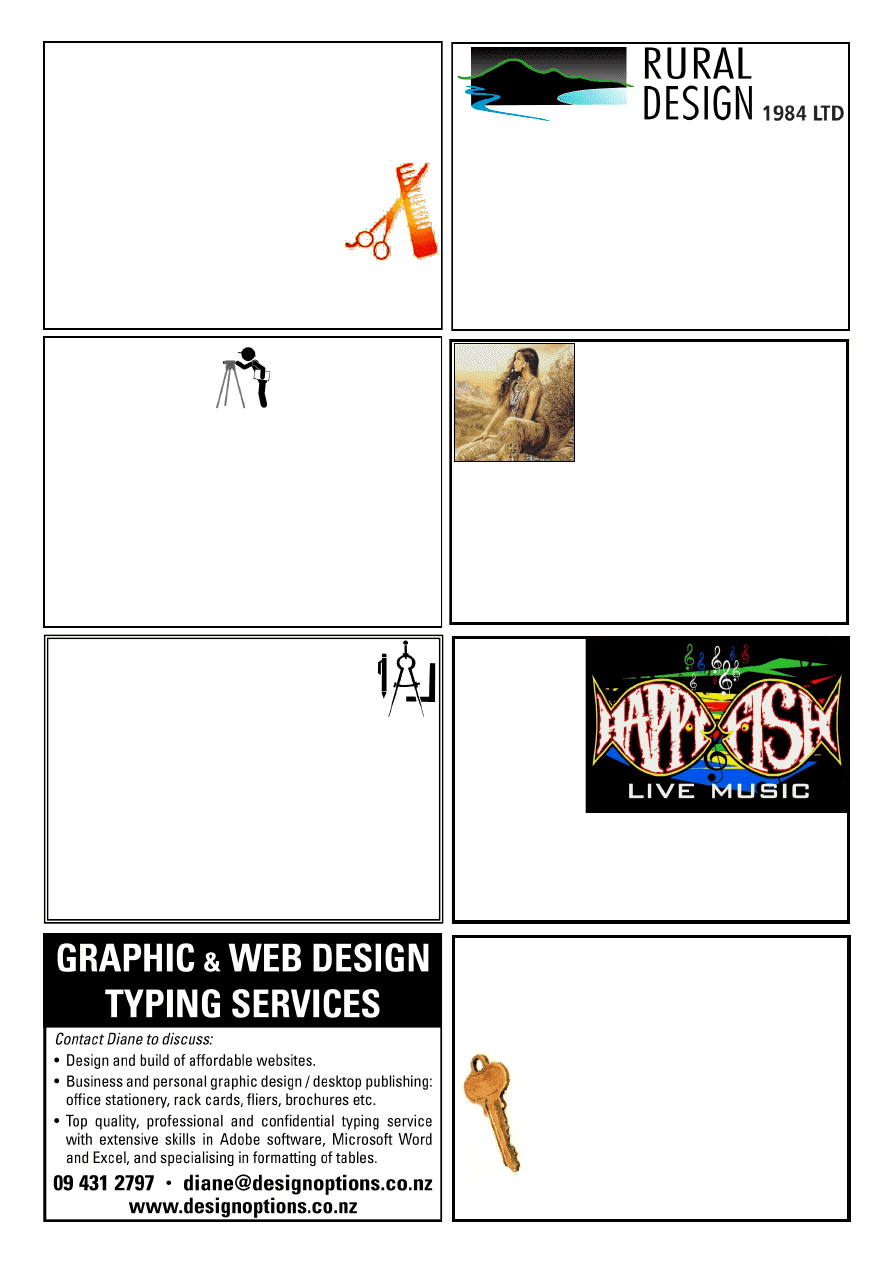 design drafting  
service 
Retired builder and manufacturer with over 40 years  
experience in the building industry is offering a design 
drafting service  
for domestic housing, sleepouts and sheds.  
Plans formulated in consultation with clients, with 
working drawings completed and submitted to  
council for processing.  Extensive practical experience,  
able to identify & resolve problems. 
Please ring Mike Lean on 
09 431 2260 
or 
021 431 196 
AFFORDABLE PRICES! 
MENS DRY CUT FROM $18.00 
LADIES DRY CUT FROM $28.00 
KIDS DRY CUT FROM $15.00 
COLOUR CUT FROM $90.00 
JUST CUTS'AND     
MORE 
021 165 2629 
NOW SELLING: scented tealights, incense, smudge sticks, copper 
bracelets, aurora ball crystals, dream catchers, healing stones, 
rose quartz, cds, and much more. Open 6 days. 
Ken Urquhart 
BSurv Licensed Cadastral Surveyor 
KMU Surveys Ltd
467 Bickerstaffe Road 
RD 2 
Maungaturoto 0587 
Ph 09 431 8705 
Mob 021 161 2344 
kenurquhart@xtra.co.nz 
WHOLESALE NATIVE PLANT NURSERY 
AND LANDSCAPING 
By Appointment 
Small and Large orders welcome 
Phone: 09 431 2481 
Email: info@ruraldesign.co.nz 
Trails end 
spiritualist gathering  
Last Sunday of every month  
11.30-2pm tea/coffee provided  
$5koha for all inquiries  
0211652629 evenings 099450753 
Trail.end@hotmail.com 
Bringing together light minded people 
Guest speaker each month and 
Workshops every 2nd Wednesday  
6:30-7:30pm
Rockin' popular, 
old and new party 
songs with loads of 
Kiwi music and a 
few original tunes 
in the mix.
An electric duo 
featuring: 
Gordon Joll 
(NZ Music Hall of Fame)
 on drums and Sue Joll on guitar and 
vocals, a band for any occasion backed by years of 
experience.
Contact: Sue 021 623 776 
Email: happyfishband@gmail.com 
Website: www.happyfishband.co.nz 
Kaiwaka Hardware  
& 
Key cutting
Phone 4312 063 or 022 0642 703
kaikey2015@gmail.com
Keys Cut  
Household Hardware  
Curtain Tracks & Fittings
Not there? Call Doug and he'll sort
it for you. 
(
Next to Kaiwaka Motorcycles)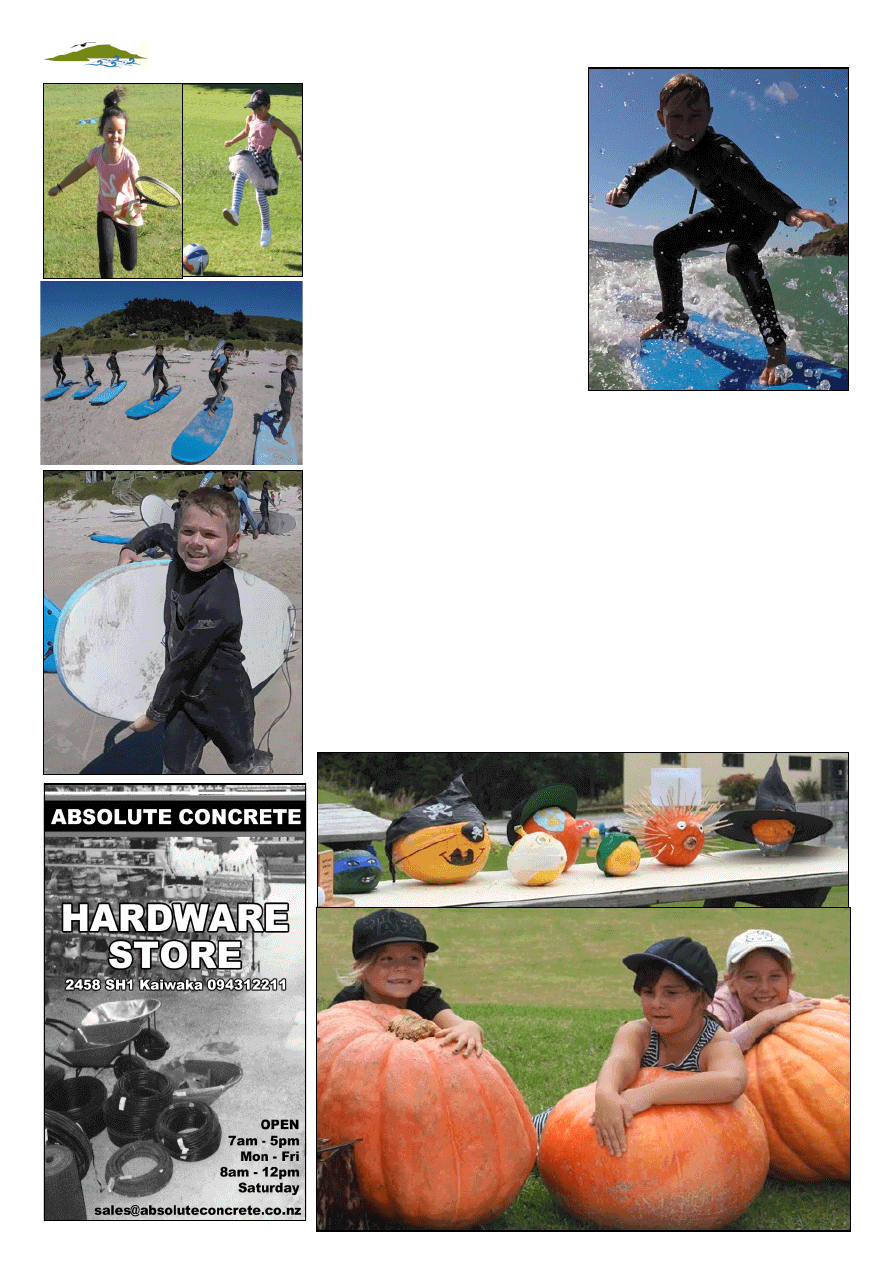 www.kaiwaka.co.nz 
Kaiwaka Bugle - 4 April 2017 
Page 7 
KAIWAKA SCHOOL 
WEATHER
Fun! 
Our  juniors  really  enjoyed  their  Fun 
Day  and  the  seniors  had  the  time  of 
their  lives  at  Camp.  Please  see  all  the 
surfing photos on Kaiwaka Community 
website or the Mangawhai Beach Surf 
School  website.  There  are  many  other 
photos on our Facebook page.  
These special activities occur thanks to 
our dedicated and caring teachers who 
are  prepared  to  organise  them.  We 
thank  Sharlene  Tornquist,  Anna 
Jamieson,  Katherine  Brown,  Anna 
Elworthy,  Karima  Bencheikh  and 
Eileen  Nesbitt  for  all  the  time  and 
effort  they  have  given  to  make  these 
happen.  
Library News  
The Library book culling has now been 
completed.  We  now  have  room  for  a 
lot of new books.  
Firstly  there  will  be  34  fiction  books 
more  suitable  for  the  older  students. 
These  are  brand  new  and  include 
authors  such  as  David  Walliams  and 
Mike  Mortango.  We  know  these  will 
be very popular and appreciated.  
Giant Pumpkin Competition 
Thank you to all those who entered the 
Giant  Pumpkin  Competition.  Most 
entries  were  in  the  arty  farty  category 
where  there  was  a  variety  of  shapes 
and sizes on display. There weren't too 
many  "big  boys"  this  year.  It  seems 
there  wasn't  enough  rain  when  it  was 
needed  and  then  when  the  rain  did 
come  it  caused  some  soggy  bottoms! 
However, thanks to the efforts of Dave 
Kearton  to  wheel  barrow  in  some 
beauties, we did have a competition for 
the glowing pumpkin trophy. 
The winners were: 
Big  Boy:  Logan  Burkhill  with  a 
respectable  weight  of  45kg.  Runner 
up: Sienna Burkhill; Roly Poly: Logan 
Burkhill. Runner up: Sienna Burkhill 
Arty  Farty:  Josie  Griffiths.  Runner 
up: Atariki Ashton-Vidella 
Thanks  very  much  to  the  following: 
Lindsey Hargreaves and Heather Nash 
for  their  judging  skills  in  the  Arty 
Farty  category;  all  the  teachers  for 
taking  time  out  to  bring  the  children 
out  to  the  competition;  The  Well  of 
Health,  Kaiwaka  for  donating  prize 
vouchers; Forgotten Fruits for donating 
a beautiful plum tree as a prize; Andy 
Griffiths,  illustrator,  for  donating  a 
voucher;  Tina's  Stationery,  Wellsford 
for  donating  a  prize;  Ian  Stewart  of 
Oneriri Road for donating a prize. 
Seeds  were  collected  from  the  largest 
pumpkins and we'll be giving these out 
later  in  the  year  for  2018's 
competition.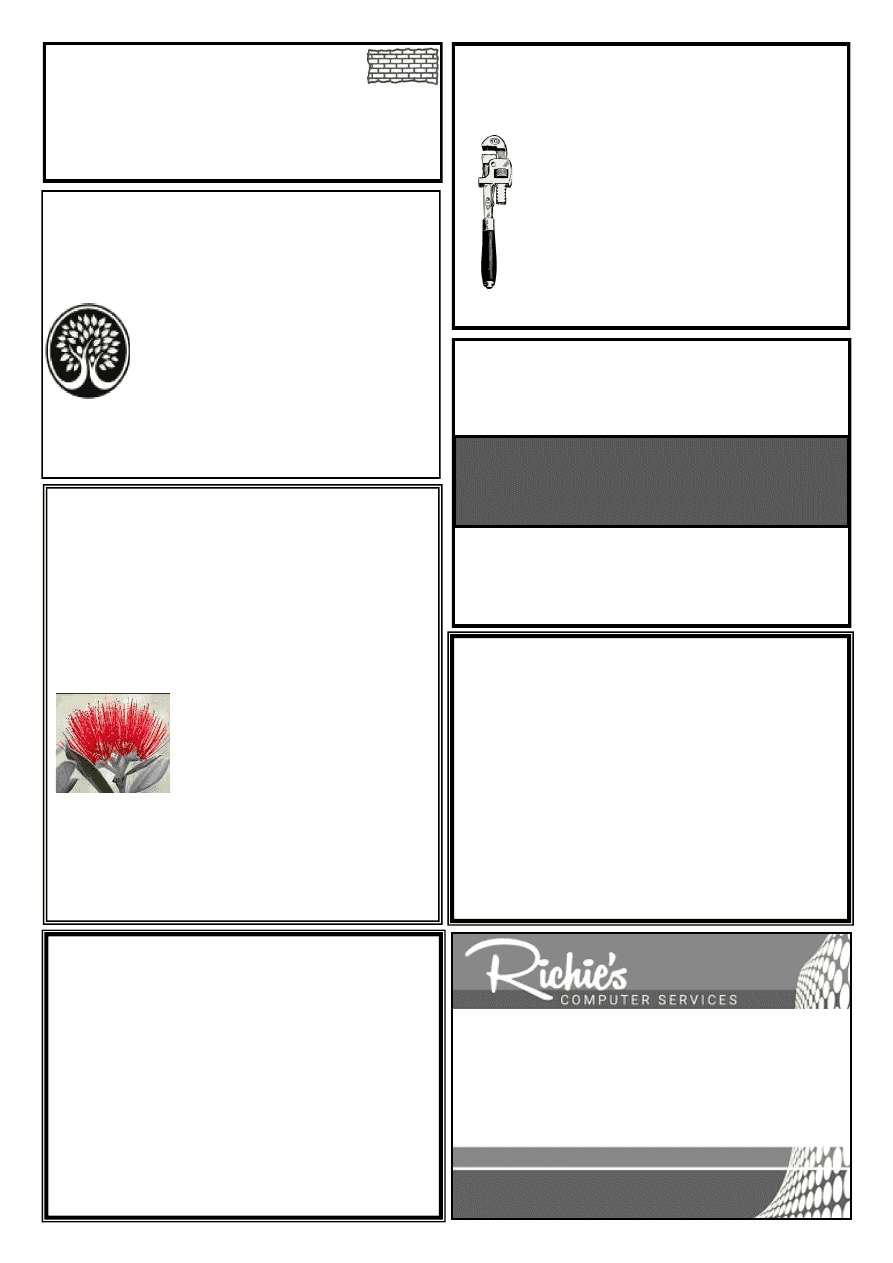 David Korach 
Your local Gib Stopper
DK PLASTERER LTD 
0274769221 
dkorach6@gmail.com 
BRICK/BLOCKLAYER 
All aspects of masonry: 
Fireplaces, Restoration & Remedial Work.
JAMES EAGLETON
Tel. (09) 431 2514     Mob. 0274 749 232
jajueagles@yahoo.com.au 210A Pukenui Road, RD2, Kaiwaka 0573 
Waipu Natural Health 
3 Cove Road, Waipu  (opposite the Pizza Barn) 
Ph: 09 432 1325 
www.waipunaturalhealth.co.nz
Clinical Nutritionist-Hair Analysis for Masked 
Allergies, Ozone Therapy, Prolotherapy, 
Naturopath-Medical Herbalist, Registered 
Massage Therapists, Reflexology-
Craniosacral Therapy, Acupuncture-Facial 
Acupuncture, Kineso Taping, Hypnotherapy, 
Counselling, ThetaHealing, Beauty Therapy
KIDS DAY – AFFORDABLE HEALTH SUPPORT 
FOR KIDS – every Wednesday 
(call us or drop in)
Gift Vouchers available
MULCHING
GORSE,SCRUB ETC 
PADDOCK TOPPING OR MULCHING 
2.8m mulcher with 140HP tractor. 
Experienced operator. 
LIFESTYLE PROPERTY MAINTENANCE 
Putting life back into your style 
BOOK NOW. Phone James 
mob: 0273 808622  
or 09 431 2245 
email: lifestylesorted@gmail.com 
KAIPARA FLOORING CO 
Independently owned & operated 
32 HURNDALL ST MAUNGATUROTO
Supply & Installation of Carpet, Vinyl,  
Vinyl Wood Planking
Stockists of 2m & 3m wide 
vinyl & carpet short ends
Residential & Commercial
Q Card Finance Approved 
6-18 month terms 
6 mth interest free
First Class Installations
For a free measure & quote 
phone Christine  
09 946 9886 or 021 515 415 
kaiparaflooring@gmail.com 
http://www.kaiparaflooring.co.nz/ 
BARRY CURTIS PLUMBING LTD 
REGISTERED CRAFTSMAN PLUMBER 
Phone 4315572 
027 257 9884 
25 years experience 
Friendly reliable service 
All plumbing and maintenance 
Alterations and new housing 
Spouting 
Competitive rates 
PROMPT EFFICIENT  SERVICE 
Mangawhai Heads 
Garden Centre
1758 Cove Road
945 0707 
021 165 2629 
 
15 years  commercial IT experience 
 
Computer and Laptop Repairs 
 
Smart Phone and Tablet Support 
 
Virus and Malware Removal 
Richard Harding
T 09 945 0376        M 021 124 7358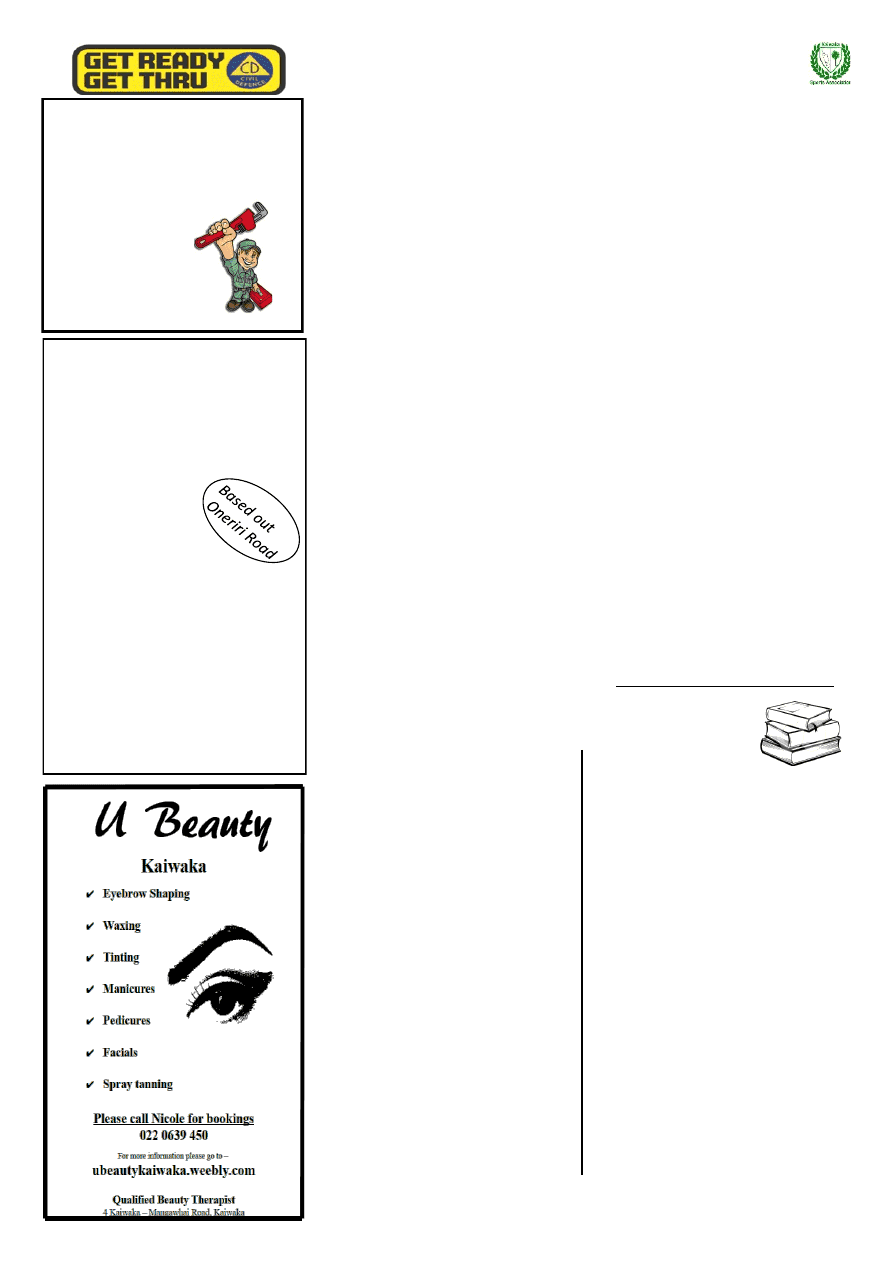 www.kaiwaka.co.nz 
Kaiwaka Bugle - 4 April 2017 
Page 9 
Ross Murphy 
PLUMBER 
Certifying Plumber
09 431 7510 
021 424 252 
Paparoa Based 

New Housing  

Renovations  

Maintenance
KAIWAKA 
LIBRARY 
HODGETTS
CONTRACTING
Digger Work    

Driveways 

House Sites   

Dams 

Drains, etc
Also available for HIRE 
3 ton Vib Roller 
Heavy Duty Tow  
Waterblaster  
Lazer Level
Phone Mark 4312877 
027 447 8554 
Book Swap 
The  next  book  swap  is  coming  up 
shortly  -  the  Large  Print  and  Audio 
swap  is  on  Tuesday  11  April.  I'll  be 
boxing  up  these  books  very  shortly, 
and we need all the titles back by Sun-
day 9 April, please, These are the ones 
with bar codes that start with an N, and 
have  "NLN  INC"  above  the  bar  code 
itself.  We  will  have  a  new  range  of 
titles for you to choose from - come in 
and take a look after the 11th! 
Books for Sale 
We've changed the books on our sales 
stands  -  come  in  and  find  something 
for  you,  your  family,  or  a  friend.  $1 
each, 3 for $2, or 10 for $5! 
Community Fundraisers 
The libraries in our district are always 
bringing  in  new  books,  which  means 
older  books  are  being  discarded  to 
make  way.  New  homes  need  to  be 
found for those old books - see the ad 
on page 3 if you'd like some for your 
community fundraiser. 
~Wendy 
2016 GRANTS: 
Gymnastics Otamatea 
$4999.68 
Kaiwaka Cares 
$1000.00 
Otamatea High School 
$1302.00 
RN Plunket 
$600.00 
Mangawhai Museum 
$300.00 
Otamatea Gymnastics 
$885.5 
Otamatea Community Service 
$1000.00 
KSA 
$10811.00 
Kaiwaka Community Centre 
$1342.74 
Otamatea High School 
$208.00 
Otamatea RFC 
$1000.00 
Otamatea RFC JMB 
$1620.00 
Athletics Northland 
$350.00 
KSA 
$3160.20 
Otamatea High School 
$800.00 
Kaiwaka Scouts 
$3000.00 
Otamatea High School 
$1000.00 
Aims Games 
$1000.00 
Kaiwaka School 
$830.00 
Kaiwaka Cares 
$2000.00 
KSA 
$14461.04 
Whangunga Touch 
$1677.00 
Kates Place 
$1148.00 
Otamatea High School 
$1402.00 
Otamtea Community Services 
$1000.00 
K.S.A. 
$1997.48 
Hakaru Pony Club 
$2899.25 
O.R.F.C. 
$10000.00 
Otamatea JMB 
$4245.00 
K.S.A. 
$7703.91 
Declined: 
Tomorata Tag 
Mangawhai Tennis Club 
APPLICATIONS FOR 
GRANT FUNDING  
APPLICATION  PROCESS-  HOW  TO 
APPLY: 
Applicants can uplift a KSA application form 
from  The  Three  Furlongs  Bar  &  Grilll 
operating  KSA  gaming  machines  or 
www.kaiwakasports.co.nz 
Forms  can  also  be  requested  directly  from 
KSA.  All  relevant  details  are  displayed 
below and are also displayed at the venue. 
Venue: The Three Furlongs Bar & Grill 
Postal: PO Box 62 , Kaiwaka 
Tel: 094312329  Fax: 094312229 
•You  must  return  the  application  form  and 
any  associated  documentation  to  the 
Association  at  the  address  printed  on  the 
application form. 
•The application form contains a checklist of 
important  information  that  must  be  included 
with the application in order for funding to be 
considered. Failure to supply all Information 
requested may result in the application being 
declined or returned to you unprocessed. 
•Applications  are  checked  for  completeness 
and considered by the Grants Committee on a 
regular basis. 
•An application may take up to 6 weeks to be 
processed.  
CRITERIA: 
1.  Applications  are  checked  for  compliance 
against  the  criteria  of  the  Department  of 
Internal  Affairs  and  the  definition  of 
Authorised  Purposes  as  set  out  in  the 
Gambling Act 2003. 
2.  Funding  is  distributed  in  the  local 
community area - 
a.  Provision,  maintenance  and  development 
of club buildings, furniture, fittings, grounds 
and equipment. Excludes any bar area and/or 
facilities;  b.  Assist  sporting  adjuncts  within 
the  club  through  the  provision  of  uniforms, 
equipment,  premises  and  the  actual  and 
reasonable expenses to travel to and compete 
in  tournaments  with  kindred  groups. 
Excludes professional sports people/teams. 
 c. Funds for the promotion of amateur sport 
within  the  local  community.  Excludes  the 
payment  of  wages/salaries;  d.Donations  to 
support recognized community organisations 
within  the  local  community  with  the 
provision  of  facilities.    Excludes  bar  area 
and/or facilities. 
Applicants should be aware that the ultimate 
decision  on  funding  rests  with  the 
Association's  Grants  Committee  and  that 
there  are  no  guarantees  that  the  full  amount 
of the application will be supported or indeed 
the application will be supported at all.  
WHO WILL CONSIDER APPLICATIONS: 
All  applications  will  be  considered  by  the 
Grants Committee which is made up of KSA 
Trustees. 
Applications  are  generally  considered  in  the 
week  following  the  closing  date.  Applicants 
are  usually    notified  in  writing  within  10 
Days.  
The Trustees of KSA are: 
Brian Jaques JP. QSM - Managing Director, 
Kaiwaka  
Evan Wright -Farmer, Kaiwaka 
Tony Hargreaves, JP -Farmer, Kaiwaka 
Wayne Leslie - Farmer, Kaiwaka 
Mark Ottaway  QSM - Baker. Kaiwaka 
Innes Anderson –Farmer, Kaiwaka 
Paula Jaques-Manager, Kaiwaka 
COMPLAINTS POLICY: 
Any complaints regarding the distribution of 
grant  proceeds  must  be  sent  in  writing 
addressed to: 
The Principal Officer/Complaints.  
KSA. PO Box 62. Kaiwaka 
Complaints  received  in  this  manner  will  be 
acknowledged in writing. 
KAIWAKA SPORTS ASSOCIATION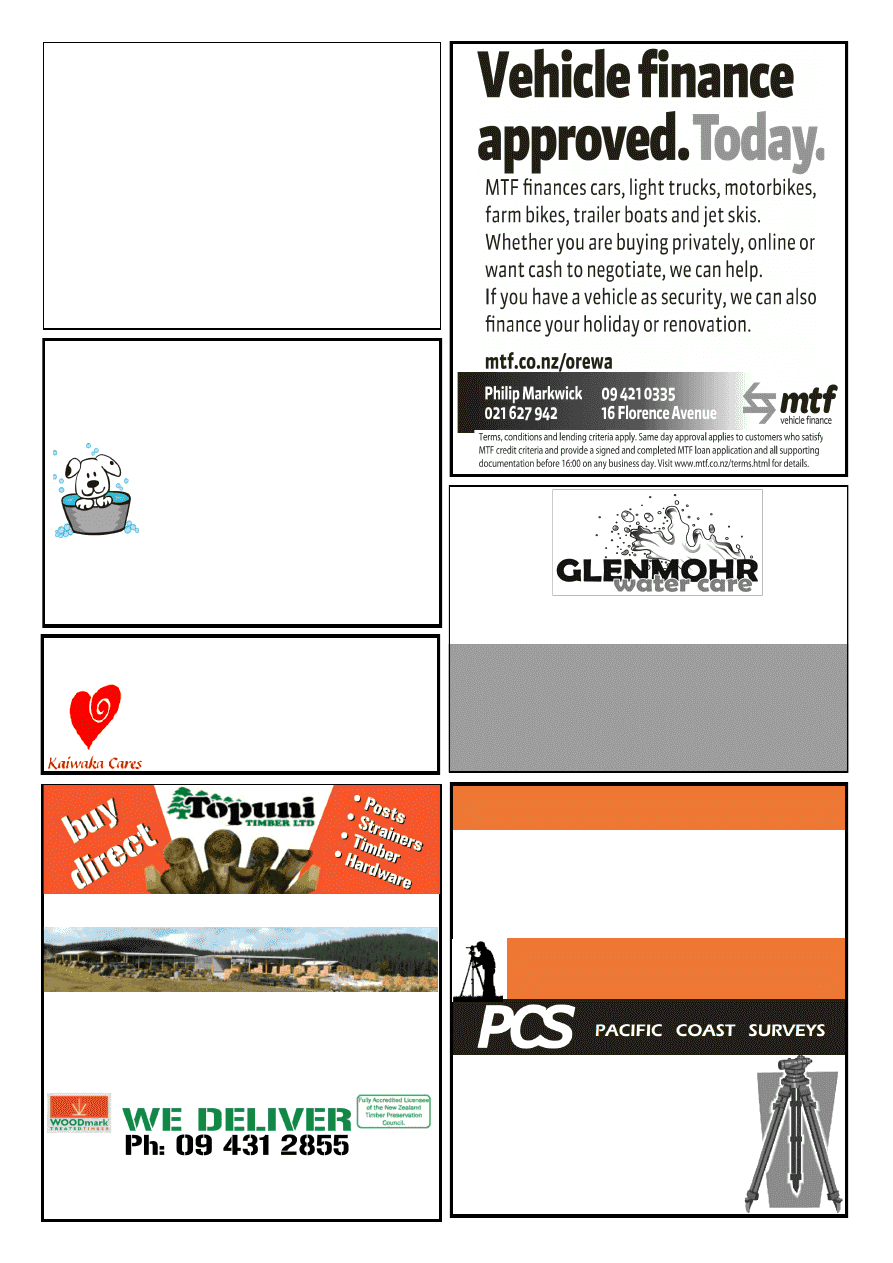 LOCALLY OWNED AND OPERATED 
QUALITY PRODUCTS • FRIENDLY ADVICE • GREAT SERVICE 
Quality Products milled from High Density NORTHLAND Radiata Pine. 
Treated and guaranteed to NZS3640 with commitment to 
Environmental Safety.
Phone, fax, email, or come into the mill 
Schiska Rd, Topuni, SH1, 10 min north of Wellsford. Fax: 09 431 2856 
Email: sales@topunitimber.co.nz  Mon - Fri 7am-5pm, Sat 8am-12pm 
• Fencing 
• Retaining 
• Decking 
• Landscaping 
• Gates 
• Hardware 
SURVEYORS 
SUBDIVISIONS 
HOUSE SITE SURVEYS 
CIVIL ENGINEERING 
WASTEWATER DESIGNS 
EXPERIENCED 
PROFESSIONAL 
INNOVATIVE 
Ph 09 431 5353 
0800 PACIFIC (0800 722 434) 
pacificcoastsurvey.com
Adam Booth - 027 415 5752 
Bsurv, Licensed Cadastral Surveyor
Surveying Kaipara since 1994 
Hot Diggity Dog 
DOG GROOMING 
All breeds dog grooming 
Professional Experienced Groomer 
Short practical grooms - summer 
Breed Standard Grooms 
Designer fusion Grooms 
Oneriri Road
By appt Phone Pam 09 4312143 
Or text only 0273335380 
Email  hot.diggitydog@outlook.com 
Couples and Individual Counselling
Have you … 
Serious relationship issues? Heading for Family 
Court? Destroying each other? Children involved?
I'm Here To Help! 
Call me to arrange an appointment 
Keep trying if phone is busy
Pete Worsfold 
B.Soc.Sc., M.Soc. Sc, Dip Prof Counselling NZIPC, 'Man Alive' Counsellor/ 
Facilitator, Prov NZAC. Professional service in your local area. Individuals, 
couples, any issue, males and/or females.
Private or WINZ Clients, Experienced Counsellor/Facilitator 
021 825 970 or 021 063 0302
peteworsfold@xtra.co.nz 
Water Tank Cleaning 
• 
Keep your water safe & clean  
• 
Removal of sediment, silt etc. 
• 
Vacuum or full scrub 
• 
Minimal water loss 
Phone Mark (09) 432 0655 or 0274 707607 
Community Drop-In Centre
Open 10am – 2pm  
Monday - Wednesday - Friday 
WIFI, printing & scanning available at 
Kaiwaka's own drop-in social space.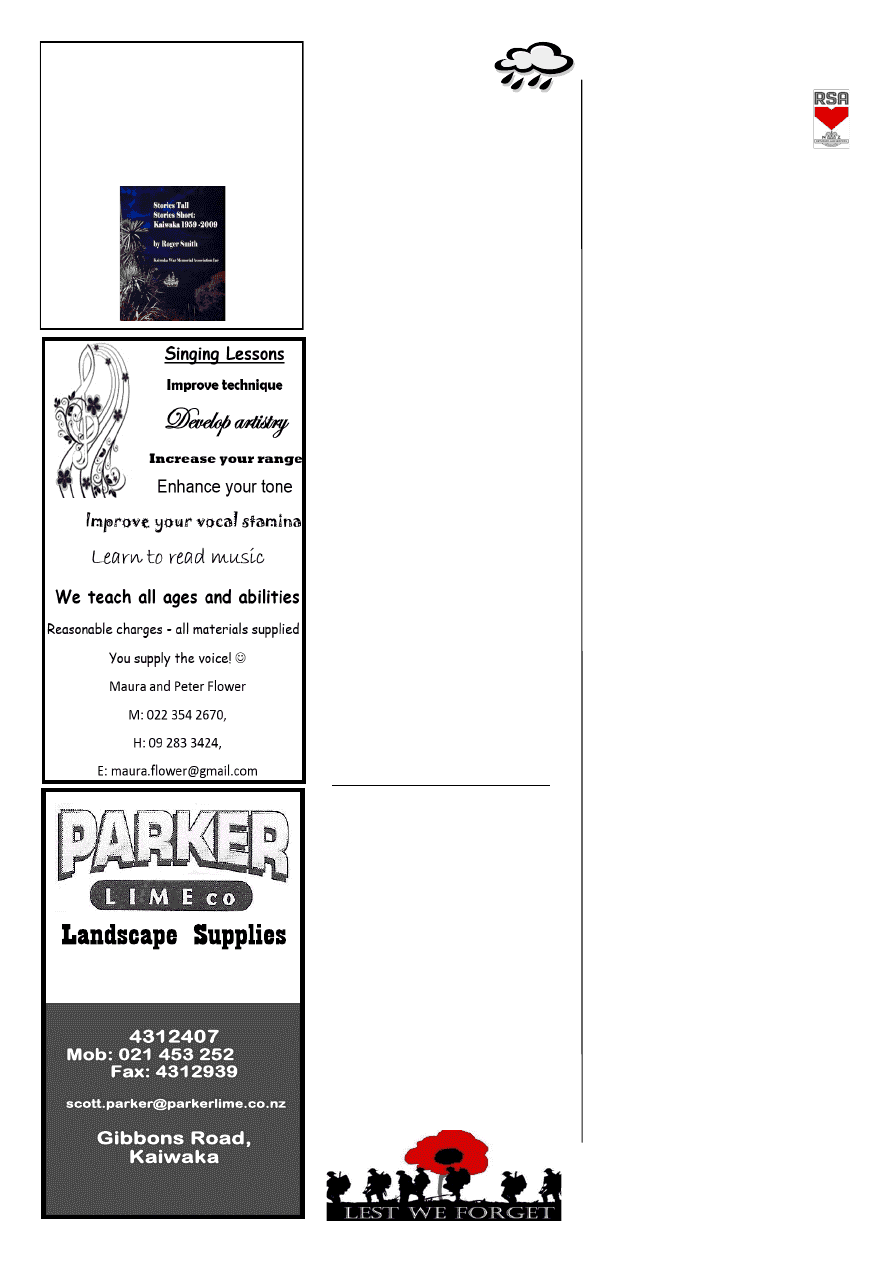 www.kaiwaka.co.nz 
Kaiwaka Bugle - 4 April 2017 
Page 11 
Stories Tall, Stories Short  
Kaiwaka 1959-2009 
by Roger TW Smith.  $40 
Available from  
the Bugle Editors -  
Lindsey 4312 045,  
Wendy 027 480 6275 
Bulk Cartage 
There was a good attendance at 
our  monthly  meeting  on  23rd 
March.  April  is  going  to  be  a 
very busy month for us, starting 
with  the  selling  of  poppies  on  Friday 
21st  April.  Heather  has  been  busy 
compiling  the  volunteer  list  for  poppy 
selling  if  you  haven't  been  notified  or 
wish  to  be  a  new  volunteer  ring 
Heather on 4314668. 
On  April  24th  at  10  a.m.  the  wreaths 
are  being  made  and  any  garden  club 
members or anyone interested in floral 
work  would  be  most  welcome  if  they 
would  like  to  come  and  help,  we  also 
need  a  lot  of  flowers  so  if  you  can't 
bring  them  to  the  RSA  Club  phone 
Ann  on  431  5913  who  will  collect 
them. 
Then there is the food for Anzac Day, 
members  please  bring  a  plate  and  if 
visitors wish to bring a a plate it would 
be much appreciated. 
Members  who  are  able  to  help  on  the 
morning please be there at 9 a.m. 
Women's  Section  will  be  catering  for 
meals on Friday 14th April. 
There  will  be  a  tripe  and  onion 
luncheon  on  Sunday  11th  June  at  1 
p.m.  Alternate  meals  will  be  pumpkin 
soup  and  devilled  kidney  and  bacon. 
$10 p.p. 
On  May  7th  is  the  RSA  A.G.M  at 
1p.m.  All  Women's  Section  members 
are urged to attend. 
Our Vice President Trish Black was re-
elected. 
We  are  catering  for  the  Northern 
District  meeting  on  2nd  May  -  more 
details later. 
Lena,  Gloria,  and  Bettie  are  attending 
the  Northern  District  at Kawakawa  on 
29th April. 
Dawn Be Hague was the only one with 
a  birthday.  Dawn  has  now  shifted  to 
Gulf Harbour so we wish them all the 
best in their new venture. 
The  raffle  was  won  by  Shirley  De 
Vries. 
We  are  planning  our  Mid  Winter 
Dinner  for  the  27th  July,  venue  not 
decided as yet. 
Silverdale  Women's  Section  is  having 
a  Birthday  on  27th  April  at  11  a.m., 
$25-00  p.p.  Anyone  wishing  to  go 
phone Jan on 4314512. 
Our  deepest  sympathy  goes  to  Fay 
Wintle our Patroness and her family on 
the  death  of  Phillip,  and  to  the  Lusty 
family  on  the  death  of  their  mother 
Lorraine who was also a treasured and 
loved  member  of  our  Women's 
Section.  We  will  miss  Lorraine  very 
much  as  she  was  always  a  willing 
helper  at  all  functions  when  she  was 
able. 
Our next meeting will be on Thursday 
27th  April  at  the  Clubrooms  at 
1:15p.m. New members Welcome. 
Those  who  are  able  to  check  out 
Hakaru RSA will now see a Women's 
Section space too, so you can keep up 
with the "Play".                             ~Ann 
POPPY DAY Friday 21 April. 
HAKARU RSA 
WOMEN'S SECTION
Greetings to you all. As I type this out 
it  is  a  cloudy  cool  day,  no  wind  and 
lacking  in  sunshine  at  the  moment. 
More rain heading our way, I think. 
Well  we  marched  on  through  a  rather 
pleasant  month.  We  tripped  up  a 
couple  times  with  a  lot  of  (most 
welcome) rain. The  tanks are  sure full 
again and we should be right for a few 
more months now. Thank goodness we 
did not have a lot of wind. 
At  our  house  we  had  329mm  rain  for 
2017 (our last wettest March 2007 with 
260mm)  and  for  March  2016  we  had 
44mm rain. 
In  the  first  three  months  for  2017  we 
had  465mm  and  for  2016  we  388mm. 
So  we  are  77mm  up  on  last  year 
(3  inches  in  old  terms).  The  last-
highest  three  monthly  rainfall  reading 
was 2011 with 520mm.  
Now you have digested all that. March 
this year we had rain on 7 days of the 
month and last year we also had rain on 
7  days  of  the  month.  Our  wettest 
March  since  1987  was  this  year  with 
329mm  and  the  driest  was  2004  with 
8mm. Our wettest first 3 months of the 
year since 1987 was 2011 with 520mm 
and the driest was 2013 with 69mm. 
I guess there are a lot of you that have 
had more rain than we did. It was very 
heavy  and  steady  at  times.  This  time 
last year the Brynderwyn waterfall was 
just a trickle but this time now there is 
a  gentle  flow  which  means  the  water 
table has risen.  
Just a thought, why is everyone so tired 
on  April  1
st
?  Probably  because  they 
have just finished a long 31 day march. 
Oh well now looking forward to those 
April showers and deluges. 
~ Take care out there. Bev 
KAIWAKA 
WEATHER 
From PapersPast: 
Waikato Times 
30 September 1921 page 3
"POPPY DAY" 
IN MEMORY OF HEROES. 
RETURNED SOLDIERS' ACTION. 
DAY TO BE CHOSEN.  
The  Dominion  executive  of  the 
Returned  Soldiers'  Association  has 
adopted the following resolution in 
respect  to  wearing  a  flower  to 
commemorate  the  heroic  sacrifice 
made by soldiers of the Allies who 
gave  their  lives  in  the  cause  of  the 
Empire:-  "That  we  adopt  the  red 
poppy  as  the  memorial  flower  in 
memory  of  the  fallen  of  the  Allies, 
and  that  a  subcommittee  be 
authorised  to  work  out  details  and 
choose a suitable day... "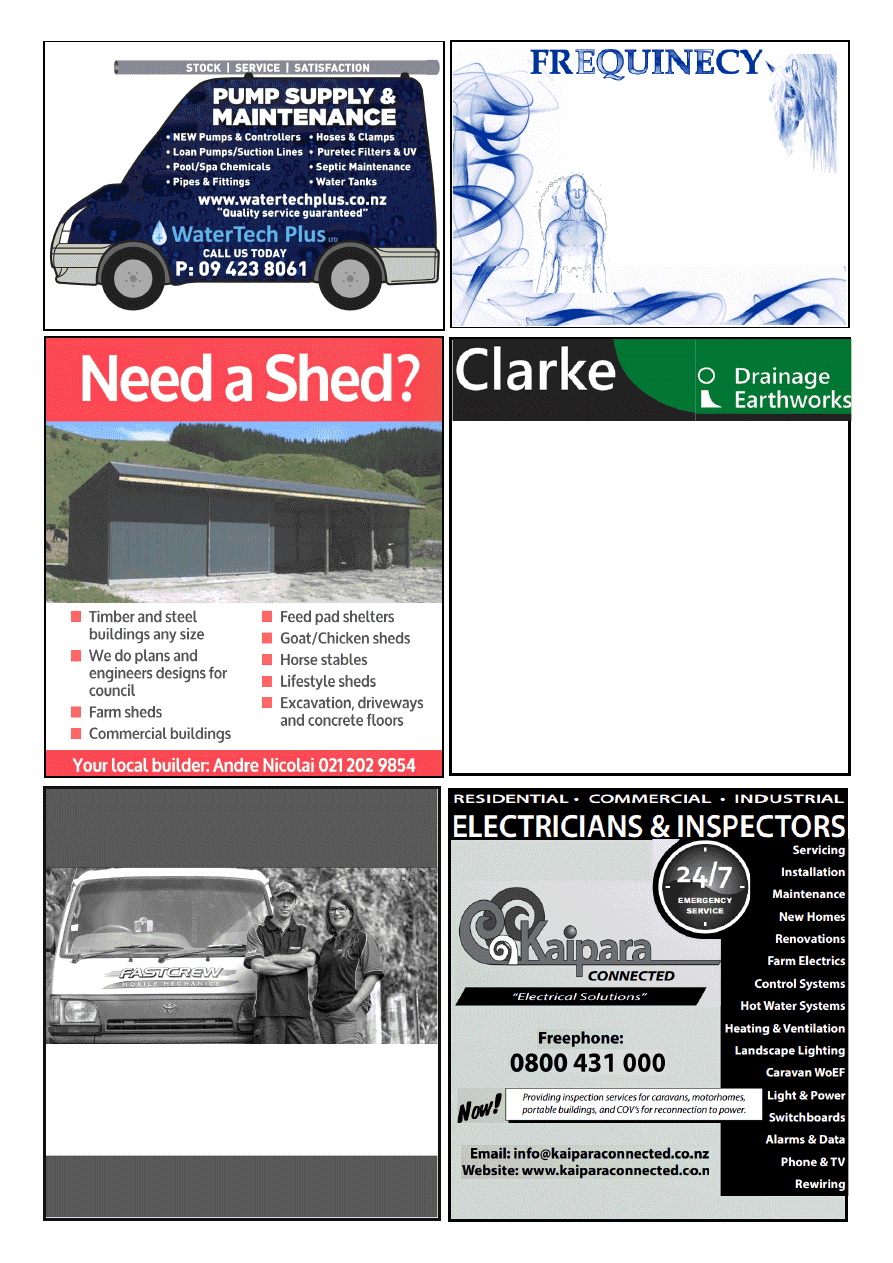 "WE'LL COME TO YOU 
AT AFFORDABLE PRICES" 
Wayne and Leanne 
are FAST CREW, the garage that comes to you. 
Ph:0800 484 327  fastcrewautomotive.co.nz 
• 
Petrol and diesel large or small 
• 
Servicing, cambelts, tune-ups 
• 
Shocks, brakes, batteries 
• 
Transmission servicing, suspension 
• 
Steering and much more 
Registered Drainlayer 
All Types of Earthworks  
> All Residential & Commercial Work  > House Sites 
> Septic System Design & Install 
> Footings & Drilling to 10m 
> Sewer Connections 
> Dams 
> Water Tank Installation 
> Roading & Races 
> Farm Work 
THE ONE STOP SHOP  
Phone Nigel for an Obligation Free Quote  
Drainage & Earthmoving 
clarkedrainage@xtra.co.nz 
027 2233 185 
Human & Equine Pain Relief Therapy 
 Restore Functionality 
 Non-Invasive 
 Drug Free 
Appointments 
taken for  
Kate's Place 
Wednesday 
afternoons 
LYNDA CATE 
(SCENAR Therapist) 
Frequency111@outlook.com 
022 6011991 
www.facebook.com/scenar11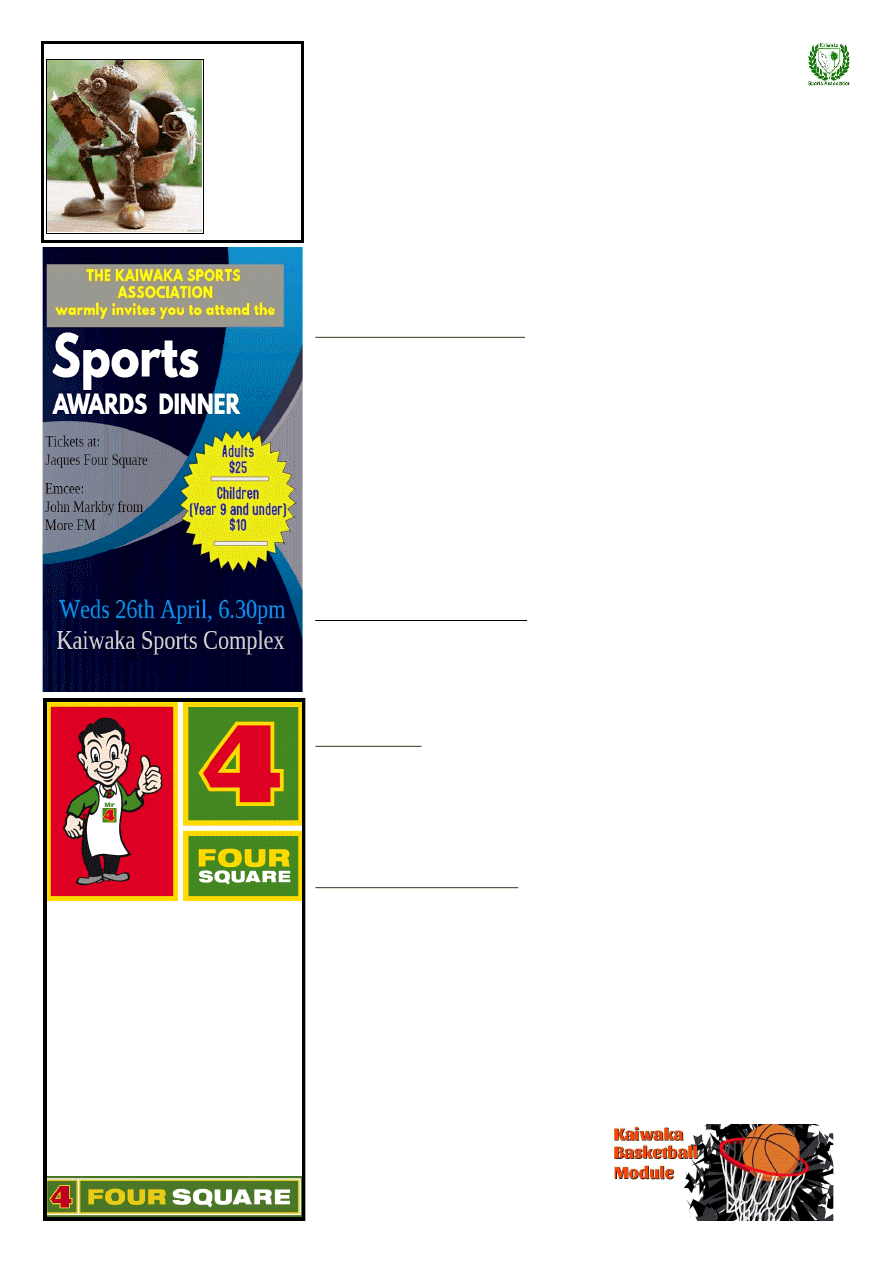 www.kaiwaka.co.nz 
Kaiwaka Bugle - 4 April 2017 
Page 13 
Kaiwaka Sports Awards 
Our annual Sports Awards will be held 
on Wednesday 26th April. The evening 
which  will  be  emceed  by  More  FM's 
John  Markby  will  include  profiles  of 
the 
nominees, 
a 
sports 
trivia 
competition  for  the  young  ones,  a  fun 
sports bingo quiz and of course one of 
Mark  and  Pam's  delicious  dinners! 
Tickets  are  $25  per  adult  and  $10  per 
child  (Year  9  and  under)  and  can  be 
purchased  at  Jaques  Four  Square  or 
from me. 
This  year  we  have  33  nominees  –  our 
highest  ever!  Lots  of  talent  out  there, 
congratulations to: 
Junior Sportsperson of the Year 
Branden Edwards 
Eastern United JMB 
Tamati Phillips 
Kaiwaka Touch 
Billie le Mesurier Cowbourne 
Kaiwaka Tennis 
Shuntel Rika 
OHS Netball 
Devine Henderson 
Kaiwaka School Netball 
Dietrich Von Dinklage  OHS Hockey 
Rubin Paikea 
Kaiwaka Fast Five Netball 
Trista Comer 
Kaiwaka Athletics 
Jack Brown 
Kaiwaka Basketball 
Tawhetu Phillips 
Kaiwaka Fitness Cente 
Leonie Beyer 
Kaiwaka School 
Simon Parker 
Otamatea IMB 
Senior Sportsperson of the Year 
Cullen Curtis 
Kaiwaka Touch 
Shaye Te Haara  Kaiwaka Basketball 
Solomon Alaimalo 
Otamatea Hawks Rugby 
Jodie Bennetto 
OHS Netball 
Danny Hapeta 
Kaiwaka Fast Five 
Sam Phillips 
Otamatea-Ex Netball 
Service to Sport 
Melissa Watts 
OHS Netball 
Floyd Driver 
Kaiwaka Tennis 
Naomi Walker 
Eastern United JMB 
Megan Little 
Otamatea Gymnastics 
Mike Peeni 
Otamatea IMB 
Rebecca Fletcher  Kaiwaka Fast Five 
Taira O'Hara Lambert 
Otamatea-Ex Netball 
Greg McRae Memorial Award 
Hamish Ferguson 
Kaiwaka Tennis 
Maddie Lemuelu 
OHS Netball 
Amalie Brown 
Kaiwaka Touch 
Gareth Ferguson 
Kaiwaka School 
Tamati Abel 
Otamatea IMB 
Brayden Mills 
Kaiwaka Squash 
Brenda Ferguson 
Kaipara Knights Soccer 
Danyon Tana 
Kaiwaka Basketball 
Poker Machines 
You  may  be  aware  that  the  Kaiwaka 
Sports Association provides funding to 
local  community  groups  through  grant 
applications which we source from our 
Poker  Machines  which  are  housed  at 
the Three Furlongs Bar and Grill. 
Unfortunately the pub was broken into 
recently, and the thief stole the money 
inside  the  Poker  Machines,  smashing 
all our machines in the process.  
Unfortunately this means you won't be 
able  to  play  the  pokies  at  the 
Three  Furlongs  for  some  time  and  we 
won't  be  able  to  accept  any  funding 
applications  in  the  near  future.  We're 
working on the problem and there'll be 
a progress report in the next Bugle. 
Kids Disco 
Shake  Your  Groove  Thang!  Yes,  we 
are putting on a Kids Disco. The disco 
will be held at the Sports Complex on 
Friday  28th  April  from  7  til  9pm,  and 
will feature great music and dancing, a 
lolly scramble, glow items and games. 
If  you've  got  kids  who  like  to  boogie, 
mark it in your diary. 
Soccer 
Please could everyone wishing to play 
soccer  at  Port  Albert  this  season 
register  via  the  ROSA  (Rodney 
Otamatea 
Soccer 
Association) 
Facebook  page.  All  players  are  being 
asked to register this way, whether they 
are new, or have been past players of a 
ROSA  club.  If  you  do  not  use 
Facebook  please  contact  Lindell 
Ferguson 
4312 
542 
or 
blferguson@vodafone.co.nz. 
Registrations  need  to  be  in  by  7th 
April. The first playing day is Saturday 
13th May.  
Basketball 
Who's keen to play Basketball? 
I'm  going  to  run  a  social,  mixed 
Module  with  games  held  in  the  KSA 
gymnasium  on  Wednesday  evenings 
starting 24th May. The Module will run 
for  6  weeks  or  so  (depending  on  the 
number  of  teams  which  enter).  The 
team fee is $100 and you can have up 
to  14  people  in  a  team.  Men,  women 
and  teenagers  welcome.  A  registration 
form  is  on  the  Kaiwaka  Basketball 
Module  Facebook  page,  or  contact  me 
and I will email it to you. 
This will be a fun, friendly module, so 
get  some  mates  together  and  give  it  a 
try! 
Mixed Netball Tournament 
There  will  be  a  Mixed  Netball 
tournament  on  the  29th  April  at  our 
courts.  This  will  be  a  fun  day  of 
netball,  along  with  a  hangi  and  neat 
prizes.  All  proceeds  from  the  day  go 
towards  getting  the  OHS  netball  team 
to Tauranga in September for the week 
long  AIMS  tournament.  To  enter  a 
team, please contact Jodie Bennetto on 
mgtonetball@gmail.com.  
Something exciting is coming! 
This  year  we  are  going  to  build 
something  at  the  Sports  Complex, 
something  that  the  whole  community 
can use and enjoy! More details in the 
next Bugle... 
~Cheryl Anderson 
4312 051, 027 3462702 
kaiwakasports@gmail.com 
Baked Fresh Daily  
in store 
Yummy 
Hot Cross Buns 
$1.40 each 
$7.99  for a 6 Pack 
Phone us for any orders  
Jaques Four Square 
Phone: 4312227 
1 Kaiwaka-Mangawhai Road, Kaiwaka. 
   KAIWAKA SPORTS ASSN 
Autumn 
– save 
your nuts 
and check 
your 
smoke 
alarm 
batteries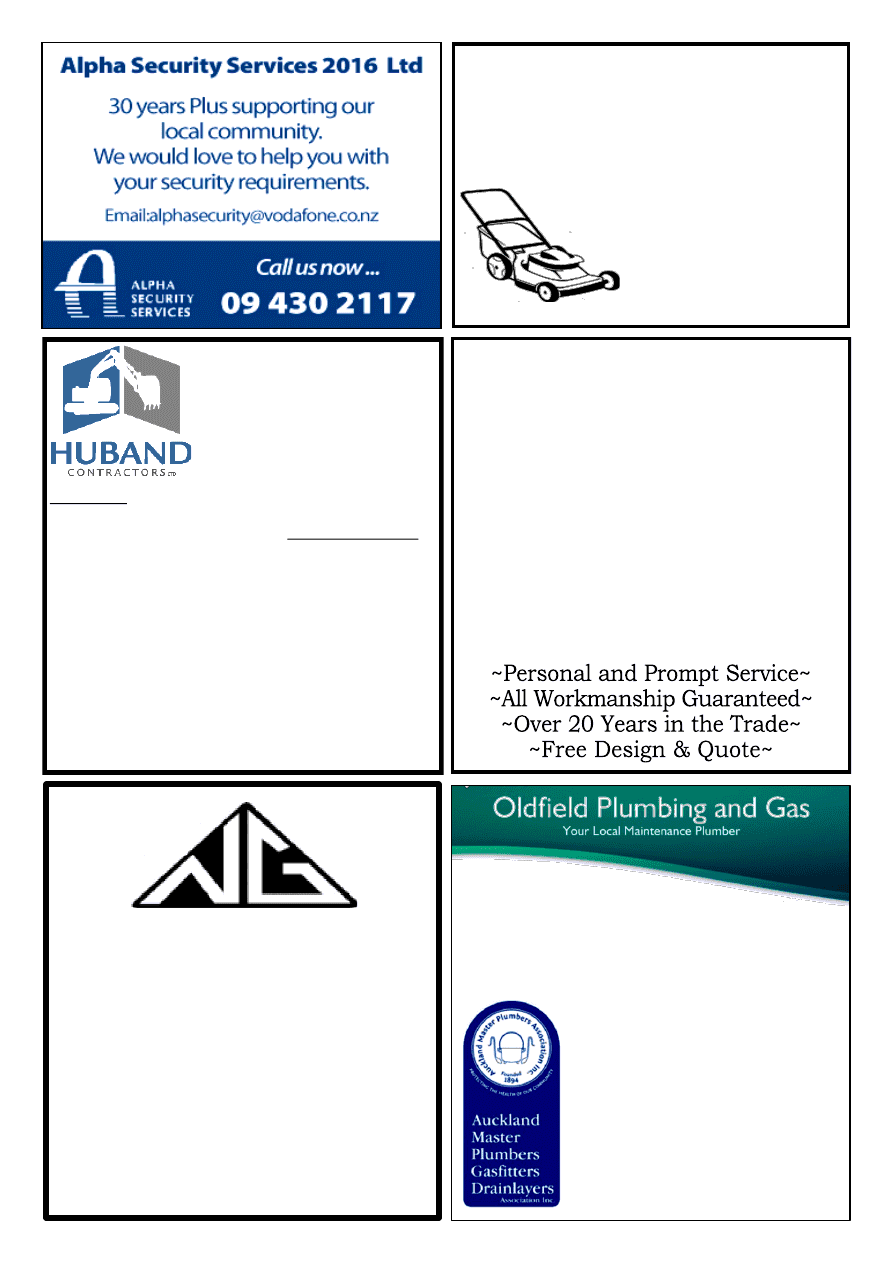 NORTH GLASS 
WINDSCREEN REPAIR OR REPLACE 
GLAZING SERVICES 
MIRRORS  •  SPLASH BACKS  •  SHOWERS 
0800 70 40 10
info@northglass.co.nz 
www.northglass.co.nz 
Darren Oldfield 
Certifying Plumber 
Certifying Drainlayer 
Licensed Gasfitter 
Mobile  021 836 365 
Home  431 5061 
oldfieldplumbing@gmail.com 
 
Agent for 
Rainline Water Filters 
Maintenance 
Renovations 
New Homes 
Hot Water Cylinders 
EASTERN LAWN & PROPERTY 
CARE
Lawn Mowing – Trimming – Spraying 
Weeding – Water Blasting 
Rubbish Removal – House Cleans 
Taking care of your property needs
ETHAN DOWSON 
021 217 7075 
easternpropertycare@outlook.com 
Open Monday-Friday  
8am-5pm 
Saturday 8am-noon 
2088 Paparoa Valley Road 
0800 234449 
We stock:
• 
All gardening and 
landscaping supplies 
• 
All grades of metal 
• 
Fencing and farming 
supplies 
• 
Culverts and water 
irrigation 
• 
PVC, plumbing & drainage 
materials 
• 
Water pumps & water 
tanks 
• 
Septic systems 
• 
Most grades of oils 
We specialise in: 
 
• 
Earthworks 
• 
Roading 
• 
Drainage 
• 
Site works 
• 
Landscaping 
Supplies  
PLANNING A NEW KITCHEN?
 CONTACT NOEL McDOWELL
WELLSFORD 
KITCHENS
Ph/Fax 094312888
KAIWAKA-Any time
 QUALITY CUSTOM MADE 
KITCHENS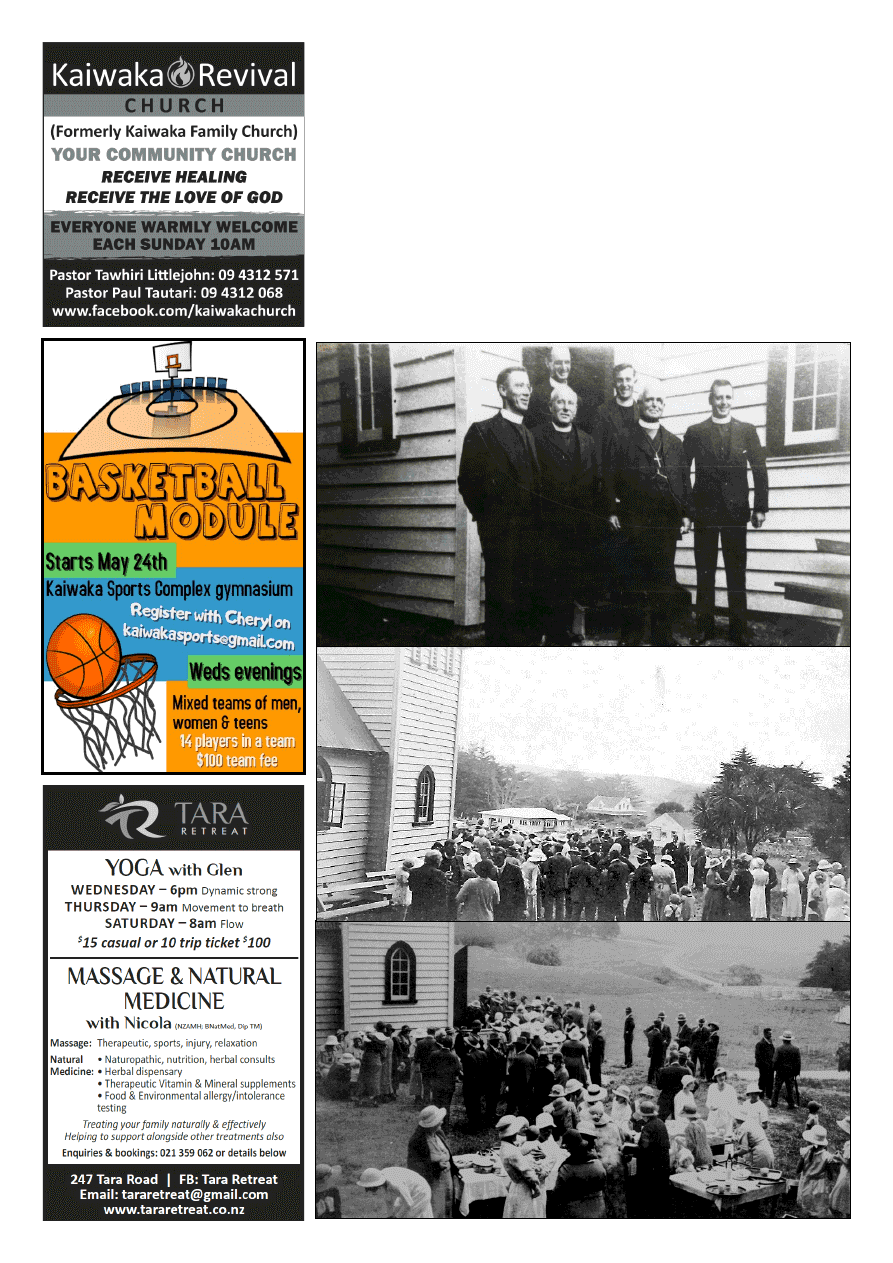 www.kaiwaka.co.nz 
Kaiwaka Bugle - 4 April 2017 
Page 15 
From  Northern  Advocate  30  March 
1935 page 8 ~ "
Church at Kaiwaka. 
A  new  church  was  opened  at  Kaiwaka 
yesterday  afternoon  by  Archbishop 
Averill,  in  the  presence  of  a  large 
congregation. The new building, which 
is  in  the  Paparoa  parish,  is  a  wooden 
structure, and was dedicated to St. Paul. 
After  the  dedication  service  fifteen 
candidates  were  confirmed  and  later 
five  infants  were  baptised.*  Among  the 
clergy  present  were  the  Revs.  H.  T, 
Steele,  M.  L.  Bull,  A.  Bull,  Hart  and 
Sinclair." 
(Pictured below)
*Brian  Jaques  was  one  of  the  five  
baptisms, with a congregation of 250.
The first Church of England (Anglican) 
service  in  Kaiwaka  was  held  in  the 
Kaiwaka  schoolhouse  following  the 
Easter Sunday service at St. Michaels' 
Church, Hakaru, on 5th April 1874 - 
"
to  an  overflowing  congregation.  The 
words  chosen  by  the  rev.  gentleman 
[Rev.  Mr  Kennedy]  are  found  in 
Romans  8:28.  This  sermon  was  most 
impressive,  the  forcible  manner  in 
which  it  was  delivered  being  such  as 
could not fail to produce good effects." 
~ from NZ Herald 25 April 1874. 
 LOCAL HISTORY:EASTER IN KAIWAKA 
Photos - top: Back -- Revs AG Bull, H Sinclair; Front- FD Hart, 
HT Steele, Archbishop Averill, MLA Bull. 
Mid  &  below:  Congregation  outside  St.  Paul's  Church,  29 
March  1935;  mid:  looking  south-west  towards  the  new  post 
office  (now  the  library),  McClean's  home  (former  post  office 
and  boarding  house),  Jaques  Store;  below:  looking  south  over 
the saleyards (where 1956 shops are now) and SH 1.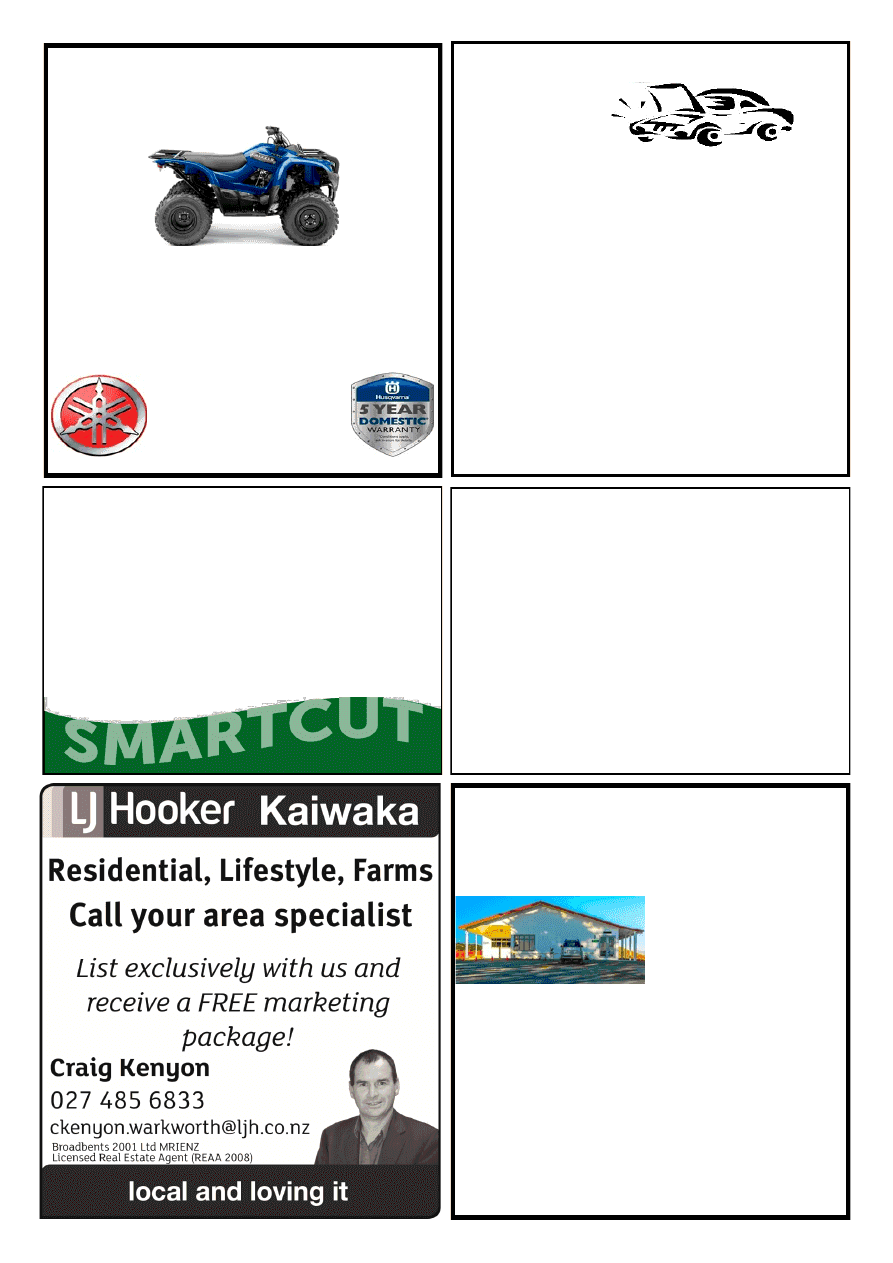 All your outdoor needs sorted so you don't have to... 
I can prune, chop, tidy, spray, mow, plant 
- you name it, I can do it! 
Residential & Commercial 
Lawn & Garden Care 
Call Rodney, your local  
lawnmowing contractor 
021 138 2344 
KAIWAKA 
MOTORCYCLES LTD
SALES – SERVICE – SPARES 
FARM BIKE SPECIALIST
PHONE 09 431-2127 
10 KAIWAKA-MANGAWHAI ROAD, KAIWAKA
Trimmers  
from $279
Chainsaws  
from $339
YAMAHA 
HUSQVARNA 
Te Pounga Marae 
130 Nathan Rd. Oneriri. Kaiwaka 0573 
COMPLEX FOR HIRE 
Functions 
* Weddings   *  Birthdays   
*Anniversaries 
* Meetings   * Wananga 
5 hour meeting 
* 12 hour stay   * 
Overnight 
*All welcome - No more Drink-driving 
Amenities: 
*Convo Combi Steamer * Bratt Pan * Dish 
Washer/Sterilizer * 3 Door Glass Chiller (walk in) 
etc…All Crockery * Linen Supplied * Central 
Heating and Air Conditioning and much more.  
Can also cater for small groups…. 
For more information please contact: 
Kim Wallace 
Home: 09 832 1133   Mob: 0211275340 
Email:  kimwallace@xtra.co.nz 
Twinkle Tow 'n' Tyre 
Think you'll get a better deal in the city? 
Ring us - it won't cost anything! 
1837 State Highway 1, Kaiwaka 
Phone 431 2823 
*W.O.F. 
*Tyres 
*Windscreen 
replacement 
*Chip repairs 
*Bulk Oil 
*Batteries 
*Welding 
*Custom built 
trailers 
*Trailer hire
UP-LINK 
CHRIS WARING 
FREEVIEW INSTALLATIONS 
T.V. - HOME THEATRE & 
HI-FI ADVICE/SET UP 
SKY ACCREDITED INSTALLER 
MOB.0273403747 HM.094312328 
EMAIL 
chrisandlorrainew@gmail.com
28 YRS EXPERIENCE OFFERING UNBIASED ADVICE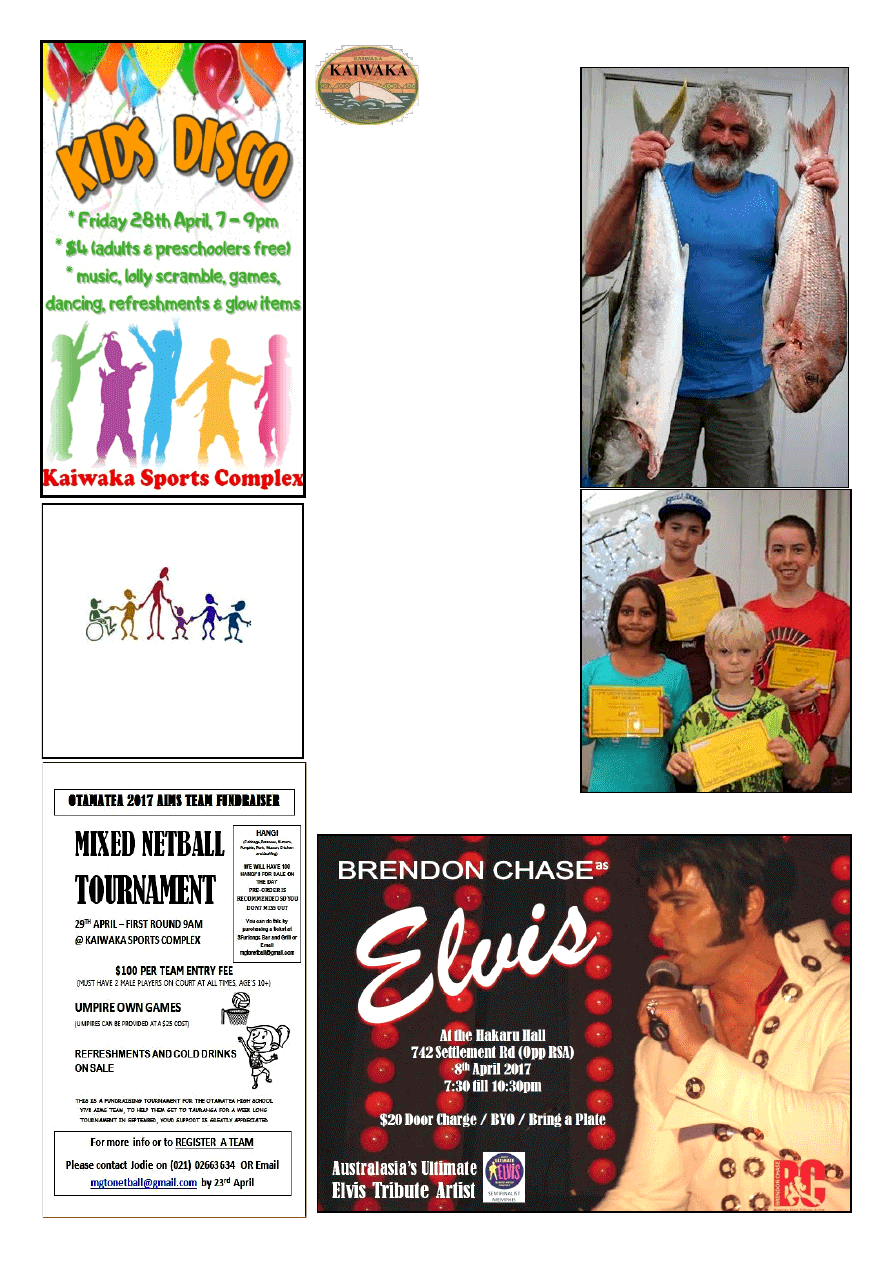 www.kaiwaka.co.nz 
Kaiwaka Bugle - 4 April 2017 
Page 17 
LINKING HANDS INC 
Maungaturoto - Kaiwaka - Mangawhai 
Meeting the needs of the community 
HEALTH SHUTTLE SERVICES 
Ph/fax 09 431 8969 
OFFICE HOURS 
Maungaturoto - Monday to Friday - 
10am to 4pm 
Closed Public Holidays 
POINT CURTIS CRUISING CLUB 
Congratulations  to  the 
prize  winners  of  our 
25th  and  26th  March 
Open fishing contest. 
Results for competition: 
Junior Section: 
Snapper:  1st  Tyler  Young  1.751kg, 
2nd:  Bob  Mills  1.628kg,  3rd:  Hunter 
Ries 1.595kg 
Kahawai: 1st: Pyper Buxton 
Eel: 1st: Bob Mills 1.761kg, 2nd: Bob 
Mills 1.760kg 
Senior Section: 
Snapper:  1st:  Pongo  6.051kg,  2nd: 
Louise  Allpress  5.000kg,  Justin 
Walker 4.129kg 
Kahawai: 1st: Andrew Kenny 2.311kg, 
2nd:  Linda  Leslie  2.162kg,  3rd: 
Quintin Brown 1.816kg 
Kingfish: 1st: Pongo 10.403kg 
Average  weight  prize  for  snapper  was 
a  rod  and  reel  and  was  won  by  Bob 
Mills with his 1.628kg snapper. 
Thanks to all those who entered and to 
those  who  brought  a  plate  for  the 
shared meal.  Thanks to weighmasters, 
raffle  sellers  and  those  that  helped  at 
the  auction.    Thank  you  to  our 
auctioneer  Dave  Lincoln.    Thanks  to 
those  who  bought  fish  at  the  auction! 
And  a  big  thank  you  to  Management 
and Staff at 3 Furlongs Bar & Grill for 
hosting  us  for  the  two  days  of  our 
contest. 
Our next fishing contest is the East VS 
West  on  21st,  22nd  and  23rd 
April.    Tickets  are  $30  per  adult  and 
$10  per  junior  and  will  be  available 
soon! 
Fish of the month is Kahawai.  Cut off 
date is 11 April 2017. 
Next committee meeting Tuesday 11th 
April, 2017 at 3 Furlongs Bar & Grill. 
     ~ Wayne Leslie, Commodore 
Photos -top: Pongo and his fish! Heaviest 
snapper (6.051kg) and heaviest Kingfish 
(10.403kg); Below: Junior Section Prize 
Winners:(Left to right) Pyper Buxton-1st prize Kahawai, 0.996kg, Bob Mills-1st Prize Eel, 
1.761kg, Hunter Ries-3rd Prize Snapper 1.595kg, Tyler Young-1st Prize Snapper 1.751kg.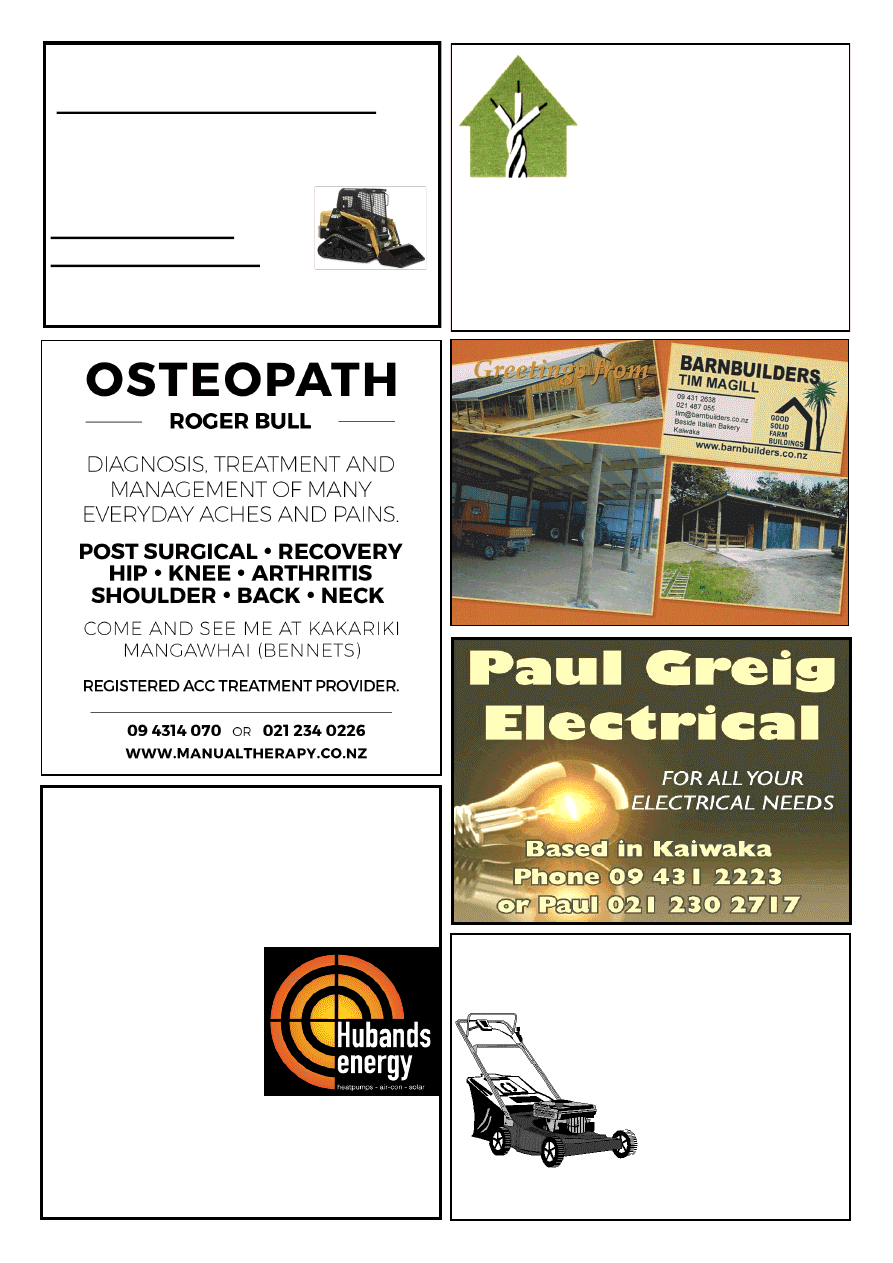 Natural Earth Ltd 
 Landscape and Bobcat services 
 : Driveways  :Landscaping  :Retaining Walls 
 : Hole Boring: Land Levelling :Trenching 
 : Decks :Fences :Sections Cleared: Plus much 
more 
Tel   09 4312885 
Mob 02102391280  
For A Fast Friendly  
Service Contact Tim Hicks 
Reyahn George 
Leng 
Registered Electrician 
Local, honest and reliable. 
For your residential and 
light-commercial projects. 
022 314 1068 / 09 431 2527 
Northland's Award Winning 
Solar Company
SEANZ Best Solar Business Winners 2015/16
EXCLUSIVE 10 year installation warranty 
FREE No obligation onsite quote
Complete systems 
from $5990
See our range of: 
✓ 
Heatpumps 
✓ 
Airconditioning 
✓ 
Hot Water 
Heatpumps 
✓ 
Central Vacuum Systems
09 430 0019             sales@hubands.co.nz 
15 Kioreroa Road, Whangarei
Locally owned and operated for 35 years 
WRIGHT MOWING 
MOWING AND MAINTENANCE 
GEOFF WRIGHT 
MANAGER 
ONERIRI ROAD 
KAIWAKA 
Mobile 021 0877 0230 
CALL ANYTIME - NO JOB TOO BIG OR SMALL 
COMPETITIVE RATES - ALL AREAS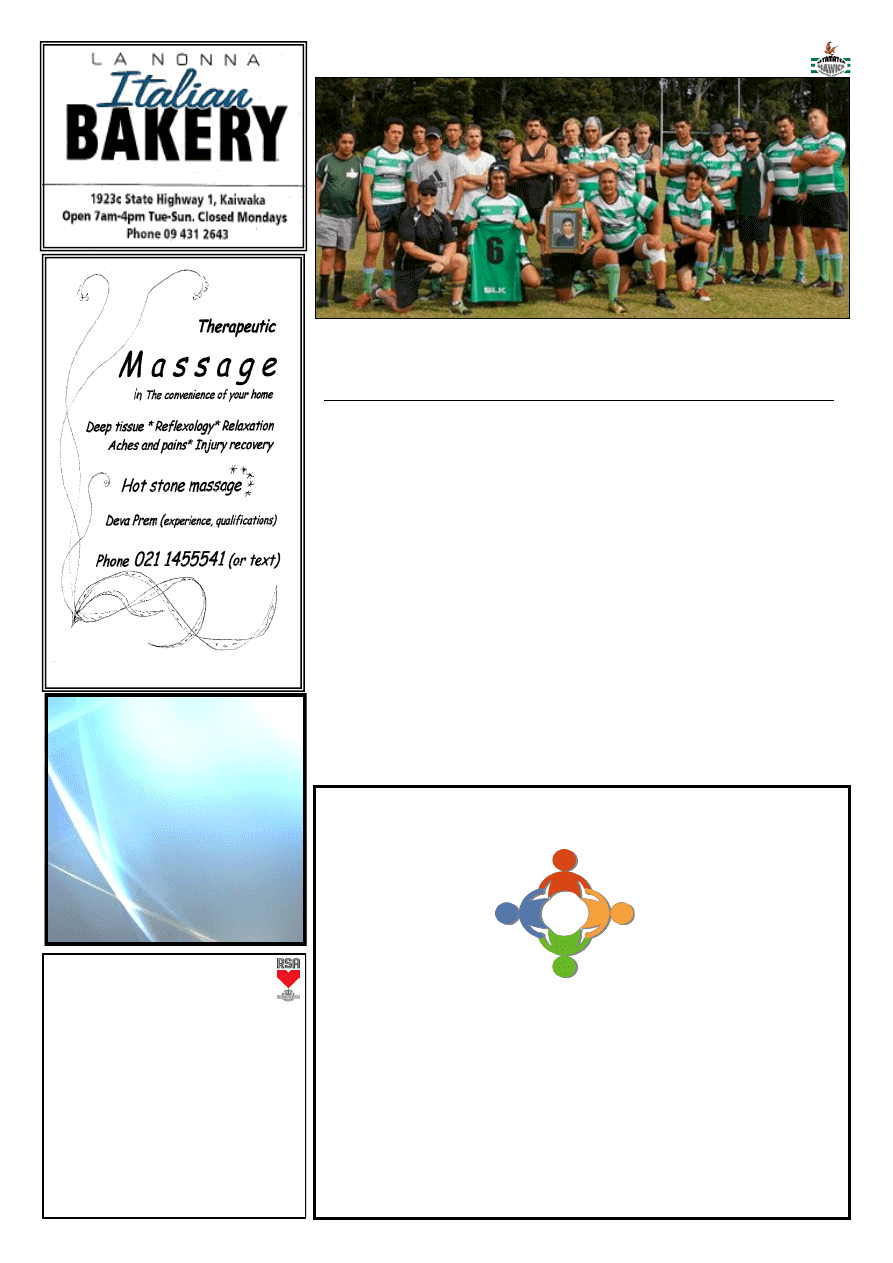 www.kaiwaka.co.nz 
Kaiwaka Bugle - 4 April 2017 
Page 19 
www.mangawhaimassage.co.nz 
HAKARU & 
DISTRICTS RSA Inc 
Each Friday night from 6.30pm meals 
will be served. 
Members & invited guests, new 
members welcome. 
Come along & enjoy our hospitality. 
2nd Friday of the month -  roast dinner or 
board menu. 
Last Friday of month - roast pork night 
&  
sing-along with Des Chitty.  
Ph Heather 4314668 or Jan 4314512 
Freeview  
Installations 
Richard Te Haara 
25 Marram Place 
Mangawhai Heads 
021 1104056 
kiwipride@xtra.co.nz
Our  new  Healthy  thinking  -  Healthy 
Emotions Group has started this month 
and has had some good response, don't 
be  shy  and  be  assured  of  your 
confidentiality.  If  you  wish  to  have  a 
quick chat with the groups facilitator if 
don't  feel  you  are  ready  for  a  group 
situation  then  come  down  earlier  on  a 
Friday at 10.30am and meet Kirsten. 
Within  the  next  6  weeks  we  will  be 
offering  a  weekly  homework  club  and 
one  on  one  tutoring,  and  hopefully  a 
holiday  programme  for  the  3rd  term 
holidays,  we  would  really  appreciate 
parents registering their interest with us 
so  we  can  make  sure  that  we  have 
adequate  space  and  resource.  Give 
Kirstie  a  call  on  431-2661  or  email 
kirstie.katesplace@gmail.com. 
The  community  garden  is  well  under 
way,  we  have  had  extra  soil  and  bark 
donated to us by Parker Lime which we 
are  immensely  grateful  for  and  will 
allow  us  to  grow  much  more  produce 
in the greenhouse over winter. We have 
three active volunteers who work in the 
garden  every  Wednesday  so  if  you 
wish  to  assist  us  provide  the 
community  fresh  produce  all  year 
round please feel free to give us a call 
or turn up at about around midday. We 
also  are  needing  an  experienced 
gardener  who  could  give  us  some 
guidance  on  planning  consistent 
harvest all year round. 
Please  keep  in  mind  we  are  here 
Monday  to  Friday  9am-4pm.  To  assist 
with employment, health, mental health 
support,  counselling,  advocacy,  advice 
and support. 
Kates  Place:  Community  Centre,  1960 
State  Highway  One,  Kaiwaka.  Phone 
431-2661. Everyone welcome!!! 
KATE'S PLACE 
HEALTHY THINKING - HEALTHY EMOTIONS 
A Practical 
Mental Health Support Group 
 
 
Healthy  Thinking  -  Healthy  Emotions is a group for people wanting to learn 
new  skills  to  manage  life's  challenges.  We  also  provide  education  about 
mental health issues and provide a space for discussion and support. 
Our  facilitator  is  Kirsten  Neckelson  who  works  for  Arataki  Ministries  Ltd. 
Arataki  provide  support  for  people  living  with  mental  health  or  addiction 
issues. 
If you want to strengthen your ability to live well despite the challenges that 
life throws at you, come along and check it out!!! 
Every Friday 11am - Free morning tea 
KATES COMMUNITY CENTRE 
1960 State Highway One, Kaiwaka, Phone: 09-431-2661 
This weekend the Otamatea Hawks and Old Boys Marist Premier Reserve teams 
played their annual game for the Jordan Kemp Memorial Trophy. 
Otamatea had a huge turnout with our local boys showing up in force in memory 
of JK. It was a tightly contested game with Old Boys Marist sealing the win in 
the last few minutes. 
OTAMATEA HAWKS RUGBY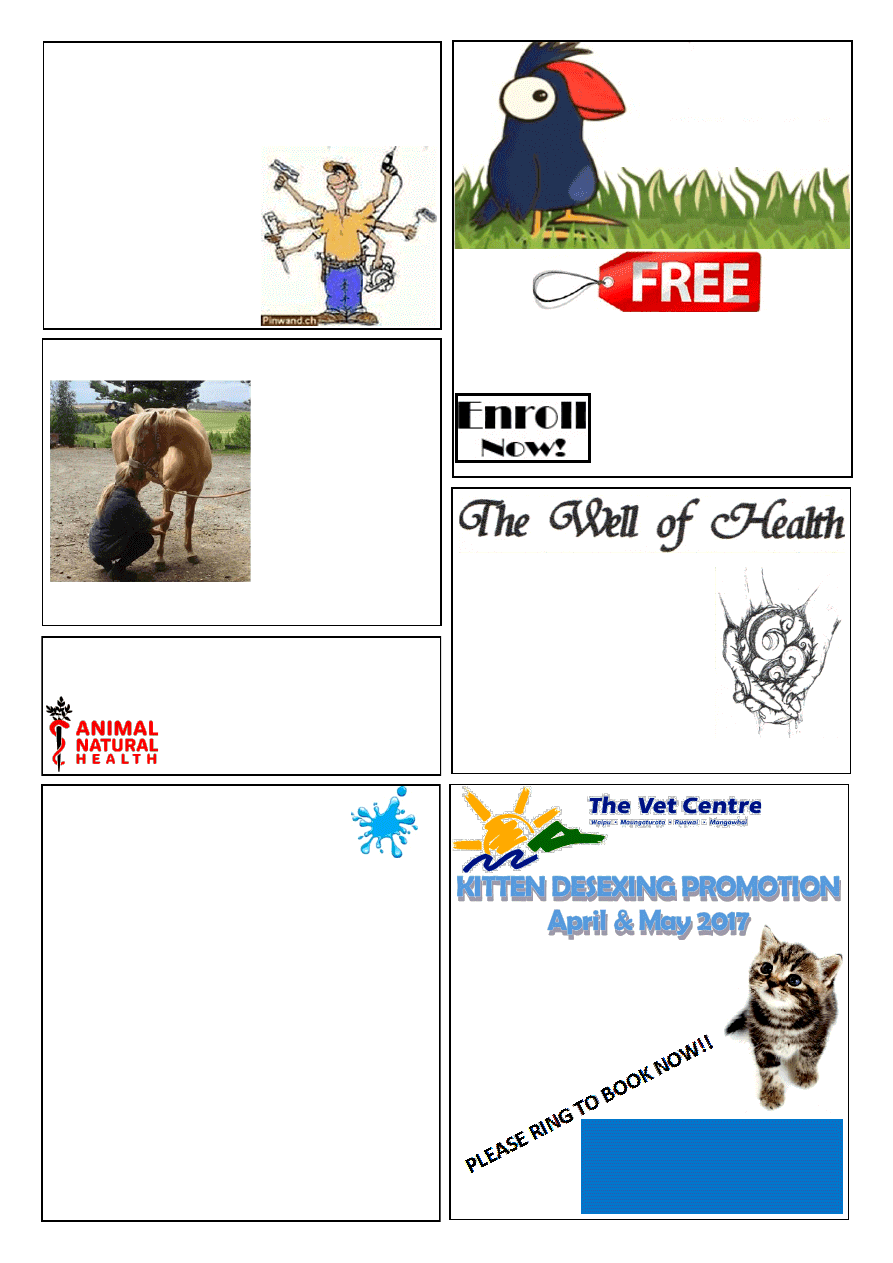 for children over 3 
• 
Day care for children from 0 to 5 yrs old 
• 
After school care for children over 5yrs old
 
Phone: 09 431 2842 
Email: smallpukekos@gmail.com 
Address: 8 Kaiwaka-Mangawhai Rd 
Website: www.smallpukekos.co.nz 
Small Pukeko's 
Early Learning Centre 
The Little Job Man
Are you tired of those little jobs not getting 
done ? 
Indoors  or outdoors 
Sick of waiting ? 
Give me a call to discuss 
what you need doing. 
Doug  0277132625 
Jill Shires 
Holistic Animal Therapies 
Northland 
021 0506 592 
 
Massage Therapy 
 
CranioSacral Therapy 
 
Emmet Muscle Therapy 
 
Animal Reiki 
 
Acupressure
www.jillshires.nz 
      Splash Fit
Gentle Water Based Exercise Class With 
Physiotherapist Amy Griffiths
Exercising in water can help arthritic conditions, 
recovery from injury, low back pain, recovery after 
stroke and recovery after joint replacement surgery. 
Exercising in a heated pool can help relieve pain, 
promote relaxation, mobilise joints, strengthen 
muscles, develop balance and coordination, and 
improve general fitness.
Where: Karen's Pool at Te Hana 
When: Wednesdays 1100-1200 
Cost: $7/session
For more information or to book your place 
call Amy: 021 2072729
Water you waiting for?! 
Animal Natural Health 
Open: Mon-Fri 9.30-5.00pm, Sat 9.30-4.00pm 
Ph: 09 431 2217
Next to Italian Bakery 
Visit us on Facebook 
Maungaturoto   Ph (09) 4318318 
Mangawhai  
Ph (09) 4314535 
Ruawai  
Ph (09) 4392506 
 
20% off kitten speys 
 
20% off kitten castrates 
Natural Health & Gift Shop 
Kiritea Atkins
Owner/Manager 
1929 State Highway 1 
P O Box 111, Kaiwaka 0542 
Ph/Fax 09 431 2799 
kiritea.atkins@hotmail.com 
www.kaiwaka.co.nz 
Kaiwaka Bugle - 4 April 2017 
Page 21 
LANDSCAPING 
4 IN 1 BUCKET 
TRENCHER 
POLE HOLES 
ROTARY HOE 
COMPACT ROLLER 
OFFAL HOLES 
CAN SUPPLY WOODCHIP & POST PEEL 
5 TON TIPPER 
FOR RELIABLE AND FRIENDLY SERVICE CONTACT DAVE 
Dave Hyndman 
 
KAIWAKA 
PH: 09 4312302 
MOB: 021 431 238 
09 4312918 
0274735171 
leecooper@xtra.co.nz 
LEE COOPER PAINTERS 
(Kaiwaka Based) 
*30 yrs Experience 
*Interior/Exterior 
*New and Restoration 
*Honest and Reliable 
*Free Quotes 
There are more people 
wanting to buy than 
there are houses 
available!
Vacant land, home and income, DIY dream … 
whatever your property's condition there is a buyer 
out there waiting to give you their money. 
Get your local agent's appraisal of your property to 
find out what's it's really worth. 
Contact Beth Stone today! 
Mob: 0274 937 801 
Email: beths@remaxrealty.net.nz 
RE/MAX Realty Group MREINZ 
Northern Properties Limited 
Licensed REAA 2008 
 LEABOURNS 
Passenger Service
Car & Van Hire, Bus & Coach Charters, Airport 
Transfers, Monthly Shopper Bus 
Phone 09 4237416 
Musculoskeletal, chronic pain, women's health, infertility, 
pregnancy, general wellbeing, stress, anxiety, headaches, 
depression, insomnia, respiratory, gastrointestinal,  
cosmetic acupuncture and much more.
Certified in kinesio taping.
For more information about treatments please 
visit our website or contact Lara: 
3 Cove Rd Waipu, Northland 
Tel: 0221 557811 or 09 432 1325 
Email: info@acubalance.co.nz 
www.acubalance.co.nz
Acupuncture treatments provided at Waipu Natural Health 
AcuBalance 
Lara Tremain
Registered Acupuncturist and 
ACC Treatment Provider 
Autumn is here, now is the 
time to think about 
undersowing.
Have you got excess grass? 
We can turn it into - Small 
Hay Bales or Wrapped 
Baleage/Haylage.
Contact Mark on 021 801 065 
or Lisa on 021 108 1057
We also do: 

 Fencing 

 Spraying 

 Mulching 

 Stockwork 

Stock Water Systems 

 Driveway & Track Maintenance 

 Tree Trimming 

Counsellor and Registered Psychotherapist 
Offers Supervision
Susan Matheson 
MNZAC 
Dip. Psychosynthesis Counselling and Psychotherapy 
Phone 09 431 2996                        Mobile 027 605 2427 

Today  a  man  knocked  on  my  door  and  asked  for  a  small 
donation towards the local swimming pool. I gave him a glass 
of water. 

I find it ironic that the colours red, white, and blue stand for 
freedom until they are flashing behind you. 

Did you know that dolphins are so smart that within a few 
weeks of captivity, they can train people to stand on the very 
edge of the pool and throw them fish? 

My therapist says I have a preoccupation with vengeance. 
WELL!!  We'll just see about that! 

I think my neighbour is stalking me  - she's been googling 
my name on her computer. I saw it through my telescope last 
night. 

Money talks ...but all mine ever says is good-bye. 

My  friend  says  to me:  "What  rhymes  with  orange?"  I  said, 
"No it doesn't!"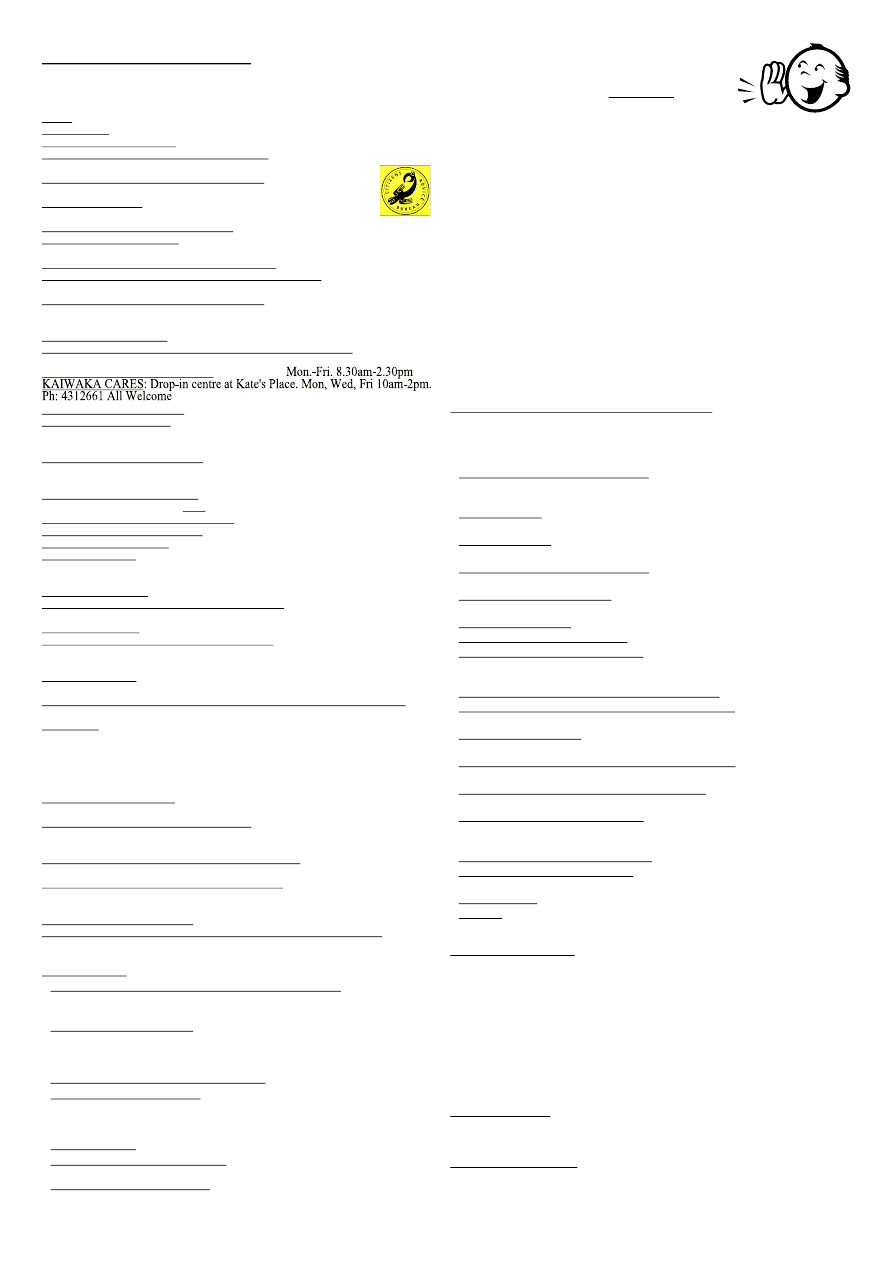 Next Bugle Deadline midday Friday 14 April 2017
WHAT'S ON
PLEASE ~ do let us know what is on - email 
kaiwakabugle@kaiwaka.co.nz 
Advertising in WHAT'S ON is FREE  
*07Apr~Cliff Richard & The Shadows, 7:30pm KWMH (ticket 
sales only, ph 021 215 4495, 4312 225 or 4312 234) 
*08Apr~Elvis at the Hakaru Hall, 7:30pm 
*16Apr~Moana, 2pm KWMH 
*19Apr~Local Vocals junior choir workshop 3:30pm Wellsford 
Community Centre cuppateajackson@gmail.com 
*21Apr~Poppy Day 
*21Apr~Manchester By The Sea, 7:30pm KWMH 
*25Apr~ANZAC Day 
*26Apr~Sports Awards Dinner, KSA, tickets from Jaques 
*28Apr~Kids' Disco 7pm KSA 
*29Apr~Mixed Netball Tournament, KSA 
*29Apr~TePounga Marae Fundraiser, 5:30pm 
*30Apr~Sing, 2pm KWMH 
*07May~Hakaru RSA AGM 1:30pm 
*24May~Basketball module starts, KSA 
KWMH = Kaiwaka War Memorial Hall; KSA = Kaiwaka Sports Association 
See www.kaiwaka.co.nz for more information 
HOUSEHOLD RUBBISH COLLECTION - Kaiwaka Pick up: 
Mondays = Green bags (Northland Waste - 09 430 3273) 
Wednesdays  = Blue bags and yellow recycling (at Jaques $3.00 
and $1.50) (Kaurilands 09 4392146) 
 DIABETES  Support  Group  -for  Kaiwaka,  Mangawhai, 
Wellsford  10am,  3rd  Friday  of  month  Ph:  Colleen  James  09 
4314238 
 DRINK CAN 'tear tabs' - for Starship Hospital- please collect - 
98 Kaiwaka Mangawhai Rd, leave in mailbox, Ph. 4312625  
 GENEALOGY - Wellsford: 1st Thursday in month Ph: 423 
7033; Waipu: 4th Monday in month Ph: 4312 725 
 GYMNASTICS  OTAMATEA  -  Tuesday  Ph:  Stephanie  022 
3624998 
 HAKARU PONY CLUB - Secretary Denise Rogers 021423376 
secretary@hakaruponyclub.co.nz  
 KAIPARA HUNT - Secretary Albert Doonenbal Ph 4312059 
 KAIWAKA BADMINTON -Tuesdays 7.30pm Ph: 4312345 
 KAIWAKA  DRAMA  CLUB  -  Dave  Edwards  021  611198  - 
KaiwakaDrama@gmail.com Monday 5:30-7:00pm KWMH - FB 
- "KaiwakaDramaClub" 
 KAIWAKA DRUM & DANCE CLASSES - 021 611198 
 KAIWAKA GARDEN & FLORAL GROUP - 2nd Thursday in 
month. Ph: 431 4767 
 KAIWAKA  CUBS  -  Thursdays  5.30-7pm,  Hakaru  Ph:Bruce 
4312542 
 KNITTING FOR WHANGAREI HOSPITAL - 2nd Tuesday in 
month, Archie Bull Hall 10am Ph 4314827 
 MANGAWHAI COMBINED PROBUS CLUB - 2pm, 3rd 
Thursday month, Senior Citizens Hall Mangawhai. Ph: 4315777 
 OTAMATEA GREY POWER - Kath Pattinson 09 283 2052, 
1pm last Wednesday of month, Anglican Church Hall, 
Maungaturoto 
 PT CURTIS CRUISING CLUB - Jean Ph: 4312227 (wk), 4312520 (hm) 
 RSA,Hakaru & Dist.Women - meet 1.30pm 4th Thurs in month 
Ph: 4314 668  
 TRAMPING - Mondays 9am-2:30pm Maria 4312 234 
 YOGA  -  Tuesdays  6:15pm,  Friday  8:30am  KWMH  Carla  Ph: 
021 296 8794 
HALLS FOR HIRE: 
 St.Pauls Archie Bull Hall HIRE $20 half day, $40 full day per 
hire, R. Morgans, Ph 4312365 
 Kaiwaka  War  Memorial  Hall  HlRE  -  Phone  4312725  or 
kaiwaka.hall.bookings@gmail.com 
 Hakaru Community Hall HIRE -Ph. 4312256 or 4312110 
 Te Pounga Marae queries - R. O'Leary 4312 423, J.Nathan 021 
186 7382 
 Kaiwaka Sports Association hire/queries - C. Anderson 4312051 
or kaiwakasports@gmail.com 
Justice of Peace:  
B.FJaques  4312  048;  L.Donaldson  4312  228;  A.F.Hargreaves 
4312 045, W.Howard 4312 725 - please phone to make sure they 
are available www.justiceofthepeace.org.nz 
Marriage Celebrants:  
L.Donaldson; A.F.Hargreaves; C.Rosseels, Y Osborne
LOCAL SERVICES 
*Emergencies - Ambulance, Fire, Police - dial 111 
*Non-urgent Police phone 09 4311150
A A: Meets Wed., 8pm Kaiwaka Ph: 4312228, 4315543, 0800229 6757 
AL ANON: In recess, contact Ph: 4312228 
ASUREQUALITY LTD (was AgriQuality) Call Free 0508 0011 22  
BUDGETING SERVICE, WELLSFORD: Free confidential advice & 
support for all areas of personal finance. Ph (09) 423 7123 
CAB-Citizens Advice Bureau.Wellsford Ph: 4237333 
0800 367 222 email:cab.wells@xtra.co.nz  
CIVIL DEFENCE - Kaiwaka Community Response Group: 
kaiwaka.civildefencecrg@gmail.com, 4312725 Wendy 
DOG/STOCK /NOISE CONTROL 0800 105 890 
FUNERAL SERVICES: Morris & Morris Ltd, 
Whangarei - Bev Jaques Ph:4312367 or 0800667747 
GRANDPARENTS Raising Grandchildren: Dianah Roberts 0223819539 
HAKARU & DISTRICTS MEMORIAL RSA (Inc) 733 Settlement Rd, 
Hakaru. Ph 4312 176 or Graeme Hitchcock (President) 431 3064 
HAKARU LANDFILL/Transfer Station:Open everyday except 
Tuesday10am-4pm.Ph4312629 Cost-$55 trailer load up to 1 cubic metre. 
Ph:4258567 - office 
INLAND REVENUE: Last Friday each month, 11-3pm Ph4312661 
KAIPARA DISTRICT COUNCIL www.kaipara.govt.nz:  
Help Desk FREEPHONE 0800 727 059  
KAIWAKA KOHANGA REO: Ph:4312620 
KAIWAKA CEMETERY: Ph: 4312045 
KAIWAKA LIBRARY: kaiwaka.library@gmail.com  
Mon. 4-6pm; Wed., Thurs., Fri., Sat. 10am-2pm Ph:4312539 
KAIWAKA PLAYCENTRE: Ph Juanita 0274134904; open Mon, Wed, 
Fri 9am-12pm. Hastie Lane 
Monday to Friday 9.00am - 12 noon. 
KAIWAKA POST OFFICE:Ph:4312 431  
Post Code: 0573 for RD2 and 0542 for all Kaiwaka Post Office mail 
KAIWAKA PRIMARY SCHOOL: Ph: 4312309   
KAIWAKA SPORTS ASSN: Ph 4312005; 4312129 gym 
KAIWAKA ST JOHN: Manager Steve Rosser 09 4318403, 021 2316836 
KATE'S PLACE Community Centre - Employment services, Free Health 
Nurse, Advocacy, Osteopath, A.A., Legal Advice. 4312 661 
LINKING HANDS Health Shuttle Ph 4315906 or 09 4318969 
MINISTRY FOR PRIMARY INDUSTRIES - General inquiries Call 
Free 0800 008 333 
NORTHPOWER: Faults Kaiwaka area 0800 104040 
OTAMATEA COMMUNITY SERVICES: Counselling, parent coach, 
Family Support worker, budget advice, food bank. Mon-Fri 9am-3pm. Ph 
09 431 9080 http://www.otamateacs.org/ 
PARENTPORT: Free, practical family support service Puhoi to Paparoa 
Ph or txt: Dianne 027 280 5093 or 09 425 9357 
PERSONAL DEVELOPMENT COACHING, GROUP FACILITATION:  
Sabine Druckler 4312231 
PLUNKET: Kaiwaka - Kaiwaka War Memorial Hall: Clinic 1st Wednesday of the 
month; Coffee Group at 9:30. Mangawhai  - Rose Madsen Cottage, Mangawhai 
Domain,  Moir  St:  Clinic  1st  and  3rd  Monday  of  month;  Young  Babies  Coffee 
Group  2nd  and  4th  Monday  10  am;  Plunket  Playgroup  every  Thursday. 
Maungaturoto - Maungaturoto Congregational Church, 100 Hurndall Street East: 
Plunket clinic 2nd and 4th Wednesday. Cynthia 09 431 8187 or 027 675 3488 
PLUNKET HELPLINE -0800 933 922 (24 hours) 
TAITOKERAU COMMUNITY LAW: Free confidential legal advice and 
assistance, 2nd
Thursday
 of each month. Ph: 0800 155 529 for 
appointments.  
TE KOROWAI AROHA O NGATIWHATUA Ph: 4312675 
(The Cloak of Love of Ngatiwhatua) Support and Maori Consultancy.  
VETERINARY SERVICE MANGAWHAI: 
Ph: 4314535 Mon-Fri 8.00-5.00, Sat 9-12, a/h appt. 
WELLSFORD DOCTORS: Ph: 4238 086 
WOMEN'S WELFARE LEAGUE & Reaching Out For Youth:  
4 Kaiwaka-Mangawhai Rd, M Morgan 4312293 
CHURCHES:
 
Kaiwaka Revival Church - Your Community Church: Sundays 10am & 
6pm. Ph: Pastor Tawhiri 09 4312 571 or Pastor Paul 09 4312 068 Visit 
us at www.facebook.com/kaiwakachurch 
 
St Paul's Anglican Church 1st Sun. 9.30 am (Eucharist), 3rd Sun. 9.30 
am (Family Service). Contacts: Church Office 09 431 4122; M. 
Hargreaves 431 2295; C. Bygrave 431 2057; or Rev. Wayne Thornton 
Ph 431 5650 www.mangawhaianglican.org.nz 
 
Church of Christ the King, Mangawhai:9.30am every Sunday 
 
St.Mary's Catholic Church: Maungaturoto – Griffins Road, Saturday 
evening Vigil Mass 6pm; Mangawhai – Senior Citizens Hall, Sunday 
Mass 8:30am; Wellsford – Matheson Road, Sunday Mass 10:30am;  
Mid-week Mass times and all enquires to Fr. Bill Fletcher – phone 423 8170
 
Baptist Church: Sun. 10.30am Mangawhai Snr Cit.Hall.Ph:4312339 
 
Cause Way Church Mangawhai: Sundays 10.15am, Mangawhai 
Community Recreation Centre, Insley St. Ph: 09 4314782