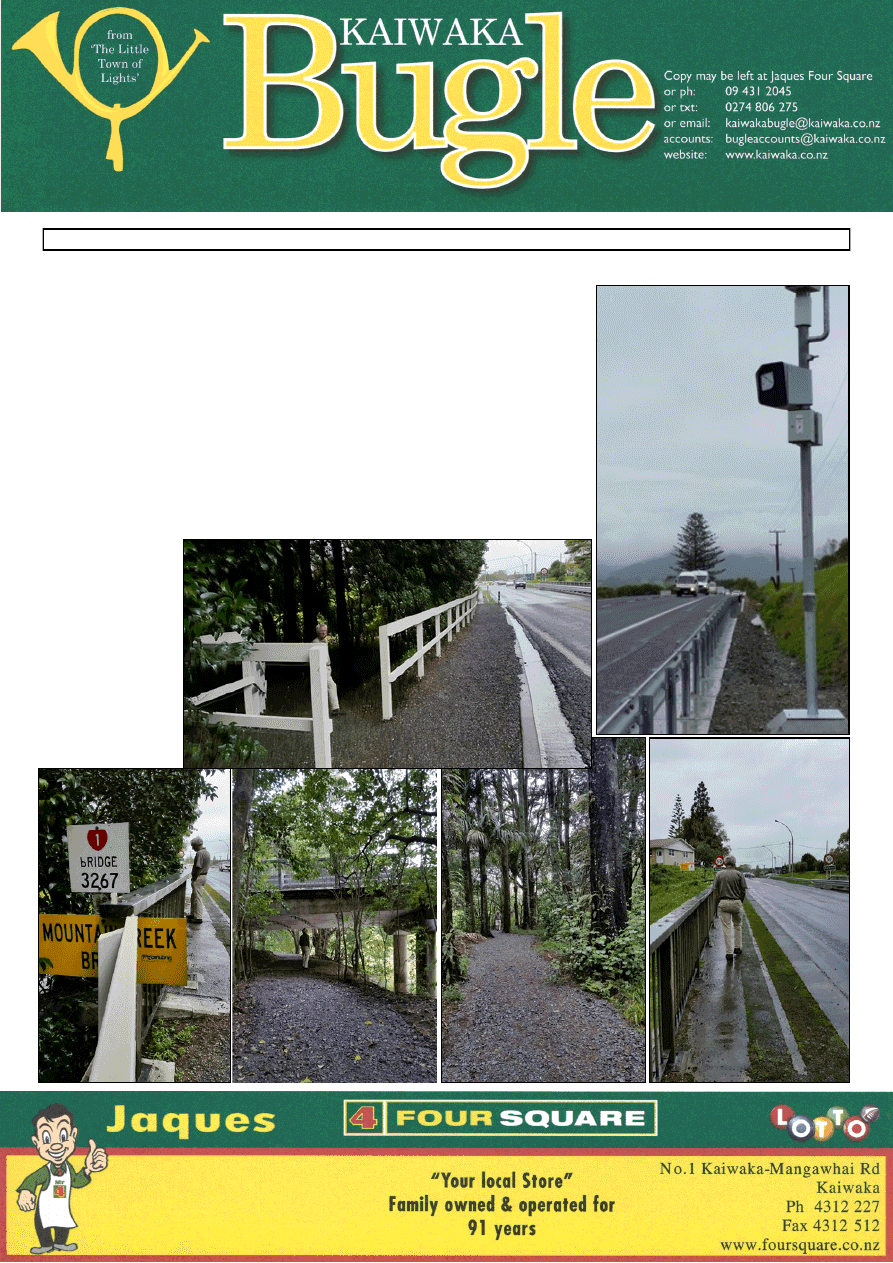 www.kaiwaka.co.nz 
Kaiwaka Bugle - 18 April 2017 
Page 1 
No: 07 
18 April 2017 
Summer Trading Hours: 
Monday to Friday 8:00am - 6:30pm 
Saturday 8:00am - 7:00pm 
Sunday & Public Holidays 9:00am - 5:00pm  
KAIWAKA CAN PROJECTS ON THE MOVE 
After more than two years working as a 
community  group,  it  is  good  to  see 
some  of  the  Kaiwaka  Can  projects 
starting to appear round the district. 
The  path  under  the  Mountain  Creek 
Bridge  is  finished  –  see  the  photos 
below.  Many  thanks  to  Council  for  all 
the work they have put into this. We are 
just waiting on NZTA to come up with 
safety railing over the bridge. 
You may (or may not) have noticed the 
new speed camera south of the township 
- photo looking north. Take a look next 
time you travel that way and check your 
speedo at the same time. 
Talking  of  speed,  NZTA  has  made  its 
final  decisions  on 
the  speed  limit 
through  Kaiwaka 
and it will begin to 
take  effect  this 
month.  It  is  going 
to  be  60kph  all  the 
way  through  but 
the 
northern 
boundary for the 60 
zone is going to be 
stretched  up  to  the 
entrance 
of 
McLean Park. 
There will be extra signage and on road 
reminders of the new speeds as well as a 
second  "Your  speed  is"  sign  for  traffic 
going  south.  More  information  on 
pedestrian  safety  zones,  footpaths  and 
planting coming very soon. 
The  new  equipment  for  the  playground 
has  been  ordered  and  as  soon  as  it  is 
installed, the fence will go in as well. 
Lots of other ideas are being worked on 
by Kaiwaka Can but we are delighted to 
see  some  real  action  on  some  of  the 
projects that have been talked about for 
a long time. 
~ Derek Christensen, Chair Kaiwaka Can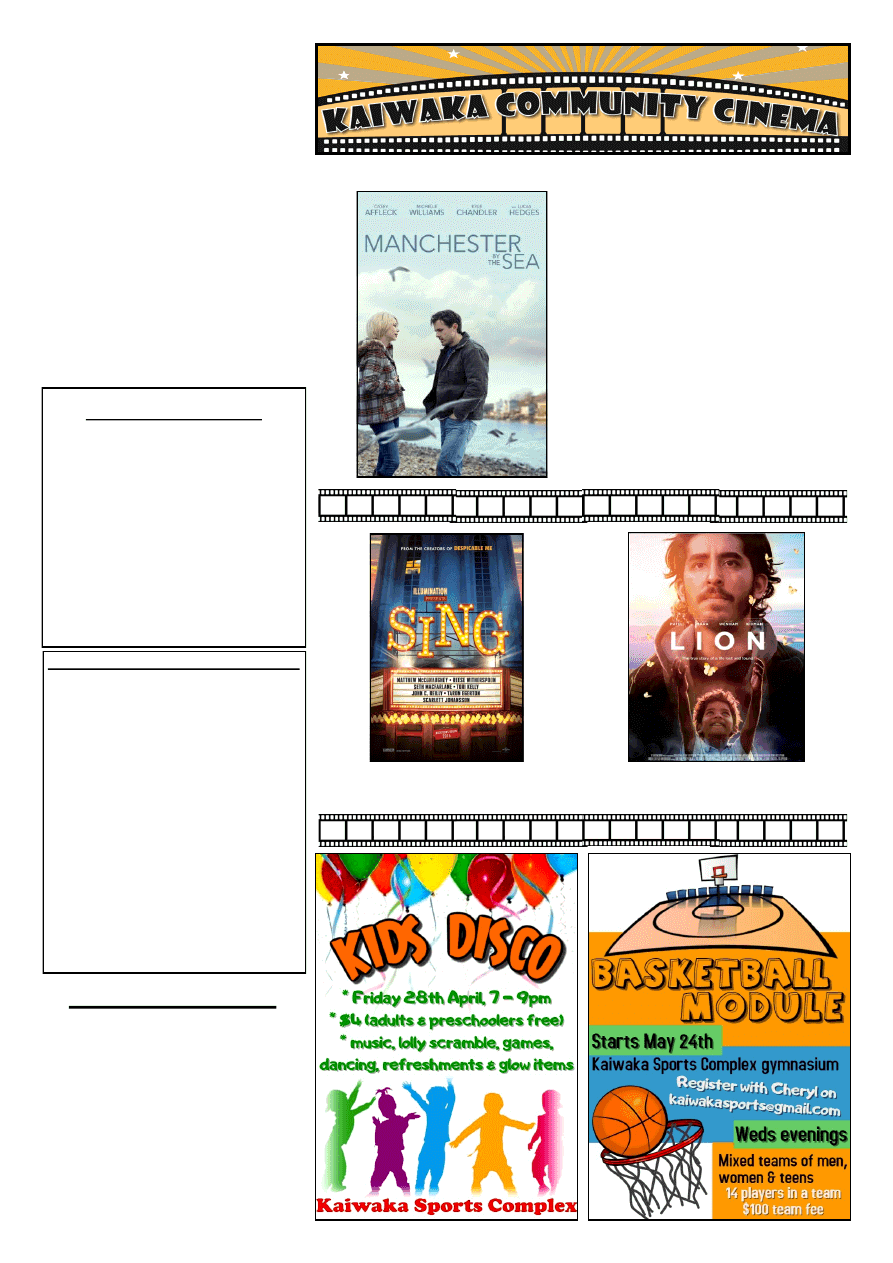 At Kaiwaka War Memorial Hall . Adults $10, Kids (under 16) $5, Family Pass (2 adults + 3 children) $25 
ABOUT TOWN 

Condolences to the family of Jill Linton, 
who passed away recently. 

Well  done  Otamatea  High  students  - 
great  to  see  NCEA  result  in  yesterday's 
Herald! 

 Thank  you,  Jan  Wickens.  Jan  has  just 
retired  after  27  years  as  community  nurse 
at  North  Shore  Hospice.  The  Wickens 
family once lived on the Oneriri. 

Seen  in  Kaiwaka  last  week-  Matt  King, 
National Party's candidate for Northland. 

 60 kph through town by the end of April 
- see the article on the front page. Look out 
for that and the new speed camera! 
KAIWAKA BUGLE No. 7 
18 APRIL 2017 
CONTENTS 
Page 3: Public Notices, Classified 
Page 5: Kaiwaka School 
Page 7: Mgto Community Charitable 
Trust, Mangawhai SeniorNet 
Page 9: Kaiwaka Sports Association 
Page 11: Permaculture Conference 
Page 13: Otamatea High School 
Page 15: Lest We Forget 
Page 17: Kaiwaka Tennis, St John 
Bugle 8 will appear 2 May 
Contact for advertising, reports, articles 
or information can be made by 
Email kaiwakabugle@kaiwaka.co.nz 
Ph: 09 4312 045 (Lindsey) 
Txt: 0274 806 275 (Wendy) 
Copy  may  be  left  at  Jaques'  Four 
Square. 
Kaiwaka Bugle Advertisements 2017: 
All 
copy 
and 
queries 
to: 
kaiwakabugle@kaiwaka.co.nz 
Our A4 page is divided into 6 columns & 
8 rows (48 blocks), with a 1cm margin. 
Ad  sizes:  1/16  page  (3  blocks)  $5;  1/8 
(6 blocks) $8; 3/16 (9 blocks) $12.  
Classified  ads:  $4  per  entry  (max.  30 
words, max. 4 repeats). 
Payments  can  be  made  online,  posted 
or left at Jaques Four Square Store. 
We  use  Microsoft  Publisher,  and  can 
work  with  most  common  image 
formats, Word, Excel, and PDF files. 
Accounts:  
Email: bugleaccounts@kaiwaka.co.nz 
The  Kaiwaka  Bugle  is  a  community 
newspaper run by volunteers.   
Articles, etc. printed are not necessarily 
the opinion of the Bugle Team. 
Kaiwaka Bugle 
Founded May 1978 
We appreciate articles and photos about local 
events, etc, as well as ads and suggestions. 
Copies available in Kaiwaka at Jaques Four 
Square, Kaiwaka Postal Centre, Shamrock 
Service Station, Animal Health Centre, 
Kaiwaka St John shop. 
Also outlets in Maungaturoto, 
Mangawhai and Paparoa. 
Can be viewed online at  Facebook or 
www.kaiwaka.co.nz/Bugle  
Or a copy can be posted to you if you supply 
stamped, self-addressed DLE envelopes. 
Manchester By The Sea 
Friday 21  April 7:30pm (R13) 
(please note rating - persons under 13 
will not be admitted)
An uncle is obliged to return home to 
care  for  his  nephew  after  his  brother 
dies.  Not  knowing  that  he  has  been 
named guardian, he struggles with the 
decision.  Throughout  the  movie  he 
recounts  past  memories  that  caused 
him to leave Manchester and distance 
himself from his past.  
Starring  Casey  Affleck,  Michelle 
Williams, Kyle Chandler 
Sing 
Sunday 30 April 2pm (G) 
Lion 
Friday 5 May 7:30pm (PG)
Supper Movie Special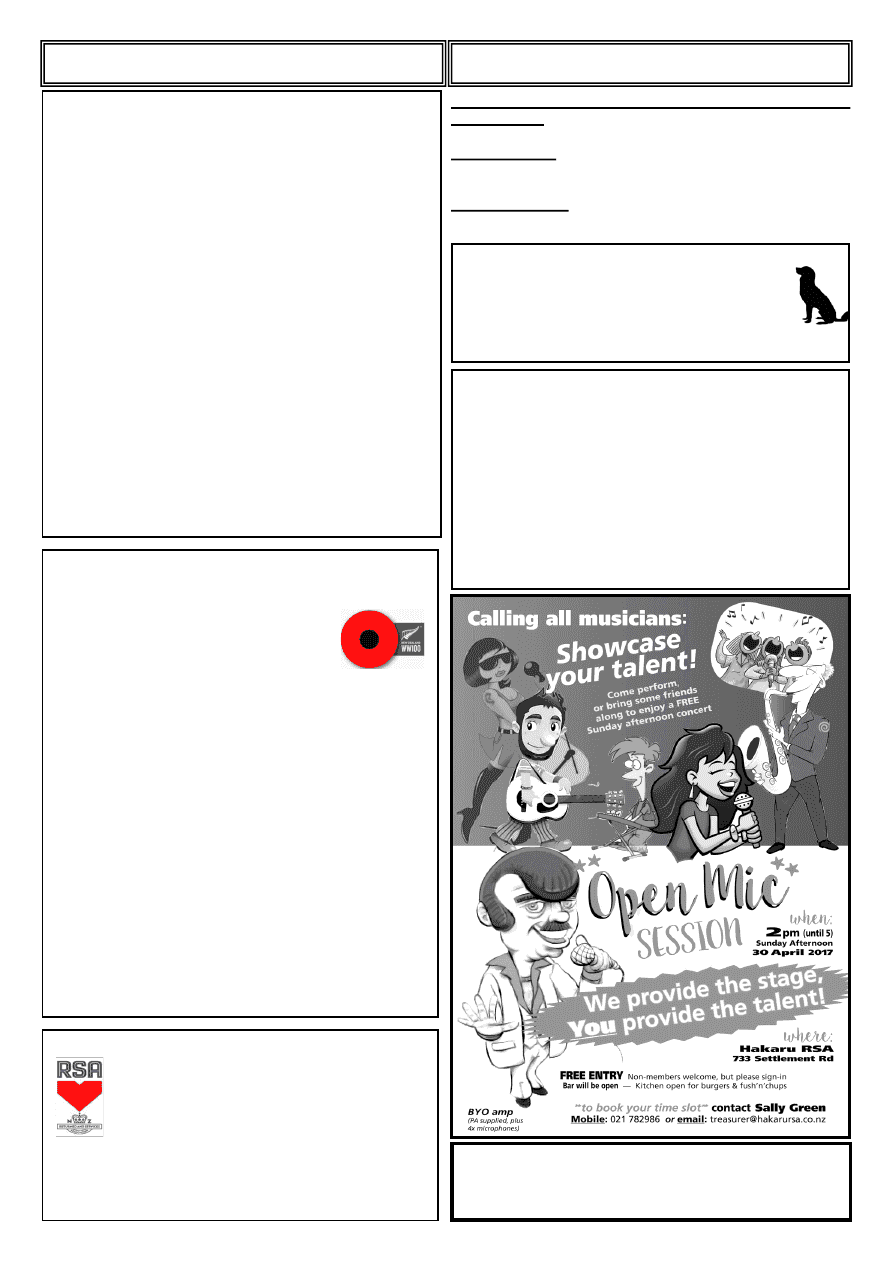 www.kaiwaka.co.nz 
Kaiwaka Bugle - 18 April 2017 
Page 3 
PUBLIC NOTICES 
CLASSIFIED 
MARRIAGE CELEBRANT / WEDDING EVENTS 
PLANNER:  Yvonne  Osborne  Ph  0274  989  814, 
yvonne.osborne@xtra.co.nz 
FOR  SALE:  Nissan  ute  2002  Navara,  excellent 
condition,  low  mileage.    Ph  Shazza  4312  700  or  021 
161 8446 
LEASE  LAND:  In Topuni by the main highway, 2.5 
acres, long term. Ph Shazza 4312 700 or 021 161 8446 
Proverbs 10:17   
He who heeds discipline shows the 
way to life, but whoever ignores correction leads 
others astray.
Te Pounga Marae Fundraiser 2017
Maori Kakahu Fashion Parade
Venue: Te Pounga Marae 
Date: 29th April 2017 
Time: 5.30pm 
Cost: $25.00pp or $180 per table 8 per table
Includes: 
Fashion Parade 
Band 
Meal: Te Pounga Tasty Platters... 
Auctions 
Raffles 
Fun and Laughter
BYO…
Come see our Mokopuna, Rangatahi and Kaumatua 
walk down the red carpet showing some of the latest 
fashions around today, and some of the kakahu that 
have been given as koha we will be auctioning on 
the night, you can place orders or buy… come and 
have a bit of fun and share a meal with 
us  ..Naumai...Haeremai...Whanau
Please contact Kim on 0211275340, Tina  on 
0224162080, or Jeanette on 0211867382... 
Hakaru and Districts Memorial RSA (Inc) 
Annual General Meeting 
Sunday 7th May 2017 
1.30pm in the Hakaru RSA 
Agenda: Apologies, Financial and Reports, 
Election of New Committee, General Business. 
Nomination for Committee and Notices of Motion need to 
be passed to the Secretary by Sunday 30th April 2017 
Only Financial Members permitted to attend 
ANZAC DAY - 2017 
HAKARU AND DISTRICTS MEMORIAL RSA 
733 Settlement Rd, Hakaru 
PARADE DETAILS 
• 
ASSEMBLE - 1000 Hrs (10:00 am) 
• 
PARADE FALL IN - IN CARPARK 1020 Hrs 
(10:20 am) 
• 
MARCH ON 1030 Hrs (10:30 am)   
    (Can happen earlier!) 
• 
WREATH LAYING 
• 
LOWERING OF FLAG - LAST POST 
• 
SHORT PRAYER by PADRE 
• 
RAISING OF FLAG - REVEILLE 
• 
SERVICE - ASSEMBLE N CLUBROOMS - 1100 
Hrs (11:00 am) 
• 
LIGHT LUNCH SERVED 1200 Hrs (12:00 pm) 
     (approx) 
Please call Bill Warren Ph 09 431 2092 / 021 0254 
5955 email bill.warren@clear.net.nz  
or 
Neville Andrew Ph 09 431 8191  
email naandrew42@gmail.com  
if you wish to lay a wreath. 
St Paul's Church, Kaiwaka 
Change of Service Times 
From  Sunday  9th  April,  the  Anglican  churches  at 
Mangawhai  and  Kaiwaka  will  have  a  new  starting 
time of 9.00 am (instead of 9.30 am).  
This  will  allow  the  Priest-in-Charge,  Rev.  Wayne 
Thornton,  to  attend  services  more  often  as  he  also 
takes  a  service  at  All  Saints  Church,  Wellsford 
at 11am. 
Enquiries, please phone the church office: 
Ph. 09 431 4122 
MOLESWORTH SHEEP DOG TRIALS 
Thursday and Friday 
20 and 21 April 
616 Oneriri Road, Kaiwaka 
Further information phone Robert 4312192 
Feel free to come and watch top working dogs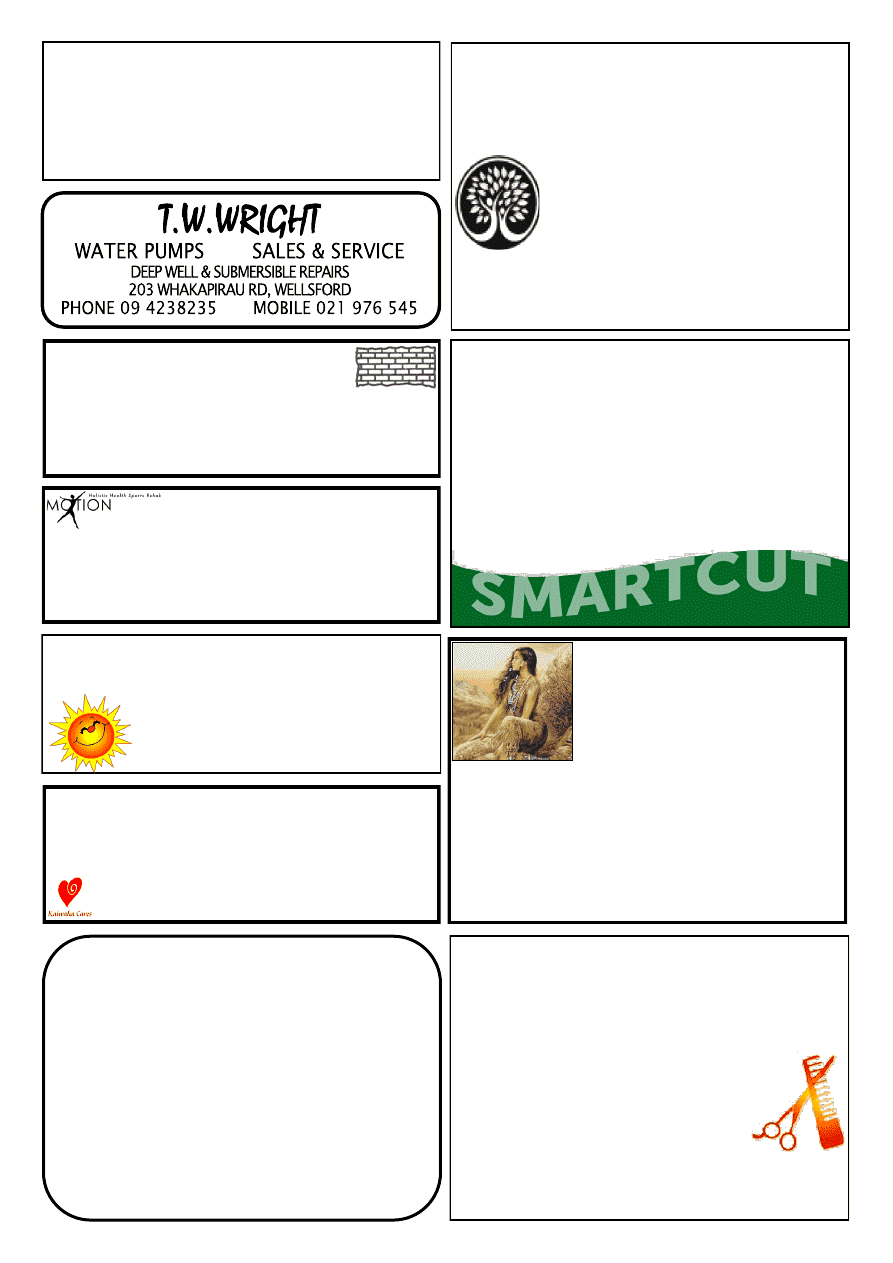 UP-LINK 
CHRIS WARING 
FREEVIEW INSTALLATIONS 
T.V. - HOME THEATRE &  
HI-FI ADVICE/SET UP
SKY ACCREDITED INSTALLER
MOB.0273403747 HM.094312328 
EMAIL 
chrisandlorrainew@gmail.com 
28 YRS EXPERIENCE 
OFFERING UNBIASED ADVICE 
AFFORDABLE PRICES! 
MENS DRY CUT FROM $18.00 
LADIES DRY CUT FROM $28.00 
KIDS DRY CUT FROM $15.00 
COLOUR CUT FROM $90.00 
JUST CUTS'AND   
MORE 
021 165 2629 
NOW SELLING: scented tealights, incense, smudge sticks, 
copper bracelets, aurora ball crystals, dream catchers, healing 
stones, rose quartz, cds, and much more. Open 6 days. 
Waipu Natural Health 
3 Cove Road, Waipu  (opposite the Pizza Barn) 
Ph: 09 432 1325 
www.waipunaturalhealth.co.nz
Clinical Nutritionist-Hair Analysis for Masked 
Allergies, Ozone Therapy, Prolotherapy, 
Naturopath-Medical Herbalist, Registered 
Massage Therapists, Reflexology-
Craniosacral Therapy, Acupuncture-Facial 
Acupuncture, Kineso Taping, Hypnotherapy, 
Counselling, ThetaHealing, Beauty Therapy
KIDS DAY – AFFORDABLE HEALTH SUPPORT 
FOR KIDS – every Wednesday 
(call us or drop in)
Gift Vouchers available
All your outdoor needs sorted so you don't have to... 
I can prune, chop, tidy, spray, mow, plant 
- you name it, I can do it! 
Residential & Commercial 
Lawn & Garden Care 
Call Rodney, your local  
lawnmowing contractor 
021 138 2344 
WAIPU OSTEOPATH 
Maria Gabriel  ACC Registered Osteopath 
8 The Centre, Waipu 
Monday to Thursday  
Freephone 0508 924786 (0508 WAIPUOSTEO) 
www.getinmotion.co.nz  No doctor referral required 
FREE GRAZING WANTED 
Small or large block 
Can do some fencing or water 
Phone after 6pm 
4312 006 
BRICK/BLOCKLAYER 
All aspects of masonry:  
Fireplaces, Restoration & Remedial Work. 
JAMES EAGLETON 
Tel. (09) 431 2514    Mob. 0274 749 232 
jajueagles@yahoo.com.au 
210A Pukenui Road, RD2 Kaiwaka 0573 
Trails end 
spiritualist gathering  
Last Sunday of every month  
11.30-2pm tea/coffee provided  
$5koha for all inquiries  
0211652629 evenings 099450753 
Trail.end@hotmail.com 
Bringing together light minded people 
Guest speaker each month and 
Workshops every 2nd Wednesday  
6:30-7:30pm
THE SUNSHINE GIRLS
Efficient and reliable help with 
your housework. 
Ph 4312 532 
Community Drop-In Centre
Open 10am – 2pm  
Monday - Wednesday - Friday 
WIFI, printing & scanning available at Kaiwaka's 
own drop-in social space.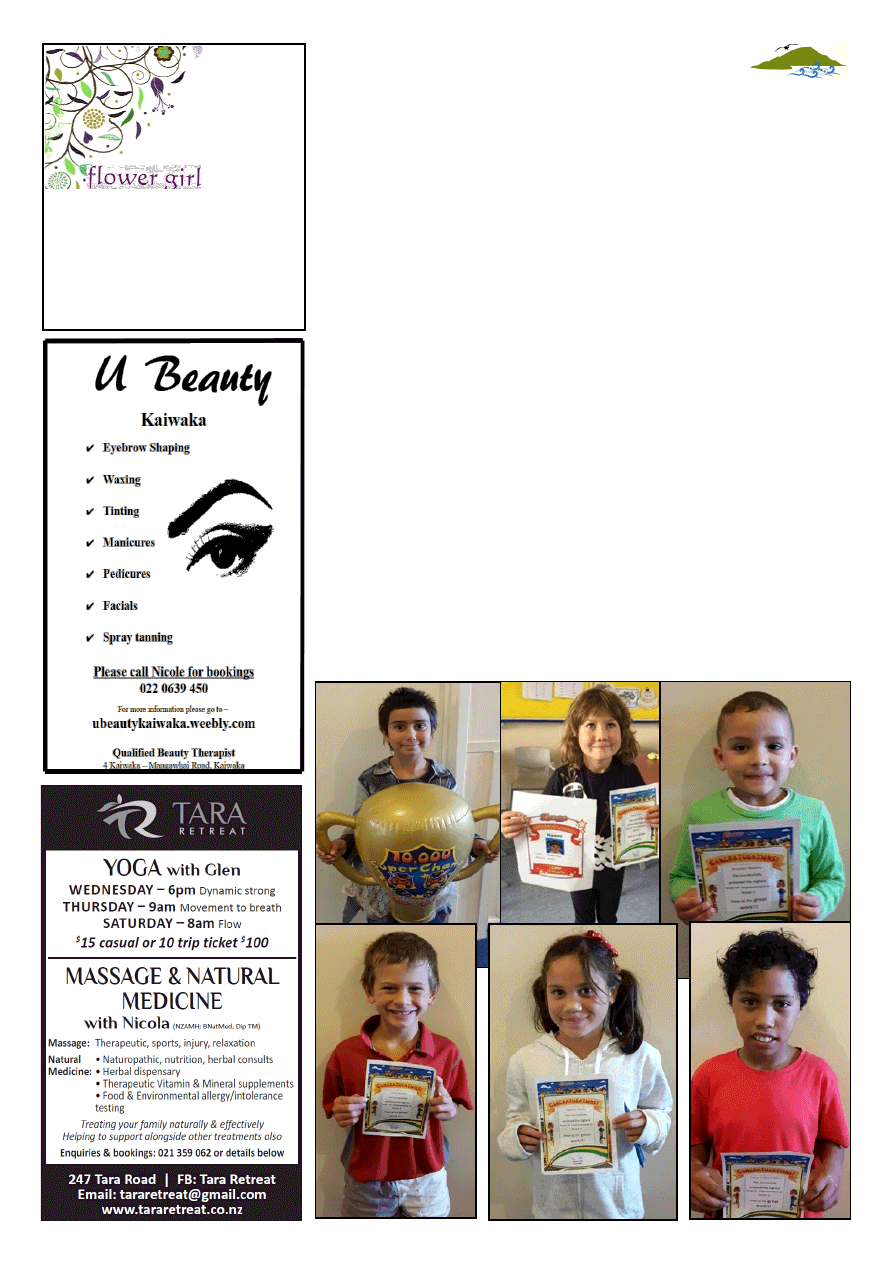 www.kaiwaka.co.nz 
Kaiwaka Bugle - 18 April 2017 
Page 5 
Kaiwaka 
Good 
Sorts 
Do you know 
someone in our 
community who 
is deserving of a 
beautiful bunch 
of flowers? 
Send an email to us at 
kaiwakabugle@kaiwaka.co.nz 
or drop a note to Jaques Four Square to let 
the Bugle team know. 
We will choose a recipient to receive 
flowers from Lindy the flower girl. 
lindywatson@hotmail.com 
4312 847 
Board of Trustees 
You 
may 
have 
noticed 
the 
transformation of the school in terms of 
the paint job - things are looking pretty 
vibrant! 
Many  thanks  to  our  fabulous 
caretakers,  the  grounds  are  looking 
great  -  if  you  get  a  chance  go  for  a 
walk down the path at that back of the 
school to the church and you will see a 
lot of progress. 
Camp  was  a  huge  and  fun  success  as 
was the junior fun day. 
You  may  have  heard/read  that  our 
special  school  is  now  part  of  a 
Community of Learning (CoL) with the 
other primary schools in our immediate 
region  -  Mangawhai,  Maungaturoto, 
Paparoa  and  Matakohe  -  as  well  as 
Otamatea  High  School.  Ours  is  called 
the  Twin  Coasts  CoL,  the  concept  of 
CoLs  is  new  government  initiative. 
Communities of Learning are groups of 
kura/schools that come together, along 
with  their  communities,  to  raise 
achievement for all tamariki and young 
people by sharing expertise in teaching 
and learning (ako), and supporting each 
other.  All  principals  of  the  fore-
mentioned schools are involved as well 
as a BOT rep of each - we are fortunate 
enough  to  have  Blake  Worsfold  as 
ours.  As  stated,  this  is  a  new  concept 
and in the early stages of setup so more 
information will be available over time. 
If you are particularly interested check 
out 
  http://www.education.govt.nz/assets/
Documents/Ministry/Investing-in-
Educational-Success/Communities-of-
Schools/Communities-of-Learning-
Guide-for-Schools-and-Kura-web-
enabled.pdf 
~Naomi Walker, 
Kaiwaka School BOT  
Triathalon 
Our  triathlon  was  fantastic,  there  were 
so  many  entries  and  all  the  kids  were 
enthusiastic  and  well  prepared.  Thank 
you to all those who helped on the day, 
and  to  Anna  Elworthy,  who  organised 
the event.  
Results:  Year  1  and  2:  1st  Brooklyn 
Hemara, 2nd Toby Walker, 3rd Rylee-
Jae  Fisher.  Year  3  and  4:  1st  Titan 
Strickand,  2nd  Willow  Woodman,  3rd 
Paikea  Littlejohn.  Year  5  and  6:    1st 
Anahera Worsfold, 2nd Dalana Stonex, 
3rd Keanu Adolph. 
Parent Interviews 
Parent  interviews  have  gone  well. 
Eighty  three  out  of  118  children  have 
had  a  parent  attend  an  interview  with 
the  teacher  -  70  %  attendance.  If  you 
have missed out, please ring the school 
to  arrange  another  time  with  the 
teacher.  
Good  bye,  summer,  roll  on  winter! 
This  very  busy  term  has  come  to  an 
end.  We  have  had  swimming  every 
day, camp, a triathlon, a school picnic, 
first  aid  training  and  2  occasions  for 
parents and teachers to meet. Thanks to 
(Continued on page 11) 
KAIWAKA SCHOOL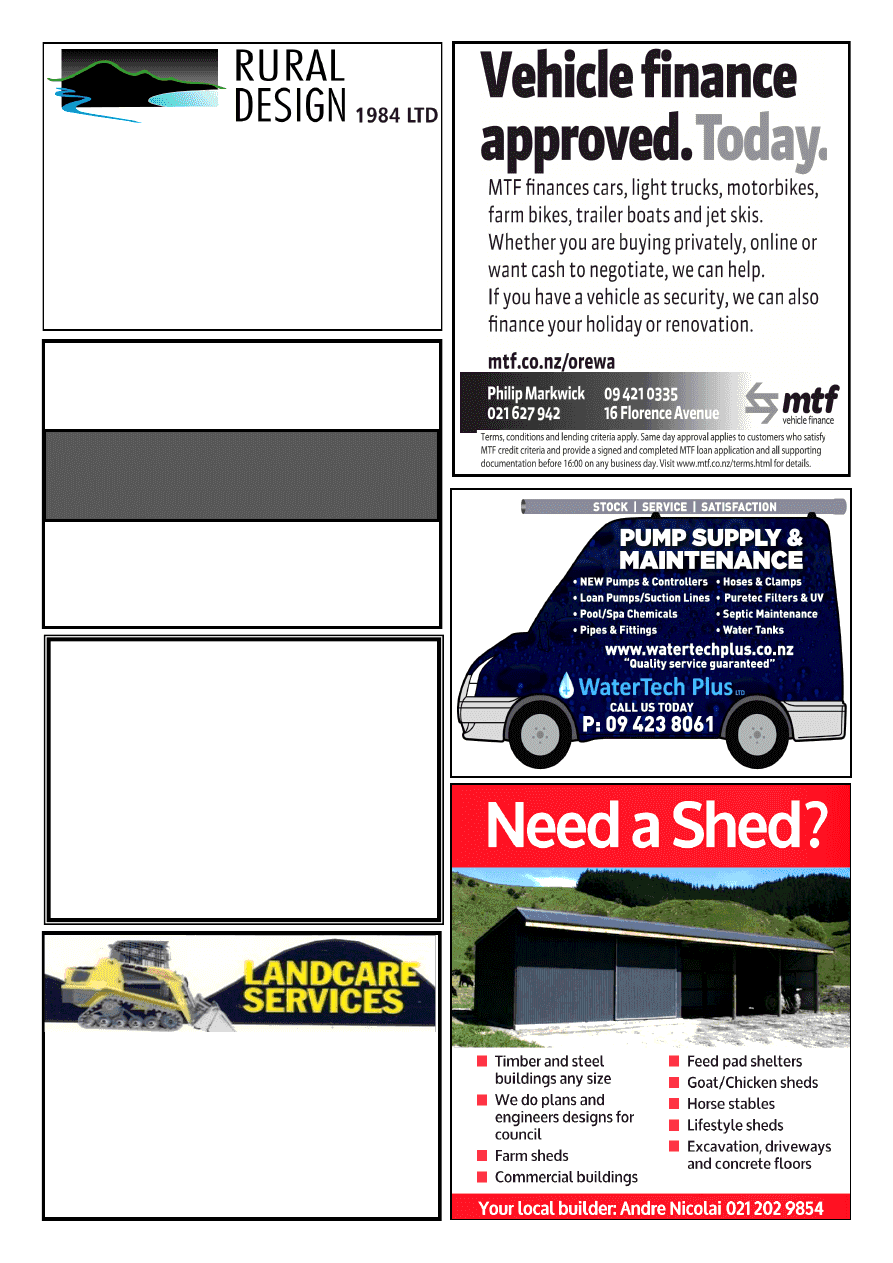 David Korach 
Your local Gib Stopper
DK PLASTERER LTD 
0274769221 
dkorach6@gmail.com 
LANDSCAPING 
4 IN 1 BUCKET 
TRENCHER 
POLE HOLES 
ROTARY HOE 
COMPACT ROLLER 
OFFAL HOLES 
CAN SUPPLY WOODCHIP & POST PEEL 
5 TON TIPPER 
FOR RELIABLE AND FRIENDLY SERVICE CONTACT DAVE 
Dave Hyndman 
 
KAIWAKA 
PH: 09 4312302 
MOB: 021 431 238 
Wholesale Native Plant Nursery and Planting 
Small and Large orders welcome 
By Appointment 
300 Kaiwaka-Mangawhai Road, Kaiwaka 
Phone: 09 431 2481 
Email: info@ruraldesign.co.nz 
www.ruraldesign.co.nz 
MULCHING 
GORSE,SCRUB ETC 
PADDOCK TOPPING OR MULCHING 
2.8m mulcher with 140HP tractor. 
Experienced operator. 
LIFESTYLE PROPERTY MAINTENANCE 
Putting life back into your style 
BOOK NOW. Phone James 
mob: 0273 808622 or 09 431 2245 
email: lifestylesorted@gmail.com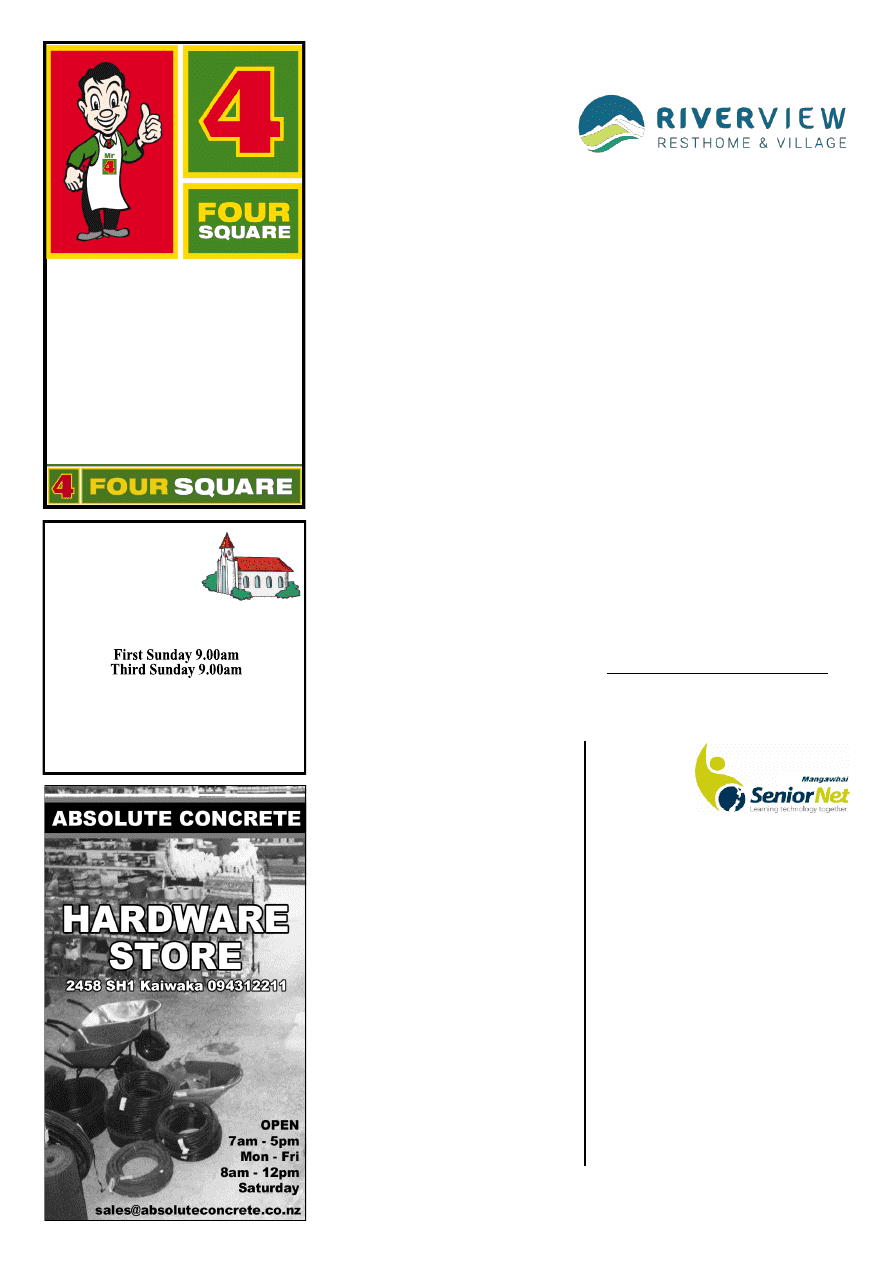 www.kaiwaka.co.nz 
Kaiwaka Bugle - 18 April 2017 
Page 7 
ST PAUL'S  
ANGLICAN  
SUNDAY  
SERVICES
St Pauls Church: Kaiwaka-Mangawhai Rd. 
1st Sun - Eucharist 
3rd Sun - Family Service 
Rev. Wayne Thornton Ph 431 4122 
www.mangawhaianglican.org.nz
Maungaturoto 
Dementia 
Unit 
launched by Health Minister  
Health Minister Dr Jonathan Coleman 
launched  a  funding  programme  for  a 
$1million 
dementia 
unit 
at 
Maungaturoto's Riverview Rest Home 
and Retirement Village in late March. 
Maungaturoto 
Primary 
School 
students  welcomed  Dr  Coleman  and 
other  guests  onto  the  Riverview 
grounds with a moving waiata. Guests 
included  Northland  DHB  chair  Sally 
Macauley  and  board  member  Debbie 
Evans.  KDC  Councillor  Libby  Jones 
and  the  Manager  of  the  Alzheimers 
Northland, Kevin Salmon 
The  construction  of  the  dementia  unit 
is  being  undertaken  by  Maungaturoto 
Community Charitable Trust (MCCT). 
Chairman  Don  McKay  says  the  unit, 
which  will  initially  accommodate 
eight  people,  is  required  to  look  after 
local people and their changing needs. 
"As  the  baby  boomers  age,  the  need 
for targeted aged care is rising."  
Dr Coleman said the unit would allow 
people  who  have  lived  around 
Maungaturoto  to  enjoy  their  sunset 
years  in the community.  He  said  that, 
along  with  the  economy  and 
education,  there  was  nothing  more 
important  than  a  sustainable  health 
system. 
"I  commend  you  on  the  vision,  the 
project  and  the  drive  everyone  has 
shown," he said. 
 Northland DHB Chair Sally Macauley 
said that the DHB was supporting the 
project "all the way" and had a major 
focus on the care of the elderly, while 
Alzheimers 
Northland, 
general 
manager 
Kevin 
Salmon 
said 
Maungaturoto's Riverview Retirement 
Village and Resthome had a wonderful 
name in the aged care industry. 
The  project  was  blessed  by  local 
clergy,  Richard  Binns  Anglican,  Rico 
Diaz 
Catholic, 
Paul 
Chambers 
Congregation  and  Meshach  Adomea 
Presbyterian;  who  said  they  wanted 
Riverview  to  be  a  place  of  healing, 
restoration and peace. The site and the 
project  were  consecrated  and  blessed 
jointly. 
Local  architect  Keith  Youngman  has 
designed  a  staged  development 
programme  for  the  Trust.  Stage  One 
will cost about $1 million and will see 
the  dementia  unit  built  and  a  new 
kitchen added to the current rest home. 
Further  stages,  expected  to  cost  an 
additional  $3  million,  will  allow  the 
Trust  to  respond  to  the  increasing 
complexity  of  aged care  with  updated 
dining  facilities  and  lounges  plus  a 
further  eight  dementia  beds  and  add 
six  general  beds  to  the  existing 
Riverview  Rest  Home.  These  stages 
will also provide hospital-level care as 
the need dictates. 
The  number  of  people  needing 
residential dementia care now outstrips 
proportional  population  growth  and  is 
expected to grow by seven percent per 
year,  because  the  risk  of  suffering 
from dementia increases after 65 years 
of age. The nearest dementia units are 
at Waipu, Whangarei and Dargaville.  
The plan will complete a project begun 
about  20  years  ago  when  the  Trust 
built the 16-bed Rest Home. The Trust 
has  since  added  14  own-your-own 
units  to the  original  13  rental  units  in 
Riverview 
Retirement 
Village 
instigated by the local Rotary club. 
The Trust's bankers have green lighted 
the  first  stage,  but  for  the  plan  to 
continue 
the  Trust  will 
need 
substantial  funds  from  other  sources 
and is seeking local support. 
The 
Trustees 
are 
confident 
construction  of  Stage  One,  the 
Dementia Unit, will commence shortly 
–  resource  consent  has  now  been 
granted  and  the  building  consent 
application  is  being  prepared  for 
lodging.  Raising  funds  will  be  a 
challenge;  however  the  existing 
facility  is  the  product  of  the  past 
generosity  of  people  of  whom 
Maungaturoto  can  be  proud.  It  is  this 
spirit  that  has  built  our  town  and 
district.  
ANZAC DAY HOURS 
9AM to 5PM
Alcohol sales after 1.00PM ONLY 
COMING SOON 
JIMBO'S CAT AND DOG 
FRESH MEAT
In store next week  
Jaques Four Square 
Phone: 4312227 
MAUNGATUROTO COMMUNITY 
CHARITABLE TRUST 
Courses 
• 
2017 
Seniornet 
Courses  have  spaces  for  people  to 
enrol. Bring your own equipment or 
use ours. 
• 
Topics  include  WIN  10,  Word, 
Excel,  Apple  ipad  &  iphone, 
Samsung Tablet, Facebook, internal, 
email. 
• 
Courses  Cost  $30  -  4  week  courses 
2  hours  on  Tuesday  mornings  & 
Wednesday mornings & afternoons. 
Spark Xtra 
Do  you  have  a  Spark/Xtra/Telecom 
email  account?  Do  you  need  help  to 
change  your  email  settings?  If  you 
want help with this, or any other topic 
sign  up  for  a  personal  one  hour 
session,  either  Tuesday  mornings  or 
Wednesdays. We offer private one on 
one help. 
To  book  a  time  for  Tuesday  call 
Gordon 027 952 7167. For a time on 
Wednesday  call  Val  431  4042  or  in 
both 
instances 
email 
seniornet.mangawhai@gmail.com. 
Cost $15 members $25 non-members 
MANGAWHAI 
SENIORNET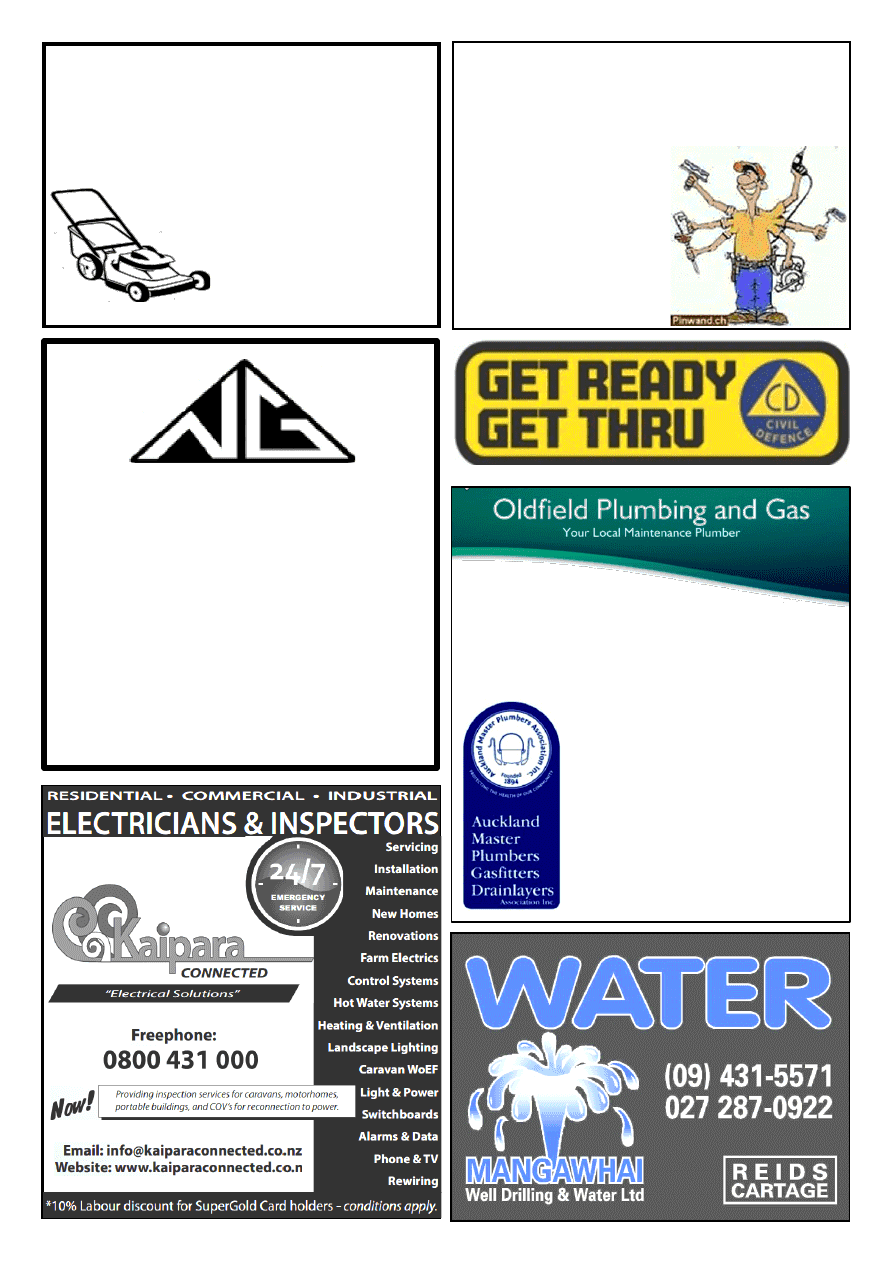 NORTH GLASS 
WINDSCREEN REPAIR OR REPLACE 
GLAZING SERVICES 
MIRRORS  •  SPLASH BACKS  •  SHOWERS 
0800 70 40 10
info@northglass.co.nz 
www.northglass.co.nz 
Darren Oldfield 
Certifying Plumber 
Certifying Drainlayer 
Licensed Gasfitter 
Mobile  021 836 365 
Home  431 5061 
oldfieldplumbing@gmail.com 
 
Agent for 
Rainline Water Filters 
Maintenance 
Renovations 
New Homes 
Hot Water Cylinders 
Water Pumps 
Waste Disposal 
Gas Hobs 
Gas Califonts 
EASTERN LAWN & PROPERTY 
CARE
Lawn Mowing – Trimming – Spraying 
Weeding – Water Blasting 
Rubbish Removal – House Cleans 
Taking care of your property needs
ETHAN DOWSON 
021 217 7075 
easternpropertycare@outlook.com 
The Little Job Man
Are you tired of those little jobs not getting 
done ? 
Indoors  or outdoors 
Sick of waiting ? 
Give me a call to discuss 
what you need doing. 
Doug  0277132625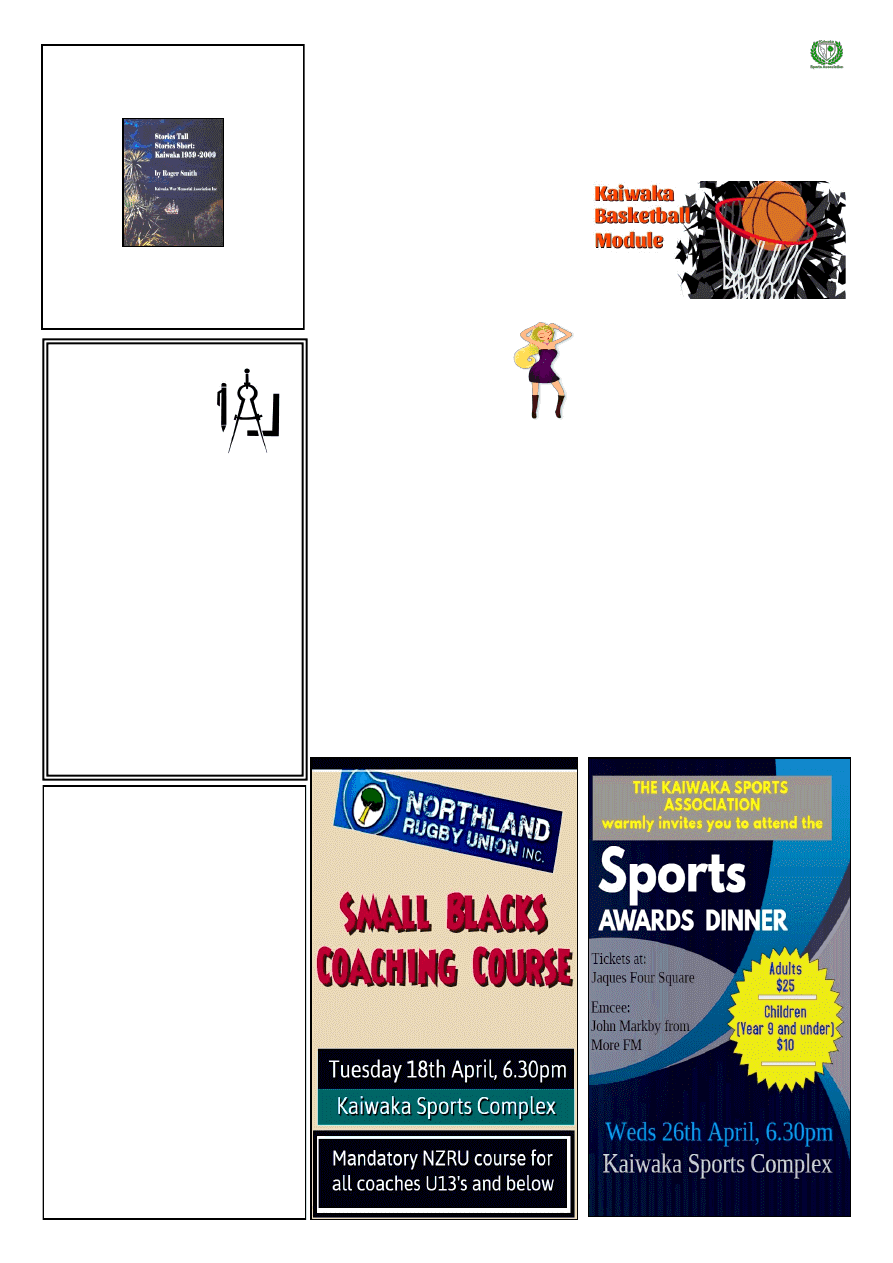 www.kaiwaka.co.nz 
Kaiwaka Bugle - 18 April 2017 
Page 9 
Stories Tall, Stories Short:  
Kaiwaka 1959-2009 
by Roger TW Smith
$40
Available from the Bugle Editors -  
Lindsey 4312 045,  
Wendy 027 480 6275 
design  
drafting  
service 
Retired builder and manufacturer 
with over 40 years experience in the 
building industry is offering a design 
drafting service for domestic hous-
ing, sleepouts and sheds.  
Plans formulated in consultation 
with clients, with working drawings 
completed and submitted to council 
for processing.  
Extensive practical experience,  
able to identify & resolve problems.
Please ring Mike Lean on 
09 431 2260 
or 
021 431 196 
Mangawhai 
Heads 
Garden 
Centre
1758 Cove 
Road
945 0707 
021 165 2629 
KAIWAKA SPORTS ASSOCIATION
Kaiwaka Sports Awards 
Our annual Sports Awards will be held 
next  Wednesday  26
th
.  This  year  we 
have 33 nominees – our highest ever!  
The  evening  which  will  be  emceed  by 
More  FM's  John  Markby  will  include 
profiles of the nominees, a sports trivia 
competition  for  the  young  ones,  a  fun 
sports bingo quiz and of course one of 
Mark  and  Pam's  delicious  dinners! 
Tickets  are  $25  per  adult  and  $10  per 
child  (Year  9  and  under)  and  can  be 
purchased at Jaques Four Square. 
In  previous  years  the  Awards  Dinner 
has  sold  out,  so  if  you'd  like  to  attend 
make sure you head along to Jaques to 
get your ticket. 
Kids Disco 
Shake  Your  Groove  Thang! 
Yes, we are putting on a Kids 
Disco. The disco will be held 
at  the  Sports  Complex  next 
Friday  28
th
  from  7  til  9pm, 
and  will  feature  great  music  and 
dancing,  a  lolly  scramble,  glow  items 
and games. If you've got kids who like 
to boogie, mark it in your diary. 
Rugby - senior 
Our  senior  rugby  club,  Otamatea 
Hawks,  are  a  month  into  their  playing 
season.  Their  next  home  match  at  our 
grounds  is  Saturday  13
th
  May  against 
old  foes  Waipu.  Reserves  kickoff  at 
12.30pm  and  are  followed  by  the 
Premiers at 2.15pm – mark it into your 
diary. 
Rugby - junior 
A  Small  Blacks  coaching  course  will 
be  held  at  our  Sports  Complex  this 
Tuesday  18
th
  at  6.30pm.  This  is  a 
requirement  for  all  coaches  and 
assistant  coaches  of  rugby  teams  from 
Under 7's → Under 13's. 
Rugby - representative 
We  are  proud  to  be  hosting  a 
representative  rugby  match  next 
month: 
Northland 
vs 
Counties-
Manukau  (the  High  Performance 
squad).  It  will  be  held  on  Wednesday 
24
th
 May, kickoff 6.30pm.  
Basketball Module 
Our  Basketball  Module  starts  next 
month.  It  will  be  held  in  our 
gymnasium  on  Wednesday  evenings 
and  will  run  for  6  weeks.  It's  a  social 
Module,  for  mixed  teams  of  men, 
women and teenagers. There can be up 
to 14 players in a team and the team fee 
is  $100.  Keen  to  enter  a  team?  Check 
out  the  Kaiwaka  Basketball  Module 
Facebook  page  for  the  registration 
form, or contact me and I'll email it to 
you. 
Permaculture Conference 
This weekend we are hosting the 2017 
National  Permaculture  Conference. 
The  whole  of  the  Sports  Complex  is 
booked 
out 
(fields, 
pavilion, 
gymnasium,  squash  courts  and  tennis 
courts),  so  will  not  be  available to  the 
public.  This  is  from  Friday  morning 
through  to  Tuesday  morning.  Thank 
you for your understanding. 
~Cheryl Anderson 
4312 051, 027 3462702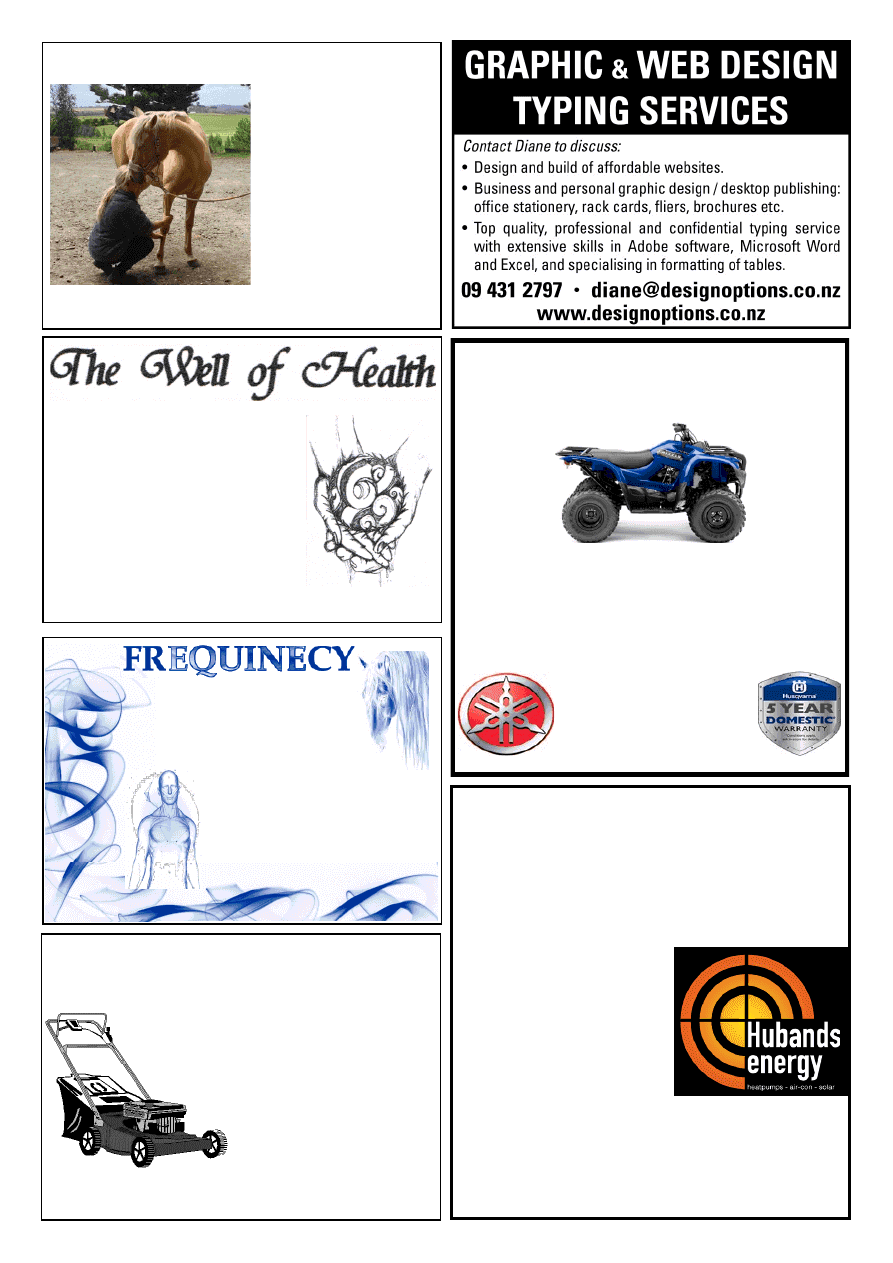 KAIWAKA 
MOTORCYCLES LTD
SALES – SERVICE – SPARES 
FARM BIKE SPECIALIST
PHONE 09 431-2127 
10 KAIWAKA-MANGAWHAI ROAD, KAIWAKA
Trimmers  
from $279
Chainsaws  
from $339
YAMAHA 
HUSQVARNA 
Jill Shires 
Holistic Animal Therapies 
Northland 
021 0506 592 
 
Massage Therapy 
 
CranioSacral Therapy 
 
Emmet Muscle Therapy 
 
Animal Reiki 
 
Acupressure
www.jillshires.nz 
Human & Equine Pain Relief Therapy 
 Restore Functionality 
 Non-Invasive 
 Drug Free 
Appointments 
taken for  
Kate's Place 
Wednesday 
afternoons 
LYNDA CATE 
(SCENAR Therapist) 
Frequency111@outlook.com 
022 6011991 
www.facebook.com/scenar11 
Northland's Award Winning 
Solar Company
SEANZ Best Solar Business Winners 2015/16
EXCLUSIVE 10 year installation warranty 
FREE No obligation onsite quote
Complete systems 
from $5990
See our range of: 
✓ 
Heatpumps 
✓ 
Airconditioning 
✓ 
Hot Water 
Heatpumps 
✓ 
Central Vacuum Systems
09 430 0019             sales@hubands.co.nz 
15 Kioreroa Road, Whangarei
Locally owned and operated for 35 years 
WRIGHT MOWING 
MOWING AND MAINTENANCE 
GEOFF WRIGHT 
MANAGER 
ONERIRI ROAD 
KAIWAKA 
Mobile 021 0877 0230 
CALL ANYTIME - NO JOB TOO BIG OR SMALL 
COMPETITIVE RATES - ALL AREAS 
Natural Health & Gift Shop 
Kiritea Atkins
Owner/Manager 
1929 State Highway 1 
P O Box 111, Kaiwaka 0542 
Ph/Fax 09 431 2799 
kiritea.atkins@hotmail.com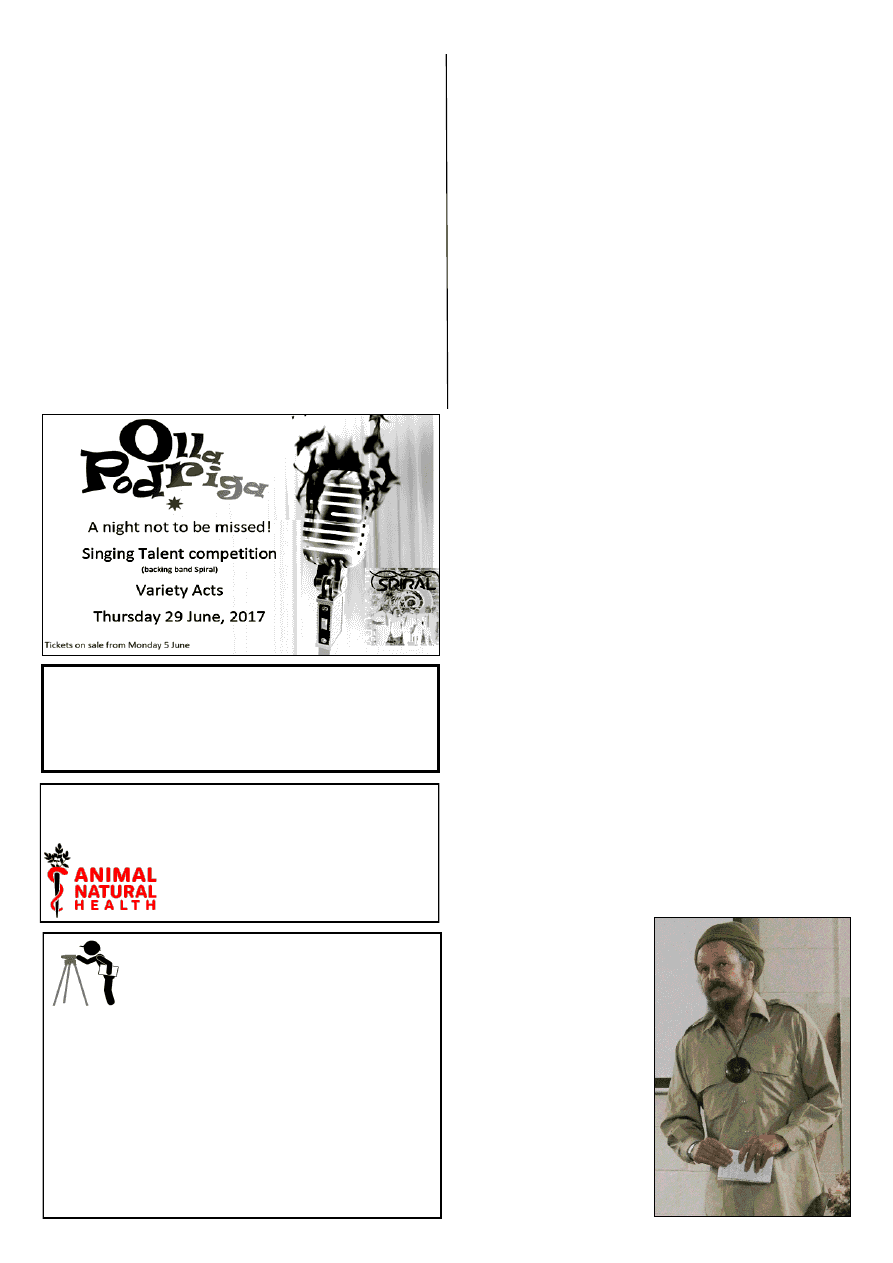 www.kaiwaka.co.nz 
Kaiwaka Bugle - 18 April 2017 
Page 11 
NATIONAL PERMACULTURE 
CONFERENCE IN KAIWAKA 
This  coming  weekend  brings  Kaiwaka  a  national 
conference  for  the  charitable  trust  Permaculture  in  New 
Zealand running through till ANZAC day on Tuesday when 
the  participants  enjoy  tours  around  local  permacultural 
properties and earth-building sites. 
Hosted  by  the  Kaiwaka  Sports  Association  (KSA)  in 
association with Kaiwaka Primary School and Permaculture 
in  New  Zealand,  the  National  Permaculture  Hui  will  see 
several presentations from prominent speakers including ex 
local and Member  of the New  Zealand  Order  of Merit  for 
services  to  conservation  and  sustainable  food  production, 
Kay Baxter. The majority of the event will be Open Space 
sessions... a conference facilitation tool in which the whole 
group co-creates the topics of the sessions which results in 
an engaging and enthusiastic participatory process. 
Locals are invited to attend the Powhiri at 9am on Saturday 
the 22nd at the sports pavilion and also to the screening of a 
very  special  movie  on  Saturday  night  at  8pm,  "S.O.S: 
SAVE  OUR  SEEDS  documentary"  produced  by 
'Localising Food Project' – a small voluntary team of New 
Zealand  permaculture  educators  from  Earthcare  Education 
Aotearoa. 
This Hui being at the Kaiwaka Sports Complex has a lot of 
historical significance as it was the venue for the very first 
International Permaculture Conference in the mid 80s over 
30  years  ago.  Bill  Mollison  one  of  the  originators  of 
Permaculture  in  the  70s  who  died  last  year  attended  that 
first  conference  along  with  a  lot  of  the  pioneers  of 
Permaculture in New Zealand. 
For  more  about  the  Hui  and  to  register  go 
to permaculture.org.nz 
LOCALISING  FOOD  PROJECT's  Documentary  Work  
Between  2012  and  2014,  a  small  voluntary  team  of  New 
Zealand  permaculture  educators  from  Earthcare  Education 
Aotearoa,  engaged  in  an  ambitious  teaching  and  filming 
tour: the Localising Food Project.  They found a bounty of 
creative local food initiatives across Aotearoa, but they also 
found  serious  deficiencies,  and  that  the  networks  often 
weren't  aware  of  each  other.    From  the  250  stories  they 
captured  on  video,  they  are  gradually  distilling  a  series  of 
documentaries  aimed  at  disseminating  successful  local 
models,  and  inspiring  a  more  self-sufficient,  food-resilient 
nation.  S.O.S.,  their  second  one,  has  only  just  been 
completed.  Robina is doing its first showings in her home 
region  –  Nelson,  Motueka  and  Golden  Bay.  
S.O.S:  SAVE OUR SEEDS documentary (duration 1 hr 20 
mins)  This  film  addresses  the  severe  decline  in  seed 
varieties,  the  rapid  rise  of  corporate  control  over  our  food 
and  seeds,  and  the  legislative  implications  of  the  recently 
endorsed Food Bill and the looming TPPA.  It shares how 
grass-roots seed saving initiatives are making a difference, 
through  inspirational  models  of  seed  swaps,  seed 
exchanges,  seed  libraries, 
seed  banks,  and  family  seed 
businesses  all  around  the 
country  -  which  can  be 
replicated 
and 
adapted 
anywhere.    Key  messages 
running 
through 
the 
documentary  are:  sharing 
seeds 
regenerates 
community,  seeds  carry 
cultural  heritage,  home  seed 
saving  is  at  the  root  of 
change, and seed sovereignty 
is  vital  for  local  food 
security  and  bioregional 
resilience.  
Photo  –  Nandor  Tanczos  presents 
at  last  years  national  Hui  at 
Karapiro.  
Animal Natural Health 
Open: Mon-Fri 9.30-5.00pm, Sat 9.30-4.00pm 
Ph: 09 431 2217
Next to Italian Bakery 
Visit us on Facebook 
Ken Urquhart 
BSurv Licensed Cadastral Surveyor 
KMU Surveys Ltd
467 Bickerstaffe Road 
RD 2  
Maungaturoto 0587 
Ph 09 431 8705 
Mob 021 161 2344 
kenurquhart@xtra.co.nz 
KAIWAKA SCHOOL 
all of you who have helped us out  this term. We welcome 
our  new  entrant  Didaar  Singh  into  our  school.  We  have 
noticed  that  our  students,  especially  the  boys,  need  more 
activities  for  during  lunch  time.  We  are  thinking  about 
more sport, physical challenges, building, hut making, etc. 
We  are  asking  for  some  help  to  get  these  underway—are 
you able to help? Either with good ideas, materials or time 
to come to the school to coach or show the kids what to do. 
Please contact me urgently if you can help us. The School 
will  be  closed  from  Friday  14th  April  until  Monday  1st 
May. We hope every family has a great Easter break and a 
relaxing, safe and refreshing school holiday.  
~Warm regards, Rosie Ellis  
Room 1 
Room 1 During the school holidays Room 1 is going to be 
removed,  because  it  has  dangerous  materials  in  the  walls, 
and the walls, windows and roof leak, and it has only one 
exit. Please make sure your children keep away while this 
is going on. 
Term 2 
(Continued from page 5) 
"Every one of us that is not a farmer, is not a farmer 
because we have farmers. We delegate the 
responsibility of feeding our families to a relatively small 
percentage of this country." ~ 
Tom Vilsack, US Secretary 
of Agriculture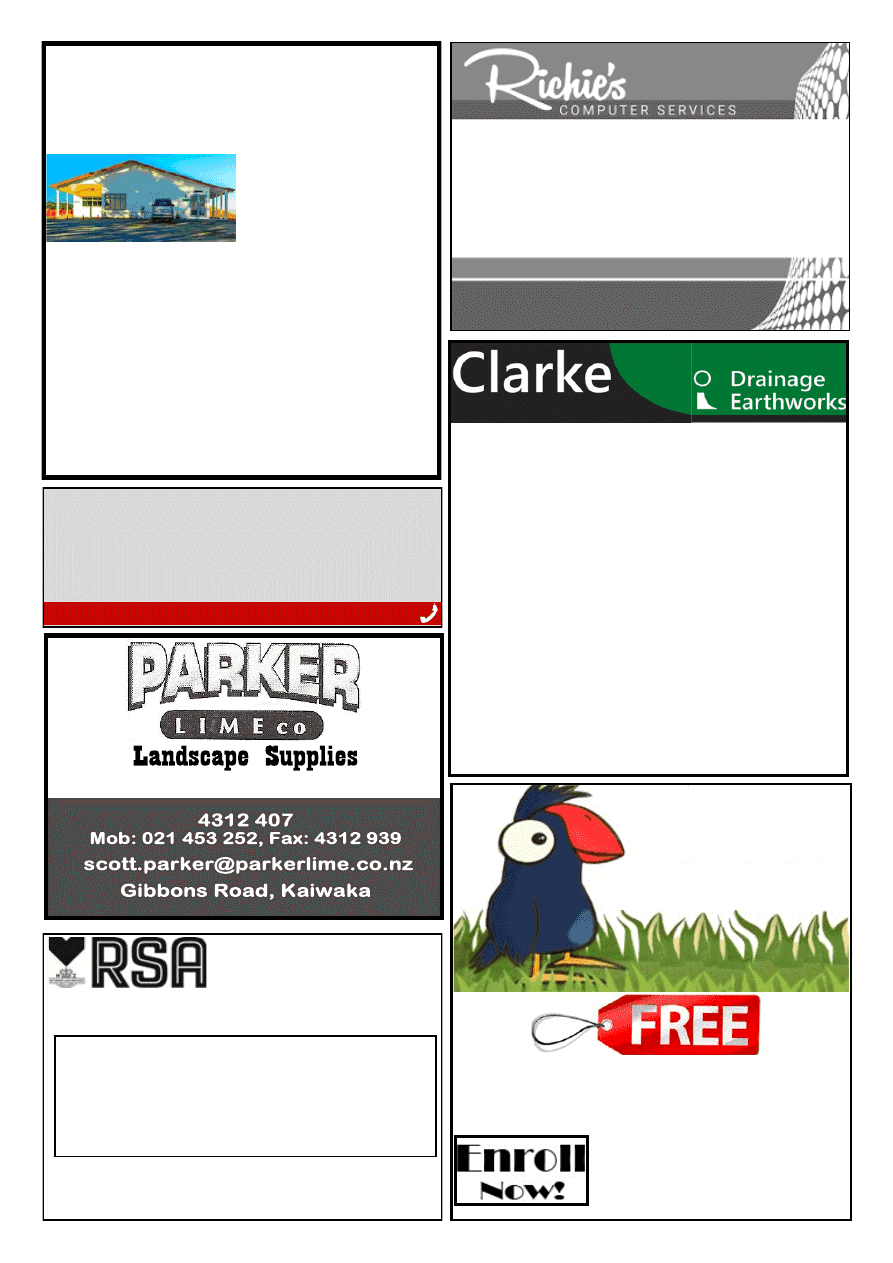 Registered Drainlayer 
All Types of Earthworks  
> All Residential & Commercial Work  > House Sites 
> Septic System Design & Install 
> Footings & Drilling to 10m 
> Sewer Connections 
> Dams 
> Water Tank Installation 
> Roading & Races 
> Farm Work 
THE ONE STOP SHOP  
Phone Nigel for an Obligation Free Quote  
Drainage & Earthmoving 
clarkedrainage@xtra.co.nz 
027 2233 185 
Te Pounga Marae 
130 Nathan Rd. Oneriri. Kaiwaka 0573 
COMPLEX FOR HIRE 
Functions 
* Weddings  * Birthdays  
*Anniversaries 
* Meetings  * Wananga 5 
hour meeting 
* 12 hour stay  * 
Overnight 
*All welcome - No more Drink-driving 
Amenities: 
*Convo Combi Steamer * Bratt Pan * Dish 
Washer/Sterilizer * 3 Door Glass Chiller (walk in) 
etc…All Crockery * Linen Supplied * Central 
Heating and Air Conditioning and much more. 
Can also cater for small groups…. 
For more information please contact: 
Kim Wallace 
Home: 09 832 1133  Mob: 0211275340 
Email: kimwallace@xtra.co.nz 
Bulk Cartage 
CALL CRIMESTOPPERS 
Worried about something that doesn't seem right to 
you? Concerned about activity that could be 
harmful? Call Crimestoppers.  
You don't need to know all the facts.
CALL 0800 555 111 ANONYMOUSLY 
for children over 3 
• 
Day care for children from 0 to 5 yrs old 
• 
After school care for children over 5yrs old
 
Phone: 09 431 2842 
Email: smallpukekos@gmail.com 
Address: 8 Kaiwaka-Mangawhai Rd 
Website: www.smallpukekos.co.nz 
Small Pukeko's 
Early Learning Centre 
 
15 years  commercial IT experience 
 
Computer and Laptop Repairs 
 
Smart Phone and Tablet Support 
 
Virus and Malware Removal 
Richard Harding
T 09 945 0376        M 021 124 7358 
Members & guests are invited to come along and enjoy 
our hospitality. New members welcome. 
For more information please phone Gloria  
(Womens Section) on 431 5818 or Marlene on 431 5589 
Meals are served on Thursday and Friday nights  
from 6.30pm.   
2nd Friday of the month is a Roast Dinner special plus a 
board menu put on by the Womens Section. 
Last Friday of the month is 'Roast Pork Night' and a 
sing-a-long with Des Chitty. 
HAKARU & DISTRICTS 
MEMORIAL RSA (INC)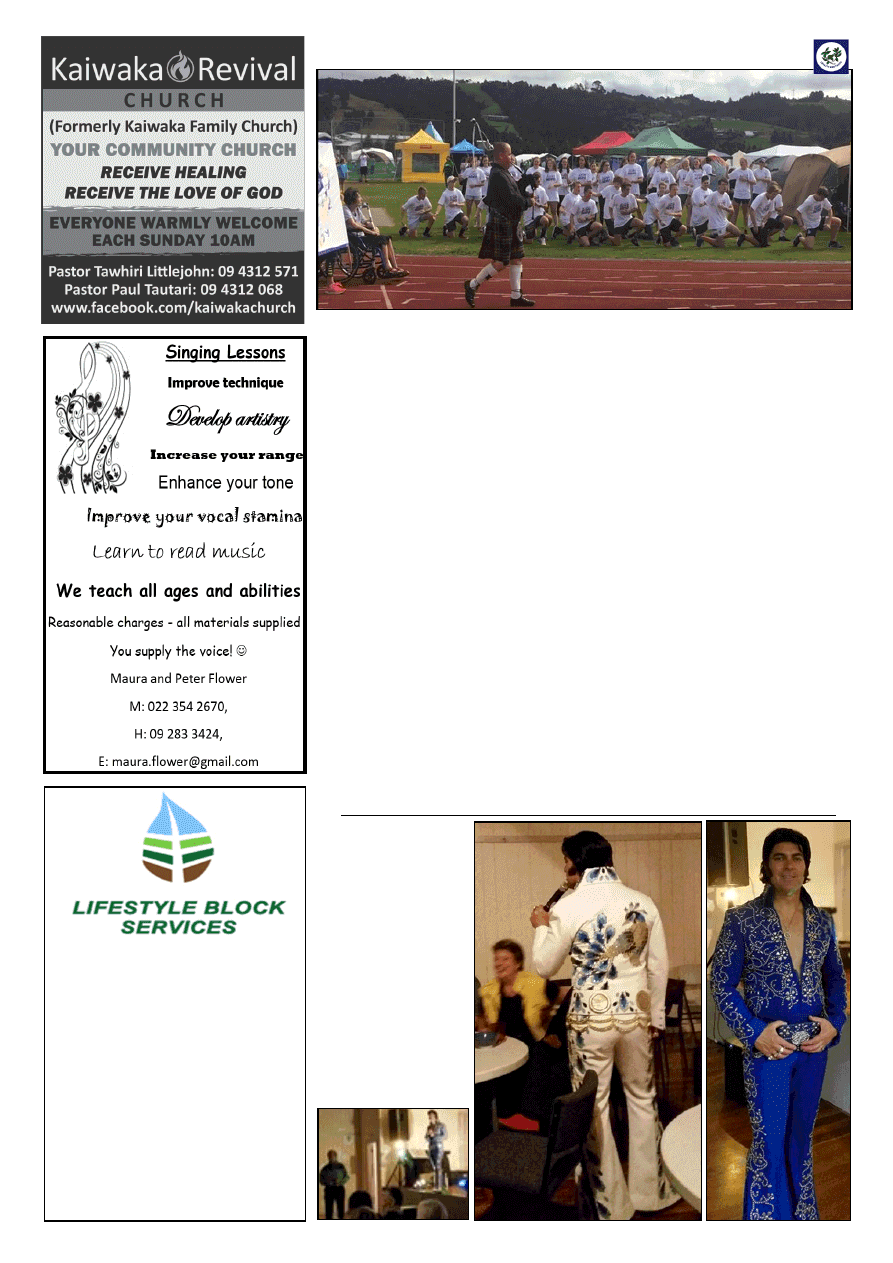 www.kaiwaka.co.nz 
Kaiwaka Bugle - 18 April 2017 
Page 13 
OTA  Kids  you  have  done  your 
community  proud.  Over  $7000  raised 
for the Cancer Society. 
The  weekend  of  the  1st  and  2nd  of 
April 
was 
this 
year's 
Cancer 
Northland's Relay for Life when the 18 
hour  walk/run  became  19  hours  with 
the change of daylight saving. 
Otamatea  High  School  continued  their 
annual support with 33 Year 13 'OTA 
Kids' and at least 20 members of staff 
'OTA  Strollers'  participating.  The 
OTA Kids team  raising  over  $7000 to 
help fight Cancer in Northland. 
The  event  is  held  at Whangarei  where 
the Athletics track is transformed into a 
tent  city  with  46  teams  and  over  600 
people  including  survivors  and  many 
families  that  have  been  touched  by 
cancer  continuously  walking  for  19 
hours. 
As  a  parent  asked  to  help  with 
transport  and  not  knowing  what  to 
expect, arriving you could feel this was 
something  special,  setup  done,  the 
Relay began with the survivors lap and 
our  students  preforming  an  emotional 
school  haka  for  them  as  the  walked 
past. As darkness fell the track is lit by 
everyone's  remembrance  candle  bag 
that  had  been  decorated  to  remember 
those  lost  to  cancer,  these  continue  to 
glow  all  night.  Having  music  from 
bands,  seeing  photos  of  participants 
loved ones that have passed away, the 
sight  of  others  walking  for  the  same 
reason you are there makes completing 
another lap just a lot easier. 
Our Year 13 students were amazing as 
they  walked,  ran,  talked,  laughed  and 
supported each other around the track. 
A team member must be on the track at 
all  times  and  everyone's  laps  were 
counted and in between there was rest, 
food,  cards,  games,  jokes,  very  little 
sleep  and  heaps  of  fun.  The  students 
behaviour was impeccable and this was 
acknowledged  by  many  that  were 
there. They are great young adults that 
I was proud to be around. 
Too all  the staff  who helped  organise, 
and then also walk alongside the kids, 
you were wonderful, full of energy and 
humour, even without much sleep. 
I  was  to  drop  and  leave  but  with 
running  shoes  always  in  the  car,  I 
stayed, walked, watched, ran and slept 
(thanks for the tent motel) and was part 
of  an  incredible  event  that  I'll  look 
forward to being at again. 
Well  done  to  everyone,  hopefully  the 
aching legs didn't last too long. 
~Wayne Linton 
OTAMATEA HIGH SCHOOL 
Autumn is here, now is the time to 
think about undersowing.
Have you got excess grass? 
We can turn it into - Small Hay Bales 
or Wrapped Baleage/Haylage.
Contact Mark on 021 801 065 or 
Contact Lisa on 021 108 1057
We also do: 

 Fencing 

 Spraying 

 Mulching 

 Stockwork 

 Stock Water 
Systems 

 Driveway & Track 
Maintenance 

 Tree Trimming 

ELVIS 
The  crowd  at  the 
Hakaru  Hall  certainly 
enjoyed  themselves  on 
the evening 8 April. 
Brendan  Chase  won 
Australasia's  Ultimate 
Elvis  Tribute  Artist 
title  earlier  this  year. 
This  means  Brendan 
will  compete  for  the 
world title in Memphis 
in August. 
He  was  brilliant  -  not 
only  with  his  'Elvis' 
voice, but also with his 
beautiful costumes.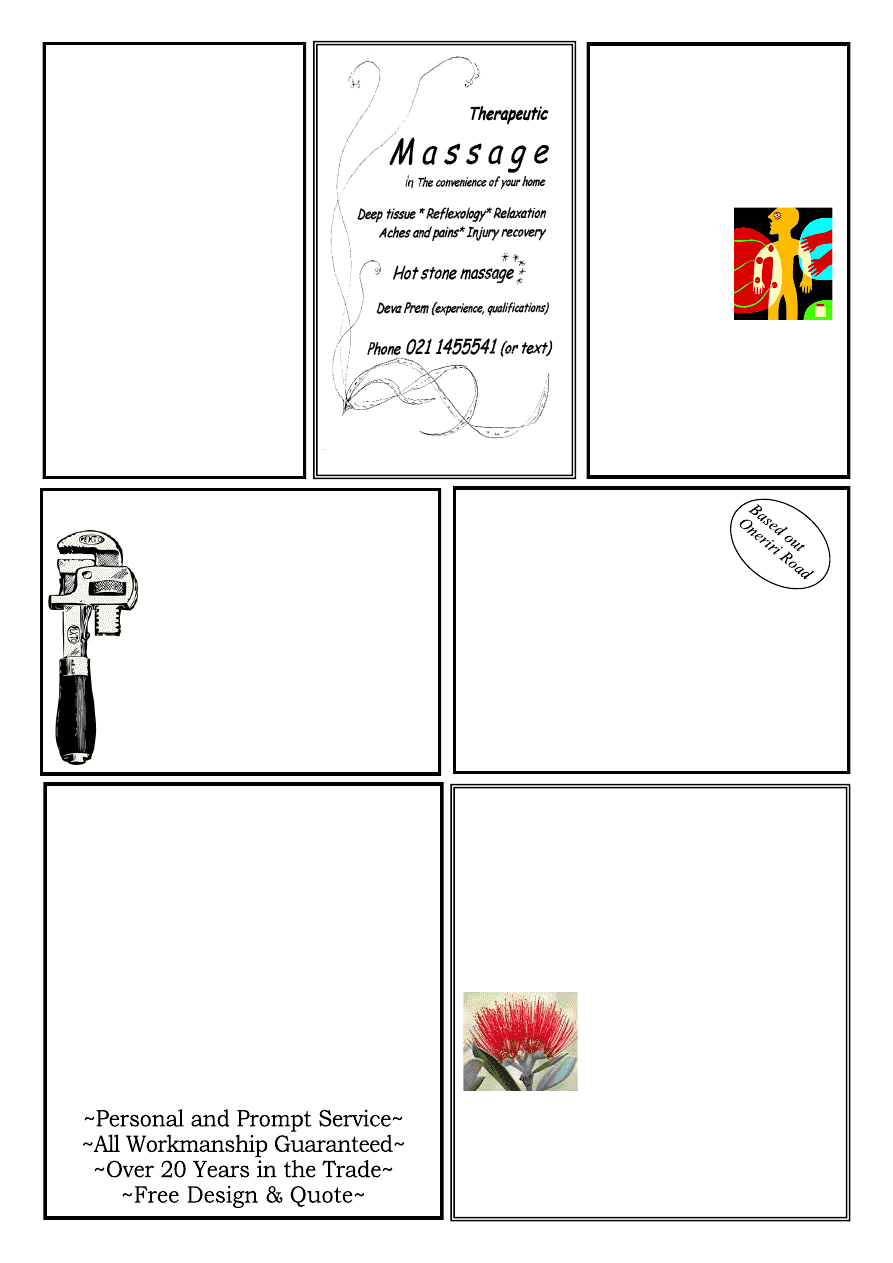 BARRY CURTIS PLUMBING LTD 
REGISTERED CRAFTSMAN PLUMBER 
Phone 431 5572
027 257 9884 
25 years' experience 
Friendly reliable service 
All plumbing & maintenance 
Alterations and new housing 
Spouting  
C
ompetitive rates 
PROMPT EFFICIENT SERVICE 
KAIPARA FLOORING CO 
Independently owned & operated 
32 HURNDALL ST MAUNGATUROTO
Supply & Installation of Carpet, Vinyl,  
Vinyl Wood Planking
Stockists of 2m & 3m wide 
vinyl & carpet short ends
Residential & Commercial
Q Card Finance Approved 
6-18 month terms 
6 mth interest free
First Class Installations
For a free measure & quote 
phone Christine  
09 946 9886 or 021 515 415 
kaiparaflooring@gmail.com 
http://www.kaiparaflooring.co.nz/ 
HODGETTS 
CONTRACTING
Digger Work 

Driveways 

House Sites  

Dams   

Drains, etc
Also available for HIRE 

4
3 ton Vib Roller 

Heavy Duty Tow  

4
Waterblaster    
 
Lazer Level 
Phone Mark 4312877 
027 447 8554 
OWEN STEVENS 
Osteo Therapist
For careful adjustments to bones 
and joints 
Treatment for humans and their 
pets 
Clinics: 
Kate's Place, 
Kaiwaka: 
Last Friday of 
month 
For bookings: 
9.00am-5.00pm  
Phone 
09 4312661 
Or phone Owen  
09 4317123 anytime 
Willow Bend
HORSE  
HOTEL 
  
Total Horse Care 
 
Agistment 
 
Riding Lessons 
 
Arena Hire (60x40) 
 
Young Horse Starting 
 
Re-training/Exercising 
 
Hoof Trimming 
 
Problem Solving 
Phone Sue 09 431 2817 
or 021 623 776 
Or email  
susanjoll11@gmail.com 
www.mangawhaimassage.co.nz 
PLANNING A NEW KITCHEN?
 CONTACT NOEL McDOWELL
WELLSFORD 
KITCHENS
Ph/Fax 094312888
KAIWAKA-Any time
 QUALITY CUSTOM MADE 
KITCHENS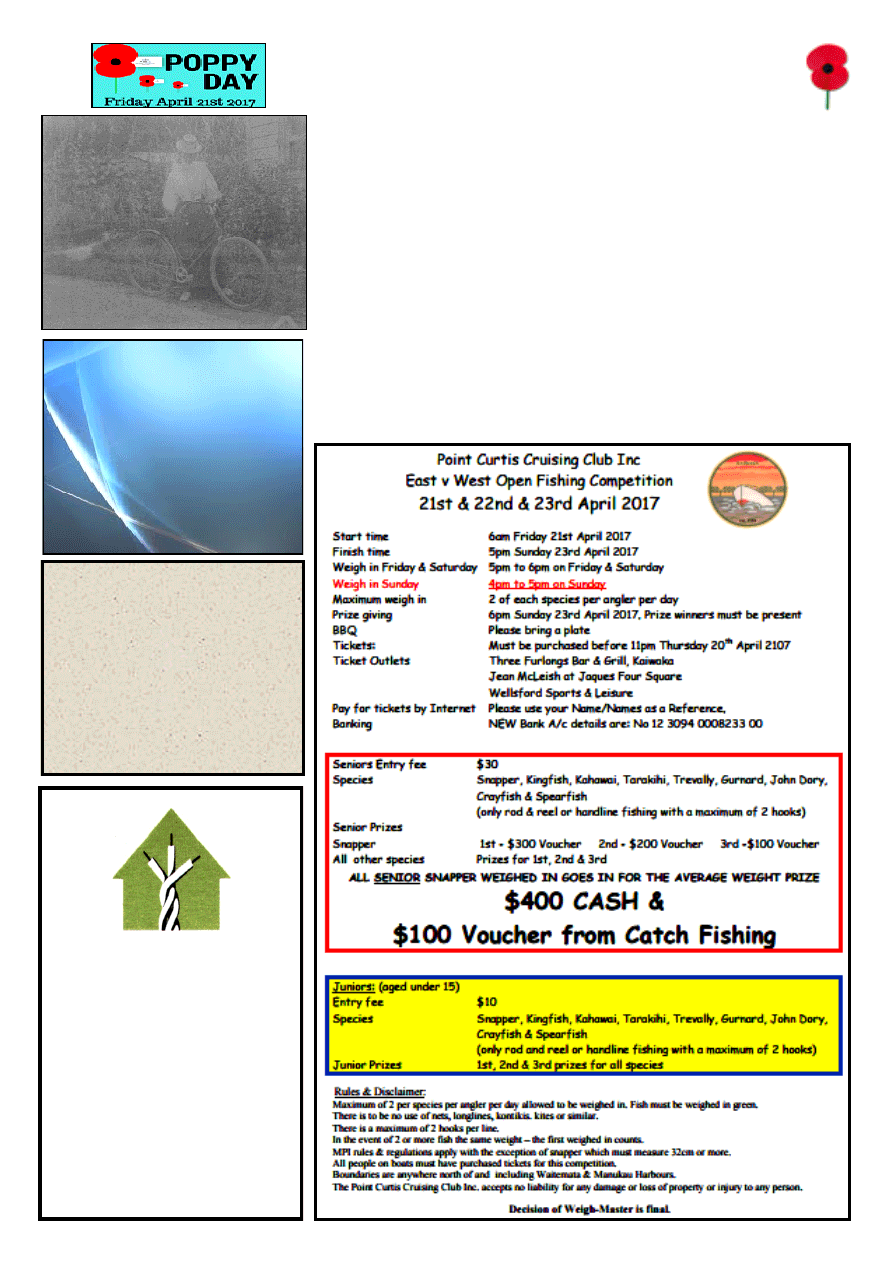 www.kaiwaka.co.nz 
Kaiwaka Bugle - 18 April 2017 
Page 15 
Reyahn George Leng 
Registered Electrician 
Local, honest and reliable. 
For your residential and 
light-commercial projects. 
022 314 1068  
 09 431 2527 
Freeview  
Installations 
Richard Te Haara 
25 Marram Place 
Mangawhai Heads 
021 1104056 
kiwipride@xtra.co.nz
Counsellor and 
Registered Psychotherapist 
Offers Supervision
Susan Matheson 
MNZAC 
Dip. Psychosynthesis Counselling and Psychotherapy 
Phone 09 431 2996 
Mobile 027 605 2427 
This  ANZAC  Day,  at  the  Hakaru  Service  Nurse  Lucas'  name  will  be 
called along with those from our area who died in WWI and WWII. Clara 
Lucas, nee Thornton, died in England on 16 May 1917. 
The  photo  left  is  from  Emily  Surtees  Photographic  Collection,  of  the  Katikati 
History images and included her caption:  
"Emily  Surtees  named  this  photograph  'Mrs  Lucas  from  Waihi  1900'.  It  is 
thought  that  the  woman  in  this  photograph  is  likely  Clara  Jane  Lucas  (nee 
Thornton) who would have cycled from Waihi to Katikati with a group of other 
people. Clara Jane Thornton was born in Kaipara, Northland on 1 April 1875. 
Her parents were George William and Margaret Thornton (nee Morrison). She 
attended Kaiwaka Primary School, and married watchmaker Henry Lucas (1868
-1906) in Waihi on 14 November 1896. In 1899 Clara cared for Waihi woman 
Eleanor Jane Thompson who would die of typhoid (Thames Advertiser, 4 May 
1899, p. 4). Henry died in Taradale near Napier on 18 April 1906. 
In  July  1915  Clara  was  on  board  the  'Mongolia'  which  sailed  from  Sydney  to 
England. It is thought that Clara served as a nurse during World War I (1914-
1918),  but  details  are  unknown  at  this  stage.  Clara  died  at  Harlesden  in 
Middlesex, England on 16 May 1917 and was buried in Kensal Green Cemetery 
in  London  (New  Zealand  Herald,  16  May  1918,  p.  1  In  Memoriam)."  ~
 http://
tauranga.kete.net.nz
Nurse  Clara  Lucas  is  remembered  on  the  Kaiwaka  War  Memorial  Hall  WWI 
Honours Board and front doors, along with her sister Mrs K Saunders (Nurse) 
and her three brothers - George (killed), James (wounded) and Ken.
LEST WE FORGET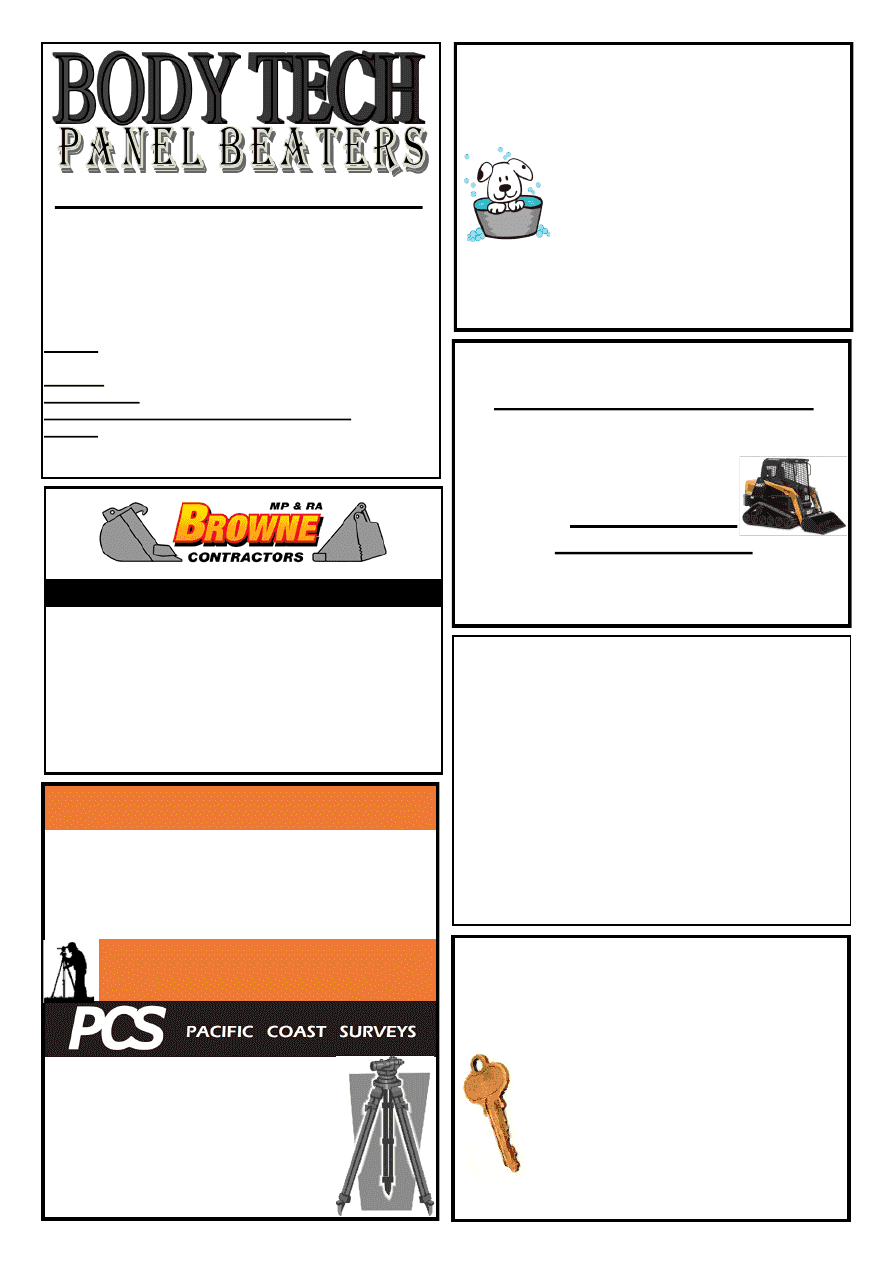 For all your body repair needs!! 
We do: 
•Rust repairs 
•Insurance work 
•Anti-corrosion treatment     
Hours: 8.30am-5pm Mon-
day-Friday  
Mobile: 021 118 0462 
After hours: 09 431 2384 
Phone: Craig or Call in for a free Quote 
bodytech_panelbeaters@yahoo.com
We are located at 1837 SH1 Kaiwaka, behind  
Twinkle Tow 'n' Tyre call in anytime for a free quote.  
•Large and minor vehicle  
 repairs 
•Industrial vehicles 
•Full Cut and polishes 
Natural Earth Ltd 
Landscape and Bobcat services 
 : Driveways :Landscaping :Retaining Walls 
 : Hole Boring: Land Levelling :Trenching 
 : Decks :Fences :Sections Cleared 
 : Plus much more
Tel 09 4312 885 
Mob 02102391280 
For A Fast Friendly Service  
Contact Tim Hicks 
SURVEYORS 
SUBDIVISIONS 
HOUSE SITE SURVEYS 
CIVIL ENGINEERING 
WASTEWATER DESIGNS 
EXPERIENCED 
PROFESSIONAL 
INNOVATIVE 
Ph 09 431 5353 
0800 PACIFIC (0800 722 434) 
pacificcoastsurvey.com
Adam Booth - 027 415 5752 
Bsurv, Licensed Cadastral Surveyor
Surveying Kaipara since 1994 
Hot Diggity Dog 
DOG GROOMING 
All breeds dog grooming 
Professional Experienced Groomer 
Short practical grooms - summer 
Breed Standard Grooms 
Designer fusion Grooms 
Oneriri Road
By appt Phone Pam 09 4312143 
Or text only 0273335380 
Email  hot.diggitydog@outlook.com 
Kaiwaka Hardware  
& 
Key cutting
Phone 4312 063 or 022 0642 703
kaikey2015@gmail.com
Keys Cut  
Household Hardware  
Curtain Tracks & Fittings
Not there? Call Doug and he'll sort
it for you. 
(
Next to Kaiwaka Motorcycles)
Couples and Individual Counselling
Have you … 
Serious relationship issues? Heading for Family 
Court? Destroying each other? Children involved?
I'm Here To Help! 
Call me to arrange an appointment 
Keep trying if phone is busy
Pete Worsfold 
B.Soc.Sc., M.Soc. Sc, Dip Prof Counselling NZIPC, 'Man Alive' Counsellor/ 
Facilitator, Prov NZAC. Professional service in your local area. Individuals, 
couples, any issue, males and/or females.
Private or WINZ Clients, Experienced Counsellor/Facilitator 
021 825 970 or 021 063 0302
peteworsfold@xtra.co.nz 
4T DIGGER – BOBCAT – TIP TRUCK 
Property Maintenance - Driveways - Building Sites 
Stump & Tree Removal - Hole Boring - Chain Trencher 
Calf Shed and  Stockyard Cleaning
KAIPARA - WHANGAREI - RODNEY 
Phone Matt: 021 199 6677 
Email: mprabrownecontractors@gmail.com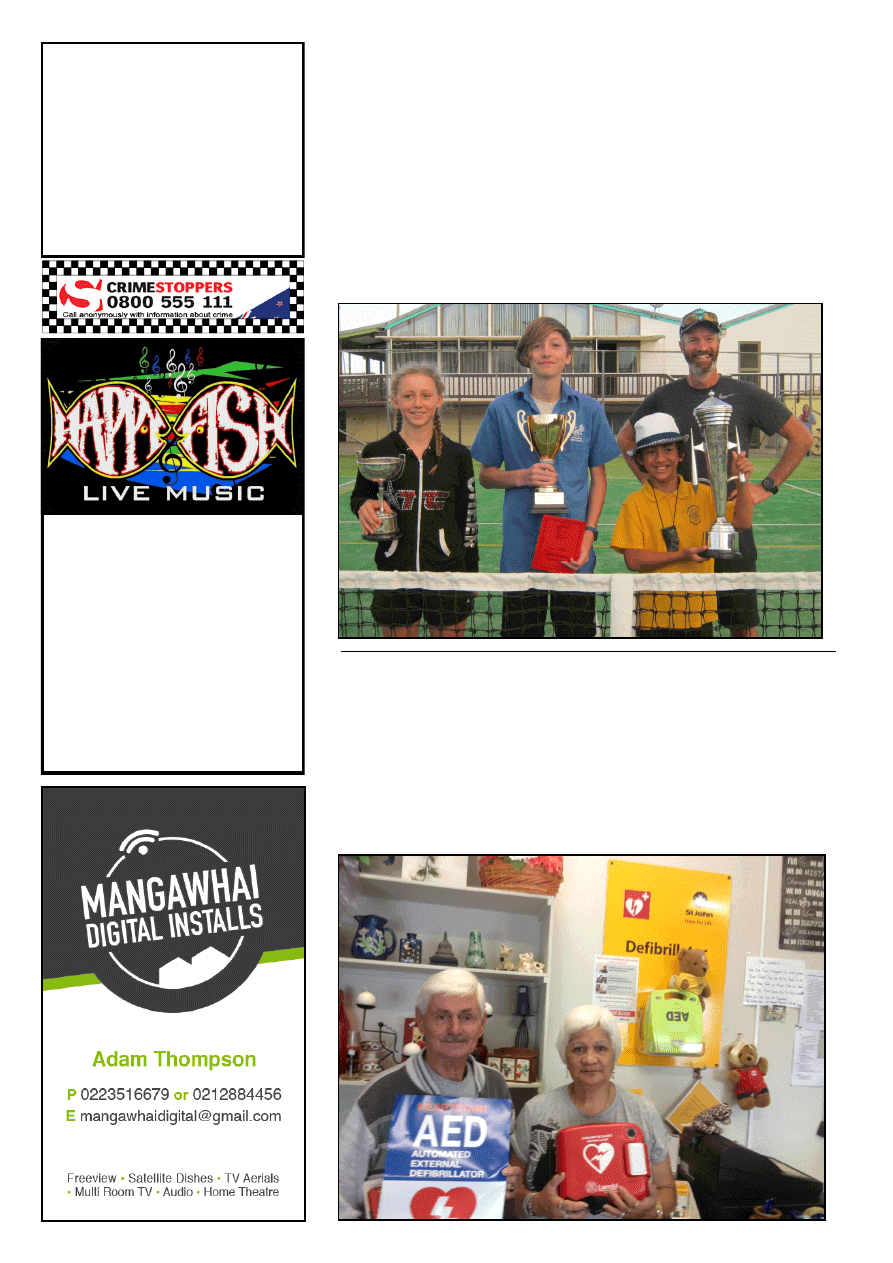 www.kaiwaka.co.nz 
Kaiwaka Bugle - 18 April 2017 
Page 17 
ROCKIN' POPULAR, OLD AND 
NEW PARTY SONGS WITH LOADS 
OF KIWI MUSIC AND A FEW 
ORIGINAL TUNES IN THE MIX. 
AN ELECTRIC DUO FEATURING:  
GORDON JOLL 
(NZ Music Hall of Fame)
ON DRUMS AND SUE JOLL ON 
GUITAR AND VOCALS. 
A BAND FOR ANY OCCASION 
BACKED BY YEARS OF 
EXPERIENCE. 
Contact: Sue 021 623 776 
Email: happyfishband@gmail.com 
Website: www.happyfishband.co.nz 
 LEABOURNS 
Passenger Service
Car & Van Hire 
Bus & Coach Charters 
Airport Transfers 
 Monthly Shopper Bus 
Phone (09) 4237416 
The last Monday of term one meant the 
end  of the  season  for  the junior tennis 
coaching  of  the  Kaiwaka  Tennis  Club 
and a chance to play the tournament for 
one  of  three  cups  in  the  handicapped 
competitions. 
Marino 
Wiapo 
won 
the 
H.H.Hargreaves  cup  for  the  boys 
singles  -  beating  many  competitors 
including his older brother Tevin. 
Billie Le Mesurier-Cowbourne won the 
girls singles in a very close competition 
with  Natalia  Orchard  -  both  of  whom 
chose  to  play  with  injuries.  Billie 
serving  single  handed  because  of 
broken fingers and Natalia hobbling on 
a strained ankle. 
The Tennis Club were also very proud 
to award the inaugural Innes Anderson 
mixed  singles  cup,  sponsored  by  our 
club president, for the advanced juniors 
to Cameron Philips. 
Junior  Tennis  coaching  will  resume  in 
Term Four. While the tennis courts are 
available  year-round  for  anyone  to 
enjoy a friendly game. 
Photo - Billie Le Mesurier-Cowbourne, 
Cameron  Philips,  Marino  Wiapo,  and 
coach John White. 
Last  week,  the  Otamatea  Area 
Committee  of  St  John  presented  an 
AED  (defibrillator)  to  Ray  O'Leary,  a 
Trustee  of  Te  Pounga  Marae,  Nathan 
Road, Kaiwaka. 
The  Area  Committee  funded  this 
through  the  profits  from  the  St  John 
Op Shop, managed by Milly O'Leary, 
as  well  as  profits  from  the  annual 
Trash and Treasure in Maungaturoto. 
Otamatea St John have now put AED's 
into  Caltex  and  Four  Square  in 
Maungaturoto,  the  maraes  at  Tanoa 
and  Te  Pounga,  Jaques  Four  Square, 
Hakaru Pony Club and the Op Shop in 
Kaiwaka. 
Pictured:  Ray  and  Milly  O'Leary  – 
supporters  and  benefactors  of  the  St 
John AED scheme. 
KAIWAKA TENNIS 
ST JOHN DEFIBRILLATOR TO MARAE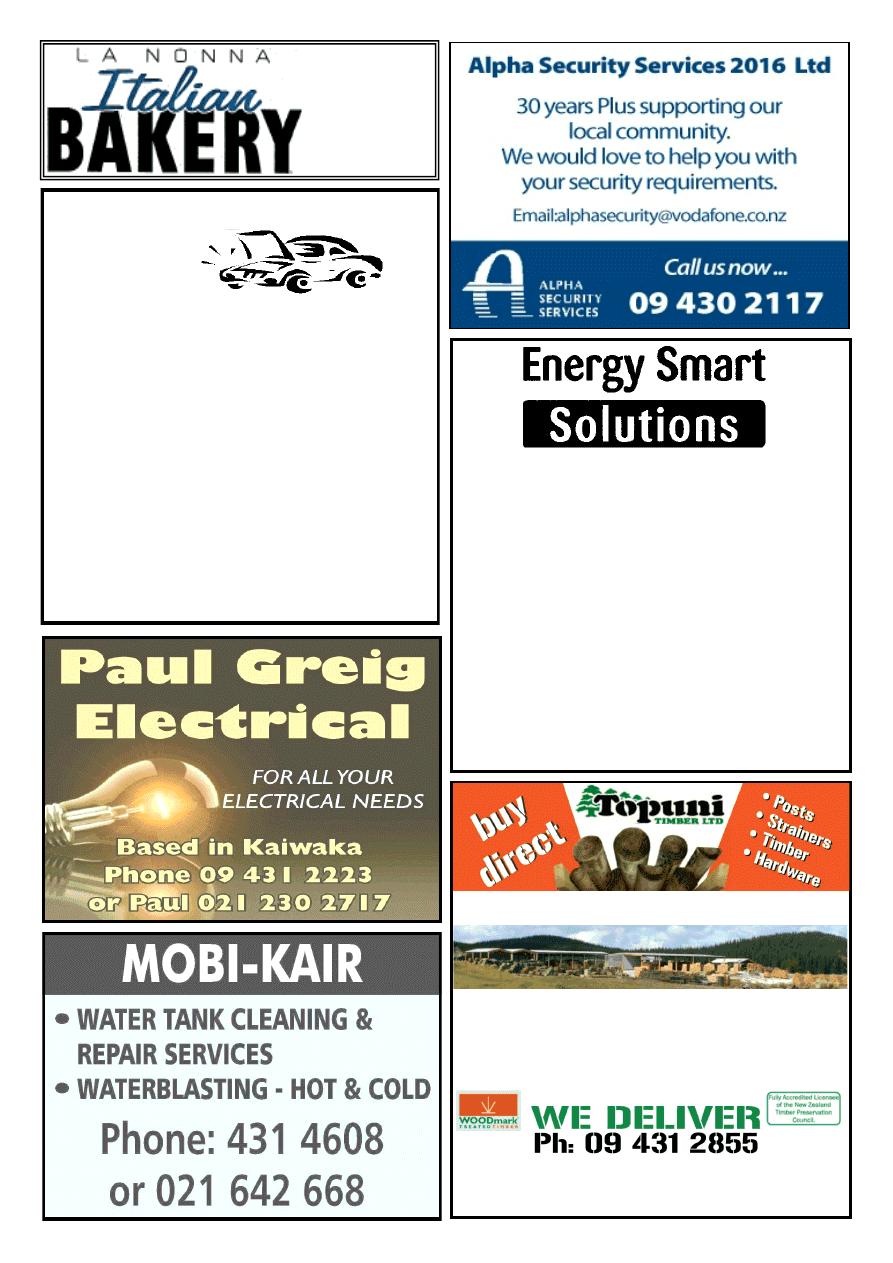 Twinkle Tow 'n' Tyre 
Think you'll get a better deal in the city? 
Ring us - it won't cost anything! 
1837 State Highway 1, Kaiwaka 
Phone 431 2823 
*W.O.F. 
*Tyres 
*Windscreen 
replacement 
*Chip repairs 
*Bulk Oil 
*Batteries 
*Welding 
*Custom built 
trailers 
*Trailer hire
1923c State 
Highway 1,  
Kaiwaka. 
Open 7am-4pm  
Tue to Sun. 
Closed Mondays. 
Phone 09 431 2643 
LOCALLY OWNED AND OPERATED 
QUALITY PRODUCTS • FRIENDLY ADVICE • GREAT SERVICE 
Quality Products milled from High Density NORTHLAND Radiata Pine. 
Treated and guaranteed to NZS3640 with commitment to 
Environmental Safety.
Phone, fax, email, or come into the mill 
Schiska Rd, Topuni, SH1, 10 min north of Wellsford. Fax: 09 431 2856 
Email: sales@topunitimber.co.nz  Mon - Fri 7am-5pm, Sat 8am-12pm 
• Fencing 
• Retaining 
• Decking 
• Landscaping 
• Gates 
• Hardware 
• Nails 
•
 Staples 
• Concrete 
• Plywood 
ASK US ABOUT OUR NEW 
SOLAR ENERGY PACKAGES
We also provide advice on Ventilation Systems, Heat 
Pumps and Air Conditioners.
Does your Family or Home suffer from 
Are you looking for affordable top quality 
products? 
CALL US NOW!
For a free assessment and quote phone:
431 2025 / 021 762 352 
www.energysmartsolutions.co.nz 
• Condensation 
• Allergies 
• Asthma 
• Poor air quality 
• Musty smells 
• Mould 
• Mildew 
• Dampness 
• Hard to heat 
• High humidity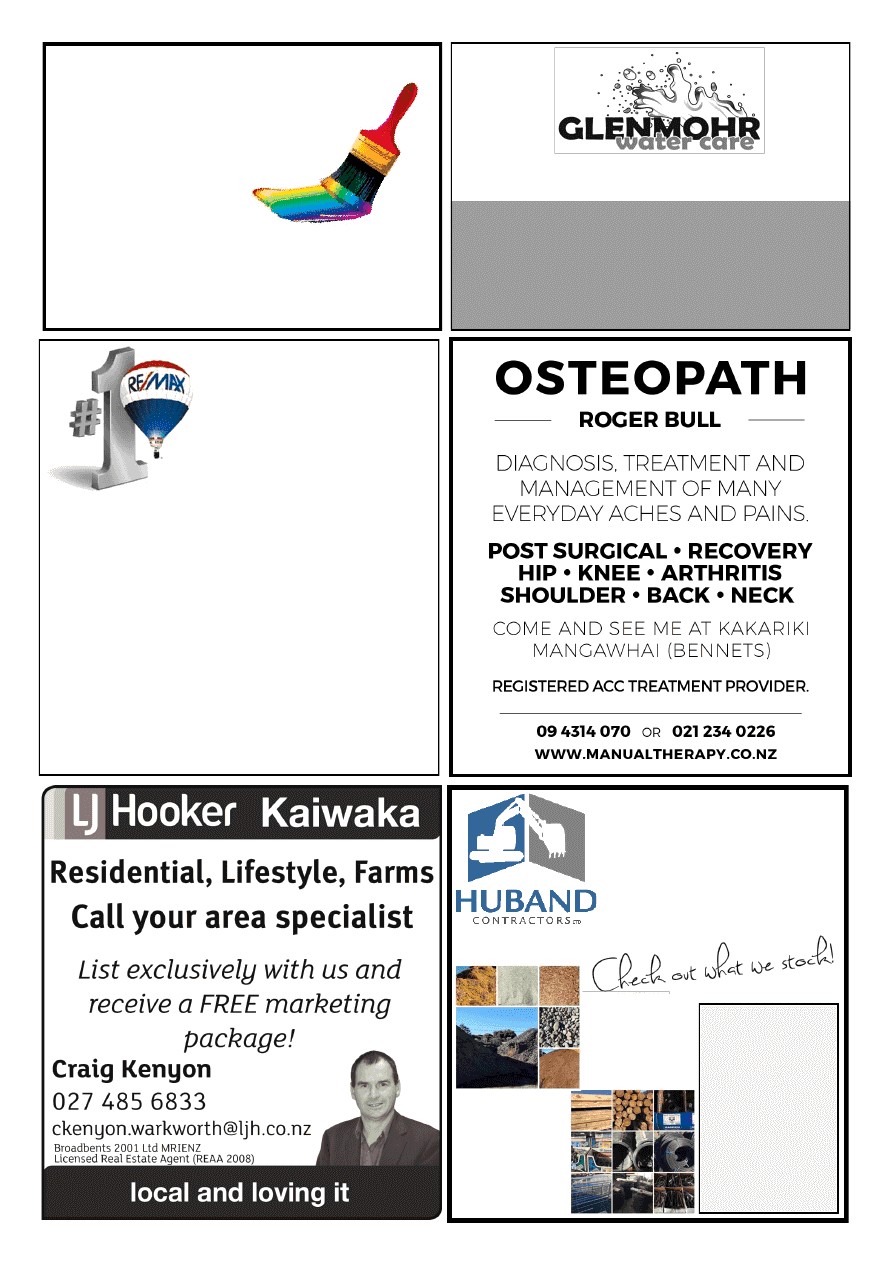 www.kaiwaka.co.nz 
Kaiwaka Bugle - 18 April 2017 
Page 19 
Water Tank Cleaning 
• 
Keep your water safe & clean  
• 
Removal of sediment, silt etc. 
• 
Vacuum or full scrub 
• 
Minimal water loss 
Phone Mark (09) 432 0655 or 0274 707607 
09 4312918 
0274735171 
leecooper@xtra.co.nz 
LEE COOPER PAINTERS 
(Kaiwaka Based) 
*30 yrs Experience 
*Interior/Exterior 
*New and Restoration 
*Honest and Reliable 
*Free Quotes 
There are more people 
wanting to buy than 
there are houses 
available!
Vacant land, home and income, DIY dream … 
whatever your property's condition there is a buyer 
out there waiting to give you their money. 
Get your local agent's appraisal of your property to 
find out what's it's really worth. 
Contact Beth Stone today! 
Mob: 0274 937 801 
Email: beths@remaxrealty.net.nz 
RE/MAX Realty Group MREINZ 
Northern Properties Limited 
Licensed REAA 2008 
Open Monday-Friday 8am-5pm 
Saturday 8am-noon
2088 Paparoa Valley Road 
0800 234449
W: www.huband.co.nz 
E: admin@huband.co.nz 
Call us for any 
information or quotes 
for the following: 
•  
Earthworks 
•  
Roading 
•  
Drainage 
•  
Site works 
•  
Landscaping 
Supplies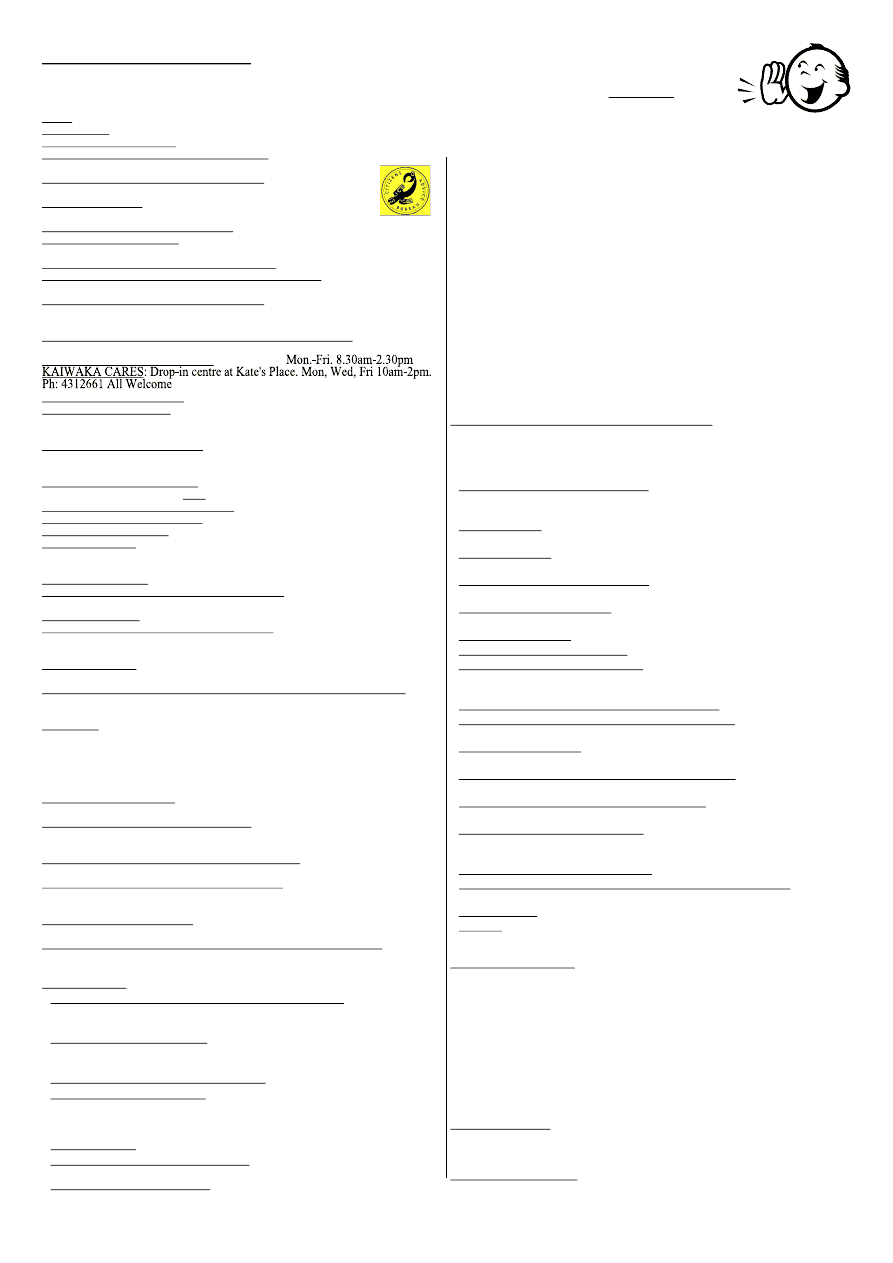 Next Bugle Deadline midday Friday 28 April 2017
LOCAL SERVICES 
*Emergencies - Ambulance, Fire, Police - dial 111 
*Non-urgent Police phone 09 4311150
A A: Meets Wed., 8pm Kaiwaka Ph: 4312228, 4315543, 0800229 6757 
AL ANON: In recess, contact Ph: 4312228 
ASUREQUALITY LTD (was AgriQuality) Call Free 0508 0011 22  
BUDGETING SERVICE, WELLSFORD: Free confidential advice & 
support for all areas of personal finance. Ph (09) 423 7123 
CAB-Citizens Advice Bureau.Wellsford Ph: 4237333 
0800 367 222 email:cab.wells@xtra.co.nz  
CIVIL DEFENCE - Kaiwaka Community Response Group: 
kaiwaka.civildefencecrg@gmail.com, 4312725 Wendy 
DOG/STOCK /NOISE CONTROL 0800 105 890 
FUNERAL SERVICES: Morris & Morris Ltd, 
Whangarei - Bev Jaques Ph:4312367 or 0800667747 
GRANDPARENTS Raising Grandchildren: Dianah Roberts 0223819539 
HAKARU & DISTRICTS MEMORIAL RSA (Inc) 733 Settlement Rd, 
Hakaru. Ph 4312 176 or Graeme Hitchcock (President) 431 3064 
HAKARU LANDFILL/Transfer Station:Open everyday except 
Tuesday10am-4pm.Ph4312629 Cost-$55 trailer load up to 1 cubic metre. 
Ph:4258567 - office 
KAIPARA DISTRICT COUNCIL www.kaipara.govt.nz:  
Help Desk FREEPHONE 0800 727 059  
KAIWAKA KOHANGA REO: Ph:4312620 
KAIWAKA CEMETERY: Ph: 4312045 
KAIWAKA LIBRARY: kaiwaka.library@gmail.com  
Mon. 4-6pm; Wed., Thurs., Fri., Sat. 10am-2pm Ph:4312539 
KAIWAKA PLAYCENTRE: Ph Juanita 0274134904; open Mon, Wed, 
Fri 9am-12pm. Hastie Lane 
Monday to Friday 9.00am - 12 noon. 
KAIWAKA POST OFFICE:Ph:4312 431  
Post Code: 0573 for RD2 and 0542 for all Kaiwaka Post Office mail 
KAIWAKA PRIMARY SCHOOL: Ph: 4312309   
KAIWAKA SPORTS ASSN: Ph 4312005; 4312129 gym 
KAIWAKA ST JOHN: Manager Steve Rosser 09 4318403, 021 2316836 
KATE'S PLACE Community Centre - Employment services, Free Health 
Nurse, Advocacy, Osteopath, A.A., Legal Advice. 4312 661 
LINKING HANDS Health Shuttle Ph 4315906 or 09 4318969 
MINISTRY FOR PRIMARY INDUSTRIES - General inquiries Call 
Free 0800 008 333 
NORTHPOWER: Faults Kaiwaka area 0800 104040 
OTAMATEA COMMUNITY SERVICES: Counselling, parent coach, 
Family Support worker, budget advice, food bank. Mon-Fri 9am-3pm. Ph 
09 431 9080 http://www.otamateacs.org/ 
PARENTPORT: Free, practical family support service Puhoi to Paparoa 
Ph or txt: Dianne 027 280 5093 or 09 425 9357 
PERSONAL DEVELOPMENT COACHING, GROUP FACILITATION:  
Sabine Druckler 4312231 
PLUNKET: Kaiwaka - Kaiwaka War Memorial Hall: Clinic 1st Wednesday of the 
month; Coffee Group at 9:30. Mangawhai  - Rose Madsen Cottage, Mangawhai 
Domain,  Moir  St:  Clinic  1st  and  3rd  Monday  of  month;  Young  Babies  Coffee 
Group  2nd  and  4th  Monday  10  am;  Plunket  Playgroup  every  Thursday. 
Maungaturoto - Maungaturoto Congregational Church, 100 Hurndall Street East: 
Plunket clinic 2nd and 4th Wednesday. Cynthia 09 431 8187 or 027 675 3488 
PLUNKET HELPLINE -0800 933 922 (24 hours) 
TAITOKERAU COMMUNITY LAW: Free confidential legal advice and 
assistance, 2nd
Thursday
 of each month. Ph: 0800 155 529 for 
appointments.  
TE KOROWAI AROHA O NGATIWHATUA Ph: 4312675 
(The Cloak of Love of Ngatiwhatua) Support and Maori Consultancy.  
VETERINARY SERVICE MANGAWHAI: 
Ph: 4314535 Mon-Fri 8.00-5.00, Sat 9-12, a/h appt. 
WELLSFORD DOCTORS: Ph: 4238 086 
WOMEN'S WELFARE LEAGUE & Reaching Out For Youth:  
4 Kaiwaka-Mangawhai Rd, M Morgan 4312293 
CHURCHES:
 
Kaiwaka Revival Church - Your Community Church: Sundays 10am & 
6pm. Ph: Pastor Tawhiri 09 4312 571 or Pastor Paul 09 4312 068 Visit 
us at www.facebook.com/kaiwakachurch 
 
St  Paul's  Anglican  Church  1st  Sun.  9.00am  (Eucharist),  3rd  Sun. 
9.00am (Family Service). Contact: Rev. Wayne Thornton Ph 431 4122 
www.mangawhaianglican.org.nz 
 
Church of Christ the King, Mangawhai:9.30am every Sunday 
 
St.Mary's  Catholic  Church:  Maungaturoto  –  Griffins  Road,  Saturday 
evening  Vigil  Mass  6pm;  Mangawhai  –  Senior  Citizens  Hall,  Sunday 
Mass  8:30am;  Wellsford  –  Matheson  Road,  Sunday  Mass  10:30am;  
Mid-week Mass times and all enquires to Fr. Bill Fletcher – phone 423 8170
 
Baptist Church: Sun. 10.30am Mangawhai Snr Cit.Hall.Ph:4312339 
 
Cause  Way  Church  Mangawhai:  Sundays  10.15am,  Mangawhai 
Community  Recreation  Centre,  Insley  St.  Ph:  09  4314782 
WHAT'S ON
PLEASE ~ do let us know what is on - email 
kaiwakabugle@kaiwaka.co.nz 
Advertising in WHAT'S ON is FREE  
*18Apr~Small Blacks Coaching Course, 6:30pm KSA 
*19Apr~Local Vocals junior choir workshop 3:30pm Wellsford 
Community Centre cuppateajackson@gmail.com 
*21Apr~Poppy Day 
*21Apr~Manchester By The Sea, 7:30pm KWMH 
*21-22-23Apr~Pt.Curtis Fishing Competition 
*22Apr~Permaculture Conference, KSA 
*25Apr~ANZAC Day, 10am Hakaru RSA 
*26Apr~Sports Awards Dinner, KSA, tickets from Jaques 
*28Apr~Kids' Disco 7pm KSA 
*29Apr~Mixed Netball Tournament, KSA 
*29Apr~TePounga Marae Fundraiser, 5:30pm 
*30Apr~Sing, 2pm KWMH 
*30Apr~Open Mic, Hakaru RSA 
*5May~Lion, 7:30pm KWMH 
*7May~Hakaru RSA AGM 1:30pm 
*10May~La La Land, 7:30pm KWMH 
KWMH = Kaiwaka War Memorial Hall; KSA = Kaiwaka Sports Association 
See www.kaiwaka.co.nz for more information 
HOUSEHOLD RUBBISH COLLECTION - Kaiwaka Pick up: 
Mondays = Green bags (Northland Waste - 09 430 3273) 
Wednesdays  = Blue bags and yellow recycling (at Jaques $3.00 
and $1.50) (Kaurilands 09 4392146) 
 DIABETES  Support  Group  -for  Kaiwaka,  Mangawhai, 
Wellsford  10am,  3rd  Friday  of  month  Ph:  Colleen  James  09 
4314238 
 DRINK CAN 'tear tabs' - for Starship Hospital- please collect - 
98 Kaiwaka Mangawhai Rd, leave in mailbox, Ph. 4312625  
 GENEALOGY - Wellsford: 1st Thursday in month Ph: 423 
7033; Waipu: 4th Monday in month Ph: 4312 725 
 GYMNASTICS  OTAMATEA  -  Tuesday  Ph:  Stephanie  022 
3624998 
 HAKARU PONY CLUB - Secretary Denise Rogers 021423376 
secretary@hakaruponyclub.co.nz  
 KAIPARA HUNT - Secretary Albert Doonenbal Ph 4312059 
 KAIWAKA BADMINTON -Tuesdays 7.30pm Ph: 4312345 
 KAIWAKA  DRAMA  CLUB  -  Dave  Edwards  021  611198  - 
KaiwakaDrama@gmail.com Monday 5:30-7:00pm KWMH - FB 
- "KaiwakaDramaClub" 
 KAIWAKA DRUM & DANCE CLASSES - 021 611198 
 KAIWAKA GARDEN & FLORAL GROUP - 2nd Thursday in 
month. Ph: 431 4767 
 KAIWAKA  CUBS  -  Thursdays  5.30-7pm,  Hakaru  Ph:Bruce 
4312542 
 KNITTING FOR WHANGAREI HOSPITAL - 2nd Tuesday in 
month, Archie Bull Hall 10am Ph 4314827 
 MANGAWHAI COMBINED PROBUS CLUB - 2pm, 3rd 
Thursday month, Senior Citizens Hall Mangawhai. Ph: 4315777 
 OTAMATEA GREY POWER - Kath Pattinson 09 283 2052, 
1pm last Wednesday of month, Anglican Church Hall, 
Maungaturoto 
 PT CURTIS CRUISING CLUB - Jean Ph: 4312227 (wk), 4312520 (hm) 
 RSA,  HAKARU  &  DISTRICTS  WOMEN'S  SECTION  –  meets 
1.30pm 4th Thursday of the month. Ph: 431 5818  
 TRAMPING - Mondays 9am-2:30pm Maria 4312 234 
 YOGA  -  Tuesdays  6:15pm,  Friday  8:30am  KWMH  Carla  Ph: 
021 296 8794 
HALLS FOR HIRE: 
 St.Pauls Archie Bull Hall HIRE $20 half day, $40 full day per 
hire, R. Morgans, Ph 4312365 
 Kaiwaka  War  Memorial  Hall  HlRE  -  Phone  4312725  or 
kaiwaka.hall.bookings@gmail.com 
 Hakaru Community Hall HIRE -Ph. 4312256 or 4312110 
 Te Pounga Marae queries - R. O'Leary 4312 423, J.Nathan 021 
186 7382 
 Kaiwaka Sports Association hire/queries - C. Anderson 4312051 
or kaiwakasports@gmail.com 
Justice of Peace:  
B.FJaques  4312  048;  L.Donaldson  4312  228;  A.F.Hargreaves 
4312 045, W.Howard 4312 725 - please phone to make sure they 
are available www.justiceofthepeace.org.nz 
Marriage Celebrants:  
L.Donaldson; A.F.Hargreaves; C.Rosseels, Y Osborne