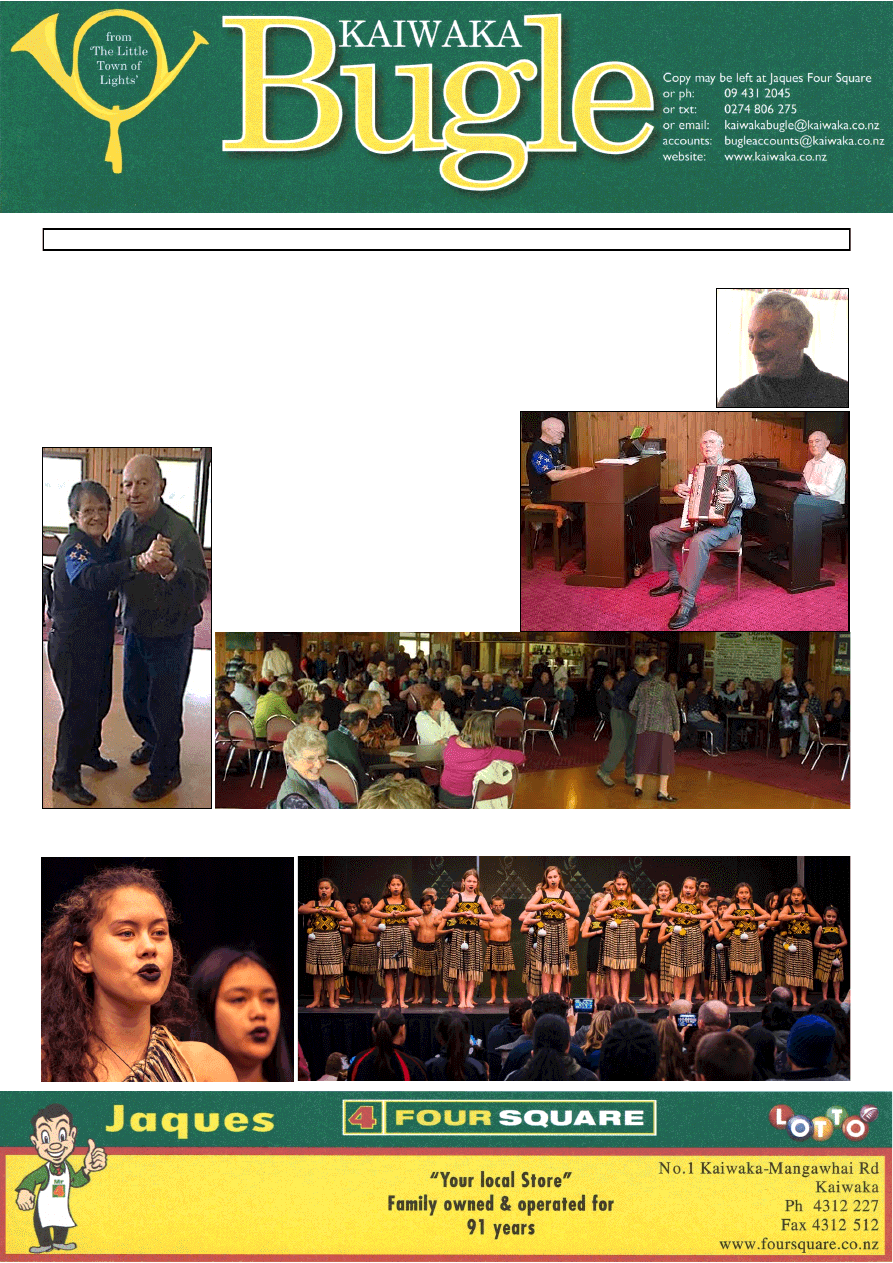 www.kaiwaka.co.nz 
Kaiwaka Bugle - 27 June 2017 
Page 1 
No:12 
27 June 2017 
Trading Hours: 
Monday to Friday 8:00am - 6:30pm 
Saturday 8:00am - 7:00pm 
Sunday & Public Holidays 9:00am - 5:00pm  
TE URI O HAU KAPA HAKA FESTIVAL 
held at Otamatea High School on 10 June 2017. Thanks to Josie Gritten Photography for the photos. 
JAQUES BROTHERS - A BRILLIANT BLAST FROM THE PAST! 
Tony  Hargreaves  welcomed  a  wonderful  crowd  to  the  Kaiwaka  Sports  Complex  and  gave  a 
background to the band including those who had played with them over a 60 year period (not all at 
once, of course). The brothers were all born in Kaiwaka and started their band in 1950 - Bill 17 on 
the piano, Brian 15 with the piano accordion, and Reg 13 playing the tenor banjo.  
More  than  100,  of  mostly  senior  citizens,  who  have  great  memories  of  the  Jaques'  dance  music 
danced and reminisced! The Kaiwaka Centennial Book 1959 notes on page 91, 
" All through the years, 
dancing has always been a popular source of amusement, and while orchestras were often hired from Auckland, 
Whangarei  and  other  centres  to  supply  the  music,  much  local  talent  has  been  available.  Latterly,  the  most 
sought after band is the Jaques Brothers' band, these boys being great-great-
grandsons of Joseph  Bowmar."  
In the early years they played two or three 
times  a  week,  especially  in  the local halls. 
Most  memorable  were  Tobaccolands  Hall 
(originally  a  tobacco  drying  shed)  and 
Hakaru, and wedding dances. In some cases 
they have played for couples and then later 
at their  children's  wedding.  Currently  they 
play electronic instruments - Bill the piano, 
Brian  piano accordion, and Reg the organ. 
Photos:  top  -  Tony  Hargreaves;  right    -  Reg, 
Brian  and  Bill  Jaques;  below  -  Beatrice  Foote 
and Donald Cullen in front of the crowd; left  - 
Bev Jaques and her brother Graham Dowson.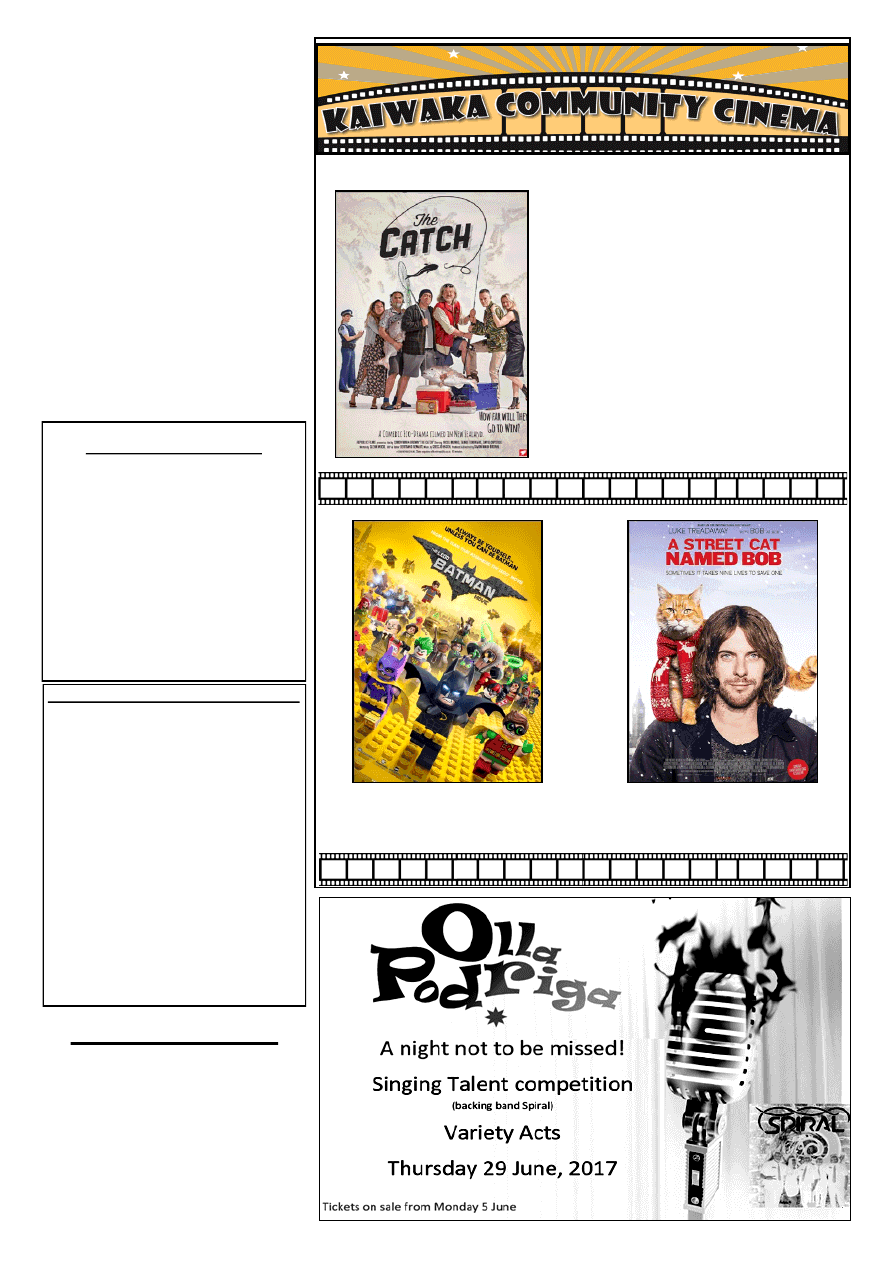 At Kaiwaka War Memorial Hall . Adults $10, Kids (under 16) $5, Family Pass (2 adults + 3 children) $25 
ABOUT TOWN 
Watch out for the new 3 Furs bus 
shelter AND the repositioned school 
bus shelter at Settlement Rd. 
Kaiwaka  St.John  Op  Shop 
needs 
plastic bags,  please.

Lost  property  needs  collecting  -
not only from school but the Sports 
Assn. too!

Condolences  to  the  family  of 
former  Kaiwaka  resident  Evelyn 
Wrigley.
KAIWAKA BUGLE No. 12 
27 JUNE 2017 
CONTENTS 
Page 3: Public Notices, Classified 
Page 5: KDC; Knitting Group 
Page 7: Kaiwaka sports Assn. 
Page 9: Kaiwaka School 
Page 11: Kaiwaka Can 
Page 13: Rats: ORT-Jungle Book 
Page 15: Kate's Place; Riverview 
Page 17: Nurse Cavell Memorial 
Hospital; Kauri Museum 
Page 19: Pt.Curtis Fishing Club 
Page 21: Otamatea Community 
Services; Rural Women 
Bugle 13 will appear 11 July 
Contact for advertising, reports, articles 
or information can be made by 
Email kaiwakabugle@kaiwaka.co.nz 
Ph: 09 4312 045 (Lindsey) 
Txt: 0274 806 275 (Wendy) 
Copy  may  be  left  at  Jaques'  Four 
Square. 
Kaiwaka Bugle 
Founded May 1978 
We appreciate articles and photos about local 
events, etc, as well as ads and suggestions. 
Copies available in Kaiwaka at Jaques Four 
Square, Kaiwaka Postal Centre, Shamrock 
Service Station, Animal Health Centre, 
Kaiwaka St John shop. 
Also outlets in Maungaturoto, 
Mangawhai and Paparoa. 
Can be viewed online at  Facebook or 
www.kaiwaka.co.nz/Bugle  
Or a copy can be posted to you if you supply 
stamped, self-addressed DLE envelopes. 
The Catch 
Friday 30 June 7:30pm (M)
An  important  fishing  contest  in  a 
small town, some mates - and a cheat.  
Filmed on the Kaipara Harbour - spot 
the locals! 
Starring:  Aysha  Boneza,  David 
Capstick,  Laura  Hill,  Nicol  Munro, 
Tainui Tukiwaho, Ruth Wynne. 
The Lego Batman Movie 
Sunday 2 July (PG)  
A Street Cat Named Bob 
Friday 14 July 7:30pm (PG)
Kaiwaka Bugle Advertisements 2017: 
All 
copy 
and 
queries 
to: 
kaiwakabugle@kaiwaka.co.nz 
Our A4 page is divided into 6 columns & 
8 rows (48 blocks), with a 1cm margin. 
Ad  sizes:  1/16  page  (3  blocks)  $5;  1/8 
(6 blocks) $8; 3/16 (9 blocks) $12.  
Classified  ads:  $4  per  entry  (max.  30 
words, max. 4 repeats). 
Payments  can  be  made  online  at 
ANZ 
06  0365  0006990  00
,  posted  or  left  at 
Jaques Four Square Store. 
We  use  Microsoft  Publisher,  and  can 
work  with  most  common  image 
formats, Word, Excel, and PDF files. 
Accounts:  
Email: bugleaccounts@kaiwaka.co.nz 
The  Kaiwaka  Bugle  is  a  community 
newspaper run by volunteers.   
Articles, etc. printed are not necessarily 
the opinion of the Bugle Team. 
Otamatea High School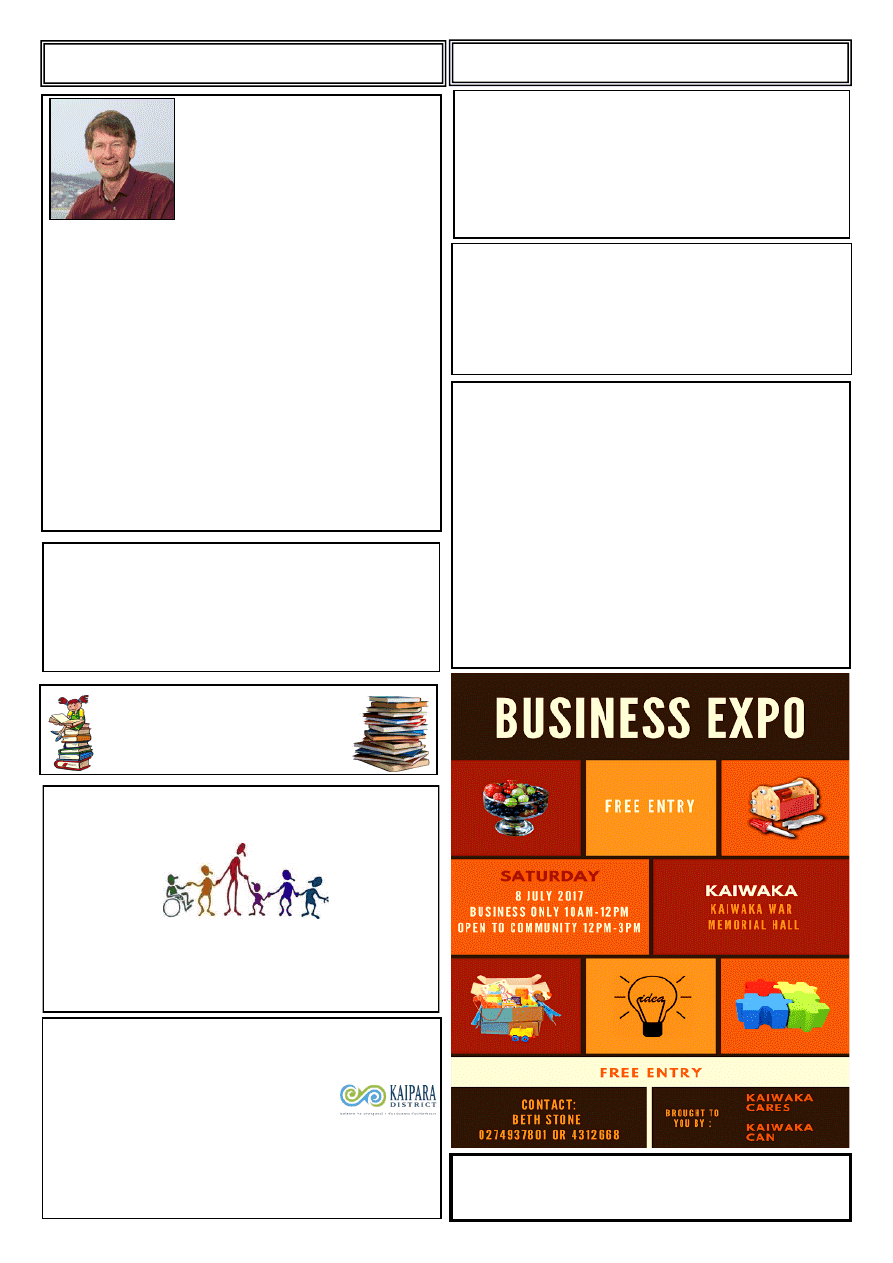 www.kaiwaka.co.nz 
Kaiwaka Bugle - 27 June 2017 
Page 3 
PUBLIC NOTICES 
Proverbs  17:22 
A cheerful disposition is good for 
your health; gloom and doom leave you bone-tired.
LINKING HANDS INC 
Maungaturoto - Kaiwaka - Mangawhai 
Meeting the needs of the community 
HEALTH SHUTTLE SERVICES 
Ph/fax 09 431 8969 
OFFICE HOURS 
Maungaturoto - Monday to Friday - 10am to 4pm 
Closed Public Holidays 
FREE BOOKS FOR 
FUNDRAISING 
The  libraries  are  always  purchasing 
new  books.    To  make  room  for  them 
we  have  to  find  homes  for  older 
stock.    Discarded  books  are  available  for  your 
community group fundraiser.  Last year three groups 
each  earned  over  $1,000.  selling  discarded 
books.  For further information phone Lisa Salter 09 
439 3150 or email library@kaipara.govt.nz. 
MONTHLY 
DROP IN SESSIONS
with Northland Regional Council  
Coastal South Councillor – 
 Rick Stolwerk 
(PLEASE NOTE: The following is not a 
council sponsored publication and is the 
personal opinion of Cr Rick Stolwerk)
On the first working Monday of each month I am 
running DROP IN SESSIONS at the venues below.
MONDAY JULY 3rd  
9.00 – 10:00am Maungatapere - Office Café 
(WDC Deputy Mayor Sharon Morgan will attend this session)
10:30 - 11:30pm Ruakaka WDC Office 
12:00 - 1:00pm Waipu - Deli Cafe 
1:30 - 2.30pm Kaiwaka - Kaiwaka War Memorial Hall 
(KDC Councillor Jonathon Larsen will attend this session)
3.00pm – 4.30pm Mangawhai - Mangawhai Museum
(KDC Deputy Mayor Peter Wethley will attend this session) 
We am interested in your thoughts on any NRC/WDC/
KDC issues and look forward to catching up and 
answering any queries that you may have.
Please do not hesitate to give me a call if you are unable to 
make the above sessions.
Kind regards, Rick Stolwerk 
Phone: 027 542 2708 or 09 432 0741 Email:ricks@nrc.govt.nz  
Kaiwaka Library 
Used Book Sale 
$1 each, 3 for $2 or 10 for $5 
NEW SELECTION OF BOOKS FOR JUNE
! 
REGISTERED 
PSYCHOTHERAPIST
Able to undertake ACC sensitive claims 
Counselling at Kates Place in Kaiwaka 
To make an appointment contact: 
Adele Scott 
MA Psychology, Clin Dip Psychotherapy
021 0221 3720 
connectherapy@gmail.com 
LINKING HANDS 
Annual General Meeting 
will be held on Tuesday 04th July 2017, 
7pm at 131 Hurndall St Maungaturoto. 
All welcome and it would be great to see 
some new faces attend. 
TE ROROA LEARNING ASSISTANCE 
Annual General Meeting
3pm Thursday, 20 July 2017 
Te Roroa Learning Assistance,  
22 Gladstone Street, Dargaville 
All Welcome 
MANGAWHAI TABLE TENNIS 
All welcome to play table tennis! 
Mangawhai Village Library Hall 
7 - 9pm every Thursday 
Adults $5, Students $2 per night 
Contact Dawn 4314450 
PUBLIC NOTICES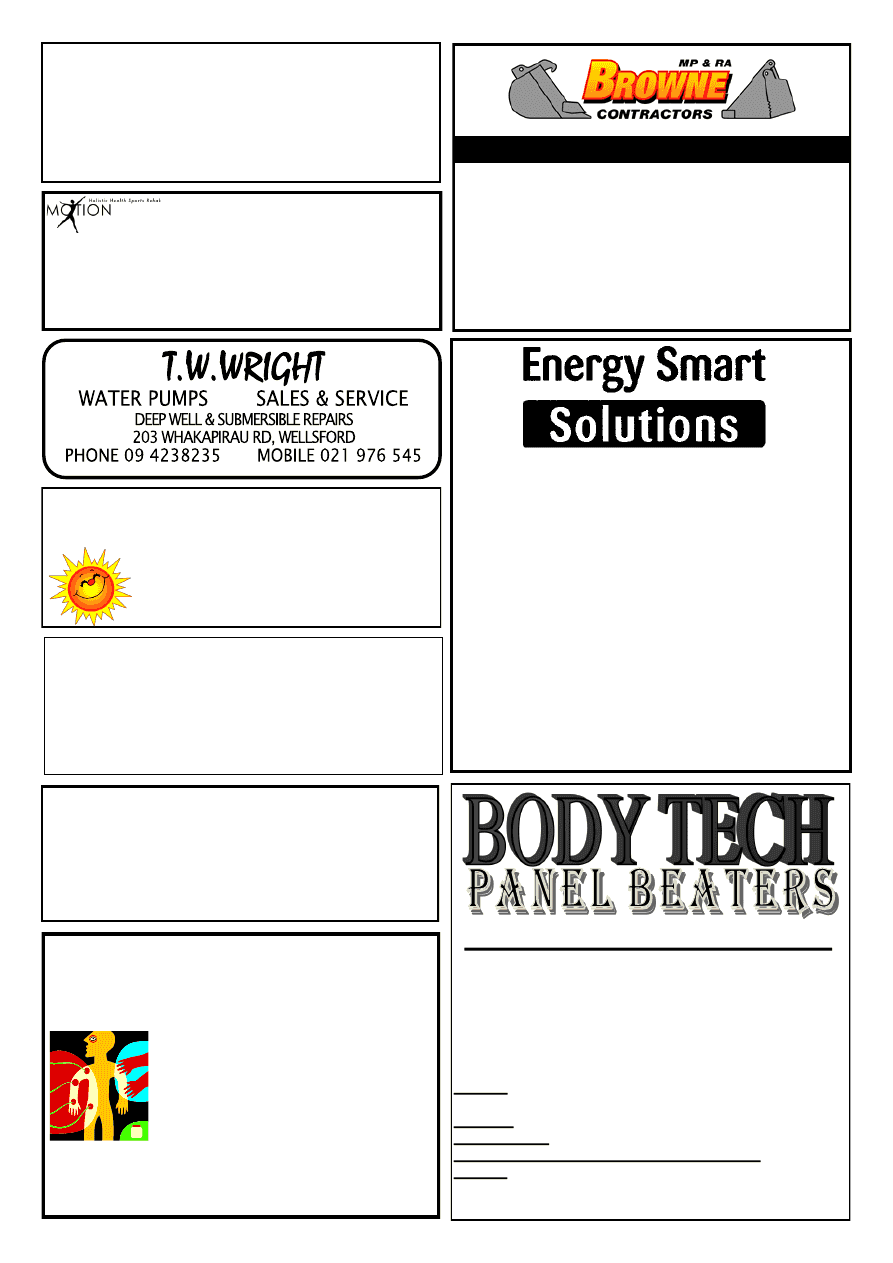 FREE GRAZING WANTED 
Small or large block 
Can do some fencing or water 
Phone after 6pm 
4312 006 
WAIPU OSTEOPATH 
Maria Gabriel  ACC Registered Osteopath 
8 The Centre, Waipu 
Monday to Thursday  
Freephone 0508 924786 (0508 WAIPUOSTEO) 
www.getinmotion.co.nz  No doctor referral required 
OWEN STEVENS 
Osteo Therapist
For careful adjustments to bones and joints 
Treatment for  humans and their pets 
Clinics: 
Kate's Place, Kaiwaka: 
Last Friday of month 
For bookings:9.00am-5.00pm 
Phone 
09 4312661 
Or phone Owen  09 4317123  anytime 
4T DIGGER – BOBCAT – TIP TRUCK 
Property Maintenance - Driveways - Building Sites 
Stump & Tree Removal - Hole Boring - Chain Trencher 
Calf Shed and  Stockyard Cleaning
KAIPARA - WHANGAREI - RODNEY 
Phone Matt: 021 199 6677 
Email: mprabrownecontractors@gmail.com 
For all your body repair needs!! 
We do: 
•Rust repairs 
•Insurance work 
•Anti-corrosion treatment     
Hours: 8.30am-5pm Mon-
day-Friday  
Mobile: 021 118 0462 
After hours: 09 431 2384 
Phone: Craig or Call in for a free Quote 
bodytech_panelbeaters@yahoo.com
We are located at 1837 SH1 Kaiwaka, behind  
Twinkle Tow 'n' Tyre call in anytime for a free quote.  
•Large and minor vehicle  
 repairs 
•Industrial vehicles 
•Full Cut and polishes 
ASK US ABOUT OUR NEW 
SOLAR ENERGY PACKAGES
We also provide advice on Ventilation Systems, Heat 
Pumps and Air Conditioners.
Does your Family or Home suffer from 
Are you looking for affordable top quality 
products? 
CALL US NOW!
For a free assessment and quote phone:
431 2025 / 021 762 352 
www.energysmartsolutions.co.nz 
• Condensation 
• Allergies 
• Asthma 
• Poor air quality 
• Musty smells 
• Mould 
MARRIAGE CELEBRANT 
WEDDING EVENTS PLANNER 
Yvonne Osborne 
Ph 0274 989 814 
yvonne.osborne@xtra.co.nz 
THE SUNSHINE GIRLS
Efficient and reliable help with 
your housework. 
Ph 4312 532 
 LEABOURNS 
Passenger Service
Car & Van Hire, Bus & Coach Charters, Airport 
Transfers, Monthly Shopper Bus 
Phone 09 4237416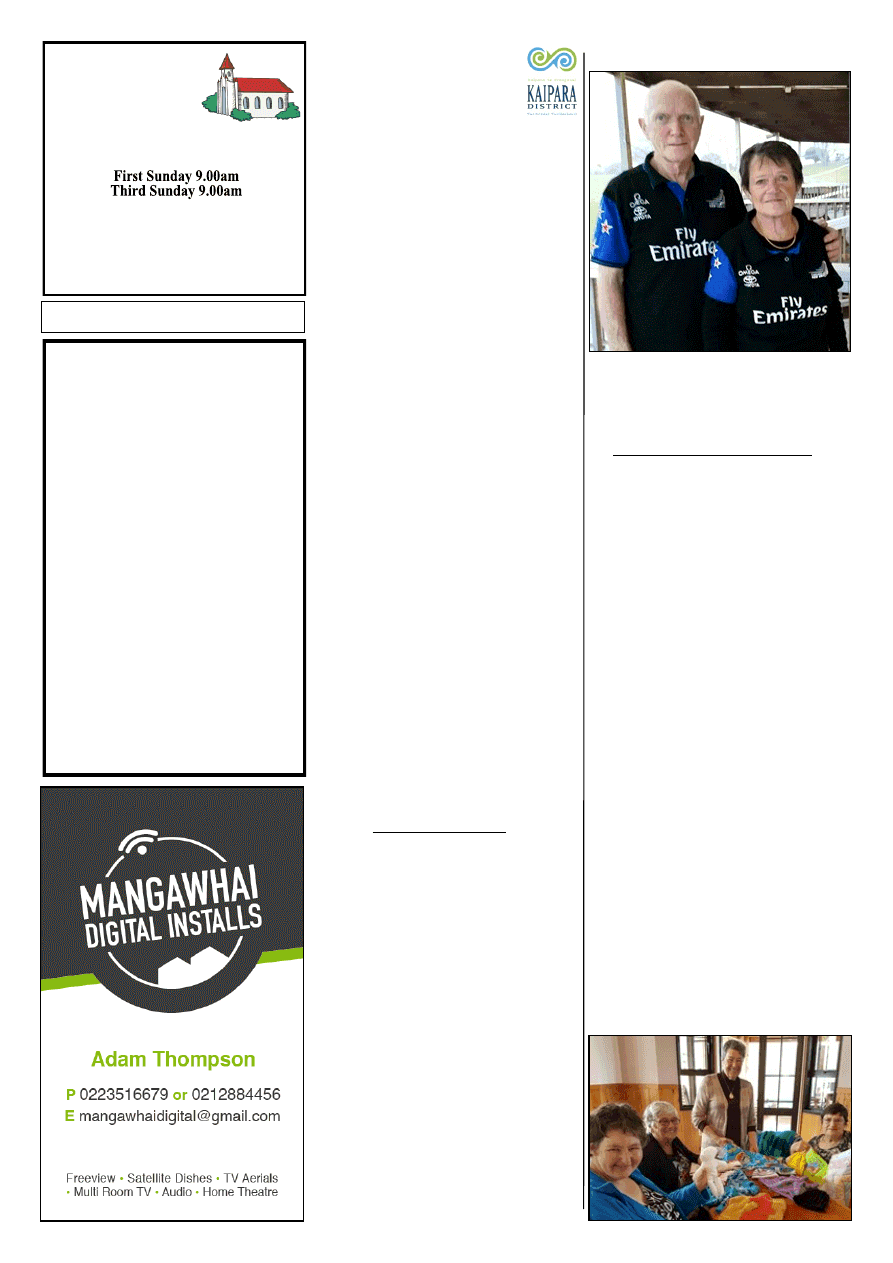 www.kaiwaka.co.nz 
Kaiwaka Bugle - 27 June 2017 
Page 5 
Willow Bend
HORSE  
HOTEL 
  
Total Horse Care 
 
Agistment 
 
Riding Lessons 
 
Arena Hire (60x40) 
 
Young Horse Starting 
 
Re-training/Exercising 
 
Hoof Trimming 
 
Problem Solving 
Phone Sue 09 431 2817 
or 021 623 776 
Or email  
susanjoll11@gmail.com 
ST PAUL'S  
ANGLICAN  
SUNDAY  
SERVICES
St Pauls Church: Kaiwaka-Mangawhai Rd. 
1st Sun - Eucharist 
3rd Sun - Family Service 
Rev. Wayne Thornton Ph 431 4122 
www.mangawhaianglican.org.nz
KNITTING FOR 
WHANGAREI 
HOSPITAL 
Feedback  from  Elizabeth  R,  former 
Kaiwaka  resident:  "Recently,  when 
volunteering 
at 
the 
Whangarei 
Processing  Centre  Hospice  Shop,  we 
were  entertained  by  a  delightful  little 
girl,  of  about  18  months  of  age,  who 
was  laughing  and  running  around 
despite the fact that she had an oxygen 
tube  through  her  nasal  breathing 
passages.  She  was  wearing  the  most 
colourful,  delightful  hand  knitted 
cardigan.  I  asked,  naturally,  who  the 
knitter was. I was surprised to find that 
what she was wearing was done by the 
group  from  Kaiwaka,  who  knit  for 
Whangarei  Hospital.  The  family  were 
really appreciative of all the items they 
had received from this group. " 
The Knitting group meet on the second 
Tuesday of every month in the Archie 
Bull  at  10am.  You  are  welcome  to 
bring knitting or sewing for youngsters 
in Whangarei hospital. 
They also make blankets and knee rugs 
for  the  dialysis  unit.  Wool  or  knitting 
donations  can  be  left  at  The  Apple 
Basket, SH 1 Kaiwaka. 
Contact:  Gael  4314827  or  Elaine 
4312338
Photo: Some of the Knitting Group with knitting 
for the hospital 
Find  out  how  Kaipara  District 
Council roading works 
Kaipara  Roading  meetings  with  the 
Mayor 
Monday 
03-Wednesday 
05 July 2017. 
We  want  to  talk  with  you  about 
roading,  across  the  district.  We  are 
holding  meetings  with  the  Mayor, 
Greg  Gent,  Councillors  and  our 
Infrastructure 
General 
Manager, 
Curt Martin.  
We want to discuss: 

How  roading  works  across  Kaipara 
and Northland; 

The draft roading plan for your area 
for the next budget year commencing 
July 2017; 

Feedback  you  have  on  the  plan  and 
priorities for your area; 

Feedback 
on 
the 
meetings 
themselves. 
Please  find  some  time  to  come  to  a 
meeting, talk with us and give us your 
feedback.  
Dates and Locations: 
Monday 03  July  2.00pm  –  3:30pm  - 
Mangawhai Domain, Moir Street 
Monday 03  July  6.00pm  –  7:30pm  - 
Kaiwaka  Sports  Association  Hall, 
Gibbons Road 
Tuesday 04  July  3.00pm  –  4:30pm  - 
Ruawai Tokatoka Hall, Wharf Road 
Tuesday 04  July  6.00pm  –  7:30pm  - 
Maungaturoto  Centennial  Hall,  View 
Street 
Wednesday 05 
July 
11.00am 
– 
12:30pm  -  Te  Kopuru  Centennial 
Hall,Norton Street 
Wednesday 05 July 6.00pm – 7:30pm - 
Northern  Wairoa  War  Memorial  Hall, 
Hokianga Road, Dargaville 
Unable to make a meeting? Check out 
our  website,  the  newspaper  or 
Facebook page for updates. 
KAIPARA 
DISTRICT 
COUNCIL 
Bev,  our  Kaiwaka  Weather  girl,  and 
her  husband  Reg  are  watching  our 
Emirates Team New Zealand finals up 
close!  They  won  a  trip  to  be  on  a 
catamaran  right at the action. Our best 
wishes. Go ETNZ! 
BERMUDA! 
CITIZEN AWARDS 
Kaipara  District  Council  are  now 
reinstating the annual Citizens Awards 
based 
on 
recognition 
of 
the 
contributions  and  achievements  of 
outstanding  Kaipara  citizens,  to  show 
our  commitment  to  recognising  the 
contribution  and  achievements  of 
individuals  and  organisations  to 
the district.
Citizens  Awards  are  awarded  in 
recognition  of  substantial  service, 
usually of a voluntary nature or beyond 
normal 
employment, 
benefiting 
Kaipara and its people.  
Applications  will  be  assessed  on  their 
personal 
leadership, 
inspiration, 
sacrifice or devotion to a cause or made 
a  significant  contribution  to  the 
well‑being  of  the  Kaipara  district  and 
its citizens. 
Nomination  forms  can  be  downloaded 
from the Council website.
Mā te Atua me te wāhi ngaro tātou e tiaki e manaaki 
May God and the origins of which all things come from, bless and keep us.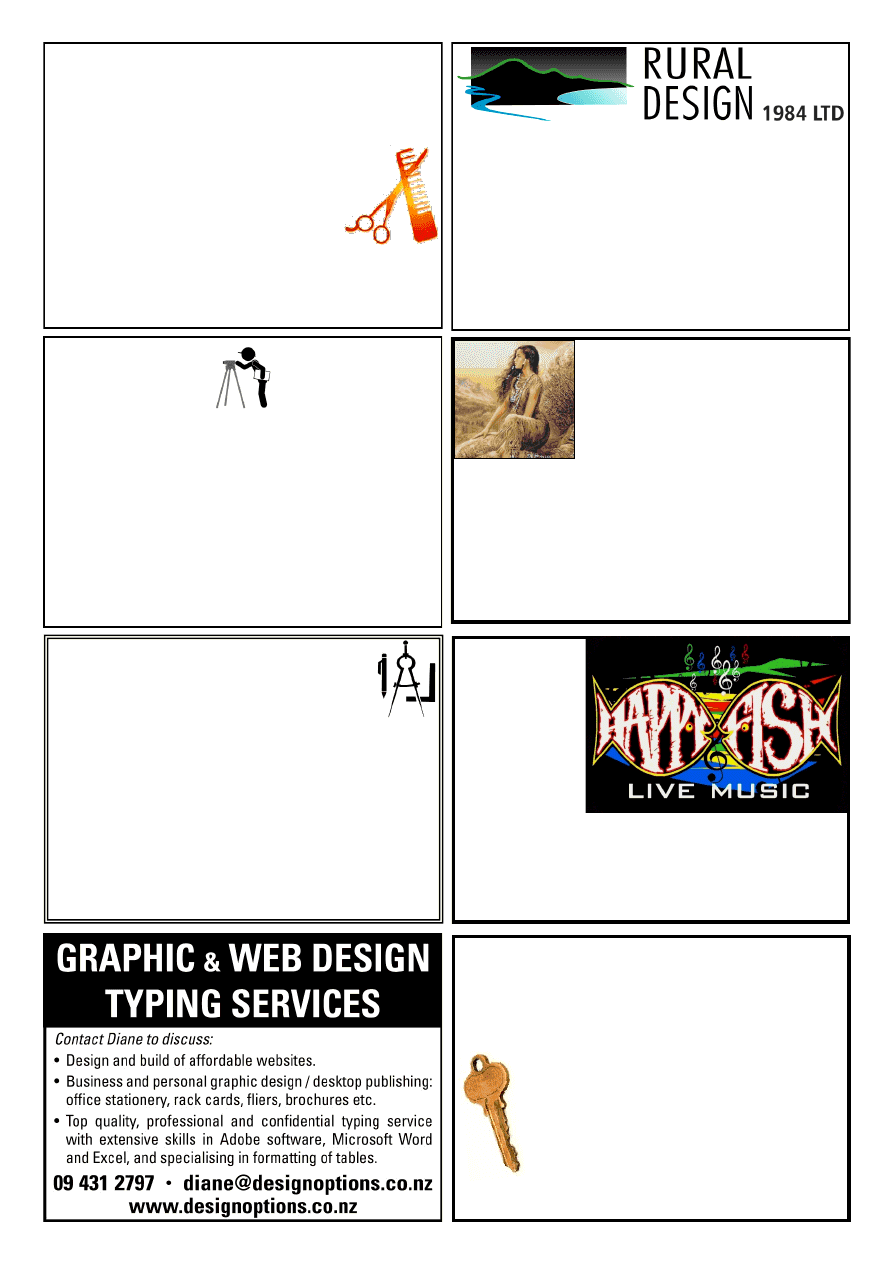 design drafting  
service 
Retired builder and manufacturer with over 40 years  
experience in the building industry is offering a design 
drafting service  
for domestic housing, sleepouts and sheds.  
Plans formulated in consultation with clients, with 
working drawings completed and submitted to  
council for processing.  Extensive practical experience,  
able to identify & resolve problems. 
Please ring Mike Lean on 
09 431 2260 
or 
021 431 196 
Ken Urquhart 
BSurv Licensed Cadastral Surveyor 
KMU Surveys Ltd
467 Bickerstaffe Road 
RD 2 
Maungaturoto 0587 
Ph 09 431 8705 
Mob 021 161 2344 
kenurquhart@xtra.co.nz 
WHOLESALE NATIVE PLANT NURSERY 
AND LANDSCAPING 
By Appointment 
Small and Large orders welcome 
Phone: 09 431 2481 
Email: info@ruraldesign.co.nz 
Rockin' popular, 
old and new party 
songs with loads of 
Kiwi music and a 
few original tunes 
in the mix.
An electric duo 
featuring: 
Gordon Joll 
(NZ Music Hall of Fame)
 on drums and Sue Joll on guitar and 
vocals, a band for any occasion backed by years of 
experience.
Contact: Sue 021 623 776 
Email: happyfishband@gmail.com 
Website: www.happyfishband.co.nz 
Kaiwaka Hardware  
& 
Key cutting
Phone 4312 063 or 022 0642 703
kaikey2015@gmail.com
Keys Cut  
Household Hardware  
Curtain Tracks & Fittings
Not there? Call Doug and he'll sort
it for you. 
(
Next to Kaiwaka Motorcycles)
AFFORDABLE PRICES! 
MENS CUT FROM $20.00 
LADIES CUT FROM $30.00 
KIDS CUT FROM $18.00 
COLOUR & CUT FROM $120.00 
JUST CUTS'AND   
MORE 
021 165 2629 or (09) 945 0707  
NOW SELLING: scented tealights, incense, smudge sticks, 
copper bracelets, aurora ball crystals, dream catchers, healing 
stones, rose quartz, cds, and much more. Open 6 days. 
Trails end 
spiritualist gathering 
Last Sunday of every month  
11.30-2pm  
Tea/coffee provided  
$5 koha 
For all inquiries: 
021 165 2629 evenings (09) 945 0707 
Trail.end@hotmail.com 
Bringing together light minded people 
Guest speaker each month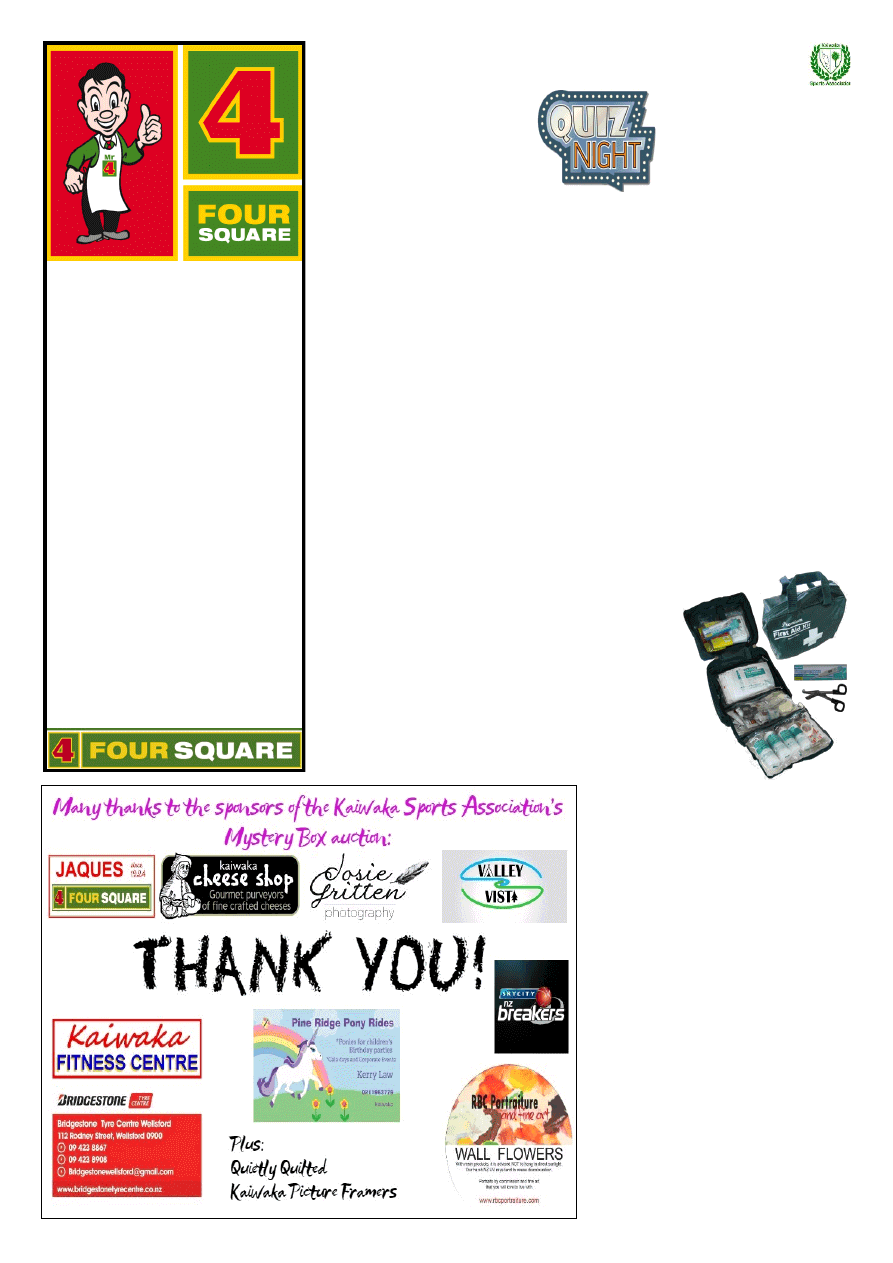 www.kaiwaka.co.nz 
Kaiwaka Bugle - 27 June 2017 
Page 7 
The Jaques Band 
What  a  wonderful  afternoon  of 
entertainment  the  Jaques  Band 
gave us! Over 100 people arrived 
at the Sports Complex to listen to 
the  Jaques  brothers  Brian,  Bill 
and  Reg,  play  together  once 
more.  A  very  special  afternoon 
of  singing,  dancing  and  reminiscing. 
You can read more in the report in this 
edition of the Bugle. 
Mystery Box Auction 
Our  Mystery  Box  auction  during  the 
Jaques  Band  performance  raised  over 
$1,000! 
Of  course  we  couldn't  have  done  it 
without the generosity of our sponsors. 
Many  thanks  to:  Kerry  Law  of  Pine 
Ridge  Pony  Rides,  Rebecca  Clist  of 
RBC  Portraiture  &  Fine  Art,  Paula  & 
Greg  Jaques  of  Jaques  Four  Square, 
Josie  Gritten  of  Josie  Gritten 
Photography, Keith Draper of Kaiwaka 
Cheese  Shop,  Beth  Stone  &  Barry 
Wallace  of  Valley  Vista  Eco  retreat, 
Siobhan  Cole  of  Kaiwaka  Fitness 
Centre,  Wendy  Walker  of  Bridgestone 
Tyre  Centre  Wellsford,  Skycity  NZ 
Breakers,  Jenny  Bailey  of  Quietly 
Quilted,  Sonja  Ruiterman  of  Kaiwaka 
Picture Framers. 
Rugby - senior 
The  Hawks  will  play  Hikurangi  at  our 
grounds on Saturday 8th July, Reserves 
at  12.30pm,  Premiers  at  2.15pm.  This 
will  be  followed  by  the  Hawks 
prizegiving, all welcome.  
Squash 
Our  squash  club  is  enjoying  a 
resurgence of numbers. If you'd like to 
join our squash club, simply pop along 
to  our  club  night  on  Mondays  from 
6pm and we'll sort you out for a couple 
of  matches.  For  more  information 
contact 
Heath 
Worsfold 
on 
heath@ruraldesign.co.nz.  
Quiz Night 
I'm  putting  on  a  Quiz  Night 
as  a fundraiser  for  the KSA, 
on Saturday 5th August. This 
will  be  an  entertaining 
evening 
of 
fun 
trivia 
questions.  Bar  open,  BYO 
nibbles,  prizes  for  the  top  three  teams 
plus lots of great spot prizes! Teams of 
4  –  6,  $15  per  person,  pre-registered 
teams  only.  Please  register  your  team 
with me on kaiwakasports@gmail.com.  
Kids Disco 
The Otamatea Aims team is putting on 
a Fluoro Kids Disco at the pavilion as a 
fundraiser. This will be a fun night for 
the 
kids 
with 
games, 
dance 
competitions  and  spot  prizes.  There 
will  be  American  hotdogs,  iceblocks, 
drinks  and  other  treats  for  sale.  Bring 
the kids along in a fluoro outfit for an 
energetic,  fun  evening  out.  Saturday 
29th  July,  6  –  9pm,  $5  entry  (pre-
schoolers free). 
Congratulations 
Thank  you  also  to  everyone  who 
bought  a  ticket  in  our  coffee  machine 
raffle  -  and  congratulations  to  the 
winner Doug Te Puni. 
First Aid Kit Fundraiser 
I am selling first aid kits as a 
fundraiser 
for 
the  KSA.  At 
$39.95,  these 
first  aid  kits 
are  excellent 
value 
for 
money 
and 
similar  kits  often 
retail  for  over 
$60. This is a large 
carry 
kit 
with 
transparent  fold-out 
compartments  which 
contains 77 items and 
follows 
OSH 
and 
Consumer 
regulations. An  order  form  is  in  this 
edition  of the Bugle.  The deadline for 
orders is this Thursday. 
Roading Meeting 
The Kaipara District Council is holding 
a  Roading  Meeting  at  the  KSA  on 
Monday 3rd July at 6pm.  Mayor Greg 
Gent,  Councillors  and  Infrastructure 
General  Manager,  Curt  Martin  will  be 
at this meeting. All welcome. 
Gymnasium Hire 
Did  you  know  that  our  gymnasium  is 
available for hire?  
If  you've  got  a  family  get-together 
coming  up,  you  might  like  to  have  a 
fun, energetic afternoon together.  
If  you  wanted  to  play  a  structured 
sport,  the  gymnasium  is  marked  for 
basketball,  netball,  turbo  touch  & 
badminton  -  or  you  could  just  let  the 
young ones run around! 
Email me to make a booking. 
~Cheryl Anderson 
4312 051, 027 3462702 
kaiwakasports@gmail.com 
KAIWAKA SPORTS ASSOCIATION 
WEATHER
Winter Warmers
2L Hot Water Bottles 
$5.99 
Budget Fire logs $8.99 
Samba Kindling $9.19 
Budget Coal $10.19 
Free Range 
Whole Chickens $10.49
From the Bakery  
Freshly Baked Daily 
Breads, Pastries & 
Savouries
Due to demand we are open 
to 6.30pm Monday to Friday
Jaques Four Square 
Phone: 4312227 
1 Kaiwaka-Mangawhai Road, Kaiwaka.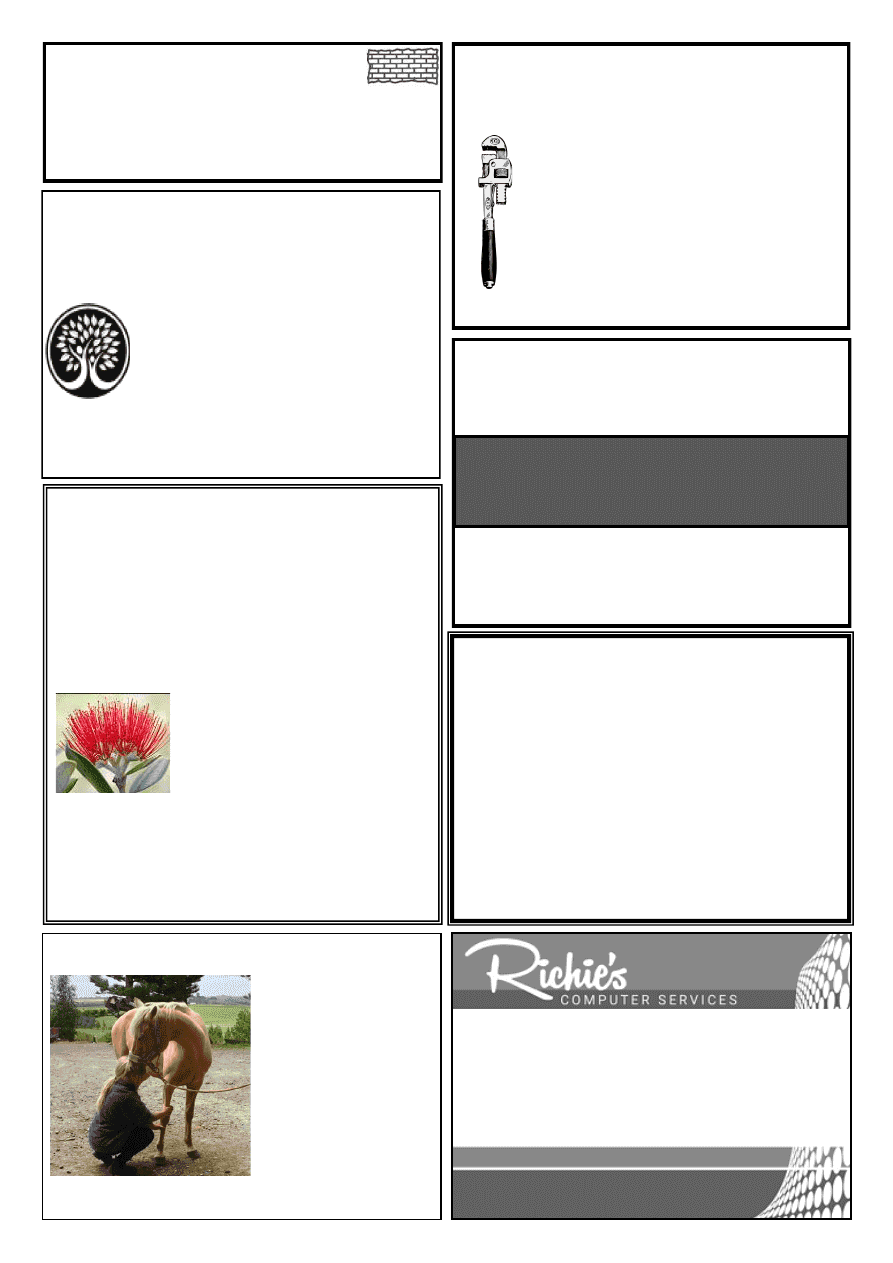 David Korach 
Your local Gib Stopper
DK PLASTERER LTD 
0274769221 
dkorach6@gmail.com 
BRICK/BLOCKLAYER 
All aspects of masonry: 
Fireplaces, Restoration & Remedial Work.
JAMES EAGLETON
Tel. (09) 431 2514     Mob. 0274 749 232
jajueagles@yahoo.com.au 210A Pukenui Road, RD2, Kaiwaka 0573 
Waipu Natural Health 
3 Cove Road, Waipu  (opposite the Pizza Barn) 
Ph: 09 432 1325 
www.waipunaturalhealth.co.nz
Clinical Nutritionist-Hair Analysis for Masked 
Allergies, Ozone Therapy, Prolotherapy, 
Naturopath-Medical Herbalist, Registered 
Massage Therapists, Reflexology-
Craniosacral Therapy, Acupuncture-Facial 
Acupuncture, Kineso Taping, Hypnotherapy, 
Counselling, ThetaHealing, Beauty Therapy
KIDS DAY – AFFORDABLE HEALTH SUPPORT 
FOR KIDS – every Wednesday 
(call us or drop in)
Gift Vouchers available
KAIPARA FLOORING CO 
Independently owned & operated 
32 HURNDALL ST MAUNGATUROTO
Supply & Installation of Carpet, Vinyl,  
Vinyl Wood Planking
Stockists of 2m & 3m wide 
vinyl & carpet short ends
Residential & Commercial
Q Card Finance Approved 
6-18 month terms 
6 mth interest free
First Class Installations
For a free measure & quote 
phone Christine  
09 946 9886 or 021 515 415 
kaiparaflooring@gmail.com 
http://www.kaiparaflooring.co.nz/ 
BARRY CURTIS PLUMBING LTD 
REGISTERED CRAFTSMAN PLUMBER 
Phone 4315572 
027 257 9884 
25 years experience 
Friendly reliable service 
All plumbing and maintenance 
Alterations and new housing 
Spouting 
Competitive rates 
PROMPT EFFICIENT  SERVICE 
Mangawhai Heads 
Garden Centre
1758 Cove Road
945 0707 
021 165 2629 
 
15 years  commercial IT experience 
 
Computer and Laptop Repairs 
 
Smart Phone and Tablet Support 
 
Virus and Malware Removal 
Richard Harding
T 09 945 0376        M 021 124 7358 
Jill Shires 
Holistic Animal Therapies 
Northland 
021 0506 592 
 
Massage Therapy 
 
CranioSacral Therapy 
 
Emmet Muscle Therapy 
 
Animal Reiki 
 
Acupressure
www.jillshires.nz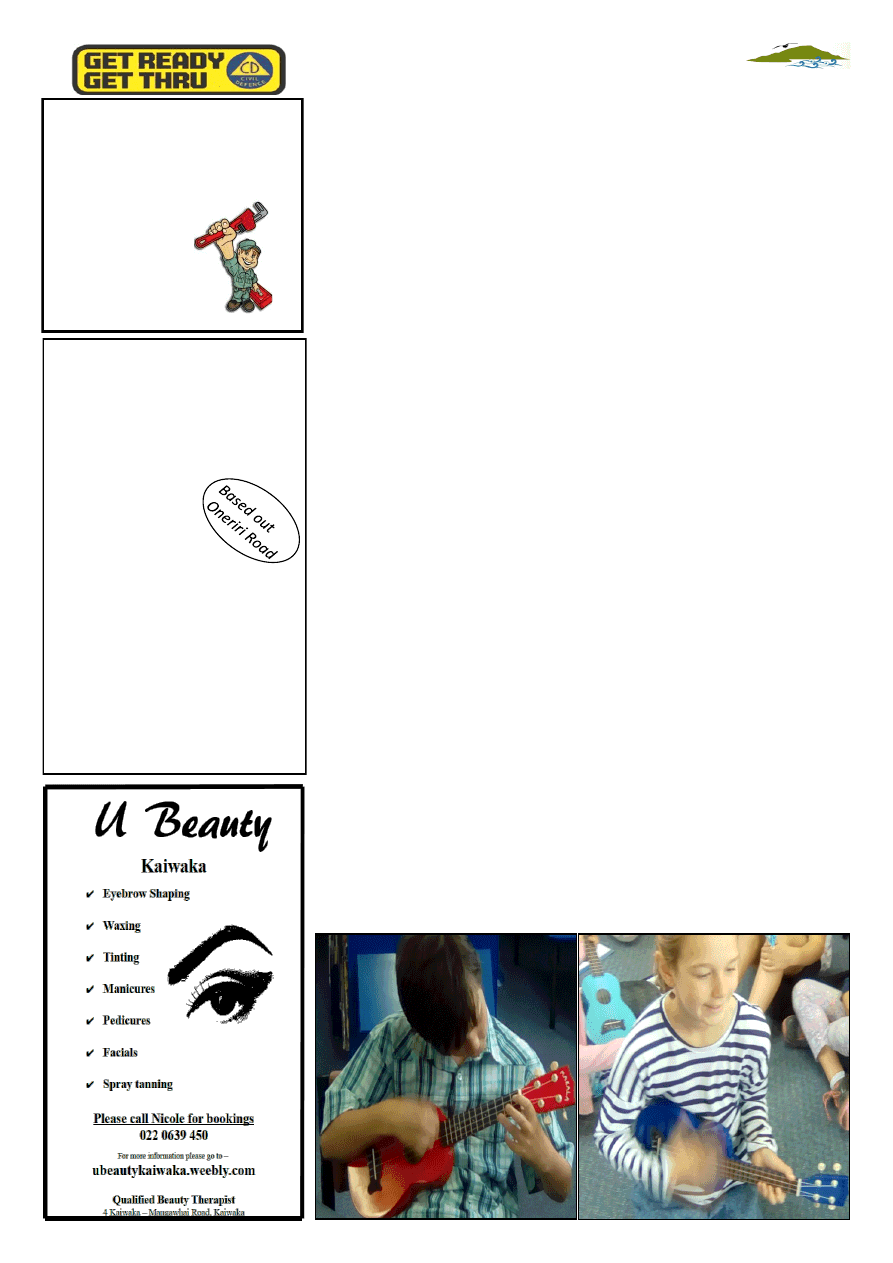 www.kaiwaka.co.nz 
Kaiwaka Bugle - 27 June 2017 
Page 9 
Ross Murphy 
PLUMBER 
Certifying Plumber
09 431 7510 
021 424 252 
Paparoa Based 

New Housing  

Renovations  

Maintenance
From the Principal 
With  great  pleasure  we  welcome  Miss 
Karima Bencheihk onto the permanent 
staff  at  Kaiwaka  School.  Karima  has 
won  this  position  which  has  been 
recently advertised nationally.  
We  had  a  magnificent  day  at  the 
Matariki  Kapa  Haka  Festival  at  OHS 
the  other  week.  Thank  you  to  all  the 
parents  and  caregivers  who  got  their 
children  there  after  a  busy  morning  at 
Sports. We had over 80 students in our 
performances.  Thank  you  to  all  the 
parents  who  assisted  with  getting  the 
students into their costumes. Of special 
note  was  the  stunning  Junior  Kapa 
Haka  group,  who  stole  the  show! 
Thank  you  Karima  for  tutoring  these 
children. Our seniors were exceptional 
also. Thanks especially to Sharlene and 
Katherine for preparing these students, 
and of course Whaea Mina Paikea.  
Warm regards,  Rosie Ellis  
Health Curriculum Survey and After 
School Care Survey  
We need your help, please.  
Our Health Curriculum is very full and 
covers  a  lot  of  topics.  We  need  to 
prioritize  what  we  put  into  the  Health 
Programmes,  as  everything  can  not  be 
covered  adequately.  We  want to  know 
what you think are the most important 
aspects of the Health Curriculum.  
The Board of Trustees is keen to gauge 
how  much  interest  there  would  be  in 
our  school  organising  a  registered, 
approved,  subsidised  After  School 
Centre, now that Small Pukekos can no 
longer assist us with this.  
A Survey Monkey survey has been sent 
to all email addresses that we have on 
file.  Please  respond  to  this  with  your 
thoughts  as  soon  as  you  can.  If  you 
prefer  a  hard  copy,  or  would  like  it 
resent, please contact the Office.  
Thanks so much.  
Camp Meeting 
Kia ora Parents and Caregivers of Year 
3, 4 and 5 students  
You are all invited to a Camp Meeting.  
This will be on Thursday , 29th July at 
7.00pm in the school library. This will 
be  to  discuss  if  we  should  continue 
having  school  camps,  how  to  manage 
rising costs, and where to go next year.  
We need to re-think our school camps, 
as  unfortunately  it  is  not  possible  to 
keep  the  costs  to  a  minimum.  Camp 
fees, travel expenses and activity costs 
keep  going  up  and  up.  We  want  the 
students to have a great time, and learn 
new  things.  We  have  come  up  with  3 
options for 2018 and want your input. 
Lost Property 
There  are  stacks  and  stacks  of  lost 
property  items  at  school.  Please  give 
your  children  a  good  reminder  to 
collect  up  all  their  belongings. 
Unfortunately  we  will  have  to  dispose 
of any still remaining at the end of the 
term, as we do not have storage space. 
PTA update  
Thank you to all the parents who have 
come  to  the  meetings  to  help  and 
contribute  to  our  fundraising  efforts 
and  ideas  so  far,  your  help  is  much 
appreciated.  
The  School  has  approached  us  for  a 
donation  towards  new  Chrome  books 
for  Room  6.  We  have  given  them 
$2500  towards  this  with  a  goal  to 
fundraise for the other half in the next 
couple of months.  
We  will  also  be  looking  at  new  iPads 
for the junior classes after this.  
We  will  be  having  a  WACKY  HAIR 
DAY on the 7th of July, this is also the 
last  day  of  term  so  have  decided  to 
have a TOASTIE day too. Please help 
us  by  supporting  this fundraising  idea, 
if  you  can  help  on  the  day  making 
toasties please give me a call.  
We  will  also  be  doing  another  Big 
Boys  Breakfast  closer  to  Fathers' 
Day...Watch  this  space,  we  will  need 
your  help  to  make  this  event  a  huge 
success.  
If  you  have  any  ideas/  would  like  to 
help,  I  would  love  to  hear  from  you. 
Please give  me a call or see me at the 
school.  
Thanks, Courtney, 0212667946  
Kaiwaka School PTA President  
Pictured:  Room  5  love  learning  the 
ukulele. They know 7 chords.  
KAIWAKA SCHOOL 
HODGETTS
CONTRACTING
Digger Work    

Driveways 

House Sites   

Dams 

Drains, etc
Also available for HIRE 
3 ton Vib Roller 
Heavy Duty Tow  
Waterblaster  
Lazer Level
Phone Mark 4312877 
027 447 8554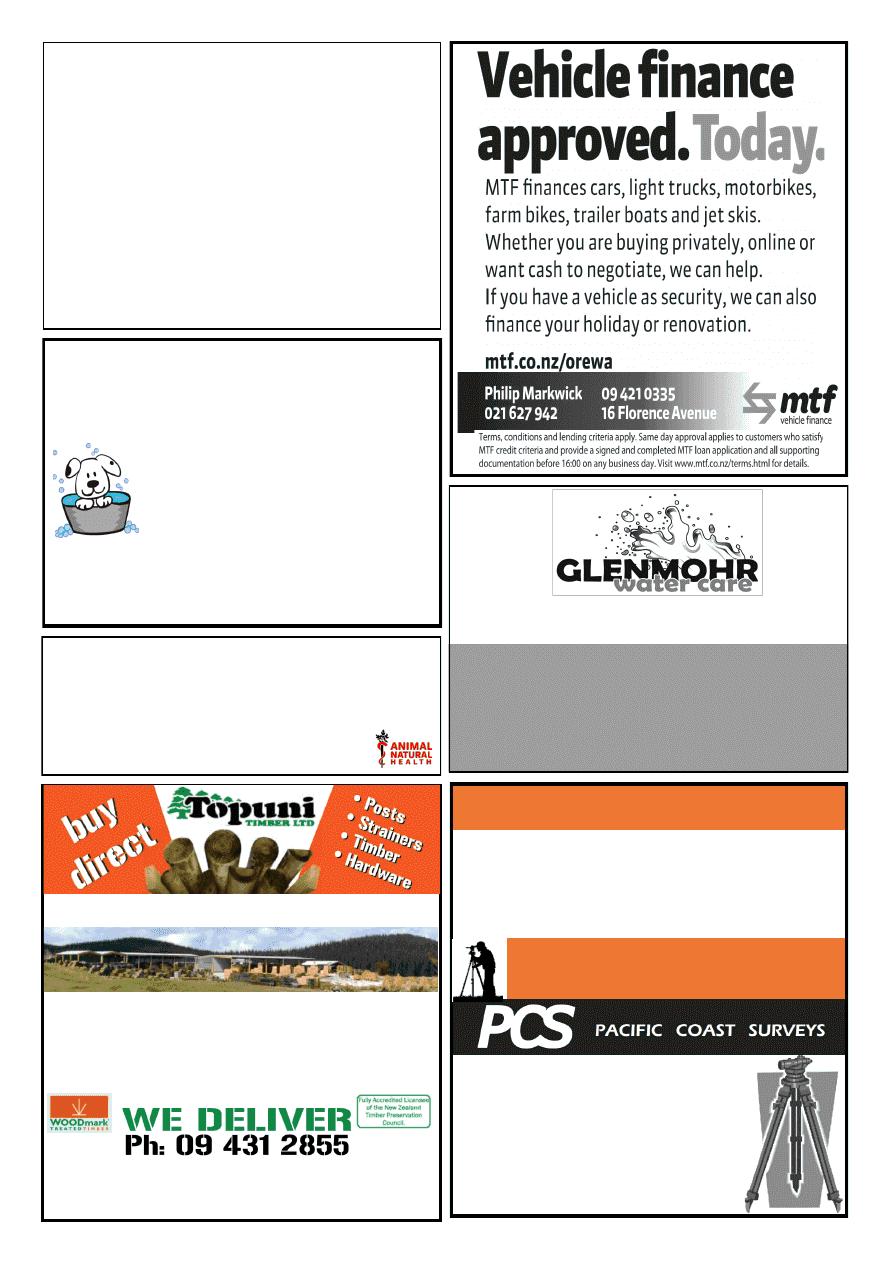 LOCALLY OWNED AND OPERATED 
QUALITY PRODUCTS • FRIENDLY ADVICE • GREAT SERVICE 
Quality Products milled from High Density NORTHLAND Radiata Pine. 
Treated and guaranteed to NZS3640 with commitment to 
Environmental Safety.
Phone, fax, email, or come into the mill 
Schiska Rd, Topuni, SH1, 10 min north of Wellsford. Fax: 09 431 2856 
Email: sales@topunitimber.co.nz           Mon - Fri 7am-5pm 
• Fencing 
• Retaining 
• Decking 
• Landscaping 
• Gates 
• Hardware 
SURVEYORS 
SUBDIVISIONS 
HOUSE SITE SURVEYS 
CIVIL ENGINEERING 
WASTEWATER DESIGNS 
EXPERIENCED 
PROFESSIONAL 
INNOVATIVE 
Ph 09 431 5353 
0800 PACIFIC (0800 722 434) 
pacificcoastsurvey.com
Adam Booth - 027 415 5752 
Bsurv, Licensed Cadastral Surveyor
Surveying Kaipara since 1994 
Hot Diggity Dog 
DOG GROOMING 
All breeds dog grooming 
Professional Experienced Groomer 
Short practical grooms - summer 
Breed Standard Grooms 
Designer fusion Grooms 
Oneriri Road
By appt Phone Pam 09 4312143 
Or text only 0273335380 
Email  hot.diggitydog@outlook.com 
Couples and Individual Counselling
Have you … 
Serious relationship issues? Heading for Family 
Court? Destroying each other? Children involved?
I'm Here To Help! 
Call me to arrange an appointment 
Keep trying if phone is busy
Pete Worsfold 
B.Soc.Sc., M.Soc. Sc, Dip Prof Counselling NZIPC, 'Man Alive' Counsellor/ 
Facilitator, Prov NZAC. Professional service in your local area. Individuals, 
couples, any issue, males and/or females.
Private or WINZ Clients, Experienced Counsellor/Facilitator 
021 825 970 or 021 063 0302
peteworsfold@xtra.co.nz 
Water Tank Cleaning 
• 
Keep your water safe & clean  
• 
Removal of sediment, silt etc. 
• 
Vacuum or full scrub 
• 
Minimal water loss 
Phone Mark (09) 432 0655 or 0274 707607 
Animal Natural Health 
Vet Nurse Day at Kaiwaka 
Nail Trims $15, Microchipping $48, Dental Checks 
Ph: 09 431 2217 for appointment 
Friday 30 June
Next to Italian Bakery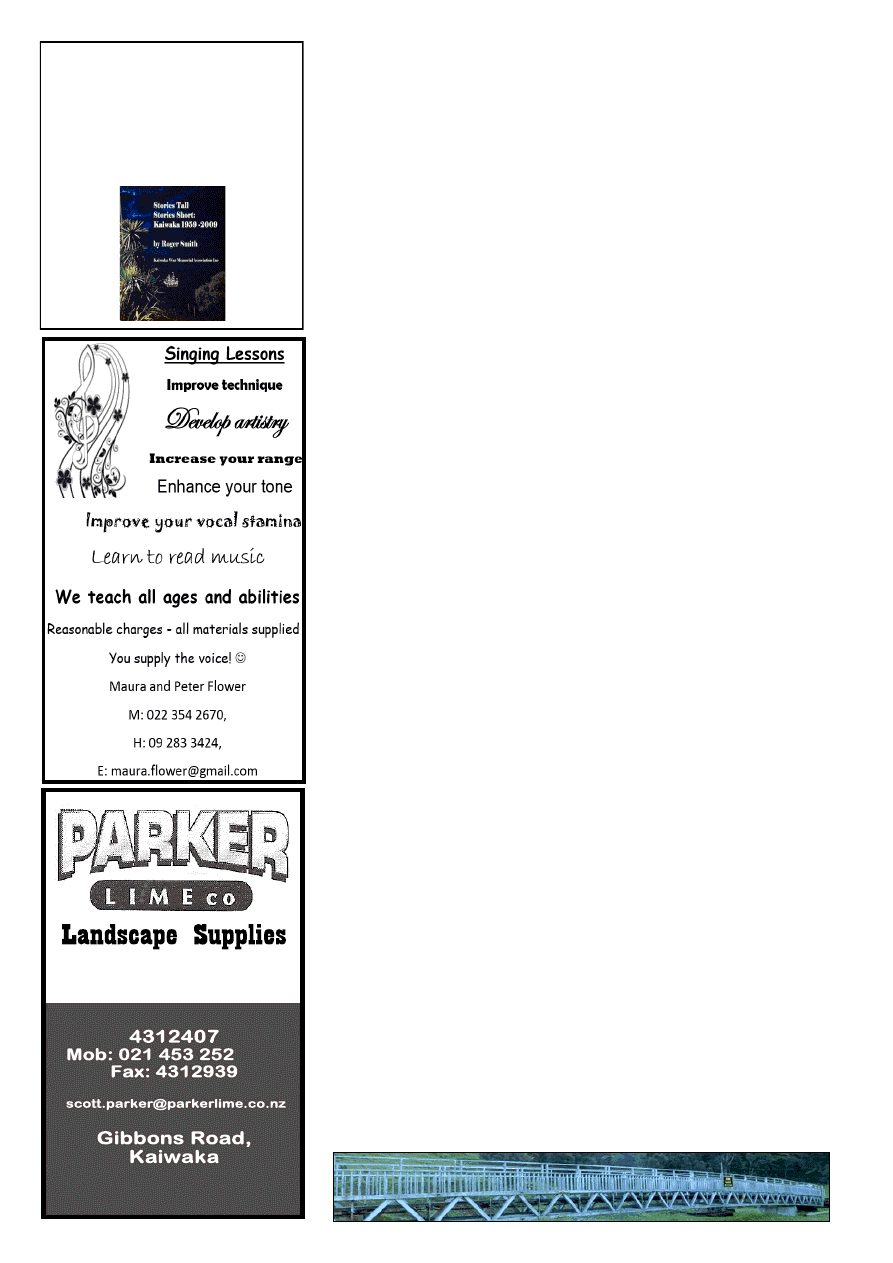 www.kaiwaka.co.nz 
Kaiwaka Bugle - 27 June 2017 
Page 11 
Stories Tall, Stories Short  
Kaiwaka 1959-2009 
by Roger TW Smith.  $40 
Available from  
the Bugle Editors -  
Lindsey 4312 045,  
Wendy 027 480 6275 
Bulk Cartage 
Lots happening slowly for Kaiwaka...  
There  is  no  shortage  of  projects  under 
way  in  Kaiwaka  at  present.  Kaiwaka 
Can  has  a  full  agenda  and  some  good 
things are in store for our township.  
Te Uri O Hau 
We  held  a  very  productive  meeting 
recently  with  Te  Uri  O  Hau,  Council 
and  Kaiwaka  Can.  This  is  the 
foundation  for  a  far  closer  future 
relationship  and  input  on  projects  of 
mutual  interest  as  well  as  a  way  of 
raising  our  awareness  of  the  past  and 
present realities for our community. 
NZTA,  the  speed  limit  and  other 
projects 
The  proposed  speed  limit  of  60k  for 
Kaiwaka is still waiting to be gazetted, 
We  hope  to  see  action  on  this  soon. 
The pedestrian refuges are also due for 
installation  and  too  a  footpath 
extension  from  the  La  Nonna  Bakery 
shops  almost  to  Oneriri  Road.  Tree 
planting in now in the hands of council 
contractors,  aiming  to  brighten  the 
eastern  verge  of  the  highway  from 
Three  Furlongs  up  to  the  motorbike 
shop.  NZTA  is  also  planning  changes 
to the slipway by the shops that include 
the  two  cafes  but  is  still  working 
through  submissions  local  residents 
made on the design. 
Oneriri Road intersection 
This  is  a  constant  talking  point  for 
people  who  live  in  Oneriri  Road. 
Council  has  had  an  engineer  working 
on possible solutions but as yet there is 
no  easy  or  agreed  resolution.  There  is 
real  tension  between  the  needs  of  a 
small town that wants to grow and the 
demands  of  heavy  traffic  along  the 
main state highway for Northland. We 
are  working  with  Council to  prepare  a 
submission  or  petition  to  get  some 
serious  solutions  on  the  table  for  the 
future.  Predictions  are  that  Oneriri 
Road  (and  its  offshoots)  will  soon  be 
home  to  700  people,  all  having  to  use 
one intersection. 
Gateway sculptures 
After  a  great  deal  of  hard  work  from 
Marijke and others, we have settled on 
two  designs  to  submit  to  NZTA  for 
approval (yes, their influence stretches 
each side of the highway!) but Council 
has  graciously  made  sure  the  seed 
funding  for  the  project  is  available. 
These two sculptures, at each entrance 
to  Kaiwaka,  will  make  a  bold  and 
beautiful 
statement, 
capturing 
something of the heritage of the people 
of the land and the setting of Kaiwaka 
itself. We are grateful for the assistance 
of  Te  Uri  O  Hau  in  working  through 
appropriate final design features. Long 
term  we  also  plan  a  sculpture  in  the 
centre  of  town  where  people  can  stop 
and explore more fully the meaning of 
Kaiwaka. In the same vein, we are also 
working  on  several  story  boards  that 
tell  the  story  of  our  ancestry  and 
heritage. 
New signage 
Have you noticed the new signs put up 
by  Council  at  key  sites  throughout 
Kaiwaka?  These  are  going  up  right 
through  the  region  and  are  a  welcome 
addition to our township. 
Business Expo 
Kaiwaka  now  has  many  people 
operating small businesses with a great 
diversity of styles and aims. There will 
be  a  business  expo  on  July  8th  at  the 
Kaiwaka  War  Memorial  Hall,  open  in 
the  morning  for  business  people  to 
network and explore fresh possibilities 
and open from lunch on for the general 
public. This will be a great time to see 
just how much is happening around us. 
Playground 
We  are  just  waiting  for  the  new 
equipment to be installed and then  the 
fence will go up round it. 
Kaiwaka Cares 
They  now  have  a  new  home  in  the 
building  formerly  known  as  The  Ark 
and  soon  to  be  opened  as  The  Heart. 
There  will  be  a  number  of  groups 
operating here thanks to the generosity 
of  a  local  trust  which  owns  the 
facilities  and  this  will  be  a  great 
addition to the services we have in our 
township. 
And lots of other things on the go... 
...such  as  development  of  MacLean 
Park,  a  walkway  opposite  the  Park, 
hopefully  one  day  railing  on  the 
northern  bridge  to  keep  pedestrians 
safe,  inprovements  to  the  underpass  at 
the  southern  bridge.  Long  term  one  or 
two are looking at raising the quality of 
the  small  bush  areas  round  town  by 
removing  weeds  and  pest  plants, 
trapping  predators  and  creating  a 
cleaner  environment.  Long  term  they 
have  their  sights  on  Pukekaroro,  our 
dominant  landscape  feature.  A  local 
volunteer  neighbourhood  patrol is  also 
in our thinking. 
To  our  delight  a  small  group  of 
concerned  parents  working  with 
council have achieved a solution to the 
bus  shelter  needs  in  Settlement  Road. 
Thanks  for  your  initiative  and  hard 
work. 
And someone has a bridge for sale... 
Helen Marsh brought to our attention a 
long  steel  footbridge  for  sale  in 
Matakohe.  It  is  so  long  it  could  span 
either of our rivers and maybe provide 
foot  access  where  at  present  there  is 
only  a  dangerous  highway  to  cross. 
Nothing official – just great spotting by 
Helen and a fascinating idea. 
Lots  more  is  happening  but  this  gives 
you  some  idea  of  what  we  have  been 
doing with our time in partnership with 
Council.  
~ Derek 
KAIWAKA CAN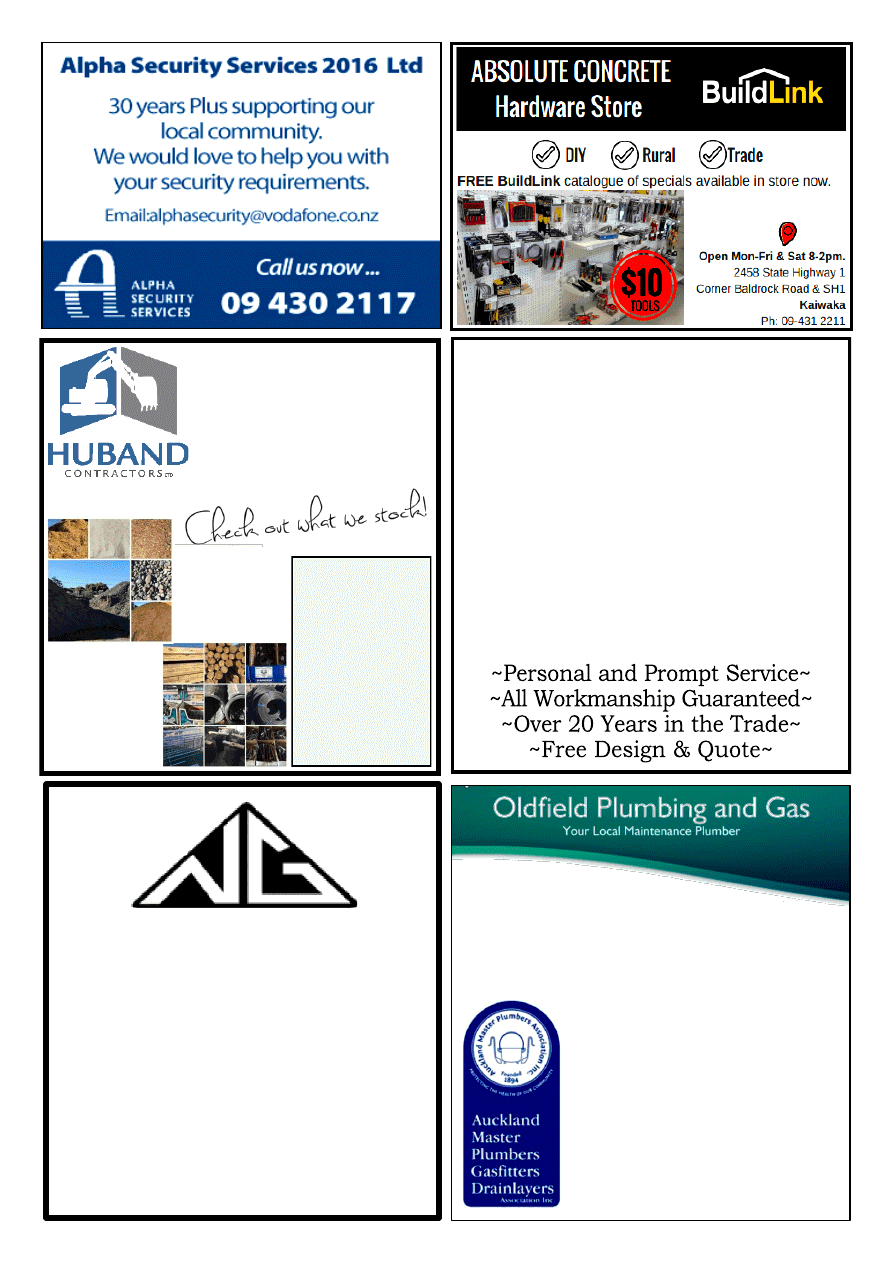 NORTH GLASS 
WINDSCREEN REPAIR OR REPLACE 
GLAZING SERVICES 
MIRRORS  •  SPLASH BACKS  •  SHOWERS 
0800 70 40 10
info@northglass.co.nz 
www.northglass.co.nz 
Darren Oldfield 
Certifying Plumber 
Certifying Drainlayer 
Licensed Gasfitter 
Mobile  021 836 365 
Home  431 5061 
oldfieldplumbing@gmail.com 
 
Agent for 
Rainline Water Filters 
Maintenance 
Renovations 
New Homes 
Hot Water Cylinders 
PLANNING A NEW KITCHEN?
 CONTACT NOEL McDOWELL
WELLSFORD 
KITCHENS
Ph/Fax 094312888
KAIWAKA-Any time
 QUALITY CUSTOM MADE 
KITCHENS
Open Monday-Friday 8am-5pm 
Saturday 8am-noon
2088 Paparoa Valley Road 
0800 234449
Call us for any 
information or quotes 
for the following: 
•  
Earthworks 
•  
Roading 
•  
Drainage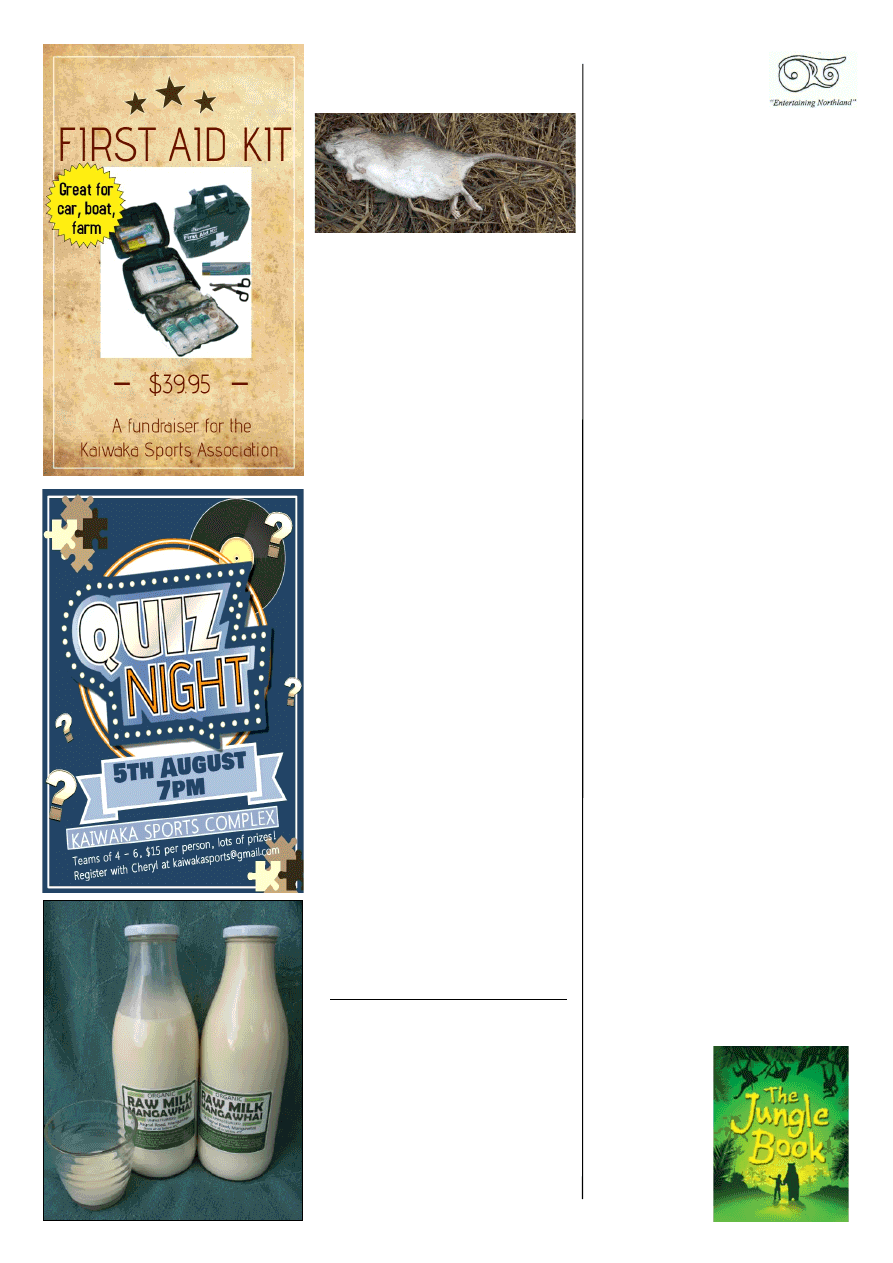 www.kaiwaka.co.nz 
Kaiwaka Bugle - 27 June 2017 
Page 13 
Creative Colouring for  
'The Jungle Book' 
The  Jungle  Book,  Rudyard  Kipling's 
classic  tale  of  the  little  boy  raised  in 
the jungle by wolves, will come to life 
on  the  Otamatea  Repertory  Theatre 
stage in Maungaturoto, in August. 
Director  and  musical  director,  Peter 
and Maura Flower, say they are excited 
to  be  using  an  adaptation  of  the  play 
that  is  making  its  World  Premiere  in 
Nottingham, in the United Kingdom, in 
July. 
"We  will  be  the  second  theatre  in  the 
world  to  stage  this  version  of  the 
show,"  Maura  says.  "We  had  been 
hunting  for  an  adaptation  to  produce 
and couldn't find one we liked. I came 
across some of BB Cooper's music on 
YouTube.  I  got  in  touch  with  her  and 
learned  that  there  was  a  new 
adaptation,  written  by  Toby  Hulse, 
with music by BB Cooper and she sent 
me  a  perusal  script.  It  is  a  lot  more 
suitable  for  our  audiences,  so  it  was 
quite serendipitous." 
Mowgli 
Playing  the  lead  role  of  Mowgli,  is 
young  Paparoa  lad,  Matai  Hartles. 
Although  it  is  his  first  major  role, 
Matai  is  already  an  accomplished 
singer  and  performer.  Last  year  at  the 
Northland Performing Arts Festival, he 
won the title of Junior vocal champion. 
Colouring competition  
A  colouring  competition  is  being  run 
to  create  interest  in  The  Jungle  Book. 
There will be three age groups – Under 
12,  12-18  and  Adult.  There  will  be 
prizes  for  each  section,  and  all entries 
will be  on  display  in the theatre foyer 
during the show season. The colouring
-in  page  may  be  downloaded  from 
www.ort.org.nz or you can pick one up 
from Tony's Lotto Shop. If that is too 
difficult,  contact  Katrina  on  021  701 
079  
Make sure you put your name, age and 
contact  phone  number  on  the  reverse 
of  your  picture,  and  drop into Tony's. 
The competition closes on July 31st. 
The Jungle Book season runs 
from August 4th to August 20th.  
Adults $28 School students $12  
Bookings  are  now  available  online  at 
www.ort.org.nz  or  at  Tony's  Lotto 
Shop.  There  is  a  Special  Family  Deal 
for the first Saturday – Two adults plus 
two  children  for 
the  price  of  two 
adults 
only. 
Hurry – these are 
bound 
to 
be 
snapped  up.  The 
Family  Deal  is 
only  available  at 
Tony's, 
Maungaturoto,  
not online. 
OTAMATEA 
REPERTORY 
THEATRE 
SMELLY RAT TIME 
Winter  rats  want  food  and  warmth 
and  find  this  in  roofs,  walls, 
woodsheds and other places. 
This  week  a  farmer  down  Oneriri 
found  a  rat  nest  in  his  tractor  and  had 
to remove the fanbelt to clear it. 
Other  people  hear  rats  skitter  in  the 
house and sheds. 
If  the  animals'  necessities  are  met,  as 
DOC  senior  ranger  Nigel  Miller  says 
they 
are 
in 
Northland, 
rats  will  breed  year-round.  They  don't 
hibernate. 
Numbers  are  driven  by  resources,  so 
they  will  infest  warm  grain  stores  in 
June,  but  do  it  hard  in  the  wet  of  the 
bush. 
They  seek  protein  –  consuming  other 
animals, eggs, seeds, insects, fruit, and 
grain. 
Every  night  they  hunt  food  in  their 
territories using their powerful sense of 
smell.  But  when  rats  are  cold  and 
hungry,  breeding  stops  because  this 
puts rat lives at risk. 
Rat profiles 
There are two rat types 
•  the  Norway  rat  which  eats  anything 
vaguely  palatable  but  is  not  a  great 
climber.  It  is  a  burrower,  digs  tunnels 
and is very tough on cavity nesters. 
•  the  Ship  rat  which is  mousy  looking 
with  bigger  ears,  is  a  climber,  smaller 
and more agile – and is the one in the 
roof (picture). 
Nigel  Miller  says  rat  control  helps 
protect other animals including kereru, 
patiki,  brown  teal,  fantails,  warblers 
and fairy terns. 
He  says  kokako  really  get  hammered 
because  their  nests  are  close  to  main 
trunk  and  kereru  are  also  at  risk  but 
less so because they nest further out. 
They can scent kereru but could lose a 
scent in a tree and abandon the hunt. 
Rats cover most of territory every night 
and check every tree in it over three or 
four nights, Nigel Miller says. 
In  houses,  they  will  attack  roosting 
birds  but  most  birds  in  roofs  have 
escape routes.  ~  Writewords  Ltd.
THE RETURN OF 
THE GLASS MILK 
BOTTLE 
Delightful to get milk today in a glass 
bottle  from  the  Grayson's  in  Bagnall 
Road, Mangawhai. Pictured left. 
Cost  was  $6  for  the  litre  bottle  but 
refreshingly it can be refilled for $2.50 
a litre. 
That will cut out the oily plastic that's 
leaving this house in a yellow sack. 
Cheers to them.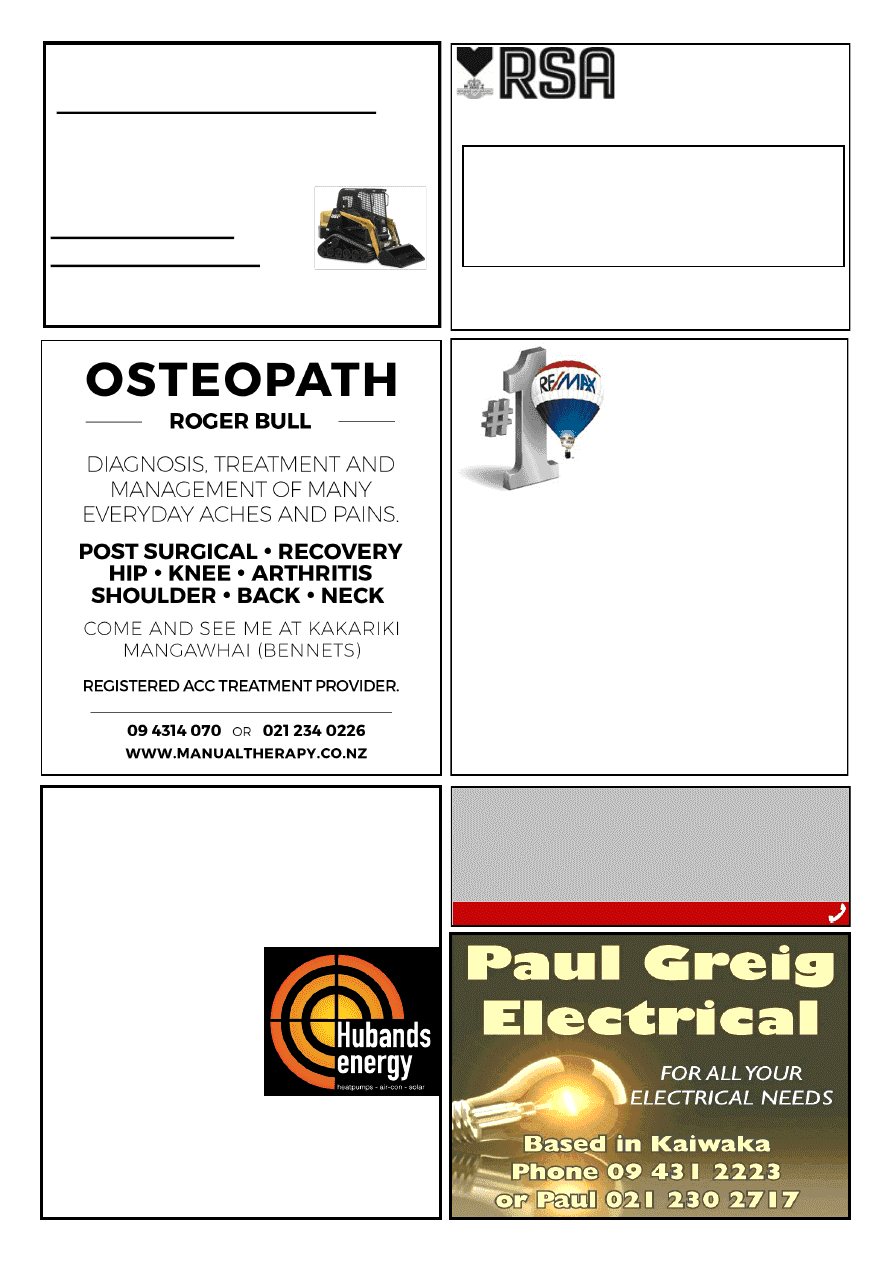 Natural Earth Ltd 
 Landscape and Bobcat services 
 : Driveways  :Landscaping  :Retaining Walls 
 : Hole Boring: Land Levelling :Trenching 
 : Decks :Fences :Sections Cleared: Plus much 
more 
Tel   09 4312885 
Mob 02102391280  
For A Fast Friendly  
Service Contact Tim Hicks 
CALL CRIMESTOPPERS 
Worried about something that doesn't seem right to 
you? Concerned about activity that could be 
harmful? Call Crimestoppers.  
You don't need to know all the facts.
CALL 0800 555 111 ANONYMOUSLY 
Northland's Award Winning 
Solar Company
SEANZ Best Solar Business Winners 2015/16
EXCLUSIVE 10 year installation warranty 
FREE No obligation onsite quote
Complete systems 
from $5990
See our range of: 
✓ 
Heatpumps 
✓ 
Airconditioning 
✓ 
Hot Water 
Heatpumps 
✓ 
Central Vacuum Systems
09 430 0019             sales@hubands.co.nz 
15 Kioreroa Road, Whangarei
Locally owned and operated for 35 years 
Members & guests are invited to come along and enjoy 
our hospitality. New members welcome. 
For more information please phone Gloria  
(Womens Section) on 431 5818 or Marlene on 431 5589 
Meals are served on Thursday and Friday nights  
from 6.30pm.   
2nd Friday of the month is a Roast Dinner special plus a 
board menu put on by the Womens Section. 
Last Friday of the month is 'Roast Pork Night' and a 
sing-a-long with Des Chitty. 
HAKARU & DISTRICTS 
MEMORIAL RSA (INC)
There are more people 
wanting to buy than 
there are houses 
available!
Vacant land, home and income, DIY dream … 
whatever your property's condition there is a buyer 
out there waiting to give you their money. 
Get your local agent's appraisal of your property to 
find out what's it's really worth. 
Contact Beth Stone today! 
Mob: 0274 937 801 
Email: beths@remaxrealty.net.nz 
RE/MAX Realty Group MREINZ 
Northern Properties Limited 
Licensed REAA 2008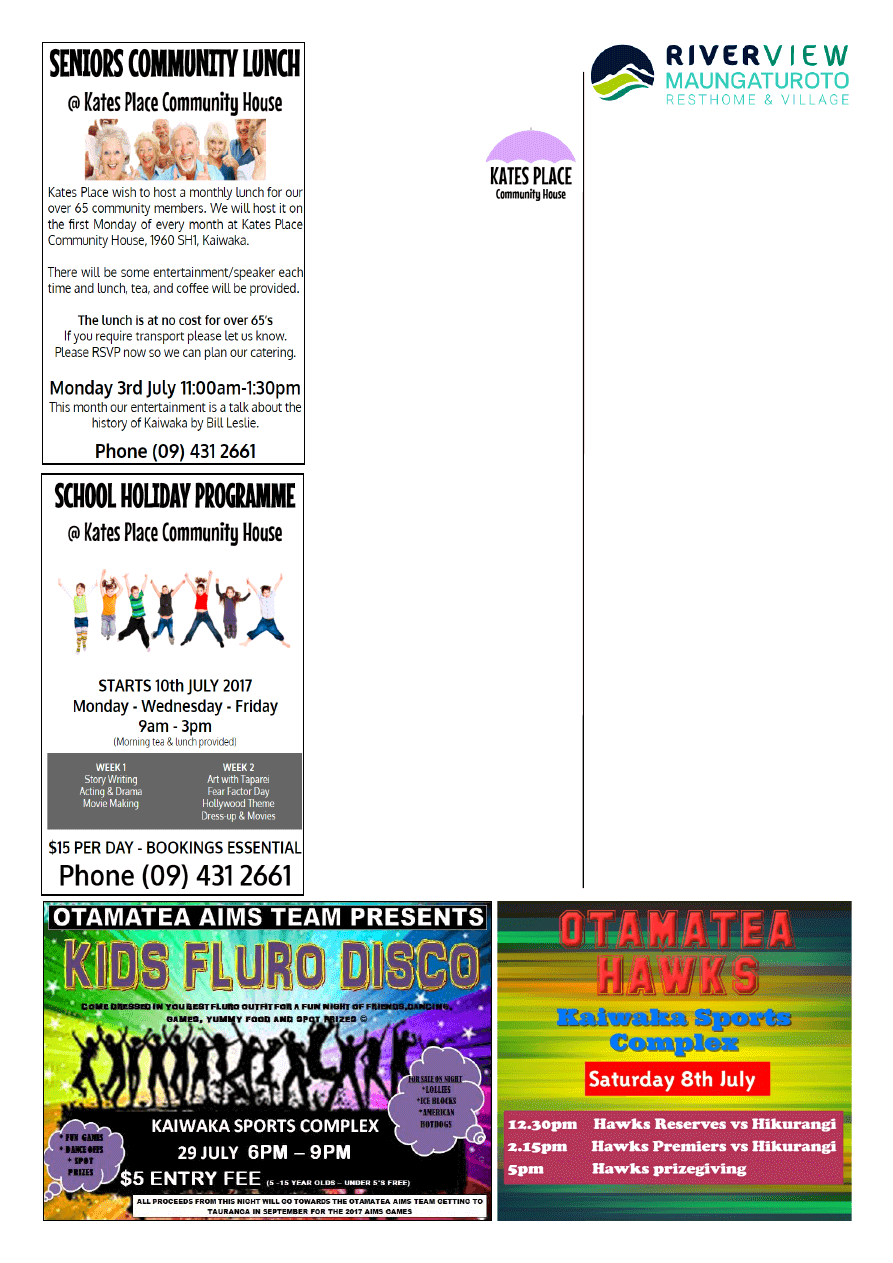 www.kaiwaka.co.nz 
Kaiwaka Bugle - 27 June 2017 
Page 15 
Hopefully  by  now  the 
rain  has  subsided  and 
everyone  is  dry  and 
warm. Just a quick write 
up about whats on here in the coming 
weeks. 
Senior  Lunch  (over  65's)  on  the  first 
Monday of every month. Please come 
along  for  lunch  and  entertainment 
from  11am  -  1.30pm.  This  is  a 
community  funded  lunch,  bring  a 
friend and if you need transport we can 
arrange  for  you.  On  3  July  our  guest 
speaker  will  be  Bill  Leslie  speaking 
about the history of Kaiwaka. 
School  Holiday  Program  -  We  still 
have  places  left  for  both  weeks  of 
holidays, movie making and games in 
first  week  and  art,  fear  factor 
challenges and movies in second week 
$15 per day but subsidies available for 
those in need. 
Two new courses 
We  want  to  begin  these  two  courses 
depending  on  interest  and  attendance. 
Our "Living on a Budget" course, this 
course  is  designed  for  those  wanting 
skills and tips on setting a budget, tips 
and  savings  about  paying  bills  and 
expenses,  food  shopping  and  tips  on 
budget  cooking,  goal  setting  and 
improving  your  lifestyle  by  learning 
the  tricks  to  having  a  champagne 
lifestyle on a beer budget. 
We have also been asked to organise a 
course for people wanting to get basic 
introduction 
to 
computers 
and 
cellphone  set  up  and  day  to  day  use. 
New  technology  can  be  tricky  and 
confusing  so  this  is  a  good  course  to 
gain  basic  knowledge  and  increase 
your confidence. 
So  if  you  have  any  interest  in  these 
courses  please  register  your  interest. 
Phone: 09 431-2661. 
Have a great week. 
~Kirstie & Iris 
KATE'S PLACE 
COMMUNITY 
HOUSE 
Do you know what  
'Respite Care' is? 
Did you know it's available  
in Maungaturoto? 
Respite  care  is  a  service  that  provides 
caregivers  and  whanau  with  a 
temporary rest while the person in their 
care  continues  to  be  looked  after  in  a 
safe environment. 
If  you  are  the  full-time,  unpaid  carer 
for  a  loved  one,  then  respite  services 
may be available for you. 
The  team  at  Maungaturoto  rest  home 
offers  rest  home  level  respite  care  for 
families  needing  a  break,  or  the  cared 
for  needing  a  break  from  their  carer. 
Although  we  are  a  resthome  there  are 
no age restrictions on who we provide 
care  for.  The  friendly  atmosphere  in 
the  rest  home  acts  as  a  home  away 
from home with staff on duty 24/7. On 
call  we  have  Senior  Staff  along  with 
the Nurse Manager.  
Referral for this service is via your GP 
who will contact the 'needs assessment 
team' at Whangarei Base Hospital. For 
any  further  information  please  don't 
hesitate to contact us on (09) 4318 696. 
Thank You 
And may we add a very big thank you. 
Firstly  to  Albie  Paton  who  ran  a 
Queens  Birthday  Bash  at  the  Country 
Club and also the team at The Den who 
held  a  2  day  garage  sale,  all  to  raise 
funds  for  our  much  needed  stage  one 
Dementia  unit  extension. Funds raised 
so  far  are  in  excess  of  $6500,  with 
more to come. Thank you, your efforts 
are very much appreciated. 
Also  to  the  Marsden  Lodge  for  their 
generous  donation  which  has  been 
used  to  purchase  a  shiny  new  and 
much  loved  wound  trolley  and  2  new 
lounge  suites  for  the  resthome,  thank 
you.  
MAUNGATUROTO 
COMMUNITY 
CHARITABLE TRUST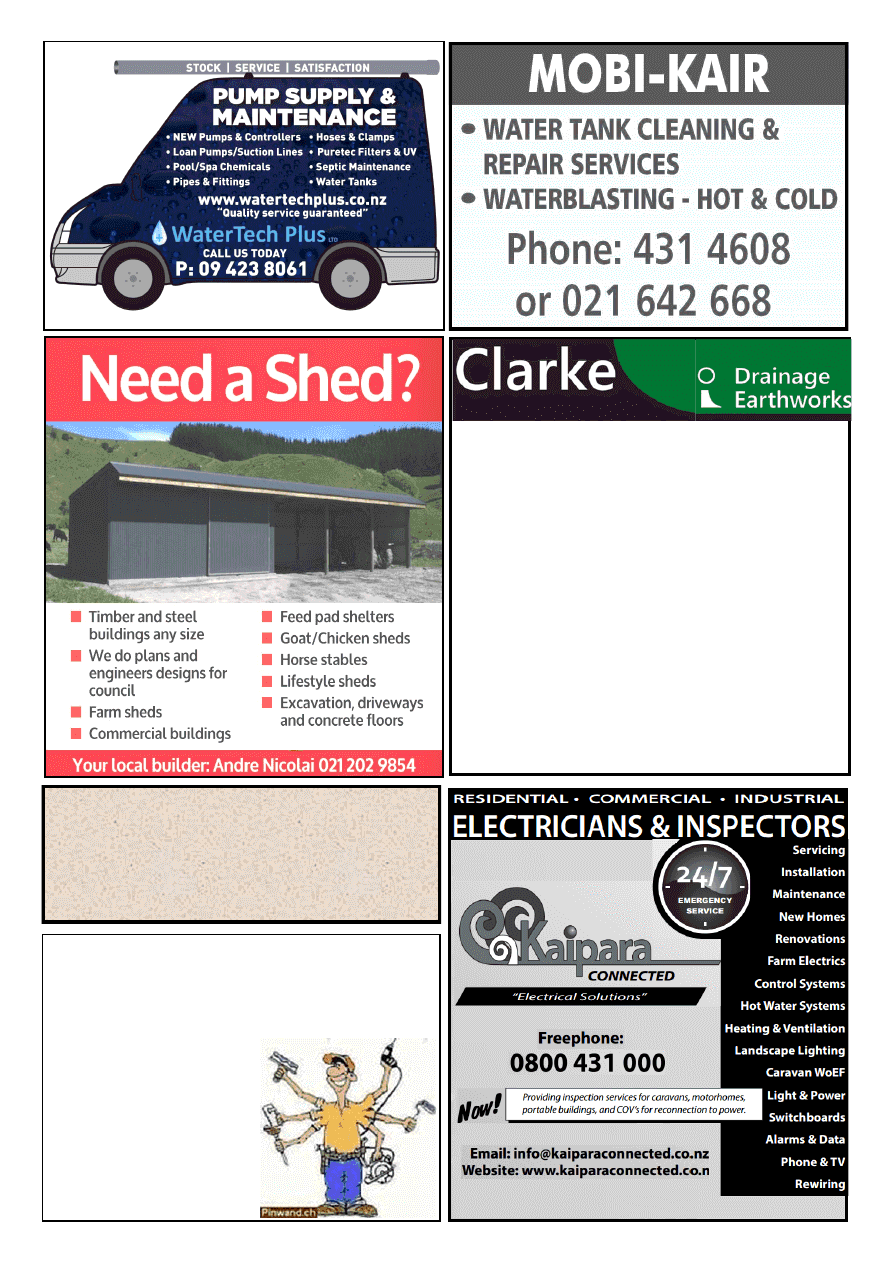 Registered Drainlayer 
All Types of Earthworks  
> All Residential & Commercial Work  > House Sites 
> Septic System Design & Install 
> Footings & Drilling to 10m 
> Sewer Connections 
> Dams 
> Water Tank Installation 
> Roading & Races 
> Farm Work 
THE ONE STOP SHOP  
Phone Nigel for an Obligation Free Quote  
Drainage & Earthmoving 
clarkedrainage@xtra.co.nz 
027 2233 185 
The Little Job Man 
Are you tired of those little jobs not getting 
done ? 
Indoors  or outdoors 
Sick of waiting ? 
Give me a call to discuss 
what you need doing. 
Doug  0277132625 
Counsellor and Registered Psychotherapist 
Offers Supervision
Susan Matheson 
MNZAC 
Dip. Psychosynthesis Counselling and Psychotherapy 
Phone 09 431 2996                        Mobile 027 605 2427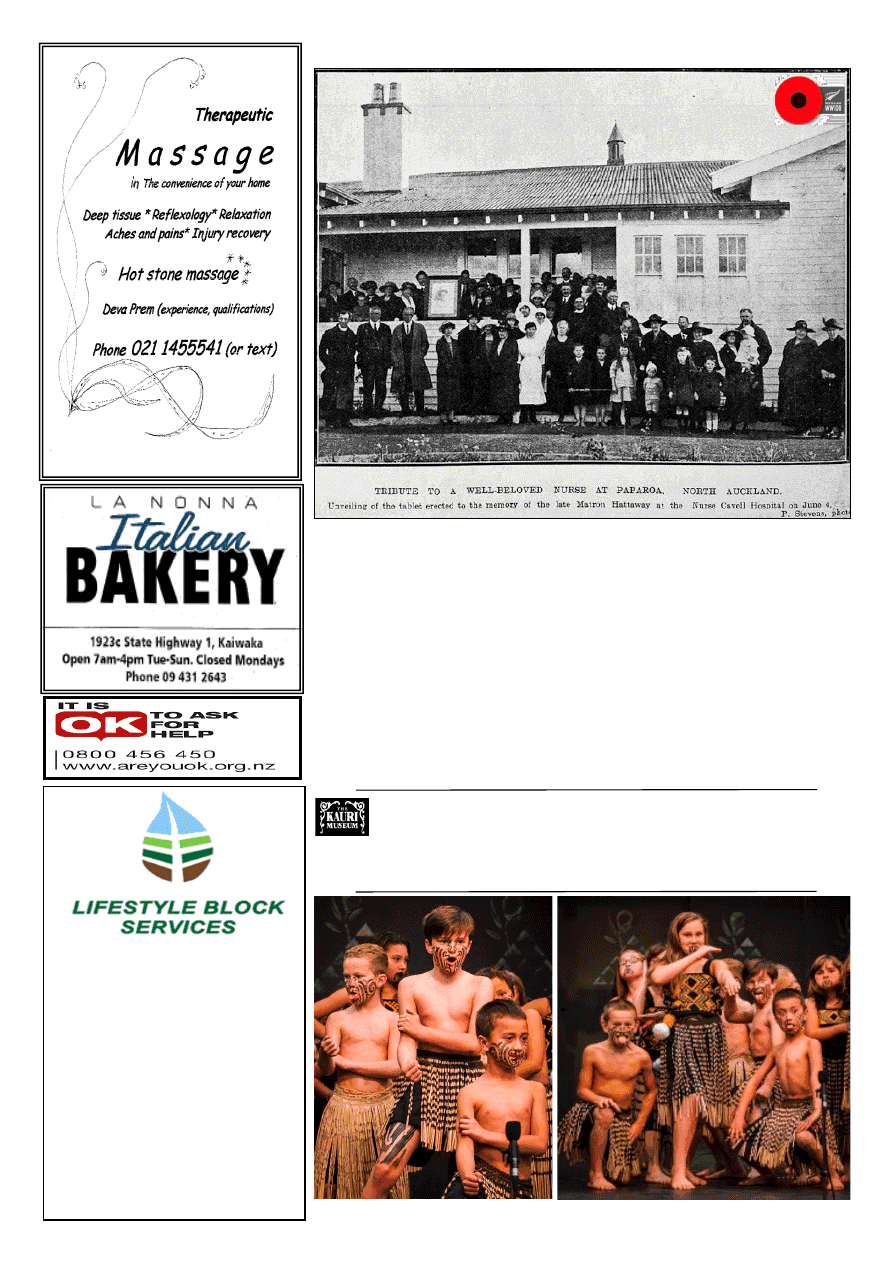 www.kaiwaka.co.nz 
Kaiwaka Bugle - 27 June 2017 
Page 17 
www.mangawhaimassage.co.nz 
Winter is here, now is the time to 
think about Fencing. 
Also large round bale silage available 
for stock food. 
Contact Mark on 021 801 065 or 
Contact Lisa on 021 108 1057
We also do: 

 Fencing 

 Spraying 

 Stockwork 

 Stock Water Systems 

Driveway & Track Maintenance 

Tree Trimming 

Nurse  (Matron)  Emma  Hattaway  was 
born  in  1864  to  Captain  Robert 
Hattaway  and  his  wife  Maria  (nee 
O'Leary).  In  February  of  1919,  Emma 
took  up  the  position  of  Matron  at  the 
Otamatea Cavell Memorial Hospital in 
Paparoa.  After  less  than  18  months  on 
the  job  Emma  Hattaway  fell  seriously 
ill  and  died  from  heart  failure  on  15 
July 1920. 
The Old Paparoa Hospital is 100 years 
old this year. It was named after Edith 
Cavell,  a  British  nurse  based  in 
Belgium  in  the  early  stages  of  WW1 
who  was  executed  by  the  German 
military  for  treason  following  betrayal 
by a French collaborator.  
The maternity hospital opened in 1917 
and  operated  until  1974,  after  which 
women  had  to  make  the  trip  to 
Whangarei 
Hospital, 
Warkworth 
Cottage 
Hospital, 
or 
Dargaville 
Maternity  to  have  their  babies.  Anne 
McDonald,  present  owner  of  the  old 
hospital,  is  keen  to  commemorate  its 
centenary  this  year  in  some  way.  She 
would also like to compile a booklet of 
people's  personal  experiences  and 
memories.  There  are  many  locals  who 
can  still  say  'I  had  my  children  there' 
and/or  'I  was  born  there'.  If  you  have 
such  memories  Anne  would  love  to 
hear 
from 
you. 
Email 
annmcd399@gmail.com 
NURSE CAVELL MEMORIAL HOSPITAL - 100 
Kaiwaka Primary students at the Te Uri O Hau Kapa Hapa Festival 
The  Kauri  Museum  has 
initiated an online photography 
competition  with  the  theme  of 
"All  Things Kauri"  which will  highlight 
the  importance  and  diversity  of  kauri 
through the modern camera lens.
The competition is open to residents and 
students  of  Kaipara,  Whangarei  and  Far 
North districts. Entries open on Monday 
12 June and close Monday 10 July. 
Go  to  www.kau.nz/tour/awards  for 
more information.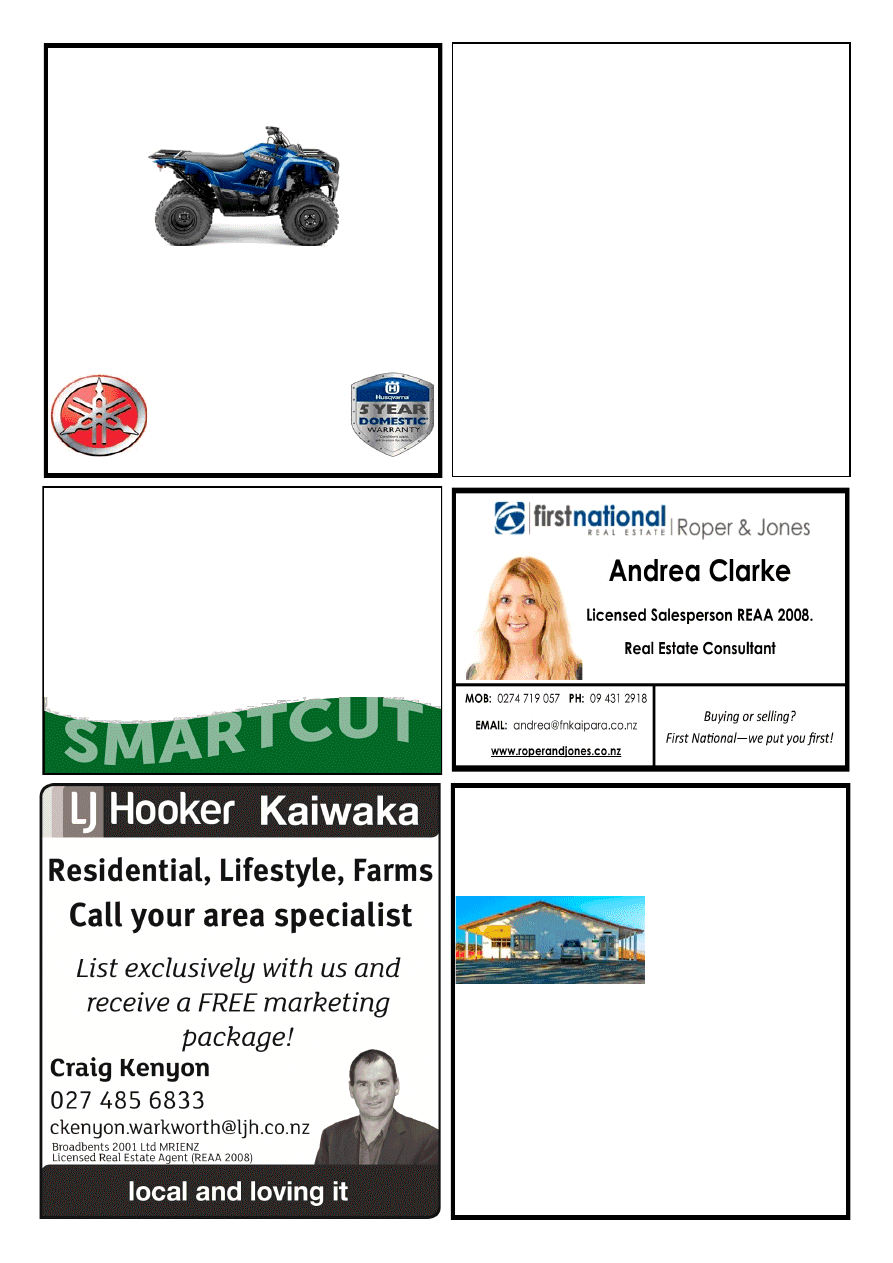 All your outdoor needs sorted so you don't have to... 
I can prune, chop, tidy, spray, mow, plant 
- you name it, I can do it! 
Residential & Commercial 
Lawn & Garden Care 
Call Rodney, your local  
lawnmowing contractor 
021 138 2344 
KAIWAKA 
MOTORCYCLES LTD
SALES – SERVICE – SPARES 
FARM BIKE SPECIALIST
PHONE 09 431-2127 
10 KAIWAKA-MANGAWHAI ROAD, KAIWAKA
Trimmers  
from $279
Chainsaws  
from $339
YAMAHA 
HUSQVARNA 
Te Pounga Marae 
130 Nathan Rd. Oneriri. Kaiwaka 0573 
COMPLEX FOR HIRE 
Functions 
* Weddings   *  Birthdays   
*Anniversaries 
* Meetings   * Wananga 
5 hour meeting 
* 12 hour stay   * 
Overnight 
*All welcome - No more Drink-driving 
Amenities: 
*Convo Combi Steamer * Bratt Pan * Dish 
Washer/Sterilizer * 3 Door Glass Chiller (walk in) 
etc…All Crockery * Linen Supplied * Central 
Heating and Air Conditioning and much more.  
Can also cater for small groups…. 
For more information please contact: 
Kim Wallace 
Home: 09 832 1133   Mob: 0211275340 
Email:  kimwallace@xtra.co.nz 
PACIFIC SHELL  
PRODUCTS 
For all your landscape shell 
• 
Driveways 
• 
Footpaths 
• 
Gardens 
• 
Chook grit 
• 
Crushed shell fertiliser 
Ph Jeff 021 447 384 
252 Oneriri Rd 
Kaiwaka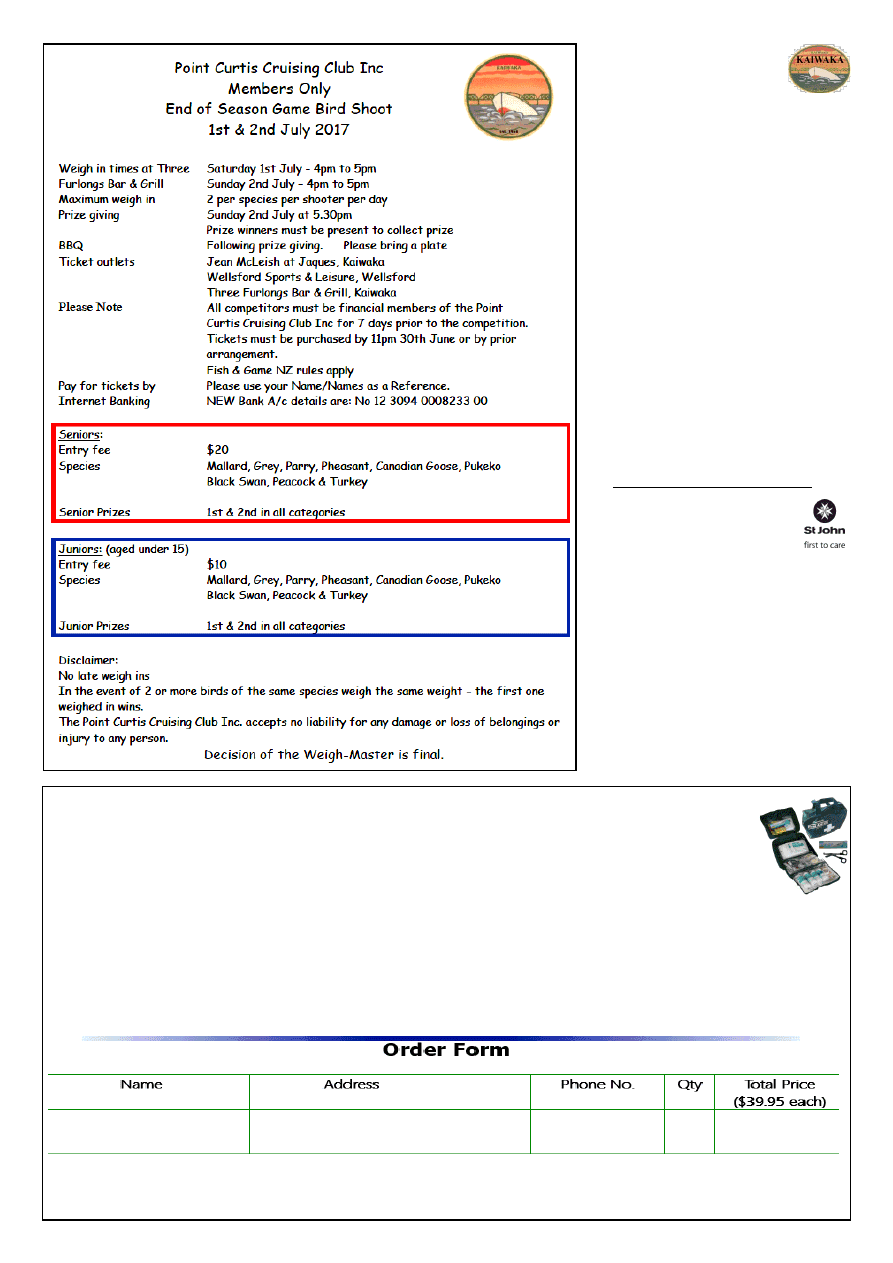 www.kaiwaka.co.nz 
Kaiwaka Bugle - 27 June 2017 
Page 19 
FIRST AID KIT
Fundraising for the Kaiwaka Sports Association 
Kit Contents: Digital Thermometer, Instant Ice Pack, 2 x Emergency Blankets, 1 x CPR Resuscitation mask with valve, 1 x Eye Pad 5.5cm x 7.5cm, 2 x 
Burns Dressings 20cm x 30cm, 2 x Conforming Bandage Rolls 6cm x 400cm, 2 x Conforming Bandage Rolls 8cm x 400cm, 20 x Band Aid strips 7.5cm 
x 2cm, 2 x Triangular Bandages 90cm x 90cm x 127cm, Long adhesive strip 6cm x 20cm, Adhesive Multi-pore Tape Roll 13mm x 5m, 3 x Butterfly 
Adhesive Plasters 7.4cm x 4.5cm, 2 x Knuckle Adhesive Plasters 7.5cm x 3.7cm, 4 x Semi-permeable Dressings 6cm x 7cm, 3 x Adhesive Island 
Dressings 6cm x 7cm, 2 x Adhesive Island Dressings 6cm x 10cm, Combined/Abdominal absorbent pad 23cm x 12.5cm, Scissors 15cm, Tweezers 
(metal), 4 pairs large PVC safety gloves, 10 x safety pins, 4 x Soap wipes 20cm x 19cm, 4 x Saline Cleansing Wipes 20cm x 19cm, First Aid Guide. 
We are selling a quality first aid kit for $39.95. These first aid kits are excellent value for money and similar 
kits often retail for over $60. This is a large carry kit with transparent fold-out compartments which contains 
77 items and follows OSH and Consumer regulations. 
Everyone should have an updated first aid kit handy – great for the home, farm, boat and car. First aid kits 
are a practical item that make a great gift – Fathers Day, Christmas etc. 
To order please return this form with your payment by 29th June. Delivery will be the following fortnight. 
Enquiries to Cheryl Anderson on kaiwakasports@gmail.com. 
Payment options:  ⃣  Cash  ⃣  Cheque (payable to KSA)  ⃣  Bank direct 060365002247200 
(use reference first aid kit and your full name)
Ways to return form: 
* Post to Cheryl Anderson, 233 Baldrock Rd, RD2, Maungaturoto, 0587 
* Drop off in folder behind checkout at Jaques Four Square 
Our  AGM  was  held  on  the  20th  of 
June.  
Officers  elected  at  AGM  are: 
Commodore: Wayne Leslie,  
Vice  Commodore:  Tony  Smith, 
Secretary: Renna Brown,  
Treasurer: Jean Mcleish. 
Thank  you  to  those  who  attended  the 
AGM. We look forward to the coming 
year.  
We  are  currently  updating  our 
Membership List so that it includes our 
Juniors names. To help us with this can 
you  please  advise  us  your  child/
children's name/s and their date of birth 
(age  under  15  as  at  1st  June 
2017). Emailing this info to me would 
be great!! 
Fish  of  the  month  until  11  July  is 
SNAPPER 
See you all on the 1st & 2nd July at our 
end of season game bird competition. 
~Wayne Leslie, Commodore 
POINT CURTIS 
CRUISING 
CLUB 
Hope  you  are  all  keeping  warm! 
We  would  love  some  small  pieces 
of  furniture,  bath  towels,  blankets, 
floor rugs, pictures, nic nacs, and a 
Queen  sized  mattress  in  good 
condition.  We  always  need  plastic 
bags too please.  
A  big  thankyou,  and  take  care  on 
the road.    
~Milly 
Phone: 4312650 
Hours:  
9am - 4pm Monday to Friday 
9.30am - 1.30pm Saturday 
1919 SH1, Kaiwaka   
KAIWAKA 
 ST JOHN OP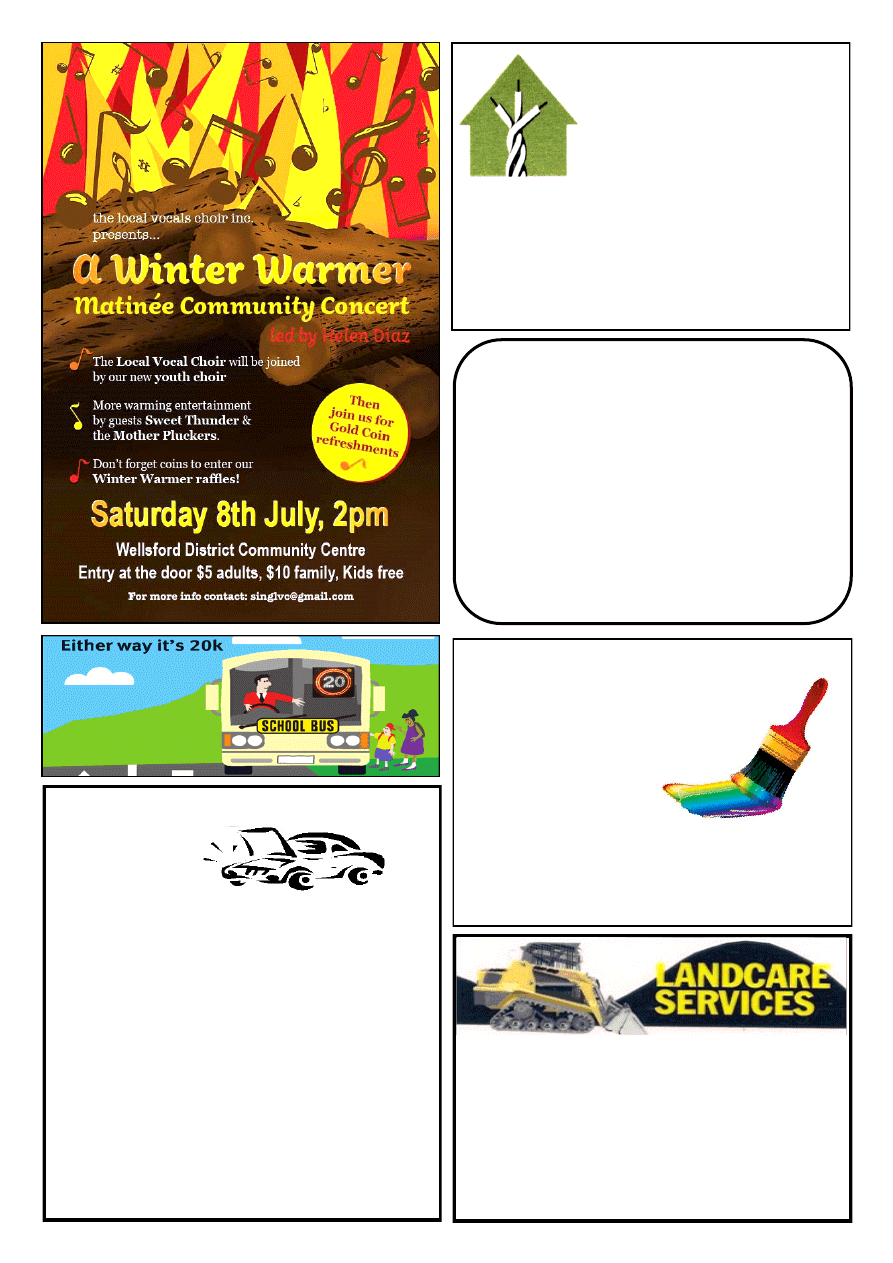 LANDSCAPING 
4 IN 1 BUCKET 
TRENCHER 
POLE HOLES 
ROTARY HOE 
COMPACT ROLLER 
OFFAL HOLES 
CAN SUPPLY WOODCHIP & POST PEEL 
5 TON TIPPER 
FOR RELIABLE AND FRIENDLY SERVICE CONTACT DAVE 
Dave Hyndman 
 
KAIWAKA 
PH: 09 4312302 
MOB: 021 431 238 
09 4312918 
0274735171 
leecooper@xtra.co.nz 
LEE COOPER PAINTERS 
(Kaiwaka Based) 
*30 yrs Experience 
*Interior/Exterior 
*New and Restoration 
*Honest and Reliable 
*Free Quotes 
UP-LINK 
CHRIS WARING 
FREEVIEW INSTALLATIONS 
T.V. - HOME THEATRE &  
HI-FI ADVICE/SET UP
SKY ACCREDITED INSTALLER
MOB.0273403747 HM.094312328 
EMAIL cwaring44@gmail.com
28 YRS EXPERIENCE 
OFFERING UNBIASED ADVICE 
Reyahn George 
Leng 
Registered Electrician 
Local, honest and reliable. 
For your residential and 
light-commercial projects. 
022 314 1068 / 09 431 2527 
Twinkle Tow 'n' Tyre 
Think you'll get a better deal in the city? 
Ring us - it won't cost anything! 
1837 State Highway 1, Kaiwaka 
Phone 431 2823 
*W.O.F. 
*Tyres 
*Windscreen 
replacement 
*Chip repairs 
*Bulk Oil 
*Batteries 
*Welding 
*Custom built 
trailers 
*Trailer hire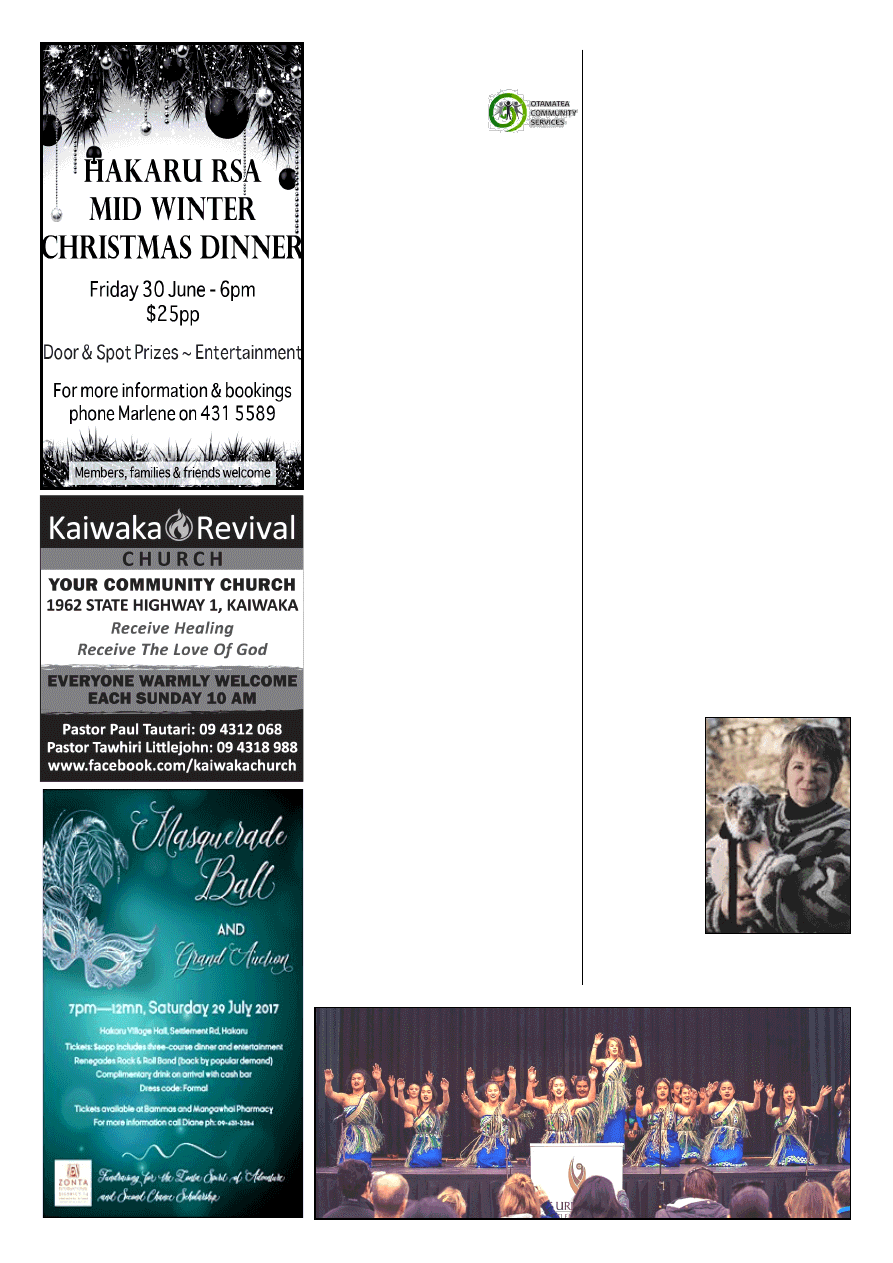 www.kaiwaka.co.nz 
Kaiwaka Bugle - 27 June 2017 
Page 21 
RURAL WOMEN 
NEW ZEALAND & 
ACCESS 
COMMUNITY 
HEALTH 
SCHOLARSHIP 
Applications  close  1st  July  for  the 
Rural  Women  New  Zealand  and 
Access Community Health scholarship 
programme.  The  $3000  scholarship  is 
aimed at applicants who are working in 
a  professional  health  field  with  rural 
connections,  and  who  wish  to  further 
their  studies  in  health  or  disability 
studies. 
The scholarship represents the ongoing 
special  relationship  between  Access, 
now  a  member  of  the  Green  Cross 
Health  group,  and  its  founding 
organisation,  Rural  Women  New 
Zealand. 
"Scholarship  recipients  have  ranged 
from  paramedics  through  to  nurse 
practitioners,"  says  Fiona  Gower, 
Rural  Women  New  Zealand  National 
President.  "They  have  a  common 
aspiration to develop their professional 
knowledge  and  work  in  rural  health 
services." 
Beverley Forrester Scholarship  
A new scholarship is being offered by 
Rural  Women  NZ  member  Beverley 
Forrester (pictured) funded by royalties 
from  her  book  The  Farm  at  Black 
Hills. 
Three  $1000  scholarships  available  to 
applicants  aged  18  to  25  with  a 
diagnosed  physical  disability  and 
pursuing,  or  wishing  to  pursue,  a 
course or career 
in agriculture or 
a 
rural-based 
industry;  or  a 
rural 
person 
wishing 
to 
study  in  the 
health 
and/or 
disability 
fields.  
Applications 
close  30  July 
2017. 
For  further  information  and  to 
download 
application 
forms 
visit www.ruralwomen.org.nz or www.
access.org.nz. 
The  Children's  Team  
held a hui at the Maungaturoto St John 
Hall  on  Tuesday  20  June  regarding 
establishing  a  Kaipara  base  to  work 
with  families,  putting  the  health  and 
welfare of children first. This is  not a 
new service – it's a different approach. 
We  at  OCS  have  received  many 
donations which helps us continue our 
work - from large organisations in the 
city  to  individuals  and  local  service 
agencies  right  here  in  Maungaturoto; 
without these donations we would not 
be  able  to  provide  many  of  the 
services  we  do.  We  send  our  grateful 
thanks  to  those  generous  donors  on 
behalf of  the  clients  whose  lives  have 
been enriched in some way. 
Winter arrives again and with it all the 
usual  coughs,  colds  and  runny  noses 
etc. We are seeing a lot of people with 
these  complaints  but  not  as  many  as 
the Medical Centre – what is supposed 
to  be  a  quick  word  with  one  of  their 
brilliant  nurses  -  "the  Doctors  are  all 
full  up  this  week,  sorry"  –  turns  into 
an  hour  waiting  before  a  hurried  but 
helpful  word  with  the  nurse.  How 
fortunate  we  are  to  have  our  needs 
seen  to,  and  what's  a  bit  of  waiting 
time  when  there  are  such  dedicated 
professionals to help us. Some of these 
people  and  others  come  to  the 
Community 
House 
with 
other 
difficulties;  like  trying  to  find 
somewhere  to  live,  or  how  to  make 
ends  meet  when  unexpected  expenses 
turn their budget upside down. Life is 
tough at times and we do the best we 
can  to  help  out  using  all  resources 
available to us. 
It just takes one news report to help us 
put  these  problems  into  some 
perspective.  Just  before  this  article 
went  to  press  there  began  one  of  the 
worst disasters one could imagine e.g. 
the apartment building fire in London. 
A day later and the news reports tell of 
an  unknown  number  of  lost  lives  and 
residents missing, with dozens injured.  
This  horrific  event  coupled  with  the 
endless fighting and terrorist attacks in 
troubled  regions  really  do  make  for 
shocking  reading. We spare  a  thought 
for  those  affected  as  we  go  about  our 
usual daily routine. ~The Team at OCS 
OTAMATEA 
COMMUNITY  
SERVICES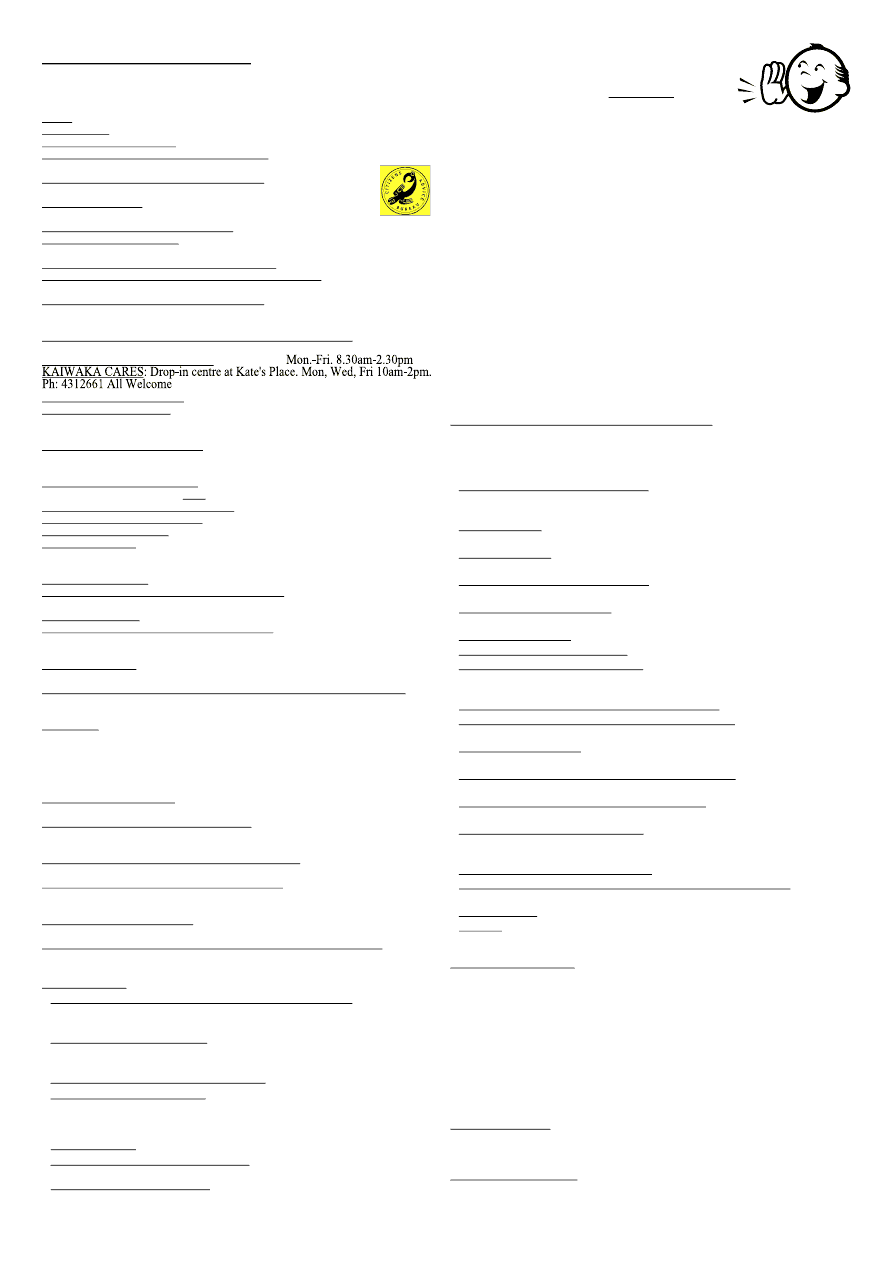 Next Bugle Deadline midday Friday 7 July 2017
WHAT'S ON
PLEASE ~ do let us know what is on - email 
kaiwakabugle@kaiwaka.co.nz 
Advertising in WHAT'S ON is FREE  
*29Jun~Years 3-5 Camp Meeting, 7pm Kaiwaka School 
*29Jun~Olla Podriga, OHS 
*30Jun~Mid-Winter Christmas Dinner, 6pm Hakaru RSA 
*30Jun~The Catch, 7:30pm KWMH 
*1-2Jul~Pt Curtis End of Season Game Bird Shoot 
*2Jul~The Lego Batman Movie, 2pm KWMH 
*3Jul~Rick Stolwerk NRC, 1pm KWMH 
*3Jul~Roading meeting, 6pm KSA 
*4Jul~Linking Hands AGM, 7pm 131 Hurndall St, Maungaturoto 
*8Jul~Business Expo, KWMH 
*8Jul~ Otamatea Hawks v Hikurangi & prizegiving, from 
12:30pm KSA 
*8Jul~A Winter Warmer, 2pm Wellsford Community Centre 
*14Jul~A Street Cat Named Bob, 7:30pm KWMH 
*20Jul~Te Roroa Learning Assistance AGM, 3pm 22 Gladstone 
Rd, Dargaville 
*29Jul~Kids Fluro Disco, 6pm KSA 
KWMH = Kaiwaka War Memorial Hall; KSA = Kaiwaka Sports Association 
See www.kaiwaka.co.nz for more information 
HOUSEHOLD RUBBISH COLLECTION - Kaiwaka Pick up: 
Mondays = Green bags (Northland Waste - 09 430 3273) 
Wednesdays  = Blue bags and yellow recycling (at Jaques $3.00 
and $1.50) (Kaurilands 09 4392146) 
 DIABETES  Support  Group  -for  Kaiwaka,  Mangawhai, 
Wellsford  10am,  3rd  Friday  of  month  Ph:  Colleen  James  09 
4314238 
 DRINK CAN 'tear tabs' - for Starship Hospital- please collect - 
98 Kaiwaka Mangawhai Rd, leave in mailbox, Ph. 4312625  
 GENEALOGY - Wellsford: 1st Thursday in month Ph: 423 
7033; Waipu: 4th Monday in month Ph: 4312 725 
 GYMNASTICS  OTAMATEA  -  Tuesday  Ph:  Stephanie  022 
3624998 
 HAKARU PONY CLUB - Secretary Denise Rogers 021423376 
secretary@hakaruponyclub.co.nz  
 KAIPARA HUNT - Secretary Albert Doonenbal Ph 4312059 
 KAIWAKA BADMINTON -Tuesdays 7.30pm Ph: 4312345 
 KAIWAKA  DRAMA  CLUB  -  Dave  Edwards  021  611198  - 
KaiwakaDrama@gmail.com Monday 5:30-7:00pm KWMH - FB 
- "KaiwakaDramaClub" 
 KAIWAKA DRUM & DANCE CLASSES - 021 611198 
 KAIWAKA GARDEN & FLORAL GROUP - 2nd Thursday in 
month. Ph: 431 4744 
 KAIWAKA  CUBS  -  Thursdays  5.30-7pm,  Hakaru  Ph:Bruce 
4312542 
 KNITTING FOR WHANGAREI HOSPITAL - 2nd Tuesday in 
month, Archie Bull Hall 10am Ph 4314827 
 MANGAWHAI COMBINED PROBUS CLUB - 2pm, 3rd 
Thursday month, Senior Citizens Hall Mangawhai. Ph: 4315777 
 OTAMATEA GREY POWER - Kath Pattinson 09 283 2052, 
1pm last Wednesday of month, Anglican Church Hall, 
Maungaturoto 
 PT CURTIS CRUISING CLUB - Jean Ph: 4312227 (wk), 4312520 (hm) 
 RSA,  HAKARU  &  DISTRICTS  WOMEN'S  SECTION  –  meets 
1.30pm 4th Thursday of the month. Ph: 431 5818  
 TRAMPING - Mondays 9am-2:30pm Maria 4312 234 
 YOGA  -  Tuesdays  6:15pm,  Friday  8:30am  KWMH  Carla  Ph: 
021 296 8794 
HALLS FOR HIRE: 
 St.Pauls Archie Bull Hall HIRE $20 half day, $40 full day per 
hire, R. Morgans, Ph 4312365 
 Kaiwaka  War  Memorial  Hall  HlRE  -  Phone  4312725  or 
kaiwaka.hall.bookings@gmail.com 
 Hakaru Community Hall HIRE -Ph. 4312256 or 4312110 
 Te Pounga Marae queries - R. O'Leary 4312 423, J.Nathan 021 
186 7382 
 Kaiwaka Sports Association hire/queries - C. Anderson 4312051 
or kaiwakasports@gmail.com 
Justice of Peace:  
B.FJaques  4312  048;  L.Donaldson  4312  228;  A.F.Hargreaves 
4312 045, W.Howard 4312 725 - please phone to make sure they 
are available www.justiceofthepeace.org.nz 
Marriage Celebrants:  
L.Donaldson; A.F.Hargreaves; C.Rosseels, Y Osborne
LOCAL SERVICES 
*Emergencies - Ambulance, Fire, Police - dial 111 
*Non-urgent Police phone 09 4311150
A A: Meets Wed., 8pm Kaiwaka Ph: 4312228, 4315543, 0800229 6757 
AL ANON: In recess, contact Ph: 4312228 
ASUREQUALITY LTD (was AgriQuality) Call Free 0508 0011 22  
BUDGETING SERVICE, WELLSFORD: Free confidential advice & 
support for all areas of personal finance. Ph (09) 423 7123 
CAB-Citizens Advice Bureau.Wellsford Ph: 4237333 
0800 367 222 email:cab.wells@xtra.co.nz  
CIVIL DEFENCE - Kaiwaka Community Response Group: 
kaiwaka.civildefencecrg@gmail.com, 4312725 Wendy 
DOG/STOCK /NOISE CONTROL 0800 105 890 
FUNERAL SERVICES: Morris & Morris Ltd, 
Whangarei - Bev Jaques Ph:4312367 or 0800667747 
GRANDPARENTS Raising Grandchildren: Dianah Roberts 0223819539 
HAKARU & DISTRICTS MEMORIAL RSA (Inc) 733 Settlement Rd, 
Hakaru. Ph 4312 176 or Graeme Hitchcock (President) 431 3064 
HAKARU LANDFILL/Transfer Station:Open everyday except 
Tuesday10am-4pm.Ph4312629 Cost-$55 trailer load up to 1 cubic metre. 
Ph:4258567 - office 
KAIPARA DISTRICT COUNCIL www.kaipara.govt.nz:  
Help Desk FREEPHONE 0800 727 059  
KAIWAKA KOHANGA REO: Ph:4312620 
KAIWAKA CEMETERY: Ph: 4312045 
KAIWAKA LIBRARY: kaiwaka.library@gmail.com  
Mon. 4-6pm; Wed., Thurs., Fri., Sat. 10am-2pm Ph:4312539 
KAIWAKA PLAYCENTRE: Ph Juanita 0274134904; open Mon, Wed, 
Fri 9am-12pm. Hastie Lane 
Monday to Friday 9.00am - 12 noon. 
KAIWAKA POST OFFICE:Ph:4312 431  
Post Code: 0573 for RD2 and 0542 for all Kaiwaka Post Office mail 
KAIWAKA PRIMARY SCHOOL: Ph: 4312309   
KAIWAKA SPORTS ASSN: Ph 4312005; 4312129 gym 
KAIWAKA ST JOHN: Manager Steve Rosser 09 4318403, 021 2316836 
KATE'S PLACE Community Centre - Employment services, Free Health 
Nurse, Advocacy, Osteopath, A.A., Legal Advice. 4312 661 
LINKING HANDS Health Shuttle Ph 4315906 or 09 4318969 
MINISTRY FOR PRIMARY INDUSTRIES - General inquiries Call 
Free 0800 008 333 
NORTHPOWER: Faults Kaiwaka area 0800 104040 
OTAMATEA COMMUNITY SERVICES: Counselling, parent coach, 
Family Support worker, budget advice, food bank. Mon-Fri 9am-3pm. Ph 
09 431 9080 http://www.otamateacs.org/ 
PARENTPORT: Free, practical family support service Puhoi to Paparoa 
Ph or txt: Dianne 027 280 5093 or 09 425 9357 
PERSONAL DEVELOPMENT COACHING, GROUP FACILITATION:  
Sabine Druckler 4312231 
PLUNKET: Kaiwaka - Kaiwaka War Memorial Hall: Clinic 1st Wednesday of the 
month; Coffee Group at 9:30. Mangawhai  - Rose Madsen Cottage, Mangawhai 
Domain,  Moir  St:  Clinic  1st  and  3rd  Monday  of  month;  Young  Babies  Coffee 
Group  2nd  and  4th  Monday  10  am;  Plunket  Playgroup  every  Thursday. 
Maungaturoto - Maungaturoto Congregational Church, 100 Hurndall Street East: 
Plunket clinic 2nd and 4th Wednesday. Cynthia 09 431 8187 or 027 675 3488 
PLUNKET HELPLINE -0800 933 922 (24 hours) 
TAITOKERAU COMMUNITY LAW: Free confidential legal advice and 
assistance, 2nd
Thursday
 of each month. Ph: 0800 155 529 for 
appointments.  
TE KOROWAI AROHA O NGATIWHATUA Ph: 4312675 
(The Cloak of Love of Ngatiwhatua) Support and Maori Consultancy.  
VETERINARY SERVICE MANGAWHAI: 
Ph: 4314535 Mon-Fri 8.00-5.00, Sat 9-12, a/h appt. 
WELLSFORD DOCTORS: Ph: 4238 086 
WOMEN'S WELFARE LEAGUE & Reaching Out For Youth:  
4 Kaiwaka-Mangawhai Rd, M Morgan 4312293 
CHURCHES:
 
Kaiwaka  Revival  Church  -  Your  Community  Church:  Sundays  10am. 
Ph: Pastor Tawhiri 09 431 8988 or Pastor Paul 09 4312 068 Visit us at 
www.facebook.com/kaiwakachurch 
 
St  Paul's  Anglican  Church  1st  Sun.  9.00am  (Eucharist),  3rd  Sun. 
9.00am (Family Service). Contact: Rev. Wayne Thornton Ph 431 4122 
www.mangawhaianglican.org.nz 
 
Church of Christ the King, Mangawhai:9.30am every Sunday 
 
St.Mary's  Catholic  Church:  Maungaturoto  –  Griffins  Road,  Saturday 
evening  Vigil  Mass  6pm;  Mangawhai  –  Senior  Citizens  Hall,  Sunday 
Mass  8:30am;  Wellsford  –  Matheson  Road,  Sunday  Mass  10:30am;  
Mid-week Mass times and all enquires to Fr. Bill Fletcher – phone 423 8170
 
Baptist Church: Sun. 10.30am Mangawhai Snr Cit.Hall.Ph:4312339 
 
Cause  Way  Church  Mangawhai:  Sundays  10.15am,  Mangawhai 
Community  Recreation  Centre,  Insley  St.  Ph:  09  4314782