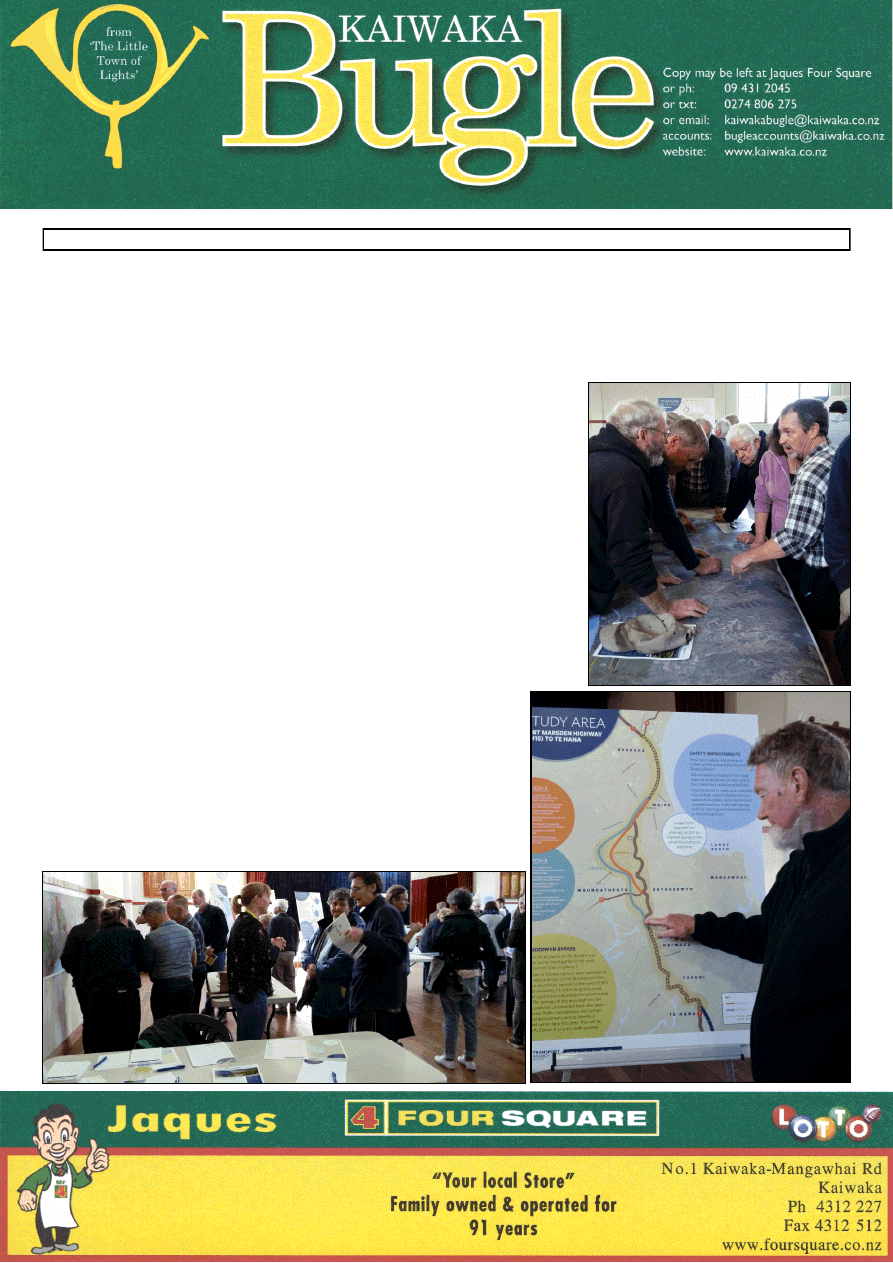 www.kaiwaka.co.nz 
Kaiwaka Bugle - 22 August 2017 
Page 1 
No:16 
22 August 2017 
Trading Hours: 
Monday to Friday 8:00am - 6:30pm 
Saturday 8:00am - 7:00pm 
Sunday & Public Holidays 9:00am - 5:00pm  
It was good to see a big turnout for the 
public  meeting  with  NZTA  last  week 
as they revealed plans and ideas for the 
new  highway,  Te  Hana  to  Whangarei. 
It  will  affect  many  people,  especially 
farmers and some of their decisions are 
being made shortly even though it will 
be  quite  a  few  years  before  any  work 
starts on it. 
Two  NZTA  staff  met  with  a  small 
group  of  Kaiwaka  Can  members  last 
Monday to talk about the social impact 
of the highway. It was a good meeting 
and  allowed  us  to  tell  them  of  some 
important  bottom  lines  for  us  as  a 
community.  Here  are  the  three  bottom 
lines we shared with them. 
1) We need Kaiwaka to stay viable as 
a  community  and  also  free  to 
develop. 
At  the  present  time,  any  development 
along  State  Highway  One  is  totally 
controlled  by  NZTA  who  do  not  want 
to  see  any  more  vehicles  access  the 
highway from private property. It is our 
main street but also State Highway One 
and  at  the  present  time,  these  two 
realities are in conflict with each other. 
If  Kaiwaka  stayed  as  SH  1  under  the 
proposed  scheme,  we  would  have  2 
million tonnes of truck freight through 
our  town  each  year,  travelling  at  least 
60kph  and  probably  with  a  barrier 
between  lanes.  That  would  be  almost 
impossible  to  live  with  and  it  would 
also  crush  any  development.  So,  we 
made sure they heard us on this. 
2) We need Kaiwaka to stay safe. 
We  have  worked  for  two  years  to  try 
and  make  the  highway  safe,  with  one 
or  two  gains  but  also  some  real 
compromises. Shortly the whole stretch 
of  Kaiwaka  highway  will  be  60kph 
(plus  the  excess  that  most  vehicles 
travel).  It  is  hard to live  with  now  but 
we have no intention of sacrificing any 
more  safety  just to  allow trucks  to  get 
to their destination a couple of minutes 
earlier. 
3) We believe Kaiwaka must remain 
as the gateway to Northland. 
Northland  struggles  for  identity  and 
resources now. We want Kaiwaka to be 
a  highly  visible,  very  attractive 
gateway to the North. It already offers 
many services to those passing through 
and  if  it  is  bypassed  altogether,  then 
there  is  no  other  community  between 
Auckland  and  Whangarei.  (Wellsford 
and Warkworth are being bypassed and 
are also part of Auckland). We want to 
see this town  develop its  full potential 
and  be  somewhere  people  choose  to 
visit  as  they  come  north.  We 
already  have  some  great 
facilities  (rest  area,  excellent 
toilets,  interesting  cafes  and 
bakery,  high  class  truck  stop 
facilities  at  the  pub)  and  there 
are  more  coming.  So,  let's 
become 
a 
truly 
worthy 
gateway  to  the  North  without 
sacrificing  safety  and  our 
future development. 
We  made  a  number  of  suggestions  to 
the  team  as  to  how  we  could  achieve 
all of these bottom lines but these will 
become more public as the negotiating 
process continues. 
Derek Christensen, Kaiwaka Can
STATE HIGHWAY ONE AND KAIWAKA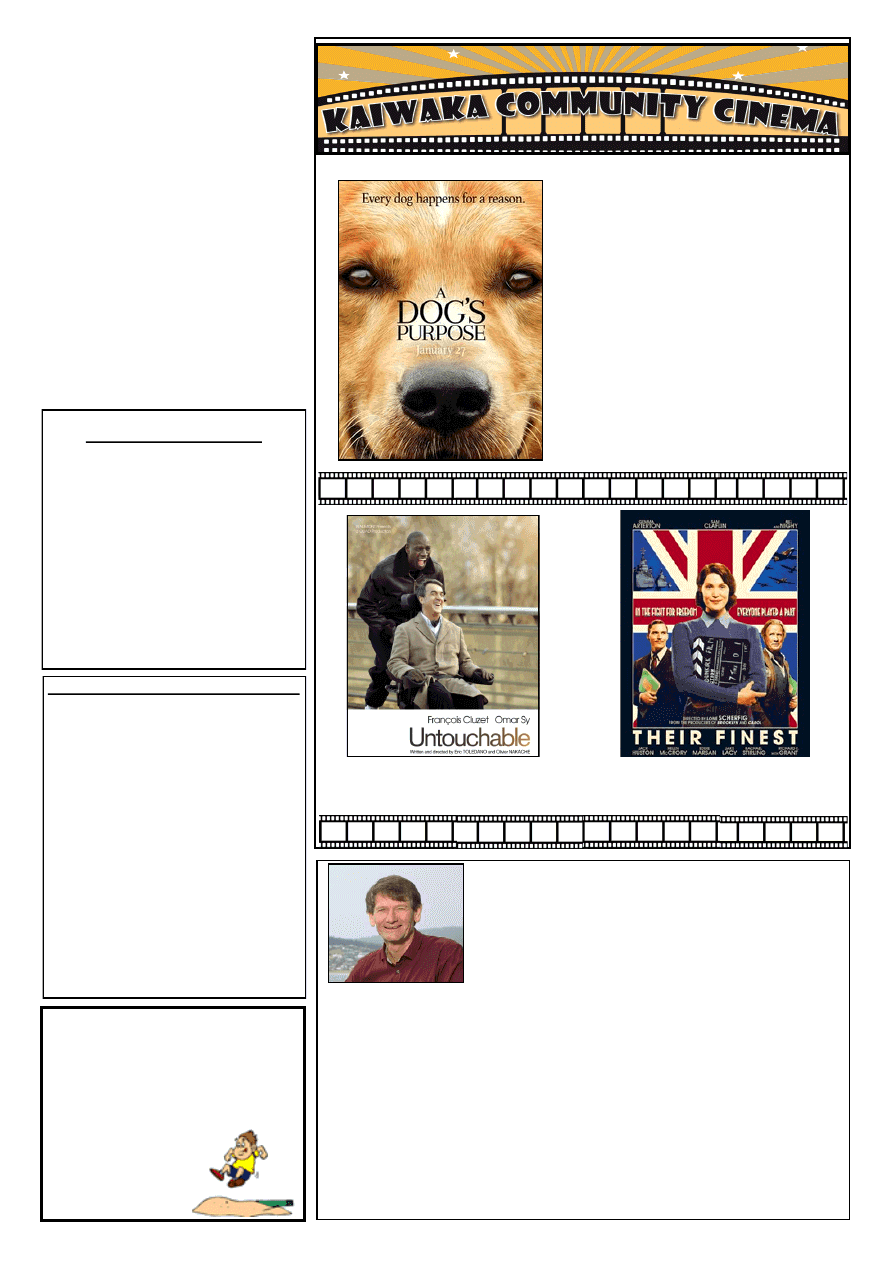 At Kaiwaka War Memorial Hall . Adults $10, Kids (under 16) $5, Family Pass (2 adults + 3 children) $25 
KAIWAKA BUGLE No. 16 
22 AUGUST  2017 
CONTENTS 
Page 3: Public Notices, Classified 
Page 5: Kauri Museum 
Page 7: Pt.Curtis CC; Otamatea 
Community Services 
Page 9:  Linking Hands; 90 Years Ago; 
St.Pauls Garage Sale 
Page 11: Kaiwaka School   
Page 13: Kaiwaka Sports Assn. 
Page 15: Kaiwaka St.John; Library 
Page 17:The Den; Riverview Resthome 
Page 19: Cats Rules! 
Bugle 17 will appear 5 September 
Contact for advertising, reports, articles 
or information can be made by 
Email kaiwakabugle@kaiwaka.co.nz 
Ph: 09 4312 045 Lindsey 
Txt: 027 2724137 
Copy  may  be  left  at  Jaques'  Four 
Square. 
Kaiwaka Bugle 
Founded May 1978 
We appreciate articles and photos about local 
events, etc, as well as ads and suggestions. 
Copies available in Kaiwaka at Jaques Four 
Square, Kaiwaka Postal Centre, Shamrock 
Service Station, Animal Health Centre, 
Kaiwaka St John shop. 
Also outlets in Maungaturoto, 
Mangawhai and Paparoa. 
Can be viewed online at  Facebook or 
www.kaiwaka.co.nz/Bugle  
Or a copy can be posted to you if you supply 
stamped, self-addressed DLE envelopes. 
A Dog's Purpose 
Sunday 27 August 2:00pm (PG)  
"A  Dog's  Purpose"  shares  the  soulful 
and  surprising  story  of  one  devoted 
dog who finds the meaning of his own 
existence  through  the  lives  of  the 
humans he teaches to laugh and love. 
Starring: 
Dennis 
Quaid, 
Britt 
Robertson, Josh Gad
Untouchable 
Friday 8 September, 7.30pm (M)  
Their Finest 
Friday 15 September, 7:30pm (M)
Proverbs  25:8
  Don't 
jump  to  conclusions  - 
there  may  be  a  perfectly 
good  explanation  for 
what you just saw.
Kaiwaka Bugle Advertisements 2017: 
All 
copy 
and 
queries 
to: 
kaiwakabugle@kaiwaka.co.nz 
Our A4 page is divided into 6 columns & 
8 rows (48 blocks), with a 1cm margin. 
Ad  sizes:  1/16  page  (3  blocks)  $5;  1/8 
(6 blocks) $8; 3/16 (9 blocks) $12.  
Classified  ads:  First  one  FREE,  $4  per 
entry (max. 30 words, max. 4 repeats). 
Payments  can  be  made  online  at 
ANZ 
06  0365  0006990  00
,  posted  or  left  at 
Jaques Four Square Store. 
We  use  Microsoft  Publisher,  and  can 
work  with  most  common  image 
formats, Word, Excel, and PDF files. 
Accounts:  
Email: bugleaccounts@kaiwaka.co.nz 
The  Kaiwaka  Bugle  is  a  community 
newspaper run by volunteers.   
Articles, etc. printed are not necessarily 
the opinion of the Bugle Team. 
MONTHLY 
DROP IN SESSIONS
with Northland Regional Council  
Coastal South Councillor – 
 Rick Stolwerk 
(PLEASE NOTE: The following is not a council sponsored 
publication and is the personal opinion of Cr Rick Stolwerk)
On the first working Monday of each month I am running DROP IN 
SESSIONS at the venues below.
MONDAY 4th SEPTEMBER
9.00 – 10:00am Maungatapere - Office Café 
10:30 - 11:30pm Ruakaka WDC Office 
12:00 - 1:00pm Waipu - Deli Cafe 
1:30 - 2.30pm Kaiwaka - Kaiwaka War Memorial Hall 
3.00pm – 4.30pm Mangawhai - Mangawhai Museum
We are interested in your thoughts on any NRC/WDC/KDC issues and look forward 
to catching up and answering any queries that you may have. 
Please do not hesitate to give me a call if you are  
unable to make the above sessions. 
Kind regards, Rick Stolwerk 
Phone: 027 542 2708 or 09 432 0741 Email:ricks@nrc.govt.nz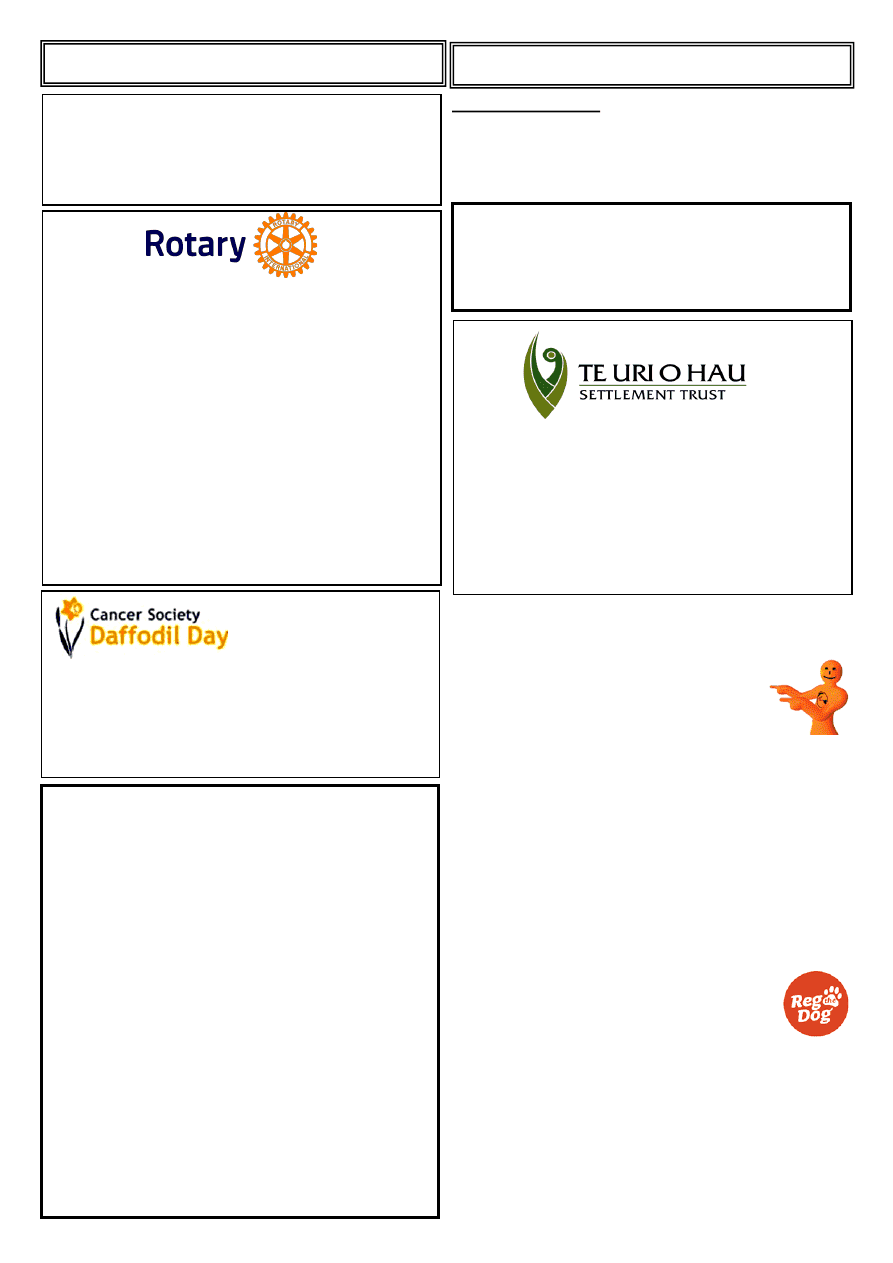 www.kaiwaka.co.nz 
Kaiwaka Bugle - 22 August 2017 
Page 3 
ABOUT TOWN ... 

Please check the Back Page contacts and phone numbers 
- are they correct? 

 The  deadline  to  be  included  on  the  printed 
electoral roll, which is used in voting places and 
for sending out EasyVote packs, is Wednesday 
23 August.  

 The Mana Bus has quite a pick up -7.30am work days at 
the Three Furlongs bus stop 

 Please  send  NZTA  your  comments  regarding  the  SH  1 
upgrade - help to make our place safe. 

Observed  on  the  NZTA  maps  at  last  week's  meeting: 
there are 3 points of access onto Oneriri Road from SH 1 -
not! 

 Needing lemons or grapefruit? Kate's Place has some for 
free. 

 'The Den's' Garage Sale begins Saturday 2nd September 
- fundraising for the planned extensions and dementia wing 
in the Community Trust Village, "Riverview". 

 Have  you  registered  your    dog?  All  dogs  need  to  be 
registered  by  Thursday  31  August  -  non-working  dog 
$62.00;  working  dog  as  defined  under  the  Dog 
Control Act 1996 $52.00. For further information 
see 
Kaipara 
District 
Council 
website 
kaipara.govt.nz or call at their Mangawhai office. 

 Great  to  see  the  large  number  of  BLUE 
rubbish  bags  on  Wednesday  morning  along  Oneriri  Road, 
ready for pick up. Sad about the non compliant black bags 
and assorted litter, but definitely less than before. 

Daffodil Day - this Friday 25 August. 
  ~ Lindsey, Ed 
"I suppose it is tempting, if the only tool you have is a 
hammer, to treat everything as if it were a nail."  
~ Abraham H. Maslow; see 'Word for the Day'  for 15 
August  (Rhema Media) 
PUBLIC NOTICES 
CLASSIFIED 
KAIWAKA PLAYCENTRE 
Annual General Meeting 
Wednesday, September 6
th
, 7pm, 2017 
at Three Furlongs Bar & Grill 
All members welcome 
JOB VACANCIES: Topuni Timber is looking for full
-time  Production  Workers  and  two  Students  for 
weekend  work.    If  you  are  fit  and  enjoy  working  as 
part of a great team and able to pass a pre-employment 
drug test, please phone Sue on 021 226 2855 for more 
information. 
FREE 
First notice FREE  for Classified or Public Notices - 
less  than  30  words  -  then  charged  as  per  advertised  
($4). This includes AGM and meeting notices, FOR 
SALE, WANTED. ~ Kaiwaka Bugle 
DAFFODIL DAY 
Our local collectors will be outside  
Jaques Four Square and La Nonna Bakery 
On Friday 25 August 
And for a donation 'Daffodils' are now available at 
Jaques Four Square, Shamrock Service Station  
and Coffee Pot. 
KAIWAKA  
SUMMER MARKET 
Expressions of Interest 
The Kaiwaka Market is starting again  
for the summer of 2017 – 2018. 
It will be located at the Three Furlongs Bar & Grill 
parking area right next to the State Highway,  
to catch the traffic in both directions. 
Times will be Saturday 9am to 2pm  
and starting 7 October 2017 
Cost will be $20.00 per stall. 
We are looking for stall holders interested in  
having a stall at the markets  
on a reasonably regular basis. 
All food stalls must be fully self-contained. 
Please contact: wendy@coveolives.co.nz 
Making a Difference 
Maungaturoto and Districts Rotary Club 
(Serving the area of Mangawhai, Kaiwaka,  
Maungaturoto, Matakohe, Paparoa and Waipu)   
 President's Scholarship 2017 
We are pleased to invite applicants for a $1500 grant 
known  as  the  'Presidents  Scholarship'.  The  grant  is 
intended  to  assist  those  who  wish  to  further  their 
education  with  a  recognised  provider  of  tertiary 
education i.e. university, polytechnic. 
Areas  of  consideration  when  awarding  the  Presidents 
Scholarship  could  be  involvement  in  community  work, 
sport, arts, academic achievement, or financial need. 
Application  format  available  –  apply  to  PO  Box  65, 
Maungaturoto 0547  
Applications close 31 October 2017.   
All applications and attachments to be sent to  
PO Box 65, Maungaturoto 0547  
Te Uri O Hau – Settlement Trust, 
Unit 2, 10 Kaiwaka-Mangawhai Road, KAIWAKA 
Services include:   
Whanau  Ora, reaching  one's goals  and aspirations, 
Sharon  Kemp  021793262  or  Te  Aroha  Marshall 
021642261 
Family  Start,  home  visiting  programme  focus  on 
improving health, learning and relationships, environ-
ment and safety.  Sheryl Tomas 021320236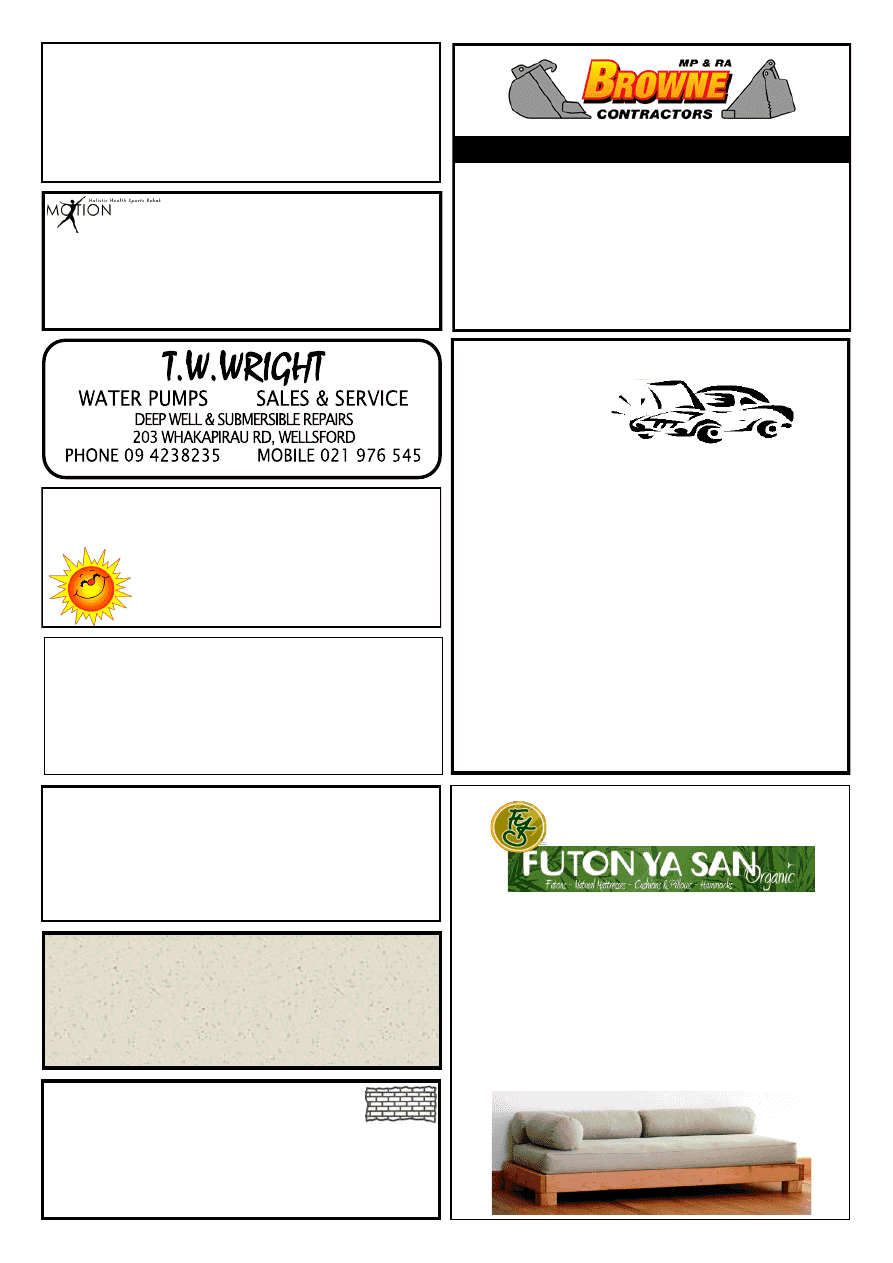 FREE GRAZING WANTED 
Small or large block 
Can do some fencing or water 
Phone after 6pm 
4312 006 
WAIPU OSTEOPATH 
Maria Gabriel  ACC Registered Osteopath 
8 The Centre, Waipu 
Monday to Thursday  
Freephone 0508 924786 (0508 WAIPUOSTEO) 
www.getinmotion.co.nz  No doctor referral required 
4T DIGGER – BOBCAT – TIP TRUCK 
Property Maintenance - Driveways - Building Sites 
Stump & Tree Removal - Hole Boring - Chain Trencher 
Calf Shed and  Stockyard Cleaning
KAIPARA - WHANGAREI - RODNEY 
Phone Matt: 021 199 6677 
Email: mprabrownecontractors@gmail.com 
BRICK/BLOCKLAYER 
All aspects of masonry: 
Fireplaces, Restoration & Remedial Work.
JAMES EAGLETON
Tel. (09) 431 2514     Mob. 0274 749 232
jajueagles@yahoo.com.au 210A Pukenui Road, RD2, Kaiwaka 0573 
MARRIAGE CELEBRANT 
WEDDING EVENTS PLANNER 
Yvonne Osborne 
Ph 0274 989 814 
yvonne.osborne@xtra.co.nz 
THE SUNSHINE GIRLS
Efficient and reliable help with 
your housework. 
Ph 4312 532 
 LEABOURNS 
Passenger Service
Car & Van Hire, Bus & Coach Charters, Airport 
Transfers, Monthly Shopper Bus 
Phone 09 4237416 
Counsellor and Registered Psychotherapist 
Offers Supervision
Susan Matheson 
MNZAC 
Dip. Psychosynthesis Counselling and Psychotherapy 
Phone 09 431 2996                        Mobile 027 605 2427 
Your local supplier of Custom Made 
Natural Mattresses  -  Pillows - Duvets - Futons - Yoga Bolster  
AND MORE 
 Made from Certified Organic Wool, Hemp, Organic Cotton fabric 
Rubberized Coco fibre 
www.futons.co.nz                    contact@futons.co.nz
Phone: 021 176 17 19 
Twinkle Tow 'n' Tyre 
Think you'll get a better deal in the city? 
Ring us - it won't cost anything! 
1837 State Highway 1, Kaiwaka 
Phone 431 2823 
*W.O.F. 
*Tyres 
*Windscreen 
replacement 
*Chip repairs 
*Bulk Oil 
*Batteries 
*Welding 
*Custom built 
trailers 
*Trailer hire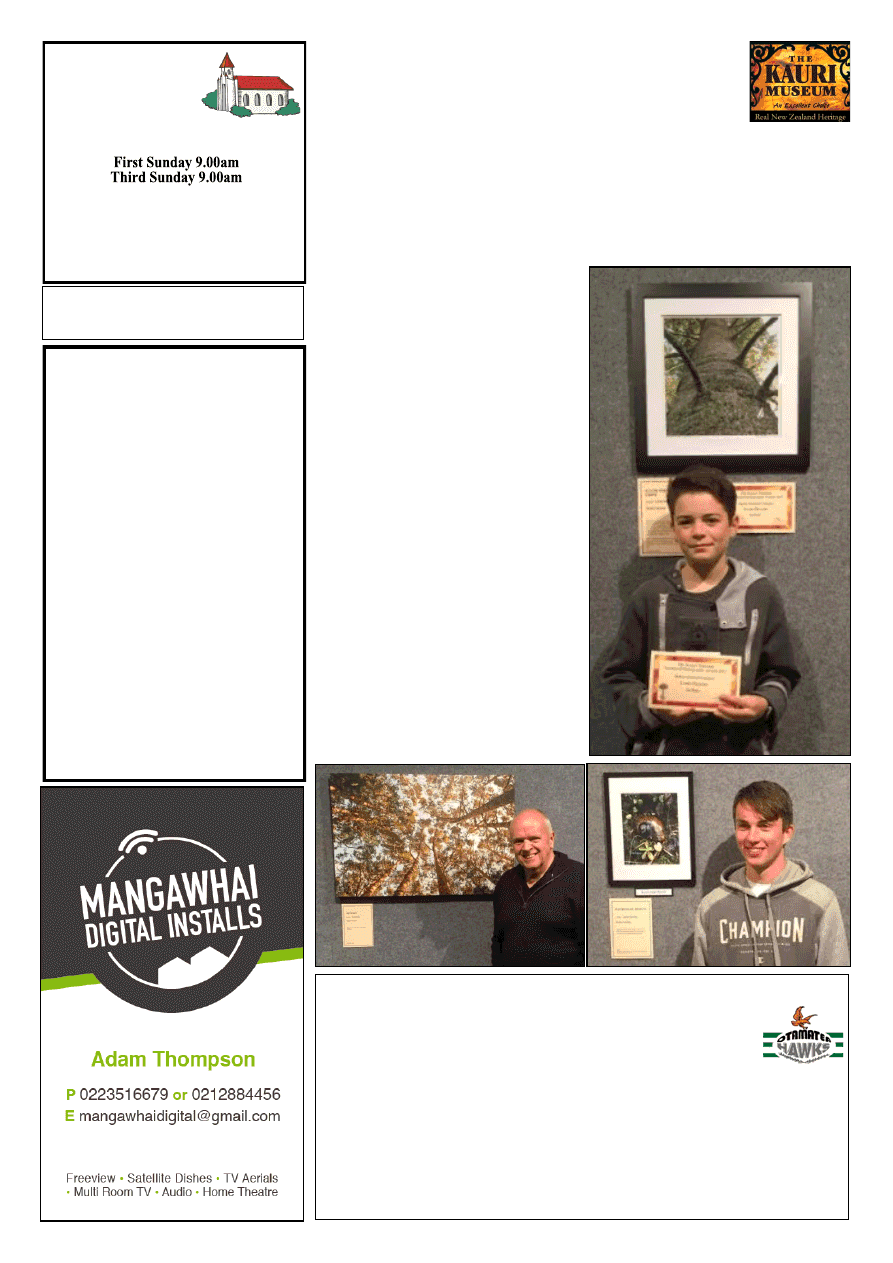 www.kaiwaka.co.nz 
Kaiwaka Bugle - 22 August 2017 
Page 5 
Willow Bend
HORSE  
HOTEL 
  
Total Horse Care 
 
Agistment 
 
Riding Lessons 
 
Arena Hire (60x40) 
 
Young Horse Starting 
 
Re-training/Exercising 
 
Hoof Trimming 
 
Problem Solving 
Phone Sue 09 431 2817 
or 021 623 776 
Or email  
susanjoll11@gmail.com 
ST PAUL'S  
ANGLICAN  
SUNDAY  
SERVICES
St Pauls Church: Kaiwaka-Mangawhai Rd. 
1st Sun - Eucharist 
3rd Sun - Family Service 
Rev. Wayne Thornton Ph 431 4122 
www.mangawhaianglican.org.nz
AT THE KAURI MUSEUM 
THE OTAMATEA HAWKS RUGBY CLUB 
Would like to thank our Major Sponsor - TRANZNORTH 
and the following Sponsors for their generous support 
in the 2017 season: 
KSA, Pizza Barn, Stephen Jaques, Absolute Concrete, Kaiwaka Motorcycles, 
Brogan  Builders,  3  Furlongs  Bar  and  Grill,  Jaques  4  Square,  Maungaturoto 
Butchery, Parker Lime, Ken & Terri Finlayson, Tony & Lindsey Hargreaves, 
Huband  Contractors,  Trevor  Pilbrow,  Bruce  Robertson,  Wellsford  Sport  and 
Leisure,  Don  McKay,  Tara  Iti  Golf  Club,  Wharehine,  Good  Ground, 
Thorntons. 
Also THANKS to all others that have helped over the season we would not be 
able to run such a great club without you all. 
Look forward to your continued support for The Hawks next year. 
August 4 was a big night at The Kauri 
Museum.  Guests  and  finalists  in  the 
inaugural 
Northland 
Photography 
Awards  were  present  at  a  prizegiving 
function  to  honour  the  winners  of  the 
three  categories  of  the  competition. 
Those  present  were  enthralled  by 
judge,  Stephen  Davies,  and  his 
discussion on the criteria he and fellow 
judge,  Vicky  Wilson,  applied  to 
choosing  finalists  and  then  winners. 
The  competition  has  been  such  a 
success and feedback so positive, that it 
will now become an annual event. CEO 
at  The  Kauri  Museum,  Lisa  Tolich 
explains  "the  team  are  encouraged  by 
the  response  of  our  local  Northland 
Photographers  in  our  first  year  and 
look forward to building on this for our 
next event. We would particularly like 
to  encourage  our  young  aspiring 
photographers  to  take  inspiration  from 
our 2017 entrants and give it a go".  
Activity  around  the  Photography 
Awards  has  not  yet  concluded.  The 
finalist's works will be on display and 
for sale at The Kauri Museum until 8th 
October.  During  this  time,  anyone 
interested  can  vote  for  the  Tudor 
Collins People's Choice Award (across 
all the entries received) either online at 
http://www.kau.nz/tour/awards/  or  in 
person at the museum. 
Congratulations  to  all  of  our  2017 
finalists  and  entrants  and  a  special 
thank  you  to  our  supporters,  Creative 
Communities  New  Zealand-Kaipara, 
Nauman  Insurance  Brokers,  Bennett 
Associates  Chartered  Accountants  and 
the Friends of The Kauri Museum. 
2017 
Northland 
Photography 
Awards Winners: 
Open Category: First Place: Doug Cole 
Standing  Tall;  Second  Place:  Doug 
Cole: Skyward 
Highly  Commended: 
Suzanne 
Brown: 
Fallen 
Senior Student (Y9-13): 
First Place: Aaron Skelton: Kauri Tree 
Second  Place:  Aaron  Skelton:  View 
from the Kauri Canopy 
Highly  Commended:  Aaron  Skelton: 
Kauri Snail Rescue 
Junior  Student  (Y1-8):  First  Place:  Corin 
Parsons: Kauri Tree on my farm  
Proverbs 25: 8 "Kaua e peke ki nga 
whakatau - tera pea he korero pai mo 
nga mea kua kite noa koe."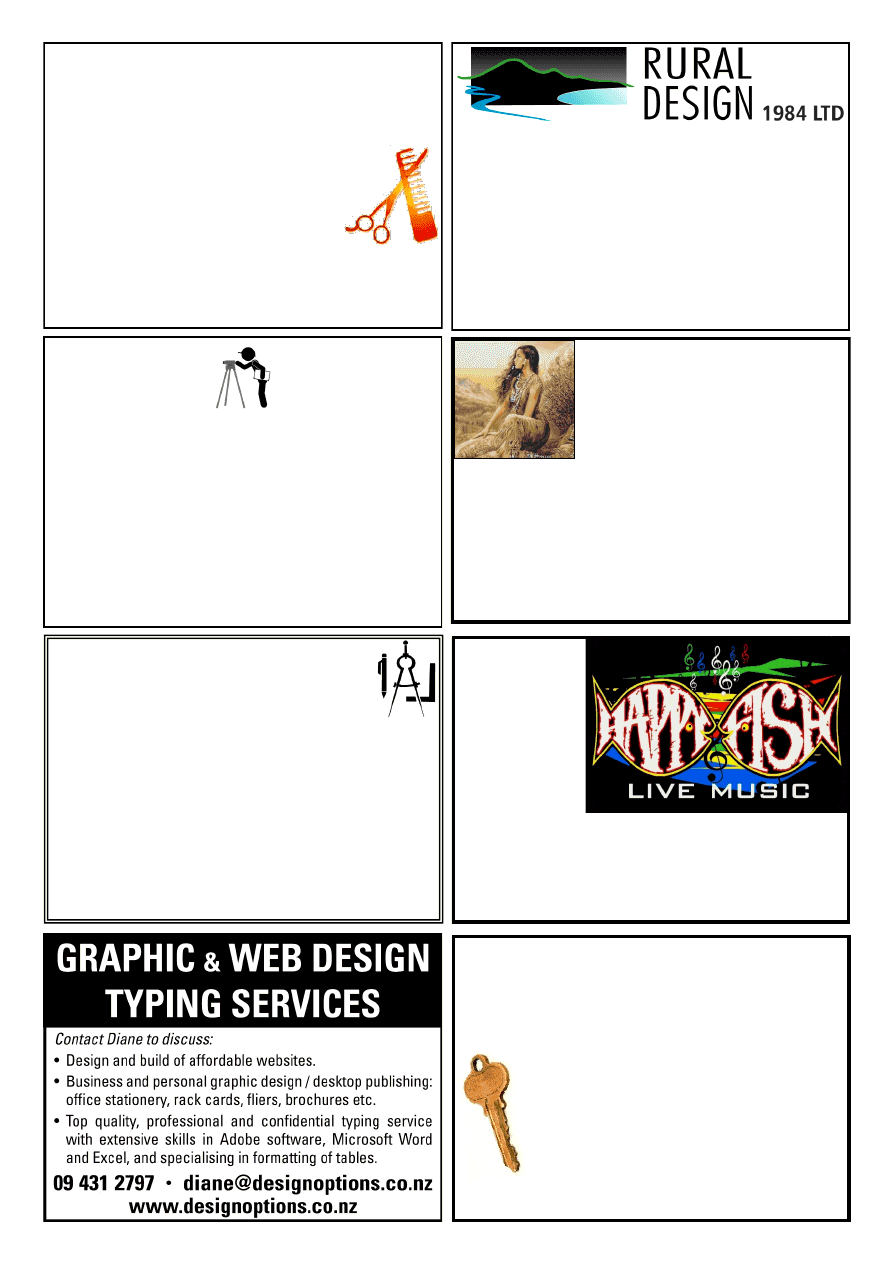 design drafting  
service 
Retired builder and manufacturer with over 40 years  
experience in the building industry is offering a design 
drafting service  
for domestic housing, sleepouts and sheds.  
Plans formulated in consultation with clients, with 
working drawings completed and submitted to  
council for processing.  Extensive practical experience,  
able to identify & resolve problems. 
Please ring Mike Lean on 
09 431 2260 
or 
021 431 196 
Ken Urquhart 
BSurv Licensed Cadastral Surveyor 
KMU Surveys Ltd
467 Bickerstaffe Road 
RD 2 
Maungaturoto 0587 
Ph 09 431 8705 
Mob 021 161 2344 
kenurquhart@xtra.co.nz 
WHOLESALE NATIVE PLANT NURSERY 
AND LANDSCAPING 
By Appointment 
Small and Large orders welcome 
Phone: 09 431 2481 
Email: info@ruraldesign.co.nz 
Rockin' popular, 
old and new party 
songs with loads of 
Kiwi music and a 
few original tunes 
in the mix.
An electric duo 
featuring: 
Gordon Joll 
(NZ Music Hall of Fame)
 on drums and Sue Joll on guitar and 
vocals, a band for any occasion backed by years of 
experience.
Contact: Sue 021 623 776 
Email: happyfishband@gmail.com 
Website: www.happyfishband.co.nz 
Kaiwaka Hardware  
& 
Key cutting
Phone 4312 063 or 022 0642 703
kaikey2015@gmail.com 
Keys Cut  
Household Hardware  
Sharpening Knives & Tools 
Curtain Tracks & Fittings
Not there? Call Doug and he'll sort
it for you. 
(
Next to Kaiwaka Motorcycles)
AFFORDABLE PRICES! 
MENS CUT FROM $20.00 
LADIES CUT FROM $30.00 
KIDS CUT FROM $18.00 
COLOUR & CUT FROM $120.00 
JUST CUTS'AND   
MORE 
021 165 2629 or (09) 945 0707  
NOW SELLING: scented tealights, incense, smudge sticks, 
copper bracelets, aurora ball crystals, dream catchers, healing 
stones, rose quartz, cds, and much more. Open 6 days. 
Trails end 
spiritualist gathering 
Last Sunday of every month  
11.30-2pm  
Tea/coffee provided  
$5 koha 
For all inquiries: 
021 165 2629 evenings (09) 945 0707 
Trail.end@hotmail.com 
Bringing together light minded people 
Guest speaker each month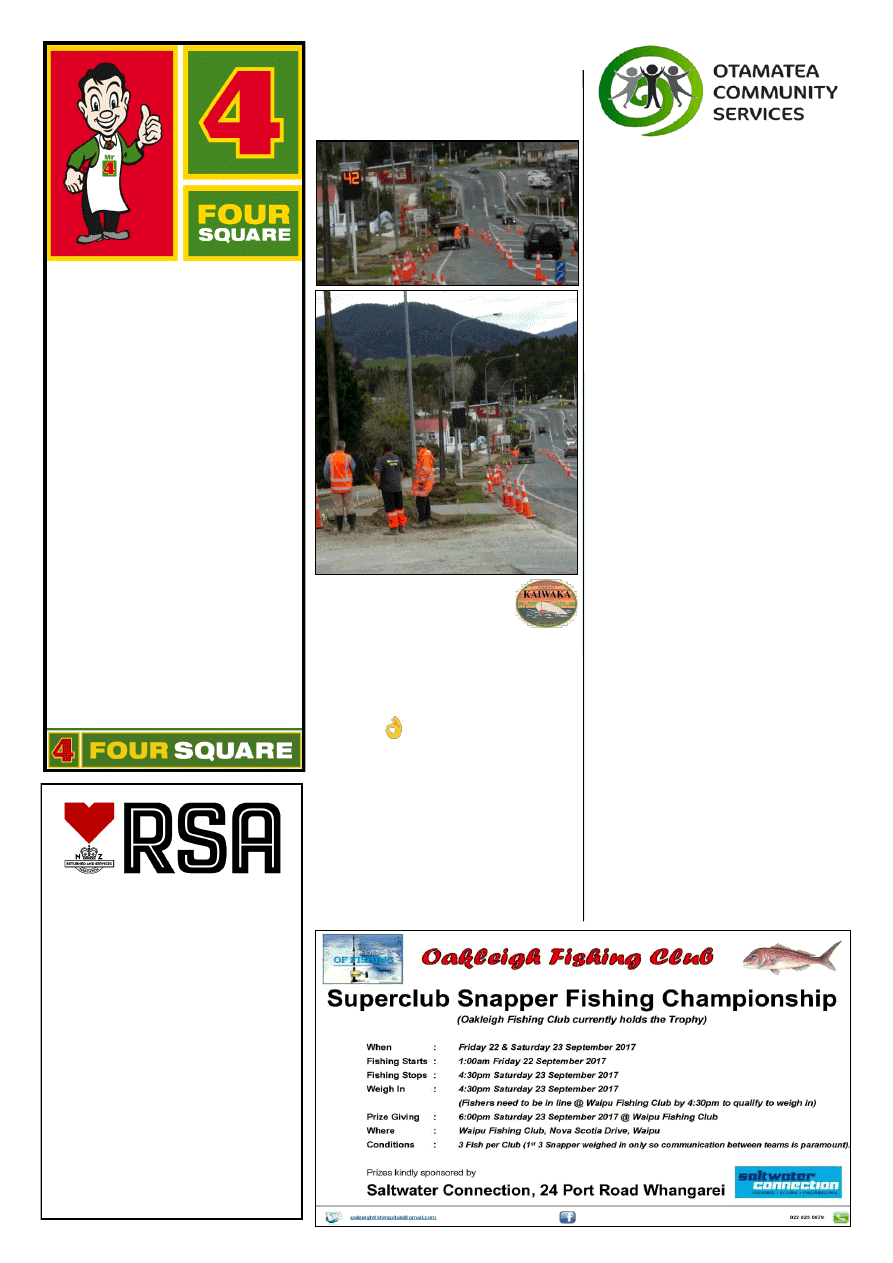 www.kaiwaka.co.nz 
Kaiwaka Bugle - 22 August 2017 
Page 7 
NOW IN STORE 
 Super Special on  
Mountain Bread
$3.99 
Chia, Spelt, Barley, 
Natural & Rice 
NEW to Jimbo's Range 
Pet Food - 
Veal Bones $5.49 
PLUS  
a NEW RANGE of 
CHANTEL ORGANIC 
Products
We are open to 6.30pm 
Monday to Friday
Jaques Four Square 
Phone: 4312227 
1 Kaiwaka-Mangawhai Road, Kaiwaka. 
Just for the record: Contractors are now 
working on the new Kaiwaka footpath 
on the western side of SH 1 - between 
Leabourn's bus depot and the Ark.
NEW FOOTPATH 
Fortunately, our winter is not being too 
harsh this year, with a few frosts being 
reported and a bit of flooding in some 
parts, but  on  the  whole,  we  have  been 
so  much  better  off  than  those  further 
south. We wish them well and hope it 
hasn't  been  too  overwhelming  and 
damaging to people's lives. 
The  Community  House  has  had  busy 
days  and  quiet  days,  all  while  we 
continue  upgrading  some  of  the 
services in and around the property so 
that we can continue to get work done 
efficiently. 
The  seniors'  lunch  is  settling  in  with 
the  new  catering  crew  with  plenty  of 
good  feedback.  We  wish them  well  in 
their venture. It is good to see that the 
colder  weather  hasn't  stopped  people 
coming  along  to  the  lunch;  and  we 
know  they  are  loving  the  opportunity 
to  meet  up  with  friends  and 
neighbours. 
There  was  a  glitch  in  communication 
when  the  July  Chocolate  Bingo  day 
had  to  be  cancelled  –  and  while  we 
thought we had contacted all - it turned 
out  there  were  still  some  who  hadn't 
got the message. So sorry to those who 
arrived  on  the  day  to  find  we  weren't 
there. We feel bad about this so hope to 
make  up  for  it  at  the  September 
Chocolate Bingo. 
Our Manager is continuing her work in 
the  Children's  Team  and  she  reports 
that  they  have  a  strong  and  positive 
feel about their work which has already 
proved to be a valuable addition to the 
existing  work  done  in  seeing  to  the 
health and wellbeing of our children. 
We  are  excited  to  announce  that  we 
now have a 12-seater van which will be 
for the use of the community. We will 
have a weekly service which will cater 
for  people  needing  appointments  in 
Dargaville  and  then  trips  for  shopping 
etc  can  be  arranged.  If  we  can  help  in 
this way come and see us or phone 431 
9080.   
  ~ The Team at OCS 
HAKARU & DISTRICTS 
MEMORIAL RSA (INC)
Members & guests are invited to 
come along and enjoy our hospitality.  
New members welcome.  
Meals are served on Thursday and 
Friday nights  from 6.30pm.   
2nd Friday of the month is a Roast Dinner 
special plus a board menu put on by the 
Women's Section. 
Last Friday of the month is 'Roast Pork 
Night' and a sing-a-long with Des Chitty. 
For more information please phone 
Gloria  (Women's Section) on  
431 5818 or Marlene on 431 5589 
Great turn  out to  Pool  Comp  at Kamo 
on  5th  August  with  Kaiwaka  winning 
10-9. Big thanks to the 13 players who 
showed  up  with  such  short  notice  -  it 
paid off 
Any  of  you  that  are  keen  to  do 
Superclub  Fishing  Competition  please 
contact Keith Mills 
Mobile 0210537284 
Land line 094312651 
Fish of the Month Winners for Gurnard 
Joss  Tolley,1.404kg;  Joss  Tolley, 
1.214kg; Gravy, 1.133kg 
New Fish of the Month is Kahawai 
Next  Meeting:  12th  September  2017, 
7pm at the 3Furlongs Bar and Grill.  
   ~  Wayne Leslie Commodore
. 
POINT CURTIS 
CRUISING 
CLUB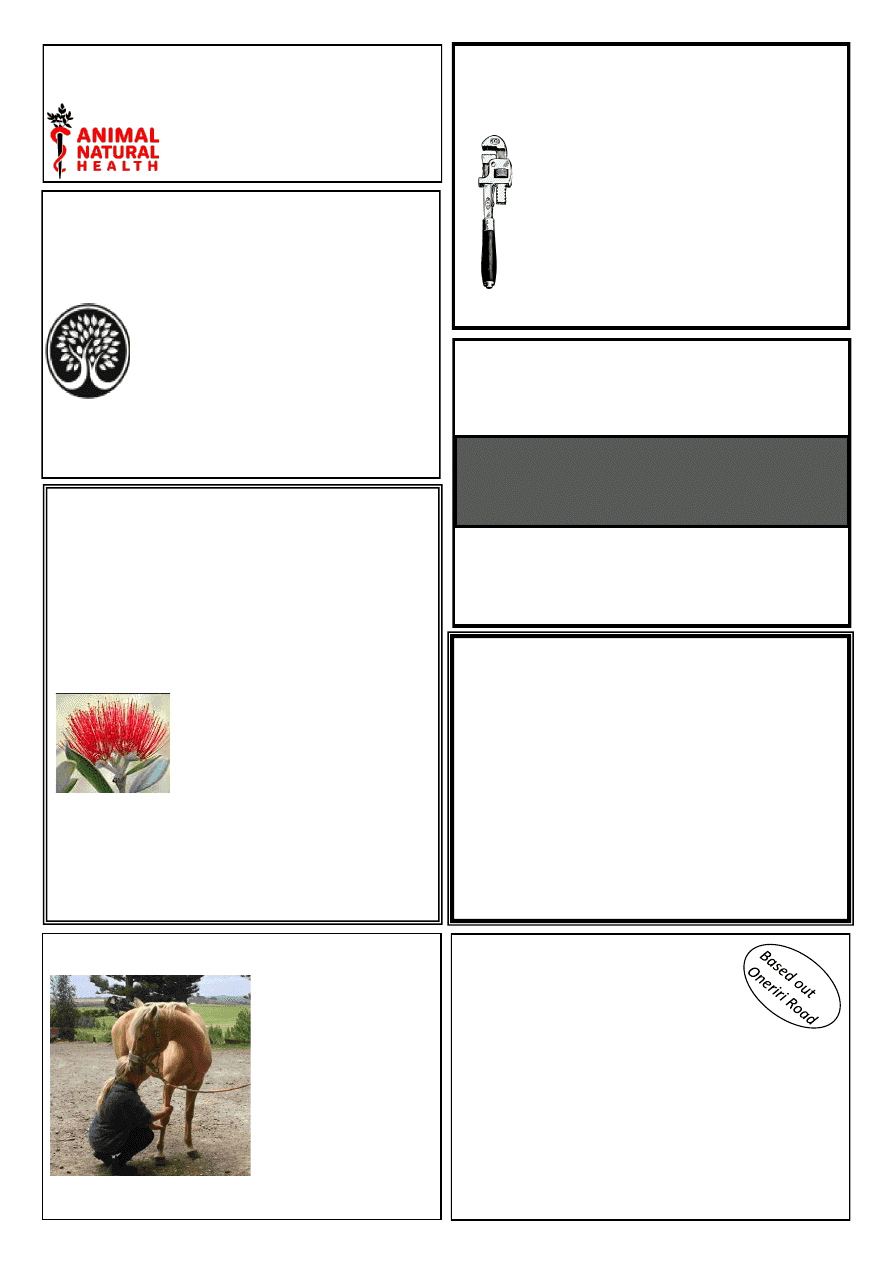 David Korach 
Your local Gib Stopper
DK PLASTERER LTD 
0274769221 
dkorach6@gmail.com 
Waipu Natural Health 
3 Cove Road, Waipu  (opposite the Pizza Barn) 
Ph: 09 432 1325 
www.waipunaturalhealth.co.nz
Clinical Nutritionist-Hair Analysis for Masked 
Allergies, Ozone Therapy, Prolotherapy, 
Naturopath-Medical Herbalist, Registered 
Massage Therapists, Reflexology-
Craniosacral Therapy, Acupuncture-Facial 
Acupuncture, Kineso Taping, Hypnotherapy, 
Counselling, ThetaHealing, Beauty Therapy
KIDS DAY – AFFORDABLE HEALTH SUPPORT 
FOR KIDS – every Wednesday 
(call us or drop in)
Gift Vouchers available
KAIPARA FLOORING CO 
Independently owned & operated 
32 HURNDALL ST MAUNGATUROTO
Supply & Installation of Carpet, Vinyl,  
Vinyl Wood Planking
Stockists of 2m & 3m wide 
vinyl & carpet short ends
Residential & Commercial
Q Card Finance Approved 
6-18 month terms 
6 mth interest free
First Class Installations
For a free measure & quote 
phone Christine  
09 946 9886 or 021 515 415 
kaiparaflooring@gmail.com 
http://www.kaiparaflooring.co.nz/ 
BARRY CURTIS PLUMBING LTD 
REGISTERED CRAFTSMAN PLUMBER 
Phone 4315572 
027 257 9884 
25 years experience 
Friendly reliable service 
All plumbing and maintenance 
Alterations and new housing 
Spouting 
Competitive rates 
PROMPT EFFICIENT  SERVICE 
Mangawhai Heads 
Garden Centre
1758 Cove Road
945 0707 
021 165 2629 
Jill Shires 
Holistic Animal Therapies 
Northland 
021 0506 592 
 
Massage Therapy 
 
CranioSacral Therapy 
 
Emmet Muscle Therapy 
 
Animal Reiki 
 
Acupressure
www.jillshires.nz 
Animal Natural Health 
Open: Mon-Fri 9.30-5.00pm, Sat 9.30-4.00pm 
Ph: 09 431 2217
Next to Italian Bakery 
Visit us on Facebook 
HODGETTS 
CONTRACTING
Digger Work    

Driveways 

House Sites   

Dams    
 
Drains, etc
Also available for HIRE 
3 ton Vib Roller Heavy Duty Tow  
Waterblaster     Lazer Level
Phone Mark 4312877 
027 447 8554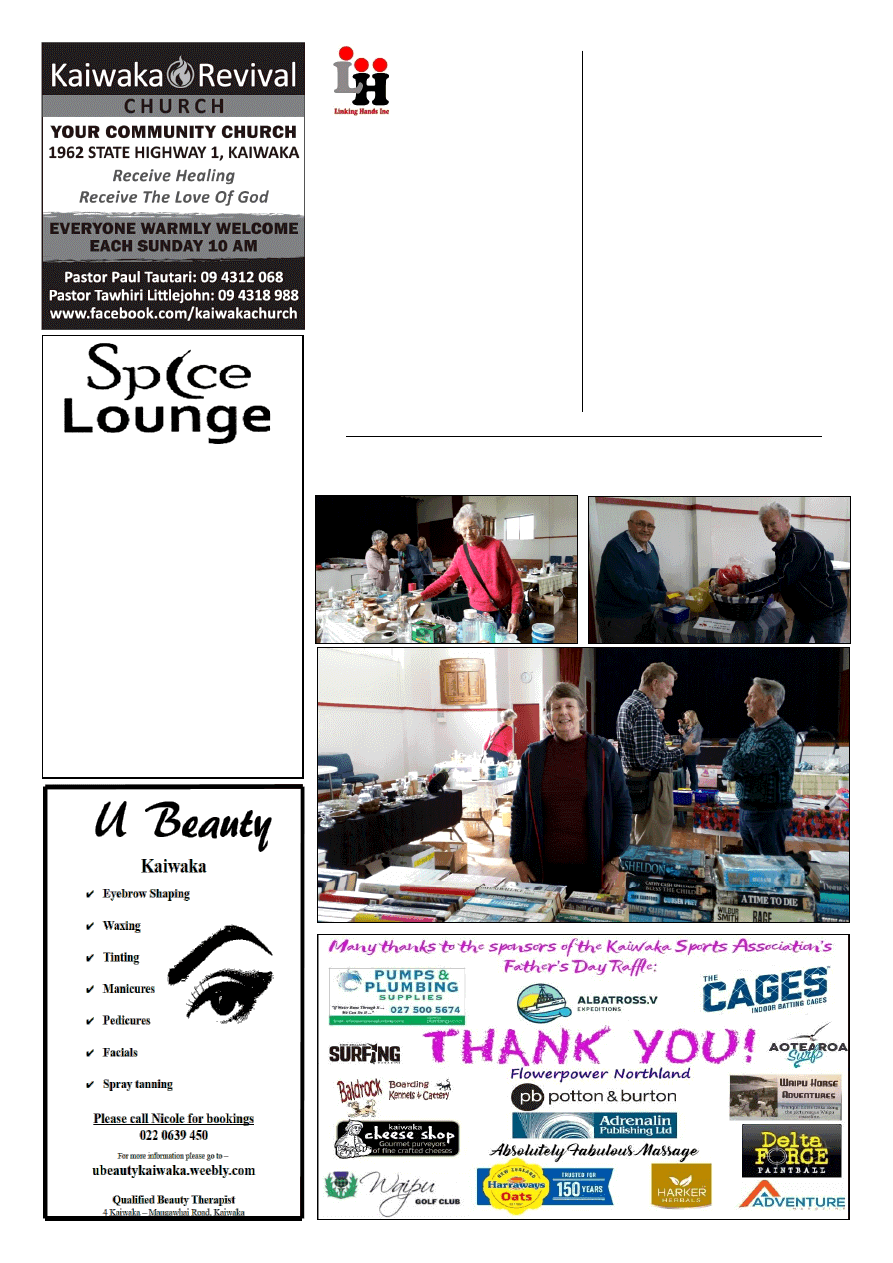 www.kaiwaka.co.nz 
Kaiwaka Bugle - 22 August 2017 
Page 9 
LINKING 
HANDS INC 
Maungaturoto - Kaiwaka - 
Mangawhai
Linking  Hands  runs  a  free  Health  Shuttle 
Service,  providing  transport  to  those  who 
would  struggle  to  get  to  medical,  dental, 
podiatry,  or  optometrist  appointments 
anywhere from Warkworth to Whangarei. 
It  is  important  that  one  books  transport  as 
soon  as  you  have  an  appointment  -  the 
drivers  are  all  volunteers.  To  book  phone 
09 4318969. 
Linking Hands is an ACC vendor - contact 
your case manager to arrange pre-approved 
travel, 
either 
by 
email 
to 
linkinghandsmain@gmail.com  or  phone 
the Maungaturoto office on 09 4318969. 
If  you have to visit an  Auckland Hospital, 
and  require  transport,  there  is  a  Northland 
DHB  daily  shuttle  service  return  from 
Whangarei  to  Auckland,  stopping  at  the 
Three  Furlongs  Bar  &  Grill,  Kaiwaka.  To 
book phone 09 4304101 ext 7405. 
Maungaturoto office hours are Monday 
to Friday 10am to 4pm.  
WINTER GARAGE SALE AND AUCTION 
The St Paul's Garage Sale held in the Kaiwaka War Memorial Hall was most 
successful. Pictured below are some of the workers and some of the visitors. 
1917 State Highway 1, Kaiwaka 
09 4312 737 
BYO welcome
Tuesday to Sunday 
Lunch - 11 am to 2pm 
Dinner - 5 pm to 9pm
Gluten free food available
WEEKEND SPECIAL $40   
DINE-IN and TAKEAWAY
✓
Tandori Platter for two OR Pork 
Sticky Ribs (8 pieces ) 
✓
Any 2 curries 
✓
Cheese and garlic Naan bread 
✓
Rice 
✓
Popadums 
NINETY YEARS 
AGO 
Planting  in  the  Topuni  Pine  Forest 
commenced  in  1927  on  land  that  had 
once carried kauri forests.  
When  the  1,500  acres  was  purchased 
from Mrs. Ross; it had reverted - apart 
from  a  small  area  being  farmed  -  to 
scrub  and  waste  lands.  Originally  this 
land was intended for growing  fruit.
Initial growth in the forests was by far 
the  best  of  any  forest  of  pinus  radiata 
planted  in  New  Zealand.  The  superior 
quality  of  north  grown  pinus  radiata 
had  been  established  by  the  Company 
during  extremely  difficult  marketing 
years  and  by  1954  annual  sawmill 
capacity  had  reached  5,000,000  board 
feet.  By  1959  the  Topuni  Mill  Camp 
provided  accommodation  for  over  20 
families, as well as several single men.  
Reference:    Centennial  of  Kaiwaka 
1859-1959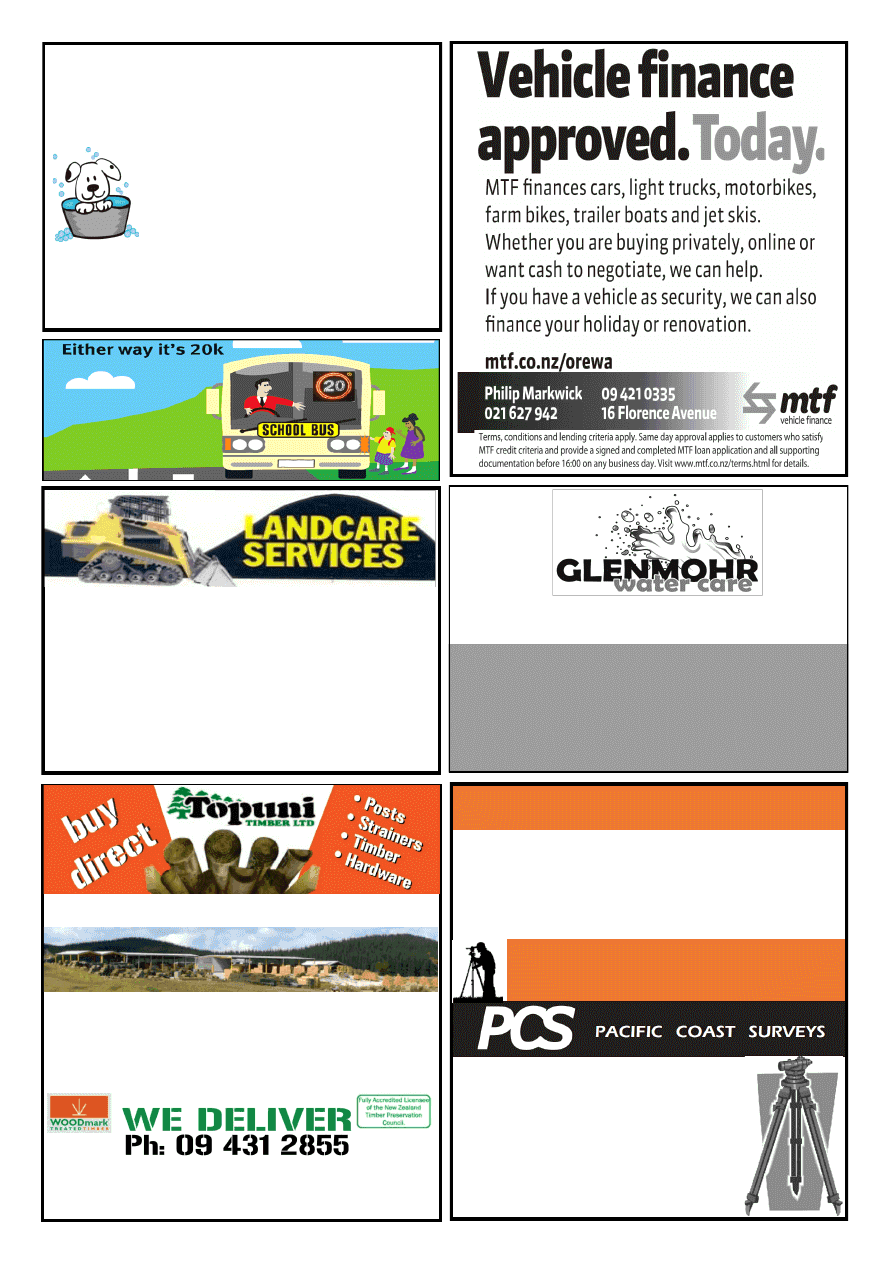 LOCALLY OWNED AND OPERATED 
QUALITY PRODUCTS • FRIENDLY ADVICE • GREAT SERVICE 
Quality Products milled from High Density NORTHLAND Radiata Pine. 
Treated and guaranteed to NZS3640 with commitment to 
Environmental Safety.
Phone, fax, email, or come into the mill 
Schiska Rd, Topuni, SH1, 10 min north of Wellsford. Fax: 09 431 2856 
Email: sales@topunitimber.co.nz           Mon - Fri 7am-5pm 
• Fencing 
• Retaining 
• Decking 
• Landscaping 
• Gates 
• Hardware 
SURVEYORS 
SUBDIVISIONS 
HOUSE SITE SURVEYS 
CIVIL ENGINEERING 
WASTEWATER DESIGNS 
EXPERIENCED 
PROFESSIONAL 
INNOVATIVE 
Ph 09 431 5353 
0800 PACIFIC (0800 722 434) 
pacificcoastsurvey.com
Adam Booth - 027 415 5752 
Bsurv, Licensed Cadastral Surveyor
Surveying Kaipara since 1994 
Hot Diggity Dog 
DOG GROOMING 
All breeds dog grooming 
Professional Experienced Groomer 
Short practical grooms - summer 
Breed Standard Grooms 
Designer fusion Grooms 
Oneriri Road
By appt Phone Pam 09 4312143 
Or text only 0273335380 
Email  hot.diggitydog@outlook.com 
Water Tank Cleaning 
• 
Keep your water safe & clean  
• 
Removal of sediment, silt etc. 
• 
Vacuum or full scrub 
• 
Minimal water loss 
Phone Mark (09) 432 0655 or 0274 707607 
LANDSCAPING 
4 IN 1 BUCKET 
TRENCHER 
POLE HOLES 
ROTARY HOE 
COMPACT ROLLER 
OFFAL HOLES 
CAN SUPPLY WOODCHIP & POST PEEL 
5 TON TIPPER 
FOR RELIABLE AND FRIENDLY SERVICE CONTACT DAVE 
Dave Hyndman 
 
KAIWAKA 
PH: 09 4312302 
MOB: 021 431 238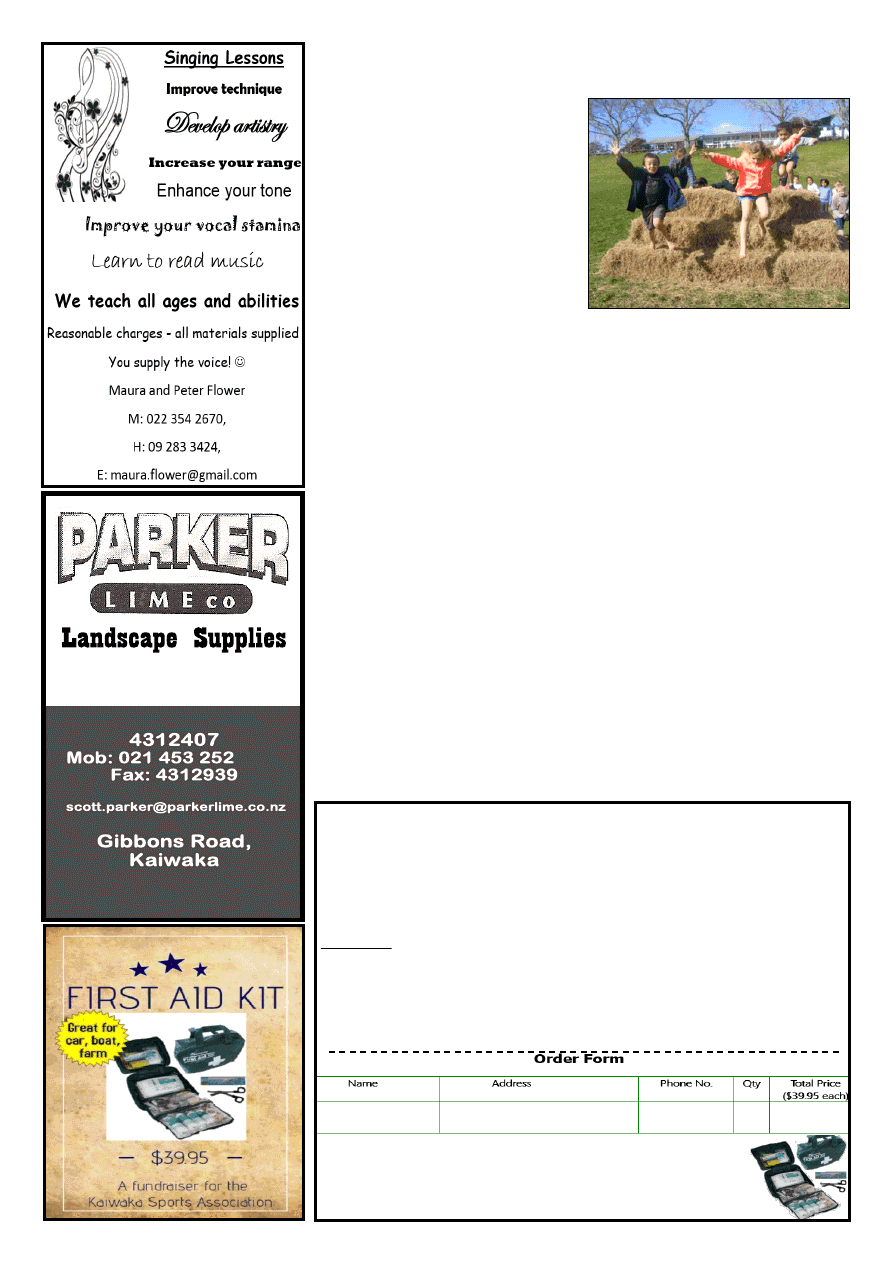 www.kaiwaka.co.nz 
Kaiwaka Bugle - 22 August 2017 
Page 11 
Bulk Cartage 
KAIWAKA SCHOOL 
Tennis 
Hot Shots Tennis is coming to Kaiwaka 
School  this  term.  Each  class  will 
receive  5  weekly  lessons  for  half  an 
hour  with  Grant.  This  is  a  great 
programme  that  the  children  really 
enjoy. 
Calf Club Day is saved 
The  annual  Agricultural  Day  will  go 
ahead  thanks  to  the  parents  who  have 
come  forward  to  help  run  this  event. 
Gabrielle  Napier  will  call  a  meeting 
soon. 
Cross Country  
A big thank-you to all the parents who 
came and helped at the Cross Country. 
We really appreciate being able to have 
parents  out  on  the  course  guiding  the 
students. Thank-you Heath for bringing 
the hay bales for the students to climb 
over. 
Cross Country Results 
5  year  olds:  Boys  -  1st  Rylee-Jae  Fisher, 
2nd  Tauro  Uera,  3rd  Liam  Lusty,  4th 
William  Fairburn;  Girls  -  1st  Aliyah 
Sutcliffe, 2nd Maddison Davies, 3rd Tarlah 
Smith, 4th Shasmeen Ali. 
6 year olds: Boys  - 1st Ian van Blerk, 2nd 
Toby  Walker,  3rd  Leyton  Greig,  4th 
Brooklyn  Hemara;  Girls  -  1st  Logan 
Burkill,  2nd  Bella  Holden,  3rd  Penny 
Worsfold, 4th Lucy Lawrie. 
7 year olds: Boys - 1st Jadeah Paikea, 2nd 
Harper  Sutcliffe,  3rd  John  Jansen,  4th 
Harvey  Tynan;  Girls  -  1st  Caitlin  van 
Waveren, 2nd Olive Woodman, 3rd Trinity 
Ulisala, 4th Vanessa Schwaiger. 
8  year  olds:  Boys  -  1st  William  Reid,  2nd 
Nathan Gilligan, 3rd Atariki Aston-Videla, 
4th  Israel  Baker;  Girls  -  1st  Willow 
Woodman,  2nd  Omanaia  Goodman,  3rd 
Sapphire Parata. 
9  year  olds:  Boys  -  1st  Billy  Greene,  2nd 
Keidis de Ridder, 3rd Toby Lee, 4th Lucas 
Sutcliffe;  Girls  -  1st  Lisa  van  Blerk,  2nd 
Morgan  Jansen,  3rd  Dalana  Stonex,  4th 
Amelie Merwood. 
10  year  olds:  Boys  -  1st  Ethan  van 
Waveren,  2nd  Max  Bull,  3rd  Hamuera 
Henderson; Girls - 1st Leayah Buxton, 2nd 
Ashley Greig. 
Mumps Update 
Mumps  has  arrived  in  Northland.  We 
had our first locally-acquired cases this 
week.  More  are  likely.  As  you  will 
probably  be  aware,  Auckland  is 
currently 
experiencing 
several 
notifications  of  mumps  per  day. 
Mumps is also present in some Pacific 
Islands,  especially  Fiji  and  Tonga. 
Most  cases  in  Auckland are  in  the  10-
30  year  age-group;  the  situation  is 
likely to be similar here. 
Mumps  typically  presents  with  fever 
and  parotid  swelling.  Two  doses  of 
MMR  are  85%  effective,  so  cases  can 
still  occur  in  fully  immunised  people. 
Those with mumps are most infectious 
from  2  days  before  the  onset  of 
swelling until 5 days after. 
MMR is free to anyone who needs it. If 
you or your child has not had two doses 
of  mumps  containing  vaccine  (MMR), 
or you are not sure, please contact your 
doctor  for  further  information  and 
catch up dose(s) if necessary. 
The  vaccine is  not  given  in  pregnancy 
or  in  women  who  may  become 
pregnant in the next four weeks. 
Your  Public  Health  Nurse  is:  Celia 
Kriek  021432084  or  0800746  944 
Option 4
FIRST AID KIT 
Fundraising for the Kaiwaka Sports Association 
We  are  selling  a  quality  first  aid  kit  for  $39.95.  These  first  aid  kits  are  excellent  value  for 
money and similar kits often retail for over $60. This is a large carry kit with transparent fold-
out compartments which contains 77 items and follows OSH and Consumer regulations. 
Everyone should have an updated first aid kit handy  – great for the home, farm, boat and 
car. First aid kits are a practical item that make a great gift – birthdays, Christmas etc. 
To  order  please  return  this  form  with  your  payment  by  7
th
  September.  Delivery  will  be  the 
following fortnight. Enquiries to Cheryl Anderson on kaiwakasports@gmail.com. 
Kit Contents 
Digital Thermometer, Instant Ice Pack, 2 x Emergency Blankets, 1 x CPR Resuscitation mask with valve, 1 
x EyePad 5.5cm x 7.5cm, 2 x Burns Dressings 20cm x 30cm, 2 x Conforming Bandage Rolls 6cm x 400cm, 2 
x Conforming Bandage Rolls 8cm x 400cm, 20 x Band Aid strips 7.5cm x 2cm, 2 x Triangular Bandages 
90cm x 90cm x 127cm, Long adhesive strip 6cm x 20cm, Adhesive Multi-pore Tape Roll 13mm x 5m, 3 x 
Butterfly Adhesive Plasters 7.4cm x 4.5cm, 2 x Knuckle Adhesive Plasters 7.5cm x 3.7cm, 4 x Semi-
permeable Dressings 6cm x 7cm, 3 x Adhesive Island Dressings 6cm x 7cm, 2 x Adhesive Island Dressings 
6cm x 10cm, Combined/Abdominal absorbent pad 23cm x 12.5cm, Scissors 15cm, Tweezers (metal), 4 pairs 
large PVC safety gloves, 10 x safety pins, 4 x Soap wipes 20cm x 19cm, 4 x Saline Cleansing Wipes 20cm x 
19cm, First Aid Guide. 
Payment options:  
⃣  Cash  ⃣  Cheque (payable to KSA)or 
⃣  Bank direct 060365002247200 (
use reference first aid kit and your full name) 
Ways to return form:     
•
Post to Cheryl Anderson, 233 Baldrock Rd, RD2, Maungaturoto, 0587  
•
Drop off in folder behind checkout at Jaques Four Square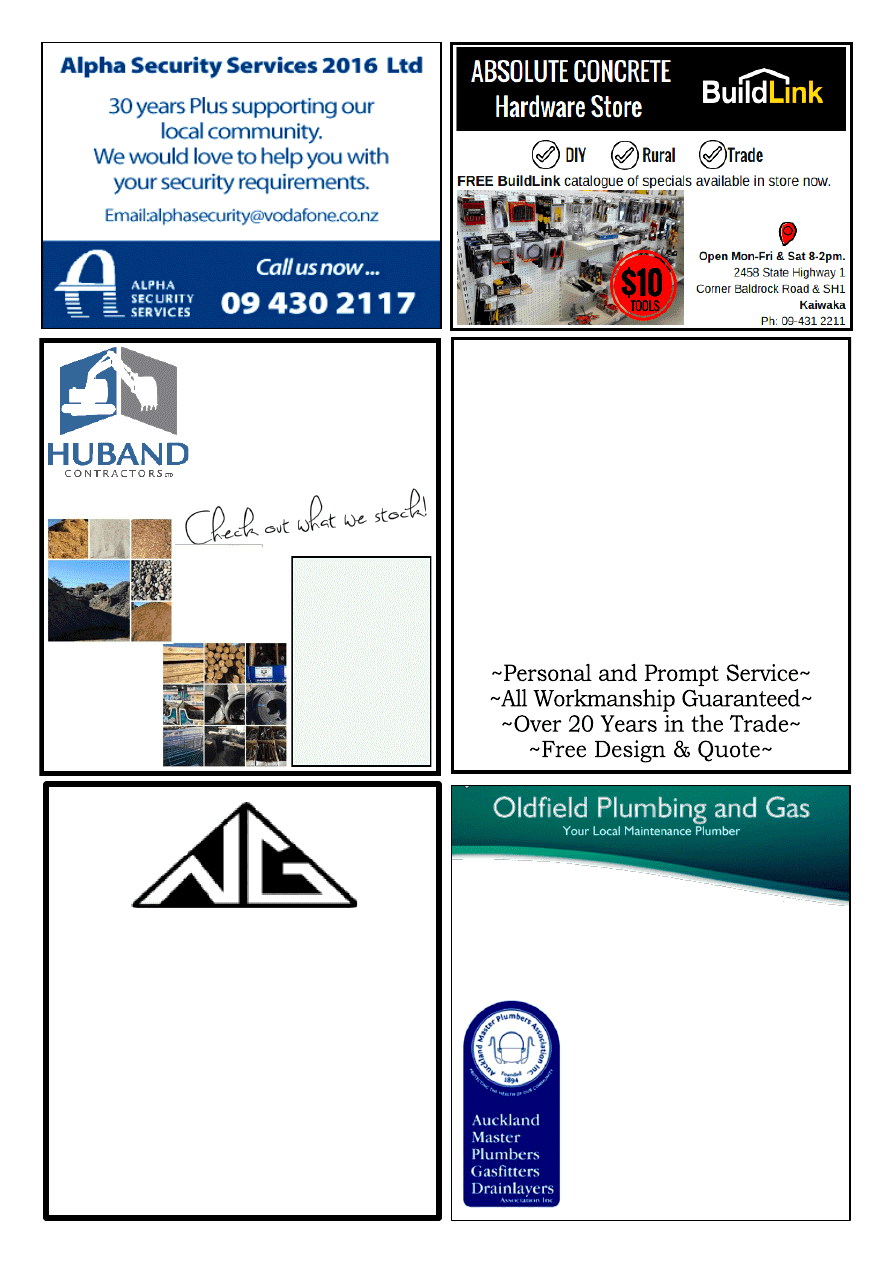 NORTH GLASS 
WINDSCREEN REPAIR OR REPLACE 
GLAZING SERVICES 
MIRRORS  •  SPLASH BACKS  •  SHOWERS 
0800 70 40 10
info@northglass.co.nz 
www.northglass.co.nz 
Darren Oldfield 
Certifying Plumber 
Certifying Drainlayer 
Licensed Gasfitter 
Mobile  021 836 365 
Home  431 5061 
oldfieldplumbing@gmail.com 
 
Agent for 
Rainline Water Filters 
Maintenance 
Renovations 
New Homes 
Hot Water Cylinders 
PLANNING A NEW KITCHEN?
 CONTACT NOEL McDOWELL
WELLSFORD 
KITCHENS
Ph/Fax 094312888
KAIWAKA-Any time
 QUALITY CUSTOM MADE 
KITCHENS
Open Monday-Friday 8am-5pm 
Saturday 8am-noon
2088 Paparoa Valley Road 
0800 234449
Call us for any 
information or quotes 
for the following: 
•  
Earthworks 
•  
Roading 
•  
Drainage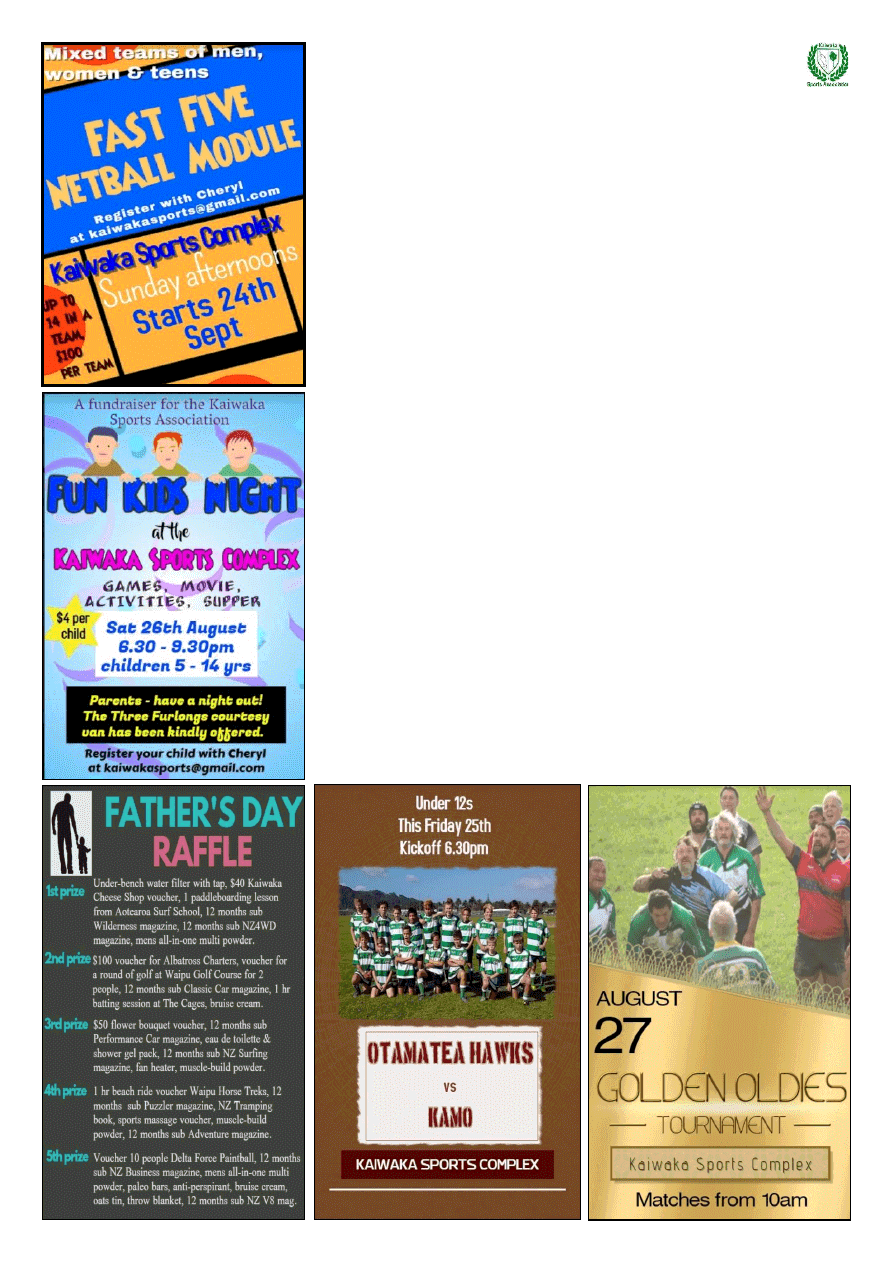 www.kaiwaka.co.nz 
Kaiwaka Bugle - 22 August 2017 
Page 13 
KAIWAKA SPORTS ASSOCIATION 
Fast Five Netball 
Who is keen to give Fast Five netball a 
go? 
There  will  be  a  social,  mixed  module 
for  men,  women  and  teenagers  with 
games  held  in  our  gymnasium  on 
Sunday  afternoons  starting  mid-
September. The Module will run for 6 
Sundays.  You  can  have  up  to  14 
players  in  a  team,  and  the  team  fee  is 
$100.  Email  me  for  the  team 
registration  form.  Deadline  for  entries 
is 29th August. 
This will be a fun, friendly module, so 
why not get a group of mates together 
and give it a try! 
Rugby 

This  Friday  25/8:  Otamatea  Hawks 
U12s vs Kamo, KSA, 6.30pm 

This  Sunday  27/8:  Golden  Oldies 
tournament, KSA, from 10am 

 Next  Tuesday  29/8:  IMB  +  Junior 
Hawks prizegiving, KSA, 6.30pm 
Parents Night Out 
Cheapest babysitting rates in town! 
This Saturday, 26/8, we will offer a fun 
kids night at the Sports Complex from 
6.30 – 9.30pm. (This is the night of the 
Dunedin  Bledisloe  Test  so  if  rugby  is 
your  thing,  head  along  to  a  mate's 
place to watch the match – kid free!) 
For  the  children,  there'll  be  games, 
activities, a movie and supper. Only $4 
per  child,  children  from  5  –  14  years. 
Please register your child with me. 
Netball Victory 
Congratulations  to  our  Otamatea-Ex 
netball  team  on  winning  the  finals  of 
the Premier League! Well done ladies! 
Touch Module 
I  know  it  is  still  the  middle  of  winter, 
but  just  letting  people  know  that  I've 
decided  to  run  the  Touch  Module 
again.  It  will  be  on  Wednesday 
evenings in January and  
February.  Keep  an  eye  out  for  more 
details a bit closer to the time. 
Kaipara Sports Awards 
Nominations  for  the  2017  Silver  Fern 
Farms Kaipara Sports Awards are now 
open. The awards aim to recognise the 
achievements  and  service  to  sport  by 
people  from  throughout  the  Kaipara 
District.  It  is  an  opportunity  to 
showcase  some  of  the  amazing  people 
involved 
in 
sport. 
Visit 
www.sportnorthland.co.nz. 
First Aid Kit Fundraiser 
I'm  selling  First  Aid  kits  as  a 
fundraiser  for  the  Sports  Association. 
At  $39.95,  these  first  aid  kits  are 
excellent  value  for  money  and  similar 
kits often retail for over $60. This is a 
large carry kit with transparent fold-out 
compartments which contains 77 items 
and  follows  OSH  and  Consumer 
regulations. 
An  order  form  is in this  edition  of  the 
Bugle.  The  deadline  for  orders  is  7th 
September. 
Top of the Rock 
Advance  notice:  the  date  for  our  next 
Top  of  the  Rock  multi-sport  challenge 
has been set at Sunday 11th February. 
Father's Day Raffle 
I  have  gathered  together  some 
wonderful  goodies  and  am  running  a 
raffle  which  will  be  drawn  in  time  for 
Father's Day on Sunday 3
rd
 September. 
There  are  five  prize  packages  (check 
out the poster in this Bugle). 
Tickets  are  $5  each  (or  3  for  $12). 
Tickets on sale at Jaques Four Square, 
or 
email 
me 
on 
Cheryl Anderson 
4312 051, 027 3462702 
kaiwakasports@gmail.com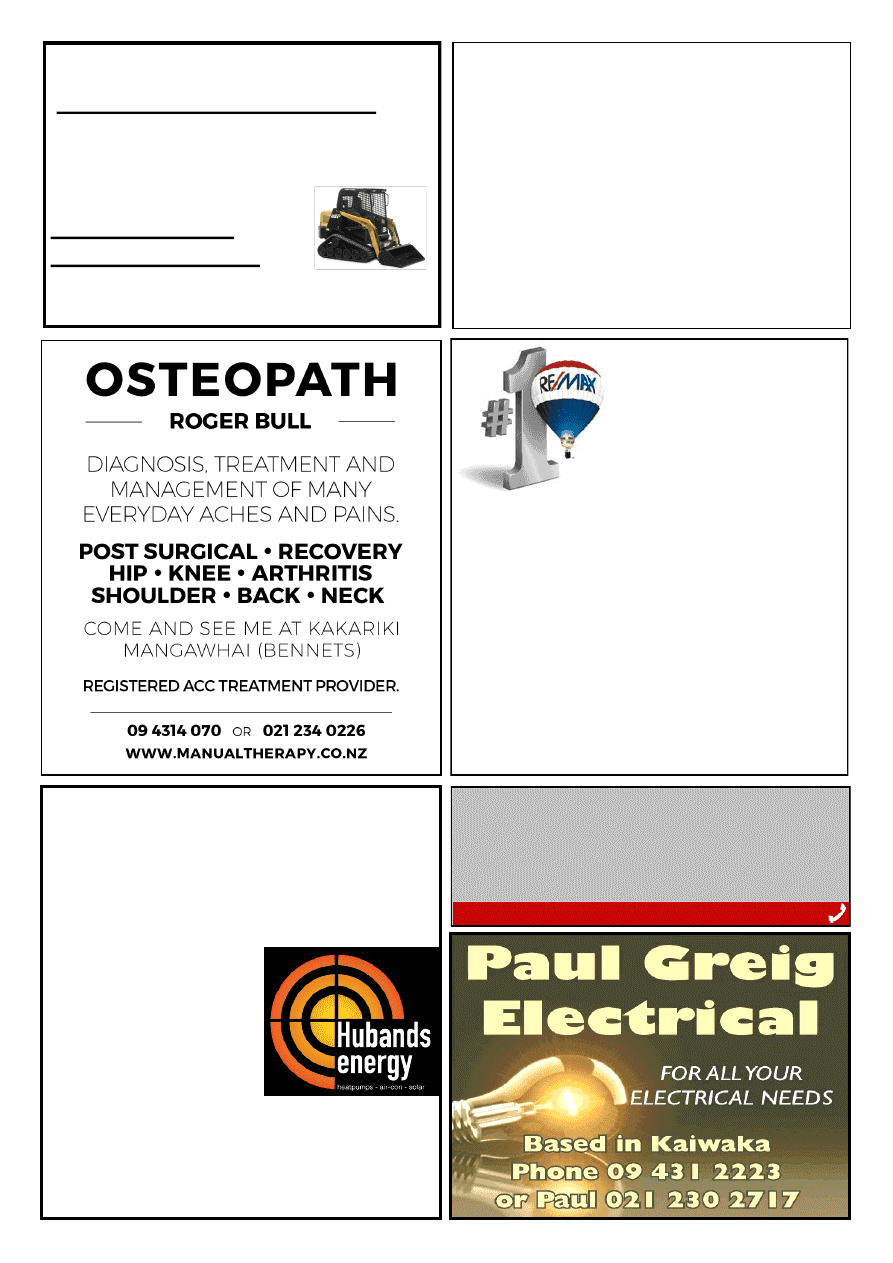 Natural Earth Ltd 
 Landscape and Bobcat services 
 : Driveways  :Landscaping  :Retaining Walls 
 : Hole Boring: Land Levelling :Trenching 
 : Decks :Fences :Sections Cleared: Plus much 
more 
Tel   09 4312885 
Mob 02102391280  
For A Fast Friendly  
Service Contact Tim Hicks 
CALL CRIMESTOPPERS 
Worried about something that doesn't seem right to 
you? Concerned about activity that could be 
harmful? Call Crimestoppers.  
You don't need to know all the facts.
CALL 0800 555 111 ANONYMOUSLY 
Couples and Individual Counselling
Have you … 
Serious relationship issues? Heading for Family 
Court? Destroying each other? Children involved?
I'm Here To Help! 
Call me to arrange an appointment 
Keep trying if phone is busy
Pete Worsfold 
B.Soc.Sc., M.Soc. Sc, Dip Prof Counselling NZIPC, 'Man Alive' Counsellor/ 
Facilitator, Prov NZAC. Professional service in your local area. Individuals, 
couples, any issue, males and/or females.
Private or WINZ Clients, Experienced Counsellor/Facilitator 
021 825 970 or 021 063 0302
peteworsfold@xtra.co.nz 
Northland's Award Winning 
Solar Company
SEANZ Best Solar Business Winners 2015/16
EXCLUSIVE 10 year installation warranty 
FREE No obligation onsite quote
Complete systems 
from $5990
See our range of: 
✓ 
Heatpumps 
✓ 
Airconditioning 
✓ 
Hot Water 
Heatpumps 
✓ 
Central Vacuum Systems
09 430 0019             sales@hubands.co.nz 
15 Kioreroa Road, Whangarei
Locally owned and operated for 35 years 
There are more people 
wanting to buy than 
there are houses 
available!
Vacant land, home and income, DIY dream … 
whatever your property's condition there is a buyer 
out there waiting to give you their money. 
Get your local agent's appraisal of your property to 
find out what's it's really worth. 
Contact Beth Stone today! 
Mob: 0274 937 801 
Email: beths@remaxrealty.net.nz 
RE/MAX Realty Group MREINZ 
Northern Properties Limited 
Licensed REAA 2008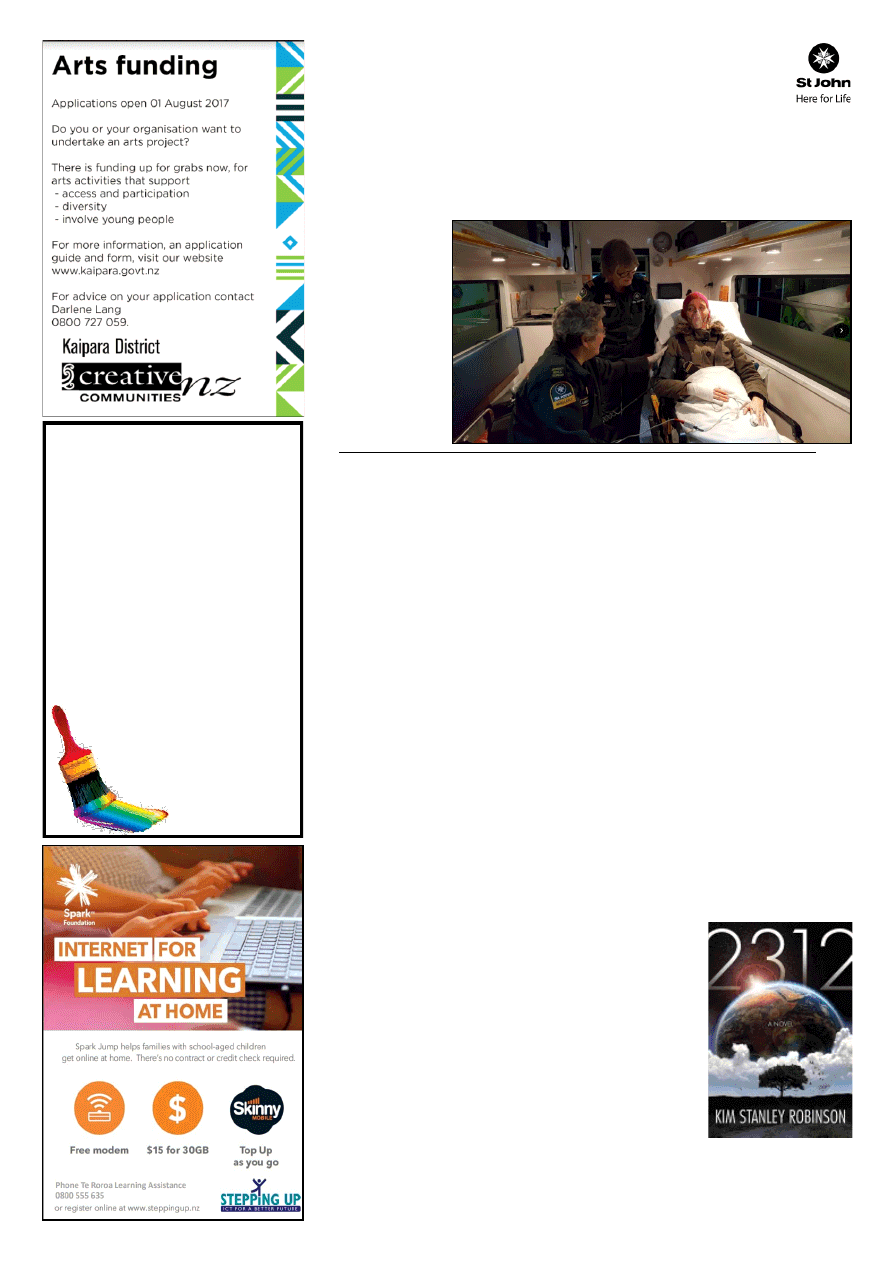 www.kaiwaka.co.nz 
Kaiwaka Bugle - 22 August 2017 
Page 15 
LEE COOPER 
PAINTERS 
(Kaiwaka Based) 
*30 yrs Experience 
*Interior/Exterior 
*New and Restoration 
*Honest and Reliable 
*Free Quotes 
 
09 4312918 
0274735171 
leecooper@xtra.co.nz 
Book swap 
The Large Print and Audio book swap 
is  coming  up  in  October,  which  is  not 
far  away  now. This  is  the swap  where 
we need all the books back beforehand, 
so  they  will  be  packed  up  a  couple  of 
weeks  before  the  swap.  Now  is  an 
excellent  time  to  come  in  and  find  a 
good  book  amongst  these  shelves, 
before those titles are gone. 
You  don't  need  to  have  any  sort  of 
visual  impairment  to  borrow  these 
books  -  they're  free  to  borrow  for  all 
library  members.  Large  Print  books, 
apart  from  being  a  range  of  titles  we 
may not have on our other shelves, are 
very easy on the eye, especially in low 
light.  Audio  books  are  excellent  for 
long  drives,  or  when  you're  out  in  the 
garden,  or  any  time  when  your  hands 
are busy but your mind is free to listen. 
Spark Jump - wi-fi at home 
This is a new initiative from the 20/20 
Trust, offering free pay-as-you-go wi-fi 
modems  to  families  with  school-aged 
children,  that  we  are  helping  to 
promote to the community. There is no 
contract, 
or 
any 
credit 
check 
requirement, and it costs $15 for 30GB 
of  data  through  Skinny  Mobile,  which 
you can top up as needed. To sign up to 
this,  contact  Te  Roroa  Learning 
Assistance on 0800 555 635. 
Free wi-fi at the library 
Have  you  tapped  into  our  free  wi-fi 
service  at  the  library  yet?  Anyone  can 
use  it,  you  don't  need  to  be  a  library 
member. To connect to it, look for the 
signal  called  KaiwakaLibrary.  There's 
no  password.  The  signal  reaches 
beyond the walls of the library, so you 
can  sit  in  the  comfort  of  your  car 
outside and use it there if you wish. We 
have  found  that  a  few  devices  don't 
want  to  connect  to  it  without  a  little 
help  -  if  that  happens  to  you,  come  in 
to  the library  if  we're  open,  and  let  us 
know; usually rebooting the modem is 
all  it  takes  to  get  these  devices 
connected. 
Finding grants & scholarships 
Did  you  know  that  library  members 
have  free  access  to  the  Generosity 
NZ  web  site?  This  can  help  you  find 
where  to  apply  for  funding  -  for 
community  group  grants  (givUS)  and 
for scholarships, grants and awards for 
individuals (givME). Go to the Kaipara 
District 
Council 
web 
site 
(kaipara.govt.nz)  and  follow  the  links 
on the libraries page. You'll need your 
library card number to get in. 
Book review 
Recently,  I've  read  2312  by  Kim 
Stanley  Robinson. "The year is 2312. 
Scientific  advances  have  opened 
gateways  to  an  extraordinary  future. 
But in 2312, a sequence of events will 
force  humanity  to  confront  past, 
present and future. For Swan Er Hong, 
her  life  will  never  be  the  same  again. 
Once  a  designer  of  worlds,  now  Swan 
will  be  led  into  a  plot  to  destroy 
them." (goodreads.com) I've read a few 
books  by  this 
author,  not  all 
science-fiction, 
and  have  not 
been 
disappointed 
yet. This book is 
on 
the 
Dargaville 
shelves  in  the 
library 
until 
early December. 
See  you  in  the 
library!   ~Wendy 
Kaiwaka Library,  cnr  State  Highway  1  and  Kaiwaka 
Mangawhai Road. PO Box 89, Kaiwaka 0542. Phone 
4312 539
. 
Email kaiwaka.library@gmail.com Open Wed-Sat 
10am-2pm,  Mon  4-6pm.  Free  membership  is 
available to all residents in the Kaiwaka area.
St John Kaiwaka needs volunteers 
Looking  for  a  way  to  help  your 
community? The busy team at St John 
Kaiwaka  needs  frontline  ambulance 
volunteers to assist with responding to 
sick  and  injured  people  in  your  local 
area. 
You  can  help to  make  a  positive,  life-
changing,  even  life-saving  difference 
for others in need. 
Ongoing  training 
will  be  provided 
and  the  chance  to 
have a career in the 
ambulance  service 
is  very  real.  While 
you 
will 
be 
required  to  do  a 
regular  shift,  you 
choose when. 
If  you  have  a  full 
NZ  driver  licence, 
are  18  years  or 
over, 
a 
NZ 
resident, 
literate 
and 
reasonably  fit  –  this  could  be 
the perfect opportunity for you. 
To  find  out  more,  contact  St  John 
Maungaturoto  and  Kaiwaka  Station 
Manager,  Stephen  Rosser  on  021  355 
734  or  apply  online  at  https://
join.stjohn.org.nz/home 
Pictured: Two of our Kaiwaka St.John members 
with a patient in the ambulance.  
KAIWAKA ST JOHN 
KAIWAKA LIBRARY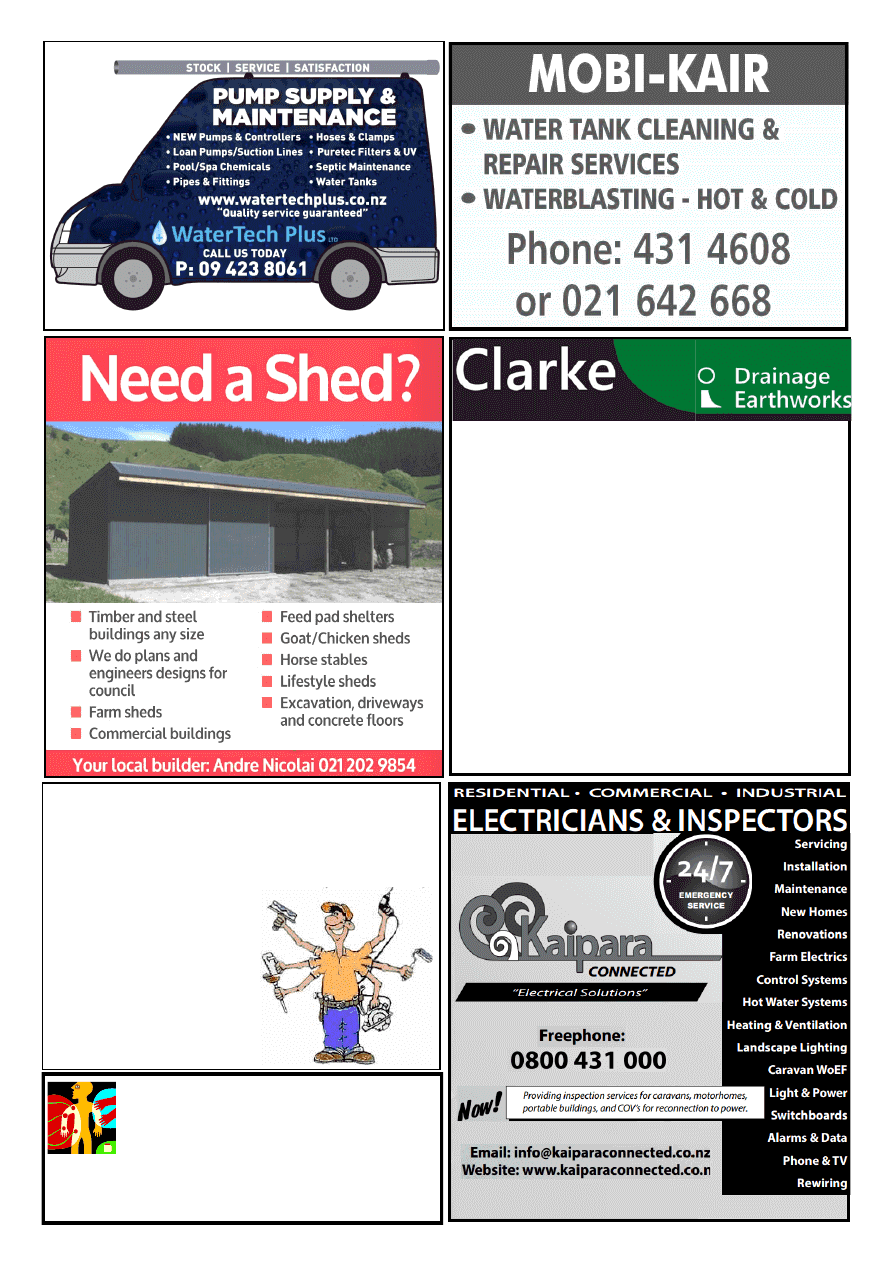 Registered Drainlayer 
All Types of Earthworks  
> All Residential & Commercial Work  > House Sites 
> Septic System Design & Install 
> Footings & Drilling to 10m 
> Sewer Connections 
> Dams 
> Water Tank Installation 
> Roading & Races 
> Farm Work 
THE ONE STOP SHOP  
Phone Nigel for an Obligation Free Quote  
Drainage & Earthmoving 
clarkedrainage@xtra.co.nz 
027 2233 185 
The Little Job Man 
Are you tired of those little jobs not getting 
done ? 
Indoors  or outdoors 
Sick of waiting ? 
Give me a call to discuss 
what you need doing. 
Doug  0277132625 
OWEN STEVENS 
Osteo Therapist
For careful adjustments to bones and joints 
Treatment for  humans and their pets 
Clinics: 
Kate's Place, Kaiwaka: Last Friday of month
For bookings:9am-
5pm - Phone 09 4312661
Or phone Owen  09 4317123  anytime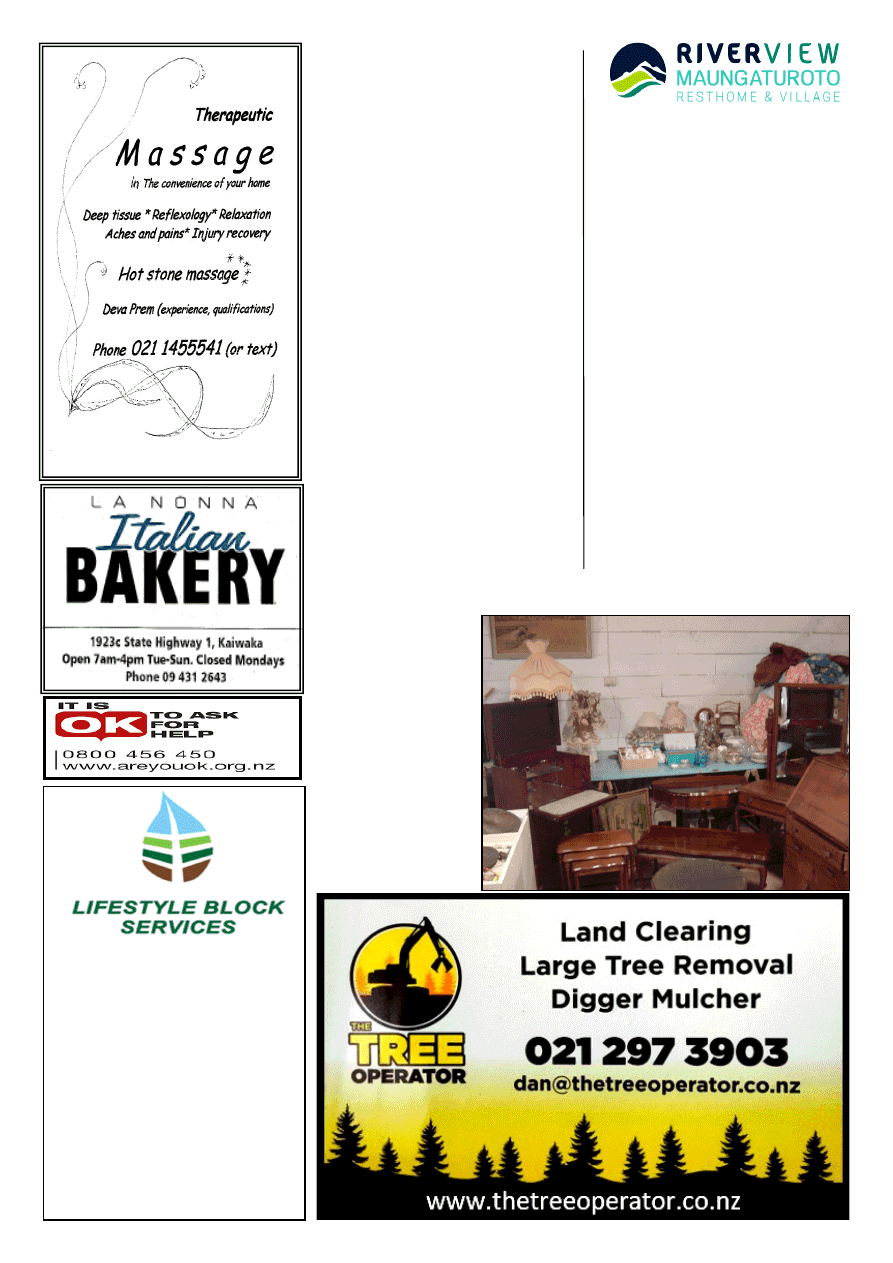 www.kaiwaka.co.nz 
Kaiwaka Bugle - 22 August 2017 
Page 17 
www.mangawhaimassage.co.nz 
Winter is here, now is the time to 
think about Fencing. 
Also large round bale silage available 
for stock food. 
Contact Mark on 021 801 065 or 
Contact Lisa on 021 108 1057
We also do: 

 Fencing 

 Spraying 

 Stockwork 

 Stock Water Systems 

Driveway & Track Maintenance 

Tree Trimming 

What is 'Respite Care?' 
Did  you  know  it's  available  in 
Maungaturoto? 
Respite  care  is  a  service  that  provides 
caregivers  and  whanau  with  a 
temporary rest while the person in their 
care  continues  to  be  looked  after  in  a 
safe environment. 
If  you  are  the  full-time,  unpaid  carer 
for  a  loved  one,  then  respite  services 
may be available for you. 
The  team  at  Maungaturoto  rest  home 
offers  rest  home  level  respite  care  for 
families  needing  a  break,  or  the  cared 
for  needing  a  break  from  their  carer. 
Although  we  are  a  resthome  there  are 
no age restrictions on who we provide 
care  for.  The  friendly  atmosphere  in 
the  rest  home  acts  as  a  home  away 
from home with staff on duty 24/7. On 
call  we  have  Senior  Staff  along  with 
the Nurse Manager. 
Referral for this service is via your GP 
who will contact the 'needs assessment 
team'  at  Whangarei  base  hospital.  For 
any further information on respite care, 
contact  the  resthome  manager  on  (09) 
4318  696.   
~Maungaturoto  Community 
         Charitable Trust 
Pictured  below  are  some  of  the  items  on 
offer for the Garage Sale that begins on 2 
September. 
'THE DEN' 
GARAGE SALE 
With  one  of  Maungaturoto's  lifetime 
residents  moving  into  the  rest  home, 
"The  Den"  in  Bickerstaffe  Road  has 
been given the balance of the furniture 
and  tools  that  have  been  accumulated 
over  the  years.  These  have  been  put 
into the next Garage Sale to raise more 
funds  for  the  planned  extensions  and 
dementia wing in the Community Trust 
Village, "Riverview". 
The sale will start on 2
nd
 September at 
9.00am and run for at least a week. We 
will  accept  clean  and  items  in  good 
repair  from  the  public  as  well.  If  in 
doubt about anything please call Albie 
on  0274949448  and  he  will  advise 
accordingly  and  either  look  at  and 
possibly pick up. 
A  sample  of  the  items  so  far:  treadle 
potters 
wheel, 
water 
blaster, 
combination 
saw 
bench/buzzer, 
composter/shredder,  small  compressor 
unit,  drills,  grinders,  binoculars,  bird 
watching  telescope  and  a  Samsung 
LED  television. There are three  single 
beds complete in excellent condition, a 
selection  of  small  solid  mahogany 
tables with cabriole legs, a lounge suite 
with  a  three  seat  sofa  and  two  rocker 
chairs,  a  bureau  desk,  standard  and 
table  lamps,  a  large  free  standing 
mirror, assorted china and dinner ware 
plus many more items too numerous to 
mention. 
EFTPOS 
will 
be 
available  during  the 
weekend. 
Since June 1
st
 The Den 
has  raised  in  excess  of 
$10,000  towards  this 
worthwhile  cause  and 
again  we  look  forward 
to  your  support  from 
Saturday 
September 
2
nd
. 
The  Den  is  located  in 
Maungaturoto  and  is  a 
group  of  people  who 
have  been  operating  in 
a  similar  manner  as 
"The Men's Sheds".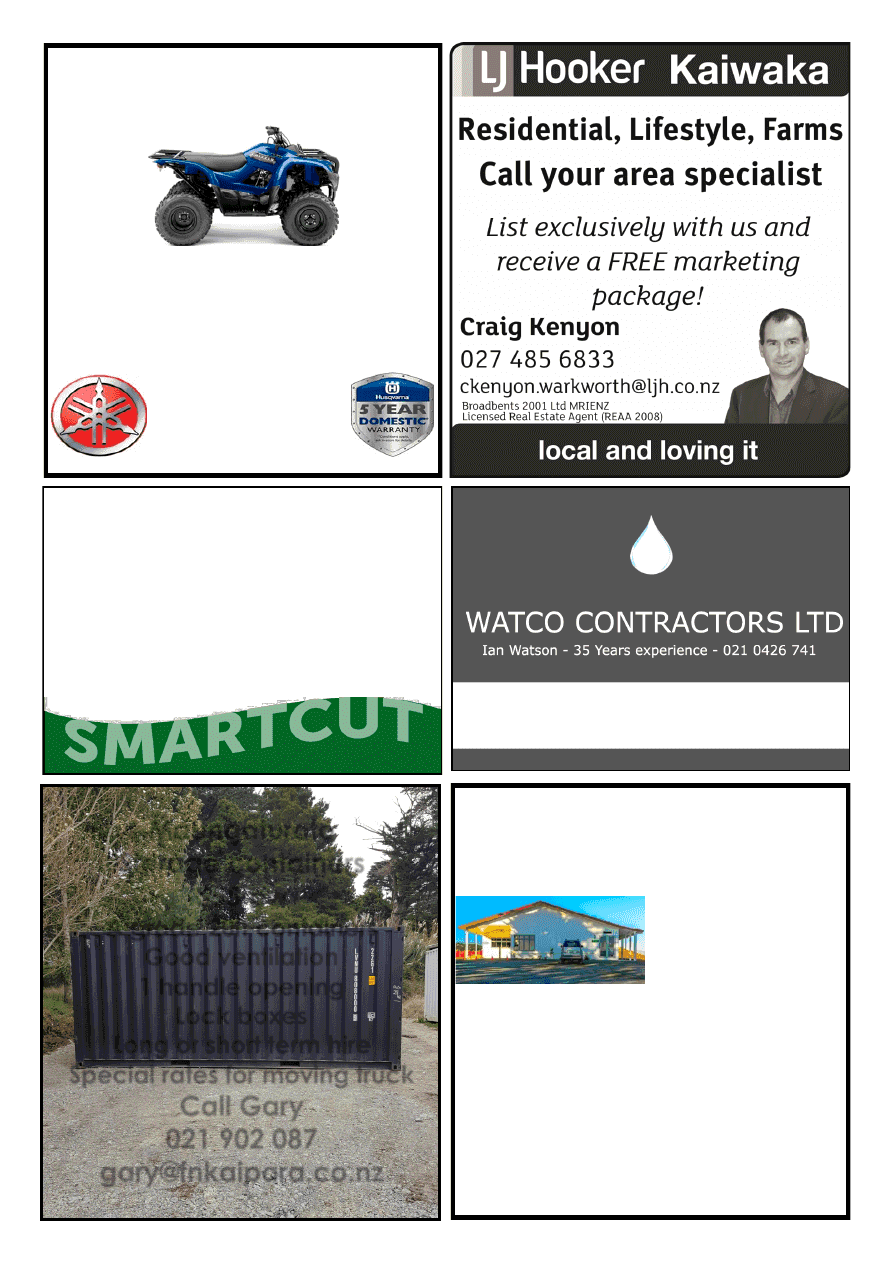 All your outdoor needs sorted so you don't have to... 
I can prune, chop, tidy, spray, mow, plant 
- you name it, I can do it! 
Residential & Commercial 
Lawn & Garden Care 
Call Rodney, your local  
lawnmowing contractor 
021 138 2344 
KAIWAKA 
MOTORCYCLES LTD
SALES – SERVICE – SPARES 
FARM BIKE SPECIALIST
PHONE 09 431-2127 
10 KAIWAKA-MANGAWHAI ROAD, KAIWAKA
Trimmers  
from $279
Chainsaws  
from $339
YAMAHA 
HUSQVARNA 
Te Pounga Marae 
130 Nathan Rd. Oneriri. Kaiwaka 0573 
COMPLEX FOR HIRE 
Functions 
* Weddings   *  Birthdays   
*Anniversaries 
* Meetings   * Wananga 
5 hour meeting 
* 12 hour stay   * 
Overnight 
*All welcome - No more Drink-driving 
Amenities: 
*Convo Combi Steamer * Bratt Pan * Dish 
Washer/Sterilizer * 3 Door Glass Chiller (walk in) 
etc…All Crockery * Linen Supplied * Central 
Heating and Air Conditioning and much more.  
Can also cater for small groups…. 
For more information please contact: 
Kim Wallace 
Home: 09 832 1133   Mob: 0211275340 
Email:  kimwallace@xtra.co.nz 
DRAIN LAYING - DRAIN UNBLOCKING 
WATERJETTING - CAMERA INSPECTIONS 
Maungaturoto  
Storage containers  
$55 pw  
A grade 20ft containers 
Good ventilation 
1 handle opening 
Lock boxes 
Long or short term hire 
Special rates for moving truck 
Call Gary  
021 902 087 
gary@fnkaipara.co.nz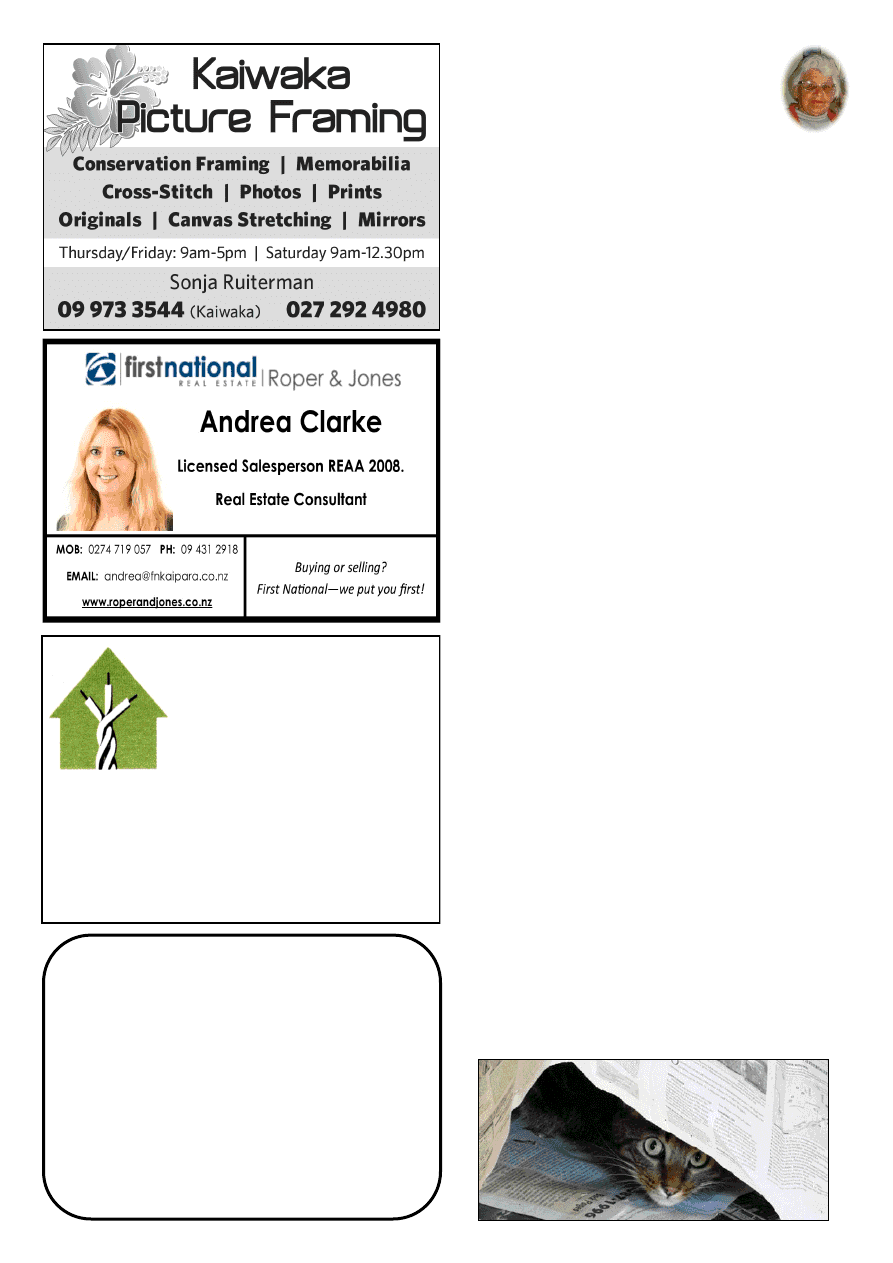 www.kaiwaka.co.nz 
Kaiwaka Bugle - 22 August 2017 
Page 19 
UP-LINK 
CHRIS WARING 
FREEVIEW INSTALLATIONS 
T.V. - HOME THEATRE &  
HI-FI ADVICE/SET UP
SKY ACCREDITED INSTALLER
MOB.0273403747 HM.094312328 
EMAIL cwaring44@gmail.com
28 YRS EXPERIENCE 
OFFERING UNBIASED ADVICE 
Reyahn George 
Leng 
Registered Electrician 
Local, honest and reliable. 
For your residential and 
light-commercial projects. 
022 314 1068 / 09 431 2527 
From Thelma's Scrapbook … 
CATS' RULES OKAY? 
Just  as  we  mere  humans  have  rules  and 
regulations  that  are  thrust  upon  us,  so  too  do 
cats. I have no idea where these cat rules come 
from (I suspect they are inherent), but they seem to apply to 
all cats in their relationships with us. Try these for size! 
HIDING:  It  makes  sense  every  now  and  then  to  go  into 
hiding a place where humans cannot possibly find you. This 
sends  them  into  a  state  of  sheer  panic  (an  emotion  they 
seem to enjoy) as they fear the worst for you: you have run 
away, got lost or (even worse) fallen prey to a vicious dog 
or  under  the  wheels  of  a car.  Hide for  at least four  hours. 
When you emerge, they will smother you with kindness and 
this will probably involve an additional special treat! 
THROWING UP: If you feel the urge to throw up, select a 
chair, the bed or, if you can, the prized Oriental rug. Sound 
effects  are  good  -  let  them  come  from  the  very  depths  of 
your being as this will promote the sympathy you deserve. 
BATHROOMS:  You  should  always  intrude  into  the 
sanctity  of  humans'  bathrooms,  especially  if  there  are 
guests in the house. No matter what they are doing in there, 
it is your task to do nothing except sit and stare. It seems to 
freak them out! 
LITTER BOXES: These can be fun. The trick is to kick as 
much litter out of the box as you possibly can. The spread 
of cat litter all over the floor provokes an interesting human 
response that includes a flurried rush of energy with brush 
and pan. 
DOORS: These can be exciting little diversions. Agitate to 
have a door opened for you by a human - they will always 
oblige! Once the door is open it is not necessary to use it. 
Alternatively, stand half in and halt out and think of other 
things. This behaviour is especially important in midwinter 
when  the  weather  is  at  its  coldest  (particularly  if  it  is 
raining or snowing or if there is a howling gale outside). 
HELPING:  This  is  where  you  come  into  your  element 
Always  choose  the  busiest  human  to  help  -they  need  you 
most! 
•
The chef. Always sit just behind the left heel of the cook. 
You now stand a very good chance of being stood on, and 
then pampered when they feel guilt. 
•
The  reader.  Get  in  real  close  under  the  human's  chin, 
between their eyes and the book. Better still, lie completely 
over it. 
•
The  writer.  Lie  on  the  paper  and  pretend  to  doze.  From 
time to time bat the pencil or pen and wait for the reaction! 
•
When busy people are paying bills, working on income tax 
returns or writing Christmas cards, make a mess by leaping 
on the paperwork, rolling over it and scattering it as far as 
you can. Be frantic - it creates more havoc! 
•
Reading  the  newspaper.  This  is  fun!  When  a  human  is 
deeply absorbed in the news, with the paper held in front, 
take  a  flying  leap  at  the  back  of  the  newspaper  -  this  will 
really surprise them. And humans love surprises! 
•
Computer  operators.  If  a  human  is  working  on  their 
computer; jump on the desk, walk across the keyboard, bat 
at  the  mouse,  and  settle  on  the  human's  lap  (preferably 
across  the  arms  as  this  makes  use  of  the  keyboard 
impossible). 
AT  BEDTIME:  Ignore  your  comfortable  cat  basket  and 
leap  on  the  bed.  Now  lie  directly  over  the  human  so  they 
cannot move. Ah, the ultimate in feline comfort!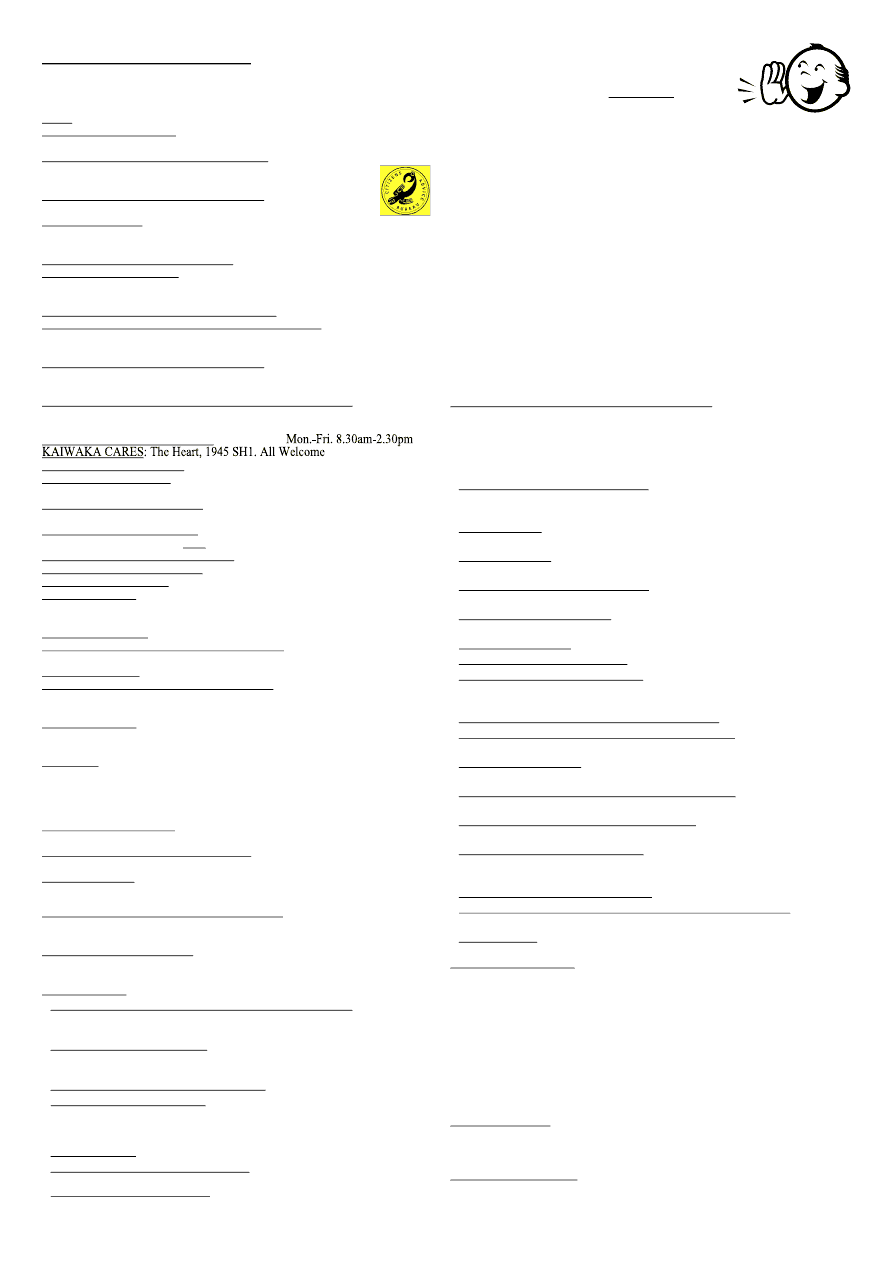 Next Bugle Deadline midday Friday 1st September  2017
WHAT'S ON
PLEASE ~ do let us know what is on - email 
kaiwakabugle@kaiwaka.co.nz 
Advertising in WHAT'S ON is FREE  
*25Aug~DAFFODIL DAY 
*25Sep~Un12 Hawks v Kamo, 6.30pm, KSA 
*25Aug~The Viceroy's House, 7.30pm KWMH 
*26Aug~KSA Kid's Fun Night, 6.30-9.30pm 
*27Aug~Golden Oldies Rugby Tournament, 10am, KSA 
*27Aug~A Dog's Purpose, 2pm KWMH 
*30Aug~
Online Cenotaph Digitisation kiosk will be available at 
The Kauri Museum until 30th August
*1-2Sep~Pahi Boating & Fishing Mullet Muster 
*2Sep~'The Den' Garage Sale begins, Maungaturoto 
*5Sep~Kaiwaka School Grandparents Day 
*6Sep~Kaiwaka Playcentre AGM, 3 Furlongs, 7pm 
*8Sep~Untouchable, 7.30pm KWMH 
*15Sep~Their Finest, 7.30pm KWMH 
*23Sep~ NZ General Election Day 
KWMH = Kaiwaka War Memorial Hall; KSA = Kaiwaka Sports Association 
See www.kaiwaka.co.nz for more information 
HOUSEHOLD RUBBISH COLLECTION - Kaiwaka Pick up: 
Mondays = Green bags (Northland Waste - 09 430 3273) 
Wednesdays  = Blue bags and yellow recycling (at Jaques $3.00 
and  $1.50)  (Kaurilands  09  4392146);  ONLY  Blue  and  Yellow 
bags picked up on Oneriri Road. 
 DIABETES  Support  Group  -for  Kaiwaka,  Mangawhai, 
Wellsford  10am,  3rd  Friday  of  month  Ph:  Colleen  James  09 
4314238 
 DRINK CAN 'tear tabs' - for Starship Hospital- please collect - 
98 Kaiwaka Mangawhai Rd, leave in mailbox, Ph. 4312625  
 GENEALOGY - Wellsford: 1st Thursday in month Ph: 423 
7033; Waipu: 4th Monday in month Ph: 4312 725 
 GYMNASTICS  OTAMATEA  -  Tuesday  Ph:  Stephanie  022 
3624998 
 HAKARU PONY CLUB - Secretary Denise Rogers 021423376 
secretary@hakaruponyclub.co.nz  
 KAIPARA HUNT - Secretary Albert Doonenbal Ph 4312059 
 KAIWAKA BADMINTON -Tuesdays 7.30pm Ph: 4312345 
 KAIWAKA  DRAMA  CLUB  -  Dave  Edwards  021  611198  - 
KaiwakaDrama@gmail.com Monday 5:30-7:00pm KWMH - FB 
- "KaiwakaDramaClub" 
 KAIWAKA DRUM & DANCE CLASSES - 021 611198 
 KAIWAKA GARDEN & FLORAL GROUP - 2nd Thursday in 
month. Ph: 431 4744 
 KAIWAKA  CUBS  -  Thursdays  5.30-7pm,  Hakaru  Ph:Bruce 
4312542 
 KNITTING FOR WHANGAREI HOSPITAL - 2nd Tuesday in 
month, Archie Bull Hall 10am Ph 4314827 
 MANGAWHAI COMBINED REBUS CLUB - 2pm, 3rd 
Thursday month, Senior Citizens Hall Mangawhai. Ph: 4315777 
 OTAMATEA GREY POWER - Kath Pattinson 09 283 2052, 
1pm last Wednesday of month, Anglican Church Hall, 
Maungaturoto 
 PT CURTIS CRUISING CLUB - Jean Ph: 4312227 (wk), 4312520 (hm) 
 RSA,  HAKARU  &  DISTRICTS  WOMEN'S  SECTION  –  meets 
1.30pm 4th Thursday of the month. Ph: 431 5818  
 TRAMPING - Mondays 9am-2:30pm Maria 4312 234 
HALLS FOR HIRE: 
 St.Pauls Archie Bull Hall HIRE $20 half day, $40 full day per 
hire, R. Morgans, Ph 4312365 
 Kaiwaka  War  Memorial  Hall  HlRE  -  Phone  4312725  or 
kaiwaka.hall.bookings@gmail.com 
 Hakaru Community Hall HIRE -Ph. 4312256 or 4312110 
 Te Pounga Marae queries - R. O'Leary 4312 423, J.Nathan 021 
186 7382 
 Kaiwaka Sports Association hire/queries - C. Anderson 4312051 
or kaiwakasports@gmail.com 
Justice of Peace:  
B.FJaques  4312  048;  L.Donaldson  4312  228;  A.F.Hargreaves 
4312 045, W.Howard 4312 725 - please phone to make sure they 
are available www.justiceofthepeace.org.nz 
Marriage Celebrants:  
L.Donaldson; A.F.Hargreaves; Y Osborne
LOCAL SERVICES 
*Emergencies - Ambulance, Fire, Police - dial 111 
*Non-urgent Police phone 09 4311150
A A: Meets Wed., 8pm Kaiwaka Ph: 4315543, 0800229 6757 
ASUREQUALITY LTD (was AgriQuality) Call Free 0508 0011 22  
BUDGETING SERVICE, WELLSFORD: Free confidential advice & 
support for all areas of personal finance. Ph (09) 423 7123 
CAB-Citizens Advice Bureau.Wellsford Ph: 4237333 
0800 367 222 email:cab.wells@xtra.co.nz  
CIVIL DEFENCE - Kaiwaka Community Response Group: 
kaiwaka.civildefencecrg@gmail.com, 4312725 Wendy 
DOG/STOCK /NOISE CONTROL 0800 105 890 
FUNERAL SERVICES: Morris & Morris Ltd, 
Whangarei - Bev Jaques Ph:4312367 or 0800667747 
GRANDPARENTS Raising Grandchildren: Dianah Roberts 0223819539 
HAKARU & DISTRICTS MEMORIAL RSA (Inc) 733 Settlement Rd, 
Hakaru. Ph 4312 176 or Graeme Hitchcock (President) 431 3064 
HAKARU LANDFILL/Transfer Station:Open everyday except 
Tuesday10am-4pm.Ph4312629 Cost-$55 trailer load up to 1 cubic metre. 
Ph:4258567 - office 
KAIPARA DISTRICT COUNCIL www.kaipara.govt.nz:  
Help Desk FREEPHONE 0800 727 059  
KAIWAKA KOHANGA REO: Ph:4312620 
KAIWAKA CEMETERY: Ph: 4312045 or 4314017 
KAIWAKA LIBRARY: kaiwaka.library@gmail.com  
Mon. 4-6pm; Wed., Thurs., Fri., Sat. 10am-2pm Ph:4312539 
KAIWAKA PLAYCENTRE: Ph Juanita 0274134904; open Mon, Wed, 
Fri 9am-12pm. Hastie Lane; Monday to Friday 9.00am - 12 noon. 
KAIWAKA POST OFFICE:Ph:4312 431  
Post Code: 0573 for RD2 and 0542 for all Kaiwaka Post Office mail 
KAIWAKA PRIMARY SCHOOL: Ph: 4312309   
KAIWAKA SPORTS ASSN: Ph 4312005; 4312129 gym 
KAIWAKA ST JOHN: Manager Steve Rosser 09 4318403, 021 355734 
KATE'S PLACE Community Centre - Employment services, Free Health 
Nurse, Plunket, Advocacy, Osteopath, A.A., Legal Advice. 4312 661 
LINKING HANDS Health Shuttle Ph 4315906 or 09 4318969 
MINISTRY FOR PRIMARY INDUSTRIES - General inquiries Call 
Free 0800 008 333 
NORTHPOWER: Faults Kaiwaka area 0800 104040 
OTAMATEA COMMUNITY SERVICES: Counselling, parent coach, 
Family Support worker, budget advice, food bank. Mon-Fri 9am-3pm. Ph 
09 431 9080 http://www.otamateacs.org/ 
PARENTPORT: Free, practical family support service Puhoi to Paparoa 
Ph or txt: Dianne 027 280 5093 or 09 425 9357 
PLUNKET:  Kaiwaka  -Kate's  Place  Clinic  1st  Wednesday  of  the  month; 
Mangawhai  - Rose Madsen Cottage: Coffee Group 9:30 every Monday.  Clinic 
every Monday and Thursday. 
Maungaturoto - Good News Church, Clinic 2nd and 4th Wednesday.  
Cynthia 09 431 7340 or 027 675 3488 
PLUNKET HELPLINE -0800 933 922 (24 hours) 
TAITOKERAU COMMUNITY LAW: Free confidential legal advice and 
assistance, 2nd
Thursday
 of each month. Ph: 0800 155 529 for appts.  
TE URI O HAU Settlement Trust Tangata Developments: Whanau Ora 
021 793262  
VETERINARY SERVICE MANGAWHAI: 
Ph: 4314535 Mon-Fri 8.00-5.00, Sat 9-12, a/h appt. 
WELLSFORD DOCTORS: Ph: 4238 086 
CHURCHES:
 
Kaiwaka  Revival  Church  -  Your  Community  Church:  Sundays  10am. 
Ph: Pastor Tawhiri 09 431 8988 or Pastor Paul 09 4312 068 Visit us at 
www.facebook.com/kaiwakachurch 
 
St  Paul's  Anglican  Church  1st  Sun.  9.00am  (Eucharist),  3rd  Sun. 
9.00am (Family Service). Contact: Rev. Wayne Thornton Ph 431 4122 
www.mangawhaianglican.org.nz 
 
Church of Christ the King, Mangawhai:9.30am every Sunday 
 
St.Mary's  Catholic  Church:  Maungaturoto  –  Griffins  Road,  Saturday 
evening  Vigil  Mass  6pm;  Mangawhai  –  Senior  Citizens  Hall,  Sunday 
Mass  8:30am;  Wellsford  –  Matheson  Road,  Sunday  Mass  10:30am;  
Mid-week Mass times and all enquires to Fr. Bill Fletcher – phone 423 8170
 
Baptist Church: Sun. 10.30am Mangawhai Snr Cit.Hall.Ph:4312339 
 
Cause  Way  Church  Mangawhai:  Sundays  10.15am,  Mangawhai 
Community  Recreation  Centre,  Insley  St.  Ph:  09  4314782