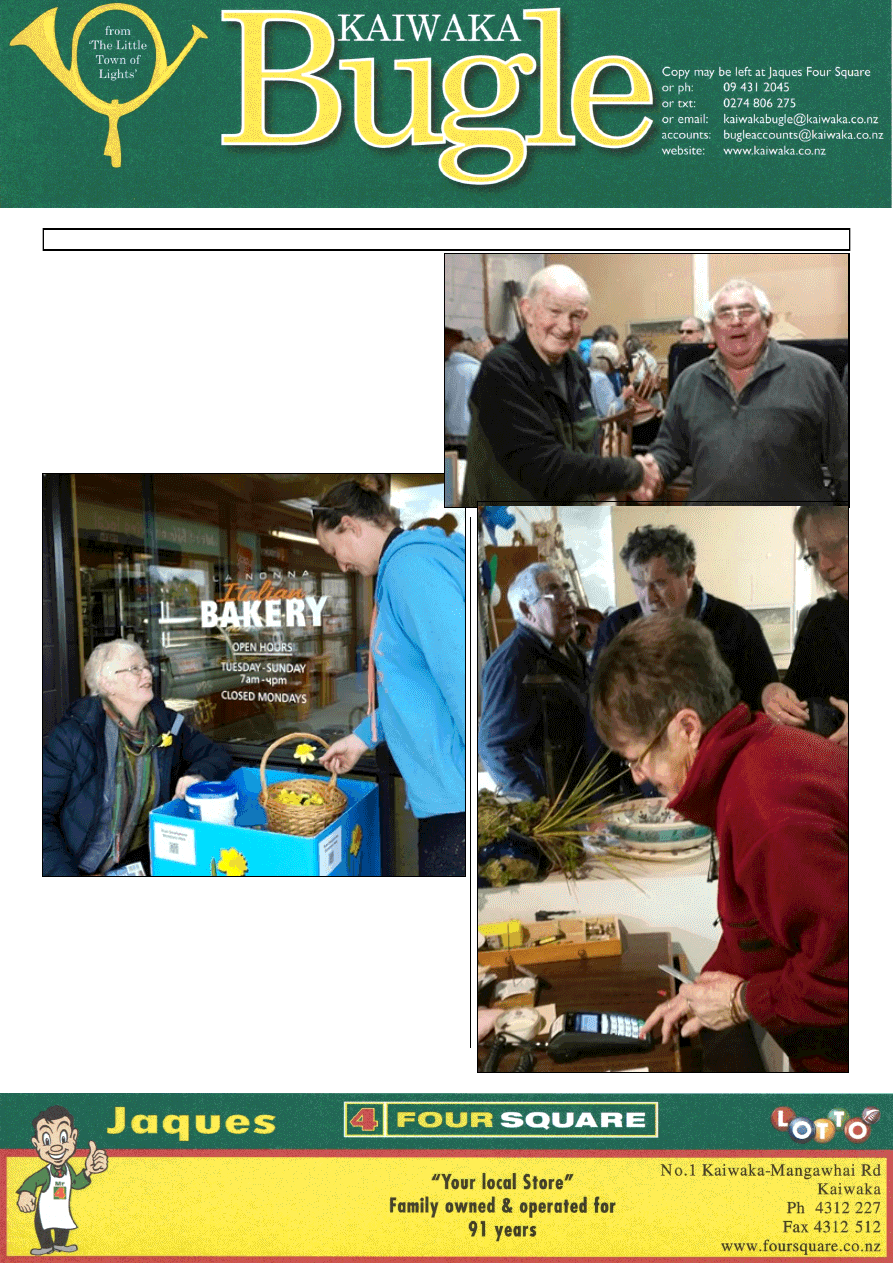 www.kaiwaka.co.nz 
Kaiwaka Bugle - 5 September 2017 
Page 1 
No: 17 
5 September 2017 
Trading Hours: 
Monday to Friday 8:00am -6:30pm 
Saturday 8:00am - 7:00pm 
Sunday & Public Holidays 9:00am - 5:00pm  
KAIWAKA DAFFODIL DAY 
This  year's  Daffodil  Day  Appeal  raised  $1314  towards 
cancer  patient  support  services  in  the  Northland  area,  so a 
big "Thank You" to all who gave so generously. 
Thank  you  also  to  Jaques  4  Square,  La  Nonna  Bakery, 
Shamrock  Service  Station,  Coffee  Pot  Café,  and  our 
dedicated team of collectors for their continued support. 
Well done, everyone!  ~ Gay Young. 
Photo:  Poppy  collector  Lynne  Coates  with  Jodie  Grieg 
outside La Nonna Bakery 
'THE DEN' GARAGE SALE 
 "The Den" Garage Sale (in Bickerstaffe Road)  got off to a 
grand  start  on  Saturday!  The  Crew  are  continuing  their  
fundraising  for  the  planned  extensions  and  dementia  wing 
in the Community Trust Village, "Riverview". 
The sale will run for at least a week. So take a look. They 
will  accept  clean  items  in  good  repair  from  the  public  as 
well.  If  in  doubt  about  anything  please  call  Albie  on 
0274949448 and he will advise accordingly and either look 
at and possibly pick up. 
Photos:  Right  -  top;  Adrian  Reddy  congratulating  Albie 
Paton on the fundraising efforts for the dementia unit: Right 
- bottom: Marje Paton manning the eftpos machine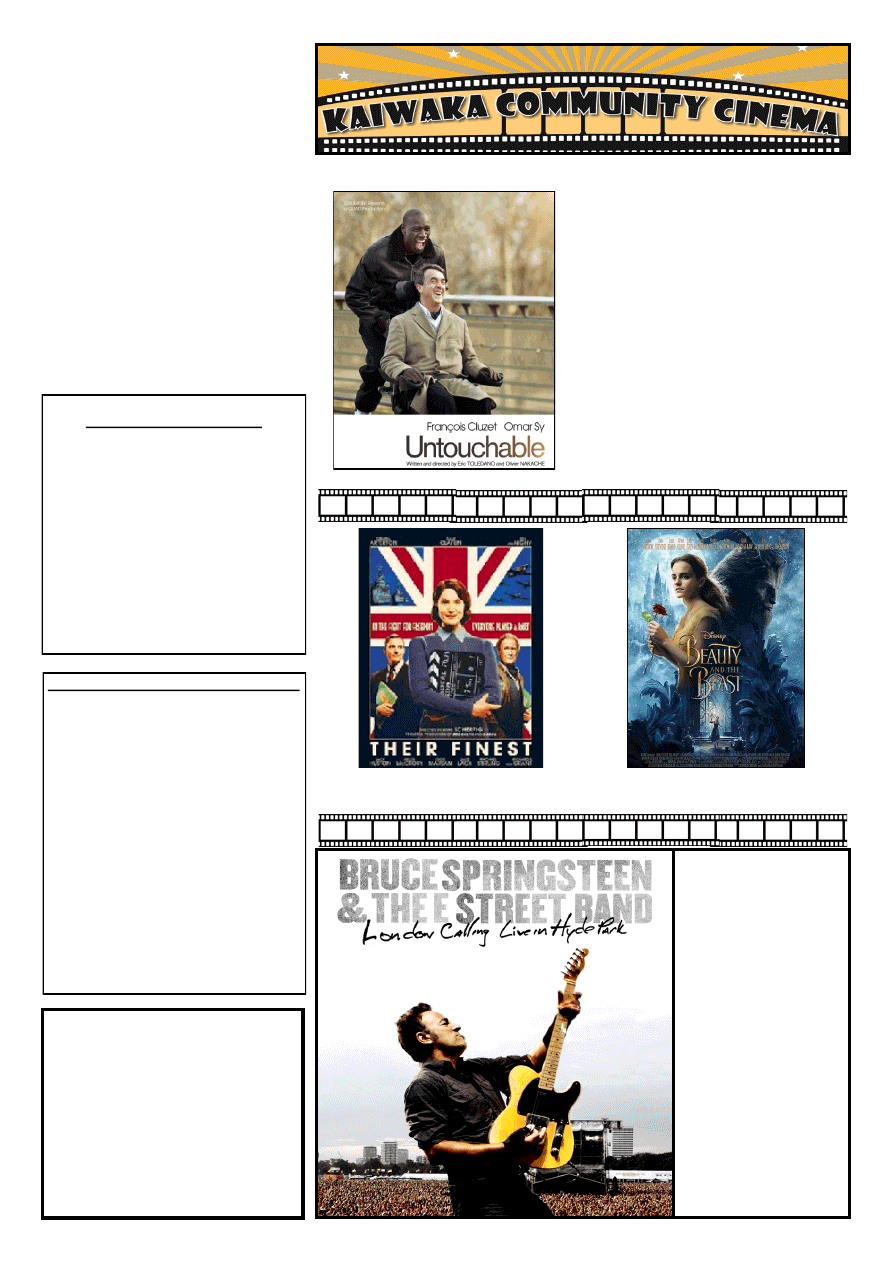 At Kaiwaka War Memorial Hall . Adults $10, Kids (under 16) $5, Family Pass (2 adults + 3 children) $25 
KAIWAKA BUGLE No. 17 
5 SEPTEMBER 2017 
CONTENTS 
Page 3: Public Notices, Classified 
Page 5:  Weather; Pt.Curtis C.C. 
Page 7:  Otamatea High School 
Page 9:  Kaiwaka School 
Page 11: Kaiwaka Sports Assn; ORT 
Page 13: Hakaru Women's RSA 
Page 15: Kate's Place; Red Nose Day 
Page 17: Library; Thelma's Scrapbook  
Page 19: History 
Bugle 18 will appear  19 September 
Contact for advertising, reports, articles 
or information can be made by 
Email kaiwakabugle@kaiwaka.co.nz 
Ph: 09 4312 045 Lindsey 
Txt: 027 2724137 
Copy  may  be  left  at  Jaques'  Four 
Square. 
Kaiwaka Bugle Advertisements 2017: 
All 
copy 
and 
queries 
to: 
kaiwakabugle@kaiwaka.co.nz 
Our A4 page is divided into 6 columns & 
8 rows (48 blocks), with a 1cm margin. 
Ad  sizes:  1/16  page  (3  blocks)  $5;  1/8 
(6 blocks) $8; 3/16 (9 blocks) $12.  
Classified  ads:  First  one  FREE,  $4  per 
entry (max. 30 words, max. 4 repeats). 
Payments  can  be  made  online  at 
ANZ 
06  0365  0006990  00
,  posted  or  left  at 
Jaques Four Square Store. 
We  use  Microsoft  Publisher,  and  can 
work  with  most  common  image 
formats, Word, Excel, and PDF files. 
Accounts:  
Email: bugleaccounts@kaiwaka.co.nz 
The  Kaiwaka  Bugle  is  a  community 
newspaper run by volunteers.   
Articles, etc. printed are not necessarily 
the opinion of the Bugle Team. 
Kaiwaka Bugle 
Founded May 1978 
We appreciate articles and photos about local 
events, etc, as well as ads and suggestions. 
Copies available in Kaiwaka at Jaques Four 
Square, Kaiwaka Postal Centre, Shamrock 
Service Station, Animal Health Centre, 
Kaiwaka St John shop. 
Also outlets in Maungaturoto, 
Mangawhai and Paparoa. 
Can be viewed online at  
www.kaiwaka.co.nz/Bugle  
Or a copy can be posted to you if you supply 
stamped, self-addressed DLE envelopes. 
Untouchable 
Friday 8 September 7:30pm (M)
This  movie  has  ratings  of  10  out  of  10, 
average  8.6;  Reviewers  -Brilliant, 
excellent, movie of true humanity...  
Synopsis:  An  irreverent,  uplifting 
comedy  about  friendship,  trust  and 
human  possibility,  Untouchable  has 
broken  box  office  records  in  its  native 
France  and  across  Europe.  Based  on  a 
true  story  of  friendship  between  a 
handicap  millionaire  (Francois  Cluzet) 
and  his  street  smart  ex-con  caretaker 
(Omar  Sy).Untouchable  depicts  an 
unlikely  camaraderie  rooted  in  honesty 
and  humour  between  two  individuals 
who, on the surface, would seem to have 
nothing in common. 
Their Finest 
Friday 15 September 7:30pm (M) 
Beauty and The Beast 
Sunday 24 September 2:00pm (PG) 
Proverbs 3: 5 & 6 - 
Trust in the 
Lord with all your heart and lean 
not on your own understanding;  
In all your ways acknowledge 
Him and he will direct your paths.
BRUCE SPRINGSTEEN  
& THE STREET BAND 
Music Movie Night 
and Supper 
BYO drinks 
$20.00 tickets only 
NO Door Sales 
Friday 20 October 
7.30pm 
Ph: 021 2154495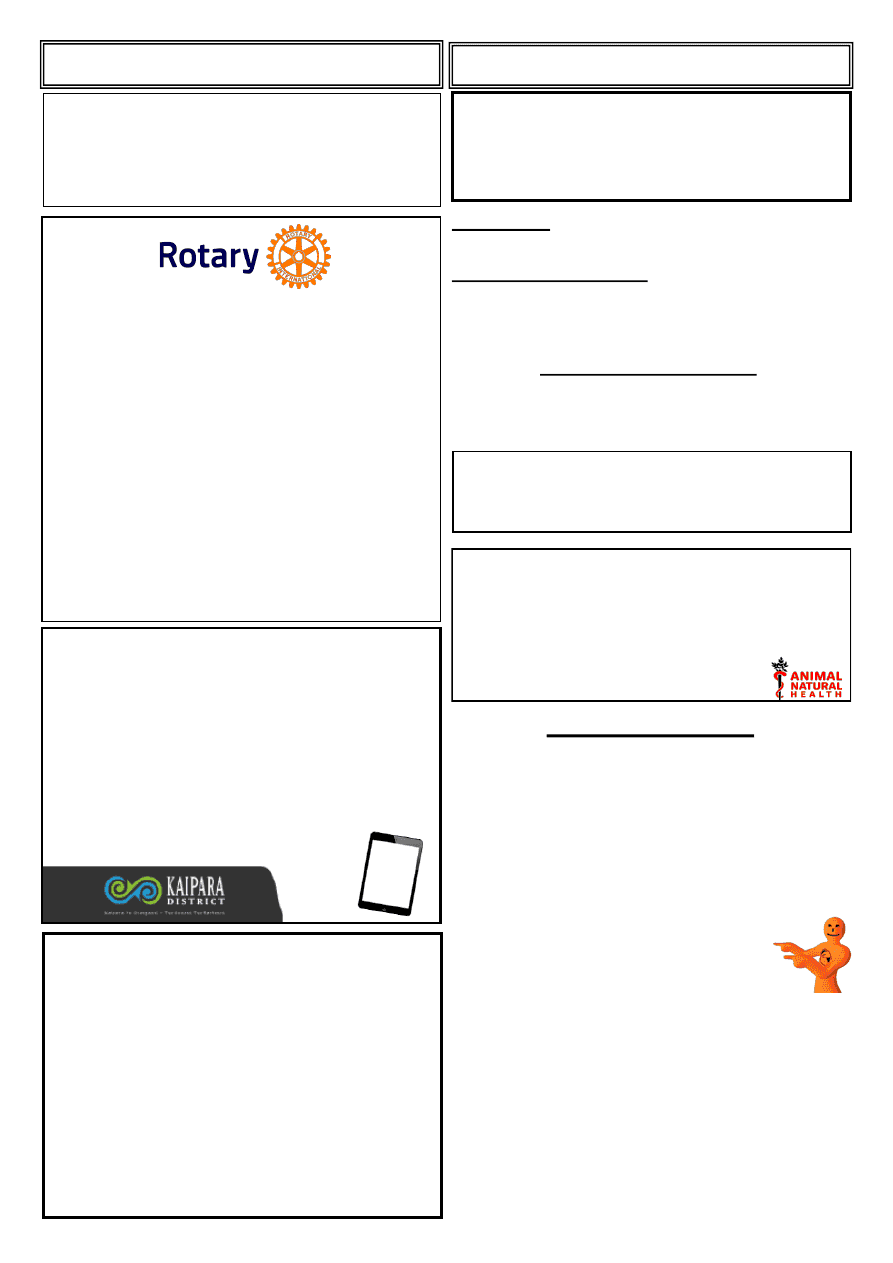 www.kaiwaka.co.nz 
Kaiwaka Bugle - 5 September 2017 
Page 3 
Animal Natural Health 
Vet Nurse Day at Kaiwaka and Warkworth 
Nail Trims, Microchipping.  
Pet Dental Hygiene Checks FREE to Gold Card Holders 
Friday 15 September ~ Bookings essential
Ph: 09 431 2217  
Next to Italian Bakery 
ABOUT TOWN 
Our deepest sympathies to the family of Morten Damsted, 
who passed away last week. 
We  were  'gobsmacked'  Thursday  22/8  to  see  NZTA 
100kph signs in position below the St.John Station on SH1- 
then  an  hour  later  they  were  moved  a  little  further  north 
over the bridge. 
 Bouquet  to  Steve  Elliott,  Kaiwaka  Yamaha,  for  'going 
the extra mile' for a local farmer.  
Have a go to become Hakaru's Hottest Homebaker - see 
details on page 7. 
Did you know we have our own Rawleigh's person? Marj 
Steiner is the one! 
Our  local  voting  place  for  the  2017  General 
Election is at the Kaiwaka War Memorial Hall - 
23rd  September;  the  nearest  Advanced  Voting 
places  are  in  the  Mangawhai  Museum  Foyer, 
Molesworth Drive - Mon 11 Sep - Thu 14 Sep 10am - 2pm, 
Fri 15 Sep 10am  - 4pm,  Mon 18 Sep - Fri 22 Sep 10am  - 
4pm or Wellsford Community Centre- Mon 11 Sep - Fri 15 
Sep 10am - 3pm, Mon 18 Sep - Fri 22 Sep 10am - 4pm 
The Kaiwaka Post Box hasn't gone missing - there will be 
a new one right at Postal Agency door this week! 
The  Maungaturoto Trash &  Treasure  begins  9  October  - 
for one week at the Ambulance Station. 
Spring  is  here!  We  heard  our  first  shining  cuckoo  last 
Wednesday. 
~ Lindsey, Ed 
"People  who  think  they  know  everything  are  a  great 
annoyance to those of us who do!" ~ Isaac Asimov 
PUBLIC NOTICES 
CLASSIFIED 
FREE 
First notice FREE  for Classified or Public Notices - 
less  than  30  words  -  then  charged  as  per  advertised  
($4). This includes AGM and meeting notices, FOR 
SALE, WANTED, FOR RENT. ~ Kaiwaka Bugle 
FOR  SALE:  Chooketeria  self-service  feeder  Half 
price  $75.00  In  great  condition,  keeps  food  dry  and 
pests away! call John 4312400 or mob 0274 882774 
COMPUTER  REPAIRS:  Virus  Removal  -  Speed 
Ups,  Over  30  Years  Experience,  Fast  Service  - 
Mangawhai  -  Kaiwaka  -  Maungaturoto,  Ph  Grant  09 
942 8747 or 027 419 2612, Paxcom Computer Repairs. 
KAIWAKA PLAYCENTRE 
Annual General Meeting 
Wednesday, September 6
th
, 7pm, 2017 
at Three Furlongs Bar & Grill 
All members welcome 
KAIWAKA  
SUMMER MARKET 
Expressions of Interest 
The Kaiwaka Market is starting again  
for the summer of 2017 – 2018. 
It will be located at the Three Furlongs Bar & Grill parking 
area right next to the State Highway, to catch the traffic in 
both directions. Times will be Saturday 9am to 2pm and 
starting 7 October 2017 
Cost will be $20.00 per stall. We are looking for staff 
holders interested in having a stall at the markets on  a 
reasonably regular basis. 
All food stalls must be fully self-contained. 
Please contact: wendy@coveolives.co.nz 
KNITTING For WHANGAREI HOSPITAL 
Meet in the Archie Bull Hall 
Every second Tuesday of the month 
Contact Gael 4314827 or Elaine 4312338 
Making a Difference 
Maungaturoto and Districts Rotary Club 
(Serving the area of Mangawhai, Kaiwaka,  
Maungaturoto, Matakohe, Paparoa and Waipu)   
 President's Scholarship 2017 
We are pleased to invite applicants for a $1500 grant 
known  as  the  'Presidents  Scholarship'.  The  grant  is 
intended  to  assist  those  who  wish  to  further  their 
education  with  a  recognised  provider  of  tertiary 
education i.e. university, polytechnic. 
Areas  of  consideration  when  awarding  the  Presidents 
Scholarship  could  be  involvement  in  community  work, 
sport, arts, academic achievement, or financial need. 
Application  format  available  –  apply  to  PO  Box  65, 
Maungaturoto 0547  
Applications close 31 October 2017.   
All applications and attachments to be sent to  
PO Box 65, Maungaturoto 0547  
KAIPARA LIBRARY  
SERVICE SURVEY 
We are reviewing services at all the libraries in the Kaipara.  
We would like feedback from everyone interested in our libraries 
at Paparoa, Kaiwaka, Maungaturoto,  
Mangawhai or Dargaville library 
Have your say and be in to WIN a  
Samsung Galaxy 7" 8GB Tablet! 
Answer questions on what you would like to see in your local 
libraries and help us to create the best service we can for you.  
Follow the link below or pick up a survey in your local library. 
www.surveymonkey.com/r/kaiparalibrarysurvey 
The survey runs from the 23 August to the  
15 September 2017 so be in quick. 
BEREAVEMENT NOTICE 
Sadly  Morten  Damsted  passed  away  suddenly  in 
Denmark  on  29th  August  2017.  Beloved  husband  of 
Kay, and loved father of Kristian, Alex and Mathias.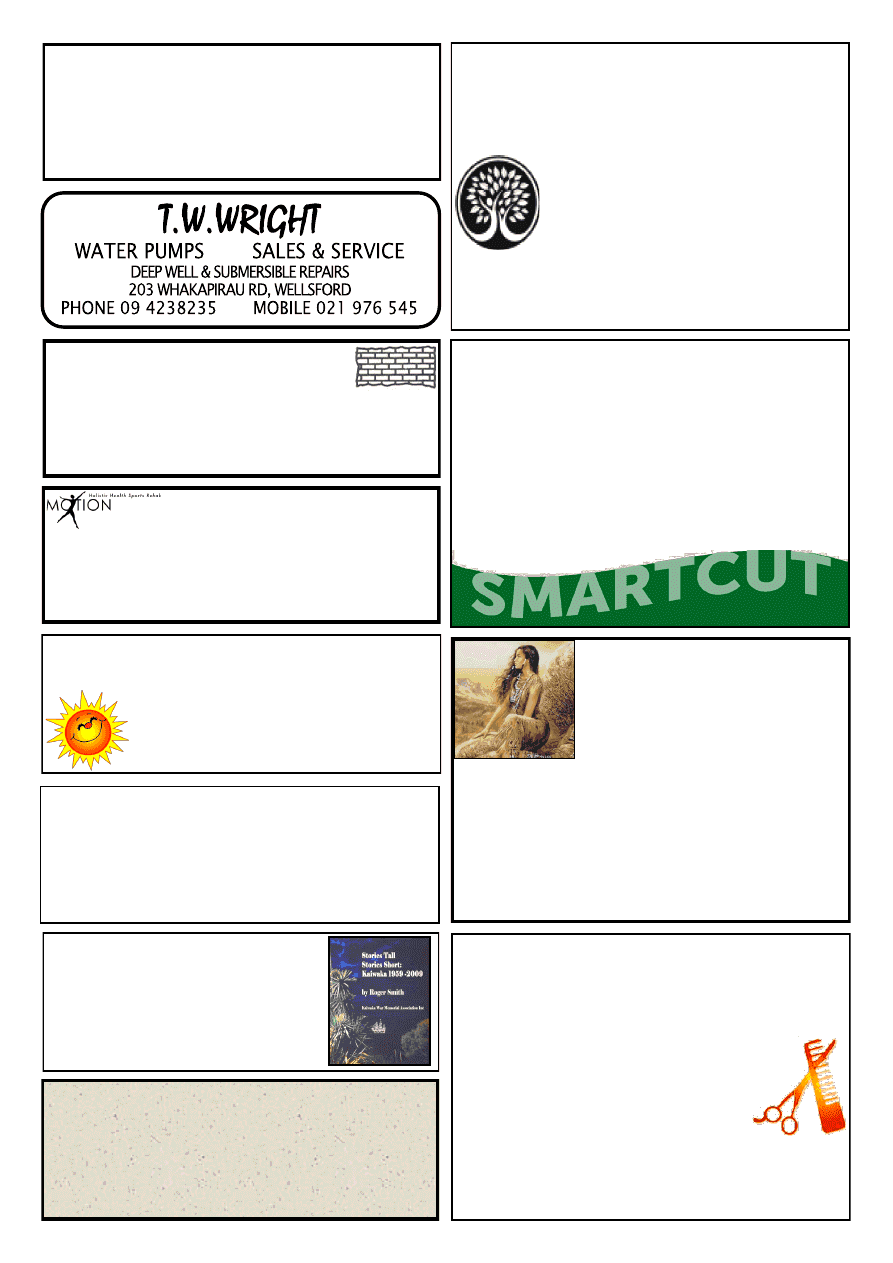 AFFORDABLE PRICES! 
MENS CUT FROM $20.00 
LADIES CUT FROM $30.00 
KIDS CUT FROM $18.00 
COLOUR & CUT FROM $120.00 
JUST CUTS'AND   
MORE 
021 165 2629 or (09) 945 0707  
NOW SELLING: scented tealights, incense, smudge sticks, 
copper bracelets, aurora ball crystals, dream catchers, healing 
stones, rose quartz, cds, and much more. Open 6 days. 
Waipu Natural Health 
3 Cove Road, Waipu  (opposite the Pizza Barn) 
Ph: 09 432 1325 
www.waipunaturalhealth.co.nz
Clinical Nutritionist-Hair Analysis for Masked 
Allergies, Ozone Therapy, Prolotherapy, 
Naturopath-Medical Herbalist, Registered 
Massage Therapists, Reflexology-
Craniosacral Therapy, Acupuncture-Facial 
Acupuncture, Kineso Taping, Hypnotherapy, 
Counselling, ThetaHealing, Beauty Therapy
KIDS DAY – AFFORDABLE HEALTH SUPPORT 
FOR KIDS – every Wednesday 
(call us or drop in)
Gift Vouchers available
All your outdoor needs sorted so you don't have to... 
I can prune, chop, tidy, spray, mow, plant 
- you name it, I can do it! 
Residential & Commercial 
Lawn & Garden Care 
Call Rodney, your local  
lawnmowing contractor 
021 138 2344 
Stories Tall, Stories Short:  
Kaiwaka 1959-2009 
by Roger TW Smith
$40
Available through the  
Kaiwaka Bugle 
WAIPU OSTEOPATH 
Maria Gabriel  ACC Registered Osteopath 
8 The Centre, Waipu 
Monday to Thursday  
Freephone 0508 924786 (0508 WAIPUOSTEO) 
www.getinmotion.co.nz  No doctor referral required 
 LEABOURNS 
Passenger Service
Car & Van Hire  Bus & Coach Charters 
Airport Transfers   Monthly Shopper Bus 
Phone (09) 4237416 
BRICK/BLOCKLAYER 
All aspects of masonry:  
Fireplaces, Restoration & Remedial Work. 
JAMES EAGLETON 
Tel. (09) 431 2514    Mob. 0274 749 232 
jajueagles@yahoo.com.au 
210A Pukenui Road, RD2 Kaiwaka 0573 
Trails end 
spiritualist gathering 
Last Sunday of every month  
11.30-2pm  
Tea/coffee provided  
$5 koha 
For all inquiries: 
021 165 2629 evenings (09) 945 0707 
Trail.end@hotmail.com 
Bringing together light minded people 
Guest speaker each month
THE SUNSHINE GIRLS
Efficient and reliable help with 
your housework. 
Ph 4312 532 
MARRIAGE CELEBRANT 
WEDDING EVENTS PLANNER 
Yvonne Osborne 
Ph 0274 989 814 
yvonne.osborne@xtra.co.nz 
Counsellor and Registered Psychotherapist 
Offers Supervision 
ACC Sensitive Claims 
Susan Matheson      MNZAC 
Dip. Psychosynthesis Counselling and Psychotherapy 
Phone 09 431 2996                                     Mobile 027 605 2427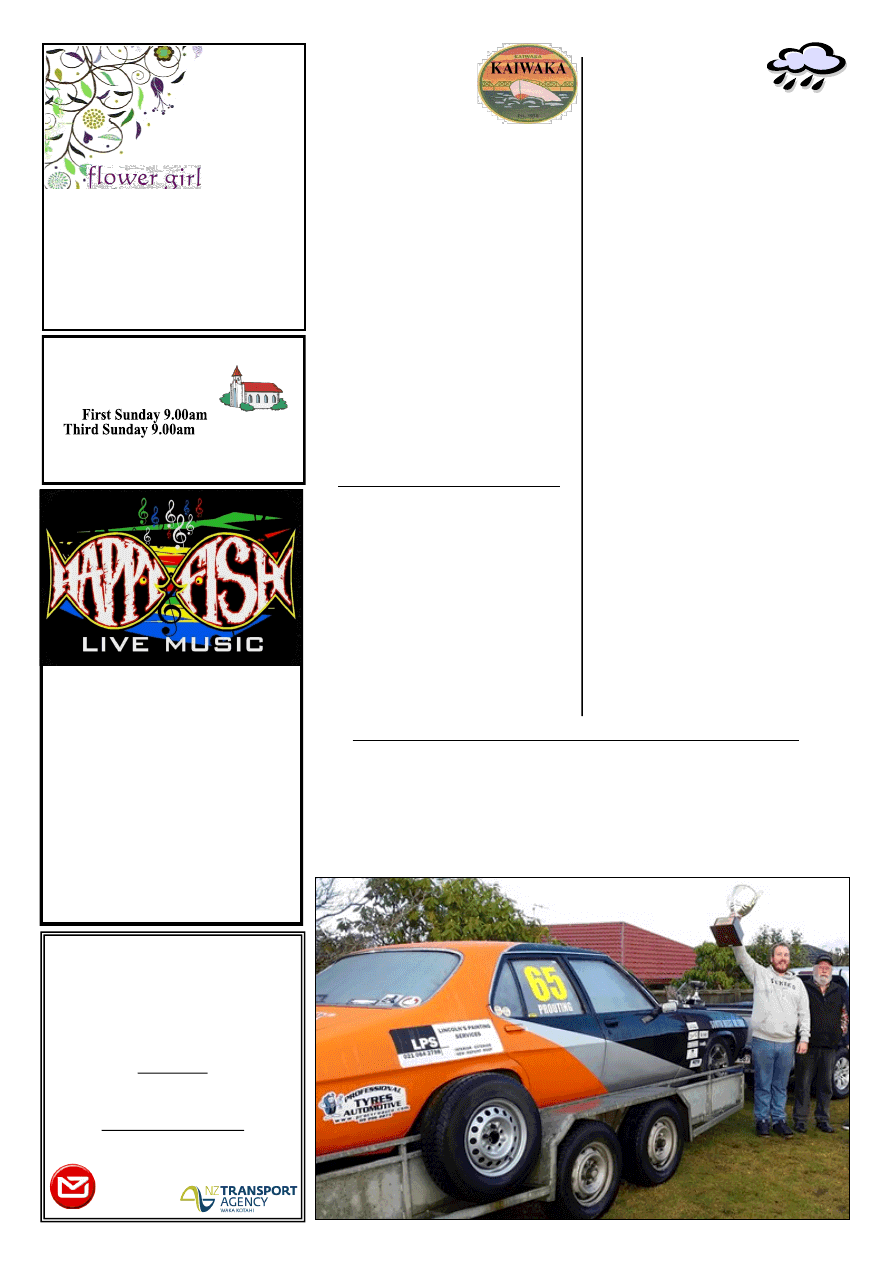 www.kaiwaka.co.nz 
Kaiwaka Bugle - 5 September 2017 
Page 5 
Kaiwaka 
Good 
Sorts 
Do you know 
someone in our 
community who 
is deserving of a 
beautiful bunch 
of flowers? 
Send an email to us at 
kaiwakabugle@kaiwaka.co.nz 
or drop a note to Jaques Four Square to let 
the Bugle team know. 
We will choose a recipient to receive 
flowers from Lindy the flower girl. 
lindywatson@hotmail.com 
4312 847 
POINT 
CURTIS 
CRUISING 
CLUB
Super 
Club 
Snapper 
Fishing 
Competition  is  on  Friday  22
nd 
and 
Saturday 23
rd
 September and for Point 
Curtis Cruising Club Members. 
The Fee to enter is covered by PCCC. 
The more members we have fishing in 
this Competition, the better chance we 
have of bringing home the CUP!!! 
Please  give  Keith  Mills  a  call  as  you 
will  need to exchange  phone  numbers 
with him so that you can catch up with 
him  before  the  official  weigh  in  to 
discuss who has the heaviest fish 
Mobile 0210537284 
Land line 094312651 
Fish of the month is Kahawhai till 12 
September. 
Next  Club  Meeting  at  The  Three 
Furlongs  Bar  and  Grill  at  7pm 
12
th
 September 2017 
~Wayne Leslie, Commodore 
ST PAUL'S ANGLICAN  
SUNDAY  
SERVICES 
- Eucharist
- Family Service
St Pauls Church: Kaiwaka-Mangawhai Rd. 
Rev. Wayne Thornton Ph 431 4122 
www.mangawhaianglican.org.nz
ROCKIN' POPULAR, OLD AND 
NEW PARTY SONGS WITH LOADS 
OF KIWI MUSIC AND A FEW 
ORIGINAL TUNES IN THE MIX. 
AN ELECTRIC DUO FEATURING:  
GORDON JOLL 
(NZ Music Hall of Fame)
ON DRUMS AND SUE JOLL ON 
GUITAR AND VOCALS. 
A BAND FOR ANY OCCASION 
BACKED BY YEARS OF 
EXPERIENCE. 
Contact: Sue 021 623 776 
Email: happyfishband@gmail.com 
Website: www.happyfishband.co.nz 
Lilia and her Spring lamb, Minty! 
KAIWAKA  
WEATHER 
Greetings,  lovely  people.    Our  last 
month  of  winter  greeted  us  with  a 
lovely day and a couple of rainy windy 
days  to  follow.    Another  beautiful 
sunny  day  after  an  icy  morning  as 
some may have had a frost again. Rain 
again for a few days then back to a nice 
fine  day,  then  that  strong  southwest 
cold weather. Then back to fine cloudy 
weather  for  a  couple  of  days  with 
thunder  thrown  in.  That  is  up  to 
halfway  through  the  month  and  the 
second  half  followed  in  the  same 
manner.  We  finished  the  month  on  a 
very  wet  note.    Some  parts  of  the 
country 
were 
floundering 
with 
floods.  Oh, the poor animals out in the 
elements.    I  notice  a  lot  of  lambs 
around  this  month  and  the  spring 
flowers are in full bloom.   
Okay, for August 2017 we had 127mm 
rain and for 2016 we had 226 mm.  For 
2017 and 2016 we had 14 days of rain 
both  months.    The  first  8  months  of 
2017  we  had  1368mm  rain  and  2016 
we had 1076mm.   
Our driest August since 1987 was 2001 
with  54mm  and  the  wettest  was  1989 
with 318mm.  Our driest first 8 months 
since 1987 was 1994 with 612mm and 
the wettest was 1987 with 1373mm. So 
therefore  1987  was  wetter  than  this 
year  by  5mm.  Interesting  looking  at 
those figures.   
What  is  the  biggest  gripe  of 
Retirees?  There is not enough time to 
get  everything  done.  Also  among 
Retirees,  what  is  considered  formal 
attire?  Tied shoes.  Looking forward to 
our days of spring. Take care out there 
and be kind to each other.  
~Bev.
KAIWAKA FOOD MART 
Mukesh and Pragna Patel 
1919A State Highway 1, Kaiwaka 
09 431 2431 
Opening hours: 
Groceries 
7.30am - 7.30pm daily 
(Monday to Sunday) 
NZ Post and NZTA 
Mon to Fri. 8am - 5pm 
Saturday 8am - 1pm 
CONGRATULATIONS LINCOLN PROUTING 
I wish to congratulate my eldest son, Lincoln (26), who this year won his first 
motor-racing  championship.  Lincoln  raced  within  the  NZ  Super  Six  and  HQ 
(Holden) Series, racing on circuits at Manfield, Taupo and Hampton Downs. 
He  won    the  HQ  championship  and  best  presented  (race  car)  and  Most 
Consistent. 
Lincoln's  younger  brother,  Louis,  is  this  month  beginning  his  racing,  in  a  hill 
climb series. 
Pictured - Lincoln with his car, trophies and his father. ~ Craig Prouting
.
VISITOR  
NUMBERS UP 
ALL THROUGH KAIWAKA 
Northland's  peak  period  visitor  inflow 
has  increased  by  15  per  cent  over  the 
past  two  years.  About  90  per  cent  of 
this  peak  tourist  traffic  arrives  by  car 
on  the  main  highway,  and  60  per cent 
comes  from  Auckland.  This  is  shown 
in a survey of Northland holiday traffic 
undertaken  on  State  Highway  One  at 
Kaiwaka  from  Boxing  Day  to  January 
22, 2017. 
~ The Northern Advocate, 3/9/2017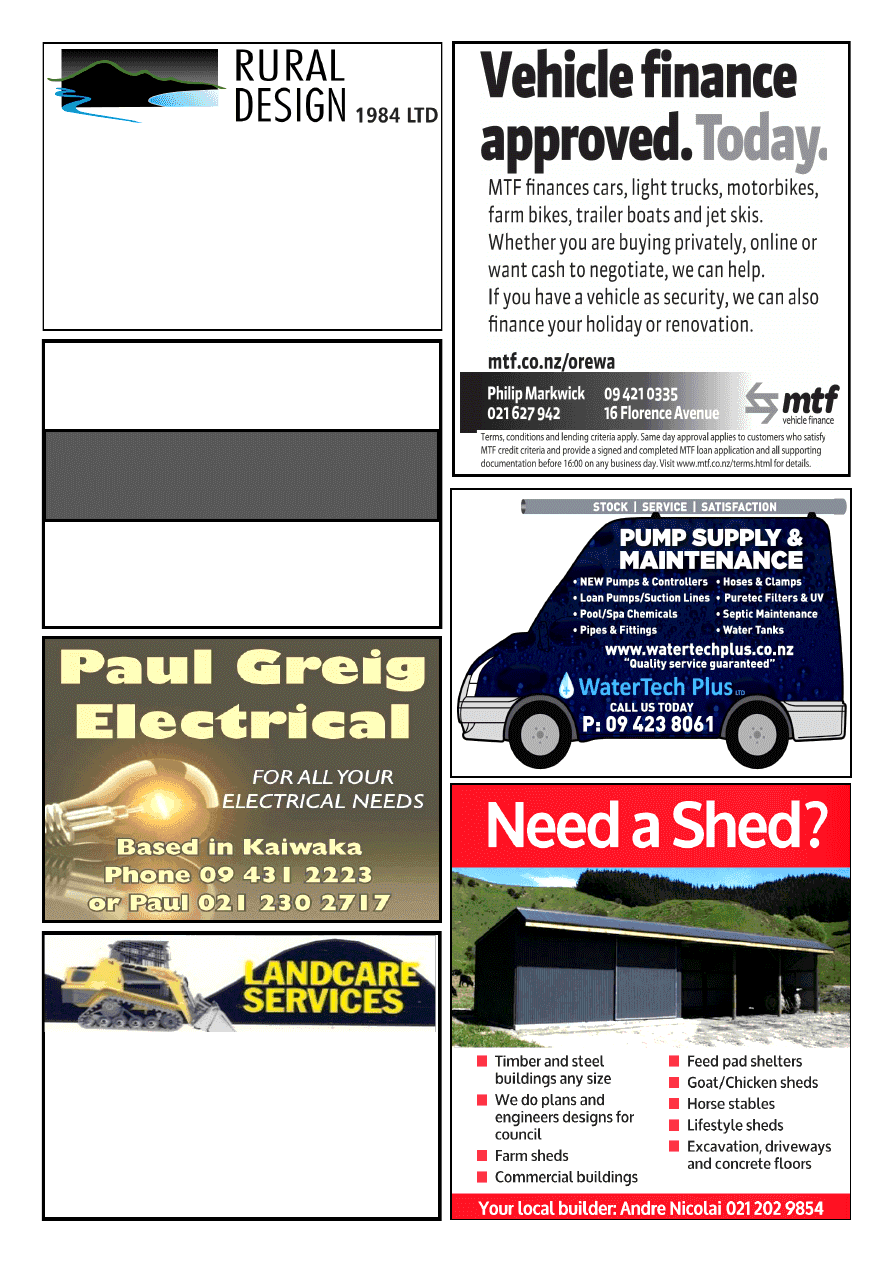 David Korach 
Your local Gib Stopper
DK PLASTERER LTD 
0274769221 
dkorach6@gmail.com 
LANDSCAPING 
4 IN 1 BUCKET 
TRENCHER 
POLE HOLES 
ROTARY HOE 
COMPACT ROLLER 
OFFAL HOLES 
CAN SUPPLY WOODCHIP & POST PEEL 
5 TON TIPPER 
FOR RELIABLE AND FRIENDLY SERVICE CONTACT DAVE 
Dave Hyndman 
 
KAIWAKA 
PH: 09 4312302 
MOB: 021 431 238 
Wholesale Native Plant Nursery and Planting 
Small and Large orders welcome 
By Appointment 
300 Kaiwaka-Mangawhai Road, Kaiwaka 
Phone: 09 431 2481 
Email: info@ruraldesign.co.nz 
www.ruraldesign.co.nz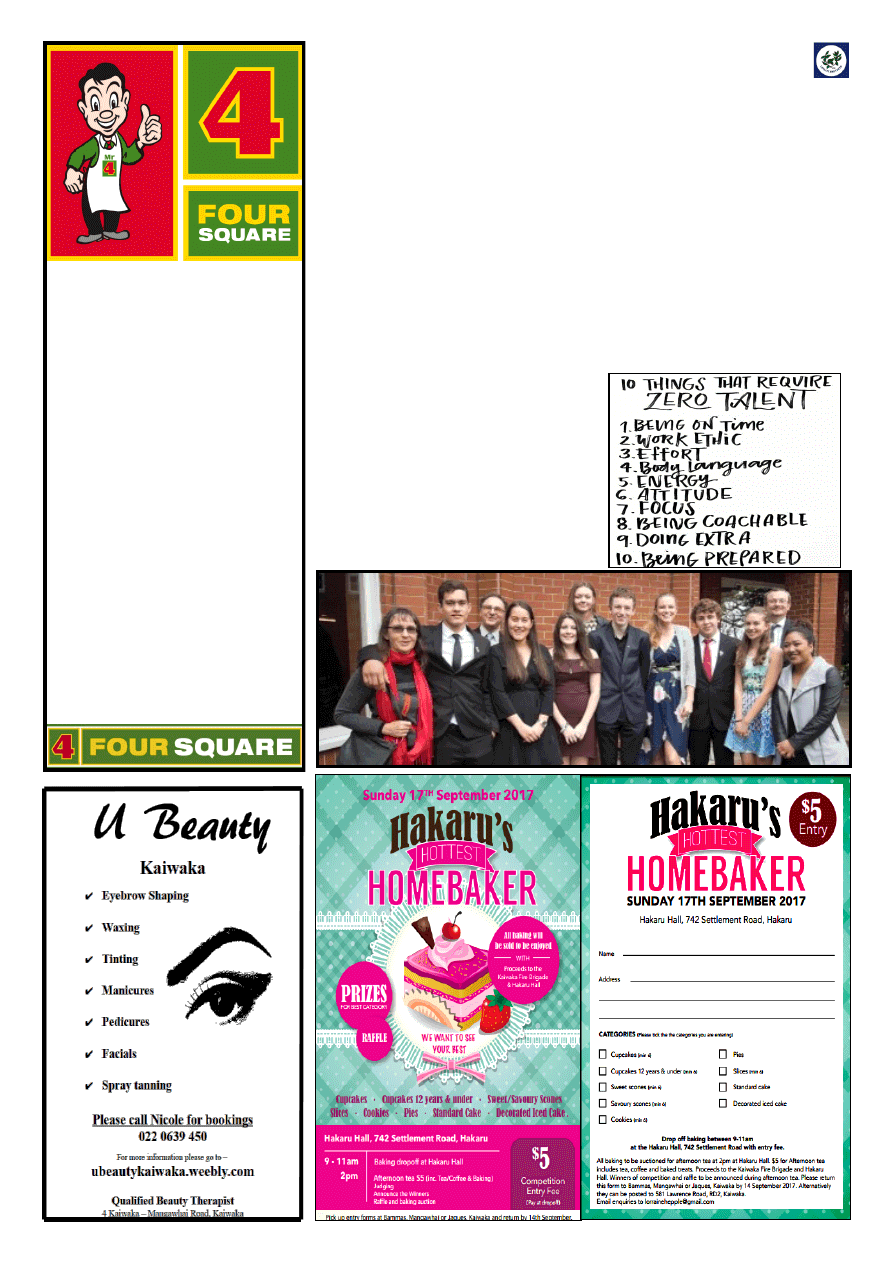 www.kaiwaka.co.nz 
Kaiwaka Bugle - 5 September 2017 
Page 7 
OTAMATEA HIGH SCHOOL 
NOW IN STORE
Super Special on  
Highlander White Wash 
Potatoes 2.5Kg $3.99  
Coming next week for 
Spring Gardening!!  
Selection of Tui 
gardening products  
and 
Potting mix, compost 
fertilisers etc & seed 
potatoes
Open till 6.30 Monday to Friday
Jaques Four Square 
Phone: 4312227 
1 Kaiwaka-Mangawhai Road, Kaiwaka. 
ERO Visit 
During week one of this term we had a 
four  day  visit  from  the  Education 
Review 
Office. 
They 
visited 
classrooms,  spoke  with  various  groups 
of  staff  and  students  and  checked  the 
school's  documentation.  Their  initial 
findings to the Senior Leadership Team 
and  Board  of  Trustees  were  extremely 
positive  and  were  a  great  endorsement 
of the positive, safe, learning culture at 
the  school.  The  lens  which  they  look 
through  is  'conditions  which  support 
equity  and  excellence'  and  they 
verbally commented that we had a very 
positive  and  respectful  school  culture 
and  tone  which  supported  equity  and 
excellence.  They  also  felt  that  the 
whakatauki  'He  waka  eke  noa'  was 
evident  through  high  levels  of 
collaboration  and  shared  commitment 
to  supporting  equity.  The  full  report 
will be available later in the term. Once 
this  is  finalised  it  will  be  shared  with 
the school community as well as being 
available  on  the  ERO  website  as  a 
public document. 
The 
Duke 
of 
Edinburgh's 
International Award 
 Gold  Ceremony,  King's  College 
School, Auckland 9th July 2017 
Ayla Wehi, Tashae Paikea, Ruby-Rose 
Hallamore,  Erin  Mooney,  Jessica 
Linton,  Jesper  Smyth,  Connor  Small, 
Kalani  Wehi  along  with  current  head 
girl,  Samantha  Allen  were  presented 
their gold award by her excellency, The 
Rt  Hon  Dame  Patsy  Reddy,  GNZM, 
QSO  Governor-General  of  New 
Zealand.  This  was  a  record  number  of 
young  people  receiving  their  award 
from  Otamatea  High  School.  It  was 
also  the  first  time  a  current  student 
attending  our  school,  Samantha  Allen, 
has received a gold award (while still at 
school)  It  is  also  the  first  time  more 
than  one  family  member  has  received 
their award at the same ceremony, Ayla 
and Kalani Wehi - photo below. 
From the OHS newsletter:-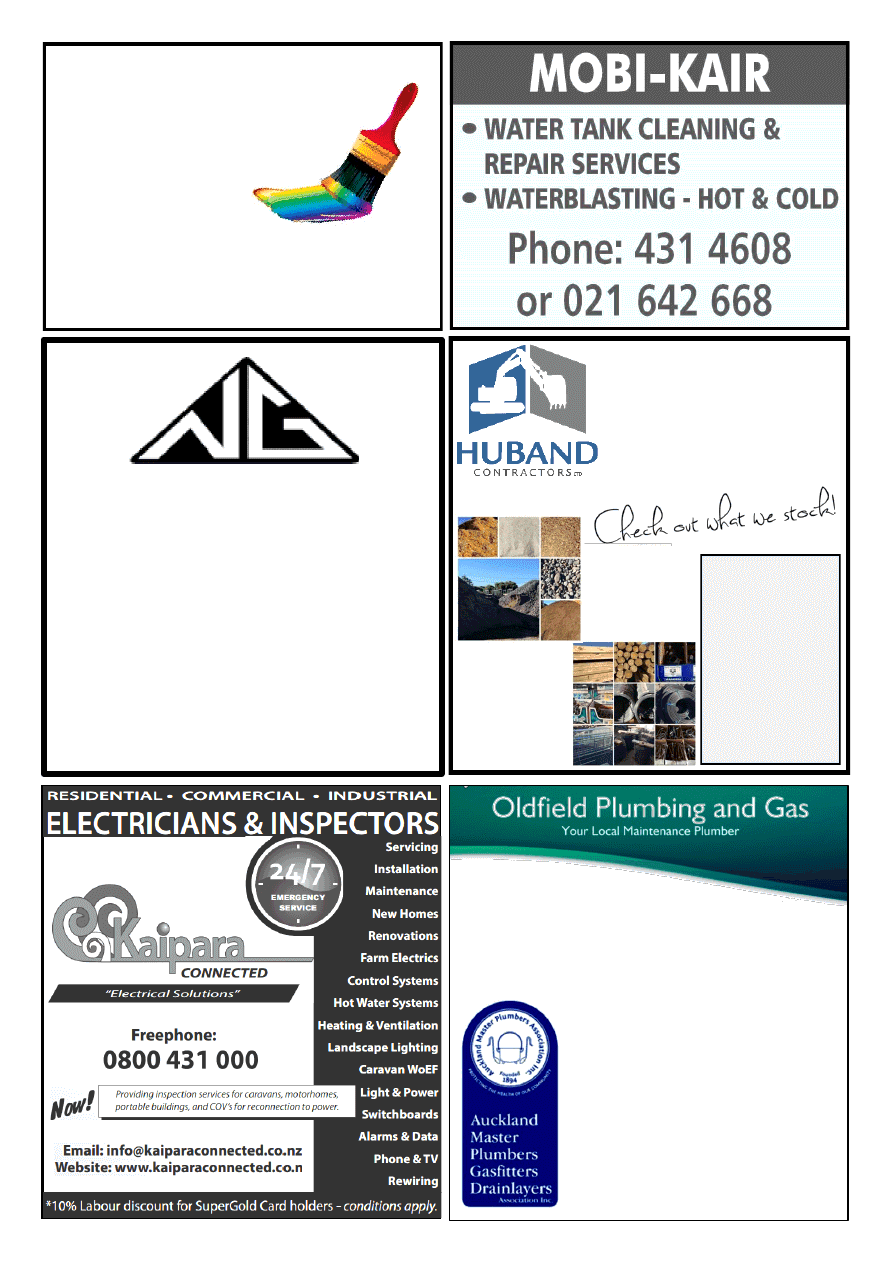 NORTH GLASS 
WINDSCREEN REPAIR OR REPLACE 
GLAZING SERVICES 
MIRRORS  •  SPLASH BACKS  •  SHOWERS 
0800 70 40 10
info@northglass.co.nz 
www.northglass.co.nz 
Darren Oldfield 
Certifying Plumber 
Certifying Drainlayer 
Licensed Gasfitter 
Mobile  021 836 365 
Home  431 5061 
oldfieldplumbing@gmail.com 
 
Agent for 
Rainline Water Filters 
Maintenance 
Renovations 
New Homes 
Hot Water Cylinders 
Water Pumps 
Waste Disposal 
Gas Hobs 
Gas Califonts 
Open Monday-Friday 8am-5pm 
Saturday 8am-noon
2088 Paparoa Valley Road 
0800 234449
W: www.huband.co.nz 
E: admin@huband.co.nz 
Call us for any 
information or quotes 
for the following: 
•  
Earthworks 
•  
Roading 
•  
Drainage 
•  
Site works 
•  
Landscaping 
Supplies  
09 4312918 
0274735171 
leecooper@xtra.co.nz 
LEE COOPER PAINTERS 
(Kaiwaka Based) 
*30 yrs Experience 
*Interior/Exterior 
*New and Restoration 
*Honest and Reliable 
*Free Quotes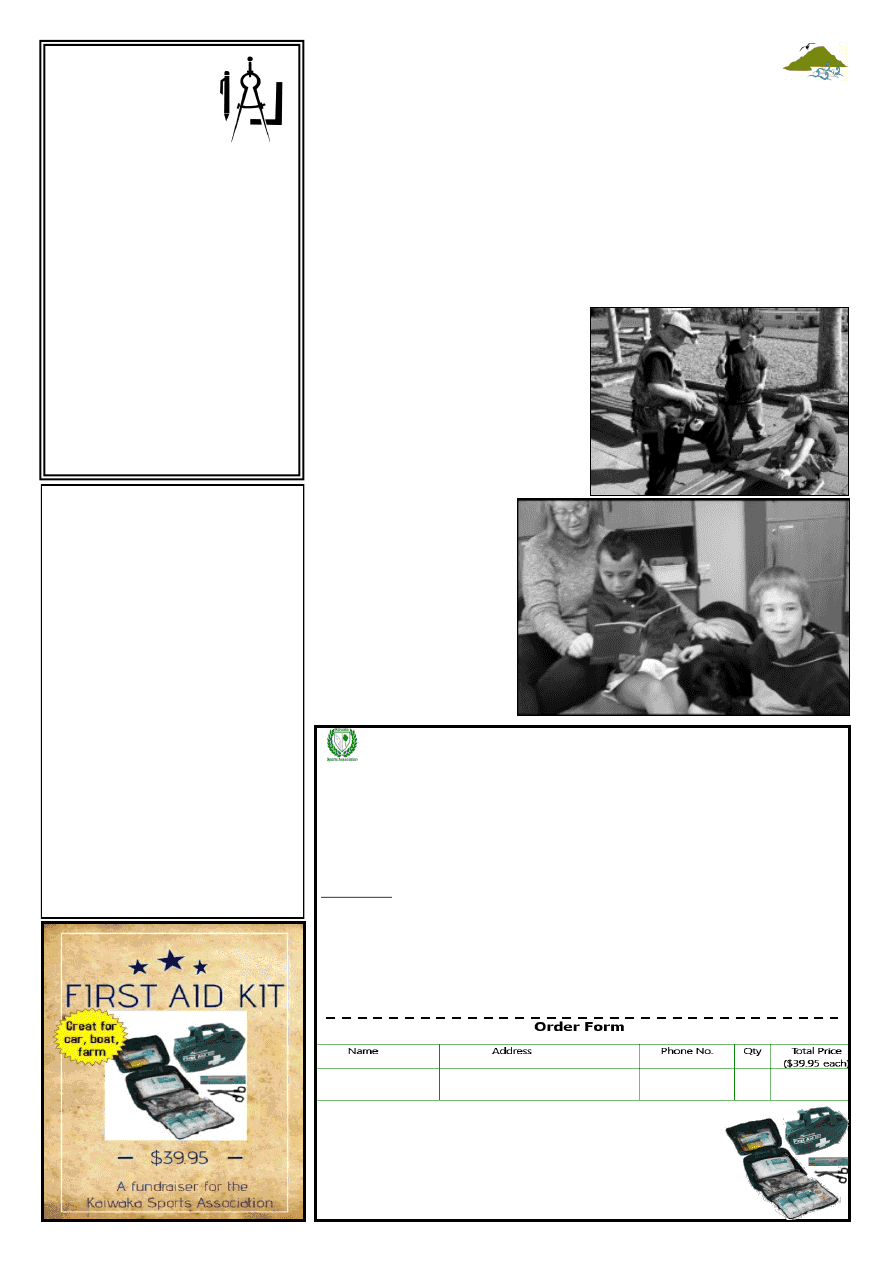 www.kaiwaka.co.nz 
Kaiwaka Bugle - 5 September 2017 
Page 9 
design  
drafting  
service 
Retired builder and manufacturer 
with over 40 years experience in the 
building industry is offering a design 
drafting service for domestic hous-
ing, sleepouts and sheds.  
Plans formulated in consultation 
with clients, with working drawings 
completed and submitted to council 
for processing.  
Extensive practical experience,  
able to identify & resolve problems.
Please ring Mike Lean on 
09 431 2260 
or 
021 431 196 
Mangawhai 
Heads 
Garden 
Centre
1758 Cove 
Road
945 0707 
021 165 2629 
KAIWAKA SCHOOL 
Calf Club Day 
We have a Date! Calf Club Day will be 
held  on  Tuesday  the  17th  of  October 
with 
a 
postponement 
day 
of 
Wednesday the 18th of October. To get 
an  entry  form  please  come  into  the 
office.  John  Hargreaves  has  lambs 
available for calf club day. 
Noho Marae  
The  Noho  Marae  has  been  booked  for 
the 16th and 17th of November. This is 
the  week  after  the  Kaipara  Festival.  If 
you  would  like  to  help  please  keep 
these  dates  aside.  Noho  is  a  valuable 
experience for our students, where they 
learn  the  values  of  whakamana, 
manaakitanga, 
tikanga 
and 
whanaungatanga. This year, the Year 3, 
4,  5  and  6  students  only  will  be 
attending  the  Noho  Marae.  This  is 
because  the  school  has  grown  in  size 
and  we  can  no  longer  fit  the  Junior 
School  at  the  Marae  overnight.  If  you 
have any expertise in things Maori, that 
you  would  like  to  share  with  the 
students, please contact the school. 
Kaiwaka Netball 
Congratulations 
to 
the 
Kaiwaka  Netball  Team  who 
are  runners  up  this  year  for 
their 
grade. 
While 
competing  under  the  KSA 
the  team  is  made  up  of 
mainly  Kaiwaka  School 
students. We are very proud 
of  you  all  including,  your 
coach and manager. 
Pictured  right:  Top  -  Room 
5  students  building  a  coffee 
table  as  part  of  their 
technology unit. All students 
chose to do something that would make 
other  people's  lives  better  and  these 
boys chose to build a coffee table. 
Below  -  Jenny  and  Angus,  her  guide 
dog,  are  coming  into  school  every 
Thursday to hear the children read their 
stories and /or readers. The children are 
really  enjoying  reading  to  Angus  who 
has been trained to look at the pictures. 
Calendar: 
5 Sept. - Grandparents Day 
19 & 21 Sept. - Parent Interviews  
29 Sept. - End of Term 3  
16 Oct. -  Start of Term 4 
FIRST AID KIT 
Fundraising for the Kaiwaka Sports Association 
We  are  selling  a  quality  first  aid  kit  for  $39.95.  These  first  aid  kits  are  excellent  value  for 
money and similar kits often retail for over $60. This is a large carry kit with transparent fold-
out compartments which contains 77 items and follows OSH and Consumer regulations. 
Everyone should have an updated first aid kit handy  – great for the home, farm, boat and 
car. First aid kits are a practical item that make a great gift – birthdays, Christmas etc. 
To  order  please  return  this  form  with  your  payment  by  7
th
  September.  Delivery  will  be  the 
following fortnight. Enquiries to Cheryl Anderson on kaiwakasports@gmail.com. 
Kit Contents 
Digital Thermometer, Instant Ice Pack, 2 x Emergency Blankets, 1 x CPR Resuscitation mask with valve, 1 
x EyePad 5.5cm x 7.5cm, 2 x Burns Dressings 20cm x 30cm, 2 x Conforming Bandage Rolls 6cm x 400cm, 2 
x Conforming Bandage Rolls 8cm x 400cm, 20 x Band Aid strips 7.5cm x 2cm, 2 x Triangular Bandages 
90cm x 90cm x 127cm, Long adhesive strip 6cm x 20cm, Adhesive Multi-pore Tape Roll 13mm x 5m, 3 x 
Butterfly Adhesive Plasters 7.4cm x 4.5cm, 2 x Knuckle Adhesive Plasters 7.5cm x 3.7cm, 4 x Semi-
permeable Dressings 6cm x 7cm, 3 x Adhesive Island Dressings 6cm x 7cm, 2 x Adhesive Island Dressings 
6cm x 10cm, Combined/Abdominal absorbent pad 23cm x 12.5cm, Scissors 15cm, Tweezers (metal), 4 pairs 
large PVC safety gloves, 10 x safety pins, 4 x Soap wipes 20cm x 19cm, 4 x Saline Cleansing Wipes 20cm x 
19cm, First Aid Guide. 
Payment options:    
⃣   Cash     ⃣  Cheque (payable to KSA) or 
⃣   Bank direct 060365002247200 
(use reference first aid kit and your 
full name) 
Ways to return form:     
•
Post to Cheryl Anderson, 233 Baldrock Rd, RD2, Maungaturoto, 0587  
•
Drop off in folder behind checkout at Jaques Four Square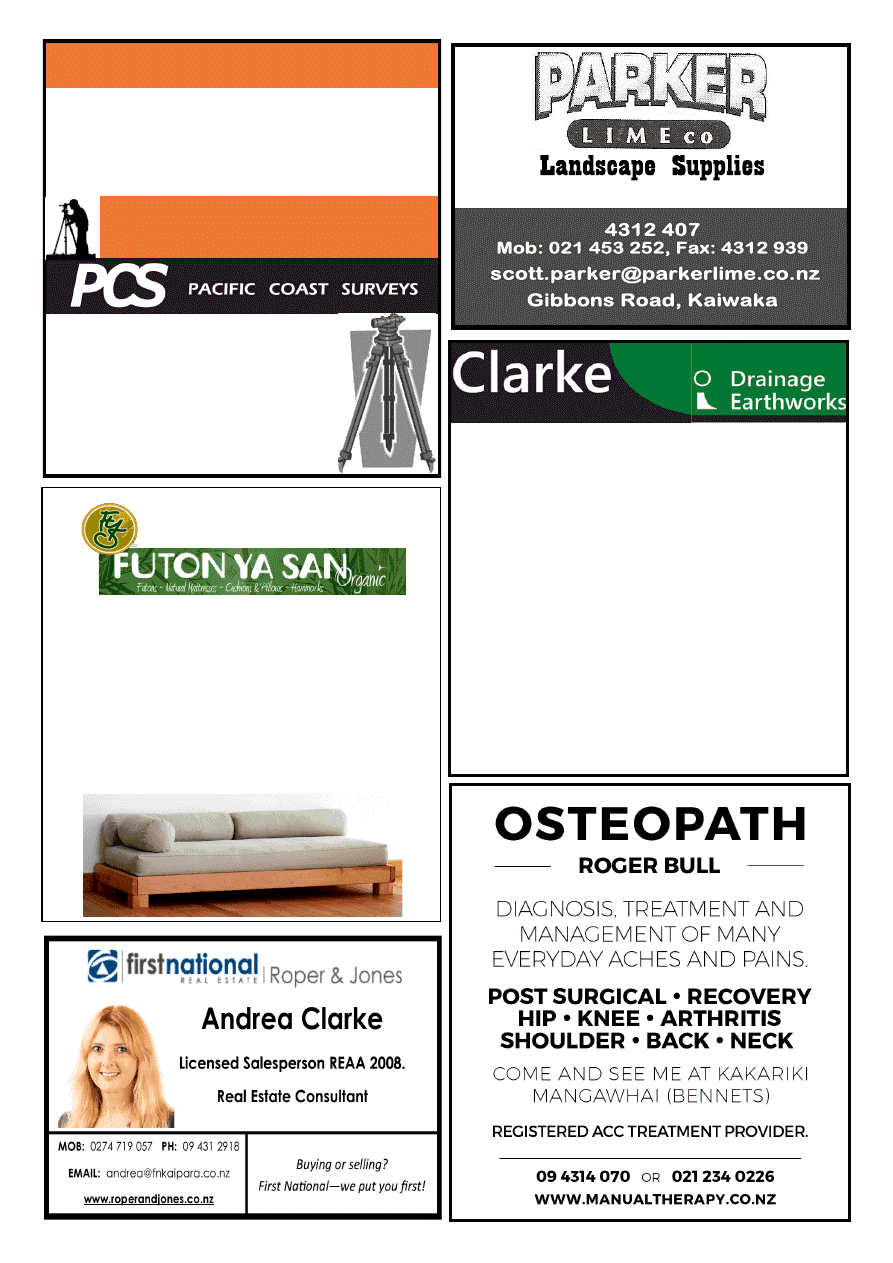 Drainage & Earthmoving 
nigel@clarkedrainage.nz 
027 2233 185 
Registered Drainlayer 
All Types of Earthworks  
> All Residential & Commercial Work  > House Sites 
> Septic System Design & Install 
> Footings & Drilling to 10m 
> Sewer Connections 
> Dams 
> Water Tank Installation 
> Roading & Races 
> Farm Work 
THE ONE STOP SHOP  
Phone Nigel for an Obligation Free Quote  
Bulk Cartage 
Your local supplier of Custom Made 
Natural Mattresses  -  Pillows - Duvets - Futons - Yoga Bolster  
AND MORE 
 Made from Certified Organic Wool, Hemp, Organic Cotton fabric 
Rubberized Coco fibre 
www.futons.co.nz                    contact@futons.co.nz
Phone: 021 176 17 19 
SURVEYORS 
SUBDIVISIONS 
HOUSE SITE SURVEYS 
CIVIL ENGINEERING 
WASTEWATER DESIGNS 
EXPERIENCED 
PROFESSIONAL 
INNOVATIVE 
Ph 09 431 5353 
0800 PACIFIC (0800 722 434) 
pacificcoastsurvey.com
Adam Booth - 027 415 5752 
Bsurv, Licensed Cadastral Surveyor
Surveying Kaipara since 1994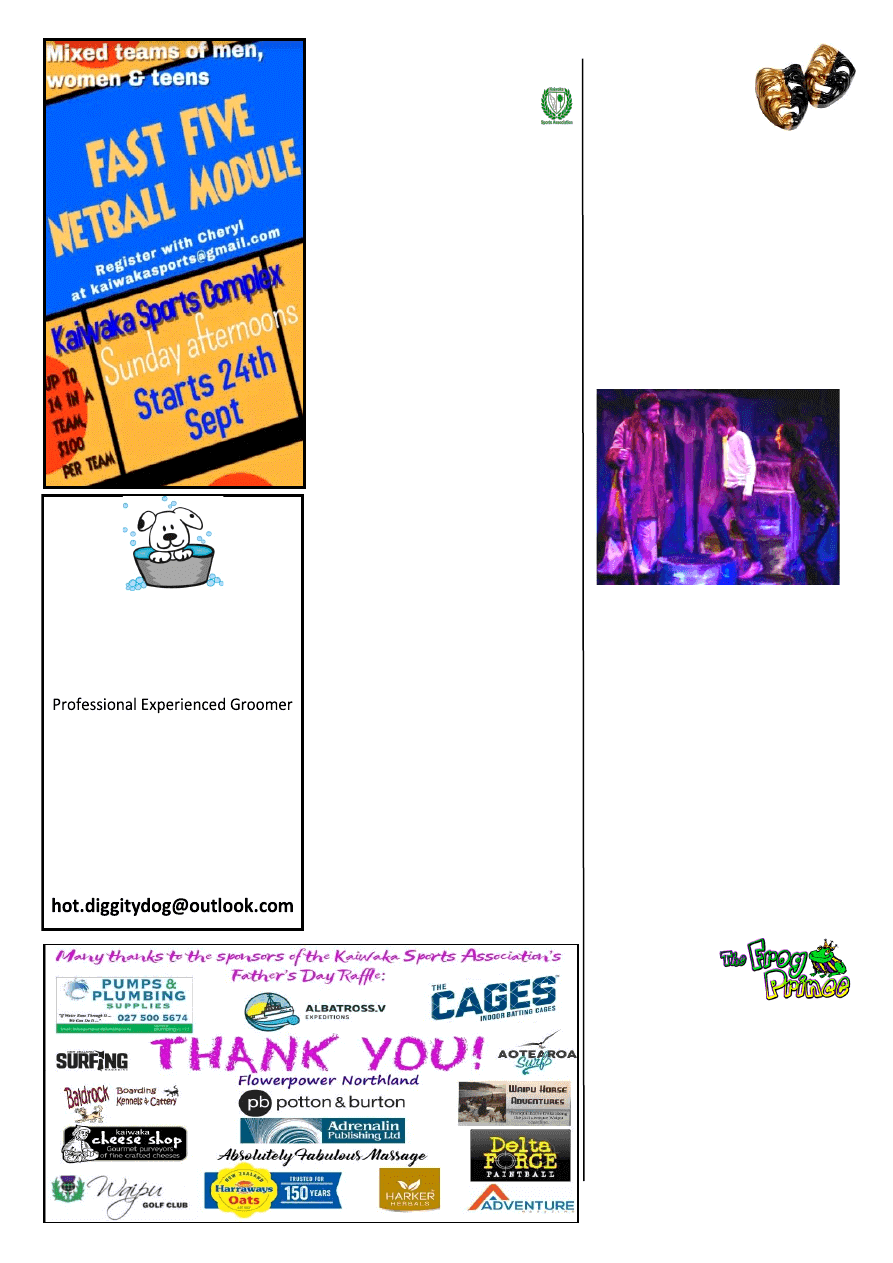 www.kaiwaka.co.nz 
Kaiwaka Bugle - 5 September 2017 
Page 11 
Hot Diggity Dog 
DOG GROOMING 
All breeds dog grooming 
Short practical grooms - summer 
Breed Standard Grooms 
Designer fusion Grooms 
Oneriri Road
By appt Phone  
Pam 09 4312143 
Or text only 0273335380 
Email  
KAIWAKA SPORTS 
ASSOCIATION
OTAMATEA 
REPERTORY 
THEATRE 
The Jungle Book 
Well,  'The  Jungle  Book'  is  now  over. 
It  was  a  hugely  successful  season 
which resulted in us putting on an extra 
show.  Thanks  to  all  the  people  who 
came  and  supported  us.  And  a  special 
thank  you  to  the  Lions  Club  who 
hosted  the  opening  night  and 
contributed to the show's success. 
The  composer,  BB  Cooper,  who 
created  this  adaptation  with  Toby 
Hulse,  has  very  kindly  donated  the 
royalties from our extra show - $200 – 
to  the  Playground  Project  at  the 
Otamatea Marae, due for completion in 
October. Such a generous gesture from 
people on the other side of the world! 
Te Waka Huia – 15 September 2017, 
8pm 
ORT will host this play inspired by the 
1963 Brynderwyn bus crash. 
It  is  a  fictional  tribute  to  those  who 
died  in  New  Zealand's  worst  road 
accident,  and  to  those  who  have  lived 
with the loss ever since. The play takes 
place  in  the  present  day.  Pahi  - 
accompanied  by  his  ghosts  -    is  the 
sometime  resident  of  a  derelict  bus  in 
an abandoned paddock on the outskirts 
of small town Helensville.    When two 
teenagers move in, drawn by their own 
sense  of  homelessness,  Pahi's  tangled 
worlds of past and present collide.  As 
his  secrets  unravel,  and  the  threat  of 
losing the bus becomes clear, the three 
discover a truth: whatever it looks like, 
home is worth fighting for. 
Tickets available on www.iticket.co.nz 
Adult $20 Concession $15 
The Frog Prince 
Pantomime, 
written  by  Peter 
Flower. 
Auditions  will  be 
held for 'The Frog Prince' on Sunday 3 
September  at  the  theatre.  Contact  the 
Director,  Maura  Flower  (022  354 
2670)  if  you  are  interested  in  being  a 
part of this very funny pantomime, and 
arrange  an  audition  time.  There  is  a 
wide range of roles for both adults and 
children and of course we need helpers 
for 
behind 
the 
scenes. 
The 
performances are likely to be at the end 
of  November  and  beginning  of 
December. 
       ~ Maura Flower 
Fast Five Netball 
Our Fast Five Module starts later 
this month. 
It  will  be  a  social,  mixed  module  for 
men, women and teenagers with games 
held  in  our  gymnasium  on  Sunday 
afternoons. The Module  will  run for 6 
Sundays.  You  can  have  up  to  14 
players  in  a  team,  and  the  team  fee  is 
$100.  Email  me  for  the  team 
registration  form.  This  will  be  a  fun 
module,  no  netball  experience  needed, 
so  why  not  get  a  group  of  mates 
together and give it a try! 
Fright Night 
Our  annual  Fright  Night  is  coming  up 
next  month.  We  transform  our 
changing  rooms  into  a  haunted  house 
for people to walk thought. It would be 
great  to  have  some  new  decorations/
props  for  the  haunted  house  –  so  if 
there are any creative people out there 
who'd be interested in helping out, that 
would  be  much  appreciated.  Please 
contact 
me 
on 
cherylanderson051@gmail.com. 
Sports Day 
An inter-schools Sports Day for Years 
7  and  8  will  be  held  at  our  Sports 
Complex  on  Tuesday  26th  September. 
Spectators welcome. 
First Aid Kit Fundraiser 
Last chance to order your first aid kit! 
These  kits  are  excellent  value  for 
money  at  only  $39.95  (similar  kits 
often  retail  for  over  $60).  This  is  a 
large carry kit with transparent fold-out 
compartments which contains 77 items 
and  follows  OSH  and  Consumer 
regulations.  An  order  form  is  in  this 
edition  of  the  Bugle.  The  deadline  for 
orders is this Thursday. 
Father's Day Raffle 
Many thanks to everyone who bought a 
ticket in our Father's Day raffle, and of 
course  thank  you  also  to  our  generous 
sponsors.  Congratulations  to  the 
winners: 
1st prize: Merv Huxford 
2nd prize: David Llewelyn 
3rd prize: Jenny Hastie 
4th prize: Natalie Jones 
5th prize: Adriane Tanenui 
~Cheryl Anderson, 4312 051, 027 3462702 
kaiwakasports@gmail.com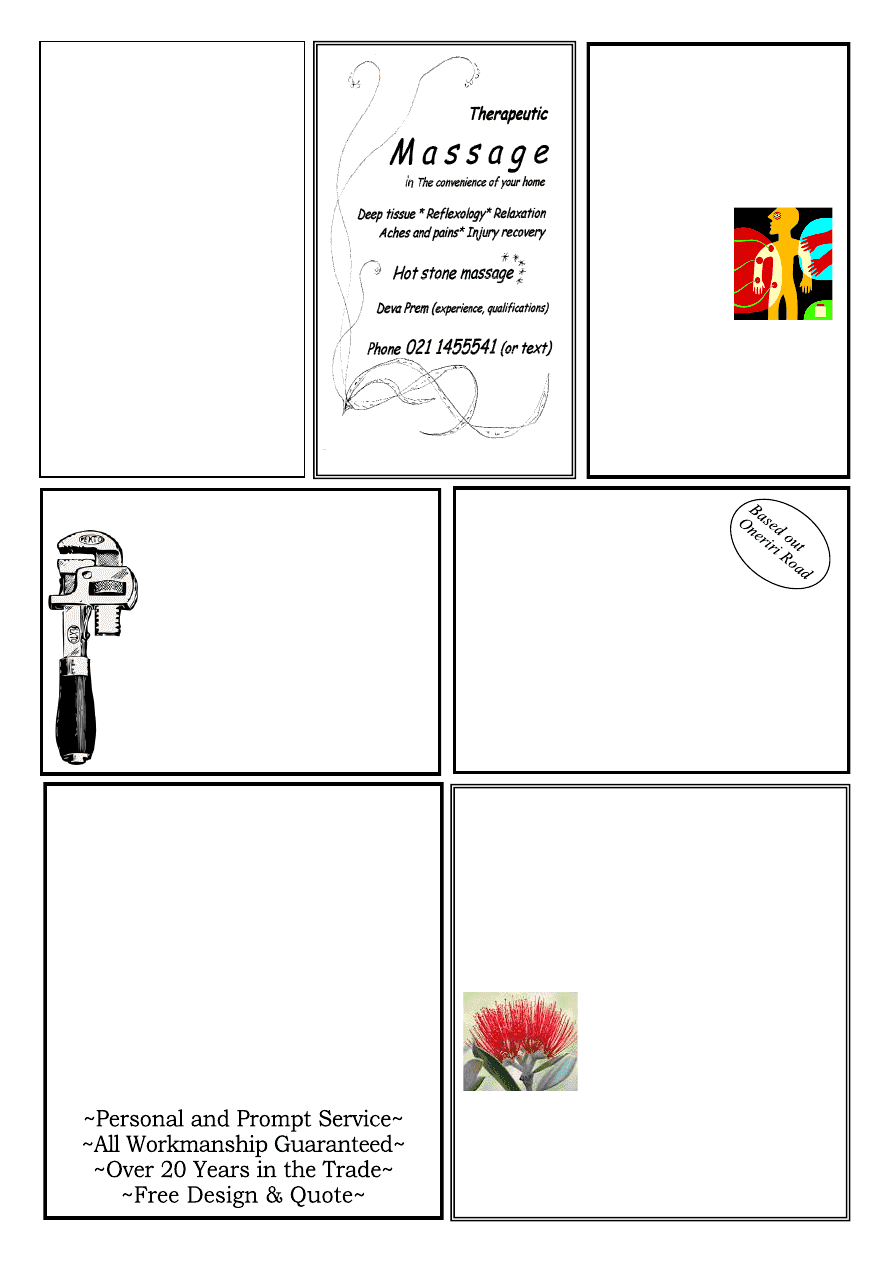 BARRY CURTIS PLUMBING LTD 
REGISTERED CRAFTSMAN PLUMBER 
Phone 431 5572
027 257 9884 
25 years' experience 
Friendly reliable service 
All plumbing & maintenance 
Alterations and new housing 
Spouting  
C
ompetitive rates 
PROMPT EFFICIENT SERVICE 
KAIPARA FLOORING CO 
Independently owned & operated 
32 HURNDALL ST MAUNGATUROTO
Supply & Installation of Carpet, Vinyl,  
Vinyl Wood Planking
Stockists of 2m & 3m wide 
vinyl & carpet short ends
Residential & Commercial
Q Card Finance Approved 
6-18 month terms 
6 mth interest free
First Class Installations
For a free measure & quote 
phone Christine  
09 946 9886 or 021 515 415 
kaiparaflooring@gmail.com 
http://www.kaiparaflooring.co.nz/ 
HODGETTS 
CONTRACTING
Digger Work 

Driveways 

House Sites  

Dams   

Drains, etc
Also available for HIRE 

4
3 ton Vib Roller 

Heavy Duty Tow  

4
Waterblaster    
 
Lazer Level 
Phone Mark 4312877 
027 447 8554 
OWEN STEVENS 
Osteo Therapist
For careful adjustments to bones 
and joints 
Treatment for humans and their 
pets 
Clinics: 
Kate's Place, 
Kaiwaka: 
Last Friday of 
month 
For bookings: 
9.00am-5.00pm  
Phone 
09 4312661 
Or phone Owen  
09 4317123 anytime 
Couples and Individual 
Counselling
Have you … 
Serious relationship issues? 
Heading for Family Court? 
Destroying each other? Children 
involved?
I'm Here To Help! 
Call me to arrange an 
appointment 
Keep trying if phone is busy
Pete Worsfold 
B.Soc.Sc., M.Soc. Sc, Dip Prof Counselling NZIPC, 
'Man Alive' Counsellor/ Facilitator, Prov NZAC. 
Professional service in your local area. Individuals, 
couples, any issue, males and/or females.
Private or WINZ Clients, Experienced 
Counsellor/Facilitator 
021 825 970  
or 021 063 0302
peteworsfold@xtra.co.nz 
www.mangawhaimassage.co.nz 
PLANNING A NEW KITCHEN?
 CONTACT NOEL McDOWELL
WELLSFORD 
KITCHENS
Ph/Fax 094312888
KAIWAKA-Any time
 QUALITY CUSTOM MADE 
KITCHENS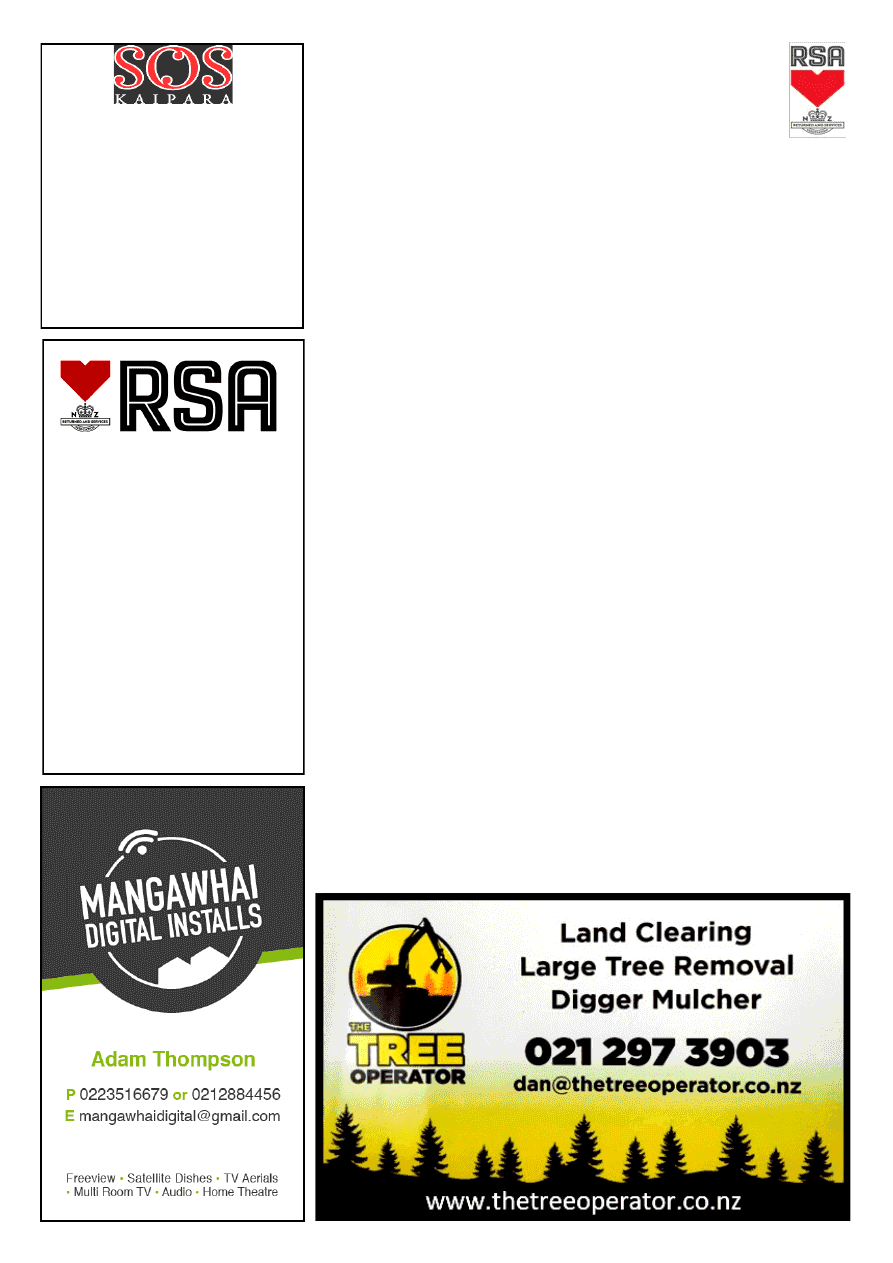 www.kaiwaka.co.nz 
Kaiwaka Bugle - 5 September 2017 
Page 13 
HAKARU & DISTRICTS 
MEMORIAL RSA (INC)
Members & guests are invited to 
come along and enjoy our hospitality.  
New members welcome.  
Meals are served on Thursday and 
Friday nights  from 6.30pm.   
2nd Friday of the month is a Roast Dinner 
special plus a board menu put on by the 
Women's Section. 
Last Friday of the month is 'Roast Pork 
Night' and a sing-a-long with Des Chitty. 
For more information please phone 
Gloria  (Women's Section) on  
431 5818 or Marlene on 431 5589 
S.O.S Kaipara 
Support, advocacy, crisis and 
family therapy counselling, refuge 
housing to survivors of sexual 
abuse and domestic violence. Also 
Education prevention programmes 
for the community and clients.  
Office hours 9am to 3pm Monday to 
Friday; 24/7 services available via the 
Police or phone 09 4396070 
We were too busy having fun to have a 
meeting  in  July,  we  celebrated  at  the 
Golf  Club  with  a  Mid-Winter 
Christmas  dinner,  which  most  of  the 
members enjoyed. Glennis had made a 
special effort to make the food slightly 
different from the week before so those 
attending  both  the  CWI  and  Women's 
Section  functions  didn't  get  the  same 
menu, which Women's Section ordered 
originally.  We  were  allowed  to  take 
Meals on Wheels to 3 of our members 
who  had  paid  but  were  in  poor  health 
and  couldn't  be  there  at  the  last 
moment. 
The raffles, at the Dinner, were won by 
Pat Judd and Helen Hawkins. 
On the 18th July Lena, Heather, Bettie 
and  Ann  attended  Birkenhead's 
Birthday,  which  was  very  enjoyable, 
think we will take some "Toy Boys" to 
dance  to  the  lovely  music  with  next 
year!! 
We  had  a  short  committee  meeting 
before  the  main  meeting  on  August 
24th,  the  meeting  was  well  attended, 
the  Birthday  Girls  for  the  month  were 
Bettie  Marchant,  (good  to  have  you 
back  after  your  long  stint  in 
Hospital),  Pat  Judd,  and  Pamela 
Truscott,  hope  you  all  had  Happy 
Birthdays. 
We  still  miss  three  of  our  members 
who  have  had  to  shift  away  and  we 
hope to visit Dawn Bright in Wellsford, 
Bev Ogilvy in Warkworth, and Noeline 
Davies  in  Orewa,  Lena  is  organising 
transport  and  any  members  who  didn't 
put your names down and would like to 
go  please  let  Lena  know  on  4315034 
we do not have a date as yet. 
Lena  (Our  Delegate)  and  Gloria  our 
President  went  to  conference  at 
Swanson and Lena gave her report. The 
Speaker  was  RNZRSA  President  B.J 
Clarke.  He  spoke  on  Changes  to  the 
RSA  when  the  new  Constitution  is 
completed.  He  mentioned  our  Front-
Line  Service  Personnel  who  are  going 
through  a  very  hard  time.  Gift  Parcels 
are being sent over to try and brighten 
their days. 
Women's  Sections  received 
an 
"Accolade" 
acknowledging  the  effort 
and  hard  work  they  do  to 
support  the  RSA.  Lena  was  re-elected 
onto the NWA Executive Committee - 
congratulations Lena. 
On July 29th Gloria, Lena, Heather and 
Trish  attended  the  Northern  District 
Women's  Section  60th  conference 
followed  by  Kaitaia's  70th  Birthday, 
and had a great trip 
We  were  lucky  to  have  a  very 
interesting Presentation talk by Pamela 
Truscott speaking on the 20 years Pam 
and  her  late  husband,  Dr  Graham 
Truscott,  and  family  spent  in  India. 
They  had  to  endure  3  famines,  rats, 
mice,  lizards,  fleas,  mosquitos,  and 
white ants, and drink buffalo milk. One 
of the saddest things was when Pamela 
went to get her new born  
daughter's  matinee  set  out  of  storage 
and  it  had  been  eaten  by  mice  and 
parasites. 
Thank you, Pamela, for this insight into 
your  Missionary  work,  helping  under 
privileged  families  in  the  slums.  The 
Truscotts  had  to  live  in  a  mud  hut, 
Pamela's  kitchen  was  a  separate  shed 
which  had  to  be  locked,  so  remember 
our RSA kitchen is "Paradise". 
On  the  2nd  October  is  the  Northern 
Ladies  Bowls  to  be  held  at  Waipu, 
good luck Hakaru Team. 
Keep  Saturday  28th  October  free  to 
attend  the  Marian  Burns  Concert,  she 
sings "Our sort of songs". 
Our  meals  on  the  2nd  Friday  of  the 
month  are  going  well,  but  it  would  be 
good to have more customers to enjoy 
them. 
The  next  meeting  is  on  28th 
September,  1.15  p.m  at  the  RSA 
Clubrooms  at  Hakaru,  new  members 
are always welcome. 
Any enquiries ring Gloria Durrant, our 
President on 4315818. 
That is all for now, keep well and warm 
- yeah summer's coming.~ Cheers, Ann 
HAKARU RSA WOMEN'S SECTION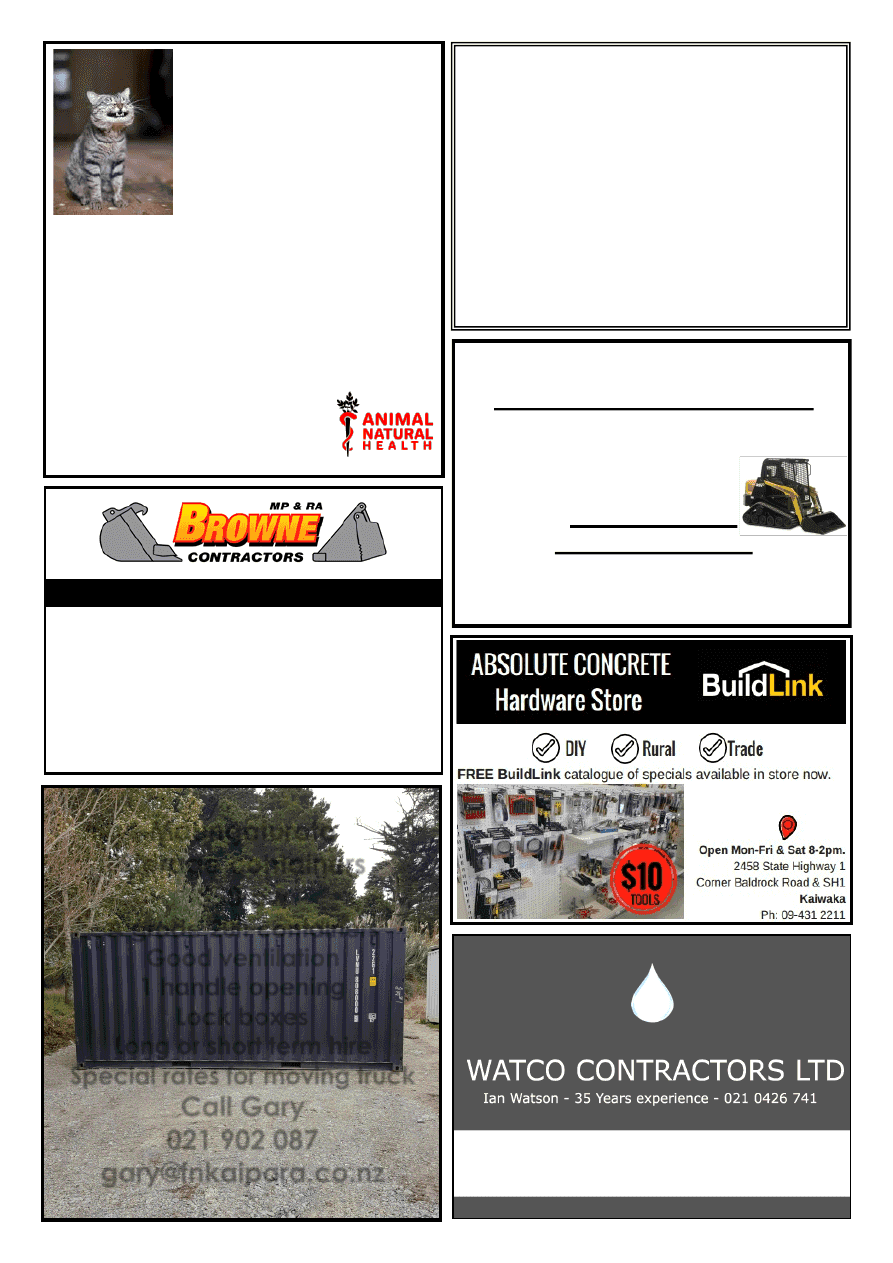 Natural Earth Ltd 
Landscape and Bobcat services 
 : Driveways :Landscaping :Retaining Walls 
 : Hole Boring: Land Levelling :Trenching 
 : Decks :Fences :Sections Cleared 
 : Plus much more
Tel 09 4312 885 
Mob 02102391280 
For A Fast Friendly Service  
Contact Tim Hicks 
4T DIGGER – BOBCAT – TIP TRUCK 
Property Maintenance - Driveways - Building Sites 
Stump & Tree Removal - Hole Boring - Chain Trencher 
Calf Shed and  Stockyard Cleaning
KAIPARA - WHANGAREI - RODNEY 
Phone Matt: 021 199 6677 
Email: mprabrownecontractors@gmail.com 
DRAIN LAYING - DRAIN UNBLOCKING 
WATERJETTING - CAMERA INSPECTIONS 
Maungaturoto  
Storage containers  
$50 pw  
A grade 20ft containers 
Good ventilation 
1 handle opening 
Lock boxes 
Long or short term hire 
Special rates for moving truck 
Call Gary  
021 902 087 
gary@fnkaipara.co.nz 
Did we delight you today with 
our pet food? 
"Sweet as – no preservatives, no nasty 
chemicals, sustainable, easy on 
mum's pocket!" 
PURELY PETS PATTIES – Buy 10 packs, 11
th 
pack FREE 
BULK BUYS – 2kg for only $10.90 
VEAL BONES – 3kg $17.90 
CHICKEN MEDALLIONS – 3kg $17.90 
BEEF & LAMB PATTIES – 3kg $21.90 
Selection of hypoallergenic, low fat, premium protein and 
wild game. We focus on food for your pets' well-being 
and enjoyment. 
ANIMAL NATURAL HEALTH CENTRE 
Next to Italian Bakery, Kaiwaka 
09 431 2217 
Also at Warkworth & Orewa. 
Pssst! - join our Loyalty Scheme and save even more!  
Glo Treadaway – Change Catalyst 
 
ThetaHealer®: Assertiveness Life Coach: Parent Coach: 
Emotional & Spiritual Healing, Healthy Mindset, Empowering 
Beliefs, Happiness and Contentment. 
Heal painful hurt from the past, clear disempowering 
beliefs, release anxiety, manage stress, express 
emotional overwhelm safely and effectively, build self 
confidence and self esteem, communicate assertively 
and more. 
For professional, confidential, respectful consultations 
For adults and children 
Call Glo 027 3638833 
Visit my Website www.celestialconsulting.co.net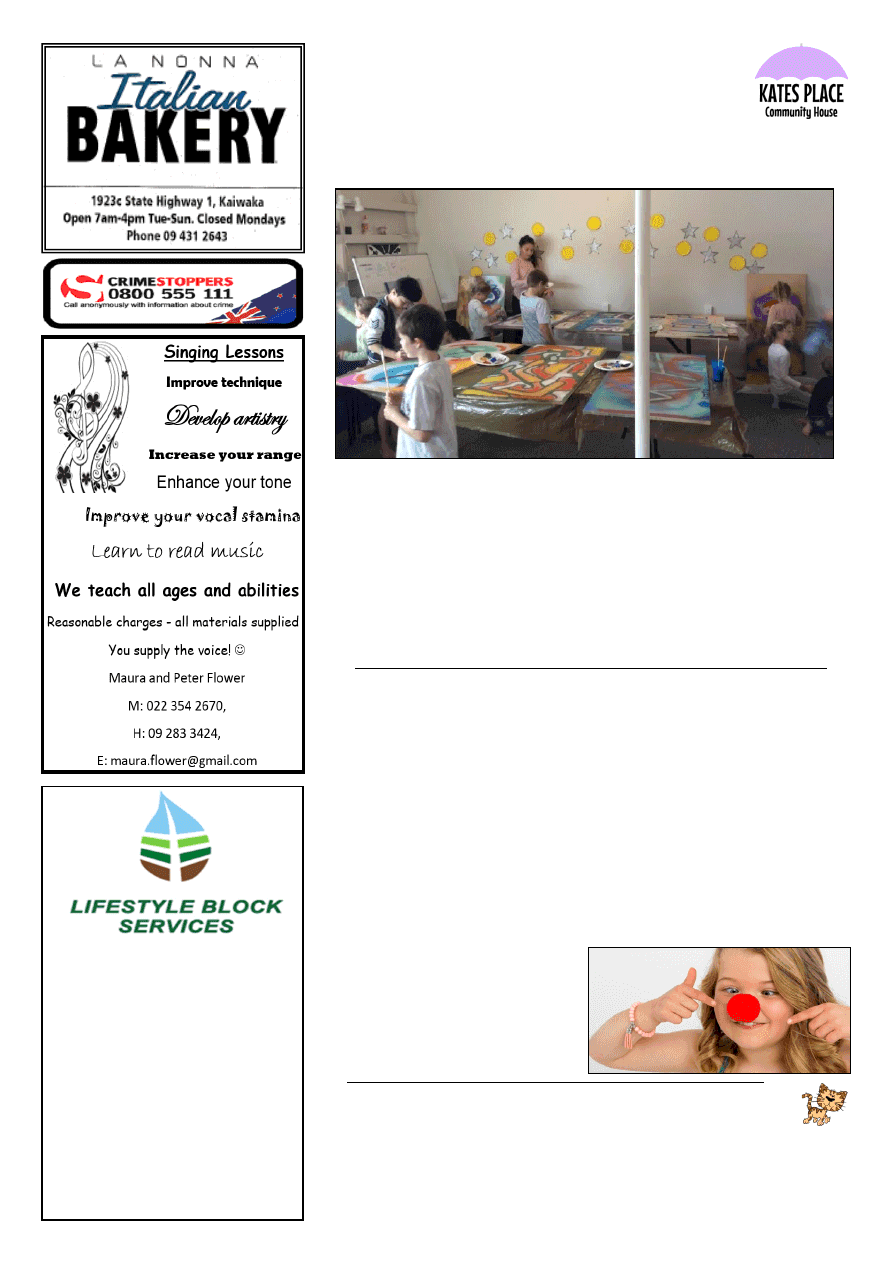 www.kaiwaka.co.nz 
Kaiwaka Bugle - 5 September 2017 
Page 15 
Q: What do snakes put on their kitchen floors? A: Rep-tiles.
Q: Why was the broom late?  A: Because it overswept! 
Q: Where would you look when purchasing felines via mail order? A: In a Cat-a-log. 
Q: What kind of school does a carpenter go to? A: Boarding school. 
Q: What does a houseboat become when it grows up? A: A township. 
Q: What happened when the cow jumped over the barbed wire? A: It was an udder 
catastrophe.  Q: Why was the blonde staring so hard at the orange juice carton? A: Because 
it said "concentrate"! 
Winter is here, now is the time to 
think about Fencing. 
Also large round bale silage available 
for stock food. 
Contact Mark on 021 801 065 or 
Contact Lisa on 021 108 1057
We also do: 

 Fencing 

 Spraying 

 Stockwork 

 Stock Water Systems 

Driveway & Track Maintenance 

Tree Trimming 

KATE'S PLACE COMMUNITY 
HOUSE 
It's nice to see a bit of sunshine and feel the warmth creeping in 
and  hopefully  this  will  mean  the  awful  flu  bugs  that  have 
knocked a lot of us around will disappear. 

Our last school holiday program was a great success and we will be offering 
this program again next holidays spaces are limited so please book in with us 
now. 

Our Seniors lunch is up and running on the first Monday of every month, this 
month we have some live music, bring a friend and if you next to be picked up 
let us know. 

We  have  a  new  course  starting  in  Sept/Oct  "Living  on  a  Budget"  when  we 
have the minimum numbers we will start. 

We  also  have  3-hour  workshops  assisting  you  with  employment,  this  course 
will give you some ideas around how to apply for work a CV and an action 
plan. 

Finally,  we  have  a  serviced  office to  rent  $100  p/w which  includes  printing, 
WIFI, tea & coffee, power etc. 
You  can  contact  us  at  1960  SH1,  Kaiwaka  or  09  431-2661  or  fb:  kates  place 
community house.  
Regards, Kirstie & Iris 
Thousands  of  New  Zealanders  will 
follow  the  lead  of  Cure  Kids 
ambassadors  Art  Green  and  Matilda 
Rice as they do their bit to help raise $1 
million  for  child  health  research.    The 
celebrity  couple,  who  are  passionate 
about  child  health,  will  both  dye  their 
hair  red  ahead  of  Red  Nose  Day  on 
Friday 29 September 2017. 
The Red Nose Day appeal runs from 1-
30  September  and  will  see  more  than 
800  schools,  400  businesses  and  500 
volunteers  from  around  the  country 
take part. They will fundraise through a 
variety  of  activities  –  from  casual 
Fridays  and  bake  sales,  to  fun  Red 
Nose  Day  challenges  like  dying  your 
hair  red,  or  challenging  your  CEO  to 
SkyJump off Auckland's Sky Tower. 
Funds  raised  from  Red  Nose  Day  will 
help support research to find cures and 
improved  treatments  for serious  health 
conditions  that  affect  Kiwi  kids, 
including  child  and  adolescent  mental 
health, stillbirth, child cancers, obesity, 
inherited  heart  conditions  and  autism 
spectrum  disorders,  among  many 
others. 
The  first  Red  Nose  Day  in  New 
Zealand was held in 1989 – many New 
Zealanders 
still 
remember 
the 
catchy  'You  make  the  whole  world 
smile, with your little button nose' song 
and  feel  strongly  about  continuing  to 
support child health research.  
See www.rednoseday.co.nz 
RED NOSE DAY CHALLENGES TO FUND 
CHILD HEALTH RESEARCH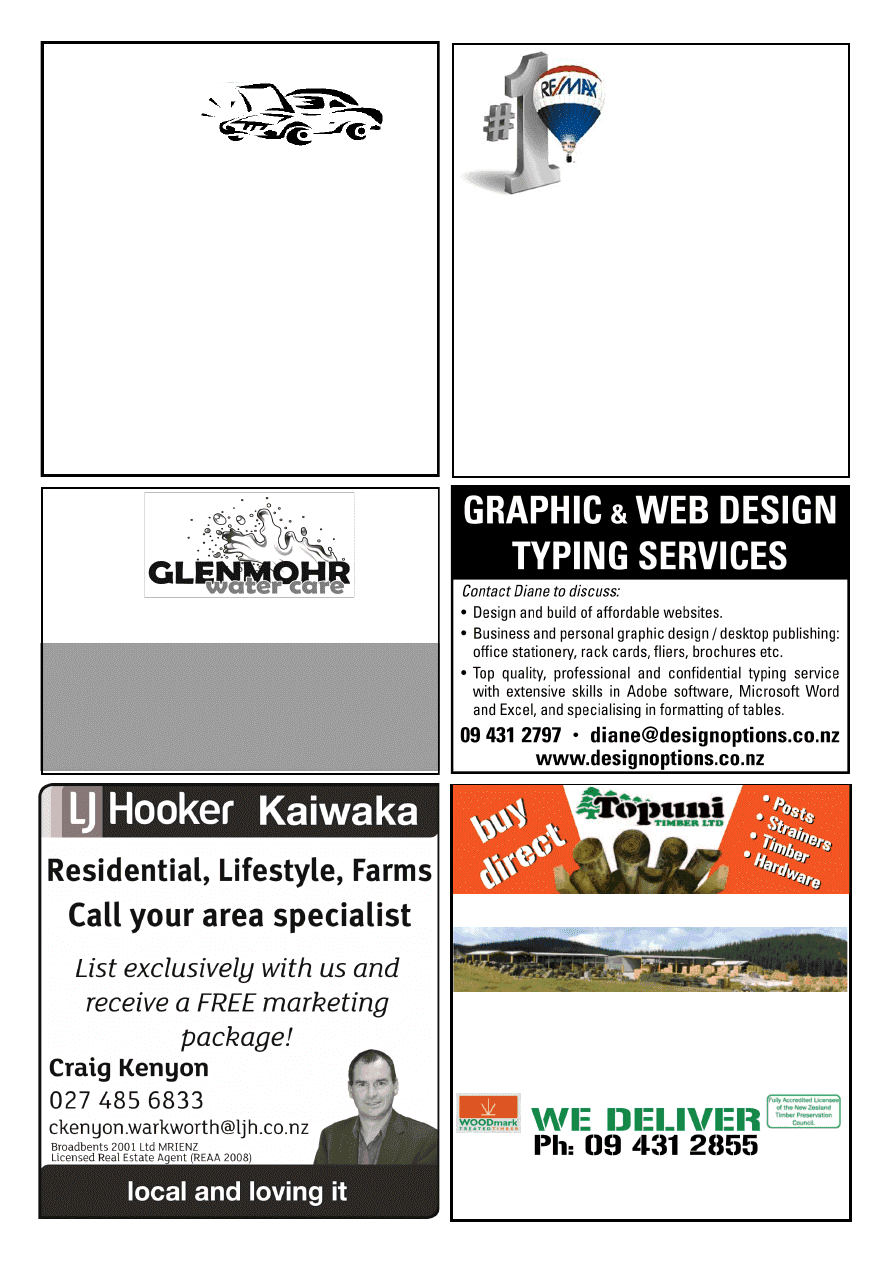 Water Tank Cleaning 
• 
Keep your water safe & clean  
• 
Removal of sediment, silt etc. 
• 
Vacuum or full scrub 
• 
Minimal water loss 
Phone Mark (09) 432 0655 or 0274 707607 
Twinkle Tow 'n' Tyre 
Think you'll get a better deal in the city? 
Ring us - it won't cost anything! 
1837 State Highway 1, Kaiwaka 
Phone 431 2823 
*W.O.F. 
*Tyres 
*Windscreen 
replacement 
*Chip repairs 
*Bulk Oil 
*Batteries 
*Welding 
*Custom built 
trailers 
*Trailer hire
LOCALLY OWNED AND OPERATED 
QUALITY PRODUCTS • FRIENDLY ADVICE • GREAT SERVICE 
Quality Products milled from High Density NORTHLAND Radiata Pine. 
Treated and guaranteed to NZS3640 with commitment to 
Environmental Safety.
Phone, fax, email, or come into the mill 
Schiska Rd, Topuni, SH1, 10 min north of Wellsford. Fax: 09 431 2856 
Email: sales@topunitimber.co.nz           Mon - Fri 7am-5pm 
• Fencing 
• Retaining 
• Decking 
• Landscaping 
• Gates 
• Hardware 
There are more people 
wanting to buy than 
there are houses 
available!
Vacant land, home and income, DIY dream … 
whatever your property's condition there is a buyer 
out there waiting to give you their money. 
Get your local agent's appraisal of your property to 
find out what's it's really worth. 
Contact Beth Stone today! 
Mob: 0274 937 801 
Email: beths@remaxrealty.net.nz 
RE/MAX Realty Group MREINZ 
Northern Properties Limited 
Licensed REAA 2008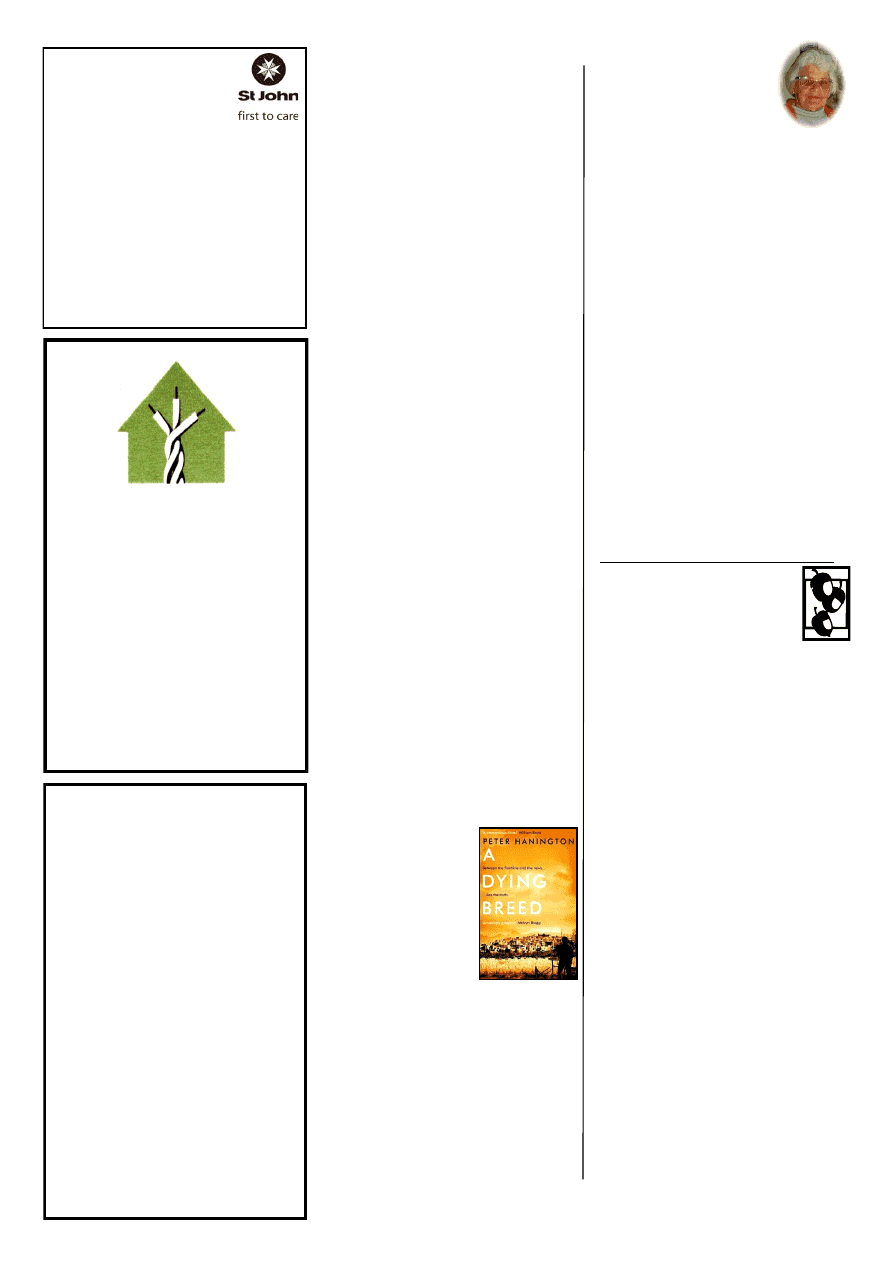 www.kaiwaka.co.nz 
Kaiwaka Bugle - 5 September 2017 
Page 17 
KAIWAKA 
 ST JOHN OP 
SHOP 
Always busy; always in need of more 
saleable items; always happy to help. 
Our opening times are: 
Monday 10am - 3pm 
Tues- Fri 9am - 4pm 
Sat 9am - 1pm. 
State Highway One, Kaiwaka 
Phone 09 4312423 
Thank you  ~Millie  
KAIWAKA 
LIBRARY 
Elections 
Have  you  enrolled  to  vote  in  the 
upcoming  elections?  Or  changed  your 
address  and  haven't  let  the  elections 
people know  yet? You can pick up an 
enrolment pack from the library, which 
contains 
everything 
you 
need, 
including an envelope to post the form 
off. 
Library survey 
Kaipara  District  Council  is  running  a 
survey on the district libraries until 15 
September. Please take a few moments 
to  give  your  responses,  so  our  library 
services  can  be  better  tailored  to  the 
needs  of  the  community.  Forms  are 
available  in  the  library,  or  you  can 
complete 
it 
online 
at 
Book reviews: 
Neverwhere  by  Neil  Gaiman.  "Under 
the  streets  of  London  there's  a  place 
most  people  could  never  even  dream 
of.  A  city  of  monsters  and  saints, 
murderers  and  angels,  knights  in 
armour  and  pale  girls  in  black  velvet. 
This is the city of the people who have 
fallen  between  the  cracks.  Richard 
Mayhew,  a  young  businessman,  is 
going  to  find  out  more  than  enough 
about  this  other  London.  A  single  act 
of  kindness  catapults  him  out  of  his 
workday  existence  and  into  a  world 
that  is  at  once  eerily  familiar  and 
utterly  bizarre.  And  a  strange  destiny 
awaits  him  down  here,  beneath  his 
native 
city: 
neverwhere. 
"(goodreads.com)  I've  read  a  few  Neil 
Gaiman books before, and this one did 
not  disappoint.  He's  a  master 
storyteller, with an eye for the slightly 
different.  This  book  is  on  the 
Dargaville 
shelves 
until 
early 
December, and we have other titles on 
our fiction shelves. 
A 
Dying 
Breed 
by 
Peter 
Hanington. 
"Kabul, 
Afghanistan.  William 
Carver,  a  veteran  but 
unpredictable 
BBC 
hack,  is  thrown  into 
the  unknown  when  a 
bomb goes off killing a 
local  official.  Warned 
off  the  story  from 
every direction, Carver 
won't give in until he finds the truth. A 
Dying Breed is a gripping novel about 
journalism  in a  time  of  war,  about  the 
struggle  to tell the  stories that  need to 
be  told  -  even  if  it  is  much  easier  not 
to."  (goodreads.com)  I  didn't  set  out 
expecting  much  of  this  book  -  it 
seemed  like  a  good  idea  when  I  first 
picked it up, then went off the idea but 
started  reading  it  anyway.  Soon  I  was 
finding it hard to put down, and it kept 
me enthralled to the end. This book is 
on the Dargaville shelves in the library 
until early December. 
See you in the library!  
      ~Wendy
Reyahn George Leng 
Registered Electrician 
Local, honest and reliable. 
For your residential and 
light-commercial projects. 
022 314 1068  
 09 431 2527 
Willow Bend
HORSE  
HOTEL 
  
Total Horse Care 
 
Agistment 
 
Riding Lessons 
 
Arena Hire (60x40) 
 
Young Horse Starting 
 
Re-training/Exercising 
 
Hoof Trimming 
 
Problem Solving 
Phone Sue 09 431 2817 
or 021 623 776 
Or email  
susanjoll11@gmail.com 
For Father's Day ... 
DAD, BLESS YOUR 
CHILDREN 
"Children  without  caring,  involved 
fathers  often  spend  their  whole  lives 
searching  for  a  sense  of  identity  and 
self-worth. Increasingly they're finding 
them in the company of rebellious peer 
groups, street gangs, drug  dealers, and 
on  social  media  and  the  internet.  And 
we  see  the  results  of  it  all  around  us. 
Instead  of  fulfilling  their  God-given 
destiny, these children become defined 
and  labelled  by  a  lifestyle  such  as 
'runaway',  'convict',  troublemaker', 
'addict'. Before Tupac Shaker, the rap 
artist known for his violent song lyrics, 
was  gunned  down  in  1996,  he  said,  'I 
never knew my real father. I know for 
a fact that if I'd had a father, I'd have 
some discipline [and] more confidence. 
Your  mother  can  calm  you  down, 
reassure  you,  show  you  where  your 
manhood  is.  But  you  need  a  man  to 
teach you how to be a man.' 
When  a  man  was  brought  to  him  for 
healing,  before  Jesus  forgave  and 
healed  him,  he  called  him  'son'.  He 
didn't  say,  'You've  got  to  clean  up 
your  act,'  or  You  must  do  things  my 
way.' No, he established a relationship 
with the man by showing him love and 
acceptance. And as a father you need to 
do  the  same.  Loving  and  accepting 
your  children  as  they  are,  without 
conditions  and  condemnation,  is  the 
greatest gift you can give them." 
~  Word  for  the  Day,  3  September. 
Rhema Media 
From  Thelma's 
Scrapbook … 
When  Mother  was  a  little 
girl 
She had some yellow frocks, 
They're sewn into a patchwork quilt 
And kept inside a box - 
The quilt is made from bits of things 
That people used to wear, 
An' Mother tells me tales about 
The different bits that's there ... 
Here  was  the  answer  -  except,  of 
course, I am not the sort of person who 
enjoys  having  a  piece  of  needlework 
"on  the  go"  for  years!  Suddenly  the 
idea  was  born,  I  would  combine  the 
two  crafts  I  most  enjoyed and  made a 
collection  of  patchwork  playthings, 
using all the family bits and pieces so 
that  one  day  I  could  tell  my 
grandchildren tales about them. 
The time for grandchildren has not yet 
come,  but  as  I  have  stitched,  I  have 
thought of the future when together we 
shall open the box and I shall tell them 
 … how a bit of Grandma's dress 
An' one bit of Grandpa's chair,  
The pink bit's Aunt Matilda 
An the blue is uncle John, 
An Mother's nursery curtain's there 
With half the pattern gone ...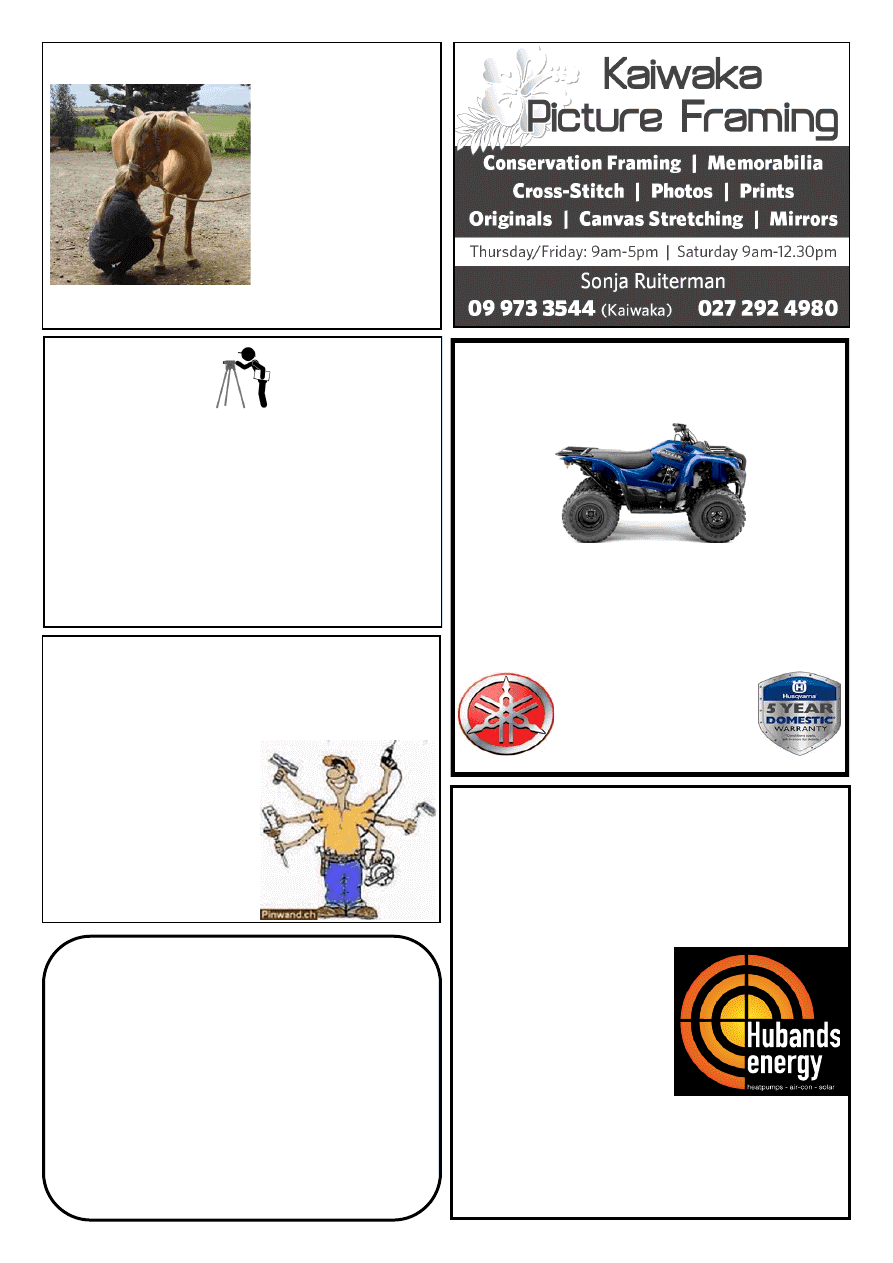 KAIWAKA 
MOTORCYCLES LTD
SALES – SERVICE – SPARES 
FARM BIKE SPECIALIST
PHONE 09 431-2127 
10 KAIWAKA-MANGAWHAI ROAD, KAIWAKA
Trimmers  
from $279
Chainsaws  
from $339
YAMAHA 
HUSQVARNA 
Jill Shires 
Holistic Animal Therapies 
Northland 
021 0506 592 
 
Massage Therapy 
 
CranioSacral Therapy 
 
Emmet Muscle Therapy 
 
Animal Reiki 
 
Acupressure
www.jillshires.nz 
Northland's Award Winning 
Solar Company
SEANZ Best Solar Business Winners 2015/16
EXCLUSIVE 10 year installation warranty 
FREE No obligation onsite quote
Complete systems 
from $5990
See our range of: 
✓
Heatpumps 
✓
Airconditioning 
✓
Hot Water 
Heatpumps 
✓
Central Vacuum Systems
09 430 0019             sales@hubands.co.nz 
15 Kioreroa Road, Whangarei
Locally owned and operated for 35 years 
UP-LINK 
CHRIS WARING 
FREEVIEW INSTALLATIONS 
T.V. - HOME THEATRE &  
HI-FI ADVICE/SET UP
SKY ACCREDITED INSTALLER
MOB.0273403747 HM.094312328 
EMAIL cwaring44@gmail.com
28 YRS EXPERIENCE 
OFFERING UNBIASED ADVICE 
The Little Job Man 
Are you tired of those little jobs not getting 
done ? 
Indoors  or outdoors 
Sick of waiting ? 
Give me a call to discuss 
what you need doing. 
Doug  0277132625 
Ken Urquhart 
BSurv Licensed Cadastral Surveyor 
KMU Surveys Ltd
467 Bickerstaffe Road 
RD 2 
Maungaturoto 0587 
Ph 09 431 8705 
Mob 021 161 2344 
kenurquhart@xtra.co.nz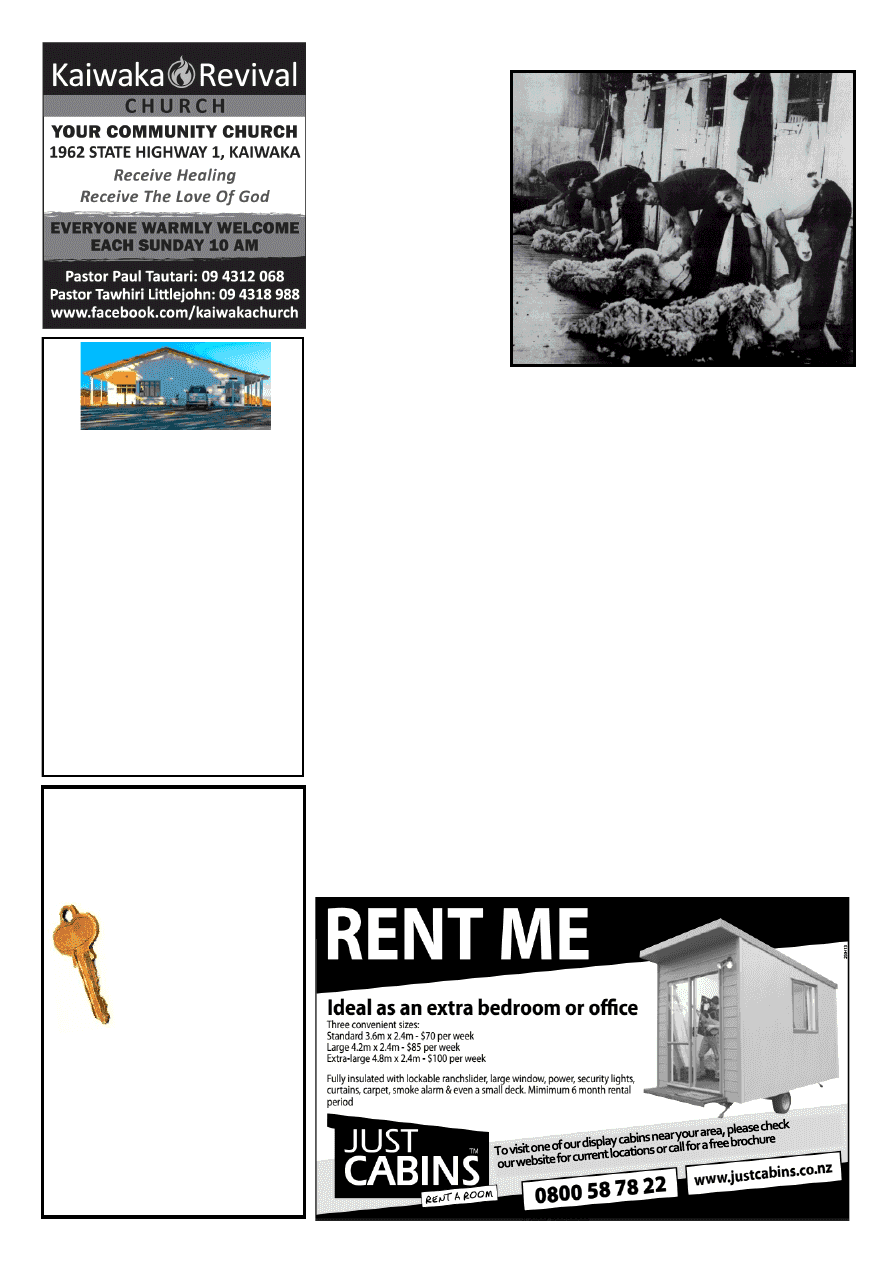 www.kaiwaka.co.nz 
Kaiwaka Bugle - 5 September 2017 
Page 19 
Kaiwaka 
School 
Agriculture Day reminds us 
that  numbers  are  well 
down. 
Pictured right: Toka Kemp, 
Henry  Kemp,  Toka  Walker 
and George Brown in 1939. 
Our  dairy  cow  numbers  
have  decreased.  Just  after 
WWII  there  were  19  dairy 
sheds  on  the  Oneriri 
Peninsula  -  now  there  is 
one. 
The same is happening with 
the  sheep  numbers  on  the 
Peninsula. 
Tony 
Hargreaves  remembers  in 
the  1950-1970s  there  were 
3000  breeding  ewes  on 
Pukenui  Road's  two  sheep  farms  -  in 
those  days  there  were  only  four  farms 
on that road!  
In the 1950-1960s: Travelling  west out 
of  Kaiwaka  there  were  sheep  on  the 
Pukenui  Road  farms  of  Woodburn* 
and  Metcalfs,  then  Gubbs;  over  the 
railway  line  -  Tommy  and  Joker 
Donaldson  (Kaitara  Farms);  Brian 
Linnell -* Waihakari; Jack Hill; Hubert 
Linnell-Rangiora;  P  Short;  Jack 
Linnell; 
Land 
& 
Survey;   
VM.Hargreaves,  Geoff    Linnell*  - 
Tuhirangi;  RTV  Linnell*-  Purupuru, 
DT  Hargreaves  -  Pukepai,  VM 
Hargreaves*  -  Pukeatua;  Oneriri 
Station* - McRae. 
*Farms  -  Ref:  Farms  and  Stations  of 
New  Zealand  Vol  II  1958,  Cranwell 
Pub. Editor  GA Tait 
Land  and  Survey  Blocks  -  ref 
Centennial  of  Kaiwaka  1859-1959 
pages79-83 The Kaira Farm Settlement 
of  3,822  acres  six  miles  west  of 
Kaiwaka  (Oneriri)  acquired  by  the 
Crown  from  1950-1956  and  was 
developed as 7sheep farms. 
Oneriri  Station  and  Pukeatua  still 
maintain  large  flocks,  and  there  are 
smaller  flocks  on  Ranganui  Rd., 
Rangiora Rd, and Kaira Rd. 
This decline is not happening on the 
Oneriri Peninsula only:  
 "Otamatea  carried  110,000  sheep  in 
1945 rising to 265,000 in 1961; ." 
Ref: 
pg 68 & 69 
National Resources Survey 
Part III Northland Region Pub 1964 Re 
Owens govt printer 
-"
New  Zealand's  sheep  numbers  have 
plummeted  to  where  there  are  now 
only  six  for  each  person  living  here. 
Figures  released  from  Statistics  New 
Zealand  showed  the  country  had 
dropped below 30 million sheep for the 
first  time  since  1943.There  used  to  be 
22  sheep  per  person  in  New  Zealand 
when  the  number  peaked  at  70.3 
million in 1982 and the population was 
3.18  million.  Now  there's  only  six 
sheep  for  each  person.  Agriculture 
statistics  manager  Neil  Kelly  said  the 
number  had  fallen  to  29.8  million  at 
June  30,  2014,  a  3  per  cent  fall  from 
2013,  or  983,000  fewer  sheep.    Ref: 
http://www.stuff.co.nz/business/
farming/sheep/68510249/nzs-sheep-
flock-smallest-since-1943  
Sheep 
numbers 
have 
gradually 
declined  since  the  mid-1980s,  due  to 
factors  such  as  depressed  wool  prices, 
droughts in the 1990s, and competition 
from  other  land-intensive  farming 
activities  (eg  dairy  and  forestry).    For 
the  Oneriri  subdivision  has  had  the 
greatest impact.
 ~ Ed.
Kaiwaka 
Hardware  
& 
Key cutting
Phone 4312 063  
or 022 0642 703
kaikey2015@gmail.com
    Keys Cut  
Household Hardware  
Sharpening  
Knives & Tools 
Curtain Tracks & Fittings
Not there? Call Doug and he'll 
sort
it for you. 
(
Next to Kaiwaka Motorcycles)
Te Pounga Marae 
130 Nathan Rd. Oneriri. Kaiwaka 0573 
COMPLEX FOR 
HIRE 
Functions 
* Weddings  * Birthdays  
*Anniversaries * Meetings  * Wananga 
5 hour meeting * 12 hour stay  * 
Overnight 
*All welcome - No more Drink-driving 
Amenities: 
*Convo Combi Steamer * Bratt Pan * 
Dish Washer/Sterilizer * 3 Door Glass 
Chiller (walk in) etc…All Crockery * 
Linen Supplied * Central Heating and 
Air Conditioning and much more.  
Can also cater for small groups…. 
For more information please contact: 
Kim Wallace  
Home: 09 832 1133  Mob: 0211275340  
Email: kimwallace@xtra.co.nz 
ONERIRI STOCK NUMBERS CHANGE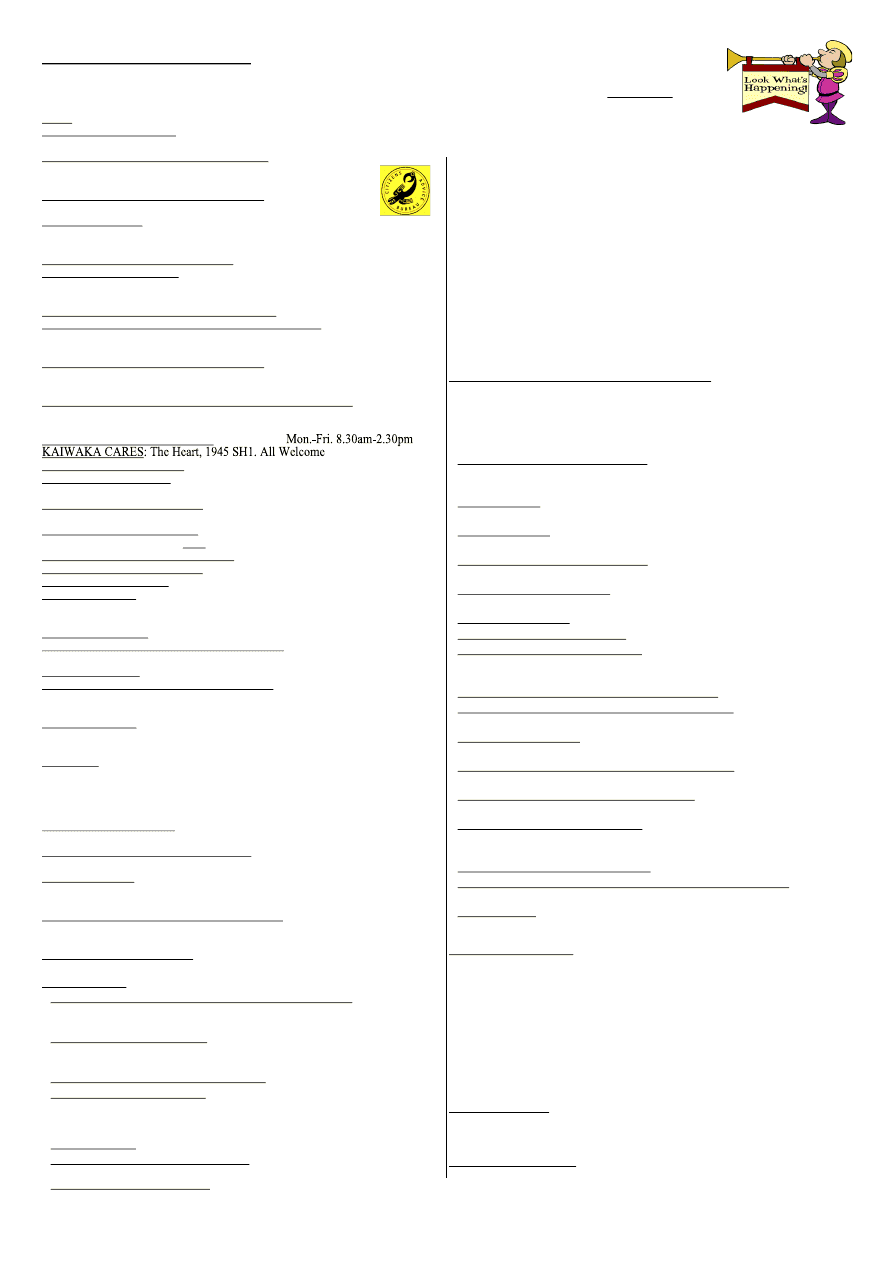 Next Bugle Deadline midday Friday 15 September 2017
WHAT'S ON
PLEASE ~ do let us know what is on - email 
kaiwakabugle@kaiwaka.co.nz 
*5Sep~Kaiwaka School Grandparents Day 
*6Sep~Kaiwaka Playcentre AGM, 3 Furlongs, 7pm 
*8Sep~Untouchable, 7.30pm KWMH 
*12Sep~Pt.Curtis C.C. meet, 3 Furlongs Bar & Grill, 7pm 
*15Sep~Their Finest, 7.30pm KWMH 
*15Sep~Te Waka Huia, Otamatea Repertory Theatre, 8pm 
*17Sep~Hakaru Hottest  Homebaker, Hakaru Hall 
*23Sep~ NZ General Election Day 
*24Sep~DAYLIGHT SAVING begins 
*24Sep~KSA Fast Five Netball begins 
*24Sep~Beauty and the Beast, 2pm KWMH 
*28Sep~Hakaru RSA Women's Section meet 1.15pm 
*29Sep~Red Nose Day 
*29Sep~End of School Term 3 
KWMH = Kaiwaka War Memorial Hall; KSA = Kaiwaka Sports Association 
See www.kaiwaka.co.nz for more information 
HOUSEHOLD RUBBISH COLLECTION - Kaiwaka Pick up: 
Mondays = Green bags (Northland Waste - 09 430 3273) 
Wednesdays  = Blue bags and yellow recycling (at Jaques $3.00 
and  $1.50)  (Kaurilands  09  4392146);  ONLY  Blue  and  Yellow 
bags picked up on Oneriri Road. 
 DIABETES  Support  Group  -for  Kaiwaka,  Mangawhai, 
Wellsford  10am,  3rd  Friday  of  month  Ph:  Colleen  James  09 
4314238 
 DRINK CAN 'tear tabs' - for Starship Hospital- please collect - 
98 Kaiwaka Mangawhai Rd, leave in mailbox, Ph. 4312625  
 GENEALOGY - Wellsford: 1st Thursday in month Ph: 423 
7033; Waipu: 4th Monday in month Ph: 4312 725 
 GYMNASTICS  OTAMATEA  -  Tuesday  Ph:  Stephanie  022 
3624998 
 HAKARU PONY CLUB - Secretary Denise Rogers 021423376 
secretary@hakaruponyclub.co.nz  
 KAIPARA HUNT - Secretary Albert Doonenbal Ph 4312059 
 KAIWAKA BADMINTON -Tuesdays 7.30pm Ph: 4312345 
 KAIWAKA  DRAMA  CLUB  -  Dave  Edwards  021  611198  - 
KaiwakaDrama@gmail.com Monday 5:30-7:00pm KWMH - FB 
- "KaiwakaDramaClub" 
 KAIWAKA DRUM & DANCE CLASSES - 021 611198 
 KAIWAKA GARDEN & FLORAL GROUP - 2nd Thursday in 
month. Ph: 431 4744 
 KAIWAKA  CUBS  -  Thursdays  5.30-7pm,  Hakaru  Ph:Bruce 
4312542 
 KNITTING FOR WHANGAREI HOSPITAL - 2nd Tuesday in 
month, Archie Bull Hall 10am Ph 4314827 
 MANGAWHAI COMBINED REBUS CLUB - 2pm, 3rd 
Thursday month, Senior Citizens Hall Mangawhai. Ph: 4315777 
 OTAMATEA GREY POWER - Kath Pattinson 09 283 2052, 
1pm last Wednesday of month, Anglican Church Hall, 
Maungaturoto 
 PT CURTIS CRUISING CLUB - Jean Ph: 4312227 (wk), 4312520 (hm) 
 RSA,  HAKARU  &  DISTRICTS  WOMEN'S  SECTION  –  meets 
1.30pm 4th Thursday of the month. Ph: 431 5818  
 TRAMPING - Mondays 9am-2:30pm Maria 4312 234 
HALLS FOR HIRE: 
 St.Pauls Archie Bull Hall HIRE $20 half day, $40 full day per 
hire, R. Morgans, Ph 4312365 
 Kaiwaka  War  Memorial  Hall  HlRE  -  Phone  4312725  or 
kaiwaka.hall.bookings@gmail.com 
 Hakaru Community Hall HIRE -Ph. 4312256 or 4312110 
 Te Pounga Marae queries - R. O'Leary 4312 423, J.Nathan 021 
186 7382 
 Kaiwaka Sports Association hire/queries - C. Anderson 4312051 
or kaiwakasports@gmail.com 
Justice of Peace:  
B.FJaques  4312  048;  L.Donaldson  4312  228;  A.F.Hargreaves 
4312 045, W.Howard 4312 725 - please phone to make sure they 
are available www.justiceofthepeace.org.nz 
Marriage Celebrants:  
L.Donaldson; A.F.Hargreaves; Y Osborne
LOCAL SERVICES 
*Emergencies - Ambulance, Fire, Police - dial 111 
*Non-urgent Police phone 09 4311150
A A: Meets Wed., 8pm Kaiwaka Ph: 4315543, 0800229 6757 
ASUREQUALITY LTD (was AgriQuality) Call Free 0508 0011 22  
BUDGETING SERVICE, WELLSFORD: Free confidential advice & 
support for all areas of personal finance. Ph (09) 423 7123 
CAB-Citizens Advice Bureau.Wellsford Ph: 4237333 
0800 367 222 email:cab.wells@xtra.co.nz  
CIVIL DEFENCE - Kaiwaka Community Response Group: 
kaiwaka.civildefencecrg@gmail.com, 4312725 Wendy 
DOG/STOCK /NOISE CONTROL 0800 105 890 
FUNERAL SERVICES: Morris & Morris Ltd, 
Whangarei - Bev Jaques Ph:4312367 or 0800667747 
GRANDPARENTS Raising Grandchildren: Dianah Roberts 0223819539 
HAKARU & DISTRICTS MEMORIAL RSA (Inc) 733 Settlement Rd, 
Hakaru. Ph 4312 176 or Graeme Hitchcock (President) 431 3064 
HAKARU LANDFILL/Transfer Station:Open everyday except 
Tuesday10am-4pm.Ph4312629 Cost-$55 trailer load up to 1 cubic metre. 
Ph:4258567 - office 
KAIPARA DISTRICT COUNCIL www.kaipara.govt.nz:  
Help Desk FREEPHONE 0800 727 059  
KAIWAKA KOHANGA REO: Ph:4312620 
KAIWAKA CEMETERY: Ph: 4312045 or 4314017 
KAIWAKA LIBRARY: kaiwaka.library@gmail.com  
Mon. 4-6pm; Wed., Thurs., Fri., Sat. 10am-2pm Ph:4312539 
KAIWAKA PLAYCENTRE: Ph Juanita 0274134904; open Mon, Wed, 
Fri 9am-12pm. Hastie Lane; Monday to Friday 9.00am - 12 noon. 
KAIWAKA POST OFFICE:Ph:4312 431  
Post Code: 0573 for RD2 and 0542 for all Kaiwaka Post Office mail 
KAIWAKA PRIMARY SCHOOL: Ph: 4312309   
KAIWAKA SPORTS ASSN: Ph 4312005; 4312129 gym 
KAIWAKA ST JOHN: Manager Steve Rosser 09 4318403, 021 355734 
KATE'S PLACE Community Centre - Employment services, Free Health 
Nurse, Plunket, Advocacy, Osteopath, A.A., Legal Advice. 4312 661 
LINKING HANDS Health Shuttle Ph 4315906 or 09 4318969 
MINISTRY FOR PRIMARY INDUSTRIES - General inquiries Call 
Free 0800 008 333 
NORTHPOWER: Faults Kaiwaka area 0800 104040 
OTAMATEA COMMUNITY SERVICES: Counselling, parent coach, 
Family Support worker, budget advice, food bank. Mon-Fri 9am-3pm. Ph 
09 431 9080 http://www.otamateacs.org/ 
PARENTPORT: Free, practical family support service Puhoi to Paparoa 
Ph or txt: Dianne 027 280 5093 or 09 425 9357 
PLUNKET:  Kaiwaka  -Kate's  Place  Clinic  1st  Wednesday  of  the  month; 
Mangawhai  - Rose Madsen Cottage: Coffee Group 9:30 every Monday.  Clinic 
every Monday and Thursday. 
Maungaturoto - Good News Church, Clinic 2nd and 4th Wednesday.  
Cynthia 09 431 7340 or 027 675 3488 
PLUNKET HELPLINE -0800 933 922 (24 hours) 
TAITOKERAU COMMUNITY LAW: Free confidential legal advice and 
assistance, 2nd
Thursday
 of each month. Ph: 0800 155 529 for apps.  
TE URI O HAU Settlement Trust Tangata Developments: Whanau Ora 
021 793262  
VETERINARY SERVICE MANGAWHAI: 
Ph: 4314535 Mon-Fri 8.00-5.00, Sat 9-12, a/h appt. 
WELLSFORD DOCTORS: Ph: 4238 086 
CHURCHES:
 
Kaiwaka  Revival  Church  -  Your  Community  Church:  Sundays  10am. 
Ph: Pastor Tawhiri 09 431 8988 or Pastor Paul 09 4312 068 Visit us at 
www.facebook.com/kaiwakachurch 
 
St  Paul's  Anglican  Church  1st  Sun.  9.00am  (Eucharist),  3rd  Sun. 
9.00am (Family Service). Contact: Rev. Wayne Thornton Ph 431 4122 
www.mangawhaianglican.org.nz 
 
Church of Christ the King, Mangawhai:9.30am every Sunday 
 
St.Mary's  Catholic  Church:  Maungaturoto  –  Griffins  Road,  Saturday 
evening  Vigil  Mass  6pm;  Mangawhai  –  Senior  Citizens  Hall,  Sunday 
Mass  8:30am;  Wellsford  –  Matheson  Road,  Sunday  Mass  10:30am;  
Mid-week Mass times and all enquires to Fr. Bill Fletcher – phone 423 8170
 
Baptist Church: Sun. 10.30am Mangawhai Snr Cit.Hall.Ph:4312339 
 
Cause  Way  Church  Mangawhai:  Sundays  10.15am,  Mangawhai 
Community  Recreation  Centre,  Insley  St.  Ph:  09  4314782