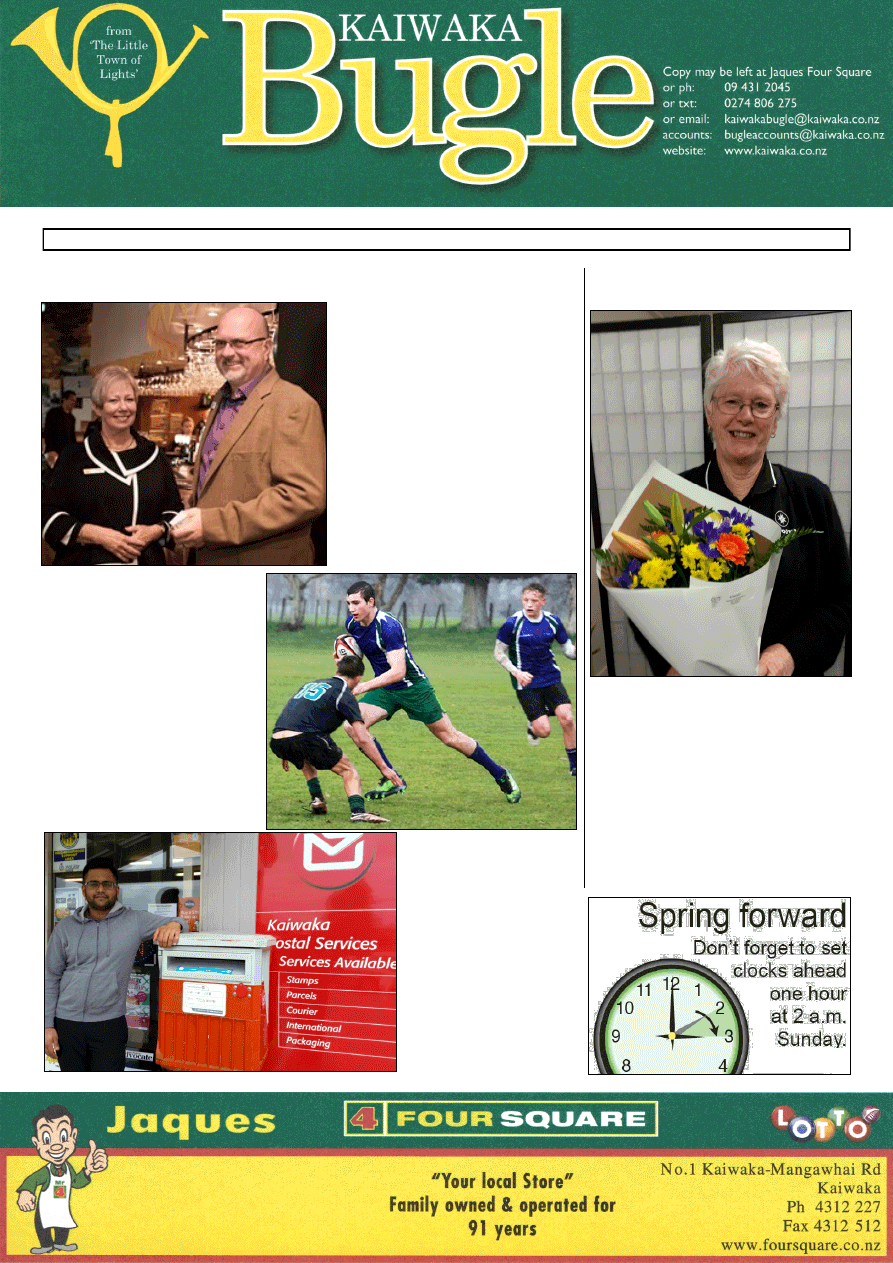 www.kaiwaka.co.nz 
Kaiwaka Bugle - 19 September 2017 
Page 1 
No:18 
19 September 2017 
Trading Hours: 
Monday to Friday 8:00am - 6:30pm 
Saturday 8:00am - 7:00pm 
Sunday & Public Holidays 9:00am - 5:00pm  
KAIWAKA  
GOOD SORT 
Lynne  Coates  has  been  nominated  for 
the  beautiful  bunch  of  flowers  from 
Lindy our Flower Girl.  
James O. says, "She is helping with so 
many  charities.  She  works  at  the  St. 
John Op Shop, she works at the Bugle, 
helps at the church summer camps, was 
also  helping  at  school  with  reading 
with children. Lynne is always ready to 
help  when  volunteers  are  needed,  like 
collection on Daffodil Day, and on top 
of  that  she  is  always  positive  and 
cheerful, a pleasure to be around!"  
THE LOCAL 
POST BOX 
Harnis 
beside 
the 
Kaiwaka Post Box - now 
in  position  at  the  Post 
Centre's front door. 
The 
post 
box 
was 
repositioned  for  ease  of 
access 
and 
weather 
protection. 
SIMON PARKER 
Congratulations 
to 
Simon 
Parker  for  his selection  into  the 
2017  Secondary  School  Rugby 
Development  Squad.  Simon, 
along with 48 other players will 
attend  a  three  day  camp  later 
this  month  where  players  will 
vie  for  places  in  the  New 
Zealand  Schools  and  New 
Zealand  Barbarians  Schools 
team.  Pictured  centre  in  photo 
from  T  Brown,  taken  in  the 
latest  match  against  Reporoa 
College. 
24 September. 
A VERY HAPPY 5th BIRTHDAY! 
Wednesday 6 September was a 'way back' Wednesday for Kaye and Stewart 
McElwain of McElwain Realty Ltd 
known as Ray White Mangawhai.  
The  Dune  Mangawhai,  was  the 
venue  for  the  celebration  of  their 
5th  birthday  with  a  gathering  of 
their  loyal  clients,  suppliers, 
supporters and sales team.  
This  year  they  were  awarded,  (one 
of  ten  recipients),  NZ  Ray  White 
National 
Award 
Customer 
Excellence.    The  NZ  Ray  White 
CEO 
Carey 
Smith 
also  
congratulated them on their level of 
community  involvement,  with  the 
evening  a  fantastic  testament  to 
their work.  
Well done, Kaye and Stewart. 
Photo by Jana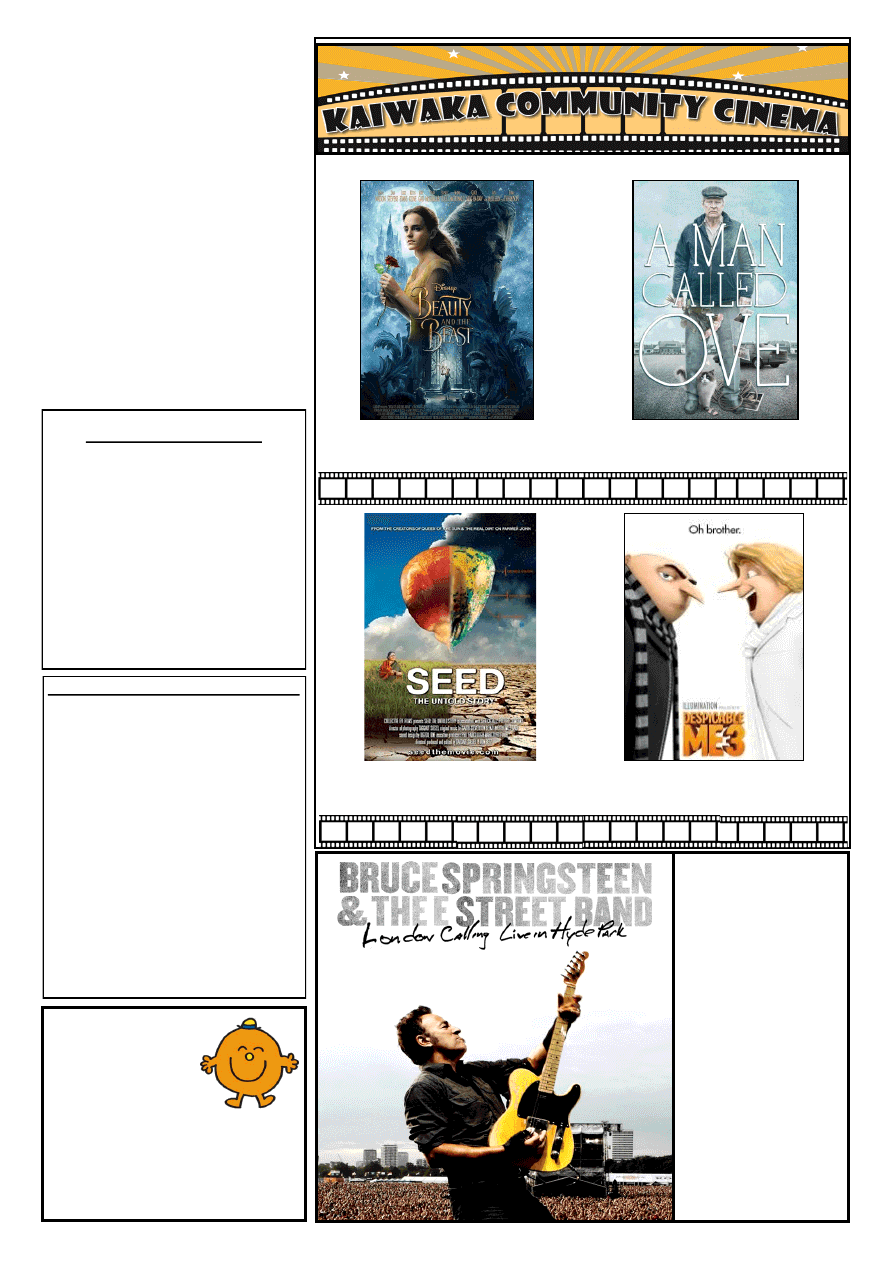 At Kaiwaka War Memorial Hall . Adults $10, Kids (under 16) $5, Family Pass (2 adults + 3 children) $25 
KAIWAKA BUGLE No. 18 
19 SEPTEMBER 2017 
CONTENTS 
Page 3: Public Notices, Classified 
Page 5: Kauri Museum; Kiwi Month 
Page 7: Pt.Curtis CC; Otamatea 
Community Services 
Page 9:  Bugle 20 Years Ago  
Page 11: Kaiwaka School   
Page 13: Kaiwaka Sports Assn. 
Page 15: Kaiwaka Cares; Riverview 
Resthome 
Page 17:Library; Vodafone Emails  
Page 19: Thelma's Scrapbook; OHS 
Bugle 19 will appear 3 October 
Contact for advertising, reports, articles 
or information can be made by 
Email kaiwakabugle@kaiwaka.co.nz 
Ph: 09 4312 045 Lindsey 
Txt: 027 2724137 
Copy  may  be  left  at  Jaques'  Four 
Square. 
Kaiwaka Bugle 
Founded May 1978 
We appreciate articles and photos about local 
events, etc, as well as ads and suggestions. 
Copies available in Kaiwaka at Jaques Four 
Square, Kaiwaka Postal Centre, Shamrock 
Service Station, Animal Health Centre, 
Kaiwaka St John shop. 
Also outlets in Maungaturoto, 
Mangawhai and Paparoa. 
Can be viewed online at   
www.kaiwaka.co.nz/Bugle  
Or a copy can be posted to you if you supply 
stamped, self-addressed DLE envelopes. 
SEED The Untold Story 
Sunday 15 October, 1.30pm (PG)
Despicable Me 3 
Sunday 29 October, 2pm (PG)
Pro
verbs 
17:22     
A cheerful 
disposition is 
good for your health: 
gloom and doom leave 
you bone-tired. 
Kaiwaka Bugle Advertisements 2017: 
All 
copy 
and 
queries 
to: 
kaiwakabugle@kaiwaka.co.nz 
The Bugle is printed on an A4 page   
Ad  sizes:  1/16  page  (3  x  9.5cm)  $5;  1/8 
(6.5  x  9.5cm  landscape  or  portrait)  $8; 
3/16 ( 10 x 9.5cm or 7.5 x 12,5)  $12.  
Classified  ads:  First  one  FREE,  $4  per 
entry (max. 30 words, max. 4 repeats). 
Payments  can  be  made  online  at 
ANZ 
06  0365  0006990  00
,  posted  or  left  at 
Jaques Four Square Store. 
We  use  Microsoft  Publisher,  and  can 
work  with  most  common  image 
formats, Word, Excel, and PDF files. 
Accounts:  
Email: bugleaccounts@kaiwaka.co.nz 
The  Kaiwaka  Bugle  is  a  community 
newspaper run by volunteers.   
Articles, etc. printed are not necessarily 
the opinion of the Bugle Team. 
BRUCE SPRINGSTEEN  
& THE STREET BAND 
Music Movie Night 
and Supper 
BYO drinks 
$20.00 tickets only 
NO Door Sales 
Friday 20 October 
7.30pm 
Ph: 021 2154495 
Beauty and The Beast 
Sunday 24 September 2:pm (PG)
A Man called Ove 
Friday 6 October, 7.30pm (M)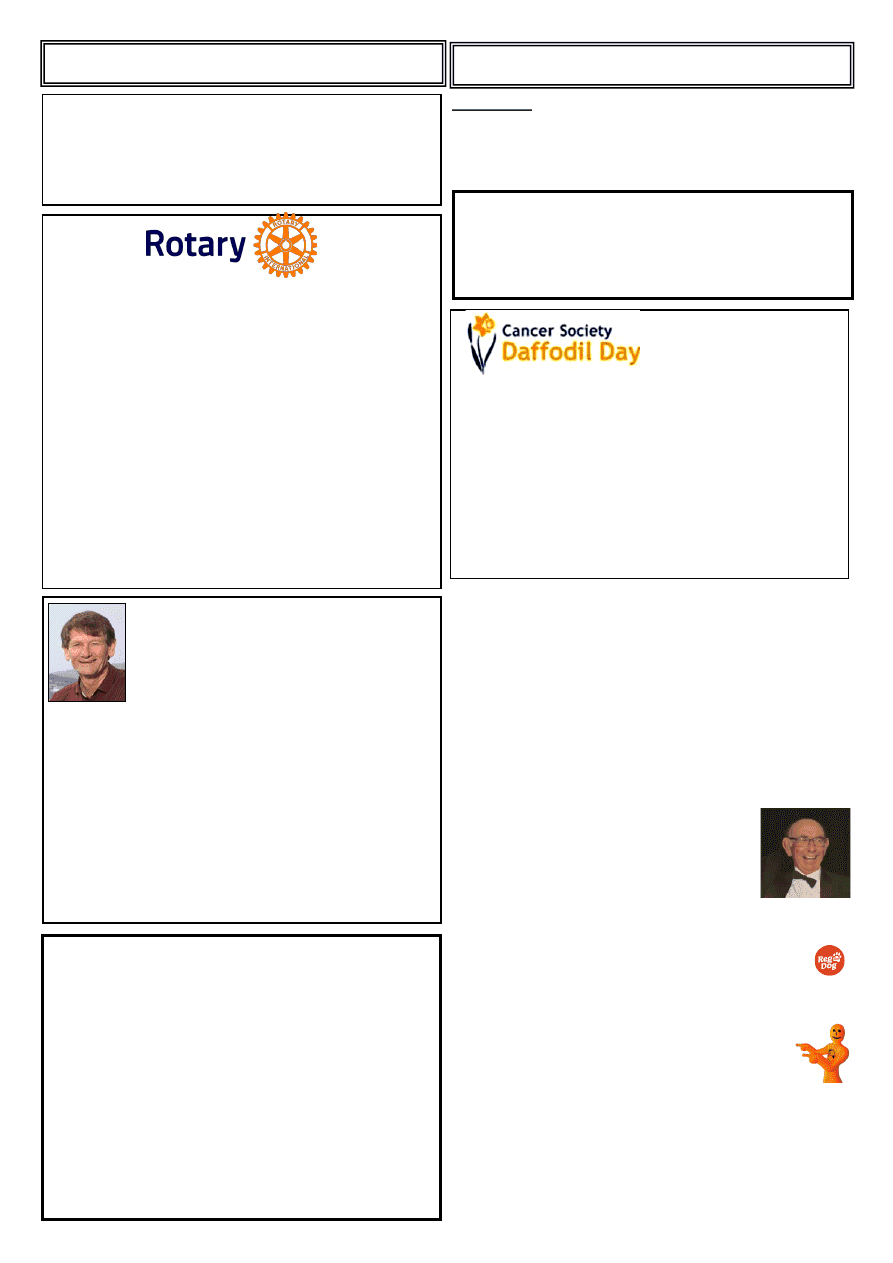 www.kaiwaka.co.nz 
Kaiwaka Bugle - 19 September 2017 
Page 3 
ABOUT TOWN ... 

Congratulations  Simon  Parker!  Simon,  Otamatea  High 
student and a HAWKS player has been selected for the NZ 
Secondary  Schools  Rugby  Development  squad  -  is  he  the 
first  local  sec.  school  player  to  have  achieved  this 
distinction? 

Kaiwaka  St.John  Division held  its inaugural  meeting  40 
years ago -on 12 September! 

 Thank  you  to  Wendy  Howard  for  the  Vodafone  email 
update - see page 15 

 Doug  Donaldson's  (part-owner)  harness    horse 
Temporale was winner of the 2017 NZ 4 year old awards. 

A  trip  of  a  lifetime  -  Kaiwaka-based  sheep  and  beef 
farmer  John  Hargreaves  was  the  winner  of 
the  'Al  Basti  Equiworld  VIP  Experience'  at 
the New Zealand Thoroughbred Horse of the 
Year  Awards  ceremony,  held  in  Auckland 
recently. The prize includes a six-day trip for 
two to the Dubai World Cup race meeting.  

 The  Annual  Settlers  Day  at  The  Kauri  Museum, 
Matakohe, is a day when "the museum comes alive". This 
year's free event is to be held on Saturday 7 October  

 Have you registered your  dog?  

General Election Day - this Saturday 23 September 
- 9am till 7pm. Our local voting place for the 2017 General 
Election is at the Kaiwaka War Memorial Hall; the nearest 
Advanced  Voting  places  are  in  the  Mangawhai 
Museum  Foyer,  Molesworth  Drive  -  until    Fri  22 
Sep 10am  - 4pm or Wellsford Community Centre- 
until Fri 22 Sep 10am - 4pm.
A Roman walks into a bar and holds up 2 fingers, "Give 
me five beers." he says. 

Do  hope  you  enjoy  reading  the  Bugle  front  page  from 
twenty years ago! See page9.
  ~ Lindsey, Ed 
"Even if you're on the right track, you'll get run over if you 
just sit there." ~ Will Rogers 
PUBLIC NOTICES 
CLASSIFIED 
MONTHLY DROP IN 
SESSIONS
with Northland Regional Council  
Coastal South Councillor –  Rick Stolwerk 
(PLEASE NOTE: The following is not a council sponsored 
publication and is the personal opinion of Cr Rick Stolwerk) 
MONDAY 2nd OCTOBER
9.00 – 10:00am Maungatapere - Office Café 
10:30 - 11:30pm Ruakaka WDC Office 
12:00 - 1:00pm Waipu - Deli Cafe 
1:30 - 2.30pm Kaiwaka - Kaiwaka War Memorial Hall 
3.00pm – 4.30pm Mangawhai - Mangawhai Museum
We are interested in your thoughts on any NRC/WDC/KDC 
issues and look forward to catching up and answering any 
queries that you may have. Please do not hesitate to give me a 
call if you are unable to make the above sessions. 
Kind regards, Rick Stolwerk 
Phone: 027 542 2708 or 09 432 0741 Email:ricks@nrc.govt.nz  
KAIWAKA WAR MEMORIAL HALL 
ASSOCIATION Inc. 
Annual General Meeting 
Tuesday 10 October, 5pm, 2017 
In the Kaiwaka War Memorial Hall 
WANTED:  After-school  care  &  holiday  programme 
supervisor;  hours  2.30-5.30  daily,  up  to  40  school  holiday 
hours;  must  be  over  20  years,  interested  in  working  with 
chn.;  pref  valid  full  drivers  licence.  Contact  Carrie  at 
office@kaiparakidsclub.co.nz 
FREE 
First notice FREE  for Classified or Public Notices - 
less  than  30  words  -  then  charged  as  per  advertised  
($4). This includes AGM and meeting notices, FOR 
SALE, WANTED. ~ Kaiwaka Bugle 
DAFFODIL DAY 
The  Cancer  Society  Northland  would  like  to  thank  the 
Northland Community for their support on Daffodil Day.  
The money raised will be used to fund research into better ways 
to  detect,  treat  and  reduce  all  types  of  cancers.  They  will  also 
fund  a  range  of  support  services,  information  booklets  and 
health  promotion  activities,  as  well  as  free  accommodation  for 
patients travelling to Auckland. 
We  would like  to take  this opportunity to recognise  this  year's 
volunteer co-ordinator – Gaye Young. It takes a team of people 
to make this happen and we say thank you to all those involved. 
Natasha Judd 
Community Fundraiser 
Cancer Society Northland 
Making a Difference 
Maungaturoto and Districts Rotary Club 
(Serving the area of Mangawhai, Kaiwaka,  
Maungaturoto, Matakohe, Paparoa and Waipu)   
 President's Scholarship 2017 
We are pleased to invite applicants for a $1500 grant 
known  as  the  'Presidents  Scholarship'.  The  grant  is 
intended  to  assist  those  who  wish  to  further  their 
education  with  a  recognised  provider  of  tertiary 
education i.e. university, polytechnic. 
Areas  of  consideration  when  awarding  the  Presidents 
Scholarship  could  be  involvement  in  community  work, 
sport, arts, academic achievement, or financial need. 
Application  format  available  –  apply  to  PO  Box  65, 
Maungaturoto 0547  
Applications close 31 October 2017.   
All applications and attachments to be sent to  
PO Box 65, Maungaturoto 0547  
KAIWAKA  
SUMMER MARKET 
Expressions of Interest 
The Kaiwaka Market is starting again  
for the summer of 2017 – 2018. 
It will be located at the Three Furlongs Bar & Grill parking 
area right next to the State Highway, to catch the traffic in 
both directions. Times will be Saturday 9am to 2pm and 
starting 7 October 2017 
Cost will be $20.00 per stall. We are looking for staff 
holders interested in having a stall at the markets on  a 
reasonably regular basis. 
All food stalls must be fully self-contained. 
Please contact: wendy@coveolives.co.nz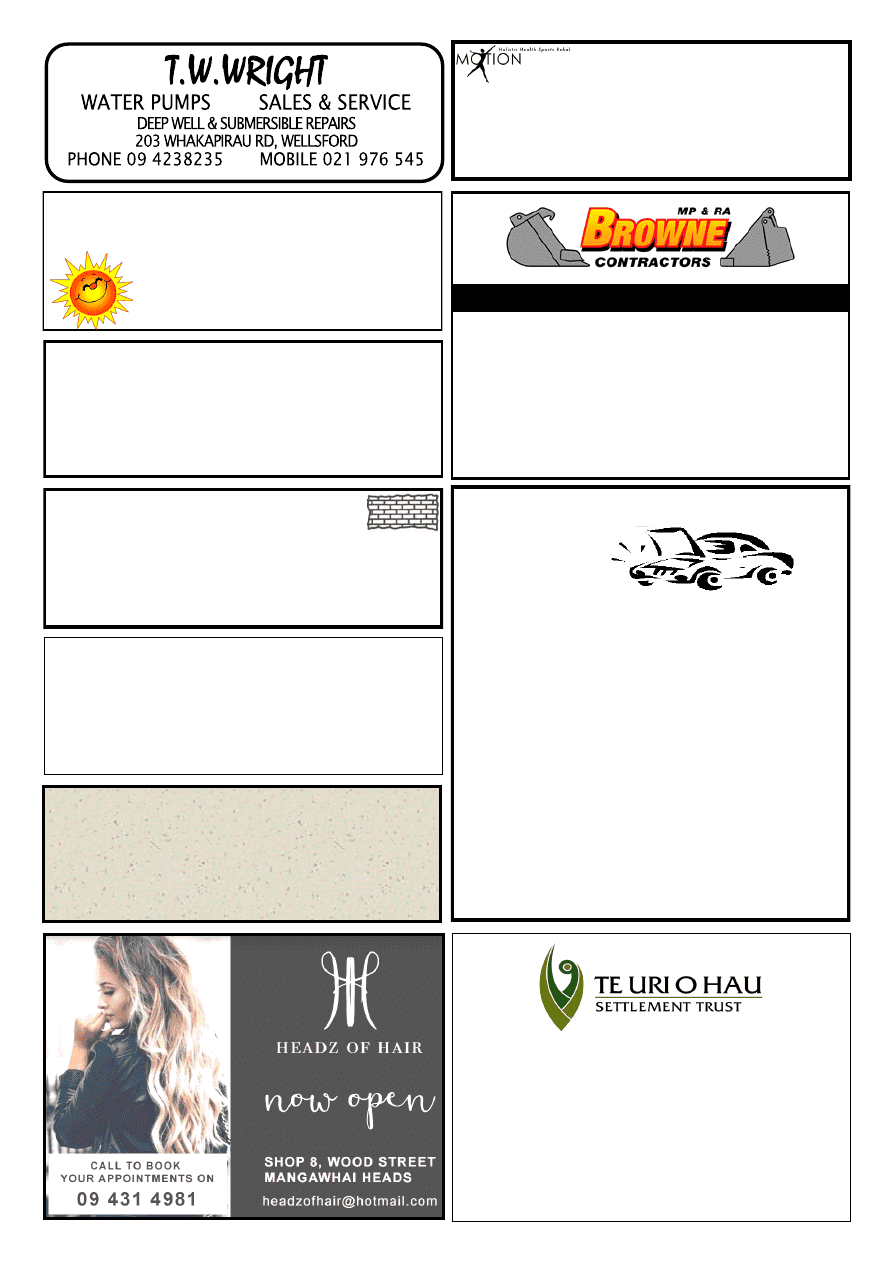 WAIPU OSTEOPATH 
Maria Gabriel  ACC Registered Osteopath 
8 The Centre, Waipu 
Monday to Thursday  
Freephone 0508 924786 (0508 WAIPUOSTEO) 
www.getinmotion.co.nz  No doctor referral required 
4T DIGGER – BOBCAT – TIP TRUCK 
Property Maintenance - Driveways - Building Sites 
Stump & Tree Removal - Hole Boring - Chain Trencher 
Calf Shed and  Stockyard Cleaning
KAIPARA - WHANGAREI - RODNEY 
Phone Matt: 021 199 6677 
Email: mprabrownecontractors@gmail.com 
BRICK/BLOCKLAYER 
All aspects of masonry: 
Fireplaces, Restoration & Remedial Work.
JAMES EAGLETON
Tel. (09) 431 2514     Mob. 0274 749 232
jajueagles@yahoo.com.au 210A Pukenui Road, RD2, Kaiwaka 0573 
MARRIAGE CELEBRANT 
WEDDING EVENTS PLANNER 
Yvonne Osborne 
Ph 0274 989 814 
yvonne.osborne@xtra.co.nz 
THE SUNSHINE GIRLS
Efficient and reliable help with 
your housework. 
Ph 4312 532 
 LEABOURNS 
Passenger Service
Car & Van Hire, Bus & Coach Charters, Airport 
Transfers, Monthly Shopper Bus 
Phone 09 4237416 
Counsellor and Registered Psychotherapist 
Offers Supervision
Susan Matheson 
MNZAC 
Dip. Psychosynthesis Counselling and Psychotherapy 
Phone 09 431 2996                        Mobile 027 605 2427 
Twinkle Tow 'n' Tyre 
Think you'll get a better deal in the city? 
Ring us - it won't cost anything! 
1837 State Highway 1, Kaiwaka 
Phone 431 2823 
*W.O.F. 
*Tyres 
*Windscreen 
replacement 
*Chip repairs 
*Bulk Oil 
*Batteries 
*Welding 
*Custom built 
trailers 
*Trailer hire
Te Uri O Hau – Settlement Trust, 
Unit 2, 10 Kaiwaka-Mangawhai Road, KAIWAKA 
Services include:   
Whanau  Ora, reaching  one's goals  and aspirations, 
Sharon  Kemp  021793262  or  Te  Aroha  Marshall 
021642261 
Family  Start,  home  visiting  programme  focus  on 
improving health, learning and relationships, environ-
ment and safety.  Sheryl Tomas 021320236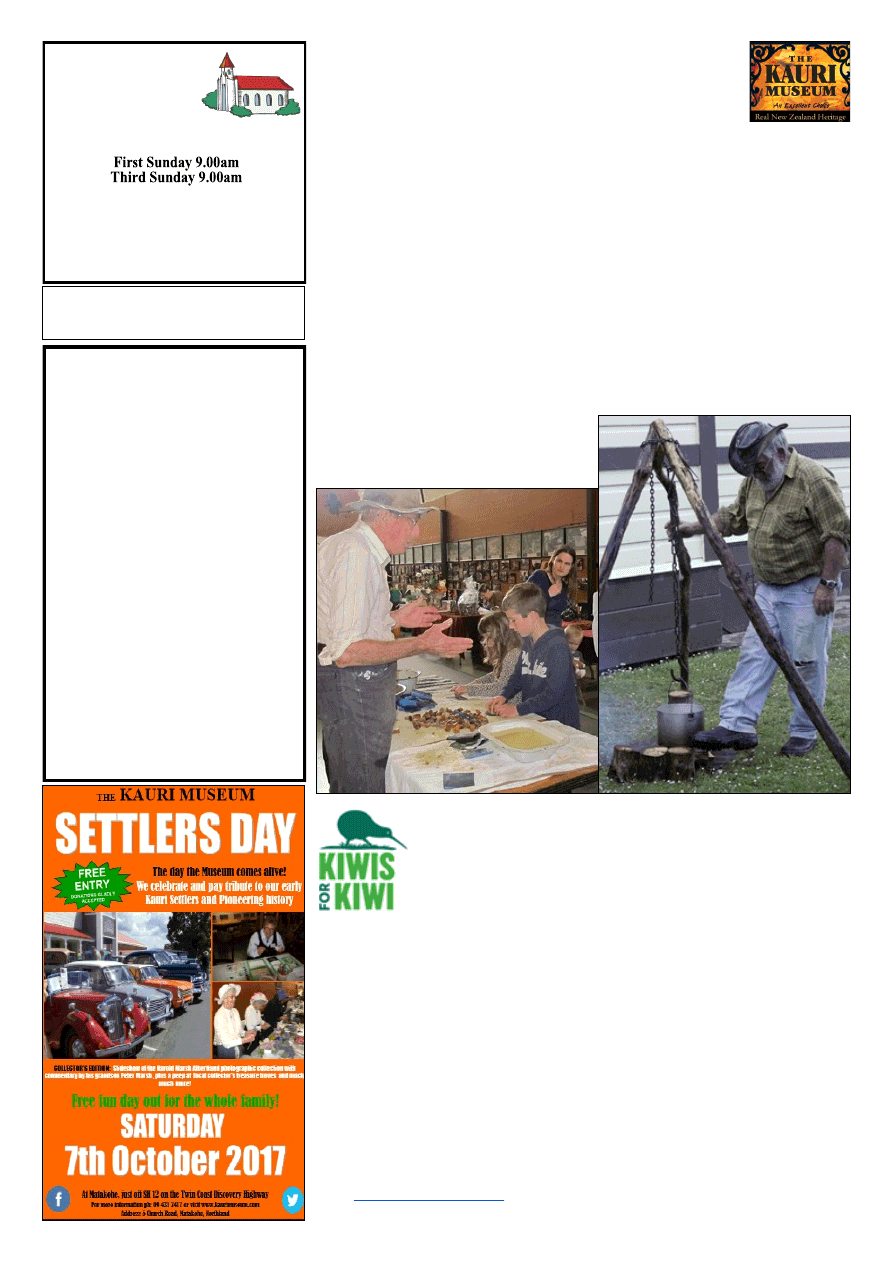 www.kaiwaka.co.nz 
Kaiwaka Bugle - 19 September 2017 
Page 5 
Willow Bend
HORSE  
HOTEL 
  
Total Horse Care 
 
Agistment 
 
Riding Lessons 
 
Arena Hire (60x40) 
 
Young Horse Starting 
 
Re-training/Exercising 
 
Hoof Trimming 
 
Problem Solving 
Phone Sue 09 431 2817 
or 021 623 776 
Or email  
susanjoll11@gmail.com 
ST PAUL'S  
ANGLICAN  
SUNDAY  
SERVICES
St Pauls Church: Kaiwaka-Mangawhai Rd. 
1st Sun - Eucharist 
3rd Sun - Family Service 
Rev. Wayne Thornton Ph 431 4122 
www.mangawhaianglican.org.nz
The KAURI MUSEUM PREPARES 
for its ANNUAL OPEN DAY  
For more than twenty years the annual 
Settlers  Day  at  The  Kauri  Museum, 
Matakohe,  has  been  a  day  when  "the 
museum comes alive". This year's free 
event  is  to  be  held  on  Saturday  7 
October  with  a  theme  focusing  on 
collections,  collectors  and  storytelling 
through  collections.  As  Collection 
Manager  Curator,  Dr  Tracey  Wedge, 
explains  "we  are  very  pleased  to  have 
support  from  our  community  for  this 
year's  live  day.    Visitors  will  hear 
stories  about  personal  collections 
generously  lent  to  the  museum  for  the 
day.  These  include  collections  of 
miniature  cars,  miniature  shoes, 
miniature bells and royal memorabilia. 
We  will  also  host  Harold  Marsh's 
Albertland  photographs,  shown  by  his 
grandson  Peter,  in  our  theatre  for  the 
day. Descendants of early settlers to the 
area  will  share  some  of  their  family 
stories  using  the  collections  their 
ancestors donated to the museum." 
The  day  will  include 
celebrations  of  the 
diversity  of  the  community  through 
song  and  dance,  demonstrations  of 
artistic  and  craft  skills,  along  with 
children's  games,  demonstrations  of 
stationary  engines  and  many  more 
activities. 
Put  the  date  in  your  diary.    The 
museum will be open from 9.00am and 
the day  begins  with  a rare  opportunity 
to  take  part  in  a  church  service  in  the 
Pioneer Church at 9.30am.  Come and 
enjoy  this  free  event  when  The  Kauri 
Museum  opens  its  doors,  not  only  to 
learn  about  our  past,  but  to  see  how 
stories about our collections connect us 
to  our  present  and  help  shape  our 
future.  Come  and  spend  the  day  with 
us! 
Proverbs 17:22 "He rongoa pai te 
ngakau koa; ki te maru ia te wairua, ka 
maroke nga wheua.." 
SAVE KIWI MONTH -  OCTOBER 2017
The  Great  Kiwi  Morning  Tea  returns  on  Friday  27 
October  to  raise  funds  to  support  kiwi  conservation  projects 
across the country.  
Kiwi  can  be  saved  from  extinction  by  boosting  numbers  of 
chicks  hatched  from  the  wild  and  releasing  them  into  predator 
free habitats. 
With the help of funds raised during Save Kiwi Month, we can stop the decline 
of kiwi by increasing management of breeding and predator control. 
You can do your bit to help our precious kiwi.  Just get together with family, 
friends, colleagues, neighbours or complete strangers and hold a Kiwi morning 
tea and ask your guests to make a donation.  
Just $100 is enough to save one kiwi by controlling predators across its habitat 
for an entire year. 
While the official day is Friday 27
th
 October, you can hold your event any time 
during Save Kiwi Month. 
Five things to do during Save Kiwi Month: 
1.Hold a Great Kiwi Morning Tea 
2.
Make your patch predator free: 
Trap a rat – or a possum, stoat, weasel, feral cat 
3.Volunteer at one of the existing kiwi projects near you 
4.Have your dog kiwi-aversion trained (it's quick and easy) 
5.Buy one of Kat Merewether's  "Kuwi the kiwi" books for the children in your 
life  as  a  portion    from  every  Kuwi  book  or  product  sold  goes  towards  kiwi 
conservation 
Visit 
 to find out more about Save Kiwi Month and click 
on the Great Kiwi Morning Tea icon to register for your morning tea.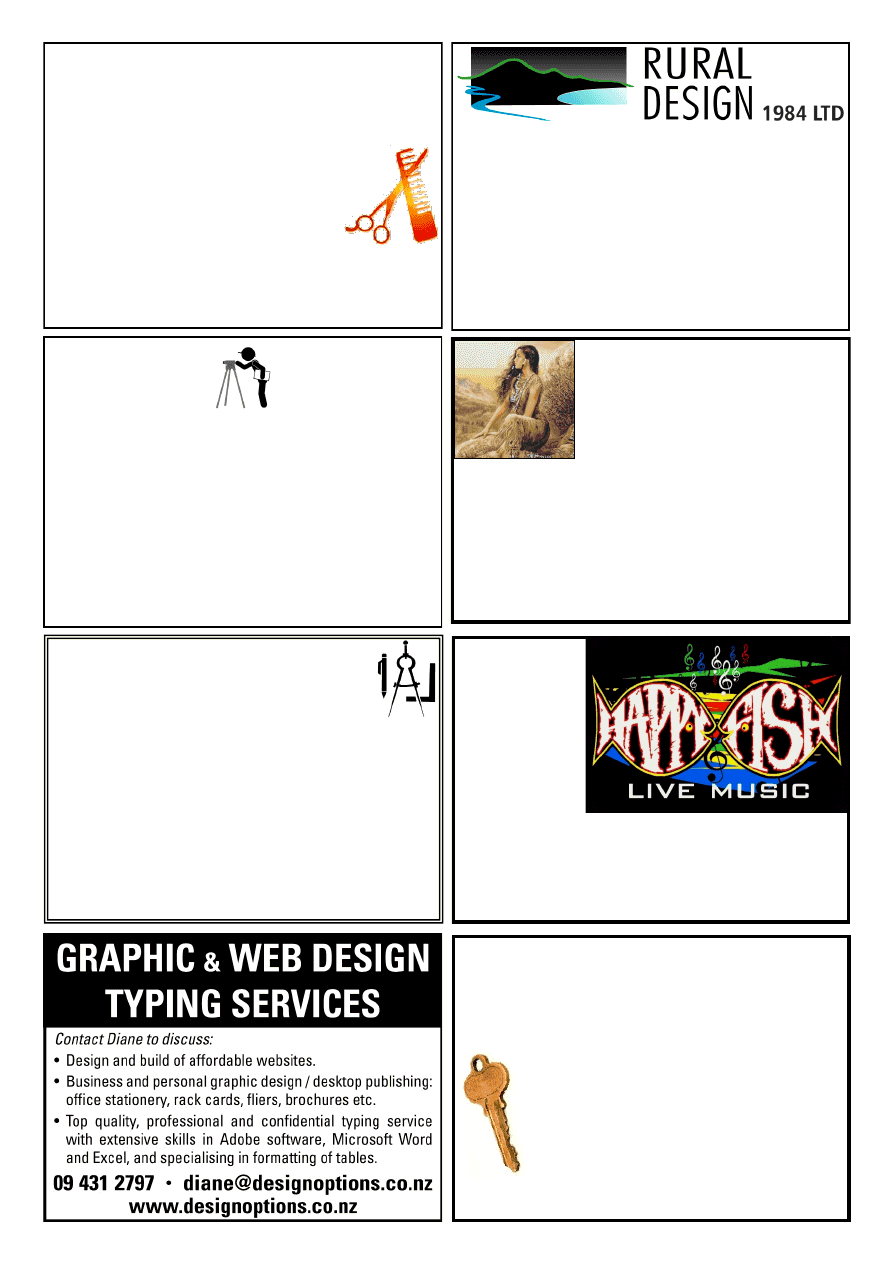 design drafting  
service 
Retired builder and manufacturer with over 40 years  
experience in the building industry is offering a design 
drafting service  
for domestic housing, sleepouts and sheds.  
Plans formulated in consultation with clients, with 
working drawings completed and submitted to  
council for processing.  Extensive practical experience,  
able to identify & resolve problems. 
Please ring Mike Lean on 
09 431 2260 
or 
021 431 196 
Ken Urquhart 
BSurv Licensed Cadastral Surveyor 
KMU Surveys Ltd
467 Bickerstaffe Road 
RD 2 
Maungaturoto 0587 
Ph 09 431 8705 
Mob 021 161 2344 
kenurquhart@xtra.co.nz 
WHOLESALE NATIVE PLANT NURSERY 
AND LANDSCAPING 
By Appointment 
Small and Large orders welcome 
Phone: 09 431 2481 
Email: info@ruraldesign.co.nz 
Rockin' popular, 
old and new party 
songs with loads of 
Kiwi music and a 
few original tunes 
in the mix.
An electric duo 
featuring: 
Gordon Joll 
(NZ Music Hall of Fame)
 on drums and Sue Joll on guitar and 
vocals, a band for any occasion backed by years of 
experience.
Contact: Sue 021 623 776 
Email: happyfishband@gmail.com 
Website: www.happyfishband.co.nz 
Kaiwaka Hardware  
& 
Key cutting
Phone 4312 063 or 022 0642 703
kaikey2015@gmail.com 
Keys Cut  
Household Hardware  
Sharpening Knives & Tools 
Curtain Tracks & Fittings
Not there? Call Doug and he'll sort
it for you. 
(
Next to Kaiwaka Motorcycles)
AFFORDABLE PRICES! 
MENS CUT FROM $20.00 
LADIES CUT FROM $30.00 
KIDS CUT FROM $18.00 
COLOUR & CUT FROM $120.00 
JUST CUTS'AND   
MORE 
021 165 2629 or (09) 945 0707  
NOW SELLING: scented tealights, incense, smudge sticks, 
copper bracelets, aurora ball crystals, dream catchers, healing 
stones, rose quartz, cds, and much more. Open 6 days. 
Trails end 
spiritualist gathering 
Last Sunday of every month  
11.30-2pm  
Tea/coffee provided  
$5 koha 
For all inquiries: 
021 165 2629 evenings (09) 945 0707 
Trail.end@hotmail.com 
Bringing together light minded people 
Guest speaker each month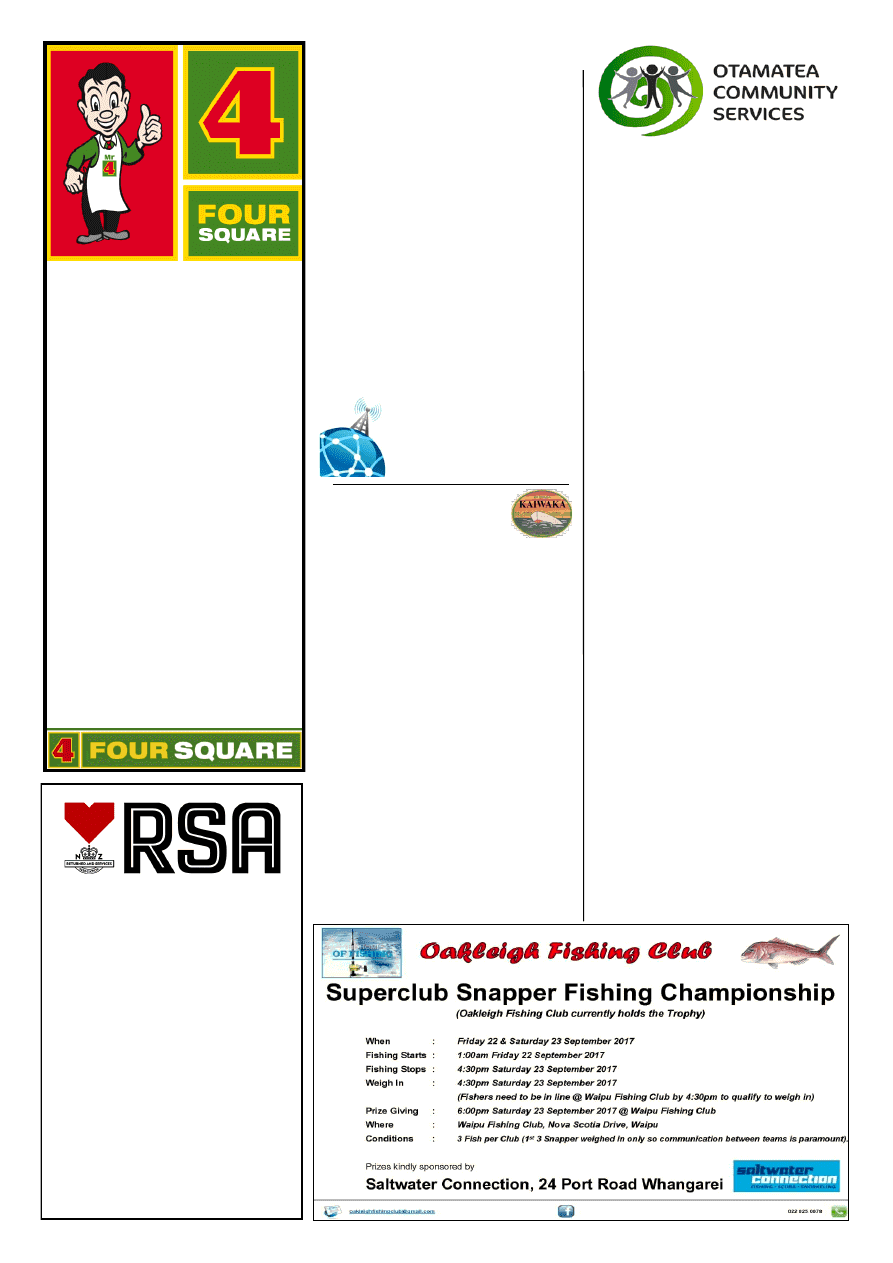 www.kaiwaka.co.nz 
Kaiwaka Bugle - 19 September 2017 
Page 7 
NOW IN STORE 
 Super Special on  
Mountain Bread
$3.99 
Chia, Spelt, Barley, 
Natural & Rice 
NEW to Jimbo's Range 
Pet Food - 
Veal Bones $5.49 
PLUS  
a NEW RANGE of 
CHANTEL ORGANIC 
Products
We are open to 6.30pm 
Monday to Friday
Jaques Four Square 
Phone: 4312227 
1 Kaiwaka-Mangawhai Road, Kaiwaka. 
We  were  given  some  posters  by 
Arataki  Ministries  to  put  up  in  the 
Community  House;  they  advertise 
Mental  Health  Awareness  Week  – 
which  is  coming  up  from  9  –  15 
October. It has a great message: 
WORK-PLACE LOCKOUT! 
UNLOCK  YOUR  WELLBEING,  10 
October 12-1pm.  
The message continues - 
'Nature  is  Key  –  Kick  your  staff  and 
colleagues outside to  spend  some  time 
in  nature  on  World  Mental  Health 
Day.' 
We think this is a really good idea for 
everyone, no matter where or who you 
are. Spring has arrived making the idea 
of being outside much more desirable. 
Our thoughts are with the families and 
friends of those in the community who 
recently passed away; in particular, we 
remember  one  of  our  volunteers, 
Lesley Dally who passed away recently 
after  a  long  illness.  Lesley  worked  on 
the Seniors' Lunch day each month and 
then went on to running the Chocolate 
Bingo for a number of years. 
Our  services  are  being  well  utilised 
already  but  now  is  a  good  time  for  a 
reminder of what we offer: 
• 
Counselling 
• 
Parent Coaching  
• 
Family Support 
• 
Financial Mentoring  
• 
Senior Support 
While  there  is  no  charge  for  our 
services, donations are welcome. Local 
agencies or community groups are able 
to  send  people  to  us  who  may  be 
needing  assistance  but  who  is  not 
aware  of  where  to  go.  This  applies  to 
all  of  our  services  including  the  Food 
Bank. 
Added to this  list is the  new  12-seater 
mini-bus  which  is  for  the  use  of 
community  groups.  Phone  us  on  431 
9080 or call in to the House to view the 
Vehicle  Policy  and  make  enquiries  to 
use the mini-bus. 
  ~ The Team at OCS 
HAKARU & DISTRICTS 
MEMORIAL RSA (INC)
Members & guests are invited to 
come along and enjoy our hospitality.  
New members welcome.  
Meals are served on Thursday and 
Friday nights  from 6.30pm.   
2nd Friday of the month is a Roast Dinner 
special plus a board menu put on by the 
Women's Section. 
Last Friday of the month is 'Roast Pork 
Night' and a sing-a-long with Des Chitty. 
For more information please phone 
Gloria  (Women's Section) on  
431 5818 or Marlene on 431 5589 
Super  Club  Fishing  Competition 
Friday 
22
nd
Saturday 
and 
23
rd
  September  and  is  for  Club 
Members. 
Don't  forget  if  your  keen  to  do 
competition,  please  make  contact  with 
Keith  Mills  so  that  you  can  catch  up 
with  him  before  the  official  weigh  in, 
to discuss who has the heaviest fish. 
Mobile 0210537284 
Land line 094312651 
Good  luck  to  all  members  doing  the 
Competition. 
Fish of the Month winners for Kahawai 
1
st
 Gravy   2.034 
2
nd
Gravy   1.852 
3
rd
 Carol    1.766 
New Fish of the Month is Snapper till 
10
th
 October. 
Next  Club  Meeting  10
th
  October  2017 
7pm at 3Furlongs Bar & Grill 
   ~  Wayne Leslie Commodore
. 
POINT CURTIS 
CRUISING 
CLUB 
CONSUMER 
BROADBAND 
COMPARE LETS YOU 
FIND THE BEST DEAL 
Want to know if you're on the cheapest 
broadband plan? Then go to Consumer 
NZ's 
new 
website 
consumer.broadbandcompare.co.nz 
The  website  features  over  1800  plans, 
including  fibre  and  rural  broadband, 
from  more  than  60  providers.  Using  it 
is as easy as entering your address.  
Consumer  NZ  chief  executive  Sue 
Chetwin says telecommunications is an 
industry  where  confusion  reigns  and 
that's  the  way  the  telcos  like  it. 
Consumer Broadband Compare aims to 
strip  away  the  hype  and  jargon.  It's  a 
simple-to-use 
tool 
that 
makes 
comparing  broadband  plans  easy.  The 
website  is  a  collaboration 
between Consumer NZ and 
Broadband  Compare,  a 
New 
Zealand-owned 
business. 
Ref. consumer.org.nz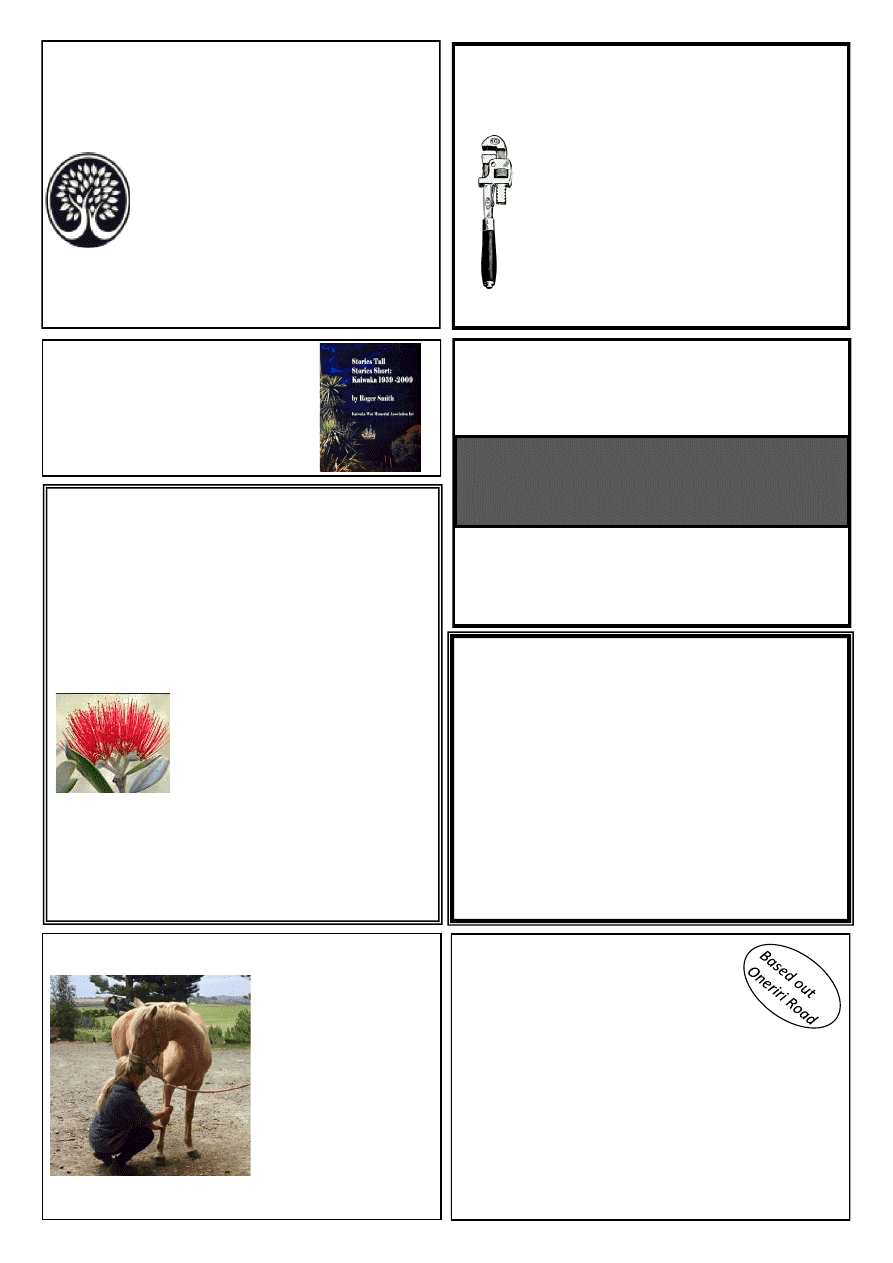 David Korach 
Your local Gib Stopper
DK PLASTERER LTD 
0274769221 
dkorach6@gmail.com 
Waipu Natural Health 
3 Cove Road, Waipu  (opposite the Pizza Barn) 
Ph: 09 432 1325 
www.waipunaturalhealth.co.nz
Clinical Nutritionist-Hair Analysis for Masked 
Allergies, Ozone Therapy, Prolotherapy, 
Naturopath-Medical Herbalist, Registered 
Massage Therapists, Reflexology-
Craniosacral Therapy, Acupuncture-Facial 
Acupuncture, Kineso Taping, Hypnotherapy, 
Counselling, ThetaHealing, Beauty Therapy
KIDS DAY – AFFORDABLE HEALTH SUPPORT 
FOR KIDS – every Wednesday 
(call us or drop in)
Gift Vouchers available
KAIPARA FLOORING CO 
Independently owned & operated 
32 HURNDALL ST MAUNGATUROTO
Supply & Installation of Carpet, Vinyl,  
Vinyl Wood Planking
Stockists of 2m & 3m wide 
vinyl & carpet short ends
Residential & Commercial
Q Card Finance Approved 
6-18 month terms 
6 mth interest free
First Class Installations
For a free measure & quote 
phone Christine  
09 946 9886 or 021 515 415 
kaiparaflooring@gmail.com 
http://www.kaiparaflooring.co.nz/ 
BARRY CURTIS PLUMBING LTD 
REGISTERED CRAFTSMAN PLUMBER 
Phone 4315572 
027 257 9884 
25 years experience 
Friendly reliable service 
All plumbing and maintenance 
Alterations and new housing 
Spouting 
Competitive rates 
PROMPT EFFICIENT  SERVICE 
Mangawhai Heads 
Garden Centre
1758 Cove Road
945 0707 
021 165 2629 
Stories Tall, Stories Short  
Kaiwaka 1959-2009 
by Roger TW Smith.  $40 
Available at the 
Kaiwaka Library 
or phone 
Lindsey 4312 045 
Jill Shires 
Holistic Animal Therapies 
Northland 
021 0506 592 
 
Massage Therapy 
 
CranioSacral Therapy 
 
Emmet Muscle Therapy 
 
Animal Reiki 
 
Acupressure
www.jillshires.nz 
HODGETTS 
CONTRACTING
Digger Work    

Driveways 

House Sites   

Dams    
 
Drains, etc
Also available for HIRE 
3 ton Vib Roller Heavy Duty Tow  
Waterblaster     Lazer Level
Phone Mark 4312877 
027 447 8554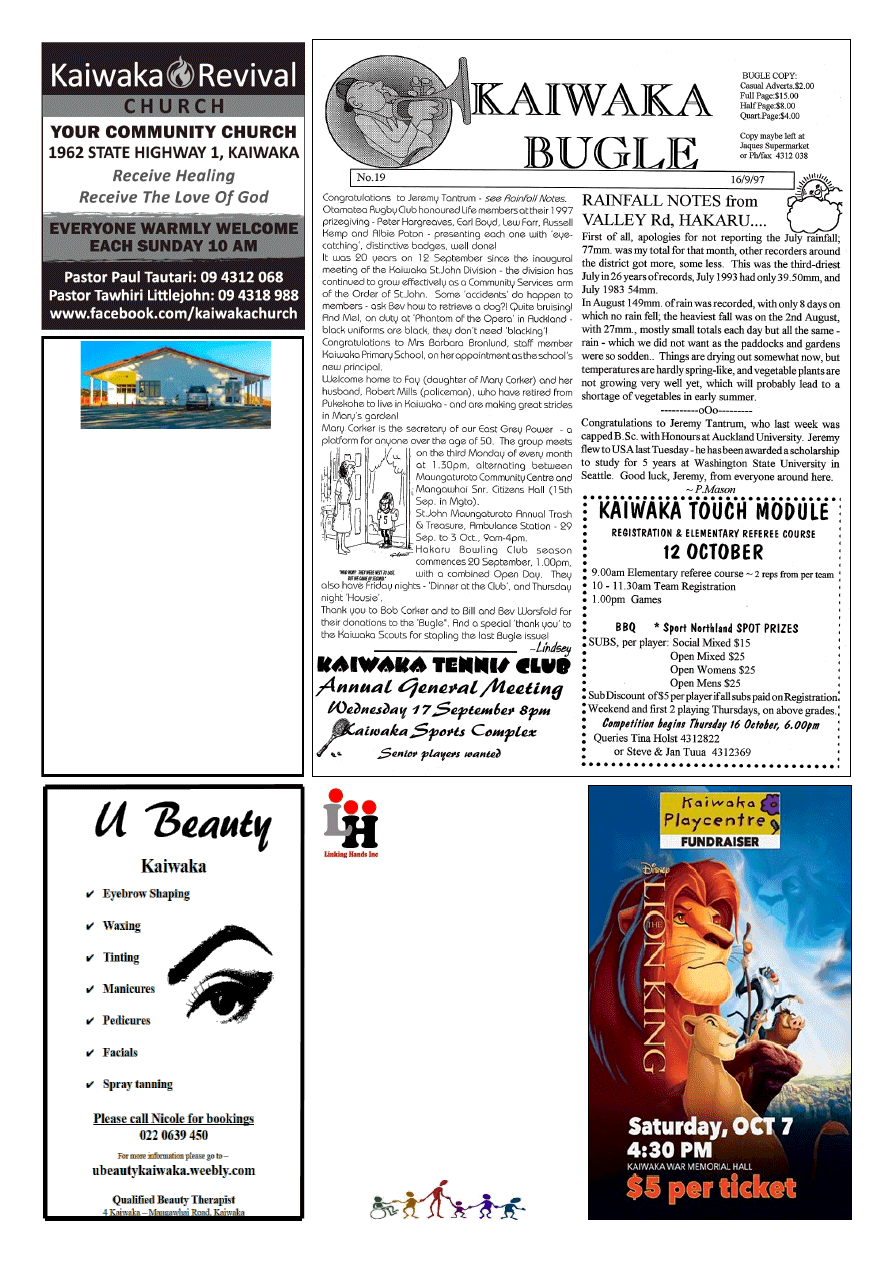 www.kaiwaka.co.nz 
Kaiwaka Bugle - 19 September 2017 
Page 9 
LINKING 
HANDS INC 
Maungaturoto - Kaiwaka - 
Mangawhai
Linking  Hands  runs  a  free  Health  Shuttle 
Service,  providing  transport  to  those  who 
would  struggle  to  get  to  medical,  dental, 
podiatry,  or  optometrist  appointments 
anywhere from Warkworth to Whangarei. 
It is important that one books transport as 
soon  as  you  have  an  appointment  -  the 
drivers are  all  volunteers. To book phone 
09 4318969. 
Linking Hands is an ACC vendor - contact 
your  case  manager  to  arrange  pre-
approved  travel,  either  by  email  to 
linkinghandsmain@gmail.com  or  phone 
the Maungaturoto office on 09 4318969. 
If you have to visit an Auckland Hospital, 
and require transport, there is a Northland 
DHB  daily  shuttle  service  return  from 
Whangarei  to  Auckland,  stopping  at  the 
Three Furlongs Bar & Grill, Kaiwaka. To 
book phone 09 4304101 ext 7405. 
Maungaturoto 
office 
hours 
are 
Monday to Friday 10am to 4pm.  
TWENTY YEARS AGO! 
Te Pounga Marae 
130 Nathan Rd. Oneriri. Kaiwaka 0573 
COMPLEX FOR 
HIRE 
Functions 
* Weddings  * Birthdays  
*Anniversaries * Meetings  * Wananga 
5 hour meeting * 12 hour stay  * 
Overnight 
*All welcome - No more Drink-driving 
Amenities: 
*Convo Combi Steamer * Bratt Pan * 
Dish Washer/Sterilizer * 3 Door Glass 
Chiller (walk in) etc…All Crockery * 
Linen Supplied * Central Heating and 
Air Conditioning and much more.  
Can also cater for small groups…. 
For more information please contact: 
Kim Wallace  
Home: 09 832 1133  Mob: 0211275340  
Email: kimwallace@xtra.co.nz 
LOCALLY OWNED AND OPERATED 
QUALITY PRODUCTS • FRIENDLY ADVICE • GREAT SERVICE 
Quality Products milled from High Density NORTHLAND Radiata Pine. 
Treated and guaranteed to NZS3640 with commitment to 
Environmental Safety.
Phone, fax, email, or come into the mill 
Schiska Rd, Topuni, SH1, 10 min north of Wellsford. Fax: 09 431 2856 
Email: sales@topunitimber.co.nz           Mon - Fri 7am-5pm 
• Fencing 
• Retaining 
• Decking 
• Landscaping 
• Gates 
• Hardware 
SURVEYORS 
SUBDIVISIONS 
HOUSE SITE SURVEYS 
CIVIL ENGINEERING 
WASTEWATER DESIGNS 
EXPERIENCED 
PROFESSIONAL 
INNOVATIVE 
Ph 09 431 5353 
0800 PACIFIC (0800 722 434) 
pacificcoastsurvey.com
Adam Booth - 027 415 5752 
Bsurv, Licensed Cadastral Surveyor
Surveying Kaipara since 1994 
Hot Diggity Dog 
DOG GROOMING 
All breeds dog grooming 
Professional Experienced Groomer 
Short practical grooms - summer 
Breed Standard Grooms 
Designer fusion Grooms 
Oneriri Road
By appt Phone Pam 09 4312143 
Or text only 0273335380 
Email  hot.diggitydog@outlook.com 
Water Tank Cleaning 
• 
Keep your water safe & clean  
• 
Removal of sediment, silt etc. 
• 
Vacuum or full scrub 
• 
Minimal water loss 
Phone Mark (09) 432 0655 or 0274 707607 
LANDSCAPING 
4 IN 1 BUCKET 
TRENCHER 
POLE HOLES 
ROTARY HOE 
COMPACT ROLLER 
OFFAL HOLES 
CAN SUPPLY WOODCHIP & POST PEEL 
5 TON TIPPER 
FOR RELIABLE AND FRIENDLY SERVICE CONTACT DAVE 
Dave Hyndman 
 
KAIWAKA 
PH: 09 4312302 
MOB: 021 431 238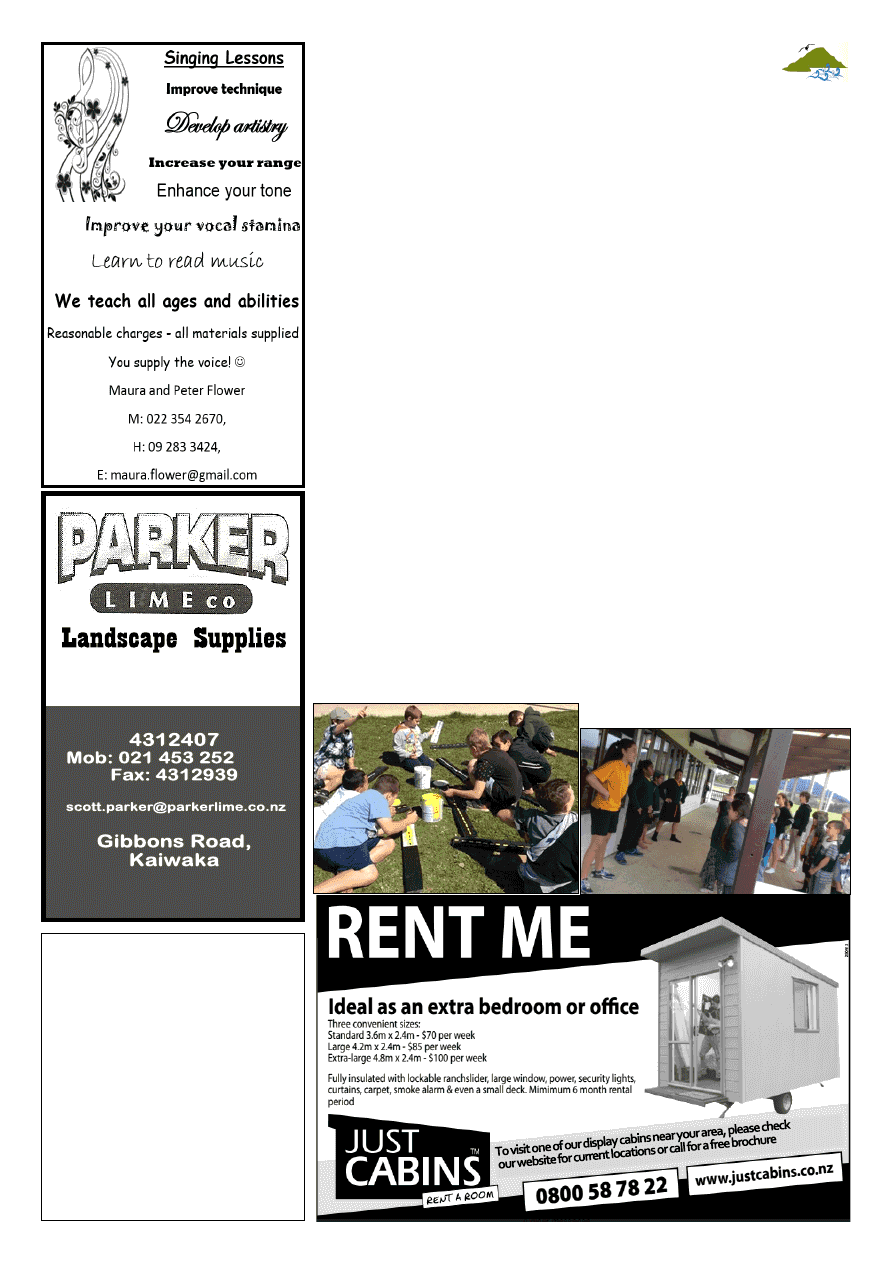 www.kaiwaka.co.nz 
Kaiwaka Bugle - 19 September 2017 
Page 11 
Bulk Cartage 
KAIWAKA SCHOOL 
Calf Club Day 
Calf Club Day will be held on Tuesday 
the  17th  of  October  with  a 
postponement  day  of  Wednesday  the 
18th  of  October.  To  get  an  entry  form 
please  come  into  the  office.  John 
Hargreaves has lambs available for calf 
club day. Please phone: 094312072 
Thank you 
A  big  thank  you  to  the  parents  who 
helped  in  the  kitchen  on  Grandparents 
Day. It was a very successful day with 
lots  of  Grandparents  coming  to  watch 
the items and their mokopuna. 
And  a  big  thank-you  to  Felicia 
Doornenbal who donated 15 apple trees 
to the school. 
Kaiwaka School After School Care 
Kaiwaka  School  will  be  operating  an 
After-School  Care,  starting  Monday 
25th  September.  The  supervisor  is 
Michelle Slater. The hours will be from 
2.30 until 5.30. An Enrolment Form is 
available  from  the  school,  please 
contact us at school if you would like to 
enrol your child/children. 
There  will  be  a  maximum  of  20 
students  a  day.  Preference  is  to  be 
given 
to 
permanent 
attendees. 
Enrolment  can  be  5  days  a  week,  or 
less,  but  cannot  be  chopped  and 
changed. What you book in for the term 
is what you will be charged for. If there 
are spaces  available on  any  given  day, 
casual attendees can book in. 
For  further  information  and  costs 
contact Rosie or Michelle, please. 
Kereru Class 
The  children  in  the  Kereru  class  have 
been  making  roads  for  match  box  cars 
to go on.  Photo below left. 
Kura Visit 
Last  Monday  the  Kura  visited  our 
school  to  celebrate  te  wiki  o  te  reo 
Māori.  The  students  practised  using  te 
reo  and  learnt  a  new  haka.  They 
pictured  below  performing  at  the 
Kaiwaka Sports Complex 
Board of Trustees 
Last  month  we  welcomed  the 
Education  Review  Office  (ERO)  into 
our  school  as  part  of  our  regular 
Ministry  of  Education  review  process. 
The ERO representatives gave the BoT 
brief  summary  at  the  conclusion  of 
their  visit.  It  was  noted  that  Kaiwaka 
School has a strong emphasis on social 
skills,  inclusion  and  values  -  the 
children  achieve  well  in  these  areas; 
and  students  are  developing  positive 
attitudes  and  confidence  in  their 
cultural heritage and NZ. 
The BoT would like to thank all of the 
staff  for  their  ongoing  dedication  and 
hard  work  for  all  of  our  children,  not 
just  in  ERO  week,  we  are  very 
privileged  to  be  a  part  of  such  an 
inclusive  and  unique  school.  In 
particular  we  would  like  to  thank  the 
senior  leadership  team  of  Rosie, 
Sharlene and Anna J for assisting ERO. 
Board of Trustees update 
You  are  all  no  doubt  aware  that  the 
school  roll  is  growing  at  a  rapid  rate, 
which  is  fantastic  but  requires  a  little 
bit of readjustment!  Such as parking -   
a solution is to park down at the KSA if 
you  are  collecting  your  child  from 
school, e.g. on pickups. 
The  new  fence  is  proving  successful, 
we  have  plans  underway  to  utilise  this 
as  a  structure  to  support  some  fruit 
trees in a climbing technique.  
~
Nga Mihi, Naomi Walker BOT
HEART WELLNESS CENTRE 
Wednesdays until Oct 25: Heart Yoga 
with Heidi 0211319891 6 - 7:30pm 
Saturdays until Oct 28: Laughter yoga 
with Anchal 0211319891 10:30-11:30am 
koha 
Saturdays until Oct 28: Family yoga with 
Heidi 0211319891 
Monday 25 Sep and 9 Oct 6 - 7:30pm 
Body Rhythm Meditation with Carrie 
0210576184 
Monday 25 Sep and 9 Oct Alignment 
massage drop in sessions with Paul Larkin 
from $55, 0273244487, bookings at other 
times available by appointment. 
Thursdays Absolutely Fabulous massage 
with Rachel Johnson. 0212345074 
from $45 bookings at other times by apt.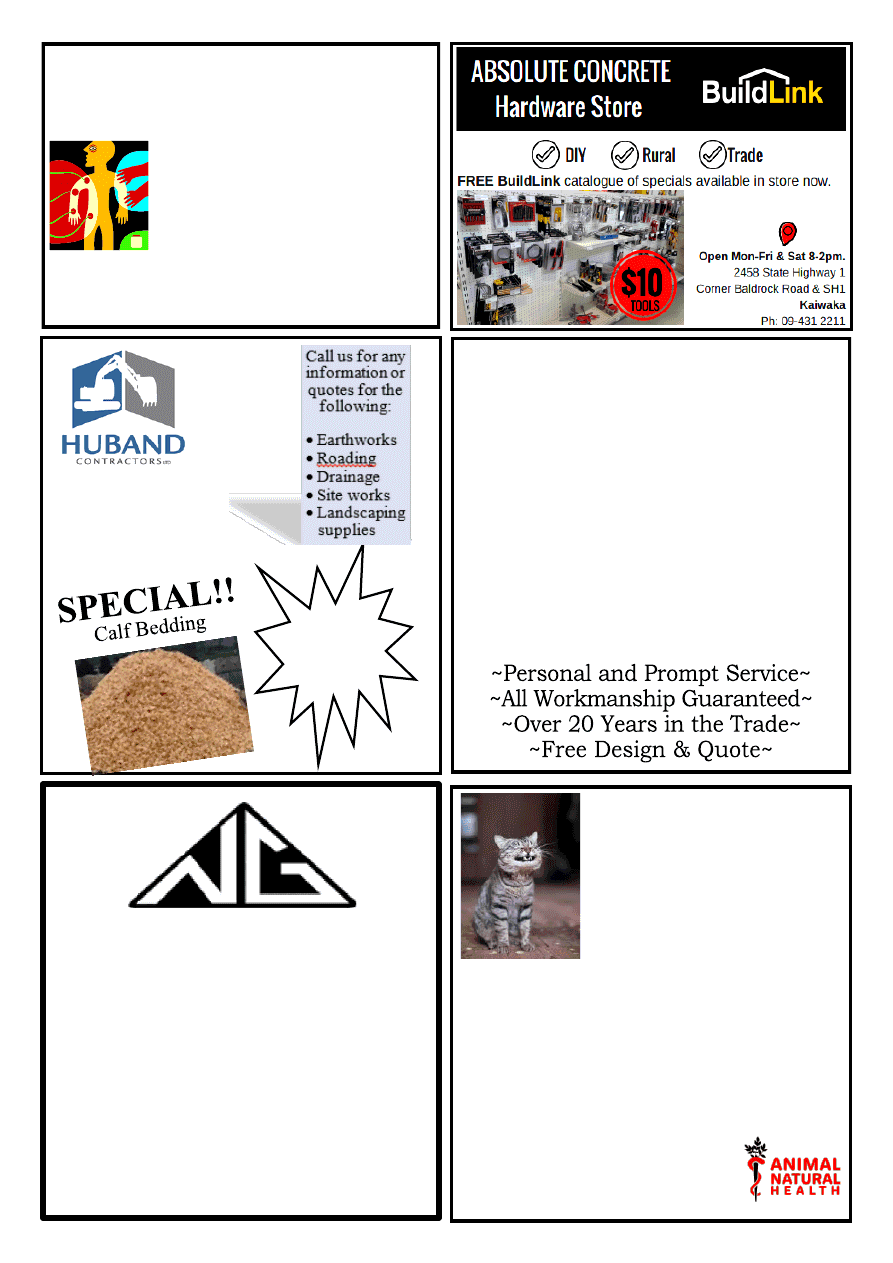 NORTH GLASS 
WINDSCREEN REPAIR OR REPLACE 
GLAZING SERVICES 
MIRRORS  •  SPLASH BACKS  •  SHOWERS 
0800 70 40 10
info@northglass.co.nz 
www.northglass.co.nz 
PLANNING A NEW KITCHEN?
 CONTACT NOEL McDOWELL
WELLSFORD 
KITCHENS
Ph/Fax 094312888
KAIWAKA-Any time
 QUALITY CUSTOM MADE 
KITCHENS
OWEN STEVENS 
Osteo Therapist
For careful adjustments to bones and joints 
Treatment for  humans and their pets 
Clinics: 
Kate's Place, Kaiwaka: 
Last Friday of month 
For bookings:9.00am-5.00pm 
Phone 
09 4312661 
Or phone Owen  09 4317123  anytime 
Did we delight you today with 
our pet food? 
"Sweet as – no preservatives, no nasty 
chemicals, sustainable, easy on 
mum's pocket!" 
PURELY PETS PATTIES – Buy 10 packs, 11
th 
pack FREE 
BULK BUYS – 2kg for only $10.90 
VEAL BONES – 3kg $17.90 
CHICKEN MEDALLIONS – 3kg $17.90 
BEEF & LAMB PATTIES – 3kg $21.90 
Selection of hypoallergenic, low fat, premium protein and 
wild game. We focus on food for your pets' well-being 
and enjoyment. 
ANIMAL NATURAL HEALTH CENTRE 
Next to Italian Bakery, Kaiwaka 
09 431 2217 
Also at Warkworth & Orewa. 
Pssst! - join our Loyalty Scheme and save even more!  
Open Monday-Friday 
8am-5pm 
Saturday 8am-noon 
2088 Paparoa valley Road 
0800 234449 
E: admin@huband.co.nz 
$25.25 + 
GST per m
3
(Until the end of 
November
)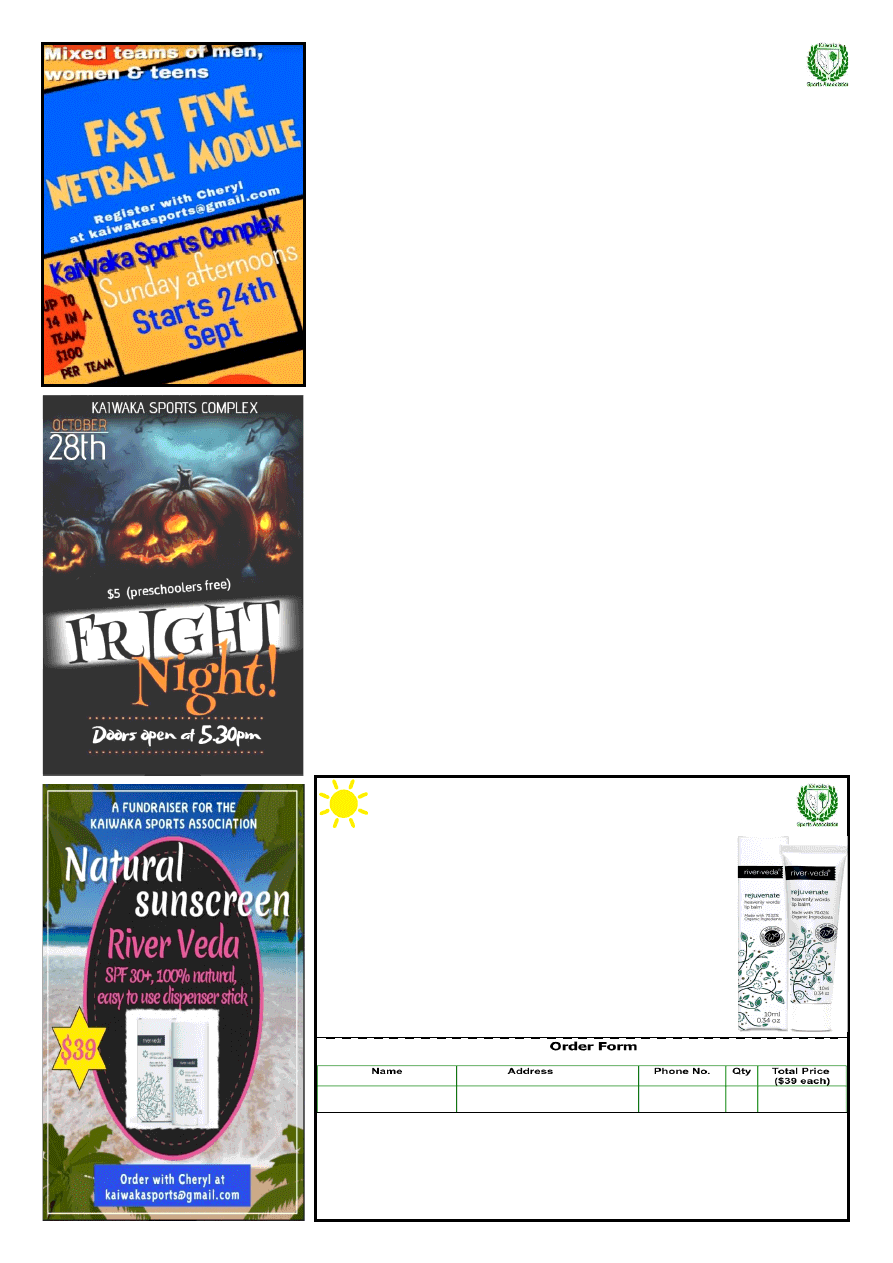 www.kaiwaka.co.nz 
Kaiwaka Bugle - 19 September 2017 
Page 13 
Natural Sunscreen 
A fundraiser for the Kaiwaka Sports Association 
Summer is coming! 
We are selling a quality natural sunscreen for $39. The River Veda 
sunscreen stick is SPF 30+, protecting against UVA and UVB. It is 
a 100% natural sunscreen that provides a healthy, broad-spectrum 
protection  against  the  suns  UV  rays.  Provided  in  an  easy-to-use, 
easy to carry dispenser stick, it offers nourishing, organic full body 
protection.  Benefiting  from  the  addition  of  moisturising  and 
nourishing  ingredients  like  organic  coconut  oil  and  organic  shea 
butter, this popular natural sunscreen is a healthy choice for all the 
family.  Made  with  71.4%  organic  ingredients  and  100%  natural 
ingredients. 82g. 
Perfect  for  school  bags,  sports  bags  etc.  Would  make  a  great 
Christmas gift! 
To  order  please  return  this  form  with  your  payment  by  12th 
October.  Delivery  will  be  the  following  fortnight.  Enquiries  to 
Cheryl Anderson on kaiwakasports@gmail.com. 
Payment options:    
⃣   Cash     ⃣  Cheque (payable to KSA) or 
⃣   Bank direct 060365002247200 
(use reference sunscreen and your full name) 
Ways to return form:     
•
Post to Cheryl Anderson, 233 Baldrock Rd, RD2, Maungaturoto, 0587  
•
Drop off in folder behind checkout at Jaques Four Square 
•
Scan and email to Cheryl at kaiwakasports@gmail.com 
Reorders can be placed through Kimberly 021 302600, Choose Organic Ltd, www.chooseorganic.co.nz 
KAIWAKA SPORTS ASSOCIATION 
Fast Five Netball 
Our  Fast  Five  Module  starts  next 
Sunday. Matches will be played in our 
gymnasium  from  2pm,  so  feel  free  to 
come along to watch. 
Fright Night 
Our annual Fright Night will be held on 
Saturday 28th October at 5.30pm. Start 
thinking  about  your  scary  costume 
(there  will  be  prizes  for  best  dressed 
boy,  girl  and  adult).  We  will  have 
music, dancing, games, a  photo booth, 
face  painting,  lolly  scramble  and  a 
haunted house! The entry fee is $5 (pre
-schoolers  free).  There  will  also  be 
prizes  for  the  best  halloween-inspired 
supper  plates  –  last  year  we  had 
chocolate  spiders,  bloodshot  eyeball 
eggs,  cobweb  cupcakes,  deadman 
finger sandwiches and more! 
Kaipara Sports Awards 
Nominations  for  the  2017  Silver  Fern 
Farms  Kaipara  Sports  Awards  are 
open. The awards aim to recognise the 
achievements  and  service  to  sport  by 
people  from  throughout  the  Kaipara 
District. 
Visit 
www.sportnorthland.co.nz. 
Sports Day 
An inter-schools Sports Day for Years 
7  and  8  will  be  held  at  our  Sports 
Complex  on  Tuesday  26th  September. 
Spectators welcome. 
Athletics 
Do  you  have  a  child  who is  interested 
in  Athletics?  The  Kaiwaka  Athletics 
Club  will  start  on  Monday  6th 
November  and  will  run  on  Monday 
evenings  at  Otamatea  High  School  for 
several months. 
To  register  your  child,  contact  Eileen 
Parsons on 4318 055. 
Bookings 
Got  a  special  occasion  coming  up? 
Want to hold it at the Sports Complex? 
The Sports Complex can get 
 very  heavily  booked  -  if  you  contact 
me  in  plenty  of  time,  it  is  more  likely 
that  your  preferred  date  will  be 
available. 
Top of the Rock 
Our  annual  Top  of  the  Rock  multi-
sport challenge will be held on Sunday 
11th February. 
Every  year  we  get  wonderful 
sponsorship from our local businesses, 
this  is  either  as  a  donation  of  product 
for  the  prize  table,  or  as  a  monetary 
donation.  If  you  would  like  to  show 
your  support  for  the  Kaiwaka  Sports 
Association and the Top of the Rock by 
offering  sponsorship,  please  get  in 
touch  with  me  (contact  details  are 
below). 
Organic Sunscreen 
Summer  is  coming!  So  it's  time  to 
stock up on sunscreen. We are selling a 
natural  sunscreen  as  a  fundraiser  for 
the  KSA.  If  you  are  concerned  about 
harsh  chemicals  on  your  children's 
skin,  then  a  natural  sunscreen  is  the 
way to go. 
River  Veda  sunscreen  is  a  100% 
natural  sunscreen,  free  of  parabens, 
silicone, 
artificial 
fragrances, 
petrochemicals,  oxybenzone,  and  PEG 
emulsifiers. It provides a healthy, broad
-spectrum,  SPF  30+  protection  against 
the suns UV rays. Provided in an easy-
to-use, easy to carry dispenser stick, it 
offers  nourishing,  organic  sunscreen 
protection.  Perfect  for  school  bags, 
sports  bags  etc.  Would  make  a  great 
Christmas gift! $39 each.  
See order form below. The deadline for 
orders is 12th October. 
Cheryl Anderson 
4312 051, 027 3462702 
kaiwakasports@gmail.com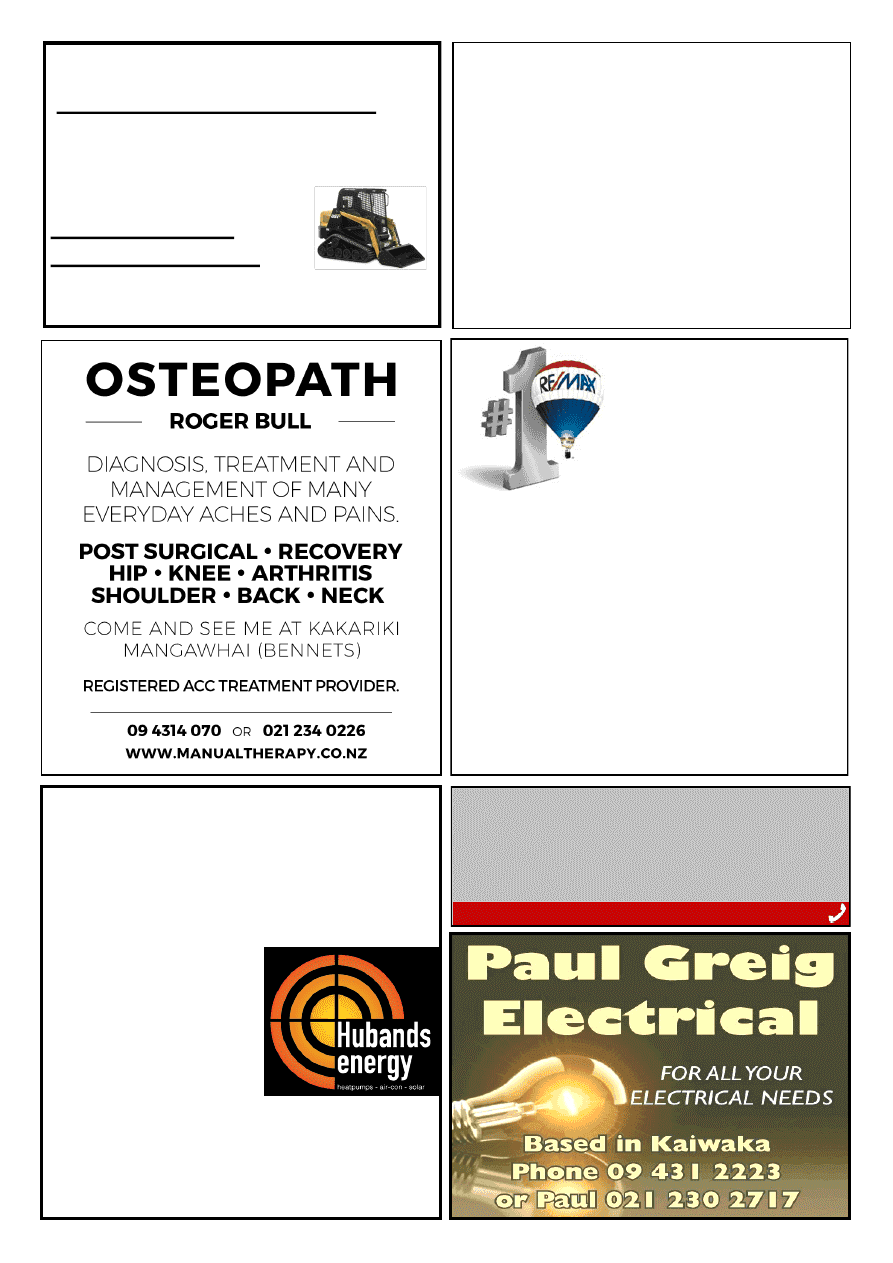 Natural Earth Ltd 
 Landscape and Bobcat services 
 : Driveways  :Landscaping  :Retaining Walls 
 : Hole Boring: Land Levelling :Trenching 
 : Decks :Fences :Sections Cleared: Plus much 
more 
Tel   09 4312885 
Mob 02102391280  
For A Fast Friendly  
Service Contact Tim Hicks 
CALL CRIMESTOPPERS 
Worried about something that doesn't seem right to 
you? Concerned about activity that could be 
harmful? Call Crimestoppers.  
You don't need to know all the facts.
CALL 0800 555 111 ANONYMOUSLY 
Couples and Individual Counselling
Have you … 
Serious relationship issues? Heading for Family 
Court? Destroying each other? Children involved?
I'm Here To Help! 
Call me to arrange an appointment 
Keep trying if phone is busy
Pete Worsfold 
B.Soc.Sc., M.Soc. Sc, Dip Prof Counselling NZIPC, 'Man Alive' Counsellor/ 
Facilitator, Prov NZAC. Professional service in your local area. Individuals, 
couples, any issue, males and/or females.
Private or WINZ Clients, Experienced Counsellor/Facilitator 
021 825 970 or 021 063 0302
peteworsfold@xtra.co.nz 
Northland's Award Winning 
Solar Company
SEANZ Best Solar Business Winners 2015/16
EXCLUSIVE 10 year installation warranty 
FREE No obligation onsite quote
Complete systems 
from $5990
See our range of: 
✓ 
Heatpumps 
✓ 
Airconditioning 
✓ 
Hot Water 
Heatpumps 
✓ 
Central Vacuum Systems
09 430 0019             sales@hubands.co.nz 
15 Kioreroa Road, Whangarei
Locally owned and operated for 35 years 
There are more people 
wanting to buy than 
there are houses 
available!
Vacant land, home and income, DIY dream … 
whatever your property's condition there is a buyer 
out there waiting to give you their money. 
Get your local agent's appraisal of your property to 
find out what's it's really worth. 
Contact Beth Stone today! 
Mob: 0274 937 801 
Email: beths@remaxrealty.net.nz 
RE/MAX Realty Group MREINZ 
Northern Properties Limited 
Licensed REAA 2008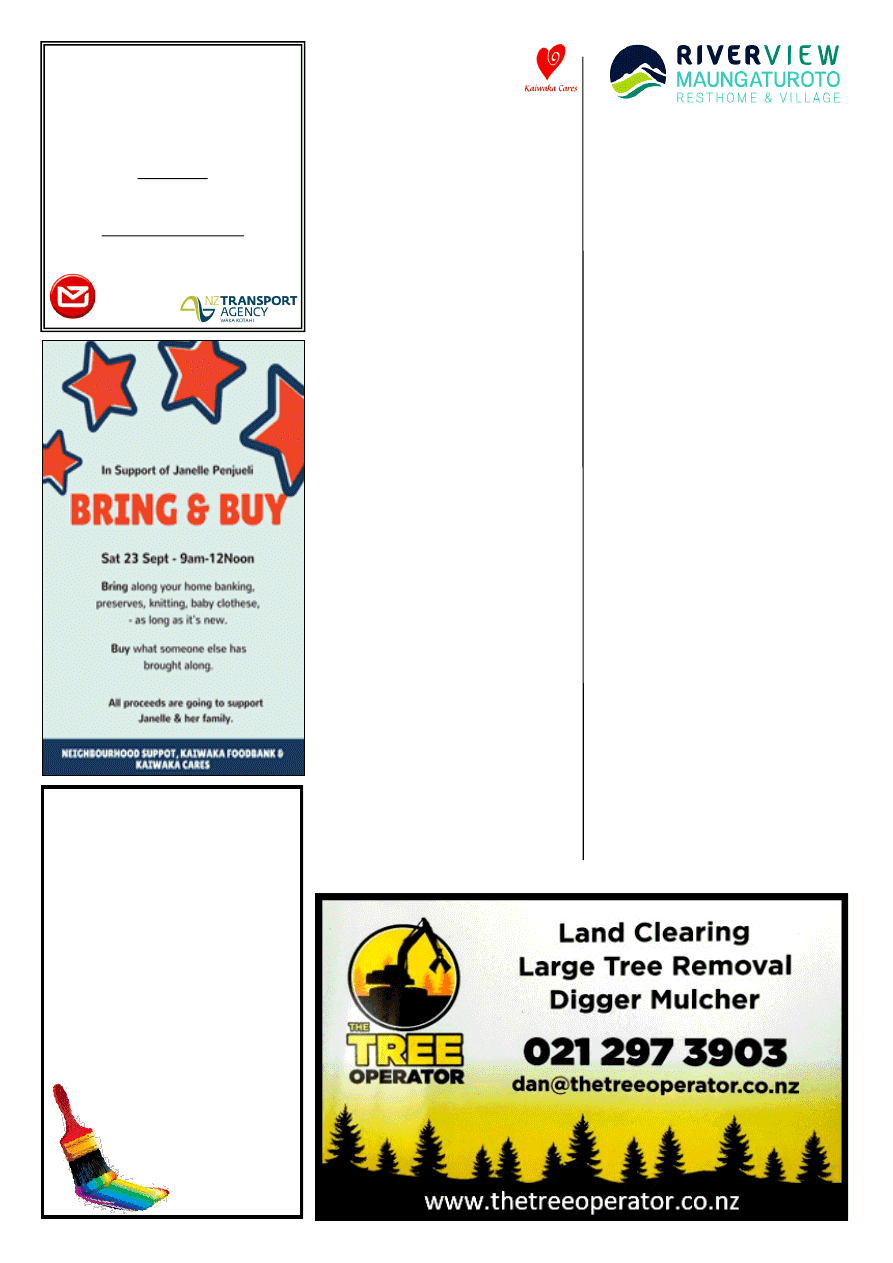 www.kaiwaka.co.nz 
Kaiwaka Bugle - 19 September 2017 
Page 15 
 The  extensions  to  Maungaturoto's 
Riverview Resthome, the first stage to 
include  an  8-bed  secure  unit  with  the 
ability to increase with a further 6 beds, 
is  a  couple  of  steps  closer  to  a  start 
later  this  year.  Consent  has  been 
approved  and  the  necessary  building 
permit  was  granted  recently.  Final 
costings  are  in  the  hands  of  the 
Trustees.  Bank  finance  along  with 
funds  in  hand  will  go  a  long  way 
towards  the  contract  price,  but  there 
will  be  a  considerable  shortfall  of 
funds. 
This  is  an  appeal  to  the  wider 
community. 
We  are  on  the  verge  of  signing  a 
contract  that  will  give  Riverview  the 
opportunity  to  care  for  our  people,  for 
as  long  as  possible,  within  their 
community,  which  will  eventually 
include hospital level care. 
We thank those of you that have made 
donations  to  date,  especially  Alby 
Paton  and  team  and  his  ongoing  Den 
sales. 
It  is  now  time  to  give  serious 
consideration  to  financial  commitment 
to support this community project. 
There are several ways you can support 
this project: 
Direct  donation,  unsecured  loans  or 
debentures,  bequests,  donation  of 
livestock  via  a  'stock  drive'  to  be 
organised  with  cooperation  with  local 
stock  trading  Companies  in  the  near 
future. 
A  pledge  pack  can  be  obtained  from 
the Rest Home manager Ph 431 8696 
Direct donation to:  
Trust  Development  Fund,  ANZ  Bank 
Account  No.  06-0365-  00014253-046, 
with  your  name  and  phone  no  in 
reference field. 
Tax  rebates  can  be  claimed  on 
donations (trust has donee status) 
For 
further 
information 
contact 
Trustees  Don  McKay  09  431  8308, 
Craig Fergus 021 378 483  
~
Maungaturoto Community Charitable Trust
LEE COOPER 
PAINTERS 
(Kaiwaka Based) 
*30 yrs Experience 
*Interior/Exterior 
*New and Restoration 
*Honest and Reliable 
*Free Quotes 
 
09 4312918 
0274735171 
leecooper@xtra.co.nz 
KAIWAKA FOOD MART 
Mukesh and Pragna Patel 
1919A State Highway 1, Kaiwaka 
09 431 2431 
Opening hours: 
Groceries 
7.30am - 7.30pm daily 
(Monday to Sunday) 
NZ Post and NZTA 
Mon to Fri. 8am - 5pm 
Saturday 8am - 1pm 
KAIWAKA 
CARES 
New Location - New Focus 
We have been a bit quiet of late as we 
have 
been 
reorganising 
and 
refocusing.    So  much  is  happening  in 
our community and in our own lives it 
is sometimes difficult to keep on top of 
things. 
Exciting  things  are  happening.  We 
have been fortunate to be moving into 
the  space  alongside  the  Kaiwaka 
Foodbank [at the KWMH].  We will be 
sharing  the  space  with  a  number  of 
other socially focussed services such as 
Neighbourhood  Support,  Community 
Patrol as well as the Foodbank. 
Over  the  next  few  weeks  we  will  be 
settling  in  and  setting  the office  up so 
please  watch  this  space  and  also  keep 
up to date with us on Facebook. 
Bring & Buy  
23 September 2017 9am-12 noon 
On  Election  Day  when  you  come  to 
vote  at  the  Kaiwaka  War  Memorial 
Hall  pop  into  our  new  space  for  the 
Bring  and  Buy.    Bring  along  home 
baking,  preserves,  baby  clothes,  or 
whatever you have that clean and new 
to donate.  Buy what someone else has 
brought along.   
All proceeds from the Bring & Buy are 
going  to  Janelle  Penjeuli  and  her 
family.  Assist  us  with  proving  some 
support for a local family. 
This  day  will  be  supported  by 
Neighbourhood  Support,  Kaiwaka 
Foodbank and Kaiwaka Cares. 
For  more  information  please  contact 
Beth on 09 431 2668. 
Next Steps 
So where to from here?   
Beth  will  continue  with  the  business 
community  support as  well  as running 
her Valley Vista business.  Janine may 
be  moving  to  Waipu,  however  she  is 
still very connected to Kaiwaka so will 
be  'commuting'  as  required.    Helen  is 
taking some well-deserved time away. 
If you wish to assist with anything that 
Kaiwaka Cares is involved with please 
do not hesitate to contact Janine on 027 
6636802.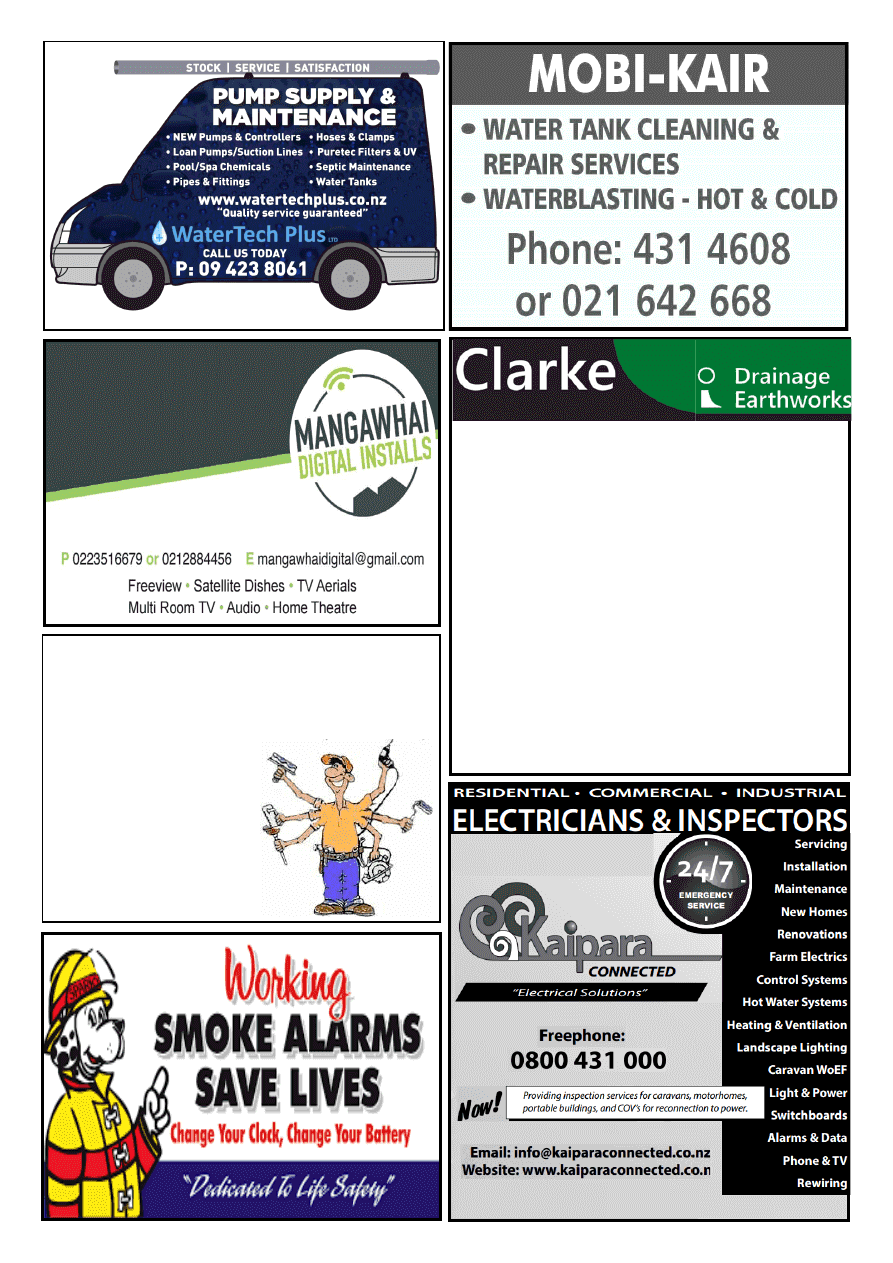 Registered Drainlayer 
All Types of Earthworks  
> All Residential & Commercial Work  > House Sites 
> Septic System Design & Install 
> Footings & Drilling to 10m 
> Sewer Connections 
> Dams 
> Water Tank Installation 
> Roading & Races 
> Farm Work 
THE ONE STOP SHOP  
Phone Nigel for an Obligation Free Quote  
Drainage & Earthmoving 
clarkedrainage@xtra.co.nz 
027 2233 185 
The Little Job Man 
Are you tired of those little jobs not getting 
done ? 
Indoors  or outdoors 
Sick of waiting ? 
Give me a call to discuss 
what you need doing. 
Doug  0277132625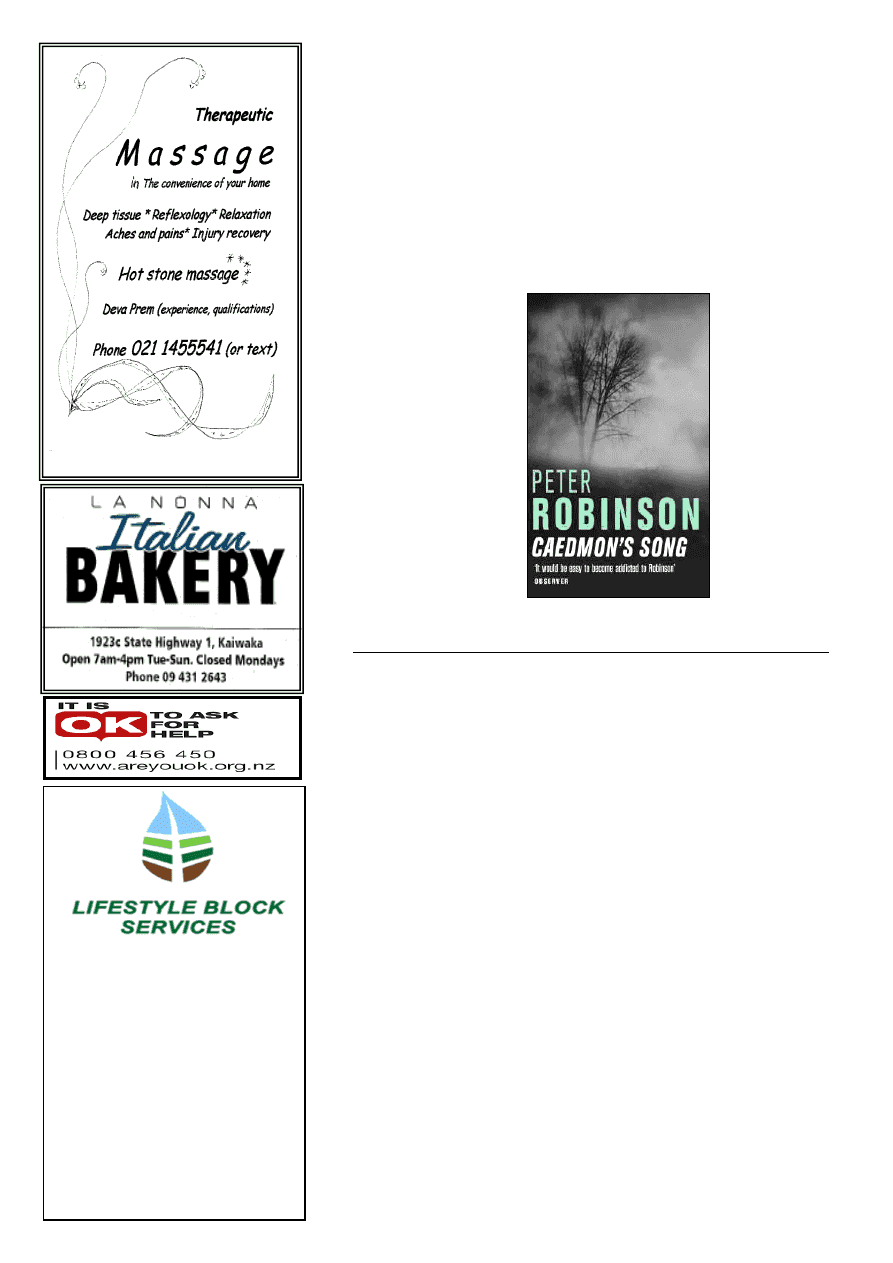 www.kaiwaka.co.nz 
Kaiwaka Bugle - 19 September 2017 
Page 17 
www.mangawhaimassage.co.nz 
Winter is here, now is the time to 
think about Fencing. 
Also large round bale silage available 
for stock food. 
Contact Mark on 021 801 065 or 
Contact Lisa on 021 108 1057
We also do: 

 Fencing 

 Spraying 

 Stockwork 

 Stock Water Systems 

Driveway & Track Maintenance 

Tree Trimming 

Volunteering in the library 
We have a vacancy in the library team 
at  the  moment,  for  the  first  Friday  of 
each  month,  10am  to  2pm.  If  you 
would like to volunteer in the library - 
whether for this particular day or to put 
your name on the waiting list for future 
positions - please send an email to me 
at  kaiwaka.library@gmail.com.  You 
need  basic  Windows  computer  skills 
(we use Win7), and have regular access 
to  emails  to  keep  in  touch  with  the 
team. Full training is given. 
Book swap 
The  next  Large  Print  and 
Audio  book  swap  is  coming 
up  soon.  Come  in  now  to 
borrow some of the great titles 
we  have  in  those  collections, 
before  it  is  too  late.  We  need 
all 
books 
from 
those 
collections back  at the  library 
by Sunday 8 October, please. 
School holiday program 
We are  putting  plans  together 
to  have  another  session  for 
kids  in  the  coming  holidays. 
Keep an eye on this space for 
details  in  the  next  Bugle. 
Numbers  will  be  limited  due 
to space, so register as soon as 
you  can  once  it's  opened  to 
reserve your child's spot. 
Book review 
Recently 
I 
read 
Caedmon's 
Song by Peter  Robinson. Kirsten is a 
university  student,  on  her  way  home 
from an end-of-year party when she is 
viciously attacked in a park. Her life is 
shattered,  never  to  be  the  same  again, 
as she picks up the threads of her life, 
with  little  memory  of  what  happened 
that  night.  Martha  is  a  girl  on  a 
mission,  supposedly  in  the  seaside 
town of Whitby to research a book, but 
she  has  another  motive  that  she  keeps 
to herself - hunting a man she can only 
identify  by  his  voice.  This  is  an 
engaging story from an author I enjoy - 
Peter Robinson is the author of the DCI 
Banks  novels,  which  have  been  made 
into a successful tv 
program.  This  is 
not  a  DCI  Banks 
story, 
but 
it 
connects  to  one  of 
his stories. 
Since 
my 
last 
report,  I've  also 
read  Holiday  in 
Death,  Conspiracy 
in 
Death, 
and  Loyalty  in 
Death 
by 
JD 
Robb 
(In 
Death  series  #7,  8, 
9),  and  Only  Time 
Will  Tell  and  The 
Sins 
of 
the 
Father  by  Jeffrey 
Archer 
(Clifton 
Chronicles series #1, 2).  
See you in the Library ~ Wendy 
KAIWAKA LIBRARY 
Do  you  use  an  email  address  from 
Vodafone? That is, use an address that 
ends with one of these: 
• vodafone.co.nz 
• vodafone.net.nz 
• ihug.co.nz 
• wave.co.nz 
• quik.co.nz 
• pcconnect.co.nz 
• paradise.net.nz 
• clear.net.nz 
• es.co.nz 
If you do, are you aware that Vodafone are 
ceasing  all  email  services  at  the  end  of 
November?  You  should  receive  an  email 
from Vodafone about it - check your spam 
folder(s) if you've not seen it. 
The details can also be seen here  - https://
www.vodafone.co.nz/email/ 
 - and include some handy "ninja tips" you 
may find useful. 
Set up a new email address 
You  will  need  to  set  up  a  new  account  at 
another  service.  There  are  many  free 
services  available,  including  (but  not 
limited  to)  Gmail.com,  Outlook.com,  and 
Yahoo.com. 
Ask  your  friends  for  recommendations  if 
you don't know which to choose. The three 
named here are all fine services. 
Transfer your information 
If  you  kept  everything  on  the  Vodafone 
mail  server,  you  can  copy  your  contacts 
and  emails  from  your  old  Vodafone 
account  to  your  new  service.  See  the  link 
above for details in the ninja tips. 
If  you  use  an  email  program  on  your 
computer (such as Thunderbird or Outlook 
Express),  your  information  is  already  on 
your  own  computer,  and  you  just  need  to 
set  up  the  new  address  in  the  program. 
Check  the  Help  at  your  new  service  for 
details. 
Forward new mail from the old address 
Vodafone have set up a forwarding service 
for  their  customers  that  will  carry  on  past 
the  shut-down.  There's  a  link  for  it  in  the 
email  Vodafone  sent  you  advising  of  the 
changes ahead. 
Once  you've  set  up  this  forwarding,  any 
emails  sent  to  your  old  Vodafone  address 
will be automatically forwarded for free to 
a  new email address of your choice  for as 
long as you're with Vodafone. 
Note  that  if  you  cancel  your  Vodafone 
account  some  time  in  the  future,  you  will 
loose  that  free  forwarding  service.  It's  a 
handy thing to have, but I wouldn't want to 
rely on it forever. 
Set  up  a  filter  in  your  new  mailbox  to 
identify incoming mail forwarded from the 
old  address,  so  you  can  remind  those 
people to update their records. 
Web site registrations 
Don't  forget  all  those  web  sites  where 
you've registered or set up an account using 
the  old  address.  Better  to  get  on  with  that 
now,  than  to  leave  it  until  the  last  minute 
and  strike  problems  because  you  can't 
access  the  old  address  any  more  and  are 
locked out forever. 
Need more help? 
Vodafone  have  people  who  can  help  you 
get  it  all  sorted.  Go  to  https://
www.vodafone.co.nz/email/  and  look  for 
the information about Vodafone Ninjas. 
VODAFONE CEASING EMAIL SERVICES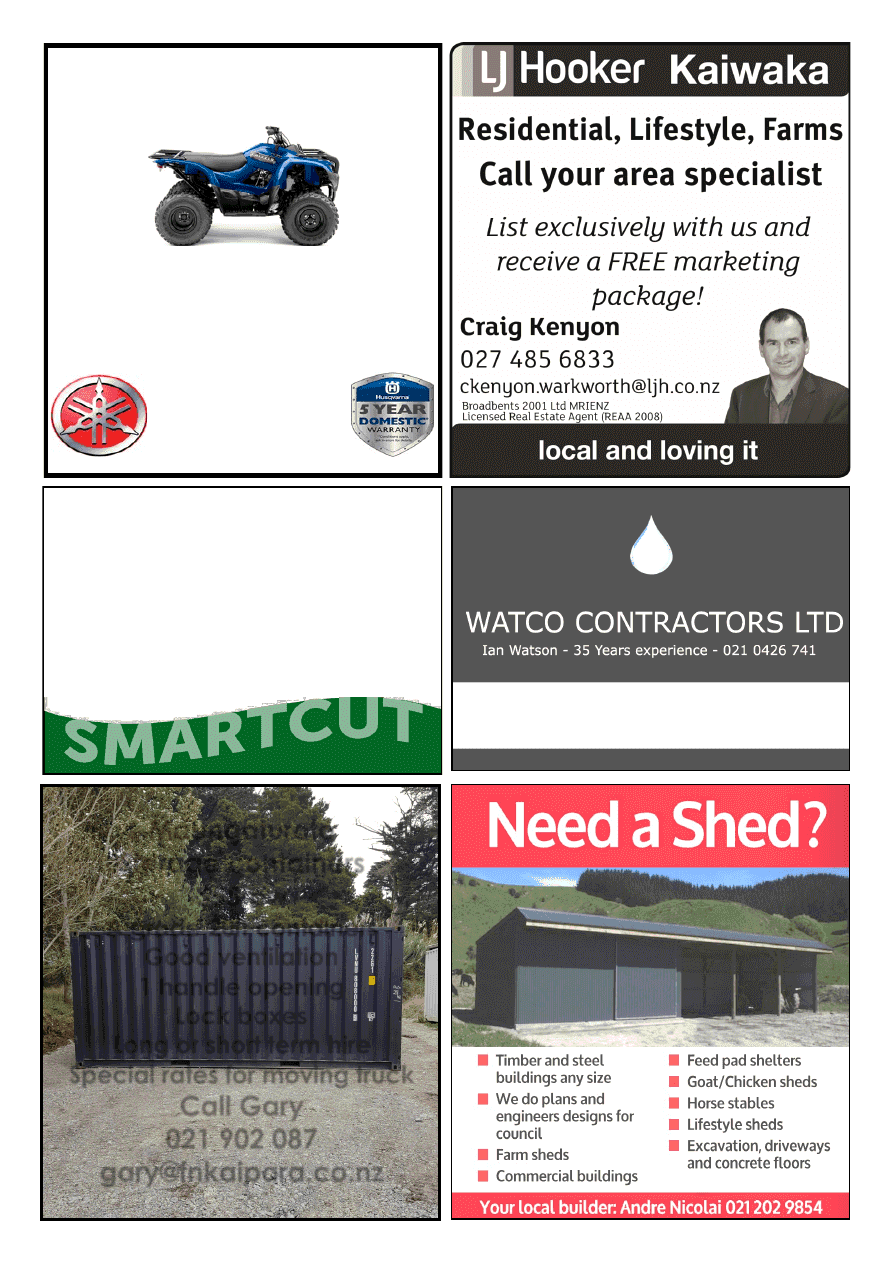 All your outdoor needs sorted so you don't have to... 
I can prune, chop, tidy, spray, mow, plant 
- you name it, I can do it! 
Residential & Commercial 
Lawn & Garden Care 
Call Rodney, your local  
lawnmowing contractor 
021 138 2344 
KAIWAKA 
MOTORCYCLES LTD
SALES – SERVICE – SPARES 
FARM BIKE SPECIALIST
PHONE 09 431-2127 
10 KAIWAKA-MANGAWHAI ROAD, KAIWAKA
Trimmers  
from $279
Chainsaws  
from $339
YAMAHA 
HUSQVARNA 
DRAIN LAYING - DRAIN UNBLOCKING 
WATERJETTING - CAMERA INSPECTIONS 
Maungaturoto  
Storage containers  
$55 pw  
A grade 20ft containers 
Good ventilation 
1 handle opening 
Lock boxes 
Long or short term hire 
Special rates for moving truck 
Call Gary  
021 902 087 
gary@fnkaipara.co.nz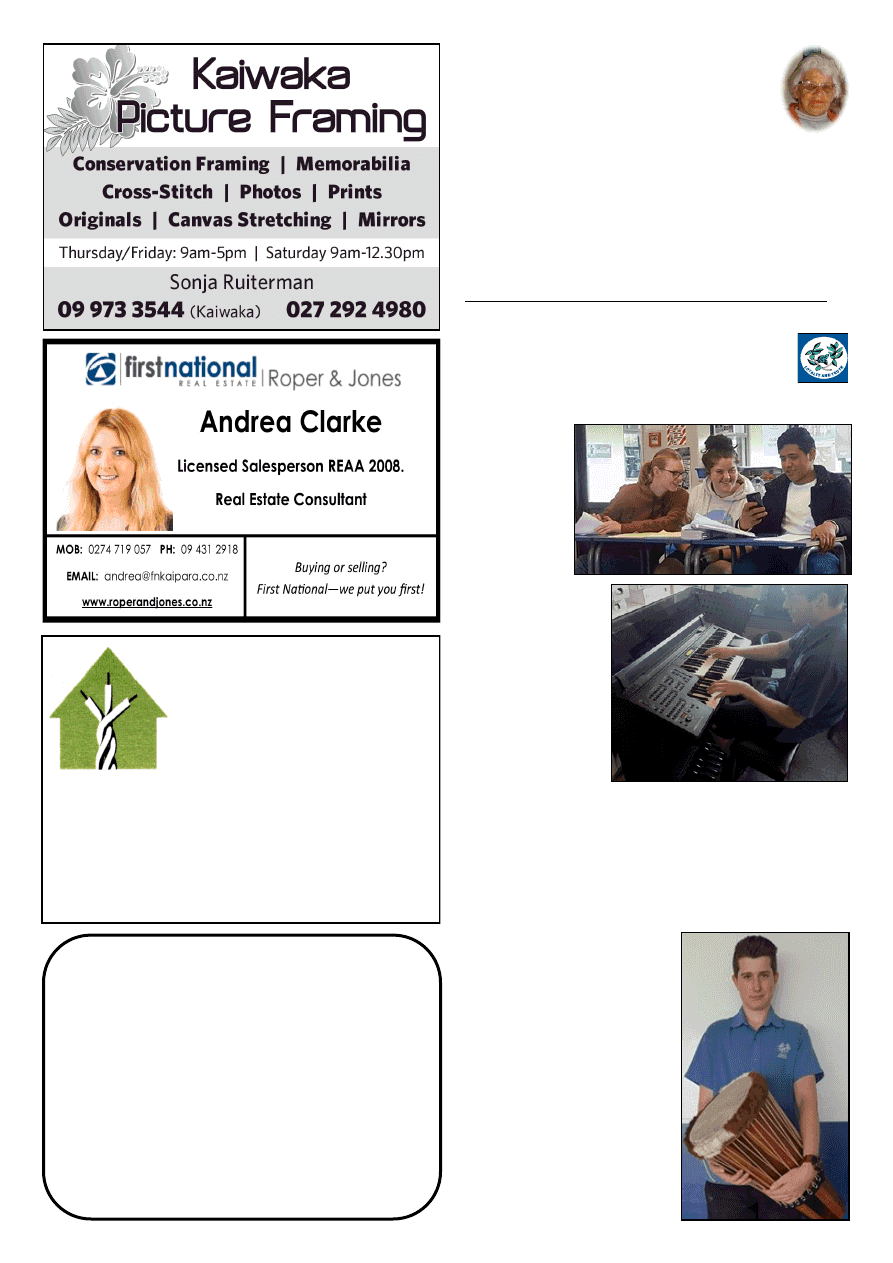 www.kaiwaka.co.nz 
Kaiwaka Bugle - 19 September 2017 
Page 19 
UP-LINK 
CHRIS WARING 
FREEVIEW INSTALLATIONS 
T.V. - HOME THEATRE &  
HI-FI ADVICE/SET UP
SKY ACCREDITED INSTALLER
MOB.0273403747 HM.094312328 
EMAIL cwaring44@gmail.com
28 YRS EXPERIENCE 
OFFERING UNBIASED ADVICE 
Reyahn George 
Leng 
Registered Electrician 
Local, honest and reliable. 
For your residential and 
light-commercial projects. 
022 314 1068 / 09 431 2527 
From Thelma's Scrapbook … 
A  bottle  of  soda  water  will relieve an upset 
stomach. Always carry a bottle in the car during 
holiday  trips,  particularly  when  children  are 
travelling  with  you,  as  they  tend  to  feel  sick 
when excited. It has an almost immediate effect. 
If you have trouble with ants  in  the  pantry, cupboards, 
on the bench etc., cut lavender flowers and place where you 
find  ants.  Leave  the  lavender  in  place  until  the  ants  go 
away. This really works. 

I've  found  a  good  way  to  deter  moths  from  settling  in 
wardrobes.  I  simply  hang  a  bunch  of  fresh  thyme  in  the 
wardrobe. As the thyme dries, it repels the moths.
Tautohetohe (Debating) 
The Otamatea High School Year 11 debating team 
went  to  Huanui  College  to  compete  at  the 
Northland  Schools  Debating  Competition  on  Sunday  11 
September. The team did extremely well, winning 2 from 2 
debates  against 
two 
Huanui 
College  Teams. 
Awesome  work, 
Hannah,  Quintin 
and 
Georgia! 
Debating  is  a 
great  way  to 
improve 
your 
public  speaking 
skills, 
build 
confidence  and  learn 
to think on your feet. 
Music 
Recently 
Otamatea 
High 
School 
was 
lucky  to  have  two 
high  quality  and  very 
well 
maintained 
musical  instruments 
kindly  donated  by 
Maungaturoto 
local 
Max Wallis.  Max  and 
his  late  wife  Marion 
have been huge supporters of our school over many years. 
They have been enthusiastically used and appreciated by all 
of  the  schools  music  students.  Having  a  full  size  electric 
piano has been fantastic for the growing number of pianists 
in  the  school  who  no  longer  have  to  take  turns  using  our 
piano, and many students have never seen an electric organ 
before,  much  less  play  one!  Thank  you  Max  your 
generosity is greatly appreciated. 
Technology 
The  year  12  Wood  Technology 
class are pulling out all the stops 
to  finish  on  time.  This  year  the 
students were given the theme of 
musical  instruments  and  have 
excelled  themselves  with  their 
enthusiasm 
and 
dedication. 
Pictured  is  Aaron  Lupton  who 
has nearly completed his Ashiko 
drum  using  contrasting  timbers 
of  Redwood and  Rimu  and  now 
is  at  the  stage  of  tightening  the 
goat skin head to create the right 
pitch. 
Congratulations  also  goes  to 
Alex Parr who has been selected 
as  the  2018  student  rep  to  the 
OHS Board of Trustees
 . 
OTAMATEA HIGH SCHOOL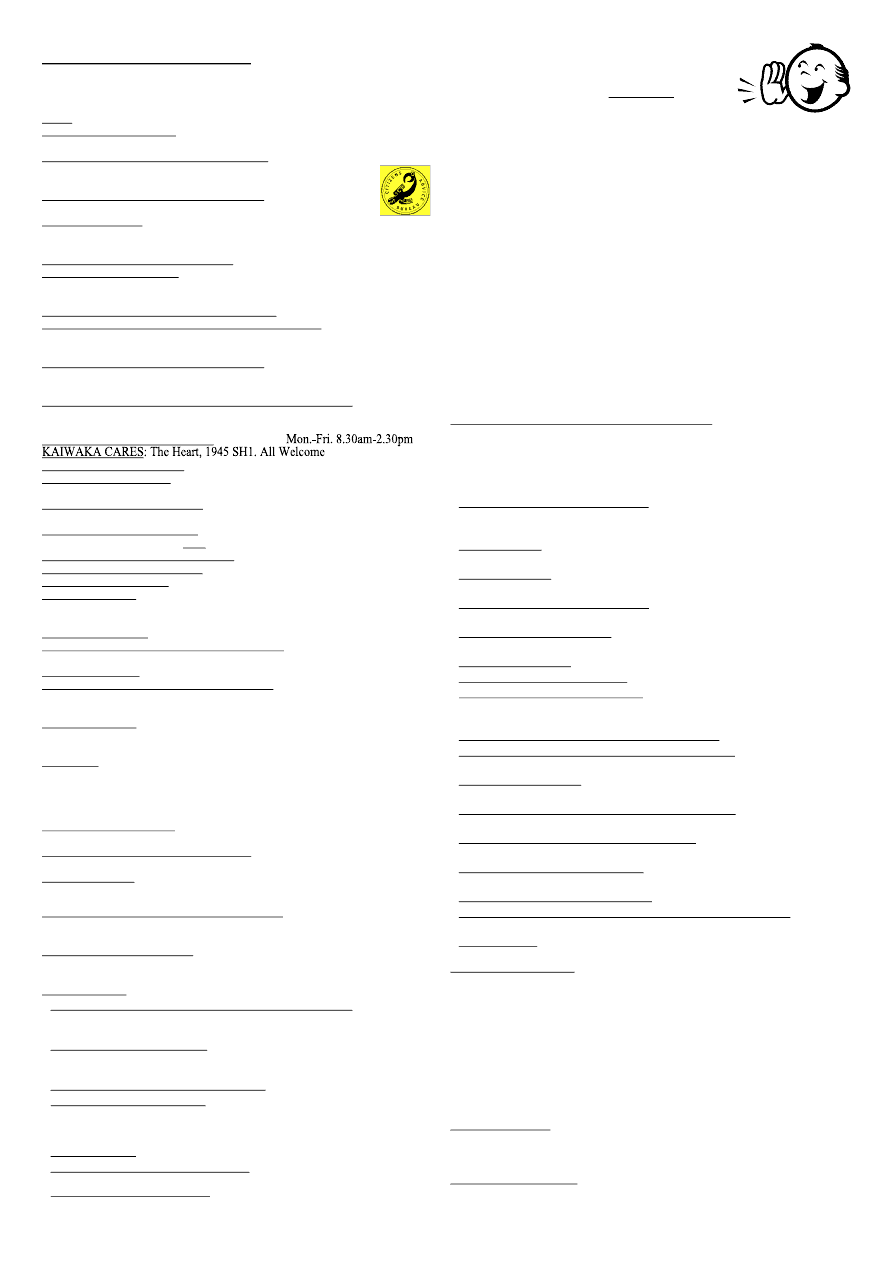 Next Bugle Deadline midday Friday 29 September  2017
WHAT'S ON
PLEASE ~ do let us know what is on - email 
kaiwakabugle@kaiwaka.co.nz 
Advertising in WHAT'S ON is FREE  
*22-23Sep~SuperClub Snapper Fishing  Championship, 4312651 
*23Sep~Kaiwaka Cares Bring & Buy, KWMH, 9-12 
*23Sep~ NZ General Election Day 
*24Sep~DAYLIGHT SAVING begins 
*24Sep~KSA Fast Five Netball begins 
*24Sep~Beauty and the Beast, 2pm KWMH 
*28Sep~Hakaru RSA Women's Section meet 1.15pm 
*29Sep~Red Nose Day 
*29Sep~End of School Term 3 
*6Oct~A Man Called Ove, 7.30pm, KWMH 
*7Oct~ The Lion King, 4.30pm KWMH  
*7Oct~Kauri Museum's Settlers Day,9am, Matakohe 
*10Oct~Kaiwaka War Memorial Hall Assn. AGM 5pm 
*15Oct~Seed the Untold Story, 1.30pm KWMH 
*17Oct~Kaiwaka School Calf Club Day 
*20Oct~Bruce Springsteen & Band, 7.30pm, KWMH 
*28Oct~KSA 'FRIGHT NIGHT', 5.30pm 
*29Oct~Despicable3 Me3, 2pm KWMH 
KWMH = Kaiwaka War Memorial Hall; KSA = Kaiwaka Sports Association 
See www.kaiwaka.co.nz for more information 
HOUSEHOLD RUBBISH COLLECTION - Kaiwaka Pick up: 
Mondays = Green bags (Northland Waste - 09 430 3273) 
Wednesdays  = Blue bags and yellow recycling (at Jaques $3.00 
and  $1.50)  (Kaurilands  09  4392146);  ONLY  Blue  and  Yellow 
bags picked up on Oneriri Road. 
 DIABETES  Support  Group  -for  Kaiwaka,  Mangawhai, 
Wellsford  10am,  3rd  Friday  of  month  Ph:  Colleen  James  09 
4314238 
 DRINK CAN 'tear tabs' - for Starship Hospital- please collect - 
98 Kaiwaka Mangawhai Rd, leave in mailbox, Ph. 4312625  
 GENEALOGY - Wellsford: 1st Thursday in month Ph: 423 
7033; Waipu: 4th Monday in month Ph: 4312 725 
 GYMNASTICS  OTAMATEA  -  Tuesday  Ph:  Stephanie  022 
3624998 
 HAKARU PONY CLUB - Secretary Denise Rogers 021423376 
secretary@hakaruponyclub.co.nz  
 KAIPARA HUNT - Secretary Albert Doonenbal Ph 4312059 
 KAIWAKA BADMINTON -Tuesdays 7.30pm Ph: 4312345 
 KAIWAKA  DRAMA  CLUB  -  Dave  Edwards  021  611198  - 
KaiwakaDrama@gmail.com Monday 5:30-7:00pm KWMH - FB 
- "KaiwakaDramaClub" 
 KAIWAKA DRUM & DANCE CLASSES - 021 611198 
 KAIWAKA GARDEN & FLORAL GROUP - 2nd Thursday in 
month. Ph: 431 4744 
 KAIWAKA  CUBS  -  Thursdays  5.30-7pm,  Hakaru  Ph:Bruce 
4312542 
 KNITTING FOR WHANGAREI HOSPITAL - 2nd Tuesday in 
month, Archie Bull Hall 10am Ph 4314827 
 MANGAWHAI COMBINED REBUS CLUB - 2pm, 3rd 
Thursday month, Senior Citizens Hall Mangawhai. Ph: 4315777 
 OTAMATEA GREY POWER - Kath Pattinson 09 283 2052, 
1pm last Wednesday of month, Anglican Church Hall, Mgto 
 PT CURTIS CRUISING CLUB - Jean Ph: 4312227 (wk), 4312520 (hm) 
 RSA,  HAKARU  &  DISTRICTS  WOMEN'S  SECTION  –  meets 
1.30pm 4th Thursday of the month. Ph: 431 5818  
 TRAMPING - Mondays 9am-2:30pm Maria 4312 234 
HALLS FOR HIRE: 
 St.Pauls Archie Bull Hall HIRE $20 half day, $40 full day per 
hire, R. Morgans, Ph 4312365 
 Kaiwaka  War  Memorial  Hall  HlRE  -  Phone  4312725  or 
kaiwaka.hall.bookings@gmail.com 
 Hakaru Community Hall HIRE -Ph. 4312256 or 4312110 
 Te Pounga Marae queries - R. O'Leary 4312 423, J.Nathan 021 
186 7382 
 Kaiwaka Sports Association hire/queries - C. Anderson 4312051 
or kaiwakasports@gmail.com 
Justice of Peace:  
B.FJaques  4312  048;  L.Donaldson  4312  228;  A.F.Hargreaves 
4312 045, W.Howard 4312 725 - please phone to make sure they 
are available www.justiceofthepeace.org.nz 
Marriage Celebrants:  
L.Donaldson; A.F.Hargreaves; Y Osborne
LOCAL SERVICES 
*Emergencies - Ambulance, Fire, Police - dial 111 
*Non-urgent Police phone 09 4311150
A A: Meets Wed., 8pm Kaiwaka Ph: 4315543, 0800229 6757 
ASUREQUALITY LTD (was AgriQuality) Call Free 0508 0011 22  
BUDGETING SERVICE, WELLSFORD: Free confidential advice & 
support for all areas of personal finance. Ph (09) 423 7123 
CAB-Citizens Advice Bureau.Wellsford Ph: 4237333 
0800 367 222 email:cab.wells@xtra.co.nz  
CIVIL DEFENCE - Kaiwaka Community Response Group: 
kaiwaka.civildefencecrg@gmail.com, 4312725 Wendy 
DOG/STOCK /NOISE CONTROL 0800 105 890 
FUNERAL SERVICES: Morris & Morris Ltd, 
Whangarei - Bev Jaques Ph:4312367 or 0800667747 
GRANDPARENTS Raising Grandchildren: Dianah Roberts 0223819539 
HAKARU & DISTRICTS MEMORIAL RSA (Inc) 733 Settlement Rd, 
Hakaru. Ph 4312 176 or Graeme Hitchcock (President) 431 3064 
HAKARU LANDFILL/Transfer Station:Open everyday except 
Tuesday10am-4pm.Ph4312629 Cost-$55 trailer load up to 1 cubic metre. 
Ph:4258567 - office 
KAIPARA DISTRICT COUNCIL www.kaipara.govt.nz:  
Help Desk FREEPHONE 0800 727 059  
KAIWAKA KOHANGA REO: Ph:4312620 
KAIWAKA CEMETERY: Ph: 4312045 or 4314017 
KAIWAKA LIBRARY: kaiwaka.library@gmail.com  
Mon. 4-6pm; Wed., Thurs., Fri., Sat. 10am-2pm Ph:4312539 
KAIWAKA PLAYCENTRE: Ph Juanita 0274134904; open Mon, Wed, 
Fri 9am-12pm. Hastie Lane; Monday to Friday 9.00am - 12 noon. 
KAIWAKA POST OFFICE:Ph:4312 431  
Post Code: 0573 for RD2 and 0542 for all Kaiwaka Post Office mail 
KAIWAKA PRIMARY SCHOOL: Ph: 4312309   
KAIWAKA SPORTS ASSN: Ph 4312005; 4312129 gym 
KAIWAKA ST JOHN: Manager Steve Rosser 09 4318403, 021 355734 
KATE'S PLACE Community Centre - Employment services, Free Health 
Nurse, Plunket, Advocacy, Osteopath, A.A., Legal Advice. 4312 661 
LINKING HANDS Health Shuttle Ph 4315906 or 09 4318969 
MINISTRY FOR PRIMARY INDUSTRIES - General inquiries Call 
Free 0800 008 333 
NORTHPOWER: Faults Kaiwaka area 0800 104040 
OTAMATEA COMMUNITY SERVICES: Counselling, parent coach, 
Family Support worker, budget advice, food bank. Mon-Fri 9am-3pm. Ph 
09 431 9080 http://www.otamateacs.org/ 
PARENTPORT: Free, practical family support service Puhoi to Paparoa 
Ph or txt: Dianne 027 280 5093 or 09 425 9357 
PLUNKET:  Kaiwaka  -Kate's  Place  Clinic  1st  Wednesday  of  the  month; 
Mangawhai  - Rose Madsen Cottage: Coffee Group 9:30 every Monday.  Clinic 
every Monday and Thursday. 
Maungaturoto - Good News Church, Clinic 2nd and 4th Wednesday.  
Cynthia 09 431 7340 or 027 675 3488 
PLUNKET HELPLINE -0800 933 922 (24 hours) 
TAITOKERAU COMMUNITY LAW: Free confidential legal advice and 
assistance, 2nd
Thursday
 of each month. Ph: 0800 155 529 for appts.  
TE URI O HAU Settlement Trust Tangata Developments: Whanau Ora 
021 793262  
VETERINARY SERVICE MANGAWHAI: 
Ph: 4314535 Mon-Fri 8.00-5.00, Sat 9-12, a/h appt. 
WELLSFORD DOCTORS: Ph: 4238 086 
CHURCHES:
 
Kaiwaka  Revival  Church  -  Your  Community  Church:  Sundays  10am. 
Ph: Pastor Tawhiri 09 431 8988 or Pastor Paul 09 4312 068 Visit us at 
www.facebook.com/kaiwakachurch 
 
St  Paul's  Anglican  Church  1st  Sun.  9.00am  (Eucharist),  3rd  Sun. 
9.00am (Family Service). Contact: Rev. Wayne Thornton Ph 431 4122 
www.mangawhaianglican.org.nz 
 
Church of Christ the King, Mangawhai:9.30am every Sunday 
 
St.Mary's  Catholic  Church:  Maungaturoto  –  Griffins  Road,  Saturday 
evening  Vigil  Mass  6pm;  Mangawhai  –  Senior  Citizens  Hall,  Sunday 
Mass  8:30am;  Wellsford  –  Matheson  Road,  Sunday  Mass  10:30am;  
Mid-week Mass times and all enquires to Fr. Bill Fletcher – phone 423 8170
 
Baptist Church: Sun. 10.30am Mangawhai Snr Cit.Hall.Ph:4312339 
 
Cause  Way  Church  Mangawhai:  Sundays  10.15am,  Mangawhai 
Community  Recreation  Centre,  Insley  St.  Ph:  09  4314782