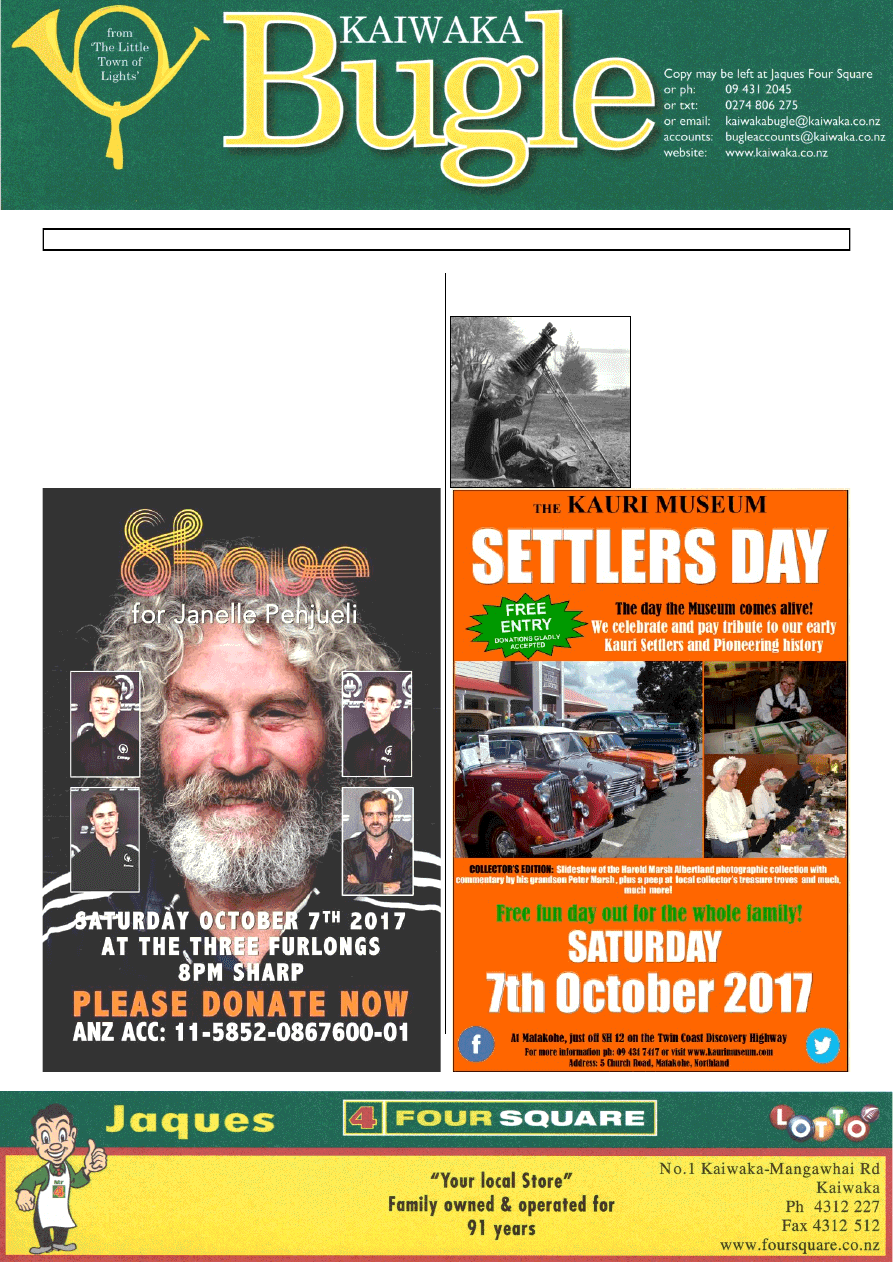 www.kaiwaka.co.nz 
Kaiwaka Bugle - 3 October 2017 
Page 1 
No: 19 
3 October 2017 
Trading Hours: 
Monday to Friday 8:00am -6:30pm 
Saturday 8:00am - 7:00pm 
Sunday & Public Holidays 9:00am - 5:00pm  
SETTLERS DAY 
Settlers Day at The Kauri Museum, Matakohe, is when "the 
museum comes alive". This Saturday 7 October the theme 
focuses 
on 
collections, 
collectors 
and 
storytelling 
through  collections.  Including 
Harold  Marsh's  Albertland 
photographs,  shown  by  his 
grandson  Peter,  in  our  theatre. 
Left  is  Harold  Marsh  pictured 
with his camera - as seen on the 
cover  of  'High;ights  New 
Zealand Memories' 
PONGO SHAVES for JANELLE 
If  you  know  our  Kaiwaka  Sports  Association's  President 
Wayne  "Pongo"  Leslie,  then  you'll  know  about  his  iconic 
mop  of  hair!  Wayne  is  pictured  below  with 
the 
staff  members:  Kyle  Underwood, 
Rhys  Shadbolt,  Corey  Slimo  and  Samuel  Stephens,  who 
will also be 'shaved'. Hairdresser Rose Paikea and her crew 
from Headz of Hair will be doing the shavings. 
A  'Shave  For  Janelle'  event  has  been  organised  to  raise 
funds  for  Janelle  and  her  three  young  daughters,  Georgia, 
Becky  and  Missy.  The  community  is  coming  together  to 
support local lady Janelle Penjueli in her 
time of need.  her 
recent diagnosis of inoperable bowel cancer.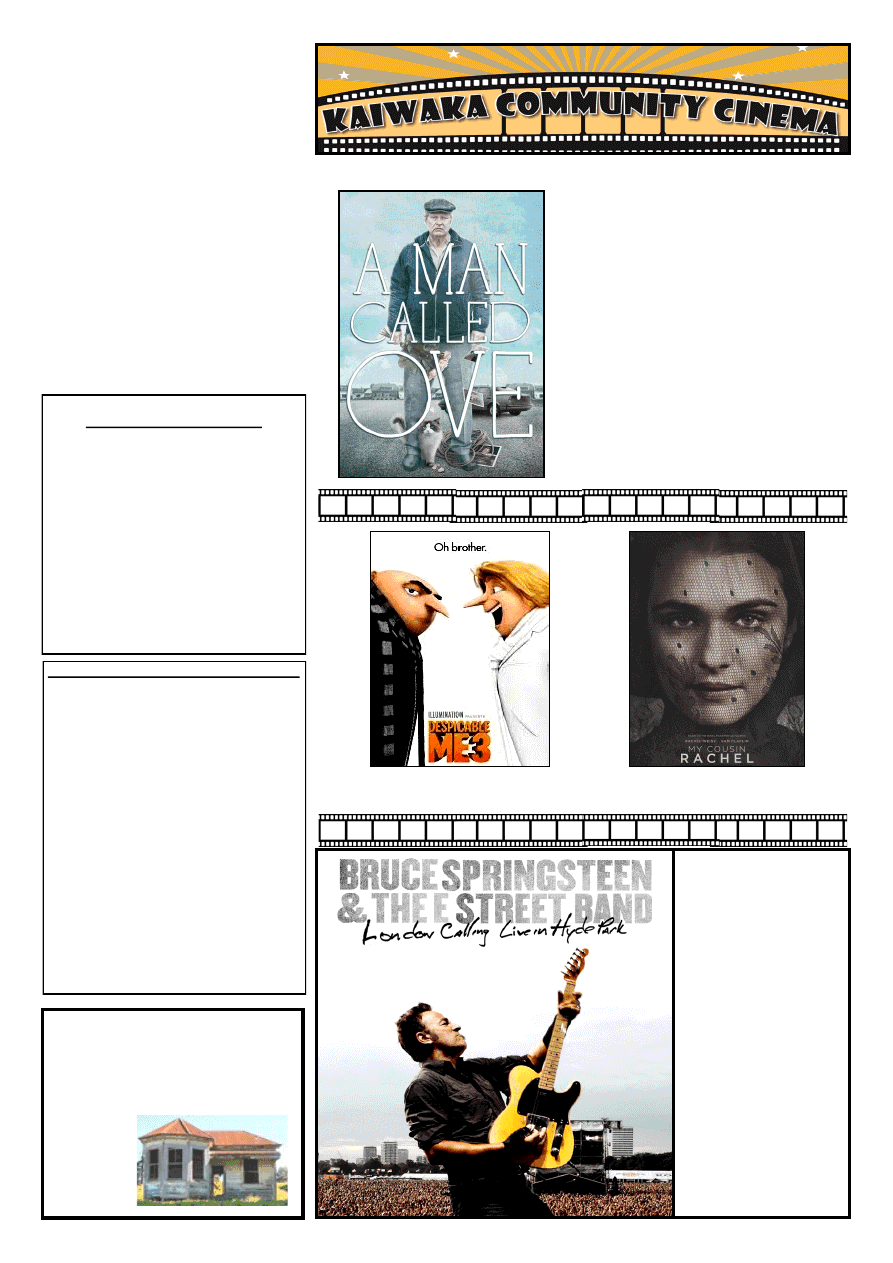 At Kaiwaka War Memorial Hall . Adults $10, Kids (under 16) $5, Family Pass (2 adults + 3 children) $25 
KAIWAKA BUGLE No. 19 
3 OCTOBER 2017 
CONTENTS 
Page 3: Public Notices, Classified 
Page 5:  Pt.Curtis C.C.; STOP 
Page 7:  Kaiwaka Scouts 
Page 9:  Otamatea Hawks Rugby 
Page 11: Kaiwaka Sports Assn 
Page 13: Library; Nina Quan  
Page 15: Councillor's Comment; Zonta 
Page 17:Te Whai; Thelma's Scrapbook  
Page 19: Kaiwaka School 
Bugle 20 will appear  17 October 
Contact for advertising, reports, articles 
or information can be made by 
Email kaiwakabugle@kaiwaka.co.nz 
Ph: 09 4312 045 Lindsey 
Txt: 027 2724137 
Copy  may  be  left  at  Jaques'  Four 
Square. 
Kaiwaka Bugle Advertisements 2017: 
All 
copy 
and 
queries 
to: 
kaiwakabugle@kaiwaka.co.nz 
The Bugle is printed on an A4 page   
Ad  sizes:  1/16  page  (3  x  9.5cm)  $5;  1/8 
(6.5  x  9.5cm  landscape  or  portrait)  $8; 
3/16 ( 10 x 9.5cm or 7.5 x 12,5)  $12.  
Classified  ads:  First  one  FREE,  $4  per 
entry (max. 30 words, max. 4 repeats). 
Payments  can  be  made  online  at 
ANZ 
06  0365  0006990  00
,  posted  or  left  at 
Jaques Four Square Store. 
We  use  Microsoft  Publisher,  and  can 
work  with  most  common  image 
formats, Word, Excel, and PDF files. 
Accounts:  
Email: bugleaccounts@kaiwaka.co.nz 
The  Kaiwaka  Bugle  is  a  community 
newspaper run by volunteers.   
Articles, etc. printed are not necessarily 
the opinion of the Bugle Team. 
Kaiwaka Bugle 
Founded May 1978 
We appreciate articles and photos about local 
events, etc, as well as ads and suggestions. 
Copies available in Kaiwaka at Jaques Four 
Square, Kaiwaka Postal Centre, Shamrock 
Service Station, Animal Health Centre, 
Kaiwaka St John shop. 
Also outlets in Maungaturoto, 
Mangawhai and Paparoa. 
Can be viewed online at  
www.kaiwaka.co.nz/Bugle  
Or a copy can be posted to you if you supply 
stamped, self-addressed DLE envelopes. 
A Man  Called Ove 
Friday 6 October, 7.30pm (M)  
Ove (Rolf Lassgård) is the quintessential 
angry  old  man  next  door.  An  isolated 
retiree  with  strict  principles  and  a  short 
fuse,  who  spends  his  days  enforcing 
block association rules that only he cares 
about, and visiting his wife's grave, Ove 
has  given  up  on  life.  After  a  boisterous 
young  family  moves  in  next  door  and 
accidentally  flattens  Ove's  mailbox,  an 
unlikely friendship forms. 
Despicable Me 3 
Sunday 29 October, 2pm (PG)
My Cousin Rachel 
Friday 3 November 7.30pm (M) 
Proverbs 25 : 24 - 
A person 
without self-control is like a 
house with its doors and windows 
knocked out.
BRUCE SPRINGSTEEN  
& THE STREET BAND 
Music Movie Night 
and Supper 
BYO drinks 
$20.00 tickets only 
NO Door Sales 
Friday 20 October 
7.30pm 
Ph: 021 2154495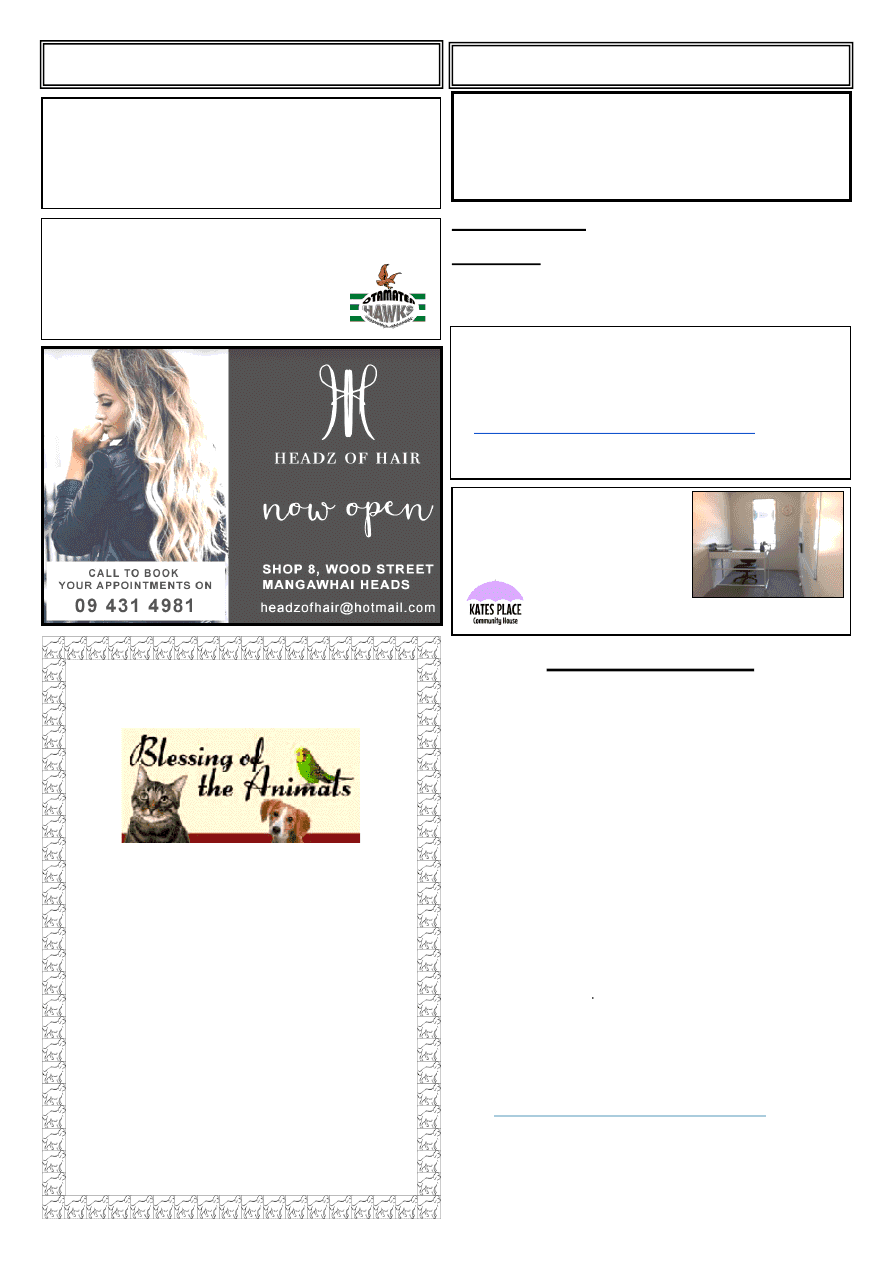 www.kaiwaka.co.nz 
Kaiwaka Bugle - 3 October 2017 
Page 3 
BLESSING OF THE  
ANIMALS 
St Francis of Assisi Service 
SUNDAY 8th  OCTOBER 2017  
9.00am 
MANGAWHAI CHRIST THE KING  
ANGLICAN CHURCH 
Molesworth Drive, Mangawhai Village 
ALL PETS WELCOME 
Bring all living creatures, whether  
they be pets, birds, farm animals, etc 
(suitably restrained).   
Where people are not able to bring an 
animal, they may like to bring a photo  
or picture of an animal they love  
or a soft toy 
Enquiries:   Ph Sue, 09 431 5494 
ABOUT TOWN 

Movies abound - get your ticket for a great night out with 
Bruce Springsteen!  There are the Movie Team's movies - 
see page 2, plus Kaiwaka Playcentre's 'The Lion King' 
fundraiser (4.30pm Sat. 7 October) and Rotary's fundraiser 
'The Dark Horse' (7.30pm Friday 27 October)  

 Bouquet to  Ad Clarijs who 'runs' the movie machine - 
thank you! 
Have  a  go  at  the  KSA  Fright  Night  colouring  in 
competition  -  categories  for  all  ages  -  see  KSA  news  on 
page 11. 
Kaiwaka  War  Memorial  Hall  annual  meeting  -  come 
along  and  hear  what  it  takes  to  'run'  this  community  hall, 
and about the library and the movies. 
Bev is right up-to-date with the weather report - this will 
be in the next Bugle. 
A  great  turnout  of  voters  was  observed  at  the  2017 
General Election at the Kaiwaka War Memorial Hall  
The  Kaiwaka    Sports  Assn.  First  Aid  Kits  are  available 
again - at $39.95 they are absolutely worth it. See page 11. 

 The Maungaturoto Trash & Treasure begins 9 October - 
for one week at the 
 at the Maungaturoto Centennial Hall 
from  9th  to  13th  October,  9am  to  5pm.  All  sorts  of 
"treasures"  available  and  items  to  be  donated  may  be 
brought in during the week. 
 To  celebrate  National  Gardening  Week,  Yates  is  giving 
away free vegie seeds between 1st and 13th October.  Just 
register  online  during  this  time  to  receive  your  packet  of 
www.yates.co.nz/nationalgardeningweek
~ Lindsey, Ed 
"
OCTOBER:1 Mon: Bombed last night very close. Had to get out. 
Troops passing all day & night. Good work in Canteen  
2 Tues: Our troops gone in, saw Sweet, Kelleher & others 4
th
 Brgd. 
Expected to go over on Wednesday. Bombed like hell again last 
night. Went to Bulk store & bought stores. Guns going up…"~from 
my Grandpop's WWI 1917diary - in France. 
PUBLIC NOTICES 
CLASSIFIED 
FREE 
First notice FREE  for Classified or Public Notices - 
less  than  30  words  -  then  charged  as  per  advertised  
($4). This includes AGM and meeting notices, FOR 
SALE, WANTED, FOR RENT. ~ Kaiwaka Bugle 
GARAGE  SALE:  Saturday  14  October,  9am-5pm  at 
331 Brown Rd., Kaiwaka. 
MASSAGE:  At  Kate's  Place,  Kaiwaka;  11am-2pm 
Tuesdays; $20 for 20 mins - neck & shoulder massage. 
Ph:  Linda  Barry  021  1142518  or    make  a  booking  at 
Kates Place. 
KAIWAKA WAR MEMORIAL HALL 
ASSOCIATION Inc. 
Annual General Meeting 
Tuesday 10 October, 5pm, 2017 
In the Kaiwaka War Memorial Hall 
OTAMATEA HAWKS RUGBY CLUB 
Annual General Meeting  
Wednesday, 18th October 7pm 
at the Kaiwaka Sports Complex  
All Welcome 
OFFICE TO RENT 
Furnished, WIFI, Printing 
Power & Water 
Tea & Coffee 
$100 a week 
Phone (09) 431-2661 
Kia ora e te whānau, 
E rapu ana te kura o Ngaringaomatariki i ngā kaimahi 
nei. He Kaiako, he Kaitari me he Kaitaraiwa waka.  
Memehea e ngākau nui ana ki te mahi, te reo me ōna 
tikanga 
tuku 
mai 
he 
kōrero 
tumuaki@ngaringaomatariki.school.nz
waea mai rānei ki a Matua Reno 021713506 i mua i 
te 12 o te ahiahi a te waru o Whiringa a nuku.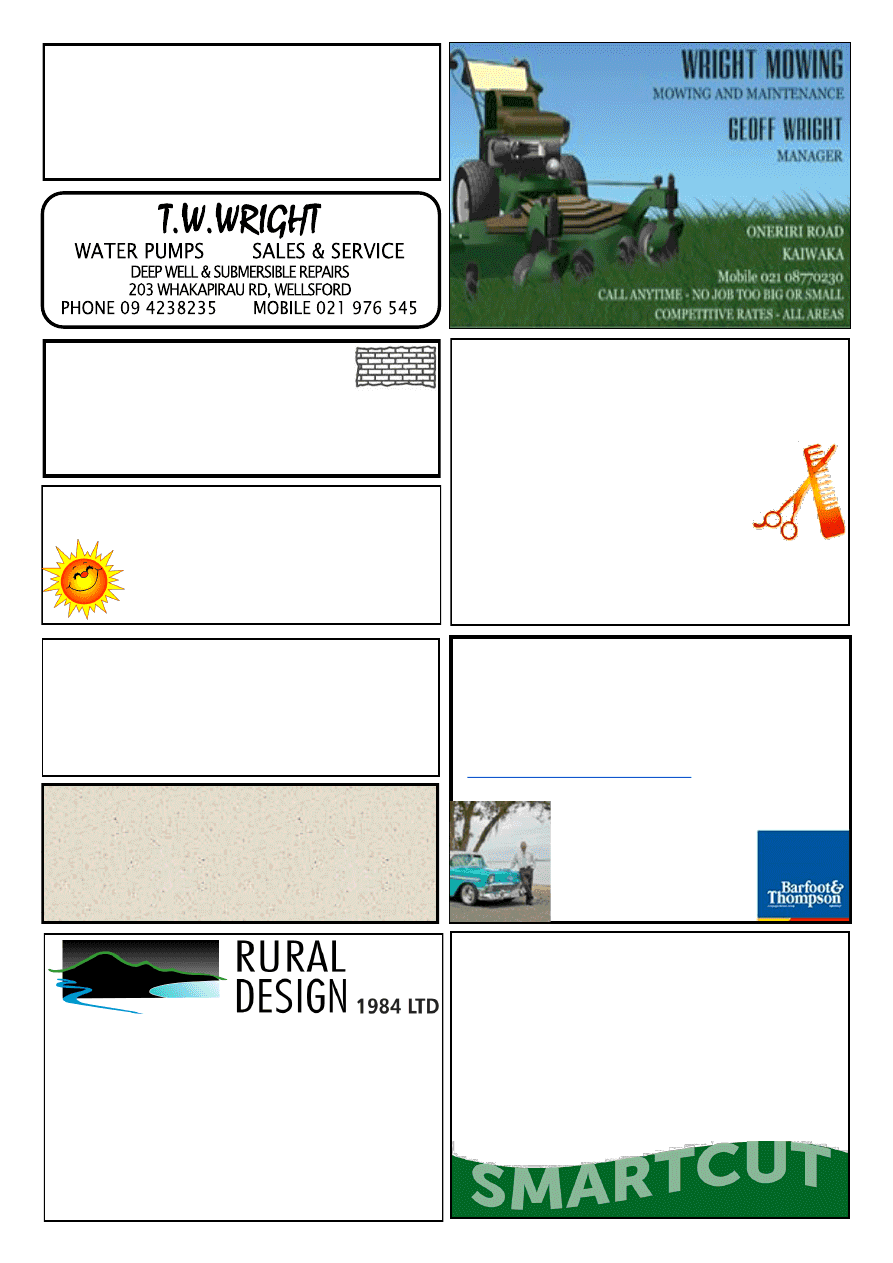 AFFORDABLE PRICES! 
MENS CUT FROM $20.00 
LADIES CUT FROM $30.00 
KIDS CUT FROM $18.00 
COLOUR & CUT FROM $120.00 
JUST CUTS'AND   
MORE 
021 165 2629 or (09) 945 0707  
NOW SELLING: scented tealights, incense, smudge sticks, 
copper bracelets, aurora ball crystals, dream catchers, healing 
stones, rose quartz, cds, and much more. Open 6 days. 
All your outdoor needs sorted so you don't have to... 
I can prune, chop, tidy, spray, mow, plant 
- you name it, I can do it! 
Residential & Commercial 
Lawn & Garden Care 
Call Rodney, your local  
lawnmowing contractor 
021 138 2344 
 LEABOURNS 
Passenger Service
Car & Van Hire  Bus & Coach Charters 
Airport Transfers   Monthly Shopper Bus 
Phone (09) 4237416 
BRICK/BLOCKLAYER 
All aspects of masonry:  
Fireplaces, Restoration & Remedial Work. 
JAMES EAGLETON 
Tel. (09) 431 2514    Mob. 0274 749 232 
jajueagles@yahoo.com.au 
210A Pukenui Road, RD2 Kaiwaka 0573 
THE SUNSHINE GIRLS
Efficient and reliable help with 
your housework. 
Ph 4312 532 
MARRIAGE CELEBRANT 
WEDDING EVENTS PLANNER 
Yvonne Osborne 
Ph 0274 989 814 
yvonne.osborne@xtra.co.nz 
Counsellor and Registered Psychotherapist 
Offers Supervision 
ACC Sensitive Claims 
Susan Matheson      MNZAC 
Dip. Psychosynthesis Counselling and Psychotherapy 
Phone 09 431 2996                                     Mobile 027 605 2427 

  After 20 years of selling in Auckland I have             
moved to Kaiwaka. 

  I have a relaxed attitude with years of  
        results and experience. 

  Please feel free to give me a call or email. 
licensed real estate agent (2008) 
Chris Barrington
Residential Sales
M 
Mangawhai
Wholesale Native Plant Nursery and Planting 
Small and Large orders welcome 
By Appointment 
300 Kaiwaka-Mangawhai Road, Kaiwaka 
Phone: 09 431 2481 
Email: info@ruraldesign.co.nz 
www.ruraldesign.co.nz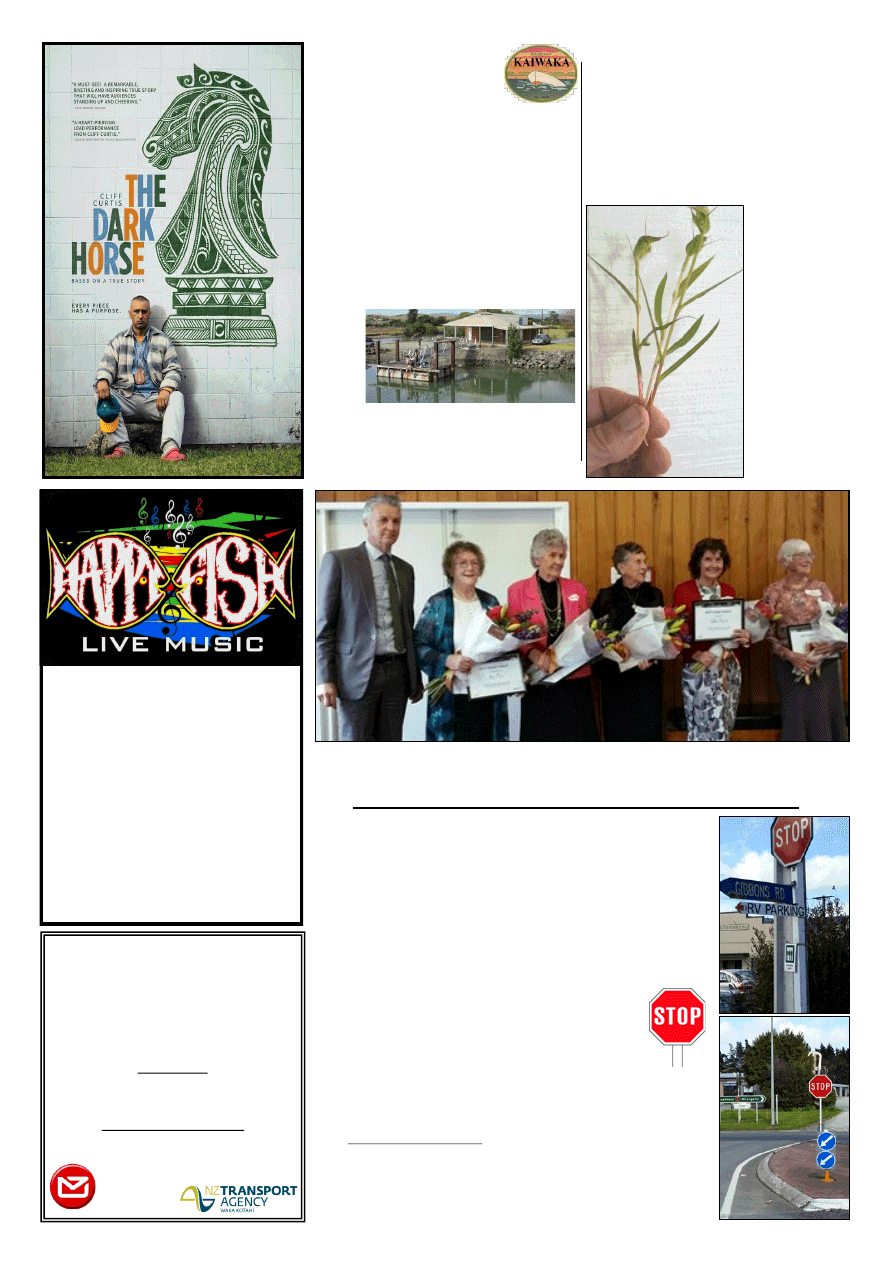 www.kaiwaka.co.nz 
Kaiwaka Bugle - 3 October 2017 
Page 5 
PT.CURTIS 
CRUISING 
CLUB
Well  done,  Team!  The  Team  was 
3
rd
  overall  in  the  Super  Club  Snapper 
Fishing  Competition  on  the  22
nd
  and 
23
rd
  September  held  at  Waipu.  Great 
turn out, 10 Club Members braved the 
weather.  BIG  Thank  you  to  Keith 
Mills for keeping in touch with all the 
Club members, and managing to fish. 
Waipu 
is 
having 
a 
Fishing 
Competition  on  Labour  Weekend  -  if 
anyone  is  keen  check  out  Facebook 
(Waipu Boat & Fishing Club) page for 
details. 
Fish  of 
the 
Month 
is 
Snapper  till  10
th
  October.  Next  Club 
Meeting  10
th
  October  2017  7pm  at  3 
Furlongs Bar & Grill 
~Wayne Leslie, Commodore 
ROCKIN' POPULAR, OLD AND 
NEW PARTY SONGS WITH LOADS 
OF KIWI MUSIC AND A FEW 
ORIGINAL TUNES IN THE MIX. 
AN ELECTRIC DUO FEATURING:  
GORDON JOLL 
(NZ Music Hall of Fame)
ON DRUMS AND SUE JOLL ON 
GUITAR AND VOCALS. 
A BAND FOR ANY OCCASION 
BACKED BY YEARS OF 
EXPERIENCE. 
Contact: Sue 021 623 776 
Email: happyfishband@gmail.com 
Website: www.happyfishband.co.nz 
Lilia and her Spring lamb, Minty! 
KAIWAKA FOOD MART 
Mukesh and Pragna Patel 
1919A State Highway 1, Kaiwaka 
09 431 2431 
Opening hours: 
Groceries 
7.30am - 7.30pm daily 
(Monday to Sunday) 
NZ Post and NZTA 
Mon to Fri. 8am - 5pm 
Saturday 8am - 1pm 
STOP MEANS STOP! 
 A  very  concerned  Kaiwaka  resident  has  noted,  "There  are  two 
stop signs in Kaiwaka. One when you come out of Gibbons Road 
and the other at the end of Kaiwaka-Mangawhai Road, going on 
to  State  Highway  One.  Over  a  period  of  time.  I  have  seen  so 
many people go through these stop signs and not giving way to 
motorists.  I  am  glad  that  I  haven't  had  a  accident  so  far.  But  I 
have come close to it a few times! 
STOP: Means that you must stop at all times." 
As a traffic cop told a local, "Your wheels must stop turning!" 
From the New Zealand Road Code: 
"Stop sign 
At an intersection controlled by a Stop 
sign: 

come to a complete stop (do not just slow down)

stop where you can see vehicles coming from all directions

stay stopped until you have given way to all other vehicles 
(this includes cycles and motorcycles, etc), if you and another 
vehicle are both facing Stop signs, use the give way rules 
(see 
) you must not go until it is safe.
The word STOP and a single yellow line will 
be painted on the road." 
http://www.nzta.govt.nz/resources/roadcode/about-driving/giving-way-
intersections/
KAIPARA CITIZEN AWARDS 
Kaipara  Mayor,  Greg  Gent,  presented  the  2017  awards  to  Bev  Ross,  Valerie 
Mann, Lilian Radich, Colleen Preston and Stella Woolnough in Paparoa. 
Friday Oct 27 
7.30 pm 
 $10 entry 
Rotary  
Fundraiser 
NATIVE ORCHIDS 
Rob  Hastie  showed  us  this  beautiful 
wee  native  orchid  (pictured)  he  had 
found  just  metres  from  his  home  in 
Baldrock Rd. 
Rob's  interest  in  wee  orchids  began 
many years ago when Maureen Young 
(who  once  taught  in  Mangawhai)  told 
him  about  the  'kiwi'  orchid  -  she  had 
identified 14 different native orchids in 
our locality. 
This  orchid  is 
one  of  the 
Greenhood 
family  and  is 
probably  the 
Kauri 
Greenhood 
which 
is 
found 
in 
Northland  and 
in  our  kauri 
bush. 
It 
flowers  from 
July 
to 
October. 
Ref: 
native 
orchids.co.nz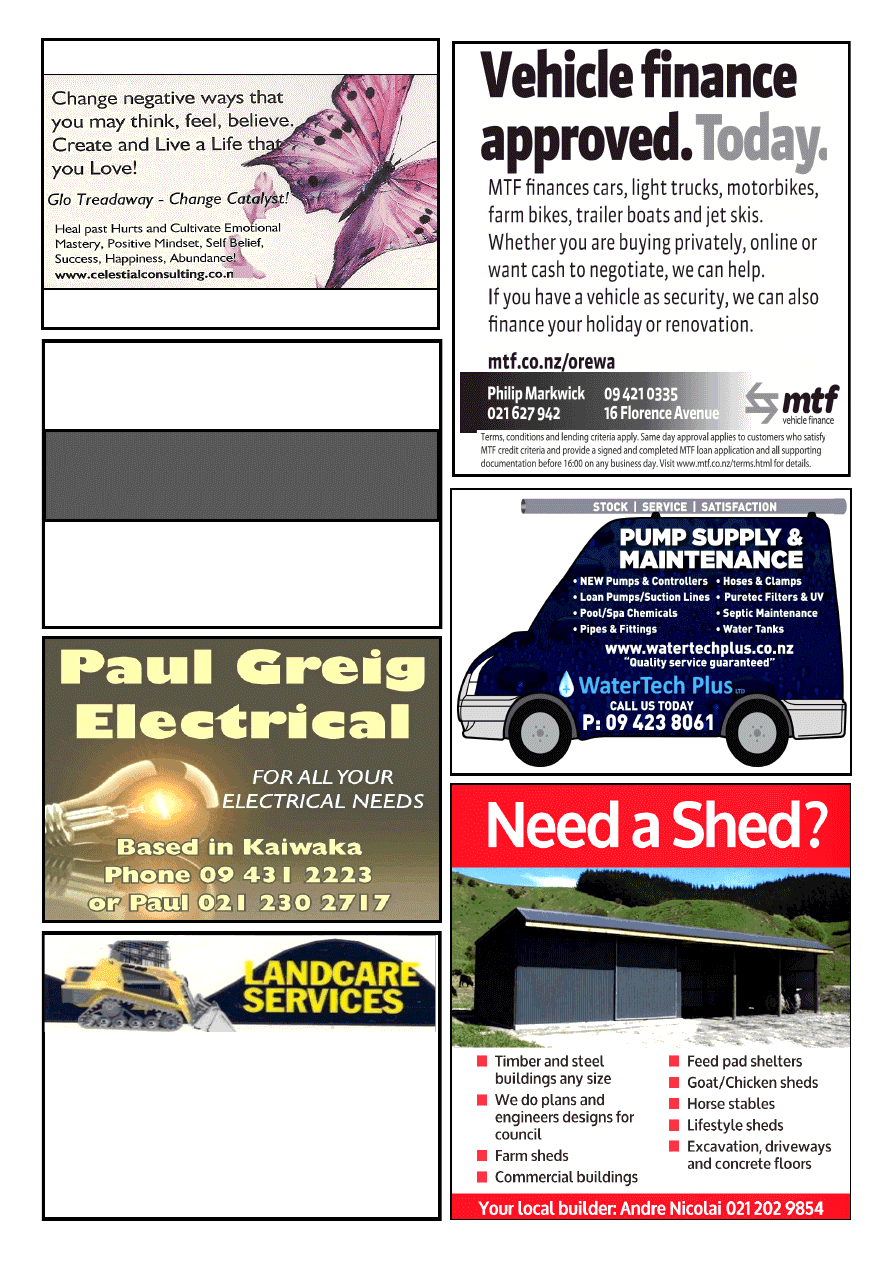 David Korach 
Your local Gib Stopper
DK PLASTERER LTD 
0274769221 
dkorach6@gmail.com 
LANDSCAPING 
4 IN 1 BUCKET 
TRENCHER 
POLE HOLES 
ROTARY HOE 
COMPACT ROLLER 
OFFAL HOLES 
CAN SUPPLY WOODCHIP & POST PEEL 
5 TON TIPPER 
FOR RELIABLE AND FRIENDLY SERVICE CONTACT DAVE 
Dave Hyndman 
 
KAIWAKA 
PH: 09 4312302 
MOB: 021 431 238 
et 
Helping You to See & Activate Your True Potential ! 
For You, Your Family, Your Relationships! 
Phone or Text Glo 027 363 8833 
Apts available in Kaiwaka, Waipu, Browns Bay.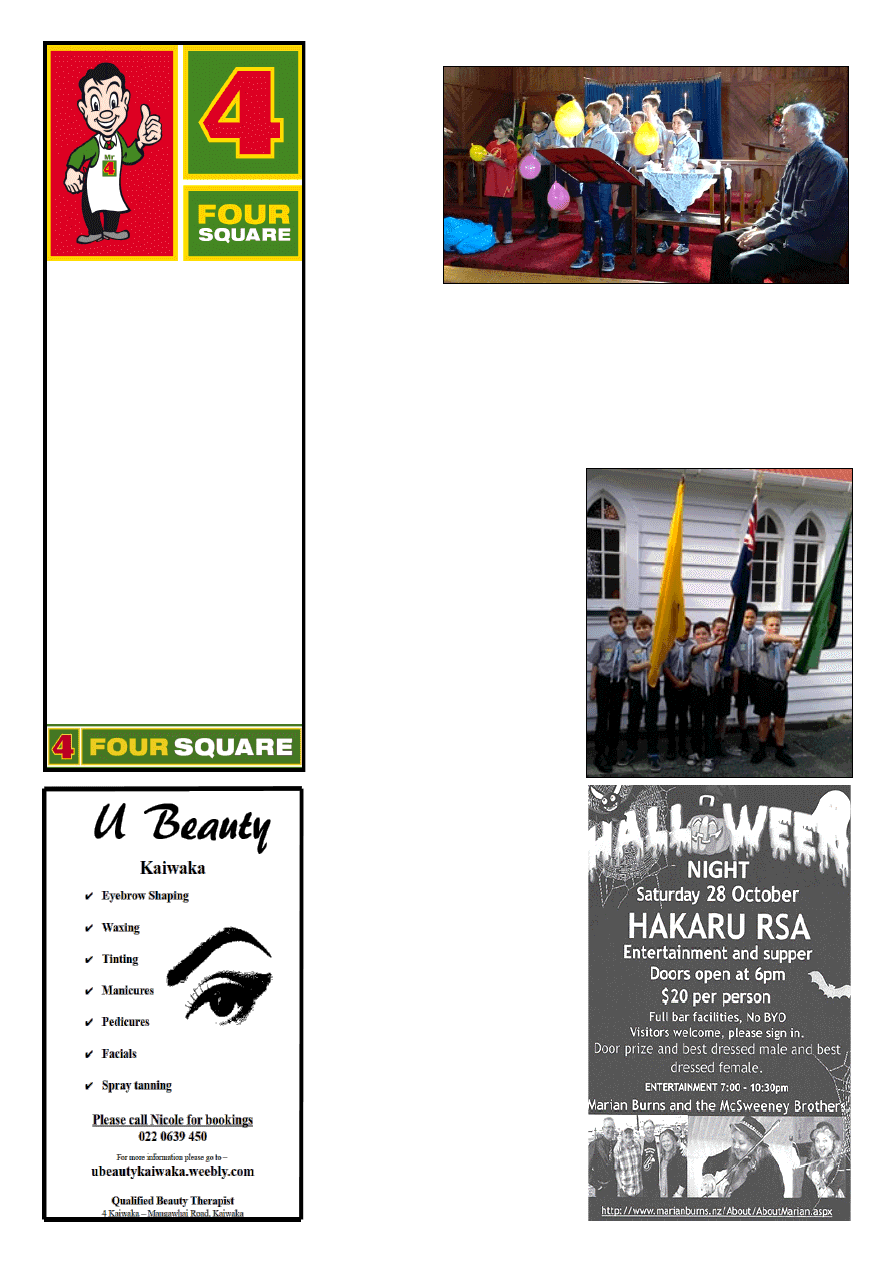 www.kaiwaka.co.nz 
Kaiwaka Bugle - 3 October 2017 
Page 7 
KAIWAKA/MANGAWHAI SCOUTS 
SPRING IS HERE! 
Tui Gardening Products 
in Store now!
Compost 
Seed Raising Mix 
Mulch 
Potting Mix 
Organic range as well 
Fertilisers 
Quash  
Also tools, gloves  
Punnet Seedlings 
$2.98 
Seed potatoes 
Seeds 
Everything you need 
Open till 6.30 Monday to Friday
Jaques Four Square 
Phone: 4312227 
1 Kaiwaka-Mangawhai Road, Kaiwaka. 
Kaiwaka 
Cubs 
and 
Scouts 
participated  in  a 
flag  ceremony  as 
part  of  a  special 
service 
at 
St 
Paul's  Anglican 
Church 
on 
Sunday 
17 
September.  The 
interactive family 
service was based 
around  caring  for 
and helping other 
people.  Cubs  and  Scouts  helped  Rev 
Wayne 
Thornton 
and 
Derek 
Christensen  tell  the  story  of  the  Good 
Samaritan, 
using 
placards, 
and 
different  coloured  balloons  as  visual 
reminders  of  when  and  how  to  help 
others:  anyone;  anytime,  anywhere; 
and with whatever you have. 
A  small  group  of  Cubs,  Scouts  and 
leaders  attended.  Group  Leader  Bruce 
Ferguson was away with senior Scouts 
at  a  Sandford  leadership  training 
course. His report on the past year was 
presented by Lindell on his behalf. 
The  Scout  Group  thanked  Rev  Wayne 
Thornton,  Derek  Christensen,  Mary 
Hargreaves  and  Sara  McAulay  for 
planning  the  service  and  attending  the 
rehearsal, and musicians on the day for 
lively accompaniment to songs tailored 
to the theme. The service was followed 
by a shared morning tea. 
Highlights from Bruce's report : 
'Cubs  have  been  the  many  varied 
activities  offered,  including  attending 
camp  with  Warkworth  Cubs  at  Camp 
Bentzon.  The  18  Cubs  are  from 
Kaiwaka, 
Mangawhai 
and 
Maungaturoto.  The  pack  has  been  run 
by  'Shada'  Dalleise  Jaques,  with  the 
assistance  of  Gene  Wintle,  Chris 
Booth,  Tracey  Foy  and  junior  leader 
Hamish Ferguson. Tracey has come on 
board  as  Assistant  Group  Leader  to 
ease my role, as I have had to be more 
hands-on  with  the  Scouts,  assisted  by 
Lish  Reynolds  and  'Namu'  Garth 
Coulam. 
Although  we  have  about  10  Scouts 
currently,  both  Cubs  and  Scouts  are 
expected to grow in number next term 
as  leader  warrants  come  through  for 
Julia Watson and 'Namu'. 
19  Scouts  from  Kaiwaka-Mangawhai 
troop  attended  Scout  Jamboree  in 
Blenheim.  The great experiences they 
had  in  the  10  days  under  canvas,  and 
bonds  they  formed  with  other  Scouts 
and people, will be with them for life. 
This  was  a  combined  contingent  with 
Dargaville, Horahora, and a patrol from 
Australia. It has brought our NZ troops 
closer and we have ongoing interaction 
with  them.  Three  of  our  senior  Scouts 
have  this  year  achieved  their  Chief 
Scout Awards. They have now started a 
Venturer unit and are working towards 
their  Queen  Scout  Award  under  the 
guidance of former Scout leader Jenny 
Webb. 
While  I  was  at  Jamboree  I  had  some 
quite  long  discussions  with  the 
Venturer 
Jamboree 
organisers. 
Illuminate2019 is the theme of the 14th 
NZ  Venture  –  where  around  1500 
young  people  will  camp  at  Kaiwaka 
Sports  Association  in  January  2019. 
The 14 to 18 year olds from NZ will be 
joined  by  Venturers  from  Australia, 
Asia-Pacific and further afield.'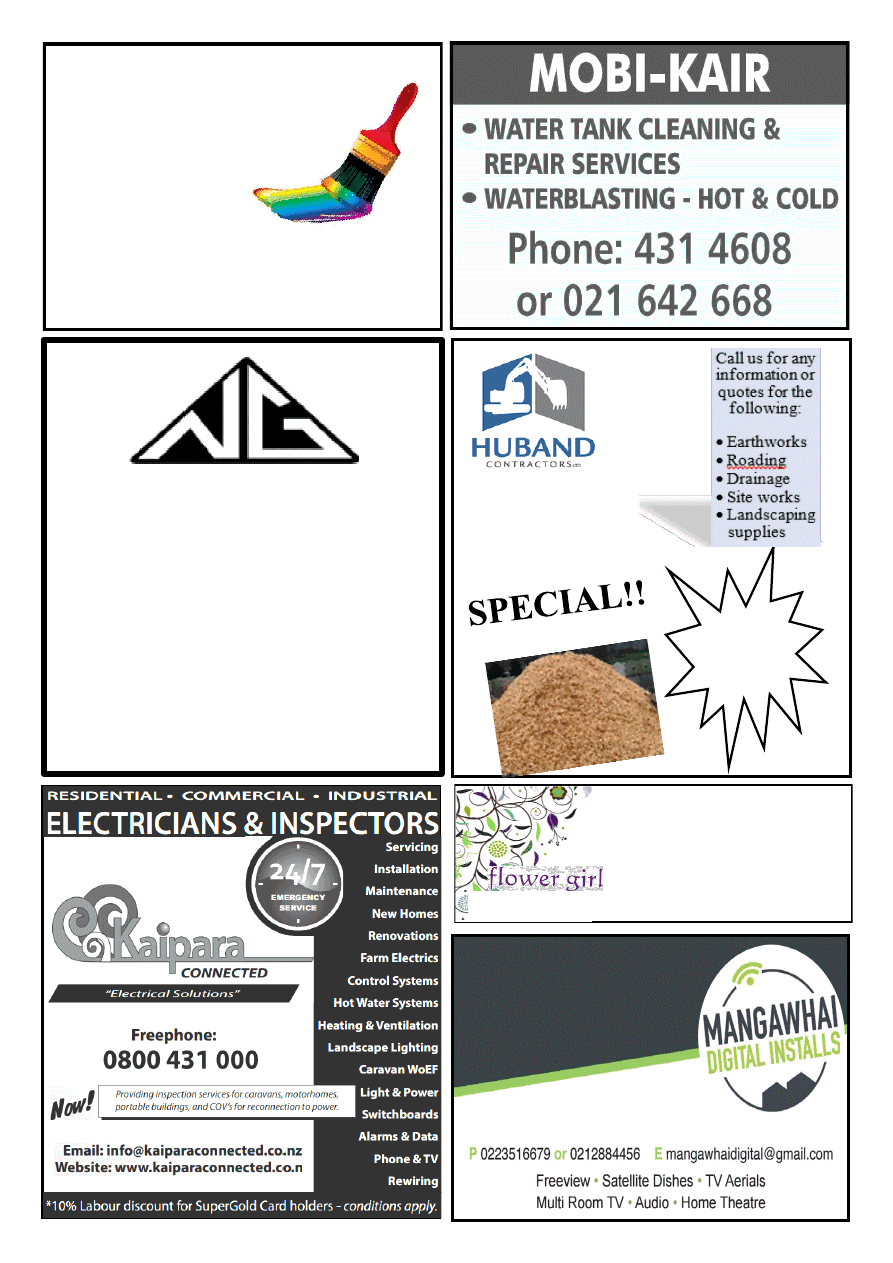 NORTH GLASS 
WINDSCREEN REPAIR OR REPLACE 
GLAZING SERVICES 
MIRRORS  •  SPLASH BACKS  •  SHOWERS 
0800 70 40 10
info@northglass.co.nz 
www.northglass.co.nz 
09 4312918 
0274735171 
leecooper@xtra.co.nz 
LEE COOPER PAINTERS 
(Kaiwaka Based) 
*30 yrs Experience 
*Interior/Exterior 
*New and Restoration 
*Honest and Reliable 
*Free Quotes 
Open Monday-Friday 
8am-5pm 
Saturday 8am-noon 
2088 Paparoa valley Road 
0800 234449 
E: admin@huband.co.nz 
$25.25 + 
GST per m
3
Kaiwaka Good Sorts 
Do you know someone in our community 
who is deserving of a beautiful bunch of 
flowers? 
Send an email to us at 
kaiwakabugle@kaiwaka.co.nz 
or drop a note to Jaques Four Square to 
let the Bugle team know. 
lindywatson@hotmail.com 
4312 847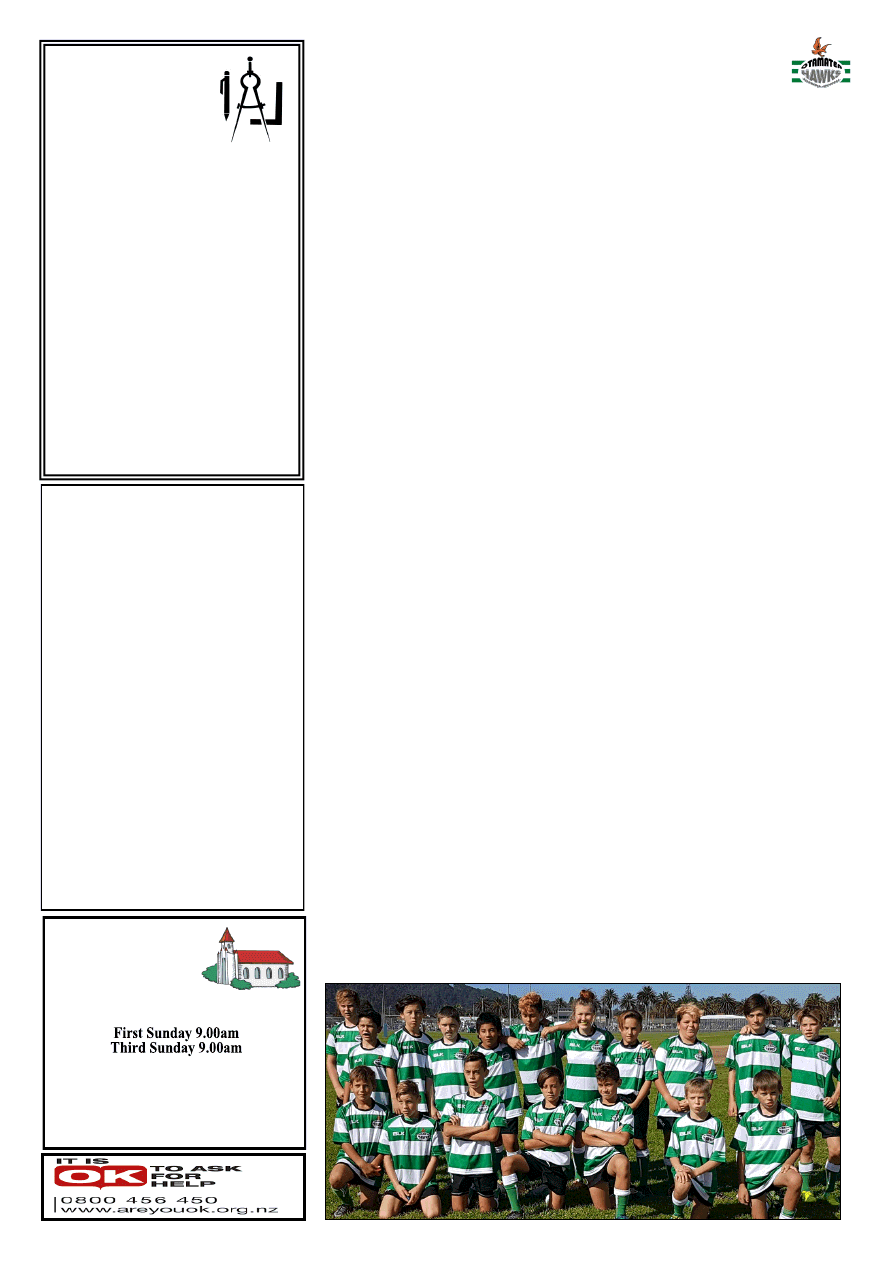 www.kaiwaka.co.nz 
Kaiwaka Bugle - 3 October 2017 
Page 9 
design  
drafting  
service 
Retired builder and manufacturer 
with over 40 years experience in the 
building industry is offering a design 
drafting service for domestic hous-
ing, sleepouts and sheds.  
Plans formulated in consultation 
with clients, with working drawings 
completed and submitted to council 
for processing.  
Extensive practical experience,  
able to identify & resolve problems.
Please ring Mike Lean on 
09 431 2260 
or 
021 431 196 
Mangawhai 
Heads 
Garden 
Centre
1758 Cove 
Road
945 0707 
021 165 2629 
We have had a tough season this year, 
having  to  play  a  promotion  relegation 
match  against  Moerewa.  We  won  this 
game  allowing  us  another  year  in 
Premier  grade. Mid  Western  will  now 
play  second  division.  Kerikeri  has 
come into the competition.   
The  Hawks  are  looking  forward  to 
next  year  with  Mike  Peeni,  as  head 
coach,  and  his  band  of  committed 
helpers.  We  have  new  and  returning 
players  -  Dan  Hawkins,  Matt Moulds, 
Solomona  Alimalo  returning  to  us 
from their Taniwha duties. 
We  thank  Scott  Massey,  from 
Tranznorth,  coming  on  board  as  our 
main  sponsor  for  another 3  years.  We 
also  invite  our  past  sponsors  and  any 
new sponsors to contact the club to be 
on board again next season - there is a 
huge financial cost to run the club and 
we would not be able to do it without 
you all. 
We are feeling positive about the 2018 
season  and  encourage  any  interested 
persons  to  come  to  our  AGM  on 
Wednesday  18  October  at  7pm  in  the 
Kaiwaka  Sports  Complex,  and  show 
your  interest  and  hear  what  we  have 
coming up in 2018.   
We are planning a get together on the 
21st  October  -  so  look  out  for  more 
info  on  this  you  can  follow  us  on 
Facebook 
or 
contact 
us 
on 
SENIOR PRIZEGIVING 
H.K Nathan Cup – Most Improved Player 
(over 15yrs) Rhys Shadbolt 
Colin Williams Memorial Cup -U18 player 
to try is to succeed Tyler Foster 
Otamatea Hawks - U19 Player of the Year 
Cullen Curtis 
Wright Trophy –U21 Player of the Year 
Ashton Coates 
Mgto Recreational Society Trophy – Club 
Spirit & Personality Damian Leathart 
Pascoe Trophy -  Most Conscientious 
Club Player Simione Vakalahi 
Dale Hutchinson (Hutchy) Memorial Cup 
- Top Try Scorer Cullen Curtis 
Bill Taurua -Most Outstanding 
Achievement Dan Hawkins 
Reserves 
Linnell Family Cup- Most Improved Jamie 
Kemp 
Ian Hargreaves Family Trophy - Back 
Daniel Kawana-Pool 
Otamatea Hawks Rugby Club -  Forward 
Nathaniel Taylor 
Otamatea Hawks Rugby Club -  Player of 
the Year Lance Nepia 
Premiers 
Wallis Cup - Most Improved  1st Year 
Player Sam Kaleta 
Grant Eager Trophy -  Back 
Viliami Taukiuvea 
Maungaturoto Panelbeaters - Forward Pat 
Grundy 
Z J Sloane Trophy – Best all Round Club 
Player Dan Hawkins 
Russell Hargreaves Family  Trophy -Player 
of the Year Wheriko Tawhiri 
 IMB PRIZEGIVING 
Under 14 
Most Improved    Damin Edwards 
Best Back Haylen Moir-Bushell 
Best Forward Joe Rose 
Team Spirit Franklyn Fisher 
Player of the Year     Kyrin Harris 
Under 15 
Most Improved  Trent Collinson 
Best Back Lewis Harris 
Best Forward Brady Foster 
Team Spirit Nathaniel Aldom 
Player of the Year Jesse Manuell 
Under 15 Northland Reps. Jesse Manuell, 
Kaea Korewha 
Northland Maori Under 15: Lewis Harris, 
Selected but withdrew as it clashed with 
Northland Kaea Korewha, Jessie Manuell, 
Under 14 Reps: Kylin Harris, Haylen Moir-
Bushell 
Taniwha Under 15: Lewis Harris, Denzal 
Peeni, Tyrone DeArdenne, Brady Foster, 
Kaea Korewha, Jesse Manuell, Bob 
Hamlin, Petuera Kingi, Jack Mason, 
Jackson Brown, Tane Nepia, Josh Lee, 
Kylin Harris 
Otamatea  Hawks  Juniors - Under 11 
and  Under  12,  had  their  first  year  as 
Otamatea  Hawks.  The  season  was 
fantastic with the children learning lots 
and 
enjoying 
their 
games 
in 
Whangarei.  We  have  be  told  that  we 
will get more home games next year. If 
your child (boy or girl) is interested  in 
playing 
rugby 
contact 
us 
at 
otahawks88@vodafone.co.nz  and  we 
will  put  you  name  down  for  next 
season.  Photo  below  from  their 
Facebook page 
PRIZE GIVING 
Under 11 
Most Improved   Morgan Guenther-
Leslie / Keidis de Ridder 
Best Back Johnny Woolley 
Best Forward Wade Anderson 
Team Spirit Max Kemp 
Player of the Year Billy Green 
Under 12 
Most Improved Branden Edwards 
Best Back Nathan Harris 
Best Forward Nasah Cullen 
Team Sprit Ethan van Waveren 
Player of the Year  Jesse Goodfellow 
Taniwha: Branden Edwards, Josh 
Sheppard, Nasah Cullen, Roman Miru, 
Nathan Harris, Tamiti Phillips, Tawhetu 
Phillips, Jesse Goodfellow, Mone Taufa, 
Zac Wing, Lilly Vaughn. 
Roller Mills: Josh Sheppard  
OTAMATEA HAWKS RUGBY 
ST PAUL'S  
ANGLICAN  
SUNDAY  
SERVICES
St Pauls Church: Kaiwaka-Mangawhai Rd. 
1st Sun - Eucharist 
3rd Sun - Family Service 
Rev. Wayne Thornton Ph 431 4122 
www.mangawhaianglican.org.nz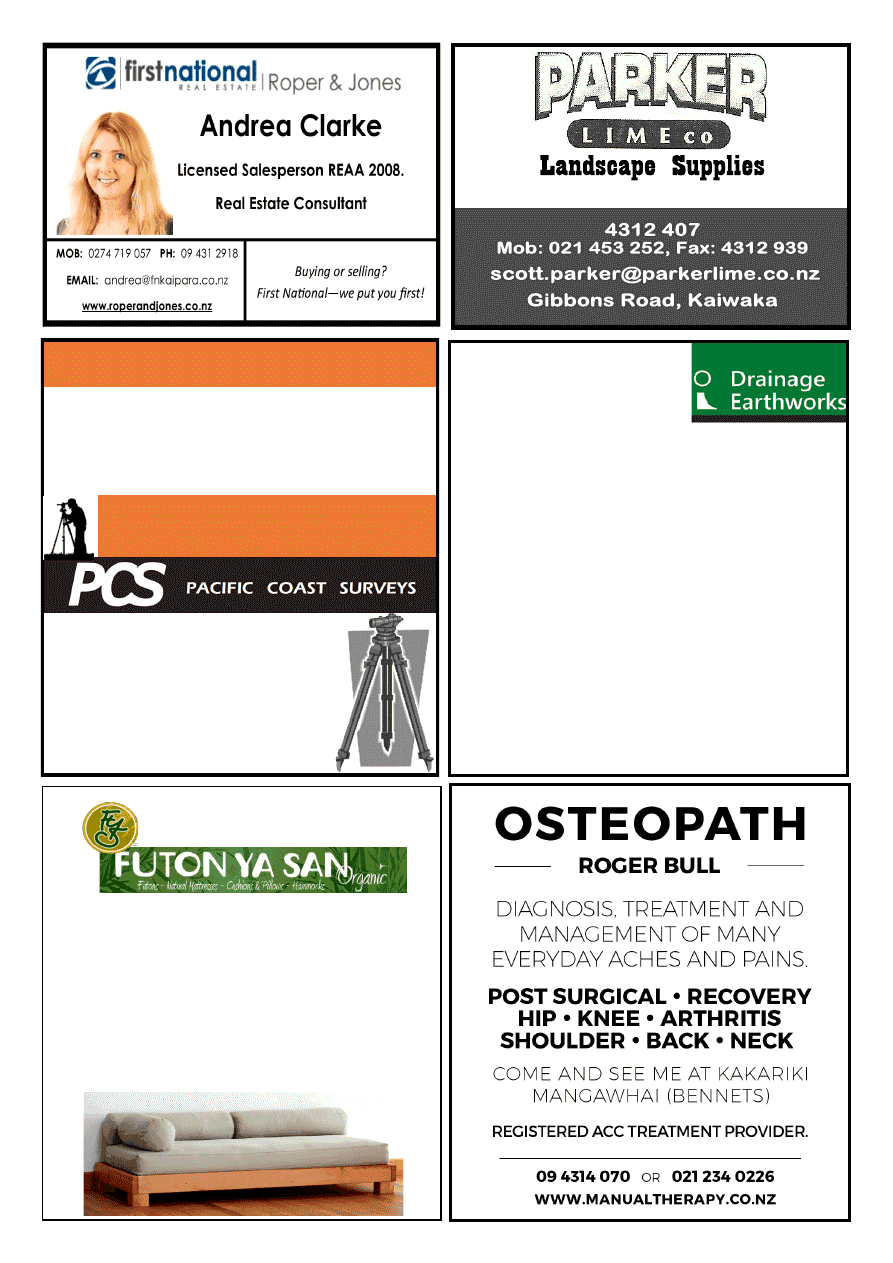 Drainage & Earthmoving 
nigel@clarkedrainage.nz 
027 2233 185 
Registered Drainlayer 
All Types of Earthworks  
> All Residential & Commercial Work  > House Sites 
> Septic System Design & Install 
> Footings & Drilling to 10m 
> Sewer Connections 
> Dams 
> Water Tank Installation 
> Roading & Races 
> Farm Work 
THE ONE STOP SHOP  
Phone Nigel for an Obligation Free Quote  
Bulk Cartage 
SURVEYORS 
SUBDIVISIONS 
HOUSE SITE SURVEYS 
CIVIL ENGINEERING 
WASTEWATER DESIGNS 
EXPERIENCED 
PROFESSIONAL 
INNOVATIVE 
Ph 09 431 5353 
0800 PACIFIC (0800 722 434) 
pacificcoastsurvey.com
Adam Booth - 027 415 5752 
Bsurv, Licensed Cadastral Surveyor
Surveying Kaipara since 1994 
Your local supplier of Custom Made 
Natural Mattresses  -  Pillows - Duvets - Futons - Yoga Bolster  
AND MORE 
 Made from Certified Organic Wool, Hemp, Organic Cotton fabric 
Rubberized Coco fibre 
www.futons.co.nz                    contact@futons.co.nz
Phone: 021 176 17 19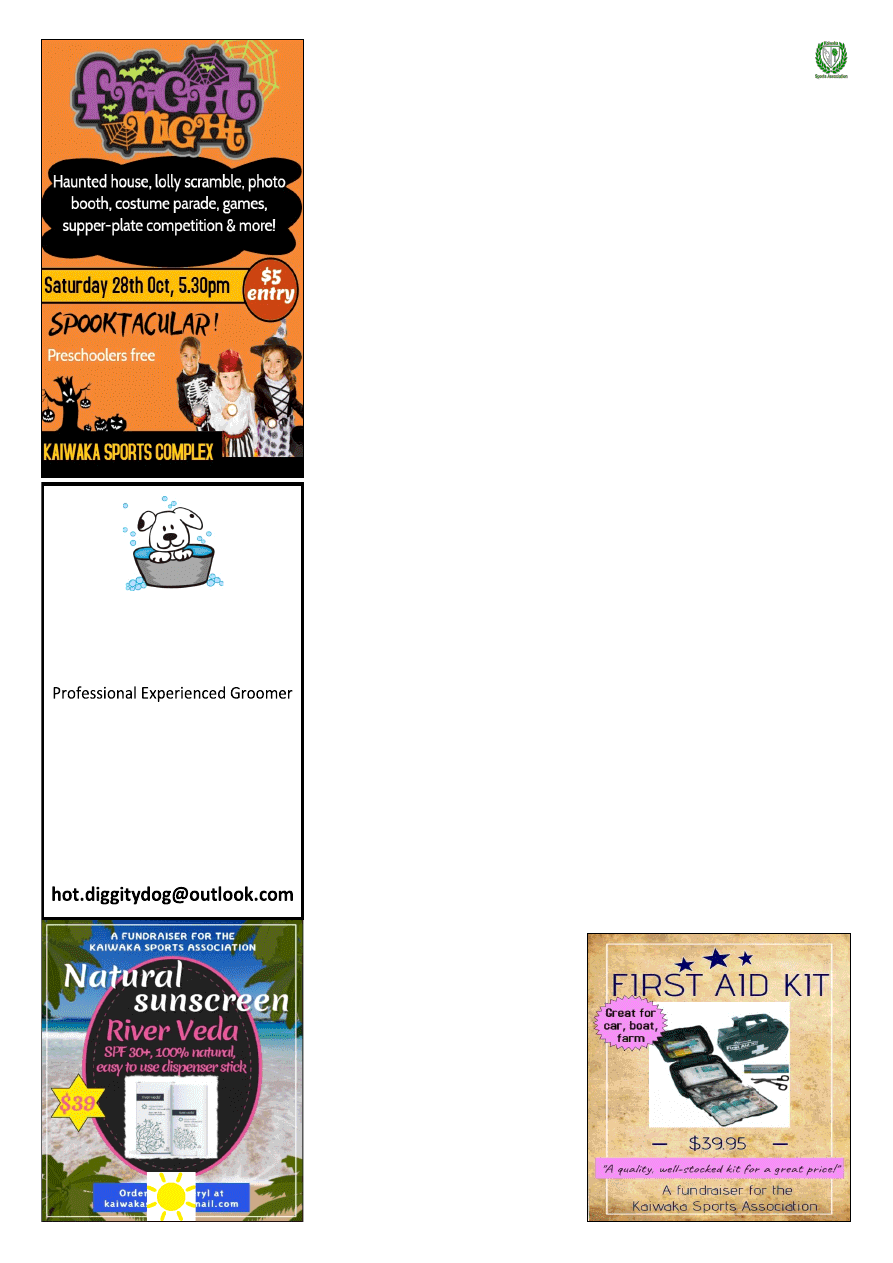 www.kaiwaka.co.nz 
Kaiwaka Bugle - 3 October 2017 
Page 11 
Hot Diggity Dog 
DOG GROOMING 
All breeds dog grooming 
Short practical grooms - summer 
Breed Standard Grooms 
Designer fusion Grooms 
Oneriri Road
By appt Phone  
Pam 09 4312143 
Or text only 0273335380 
Email  
KAIWAKA SPORTS ASSOCIATION
Fast Five Netball 
We  had  a  fantastic  start  to  our  Fast 
Five  Module  last  Sunday  with  70 
people participating in mixed teams of 
men, women and teenagers. 
The Module will run for six weeks and 
there  will  be  prizemoney  for  the  top 
three  winning  teams.  Results,  photos 
and the draw are posted on our website 
www.kaiwakasports.co.nz. 
Agricultural Days 
Kaiwaka  School  will  hold  their 
Agricultural  Day  at  our  grounds  on 
Tuesday 17th October. 
Group Day (regional Agricultural Day) 
will  be  held  at  our  grounds  the 
following  Monday.  Our  fields  will  be 
packed with mobs of calves, lambs and 
excited children! 
Fright Night 
Our  annual  Fright  Night  will  be  held 
on  Saturday  28th  October  at  5.30pm. 
Start  thinking  about  your  costume. 
There  will  be  prizes  for  best  dressed 
boy, girl and adult. 
We will have music, dancing, games, a 
photo  booth,  face  painting,  lolly 
scramble  and  a  haunted  house!  The 
entry  fee  is  $5  (preschoolers  free). 
There  will  also  be  prizes  for  the  best 
halloween-inspired  supper  plates  – 
time to get creative! 
Colouring-in competition 
If you want something creative to keep 
your  little  ones  busy  for  a  few  hours, 
get  them  colouring-in!  I'm  running  a 
colouring-in  competition  for  Fright 
Night  and  the  prize  in  each  age  group 
is a Fright Night family pass (5 tickets, 
valued at $25). 
The four age groups are: 0 – 5 years, 6 
–  11  years,  12  –  16  years  and  adult. 
You  can  pick  up  a  copy  from  Jaques 
Four  Square.  Colour  it  in  then  hand  it 
to  a  staff  member  at  the  Four  Square. 
Deadline is 16th October. 
First Aid Kit Fundraiser 
Back  by  popular  demand!  I  finished 
my First Aid Kit fundraiser last month, 
but  since  then  so  many  people  have 
asked  me  about  them,  I  am  running  it 
again. 
So, if you are after a top quality, well-
stocked  first  aid  kit  at  a  great  price, 
please  fill  in  the  order  form  from 
Bugle16 or 17. This is a fundraiser for 
the  KSA.  Similar  kits  often  retail  for 
over  $60  –  these  kits  are  only  $39.95. 
This  is  a  large  carry  kit  with 
transparent  fold-out  compartments 
which  contains  77  items  and  follows 
OSH  and  Consumer  regulations.  A 
great  Christmas  gift  idea  for  those 
people in your life who are hard to buy 
for! 
PS:  Are  you  an  employer?  Did  you 
know that you are now legally required 
to  provide  a  first  aid  kit  in  your 
workplace + a kit in the vehicle of any 
mobile  employee.  Buy  one  of  these 
kits, and you will be covered. 
Kaipara Knights Soccer prizegiving 
Congratulations  to  the  2017  trophy 
winners: 
6th Grade KM Dragons: Most Improved  – 
Ziggy  Brayne;  Sportsperson  of  the 
Year – 
Maddie  Schultz;  Player  of  the  Year  – 
Shavana Hampshire. 
8th  Grade  Kaipara  White:  Most  Improved 
– Luke Rout; Sportsperson of the Year – 
Jacob  Watson;  Player  of  the  Year  –  James 
Curtis. 
8th Grade Kaipara Black: Most Improved – 
Paikea Littlejohn; Sportsperson of the Year 
– Alex Millard; Player of the Year – Jakob 
Buxton. 
10th  Grade  Kaipara  –  Most  Improved  – 
Hank Savage-Serrano; Sportsperson of the 
Year – Marino Wiapo; Player of the Year – 
Evan Fisher. 
10th  Grade  Kaipara-Matakana:  Most 
Improved  –  Nathan Gilligan;  Sportsperson 
of the Year – Rama Marrow; Player of the 
Year – Blake Olsen. 
13th  Grade  Kaipara-Matakana:  Most 
Improved – Matai Hartles; Sportsperson of 
the  Year  –  Emma  Browne;  Player  of  the 
Year – John Hampshire. 
Coach of the Year: Shar Dormer. 
Well-done  to  6th  Grade  KM  Dragons, 
10th Grade Kaipara-Matakana and 13th 
Grade 
Kaipara-Matakana 
teams, 
each 
achieving  third  place  in  the  ROSA 
competition for their grades. Soccer at 
ROSA  kicks  off  earlier  next  season, 
with the first games played in April. 
Tennis 
If you have a child who is keen to play 
tennis this season, please contact Floyd 
Driver  on  022  476  9669,  4312913  or 
floydriver@yahoo.co.nz. 
Organic Sunscreen 
Summer  is  coming!  So  it  is  time  to 
stock up on sunscreen. We are selling a 
natural  sunscreen  as  a  fundraiser  for 
the  KSA.  If  you  are  concerned  about 
harsh  chemicals  on  your  children's 
skin,  then  a  natural  sunscreen  is  the 
way to go. 
River  Veda  sunscreen  is  a  100% 
natural  sunscreen,  free  of  parabens, 
silicone, 
artificial 
fragrances, 
petrochemicals,  oxybenzone,  and  PEG 
emulsifiers.  It  provides  a  healthy, 
broad-spectrum,  SPF  30+  protection 
against  the  suns  UV  rays.  Provided  in 
an easy-to- use, easy to carry dispenser 
stick,  it  offers  nourishing,  organic 
sunscreen protection. Perfect for school 
bags,  sports  bags  etc.  Would  make  a 
great Christmas gift! $39 each. 
~Cheryl Anderson, 4312 051, 027 3462702 
kaiwakasports@gmail.com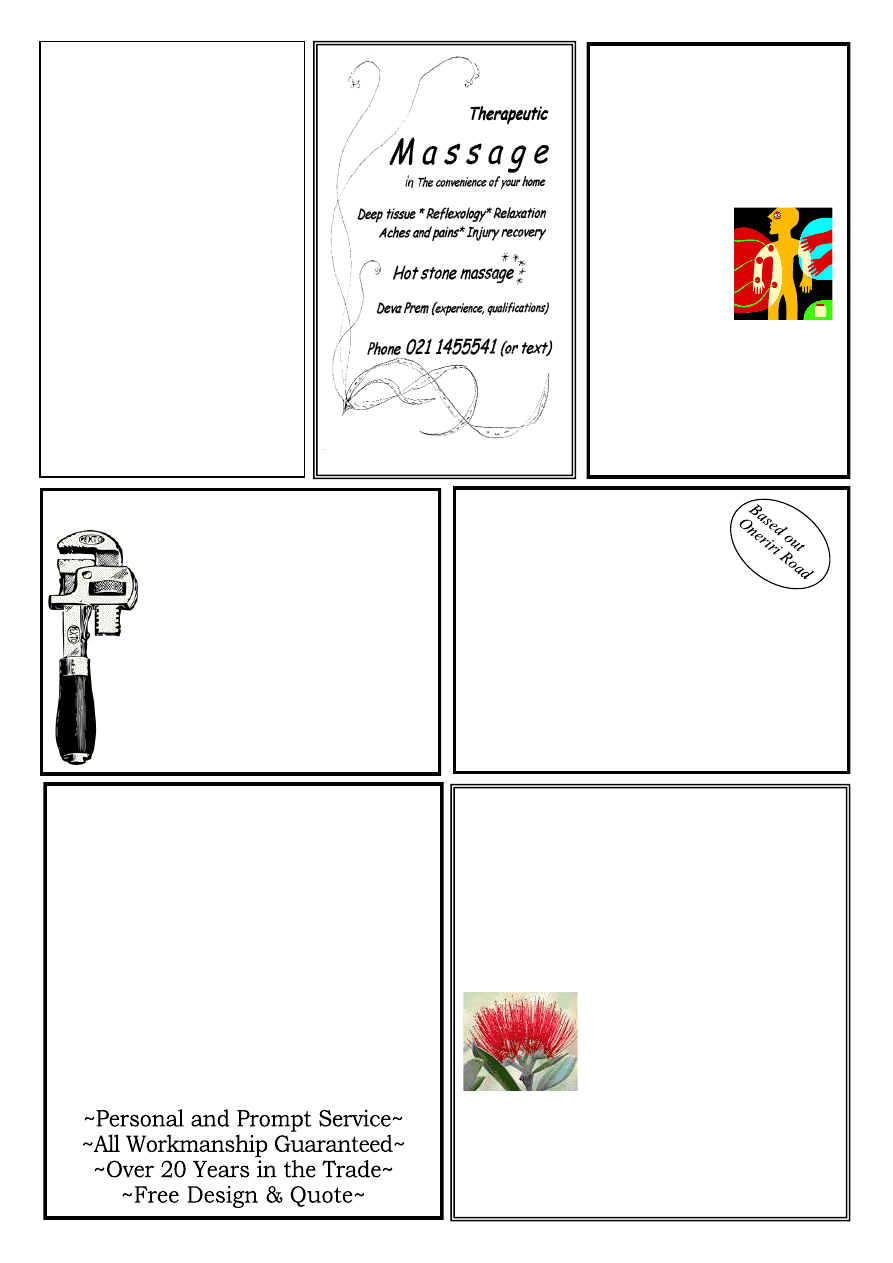 BARRY CURTIS PLUMBING LTD 
REGISTERED CRAFTSMAN PLUMBER 
Phone 431 5572
027 257 9884 
25 years' experience 
Friendly reliable service 
All plumbing & maintenance 
Alterations and new housing 
Spouting  
C
ompetitive rates 
PROMPT EFFICIENT SERVICE 
KAIPARA FLOORING CO 
Independently owned & operated 
32 HURNDALL ST MAUNGATUROTO
Supply & Installation of Carpet, Vinyl,  
Vinyl Wood Planking
Stockists of 2m & 3m wide 
vinyl & carpet short ends
Residential & Commercial
Q Card Finance Approved 
6-18 month terms 
6 mth interest free
First Class Installations
For a free measure & quote 
phone Christine  
09 946 9886 or 021 515 415 
kaiparaflooring@gmail.com 
http://www.kaiparaflooring.co.nz/ 
HODGETTS 
CONTRACTING
Digger Work 

Driveways 

House Sites  

Dams   

Drains, etc
Also available for HIRE 

4
3 ton Vib Roller 

Heavy Duty Tow  

4
Waterblaster    
 
Lazer Level 
Phone Mark 4312877 
027 447 8554 
OWEN STEVENS 
Osteo Therapist
For careful adjustments to bones 
and joints 
Treatment for humans and their 
pets 
Clinics: 
Kate's Place, 
Kaiwaka: 
Last Friday of 
month 
For bookings: 
9.00am-5.00pm  
Phone 
09 4312661 
Or phone Owen  
09 4317123 anytime 
Couples and Individual 
Counselling
Have you … 
Serious relationship issues? 
Heading for Family Court? 
Destroying each other? Children 
involved?
I'm Here To Help! 
Call me to arrange an 
appointment 
Keep trying if phone is busy
Pete Worsfold 
B.Soc.Sc., M.Soc. Sc, Dip Prof Counselling NZIPC, 
'Man Alive' Counsellor/ Facilitator, Prov NZAC. 
Professional service in your local area. Individuals, 
couples, any issue, males and/or females.
Private or WINZ Clients, Experienced 
Counsellor/Facilitator 
021 825 970  
or 021 063 0302
peteworsfold@xtra.co.nz 
www.mangawhaimassage.co.nz 
PLANNING A NEW KITCHEN?
 CONTACT NOEL McDOWELL
WELLSFORD 
KITCHENS
Ph/Fax 094312888
KAIWAKA-Any time
 QUALITY CUSTOM MADE 
KITCHENS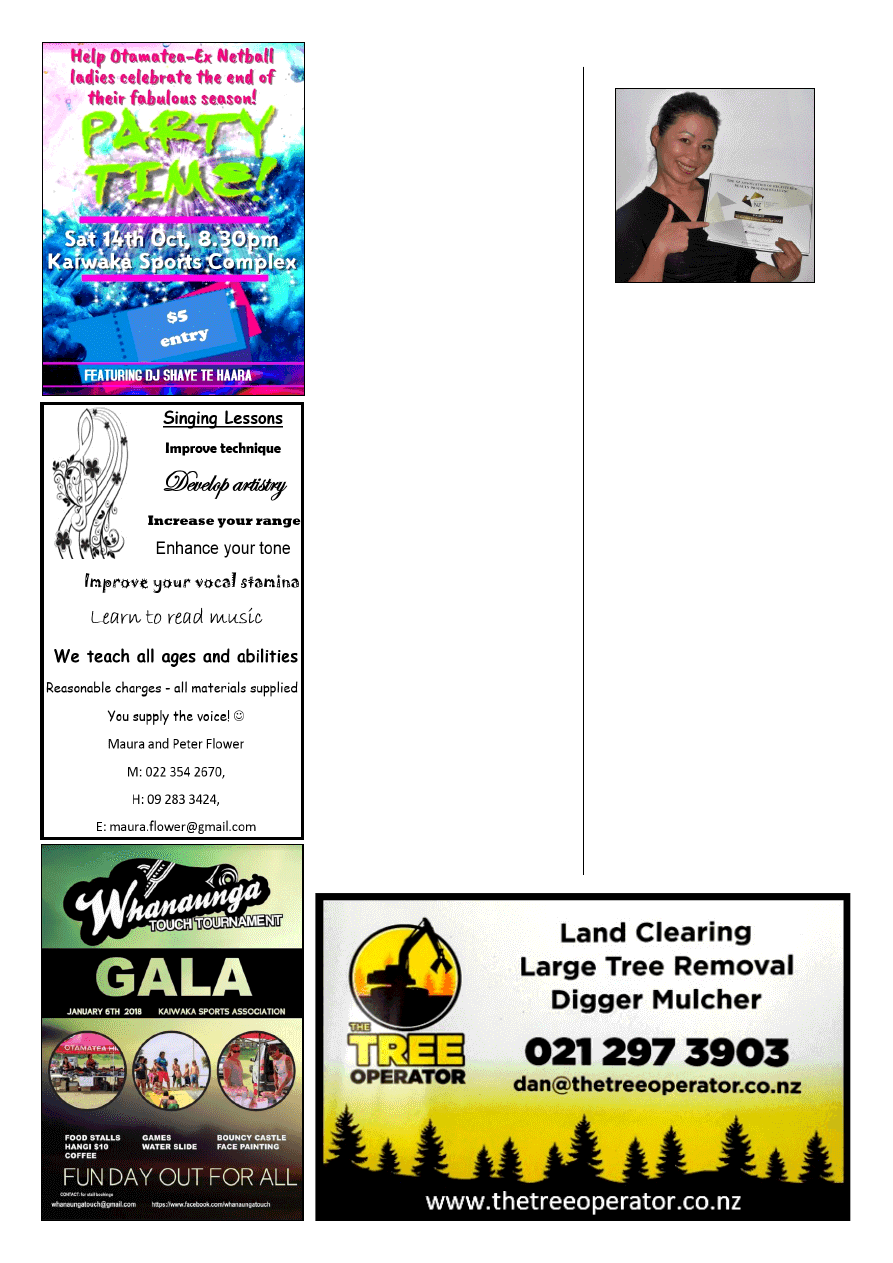 www.kaiwaka.co.nz 
Kaiwaka Bugle - 3 October 2017 
Page 13 
KAIWAKA LIBRARY 
School holiday program
We will have a school holiday activity 
in the library at 11am on Thursday 12 
October, with the theme of hats. Call in 
at  the  library,  or  phone/email  us,  to 
reserve a spot for your child. Numbers 
are limited, so don't delay. 
Book swap 
The  next  book  swap  is  very  soon. 
Please  return  any  NLN  Large  Print  or 
Audio books you have out by Sunday 8 
October, so they can be included in the 
swap for new titles. 
Books for sale 
Did  you  know  that  we  have  books for 
sale?  Come  in  and  take  a  look.  Right 
now  there  are  quite  a  few  gardening 
and  cookery  books,  culled  from  our 
shelves  to  make  space  after  the 
renovations,  and  there  are  lots  of 
novels and books for children. They're 
all $1 each, three for $2, or ten for $5. 
Book review 
I've 
recently 
read 
the 
Clifton 
Chronicles  series  by  Jeffrey  Archer. 
There are seven books, and they should 
be  read  in  order  -  Only  Time  Will 
Tell, The Sins of the Father, Best Kept 
Secret,  Be  Careful  What  You  Wish 
For, 
Mightier 
Than 
The 
Sword,  Cometh  The  Hour,  and  This 
Was A Man. This is the story of Harry 
Clifton,  at  the  start  a  boy  of  10  living 
near  the  docks  in  Bristol,  where  his 
abusive  uncle  worked.  Harry  and  his 
mother  live  with  his  uncle  and 
grandparents 
since 
his 
father 
mysteriously  disappeared  one  day 
when  Harry  was  a  baby.  These  books 
had  been  recommended  to  me  by 
another  library  volunteer,  and  I  was 
hooked  from  the  first  book.  They  are 
all on our Rental Fiction shelves. 
I've  also  enjoyed  The  Midnight 
Gang  by  David  Walliams.  This  is  a 
Junior  Fiction  book,  aimed  at  children 
with lots of pictures to go with the text, 
so  don't  be  put  off  by  how  large  the 
book is. I'm sure any adult reading it to 
their kids will enjoy it immensely, as I 
did. Tom finds himself at hospital after 
being hit on the head by a cricket ball 
at  school,  initially  not  remembering 
who  he  is.  Walliams  has  an  excellent 
sense of the ridiculous, and it is a lot of 
fun. 
See you in the library!  ~Wendy
National industry 
award success 
Paparoa's  Skin  Image  Clinic  was 
placed  third  in  the  'best  new  clinic' 
category  of  the  recent  inaugural  New 
Zealand  Association  of  Registered 
Beauty  Professionals  biennial  awards. 
This  puts  the  clinic,  which  has  been 
open  not  yet  a  year,  right  up  there 
among  the  best  salons  in  the  country 
and  the  only  Northland  clinic  to  boast 
such an award this year. 
Nina  Quan,  pictured  above,  hopes  her 
win  will  encourage  more  salons  to 
become  members  of  the  New  Zealand 
Association  of  Registered  Beauty 
Professionals  (NZRBP).  She  said  the 
association  was  working  hard  to 
improve  the  professionalism  of  the 
industry  at  large  and  to  foster 
adherence to national codes of conduct 
and  ethics  in  order  to  ensure  safe  and 
hygienic practices 
'To  be  on  top  of  your  game  you  have 
to  train  and  refresh  your  training 
continuously as the industry is forever 
changing and improving,' she said.   
Nina  has  completely  renovated  the  
premises she took over in Paparoa and  
plans to add this winning model to her 
clinic in Waipu. 
Nina  flew  to  Wellington  to  attend  the 
red-carpet  evening  at  Te  Papa  on  23 
September and accept the award. 'This 
was  a  get-together  of  the  top  talent  of 
the New Zealand beauty industry so it 
couldn't be anything other than beauty 
and glamour,' said Nina. 'I got to meet 
some  exceptional  therapists  and 
business women from our industry. '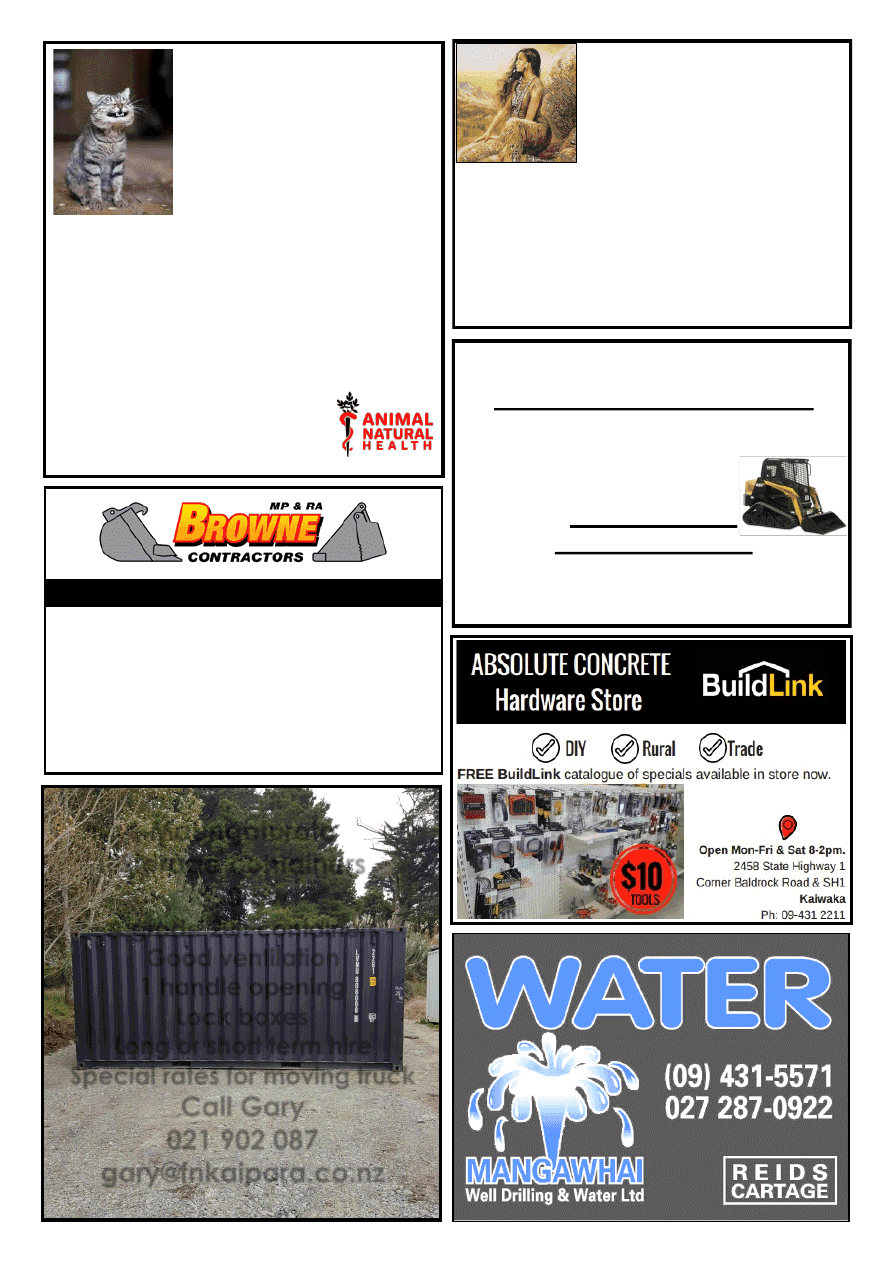 Natural Earth Ltd 
Landscape and Bobcat services 
 : Driveways :Landscaping :Retaining Walls 
 : Hole Boring: Land Levelling :Trenching 
 : Decks :Fences :Sections Cleared 
 : Plus much more
Tel 09 4312 885 
Mob 02102391280 
For A Fast Friendly Service  
Contact Tim Hicks 
4T DIGGER – BOBCAT – TIP TRUCK 
Property Maintenance - Driveways - Building Sites 
Stump & Tree Removal - Hole Boring - Chain Trencher 
Calf Shed and  Stockyard Cleaning
KAIPARA - WHANGAREI - RODNEY 
Phone Matt: 021 199 6677 
Email: mprabrownecontractors@gmail.com 
Maungaturoto  
Storage containers  
$50 pw  
A grade 20ft containers 
Good ventilation 
1 handle opening 
Lock boxes 
Long or short term hire 
Special rates for moving truck 
Call Gary  
021 902 087 
gary@fnkaipara.co.nz 
Did we delight you today with 
our pet food? 
"Sweet as – no preservatives, no nasty 
chemicals, sustainable, easy on 
mum's pocket!" 
PURELY PETS PATTIES – Buy 10 packs, 11
th 
pack FREE 
BULK BUYS – 2kg for only $10.90 
VEAL BONES – 3kg $17.90 
CHICKEN MEDALLIONS – 3kg $17.90 
BEEF & LAMB PATTIES – 3kg $21.90 
Selection of hypoallergenic, low fat, premium protein and 
wild game. We focus on food for your pets' well-being 
and enjoyment. 
ANIMAL NATURAL HEALTH CENTRE 
Next to Italian Bakery, Kaiwaka 
09 431 2217 
Also at Warkworth & Orewa. 
Pssst! - join our Loyalty Scheme and save even more!  
Trails end 
spiritualist gathering 
Last Sunday of every month  
11.30-2pm  
Tea/coffee provided  
$5 koha 
For all inquiries: 
021 165 2629 evenings (09) 945 0707 
Trail.end@hotmail.com 
Bringing together light minded people 
Guest speaker each month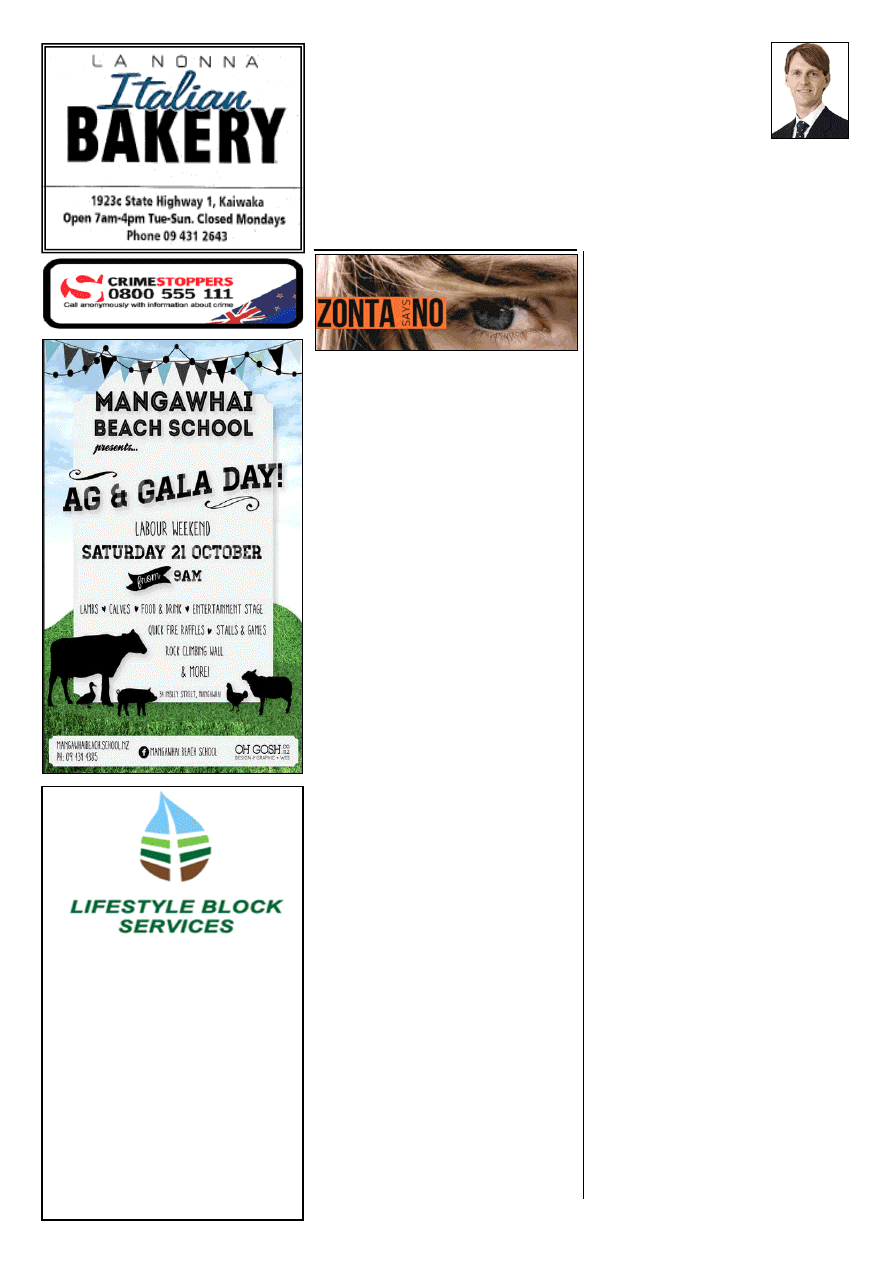 www.kaiwaka.co.nz 
Kaiwaka Bugle - 3 October 2017 
Page 15 
COUNCILLOR'S COMMENT* 
with Otamatea Ward Councillor Jonathan Larsen 
In my previous column I discussed the six items that I lodged on 
the July meeting's agenda – all, bar one, were successfully passed. 
As a result of this I am now chairing a committee that is reviewing 
the Reserves Contribution policy. 
When land is subdivided to  create  new lots,  the  owners are required to  make 
reserves  financial  contributions  to  Council.  These  funds  are  intended  to  cater 
for  the  reserves  and  recreational  needs  of  the  additional  new  residents.  At 
present  the  funds  are  only  categorised  as  Mangawhai,  Dargaville  or  'other'. 
This  means  that  for  smaller  towns,  the  funds  may  not  even  be  spent  on  their 
local  recreational  needs.  Furthermore,  40  percent  of  the  funds  are  taken  for 
Winter is here, now is the time to 
think about Fencing. 
Also large round bale silage available 
for stock food. 
Contact Mark on 021 801 065 or 
Contact Lisa on 021 108 1057
We also do: 

 Fencing 

 Spraying 

 Stockwork 

 Stock Water Systems 

Driveway & Track Maintenance 

Tree Trimming 

'priority  parks',  and  two  thirds  of  that 
is  allocated  to  parks  in  the  Dargaville 
area.  These  parks  no  doubt  do  need 
funding,  however,  this  is  not  the 
appropriate place for that funding to be 
drawn  from.  I  am  proposing  that  100 
percent  of  funds  collected  should  be 
used  for  the  recreational  needs  of  that 
locality  as  intended.  If  this  is 
successful,  I  anticipate  that  there  will 
be  a  considerable  amount  already 
accumulated  to  be  used  for  local 
recreation and reserves. 
Two  other  matters  that  passed 
successfully 
relate 
to 
Council's 
appointment 
of 
independent 
commissioners for decision making. As 
a  result,  Council  staff  now  require 
Council 
approval 
of 
any 
commissioners  appointed  to  sit  on 
district plan or plan change hearings. I 
am  also  chairing  a  committee  to 
develop  a  full  new  policy  on 
appointing  commissioners.  This  is 
intended  to  ensure  that  the  process  is 
transparent  and  there  is  no  perception 
of staff bias. 
My  proposal  to  have  the  times,  dates 
and subjects of Council workshops (not 
just  formal  meetings)  advertised  was 
also  successful.  This  means  that 
ratepayers  will  now  be  advised  of 
planned  Council  discussion  and  can 
attend when matters of interest to them 
arise. 
My proposal to have Council meetings 
livestreamed  or  available  for  on-
demand video viewing didn't gain any 
support. 
I am getting quite a lot of feedback on 
the  state  of  our  roads  at  the  moment. 
This  is  an  area  that  I  want  to  start 
focussing  on.  Anyone  with  roading 
issues  is  encouraged  in  the  first 
instance to either phone KDC on 0800 
727 
059 
or 
email 
council@kaipara.govt.nz.  If  you  aren't 
happy  with  the  response  then  you  can 
contact me and I will follow up. 
If you have any community projects or 
issues  that  you  would  like  assistance 
with  please  let  me  know.  I  can  be 
contacted  on  Ph.  021  185  8389  or 
Cr.Larsen@kaipara.govt.nz. 
[
Stop  press  – At the Council Meeting 
on 26 September approval was granted 
for  1.18  km  of  seal  extension  and 
associated  widening  of  Settlement 
Road from the end of the existing seal 
close to Kaiwaka]
*The  views  expressed  are  those  of  the  writer 
and do not necessarily represent the consensus 
position of Council. 
The  Zonta  Club  of  Mangawhai  is 
delighted  to  offer  our  7th  Annual 
Award for young women in the form 
of  a  10  Day  Youth  Development 
Voyage on the Spirit of New Zealand. 
Criteria for application are as follows: 
The applicant 

Is a young woman from 15-18 years 
of age 

Is  a  New  Zealand  citizen  or 
permanent resident of New Zealand 

Is  a  resident  of  Mangawhai, 
Tomorata, 
Wellsford, 
Kaiwaka,, 
Maungaturoto or Waipu areas 

has  shown  leadership  potential  or 
would like to develop leadership skills 

meets  the  medical  criteria  of  the 
Spirit of Adventure Trust 

must  be  able  to  swim  100  metres 
unaided 

will report back to the Zonta Club of 
Mangawhai after the voyage 

Application  to  include  letter  from 
applicant 
outlining 
reasons 
for 
application 
e.g.  involvement  in  community 
activities  or  associations?  How  does 
the voyage fit into your personal goals 
and how do you think this experience 
will help you achieve them? 
How  you  will  share  your  voyage 
experiences  with  your  school  or  local 
community. 

Application  to  include  2  referees 
(not a family member) 
Application  forms  are  available  by 
request 
by 
emailing 
mangawhai@zonta.org.nz 
or text Sue on 027 555 6636 with your 
email address 
APPLICATIONS ARE DUE BY 
October 20, 2017 
These awards are made possible by the 
generosity of the local community and 
this  year  our  Midwinter  Ball  and 
Auction  raised  enough  funds  to 
support  this  award  and  our  Second 
Chance Scholarship which benefits 
women  who  are  studying  to  return  to 
the workforce. 
Zonta  is  a  global  organisation  that 
empowers women through service and 
advocacy and the Zonta Club of 
Mangawhai meets on the 4th Monday 
of  each  month  -  for  further 
information go to www.zonta.org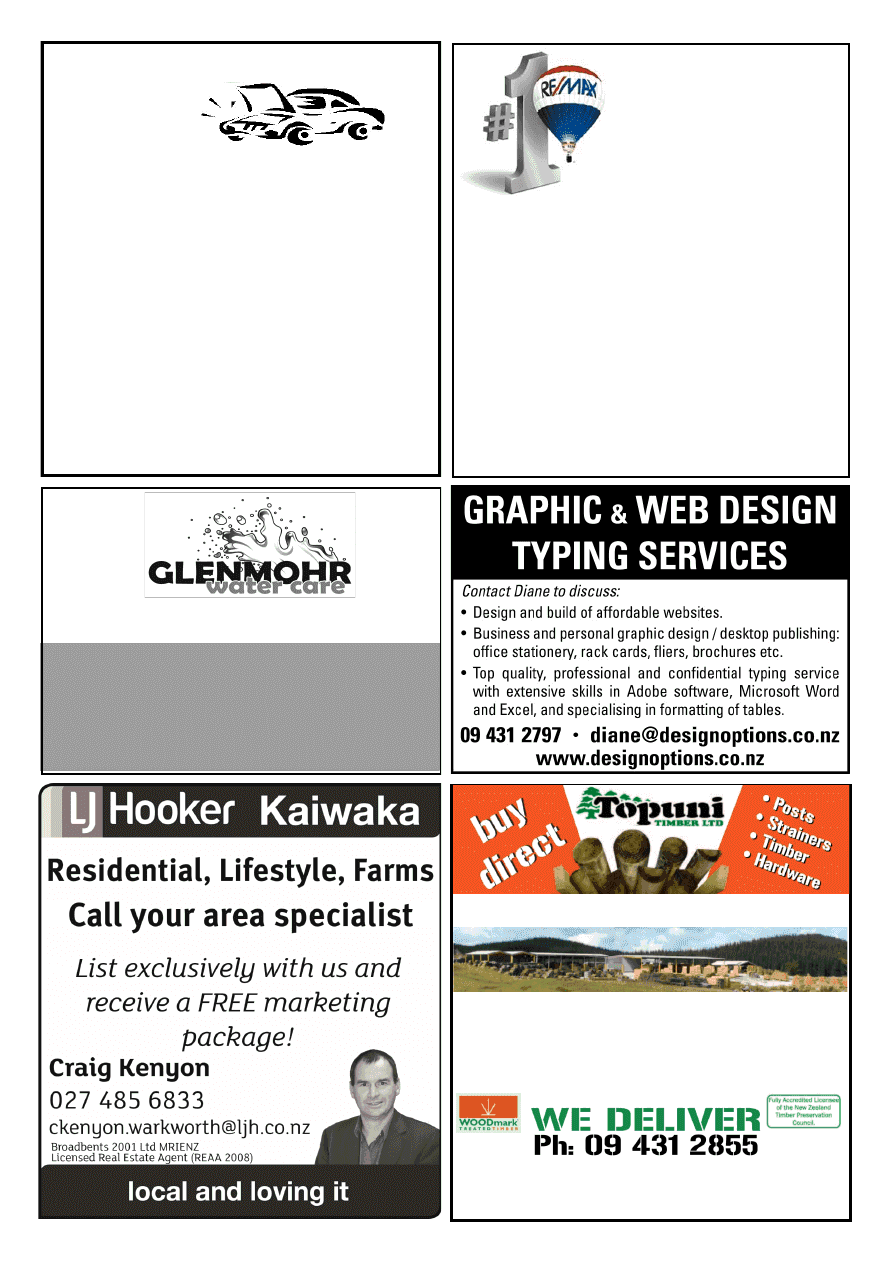 Water Tank Cleaning 
• 
Keep your water safe & clean  
• 
Removal of sediment, silt etc. 
• 
Vacuum or full scrub 
• 
Minimal water loss 
Phone Mark (09) 432 0655 or 0274 707607 
Twinkle Tow 'n' Tyre 
Think you'll get a better deal in the city? 
Ring us - it won't cost anything! 
1837 State Highway 1, Kaiwaka 
Phone 431 2823 
*W.O.F. 
*Tyres 
*Windscreen 
replacement 
*Chip repairs 
*Bulk Oil 
*Batteries 
*Welding 
*Custom built 
trailers 
*Trailer hire
LOCALLY OWNED AND OPERATED 
QUALITY PRODUCTS • FRIENDLY ADVICE • GREAT SERVICE 
Quality Products milled from High Density NORTHLAND Radiata Pine. 
Treated and guaranteed to NZS3640 with commitment to 
Environmental Safety.
Phone, fax, email, or come into the mill 
Schiska Rd, Topuni, SH1, 10 min north of Wellsford. Fax: 09 431 2856 
Email: sales@topunitimber.co.nz           Mon - Fri 7am-5pm 
• Fencing 
• Retaining 
• Decking 
• Landscaping 
• Gates 
• Hardware 
There are more people 
wanting to buy than 
there are houses 
available!
Vacant land, home and income, DIY dream … 
whatever your property's condition there is a buyer 
out there waiting to give you their money. 
Get your local agent's appraisal of your property to 
find out what's it's really worth. 
Contact Beth Stone today! 
Mob: 0274 937 801 
Email: beths@remaxrealty.net.nz 
RE/MAX Realty Group MREINZ 
Northern Properties Limited 
Licensed REAA 2008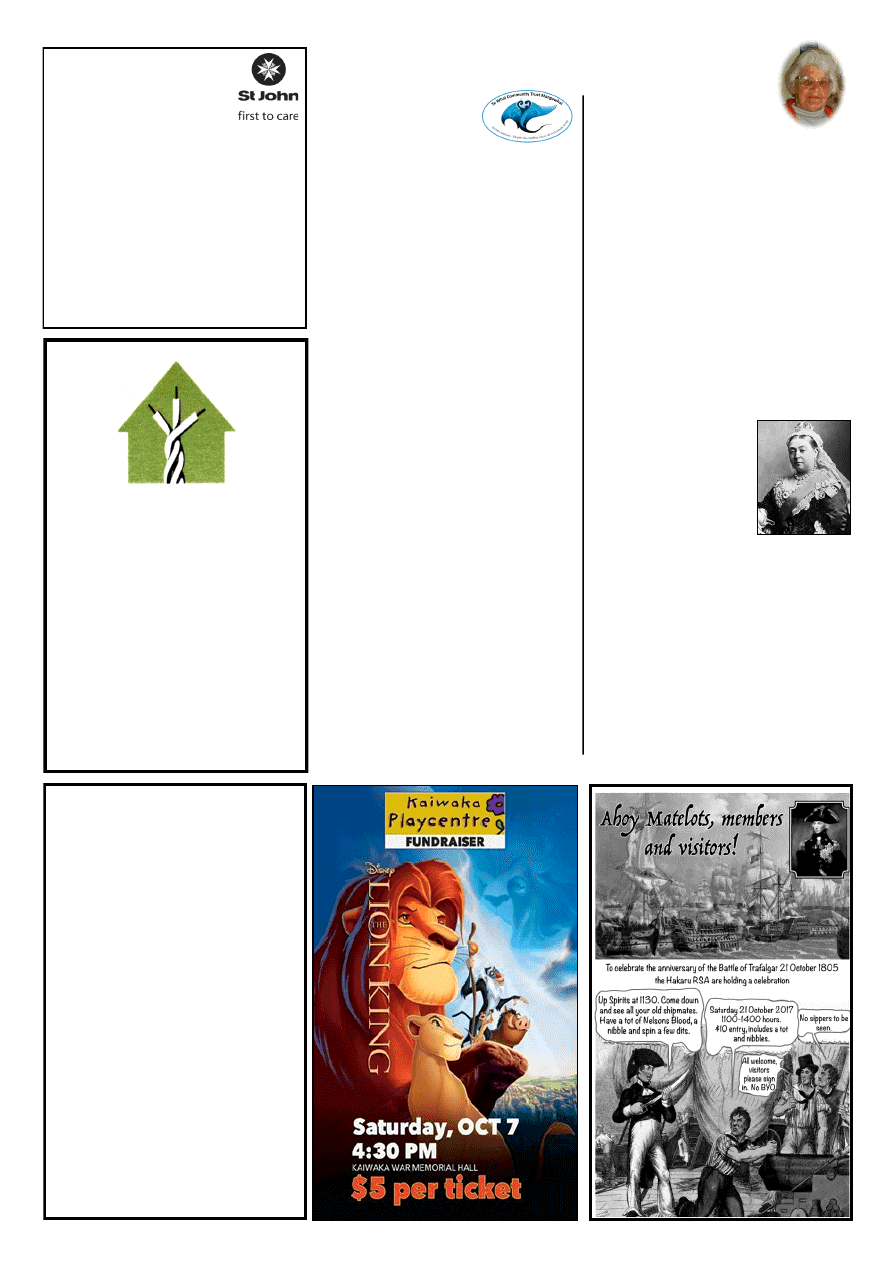 www.kaiwaka.co.nz 
Kaiwaka Bugle - 3 October 2017 
Page 17 
KAIWAKA 
 ST JOHN OP 
SHOP 
Warm weather coming, so we can all 
thaw out! In time for Christmas - not 
too far away! 
We  are  in  need  of  'cooking  pots', 
knives, forks & spoons. 
Garden  plants,  pot  plants,  garden 
pots; "Have enough plastic ones" 
Queen-size sheets & small furniture. 
Anything else is much appreciated. 
Many thanks, Milly
State Highway One, Kaiwaka 
Phone 09 4312423 
Reyahn George Leng 
Registered Electrician 
Local, honest and reliable. 
For your residential and 
light-commercial projects. 
022 314 1068  
 09 431 2527 
Willow Bend
HORSE  
HOTEL 
  
Total Horse Care 
 
Agistment 
 
Riding Lessons 
 
Arena Hire (60x40) 
 
Young Horse Starting 
 
Re-training/Exercising 
 
Hoof Trimming 
 
Problem Solving 
Phone Sue 09 431 2817 
or 021 623 776 
Or email  
susanjoll11@gmail.com 
From  Thelma's 
Scrapbook … 
"This  story  about  Queen 
Victoria  was  related  to  a 
friend, and it evidently came originally 
from Sir Francis Knollys, who was the 
Private Secretary to King Edward VII. 
The last time that Queen Victoria went 
to  Netley  Royal  Victoria  Military 
Hospital,  after  she  had  been  through 
the  wards  she  asked,  "Have  I  seen 
everyone?"  The  doctors  told  her:  all 
except  one  man  who  was  dying  and 
unconscious. The Queen said she must 
see  him  anyway,  and  they  took  her to 
the unconscious man's side. 
When she saw the poor bandaged head 
lying on the pillow she burst into tears 
and  took  a  little  bunch  of  snowdrops 
out of her bosom and laid them in his 
hand  and  said,  "Bury  them  with  him, 
his Queen's tribute to bravery." 
Strange to say, after her 
visit, 
the 
man 
recovered 
- 
to 
everyone's 
astonishment! 
They told him the story 
of  the  snowdrops  and 
he always carried them 
with  him.  When  the  news  of  the 
Queen's death came to Netley, the man 
wrote  to  the King,  enclosing  the  story 
of  the  snowdrops  and  begging  they 
might  be  placed  on  Her  Majesty's 
coffin.  The  King  sent  word:  he  had 
placed the little withered bunch on the 
Queen's breast as she laid at Osborne, 
and  promised  they  should  be  laid  on 
her breast in her coffin - and was much 
touched  at  the  soldier  giving  up  his 
most valued possession in token of his 
love for his Queen."
[Queen  Victoria  was  born  24  May  1819, 
Kensington  Palace,  London;  died  22 
January  1901,  Osborne  House,  Isle  of 
Wight.] 
TE WHAI COMMUNITY 
TRUST MANGAWHAI  
MISSION:  Te  Whai 
Community 
Trust 
Mangawhai  will  act  as 
the first point of contact 
to  direct  people  with specific  needs to 
the  services  they  require;  provide  a 
facility  to  allow  local  and  regional 
support  services  to  deliver  their 
services 
in 
Mangawhai; 
run 
educational  and  support  programmes; 
and  to  work  alongside  existing 
organisations  and  bring  our  wider 
communities together.  
NEW  PREMISES  We  have  finally 
secured premises and from October 1st 
will be housed in the Old Schoolhouse 
which  is  the  first  building  of  the 
Pioneer  Villlage  at  the  Mangawhai 
Museum.  Initially  our  office  opening 
hours  will  be  Monday  afternoons  and 
Thursday  mornings,  but  we  have 
access  to  other  times  and  welcome 
agencies to book a space with us to see 
clients on a regular basis at this venue. 
We can provide a private office for one 
to  one  or  small  group  sessions,  or  a 
larger space as appropriate. One of our 
aims is to hold a monthly workshop or 
educational  seminar  on  topics  of 
interest  to  the  community.  If  you 
would like to offer such a programme, 
please  let  us  know  so  we  can  include 
you in our calendar.  
YOU ARE INVITED  
To our Grand Opening on Saturday,  
28 October 2017  
Blessing at 11am Stall set-up from 
11.30 Open: 12noon  
We  invite  you  to  host  a  stand/table  to 
inform  the  public  of  the  services  you 
provide  AND/OR  we  can  give  you  a  10 
minute slot to speak about your services  
PLEASE RSVP to Isabel on 021 685 
851 before 15 October. 
WE  WILL  HELP  TO  POINT  YOU  IN 
THE RIGHT DIRECTION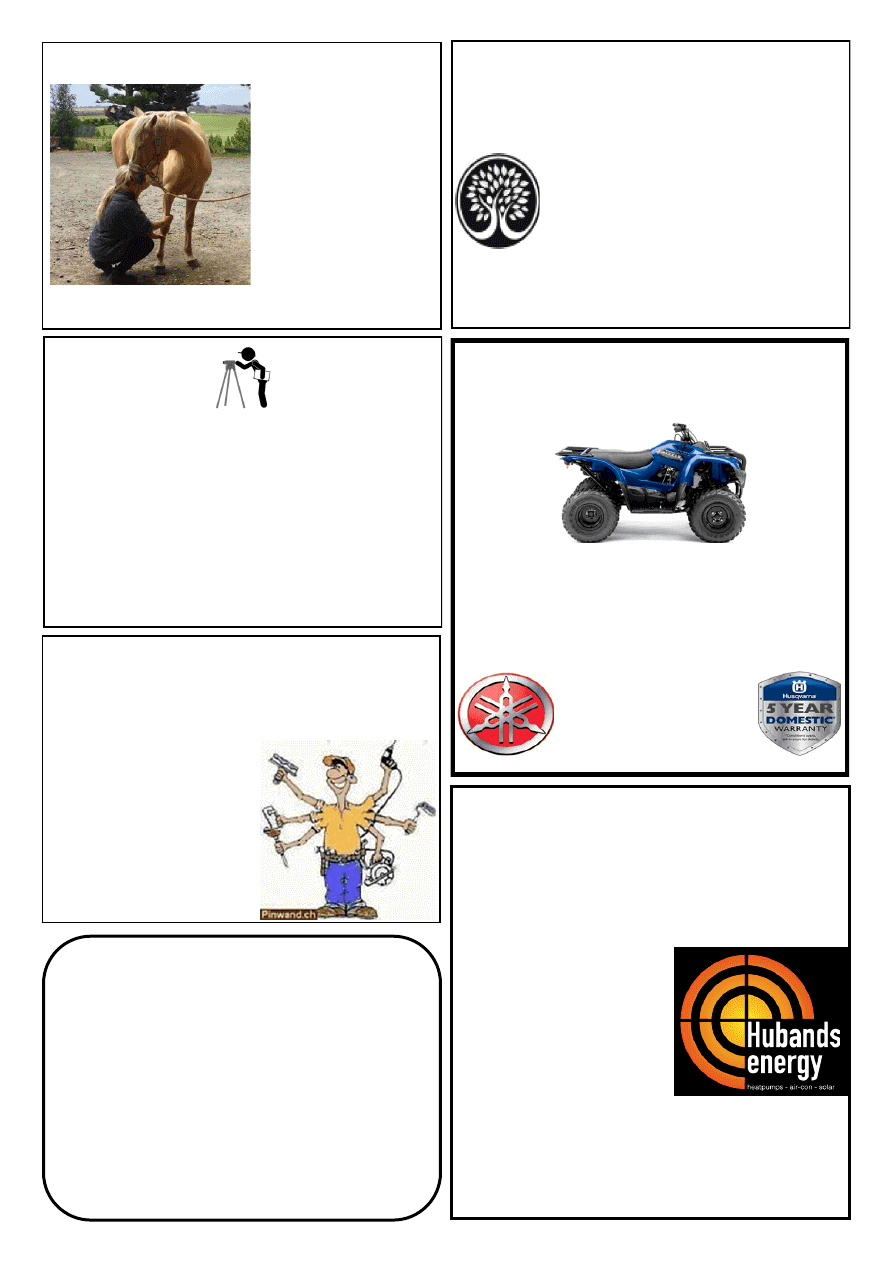 KAIWAKA 
MOTORCYCLES LTD
SALES – SERVICE – SPARES 
FARM BIKE SPECIALIST
PHONE 09 431-2127 
10 KAIWAKA-MANGAWHAI ROAD, KAIWAKA
Trimmers  
from $279
Chainsaws  
from $339
YAMAHA 
HUSQVARNA 
Jill Shires 
Holistic Animal Therapies 
Northland 
021 0506 592 
 
Massage Therapy 
 
CranioSacral Therapy 
 
Emmet Muscle Therapy 
 
Animal Reiki 
 
Acupressure
www.jillshires.nz 
Northland's Award Winning 
Solar Company
SEANZ Best Solar Business Winners 2015/16
EXCLUSIVE 10 year installation warranty 
FREE No obligation onsite quote
Complete systems 
from $5990
See our range of: 
✓
Heatpumps 
✓
Airconditioning 
✓
Hot Water 
Heatpumps 
✓
Central Vacuum Systems
09 430 0019             sales@hubands.co.nz 
15 Kioreroa Road, Whangarei
Locally owned and operated for 35 years 
UP-LINK 
CHRIS WARING 
FREEVIEW INSTALLATIONS 
T.V. - HOME THEATRE &  
HI-FI ADVICE/SET UP
SKY ACCREDITED INSTALLER
MOB.0273403747 HM.094312328 
EMAIL cwaring44@gmail.com
28 YRS EXPERIENCE 
OFFERING UNBIASED ADVICE 
The Little Job Man 
Are you tired of those little jobs not getting 
done ? 
Indoors  or outdoors 
Sick of waiting ? 
Give me a call to discuss 
what you need doing. 
Doug  0277132625 
Ken Urquhart 
BSurv Licensed Cadastral Surveyor 
KMU Surveys Ltd
467 Bickerstaffe Road 
RD 2 
Maungaturoto 0587 
Ph 09 431 8705 
Mob 021 161 2344 
kenurquhart@xtra.co.nz 
Waipu Natural Health 
3 Cove Road, Waipu  (opposite the Pizza Barn) 
Ph: 09 432 1325 
www.waipunaturalhealth.co.nz
Clinical Nutritionist-Hair Analysis for Masked 
Allergies, Ozone Therapy, Prolotherapy, 
Naturopath-Medical Herbalist, Registered 
Massage Therapists, Reflexology-
Craniosacral Therapy, Acupuncture-Facial 
Acupuncture, Kineso Taping, Hypnotherapy, 
Counselling, ThetaHealing, Beauty Therapy
KIDS DAY – AFFORDABLE HEALTH SUPPORT 
FOR KIDS – every Wednesday 
(call us or drop in)
Gift Vouchers available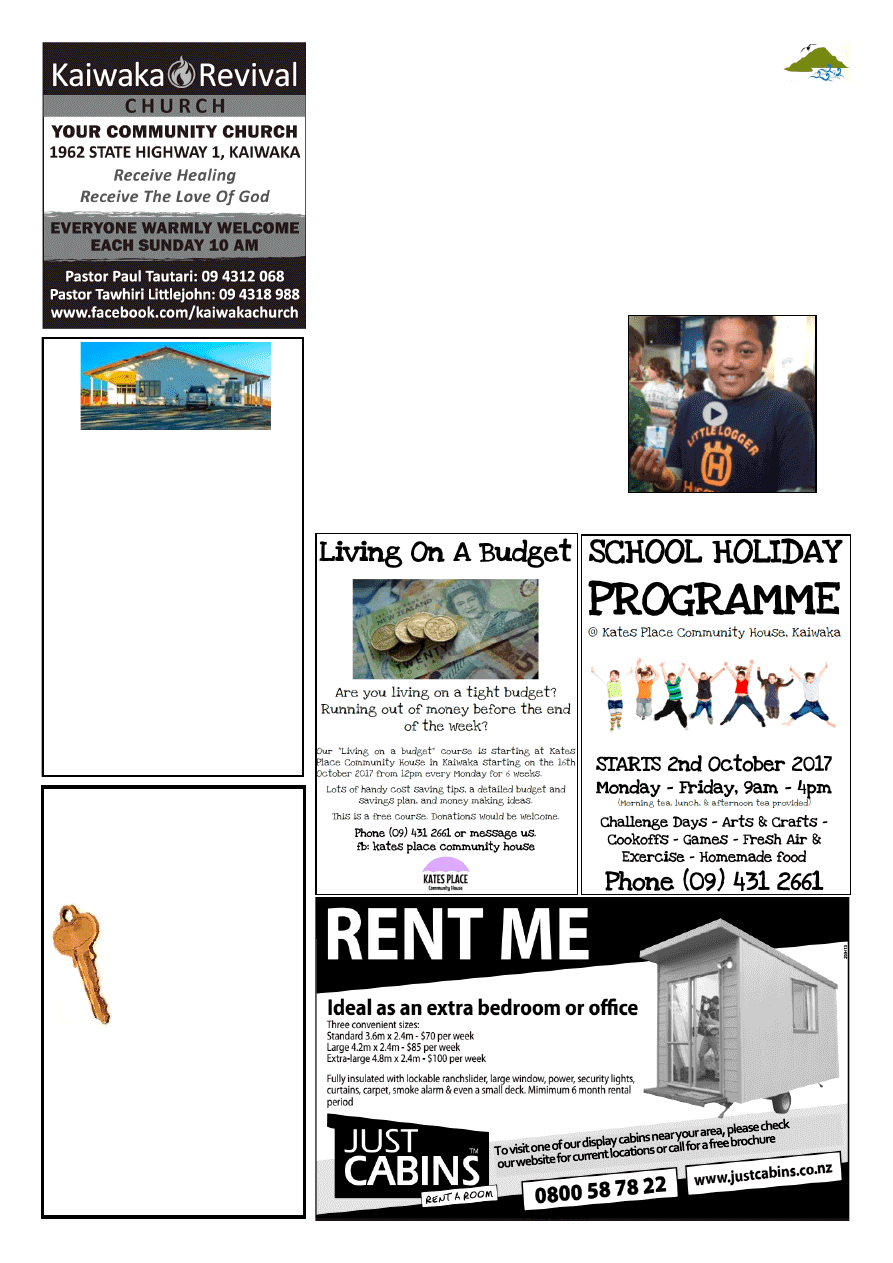 www.kaiwaka.co.nz 
Kaiwaka Bugle - 3 October 2017 
Page 19 
Kaiwaka 
Hardware  
& 
Key cutting
Phone 4312 063  
or 022 0642 703
kaikey2015@gmail.com
    Keys Cut  
Household Hardware  
Sharpening  
Knives & Tools 
Curtain Tracks & Fittings
Not there? Call Doug and he'll 
sort
it for you. 
(
Next to Kaiwaka Motorcycles)
KAIWAKA SCHOOL 
Te Pounga Marae 
130 Nathan Rd. Oneriri. Kaiwaka 0573 
COMPLEX FOR 
HIRE 
Functions 
* Weddings  * Birthdays  
*Anniversaries * Meetings  * Wananga 
5 hour meeting * 12 hour stay  * 
Overnight 
*All welcome - No more Drink-driving 
Amenities: 
*Convo Combi Steamer * Bratt Pan * 
Dish Washer/Sterilizer * 3 Door Glass 
Chiller (walk in) etc…All Crockery * 
Linen Supplied * Central Heating and 
Air Conditioning and much more.  
Can also cater for small groups…. 
For more information please contact: 
Kim Wallace  
Home: 09 832 1133  Mob: 0211275340  
Email: kimwallace@xtra.co.nz 
Giant Pumpkins 
The  Kaiwaka  School  Giant  Pumpkin 
Competition  2017-18  was  launched  at 
assembly  this  week.  Packets  with  2 
pumpkin seeds were distributed to each 
teacher for them to give out to all who 
want  to  have  a  go  at  growing 
pumpkins.  It  you  want  to  buy  your 
own,  the  type  of  seeds  are  Atlantic 
Giant,  available  from  Kings  Seeds.  I 
found  a  good  blog  from  Kings  Seeds 
that  has  lots  of  tips  on  how  to  grow  a 
giant  pumpkin.  Google  the  link  to 
Kings 
Seeds 
Giant 
Pumpkins. 
The best time to plant is some time in 
October  so  you  have  a  bit  of  time  to 
prepare.  Thanks, Amy.  
HEADLICE! 
Please  check  and  treat  your  children's 
hair so we can get rid of these parasites 
from our school. To get head lice under 
control  the  community  must  act 
together  at  the  same  time.  Head  lice 
have a lifecycle of 3 weeks and it takes 
7  days  for  an  egg  to  hatch.  Daily  wet 
combing with a fine tooth (nit) comb is 
a  very  effective,  cheap  option. 
Although helpful, head lice shampoo is 
generally not effective on its own. Wet 
combing  with  conditioner  needs  to  be 
done  daily  for  at  least  one  week  and 
sometimes  longer  as  often  some  are 
missed.  Remember  to  get  as  close  to 
the  scalp  as  possible  as  this  is  where 
the  eggs  are  laid  and  the  lice  live. 
Whether your child has head lice or not 
it  is  recommended  you  still  check 
weekly. 
For  more  advice  please  contact  our 
Public Health Nurse Celia on 021 432 084
. 
Calendar: 
16 Oct. Start of Term 4 
17 Oct. Calf Club Day 
20 Oct. Teacher Only Day 
24 Oct. NZ Playhouse 
27 Oct. Whanau Meeting 
Pictured: 
Albert  Ulisala,  who  won  our 
Milk Carton Folding Competition.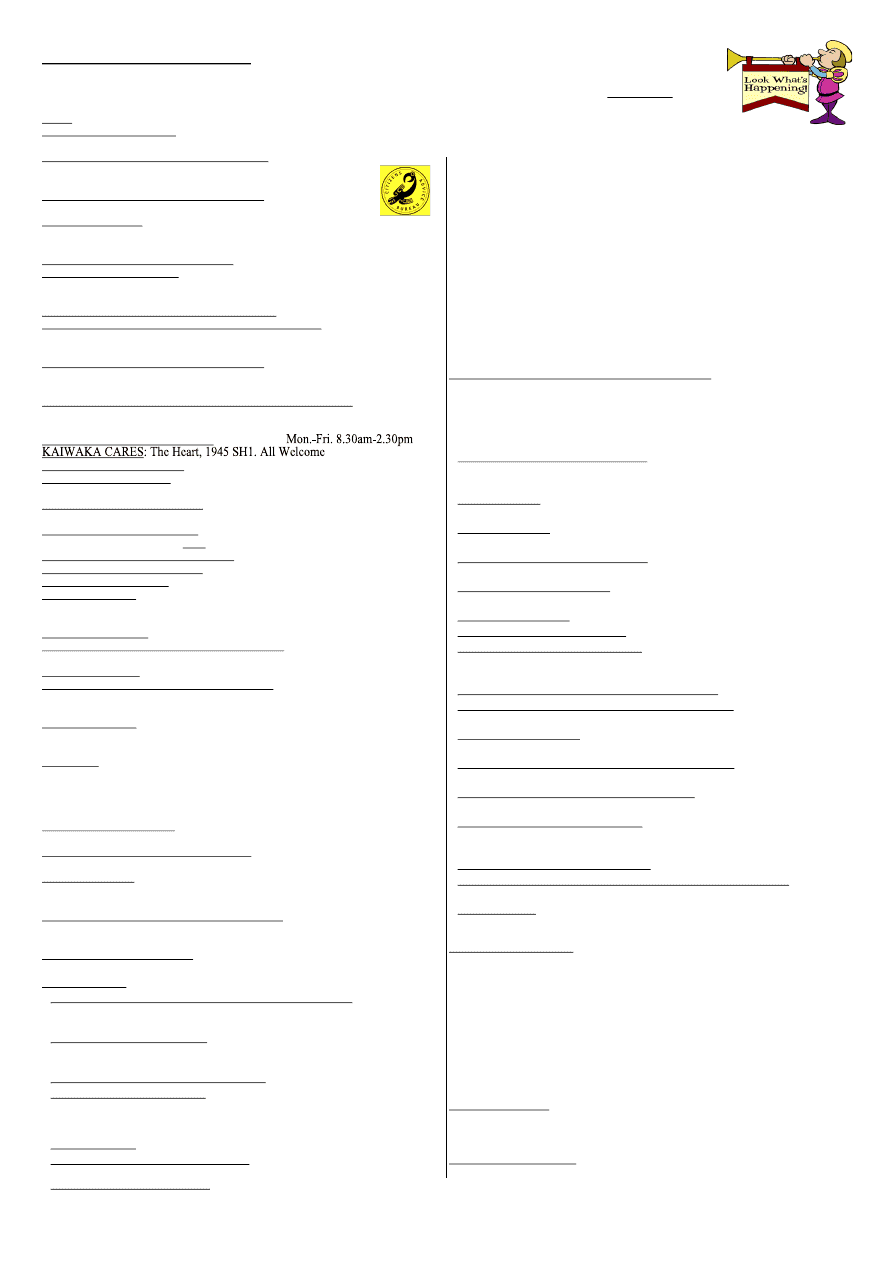 Next Bugle Deadline midday Friday 13 October 2017
WHAT'S ON
PLEASE ~ do let us know what is on - email 
kaiwakabugle@kaiwaka.co.nz 
*6Oct~A Man Called Ove, 7.30pm, KWMH 
*7Oct~ The Lion King, 4.40pm KWMH  (Kaiwaka Playcentre) 
*7Oct~Kauri Museum's Settlers Day,9am, Matakohe 
*10Oct~Kaiwaka War Memorial Hall Assn. AGM 5pm 
*15Oct~Seed the Untold Story, 1.30pm KWMH 
*16Oct~School Term 4 begins 
*17Oct~Kaiwaka School Calf Club Day 
*18Oct~Otamatea Hawks Rugby AGM, 7.30 KSA 
*20Oct~Bruce Springsteen & Band, 7.30pm, KWMH 
*21Oct~Mangawhai Beach School Ag & Gala Day, 9am start 
*21Oct~Hakaru RSA - celebrate the Battle of Trafalgar! 11am 
*27Oct~The Dark Horse,7.30pm KWMH (Rotary) 
*28Oct~KSA 'FRIGHT NIGHT', 5.30pm 
*28Oct~Hakaru RSA - Halloween Night, 6pm 
*29Oct~Despicable Me3, 2pm KWMH 
KWMH = Kaiwaka War Memorial Hall; KSA = Kaiwaka Sports Association 
See www.kaiwaka.co.nz for more information 
HOUSEHOLD RUBBISH COLLECTION - Kaiwaka Pick up: 
Mondays = Green bags (Northland Waste - 09 430 3273) 
Wednesdays  = Blue bags and yellow recycling (at Jaques $3.00 
and  $1.50)  (Kaurilands  09  4392146);  ONLY  Blue  and  Yellow 
bags picked up on Oneriri Road. 
 DIABETES  Support  Group  -for  Kaiwaka,  Mangawhai, 
Wellsford  10am,  3rd  Friday  of  month  Ph:  Colleen  James  09 
4314238 
 DRINK CAN 'tear tabs' - for Starship Hospital- please collect - 
98 Kaiwaka Mangawhai Rd, leave in mailbox, Ph. 4312625  
 GENEALOGY - Wellsford: 1st Thursday in month Ph: 423 
7033; Waipu: 4th Monday in month Ph: 4312 725 
 GYMNASTICS  OTAMATEA  -  Tuesday  Ph:  Stephanie  022 
3624998 
 HAKARU PONY CLUB - Secretary Denise Rogers 021423376 
secretary@hakaruponyclub.co.nz  
 KAIPARA HUNT - Secretary Albert Doonenbal Ph 4312059 
 KAIWAKA BADMINTON -Tuesdays 7.30pm Ph: 4312345 
 KAIWAKA  DRAMA  CLUB  -  Dave  Edwards  021  611198  - 
KaiwakaDrama@gmail.com Monday 5:30-7:00pm KWMH - FB 
- "KaiwakaDramaClub" 
 KAIWAKA DRUM & DANCE CLASSES - 021 611198 
 KAIWAKA GARDEN & FLORAL GROUP - 2nd Thursday in 
month. Ph: 431 4744 
 KAIWAKA  CUBS  -  Thursdays  5.30-7pm,  Hakaru  Ph:Bruce 
4312542 
 KNITTING FOR WHANGAREI HOSPITAL - 2nd Tuesday in 
month, Archie Bull Hall 10am Ph 4314827 
 MANGAWHAI COMBINED REBUS CLUB - 2pm, 3rd 
Thursday month, Senior Citizens Hall Mangawhai. Ph: 4315777 
 OTAMATEA GREY POWER - Kath Pattinson 09 283 2052, 
1pm last Wednesday of month, Anglican Church Hall, 
Maungaturoto 
 PT CURTIS CRUISING CLUB - Jean Ph: 4312227 (wk), 4312520 (hm) 
 RSA,  HAKARU  &  DISTRICTS  WOMEN'S  SECTION  –  meets 
1.30pm 4th Thursday of the month. Ph: 431 5818  
 TRAMPING - Mondays 9am-2:30pm Maria 4312 234 
HALLS FOR HIRE: 
 St.Pauls Archie Bull Hall HIRE $20 half day, $40 full day per 
hire, R. Morgans, Ph 4312365 
 Kaiwaka  War  Memorial  Hall  HlRE  -  Phone  4312725  or 
kaiwaka.hall.bookings@gmail.com 
 Hakaru Community Hall HIRE -Ph. 4312256 or 4312110 
 Te Pounga Marae queries - R. O'Leary 4312 423, J.Nathan 021 
186 7382 
 Kaiwaka Sports Association hire/queries - C. Anderson 4312051 
or kaiwakasports@gmail.com 
Justice of Peace:  
B.FJaques  4312  048;  L.Donaldson  4312  228;  A.F.Hargreaves 
4312 045, W.Howard 4312 725 - please phone to make sure they 
are available www.justiceofthepeace.org.nz 
Marriage Celebrants:  
L.Donaldson; A.F.Hargreaves; Y Osborne
LOCAL SERVICES 
*Emergencies - Ambulance, Fire, Police - dial 111 
*Non-urgent Police phone 09 4311150
A A: Meets Wed., 8pm Kaiwaka Ph: 4315543, 0800229 6757 
ASUREQUALITY LTD (was AgriQuality) Call Free 0508 0011 22  
BUDGETING SERVICE, WELLSFORD: Free confidential advice & 
support for all areas of personal finance. Ph (09) 423 7123 
CAB-Citizens Advice Bureau.Wellsford Ph: 4237333 
0800 367 222 email:cab.wells@xtra.co.nz  
CIVIL DEFENCE - Kaiwaka Community Response Group: 
kaiwaka.civildefencecrg@gmail.com, 4312725 Wendy 
DOG/STOCK /NOISE CONTROL 0800 105 890 
FUNERAL SERVICES: Morris & Morris Ltd, 
Whangarei - Bev Jaques Ph:4312367 or 0800667747 
GRANDPARENTS Raising Grandchildren: Dianah Roberts 0223819539 
HAKARU & DISTRICTS MEMORIAL RSA (Inc) 733 Settlement Rd, 
Hakaru. Ph 4312 176 or Graeme Hitchcock (President) 431 3064 
HAKARU LANDFILL/Transfer Station:Open everyday except 
Tuesday10am-4pm.Ph4312629 Cost-$55 trailer load up to 1 cubic metre. 
Ph:4258567 - office 
KAIPARA DISTRICT COUNCIL www.kaipara.govt.nz:  
Help Desk FREEPHONE 0800 727 059  
KAIWAKA KOHANGA REO: Ph:4312620 
KAIWAKA CEMETERY: Ph: 4312045 or 4314017 
KAIWAKA LIBRARY: kaiwaka.library@gmail.com  
Mon. 4-6pm; Wed., Thurs., Fri., Sat. 10am-2pm Ph:4312539 
KAIWAKA PLAYCENTRE: Ph Juanita 0274134904; open Mon, Wed, 
Fri 9am-12pm. Hastie Lane; Monday to Friday 9.00am - 12 noon. 
KAIWAKA POST OFFICE:Ph:4312 431  
Post Code: 0573 for RD2 and 0542 for all Kaiwaka Post Office mail 
KAIWAKA PRIMARY SCHOOL: Ph: 4312309   
KAIWAKA SPORTS ASSN: Ph 4312005; 4312129 gym 
KAIWAKA ST JOHN: Manager Steve Rosser 09 4318403, 021 355734 
KATE'S PLACE Community Centre - Employment services, Free Health 
Nurse, Plunket, Advocacy, Osteopath, A.A., Legal Advice. 4312 661 
LINKING HANDS Health Shuttle Ph 4315906 or 09 4318969 
MINISTRY FOR PRIMARY INDUSTRIES - General inquiries Call 
Free 0800 008 333 
NORTHPOWER: Faults Kaiwaka area 0800 104040 
OTAMATEA COMMUNITY SERVICES: Counselling, parent coach, 
Family Support worker, budget advice, food bank. Mon-Fri 9am-3pm. Ph 
09 431 9080 http://www.otamateacs.org/ 
PARENTPORT: Free, practical family support service Puhoi to Paparoa 
Ph or txt: Dianne 027 280 5093 or 09 425 9357 
PLUNKET:  Kaiwaka  -Kate's  Place  Clinic  1st  Wednesday  of  the  month; 
Mangawhai  - Rose Madsen Cottage: Coffee Group 9:30 every Monday.  Clinic 
every Monday and Thursday. 
Maungaturoto - Good News Church, Clinic 2nd and 4th Wednesday.  
Cynthia 09 431 7340 or 027 675 3488 
PLUNKET HELPLINE -0800 933 922 (24 hours) 
TAITOKERAU COMMUNITY LAW: Free confidential legal advice and 
assistance, 2nd
Thursday
 of each month. Ph: 0800 155 529 for apps.  
TE URI O HAU Settlement Trust Tangata Developments: Whanau Ora 
021 793262  
VETERINARY SERVICE MANGAWHAI: 
Ph: 4314535 Mon-Fri 8.00-5.00, Sat 9-12, a/h appt. 
WELLSFORD DOCTORS: Ph: 4238 086 
CHURCHES:
 
Kaiwaka  Revival  Church  -  Your  Community  Church:  Sundays  10am. 
Ph: Pastor Tawhiri 09 431 8988 or Pastor Paul 09 4312 068 Visit us at 
www.facebook.com/kaiwakachurch 
 
St  Paul's  Anglican  Church  1st  Sun.  9.00am  (Eucharist),  3rd  Sun. 
9.00am (Family Service). Contact: Rev. Wayne Thornton Ph 431 4122 
www.mangawhaianglican.org.nz 
 
Church of Christ the King, Mangawhai:9.30am every Sunday 
 
St.Mary's  Catholic  Church:  Maungaturoto  –  Griffins  Road,  Saturday 
evening  Vigil  Mass  6pm;  Mangawhai  –  Senior  Citizens  Hall,  Sunday 
Mass  8:30am;  Wellsford  –  Matheson  Road,  Sunday  Mass  10:30am;  
Mid-week Mass times and all enquires to Fr. Bill Fletcher – phone 423 8170
 
Baptist Church: Sun. 10.30am Mangawhai Snr Cit.Hall.Ph:4312339 
 
Cause  Way  Church  Mangawhai:  Sundays  10.15am,  Mangawhai 
Community  Recreation  Centre,  Insley  St.  Ph:  09  4314782