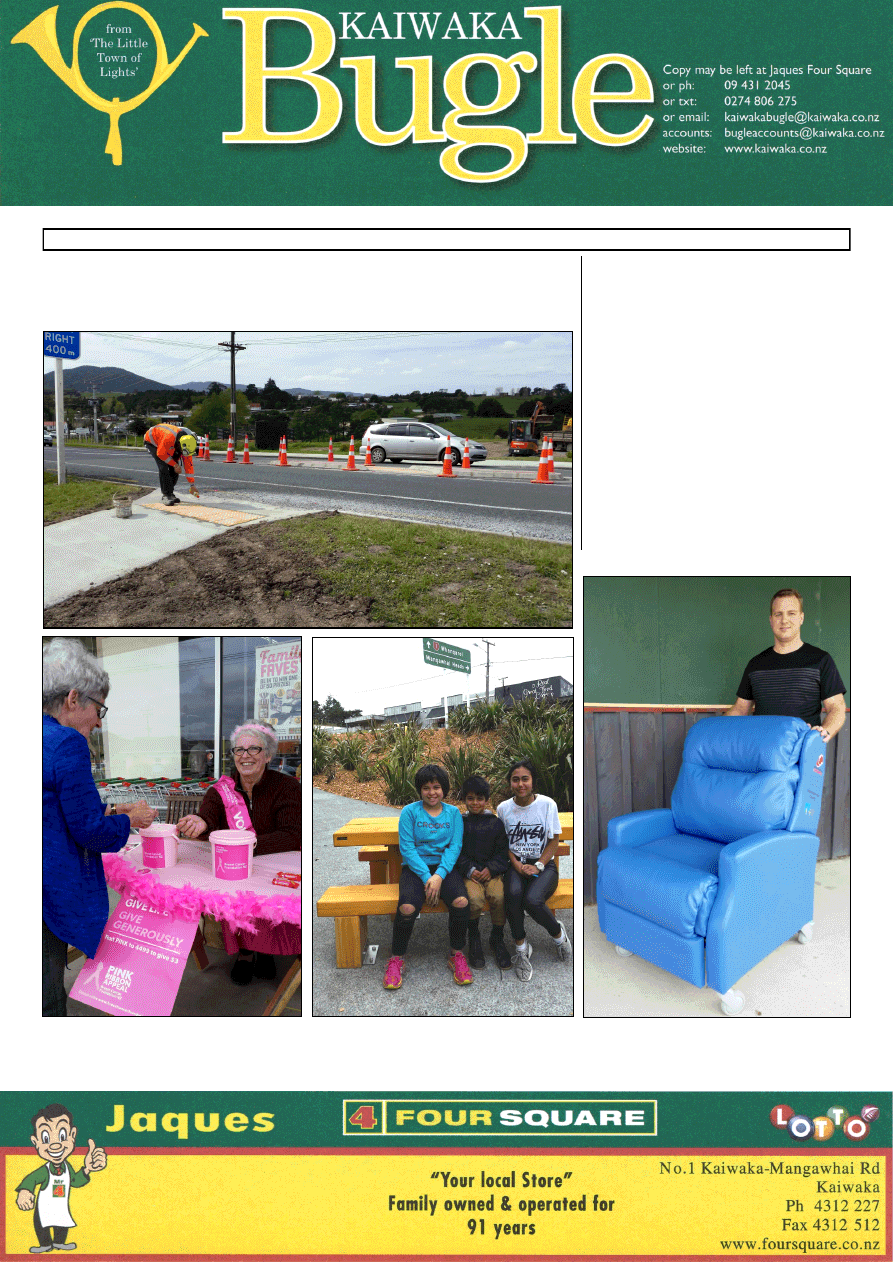 www.kaiwaka.co.nz 
Kaiwaka Bugle - 17 October 2017 
Page 1 
No:20 
17 October 2017 
Trading Hours: 
Monday to Friday 8:00am - 6:30pm 
Saturday 8:00am - 7:00pm 
Sunday 9:00am - 6:00pm  
MADE IN KAIWAKA  
Brad Don, of Archer Care Kaiwaka, is 
pictured below with one of the Romeo 
Recliners  that  have  been  delivered  to 
Ward  14  Whangarei  Hospital.  Twenty 
of  the  chairs  will  be  scattered 
throughout  the  coronary  care  unit  and 
surgical  and  medical  wards  at 
Whangarei Hospital, while one will be 
used at Kaitaia Hospital. 
Fundraising efforts of local Lions clubs 
and other organisations, as noted in the 
Northern Advocate 11 October. 
The  Romeo  Recliners  feature  lumbar 
support and the correct seat height and 
depth to provide comfort. 
Have  a  look  at  their  website 
archercare.co.nz  for  more  information 
on  Archer  Medical,  Archer  Care  and 
Archer Hospitality .  
ABOUT TOWN 
Above left: Kaiwaka's first Pink Ribbon Day  - co-ordinator Jaqui Taylor-Lynds in pink, and Mary Hargreaves outside 
Jaques Four Square. $607 was raised. Above centre: Seated at the new KDC picnic table are Mania, Calvin and Maia. 
KAIWAKA'S PEDESTRIAN CROSSING 
Below: The finishing touches to the yellow non-slip pad at  the southern shops 
crossing.  The  raised  centre  stop  can  be  seen  in  front  of  the  car.  Note:  The 
'pedestrian crossing' planned for outside the Three Furlongs will not be built. 
Photo by Jana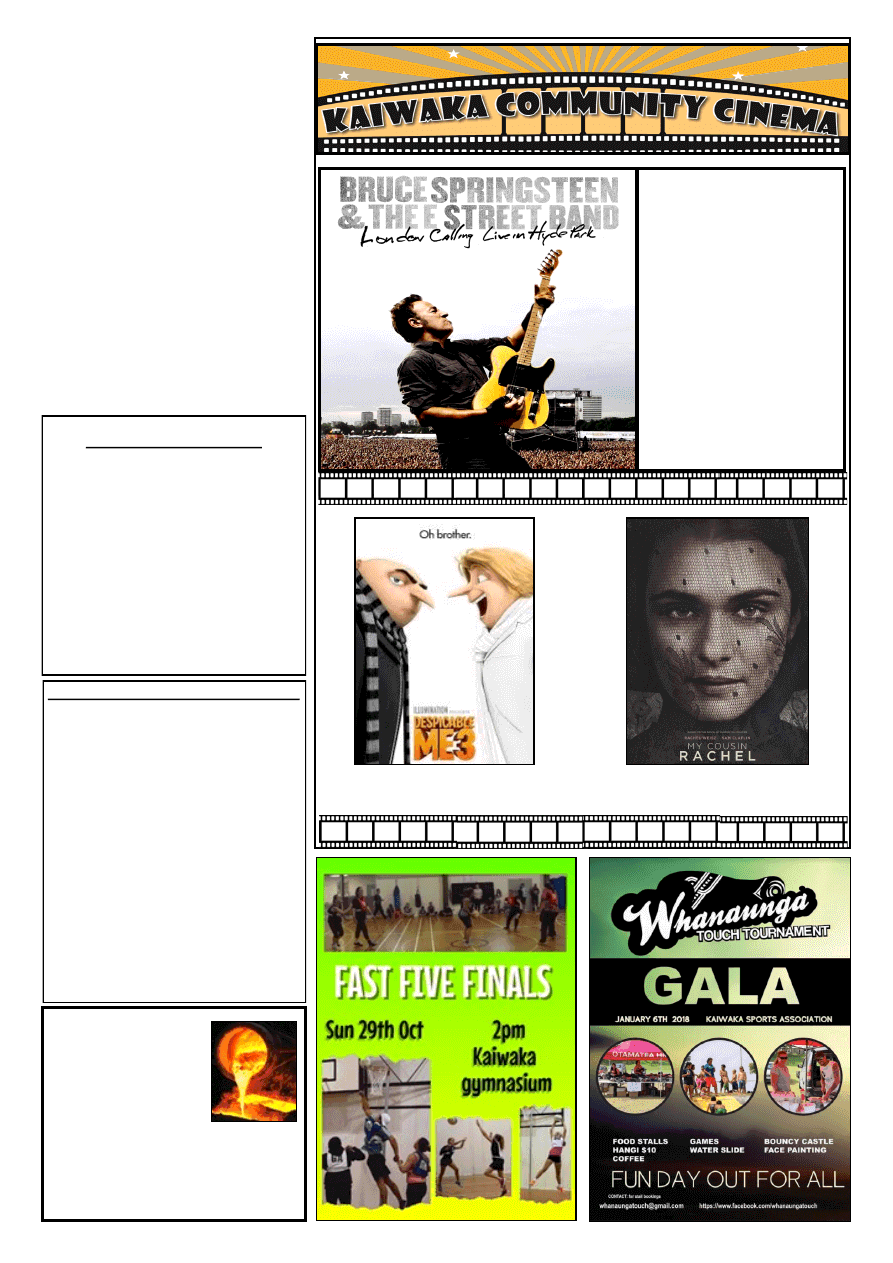 At Kaiwaka War Memorial Hall . Adults $10, Kids (under 16) $5, Family Pass (2 adults + 3 children) $25 
KAIWAKA BUGLE No. 20 
17 OCTOBER 2017 
CONTENTS 
Page 3: Public Notices, Classified 
Page 5: RSA Women's Sec; Weather 
Page 7: KDC; Shave for Janell; 
Pt.Curtis CC  
Page 9:  Jules Riding; Otamatea Rep. 
Page 11: Rotary; The Den  
Page 13: Kaiwaka Sports Assn. 
Page 15: KWMHall; Mangawhai 
Beach School 
Page 17:Library; Kindergarten  
Page 19: Thelma's Scrapbook; OHS; 
Toastmasters 
Bugle 21 will appear 31 October 
Contact for advertising, reports, articles 
or information can be made by 
Email kaiwakabugle@kaiwaka.co.nz 
Ph: 09 4312 045 Lindsey 
Txt: 027 2724137 
Copy  may  be  left  at  Jaques'  Four 
Square. 
Kaiwaka Bugle 
Founded May 1978 
We appreciate articles and photos about local 
events, etc, as well as ads and suggestions. 
Copies available in Kaiwaka at Jaques Four 
Square, Kaiwaka Postal Centre, Shamrock 
Service Station, Animal Health Centre, 
Kaiwaka St John shop. 
Also outlets in Maungaturoto, 
Mangawhai and Paparoa. 
Can be viewed online at   
www.kaiwaka.co.nz/Bugle  
Or a copy can be posted to you if you supply 
stamped, self-addressed DLE envelopes. 
Despicable Me 3 
Sunday 29 October, 2pm (PG)
My Cousin Rachel 
Friday 3 November 7.30pm (M) 
Pro
verbs 27:21     
The purity of 
silver and gold is 
tested by putting 
them in the fire: 
The purity of human hearts 
is tested by giving them a 
little fame. 
Kaiwaka Bugle Advertisements 2017: 
All 
copy 
and 
queries 
to: 
kaiwakabugle@kaiwaka.co.nz 
The Bugle is printed on an A4 page   
Ad  sizes:  1/16  page  (3  x  9.5cm)  $5;  1/8 
(6.5  x  9.5cm  landscape  or  portrait)  $8; 
3/16 ( 10 x 9.5cm or 7.5 x 12,5)  $12.  
Classified  ads:  First  one  FREE,  $4  per 
entry (max. 30 words, max. 4 repeats). 
Payments  can  be  made  online  at 
ANZ 
06  0365  0006990  00
,  posted  or  left  at 
Jaques Four Square Store. 
We  use  Microsoft  Publisher,  and  can 
work  with  most  common  image 
formats, Word, Excel, and PDF files. 
Accounts:  
Email: bugleaccounts@kaiwaka.co.nz 
The  Kaiwaka  Bugle  is  a  community 
newspaper run by volunteers.   
Articles, etc. printed are not necessarily 
the opinion of the Bugle Team. 
BRUCE SPRINGSTEEN  
& THE STREET BAND 
Music Movie Night 
and Supper 
BYO drinks 
$20.00 tickets only 
NO Door Sales 
Friday 20 October 
7.30pm 
Ph: 021 2154495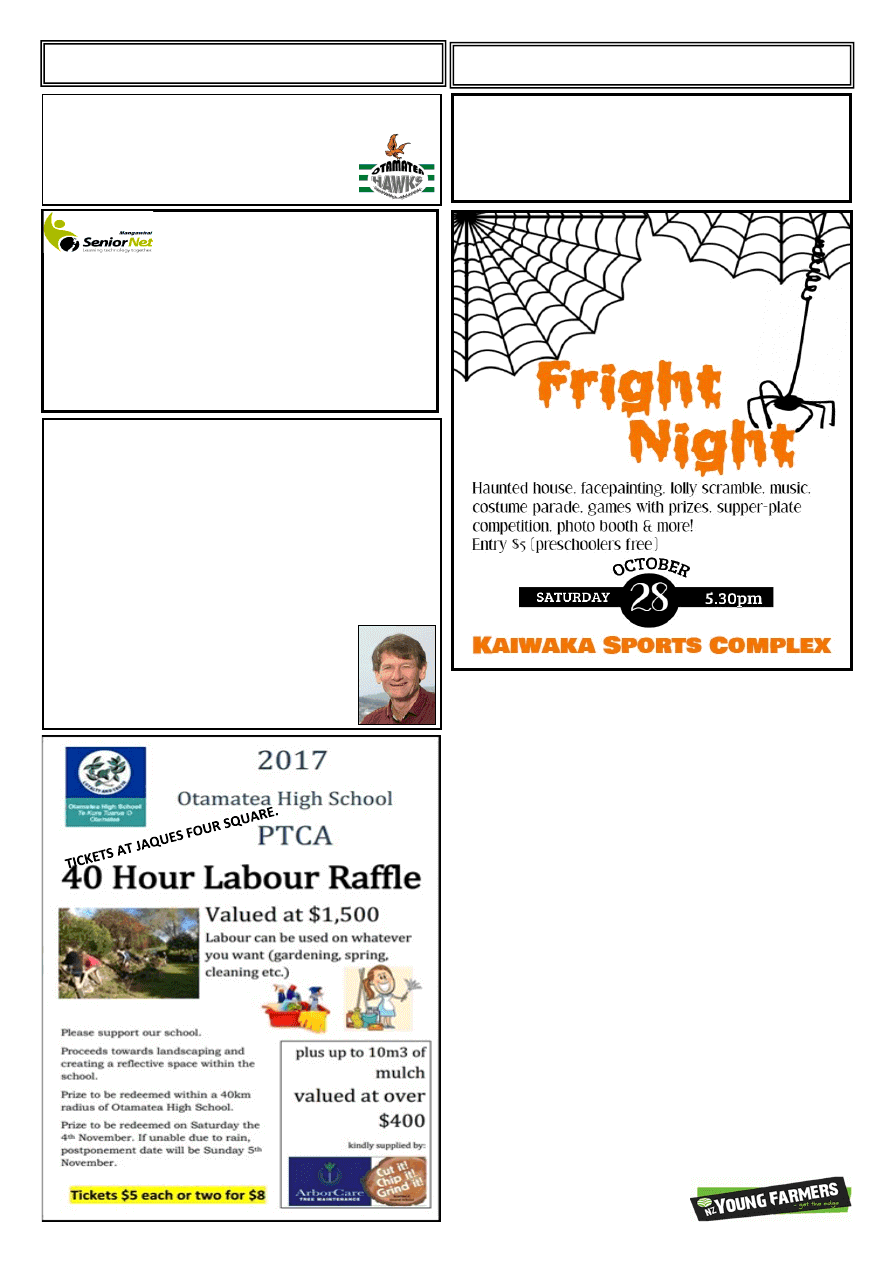 www.kaiwaka.co.nz 
Kaiwaka Bugle - 17 October 2017 
Page 3 
ABOUT TOWN ... 

Very well done to all involved in the Big Shave - Paul P 
handled Pongo's hair with great skill! 

And well done to our Jaques Four Square crew for their 
hard work putting in their new shelving! 

Tickets  for  the  Otamatea  High  School  Raffle  are 
available at Jaques Four Square. Raffle drawn after Labour 
Weekend. 

 Thank  you  to    Jacqui  Taylor-Lynds  for  heading  up  the 
Kaiwaka Pink Ribbon Day collection. 

 Toastmasters  -  see  Wayne  Freeth's  article  calling  for 
local toastmasters - page19 

Great  to  see  our  local  Taniwha  supporters  cheering 
loudlyxxx  .    And  our  local  businesses  appearing  in  the 
media 

 The  Annual  Settlers  Day  at  The  Kauri  Museum, 
Matakohe, was a brilliant success!   

Rural  Professionals  are  promoting  'Let's  do  lunch'  - 
Dairy  NZ,  Fed  Farmers,  Fonterra,  Young  Farmers,  Rural 
Woman, Dairy Women, etc.
 - see page 19. 
Cruise  the  Kaipara  over  Labour  Weekend  on  the 
M.V.Kewpie Too - contact 09 4208466

The next Kaipara Young Farmers meeting is at the Three 
Furlongs  Bar  &  Grill,  7pm  on  Thursday  26  October  . 
Contact is Natalie on 021824488.

 And the Kaiwaka Sports Assn. crew are
 looking forward 
to a 'spooktacular' night on Saturday 28 October! 
  ~ Lindsey, Ed 
"
A hearty laugh gives one a dry cleaning, while a good cry 
is  a  wet  wash."  ~Puzant  Kevork 
Thomajan
PUBLIC NOTICES 
CLASSIFIED 
MONTHLY DROP IN SESSIONS
with Northland Regional Council  
Coastal South Councillor –  Rick Stolwerk 
MONDAY 6th NOVEMBER
Don McKenzie - Biosecurity Manager for the 
Northland Regional Council will accompany me.
9.00 - 10am Maungatapere - Office Café, with 
Sharon Morgan, 
Deputy Mayor WDC
10.30 - 11.30pm Ruakaka WDC Office 
12.00 - 1.00pm Waipu - Deli Cafe 
1:30 - 2.30pm Kaiwaka - Kaiwaka War Memorial Hall 
3.00 – 4.00pm Mangawhai - Mangawhai Museum, with 
Peter 
Wethey, Deputy Mayor KDC 
Please do not hesitate to call or text and book 
an appointment. 
NRC 
Councillor - Coastal South
021 823 770
NOTE: This is not a council sponsored publication and is the 
personal opinion of Cr Rick Stolwerk)
OTAMATEA HAWKS RUGBY CLUB 
Annual General Meeting  
Wednesday, 18th October 7pm 
at the Kaiwaka Sports Complex  
All Welcome 
FREE 
First notice FREE  for Classified or Public Notices - 
less  than  30  words  -  then  charged  as  per  advertised  
($4). This includes AGM and meeting notices, FOR 
SALE, WANTED. ~ Kaiwaka Bugle 
HELP CLINIC 
SENIORNET MANGAWHAI 
Need a little help with your computer, laptop, ipad, 
tablet? Come to our Help session. Ask questios, 
solve problems, compare notes with others. 
$10 members $15 non-members 
Wednesday 18 October - 2pm (2 hours) 
Seniornet Mangawhai 
The Club (Bowls Club), Molesworth Drive, Mangawhai Heads 
Ph: Tony 4312269 or Val 4314042 
Or email seniornet,mangawhai@gmail.com to register. 
4T DIGGER – BOBCAT – TIP TRUCK 
Property Maintenance - Driveways - Building Sites 
Stump & Tree Removal - Hole Boring - Chain Trencher 
Calf Shed and  Stockyard Cleaning
KAIPARA - WHANGAREI - RODNEY 
Phone Matt: 021 199 6677 
Email: mprabrownecontractors@gmail.com 
BRICK/BLOCKLAYER 
All aspects of masonry: 
Fireplaces, Restoration & Remedial Work.
JAMES EAGLETON
Tel. (09) 431 2514     Mob. 0274 749 232
jajueagles@yahoo.com.au 210A Pukenui Road, RD2, Kaiwaka 0573 
MARRIAGE CELEBRANT 
WEDDING EVENTS PLANNER 
Yvonne Osborne 
Ph 0274 989 814 
yvonne.osborne@xtra.co.nz 
THE SUNSHINE GIRLS
Efficient and reliable help with 
your housework. 
Ph 4312 532 
 LEABOURNS 
Passenger Service
Car & Van Hire, Bus & Coach Charters, Airport 
Transfers, Monthly Shopper Bus 
Phone 09 4237416 
Counsellor and Registered Psychotherapist 
Offers Supervision
Susan Matheson 
MNZAC 
Dip. Psychosynthesis Counselling and Psychotherapy 
Phone 09 431 2996                        Mobile 027 605 2427 
Twinkle Tow 'n' Tyre 
Think you'll get a better deal in the city? 
Ring us - it won't cost anything! 
1837 State Highway 1, Kaiwaka 
Phone 431 2823 
*W.O.F. 
*Tyres 
*Windscreen 
replacement 
*Chip repairs 
*Bulk Oil 
*Batteries 
*Welding 
*Custom built 
trailers 
*Trailer hire
Look for 
our NEW 
range of 
real food 
for cats 
and dogs
Veal Bones 3kg $17.90  
Chicken Medallions 3kg $17.90 
Beef & Lamb Patties 3k $21.90 
Purely Pets – buy 10 packs,  get 11th pack FREE 
Radical Dog in store (as seen on Country Calendar) 
Beat the Flea Season: Flea combs, shampoos 
Chemical-free, no nasties Flea Control, Tick & Lice 
Support 
ANIMAL NATURAL 
HEALTH CENTRE 
Next to Italian Bakery, 
Kaiwaka 
Ph. 09 431 2217    
Open Mon-Sat.
Kaiwaka Hardware  
& 
Key cutting
Phone 4312 063 or 022 0642 703
kaikey2015@gmail.com 
Keys Cut  
Household Hardware  
Sharpening Knives & Tools 
Curtain Tracks & Fittings
Not there? Call Doug and he'll sort
it for you. 
(
Next to Kaiwaka Motorcycles)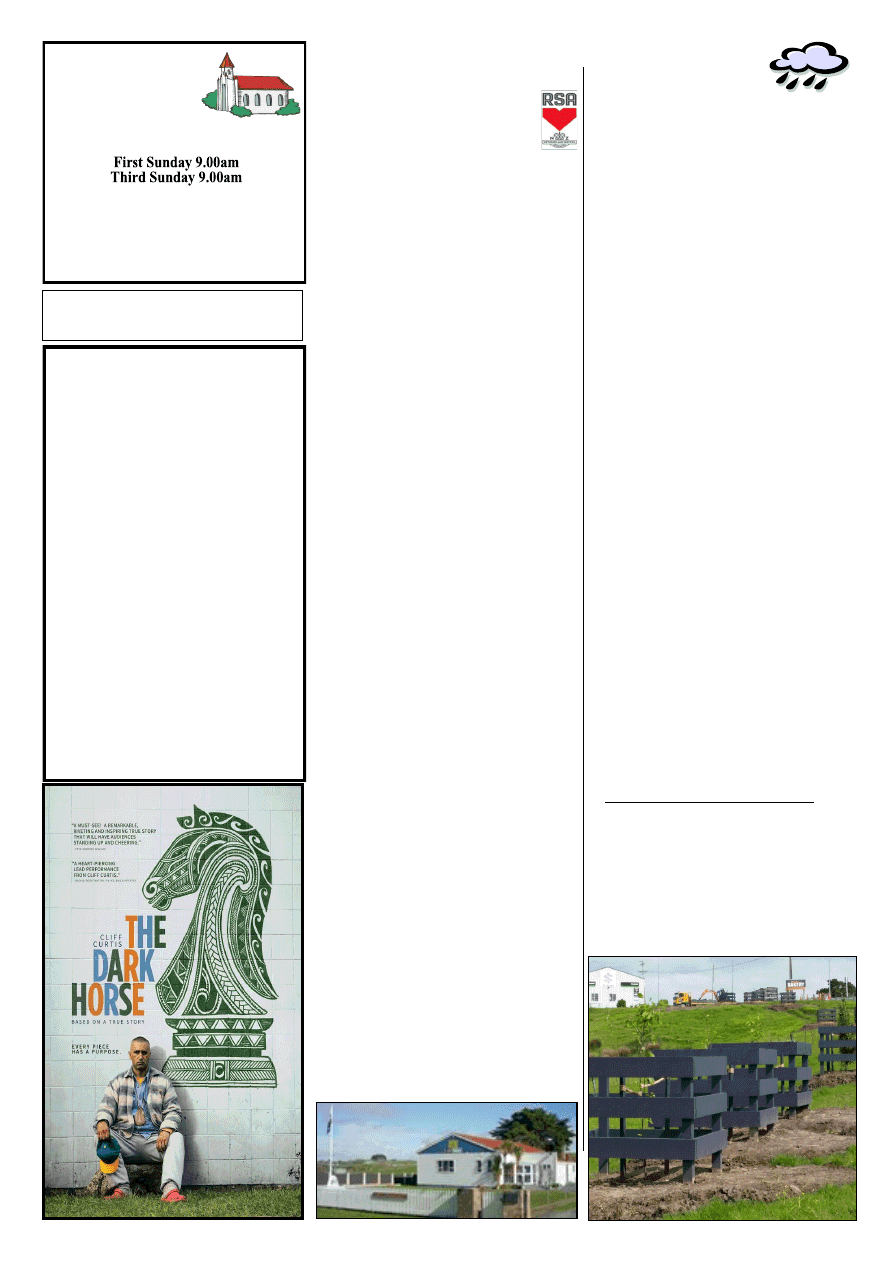 www.kaiwaka.co.nz 
Kaiwaka Bugle - 17 October 2017 
Page 5 
Willow Bend
HORSE  
HOTEL 
  
Total Horse Care 
 
Agistment 
 
Riding Lessons 
 
Arena Hire (60x40) 
 
Young Horse Starting 
 
Re-training/Exercising 
 
Hoof Trimming 
 
Problem Solving 
Phone Sue 09 431 2817 
or 021 623 776 
Or email  
susanjoll11@gmail.com 
ST PAUL'S  
ANGLICAN  
SUNDAY  
SERVICES
St Pauls Church: Kaiwaka-Mangawhai Rd. 
1st Sun - Eucharist 
3rd Sun - Family Service 
Rev. Wayne Thornton Ph 431 4122 
www.mangawhaianglican.org.nz
Proverbs 25:24 - 
Ko te tangata kaore he 
mana-whaiaro he rite ki te whare me ona 
tatau, ka pakaru atu nga matapihi. 
There  was  a  good  attendance  at 
the  September  meeting.  Gloria 
welcomed  all  present  and  the 
Women's  Section  song  was 
sung, followed by a moments silence in 
memory of those no longer with us. 
62nd Birthday  
We  have  a  busy  time  coming  up  with 
our  62nd  Birthday  on  Thursday  26th 
October, approximately 9 others W/Sec 
Clubs  will  be  attending  -  a  car  load 
from each. 
Members  are  asked  to  bring  items  for 
the trading table, baking is always very 
popular    cuttings  and  plants,  fruit  and 
vege  produce,  also  pickles,  jams  and 
jellies,  hand  crafts,  sewing  and 
knitting.  Heather  has  started  on  the 
raffles  but  could  do  with  a  few  more 
items.  If  members  have  something  for 
the raffle please contact Ann 4315913, 
who  will  arrange  to  get  them  to 
Heather.  Helpers  to  arrive  at  8.30am, 
stall  holders  10.30am  for  a  11.30am 
start.  Members  with  produce  10.30am 
also if you cannot get it to a committee 
member. 
Armistice Day  
On  Saturday  11th  November  it  is 
Armistice  Day  and  there  will  be  a 
Service at 11.30am.  Women's Section 
have  been  asked  if  they  can  cater  for 
lunch. 
Christmas 
Our  Christmas  Pot  Luck  lunch  is  on 
23rd  November  at  11.30am.  Members 
have  indicated  what  type  of  food  they 
can bring, any members who were not 
at  the  meeting  please  contact  Jan 
4314512. 
Due  to  family  commitments  we  are 
losing  our  President  Gloria  after 
December,  we  will  miss  you  Gloria. 
Hopefully  one  of  our  Vice  Presidents 
will be able to take up the reins. 
We  have  an  invitation  to  attend 
Whangarei's 
72nd 
Anniversary 
Celebrations  on  11th  October,  4 
members will be attending. 
Lena,  Trish,  Gloria  and  Heather 
attended  Pukekohe's  Birthday  and  had 
a lovely day. Lena even won a raffle to 
bring home. Pamela won our raffle this 
month. 
The bowls at Waipu has been cancelled 
until Monday 6th November, time for a 
bit more practice Hakaru team! 
Next meeting  
Next meeting 23rd November, which is 
our  Pot  Luck  Xmas  lunch,  as  there  is 
no  meeting  in  December  Ladies  don't 
forget  your  contribution  for  lunch 
either sweet or savoury. 
That is all for now,
 Ann 
KAIWAKA  
WEATHER 
This  report  is  late  as  that  is  how  the 
dates  fell  on  the  calendar  and  Bugle 
production.  
Well  our  spring  sprung  a  lovely  fine 
partly cloudy warm day followed with 
the next day of pouring rain later in the 
day.  Then we went back to our fickle 
spring weather for the rest of the month 
with a fair bit of rain and a lot of calm 
cloudy  days.  At  least  now  it  does  not 
rain every day of the week. The ground 
is  now  trying  to  firm  and  wind  is 
helping  dry  those  puddles  and 
unwanted ponds.  Mind you the ducks 
and  other  water  loving  birds  love  it. 
We  have  not  seen  as  much  water  in 
years  as  we  have  this  year  on  the 
Brynderwyn waterfall. The blossom on 
the trees is intense this season so that is 
great.    It  has  been  a  joy  to  watch  the 
young  animals  frisking  about  the 
farms.  Great  to  see  the  sun  and  the 
days are warming up nicely.   
This  September  at  our  house  we  had 
144mm  and  September  2016  we  had 
135mm.  Days  of  rain  for  September 
2017 was 16 and 2016 we had 13 days 
of rain.   
The  first  9  months  of  2017  we  had 
1512mm 
and 
2016 
we 
had 
1211mm.    Our  driest  September  since 
1987  was  2000  with  40mm  and  the 
wettest was 1989 with 249mm.   
Our driest  first  9  months  since  1987 
WAS  1987  with  687mm  and  wettest 
was  2017  with  1512mm.  No wonder 
we are wet underfoot.   
One of the biggest advantages of going 
back to school as a retiree is that if  you 
cut  classes  is  that  no  one  calls  your 
parents.   
Okay  take  care  out  there    and  keep 
your  speed  down  (in  all  ways).    Have 
you noticed how fast people talk these 
days? Until next time, Bev
.
Friday Oct 27 
7.30 pm 
 $10 entry 
Rotary  
Fundraiser 
HAKARU RSA 
WOMEN'S SECTION
FOR THE RECORD 
NEW TREES 
To  beautify  our  town  Kaipara  District 
Council  has  planted  'traffic  calming' 
trees  (magnolia  and  rewarewa)  on 
eastern  side  of  SH1,  south  of  The 
Three  Furlongs.  More  trees  will  be 
planted on the west side at a later date.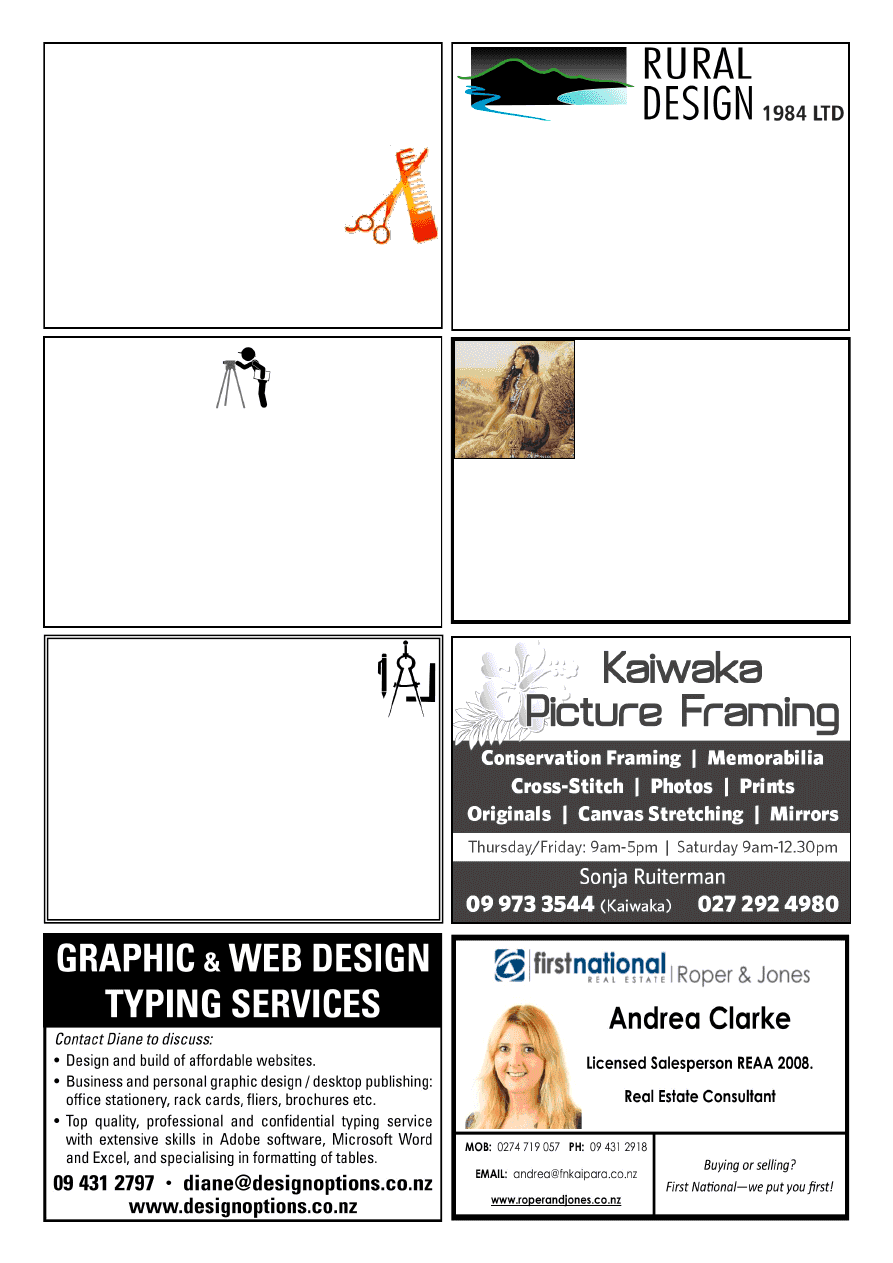 design drafting  
service 
Retired builder and manufacturer with over 40 years  
experience in the building industry is offering a design 
drafting service  
for domestic housing, sleepouts and sheds.  
Plans formulated in consultation with clients, with 
working drawings completed and submitted to  
council for processing.  Extensive practical experience,  
able to identify & resolve problems. 
Please ring Mike Lean on 
09 431 2260 
or 
021 431 196 
Ken Urquhart 
BSurv Licensed Cadastral Surveyor 
KMU Surveys Ltd
467 Bickerstaffe Road 
RD 2 
Maungaturoto 0587 
Ph 09 431 8705 
Mob 021 161 2344 
kenurquhart@xtra.co.nz 
WHOLESALE NATIVE PLANT NURSERY 
AND LANDSCAPING 
By Appointment 
Small and Large orders welcome 
Phone: 09 431 2481 
Email: info@ruraldesign.co.nz 
AFFORDABLE PRICES! 
MENS CUT FROM $20.00 
LADIES CUT FROM $30.00 
KIDS CUT FROM $18.00 
COLOUR & CUT FROM $120.00 
JUST CUTS'AND   
MORE 
021 165 2629 or (09) 945 0707  
NOW SELLING: scented tealights, incense, smudge sticks, 
copper bracelets, aurora ball crystals, dream catchers, healing 
stones, rose quartz, cds, and much more. Open 6 days. 
Trails end 
spiritualist gathering 
Last Sunday of every month  
11.30-2pm  
Tea/coffee provided  
$5 koha 
For all inquiries: 
021 165 2629 evenings (09) 945 0707 
Trail.end@hotmail.com 
Bringing together light minded people 
Guest speaker each month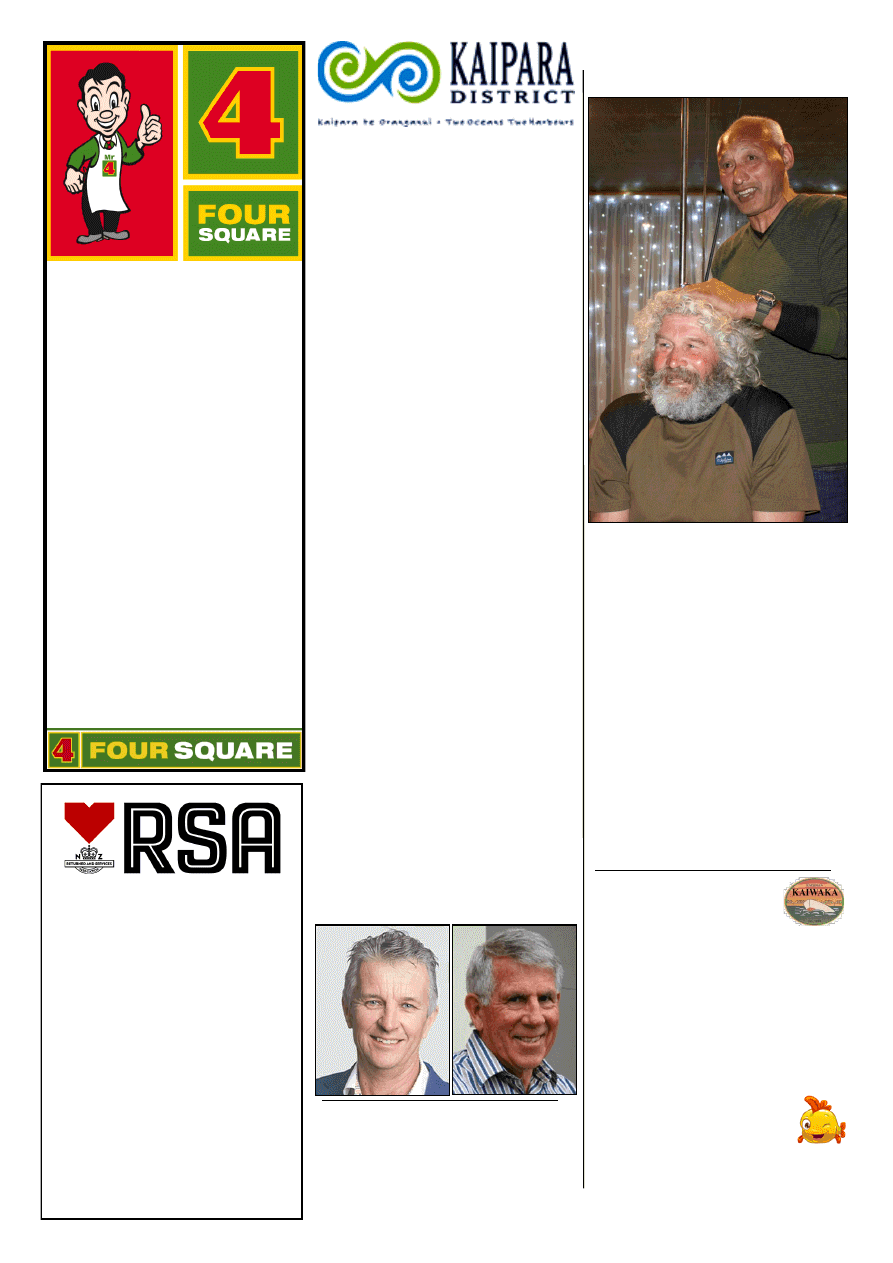 www.kaiwaka.co.nz 
Kaiwaka Bugle - 17 October 2017 
Page 7 
NEW STORE 
LAYOUT!!
Thank to you to our 
amazing staff & team 
that made it happen 
over the last week 
NEW TRADING HOURS 
starting LABOUR WEEKEND:  
SUNDAYS OPEN 9am to 6pm 
MONDAY 23RD OCTOBER & 
all Public Holidays Open  
8am to 6.30pm 
Visitors arriving?? - 
Pre-Order Hot Chickens or 
Freshly baked breads 
Phone us on 4312227 
Fresh Mussels & Fish
Jaques Four Square 
Phone: 4312227 
1 Kaiwaka-Mangawhai Road, Kaiwaka. 
Mayor  Greg  Gent  to  resign  from 
Kaipara 
District 
Council 
in 
November 
The  Mayor  of  Kaipara  District 
Council,  Greg  Gent  (pictured  below 
left),  has  announced  his  intention  to 
resign  after  the  Council  meeting  on 
Tuesday 
14 
November 
2017. 
After  a  year  in  the  role,  Mayor  Gent 
has  decided  to  resign  due  to  personal 
reasons. His resignation will mean a by
-election is required to fill the vacated 
post. 
Deputy Mayor Peter Wethey (pictured 
below  right),  will  assume  all  the 
responsibilities  of  the  Mayor  until  the 
by-election 
after 
Mayor 
Gent's 
departure.  
Kaipara  District  Council  announces 
by-election process 
The  resignation  of  Kaipara  Mayor 
Greg  Gent,  which  is  effective  15 
November  2017  will  result  in  a 
vacancy. 
Under  the  Local  Electoral  Act  2001, 
where  a  vacancy  occurs  before  20 
November 2017 the by-election cannot 
occur  before  Saturday  17  February 
2018. Under this scenario nominations 
would open Friday 24 November 2017 
and  close  at  midday  Friday  22 
December 2017. 
The  voting  period  would  be  from 
Friday  26  January  2018  through  to 
midday on Saturday 17 February 2018, 
conducted by postal vote. 
The  public  notice  of  the  result  would 
be  Wednesday  21  February  2018  and 
the  newly  elected  Mayor  could  take 
office at that time. 
The  estimated  cost  for  the  by-election 
is $38,000. The bulk of this cost is for 
the  production  and  distribution  of  the 
mailer and voting document. 
If  the  newly  elected  Mayor  was  an 
existing  Councillor  then  they  would 
have  to  resign  the  Councillor  role  and 
this  would  trigger  an  additional 
vacancy  and  by-election.  The  cost  of 
this is likely to be around $20,000. 
HAKARU & DISTRICTS 
MEMORIAL RSA (INC)
Members & guests are invited to 
come along and enjoy our hospitality.  
New members welcome.  
Meals are served on Thursday and 
Friday nights  from 6.30pm.   
2nd Friday of the month is a Roast Dinner 
special plus a board menu put on by the 
Women's Section. 
Last Friday of the month is 'Roast Pork 
Night' and a sing-a-long with Des Chitty. 
For more information please phone 
Gloria  (Women's Section) on  
431 5818 or Marlene on 431 5589 
Club  members  Fishing  Competition  to  be 
held  Saturday  11th  and  Sunday  12th  of 
November 2017. 
Species  will  be  Kingfish,  Kahawai  and 
Snapper.  Please  check  our  Facebook  page 
for further details. 
A  reasonable  turn  out  for  the  pool 
competition  held  at  Mangawhai  Club.  A 
good day with Mangawhai Club winning. 
Thanks to those that made it. 
Fish  of  the  month  Winner:  Gravy 
–  1
st
,  2
nd
  and  3
rd
!  The  weights 
were  9.135kg, 7.260kg,  6.930kg. 
Clean sweep well done! 
New  fish  of  the  month  Snapper  till 14th 
November 2017. 
Next Club Meeting 14th November 2017 
7pm at 3Furlongs Bar & Grill.
POINT CURTIS 
CRUISING 
CLUB 
What  a  wonderful  night  at  our  'Shave 
for Janelle' fundraiser. 
Local  lady  Janelle  Penjueli  who  has 
been  diagnosed  with  inoperable  bowel 
cancer,  will  receive  over  $2,800, 
thanks to our generous community. 
Special  thanks  goes  to:  Paula  Jaques, 
Three  Furlongs  Bar  &  Grill  and  Lee 
Renton  who  donated  items  for  the 
raffles,  to  raffle-seller  Jan  Linehan,  to 
Rose Paikea and her team from Headz 
of  Hair,  to  Paul  Paikea  who  did  the 
'shearing' of Pongo-pictured above, and 
to Kyle Underwood and the crew at the 
Three  Furlongs  for  the  venue  and  all 
their help with promotion. 
And  of  course  thank  you  to  the  brave 
'shavees': 
Corey 
Slimo, 
Kyle 
Underwood,  Samuel  Stephens,  Rhys 
Shadbolt,  Michelle  Slater  and  family, 
Jessica Bensley and Wayne Leslie. 
SHAVE FOR 
JANELLE 
New  Zealand's  first  Labour  Day  celebrating 
the  '8  hour  working  day'  was  on  28  October 
1890
.  The  Labour  Day  Act  of  1899  created  a 
statutory  public  holiday  on  the  second 
Wednesday  in  October,  first  celebrated  in 
1900.  The  holiday  was  'Mondayised'  in  1910, 
and  since  then  it  has  been  held  on  the  fourth 
Monday in October. 
David Korach 
Your local Gib Stopper
DK PLASTERER LTD 
0274769221 
dkorach6@gmail.com 
Waipu Natural Health 
3 Cove Road, Waipu  (opposite the Pizza Barn) 
Ph: 09 432 1325 
www.waipunaturalhealth.co.nz
Clinical Nutritionist-Hair Analysis for Masked 
Allergies, Ozone Therapy, Prolotherapy, 
Naturopath-Medical Herbalist, Registered 
Massage Therapists, Reflexology-
Craniosacral Therapy, Acupuncture-Facial 
Acupuncture, Kineso Taping, Hypnotherapy, 
Counselling, ThetaHealing, Beauty Therapy
KIDS DAY – AFFORDABLE HEALTH SUPPORT 
FOR KIDS – every Wednesday 
(call us or drop in)
Gift Vouchers available
KAIPARA FLOORING CO 
Independently owned & operated 
32 HURNDALL ST MAUNGATUROTO
Supply & Installation of Carpet, Vinyl,  
Vinyl Wood Planking
Stockists of 2m & 3m wide 
vinyl & carpet short ends
Residential & Commercial
Q Card Finance Approved 
6-18 month terms 
6 mth interest free
First Class Installations
For a free measure & quote 
phone Christine  
09 946 9886 or 021 515 415 
kaiparaflooring@gmail.com 
http://www.kaiparaflooring.co.nz/ 
BARRY CURTIS PLUMBING LTD 
REGISTERED CRAFTSMAN PLUMBER 
Phone 4315572 
027 257 9884 
25 years experience 
Friendly reliable service 
All plumbing and maintenance 
Alterations and new housing 
Spouting 
Competitive rates 
PROMPT EFFICIENT  SERVICE 
Mangawhai Heads 
Garden Centre
1758 Cove Road
945 0707 
021 165 2629 
Stories Tall, Stories Short  
Kaiwaka 1959-2009 
by Roger TW Smith.  $40 
Available at the 
Kaiwaka Library 
or phone 
Lindsey 4312 045 
HODGETTS 
CONTRACTING
Digger Work    

Driveways 

House Sites   

Dams    
 
Drains, etc
Also available for HIRE 
3 ton Vib Roller Heavy Duty Tow  
Waterblaster     Lazer Level
Phone Mark 4312877 
027 447 8554 
Reyahn George 
Leng 
Registered Electrician 
Local, honest and reliable. 
For your residential and 
light-commercial projects. 
022 314 1068 / 09 431 2527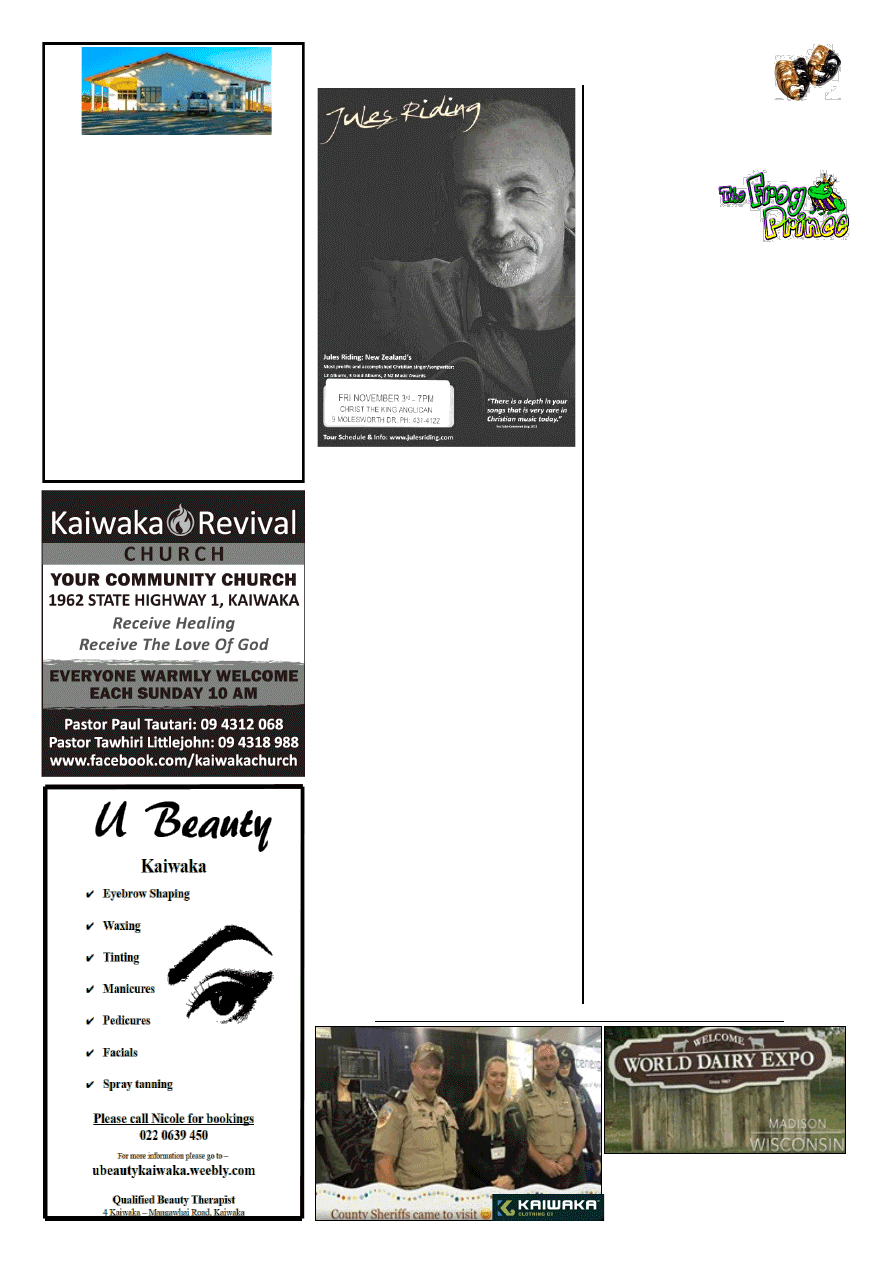 www.kaiwaka.co.nz 
Kaiwaka Bugle - 17 October 2017 
Page 9 
JULES RIDING 
NIGHT 
OTAMATEA 
REPERTORY 
THEATRE  
The Frog Prince 
Tickets  are  on  sale  now.  Six  shows 
only 24 November to 3 December. 
Don't  miss  out! 
This  is  a  very 
funny 
show, 
written  by  Peter 
Flower. 
Annual General Meeting  
This  will  be  held  on  Thursday  9 
November  2017,  7pm  at  the  theatre, 
Bickerstaffe  Road,  Maungaturoto.    All 
welcome. 
Albi  and  the  Wolves  -  with  Looking 
for Alaska 
Sunday  5  November,  7.30pm  Tickets 
$20 on Eventfinda 
Door sales available. 
One Act Play Festival 
Are  you  interested  in  taking  part  in 
a  One  Act  Play  Festival  -  Friday  13 
April to Sunday 15 April 2018? 
Plays  may  be  originals  or  may  be 
purchased.  It  is  not  our  intention  to 
have  these  plays  adjudicated,  nor 
participate  in  TheatreFest.  The  cast 
must consist of at least two performers 
and  must  be  under  50  minutes.  If  we 
get  enough  interest,  we  will  hold  an 
information  evening  on  Thursday  16 
November  2017,  to  help  people  get 
started.  
Please 
contact 
George 
Skelton 
gskelton@xtra.co.nz  by  8  November 
2017.   
Into  the  Woods  -  is  to  be  our  major 
musical for 2018.   
More details to follow.  Auditions to be 
held  in  December  2017.  Peter  Flower 
to  direct.    Show  season  most  likely  to 
be in July 2018. This show has a small 
mainly  adult  cast  and  a  high  level  of 
singing ability is preferred. 
Youth Theatre 2018 
Dates are confirmed - 22 to 26 January 
2018;  9am  to  3pm  daily,  show  on 
Friday night, 7pm 
If we are inundated with enquiries, we 
will possibly run a second, earlier week 
-  15th  to  19th  January  -  as  we  did 
earlier this year. Price $130 per child – 
includes  ORT  subs  and  Friday  night 
meal. 
Please  register  your  interest  asap  by 
emailing maura.flower@gmail.com 
with your child's details.  
         ~Maura Flower 
Te Pounga Marae 
130 Nathan Rd. Oneriri. Kaiwaka 0573 
COMPLEX FOR 
HIRE 
Functions 
* Weddings  * Birthdays  
*Anniversaries * Meetings  * Wananga 
5 hour meeting * 12 hour stay  * 
Overnight 
*All welcome - No more Drink-driving 
Amenities: 
*Convo Combi Steamer * Bratt Pan * 
Dish Washer/Sterilizer * 3 Door Glass 
Chiller (walk in) etc…All Crockery * 
Linen Supplied * Central Heating and 
Air Conditioning and much more.  
Can also cater for small groups…. 
For more information please contact: 
Kim Wallace  
Home: 09 832 1133  Mob: 0211275340  
Email: kimwallace@xtra.co.nz 
Our  very  own  Kaiwaka  Clothing 
spotted  in  USA!  The  World  Dairy 
Expo,  3-9  October,  held  in  Wisconsin 
has thousands of visitors, and exhibitors 
every year. 
Jules 
Riding, 
Christian 
singer/
songwriter,  has  just  returned  from  a 
three-month tour of London, Germany, 
Sweden,  Norway,  Finland,  Russia, 
Latvia,  Denmark  and  Germany  with  a 
series  of  family  and  outreach  concerts 
at  many  European  churches  and 
organisations. 
After  a  short  break  at  home,  Jules  is 
again  touring  New  Zealand,  with 
Christ  the  King  Anglican  Church  in 
Mangawhai,  being  one  of  the  first 
concerts he has on his schedule. 
Originally  from  Auckland,  in  2015, 
Jules moved with his family to Maunu, 
in Whangarei, where he has enjoyed a 
more relaxed lifestyle. 
With  12  albums  to  his  name,  three  of 
which  have  won  gold  awards,  Jules 
Riding  says  he  has  plenty  of  material 
to draw from. 
Jules  says,  "I  am  fortunate  in  the  fact 
that my testimony and singing style is 
such that I can moderate it to suit day 
or  night  worship  services,  men's 
camps  and  women's  breakfasts, 
recovery church services or special one
-off  events.  I  have  had  a  short  break 
and  am  now  rearing  to  go.  I  am 
looking  forward  to  performing  at 
Christ  the  King  Anglican  Church's 
concert  on  Friday  3  November  at 
7pm." 
For  more  details  about  Jules  Riding's 
concert, please contact Christ the King 
Anglican Church on 4314122.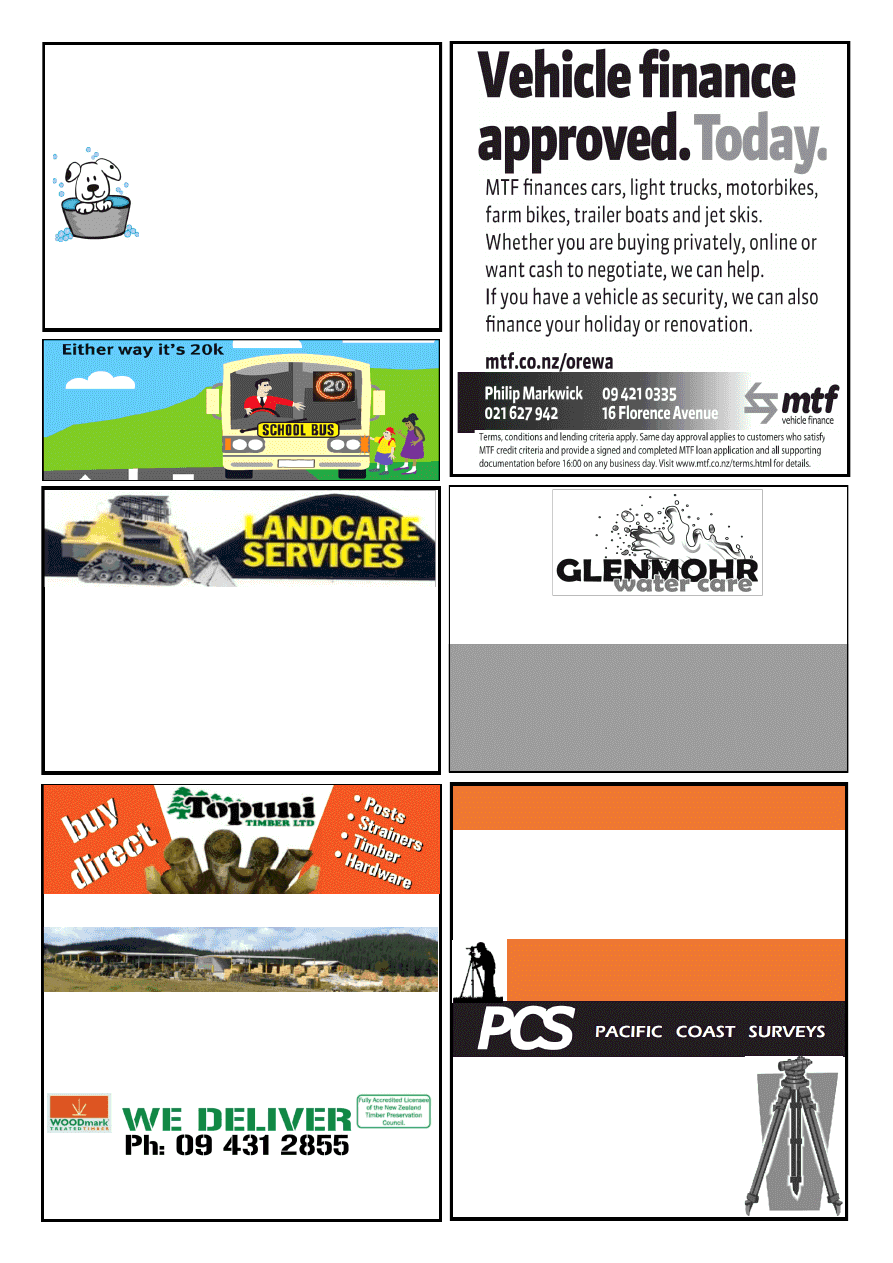 LOCALLY OWNED AND OPERATED 
QUALITY PRODUCTS • FRIENDLY ADVICE • GREAT SERVICE 
Quality Products milled from High Density NORTHLAND Radiata Pine. 
Treated and guaranteed to NZS3640 with commitment to 
Environmental Safety.
Phone, fax, email, or come into the mill 
Schiska Rd, Topuni, SH1, 10 min north of Wellsford. Fax: 09 431 2856 
Email: sales@topunitimber.co.nz           Mon - Fri 7am-5pm 
• Fencing 
• Retaining 
• Decking 
• Landscaping 
• Gates 
• Hardware 
SURVEYORS 
SUBDIVISIONS 
HOUSE SITE SURVEYS 
CIVIL ENGINEERING 
WASTEWATER DESIGNS 
EXPERIENCED 
PROFESSIONAL 
INNOVATIVE 
Ph 09 431 5353 
0800 PACIFIC (0800 722 434) 
pacificcoastsurvey.com
Adam Booth - 027 415 5752 
Bsurv, Licensed Cadastral Surveyor
Surveying Kaipara since 1994 
Hot Diggity Dog 
DOG GROOMING 
All breeds dog grooming 
Professional Experienced Groomer 
Short practical grooms - summer 
Breed Standard Grooms 
Designer fusion Grooms 
Oneriri Road
By appt Phone Pam 09 4312143 
Or text only 0273335380 
Email  hot.diggitydog@outlook.com 
Water Tank Cleaning 
• 
Keep your water safe & clean  
• 
Removal of sediment, silt etc. 
• 
Vacuum or full scrub 
• 
Minimal water loss 
Phone Mark (09) 432 0655 or 0274 707607 
LANDSCAPING 
4 IN 1 BUCKET 
TRENCHER 
POLE HOLES 
ROTARY HOE 
COMPACT ROLLER 
OFFAL HOLES 
CAN SUPPLY WOODCHIP & POST PEEL 
5 TON TIPPER 
FOR RELIABLE AND FRIENDLY SERVICE CONTACT DAVE 
Dave Hyndman 
 
KAIWAKA 
PH: 09 4312302 
MOB: 021 431 238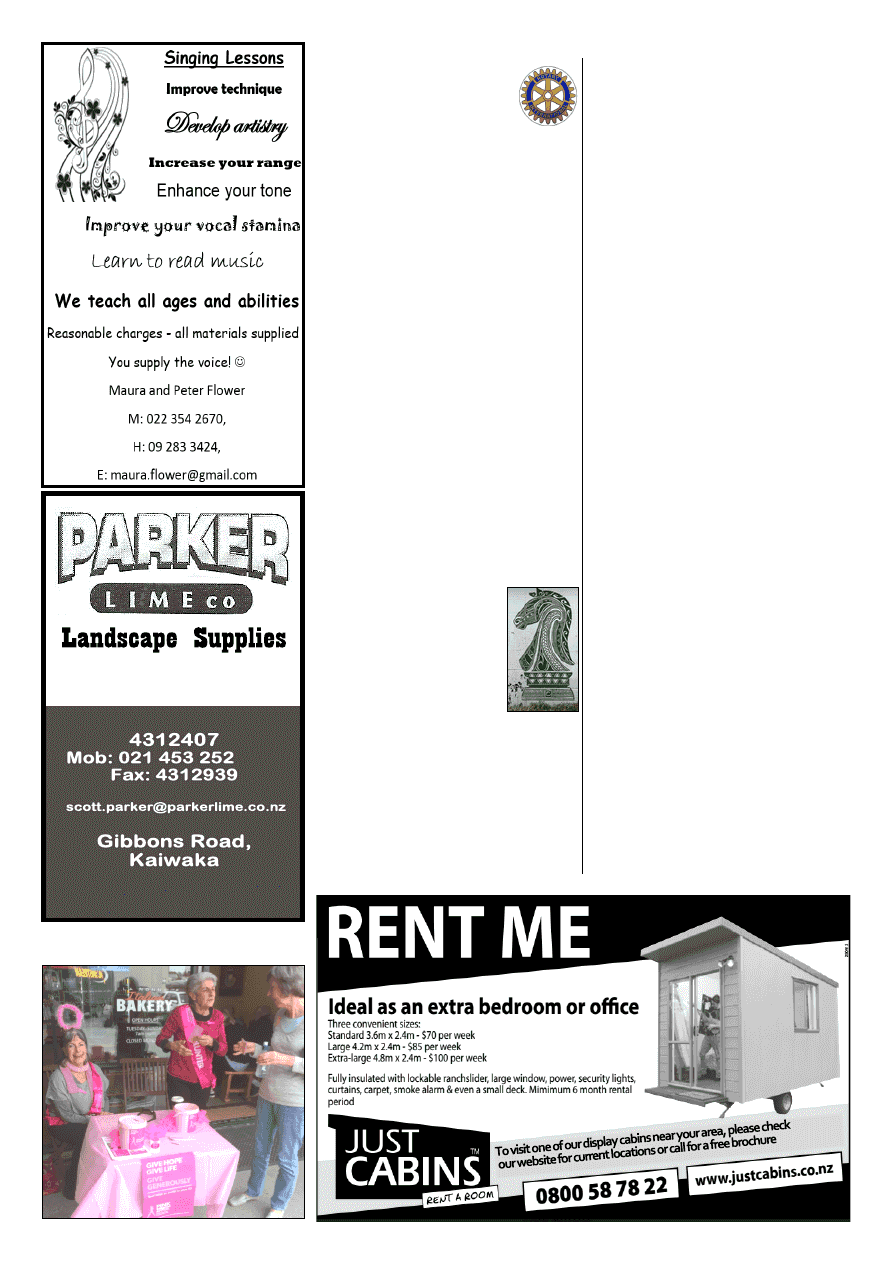 www.kaiwaka.co.nz 
Kaiwaka Bugle - 17 October 2017 
Page 11 
Bulk Cartage 
Automatic Car  
Our  new  Presidential  year  has  started 
really  well  with  a  number  of  new 
initiatives  in  place,  the  main  one  of 
which  is  the  purchase  of  an  automatic 
car  which  will  be  used  in  conjunction 
with Roadsafe Northland and Te Roroa 
to  provide  driving  lessons  to  people 
with their restricted licence. A number 
of Rotarians have agreed to be mentors 
for this project. We are aware that one 
of the biggest hindrances to our young 
people  obtaining  jobs  is  the  fact  that 
they do not have a drivers' licence, so 
we  are  hopeful  of  alleviating  this 
situation for our locals. We have been 
fortunate  to  receive  sponsorship  in 
various forms from local businesses to 
enable this to happen. 
District (9910)  
A  visit  from  our  District  Governor 
gave us a chance to inform him on our 
plans  for  the  year  as  well  as  find  out 
what  is  happening  in  other  clubs.  Our 
District  (9910)  is  huge  as  it  includes 
the  North  Shore  as  well  as  islands 
north  of  New  Zealand,  including 
Vanuatu,  so  a  huge  effort  is  required 
by  the  Governor  to  visit  all  Clubs 
within the District during the year. 
On Friday 27 October the 
movie Dark Horse will be 
shown in Kaiwaka. Entry 
fee  will  be  $10,  and  we 
will  be  supported  by  the 
Hakaru Scouts. 
Sir Lockwood  
On  Saturday  4  November 
at  7.30pm  Sir  Lockwood  and  Lady 
Alexandra  Smith  will  be  speaking  in 
the  Centennial  Hall  in  Maungaturoto. 
The  entry  fee  is  $15  and  all  proceeds 
will be given to the fundraising for the 
Dementia Unit in Maungaturoto. 
New members  
If  you  are  interested  in  learning  more 
about  Rotary,  you  can  access  the 
website at rotarymgto.club 
THE DEN  
MAUNGATUROTO 
It is now October Friday 13th. 
Last  time  we  had  an  article  in  The 
Bugle  we  were  advertising  our 
September  Garage  Sale.  This  event 
was very successful and since June 1st 
our  takings  are  presently  in  excess  of 
$20,000. 
On  the  28th  October  a  presentation 
function  will  be  held  at  the 
Maungaturoto Country Club where we 
will  present  a  cheque  to  the 
Community Trust for the extensions to 
the  Riverview  Rest  Home  and  in 
particularly for the new secure unit for 
dementia patients. 
The  evening  will  take  the  form  of  an 
opportunity  for  everyone  to  be  further 
informed  of  the  new  extensions  to  the 
Rest  Home  and  be  able  to  have  their 
questions  answered  on  the  extension 
and  further  funding  opportunities  by 
the public and the general community. 
There  will  be  a  $10  per  person  cover 
charge  which  will  become  a  donation 
towards the funds. The Den will make 
their  presentation  and  any  other 
organisations  will  be  welcome  to  do 
the  same  if  they  desire.  The  Club  bar 
will be open and menu meals available 
from the kitchen from 6.00pm. 
During  the  week  of  October  9-13,  the 
money we raise will go to the St John's 
"Trash 
& 
Treasure" 
event 
in 
Maungaturoto and this should be in the 
region of $1,000. 
We  will  be  holding  another  Garage 
Sale  during  the  Labour  Weekend  on 
October  23-25  at  The  Den  on 
Bickerstaffe Road. We will also have a 
stall  at  the  Maungaturoto  Primary 
School "Classic Car & Bike Show" on 
November  25th.  This  will  include  old 
and vintage tools and other collectables 
we have gathered during the year. Most 
of the  proceeds  will  go  to the  primary 
school. 
The  Den  Group  meet  every  Tuesday 
from 10am till about 2pm. Everybody is 
welcome to come along and take part in 
the  activities,  a  chat  or  just  for  a  cup  of 
coffee. Any enquiries or questions can be 
made  to  Albie  Paton  on  09  4318148 
or 
0274949448. 
MAUNGATUROTO & 
DISTRICTS  
ROTARY CLUB 
Below: Pink Ribbon volunteers -  
Silvia Insley and Claire Morrell.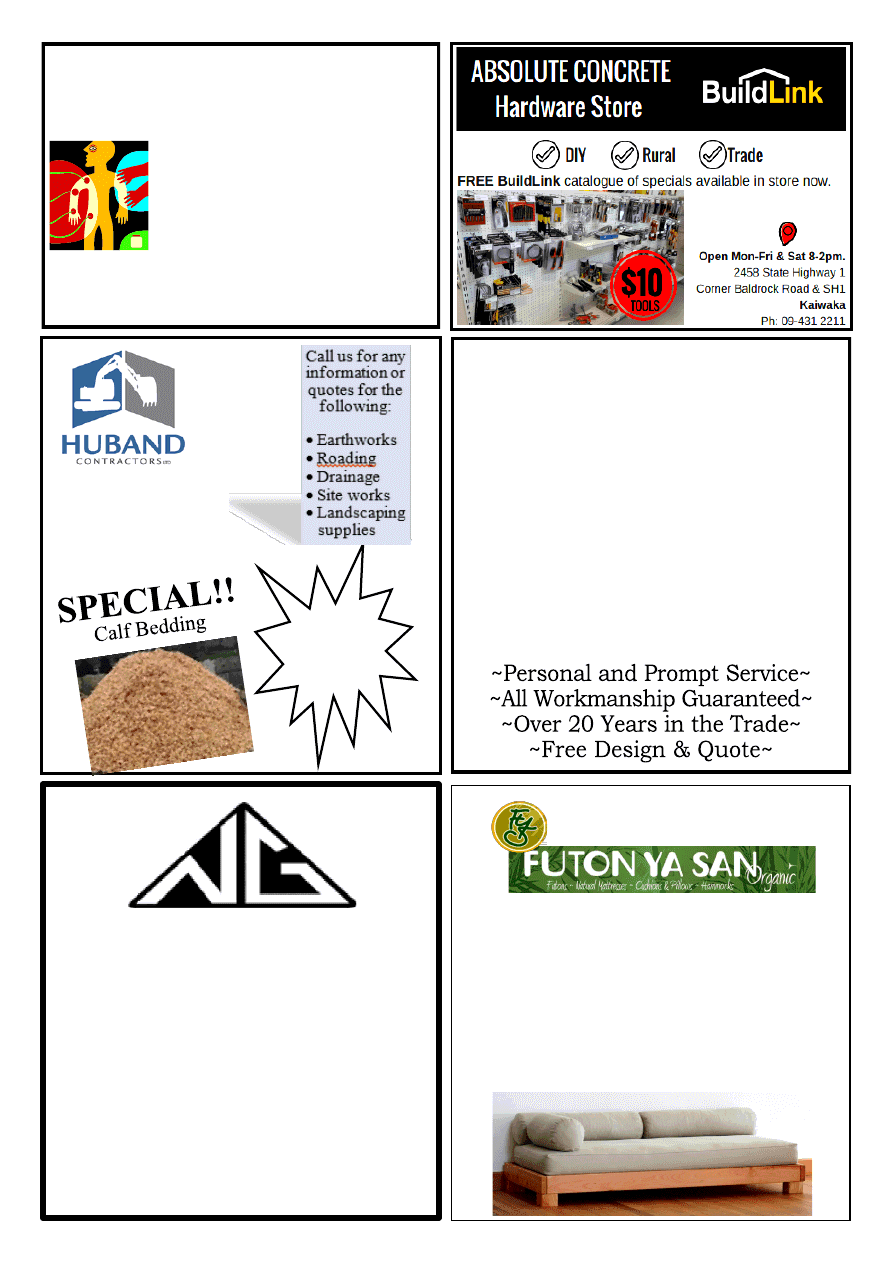 NORTH GLASS 
WINDSCREEN REPAIR OR REPLACE 
GLAZING SERVICES 
MIRRORS  •  SPLASH BACKS  •  SHOWERS 
0800 70 40 10
info@northglass.co.nz 
www.northglass.co.nz 
PLANNING A NEW KITCHEN?
 CONTACT NOEL McDOWELL
WELLSFORD 
KITCHENS
Ph/Fax 094312888
KAIWAKA-Any time
 QUALITY CUSTOM MADE 
KITCHENS
OWEN STEVENS 
Osteo Therapist
For careful adjustments to bones and joints 
Treatment for  humans and their pets 
Clinics: 
Kate's Place, Kaiwaka: 
Last Friday of month 
For bookings:9.00am-5.00pm 
Phone 
09 4312661 
Or phone Owen  09 4317123  anytime 
Open Monday-Friday 
8am-5pm 
Saturday 8am-noon 
2088 Paparoa valley Road 
0800 234449 
E: admin@huband.co.nz 
$25.25 + 
GST per m
3
(Until the end of 
November
) 
Your local supplier of Custom Made 
Natural Mattresses  -  Pillows - Duvets - Futons - Yoga Bolster  
AND MORE 
 Made from Certified Organic Wool, Hemp, Organic Cotton fabric 
Rubberized Coco fibre 
www.futons.co.nz                    contact@futons.co.nz
Phone: 021 176 17 19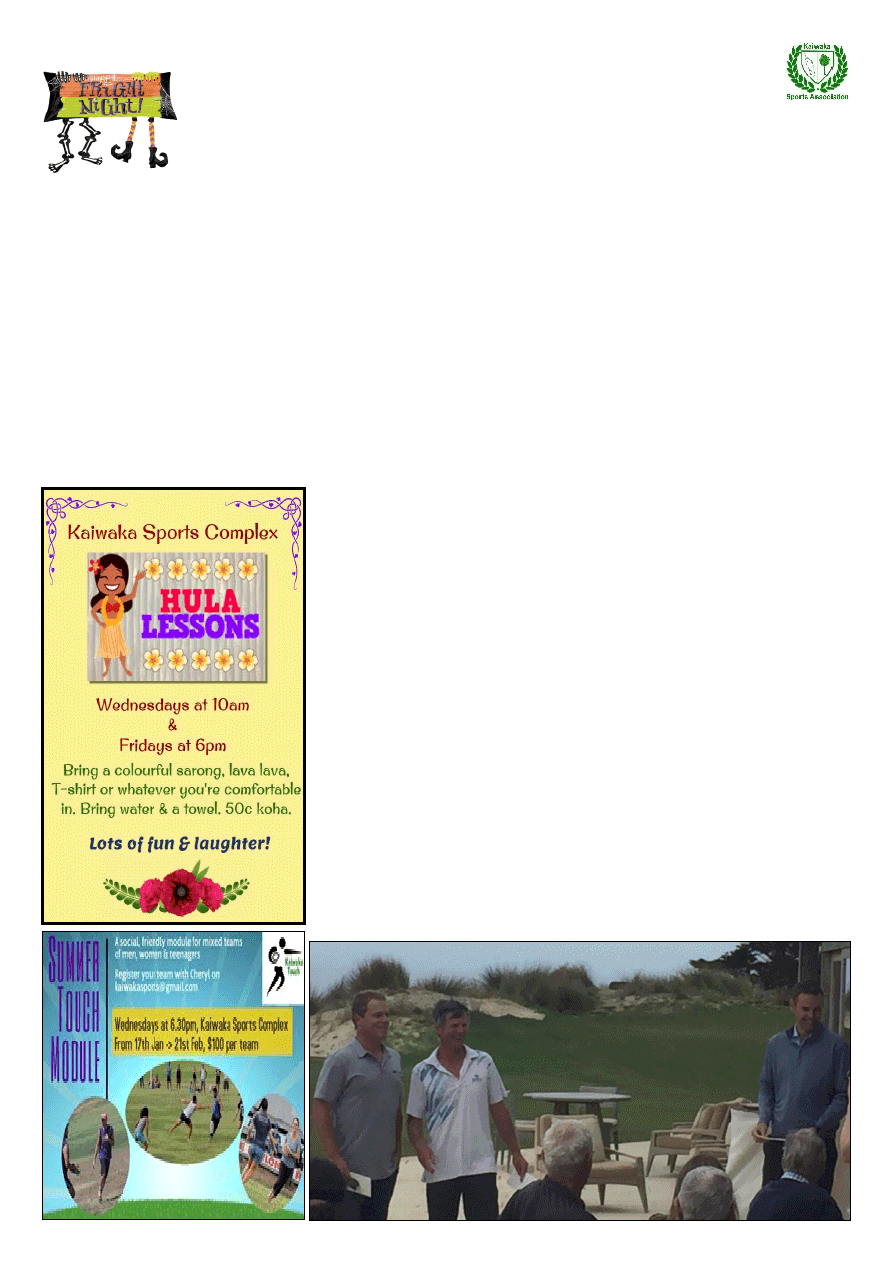 www.kaiwaka.co.nz 
Kaiwaka Bugle - 17 October 2017 
Page 13 
KAIWAKA SPORTS ASSOCIATION 
Fright Night 
Fright  Night  is 
next  Saturday  28
th 
October. Have you 
got  your  costume 
sorted?  I've  got 
lots 
of 
great 
donations  to  use  as  prizes  for  the  best 
dressed. 
Creative 
costumes 
and 
makeup will take the eye of our judges, 
so put your thinking cap on!  
The entry fee is $5 (pre-schoolers free). 
There  will  be  a  costume  parade,  lolly 
scramble, music, games, a photo booth, 
glow items, face-painting and of course 
a  haunted  house.  There  will  be  prizes 
for  the  top  three  halloween-themed 
supper  plates  –  last  year  we  had 
chocolate  spiders,  bloodshot  eyeball 
eggs,  cobweb  cupcakes,  deadman 
finger sandwiches and more! 
This year the Haunted House will have 
four sessions: 

An extra mild session (lights on full, 
no  loud  noises,  no  scarers,  no  fog,  no 
strobe  light).  Perfect  for  those  little 
kids  who  might  not  handle  a  scary 
session  but  want  to  look  at  the 
decorations. 

Primary-aged  children  (and  parents 
if  your  kids  need  support).  A  scary 
session. 

High-school  children  +  adults.  An 
extra scary session. Be prepared for our 
scarers to reach out and touch you. 

A  session  in  complete  darkness  and 
the scarers will jump out and grab you! 
Only for the very brave!  
Dinner  for the  family  is  sorted,  as  Off 
The  Grill  will  be  there,  serving  up 
minced  brain  nachos,  pulled  yeti 
sammies  and  bat  wings  with  blood 
sauce!  We  are  looking  forward  to  a 
'spooktacular' night! 
Agricultural Days 
Kaiwaka  School  will  hold  their 
Agricultural  Day  at  our  grounds  this 
Tuesday  17  October.  Group  Day 
(regional  Agricultural  Day)  will  be 
held  at  our  grounds  the  following 
Monday  23  October.  Spectators 
welcome. 
Hawks AGM 
The Otamatea Hawks Rugby Club will 
hold  their  Annual  General  Meeting  at 
the KSA this Wednesday 18 October at 
7pm. All welcome. 
Thank you Robyn! 
After  28  years  of  service  to  hockey, 
Robyn  Bruce  is  stepping  down.  Her 
dedication  to  hockey  in  the  district  is 
unsurpassed  and  her  involvement  will 
be  greatly  missed. 
She  will  not  be 
stopping  her  many  hours  of  voluntary 
work 
as 
she 
will 
be
continuing with her other passion - the 
Duke  of  Edinburgh  Hillary  Award 
Program.
Tara Iti Charity Golf Day
The  Tara  Iti  Charity  Golf  day  was  a 
wonderful  experience  for  our  golfers! 
The  Kaiwaka  Sports  Association  team 
was:

 Doug  McDougall  (sponsored  by 
Wrightway Construction)

Geoff  Winchester  (sponsored  by 
Rural Design)

Hamish  Wright  (sponsored  by 
Wrightway Construction)

Jackson  Worsfold,    (sponsored  by 
Dream Planning) 
Our team was stacked with  
top golfers: Doug having  
a  scratch  rating  (pro),  Geoff  (4), 
Hamish  (8)  and  Jackson  (20).  The 
tournament used a handicapped system 
so  our  team  was  off  to  a  tough  start. 
The top players did not find their form 
and  KSA  team  came  last.  However 
Jackson  got  the  'closest  to  the  pin' 
award. 
The  KSA  receives  $5,000  from  this 
Charity Day, so we are very grateful to 
the  Tara  Iti  Golf  Club,  to  the 
companies  which  sponsored  our 
players 
(Wrightway 
Construction, 
Rural  Design  &  Dream  Planning)  and 
to Heath Worsfold for organising it. 
Fast Five Netball Module 
We are now over half way through our 
Fast Five Module. Results, photos and 
the  draw  are  posted  on  our  website 
Finals  and  prizegiving  will  be  held  on 
Sunday  29
th
  October  at  2pm  in  our 
gymnasium, spectators are welcome. 
Hula Dance Lessons 
Here's an awesome new experience for 
Kaiwaka.  Ever  wanted  to  learn  the 
Hula  Dance?  Turn  up  to  our 
gymnasium  on  Wednesdays  at  10am 
and Fridays at 6pm. No need to book - 
just  bring  some  water,  a  towel  and  a 
50c koha. It'll be an hour of movement 
and fun!
Whanaunga Touch Tournament 
Advance  notice:  we  will  host  the 
Whanaunga  Touch  Tournament  on  6
th
January.  Check  out  the  poster  in  this 
edition of the Bugle for the details. 
Athletics 
Do  you  have  a  child  who is  interested 
in  Athletics?  The  Kaiwaka  Athletics 
Club  will  start  on  Monday  6
th
November  and  will  run  on  Monday 
evenings  at  Otamatea  High  School  for 
several months. To register your child, 
contact Eileen Parsons on 4318 055.
Tennis 
If you have a child who is keen to play 
tennis this season, please contact Floyd 
Driver  on 
022  476  9669,  4312913  or 
Cheryl Anderson 
4312 051, 027 3462702 
kaiwakasports@gmail.com 
Natural Earth Ltd 
 Landscape and Bobcat services 
 : Driveways  :Landscaping  :Retaining Walls 
 : Hole Boring: Land Levelling :Trenching 
 : Decks :Fences :Sections Cleared: Plus much 
more 
Tel   09 4312885 
Mob 02102391280  
For A Fast Friendly  
Service Contact Tim Hicks 
CALL CRIMESTOPPERS 
Worried about something that doesn't seem right to 
you? Concerned about activity that could be 
harmful? Call Crimestoppers.  
You don't need to know all the facts.
CALL 0800 555 111 ANONYMOUSLY 
Couples and Individual Counselling
Have you … 
Serious relationship issues? Heading for Family 
Court? Destroying each other? Children involved?
I'm Here To Help! 
Call me to arrange an appointment 
Keep trying if phone is busy
Pete Worsfold 
B.Soc.Sc., M.Soc. Sc, Dip Prof Counselling NZIPC, 'Man Alive' Counsellor/ 
Facilitator, Prov NZAC. Professional service in your local area. Individuals, 
couples, any issue, males and/or females.
Private or WINZ Clients, Experienced Counsellor/Facilitator 
021 825 970 or 021 063 0302
peteworsfold@xtra.co.nz 
Northland's Award Winning 
Solar Company
SEANZ Best Solar Business Winners 2015/16
EXCLUSIVE 10 year installation warranty 
FREE No obligation onsite quote
Complete systems 
from $5990
See our range of: 
✓ 
Heatpumps 
✓ 
Airconditioning 
✓ 
Hot Water 
Heatpumps 
✓ 
Central Vacuum Systems
09 430 0019             sales@hubands.co.nz 
15 Kioreroa Road, Whangarei
Locally owned and operated for 35 years 
There are more people 
wanting to buy than 
there are houses 
available!
Vacant land, home and income, DIY dream … 
whatever your property's condition there is a buyer 
out there waiting to give you their money. 
Get your local agent's appraisal of your property to 
find out what's it's really worth. 
Contact Beth Stone today! 
Mob: 0274 937 801 
Email: beths@remaxrealty.net.nz 
RE/MAX Realty Group MREINZ 
Northern Properties Limited 
Licensed REAA 2008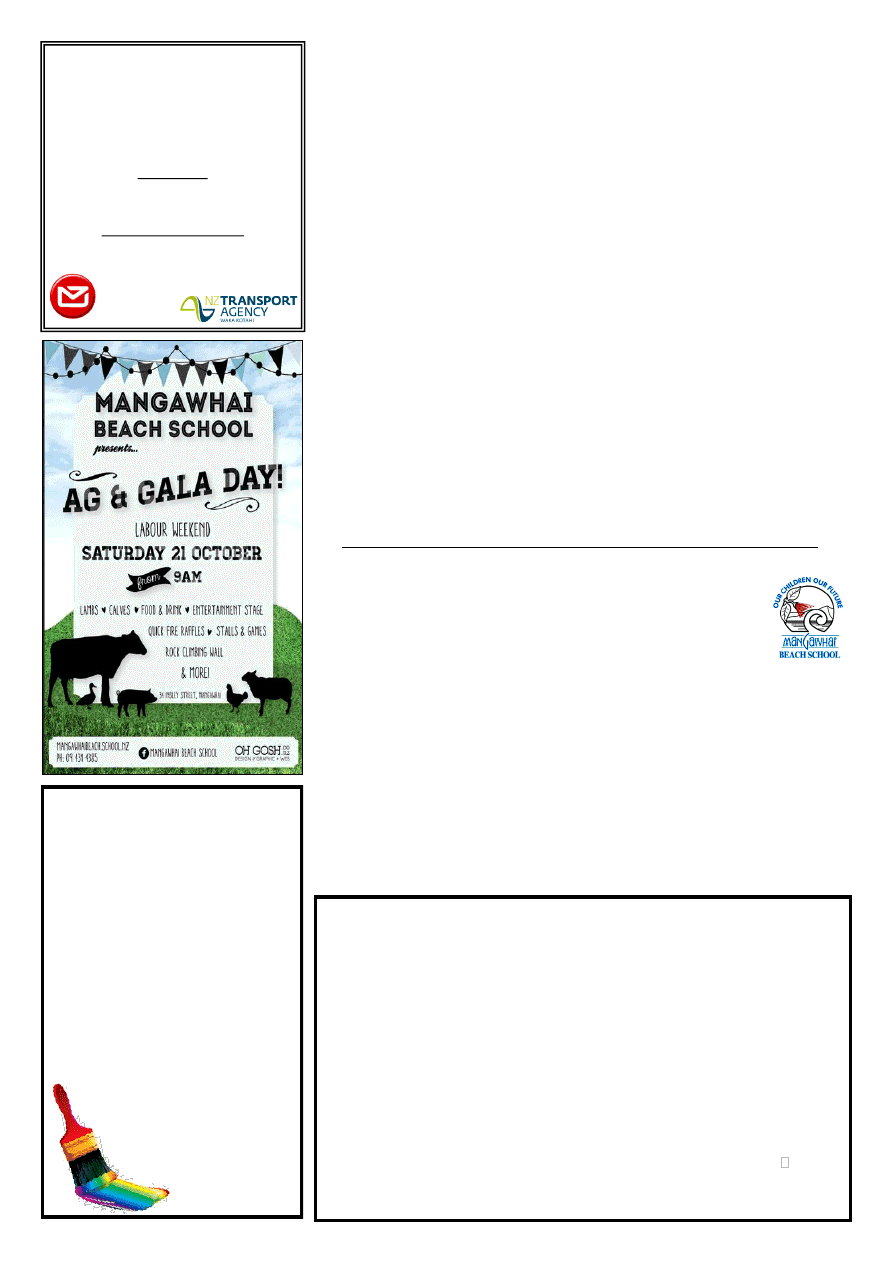 www.kaiwaka.co.nz 
Kaiwaka Bugle - 17 October 2017 
Page 15 
LEE COOPER 
PAINTERS 
(Kaiwaka Based) 
*30 yrs Experience 
*Interior/Exterior 
*New and Restoration 
*Honest and Reliable 
*Free Quotes 
 
09 4312918 
0274735171 
leecooper@xtra.co.nz 
KAIWAKA FOOD MART 
Mukesh and Pragna Patel 
1919A State Highway 1, Kaiwaka 
09 431 2431 
Opening hours: 
Groceries 
7.30am - 7.30pm daily 
(Monday to Sunday) 
NZ Post and NZTA 
Mon to Fri. 8am - 5pm 
Saturday 8am - 1pm 
KAIWAKA WAR MEMORIAL HALL  
From the AGM Oct 2017: 
I'd like to start with a big thank you to 
the  KWMH  committee...with  another 
great year. 
We  are  all  VOLUNTEERS  and 
dedicated  to  keep  the  Hall  in  Top 
shape, because it's a GREAT asset for 
the community. 
We  work  hard  to  generate  funds  to 
make sure we can keep it like that. 
The  costs  of  Insurance,  Rates, 
Electricity, Security, Maintenance, and 
cleaning...are only going UP! 
How  do  we  generate  funds  to  pay  for 
all that...? We do that by:  

leasing out the "old" Medical rooms 

Hire out the hall 

Run the Kaiwaka Movies. 
 Movies 
The  Movie  Group  is  run  under  the 
umbrella of the KWMH, and I'd like to 
thank them all ...Penny, Alistair, Dave, 
Amanda,  Rik,  Heidelind  and  myself  - 
there  wouldn't  be  movies  without 
them. 
Some Movie Numbers - This year 825 
adults  and  490  children  came  to  the 
movies. We did invest in some Special 
Kaiwaka  Movie  Polo  shirts  for  the 
Team.  Our  MOVIE  DINNER  Nights 
and  MUSIC  SUPPER  nights  are 
always  popular  -  it  brings  people 
together  for  a  great  night  out,  and 
another purpose of a Community Hall. 
A  lot  of  clubs  have  taken  the 
opportunity  to  use  the  Movies  as  a 
fundraiser. Check out how it works. 
Main project 
The  project  we  funded/finished  this 
year was the renovation of the Library, 
with  new  paint  and  new  carpet  and 
overdue  maintenance  -  all  done  by 
volunteers, mainly Alistair, Penny, and 
Ad  and  some  library  volunteers.  Job 
well done. 
Plans for coming Years: 

Secure  Funding  for  purchase  of  a 
New Set of Tables 

Stage /Cinema curtains 

Stage lighting 

Painting Library outside (as a project 
by Northtec) 

Get  KDC  on  board  to  beautify  the 
footpaths  outside  the  Hall,  Library, 
Playground and Toilets. 
Again, I'd like to thank the Committee 
and the Movie Group. 
Ad Clarijs, President 
The KWMH committee meets every two 
months - next meeting 12 December.
SOLARISE YOUR HOME … SOLARISE YOUR HOME 
We are specialised in Solar Energy and invite you to our Positive Energy House 
Workshop: Solar Hot Water ...state-of-the-art 
demonstration ! 
We  design  and  install  European  state-of-  the-art  solar  systems  with  certified 
performance  and  proven  lifespan  of  30  years.  An  advanced  Solar  Hot  Water  system 
delivers you free hot water with more comfort all year long. 
In our workshops we introduce you to all the knowledge you need to make the right 
decision  on  solar  energy  for  your  home.  Quality  of  materials,  solar  concepts, 
performance,  freezing,  overheating  and  back-up  heating  options  are  all  covered  and 
demonstrated. 
A reliable solar hot water systems can save you 70 % on the hot water bill. 
We will demonstrate the latest state-of- the art solar systems and will explain how to 
maximize your savings. 
Location: 114 Vista Lane,0573 Kaiwaka     DATE: 4/11/2017- coffee at 9.30 am 
Cost:                   FREE ….yes some things in life are for free or just for fun   
Bookings essential so give us a call or email! 
Email: ericjansseune1957@gmail.com   Home 09 431 2408  Cell 021 022 31 700 
Web: www.ewatec-global.com    EWA-TEC Ltd. for Energy Water Air Technologies 
Our Agricultural / Gala Day is held on 
the Saturday of Labour Weekend each 
year between 9am  – 1pm.  This is our 
school's major fundraiser which raises 
much  needed  funds  for  our  school 
community. 
The event has been running for over 10 
years  now  and  continues  to  be  a 
calendar  favourite  with  local  families 
and  holidaymakers  looking  forward  to 
the annual event. 
Labour  Weekend  is  a  busy  one  with 
Mangawhai  swelling  with  holiday 
makers  in  the  lead  up  to  summer  and 
anywhere  upwards  of  2,000  people 
come along to this event annually. 
For  the  Gala  section  we  organise  fun 
rides and stalls, quick fire raffles, cake 
decorating  competitions, 
yummy 
food 
and 
entertainment  and  then 
during  the  morning  we 
also 
showcase 
our 
agricultural 
traditions  with  children  raising  lambs, 
kids and calves to showcase on the day. 
Animals  are  judged  on  the  day  and 
ribbons and prizes are given out to the 
best of the best. 
Our fundraising committee F O M B S 
(Friends of Mangawhai Beach School) 
are  a  committed  group  of  volunteer 
parents  who  dedicate  their  time  to 
fundraising  for  our  school.  They 
organise and liaise with the school and 
local  community  to  make  Ag  Day 
successful. 
MANGAWHAI BEACH SCHOOL 
AG & GALA DAY 
Registered Drainlayer 
All Types of Earthworks  
> All Residential & Commercial Work  > House Sites 
> Septic System Design & Install 
> Footings & Drilling to 10m 
> Sewer Connections 
> Dams 
> Water Tank Installation 
> Roading & Races 
> Farm Work 
THE ONE STOP SHOP  
Phone Nigel for an Obligation Free Quote  
Drainage & Earthmoving 
clarkedrainage@xtra.co.nz 
027 2233 185 
The Little Job Man 
Are you tired of those little jobs not getting 
done ? 
Indoors  or outdoors 
Sick of waiting ? 
Give me a call to discuss 
what you need doing. 
Doug  0277132625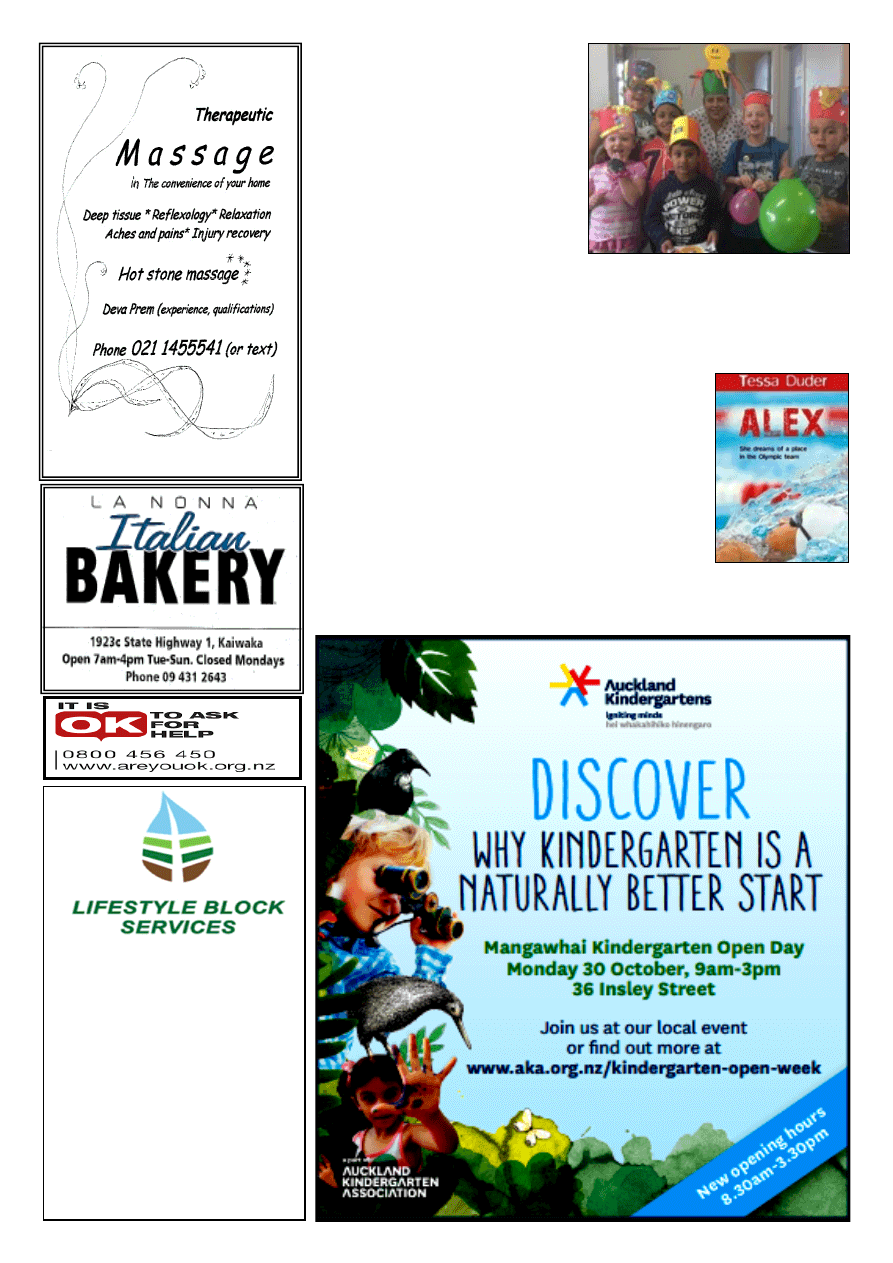 www.kaiwaka.co.nz 
Kaiwaka Bugle - 17 October 2017 
Page 17 
www.mangawhaimassage.co.nz 
Winter is here, now is the time to 
think about Fencing. 
Also large round bale silage available 
for stock food. 
Contact Mark on 021 801 065 or 
Contact Lisa on 021 108 1057
We also do: 

 Fencing 

 Spraying 

 Stockwork 

 Stock Water Systems 

Driveway & Track Maintenance 

Tree Trimming 

School holiday program
We  had  a  fabulous  time  in  the  library 
last Thursday, with six kids taking part 
in the "I want a hat" party. They heard 
a  story  and  each  made  a  hat.  The 
picture shows the children with Simie, 
from  Dargaville  Public  Library,  who 
ran  the  free  session.  Many  thanks  to 
everyone  involved,  it  was  a  great 
success. 
Large Print and Audio books 
We  had  this  swap  last  week,  too,  and 
there are now a new range of titles on 
these shelves. Come in and take a look 
- there's something for everyone there. 
You  do  not  have  to  have  any  sort  of 
vision  impairment  to  borrow  these 
books, though many find the large print 
easier to read at the end of the day than 
normal-sized print. We have these titles 
until  April  2018.  Thank  you  to 
everyone  who  helped  with  this  book 
swap. 
Dargaville book swap 
The  next  Dargaville  book  swap  is  in 
early  December.  Now  is  the  time  to 
come and see what we've got on those 
shelves,  and  borrow  them  before  they 
go back. These books do not need to be 
returned  before  the  swap,  so  can  be 
kept until they're normally due back. 
Book review 
Recently I read Alex by Tessa  Duder. 
Alex  is  a  teenage  girl,  who  loves  to 
swim,  amongst  other  things.  She's  so 
good  at  it,  that  she  is  a  contender  for 
the  New  Zealand  swimming  team  at 
the 1960 Olympic Games in Rome next 
year,  if  only  she  can  beat  her  main 
rival.  Life  is  never  that  simple,  of 
course,  and  Alex  has  some  challenges 
to  overcome  before  the  final  race  that 
will  decide  which  girl  gets  to  go  to 
Rome.  I  really 
enjoyed 
this 
book,  and  have 
no  hesitation  in 
recommending  it. 
The  book  is  a 
Teen 
Fiction 
(YP) title, so free 
to  borrow,  but 
resides  on  the 
Rental 
Fiction 
shelves  until  July 
next year. 
See you in the library ~Wendy 
Kaiwaka Library,  cnr  State  Highway  1  and  Kaiwaka 
Mangawhai  Road.  PO  Box  89,  Kaiwaka  0542.  Phone  4312 
539. Email kaiwaka.library@gmail.com  
Open Wed-Sat  10am-2pm,  Mon  4-6pm.  Free  membership  is 
available to all residents in the Kaiwaka area.
KAIWAKA LIBRARY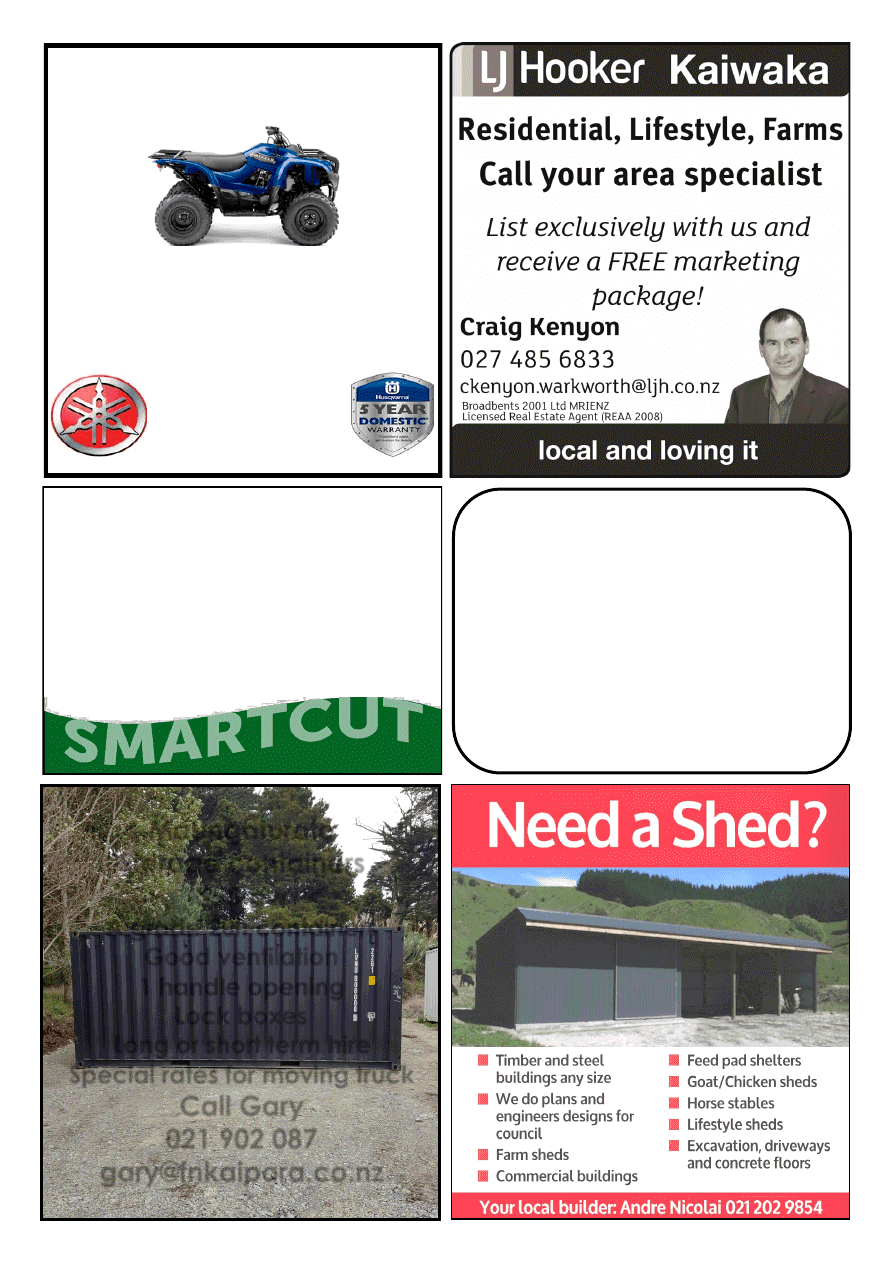 All your outdoor needs sorted so you don't have to... 
I can prune, chop, tidy, spray, mow, plant 
- you name it, I can do it! 
Residential & Commercial 
Lawn & Garden Care 
Call Rodney, your local  
lawnmowing contractor 
021 138 2344 
KAIWAKA 
MOTORCYCLES LTD
SALES – SERVICE – SPARES 
FARM BIKE SPECIALIST
PHONE 09 431-2127 
10 KAIWAKA-MANGAWHAI ROAD, KAIWAKA
Trimmers  
from $279
Chainsaws  
from $339
YAMAHA 
HUSQVARNA 
Maungaturoto  
Storage containers  
$55 pw  
A grade 20ft containers 
Good ventilation 
1 handle opening 
Lock boxes 
Long or short term hire 
Special rates for moving truck 
Call Gary  
021 902 087 
gary@fnkaipara.co.nz 
UP-LINK 
CHRIS WARING 
FREEVIEW INSTALLATIONS 
T.V. - HOME THEATRE &  
HI-FI ADVICE/SET UP
SKY ACCREDITED INSTALLER
MOB.0273403747 HM.094312328 
EMAIL cwaring44@gmail.com
28 YRS EXPERIENCE 
OFFERING UNBIASED ADVICE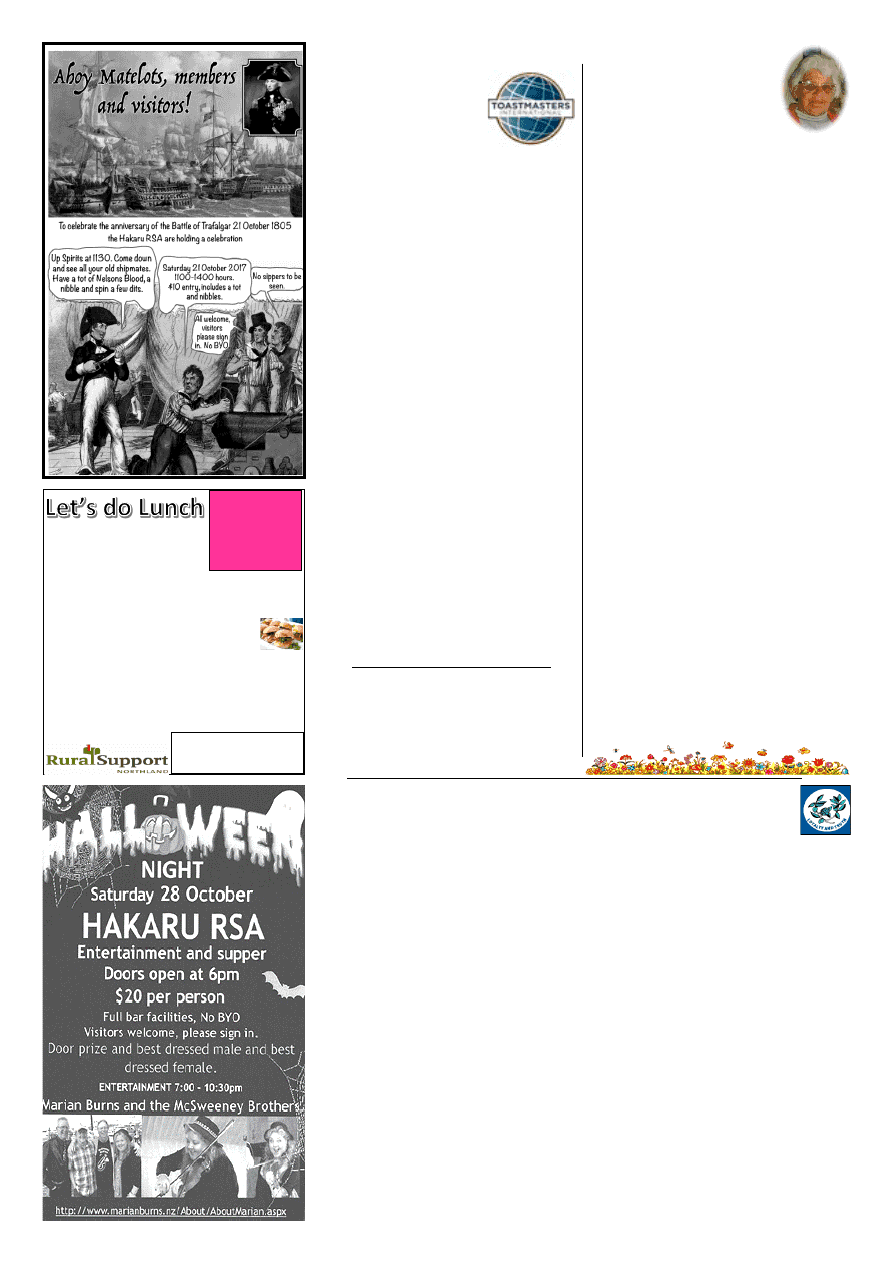 www.kaiwaka.co.nz 
Kaiwaka Bugle - 17 October 2017 
Page 19 
From 
Thelma's 
Scrapbook … 
There  are  many  of  these 
small delightful moments in 
everyone's  lives,  and  yet  I 
have  friends  who  say:  "Nothing 
exciting  ever  happens  to  me  these 
days.  It's  just  one  long,  unending, 
dreary  stretch  of  the  same  boring  old 
routine".  But  these  people  are  not 
looking  for  fairy  gold:  they  are  not 
counting  the  pennies,  as  little  children 
can do so easily and effortlessly. 
So, what might our lists comprise?  
Sights, sounds, and smells we take for 
granted?  Hearing  the  birds  singing  at 
dawn: seeing the sun shining in a clear 
blue  sky:  the  wonderful  aroma  of 
bacon  and  sausages  sizzling  for 
breakfast or fresh coffee brewing. 
It  might  include  an  unexpected  event, 
such as discovering a letter on the mat 
from a dear far-away friend: or finding 
that  your  bank  statement  reveals  a 
healthier balance than you imagined! 
Perhaps  some  small  achievement  has 
given  you  that  warm  sense  of 
satisfaction: 
an 
unexpectedly 
favourable school report on your child: 
the  bloom  of  the  first  flower  from  a 
cutting  of  a  favourite  rose:  your  pride 
in picking your own runner beans. 
When  people  grumble  about  the  thin, 
depressing  time  they  are  having,  they 
really  believe  that  they're  telling  the 
truth. Yet if you press them to examine 
their  days,  they  often  admit  that  there 
have 
been 
many 
bright 
little 
happenings.  But  they've  passed  them 
over,  pushing  them  into  the  back  of 
their  minds,  dismissing  them  as 
unimportant because they are not earth
-shattering events. 
OTAMATEA HIGH SCHOOL 
IS TOASTMASTERS 
FOR YOU? 
Would  you  like  to 
improve  your  speaking 
and leadership skills and 
confidence? 
Well….  TOASTMASTERS  could  be 
for you! 
It  really  is  a  great  way  to  learn  and 
develop. Each person can progress at a 
pace that suits them. 
It  is  a  very  safe  and  supportive 
learning  environment  and  real  fun  as 
well.  I  have  found  it  one  of  the  best 
professional  development  activities,  I 
have ever been involved in. 
There  are  usually  two  meetings  per 
month  and  costs  are  quite  low  …. 
especially when you think of what you 
will gain. 
I  am  currently  trying  to  get  enough 
interest  to  develop  a  new  club  in  the 
Kaiwaka/Mangawhai 
Area. 
That 
requires twenty members. 
Toastmasters  is  an  international 
organisation  and  most  questions  can 
be  answered  by  perusing  the  website: 
www.toastmasters.org. 
I  have  been  a  member  for  over  25 
years  and  am  also  happy  to  try  and 
answer any queries you have. 
If you would like to register interest or 
know  more….  please  feel  free  to 
contact me. 
Home ph: 09 431 2763  
Mobile ph: 022 406 8095  
Email: wayne.freeth@gmail.com 
Cheers, Wayne 
"Whatever  your  grade  or  position,  if  you 
know how and when to speak, and when to 
remain silent, your chances of real success 
are proportionately increased." ~ 
Ralph C. 
Smedley, 
the  founder  of  Toastmasters 
International
Light Luncheon  
and cpr refresh  
Please join us from 11.30 – 1pm 
We're putting on lunch so you can have a 
relaxing catch-up with friends and 
neighbours in your community. 
Also, as many of us live away from 
immediate medical treatment we may be 
called upon to be first responders.  With 
changes over recent years to cardio-
pulmonary resuscitation (CPR) techniques 
we would like to share a brief refresh with 
you. 
We need to look 
out for one 
another. That's 
what strong 
resilient 
Communities do 
Tues 24 Oct. Tapora Hall  
Wed 25 Oct. Tomarata Rugby Club   
Thurs 26 Oct. Ruawai Rugby Club 
From the Principal, Term four kicks off 
again  on  Monday  16th  October  and 
senior  students  have  just  three  weeks 
until Senior Prizegiving. Over the next 
couple of weeks students will find out 
whether  or  not  they  are  eligible  for 
study  leave  after  Senior  Prizegiving. 
You  may  remember  that  last  year  we 
operated a system where some students 
were able to spend some more time at 
school ensuring that they utilised every 
chance of success in NCEA. For many 
students who were close to achieving it 
enabled  them  to  go  into  their  holidays 
knowing  that  they  had  secured  their 
qualification.  We  will  be  running  a 
similar system this year and this will be 
explained  to  all  senior  students  at 
assembly. 
It  was  great  to  receive  so  many  good 
applications  for  student  leadership 
(prefect)  positions  for  2018  at  the  end 
of  term  three.  This  week  students  and 
staff  will  have  an  opportunity  to  vote 
for  their  preferred  candidates  and  this 
will  be  followed  by  interviews  for  the 
top positions. At Senior Prizegiving the 
new team of prefects will  
be announced. 
Towards  the  end  of  term  three  we 
received  our  confirmed  ERO  review 
report.  If  you  haven't  had  a  chance  to 
read  it  yet  it  is  located  on  the  school 
website,  on  the  school's'  Facebook 
page.  We  are  very  proud  of  this 
achievement, which represents a whole 
community  approach.  He  waka  eke 
noa;  we're  all  in  the  waka  without 
exception. 
OHS wins 'Top School' at 9km Run 
On  Sunday  the  17th  September  the 
Level  2  Physical  Education  students 
competed in the Sport Northland ACC 
9km  run  in  Whangarei.  This  was  part 
of their 2.4 practical assessment worth 
4 credits. The school won two trophies. 
The  'Top  School'  and  the  'Fastest 
School' 
trophy. 
The 
students 
performed  well  and  had  a  great  day. 
Thank  you  to  the  following  staff 
members for their support and help on 
the day; Alex Cowie, Tina Holst, Areti 
Alexandrou and Yvonne Gee.  
~ 
Miss Liddington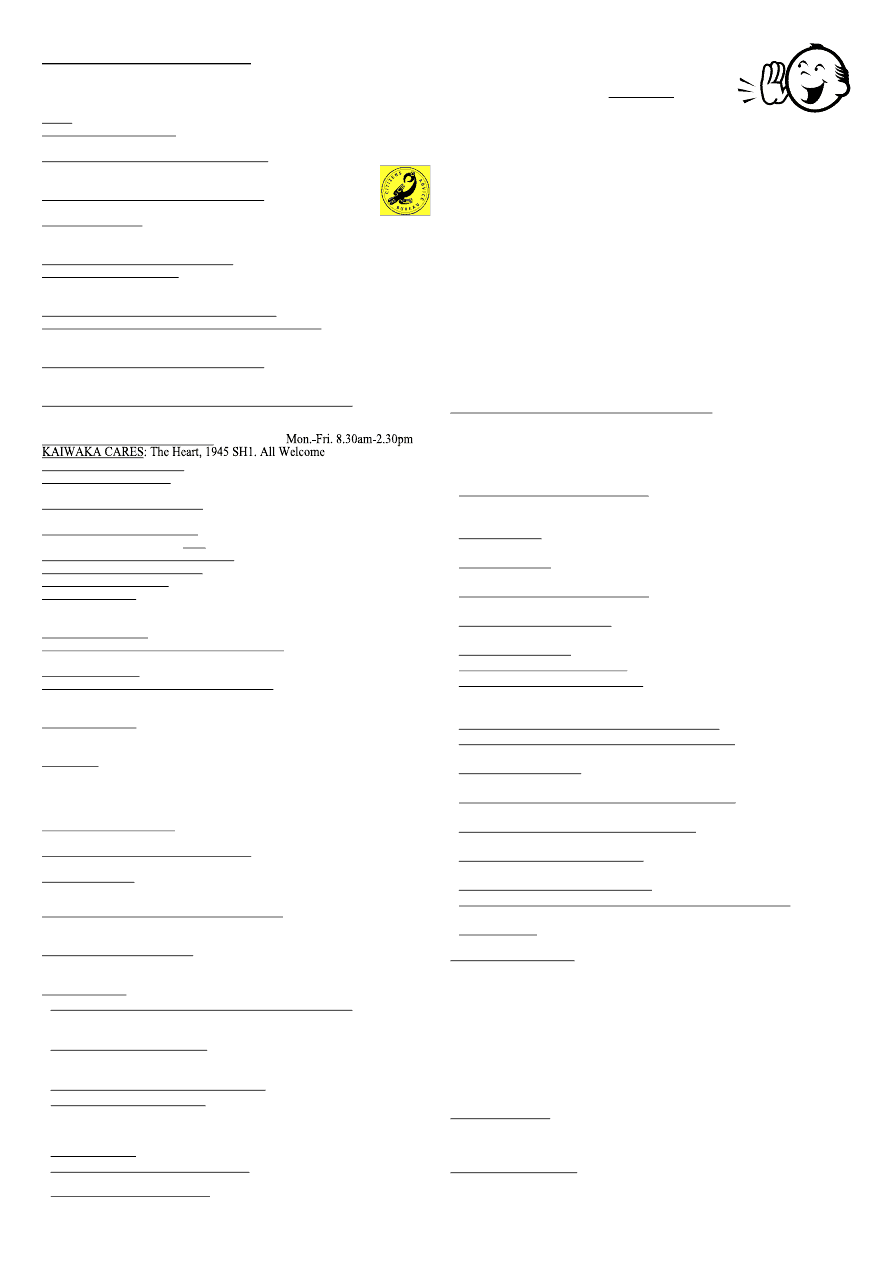 Next Bugle Deadline midday Friday 27 October  2017
WHAT'S ON
PLEASE ~ do let us know what is on - email 
kaiwakabugle@kaiwaka.co.nz 
Advertising in WHAT'S ON is FREE  
*17Oct~Kaiwaka School Calf Club Day 
*18Oct~Otamatea Hawks Rugby AGM, 7.30 KSA 
*20Oct~Bruce Springsteen & Band, 7.30pm, KWMH 
*21Oct~Mangawhai Beach School Ag & Gala Day, 9am start 
*21Oct~Hakaru RSA - celebrate the Battle of Trafalgar! 11am 
*23Oct~Group Agricultural Day, KSA 
*23-25Oct~Den Garage Sale, Bickerstaffe Rd, Mgto 
*27Oct~The Dark Horse,7.30pm KWMH (Rotary) 
*28Oct~Hakaru RSA - Halloween Night, 6pm 
*28Oct~KSA 'FRIGHT NIGHT', 5.30pm 
*29Oct~Despicable Me3, 2pm KWMH 
*30Oct~Mangawhai Kindergarten Open Day 
*3Nov~Jules Riding, Christ the King Anglican Church, Mwi 
*6Nov~Kaiwaka Athletics begin at Otamatea High fields 
*9Nov~Otamatea Repertory Soc AGM, 7pm, at the theatre 
*11Nov~ARMISTICE DAY, service at Hakaru RSA, 11.30am 
KWMH = Kaiwaka War Memorial Hall; KSA = Kaiwaka Sports Association 
See www.kaiwaka.co.nz for more information 
HOUSEHOLD RUBBISH COLLECTION - Kaiwaka Pick up: 
Mondays = Green bags (Northland Waste - 09 430 3273) 
Wednesdays  = Blue bags and yellow recycling (at Jaques $3.00 
and  $1.50)  (Kaurilands  09  4392146);  ONLY  Blue  and  Yellow 
bags picked up on Oneriri Road. 
 DIABETES  Support  Group  -for  Kaiwaka,  Mangawhai, 
Wellsford  10am,  3rd  Friday  of  month  Ph:  Colleen  James  09 
4314238 
 DRINK CAN 'tear tabs' - for Starship Hospital- please collect - 
98 Kaiwaka Mangawhai Rd, leave in mailbox, Ph. 4312625  
 GENEALOGY - Wellsford: 1st Thursday in month Ph: 423 
7033; Waipu: 4th Monday in month Ph: 4312 725 
 GYMNASTICS  OTAMATEA  -  Tuesday  Ph:  Stephanie  022 
3624998 
 HAKARU PONY CLUB - Secretary Denise Rogers 021423376 
secretary@hakaruponyclub.co.nz  
 KAIPARA HUNT - Secretary Albert Doonenbal Ph 4312059 
 KAIWAKA BADMINTON -Tuesdays 7.30pm Ph: 4312345 
 KAIWAKA  DRAMA  CLUB  -  Dave  Edwards  021  611198  - 
KaiwakaDrama@gmail.com Monday 5:30-7:00pm KWMH - FB 
- "KaiwakaDramaClub" 
 KAIWAKA DRUM & DANCE CLASSES - 021 611198 
 KAIWAKA GARDEN & FLORAL GROUP - 2nd Thursday in 
month. Ph: 431 4744 
 KAIWAKA  CUBS  -  Thursdays  5.30-7pm,  Hakaru  Ph:Bruce 
4312542 
 KNITTING FOR WHANGAREI HOSPITAL - 2nd Tuesday in 
month, Archie Bull Hall 10am Ph 4314827 
 MANGAWHAI COMBINED REBUS CLUB - 2pm, 3rd 
Thursday month, Senior Citizens Hall Mangawhai. Ph: 4315777 
 OTAMATEA GREY POWER - Kath Pattinson 09 283 2052, 
1pm last Wednesday of month, Anglican Church Hall, Mgto 
 PT CURTIS CRUISING CLUB - Jean Ph: 4312227 (wk), 4312520 (hm) 
 RSA,  HAKARU  &  DISTRICTS  WOMEN'S  SECTION  –  meets 
1.30pm 4th Thursday of the month. Ph: 431 5818  
 TRAMPING - Mondays 9am-2:30pm Maria 4312 234 
HALLS FOR HIRE: 
 St.Pauls Archie Bull Hall HIRE $20 half day, $40 full day per 
hire, R. Morgans, Ph 4312365 
 Kaiwaka  War  Memorial  Hall  HlRE  -  Phone  4312725  or 
kaiwaka.hall.bookings@gmail.com 
 Hakaru Community Hall HIRE -Ph. 4312256 or 4312110 
 Te Pounga Marae queries - R. O'Leary 4312 423, J.Nathan 021 
186 7382 
 Kaiwaka Sports Association hire/queries - C. Anderson 4312051 
or kaiwakasports@gmail.com 
Justice of Peace:  
B.FJaques  4312  048;  L.Donaldson  4312  228;  A.F.Hargreaves 
4312 045, W.Howard 4312 725 - please phone to make sure they 
are available www.justiceofthepeace.org.nz 
Marriage Celebrants:  
L.Donaldson; A.F.Hargreaves; Y Osborne
LOCAL SERVICES 
*Emergencies - Ambulance, Fire, Police - dial 111 
*Non-urgent Police phone 09 4311150
A A: Meets Wed., 8pm Kaiwaka Ph: 4315543, 0800229 6757 
ASUREQUALITY LTD (was AgriQuality) Call Free 0508 0011 22  
BUDGETING SERVICE, WELLSFORD: Free confidential advice & 
support for all areas of personal finance. Ph (09) 423 7123 
CAB-Citizens Advice Bureau.Wellsford Ph: 4237333 
0800 367 222 email:cab.wells@xtra.co.nz  
CIVIL DEFENCE - Kaiwaka Community Response Group: 
kaiwaka.civildefencecrg@gmail.com, 4312725 Wendy 
DOG/STOCK /NOISE CONTROL 0800 105 890 
FUNERAL SERVICES: Morris & Morris Ltd, 
Whangarei - Bev Jaques Ph:4312367 or 0800667747 
GRANDPARENTS Raising Grandchildren: Dianah Roberts 0223819539 
HAKARU & DISTRICTS MEMORIAL RSA (Inc) 733 Settlement Rd, 
Hakaru. Ph 4312 176 or Graeme Hitchcock (President) 431 3064 
HAKARU LANDFILL/Transfer Station:Open everyday except 
Tuesday10am-4pm.Ph4312629 Cost-$55 trailer load up to 1 cubic metre. 
Ph:4258567 - office 
KAIPARA DISTRICT COUNCIL www.kaipara.govt.nz:  
Help Desk FREEPHONE 0800 727 059  
KAIWAKA KOHANGA REO: Ph:4312620 
KAIWAKA CEMETERY: Ph: 4312045 or 4314017 
KAIWAKA LIBRARY: kaiwaka.library@gmail.com  
Mon. 4-6pm; Wed., Thurs., Fri., Sat. 10am-2pm Ph:4312539 
KAIWAKA PLAYCENTRE: Ph Juanita 0274134904; open Mon, Wed, 
Fri 9am-12pm. Hastie Lane; Monday to Friday 9.00am - 12 noon. 
KAIWAKA POST OFFICE:Ph:4312 431  
Post Code: 0573 for RD2 and 0542 for all Kaiwaka Post Office mail 
KAIWAKA PRIMARY SCHOOL: Ph: 4312309   
KAIWAKA SPORTS ASSN: Ph 4312005; 4312129 gym 
KAIWAKA ST JOHN: Manager Steve Rosser 09 4318403, 021 355734 
KATE'S PLACE Community Centre - Employment services, Free Health 
Nurse, Plunket, Advocacy, Osteopath, A.A., Legal Advice. 4312 661 
LINKING HANDS Health Shuttle Ph 4315906 or 09 4318969 
MINISTRY FOR PRIMARY INDUSTRIES - General inquiries Call 
Free 0800 008 333 
NORTHPOWER: Faults Kaiwaka area 0800 104040 
OTAMATEA COMMUNITY SERVICES: Counselling, parent coach, 
Family Support worker, budget advice, food bank. Mon-Fri 9am-3pm. Ph 
09 431 9080 http://www.otamateacs.org/ 
PARENTPORT: Free, practical family support service Puhoi to Paparoa 
Ph or txt: Dianne 027 280 5093 or 09 425 9357 
PLUNKET:  Kaiwaka  -Kate's  Place  Clinic  1st  Wednesday  of  the  month; 
Mangawhai  - Rose Madsen Cottage: Coffee Group 9:30 every Monday.  Clinic 
every Monday and Thursday. 
Maungaturoto - Good News Church, Clinic 2nd and 4th Wednesday.  
Cynthia 09 431 7340 or 027 675 3488 
PLUNKET HELPLINE -0800 933 922 (24 hours) 
TAITOKERAU COMMUNITY LAW: Free confidential legal advice and 
assistance, 2nd
Thursday
 of each month. Ph: 0800 155 529 for appts.  
TE URI O HAU Settlement Trust Tangata Developments: Whanau Ora 
021 793262  
VETERINARY SERVICE MANGAWHAI: 
Ph: 4314535 Mon-Fri 8.00-5.00, Sat 9-12, a/h appt. 
WELLSFORD DOCTORS: Ph: 4238 086 
CHURCHES:
 
Kaiwaka  Revival  Church  -  Your  Community  Church:  Sundays  10am. 
Ph: Pastor Tawhiri 09 431 8988 or Pastor Paul 09 4312 068 Visit us at 
www.facebook.com/kaiwakachurch 
 
St  Paul's  Anglican  Church  1st  Sun.  9.00am  (Eucharist),  3rd  Sun. 
9.00am (Family Service). Contact: Rev. Wayne Thornton Ph 431 4122 
www.mangawhaianglican.org.nz 
 
Church of Christ the King, Mangawhai:9.30am every Sunday 
 
St.Mary's  Catholic  Church:  Maungaturoto  –  Griffins  Road,  Saturday 
evening  Vigil  Mass  6pm;  Mangawhai  –  Senior  Citizens  Hall,  Sunday 
Mass  8:30am;  Wellsford  –  Matheson  Road,  Sunday  Mass  10:30am;  
Mid-week Mass times and all enquires to Fr. Bill Fletcher – phone 423 8170
 
Baptist Church: Sun. 10.30am Mangawhai Snr Cit.Hall.Ph:4312339 
 
Cause  Way  Church  Mangawhai:  Sundays  10.15am,  Mangawhai 
Community  Recreation  Centre,  Insley  St.  Ph:  09  4314782