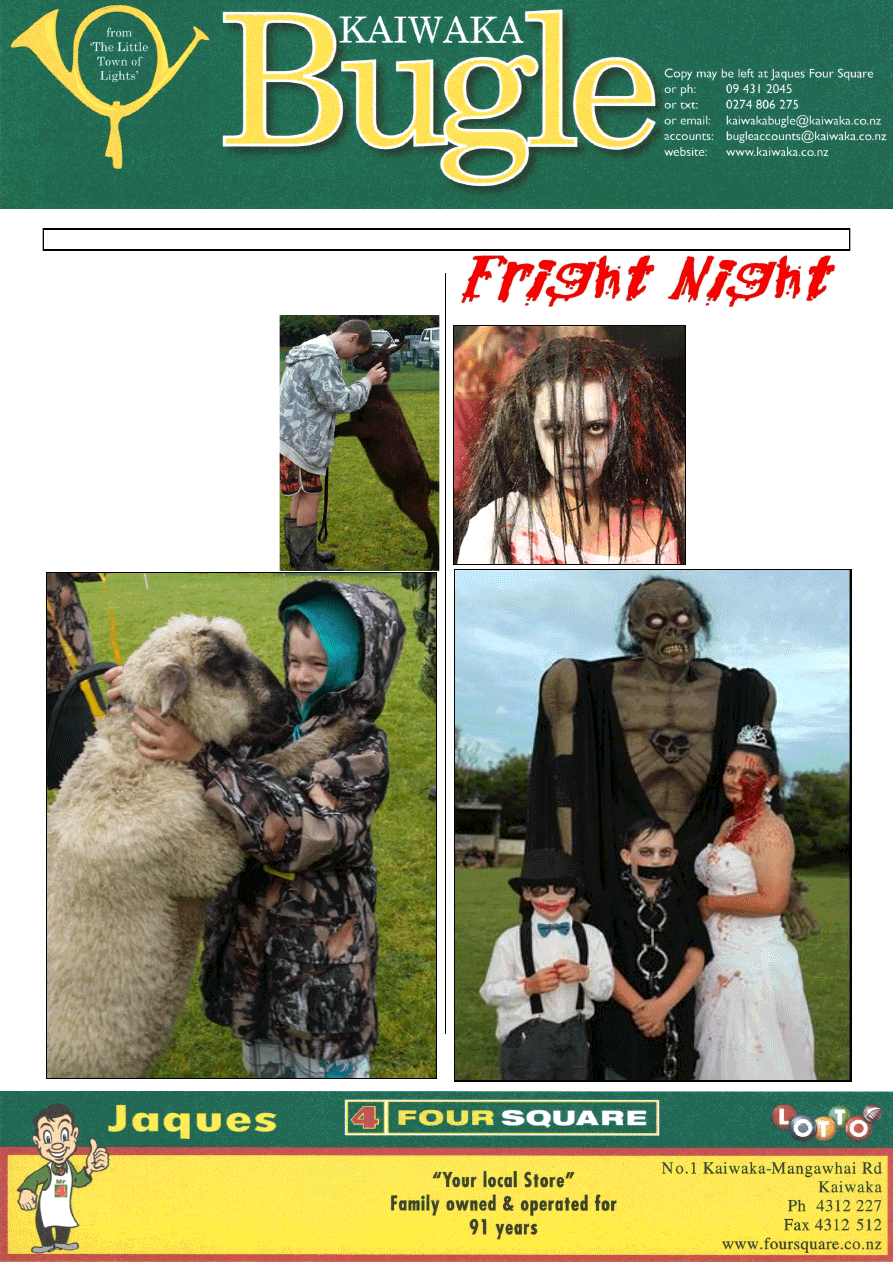 www.kaiwaka.co.nz 
Kaiwaka Bugle - 31 October 2017 
Page 1 
No: 21 
31 October 2017 
Trading Hours: 
Monday to Friday 8:00am - 6:30pm 
Saturday 8:00am - 7:00pm 
Sunday 9:00am - 6:00pm  
What  a  spooktacular  time  everyone  had  at  the  Kaiwaka 
Sports 
Association's 
Fright 
Night 
on 
Saturday! 
There 
was 
facepainting,  a  lolly 
scramble,  a  costume 
competition,  a  photo 
booth,  games  with 
prizes,  glow  items  and 
a 
supper-plate 
competition,  with  the 
highlight 
for 
most 
people 
being 
our 
freaky  haunted  house! 
OTAMATEA GROUP DAY 
Calves, lambs and goats in the rain! 
The  2017  annual  Group  Day  ran  most  successfully  on  the 
Kaiwaka  Sports  grounds  on 
Labour  Day.  Children  and  their 
pets  came  from  Maungaturoto, 
Waipu,  Kaiwaka  Mangawhai, 
Wellsford,  and  Home  Schoolers 
were participants too. 
Bruce 
Ferguson, 
chairman, 
thanked  Karen  Woolley  and 
Suzanne  Partridge  for  their 
excellent  organising  -  along  with 
their  assistants.  He  also  thanked 
the  judges  -  for  calves  Bryan 
McClean,  David  Scott  and  Sir 
Lockwood Smith; for the lambs  - 
Rob Hastie and Tony Hargreaves; 
for  the  goats  -  Michaela 
McCracken.
cont'd on page 9 ...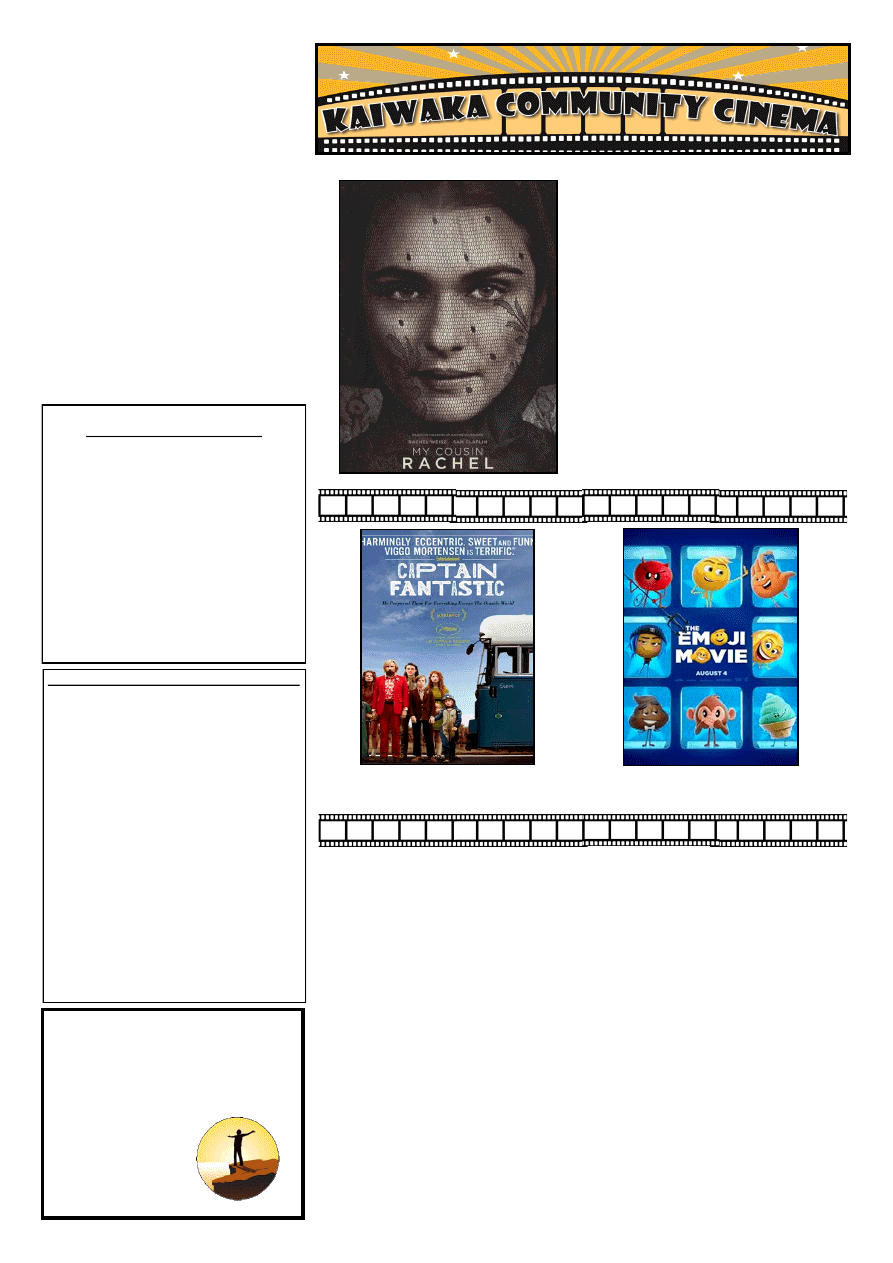 At Kaiwaka War Memorial Hall . Adults $10, Kids (under 16) $5, Family Pass (2 adults + 3 children) $25 
KAIWAKA BUGLE No. 21 
31 OCTOBER 2017 
CONTENTS: 
Page 3: Public Notices, Classified 
Page 5:  Tea Time Church  
Page 7:  St John; Riverview Resthome 
Page 9:  Fright Night; FastFive 
Page 11: Kaiwaka Sports Assn 
Page 13: Rotary; Kate's Place; Pt 
Curtis CC  
Page 15: Otamatea High School  
Page 17:Te Manawa Tahi  
Page 19: Kaiwaka School; Thelma's 
Scrapbook  
Bugle 22 will appear  14 November 
Contact for advertising, reports, articles 
or information can be made by 
Email kaiwakabugle@kaiwaka.co.nz 
Ph: 09 4312 045 Lindsey 
Txt: 027 2724137 
Copy  may  be  left  at  Jaques'  Four 
Square. 
Kaiwaka Bugle Advertisements 2017: 
All 
copy 
and 
queries 
to: 
kaiwakabugle@kaiwaka.co.nz 
The Bugle is printed on an A4 page   
Ad  sizes:  1/16  page  (3  x  9.5cm)  $5;  1/8 
(6.5  x  9.5cm  landscape  or  portrait)  $8; 
3/16 ( 10 x 9.5cm or 7.5 x 12,5)  $12.  
Classified  ads:  First  one  FREE,  $4  per 
entry (max. 30 words, max. 4 repeats). 
Payments  can  be  made  online  at 
ANZ 
06  0365  0006990  00
,  posted  or  left  at 
Jaques Four Square Store. 
We  use  Microsoft  Publisher,  and  can 
work  with  most  common  image 
formats, Word, Excel, and PDF files. 
Accounts:  
Email: bugleaccounts@kaiwaka.co.nz 
The  Kaiwaka  Bugle  is  a  community 
newspaper run by volunteers.   
Articles, etc. printed are not necessarily 
the opinion of the Bugle Team. 
Kaiwaka Bugle 
Founded May 1978 
We appreciate articles and photos about local 
events, etc, as well as ads and suggestions. 
Copies available in Kaiwaka at Jaques Four 
Square, Kaiwaka Postal Centre, Shamrock 
Service Station, Animal Health Centre, 
Kaiwaka St John shop. 
Also outlets in Maungaturoto, 
Mangawhai and Paparoa. 
Can be viewed online at  
www.kaiwaka.co.nz/Bugle  
Or a copy can be posted to you if you supply 
stamped, self-addressed DLE envelopes. 
My Cousin Rachel 
Friday 3 November 7.30pm (M)  
'My  Cousin  Rachel'  is  a  highly 
enjoyable  mystery  thriller  of  the  sort 
that  modern  communication  and  the 
internet have made impossible to set in 
the  present  day.  Based  on  the  1951 
novel  by  Daphne  du  Maurier,  and 
adapted and directed by Roger Michell, 
it  is  a  fantastically  preposterous 
psychological  drama  featuring  a  lush 
score from Rael Jones and a tremendous 
lead performance from Rachel Weisz  – 
who is mean, minxy and manipulative. 
Captain Fantastic 
Friday 17 November, 7.30pm (M)
The Emoji Movie 
Sunday 26  November 2pm (PG) 
Proverbs 20 : 27
 A person's conscience is the 
Lord's searchlight exposing 
their hidden 
motives. 
KAIWAKA MOVIE FUNDRAISER: WHAT YOU NEED TO KNOW 
To run a Movie Fundraiser, you need 
To  book  a  date  confirming  availability  of  the  Hall.  Contact  Wendy  Howard  on 
kaiwaka.hall.bookings@gmail.com
Contact Ad Clarijs re requirements and his availability on 0212154495, as he sets 
up the audio visuals. 
Costs: 
Hall Hire $12 per hour; $24 per hour if kitchen is needed. 
Hire  of  Audio/visual equipment  flat rate  $50  -  this  includes  5x300  watt  speakers  on 
stands, a 1000watt subwoofer, the operation of a large commercial fixed projector, 
an 8-metre-wide movie screen, use of a blu ray player and amplifier. 
Public Screening Licence fee (between $115 and $140) – this is organised for you. 
Available in the Hall: 
150 comfy chairs, plus 100 plastic if needed. 
Sixteen tables, rectangular and round 
Carpeted supper room, separate from the hall 
Heaters in hall and supper room 
Small kitchen facility with instant hot water to make tea or coffee, with mugs. 
The  Kitchen,  if  hired,  has  2  electric  ranges,  2  microwaves,  pie  warmer,  instant  hot 
water for tea or coffee, 2 small urnies, large double display fridge, steriliser, lots of 
cutlery, plates, cups, bowls etc. with large stainless-steel bench and servery. 
Note: 
Strong people are needed to set out and put away the chairs 
The Hall legally holds 250 people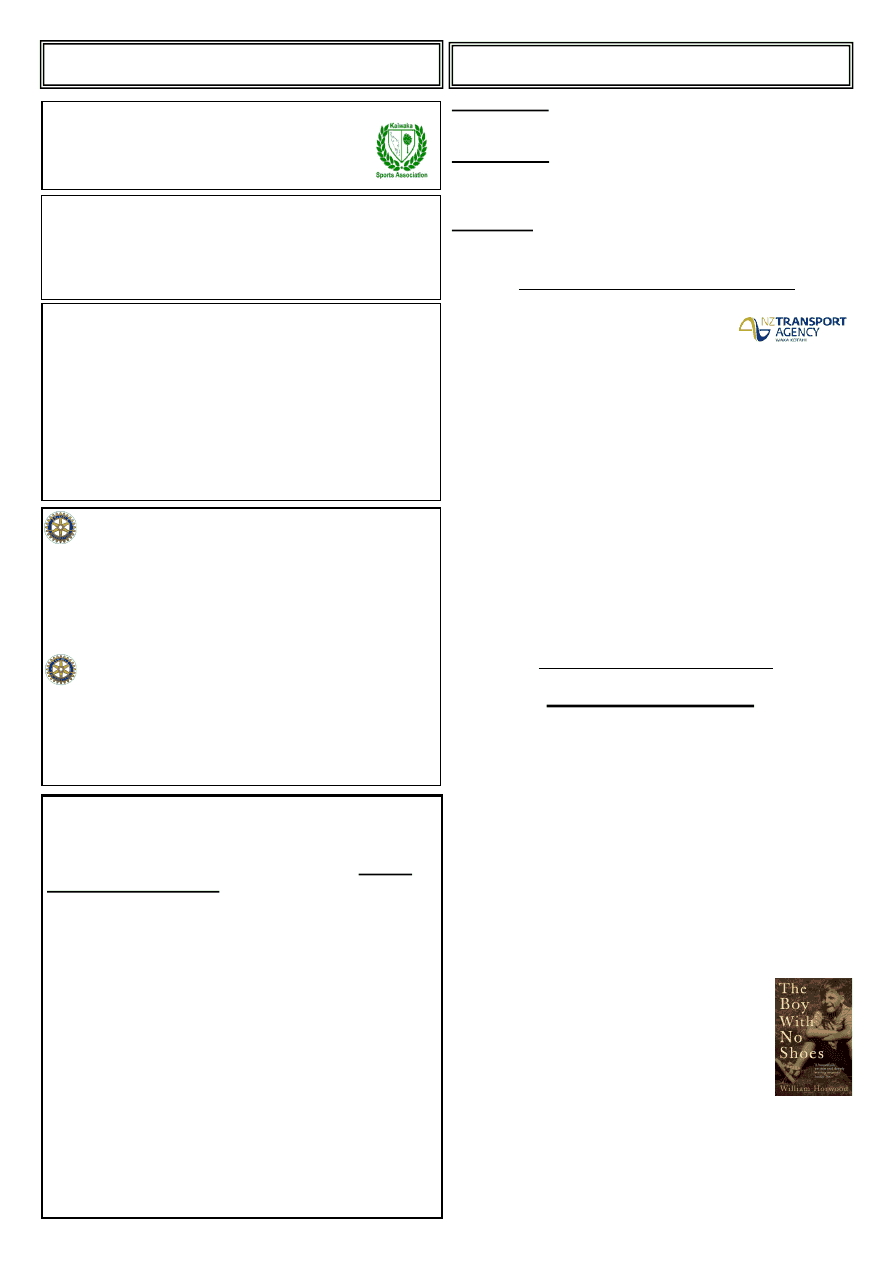 www.kaiwaka.co.nz 
Kaiwaka Bugle - 31 October 2017 
Page 3 
ABOUT TOWN 

 Well done to Bruce Ferguson and his crew, especially 
Karen Woolley and Suzanne Partridge, for the successful 
Otamatea Group Day - Labour Day, KSA! 
What  great  fun  was  had  at  the  KSA  Fright  Night  -  well 
done to all those 'behind the scenes'! 
 'Public  speaking  is  an  asset  that  will  last  for  50-60 
years',  says  Warren  Buffett.  Have  you  contacted  Wayne 
Freeth about Toastmasters? Contact: 022 406 8095 or email: 
wayne.freeth@gmail.com 
 Congratulations to the 
Mangawhai Meat Shop folk who 
won a Bronze Award in the Traditional Sausage section of 
NZ's tastiest Sausage 2017 Competition with their 
Pork & 
Fennel
  sausage! 
N
ote  the  SeniorNet  Help  Clinic  on  Wednesday  1st 
November is a morning session 10.30 – 12.30
. 
An  excellent  memoir,  'The  Boy  with  No  Shoes',  by 
William  Horwood  has  been  recommended  as 
worth  a  read.  He  tells  of  the  tough  times 
growing up in England after WWII 

 Congratulations to the OHS students - Holly 
Brunt  (equestrian)  and  Simon  Parker  (rugby), 
who  2017  Northland  Secondary  School  Sports 
winners
. 

 Further on Kaiwaka's 'pedestrian crossing' -
cross  SH1  with  care,  the  'crossing'  has  a
pedestrian  median or 
refuge  island. This  is  a  raised  island, 
where  pedestrians  can  safely  wait  to  cross  SH1  in  two 
stages;  Pedestrians  do  not  have  the  right  of  way  at  a 
pedestrian refuge island.
~ Lindsey, Ed 
"A sense of humour is a saving grace" or 
"A person without 
a 
sense of humour
 is like a wagon without springs
"! 
PUBLIC NOTICES 
CLASSIFIED 
FOR  SALE:  Honda  TRX300FW  quad  bike.  1994 
model  in  very  good  working  order  with  838  engine 
hours. $899 ono. Phone Jeff 4315488 or 027 295 1675 
FOR  SALE: 
1995  Toyota  Corsa  car  -new  WOF. 
302,190  km.  4  dr  4  cyl  1496cc  auto.  Runs  well.  Just 
add  oil,  water  and  91.  Good  for  learning  to  drive. 
$1050 ono. Ph 09 4312 787 
WANTED:  1  x  room  to  rent  with  power  and  good 
internet  connection/wifi  and  access  to  cooking 
facilities.  Long  term.  In  Kaiwaka  preferably  -  max 
$150/week. Contact Mark 021 228 4074 
HAKARU COMMUNITY HALL  
& DOMAIN SOCIETY Inc. 
740 Settlement Road, Hakaru 
Annual General Meeting 
Tuesday 28 November 2017, 7.30pm 
AGENDA:  Record those present; Apologies; 
Chairman's Report 2016-17; Financial Report; Election of 
Officers; Election of Executive Committee as per Nomination 
Form results; Notice of Motion to amend Society Rules; 
General Business
ALL WELCOME 
The 
MAUNGATUROTO COMMUNITY 
CHARITABLE TRUST 
Annual Public Meeting  
Thursday 23rd November, 2017 at 1 pm 
in the St Johns Hall, Maungaturoto. 
MAUNGATUROTO and DISTRICTS  
ROTARY CLUB 
Invites seniors in our area to attend an Afternoon tea 
in the Centennial Hall at 2pm on Friday 24th November. 
RSVP by Friday 17th November to: 
Alex (09) 4316434; Eric (09) 4314874; Eileen 021 
1420357; Stella 021 149 0877 
Come and join us for a time of fellowship and entertainment 
MAUNGATUROTO and DISTRICTS  
ROTARY CLUB 
(as a fundraiser for the Maungaturoto Dementia Unit) 
will  have  Sir  Lockwood  and  Lady  Alexandra  Smith 
talking  to  us  on  Saturday  4th  November  at  7.30pm, 
Maungaturoto Centennial Hall. 
Cost is $15 per person (pay on the night) and a light 
supper will be provided  
KAIWAKA SCHOOL 
BOARD OF TRUSTEES' ELECTION 2017 
Nominations are invited for the election of 2 (two) 
parent representatives to the Board of Trustees. 
A nomination form and a notice calling for 
nominations will be posted to all eligible voters. 
You can nominate another person to stand as a 
candidate, or you can nominate yourself (make sure 
you sign both parts of the form). 
Additional nomination forms can be obtained from 
the school office. 
Nominations close at noon, Friday 17th November 
2017, and may be accompanied by signed 
Candidate's statements. 
The voting roll is open for inspection at school and 
can be viewed during normal school hours. 
There will be a list of candidates' names, as they 
come to hand, for inspection at the school. 
Voting closes at noon on Friday 1st December 2017. 
Sara McAulay 
Returning Officer, Kaiwaka School  
KAIWAKA SPORTS ASSOCIATION 
Annual General Meeting 
Wednesday 22nd November, 7pm 
Kaiwaka Sports Complex  
NZTA BRYNDERWYN SH 1 CLOSURES 
Drivers  are  being  advised  to  allow  more 
time  for  their  travel  from  next  weekend 
when  the  NZ  Transport  Agency  will  be  closing  State 
Highway 1 overnight on the Brynderwyn Hills in Northland 
for  maintenance  work  over  three  nights  –  5,  6  and  7 
November. Weather permitting the highway will be closed 
in  both  directions  from  6.45pm,  and  will  re-open  the  next 
morning at 5am.  
Detours will be in place with traffic control staff providing 
guidance  along  the  route.  The  Transport  Agency 
recommends  that  drivers  allow  an  extra  30  to  45  minutes 
for their journey. 
Southbound  traffic  will  be  diverted  through  Waipu  and 
Mangawhai,  and  northbound  traffic  will  be  diverted  via 
Paparoa/Oakleigh.     For  electric  vehicles  charging  stations 
are located at Kaiwaka and Whangarei. 
The  closures  will  allow  contractors  to  resurface  the 
highway on the southern side of the hill. 
Further  information  about  this  work  is  available  by 
contacting  the  Transport  Agency's  0800  4  Highways.  Get 
free  email  alerts  on  a  specific  route  by  signing  up 
to www.onthemove.govt.nz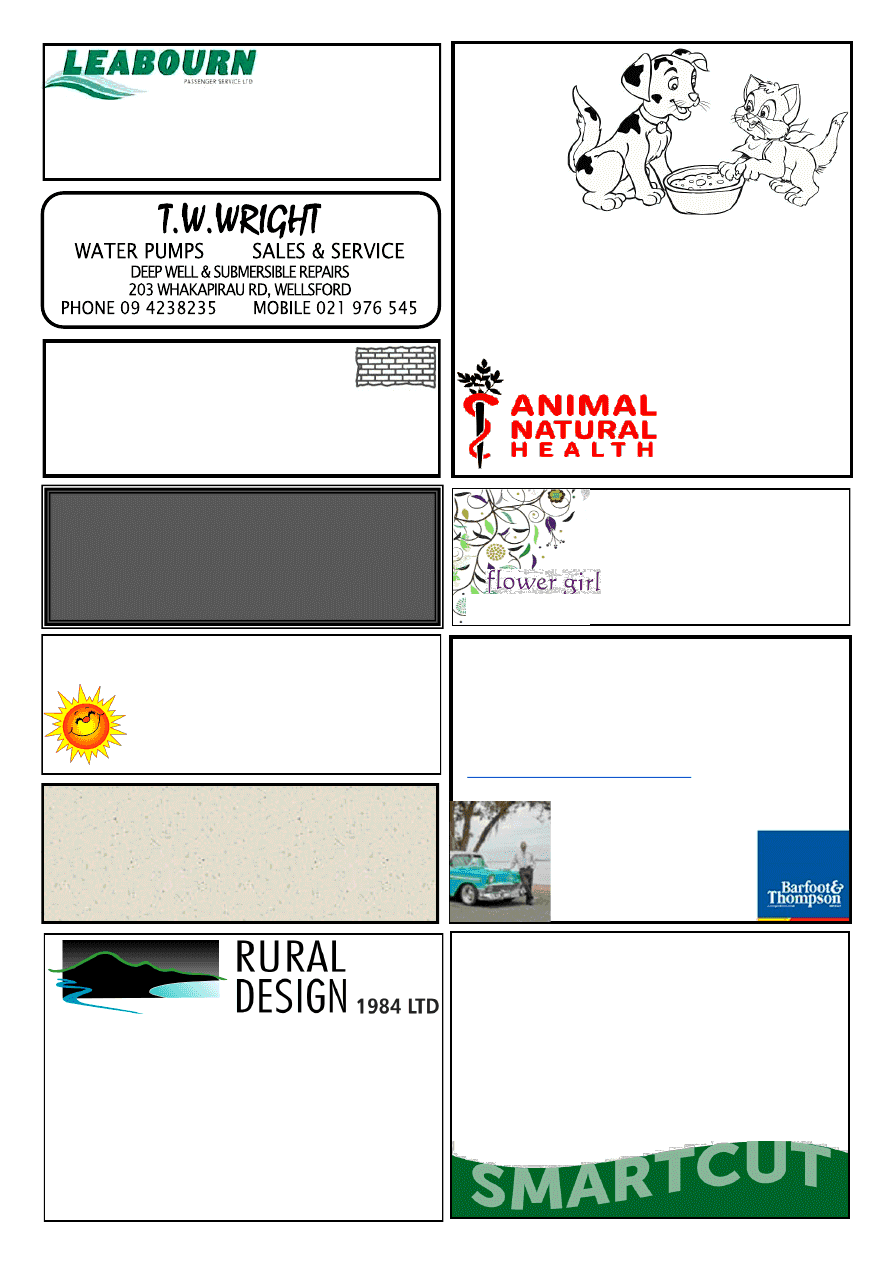 Passenger Service
Car & Van Hire  Bus & Coach Charters 
Airport Transfers   Monthly Shopper Bus 
Phone (09) 4237416 
All your outdoor needs sorted so you don't have to... 
I can prune, chop, tidy, spray, mow, plant 
- you name it, I can do it! 
Residential & Commercial 
Lawn & Garden Care 
Call Rodney, your local  
lawnmowing contractor 
021 138 2344 
BRICK/BLOCKLAYER 
All aspects of masonry:  
Fireplaces, Restoration & Remedial Work. 
JAMES EAGLETON 
Tel. (09) 431 2514    Mob. 0274 749 232 
jajueagles@yahoo.com.au 
210A Pukenui Road, RD2 Kaiwaka 0573 
THE SUNSHINE GIRLS
Efficient and reliable help with 
your housework. 
Ph 4312 532 
MARRIAGE CELEBRANT 
WEDDING EVENTS PLANNER 
Yvonne Osborne 
Ph 0274 989 814 
yvonne.osborne@xtra.co.nz 
Counsellor and Registered Psychotherapist 
Offers Supervision 
ACC Sensitive Claims 
Susan Matheson      MNZAC 
Dip. Psychosynthesis Counselling and Psychotherapy 
Phone 09 431 2996                                     Mobile 027 605 2427 

  After 20 years of selling in Auckland I have             
moved to Kaiwaka. 

  I have a relaxed attitude with years of  
        results and experience. 

  Please feel free to give me a call or email. 
licensed real estate agent (2008) 
Chris Barrington
Residential Sales
M 
Mangawhai
Wholesale Native Plant Nursery and Planting 
Small and Large orders welcome 
By Appointment 
300 Kaiwaka-Mangawhai Road, Kaiwaka 
Phone: 09 431 2481 
Email: info@ruraldesign.co.nz 
www.ruraldesign.co.nz 
Look for 
our NEW 
range of 
real food 
for cats 
and dogs
Veal Bones 3kg $17.90  
Chicken Medallions 3kg $17.90 
Beef & Lamb Patties 3k $21.90 
Purely Pets – buy 10 packs,  get 11th pack FREE 
Radical Dog in store (as seen on Country Calendar) 
Beat the Flea Season:  
Flea combs, shampoos Chemical-free, no nasties 
Flea Control, Tick & Lice Support 
ANIMAL NATURAL 
HEALTH CENTRE 
Next to Italian Bakery, 
Kaiwaka 
Ph. 09 431 2217    
Open Mon-Sat.
Kaiwaka Good Sorts 
Do you know someone in our community 
who is deserving of a beautiful bunch of 
flowers? 
Send an email to us at 
kaiwakabugle@kaiwaka.co.nz 
or drop a note to Jaques Four Square to 
let the Bugle team know. 
lindywatson@hotmail.com 
4312 847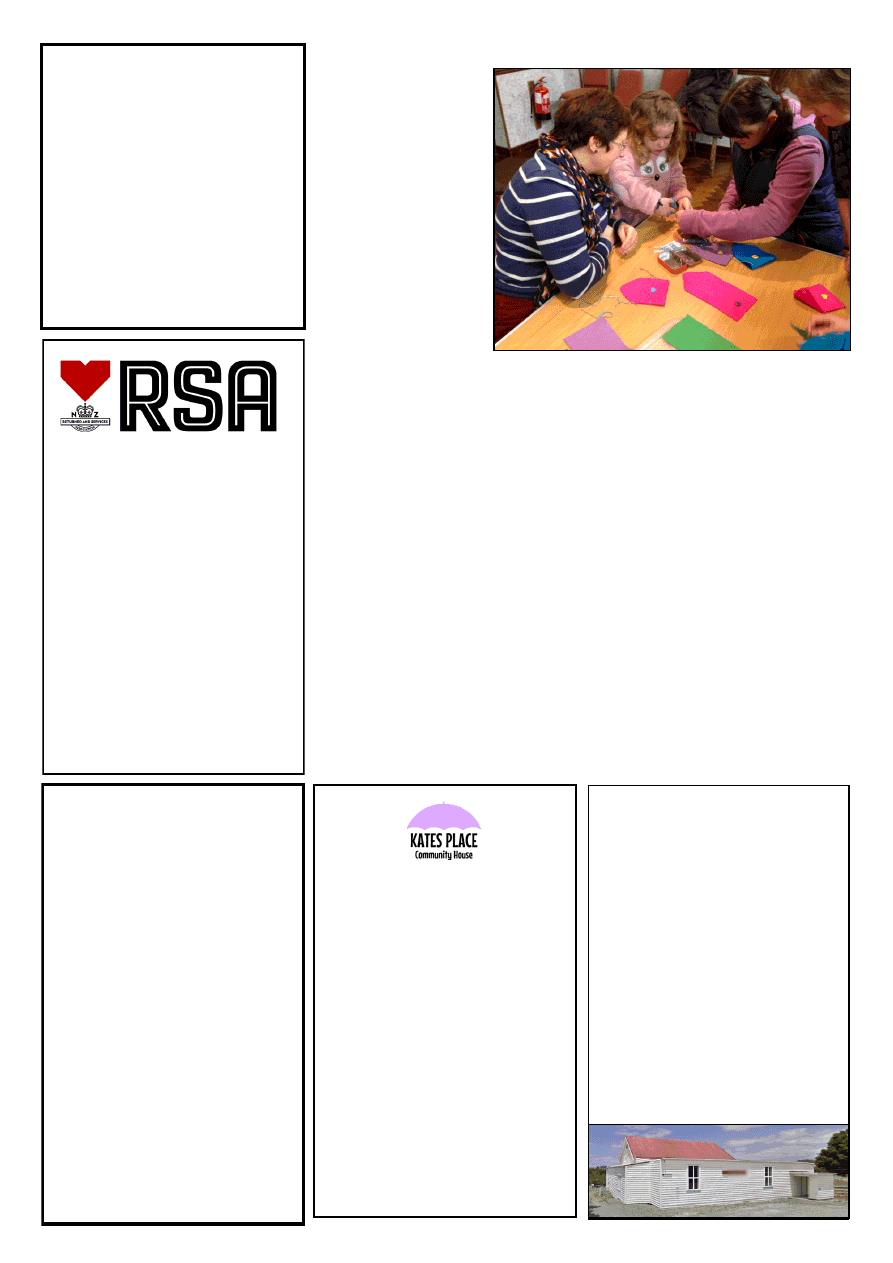 www.kaiwaka.co.nz 
Kaiwaka Bugle - 31 October 2017 
Page 5 
Lilia and her Spring lamb, Minty! 
HAKARU & DISTRICTS 
MEMORIAL RSA (INC)
Members & guests are invited to 
come along and enjoy our hospitality.  
New members welcome.  
Meals are served on Thursday and 
Friday nights  from 6.30pm.   
2nd Friday of the month is a Roast Dinner 
special plus a board menu put on by the 
Women's Section. 
Last Friday of the month is 'Roast Pork 
Night' and a sing-a-long with Des Chitty. 
For more information please phone 
Gloria  (Women's Section) on  
431 5818 or Marlene on 431 5589 
The  Anglican  Church  in 
Mangawhai is embarking 
on  something  new:  "Tea 
Time  Church".  This  is 
"church",  just  not  as  we 
know  it!  Perhaps  a 
helpful way to think of it 
is  as  church  for  people 
who  believe  church  is 
not  for  them;  who 
consider 
church 
is 
irrelevant,  stuffy  and 
boring;  who  have  been 
put  off  church  in  the 
past. 
The underlying aim is to 
help  people  meet  Jesus 
for  themselves.  It  is  for 
adults  and  children  to 
enjoy  together  -  the  goal  is  to  be 
relevant  and  accessible  to  all  ages. 
Through activities, puzzles and quizzes 
Tea Time Church gives an opportunity 
to explore Bible stories, to reflect on a 
God  of  creativity  and  to  interact 
together.  Tea  Time  Church  portrays  a 
God  of  unconditional  love  and  is  a 
church  for  people  "outside"  church, 
providing  an  oasis  of  welcome  and  a 
safe space in which to learn and grow. 
It works like this … 
People come in and sit around tables in 
the church lounge. There is an activity 
for people to do as others arrive. Then 
there is a welcome and introduction of 
the  theme.  All  the  activities,  etc  are 
based  on  this  theme.  For  30  –  45 
minutes,  at  the  tables,  adults  and 
children  engage  in  activities,  puzzles, 
quizzes  –  some  are  individual,  some 
require  working  together  and  some 
might be as a "team". 
Then  there  is  a  "worship  time" 
involving a Bible reading, story, song, 
prayer, music, video clips etc. This too 
takes place around the tables and goes 
for 15 – 20 minutes. The remainder of 
the  time  is  for  fellowship  and  eating 
together.  This  is  a  hugely  important 
element – it is our hospitality reflecting 
God's welcome and grace. So, the meal 
is provided, and it is 'proper food', but 
also 'finger food' style. This completes 
the occasion. 
It  is  all  age!  It  is  fun!  It  is  church  for 
people  at  all  stages  of  their  faith 
journey.  It  is  something  to  bring 
'reluctant'  members  of  the  family  to. 
Something  to  invite  neighbours  and 
friends  to  share  in.  People  are 
guaranteed to learn something, and the 
bottom  line  is they  will  get  something 
good to eat! 
Beginning  Sunday  12  November  at 
Christ the King Church, 9 Molesworth 
Drive, Mangawhai, 5 – 6.30pm. 
Please note: Children under 14 must be 
accompanied by an adult. 
For  more  information,  questions  etc 
phone 431 4122. 
Willow Bend
HORSE  
HOTEL 
  
Total Horse Care 
 
Agistment 
 
Riding Lessons 
 
Arena Hire (60x40) 
 
Young Horse Starting 
 
Re-training/Exercising 
 
Hoof Trimming 
 
Problem Solving 
Phone Sue 09 431 2817 
or 021 623 776 
Or email  
susanjoll11@gmail.com 
Let's do Lunch
Monday 6th November
11 am-1.30 pm
Kate's Place

Come along enjoy lunch 
and make new friends.

There will be a guest 
speaker and music.

If you require a lift, 
please let us know.

We need your call for 
catering numbers.

If you wish to attend 
please call 4312661 by 
Friday 3rd November 
TEA TIME CHURCH 
HAKARU 
COMMUNITY HALL 
& Domain Society Inc
. 
Situated on the Hakaru 
Community Domain at 740 
Settlement Road (almost opposite 
RSA) approximately half way 
between Kaiwaka and 
Mangawhai. 
Available for hourly or daily/
evening hire at competitive rates. 
Suitable for small groups and up 
to 200 people. 
Contact Derek 09 4312256 or 
Craig 4312110 for an inspection 
of facilities. 
HELP CLINIC 
SENIORNET MANGAWHAI 
Need a little help with your 
computer, laptop, ipad, tablet? 
Come to our Help session.  
Ask questions, solve problems, 
compare notes with others. 
$10 members $15 non-members 
Wednesday 1st November - 
10.30am (2 hours) 
The Club (Bowls Club), Molesworth 
Drive, Mangawhai Heads 
Ph: Tony 4312269 or Val 4314042 
Or email 
seniornet,mangawhai@gmail.com  
to register.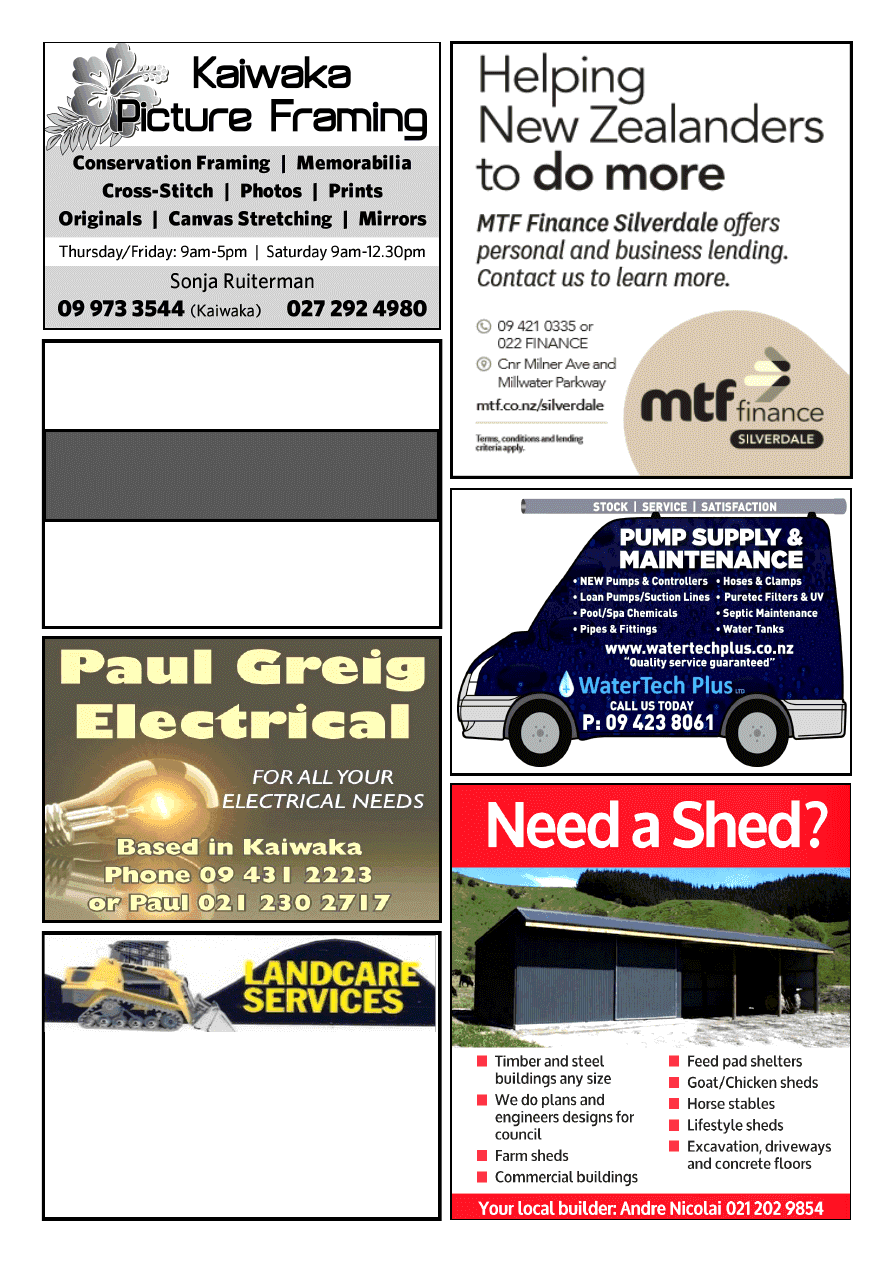 David Korach 
Your local Gib Stopper
DK PLASTERER LTD 
0274769221 
dkorach6@gmail.com 
LANDSCAPING 
4 IN 1 BUCKET 
TRENCHER 
POLE HOLES 
ROTARY HOE 
COMPACT ROLLER 
OFFAL HOLES 
CAN SUPPLY WOODCHIP & POST PEEL 
5 TON TIPPER 
FOR RELIABLE AND FRIENDLY SERVICE CONTACT DAVE 
Dave Hyndman 
 
KAIWAKA 
PH: 09 4312302 
MOB: 021 431 238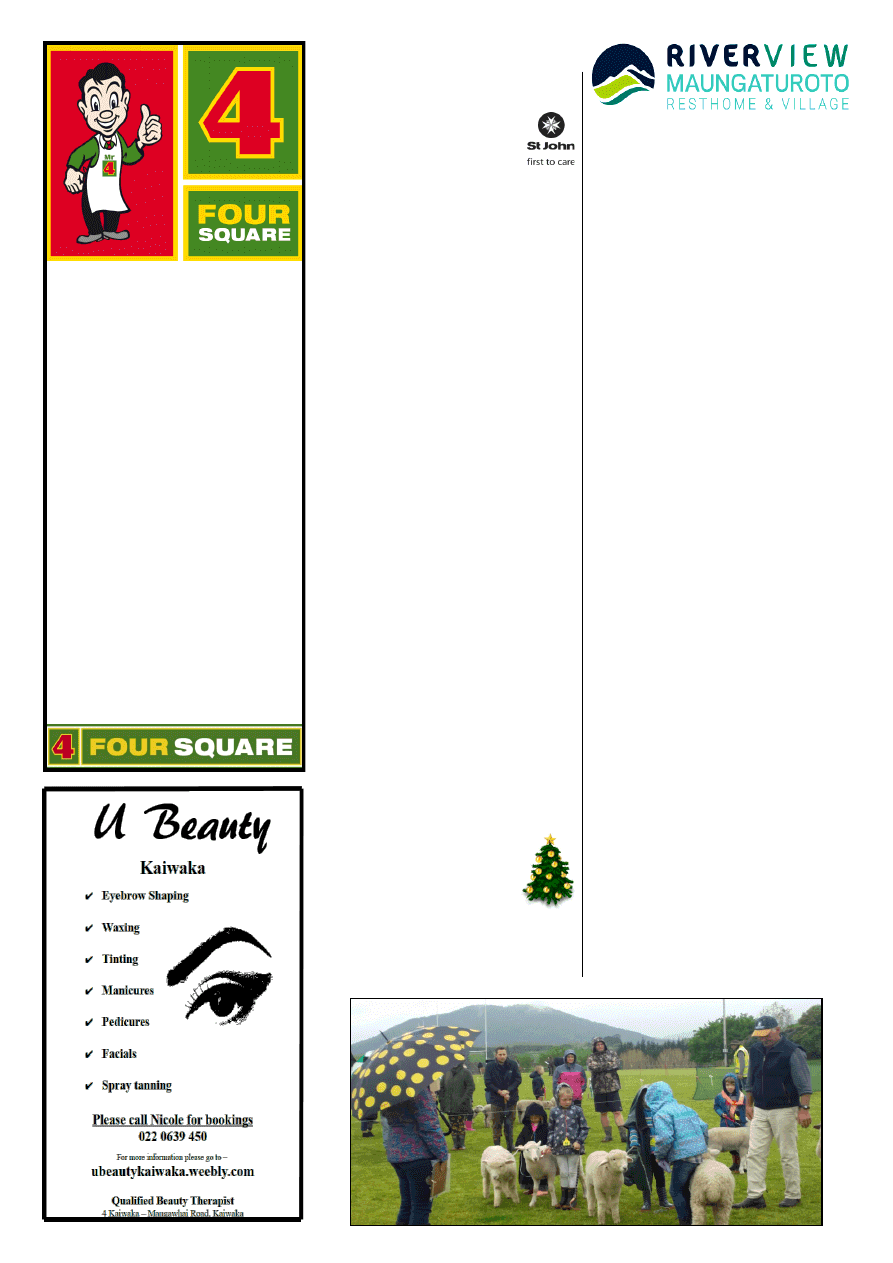 www.kaiwaka.co.nz 
Kaiwaka Bugle - 31 October 2017 
Page 7 
OTAMATEA AREA 
COMMITTEE 
TRASH and TREASURE 
SPRING IS HERE! 
Tui Gardening Products 
in Store now!
Compost 
Seed Raising Mix 
Mulch 
Potting Mix 
Organic range as well 
Fertilisers 
Quash  
Also tools, gloves  
Punnet Seedlings 
$2.98 
Seed potatoes 
Seeds 
Everything you need 
Open till 6.30 Monday to Friday
Jaques Four Square 
Phone: 4312227 
1 Kaiwaka-Mangawhai Road, Kaiwaka. 
The 
Maungaturoto 
Community 
Charitable  Trusts  annual  public 
meeting will be held this year in the St 
Johns  hall  Maungaturoto  on  Thursday 
23rd November at 1 pm. 
As  well  as  an  update  on  the  current 
expansion plans the guest speaker will 
be  Dr  Arron  Donald  from  Coast  to 
Coast Health Care. 
Dr  Donald  will  be  speaking  about  the 
various  support  systems  that  are 
available to support those families that 
are caregivers for a loved one. He will 
explain  the  pathways  that  need  to  be 
taken  to  enlist  the  various  levels  of 
support available. You may be eligible 
for home help, or some days of respite 
care  in  our  Resthome,  to  give  the 
caregiver a well-earned break. 
Come  along  and  be  informed,  our 
Riverview  policy  is  to  "care  for  our 
people"  Alzheimer's  Northland  has 
offered  their  moral  support  to  our 
project.  Our  architect  Keith  recently 
visited  the  day  centre  at  Tikipunga 
Whangarei  where  he  caught  up  with 
the latest design ideas. 
A  special  thanks  to  Margaret 
Mulholland  for  her  fundraising  efforts 
during  Alzheimer's  week,  she  has 
directed  a  substantial  portion  of  the 
funds  that  she  raised  to  our  local 
project, thankyou Margaret. 
And  of  course,  Alby  and  his  Den 
workers  keep  adding  $$$  to  the  fund. 
This  is  a  huge  project  that  we  are 
embarking 
on, 
please 
give 
consideration  as  to  how  you  may  be 
able  to  help.  There  are  many  families 
that over the years have appreciated the 
benefits of having loved ones cared for 
in  our  home  town.  The  facts  are  that 
going  forward there  will  be  increasing 
numbers  of  our  community  that 
unfortunately  will  require  increased 
levels of care. 
A  pledge  pack  can  be  obtained  from 
the Rest Home Manager Ph. 431 8696. 
Direct 
donations 
to: 
Trust 
Development 
Fund 
ANZ 
Bank 
Account No. 06-0365- 00014253-46 
Your  name  and  phone  no  in  reference 
field 
For further information 
Contact  trustees,  Don  McKay  09  431 
8308, Craig Fergus 021 378 482.  
Well  folks,  once  again  you 
have supported us very well in 
the  main  fundraiser  for  the 
year.  This  event  started  34 
years  ago  when  we  needed  more 
money  to  put  a  garage  on  our  newly 
purchased  ambulance  building.  In  the 
early  years  it  was  held  at  the 
Ambulance  Station  but  we  outgrew 
that so moved to the Centennial Hall. 
There  are  always  a  huge  variety  of 
items  that  come  to  hand  and  we  are 
also  appreciative  of  the  cooking  and 
produce that is made available for sale. 
At  the  close  of  sale  on  Friday  we  had 
collected $8,756 and we have been told 
that there are also proceeds from items 
you purchased from the Den during the 
week. Thank you Albie for supporting 
us in this way. 
We could  not run this event  without a 
large  band  of  workers  who  basically 
give up a week of their time to support 
us.  While  some  are  involved  in  St 
John,  most  of  the  helpers  are  just 
people  who  want  to  use  their  skills  to 
ensure  that  the  event  runs  smoothly. 
Proceeds will go towards the purchase 
of  more  defibrillators  to  be  placed 
around town as well as supporting our 
volunteers and Cadets. 
Raffle prize winners have been notified 
and are listed on local noticeboards. 
THANK YOU ALL FOR YOUR 
SUPPORT!!! 
THIS IS A GREAT COMMUNITY 
TO BE PART OF. 
RAFFLE RESULTS: 
(Drawn  13th  October  after  Trash  and 
Treasure)  Pergola  71  Orange;  Teddy  Bear 
57 Blue; Cushion 30 Orange; Square Plate 
14  Orange;  Round  Plate  3  Blue;  Coffee 
Filter  92  Orange;  Camping  Lantern  22 
Orange;  Bowl  &  Block  96  Orange;  Bag 
and Jewellery 84 Orange; Glasses 9 Blue. 
Thank  you  for  your  support.  It  is 
appreciated. 
MAUNGATUROTO 
and  
KAIWAKA  ST.JOHN  will 
be  selling  Christmas  trees 
from 
the 
Maungaturoto 
Station  and  the  Kaiwaka  Op  Shop. 
First  delivery  on  the  1st of  December. 
If you would like to pre-book one then 
ring/text 021355734 or 0211622482. 
Otamatea Group Day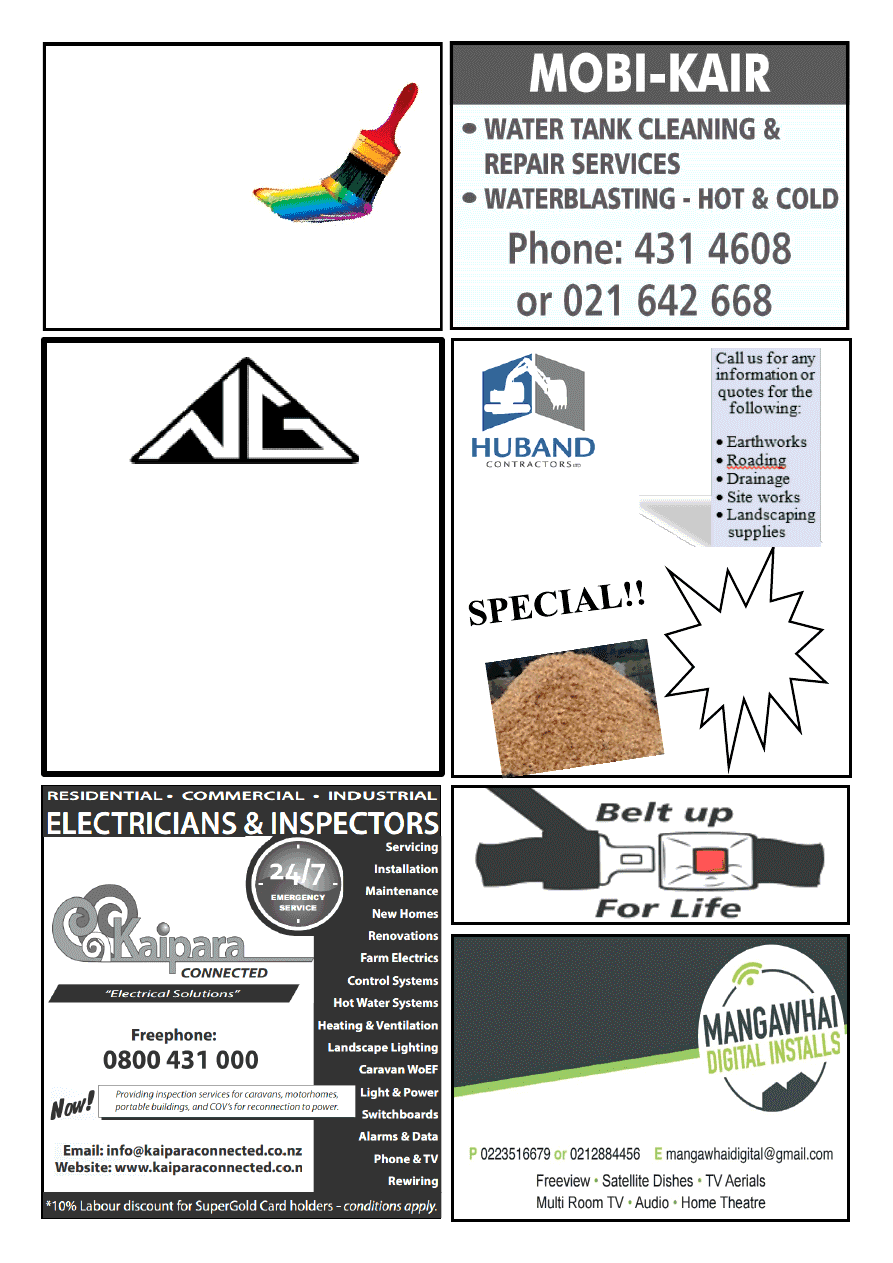 NORTH GLASS 
WINDSCREEN REPAIR OR REPLACE 
GLAZING SERVICES 
MIRRORS  •  SPLASH BACKS  •  SHOWERS 
0800 70 40 10
info@northglass.co.nz 
www.northglass.co.nz 
09 4312918 
0274735171 
leecooper@xtra.co.nz 
LEE COOPER PAINTERS 
(Kaiwaka Based) 
*30 yrs Experience 
*Interior/Exterior 
*New and Restoration 
*Honest and Reliable 
*Free Quotes 
Open Monday-Friday 
8am-5pm 
Saturday 8am-noon 
2088 Paparoa valley Road 
0800 234449 
E: admin@huband.co.nz 
$25.25 + 
GST per m
3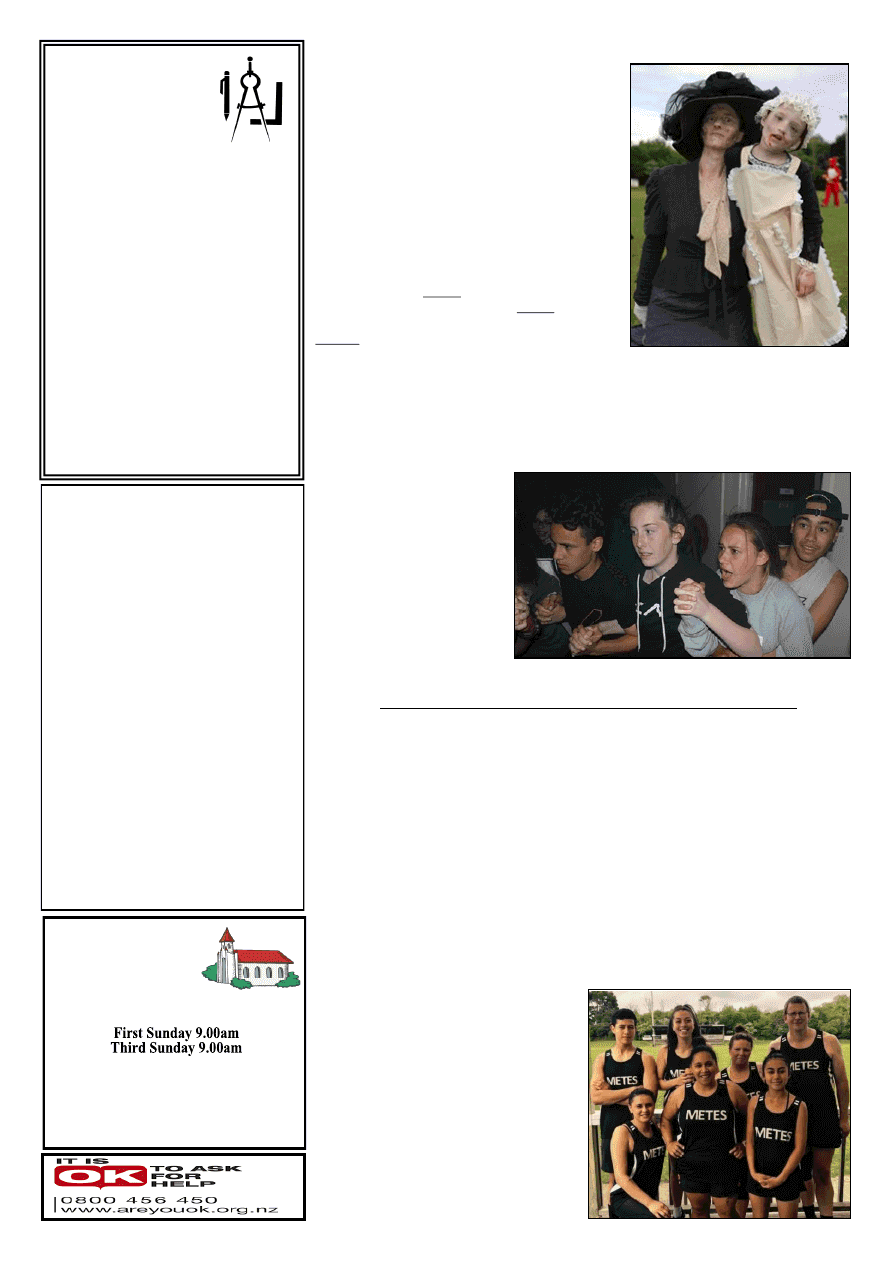 www.kaiwaka.co.nz 
Kaiwaka Bugle - 31 October 2017 
Page 9 
FAST FIVE NETBALL MODULE 
design  
drafting  
service 
Retired builder and manufacturer 
with over 40 years experience in the 
building industry is offering a design 
drafting service for domestic hous-
ing, sleepouts and sheds.  
Plans formulated in consultation 
with clients, with working drawings 
completed and submitted to council 
for processing.  
Extensive practical experience,  
able to identify & resolve problems.
Please ring Mike Lean on 
09 431 2260 
or 
021 431 196 
Mangawhai 
Heads 
Garden 
Centre
1758 Cove 
Road
945 0707 
021 165 2629 
ST PAUL'S  
ANGLICAN  
SUNDAY  
SERVICES
St Pauls Church: Kaiwaka-Mangawhai Rd. 
1st Sun - Eucharist 
3rd Sun - Family Service 
Rev. Wayne Thornton Ph 431 4122 
www.mangawhaianglican.org.nz
cont'd from front page 
… 
Kaiwaka Sports Assn FRIGHT NIGHT...
We had transformed our downstairs changing 
rooms  into  a  hair-raising  walk,  and  if  the 
screams  coming  from  downstairs  were  any 
indication,  our  scarers  did  a  great  job!  Our 
haunted  house  rooms  each  had  a  different 
scary  theme  –  we  had  a  witches  coven,  a 
werewolf  cave,  a  spiders  nest,  a  lunatic 
asylum  hospital  room  and  a  clown  room.  I 
think we had all the main phobias covered! 
What a fabulous array of scary costumes there 
were  –  we  had  ghostly  ghouls,  wicked 
witches, 
petrifying 
pirates, 
gruesome 
gremlins and more! 
Congratulations 
to 
the 
costume 
prizewinners:  Girls:  1
st 
Aroha  Rawhiti,  2
nd 
Arya Hemara, 3
rd
 Evie Boult. Boys: 1
st 
Atariki 
Videla,  2
nd
  Joseph  Walker,  3
rd
  Julius  Dry. 
Adults:  1
st 
Josie  Gritten,  2
nd 
Erin  Corble,  3
rd
Karoma Kimani 
Thank you to everyone who brought a Halloween-themed plate for supper. Our 
judges had a very tricky job as the tables were overflowing with creative food – 
we  had  bloodshot  eyeball  cupcakes,  cobweb  biscuits,  deadman  finger 
sandwiches, ghost meringues and more! 
Congratulations  to  the  supper  plate  winners:  1
st
  Arya  Hemara,  2
nd
  Amber 
Cunningham, 3
rd
 Willow Woodman 
A big thank you to the many helpers on the night. A big thank you to my team of 
Haunted  House  decorators 
who  spent  several  weeks 
planning, making props and 
decorating. A special thanks 
goes  to  the  'scarers'  in  the 
Haunted  House  who  did  a 
wonderful  job  and  will  no 
doubt  have  featured  in  the 
nightmares of some children 
that night!  
Photos can be viewed on the 
Kaiwaka  Sports  Complex 
facebook page and our website www.kaiwakasports.co.nz.  
Thank you to everyone who came along – I hope you had a 'frightful' time!  
~ Cheryl Anderson 
Over seventy people participated in the 
Kaiwaka  Sports  Association's  Fast 
Five  Module,  held  over  six  weeks  on 
Sunday  afternoons  in  the  KSA 
gymnasium. 
With only five players on court in each 
team,  Fast  Five  games  are  very  quick 
and  intense,  and  several  older  players 
mentioned  that  they  really  appreciated 
the rolling subs! 
The  finals  were  hotly  contested  with 
The  Pirates  taking  on  The  Metes.  The 
Metes squeaked in with the win 25 - 20 
and  took  home  the  winner's  purse  of 
$300 with The Pirates taking away the 
second  place  prize  of  $200.  The  third 
prize of $100 went to The No Names. 
After the finals, players moved into the 
pavilion 
for 
prizegiving, 
congratulations to the prize winners: 
Youngest player – Rizyiah Gray 
Oldest player – Greg Jaques 
Most Organised Team - The Pirates 
Team  managers  nominated  someone 
from  their  team  to  receive  a  special 
prize: 
Nets  Top  Model  –  Most  improved: 
Melanie Van Waveren 
The  Pirates  –  For  best  over  the  hoop: 
James Johnson 
Wairua – Trying hard and having fun: 
Te Kauri Kapea and Korurangi Kapea 
The Metes – For staying on his feet this 
season,  unlike  last  season!  Adrian 
Buxton 
Rodney  –  Most  reliable  and  great 
sportsmanship: Georgia Brierly 
The No Names – Most Improved: Benji 
Woodman 
Gifts  were  given  to  Nikola  Kemp  and 
Melissa  Watts  for  umpiring.  Photos 
and videos from the Module are on the 
Fast Five facebook page. Thank you to 
everyone  who  participated  and  we 
hope to see you back next year!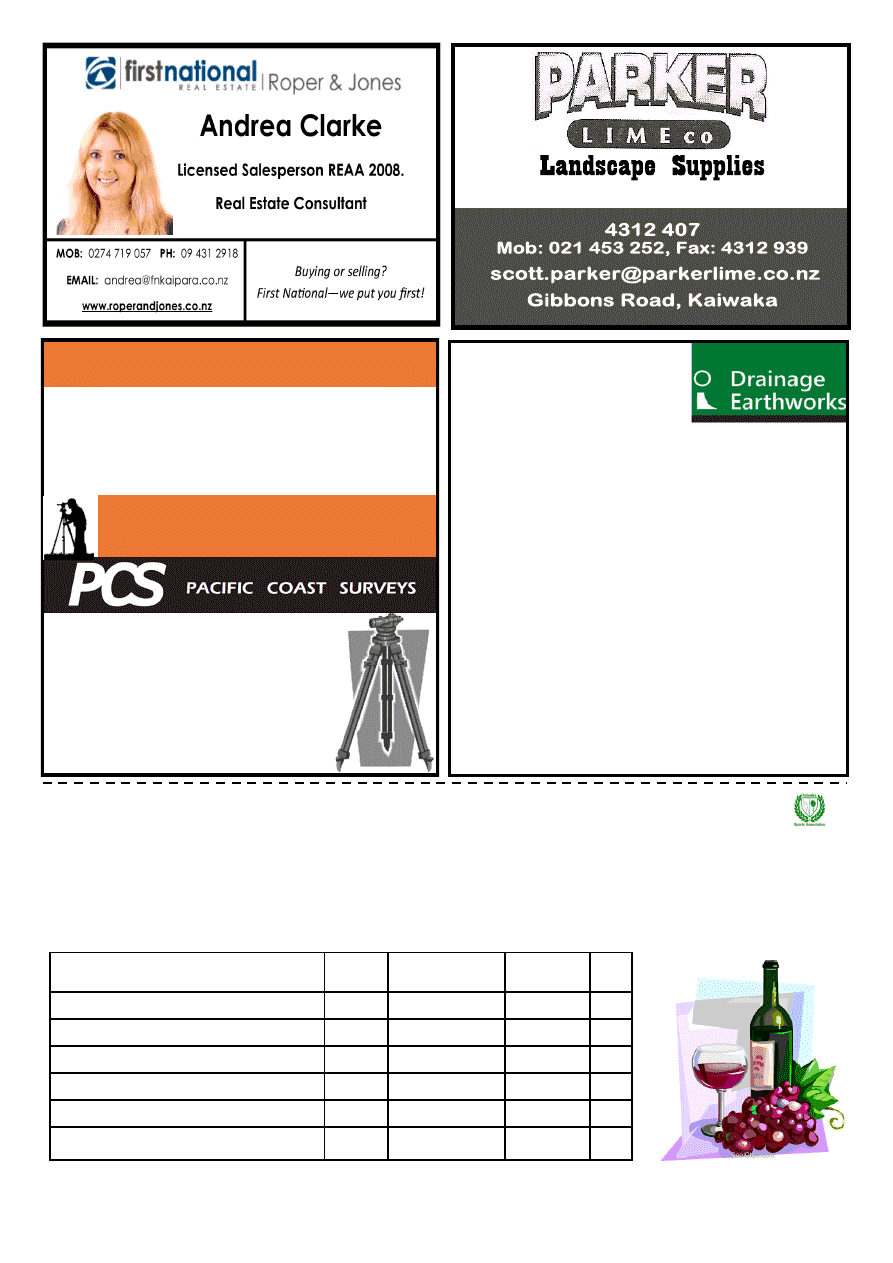 Drainage & Earthmoving 
nigel@clarkedrainage.nz 
027 2233 185 
Registered Drainlayer 
All Types of Earthworks  
> All Residential & Commercial Work  > House Sites 
> Septic System Design & Install 
> Footings & Drilling to 10m 
> Sewer Connections 
> Dams 
> Water Tank Installation 
> Roading & Races 
> Farm Work 
THE ONE STOP SHOP  
Phone Nigel for an Obligation Free Quote  
Bulk Cartage 
SURVEYORS 
SUBDIVISIONS 
HOUSE SITE SURVEYS 
CIVIL ENGINEERING 
WASTEWATER DESIGNS 
EXPERIENCED 
PROFESSIONAL 
INNOVATIVE 
Ph 09 431 5353 
0800 PACIFIC (0800 722 434) 
pacificcoastsurvey.com
Adam Booth - 027 415 5752 
Bsurv, Licensed Cadastral Surveyor
Surveying Kaipara since 1994 
WINE FUNDRAISER 
Kaiwaka Sports Association 
Here  is  an  opportunity  to  purchase  fantastic  wines  at  unbeatable  prices  –  and  support  the  Kaiwaka 
Sports Association at the same time! Enjoy them now, or stock up ready for the holiday season. 
Wine  can  be  purchased  by  the  bottle  or  in  case  lots.  You  must  be  over  18  years  to  purchase  wine.  To 
order  please  return  this  form  with  your  payment  by  15th  November.  Delivery  will  be  the  following 
fortnight.  Any queries to Cheryl Anderson on cherylanderson051@gmail.com. 
Name:  _________________________________     Phone number:  _____________________ 
Payment options: cash, cheque (payable to KSA) or bank direct 060365002247200 (use reference Wine Fundraiser and your full 
name). Ways to return form: drop off at Jaques Four Square or email to cherylanderson051
@gmail.com.  
Please send me:
RRP per 
bottle
KSA special price
Bottle / Case
Number
(in bottles)
$
Total
Barone Montalto Sicilian White Wine 2014
$16
$12 / $144
Tahuna Sauvignon Blanc 2014
$16
$12 / $144
Lookout Point Pinot Gris 2015
$18
$13 / $156
Mosketto Italian Sparkling White Wine
$14
$10 / $120
Overstone Merlot 2013
$19
$15 / $180
Tahuna Pinot Noir 2016
$19
$16 / $192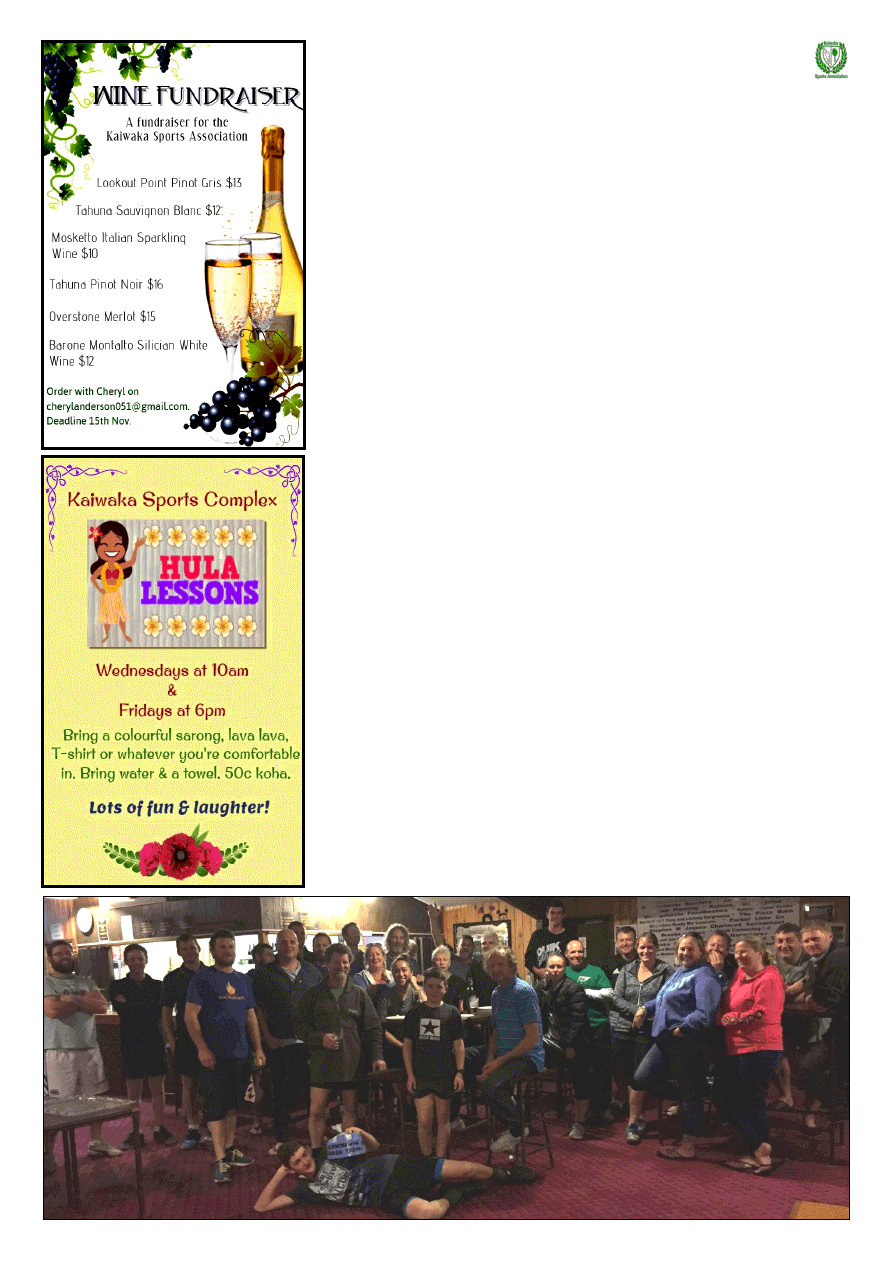 www.kaiwaka.co.nz 
Kaiwaka Bugle - 31 October 2017 
Page 11 
KAIWAKA SPORTS ASSOCIATION
Fright Night
A huge horde of wizards, fairies, goblins, 
ghouls, trolls and skeletons descended on 
the  Sports  Complex  on  Halloween  for 
Fright  Night,  you  can  read  about  the 
evening in this edition of the Bugle. 
This is turning into such a big event that 
we need lots of volunteers to pull it off – 
from  facepainters and  kitchen  helpers to 
haunted  house  scarers  and  judges.  Too 
many  people  to  list  individually!  Many 
thanks to you all. 
Squash Club Potty Challenge 
Our  Squash  Club  took  on  the 
Maungaturoto  Squash  Club  on  Monday 
for  the  battle  of  the  prestigious  Purple 
Potty Trophy - pictured below. The Potty 
Challenge was a great night. There were 
16  games  with  32  people  playing. 
Maungaturoto  brought  a  strong  team  as 
usual and dominated us at the start. 
It  was  looking  like  a  whitewash  when 
Kaiwaka  had  lost  3  out  of  its  first  4 
games.  However,  with  grit  and 
determination our club clawed itself back 
with  some  outstanding  individual 
performances  from  Roy  Fotheringham, 
Gordon  Pryor,  Kurtis  Danks,  Tracey 
Kemp, Craig Wallis, Rowan Clift, Blake 
Anderson,  Tara  Nolan-Gubb,  Matt 
Sanders  and  Craig  Wilson  who  gave  us 
the  decider  win  in  the  last  game. 
Kaiwaka  clinched  the  win  26  -  23.  The 
crowd  was  going  wild  with  loud  banter 
and hammering of the balustrade railing. 
The  competition  was  fierce  with  some 
great  skill  on  court.  All  the  games  were 
played in excellent spirit. 
Thank  you  to  Craig  Wallis  and  Rowan 
Clift AK Concrete Polishers Mangawhai 
(Kaiwaka  Squash  members)  who  helped 
clean and polish the floors. Thank you to 
Bruce  Leslie  for  organising  this  event 
and  to  everyone  who  brought  food  and 
assisted  with  the  night.  And  most 
importantly  a  big  thank  you  to  all  the 
Maungaturoto  Squash  Club  members 
who made this happen. 
KSA AGM 
The Kaiwaka Sports Association Annual 
General  Meeting  will  be  held  on 
Wednesday  22nd  November  at  7pm,  in 
the pavilion. All welcome. 
Wine Fundraiser 
Here's  an  opportunity  to  purchase 
fantastic wines at unbeatable prices – and 
support us at the same time! Enjoy them 
now,  or  stock  up  ready  for  the  holiday 
season. 
The  wines  are  top  quality  and  are 
cheaper than the retail price.  
* BARONE MONTALTO: Imported from 
Sicily this is a European style aged, off dry, 
white wine. A fruit driven wine with mid 
palate sweetness. 
* TAHUNA Sauvignon Blanc: This 
Marlborough Sauvignon Blanc has ripe 
tropical and gooseberry fruit flavours with 
an impeccable balance soft and 
approachable finish. 
* LOOKOUT POINT Pinot Gris.: This 
Pinot Gris has ripe, juicy stone fruit, pear 
and citrus flavours, with a little spice and 
beautifully balanced acidity. 
* MOSKETTO Italian Sparkling White 
Wine: Mixed aromas of fresh fruit, rose 
petals and white flowers. Light, 
effervescent and refreshingly fruity. Low 
alcohol (5%). 
* OVERSTONE Merlot: This wine is 
typical of Hawke's Bay Merlot with great 
colour and aromas of plum and dark 
berryfruit. The wine has silky tannins 
giving it a soft finish perfect. 
* TAHUNA Pinot Noir: This is a ripe and 
deeply coloured food wine with vibrant 
flavours of red berries and spice and 
aromas of berry and ripe cherry. 
Wine  can  be  purchased  by  the  bottle  or 
in  case  lots.  Check  out  the  selection 
available  in  the  order  form  which  is  in 
this edition of the Bugle. To order please 
return the form to me with your payment 
by  15th  November.  Delivery  will  be  the 
following fortnight. 
Athletics 
Do you have a child who is interested in 
Athletics?  The  Kaiwaka  Athletics  Club 
will start on Monday 6th November and 
will  run  on  Monday  evenings  at 
Otamatea  High  School  for  several 
months.  To  register  your  child,  contact 
Eileen Parsons on 4318 055. 
Tennis 
Does  your  child  want  to  try  something 
new?  Why  not  give  tennis  a  go?  Our 
Tennis Club offers junior lessons on our 
courts 
every 
Monday 
afternoon. 
Beginners  lessons  start  at  3:30pm, 
Intermediate  at  4pm,  and  Advanced  at 
4:30pm. Let your child try it out for free. 
All  equipment  provided.  For  more 
information call Floyd on 022 476 9669 
or email floydriver@yahoo.co.nz. 
~Cheryl Anderson, 4312 051, 027 3462702 
kaiwakasports@gmail.com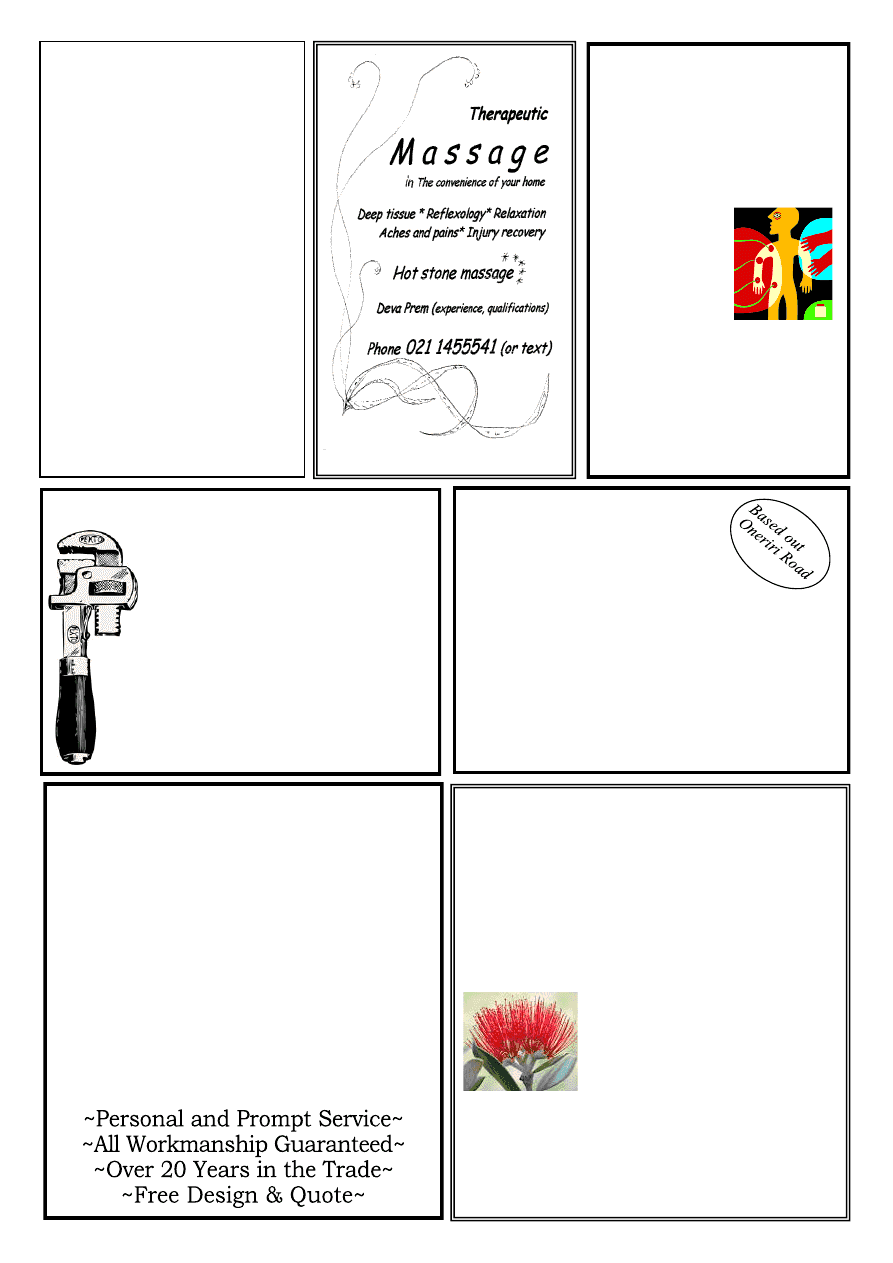 BARRY CURTIS PLUMBING LTD 
REGISTERED CRAFTSMAN PLUMBER 
Phone 431 5572
027 257 9884 
25 years' experience 
Friendly reliable service 
All plumbing & maintenance 
Alterations and new housing 
Spouting  
C
ompetitive rates 
PROMPT EFFICIENT SERVICE 
KAIPARA FLOORING CO 
Independently owned & operated 
32 HURNDALL ST MAUNGATUROTO
Supply & Installation of Carpet, Vinyl,  
Vinyl Wood Planking
Stockists of 2m & 3m wide 
vinyl & carpet short ends
Residential & Commercial
Q Card Finance Approved 
6-18 month terms 
6 mth interest free
First Class Installations
For a free measure & quote 
phone Christine  
09 946 9886 or 021 515 415 
kaiparaflooring@gmail.com 
http://www.kaiparaflooring.co.nz/ 
HODGETTS 
CONTRACTING
Digger Work 

Driveways 

House Sites  

Dams   

Drains, etc
Also available for HIRE 

4
3 ton Vib Roller 

Heavy Duty Tow  

4
Waterblaster    
 
Lazer Level 
Phone Mark 4312877 
027 447 8554 
OWEN STEVENS 
Osteo Therapist
For careful adjustments to bones 
and joints 
Treatment for humans and their 
pets 
Clinics: 
Kate's Place, 
Kaiwaka: 
Last Friday of 
month 
For bookings: 
9.00am-5.00pm  
Phone 
09 4312661 
Or phone Owen  
09 4317123 anytime 
Couples and Individual 
Counselling
Have you … 
Serious relationship issues? 
Heading for Family Court? 
Destroying each other? Children 
involved?
I'm Here To Help! 
Call me to arrange an 
appointment 
Keep trying if phone is busy
Pete Worsfold 
B.Soc.Sc., M.Soc. Sc, Dip Prof Counselling NZIPC, 
'Man Alive' Counsellor/ Facilitator, Prov NZAC. 
Professional service in your local area. Individuals, 
couples, any issue, males and/or females.
Private or WINZ Clients, Experienced 
Counsellor/Facilitator 
021 825 970  
or 021 063 0302
peteworsfold@xtra.co.nz 
www.mangawhaimassage.co.nz 
PLANNING A NEW KITCHEN?
 CONTACT NOEL McDOWELL
WELLSFORD 
KITCHENS
Ph/Fax 094312888
KAIWAKA-Any time
 QUALITY CUSTOM MADE 
KITCHENS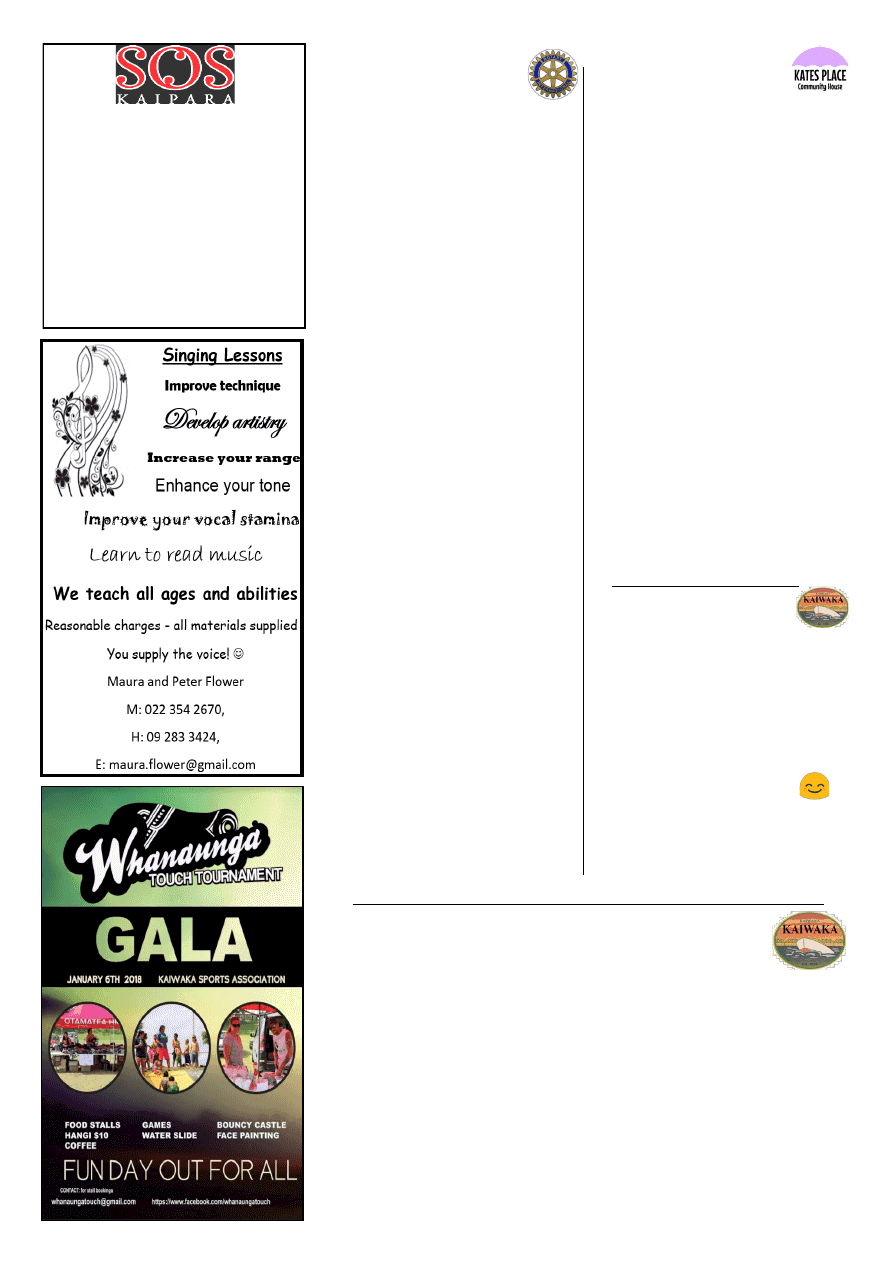 www.kaiwaka.co.nz 
Kaiwaka Bugle - 31 October 2017 
Page 13 
S.O.S Kaipara 
Support, advocacy, crisis and 
family therapy counselling, refuge 
housing to survivors of sexual 
abuse and domestic violence. Also 
Education prevention programmes 
for the community and clients.  
Office hours 9am to 3pm Monday to 
Friday; 24/7 services available via the 
Police or phone 09 4396070 
KATE'S PLACE 
Here are some of the courses 
and  activities  at  the  centre  in 
the  next  few  months.  For  any  further 
information  please  contact  us  on  (09) 
431-2661  or  join  our  fb  page:  kates 
place community house. 
6th November - Seniors Lunch for 
over  65's  -  from  11am,  Live 
Entertainment  &  Speaker  and  Light 
Lunch.  Please  RSVP  for  catering.  If 
you require a lift, please let us know. 
Living  on  a  Budget  Course  every 
Monday  from  12pm.  This  is  a  free 
course koha welcome. 
8 November - Employment Course 
from  11am,  all  the  basics  you  require 
on how to find, apply and be prepared 
for employment opportunities. This is a 
free course, koha welcome. 
6 December - Make your own skin 
&  healing  balms,  great  idea  for  Xmas 
gifts.  From  11am.  Course  cost  $15, 
plus  $20  materials.  Payment  required 
on confirmation. 
Peer  tutoring: We offer tutoring one 
on  one  or  in  a  peer  group  every 
Monday  and  Wednesday  afternoon,  if 
you  have  a  child  that  would  benefit 
from  peer  support  with  their  subjects 
please contact us. $5 per group session, 
$10 for one on one.  
Regards, Kirstie & Iris
PT.CURTIS 
CRUISING CLUB
Point  Curtis  Cruising  Club  Members 
Only  Fishing  Competition  Saturday 
11
th
 and Sunday 12
th
 November 2017 - 
see further information below. 
Tickets can be Purchased from, Jaques 
SuperStore, 3Furlongs Bar and Grill or 
Wellsford Sports and Leisure. 
Species Kingfish, Kahawai and 
Snapper. 
Mark it on your Calendar.   
Fish  of  the  Month  is  Snapper  till 
14
th
 November 2017 
  Next  Club  Meeting  14
th
  November 
2017, 7pm at 3Furlongs Bar and Grill. 
~Wayne Leslie, Commodore 
MAUNGATUROTO 
and DISTRICTS 
ROTARY CLUB 
Another  month  has  passed  with  many 
activities having been undertaken. 
A  highlight  of  the  month  would  have 
to  be  the  acceptance  of  three  new 
members.  These  people  have  a  wide 
range  of  skills  and  will  certainly 
enhance the work we do.  
We  are  currently  seeking  more 
members  so  If  you  are  interested  in 
learning  more  about  Rotary  you  can 
access  the  website  <rotarymgto.club> 
or talk to a Rotarian. 
Over  four  days  we  had  a  "pop-up" 
shop in Maungaturoto. This gave us an 
opportunity  to  show  the  community 
the  types  of  work  that  Rotary 
undertakes both locally, nationally and 
internationally. We had an Emergency 
response  kit  on  display.  These  cost 
$650  and  contain  essentials  for 
immediate support for those in disaster 
areas. 
We  have  also  been  privileged,  along 
with many others in the community, to 
support  the  Playground  project  at  the 
Otamatea  Marae  and  a  number  of  us 
were  able  to  be  at  the  unveiling  and 
playground opening on 14th October. 
We have had two interesting speakers, 
one  of  whom  spoke  about  thirty  trips 
to Vanuatu with teams to help enhance 
water  supplies  and  other  essential 
resources. A recent speaker gave us an 
insight into what is involved in being a 
Sikh. We were again reminded of the 
diverse  nature  of  our  community  and 
its outreach. 
Our  International  President  has 
challenged  each  Rotarian  to  plant  a 
tree prior to Arbour Day next year. We 
are  currently  looking  at  planting 
several  hundred  trees  on  a  local 
property. It will mean that this will be 
one  objective  that  has  been  fulfilled 
ahead of time. 
This  year's  senior  function  will  take 
the  form  of  an  afternoon  tea,  with 
entertainment, instead of a dinner. This 
will  be  held  on  November  the 
afternoon of Friday 24th - see advert to 
RSVP on page 3. 
Point Curtis Cruising Club Inc  
Fishing Competition  
Club Members Only  
11th & 12th November 2017 
Start: 6am Saturday 11th November - Finish: 6pm Sunday 12th November 
Weigh in 5pm to 6pm each day at The 3 Furlongs Bar & Grill  
Maximum Weigh in - 2 species per angler per day 
Prize giving 6.30pm Sunday 12th November 
BBQ Following prize giving. Please bring a plate  
Ticket outlets: 3 Furlongs Bar & Grill, Jean McLeish at Jaques,   Wellsford Sports & Leisure. 
Seniors: Entry fee $20; Species - Snapper, Kingfish & Kahawai (only rod & reel or 
handline fishing with a maximum of 2 hooks). Senior Prizes: Snapper 1st $300, 2nd 
$200, 3rd $100, All other species - Gift Vouchers for 1st, 2nd & 3rd. 
Juniors: (aged under 15)  Entry fee $10; Species - Snapper, Kingfish & Kahawai (only 
rod and reel or handline fishing with a maximum of 2 hooks). Junior Prizes: 1st, 2nd 
& 3rd prizes for all species  
ALL SNAPPER WEIGHED IN GOES into the DRAW for the AVERAGE WEIGHT PRIZE
Rules  &  Disclaimer:  Competitors must be fully paid up member of this Club for 7 days prior to the start of 
this competition. Maximum of 2 per species per angler per day allowed to be weighed in.  There is to be no use 
of nets, longlines, kontikis. kites or similar.  All people on boats must have purchased tickets for this competi-
tion.    MAF  rules  &  regulations  apply  with  the  exception  of  snapper  which  must  measure  32cm  or  more.   
There is a maximum of 2 hooks per line.  In the event of 2 or more fish the same weight – the first weighed in 
counts.   Boundaries are anywhere north of and including Waitemata & Manukau Harbours. The Point Curtis 
Cruising Club Inc. accepts no liability for any damage or loss of property or injury to any person.  
Decision of Weigh-Master is final.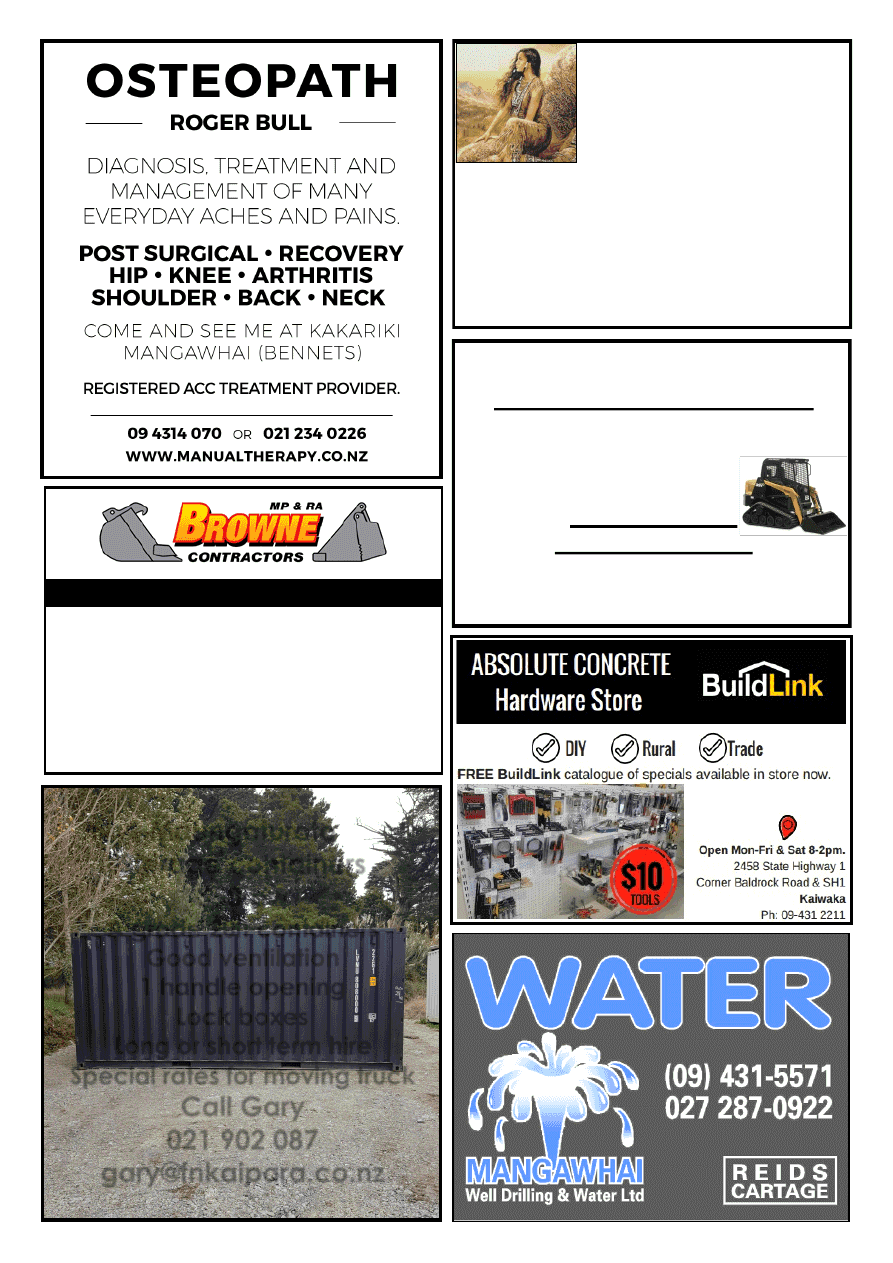 Natural Earth Ltd 
Landscape and Bobcat services 
 : Driveways :Landscaping :Retaining Walls 
 : Hole Boring: Land Levelling :Trenching 
 : Decks :Fences :Sections Cleared 
 : Plus much more
Tel 09 4312 885 
Mob 02102391280 
For A Fast Friendly Service  
Contact Tim Hicks 
4T DIGGER – BOBCAT – TIP TRUCK 
Property Maintenance - Driveways - Building Sites 
Stump & Tree Removal - Hole Boring - Chain Trencher 
Calf Shed and  Stockyard Cleaning
KAIPARA - WHANGAREI - RODNEY 
Phone Matt: 021 199 6677 
Email: mprabrownecontractors@gmail.com 
Maungaturoto  
Storage containers  
$50 pw  
A grade 20ft containers 
Good ventilation 
1 handle opening 
Lock boxes 
Long or short term hire 
Special rates for moving truck 
Call Gary  
021 902 087 
gary@fnkaipara.co.nz 
Trails end 
spiritualist gathering 
Last Sunday of every month  
11.30-2pm  
Tea/coffee provided  $5 koha 
For all inquiries: 
021 165 2629 evenings (09) 945 0707 
Trail.end@hotmail.com 
1758 Cove Road, Mangawhai
Bringing together light minded people 
Guest speaker each month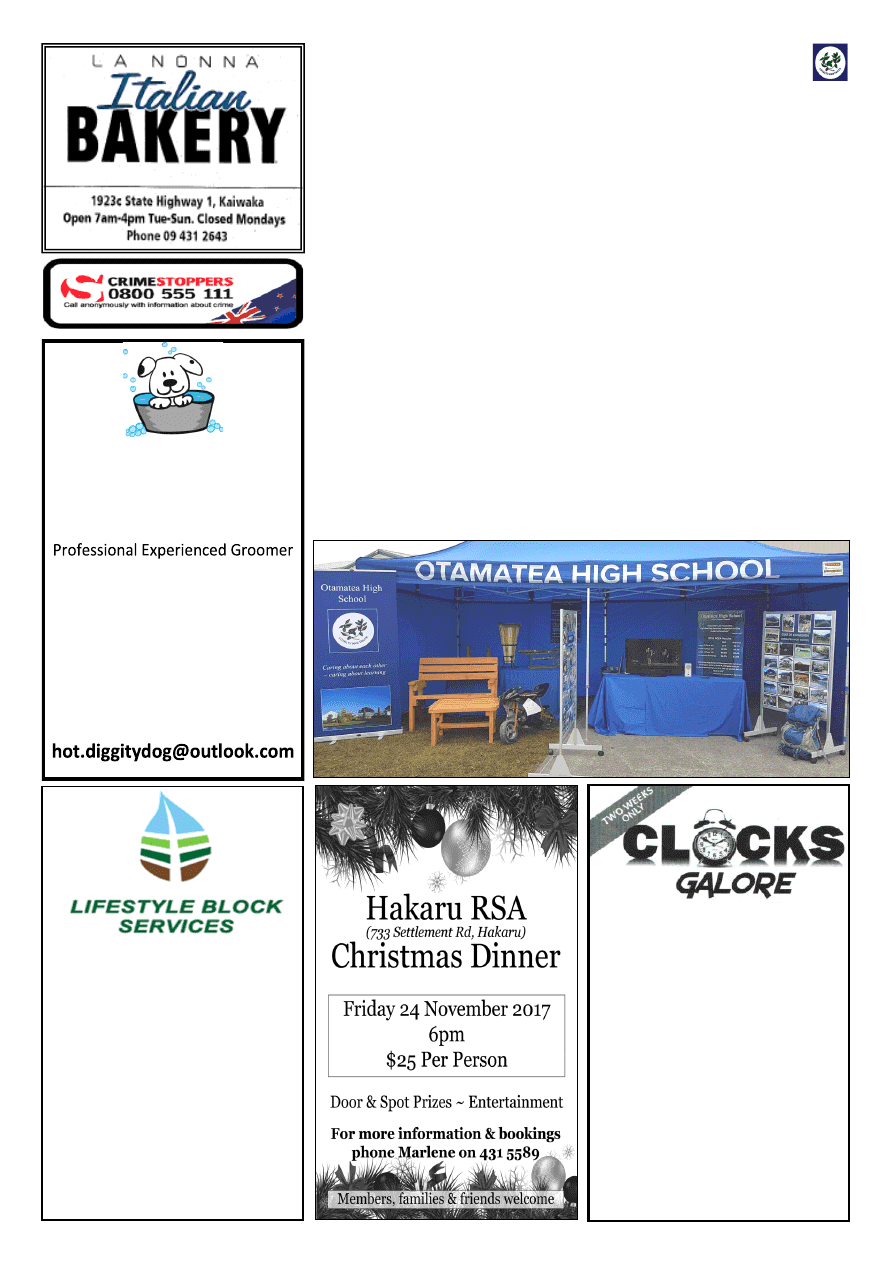 www.kaiwaka.co.nz 
Kaiwaka Bugle - 31 October 2017 
Page 15 
Hot Diggity Dog 
DOG GROOMING 
All breeds dog grooming 
Short practical grooms - summer 
Breed Standard Grooms 
Designer fusion Grooms 
Oneriri Road
By appt Phone  
Pam 09 4312143 
Or text only 0273335380 
Email  
OTAMATEA HIGH SCHOOL 
Make Baleage while the sun shines! 
Let us make hay/sileage for you, or 
buy single & 5 bale equivalents  
from us
. 
Contact Mark on 021 801 065 or 
Contact Lisa on 021 108 1057
We also do: 

Fencing 

 Spraying 

  Mulching 
 
Stockwork 

  Stock Water 
Systems 

  Tree Trimming  

 Driveway & Track Maintenance  
Senior Prizegiving 
Next  Friday,  3  November,  is  the  Senior 
Students 
Prizegiving. 
All 
family 
members are welcome to this event. The 
prizegiving  starts  at  1.30pm  (seated  by 
1.15pm). The new prefects for 2018 will 
be announced.  
As  part  of  the  Twin  Coasts  Community 
of  Learning  the  5  schools  involved 
(Otamatea  High  School,  Maungaturoto 
Primary 
School, 
Paparoa 
School, 
Kaiwaka  School  and  Mangawhai  Beach 
School)  the  group  have  been  asked  to 
pilot  a  new  Learner  Support  Model.  As 
part  of  this  pilot  parents/caregivers  can 
book  an  appointment  or  go  along  to  the 
drop in sessions. The pilot will run until 
June next year and then will be reviewed. 
Raffle Result 
The  OHS  PTCA  is  proud  to  announce 
the  winner  of  the  40-hour  working  bee 
raffle  is  Kyle  van  Harlingen,  who  is 
kindly  donating  the  prize  to  the  local 
Motor-cross club. 
Working Bee 
Saturday the 4th of November at 1pm is 
an  opportunity  to  help  improve  a 
community facility and redeem the prize 
for  a  raffle  that  raised  over  $1000  for  a 
new reflective garden for the children of 
Otamatea High School. Sunday the 5th is 
our  rain-date  -  for  more  information 
watch next week's Te Panui or  
contact  Floyd  Driver  on  022  476  9669, 
Email: floydriver@yahoo.co.nz 
Situations  Vacant  at  Otamatea  High 
School 
Student  Support  Secretary:  (3  days  a 
week)  We  require  a  competent, 
administrator with a friendly and positive 
disposition  to  run  the  school's  student 
support centre, Te Whare o Rongo, for 2 
days  a  week  and  to  act  as  a  back-up 
administrator for a further 1 day a week. 
The  following  skills  and  attributes  are 
crucial 
for 
this 
role: 
excellent 
interpersonal skills, flexibility, the ability 
to  problem  solve,  the  ability  to  work 
independently  and  in  a  team  and 
willingness 
to 
take 
on 
other 
administrative  tasks  as  required.  Due  to 
the  nature  of  the  role  a  high  level  of 
confidentiality is required. 
This is a fixed term, term time only role 
for the 2018 academic year. 
Please send a completed application form 
(available  on  the  school  website),  CV 
and covering letter stating your strengths 
for  this  position  to  Nikki  Donaldson, 
Principal's  PA,  Box  64,  Maungaturoto, 
Northland;  ph  (0800)  682  628;  email 
ohs@otamatea.school.nz 
Applications 
close, 9am, Friday 10th November 2017. 
The Otamatea High School stand at Mangawhai Beach School Ag and Gala Day.
PLUS WATCHES 
ALMOST5 300 PIECES 
13 NOV - 25 NOV 
(CLOSED SUN 19 NOV) 
9AM - 5PM 
WELLSFORD HUB 
RODNEY STREET 
(THE OLD WELLSFORD LIBRARY 
OPPOSITE CALTEX & MCDONALDS) 
$5 - $3,000 
ALL CLOCKS ARE FULLY REPAIRED 
As it is now 62 years since I started as an 
apprentice watchmaker I have gathered around 
us clocks and watches of all sorts. 
COME IN EVEN JUST TO LOOK AND LISTEN 
Peter Cotton - Watchmaker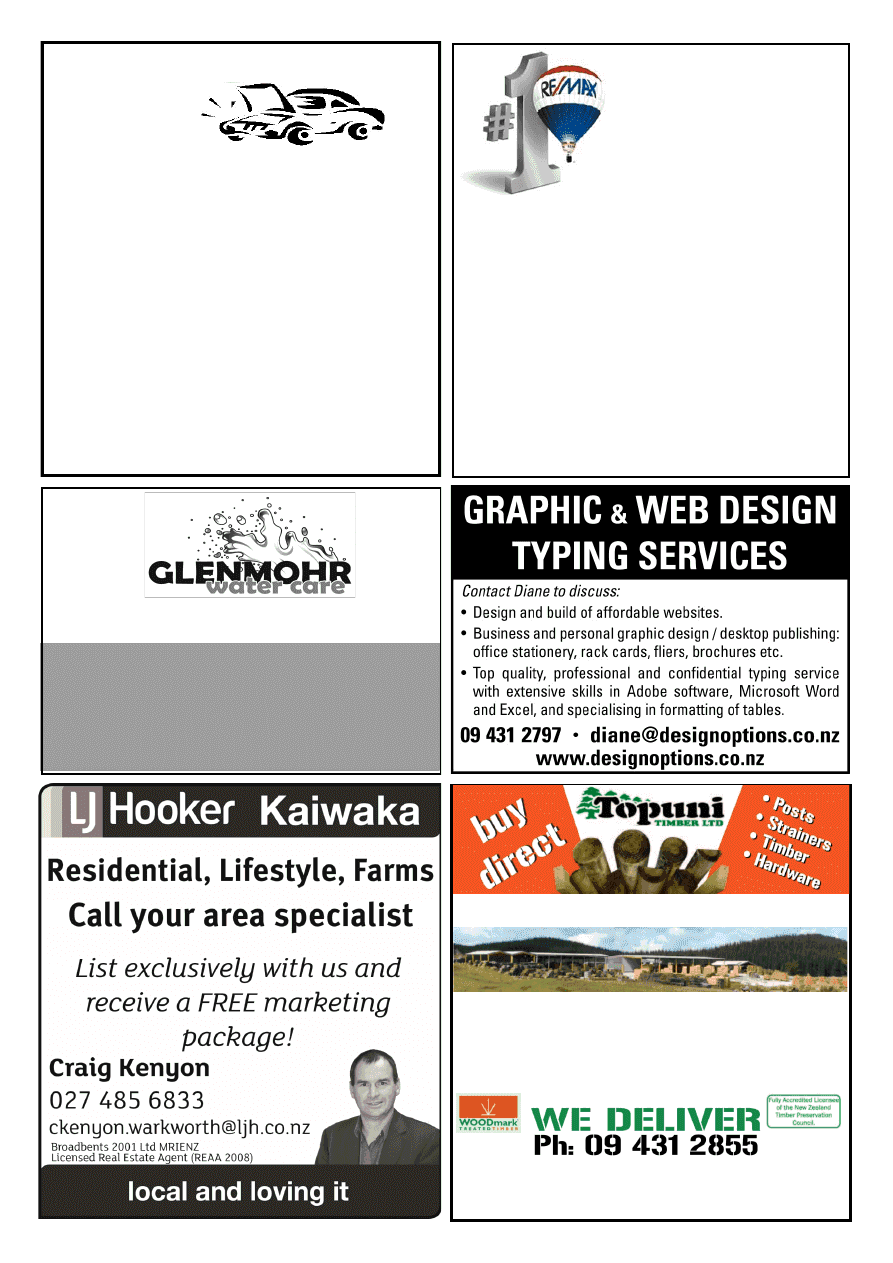 Water Tank Cleaning 
• 
Keep your water safe & clean  
• 
Removal of sediment, silt etc. 
• 
Vacuum or full scrub 
• 
Minimal water loss 
Phone Mark (09) 432 0655 or 0274 707607 
Twinkle Tow 'n' Tyre 
Think you'll get a better deal in the city? 
Ring us - it won't cost anything! 
1837 State Highway 1, Kaiwaka 
Phone 431 2823 
*W.O.F. 
*Tyres 
*Windscreen 
replacement 
*Chip repairs 
*Bulk Oil 
*Batteries 
*Welding 
*Custom built 
trailers 
*Trailer hire
LOCALLY OWNED AND OPERATED 
QUALITY PRODUCTS • FRIENDLY ADVICE • GREAT SERVICE 
Quality Products milled from High Density NORTHLAND Radiata Pine. 
Treated and guaranteed to NZS3640 with commitment to 
Environmental Safety.
Phone, fax, email, or come into the mill 
Schiska Rd, Topuni, SH1, 10 min north of Wellsford. Fax: 09 431 2856 
Email: sales@topunitimber.co.nz           Mon - Fri 7am-5pm 
• Fencing 
• Retaining 
• Decking 
• Landscaping 
• Gates 
• Hardware 
There are more people 
wanting to buy than 
there are houses 
available!
Vacant land, home and income, DIY dream … 
whatever your property's condition there is a buyer 
out there waiting to give you their money. 
Get your local agent's appraisal of your property to 
find out what's it's really worth. 
Contact Beth Stone today! 
Mob: 0274 937 801 
Email: beths@remaxrealty.net.nz 
RE/MAX Realty Group MREINZ 
Northern Properties Limited 
Licensed REAA 2008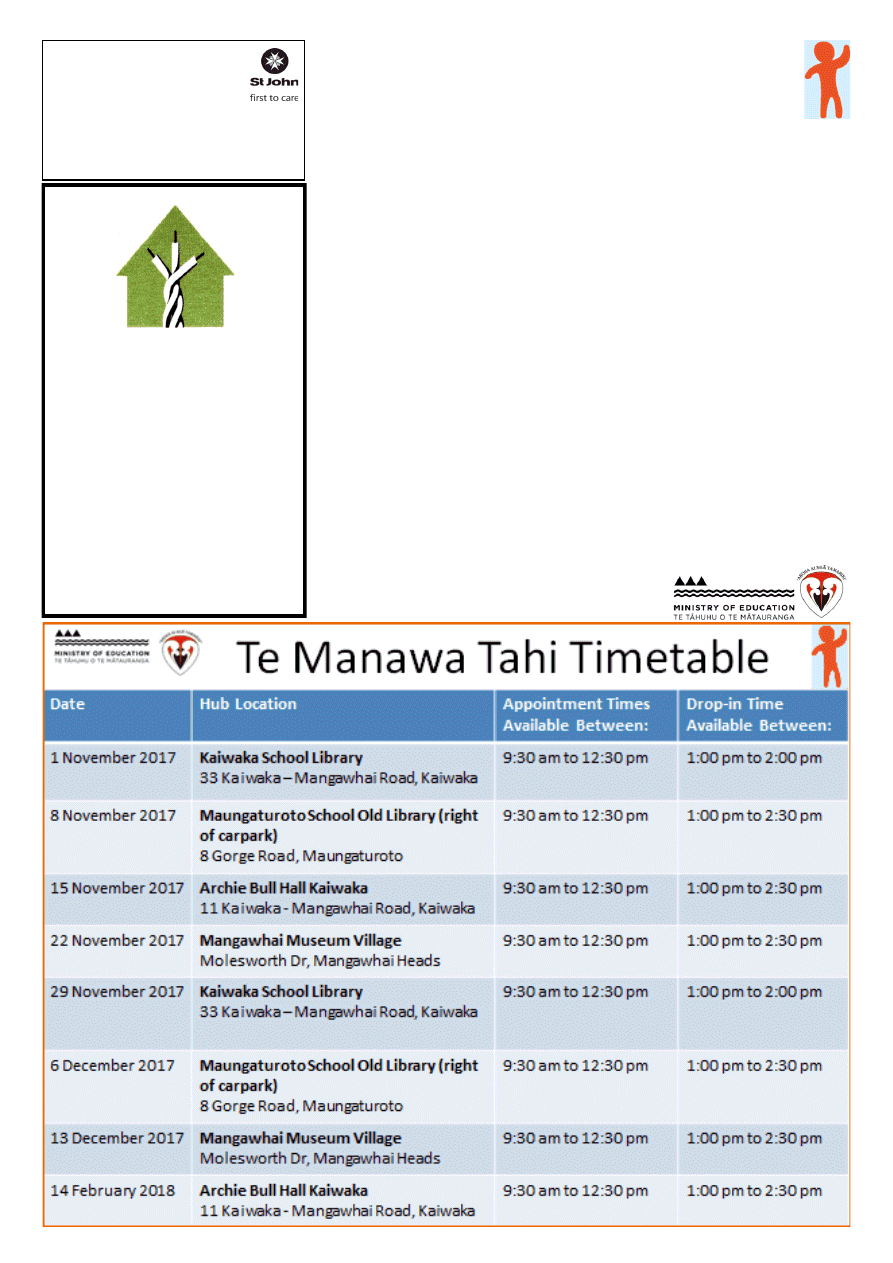 www.kaiwaka.co.nz 
Kaiwaka Bugle - 31 October 2017 
Page 17 
MAUNGATUROTO &  
KAIWAKA ST.JOHN  
Selling Christmas trees from 
the Maungaturoto Station 
and the Kaiwaka Op shop. First 
delivery on the 1st of December. If 
you would like to pre-book one then 
ring/text 021355734 or 0211622482
.
The Ministry of Education's Learning 
Support service (previously called 
Special Education) has been talking 
with your Schools / Kura, Early 
Childhood, Te Rūnanga o Ngāti 
Whātua and Te Uri o Hau to provide 
better support to children who need 
additional help. We are going to trial a 
different way of working so that 
children receive support as quickly as 
possible. 
Early Intervention and 
Communication Support First Up 
We will focus on support to children 
who need Early Intervention and 
Communication support first – learn 
from a different way of working – and 
add other support after this. 
What is Early Intervention Support? 
Support for pre-school children who 
might be learning or developing at a 
slower rate than other children, having 
difficulty with their behaviour, or with 
learning social skills. 
What is Communication Support? 
Support for children who have 
difficulties with talking, listening and 
understanding language. 
What is happening? 
We will be setting up Support Hub's 
(called Te Manawa Tahi) in various 
locations in your community. 
Te Manawa Tahi will have 
specialists available so you can discuss 
your concerns directly with them, and 
determine what may be required to 
help.  Te Arahi will be flying on a flag 
outside each Te Manawa Tahi venue. 
When is this happening? 
Please see the timetable attached for 
information on when and where Te 
Manawa Tahi will be in your 
community. 
From 9:30 am to 12:30 pm Te Manawa 
Tahi can be visited by appointment. 
You can ring and make an appointment 
by calling 0800 KAHUI AKO (0800 
52484 256) or your School / Kura / 
Early Childhood centre can make an 
appointment for you. 
If you want to drop in to Te Manawa 
Tahi without an appointment you can 
do so from 1:00 pm to 2:30 pm (1:00 
pm to 2:00 pm when Te Manawa Tahi 
is at Kaiwaka School Library) . 
When are the changes happening? 
We  will  be  trialling  the  different  way 
of  working  from  November  2017 
through until June 2018. 
Reyahn George Leng 
Registered Electrician 
Local, honest and reliable. 
For your residential and 
light-commercial projects. 
022 314 1068  
 09 431 2527 
SUPPORT FOR CHILDREN HAVING 
DIFFICULTY LEARNING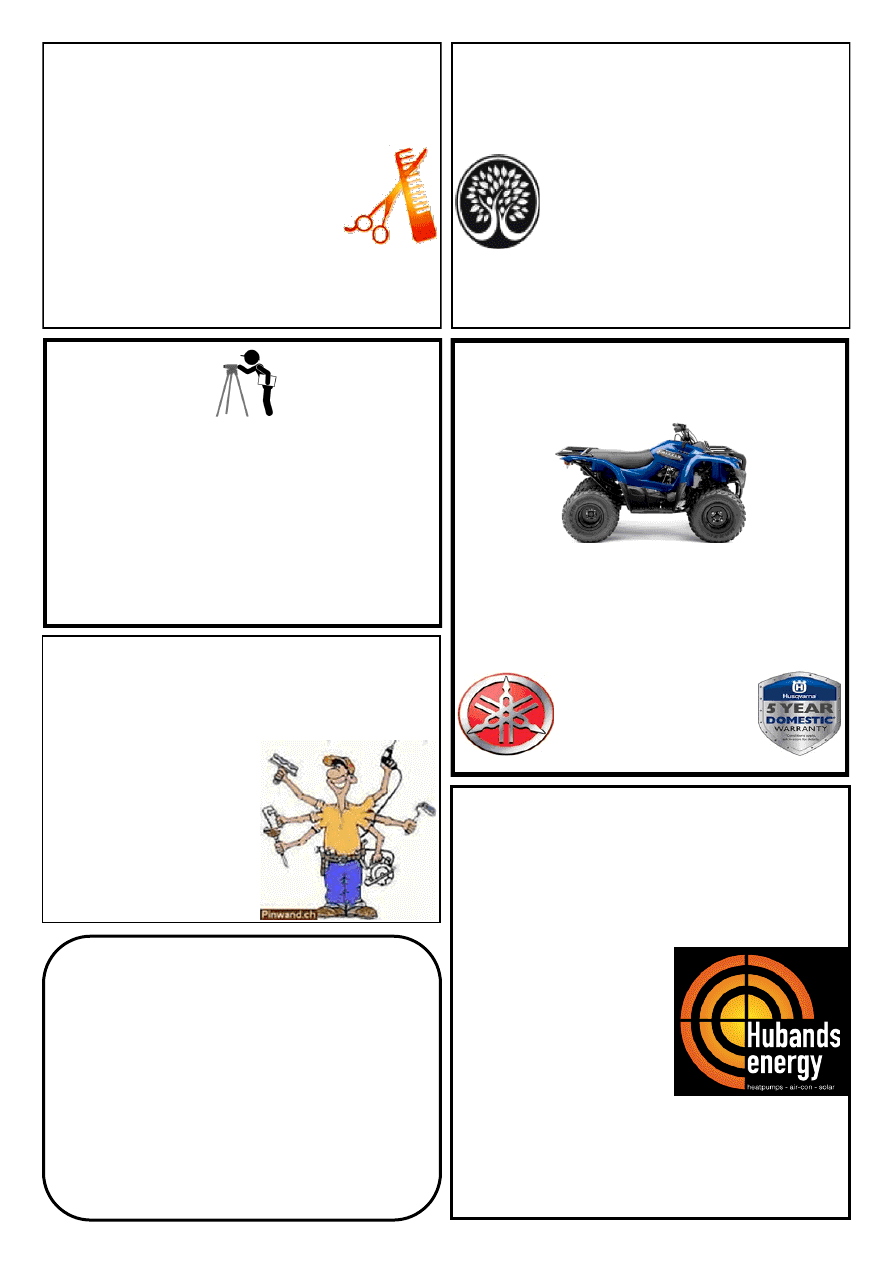 KAIWAKA 
MOTORCYCLES LTD
SALES – SERVICE – SPARES 
FARM BIKE SPECIALIST
PHONE 09 431-2127 
10 KAIWAKA-MANGAWHAI ROAD, KAIWAKA
Trimmers  
from $279
Chainsaws  
from $339
YAMAHA 
HUSQVARNA 
Northland's Award Winning 
Solar Company
SEANZ Best Solar Business Winners 2015/16
EXCLUSIVE 10 year installation warranty 
FREE No obligation onsite quote
Complete systems 
from $5990
See our range of: 
✓
Heatpumps 
✓
Airconditioning 
✓
Hot Water 
Heatpumps 
✓
Central Vacuum Systems
09 430 0019             sales@hubands.co.nz 
15 Kioreroa Road, Whangarei
Locally owned and operated for 35 years 
UP-LINK 
CHRIS WARING 
FREEVIEW INSTALLATIONS 
T.V. - HOME THEATRE &  
HI-FI ADVICE/SET UP
SKY ACCREDITED INSTALLER
MOB.0273403747 HM.094312328 
EMAIL cwaring44@gmail.com
28 YRS EXPERIENCE 
OFFERING UNBIASED ADVICE 
The Little Job Man 
Are you tired of those little jobs not getting 
done ? 
Indoors  or outdoors 
Sick of waiting ? 
Give me a call to discuss 
what you need doing. 
Doug  0277132625 
Ken Urquhart 
BSurv Licensed Cadastral Surveyor 
KMU Surveys Ltd
467 Bickerstaffe Road 
RD 2 
Maungaturoto 0587 
Ph 09 431 8705 
Mob 021 161 2344 
kenurquhart@xtra.co.nz 
Waipu Natural Health 
3 Cove Road, Waipu  (opposite the Pizza Barn) 
Ph: 09 432 1325 
www.waipunaturalhealth.co.nz
Clinical Nutritionist-Hair Analysis for Masked 
Allergies, Ozone Therapy, Prolotherapy, 
Naturopath-Medical Herbalist, Registered 
Massage Therapists, Reflexology-
Craniosacral Therapy, Acupuncture-Facial 
Acupuncture, Kineso Taping, Hypnotherapy, 
Counselling, ThetaHealing, Beauty Therapy
KIDS DAY – AFFORDABLE HEALTH SUPPORT 
FOR KIDS – every Wednesday 
(call us or drop in)
Gift Vouchers available
AFFORDABLE PRICES! 
MENS CUT FROM $20.00 
LADIES CUT FROM $30.00 
KIDS CUT FROM $18.00 
COLOUR & CUT FROM $120.00 
JUST CUTS'AND   
MORE 
021 165 2629 or (09) 945 0707  
NOW SELLING: scented tealights, incense, smudge sticks, 
copper bracelets, aurora ball crystals, dream catchers, healing 
stones, rose quartz, cds, and much more. Open 6 days.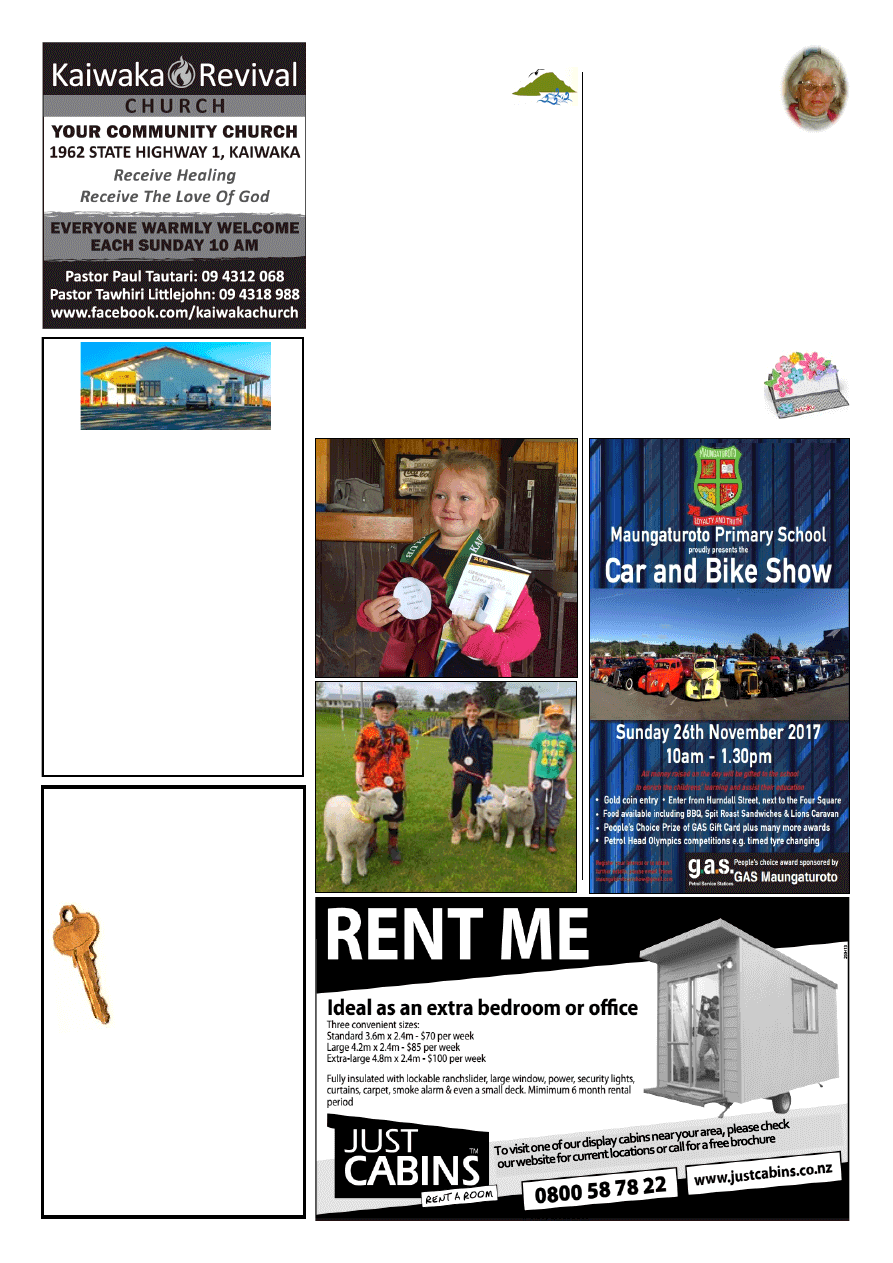 www.kaiwaka.co.nz 
Kaiwaka Bugle - 31 October 2017 
Page 19 
Kaiwaka 
Hardware  
& 
Key cutting
Phone 4312 063  
or 022 0642 703
kaikey2015@gmail.com
    Keys Cut  
Household Hardware  
Sharpening  
Knives & Tools 
Curtain Tracks & Fittings
Not there? Call Doug and he'll 
sort
it for you. 
(
Next to Kaiwaka Motorcycles)
KAIWAKA SCHOOL 
Te Pounga Marae 
130 Nathan Rd. Oneriri. Kaiwaka 0573 
COMPLEX FOR 
HIRE 
Functions 
* Weddings  * Birthdays  
*Anniversaries * Meetings  * Wananga 
5 hour meeting * 12 hour stay  * 
Overnight 
*All welcome - No more Drink-driving 
Amenities: 
*Convo Combi Steamer * Bratt Pan * 
Dish Washer/Sterilizer * 3 Door Glass 
Chiller (walk in) etc…All Crockery * 
Linen Supplied * Central Heating and 
Air Conditioning and much more.  
Can also cater for small groups…. 
For more information please contact: 
Kim Wallace  
Home: 09 832 1133  Mob: 0211275340  
Email: kimwallace@xtra.co.nz 
From  Thelma's 
Scrapbook … 
A Thought For Others. 
A smile, a song and laughter 
will brighten up each day, 
No matter if the blue skies are clouded 
o'er with grey, 
A smile, a song and laughter will chase 
the clouds away. 
A card, a note, a greeting will help to 
win new friends, 
And show that you remember such 
simple, little things, 
A card, a note, a greeting and a 
friendship you begin. 
A thought, or care, are tokens that 
bring you joy untold, 
And keep you in some 
memory when others have 
grown old, 
A thought, or care, are 
tokens that never will 
Thank you for Ag Day 
A  big  thank  you  to  all  the 
people  who  helped  with  our 
wonderful Agricultural Day. 
We  especially  thank  Sara  McAulay 
who co-ordinated the whole day. 
Also  to  Gabrielle  Kapa,  Te  Awhina 
Whitehead,  Kerry  Law,  Ewan  Hastie, 
Ross  McAulay,  Mel  Gilligan,  Lindell 
Ferguson  who  helped  the  day  run 
smoothly.  And  to  the  ASB  bank  who 
attended  the  Prize  Giving.  Your  help 
gave  our  students  with  lambs  a 
wonderful day. Photos below. 
Kapa Haka Festival 
We  are  all  looking  forward  to  the 
Kaipara  Kapa  Haka  Festival,  which 
will be at Mangawhai Beach School on 
Saturday  11  November.  We  are 
performing at 12.20 pm and need to be 
there by 11.00am. All Nga Tumanako / 
Kapa  Haka  students  are  requested  to 
attend this exciting annual event.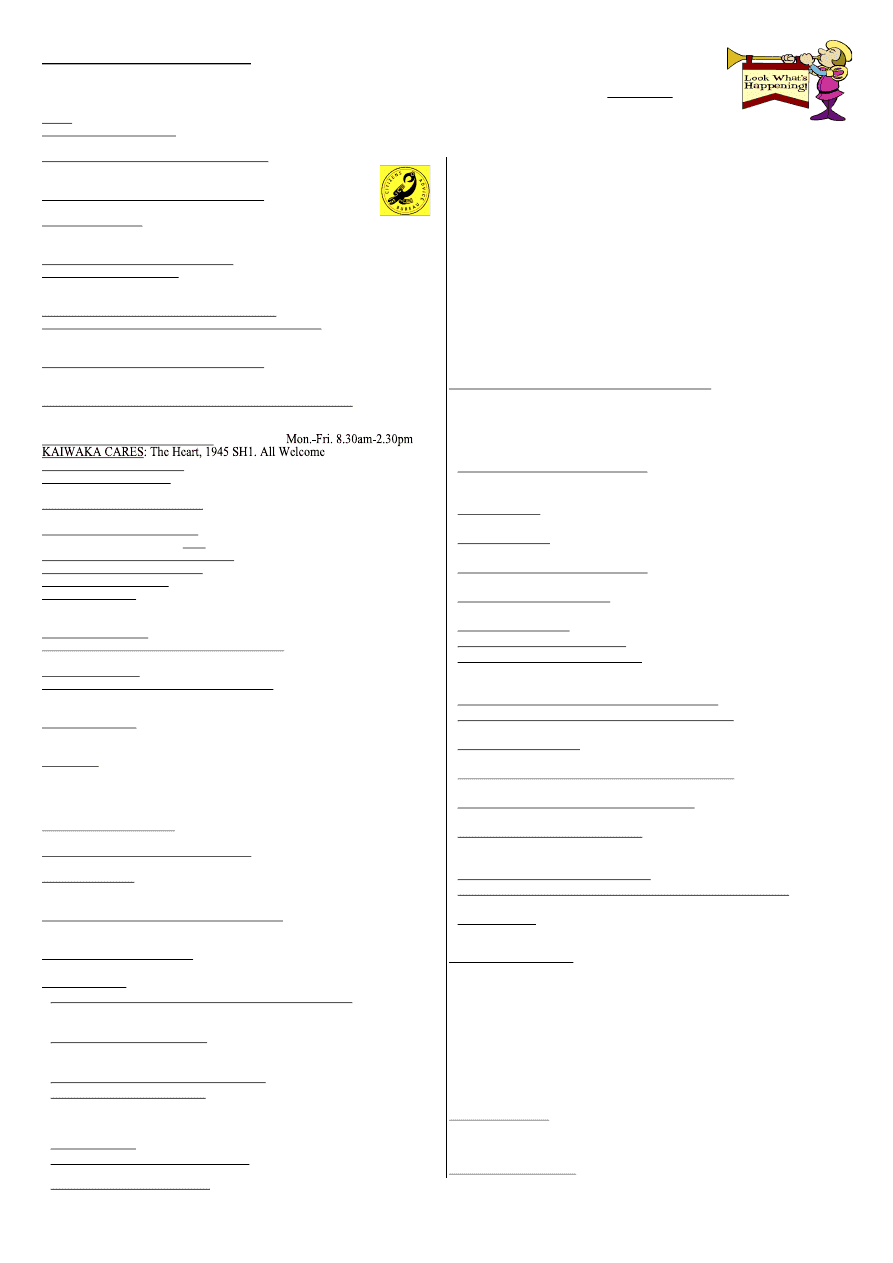 Next Bugle Deadline midday Friday 10 November 2017
WHAT'S ON
PLEASE ~ do let us know what is on - email 
kaiwakabugle@kaiwaka.co.nz 
*3Nov~Otamatea High School Senior Prizegiving, seated by 1.15pm 
*3Nov~Jules Riding, Christ the King Anglican Church, Mwi,7pm 
*3Nov~'My Cousin Rachel', 7.30pm KWMH 
*6Nov~Let's Do Lunch, Kate's Place, 11am 
*6Nov~Kaiwaka Athletics begin at Otamatea High fields 
*9Nov~Otamatea Repertory Soc AGM, 7pm, at the theatre 
*11Nov~ARMISTICE DAY, service at Hakaru RSA, 11.30am 
*11Nov~Kaipara Kapa Haka Festival, Mangawhai Beach School 
*17Nov~'Captain Fantastic', 7.30pm KWMH 
*22Nov~Kaiwaka Sports AGM, 7.pm 
*23Nov~Maungaturoto Community Charitable Trust AGM,1pm 
*24Nov~Rotary Seniors Afternoon Tea, 2pm 
*24Nov-3Dec~'The Frog Prince', ORT, Maungaturoto 
*26Nov~Car and Bike Show, Mgto Primary School, 10am 
*26Nov~'The Emoji Movie', 2pm KWMH 
*28Nov~Hakaru Community Hall AGM, 7.30pm 
KWMH = Kaiwaka War Memorial Hall; KSA = Kaiwaka Sports Association 
See www.kaiwaka.co.nz for more information 
HOUSEHOLD RUBBISH COLLECTION - Kaiwaka Pick up: 
Mondays = Green bags (Northland Waste - 09 430 3273) 
Wednesdays  = Blue bags and yellow recycling (at Jaques $3.00 
and  $1.50)  (Kaurilands  09  4392146);  ONLY  Blue  and  Yellow 
bags picked up on Oneriri Road. 
 DIABETES  Support  Group  -for  Kaiwaka,  Mangawhai, 
Wellsford  10am,  3rd  Friday  of  month  Ph:  Colleen  James  09 
4314238 
 DRINK CAN 'tear tabs' - for Starship Hospital- please collect - 
98 Kaiwaka Mangawhai Rd, leave in mailbox, Ph. 4312625  
 GENEALOGY - Wellsford: 1st Thursday in month Ph: 423 
7033; Waipu: 4th Monday in month Ph: 4312 725 
 GYMNASTICS  OTAMATEA  -  Tuesday  Ph:  Stephanie  022 
3624998 
 HAKARU PONY CLUB - Secretary Denise Rogers 021423376 
secretary@hakaruponyclub.co.nz  
 KAIPARA HUNT - Secretary Albert Doonenbal Ph 4312059 
 KAIWAKA BADMINTON -Tuesdays 7.30pm Ph: 4312345 
 KAIWAKA  DRAMA  CLUB  -  Dave  Edwards  021  611198  - 
KaiwakaDrama@gmail.com Monday 5:30-7:00pm KWMH - FB 
- "KaiwakaDramaClub" 
 KAIWAKA DRUM & DANCE CLASSES - 021 611198 
 KAIWAKA GARDEN & FLORAL GROUP - 2nd Thursday in 
month. Ph: 431 4744 
 KAIWAKA  CUBS  -  Thursdays  5.30-7pm,  Hakaru  Ph:Bruce 
4312542 
 KNITTING FOR WHANGAREI HOSPITAL - 2nd Tuesday in 
month, Archie Bull Hall 10am Ph 4314827 
 MANGAWHAI COMBINED REBUS CLUB - 2pm, 3rd 
Thursday month, Senior Citizens Hall Mangawhai. Ph: 4315777 
 OTAMATEA GREY POWER - Kath Pattinson 09 283 2052, 
1pm last Wednesday of month, Anglican Church Hall, 
Maungaturoto 
 PT CURTIS CRUISING CLUB - Jean Ph: 4312227 (wk), 4312520 (hm) 
 RSA,  HAKARU  &  DISTRICTS  WOMEN'S  SECTION  –  meets 
1.30pm 4th Thursday of the month. Ph: 431 5818  
 TRAMPING - Mondays 9am-2:30pm Maria 4312 234 
HALLS FOR HIRE: 
 St.Pauls Archie Bull Hall HIRE $20 half day, $40 full day per 
hire, R. Morgans, Ph 4312365 
 Kaiwaka  War  Memorial  Hall  HlRE  -  Phone  4312725  or 
kaiwaka.hall.bookings@gmail.com 
 Hakaru Community Hall HIRE -Ph. 4312256 or 4312110 
 Te Pounga Marae queries - R. O'Leary 4312 423, J.Nathan 021 
186 7382 
 Kaiwaka Sports Association hire/queries - C. Anderson 4312051 
or kaiwakasports@gmail.com 
Justice of Peace:  
B.FJaques  4312  048;  L.Donaldson  4312  228;  A.F.Hargreaves 
4312 045, W.Howard 4312 725 - please phone to make sure they 
are available www.justiceofthepeace.org.nz 
Marriage Celebrants:  
L.Donaldson; A.F.Hargreaves; Y Osborne
LOCAL SERVICES 
*Emergencies - Ambulance, Fire, Police - dial 111 
*Non-urgent Police phone 09 4311150
A A: Meets Wed., 8pm Kaiwaka Ph: 4315543, 0800229 6757 
ASUREQUALITY LTD (was AgriQuality) Call Free 0508 0011 22  
BUDGETING SERVICE, WELLSFORD: Free confidential advice & 
support for all areas of personal finance. Ph (09) 423 7123 
CAB-Citizens Advice Bureau.Wellsford Ph: 4237333 
0800 367 222 email:cab.wells@xtra.co.nz  
CIVIL DEFENCE - Kaiwaka Community Response Group: 
kaiwaka.civildefencecrg@gmail.com, 4312725 Wendy 
DOG/STOCK /NOISE CONTROL 0800 105 890 
FUNERAL SERVICES: Morris & Morris Ltd, 
Whangarei - Bev Jaques Ph:4312367 or 0800667747 
GRANDPARENTS Raising Grandchildren: Dianah Roberts 0223819539 
HAKARU & DISTRICTS MEMORIAL RSA (Inc) 733 Settlement Rd, 
Hakaru. Ph 4312 176 or Graeme Hitchcock (President) 431 3064 
HAKARU LANDFILL/Transfer Station:Open everyday except 
Tuesday10am-4pm.Ph4312629 Cost-$55 trailer load up to 1 cubic metre. 
Ph:4258567 - office 
KAIPARA DISTRICT COUNCIL www.kaipara.govt.nz:  
Help Desk FREEPHONE 0800 727 059  
KAIWAKA KOHANGA REO: Ph:4312620 
KAIWAKA CEMETERY: Ph: 4312045 or 4314017 
KAIWAKA LIBRARY: kaiwaka.library@gmail.com  
Mon. 4-6pm; Wed., Thurs., Fri., Sat. 10am-2pm Ph:4312539 
KAIWAKA PLAYCENTRE: Ph Juanita 0274134904; open Mon, Wed, 
Fri 9am-12pm. Hastie Lane; Monday to Friday 9.00am - 12 noon. 
KAIWAKA POST OFFICE:Ph:4312 431  
Post Code: 0573 for RD2 and 0542 for all Kaiwaka Post Office mail 
KAIWAKA PRIMARY SCHOOL: Ph: 4312309   
KAIWAKA SPORTS ASSN: Ph 4312005; 4312129 gym 
KAIWAKA ST JOHN: Manager Steve Rosser 09 4318403, 021 355734 
KATE'S PLACE Community Centre - Employment services, Free Health 
Nurse, Plunket, Advocacy, Osteopath, A.A., Legal Advice. 4312 661 
LINKING HANDS Health Shuttle Ph 4315906 or 09 4318969 
MINISTRY FOR PRIMARY INDUSTRIES - General inquiries Call 
Free 0800 008 333 
NORTHPOWER: Faults Kaiwaka area 0800 104040 
OTAMATEA COMMUNITY SERVICES: Counselling, parent coach, 
Family Support worker, budget advice, food bank. Mon-Fri 9am-3pm. Ph 
09 431 9080 http://www.otamateacs.org/ 
PARENTPORT: Free, practical family support service Puhoi to Paparoa 
Ph or txt: Dianne 027 280 5093 or 09 425 9357 
PLUNKET:  Kaiwaka  -Kate's  Place  Clinic  1st  Wednesday  of  the  month; 
Mangawhai  - Rose Madsen Cottage: Coffee Group 9:30 every Monday.  Clinic 
every Monday and Thursday. 
Maungaturoto - Good News Church, Clinic 2nd and 4th Wednesday.  
Cynthia 09 431 7340 or 027 675 3488 
PLUNKET HELPLINE -0800 933 922 (24 hours) 
TAITOKERAU COMMUNITY LAW: Free confidential legal advice and 
assistance, 2nd
Thursday
 of each month. Ph: 0800 155 529 for apps.  
TE URI O HAU Settlement Trust Tangata Developments: Whanau Ora 
021 793262  
VETERINARY SERVICE MANGAWHAI: 
Ph: 4314535 Mon-Fri 8.00-5.00, Sat 9-12, a/h appt. 
WELLSFORD DOCTORS: Ph: 4238 086 
CHURCHES:
 
Kaiwaka  Revival  Church  -  Your  Community  Church:  Sundays  10am. 
Ph: Pastor Tawhiri 09 431 8988 or Pastor Paul 09 4312 068 Visit us at 
www.facebook.com/kaiwakachurch 
 
St  Paul's  Anglican  Church  1st  Sun.  9.00am  (Eucharist),  3rd  Sun. 
9.00am (Family Service). Contact: Rev. Wayne Thornton Ph 431 4122 
www.mangawhaianglican.org.nz 
 
Church of Christ the King, Mangawhai:9.30am every Sunday 
 
St.Mary's  Catholic  Church:  Maungaturoto  –  Griffins  Road,  Saturday 
evening  Vigil  Mass  6pm;  Mangawhai  –  Senior  Citizens  Hall,  Sunday 
Mass  8:30am;  Wellsford  –  Matheson  Road,  Sunday  Mass  10:30am;  
Mid-week Mass times and all enquires to Fr. Bill Fletcher – phone 423 8170
 
Baptist Church: Sun. 10.30am Mangawhai Snr Cit.Hall.Ph:4312339 
 
Cause  Way  Church  Mangawhai:  Sundays  10.15am,  Mangawhai 
Community  Recreation  Centre,  Insley  St.  Ph:  09  4314782