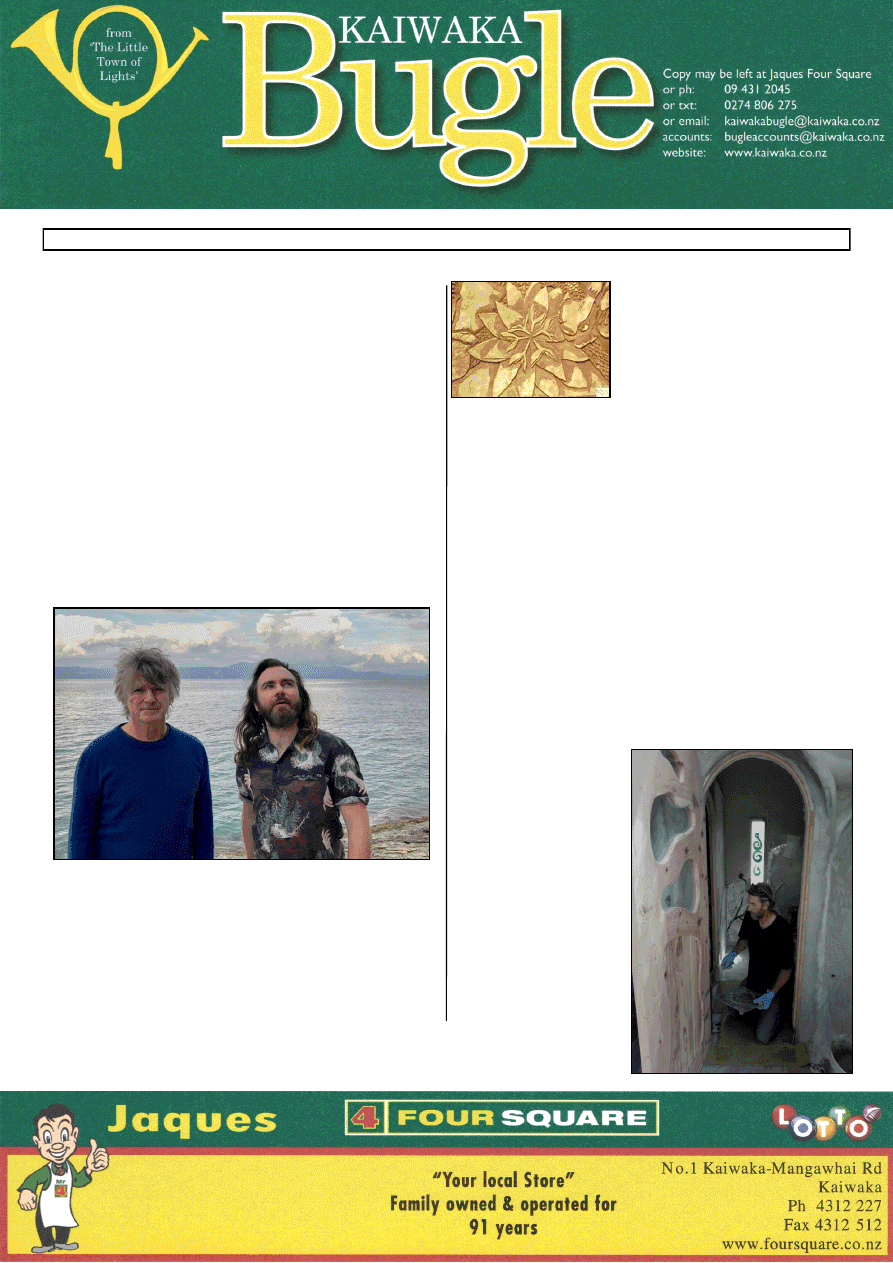 www.kaiwaka.co.nz 
Kaiwaka Bugle - 17 October 2017 
Page 1 
No:22 
14 November 2017 
Trading Hours: 
Monday to Friday 8:00am - 6:30pm 
Saturday 8:00am - 7:00pm 
Sunday 9:00am - 6:00pm  
KAIWAKA 6th JANUARY  2018 
Neil  and  Liam  Finn  present  Where's  My  Room?    In 
Kaiwaka on 6th January - their fourth stop in 18 -Tour 
of Aotearoa, Summer 2018 
"All our lives, all our lives we've been looking for love, 
now it's looking for us." 
As  everybody  should  know  by  now,  Finns  were  bred  for 
touring and music, and this summer Liam and Neil will be 
happily piling into the van for some back-road wandering. 
With a hot band of family and good friends attached, they 
will  perform  in  the  small  halls  of  Aotearoa  throughout 
January,  exploring  the  lesser-known  treasures  of  the 
motherland. 
Neil  and  Liam,  together  with  Sharon  and  Elroy  Finn, 
Connan  Mockasin,  champion  whistler  Molly  Lewis,  John 
Carroll  Kirby,  Jimmy  Metherell  and  songbird  Eliza-Jane 
Barnes  will  play  their  hearts  out  for  the  locals  and  a  few 
city blow-ins. It's bound to be a welcome diversion, and a 
uniquely  intimate  look  at  the  way  the  Finns  roll,  as  they 
debut  music  from  their  upcoming  collaborative  album,  as 
well as throwing in some of their favourite songs from the 
family canon.  
  "Both  Dad  and  I  spent  our  careers  with  the  ambition  to 
make it outside of NZ… putting a lot of time and energy into 
the  rest  of  the  world  and  sometimes  overlooking  what's 
right in front of us, and why we pursue this vocation. This 
tour is about making memories - getting to do what we love, 
on  an  intimate  level  with  good  friends  and  family  for  the 
pure joy of it, and building a unique experience - hopefully 
for not just us but whoever wants to come along." - Liam 
Finn. 
In lieu of the regular NZ tour circuit, the Finns vision has 
been brought to life by DIY champion, A Low Hum.  
For  show  details  and  ticket  information,  please  visit: 
EUTOPIA UPDATE 
We  have  been  working  on  this 
project  now  for  over  3 
1
⁄
2
  years, 
deadlines have come and gone and 
we  find  ourselves  still  toiling 
away.  We  are  starting  to  see  a 
flicker  of  light  at  the  end  of  the 
proverbial tunnel though. 
There  is  not  much  of  the  original 
Eutopia  structure  left. There  is  no  space  that  has  not  been 
transformed  and  no  structure  that  has  not  been  reworked, 
reformed, or replaced. 
The  new  work  is  extensive  and  there  are  surprises 
everywhere. We are basing most of the imagery on NZ flora 
and  fauna  as  well  and  incorporating  a  mythological 
element. Once finished (or finished enough to open) it will 
take  a  few  trips  to  see  everything  and  we  hope  it  will 
become a worthy attraction for Kaiwaka. 
We  are  presently  finishing  a  toilet  block  of  3  new  toilets, 
putting  a  new  commercial  kitchen  together.  incorporated 
solar water heating (with the help of Eric Jansseune) and are 
planning  to  use  an  array  of  panels to  provide solar  energy 
during the day. We have test run some of the lighting and it 
should look very effective. 
We are making the final tables (yes, we make  most of the 
tables and many of the chairs). Putting the final touches on 
some more sculptures to join the 5 roof sculptures, and are 
adding  more  of  our  funky  handmade  Art  Nouveau  style 
joinery - getting towards the end of the mosaic marathon. 
We still have the front wall to complete and some carvings 
to  finish.  There  is  a  huge  painting  job  coming  up  and  the 
front area still needs to be 
concreted and paved. 
We are planning to set up 
for  some  small  music 
events, our son Kane will 
be  coming  home  from 
Hamburg  soon  and  will 
help with this. 
The  project  is  still  all  go 
but 
as 
completion 
estimates  have  come  and 
gone,  we  won't  give 
another but we hope to be 
ready within the next year 
fingers  crossed.  We  are 
really  looking  forward  to 
getting 
out 
of 
our 
construction  attire  for  a 
spell.  
~  Marijke 022123160.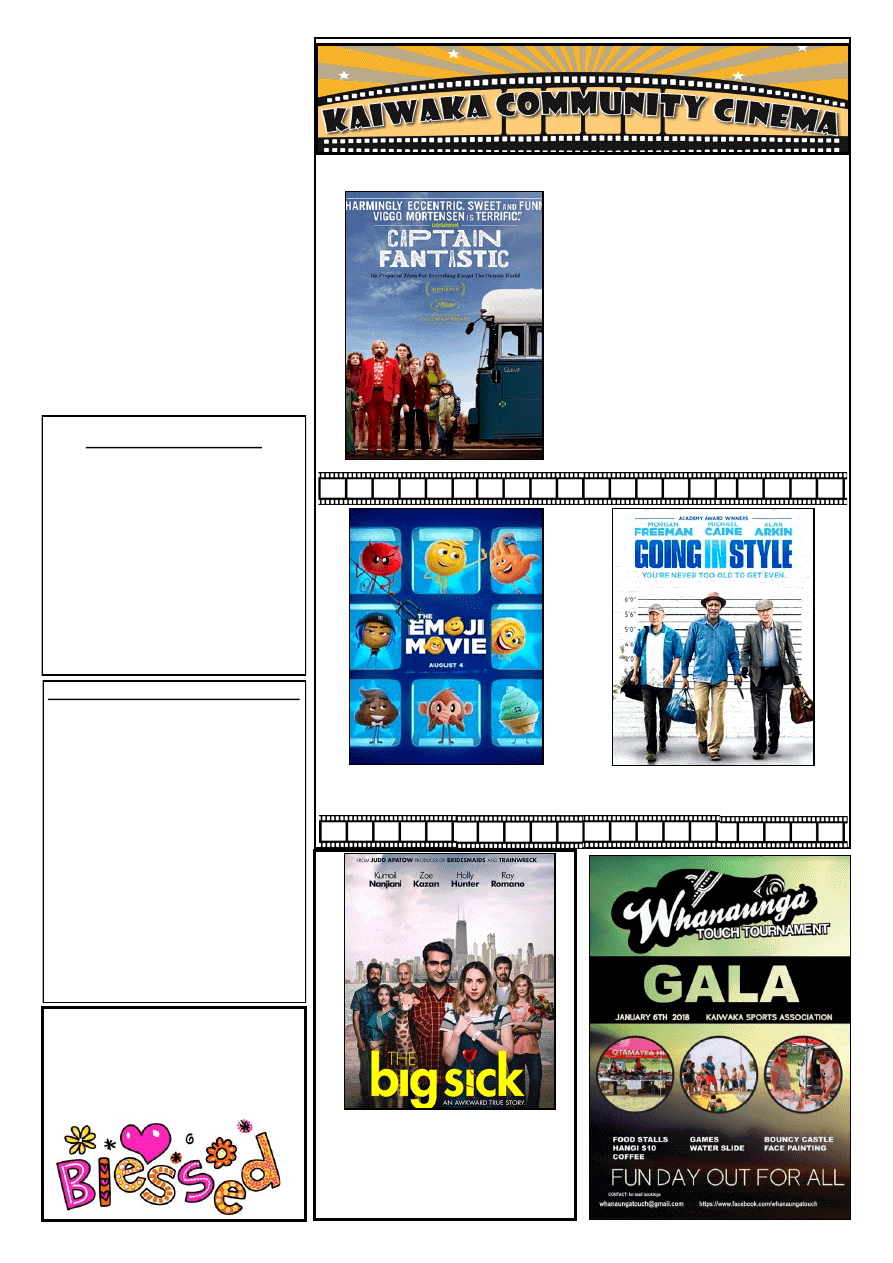 At Kaiwaka War Memorial Hall . Adults $10, Kids (under 16) $5, Family Pass (2 adults + 3 children) $25 
KAIWAKA BUGLE No. 22 
14 NOVEMBER 2017 
CONTENTS 
Page 3: Public Notices, Classified 
Page 5: RSA Women's Sec; Weather;  
Page 7: Linking Hands; Pt.Curtis CC; 
Thelma's Scrapbook  
Page 9:  Senior Net; Jaques Four 
Square 
Page 11: Kaiwaka School 
Page 13: Kaiwaka Sports Assn. 
Page 15: Kaipara Sports Awards 
Page 17:Library; Kauri Walk  
Page 19: Otamatea High School  
Bugle 23 will appear 28 November 
Contact for advertising, reports, articles 
or information can be made by 
Email kaiwakabugle@kaiwaka.co.nz 
Ph: 09 4312 045 Lindsey 
Txt: 027 2724137 
Copy  may  be  left  at  Jaques'  Four 
Square. 
Kaiwaka Bugle 
Founded May 1978 
We appreciate articles and photos about local 
events, etc, as well as ads and suggestions. 
Copies available in Kaiwaka at Jaques Four 
Square, Kaiwaka Postal Centre, Shamrock 
Service Station, Animal Health Centre, 
Kaiwaka St John shop. 
Also outlets in Maungaturoto, 
Mangawhai and Paparoa. 
Can be viewed online at   
www.kaiwaka.co.nz/Bugle  
Or a copy can be posted to you if you supply 
stamped, self-addressed DLE envelopes. 
Captain Fantastic 
Friday 17 November, 7.30pm (M)
CAPTAIN FANTASTIC...Rating 8 out 10 
Ben  Cash  (Viggo  Mortensen),  his  wife 
Leslie  and  their  six  children  live  deep  in 
the  wilderness  of  Washington  state. 
Isolated  from  society,  Ben  and  Leslie 
devote their existence to raising their kids -
educating them to think critically,  training 
them  to  be  physically  fit  and  athletic, 
guiding  them  in  the  wild  without 
technology  and  demonstrating  the  beauty 
of  co-existing  with  nature.  When  Leslie 
dies suddenly, Ben must take his sheltered 
offspring into the outside world for the first 
time.   A  Beautiful  Movie  about,  family, 
love and parenting... 
The Emoji Movie 
Sunday 26 November, 2pm (PG)
Going In Style  
Friday December 1, 7.30pm (M)
Pro
verbs 11:25  
The one who blesses others 
is abundantly blessed; those 
who help others are helped.
Kaiwaka Bugle Advertisements 2017: 
All 
copy 
and 
queries 
to: 
kaiwakabugle@kaiwaka.co.nz 
The Bugle is printed on an A4 page   
Ad  sizes:  1/16  page  (3  x  9.5cm)  $5;  1/8 
(6.5  x  9.5cm  landscape  or  portrait)  $8; 
3/16 ( 10 x 9.5cm or 7.5 x 12,5)  $12.  
Classified  ads:  First  one  FREE,  $4  per 
entry (max. 30 words, max. 4 repeats). 
Payments  can  be  made  online  at 
ANZ 
06  0365  0006990  00
,  posted  or  left  at 
Jaques Four Square Store. 
We  use  Microsoft  Publisher,  and  can 
work  with  most  common  image 
formats, Word, Excel, and PDF files. 
Accounts:  
Email: bugleaccounts@kaiwaka.co.nz 
The  Kaiwaka  Bugle  is  a  community 
newspaper run by volunteers.   
Articles, etc. printed are not necessarily 
the opinion of the Bugle Team. 
The Big Sick (M) 
An awkward true story 
Friday 15 December, 6.30pm
Dinner &Movie Night   
$30.00 tickets only 
Ph: 021 2154495 
www.kaiwaka.co.nz 
Kaiwaka Bugle - 17 October 2017 
Page 3 
OTAMATEA  
REPERTORY 
THEATRE  
The Frog Prince 
Tickets are on sale now.  
Six shows only 24 November to 3 December.  
ABOUT TOWN ... 

 Check  out  the  50th  Anniversary  celebrations  at  Jaques 
Four Square - big day will be 25 November! 

Very well done to  The Den team - they have just handed 
over  $20,000  to  the  Riverside  Resthome  dementia  unit 
appeal!  

 Down with mailbox destruction! Police are encouraging 
anyone who had their letterbox damaged to  contact  them 
on 09 430 4500  due to the recent spate of ruin. 

 Obviously people have had enough of unlawful rubbish 
dumping - a very 'stern' message was painted at the corner 
of Parekura Road! Refuse collectors don't pick up litter or 
black bags of rubbbih.

Kaipara  Lifestyler  What's  On  column  -  for  free 
advertising  of  your  event  phone  them  on  0800  466  793 
(max 20 words for event or meeting).

 Two  more  Bugles  for  2017!  Deadline  for  Bugle  24  is 
Friday  8  December  for  publishing  on  Tuesday  12 
December.
  ~ Lindsey, Ed 
"The greatest glory of a free-born people is to transmit that 
freedom to their children." ~ William Havard
World War One Armistice Day 
The  11th  hour  of  the  11th  day  of  the  11th  month  is 
universally  associated  with  the  remembrance of those  who 
died  in  the  First  World  War.  The  date  marks  the  moment 
when hostilities ceased on the Western Front in 1918, with 
the signing of the Armistice. 
PUBLIC NOTICES 
CLASSIFIED 
CAR FOR SALE: 1996 BMW 3251. $1,600.  
Phone 09 4312950 
FOR  SALE:  Honda  TRX300FW  quad  bike.  1994 
model  in  very  good  working  order  with  838  engine 
hours. $899 ono. Phone Jeff 4315488 or 027 295 1675 
WANTED:  Old  Keys,  pictured 
right  -  Kaiwaka  Sports  Assn  old 
Fitness  and  Squash  keys  can  be 
recycled;  save  KSA  some  money 
and  make  some  yourself;  leave 
the key at Jaques Four Square and 
receive $5. 
OPPORTUNITY IN KAIWAKA 
Do  you  like  dealing  with 
pets?    Ideal  small  business 
with  big  reputation  giving 
you an income and rewarding 
lifestyle in Kaiwaka, retailing 
real  pet  food  and  health 
products. Good opportunity to grow business. 
Contact  Sandy  at  Animal  Natural  Health 09  427 
8122  for  further  info  or  Kevin  Stevens,  Business 
Broker, Harcourts 09 486 9282.
Marijke 022123160. 
MAUNGATUROTO 
and 
KAIWAKA 
ST.JOHN  will  be  selling  Christmas  trees  from 
the  Maungaturoto  Ambulance  Station, 
Maungaturoto RD1 and the Kaiwaka Op 
Shop.  First  delivery  on  the  1st  of 
December.  If  you  would  like  to  pre-book  one 
then ring/text 021355734 or 0211622482. 
HAKARU COMMUNITY HALL  
& DOMAIN SOCIETY Inc. 
740 Settlement Road, Hakaru 
Annual General Meeting 
Tuesday 28 November 2017, 7.30pm 
AGENDA:  Record those present; Apologies; 
Chairman's Report 2016-17; Financial Report; Election of 
Officers; Election of Executive Committee as per Nomination 
Form results; Notice of Motion to amend Society Rules; 
General Business
ALL WELCOME 
The 
MAUNGATUROTO COMMUNITY 
CHARITABLE TRUST 
Annual Public Meeting  
Thursday 23rd November, 2017 at 1 pm 
in the St Johns Hall, Maungaturoto. 
MAUNGATUROTO and DISTRICTS  
ROTARY CLUB 
Invites seniors in our area to attend an Afternoon tea 
in the Centennial Hall at 2pm on Friday 24th November. 
RSVP by Friday 17th November to: 
Alex (09) 4316434; Eric (09) 4314874; Eileen 021 
1420357; Stella 021 149 0877 
Come and join us for a time of fellowship and entertainment
KAIWAKA SPORTS ASSOCIATION 
Annual General Meeting 
Wednesday 22nd November, 7pm 
Kaiwaka Sports Complex  
Learn to make face cream, skin balm, 
and other products, using essential oils, with Yatra. 
just in time for Xmas at 'Kate's Place' Kaiwaka. 
Thursday 7th December from 11am. 
Cost: $15 + $20 for materials = $35 
Register with Kirstie on 4312661 
Limited to 10 participants. 
Jenny's Rural Cleaning Services 
P. O. Box 87 
Kaiwaka 
Looking for a Part-time worker.  
Must be flexible. Must have clean divers licence and 
be trustworthy and be able to work in a team. 
Please send your C.V to 
jrcleaningservices.chellew@yahoo.com  or  to  the 
above address or phone 431- 2826 after 7pm. 
Animal Natural Health 
Vet Nurse Day at Kaiwaka  
Nail Trims, Microchipping.  
Pet Dental Hygiene Checks FREE to Gold Card Holders 
Friday 17 November ~ Bookings essential
Ph: 09 431 2217  
Next to Italian Bakery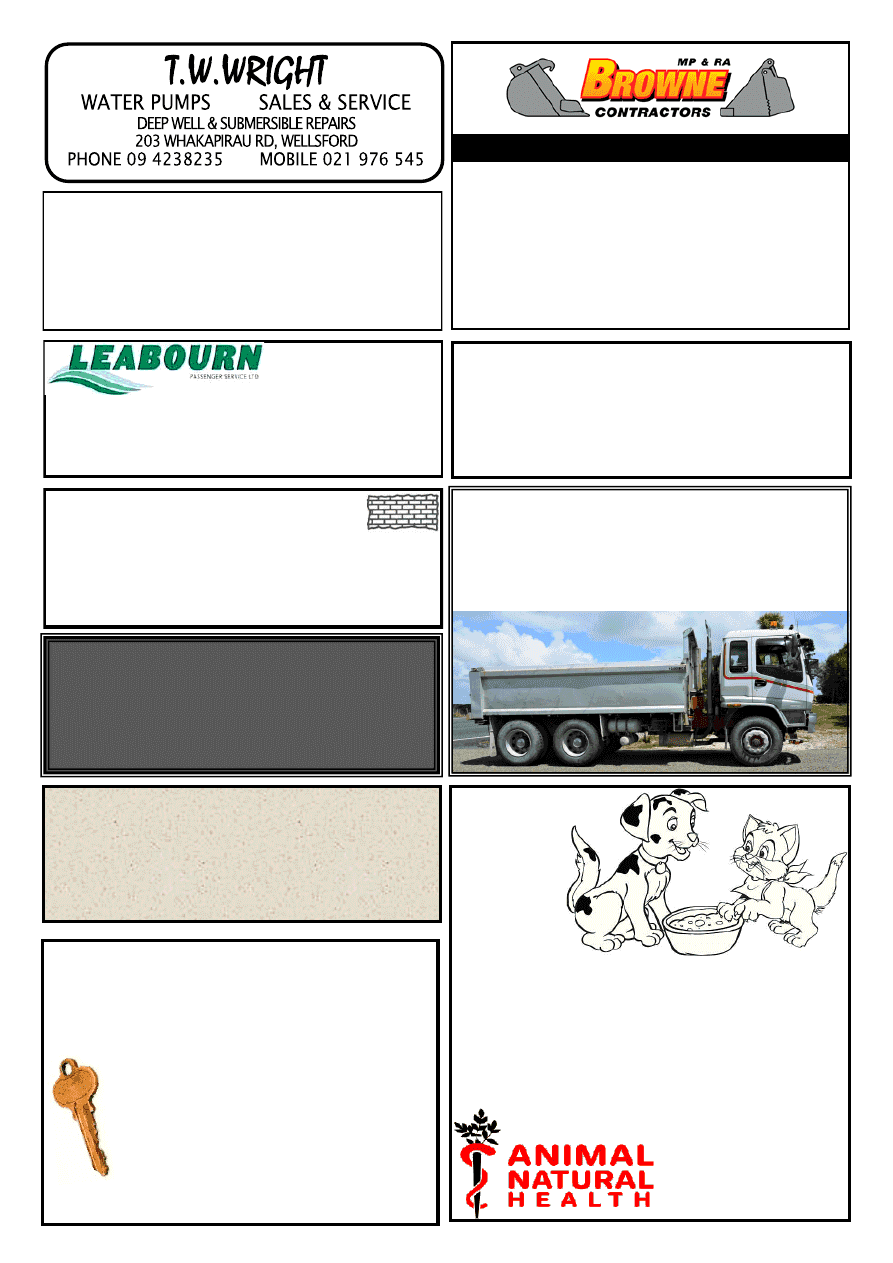 4T DIGGER – BOBCAT – TIP TRUCK 
Property Maintenance - Driveways - Building Sites 
Stump & Tree Removal - Hole Boring - Chain Trencher 
Calf Shed and  Stockyard Cleaning
KAIPARA - WHANGAREI - RODNEY 
Phone Matt: 021 199 6677 
Email: mprabrownecontractors@gmail.com 
BRICK/BLOCKLAYER 
All aspects of masonry: 
Fireplaces, Restoration & Remedial Work.
JAMES EAGLETON
Tel. (09) 431 2514     Mob. 0274 749 232
jajueagles@yahoo.com.au 210A Pukenui Road, RD2, Kaiwaka 0573 
THE SUNSHINE GIRLS
Efficient and reliable help with 
your housework. 
Ph 4312 532 
Passenger 
Service
Car & Van Hire, Bus & Coach Charters, Airport 
Transfers, Monthly Shopper Bus 
Phone 09 4237416 
Counsellor and Registered Psychotherapist 
Offers Supervision
Susan Matheson 
MNZAC 
Dip. Psychosynthesis Counselling and Psychotherapy 
Phone 09 431 2996                        Mobile 027 605 2427 
FREE 
First notice FREE  for Classified or Public Notices - 
less  than  30  words  -  then  charged  as  per  advertised  
($4). This includes AGM and meeting notices, FOR 
SALE, WANTED. ~ Kaiwaka Bugle 
Look for 
our NEW 
range of 
real food 
for cats 
and dogs
Veal Bones 3kg $17.90  
Chicken Medallions 3kg $17.90 
Beef & Lamb Patties 3k $21.90 
Purely Pets – buy 10 packs,  get 11th pack FREE 
Radical Dog in store (as seen on Country Calendar) 
Beat the Flea Season: Flea combs, shampoos 
Chemical-free, no nasties Flea Control, Tick & Lice 
Support 
ANIMAL NATURAL 
HEALTH CENTRE 
Next to Italian Bakery, 
Kaiwaka 
Ph. 09 431 2217    
Open Mon-Sat.
Kaiwaka Hardware  
& 
Key cutting
Phone 4312 063 or 022 0642 703
kaikey2015@gmail.com 
Keys Cut  
Household Hardware  
Sharpening Knives & Tools 
Curtain Tracks & Fittings
Not there? Call Doug and he'll sort
it for you. 
(
Next to Kaiwaka Motorcycles)
MARRIAGE CELEBRANT 
WEDDING EVENTS PLANNER 
Yvonne Osborne 
Ph 0274 989 814 
yvonne.osborne@xtra.co.nz 
J
and
M
 CONTRACTORS 
Kaiwaka 
Bulk Cartage 
5 & 10 cubic metres Wood Chip or Post Peel. 
Cartage all metals, sand, scoria. 
Truck hire with Driver  
Ph 09 9733538 
Mobile 021 2383664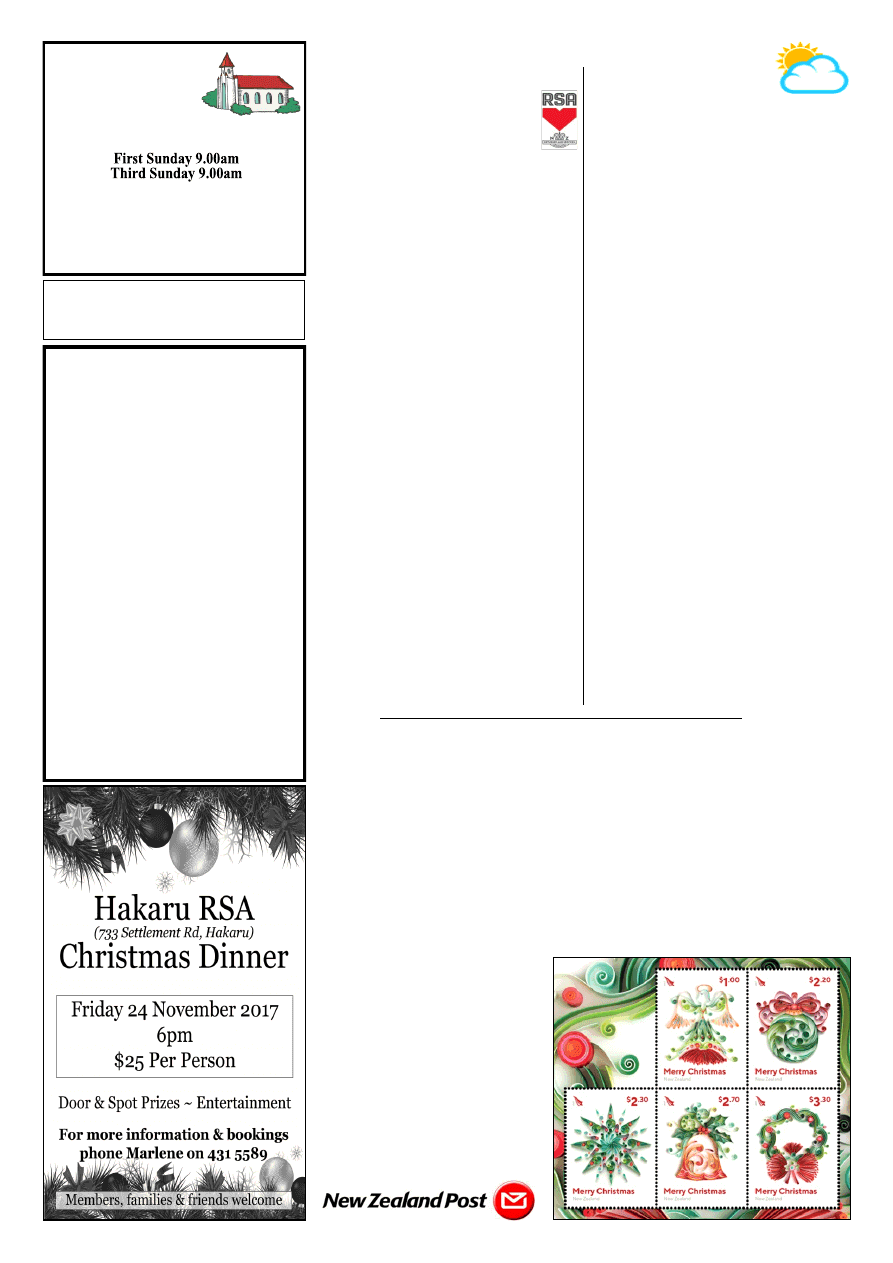 www.kaiwaka.co.nz 
Kaiwaka Bugle - 17 October 2017 
Page 5 
Willow Bend
HORSE  
HOTEL 
  
Total Horse Care 
 
Agistment 
 
Riding Lessons 
 
Arena Hire (60x40) 
 
Young Horse Starting 
 
Re-training/Exercising 
 
Hoof Trimming 
 
Problem Solving 
Phone Sue 09 431 2817 
or 021 623 776 
Or email  
susanjoll11@gmail.com 
ST PAUL'S  
ANGLICAN  
SUNDAY  
SERVICES
St Pauls Church: Kaiwaka-Mangawhai Rd. 
1st Sun - Eucharist 
3rd Sun - Family Service 
Rev. Wayne Thornton Ph 431 4122 
www.mangawhaianglican.org.nz
Proverbs 11:25 - Ko te wairua ohaoha 
ka momona: ko te tangata e whakamaku-
ku ana, ka whakamakukuria ano ia.
Our  62nd  Birthday  was  well 
attended  by  reps  from  9  other 
Women's  Section  Clubs,  from 
South Auckland to the Far North  
-  approximately  60  visitors  in  all. 
Our  members  contributed  to  a  well-
stocked  trading  table  which  was  very 
popular with the visitors especially the 
home baking which disappeared in the 
first 
half 
hour.
The  delicious  Birthday  cake  made  by 
Trish Black and iced by Lena Carleton 
was cut by Fay Wintle (Our Patroness) 
and 
President 
Gloria 
Durrant.
The  raffle  popular  as  ever 
attractively  prepared  by  Heather 
seemed  to 
be 
won 
evenly 
throughout  the  Clubs.  It  was 
disappointing  so  many  of  our  own 
members  were  away  on  the  day
We were privileged to have Bill Jaques 
to play his portable piano for us and a 
great  sing  song  was  enjoyed  by  all 
ending  with  Auld  Lang  Syne.  Thank 
you,  Bill,  for  sharing  your  talent  with 
us,  refusing  to  accept  a  monetary 
reward. 
Heather, Doreen, Jan and Ann attended 
Whangarei's  72nd  Anniversary  on  the 
11th  October  and  had  a  lovely  meal 
and day. 
MEMBERS  PLEASE  TAKE  NOTE- 
OUR  CHRISTMAS  POT  LUCK 
DINNER 
IS 
ON 
23
RD
NOVEMBER.    ARRIVE  11.30  A.M 
(NOT  1.15  p.m.)  with  your  plate. 
See  you  all  there,  anyone  needing 
transport  please let Jan  or Lena  know. 
~ Cheers, Ann 
KAIWAKA  
WEATHER 
Welcome  to  our  last  month  of  spring 
2017. 
The weather is warming up nicely and 
great to see some sunshine. It is hard to 
believe  we  are  nearly  at  the  end  of 
another calendar year,  
We  knew  there  was  a  lot  of  Labour 
Weekend  traffic  this  year,  but  when 
they go home on Monday it is patience, 
patience,  patience.  The  traffic  crawled 
through  Kaiwaka  for  5
1
⁄
2
  hours.  Only 
twice  did  they  completely  stop  -  from 
the Caltex Service Station in the south 
to the Concrete Works in the north. 
We  had  real  spring-like  weather  last 
month. Sunny, fine, cloudy, rain, cold, 
windy, hot, humid - a beautiful Spring. 
For October we recorded at our house: 
October 2017 - 86mm 
October 2016 - 100mm 
First 10 months 2017 - 1598mm 
First 10 months 2016 - 1311mm 
Days of October 2017 rain was 11, and 
October 2016 there were 13. 
Driest October since 1987 was in 2000 
with  17mm  and  the  wettest  October 
since 1987 was in 2006 with 176mm. 
Our  driest  first  10  months  since  1987 
was  in  1987  with  792mm  and  the 
wettest  first  10  months  since  1987  is 
this year, 2017, with 1598. 
'The  old  farmer  had  a  rope  hanging 
from  a  dead  tree  at  his  back  door. 
"What is this for?" asked a visitor.  "It 
is  my  weather  guide.  If  it  is  swinging 
back and forth, it is windy, and if it is 
wet it has been raining." 
Take care out there and look after each 
other, Bev
.
HAKARU RSA 
WOMEN'S SECTION
People  wanting  to  send  cards  and 
parcels  overseas  in  time  for  Christmas 
by  International  Air  will  need  to  post 
them by 6  December  for  Australia,  1 
December  for  the  South  Pacific, 
Asia,  North  America,  UK  and 
Europe,  and  29  November  for  the 
rest  of  the  world.  There  are  later 
deadlines for International Courier and 
International  Express  Courier  services 
in early December.  
The deadline for sending mail and 
parcels  within  New  Zealand  by 
Standard  Post,  ParcelPost  and 
ParcelPost 
Tracked 
is 
19 
December. 
FastPost,  Courier 
Parcel  and  Courier  &  Signature 
Parcel products need to be sent by 
20 December. 
Online shoppers buying gifts from 
overseas through YouShop should 
pay  for  shipping  by  3  December 
for  the  Standard  service  from  the 
US and UK, and by 26 November 
for  the  US  Economy  service  to 
ensure  items  arrive  in  time  for 
Christmas. 
Over  the  Christmas  and  New  Year 
period because of the statutory holidays 
there will be deliveries on Saturday 23 
December  and  Saturday  30  December, 
but  posties  and  couriers  will  not  be 
delivering mail or parcels on Christmas 
Day  (Monday  25  December)  and 
Boxing  Day  (Tuesday  26  December), 
or  on  New  Year's  Day  (Monday  1 
January) and Tuesday 2 January. 
CHRISTMAS 2017  
SENDING AND DELIVERY DATES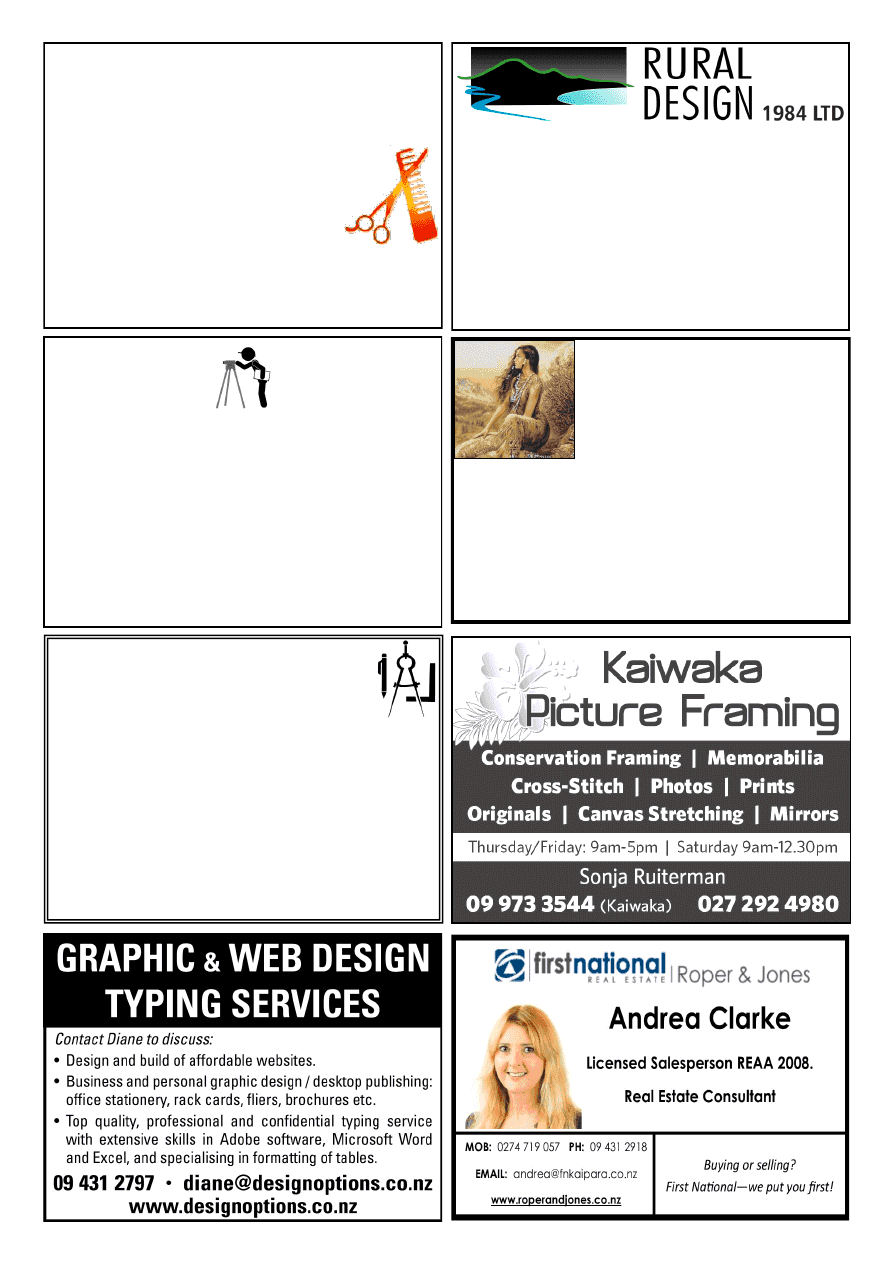 design drafting  
service 
Retired builder and manufacturer with over 40 years  
experience in the building industry is offering a design 
drafting service  
for domestic housing, sleepouts and sheds.  
Plans formulated in consultation with clients, with 
working drawings completed and submitted to  
council for processing.  Extensive practical experience,  
able to identify & resolve problems. 
Please ring Mike Lean on 
09 431 2260 
or 
021 431 196 
Ken Urquhart 
BSurv Licensed Cadastral Surveyor 
KMU Surveys Ltd
467 Bickerstaffe Road 
RD 2 
Maungaturoto 0587 
Ph 09 431 8705 
Mob 021 161 2344 
kenurquhart@xtra.co.nz 
WHOLESALE NATIVE PLANT NURSERY 
AND LANDSCAPING 
By Appointment 
Small and Large orders welcome 
Phone: 09 431 2481 
Email: info@ruraldesign.co.nz 
AFFORDABLE PRICES! 
MENS CUT FROM $20.00 
LADIES CUT FROM $30.00 
KIDS CUT FROM $18.00 
COLOUR & CUT FROM $120.00 
JUST CUTS'AND   
MORE 
021 165 2629 or (09) 945 0707  
NOW SELLING: scented tealights, incense, smudge sticks, 
copper bracelets, aurora ball crystals, dream catchers, healing 
stones, rose quartz, cds, and much more. Open 6 days. 
Trails end 
spiritualist gathering 
Last Sunday of every month  
11.30-2pm  
Tea/coffee provided  $5 koha 
For all inquiries: 
021 165 2629 evenings (09) 945 0707 
Trail.end@hotmail.com 
1758 Cove Road, Mangawhai
Bringing together light minded people 
Guest speaker each month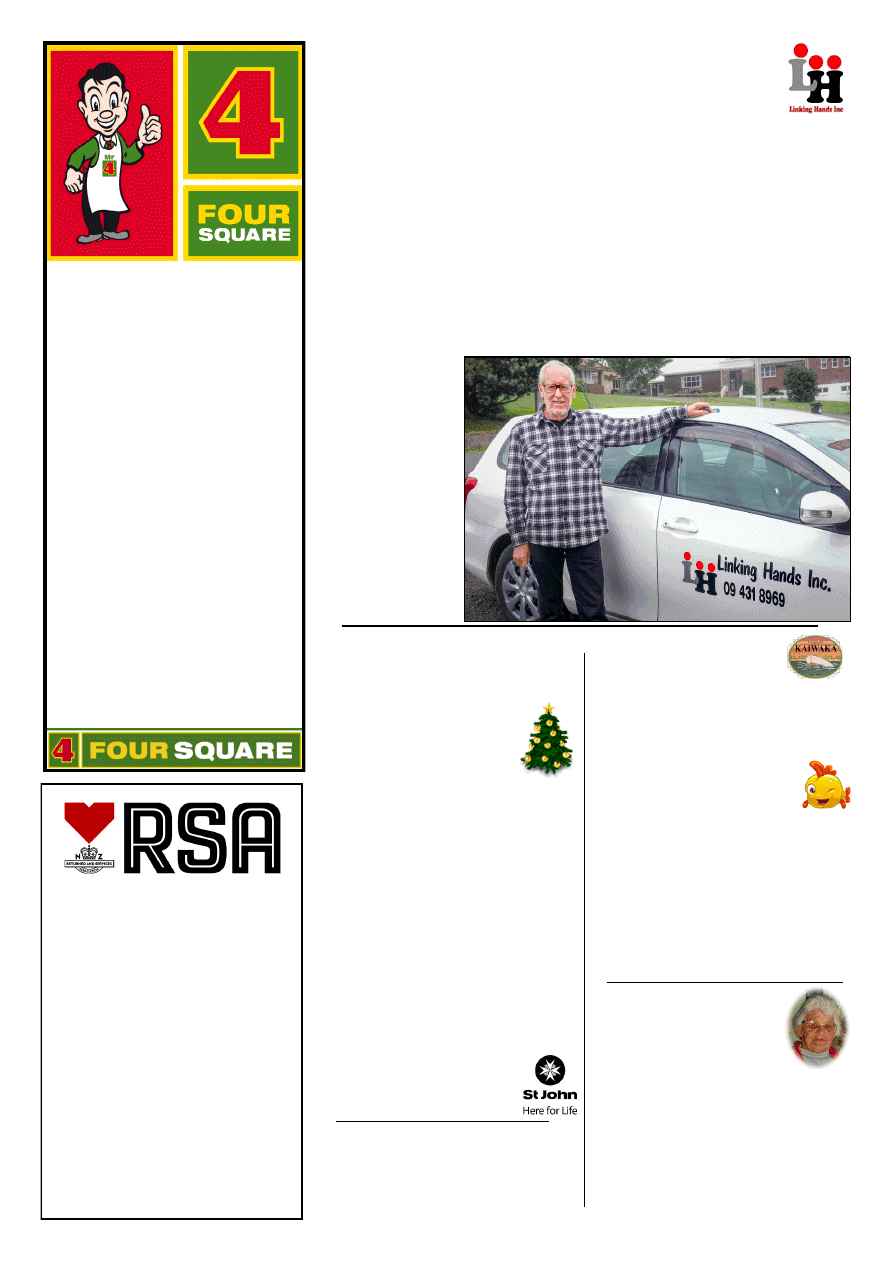 www.kaiwaka.co.nz 
Kaiwaka Bugle - 17 October 2017 
Page 7 
Specials running -  
13th-26th Nov 
Spend $25 in store 
and go into the draw 
for  
Panasonic Smart TV 
4 x $50 grocery 
vouchers, spot prizes 
Saturday 25th 
November  
10am to 4pm  
Sausage sizzle,  
face painting,  
Charlie the mascot 
Jaques Four Square 
Phone: 4312227 
1 Kaiwaka-Mangawhai Road, Kaiwaka. 
HAKARU & DISTRICTS 
MEMORIAL RSA (INC)
Members & guests are invited to 
come along and enjoy our hospitality.  
New members welcome.  
Meals are served on Thursday and 
Friday nights  from 6.30pm.   
2nd Friday of the month is a Roast Dinner 
special plus a board menu put on by the 
Women's Section. 
Last Friday of the month is 'Roast Pork 
Night' and a sing-a-long with Des Chitty. 
For more information please phone 
Gloria  (Women's Section) on  
431 5818 or Marlene on 431 5589 
I  hope  all  had  fun  doing  the  Fishing 
Competition  held  on  the  11
th
  and 
12
th
  November.  Results  will  be  in  the 
next  issue  of  Bugle  and  on  our 
Facebook page. 
Point  Curtis  Cruising  Club 
Christmas Dinner is going to be 
held  at  the  3  Furlongs  Bar  & 
Grill on Tuesday 28
th
 November. So, if 
you  are  keen to come  along  please  let 
either  the  3  Furlongs  know  or  one  of 
the  committee  members  know  just  for 
number and we hope to see you there.  
Fish  of  the  Month  is  Snapper  till 
14
th
 November 2017.  
Next  Club  Meeting  14
th
  November 
2017, 7pm at 3Furlongs Bar and Grill.  
   ~  Wayne Leslie Commodore.
POINT CURTIS 
CRUISING CLUB  
KAIWAKA GETS OWN CAR 
Linking Hands, the local Health Shuttle 
Service, recently added another vehicle 
to  its  fleet,  which  is  to  be  based  in 
Kaiwaka.  The  car  is  already  in  town 
and  Steve  Barr,  pictured  with  the  car, 
is in charge of it. 
This  car  will  enable  Linking  Hands  to 
both  improve  its  service  to  Kaiwaka 
and  the  rural  areas  around  it  and  be  a 
backup  for  Mangawhai.  It  will  spare 
the  shuttle  service  sending  cars  from 
Maungaturoto  or  Mangawhai  and  will 
save  driver's  time,  fuel  costs,  and 
enable  them  to  stretch  their  dollar  to 
serve more clients in the long run.
For  those  new  to  the  area,  Linking 
Hands  provide  transport  to  Health-
related  appointments,  whether  it  is  to 
the  local  Dr,  a 
specialist 
appointment,  dental, 
optician, 
hospital 
appointments 
etc. 
We 
cover 
appointments 
in 
Warkworth  through 
to Whangarei. 
We  are  an  ACC 
vendor,  so  if  you 
need  us  to  transport 
you,  please  have 
your  Case  Manager 
contact  Head  Office 
with 
pre-approval 
for your travel.
Clients  living  in  Kaiwaka 
still  need  to  call  either  the 
head  office  in  Maungaturoto 
(09)4318969  or  Mangawhai  (09)
4315906  to  book  a  ride.  It  is  a  free 
service,  run  on  small  grants  and 
donations are gratefully received. 
A number of drivers will be needed for 
the  Kaiwaka  car.  Call  (09)4318969  if 
you  want  to  become  part  of  this 
dynamic team helping those who need 
it.  See  their  website  for  more  details. 
Linking  Hands  has  a  wheelchair  van 
and two cars in Maungaturoto, a car in 
Mangawhai, one in Waipu and another 
in One Tree Point. 
From 
Thelma's 
Scrapbook … 
NEW MOUSETRAP! 
This little tale comes from a 
friend living in Istanbul, Turkey. 
"Some time ago on her arrival in a new 
flat,  she  put  a  half  sleeping  tablet  on 
her  bedside  table,  in  case  of  insomnia 
during the night. 
She  woke  at  three  in  the  morning  and 
switched  on  the  light.  Fast  asleep  on 
the  bedside  table  was  a  little  mouse  – 
and  half  of  the  sleeping  tablet  was 
gone!" 
KAIWAKA 
 ST JOHN OP SHOP 
SH 1, Kaiwaka 
Ho Ho it's that time again! 
We  have  lots  of  cheap 
Christmas  decorations  and 
artificial  Christmas  trees.  The 
real ones are arriving in the first week 
of December. 

There will be gifts to buy.  

There are Lucky Dips for Babies 0 – 
5year olds. 

A  great  Christmas  Hamper  raffle 
will be ready soon. 

We  have  2x  3seater  lounges  for 
sale. Very solid. Colour red, but green 
covers also available-$50 each. 

Kingsize  bed  and  mattress  –  very 
good condition. 

Double bed base with no mattress. 

New Boogie boards. 

Mahogany table with cabriole legs. 
We  would  like  some  cooking  pots, 
Queen sheets, garden pots, and plants 
please.  
Anything  else  also  greatly 
appreciated,    Milly.         
Shop Number 4312650 
Q: What did Neptune say to Saturn? 
A: Give me a ring sometime!
Q: Why did the stoplight turn red? 
A: Wouldn't you if you had to change in the 
middle of the street?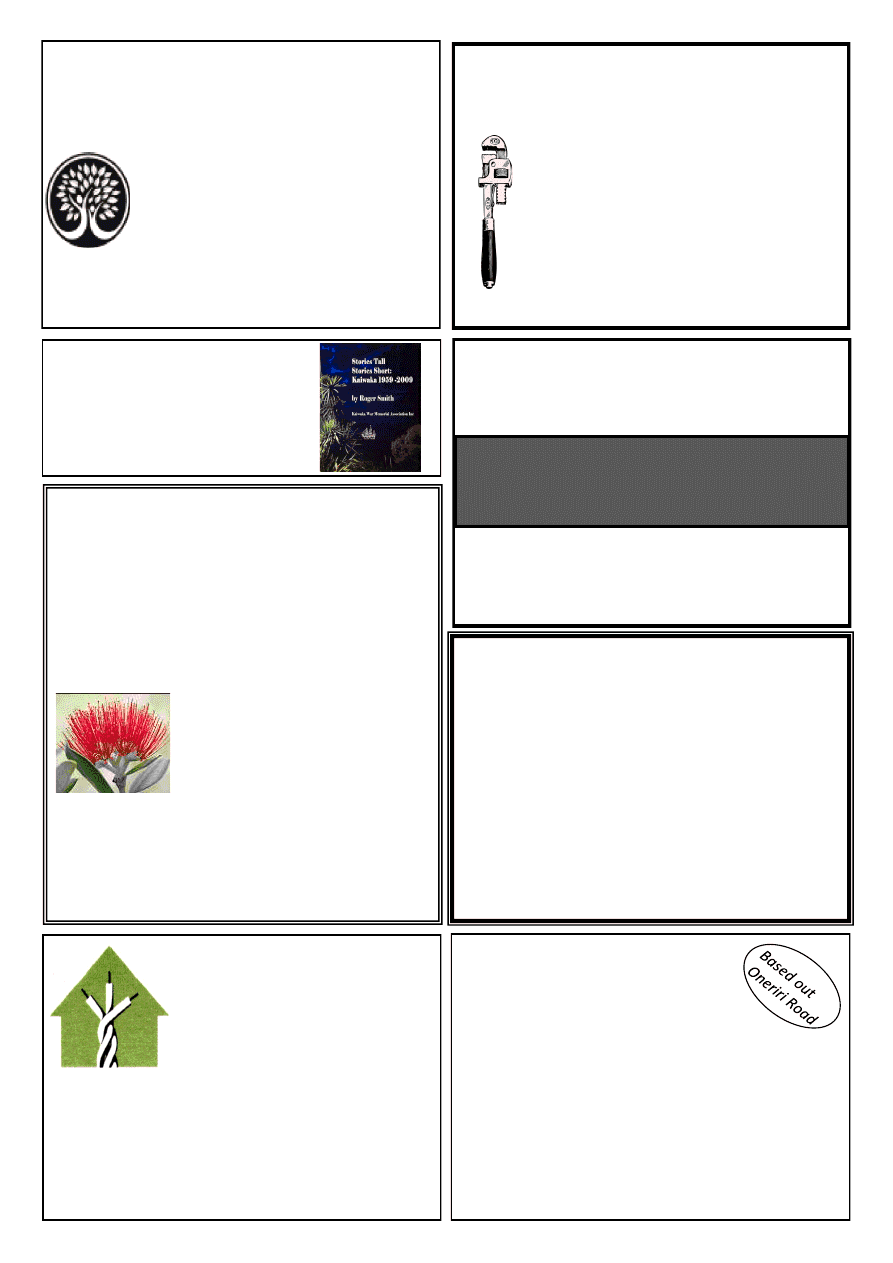 David Korach 
Your local Gib Stopper
DK PLASTERER LTD 
0274769221 
dkorach6@gmail.com 
Waipu Natural Health 
3 Cove Road, Waipu  (opposite the Pizza Barn) 
Ph: 09 432 1325 
www.waipunaturalhealth.co.nz
Clinical Nutritionist-Hair Analysis for Masked 
Allergies, Ozone Therapy, Prolotherapy, 
Naturopath-Medical Herbalist, Registered 
Massage Therapists, Reflexology-
Craniosacral Therapy, Acupuncture-Facial 
Acupuncture, Kineso Taping, Hypnotherapy, 
Counselling, ThetaHealing, Beauty Therapy
KIDS DAY – AFFORDABLE HEALTH SUPPORT 
FOR KIDS – every Wednesday 
(call us or drop in)
Gift Vouchers available
KAIPARA FLOORING CO 
Independently owned & operated 
32 HURNDALL ST MAUNGATUROTO
Supply & Installation of Carpet, Vinyl,  
Vinyl Wood Planking
Stockists of 2m & 3m wide 
vinyl & carpet short ends
Residential & Commercial
Q Card Finance Approved 
6-18 month terms 
6 mth interest free
First Class Installations
For a free measure & quote 
phone Christine  
09 946 9886 or 021 515 415 
kaiparaflooring@gmail.com 
http://www.kaiparaflooring.co.nz/ 
BARRY CURTIS PLUMBING LTD 
REGISTERED CRAFTSMAN PLUMBER 
Phone 4315572 
027 257 9884 
25 years experience 
Friendly reliable service 
All plumbing and maintenance 
Alterations and new housing 
Spouting 
Competitive rates 
PROMPT EFFICIENT  SERVICE 
Mangawhai Heads 
Garden Centre
1758 Cove Road
945 0707 
021 165 2629 
Stories Tall, Stories Short  
Kaiwaka 1959-2009 
by Roger TW Smith.  $40 
Available at the 
Kaiwaka Library 
or phone 
Lindsey 4312 045 
HODGETTS 
CONTRACTING
Digger Work    

Driveways 

House Sites   

Dams    
 
Drains, etc
Also available for HIRE 
3 ton Vib Roller Heavy Duty Tow  
Waterblaster     Lazer Level
Phone Mark 4312877 
027 447 8554 
Reyahn George 
Leng 
Registered Electrician 
Local, honest and reliable. 
For your residential and 
light-commercial projects. 
022 314 1068 / 09 431 2527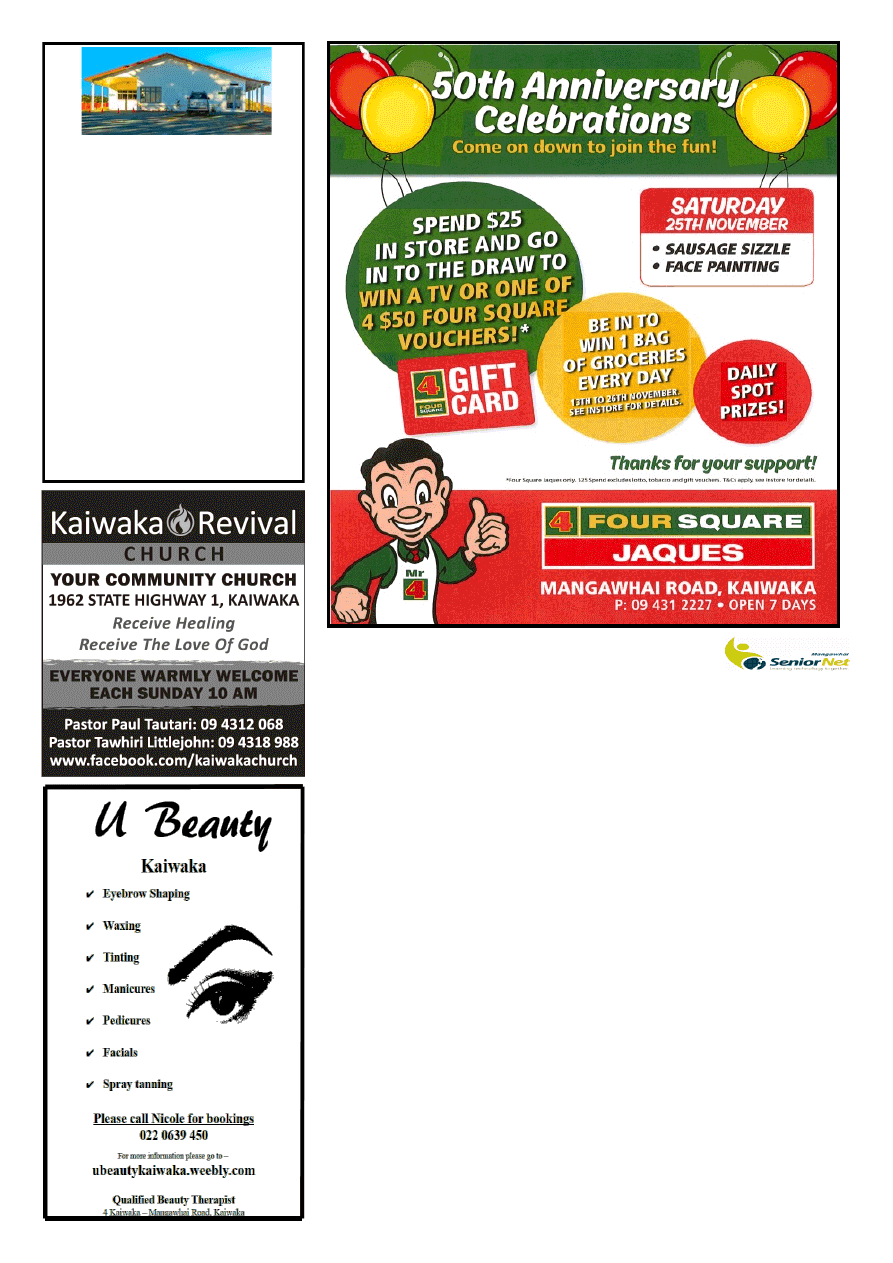 www.kaiwaka.co.nz 
Kaiwaka Bugle - 17 October 2017 
Page 9 
SENIORNET MANGAWHAI 
Te Pounga Marae 
130 Nathan Rd. Oneriri. Kaiwaka 0573 
COMPLEX FOR 
HIRE 
Functions 
* Weddings  * Birthdays  
*Anniversaries * Meetings  * Wananga 
5 hour meeting * 12 hour stay  * 
Overnight 
*All welcome - No more Drink-driving 
Amenities: 
*Convo Combi Steamer * Bratt Pan * 
Dish Washer/Sterilizer * 3 Door Glass 
Chiller (walk in) etc…All Crockery * 
Linen Supplied * Central Heating and 
Air Conditioning and much more.  
Can also cater for small groups…. 
For more information please contact: 
Kim Wallace  
Home: 09 832 1133  Mob: 0211275340  
Email: kimwallace@xtra.co.nz 
Help Clinics 
The Committee  has two Help Clinics, 
before the summer break. We hope you 
can  join  us  for  one  or  all  of  them. 
Remember you don't need to book, you 
don't need to bring a question, you will 
probably  learn  something  from  other 
people's  questions.  You  can  socialise 
with the Committee and other members 
over a cup of tea or coffee. We will try 
to  solve  all  questions  at  the  Clinic.  If 
your  question/problem  is  very  time 
consuming we will ask you to book in 
for  a  One-on-One  session  with  one  of 
our tutors for some personalised help. 
Please note that the 15 November Help 
Clinic is from 2 - 4pm and the second 
one 6 December, 10.30 - 12.30pm 
Cost $10 members $15 non-members 
Workshops 
We  are  starting  to  plan  for  2018  and 
hope  to  run  Workshops  on  various 
topics.  Things  like  Skype  (internet 
phone  calls),  Facebook,  Internet 
Banking,  Smart  TV  use,  managing 
photos - whatever topics are requested. 
Email 
us 
at 
seniornet.mangawhai@gmail.com 
to register your interest - or to suggest 
a Workshop you would like us to run. 
Contact  Val  431  4042  or  Tony  431 
2269 
or 
email 
- 
AGM 
As  a  Charitable  Organisation  we  have 
to  hold  a  formal  meeting  every  year 
when  we  appoint  the  Committee,  and 
present  accounts  and  report  on  the 
year's activity to members. 
Further details of when and where will 
follow,  we  plan  to  hold  the  2018 
Annual General Meeting in February  - 
it  sounds  like  the  distant  future,  but 
will be here all too soon! We do need a 
quorum at the meeting to meet the legal 
requirements,  so  ask  that  you  come 
along to support us if you can. 
Our Regular Sessions! 

Courses  -  over  four  weeks,  two 
hours  a  week  covering  a  variety  of 
topics. Cost $30 - members only 

Workshops  - we cover a topic for a 
group  -  usually  a  two-hour  session. 
Cost $10 members $15 non-members 

Help  Clinics  -  no  question  is  too 
trivial,  in  fact  you  don't  even  need  a 
question  to  ask,  other  peoples' 
questions will probably be interesting! 

Cost $10 members $15 non-members 
Personalised  One-on-One  Sessions  - 
you  get  individual  (or  couple) 
assistance  with  a  particular  technical 
problem. This might be set up of a new 
laptop  or  phone,  Facebook  account, 
internet  banking,  etc.  Any  topic  you 
choose.  Cost  $15  members  $25  non-
members. To book a time call Gordon 
027 
952 
7167 
or 
email 
seniornet.mangawhai@gmail.com.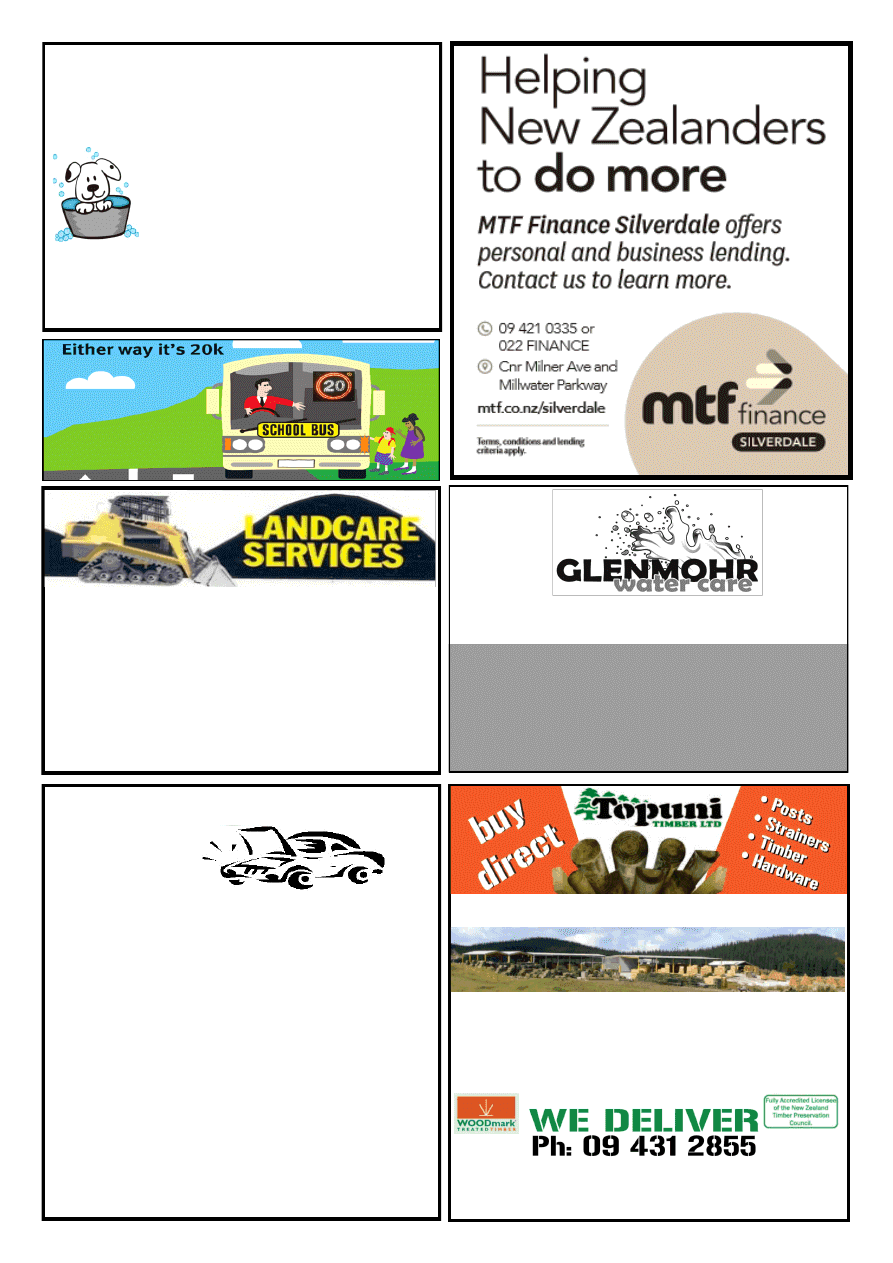 LOCALLY OWNED AND OPERATED 
QUALITY PRODUCTS • FRIENDLY ADVICE • GREAT SERVICE 
Quality Products milled from High Density NORTHLAND Radiata Pine. 
Treated and guaranteed to NZS3640 with commitment to 
Environmental Safety.
Phone, fax, email, or come into the mill 
Schiska Rd, Topuni, SH1, 10 min north of Wellsford. Fax: 09 431 2856 
Email: sales@topunitimber.co.nz           Mon - Fri 7am-5pm 
• Fencing 
• Retaining 
• Decking 
• Landscaping 
• Gates 
• Hardware 
Hot Diggity Dog 
DOG GROOMING 
All breeds dog grooming 
Professional Experienced Groomer 
Short practical grooms - summer 
Breed Standard Grooms 
Designer fusion Grooms 
Oneriri Road
By appt Phone Pam 09 4312143 
Or text only 0273335380 
Email  hot.diggitydog@outlook.com 
Water Tank Cleaning 
• 
Keep your water safe & clean  
• 
Removal of sediment, silt etc. 
• 
Vacuum or full scrub 
• 
Minimal water loss 
Phone Mark (09) 432 0655 or 0274 707607 
LANDSCAPING 
4 IN 1 BUCKET 
TRENCHER 
POLE HOLES 
ROTARY HOE 
COMPACT ROLLER 
OFFAL HOLES 
CAN SUPPLY WOODCHIP & POST PEEL 
5 TON TIPPER 
FOR RELIABLE AND FRIENDLY SERVICE CONTACT DAVE 
Dave Hyndman 
 
KAIWAKA 
PH: 09 4312302 
MOB: 021 431 238 
Twinkle Tow 'n' Tyre 
Think you'll get a better deal in the city? 
Ring us - it won't cost anything! 
1837 State Highway 1, Kaiwaka 
Phone 431 2823 
*W.O.F. 
*Tyres 
*Windscreen 
replacement 
*Chip repairs 
*Bulk Oil 
*Batteries 
*Welding 
*Custom built 
trailers 
*Trailer hire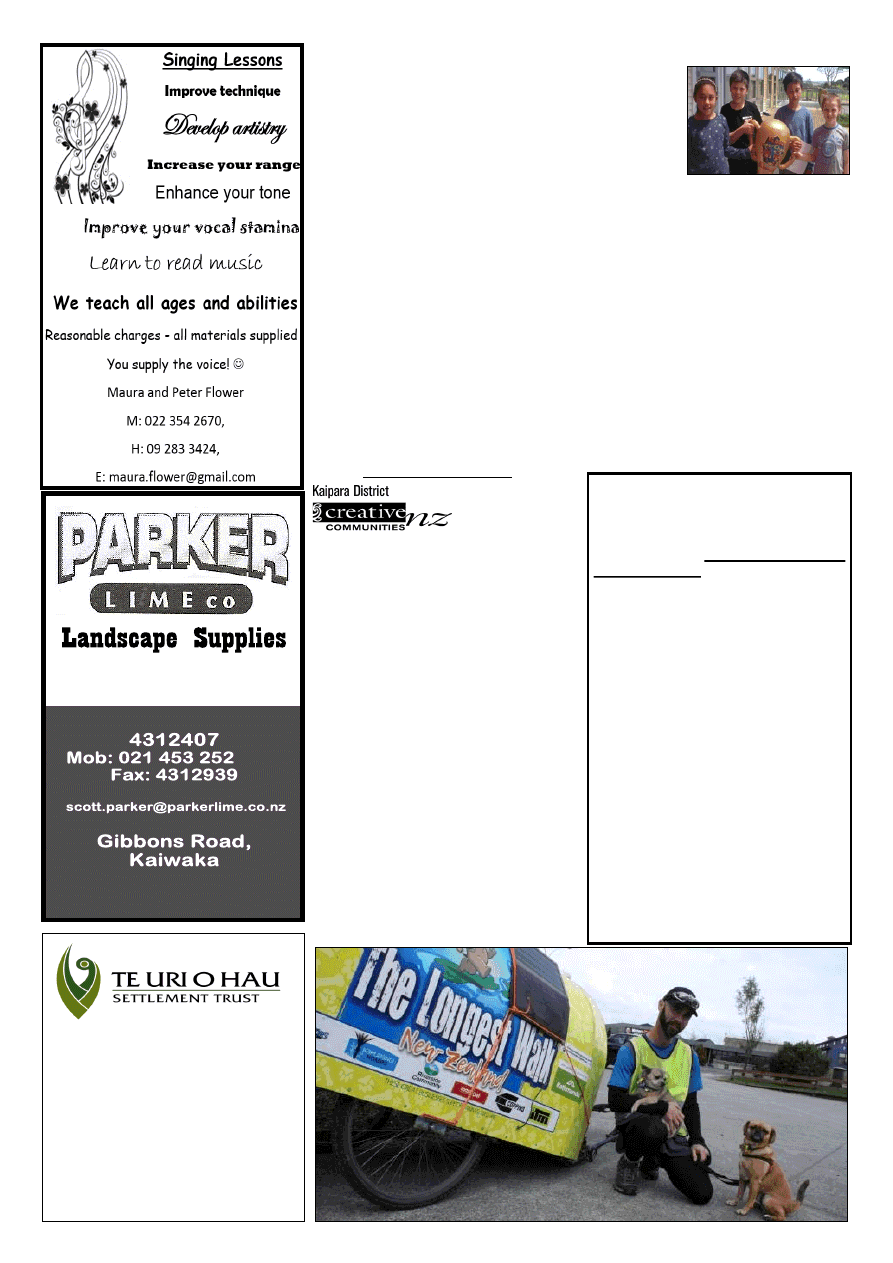 www.kaiwaka.co.nz 
Kaiwaka Bugle - 17 October 2017 
Page 11 
Bulk Cartage 
Te Uri O Hau – Settlement Trust, 
Unit  2,  10  Kaiwaka-Mangawhai 
Road, KAIWAKA 
Services include:   
Whanau  Ora,  reaching  one's  goals 
and  aspirations,  Sharon  Kemp 
021793262  or  Te  Aroha  Marshall 
021642261 
Family 
Start, 
home 
visiting 
programme  focus  on  improving 
health,  learning  and  relationships, 
environment  and  safety.    Sheryl 
Tomas 021320236 
KAIWAKA SCHOOL 
We are really pleased to announce that 
Mrs  Brown  has  now  been  appointed 
permanently  to  the  staff  of  Kaiwaka 
School,  and  Mr  Massey  will  be 
returning  to  teach  at  our  school  next 
year. 
The  roll  is  currently  at  142,  and  we 
expect it to continue growing. We will 
be  getting  a  new  classroom  for  next 
year. 
If  you  know  of  any  prospective 
students  who  have  not  yet  enrolled, 
especially  New  Entrants,  can  you 
please  let  us  know  immediately.  We 
need to plan for them. 
At  the  end  of  October  Stephen 
Brassett,  pictured  below  with  his  dogs 
and  trailer,  talked  with  our  students 
about  Animal  Welfare.  He  is  walking 
the length of NZ to raise awareness and 
funds for this cause. 
Our  After-School  Care  Programme  is 
going really well. The children enjoy a 
lovely  afternoon  tea,  lots  of  fun 
activities and playing outside. There is 
room for more students to attend, as we 
have the capacity for 20 students each 
day. 
Mondays and 
Fridays  have 
fewer 
bookings 
than 
the 
other  days. 
We  welcome 
your support for this school service. If 
it  continues  to  go  well  and  be 
supported,  we  will  provide  a  holiday 
programme as well.  
There  is  a  great  new  initiative  being 
trialled  in  our  area,  from  the  Ministry 
of Education. If you believe your child 
has 
speech 
or 
communication 
difficulties, you can refer them directly 
for  appraisal  and  support.  phone  0800 
52484256.oryou  can  just  drop  in.  The 
clinics  are  rotated  between  Kaiwaka, 
Mangawhai and Maungaturoto weekly. 
Kaiwaka School Dates for 2018 
Term 1: 7 February-13 April  
Term 2: 30 April-6 July 
Term 3: 23 July-28 September 
Term 4: 15 October-20 December 
KAIWAKA SCHOOL 
BOARD OF TRUSTEES' 
ELECTION 2017 
Nominations  are  invited  for  the 
election  of  2 
(two) 
parent 
representatives  to  the  Board  of 
Trustees. 
A  nomination  form  and  a  notice 
calling for nominations will be posted 
to all eligible voters. 
You  can  nominate  another  person  to 
stand  as  a  candidate,  or  you  can 
nominate  yourself  (make  sure  you 
sign both parts of the form). 
Additional  nomination  forms  can  be 
obtained from the school office. 
Nominations  close  at  noon,  Friday 
17th  November  2017,  and  may  be 
accompanied  by  signed  Candidate's 
statements. 
The voting roll is open for inspection 
at  school  and  can  be  viewed  during 
normal school hours. 
There  will  be  a  list  of  candidates' 
names,  as  they  come  to  hand,  for 
inspection at the school. 
Voting  closes  at  noon  on  Friday  1st 
December  2017.  ~
Sara  McAulay, 
Returning Officer, Kaiwaka School  
Kaiwaka  School 
are  excited  to 
have  received  a 
grant  from  the 
Kaipara Creative Communities Award 
toward  an  Art  Project  for  the  school. 
They  hope  to  create  some  outdoor  art 
that will showcase the children's talent, 
bring  alive  the  history  of  the  village 
and brighten up the new fence area.  
We  would  like  to  create  a  lasting 
artwork which celebrates the history of 
Kaiwaka  and  the  sharehand  values  of 
the  school  (Safe,  Helpful,  Aroha, 
Respect, Encouragement).  
We  envisage  strong  student  input  to 
instil  a  keen  sense  of  ownership  and 
pride in the project.   
We would like to connect with those in 
the  community  who  are  keen 
historians;  those  who  have  interesting 
stories to tell of how things were in the 
old Kaiwaka days.   
They  are now  looking  for local  artists 
and historians who would be interested 
in 
working 
with 
the 
school 
community.  
For more info please call Josie on 021 
234 0519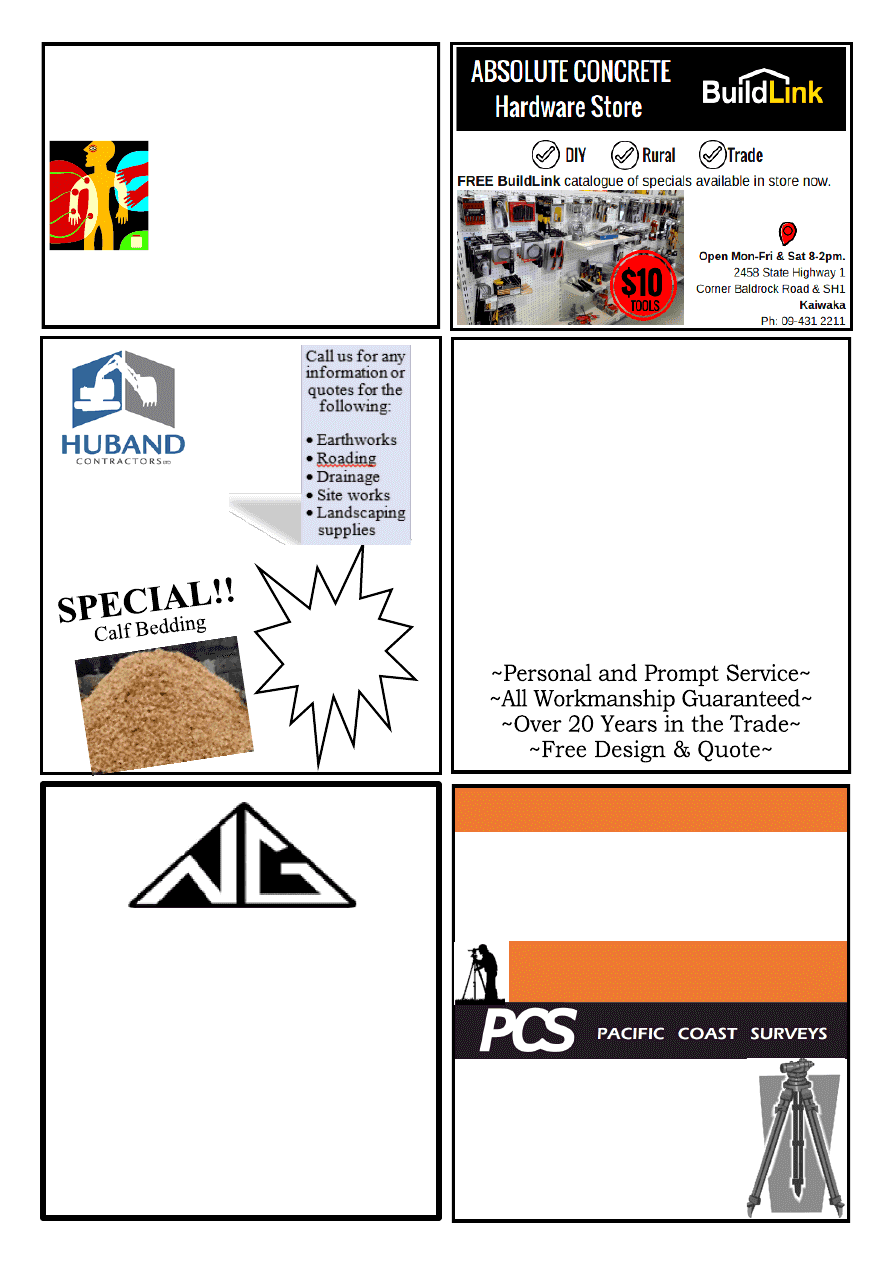 NORTH GLASS 
WINDSCREEN REPAIR OR REPLACE 
GLAZING SERVICES 
MIRRORS  •  SPLASH BACKS  •  SHOWERS 
0800 70 40 10
info@northglass.co.nz 
www.northglass.co.nz 
PLANNING A NEW KITCHEN?
 CONTACT NOEL McDOWELL
WELLSFORD 
KITCHENS
Ph/Fax 094312888
KAIWAKA-Any time
 QUALITY CUSTOM MADE 
KITCHENS
OWEN STEVENS 
Osteo Therapist
For careful adjustments to bones and joints 
Treatment for  humans and their pets 
Clinics: 
Kate's Place, Kaiwaka: 
Last Friday of month 
For bookings:9.00am-5.00pm 
Phone 
09 4312661 
Or phone Owen  09 4317123  anytime 
Open Monday-Friday 
8am-5pm 
Saturday 8am-noon 
2088 Paparoa valley Road 
0800 234449 
E: admin@huband.co.nz 
$25.25 + 
GST per m
3
(Until the end of 
November
) 
SURVEYORS 
SUBDIVISIONS 
HOUSE SITE SURVEYS 
CIVIL ENGINEERING 
WASTEWATER DESIGNS 
EXPERIENCED 
PROFESSIONAL 
INNOVATIVE 
Ph 09 431 5353 
0800 PACIFIC (0800 722 434) 
pacificcoastsurvey.com
Adam Booth - 027 415 5752 
Bsurv, Licensed Cadastral Surveyor
Surveying Kaipara since 1994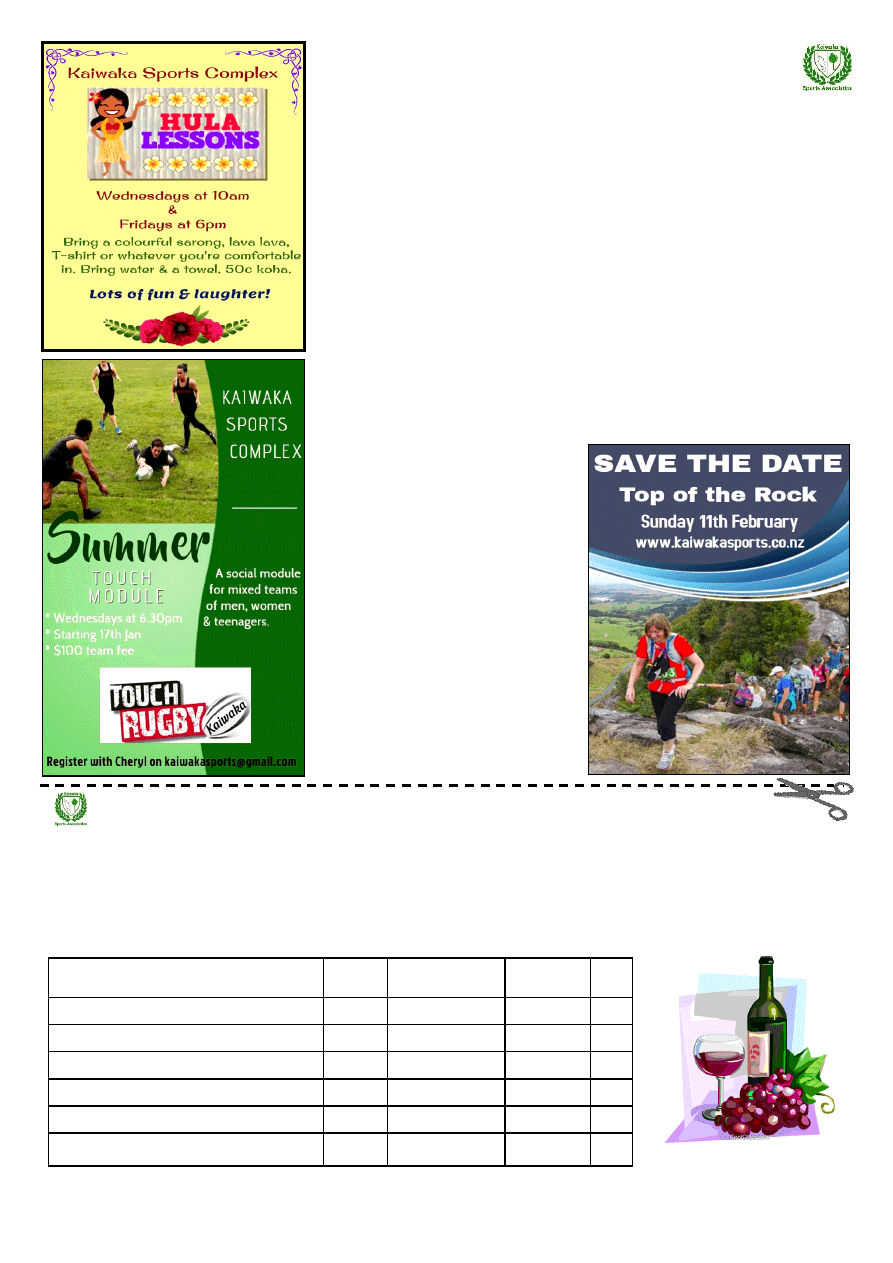 www.kaiwaka.co.nz 
Kaiwaka Bugle - 17 October 2017 
Page 13 
KAIWAKA SPORTS ASSOCIATION 
Kaiwaka Touch Module 
Would you like to play in my Summer 
Touch  Module?  The  Touch  module 
will be held at the Sports Complex for 
six  weeks  on  Wednesday  evenings 
starting  on  Wednesday  17th  January. 
Teams  are  6  a-side  with  at  least  three 
females on the field. You can have up 
to 14 players in your team, team fee 
is $100. This is a social competition for 
mixed  teams  of  men,  women  and 
teenagers.  Touch  is  easy  to  learn  and 
just  about  anyone  can  play.  Why  not 
start getting a team together! 
KSA AGM 
The Kaiwaka Sports Association AGM 
will  be  held  on  Wednesday  22nd 
November at 7pm, in the pavilion. All 
welcome. 
Wine Fundraiser 
Here's  an  opportunity  to  buy  wines  at 
unbeatable  prices  –  and  support  us  at 
the  same  time!  Enjoy  them  now,  or 
stock up ready for the holiday season. 
The  wines  are  top  quality  and  are 
cheaper than the retail price. Wine can 
be  purchased  by  the  bottle  or  in  case 
lots.  Check  out  the  selection  available 
in  the  order  form  which  is  in  this 
edition  of  the  Bugle.  To  order  please 
return  the  form  to  me  with  your 
payment  by  15th  November.  Delivery 
will be mid-December. 
Athletics 
Do  you  have  a  child  who is  interested 
in  Athletics?  The  Kaiwaka  Athletics 
Club  runs  on  Monday  evenings  at 
Otamatea  High  School  for  several 
months. To register your child, contact 
Eileen Parsons on 4318 055. 
Sports Complex for hire 
Did  you  know  our  Sports  Complex  is 
available for hire? We also hire out our 
kitchen  to  groups  who  require  a 
commercially  licensed  kitchen 
for food preparation. 
Check  out  our  website  for  all  the 
details www.kaiwakasports.co.nz. 
Tennis 
Does your child want to try something 
new?  Why  not  give  tennis  a  go?  Our 
Tennis  Club  offers  junior  lessons  on 
our  courts  every  Monday  afternoon. 
Beginners  lessons  start  at  3.30pm, 
Intermediate  at  4pm,  and  Advanced  at 
4.30pm.  Let  your  child  try  it  out  for 
free. All equipment provided. For more 
information  call  Floyd  on  022  476 
9669 or email floydriver@yahoo.co.nz. 
Hula Dance Lessons 
Ever  wanted  to  learn  the Hula  Dance? 
Turn  up  to  our  gymnasium  on 
Wednesdays at 10am and/or 
Fridays at 6pm. No need to book - just 
bring  some  water,  a  towel  and  a  50c 
koha.  It's  an  hour  of  movement  and 
fun! 
Cheryl Anderson, 4312 051, 027 3462702 
kaiwakasports@gmail.com 
WINE FUNDRAISER 
Kaiwaka Sports Association 
Here  is  an  opportunity  to  purchase  fantastic  wines  at  unbeatable  prices  –  and  support  the  Kaiwaka 
Sports Association at the same time! Enjoy them now, or stock up ready for the holiday season. 
Wine  can  be  purchased  by  the  bottle  or  in  case  lots.  You  must  be  over  18  years  to  purchase  wine.  To 
order  please  return  this  form  with  your  payment  by  15th  November.  Delivery  will  be  the  following 
fortnight.  Any queries to Cheryl Anderson on cherylanderson051@gmail.com. 
Name:  _________________________________     Phone number:  _____________________ 
Payment options: cash, cheque  (payable  to KSA) or bank direct 060365002247200 (use  reference Wine  Fundraiser and  your full 
name). Ways to return form: drop off at Jaques Four Square or email to cherylanderson051
@gmail.com.  
Please send me:
RRP per 
bottle
KSA special price
Bottle / Case
Number
(in bottles)
$
Total
Barone Montalto Sicilian White Wine 2014
$16
$12 / $144
Tahuna Sauvignon Blanc 2014
$16
$12 / $144
Lookout Point Pinot Gris 2015
$18
$13 / $156
Mosketto Italian Sparkling White Wine
$14
$10 / $120
Overstone Merlot 2013
$19
$15 / $180
Tahuna Pinot Noir 2016
$19
$16 / $192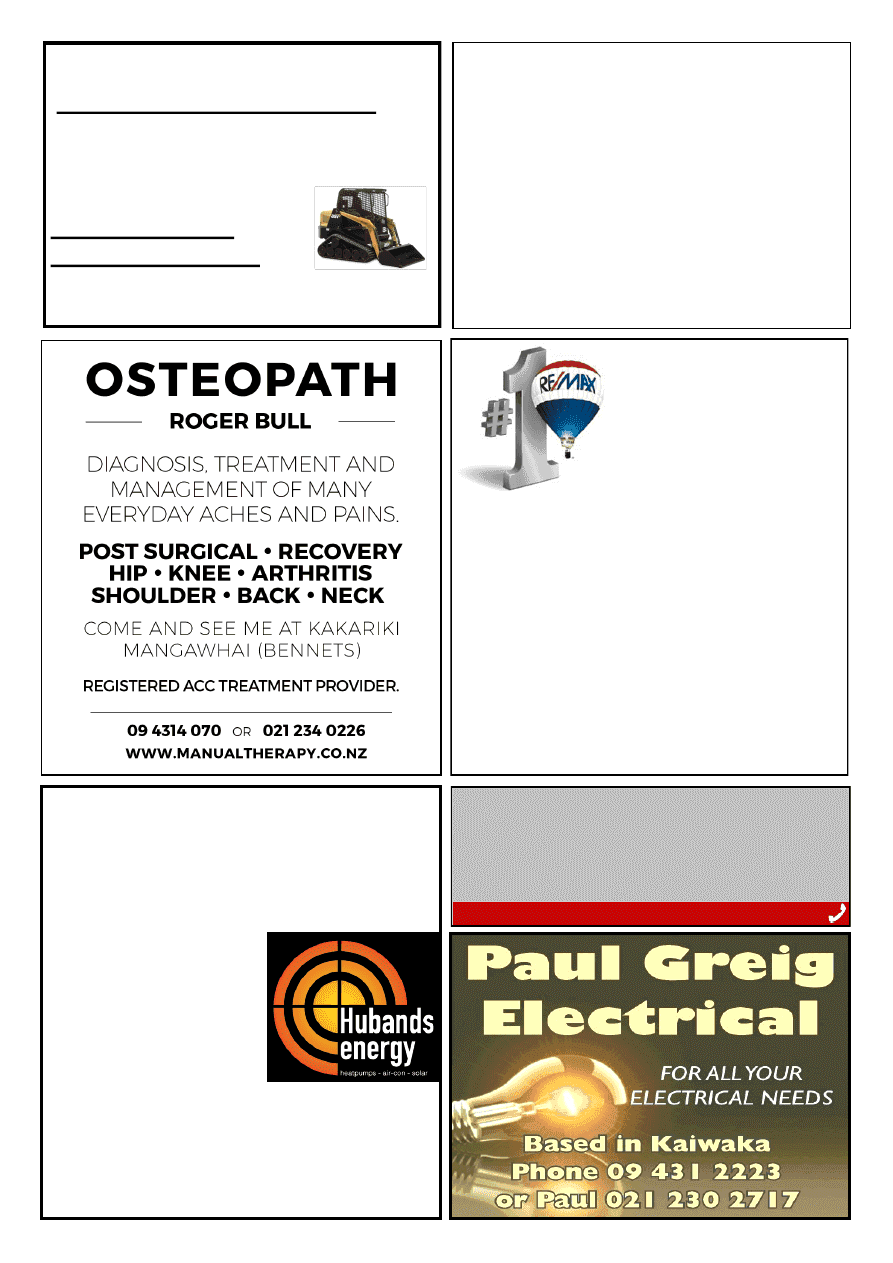 Natural Earth Ltd 
 Landscape and Bobcat services 
 : Driveways  :Landscaping  :Retaining Walls 
 : Hole Boring: Land Levelling :Trenching 
 : Decks :Fences :Sections Cleared: Plus much 
more 
Tel   09 4312885 
Mob 02102391280  
For A Fast Friendly  
Service Contact Tim Hicks 
CALL CRIMESTOPPERS 
Worried about something that doesn't seem right to 
you? Concerned about activity that could be 
harmful? Call Crimestoppers.  
You don't need to know all the facts.
CALL 0800 555 111 ANONYMOUSLY 
Couples and Individual Counselling
Have you … 
Serious relationship issues? Heading for Family 
Court? Destroying each other? Children involved?
I'm Here To Help! 
Call me to arrange an appointment 
Keep trying if phone is busy
Pete Worsfold 
B.Soc.Sc., M.Soc. Sc, Dip Prof Counselling NZIPC, 'Man Alive' Counsellor/ 
Facilitator, Prov NZAC. Professional service in your local area. Individuals, 
couples, any issue, males and/or females.
Private or WINZ Clients, Experienced Counsellor/Facilitator 
021 825 970 or 021 063 0302
peteworsfold@xtra.co.nz 
Northland's Award Winning 
Solar Company
SEANZ Best Solar Business Winners 2015/16
EXCLUSIVE 10 year installation warranty 
FREE No obligation onsite quote
Complete systems 
from $5990
See our range of: 
✓ 
Heatpumps 
✓ 
Airconditioning 
✓ 
Hot Water 
Heatpumps 
✓ 
Central Vacuum Systems
09 430 0019             sales@hubands.co.nz 
15 Kioreroa Road, Whangarei
Locally owned and operated for 35 years 
There are more people 
wanting to buy than 
there are houses 
available!
Vacant land, home and income, DIY dream … 
whatever your property's condition there is a buyer 
out there waiting to give you their money. 
Get your local agent's appraisal of your property to 
find out what's it's really worth. 
Contact Beth Stone today! 
Mob: 0274 937 801 
Email: beths@remaxrealty.net.nz 
RE/MAX Realty Group MREINZ 
Northern Properties Limited 
Licensed REAA 2008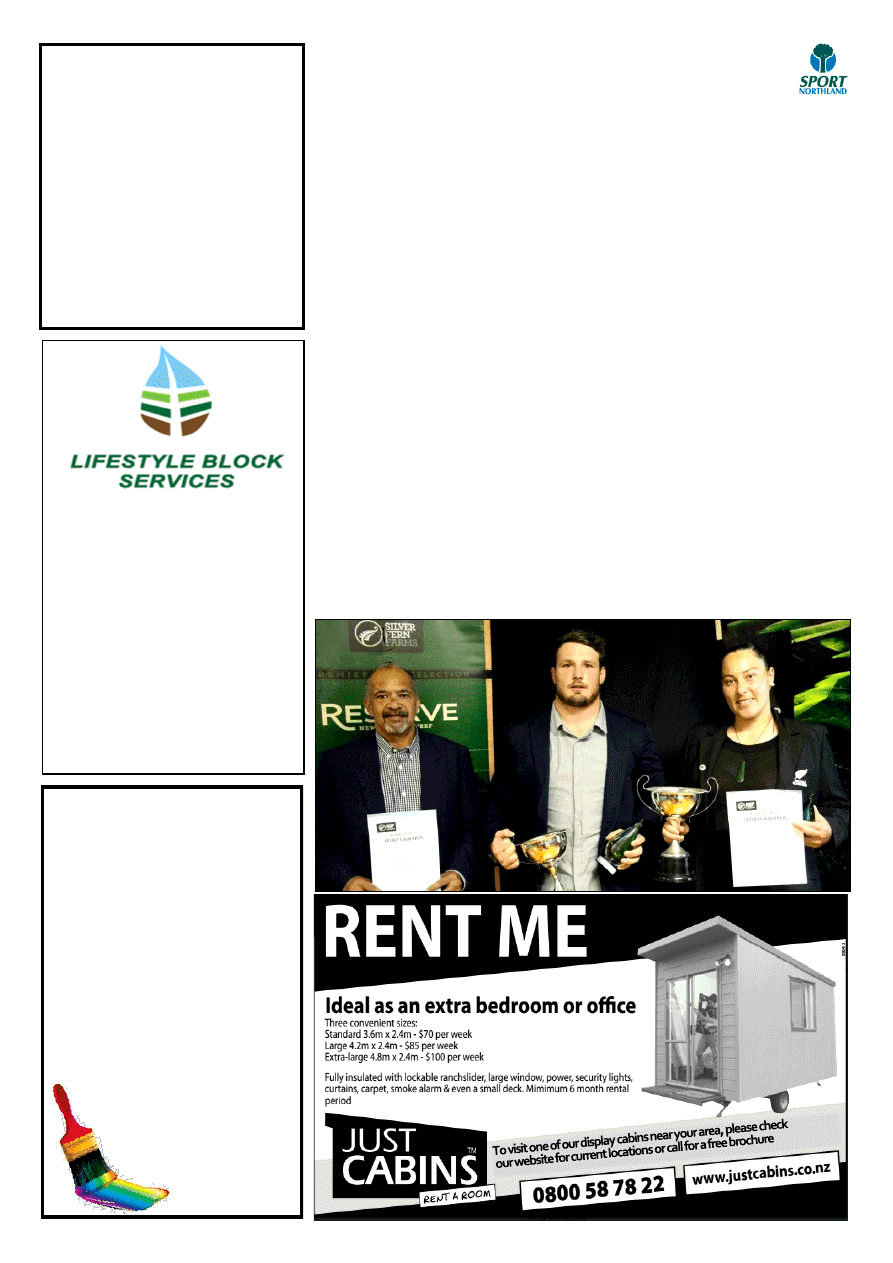 www.kaiwaka.co.nz 
Kaiwaka Bugle - 17 October 2017 
Page 15 
LEE COOPER 
PAINTERS 
(Kaiwaka Based) 
*30 yrs Experience 
*Interior/Exterior 
*New and Restoration 
*Honest and Reliable 
*Free Quotes 
 
09 4312918 
0274735171 
leecooper@xtra.co.nz 
KAIPARA ACKNOWLEDGES SPORTS 
AWARDS WINNERS 
Make Baleage while the sun shines! 
Let us make hay/sileage for you, or 
buy single & 5 bale equivalents from 
us
. 
Contact Mark on 021 801 065 or 
Contact Lisa on 021 108 1057
We also do: 

Fencing 

 Spraying 

  Mulching 
 
Stockwork 

  Stock Water 
Systems 

  Tree Trimming  

 Driveway & Track Maintenance  
The  outstanding  achievements  of 
Kaipara's 
athletes 
have 
been 
recognised with a sell-out crowd at the 
Silver  Fern  Farms  Kaipara  Sports 
Awards recently held in Maungaturoto. 
Black Fern, Aleisha Pearl Nelson took 
out 
the 
Silver 
Fern 
Farms 
Sportswoman  of  the  Year  and  the 
Supreme  Award,  making  her  arguably 
"queen of the Kaipara". 
An  audience  of  220  were  able  to 
acknowledge  the  32  ASB  code  and 
youth  awards,  two  team  and  11 
volunteer  awards  that  were  presented. 
The  Maungaturoto's  Men's  Triples 
Bowls Team took out the Team of the 
Year  award  and  the  Rodney  College 
Golf Team won the Junior Team of the 
Year Award. 
The  new  Community  Impact  Award 
was  awarded  to  Mangawhai  Football 
Club. Robyn Bruce, Graeme Powdrell, 
Christine  Taylor  and  Gywn  Powell 
were  all  recognised  with  a  Service  to 
Sport  Award  for  their  many  years 
contributing  to  sport  in  Kaipara.  The 
Contribution to Club Sport Award was 
presented  to  Maree  Chapman  and 
Helena Williamson. 
The  Silver  Fern  Farms  Sportsman  of 
the Year went to current Northland and 
Blues  rugby  player,  Matt  Moulds  who 
captained the Taniwha through a much
-improved  season  and  continues  to 
excel on the rugby field for Northland 
and the Blues. 
The  new  category  Junior  Sportsperson 
of  the  Year  was  awarded  to  Simon 
Parker.  Simon  has  excelled  in  rugby 
over the season and is a member of the 
Blues  development  team.  A  special 
merit  was  also  awarded  to  Dayne 
Fowlie  for  his  achievements  in  Kenpo 
Karate. 
Other  award  winners  were  Carlrine 
Gillespie  -  Official  of  the  Year,  Matt 
Rowe - Leadership Award, both Snow 
Tane  and  Daniel  Fulop  were  awarded 
the Coach of the Year award. 
"I  am  amazed  at  the  fantastic  support 
that  these  awards  have  received  this 
year, nominations and attendance is the 
highest  ever"  says  Roxanne  Kelly 
Sport  Northland's  organiser  of  the 
event. 
"Aleisha continues to make her mark in 
woman's  rugby  and  her  award  is 
testament to all of her hard work". 
"The  achievements  of  people  in  the 
Kaipara continue on the local, national 
and international stage. 
This is the tenth year Silver Fern Farms 
have  been  involved  in  supporting  this 
event  and  we  are  grateful  for  this,  it's 
fantastic to see the involvement of this 
local business in the community. " 
For  a  full  list  of  winners  see  http://
www.sportnorthland.co.nz/sports-
awards/kaipara-sports-awards 
Roxanne Kelly,Community Connector
HELP CLINIC 
SENIORNET MANGAWHAI 
Need a little help with your 
computer, laptop, ipad, tablet? 
Come to our Help session.  
Ask questions, solve problems, 
compare notes with others. 
$10 members $15 non-members 
Wednesday 15 November  2pm 
(2 hours) 
The Club (Bowls Club), Molesworth 
Drive, Mangawhai Heads 
Ph: Tony 4312269 or Val 4314042 
Or email 
seniornet,mangawhai@gmail.com  
to register.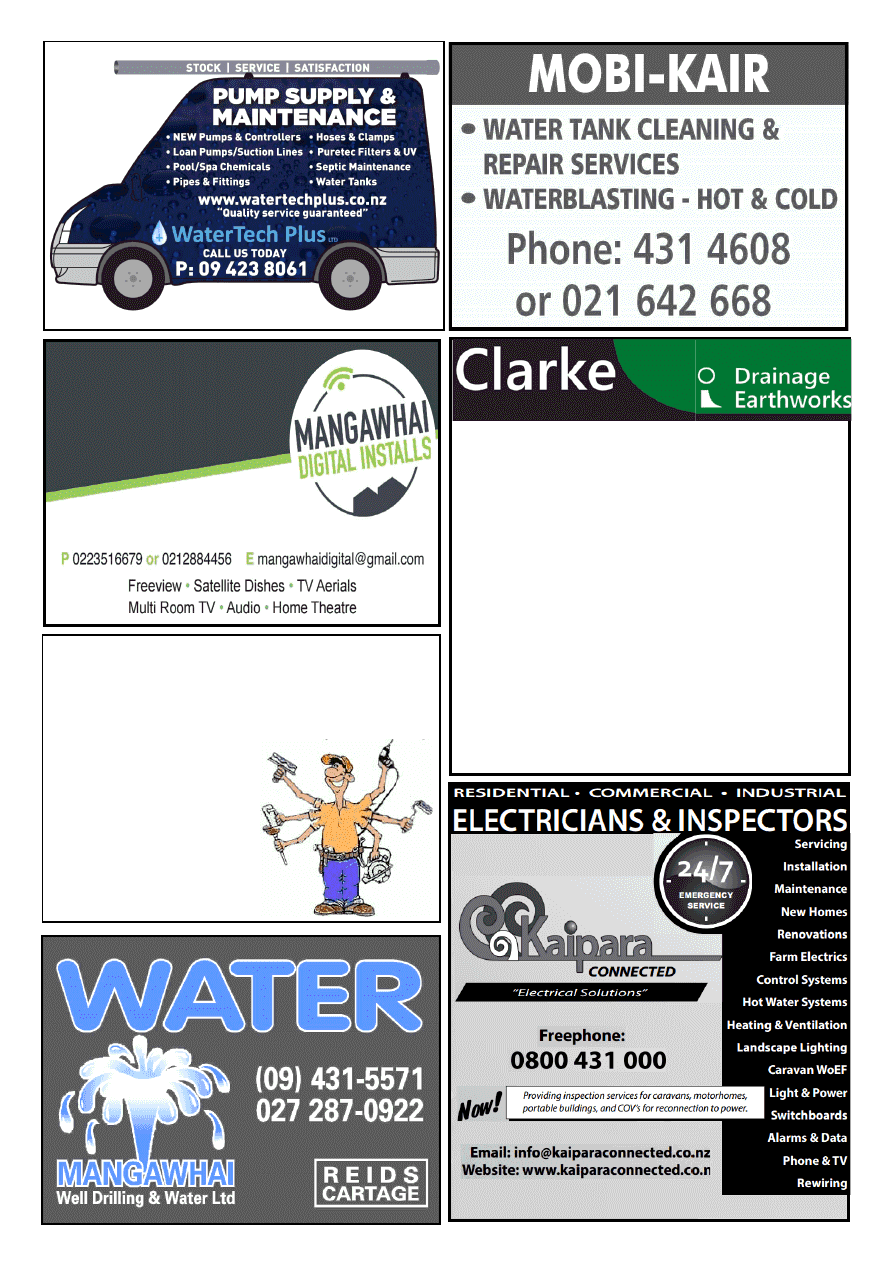 Registered Drainlayer 
All Types of Earthworks  
> All Residential & Commercial Work  > House Sites 
> Septic System Design & Install 
> Footings & Drilling to 10m 
> Sewer Connections 
> Dams 
> Water Tank Installation 
> Roading & Races 
> Farm Work 
THE ONE STOP SHOP  
Phone Nigel for an Obligation Free Quote  
Drainage & Earthmoving 
clarkedrainage@xtra.co.nz 
027 2233 185 
The Little Job Man 
Are you tired of those little jobs not getting 
done ? 
Indoors  or outdoors 
Sick of waiting ? 
Give me a call to discuss 
what you need doing. 
Doug  0277132625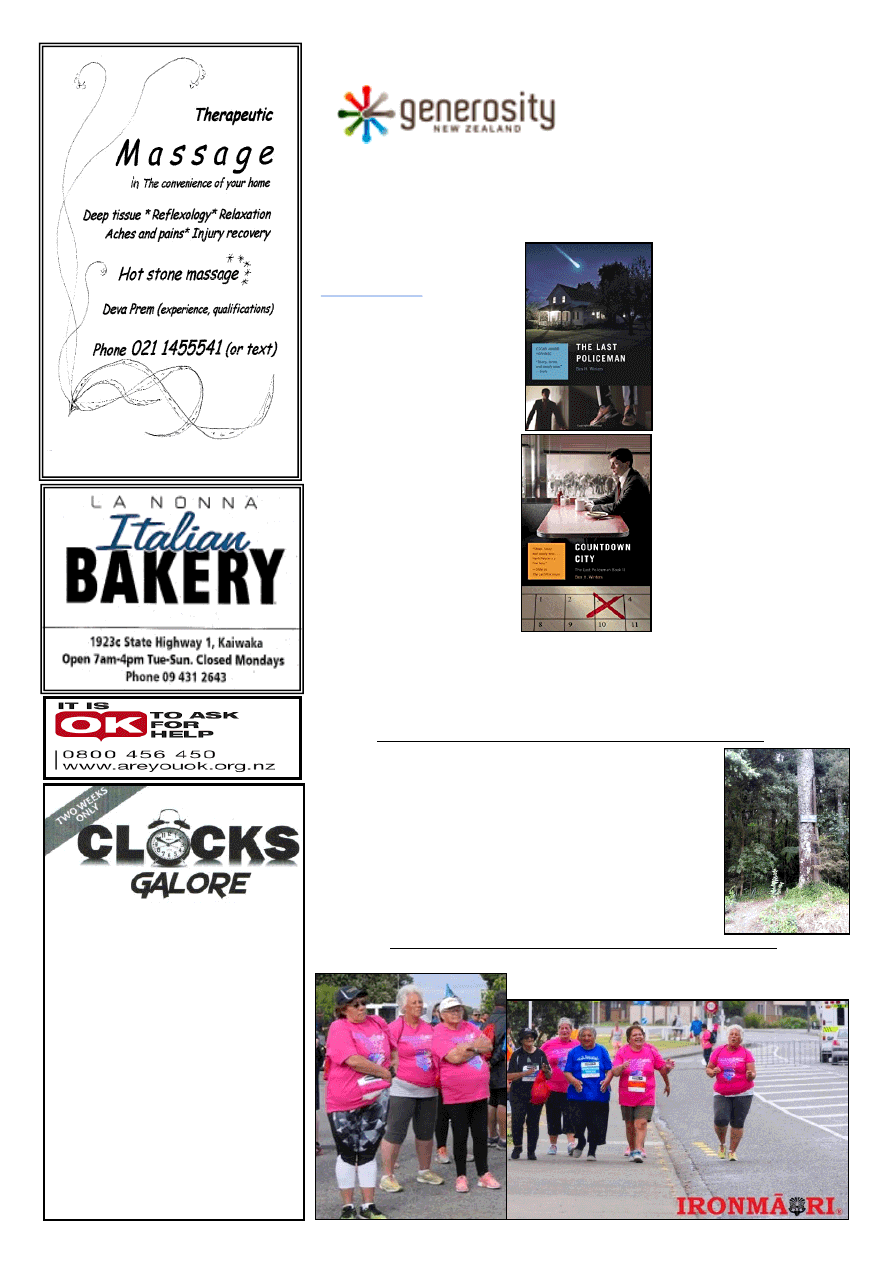 www.kaiwaka.co.nz 
Kaiwaka Bugle - 17 October 2017 
Page 17 
www.mangawhaimassage.co.nz 
Grants & scholarships 
Are  you  looking  for  funding  for  a 
community  project,  or  your  own 
studies? With your library card you can 
search  for  free  at  Generosity  NZ 
(previously  known  as  FundView)  for 
suitable  doners  who  match 
your  requirements.  Go  to  the 
KDC 
web 
site 
(
),  click  on 
"find it", then "libraries", and 
on  the  library  page  scroll 
down to find "funding" under 
the Community heading. You 
will  need  your  library  card 
handy  for  the  bar  code 
number on the back. 
Next book swap 
The  next  Dargaville  swap  is 
coming  up  in  a  few  weeks. 
The  books  don't  need  to  be 
back with us beforehand, but 
do  come  in  and  check  the 
shelves  for  anything  of 
interest 
before 
they 
disappear.  There  will  be  a 
new  selection  of  titles  on 
those  shelves 
in 
early 
December. 
Cotton bags for sale 
We  now  have  some  lovely 
cotton  bags  for  sale  in  the 
library,  just  $3  each.  On  one  side  is 
printed  the  Kaipara  District  logo,  and 
on the other is a piece of competition-
winning  artwork  representing  the 
district. If you're looking for something 
small, light, and cheap to send overseas 
or give to friends and family, these are 
a good choice. We make a small profit 
on each sale, which helps to buy more 
books  and  other  resources  for  the 
library. 
Book review 
The  Last  Policeman,  and  Countdown 
City, by Ben H Winters. Henry Palace 
is  a  detective  in  the  Concord,  New 
Hampshire,  Police  Department.  He's 
not been in the job for long, but already 
he's  one  of  the  few  left  on 
the  team  -  life  hasn't  been 
the  same  since  it  was 
announced  that  there  is  an 
asteroid  heading  for  Earth, 
and it is going to collide in a 
few  months'  time.  So  when 
Henry is called to a suicide 
late  one  night,  it  seems 
pretty  run-of-the-mill  for 
the  current  times,  where 
many  have  chosen  to  end 
their lives before that fateful 
day  arrives.  Something  isn't 
quite  right,  though,  and 
Henry  has  to  argue  to  be 
allowed  to  investigate  the 
case.  Slate  have  described 
the  first  book  as  "sharp, 
funny,  and  deeply  wise", 
and  I'm  inclined  to  agree 
with them  - the books were 
a good read. They are on the 
Rental  Fiction  shelves  until 
July  2018,  and  are  also 
available  as  e-books  on  Overdrive. 
Read  them  in  order  for  maximum 
enjoyment  Fiction  shelves  until  July 
next year. 
See you in the library ~Wendy 
Kaiwaka Library,  cnr  State  Highway  1  and  Kaiwaka 
Mangawhai  Road.  PO  Box  89,  Kaiwaka  0542.  Phone  4312 
539. Email kaiwaka.library@gmail.com  
KAIWAKA LIBRARY 
PLUS WATCHES 
ALMOST5 300 PIECES 
13 NOV - 25 NOV 
(CLOSED SUN 19 NOV) 
9AM - 5PM 
WELLSFORD HUB 
RODNEY STREET 
(THE OLD WELLSFORD LIBRARY 
OPPOSITE CALTEX & MCDONALDS) 
Pictured  below  some  of  the  team  from  Te  Ha  Oranga  (
from  Mangawhai, 
Kaiwaka,  Wellsford,  Dargaville)  t
ook  part  in  the 
Maori Iron 
 triathlon in Napier recently.
From a Bugle Reader: NEW TRACK IN TOWN 
Hi, I am a new track in town, I would like to meet you. You 
can find me on the Kauri Walk that goes in from the Domain 
road, I am about halfway through and you will see me on the 
left.  I  am  signposted  and  if  you  follow  the  white  markers 
through I will take you to my friend the Scout Track, where 
you can go to Gibbons Road or  back to the to the Domain. 
I am a little rough at the moment but with the help of your 
feet and some of my friends I could become like SH 1, even 
that  has  potholes!  On  the  way  through  you  will  see  some 
lovely kauris and totaras, and I have a bench for you to rest 
and  enjoy  the  solitude.  I  look  forward  to  enjoying  your 
company.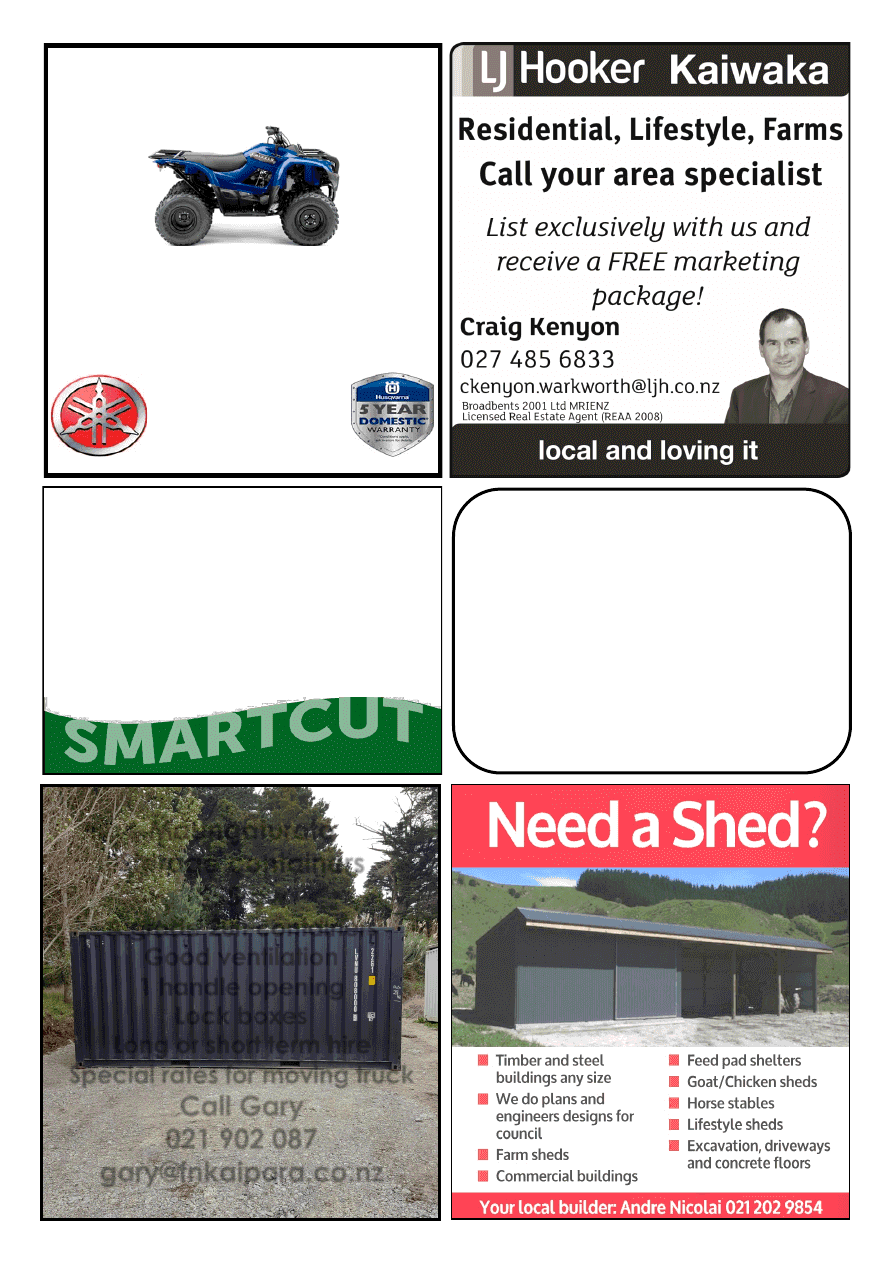 All your outdoor needs sorted so you don't have to... 
I can prune, chop, tidy, spray, mow, plant 
- you name it, I can do it! 
Residential & Commercial 
Lawn & Garden Care 
Call Rodney, your local  
lawnmowing contractor 
021 138 2344 
KAIWAKA 
MOTORCYCLES LTD
SALES – SERVICE – SPARES 
FARM BIKE SPECIALIST
PHONE 09 431-2127 
10 KAIWAKA-MANGAWHAI ROAD, KAIWAKA
Trimmers  
from $279
Chainsaws  
from $339
YAMAHA 
HUSQVARNA 
Maungaturoto  
Storage containers  
$55 pw  
A grade 20ft containers 
Good ventilation 
1 handle opening 
Lock boxes 
Long or short term hire 
Special rates for moving truck 
Call Gary  
021 902 087 
gary@fnkaipara.co.nz 
UP-LINK 
CHRIS WARING 
FREEVIEW INSTALLATIONS 
T.V. - HOME THEATRE &  
HI-FI ADVICE/SET UP
SKY ACCREDITED INSTALLER
MOB.0273403747 HM.094312328 
EMAIL cwaring44@gmail.com
28 YRS EXPERIENCE 
OFFERING UNBIASED ADVICE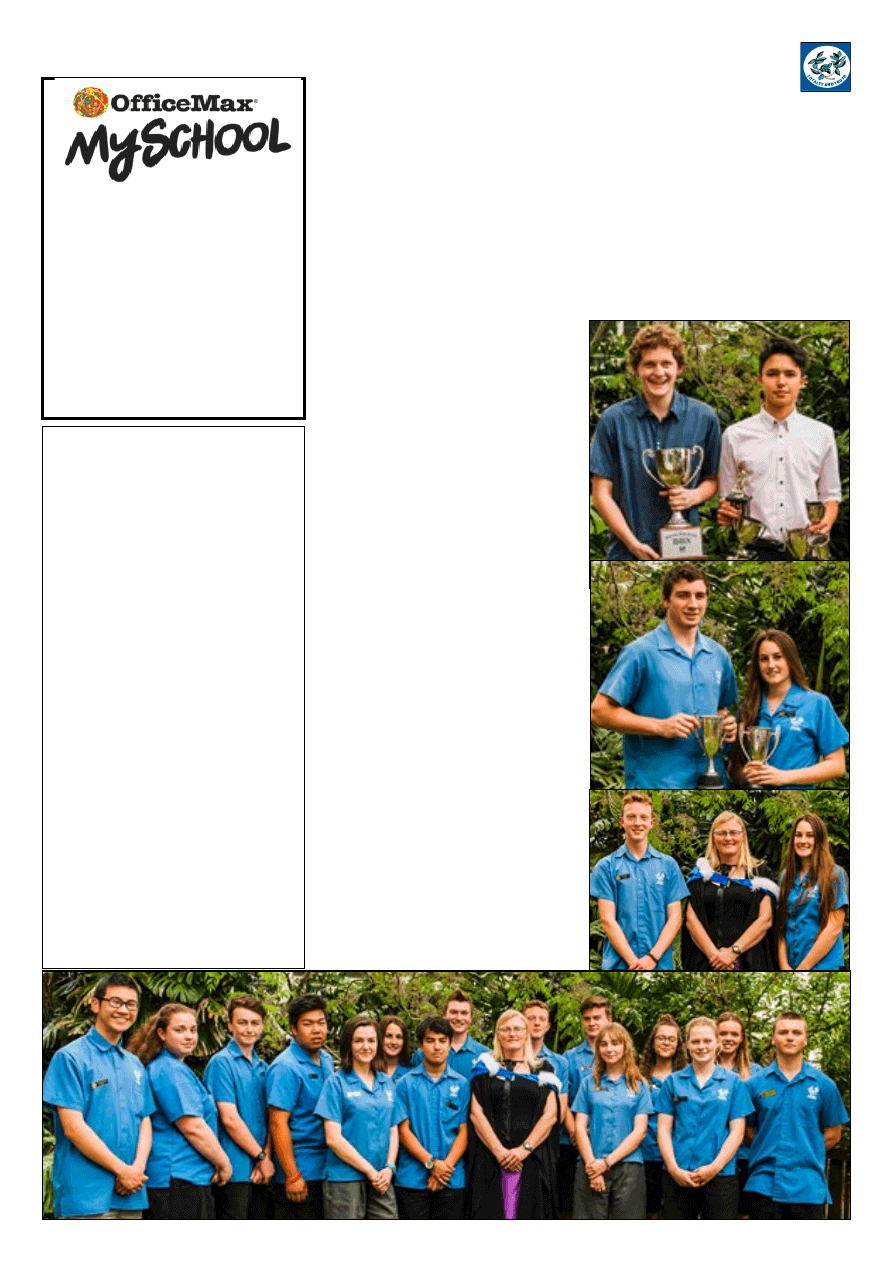 www.kaiwaka.co.nz 
Kaiwaka Bugle - 17 October 2017 
Page 19 
OTAMATEA HIGH SCHOOL 
Principal's Comment: 
The  year  9  and  10  exams  went  very 
smoothly, and we are now into the first 
of  the  NCEA  exams.  It  is  great  that  a 
number  of  senior  students  have  been 
taking  advantage  of  the  additional 
study  classes  on  offer.  More  of  our 
senior  students  have  also  now  earned 
study  leave  by  completing  the 
necessary  tasks  to  get  them  closer  to 
achieving the relevant qualification. 
All  junior  students  have  been  given 
information and permission slips about 
the upcoming end of year activities and 
camps.  Please  ensure  that  the 
permission  slips  are  returned  as  soon 
as  possible  and  that  payments  are 
made.  If  there  is  any  difficulty  with 
payment,  please  contact  the  school  as 
we may be able to assist. 
The  Student  Support  Secretary  role 
which was due to close today has been 
adapted and extended due to a change 
in circumstances. Please see the advert 
if you are interested in this role. 
Host Family urgently required for a 
Japanese  Exchange  Student  for 
2018. 
If  you  are  interested  in  hosting  a  16-
year-old  Japanese  girl  for  the  2018 
school  year,  please  contact  Heather 
Troost for more details on:  
094318679 
or 
heather.troost@otamatea.school.nz 
Congratulations  to  all  our  senior 
prizewinners  for  the  year  and  to  our 
2018  prefects.  We  wish  our  year  13 
students well as they venture into new 
horizons. 
Rachel Clothier-Simmonds 
SENIOR PRIZEGIVING 
Otamatea  High  School  celebrated  the 
success  of  its  senior  students  on  3 
November  with  a  packed-out  school 
hall  for  their  2017  Prizegiving 
Ceremony. 
The  success  of  so  many  students  is  a 
testament to their ongoing commitment 
and hard work. This, in turn, is a sure 
sign  of  the  strong  school  community 
backed  up  by  an  excellent  teaching 
team  and  encapsulated  by  the 
school's whakatauki:'He waka eke noa: 
We  are  all  in  this  waka  -  without 
exception.' 
Honoured guest, Sir Lockwood Smith, 
gave a compelling speech about 
his  road  to  success,  inspiring 
the students to work hard and 'Give it a 
go.'  Wise  words  that  we  may  all  take 
inspiration 
from! 
Photos 
below 
by 
'Josie 
Gritten 
Photography' 
Top:  Dux  and  Proxime  Accessit  -Max 
Daniels and Joshua Nishitani-Hart. 
2nd down: Victor Ledorum - Simon Parker 
and  Victrix  Ledorum  -  Annmarie  Holst 
(Top  sporting  performers  in  the  school  - 
male and female). 
3rd  down:  Principal  Rachel  Clothier-
Simmonds  with  2018  Head  Boy,  Claude 
Smyth  and  2018  Head  Girl,  Annmarie 
Holst. 
Bottom: 2018 prefects 
SITUATION VACANT AT 
OTAMATEA HIGH SCHOOL 
Student Support Secretary:  We  require 
at least one competent administrator with 
a friendly and positive disposition to run 
the  school's  student  support  centre,  Te 
Whare o Rongo. This role has previously 
been advertised for 3 days a week but due 
to  a  change  in  circumstances  the  role  is 
now  available  on  a  full  time,  (term  time 
only),  permanent  basis.  The  role  may  be 
split  between  two,  part  time  staff 
members  or  may  be  taken  by  one  staff 
member; in this case  a  further one  day a 
week  administrator  will  be  required  by 
the school. 
The  following  skills  and  attributes  are 
crucial 
for 
this 
role: 
excellent 
interpersonal skills, flexibility, the ability 
to  problem  solve,  the  ability  to  work 
independently  and  in  a  team  and 
willingness 
to 
take 
on 
other 
administrative  tasks  as  required.  Due  to 
the  nature  of  the  role  a  high  level  of 
confidentiality is required. 
Please send a completed application form 
(available on the school website), CV and 
covering  letter  stating  your  strengths  for 
this  position  to  Nikki  Donaldson, 
Principal's  PA,  Box  64,  Maungaturoto, 
Northland;  ph  (0800)  682  628;  email 
ohs@otamatea.school.nz 
Please also indicate whether you want to 
be considered for the part time, full time 
or both roles. 
Applications close, 9am, Friday 24th 
November 2017. 
SCHOOL STATIONERY 2018 
We would like to encourage our 
families to order their 2018 
stationery on-line from 
OfficeMax. The school can earn 
rewards. The OfficeMax online 
site will be opening beginning 
December. 
Please access stationery lists from 
our school website, in store 
OfficeMax, Okara Drive, 
Whangarei or  
contact the school office.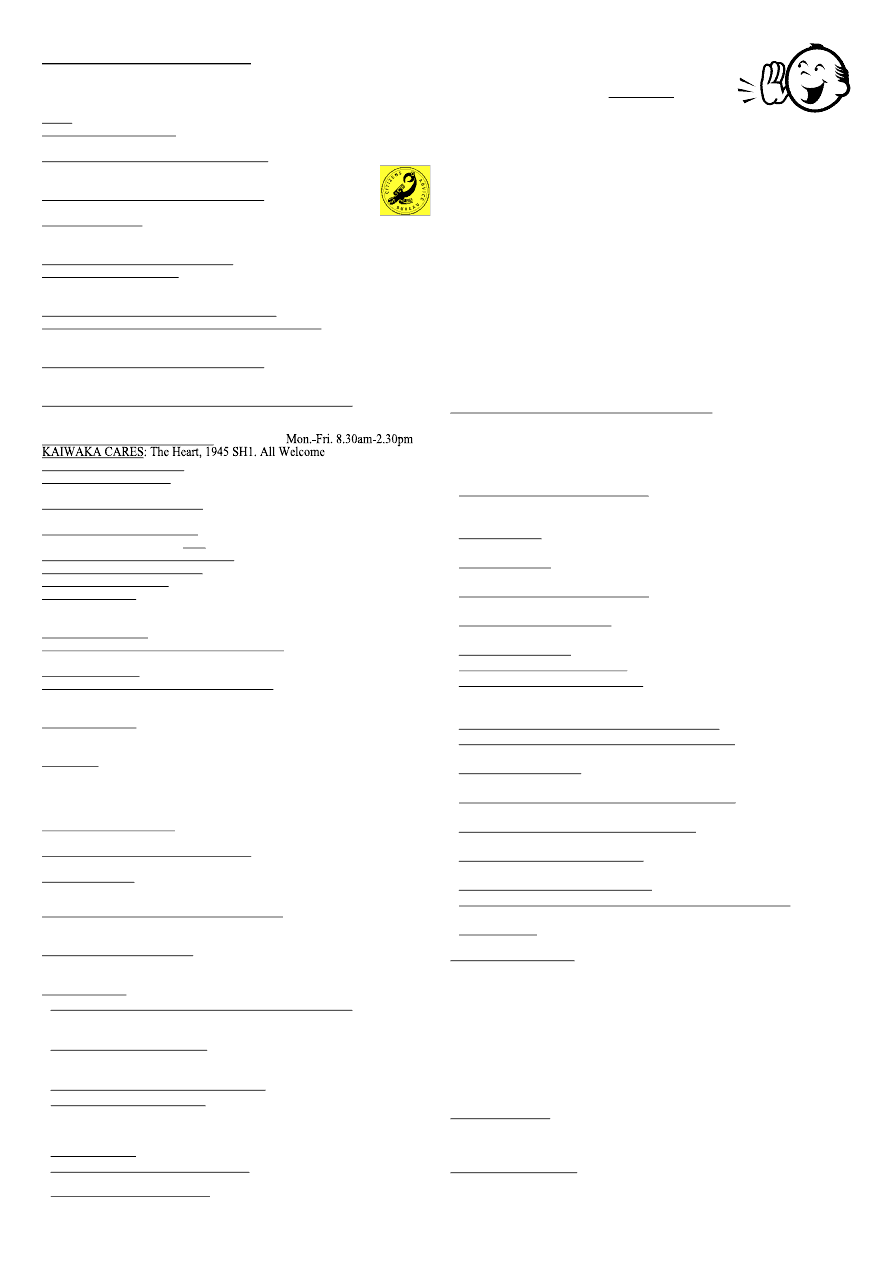 Next Bugle Deadline midday Friday 24 November 2017
WHAT'S ON
PLEASE ~ do let us know what is on - email 
kaiwakabugle@kaiwaka.co.nz 
Advertising in WHAT'S ON is FREE  
*17Nov~'Captain Fantastic', 7.30pm KWMH 
*22Nov~Kaiwaka Sports AGM, 7pm 
*23Nov~Maungaturoto Community Charitable Trust AGM,1pm 
*23Nov~Kaipara Young Farmers meet 3 Furlongs, 7pm 
*24Nov~Rotary Seniors Afternoon Tea, 2pm 
*24Nov-3Dec~'The Frog Prince', ORT, Maungaturoto 
*26Nov~Car and Bike Show, Mgto Primary School, 10am 
*26Nov~'The Emoji Movie', 2pm KWMH 
*28Nov~Hakaru Community Hall AGM, 7.30pm 
*1Dec~'Going In Style', 7.30pm KWMH 
*12Dec~Otamatea High Junior Prizegiving 
*12Dec~Otamatea High end of Term 4 
*14Dec~Kaiwaka School Prizegiving 
*15Dec~ Kaiwaka School end of Term 4 
*15Dec~'The Big Sick' Dinner & Movie 6.30pm KWMH 
KWMH = Kaiwaka War Memorial Hall; KSA = Kaiwaka Sports Association 
See www.kaiwaka.co.nz for more information 
HOUSEHOLD RUBBISH COLLECTION - Kaiwaka Pick up: 
Mondays = Green bags (Northland Waste - 09 430 3273) 
Wednesdays  = Blue bags and yellow recycling (at Jaques $3.00 
and  $1.50)  (Kaurilands  09  4392146);  ONLY  Blue  and  Yellow 
bags picked up on Oneriri Road. 
 DIABETES  Support  Group  -for  Kaiwaka,  Mangawhai, 
Wellsford  10am,  3rd  Friday  of  month  Ph:  Colleen  James  09 
4314238 
 DRINK CAN 'tear tabs' - for Starship Hospital- please collect - 
98 Kaiwaka Mangawhai Rd, leave in mailbox, Ph. 4312625  
 GENEALOGY - Wellsford: 1st Thursday in month Ph: 423 
7033; Waipu: 4th Monday in month Ph: 4312 725 
 GYMNASTICS  OTAMATEA  -  Tuesday  Ph:  Stephanie  022 
3624998 
 HAKARU PONY CLUB - Secretary Denise Rogers 021423376 
secretary@hakaruponyclub.co.nz  
 KAIPARA HUNT - Secretary Albert Doonenbal Ph 4312059 
 KAIWAKA BADMINTON -Tuesdays 7.30pm Ph: 4312345 
 KAIWAKA  DRAMA  CLUB  -  Dave  Edwards  021  611198  - 
KaiwakaDrama@gmail.com Monday 5:30-7:00pm KWMH - FB 
- "KaiwakaDramaClub" 
 KAIWAKA DRUM & DANCE CLASSES - 021 611198 
 KAIWAKA GARDEN & FLORAL GROUP - 2nd Thursday in 
month. Ph: 431 4744 
 KAIWAKA  CUBS  -  Thursdays  5.30-7pm,  Hakaru  Ph:Bruce 
4312542 
 KNITTING FOR WHANGAREI HOSPITAL - 2nd Tuesday in 
month, Archie Bull Hall 10am Ph 4314827 
 MANGAWHAI COMBINED REBUS CLUB - 2pm, 3rd 
Thursday month, Senior Citizens Hall Mangawhai. Ph: 4315777 
 OTAMATEA GREY POWER - Kath Pattinson 09 283 2052, 
1pm last Wednesday of month, Anglican Church Hall, Mgto 
 PT CURTIS CRUISING CLUB - Jean Ph: 4312227 (wk), 4312520 (hm) 
 RSA,  HAKARU  &  DISTRICTS  WOMEN'S  SECTION  –  meets 
1.30pm 4th Thursday of the month. Ph: 431 5818  
 TRAMPING - Mondays 9am-2:30pm Maria 4312 234 
HALLS FOR HIRE: 
 St.Pauls Archie Bull Hall HIRE $20 half day, $40 full day per 
hire, R. Morgans, Ph 4312365 
 Kaiwaka  War  Memorial  Hall  HlRE  -  Phone  4312725  or 
kaiwaka.hall.bookings@gmail.com 
 Hakaru Community Hall HIRE -Ph. 4312256 or 4312110 
 Te Pounga Marae queries - R. O'Leary 4312 423, J.Nathan 021 
186 7382 
 Kaiwaka Sports Association hire/queries - C. Anderson 4312051 
or kaiwakasports@gmail.com 
Justice of Peace:  
B.FJaques  4312  048;  L.Donaldson  4312  228;  A.F.Hargreaves 
4312 045, W.Howard 4312 725 - please phone to make sure they 
are available www.justiceofthepeace.org.nz 
Marriage Celebrants:  
L.Donaldson; A.F.Hargreaves; Y Osborne
LOCAL SERVICES 
*Emergencies - Ambulance, Fire, Police - dial 111 
*Non-urgent Police phone 09 4311150
A A: Meets Wed., 8pm Kaiwaka Ph: 4315543, 0800229 6757 
ASUREQUALITY LTD (was AgriQuality) Call Free 0508 0011 22  
BUDGETING SERVICE, WELLSFORD: Free confidential advice & 
support for all areas of personal finance. Ph (09) 423 7123 
CAB-Citizens Advice Bureau.Wellsford Ph: 4237333 
0800 367 222 email:cab.wells@xtra.co.nz  
CIVIL DEFENCE - Kaiwaka Community Response Group: 
kaiwaka.civildefencecrg@gmail.com, 4312725 Wendy 
DOG/STOCK /NOISE CONTROL 0800 105 890 
FUNERAL SERVICES: Morris & Morris Ltd, 
Whangarei - Bev Jaques Ph:4312367 or 0800667747 
GRANDPARENTS Raising Grandchildren: Dianah Roberts 0223819539 
HAKARU & DISTRICTS MEMORIAL RSA (Inc) 733 Settlement Rd, 
Hakaru. Ph 4312 176 or Graeme Hitchcock (President) 431 3064 
HAKARU LANDFILL/Transfer Station:Open everyday except 
Tuesday10am-4pm.Ph4312629 Cost-$55 trailer load up to 1 cubic metre. 
Ph:4258567 - office 
KAIPARA DISTRICT COUNCIL www.kaipara.govt.nz:  
Help Desk FREEPHONE 0800 727 059  
KAIWAKA KOHANGA REO: Ph:4312620 
KAIWAKA CEMETERY: Ph: 4312045 or 4314017 
KAIWAKA LIBRARY: kaiwaka.library@gmail.com  
Mon. 4-6pm; Wed., Thurs., Fri., Sat. 10am-2pm Ph:4312539 
KAIWAKA PLAYCENTRE: Ph Juanita 0274134904; open Mon, Wed, 
Fri 9am-12pm. Hastie Lane; Monday to Friday 9.00am - 12 noon. 
KAIWAKA POST OFFICE:Ph:4312 431  
Post Code: 0573 for RD2 and 0542 for all Kaiwaka Post Office mail 
KAIWAKA PRIMARY SCHOOL: Ph: 4312309   
KAIWAKA SPORTS ASSN: Ph 4312005; 4312129 gym 
KAIWAKA ST JOHN: Manager Steve Rosser 09 4318403, 021 355734 
KATE'S PLACE Community Centre - Employment services, Free Health 
Nurse, Plunket, Advocacy, Osteopath, A.A., Legal Advice. 4312 661 
LINKING HANDS Health Shuttle Ph 4315906 or 09 4318969 
MINISTRY FOR PRIMARY INDUSTRIES - General inquiries Call 
Free 0800 008 333 
NORTHPOWER: Faults Kaiwaka area 0800 104040 
OTAMATEA COMMUNITY SERVICES: Counselling, parent coach, 
Family Support worker, budget advice, food bank. Mon-Fri 9am-3pm. Ph 
09 431 9080 http://www.otamateacs.org/ 
PARENTPORT: Free, practical family support service Puhoi to Paparoa 
Ph or txt: Dianne 027 280 5093 or 09 425 9357 
PLUNKET:  Kaiwaka  -Kate's  Place  Clinic  1st  Wednesday  of  the  month; 
Mangawhai  - Rose Madsen Cottage: Coffee Group 9:30 every Monday.  Clinic 
every Monday and Thursday. 
Maungaturoto - Good News Church, Clinic 2nd and 4th Wednesday.  
Cynthia 09 431 7340 or 027 675 3488 
PLUNKET HELPLINE -0800 933 922 (24 hours) 
TAITOKERAU COMMUNITY LAW: Free confidential legal advice and 
assistance, 2nd
Thursday
 of each month. Ph: 0800 155 529 for appts.  
TE URI O HAU Settlement Trust Tangata Developments: Whanau Ora 
021 793262  
VETERINARY SERVICE MANGAWHAI: 
Ph: 4314535 Mon-Fri 8.00-5.00, Sat 9-12, a/h appt. 
WELLSFORD DOCTORS: Ph: 4238 086 
CHURCHES:
 
Kaiwaka  Revival  Church  -  Your  Community  Church:  Sundays  10am. 
Ph: Pastor Tawhiri 09 431 8988 or Pastor Paul 09 4312 068 Visit us at 
www.facebook.com/kaiwakachurch 
 
St  Paul's  Anglican  Church  1st  Sun.  9.00am  (Eucharist),  3rd  Sun. 
9.00am (Family Service). Contact: Rev. Wayne Thornton Ph 431 4122 
www.mangawhaianglican.org.nz 
 
Church of Christ the King, Mangawhai:9.30am every Sunday 
 
St.Mary's  Catholic  Church:  Maungaturoto  –  Griffins  Road,  Saturday 
evening  Vigil  Mass  6pm;  Mangawhai  –  Senior  Citizens  Hall,  Sunday 
Mass  8:30am;  Wellsford  –  Matheson  Road,  Sunday  Mass  10:30am;  
Mid-week Mass times and all enquires to Fr. Bill Fletcher – phone 423 8170
 
Baptist Church: Sun. 10.30am Mangawhai Snr Cit.Hall.Ph:4312339 
 
Cause  Way  Church  Mangawhai:  Sundays  10.15am,  Mangawhai 
Community  Recreation  Centre,  Insley  St.  Ph:  09  4314782