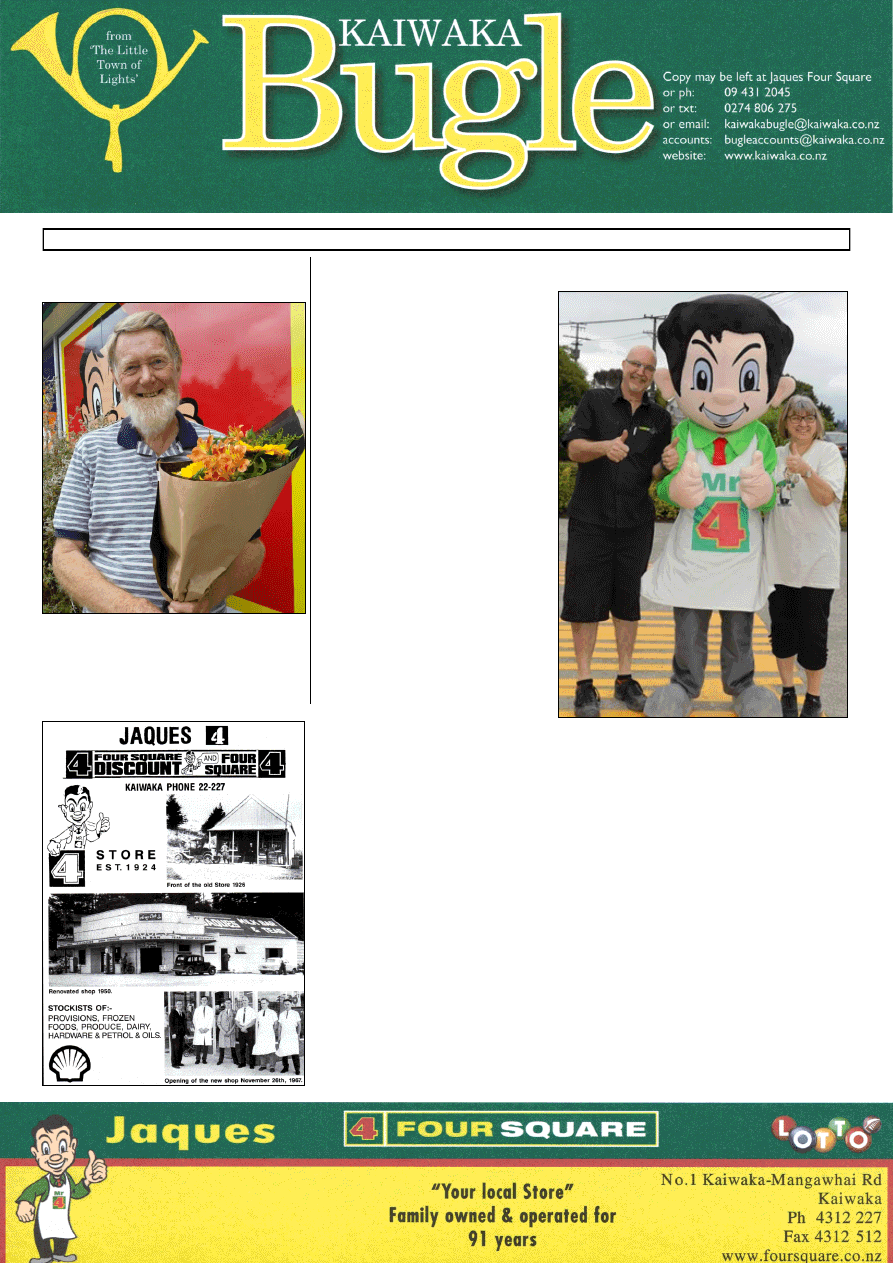 www.kaiwaka.co.nz 
Kaiwaka Bugle - 28 November 2017 
Page 1 
JAQUES FOUR SQUARE KAIWAKA 
No: 23 
28 November 2017 
Trading Hours: 
Monday to Friday 8:00am - 6:30pm 
Saturday 8:00am - 7:00pm 
Sunday 9:00am - 6:00pm  
The  50th  anniversary  of  Jaques 
Four  Square  Kaiwaka  becoming  a 
Four  Square  store  was  celebrated 
last weekend. 
The  milestone  comes  as  an  even 
more significant date approaches  - 
2024 when the store will have been 
serving the area's grocery needs for 
100 years, and by members of the 
same family who started it. 
Pioneers  Frank  and  Ella  Jaques 
established  the  general  store  in 
1924  which  their  five  sons  have 
run ever since. 
Current  owners  Greg  and  Paula 
Jaques  have  been  owners  for  19 
years  starting  in  1998  when  Greg 
and  Paula  together  with  Greg's 
brother  and  his  wife  -  Glen  and 
Dalleise - and the brothers' parents 
- Brian and Gay - bought the shop 
from the other brothers - Bill, Reg, 
Ken and Alan. 
Our  local  supermarket  store  has 
occupied  the  site  on  the  corner  of 
Kaiwaka-Mangawhai 
Rd 
and 
Gibbons  Rd  since  1924  with 
renovations  taking  place  in  the 
1950s and then again in the late 1960s when the store was rebuilt and took on 
the appearance of a more contemporary supermarket offering 418sq m of retail 
space in an almost 740sq m building. 
At  that  time  the  store  became  part  of  the  Foodstuffs  co-op  and  was  given  the 
name - Jaques Superstore. 
Another major refurbishment took place around the time Greg and Paula arrived 
on the scene in the late 1990s, when the store was closed for four days so the 
interior could be completely rejuvenated along with the floor. 
Initiatives over the years have included being among the first to provide petrol, 
starting with hand powered pumps through to modern day systems until the 90s 
when suppliers encouraged smaller operators to leave the petrol service sector. 
Greg  and  Paula,  pictured  here  with  Charlie  from  Four  Square,  who  shared  a 
background in the airline industry and "learnt the ropes" in the years since 1998, 
bought the shares in 2014 and have been running Jaques Four Square Kaiwaka 
since. 
"Greg grew up in Kaiwaka surrounded by family working in the store. So, the 
grocery  business  is  in  his  blood,"  she  said.  After  taking  full  ownership,  the 
Jaques have made many changes; as recently as three weeks ago rearranging the 
layout of the store for easier shopping with a focus on fresh foods, fresh mussels, 
hot chickens and an in-store bakery. 
Last Friday Charlie the Four Square mascot visited Kaiwaka School to give out 
fruit at lunchtime - see photo on page 19. 
Left: Three Jaques Stores - 1920s, 1950s, 1960s. 
Page 54 Kaiwaka Photographic History 
KAIWAKA GOOD 
SORT 
Lindy's flowers for Derek.  
Derek  Christensen,  through  Kaiwaka 
Can has been a driving force for traffic 
and  pedestrian  safety  in  Kaiwaka.  A 
very  caring  man  who  along  with  his 
wife Isa support families in need.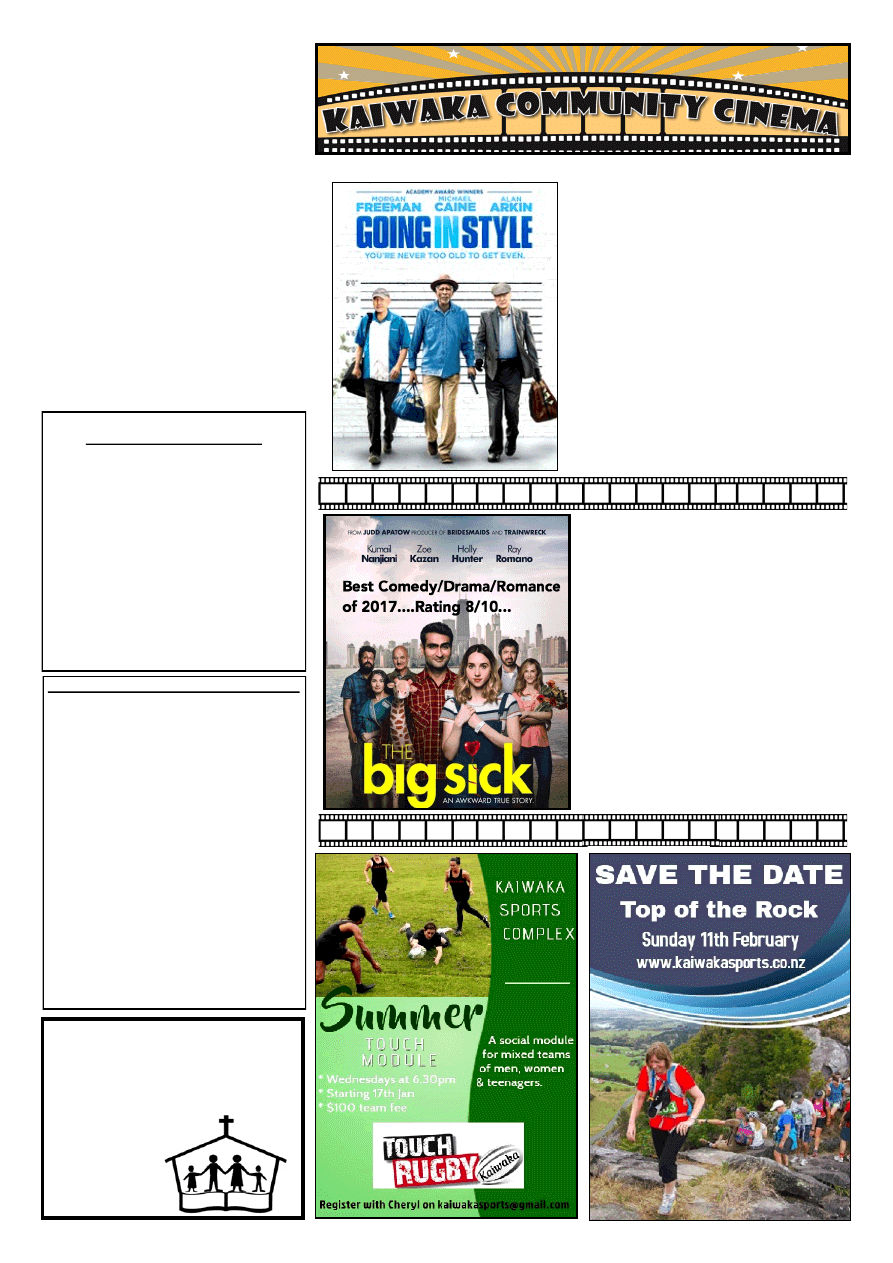 At Kaiwaka War Memorial Hall . Adults $10, Kids (under 16) $5, Family Pass (2 adults + 3 children) $25 
KAIWAKA BUGLE No. 23 
28 NOVEMBER 2017 
CONTENTS: 
Page 3: Public Notices, Classified 
Page 5:  Kaiwaka Can 
Page 7:  St John; Riverview Resthome; 
Rotary 
Page 9:  Otamatea Repertory; OHS 
Page 11: Kaiwaka Sports Assn 
Page 13: Paparoa Show; Kate's Place; 
Pt Curtis CC  
Page 15: Kaipara District Council  
Page 17:Kauri Museum 
Page 19: Kaiwaka School 
Bugle 24 will appear  12 December 
Contact for advertising, reports, articles 
or information can be made by 
Email kaiwakabugle@kaiwaka.co.nz 
Ph: 09 4312 045 Lindsey 
Txt: 027 2724137 
Copy  may  be  left  at  Jaques'  Four 
Square. 
Kaiwaka Bugle Advertisements 2017: 
All 
copy 
and 
queries 
to: 
kaiwakabugle@kaiwaka.co.nz 
The Bugle is printed on an A4 page   
Ad  sizes:  1/16  page  (3  x  9.5cm)  $5;  1/8 
(6.5  x  9.5cm  landscape  or  portrait)  $8; 
3/16 ( 10 x 9.5cm or 7.5 x 12,5)  $12.  
Classified  ads:  First  one  FREE,  $4  per 
entry (max. 30 words, max. 4 repeats). 
Payments  can  be  made  online  at 
ANZ 
06  0365  0006990  00
,  posted  or  left  at 
Jaques Four Square Store. 
We  use  Microsoft  Publisher,  and  can 
work  with  most  common  image 
formats, Word, Excel, and PDF files. 
Accounts:  
Email: bugleaccounts@kaiwaka.co.nz 
The  Kaiwaka  Bugle  is  a  community 
newspaper run by volunteers.   
Articles, etc. printed are not necessarily 
the opinion of the Bugle Team. 
Kaiwaka Bugle 
Founded May 1978 
We appreciate articles and photos about local 
events, etc, as well as ads and suggestions. 
Copies available in Kaiwaka at Jaques Four 
Square, Kaiwaka Postal Centre, Shamrock 
Service Station, Animal Health Centre, 
Kaiwaka St John shop. 
Also outlets in Maungaturoto, 
Mangawhai and Paparoa. 
Can be viewed online at  
www.kaiwaka.co.nz/Bugle  
Or a copy can be posted to you if you supply 
stamped, self-addressed DLE envelopes. 
Going In Style  
Friday December 1, 7.30pm (M
) 
Lifelong  buddies  Willie  (Morgan 
Freeman),  Joe  (Michael  Caine)  and 
Albert  (Alan  Arkin)  decide  to  buck 
retirement and step off the straight-and-
narrow  when  their  pension  funds 
become a corporate casualty. Desperate 
to  pay  the  bills  and  come  through  for 
their loved ones, the three men risk it all 
by  embarking  on  a  daring  adventure  to 
knock off the very bank that absconded 
with their money
 . 
Proverbs 22 : 8
The unjust tyrant will reap 
disaster, and 
his reign of 
terror shall 
end. 
The Big Sick 
(M
) 
An awkward true story 
Friday 15 December, 6.30pm 
Kaiwaka  Movie  &  
Indian Dinner Night  
Choice of 3 options … BYO drinks 
$30.00 tickets  
Ph: 021 2154495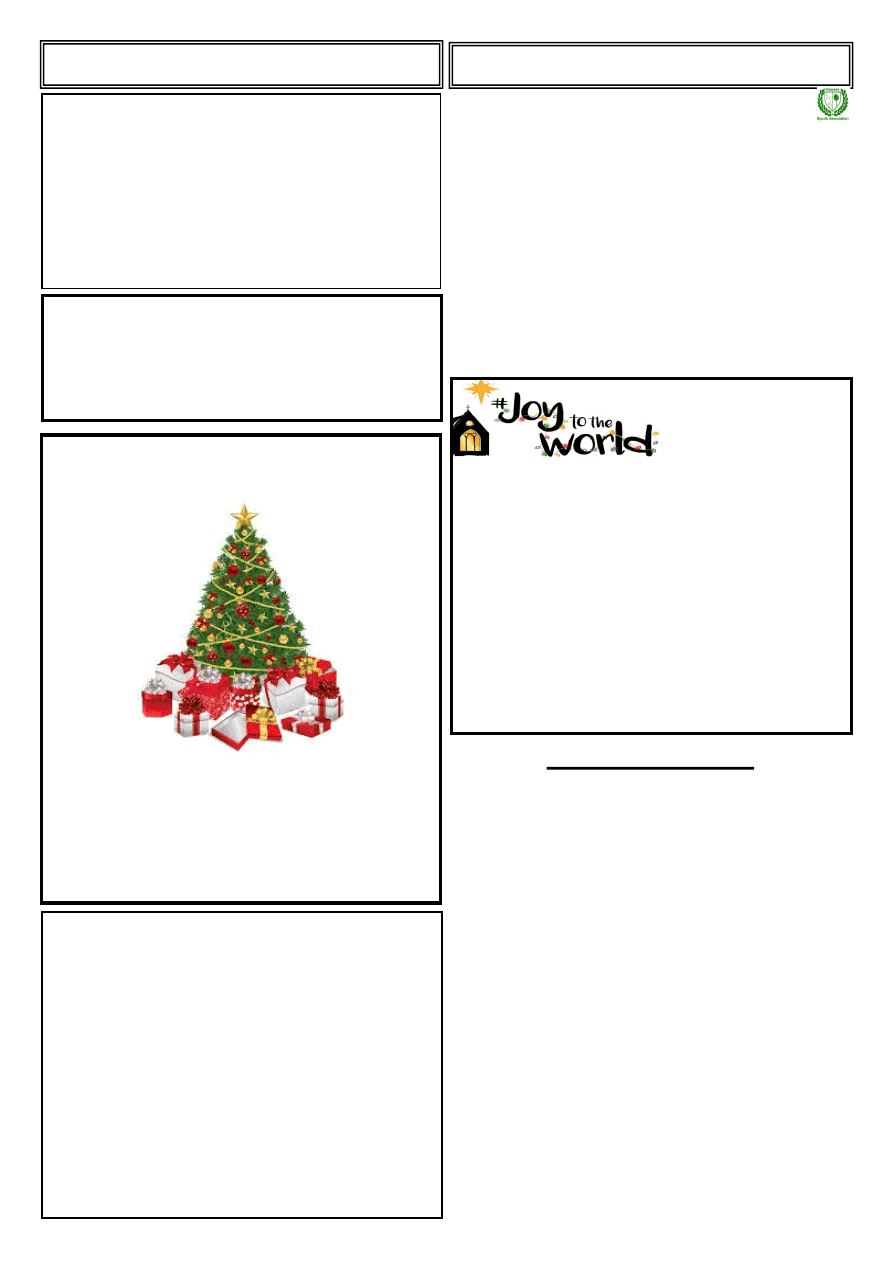 www.kaiwaka.co.nz 
Kaiwaka Bugle - 28 November 2017 
Page 3 
ABOUT TOWN 

 Well done to Paula and Greg and the crew at Jaques - 
what a great 50th 4 Square celebration! 

 At the Bus Stop - wow, the new bus shelter outside Three 
Furlongs Bar & Grill looks brilliant - and will be a real eye-
catcher soon. Thank you, 3 Furs crew! 

 Check page for details on the 142nd Paparoa A&P show - 
our nearest agricultural & indoor exhibits . 
 Congratulations  to  the 
7  Martial  Arts  club  members  on 
gaining their black belts - see page 11 
N
ote  well  -  Jaques  Band  will  be  playing  at  Kaiwaka 
Sports Assn. on Sunday 17 December!
Take  the  opportunity  to  celebrate  Christmas  at  Totara 
House - Kauri Museum.
 Looking  forward  to  the  movie  and  dinner  on  Friday  15 
December - don't be put off by the title of the love story! 
Respite  care  is  available  at  the  Riverview  Resthome  if 
needed. 
Information  regarding  the  school  swimming  pool  key  - 
see page 19. 
Love  to  hear  some  bouquets  or  'well  dones'  for  our 
Christmas edition. 

 One  more  Bugle  for  2017!  Deadline  for  Bugle  24  is 
Friday  8  December  ,for  publishing  on  Tuesday  12 
December.
~ Lindsey, Ed 
"Failing doesn't make you a failure, quitting does; not 
learning from it does; refusing to get back up when you fall 
does." ~ Bob Gass. 
PUBLIC NOTICES 
CLASSIFIED 
HAKARU COMMUNITY HALL  
& DOMAIN SOCIETY Inc. 
740 Settlement Road, Hakaru 
Annual General Meeting 
Tuesday 28 November 2017, 7.30pm 
AGENDA:  Record those present; Apologies; 
Chairman's Report 2016-17; Financial Report; Election of 
Officers; Election of Executive Committee as per Nomination 
Form results; Notice of Motion to amend Society Rules; 
General Business
ALL WELCOME 
KAIWAKA SCHOOL 
BOARD OF TRUSTEES' ELECTION 2017 
Declaration of Parent Election Results 
At the close of nominations, as the number of valid 
nominations was equal to the number of vacancies 
required to be filled, I hereby declare the following 
duly elected 
Adrian Buxton 
Charmaine Tynan 
Sara McAulay 
Returning Officer, Kaiwaka School  
CHRISTMAS GIFTS 
Help to make this Christmas special for 
children less fortunate 
Please leave gifts at Christ the King Church, 
Molesworth Drive, Mangawhai Village between 9 
and 11 am, Mon.- Wed. & Fridays and Sundays. 
Please label your parcels, boy or girl and age. 
Gifts will be distributed in the Kaiwaka/
Mangawhai area. 
Enquiries: 
Mangawhai Church Office 09 431 4122 
Kaiwaka: Ph 09 431 2449 
Mangawhai Mission District 
Anglican Church  
Christmas Services 
CAROL SERVICES 
Sunday 10 December 7.00 pm 
Combined Churches Carol Service at  
Christ the King Church 9 Molesworth Drive  
Sunday 17 December 7.30 pm 
St Paul's, Kaiwaka Carol Service  
CHRISTMAS EVE 
Sunday 24 December 7.00 pm 
St Michael's, Hakaru Christmas Eve Carol Service  
Midnight Sunday 24 December 11.00 pm 
Christmas Communion Christ the King Church  
CHRISTMAS DAY 
Family Communion Christ the King Church 9.00 am 
St Paul's, Kaiwaka 9.00 am  
You are all very welcome!   
www.mangawhaianglican.org.nz Phone 431 4122 
Top of the Rock 
Become a sponsor! 
The Kaiwaka Sports Association's eighth annual multi
-sport event,  the  Top of  the Rock, will be on Sunday 
11th February. 
Top of the Rock is Kaiwaka's biggest event of the year 
and it attracts hundreds of people from all around the 
country.  Top  of  the  Rock  is  the  Sports  Association's 
major fundraiser for the year, with funds raised going 
towards providing sporting opportunities for people in 
our community. 
Sponsorship can be either a donation of product for the 
prize table or a monetary donation. In return you'll get 
lots of promotion of your business! Please get in touch 
with me on 4312 051 or kaiwakasports@gmail.com. 
Thank you, Cheryl Anderson,  
Kaiwaka Sports Association 
NOMINATIONS OPEN FOR KAIPARA MAYORAL 
BY-ELECTION 
The nominations open Friday 24 November 2017 for 
people to stand for election as Mayor of Kaipara due to an 
extraordinary vacancy.  
Nomination forms can be collected from Council's offices 
or online at www.kaipara.govt.nz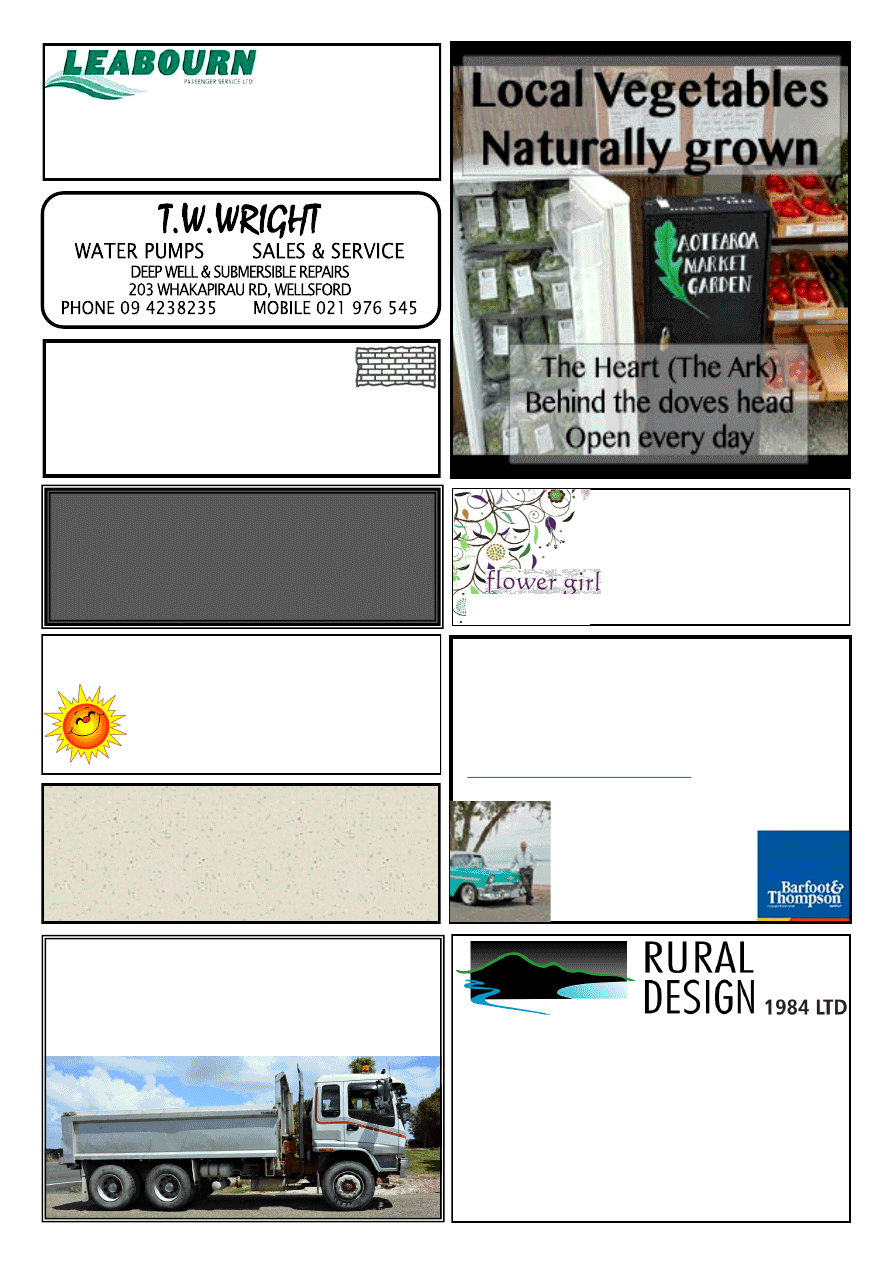 Passenger Service
Car & Van Hire  Bus & Coach Charters 
Airport Transfers   Monthly Shopper Bus 
Phone (09) 4237416 
BRICK/BLOCKLAYER 
All aspects of masonry:  
Fireplaces, Restoration & Remedial Work. 
JAMES EAGLETON 
Tel. (09) 431 2514    Mob. 0274 749 232 
jajueagles@yahoo.com.au 
210A Pukenui Road, RD2 Kaiwaka 0573 
THE SUNSHINE GIRLS
Efficient and reliable help with 
your housework. 
Ph 4312 532 
MARRIAGE CELEBRANT 
WEDDING EVENTS PLANNER 
Yvonne Osborne 
Ph 0274 989 814 
yvonne.osborne@xtra.co.nz 
Counsellor and Registered Psychotherapist 
Offers Supervision 
ACC Sensitive Claims 
Susan Matheson      MNZAC 
Dip. Psychosynthesis Counselling and Psychotherapy 
Phone 09 431 2996                                     Mobile 027 605 2427 

  After 20 years of selling in Auckland I have             
moved to Kaiwaka. 

  I have a relaxed attitude with years of  
        results and experience. 

  Please feel free to give me a call or email. 
licensed real estate agent (2008) 
Chris Barrington
Residential Sales
M 
Mangawhai
Wholesale Native Plant Nursery and Planting 
Small and Large orders welcome 
By Appointment 
300 Kaiwaka-Mangawhai Road, Kaiwaka 
Phone: 09 431 2481 
Email: info@ruraldesign.co.nz 
www.ruraldesign.co.nz 
Kaiwaka Good Sorts 
Do you know someone in our community 
who is deserving of a beautiful bunch of 
flowers? 
Send an email to us at 
kaiwakabugle@kaiwaka.co.nz 
or drop a note to Jaques Four Square to 
let the Bugle team know. 
lindywatson@hotmail.com 
4312 847 
J
and
M
 CONTRACTORS 
Kaiwaka 
Bulk Cartage 
5 & 10 cubic metres Wood Chip or Post Peel. 
Cartage all metals, sand, scoria. 
Truck hire with Driver  
Ph 09 9733538 
Mobile 021 2383664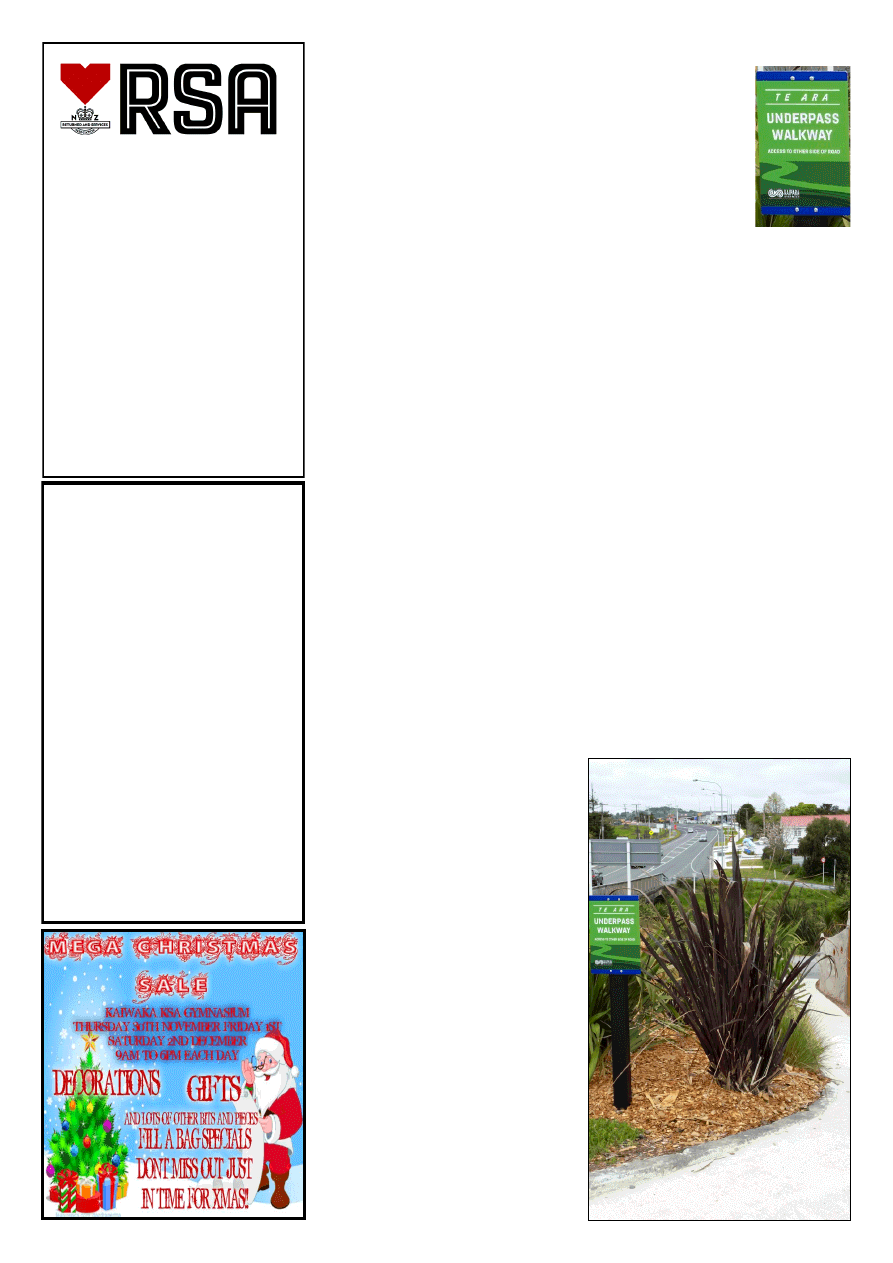 www.kaiwaka.co.nz 
Kaiwaka Bugle - 28 November 2017 
Page 5 
Lilia and her Spring lamb, Minty! 
HAKARU & DISTRICTS 
MEMORIAL RSA (INC)
Members & guests are invited to 
come along and enjoy our hospitality.  
New members welcome.  
Meals are served on Thursday and 
Friday nights  from 6.30pm.   
2nd Friday of the month is a Roast Dinner 
special plus a board menu put on by the 
Women's Section. 
Last Friday of the month is 'Roast Pork 
Night' and a sing-a-long with Des Chitty. 
For more information please phone 
Gloria  (Women's Section) on  
431 5818 or Marlene on 431 5589 
Willow Bend
HORSE  
HOTEL 
  
Total Horse Care 
 
Agistment 
 
Riding Lessons 
 
Arena Hire (60x40) 
 
Young Horse Starting 
 
Re-training/Exercising 
 
Hoof Trimming 
 
Problem Solving 
Phone Sue 09 431 2817 
or 021 623 776 
Or email  
susanjoll11@gmail.com 
We  heard  from  someone  recently  that 
they don't belong to Kaiwaka Can but 
Kaiwaka  Do!  Great!  They  are  getting 
on  with  something  that  needs  doing 
and  we  applaud  them.  However,  we 
also  believe  Kaiwaka  Can  is  involved 
in doing too. Our November meeting is 
good proof of this. 
What has happened lately? 
The  tree  planting  has  been  completed 
down  the  east  side  of  State  Highway 
One  from  Suzuki  Motors  to  Three 
Furlongs and looking good. Thanks to 
the property  owners  who worked  with 
Kaiwaka Can and Council to make this 
happen. 
Trees  are  ordered  for  the  planting  on 
the  west  side  as  well  and  will  go  in 
when  conditions  are  right  in  the  new 
year. 
Planting  has  been  completed  below 
Eutopia  where  the  bridge  underpass 
comes  out  creating  a  very  attractive 
picnic area and path, already well used. 
Improvements  are  planned  for  the 
reserve  on  the  corner  of  Settlement 
Road and SH 1. 
The  first  pedestrian  safety  zone  is  in 
place opposite the Post Office, as well 
as  the  new  footpath  along  the  western 
side of the State Highway. NZTA have 
investigated  a  number  of  locations  for 
the  second  refuge  but  at  this  point  in 
time  cannot  find  a  viable  option  that 
does not interfere with traffic access to 
local  businesses.  They  are  still 
committed  to  enabling  safe  pedestrian 
access  should  another  option  be 
available. 
The second "Your speed is" sign is in 
place  and  working  well  between  the 
northern bridge and St Johns. 
The other "60" speed signs are in place 
and  seem  to  help  take  the  edge  off 
speed for southbound traffic. 
All  of  these  are  projects  done  in 
partnership  with  either  Council  or 
NZTA  or  both,  as  outcomes  of  the 
Kaiwaka Township Improvement Plan 
Still coming: 
NZTA  has  given  an  initial  positive 
response  to  the  proposed  entrance 
sculptures and we are working through 
the  details  and  minor  modifications. 
These  will  make  a  really  bold 
statement for people visiting Kaiwaka. 
The proposed walkway round the land 
over the river from McClean Park has 
been  found  to  have  major  safety 
hazards.  So,  we  are  switching  our 
funding  and  attention  to  development 
of  McClean  Park  and  other  potential 
walkway connections around Kaiwaka 
The  playground  fencing  has  had  a 
setback  due  to  the  injury  of  a  key 
person in it. We are confident however, 
we  can  find  ways  to  get  this  done  in 
good time. 
And several other projects are in there 
as well, waiting for the right time and 
research,  including  history  boards 
through 
the 
township, 
further 
walkways  and  links  to 
regional  cycleways,  a 
system  for  reporting 
road  conditions  in  the 
area  and  ways  to 
improve  the  state  of 
bush  areas  that  are 
currently weed infested 
and unattractive. 
And some major discussions: 
We  spent  time  again  on  Kaiwaka 
lighting,  conscious  of  the  fact  the 
Scout  Jamboree  will  bring  more  than 
1000  Venturer  scouts  to  Kaiwaka  in 
January  2019  and  their  theme  is 
"Illuminate"!  We  are  far  less 
illuminated than we used to be and we 
are working on ways to change this. 
We  also  spent  time  exploring  ways  in 
which  Kaiwaka  might  develop  in  the 
future.  We  are  very  aware  of  the  way 
SH  1  controls  what  we  do  and  where 
we can build and want to see how we 
can plan a creative and solid future as a 
township whatever decisions are made 
about future roading through or around 
us.  When  this  is  at  a  more  developed 
stage we will spend time talking these 
possibilities 
through 
with 
the 
community. 
So  that's  what  we  have  been  doing, 
some of it pretty mundane and some of 
it quite exciting. We need to say again 
that  we  act  as  a  link  between 
community  and  Council  and  without 
the  contribution  from  Council  we 
could do very few of these things. 
We  look  forward  to  hearing  from  you 
about  some  of  the  things  that  are 
happening and also some of the things 
that need to happen. 
Derek Christensen, Chairperson 
KAIWAKA CAN WORKS ON PRESENT 
AND FUTURE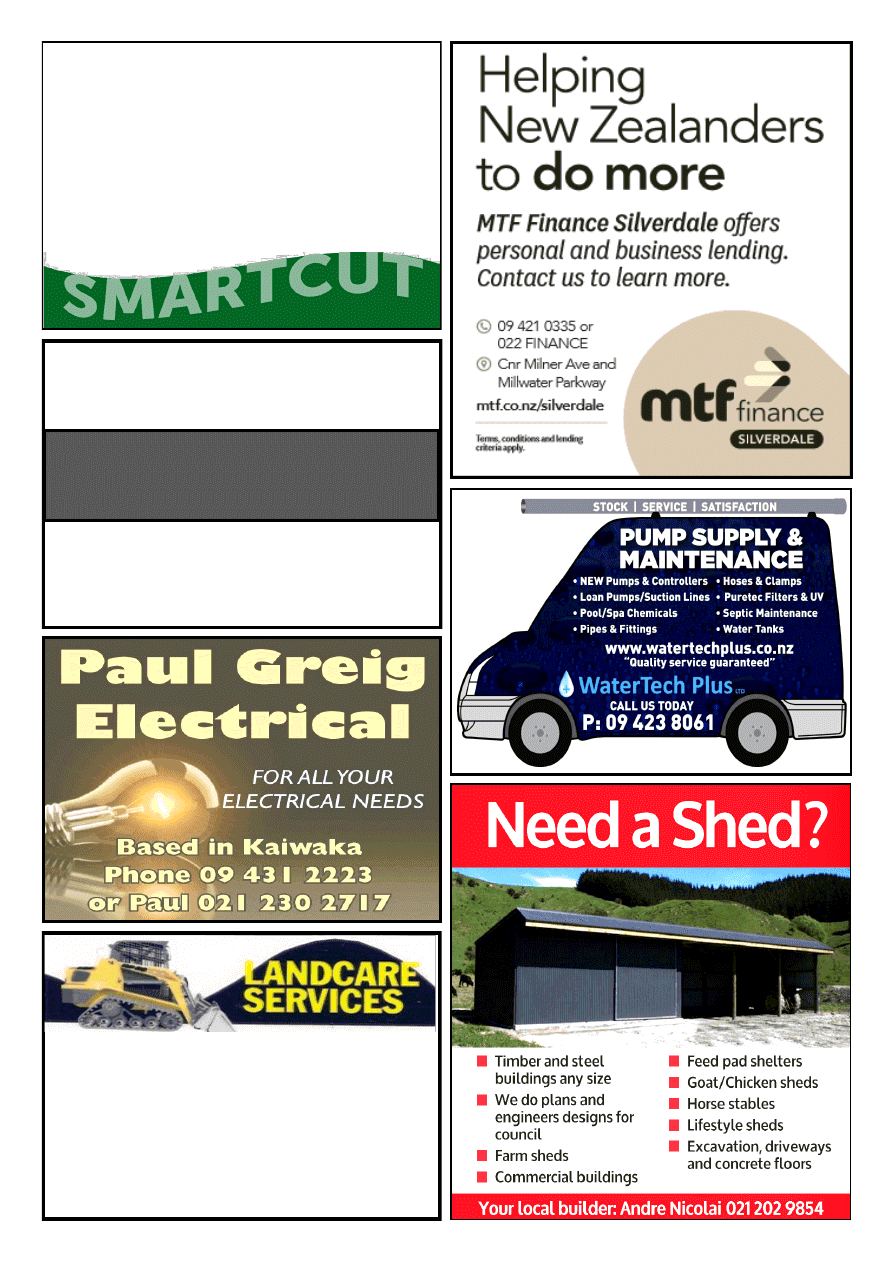 David Korach 
Your local Gib Stopper
DK PLASTERER LTD 
0274769221 
dkorach6@gmail.com 
LANDSCAPING 
4 IN 1 BUCKET 
TRENCHER 
POLE HOLES 
ROTARY HOE 
COMPACT ROLLER 
OFFAL HOLES 
CAN SUPPLY WOODCHIP & POST PEEL 
5 TON TIPPER 
FOR RELIABLE AND FRIENDLY SERVICE CONTACT DAVE 
Dave Hyndman 
 
KAIWAKA 
PH: 09 4312302 
MOB: 021 431 238 
All your outdoor needs sorted so you don't have to... 
I can prune, chop, tidy, spray, mow, plant 
- you name it, I can do it! 
Residential & Commercial 
Lawn & Garden Care 
Call Rodney, your local  
lawnmowing contractor 
021 138 2344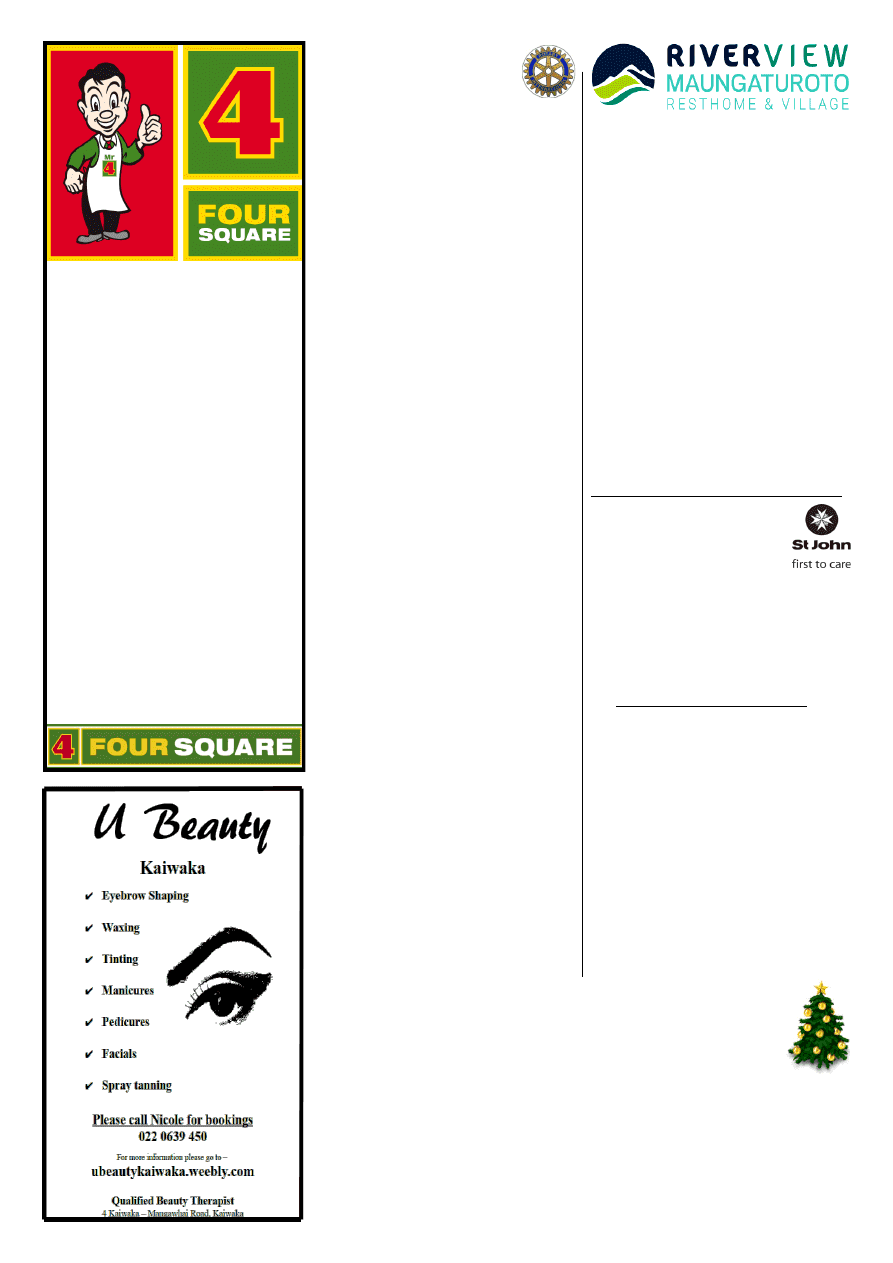 www.kaiwaka.co.nz 
Kaiwaka Bugle - 28 November 2017 
Page 7 
MAUNGATUROTO 
and DISTRICTS 
ROTARY CLUB 
Seniors' Afternoon Tea 
By the time you read this we will have 
had our seniors' afternoon tea. Thanks 
to  Maura  Flower  and  her  talented 
youngsters for not only performing but 
giving us a chance to singalong as well. 
While  we  did  not  have  a  huge 
attendance  at  the  talk  given  by  Sir 
Lockwood and Lady Alexandra Smith, 
those who did attend were treated to an 
enjoyable  evening  with  one  focussing 
on the social side and the other on the 
political  side  of  being  involved  as 
Ambassador 
to 
Britain. 
Their 
willingness  to  answer  questions  at  the 
conclusion  was  also  informative  and 
the  Trust  Dementia  unit  has  benefited 
with a donation of $500. 
Polio plus 
A focus of Rotary International is Polio 
plus.  In  1985  when this  horrid  disease 
was  endemic  in  the  world  there  were 
1,000  new  cases  a  day.  To  date  this 
year,  only  11  new  cases  have  been 
reported.  This  is  largely  due  to  the 
huge  vaccination  drives  that  are 
undertaken  by  Rotary  on  an  annual 
basis  (with  huge  funding  support  of 
Bill Gates as well as Rotarians.) 
President's Scholarship 
We  had  four  very  high  calibre 
candidates applying for the President's 
Scholarship. 
Applicants  have  been  short-listed  and 
will  be  interviewed  in  the  near  future. 
We will publicize the chosen one in the 
first Matters in 2018. 
Otamatea Weed Control  
Several  of  our  members  are  involved 
with the Otamatea Weed control group 
which  is  meeting  twice  a  month  in  an 
effort to eradicate some very persistent 
weeds in our area. 
The  Regional  council  has  made  a 
100litre 
motorised 
spray 
pump 
available to the group so this will make 
the task much easier. 
Horse Trek  
At the moment two of our members are 
organising  a  horse  trek  in  the  vicinity 
of  Marohemo.  This  will  be  held  on  a 
suitable  date  in  February  and  will  be 
open to riders of all ages. The entry fee 
will  be  $20.  Further  information  will 
be  advertised  when  the  date  has  been 
decided upon. 
Mentor Learner Drivers  
Also  in  the  New  Year  a  number  of 
Rotarians  (and  other  community 
members)  will  undergo  training  in 
order to mentor learner drivers who are 
attempting  to  build  up  "road  time"  to 
progress  from  Learner  to  Restricted 
licence.  If  you  are  interested  in 
becoming a mentor please get in touch 
with a  Rotarian  and  you  will  be  given 
information as to what is required. 
All  members  of  Maungaturoto  and 
Districts  Rotary  wish  you  and  your 
families  a  happy  Christmas  and  a  safe 
holiday season.. 
OTAMATEA 
ST  JOHN  TRASH 
and TREASURE 
We would like to thank Albie (and his 
helpers  at  The  Den)  for  contributing 
$1,000 towards our Trash and Treasure 
total. We are still awaiting an account 
but  it  would  appear  that  we  have 
succeeded  in  netting  in  excess  of 
$8,000 – a figure similar to last year. 
Thank you all again for your support 
KAIWAKA 
 ST JOHN OP SHOP 
Lots of Xmas Decorations - cheap! 
Artificial Xmas Trees - 7ft tall 
Real ones coming - place your order 
Single 
bedbase 
& 
mattress-VG  
condition; King single & mattress-VG 
condition 
Boogie Boards; kites, tents, umbrellas, 
and lots more … 
Children's Lucky Dip 
Huge  Xmas  Hamper  Raffle,  with  2nd 
& 3rd prizes too!! 
If  anyone  needs  something  for  Xmas, 
please  come  and  see  me.  All 
confidential,  as  we  are  also 
here to help. 
Many thanks, Milly & Staff 
State Highway One, 
Kaiwaka 
Phone 09 4312423 
MAUNGATUROTO and  
KAIWAKA ST.JOHN  
will  be  selling  Christmas  trees  from 
the  Maungaturoto  Station  and  the 
Kaiwaka  Op  Shop.  First  delivery  on 
the 1st of December. If you would like 
to  pre-book  one  then  ring/text 
021355734 or 0211622482 
Celebrating 50 
years with 
Four Square! 
With a focus on 
fresh foods, fresh 
mussels, hot 
chickens and  
an in store bakery. 
"It's a one stop shop!"
Open till 6.30 Monday to Friday
Jaques Four Square 
Phone: 4312227 
1 Kaiwaka-Mangawhai Road, Kaiwaka. 
Do  you  know  respite  care  is  available 
in Maungaturoto? 
The  team  at  Riverview  Maungaturoto 
Resthome offers resthome level respite 
care for families needing a break, while 
the person in their care continues to be 
looked  after  in  a  safe  environment. 
Although  we  are  a  resthome  there  are 
no  age  limitations  on  who  we  provide 
care  for.  The  friendly  atmosphere  in 
the resthome acts as a home away from 
home with staff on duty 24/7. 
If  you  are  the  full-time  carer  for  a 
loved  one,  then  respite  care  services 
are 
available 
for 
you 
at 
Maungaturoto Resthome. 
Respite  care  can  be  on  a  'private  fee' 
paying basis or you may be eligible for 
government  assistance.  For  further 
information  please  contact  us  on  (09) 
4318 696. 
The  team  at  Maungaturoto  Resthome 
wish  you  all  a  very  Merry  Christmas 
and a Happy New Year.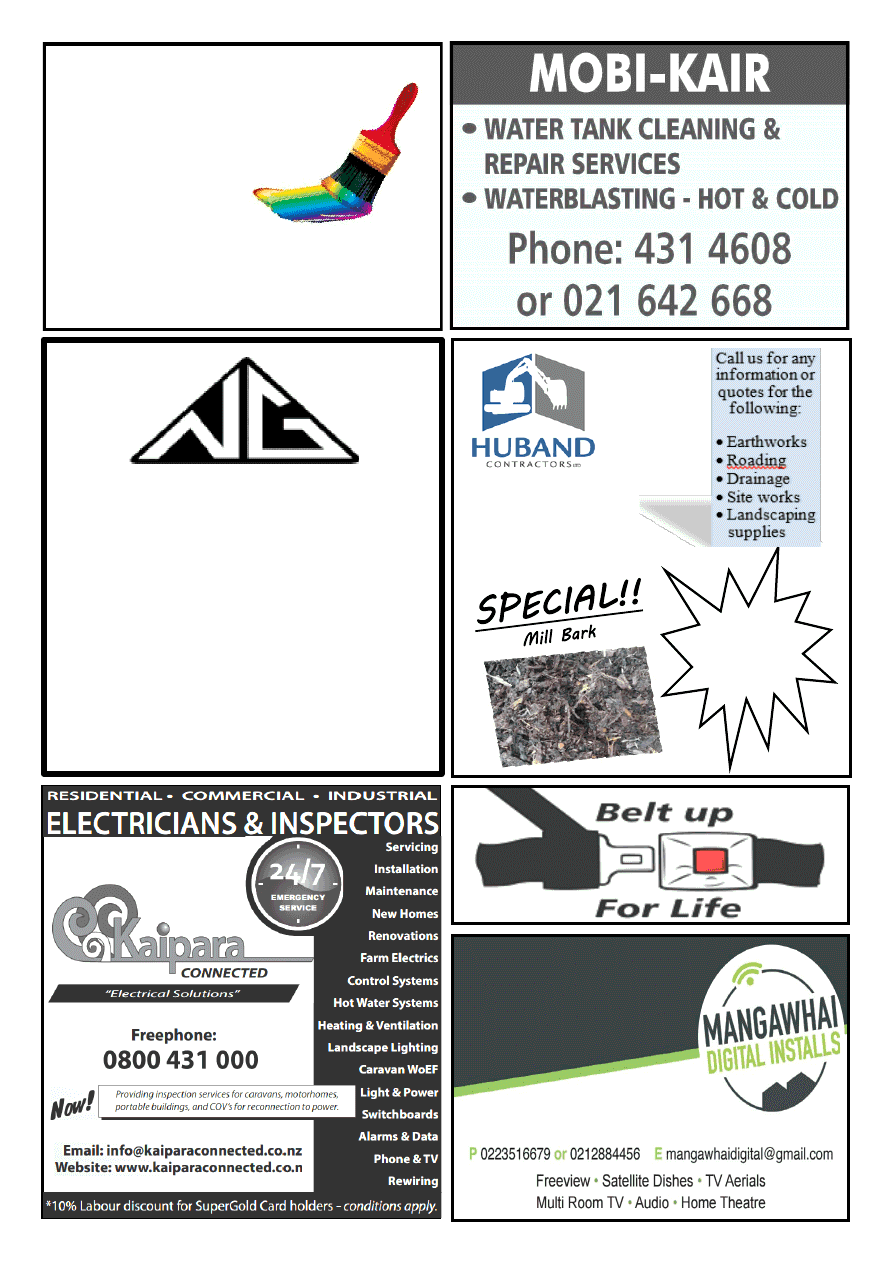 NORTH GLASS 
WINDSCREEN REPAIR OR REPLACE 
GLAZING SERVICES 
MIRRORS  •  SPLASH BACKS  •  SHOWERS 
0800 70 40 10
info@northglass.co.nz 
www.northglass.co.nz 
09 4312918 
0274735171 
leecooper@xtra.co.nz 
LEE COOPER PAINTERS 
(Kaiwaka Based) 
*30 yrs Experience 
*Interior/Exterior 
*New and Restoration 
*Honest and Reliable 
*Free Quotes 
Open Monday-Friday 
8am-5pm 
Saturday 8am-noon 
2088 Paparoa valley Road 
0800 234449 
E: admin@huband.co.nz 
$33 + 
GST per m
3
(Until the end 
of January)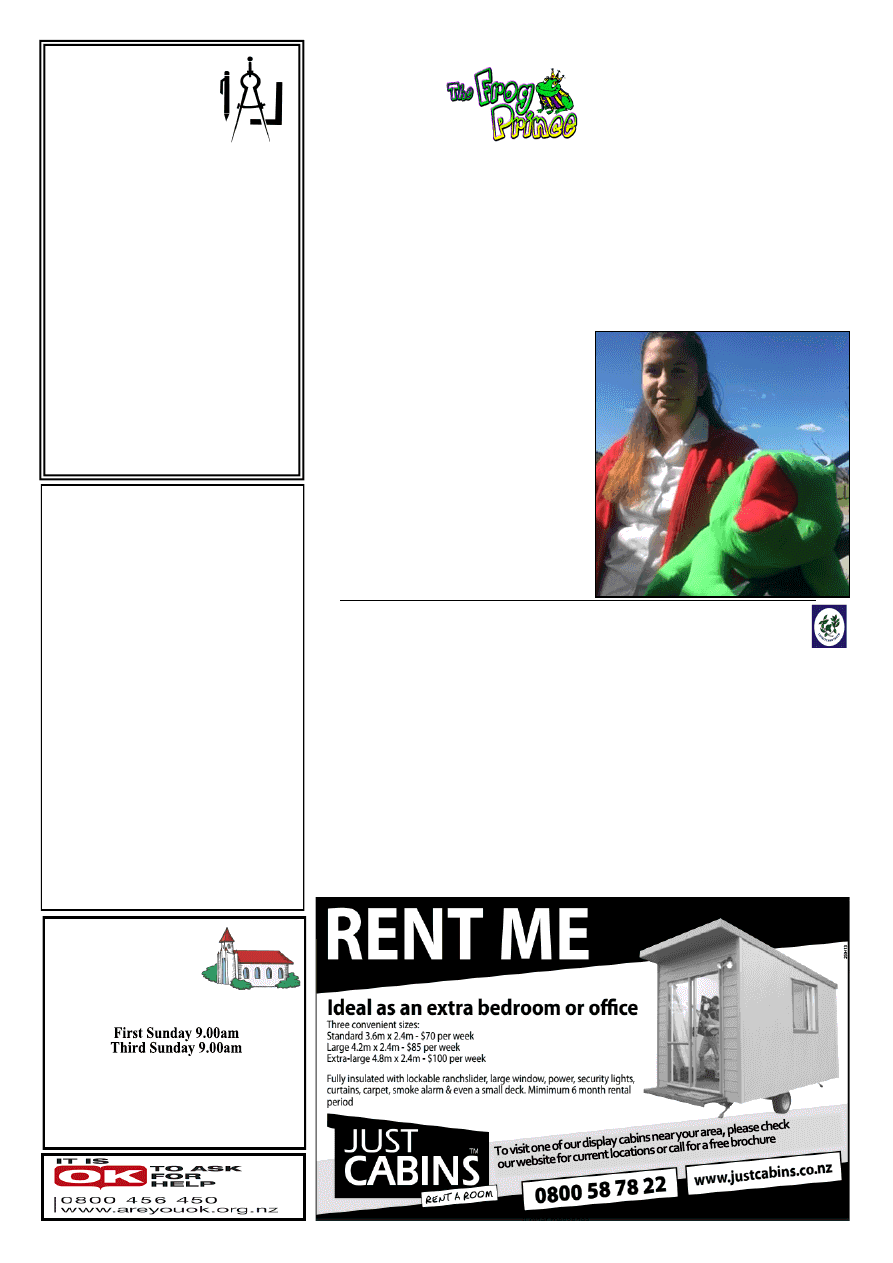 www.kaiwaka.co.nz 
Kaiwaka Bugle - 28 November 2017 
Page 9 
design  
drafting  
service 
Retired builder and manufacturer 
with over 40 years experience in the 
building industry is offering a design 
drafting service for domestic hous-
ing, sleepouts and sheds.  
Plans formulated in consultation 
with clients, with working drawings 
completed and submitted to council 
for processing.  
Extensive practical experience,  
able to identify & resolve problems.
Please ring Mike Lean on 
09 431 2260 
or 
021 431 196 
Mangawhai 
Heads 
Garden 
Centre
1758 Cove 
Road
945 0707 
021 165 2629 
ST PAUL'S  
ANGLICAN  
SUNDAY  
SERVICES
St Pauls Church: Kaiwaka-Mangawhai Rd. 
1st Sun - Eucharist 
3rd Sun - Family Service 
Rev. Wayne Thornton Ph 431 4122 
www.mangawhaianglican.org.nz
The Frog Prince 
This  is  a  very 
funny 
show, 
written  by  Peter 
Flower.    Fun-filled 
for  the  whole  family!    Starring  many 
talented  young  people  from  our 
community.   Runs  from  24  November 
to Sunday 3 December. 
Pictured is 
Tyga Daniero of Kaiwaka 
who  stars  as  Prince  Verdi  in  The 
Frog Prince.
More  details  and  bookings  available 
online at www.ort.org.nz 
Into the Woods  
–  by  Stephen  Sondheim  is  to  be  our 
major musical for 2018. We performed 
this very funny musical in 2008. 
Auditions are to be held on 16 and 17 
December  2017.    Peter  Flower  to 
direct.    Show  season  –  eight  shows 
from 14 to 29 July 2018. 
This  show  has  a  small  mainly  adult 
cast and a high level of singing ability 
is preferred. 
Phone  or  text  Peter  for  an  audition 
appointment 021 164 8318 
Youth Theatre 2018 
Dates are confirmed: 
Week One 15 to 19 January 2018, 
Week Two 22 to 26 January 2018 
9am  to  3pm  daily,  show  on  Friday 
night,7pm. 
Price  $130  per  child  –  includes  ORT 
junior  subs  of  $20  and  Friday  night 
meal at the Country Club. 
Please  register  your  interest  asap  by 
emailing maura.flower@gmail.com 
with  your  child's  details,  or  text  022 
354 2670 
ORT One Act Play Festival 
A  selection  of  One  Act  Plays  will  be 
performed  over  the  weekend  of  13  to 
15 April 2018. More details to follow. 
These plays will not be adjudicated. 
Thank you for supporting our theatre in 
2017. 
Merry  Christmas  and  a  Happy  and 
prosperous New Year to you all! 
OTAMATEA HIGH SCHOOL 
OTAMATEA REPERTORY THEATRE  
Junior Prizegiving 
Tuesday 12th December at 10.30am; Please be seated by 10.15am 
Junior  reports  will  be  available  in  the  foyer  for  parents/caregivers  to  collect 
after prizegiving. If uncollected they will be posted home. School will close at 
12.30pm. Buses will run at this time. 
Host Family urgently required for a Japanese Exchange Student for 2018. 
If you are interested in hosting a 16-year-old Japanese girl for the 2018 school 
year,  please  contact  Heather  Troost  for  more  details  on:  09  4318  679  or 
heather.troost@otamatea.school.nz 
Vacancy Part time gardener required to work one day per week to undertake 
basic  gardening  duties.  Must  be  physically  fit  and  ideally  have  a  sound 
knowledge of caring for ornamental annual & perennial flowering plants. Must 
be a team player but confident to work on their own. Position is dependent on a 
clear  Police  check.  Email  richard.reed@otamatea.school.nz  or  visit  the 
school's  website  for  an  application  form  and  job  description.  Applications 
close 9am Friday 8th December. 
See page 15 Otamatea High School advert -important dates for Term One 2018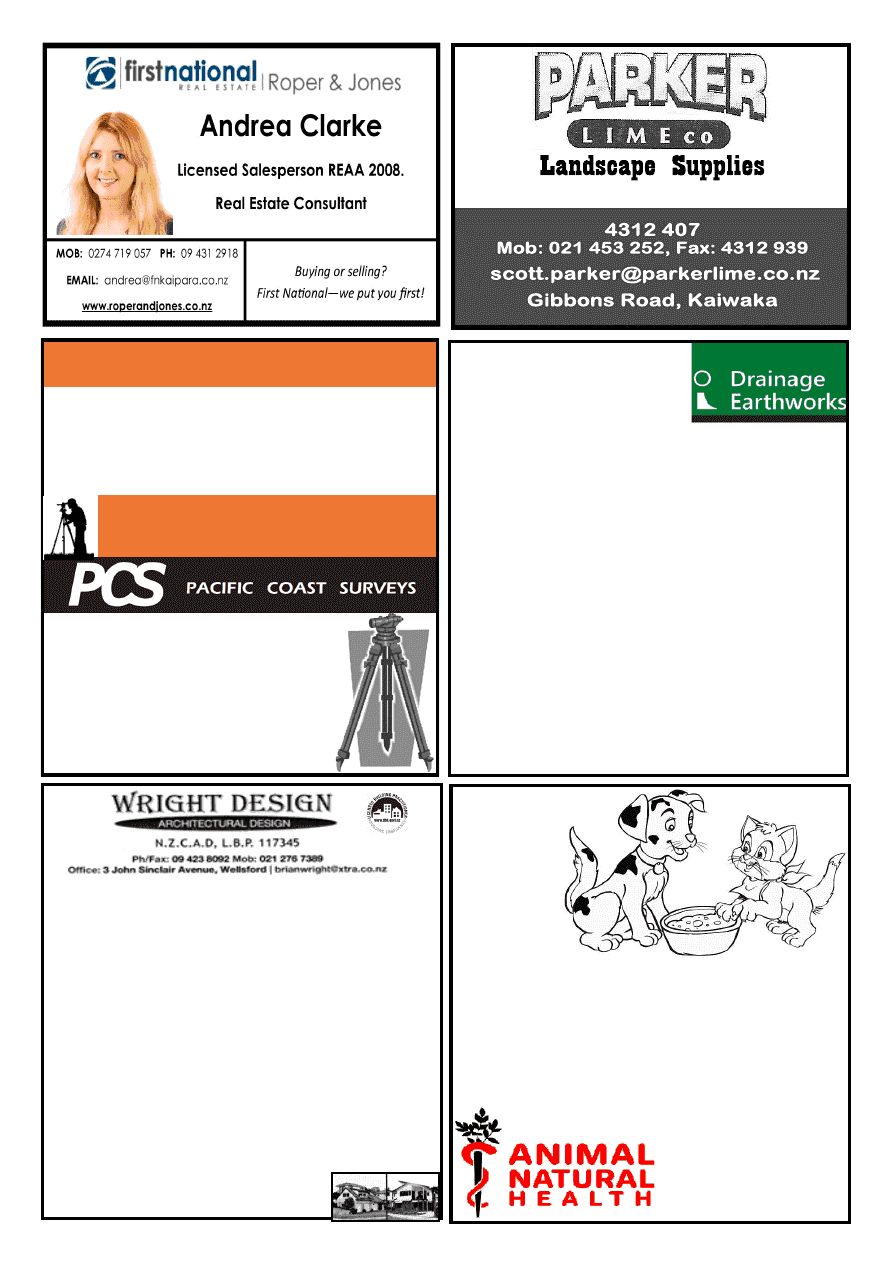 Drainage & Earthmoving 
nigel@clarkedrainage.nz 
027 2233 185 
Registered Drainlayer 
All Types of Earthworks  
> All Residential & Commercial Work  > House Sites 
> Septic System Design & Install 
> Footings & Drilling to 10m 
> Sewer Connections 
> Dams 
> Water Tank Installation 
> Roading & Races 
> Farm Work 
THE ONE STOP SHOP  
Phone Nigel for an Obligation Free Quote  
Bulk Cartage 
SURVEYORS 
SUBDIVISIONS 
HOUSE SITE SURVEYS 
CIVIL ENGINEERING 
WASTEWATER DESIGNS 
EXPERIENCED 
PROFESSIONAL 
INNOVATIVE 
Ph 09 431 5353 
0800 PACIFIC (0800 722 434) 
pacificcoastsurvey.com
Adam Booth - 027 415 5752 
Bsurv, Licensed Cadastral Surveyor
Surveying Kaipara since 1994 
If you are thinking of building then you 
will need a good and well experienced, 
qualified, and licensed designer. 
This applies if you are considering a 
new home any alterations or any 
building additions/farm buildings, 
sheds, alterations, whatsoever. 
For Resource and Building Consents, 
planning restraints, new building 
materials, applying for building permits 
– you need a capable, experienced, 
and professional designer with a clear 
knowledge of all the processes. 
Brian has been helping and organising 
all these facets of design and building 
for over 50 years. 
Wright Design offers free visits, 
consultations and advice on planning, 
design, building, council permit 
applications, guaranteed permit plan 
acceptance. 
QUALIFICATIONS 
Brian is a qualified designer 
(N.Z.C.A.D.) with over 50 years of 
varied experience in all types of 
building and is registered and Licensed 
Building practitioner in Design – 1 & 2 
Registered LBP117345 
He will ensure you will achieve the 
best from your budget. 
EXPERIENCE 
Brian's practical building and 50+ years 
of design experience means he can 
give you excellent advice and all the 
guidance needed. 
Brian can arrange engineering for a 
reasonable cost. 
•Qualified and inexpensive designer – 
N.Z.C.A.D. Registered LBP117345 
•Guaranteed design and working 
drawings 
•Free site visit to your home or 
property 
•Great service and free quotation 
PROJECTS 
Additions, alterations, basements, new 
homes, motels, bed and breakfast, 
commercial buildings, farm buildings, 
and shop fit outs are a few projects. 
Brian can show you many of his 
projects in the area to emphasise his 
versatility and can give you contact 
with satisfied clients. 
WHAT TO DO FROM NOW ON 
•Call Brian for a free quotation 
•Discuss your needs and obtain good 
advice 
•Brian can offer 
plan printing 
from A4 to A0 
(2x A1 size) 
No. 117345 
Look for 
our NEW 
range of 
real food 
for cats 
and dogs
Veal Bones 3kg $17.90  
Chicken Medallions 3kg $17.90 
Beef & Lamb Patties 3k $21.90 
Purely Pets – buy 10 packs,  get 11th pack FREE 
Radical Dog in store (as seen on Country Calendar) 
Beat the Flea Season:  
Flea combs, shampoos Chemical-free, no nasties 
Flea Control, Tick & Lice Support 
ANIMAL NATURAL 
HEALTH CENTRE 
Next to Italian Bakery, 
Kaiwaka 
Ph. 09 431 2217    
Open Mon-Sat.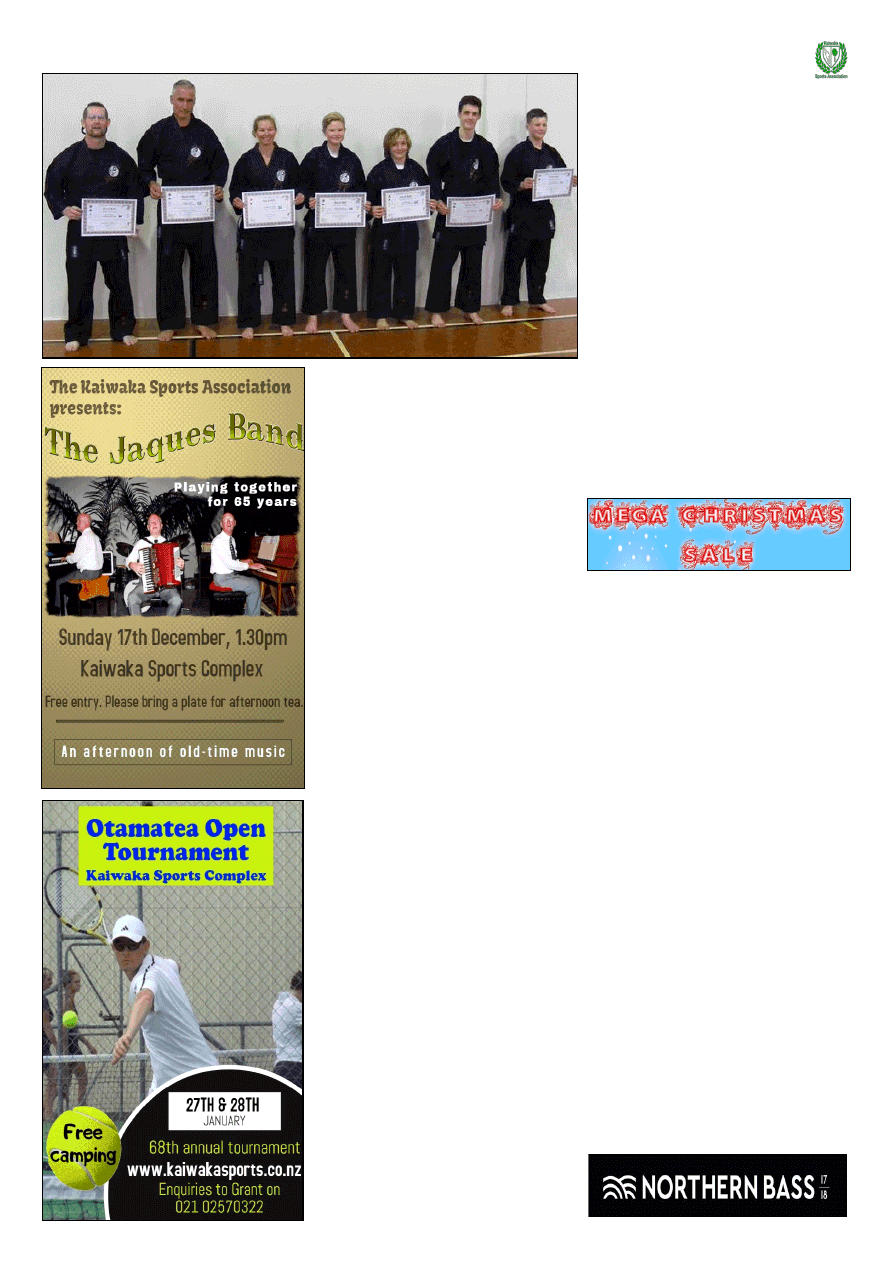 www.kaiwaka.co.nz 
Kaiwaka Bugle - 28 November 2017 
Page 11 
KAIWAKA SPORTS ASSOCIATION
Martial Arts – Black Belts 
Congratulations to seven students from 
our  Martial  Arts  Club,  who  have 
graded through to Black Belt. 
This  was  the  final stage  of  3  x  2-hour 
gradings  the  students  have  been tested 
through, 
covering 
an 
advanced 
understanding  of  Kempo  and  self-
defence  techniques  and  concepts. 
Knowledge  and  understanding  is 
further  tested  through  a  20-page  essay 
requirement  covering  many  aspects  of 
Kempo  and  martial  arts  -  including 
global  and  local  history  of  Kempo, 
codes of conduct and ethics relating to 
self-defence, 
various  aspects 
of 
mastering  the  body  and  mind,  and 
many others. 
These 
tests 
are 
intentionally 
challenging on many levels and are not 
easy  to  overcome,  and  after  five  or 
more  years  of  dedication  and  hard 
work  Otamatea  Martial  Arts  is  very 
proud  to  confirm  the  success  in 
achieving  First  Degree  Black  Belt  for 
the  following  members,  pictured 
above: 
Bernie 
Hall, 
Sharlene 
Tornquist, Max Tornquist, Bo Osborne,  
Samuel  Lewis,  Max  Eyton,  and  Sam 
Woolley. 
For  information  on  our  Martial  Arts 
classes, please contact instructor Craig 
Bennetts on 
otamatea.kempo@farmside.co.nz 
The Jaques Band 
The  Jaques  brothers,  Brian,  Bill  and 
Reg  will  play  at  the  KSA  on  Sunday 
17th  December  at  1.30pm.  If  you 
would love to enjoy an afternoon of old
-time music, please come along. 
Badminton 
Our  Badminton  club  will  continue  to 
hold  their  Club  Nights  on  Tuesdays 
from  7.30pm,  until  12th  December 
when  the  season  will  end  with  a  fun 
Christmas  night.  After  a  break  over 
Christmas and the New Year, they will 
start again on 9th January. 
Tennis 
Does your child want to try something 
new?  Why  not  give  tennis  a  go?  Our 
Tennis  Club  offers  junior  lessons  on 
our  courts  every  Monday  afternoon. 
Beginners  lessons  start  at  3.30pm, 
Intermediate 
at 
4pm, 
and 
Advanced at 4.30pm. Let your child try 
it out for free. All equipment provided. 
For  more  information  call  Floyd  on 
022 
476 
9669 
or 
email 
floydriver@yahoo.co.nz 
Whanaunga Touch Tournament 
The 
annual 
Whanaunga 
Touch 
Tournament will be held at our grounds 
on  Saturday  6th  January.  Registration 
forms  are  available  by  emailing 
whanaungatouch@gmail.com. 
Fitness Centre 
Our  Fitness  Centre  is  available  24/7 
and  provides  extensive  exercise 
equipment  as  well  as  toilets  and 
showers. 
Memberships 
can 
be 
purchased  from  Jaques  Four  Square. 
For  all  Fitness  Centre  enquiries  please 
contact  Siobhan  on  027  9791203  or 
check out our Facebook page. 
Tag Trials 
The  Northland  Stingray  Senior  Tag 
trials  will  be  held  at  our  grounds  on 
Sunday 17th December from 10 – 1pm. 
Grades  trialing:  U21  mix,  Open  men/
women mix and Senior mix. 
Christmas Sale 
Looking  for  an  easy  way  to  buy 
Christmas  gifts  this  year? Come  along 
to  our  gymnasium  this  Thursday, 
Friday  and  Saturday  (  30  November 
and  1,  2  December)  to  check  out  the 
selection  of  gift  ideas.  From  9am  – 
6pm each day. Fill-a- bag specials. 
Top of the Rock 
Our  8th  annual  multi-sport  event  the 
Top  of  the  Rock  will  be  held  on 
Sunday 11th February. Mark it in your 
diary.  Entry  forms  will  be  on  our 
website  shortly.  To  keep  up  to  date 
with Top of the Rock news please like 
our Facebook page. 
We  are  more  than  thrilled  to  have  a 
new major sponsor on board this year. 
Many thanks to Northern Bass who are 
sponsoring  us  $2,500!  We  really 
appreciate  the  support  from  Gareth 
Popham and his team. 
Many  thanks  also  to  our  two  other 
major sponsors Jaques Four Square and 
LJ  Hooker,  we  are  so  pleased  to  have 
their support again. 
Sponsorship of Top of the Rock can be 
in  the  form  of  a  donation  of  product/
vouchers  for  our  prize  table,  or  a 
monetary  donation.  All  sponsorship 
will be gratefully received! 
Please 
email 
me 
on 
kaiwakasports@gmail.com  if  you're 
interested in supporting us. 
~Cheryl Anderson,  
4312 051, 027 3462702 
kaiwakasports@gmail.com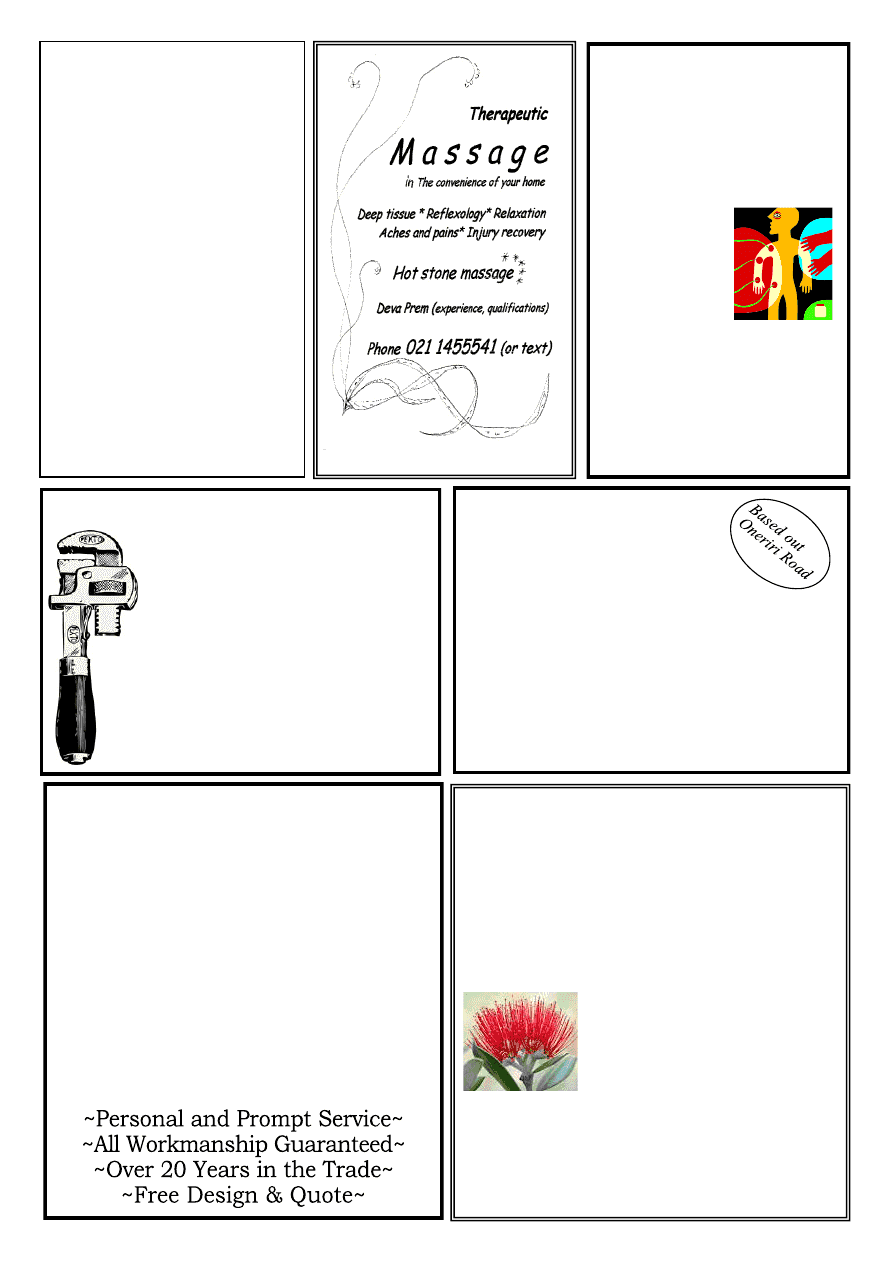 BARRY CURTIS PLUMBING LTD 
REGISTERED CRAFTSMAN PLUMBER 
Phone 431 5572
027 257 9884 
25 years' experience 
Friendly reliable service 
All plumbing & maintenance 
Alterations and new housing 
Spouting  
C
ompetitive rates 
PROMPT EFFICIENT SERVICE 
KAIPARA FLOORING CO 
Independently owned & operated 
32 HURNDALL ST MAUNGATUROTO
Supply & Installation of Carpet, Vinyl,  
Vinyl Wood Planking
Stockists of 2m & 3m wide 
vinyl & carpet short ends
Residential & Commercial
Q Card Finance Approved 
6-18 month terms 
6 mth interest free
First Class Installations
For a free measure & quote 
phone Christine  
09 946 9886 or 021 515 415 
kaiparaflooring@gmail.com 
http://www.kaiparaflooring.co.nz/ 
HODGETTS 
CONTRACTING
Digger Work 

Driveways 

House Sites  

Dams   

Drains, etc
Also available for HIRE 

4
3 ton Vib Roller 

Heavy Duty Tow  

4
Waterblaster    
 
Lazer Level 
Phone Mark 4312877 
027 447 8554 
OWEN STEVENS 
Osteo Therapist
For careful adjustments to bones 
and joints 
Treatment for humans and their 
pets 
Clinics: 
Kate's Place, 
Kaiwaka: 
Last Friday of 
month 
For bookings: 
9.00am-5.00pm  
Phone 
09 4312661 
Or phone Owen  
09 4317123 anytime 
Couples and Individual 
Counselling
Have you … 
Serious relationship issues? 
Heading for Family Court? 
Destroying each other? Children 
involved?
I'm Here To Help! 
Call me to arrange an 
appointment 
Keep trying if phone is busy
Pete Worsfold 
B.Soc.Sc., M.Soc. Sc, Dip Prof Counselling NZIPC, 
'Man Alive' Counsellor/ Facilitator, Prov NZAC. 
Professional service in your local area. Individuals, 
couples, any issue, males and/or females.
Private or WINZ Clients, Experienced 
Counsellor/Facilitator 
021 825 970  
or 021 063 0302
peteworsfold@xtra.co.nz 
www.mangawhaimassage.co.nz 
PLANNING A NEW KITCHEN?
 CONTACT NOEL McDOWELL
WELLSFORD 
KITCHENS
Ph/Fax 094312888
KAIWAKA-Any time
 QUALITY CUSTOM MADE 
KITCHENS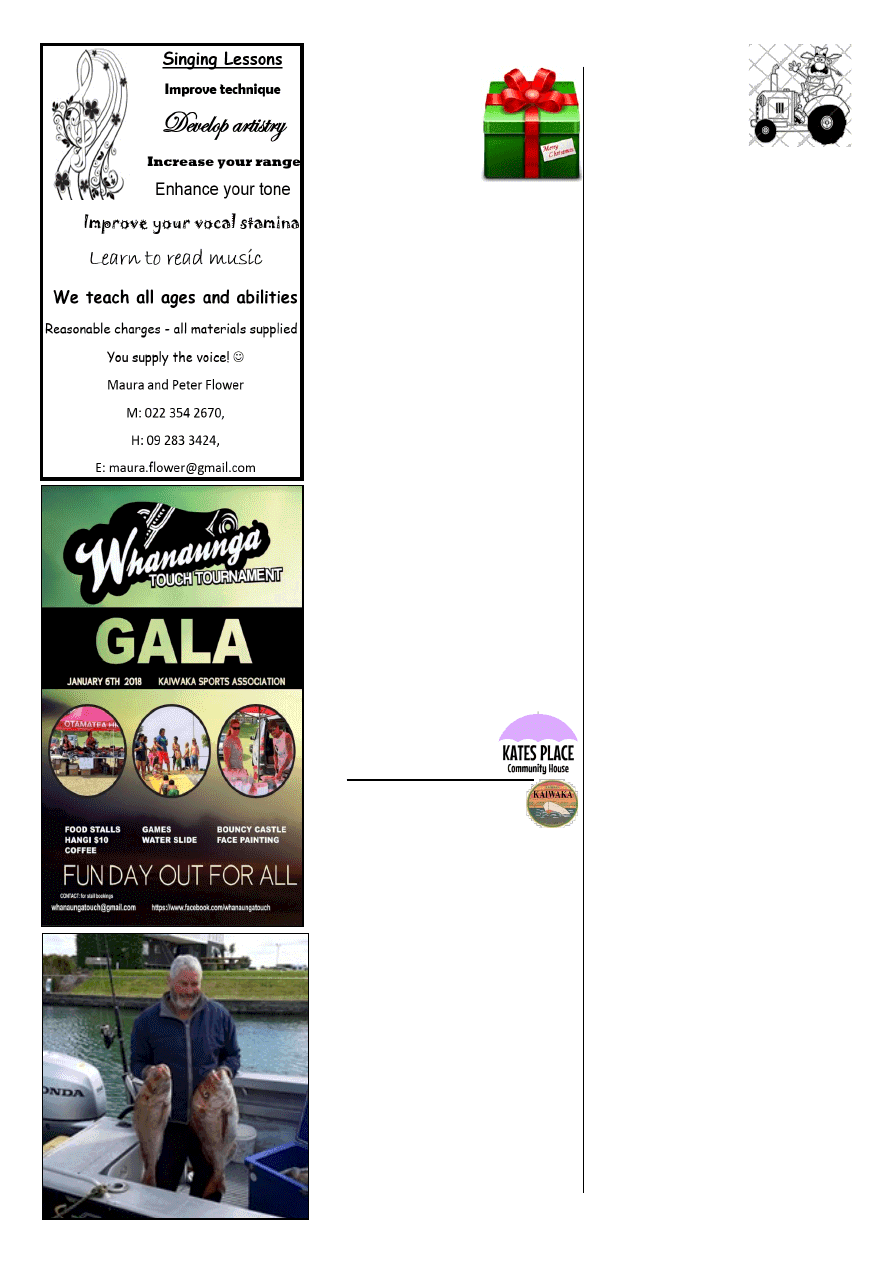 www.kaiwaka.co.nz 
Kaiwaka Bugle - 28 November 2017 
Page 13 
KATE'S PLACE 
Dear 
Kaiwaka 
Community 
Christmas  is  rapidly 
descending  upon  us 
and  it  brings  with  it 
heaps of fun, sun, good 
food  and  pressies  but 
also for others it brings 
stress  and  unhappiness.  If  you  have 
anything  to  donate  to  those  in  need  at 
Christmas, we are more than happy to 
be  a  drop  off  point  and  will  distribute 
to the people or organisations they are 
for. 
At  the  centre  we  are  having  three 
main festive activities: 
❖
4th  December  -  Senior  over  65's 
Lunch.    From  11am,  all  seniors 
welcome, 
free 
lunch 
and 
entertainment. Transport available. 
❖
10th  December  -  Community 
Christmas  Party  for  all.  12pm  to 
3pm. Santa will be visiting come and 
get  a  photo  and  treat,  food,  games 
and 
entertainment, 
everyone 
welcome. 
❖
Christmas  Raffle.  We  have  a  large 
Xmas raffle and we are selling tickets 
to  support  our  Christmas  functions, 
the  raffle  contains  a  soda  stream 
machine, Xmas treats, toys, vouchers 
for local businesses etc. Please come 
and  buy  some  tickets  at  1960  SH1, 
Kaiwaka. $2 each or 3 tickets for $5. 
Don't  forget  about  our  "Make  your 
own  creams,  balms  and  lotions" 
course on the 7th December starting at 
11am.  The  cost  is  $15  for  course  and 
$20 for materials. Please book and pay 
before  commencement  of  the  course, 
numbers  are  limited.  A  great  idea  for 
Xmas gifts.
Have a great week,  
from Kirstie and Iris 
PT.CURTIS 
CRUISING CLUB
The  weather  was  a  bit  shabby  for  the 
competition  held  on  the  11th  and  12th 
of November, but a few members gave 
it a go. 
Winners were 
Snapper: 
1st 
Carol 
Welsford-
Mills    6.760kgs;  2nd  Carol  Welsford-
mills 6.236kgs; 3rd Pongo  3.945kgs 
Kahawai: 
1st 
Andrew 
Kenny    1.565kgs;  2nd  Andrew  Kenny 
1.513kgs; 3rd Carol Mills  1.052kgs 
Kingfish: Nothing weighed in 
Juniors: Nothing weighed in 
Average  over  all  Snapper  weight  was 
1.880kgs  and  the  closest  was  Renna 
Brown with 1.689kgs 
Fish  of  the  month  till  6th  January 
2018 is Snapper. 
Picnic and next club meeting to be held 
at  the  Rangiora  Boat  Ramp  on  the  6th 
January 2018 at 1pm. 
Please  bring  a  plate  and  have  a  shared 
lunch with members and enjoy. 
 ~Wayne Leslie, Commodore (pic. left) 
142nd 
PAPAROA 
A&P SHOW 
Saturday  3  February 
2018  at  the  Paparoa 
Show Grounds. 
Join  in  this  wonderful  Show  as  a 
competitor, assistant, stallholder or just 
as a visitor! 
Indoor  Section  - We do hope that our 
artists,  crafts  enthusiasts,  gardeners, 
photographers, bottlers and preservers, 
home  brewers,  wine  and  cheese 
makers  are  preparing  their  entries  for 
the  indoor  section  –  There  are  special 
sections for children to enter.   
For  further  information  or  if  you  are 
able  to  assist  in  the  indoor  section 
please contact stella.clyde@gmail.com 
Equestrian  section  -  NB. No horses 
at  the  show  grounds  the  week  before 
the show day.  
Team  Roping  -  Northern  District 
Team  Roping  always  put  on  a 
wonderful  event  –  roping,  bull  riding 
and rawhide racing. 
Wood  chopping  and  Shearing  - To 
all  our  axemen  and  shearers  –  mark  3 
February on your calendar and come to 
our show. 
Cattle  Section  - We have seven cattle 
classes:  Calf  Club,  Novice  (yearling 
cattle) and RAS Young Handlers dairy 
or 
beef 
animals, 
Exotic, 
Traditional,  Small  Breeds  classes  and 
all  Beef  Breeds  classes.  (
Calf  Club  and 
RAS  Young  Handlers  -  all  those  who  had 
calves  at  school  can  enter  them  in  the  A&P 
Show). 
STEWARDS  WANTED  -  We  need 
stewards  for  the  day  or  a  couple  of 
hours.  It  would  be  awesome  to  have 
some  young  people  who  would  be 
willing 
to 
help 
- 
email 
- 
cattle@paparoashow.org.nz 
We  have  the  honour  of  having 
Lockwood  Smith  judging  at  this 
coming  show.  All  information  is 
available on www.paparoashow.org.nz 
Sponsorship  - If you feel you can help 
in  this  way  or  in  any  other  way  not 
mentioned  please  contact  us  at 
sponsors@paparoashow.org.nz . 
Stallholders  -  Anyone  is  welcome  to 
apply to be a stall holder. 
Volunteers  -  The  Show  needs 
volunteers  to  help  between  now  and 
show  day.  Can  you  help?  It's  a  great 
opportunity to meet new people and to 
contribute  to  a  valuable  community 
activity  as  well  as  preserving  a 
tradition  -  2018  will  be  the  142nd 
Paparoa  A&P  Show.  To  discuss  how 
you may be able to get involved please 
contact the President – Kate Battensby 
president@paparoashow.org.nz 
or 
Secretary 
secretary@paparoashow.org.nz 
All  schedules  and  entry  forms  are 
available 
online   
www.paparoashow.org.nz  and  at 
Noel  Radd's  Maungaturoto,  Paparoa 
Drapery  and  Farm  Source  (RD1) 
Ruawai.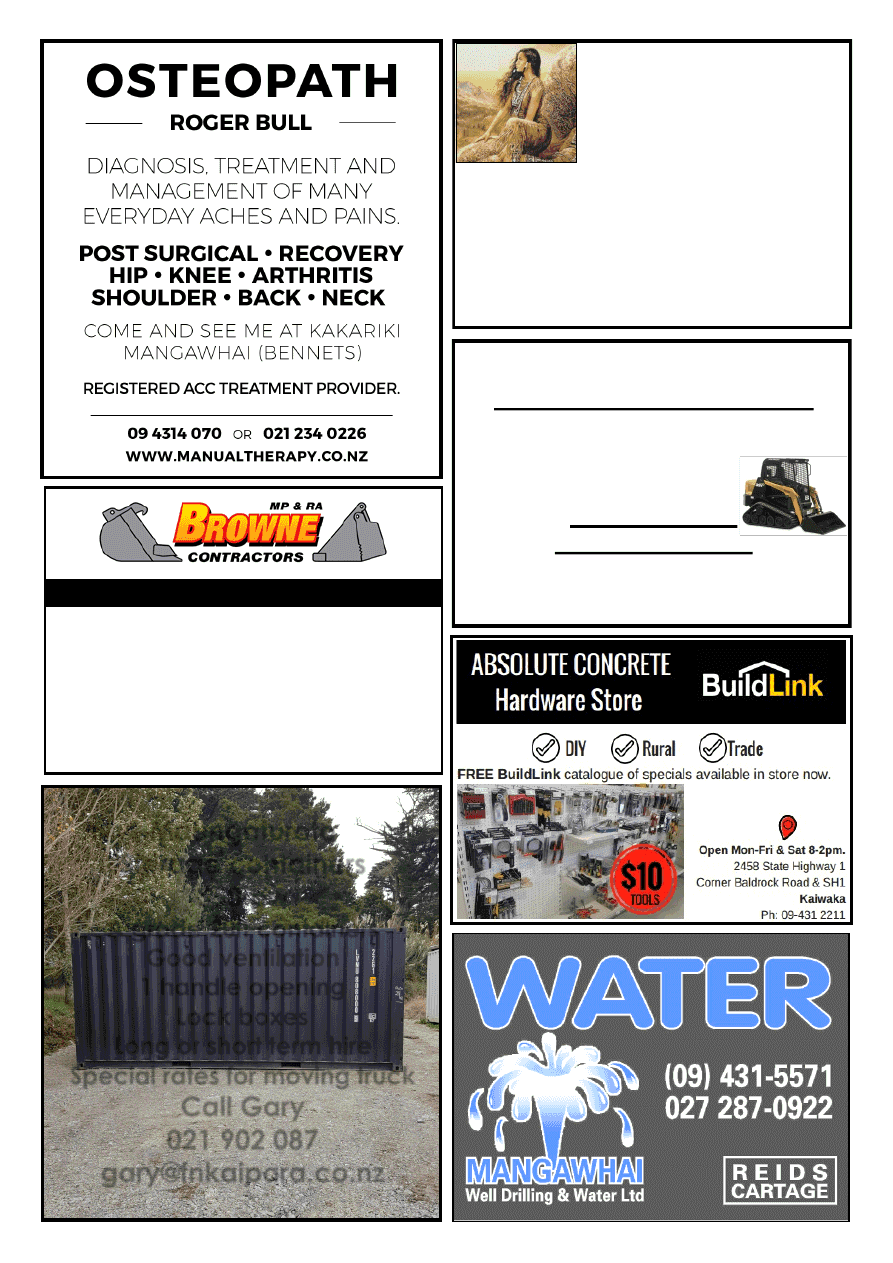 Natural Earth Ltd 
Landscape and Bobcat services 
 : Driveways :Landscaping :Retaining Walls 
 : Hole Boring: Land Levelling :Trenching 
 : Decks :Fences :Sections Cleared 
 : Plus much more
Tel 09 4312 885 
Mob 02102391280 
For A Fast Friendly Service  
Contact Tim Hicks 
4T DIGGER – BOBCAT – TIP TRUCK 
Property Maintenance - Driveways - Building Sites 
Stump & Tree Removal - Hole Boring - Chain Trencher 
Calf Shed and  Stockyard Cleaning
KAIPARA - WHANGAREI - RODNEY 
Phone Matt: 021 199 6677 
Email: mprabrownecontractors@gmail.com 
Maungaturoto  
Storage containers  
$50 pw  
A grade 20ft containers 
Good ventilation 
1 handle opening 
Lock boxes 
Long or short term hire 
Special rates for moving truck 
Call Gary  
021 902 087 
gary@fnkaipara.co.nz 
Trails end 
spiritualist gathering 
Last Sunday of every month  
11.30-2pm  
Tea/coffee provided  $5 koha 
For all inquiries: 
021 165 2629 evenings (09) 945 0707 
Trail.end@hotmail.com 
1758 Cove Road, Mangawhai
Bringing together light minded people 
Guest speaker each month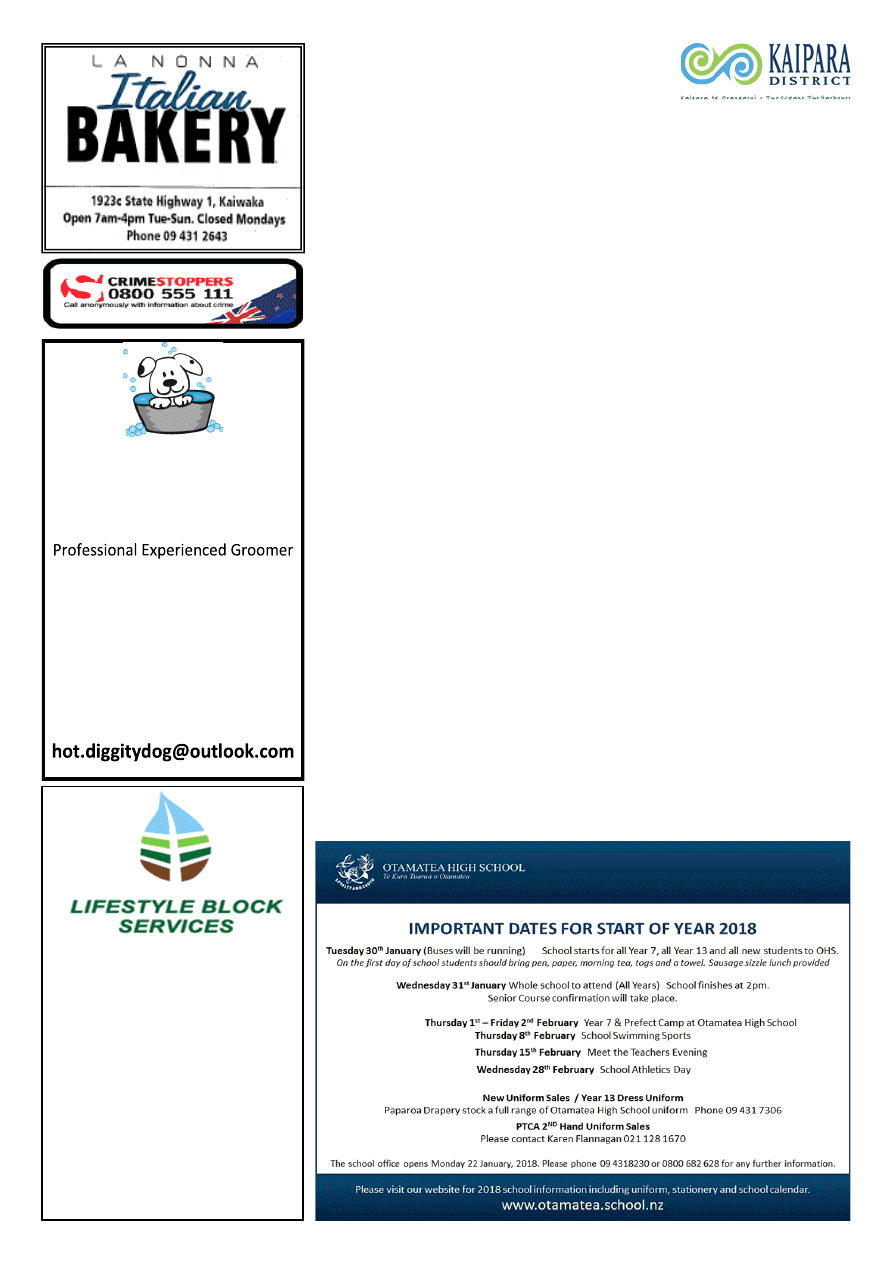 www.kaiwaka.co.nz 
Kaiwaka Bugle - 28 November 2017 
Page 15 
Hot Diggity Dog 
DOG GROOMING 
All breeds dog grooming 
Short practical grooms - summer 
Breed Standard Grooms 
Designer fusion Grooms 
Oneriri Road
By appt Phone  
Pam 09 4312143 
Or text only 0273335380 
Email  
Make Baleage while the sun shines! 
Let us make hay/sileage for you, or 
buy single & 5 bale equivalents from 
us
. 
Contact Mark on 021 801 065 or 
Contact Lisa on 021 108 1057
We also do: 

Fencing 

 Spraying 

  Mulching 
 
Stockwork 

  Stock Water 
Systems 

  Tree Trimming  

 Driveway & Track Maintenance  
The Otamatea High School stand at Mangawhai Beach School Ag and Gala Day.
KAIPARA DISTRICT  
RATING REVALUATION  
Steady  value  growth  seen  in  the 
Kaipara  District  over  the  past 
three years to be reflected in new 
rating values. 
The 
Kaipara 
District 
Rating 
Revaluation for 2017 is now confirmed 
and  property  owners  will  soon  receive 
a 2017 Notice of Rating Valuation with 
an  updated  rating  value  for  their 
property. 
The  new  rating  valuations  have  been 
prepared  for  14,819  properties  by 
Quotable  Value  (QV)  on  behalf  of 
Kaipara District Council. 
Rating valuations are carried out on all 
properties  in  New  Zealand,  usually 
once  every  three  years  to  specifically 
help  local  councils  set  rates  for  the 
following  three-year  period.  Rating 
values  are  just  one  of  a  number  of 
factors  councils  use  to  allocate  rates. 
These  new  valuations  will  be  used  to 
assess  rates  for  the  year  commencing 
01 July 2018. 
The  updated  rating  valuations  should 
reflect  the  likely  selling  price  of  a 
property  at  the  effective  revaluation 
date,  which  was  01  September  2017, 
but do not include chattels. 
The rating revaluation figures compiled 
by  QV  show  the  total  capital  value  of 
the  14,819  properties  within  Kaipara 
District  Council  is  now  $8.6  billion 
with the land value of those properties 
now  valued  at  $5.0  billion.  This  is  a 
33.3% increase from the previous 2014 
value level. 
QV  Senior  Consultant,  Thomas  Ujdur 
said, "Kaipara district residential value 
movements  can  be  broken  down  into 
the  west,  central,  and  eastern  regions. 
The  central  Kaipara  region  has  been 
the  standout  performer  as  the  market 
recognised  the  relative  undervalued 
nature  of  smaller  towns  such  as 
Kaiwaka, Maungaturoto, and Paparoa – 
their  price  attractiveness  compared  to 
Mangawhai and relative proximately to 
Auckland. 
The 
western 
region, 
incorporating  Dargaville  and  Te 
Kopuru, has experienced consistent but 
moderate  gains  until  the  beginning  of 
2017 
when 
values 
increased 
significantly  as  the  market  factored  in 
the  undervalued  nature  of  the  west 
relative to the central and eastern areas. 
The  overall  average  increase  for 
residential  properties  from  the  2014 
valuation level is 47% on capital value 
and 59% for land value." 
"Commercial  and  industrial  properties 
have also seen value increases, with the 
average 
value 
for 
developed 
commercial  property  increasing  by 
35% since the last rating revaluation in 
2014. The average value for developed 
industrial property increased by 17%." 
"It is helpful to remember the effective 
rating revaluation date of 1 September 
2017 has passed and any changes in the 
market since then won't be included in 
the  district's  new  rating  valuations.  In 
many cases a sale price 
achieved in the 
market  today  may  be  different  to  the 
new  rating  valuation  set  as  at  1 
September 2017. Rating valuations are 
not  designed  to  be  used  as  market 
valuations  for  raising  finance  with 
banks or as insurance valuations." 
New  rating  values  will  be  posted  to 
property owners after the 29 November 
2017.  If  owners  do  not  agree  with  the 
rating  value  they  have  the  right  to 
object.  The  objection  close-off  date  is 
the 31 January 2018. 
To find out more about objection or to 
lodge  an  objection  online  go  to 
www.ratingvalues.co.nz or telephone 
0800  787  284  to  request  an  objection 
form. 
For  more  information  about  Rates  and 
valuations  visit  the  KDC  website 
kaipara.govt.nz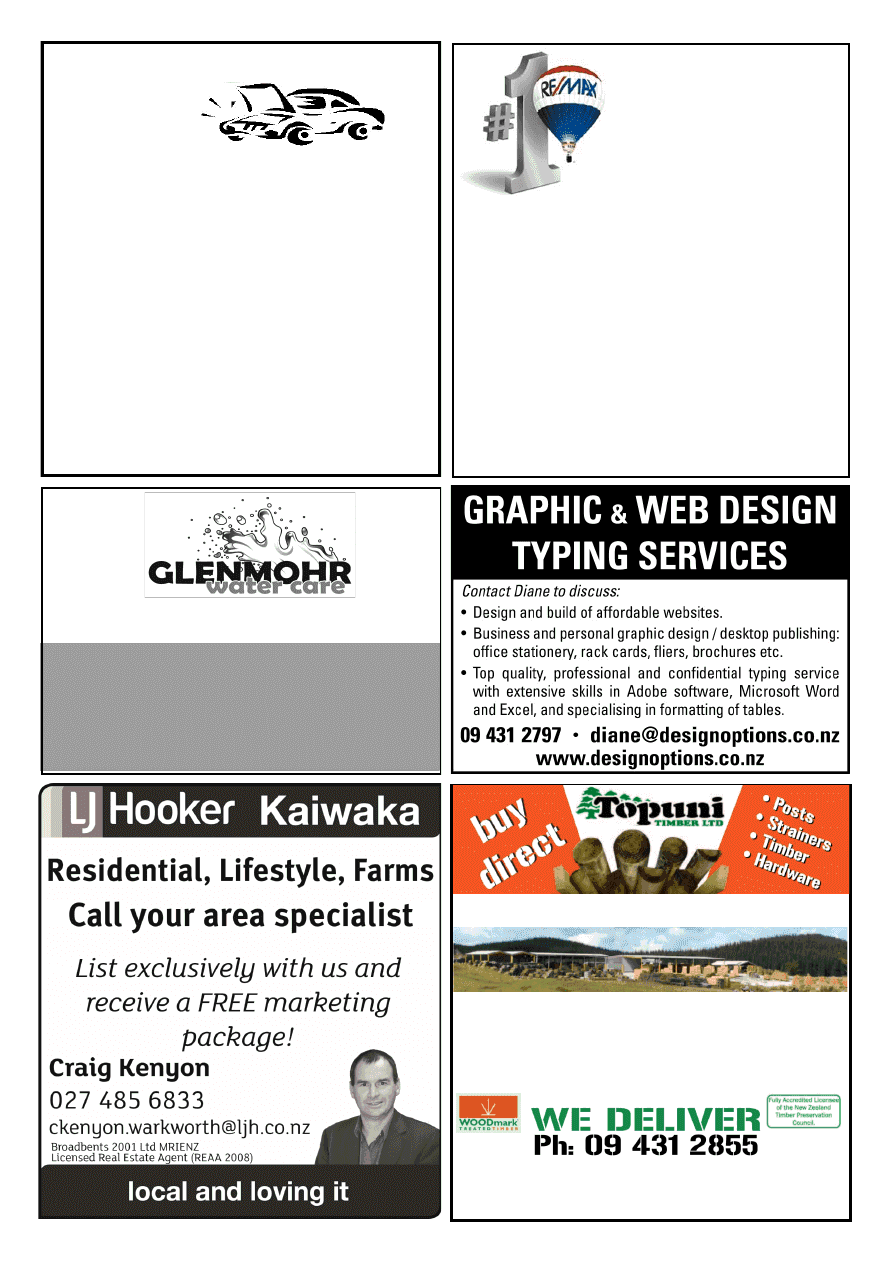 Water Tank Cleaning 
• 
Keep your water safe & clean  
• 
Removal of sediment, silt etc. 
• 
Vacuum or full scrub 
• 
Minimal water loss 
Phone Mark (09) 432 0655 or 0274 707607 
Twinkle Tow 'n' Tyre 
Think you'll get a better deal in the city? 
Ring us - it won't cost anything! 
1837 State Highway 1, Kaiwaka 
Phone 431 2823 
*W.O.F. 
*Tyres 
*Windscreen 
replacement 
*Chip repairs 
*Bulk Oil 
*Batteries 
*Welding 
*Custom built 
trailers 
*Trailer hire
LOCALLY OWNED AND OPERATED 
QUALITY PRODUCTS • FRIENDLY ADVICE • GREAT SERVICE 
Quality Products milled from High Density NORTHLAND Radiata Pine. 
Treated and guaranteed to NZS3640 with commitment to 
Environmental Safety.
Phone, fax, email, or come into the mill 
Schiska Rd, Topuni, SH1, 10 min north of Wellsford. Fax: 09 431 2856 
Email: sales@topunitimber.co.nz           Mon - Fri 7am-5pm 
• Fencing 
• Retaining 
• Decking 
• Landscaping 
• Gates 
• Hardware 
There are more people 
wanting to buy than 
there are houses 
available!
Vacant land, home and income, DIY dream … 
whatever your property's condition there is a buyer 
out there waiting to give you their money. 
Get your local agent's appraisal of your property to 
find out what's it's really worth. 
Contact Beth Stone today! 
Mob: 0274 937 801 
Email: beths@remaxrealty.net.nz 
RE/MAX Realty Group MREINZ 
Northern Properties Limited 
Licensed REAA 2008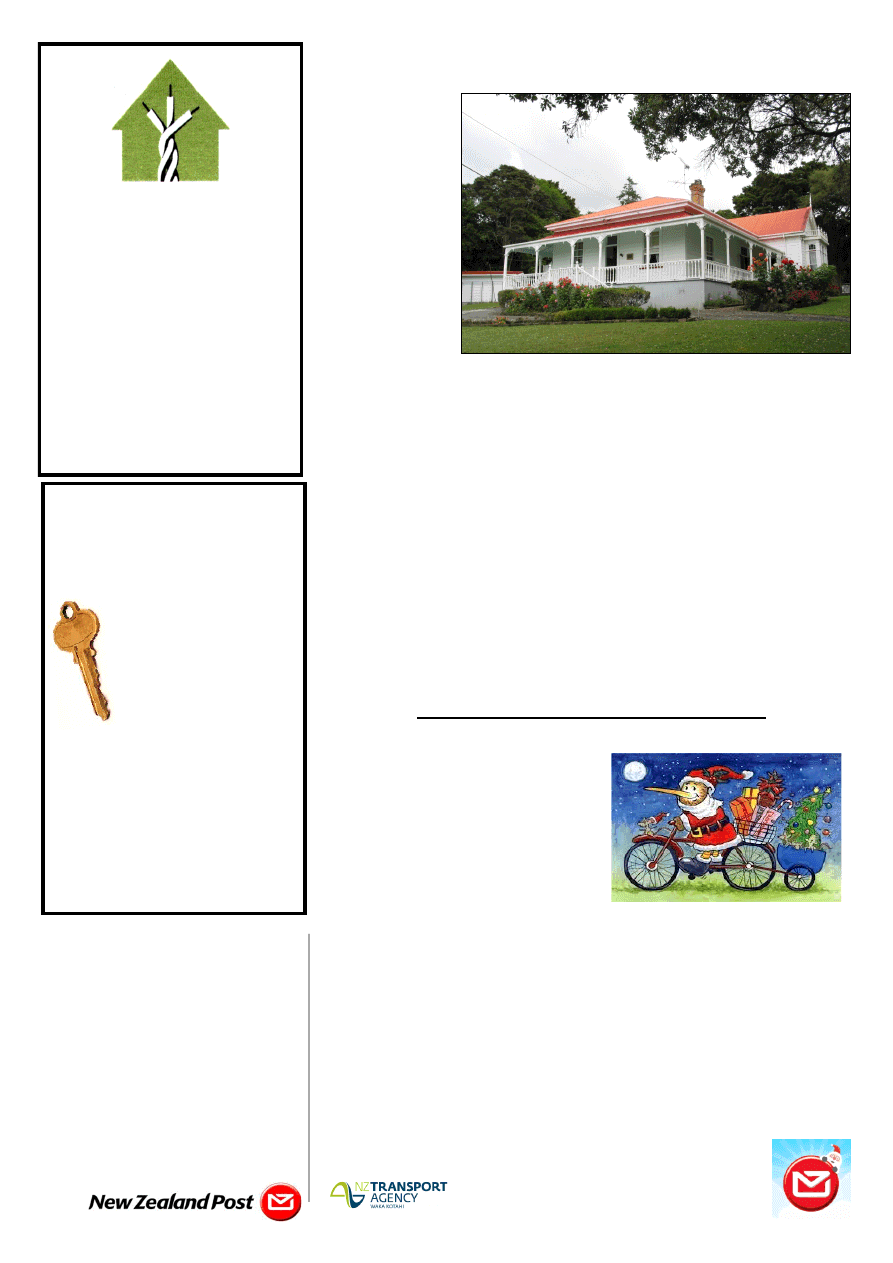 www.kaiwaka.co.nz 
Kaiwaka Bugle - 28 November 2017 
Page 17 
1919A State Highway 1, Kaiwaka 
09 431 2431 
For  a  limited  time, 
The  Kauri  Museum 
is inviting visitors to 
take  a  break  from 
the  silly  season  and 
explore 
the 
festivities  on  offer 
at Totara House. 
From  4  December 
to  17  December, 
Totara  House  in 
Wharf 
Road, 
normally  open  only 
by 
appointment, 
will  open  daily  to 
the  public  between 
10am-2pm. 
The 
Friends  of  the  Kauri  Museum  have 
been  crafting  traditional  and  non-
traditional  Christmas  Decorations  and 
the  halls  of  Totara  House  will  be 
decked  out  in  all  its  finery,  ably 
assisted  by  the  students  of  Matakohe, 
Paparoa, Ruawai and Tinopai Schools. 
The family of George and Emily Smith 
celebrated  Christmas  for  117  years 
between  these  magnificent  kauri  walls 
as well as within the sprawling heritage 
gardens that surround the house. 
CEO  Lisa  Tolich  says  that  Totara 
house,  with  its  unique  collection  of 
family  heirlooms  and  stories,  comes 
alive  when  visitors  arrive,  and  this 
special  Christmas  edition  will  not 
disappoint. 
Admission proceeds and donations will 
go  to  Totara  House  Preservation  fund 
to  maintain  and  provide  access  to  the 
Heritage  2  listed  building.  "We  are 
always on the lookout for opportunities 
for  the  house  to  be  made  more 
accessible  to  the  daily  visitors  who 
travel to The Kauri Museum as well as 
the locals who have grown to love it," 
she says. "Just like your modern, every 
day  home,  Totara  House  is  a  living 
entity  and  will  only  deteriorate  with 
lack of use." 
Tickets are available from the Museum 
(standard  payment  methods)  and 
Totara  House  (cash  only)  at  the 
discounted Christmas special rate of $8 
per person with children under 16 years 
of age free of charge. 
A special late-night opening from 5pm-
8pm  will  be  on  offer  on  Friday  8th 
December for those who are unable to 
visit during the day. 
For  more  information  phone  09  431 
7417 or visit www.kaurimuseum.com 
CELEBRATING CHRISTMAS AT  
TOTARA HOUSE 
Reyahn George 
Leng 
Registered Electrician 
Local, honest and 
reliable. 
For your residential and 
light-commercial 
projects. 
022 314 1068 
Merry  Christmas  and  a  Happy  New 
Year  from  the  team  at  the  Kaiwaka 
PostCentre and Food Mart. 
Another year draws to a close and once 
again  it  is  time  to  think  about  getting 
those  Christmas  cards  and  parcels  in 
the mail. 
POSTCENTRE  TRADING 
HOURS: 
2017 December: 
Monday 25th Closed 
Tuesday 26th Closed 
Wednesday 27th Open 8 - 5.30pm 
Thursday 28th Open 8 - 5.30pm 
Friday 29th Open 8 - 5.30pm 
Saturday 30th Open 8.30 – 1pm 
2018 January: 
Monday 1st  Closed 
Tuesday 2nd Closed 
From  Wednesday  3rd  Normal 
trading hours will resume. 
Motor vehicle transactions  
Remember  to  check  your  vehicle 
Rego. and Road user Charges(RUC) 
We  can  do  all  motor  vehicle 
transactions here at the Postcentre. 
Be Legal and be Safe. 
THE  FOOD  MART 
will trade 
from 7.30am to 8pm over the summer 
period. 
We  have  now  been  here  for  3  years 
and  wish  to  thank  the  people  of 
Kaiwaka  and  our  customers  for  your 
support  and  the  welcome  you  have 
given us. 
Mukesh and Pragna Patel. 
Kaiwaka 
Hardware  
& 
Key cutting
Phone 4312 063  
or 022 0642 703
kaikey2015@gmail.com
    Keys Cut  
Household Hardware  
Sharpening  
Knives & Tools 
Curtain Tracks & Fittings
Not there? Call Doug and he'll 
sort
it for you. 
(
Next to Kaiwaka Motorcycles)
KAIWAKA POST CENTRE and FOOD MART 
POST  DATES:  To  send  cards  and 
parcels  overseas  in  time  for  Christmas 
by  International  Air  will  need  to  post 
them by 6  December  for  Australia,  1 
December  for  the  South  Pacific, 
Asia,  North  America,  UK  and 
Europe,  and  29  November  for  the 
rest  of  the  world.  There  are  later 
deadlines for International Courier and 
International  Express  Courier  services 
in early December.  
The  deadline  for  sending  mail  and 
parcels  within  New  Zealand  by 
Standard 
Post, 
ParcelPost 
and 
ParcelPost  Tracked  is  19  December. 
FastPost, Courier Parcel and Courier & 
Signature  Parcel  products  need  to  be 
sent by 20 December.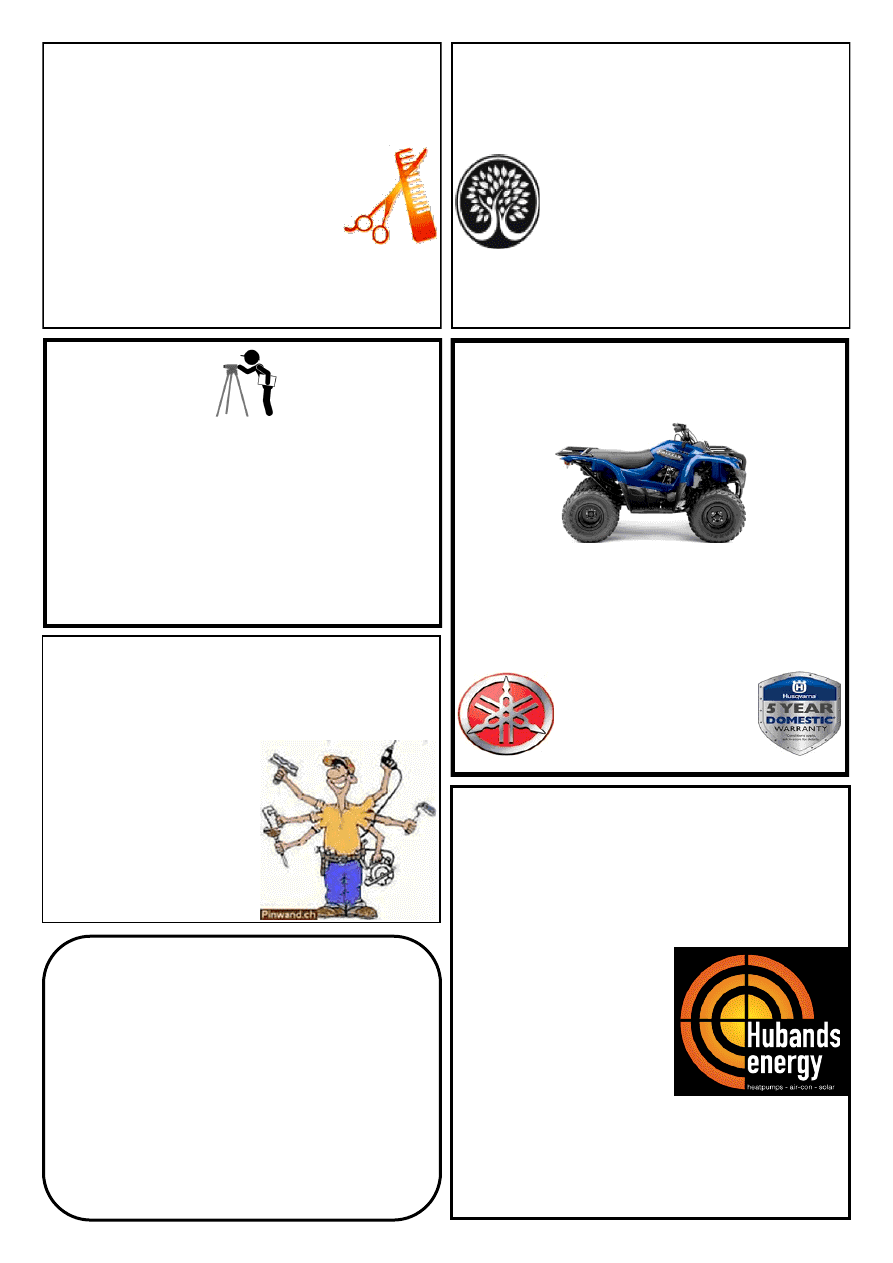 KAIWAKA 
MOTORCYCLES LTD
SALES – SERVICE – SPARES 
FARM BIKE SPECIALIST
PHONE 09 431-2127 
10 KAIWAKA-MANGAWHAI ROAD, KAIWAKA
Trimmers  
from $279
Chainsaws  
from $339
YAMAHA 
HUSQVARNA 
Northland's Award Winning 
Solar Company
SEANZ Best Solar Business Winners 2015/16
EXCLUSIVE 10 year installation warranty 
FREE No obligation onsite quote
Complete systems 
from $5990
See our range of: 
✓
Heatpumps 
✓
Airconditioning 
✓
Hot Water 
Heatpumps 
✓
Central Vacuum Systems
09 430 0019             sales@hubands.co.nz 
15 Kioreroa Road, Whangarei
Locally owned and operated for 35 years 
UP-LINK 
CHRIS WARING 
FREEVIEW INSTALLATIONS 
T.V. - HOME THEATRE &  
HI-FI ADVICE/SET UP
SKY ACCREDITED INSTALLER
MOB.0273403747 HM.094312328 
EMAIL cwaring44@gmail.com
28 YRS EXPERIENCE 
OFFERING UNBIASED ADVICE 
The Little Job Man 
Are you tired of those little jobs not getting 
done ? 
Indoors  or outdoors 
Sick of waiting ? 
Give me a call to discuss 
what you need doing. 
Doug  0277132625 
Ken Urquhart 
BSurv Licensed Cadastral Surveyor 
KMU Surveys Ltd
467 Bickerstaffe Road 
RD 2 
Maungaturoto 0587 
Ph 09 431 8705 
Mob 021 161 2344 
kenurquhart@xtra.co.nz 
Waipu Natural Health 
3 Cove Road, Waipu  (opposite the Pizza Barn) 
Ph: 09 432 1325 
www.waipunaturalhealth.co.nz
Clinical Nutritionist-Hair Analysis for Masked 
Allergies, Ozone Therapy, Prolotherapy, 
Naturopath-Medical Herbalist, Registered 
Massage Therapists, Reflexology-
Craniosacral Therapy, Acupuncture-Facial 
Acupuncture, Kineso Taping, Hypnotherapy, 
Counselling, ThetaHealing, Beauty Therapy
KIDS DAY – AFFORDABLE HEALTH SUPPORT 
FOR KIDS – every Wednesday 
(call us or drop in)
Gift Vouchers available
AFFORDABLE PRICES! 
MENS CUT FROM $20.00 
LADIES CUT FROM $30.00 
KIDS CUT FROM $18.00 
COLOUR & CUT FROM $120.00 
JUST CUTS'AND   
MORE 
021 165 2629 or (09) 945 0707  
NOW SELLING: scented tealights, incense, smudge sticks, 
copper bracelets, aurora ball crystals, dream catchers, healing 
stones, rose quartz, cds, and much more. Open 6 days.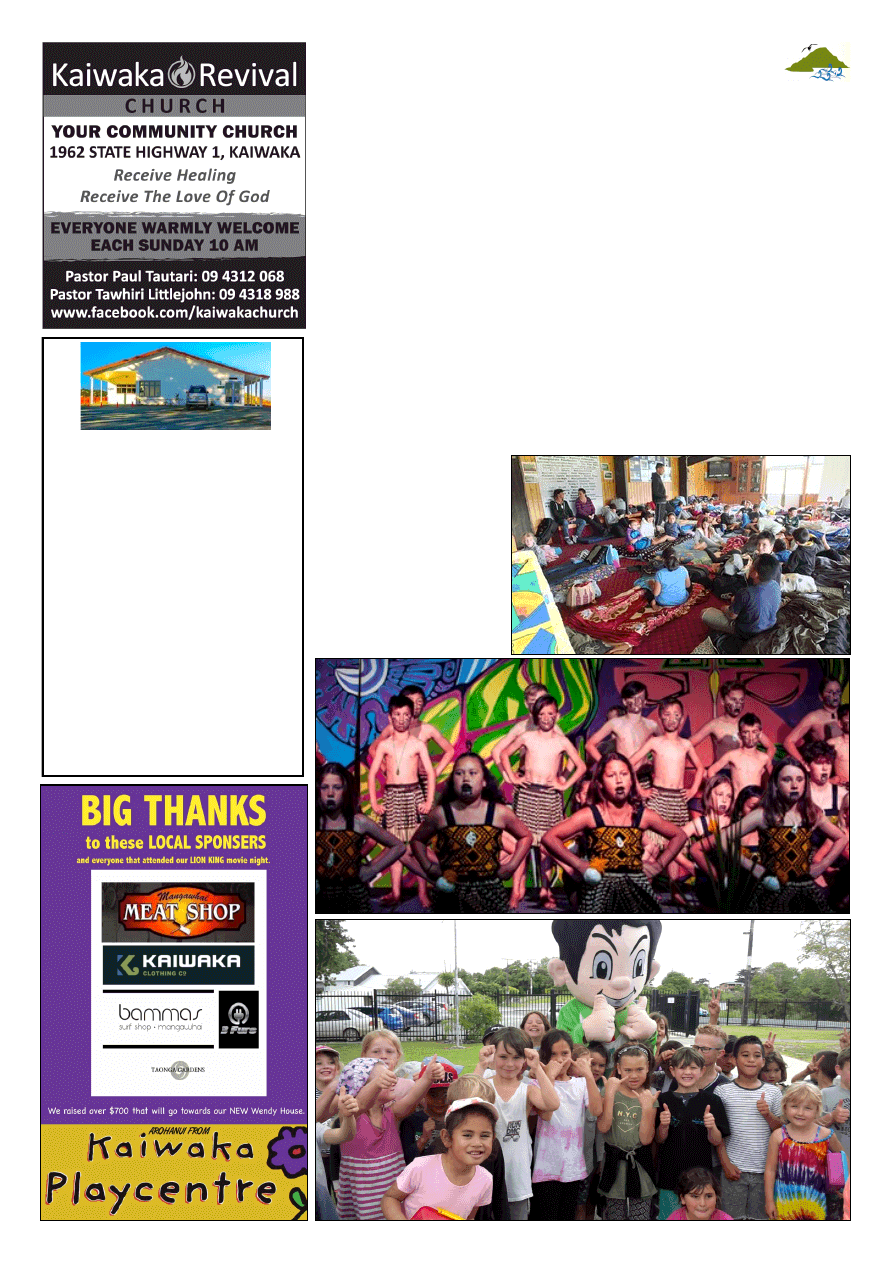 www.kaiwaka.co.nz 
Kaiwaka Bugle - 28 November 2017 
Page 19 
KAIWAKA SCHOOL 
Te Pounga Marae 
130 Nathan Rd. Oneriri. Kaiwaka 0573 
COMPLEX FOR 
HIRE 
Functions 
* Weddings  * Birthdays  
*Anniversaries * Meetings  * Wananga 
5 hour meeting * 12 hour stay  * 
Overnight 
*All welcome - No more Drink-driving 
Amenities: 
*Convo Combi Steamer * Bratt Pan * 
Dish Washer/Sterilizer * 3 Door Glass 
Chiller (walk in) etc…All Crockery * 
Linen Supplied * Central Heating and 
Air Conditioning and much more.  
Can also cater for small groups…. 
For more information please contact: 
Kim Wallace  
Home: 09 832 1133  Mob: 0211275340  
Email: kimwallace@xtra.co.nz 
What  a  fabulous  turnout  for  the 
Kaipara Kapa Haka Festival. We were 
so  pleased  and  proud  of  all  our 
performers, both young and old. Thank 
you to Whaea Mina and Whaea Karima 
and  all  the  teachers  for  their 
preparations  for  our  performances. 
Thank  you  to  all  our  parents  and 
caregivers  for  getting  your  children  to 
the venue on time and for helping with 
the moko and costuming. 
And  what  an  amazing  time  for 
everyone  last  week.  Our  Noho  was  a 
great 
experience 
for 
all 
our 
NgaTumanako and Kapa Haka students 
and  the  Kereru  group  really  enjoyed 
their  trip  to  Parakai  Hot  Pools.  They 
are also constructing a road way track. 
The  Juniors  had  2  fun  filled  days  and 
were  lucky  enough  to  see  caterpillars 
change into chrysalises. 
Thank  you  to  all  our  parents  and 
caregivers  who  supported  our  Noho, 
Juniors  and  Kereru  students.  We  were 
so  appreciative  of  the 
helpfulness  and  willingness 
of  those  who  helped  with 
transportation, gave up their 
time, and a night's sleep, to 
support our school. We also 
thank the KSA for allowing 
us  to  use  the  Pavilion  for 
our Noho. 
We want to especially thank 
Naomi Walker for her work 
on  our  school  Board  of 
Trustees for the last 3 years. 
Naomi has been a very active 
and  supportive  trustee  and  has  led 
many achievements for our school. 
Swimming Pool Keys 2017 - 2018 
These  are  now  available  at  the  School 
Office.  Use  of  the  pool  starts  16 
December. 
A  key  is  $60.  It  is  an  actual  key  and 
does not need to be returned at the end 
of the season. There will be no refund. 
Keys  must  not  be  shared.  They  are 
available until 15 December. After this 
they  can  only  be  purchased  from 
Jaques Supermarket. 
Upcoming dates: 
8 December - Creative Craft Day 
14 December - Prize Giving 
15  December  -  PTA  FUNDRAISER 
'UNIFORM DAY' and the last day of 
the school year.  
Term 1 2018 begins 7th February.  
Photos: Top - Noho at the pavilion 
Mid  -  at  the  Kaipara  Kapa  haka  festival 
(photo by Josie Gritten) 
Bottom - Four Square Charlie at school.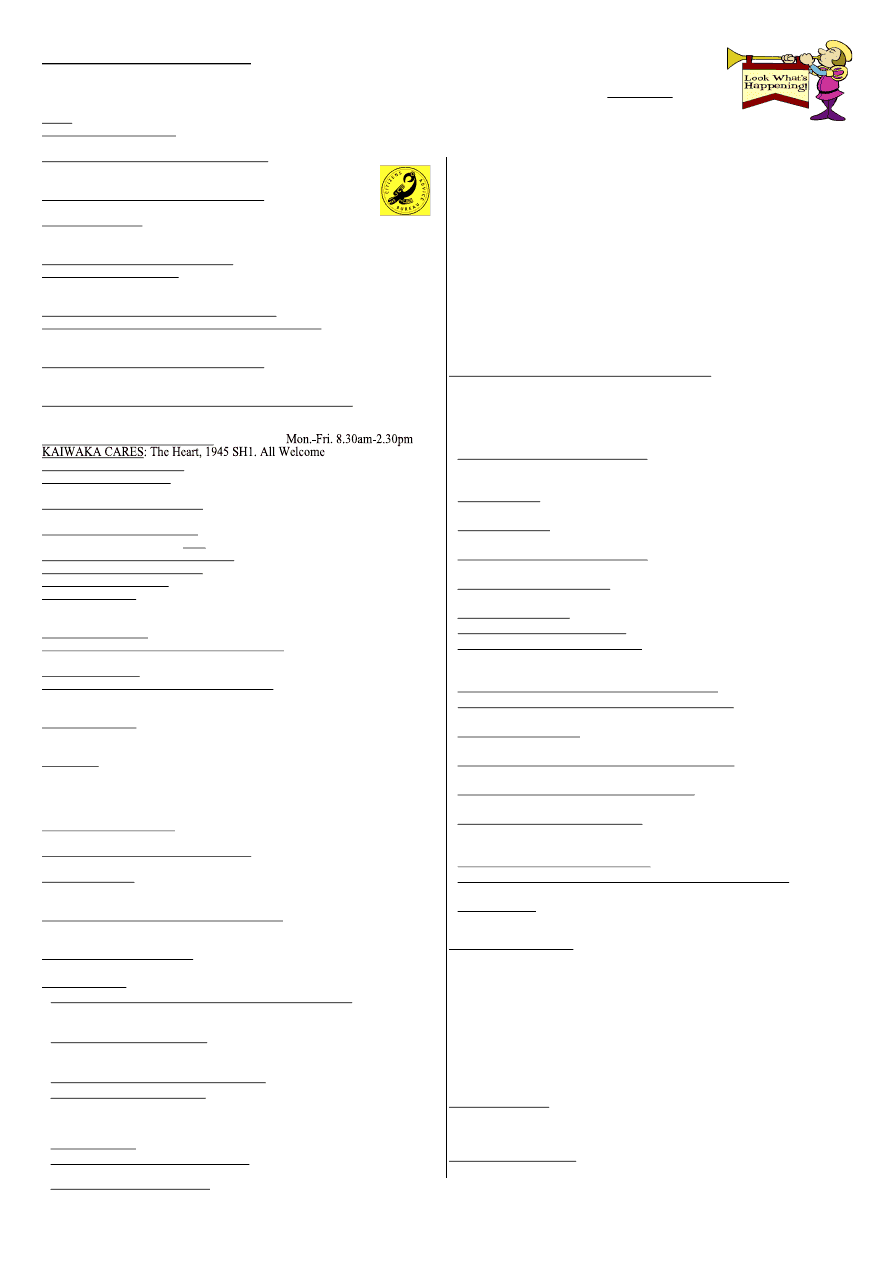 Next Bugle Deadline midday Friday 8 December 2017
WHAT'S ON
PLEASE ~ do let us know what is on - email 
kaiwakabugle@kaiwaka.co.nz 
*24Nov-3Dec~'The Frog Prince', ORT, Maungaturoto 
*28Nov~Hakaru Community Hall AGM, 7.30pm 
*1Dec~'Going In Style', 7.30pm KWMH 
*4-17Dec~Christmas at Totara House, Kauri Museum 
*12Dec~Otamatea High Junior Prizegiving 
*12Dec~Otamatea High end of Term 4 
*14Dec~Kaiwaka School Prizegiving 
*15Dec~ Kaiwaka School end of Term 4 
*15Dec~'The Big Sick' Dinner & Movie 6.30pm KWMH 
*17Dec~Jaques Band, KSA, 1.30pm 
2018 
*6Jan~Whanaunga Touch Tournament, KSA 
*6Jan~Tim & Liam Finn, KWMH 
*30Jan~Otamatea High School-
Year 7, Year 13 & new students  
*31Jan~Otamatea High School-whole school to attend 
KWMH = Kaiwaka War Memorial Hall; KSA = Kaiwaka Sports Association 
See www.kaiwaka.co.nz for more information 
HOUSEHOLD RUBBISH COLLECTION - Kaiwaka Pick up: 
Mondays = Green bags (Northland Waste - 09 430 3273) 
Wednesdays  = Blue bags and yellow recycling (at Jaques $3.00 
and  $1.50)  (Kaurilands  09  4392146);  ONLY  Blue  and  Yellow 
bags picked up on Oneriri Road. 
 DIABETES  Support  Group  -for  Kaiwaka,  Mangawhai, 
Wellsford  10am,  3rd  Friday  of  month  Ph:  Colleen  James  09 
4314238 
 DRINK CAN 'tear tabs' - for Starship Hospital- please collect - 
98 Kaiwaka Mangawhai Rd, leave in mailbox, Ph. 4312625  
 GENEALOGY - Wellsford: 1st Thursday in month Ph: 423 
7033; Waipu: 4th Monday in month Ph: 4312 725 
 GYMNASTICS  OTAMATEA  -  Tuesday  Ph:  Stephanie  022 
3624998 
 HAKARU PONY CLUB - Secretary Denise Rogers 021423376 
secretary@hakaruponyclub.co.nz  
 KAIPARA HUNT - Secretary Albert Doonenbal Ph 4312059 
 KAIWAKA BADMINTON -Tuesdays 7.30pm Ph: 4312345 
 KAIWAKA  DRAMA  CLUB  -  Dave  Edwards  021  611198  - 
KaiwakaDrama@gmail.com Monday 5:30-7:00pm KWMH - FB 
- "KaiwakaDramaClub" 
 KAIWAKA DRUM & DANCE CLASSES - 021 611198 
 KAIWAKA GARDEN & FLORAL GROUP - 2nd Thursday in 
month. Ph: 431 4744 
 KAIWAKA  CUBS  -  Thursdays  5.30-7pm,  Hakaru  Ph:Bruce 
4312542 
 KNITTING FOR WHANGAREI HOSPITAL - 2nd Tuesday in 
month, Archie Bull Hall 10am Ph 4314827 
 MANGAWHAI COMBINED REBUS CLUB - 2pm, 3rd 
Thursday month, Senior Citizens Hall Mangawhai. Ph: 4315777 
 OTAMATEA GREY POWER - Kath Pattinson 09 283 2052, 
1pm last Wednesday of month, Anglican Church Hall, 
Maungaturoto 
 PT CURTIS CRUISING CLUB - Jean Ph: 4312227 (wk), 4312520 (hm) 
 RSA,  HAKARU  &  DISTRICTS  WOMEN'S  SECTION  –  meets 
1.30pm 4th Thursday of the month. Ph: 431 5818  
 TRAMPING - Mondays 9am-2:30pm Maria 4312 234 
HALLS FOR HIRE: 
 St.Pauls Archie Bull Hall HIRE $20 half day, $40 full day per 
hire, R. Morgans, Ph 4312365 
 Kaiwaka  War  Memorial  Hall  HlRE  -  Phone  4312725  or 
kaiwaka.hall.bookings@gmail.com 
 Hakaru Community Hall HIRE -Ph. 4312256 or 4312110 
 Te Pounga Marae queries - R. O'Leary 4312 423, J.Nathan 021 
186 7382 
 Kaiwaka Sports Association hire/queries - C. Anderson 4312051 
or kaiwakasports@gmail.com 
Justice of Peace:  
B.FJaques  4312  048;  L.Donaldson  4312  228;  A.F.Hargreaves 
4312 045, W.Howard 4312 725 - please phone to make sure they 
are available www.justiceofthepeace.org.nz 
Marriage Celebrants:  
L.Donaldson; A.F.Hargreaves; Y Osborne
LOCAL SERVICES 
*Emergencies - Ambulance, Fire, Police - dial 111 
*Non-urgent Police phone 09 4311150
A A: Meets Wed., 8pm Kaiwaka Ph: 4315543, 0800229 6757 
ASUREQUALITY LTD (was AgriQuality) Call Free 0508 0011 22  
BUDGETING SERVICE, WELLSFORD: Free confidential advice & 
support for all areas of personal finance. Ph (09) 423 7123 
CAB-Citizens Advice Bureau.Wellsford Ph: 4237333 
0800 367 222 email:cab.wells@xtra.co.nz  
CIVIL DEFENCE - Kaiwaka Community Response Group: 
kaiwaka.civildefencecrg@gmail.com, 4312725 Wendy 
DOG/STOCK /NOISE CONTROL 0800 105 890 
FUNERAL SERVICES: Morris & Morris Ltd, 
Whangarei - Bev Jaques Ph:4312367 or 0800667747 
GRANDPARENTS Raising Grandchildren: Dianah Roberts 0223819539 
HAKARU & DISTRICTS MEMORIAL RSA (Inc) 733 Settlement Rd, 
Hakaru. Ph 4312 176 or Graeme Hitchcock (President) 431 3064 
HAKARU LANDFILL/Transfer Station:Open everyday except 
Tuesday10am-4pm.Ph4312629 Cost-$55 trailer load up to 1 cubic metre. 
Ph:4258567 - office 
KAIPARA DISTRICT COUNCIL www.kaipara.govt.nz:  
Help Desk FREEPHONE 0800 727 059  
KAIWAKA KOHANGA REO: Ph:4312620 
KAIWAKA CEMETERY: Ph: 4312045 or 4314017 
KAIWAKA LIBRARY: kaiwaka.library@gmail.com  
Mon. 4-6pm; Wed., Thurs., Fri., Sat. 10am-2pm Ph:4312539 
KAIWAKA PLAYCENTRE: Ph Juanita 0274134904; open Mon, Wed, 
Fri 9am-12pm. Hastie Lane; Monday to Friday 9.00am - 12 noon. 
KAIWAKA POST OFFICE:Ph:4312 431  
Post Code: 0573 for RD2 and 0542 for all Kaiwaka Post Office mail 
KAIWAKA PRIMARY SCHOOL: Ph: 4312309   
KAIWAKA SPORTS ASSN: Ph 4312005; 4312129 gym 
KAIWAKA ST JOHN: Manager Steve Rosser 09 4318403, 021 355734 
KATE'S PLACE Community Centre - Employment services, Free Health 
Nurse, Plunket, Advocacy, Osteopath, A.A., Legal Advice. 4312 661 
LINKING HANDS Health Shuttle Ph 4315906 or 09 4318969 
MINISTRY FOR PRIMARY INDUSTRIES - General inquiries Call 
Free 0800 008 333 
NORTHPOWER: Faults Kaiwaka area 0800 104040 
OTAMATEA COMMUNITY SERVICES: Counselling, parent coach, 
Family Support worker, budget advice, food bank. Mon-Fri 9am-3pm. Ph 
09 431 9080 http://www.otamateacs.org/ 
PARENTPORT: Free, practical family support service Puhoi to Paparoa 
Ph or txt: Dianne 027 280 5093 or 09 425 9357 
PLUNKET:  Kaiwaka  -Kate's  Place  Clinic  1st  Wednesday  of  the  month; 
Mangawhai  - Rose Madsen Cottage: Coffee Group 9:30 every Monday.  Clinic 
every Monday and Thursday. 
Maungaturoto - Good News Church, Clinic 2nd and 4th Wednesday.  
Cynthia 09 431 7340 or 027 675 3488 
PLUNKET HELPLINE -0800 933 922 (24 hours) 
TAITOKERAU COMMUNITY LAW: Free confidential legal advice and 
assistance, 2nd
Thursday
 of each month. Ph: 0800 155 529 for apps.  
TE URI O HAU Settlement Trust Tangata Developments: Whanau Ora 
021 793262  
VETERINARY SERVICE MANGAWHAI: 
Ph: 4314535 Mon-Fri 8.00-5.00, Sat 9-12, a/h appt. 
WELLSFORD DOCTORS: Ph: 4238 086 
CHURCHES:
 
Kaiwaka  Revival  Church  -  Your  Community  Church:  Sundays  10am. 
Ph: Pastor Tawhiri 09 431 8988 or Pastor Paul 09 4312 068 Visit us at 
www.facebook.com/kaiwakachurch 
 
St  Paul's  Anglican  Church  1st  Sun.  9.00am  (Eucharist),  3rd  Sun. 
9.00am (Family Service). Contact: Rev. Wayne Thornton Ph 431 4122 
www.mangawhaianglican.org.nz 
 
Church of Christ the King, Mangawhai:9.30am every Sunday 
 
St.Mary's  Catholic  Church:  Maungaturoto  –  Griffins  Road,  Saturday 
evening  Vigil  Mass  6pm;  Mangawhai  –  Senior  Citizens  Hall,  Sunday 
Mass  8:30am;  Wellsford  –  Matheson  Road,  Sunday  Mass  10:30am;  
Mid-week Mass times and all enquires to Fr. Bill Fletcher – phone 423 8170
 
Baptist Church: Sun. 10.30am Mangawhai Snr Cit.Hall.Ph:4312339 
 
Cause  Way  Church  Mangawhai:  Sundays  10.15am,  Mangawhai 
Community  Recreation  Centre,  Insley  St.  Ph:  09  4314782