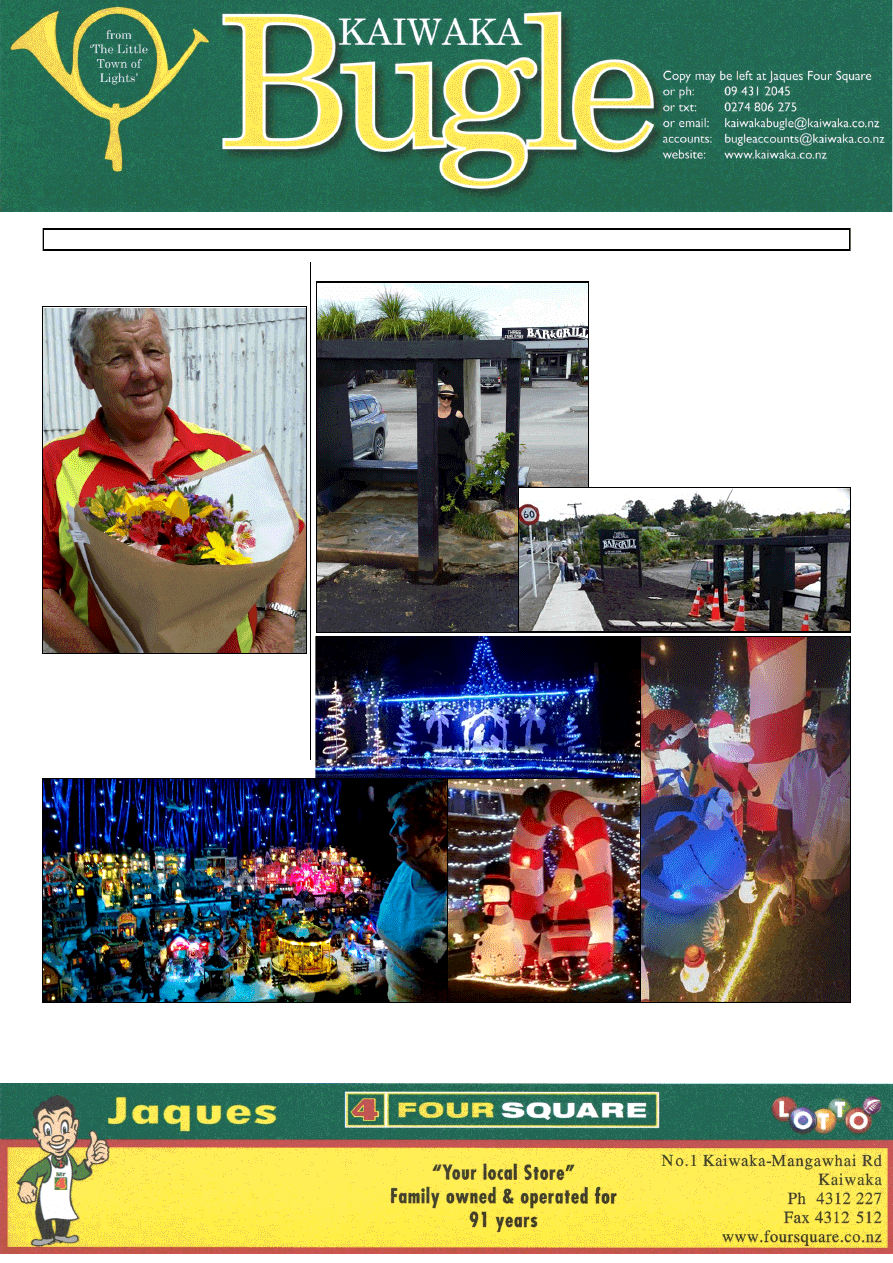 www.kaiwaka.co.nz 
Kaiwaka Bugle - 12 December 2017 
Page 1 
KAIWAKA  
GOOD SORT
Lindy's flowers for a reluctant Norm!  
Thank you to our RD2 postman, Norm 
Brown,  who  covers  many  kilometres 
in  our  community,  who  delivers  our 
Bugles,  and  even  gives  youngsters  a 
lollipop  when they're  meet  him  at  the 
mailbox.
No:24 
12 December 2017 
Trading Hours: 
Monday to Friday 8:00am - 6:30pm 
Saturday 8:00am - 7:00pm 
Sunday 9:00am - 6:00pm  
PAM AND MARK'S DAZZLING LIGHTS 
What joy Pam and Mark Ottaway bring to so many people. It is a pleasure to watch the delight and fascination on the 
faces of the all their visitors, especially the children making snow angels on the lawn (in Mark's 'snow') is great fun! 
Above left, Pam with her beautiful Winter Christmas Village, and right is Mark with Nemo and Santa! 
KAIWAKA'S NEW BUS STOP 
Left:  Jodie  Greig  at  the  striking  new 
Sate  Highway  One  bus  stop  shelter. 
The  planting  atop  the  shelter  is  very 
distinctive. 
Jodie  and  Paul  Greig,  owners  of  the 
Three Furlongs Bar & Grill, are very 
pleased  with  the  work  of  Ferries,  of 
Concepts Landscape Design, with the 
shelter  and  their  gardens.  Jodie  says 
the area is not finished yet, with more 
planting to come. 
Below:  Looking  north,  folk  waiting 
for the next bus traveling south. 
Photo by Jana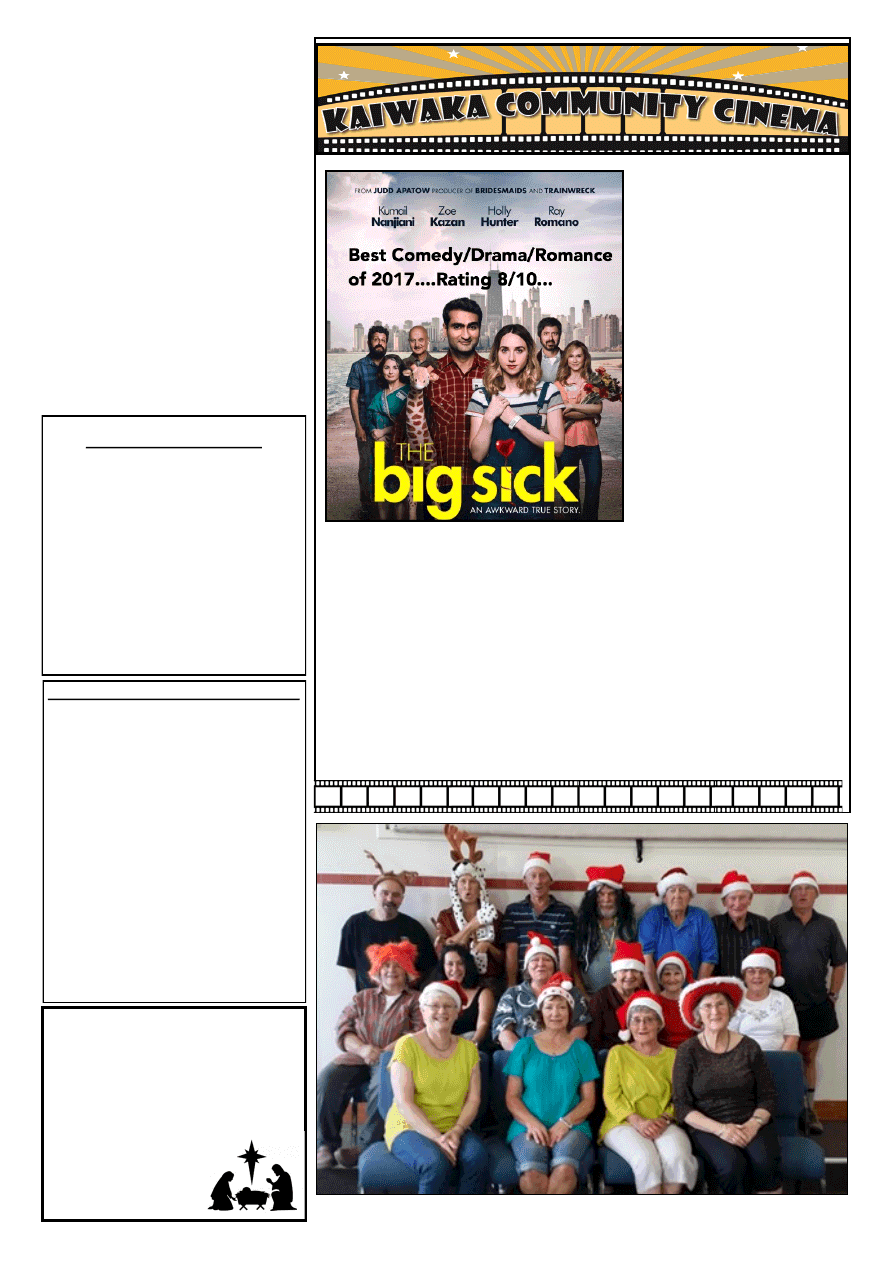 At Kaiwaka War Memorial Hall . Adults $10, Kids (under 16) $5, Family Pass (2 adults + 3 children) $25 
KAIWAKA BUGLE No. 24 
12 DECEMBER 2017 
CONTENTS 
Page 3: Public Notices, Classified 
Page 5: Pt.Curtis CC; RD Mail; Kauri 
Museum 
Page 7: Christmas 2017; Riverview 
Resthome  
Page 9:  Zonta; Weather; ORT 
Page 11: Councillor's Comment; 1990 
Page 13: Kaiwaka Sports Assn. 
Page 15: Kaiwaka School; Top of the 
Rock; Louis Prouting 
Page 17: Kaiwaka Library 
Page 19: Thelma's Scrapbook-Rudolph 
Bugle 1 will appear 22 January 2018 
Contact for advertising, reports, articles 
or information can be made by 
Email kaiwakabugle@kaiwaka.co.nz 
Ph: 09 4312 045 Lindsey 
Txt: 027 2724137 
Copy  may  be  left  at  Jaques'  Four 
Square. 
Kaiwaka Bugle 
Founded May 1978 
We appreciate articles and photos about local 
events, etc, as well as ads and suggestions. 
Copies available in Kaiwaka at Jaques Four 
Square, Kaiwaka Postal Centre, Shamrock 
Service Station, Animal Health Centre, 
Kaiwaka St John shop. 
Also outlets in Maungaturoto, 
Mangawhai and Paparoa. 
Can be viewed online at   
www.kaiwaka.co.nz/Bugle  
Or a copy can be posted to you if you supply 
stamped, self-addressed DLE envelopes. 
Isaiah 9:6   
For unto us a child 
is born; unto us a child is given; 
and the government shall be 
upon His shoulder. These will be 
His royal titles; "Wonderful," 
"Counselor", "The Mighty God",  
"The Everlasting Father", 
"The Prince of Peace".
WISE MEN/WOMEN/
CHILDREN STILL  
SEEK HIM!!!
Kaiwaka Bugle Advertisements 2017: 
All 
copy 
and 
queries 
to: 
kaiwakabugle@kaiwaka.co.nz 
The Bugle is printed on an A4 page   
Ad  sizes:  1/16  page  (3  x  9.5cm)  $5;  1/8 
(6.5  x  9.5cm  landscape  or  portrait)  $8; 
3/16 ( 10 x 9.5cm or 7.5 x 12,5)  $12.  
Classified  ads:  First  one  FREE,  $4  per 
entry (max. 30 words, max. 4 repeats). 
Payments  can  be  made  online  at 
ANZ 
06  0365  0006990  00
,  posted  or  left  at 
Jaques Four Square Store. 
We  use  Microsoft  Publisher,  and  can 
work  with  most  common  image 
formats, Word, Excel, and PDF files. 
Accounts:  
Email: bugleaccounts@kaiwaka.co.nz 
The  Kaiwaka  Bugle  is  a  community 
newspaper run by volunteers.   
Articles, etc. printed are not necessarily 
the opinion of the Bugle Team. 
The Big Sick 
(M
) 
An awkward true story 
A 
directed 
by 
Showalter  and  written  by  Emily 
V. Gordon and Kumail Nanjiani. 
It 
stars 
Nanjiani, 
Akhtar.  Loosely  based  on  the 
real-life 
romance 
between 
Nanjiani  and Gordon, 
THE  BIG 
SICK tells the story of Pakistan-
born  aspiring  comedian  Kumail 
(Nanjiani),  who  connects  with 
grad student Emily (Kazan) after 
one of his stand-up sets. 
Friday 15 December, 
6.30pm 
Kaiwaka  Movie  & Indian Dinner Night  
We love to sell some more tickets...has been quiet this week!!! 
Could be a Xmas party for any small business....??? 
Dinner Choice: Butterchicken.....Lamb Roganjosh or VEG Korma - 
mild medium or hot! 
We will also serve a nice dessert  during intermission of Icecream, 
Choc. Brownie and Fruit Salad. 
All for only $30.00  
BYO drinks
Ph: 09 4312234 or021 2154495 
Cut off date Thursday 14 December
Merry Christmas from The Bugle Team!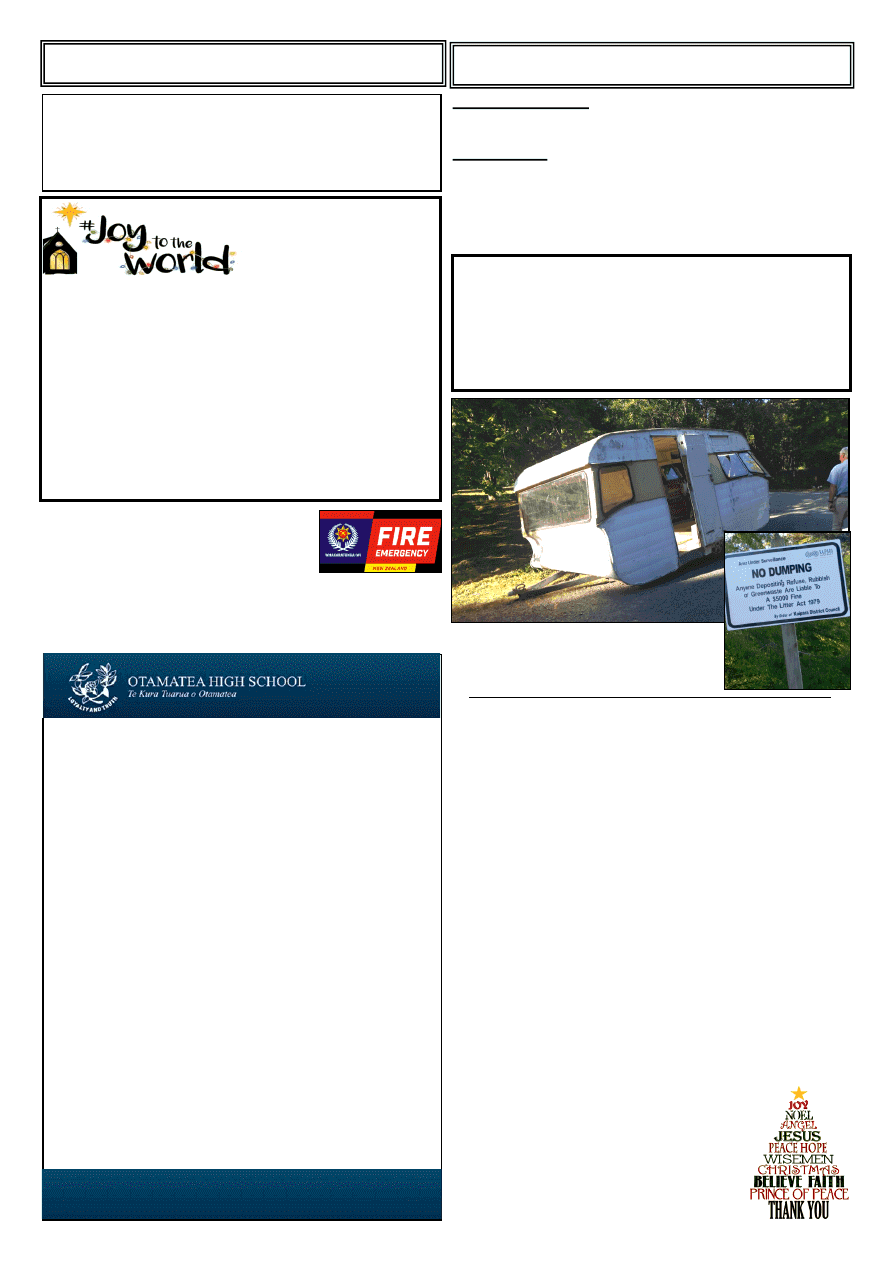 www.kaiwaka.co.nz 
Kaiwaka Bugle - 12 December 2017 
Page 3 
ABOUT TOWN ... 

Bouquets  to  Pam  and  Mark  Ottaway  for  their  amazing 
Christmas  light  display!  And  thank  you  to  their  many 
visitors for donations to our local Fire Brigade. 

And well done to our Jaques Four Square crew for their 
50th celebrations, and support of the Bugle operation! 

Thank  you  to  Jonathan  Larsen,  Otamatea  Ward 
councillor,  and  to  Derek  Christensen  for  their  thoughtful 
columns this week. 

 Please  deposit  your  own  rubbish  at  the  correct  rubbish 
dumps; see the Hakaru Transfer Station's holiday hours. 

 Check  out  the  Movie  &  Dinner  spot.  This  is  the  last 
movie for the year - thank you Movie Crew!  

Great  to  see  our  local  Creative  Contour  calendar 
(available  in  Whitcoulls);  see  their  cover  on  our    2018 
calendar - www.kaiwaka.co.nz! 

 The    Kauri  Museum,  Matakohe,  has  a  brilliant  Twelve 
Otamatea Holiday Highlights exhibition - see page 5 

As  of  yesterday,  11  December,  permits  are  needed  for 
fires - see www.havingafire.org.nz

 A  BIG  THANK  YOU  from  the  Bugle  Team  to  all  who 
have contributed to the Bugle content this year
~ Merry Christmas, Lindsey, Ed 
"
Humility isn't thinking less of yourself; its 
thinking  of  yourself  less  and  putting  others 
first."   
"
Christmas  is  for  everyone,  adults  and 
children  alike.  Allow  this  season  fill  your 
heart, and let go of the things you dislike."   
- Julie Hebert   
PUBLIC NOTICES 
CLASSIFIED 
CAR FOR SALE: 1996 BMW 3251. Silver grey. Reg 
& WoF current. Runs well. $1,600 or BEST OFFER. 
Phone 09 4312950 
FOR  SALE: 
Glow  Items.  Great  stocking  stuffers  – 
kids  love them!  Flashing Jelly Star necklace:  $3 each 
(or a box of 24 for $60). Flashing Eyeball ring: $2 each 
(or a box of 36 for $65). Flashing Pumpkin Badge: $1 
each (or a box of 25 for $20). I can deliver to Kaiwaka. 
Phone Cheryl on 4312051.
KAIWAKA MEDIA GROUP 
Annual  General Meeting 
Monday 21 January, 5.30pm 
All Welcome 
Mangawhai Mission District 
Anglican Church  
Christmas Services 
CAROL SERVICE 
Sunday 17 December 7.30 pm 
St Paul's, Kaiwaka Carol Service  
CHRISTMAS EVE 
Sunday 24 December 7.00 pm 
St Michael's, Hakaru Christmas Eve Carol Service  
Midnight Sunday 24 December 11.00 pm 
Christmas Communion Christ the King Church  
CHRISTMAS DAY 
Family Communion Christ the King Church 9.00 am 
St Paul's, Kaiwaka 9.00 am  
You are all very welcome!   
www.mangawhaianglican.org.nz Phone 431 4122 
RESTRICTED FIRE 
SEASON  
From Monday 11th December
,  
the  Far  North,  Whangarei,  Kaipara  Districts  will  be  in  a 
Restricted  fire  season.  This  means  you  will  need  to  apply 
for a permit if you want to have a fire - you can apply by 
calling 09 4010723 or online www.havingafire.org.nz 
HAKARU TRANSFER STATION 
(the nearest rubbish dump!) 
From Tuesday 12 December to 31st January  
the Hakaru Transfer Station will be  
open for 7 days a week 10am - 4pm 
From 1st February normal open days will resume. 
Closed Christmas Day and New Years Day 
IMPORTANT DATES FOR START OF YEAR 2018 
Tuesday 30th January (Buses will be running) School starts 
for all Year 7, all Year 13 and all new students to OHS. 
On the first day of school students should bring pen, paper, 
morning tea, togs and a towel. Sausage sizzle lunch provided. 
Wednesday 31st January Whole school to attend (All 
Years). School finishes at 2pm 
Senior Course confirmation will take place. 
Thursday 1st - Friday 2nd February Year 7 & Prefect camp 
at Otamatea High School 
Thursday 8th February School Swimming Sports 
Thursday 15th February Meet the Teachers Evening  
Wednesday 28th February School Athletics Day 
New Uniform Sales / Year 13 Dress Uniform 
Paparoa drapery stock a full range of Otamatea High 
School uniform Phone 09 431 7306 
PTCA Second Hand Uniform Sales 
Please contact Karen Flannagan 
The school office opens Monday 22 January, 2018.  
Please phone 09 4318230 or 0800 682 628 
Please visit our website for 2018 school information including uniform, 
stationery and school calendar. 
www.otamatea.school.nz 
RUBBISH
  This  old  caravan  was 
dumped in the McClean Park rest area! 
This is a 'NO GO'. This rest area is used 
by MANY travellers.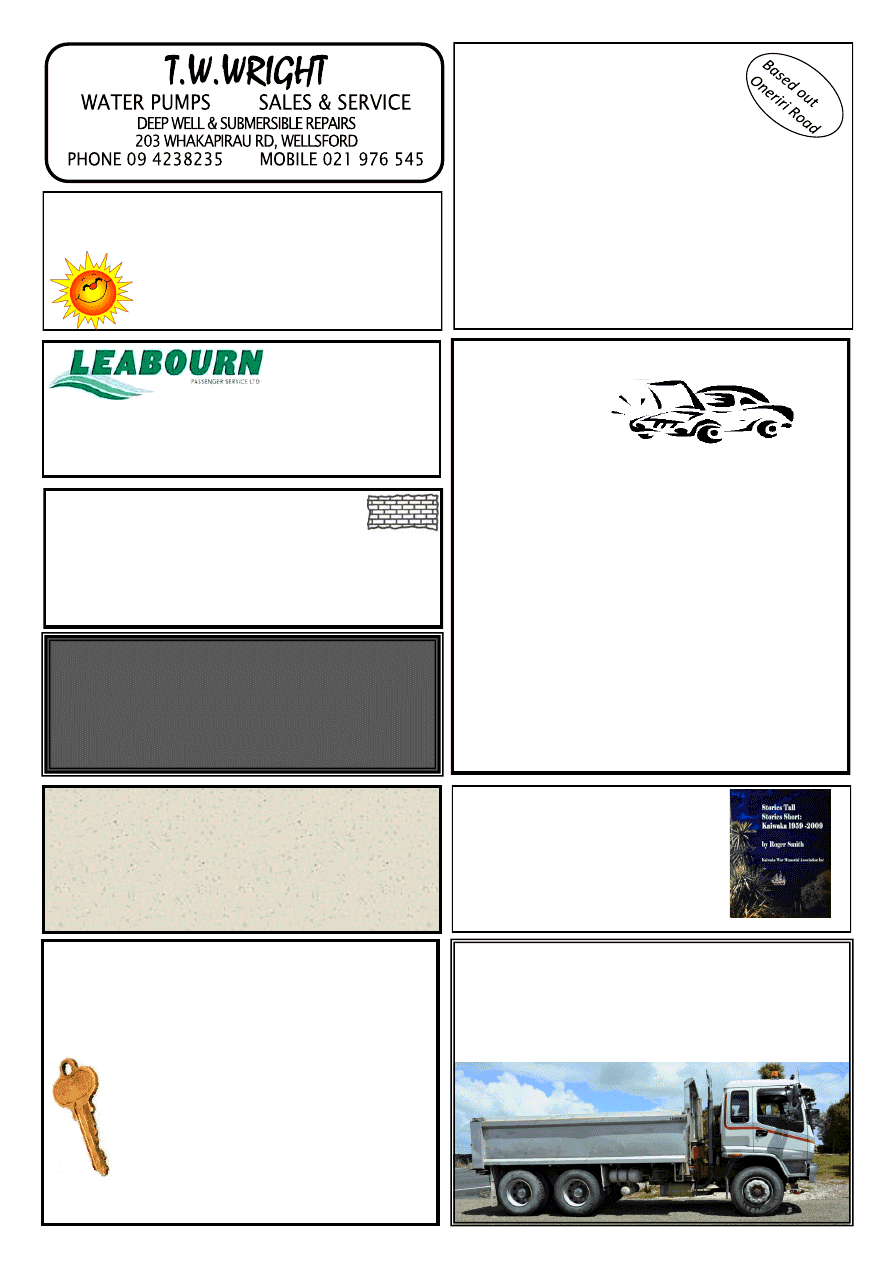 BRICK/BLOCKLAYER 
All aspects of masonry: 
Fireplaces, Restoration & Remedial Work.
JAMES EAGLETON
Tel. (09) 431 2514     Mob. 0274 749 232
jajueagles@yahoo.com.au 210A Pukenui Road, RD2, Kaiwaka 0573 
THE SUNSHINE GIRLS
Efficient and reliable help with 
your housework. 
Ph 4312 532 
Counsellor and Registered Psychotherapist 
Offers Supervision
Susan Matheson 
MNZAC 
Dip. Psychosynthesis Counselling and Psychotherapy 
Phone 09 431 2996                        Mobile 027 605 2427 
Twinkle Tow 'n' Tyre 
Think you'll get a better deal in the city? 
Ring us - it won't cost anything! 
1837 State Highway 1, Kaiwaka 
Phone 431 2823 
*W.O.F. 
*Tyres 
*Windscreen 
replacement 
*Chip repairs 
*Bulk Oil 
*Batteries 
*Welding 
*Custom built 
trailers 
*Trailer hire
Kaiwaka Hardware  
& 
Key cutting
Phone 4312 063 or 022 0642 703
kaikey2015@gmail.com 
Keys Cut  
Household Hardware  
Sharpening Knives & Tools 
Curtain Tracks & Fittings
Not there? Call Doug and he'll sort
it for you. 
(
Next to Kaiwaka Motorcycles)
MARRIAGE CELEBRANT 
WEDDING EVENTS PLANNER 
Yvonne Osborne 
Ph 0274 989 814 
yvonne.osborne@xtra.co.nz 
Passenger Service
Car & Van Hire  Bus & Coach Charters 
Airport Transfers   Monthly Shopper Bus 
Phone (09) 4237416 
J
and
M
 CONTRACTORS 
Kaiwaka 
Bulk Cartage 
5 & 10 cubic metres Wood Chip or Post Peel. 
Cartage all metals, sand, scoria. 
Truck hire with Driver  
Ph 09 9733538 
Mobile 021 2383664 
HODGETTS 
CONTRACTING
Digger Work    

Driveways 

House Sites   

Dams    
 
Drains, etc
Also available for HIRE 
3 ton Vib Roller Heavy Duty Tow  
Waterblaster     Lazer Level
Phone Mark 4312877 
027 447 8554 
Stories Tall, Stories Short  
Kaiwaka 1959-2009 
by Roger TW Smith.  $40 
Available at the 
Kaiwaka Library 
or phone 
Lindsey 4312 045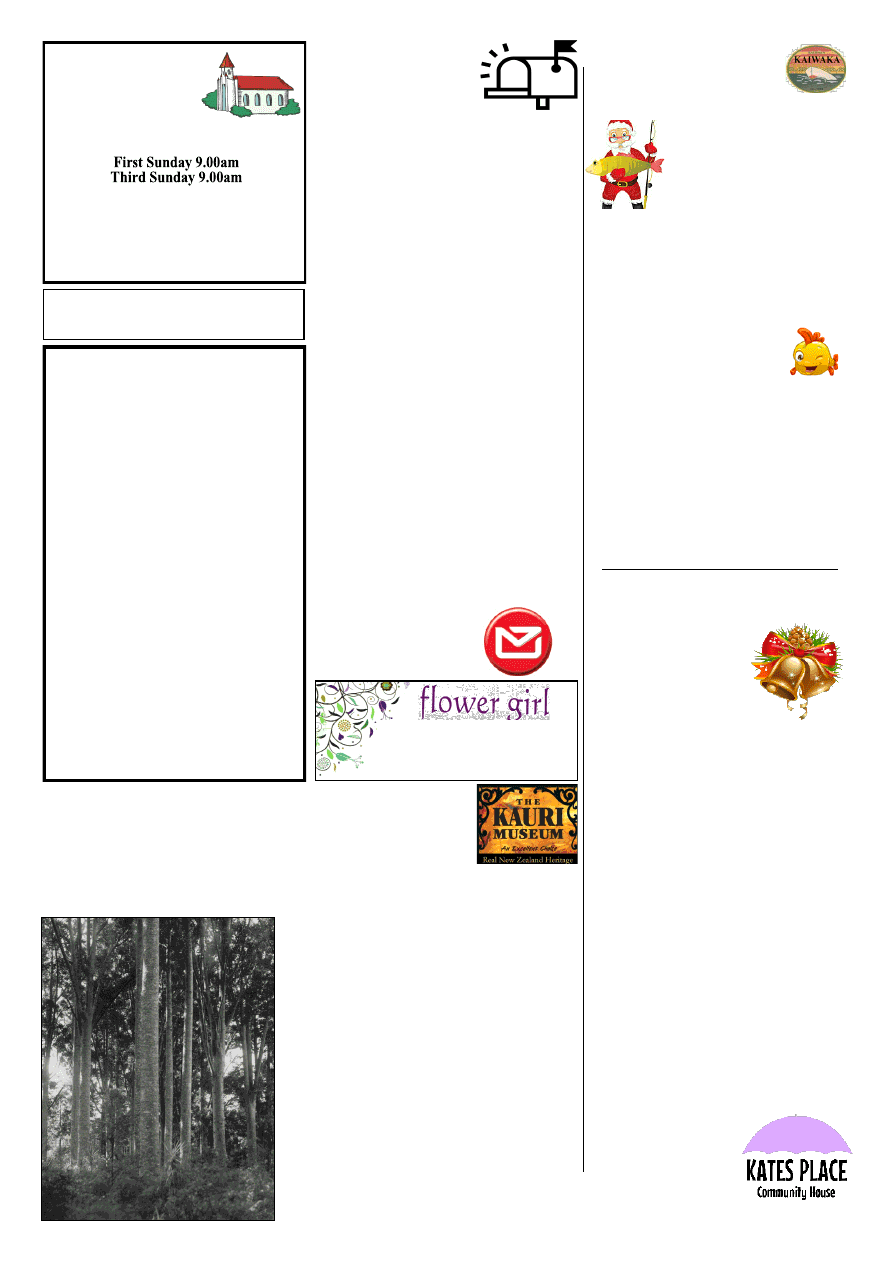 www.kaiwaka.co.nz 
Kaiwaka Bugle - 12 December 2017 
Page 5 
Willow Bend
HORSE  
HOTEL 
  
Total Horse Care 
 
Agistment 
 
Riding Lessons 
 
Arena Hire (60x40) 
 
Young Horse Starting 
 
Re-training/Exercising 
 
Hoof Trimming 
 
Problem Solving 
Phone Sue 09 431 2817 
or 021 623 776 
Or email  
susanjoll11@gmail.com 
ST PAUL'S  
ANGLICAN  
SUNDAY  
SERVICES
St Pauls Church: Kaiwaka-Mangawhai Rd. 
1st Sun - Eucharist 
3rd Sun - Family Service 
Rev. Wayne Thornton Ph 431 4122 
www.mangawhaianglican.org.nz
Isaiah 9:6 - 
Hoki whanau nei hoki 
he tamaiti ki a tatou...
RURAL  
POST BOX 
HOLDERS
Please  Help  us  to  safely 
deliver and uplift your mail.
❖A  friendly  request  to  please  ensure 
that  your  rubbish  bags,  cars  and 
Wheelie Bins are not left in front of or 
to the sides of letter boxes. 
❖Reminder 
that 
Mailboxes 
are 
required to be sited to allow safe, easy 
access  for  deliveries  from  the  vehicle 
and  when  rubbish  bags  etc  obstruct 
access  to  mailboxes  this  may  result  in 
us  not  being  able  to  deliver  your  mail 
that day. 
❖If you are NOT wanting "Junk Mail" 
please  could  you  put  a  sign  on  letter 
box. 
❖Make  sure  your  letterbox  is  clearly 
marked with a Number or Name on. 
❖And  senders  have  your  correct 
mailing address details. 
❖There are no pickups on Saturdays.  
Thank  you  for  your  co-operation  to 
ensure  your  mail  can  be  delivered 
safely. 
It  is  the  busy  time  where  online 
shopping  is  in.  So  Please  be  patient 
with us as we are doing the best we can 
to fit everything in. 
We would like to wish you all a Merry 
Christmas and a Happy and Safe New 
Years.  
Kind Regards 
Norm & Renna Brown 
R D 2 
Contractor 
KAURI MUSEUM 
Twelve Otamatea Holiday Highlights 
Otamatea  abounds  with  highlights  to  keep  you  busy  over  the 
summer  holidays,  or  all  year  round!  This  summer  we  have 
decided  to  share  some  of  these  exceptional  highlights  in  an  exhibition  that 
demonstrates our connections to these places and our community. 
The area we cover for this exhibition is the old Otamatea County that had the 
Kaipara Harbour to the east and the Pacific 
Ocean to the west. The land stretched from 
Tokatoka  and  Taipuha  in  the  north  to 
Mangawhai in the east and Kaiwaka in the 
south.  Otamatea  County  was  absorbed,  in 
the  1980s,  into  a  larger  entity  now  called 
Kaipara District. The region has, within its 
borders,  an  unfair  share  of  marvels  and 
delights that will keep you coming back! 
Accompanying 
exhibition: 
Twelve 
Collection Curios. 
Until 
Monday 
29 
January 
2018 
(Anniversary Weekend). 
See  them  on  their  Facebook  page  -  for 
example, 
Twelve Otamatea Holiday Highlights: 
Day  Four  'On  the  fourth  day  of  Christmas,  my 
true  love  sent  to  me,  Four  Commanding  Kauri 
Bush  Reserves,  Three  Treasured  Historic 
Churches, Two Glorious Golf Courses
...
 ' 
Just  over  40  turned  out  for 
the  Point  Curtis  Cruising 
Club Christmas Dinner held 
on  Tuesday  28
th
  November 
at  the  3Furlongs  Bar  & 
Grill.  Thank  you  to  those  of  you  that 
came along  
On  Sunday  14
th
  of  January  there  is  a 
Picnic  at  the  Rangiora  Boat  Ramp  at 
1pm. 
For  those  that  would  like  to  attend 
please  bring  a  plate,  a  chair  to  sit  on 
and your drink of choice. 
Come  and  enjoy  a  shared 
lunch  with  an  amazing  view 
and good company. 
Happy  Safe  Fishing  over  the 
Christmas  and  New  Year's  Period, 
remember Tight Lines!  
Fish  of  the  month  winners:  Tony 
Smith  3.22kg;  Gravy  3.070kg;  Louise 
2.940kg. 
New  Fish  of  the  month:  Snapper  till 
14
th
 January 2018 
Next Meeting: Sunday 14
th
 January @ 
Rangiora Boat Ramp 1pm 
   ~  Wayne Leslie Commodore
. 
POINT CURTIS 
CRUISING 
CLUB 
KATE'S PLACE 
Season's Greetings to Everyone 
It's  has  been  our 
pleasure to  support  and 
serve 
our 
local 
communities  this  year. 
We  have  had  100s  of 
people  through  our 
centre, needing support, 
advocacy,  medical  help,  counselling, 
AA  meetings,  mental  health  support, 
tutoring,  attending  courses,  business 
mentoring,  peer  mentoring,  school 
holiday  programmes,  Plunket,  physio, 
massage,  and  attending  our  lunches 
and functions. 
Our  aim  next  year  is  to  further 
strengthen  these  services  and  offer 
more interesting courses especially for 
youth  and  parenting.  We  have  office 
space and community space for hire as 
we are open Monday to Friday, 9am to 
4pm. 
We  would  love  some  volunteers 
working  at  the  centre  and  if  you  are 
interested  please  let  us  know  in  the 
new year. 
Owen Stevens will have his last clinic 
for  the  year  on  Friday  22  December. 
This  is  also  our  last  day,  we  will  be 
returning  on  the  12th January  2018  to 
resume our next year. 
We hope everyone has a relaxing stress
-free  break  and  look 
forward  to  seeing 
everyone  back  in  the 
new year. 
Merry  Christmas  from 
Kirstie, Iris & Tally.
designs for all occasions 
lindywatson@hotmail.com 
4312 847  0211234164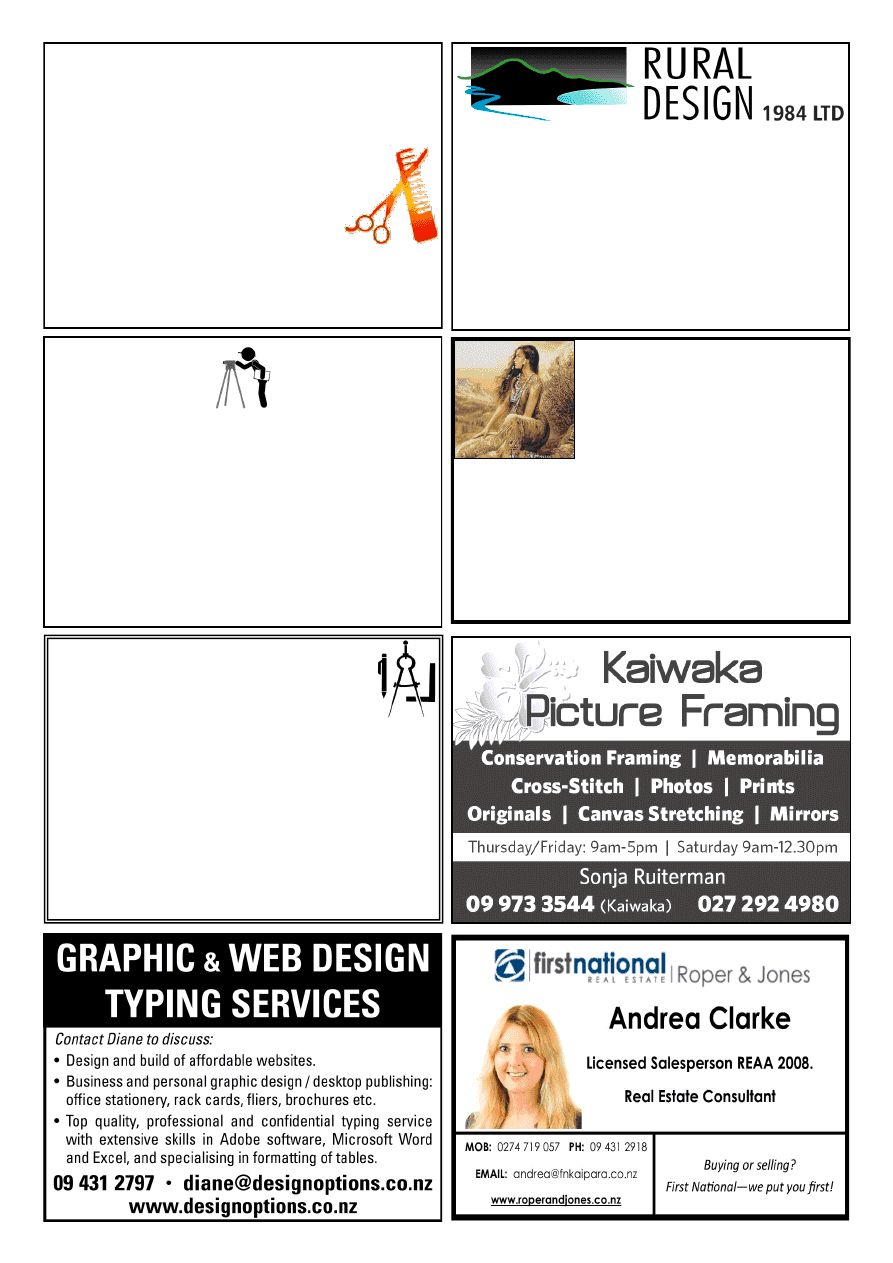 design drafting  
service 
Retired builder and manufacturer with over 40 years  
experience in the building industry is offering a design 
drafting service  
for domestic housing, sleepouts and sheds.  
Plans formulated in consultation with clients, with 
working drawings completed and submitted to  
council for processing.  Extensive practical experience,  
able to identify & resolve problems. 
Please ring Mike Lean on 
09 431 2260 
or 
021 431 196 
Ken Urquhart 
BSurv Licensed Cadastral Surveyor 
KMU Surveys Ltd
467 Bickerstaffe Road 
RD 2 
Maungaturoto 0587 
Ph 09 431 8705 
Mob 021 161 2344 
kenurquhart@xtra.co.nz 
WHOLESALE NATIVE PLANT NURSERY 
AND LANDSCAPING 
By Appointment 
Small and Large orders welcome 
Phone: 09 431 2481 
Email: info@ruraldesign.co.nz 
AFFORDABLE PRICES! 
MENS CUT FROM $20.00 
LADIES CUT FROM $30.00 
KIDS CUT FROM $18.00 
COLOUR & CUT FROM $120.00 
JUST CUTS'AND   
MORE 
021 165 2629 or (09) 945 0707  
NOW SELLING: scented tealights, incense, smudge sticks, 
copper bracelets, aurora ball crystals, dream catchers, healing 
stones, rose quartz, cds, and much more. Open 6 days. 
Trails end 
spiritualist gathering 
Last Sunday of every month  
11.30-2pm  
Tea/coffee provided  $5 koha 
For all inquiries: 
021 165 2629 evenings (09) 945 0707 
Trail.end@hotmail.com 
1758 Cove Road, Mangawhai
Bringing together light minded people 
Guest speaker each month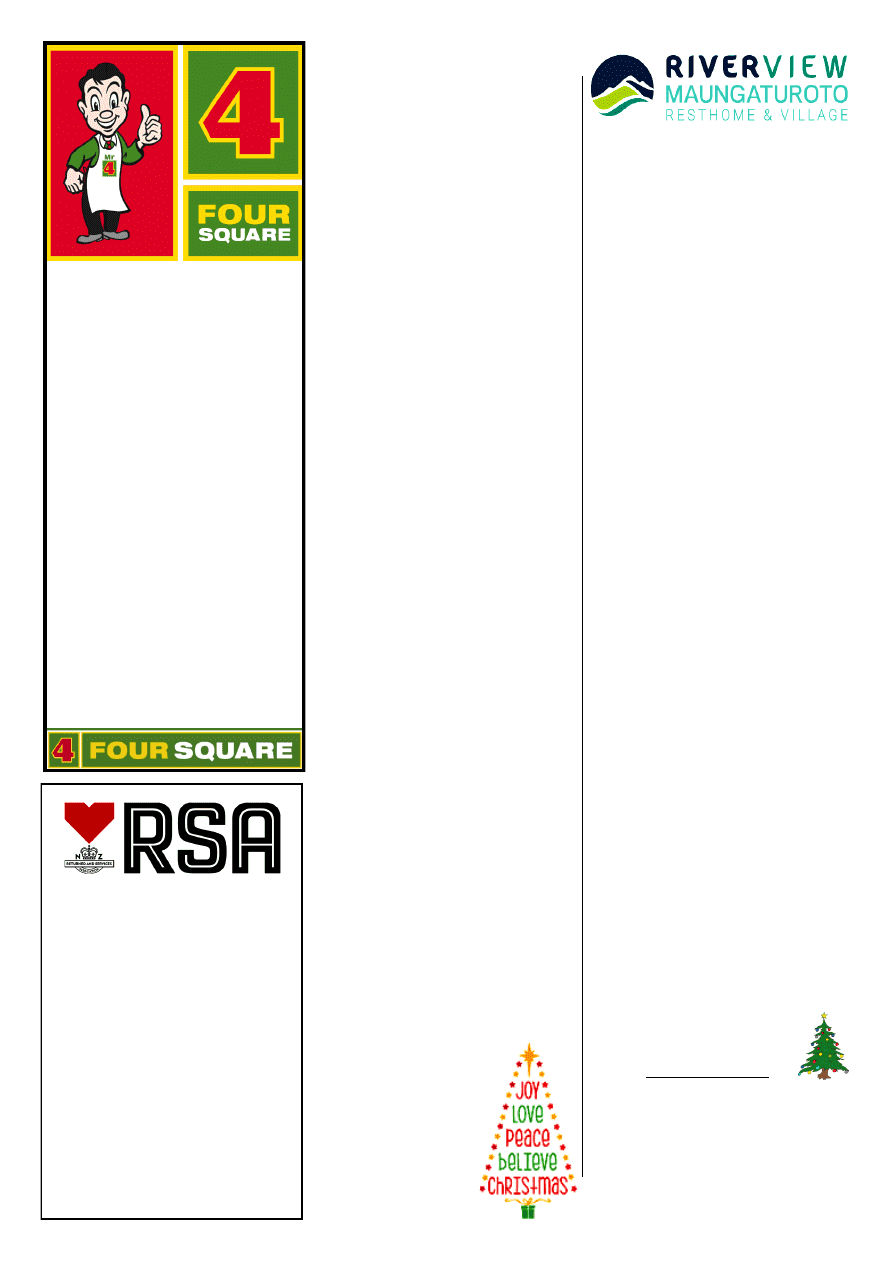 www.kaiwaka.co.nz 
Kaiwaka Bugle - 12 December 2017 
Page 7 
Great two weeks of our stores 
50th Four Square Birthday 
celebrations! 
Major prize 40"" smart TV won by 
Bruce & Lindell Ferguson & family 
Open Christmas Eve 9am to 6pm 
Sunday 24th December 
Closed Christmas Day  
Monday 25th December 
Then normal trading hours from 
Boxing Day 26th December 
Due to the extra volume & ordering 
deadlines orders of Fresh Fruit & 
Vege, in-store Fresh Bakery, Cream & 
Custard need to be early 
Please phone & order by Wednesday 
20th December 10am. 
Greg, Paula and their Team wish you 
all a Happy & Safe Holidays,  
and Thank You for your support 
throughout the year
Jaques Four Square 
Phone: 4312227 
1 Kaiwaka-Mangawhai Road, Kaiwaka. 
HAKARU & DISTRICTS 
MEMORIAL RSA (INC)
Members & guests are invited to 
come along and enjoy our hospitality.  
New members welcome.  
Meals are served on Thursday and 
Friday nights  from 6.30pm.   
2nd Friday of the month is a Roast Dinner 
special plus a board menu put on by the 
Women's Section. 
Last Friday of the month is 'Roast Pork 
Night' and a sing-a-long with Des Chitty. 
For more information please phone 
Gloria  (Women's Section) on  
431 5818 or Marlene on 431 5589 
The  turf  has  begun  to  turn.  The  rental 
units  will  by  now  have  been 
demolished, once again Alby Paton and 
the  Den  team  have  risen  to  the  fore, 
patiently  stripping  all  the  saleable 
items  windows,  doors,  taps,  showers, 
light  fittings,  switches,  plugs  even 
screws and nails!!! All to be transferred 
down  to  the  Den  where  bargains  will 
be available for all. A big thank you for 
your continuing efforts Den members. 
'Our  Plan  for  the  Future',  in  its 
entirety, will require a huge amount of 
financial support from our community. 
We  are  confident  that  the  Bank  will 
cover  seeding  funds  to  progress  stage 
one and two but we will need to have a 
steady flow of funds from wherever to 
ensure the plan reaches its completion. 
There  are  many  families  in  our 
community  that  have  benefitted  from 
the  services  of  the  Resthome  and 
village  and  there  are  some  that  will 
understand  the  compassionate  benefits 
of  the  ability  for  our  resthome  to  care 
for our people for as long as they need 
care, even if they require higher levels 
as they age. The distress to all parties is 
huge if a loved one has to be relocated 
just because that higher level (dementia 
or hospital) was not available locally. 
There  will  be  a  more  direct  appeal  to 
local  families  soon,  also  a  process  to 
accept  donations  of  stock,  watch  this 
space. 
Dr  Aaron  Donald  spoke  at  the  public 
meeting  last  week  informing  us  about 
the availability of community supports 
and  funding  for  patients  living  at 
home as well as the pathway for respite 
and  admission  to  the  resthome.  He 
spoke about the needs assessment care 
pathway, the support services available 
in  the  community  and  for  those 
requiring  help,  the  first  port  of  call  is 
your family Doctor. 
Welcome  to  new  Riverview  dwellers, 
Noel  and  Marion  Smith  also  Denise 
Meiklejohn and Elizabeth Ludlam who 
have  recently  moved  into  OYO  units 
11 and 12 respectively. 
The  residents  met  with  trustees  a 
couple  of  weeks  ago,  these  meetings 
are  held  from  time  to  time  to  keep 
residents  informed  and  to  field 
suggestions  for  the  betterment  of  our 
village. 
The  team  at  Riverview  wishes 
you all a very Merry Christmas 
and a Happy New Year. 
A  pledge  pack  can  be  obtained  from  the 
Rest Home Manager Ph. 431 8696. 
Direct  donations  to:  Trust  Development 
Fund  ANZ  Bank  Account  No.  06-0365- 
00014253-46 
Your name and phone no in reference field 
For  further  information  contact  trustees, 
Don  McKay  09  431  8308,  Craig  Fergus 
021 378 482.  
CHRISTMAS 2017 
How do we measure love? 
Christmas  for  me  is  special  because  it 
helps me measure love. 
Sometimes  couples  ask  one  another, 
"How much do you love me?" Children 
at  times  get  anxious  and  ask  a  parent, 
"Do  you  love  me?"  But  how  do  we 
measure how strong love is? 
Do  we  have  to  do  something  to  prove 
it?  Can  it  be  measured  in  money  or 
goods?  When  we  lived  in  Papua  New 
Guinea,  we  became  familiar  with  the 
custom  of  bride  price  for  traditional 
marriages.  One  wedding  we  attended 
had  a  bride  price  of  four  cassowaries, 
twenty pigs and about $5000. Sadly, it 
didn't seem to be enough and the bride 
went off with someone else! 
No,  love  can't  be  measured  like  this, 
with  a  tape  measure  or  list  of 
achievements  or  bank  balance  or  the 
price  of  an  engagement  ring,  not  even 
the one Harry designed for Meghan. 
However, there are some ways love can 
be  measured.  My  belief  is  that  the 
strength  of  love  can  be  measured  by 
how  far  it  reaches.  In  marriage  for 
example,  it  can  be  partly  measured  by 
how long the marriage lasts but also by 
how  many  challenges  it  overcomes  on 
the  way.  Strong  love  reaches  beyond 
the  years,  beyond  illness,  beyond 
misunderstanding  and  argument  and 
hardship and loss. 
Love  for  a  child  is  strong  when  it 
remains  unconditional.  It  can  be  tough 
love,  love  with  straight  talking  and 
honest  rebuke  but  even  then,  it  lasts 
when  child  or  parent  goes  through 
trauma,  mistake  and  hitting  rock 
bottom. 
Strong  love  reaches  a  long  way, 
through  time  and  trauma,  through 
obstacle and social barriers. 
Sometimes 
love 
becomes 
self-
absorbed,  possessive,  exclusive  and 
conditional.  That  is  a  recipe  for 
weakness. Strong love reaches out and 
welcomes and includes. 
I liked the snippet on 7 Sharp recently 
when Toni Street gave Mike Hosking a 
Christmas  present.  She 
paid  World 
Vision  for  a  goat,  a  goat  that  will  be 
given  to  a  poor  family  in  a  remote 
village  and  I  love  the  idea  of  a  goat 
called  "Mike"  wandering  round  in 
some distant destination, his Christmas 
present to that village so far away. 
Christmas  speaks  to  me  each  year  of 
strong love. Love that reached down to 
become  a  vulnerable  child  in  an 
unhygienic  cattle  stall.  Love  that  was 
willing  to  show  by 
example  how  to  be 
inclusive,  forgiving  and 
enduring. 
Have  a  great  Christmas 
with  those  you  love  and 
take  time  to  think 
through what it means to 
love  strongly  because 
your love reaches a long 
way
. ~ Derek Christensen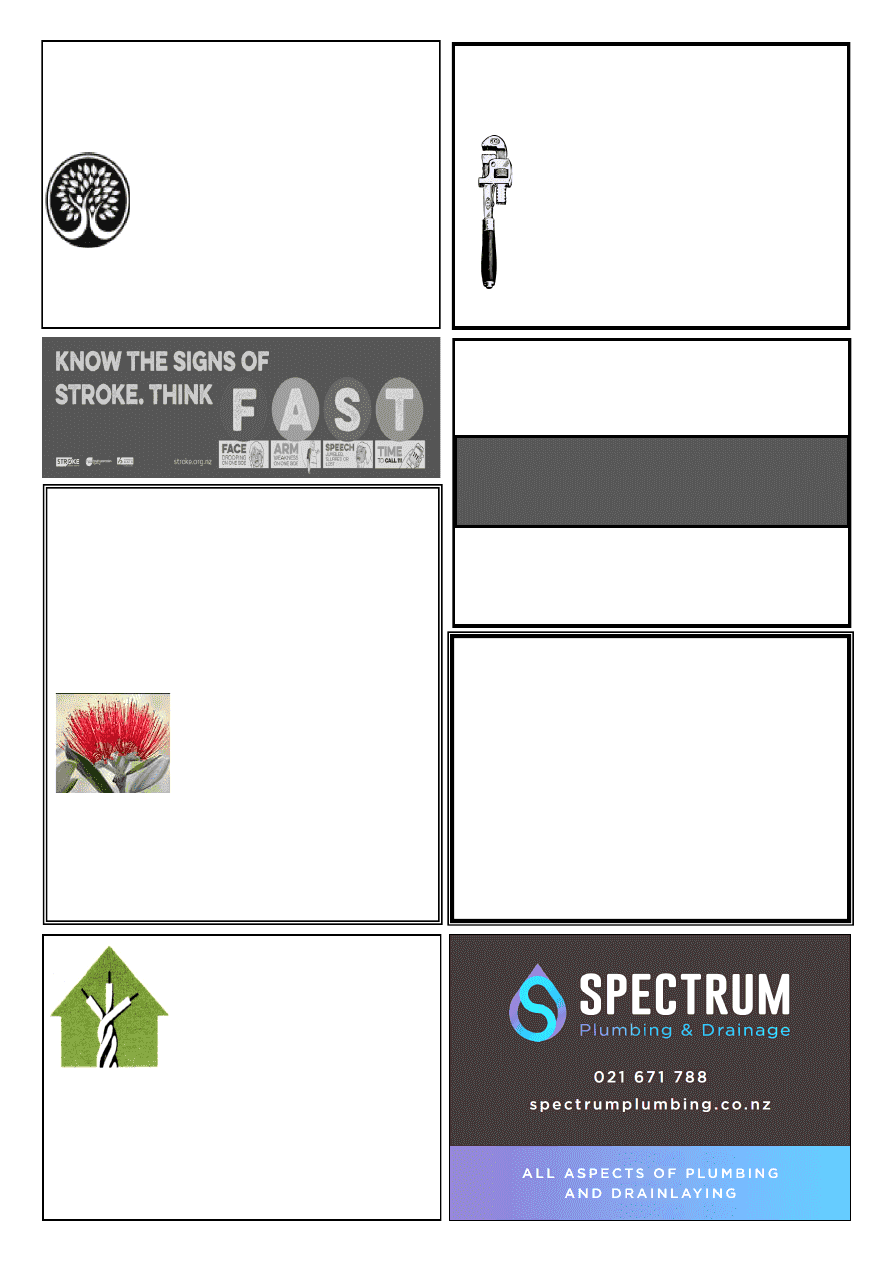 David Korach 
Your local Gib Stopper
DK PLASTERER LTD 
0274769221 
dkorach6@gmail.com 
Waipu Natural Health 
3 Cove Road, Waipu  (opposite the Pizza Barn) 
Ph: 09 432 1325 
www.waipunaturalhealth.co.nz
Clinical Nutritionist-Hair Analysis for Masked 
Allergies, Ozone Therapy, Prolotherapy, 
Naturopath-Medical Herbalist, Registered 
Massage Therapists, Reflexology-
Craniosacral Therapy, Acupuncture-Facial 
Acupuncture, Kineso Taping, Hypnotherapy, 
Counselling, ThetaHealing, Beauty Therapy
KIDS DAY – AFFORDABLE HEALTH SUPPORT 
FOR KIDS – every Wednesday 
(call us or drop in)
Gift Vouchers available
KAIPARA FLOORING CO 
Independently owned & operated 
32 HURNDALL ST MAUNGATUROTO
Supply & Installation of Carpet, Vinyl,  
Vinyl Wood Planking
Stockists of 2m & 3m wide 
vinyl & carpet short ends
Residential & Commercial
Q Card Finance Approved 
6-18 month terms 
6 mth interest free
First Class Installations
For a free measure & quote 
phone Christine  
09 946 9886 or 021 515 415 
kaiparaflooring@gmail.com 
http://www.kaiparaflooring.co.nz/ 
BARRY CURTIS PLUMBING LTD 
REGISTERED CRAFTSMAN PLUMBER 
Phone 4315572 
027 257 9884 
25 years experience 
Friendly reliable service 
All plumbing and maintenance 
Alterations and new housing 
Spouting 
Competitive rates 
PROMPT EFFICIENT  SERVICE 
Mangawhai Heads 
Garden Centre
1758 Cove Road
945 0707 
021 165 2629 
Reyahn George 
Leng 
Registered Electrician 
Local, honest and reliable. 
For your residential and 
light-commercial projects. 
022 314 1068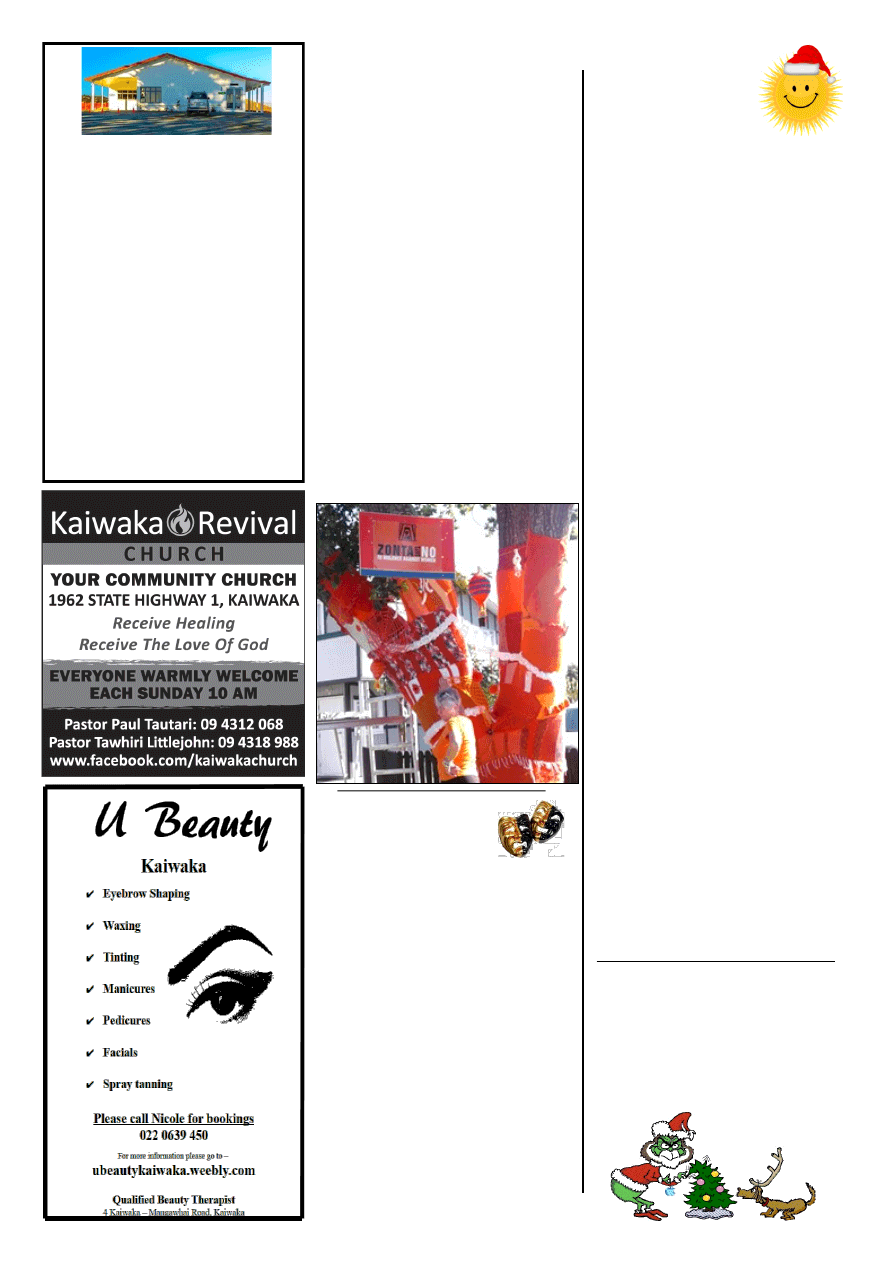 www.kaiwaka.co.nz 
Kaiwaka Bugle - 12 December 2017 
Page 9 
OTAMATEA 
REPERTORY 
THEATRE  
Into  the  Woods  -  is  to  be  our  major 
musical for 2018.   
More details to follow.  Auditions to be 
held  in  December  2017.  Peter  Flower 
to  direct.    Show  season  most  likely  to 
be in July 2018. This show has a small 
mainly  adult  cast  and  a  high  level  of 
singing ability is preferred. 
Youth Theatre 2018 
Dates are confirmed - 22 to 26 January 
2018;  9am  to  3pm  daily,  show  on 
Friday night, 7pm 
If we are inundated with enquiries, we 
will possibly run a second, earlier week 
-  15th  to  19th  January  -  as  we  did 
earlier this year. Price $130 per child – 
includes  ORT  subs  and  Friday  night 
meal. 
Please  register  your  interest  asap  by 
emailing maura.flower@gmail.com 
with your child's details.  
         ~Maura Flower 
Te Pounga Marae 
130 Nathan Rd. Oneriri. Kaiwaka 0573 
COMPLEX FOR 
HIRE 
Functions 
* Weddings  * Birthdays  
*Anniversaries * Meetings  * Wananga 
5 hour meeting * 12 hour stay  * 
Overnight 
*All welcome - No more Drink-driving 
Amenities: 
*Convo Combi Steamer * Bratt Pan * 
Dish Washer/Sterilizer * 3 Door Glass 
Chiller (walk in) etc…All Crockery * 
Linen Supplied * Central Heating and 
Air Conditioning and much more.  
Can also cater for small groups…. 
For more information please contact: 
Kim Wallace  
Home: 09 832 1133  Mob: 0211275340  
Email: kimwallace@xtra.co.nz 
KAIWAKA  
WEATHER 
Well,  Happy  Summer 
Christmas Wishes to you 
all.    Yes,  summer  is  on 
its way if you have not already noticed. 
The  heat,  the  smell  of  summer, 
watering  those  gardens  already,  the 
water tankers (well the drivers anyway) 
working hard. Along with all you other 
busy people out there.  We are all busy 
in own way.  
It  was  rather  a  good  November.  It 
started  out  with  a  good  easterly  blow 
then  calmed  down  followed  by  a  few 
showers then calm and those easterlies 
again which seems to be the prevailing 
for  the  summer  season.  Around  the 
14
th
  to  the  18
th
  we  had  welcome  rain 
and  thunder  storms  around  the  area. 
Then  we  have  had  a  lot  of  partly 
cloudy  days  with  some  lovely 
sunshine.    Do  not  be  fooled,  I  have 
heard  of  a  lot  of  people  getting 
sunburnt  even  though  the  sun  is  not 
boring  down.    Then  we  have  been 
getting those easterlies again and partly 
cloudy.  I heard this morning where we 
will  probably  have  a  humid  (no 
surprises  there)  maybe  wet  sometimes 
this summer.  
For  November  at  our  house  2017  we 
had  60mm  rain  and  in  2016  we  had 
104mm.  
2017  we  had  rain  on  8  days  and  2016 
we  had  rain  on  9  days.    The  first  11 
months  of  1017  we  had  1658mm  rain 
and  2016  we  had  1415mm  which 
equates to 67.7 inches for 2017 and for 
2016, 56.6 inches of rain.   
Our  driest  November  since  1987 
was1994  with  20mm  and  the  wettest 
was 1999 with 340mm.  
Our  driest  first  11  months  since  1987 
was 1994 with 888mm and the wettest 
was 1990 with 1938mm.  
Well there you go. Ho Ho Ho here we 
go  one  more  month  to  the  end  of  the 
year.  
Q.  What's  the  difference  between  the 
Christmas  alphabet  and  the  ordinary 
alphabet?    A.  The  Christmas  alphabet 
has Noel.   
Please  take  care  over  the  holiday  and 
madly busy festive season.  Keep your 
distance  on  the  road  and  have  a  little 
patience. Bev. 
ZONTA  SAYS  NO  to 
Violence Against Women 
The  Zonta  Club  of  Mangawhai 
envisions  a  world  where  no  woman 
lives in fear of violence. 
To  highlight  this  message  the  women 
of our local club have knit-bombed the 
prominent  oak  tree  outside  the  Art 
Gallery  in  orange,  the  colour  of  the 
International Zonta Says No campaign. 
The  tree  will  remain  wrapped  for  the 
16  days  of  activism  which  started  on 
November  25,  coinciding  with  White 
Ribbon Day. 
Violence  against  women  is  a 
worldwide pandemic – it crosses every 
social  and  economic  class,  every 
religion,  race  and  ethnicity.  At  least 
one  out  of  every  three  women 
worldwide  has  experienced  violence 
during 
their 
lifetime. 
Zonta 
International  strives  to  reduce  the 
incidence  of  violence  through  service 
and 
advocacy, 
locally 
and 
internationally. 
For  further  information  go  to:  https://
zontasaysno.com  or  contact  Helen  on 
027 236 1557 
"It came without ribbons! It came 
without tags! It came without 
packages, boxes or bags!... Then the 
Grinch thought of something he 
hadn't before! "Maybe Christmas," he 
thought, "doesn't come from a store. 
Maybe Christmas... perhaps... means a 
little bit more!" 
 ~
Dr. Seuss, How the                                 
Grinch Stole Christmas!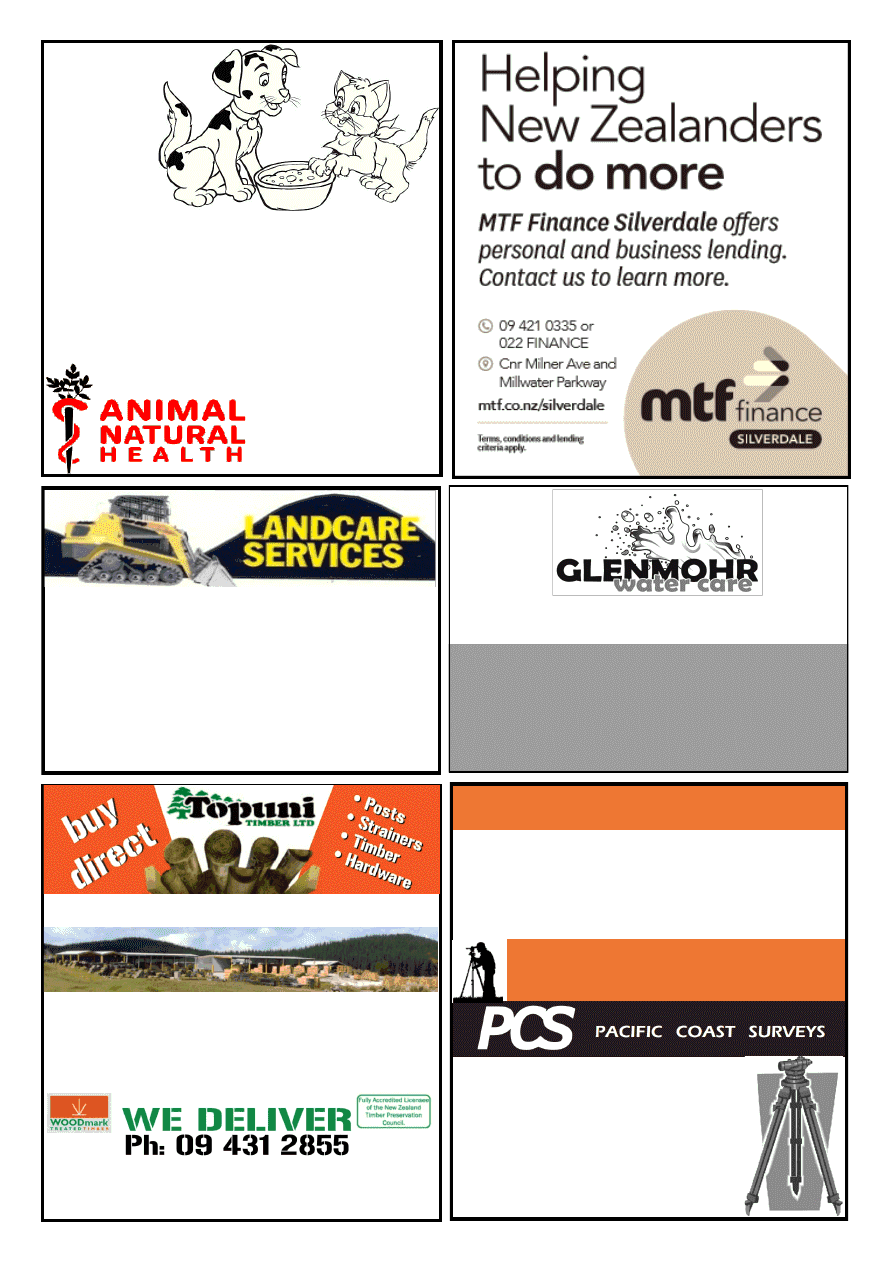 LOCALLY OWNED AND OPERATED 
QUALITY PRODUCTS • FRIENDLY ADVICE • GREAT SERVICE 
Quality Products milled from High Density NORTHLAND Radiata Pine. 
Treated and guaranteed to NZS3640 with commitment to 
Environmental Safety.
Phone, fax, email, or come into the mill 
Schiska Rd, Topuni, SH1, 10 min north of Wellsford. Fax: 09 431 2856 
Email: sales@topunitimber.co.nz           Mon - Fri 7am-5pm 
• Fencing 
• Retaining 
• Decking 
• Landscaping 
• Gates 
• Hardware 
SURVEYORS 
SUBDIVISIONS 
HOUSE SITE SURVEYS 
CIVIL ENGINEERING 
WASTEWATER DESIGNS 
EXPERIENCED 
PROFESSIONAL 
INNOVATIVE 
Ph 09 431 5353 
0800 PACIFIC (0800 722 434) 
pacificcoastsurvey.com
Adam Booth - 027 415 5752 
Bsurv, Licensed Cadastral Surveyor
Surveying Kaipara since 1994 
Water Tank Cleaning 
• 
Keep your water safe & clean  
• 
Removal of sediment, silt etc. 
• 
Vacuum or full scrub 
• 
Minimal water loss 
Phone Mark (09) 432 0655 or 0274 707607 
LANDSCAPING 
4 IN 1 BUCKET 
TRENCHER 
POLE HOLES 
ROTARY HOE 
COMPACT ROLLER 
OFFAL HOLES 
CAN SUPPLY WOODCHIP & POST PEEL 
5 TON TIPPER 
FOR RELIABLE AND FRIENDLY SERVICE CONTACT DAVE 
Dave Hyndman 
 
KAIWAKA 
PH: 09 4312302 
MOB: 021 431 238 
Look for 
our NEW 
range of 
real food 
for cats 
and dogs
Veal Bones 3kg $17.90  
Chicken Medallions 3kg $17.90 
Beef & Lamb Patties 3k $21.90 
Purely Pets – buy 10 packs,  get 11th pack FREE 
Radical Dog in store (as seen on Country Calendar) 
Beat the Flea Season: Flea combs, shampoos 
Chemical-free, no nasties Flea Control, Tick & Lice 
Support 
ANIMAL NATURAL 
HEALTH CENTRE 
Next to Italian Bakery, 
Kaiwaka 
Ph. 09 431 2217    
Open Mon-Sat.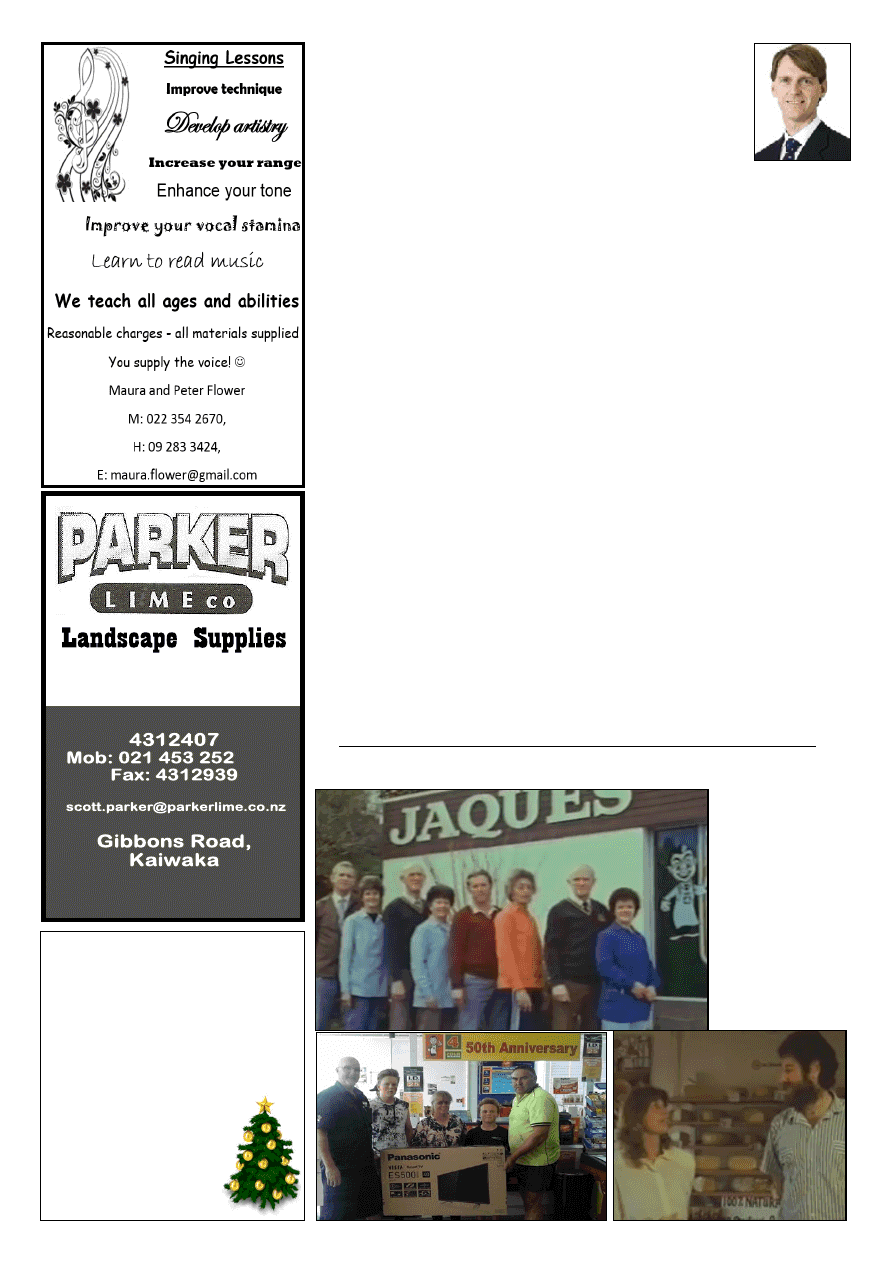 www.kaiwaka.co.nz 
Kaiwaka Bugle - 12 December 2017 
Page 11 
A BLAST FROM THE PAST 
Thank  you  to  Cheryl  Anderson  for  bringing  Emma  Haughton's  movie  to 
Facebook - bringing 
back 
many 
memories. 
Emma 
grew  up  on  the 
Oneriri,  and  made 
the movie in 1990. 
Here are a couple of 
clips: 
Left: The Jaques family - 
Brian,  Gay,  Bill,  Lola, 
Ken, Mary, Reg, Bev. 
Below:  Ad  and    Maria 
Clarijs  in  their  cheese 
shop. 
This  week-bottom  left: 
Greg  Jaques  with  the 
Fergusons-winners 
of 
the 40" Panasonic TV. 
Bulk Cartage 
with  Otamatea  Ward  Councillor 
Jonathan Larsen. 
The last couple of months have seen a 
number of changes at Council, with the 
most recent being the resignation of the 
Mayor.  As  a  result  there  will  be  a 
Mayoral  by-election  with  nominations 
closing  on  22  December  2017.  Voting 
papers  will  be  posted  out  from  26 
January  2018,  with  voting  closing  at 
noon on 17 February 2018. If a current 
Councillor  is  elected  as  Mayor,  there 
will  then  be  another  by-election  to 
replace 
the 
vacated 
Councillor 
position. 
In my previous column I mentioned the 
work  I  am  doing  to  review  the 
Reserves  Contribution  Policy.  I 
explained  how  the  present  Policy 
divides  the  collected  funds  into  three 
pools  being  Mangawhai,  Dargaville 
and  'other',  with  Kaiwaka  falling  into 
the  'other'  category.  I  also  explained 
that 40 percent of these funds are then 
allocated  to  'priority'  parks'  (two  in 
Dargaville 
area 
and 
one 
at 
Mangawhai). 
Since  then  further  investigation  has 
revealed  that  the  amount  of  funds 
collected  from  the  greater  Kaiwaka 
area  (that  have  not  been  spent)  total 
nearly $463,000. Just think what could 
be achieved with this! 
The Resource Management Act (RMA) 
requires  any  financial  contributions  to 
be used "in reasonable 
accordance  with  the  purposes  for 
which  it  was  collected".  The  purposes 
specified  in  the  District  Plan  include 
the development of new, and upgrading 
of  existing  reserves.  However  this 
needs  to  be  read  in  the  context  of  the 
District  Plan  objectives  regarding 
reserves, which state – 
"By 
requiring 
developments  to  pay 
their 
fair 
and 
reasonable  share  of the 
costs  of  purchasing 
land for reserves or upgrading existing 
reserves.  New  developments  generate 
an  increase  in  demand  for,  and  usage 
of,  reserves,  open  space  and  public 
recreation facilities." 
My  point  is  that  if  money  is  collected 
in  a  local  area,  for  a  specific  purpose, 
then it should be used for that purpose 
in  that  local  area.  If  it  is  spent 
elsewhere  then  we  will  end  up  with 
legacy  issues  of  an  expanded  local 
population  without  future-proofing 
with  sufficient  open  space  and 
recreational areas. 
What I am trying to achieve is – 
1)  the  division  of  the  funds  into  local 
catchment  areas  across  the  district 
(including  one  for  Kaiwaka)  so  that 
they are spent where they are collected, 
and  2)  a  public  contestable  funding 
round  that  allows  local  community 
groups  to  submit  their  proposals  on 
how the funds are spent. 
A  public  meeting  of  the  review 
committee  will  be  held  in  January  for 
these issues to be debated 
further.  If  you  are  interested  in 
attending  to  observe  this  debate  or 
would like to know more please let me 
know. 
If you have any community projects or 
issues  that  you  would  like  assistance 
with, I can be contacted on Ph. 021 185 
8389 or Cr.Larsen@kaipara.govt.nz. 
*
The  views  expressed  are  those  of  the 
writer and do not necessarily represent the 
consensus position of Council.
COUNCILLOR'S COMMENT* 
KAIWAKA 
 ST JOHN OP SHOP 
Lots of Xmas Decorations - cheap! 
Artificial Xmas Trees - 7ft tall 
Real ones available!  
Many thanks, for all your support  
through the year. 
Shop closed: 
25th, 26th, 27th December. 
1st, 2nd, 3rd January
. 
Merry Christmas and safe 
holidays. 
Millie 
& Staff 
State Highway One, 
Kaiwaka 
Phone 09 4312423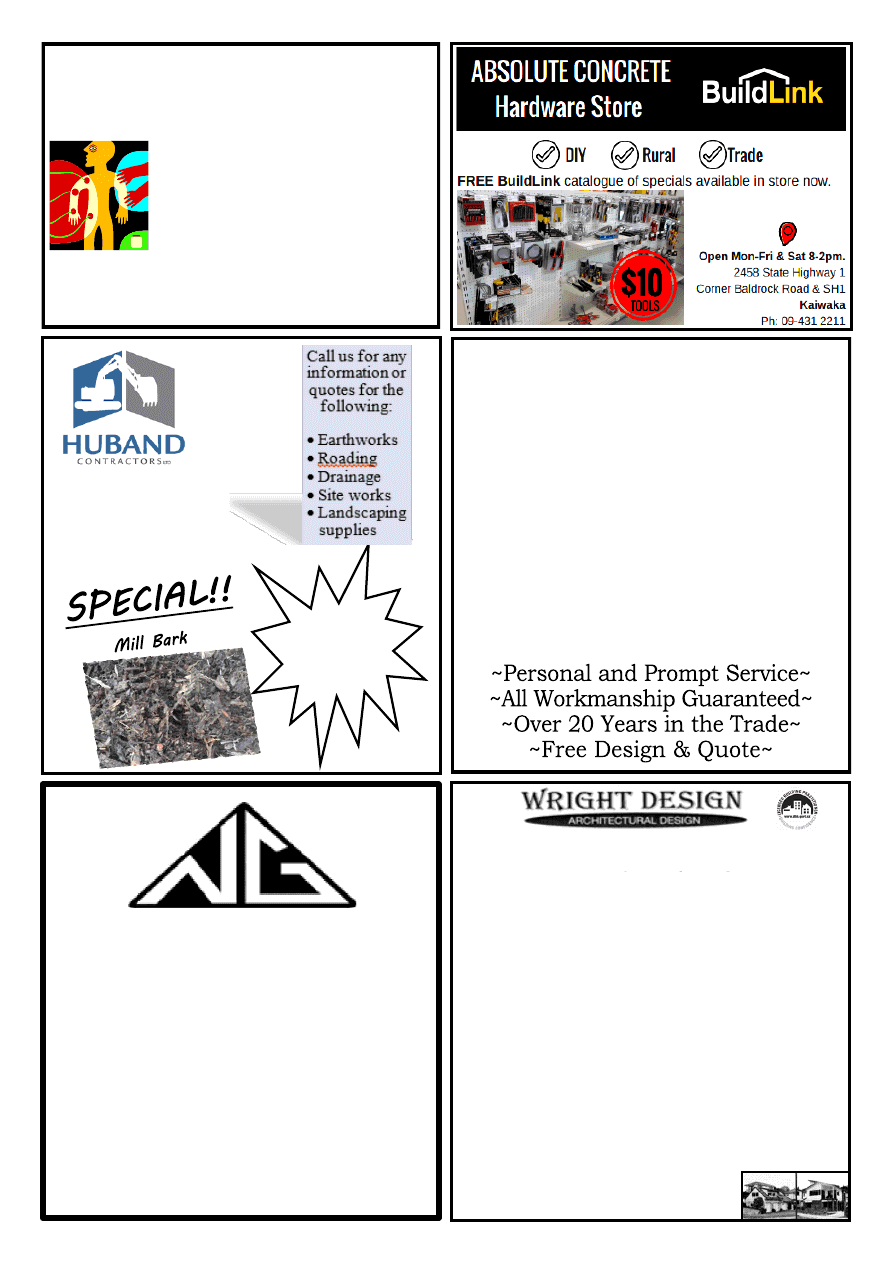 NORTH GLASS 
WINDSCREEN REPAIR OR REPLACE 
GLAZING SERVICES 
MIRRORS  •  SPLASH BACKS  •  SHOWERS 
0800 70 40 10
info@northglass.co.nz 
www.northglass.co.nz 
PLANNING A NEW KITCHEN?
 CONTACT NOEL McDOWELL
WELLSFORD 
KITCHENS
Ph/Fax 094312888
KAIWAKA-Any time
 QUALITY CUSTOM MADE 
KITCHENS
OWEN STEVENS 
Osteo Therapist
For careful adjustments to bones and joints 
Treatment for  humans and their pets 
Clinics: 
Kate's Place, Kaiwaka: 
Last Friday of month 
For bookings:9.00am-5.00pm 
Phone 
09 4312661 
Or phone Owen  09 4317123  anytime 
Open Monday-Friday 
8am-5pm 
Saturday 8am-noon 
2088 Paparoa valley Road 
0800 234449 
E: admin@huband.co.nz 
$33 + 
GST per m
3
(Until the end 
of January) 
If you are thinking of building then you 
will need a good and well experienced, 
qualified, and licensed designer. 
This applies if you are considering a 
new home any alterations or any 
building additions/farm buildings, 
sheds, alterations, whatsoever. 
For Resource and Building Consents, 
planning restraints, new building 
materials, applying for building permits 
– you need a capable, experienced, 
and professional designer with a clear 
knowledge of all the processes. 
Brian has been helping and organising 
all these facets of design and building 
for over 50 years. 
Wright Design offers free visits, 
consultations and advice on planning, 
design, building, council permit 
applications, guaranteed permit plan 
acceptance. 
QUALIFICATIONS 
Brian is a qualified designer 
(N.Z.C.A.D.) with over 50 years of 
varied experience in all types of 
building and is registered and Licensed 
Building practitioner in Design – 1 & 2 
Registered LBP117345 
He will ensure you will achieve the 
best from your budget. 
EXPERIENCE 
Brian's practical building and 50+ years 
of design experience means he can 
give you excellent advice and all the 
guidance needed. 
Brian can arrange engineering for a 
reasonable cost. 
•Qualified and inexpensive designer – 
N.Z.C.A.D. Registered LBP117345 
•Guaranteed design and working 
drawings 
•Free site visit to your home or 
property 
•Great service and free quotation 
PROJECTS 
Additions, alterations, basements, new 
homes, motels, bed and breakfast, 
commercial buildings, farm buildings, 
and shop fit outs are a few projects. 
Brian can show you many of his 
projects in the area to emphasise his 
versatility and can give you contact 
with satisfied clients. 
WHAT TO DO FROM NOW ON 
•Call Brian for a free quotation 
•Discuss your needs and obtain good 
advice 
•Brian can offer 
plan printing 
from A4 to A0 
(2x A1 size) 
N.Z.C.A.D, L.B.P. 117345 
Ph/Fax 09 423 8092 Mob. 021276 7389 
Office: 3 John Sinclair Avenue, Wellsford brianwright@xtra.co.nz
No. 117345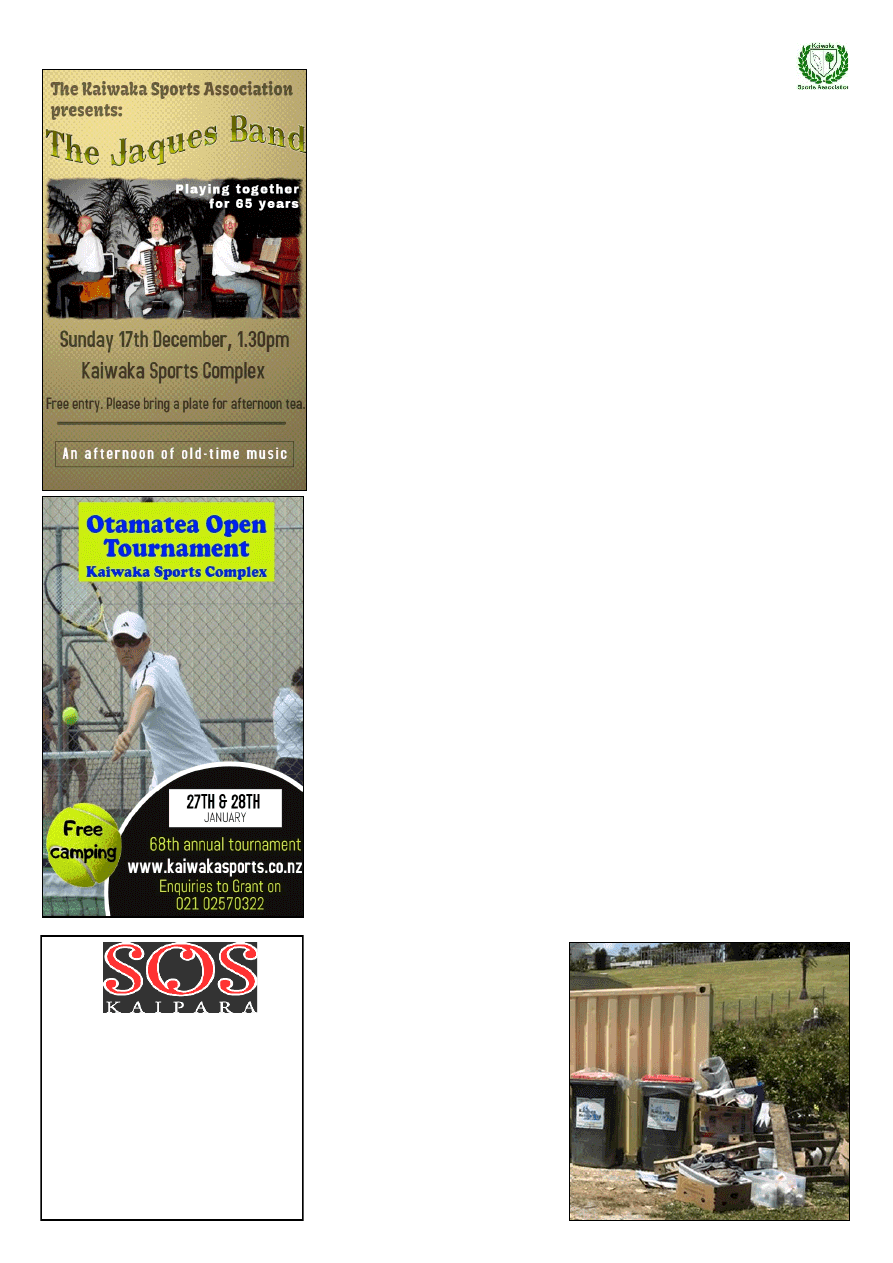 www.kaiwaka.co.nz 
Kaiwaka Bugle - 12 December 2017 
Page 13 
KAIWAKA SPORTS ASSOCIATION 
The Jaques Band 
The  Jaques  brothers,  Brian,  Bill  and 
Reg  will  play  at  the KSA  this  Sunday 
17
th
 December at 1.30pm. 
If  you'd  love to enjoy  an afternoon  of 
old-time  music,  please  come  along. 
Free  entry,  please  bring  a  plate  to 
share. 
Jewellery  artist  Tatjana  Panyoczki  has 
very  kindly  donated  a  pair  of  her 
exquisite  earrings,  which  will  be 
auctioned during the intermission. 
Glow Items 
Got  lots  of  grandkids/nieces/nephews 
to buy for this Christmas? 
I  bought  stacks  of  glow  items  for  our 
Fright  Night  because  they're  so 
popular with kids. I've got a few boxes 
left  over  so  thought  I'd  see  if  anyone 
would  like  some  cheap  Christmas 
presents. Great stocking stuffers. 
Flashing Jelly Star necklace: $3 each 
(or a box of 24 for $60). 
Flashing  Eyeball  ring:  $2  each  (or  a 
box of 36 for $65). 
Flashing Pumpkin Badge: $1 each (or 
a box of 25 for $20). 
Email 
me 
on 
cherylanderson051@gmail.com  and  I 
can deliver to Kaiwaka. 
Whanaunga Touch Tournament 
The 
annual 
Whanaunga 
Touch 
Tournament will be held at our grounds 
on  Saturday  6
th
  January.  During  the 
tournament  there  will  be  a  Gala,  with 
bouncy  castles,  music,  entertainment, 
hangi,  mussel  chowder,  fried  bread, 
face  painting,  taonga,  sausage  sizzle, 
steak 
sandwiches. 
massage 
and 
wellness  stalls  as  well  as  kid's  fun 
stalls. A fun day out for the whanau. 
Tennis 
Our  Junior  Tennis  has  wound-up  for 
the  year  with  a  BBQ,  fruit  and  ice-
blocks for the kids. 
Junior  lessons  start  back  on  the  12  th 
February,  so  bring  the  kids  down  next 
year  to  try  it  out  for  free...  all 
equipment provided. 
We  are  looking  forward  to  the 
Otamatea  Open  Tournament  which  is 
held  on  our  courts  every  year  over 
Anniversary  weekend  -  this  year  the 
27th and 28th of January. Registration 
forms 
are 
online 
at 
www.kaiwakasports.co.nz.  Inquiries 
to Grant 021 02570322. 
Kaiwaka Touch Module 
Who  wants  to  play  Touch?  The 
Touch  module  will  be  held  at  the 
Sports  Complex  for  six  weeks  on 
Wednesday  evenings  starting  on 
17th January. 
This  is  a  social  Module  for  mixed 
teams  of  men,  women  and 
teenagers. If you would like to enter 
a  team,  contact  me  for  the 
registration form. 
Rubbish 
Unfortunately,  we  have  an  ongoing 
problem  with  locals  dumping  their 
rubbish  at  the  Sports  Complex  -  an 
example  pictured  right.  There 
are  often  broken  appliances, 
bags  of  household  rubbish,  old  bikes, 
bottles  etc  strewn  around  the  back  of 
the  gymnasium.  This  area  is  for  KSA 
rubbish only - it is not a public rubbish 
dump. The rubbish truck only picks up 
KSA rubbish, so each week we are left 
with  a  pile  of  other  people's  garbage, 
which we have to sort through and take 
to the dump, at considerable effort and 
cost to us. 
Please do not dump your rubbish here! 
If  this  problem  continues  we  will  be 
forced to purchase a security camera so 
we can identify the culprits. 
Tag Trials 
The  Northland  Stingray  Senior  Tag 
trials  will  be  held  at  our  grounds  this 
Sunday  from  10  –  1pm.  Grades 
trialing:  U21  mix,  Open  men/women 
mix and Senior mix. 
Top of the Rock 
Our  8th  annual  multi-sport  event  the 
Top  of  the  Rock  will  be  held  on 
Sunday 11
th
 February. Entry forms will 
be on our website shortly. To keep up 
to  date  with  Top  of  the  Rock  news 
please like our facebook page. 
Many  thanks  to  Steve  Elliott  from 
Kaiwaka Motorcycles who has donated 
a  $650  lawnmower  to  auction  off  for 
Top of the Rock – we really appreciate 
Steve's support! 
Hula Dance Lessons 
Ever wanted to try Hula Dancing? Turn 
up  to  our  gymnasium  on  Wednesdays 
at  10am  and/or  Fridays  at  6pm.  No 
need to book - just bring some water, a 
towel  and  a  50c  koha.  It's  an  hour  of 
movement and fun! 
Thank you 
Many thanks to all the Kaiwaka Sports 
Association  committee  members  and 
club  committee  members  who  have 
worked  hard  throughout  the  year  to 
provide  sporting  and  recreational 
opportunities for our community. 
On  behalf  of  the  Kaiwaka  Sports 
Association  I  would  like  to  wish 
everyone  a  Merry  Christmas  and  a 
Happy New Year. 
Cheryl Anderson 
4312 051, 027 3462702 
kaiwakasports@gmail.com 
S.O.S Kaipara 
Support, advocacy, crisis and 
family therapy counselling, refuge 
housing to survivors of sexual 
abuse and domestic violence. Also 
Education prevention programmes 
for the community and clients.  
Office hours 9am to 3pm Monday to 
Friday; 24/7 services available via the 
Police or phone 09 4396070 
Natural Earth Ltd 
 Landscape and Bobcat services 
 : Driveways  :Landscaping  :Retaining Walls 
 : Hole Boring: Land Levelling :Trenching 
 : Decks :Fences :Sections Cleared: Plus much 
more 
Tel   09 4312885 
Mob 02102391280  
For A Fast Friendly  
Service Contact Tim Hicks 
CALL CRIMESTOPPERS 
Worried about something that doesn't seem right to 
you? Concerned about activity that could be 
harmful? Call Crimestoppers.  
You don't need to know all the facts.
CALL 0800 555 111 ANONYMOUSLY 
All your outdoor needs sorted so you don't have to... 
I can prune, chop, tidy, spray, mow, plant 
- you name it, I can do it! 
Residential & Commercial 
Lawn & Garden Care 
Call Rodney, your local  
lawnmowing contractor 
021 138 2344 
Northland's Award Winning 
Solar Company
SEANZ Best Solar Business Winners 2015/16
EXCLUSIVE 10 year installation warranty 
FREE No obligation onsite quote
Complete systems 
from $5990
See our range of: 
✓
Heatpumps 
✓
Airconditioning 
✓
Hot Water 
Heatpumps 
✓
Central Vacuum Systems
09 430 0019             sales@hubands.co.nz 
15 Kioreroa Road, Whangarei
Locally owned and operated for 35 years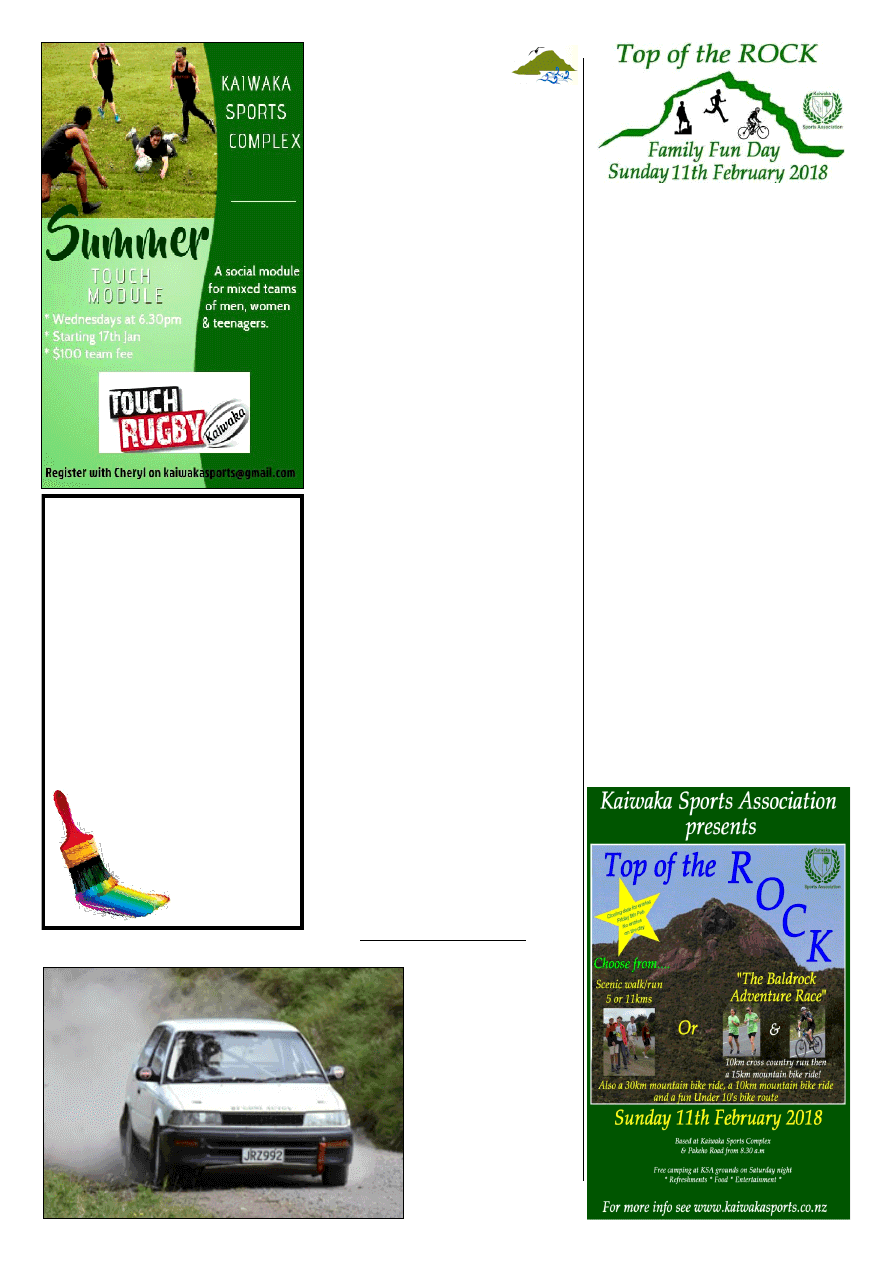 www.kaiwaka.co.nz 
Kaiwaka Bugle - 12 December 2017 
Page 15 
KAIWAKA 
SCHOOL 
'We  are  lucky  that  our  children  have 
the opportunity to participate in a lot of 
Education  Outside  the  Classroom 
activities.  However,  there  are  some 
activities  that  due  to  regulations  (e.g. 
around  water)  and  parent  availability/
willingness  to  help,  it  becomes  very 
difficult  and  stressful  for  our  staff  to 
organise. This aspect, combined with a 
high cost has led the Board of Trustees 
to cancel the 2018 school camp. This is 
not a decision we made lightly but the 
total cost to camp at One Tree Point in 
2018 was $16,000 or $165 per child as 
well  as  the  necessity  for  adequate 
parent  help,  which  we  have  been 
unable  to  plan  with  based  on  recent 
events. Unfortunately, an attempt to get 
a  fundraising  committee  specifically 
targeted  for  camp  has  made  a  small 
amount  only  (thanks  to  those  that 
tried!). In the past we have gone out to 
Mangawhai as many of  you are aware 
however that business has sold, and we 
lost  the  relationship  that  got  us  an 
amazing deal for all these years. 
So  just  to  reinforce,  the  school  camp 
for  2018  has  been  cancelled  by  the 
Board  of  Trustees  NOT  staff,  any 
communications  about  this  please 
direct  to  chairperson  Adrian  Buxton. 
We  hope  it  is  something  we  can  offer 
in  the  future  with  your  support.  The 
school will plan something fun instead 
of camp for 2018. 
This is my last update for the Board of 
Trustees  and  I  would  like  to  thank 
Rosie,  all  the  staff,  the  other  board 
members past and present as well as all 
of  you  people  for  making  Kaiwaka 
School such a special place.' 
Ngā mihi nui, Naomi Walker. 
Swimming Pool Keys 2017 - 2018 
These  are  now  available  at  the  School 
Office  until  15  December  (After  this 
they  can  only  be  purchased  from 
Jaques  Supermarket).  Use  of  the  pool 
starts 16 December. A key is $60. It is 
an  actual  key  and  does  not  need to  be 
returned at the end of the season. There 
will  be  no  refund.  Keys  must  not  be 
shared.  
Term 4 last day 2017 15 December 
Term 1 first day 2018 7 February 
LEE COOPER 
PAINTERS 
(Kaiwaka Based) 
*30 yrs Experience 
*Interior/Exterior 
*New and Restoration 
*Honest and Reliable 
*Free Quotes 
 
09 4312918 
0274735171 
leecooper@xtra.co.nz 
TOP OF THE ROCK 
The  Kaiwaka  Sports  Association's 
eighth  annual  multi-sport  event,  the 
Top  of  the  Rock,  will  be  held  on 
Sunday 11th February. 
The  event  caters  for  walkers,  runners 
and  mountain  bikers,  both  recreational 
and competitive as there are a range of 
options: 

5km or 11km walk or run10km run + 
15km mountain bike ride combo 

10km or 30km mountain bike route 

plus, a fun bike course for under 10-
year olds 
Routes  travel  through  some  of 
Kaiwaka's  most  scenic  countryside  – 
bush, lakes and farmland. And you get 
the  opportunity  to  climb  iconic 
Baldrock Mountain. 
Participants of all ages enter Top of the 
Rock,  from  pre-schoolers  upwards  – 
last  year  the  $50  prize  for  the  oldest 
participant went to a 77-year-old! 
TV3's Brendon 'Money Man' Johnson 
will host the prizegiving with prizes for 
place  getters  as  well  as  lots  of  great 
spot prizes, including a mountain bike. 
Last  year  there  were  over  400 
participants and we are hoping to build 
on that number this time. 
Please  note  that  there  will  be  NO 
ENTRIES  ON  THE  DAY  –  the  last 
day  to  enter  is  Friday  9th  February. 
Entry 
forms 
are 
on 
www.kaiwakasports.co.nz. 
Enquiries, please contact Cheryl 
Anderson on 
ANOTHER PROUTING SUCCESS 
Louis Prouting, 
youngest  son  of  Craig, 
recently  competed  for 
the first time in the Inter
-Club Hill Climb Series.  
He  came  first  in  his 
Class 
B 
(1301cc-
1600cc) 
and 
third 
overall.  
The  Rally-Sprint  series 
in  January  are  next  on 
his racing calendar. 
Louis  making  the  dust 
fly, pictured left .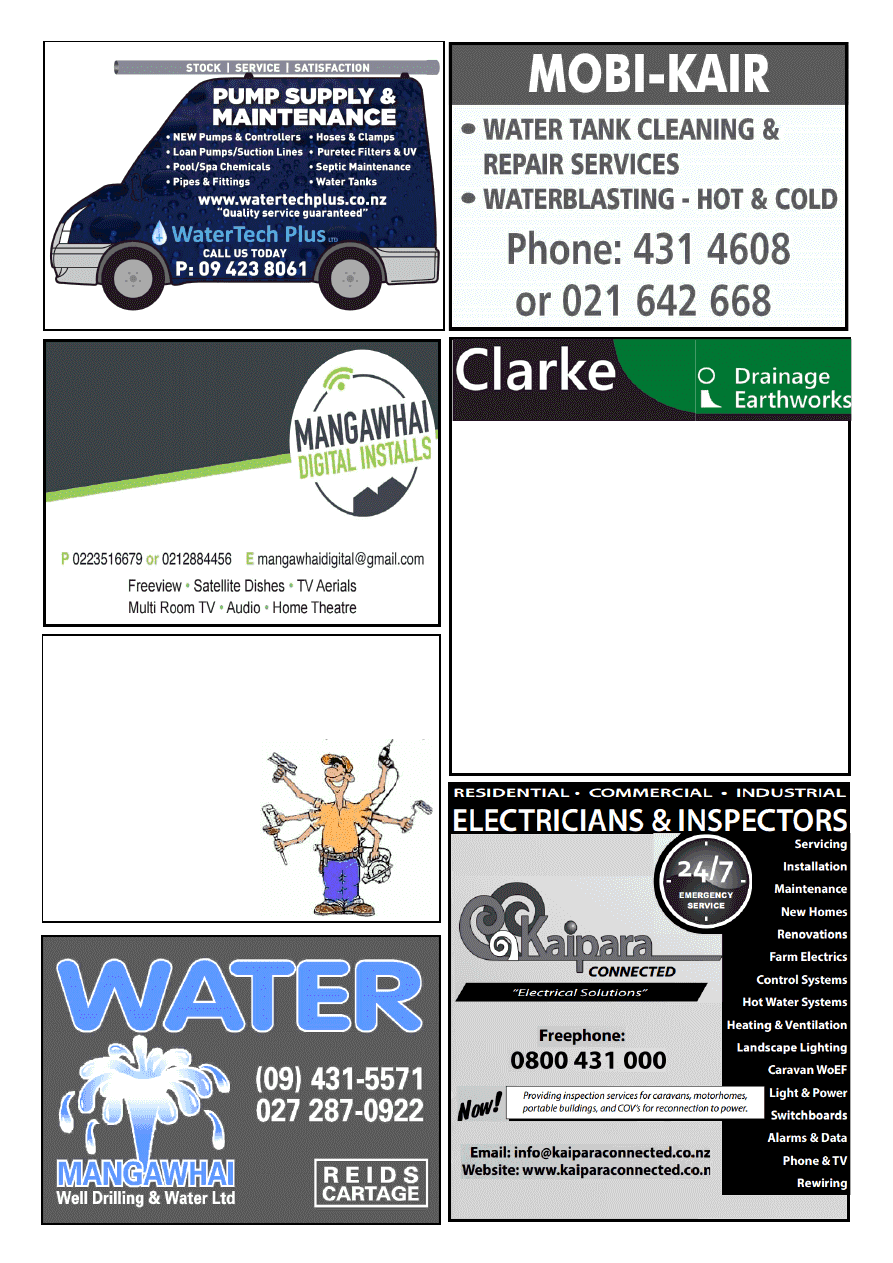 Registered Drainlayer 
All Types of Earthworks  
> All Residential & Commercial Work  > House Sites 
> Septic System Design & Install 
> Footings & Drilling to 10m 
> Sewer Connections 
> Dams 
> Water Tank Installation 
> Roading & Races 
> Farm Work 
THE ONE STOP SHOP  
Phone Nigel for an Obligation Free Quote  
Drainage & Earthmoving 
clarkedrainage@xtra.co.nz 
027 2233 185 
The Little Job Man 
Are you tired of those little jobs not getting 
done ? 
Indoors  or outdoors 
Sick of waiting ? 
Give me a call to discuss 
what you need doing. 
Doug  0277132625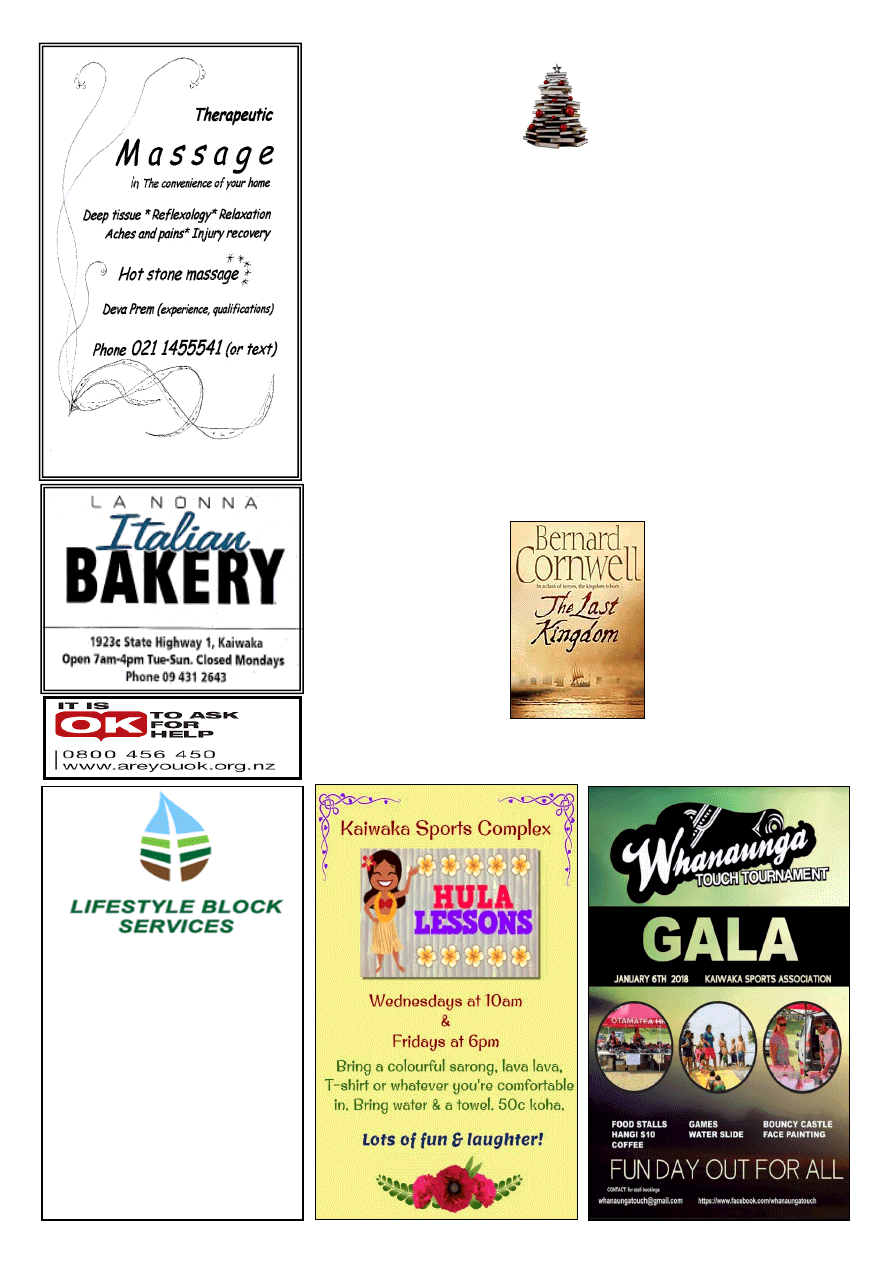 www.kaiwaka.co.nz 
Kaiwaka Bugle - 12 December 2017 
Page 17 
www.mangawhaimassage.co.nz 
Christmas holidays 
Season's greetings from our team 
of  volunteers  to  everyone  in  the 
Kaiwaka  community.  The  library 
will be closed for two weeks over 
the holiday period. Our last day in 
2017  is  Saturday  23  December, 
and  we  reopen  for  2018  on  Monday  8 
January. 
Do come in and stock up on books to read 
over  the  break;  each  library  member  may 
borrow up to 10 items at a time. 
There  is  an  after-hours  returns  slot  by  the 
doors  on  Kaiwaka  Mangawhai  Road,  so 
you  can  return  items  to  the  library  at  any 
time, not just when we're open. 
Dargaville books 
The  Dargaville  book  swap  took  place  last 
week.  Many  thanks  to  all  the  volunteers 
who  helped  out  with  it.  Come  in  and  see 
the  new  range  of  books  on  the  Dargaville 
fiction  and  non-fiction  shelves  -  there's 
something for everyone, and they're all free 
to  borrow.  Also,  a  new  range  of  DVDs, 
some  are  free  to  borrow  (as  marked  on 
their spines), others cost $3 to borrow for a 
week. We have these until June 2018. 
Summer Reading 
We  have  a  Summer  Reading  Challenge 
these holidays, for adults and kids. Pick up 
a  form  next  time  you're  in  the  library. 
Complete  four  of  the  tasks,  and  you're  in 
the draw to win a prize. Adults, also write a 
five-word  review,  and  you  go 
into  an  extra  draw.  Forms 
need  to  be  back  at  the  library 
before 7 February 2018. 
Bags for sale 
We  have  lovely  cotton  bags 
for  sale  in  the  library,  just  $3 
each. Perfect for carrying your 
library  books,  or  giving  to 
friends  and  family  as  a  small, 
light, gift. 
Kids' corner 
Have  you  seen  our  new  kids' 
corner  since  we  refurbished  a 
few  months  back?  It's  a  great 
new space for the children to play and read 
books in the main room in the library. And 
now it has a brand-new bean bag to sit in; 
many  thanks  to  Dargaville  Public  Library 
for buying it for us. 
Books for sale 
We have a range of second-hand books for 
sale  in  the  library.  One  dollar  each,  three 
for $2, or 10 for $5. Great for taking on a 
trip  without  the  fear  of  losing  a  precious 
library book along the way. 
Libby by Overdrive 
Have  you  discovered  Libby,  the  new  app 
for  reading  or  listening  to  books  on  your 
phone  or  tablet?  It's  replacing  the  old 
Overdrive  app.  It  is  much  easier  to  use.  It 
also has a neat feature where you can scroll 
down  from  the  usual  display  of  new 
releases  or  most  popular  titles  and  see  all 
sorts  of  categories,  which  may  help  you 
find  something  new  to  read.  Look  for  it 
where  you  usually  find  the  apps  for  your 
device.  Contact  me  at  the  library 
or kaiwaka.library@gmail.com if you need 
help with it. 
Book reviews 
Have  you  read  and  enjoyed  a  book  from 
our library recently that you'd like to tell us 
about?  We  welcome  book  reviews  from 
anyone  willing to take  the  time  to put pen 
to paper (or fingers to keyboard). You can 
leave  them  at  the  library  (there's  an  after-
hours  slot  by  the  main  doors  if  we're 
closed), 
or 
send 
by 
email 
I've  been  reading  the  Last  Kingdom  series 
by  Bernard Cornwell  recently. That's The 
last 
kingdom, 
The 
pale 
horseman,  The  lords  of  the 
north,  Sword 
song,  The 
burning 
land, 
Death 
of 
kings,  The  pagan  lord,  The 
empty  throne,  and  Warriors  of 
the  storm,  so  far.  I've  read  the 
first  six  books  before,  but  re-
read them before starting on the 
later  books.  As  I  type  this,  I'm 
waiting for the 10th book in the 
series  The  flame  bearer  to 
become available, so I don't yet 
know if the series ends with this 
book, or if there might be more 
in the  future. This series is on our shelves 
in  the  library,  and  available  as  an  e-book 
on our free Overdrive service. 
See you in the library ~Wendy
KAIWAKA LIBRARY 
Make Baleage while the sun shines! 
Let us make hay/sileage for you, or 
buy single & 5 bale equivalents from 
us
. 
Contact Mark on 021 801 065 or 
Contact Lisa on 021 108 1057
We also do: 

Fencing 

 Spraying 

  Mulching 
 
Stockwork 

  Stock Water 
Systems 

  Tree Trimming  

 Driveway & Track Maintenance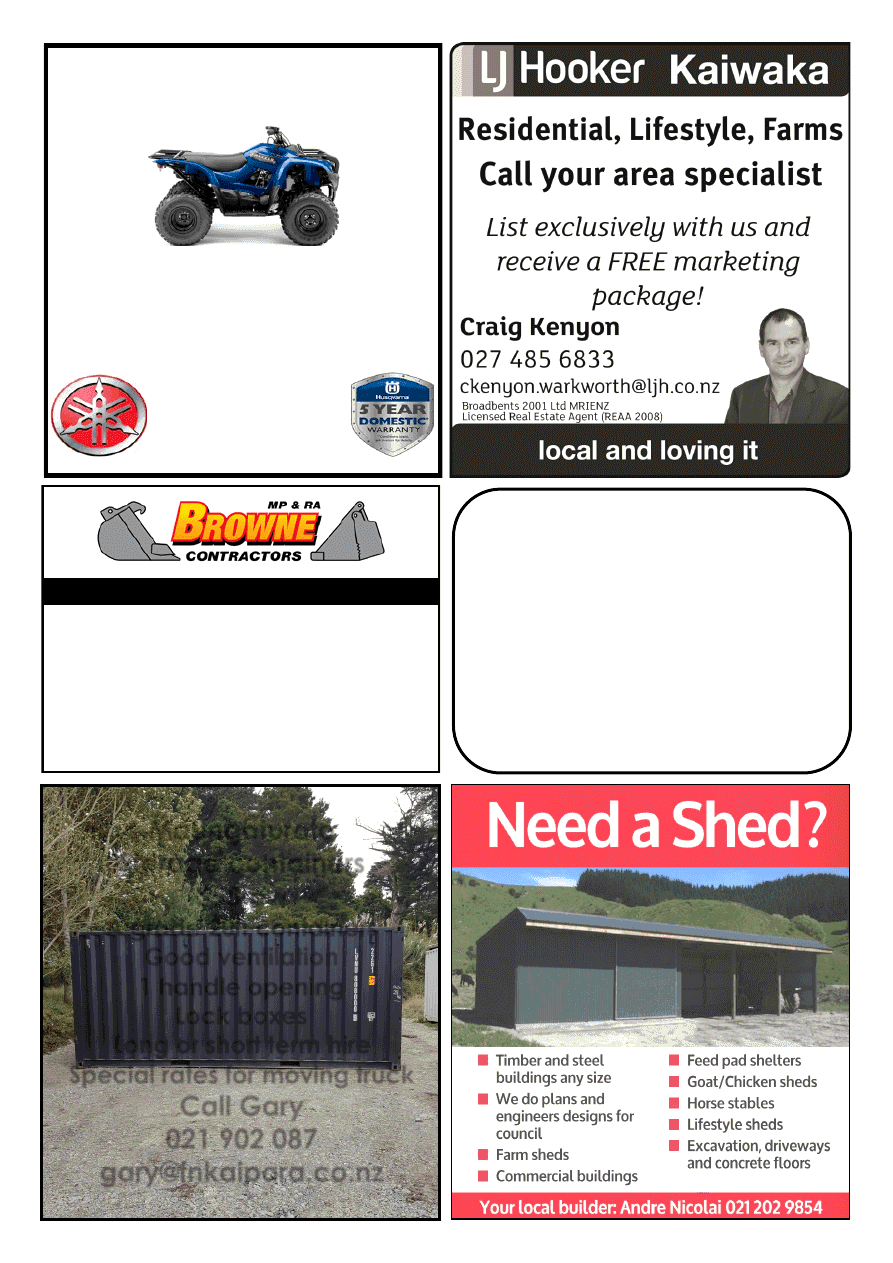 KAIWAKA 
MOTORCYCLES LTD
SALES – SERVICE – SPARES 
FARM BIKE SPECIALIST
PHONE 09 431-2127 
10 KAIWAKA-MANGAWHAI ROAD, KAIWAKA
Trimmers  
from $279
Chainsaws  
from $339
YAMAHA 
HUSQVARNA 
Maungaturoto  
Storage containers  
$55 pw  
A grade 20ft containers 
Good ventilation 
1 handle opening 
Lock boxes 
Long or short term hire 
Special rates for moving truck 
Call Gary  
021 902 087 
gary@fnkaipara.co.nz 
UP-LINK 
CHRIS WARING 
FREEVIEW INSTALLATIONS 
T.V. - HOME THEATRE &  
HI-FI ADVICE/SET UP
SKY ACCREDITED INSTALLER
MOB.0273403747 HM.094312328 
EMAIL cwaring44@gmail.com
28 YRS EXPERIENCE 
OFFERING UNBIASED ADVICE 
4T DIGGER – BOBCAT – TIP TRUCK 
Property Maintenance - Driveways - Building Sites 
Stump & Tree Removal - Hole Boring - Chain Trencher 
Calf Shed and  Stockyard Cleaning
KAIPARA - WHANGAREI - RODNEY 
Phone Matt: 021 199 6677 
Email: mprabrownecontractors@gmail.com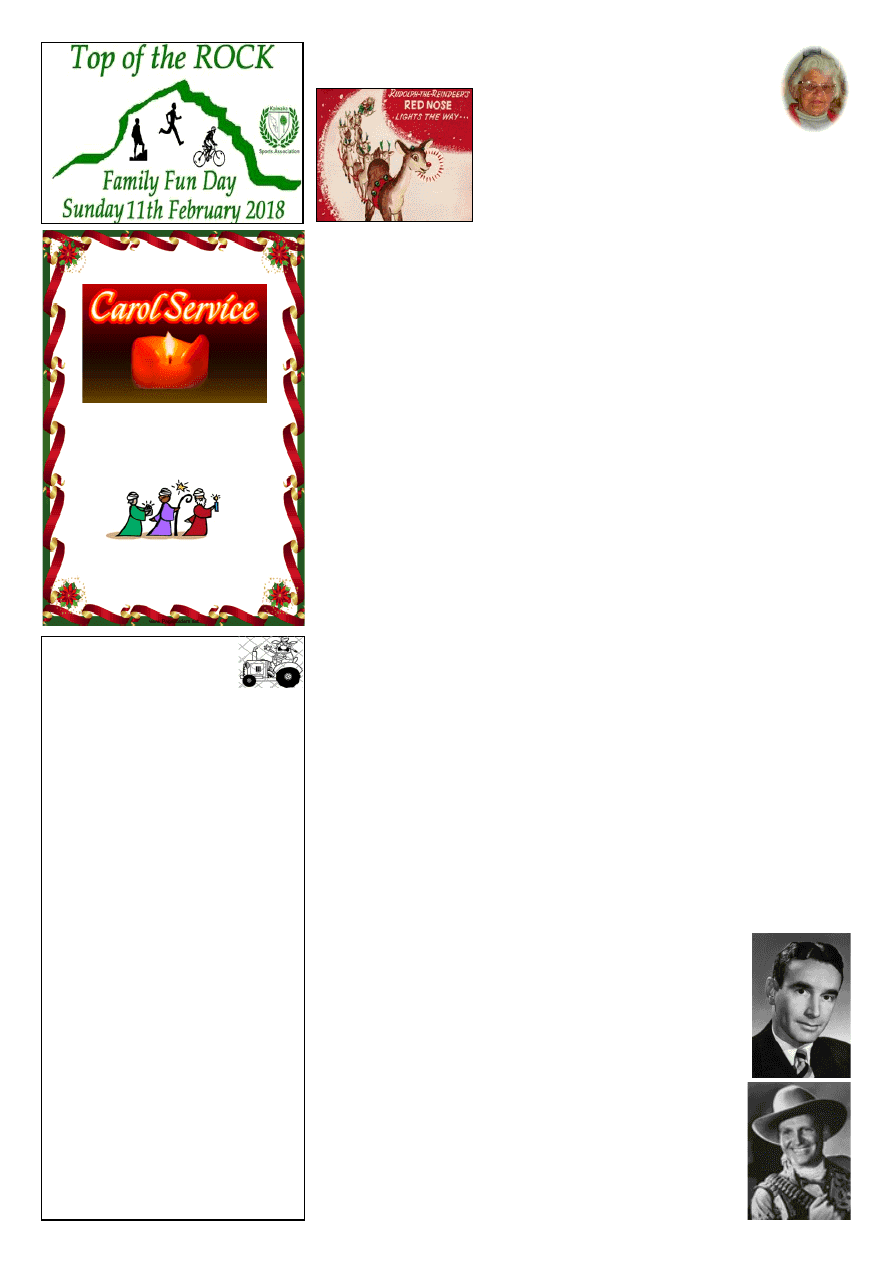 www.kaiwaka.co.nz 
Kaiwaka Bugle - 12 December 2017 
Page 19 
Rudolph 
the 
Red-nosed 
Reindeer  was 
born  in  the 
Chicago  mail-
order  house  of 
Montgomery 
Ward 
It  all  started  on 
the  morning  of 
a  cold winter's day early in January 1939. 
With  the  after-Christmas  sales  just 
finished,  the  firm's  management  was 
already  making  plans  for  the  following 
Christmas. 
For  many  years, before  the  festive  season, 
Montgomery  Ward  had  given  away  for 
promotional  purposes  thousands  of  copies 
of a colouring book for children. They had 
bought  them  on  each  occasion  from  local 
sources. 
Obviously, it would save a lot of money if 
they  themselves  would produce something 
of the kind as, after all, the store had all the 
facilities to do so. 
When  on  that  morning  Robert  L.May 
(pictured  below), 
who  worked  in  the  copy 
department, arrived in his office, a message 
was  waiting  for  him.  His  boss  wanted  to 
see  him.  The  head  of  his  department  had 
heard 
of  May's  gift  to  write  attractive  songs  - 
they  had  become  a  popular  feature  of  the 
firm's  annual  Christmas  party.  With  his 
talent,  the  boss,  suggested  he  could 
produce something attractive that could 
replace  the  stereotyped  booklets  so  far 
obtained from outside. 
Certainly,  it  was  a  challenge  for  35-year-
old  Bob.  However,  it  came  at  the  worst 
possible  time  in  his  life.  His  wife  was 
suffering  from  a  terminal  illness  and  he 
was deeply worried. To add to his personal 
anguish,  her  sickness  had  put  him  greatly 
into debt. 
Thus,  prompted  by  need.  Bob  's  mind 
started  working  at  once.  When,  that  same 
evening, crammed into a crowded carriage, 
he was on his way home, the idea came to 
him: Why not build up a story around one 
of  Santa's  reindeer?  Ever  since  Clement 
Moore's poem on St Nicholas iv Visit, the 
animal  had  been  closely  linked  with 
Christmas. 
The  outline  of  the  plot  was  now  clear  to 
May. His story of the reindeer was to start 
with  a  situation  of  despair  and 
unhappiness.  But  its  ending  must  be  on  a 
triumphant  note.  And,  of  course.  May 
decided it must carry a lesson as well. That 
is how  he  set  to  work, incorporating these 
various  elements.  To  begin  with,  his 
reindeer  was  suffering  from  a  serious 
defect  which  made  him  inferior  to  and 
looked down upon by all its companions. 
Feature  poser  Nevertheless,  deep  down  in 
its heart, it had a dream of a glorious future 
that  would  compensate  for  all  its  agony. 
And,  of  all  tasks,  which  could  be  more 
fulfilling  and  satisfying  than  to  pull  Santa 
Claus's sleigh? 
To  do  so  like  the  other  animals,  merely 
joining  Donner  and  Blitzen,  would  be 
insufficient and unsatisfactory in the theme 
of 
his 
story. 
Some 
conspicuous, 
distinguishing feature was needed in which 
it  was  to  excel,  and  which  was  to  capture 
people's imagination. What should this be? 
The  answer  came  to  May  like  in  a  flash. 
His  reindeer  was  to  have  a 
shiny  red  nose.  Obviously,  all 
the  other  animals  would  make 
fun of it. But not so Santa Claus. And for a 
significant reason. The shiny red nose  was 
to serve a most important purpose. Like the 
strong headlight of a car, it would penetrate 
the  densest  fog.  Guiding  Santa,  it  would 
enable  him  to  reach  those  who  lived 
isolated,  enveloped  in  darkness,  a  lonely 
existence. 
Enthusiastically,  first  thing  next  morning, 
May  presented  his  idea,  now  fully 
developed,  to  his  boss.  But  he  was 
rebuffed.  A  reindeer  so  unattractive  and 
distorted,  he  was  told,  was  a  monstrosity. 
Surely, he could do better than that.  
His  main  thought  was  to  find  some  way, 
not  to  change  his  text  but  to  convince  his 
boss.  
He asked Denver Gillen, a friend of his, to 
draw the reindeer of his imagination and to 
make  it  a  most  appealing,  lovable  animal 
no one could resist. 
Gillen immediately set to work. And when, 
at  the  beginning  of  the  following  week, 
May presented his boss with the first set of 
illustrations  of  Rudolph  the  red-nosed 
reindeer, he was enchanted. 
Then, before May could complete his task, 
tragedy  struck.  His  wife  died.  His  boss 
suggested  that  he  should  abandon  the 
project  and  let  someone  else  complete  it. 
But  May's  tragic  experience  gave  him  the 
urge  to  create  something  that  could  serve 
others  to  ease  their  burden.  He  steeped 
himself  in  his  task,  and  was  ready  to 
present  the  completed  copy  in  August  of 
that  year.  A  first  edition  of  three  million 
copies proved an instant success. 
Rudolph  the  Red-nosed  Reindeer  was 
irresistible. 
Montgomery  Ward  were  showered  with 
letters  from  grateful  parents,  speaking  of 
the delight this animal story had given their 
children.  
Copyright hassle.   
Song writers spied their opportunity.  With 
a  catchy  tune,  Rudolph  was  sure  to  sell 
millions  of  copies.  They  approached  May 
for  the  copyright.  His  firm,  however,  did 
not permit him to dispose of it as, after all, 
his reindeer had been created while he was 
employed by Montgomery Ward and hence 
was their property. May  was  a  determined 
man. He was not prepared to take no for an 
answer  even  on  this  occasion.  He  went  to 
the  top  and  argued  his  case  before  the 
board  of  directors,  gaining  the  ear  of  its 
chairman, who convinced 
the  other  members  to 
waive  the  copyright  in 
favour 
of 
Rudolph's 
creator. 
In  1949  Johnny  Marks 
thus  wrote  the  song 
which, first sung by Gene 
Autry, was to conquer the 
world. 
Reindeer"  Yes,  that  was 
Gene  Autry  (1907  –  1998) 
who  recorded  "Rudolph" 
and  made  it  famous.  He 
topped  the  charts  in  1949 
and  1950  with  his  song. 
While  many  have  sung  it 
since,  he  was  the  first  and 
the  one  whose  voice  we 
associate with the song.
From Thelma's Scrapbook … 
RUDOLPH the RED-NOSED REINDEER 
142
nd
 Paparoa 
A&P Show 
Paparoa Showgrounds 
Saturday 3 February 
Entry $10 adults $5 children (first 2 
children only) – under 5 free 
Gates open 9 am (EFTPOS available) 
• 
Side shows • Equestrian 
events – showing and jumping 
– harness ring 
• Wood chopping • Shearing 
• Calf
 riding • Team roping 
(children can enter)
• Cattle and Dairy goat sections  
• Alpaca
• Large indoor section – entries 
close Friday 11.45 am   
• Market stalls and Trade sites • 
Live band – good music
• Food and drink – great 
coffee • Lots of children and 
teenager attractions
• 
Petting zoo • Young Farmers 
dunking tank
Including a free sawdust dig 
for children under 7
A FUN DAY OUT FOR THE 
WHOLE FAMILY!
Schedules and more info 
online: www.paparoashow.org.nz   
Enquiries to Show Secretary:  
Anglican Mangawhai Mission District 
St Paul's Church 
Kaiwaka 
Sunday 17 December 7.30 pm 
Supper to follow 
A collection will be taken up during 
the service for Kaiwaka Food Bank 
You are all very welcome!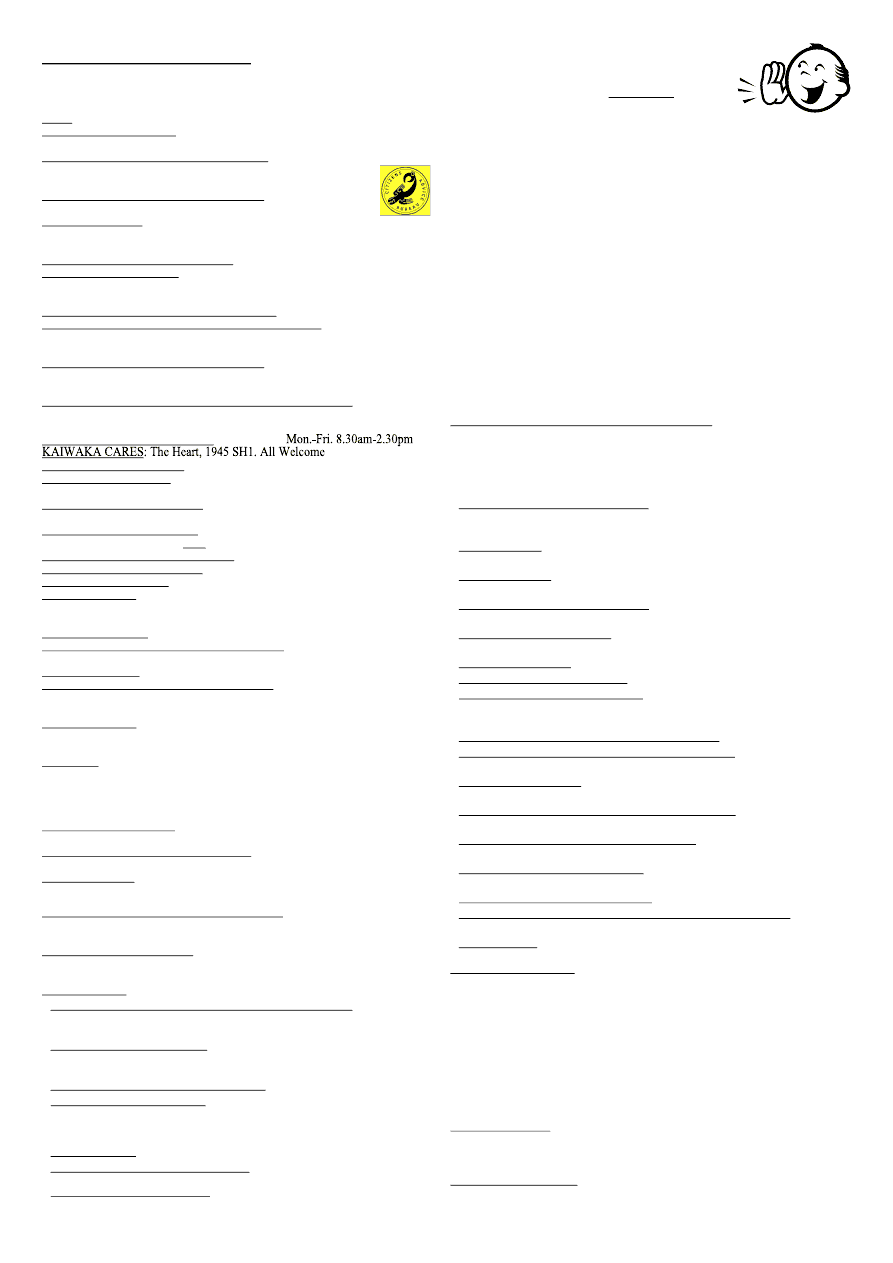 Next Bugle Deadline midday Friday 19 January 2018
WHAT'S ON
PLEASE ~ do let us know what is on - email 
kaiwakabugle@kaiwaka.co.nz 
Advertising in WHAT'S ON is FREE  
*12Dec~Otamatea High Junior Prizegiving 
*12Dec~Otamatea High end of Term 4 
*14Dec~Kaiwaka School Prizegiving 
*15Dec~ Kaiwaka School end of Term 4 
*15Dec~'The Big Sick' Dinner & Movie 6.30pm KWMH 
*17Dec~Jaques Band, KSA, 1.30pm 
*17Dec~Carol Service, St.Pauls, 7.30pm 
*24Dec~St.Michaels Hakaru, Carol Service, 7pm 
2018 
*1stJan~Waipu Highland Games 
*6Jan~Whanaunga Touch Tournament, KSA 
*6Jan~Tim & Liam Finn, KWMH 
*14Jan~ Pt.Curtis CC Picnic, Rangiora Boat Ramp, 1pm 
*17Jan~Kaiwaka Touch Module begins, KSA 
*27-28Jan~Otamatea Tennis Tournament, KSA 
*30Jan~Otamatea High School-
Year 7, Year 13 & new students  
*31Jan~Otamatea High School-whole school to attend 
KWMH = Kaiwaka War Memorial Hall; KSA = Kaiwaka Sports Association 
See www.kaiwaka.co.nz for more information 
HOUSEHOLD RUBBISH COLLECTION - Kaiwaka Pick up: 
Mondays = Green bags (Northland Waste - 09 430 3273) 
Wednesdays  = Blue bags and yellow recycling (at Jaques $3.00 
and  $1.50)  (Kaurilands  09  4392146);  ONLY  Blue  and  Yellow 
bags picked up on Oneriri Road. 
 DIABETES  Support  Group  -for  Kaiwaka,  Mangawhai, 
Wellsford  10am,  3rd  Friday  of  month  Ph:  Colleen  James  09 
4314238 
 DRINK CAN 'tear tabs' - for Starship Hospital- please collect - 
98 Kaiwaka Mangawhai Rd, leave in mailbox, Ph. 4312625  
 GENEALOGY - Wellsford: 1st Thursday in month Ph: 423 
7033; Waipu: 4th Monday in month Ph: 4312 725 
 GYMNASTICS  OTAMATEA  -  Tuesday  Ph:  Stephanie  022 
3624998 
 HAKARU PONY CLUB - Secretary Denise Rogers 021423376 
secretary@hakaruponyclub.co.nz  
 KAIPARA HUNT - Secretary Albert Doonenbal Ph 4312059 
 KAIWAKA BADMINTON -Tuesdays 7.30pm Ph: 4312345 
 KAIWAKA  DRAMA  CLUB  -  Dave  Edwards  021  611198  - 
KaiwakaDrama@gmail.com Monday 5:30-7:00pm KWMH - FB 
- "KaiwakaDramaClub" 
 KAIWAKA DRUM & DANCE CLASSES - 021 611198 
 KAIWAKA GARDEN & FLORAL GROUP - 2nd Thursday in 
month. Ph: 431 4744 
 KAIWAKA  CUBS  -  Thursdays  5.30-7pm,  Hakaru  Ph:Bruce 
4312542 
 KNITTING FOR WHANGAREI HOSPITAL - 2nd Tuesday in 
month, Archie Bull Hall 10am Ph 4314827 
 MANGAWHAI COMBINED REBUS CLUB - 2pm, 3rd 
Thursday month, Senior Citizens Hall Mangawhai. Ph: 4315777 
 OTAMATEA GREY POWER - Kath Pattinson 09 283 2052, 
1pm last Wednesday of month, Anglican Church Hall, Mgto 
 PT CURTIS CRUISING CLUB - Jean Ph: 4312227 (wk), 4312520 (hm) 
 RSA,  HAKARU  &  DISTRICTS  WOMEN'S  SECTION  –  meets 
1.30pm 4th Thursday of the month. Ph: 431 5818  
 TRAMPING - Mondays 9am-2:30pm Maria 4312 234 
HALLS FOR HIRE: 
 St.Pauls Archie Bull Hall HIRE $20 half day, $40 full day per 
hire, R. Morgans, Ph 4312365 
 Kaiwaka  War  Memorial  Hall  HlRE  -  Phone  4312725  or 
kaiwaka.hall.bookings@gmail.com 
 Hakaru Community Hall HIRE -Ph. 4312256 or 4312110 
 Te Pounga Marae queries - R. O'Leary 4312 423, J.Nathan 021 
186 7382 
 Kaiwaka Sports Association hire/queries - C. Anderson 4312051 
or kaiwakasports@gmail.com 
Justice of Peace:  
B.FJaques  4312  048;  L.Donaldson  4312  228;  A.F.Hargreaves 
4312 045, W.Howard 4312 725 - please phone to make sure they 
are available www.justiceofthepeace.org.nz 
Marriage Celebrants:  
L.Donaldson; A.F.Hargreaves; Y Osborne
LOCAL SERVICES 
*Emergencies - Ambulance, Fire, Police - dial 111 
*Non-urgent Police phone 09 4311150
A A: Meets Wed., 8pm Kaiwaka Ph: 4315543, 0800229 6757 
ASUREQUALITY LTD (was AgriQuality) Call Free 0508 0011 22  
BUDGETING SERVICE, WELLSFORD: Free confidential advice & 
support for all areas of personal finance. Ph (09) 423 7123 
CAB-Citizens Advice Bureau.Wellsford Ph: 4237333 
0800 367 222 email:cab.wells@xtra.co.nz  
CIVIL DEFENCE - Kaiwaka Community Response Group: 
kaiwaka.civildefencecrg@gmail.com, 4312725 Wendy 
DOG/STOCK /NOISE CONTROL 0800 105 890 
FUNERAL SERVICES: Morris & Morris Ltd, 
Whangarei - Bev Jaques Ph:4312367 or 0800667747 
GRANDPARENTS Raising Grandchildren: Dianah Roberts 0223819539 
HAKARU & DISTRICTS MEMORIAL RSA (Inc) 733 Settlement Rd, 
Hakaru. Ph 4312 176 or Graeme Hitchcock (President) 431 3064 
HAKARU LANDFILL/Transfer Station:Open everyday except 
Tuesday10am-4pm.Ph4312629 Cost-$55 trailer load up to 1 cubic metre. 
Ph:4258567 - office 
KAIPARA DISTRICT COUNCIL www.kaipara.govt.nz:  
Help Desk FREEPHONE 0800 727 059  
KAIWAKA KOHANGA REO: Ph:4312620 
KAIWAKA CEMETERY: Ph: 4312045 or 4314017 
KAIWAKA LIBRARY: kaiwaka.library@gmail.com  
Mon. 4-6pm; Wed., Thurs., Fri., Sat. 10am-2pm Ph:4312539 
KAIWAKA PLAYCENTRE: Ph Juanita 0274134904; open Mon, Wed, 
Fri 9am-12pm. Hastie Lane; Monday to Friday 9.00am - 12 noon. 
KAIWAKA POST OFFICE:Ph:4312 431  
Post Code: 0573 for RD2 and 0542 for all Kaiwaka Post Office mail 
KAIWAKA PRIMARY SCHOOL: Ph: 4312309   
KAIWAKA SPORTS ASSN: Ph 4312005; 4312129 gym 
KAIWAKA ST JOHN: Manager Steve Rosser 09 4318403, 021 355734 
KATE'S PLACE Community Centre - Employment services, Free Health 
Nurse, Plunket, Advocacy, Osteopath, A.A., Legal Advice. 4312 661 
LINKING HANDS Health Shuttle Ph 4315906 or 09 4318969 
MINISTRY FOR PRIMARY INDUSTRIES - General inquiries Call 
Free 0800 008 333 
NORTHPOWER: Faults Kaiwaka area 0800 104040 
OTAMATEA COMMUNITY SERVICES: Counselling, parent coach, 
Family Support worker, budget advice, food bank. Mon-Fri 9am-3pm. Ph 
09 431 9080 http://www.otamateacs.org/ 
PARENTPORT: Free, practical family support service Puhoi to Paparoa 
Ph or txt: Dianne 027 280 5093 or 09 425 9357 
PLUNKET:  Kaiwaka  -Kate's  Place  Clinic  1st  Wednesday  of  the  month; 
Mangawhai  - Rose Madsen Cottage: Coffee Group 9:30 every Monday.  Clinic 
every Monday and Thursday. 
Maungaturoto - Good News Church, Clinic 2nd and 4th Wednesday.  
Cynthia 09 431 7340 or 027 675 3488 
PLUNKET HELPLINE -0800 933 922 (24 hours) 
TAITOKERAU COMMUNITY LAW: Free confidential legal advice and 
assistance, 2nd
Thursday
 of each month. Ph: 0800 155 529 for appts.  
TE URI O HAU Settlement Trust Tangata Developments: Whanau Ora 
021 793262  
VETERINARY SERVICE MANGAWHAI: 
Ph: 4314535 Mon-Fri 8.00-5.00, Sat 9-12, a/h appt. 
WELLSFORD DOCTORS: Ph: 4238 086 
CHURCHES:
 
Kaiwaka  Revival  Church  -  Your  Community  Church:  Sundays  10am. 
Ph: Pastor Tawhiri 09 431 8988 or Pastor Paul 09 4312 068 Visit us at 
www.facebook.com/kaiwakachurch 
 
St  Paul's  Anglican  Church  1st  Sun.  9.00am  (Eucharist),  3rd  Sun. 
9.00am (Family Service). Contact: Rev. Wayne Thornton Ph 431 4122 
www.mangawhaianglican.org.nz 
 
Church of Christ the King, Mangawhai:9.30am every Sunday 
 
St.Mary's  Catholic  Church:  Maungaturoto  –  Griffins  Road,  Saturday 
evening  Vigil  Mass  6pm;  Mangawhai  –  Senior  Citizens  Hall,  Sunday 
Mass  8:30am;  Wellsford  –  Matheson  Road,  Sunday  Mass  10:30am;  
Mid-week Mass times and all enquires to Fr. Bill Fletcher – phone 423 8170
 
Baptist Church: Sun. 10.30am Mangawhai Snr Cit.Hall.Ph:4312339 
 
Cause  Way  Church  Mangawhai:  Sundays  10.15am,  Mangawhai 
Community  Recreation  Centre,  Insley  St.  Ph:  09  4314782