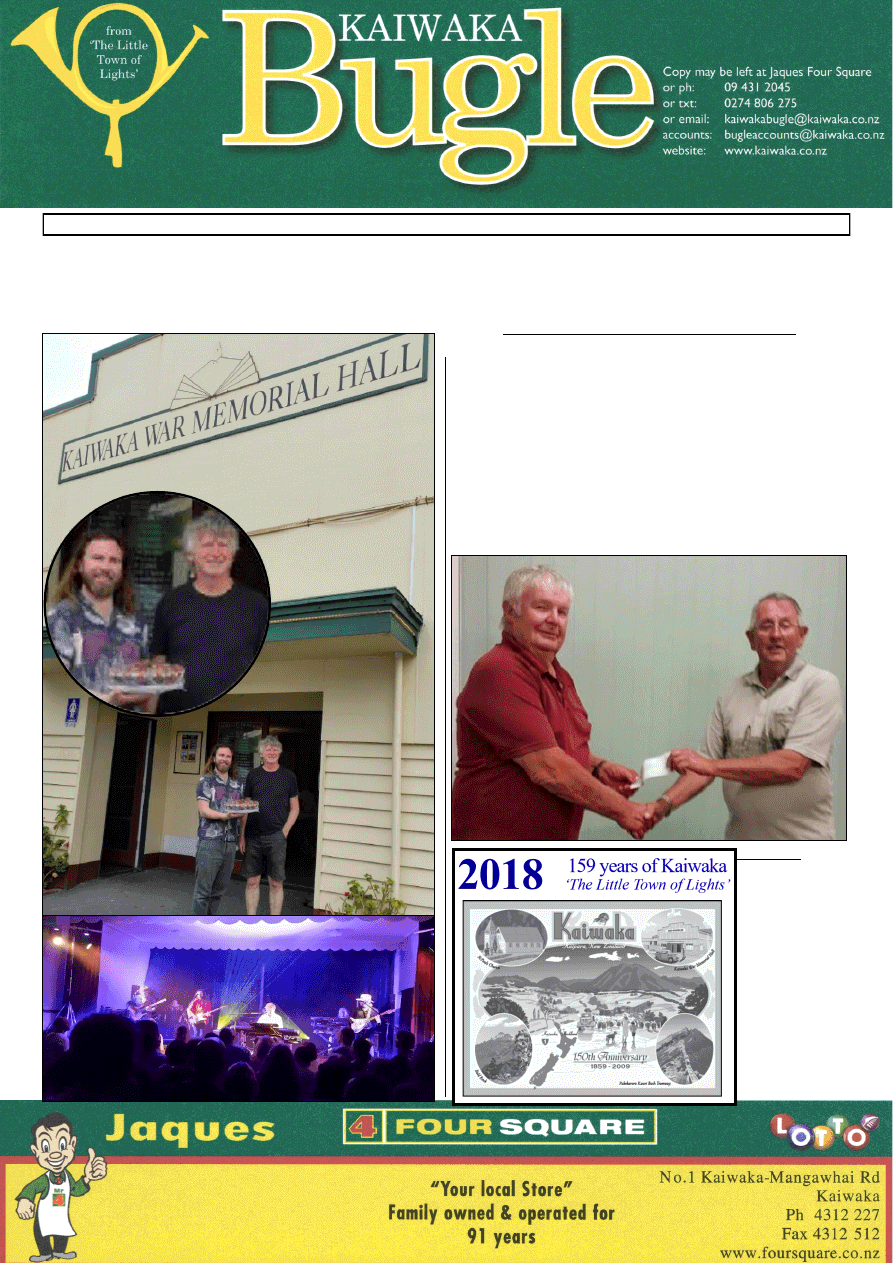 www.kaiwaka.co.nz 
Kaiwaka Bugle - 23 January 2018 
Page 1 
THANK YOU for the  
CHRISTMAS LIGHTS! 
To all those who visited our Lights at Christmas and made a 
donation  to  the  Fire  Brigade.  Thank  you  very  much  -  you 
helped  raise  $3677.00  for  them.  Mark  is  pictured  below 
handing the cheque to Kaiwaka Fire Chief John Bowmar. 
Many  thanks  to  Greg  and  Paula  Jaques,  from  Jaques  Four 
Square  for  donating  the  lollipops  for  the  children.  It  was 
great meeting people from far and wide, and amazing how 
many  tourists  were  visiting  from  Europe.  It  truly  made 
Christmas. Big thanks to Santa and The Fire Brigade boys 
Look forward to next Christmas ~ Pam and Mark Ottaway.  
No: 1 
23 January 2018 
Trading Hours: 
Monday to Friday 8:00am - 6:30pm 
Saturday 8:00am - 7:00pm 
Sunday 9:00am - 6:00pm  
KAIWAKA 
2018 
CALENDAR 
See the Kaiwaka 
Calendar  on  our 
website 
kaiwaka.co.nz 
The 
original 
calendar 
was 
produced 
in 
2009 
to 
celebrate 
our 
150 years. 
Cover  by  Contour 
Creative Studio. 
KAIWAKA JANUARY 6, 2018 Happy birthday, Liam! 
The Kaiwaka War Memorial Hall was the venue for the first of Neil and Tim Finn's 'Where's My Room' tour of small 
and  large  towns  this  January.  A  sold-out  crowd  enjoyed  the 
Neil  and  Liam,  together  with  Sharon  and  Elroy  Finn, 
Connan Mockasin, Molly Lewis, John Carroll Kirby, Jimmy Metherell and Eliza-Jane Barnes. Pam caught a happy 
Liam on camera with his birthday cake just before the performance!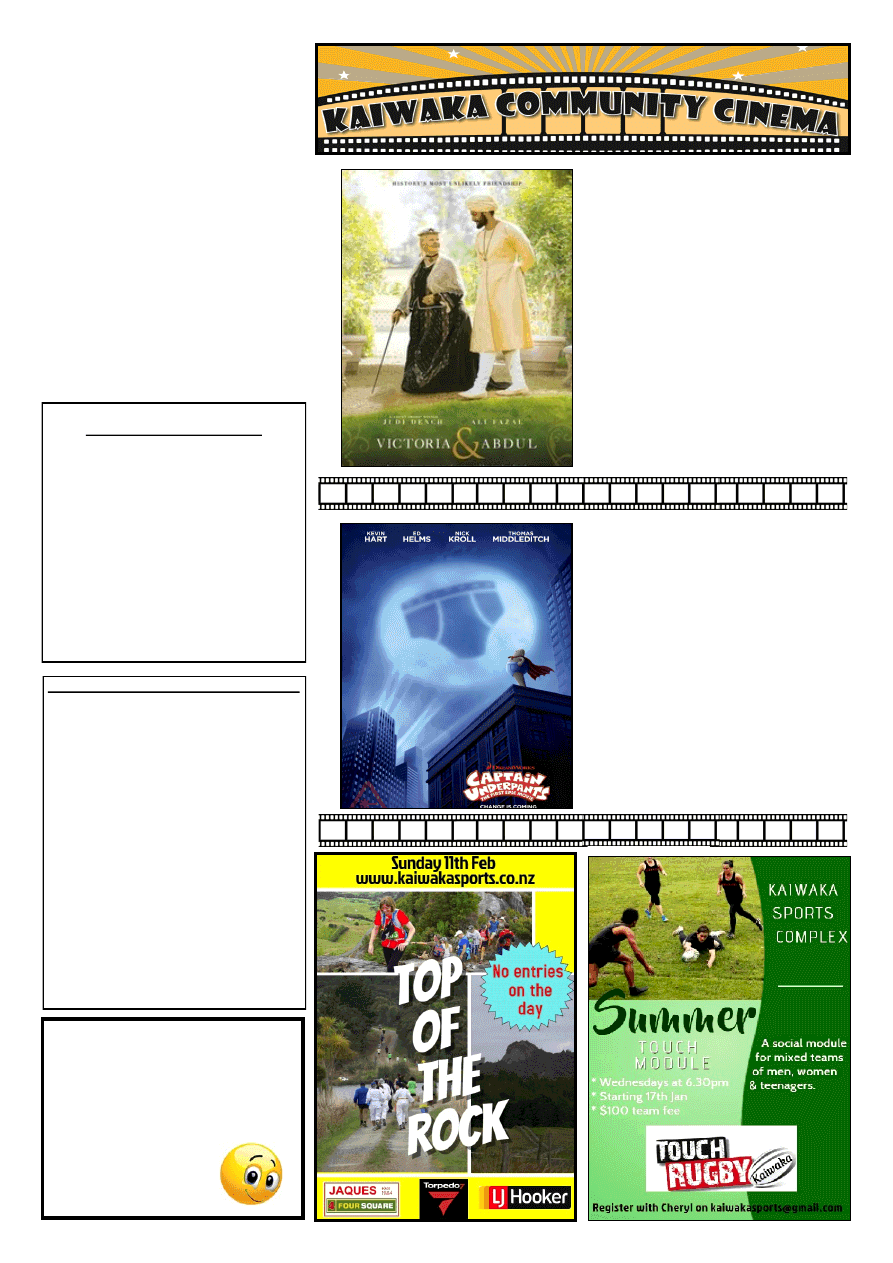 At Kaiwaka War Memorial Hall . Adults $10, Kids (under 16) $5, Family Pass (2 adults + 3 children) $25 
KAIWAKA BUGLE No. 1 
23 JANUARY 2018 
CONTENTS: 
Page 3: Public Notices, Classified 
Page 5:  Pt. Curtis CC; Weather; MAP 
Page 7:  Rotary; New Year Honours 
Page 9:  St.John 
Page 11: Kaiwaka Sports Assn 
Page 13: IRB Champs; Top of the Rock  
Page 15: Resthome; Kaiwaka School 
Page 17: KDC;  Kauri Museum 
Page 19: Te Whai; Library; NorthTec 
Bugle 2 will appear  6 February 
Contact for advertising, reports, articles 
or information can be made by 
Email kaiwakabugle@kaiwaka.co.nz 
Ph: 09 4312 045 Lindsey 
Txt: 027 2724137 
Copy  may  be  left  at  Jaques'  Four 
Square. 
Kaiwaka Bugle Advertisements 2017: 
All 
copy 
and 
queries 
to: 
kaiwakabugle@kaiwaka.co.nz 
The Bugle is printed on an A4 page   
Ad  sizes:  1/16  page  (3  x  9.5cm)  $5;  1/8 
(6.5  x  9.5cm  landscape  or  portrait)  $8; 
3/16 ( 10 x 9.5cm or 7.5 x 12,5)  $12.  
Classified  ads:  First  one  FREE,  $4  per 
entry (max. 30 words, max. 4 repeats). 
Payments  can  be  made  online  at 
ANZ 
06  0365  0006990  00
,  posted  or  left  at 
Jaques Four Square Store. 
We  use  Microsoft  Publisher,  and  can 
work  with  most  common  image 
formats, Word, Excel, and PDF files. 
Accounts:  
Email: bugleaccounts@kaiwaka.co.nz 
The  Kaiwaka  Bugle  is  a  community 
newspaper run by volunteers.   
Articles, etc. printed are not necessarily 
the opinion of the Bugle Team. 
Kaiwaka Bugle 
Founded May 1978 
We appreciate articles and photos about local 
events, etc, as well as ads and suggestions. 
Copies available in Kaiwaka at Jaques Four 
Square, Kaiwaka Postal Centre, Shamrock 
Service Station, Animal Health Centre, 
Kaiwaka St John shop. 
Also outlets in Maungaturoto, 
Mangawhai and Paparoa. 
Can be viewed online at  
www.kaiwaka.co.nz/Bugle  
Or a copy can be posted to you if you supply 
stamped, self-addressed DLE envelopes. 
Victoria & Abdul 
Friday 26 January , 7.30pm  
(PG-13
) 
The  extraordinary  true  story  of  an 
unexpected friendship in the later years 
of  Queen  Victoria's (Academy  Award 
winner  Judi  Dench)  remarkable  rule. 
When Abdul Karim  (Ali  Fazal),  a 
young  clerk,  travels  from  India  to 
participate  in  the  Queen's  Golden 
Jubilee,  he  is  surprised  to  find  favour 
with the Queen herself. 
A  2017  British  biographical  comedy-
drama film directed  by  Stephen  Frears 
and written by Lee Hall. 
Proverbs 15 : 4 
Gentle words cause life and 
health; griping brings 
discouragement.
Captain Underpants
Sunday 28 January 2pm, 
Matinee (PG) 
Captain  Underpants:  The  First  Epic 
Movie  is  a  2017  American  computer-
animated superhero comedy film based 
on  the  children's  novel  series  of  the 
same  name  by  Dav  Pilkey.  The  plot 
follows  two  imaginative  elementary 
school pranksters named George Beard 
and  Harold  Hutchins  (voiced  by  Hart 
and  Middleditch)  who  hypnotize  their 
mean-spirited  principal,  Mr.  Krupp 
(voiced  by  Helms),  into  thinking  he  is 
Captain  Underpants,  a  superhero  who 
fights  crime  while  wearing  only 
underwear and a cape. 
www.kaiwaka.co.nz 
Kaiwaka Bugle - 23 January 2018 
Page 3 
ABOUT TOWN 

A BIG thank you to Pam and Mark Ottaway for their 
wonderful display of Christmas light through December!  

 Our deepest sympathies to the families of the late Russell 
Kemp and the late Mike Tovine. Both Russell and Mike 
were coaches for the Otamatea Hawks Premier rugby teams. 
Their experience and encouragement will be missed. 

 Coming up: the 68th Annual Otamatea Tennis 
Tournament at our Sports Complex, and the 142nd Paparoa 
A&P show - our nearest agricultural & indoor exhibits. 

 From the Northern Advocate 20 January 2018 regarding 
the speed camera " installed in May last year at Kaiwaka is 
still to become operational ....Police were unable to say 
when it would start snapping photos of offending drivers."   
31 January will see a Super Moon rise
 -  see Bev's notes 
in Kaiwaka Weather on page 5.
See www.kaipara.govt.nz at 'ELECTIONS AHEAD BY-
ELECTION  2017'  for  full  details  of  the  forthcoming 
Mayoral By-Election for the Kaipara District Council. 
We are updating our website Business contact information 
- let us know your preferred contact number, please. 

 Have  you  seen  our  2018  Kaiwaka  Calendar  on  our 
website www.kaiwaka.co.nz?
~ Lindsey, Ed 
"Your success and happiness lies in you. Resolve to keep happy, 
and your joy and you shall form an invincible host against 
difficulties." ~ Helen Keller 
PUBLIC NOTICES 
CLASSIFIED 
FOR  SALE:  Genuine  Lazyboy  chair.  Mustard 
coloured covering with brocade like pattern.  Ex.Cond. 
As is. $300.00ono.09 43121367. 
WANTED:  Qualified  Caregiver  with  over  7  years 
experience. Recently moved to the area - I am looking 
for  work  &  accommodation  in  the  Northland  area, 
almost anything considered. Please contact Wendy 09 
4312852, 021861267. 
CLOSURE of the  
BENTON LESLIE RESERVE
Pursuant  to  Subpart  4, 
section  38  (1)  (d)  of  the 
Walking Access Act 2008, 
the Benton Leslie Reserve, 
Settlement  Rd,  Kaiwaka, 
will  be  closed  for  5  years 
from  the  12
th
  December 
2017  to  12
th
December 
2022. 
  All  public  access  will  be 
closed during this time as a 
preventative 
measure 
against kauri dieback. 
VOTING KAIPARA MAYORAL BY-ELECTION 
Voting  documents  will  be  posted  to  all  eligible  electors  from 
Friday 26 January 2018. The three-week voting period is Friday 
26  January  2018  to  noon  on  Saturday  17  February  2018. 
Electors may post their completed voting document back to the 
electoral officer using a pre-paid envelope sent with the voting 
document.  A  polling  place  for  the  issuing  of  special  voting 
documents and for the receiving of completed voting documents 
will  be  available  over  the  voting  period  at:  Council's  Main 
Office, 42 Hokianga Road, Dargaville or Council's Mangawhai 
Service  Centre,  Unit  6,  The  Hub,  6  Molesworth  Drive, 
Mangawhai. Please see www.kaipara.govt.nz
IMPORTANT DATES FOR START OF YEAR 2018 
Tuesday 30th January (Buses will be running) School starts 
for all Year 7, all Year 13 and all new students to OHS. 
On the first day of school students should bring pen, paper, 
morning tea, togs and a towel. Sausage sizzle lunch provided. 
Wednesday 31st January Whole school to attend (All 
Years). School finishes at 2pm 
Senior Course confirmation will take place. 
Thursday 1st - Friday 2nd February Year 7 & Prefect camp 
at Otamatea High School 
Thursday 8th February School Swimming Sports 
Thursday 15th February Meet the Teachers Evening  
Wednesday 28th February School Athletics Day 
New Uniform Sales / Year 13 Dress Uniform 
Paparoa drapery stock a full range of Otamatea High 
School uniform Phone 09 431 7306 
PTCA Second Hand Uniform Sales 
Please contact Karen Flannagan 
The school office opens Monday 22 January, 2018.  
Please phone 09 4318230 or 0800 682 628 
Please visit our website for 2018 school information including uniform, 
stationery and school calendar. 
www.otamatea.school.nz 
RESTRICTED FIRE SEASON  
The Far North, Whangarei, Kaipara Districts continue the  
Restricted  Fire  Season.  This  means 
you will need to apply for a permit if 
you want to have a fire - you can ap-
ply  by  calling  09  4010723  or 
online www.havingafire.org.nz 
HAKARU TRANSFER STATION 
(the nearest rubbish dump!) 
Until the 31st January  
the Hakaru Transfer Station on the Kaiwaka-
Mangawhai Road, will be  
open for 7 days a week 10am - 4pm 
From 1st February normal open days will resume. 
TOP OF THE ROCK 
Marshals meeting 
Friday 9th February, 6.30pm 
Kaiwaka Sports Complex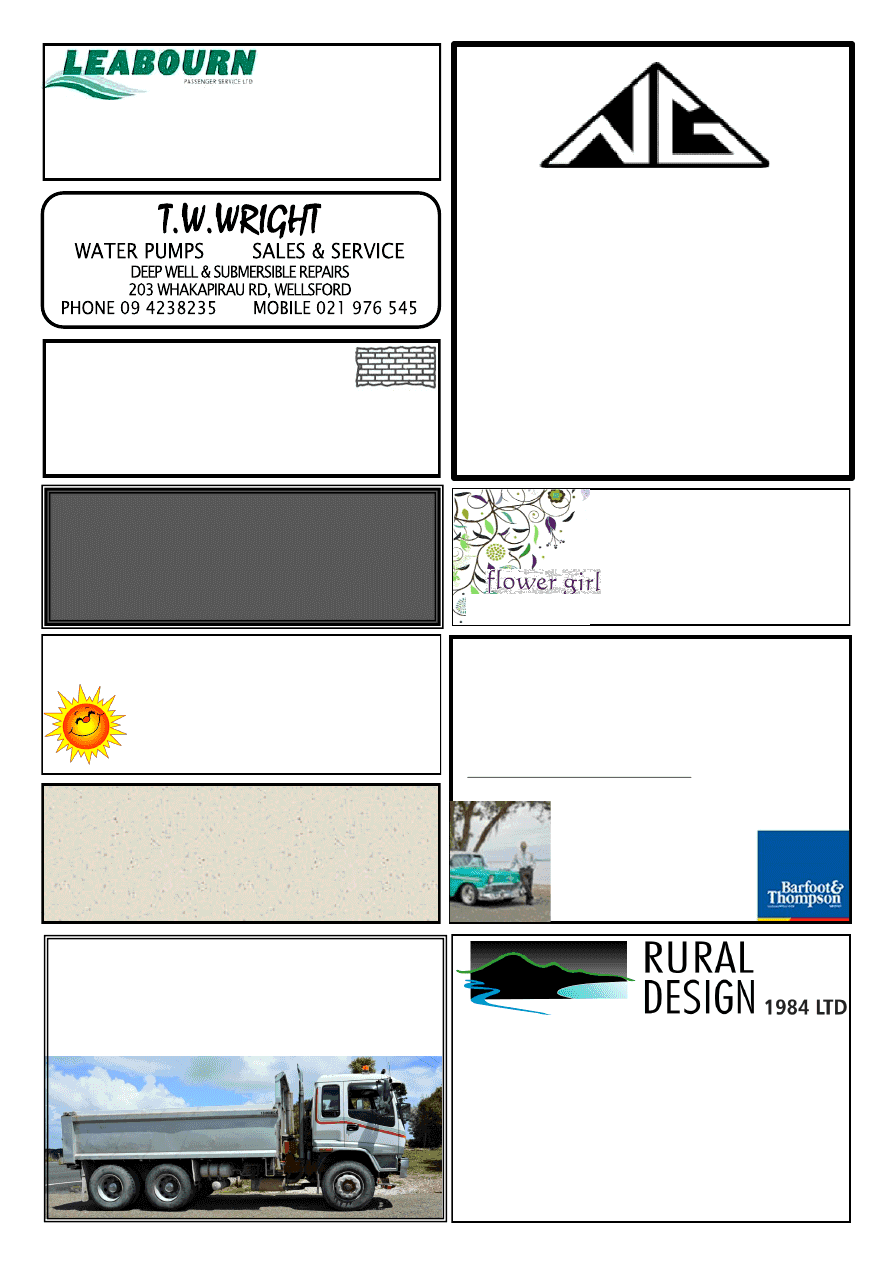 Passenger Service
Car & Van Hire  Bus & Coach Charters 
Airport Transfers   Monthly Shopper Bus 
Phone (09) 4237416 
BRICK/BLOCKLAYER 
All aspects of masonry:  
Fireplaces, Restoration & Remedial Work. 
JAMES EAGLETON 
Tel. (09) 431 2514    Mob. 0274 749 232 
jajueagles@yahoo.com.au 
210A Pukenui Road, RD2 Kaiwaka 0573 
THE SUNSHINE GIRLS
Efficient and reliable help with 
your housework. 
Ph 4312 532 
MARRIAGE CELEBRANT 
WEDDING EVENTS PLANNER 
Yvonne Osborne 
Ph 0274 989 814 
yvonne.osborne@xtra.co.nz 
Counsellor and Registered Psychotherapist 
Offers Supervision 
ACC Sensitive Claims 
Susan Matheson      MNZAC 
Dip. Psychosynthesis Counselling and Psychotherapy 
Phone 09 431 2996                                     Mobile 027 605 2427 

  After 20 years of selling in Auckland I have             
moved to Kaiwaka. 

  I have a relaxed attitude with years of  
        results and experience. 

  Please feel free to give me a call or email. 
licensed real estate agent (2008) 
Chris Barrington
Residential Sales
M 
Mangawhai
Wholesale Native Plant Nursery and Planting 
Small and Large orders welcome 
By Appointment 
300 Kaiwaka-Mangawhai Road, Kaiwaka 
Phone: 09 431 2481 
Email: info@ruraldesign.co.nz 
www.ruraldesign.co.nz 
Kaiwaka Good Sorts 
Do you know someone in our community 
who is deserving of a beautiful bunch of 
flowers? 
Send an email to us at 
kaiwakabugle@kaiwaka.co.nz 
or drop a note to Jaques Four Square to 
let the Bugle team know. 
lindywatson@hotmail.com 
4312 847 
J
and
M
 CONTRACTORS 
Kaiwaka 
Bulk Cartage 
5 & 10 cubic metres Wood Chip or Post Peel. 
Cartage all metals, sand, scoria. 
Truck hire with Driver  
Ph 09 9733538 
Mobile 021 2383664 
NORTH GLASS 
WINDSCREEN REPAIR OR REPLACE 
GLAZING SERVICES 
MIRRORS  •  SPLASH BACKS  •  SHOWERS 
0800 70 40 10
info@northglass.co.nz 
www.northglass.co.nz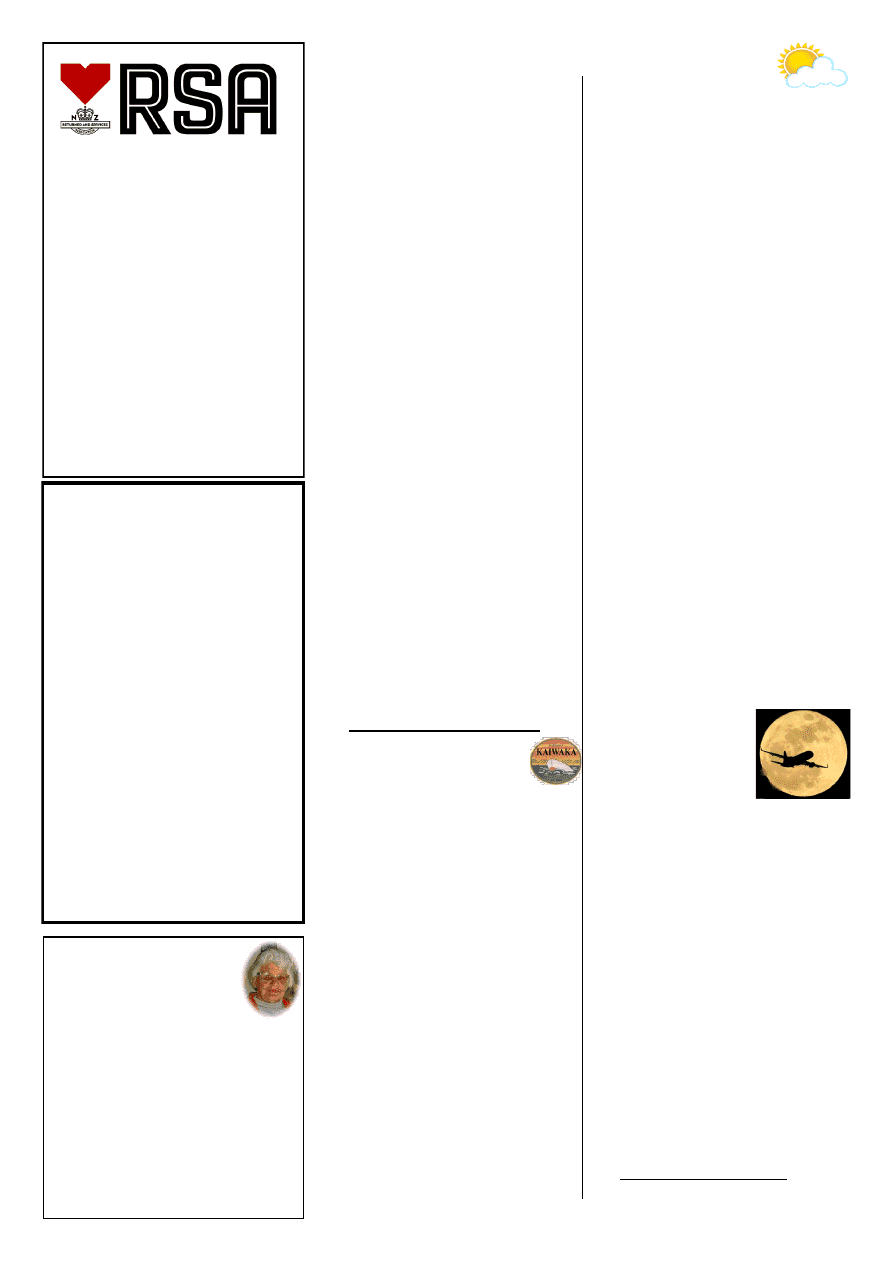 www.kaiwaka.co.nz 
Kaiwaka Bugle - 23 January 2018 
Page 5 
Lilia and her Spring lamb, Minty! 
HAKARU & DISTRICTS 
MEMORIAL RSA (INC)
Members & guests are invited to 
come along and enjoy our hospitality.  
New members welcome.  
Meals are served on Thursday and 
Friday nights  from 6.30pm.   
2nd Friday of the month is a Roast Dinner 
special plus a board menu put on by the 
Women's Section. 
Last Friday of the month is 'Roast Pork 
Night' and a sing-a-long with Des Chitty. 
For more information please phone 
Gloria  (Women's Section) on  
431 5818 or Marlene on 431 5589 
Willow Bend
HORSE  
HOTEL 
  
Total Horse Care 
 
Agistment 
 
Riding Lessons 
 
Arena Hire (60x40) 
 
Young Horse Starting 
 
Re-training/Exercising 
 
Hoof Trimming 
 
Problem Solving 
Phone Sue 09 431 2817 
or 021 623 776 
Or email  
susanjoll11@gmail.com 
KAIWAKA 
WEATHER 
Happy  New  Year  to  each  and  every 
one of you.  It certainly started off very 
summery 
and 
is 
now 
deteriorating.    That  is  this  year  and  I 
am reporting for 2017.  Where ever did 
the year go as it is said every year.  Just 
shows  you  how  busy  you  are  and  not 
too bored.   
I  do  hope  you  have  had  a  nice 
Christmas  with  family  and  friends 
where  possible.  Our  weather  for  2017 
was rather wet in patches although not 
as bad as 1990.  December was a very 
hot month with partly cloudy days and 
cold south-east wind at times.  It got to 
almost drought conditions and now we 
have  had  some  rain  to  relieve  that 
situation.  Now  the  lawns  will  race 
away with the rain we have had.  Very 
patchy though.   
Well here we go.  
December  2017  we  had  71mm  and 
December 2016 we 37mm.  December 
2017,  we  had  rain  on  10  days  of  the 
month  and  December  2016,  7  days  of 
rain. I am only talking one or 2mm on 
some  of  those  days.  Never  mind  it  all 
counts.  
Our  12 months  of  the  year for 2017 
we  had  1729mm  and  2016  we  had 
1475mm.   
Our  driest  December  since  1987  was 
1994  with  4mm  rain  and  the  wettest 
was 2014 with 211mm.   
Our driest 12 months since 1987 was 
1994  with  892mm  and  the  wettest 
was  1990  with  1947mm.    I  hope 
wherever  you  are  holidaying  at  the 
moment the weather is kind to you. 
Super Moon  
We  have  just  had 
another  Super  Moon 
although  it  was  a  bit 
hard to find with all the 
cloud.    There  will  be 
another one on the 31
st
 January with a 
better vision we hope - M
ARK THE 
DATE.  The blood moon or blue super 
moon  is  coming  in  a  rare  lunar  event 
which  happens  only  every  150 
years.  Three separate celestial events- 
a  super  moon,  a  blue  moon  and  a  full 
lunar eclipse will occur simultaneously 
on  January  31
st
.    The  particular  blue 
moon will likely look red in some areas 
because of the total lunar eclipse which 
can give the moon a red tinge naming 
it the blood moon.
Talking of the clouds I wonder if they 
look  down  on  and  say  to  each  other 
"Hey  look,  that  one  is  shaped  like  an 
idiot" or maybe, "that one looks like it 
has  arms  and  legs"?    I  myself  find 
clouds very interesting to watch.   
Well, take  care  out there, especially  if 
you  are  on  the  roads  in  all  this  mad 
traffic.  It  is  only  11  months  to 
Christmas, so no excuses for not being 
ready. ~ Best wishes. Bev. 
How  does  the  man  in  the  moon  cut  his 
hair? ECLIPSE IT!  
MAP 
MOBILITY ACTION 
PROGRAMME IN 
KAIWAKA AND 
MANGAWHAI 
Have  you  heard  about  the  Mobility 
Action Programme or MAP? 
If  you  are  over  18  years,  have 
musculoskeletal  pain  e.g.  arthritis  and 
are NOT on ACC, then MAP could be 
for  you!  If  you  meet  this  criteria  you 
can  be  assessed  by  an  experienced 
physio  or  occupational  therapist.  You 
can  then  have  access  to  hydrotherapy/
self-management  groups/dietician  and 
more. This service is at NO COST. It 
is  funded  by  the  Ministry  of  Health 
via  a  local  collaboration  of  Restart 
Rehab  &  Associates  Ltd,  Active 
Living Physio, Coast to Coast Health 
Care and Te Ha Oranga.
We  are  aiming  to  start  groups  in 
Kaiwaka  and  Mangawhai  in  February. 
If  there  is  demand,  we  will  look  at 
Wellsford and Maungaturoto as well.
We have already run successful groups 
in  Mangawhai  and  Wellsford.  Here's 
what  some  of  the  participants  had  to 
say: 
•
"
This course is very well rounded for 
all, no matter your age or disability".
•
"This  group  has  helped  me  get  my 
back  pain  under  control  and  able  to 
maintain  it"  I'm  looking  forward  to 
getting back to netball training".
•
"Well  worth  it,  I  have  enjoyed  it  all. 
Would recommend it to everyone".
•
"Really  felt  the  benefit  of  the 
hydrotherapy 
with 
the 
physiotherapist
".
Please call: Amy Griffiths (Physio) 021 
207 
2729 
or 
Alice 
Sullivan 
(occupational therapist) 027 291 7239
From  Thelma's 
Scrapbook … 
The average man or woman 
has 
five 
senses. 
The 
successful  man  or  woman  has  six  – 
touch,  taste,  sight,  smell,  hearing  – 
and common! 
Conflicting Proverbs 

Actions  speak  louder  than  words. 
The pen is mightier than the sword. 

Look 
before 
you 
leap. 
He who hesitates is lost. 

Many  hands  make  light  work. 
Too many cooks spoil the broth.
PT.CURTIS 
CRUISING CLUB
Hope  everyone  enjoyed  Christmas  and 
had a chance to get a line out. 
Good  turn  out  to  the  BBQ  held  at  the 
Boat ramp Sunday 14th January 2018. 
Thank  you  to  those  who  turned  up, 
shared lunch, and enjoyed the day.  
Cheers  Stephen  Connelly  for  bringing 
along the guitar. 
Up and coming Events: 
Fishing Competition Saturday 10th & 
Sunday 11th March 2018. 
East 
Vs 
West 
Fishing 
Competition Friday 20th - Sunday 22nd 
April 2018. 
Opening  Duck  Shoot     Saturday 
5th May 2018. 
End of Year prizegiving Saturday 5th 
May 2018. 
Winners for fish of the month: 
Hayden  Smith  1st    2.644kg;  Tony 
Smith 2nd  2.600kg 
New Fish of the Month: Snapper 
Next Meeting: 13th February 2018, at 3 
Furlongs Bar and Grill, 7pm. 
~Wayne Leslie, Commodore.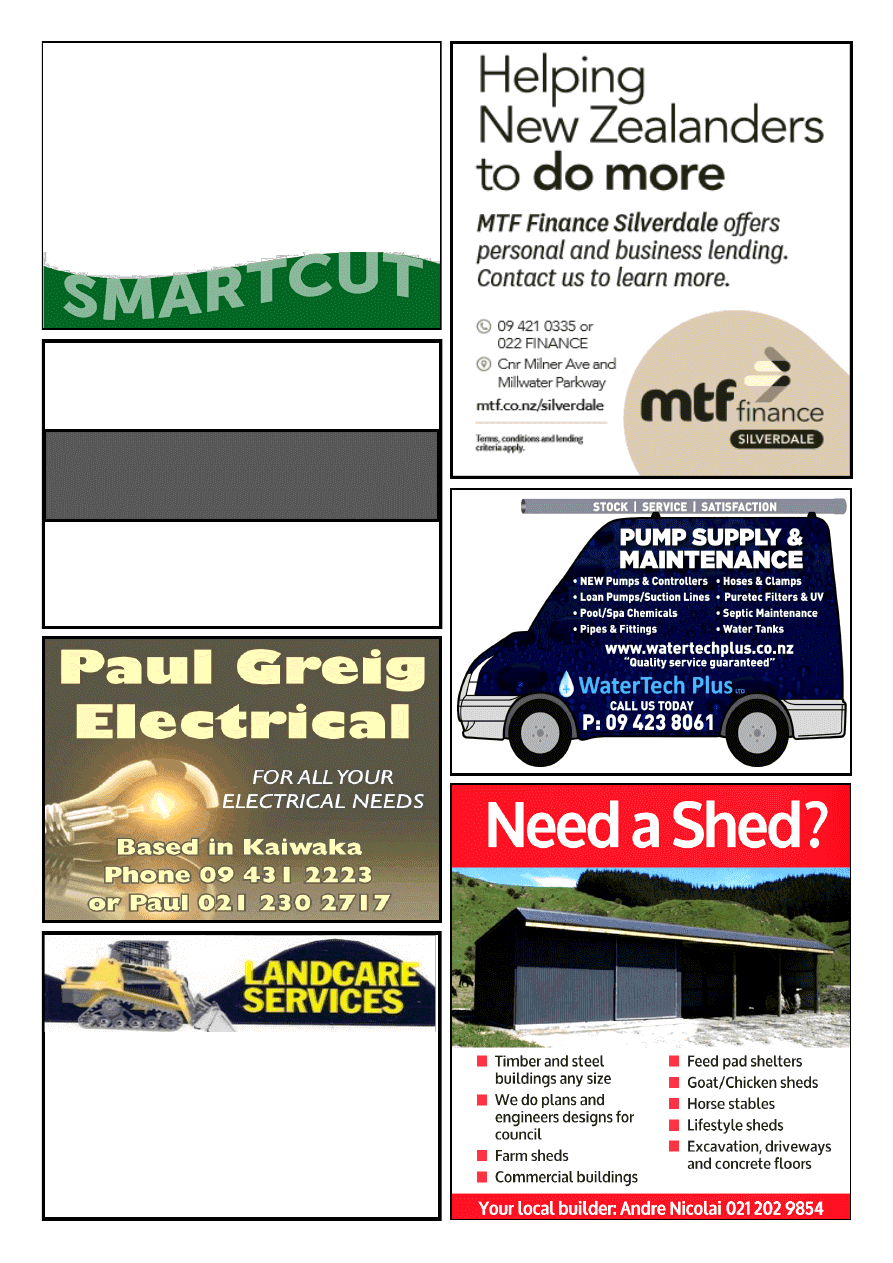 David Korach 
Your local Gib Stopper
DK PLASTERER LTD 
0274769221 
dkorach6@gmail.com 
LANDSCAPING 
4 IN 1 BUCKET 
TRENCHER 
POLE HOLES 
ROTARY HOE 
COMPACT ROLLER 
OFFAL HOLES 
CAN SUPPLY WOODCHIP & POST PEEL 
5 TON TIPPER 
FOR RELIABLE AND FRIENDLY SERVICE CONTACT DAVE 
Dave Hyndman 
 
KAIWAKA 
PH: 09 4312302 
MOB: 021 431 238 
All your outdoor needs sorted so you don't have to... 
I can prune, chop, tidy, spray, mow, plant 
- you name it, I can do it! 
Residential & Commercial 
Lawn & Garden Care 
Call Rodney, your local  
lawnmowing contractor 
021 138 2344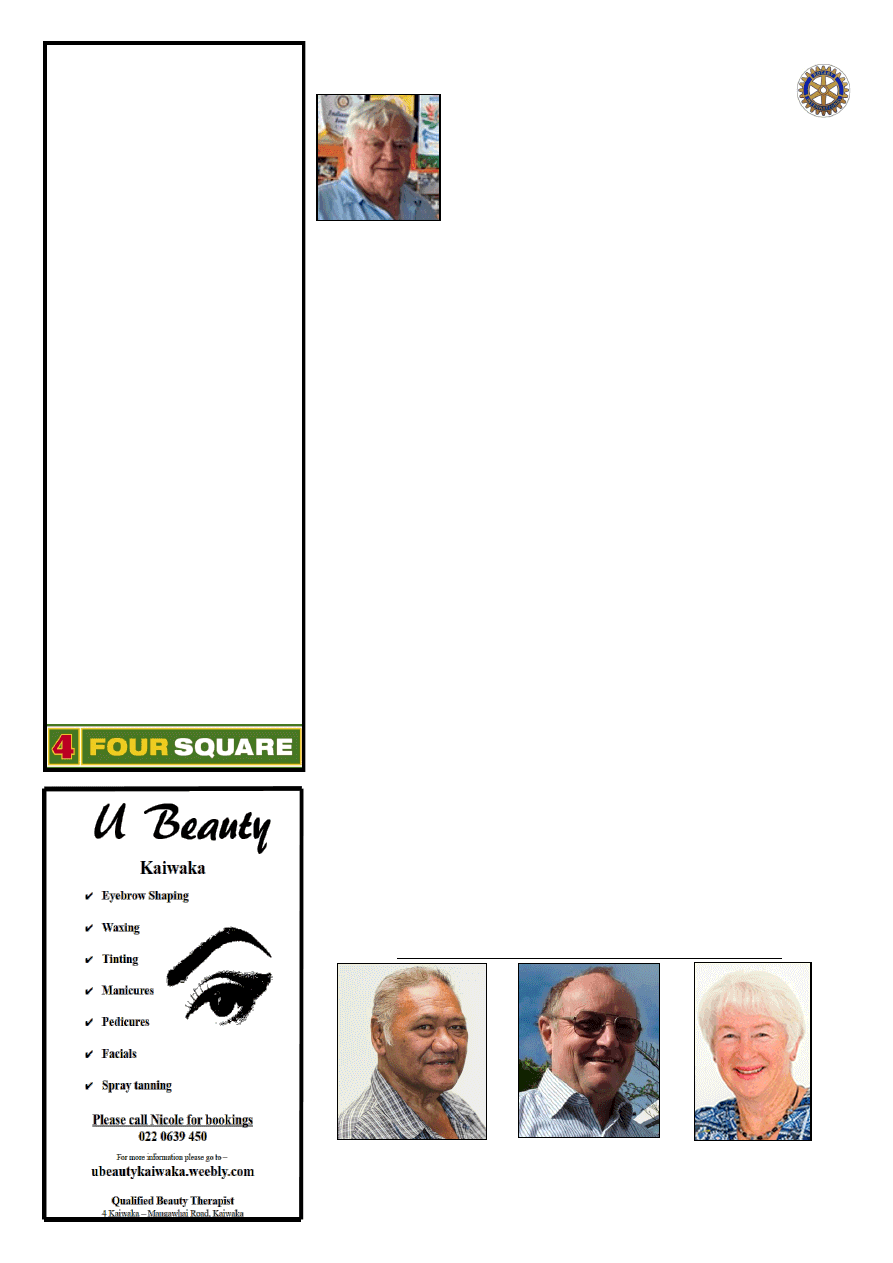 www.kaiwaka.co.nz 
Kaiwaka Bugle - 23 January 2018 
Page 7 
Paul Harris Fellows 
The 
first 
six 
months 
of 
President 
Alex's 
(pictured left) term 
concluded  on  a 
high 
note 
in 
December 
when 
we had our District 
Governor,  David 
Oliphant  present  and  three  new  Paul 
Harris Fellows (PHF) were created. To 
do  this  our  club  gives  $US1,000  per 
person 
to 
the 
Rotary 
Global 
Foundation.  This  Foundation  supports 
a  large  number  of  worldwide  projects, 
such as the eradication of polio. Two of 
the recipients were not Rotarians, Pam 
Chapman  (who catered for Rotary for 
a long period, provided a hamper to be 
raffled  on  an  annual  basis  and  who  is 
hugely  supportive  of  many  in  the 
community.)  Stephen  Rosser  (for  his 
ongoing work in third world countries, 
but  especially  in  Vanuatu  with 
provision  of  safe  water  supplies  –  31 
trips to date.); and our President,  Alex 
Tetzner who has had 33 years involved 
in Rotary, holding most positions over 
that period. 
Added to that was the induction of new 
members  -  Grahame  and  Hilary 
Carbery  and  Rodney  and  Linda  Tysoe 
were  welcomed  into  the  club;  this 
brings to five new members in the past 
six months. 
We continue to enjoy the catering skills 
of  the  local  High  School  Hockey, 
Netball and DOE students and parents. 
We  are  grateful  that  they  have  agreed 
to  continue  with  this  effort  into  this 
year. 
Christmas  Hamper  raffle  winner 
Blue  A79  –  thank  you  all  for  your 
support  of  this  fundraiser.  Gifts  and 
non-perishable items that were donated 
at our Christmas dinner filled a number 
of  boxes  and  these  were  given  to  Ray 
White  to  be  distributed  in  the 
community. 
Calf Litter 
We  have  been  selling  calf  litter  as  a 
fundraiser  (this  is  available  in  bags  at 
Maungaturoto Four Square) or may be 
purchased  in  bulk  –  just  contact  any 
Rotarian.  
Horse Trek  
A  Horse  Trek  is  being 
organized  for  10  February 
(notices around town and on page 13 of 
this Bugle). 
Driver Mentors  
 On  20  February,  the  Driver  Mentors 
will  have  their  first  training.  This  will 
enable  us  to  take  young  people  out  in 
the  Rotary  car  in  an  effort  to  improve 
their driving skills. We are doing this in 
conjunction  with  Drivesafe  Northland 
and Te Roroa. 
Rotary Dinner Speakers 
We  continue  to  have  interesting 
speakers  who  provide  an  insight  into 
many  areas.  Recent  ones  included  a 
self-employed  tradesman  who  stressed 
the  importance  of  trade  training  and 
apprenticeships  in  order  to  provide  a 
flexible 
lifestyle 
while 
another 
promoted  the  work  he  has  undertaken 
to  provide  educational  material for the 
less fortunate in Tonga. A third speaker 
is a recent arrival in the community and 
spoke  about  the  business  he  has 
purchased, the products made and plans 
for expansion. 
We  are  currently  seeking  more 
members  so  If  you  are  interested  in 
learning more about 
Rotary  you  can  access  the  website 
<rotarymgto.club> 
JOYCE BROOKS 
During  the  Christmas  parade,  some  of 
you may have noticed Joyce Brooks in 
an old-time bus. We wanted to honour 
the contribution that Brooks family had 
made to this community. 
After  more  than  90  years  of  family 
involvement,  in  2016,  Brooks  Motors 
sold  their  transport  arm.  This  business 
was  established  by  Joyce's  father-in- 
law, Bert Brooks with Dudley, Joyce's 
late  husband  following  in  his  father's 
footsteps.  Not  only  did  they  run  the 
school buses (as well as tourist buses), 
but  also  were  responsible  for  mail 
delivery  (they  still  do  the  town  mail). 
However, many in the community will 
remember  them  for  their  generosity 
towards  many  people  in  their  time  of 
need  (or  support  of  local  emergency 
services.) 
We  would  like  to  thank  the  Brooks 
family for their huge contribution to the 
community. 
New Range:  
Food to Go!
Pam's Fresh Cut Sandwiches, 
Wraps & Salads 
Fresh Fruit Salads -400g or 
190g  
Oxford Sweet Pies - 
Strawberry, Boysenberry, 
Blackberry & Apple 
Increased Fresh Meat range 
Remember we have 
Sodastream &  
9kg Gas Bottle swaps 
Open till 6.30 Monday to Friday
Jaques Four Square 
Phone: 4312227 
1 Kaiwaka-Mangawhai Road, Kaiwaka. 
MAUNGATUROTO and DISTRICTS ROTARY CLUB 
NEW YEAR HONOURS 
From left, the late Russell Kemp, for services to Maori. Vern Dark, for services 
to  business  and  education,  and  is  currently  treasurer  of  Maungaturoto  and 
District  Rotary.  Isobel  Greenwood, for services to the  community.  Isabel,  nee 
McClean, grew up in Kaiwaka. Photos courtesy of Mahurangi Matters.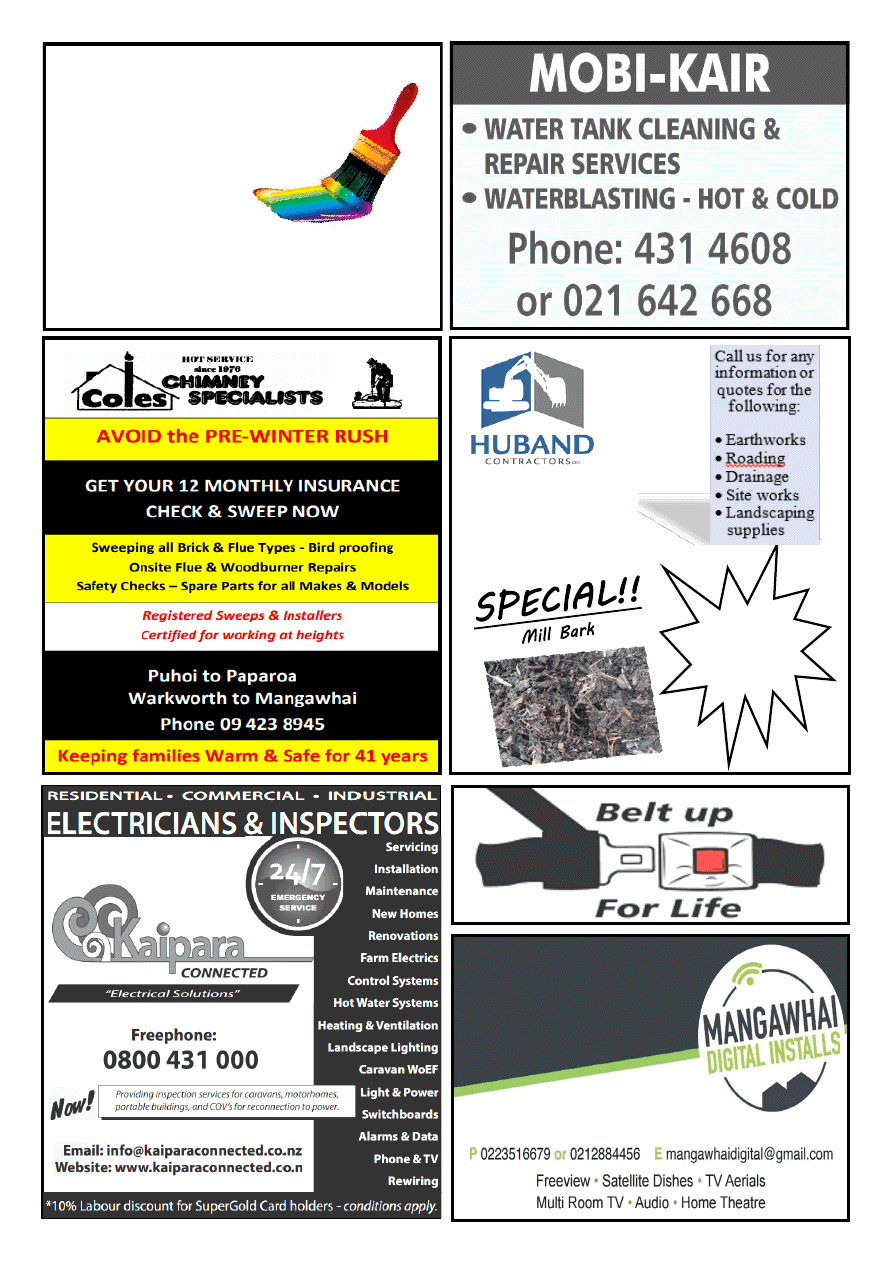 09 4312918 
0274735171 
leecooper@xtra.co.nz 
LEE COOPER PAINTERS 
(Kaiwaka Based) 
*30 yrs Experience 
*Interior/Exterior 
*New and Restoration 
*Honest and Reliable 
*Free Quotes 
Open Monday-Friday 
8am-5pm 
Saturday 8am-noon 
2088 Paparoa valley Road 
0800 234449 
E: admin@huband.co.nz 
$33 + 
GST per m
3
(Until the end 
of January)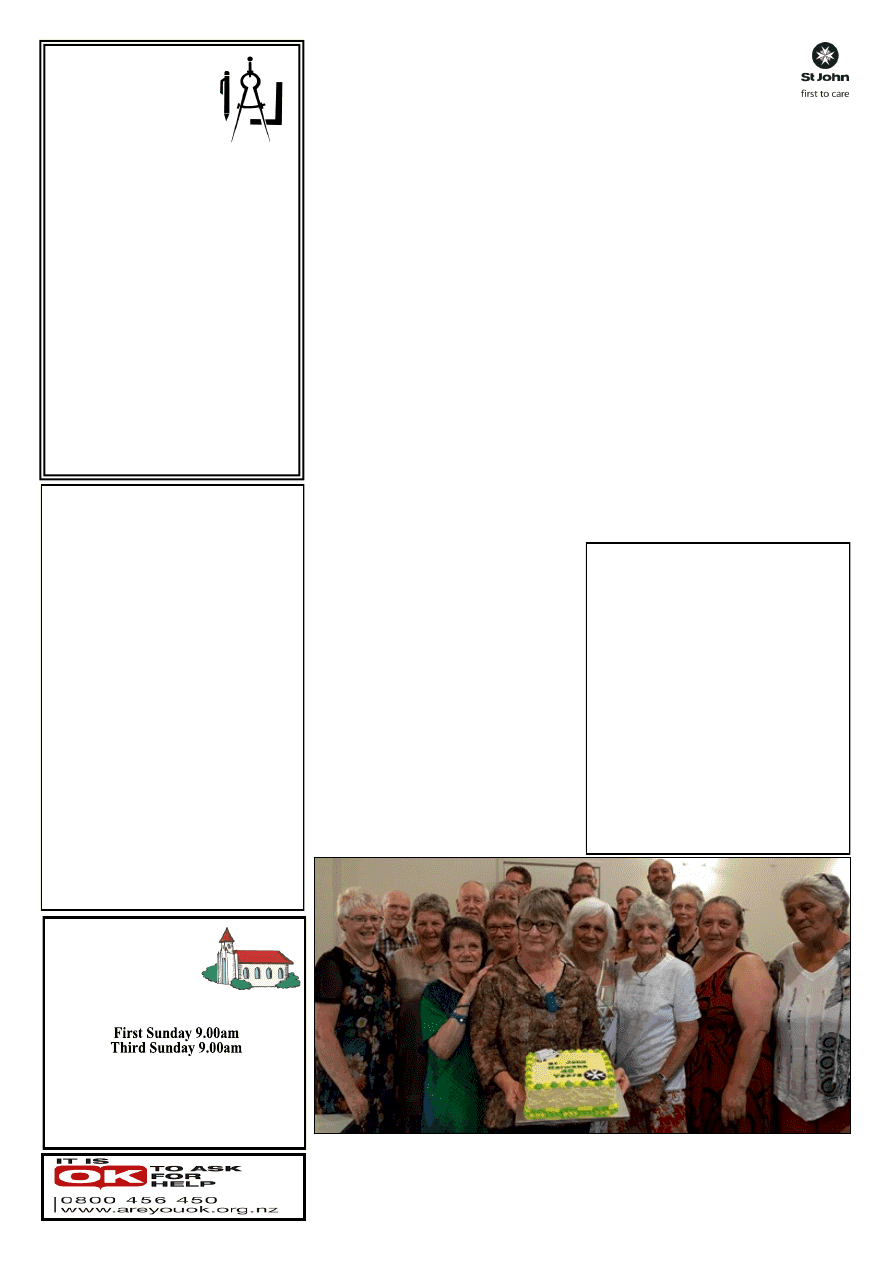 www.kaiwaka.co.nz 
Kaiwaka Bugle - 23 January 2018 
Page 9 
design  
drafting  
service 
Retired builder and manufacturer 
with over 40 years experience in the 
building industry is offering a design 
drafting service for domestic hous-
ing, sleepouts and sheds.  
Plans formulated in consultation 
with clients, with working drawings 
completed and submitted to council 
for processing.  
Extensive practical experience,  
able to identify & resolve problems.
Please ring Mike Lean on 
09 431 2260 
or 
021 431 196 
Mangawhai 
Heads 
Garden 
Centre
1758 Cove 
Road
945 0707 
021 165 2629 
ST PAUL'S  
ANGLICAN  
SUNDAY  
SERVICES
St Pauls Church: Kaiwaka-Mangawhai Rd. 
1st Sun - Eucharist 
3rd Sun - Family Service 
Rev. Wayne Thornton Ph 431 4122 
www.mangawhaianglican.org.nz
The 
St 
John 
Kaiwaka 
and 
Maungaturoto  teams  are  dedicated 
groups of volunteers with one thing in 
common  –  the  desire  to  make  a 
positive  difference  in  our  community. 
It  is  our  volunteers,  many  of  whom 
have  other  jobs,  who  keep  our 
ambulance service going. 
There  are  currently  six  active  St  John 
volunteers 
based 
at 
Kaiwaka 
Ambulance  Station,  and  15  in 
Maungaturoto,  and  both  stations  are 
run  by  Station  Manager  Stephen 
Rosser. 
St  John  is  here  24  hours  a  day,  seven 
days  a  week,  and  365  days  a  year  – 
saving lives and responding to medical 
emergencies  and  accidents  around  the 
clock. 
At 
present, 
the 
Maungaturoto 
ambulance covers seven day-shifts plus 
four  night-shifts,  and  the  Kaiwaka 
ambulance  covers  the  other  three 
nights;  and  the  community  can  rest 
assured  we  are  always  ready  to  step 
forward when help is needed. 
However,  it  is  our  ultimate  goal  to 
have 
both 
the 
Kaiwaka 
and 
Maungaturoto  ambulances  on  duty 
24/7, so our area is covered by at least 
two  ambulances  at  all  times  –  further 
increasing  our  capacity  to  care  for  the 
community. 
To  achieve  that  goal,  each  station 
requires 25 volunteers, which can only 
happen  if  others  in  the  community  – 
you  –  step forward  with  us. The  more 
volunteers  we  have,  the  better 
equipped  we  are  to  help  others  and 
provide  cover  if  a  volunteer  is  unwell 
or unable to do their shift. 
Here at St John everyone pulls together 
from  nearby  stations,  but  if  all  their 
ambulances 
are 
on 
jobs, 
the 
surrounding  area's  resources  are 
stretched. It is always our objective to 
reach  people  in  the  shortest  possible 
time,  as  we  know  that  when  you  call 
111, every minute can count. We have 
systems  in  place  so  that  people  in  the 
greatest  medical  need  are  given  the 
highest priority; but we want to ensure 
that every time you call us, we have the 
immediate means to help. 
With  bigger  volunteer  teams  in 
Kaiwaka  and  Maungaturoto,  our 
ambulances at both stations will always 
be ready to go, and we'll have another 
crew available for a second emergency 
in our area. 
What can YOU do? 
You  can  join  our  mission  to  step 
forward  whenever  help  is  needed,  for 
better,  for  life.  Being  an  ambulance 
volunteer  is  the  ultimate  way  to  show 
your  commitment  to  the  wellbeing  of 
your  community.  We  will  work 
together  to  make  the  experience 
rewarding  and  practical  for  you,  and 
should  you  wish,  there  are  life-long 
career opportunities available. 
To get involved, please contact Station 
Manager  Stephen  Rosser  on  021  355 
734  or  go  to  www.stjohn.org.nz,  click 
the  'ABOUT'  tab,  then  'JOIN  ST 
JOHN'.
Kaiwaka St John recently had it's 40th Anniversary which was celebrated with a 
cake  at  the  Otamatea  St  John  Christmas  dinner.  The  Kaiwaka  Ambulance 
Brigade formed on November 25, 1977. Pictured are all the volunteers including 
Ambulance,  Fire  volunteers  who  help  out  with  ambulance  callouts,  Op  Shop 
volunteers, and Kaiwaka members of the Otamatea Area Committee
.
St John Maungaturoto and Kaiwaka 
need YOU!
KAIWAKA 
 ST JOHN OP SHOP 
We hope everyone had a great Christmas 
and New Year. 
Volunteers Needed for Shop....Come 
and join the Dramas, Laughter, and hard 
out workers. 
We need please.... 
Cooking pots, Towels, Queen-size, 
Double and Single sheets, Pillows, 
Ornaments, Furniture, Tools and anything 
else in good condition. 
Does anyone have some spare yellow 
paint and undercoat---we want it for two 
feature walls in shop.... also, any beige 
paint and shelving. 
Once again thanks for your support, 
Milly and Staff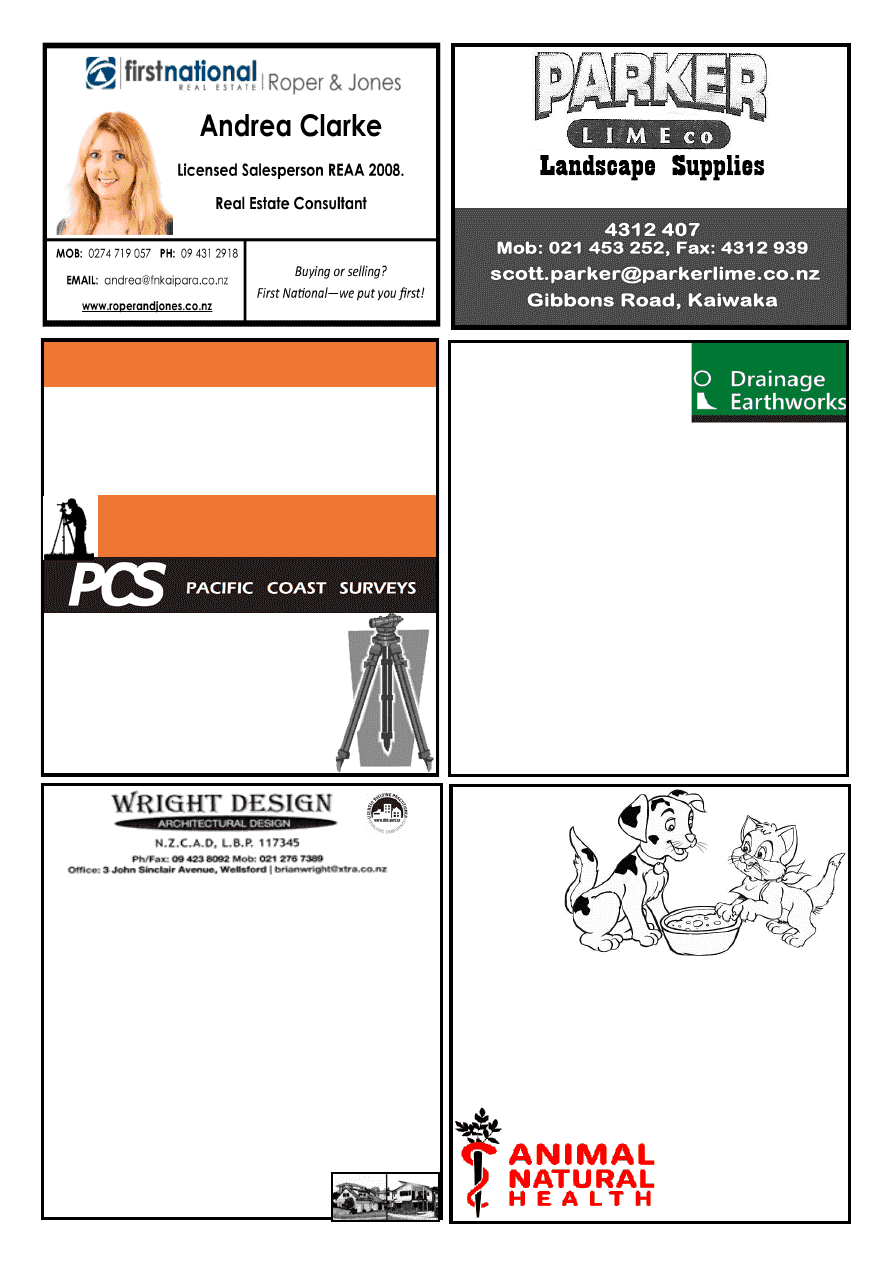 Drainage & Earthmoving 
nigel@clarkedrainage.nz 
027 2233 185 
Registered Drainlayer 
All Types of Earthworks  
> All Residential & Commercial Work  > House Sites 
> Septic System Design & Install 
> Footings & Drilling to 10m 
> Sewer Connections 
> Dams 
> Water Tank Installation 
> Roading & Races 
> Farm Work 
THE ONE STOP SHOP  
Phone Nigel for an Obligation Free Quote  
Bulk Cartage 
SURVEYORS 
SUBDIVISIONS 
HOUSE SITE SURVEYS 
CIVIL ENGINEERING 
WASTEWATER DESIGNS 
EXPERIENCED 
PROFESSIONAL 
INNOVATIVE 
Ph 09 431 5353 
0800 PACIFIC (0800 722 434) 
pacificcoastsurvey.com
Adam Booth - 027 415 5752 
Bsurv, Licensed Cadastral Surveyor
Surveying Kaipara since 1994 
If you are thinking of building then you 
will need a good and well experienced, 
qualified, and licensed designer. 
This applies if you are considering a 
new home any alterations or any 
building additions/farm buildings, 
sheds, alterations, whatsoever. 
For Resource and Building Consents, 
planning restraints, new building 
materials, applying for building permits 
– you need a capable, experienced, 
and professional designer with a clear 
knowledge of all the processes. 
Brian has been helping and organising 
all these facets of design and building 
for over 50 years. 
Wright Design offers free visits, 
consultations and advice on planning, 
design, building, council permit 
applications, guaranteed permit plan 
acceptance. 
QUALIFICATIONS 
Brian is a qualified designer 
(N.Z.C.A.D.) with over 50 years of 
varied experience in all types of 
building and is registered and Licensed 
Building practitioner in Design – 1 & 2 
Registered LBP117345 
He will ensure you will achieve the 
best from your budget. 
EXPERIENCE 
Brian's practical building and 50+ years 
of design experience means he can 
give you excellent advice and all the 
guidance needed. 
Brian can arrange engineering for a 
reasonable cost. 
•Qualified and inexpensive designer – 
N.Z.C.A.D. Registered LBP117345 
•Guaranteed design and working 
drawings 
•Free site visit to your home or 
property 
•Great service and free quotation 
PROJECTS 
Additions, alterations, basements, new 
homes, motels, bed and breakfast, 
commercial buildings, farm buildings, 
and shop fit outs are a few projects. 
Brian can show you many of his 
projects in the area to emphasise his 
versatility and can give you contact 
with satisfied clients. 
WHAT TO DO FROM NOW ON 
•Call Brian for a free quotation 
•Discuss your needs and obtain good 
advice 
•Brian can offer 
plan printing 
from A4 to A0 
(2x A1 size) 
No. 117345 
Look for 
our NEW 
range of 
real food 
for cats 
and dogs
Veal Bones 3kg $17.90  
Chicken Medallions 3kg $17.90 
Beef & Lamb Patties 3k $21.90 
Purely Pets – buy 10 packs,  get 11th pack FREE 
Radical Dog in store (as seen on Country Calendar) 
Beat the Flea Season:  
Flea combs, shampoos Chemical-free, no nasties 
Flea Control, Tick & Lice Support 
ANIMAL NATURAL 
HEALTH CENTRE 
Next to Italian Bakery, 
Kaiwaka 
Ph. 09 431 2217    
Open Mon-Sat.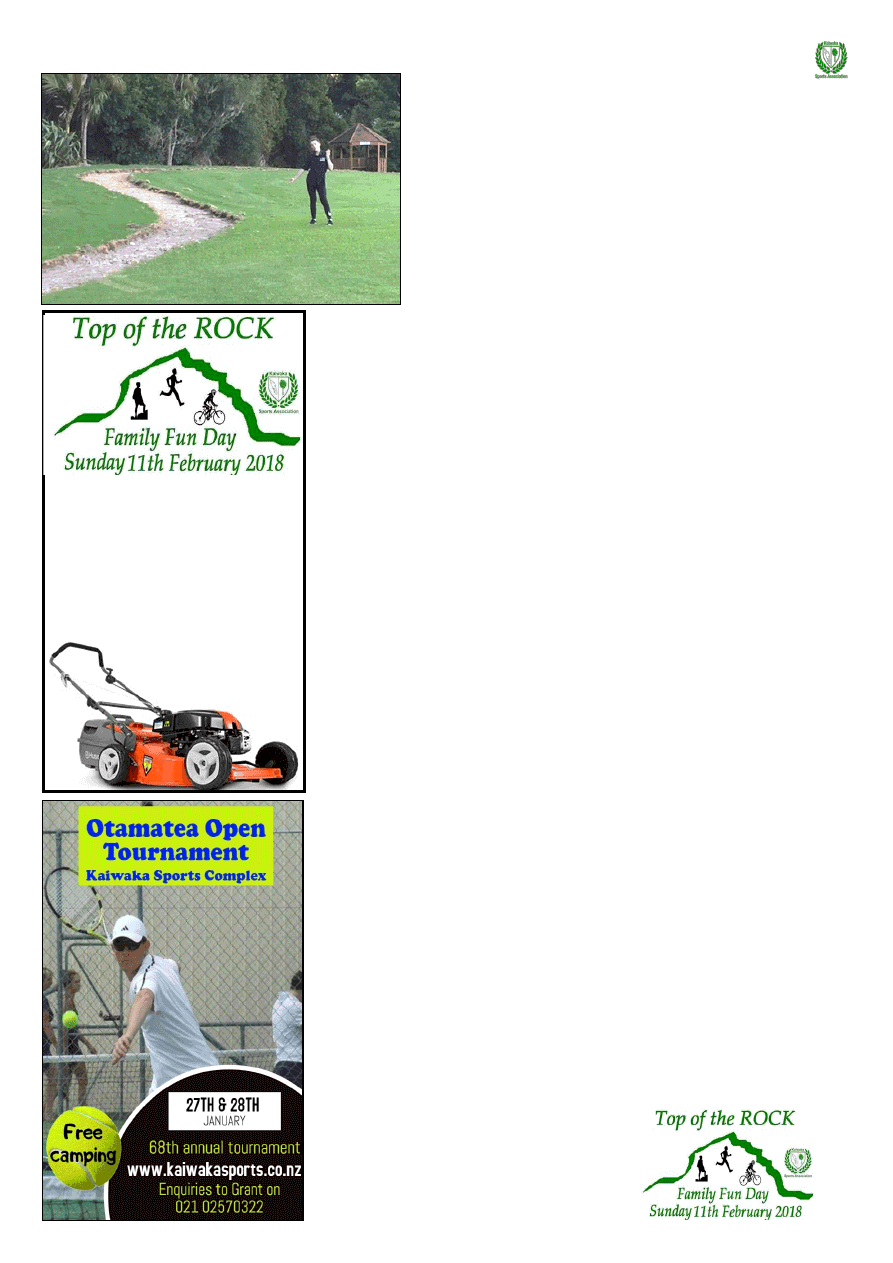 www.kaiwaka.co.nz 
Kaiwaka Bugle - 23 January 2018 
Page 11 
KAIWAKA SPORTS SOCIATION
Fitness Trail 
We  can  now  announce 
our  exciting  project  for 
2018!  We  are  building  a 
Fitness  Trail  at  the 
Sports  Complex.  This 
will  be  a  concrete  path 
which  will  start  at  the 
helipad then wind around 
our rugby field. It will be 
suitable  for  walking, 
running  and  biking  and 
will be free for members 
of the public to use. The 
path will be wide enough 
to 
accommodate 
strollers 
and 
wheelchairs,  and  will  be  extra  wide 
alongside  the  back  tennis  court  to 
create  access  onto  the  fields  for 
emergency  vehicles.  This  project  has 
been  made  possible  with  a  generous 
grant  from  Transpower  Community 
Care  Fund,  many  thanks  to  them.  As 
more  funding  comes  to  hand,  we  will 
add exercise stations at intervals along 
the  path  so  you  can  stop  off  for  a 
workout. 
For  the  next  few  weeks  there  will  be 
concrete  trucks  and  machinery  on  the 
field, so please keep clear of this area. 
Once  the  Fitness  Trail  is  completed,  I 
will  organise  a  little  Opening 
Ceremony, so watch this space! 
Otamatea 
Tennis 
Tournament 
Our  annual  tennis  tournament  will  be 
held  at  our  courts  this  weekend.  Did 
you know the tournament is in its 68th 
year!  This  tournament  attracts  top 
quality players from all over Northland 
and  Auckland  so  feel  free  to  come 
along to watch some top tennis. There 
will  be  food  and  drink  available 
throughout  the  day  and  a  social  on 
Saturday evening. 
Badminton 
Badminton has started up again for the 
new  year.  Players  of  all  ages  and 
abilities  are  welcome  so  if  you  are 
keen, simply turn up to our gymnasium 
on Tuesdays from 7.30pm. Only $3 per 
person,  play  as  long  as  you  like.  Club 
rackets are available for you to borrow 
at no cost. 
For  badminton  queries,  please  ring 
Kaye Fleming on 4312 345. 
Martial Arts 
Are you or your child keen to join our 
Martial  Arts  classes  this  year?  Black 
belt  instructor  Craig  Bennetts  offers  a 
variety  of  classes  out  of  our 
gymnasium  for  all  ages.  For  more 
information please phone Craig on 021 
1524466. 
Touch Module 
Our eight-week Touch Module runs on 
Wednesdays  at  6.30pm.  Eight  teams 
have entered, feel free to come along to 
watch the action. 
Rugby 
It  may  still  be  the  middle  of  summer, 
but  trainings  have  already  started 
for  the  2018  season.  Trainings  for  our 
Otamatea  Hawks  are  on  Thursdays  at 
6pm  at  our  grounds  –  past  and  new 
players welcome. 
School  Holiday  Boredom 
Busters 
If  you're  looking  for  something  to  do 
with the kids, you are welcome to bring 
them along to the Sports Complex: 
*  bring  a  basketball  and  shoot  some 
hoops on our outside backboard 
* go for a stroll through the bush walk 
(the  entrance  is  off  the  bottom  of  our 
driveway and it exits by our number 2 
field) 
*  bring  your  frisbee/bike/golf  clubs/
dog  and  take  advantage  of  the  wide 
spaces on our rugby fields 
*  have  a  swim  in  the pool  (as long  as 
you have got a key of course) 
* enjoy our playground and then have a 
picnic lunch - our BBQ takes $1 coins 
for 20 minutes of heat. 
* have a hit of tennis on our courts. 
*  bring  your  tent  and  have  a  family 
sleepover  at  our  grounds  -  the  bush-
fringed  grass  next  to  the  pergola  is  a 
lovely spot. 
Top of the Rock 
Is  your  New  Year's  resolution  to 
exercise  more?  To  participate  more  in 
community  events?  To  get  out  in  the 
countryside more? Entering our Top of 
the  Rock  event  fits  the  bill  for 
everything!  It  will  be  held 
on 
Sunday 11th February. 
The  event  is  for  walkers,  runners  and 
mountain bikers, 
and is suitable for a range of ages and 
fitness levels: 
❖
 5km or 11km walk or run 
❖
 10km  run  +  15km  mountain  bike 
ride 
❖
 10km or 30km mountain bike route 
❖
 a free bike course for under 10-year 
olds 
TV3's Brendon 'Money Man' Johnson 
will host the prizegiving with prizes for 
placegetters  plus  lots  of  great  spot 
prizes, including a mountain bike! 
Prices  are  very  reasonable  for  a 
enjoyable  day  out  –  for  example  the 
5km  and  11km  run/walk  is  $20  for 
adults, 
$10 
for 
children 
and 
preschoolers are free. 
There  are  NO  ENTRIES  ON  THE 
DAY  –  your  last  chance  to  register  is 
Friday  9th  February.  Easy  to  enter: 
visit www.kaiwakasports.co.nz to enter 
directly, or pick up an entry form from 
Jaques Four Square. 
~Cheryl Anderson,  
4312 051, 027 3462702 
kaiwakasports@gmail.com 
WIN!! 
A Husqvarna lawnmower 
valued at $650. 
Kindly sponsored by  
Kaiwaka Motorcycles 
This 
lawnmower 
will 
be 
auctioned  off  at  Top  of  the 
Rock on 11th February.  
         Be at the Sports Complex         
around noon to place 
your bid!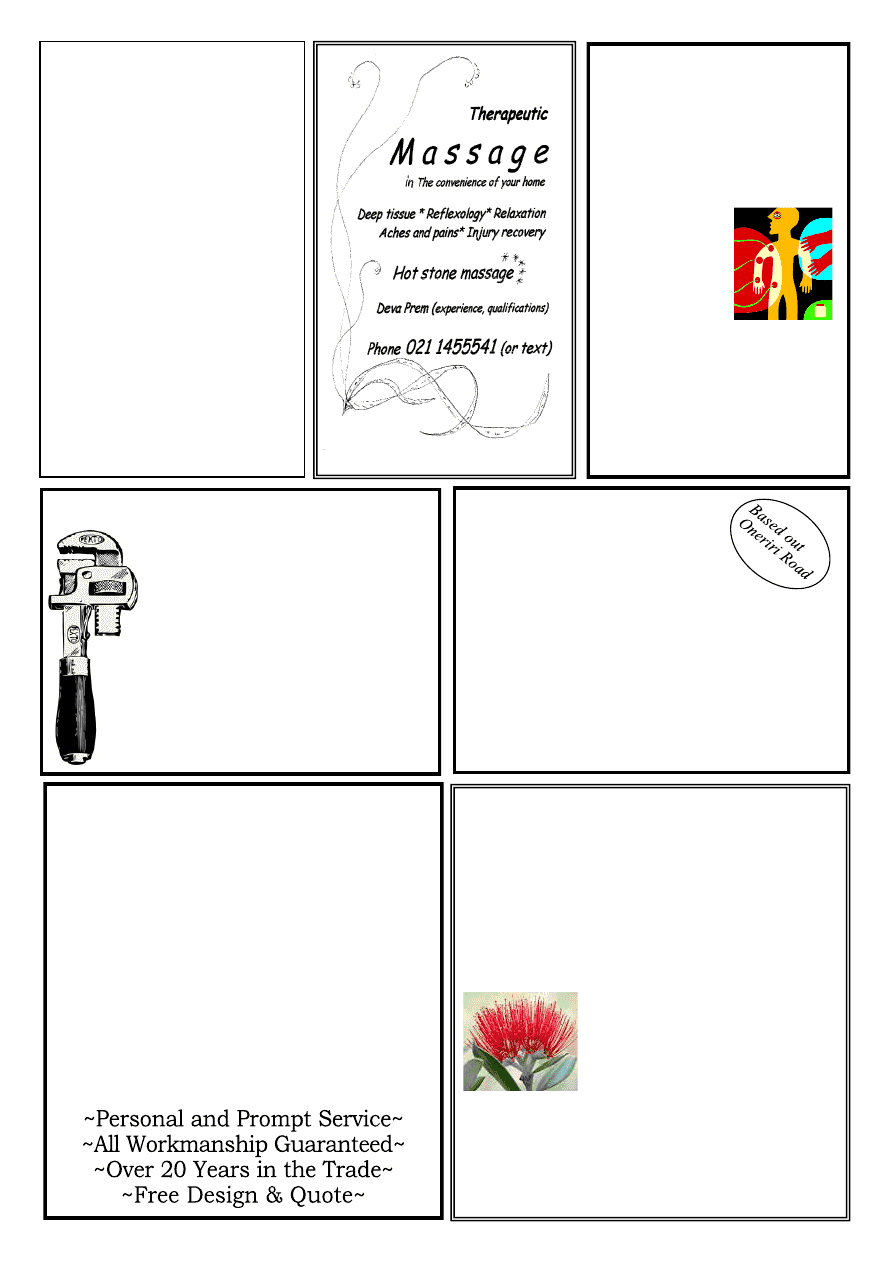 BARRY CURTIS PLUMBING LTD 
REGISTERED CRAFTSMAN PLUMBER 
Phone 431 5572
027 257 9884 
25 years' experience 
Friendly reliable service 
All plumbing & maintenance 
Alterations and new housing 
Spouting  
C
ompetitive rates 
PROMPT EFFICIENT SERVICE 
KAIPARA FLOORING CO 
Independently owned & operated 
32 HURNDALL ST MAUNGATUROTO
Supply & Installation of Carpet, Vinyl,  
Vinyl Wood Planking
Stockists of 2m & 3m wide 
vinyl & carpet short ends
Residential & Commercial
Q Card Finance Approved 
6-18 month terms 
6 mth interest free
First Class Installations
For a free measure & quote 
phone Christine  
09 946 9886 or 021 515 415 
kaiparaflooring@gmail.com 
http://www.kaiparaflooring.co.nz/ 
HODGETTS 
CONTRACTING
Digger Work 

Driveways 

House Sites  

Dams   

Drains, etc
Also available for HIRE 

4
3 ton Vib Roller 

Heavy Duty Tow  

4
Waterblaster    
 
Lazer Level 
Phone Mark 4312877 
027 447 8554 
OWEN STEVENS 
Osteo Therapist
For careful adjustments to bones 
and joints 
Treatment for humans and their 
pets 
Clinics: 
Kate's Place, 
Kaiwaka: 
Last Friday of 
month 
For bookings: 
9.00am-5.00pm  
Phone 
09 4312661 
Or phone Owen  
09 4317123 anytime 
Couples and Individual 
Counselling
Have you … 
Serious relationship issues? 
Heading for Family Court? 
Destroying each other? Children 
involved?
I'm Here To Help! 
Call me to arrange an 
appointment 
Keep trying if phone is busy
Pete Worsfold 
B.Soc.Sc., M.Soc. Sc, Dip Prof Counselling NZIPC, 
'Man Alive' Counsellor/ Facilitator, Prov NZAC. 
Professional service in your local area. Individuals, 
couples, any issue, males and/or females.
Private or WINZ Clients, Experienced 
Counsellor/Facilitator 
021 825 970  
or 021 063 0302
peteworsfold@xtra.co.nz 
www.mangawhaimassage.co.nz 
PLANNING A NEW KITCHEN?
 CONTACT NOEL McDOWELL
WELLSFORD 
KITCHENS
Ph/Fax 094312888
KAIWAKA-Any time
 QUALITY CUSTOM MADE 
KITCHENS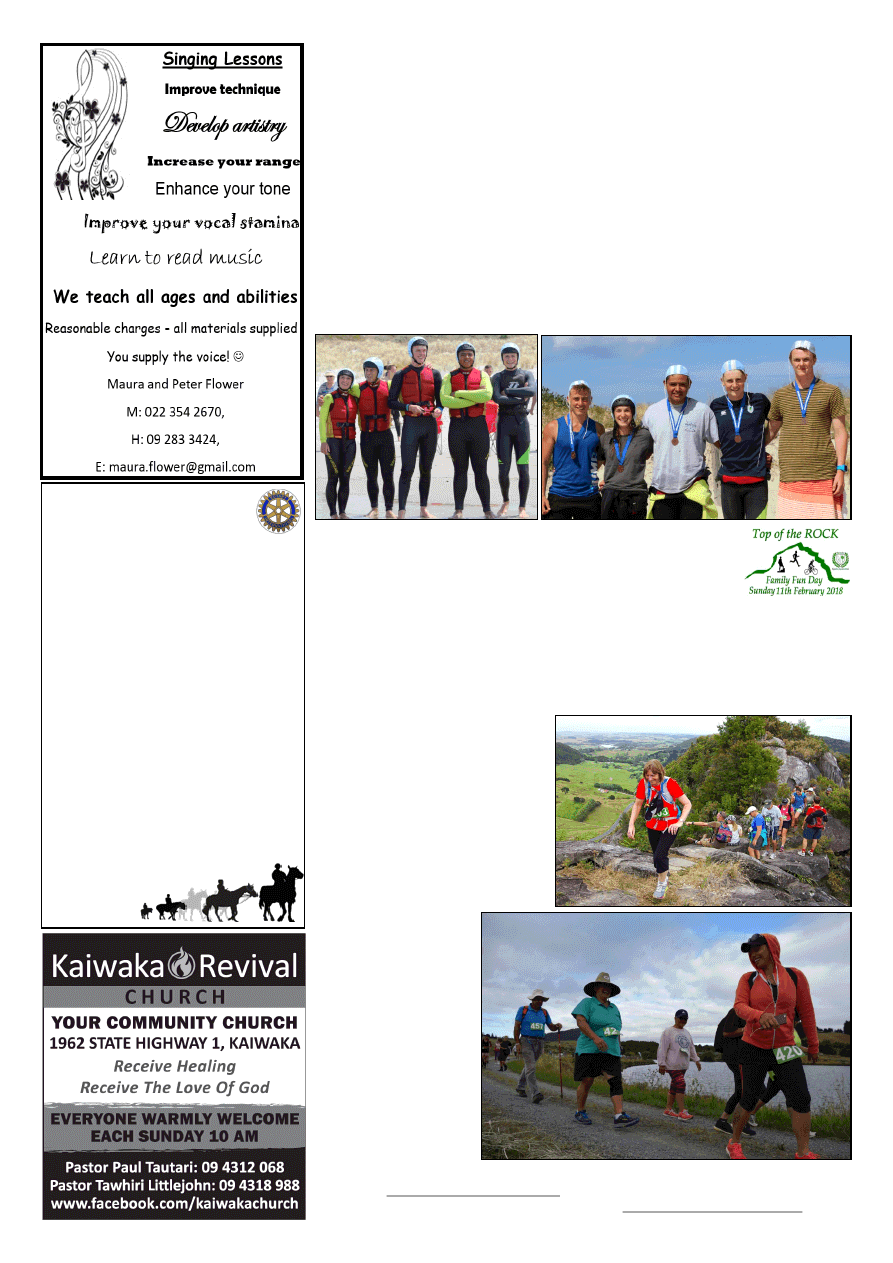 www.kaiwaka.co.nz 
Kaiwaka Bugle - 23 January 2018 
Page 13 
NORTHERN REGIONAL IRB CHAMPS  
Our  local  young  surf  lifesaving  champs  raced  in  the  Northern  Regional  IRB 
Champs on Saturday 13
th
 January at Ruakaka. 
The  two  teams:  Waipu  Cove  Dinco:  Jake  McClure  (Driver),  Callum  Mckay 
(Crew), Jacob Buckle (Main Patient); Waipu Vikings: Bailey Hudson (Driver), 
Quintin Brown (Crew), Emma Baker (Main Patient). 
Both  Teams  were  entered  in  5  races  -  Tube  Rescue,  Mass  Rescue,  Assemble 
Rescue, Single Rescue and Team Rescue. 
The  Waipu  Cove  Dincos  competed  for  the  second  time  at  this  event.  Their 
experience helped them make it into all the finals. This was the first competition 
for the Waipu Vikings, who successfully made it to 3 finals. 
The Teams came together in the Team Race and gained 3rd place - winning a 
bronze  medal.  Both  teams  did  Waipu  Cove  proud  and  we  congratulate  them 
both. 
Both Dincos and Vikings teams will race in the North Island IRB Champs to be 
held at Waipu on the 10th February.  
Pictured:  Bailey  Hudson  (Maungaturoto),  Emma  Baker  (Akld),  Quintin  (Kaiwaka), 
Callum McKay, Jake McClure (Waipu) 
ROTARY 
HORSE TREK 
"ROTARY HORSIN' AROUND" 
Raising Funds for Local Community 
Saturday 10 February  
TARAKOHE FARMS 
129 Mooney Rd, Maungaturoto 
(SH12-Ford Rd- Huarau Rd- then right into 
Mooney Rd) 
Gates Open 9.30am ~ Ride Out 11am 
Register as soon as possible;  
Restricted numbers 
$25 per horse. 
Phone to register: 
Els Bloom, 0273788982 or Keith 
Shadbolt, 021402122 
Maungaturoto & Districts Rotary is stepping out of 
its comfort zone 2018. We would like you to join us  
on  a  horse  trek  over  Tarakohe  Farms.  A  nice 
comfortable  ride  to  the  trig;  bring  your  camera; 
fantastic views of lower Kaipara inlets, etc. Rotary 
will  cater  light  refreshments  for  all  at  12.30pm  at 
the shed, then the ride is only a short  way  
back to the vehicles or there is the extended  
ride of another hour  
before returning. 
TOP OF THE ROCK
The  Kaiwaka  Sports  Association's  eighth  annual  multi-
sport event, the Top of the Rock, will be held on Sunday 11
th
February.  
The event caters for walkers, runners and mountain bikers, both recreational and 
competitive as there are a range of options: 
❖
5km or 11km walk or run 
❖
10km run + 15km mountain bike ride combo (can be done as an individual or 
in a pair) 
❖
10km or 30km mountain bike route 
❖
plus, a fun bike course for under 10-year olds 
Routes  travel  through  some  of 
Kaiwaka's 
most 
scenic 
countryside  –  bush,  lakes  and 
farmland.  And  of  course,  you  get 
the  opportunity  to  climb  iconic 
Baldrock 
Mountain, 
pictured 
right.
Participants  of  all  ages  enter  Top 
of  the  Rock,  from  pre-schoolers 
upwards  –  last  year  the  $50  prize 
for the oldest participant went to a 
77-year-old! 
TV3's Brendon 'Money 
Man' Johnson will host 
the  prizegiving  with 
prizes  for  placegetters 
as well as lots of great 
spot prizes, including a 
mountain bike.
Last  year  there  were 
over  400  participants 
and  we  are  hoping  to 
build  on  that  number 
this  time.  Please  note 
that  there  will  be  NO 
ENTRIES  ON  THE 
DAY  –  the  last  day  to 
enter  is  Friday  9
th
February.  Pick  up  an  entry  form  from  Jaques  Four  Square,  or  you  can  enter 
directly at www.kaiwakasports.co.nz 
Enquiries, please contact Cheryl Anderson on kaiwakasports@gmail.com.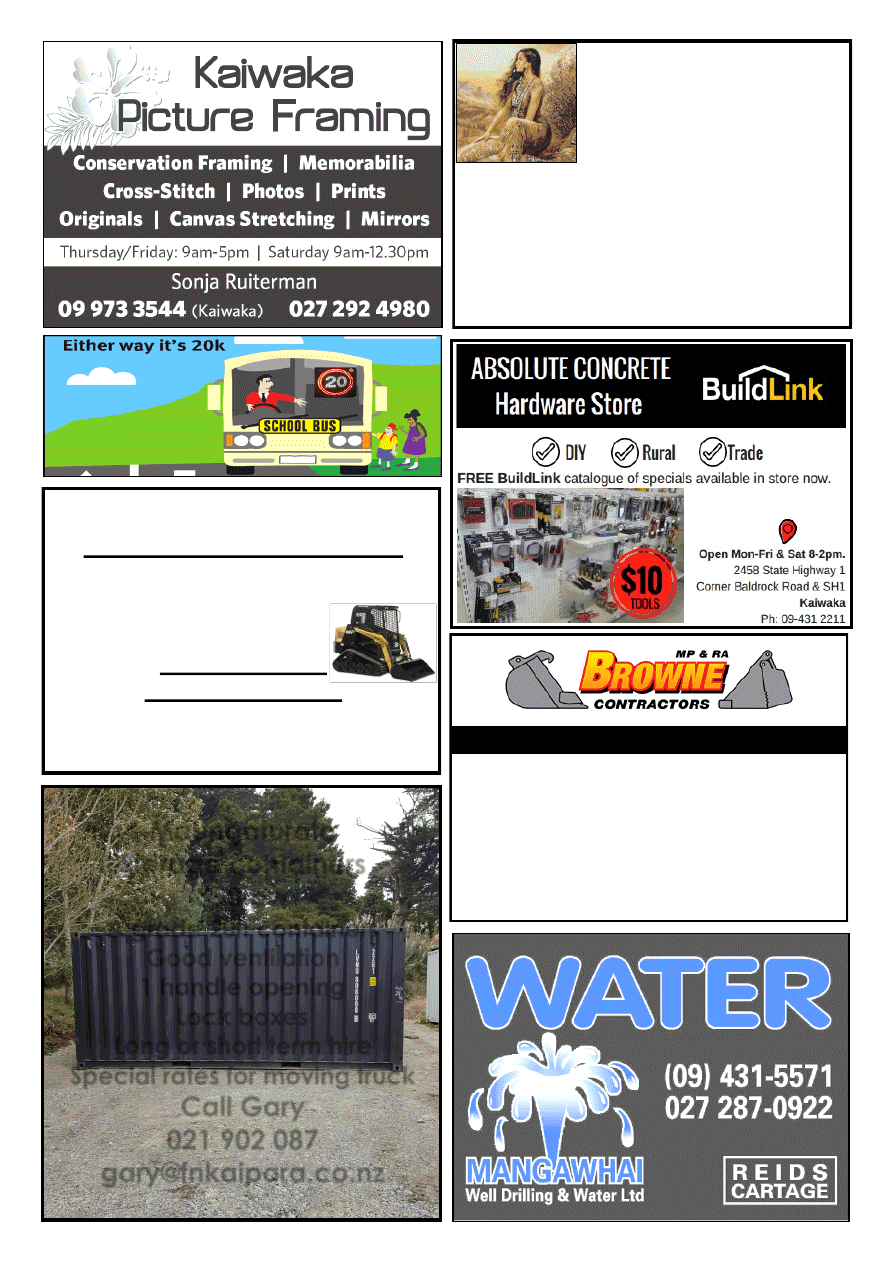 Natural Earth Ltd 
Landscape and Bobcat services 
 : Driveways :Landscaping :Retaining Walls 
 : Hole Boring: Land Levelling :Trenching 
 : Decks :Fences :Sections Cleared 
 : Plus much more
Tel 09 4312 885 
Mob 02102391280 
For A Fast Friendly Service  
Contact Tim Hicks 
4T DIGGER – BOBCAT – TIP TRUCK 
Property Maintenance - Driveways - Building Sites 
Stump & Tree Removal - Hole Boring - Chain Trencher 
Calf Shed and  Stockyard Cleaning
KAIPARA - WHANGAREI - RODNEY 
Phone Matt: 021 199 6677 
Email: mprabrownecontractors@gmail.com 
Maungaturoto  
Storage containers  
$50 pw  
A grade 20ft containers 
Good ventilation 
1 handle opening 
Lock boxes 
Long or short term hire 
Special rates for moving truck 
Call Gary  
021 902 087 
gary@fnkaipara.co.nz 
Trails end 
spiritualist gathering 
Last Sunday of every month  
11.30-2pm  
Tea/coffee provided  $5 koha 
For all inquiries: 
021 165 2629 evenings (09) 945 0707 
Trail.end@hotmail.com 
1758 Cove Road, Mangawhai
Bringing together light minded people 
Guest speaker each month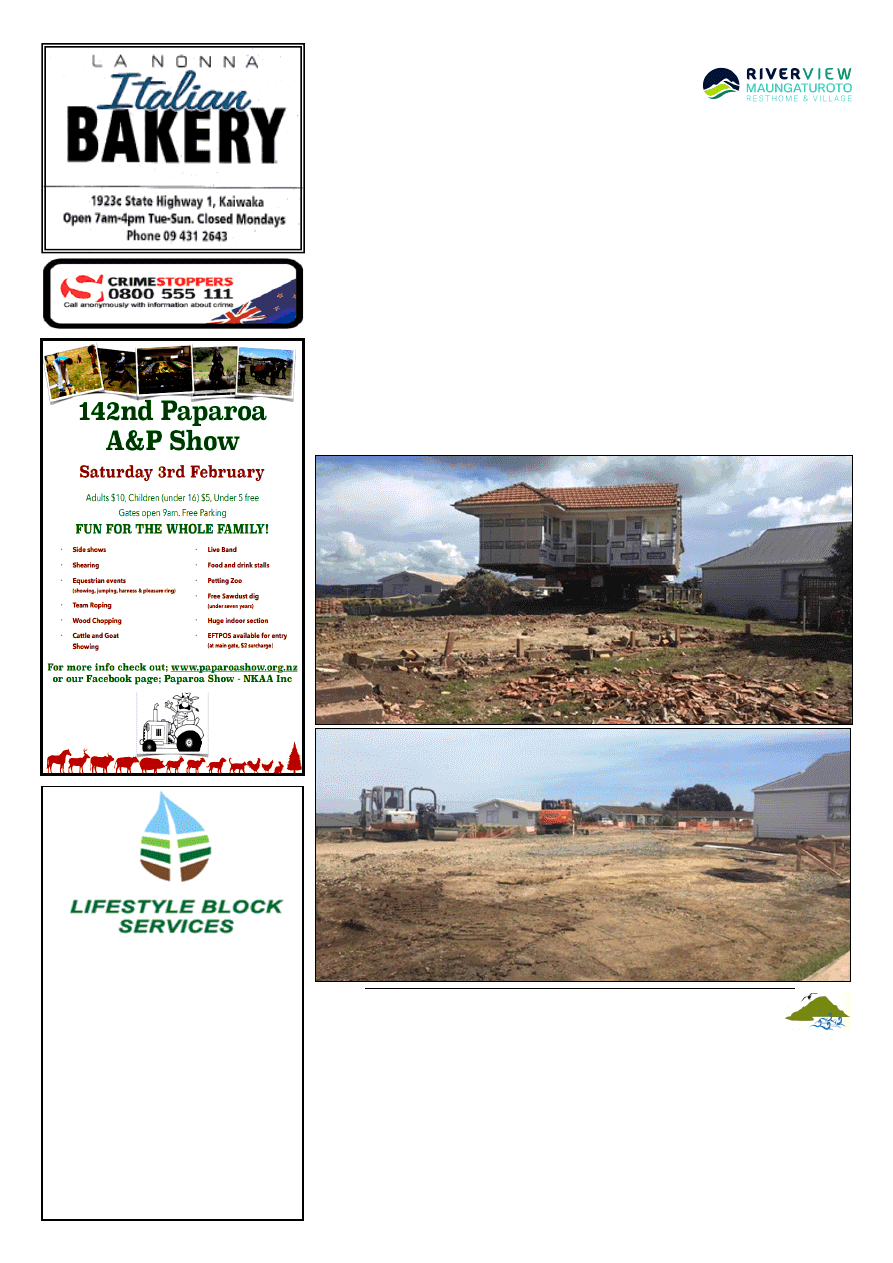 www.kaiwaka.co.nz 
Kaiwaka Bugle - 23 January 2018 
Page 15 
Make Baleage while the sun shines! 
Let us make hay/sileage for you, or 
buy single & 5 bale equivalents from 
us
. 
Contact Mark on 021 801 065 or 
Contact Lisa on 021 108 1057
We also do: 

Fencing 

 Spraying 

  Mulching 
 
Stockwork 

  Stock Water 
Systems 

  Tree Trimming  

 Driveway & Track Maintenance  
We  are  on  our  Way  -  the  start  of  the 
"Plan  For  the  future".  Just  before 
Christmas  the  two  rental  units  were 
demolished and thanks to Ably and his 
Den  team  some  of  the  value  was 
retained.  The  Vicarage  house  was 
loaded  onto  a  Poyner  trailer  and 
transported  to  its  new  location  at 
Marohemo. 
Over  the  beginning  of  the  new  year's 
working  week  Brogan  Builders,  under 
direction  of  Grant  Eager  and  his 
foreman  Ben  Huband,  with  help  from 
sub 
contractors 
Sean 
Huband 
Contractors  have  prepared  the  site  to 
commence  the  construction  of  Stage  1 
and 2 of the Plan. 
This  will  provide  eventually  a  14  bed 
dementia  unit  with  upgraded  kitchen 
for  the  existing  Resthome,  which  will 
future  proof  the  business  for  ongoing 
future need for expansion of services as 
funding  and  the  need  for  expansion 
dictates. 
We  are  indebted 
to the ANZ Bank 
for  their  support 
in underwriting the initial stages of this 
project,  however  there  is  now  a  real 
requirement for the community to step 
up  complement  and  support  the  huge 
financial  cost  of  providing  the  ever 
increasing  needs  of  our  ageing 
residents. 
There are many families in this District 
that  have  enjoyed  and  understand  the 
benefits  and  value  of  the  care that  has 
been  provided  to  their  loved  ones  on 
the ir home patch Aged care will affect 
all of us near to the end We encourage 
you to "Dig Deep " 
Any  donation  can  go  direct  To 
Maungaturoto  Charitable  Trust  ANZ 
acc  no  06-0365-  00014253-046  with 
your name or ph number as reference. 
We  have  Donee  status  for  Tax 
purposes.  
Don McKay, Trustee 09 4318308 
DEMENTIA UNIT UNDERWAY 
Pictures:  Out  with  the  old  for  a  new  beginning  -  looking 
south from Hurndall Street, Maungaturoto. 
KAIWAKA SCHOOL - Message from the Principal 
Hi there everyone,  
Welcome back to the 2018 school year.  
The school will be open for new enrolments and any sort of query from 9am-
2pm this week 22 -26 January. We will all be there on Friday, but the teachers 
will be in meetings all day.  
Stationery is purchased through OfficeMax, by ordering on line myschool.co.nz 
Kaiwaka School. Very easy.  
School starts on 7th February at 8.30am. There will be a powhiri for all the new 
students.  
Please email through any questions you have to principal@kaiwaka.school.nz or 
admin@kaiwaka.school.nz  This  is  the  best  way  to  get  a  reliable,  accurate  and 
quick response. 
Looking forward to seeing you all soon, Rosie Ellis, principal.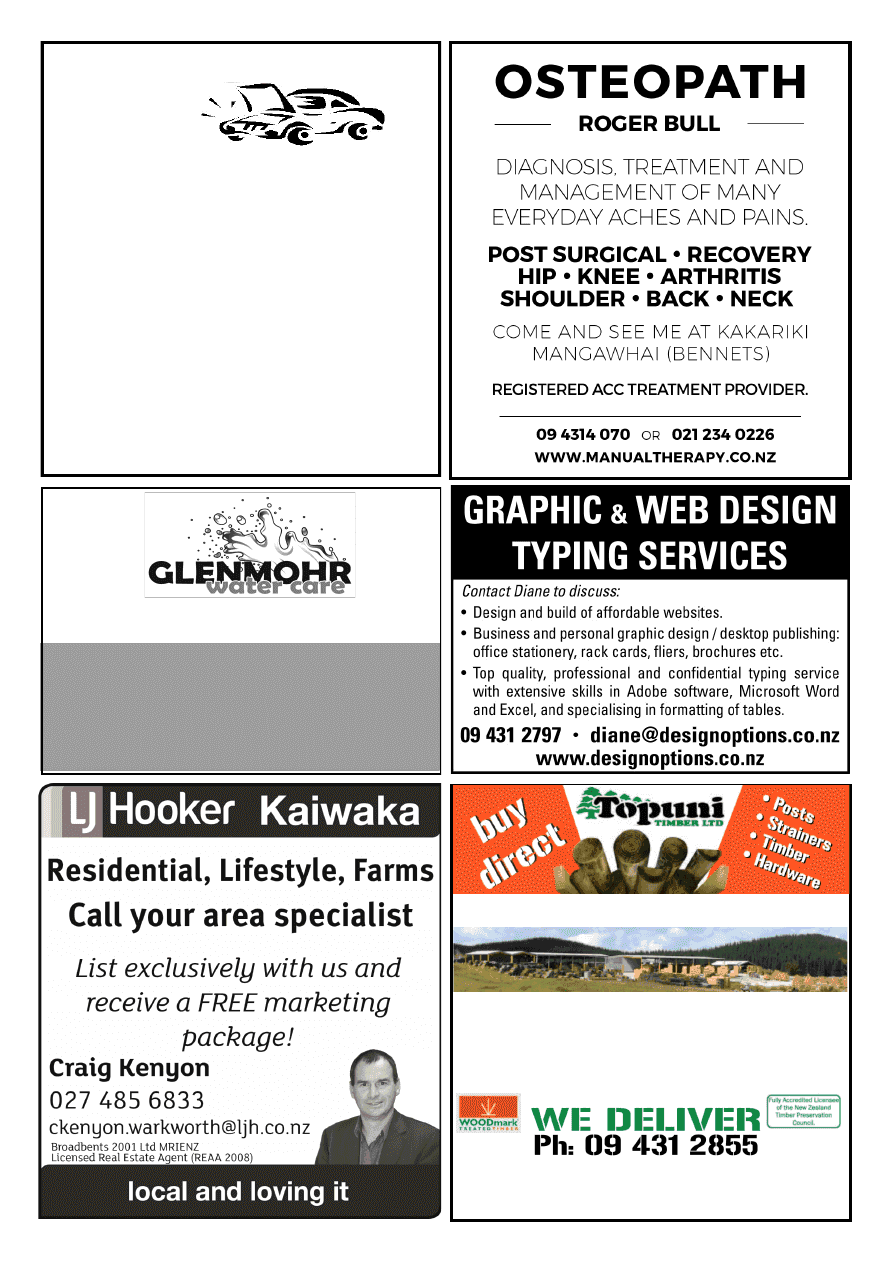 Water Tank Cleaning 
• 
Keep your water safe & clean  
• 
Removal of sediment, silt etc. 
• 
Vacuum or full scrub 
• 
Minimal water loss 
Phone Mark (09) 432 0655 or 0274 707607 
Twinkle Tow 'n' Tyre 
Think you'll get a better deal in the city? 
Ring us - it won't cost anything! 
1837 State Highway 1, Kaiwaka 
Phone 431 2823 
*W.O.F. 
*Tyres 
*Windscreen 
replacement 
*Chip repairs 
*Bulk Oil 
*Batteries 
*Welding 
*Custom built 
trailers 
*Trailer hire
LOCALLY OWNED AND OPERATED 
QUALITY PRODUCTS • FRIENDLY ADVICE • GREAT SERVICE 
Quality Products milled from High Density NORTHLAND Radiata Pine. 
Treated and guaranteed to NZS3640 with commitment to 
Environmental Safety.
Phone, fax, email, or come into the mill 
Schiska Rd, Topuni, SH1, 10 min north of Wellsford. Fax: 09 431 2856 
Email: sales@topunitimber.co.nz           Mon - Fri 7am-5pm 
• Fencing 
• Retaining 
• Decking 
• Landscaping 
• Gates 
• Hardware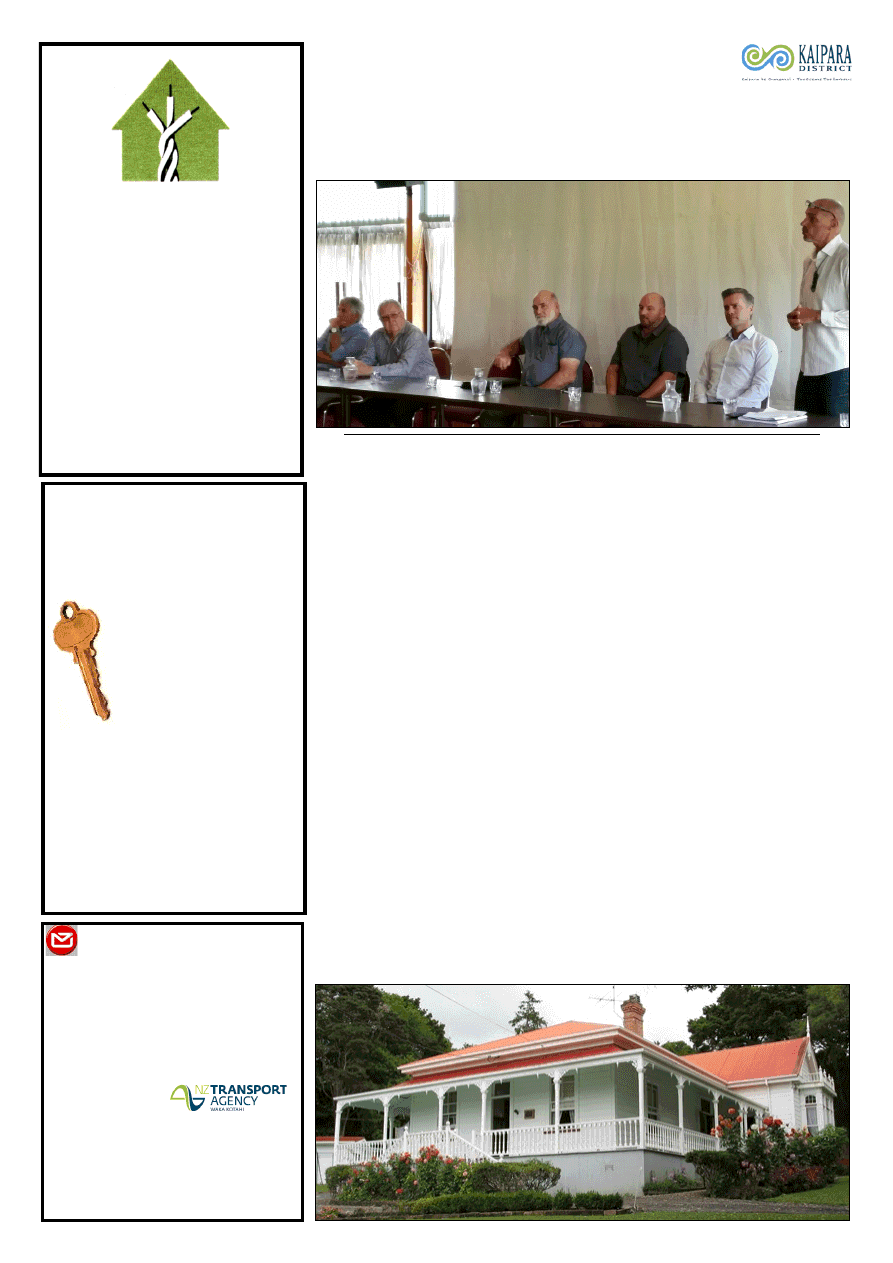 www.kaiwaka.co.nz 
Kaiwaka Bugle - 23 January 2018 
Page 17 
KDC MAYORAL CANDIDATES 
The  Kaipara  District  Council  mayoral  candidates  first  meeting 
was on Monday 15 January at the Kaiwaka Sports Complex. Stephen Soole is 
seen  here  speaking  to  an  audience  of  thirty.  The  mayoral  candidates  pictured 
from left: Peter Wethey, Bruce Rogan, Brian McEwing, Craig Woollam, Jason 
Smith, Stephen Soole. Jay Tane was absent, but Christian Simon was able to be 
present  for  the  question  and  answer  session.  See  the  Council  website 
ww.kaipara.govt.nz for more information. 
Reyahn George 
Leng 
Registered Electrician 
Local, honest and 
reliable. 
For your residential and 
light-commercial 
projects. 
022 314 1068 
Kaiwaka 
Hardware  
& 
Key cutting
Phone 4312 063  
or 022 0642 703
kaikey2015@gmail.com
    Keys Cut  
Household Hardware  
Sharpening  
Knives & Tools 
Curtain Tracks & Fittings
Not there? Call Doug and he'll 
sort
it for you. 
(
Next to Kaiwaka Motorcycles)
KAIWAKA  
POST CENTRE and 
FOOD MART 
Motor vehicle transactions  
Remember  to  check  your  vehicle 
Rego. and Road user Charges (RUC). 
We  can  do  all  motor  vehicle 
transactions here at the Postcentre. 
Be Legal and be Safe. 
THE  FOOD  MART 
will trade 
from 7.30am to 8pm over the summer 
period. ~ Mukesh and Pragna Patel. 
1919A State Highway 1, Kaiwaka 
09 431 2431 
Celebrate the arrival of summer at Totara House 
Totara  House,  a  grand  old  kauri  villa 
located in Matakohe, is celebrating 122 
years  this  year.  The  house  is  full  of 
quirks  that  tell  the  stories  of  George 
and  Emily  Smith's  family  who  lived 
between  its  kauri  walls.  From  the  row 
of rusty nails in the laundry which held 
the  family-sized  side  of  bacon,  to  the 
mantelpiece with numerous scratchings 
of  signatures  and  comments,  Totara 
House  has  a  story  for  everyone.  In 
recognition of this, The Kauri Museum 
has committed to regular open seasons 
where  the  house  will  throw  open  its 
doors  and  invite  visitors  and  locals 
alike  to  celebrate  family  holiday 
traditions. 
This  summer  we  are  paying  tribute  to 
the  many  hours  that  were  spent  in  the 
gardens. 
In the glory years, the garden at Totara 
House was a mass of flowering plants, 
always keeping the vases filled. Water 
lilies covered the lake at the end of the 
path winding through the totara trees. 
As  the  family  aged,  the  gardens  were 
restricted  to  fewer  plants,  but  Totara 
House  still  boasts  a  collection  of  over 
20 varieties of pelargoniums and more 
than  12  varieties  of  fuchsia.  In  later 
years,  dahlias  became  the  most 
favoured  plant.  Each  year,  the  Smith 
brothers  dug  up  a large  patch for  their 
sisters  to  plant  up  with  tubers.  A 
friendly  rivalry  with  their  cousin  Ned 
over who would win most points in the 
dahlia  classes  (and  ultimately  the 
Totara  House  Cup),  was  a  regular 
feature  at  the  Paparoa  A  &  P  Show. 
The  Kauri  Museum  CEO,  Lisa  Tolich 
says  "the  tradition  has  been  kept  alive 
with  the  green  fingers  amongst  our 
Museum staff carefully cultivating this 
year's entries in preparation for the big 
day". 
The  house  and  its  gardens  will  once 
again  be  open  to  the  public  for  four 
weeks  from  5  February  2018.  Hours 
are 10.00am – 2.00pm daily, including 
weekends. For a special treat, morning 
tea  will  be  offered  on  Sundays  18 
February  and  4  March  from  10.30  – 
11.30am. There will be tables set up in 
the  garden  for  extra  enjoyment  of  the 
magnificent  surroundings.  Come,  join 
us  and  help  keep  the  spirit  of  Totara 
House  alive,  with  all  proceeds  to  the 
Totara House Preservation Fund. 
Tickets:  $10.00  adults,  $5.00  children, 
can  be  purchased  from  The  Kauri 
Museum  with  special  rates  for  group 
bookings. Bookings, $15.00 adults, are 
essential for the Sunday morning teas. 
For  more  information  contact  The 
Kauri  Museum:  phone  09  431  7417, 
email admin@kaurimuseum.com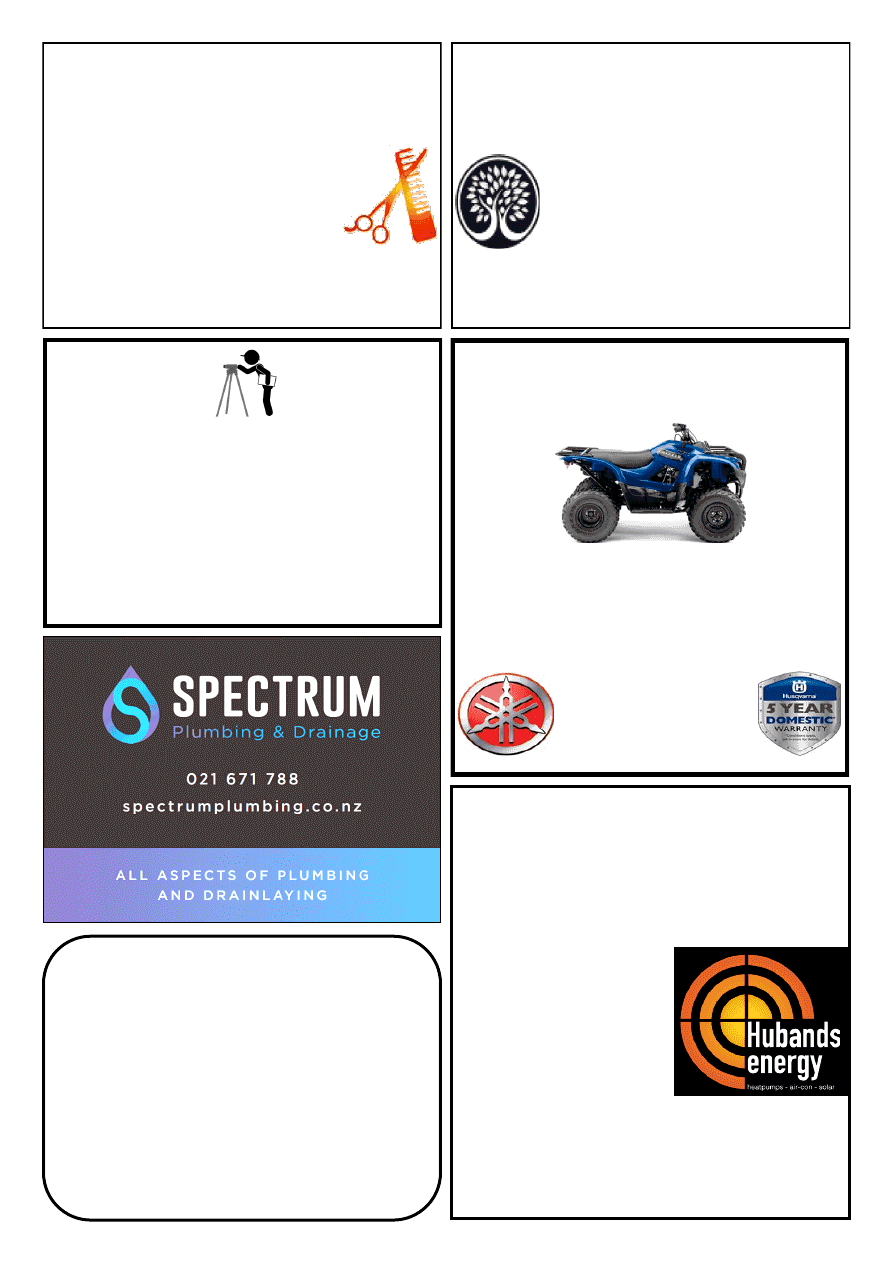 KAIWAKA 
MOTORCYCLES LTD
SALES – SERVICE – SPARES 
FARM BIKE SPECIALIST
PHONE 09 431-2127 
10 KAIWAKA-MANGAWHAI ROAD, KAIWAKA
Trimmers  
from $279
Chainsaws  
from $339
YAMAHA 
HUSQVARNA 
Northland's Award Winning 
Solar Company
SEANZ Best Solar Business Winners 2015/16
EXCLUSIVE 10 year installation warranty 
FREE No obligation onsite quote
Complete systems 
from $5990
See our range of: 
✓
Heatpumps 
✓
Airconditioning 
✓
Hot Water 
Heatpumps 
✓
Central Vacuum Systems
09 430 0019             sales@hubands.co.nz 
15 Kioreroa Road, Whangarei
Locally owned and operated for 35 years 
UP-LINK 
CHRIS WARING 
FREEVIEW INSTALLATIONS 
T.V. - HOME THEATRE &  
HI-FI ADVICE/SET UP
SKY ACCREDITED INSTALLER
MOB.0273403747 HM.094312328 
EMAIL cwaring44@gmail.com
28 YRS EXPERIENCE 
OFFERING UNBIASED ADVICE 
Ken Urquhart 
BSurv Licensed Cadastral Surveyor 
KMU Surveys Ltd
467 Bickerstaffe Road 
RD 2 
Maungaturoto 0587 
Ph 09 431 8705 
Mob 021 161 2344 
kenurquhart@xtra.co.nz 
Waipu Natural Health 
3 Cove Road, Waipu  (opposite the Pizza Barn) 
Ph: 09 432 1325 
www.waipunaturalhealth.co.nz
Clinical Nutritionist-Hair Analysis for Masked 
Allergies, Ozone Therapy, Prolotherapy, 
Naturopath-Medical Herbalist, Registered 
Massage Therapists, Reflexology-
Craniosacral Therapy, Acupuncture-Facial 
Acupuncture, Kineso Taping, Hypnotherapy, 
Counselling, ThetaHealing, Beauty Therapy
KIDS DAY – AFFORDABLE HEALTH SUPPORT 
FOR KIDS – every Wednesday 
(call us or drop in)
Gift Vouchers available
AFFORDABLE PRICES! 
MENS CUT FROM $20.00 
LADIES CUT FROM $30.00 
KIDS CUT FROM $18.00 
COLOUR & CUT FROM $120.00 
JUST CUTS'AND   
MORE 
021 165 2629 or (09) 945 0707  
NOW SELLING: scented tealights, incense, smudge sticks, 
copper bracelets, aurora ball crystals, dream catchers, healing 
stones, rose quartz, cds, and much more. Open 6 days.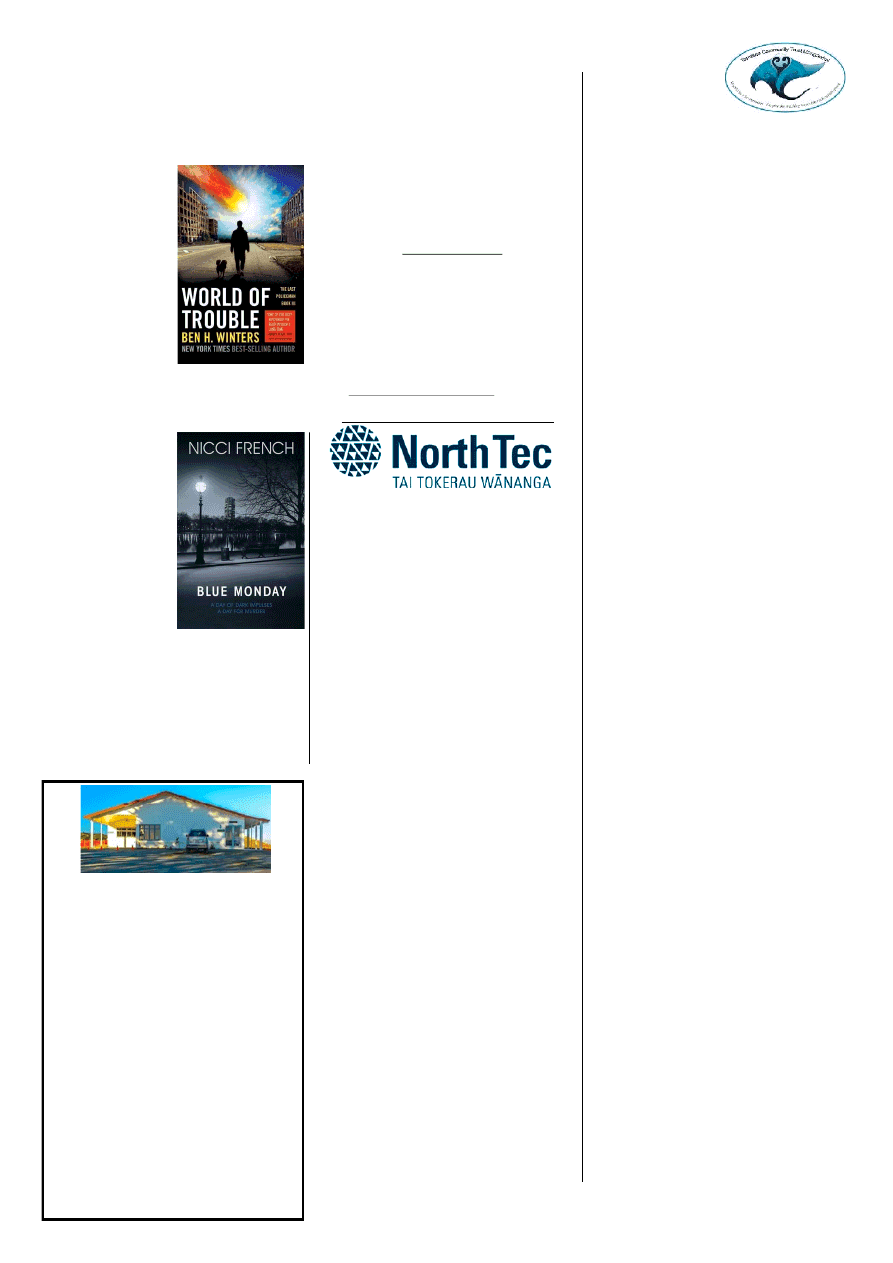 www.kaiwaka.co.nz 
Kaiwaka Bugle - 23 January 2018 
Page 19 
Te Pounga Marae 
130 Nathan Rd. Oneriri. Kaiwaka 0573 
COMPLEX FOR 
HIRE 
Functions 
* Weddings  * Birthdays  
*Anniversaries * Meetings  * Wananga 
5 hour meeting * 12 hour stay  * 
Overnight 
*All welcome - No more Drink-driving 
Amenities: 
*Convo Combi Steamer * Bratt Pan * 
Dish Washer/Sterilizer * 3 Door Glass 
Chiller (walk in) etc…All Crockery * 
Linen Supplied * Central Heating and 
Air Conditioning and much more.  
Can also cater for small groups…. 
For more information please contact: 
Kim Wallace  
Home: 09 832 1133  Mob: 0211275340  
Email: kimwallace@xtra.co.nz 
KAIWAKA LIBRARY 
Te Whai 
Community 
Trust 
Mangawhai 
Events Programme to April 2018 
The  education  sessions  are  free. 
However,  please  assist  us  by 
registering  via  the  instructions  below 
and  if  you  can't  come  at  the  last 
moment,  please  let  us  know.  We  look 
forward to meeting you at one or all of 
these sessions. 
January 2018  
Wednesday  31st  – Looking after your 
skin in the sun. Free mole checks with 
Dr David Hassan, skin doctor 
10 – 12md, Te Whai office at Pioneer 
Village, Molesworth Dve. 
February 2018  
Thursday  22nd  – Power of Attorney 
& Elder Abuse issues workshop. 
Preparing  a  Living  Will,  getting  a 
power  of  attorney  before  you  need  it, 
common issues for older people 
Facilitator: Age Concern Rodney 
1  –  4pm,  Te  Whai  office  at  Pioneer 
Village, Molesworth Drive. 
Saturday 
& 
Sunday 
24/25th 
Sculpture  in  the  Garden  Te  Whai 
fundraiser  sale  at  69  Moir  St.  Entry 
fee. Details to be advised shortly. 
March 2018  
Sunday 5th – Te Whai Run. 
A  Te  Whai  Community  Trust 
fundraiser 
for 
motorbikes 
and  
pedallers from Kaiwaka to Mangawhai 
Taverns.  $30  pre-registration  fee  via 
Eventbrite 
For 
more 
information 
contact 
021685851. 
Thursday  15th    -  disability  support 
services 
Northland 
– 
advice, 
assistance.  Discuss  any  issues  you 
have  with  the  advisor  from  Northable 
directly 
Facilitator: Northable 
10am – 11.30am at the Te Whai office 
in the Pioneer Village. 
Tuesday  20th  -  a  discussion  for 
parents  about  cybersafety  –  what  to 
look for, how does social media really 
work for your teen, traps & dangers 
Facilitator:  Celia  Thompson,  adviser 
on cybersafety to schools 
7pm – 8.30pm at the Te Whai office in 
the Pioneer Village. 
April 2018  
Tuesday  17th    -  BandAids Don't Fix 
Bullet Holes – what you really need to 
know  about  Methamphetamines,  the 
truth and the fiction 
Speaker:  Christina  Stroud,  author, 
Rehab Centre director, trainer 
7pm  –  8.30pm,  Te  Whai  office  in 
Pioneer Village. 
To register: 
Please  email  your  name,  phone 
number and the name of the session 
you  want  to  attend,  to  "Attn  Liz, 
haitrust@gmail.com"  or  phone  on 
021714543. Registration is required. 
World of Trouble 
I've  discovered  on  Overdrive/Libby  a 
follow-up  third  book  to  The  last 
policeman  series  I  reviewed  last 
November. World of trouble by Ben  H 
Winters  picks  up  where  Countdown 
city  left  off,  with 
Henry 
searching 
for his sister before 
the world comes to 
an  end  via  a 
collision  with  an 
asteroid.  I  enjoyed 
it  as  much  as  the 
first  two.  We  don't 
have  this  book  on 
our  shelves,  so  if 
you've read the first 
two,  want  to  read 
this  one,  but  don't  have  access  to 
Overdrive to catch up, let me know and 
I'll  see  if  I  can  locate  a  copy  for  our 
library. 
Blue Monday 
By  Nicci  French, 
this  is  a  gripping 
story of a little boy 
who is snatched off 
the  street;  it's  the 
first  book  in  a 
series of seven, and 
has 
been 
very 
popular 
in 
our 
library.  This  book 
is  free  to  borrow 
from  our  shelves, 
and  the  rest  of  the  series  are  on  the 
Rental  Fiction  shelves  and  50c  to 
borrow for a month. 
The Antipodeans 
By  Greg  McGee,  this  story  "spans 
three  generations  of  a  New  Zealand 
family  and  their  interaction  with  three 
families  of  Northern  Italy.  From 
Venice  to  the  South  Island  of  New 
Zealand,  from  the  assassination  of  a 
Gestapo  commander  in  WWII  to 
contemporary  real  estate  shenanigans 
in 
Auckland, 
from 
political 
assassination in the darkest days of the 
Red Brigade to the vaulting cosmology 
of particle physics, The Antipodeans is 
a  novel  of  epic  proportions  where 
families  from  the  opposite  ends  of the 
earth  discover  an  intergenerational 
legacy 
of 
love, 
blood 
and 
betrayal."  (goodreads.com)  I  had 
marked  this  book  as  one  I  wanted  to 
read when it first came out a couple of 
years  ago,  and  it  did  not  disappoint. 
This  book  is  on  the  Rental  Fiction 
shelves in the library. 
See you in the library! ~Wendy 
Kaiwaka  Library,  cnr  State  Highway  1  and 
Kaiwaka  Mangawhai  Road. PO Box  89,  Kaiwaka 
0542. 
Phone 
4312 
539. 
Email 
10am-2pm,  Mon  4-6pm.  Free  membership  is 
available to all residents in the Kaiwaka area.
NorthTec is a great 
option after NCEA 
NorthTec  enrolment  advisors  are 
available  to  help  secondary  school 
students  following  today's  release  of 
National  Certificate  of  Educational 
Achievement (NCEA) results. 
The  enrolments  team  can  give  advice 
on  future  study  plans  in  a  wide  range 
of  subjects  at  all  levels.  They  are 
happy  to  talk  to  students  or  parents 
about  the  many  options  available  to 
school leavers at NorthTec. 
Students wanting to enrol at NorthTec 
need  to  do  so  by  5  February.  Many 
will  be  eligible  for  the  Government's 
fees-free  scheme  for  the  first  year  of 
tertiary  education,  making  21018  a 
great year to sign up for further study. 
For  students  who  have  passed  their 
UE,  NorthTec  gives  the  option  to 
study  for  degree  programmes  while 
staying close to home. 
Programmes available range from fees
-free  study  at  level  2  up  to  diplomas 
and  degrees,  and  include  a  range  of 
practical, hands-on programmes with a 
strong focus on workforce preparation. 
Whatever  their  subject  or  study  level, 
NorthTec  students  are  supported  to 
complete 
their 
qualifications 
successfully  and  move  into  higher 
level study or employment. 
NorthTec  has  campuses  and  learning 
centres  throughout  Northland,  in 
Whangarei,  Dargaville,  Kaikohe  and 
Kaitaia,  with  additional  community-
based locations. 
Any  students  or  parents  who  would 
like  advice  following  NCEA  results 
can  call  NorthTec  on  0800  162  100. 
Information  about  all  programmes  is 
also available at www.northtec.ac.nz. 
To  find  out  if  you  are  eligible  for the 
Government's fees-free  scheme,  go  to 
www.feesfree.govt.nz.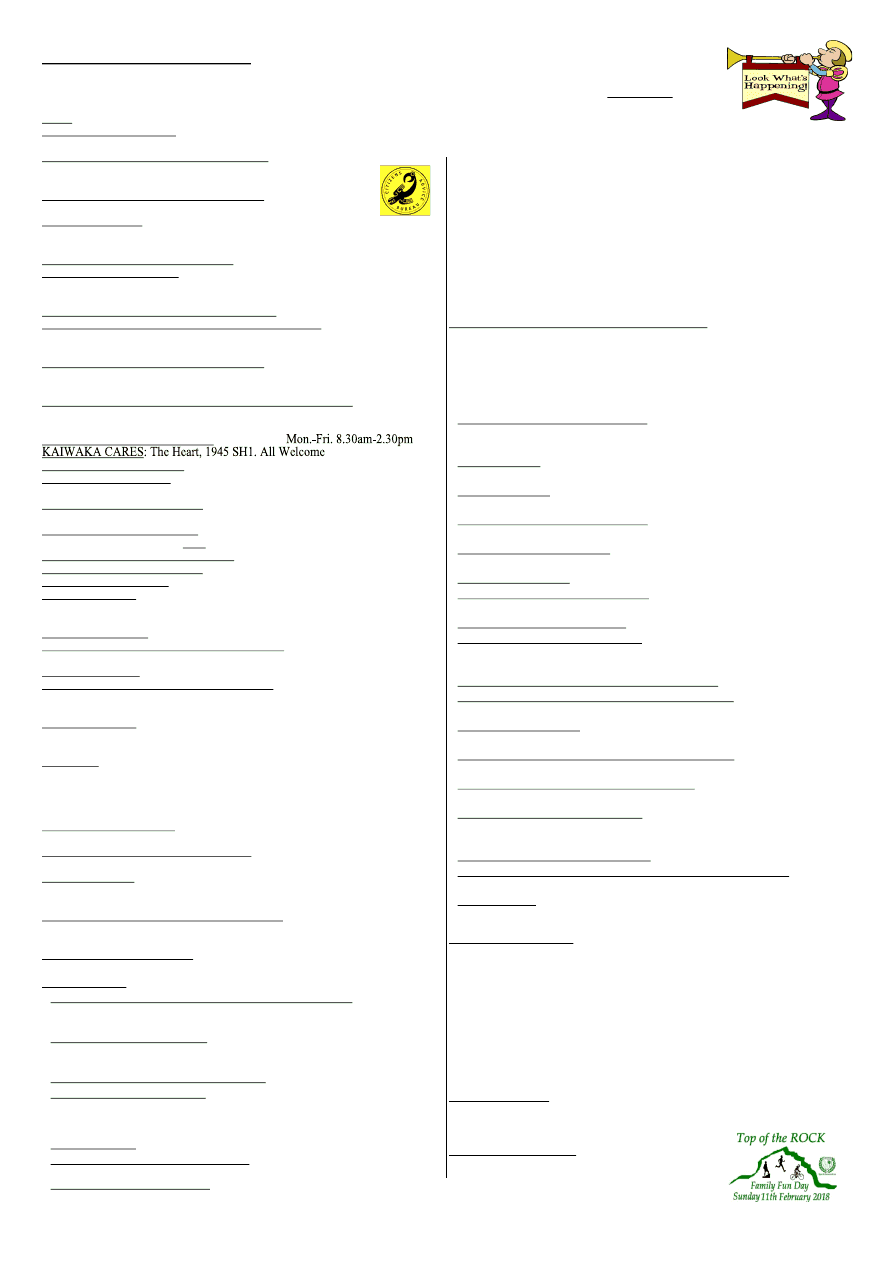 Next Bugle Deadline midday Friday 2 February 2018
WHAT'S ON
PLEASE ~ do let us know what is on - email 
kaiwakabugle@kaiwaka.co.nz 
*26 Jan~ ' Victoria and Abdul', 7.30pm KWMH 
*27-28Jan~Otamatea Tennis Tournament, KSA 
*28Jan~'Captain Underpants', 2pm KWMH 
*30Jan~Otamatea High School-
Year 7, Year 13 & new students  
*31Jan~Otamatea High School-whole school to attend 
31Jan~Super moon visible in night sky 
*7Feb~Kaiwaka School, first day Term One 
*8Feb~OHS swimming sports 
*10Feb~Rotary Horse Trek, contact 0273788982 
*
11Feb~ Top of the Rock, KSA Event
*17Feb~Final day for KDC mayoral by-election voting 
KWMH = Kaiwaka War Memorial Hall; KSA = Kaiwaka Sports Association 
See www.kaiwaka.co.nz for more information 
HOUSEHOLD RUBBISH COLLECTION  
Kaiwaka Pick up: 
Mondays = Green bags (Northland Waste - 09 430 3273) 
Wednesdays  = Blue bags and yellow recycling (at Jaques $3.00 
and  $1.50)  (Kaurilands  09  4392146);  ONLY  Blue  and  Yellow 
bags picked up on Oneriri Road. 
 DIABETES  Support  Group  -for  Kaiwaka,  Mangawhai, 
Wellsford  10am,  3rd  Friday  of  month  Ph:  Colleen  James  09 
4314238 
 DRINK CAN 'tear tabs' - for Starship Hospital- please collect - 
98 Kaiwaka Mangawhai Rd, leave in mailbox, Ph. 4312625  
 GENEALOGY - Wellsford: 1st Thursday in month Ph: 423 
7033; Waipu: 4th Monday in month Ph: 4312 725 
 GYMNASTICS  OTAMATEA  -  Tuesday  Ph:  Stephanie  022 
3624998 
 HAKARU PONY CLUB - Secretary Denise Rogers 021423376 
secretary@hakaruponyclub.co.nz  
 KAIPARA HUNT - Secretary Albert Doonenbal Ph 4312059 
 KAIPARA YONG FARMERS - K Danks  0211598453, meet on 
last Thursday of the month at Three Furlongs Bar & Grill 
 KAIWAKA BADMINTON -Tuesdays 7.30pm Ph: 4312345 
 KAIWAKA  DRAMA  CLUB  -  Dave  Edwards  021  611198  - 
KaiwakaDrama@gmail.com Monday 5:30-7:00pm KWMH - FB 
- "KaiwakaDramaClub" 
 KAIWAKA DRUM & DANCE CLASSES - 021 611198 
 KAIWAKA GARDEN & FLORAL GROUP - 2nd Thursday in 
month. Ph: 431 4744 
 KAIWAKA  CUBS  -  Thursdays  5.30-7pm,  Hakaru  Ph:Bruce 
4312542 
 KNITTING FOR WHANGAREI HOSPITAL - 2nd Tuesday in 
month, Archie Bull Hall 10am Ph 4314827 
 MANGAWHAI COMBINED REBUS CLUB - 2pm, 3rd 
Thursday month, Senior Citizens Hall Mangawhai. Ph: 4315777 
 OTAMATEA GREY POWER - Kath Pattinson 09 283 2052, 
1pm last Wednesday of month, Anglican Church Hall, 
Maungaturoto 
 PT CURTIS CRUISING CLUB - Jean Ph: 4312227 (wk), 4312520 (hm) 
 RSA,  HAKARU  &  DISTRICTS  WOMEN'S  SECTION  –  meets 
1.30pm 4th Thursday of the month. Ph: 431 5818  
 TRAMPING - Mondays 9am-2:30pm Maria 4312 234 
HALLS FOR HIRE: 
 St.Pauls Archie Bull Hall HIRE $20 half day, $40 full day per 
hire, R. Morgans, Ph 4312365 
 Kaiwaka  War  Memorial  Hall  HlRE  -  Phone  4312725  or 
kaiwaka.hall.bookings@gmail.com 
 Hakaru Community Hall HIRE -Ph. 4312256 or 4312110 
 Te Pounga Marae queries - R. O'Leary 4312 423, J.Nathan 021 
186 7382 
 Kaiwaka Sports Association hire/queries - C. Anderson 4312051 
or kaiwakasports@gmail.com 
Justice of Peace:  
B.FJaques  4312  048;  L.Donaldson  4312  228;  A.F.Hargreaves 
4312 045, W.Howard 4312 725 - please phone to make sure they 
are available www.justiceofthepeace.org.nz 
Marriage Celebrants:  
L.Donaldson; A.F.Hargreaves; Y Osborne
LOCAL SERVICES 
*Emergencies - Ambulance, Fire, Police - dial 111 
*Non-urgent Police phone 09 4311150
A A: Meets Wed., 8pm Kaiwaka Ph: 4315543, 0800229 6757 
ASUREQUALITY LTD (was AgriQuality) Call Free 0508 0011 22  
BUDGETING SERVICE, WELLSFORD: Free confidential advice & 
support for all areas of personal finance. Ph (09) 423 7123 
CAB-Citizens Advice Bureau.Wellsford Ph: 4237333 
0800 367 222 email:cab.wells@xtra.co.nz  
CIVIL DEFENCE - Kaiwaka Community Response Group: 
kaiwaka.civildefencecrg@gmail.com, 4312725 Wendy 
DOG/STOCK /NOISE CONTROL 0800 105 890 
FUNERAL SERVICES: Morris & Morris Ltd, 
Whangarei - Bev Jaques Ph:4312367 or 0800667747 
GRANDPARENTS Raising Grandchildren: Dianah Roberts 0223819539 
HAKARU & DISTRICTS MEMORIAL RSA (Inc) 733 Settlement Rd, 
Hakaru. Ph 4312 176 or Graeme Hitchcock (President) 431 3064 
HAKARU LANDFILL/Transfer Station:Open everyday except 
Tuesday10am-4pm.Ph4312629 Cost-$55 trailer load up to 1 cubic metre. 
Ph:4258567 - office 
KAIPARA DISTRICT COUNCIL www.kaipara.govt.nz:  
Help Desk FREEPHONE 0800 727 059  
KAIWAKA KOHANGA REO: Ph:4312620 
KAIWAKA CEMETERY: Ph: 4312045 or 4314017 
KAIWAKA LIBRARY: kaiwaka.library@gmail.com  
Mon. 4-6pm; Wed., Thurs., Fri., Sat. 10am-2pm Ph:4312539 
KAIWAKA PLAYCENTRE: Ph Juanita 0274134904; open Mon, Wed, 
Fri 9am-12pm. Hastie Lane; Monday to Friday 9.00am - 12 noon. 
KAIWAKA POST OFFICE:Ph:4312 431  
Post Code: 0573 for RD2 and 0542 for all Kaiwaka Post Office mail 
KAIWAKA PRIMARY SCHOOL: Ph: 4312309   
KAIWAKA SPORTS ASSN: Ph 4312005; 4312129 gym 
KAIWAKA ST JOHN: Manager Steve Rosser 09 4318403, 021 355734 
KATE'S PLACE Community Centre - Employment services, Free Health 
Nurse, Plunket, Advocacy, Osteopath, A.A., Legal Advice. 4312 661 
LINKING HANDS Health Shuttle Ph 4315906 or 09 4318969 
MINISTRY FOR PRIMARY INDUSTRIES - General inquiries Call 
Free 0800 008 333 
NORTHPOWER: Faults Kaiwaka area 0800 104040 
OTAMATEA COMMUNITY SERVICES: Counselling, parent coach, 
Family Support worker, budget advice, food bank. Mon-Fri 9am-3pm. Ph 
09 431 9080 http://www.otamateacs.org/ 
PARENTPORT: Free, practical family support service Puhoi to Paparoa 
Ph or txt: Dianne 027 280 5093 or 09 425 9357 
PLUNKET:  Kaiwaka  -Kate's  Place  Clinic  1st  Wednesday  of  the  month; 
Mangawhai  - Rose Madsen Cottage: Coffee Group 9:30 every Monday.  Clinic 
every Monday and Thursday. 
Maungaturoto - Good News Church, Clinic 2nd and 4th Wednesday.  
Cynthia 09 431 7340 or 027 675 3488 
PLUNKET HELPLINE -0800 933 922 (24 hours) 
TAITOKERAU COMMUNITY LAW: Free confidential legal advice and 
assistance, 2nd
Thursday
 of each month. Ph: 0800 155 529 for apps.  
TE URI O HAU Settlement Trust Tangata Developments: Whanau Ora 
021 793262  
VETERINARY SERVICE MANGAWHAI: 
Ph: 4314535 Mon-Fri 8.00-5.00, Sat 9-12, a/h appt. 
WELLSFORD DOCTORS: Ph: 4238 086 
CHURCHES:
 
Kaiwaka  Revival  Church  -  Your  Community  Church:  Sundays  10am. 
Ph: Pastor Tawhiri 09 431 8988 or Pastor Paul 09 4312 068 Visit us at 
www.facebook.com/kaiwakachurch 
 
St  Paul's  Anglican  Church  1st  Sun.  9.00am  (Eucharist),  3rd  Sun. 
9.00am (Family Service). Contact: Rev. Wayne Thornton Ph 431 4122 
www.mangawhaianglican.org.nz 
 
Church of Christ the King, Mangawhai:9.30am every Sunday 
 
St.Mary's  Catholic  Church:  Maungaturoto  –  Griffins  Road,  Saturday 
evening  Vigil  Mass  6pm;  Mangawhai  –  Senior  Citizens  Hall,  Sunday 
Mass  8:30am;  Wellsford  –  Matheson  Road,  Sunday  Mass  10:30am;  
Mid-week Mass times and all enquires to Fr. Bill Fletcher – phone 423 8170
 
Baptist Church: Sun. 10.30am Mangawhai Snr Cit.Hall.Ph:4312339 
 
Cause  Way  Church  Mangawhai:  Sundays  10.15am,  Mangawhai 
Community  Recreation  Centre,  Insley  St.  Ph:  09  4314782