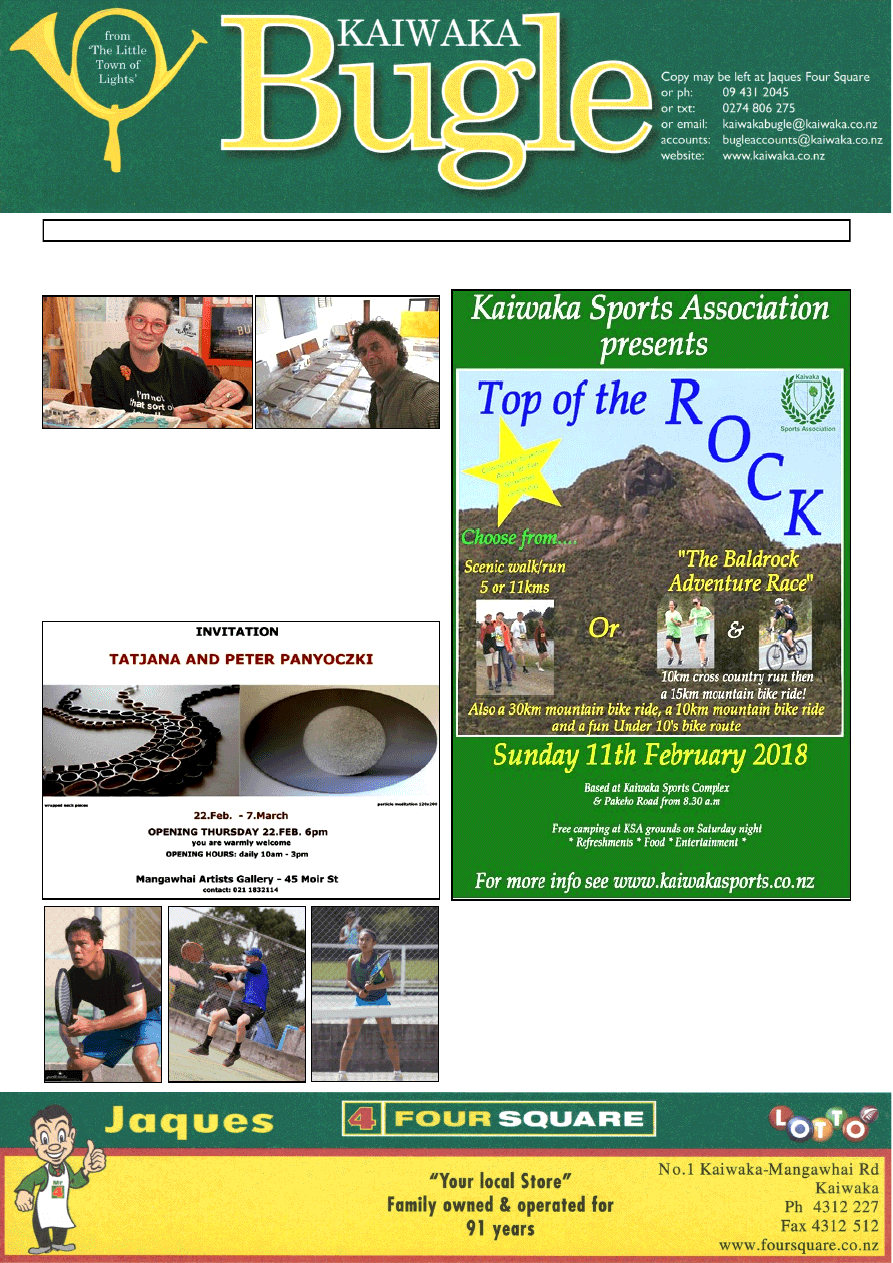 www.kaiwaka.co.nz 
Kaiwaka Bugle - 6 February 2018 
Page 1 
No: 2 
6 February 2018 
Trading Hours: 
Monday to Friday 8:00am - 6:30pm 
Saturday 8:00am - 7:00pm 
Sunday 9:00am - 6:00pm  
TO VIEW KAIWAKA  
OTAMATEA  68TH TENNIS 
TOURNAMENT 
The  weather  was  hot  and  fine  for  the  very  successful 
tournament held at the Kaiwaka Sports Complex on  27 and 
28  January.      Many  of  the  players  and  supporters  enjoyed 
the opportunity to camp alongside the courts.  
Photos:  From  the  left-Roel  Loyola,    Matt  Alexander-Winner 
Men's Singles, Eliza Dominique Clamor-Winner Women's Singles 
~ by Sparkle Media NZ 
Tatjana  and  Peter,  above,  working  from  their  studios  in 
Kaiwaka.  Hungarian  born  Peter,  is  an  internationally 
acclaimed painter and sculptor, and Swiss born Tatjana, is 
one  of  New  Zealand's  leading  contemporary  jewellery 
artists, moved to this area twenty years ago with their son 
Janos. 
Mangawhai Artists' Gallery welcomes their first exhibition 
in Mangawhai - opening on Thursday 22 February at 6pm 
until Wednesday 7 March. In this exhibition you will see a 
glimpse  into  their  world  of  making  and  creating  a  broad 
range  of  works.   
Ref. Peter www.panyoczki.ch; Tatjana - Fingers 
Gallery, Masterworks and Avid.  
KAIWAKA'S ARTISTS 
Peter Panyoczki and Tatjana Panyoczki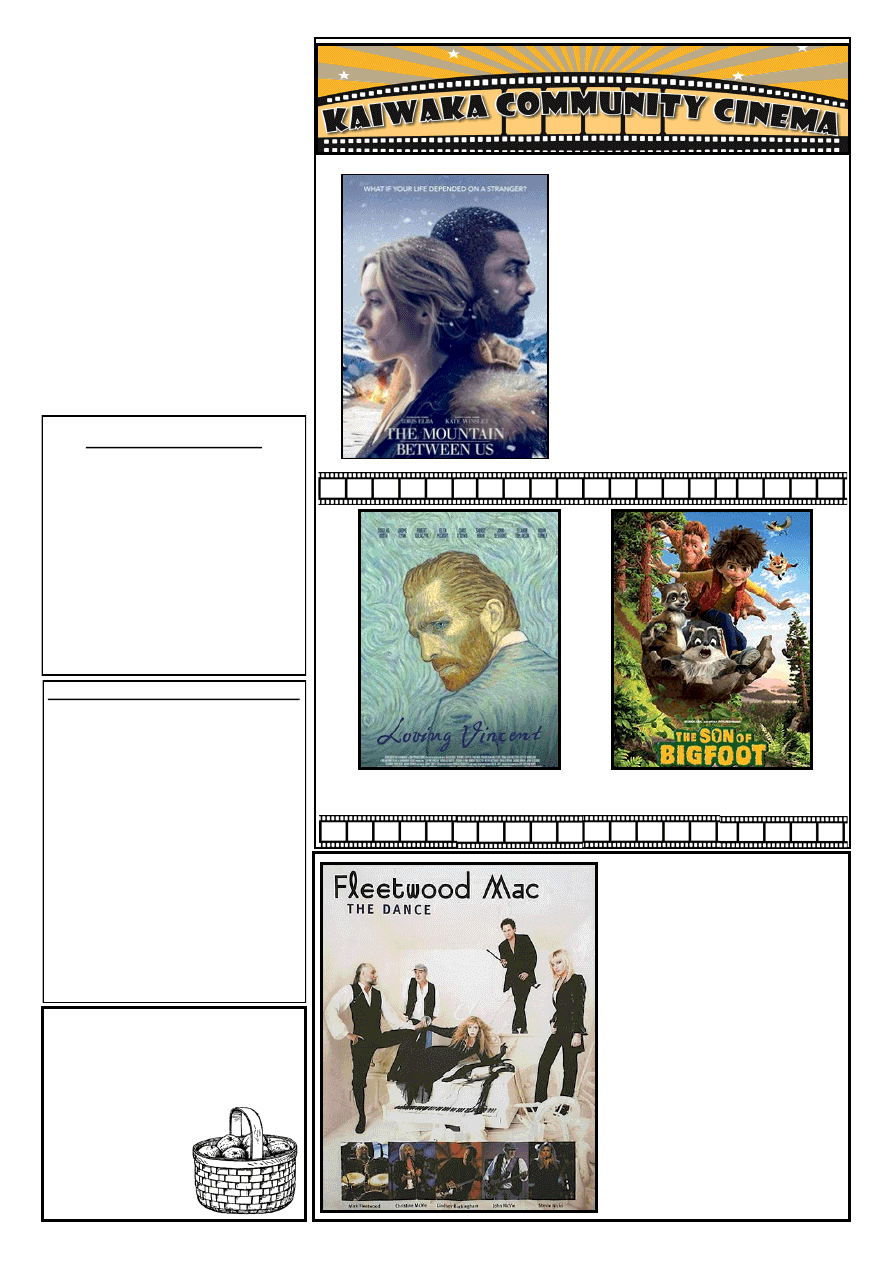 At Kaiwaka War Memorial Hall . Adults $10, Kids (under 16) $5, Family Pass (2 adults + 3 children) $25 
KAIWAKA BUGLE No. 2 
6 FEBRUARY 2018 
CONTENTS 
Page 3: Public Notices, Classified 
Page 5: RSA Women's Sec; Weather 
Page 7: Top of the Rock; Bugle 
Deadlines 
Page 9:  Seniornet; Walking Weekend 
Page 11: ANZAC; LED Lights-KDC  
Page 13: Kaiwaka Sports Assn. 
Page 15: Rubbish; Aerial topdressing 
Page 17:Whanaunga Tournament  
Page 19: Thelma's Scrapbook; Te 
Manawa Tahi 
Bugle 3 will appear 20 February 
Contact for advertising, reports, articles 
or information can be made by 
Email kaiwakabugle@kaiwaka.co.nz 
Ph: 09 4312 045 Lindsey 
Txt: 027 2724137 
Copy  may  be  left  at  Jaques'  Four 
Square. 
Kaiwaka Bugle 
Founded May 1978 
We appreciate articles and photos about local 
events, etc, as well as ads and suggestions. 
Copies available in Kaiwaka at Jaques Four 
Square, Kaiwaka Postal Centre, Shamrock 
Service Station, Animal Health Centre, 
Kaiwaka St John shop. 
Also outlets in Maungaturoto, 
Mangawhai and Paparoa. 
Can be viewed online at   
www.kaiwaka.co.nz/Bugle  
Or a copy can be posted to you if you supply 
stamped, self-addressed DLE envelopes. 
Loving Vincent 
Friday 23 February, 7.30pm (M)
The Son of Bigfoot 
Sunday 25 February, 2pm (G) 
Pro
verbs 25:11  
Timely advice is as lovely 
as gold apples 
in a silver 
basket. 
Kaiwaka Bugle Advertisements 2017: 
All 
copy 
and 
queries 
to: 
kaiwakabugle@kaiwaka.co.nz 
The Bugle is printed on an A4 page   
Ad  sizes:  1/16  page  (3  x  9.5cm)  $5;  1/8 
(6.5  x  9.5cm  landscape  or  portrait)  $8; 
3/16 ( 10 x 9.5cm or 7.5 x 12,5)  $12.  
Classified  ads:  First  one  FREE,  $4  per 
entry (max. 30 words, max. 4 repeats). 
Payments  can  be  made  online  at 
ANZ 
06  0365  0006990  00
,  posted  or  left  at 
Jaques Four Square Store. 
We  use  Microsoft  Publisher,  and  can 
work  with  most  common  image 
formats, Word, Excel, and PDF files. 
Accounts:  
Email: bugleaccounts@kaiwaka.co.nz 
The  Kaiwaka  Bugle  is  a  community 
newspaper run by volunteers.   
Articles, etc. printed are not necessarily 
the opinion of the Bugle Team. 
THE MOUNTAIN  
BETWEEN US  
(M)
Friday 9 February, 7.30pm 
Stranded after a tragic plane crash, two 
strangers must forge a connection to 
survive the extreme elements of a remote 
snow-covered mountain. When they 
realize help is not coming, they embark 
on a perilous journey across hundreds of 
miles of wilderness, pushing one another 
to endure and discovering strength they 
never knew possible.  
The film is directed by Academy Award nominee 
Hany Abu-Assad and stars Academy Award 
winner Kate Winslet and Idris Elba.
Fleetwood Mac 
THE DANCE (M) 
Friday 9 March, 7.30pm 
Kaiwaka  Music  
Movie  & Supper 
Night Out 
BYO drinks 
$20.00 tickets  
Ticket entry only 
Ph: 021 2154495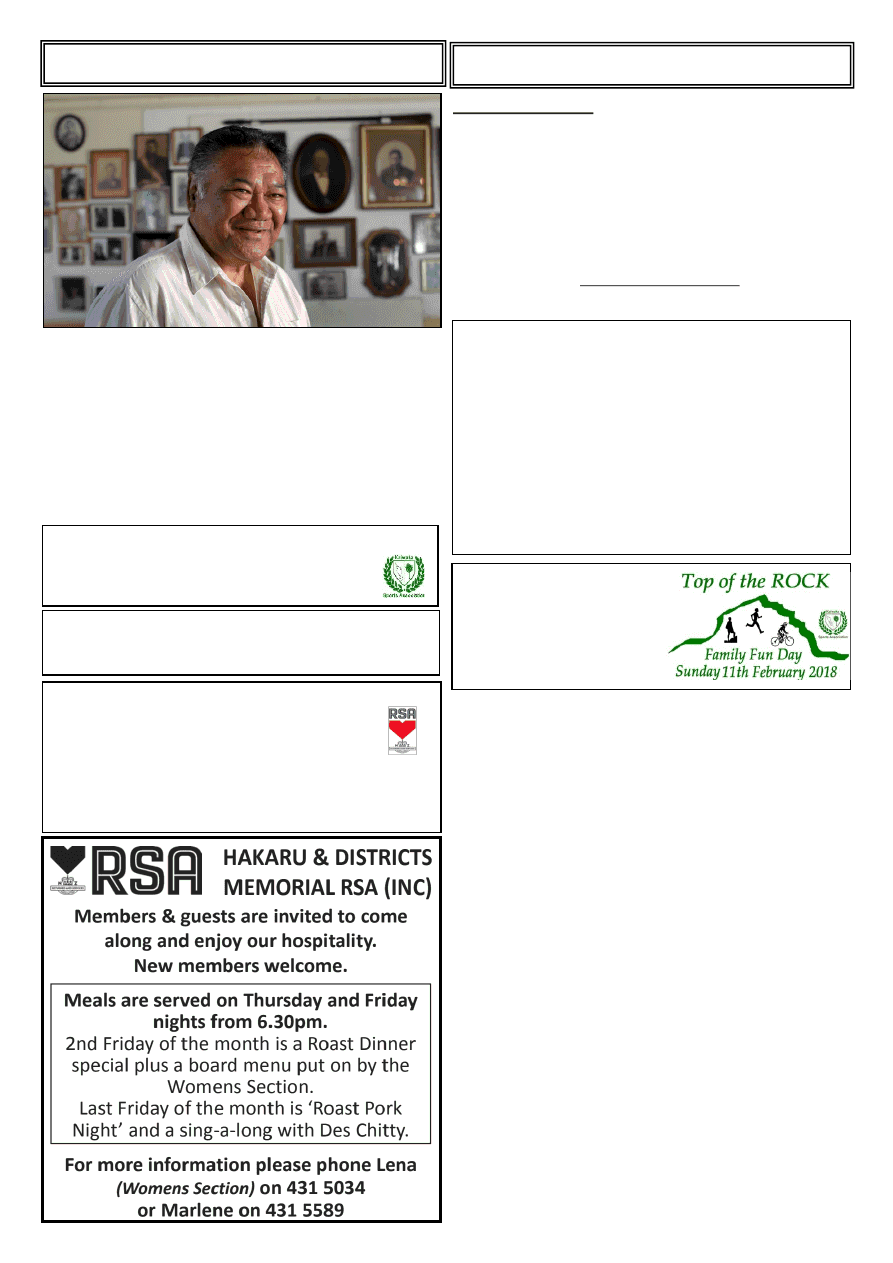 www.kaiwaka.co.nz 
Kaiwaka Bugle - 6 February 2018 
Page 3 
ABOUT TOWN ... 

Congratulations to Sue Wightman on her 14th Northland 
Centre Bowls title! 

Top of the Rock next Sunday, 11 February! 

Wonderful to know our brilliant artists, Tatjana and Peter 
Panyoczki,  will  be  having  an  exhibition  in  Mangawhai  - 
opening 22 February! 

And Te Whai Community Trust Mangawhai Bike Run on 
Sunday, March 4th, to raise awareness of domestic violence  

 Check  out    the  RSA  Thursday  and  Friday  night  meals; 
last  Friday  of the  month  is  Roast Pork  night  and  a sing-a-
long with Des Chitty - see their advert. 

 Waitangi Day, 6 February, marks the 178th anniversary 
of the signing of the Treaty of Waitangi in 1840. 
Waitangi 
Day  had  been  a  holiday  since  1963  for  Northland  only 
(replacing the Auckland provincial anniversary holiday). In 
1974 it became a national holiday.

KDC mayoral by-election - last day 17 February. 

Nomophobia: an irrational fear of being without  cellular 
contact. The  word  itself is  an abbreviation  for  'no-mobile-
phone-phobia'.  

Best  wishes  to  the students  and  staff  as they  begin  their 
2018 year on Wednesday7 February. 

Check  the  Bugle  online  at  www.kaiwaka.co.nz  -  the 
photographs and the advertisements look great in colour! 
  ~ Lindsey, Ed 
"
Courage is what it takes to stand up and speak; courage is 
also  what  it  takes  to  sit  down  and  listen."    ~Winston 
Churchill
PUBLIC NOTICES 
CLASSIFIED 
HELP WANTED: 
My name is Julie Stagg, I am trying 
to find out about Thomas and Elizabeth Coates and was 
hoping your readers could help me. I believe they are 
distant family, Thomas and his brother Edward emigrated 
to NZ from the UK in 1866 he settled in Kaipara district, in 
1873 he married Elizabeth Philips they had met prior to 
setting out from Leominster some 7 years earlier. Thomas 
died in sept 1926 and Elizabeth June 1927. 
We know Edward's oldest son went on to become Prime 
Minister of NZ. We also believe they had several children, 
seven of whom survived him at death. 
I can be contacted at juliescafes@hotmail.co.uk 
Kind regards, Julie Stagg 
RUSSELL KEMP 
On behalf of Russell Kemp's whanau we would like 
to  express  our  gratitude  and  thanks  to  all  those  who 
attended  Russell's  funeral,  gave  sympathy  cards  and 
thanked the family personally.  
Thanks  to  everyone  that  koha'd  something  for  the 
tangi from cows, sheep, labour, love and money. Our 
gratitude  goes  out  to  everyone  for  their  love  and 
sympathy. 
Aroha nui, tena kotou katoa  
Barbara Kemp and whanau.  
KAIWAKA SPORTS ASSOCIATION 
MEETING 
Tuesday 6th March, 7pm 
Kaiwaka Sports Complex 
TOP OF THE ROCK 
Marshals meeting 
Friday 9th February, 
6.30pm 
Kaiwaka Sports Complex 
HAKARU RSA WOMEN'S SECTION 
Annual General Meeting  
at the RSA Clubrooms at Hakaru  
Thursday 22nd February, 1.30 p.m.  
The nomination sheet is on the notice board members need to be 
financial to vote or add names to sheet nominees signature are 
necessary also. 
New  Members  are  always  welcome,  any  enquiries  phone  Jan 
Mann 4314512 or Lena Carleton 4315034. 
MANGAWHAI SENIORNET 
OPEN DAY on Wednesday 21 February, 10.30am -
12.30pm at the Wellsford Community Centre Hall 
YOUR COMMUNITY WELLNESS HUBS  
NEED YOU!
Do you have a desire to help people in your local 
community live healthier, happier lives?  
Two new Wellness Centres have opened in the Kaipara  
and we are looking for people who want to share their 
skills with the community.  
Halls and practitioner spaces available to hire for classes 
from piano lessons to Tai chi and therapies at very 
reasonable rates.  
1) Prana Centre 173 Hurndall Street, Mangaturoto 
2) The Heart 1945, SH1, Kaiwaka 
Please call Heidi 092809585  
or Email: theheartnz@gmail.com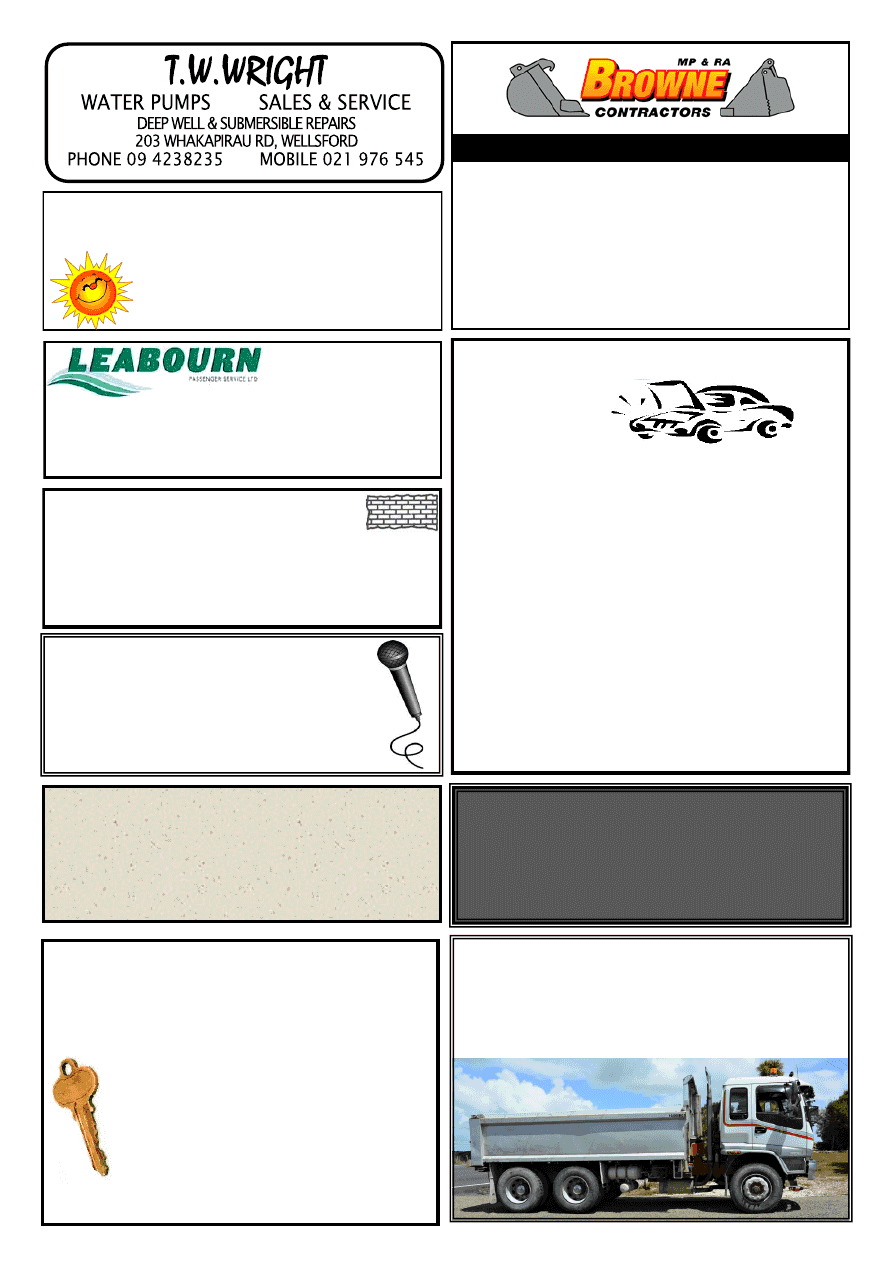 4T DIGGER – BOBCAT – TIP TRUCK 
Property Maintenance - Driveways - Building Sites 
Stump & Tree Removal - Hole Boring - Chain Trencher 
Calf Shed and  Stockyard Cleaning
KAIPARA - WHANGAREI - RODNEY 
Phone Matt: 021 199 6677 
Email: mprabrownecontractors@gmail.com 
BRICK/BLOCKLAYER 
All aspects of masonry: 
Fireplaces, Restoration & Remedial Work.
JAMES EAGLETON
Tel. (09) 431 2514     Mob. 0274 749 232
jajueagles@yahoo.com.au 210A Pukenui Road, RD2, Kaiwaka 0573 
THE SUNSHINE GIRLS
Efficient and reliable help with 
your housework. 
Ph 4312 532 
Counsellor and Registered Psychotherapist 
Offers Supervision
Susan Matheson 
MNZAC 
Dip. Psychosynthesis Counselling and Psychotherapy 
Phone 09 431 2996                        Mobile 027 605 2427 
Twinkle Tow 'n' Tyre 
Think you'll get a better deal in the city? 
Ring us - it won't cost anything! 
1837 State Highway 1, Kaiwaka 
Phone 431 2823 
*W.O.F. 
*Tyres 
*Windscreen 
replacement 
*Chip repairs 
*Bulk Oil 
*Batteries 
*Welding 
*Custom built 
trailers 
*Trailer hire
Kaiwaka Hardware  
& 
Key cutting
Phone 4312 063 or 022 0642 703
kaikey2015@gmail.com 
Keys Cut  
Household Hardware  
Sharpening Knives & Tools 
Curtain Tracks & Fittings
Not there? Call Doug and he'll sort
it for you. 
(
Next to Kaiwaka Motorcycles)
MARRIAGE CELEBRANT 
WEDDING EVENTS PLANNER 
Yvonne Osborne 
Ph 0274 989 814 
yvonne.osborne@xtra.co.nz 
Passenger Service
Car & Van Hire  Bus & Coach Charters 
Airport Transfers   Monthly Shopper Bus 
Phone (09) 4237416 
J
and
M
 CONTRACTORS 
Kaiwaka 
Bulk Cartage 
5 & 10 cubic metres Wood Chip or Post Peel. 
Cartage all metals, sand, scoria. 
Truck hire with Driver  
Ph 09 9733538 
Mobile 021 2383664 
SING RIGHT 
Professional coaching for performance,  
recording and demos. 
All level singers, musicians, singer-songwriters. 
Phone Robyn Hill 431 9159 or 022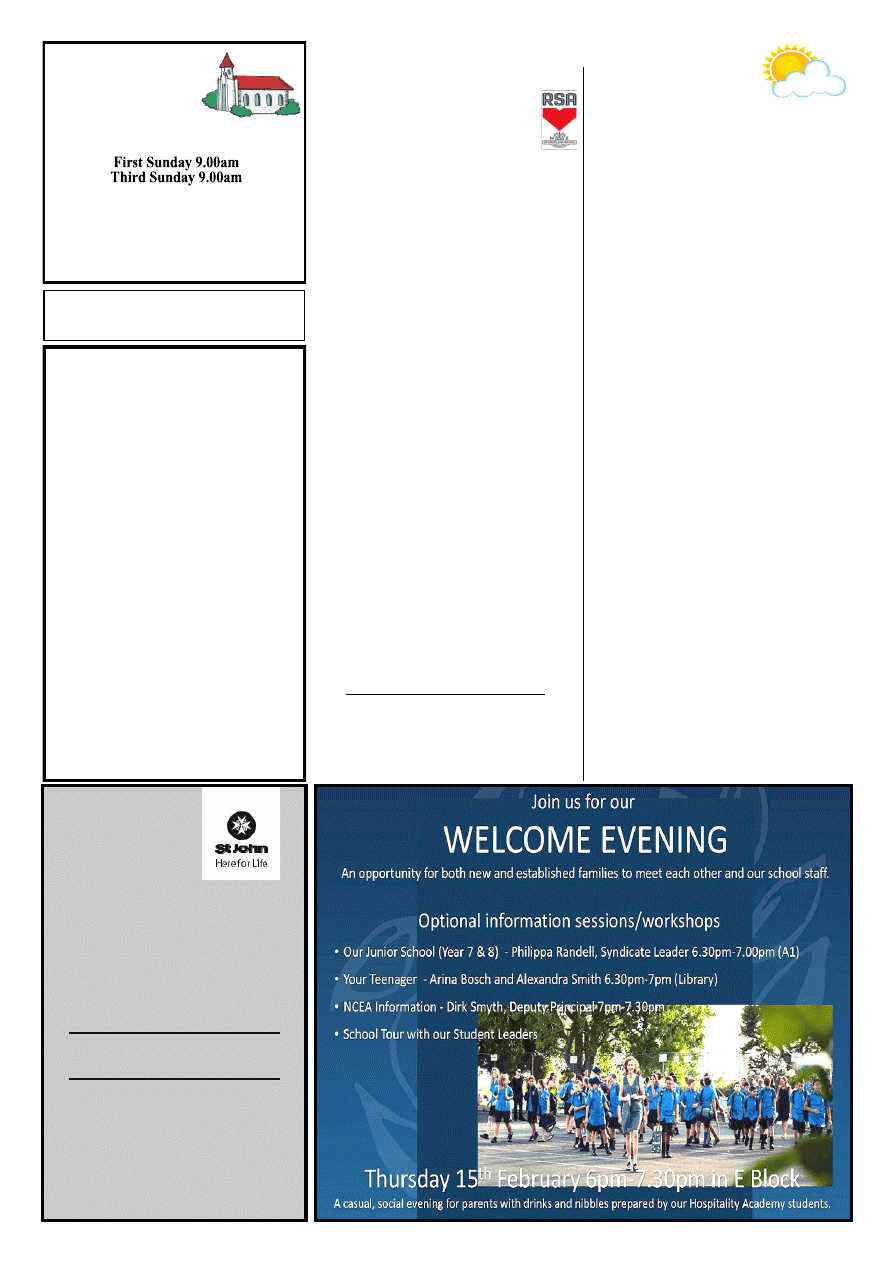 www.kaiwaka.co.nz 
Kaiwaka Bugle - 6 February 2018 
Page 5 
Willow Bend
HORSE  
HOTEL 
  
Total Horse Care 
 
Agistment 
 
Riding Lessons 
 
Arena Hire (60x40) 
 
Young Horse Starting 
 
Re-training/Exercising 
 
Hoof Trimming 
 
Problem Solving 
Phone Sue 09 431 2817 
or 021 623 776 
Or email  
susanjoll11@gmail.com 
ST PAUL'S  
ANGLICAN  
SUNDAY  
SERVICES
St Pauls Church: Kaiwaka-Mangawhai Rd. 
1st Sun - Eucharist 
3rd Sun - Family Service 
Rev. Wayne Thornton Ph 431 4122 
www.mangawhaianglican.org.nz
Proverbs 25:11-
He kupu i tika te 
korero, ko tona rite kei nga a poro 
koura i roto i nga kete hiriwa
"HAPPY  NEW  YEAR"  from 
the "Girls at Hakaru". 
18  members  attended  our 
January meeting. 
The  main  topic  discussed  at  the 
meeting 
was 
our 
BOWLS 
TOURNAMENT,  which  was  to  have 
been held first week in February. This 
Tournament  has  been  CANCELLED 
due to lack of interest and entries from 
other  Clubs  with  too  fewer  entries  to 
justify  all  the  work  that  goes  into 
holding  it.  We  hope  next  year  will 
produce  more  Women's  Section 
younger  bowlers  and  it  will  be  all 
"GO"!! 
We  congratulate  our  NZ  President 
Angel Erstich on being presented with 
her  NZ  Citizens  Award,  and  also 
congratulate  our  Patroness  Fay  Wintle 
on her 80th + Birthday. 
We appreciated a thankyou letter from 
the  McCabe  Family  and  we  all  wish 
Jeanelle  better  health  after  her 
treatment. 
Our  next  meeting  is  our  A.G.M.  and 
will be Held at the RSA Clubrooms at 
Hakaru at 1.30 p.m. on Thursday 22nd 
February.  The  nomination  sheet  is  on 
the  notice  board.  Members  need  to  be 
financial to vote or add names to sheet. 
Nominees signature are necessary also. 
New  Members  are  always  welcome, 
any  enquiries  phone  Jan  Mann 
4314512 or Lena Carleton 4315034. 
Members  if  you  know  of  any 
interesting Speakers out there please let 
the committee know. ~ Cheers, Ann. 
Q: How can you get four suits for a dollar? 
A: Buy a deck of cards.
Q: How do you make a bandstand? 
A: Take away their chairs.  
KAIWAKA  
WEATHER 
Welcome to 2018.   
Well,  this  year  summer  has  given  us 
the weather it should be.  Mostly very 
hot  and  sunny.  A  bit  much  for  me  to 
handle  though.    Even  the  hardy  souls 
go  out  and  garden  and  then  shelter 
inside  from  lunch  time  on.  (you 
remember  the  saying,  only  mad  dogs 
and English men go out in the midday 
sun. So far our summer has been as it 
should be, although December was not 
that  great.  It  did  pull  itself  together 
later in the month.   
Temperatures this  year  were  up in  the 
mid-thirties on most days. We had that 
very  welcome  rain  early  in  the  month 
and  topped  the  tanks  up  beautifully. 
We had quite a bit of wind later in the 
month.  The  water  tankers  were  a  bit 
quiet for a while there. The tanks will 
need topping again soon if not now. 
For January  this  year  at  our  house  we 
had 190mm and January 2017  we had 
27mm.   
We had rain on 8 days this year and in 
January 2017 we had rain on 3 days.  
Our  driest  January  since  1987  was 
2013  with  10mm,  and  our  wettest 
January  was  1989  with  343mm  -yes, 
that  is  right  -  we  only  had  10  days 
WITHOUT rain.   
Now that most people are back at work 
life can be normal again.  The teacher 
asked  a  child  "what  is  the  chemical 
formula  for  water"?  The  child 
answered,  "H  I  J  K  L  M  N  O".  The 
teacher  asked  him  "what  are  you 
talking  about"?  The  child  answered, 
"yesterday you said it was H to O".   
Keeping  our  fingers  crossed  we  will 
get  some  rain  over  the  next  few 
days.    Take  care  out  there  folk  and 
look after each other. ~ Bev.
HAKARU RSA 
WOMEN'S SECTION
St John Otamatea   
Paparoa –  
Maungaturoto –  
Kaiwaka
Thank you
In 2017, your generous  
donation helped support.  
1,034
callouts 
125,165km 
covered 
Approximately
 4,000  
hours on the road 
Find out how you can help  
at stjohn.org.nz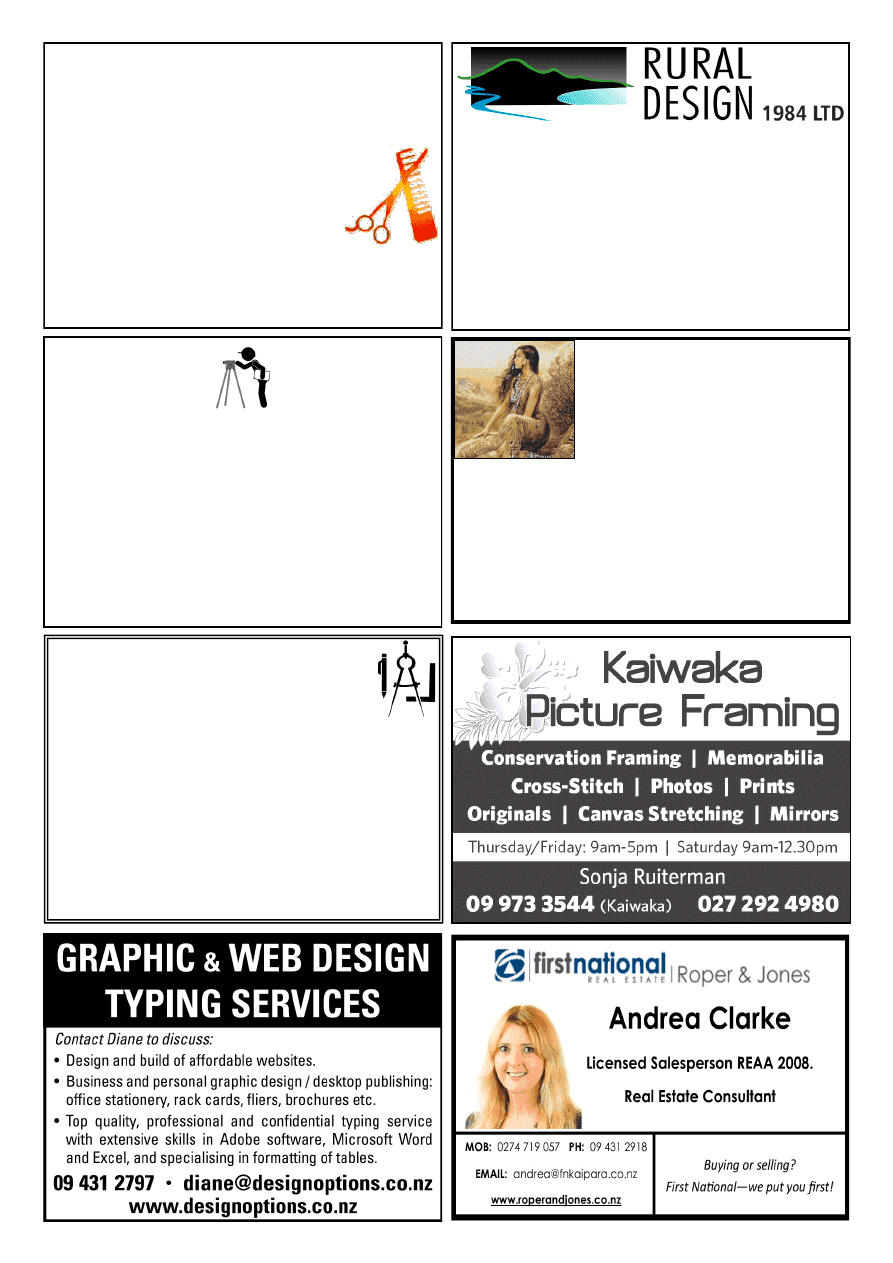 design drafting  
service 
Retired builder and manufacturer with over 40 years  
experience in the building industry is offering a design 
drafting service  
for domestic housing, sleepouts and sheds.  
Plans formulated in consultation with clients, with 
working drawings completed and submitted to  
council for processing.  Extensive practical experience,  
able to identify & resolve problems. 
Please ring Mike Lean on 
09 431 2260 
or 
021 431 196 
Ken Urquhart 
BSurv Licensed Cadastral Surveyor 
KMU Surveys Ltd
467 Bickerstaffe Road 
RD 2 
Maungaturoto 0587 
Ph 09 431 8705 
Mob 021 161 2344 
kenurquhart@xtra.co.nz 
WHOLESALE NATIVE PLANT NURSERY 
AND LANDSCAPING 
By Appointment 
Small and Large orders welcome 
Phone: 09 431 2481 
Email: info@ruraldesign.co.nz 
AFFORDABLE PRICES! 
MENS CUT FROM $20.00 
LADIES CUT FROM $30.00 
KIDS CUT FROM $18.00 
COLOUR & CUT FROM $120.00 
JUST CUTS'AND   
MORE 
021 165 2629 or (09) 945 0707  
NOW SELLING: scented tealights, incense, smudge sticks, 
copper bracelets, aurora ball crystals, dream catchers, healing 
stones, rose quartz, cds, and much more. Open 6 days. 
Trails end 
spiritualist gathering 
Last Sunday of every month  
11.30-2pm  
Tea/coffee provided  $5 koha 
For all inquiries: 
021 165 2629 evenings (09) 945 0707 
Trail.end@hotmail.com 
1758 Cove Road, Mangawhai
Bringing together light minded people 
Guest speaker each month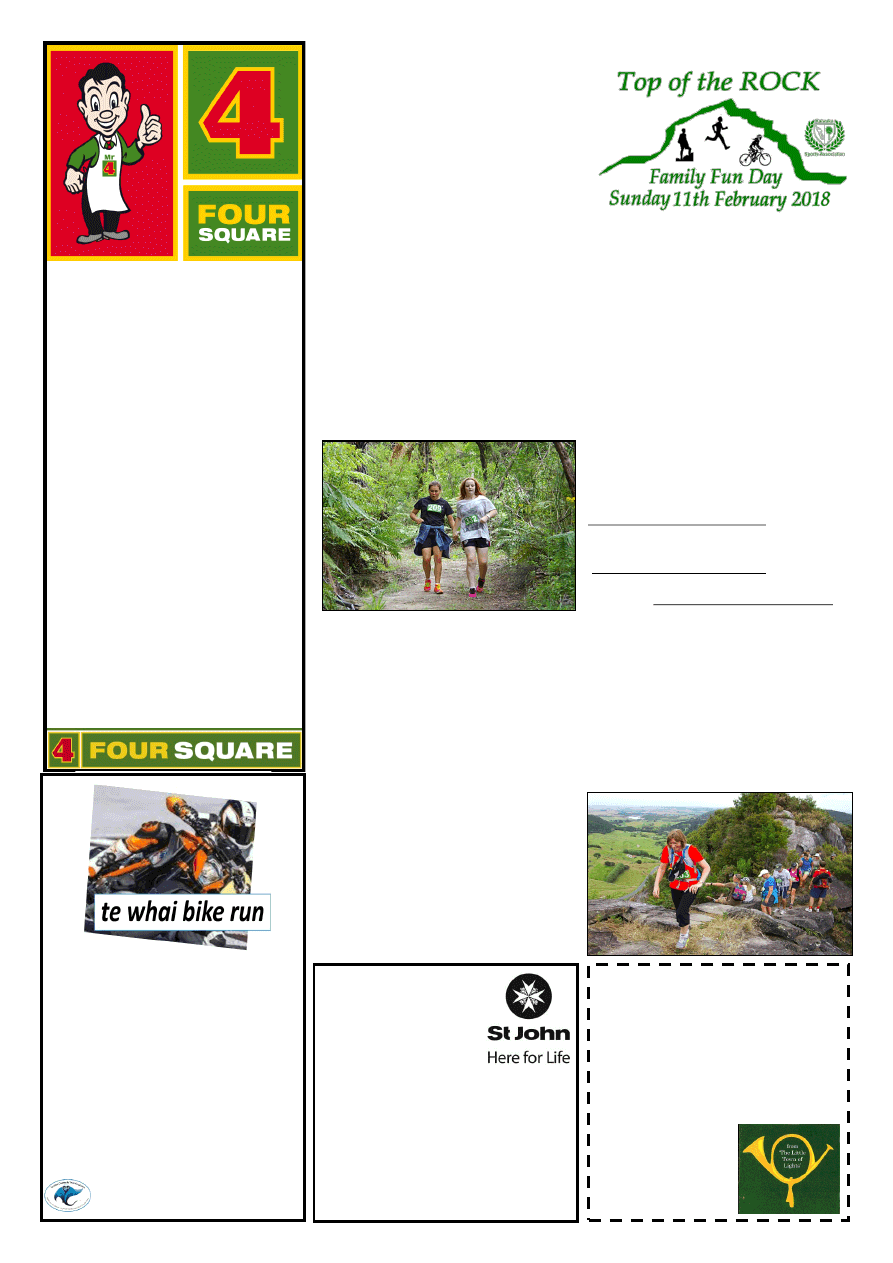 www.kaiwaka.co.nz 
Kaiwaka Bugle - 6 February 2018 
Page 7 
New Range:  
Food to Go!
Pam's Fresh Cut Sandwiches, 
Wraps & Salads 
Fresh Fruit Salads -400g or 
190g  
Oxford Sweet Pies - 
Strawberry, Boysenberry, 
Blackberry & Apple 
Increased Fresh Meat range 
Remember we have 
Sodastream &  
9kg Gas Bottle swaps 
Jaques Four Square 
Phone: 4312227 
1 Kaiwaka-Mangawhai Road, Kaiwaka. 
The  Kaiwaka  Sports  Association's 
eighth  annual  multi-sport  event,  the 
Top of the Rock, is this Sunday and 
it's not too late to enter! 
Top  of  the  Rock  is  Kaiwaka's  biggest 
event  of  the  year  and  it  attracts 
hundreds of people from all around the 
country.  And  hopefully  lots  of  our 
locals will support us too! 
Our event caters for people of all ages 
and fitness levels: 

5km walk or run 

11km walk or run 

30km mountain bike ride 

10km mountain bike ride 

10km  run  +  15km  mountain  bike 
ride  combo  (can  be  done  as  an 
individual or with a partner) 

a free fun bike ride for under 10-year 
olds 
Routes  travel  through  some  of 
Kaiwaka's  most  scenic  countryside  – 
bush, lakes, and farmland - and crosses 
terrain  usually  closed  to  the  public. 
And  you  get  the  opportunity  to  climb 
iconic 
Baldrock 
Mountain 
and 
experience  the  breath-taking  views. 
You  don't  need  to  be  concerned  about 
your fitness level as we have marshals 
in  utes  following  the  tail  enders  who 
will  give  you  a  ride  back  if  you  get 
tired! 
The  more  casual  participants  can 
choose to stroll along the 5km or 11km 
route  taking  in  the  scenery,  while  the 
competitive  athletes  often  choose  to 
tackle the more challenging routes.  
For Children 
We  have  several  options  for  children: 
children as young as pre-schoolers can 
walk the 5km route (or sit in strollers), 
and  our  10km  mountain  bike  route  is 
ideally suited for juniors. 
The fun bike 
ride for under 10-year olds goes around 
the KSA fields and the school grounds 
plus  a  bit  into  the  neighbour's  farm  - 
nice and flat, perfect for the little ones! 
All children will get a certificate when 
they complete it – this is free to enter.
On the day at the Sports Complex there 
will  be  food  and  drink  stalls,  live 
music, kid's games, bouncy castles and 
the swimming pool will be open. TV3's 
Brendon  "The  Money  Man"  Johnson 
will host the prizegiving with prizes for 
placegetters as well as lots of great spot 
prizes.  The  major  spot  prize  is  a 
mountain  bike,  sponsored  by  Torpedo 
7.  An  auction  will  be  held  for  a 
Husqvarna lawnmower, kindly donated 
by Kaiwaka Motorcycles. 
Entry  forms  can  be  found  at  Jaques 
Four 
Square 
and 
on 
Ways to enter: 

directly online at 

scan  and  email  your  entry  form  to 
Cheryl at kaiwakasports@gmail.com 

drop  your  form  off  at  Jaques  Four 
Square 

register  in  person  at  the  Kaiwaka 
Sports Complex this Friday 6.30 – 8pm 
(this is your last chance to enter) 
Note:  there  are  NO  ENTRIES  ON 
THE DAY. 
Top  of  the  Rock  is  a  fabulous 
community  event  –  we  hope  you  can 
support 
the 
Kaiwaka 
Sports 
Association by entering. It's a fun day! 
KAIWAKA BUGLE 
DEADLINE DATES 
2018 
- 
every second Friday 
February 16 
March 2, 16, 30 
April 13, 27 
May 11, 25 
June 8, 22 
July 6, 20 
August 3, 17, 31,  
September 14, 28 
October 12, 26 
November 9, 23 
December 10 
TOP OF THE ROCK 
date:  
Sunday, 4 March 2018 
start:  
12 noon from Three Furlongs in 
Kaiwaka 
finish:  
Mangawhai Tavern – barbecue lunch 
available 
registration: pre-register on Eventbrite or from  
11am at Kaiwaka 
cost:  
$30.00 pp - badge included with pre-
registration 
options:   Motorbikes - 
Kaiwaka south on   SH1 
through Te Hana to Wellsford, then 
Whangapiro Valley Rd, Waiteiti   Rd , 
and Mangawhai Rd to  Mangawhai 
Road Cycles  - 
Kaiwaka to Mangawhai 
via Kaiwaka Mangawhai Road 
TE WHAI COMMUNITY TRUST MANGAWHAI 
SAYS NO! TO FAMILY VIOLENCE 
Ph 021 685 851 for further information 
KAIWAKA 
 ST JOHN 
OP SHOP 
We need two more 
volunteers for the shop. 
Please come in and talk with  Milly. 
And we are wanting for the shop please, 
Furniture, Queensize and Double Beds 
with mattresses, Cooking pots, 
Ornaments, Towels, Fruit and Plants.  
If you have anything else in saleable 
condition, they would be very much 
appreciated.  Milly.  
Phone: 4312650  1919 SH1, Kaiwaka 
David Korach 
Your local Gib Stopper
DK PLASTERER LTD 
0274769221 
dkorach6@gmail.com 
Waipu Natural Health 
3 Cove Road, Waipu  (opposite the Pizza Barn) 
Ph: 09 432 1325 
www.waipunaturalhealth.co.nz
Clinical Nutritionist-Hair Analysis for Masked 
Allergies, Ozone Therapy, Prolotherapy, 
Naturopath-Medical Herbalist, Registered 
Massage Therapists, Reflexology-
Craniosacral Therapy, Acupuncture-Facial 
Acupuncture, Kineso Taping, Hypnotherapy, 
Counselling, ThetaHealing.
AFFORDABLE CONSULTS FOR KIDS – give us a call
Gift Vouchers available
KAIPARA FLOORING CO 
Independently owned & operated 
32 HURNDALL ST MAUNGATUROTO
Supply & Installation of Carpet, Vinyl,  
Vinyl Wood Planking
Stockists of 2m & 3m wide 
vinyl & carpet short ends
Residential & Commercial
Q Card Finance Approved 
6-18 month terms 
6 mth interest free
First Class Installations
For a free measure & quote 
phone Christine  
09 946 9886 or 021 515 415 
kaiparaflooring@gmail.com 
http://www.kaiparaflooring.co.nz/ 
BARRY CURTIS PLUMBING LTD 
REGISTERED CRAFTSMAN PLUMBER 
Phone 4315572 
027 257 9884 
25 years experience 
Friendly reliable service 
All plumbing and maintenance 
Alterations and new housing 
Spouting 
Competitive rates 
PROMPT EFFICIENT  SERVICE 
HODGETTS 
CONTRACTING
Digger Work    

Driveways 

House Sites   

Dams    
 
Drains, etc
Also available for HIRE 
3 ton Vib Roller Heavy Duty Tow  
Waterblaster     Lazer Level
Phone Mark 4312877 
027 447 8554 
Reyahn George 
Leng 
Registered Electrician 
Local, honest and reliable. 
For your residential and 
light-commercial projects. 
022 314 1068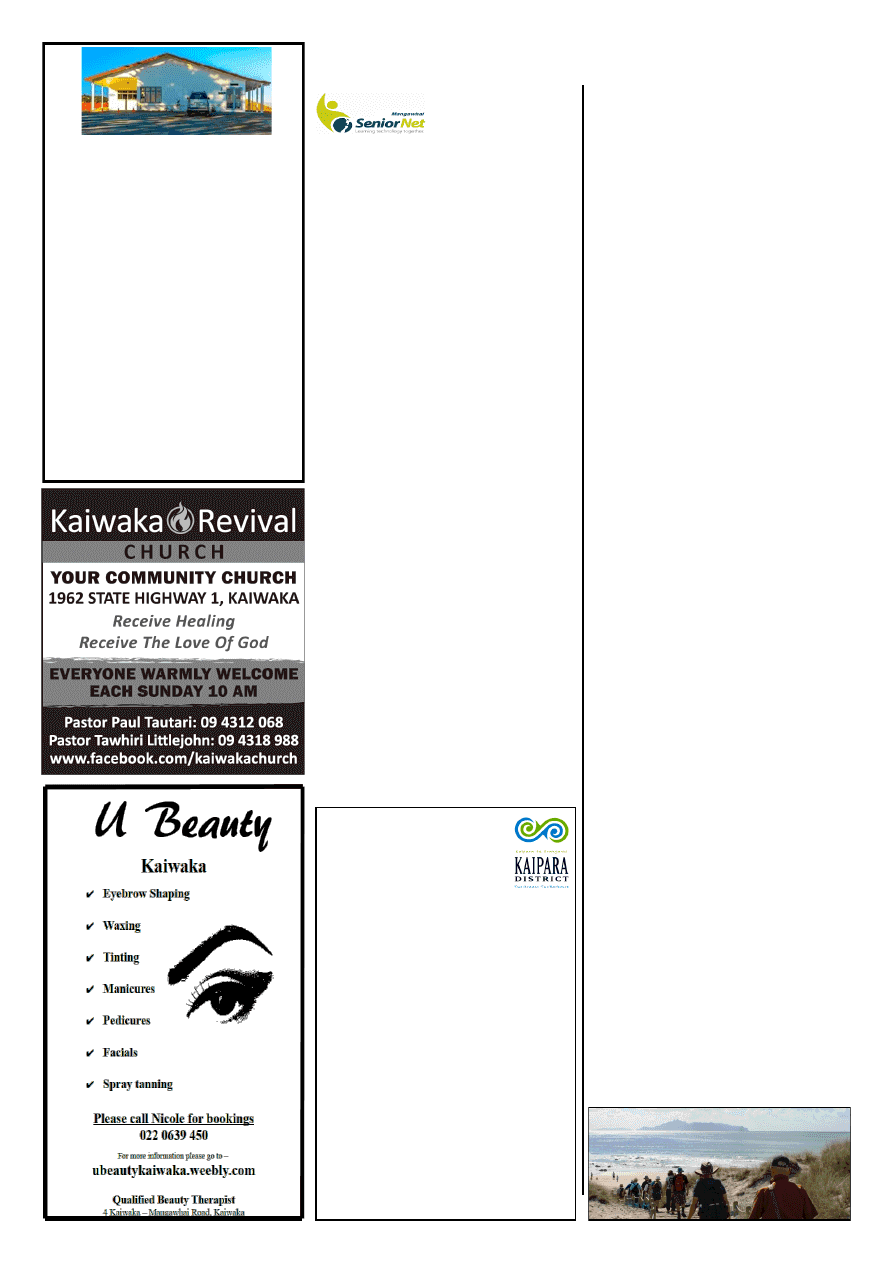 www.kaiwaka.co.nz 
Kaiwaka Bugle - 6 February 2018 
Page 9 
SENIORNET 
MANGAWHAI 
Te Pounga Marae 
130 Nathan Rd. Oneriri. Kaiwaka 0573 
COMPLEX FOR 
HIRE 
Functions 
* Weddings  * Birthdays  
*Anniversaries * Meetings  * Wananga 
5 hour meeting * 12 hour stay  * 
Overnight 
*All welcome - No more Drink-driving 
Amenities: 
*Convo Combi Steamer * Bratt Pan * 
Dish Washer/Sterilizer * 3 Door Glass 
Chiller (walk in) etc…All Crockery * 
Linen Supplied * Central Heating and 
Air Conditioning and much more.  
Can also cater for small groups…. 
For more information please contact: 
Kim Wallace  
Home: 09 832 1133  Mob: 0211275340  
Email: kimwallace@xtra.co.nz 
We  are  about  to 
commence a new year 
at 
SeniorNet 
Mangawhai  and  hope  you  will  be 
renewing  your  membership  and 
attending  a  course,  workshop,  Help 
Clinics  or  our  "one  on  one  sessions" 
we will be offering during 2018. 
Membership  fees  for  the  year  are  due 
now. Individual membership is $25 or 
$45  for  a  couple.  Your  continued 
support 
will 
enable 
SeniorNet 
Mangawhai  to  carry  on  with  our 
teaching  programme  in  the  coming 
year. 
To undertake a course, buy software at 
discounted  prices  from  SeniorNet 
Federation and enjoy discounts at Noel 
Leeming  stores,  and  many  other 
sponsors'  discounts,  you  need  to  be  a 
current financial member. 
Attendance  at  workshops  and  Help 
Clinics  is  offered  to  members  at  the 
low rate of $10 per person.  
You  are  welcome  to  our  AGM  on 
Tuesday  13th  February  at  10.30  am. 
Morning tea will be provided, and you 
will  also  be  in  the  draw  to  win  a  free 
Seniornet session/course. 
Our  first  term  begins  the  week 
commencing Monday 19 February. To 
register  interest  in  a  course  or  to 
enquire  about  availability,  or  for  any 
other  general  enquiries  please  contact 
Val Cleaver on 431 4042 or Tony Cox 
on 431 2269. 
Open Day in Wellsford 
Seniornet  Mangawhai  is  holding  an 
open  day  on  Wednesday  21  February, 
10.30am till 12.30pm at the Wellsford 
Community  Centre  Hall.  For  further 
information 
email 
seniornet.mangawhai@gmail.com 
We  look  forward  to  your  continued 
support during the coming year. 
MANGAWHAI 
WALKING 
WEEKEND 
Like walking with a good friend, it keeps 
on getting better! 
This  year's  Mangawhai  Walking 
Weekend,  the  19th  annual  event,  is 
from 15 to 18th March, it has really put 
Mangawhai  and  the  Kaipara  on  the 
walking  map.  "It  is  not  just  about  the 
great  variety  of  walks  and  events  we 
offer," 
says 
organiser 
Dorothy 
Freeman. 
"Our 
feedback 
from 
participants 
continues  to  reinforce  how  important 
knowledgeable  guides  are  to  the 
enjoyment of the walks." 
Most  walks  have  three  local  guides  to 
pass  on  their  knowledge  and  you  can 
be  sure  there  will  be  plenty  of  banter 
along  the  way.  Many  visitors  use  the 
weekend  to  sample  what  Mangawhai 
walks are about – to return later to do 
walks under their own steam. 
Regular 
Mangawhai 
Walking 
Weekenders  might  be  looking  for 
something  new;  this  year  five  new 
events  have  been  added  to  the 
programme. 
The weekend begins on Thursday 15th 
with  a  seriously  good  long  walk 
designed with experienced trampers in 
mind.  Friday  16th  March  sees  the 
return  of  the  ever  popular  – 
Troubadour 
Trail. 
This 
is 
an 
opportunity  to  enjoy  music  and  magic 
as  you  pause  while  stroll  along  the 
Mangawhai  Harbour  edge.  This  has 
become a favourite all ages/all abilities 
event. 
On Saturday participants will be spoilt 
for choice. Keen walkers have a choice 
of  several  4  to  5  hour  grade  4  walks. 
For  those  preferring  a  less  demanding 
outing  they  are  also  taken  care  of  – 
whether  it's  gardens,  sheds,  gentle 
rambles  or  activities  on  the  water.  All 
Saturday  activities  will  allow  you  to 
return  to  Mangawhai  to  enjoy  the 
annual  Food  and  Wine  Festival  in  a 
village olive grove. 
A  further  ten  events  are  available  on 
Sunday  morning,  and  walkers  if  they 
wish,  can  join  us  for  a  sumptuous 
breakfast at the Domain. 
On 
the 
website 
www.mangawhaiwalking.co.nz  you 
will  find  comprehensive  information 
on all walks and how to book. Many of 
the  walks  will  sell  out,  we  limit  the 
number  of  participants  for  safety 
reasons, we also cannot accept walking 
bookings on the day, so please do book 
early. 
There  really  is  a  walk  for  all  abilities 
and  interests,  and  for  those  non-
walkers,  come  and  join  us  for  one  of 
the active beach and water activities. 
VOTING: 
KAIPARA 
MAYORAL  
BY-ELECTION 
Voting  documents  have  been  posted  to 
all  eligible  electors,  as  from  Friday  26 
January 2018.  
Voting will close  at noon on Saturday 
17 February 2018.  
Electors may post their completed voting 
document  back  to  the  electoral  officer 
using  a  pre-paid  envelope  sent  with  the 
voting document. A polling place for the 
issuing  of  special  voting  documents  and 
for  the  receiving  of  completed  voting 
documents  will  be  available  over  the 
voting period at: Council's Main Office, 
42  Hokianga  Road,  Dargaville  or 
Council's  Mangawhai  Service  Centre, 
Unit  6,  The  Hub,  6  Molesworth  Drive, 
Mangawhai.  
For 
more 
information 
please 
contact: 
the 
Electoral 
Office, 
Kaipara  District  Council  0800  922 
822, or see www.kaipara.govt.nz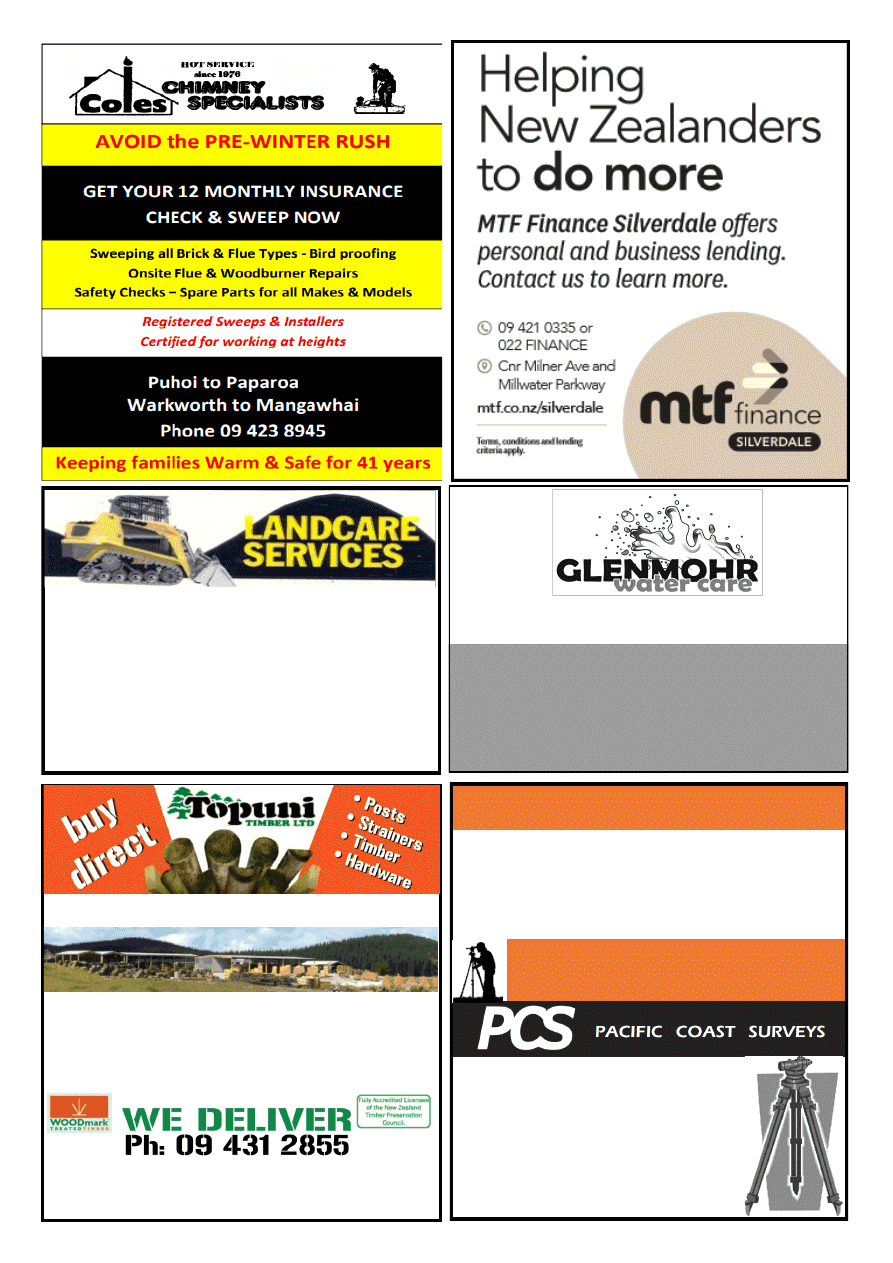 LOCALLY OWNED AND OPERATED 
QUALITY PRODUCTS • FRIENDLY ADVICE • GREAT SERVICE 
Quality Products milled from High Density NORTHLAND Radiata Pine. 
Treated and guaranteed to NZS3640 with commitment to 
Environmental Safety.
Phone, fax, email, or come into the mill 
Schiska Rd, Topuni, SH1, 10 min north of Wellsford. Fax: 09 431 2856 
Email: sales@topunitimber.co.nz           Mon - Fri 7am-5pm 
• Fencing 
• Retaining 
• Decking 
• Landscaping 
• Gates 
• Hardware 
SURVEYORS 
SUBDIVISIONS 
HOUSE SITE SURVEYS 
CIVIL ENGINEERING 
WASTEWATER DESIGNS 
EXPERIENCED 
PROFESSIONAL 
INNOVATIVE 
Ph 09 431 5353 
0800 PACIFIC (0800 722 434) 
pacificcoastsurvey.com
Adam Booth - 027 415 5752 
Bsurv, Licensed Cadastral Surveyor
Surveying Kaipara since 1994 
Water Tank Cleaning 
• 
Keep your water safe & clean  
• 
Removal of sediment, silt etc. 
• 
Vacuum or full scrub 
• 
Minimal water loss 
Phone Mark (09) 432 0655 or 0274 707607 
LANDSCAPING 
4 IN 1 BUCKET 
TRENCHER 
POLE HOLES 
ROTARY HOE 
COMPACT ROLLER 
OFFAL HOLES 
CAN SUPPLY WOODCHIP & POST PEEL 
5 TON TIPPER 
FOR RELIABLE AND FRIENDLY SERVICE CONTACT DAVE 
Dave Hyndman 
 
KAIWAKA 
PH: 09 4312302 
MOB: 021 431 238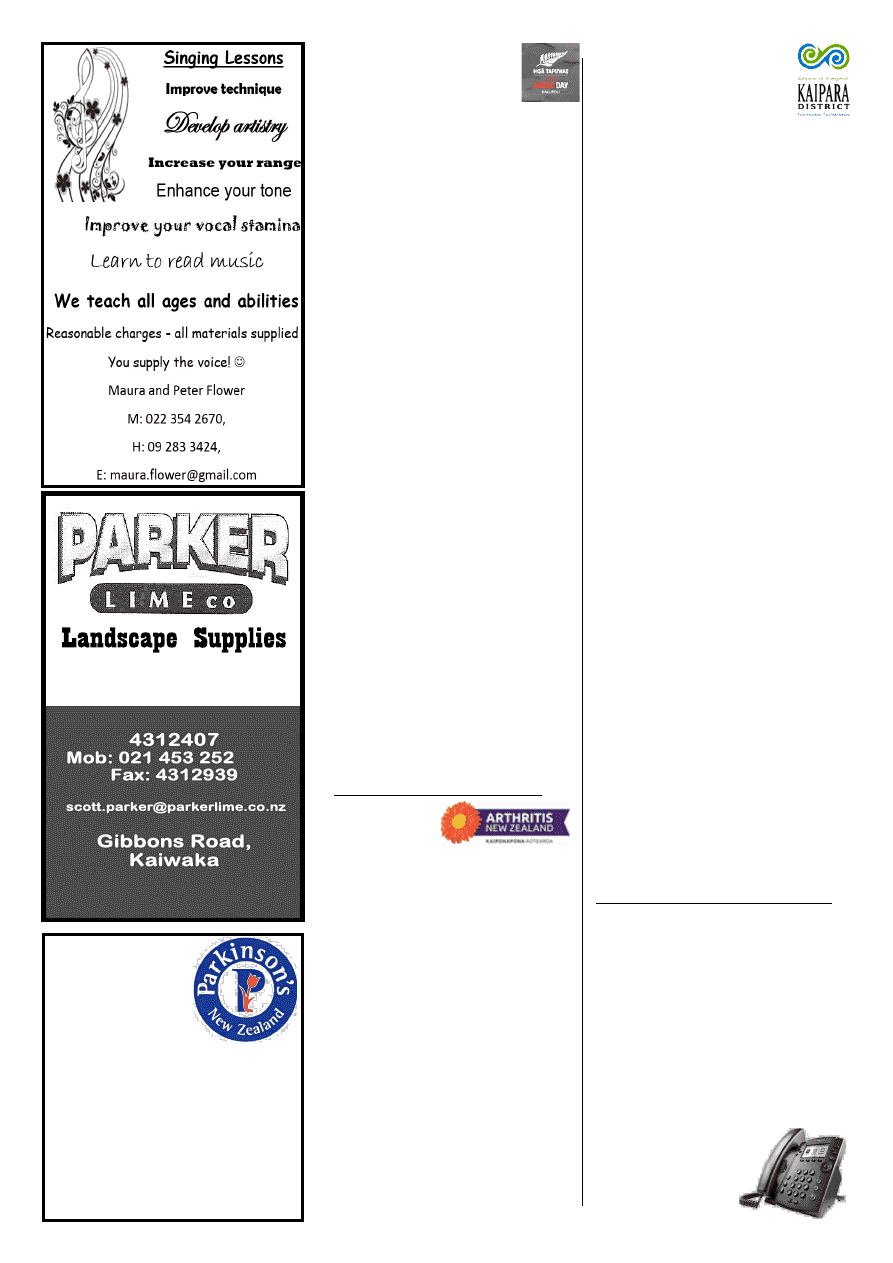 www.kaiwaka.co.nz 
Kaiwaka Bugle - 6 February 2018 
Page 11 
Bulk Cartage 
On  25  April  each  year  we 
commemorate  the  landings  of  the 
Anzacs  on  the  Gallipoli  Peninsula  in 
Turkey. 
The  commemorative  sites  at  Gallipoli 
are  the  sovereign  territory  of  the 
Turkish people and holding the annual 
Anzac Day commemorative services is 
only possible with the cooperation and 
generous assistance of the Government 
of the Republic of Turkey. 
In  2018,  Australia  and  New  Zealand 
will  conduct  the  iconic  Dawn  Service 
at  the  Anzac  Commemorative  Site  at 
Gallipoli,  starting  at  5.30am  after  an 
overnight  vigil.  Later  that  morning 
Australia  will  conduct  a  memorial 
service  at  Lone  Pine  at  9:30  am,  and 
New  Zealand  will  conduct  its  own 
memorial  service  at  Chunuk  Bair  at 
11:30  am  –  timings  for  the  Australian 
and  New  Zealand  services  are  subject 
to confirmation. 
There is  no  ballot  for  the  2018  Anzac 
Day services at Gallipoli but attendees 
will  require  an  attendance  pass. 
Anyone  wishing  to  attend  the  Dawn 
Service  can  do  so  regardless  of 
nationality.  The  New  Zealand  Service 
at  Chunuk  Bair  is  also  open  to  all 
nationalities. All visitors will be able to 
be accommodated on the Chunuk Bair 
site or on one adjacent overflow site. 
All  visitors  (New  Zealand,  Australian 
or  other  nationalities)  who  choose  to 
walk  from  the  Dawn  Service  site,  up 
2nd Ridge Road to Lone Pine, and then 
on to Chunuk Bair (past Quinn's Post, 
The  Nek,  Baby  700)  will  be  coach 
loaded from  Chunuk  Bair.   There  will 
be  no  coach  loading  at  any  other 
location within the Anzac Battlefield. 
Ref. https://ww100.govt.nz/anzac-day-2018-
LED TO LIGHT 
UP KAIPARA 
Kaipara  District  Council  has 
secured  a  total  budget  of  $1.20 
million (comprised of shared funding from 
the government (85%) and Kaipara District 
Council (15%)) to accelerate its LED street 
lighting programme. 
The  funding  means  work  to  replace  the 
majority of the  street lights in the  Kaipara 
District with more energy efficient lighting 
can  start  earlier  and  be  completed  within 
12 months. 
The  LED  street  lights  offer  a  clearer, 
brighter  light  than  the  old,  yellow  high-
pressure sodium lamps. The new lights also 
have a significantly longer life, require less 
maintenance and  have  lower power usage, 
which adds up to major cost savings. 
The  new  853  LED  lights  will  cover  the 
majority of local  streets in the  district and 
are  predominately  70  watts  High  Pressure 
Sodium  lights.  The  LED  conversion 
project  is  for  all  existing  lights  which  are 
100  watts  or  lower  capacity,  anything 
above  100  watts  will  require  specific 
design. 
The  new  LED  lights  have  a  total  power 
consumption  of  25  watts  with  no  ballast 
which means a total power consumption of 
0.025kW  per  hour  for  the  district,  a  35% 
decrease  (compared  to  current  power 
usage). 
Peter  Tynan,  Acting  Chief  Executive  of 
Kaipara  District  Council  says  "As  well  as 
offering  cost  savings  through  maintenance 
and  energy  costs,  the  new,  brighter  white 
lights  enable  people  to  see  more  clearly. 
There is an added benefit in a drop in light 
pollution resulting in less glare or a 'yellow 
haze'  as  you  approach  a  township  at 
night." 
"LED lighting is becoming the standard for 
street  lighting  in  cities  throughout  the 
world  and  securing  this  funding  from  the 
government  means  that  communities 
throughout  the  district  can  now  benefit 
from the change." 
The  new  LED  lights  will  cover  all  streets 
in  Aranga,  Arapaoa,  Dargaville,  Glinks 
Gully, 
Kaihu, 
Kaiwaka, 
Mangatu, 
Mangawhai,  Matakohe,  Maungaturoto, 
Pahi,  Paparoa,  Pouto,  Pukehuia,  Ruawai, 
Te Kopuru, Tinopai and Whakapirau apart 
from those on State Highways. The roll out 
will  take  place  over  the  next  year  with 
local  operator  McKay's  Electrical  being 
awarded the contract.
Anzac Day 2018 - 
Gallipoli 
Parkinson's  
Northland 
Provide: 

Home based        
consultations 

Information and 
education on living with Parkinson's 

Support and exercise groups 

In-service training for other health 
providers 
Barbara Leslie 
RN
Community Educator 
09 4376881  or 027 5306221 
educator.northlandsouth@parkinsons.org.nz 
www.parkinsons.org.nz 
ARTHRITIS 
NUMBERS 
RISE
More  New  Zealanders  than  ever  are 
living  with  arthritis  –  around  647,000 
adults.  
Arthritis comes in many forms and can 
affect  people  of  any  age.  The  most 
common is osteoarthritis, which affects 
10  percent  of  adults  (about  386,000), 
followed by gout (110,000 adults) and 
rheumatoid  arthritis  (109,000  adults).  
Arthritis  New  Zealand  encourages 
people  to  stay  mobile,  reduce  weight 
and  eat  a  healthy  diet  to  reduce  the 
impact  of  arthritis  as  they  age.  The 
charity,  which  relies  on  community 
fundraising for most of its income, also 
advocates  for  better  access  to 
rheumatology  services  and  arthritis 
medications, accessible packaging, and 
early 
treatment 
of 
gout. 
Arthritis New Zealand aims to improve 
the  life  of  every  person  affected  by 
arthritis.  For  more  information,  phone 
the  helpline  0800  663  463,  on 
Facebook or vi
The ANSWERPHONE 
MESSAGE 
A  literature  buff  installed  an 
answering  machine  on  his  telephone. 
Instead of the usual instructions about 
leaving  a  message  he  recorded  a 
parody of Hamlet's famous soliloquy: 
"To speak, or not to speak, that is the 
question.  Whether  'tis  nobler  in  the 
mind  to  leave  a  message  after  the 
beep, or to take arms against a sea of 
answering 
machines, 
and 
by 
opposing,  end  them. 
To dial, to speak, no 
more. 
Thus, 
answering  machines 
do make cowards of 
us all."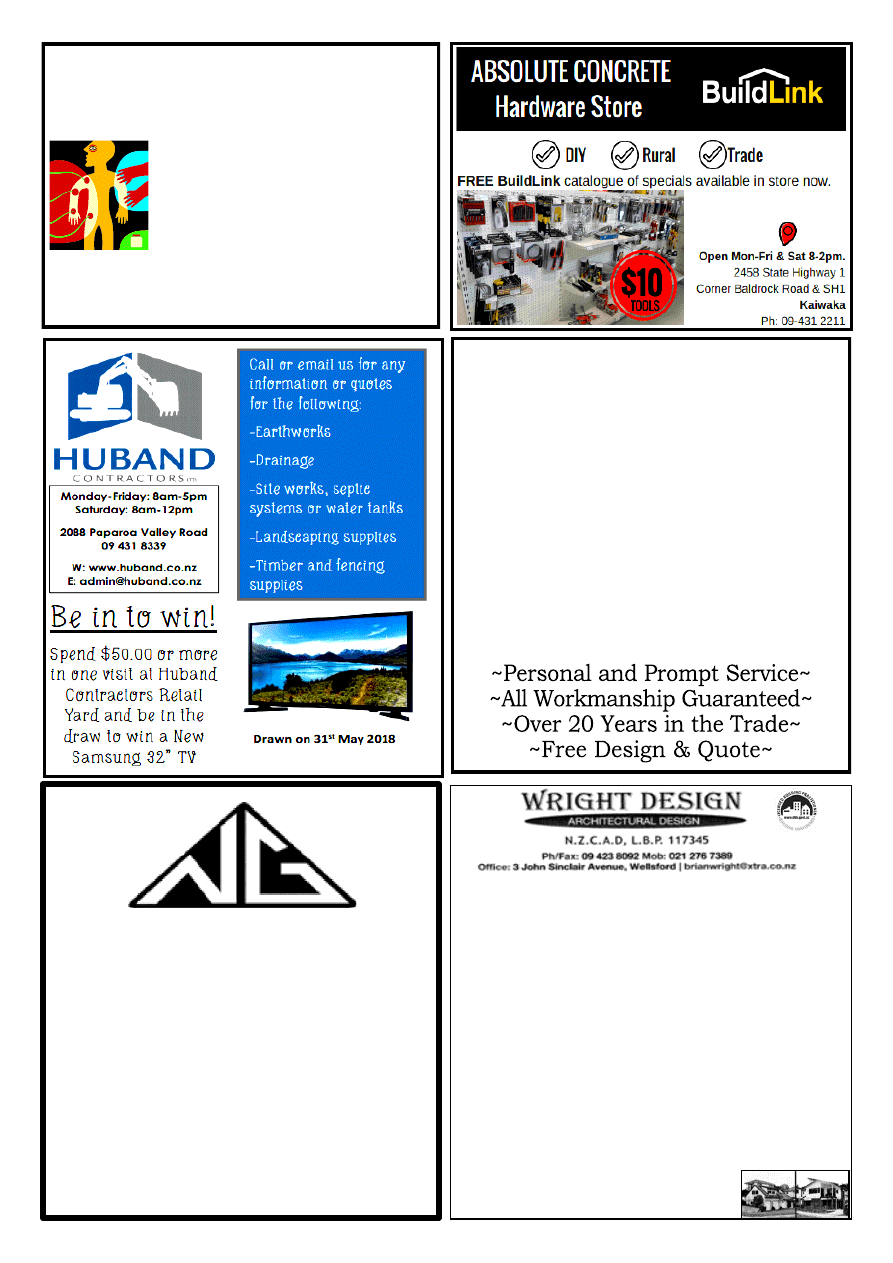 NORTH GLASS 
WINDSCREEN REPAIR OR REPLACE 
GLAZING SERVICES 
MIRRORS  •  SPLASH BACKS  •  SHOWERS 
0800 70 40 10
info@northglass.co.nz 
www.northglass.co.nz 
PLANNING A NEW KITCHEN?
 CONTACT NOEL McDOWELL
WELLSFORD 
KITCHENS
Ph/Fax 094312888
KAIWAKA-Any time
 QUALITY CUSTOM MADE 
KITCHENS
OWEN STEVENS 
Osteo Therapist
For careful adjustments to bones and joints 
Treatment for  humans and their pets 
Clinics: 
Kate's Place, Kaiwaka: 
Last Friday of month 
For bookings:9.00am-5.00pm 
Phone 
09 4312661 
Or phone Owen  09 4317123  anytime 
If you are thinking of building then you 
will need a good and well experienced, 
qualified, and licensed designer. 
This applies if you are considering a 
new home any alterations or any 
building additions/farm buildings, 
sheds, alterations, whatsoever. 
For Resource and Building Consents, 
planning restraints, new building 
materials, applying for building permits 
– you need a capable, experienced, 
and professional designer with a clear 
knowledge of all the processes. 
Brian has been helping and organising 
all these facets of design and building 
for over 50 years. 
Wright Design offers free visits, 
consultations and advice on planning, 
design, building, council permit 
applications, guaranteed permit plan 
acceptance. 
QUALIFICATIONS 
Brian is a qualified designer 
(N.Z.C.A.D.) with over 50 years of 
varied experience in all types of 
building and is registered and Licensed 
Building practitioner in Design – 1 & 2 
Registered LBP117345 
He will ensure you will achieve the 
best from your budget. 
 
EXPERIENCE 
Brian's practical building and 50+ years 
of design experience means he can 
give you excellent advice and all the 
guidance needed. 
Brian can arrange engineering for a 
reasonable cost. 
•Qualified and inexpensive designer – 
N.Z.C.A.D. Registered LBP117345 
•Guaranteed design and working 
drawings 
•Free site visit to your home or 
property 
•Great service and free quotation 
PROJECTS 
Additions, 
alterations, 
No. 117345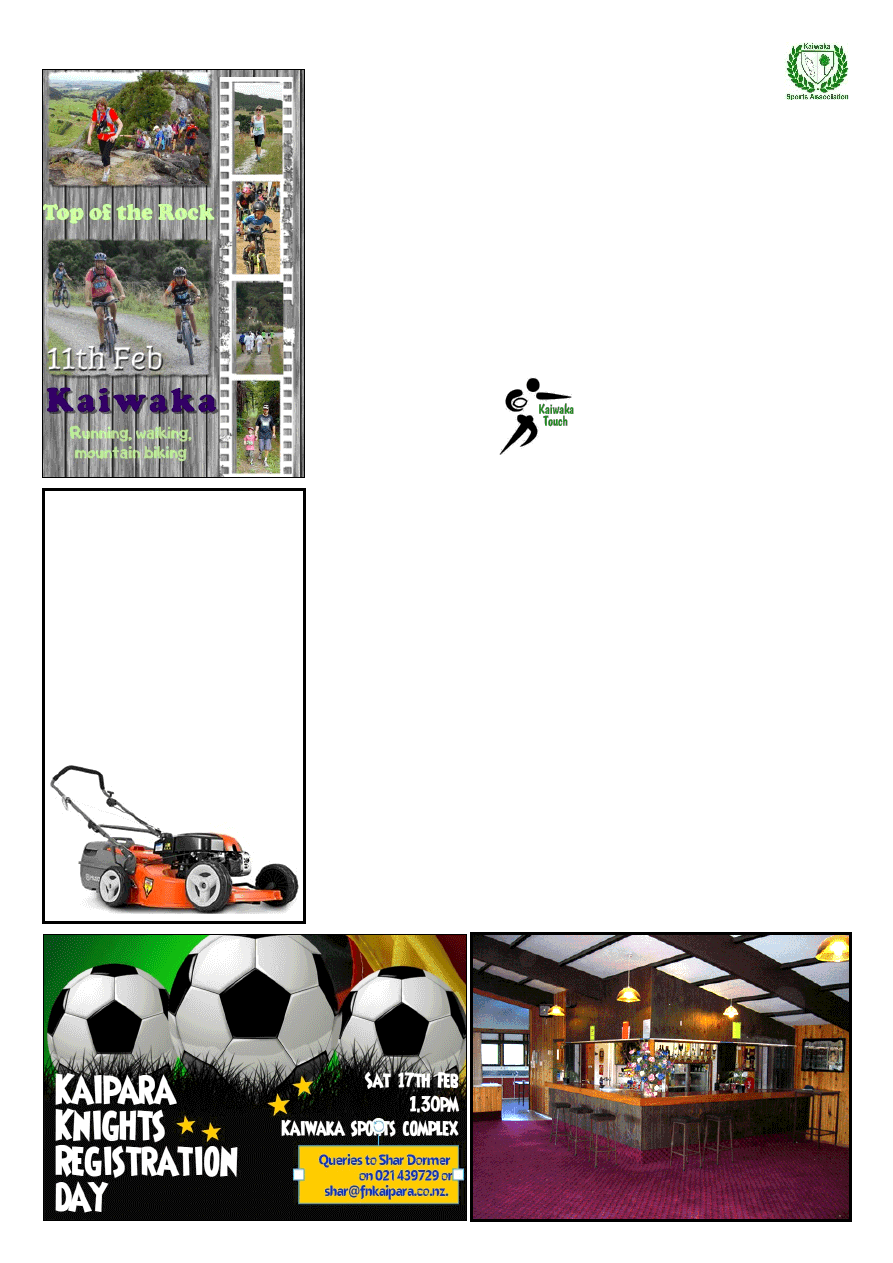 www.kaiwaka.co.nz 
Kaiwaka Bugle - 6 February 2018 
Page 13 
           KAIWAKA SPORTS ASSOCIATION 
Tennis 
Junior tennis lessons will be held at our 
courts  on  Monday  afternoons,  starting 
Monday  12
th
  February.  Beginners  at 
3.30pm,  Intermediate  at  4pm  and 
Advanced Juniors at 5pm. New players 
welcome. A reduced fee of $30 for the 
rest  of  the  season.  Contact  Floyd 
Driver on 022 4769 669. 
Twilight  Tennis  is  being  talked  about. 
Is  there  any  interest  for  social  nights? 
Let Floyd know. 
The 
Otamatea 
Open 
Tennis 
Tournament 
over 
Anniversary 
weekend  went  very  well  with  many 
participants  from  out  of  town  camped 
on the fields. Photos can be viewed on 
the Kaiwaka Sports Complex Facebook 
page.  A  big  thanks  to  all  those  who 
made it possible. 
Touch 
Our  Touch  Module  is  in 
full  swing  with  8  teams 
playing  every  Wednesday 
evening. The results table and draw can 
be 
found 
on 
our 
website 
www.kaiwakasports.co.nz. 
Spectators are welcome, so feel free to 
come  along  to  the  Sports  Complex  on 
Wednesdays  at  6.30pm,  the  Module 
runs until 14th March. 
Rugby - JMB 
A  Small  Blacks  coaching  course  will 
be held at the Kaiwaka Sports Complex 
on  Monday  9th  April  at  6.30pm.  This 
is  a  requirement  for  all  coaches  of 
rugby  teams  from  Under  7s  →  Under 
13s. 
Rugby – Junior Hawks 
Our  Junior  Hawks  club  is  holding  a 
meeting  at  the  Sports  Complex  this 
Thursday  8th  at  6.30pm  to  arrange 
details  for  the  upcoming  season.  All 
welcome. 
Rugby – Senior Hawks 
Trainings  are  underway  for  the  2018 
rugby  season.  Our  Hawks  are  training 
at  our  grounds  on  Tuesdays  and 
Thursdays  at  6pm  –  past  and  new 
players  welcome.  We  are  entering  a 
Premier  and  a  Reserves  team  into 
Division One again this year. The first 
match  of  the  season  will  be  at  our 
grounds  on  Saturday  10th 
March  when  we  take  on 
Kerikeri. 
Hireage 
Did  you  know  our  Sports  Complex  is 
available  for  hire?  It  is  perfect  if  you 
are looking for somewhere to hold your 
party,  conference,  wedding,  corporate 
event  etc.  We  provide  a  quality  venue 
with  bar,  kitchen,  a  spacious  lounge 
with  dance  floor,  plenty  of  parking  – 
all  at  a  very  reasonable  rate.  Plus,  we 
hire  out  our  kitchen  to  groups  who 
require  a  commercially  licensed 
kitchen for food preparation. 
Check  out  our  website  for  all  the 
details www.kaiwakasports.co.nz. 
Top of the Rock 
It's a mountain of a climb, but the view 
from the top is worth the trek! 
Our  Top  of  the  Rock  event  is  your 
opportunity  to  climb  iconic  Baldrock 
Mountain  (and  can  you  really  call 
yourself  a  local  if  you  have  never 
climbed it!) You will get a spectacular 
view of Pukekaroro 
Mountain  and  you  can  see  down  into 
the  Kaipara  and  across  towards 
Mangawhai and Kaiwaka. 
The  mountain has a  well-formed  track 
which  spirals  around  the  mountain,  so 
it is not as steep to climb as it may look 
from the road. 
It 
is 
easy 
to 
enter: 
visit 
www.kaiwakasports.co.nz  to  enter 
online  directly.  Or  pick  up  an  entry 
form at Jaques Four Square. There are 
NO  ENTRIES  ON  THE  DAY.  Your 
last  chance  to  enter  is  this  Friday  –  I 
will  be  at  the  Sports  Complex  taking 
registrations from 6.30 – 8pm. 
If  entering  Top  of the  Rock  isn't  your 
cup  of  tea,  you  are  still  welcome  to 
come  along  to  the  Sports  Complex  to 
cheer on the participants as they arrive 
at  the  finish  line.  There  will  be  live 
music, bouncy castles, food stalls, kid's 
activities  and  the  swimming  pool  will 
be open. Bring the whole family along 
for a fun, community morning. 
Cheryl Anderson 
4312 051, 027 3462702 
kaiwakasports@gmail.com 
WIN!! 
WIN!! 
WIN!! 
A Husqvarna lawnmower 
valued at $650. 
Kindly sponsored by  
Kaiwaka Motorcycles 
This 
lawnmower 
will 
be 
auctioned  off  at  Top  of  the 
Rock on 11th February.  
         Be at the Kaiwaka Sports 
Complex around noon    
to place your bid!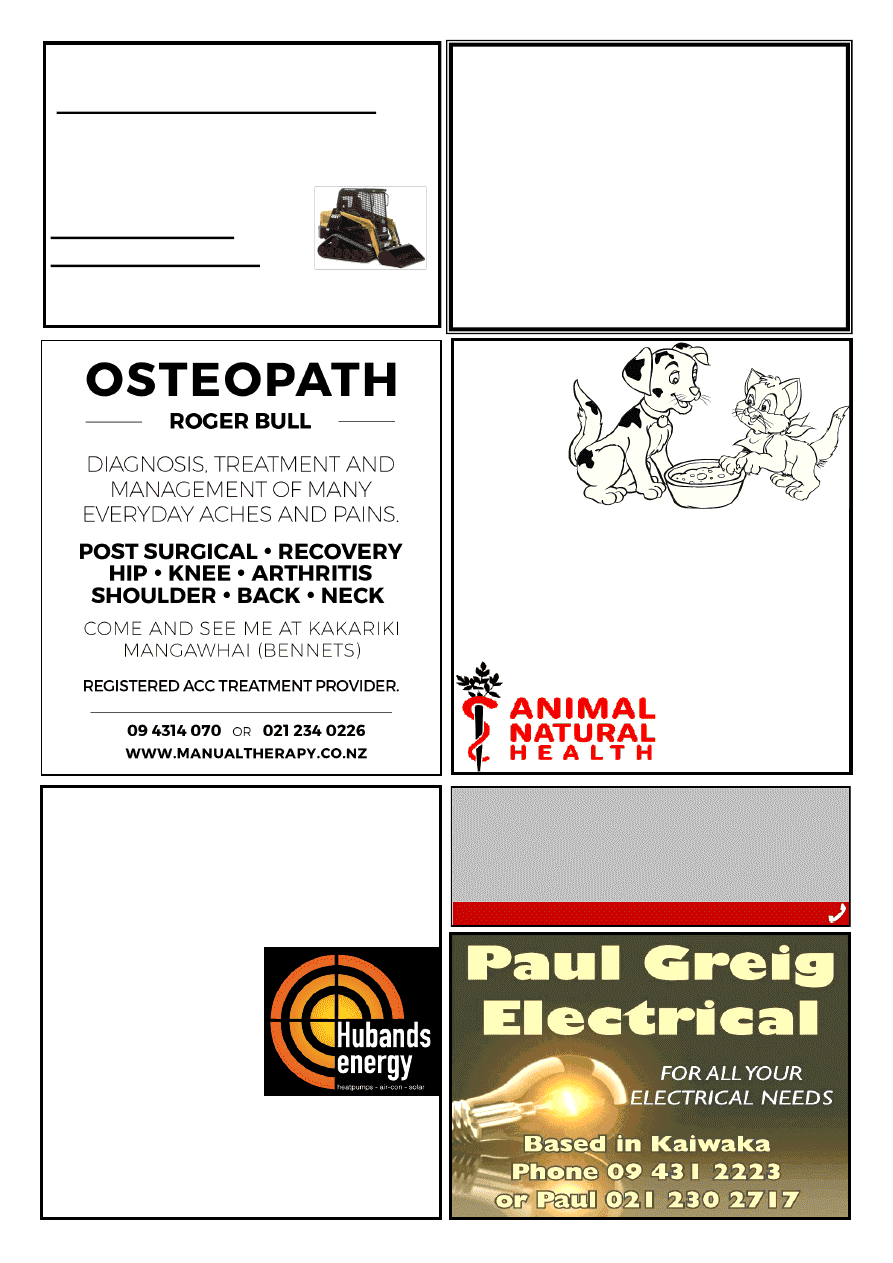 Natural Earth Ltd 
 Landscape and Bobcat services 
 : Driveways  :Landscaping  :Retaining Walls 
 : Hole Boring: Land Levelling :Trenching 
 : Decks :Fences :Sections Cleared: Plus much 
more 
Tel   09 4312885 
Mob 02102391280  
For A Fast Friendly  
Service Contact Tim Hicks 
CALL CRIMESTOPPERS 
Worried about something that doesn't seem right to 
you? Concerned about activity that could be 
harmful? Call Crimestoppers.  
You don't need to know all the facts.
CALL 0800 555 111 ANONYMOUSLY 
Northland's Award Winning 
Solar Company
SEANZ Best Solar Business Winners 2015/16
EXCLUSIVE 10 year installation warranty 
FREE No obligation onsite quote
Complete systems 
from $5990
See our range of: 
✓
Heatpumps 
✓
Airconditioning 
✓
Hot Water 
Heatpumps 
✓
Central Vacuum Systems
09 430 0019             sales@hubands.co.nz 
15 Kioreroa Road, Whangarei
Locally owned and operated for 35 years 
Look for 
our NEW 
range of 
real food 
for cats 
and dogs
Veal Bones 3kg $17.90  
Chicken Medallions 3kg $17.90 
Beef & Lamb Patties 3k $21.90 
Purely Pets – buy 10 packs,  get 11th pack FREE 
Radical Dog in store (as seen on Country Calendar) 
Beat the Flea Season: Flea combs, shampoos 
Chemical-free, no nasties Flea Control, Tick & Lice 
Support 
ANIMAL NATURAL 
HEALTH CENTRE 
Next to Italian Bakery, 
Kaiwaka 
Ph. 09 431 2217    
Open Mon-Sat.
Mangawhai Heads 
Garden Centre
1758 Cove Road
945 0707 
021 165 2629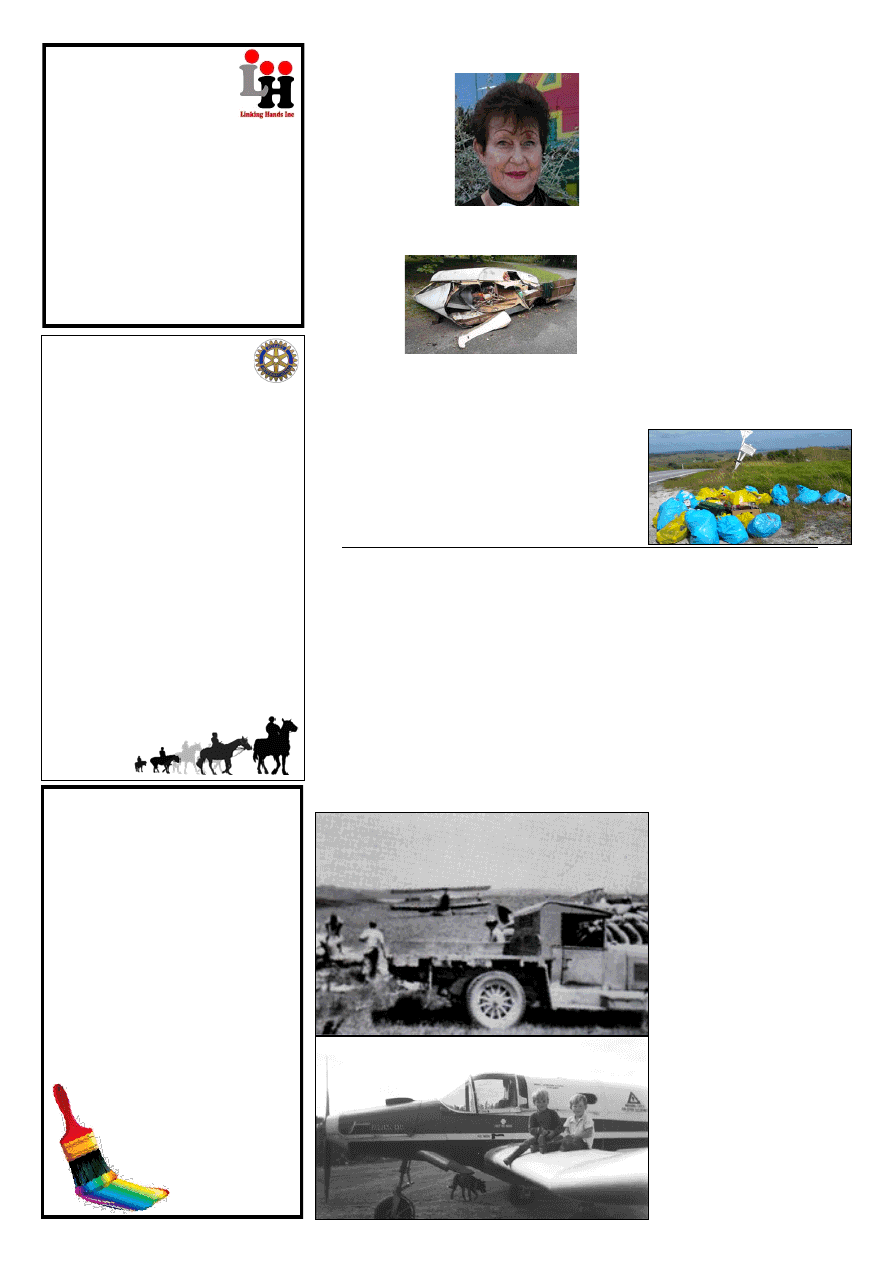 www.kaiwaka.co.nz 
Kaiwaka Bugle - 6 February 2018 
Page 15 
LEE COOPER 
PAINTERS 
(Kaiwaka Based) 
*30 yrs Experience 
*Interior/Exterior 
*New and Restoration 
*Honest and Reliable 
*Free Quotes 
 
09 4312918 
0274735171 
leecooper@xtra.co.nz 
KAIWAKA RUBBISH  
McClean Park 
We owe a very big 
thank 
you 
to 
Elizabeth  Preston 
for  keeping  an  eye 
on  a  very  busy 
Kaiwaka rest area . 
The  rotten  caravan 
that  she  reported 
dumped  in  the  Park  -  photo  in  12 
December  Bugle,    was  further 
vandalised  and  other  rubbish  added, 
was  finally 
removed 
just  before 
Christmas  -
after  more 
of 
her 
phone calls. 
Elizabeth,  now  82  years  old  checks 
McClean  Park  every  day,  as  she  has 
been  doing  for  nearly  ten  years  now.   
She collects rubbish left, plants the wee 
garden,  tries  to  keep  the  rampant 
poplars  at  bay,  and  reports  any 
problems. 
Oneriri Road Collection 
Ratepayers  on  the  Oneriri  Peninsula 
received  a  letter  from  the  Council  last 
week regarding the Wednesday Refuse 
collection,  reminding  them  that  the 
blue bags go out no more than 24 hours 
before  pickup.  Northland  Waste  green 
bags  are  not  picked  up    in  the  Oneriri 
area - they can be searched, treated as 
illegal  dumping,  and  liable  to a  $5000 
fine, along with no-bag rubbish. 
Kaiwaka 
Kaiwaka township, and the roads north 
and  east  do  have  the  two  refuse 
collectors  -  KDC  with  a  Wednesday 
collection,  and    Northland  Waste 
collecting  on  Mondays.  Northland 
Waste  (0800  499  246)  also  have  large 
wheelie bins available (folk have found 
these a great for keeping animals out of 
their rubbish). 
There  are  private  firms  eg.  Total 
Wheelie  Bins,  that  have  collection  bin 
services - even down the Oneriri. 
The Hakaru Transfer Station has a very 
good  recycling  service  -  for  paper, 
bottles, cans and plastic at only a small 
charge. 
Parekura  Rd.  collection  point  is  improving  - 
only  one 
carton 
and  one 
black 
bag  out 
of  place 
last 
week!
AERIAL TOPDRESSING 
ROTARY 
HORSE TREK 
"ROTARY HORSIN' AROUND" 
Raising Funds for Local Community 
Saturday 10 February  
TARAKOHE FARMS 
129 Mooney Rd, Maungaturoto 
(SH12-Ford Rd- Huarau Rd- then right into 
Mooney Rd) 
Gates Open 9.30am ~ Ride Out 11am 
Register as soon as possible;  
Restricted numbers 
$25 per horse. 
Phone to register: 
Els Bloom, 0273788982 or Keith 
Shadbolt, 021402122 
Maungaturoto & Districts Rotary is stepping out of 
its comfort zone 2018. We would like you to join us  
on  a  horse  trek  over  Tarakohe  Farms.  A  nice 
comfortable  ride  to  the  trig;  bring  your  camera; 
fantastic views of lower Kaipara inlets, etc. Rotary 
will  cater  light  refreshments  for  all  at  12.30pm  at 
the shed, then the ride is only a short  way  
back to the vehicles or there is the extended  
ride of another hour  
before returning. 
LINKING 
HANDS INC 
Maungaturoto - Kaiwaka - 
Mangawhai 
Meeting the needs of the community. 
A  free  Health  Shuttle  Service,  providing 
transport to those  who would struggle to 
get  to  medical,  dental,  podiatry,  or 
optometrist appointments anywhere from 
Warkworth to Whangarei. 
HEALTH SHUTTLE SERVICES  
Ph/fax 09 431 8969 
OFFICE HOURS 
Maungaturoto - Monday to Friday - 
10am to 4pm 
Closed Public Holidays 
It  was  noted  that  recently  an  Oneriri 
farmer  was  'sewing'  fertiliser  by  air. 
There  is  now  very  little  aerial 
topdressing in our area. 
Oneriri  Peninsula  has  at  least  eight 
topdressing airstrips – from the end of 
Pukenui  Road  out  to  Oneriri  Station; 
on  the  Hakaru  side  there  was  one  on 
Jeffery's  farm  at  the  top  of  Brown 
Road. Do you know of others? 
From  'Centennial  of  Kaiwaka  1859  – 
1959', page 112 – "The back- breaking 
bags  of  fertiliser  and  lime  have 
disappeared,  and  these  are  now  sown 
by  motorised  distributors  or,  on  the 
steep  land,  by  aircraft.  Kaiwaka  was 
one  of  the  first  districts to  adopt  these 
new  methods;  in  fact,  the  BBC 
broadcast  on  Christmas  Day,  1949, 
describing  the  novelty  of  aerial 
topdressing,  was  from  a  recording 
made in Kaiwaka." 
And,  this  excerpt  is  from  Wikipedia  - 
"Several  factors  lay  behind  the 
development  of  aerial  topdressing  in 
the  apparent  backwater  of  New 
Zealand.  The  New  Zealand  public 
service  gave  its  employees  time  and 
resources  to  pursue  their  ideas  and 
publish research. Many farms 
included 
hill  country,  where  it  was 
impossible 
to 
spread 
fertiliser  by  truck.  New 
Zealand  farms  tended  to  be 
large  eno
ugh  to  make  the 
costs 
worthwhile. 
High 
prices  for  lamb  and  wool  in 
the early 1950s gave farmers 
the extra capital. World War 
II had left behind cheap war-
surplus  Tiger  Moths  and 
highly  trained  ex  air  force 
pilots." 
Photos:  1971  –  Bryson  and 
Steven  Hargreaves  on  the 
wing  of  Advance  Aviation 
Ltd.'s  topdressing  plane  at 
the 
former 
Landcorp 
airstrip,  Nukuroa  Road, 
Oruawharo. 
Page 
34 
Kaiwaka  A  Photograhic 
History  –  the  Tiger  Moth 
topdresser 
on 
Oneriri 
Station's  airstrip,  ready  to 
'sow' the bagged lime.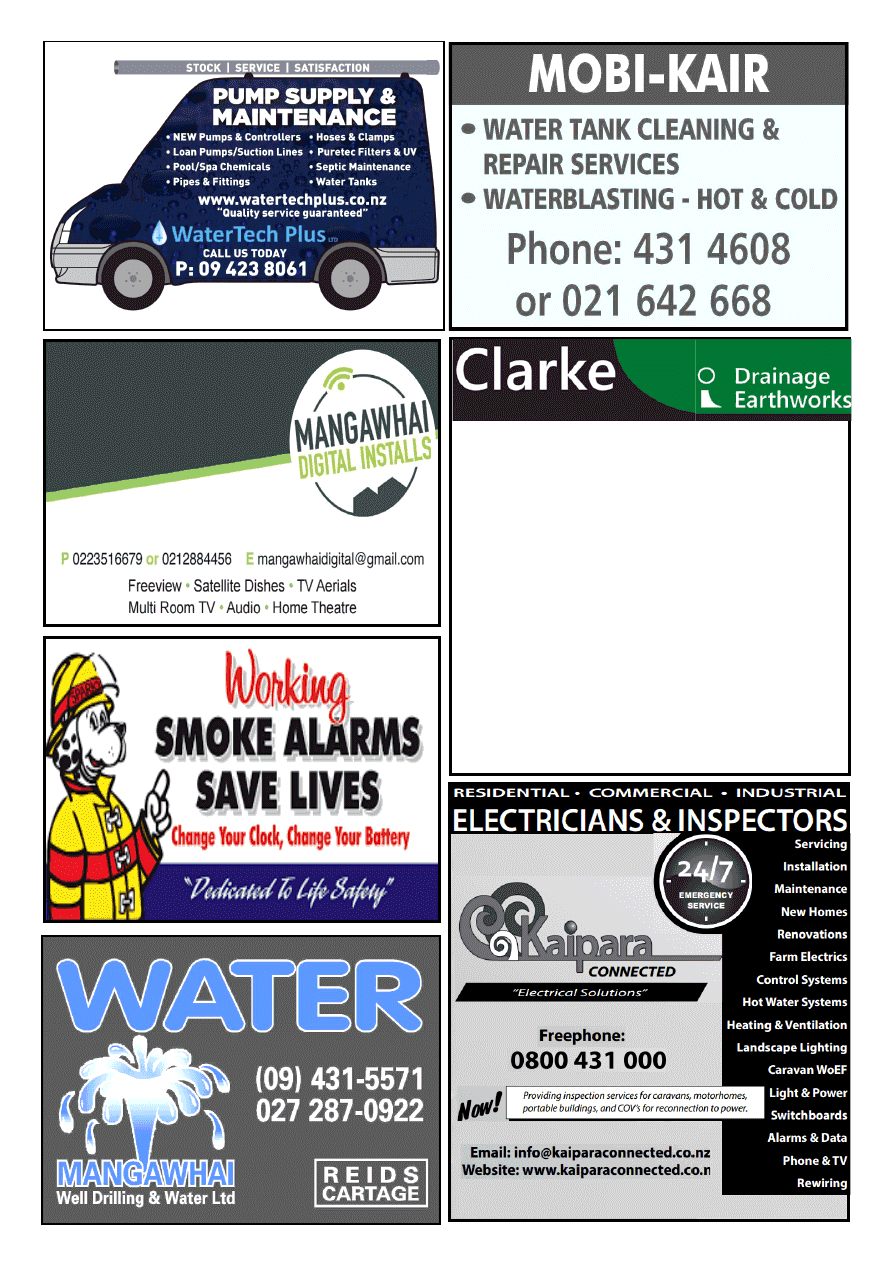 Registered Drainlayer 
All Types of Earthworks  
> All Residential & Commercial Work  > House Sites 
> Septic System Design & Install 
> Footings & Drilling to 10m 
> Sewer Connections 
> Dams 
> Water Tank Installation 
> Roading & Races 
> Farm Work 
THE ONE STOP SHOP  
Phone Nigel for an Obligation Free Quote  
Drainage & Earthmoving 
clarkedrainage@xtra.co.nz 
027 2233 185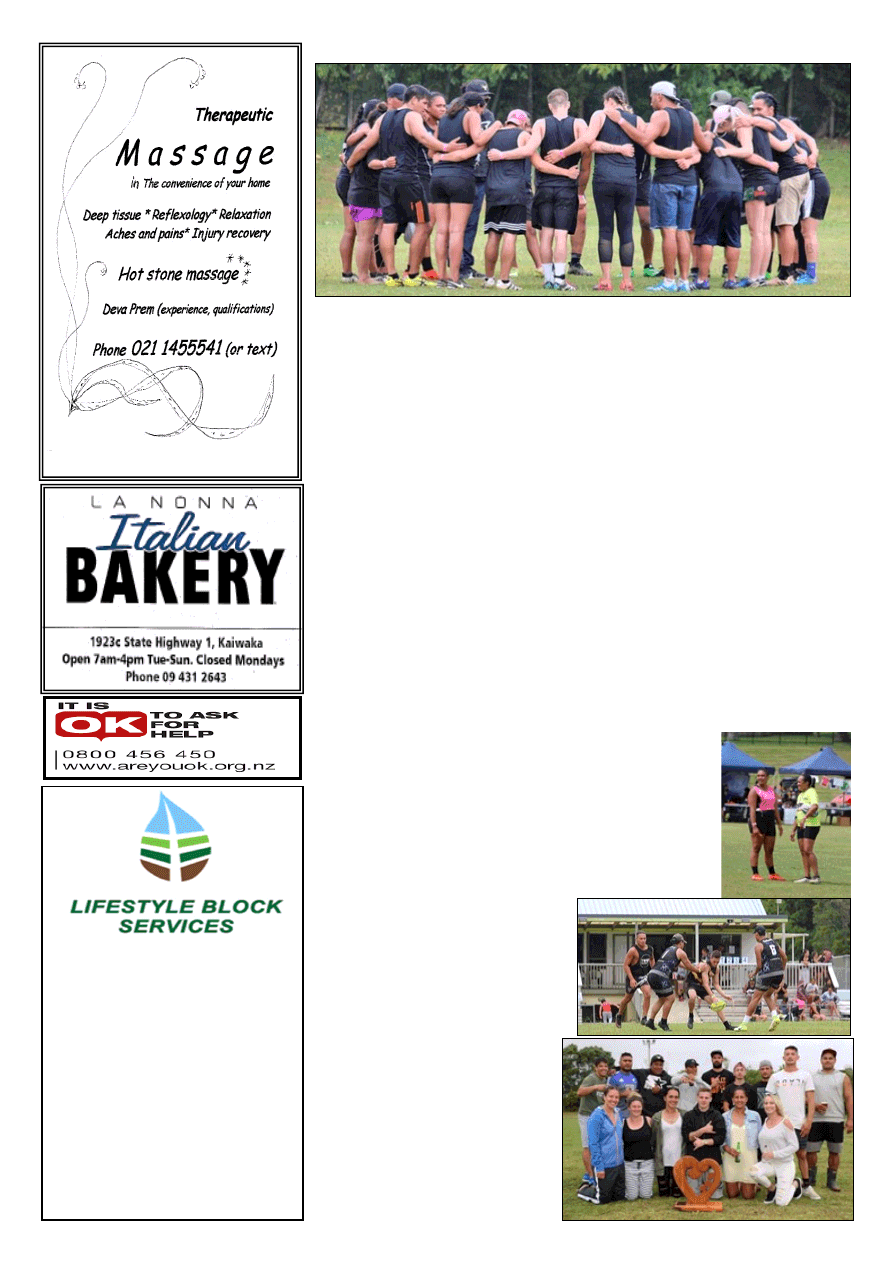 www.kaiwaka.co.nz 
Kaiwaka Bugle - 6 February 2018 
Page 17 
www.mangawhaimassage.co.nz 
Make Baleage while the sun shines! 
Let us make hay/sileage for you, or 
buy single & 5 bale equivalents from 
us
. 
Contact Mark on 021 801 065 or 
Contact Lisa on 021 108 1057
We also do: 

Fencing 

 Spraying 

  Mulching 
 
Stockwork 

  Stock Water 
Systems 

  Tree Trimming  

 Driveway & Track Maintenance  
Whānaunga Touch Tournament and Gala 
The committee wishes to pay respect to 
Russell  Kemp.  A  significant  loss  to 
Ngāti Whātua, Te Uri o Hau, Otamatea 
and  our  communities  within  the 
Kaipara  area.  Unbeknown  to  many, 
Russell conceptualise this kaupapa five 
years ago. His belief was that our local 
youth  and  whānau  were  talented  and 
this  tournament  would  be  a  good 
opportunity  to  showcase  that.    "How 
good  are  you"  was  never  a  question, 
always  a  statement  to  challenge.  His 
guidance will be greatly missed. 
Further  acknowledgement  of  Kerry 
Strongman  passing,  master  carver  in 
whakairo  and  kindness  of  heart 
donation  all  the  trophies  for  our 
tournament. Moe mai ra korua. 
The 
annual 
Whanaunga 
Touch 
Tournament  and  Gala  was  held  at  the 
Kaiwaka Sport Complex on 6
th
 January 
2018. This year the committee decided 
to  have  two  mixed  grades,  social  and 
open.  This  proved  to  be  a  successful 
move  with  teams  reaching  the 
maximum allowed for the tournament. 
In  addition,  there  was  a  Gala 
atmosphere  with  stall  selling  kai  and 
taonga. Part of the kaupapa was to raise 
funds for the Otamatea Marae Complex 
Development  via  kai  stall,  hangi,  and 
raffles. Funds raised will be reported to 
the  Otamatea  Trustees  Committee  in 
February. 
184  registered  players  entered  the 
tournament!! Ages ranging from 50+ to 
9  years  old.  With  cousins  playing 
cousins,  whanau  matching  whanau, 
and  moko  versing  moko  it  was  an 
awesome 
spectacle 
with 
our 
kaumatua  and  kuia  cheering  on  the 
sidelines. 
There are so many to thank, but first 
the results. 
OPEN:  3rd  -  Galaxy  Auckland; 
2nd  -  Kake  Whanau;  1st  -  Te 
Kotahitanga Kaipara Elite 
SOCIAL:  3rd  -  Kemp  Whanau; 
2nd  -  Manukau  Outlawz;  1st  -  Te 
Kotahitanga Kaipara 
Player of the Tournament: Wiremu 
Maeka - Level Movement 
Top  Male  Try  Scorer:  Jayden 
Kemp - Kemp Whanau 
Top  Female  Try  Scorer:  Megan 
Grayson - Level Movement 
Best  Presented  Team:  Te  Kotahitanga 
Kaipara 
Best Team Spirit: Manukau Outlawz 
Oldest  Player:  Adam  Mane  -  Kemp 
Whanau 
Youngest  Player:  Joy  Manukau  - 
Manukau Outlawz 
M A S S I V E thank you to our refs: 
Gerrin,  Kym,  Heaven-lee,  Tumai, 
Frankie,  JJ,  Arnzs,  Ara,  Maia,  Paige, 
JK,  Victoria,  Ambrosia,  Taira  -  and 
thank you Hayley Alex from NRU and 
Gerrin  for  sorting  and  organising  the 
refs. 
B  I  G  T  H  A  N  K  Y  O  U!!!!!  To  our 
Major  Sponsors:  Pumps  and  Plumbing 
Kaiwaka  and  Te  Runanga  o  Ngāti 
Whātua.  With  this  support  the 
tournament  would  not  have  been  a 
success. 
Other  Sponsors  whose  contribution 
was  much  appreciated:  Te  Uri  o  Hau 
Settlement  Trust,  Brogan  Builders, 
Kaiwaka  Motorcycle  Shop,  Kaiwaka 
Sports  Association.  Jaques  4  Square, 
Whangarei 
Aquatic 
Centre, 
Wellsford  Sports 
& 
Leisure, 
3 
Furlongs,  Māori 
by  Design,  Noel 
Radds 
Maungaturoto,  4 
Square 
Maungaturoto,  Te 
Ha Oranga. 
Social Grade Final - Maunkau Whanau vs Te Kotahitanga Kaipara coming together 
after they played - whanaunga at its finest!!!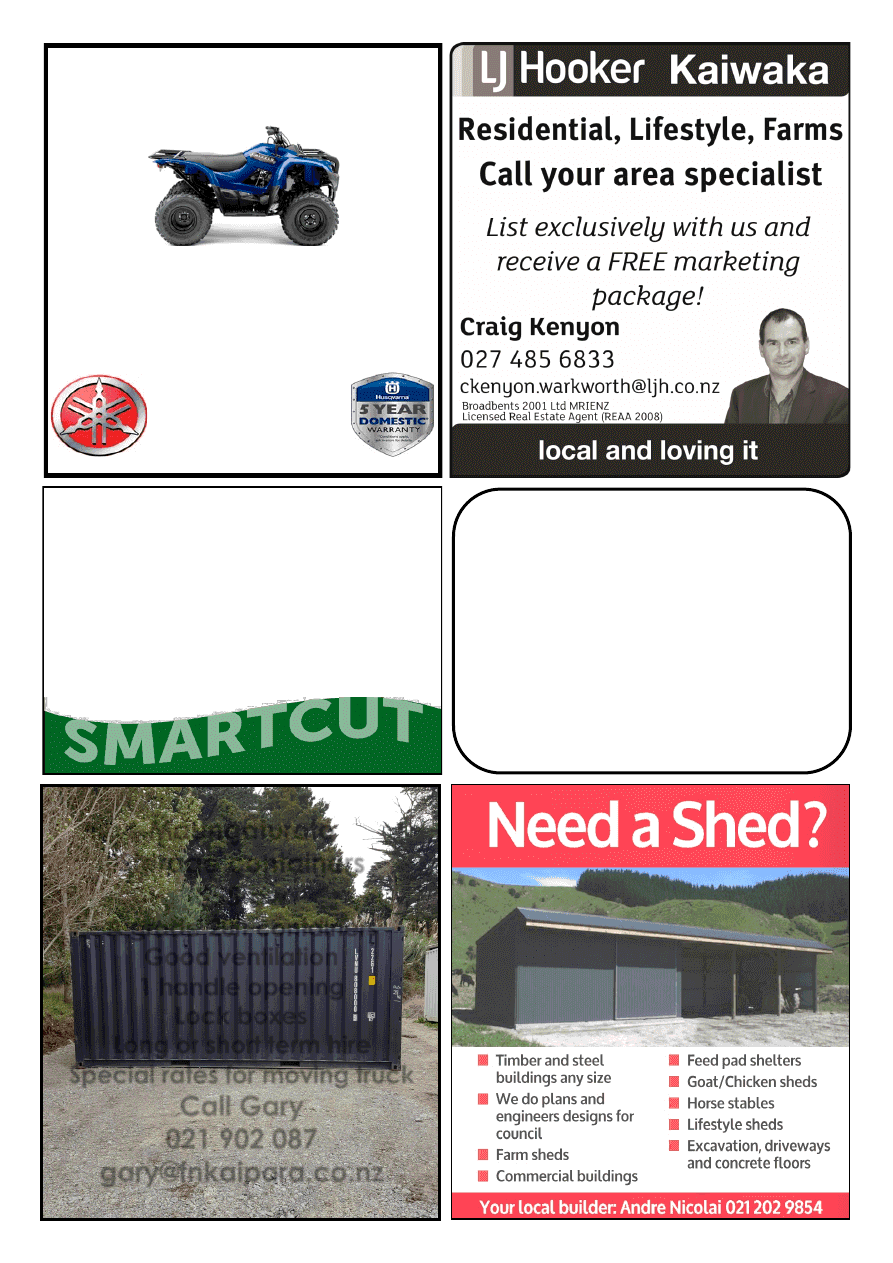 All your outdoor needs sorted so you don't have to... 
I can prune, chop, tidy, spray, mow, plant 
- you name it, I can do it! 
Residential & Commercial 
Lawn & Garden Care 
Call Rodney, your local  
lawnmowing contractor 
021 138 2344 
KAIWAKA 
MOTORCYCLES LTD
SALES – SERVICE – SPARES 
FARM BIKE SPECIALIST
PHONE 09 431-2127 
10 KAIWAKA-MANGAWHAI ROAD, KAIWAKA
Trimmers  
from $279
Chainsaws  
from $339
YAMAHA 
HUSQVARNA 
Maungaturoto  
Storage containers  
$55 pw  
A grade 20ft containers 
Good ventilation 
1 handle opening 
Lock boxes 
Long or short term hire 
Special rates for moving truck 
Call Gary  
021 902 087 
gary@fnkaipara.co.nz 
UP-LINK 
CHRIS WARING 
FREEVIEW INSTALLATIONS 
T.V. - HOME THEATRE &  
HI-FI ADVICE/SET UP
SKY ACCREDITED INSTALLER
MOB.0273403747 HM.094312328 
EMAIL cwaring44@gmail.com
28 YRS EXPERIENCE 
OFFERING UNBIASED ADVICE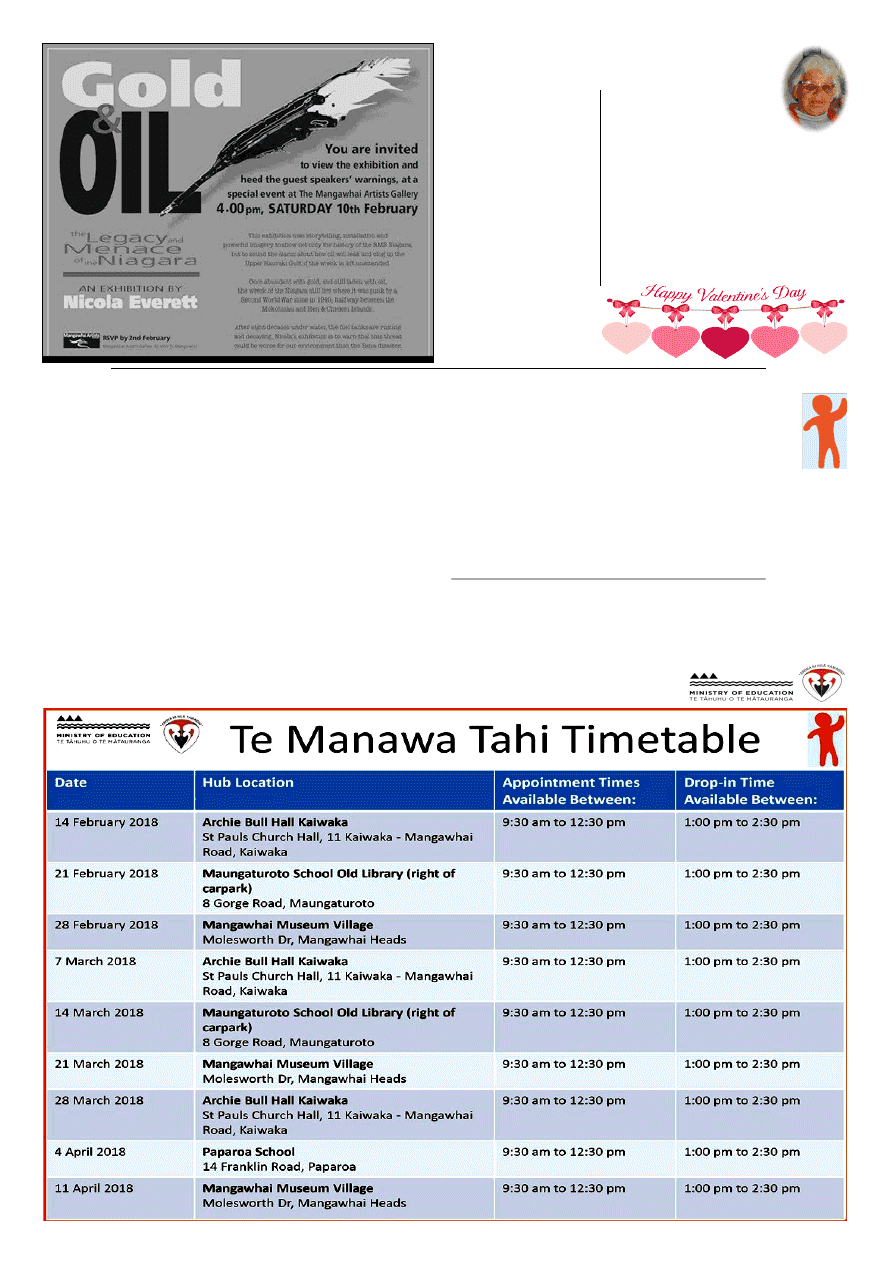 www.kaiwaka.co.nz 
Kaiwaka Bugle - 6 February 2018 
Page 19 
From  Thelma's 
Scrapbook … 
(with Valentine's Day in 
mind!!) 
To You. 
I'd rather have the thought of you, 
To hold against my heart, 
Than any earthly happiness 
In which you have no part. 
I'd rather have you and your love 
For every day I live, 
Than all the glory and the wealth 
This world could ever give!! 
Valentine's  Day,  also 
called 
Saint 
Valentine's Day or the 
Feast 
of 
Saint 
Valentine  is  an  annual 
holiday  celebrated  on 
14 February. 
It  originated  as  a 
Western 
Christian 
liturgical  feast  day 
honouring one or more 
of  early  saints  named 
Valentinus,  and 
is 
recognised 
as 
a 
significant cultural and 
commercial 
celebration  in  many 
regions 
arund 
the 
world,  although  it  is 
not  a  public  holiday 
any country.
The  Ministry  of  Education's  Learning  Support  Service 
(previously known as Special Education) has been working 
with  your  Schools/Kura,  Early  Childhood,  Te  Rūnanga  o 
Ngāti Whātua and Te Uri o Hau to provide Te Arahi better 
support  to  children  who  need  additional  help  with  their 
learning. We are trialling a different way of working so that 
children who need additional support, access this as quickly 
as  possible.  Difficulties  with  learning  might  include 
language  and  learning  delay,  social  and  emotional 
difficulties, behaviour and wellbeing. 
What is happening? 
We have set up Support Hubs (called Te Manawa Tahi) in 
various locations in your community. Te Manawa Tahi have 
specialists  available  so  you  can  discuss  your  concerns 
directly with them, and determine what may be required to 
help.   
Te Arahi will be flying on a flag outside each Te Manawa 
Tahi venue. 
When is this happening? 
Please  see  the  timetable  below  for  information  on 
when  and  where  Te  Manawa  Tahi  will  be  in  your 
community. 
From 9:30 am to 12:30 pm Te Manawa Tahi can be visited 
by appointment. You can ring and make an appointment by 
calling  0800  KAHUI  AKO  (0800  52484  256)  or  your 
School  /  Kura  /  Early  Childhood  centre  can  make  an 
appointment  for  you.  You  can  also  email  us  at 
learningsupport.twincoast@education.govt.nz  or  visit  our 
Facebook page "Te Manawa Tahi Twin Coast" and keep an 
eye out for our updates and helpful resources. 
If  you  want  to  drop  in  to  Te  Manawa  Tahi  without  an 
appointment you can do so from 1:00 pm to 2:30 pm. 
When are the changes happening? 
We are trialling the different way 
of  working  from  October  2017 
through until June 2018. 
Support for children having difficulty learning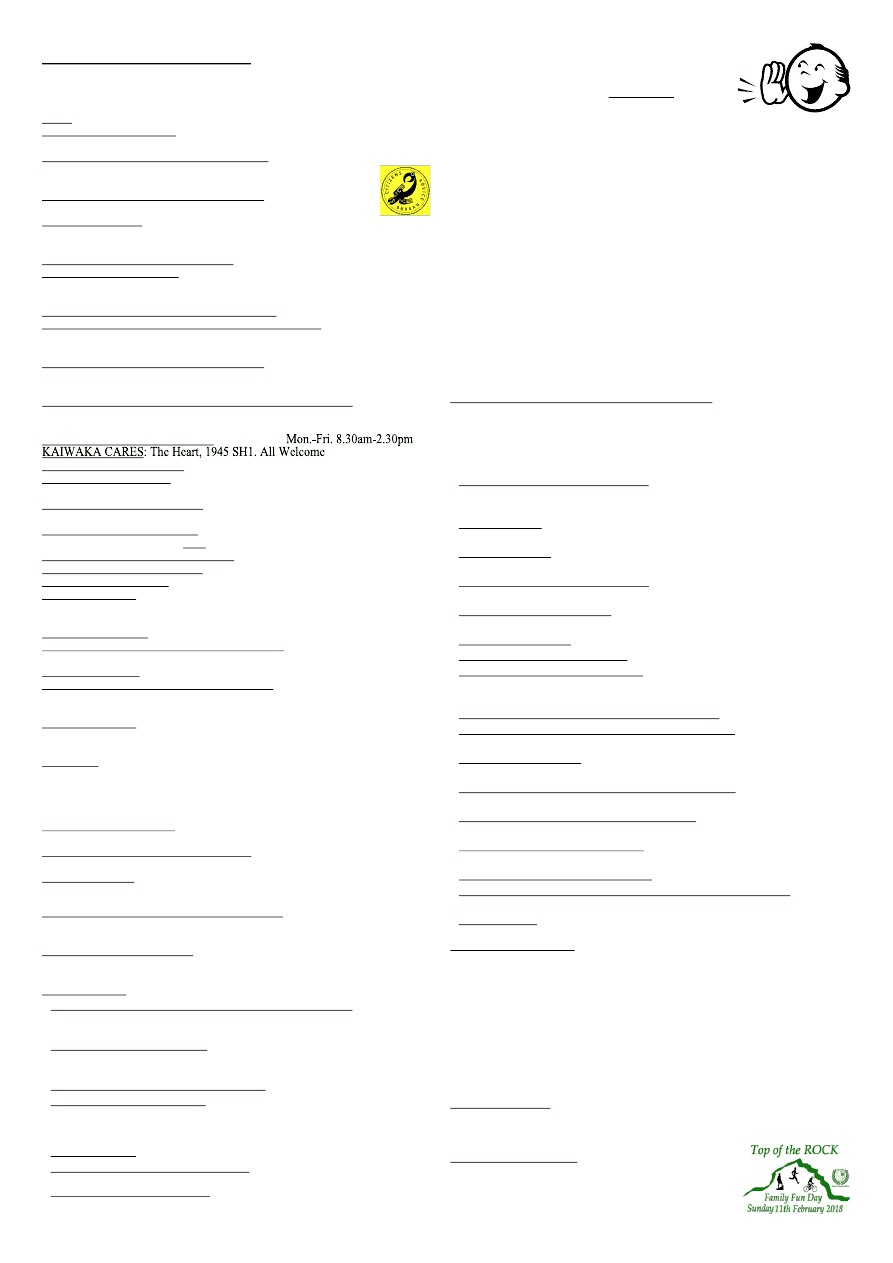 Next Bugle Deadline midday Friday 16 February 2018
WHAT'S ON
PLEASE ~ do let us know what is on - email 
kaiwakabugle@kaiwaka.co.nz 
Advertising in WHAT'S ON is FREE  
*7Feb~Kaiwaka School, first day Term One 
*8Feb~OHS swimming sports 
*9Feb~Marshalls meeting-Top of the Rock, 6.30pm KSA 
*9Feb~'The Mountain Between Us' , 7.30pmKWMH 
*10Feb~Rotary Horse Trek, contact 0273788982 
*
11Feb~ Top of the Rock, KSA Event
*13Feb~SeniorNet Mangawhai, AGM 10.30am 
*15Feb~Otamatea High School Welcome Evening, 6.30-7pm 
*17Feb~Final day for KDC mayoral by-election voting 
*22Feb~Womens Section Hakaru RSA - AGM 
*23Feb~'Loving Vincent', 7.30pmKWMH 
*25Feb~ 'The Son of Bigfoot', 2pm KWMH 
*4Mar~Te Whai Bike Run Ph: 021 685 851  
*6Mar~Kaiwaka Sports Assn meeting, 7pm 
*9Mar~'Fleetwood Mac -The Dance', 7.30pm (tickets), KWMH 
KWMH = Kaiwaka War Memorial Hall; KSA = Kaiwaka Sports Association 
See www.kaiwaka.co.nz for more information 
HOUSEHOLD RUBBISH COLLECTION - Kaiwaka Pick up: 
Mondays = Green bags (Northland Waste - 09 430 3273) 
Wednesdays  = Blue bags and yellow recycling (at Jaques $3.00 
and  $1.50)  (Kaurilands  09  4392146);  ONLY  Blue  and  Yellow 
bags picked up on Oneriri Road. 
 DIABETES  Support  Group  -for  Kaiwaka,  Mangawhai, 
Wellsford  10am,  3rd  Friday  of  month  Ph:  Colleen  James  09 
4314238 
 DRINK CAN 'tear tabs' - for Starship Hospital- please collect - 
98 Kaiwaka Mangawhai Rd, leave in mailbox, Ph. 4312625  
 GENEALOGY - Wellsford: 1st Thursday in month Ph: 423 
7033; Waipu: 4th Monday in month Ph: 4312 725 
 GYMNASTICS  OTAMATEA  -  Tuesday  Ph:  Stephanie  022 
3624998 
 HAKARU PONY CLUB - Secretary Denise Rogers 021423376 
secretary@hakaruponyclub.co.nz  
 KAIPARA HUNT - Secretary Albert Doonenbal Ph 4312059 
 KAIWAKA BADMINTON -Tuesdays 7.30pm Ph: 4312345 
 KAIWAKA  DRAMA  CLUB  -  Dave  Edwards  021  611198  - 
KaiwakaDrama@gmail.com Monday 5:30-7:00pm KWMH - FB 
- "KaiwakaDramaClub" 
 KAIWAKA DRUM & DANCE CLASSES - 021 611198 
 KAIWAKA GARDEN & FLORAL GROUP - 2nd Thursday in 
month. Ph: 431 4744 
 KAIWAKA  CUBS  -  Thursdays  5.30-7pm,  Hakaru  Ph:Bruce 
4312542 
 KNITTING FOR WHANGAREI HOSPITAL - 2nd Tuesday in 
month, Archie Bull Hall 10am Ph 4314827 
 MANGAWHAI COMBINED REBUS CLUB - 2pm, 3rd 
Thursday month, Senior Citizens Hall Mangawhai. Ph: 4315777 
 OTAMATEA GREY POWER - Kath Pattinson 09 283 2052, 
1pm last Wednesday of month, Anglican Church Hall, Mgto 
 PT CURTIS CRUISING CLUB - Jean Ph: 4312227 (wk), 4312520 (hm) 
 RSA,  HAKARU  &  DISTRICTS  WOMEN'S  SECTION  –  meets 
1.30pm 4th Thursday of the month. Ph: 431 5818  
 TRAMPING - Mondays 9am-2:30pm Maria 4312 234 
HALLS FOR HIRE: 
 St.Pauls Archie Bull Hall HIRE $20 half day, $40 full day per 
hire, R. Morgans, Ph 4312365 
 Kaiwaka  War  Memorial  Hall  HlRE  -  Phone  4312725  or 
kaiwaka.hall.bookings@gmail.com 
 Hakaru Community Hall HIRE -Ph. 4312256 or 4312110 
 Te Pounga Marae queries - R. O'Leary 4312 423, J.Nathan 021 
186 7382 
 Kaiwaka Sports Association hire/queries - C. Anderson 4312051 
or kaiwakasports@gmail.com 
Justice of Peace:  
B.FJaques  4312  048;  L.Donaldson  4312  228;  A.F.Hargreaves 
4312 045, W.Howard 4312 725 - please phone to make sure they 
are available www.justiceofthepeace.org.nz 
Marriage Celebrants:  
L.Donaldson; A.F.Hargreaves; Y Osborne
LOCAL SERVICES 
*Emergencies - Ambulance, Fire, Police - dial 111 
*Non-urgent Police phone 09 4311150
A A: Meets Wed., 8pm Kaiwaka Ph: 4315543, 0800229 6757 
ASUREQUALITY LTD (was AgriQuality) Call Free 0508 0011 22  
BUDGETING SERVICE, WELLSFORD: Free confidential advice & 
support for all areas of personal finance. Ph (09) 423 7123 
CAB-Citizens Advice Bureau.Wellsford Ph: 4237333 
0800 367 222 email:cab.wells@xtra.co.nz  
CIVIL DEFENCE - Kaiwaka Community Response Group: 
kaiwaka.civildefencecrg@gmail.com, 4312725 Wendy 
DOG/STOCK /NOISE CONTROL 0800 105 890 
FUNERAL SERVICES: Morris & Morris Ltd, 
Whangarei - Bev Jaques Ph:4312367 or 0800667747 
GRANDPARENTS Raising Grandchildren: Dianah Roberts 0223819539 
HAKARU & DISTRICTS MEMORIAL RSA (Inc) 733 Settlement Rd, 
Hakaru. Ph 4312 176 or Graeme Hitchcock (President) 431 3064 
HAKARU LANDFILL/Transfer Station:Open everyday except 
Tuesday10am-4pm.Ph4312629 Cost-$55 trailer load up to 1 cubic metre. 
Ph:4258567 - office 
KAIPARA DISTRICT COUNCIL www.kaipara.govt.nz:  
Help Desk FREEPHONE 0800 727 059  
KAIWAKA KOHANGA REO: Ph:4312620 
KAIWAKA CEMETERY: Ph: 4312045 or 4314017 
KAIWAKA LIBRARY: kaiwaka.library@gmail.com  
Mon. 4-6pm; Wed., Thurs., Fri., Sat. 10am-2pm Ph:4312539 
KAIWAKA PLAYCENTRE: Ph Juanita 0274134904; open Mon, Wed, 
Fri 9am-12pm. Hastie Lane; Monday to Friday 9.00am - 12 noon. 
KAIWAKA POST OFFICE:Ph:4312 431  
Post Code: 0573 for RD2 and 0542 for all Kaiwaka Post Office mail 
KAIWAKA PRIMARY SCHOOL: Ph: 4312309   
KAIWAKA SPORTS ASSN: Ph 4312005; 4312129 gym 
KAIWAKA ST JOHN: Manager Steve Rosser 09 4318403, 021 355734 
KATE'S PLACE Community Centre - Employment services, Free Health 
Nurse, Plunket, Advocacy, Osteopath, A.A., Legal Advice. 4312 661 
LINKING HANDS Health Shuttle Ph 4315906 or 09 4318969 
MINISTRY FOR PRIMARY INDUSTRIES - General inquiries Call 
Free 0800 008 333 
NORTHPOWER: Faults Kaiwaka area 0800 104040 
OTAMATEA COMMUNITY SERVICES: Counselling, parent coach, 
Family Support worker, budget advice, food bank. Mon-Fri 9am-3pm. Ph 
09 431 9080 http://www.otamateacs.org/ 
PARENTPORT: Free, practical family support service Puhoi to Paparoa 
Ph or txt: Dianne 027 280 5093 or 09 425 9357 
PLUNKET:  Kaiwaka  -Kate's  Place  Clinic  1st  Wednesday  of  the  month; 
Mangawhai  - Rose Madsen Cottage: Coffee Group 9:30 every Monday.  Clinic 
every Monday and Thursday. 
Maungaturoto - Good News Church, Clinic 2nd and 4th Wednesday.  
Cynthia 09 431 7340 or 027 675 3488 
PLUNKET HELPLINE -0800 933 922 (24 hours) 
TAITOKERAU COMMUNITY LAW: Free confidential legal advice and 
assistance, 2nd
Thursday
 of each month. Ph: 0800 155 529 for appts.  
TE URI O HAU Settlement Trust Tangata Developments: Whanau Ora 
021 793262  
VETERINARY SERVICE MANGAWHAI: 
Ph: 4314535 Mon-Fri 8.00-5.00, Sat 9-12, a/h appt. 
WELLSFORD DOCTORS: Ph: 4238 086 
CHURCHES:
 
Kaiwaka  Revival  Church  -  Your  Community  Church:  Sundays  10am. 
Ph: Pastor Tawhiri 09 431 8988 or Pastor Paul 09 4312 068 Visit us at 
www.facebook.com/kaiwakachurch 
 
St  Paul's  Anglican  Church  1st  Sun.  9.00am  (Eucharist),  3rd  Sun. 
9.00am (Family Service). Contact: Rev. Wayne Thornton Ph 431 4122 
www.mangawhaianglican.org.nz 
 
Church of Christ the King, Mangawhai:9.30am every Sunday 
 
St.Mary's  Catholic  Church:  Maungaturoto  –  Griffins  Road,  Saturday 
evening  Vigil  Mass  6pm;  Mangawhai  –  Senior  Citizens  Hall,  Sunday 
Mass  8:30am;  Wellsford  –  Matheson  Road,  Sunday  Mass  10:30am;  
Mid-week Mass times and all enquires to Fr. Bill Fletcher – phone 423 8170
 
Baptist Church: Sun. 10.30am Mangawhai Snr Cit.Hall.Ph:4312339 
 
Cause  Way  Church  Mangawhai:  Sundays  10.15am,  Mangawhai 
Community  Recreation  Centre,  Insley  St.  Ph:  09  4314782