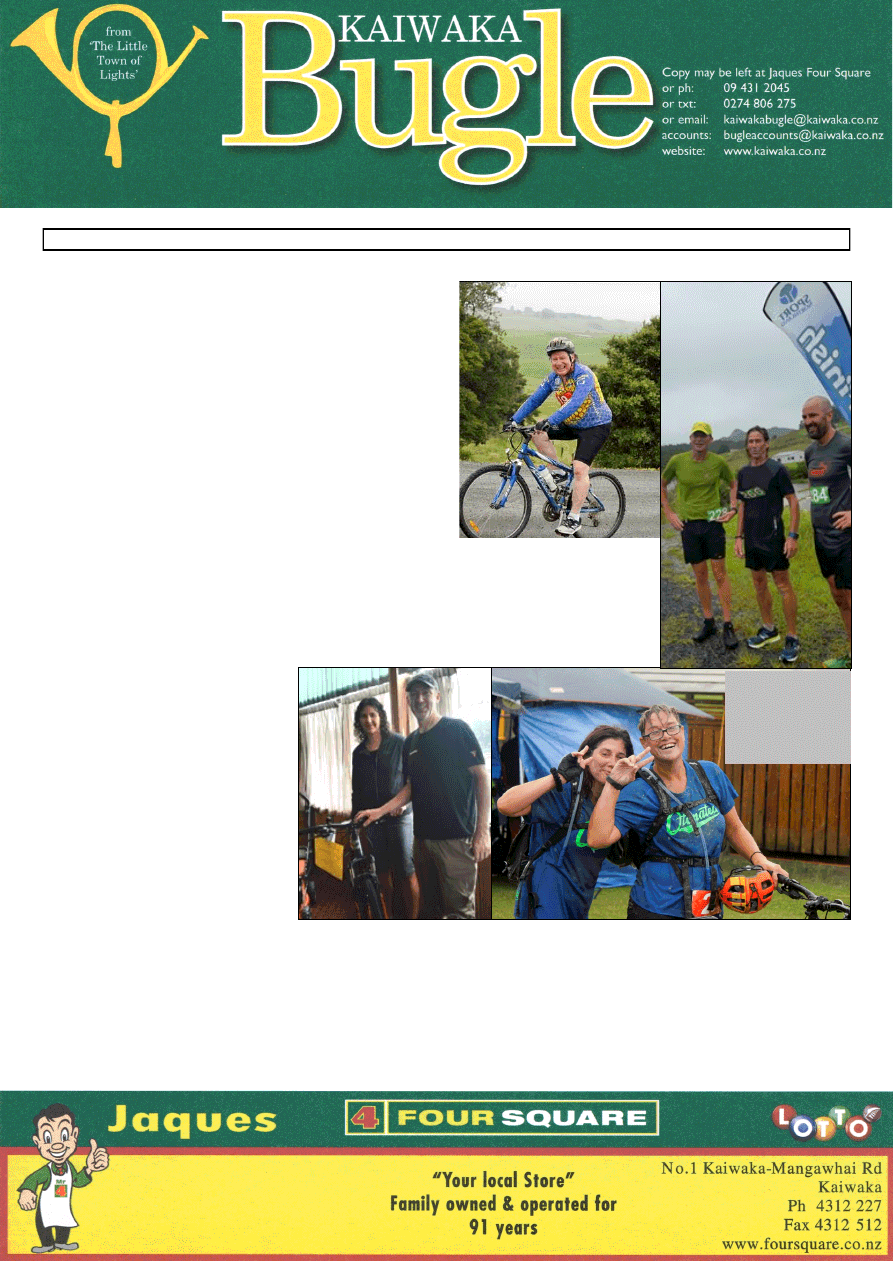 www.kaiwaka.co.nz 
Kaiwaka Bugle - 20 February 2018 
Page 1 
Heavy rain did little to dampen the spirits of the 
participants in the Kaiwaka Sports Association's eighth 
annual Top of the Rock event on Sunday 11 February 
Three hundred people had entered, there were a few no-shows due 
to the inclement weather, but everybody who turned up enjoyed the 
day, with some mentioning that the weather added a fun challenge. 
Participants  arrived  back  at  the  finish  line  saturated  and  mud-
splattered but still in good spirits. 
With thank to our generous sponsors, there were over 90 prizes up 
for grabs. Winners got first choice from the prize table, then the 
remaining prizes were given out by a draw.  
Results:  
30km bike (male) Matt Andrew; 30km bike (female) Hayley 
Hodgetts 
10km bike (male) Andrew Birt; 10km bike (female) Zoe Watson 
Run + bike (male) Sean Long; Run + bike (female) Bridget 
Leonard 
11km run (male) Mason Spiers; 11km run (female) Kirstie Hamlin 
5km run (male)   Jackson Brierly; 5km run (female) Millie Brierly 
Mangawhai Tyres donated $50 for the oldest competitor. This was won by 77 year old local Jewel 
Mills  who  did  the  11km  walk.  Jewel  has  participated  in  Top  of  the  Rock  every  year  since  its 
inception. A lawnmower, generously donated by Kaiwaka Motorcycles, was auctioned and went to 
Peter Flower. Meat packs donated by Silver Fern Farms went to Sue Joll, Niall McKenzie and Karen 
Stewart. The Volunteers Prize Draw was won by Carol Mills and Denise McMonagle. The main spot 
prize of a mountain bike, kindly sponsored by Torpedo 7 was won by Natasha Hammer. 
Photos can be viewed on the Top of the Rock Facebook page and on www.kaiwakasports.co.nz. 
As with most community events this is a 
team effort, so thank you to: 
•
the many marshals and registration 
officials 
•
the various community groups who 
provided food stalls 
•
Kaiwaka Fire Brigade for the route 
supervision 
•
Coates Family Trust 
•
Roxanne Kelly for traffic management 
•
bar staff, Happy Fish Band, first-aiders 
and photographers 
•
and the many landowners who gave 
permission for the routes to go over their 
farmland. 
Many thanks to our generous 
sponsors: 
No: 3 
20 February 2018 
Trading Hours: 
Monday to Friday 8:00am - 6:30pm 
Saturday 8:00am - 7:00pm 
Sunday 9:00am - 6:00pm  
KAIWAKA: TOP OF THE ROCK
Photos, from top: 
Peter Flower; Mason 
Spiers, Murray Dix & 
Hamish Blampied; 
Areti Alexandrou and 
Yvonne Gee; Natasha 
Hammer & Doug 
Wester (Torpedo 7) 
Absolute Concrete, Agridustrial ,Amy 
Griffiths Physiotherapy ,Andy Griffiths 
Design, ANZ ,Aoteoroa Surfing School, 
Apple Basket, Baldrock Kennels, 
Barnbuilders, Bavage & Chapman,  Beauty 
Within, Bennetts of Mangawhai, 
Broadspectrum, Choose Organic Coffeepot,  
Colourline Nurseries, Confident Care, 
Damsted Flowers, Dream Planning, Emma 
Royds, Eutopia Café, Farmlands, FL Hope 
Ranganui Farm, Forgotten Fruits, Happy 
Fish Band, Heads FM, Headz of Hair, 
Hilltop Contracting, Jaques Four Square, 
John & Jan Hargreaves, Kai Carriers, 
Kaiwaka Alarm Shop, Kaiwaka Cheese 
Shop, Kaiwaka Clothing, Kaiwaka Fitness 
Centre, Kaiwaka Motorcycles, Kaiwaka 
Picture Framing, Kauri Park Nurseries, 
Landcare Services, LJ Hooker – Craig 
Kenyon, Mangawhai Osteopathy, 
Mangawhai Tyres, Mangawhai Vet Centre 
Mark Hodgetts Mini Digger, Marshwood 
Apiaries, McLennan Groundspreading, 
Melbourne Aviation Precinct, More FM 
Neil Jones, Northern Bass, Northland 
Boats, Otamatea Martial Arts, P & G 
McDowall, Pacific Coast Surveys, Parker 
Lime, Powerfarming, Rob & Deb Hastie, 
Rob Whitehead, Rural Design, Rush Coffee 
Silver Fern Farms, Speed Stacks (NZ), Sport 
Northland, Stephen Jaques Accounting, 
Three Furlongs Bar & Grill, Taonga 
Gardens, Tony & Lindsey Hargreaves 
Torpedo 7, Treat Massage, U Beauty, Valley 
Vista Eco Retreat, Wellsford Sports & 
Leisure, Woody's Winners.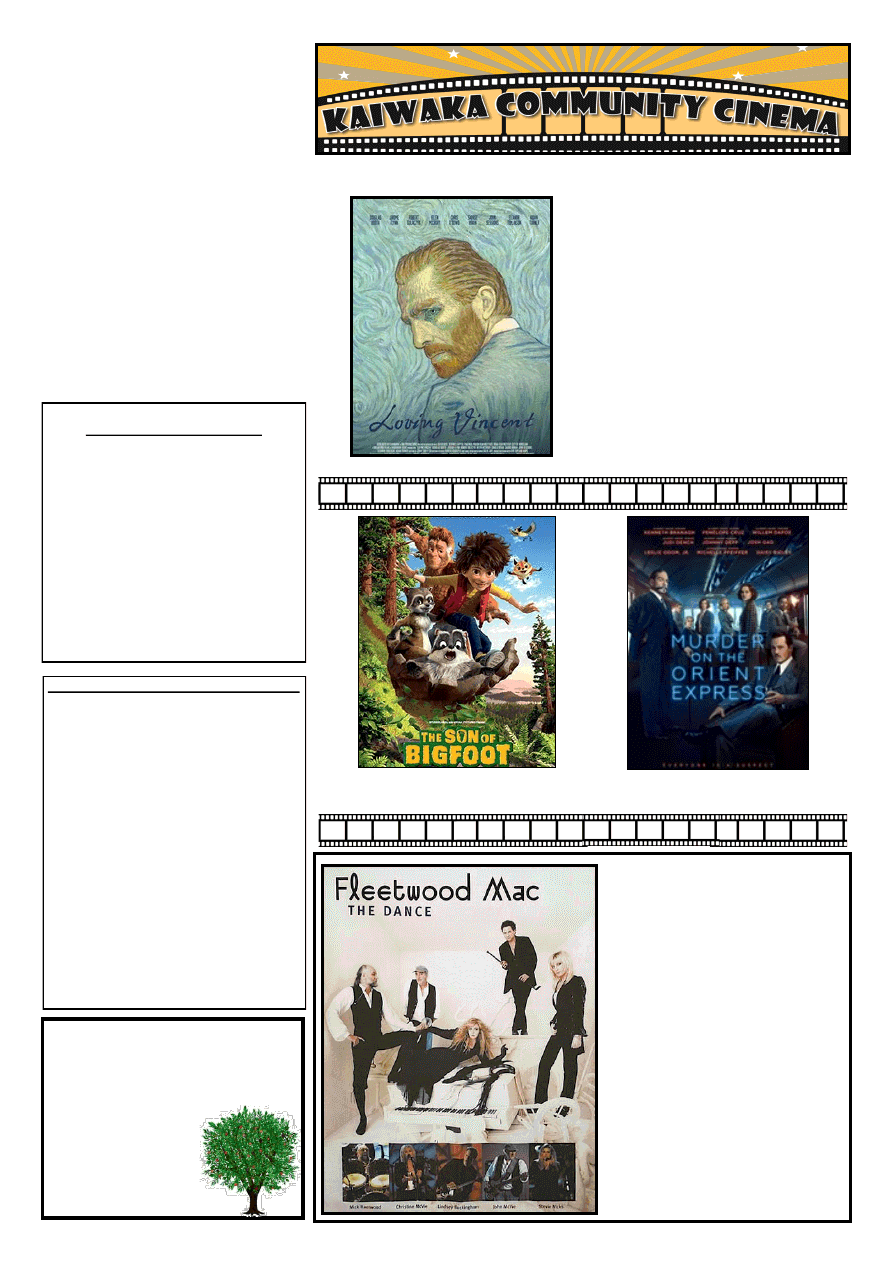 At Kaiwaka War Memorial Hall . Adults $10, Kids (under 16) $5, Family Pass (2 adults + 3 children) $25 
KAIWAKA BUGLE No. 3 
20 FEBRUARY 2018 
CONTENTS: 
Page 3: Public Notices, Classified 
Page 5:  PtCurtis CC; Kaiwaka Can 
Page 7:  KSA Grants 
Page 9:  Rotary; Councillor's Comment 
Page 11: Kaiwaka Sports Assn 
Page 13: Census; Mangawhai Artists  
Page 15: PtCurtis CC; KSA Bulbs 
Page 17: Linking Hands;  Kaiwaka 
School 
Page 19: Library; Thelma's Scrapbook 
Bugle 4 will appear  6 March 
Contact for advertising, reports, articles 
or information can be made by 
Email kaiwakabugle@kaiwaka.co.nz 
Ph: 09 4312 045 Lindsey 
Txt: 027 2724137 
Copy  may  be  left  at  Jaques'  Four 
Square. 
Kaiwaka Bugle Advertisements 2017: 
All 
copy 
and 
queries 
to: 
kaiwakabugle@kaiwaka.co.nz 
The Bugle is printed on an A4 page   
Ad  sizes:  1/16  page  (3  x  9.5cm)  $5;  1/8 
(6.5  x  9.5cm  landscape  or  portrait)  $8; 
3/16 ( 10 x 9.5cm or 7.5 x 12,5)  $12.  
Classified  ads:  First  one  FREE,  $4  per 
entry (max. 30 words, max. 4 repeats). 
Payments  can  be  made  online  at 
ANZ 
06  0365  0006990  00
,  posted  or  left  at 
Jaques Four Square Store. 
We  use  Microsoft  Publisher,  and  can 
work  with  most  common  image 
formats, Word, Excel, and PDF files. 
Accounts:  
Email: bugleaccounts@kaiwaka.co.nz 
The  Kaiwaka  Bugle  is  a  community 
newspaper run by volunteers.   
Articles, etc. printed are not necessarily 
the opinion of the Bugle Team. 
Kaiwaka Bugle 
Founded May 1978 
We appreciate articles and photos about local 
events, etc, as well as ads and suggestions. 
Copies available in Kaiwaka at Jaques Four 
Square, Kaiwaka Postal Centre, Shamrock 
Service Station, Animal Health Centre, 
Kaiwaka St John shop. 
Also outlets in Maungaturoto, 
Mangawhai and Paparoa. 
Can be viewed online at  
www.kaiwaka.co.nz/Bugle  
Or a copy can be posted to you if you supply 
stamped, self-addressed DLE envelopes. 
Loving Vincent 
Friday 23 February, 7.30pm 
(M) 
Real cinematic artwork … every frame 
is  an  oil  painting  …  animated  … 
Masterpiece  …  every  frame  is  a 
pastiche  of  a  Van  Gogh  canvas  … 
explores  the  life  and  unusual  death 
of 
Vincent Van Gogh via depictions of his 
artworks.  
Directed  by  Dorota  Kobiela  and  Hugh 
Welchman
Proverbs 11 : 28
A life devoted to THINGS is 
a dead life, a 
stump;  
a God-shaped 
life is a 
flourishing tree.
Fleetwood Mac 
THE DANCE (M) 
Friday 9 March, 7.30pm 
Kaiwaka  Music  
Movie  & Supper 
Night Out 
BYO drinks 
$20.00 tickets  
Ticket entry only 
Ph: 021 2154495 
The Son of Bigfoot 
Sunday 25 February, 2pm (G) 
Murder on the Orient Express 
2017
Friday 23 March, 7.30pm (M) 
www.kaiwaka.co.nz 
Kaiwaka Bugle - 20 February 2018 
Page 3 
ABOUT TOWN 

A BIG thank you to all involved with the running of our 
Kaiwaka Sports Assn Top of the Rock. A wet, but fun day. 
And well done to the young local lad who biked home after 
his event - showered, changed and headed back to the KSA 
for the prizegiving! 

 FISHING COMPETITION - anyone can enter - 10 and 
11 March, with prizegiving and fish auction on the Sunday 
evening - see page 15 for details. A fundraiser to upgrade 
our Rangiora Road boat ramp. 
Congratulations  to  the  2018  Northland  Dairy  Industry 
Awards  finalists,  especially 
Tim and Heather Fuller and Sam 
Carbin of Kaiwaka. 
Thank  you,  Neville  Dowson,  for  more  information  on  
local airstrips and topdressing - see next Bugle. 
 
Northland  Relay  For  Life  17-18  March,  Trigg  Sports  Arena, 
Whangarei;  enter  a  team  (to  fight  back  against  cancer);  go  to 
www.relay.org.nz to register.

"Growing  older  is  mandatory,  growing  up  is  optional. 
Laughing at yourself is therapeutic."
Photos  below:  Spotted  about  town  -  spray  cleaning  the 
power  pylon  near  the  railway  lines;  tree  clearing  on 
Settlement Rd. in preparation for sealing. 
~ Lindsey, Ed
PUBLIC NOTICES 
CLASSIFIED 
KAIWAKA SPORTS ASSOCIATION 
MEETING 
Tuesday 6th March, 7pm 
Kaiwaka Sports Complex 
First notice FREE  for Classified or Public Notices - 
less  than  30  words  -  then  charged  as  per  advertised  
($4). This includes AGM and meeting notices, FOR 
SALE, WANTED, FOR RENT. ~ Kaiwaka Bugle 
AVAILABLE:  Kaiwaka  Automotive  Mechanical 
Repairs  -  cambelts,  clutches,  brakes;  30  years 
experience; working out of Twinkle Tow n' Tyre.  
Ph: Lyndon 021 1443566 
MISSING:  from Kaiwaka 
11-2-18;  Sam,  friendly  1 
year  old  male  ginger  cat. 
Please 
contact 
0274373694 
HAKARU RSA WOMEN'S SECTION 
Annual General Meeting  
at the RSA Clubrooms at Hakaru  
Thursday 22nd February, 1.30 p.m.  
The nomination sheet is on the notice board members need to be 
financial to vote  or add names to sheet nominees signature are 
necessary also. 
New  Members  are  always  welcome,  any  enquiries  phone  Jan 
Mann 4314512 or Lena Carleton 4315034. 
KAIPARA MAYOR   
JASON SMITH 
following  a  by-election  which  concluded
Saturday 17 February 2018. 
A  full  count  and 
final tally will be available  on the Council's 
website 
Monday 
19 
February 
- 
www.kaipara.govt.nz
MONTHLY DROP IN SESSIONS
with Northland Regional Council  
Coastal South Councillor –  Rick Stolwerk 
MONDAY 5th MARCH
9.00 - 10am Maungatapere - Office Café,  
10.30 - 11.30pm - Ruakaka WDC Office 
12.00 - 1.00pm Waipu - Deli Cafe 
1:30 - 2.30pm Kaiwaka - Kaiwaka War Memorial Hall 
KDC Councilor Jonathan Larsen will attend this session 
3.00 – 4.00pm Mangawhai - Mangawhai Museum, 
with 
Peter Wethey, Deputy Mayor KDC 
Please do not hesitate to call or text and book 
NRC 
Councillor - Coastal South
021 823 770 ricks@nrc.govt.nz
NOTE: This is not a council sponsored publication 
KAIWAKA ST. JOHN OP SHOP 
SALE....SALE...SALE!! 
❖
Clothing....  $5 for a plastic bag full 
❖
Shoes......$1.00 per pair 
❖
Purses and Handbags....50c - $1.00 
❖
Cushions.... 50c - $1.00 
❖
Photo frames......50c - $1.00 
❖
Toys.... $1.00 
There will be other things added! The sale ends at the end 
of the month. 
We are still needing please.... Furniture, Cooking pots, 
Towels and facecloths, and anything else in saleable 
condition. ~ Many thanks, Milly and staff. 
FREE BOOKS FOR FUNDRAISING
The  libraries  in  Kaipara  District  are  always  purchasing 
new  books.  To  make  room  for  them  we  have  to  find 
homes for older stock. Discarded books are available for 
your  community  group  fundraiser.  Three  groups  each 
earned over $1,000 selling discarded books. 
For further information phone 
Lisa Salter 09 439 3150 or email 
library@kaipara.govt.nz. 
MANGAWHAI SENIORNET 
OPEN DAY on Wednesday 21 February, 10.30am -
12.30pm at the Wellsford Community Centre Hall 
ACAPELLA GOSPEL SINGING WORKSHOP 
March 16th to 18th 
International  singer  and  choir  director  Tony  Backhouse 
has  been  called  the  "godfather  of  a  cappella  and  gospel 
choir" in Australia and New Zealand.  
Tony  teaches  African-American  gospel  songs,  old  and 
new, he embraces South African church songs, do-wop, R 
& B and pop. The emphasis is on harmony, collective im-
provisation, and freedom of expression. No music-reading 
skills are required. 
'Backhouse  is  Australasia's  premier  arranger  and  teacher 
of a cappella gospel. Tim Finn says he is quite simply the 
finest  vocal  arranger  he  knows,  and  Sam  Neill  reckons 
he's a national treasure.' 
We are very excited to host this amazing opportunity here 
at the Wellsford Community Centre.  
For more details contact: singlvc@gmail.com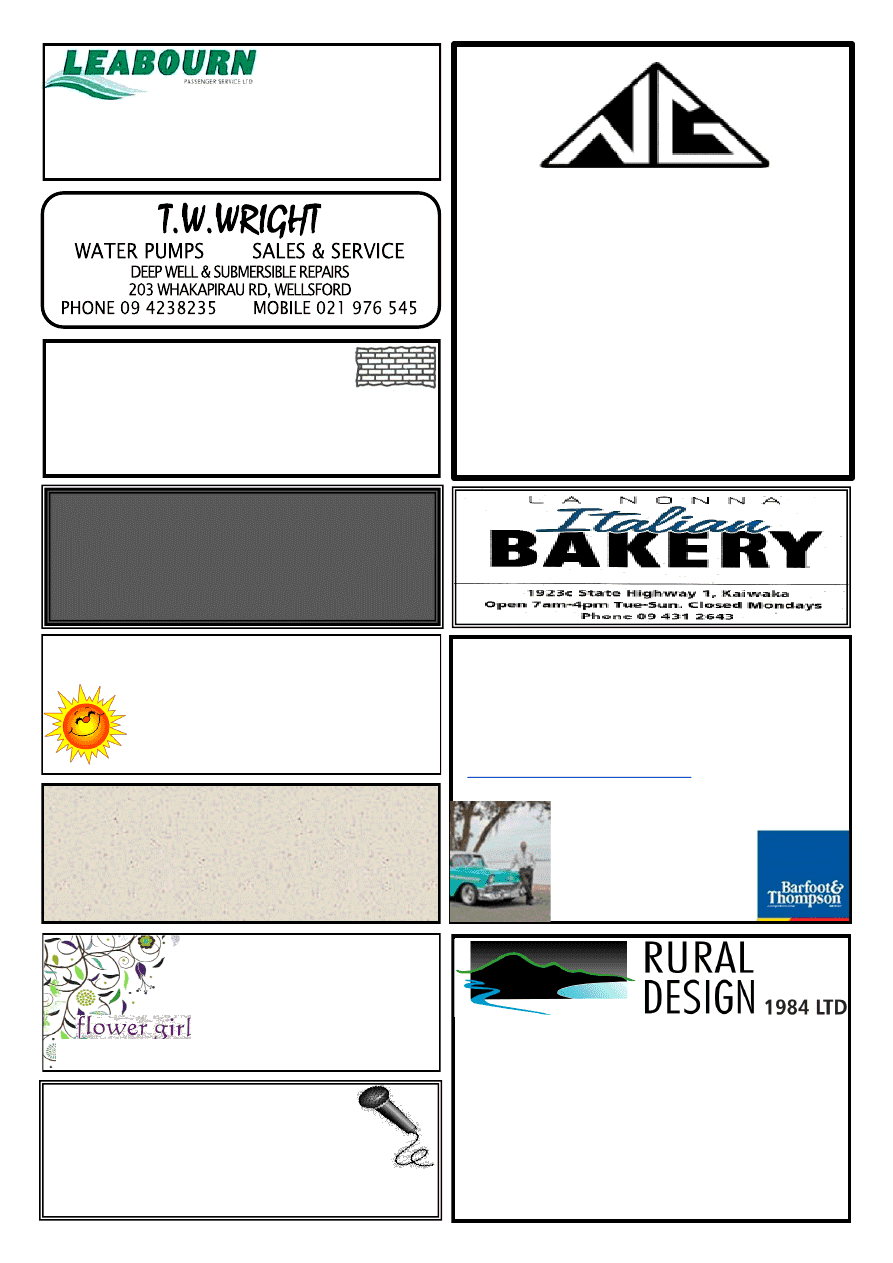 Passenger Service
Car & Van Hire  Bus & Coach Charters 
Airport Transfers   Monthly Shopper Bus 
Phone (09) 4237416 
BRICK/BLOCKLAYER 
All aspects of masonry:  
Fireplaces, Restoration & Remedial Work. 
JAMES EAGLETON 
Tel. (09) 431 2514    Mob. 0274 749 232 
jajueagles@yahoo.com.au 
210A Pukenui Road, RD2 Kaiwaka 0573 
THE SUNSHINE GIRLS
Efficient and reliable help with 
your housework. 
Ph 4312 532 
MARRIAGE CELEBRANT 
WEDDING EVENTS PLANNER 
Yvonne Osborne 
Ph 0274 989 814 
yvonne.osborne@xtra.co.nz 
Counsellor and Registered Psychotherapist 
Offers Supervision 
ACC Sensitive Claims 
Susan Matheson      MNZAC 
Dip. Psychosynthesis Counselling and Psychotherapy 
Phone 09 431 2996                                     Mobile 027 605 2427 

  After 20 years of selling in Auckland I have             
moved to Kaiwaka. 

  I have a relaxed attitude with years of  
        results and experience. 

  Please feel free to give me a call or email. 
licensed real estate agent (2008) 
Chris Barrington
Residential Sales
M 
Mangawhai
Wholesale Native Plant Nursery and Planting 
Small and Large orders welcome 
By Appointment 
300 Kaiwaka-Mangawhai Road, Kaiwaka 
Phone: 09 431 2481 
Email: info@ruraldesign.co.nz 
www.ruraldesign.co.nz 
Kaiwaka Good Sorts 
Do you know someone in our community 
who is deserving of a beautiful bunch of 
flowers? 
Send an email to us at 
kaiwakabugle@kaiwaka.co.nz 
or drop a note to Jaques Four Square to 
let the Bugle team know. 
lindywatson@hotmail.com 
4312 847 
NORTH GLASS 
WINDSCREEN REPAIR OR REPLACE 
GLAZING SERVICES 
MIRRORS  •  SPLASH BACKS  •  SHOWERS 
0800 70 40 10
info@northglass.co.nz 
www.northglass.co.nz 
SING RIGHT 
Professional coaching for performance,  
recording and demos. 
All level singers, musicians, singer-songwriters. 
Phone Robyn Hill 431 9159 or 022 1238126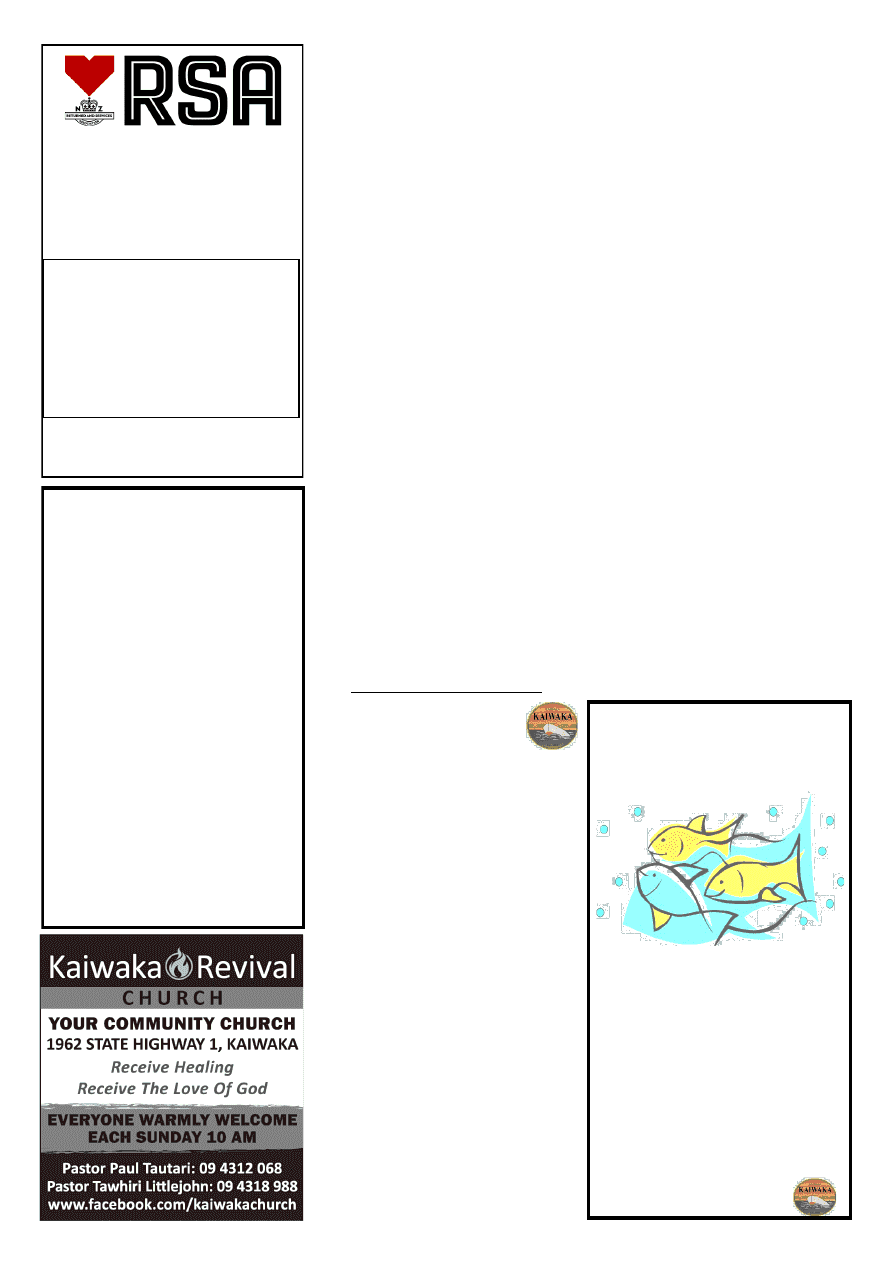 www.kaiwaka.co.nz 
Kaiwaka Bugle - 20 February 2018 
Page 5 
Lilia and her Spring lamb, Minty! 
Willow Bend
HORSE  
HOTEL 
  
Total Horse Care 
 
Agistment 
 
Riding Lessons 
 
Arena Hire (60x40) 
 
Young Horse Starting 
 
Re-training/Exercising 
 
Hoof Trimming 
 
Problem Solving 
Phone Sue 09 431 2817 
or 021 623 776 
Or email  
susanjoll11@gmail.com 
Kaiwaka Can losing our MVP 
Kaiwaka  Can  has  now  been  going  for 
more  than  three  years.  For  practically 
the whole of that time, we have had the 
valued  service  of  Annie  van  der  Plas, 
council community liaison officer who 
has attended almost all of our meetings. 
Annie  has  been  the  person  working 
behind the scenes between meetings to 
get  things  done.  In  our  negotiations 
with  NZTA  over  speed  through  the 
town,  she  has  been  the  contact  point 
and  negotiator  with  NZTA.  When 
budgets  are  being  set  by  Council, 
Annie  has  been  our  advocate  to  get 
funding for a variety of projects. When 
we  need  information  on  how  things 
work  or  where  to  get  information, 
Annie  has  been  the  person  who  can 
supply the information. 
Without  Annie,  we  would  have  been 
able  to  achieve  very  little  and  while 
there is a great deal to do yet, her help 
has  seen  us  make  far  more  progress 
than  we  would  have  expected.  And 
everything she has done has been with 
a cheerful and gentle manner and a real 
heart for the Kaiwaka community. 
So,  it  is  with  a  real  sense  of  loss  that 
we  heard  of  her  resignation  and  this 
Monday  night,  February  19th,  will  be 
her  last  meeting  with  us.  Council  is 
working on a new appointment and we 
will  continue  to  have  Council 
representation at our meetings. 
Immediate projects in front of us 
We are still waiting to get the fence up 
round  the  playground,  held  up  by  the 
fact  the  NorthTec  tutor  who  was 
bringing  a  team  to  do  the  work  had  a 
nasty  accident  towards  the  end  of  last 
year  and  has  been  forced  to  leave  his 
role at North Tec. We may well do this 
job  ourselves  so  if  you  are  a  fencing 
expert  or  love  painting,  keep  this  in 
mind. 
We  had  been  working  on  a  plan  for  a 
very  extensive  walkway  opposite 
McClean  Park  but  health  and  safety 
issues  make  this  a  no  go.  So,  we  are 
working  instead  to  link  the  walkway 
from  McClean  Park,  under  the  bridge 
to  the  network  of  walkways  at  the 
sports  ground  and  in  the  bush  below. 
There  are  lots  of  other  ideas  also  for 
other  walkways  to  make  Kaiwaka  a 
great place to enjoy on foot. 
The  striking  entrance  sculptures 
planned  for  each  end  of  Kaiwaka  are 
progressing  slowly  through  the  many 
layers  of  NZTA  but  we  hope  we  are 
nearly there. 
Public Meeting 
There are lots of other projects in many 
areas we are looking at but we believe 
it  is  time  we  held  a  public  meeting  to 
have a wider group comment and help 
us  prioritise.  We  are  setting  a  date  for 
that meeting as the Bugle goes to print 
(February 19th) and will announce it in 
the next edition. Remember though that 
Kaiwaka Can is an open group with no 
formal  membership  and  anyone  is 
welcome  to  any  of  our  meetings,  held 
each  third  Monday,  5.30pm  in  the 
Archie  Bull  Hall  behind  the  Anglican 
Church. 
Derek Christensen, Chair. 
PT.CURTIS 
CRUISING CLUB 
Up and coming Events: 

Open  Fishing  Competition  Saturday 
10
th
 and Sunday 11
th
 March. 
All  Fish  weighed  to  be  GILLED  & 
GUTTED. 
Auction  is  to  follow  prize  giving  on 
Sunday,  everyone  welcome.  This  is  a 
Fundraiser  for  upgrades  at  Rangiora 
Boat  Ramp. 
Tickets  will  be  sold  at 
3Furlongs  Bar  &  Grill,  Wellsford 
Sports  and  Leisure  or  see  Jean  at 
Jaques Four Square.

Open  East  Vs  West  Fishing 
Competition 
Friday  20th  -  Sunday 
22nd  April  2018. 
Fish  weighed  in 
Green/Whole. 

Opening  Duck  Shoot     Saturday 
5th May 2018. 

End of Year prizegiving Saturday 5th 
May 2018. 
Only  1  Fish  weighed  in  this  Month  - 
Carol Welsford-Mills 1.402Kg 
If you are a Club Member and go for a 
Fish,  weigh  it  in  you  never  know  ya 
luck. 
 New  Fish  of  the  Month  Snapper  till 
6
th
 March 2018 
Next  Meeting  6
th
 March  2018,  at 
3Furlongs Bar & Grill 7pm. 
~
Wayne Leslie, Commodore. 
HAKARU & DISTRICTS 
MEMORIAL RSA (INC)
Members & guests are invited to 
come along and enjoy our hospitality. 
New members welcome. 
Meals are served on Thursday and 
Friday nights from 6.30pm. 
2nd Friday of the month is a Roast 
Dinner special plus a board menu put 
on by the Womens Section. 
Last Friday of the month is  
'Roast Pork Night' and a sing-a-long  
with Des Chitty. 
For more information please phone 
Lena (Womens Section) on 431 5034 
or Marlene on 431 5589 
AUCTION  
AUCTION  
AUCTION 
Fish  
Fish  
Fish  
Fish 
FRESH FISH  
AUCTION 
(gilled and gutted) 
11th March 2018 
6.45pmish Sunday  
@ 3 Furlongs Bar & Grill 
ATM on site 
Point Curtis Cruising Club Inc 
Fundraiser for upgrades at  
Rangiora Boat Ramp 
KAIWAKA CAN READY FOR 2018.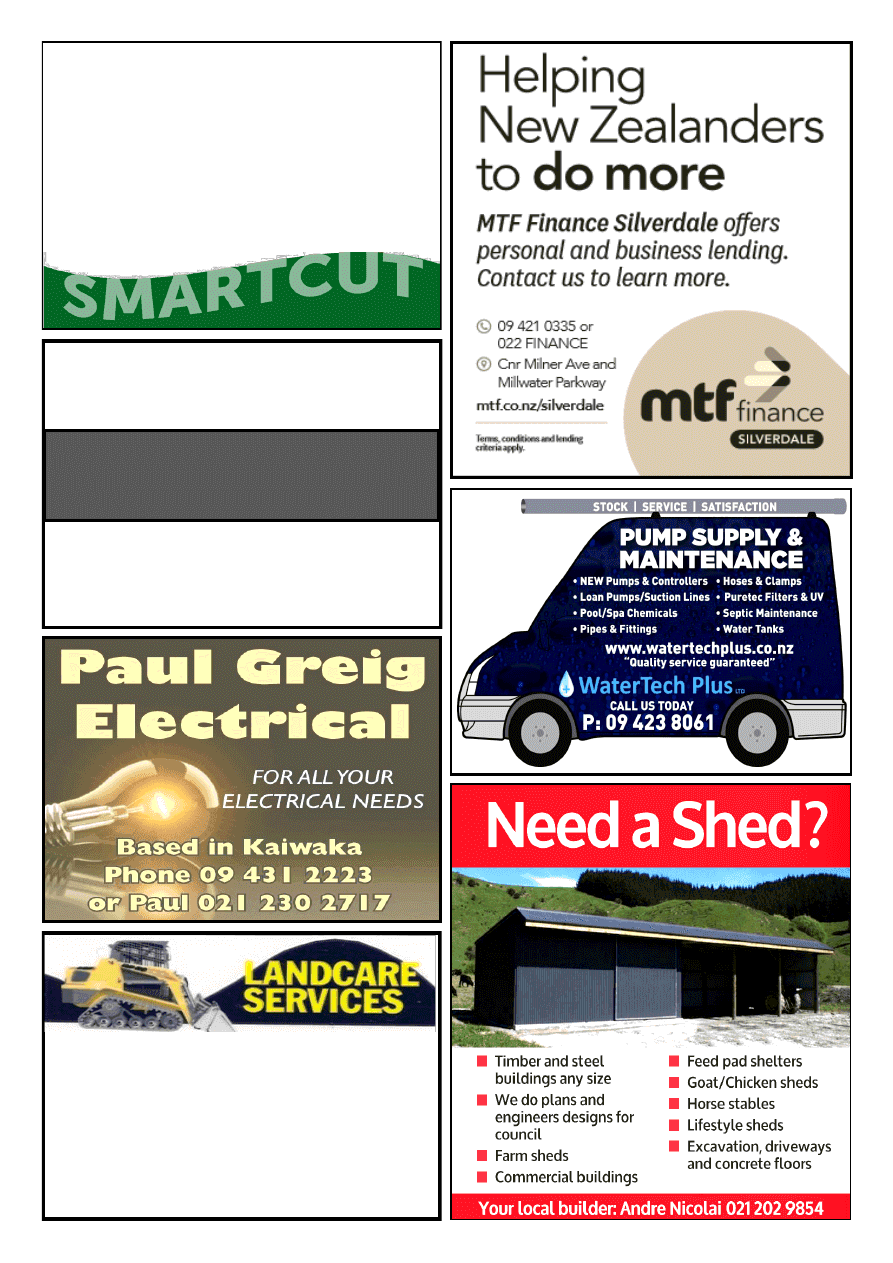 David Korach 
Your local Gib Stopper
DK PLASTERER LTD 
0274769221 
dkorach6@gmail.com 
LANDSCAPING 
4 IN 1 BUCKET 
TRENCHER 
POLE HOLES 
ROTARY HOE 
COMPACT ROLLER 
OFFAL HOLES 
CAN SUPPLY WOODCHIP & POST PEEL 
5 TON TIPPER 
FOR RELIABLE AND FRIENDLY SERVICE CONTACT DAVE 
Dave Hyndman 
 
KAIWAKA 
PH: 09 4312302 
MOB: 021 431 238 
All your outdoor needs sorted so you don't have to... 
I can prune, chop, tidy, spray, mow, plant 
- you name it, I can do it! 
Residential & Commercial 
Lawn & Garden Care 
Call Rodney, your local  
lawnmowing contractor 
021 138 2344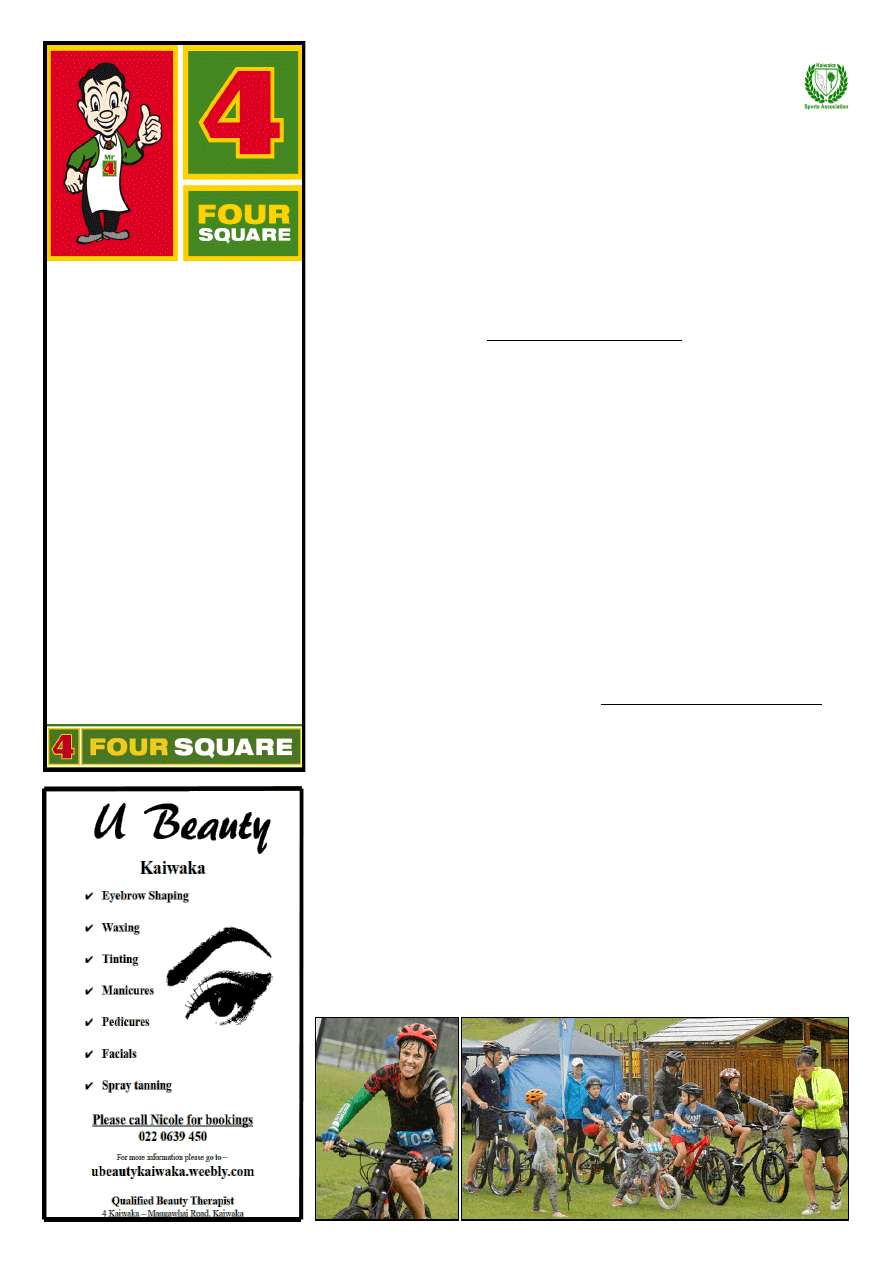 www.kaiwaka.co.nz 
Kaiwaka Bugle - 20 February 2018 
Page 7 
New Range:  
Food to Go!
Pam's Fresh Cut Sandwiches, 
Wraps & Salads 
Fresh Fruit Salads -400g or 
190g  
Oxford Sweet Pies - 
Strawberry, Boysenberry, 
Blackberry & Apple 
Increased Fresh Meat range 
Remember we have 
Sodastream &  
9kg Gas Bottle swaps 
Open till 6.30 Monday to Friday
Jaques Four Square 
Phone: 4312227 
1 Kaiwaka-Mangawhai Road, Kaiwaka. 
KAIWAKA SPORTS ASSOCIATION GRANTS APPLICATIONS 
Applications for grant funding are being accepted for the following periods  
-March and April 
APPLICATION PROCESS - HOW TO APPLY: 
Applicants  can  uplift  a KSA  application form  from  The  Three  Furlongs  Hotel 
operating  KSA  gaming  machines.  Forms  can  also  be  requested  directly  from 
KSA.  All  relevant  details  are  displayed  below  and  are  also  displayed  at  the 
venue. 
Venue: The Three Furlongs Hotel; Postal: PO Box 62, Kaiwaka;  
Tel: 094312329 Fax: 094312229 
You must return the application form and any associated documentation to the 
Association at the address printed on the application form. 
The application form contains a checklist of important information that must be 
included with the application for funding to be considered. Failure to supply all 
Information requested may result in the application being declined or returned to 
you unprocessed. 
Applications  are  checked  for  completeness  and  considered  by  the  Grants 
Committee  on  a  regular  basis.  An  application  may  take  up  to  6  weeks  to  be 
processed. 
CRITERIA: 
1.  Applications  are  checked  for 
compliance  against  the  criteria  of  the 
Department of Internal Affairs and the 
definition  of  Authorised  Purposes  as 
set out in the Gambling Act 2003. 
2.  Funding  is  distributed  in  the  local 
community area – 
a. 
Provision, 
maintenance 
and 
development 
of 
club 
buildings, 
furniture, 
fittings, 
grounds 
and 
equipment. Excludes any bar area and/
or facilities. 
b.  Assist  sporting  adjuncts  within  the 
club through the provision of uniforms, 
equipment, premises and the actual and 
reasonable  expenses  to  travel  to  and 
compete  in  tournaments  with  kindred 
groups. 
Excludes  professional  sports  people/
teams. 
c. Funds for the promotion of amateur 
sport  within  the  local  community. 
Excludes  the  payment  of  wages/
salaries  
d.  Donations  to  support  recognised 
community  organisations  within  the 
local community with the provision of 
facilities.  Excludes  bar  area  and/or 
facilities. 
Applicants  should  be  aware  that  the 
ultimate decision on funding rests with 
the  Association's  Grants  Committee 
and  that  there  are  no  guarantees  that 
the full amount  of  the  application  will 
be supported or indeed the application 
will be supported at all. 
WHO 
WILL 
CONSIDER 
APPLICATIONS: 
All  applications  will  be  considered  by 
the  Grants  Committee  which  is  made 
up of KSA Trustees. 
Applications  are  generally  considered 
in the week following the closing date. 
Applicants  are  usually  notified  in 
writing within 10 Days. 
The Trustees of KSA are: 
Brian  Jaques  JP.  QSM  -  Managing 
Director, Kaiwaka 
Evan Wright -Farmer, Kaiwaka 
Tony  Hargreaves,  JP  -  Farmer, 
Kaiwaka 
Wayne Leslie - Farmer, Kaiwaka 
Mark Ottaway QSM - Baker, Kaiwaka 
Paula Jaques - Business owner, Kaiwaka 
Innes Anderson - Farmer, Kaiwaka 
COMPLAINTS POLICY: 
Any 
complaints 
regarding 
the 
distribution  of  grant  proceeds  must  be 
sent in writing addressed to: 
The Principal Officer/Complaints. 
KSA. PO Box 62. Kaiwaka 
Complaints  received  in  this  manner 
will be acknowledged in writing. 
2017 GRANT RECIPIENTS: 
Otamatea Rugby  
4245.00 
Kaiwaka Sports Assn   7703.91 
Point Curtis CC  
4000.00 
Kaiwaka Netball  
488.00 
Otamatea Tennis  
1868.82 
Otamatea Netball  
1500.00 
Kaiwaka Sports Assn   2000.00 
Kaiwaka Sports Assn   2000.00 
Otamatea Gym   
5000.00 
Kaiwaka Sports Assn   13769.35 
Kaiwaka Sports Assn   4000.00 
Kaiwaka Sports Assn   2000.00 
3 Furlongs Hotel  
500.00 
Kaiwaka Sports Assn   8753.43 
Kaiwaka Sports Assn   2000.00 
Kaiwaka Sports Assn   2558.58 
Kaiwaka Sports Assn   15000.00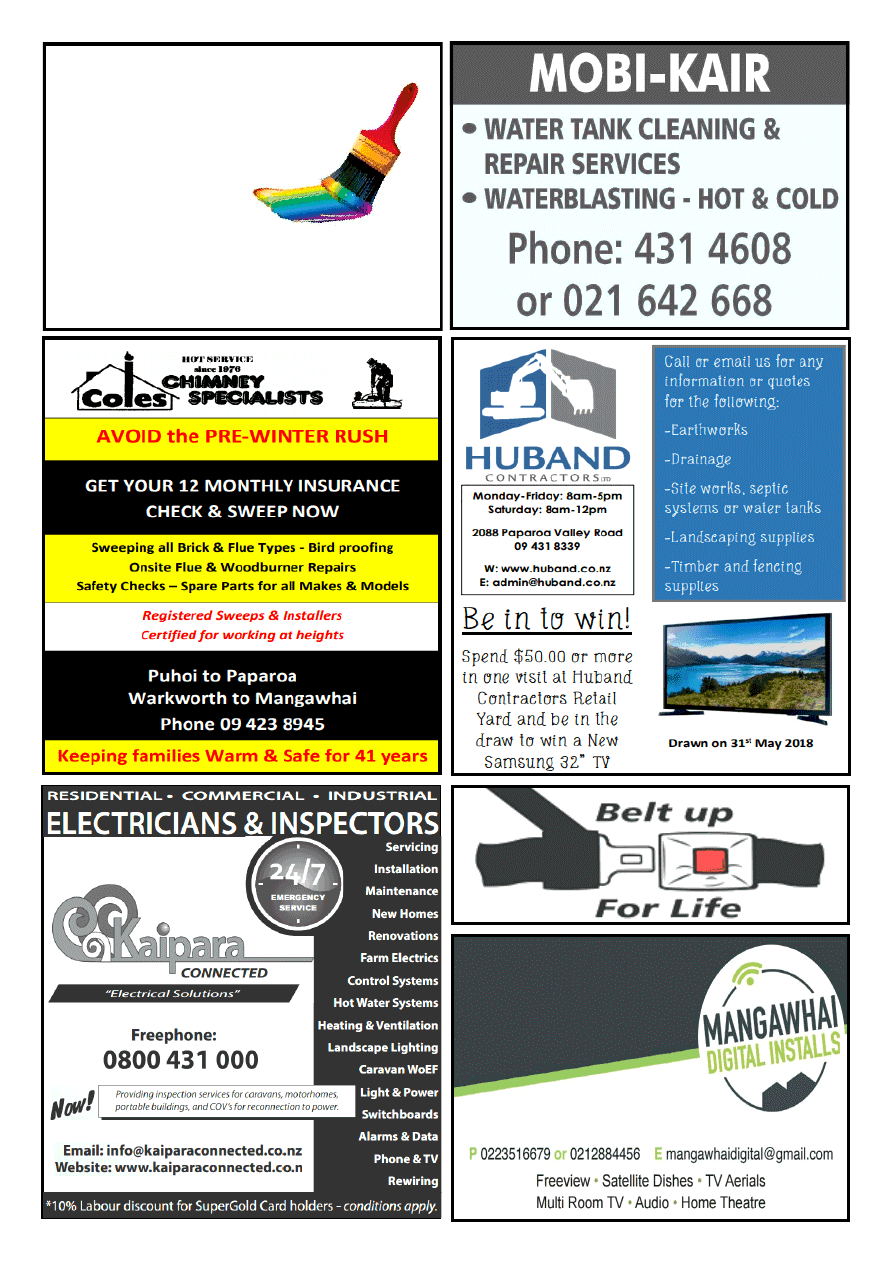 09 4312918 
0274735171 
leecooper@xtra.co.nz 
LEE COOPER PAINTERS 
(Kaiwaka Based) 
*30 yrs Experience 
*Interior/Exterior 
*New and Restoration 
*Honest and Reliable 
*Free Quotes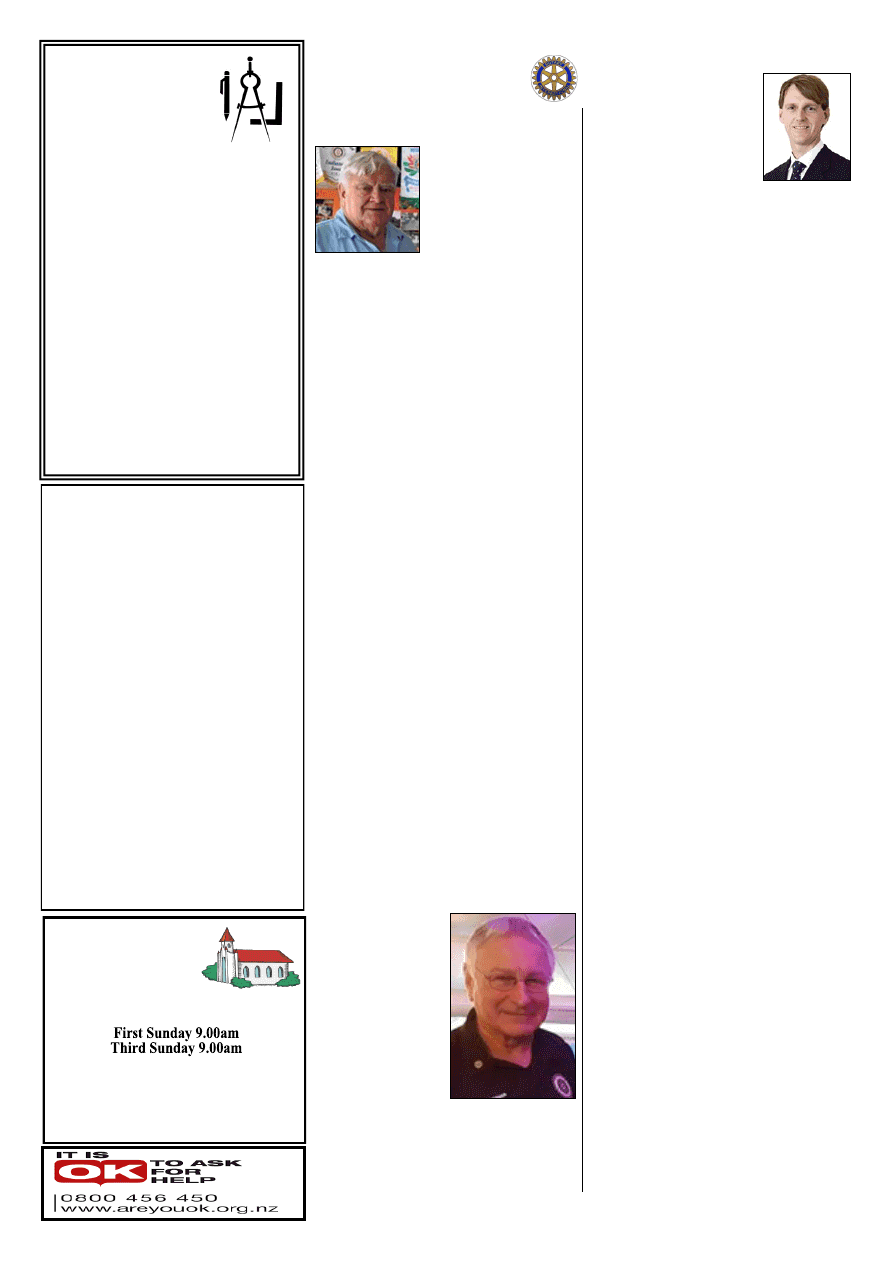 www.kaiwaka.co.nz 
Kaiwaka Bugle - 20 February 2018 
Page 9 
design  
drafting  
service 
Retired builder and manufacturer 
with over 40 years experience in the 
building industry is offering a design 
drafting service for domestic hous-
ing, sleepouts and sheds.  
Plans formulated in consultation 
with clients, with working drawings 
completed and submitted to council 
for processing.  
Extensive practical experience,  
able to identify & resolve problems.
Please ring Mike Lean on 
09 431 2260 
or 
021 431 196 
Mangawhai 
Heads 
Garden 
Centre
1758 Cove 
Road
945 0707 
021 165 2629 
ST PAUL'S  
ANGLICAN  
SUNDAY  
SERVICES
St Pauls Church: Kaiwaka-Mangawhai Rd. 
1st Sunday - Eucharist 
3rd Sunday - Family Service 
Rev. Wayne Thornton Ph 431 4122 
www.mangawhaianglican.org.nz
COUNCILLOR'S 
COMMENT* 
with Otamatea Ward 
Councillor  Jonathan 
Larsen. 
Long Term Plan 
The past month has been 
a  very  busy  time  on 
Council  with  the  three-yearly  review 
of  the  Long  Term  Plan  (LTP).  The 
LTP  is  the  ten-year  budget  within 
which defines how Council work is to 
be  prioritised  and  funded.  This  has 
important 
implications 
for 
all 
ratepayers 
and 
residents 
– 
it 
determines  both  the  level  of  service 
provided by Council, and the quantum 
of rates to be collected to provide this 
service. 
LTP Meeting Kaiwaka 
Subject  to  sign  off  by  Council  on  28 
February,  the  LTP  Consultation 
Document  will  be  released  for  public 
submissions.  There  will  be  a 
presentation on the LTP at Kaiwaka on 
13  March,  and  submissions  will  close 
on Sunday 8 April 2018. If you would 
like to receive notifications on the LTP 
please 
email 
haveyoursay@kaipara.govt.nz  to  join 
the contact list. 
Reserves Contributions 
I have previously mentioned the funds 
that  have  been  collected  for  the 
development  of  new  and  existing 
reserves  (reserves  contributions),  that 
are  supposed  to  be  used  to  offset  the 
effects of population growth in an area. 
Following  a  lengthy  process,  I  have 
now  managed  to  get  the  new  policy 
firstly  approved  through  committee, 
and  now  through  full  Council.  The 
new  policy  will  be  coming  out  for 
consultation as part of the LTP process 
before  implementation.  The  two  key 
implications  for  Kaiwaka  are  –  the 
money  collected  from  Kaiwaka  and 
surrounds  will  now  be  available  for 
use  in  that  area  (a  total  collected  to 
date  of  $463,000), and  there  will  be a 
public  process  whereby  community 
groups  can  submit  a  proposal  for 
consideration. 
Make a Submission  
If you agree with this approach, please 
make  a  submission  in  support  of  the 
new 
policy. 
Subject 
to 
this 
consultation,  now  would  be  a  good 
time  to  start  thinking  about  what 
Kaiwaka needs in the way of new and 
improved  reserves,  walkways  and 
outdoor  recreation  areas  (must  be  on 
Council land and not on road reserves, 
and  can  include  the  purchase  of  land 
for new reserves). 
If you have any community projects or 
issues  that  you  would  like  assistance 
with,  I  can  be  contacted  on  Ph.  021 
185 8389 or 
Cr.Larsen@kaipara.govt.nz. 
*The views expressed are those of the 
writer and do not necessarily represent 
the consensus position of Council. 
MAUNGATUROTO and 
DISTRICTS ROTARY 
CLUB 
While  our  year  has  started  quietly  we 
are now back into full swing. Our first 
meeting  was a  very  enjoyable  BBQ  at 
President 
Alex's 
home  and  while  the 
weather  did  try  to 
annoy  us  we  had  a 
good 
chance 
to 
socialize 
with 
Rotarians, friends and 
visitors.  The  next 
meeting  night  involved  a  small  group 
of  us  being  hosted  at  the  Mangawhai 
Bowling club where teams were made 
up  of  both  Rotarians  and  Mangawhai 
bowlers. This was also an enjoyable 
evening. 
McKenzie Rose 
Our first visitor for the year will be our 
President's Scholarship winner, who is 
McKenzie  Rose.  We  understand  that 
she  is  an  incredibly  motivated  young 
person,  thoroughly  deserving  of  the 
award  and  we  look  forward  to  hear 
how her training is progressing. 
Horse Trek 
The  weather  tried  to  impede  our 
inaugural  Horse  Trek.  However,  the 
riders  who  did  take  part  in  the  event 
would like to see it as an annual event. 
Even  though  it  was  quite  wet, 
participants  enjoyed  the  ride,  the 
scenery and the hospitality. 
Calf Litter  
You  may  have  seen  bags  of  calf  litter 
being  sold  at  the  Maungaturoto  Four 
Square and the weekly Paparoa market. 
As we have a large amount of this litter 
available we have decided to purchase 
bags  that  will  hold  20kg  so  we  can 
maintain  consistency  of  product.  We 
also hope to make it available in other 
areas. 
Piroa Falls 
You may have noticed some changes at 
Piroa  Falls.  DOC  has  come  on  board 
and  has  completed  some  upgrades  of 
the track. We are also looking at doing 
some  tree  planting  in  the  area  and 
DOC is going to put more picnic tables 
on site. This popular spot will be really 
enhanced by these improvements. 
Last year we purchased a car and later 
in February a number of Rotarians are 
being  trained  by  Drivesafe  Northland 
to  enable  them  to  support  those  who 
need to complete the driving aspect of 
obtaining their licence. 
Peter Garnett  
On the 13th March 
at a normal Rotary 
meeting  we  are 
having 
a 
Past 
District  Governor, 
Peter 
Garnett, 
photo 
right,  
speaking  to  us 
about Romac. This 
Rotary 
organisation brings 
in youngsters from 
Pacific countries to 
enable  them  to  have  life-changing 
surgery.  We  are  making  this  evening 
one  to  celebrate  our  Paul  Harris 
Fellows. 
If  you  are  interested  in  learning  more 
about  Rotary  you  can  access  our 
website <rotarymgto.club>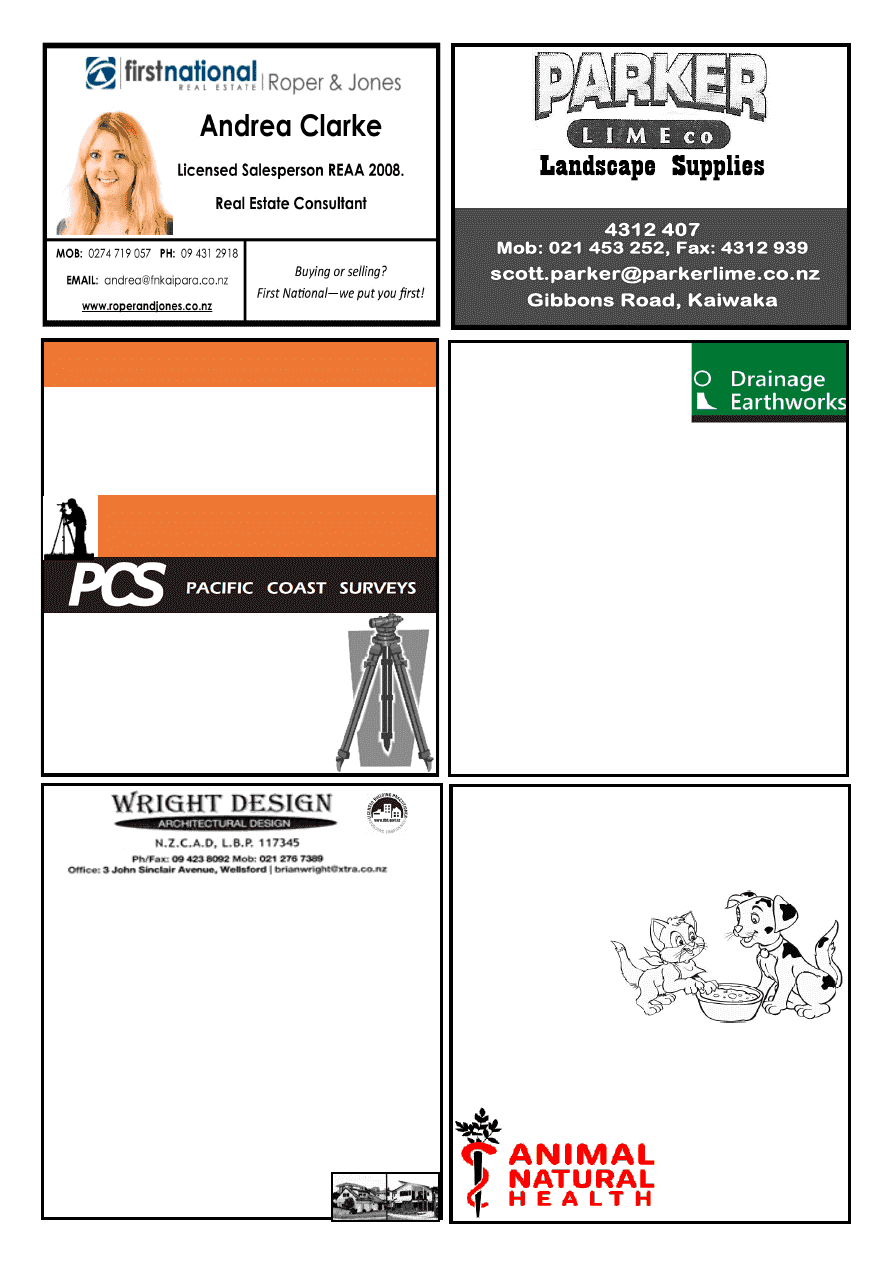 Drainage & Earthmoving 
nigel@clarkedrainage.nz 
027 2233 185 
Registered Drainlayer 
All Types of Earthworks  
> All Residential & Commercial Work  > House Sites 
> Septic System Design & Install 
> Footings & Drilling to 10m 
> Sewer Connections 
> Dams 
> Water Tank Installation 
> Roading & Races 
> Farm Work 
THE ONE STOP SHOP  
Phone Nigel for an Obligation Free Quote  
Bulk Cartage 
SURVEYORS 
SUBDIVISIONS 
HOUSE SITE SURVEYS 
CIVIL ENGINEERING 
WASTEWATER DESIGNS 
EXPERIENCED 
PROFESSIONAL 
INNOVATIVE 
Ph 09 431 5353 
0800 PACIFIC (0800 722 434) 
pacificcoastsurvey.com
Adam Booth - 027 415 5752 
Bsurv, Licensed Cadastral Surveyor
Surveying Kaipara since 1994 
If you are thinking of building then you 
will need a good and well experienced, 
qualified, and licensed designer. 
This applies if you are considering a 
new home any alterations or any 
building additions/farm buildings, 
sheds, alterations, whatsoever. 
For Resource and Building Consents, 
planning restraints, new building 
materials, applying for building permits 
– you need a capable, experienced, 
and professional designer with a clear 
knowledge of all the processes. 
Brian has been helping and organising 
all these facets of design and building 
for over 50 years. 
Wright Design offers free visits, 
consultations and advice on planning, 
design, building, council permit 
applications, guaranteed permit plan 
acceptance. 
QUALIFICATIONS 
Brian is a qualified designer 
(N.Z.C.A.D.) with over 50 years of 
varied experience in all types of 
building and is registered and Licensed 
Building practitioner in Design – 1 & 2 
Registered LBP117345 
He will ensure you will achieve the 
best from your budget. 
EXPERIENCE 
Brian's practical building and 50+ years 
of design experience means he can 
give you excellent advice and all the 
guidance needed. 
Brian can arrange engineering for a 
reasonable cost. 
•Qualified and inexpensive designer – 
N.Z.C.A.D. Registered LBP117345 
•Guaranteed design and working 
drawings 
•Free site visit to your home or 
property 
•Great service and free quotation 
PROJECTS 
Additions, alterations, basements, new 
homes, motels, bed and breakfast, 
commercial buildings, farm buildings, 
and shop fit outs are a few projects. 
Brian can show you many of his 
projects in the area to emphasise his 
versatility and can give you contact 
with satisfied clients. 
WHAT TO DO FROM NOW ON 
•Call Brian for a free quotation 
•Discuss your needs and obtain good 
advice 
•Brian can offer 
plan printing 
from A4 to A0 
(2x A1 size) 
No. 117345 
ET FOOD BUDGET BUYS!
1 kg from $6.90 a kg. 2kg @ $12.90 
Beef & Lamb 3kg $21.90 
Chicken Med. 3kg $17.90 
Veal Bones 3kg $17.90 
Purely Pets: buy 10, next one FREE 
STOCKISTS: 
Addiction Kibble 
Organix Kibble 
Mighty Mix Biscuits 
Ziwi Peak 
Tukka Thyme 
Herbal Muesli 
CHEMICAL-FREE 
Flea control, Tick & Lice Control 
Shampoos & Spritzers 
DOGGIE BEACH LEADS  Collars & Safe Toys. 
ANIMAL NATURAL 
HEALTH CENTRE 
Next to Italian Bakery, 
Kaiwaka 
Ph. 09 431 2217    
Open Mon-Sat.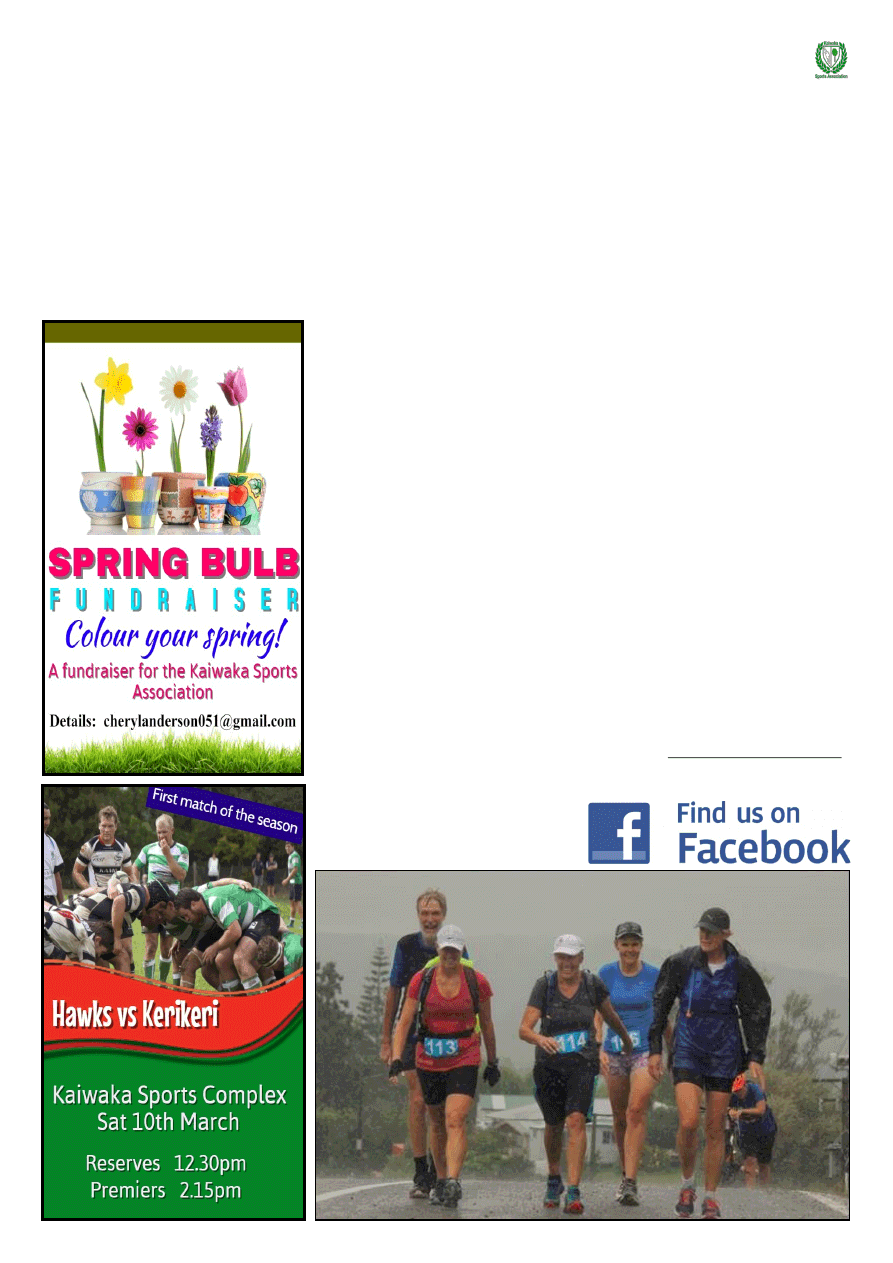 www.kaiwaka.co.nz 
Kaiwaka Bugle - 20 February 2018 
Page 11 
KAIWAKA SPORTS SOCIATION
Top of the Rock 
The weather was not our friend on Top 
of  the  Rock  day.  But  despite  the 
pouring 
rain, 
everyone 
enjoyed 
themselves.  Top  of  the  Rock  is  a  true 
community 
event, 
with 
many 
volunteers  working  together  to  pull  it 
off.  Thank  you  to  everyone  involved 
for their support.  
Tennis 
Junior  tennis  lessons  are  held  at  our 
courts 
on 
Monday 
afternoons. 
Beginners  at  3:30pm,  Intermediate  at 
4pm  and  Advanced  Juniors  at  5pm. 
New  players  welcome.  A  reduced  fee 
of  $30  for  the  rest  of  the  season.  The 
weather call is made by about 1pm and 
if  you  wish  to  attend  lessons  please 
ensure Floyd has your details to let you 
know of any cancellation 
floydriver@yahoo.co.nz  or  022  4769 
669. 
Twilight  tennis  is  starting  again  with 
the first session happening on Monday 
26  th  February  at  6pm.  Please  come 
along  for  a  social  hit  with  others  of  a 
variable skill  range  ... no need to  be  a 
pro. All equipment provided. 
Touch 
Our  Touch  Module  is  now  over 
halfway,  with  the  8  teams  playing 
every Wednesday evening. The results 
table  and  draw  can  be  found  on  our 
website 
www.kaiwakasports.co.nz. 
Spectators are welcome, so feel free to 
come  along  to  the  Sports  Complex  on 
Wednesdays  at  6.30pm,  the  Module 
runs until 14th March. 
Martial Arts 
Are you or your child keen to join our 
Martial  Arts  classes  this  year?  Black 
belt  instructor  Craig  Bennetts  offers  a 
variety  of  classes  out  of  our 
gymnasium  for  all  ages.  For  more 
information please phone Craig on 021 
1524466. 
Athletics 
The Kaiwaka  Athletic  Club  has begun 
for the  2018  season.  Sessions  are  held 
at  Otamatea  High  School  on  Monday 
evenings  from  5  to  6.30pm.  We 
provide  coaching  and  support  for  all 
the  athletic  events,  including  running, 
throws  and  jumps  for  all  youngsters, 
but especially those aged from 7 years 
upwards.  We  are  dependent  upon 
parent support and are pleased to make 
use  of  these  people's  relevant  athletic 
skills.  Any  queries  to  Eileen  Parsons 
on 4318 055. 
Bulbs Fundraiser 
I  had  a  lot  of  positive  feedback  about 
the  quality  of  the  bulbs  which  I  sold 
through my last Bulbs Fundraiser, so I 
have decided to run it again this year. 
Bulbs  are  easy  to  plant,  fun  to  grow 
and  will  reward  you  with  beautiful 
flowers year after year! 
Prices  are  less  than  normal  retail  and 
the  KSA  will  make  30%  profit  on  all 
sales. 
Your  order  will  be  delivered  to  your 
home  along  with  a  planting  guide.  An 
order form is on page 15 of this edition 
of  the  Bugle  and  can  also  be  found  at 
Jaques Four Square. 
KSA Meeting 
There  will  be  a  KSA  meeting  on 
Tuesday  6th  March  at  7pm.  All 
welcome. 
KSA News 
There is always plenty happening at the 
Kaiwaka Sports Association! We have 
special events such as Top of the Rock, 
our Sports Awards, Quiz Nights, Fright 
Night  etc,  as  well  as  our  affiliated 
sports clubs: rugby, squash, badminton, 
touch, netball, gymnastics, martial arts, 
soccer,  tennis,  athletics,  fitness  centre 
and hockey.  
To  keep  up  to  date  with  KSA  news, 
please  like  my  Kaiwaka  Sports 
Complex Facebook page, or check out 
our website www.kaiwakasports.co.nz. 
~Cheryl Anderson,  
4312 051, 027 3462702 
kaiwakasports@gmail.com 
Kaipara Knights Soccer 
Although Kaipara Knights registration day 
was  held  last  Saturday  all  interested 
players  can  still  join.  Subs  start  from  $65 
and  are  graduated  for  families  with  more 
than  one  child.  The  season  will  start  7th 
April and runs through to 18th August. All 
games  are  held  Saturday  at  Port  Albert 
Domain,  teams  are  mixed  gender  and 
players  can  be  registered  from  the  age  of 
four years old. 
We  welcome  players  from  Matakohe  to 
Kaiwaka and anywhere in between. 
We  look  forward  to  another  wonder 
season.  Any  questions  please  feel  free  to 
contact 
Shar 
021439729 
or 
shar@fnkaipara.co.nz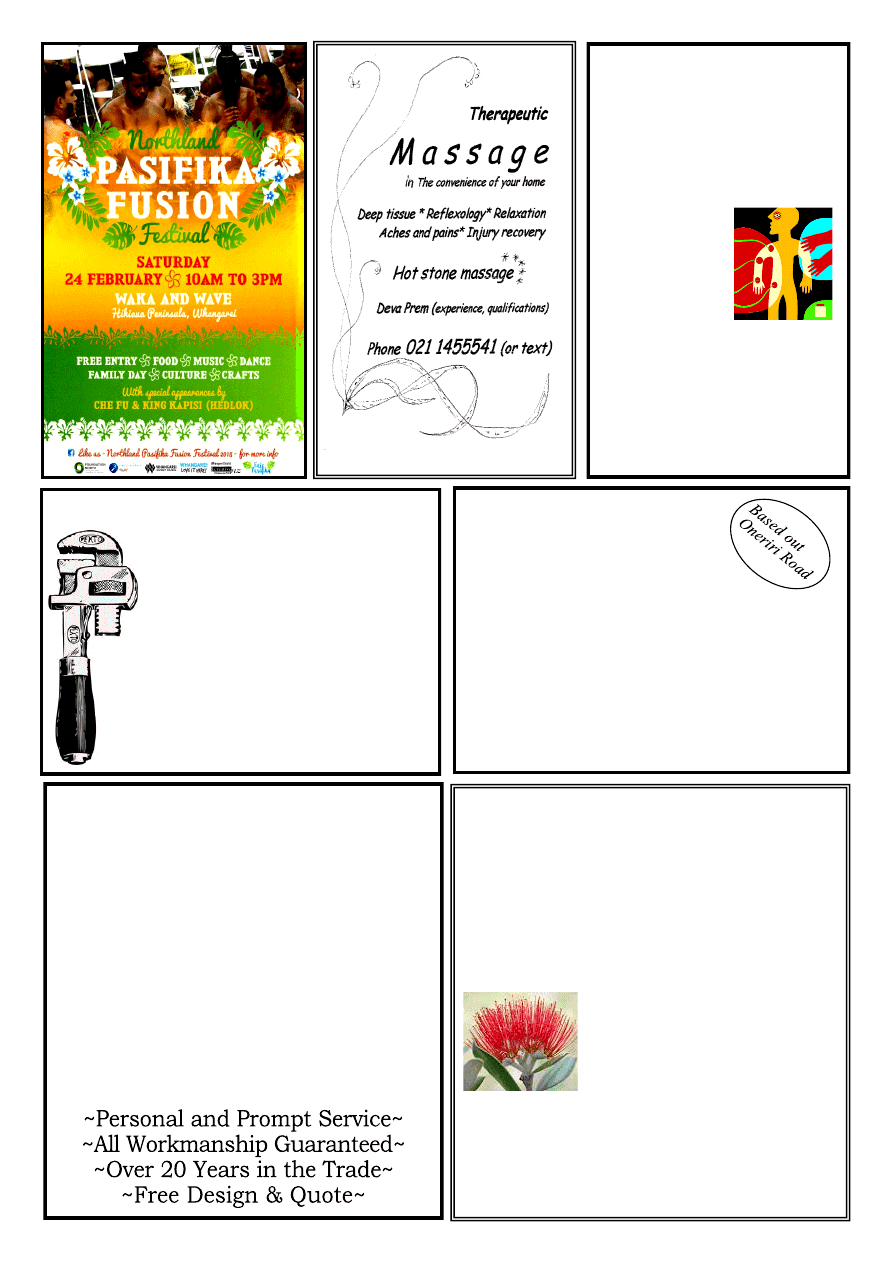 BARRY CURTIS PLUMBING LTD 
REGISTERED CRAFTSMAN PLUMBER 
Phone 431 5572
027 257 9884 
25 years' experience 
Friendly reliable service 
All plumbing & maintenance 
Alterations and new housing 
Spouting  
C
ompetitive rates 
PROMPT EFFICIENT SERVICE 
KAIPARA FLOORING CO 
Independently owned & operated 
32 HURNDALL ST MAUNGATUROTO
Supply & Installation of Carpet, Vinyl,  
Vinyl Wood Planking
Stockists of 2m & 3m wide 
vinyl & carpet short ends
Residential & Commercial
Q Card Finance Approved 
6-18 month terms 
6 mth interest free
First Class Installations
For a free measure & quote 
phone Christine  
09 946 9886 or 021 515 415 
kaiparaflooring@gmail.com 
http://www.kaiparaflooring.co.nz/ 
HODGETTS 
CONTRACTING
Digger Work 

Driveways 

House Sites  

Dams   

Drains, etc
Also available for HIRE 

4
3 ton Vib Roller 

Heavy Duty Tow  

4
Waterblaster    
 
Lazer Level 
Phone Mark 4312877 
027 447 8554 
OWEN STEVENS 
Osteo Therapist
For careful adjustments to bones 
and joints 
Treatment for humans and their 
pets 
Clinics: 
Kate's Place, 
Kaiwaka: 
Last Friday of 
month 
For bookings: 
9.00am-5.00pm  
Phone 
09 4312661 
Or phone Owen  
09 4317123 anytime 
www.mangawhaimassage.co.nz 
PLANNING A NEW KITCHEN?
 CONTACT NOEL McDOWELL
WELLSFORD 
KITCHENS
Ph/Fax 094312888
KAIWAKA-Any time
 QUALITY CUSTOM MADE 
KITCHENS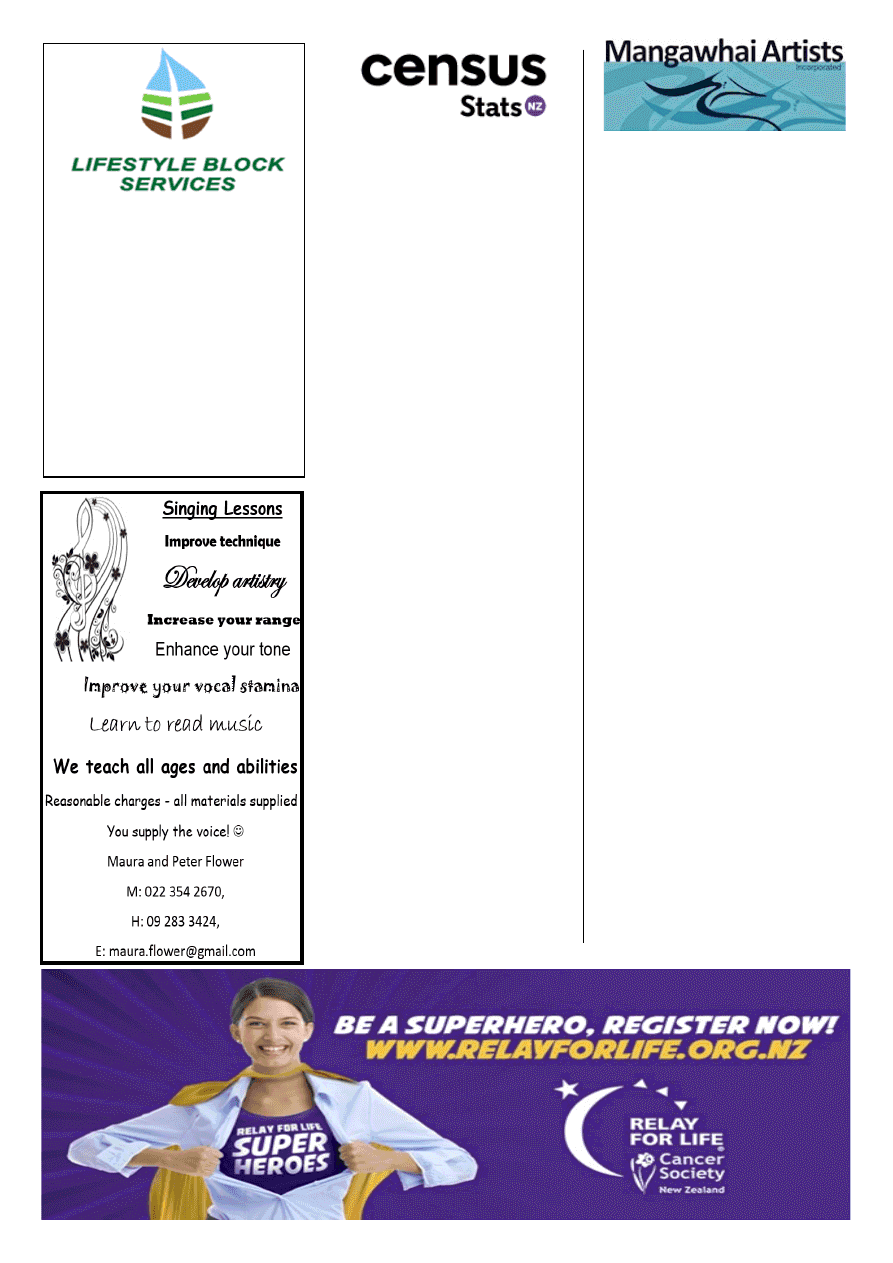 www.kaiwaka.co.nz 
Kaiwaka Bugle - 20 February 2018 
Page 13 
MANGAWHAI 
ARTISTS GALLERY  
Paint Club 2018 
Friday 9 – 21March 2018 
Mandy  Thomsett-Taylor  with  Brenda 
Adam,  Marina  Bagley,  Faye  Bagosi, 
Mary-Anne  Boyd,  Edie  Chappell, 
Barbara  Cope,  Ngaire  Evans,  Nicola 
Everett, Jan Grover, Faith Blue. 
This exhibition shows the creativity of 
a group of artists who get together once 
a  month  in  the  Art  House  Studio, 
Mangawhai. 
All 
the 
artists 
participating have completed a painting 
and  drawing  course  with  Mandy 
Thomsett-Taylor 
in 
Art 
House 
Mangawhai. 
Mandy's 
classes 
encompass  the  spirit  of  personal 
direction  and  individual  vision.  She 
encourages  students  to  develop  their 
individual artistic voice. The exhibition 
celebrates this entirely. 
Mandy  explains  'Paint  Club  is  an 
opportunity  for  the  artists  to  create  a 
series  of  individual  works  that 
represent  who  they  are  and  the 
direction their art work is beginning to 
take. The exhibition is exciting because 
of  the  diversity  of  art  on display  from 
the 11 exhibiting artists.' 
For  Mandy,  as  tutor,  she  finds,  'Paint 
Club  continues  to  be  a  source  of 
inspiration  and  more  importantly,  a 
place to build strong friendships based 
on creativity.' 
Paint Club facilitates an opportunity to 
share  ideas,  encourage  and  offer 
feedback to each other, not to mention 
enjoying  lunch  and  loads  of  laughter! 
The  show  promises  to  be  very 
interesting and full of surprises, please 
call by and say hello, spend some time 
checking  out  this  exhibition.  You  will 
love it. 
Mandy  Thomsett-Taylor's  Art  House 
Studio  is  40  Thelma  Road  South 
Mangawhai. 
Contact 
mandytt@xtra.co.nz 
The  exhibition  opens  on  Friday  9 
March  at  6pm,  all  are  welcome  to 
come along. It closes on Wednesday 21 
March 2018 
CENSUS DAY IS  
6 MARCH 
For  now,  just  look  out  for  your 
access  code  letter  and  keep  it 
somewhere  safe.  Letters  will  arrive 
from 23 February. 
The 2018 Census will be online. 
Our  next  census  will  be  different.  We 
are  aiming  to  collect  most  of  the 
census  information  online.  We'll  send 
or  deliver  an  access  code  to  every 
household  in  New  Zealand.  Paper 
forms will still be available for those 
who prefer them. 
Stats  NZ  are  getting  ready  to  run  the 
next census. The census is the official 
count  of  how  many  people  and 
dwellings  there  are  in  New  Zealand. 
By  asking  everyone  to  complete  a  set 
of  questions  about  themselves  and 
their households we capture a snapshot 
of  who  is  living  in  and  visiting  New 
Zealand. 
Census  information  is  used  by  central 
government,  councils,  community 
groups,  iwi  and  businesses  to  make 
informed  decisions  and  plan  for  the 
future. 
It's  time  for  you  to  do  your  part  to 
build  a  snapshot  of  the  people  and 
places  that  make  up  New  Zealand. 
This time around, the census is online, 
and  you'll  be  given  everything  you 
need to take part soon.  
In  late  February,  every  household  in 
the  country  will  receive  a  census 
access code. For now, just look out for 
it arriving in your letterbox and keep it 
somewhere  safe.  Your  household  will 
need  this  access  code  to  complete  the 
census on or before 6 March 2018.
When  you  take  part  in this  year's 
census,  either  online,  or  by  paper  if 
you  prefer,  we  have  safeguards  and 
procedures in place to make sure your 
information  is  secure  and  remains 
confidential. Your privacy is important 
to us and protecting it is what we do. 
The  Statistics  Act  1975  requires 
everyone  in  New  Zealand  on  census 
day to take part. 
Ref. census.govt.nz 
Make Baleage while the sun shines! 
Let us make hay/sileage for you, or 
buy single & 5 bale equivalents from 
us
. 
Contact Mark on 021 801 065 or 
Contact Lisa on 021 108 1057
We also do: 

Fencing 

 Spraying 

  Mulching 
 
Stockwork 

  Stock Water 
Systems 

  Tree Trimming  

 Driveway & Track Maintenance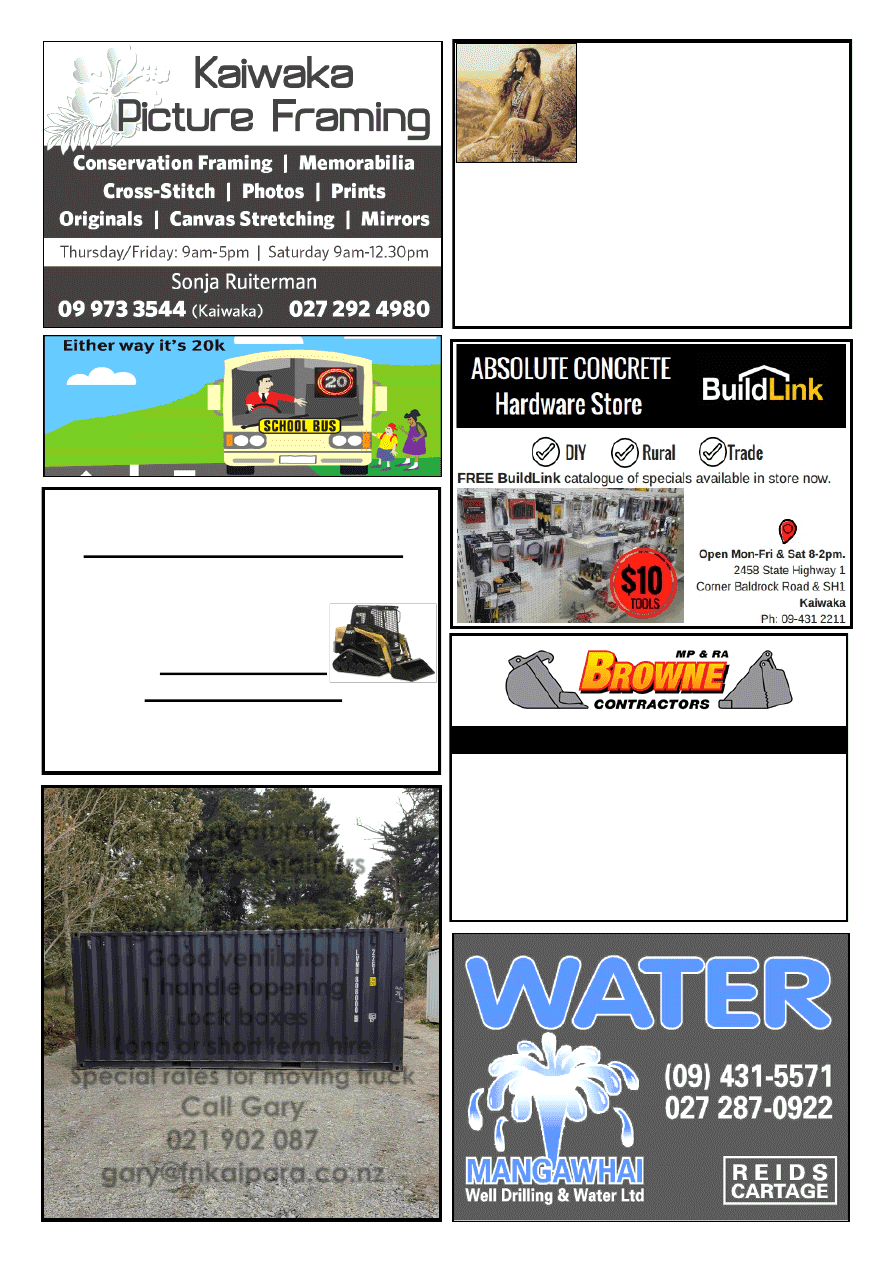 Natural Earth Ltd 
Landscape and Bobcat services 
 : Driveways :Landscaping :Retaining Walls 
 : Hole Boring: Land Levelling :Trenching 
 : Decks :Fences :Sections Cleared 
 : Plus much more
Tel 09 4312 885 
Mob 02102391280 
For A Fast Friendly Service  
Contact Tim Hicks 
4T DIGGER – BOBCAT – TIP TRUCK 
Property Maintenance - Driveways - Building Sites 
Stump & Tree Removal - Hole Boring - Chain Trencher 
Calf Shed and  Stockyard Cleaning
KAIPARA - WHANGAREI - RODNEY 
Phone Matt: 021 199 6677 
Email: mprabrownecontractors@gmail.com 
Maungaturoto  
Storage containers  
$50 pw  
A grade 20ft containers 
Good ventilation 
1 handle opening 
Lock boxes 
Long or short term hire 
Special rates for moving truck 
Call Gary  
021 902 087 
gary@fnkaipara.co.nz 
Trails end 
spiritualist gathering 
Last Sunday of every month  
11.30-2pm  
Tea/coffee provided  $5 koha 
For all inquiries: 
021 165 2629 evenings (09) 945 0707 
Trail.end@hotmail.com 
1758 Cove Road, Mangawhai
Bringing together light minded people 
Guest speaker each month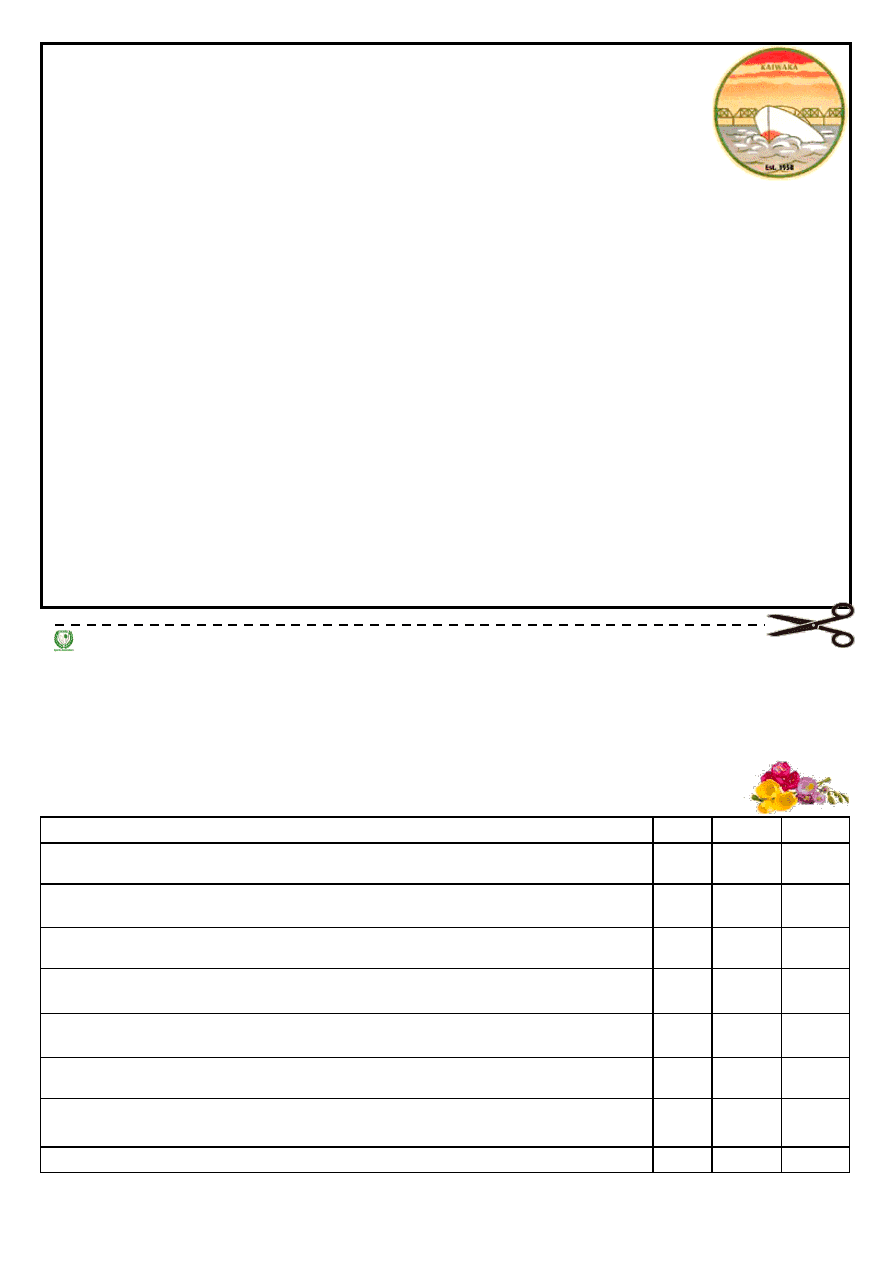 www.kaiwaka.co.nz 
Kaiwaka Bugle - 20 February 2018 
Page 15 
Point Curtis Cruising Club Inc 
OPEN Fishing Competition 
10th & 11th March 2018 
Start time 6am Saturday 10th March   
Finish time 6pm Sunday 11th March  
Weigh in 5pm to 6pm each day at the Three Furlongs Bar & Grill, Kaiwaka 
Maximum weigh in 2 of each species per angler per day 
Prize giving 6.30pm Sunday 11th March 2018.  
Prize winners must be present Auction To follow prize giving 
BBQ Following Auction. Please bring a plate. All very welcome. 
Ticket outlets: Three Furlongs Bar & Grill, Kaiwaka; Jean McLeish at Jaques Four Square; Wellsford Sports & Leisure 
Or pay for tickets by Internet Banking. Please use your Name/Names as a Reference.  
Bank A/c details are: ASB WELLSFORD No 12 3094 0008233 00 
Seniors: Entry fee $20 Species Snapper, Kingfish & Kahawai 
(only rod & reel or handline fishing with a maximum of 2 hooks) 
Senior Prizes: Snapper Cash Prizes 1st - $300 2nd - $200 3rd -$100 
Kingfish & Kahawai Fishing, Sports or Voucher Prizes for 1st, 2nd & 3rd 
Juniors: (aged under 15) Entry fee $10 Species Snapper, Kingfish & Kahawai 
(only rod and reel or handline fishing with a maximum of 2 hooks) 
Junior Prizes: Fishing, Sports or Voucher Prizes for 1st, 2nd & 3rd for all species 
ALL SNAPPER WEIGHED IN GOES INTO THE DRAW FOR THE AVERAGE WEIGHT PRIZE 
All fish weighed in must be GILLED & GUTTED. 
All Seniors fish will be kept by The Point Curtis Fishing Club Inc to be auctioned after prize giving. Juniors have the option to keep their fish 
they weigh in. This is a fundraiser for upgrading the facilities at the Rangiora Rd Boat Ramp, Kaiwaka 
Rules & Disclaimer: 
Maximum of 2 per species per angler per day allowed to be weighed in. All fish must be gilled and gutted. 
There is to be no use of nets, longlines, kontikis. kites or similar. 
There is a maximum of 2 hooks per line. 
In the event of 2 or more fish the same weight – the first fish weighed in counts. 
MPI rules & regulations apply with the exception of snapper which must measure 32cm or more. 
All people on boats must have purchased tickets for this competition. 
Boundaries are anywhere north of and including Waitemata & Manukau Harbours. 
The Point Curtis Cruising Club Inc. accepts no liability for any damage or loss of property or injury to any person. 
Decision of Weigh-Master is final. 
KAIWAKA SPORTS ASSOCTION 
SPRING BULB FUNDRAISER 
Here's a great opportunity to purchase spring flowering bulbs AND seeds and support the Kaiwaka Sports Association. 
Bulbs are easy to plant, fun to grow and will reward you with beautiful flowers for years! 
Bulbs are supplied by Garden Post who source bulbs from New Zealand's best growers. Prices offered here are less than 
normal retail. Your order will be delivered to your home and a planting guide will be enclosed with each order. To order 
please  return  this  form  with  your  payment  by  16
th
  March,  and  delivery  will  be  the  following  fortnight.  Enquiries  to 
Cheryl Anderson on 4312 051.   
Bulb Order Form
Name:   _____________________________                                    Phone number:   __________________ 
Address:  ______________________________________________ 
Payment options:          Cash         Cheque (payable to KSA)     Bank direct 060365002247200 (
write reference bulbs and your full name)  
Ways to return form:   1) Scan then email to Cheryl at kaiwakasports@gmail.com.  2) Drop off in folder behind checkout at Jaques 
Four Square. 3) Post to Cheryl Anderson, 233 Baldrock Rd, RD2, Maungaturoto, 0587.         
Bulb type
Price
# packs 
$ total
10 Daffodils mixed
An exceptional assortment of superior varieties blended for continual blooming throughout spring. Each top-
quality bulb will produce bright, long lasting, picture perfect flowers. H 40cm.
$9
10 Fragrant Daffodils – Earlicheer
A delightful and popular variety for picking. Bunches of highly scented, double flowers in a soft creamy yellow 
make this a favourite, must have choice. Flowers for a long period early in the season. H 40cm.
$8.50
10 Dutch Iris
A selection of the world's most popular Iris. Showy flowers in the garden and long lasting when cut. H 60 – 
90cm.
$6.50
10 Tulips mixed
Tulips are spectacular late spring flowering bulbs with colourful and attractive cup-shaped flowers. Top quality 
bulbs in a wide colour range will give an unsurpassable garden display. So easy to grow. H 40cm
. 
$10
10 Fragrant Single & Double Freesias mixed
For the true scent of spring try this mix of popular single & double Freesias. They will give a long lasting, dazzling 
display and have long stems for picking. Protect from heavy frosts. H 30cm
. 
$6.00
10 Ranunculi
A profusion of fully double, ever-so-sweet flowers in a wide colour range. Large clumps of these showy flowers 
are hard to beat. Ideal for borders & pots. H 30-40cm.
$5
Sweet Peas Early Multiflora - 20 seeds
A vibrant & striking mix of early flowering Heirloom sweet peas. Lavender, pink, purple, white & red flowers with 
that intoxicating fragrance. Climber to 2m
$4
                                                                                                        GRAND TOTAL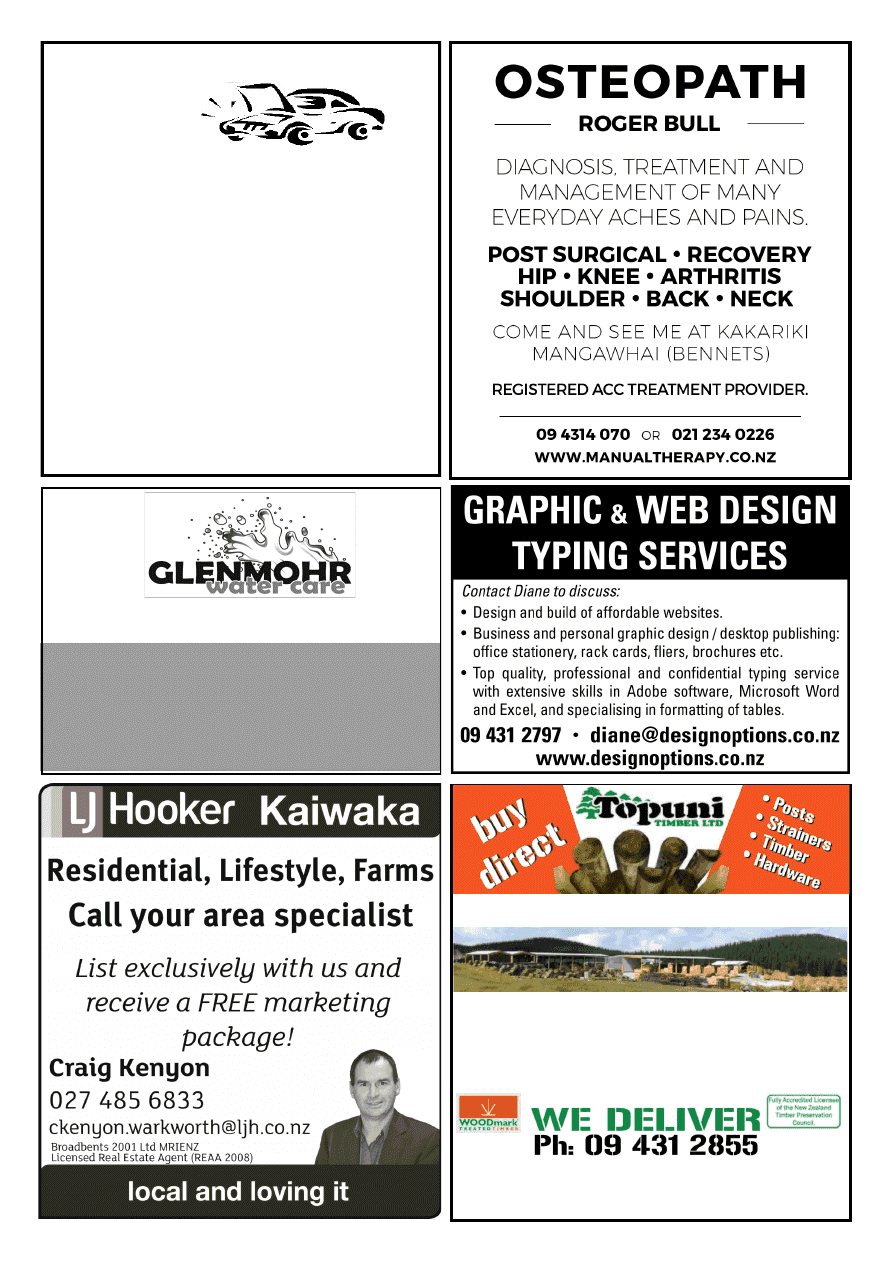 Water Tank Cleaning 
• 
Keep your water safe & clean  
• 
Removal of sediment, silt etc. 
• 
Vacuum or full scrub 
• 
Minimal water loss 
Phone Mark (09) 432 0655 or 0274 707607 
Twinkle Tow 'n' Tyre 
Think you'll get a better deal in the city? 
Ring us - it won't cost anything! 
1837 State Highway 1, Kaiwaka 
Phone 431 2823 
*W.O.F. 
*Tyres 
*Windscreen 
replacement 
*Chip repairs 
*Bulk Oil 
*Batteries 
*Welding 
*Custom built 
trailers 
*Trailer hire
LOCALLY OWNED AND OPERATED 
QUALITY PRODUCTS • FRIENDLY ADVICE • GREAT SERVICE 
Quality Products milled from High Density NORTHLAND Radiata Pine. 
Treated and guaranteed to NZS3640 with commitment to 
Environmental Safety.
Phone, fax, email, or come into the mill 
Schiska Rd, Topuni, SH1, 10 min north of Wellsford. Fax: 09 431 2856 
Email: sales@topunitimber.co.nz           Mon - Fri 7am-5pm 
• Fencing 
• Retaining 
• Decking 
• Landscaping 
• Gates 
• Hardware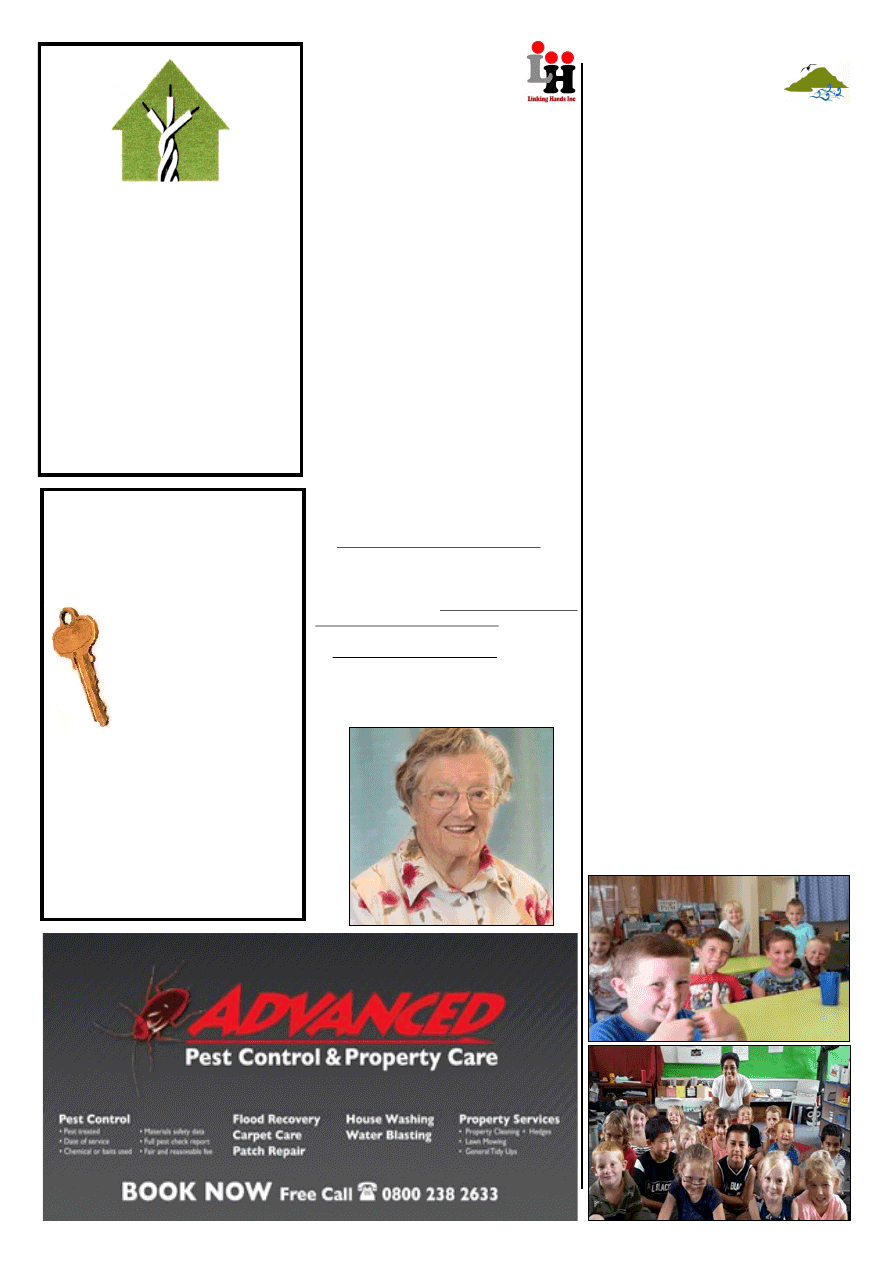 www.kaiwaka.co.nz 
Kaiwaka Bugle - 20 February 2018 
Page 17 
Reyahn George 
Leng 
Registered Electrician 
Local, honest and 
reliable. 
For your residential and 
light-commercial 
projects. 
022 314 1068 
LINKING 
HANDS
Communities take pride 
The  communities  of  Maungaturoto, 
Ruakaka,  Waipu,  Mangawhai,  and 
Kaiwaka  will  soon  celebrate  a  proud 
achievement.  For  10  years  they  have 
managed  to  make  sure  no-one  in  their 
communities  missed  out  on  important 
medical  treatment  because  of  a  need 
for transport. 
These  communities  have  distinguished 
themselves  in  supplying  volunteer 
drivers,  administration  staff,  and 
donations  to  keep  the  Linking  Hands 
service flourishing since 2008. 
Linking Hands started out as a resource 
centre  connecting  people  with  those 
who could help - thus Linking Hands! 
After  five  years  they  were  offered  a 
shuttle van which enabled them to link 
patients  and  medical  services  and  the 
health  shuttle  service  we  know  today 
was born. 
Everybody  is  invited  to  join  the 
celebrations  on  the  17th  of  March  in 
the St John Hall, Maungaturoto from 2 
pm to 4 pm for a memorable afternoon 
tea  and  juicy  titbits  of  history.  An 
RSVP 
to  linkinghandsmain@gmail.com  now 
or by the 10th of March will help a lot 
but isn't a condition for attending. 
You  may  also  like  them  on  their 
Facebook  page,  www.facebook.com/
LinkingHandsIncorporated/  or  support 
us 
by 
visiting 
our 
website 
at www.linkinghands.co.nz to pave the 
way for another 10 successful years. 
Photo  below:  A  long-time  supporter,  Mrs 
Ailsa Cullen, congratulates Linking Hands 
on their 10 years of community service
. 
Kaiwaka 
Hardware  
& 
Key cutting
Phone 4312 063  
or 022 0642 703
kaikey2015@gmail.com
    Keys Cut  
Household Hardware  
Sharpening  
Knives & Tools 
Curtain Tracks & Fittings
Not there? Call Doug and he'll 
sort
it for you. 
(
Next to Kaiwaka Motorcycles)
KAIWAKA SCHOOL  
Staff 2018 
Mrs Ellis Principal       
Mrs Tornquist Deputy Principal Year 6   
Mrs Jamieson Junior Syndicate Leader  
Year 2    
Mrs Mooney Year 2        
Mrs Brown Year 4 & 5     
Mr Massey Year 4 & 5  
Miss Elworthy Year 3            
Miss Bencheikh Year 1   
Mrs  Nesbitt  Special  Needs  Support 
Teacher 
Miss Taylor RoseNew Entrants 
Kaiarahi te Reo Mina Fairburn 
Secretary Heather Gilligan  
Librarian Sara McAulay 
Teacher  Aides  Sara  McAulay,  Chris 
Harrison and Barbara Brom      
Caretakers  and  Cleaners  Sam  Orange 
and Len Whitelaw 
After  School  Care  Co-ordinator 
Cheyenne Phillips 
21 new students were welcomed to the  
school at the beginning of this term. 
A  special  thank  you  also  goes  to  Sam 
Orange  and  Len  Whitelaw,  our 
cleaners  and  caretakers,  for  their 
excellent  preparation  of  the  school  for 
the new year 
Thank  you,  Adrian  Buxton,  for 
repainting 
the 
swimming 
pool 
changing  sheds  and  filter  shed.  Thank 
you,  Phil Keen, for digging  the  trench 
for  the  new  bamboo  forest.  We  are 
looking forward to a new style of play 
area for our kids, and a trench with root 
guard is the first step.  
After School Care has started off with 
a hiss and a roar. There are now only a 
few places left each day. If you want to 
use this service, please enrol your child 
now. 
A 
parenting 
programme 
called 
Incredible  Years  is  coming  to 
Kaiwaka.  It  is  for  parents  of  4-8-year 
olds.  It  is  really  good  -  parents  share 
experiences  and  learn  ways  of 
managing  tricky  situations.  Please 
consider  taking  advantage  of  this 
opportunity.  Phone  Eileen  Turner  09 
436 8909.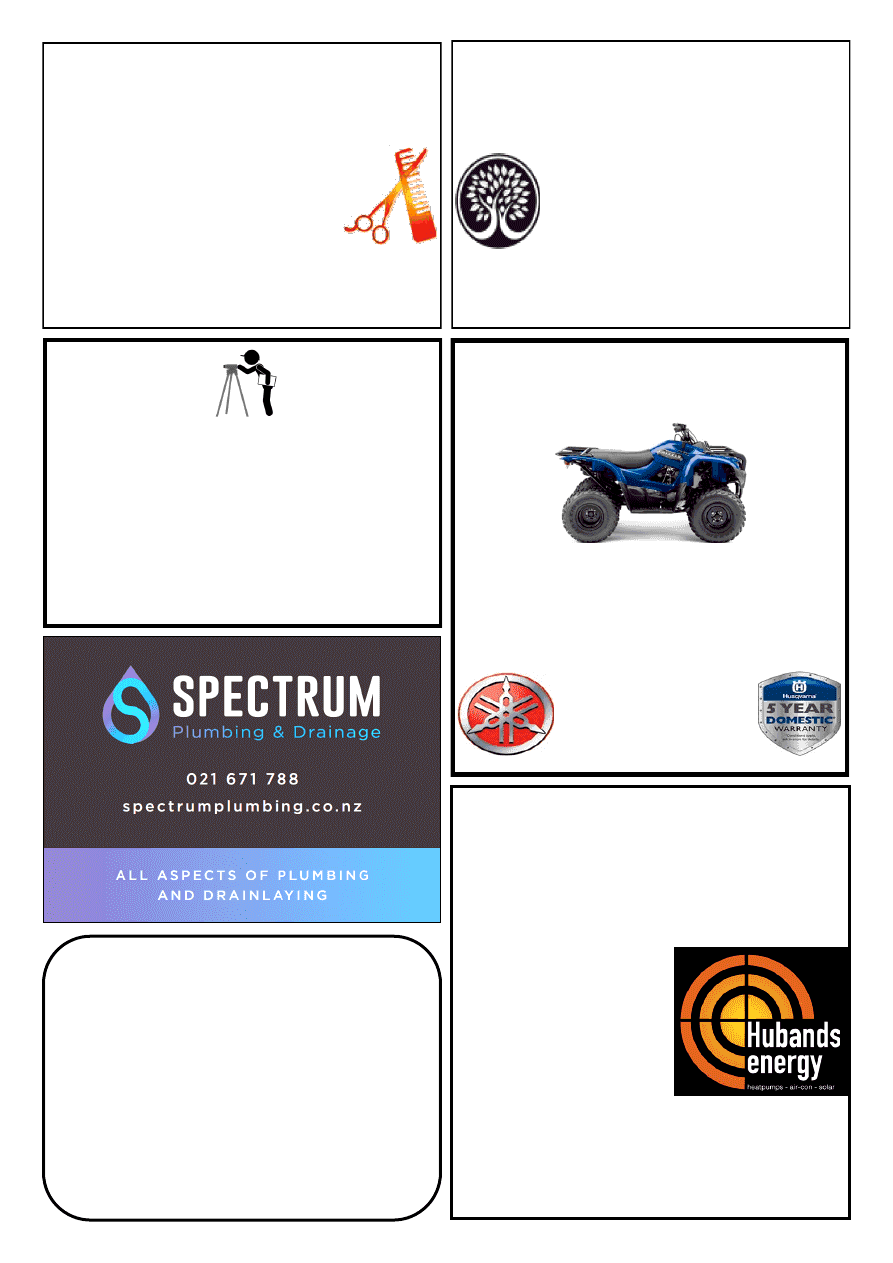 KAIWAKA 
MOTORCYCLES LTD
SALES – SERVICE – SPARES 
FARM BIKE SPECIALIST
PHONE 09 431-2127 
10 KAIWAKA-MANGAWHAI ROAD, KAIWAKA
Trimmers  
from $279
Chainsaws  
from $339
YAMAHA 
HUSQVARNA 
Northland's Award Winning 
Solar Company
SEANZ Best Solar Business Winners 2015/16
EXCLUSIVE 10 year installation warranty 
FREE No obligation onsite quote
Complete systems 
from $5990
See our range of: 
✓
Heatpumps 
✓
Airconditioning 
✓
Hot Water 
Heatpumps 
✓
Central Vacuum Systems
09 430 0019             sales@hubands.co.nz 
15 Kioreroa Road, Whangarei
Locally owned and operated for 35 years 
UP-LINK 
CHRIS WARING 
FREEVIEW INSTALLATIONS 
T.V. - HOME THEATRE &  
HI-FI ADVICE/SET UP
SKY ACCREDITED INSTALLER
MOB.0273403747 HM.094312328 
EMAIL cwaring44@gmail.com
28 YRS EXPERIENCE 
OFFERING UNBIASED ADVICE 
Ken Urquhart 
BSurv Licensed Cadastral Surveyor 
KMU Surveys Ltd
467 Bickerstaffe Road 
RD 2 
Maungaturoto 0587 
Ph 09 431 8705 
Mob 021 161 2344 
kenurquhart@xtra.co.nz 
AFFORDABLE PRICES! 
MENS CUT FROM $20.00 
LADIES CUT FROM $30.00 
KIDS CUT FROM $18.00 
COLOUR & CUT FROM $120.00 
JUST CUTS'AND   
MORE 
021 165 2629 or (09) 945 0707  
NOW SELLING: scented tealights, incense, smudge sticks, 
copper bracelets, aurora ball crystals, dream catchers, healing 
stones, rose quartz, cds, and much more. Open 6 days. 
Waipu Natural Health 
3 Cove Road, Waipu  (opposite the Pizza Barn) 
Ph: 09 432 1325 
www.waipunaturalhealth.co.nz
Clinical Nutritionist-Hair Analysis for Masked 
Allergies, Ozone Therapy, Prolotherapy, 
Naturopath-Medical Herbalist, Registered 
Massage Therapists, Reflexology-
Craniosacral Therapy, Acupuncture-Facial 
Acupuncture, Kineso Taping, Hypnotherapy, 
Counselling, ThetaHealing.
AFFORDABLE CONSULTS FOR KIDS – give us a call
Gift Vouchers available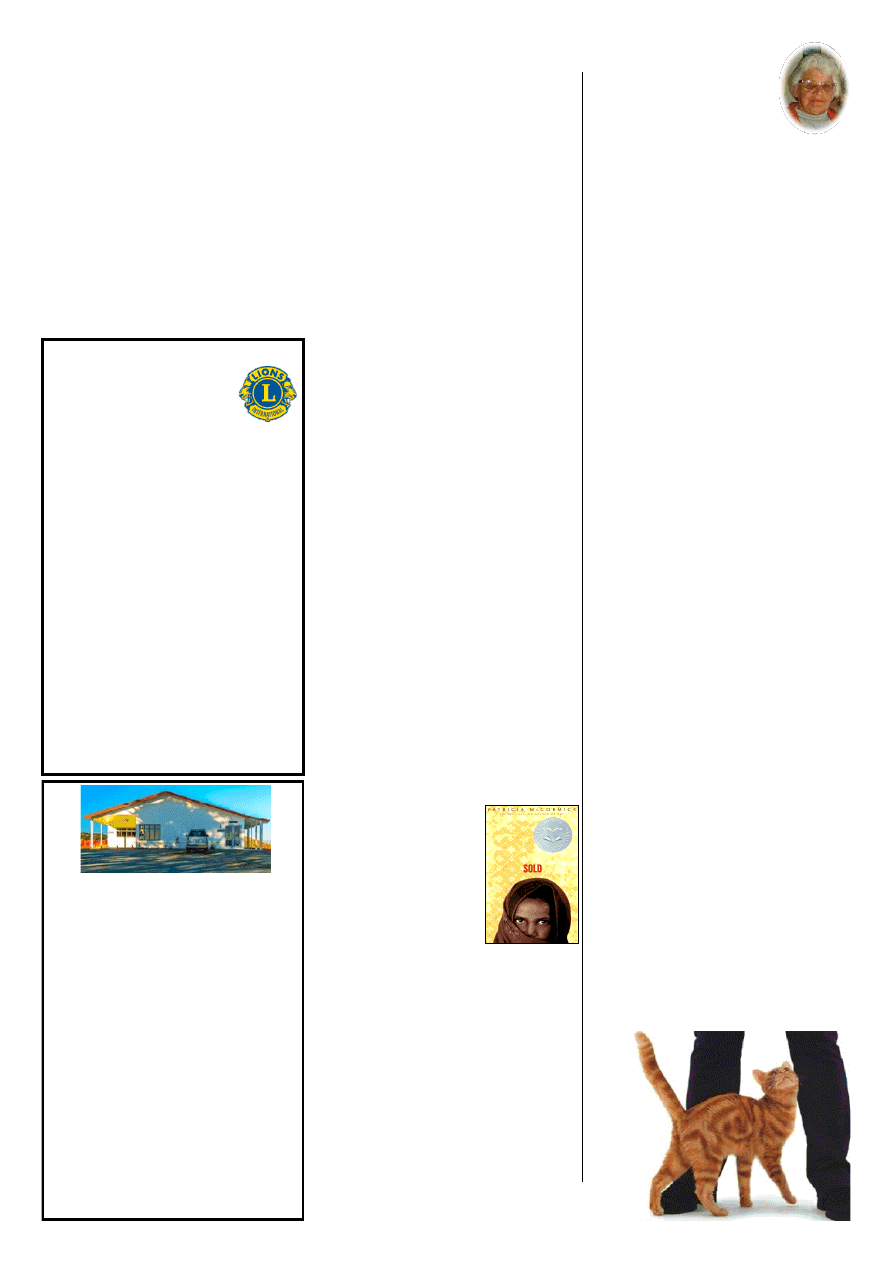 www.kaiwaka.co.nz 
Kaiwaka Bugle - 20 February 2018 
Page 19 
New library program 
This  time  next  month,  we  -  and  the 
other  libraries  in  the  district  -  will  be 
using a new library program to manage 
our  collections and  borrowings.  We've 
all  got  a  lot  to  learn  before  then  (I've 
already  had  two  days  of  training  at 
Dargaville  Library,  so  I  can  teach  our 
team,  and  there's  more  to  come)  but 
once we've had a bit of practice at it, it 
will  be  superior  to  what  we're  using 
now.  Please  bear  with  us  and  have 
patience while we get to grips with all 
the  changes.  On Wednesday  14 
March we will be working manually to 
issue  books  taken  out  that  day  while 
the new system is brought online, then 
on Thursday 15 March it goes live and 
we  celebrate.  More  information  about 
it all in the next Bugle. Many thanks to 
Dargaville  Public  Library  and  Kaipara 
District  Council  for  investing  in  our 
future. 
Generosity NZ 
Are  you  enrolling  in  some  study  this 
year, and want to find a scholarship to 
cover  your  expenses?  Or  are  involved 
with  a  group  that  is  looking  to  do  a 
project 
and 
need 
some 
help 
financially?  The  library  can  help  you 
find  out  where  to  apply  for  funding. 
Library members can go to the libraries 
page  on  the  Kaipara  District  Council 
web 
site  (www.kaipara.govt.nz >  Find 
It  >  Library
)  and  click  on  the  links 
there  for  givME  and  givUS.  This  is  a 
service  that  KDC  pays  for,  for  its 
residents and ratepayers to use through 
their library membership. Please take a 
look  and  see  how  it  could  benefit  you 
and your organisation; usage so far has 
been low, and if it's not being used we 
may lose that service. 
Secondhand books for sale 
Did  you  know  we  have  a  sales 
table?   Actually,  it's  a  whole  room 
these  days  since  we  rearranged  the 
shelves  last  year.  There  are  discarded 
library books and books that have been 
donated  to  the  library  that  we  don't 
want  to  keep.  Do  come  in  and  take  a 
look, there's bound to be something of 
interest  for  you.  We  will  be  clearing 
the  current  stock  out  in  a  couple  of 
months to make way for 'new' stock, so 
get in now before it's too late!  They're 
$1 each, or three for $2, or ten for $5. 
Free books for fundraising 
Does your organisation want to sell old 
books  as  part  of  a  fundraiser?  See  the 
ad  in  this  Bugle  for  details  on  how  to 
get your hands on some free stock. 
Sold  
By Patricia  McCormick,  this is  the 
story  of  Lakshmi, "a 
thirteen-year-old 
girl 
who  lives  with  her 
family in a small hut on 
a  mountain  in  Nepal. 
Though 
she 
is 
desperately  poor,  her 
life  is  full  of  simple 
pleasures,  like  playing 
hopscotch  with  her  best  friend  from 
school,  and  having  her  mother  brush 
her hair by the light of an oil lamp. But 
when  the  harsh  Himalayan  monsoons 
wash  away  all  that  remains  of  the 
family's  crops,  Lakshmi's  stepfather 
says  she  must  leave  home  and  take  a 
job  to  support  her  family." The  reality 
is that she has been sold into slavery, to 
work as a prostitute for her new owner 
in  the  city,  and  it  seems  that  the  only 
way 
to 
escape 
is 
to 
die 
This  book  is  in  our 
Teen  Fiction  collection,  currently 
located  on  the  Rental  Fiction  shelves 
for exposure, but free to borrow. 
See you in the library! ~Wendy 
Te Pounga Marae 
130 Nathan Rd. Oneriri. Kaiwaka 0573 
COMPLEX FOR 
HIRE 
Functions 
* Weddings  * Birthdays  
*Anniversaries * Meetings  * Wananga 
5 hour meeting * 12 hour stay  * 
Overnight 
*All welcome - No more Drink-driving 
Amenities: 
*Convo Combi Steamer * Bratt Pan * 
Dish Washer/Sterilizer * 3 Door Glass 
Chiller (walk in) etc…All Crockery * 
Linen Supplied * Central Heating and 
Air Conditioning and much more.  
Can also cater for small groups…. 
For more information please contact: 
Kim Wallace  
Home: 09 832 1133  Mob: 0211275340  
Email: kimwallace@xtra.co.nz 
From  Thelma's 
Scrapbook … 
PERFECT PURR-
SUASION 
…You have forsaken your first love 
(Revelation 2:4 
When  it  comes  to  the  gentle  art  of 
persuasion the cat's got it licked. 
Independent  and  aloof  most  of  the 
time, the common moggy is the master 
of  manipulation,  fooling  us  with 
purrfect flattery  when  he  or  she  wants 
help or attention. 
You  don't  have  to  be  a  cat  owner  to 
know  what  I  mean  –  you  will  have 
seen  it  on  the  TV  ads  for  cat  food  or 
witnessed  it  first-hand  at  a  friend's 
house. 
Her majesty will stroll past, nose in the 
air,  as  if  you're  not  worth  spitting 
upon.  Then,  moments  later,  she  will 
return  and  act  as  though  you  are  the 
most important being in the world; the 
hub  of  her  entire  universe.  She  will 
unashamedly  flirt  with  you  –  rubbing 
her  head  against  you,  wrapping  her 
smooth,  silky  body  around  your  legs, 
all the time purring in ecstasy. 
And  why  this  sudden  display  of  love 
and  veneration?  Why,  because  she 
wants something of course. Food, milk, 
attention;  it  really  doesn't  matter, 
because as sure as eggs are eggs, once 
you  have  satisfied  her  every  desire, 
she's  off  again,  and  suddenly  you're 
not  worthy  of  a  sideways  glance.  In 
fact, you no longer exist as far as she is 
concerned. 
That,  believe  it  or  not,  is  exactly  how 
we treat God sometimes. We go about 
our  day-to-day  lives  with  scant  regard 
for  the  Heavenly  Father  who  provides 
for  us.  Until  we  need  something,  that 
is.  And  then  we  declare  undying  love 
and  devotion,  often  promising  the 
moon  on  a  stick  if  God  will  meet  our 
needs  or  entertain  our  whims  and 
fancies. 
And  what happens  when  our  prayer  is 
answered  favourably?  We  go  joyfully 
on  our  way,  relying  on  our  own 
strength  and  ability  and  conveniently 
forgetting  God's  constant  care  and 
provision  for  us,  until  we  need  him 
again. 
Fickle as felines, aren't we? 
"However  do  you  put  up  with  me 
Lord?  I  am  so  fickle,  so  shallow,  so 
inconsistent.  Forgive  me,  yet  again, 
and  help  me  to  be  more  loyal 
and 
quicker to say thankyou
 ."
KAIWAKA LIBRARY 
RUAWAI LIONS CLUB 
ANNUAL  
CHARITY  
AUCTION
SATURDAY 17 
MARCH 
Kaipara Kumara Forecourt 
TRADING TABLE opens 9am 
VIEWING OF GOODS 9.30 am 
AUCTION STARTS 10.00 am 
Sponsors' products for auction – 
includes farming items 
Antiques, furniture, electrical 
appliances, toys, books, clothes, 
household goods, bric-a-brac etc 
Food and refreshments available
Contact: Jim Simpson    
094392557
or 0
21315246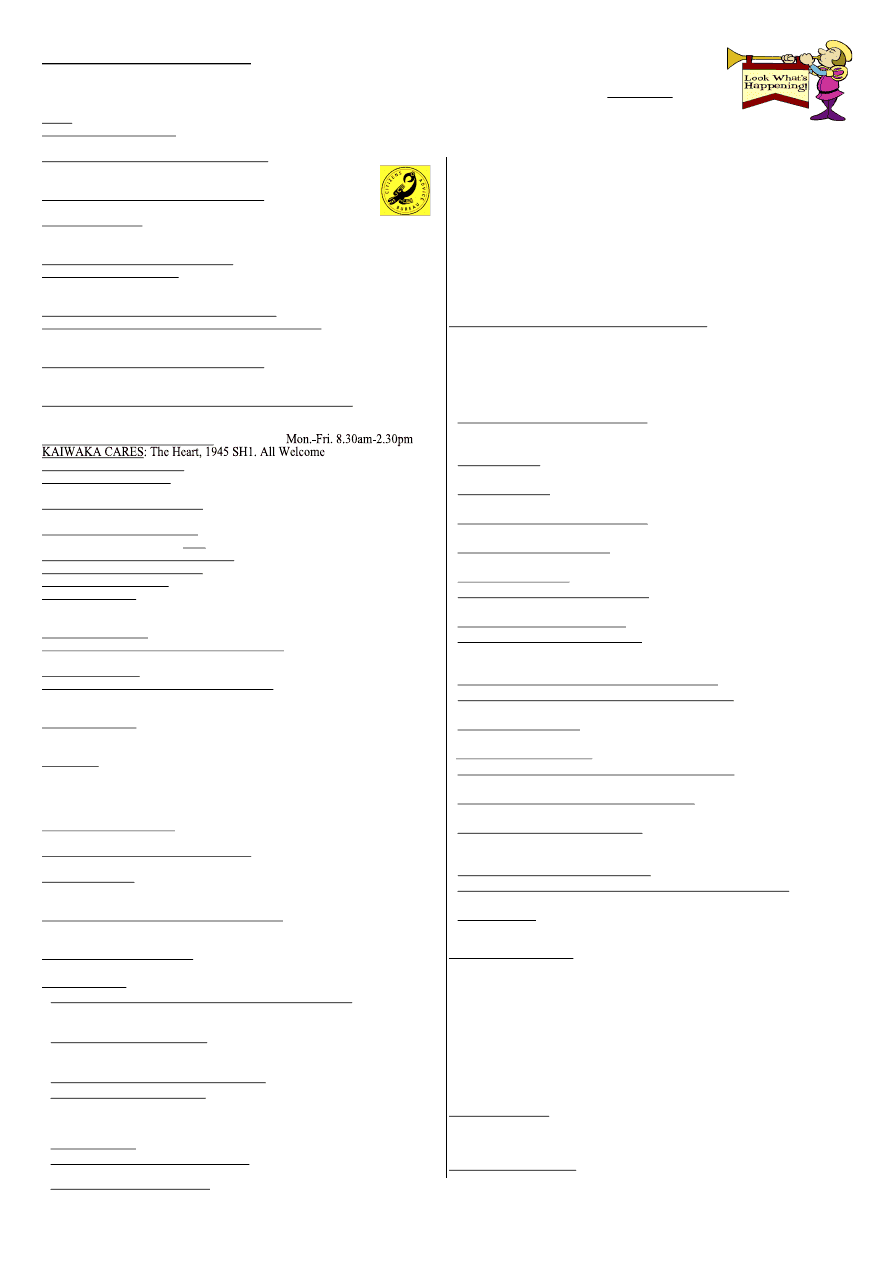 Next Bugle Deadline midday Friday 2 March 2018
WHAT'S ON
PLEASE ~ do let us know what is on - email 
kaiwakabugle@kaiwaka.co.nz 
*22Feb~Womens Section Hakaru RSA - AGM,1.30pm 
*23Feb~'Loving Vincent', 7.30pmKWMH 
*25Feb~ 'The Son of Bigfoot', 2pm KWMH 
*4Mar~Te Whai Bike Run Ph: 021 685 851  
*6Mar~CENSUS DAY 
*6Mar~Kaiwaka Sports Assn meeting, 7pm 
*9Mar~'Fleetwood Mac -The Dance', 7.30pm (tickets), KWMH 
*10-11Mar~Pt.Curtis CC Open Fishing Competition 
*13Mar~KDC Long Term Plan meeting KSA, 
*17Mar~Linking Hands 10years  Mgto St.John  2pm 
*23Mar~.Murder on the Orient Express (2017), KWMH, 7.30pm 
KWMH = Kaiwaka War Memorial Hall; KSA = Kaiwaka Sports Association 
See www.kaiwaka.co.nz for more information 
HOUSEHOLD RUBBISH COLLECTION  
Kaiwaka Pick up: 
Mondays = Green bags (Northland Waste - 09 430 3273) 
Wednesdays  = Blue bags and yellow recycling (at Jaques $3.00 
and  $1.50)  (Kaurilands  09  4392146);  ONLY  Blue  and  Yellow 
bags picked up on Oneriri Road. 
 DIABETES  Support  Group  -for  Kaiwaka,  Mangawhai, 
Wellsford  10am,  3rd  Friday  of  month  Ph:  Colleen  James  09 
4314238 
 DRINK CAN 'tear tabs' - for Starship Hospital- please collect - 
98 Kaiwaka Mangawhai Rd, leave in mailbox, Ph. 4312625  
 GENEALOGY - Wellsford: 1st Thursday in month Ph: 423 
7033; Waipu: 4th Monday in month Ph: 4312 725 
 GYMNASTICS  OTAMATEA  -  Tuesday  Ph:  Stephanie  022 
3624998 
 HAKARU PONY CLUB - Secretary Denise Rogers 021423376 
secretary@hakaruponyclub.co.nz  
 KAIPARA HUNT - Secretary Albert Doonenbal Ph 4312059 
 KAIPARA YONG FARMERS - K Danks  0211598453, meet on 
last Thursday of the month at Three Furlongs Bar & Grill 
 KAIWAKA BADMINTON -Tuesdays 7.30pm Ph: 4312345 
 KAIWAKA  DRAMA  CLUB  -  Dave  Edwards  021  611198  - 
KaiwakaDrama@gmail.com Monday 5:30-7:00pm KWMH - FB 
- "KaiwakaDramaClub" 
 KAIWAKA DRUM & DANCE CLASSES - 021 611198 
 KAIWAKA GARDEN & FLORAL GROUP - 2nd Thursday in 
month. Ph: 431 4744 
 KAIWAKA  CUBS  -  Thursdays  5.30-7pm,  Hakaru  Ph:Bruce 
4312542 
*KAIWAKA PILATES - Ph: 021 2072729. 
 KNITTING FOR WHANGAREI HOSPITAL - 2nd Tuesday in 
month, Archie Bull Hall 10am Ph 4314827 
 MANGAWHAI COMBINED REBUS CLUB - 2pm, 3rd 
Thursday month, Senior Citizens Hall Mangawhai. Ph: 4315777 
 OTAMATEA GREY POWER - Kath Pattinson 09 283 2052, 
1pm last Wednesday of month, Anglican Church Hall, 
Maungaturoto 
 PT CURTIS CRUISING CLUB - Jean Ph: 4312227 (wk), 4312520 (hm) 
 RSA,  HAKARU  &  DISTRICTS  WOMEN'S  SECTION  –  meets 
1.30pm 4th Thursday of the month. Ph: 431 5818  
 TRAMPING - Mondays 9am-2:30pm Maria 4312 234 
HALLS FOR HIRE: 
 St.Pauls Archie Bull Hall HIRE $20 half day, $40 full day per 
hire, S McAulay, Ph 4312311 
 Kaiwaka  War  Memorial  Hall  HlRE  -  Phone  4312725  or 
kaiwaka.hall.bookings@gmail.com 
 Hakaru Community Hall HIRE -Ph. 4312256 or 4312110 
 Te Pounga Marae queries - R. O'Leary 4312 423, J.Nathan 021 
186 7382 
 Kaiwaka Sports Association hire/queries - C. Anderson 4312051 
or kaiwakasports@gmail.com 
Justice of Peace:  
B.FJaques  4312  048;  L.Donaldson  4312  228;  A.F.Hargreaves 
4312 045, W.Howard 4312 725 - please phone to make sure they 
are available www.justiceofthepeace.org.nz 
Marriage Celebrants:  
L.Donaldson; A.F.Hargreaves; Y Osborne
LOCAL SERVICES 
*Emergencies - Ambulance, Fire, Police - dial 111 
*Non-urgent Police phone 09 4311150
A A: Meets Wed., 8pm Kaiwaka Ph: 4315543, 0800229 6757 
ASUREQUALITY LTD (was AgriQuality) Call Free 0508 0011 22  
BUDGETING SERVICE, WELLSFORD: Free confidential advice & 
support for all areas of personal finance. Ph (09) 423 7123 
CAB-Citizens Advice Bureau.Wellsford Ph: 4237333 
0800 367 222 email:cab.wells@xtra.co.nz  
CIVIL DEFENCE - Kaiwaka Community Response Group: 
kaiwaka.civildefencecrg@gmail.com, 4312725 Wendy 
DOG/STOCK /NOISE CONTROL 0800 105 890 
FUNERAL SERVICES: Morris & Morris Ltd, 
Whangarei - Bev Jaques Ph:4312367 or 0800667747 
GRANDPARENTS Raising Grandchildren: Dianah Roberts 0223819539 
HAKARU & DISTRICTS MEMORIAL RSA (Inc) 733 Settlement Rd, 
Hakaru. Ph 4312 176 or Graeme Hitchcock (President) 431 3064 
HAKARU LANDFILL/Transfer Station:Open everyday except 
Tuesday10am-4pm.Ph4312629 Cost-$55 trailer load up to 1 cubic metre. 
Ph:4258567 - office 
KAIPARA DISTRICT COUNCIL www.kaipara.govt.nz:  
Help Desk FREEPHONE 0800 727 059  
KAIWAKA KOHANGA REO: Ph:4312620 
KAIWAKA CEMETERY: Ph: 4312045 or 4314017 
KAIWAKA LIBRARY: kaiwaka.library@gmail.com  
Mon. 4-6pm; Wed., Thurs., Fri., Sat. 10am-2pm Ph:4312539 
KAIWAKA PLAYCENTRE: Ph Juanita 0274134904; open Mon, Wed, 
Fri 9am-12pm. Hastie Lane; Monday to Friday 9.00am - 12 noon. 
KAIWAKA POST OFFICE:Ph:4312 431  
Post Code: 0573 for RD2 and 0542 for all Kaiwaka Post Office mail 
KAIWAKA PRIMARY SCHOOL: Ph: 4312309   
KAIWAKA SPORTS ASSN: Ph 4312005; 4312129 gym 
KAIWAKA ST JOHN: Manager Steve Rosser 09 4318403, 021 355734 
KATE'S PLACE Community Centre - Employment services, Free Health 
Nurse, Plunket, Advocacy, Osteopath, A.A., Legal Advice. 4312 661 
LINKING HANDS Health Shuttle Ph 4315906 or 09 4318969 
MINISTRY FOR PRIMARY INDUSTRIES - General inquiries Call 
Free 0800 008 333 
NORTHPOWER: Faults Kaiwaka area 0800 104040 
OTAMATEA COMMUNITY SERVICES: Counselling, parent coach, 
Family Support worker, budget advice, food bank. Mon-Fri 9am-3pm. Ph 
09 431 9080 http://www.otamateacs.org/ 
PARENTPORT: Free, practical family support service Puhoi to Paparoa 
Ph or txt: Dianne 027 280 5093 or 09 425 9357 
PLUNKET:  Kaiwaka  -Kate's  Place  Clinic  1st  Wednesday  of  the  month; 
Mangawhai  - Rose Madsen Cottage: Coffee Group 9:30 every Monday.  Clinic 
every Monday and Thursday. 
Maungaturoto - Good News Church, Clinic 2nd and 4th Wednesday.  
Cynthia 09 431 7340 or 027 675 3488 
PLUNKET HELPLINE -0800 933 922 (24 hours) 
TAITOKERAU COMMUNITY LAW: Free confidential legal advice and 
assistance, 2nd
Thursday
 of each month. Ph: 0800 155 529 for apps.  
TE URI O HAU Settlement Trust Tangata Developments: Whanau Ora 
021 793262  
VETERINARY SERVICE MANGAWHAI: 
Ph: 4314535 Mon-Fri 8.00-5.00, Sat 9-12, a/h appt. 
WELLSFORD DOCTORS: Ph: 4238 086 
CHURCHES:
 
Kaiwaka  Revival  Church  -  Your  Community  Church:  Sundays  10am. 
Ph: Pastor Tawhiri 09 431 8988 or Pastor Paul 09 4312 068 Visit us at 
www.facebook.com/kaiwakachurch 
 
St  Paul's  Anglican  Church  1st  Sun.  9.00am  (Eucharist),  3rd  Sun. 
9.00am (Family Service). Contact: Rev. Wayne Thornton Ph 431 4122 
www.mangawhaianglican.org.nz 
 
Church of Christ the King, Mangawhai:9.30am every Sunday 
 
St.Mary's  Catholic  Church:  Maungaturoto  –  Griffins  Road,  Saturday 
evening  Vigil  Mass  6pm;  Mangawhai  –  Senior  Citizens  Hall,  Sunday 
Mass  8:30am;  Wellsford  –  Matheson  Road,  Sunday  Mass  10:30am;  
Mid-week Mass times and all enquires to Fr. Bill Fletcher – phone 423 8170
 
Baptist Church: Sun. 10.30am Mangawhai Snr Cit.Hall.Ph:4312339 
 
Cause  Way  Church  Mangawhai:  Sundays  10.15am,  Mangawhai 
Community  Recreation  Centre,  Insley  St.  Ph:  09  4314782