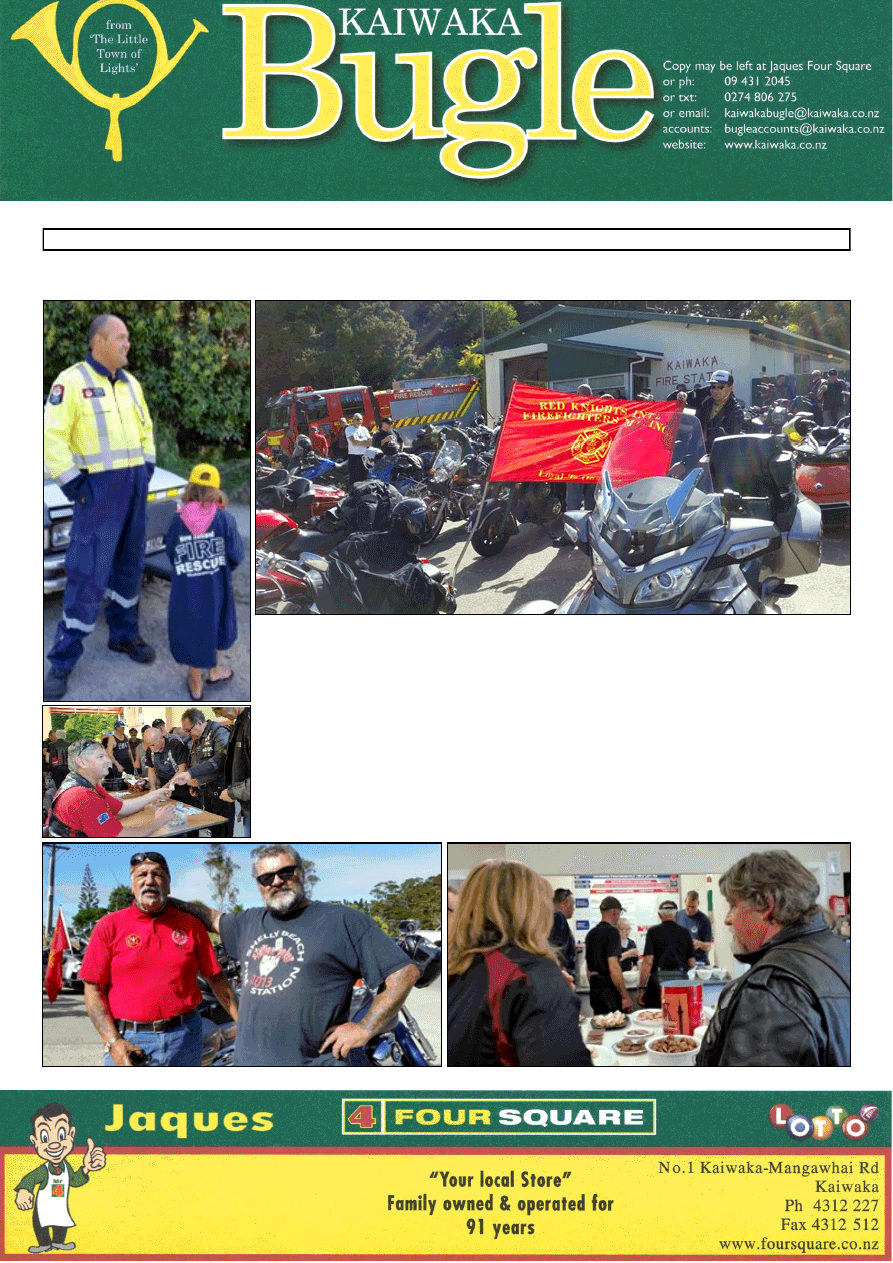 www.kaiwaka.co.nz 
Kaiwaka Bugle - 6 March 2018 
Page 1 
No: 4 
6 March 2018 
Trading Hours: 
Monday to Friday 8:00am - 6:30pm 
Saturday 8:00am - 7:00pm 
Sunday 9:00am - 6:00pm  
Members  of  the  Northland  and  Auckland  Red  Knights  International  Fire  Fighters 
Motorcycle Club assembled at the Kaiwaka Fire Station on Sunday 25 February, to begin 
their  annual  fundraising  run  to  raise  funds   for  the  New  Zealand's  children  with  severe 
burns  admitted to  the  National  Burn  Unit, Middlemore  Hospital,  Auckland  -  Unit  Kids 
First. And what an amazing line-up of brilliant motorcycles and riders were to be seen. 
Donations  were  made,  raffles  run  and  morning  tea  was  had,  along  with    plenty  of 
fellowship, the large group rode on to Waipu. 
The  Red  Knights  Motorcycle  Club  is  a  club  for  members  of  the  fire  service,  and  their 
families, who enjoy riding motorcycles. There are 10 Chapters throughout New Zealand. 
President of Northland Chapter 1, and the New  Zealand Ambassador, is Russell Rawiri; 
and the president of the Auckland Chapter 2 is Adam Knezović.  
Photos:  Top  left  -  Kaiwaka  fireman  and  his  helper  on  motorcycle  parking;  Above  -    a 
number of the bikes outside Kaiwaka Fire Station; Left - taking donations; Bottom left - 
Russell Rawiri and  Adam Knezović; Bottom right - morning tea!
BIKERS FOR BURNS in KAIWAKA 
RED KNIGHTS INTERNATIONAL FIRE FIGHTERS MOTORCYCLE CLUB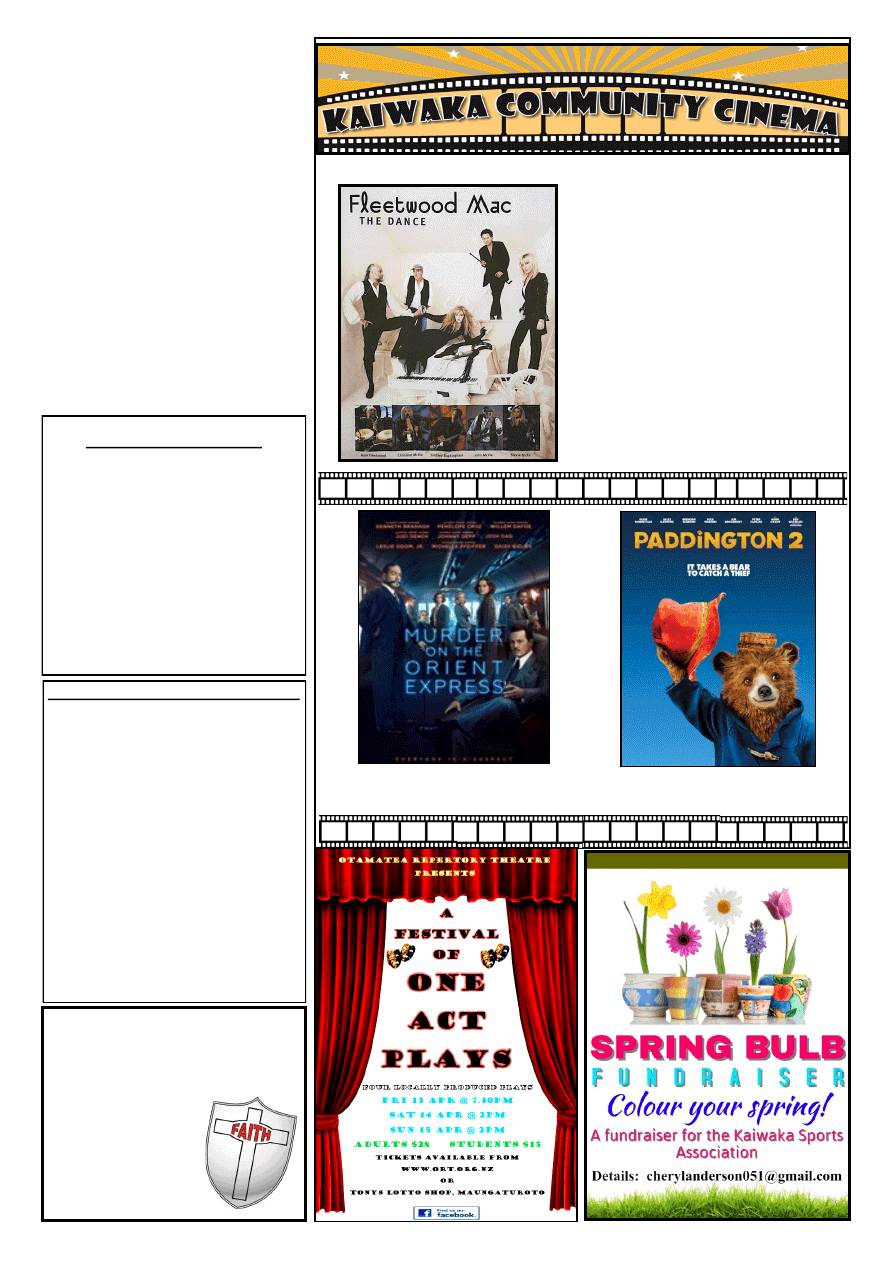 At Kaiwaka War Memorial Hall . Adults $10, Kids (under 16) $5, Family Pass (2 adults + 3 children) $25 
KAIWAKA BUGLE No. 4 
6 MARCH 2018 
CONTENTS 
Page 3: Public Notices, Classified 
Page 5: RSA Women's Sec; Weather 
Page 7: Kaiwaka School 
Page 9:  ORT; Thelma's Scrapbook 
Page 11: Riverview; Kibrary-KDC  
Page 13: Kaiwaka Sports Assn. 
Page 15: Aerial topdressing 
Page 17: Mangawhai Artists; Turkens 
Page 19: Library; Pt.CCC 
Bugle 5 will appear 20 March 
Contact for advertising, reports, articles 
or information can be made by 
Email kaiwakabugle@kaiwaka.co.nz 
Ph: 09 4312 045 Lindsey 
Txt: 027 2724137 
Copy  may  be  left  at  Jaques'  Four 
Square. 
Kaiwaka Bugle 
Founded May 1978 
We appreciate articles and photos about local 
events, etc, as well as ads and suggestions. 
Copies available in Kaiwaka at Jaques Four 
Square, Kaiwaka Postal Centre, Shamrock 
Service Station, Animal Health Centre, 
Kaiwaka St John shop. 
Also outlets in Maungaturoto, 
Mangawhai and Paparoa. 
Can be viewed online at   
www.kaiwaka.co.nz/Bugle  
Or a copy can be posted to you if you supply 
stamped, self-addressed DLE envelopes. 
Murder on the Orient Express 
2017
Friday 23 March, 7.30pm (M) 
Paddington 2 
Sunday 25 March, 2pm (PG) 
Proverbs 30:5  
Every  word  of  God  is 
flawless;  
He  is  a  shield 
to  those  who 
take  refuge  in 
Him. 
Kaiwaka Bugle Advertisements 2017: 
All 
copy 
and 
queries 
to: 
kaiwakabugle@kaiwaka.co.nz 
The Bugle is printed on an A4 page   
Ad  sizes:  1/16  page  (3  x  9.5cm)  $5;  1/8 
(6.5  x  9.5cm  landscape  or  portrait)  $8; 
3/16 ( 10 x 9.5cm or 7.5 x 12,5)  $12.  
Classified  ads:  First  one  FREE,  $4  per 
entry (max. 30 words, max. 4 repeats). 
Payments  can  be  made  online  at 
ANZ 
06  0365  0006990  00
,  posted  or  left  at 
Jaques Four Square Store. 
We  use  Microsoft  Publisher,  and  can 
work  with  most  common  image 
formats, Word, Excel, and PDF files. 
Accounts:  
Email: bugleaccounts@kaiwaka.co.nz 
The  Kaiwaka  Bugle  is  a  community 
newspaper run by volunteers.   
Articles, etc. printed are not necessarily 
the opinion of the Bugle Team. 
Fleetwood Mac 
THE DANCE (M) 
Friday 9 March, 7.30pm 
Kaiwaka  Music  
Movie  & Supper 
Night Out 
BYO drinks 
$20.00 tickets  
Ticket entry only 
Ph: 021 2154495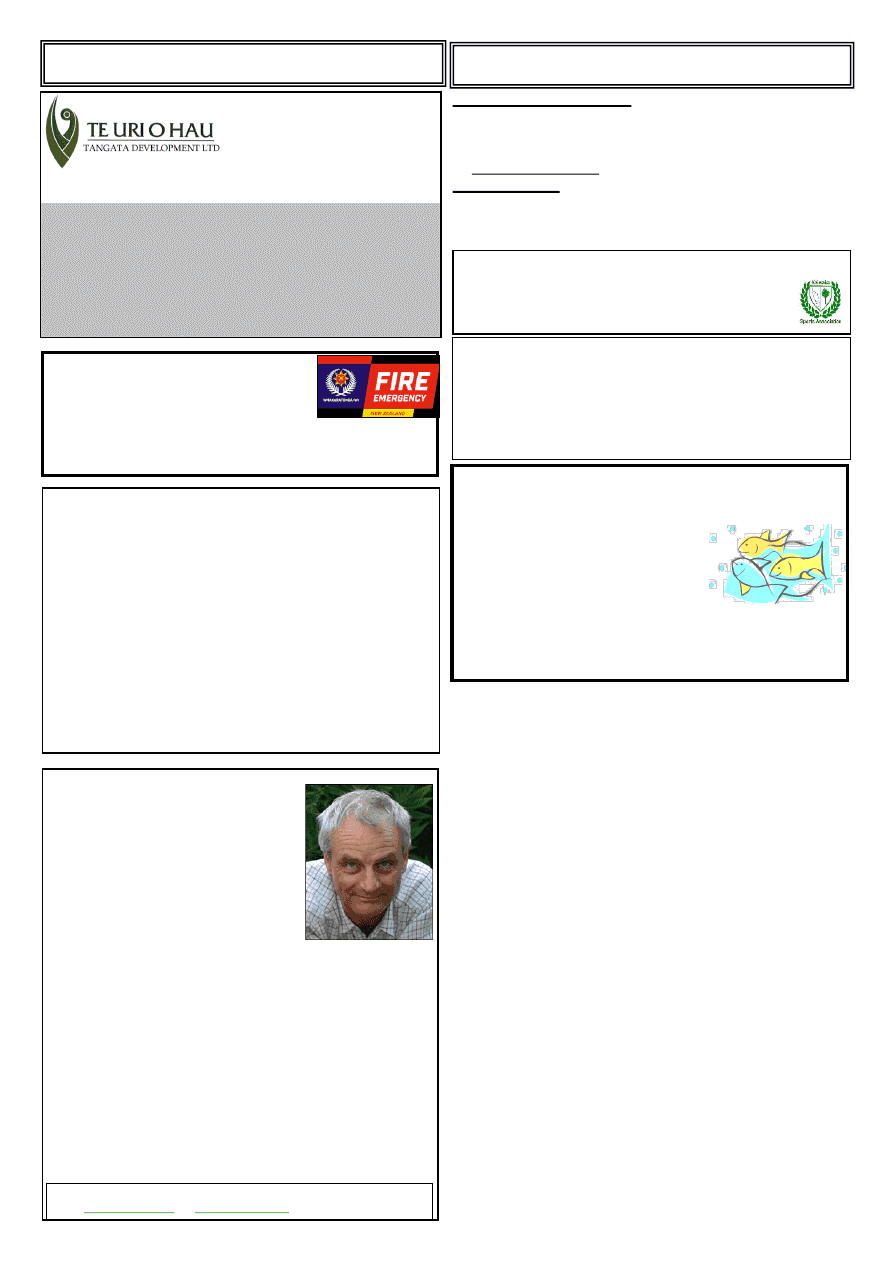 www.kaiwaka.co.nz 
Kaiwaka Bugle - 6 March 2018 
Page 3 
ABOUT TOWN ... 

A big THANK YOU to our local Kaiwaka Fire Brigade 
members and the Red Knights for the wonderful support for 
the Children's Burns Unit. 

 Our  condolences  to  the  family  of  Clyde  Connelly  who 
passed away last week. 

Congratulations  to  Kaipara  born  Rowland  Smith  who 
won his 5th Golden Shears title at the weekend! 

 NB.  The  KDC  Long  Term  Plan  meeting  is  on 
Wednesday 14 March in the Kaiwaka War Memorial Hall, 
3.30  -  5.30pm;  and  submissions  will  close  on  Sunday  8 
April 2018. 

 The  KDC  Creative  Communities  Scheme  is  now  open 
until 5pm Monday 19 March 2018; it provides funding for 
communities  to  be  involved  in  local  arts  activities  (maybe 
the lights?). 

Check the Kaiwaka Sports news - there is a lot happening 
on our sports grounds and at the complex. 

 St. Patrick's Day,  Saturday 17 March - a day to celebrate 
our Irish culture! 'What do you get when you cross poison 
ivy with a four-leaf clover? A rash of good luck !' 

A  'well  done'  to  Jenny  Hastie  and  crew  in  Whangarei 
that  ran  a  very  successful  NZ  National  Masters  Athletics 
weekend - excellent watching. 

A  brickbat  to  the  thief  who  has  stolen  the  'free  air' 
machine from Shamrock Service Station. 

Check  the  Bugle  online  at  www.kaiwaka.co.nz  -  the 
photographs and the advertisements look great in colour! 
  ~ Lindsey, Ed 
"May your blessings outnumber the shamrocks that grow, 
And may trouble avoid you, wherever you go". ~Irish Blessing  
PUBLIC NOTICES 
CLASSIFIED 
KAIWAKA SPORTS ASSOCIATION 
MEETING 
Tuesday 6th March, 7pm 
Kaiwaka Sports Complex 
AVON AVON AVON 
To All My Valued Customers 
By now you would have heard that the Avon Company is 
pulling out of New Zealand. 
This  will  happen  at  the  end  of  Brochure  6  which  orders 
need to be in by the end of April.  The 2 May is the last 
contact  for  me  as  a  representative.  From  this  date  there 
will be no more orders taken. I have some stock, but this 
is going fast. 
If  you  require  anything  could  you  order  as  soon  as 
possible  as  there  are  already  a  few  items  that  have  been 
discontinued. 
I would like to give a BIG THANKYOU to everyone who 
has supported me over the past 20 years.   
All the best, Gale Matheson 
JUNIOR RUGBY  
Come to our Registration Day, March 10th 10am-11.30 am at the 
Kaiwaka Sports Complex.  
You can register online and find more information about the club 
www.sporty.co.nz/easternkaiwaka 
Eastern JMB Kaiwaka welcomes all junior players from 4yrs-
11yrs to our club. Under 7s play Rippa ,Under 9s Up play Tackle 
Look forward to seeing you there!
Managing the 
Pressure Cooker  
of Life
How to turn down the 
heat while at the same 
time increasing focus & 
efficiency
Learn about: 
Mindfulness 
Physical Wellbeing 
Emotional Wellbeing 
Stress Management 

Intimate Relationship 'secrets' 

How to be in the Driver Seat of your life 
And learn where to focus to be more relaxed and 
happy without the need for external things like 
food, alcohol or drugs. 
Date: Thursday, March 8, 2018 
Time: 7pm to 8:30pm 
Place: Kate's Place, 1960 State Highway 1, Kaiwaka 
Cost: This is a free event 
Registration: Please contact Kate's Place on  
431 2661 or text to 029 773 9085 
REVOLUTIONARY COACHING 
www.mikal.nz     info@mikal.nz    027 235 0003 
Mikal Nielsen 
Life Strategist 
AUCTION AUCTION  
Fish Fish Fish Fish 
(gilled and gutted) 
11th March 2018 
6.45pmish Sunday  
@ 3 Furlongs Bar & Grill 
ATM on site 
Point Curtis Cruising Club Inc 
Fundraiser for upgrades at  Rangiora Boat Ramp 
Free In-Home Parent Education Service 
Call us for an appointment to discuss the criteria. 
No Obligation. 
All nationalities welcome.  
"The measure of us as Parents, is revealed in our growing children" 
www.uriohau.co.nz  
Family Start  
Phone : 09 4391826 
Office Hours 8:30—5:00pm Mon-Fri 
52 Murdoch Cresent, Dargaville, Northland 
6/8 Kaiwaka / Mangawhai Road, Kaiwaka 
ACCOMMODATION:  Wanted  by  small  family  2 
adults  2  kids  in  Kaiwaka  or  surrounds,  starting  from 
April.  We  are  clean,  employed,  able  to  fix/repair 
what's  needed.  References  available.  09  9733651  a/h 
AVAILABLE:  Kaiwaka Automotive Mechanical Re-
pairs - cambelts, clutches, brakes; 30 years experience; 
working out of Twinkle Tow n' Tyre.  
Ph: Lyndon 021 1443566 
FIRE SEASON STATUS  
KAIPARA: OPEN 
No  fire  permit  is  needed  to  light  a 
fire in open air. However,  you still 
need  to  exercise  caution,  check  the  weather  and  be 
well  prepared  before  lighting. 
Restricted  season  was 
revoked at 6am Wednesday 28 February 2018.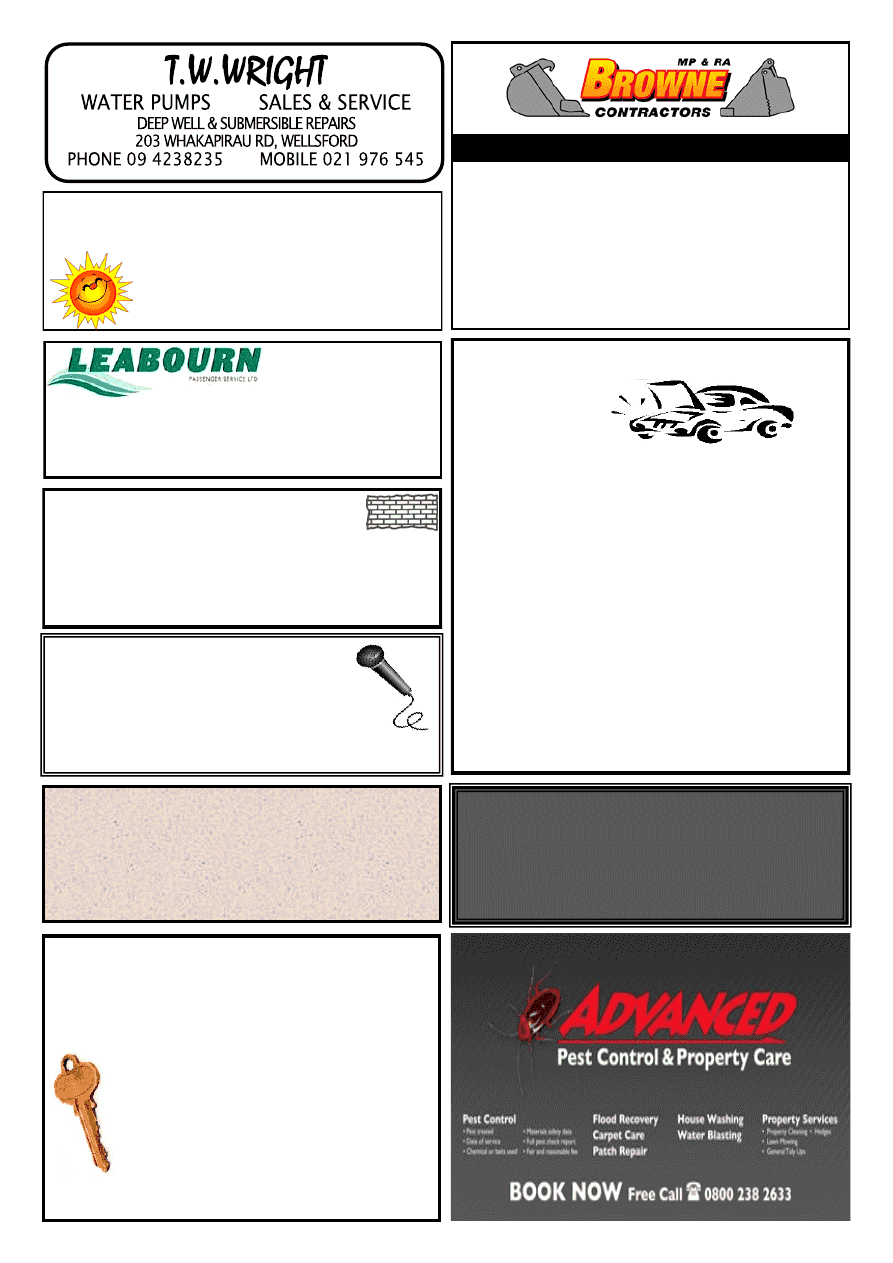 4T DIGGER – BOBCAT – TIP TRUCK 
Property Maintenance - Driveways - Building Sites 
Stump & Tree Removal - Hole Boring - Chain Trencher 
Calf Shed and  Stockyard Cleaning
KAIPARA - WHANGAREI - RODNEY 
Phone Matt: 021 199 6677 
Email: mprabrownecontractors@gmail.com 
BRICK/BLOCKLAYER 
All aspects of masonry: 
Fireplaces, Restoration & Remedial Work.
JAMES EAGLETON
Tel. (09) 431 2514     Mob. 0274 749 232
jajueagles@yahoo.com.au 210A Pukenui Road, RD2, Kaiwaka 0573 
THE SUNSHINE GIRLS
Efficient and reliable help with 
your housework. 
Ph 4312 532 
Counsellor and Registered Psychotherapist 
Offers Supervision
Susan Matheson 
MNZAC 
Dip. Psychosynthesis Counselling and Psychotherapy 
Phone 09 431 2996                        Mobile 027 605 2427 
Twinkle Tow 'n' Tyre 
Think you'll get a better deal in the city? 
Ring us - it won't cost anything! 
1837 State Highway 1, Kaiwaka 
Phone 431 2823 
*W.O.F. 
*Tyres 
*Windscreen 
replacement 
*Chip repairs 
*Bulk Oil 
*Batteries 
*Welding 
*Custom built 
trailers 
*Trailer hire
Kaiwaka Hardware  
& 
Key cutting
Phone 4312 063 or 022 0642 703
kaikey2015@gmail.com 
Keys Cut  
Household Hardware  
Sharpening Knives & Tools 
Curtain Tracks & Fittings
Not there? Call Doug and he'll sort
it for you. 
(
Next to Kaiwaka Motorcycles)
MARRIAGE CELEBRANT 
WEDDING EVENTS PLANNER 
Yvonne Osborne 
Ph 0274 989 814 
yvonne.osborne@xtra.co.nz 
Passenger Service
Car & Van Hire  Bus & Coach Charters 
Airport Transfers   Monthly Shopper Bus 
Phone (09) 4237416 
SING RIGHT 
Professional coaching for performance,  
recording and demos. 
All level singers, musicians, singer-songwriters. 
Phone Robyn Hill 431 9159 or 022 1238126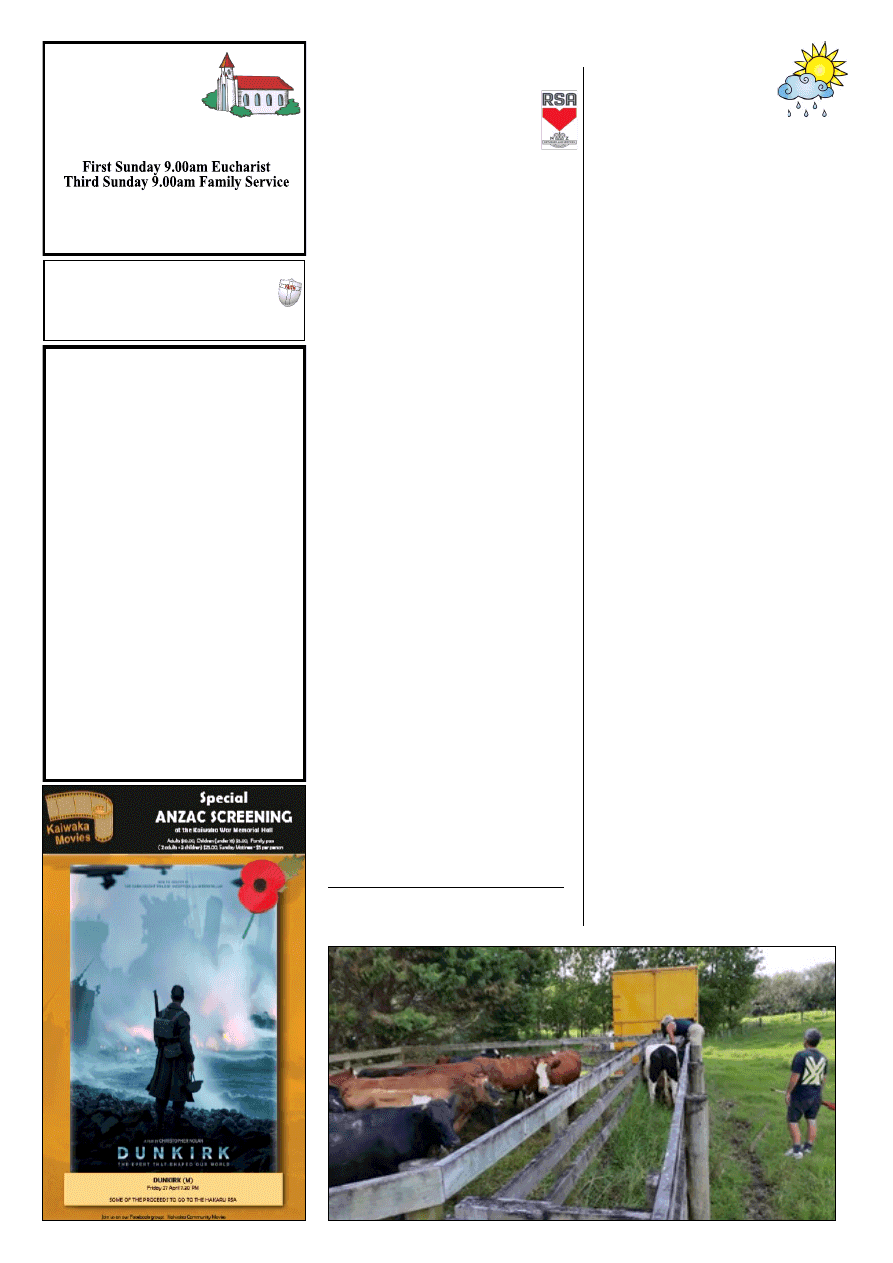 www.kaiwaka.co.nz 
Kaiwaka Bugle - 6 March 2018 
Page 5 
Willow Bend
HORSE  
HOTEL 
  
Total Horse Care 
 
Agistment 
 
Riding Lessons 
 
Arena Hire (60x40) 
 
Young Horse Starting 
 
Re-training/Exercising 
 
Hoof Trimming 
 
Problem Solving 
Phone Sue 09 431 2817 
or 021 623 776 
Or email  
susanjoll11@gmail.com 
ST PAUL'S  
ANGLICAN  
SUNDAY  
SERVICES
St Pauls Church: Kaiwaka-Mangawhai Rd. 
Rev. Wayne Thornton Ph 431 4122 
www.mangawhaianglican.org.nz
Proverbs 30: 5 Ko nga kupu katoa a 
te Atua he kore noa iho;  
He whakangungu rakau ia mo te 
hunga e whakawhirinaki ana ki a ia. 
 14  members  attended  the 
February  meeting  which  was 
followed 
by 
the 
A.G.M. 
Happy Birthday to Dawn Powell 
who was unable to join us this month. 
Pamela  Truscott  won  this  month's 
raffle which was a lovely set of towels. 
As  the Womens  Section are  no  longer 
able to cater for Friday night meals, on 
the  second  Friday  we  have  decided  to 
have  a  fund  raiser  raffle  of  good 
quality items and tickets will now cost 
$5 for three tickets. Many thanks to all 
who  have  supported  our  Friday  nights 
over the last few years. 
Members  are  also  being  rostered  in 
pairs  to  provide  afternoon  tea  each 
month.  Members  will  be  reminded 
before the meeting, the first two being 
Pamela  and  Ann  for  the  meeting  on 
March 22nd. 
The  NWA  conference  is  on  11th  and 
12th  of  June  at  Swanson.  Lena  and 
June are attending. 
We are hoping to go on a couple of bus 
trips 
later 
in 
the 
year. 
The  Womens  Section  appreciate  the 
'Great Effort' Gloria Durrant put in as 
President  last  year,  and  are  very  sorry 
to lose her from the Club. 
Results of the Election of Officers and 
committee: 
Patron Fay Wintle. 
President Lena Carleton 
Vice/President June Wilson 
Secretary Jan Mann 
Treasurer  Helen Hawkins 
Delegate  Lena 
Reporter Ann Dowson 
Committee:- 
Pat 
Judd, 
Doreen 
Woodhouse,  Shirley  DeVries,  Marion 
Pilmer,  Heather  Small,  and  Ann 
Dowson. 
Trading  Table  -  Dawn  Powell,  June 
and Heather. 
NEXT 
MEETING 
is 
at  the 
Clubrooms,  Hakaru  on  22nd  March  at 
1.30pm. Visitors Welcome. 
Queries  ring  Jan  Mann  4314512  or 
Lena 4315054 ~ Cheers, Ann..  
KAIWAKA  
WEATHER 
Ok.  So  here  we  are  turning 
over  another  calendar  page 
already this year.  As summer turns to 
Autumn  we  now  deal  with  the  Mad 
March Weather. It looks as though it is 
heading that way already.   
Well  February  did  not  give  us  normal 
hot sunny clear days as usual although 
it  was  very  tropical  and  with  cyclone 
Gita  to  boot.    I  notice  some  of  those 
farm 
paddocks 
are 
boggy 
already.    There  seems  to  be  no 
problems with running out of water in 
the  tanks  now.    The  humidity  was 
unbearable. Lots of partly cloudy days 
and  odd  showers.    There  were  a  few 
calm days thrown in. Our temperatures 
reached the high 20's.   
Thank you, Jan, for getting terribly wet 
during  cyclone  Gita  to  read  the  rain 
gauge for me. 
For February 2018 we had 185mm rain 
(approx. 7 ½").   
For 2017 we had 109mm.   
The  first  2  months  of  2018  we  had 
375mm and 2017 we had 136mm.   
Our  driest  February  since  1987  was 
1990  with  3mm  and  the  wettest  was 
2004 with 266mm.   
Our driest first two months since 1987 
was  1990  with  38mm  and  the  wettest 
was  2018  with  375mm  followed 
closely with 1989 with 368mm.   
We  had  rain  on  14  days  of  February 
2018 and 6 days of rain in 2017.   
Now for a few quick jokes from quick 
kids.    Teacher,  "why  are  you 
late?"    Student,  "because  class  started 
before I got here".  Teacher, "Winnie, 
name  one  important  thing  we  have 
today  that  we  did  not  have  10  years 
ago".    Winnie,  "well  for  one  thing 
there is me". ~ 
Take care out there and 
look after each other. Bev. 
From  NIWA:  The  Seasonal  Climate 
Outlook  for  the  next  three  months 
highlights are:  

La Nina is waning 

March-May's weather will be driven 
by  warmer  than  average  ocean 
temperatures 

Temperatures  will  be  warmer  than 
average and rainfall, particularly in the 
North Island, will be above normal. 
HAKARU RSA 
WOMEN'S SECTION
BELOW:  What  would  we  do  without 
volunteers? A local 'loading out' cattle 
for Northland Rugby.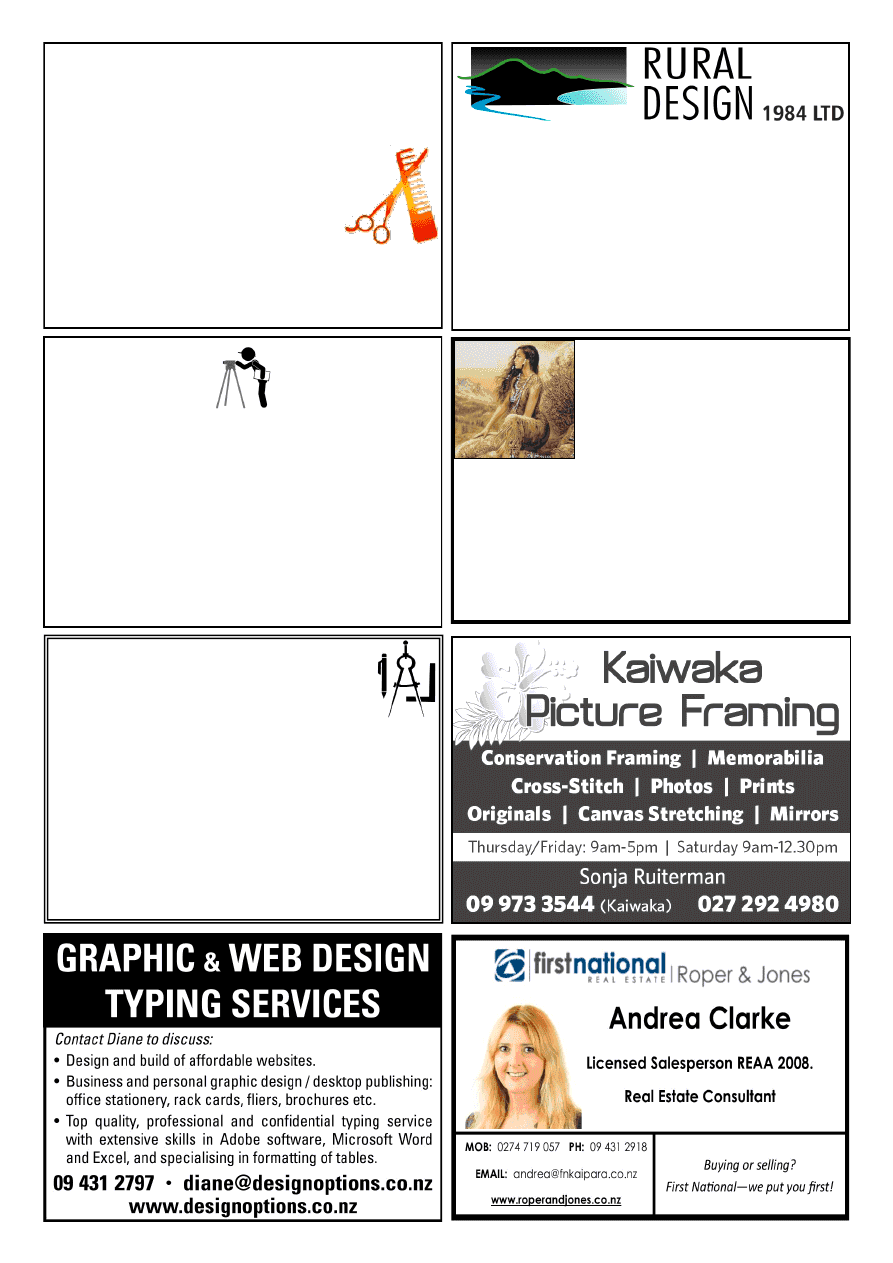 design drafting  
service 
Retired builder and manufacturer with over 40 years  
experience in the building industry is offering a design 
drafting service  
for domestic housing, sleepouts and sheds.  
Plans formulated in consultation with clients, with 
working drawings completed and submitted to  
council for processing.  Extensive practical experience,  
able to identify & resolve problems. 
Please ring Mike Lean on 
09 431 2260 
or 
021 431 196 
Ken Urquhart 
BSurv Licensed Cadastral Surveyor 
KMU Surveys Ltd
467 Bickerstaffe Road 
RD 2 
Maungaturoto 0587 
Ph 09 431 8705 
Mob 021 161 2344 
kenurquhart@xtra.co.nz 
WHOLESALE NATIVE PLANT NURSERY 
AND LANDSCAPING 
By Appointment 
Small and Large orders welcome 
Phone: 09 431 2481 
Email: info@ruraldesign.co.nz 
AFFORDABLE PRICES! 
MENS CUT FROM $20.00 
LADIES CUT FROM $30.00 
KIDS CUT FROM $18.00 
COLOUR & CUT FROM $120.00 
JUST CUTS'AND   
MORE 
021 165 2629 or (09) 945 0707  
NOW SELLING: scented tealights, incense, smudge sticks, 
copper bracelets, aurora ball crystals, dream catchers, healing 
stones, rose quartz, cds, and much more. Open 6 days. 
Trails end 
spiritualist gathering 
Last Sunday of every month  
11.30-2pm  
Tea/coffee provided  $5 koha 
For all inquiries: 
021 165 2629 evenings (09) 945 0707 
Trail.end@hotmail.com 
1758 Cove Road, Mangawhai
Bringing together light minded people 
Guest speaker each month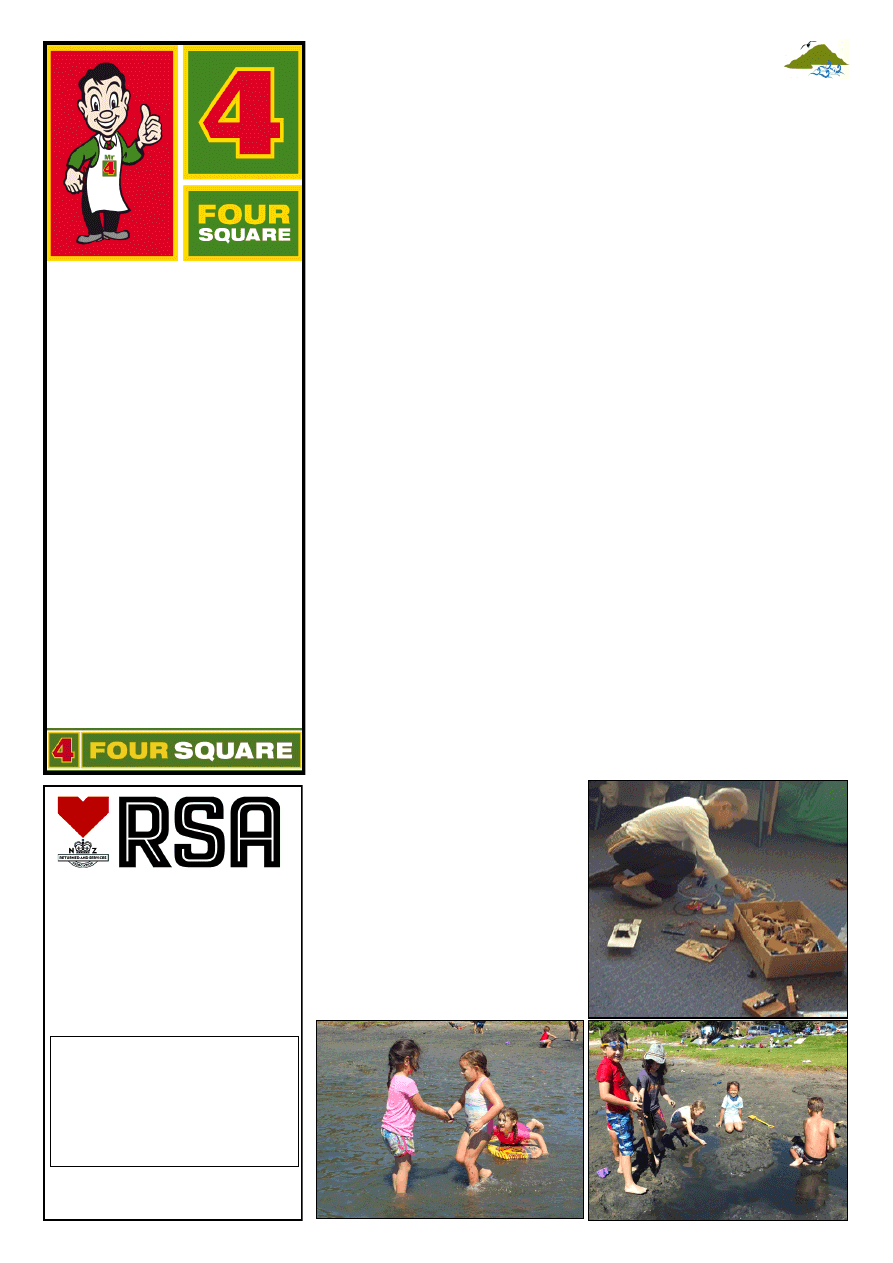 www.kaiwaka.co.nz 
Kaiwaka Bugle - 6 March 2018 
Page 7 
HAKARU & DISTRICTS 
MEMORIAL RSA (INC)
Members & guests are invited to 
come along and enjoy our 
hospitality. 
New members welcome. 
Meals are served on 
Thursday and Friday nights 
from 6.30pm. 
Last Friday of the month is  
'Roast Pork Night' and a sing-a-long  
with Des Chitty. 
For more information please phone 
Marlene on 431 5589 
Refills Swap a 
bottle 
30L original size 
60L NEW IN STORE 
Larger size now 
available 
9KG gas bottle swap 
or purchase gas & 
bottle 
RUG DOCTOR HIRE  
Cleaning & stain 
products 
Talk to our Friendly staff 
Jaques Four Square 
Phone: 4312227 
1 Kaiwaka-Mangawhai Road, Kaiwaka. 
KAIWAKA SCHOOL 
Our  School  Picnic  was  a  wonderful 
success,  everyone  came  back  happy, 
tired and relaxed. All the teachers said 
the  kids  were  fantastically  well 
behaved, and they enjoyed themselves 
too.  There  are  lots  of  photos  on  our 
Facebook and website.  
Everyone  enjoyed  the  Yipidee  Show, 
when  Deano  performed  at  our  school 
last week. The follow-up workshop on 
writing was good too. 
We  are  now  looking  forward  to  our 
swimming  sports,  which  are  on 
Thursday.  Warm  regards,  Rosie  Ellis. 
Principal 
Whanua 2018 
Kia Ora Koutou, ngā mihi o te tau hou 
-  hello  to  you  all  and  new  year's 
greetings. 
The  majority  (approx  90%)  of  our 
tamariki at Kaiwaka School participate 
in  the  kapa  haka  and  Te  Reo  options. 
We  always  have  a  fantastic  whanau 
turn out to the kapa haka events which 
is  great  to  tautoko  (support)  our 
tamariki. 
Another way to support is to attend the 
Whanau Group meetings. The Whanau 
Group  exists  to  support  our  kaiako, 
tamariki  and  whanau  directly  for  Te 
Reo and Kapa Haka. You don't need to 
be Maori or to speak Maori, just bring 
your  enthusiasm  and  ideas  to  awhi 
(support). 
One of our main focuses this year will 
be  around  the  uniforms  so  will  need 
some  fundraising  ideas.  We  also  need 
support  delivering  the  Te  Reo  and 
Kapa Haka teaching in the class. Don't 
be  scared,  Whaea  Mina  and  the  staff 
will support and direct us. 
Please  contact  me  with  any  queries  or 
korero, 
Naomi 
Walker 
- 
Nomzmcinnes@gmail.com 
0212143180, Ngā mihi nui 
GIANT Pumpkin Competition 2018 
How are your pumpkins coming along? 
Hopefully they haven't gone soggy and 
rotted  in  all  the  wet  and  humid 
weather.  Remember  to  keep  turning 
them.  Don't  worry  if  your  pumpkin 
isn't huge, you could still win the Hill 
Roll  or  the  Arty  Farty  categories.  All 
pumpkins  welcome  on  the  day. 
Competition  day  will  be  sometime  in 
March.  Date  to  be  announced  soon! 
Any  queries,  please  phone  Amy 
Griffiths: 0212072729 or 4312029. 
Kaiwaka Netball 2018 Season 
Do  you  have  a  child  interested  in 
playing netball for Kaiwaka  
this  year?  We  will  be  having  our  first 
get  together  on  the  7  March  straight 
after school at the KSA netball courts. 
If  your  child  is  keen  to  play,  please 
send  them  down  after  school  for  an 
hour  fun/fitness  session.  Please  notify 
school  that  this  is  the  after  school 
arrangement first. 
We  also  need  coaches  this  year  to 
make it a success. It's a very easy and 
rewarding job. If you are keen to help, 
please  come  down  to  the  courts  at 
2.30pm. 
Forms and further information will also 
be sent out. We look forward to seeing 
you, if you cannot make it on this day, 
please see Courtney Cave.  
Please  Help  Our  School  –  see  our 
Facebook Page 
Genesis  Energy  has  a  competition 
going  for  schools.  There  is  $50,000 
worth  of  science  or  electronic 
prizemoney available to win.  Vote for 
Kaiwaka School. 
Or please help us get Richie to visit our 
school.  Nominate  our  school  for  a 
chance  to  win  a  Fonterra  Milk  for 
Schools  delivery  from  Richie  McCaw 
by helicopter.
Upcoming Events: 
15 March - Bream Bay Swimming Sports 
16  March  -  School  finishes  at  12.00  as 
teachers need to attend a meeting. 
19 March - Whanau Meeting 
21 March Have a Go -Triathlon 
22 March - Visiting Drummer 
30 March-3 April - EASTER  
9-13 April - Parent Interview week 
13 April - End of Term 1. 
Photos:  Below  -  Discovery  Time  is  now  a 
part of our school curriculum. The students 
choose  a  personal  interest  and  learn, 
experiment,  research,  practise,  discuss, 
share,  teach  others  and  discover  as  much 
as they can about it. 
Bottom - Picnic Day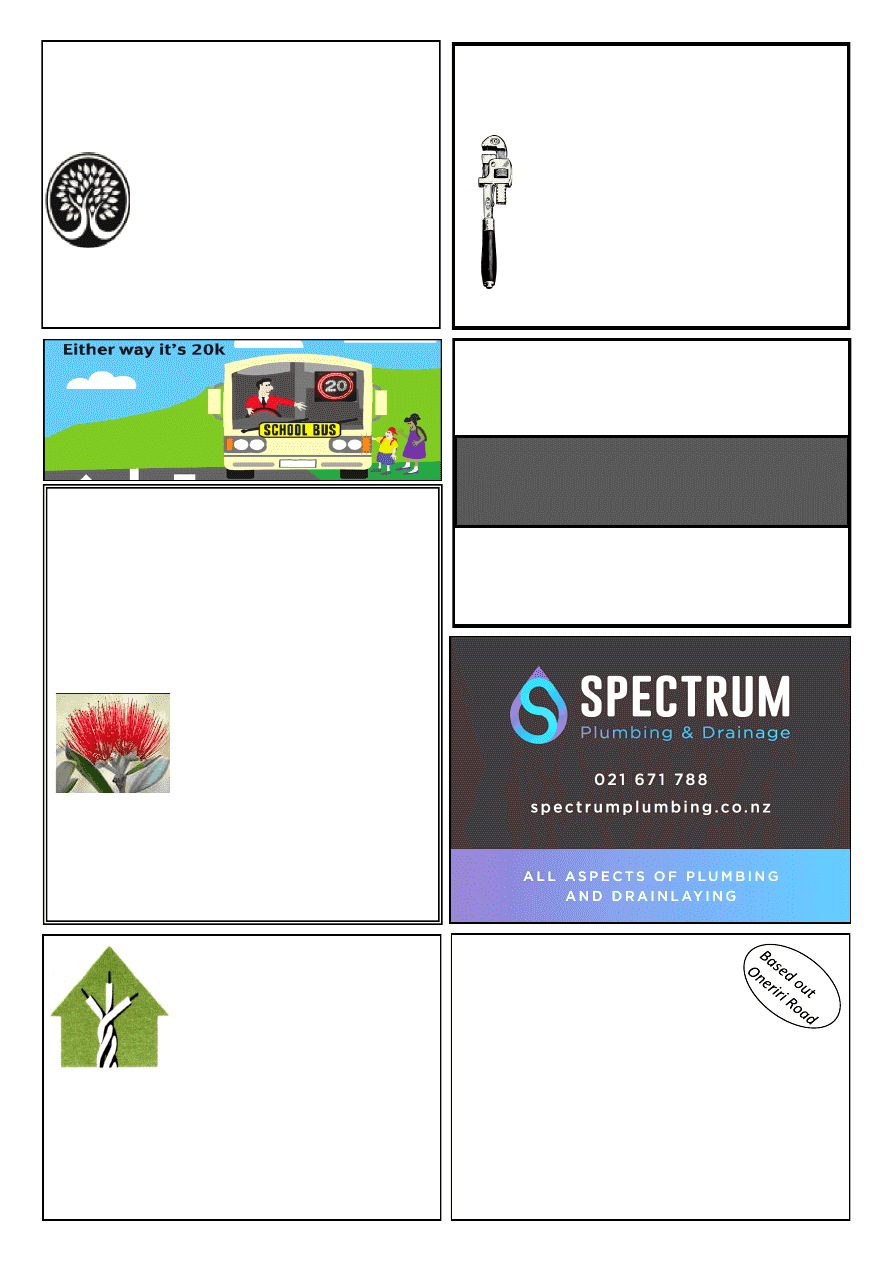 David Korach 
Your local Gib Stopper
DK PLASTERER LTD 
0274769221 
dkorach6@gmail.com 
Waipu Natural Health 
3 Cove Road, Waipu  (opposite the Pizza Barn) 
Ph: 09 432 1325 
www.waipunaturalhealth.co.nz
Clinical Nutritionist-Hair Analysis for Masked 
Allergies, Ozone Therapy, Prolotherapy, 
Naturopath-Medical Herbalist, Registered 
Massage Therapists, Reflexology-
Craniosacral Therapy, Acupuncture-Facial 
Acupuncture, Kineso Taping, Hypnotherapy, 
Counselling, ThetaHealing.
AFFORDABLE CONSULTS FOR KIDS – give us a call
Gift Vouchers available
KAIPARA FLOORING CO 
Independently owned & operated 
32 HURNDALL ST MAUNGATUROTO
Supply & Installation of Carpet, Vinyl,  
Vinyl Wood Planking
Stockists of 2m & 3m wide 
vinyl & carpet short ends
Residential & Commercial
Q Card Finance Approved 
6-18 month terms 
6 mth interest free
First Class Installations
For a free measure & quote 
phone Christine  
09 946 9886 or 021 515 415 
kaiparaflooring@gmail.com 
http://www.kaiparaflooring.co.nz/ 
BARRY CURTIS PLUMBING LTD 
REGISTERED CRAFTSMAN PLUMBER 
Phone 4315572 
027 257 9884 
25 years experience 
Friendly reliable service 
All plumbing and maintenance 
Alterations and new housing 
Spouting 
Competitive rates 
PROMPT EFFICIENT  SERVICE 
HODGETTS 
CONTRACTING
Digger Work    

Driveways 

House Sites   

Dams    
 
Drains, etc
Also available for HIRE 
3 ton Vib Roller Heavy Duty Tow  
Waterblaster     Lazer Level
Phone Mark 4312877 
027 447 8554 
Reyahn George 
Leng 
Registered Electrician 
Local, honest and reliable. 
For your residential and 
light-commercial projects. 
022 314 1068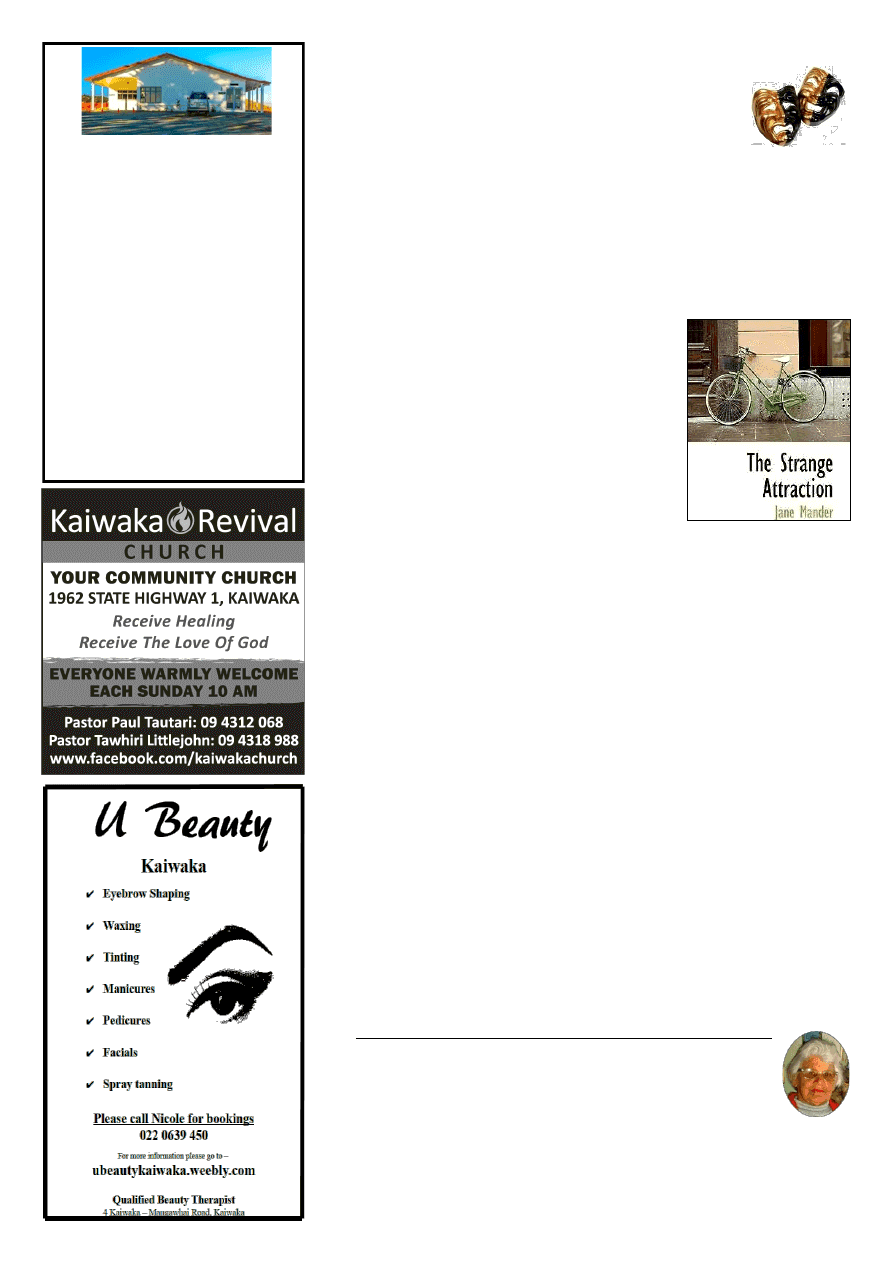 www.kaiwaka.co.nz 
Kaiwaka Bugle - 6 March 2018 
Page 9 
Te Pounga Marae 
130 Nathan Rd. Oneriri. Kaiwaka 0573 
COMPLEX FOR 
HIRE 
Functions 
* Weddings  * Birthdays  
*Anniversaries * Meetings  * Wananga 
5 hour meeting * 12 hour stay  * 
Overnight 
*All welcome - No more Drink-driving 
Amenities: 
*Convo Combi Steamer * Bratt Pan * 
Dish Washer/Sterilizer * 3 Door Glass 
Chiller (walk in) etc…All Crockery * 
Linen Supplied * Central Heating and 
Air Conditioning and much more.  
Can also cater for small groups…. 
For more information please contact: 
Kim Wallace  
Home: 09 832 1133  Mob: 0211275340  
Email: kimwallace@xtra.co.nz 
Youth Theatre 2018 
We  ran  two  weeks  of  our  hugely 
popular  Youth  Theatre  programme  in 
January. 
Our  story  this  year  was  about  Grainne 
O'Malley, Granuaile, the Irish chieftain 
(also  known  as  Grace  O'Malley)  who 
lived mainly in the 16th century. It is a 
truly  inspirational  story  and  the 
participants  enjoyed  learning  of 
another  culture  and  reliving  some  of 
the  great  history!  The  first  week  we 
had  37  youngsters,  and  then  the 
following  week,  a  totally  different  set 
of  40  youngsters.  Two  youngsters 
came from as far afield as Nelson! 
It is truly amazing to see the show that 
is  produced  after  only  five  days  of 
work. 
Many  thanks  to  Otamatea  Community 
Services  who let  us  use their  mini-bus 
to transport children from Mangawhai. 
Many  of  these  children  may  have 
missed  out  otherwise,  so a  huge  thank 
you!! 
And  another  huge  thanks  to  the 
dedicated  bunch  of  volunteers  who 
work  tirelessly  to  make  this  happen 
every year. 
INTO THE WOODS  
Into the Woods by Stephen Sondheim, 
and  directed  by  Peter  Flower.  This 
fabulous  show  has  been  cast  and  has 
just started with rehearsals. The season 
of  eight  shows  will  be  performed  in 
July - so watch this space. 
Costume Hire 
Remember  that  Otamatea  Repertory 
Theatre  has  an  extensive  wardrobe  of 
costumes  for  hire  at  reasonable  rates. 
Contact  Maura  Flower  022  354  2670 
for more information. 
ONE ACT PLAY FESTIVAL  
One  Act  Play  Festival  –  13,  14,  15 
April 2018 - at the theatre, Bickerstaffe 
Road 
Tickets  on  sale  through  our  website- 
www.ort.org.nz  Adults  $28,  students 
$15  or  at  Tony's  Lotto  Shop.  There 
will  also  be  door  sales  –EFTPOS 
available. 
Four Plays 
Four  contrasting  plays  will  be 
performed – something for everyone! 
'The  Argument'  -  written  and 
directed by George Skelton. 
Jane  Mander  fans  are  in  for  a  special 
treat.  Playwright  George  Skelton  has 
written a full-length play, 'The Strange 
Attraction ', based on the novel by Ms 
Mander;  and  'The  Argument'  is  a 
segment of this, a sort of 
trailer for what is yet to 
come. This is a dramatic 
portrayal  of  an  intense 
discussion  between  the 
three  main  characters, 
relevant  to  the  social  standards  of  the 
time. 
'The Strange Attraction' is possibly the 
least  known  of  Jane  Mander's  four 
New Zealand based books, having been 
banned in 1922 by the powers that be, 
and  it  was  only  available  for  women 
who  were  over  25  to  read,  and  then 
only  in  a  library  -  but  times  have 
moved  on  and  no  such  ban  or 
censorship 
rules  apply. 
Limited 
copies  of  the 
book  will  be 
available  for 
purchase  at 
the theatre on 
performance 
dates, 
with 
all  proceeds 
going  to  the 
ORT 
Building and Renovation Fund. 
'I  Never  Saw  Another  Butterfly' - 
written  by  Celeste  Raspanti,  directed 
by Brittany Dyer. 
Based  on  the  poem  'The  Butterfly' 
written  by  Pavel  Friedmann  in 
Theresienstadt Concentration Camp on 
4  June  1942,  this  play  is  based  in  a 
Jewish  Ghetto  in  Terezin.  Telling  the 
story  of  Raja  Englandrova  and  her 
experience  throughout  the  Second 
World  War,  it  is  a  beautiful  and 
moving  piece,  based  on  the  lives  of 
children  who  experienced  life  and  the 
hardships during these times. 
'The  New  Wing  at  Elsinore'  - 
written by St John Hankin, directed by 
Sue Skelton. 
A short, amusing sequel to 'Hamlet', in 
which there are complications when his 
friend  later  buys  and  builds  additions 
on to the famous castle. 
'Trash  and  Treasure' - written and 
directed by Maura Flower. 
Two sisters are having a garage sale to 
clear  the  last  of  their  Mother's 
belongings. Things are not always what 
they  seem…  This  is  a  whimsical 
exploration  of  the  adage  that  'one 
man's trash is another man's treasure!' 
We  hope  to  see  you  at  the  One  Act 
Play Festival!
OTAMATEA REPERTORY THEATRE 
From Thelma's Scrapbook … 
A woman was on the phone to a pet supply company and she was 
right in the middle of ordering a cat flap to be installed in her kitchen 
door,  when  she  put  the  phone  down  without  any  warning.  Five 
minutes  later  she  rang  the  company  again,  "I'm  so  sorry  that  I  put  the  phone 
down  on  you,"  she  explained,  "only  the  cat  walked  in  and  the  cat  flap  is  a 
surprise birthday present, so I didn't want her to overhear our conversation." 
Thank you, Lord, for the gift of pets to share our lives. Thank you for the love 
and  laughter  they  bring  into  our  homes.  Thank  you  for  the  courage  and 
compassion in special situations. Thank you for their warm hearts and listening 
ears. Amen.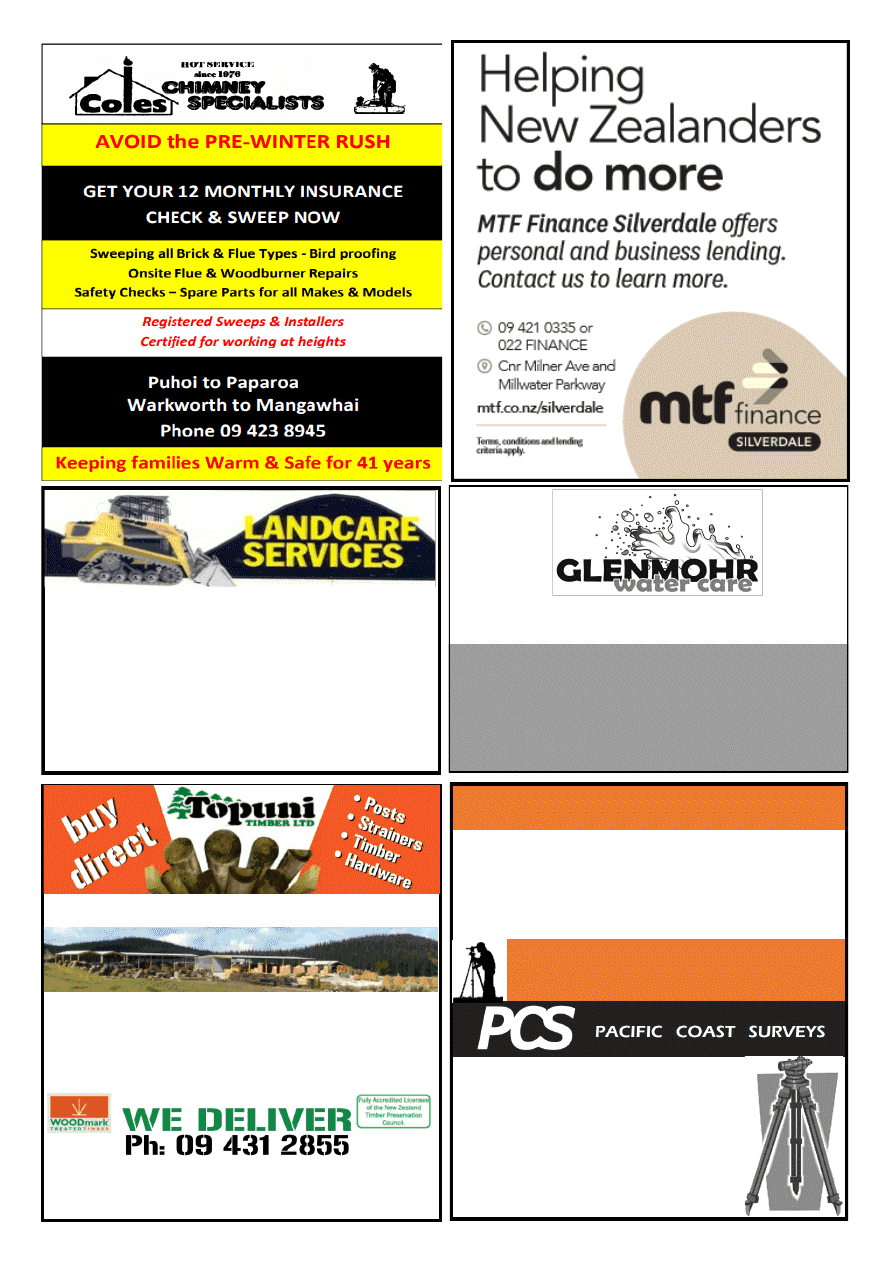 LOCALLY OWNED AND OPERATED 
QUALITY PRODUCTS • FRIENDLY ADVICE • GREAT SERVICE 
Quality Products milled from High Density NORTHLAND Radiata Pine. 
Treated and guaranteed to NZS3640 with commitment to 
Environmental Safety.
Phone, fax, email, or come into the mill 
Schiska Rd, Topuni, SH1, 10 min north of Wellsford. Fax: 09 431 2856 
Email: sales@topunitimber.co.nz           Mon - Fri 7am-5pm 
• Fencing 
• Retaining 
• Decking 
• Landscaping 
• Gates 
• Hardware 
SURVEYORS 
SUBDIVISIONS 
HOUSE SITE SURVEYS 
CIVIL ENGINEERING 
WASTEWATER DESIGNS 
EXPERIENCED 
PROFESSIONAL 
INNOVATIVE 
Ph 09 431 5353 
0800 PACIFIC (0800 722 434) 
pacificcoastsurvey.com
Adam Booth - 027 415 5752 
Bsurv, Licensed Cadastral Surveyor
Surveying Kaipara since 1994 
Water Tank Cleaning 
• 
Keep your water safe & clean  
• 
Removal of sediment, silt etc. 
• 
Vacuum or full scrub 
• 
Minimal water loss 
Phone Mark (09) 432 0655 or 0274 707607 
LANDSCAPING 
4 IN 1 BUCKET 
TRENCHER 
POLE HOLES 
ROTARY HOE 
COMPACT ROLLER 
OFFAL HOLES 
CAN SUPPLY WOODCHIP & POST PEEL 
5 TON TIPPER 
FOR RELIABLE AND FRIENDLY SERVICE CONTACT DAVE 
Dave Hyndman 
 
KAIWAKA 
PH: 09 4312302 
MOB: 021 431 238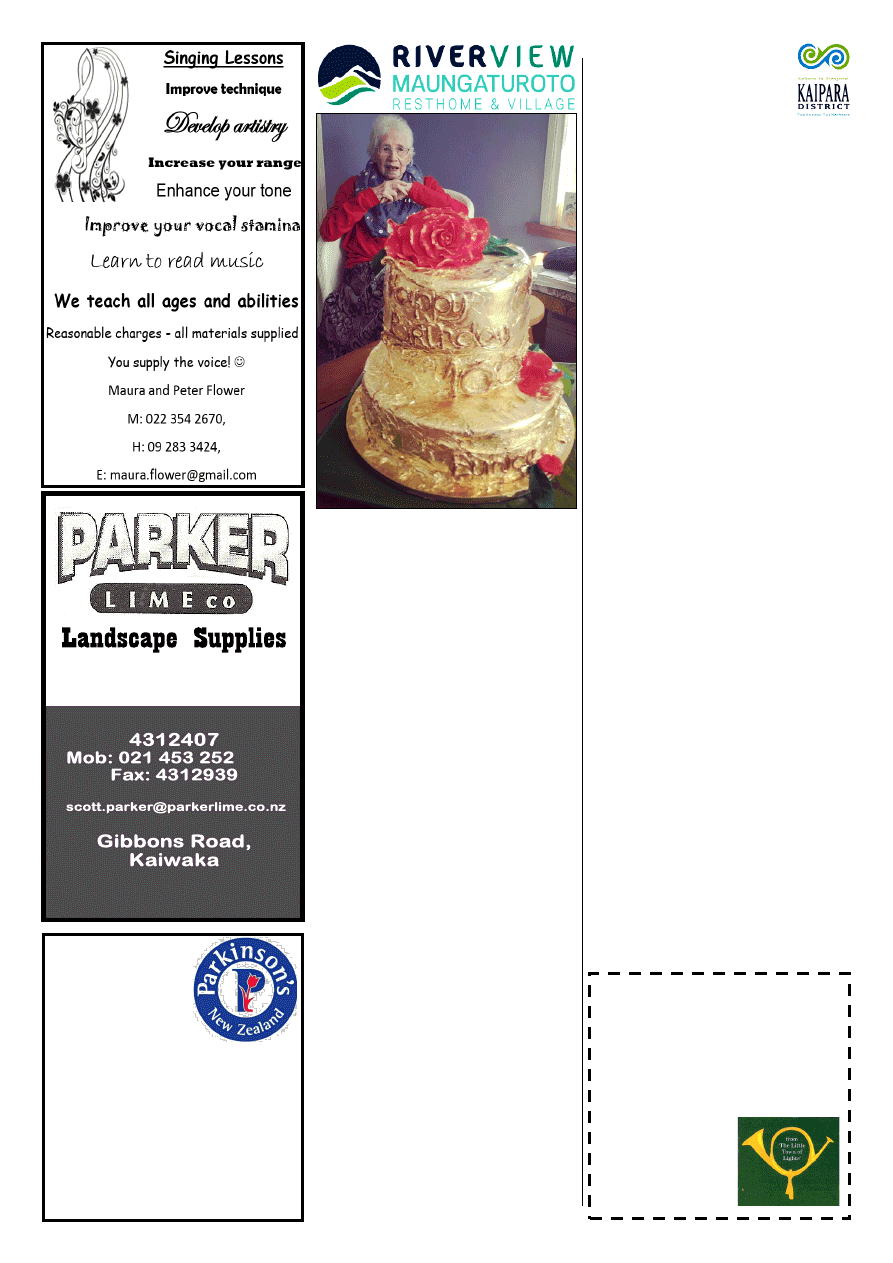 www.kaiwaka.co.nz 
Kaiwaka Bugle - 6 March 2018 
Page 11 
Bulk Cartage 
KAIPARA 
LIBRARIES 
JOIN 
NATIONWIDE 
NETWORK 
Kaipara  district  libraries  will  turn  a 
new  digital  page  next  month  with  the 
launch  of  their  new  library  system, 
Kotui. 
The Kaipara District Libraries group is 
joining  more  than  36  other  libraries 
nationwide  already  using  Kotui  -  a 
shared library system offering benefits 
to customers. 
As the system changeover takes place, 
library  users  are  advised  that  Kaipara 
libraries  will  be  closed  from  Tuesday 
13  March  2018  to  Wednesday  14 
March 2018. 
Acting  Chief  Executive  of  Kaipara 
District  Council,  Peter  Tynan,  said 
training for the new software has been 
intensive  and  he  would  like  to  thank 
the  staff  and  the  volunteers  across  the 
district  for  the  time  and  effort  they 
have put in. 
"We also want to thank our customers 
for  their  patience  as  we  adapt  to  the 
new  system.  Because  it's  a  database 
that  is  nationwide,  we'll  have  better 
information  about  our  resources 
available  to  the  customers.  It's  about 
libraries  working  together  to  provide 
all  of  their  customers  with  easy,  fast 
and  effective  access  to  the  local, 
national  and  international  resources 
they  need  to  live,  learn  and  earn.  The 
catalogue  is  easy  to  use  and  an 
improvement  on  what  we  currently 
have,  so  anyone  wanting  to  make  the 
most of it can let us know." 
Kotui  is  owned  and  operated  by  the 
National  Library  of  New  Zealand  in 
conjunction with the Aotearoa Peoples 
Network  -  Kaharoa.  Currently  35 
councils utilise the Kotui system. 
Kotui  will  be  available  at  Kaipara 
district libraries from 15 March 2018. 
There  are  five  library  locations  in  the 
Kaipara  district:  Dargaville,  Kaiwaka, 
Mangawhai, Maungaturoto 
and Paparoa. 
Together  the  libraries  stock  more  than 
56,000  items  for  borrowing,  including 
books and DVDs. 
KAIWAKA BUGLE 
DEADLINE DATES 
2018 
- 
every second Friday
March 16, 30 
April 13, 27 
May 11, 25 
June 8, 22 
July 6, 20 
August 3, 17, 31,  
September 14, 28 
October 12, 26 
November 9, 23 
December 10 
Parkinson's  
Northland 
Provide: 

Home based        
consultations 

Information and 
education on living with Parkinson's 

Support and exercise groups 

In-service training for other health 
providers 
Barbara Leslie 
RN
Community Educator 
09 4376881  or 027 5306221 
educator.northlandsouth@parkinsons.org.nz 
www.parkinsons.org.nz 
Congratulations  to  resident  Adelaide 
Priebe who on 30 January 2018 turned 
100.  Adelaide  had  a  wonderful  day 
spent with family. 
Are  you  a  full-time  care  person 
needing  a  break?  The  Maungaturoto 
Resthome offers resthome level respite 
care  for  families.  Although  we  are  a 
resthome  there  are  no  age  limitations 
on  who  we  provide  care  for.  The 
friendly  atmosphere  in  the  resthome 
acts  as  a  home  away  from  home  with 
staff on duty 24/7. Respite care can be 
on  a  'private  fee'  paying  basis  or  you 
may  be  eligible  for  government 
assistance.  For  further  information 
please contact us on (09) 4318 696. 
Construction of Stage 1 and 2 of the 14
-bed dementia unit has begun. 
We know the stress that having a loved 
one cared for far from home can have. 
We want to care for our people, for as 
long  as  possible,  within  their 
community. 
This  is  a  huge  project,  please  give 
consideration  as  to  how  you  may  be 
able  to  help.  There  are  many  families 
that over the years have appreciated the 
benefits 
of 
the 
Maungaturoto 
Resthome.  
The  facts  are  that  in  the  future  there 
will  be  increasing  numbers  of  our 
community  that  will  require  increased 
levels of care. 
Pledge Pack 
A pledge pack can be obtained from the 
Rest Home manager Ph 431 8696 
Direct  donation  to:  Trust  Development 
Fund  ANZ  Bank  Account  No.  06-0365- 
00014253-046.  Your  name  and  phone 
number in reference field. 
Tax rebates can be claimed on donations 
(trust has donee status) 
For  further  information  contact  Trustees 
Don  McKay  09  431  8308,  Craig  Fergus 
021 378 483.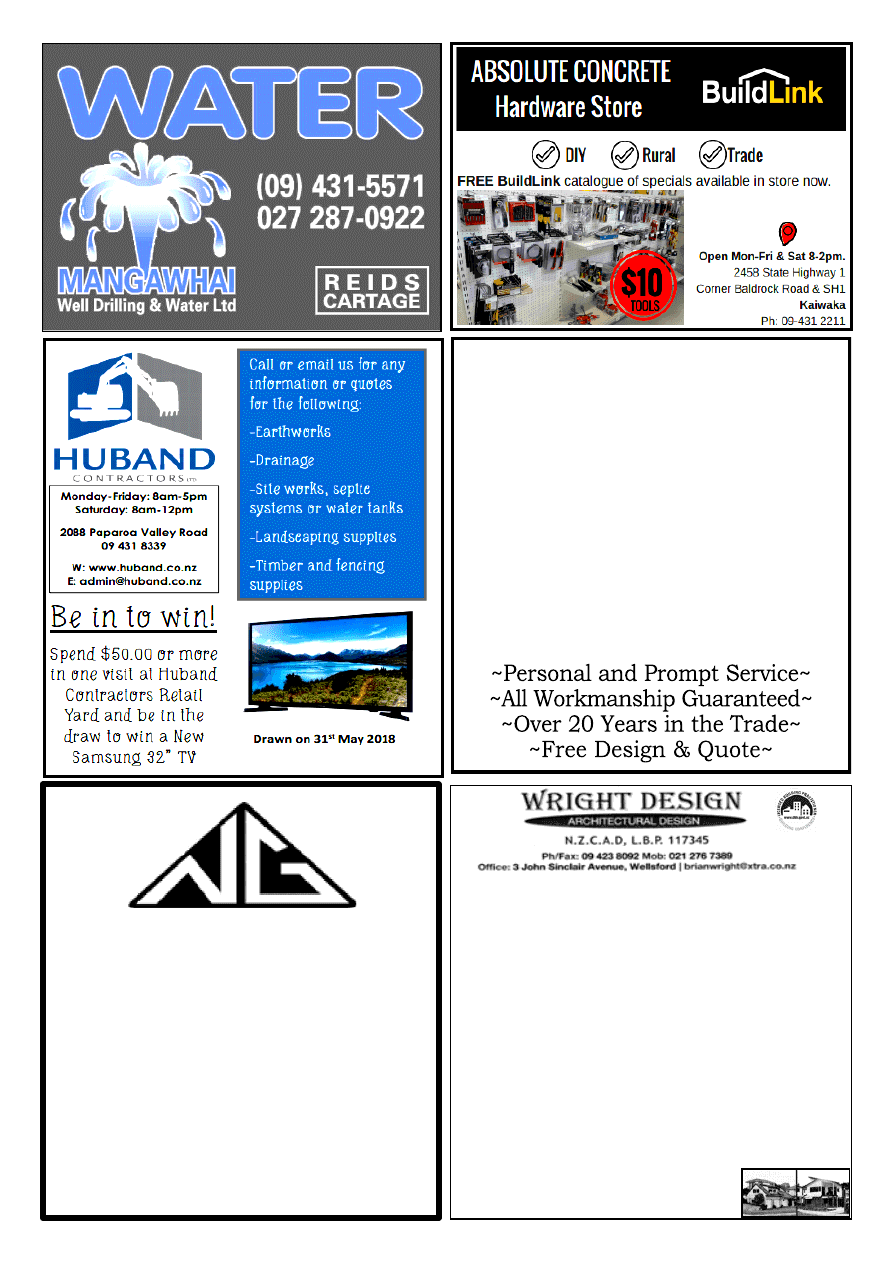 NORTH GLASS 
WINDSCREEN REPAIR OR REPLACE 
GLAZING SERVICES 
MIRRORS  •  SPLASH BACKS  •  SHOWERS 
0800 70 40 10
info@northglass.co.nz 
www.northglass.co.nz 
PLANNING A NEW KITCHEN?
 CONTACT NOEL McDOWELL
WELLSFORD 
KITCHENS
Ph/Fax 094312888
KAIWAKA-Any time
 QUALITY CUSTOM MADE 
KITCHENS
If you are thinking of building then you 
will need a good and well experienced, 
qualified, and licensed designer. 
This applies if you are considering a 
new home any alterations or any 
building additions/farm buildings, 
sheds, alterations, whatsoever. 
For Resource and Building Consents, 
planning restraints, new building 
materials, applying for building permits 
– you need a capable, experienced, 
and professional designer with a clear 
knowledge of all the processes. 
Brian has been helping and organising 
all these facets of design and building 
for over 50 years. 
Wright Design offers free visits, 
consultations and advice on planning, 
design, building, council permit 
applications, guaranteed permit plan 
acceptance. 
QUALIFICATIONS 
Brian is a qualified designer 
(N.Z.C.A.D.) with over 50 years of 
varied experience in all types of 
building and is registered and Licensed 
Building practitioner in Design – 1 & 2 
Registered LBP117345 
He will ensure you will achieve the 
best from your budget. 
EXPERIENCE 
Brian's practical building and 50+ years 
of design experience means he can 
give you excellent advice and all the 
guidance needed. 
Brian can arrange engineering for a 
reasonable cost. 
•Qualified and inexpensive designer – 
N.Z.C.A.D. Registered LBP117345 
•Guaranteed design and working 
drawings 
•Free site visit to your home or 
property 
•Great service and free quotation 
PROJECTS 
Additions, alterations, basements, new 
homes, motels, bed and breakfast, 
commercial buildings, farm buildings, 
and shop fit outs are a few projects. 
Brian can show you many of his 
projects in the area to emphasise his 
versatility and can give you contact 
with satisfied clients. 
WHAT TO DO FROM NOW ON 
•Call Brian for a free quotation 
•Discuss your needs and obtain good 
advice 
•Brian can offer 
plan printing 
from A4 to A0 
(2x A1 size) 
No. 117345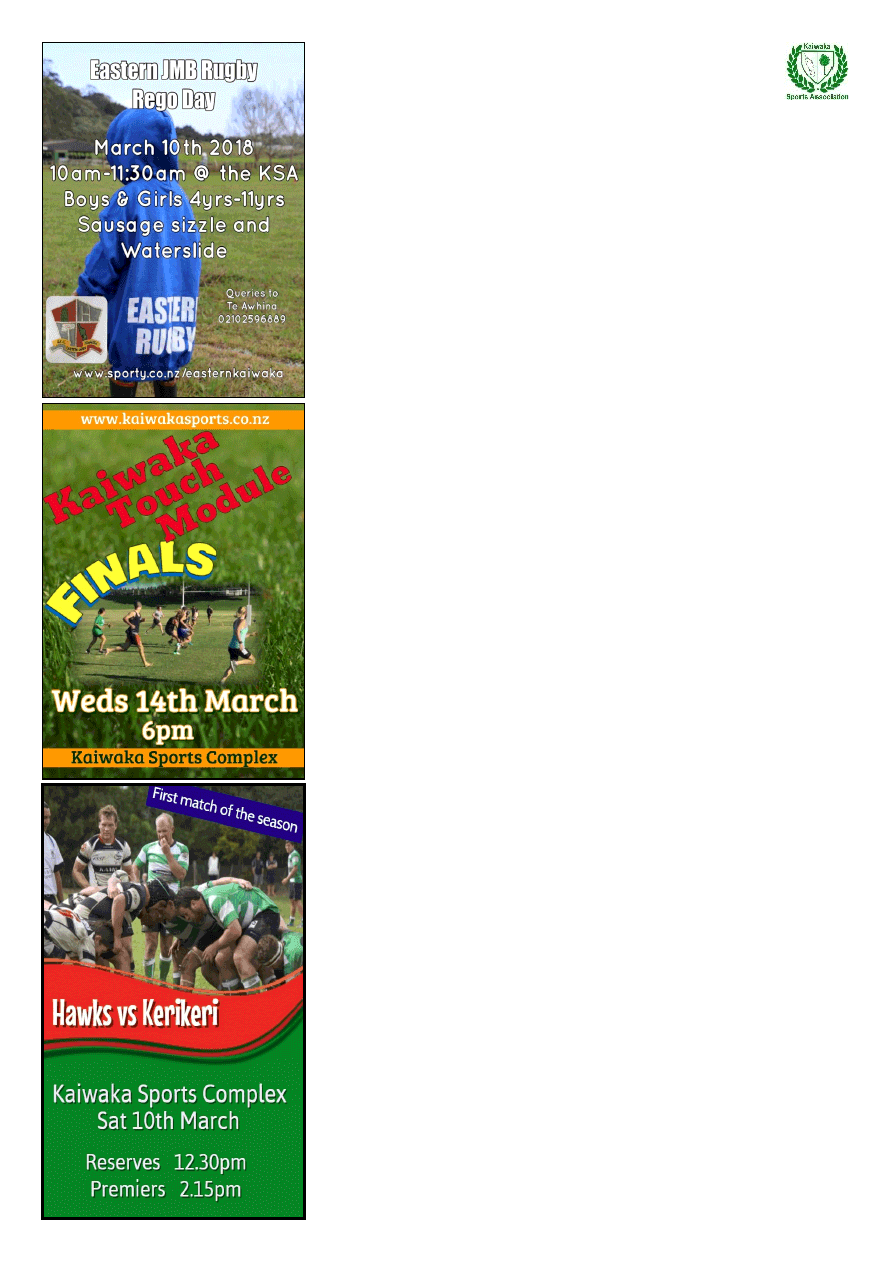 www.kaiwaka.co.nz 
Kaiwaka Bugle - 6 March 2018 
Page 13 
           KAIWAKA SPORTS ASSN 
Netball – Primary School 
Do  you  have  a  primary-aged  child 
interested  in  playing  netball  for 
Kaiwaka this year? Our Junior Netball 
club  will  be  having  their  first  get 
together  this  Wednesday  7th  March, 
2.30pm  at  our  netball  courts.  Bring 
your  child  along  for  an  one  hour  fun/
fitness session. The club needs coaches 
this  year  to  make  it  a  success.  It's  a 
very easy and rewarding job. If you are 
keen  to  help  please  come  down  to  the 
courts. 
If  you  cannot  make  it  on  this  day, 
please  contact  Courtney  Cave  on 
cjcave@hotmail.com  to  register  your 
child. 
Netball – High School 
The Otamatea Netball Club will hold a 
Mixed  Netball  tournament  on  29th 
April  at  our courts,  as  a  fundraiser for 
getting the OHS netball team to AIMS 
in September. This will be a fun day of 
netball, with neat prizes. 
To  enter  a  team,  please  contact  Jodie 
Bennetto on mgtonetball@gmail.com. 
Netball – Senior 
Our  senior  netball  club,  Otamatea-Ex, 
will hold their Annual General Meeting 
at the Sports Complex this Thursday at 
6.30pm. All welcome. A date for trials 
will  be  set  in  the  next  few  weeks.  To 
keep  up  to  date  with  Otamatea-Ex 
news, please like their facebook page. 
Tennis - Junior 
Junior  tennis  lessons  are  held  at  our 
courts 
on 
Monday 
afternoons. 
Beginners  at  3:30pm,  Intermediate  at 
4pm  and  Advanced  Juniors  at  5pm. 
New  players  welcome.  A  reduced  fee 
of  $30  for  the  rest  of  the  season.  The 
weather call is made by about 1pm and 
if  you  wish  to  attend  lessons  please 
ensure Floyd has your details to let you 
know of any cancellation 
floydriver@yahoo.co.nz  or  022  4769 
669. 
Tennis - Twilight 
Twilight  tennis  has  started.  At  our 
courts  on  Mondays  from  6pm.  Please 
come along for a social hit with others 
of a variable skill range. No charge and 
all equipment provided. 
Touch 
Our  eight  week  Touch  Module  is 
coming to an end shortly. Finals will be 
held  on  Wednesday  14th  March, 
starting  at  6pm.  To  be  followed  by 
prizegiving. Spectators welcome. 
Soccer 
In preparation for the upcoming season 
of  soccer,  our  Kaipara  Knights  club 
held  a  registration  day  at  our  grounds 
last week. If you weren't able to make 
it,  and  have  a  child  interested  in 
playing  soccer  this  season,  please 
contact  Shar  Dormer  on  021  439729. 
The soccer season starts 7 th April and 
runs  to  18  th  August.  Games  are  held 
on  Saturday  mornings  at  Port  Albert 
Domain.  Teams  are  mixed  gender  and 
players  can  be registered from  the  age 
of  four  years  old.  The  club 
welcome 
players 
from 
Matakohe to Kaiwaka and anywhere in 
between. 
Athletics 
Do  you  have  a  child  interested  in 
Athletics?  Our  Athletics  Club  holds 
sessions  at  Otamatea  High  School  on 
Monday  evenings  from  5  to  6.30pm. 
We  provide  coaching  and  support  for 
all  the  athletics  events,  including 
running,  throws  and  jumps  for  all 
youngsters,  but  especially  those  aged 
from  7  years  upwards.  We  are 
dependent upon parent support and are 
pleased  to  make  use  of  these  people's 
relevant  athletic  skills.  Any  queries  to 
Eileen Parsons on 4318 055. 
Rugby – JMB 
Do you have a boy or girl aged 4 – 11 
years,  who  is  wanting  to  play  rugby? 
Our  junior  rugby  club,  Eastern  United 
JMB, is a small, friendly club with the 
focus  on  kids  having  fun  and  learning 
ball  skills  and  team  work  within  a 
supportive environment. JMB's annual 
subs are low – just $20 per child or $30 
for a family. Bring your child along to 
Eastern  United's  muster  this  Saturday 
10th  March  at  10am,  at  our  grounds. 
There will be a sausage sizzle and our 
famous water slide! 
JMB queries to Te Awhina Whitehead 
on 021 02596889. 
Rugby – IMB 
We  have  entered  an  Under  11s,  an 
Under  13s  and  two  Under  16s  teams 
into the Whangarei Sevens Tournament 
this weekend, results in next Bugle. 
IMB trainings will be at our grounds on 
Tuesday  and  Thursday  evenings.  For 
IMB  queries,  please  contact  Lorena 
Reynolds  on  holygrail@mail.com  or 
via the Otamatea Hawks IMB facebook 
page.  
Rugby – Senior 
The 
2018 
Premier 
Rugby 
Championship  kicks  off  this  Saturday 
10th  March  with  matches  at  our 
grounds.  Our  Otamatea  Hawks  will 
take  on  newcomers  Kerikeri.  The 
Reserves team will kick off at 12.30pm 
and the Premiers team play at 2.15pm. 
Come  along  to  see  how  our  boys  are 
shaping up for the season. 
Squash 
Our  Squash  club  has  restarted  after  a 
short break over the warmer months. If 
you  are  keen  to  give  squash  a  try, 
simply turn up to the courts on our club 
nights, Mondays from 6pm (the door to 
the squash courts is opposite the tennis 
courts). People of all ages and abilities 
are  welcome  in  our  small,  friendly 
club. Please wear non-marking soles. 
For  squash  queries,  contact  Craig 
Wallis 
on 
0223943984 
or 
craig_wallis@hotmail.com. 
Springbulbs Fundraiser 
Bulbs  are  easy  to  plant,  fun  to  grow 
and  will  reward  you  with  beautiful 
flowers 
year 
 …. continued on page 15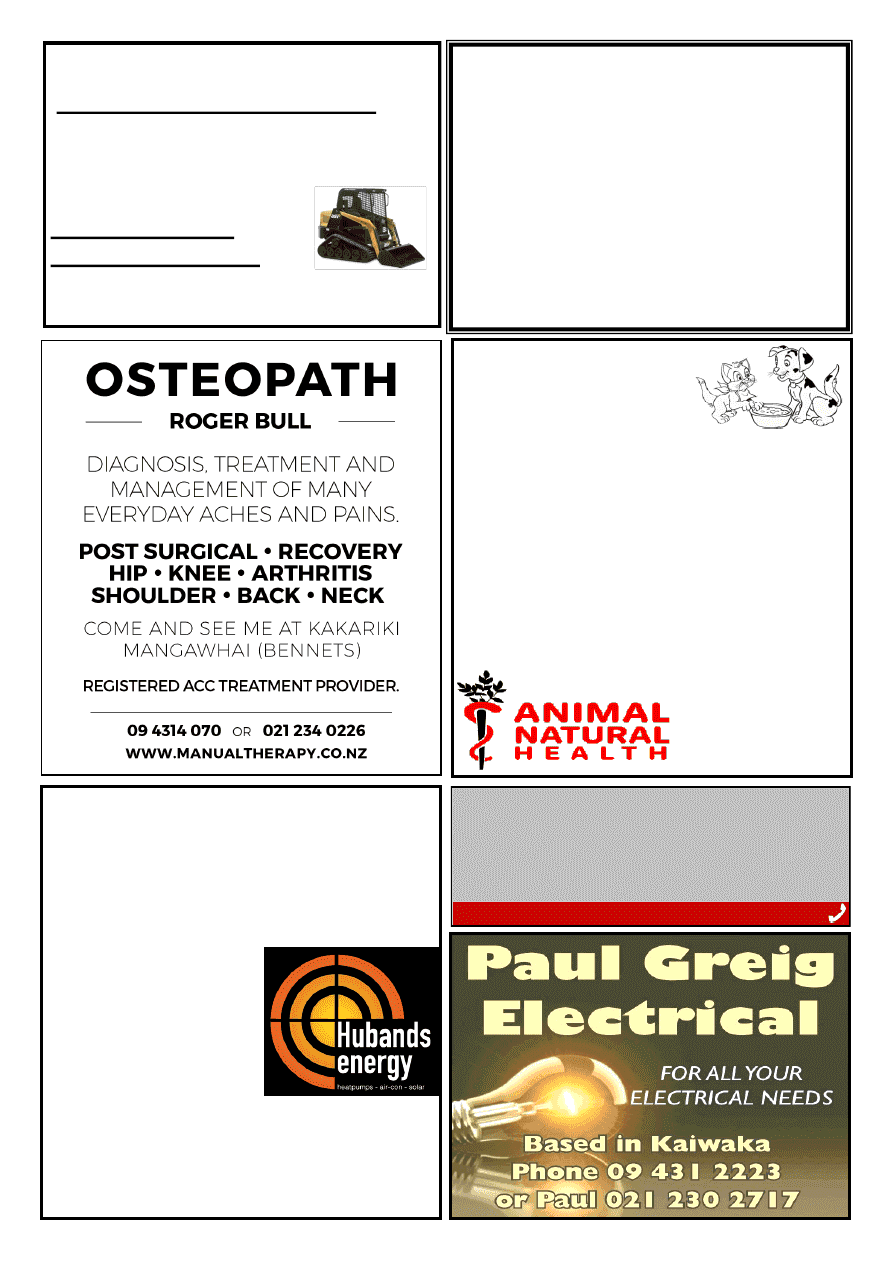 Natural Earth Ltd 
 Landscape and Bobcat services 
 : Driveways  :Landscaping  :Retaining Walls 
 : Hole Boring: Land Levelling :Trenching 
 : Decks :Fences :Sections Cleared: Plus much 
more 
Tel   09 4312885 
Mob 02102391280  
For A Fast Friendly  
Service Contact Tim Hicks 
CALL CRIMESTOPPERS 
Worried about something that doesn't seem right to 
you? Concerned about activity that could be 
harmful? Call Crimestoppers.  
You don't need to know all the facts.
CALL 0800 555 111 ANONYMOUSLY 
Northland's Award Winning 
Solar Company
SEANZ Best Solar Business Winners 2015/16
EXCLUSIVE 10 year installation warranty 
FREE No obligation onsite quote
Complete systems 
from $5990
See our range of: 
✓
Heatpumps 
✓
Airconditioning 
✓
Hot Water 
Heatpumps 
✓
Central Vacuum Systems
09 430 0019             sales@hubands.co.nz 
15 Kioreroa Road, Whangarei
Locally owned and operated for 35 years 
Mangawhai Heads 
Garden Centre
1758 Cove Road
945 0707 
021 165 2629 
ORIJEN & ACANA  
now available!
Looking for economy with 
quality in pet food? 
Our 2kg fresh meat rolls only $12.90
Tukka Thyme Muesli (makes 3kg) - only $14.90 
Veal Bones 3kg $17.90 
Beef & Lamb Patties  3kg  $22.90 
Chicken Medallions 3kg  $18.90 
No nasty chemicals, cage & crate-free, free-range, 
organic where possible. 
Flea-Flee , Tick & Lice Control, alternatives to 
vaccinations. 
Safe beach leads, collars, toys. 
Want a choice in animal health care? 
See our Animal Naturopath.  
ANIMAL NATURAL 
HEALTH CENTRE 
Next to Italian Bakery, 
Kaiwaka 
Ph. 09 431 2217    
Open Mon-Sat.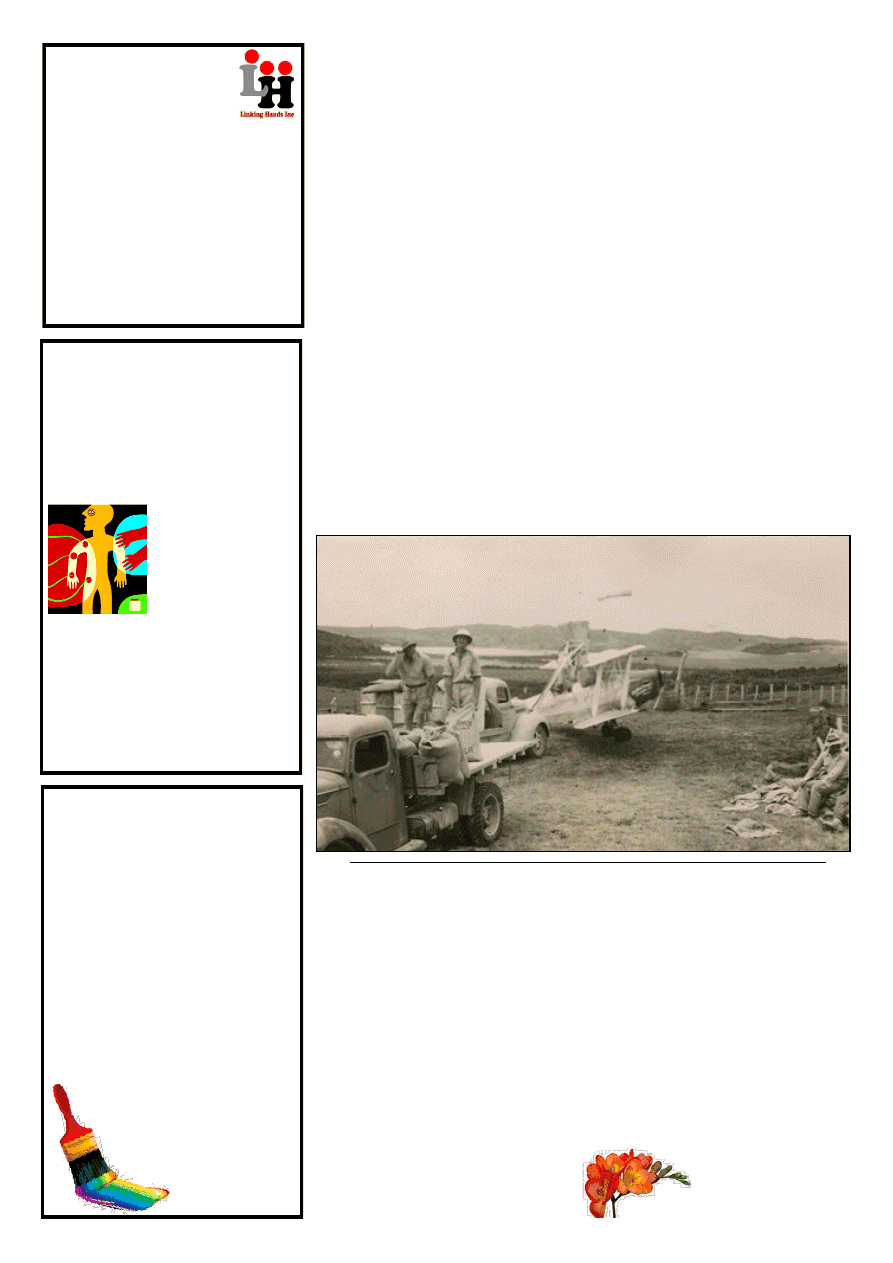 www.kaiwaka.co.nz 
Kaiwaka Bugle - 6 March 2018 
Page 15 
LEE COOPER 
PAINTERS 
(Kaiwaka Based) 
*30 yrs Experience 
*Interior/Exterior 
*New and Restoration 
*Honest and Reliable 
*Free Quotes 
 
09 4312918 
0274735171 
leecooper@xtra.co.nz 
KAIWAKA SPORTS ASSN 
… continued from page 13 
AERIAL TOPDRESSING Update
LINKING 
HANDS INC 
Maungaturoto - Kaiwaka - 
Mangawhai 
Meeting the needs of the community. 
A  free  Health  Shuttle  Service,  providing 
transport to those  who would struggle to 
get  to  medical,  dental,  podiatry,  or 
optometrist appointments anywhere from 
Warkworth to Whangarei. 
HEALTH SHUTTLE SERVICES  
Ph/fax 09 431 8969 
OFFICE HOURS 
Maungaturoto - Monday to Friday - 
10am to 4pm 
Closed Public Holidays 
Neville Dowson carted fertiliser to the 
following  air  strips  while  driving  for 
Ray Parker approximately 1958 - 1963. 
From Topuni railway station to: 
Paynes farm at Oruawharo, Giles Lusty 
(Snr)  main  highway,    2  Topuni  Lands 
& Survey airstrips  -one now owned by 
Graeme  Larsen*  and  the  other  by 
Andrew  Farr,  Gordon  Hendrickson 
(Topuni). 
From  Kaiwaka  Railway  Station  to 
Cam  McRae,  Jack  McRae  (both  now 
Oneriri  Station),  Geoff    Linnell,  Brian 
Linnell*, Max Hargreaves airstrip (now 
John  Hargreaves),  Land  &  Survey 
Oneriri,  now  Takahoa  Bay,  Joker 
Donaldson*  (Ranganui  Road),  Logan 
Balderston (Pukenui Road), Jack Mills 
(Main  Highway  North),  Malcolm 
Cullen 
(Mountain 
Road), 
D.A 
Finlayson*  (Mountain  Road),  Les 
Snelling  (Highway  North  -  opposite 
Atlas  Quarries),  Reg  Skelton  (East  of 
Baldrock),  Roly  Brown  (Browns 
Road),  Basil  Jeffery*  (corner  Kwk-
Mwi  and  Browns  Road,  S.M  (Monty) 
Williams  (Lawrence  Road),  Jim  Lusty 
(Ryans  Road),  Giles  Lusty  (Ryans 
Road,    Cliff  Bowmar  (Cove  Road,  
Rudi  Guntren  (Cove  Road),  Jack  and 
Ray Wharfe (now Breamtail Farms). 
Thank  you,  Neville  Dowson,  for  this  
reminder  of  our  earlier  farming  times. 
Neville  also  recalls  the  strength  and 
skill  of  Ray  Parker  who,  on  his  own, 
could  carry  a  44-gallon  drum  of  fuel 
needed for refuelling the planes. 
And thank you too, to Graeme Larsen, 
who moved to the Kaiwaka area in the 
1960s,  who  recalls  the  number  of 
airstrips  in  his  area.  He  says  the  air 
strip on his farm could still be used. 
Murray  Hargreaves,  commercial  pilot 
of Maungaturoto, has flown off most of 
the  airstrips  listed  in  Bugle  No2,  and 
says some are still in use and a number 
of them would not take much to bring 
them 'up to scratch'. He says more and 
more 
people 
are 
involved 
in 
recreational 
flying 
now 
with 
organisations such as 
the 
Sport Aircraft 
Association  NZ  Our  airstrips  may  still 
be part of our lives in the future.
*These airstrips are shown on the 1981 
topographical maps for our area 
Photo:    1950s  -  the  trucks  of  bagged 
fertiliser  and  drums  of  fuel  ready  for 
the plane at Ngamotu, Oneriri. 
OWEN STEVENS 
Osteo Therapist
For careful adjustments  
to bones and joints 
Treatment for humans  
and their pets 
Clinics: 
Kate's Place, 
Kaiwaka: 
Last Friday of 
month 
9.00am-5.00pm 
For bookings: 
Phone 
09 4312661 
Or phone Owen   
09 4317123  anytime 
after  year!  Prices  are  less  than  normal 
retail  and  the  KSA  will  make  30% 
profit  on  all  sales.  Your  order  will  be 
delivered  to  your  home  along  with  a 
planting guide.  
The ORDER FORM was printed in  the 
last  Bugle,  -BUGLE  No  3  page  15,  or  
you  can  print  a  copy  from  the  KSA 
website  kaiwakaports.co.nz  (under 
Fundraising),  or  pick  one  up  from 
Jaques  Four  Square.  Deadline  for 
orders is 16th March. 
Kaiwaka Sports Awards 
For  our  annual  Sports  Awards,  our 
affiliated clubs nominate their members 
in 
the 
categories 
of 
Senior 
Sportsperson  of  the  Year,  Junior 
Sportsperson  of  the  Year,  Service  to 
Sport  and  the  Greg  McRae  Memorial 
Trophy. The date of the awards evening 
will be published in the next Bugle. 
KSA Meeting 
There  will  be  a  KSA  meeting  this 
Tuesday 6th at 7pm. All welcome. 
Autism Workshop 
The  Children's  Autism  Foundation  is 
coming  to  the  KSA  on  Tuesday  13th 
March  for  a  full  day  of  Outreach 
consultations 
and 
a 
two-hour 
'Understanding  Autism'  workshop. 
This is for families and carers who live 
or  work  with  children  on  the  Autism 
Spectrum,  or  for  those  who  wish  to 
move  forward  in  this  area  as  a  career. 
Email 
your 
registration 
to 
enquiry@autism.org.nz. 
Cheryl Anderson 
4312 051, 027 3462702 
kaiwakasports@gmail.com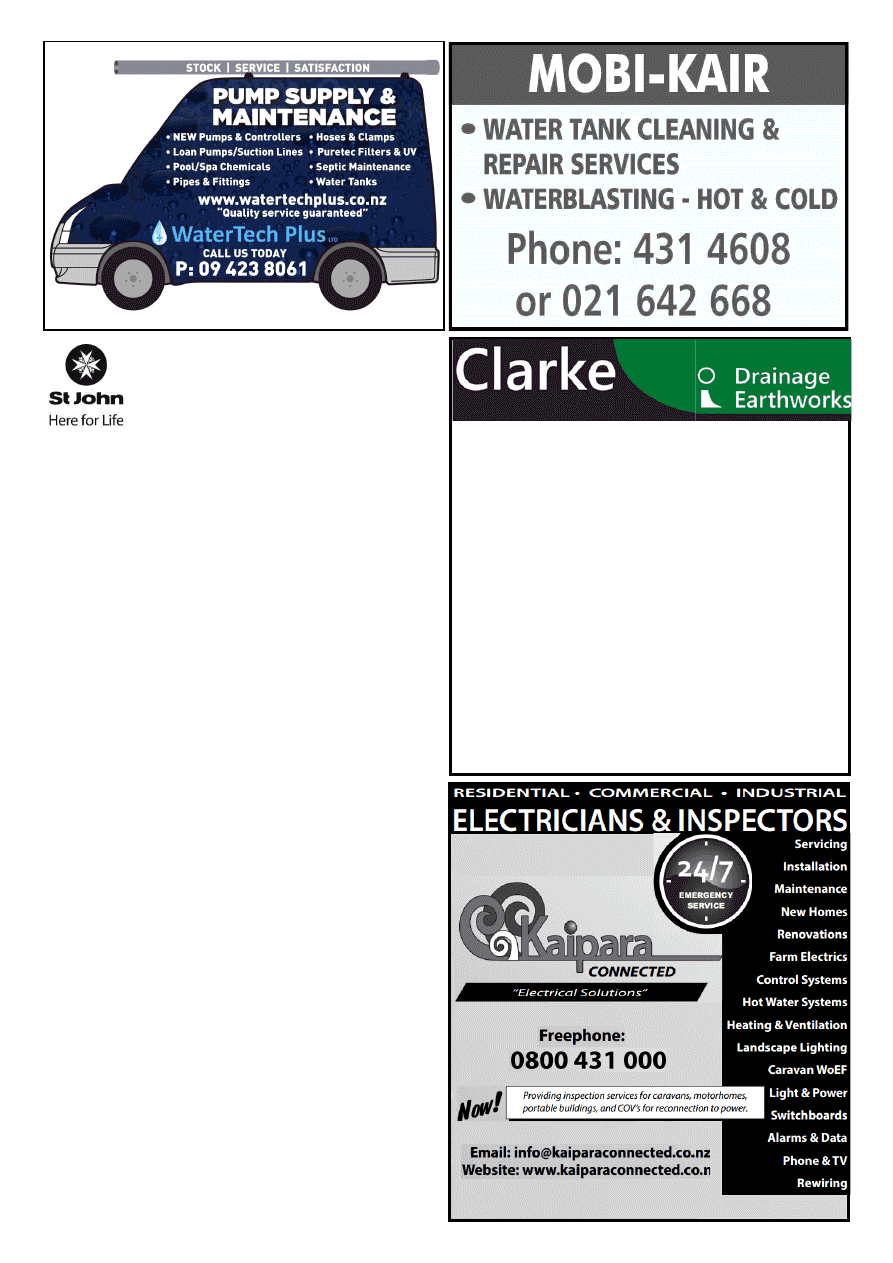 Registered Drainlayer 
All Types of Earthworks  
> All Residential & Commercial Work  > House Sites 
> Septic System Design & Install 
> Footings & Drilling to 10m 
> Sewer Connections 
> Dams 
> Water Tank Installation 
> Roading & Races 
> Farm Work 
THE ONE STOP SHOP  
Phone Nigel for an Obligation Free Quote  
Drainage & Earthmoving 
clarkedrainage@xtra.co.nz 
027 2233 185 
St John Maungaturoto 
and Kaiwaka need 
YOU!
The  St  John  Kaiwaka  and  Maungaturoto  teams  are 
dedicated groups of volunteers with one thing in common – 
the desire to make a positive difference in our community. 
It  is  our  volunteers,  many  of  whom  have  other  jobs,  who 
keep our ambulance service going. 
There  are  currently  six  active  St  John  volunteers  based  at 
Kaiwaka Ambulance Station, and 15 in Maungaturoto, and 
both stations are run by Station Manager Stephen Rosser. 
St John is here 24 hours a day, seven days a week, and 365 
days  a  year  –  saving  lives  and  responding  to  medical 
emergencies and accidents around the clock. 
At present, the Maungaturoto ambulance covers seven day-
shifts  plus  four  night-shifts,  and  the  Kaiwaka  ambulance 
covers  the  other  three  nights;  and  the  community  can  rest 
assured we are always ready to step forward when help is 
needed. 
However, it is our ultimate goal to have both the Kaiwaka 
and Maungaturoto ambulances on duty 24/7, so our area is 
covered  by  at  least  two  ambulances  at  all  times  –  further 
increasing our capacity to care for the community. 
To  achieve  that  goal,  each  station  requires  25  volunteers, 
which can only happen if others in the community – you – 
step  forward  with  us.  The  more  volunteers  we  have,  the 
better equipped we are to help others and provide cover if a 
volunteer is unwell or unable to do their shift. 
Here  at  St  John  everyone  pulls  together  from  nearby 
stations,  but  if  all  their  ambulances  are  on  jobs,  the 
surrounding area's resources are stretched. It is always our 
objective  to  reach  people  in  the  shortest  possible  time,  as 
we know that when you call 111, every minute can count. 
We have 
systems in place so that people in the greatest medical need 
are  given  the  highest  priority;  but  we  want  to  ensure  that 
every  time  you  call  us,  we  have  the  immediate  means  to 
help. 
With  bigger  volunteer  teams  in  Kaiwaka  and 
Maungaturoto, our ambulances at both stations will always 
be ready to go, and we'll have another crew available for a 
second emergency in our area. 
What can YOU do? 
You can join our mission to step forward whenever help is 
needed, for better, for life. Being an ambulance volunteer is 
the  ultimate  way  to  show  your  commitment  to  the 
wellbeing  of  your  community.  We  will  work  together  to 
make  the  experience  rewarding  and  practical  for  you,  and 
should  you  wish,  there  are  life-long  career  opportunities 
available. 
To  get  involved,  please  contact  Station  Manager  Stephen 
Rosser  on  021  355  734  or  go  to  www.stjohn.org.nz,  click 
the 'ABOUT' tab, then 'JOIN ST JOHN'.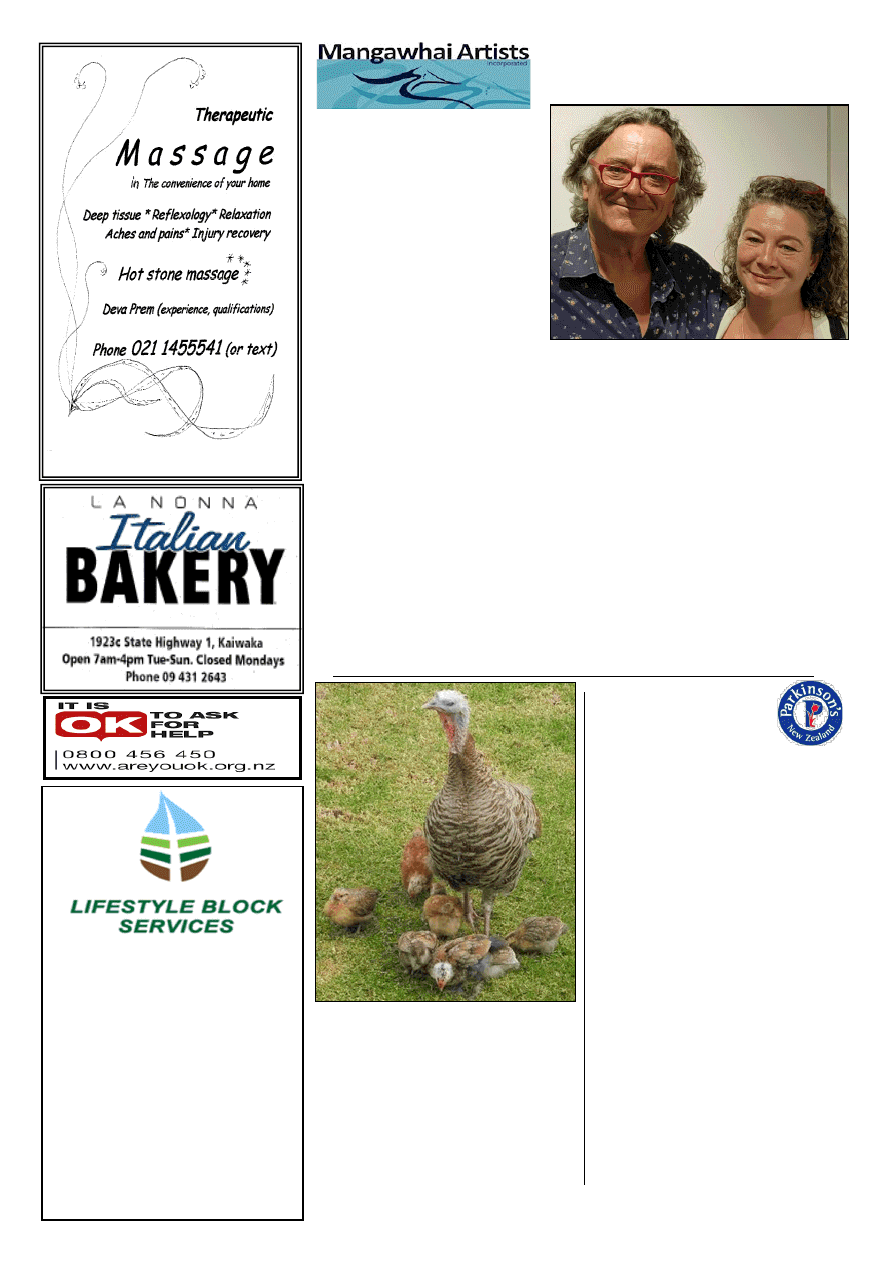 www.kaiwaka.co.nz 
Kaiwaka Bugle - 6 March 2018 
Page 17 
www.mangawhaimassage.co.nz 
Make Baleage while the sun shines! 
Let us make hay/sileage for you, or 
buy single & 5 bale equivalents from 
us
. 
Contact Mark on 021 801 065 or 
Contact Lisa on 021 108 1057
We also do: 

Fencing 

 Spraying 

  Mulching 
 
Stockwork 

  Stock Water 
Systems 

  Tree Trimming  

 Driveway & Track Maintenance  
Mangawhai Artists Gallery 
Peter  Panyoczki  and  Tatjana 
Panyoczki's  exceptional  display 
is open until 7 March 2018. 
'Tatjana  and  Peter  Panyoczki 
together  have  transformed  the 
modest 
Mangawhai 
Artists 
Gallery  space  into  place  of 
wonder.  The  combination  of 
Peter's  large  works  on  the  walls 
somehow, high lights the delicacy 
of  Tatjana's  very  compelling 
jewellery  pieces'  reports  Mandy 
Thomsett-Taylor  of  The  Art 
House  Mangawhai.  Peter  and 
Tatjana pictured right. 
The  exhibitions  change  every  two 
weeks  showing  the  work  of  local 
artists. 
Easter  Weekend  2018  Art  Trail 
And Group Exhibition 
The  Mangawhai  Artists  Art  Trail  will 
be  an  opportunity  to  enjoy  weekend 
life  in  Mangawhai  along  with  a  large 
dose of creativity.  You  will  be  able  to 
see a huge range of art and visit artists' 
studios.  There  are  over  15  venues 
including  artist  studios,  the  Heritage 
Church  by  Mangawhai  Museum, 
Bennett's  cafe  and  Mangawhai  Artists 
Gallery to visit with well over 40 artists 
showing their work. 
The  Easter  exhibition  at  Mangawhai 
Artists  Gallery  will  be  showing  art  by 
Mangawhai 
Artists 
members. 
Members'  exhibitions  are  always 
popular  because  there  is  a  mix  of  art 
styles,  mediums  and  images.  You  can 
expect  to  see  paintings,  prints,  3 
dimensional work, landscapes, still life, 
birds,  abstracts;  the  variety  will  be 
considerable.  
Mark  the  dates  off  now  –  Easter 
Saturday 31 March and Easter 
Sunday 1 April, from 10am to 4pm. 
The  Art  Trail  is  free.  Maps  will  be 
available  on  the  website  http://
www.mangawhaiartists.co.nz/ 
or  for  a  gold  coin  you  will  be  able  to 
purchase  an  attractive  booklet  which 
has illustrations and information on the 
artists and their art as well as the map 
to help you plan your route around the 
venues.  Bill  boards  are  up  –  look  out 
for  the  dancing  art  figure  and 
exclamation mark. 
MANGAWHAI  
ARTISTS GALLERY
Fast facts  
about  
Parkinson's Disease 

Around 10,000 Kiwis have PD 

About  1  or  2  people  per  1000  have 
PD 

The average age of onset is 60 

Affects  men  slightly  more  than 
women 

Affects people from all walks of life 

Life expectancy is much the same as 
for people without PD 

It 
is 
a 
slowly 
progressive 
neurological condition 

It  occurs  when  there  isn't  enough 
dopamine produced (in the brain) 

It  results  in  changes  of  movement, 
balance and coordination 

P.D  presents  differently  for  different 
people. 

There is help for people with PD and 
similar conditions. 
In  Northland  we  have  community 
educators, exercise groups and support 
groups. 
Local  support  Groups  are  in  Waipu, 
Dargaville, Whangarei. There is also a 
Rodney  group  in  Warkworth  (part  of 
the Auckland area). 
My  contact  phone  number  is  free 
phone 09 437 6881.  
Barbara Leslie, Community Educator. 
TURKENS 
Every  year  Belle,  our  turkey,  goes  to 
the  neighbours  to  lay  her  golden  egg, 
every year she comes home motherless, 
however, this year she decided to pinch 
the nest of a hen. Belle is now the very 
proud  mama  of  seven  chickens,  what 
we  have  called  'turkens'.  Last  week  a 
hawk decided it had spied a tasty meal 
on legs, it came in for the attack only to 
be greeted by a flying turkey attacking 
it back, Belle won - all seven chickens 
get to live another day
. ~ Mary Ann, Oneriri.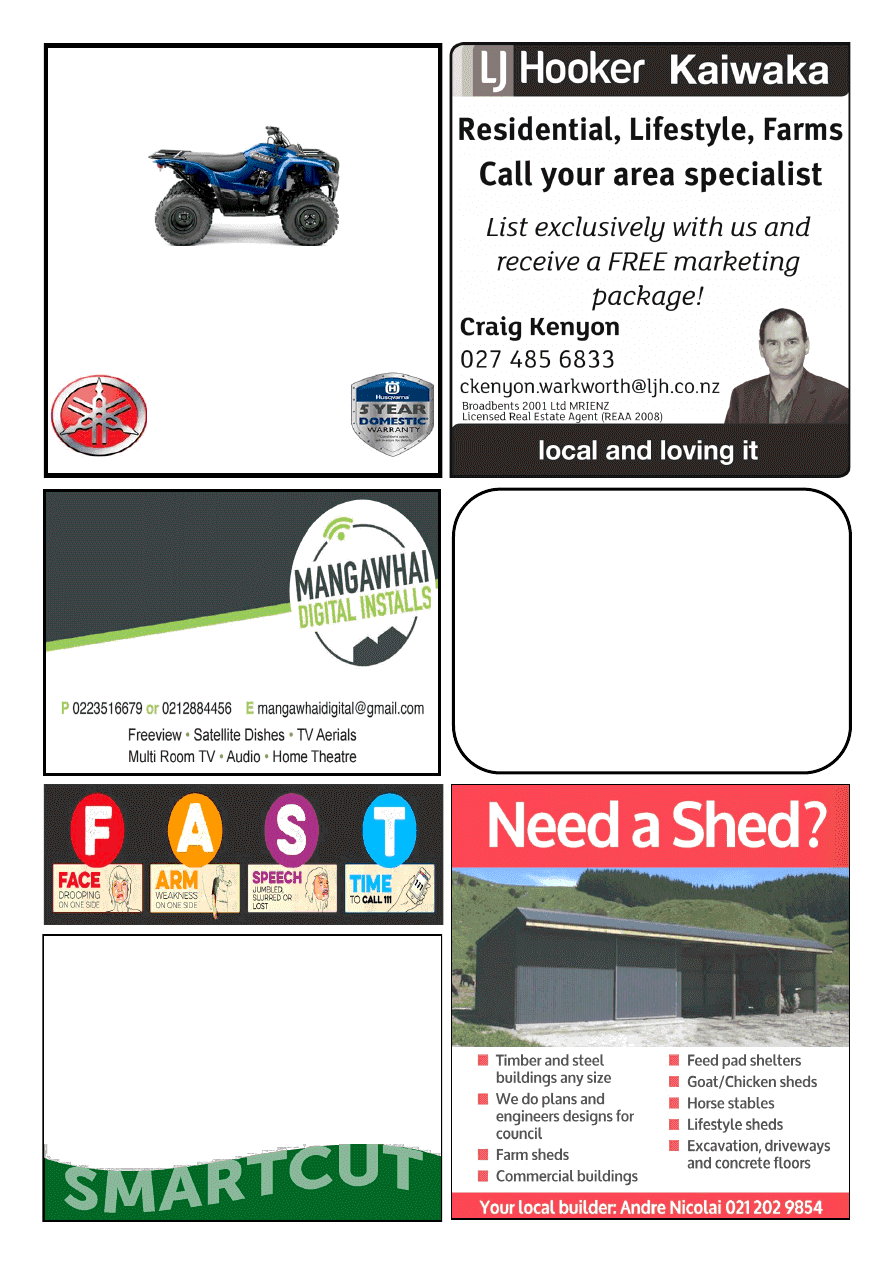 All your outdoor needs sorted so you don't have to... 
I can prune, chop, tidy, spray, mow, plant 
- you name it, I can do it! 
Residential & Commercial 
Lawn & Garden Care 
Call Rodney, your local  
lawnmowing contractor 
021 138 2344 
KAIWAKA 
MOTORCYCLES LTD
SALES – SERVICE – SPARES 
FARM BIKE SPECIALIST
PHONE 09 431-2127 
10 KAIWAKA-MANGAWHAI ROAD, KAIWAKA
Trimmers  
from $279
Chainsaws  
from $339
YAMAHA 
HUSQVARNA 
UP-LINK 
CHRIS WARING 
FREEVIEW INSTALLATIONS 
T.V. - HOME THEATRE &  
HI-FI ADVICE/SET UP
SKY ACCREDITED INSTALLER
MOB.0273403747 HM.094312328 
EMAIL cwaring44@gmail.com
28 YRS EXPERIENCE 
OFFERING UNBIASED ADVICE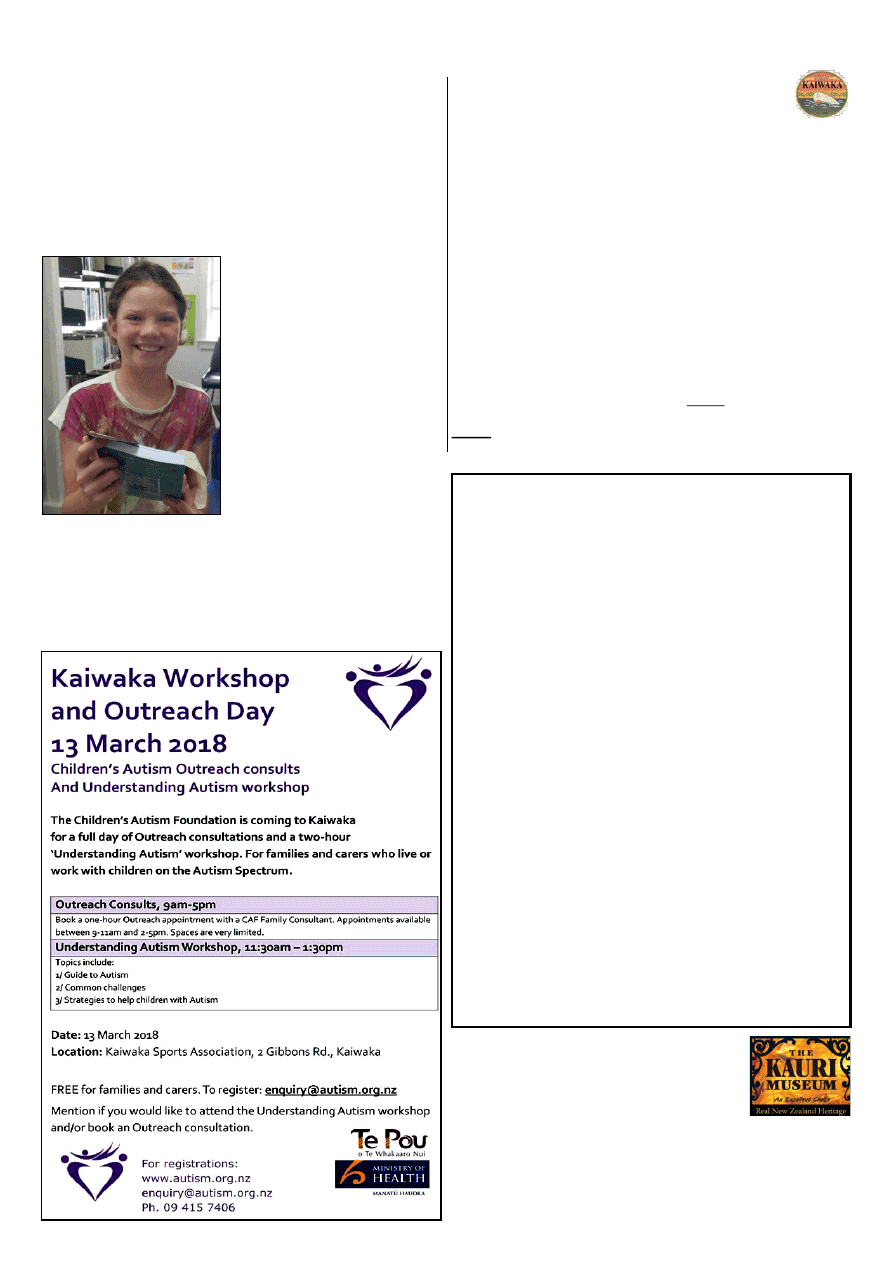 www.kaiwaka.co.nz 
Kaiwaka Bugle - 6 March 2018 
Page 19 
Point Curtis Cruising Club Inc 
OPEN Fishing Competition 
10th & 11th March 2018 
Start time 6am Saturday 10th March   
Finish time 6pm Sunday 11th March  
Weigh in 5pm to 6pm each day at the Three 
Furlongs Bar & Grill, Kaiwaka 
Maximum weigh in 2 of each species per angler per day 
Prize giving 6.30pm Sunday 11th March 2018.  
Prize winners must be present Auction To follow prize giving 
BBQ Following Auction. Please bring a plate. All very welcome. 
Ticket outlets: Three Furlongs Bar & Grill, Kaiwaka; Jean McLeish at Jaques 
Four Square; Wellsford Sports & Leisure 
Or pay for tickets by Internet Banking. Please use your Name/Names as a 
Reference.  
Bank A/c details are: ASB WELLSFORD No 12 3094 0008233 00 
Seniors: Entry fee $20 Species Snapper, Kingfish & Kahawai 
(only rod & reel or handline fishing with a maximum of 2 hooks) 
Senior Prizes: Snapper Cash Prizes 1st - $300 2nd - $200 3rd -$100 
Kingfish & Kahawai Fishing, Sports or Voucher Prizes for 1st, 2nd & 3rd 
Juniors: (aged under 15) Entry fee $10 Species Snapper, Kingfish & Kahawai 
(only rod and reel or handline fishing with a maximum of 2 hooks) 
Junior Prizes: Fishing, Sports or Voucher Prizes for 1st, 2nd & 3rd for all spe-
cies 
ALL SNAPPER WEIGHED IN GOES INTO THE DRAW 
FOR THE AVERAGE WEIGHT PRIZE 
All fish weighed in must be GILLED & GUTTED. 
All Seniors fish will be kept by The Point Curtis Fishing Club Inc to 
be auctioned after prize giving. Juniors have the option to keep their 
fish they weigh in. This is a fundraiser for upgrading the facilities at 
the Rangiora Rd Boat Ramp, Kaiwaka 
Rules & Disclaimer: 
Maximum of 2 per species per angler per day allowed to be weighed in. All fish must be gilled and gutted. 
There is to be no use of nets, longlines, kontikis. kites or similar. 
There is a maximum of 2 hooks per line. 
In the event of 2 or more fish the same weight – the first fish weighed in counts. 
MPI rules & regulations apply with the exception of snapper which must measure 32cm or more. 
All people on boats must have purchased tickets for this competition. 
Boundaries are anywhere north of and including Waitemata & Manukau Harbours. 
The Point Curtis Cruising Club Inc. accepts no liability for any damage or loss of property or injury to any    
person. 
Decision of Weigh-Master is final. 
The KAURI MUSEUM  
The next exhibition: 
'PINNIES and PIES' 
7 March – 1 July 2018 
Aprons come in all shapes and styles; are plain or adorned 
and made suitable for any occasion. This textiles exhibition 
features a selection of garments from the collection
. 
The  Kauri  Museum,  Matakohe;  open  9am  –  5pm  daily; 
Admission free (with proof) for Otamatea residents. 
See their Facebook page. 
KAIWAKA LIBRARY 
New library software 
Next  week  -  Thursday  15  March  -  we  will  start  using  the 
new  library  program  that  Kaipara  District  Council  has 
purchased  for  the  libraries  in  the  district.  It  is  a  great 
improvement  on  what  we've  been  using  for  the  past  10 
years,  but  there  will  be  a  learning  curve  as  all  the  library 
volunteers (including me) get to grips with the new regime. 
Please have patience with us as we learn. 
There  will  be  some  immediate  changes  -  the  borrowing 
period  for  our  books  and  other  items  will  be  shortened  to 
three weeks, to bring it into line with other libraries in the 
district.  To  make  up  for  that,  you'll  now  be  able  to  renew 
items twice before they must be 
returned,  and  the  number  of 
items  you  may  borrow  at  any 
one time is increased to 40. 
The  new  system  will  also  be 
able to track debits and credits, 
so  if  you  want  to  borrow  a 
rental  book  but  don't  have  any 
cash  on  you  that  day,  we  can 
carry  the  charge  over  to  the 
next  time  you  visit.  Overdue 
fees  for  DVDs  and  BluRays 
will  be  retained  -  in  the  old 
system  they  were  forgotten 
when the item was returned - so 
we  will  be  collecting  these  in 
future. 
On  the  flip  side,  when  everything  is  up  and  running 
smoothly,  you  will  be  able  to  opt-in  to  receive  automated 
messages via email or text to remind you a couple of days 
before your borrowed item(s) are overdue. 
Summer reading challenge 
Congratulations  to  Liz  Hyndman  and  Elena  Paikea 
(pictured)  for  winning  prizes  in  the  competition  run  by 
Dargaville Public Library over the summer holidays. 
~Wendy
POINT CURTIS CRUISING 
CLUB  
Open Fishing Competition on  
Saturday 10
th
 and Sunday 11
th
 March  
Species are Snapper, Kingfish and Kahawai. 
All Fish weighed to be GILLED & GUTTED. 
Sunday will be the Prize Giving  
and followed with the Fish Auction. All Welcome. 
This is a Fundraiser for upgrades at Rangiora Boat Ramp. 
Tickets  will  be  sold  at  3Furlongs  Bar  &  Grill,  Wellsford 
Sports and Leisure or see Jean at Jaques Four Square. 
You can also Pay online. Please see  Flyer below. 
Good Luck, and Happy Fishing. 
April: 
Open  Fishing  Competition  EAST  Vs  WEST  Friday  20th, 
Saturday 21
st
 and Sunday 22
nd
 April 2018. 
May: 
Opening Duck Shoot Saturday 5
th
 May 2018 
End of Year Prize Giving Saturday 5
th
 May 2018 
June: 
Subs Due $20 Single or $30 Family 
Fish  of  the  Month:  Snapper,  NEW  date  Wednesday 
7
th
 March 2018 
NEW  Date  for  Next  Meeting:  Wednesday  7
th
  March 
3Furlongs Bar & Grill 7pm 2018. 
~Wayne Leslie (Commodore)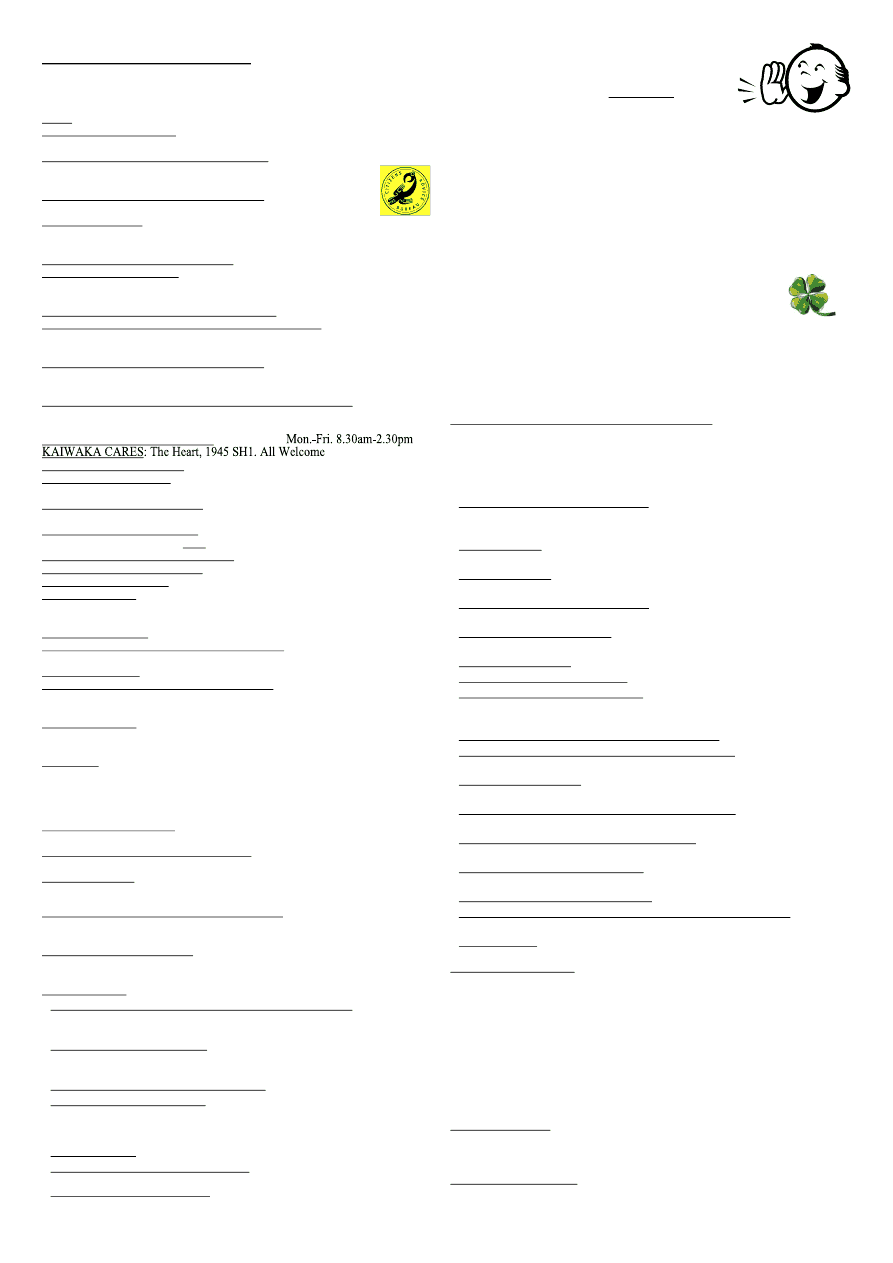 Next Bugle Deadline midday Friday 16 March 2018
WHAT'S ON
PLEASE ~ do let us know what is on - email 
kaiwakabugle@kaiwaka.co.nz 
Advertising in WHAT'S ON is FREE  
*6Mar~Kaiwaka Sports Assn meeting, 7pm 
*8Mar~Otamatea-Ex,  6.30pm, KSA 
*9Mar~'Fleetwood Mac -The Dance', 7.30pm (tickets), KWMH 
*10Mar~Junior Rugby Registration Day, 10am, KSA 
*10Mar~HAWKS v Kerikeri - rugby, KSA 
*10-11Mar~Pt.Curtis CC Open Fishing Competition 
*14Mar~KDC Long Term Plan meeting KWMH,3.30pm 
*17Mar~St.PATRICK'S DAY 
*17Mar~Linking Hands 10years  Mgto St.John  2pm 
*23Mar~Murder on the Orient Express'(2017), KWMH, 7.30pm 
*25Mar~'Paddington Bear 2', KWMH, 2pm 
*30Mar-2Apr~EASTER 
*6Apr~'Wonder,' KWMH, 7.30pm 
*13Apr~End of School Term One 
*13 -15Apr~
One Act Play Festival  ORT theatre, Mgto. 
*29Apr~Otamatea Netball Club  Mixed Netball tournament  KSA 
KWMH = Kaiwaka War Memorial Hall; KSA = Kaiwaka Sports Association 
See www.kaiwaka.co.nz for more information 
HOUSEHOLD RUBBISH COLLECTION - Kaiwaka Pick up: 
Mondays = Green bags (Northland Waste - 09 430 3273) 
Wednesdays  = Blue bags and yellow recycling (at Jaques $3.00 
and  $1.50)  (Kaurilands  09  4392146);  ONLY  Blue  and  Yellow 
bags picked up on Oneriri Road. 
 DIABETES  Support  Group  -for  Kaiwaka,  Mangawhai, 
Wellsford  10am,  3rd  Friday  of  month  Ph:  Colleen  James  09 
4314238 
 DRINK CAN 'tear tabs' - for Starship Hospital- please collect - 
98 Kaiwaka Mangawhai Rd, leave in mailbox, Ph. 4312625  
 GENEALOGY - Wellsford: 1st Thursday in month Ph: 423 
7033; Waipu: 4th Monday in month Ph: 4312 725 
 GYMNASTICS  OTAMATEA  -  Tuesday  Ph:  Stephanie  022 
3624998 
 HAKARU PONY CLUB - Secretary Denise Rogers 021423376 
secretary@hakaruponyclub.co.nz  
 KAIPARA HUNT - Secretary Albert Doonenbal Ph 4312059 
 KAIWAKA BADMINTON -Tuesdays 7.30pm Ph: 4312345 
 KAIWAKA  DRAMA  CLUB  -  Dave  Edwards  021  611198  - 
KaiwakaDrama@gmail.com Monday 5:30-7:00pm KWMH - FB 
- "KaiwakaDramaClub" 
 KAIWAKA DRUM & DANCE CLASSES - 021 611198 
 KAIWAKA GARDEN & FLORAL GROUP - 2nd Thursday in 
month. Ph: 431 4744 
 KAIWAKA  CUBS  -  Thursdays  5.30-7pm,  Hakaru  Ph:Bruce 
4312542 
 KNITTING FOR WHANGAREI HOSPITAL - 2nd Tuesday in 
month, Archie Bull Hall 10am Ph 4314827 
 MANGAWHAI COMBINED REBUS CLUB - 2pm, 3rd 
Thursday month, Senior Citizens Hall Mangawhai. Ph: 4315777 
 OTAMATEA GREY POWER - Kath Pattinson 09 283 2052, 
1pm last Wednesday of month, Anglican Church Hall, Mgto 
 PT CURTIS CRUISING CLUB - Jean Ph: 4312227 (wk), 4312520 (hm) 
 RSA,  HAKARU  &  DISTRICTS  WOMEN'S  SECTION  –  meets 
1.30pm 4th Thursday of the month. Ph: 431 5818  
 TRAMPING - Mondays 9am-2:30pm Maria 4312 234 
HALLS FOR HIRE: 
 St.Pauls Archie Bull Hall HIRE $20 half day, $40 full day per 
hire, S McAulay, Ph 4312311 
 Kaiwaka  War  Memorial  Hall  HlRE  -  Phone  4312725  or 
kaiwaka.hall.bookings@gmail.com 
 Hakaru Community Hall HIRE -Ph. 4312256 or 4312110 
 Te Pounga Marae queries - R. O'Leary 4312 423, J.Nathan 021 
186 7382 
 Kaiwaka Sports Association hire/queries - C. Anderson 4312051 
or kaiwakasports@gmail.com 
Justice of Peace:  
B.FJaques  4312  048;  L.Donaldson  4312  228;  A.F.Hargreaves 
4312 045, W.Howard 4312 725 - please phone to make sure they 
are available www.justiceofthepeace.org.nz 
Marriage Celebrants:  
L.Donaldson; A.F.Hargreaves; Y Osborne
LOCAL SERVICES 
*Emergencies - Ambulance, Fire, Police - dial 111 
*Non-urgent Police phone 09 4311150
A A: Meets Wed., 8pm Kaiwaka Ph: 4315543, 0800229 6757 
ASUREQUALITY LTD (was AgriQuality) Call Free 0508 0011 22  
BUDGETING SERVICE, WELLSFORD: Free confidential advice & 
support for all areas of personal finance. Ph (09) 423 7123 
CAB-Citizens Advice Bureau.Wellsford Ph: 4237333 
0800 367 222 email:cab.wells@xtra.co.nz  
CIVIL DEFENCE - Kaiwaka Community Response Group: 
kaiwaka.civildefencecrg@gmail.com, 4312725 Wendy 
DOG/STOCK /NOISE CONTROL 0800 105 890 
FUNERAL SERVICES: Morris & Morris Ltd, 
Whangarei - Bev Jaques Ph:4312367 or 0800667747 
GRANDPARENTS Raising Grandchildren: Dianah Roberts 0223819539 
HAKARU & DISTRICTS MEMORIAL RSA (Inc) 733 Settlement Rd, 
Hakaru. Ph 4312 176 or Graeme Hitchcock (President) 431 3064 
HAKARU LANDFILL/Transfer Station:Open everyday except 
Tuesday10am-4pm.Ph4312629 Cost-$55 trailer load up to 1 cubic metre. 
Ph:4258567 - office 
KAIPARA DISTRICT COUNCIL www.kaipara.govt.nz:  
Help Desk FREEPHONE 0800 727 059  
KAIWAKA KOHANGA REO: Ph:4312620 
KAIWAKA CEMETERY: Ph: 4312045 or 4314017 
KAIWAKA LIBRARY: kaiwaka.library@gmail.com  
Mon. 4-6pm; Wed., Thurs., Fri., Sat. 10am-2pm Ph:4312539 
KAIWAKA PLAYCENTRE: Ph Juanita 0274134904; open Mon, Wed, 
Fri 9am-12pm. Hastie Lane; Monday to Friday 9.00am - 12 noon. 
KAIWAKA POST OFFICE:Ph:4312 431  
Post Code: 0573 for RD2 and 0542 for all Kaiwaka Post Office mail 
KAIWAKA PRIMARY SCHOOL: Ph: 4312309   
KAIWAKA SPORTS ASSN: Ph 4312005; 4312129 gym 
KAIWAKA ST JOHN: Manager Steve Rosser 09 4318403, 021 355734 
KATE'S PLACE Community Centre - Employment services, Free Health 
Nurse, Plunket, Advocacy, Osteopath, A.A., Legal Advice. 4312 661 
LINKING HANDS Health Shuttle Ph 4315906 or 09 4318969 
MINISTRY FOR PRIMARY INDUSTRIES - General inquiries Call 
Free 0800 008 333 
NORTHPOWER: Faults Kaiwaka area 0800 104040 
OTAMATEA COMMUNITY SERVICES: Counselling, parent coach, 
Family Support worker, budget advice, food bank. Mon-Fri 9am-3pm. Ph 
09 431 9080 http://www.otamateacs.org/ 
PARENTPORT: Free, practical family support service Puhoi to Paparoa 
Ph or txt: Dianne 027 280 5093 or 09 425 9357 
PLUNKET:  Kaiwaka  -Kate's  Place  Clinic  1st  Wednesday  of  the  month; 
Mangawhai  - Rose Madsen Cottage: Coffee Group 9:30 every Monday.  Clinic 
every Monday and Thursday. 
Maungaturoto - Good News Church, Clinic 2nd and 4th Wednesday.  
Cynthia 09 431 7340 or 027 675 3488 
PLUNKET HELPLINE -0800 933 922 (24 hours) 
TAITOKERAU COMMUNITY LAW: Free confidential legal advice and 
assistance, 2nd
Thursday
 of each month. Ph: 0800 155 529 for appts.  
TE URI O HAU Settlement Trust Tangata Developments: Whanau Ora 
021 793262  
VETERINARY SERVICE MANGAWHAI: 
Ph: 4314535 Mon-Fri 8.00-5.00, Sat 9-12, a/h appt. 
WELLSFORD DOCTORS: Ph: 4238 086 
CHURCHES:
 
Kaiwaka  Revival  Church  -  Your  Community  Church:  Sundays  10am. 
Ph: Pastor Tawhiri 09 431 8988 or Pastor Paul 09 4312 068 Visit us at 
www.facebook.com/kaiwakachurch 
 
St  Paul's  Anglican  Church  1st  Sun.  9.00am  (Eucharist),  3rd  Sun. 
9.00am (Family Service). Contact: Rev. Wayne Thornton Ph 431 4122 
www.mangawhaianglican.org.nz 
 
Church of Christ the King, Mangawhai:9.30am every Sunday 
 
St.Mary's  Catholic  Church:  Maungaturoto  –  Griffins  Road,  Saturday 
evening  Vigil  Mass  6pm;  Mangawhai  –  Senior  Citizens  Hall,  Sunday 
Mass  8:30am;  Wellsford  –  Matheson  Road,  Sunday  Mass  10:30am;  
Mid-week Mass times and all enquires to Fr. Bill Fletcher – phone 423 8170
 
Baptist Church: Sun. 10.30am Mangawhai Snr Cit.Hall.Ph:4312339 
 
Cause  Way  Church  Mangawhai:  Sundays  10.15am,  Mangawhai 
Community  Recreation  Centre,  Insley  St.  Ph:  09  4314782