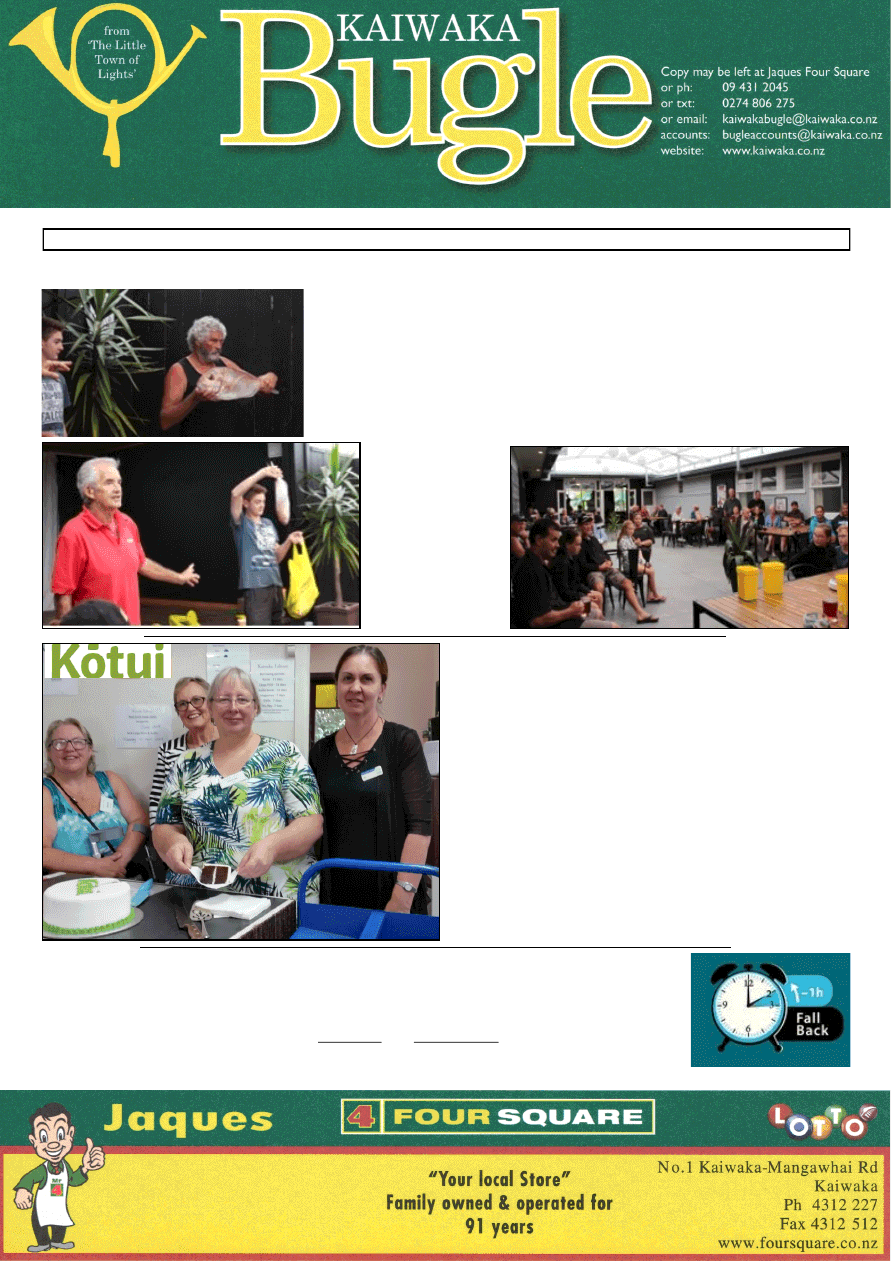 www.kaiwaka.co.nz 
Kaiwaka Bugle - 20 March 2018 
Page 1 
No: 5 
20 March 2018 
Trading Hours: 
Monday to Friday 8:00am - 6:30pm 
Saturday 8:00am - 7:00pm 
Sunday 9:00am - 6:00pm  
KAIWAKA: ABOUT TOWN
KAIPARA LIBRARIES JOIN 
NATIONWIDE NETWORK 
Kaiwaka Library joined Kotui, the National Library system, 
along  with  Dargaville,  Paparoa,  Maungaturoto  and 
Mangawhai Libraries on Tuesday 15 March. 
The Kaipara District Libraries group not only joined more 
than 36 other libraries nationwide already using Kotui, but 
also  became  the  first  group  to  include  volunteer  libraries. 
Kaiwaka volunteers were joined by Sue Sutherland, who is 
from  Christchurch  and  is  a  member  of  the  Kotui 
Consortium  and  Jo  Talijancich,  of  the  Kaipara  District 
Council for the 'switch over'. 
Kaiwaka  Librarian,  Wendy  Howard  cut  the  cake  for  the 
occasion.  Yes,  there  were  five  lovely  chocolate  cakes  for 
the five libraries! 
Pictured  left:  Janine  Bolt  (volunteer),  Sue  Sutherland, 
Wendy Howard, Jo Talijancich. 
SUNDAY 1 APRIL 2018: DAYLIGHT SAVING TIME ENDS 
FISHING COMPETITION 
There  was  a  very  good  turnout  for  our  Fishing  Competition  held  on  Saturday 
10
th
 and Sunday 11
th
 March, even with cyclone Hola trying its best to make it 
rough going. 
I think  most of you managed to get out and have a fish, and great to see kids 
having fun too. 
Huge  THANK  YOU  to  Dave  Lincoln  for  being  the  Auctioneer,  always  good 
fun., and many thanks the 3Furlongs Bar & Grill for allowing us to use premises 
for our event. Also thanks to those of you that brought along a plate to share. 
All Money Raised from Auction goes to the upgrade at Rangiora Boat Ramp. 
Results 
of 
the 
fishing  competition 
are on page 5. 
Pictured:  Top  -  Pt. 
Curtis  Cruising  Club 
Commodore,  Wayne; 
Middle  -  Auctioneer 
Dave  Lincoln    with 
helper,  Bob  Mills;    a 
great  crowd  at  the 
fish  auction  at  the 
Three Furlongs.
When  local  daylight  time  is  about  to  reach  Sunday,  1  April  2018,  3:00:00  a.m.  clocks  are 
turned  backward  1  hour  to  Sunday,  1  April  2018,  2:00:00  a.m.  local  standard  time  instead. 
Sunrise and sunset will be about 1 hour earlier on 1 April 2018 than the day before. There will 
be more light in the morning. Also called Fall Back and Winter Time. 
Daylight saving starts each year on the last Sunday in September and ends on the first Sunday in 
April.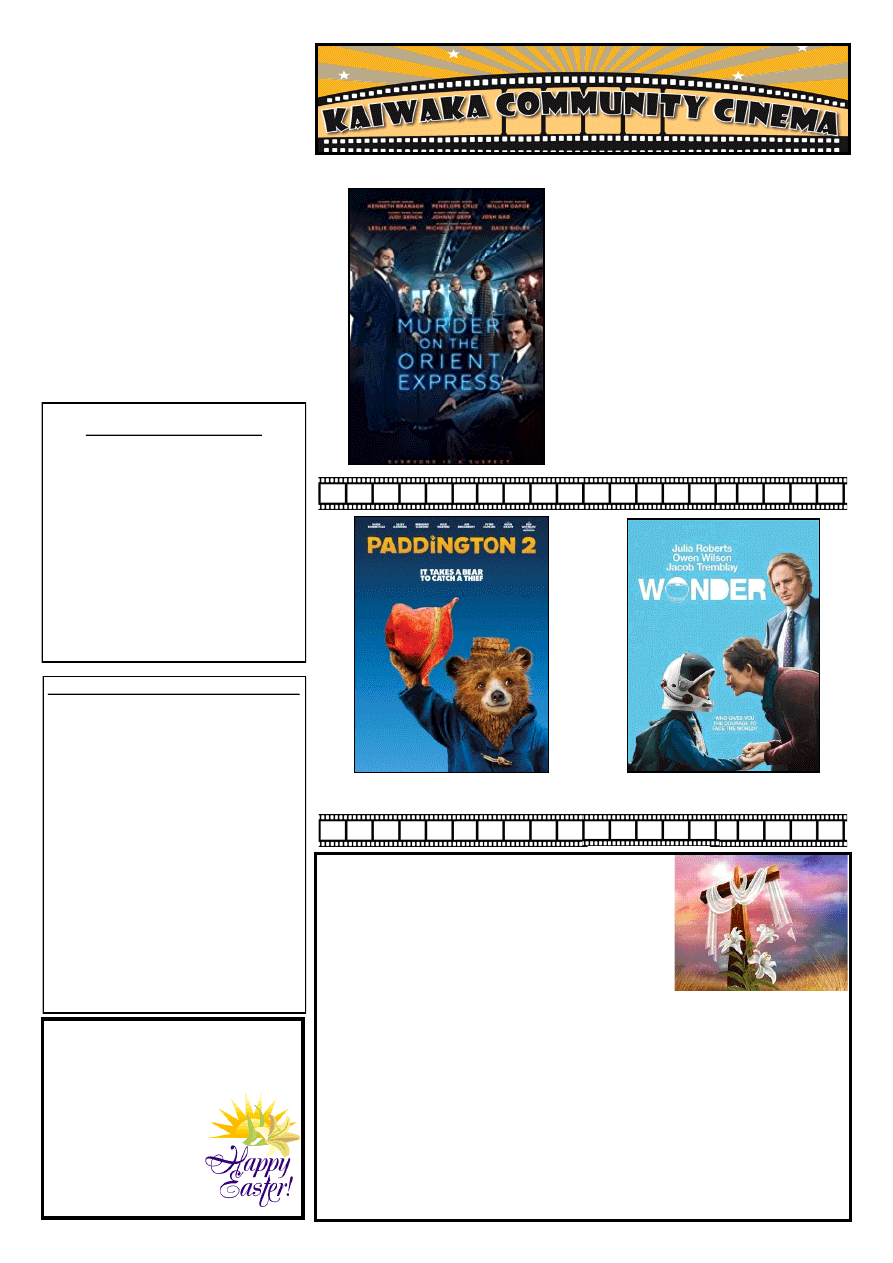 At Kaiwaka War Memorial Hall . Adults $10, Kids (under 16) $5, Family Pass (2 adults + 3 children) $25 
KAIWAKA BUGLE No. 5 
20 MARCH 2018 
CONTENTS: 
Page 3: Public Notices, Classified 
Page 5:  PtCurtis CC; Kaiwaka Touch 
Page 7:  Rotary; Resthome 
Page 9:  Obit. Terry Hanna 
Page 11: Kaiwaka Sports Assn 
Page 13: Zonta; Mangawhai Artists  
Page 15: Otamatea High School 
Page 17: Kaiwaka Can; Kaiwaka  
      School; Kereru 
Page 19: Library; Thelma's Scrapbook 
Bugle 6 will appear  3 April 
Contact for advertising, reports, articles 
or information can be made by 
Email kaiwakabugle@kaiwaka.co.nz 
Ph: 09 4312 045 Lindsey 
Txt: 027 2724137 
Copy  may  be  left  at  Jaques'  Four 
Square. 
Kaiwaka Bugle Advertisements 2017: 
All 
copy 
and 
queries 
to: 
kaiwakabugle@kaiwaka.co.nz 
The Bugle is printed on an A4 page   
Ad  sizes:  1/16  page  (3  x  9.5cm)  $5;  1/8 
(6.5  x  9.5cm  landscape  or  portrait)  $8; 
3/16 ( 10 x 9.5cm or 7.5 x 12,5)  $12.  
Classified  ads:  First  one  FREE,  $4  per 
entry (max. 30 words, max. 4 repeats). 
Payments  can  be  made  online  at 
ANZ 
06  0365  0006990  00
,  posted  or  left  at 
Jaques Four Square Store. 
We  use  Microsoft  Publisher,  and  can 
work  with  most  common  image 
formats, Word, Excel, and PDF files. 
Accounts:  
Email: bugleaccounts@kaiwaka.co.nz 
The  Kaiwaka  Bugle  is  a  community 
newspaper run by volunteers.   
Articles, etc. printed are not necessarily 
the opinion of the Bugle Team. 
Kaiwaka Bugle 
Founded May 1978 
We appreciate articles and photos about local 
events, etc, as well as ads and suggestions. 
Copies available in Kaiwaka at Jaques Four 
Square, Kaiwaka Postal Centre, Shamrock 
Service Station, Animal Health Centre, 
Kaiwaka St John shop. 
Also outlets in Maungaturoto, 
Mangawhai and Paparoa. 
Can be viewed online at  
www.kaiwaka.co.nz/Bugle  
Or a copy can be posted to you if you supply 
stamped, self-addressed DLE envelopes. 
Murder on the Orient 
Express 2017 
Friday 23 March, 7.30pm (M) 
What  starts  out  as  a  lavish  train  ride 
through  Europe  quickly  unfolds  into 
one of the most stylish, suspenseful and 
thrilling  mysteries  ever  told.  From  the 
novel  by  best-selling  author  Agatha 
Christie,  "Murder  on  the  Orient 
Express"  tells  the  tale  of  thirteen 
strangers  stranded  on  a  train,  where 
everyone's a suspect.  
Director:  Kenneth Branagh 
Starring:    Kenneth  Branagh,  Penélope 
Proverbs
 16:20 
God blesses those  
who obey Him; 
happy the  
man/woman  
or child who puts  
their trust  
in the Lord. 
EASTER SERVICES  
 
Christ the King  Anglican Church,   
Molesworth Drive, Mangawhai 

"Stations of the Cross" ~ 

Monday 26 March  8.00am and 

Tuesday -Thursday  27 - 29  March  9.00 am 

Maundy Thursday  29 March  7.00 pm 

Good Friday 30 March 9.00 am Family Service 

Sunday 1 April  9.00 am Family Communion 
St Paul's Church, Kaiwaka  

Sunday 1 April  9.00 am Family Communion 
Everyone welcome!!
Paddington 2 
Sunday 25 March, 2pm (PG) 
Wonder 
Friday 6 April, 7.30pm (PG)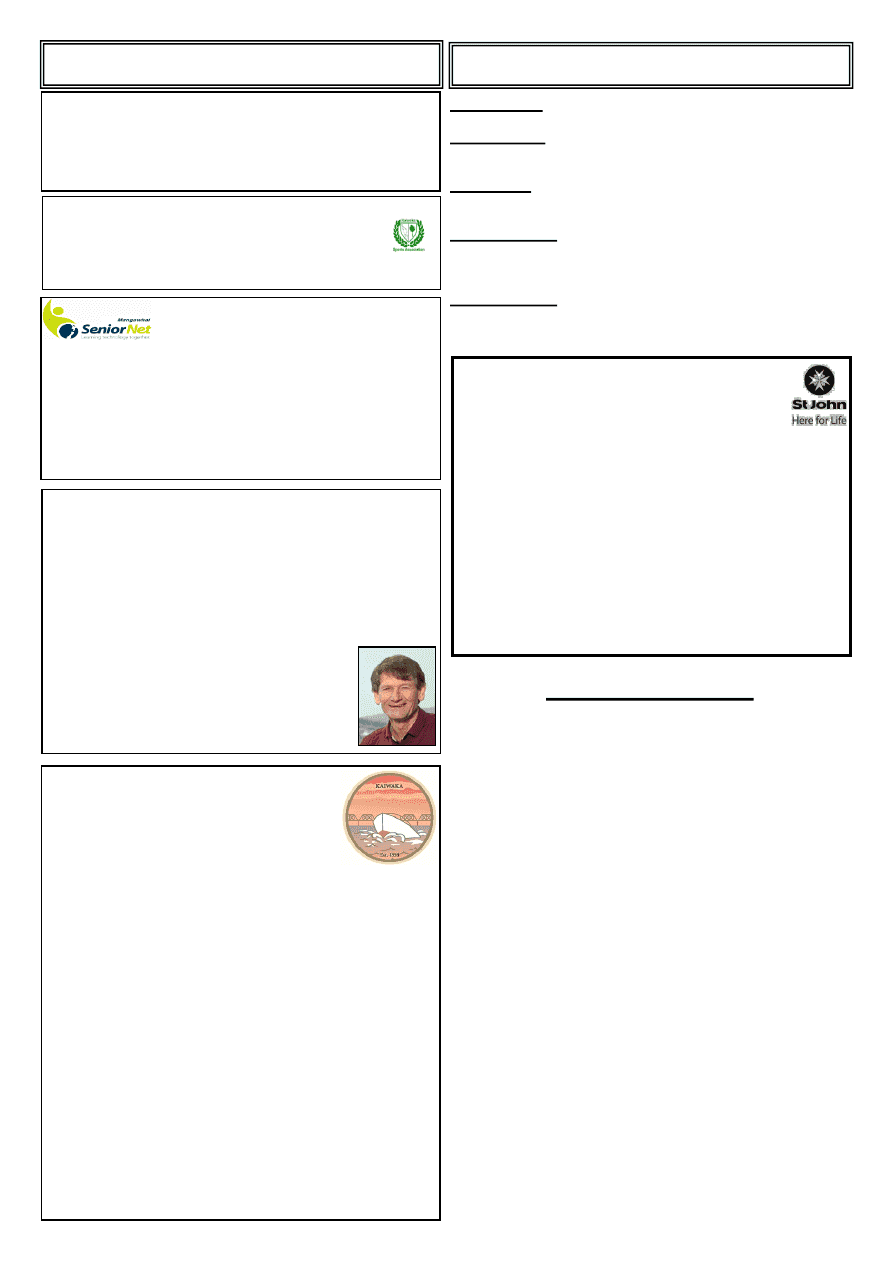 www.kaiwaka.co.nz 
Kaiwaka Bugle - 20 March 2018 
Page 3 
ABOUT TOWN 

Well  Done  OTA  KIDS    -  Otamatea  High  students  who 
raised  $4952.20  for  Relay  for  Life  Northland  Cancer 
Society!  

Take a look at the Kaipara Council's Long Term Plan  - 
put in a submission noting what Kaiwaka needs in the way 
of  new  and  improved  reserves,  walkways  and  outdoor 
recreation areas …. 

 And  a  Well  Done  to  the  fisherfolk  involved  in  the 
fundraiser to upgrade our Rangiora Road boat ramp. 
Congratulations  to  Jesse  Insley  for  her  success  in  the 
2018 Northland Dairy Industry Trainee Awards.  
Otamatea  HAWKS,  our  senior  rugby  teams  had  a 
winning weekend. 
 Please do not park in front of the Emergency Access to 
the  sports  fields  -  it  is  painted  yellow  and  has  KEEP 
CLEAR signage. 
Checkout the Hot Cross Buns at Jaques Four Square! Get 
in early if you wish to make an order. 
 The Rangiora Reserve plan looks as it will definitely be 
a  worthwhile  addition  to  our  community.  It  will  certainly 
make it easier for boaties and locals to park.
Watch out - by tradition,  April 1 or April Fools' Day is 
marked by pranks and practical jokes. 
No joke - 1st April is the day we turn our clocks back on 
hour! 
 ANTS  -  do  you  have  more  ants  than  usual  in  your 
garden? 

"Hope is putting faith to work when doubting would be 
easier."~Author Unknown 
The  Kaiwaka  Bugle  was  first  produced  in  May  1978  - 
please, does anyone have any of the early copies? 
                    ~ Lindsey, Ed
PUBLIC NOTICES 
CLASSIFIED 
KAIWAKA FITNESS CENTRE 
Annual General Meeting 
Wednesday 28th March, 6pm 
In the Fitness Centre, Kaiwaka Sports Complex 
FOR  SALE: 10ft (3m) wooden gate; never used as a 
gate. $90 ono. Ph: Bill 4312961 
FOR  RENT: 2bdrm house. Oneriri Rd. $230.00 PW. 
Avail 31st March. Phone 4312143 after 7pm evenings. 
No messages please.  
WANTED:  Agapanthus;  happy  to  dig  out.  Kaiwaka, 
Baldrock  Rd  and  surrounding  areas.  Ph.  Ruby  
0212458368. 
AVAILABLE:  Free  before  school  learning  skills. 
Tuesdays. 4-6yrs with Indira an 8yr old homeschooler. 
Mostly  fun  and  play  at  my  house  Kaiwaka.  Contact. 
0211801894 
AVAILABLE:  Kaiwaka  Automotive  Mechanical 
Repairs  -  cambelts,  clutches,  brakes;  30  years 
experience; working out of Twinkle Tow n' Tyre.  
Ph: Lyndon 021 1443566  
HELP CLINIC 
SENIORNET MANGAWHAI 
Need  a  little  help  with  your  computer,  laptop,  ipad, 
tablet?  Come  to  our  Help  Session.  Ask  questions, 
solve problems, compare notes with others. 
$10 members  $15 non-members 
Wednesday 21st March, 2 - 4pm 
Seniornet Mangawhai 
The Club, Molesworth Drive, Mangawhai Heads 
Ph: Tony 4312269 or Val 4314042 
Or email seniornet.mangawhai@gmail.com to register 
ZONTA MANGAWHAI
2018 Second Chance for Women Study Award 
For Application Forms email zonta@mangawhai.org.nz  
or text Sue on 027555 6636  
with your name and email address. 
KAIWAKA ST. JOHN OP SHOP 
Arriving  Saturday  is  a  3-seater  sofa,  a  B.B.Q., 
and  a  wheelbarrow.  We  also  have  for  sale-  2 
single  beds  with  mattresses,  1  base  without  a 
mattress,  1  comfy  armchair,  1  footstool.  All  are  in  good 
condition and reasonably priced. 
We  have  just  received  a  lovely  set  of  Wedding  Table 
Decorations. There are 8 carafes, and several jars, big and 
small  with  white  flowers  and  green  leaves  and  all  partly 
wound  on  the  outside  with  string.  Some  of  them  have  a 
battery-operated  string  of  lights  in  them  as  well....  they 
may need new batteries. 
We  are  still  needing  please....  Furniture,  Cooking  pots, 
TOWELS  and  facecloths,  and  anything  else  in  saleable 
condition.  
We still have a few raffle tickets for our Easter Raffle left 
at $2 per ticket. ~ Many thanks, Milly and staff. 
MONTHLY DROP IN SESSIONS
with Northland Regional Council  
Coastal South Councillor –  Rick Stolwerk 
MONDAY 2ndAPRIL
9.00 - 10am Maungatapere - Office Café,  
10.30 - 11.30pm - Ruakaka WDC Office 
12.00 - 1.00pm Waipu - Deli Cafe 
1:30 - 2.30pm Kaiwaka - Kaiwaka War Memorial Hall 
KDC Councilor Jonathan Larsen will attend this session 
3.00 – 4.00pm Mangawhai - Mangawhai Museum, 
with 
Peter Wethey, Deputy Mayor KDC 
Please do not hesitate to call or text and book 
NRC 
Councillor - Coastal South
021 823 770 ricks@nrc.govt.nz
NOTE: This is not a council sponsored publication 
Rangiora Reserve –  
Lot 8 DP 468412 
The  Point  Curtis  Cruising  Club  in 
conjunction  with  the  Kaipara  District 
Council  is  seeking  feedback  from 
people  in  the  wider  community  to  obtain  a 
'Development  Agreement  for  License  to  Occupy' 
Rangiora Reserve (Lot 8 DP 468412) adjacent to the 
existing Rangiora Boat Ramp at the end of Rangiora 
Road, Kaiwaka.  
The application intention is to assist Kaipara District 
Council  to  develop  the  amenity  values  of  Rangiora 
reserve  for  the  wider  community.  A  draft  concept 
plan has been prepared for the reserve.  
Should you require information, have any queries or 
feedback please contact  
Heath  Worsfold  – Point Curtis Cruising Club email 
heath@ruraldesign.co.nz  or  phone  09  4312481  or 
Michael  Collins,  Parks  and  Reserves  Officer  email 
mcollins@kaipara.govt.nz or phone 0800 727 059. 
Feedback  is  appreciated  14  working  days  from  the 
date of this public notice.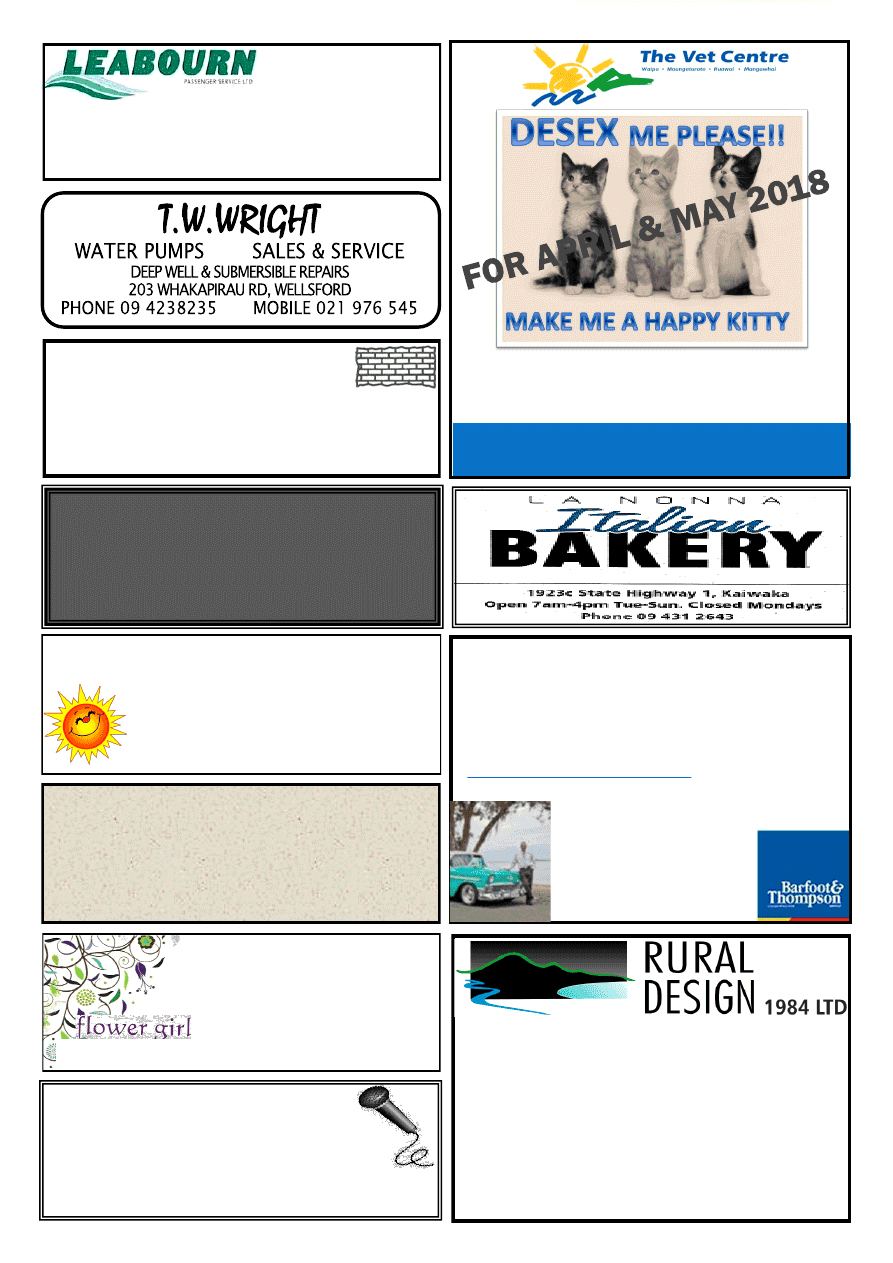 15% off kitten speys & castrates 
~ includes post op pain relief & microchipping ~  
AT YOUR LOCAL VET CENTRE 
Passenger Service
Car & Van Hire  Bus & Coach Charters 
Airport Transfers    
Phone (09) 4237416 
BRICK/BLOCKLAYER 
All aspects of masonry:  
Fireplaces, Restoration & Remedial Work. 
JAMES EAGLETON 
Tel. (09) 431 2514    Mob. 0274 749 232 
jajueagles@yahoo.com.au 
210A Pukenui Road, RD2 Kaiwaka 0573 
THE SUNSHINE GIRLS
Efficient and reliable help with 
your housework. 
Ph 4312 532 
MARRIAGE CELEBRANT 
WEDDING EVENTS PLANNER 
Yvonne Osborne 
Ph 0274 989 814 
yvonne.osborne@xtra.co.nz 
Counsellor and Registered Psychotherapist 
Offers Supervision 
ACC Sensitive Claims 
Susan Matheson      MNZAC 
Dip. Psychosynthesis Counselling and Psychotherapy 
Phone 09 431 2996                                     Mobile 027 605 2427 

  After 20 years of selling in Auckland I have             
moved to Kaiwaka. 

  I have a relaxed attitude with years of  
        results and experience. 

  Please feel free to give me a call or email. 
licensed real estate agent (2008) 
Chris Barrington
Residential Sales
M 
Mangawhai
Wholesale Native Plant Nursery and Planting 
Small and Large orders welcome 
By Appointment 
300 Kaiwaka-Mangawhai Road, Kaiwaka 
Phone: 09 431 2481 
Email: info@ruraldesign.co.nz 
www.ruraldesign.co.nz 
Kaiwaka Good Sorts 
Do you know someone in our community 
who is deserving of a beautiful bunch of 
flowers? 
Send an email to us at 
kaiwakabugle@kaiwaka.co.nz 
or drop a note to Jaques Four Square to 
let the Bugle team know. 
lindywatson@hotmail.com 
4312 847 
SING RIGHT 
Professional coaching for performance,  
recording and demos. 
All level singers, musicians, singer-songwriters. 
Phone Robyn Hill 431 9159 or 022 1238126 
Mangawhai Clinic  Maungaturoto Clinic  
Ruawai Clinic   
Waipu Clinic 
36 Moir Street  
184 Hurndall Street  
23 Jellicoe Road   53 The Centre 
MANGAWHAI   
MAUNGATUROTO   
RUAWAI   
WAIPU 
Ph: 09 4314535  
Ph: 09 4318318  
Ph: 09 4392506  
Ph:  09 4320693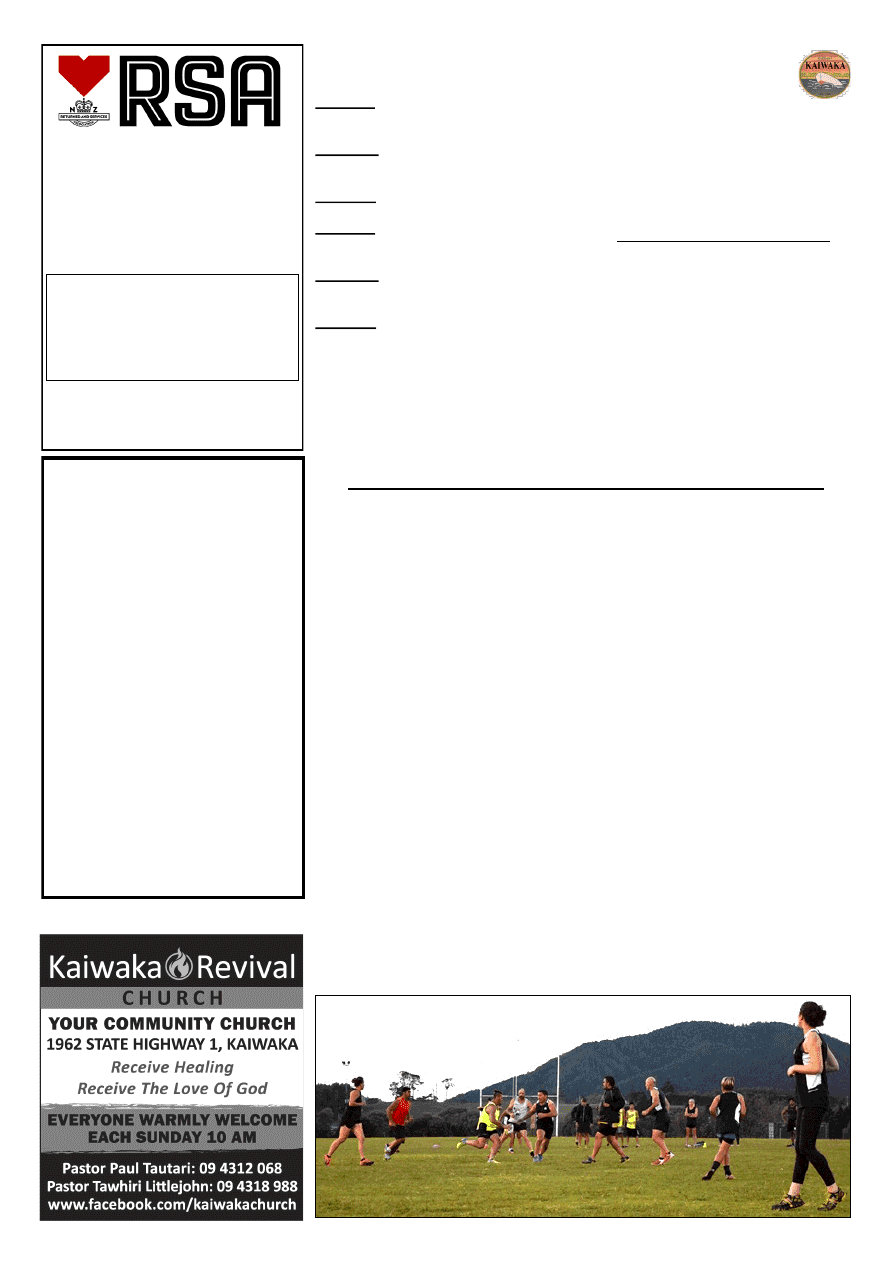 www.kaiwaka.co.nz 
Kaiwaka Bugle - 20 March 2018 
Page 5 
Lilia and her Spring lamb, Minty! 
Willow Bend
HORSE  
HOTEL 
  
Total Horse Care 
 
Agistment 
 
Riding Lessons 
 
Arena Hire (60x40) 
 
Young Horse Starting 
 
Re-training/Exercising 
 
Hoof Trimming 
 
Problem Solving 
Phone Sue 09 431 2817 
or 021 623 776 
Or email  
susanjoll11@gmail.com 
PT.CURTIS CRUISING CLUB 
Over  100  people  participated  in  the 
Kaiwaka  Sports  Association's  Touch 
Module,  held  on  Wednesday  evenings 
for  eight  weeks  over  February  and 
March. 
One  highlight  of  this  year's  Touch 
Module  was  the  number  of  children 
who  played.  Lots  of  primary  aged 
children – with the youngest being just 
six years old! 
The  finals  saw  Team  Fonterra  taking 
on the Spartans. The Spartans came out 
on  top  and  took  home  the  winner's 
purse of $300 and Team Fonterra took 
away  the  second-place  prize  of  $200. 
The  third-place  prize  of  $100  went  to 
Chur Bros. 
After the finals, players moved into the 
pavilion 
for 
prizegiving,  
congratulations to the prize winners: 
Youngest player – Anthony Pairama 
Oldest player – Joe Peeters 
The prize for the Best Presented Team 
went to Kemp Whanau and Best Team 
Spirit went to Ngaringaomatariki.  
Team  managers  nominated  a  player 
from  their  team  to  receive  a  special 
prize: 
Chur Bros: Deborah (most improved) 
Touch & Go: Georgia (fastest around 
the field)  
Ngaringaomatariki: Arepa (for guiding 
and supporting the tamariki) 
The Spartans: Sam & Holly (beginner 
players and excelled) 
Team Jeff: Elia (most improved) 
Kemp Whanau: Jayden (excellent skills 
and for dedicating his time to his 
whanau team)  
Kaipara Kings: Ethan and Jesse (great 
team spirit) 
Team Fonterra: Josh (most improved) 
Final placings: 
8
th
: Ngaringaomatariki 
7
th
: Team Jeff 
6
th
: Kaipara Kings 
5
th
: Kemp Whanau 
4
th
: Touch & Go 
3
rd
: Chur Bros 
2
nd
: Team Fonterra 
1
st
: The Spartans    
Thank  you  to  the  Module's  referees: 
Gerrin, Taira, Ken and JK                     
Photos and videos from the Module are 
on the Kaiwaka Touch facebook page. 
Thank  you  to  everyone  who  were  part 
of the 2018 Touch Module. 
Results of Competition: 
Juniors Section:  
Snapper 1
st
 Sonya Steiner 1.538kg; 2
nd 
Sonya  Steiner  1.439kg;  3
rd
  Bob 
Mills 1.209kg. 
Kahawai  1
st
  Sonya  Steiner  1.624kg; 
2
nd
  Sonya  Steiner1.611kg;  3
rd
  Bob 
Mills 1.378kg 
Kingfish   Nothing weighed in. 
Seniors Section:  
Snapper  1
st 
Justin  Kemp  3.553kg;  2
nd
Louise  Alpress  3.274kg;  3
rd
  Tony 
Smith 2.578kg. 
Kahawai 1
st
 Gravy 1.992kg; 2
nd
 Carol 
Welsford-Mills  1.872kg;  3
rd
  Pongo 
1.864kg. 
Kingfish1
st
Micky  Renton  5.380kg;  2
nd
Renna Brown 5.223kg; 3
rd
 Linda Leslie 
5.204kg. 
Average  snapper  (closest)  Carol 
Welsford-Mills 1.308kg. 
Raffle Winner  Ticket Number 29-Joss 
Tolley 
Up and coming Events: 
*
Open  East  Vs  West  Fishing 
Competition 
Friday  20th  -  Sunday 
22nd April 2018. 
Fish weighed 
in Green/Whole. 
*Duck  Shoot  and  End  of  Year 
Prize Giving 5
th
 May 2018 
*Subs Due in June 
Fish  of  the  Month  till  the  10
th
  April 
2018 is Snapper 
Next  Club  Meeting  Tues  10
th
  April 
2018, at 3Furlongs Bar & Grill 7pm. 
~
Wayne Leslie, Commodore.  
NORTHLAND REGIONAL 
COUNCIL 
Long Term Plan 2018-2028 
'Have Your Say!' 
Main Issues: 
Fresh water 
Pest Management 
Flood Protection 
Our  closest  'Have  Your  Say!' 
opportunity  is  in  Mangawhai  on 
Tuesday  27  March,  2-4pm  at  the 
Mangawhai  Domain  when  NRC 
councillors  and  staff  will  be  seeking 
feedback. 
KAIWAKA TOUCH MODULE 2018 
HAKARU & DISTRICTS 
MEMORIAL RSA (INC)
Members & guests are invited to 
come along and enjoy our hospitality. 
New members welcome. 
Meals are served on Thursday and 
Friday nights from 6.30pm. 
Last Friday of the month is  
'Roast Pork Night' and a sing-a-long  
with Des Chitty. 
For more information please phone 
Marlene on 431 5589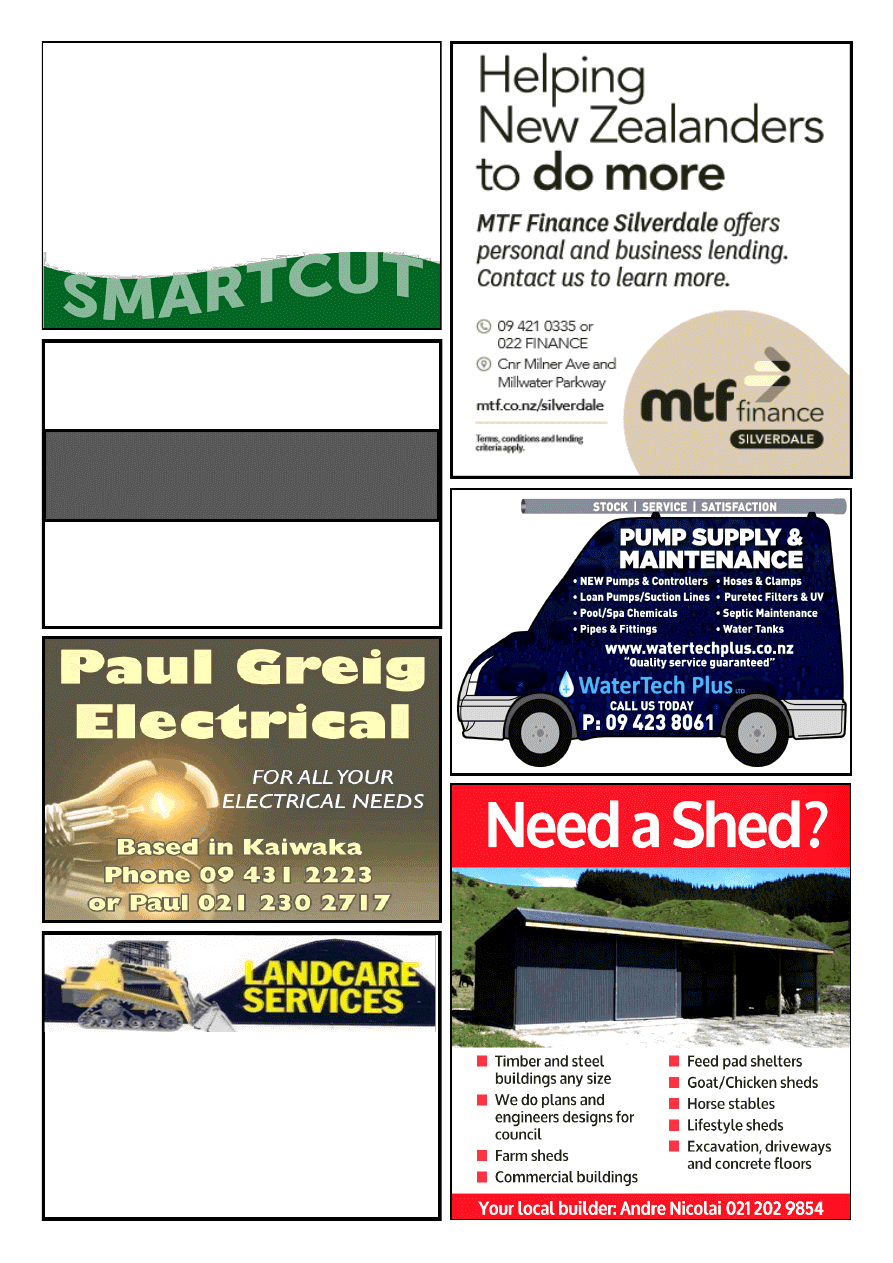 David Korach 
Your local Gib Stopper
DK PLASTERER LTD 
0274769221 
dkorach6@gmail.com 
LANDSCAPING 
4 IN 1 BUCKET 
TRENCHER 
POLE HOLES 
ROTARY HOE 
COMPACT ROLLER 
OFFAL HOLES 
CAN SUPPLY WOODCHIP & POST PEEL 
5 TON TIPPER 
FOR RELIABLE AND FRIENDLY SERVICE CONTACT DAVE 
Dave Hyndman 
 
KAIWAKA 
PH: 09 4312302 
MOB: 021 431 238 
All your outdoor needs sorted so you don't have to... 
I can prune, chop, tidy, spray, mow, plant 
- you name it, I can do it! 
Residential & Commercial 
Lawn & Garden Care 
Call Rodney, your local  
lawnmowing contractor 
021 138 2344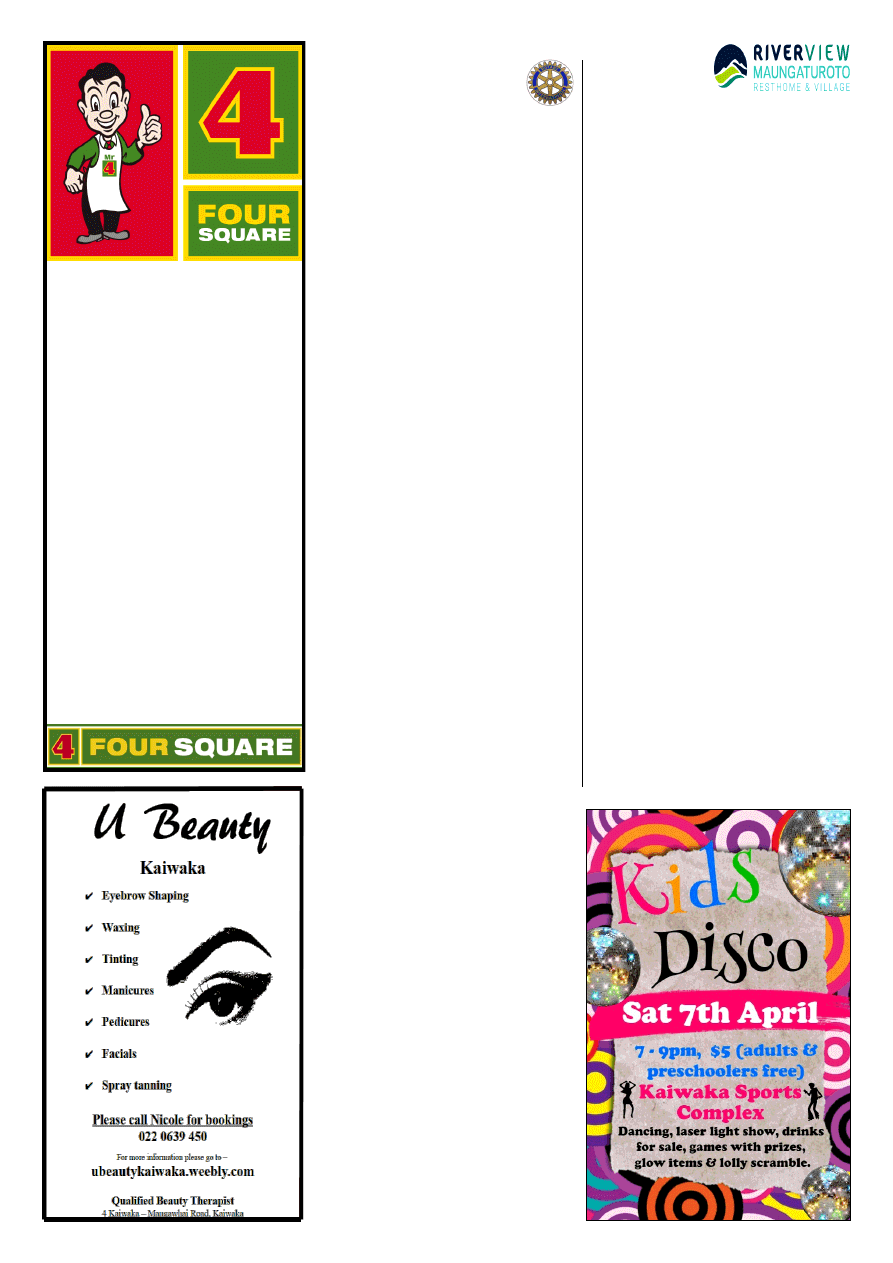 www.kaiwaka.co.nz 
Kaiwaka Bugle - 20 March 2018 
Page 7 
FRESHLY BAKED 
DAILY IN STORE 
HOT CROSS BUNS 
$4.99 6PACK 
Happy to bake to order 
Please phone 4312227 to 
place your order.  
Orders for Easter Weekend will 
need to be placed by 10am 
Wednesday 28th March 
New in Store larger size 60L 
Sodastream Swap and bottle. 
Open till 6.30 Monday to Friday
Jaques Four Square 
Phone: 4312227 
1 Kaiwaka-Mangawhai Road, Kaiwaka. 
MAUNGATUROTO and 
DISTRICTS ROTARY 
CLUB 
Many  of  you  will  be  aware  that  we 
sadly  lost  Terry  Hanna  who  was  a 
member  of  the  Club  for  44  years.  He 
was  a  Paul  Harris  Fellow  and  his  life 
epitomised  the  Rotary  motto  "Service 
above  self."  During  his  time  as  a 
member  of  our  Club,  Terry  was  the 
instigator  of  many  activities  that  made 
our community a better place. We will 
miss you Terry, but we are grateful for 
having you in our lives. 
As  a  result  of  the  cyclone  which 
devastated  Tonga  we  decided  to 
support another Emergency  Response 
Kit  (ERK).  These  kits  are  kept  in 
storage,  so  they  can  be  despatched 
quickly when needed. Each kit consists 
of 60 items packed in a 78l watertight 
container. 
These  basic  supplies  will  support  a 
family for several days when they have 
been involved in a disaster. 
In  the  past  few  weeks  we  have 
sponsored  several  areas  both  within 
and outside the club. 
Firstly, we contributed $250 to enable a 
young  disabled  student  to  attend  a 
Challenge Camp run by Rotary.  
We  have  also  sponsored  a  local  lad 
who,  later  in  April,  will  attend  RYLA 
(Rotary  Youth  Leadership  Academy). 
All  young  people  who  have  been 
involved  in  this  camp  have  found  it 
hugely beneficial to their careers.  
In the  middle of March, the Club paid 
for  a  bus  to  get  all  Year  12  students 
from  Otamatea  to  Whangarei  for  the 
Rotary  Youth  Driving  Academy. 
This  day  enables  the  youngsters  who 
are new to driving to be more aware of 
some of the issues that face them when 
they are behind the wheel. 
A number of Rotarians have completed 
training  as  Driver  Mentors.  This  will 
enable  us  to  support  those  in  the 
community  who  have  their  Learner's 
Licence and are working towards their 
Restricted.  We  are  doing  this  in 
conjunction  with  Te  Roroa  and 
Drivesafe Northland. 
Once  again,  we  have  had  some 
interesting speakers. Two of note were, 
Ian  and  Jasmine  Kiernan  (District 
Governor  Nominee)  from  Norfolk 
Island.  Not  only  did  Ian  give  us  an 
insight  into  island  life  but  also  a 
different  aspect  of  Rotary  in  our 
District  and  his  aspirations  for  2019. 
Another  speaker  we  had  was  Belinda 
Vernon (ex MP) who spoke about the 
restoration  work  on  Motutapu  Island 
and the plans the Trust has for the next 
forty years. 
The  motto  is  "breathing  life  into  an 
ancient  landform"  and  they  welcome 
volunteers  either  as  families  or 
corporates. 
Website 
www.motutapu.org.nz 
If  you  are  interested  in  learning  more 
about  Rotary  you  can  access  our 
website rotarymgto.club
RIVERVIEW 
RESTHOME 
NEEDS HELP 
The  good  news  is  that  our  expansion 
has commenced, the not so good news 
is  that  we  have  had  to  pause  work  on 
site,  this  has  come  about  for  a  couple 
of  reasons  ,  There  have  been 
unforgivable  delays  in  the  completion 
of  survey  work  which  has  been 
necessary  because  some  boundary 
changes  have  necessitated  changes  in 
some of the OYO titles. We understand 
that  this  is  near  completion,  which 
must be done for bank securities. 
While  the  bank  gave  us  heads  up  for 
financing  the  larger  share  of  the 
project, we have had to comply with a 
long  list  of  conditions  which  I  am  sad 
to  say  are  ongoing.  We  always  knew 
that  we  would  have  to  have  some 
considerable 
additional 
support 
financially  from  the  community  and 
were confident this would roll in as the 
project advanced. 
It looks like we will have to have this 
financial  support  sooner  rather  than 
later so,  
We  appeal  to  potential  givers  to 
consider your support now. 
Direct Credits to Trust Development 
Fund  06-0365-  00014253-046  -  Your 
name in Ref. 
We are deeply grateful to Alby and his 
Den  for  ongoing  fundraising  and  also 
donations in lieu of flowers from local 
funerals;  every  little  bit  helps!  The 
need for higher level of care is with us 
now! 
Manager  Tracy  often  has  to  turn 
prospective  clients  away  that  are  in 
need of a higher level of care than we 
can  offer;  a  local  identity  has  recently 
had to relocate to Ranburn. We are not 
happy  that  we  cannot  "look  after  our 
People".  Some  respite  clients  with 
dementia  have  also  had  to  find 
accommodation elsewhere.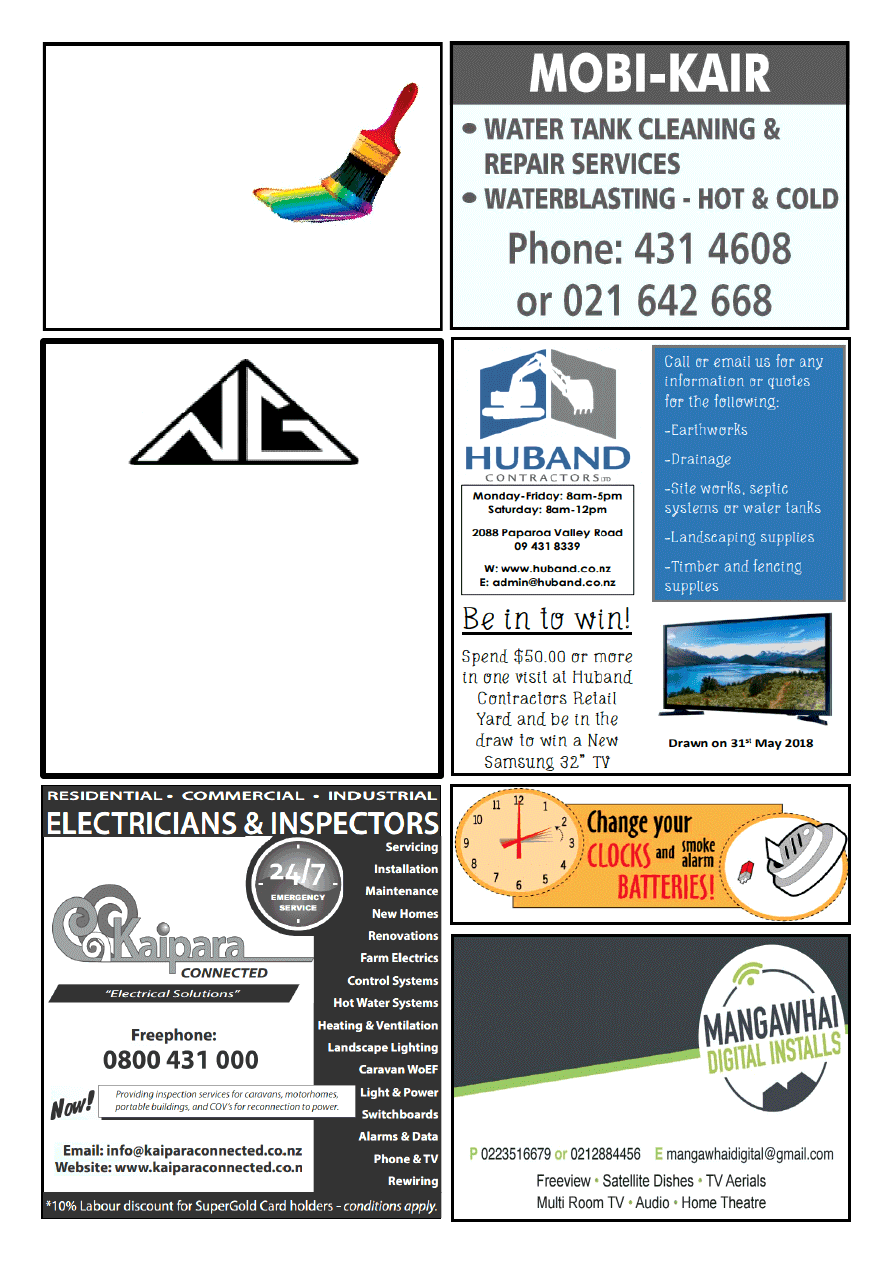 09 4312918 
0274735171 
leecooper@xtra.co.nz 
LEE COOPER PAINTERS 
(Kaiwaka Based) 
*30 yrs Experience 
*Interior/Exterior 
*New and Restoration 
*Honest and Reliable 
*Free Quotes 
NORTH GLASS 
WINDSCREEN REPAIR OR REPLACE 
GLAZING SERVICES 
MIRRORS  •  SPLASH BACKS  •  SHOWERS 
0800 70 40 10
info@northglass.co.nz 
www.northglass.co.nz 
1st April 
1st April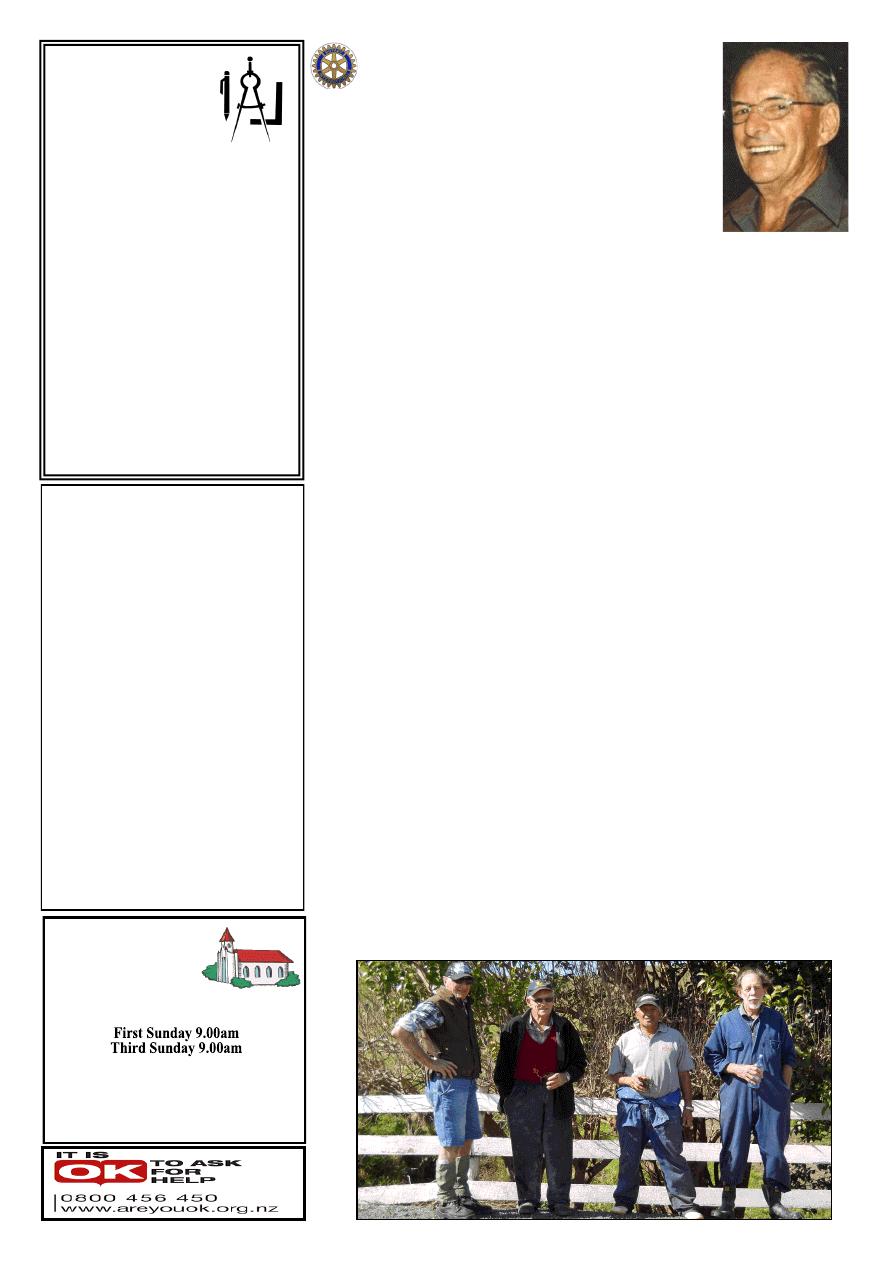 www.kaiwaka.co.nz 
Kaiwaka Bugle - 20 March 2018 
Page 9 
design  
drafting  
service 
Retired builder and manufacturer 
with over 40 years experience in the 
building industry is offering a design 
drafting service for domestic hous-
ing, sleepouts and sheds.  
Plans formulated in consultation 
with clients, with working drawings 
completed and submitted to council 
for processing.  
Extensive practical experience,  
able to identify & resolve problems.
Please ring Mike Lean on 
09 431 2260 
or 
021 431 196 
Mangawhai 
Heads 
Garden 
Centre
1758 Cove 
Road
945 0707 
021 165 2629 
ST PAUL'S  
ANGLICAN  
SUNDAY  
SERVICES
St Pauls Church: Kaiwaka-Mangawhai Rd. 
1st Sunday - Eucharist 
3rd Sunday - Family Service 
Rev. Wayne Thornton Ph 431 4122 
www.mangawhaianglican.org.nz
Our  Rotary  members join me  in 
remembering  the  44years  of 
unstinted  service  given  to  Rotary  and 
the  local  community  by  Paul  Harris 
Fellow, Terry Hanna. 
The  PHF  award  is  the  Rotary's 
equivalent  of  a  knighthood.  Terry  was 
awarded a PHF in August 1988 
Terry  joined  Rotary  on  the  1st  July 
1973 and from that day onwards he was 
a shining example of the Rotary mantra 
of  Family  first,  then  Business  and 
Service.  Not  only  did  he  raise  and 
nurture  a  wonderful  family,  but  he 
expanded  what  was  a  modest  dairy 
farm into what today is regarded as one 
of  the  top  farms  in  the  district  all  the 
while  being  dedicated  to  the  ideals  of 
Rotary. 
Terry  held  many  offices  in  the  club in 
some  cases  multiple  times,  he  was 
President  in  78/79  having  assisted 
Colin  Smith  the  previous  year  when 
Ivy  Ball  donated  land  for  the 
Retirement  Village  and  it  was  Colin 
and  Terry  who  did  a  lot  of  the 
canvassing  to  do  the  initial  research 
and development of the project. 
Terry's  passion  for  Piroa  Falls  has 
resulted  in  the  exceedingly  popular 
place it now is with bridges across the 
river  and  developed  walkways.  Terry 
planned  the  ingenious  use  of  a  flying 
fox  and  helicopter  to  position  picnic 
tables right down beside the swimming 
hole, all the while working closely with 
Local Authorities and DOC. 
There  are  very  few  places  in 
Maungaturoto  that  do  not  have  the 
Terry Hanna stamp on them. The initial 
playground  in  the  centre  of  the  town, 
Nikau  Grove  -  a  pleasant  quiet  glade 
and  walking  track  just  to  name  a 
couple. 
The  generous  use  of  farm  vehicles  for 
gathering  goods  for  our  auctions  then 
getting rid of unsold items, transporting 
sheep shillings, pig manure, and latterly 
calf  litter  compost  "Hanna  Transport" 
as  we  dubbed  it  was  invaluable  to  the 
club. Terry's tractor helped develop the 
avenue  of  trees  from  the  SH1  to  the 
township. 
A  Hanna  vehicle  was  present in pretty 
much every Christmas Parade over past 
decades. 
In 1985 we organised a train trip from 
Auckland  to  raise 
funds  for  a  Rotary 
world-wide 
initiative 
to 
eradicate 
Poliomyelitis,  the 
hundreds 
of 
visitors 
aboard 
were  entertained 
on the Hanna farm 
with  farm  tours 
and multiple demonstrations of farming 
activities. A hugely successful day. 
Ridding  the  district  of  privet  saw  a 
huge  effort  from  Terry  which  sparked 
an  awareness  from  The  Northland 
Regional  Council  along  with  the 
Kaipara  District  Council  and  a  local 
action  group,  we  are  now  seeing  great 
results. 
Terry  was  our  historian  with  hundreds 
of  visiting  club  banners,  photos  of 
working  bees  and  events  all  mounted 
and faithfully recorded. 
It  is  not  possible  to  recount  all  of 
Terry's  deeds,  just  to  mention  a  few 
from  outside  of  Rotary.  He  was  a 
member  of  the  North  Kaipara 
Agricultural  Association,  and  he  rode 
many times in the show ring; a member 
of  the  Hunt  club  and  he  won  the 
Northland  Steeplechase  -  he  was  an 
excellent horseman. 
I feel certain that there are many more 
organisations  who  benefited  from 
Terry's  involvement  that  I  am  not 
aware of, for that I apologise. 
Terry's  handshake  welcoming  you  to 
Rotary  was  always  warm  and  sincere 
we will miss it. 
Terry passed away doing something he 
was  excited  about,  while  waiting  as 
Craig loaded calf litter onto a truck for 
him to deliver. 
We  are  grateful  to  Kathleen  and 
Terry's family for sharing him with us, 
an  outstanding  Rotarian  who  was  a 
great  exponent  of  Rotary's  Motto 
"Service above Self". 
May I conclude by recalling the motto 
from  Terry's  and  my  boarding  school 
days in 
Auckland "Virtus Pollet" Which means 
manliness prevails. In Terry, manliness 
certainly prevailed.
~  Alex  Tetzner,  President  of  the  Maungaturoto 
and Districts Rotary Club. 
TERRY HANNA 
Photo by Liz Clark: Terry is second from left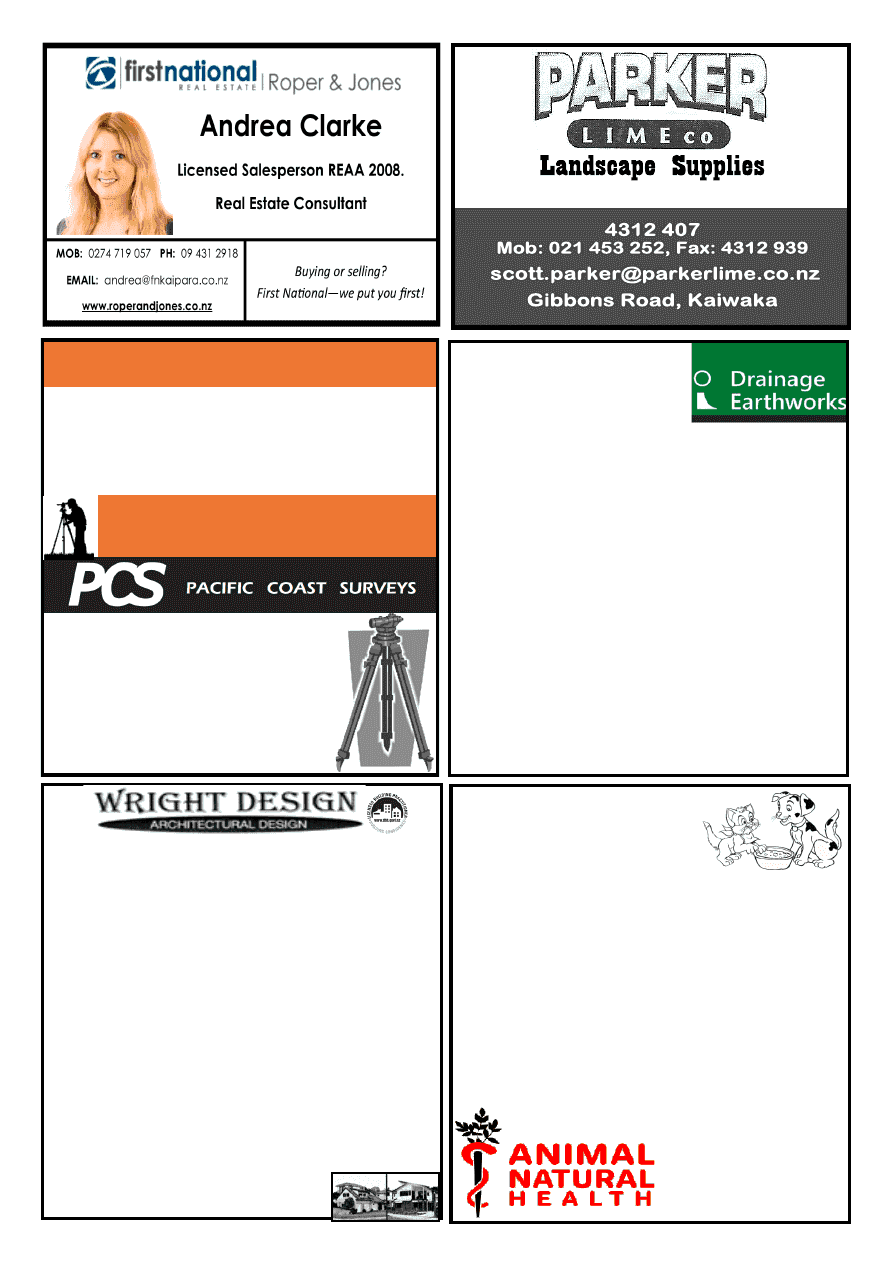 Drainage & Earthmoving 
nigel@clarkedrainage.nz 
027 2233 185 
Registered Drainlayer 
All Types of Earthworks  
> All Residential & Commercial Work  > House Sites 
> Septic System Design & Install 
> Footings & Drilling to 10m 
> Sewer Connections 
> Dams 
> Water Tank Installation 
> Roading & Races 
> Farm Work 
THE ONE STOP SHOP  
Phone Nigel for an Obligation Free Quote  
Bulk Cartage 
SURVEYORS 
SUBDIVISIONS 
HOUSE SITE SURVEYS 
CIVIL ENGINEERING 
WASTEWATER DESIGNS 
EXPERIENCED 
PROFESSIONAL 
INNOVATIVE 
Ph 09 431 5353 
0800 PACIFIC (0800 722 434) 
pacificcoastsurvey.com
Adam Booth - 027 415 5752 
Bsurv, Licensed Cadastral Surveyor
Surveying Kaipara since 1994 
If you are thinking of building then you 
will need a good and well experienced, 
qualified, and licensed designer. 
This applies if you are considering a 
new home any alterations or any 
building additions/farm buildings, 
sheds, alterations, whatsoever. 
For Resource and Building Consents, 
planning restraints, new building 
materials, applying for building permits 
– you need a capable, experienced, 
and professional designer with a clear 
knowledge of all the processes. 
Brian has been helping and organising 
all these facets of design and building 
for over 50 years. 
Wright Design offers free visits, 
consultations and advice on planning, 
design, building, council permit 
applications, guaranteed permit plan 
acceptance. 
QUALIFICATIONS 
Brian is a qualified designer 
(N.Z.C.A.D.) with over 50 years of 
varied experience in all types of 
building and is registered and Licensed 
Building practitioner in Design – 1 & 2 
Registered LBP117345 
He will ensure you will achieve the 
best from your budget. 
EXPERIENCE 
Brian's practical building and 50+ years 
of design experience means he can 
give you excellent advice and all the 
guidance needed. 
Brian can arrange engineering for a 
reasonable cost. 
•Qualified and inexpensive designer – 
N.Z.C.A.D. Registered LBP117345 
•Guaranteed design and working 
drawings 
•Free site visit to your home or 
property 
•Great service and free quotation 
PROJECTS 
Additions, alterations, basements, new 
homes, motels, bed and breakfast, 
commercial buildings, farm buildings, 
and shop fit outs are a few projects. 
Brian can show you many of his 
projects in the area to emphasise his 
versatility and can give you contact 
with satisfied clients. 
WHAT TO DO FROM NOW ON 
•Call Brian for a free quotation 
•Discuss your needs and obtain good 
advice 
•Brian can offer 
plan printing 
from A4 to A0 
(2x A1 size) 
No. 117345 
ORIJEN & ACANA  
now available!
Looking for economy with 
quality in pet food? 
Our 2kg fresh meat rolls only $12.90
Tukka Thyme Muesli (makes 3kg) - only $14.90 
Veal Bones 3kg $17.90 
Beef & Lamb Patties  3kg  $22.90 
Chicken Medallions 3kg  $18.90 
No nasty chemicals, cage & crate-free, free-range, 
organic where possible. 
Flea-Flee , Tick & Lice Control, alternatives to 
vaccinations. 
Safe beach leads, collars, toys. 
Want a choice in animal health care? 
See our Animal Naturopath.  
ANIMAL NATURAL 
HEALTH CENTRE 
Next to Italian Bakery, 
Kaiwaka 
Ph. 09 431 2217    
Open Mon-Sat.
N.Z.C.A.D., L.B.P. 117345 
PH/Fax: 09 423 8092 Mob: 021 276 7369 
Office: 3 John Sinclair Avenue, Wellsford    brianwright@xtra.co.nz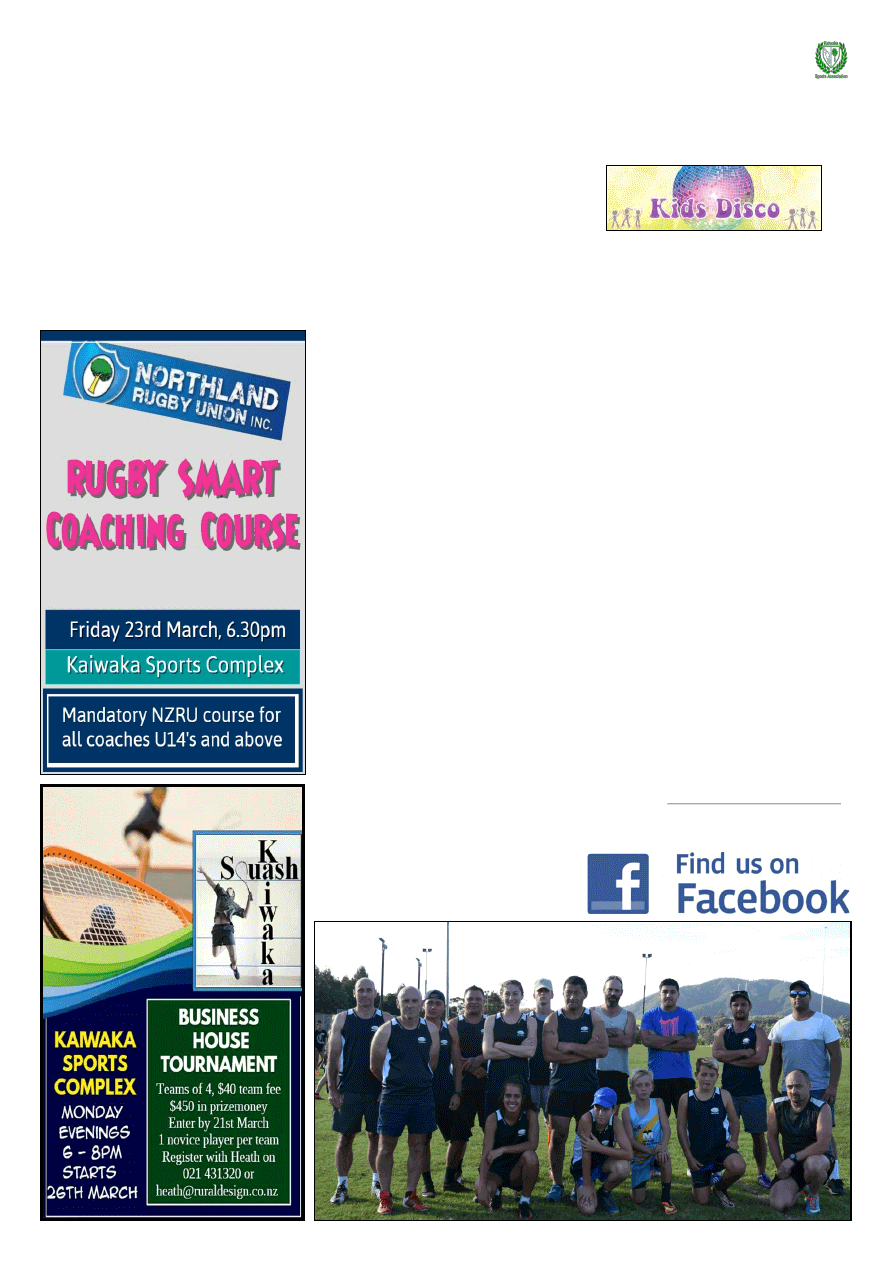 www.kaiwaka.co.nz 
Kaiwaka Bugle - 20 March 2018 
Page 11 
KAIWAKA SPORTS SOCIATION
Netball Tournament 
Our  Netball  Club  will  hold  a  Mixed 
Netball tournament on 29
th
 April at our 
courts,  as  a  fundraiser  for  getting  the 
OHS  netball  team  to  AIMS  in 
September.  This  will  be  a  fun  day  of 
netball,  with  a  hangi  and  neat  prizes. 
To  enter  a  team,  please  contact  Jodie 
Bennetto on mgtonetball@gmail.com
Touch 
After  eight  weeks  of  a  friendly  but 
competitive  Touch  Module,  the  finals 
were held last week, congratulations to 
the winning teams: 
  1
st  
The Spartans 
  2
nd
 Team Fonterra - pictured below 
  3
rd
 Chur Bros 
Photos  and  videos  of  the  action 
throughout the Module can be found on 
the Kaiwaka Touch Facebook page and 
on 
our 
website 
www.kaiwakasports.co.nz. A report on 
the  Module  is  in  this  edition  of  the 
Kaiwaka Bugle.  
Rugby – JMB 
Do you have a boy or girl aged 4 – 11 
years,  who  is  wanting  to  play  rugby? 
Our  junior  rugby  club,  Eastern  United 
JMB (Junior Management Board), is a 
small,  friendly  club  with  the  focus  on 
kids having fun and learning ball skills 
and  team  work  within  a  supportive 
environment.  JMB's  annual  subs  are 
low  –  just  $20  per  child  or  $30  for  a 
family.  The  junior  rugby  season  is 
starting  soon,  so  if  you  have  a  child 
who  is  interested,  please  contact  Te 
Awhina Whitehead on 021 02596889. 
Rugby – IMB 
IMB trainings will be at our grounds on 
Tuesday  and  Thursday  evenings.  For 
IMB  queries,  please  contact  Lorena 
Reynolds  on  holygrail@mail.com  or 
via the Otamatea Hawks IMB facebook 
page. 
Rugby – Senior
A  Rugby  Smart  coaching  course  will 
be  held  at  the KSA  this  Friday  23
rd
  at 
6.30pm.  This  is  a  requirement  for  all 
coaches  of  rugby  teams  from  Under 
14's and above.
The  next  Hawks  match  to  be  held  at 
our  grounds  will  be  a  night  game  on 
Thursday 29
th
 March against Old Boys 
Marist. 
Squash
Our  squash  club  are  putting  on  a 
Business  House  tournament.  The 
tournament  will  be  played  on  Monday 
evenings  from  6pm,  starting  Monday 
26th  March.
Only  $40  entry  fee  for 
your team, one of your team  members 
must be a novice player. Great fun plus 
prizes up for grabs!
To  enter,  contact  Heath  Worsfold  on 
021 431320. 
Fitness Centre
Our  Fitness  Centre  will  hold  their 
Annual 
General 
Meeting 
on 
Wednesday  28
th
  March  at  6pm,  inside 
the Fitness Centre. All welcome.
Netball – Senior
Otamatea-Ex  Netball  club  are  holding 
their  trials  at  our  courts  this  Tuesday 
20
th
  March  at  6.30pm.  All  senior 
players welcome.  
Kids Disco 
Shake Your Groove Thang!  
Yes,  we  are  putting  on  a  Kids  Disco. 
The  disco  will  be  held  at  the  Sports 
Complex on Saturday 7
th
 April from 7 
til  9pm,  and  will  feature  great  music 
and  dancing,  a  lolly  scramble,  a  laser 
light  show,  glow  items,  refreshments 
and games with prizes. $5 entry (adults 
and preschoolers are free). If you've got 
kids who like to boogie, mark it in your 
diary.
Emergency Accessway 
Please note that the gate in our carpark 
which leads onto the field (next to the 
swimming  pool)  is  our  emergency 
accessway for ambulances. It is painted 
yellow and has a Keep Clear sign on it. 
Please do not park in front of the gate. 
You  would not  want  to  be  responsible 
for  holding  up  an  ambulance  trying  to 
reach a patient!  
Kaiwaka Sports Awards 
For  our  annual  Sports  Awards,  our 
affiliated 
clubs 
nominate 
their 
members  in  the  categories  of  Senior 
Sportsperson  of  the  Year,  Junior 
Sportsperson  of  the  Year,  Service  to 
Sport  and  the  Greg  McRae  Memorial 
Trophy.  The  Awards  Dinner  will  be 
held  on  Wednesday  18
th
  April,  more 
details in the next Bugle.  
To  keep  up  to  date  with  KSA  news, 
please  like  my  Kaiwaka  Sports 
Complex Facebook page, or check out 
our website www.kaiwakasports.co.nz. 
~Cheryl Anderson,  
4312 051, 027 3462702 
kaiwakasports@gmail.com 
BARRY CURTIS PLUMBING LTD 
REGISTERED CRAFTSMAN PLUMBER 
Phone 431 5572
027 257 9884 
25 years' experience 
Friendly reliable service 
All plumbing & maintenance 
Alterations and new housing 
Spouting  
C
ompetitive rates 
PROMPT EFFICIENT SERVICE 
KAIPARA FLOORING CO 
Independently owned & operated 
32 HURNDALL ST MAUNGATUROTO
Supply & Installation of Carpet, Vinyl,  
Vinyl Wood Planking
Stockists of 2m & 3m wide 
vinyl & carpet short ends
Residential & Commercial
Q Card Finance Approved 
6-18 month terms 
6 mth interest free
First Class Installations
For a free measure & quote 
phone Christine  
09 946 9886 or 021 515 415 
kaiparaflooring@gmail.com 
http://www.kaiparaflooring.co.nz/ 
HODGETTS 
CONTRACTING
Digger Work 

Driveways 

House Sites

Dams  

Drains, etc
Also available for HIRE 

4
3 ton Vib Roller 

Heavy Duty Tow  

4
Waterblaster   
 
Lazer Level 
Phone Mark 4312877 
OWEN STEVENS 
Osteo Therapist
For careful adjustments to bones 
and joints 
Treatment for humans and their 
pets 
Clinics: 
Kate's Place, 
Kaiwaka: 
Last Friday of 
month 
For bookings: 
9.00am-5.00pm  
Phone 
09 4312661 
Or phone Owen  
09 4317123 anytime 
PLANNING A NEW KITCHEN?
 CONTACT NOEL McDOWELL
WELLSFORD 
KITCHENS
Ph/Fax 094312888
KAIWAKA-Any time
 QUALITY CUSTOM MADE 
KITCHENS
Te Pounga Marae 
130 Nathan Rd. Oneriri. Kaiwaka 0573 
COMPLEX FOR 
HIRE 
Functions 
* Weddings  * Birthdays  
*Anniversaries * Meetings  * Wananga 
5 hour meeting * 12 hour stay  * 
Overnight 
*All welcome - No more Drink-driving 
Amenities: 
*Convo Combi Steamer * Bratt Pan * 
Dish Washer/Sterilizer * 3 Door Glass 
Chiller (walk in) etc…All Crockery * 
Linen Supplied * Central Heating and 
Air Conditioning and much more.  
Can also cater for small groups…. 
For more information please contact: 
Kim Wallace  
Home: 09 832 1133  Mob: 0211275340  
Email: kimwallace@xtra.co.nz 
S.O.S Kaipara 
Support, advocacy, crisis and 
family therapy counselling, refuge 
housing to survivors of sexual 
abuse and domestic violence. Also 
Education prevention programmes 
for the community and clients.  
Office hours 9am to 3pm Monday to 
Friday; 24/7 a Police or phone 09 
4396070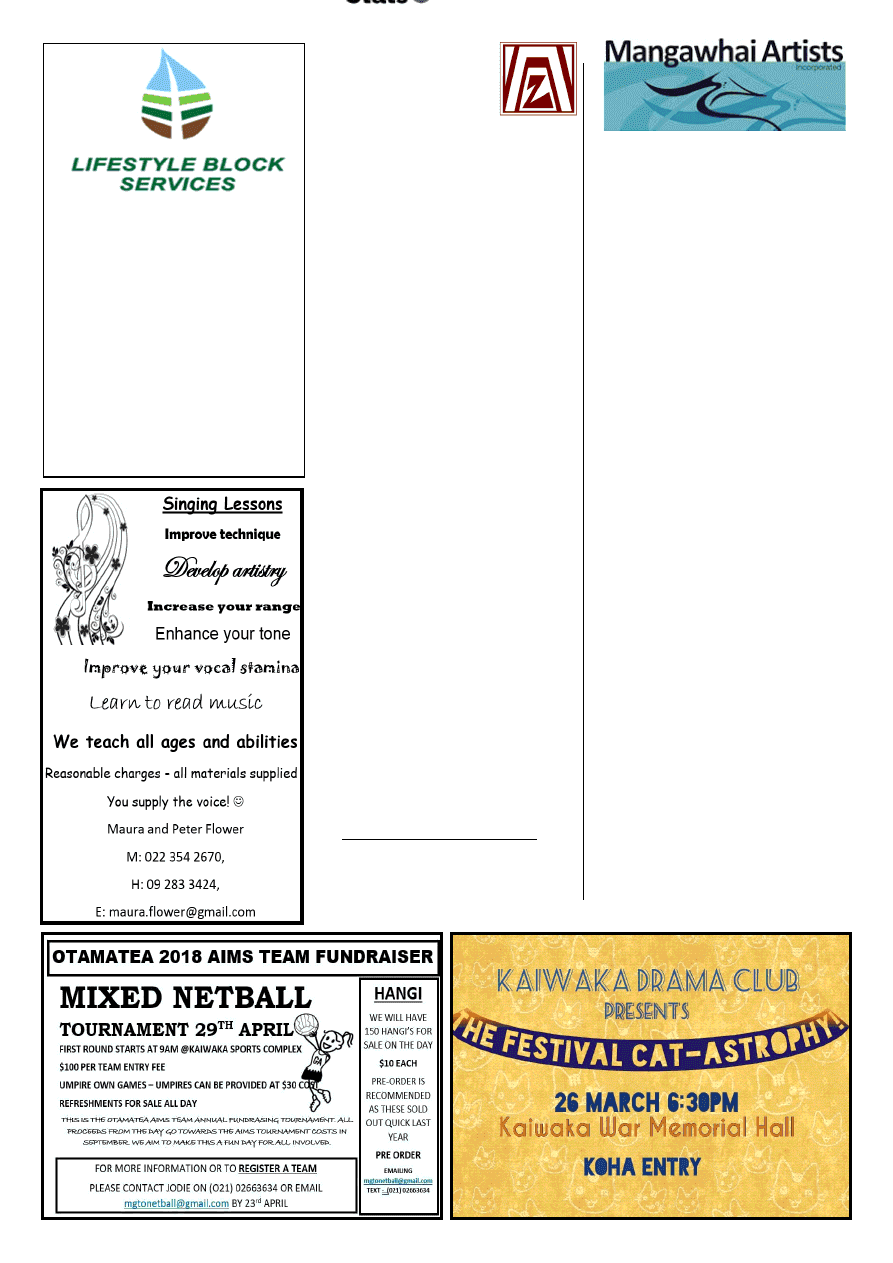 www.kaiwaka.co.nz 
Kaiwaka Bugle - 20 March 2018 
Page 13 
 EASTER ART 
TRAIL 
The  Mangawhai  Artists  Art  Trail  will 
be  an  opportunity  to  enjoy  weekend 
life  in  Mangawhai  along  with  a  large 
dose of creativity. You will be able to 
see a huge range of art and visit artists' 
studios.  
There  are  19  venues  including  artist 
studios,  the  Heritage  Church  by 
Mangawhai  Museum,  Bennett's  Cafe 
and Mangawhai Artists Gallery to visit 
with well over 50 artists showing their 
work. 
Jeanette  Vickers,  curator  for  the 
exhibition says, 'Members' exhibitions 
are  always  popular  because  with  so 
many  artists  contributing  there  is  a 
fantastic  mix  of  art  styles,  mediums 
and  images.  You  will  see  paintings, 
prints, 
3-dimensional 
work, 
landscapes,  still  life,  birds,  abstracts; 
the  variety  will  be  considerable'. 
Opening  on  Thursday  22  March  at 
6pm  and  running  all  the  way 
through  the  Easter  break  until  4 
April, there will be plenty to see and 
enjoy. 
During  the  Easter  weekend,  artists 
open  their  studios  which  are  always 
intriguing  and  revealing.  This  is  an 
opportunity  to  see  behind  the  scenes 
and marvel at how artists produce their 
work.  Artists  will  be  on  hand  to  talk 
about  their  art  and  answer  your 
questions.  Mark  the  dates  off  now  – 
Easter Saturday 31 March and Easter 
Sunday 1 April, from 10am to 4pm. 
The  Art  Trail  is  free,  and  the  guide 
book  is  $5.  The  guide  book  is  packed 
with  illustrations  and  information  on 
the artists and their art as well as a map 
to help you plan your route around the 
venues.  The  Art  Trail  offers  an 
opportunity  to  buy  art  direct  from  the 
artists – cash and carry.     
After  Easter  there  will  be  three  more 
exhibitions  at  the  Gallery  -  changing 
every two weeks. 
2018 ZONTA 
MANGAWHAI 
"SECOND CHANCE 
STUDY AWARD"
The Zonta Club of Mangawhai is once 
again  offering  a  Second  Chance  for 
Women Study Award. 
The  successful  applicant  will  receive 
$2500  towards  tuition  fees  for  an 
NZQA  approved  course  of  study 
towards a sustainable career path. Any 
woman  furthering  educational  studies 
who  is  resident  in  the  Mangawhai, 
Kaiwaka,  Maungaturoto,  or  Bream 
Bay area is eligible to apply. 
Awardees  from  the  past  2  years, 
Alaina  Samson  and Jacqueline  Busby, 
were  both  very  worthy  and  popular 
recipients  who  used  their  awards  to 
assist  with  their  final  year  in  their 
Nursing studies. 
Application forms can be requested by 
emailing  zonta@mangawhai.org.nz  or 
texting Sue on 027555 6636 with your 
name and email address. 
Applications  are  due  by  May  4th 
and  interviews  will  be  held  on  May 
26th. 
This  award  is  made  possible  because 
of  the  generosity  of  the  local 
community at Zonta fundraising events 
such as our Mid-Winter Ball and quiz 
nights.  It  is  in  addition  to  the  two 
places  awarded  to  young  women  on 
Spirit  of  Adventure  Leadership 
Voyages  and  the  Yellow  Rose  Award 
for Service to the Community. 
SAVE  THE  DATE:  The  Zonta 
Midwinter Ball will be held again this 
year  on  June  30th,  so  put  this  date  in 
your  diary  and  watch  this  space  for 
ticket sales.  
The Club welcomes new members and 
would love to hear from you – contact 
zonta@mangawhai.org.nz  or  phone 
Helen  on  027  236  1557  for  further 
information  or  to  come  along  to  a 
meeting  to  hear  interesting  speakers 
and meet new friends. 
"Don't forget it's daylight saving time. 
You spring forward, then you fall back. 
It's like Robert Downey Jr. getting out 
of bed." - David Letterman 
Make Baleage while the sun shines! 
Let us make hay/sileage for you, or 
buy single & 5 bale equivalents from 
us
. 
Contact Mark on 021 801 065 or 
Contact Lisa on 021 108 1057
We also do: 

Fencing 

 Spraying 

  Mulching 
 
Stockwork 

  Stock Water 
Systems 

  Tree Trimming  

 Driveway & Track Maintenance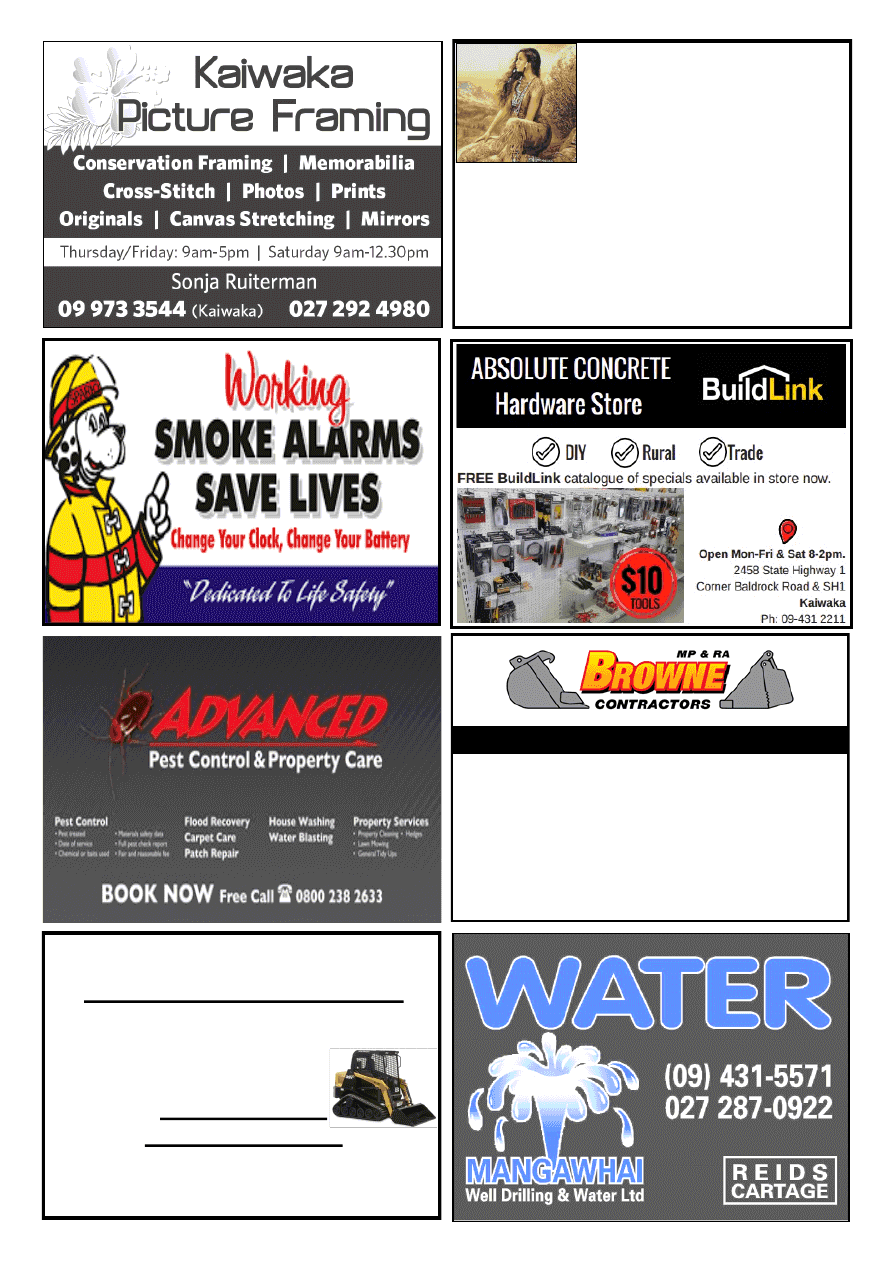 Natural Earth Ltd 
Landscape and Bobcat services 
 : Driveways :Landscaping :Retaining Walls 
 : Hole Boring: Land Levelling :Trenching 
 : Decks :Fences :Sections Cleared 
 : Plus much more
Tel 09 4312 885 
Mob 02102391280 
For A Fast Friendly Service  
Contact Tim Hicks 
4T DIGGER – BOBCAT – TIP TRUCK 
Property Maintenance - Driveways - Building Sites 
Stump & Tree Removal - Hole Boring - Chain Trencher 
Calf Shed and  Stockyard Cleaning
KAIPARA - WHANGAREI - RODNEY 
Phone Matt: 021 199 6677 
Email: mprabrownecontractors@gmail.com 
Trails end 
spiritualist gathering 
Last Sunday of every month  
11.30-2pm  
Tea/coffee provided  $5 koha 
For all inquiries: 
021 165 2629 evenings (09) 945 0707 
Trail.end@hotmail.com 
1758 Cove Road, Mangawhai
Bringing together light minded people 
Guest speaker each month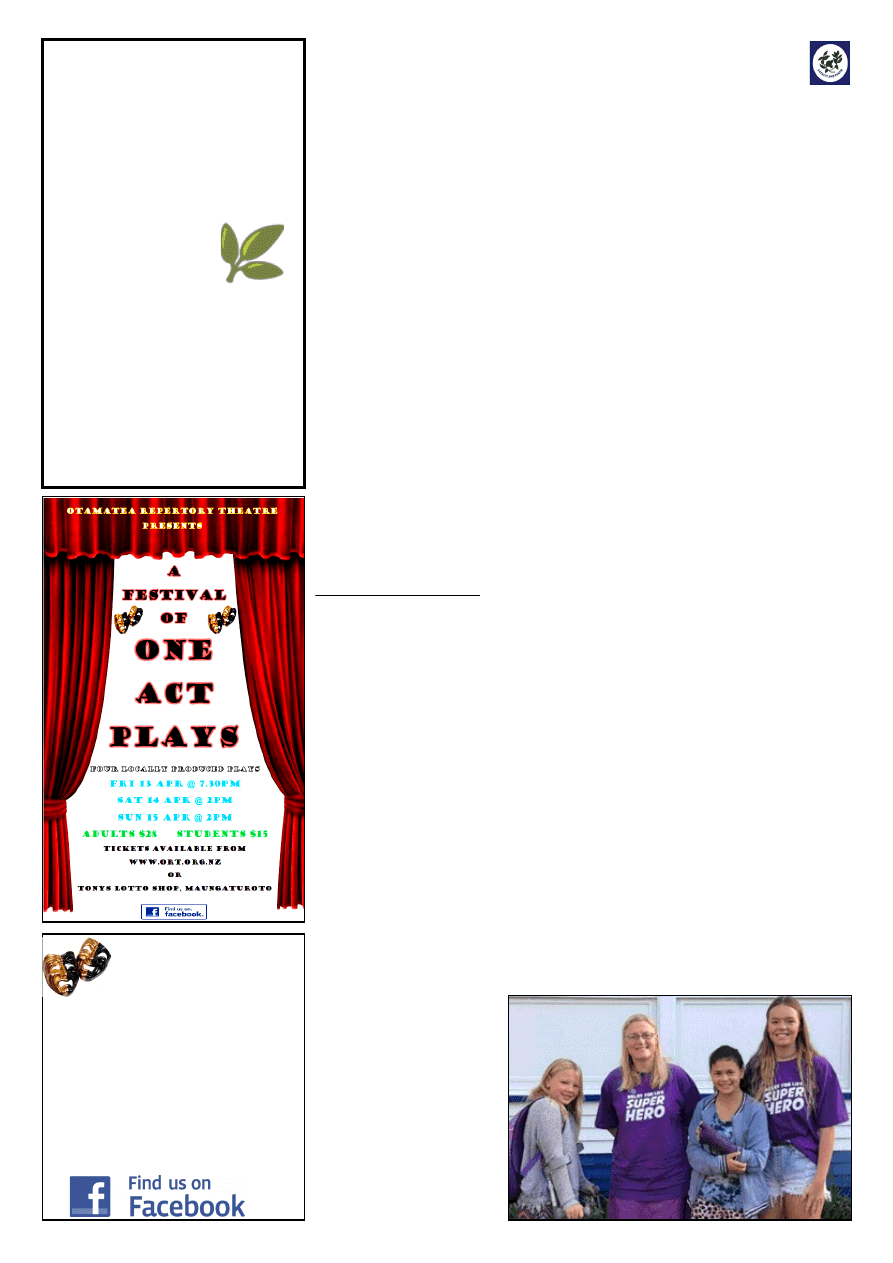 www.kaiwaka.co.nz 
Kaiwaka Bugle - 20 March 2018 
Page 15 
OTAMATEA HIGH SCHOOL 
Our Principal 
It  is  almost  5  years  since  Rachel 
Clothier-Simmonds  was  appointed 
Principal  and  during  her  tenure  there 
have  been  a  lot  of  new  initiatives  and 
changes that have taken place that have 
resulted  in  improved  achievement 
results  and  school  culture.  With  an 
increasing  roll,  changing  population, 
and developing initiatives in education, 
it  is  timely  to  consult  with  the  staff, 
students and community to ensure that 
the school continues to meet the needs 
of those it serves and to define a future 
direction for the school.   
Strategic planning  
The Board of Trustees have contracted 
Sue  Poynter  to  lead  a  values  driven 
approach  to  define  a  long  term  vision 
and  framework  that  will  drive  the 
future  focus  of  the  school.  Sue  is  an 
independent  educational  consultant 
who has worked closely with Otamatea 
High School in an advisory capacity on 
a  number  of  projects  including 
strategic 
planning, 
professional 
development and performance review.   
On  Friday,  May  4th,  2018  we  will  be 
spending 
the 
whole 
day 
in 
collaboration with staff and community 
to  explore  and  shape  the  future 
education of your children.  We invite 
members of the community who would 
like  to  participate  in  this  process  to 
contact 
the 
school 
on 
ohs@otamatea.school.nz 
with 
an 
expression  of  interest.    Lunch  will  be 
provided.    Please  confirm  attendance 
for  this  full  day  event  by  midday  on 
Tuesday  1st  May  as  catering  numbers 
need  to  be  finalised.    Come  and  join 
us!  
~ Sue Poynter, School Solutionz  
Social media   
Many  of  our  students  are  excellent 
users of social media such as Facebook 
and  Instagram  but  some  students  use 
these  channels  inappropriately.    The 
legal age for students to use such sites 
is  13  but  it  is  not  uncommon  for 
younger  students to create  profiles.   If 
we  are  aware  of  your  child  becoming 
involved  in  sending  or  receiving 
inappropriate  messages  we  will  be  in 
touch  with  you  so  that  you  become 
aware  of  what  is  happening.  You  will 
then  be  able  to  closely  monitor  their 
internet use in order to keep them safe.   
Police vetting 
Later in the year we will be looking for 
host  families  for  both  the  Reporoa 
Exchange  and  to  host  a  group  of  Thai 
students.    In  order  to  be  eligible  as 
hosts  all  family  members 
over  18  need  to  be  police 
vetted.    The  school's 
procedure  is  to  also  police 
vet  any  volunteers  who 
have  unsupervised  access 
to  students  such  as  sports 
coaches  and  those  on 
overnight 
trips 
and 
activities.    As  the  police 
vetting  can  be  a  timely 
process  we  are  seeking 
volunteers for each of these 
now.  The link below gives 
details  about  the  process.  
Potential 
volunteers 
are 
encouraged  to  complete  the 
form  and  bring  two  suitable  forms  of 
identification  to  the  school  office  for 
verifying.   Please note that the results 
of  the  police  vet  will  remain 
confidential and can only be discussed 
between  the  Principal  and  the  person 
who has completed the form.  Anyone 
who has spent a long period of time in 
Australia  will  need  to  complete 
additional forms.   
http://www.police.govt.nz/sites/default/
files/publications/pvs-vetting-request-
and-consent-form.pdf  
Host Families Wanted  
We  have  a  group  of  Thai  students 
coming  for  three  weeks  from  October 
5th to 25th this year.  If you are able to 
host  one  or  two,  please  contact 
Heather 
Troost 
at 
heather.troost@otamatea.school.nz, 
or on 021  08098222. You will receive 
$200/ week per student to help towards 
costs. We look forward to hearing from 
you real soon.  
Careers Roadshow  
Parents  are  most  welcome  to    attend 
the roadshow from 9.00am to 12.00 on 
Friday 23 March. If you would like to 
see  Elizabeth  van  den  Berg  regarding 
your  student's  needs  in  any  area  of 
giftedness  or  talent,  or  regarding  a 
correspondence  subject  or  careers, 
please  make  an  appointment  for  the 
Parent 
Teacher 
interviews 
on 
Wednesday 21 March.  
Public Health News - Scabies 
We  have  some  scabies  in  the 
community,  so  please  be  aware. 
Scabies  is  caused  by  tiny  bugs  that 
burrow  along  in  the  skin,  laying  eggs 
as  they  go.  Above  the  eggs,  small 
blisters can form, these are very itchy. 
Scabies  will  not  go  away  without 
treatment, take your child to the GP or 
talk  to  your  Public  Health  Nurse.  You 
will  require  cream  from  the  pharmacy 
or  GP  and  the  whole  family  must  get 
treated,  wash  everyone's  clothes  and 
sheets  in  hot  water,  have  a  shower 
or 
bath at night time before rubbing cream 
all over your body and sleep with it on, 
wash  the    cream  off  the  next  day  and 
put on clean clothes.   Children should 
not attend school or preschool until 24 
hours  after  the  first  treatment.    Don't 
share  a  bed  or  clothes  with  someone 
who has untreated scabies. 
For  more  info,  ask  your  GP,  Practice 
Nurse or Public Health Nurse, Celia at 
021 432 084 
Cut Above Gardening &  
House Maintenance  

Free quotes  

Special rates for pensioners  

Competitively priced  
 
Garden maintenance  
 
Barking/make overs 
 
Weed control with organic sprays  
 
House washing  
 
Gutter clearing  
 
Rubbish removal  
 
Hedge trimming   
 
Planting  
 
Lawn mowing  
No job to small  
Locally based  
One off or on-going regular 
maintenance  
Offering a professional service 
 at a realistic price 
Cut above gardening making  
your gardens a cut above the rest  
Please contact Jayden on 
0224683069  
Otamatea 
Repertory 
Theatre  will  be  running  a 
minibus  from  The  Hub  at 
Mangawhai  to  the  theatre 
for the 
Festival of One Act Plays. 
Friday 13 April, 2.30pm 
Saturday 14 April, 2pm 
Sunday 15 April, 2pm 
Bookings  essential  -  only  11  seats 
available.  
Cost $5 return fare.  
Text  022  354  2670  to  confirm  your 
place.  
Leaving an hour before each show. 
Relay for Life participants in purple!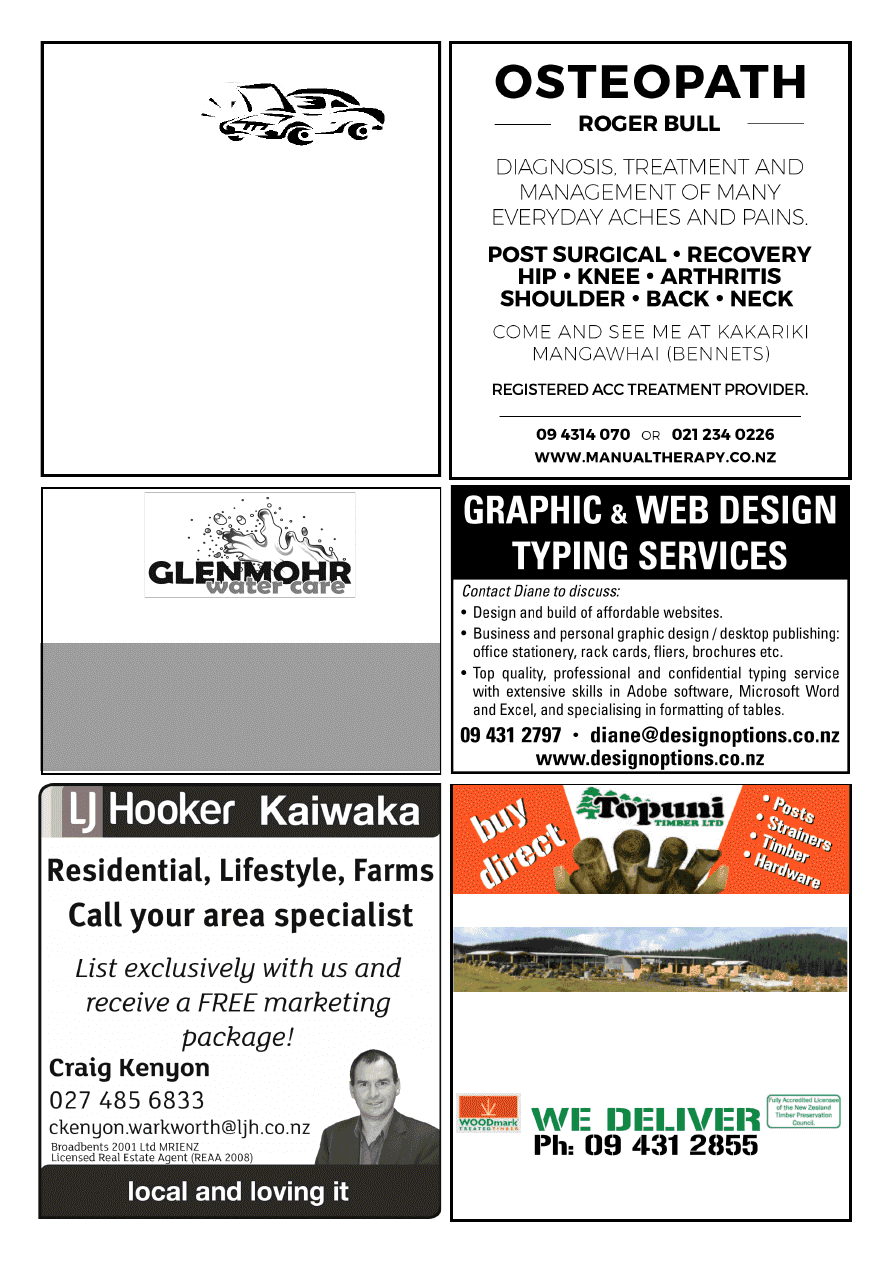 Water Tank Cleaning 
• 
Keep your water safe & clean  
• 
Removal of sediment, silt etc. 
• 
Vacuum or full scrub 
• 
Minimal water loss 
Phone Mark (09) 432 0655 or 0274 707607 
Twinkle Tow 'n' Tyre 
Think you'll get a better deal in the city? 
Ring us - it won't cost anything! 
1837 State Highway 1, Kaiwaka 
Phone 431 2823 
*W.O.F. 
*Tyres 
*Windscreen 
replacement 
*Chip repairs 
*Bulk Oil 
*Batteries 
*Welding 
*Custom built 
trailers 
*Trailer hire
LOCALLY OWNED AND OPERATED 
QUALITY PRODUCTS • FRIENDLY ADVICE • GREAT SERVICE 
Quality Products milled from High Density NORTHLAND Radiata Pine. 
Treated and guaranteed to NZS3640 with commitment to 
Environmental Safety.
Phone, fax, email, or come into the mill 
Schiska Rd, Topuni, SH1, 10 min north of Wellsford. Fax: 09 431 2856 
Email: sales@topunitimber.co.nz           Mon - Fri 7am-5pm 
• Fencing 
• Retaining 
• Decking 
• Landscaping 
• Gates 
• Hardware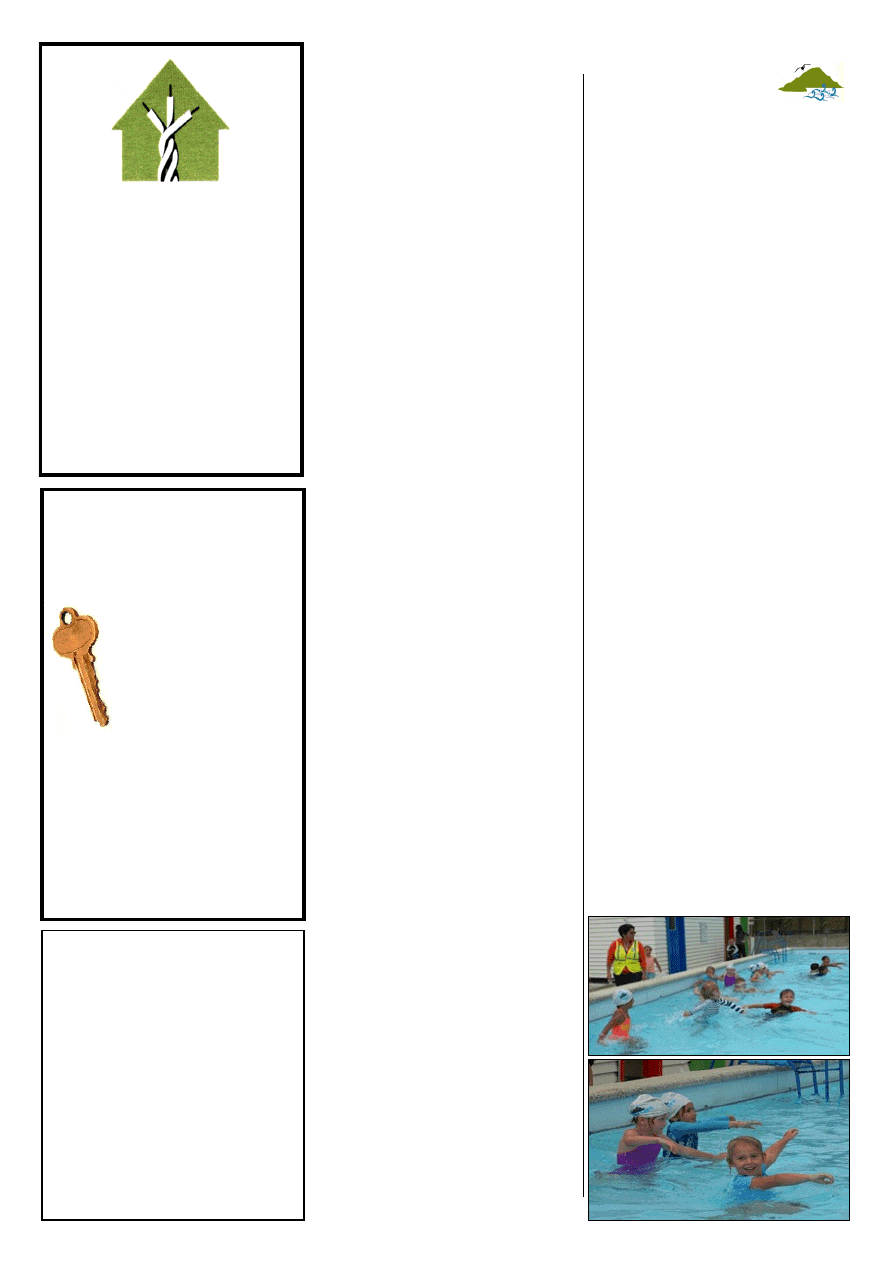 www.kaiwaka.co.nz 
Kaiwaka Bugle - 20 March 2018 
Page 17 
Reyahn George 
Leng 
Registered Electrician 
Local, honest and 
reliable. 
For your residential and 
light-commercial 
projects. 
022 314 1068 
Kaiwaka 
Hardware  
& 
Key cutting
Phone 4312 063  
or 022 0642 703
kaikey2015@gmail.com
    Keys Cut  
Household Hardware  
Sharpening  
Knives & Tools 
Curtain Tracks & Fittings
Not there? Call Doug and he'll 
sort
it for you. 
(
Next to Kaiwaka Motorcycles)
KAIWAKA SCHOOL  
Swimming Sports 
Congratulations to all our  
swimmers, especially those who gained 
a  place  in  the  Bream  Bay  Swimming 
Competition. It was a great day. Thank 
you  to  Anna  Elworthy  for  organising 
our  swimming  sports,  and  all  the 
teachers and parents who helped on the 
day. 
Our  Triathlon  is  on  Wednesday  21st 
March.  Lots  of  our  students  love  this 
challenging and fun event. 
New Classroom   
Our  new  classroom  has  arrived.  The 
contractors 
are 
to 
commence 
renovations  on  19
th
  March  and  it  is 
expected  that  it  will  be  ready  for  use 
for Term 2. 
Giant Pumpkin Competition 
The  Kaiwaka  School  Giant  Pumpkin 
Competition  is  on  Tuesday  27th 
March.  Weigh  In  is  at  8.30am. 
Followed by Arty Farty and Hill Roll. 
This  is  at  School  and  everyone  is 
welcome.  
Kaiwaka School After School Care 
After School care is going really well, 
with  our  maximum  of  20  students  per 
day often being reached now. 
The  plan  is  for  us  to  be  at  the  Archie 
Bull Hall until the end of this term and 
then back at school next term. 
Costs  are:  $5  per  hour  per  child  per 
day. The discount no longer applies for 
this  term.  Please  phone  Cheyenne  on 
021  0807  2795  for  all  queries  and 
bookings. 
Whanau Easter Raffle 
The  Whanau  Group  are  running  an 
Easter  Raffle  to  raise  funds  for  more 
Piupiu  for  the  kapa  haka  group.  Be  in 
to  win  an  Easter  hamper  with  lots  of 
delicious  goodies  kindly  donated  from 
Jaques  Four  Square  and  Bennetts  of 
Mangawhai.  Each  ticket  is  $2,  the 
more  you  buy  the  more  chances  you 
have to win. A name will be drawn on 
Thursday 29th March. 
21 March Have a Go -Triathlon 
22 March-Visiting Drummer 
27 March- Pumpkin Competition 
30 March-3 April - Easter 
9-13 April-Parent Interviews 
13 April-End of Term 1. 
KAIWAKA CAN 
We  have  been  going  through  some 
changes in Kaiwaka Can over the past 
month or so. 
New Council representative 
We  have  said  a  sad  farewell  to  Annie 
van  der  Plas  from  Council  who  has 
worked  so  hard  on  our  behalf  for  the 
past  three  years.  Her  replacement  is 
Jenny  Rooney,  recently  appointed  as 
Funding  Advisor  to  the  Council.  We 
look forward to Jenny's contribution. 
New way of operating 
In  the  past,  we  have  all  dealt  with the 
whole  agenda  together  but  as  the 
projects  have  expanded  so  much,  we 
have  now  divided  into  groups  with 
similar tasks.  
These include  - 
roading and transport,  
environmental,  
development,  
recreational and social concern.  
Each of these has quite a list to manage 
but  the  teams  are  already  well  under 
way with their plans. For example, one 
of  the  teams  is  working  on  a  lighting 
strategy  as  we  try  and  recover  our 
reputation as the little town of lights. It 
is a highly complex task, but we want 
to have a lot more lights in place by the 
time  the  Scout  Jamboree  arrives  in 
January, 
with 
its 
theme 
of 
'Illumination'. 
Entrance Sculptures 
Once  again,  we  are  waiting  on  a  final 
go  ahead  from  NZTA  as  they  pass  a 
decision up through the levels that have 
to  be  consulted  –  a  great  test  of 
patience! 
Roading and the future 
The  new  proposed  10-year  plan  for 
Council seems to offer very little relief 
to  some  of  our  roads  that  are  in  very 
poor  condition,  especially  Gibbons 
Road.  Much  of  the  extra  funding  is 
going into the Poutu Road to deal with 
the demands of logging in the area. 
We  are  also  trying  to  clarify  plans  for 
Kaiwaka  in  the  proposed  Te  Hana 
Whangarei expressway but so far have 
no clear idea of what is proposed. 
Walkways and access 
There  is  a  possibility  of  some  extra 
funding for our dreams of better access 
round Kaiwaka and a network of tracks 
and  easy  bridge  access.  We  have  to 
present a strong case for this funding to 
KDC  before  the  closing  date  in  early 
April. 
There  are  many  other  items  on  our 
agenda,  but  this  gives  a  glimpse  of 
what  is  happening.  We  meet  this 
Monday  (19  March)  for  our  regular 
meeting and remind people that anyone 
is welcome to any of the meetings, held 
each  third  Monday  5.30pm  in  the 
Archie  Bull  Hall.  We  would  love 
people of diverse ideas and gifts to join 
in  planning  the  future  for  our  great 
little township and district. 
Derek Christensen 
Chair, Kaiwaka Can  
HELP 
PHONE NUMBERS 
HEALTHLINE:  
0800 611 116 
SAMARITANS:  
0800 726 666
YOUTHLINE:  
0800 376 633 
LIFELINE     
0800 543 354
DEPRESSION HELPLINE:  
          0800 111 756 
ALCOHOL & DRUG HELPLINE:   
 
0800 787 797 
URGENT MENTAL HEALTH LINE:  
 
0800 223 371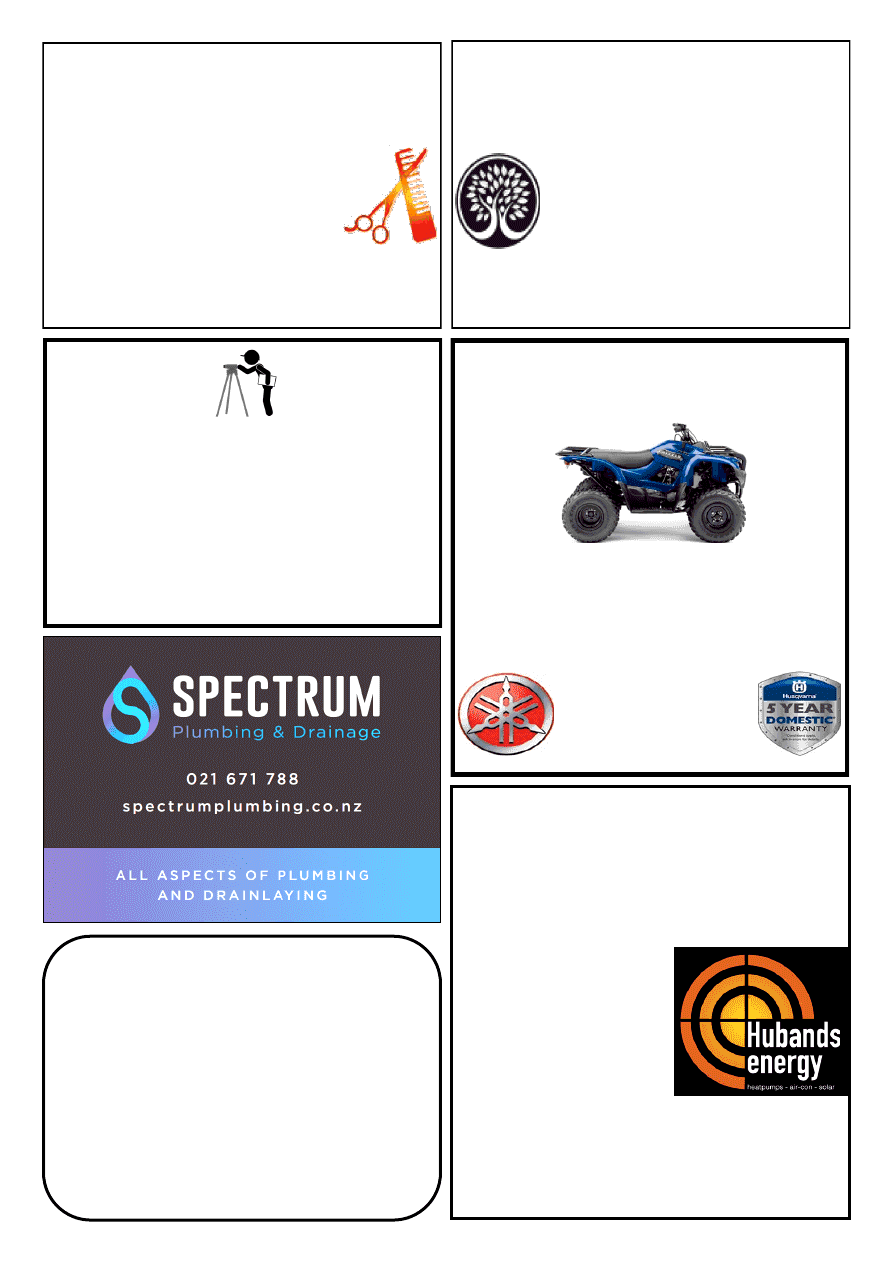 KAIWAKA 
MOTORCYCLES LTD
SALES – SERVICE – SPARES 
FARM BIKE SPECIALIST
PHONE 09 431-2127 
10 KAIWAKA-MANGAWHAI ROAD, KAIWAKA
Trimmers  
from $279
Chainsaws  
from $339
YAMAHA 
HUSQVARNA 
Northland's Award Winning 
Solar Company
SEANZ Best Solar Business Winners 2015/16
EXCLUSIVE 10 year installation warranty 
FREE No obligation onsite quote
Complete systems 
from $5990
See our range of: 
✓
Heatpumps 
✓
Airconditioning 
✓
Hot Water 
Heatpumps 
✓
Central Vacuum Systems
09 430 0019             sales@hubands.co.nz 
15 Kioreroa Road, Whangarei
Locally owned and operated for 35 years 
UP-LINK 
CHRIS WARING 
FREEVIEW INSTALLATIONS 
T.V. - HOME THEATRE &  
HI-FI ADVICE/SET UP
SKY ACCREDITED INSTALLER
MOB.0273403747 HM.094312328 
EMAIL cwaring44@gmail.com
28 YRS EXPERIENCE 
OFFERING UNBIASED ADVICE 
Ken Urquhart 
BSurv Licensed Cadastral Surveyor 
KMU Surveys Ltd
467 Bickerstaffe Road 
RD 2 
Maungaturoto 0587 
Ph 09 431 8705 
Mob 021 161 2344 
kenurquhart@xtra.co.nz 
AFFORDABLE PRICES! 
MENS CUT FROM $20.00 
LADIES CUT FROM $30.00 
KIDS CUT FROM $18.00 
COLOUR & CUT FROM $120.00 
JUST CUTS'AND   
MORE 
021 165 2629 or (09) 945 0707  
NOW SELLING: scented tealights, incense, smudge sticks, 
copper bracelets, aurora ball crystals, dream catchers, healing 
stones, rose quartz, cds, and much more. Open 6 days. 
Waipu Natural Health 
3 Cove Road, Waipu  (opposite the Pizza Barn) 
Ph: 09 432 1325 
www.waipunaturalhealth.co.nz
Clinical Nutritionist-Hair Analysis for Masked 
Allergies, Ozone Therapy, Prolotherapy, 
Naturopath-Medical Herbalist, Registered 
Massage Therapists, Reflexology-
Craniosacral Therapy, Acupuncture-Facial 
Acupuncture, Kineso Taping, Hypnotherapy, 
Counselling, ThetaHealing.
AFFORDABLE CONSULTS FOR KIDS – give us a call
Gift Vouchers available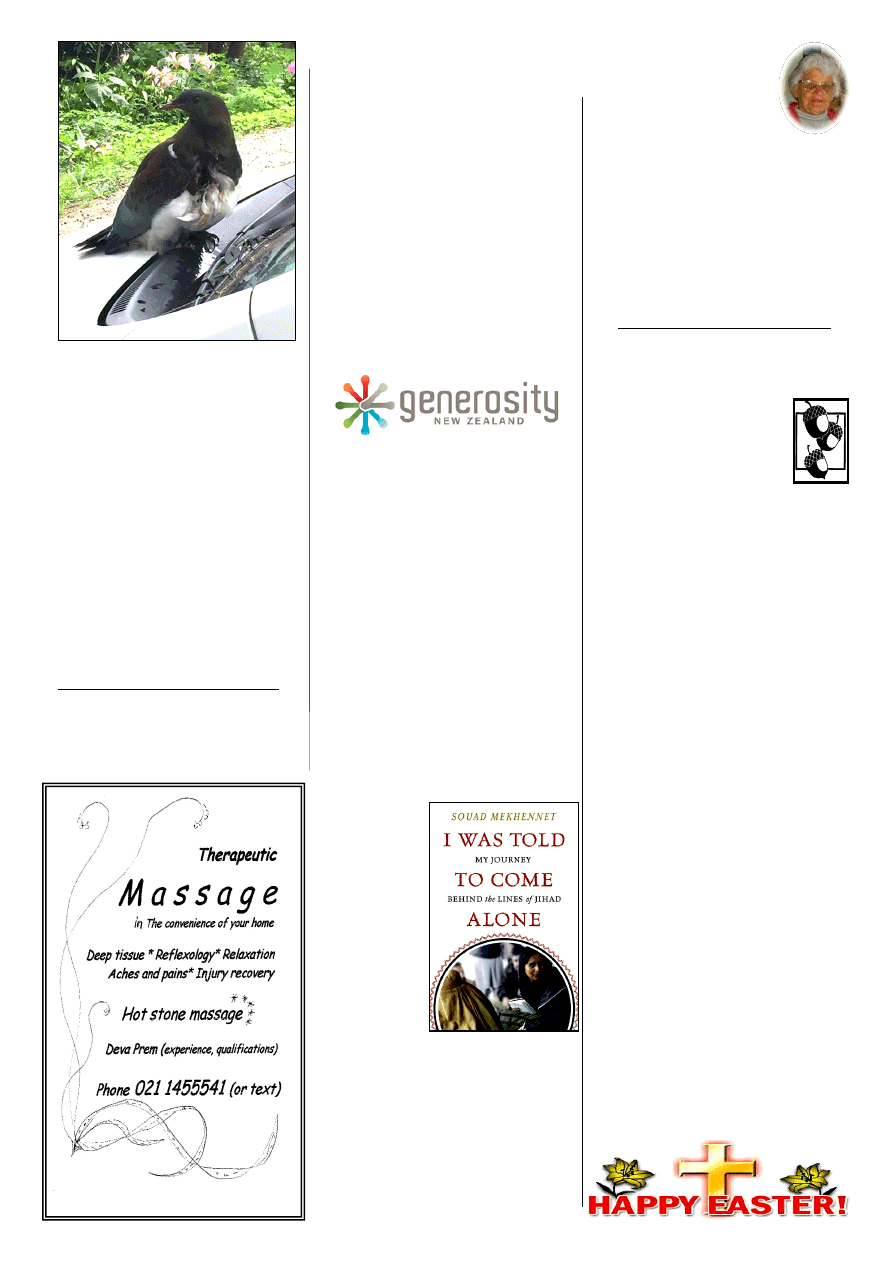 www.kaiwaka.co.nz 
Kaiwaka Bugle - 20 March 2018 
Page 19 
KAIWAKA 
LIBRARY 
New  library  management  system  - 
Kotui 
Our  new  system  was  launched  last 
week,  many  thanks  to  KDC  and  the 
Dargaville  Public  Library staff for  the 
funds,  the  commitment  and  the  hard 
work  that  has  gone  into  it.  All  the 
community  libraries  -  Kaiwaka, 
Mangawhai, 
Maungaturoto 
and 
Paparoa - as well as the public library 
in  Dargaville  are  now  using  this 
system.  It's  a  great  improvement  over 
the old one. 
Please  have  patience  with  us  as  we 
familiarise ourselves with the changes, 
it will take a little time to get to know 
all the ins and outs and get comfortable 
with it. 
Generosity 
On 23 April at 11:20am, there will be a 
workshop  held  in  the  Kaiwaka  War 
Memorial  Hall  by  Generosity  NZ, 
which  members  of the  community  are 
welcome to attend. Generosity NZ is a 
service  that  provides  access  to 
extensive 
funding 
opportunities 
offered  throughout  New  Zealand, 
through their givUS and givME portals 
for  community  organisations  and 
individuals  respectively.  Come  along 
and  find  out  how  to  use  this  service 
effectively, which can be accessed for 
free  through  your  membership  at 
Kaiwaka  Library  (or  any  other  library 
in  the  district)  via  this  link  -  https://
www.kaipara.govt.nz/OurServices/
Book review 
Recently I've read I  was  told  to  come 
alone: My journey behind the lines of 
jihad by Souad Mekhennet.  
It 
was 
recommended 
to me by one of 
our 
library 
members.  This 
is  a  memoir  by 
a 
German 
journalist 
of 
Turkish/
Moroccan 
descent, 
who 
found  herself 
asking  the  hard 
questions about 
why  and  how 
the  situation  in  the  Middle  East  has 
come  to  where  it  is  today.  It's  a 
fascinating  account,  and  quite  an  eye-
opener. This book is on the Dargaville 
shelves  in  our  library  until  June.  (363 
MEK) 
See you in the library! ~Wendy 
Kaiwaka Library,  cnr  State  Highway  1  and 
Kaiwaka  Mangawhai  Road.  PO  Box  89, 
Kaiwaka 
0542. 
Phone 
4312 
539. 
Email kaiwaka.library@gmail.com Open Wed-
Sat  10am-2pm,  Mon  4-6pm.  Free  membership 
WOUNDED  
KERERU 
Since  the  possum  and  rat  eradication, 
we have had more and more kereru. Up 
to eight in one tree. So, it seems more 
young chicks survive. 
Yesterday  Sarah  found  a  bleeding 
kereru  adult  on  the  back  of  her  car 
drinking from the gunnel – pictured. 
Feathers were torn from its chest. 
A  quick  minute  of  research  says  that 
predators on adult kereru are stoats and 
cats.  So,  a  stoat  or  cat  could  have 
injured the bird as it fed down low.  
We  will  erect  a  high  drinking  bowl  to 
secure the water source. 
Our neighbour says she saw a team of 
eight to 10 mynahs mobbing a kereru - 
could they be the assailants?  
Any other ideas? ~ Hugh. 
Years  ago,  I  worked  in  the  yard  of  a  home 
improvement business. One day a man walked 
up to me and asked where the 2x4's were. 
I replied, "How long do you want them?"  
"Well  I  am  building  a  house,  so  I'll  need  them 
for a long time!" 
From  Thelma's 
Scrapbook … 
LITTLE 
PLEASURES 
A good night's sleep 
Finding a forgotten $10 note in your 
pocket 
Crying with laughter 
Having a lie-in 
Sleeping in newly laundered bedding 
Getting a bargain 
Making someone smile 
Catching up with an old friend 

Laughing  at  things  that  have 
happened in the past
EASTER  SUNDAY  ~ 
THEORY OR TRUTH  
'He was raised to life to make 
us  right  with  God.'  Romans 
4:25 NLT 
The  Great  Houdini  promised 
he'd come back from the dead 
and  talk  to  his  friends.  Some 
actually  consulted  mediums  to  see  if 
there  was  any  word  from  beyond  the 
grave. But there wasn't! Only one man 
who  promised  to  rise  from  the  dead 
kept  his  promise. Jesus!  And  he did  it 
'to  make  us  right  with  God'  (Romans 
4:25 NLT). 
Business  transactions  in  Bible  days 
were  relatively  uncomplicated.  Once 
the  seller  laid  down  a  price  and  the 
buyer picked it up, the deal was done. 
On  Good  Friday  Jesus  laid  down  the 
price, on Easter Sunday God picked it 
up,  and  your  salvation  was  paid  for. 
But  the  greatest  proof  of  the 
resurrection is found in the transformed 
lives of people all over the world. The 
songwriter put it like this: 
 "You ask me how l know he lives? He 
lives  within  my  heart"!  ln  one  of  his 
final appearances recorded in the book 
of  Revelation,  Jesus  announced:  'l  am 
he  who  lives,  and  was  dead,  and, 
behold, 
l 
am 
alive 
forevermore...Whoever 
lives 
and 
believes 
in 
me 
shall 
never 
die'  (Revelation  1:18;  John  11  :26 
NKJV).  
Today  Christ  stands  knocking  at  the 
door  of  your  heart,  saying,  'If  anyone 
hears  my  voice  and  opens  the  door,  l 
will  come  in...'  (Revelation  3:20 
NKJV).  Unless  you  know  Christ 
personally  as  your  Saviour,  you're 
without hope in this world and the one 
to  come.  The  resurrection  of  Christ  is 
your only hope. Without that you have 
nothing to look forward to but a hole in 
the  ground.    So  today  repent  of  your 
sins  and  place  your  trust  in  the  one 
who died and rose again for you. 
www.mangawhaimassage.co.nz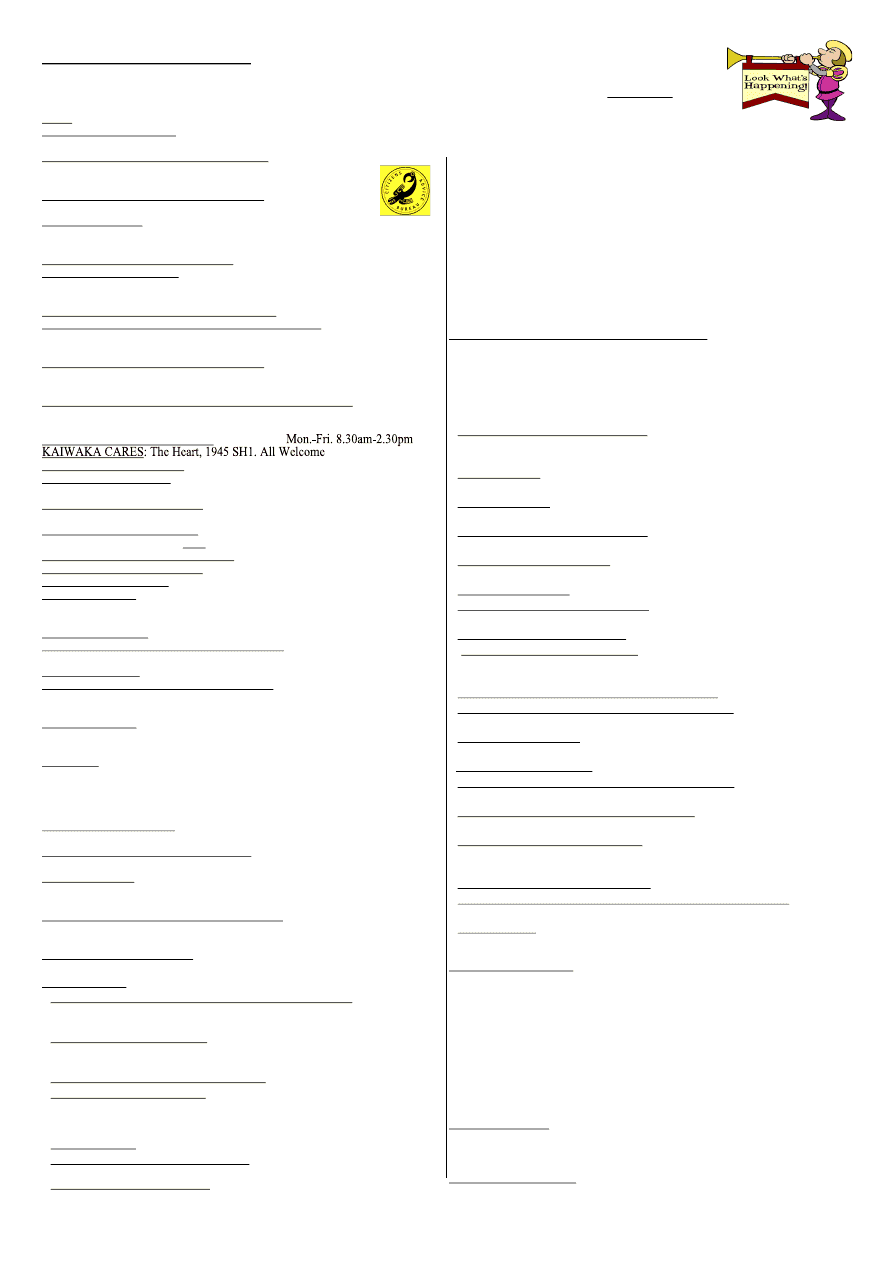 Next Bugle Deadline midday Friday 30 March 2018
WHAT'S ON
PLEASE ~ do let us know what is on - email 
kaiwakabugle@kaiwaka.co.nz 
*23Mar~.Murder on the Orient Express (2017), KWMH, 7.30pm 
*25Mar~'Paddington Bear 2', KWMH, 2pm 
*28Mar~Kaiwaka Fitness AGM, 6pm KSA 
*29Mar~HAWKS v Old Boys Marist, KSA Night Game 
*30Mar-2Apr~EASTER 
*1Apr~EASTER Family Service, St.Pauls Church, 9am 
*6Apr~'Wonder,' KWMH, 7.30pm 
*7Apr~Kids' Disco, 7-9pm, KSA 
*13Apr~End of School Term One 
*13 -15Apr~
One Act Play Festival  ORT theatre, Maungaturoto. 
*18Apr~Kaiwaka Sports Awards, KSA 
*23Apr~Generosity/Funding meeting11.20am KWMH 
*25Apr~ANZAC DAY 
KWMH = Kaiwaka War Memorial Hall; KSA = Kaiwaka Sports Association 
See www.kaiwaka.co.nz for more information 
HOUSEHOLD RUBBISH COLLECTION  
Kaiwaka Pick up: 
Mondays = Green bags (Northland Waste - 09 430 3273) 
Wednesdays  = Blue bags and yellow recycling (at Jaques $3.00 
and  $1.50)  (Kaurilands  09  4392146);  ONLY  Blue  and  Yellow 
bags picked up on Oneriri Road. 
 DIABETES  Support  Group  -for  Kaiwaka,  Mangawhai, 
Wellsford  10am,  3rd  Friday  of  month  Ph:  Colleen  James  09 
4314238 
 DRINK CAN 'tear tabs' - for Starship Hospital- please collect - 
98 Kaiwaka Mangawhai Rd, leave in mailbox, Ph. 4312625  
 GENEALOGY - Wellsford: 1st Thursday in month Ph: 423 
7033; Waipu: 4th Monday in month Ph: 4312 725 
 GYMNASTICS  OTAMATEA  -  Tuesday  Ph:  Stephanie  022 
3624998 
 HAKARU PONY CLUB - Secretary Denise Rogers 021423376 
secretary@hakaruponyclub.co.nz  
 KAIPARA HUNT - Secretary Albert Doonenbal Ph 4312059 
 KAIPARA YONG FARMERS - K Danks  0211598453, meet on 
last Thursday of the month at Three Furlongs Bar & Grill 
 KAIWAKA BADMINTON -Tuesdays 7.30pm Ph: 4312345 
 
 KAIWAKA DRAMA CLUB - 
Hannah Webb 
0272863352
- KaiwakaDrama@gmail.com Monday 5:30-7:00pm KWMH - FB 
- "KaiwakaDramaClub" 
 KAIWAKA DRUM & DANCE CLASSES - 021 611198 
 KAIWAKA GARDEN & FLORAL GROUP - 2nd Thursday in 
month. Ph: 431 4744 
 KAIWAKA  CUBS  -  Thursdays  5.30-7pm,  Hakaru  Ph:Bruce 
4312542 
*KAIWAKA PILATES - Ph: 021 2072729. 
 KNITTING FOR WHANGAREI HOSPITAL - 2nd Tuesday in 
month, Archie Bull Hall 10am Ph 4314827 
 MANGAWHAI COMBINED REBUS CLUB - 2pm, 3rd 
Thursday month, Senior Citizens Hall Mangawhai. Ph: 4315777 
 OTAMATEA GREY POWER - Kath Pattinson 09 283 2052, 
1pm last Wednesday of month, Anglican Church Hall, 
Maungaturoto 
 PT CURTIS CRUISING CLUB - Jean Ph: 4312227 (wk), 4312520 (hm) 
 RSA,  HAKARU  &  DISTRICTS  WOMEN'S  SECTION  –  meets 
1.30pm 4th Thursday of the month. Ph: 431 5818  
 TRAMPING - Mondays 9am-2:30pm Maria 4312 234 
HALLS FOR HIRE: 
 St.Pauls Archie Bull Hall HIRE $20 half day, $40 full day per 
hire, S McAulay, Ph 4312311 
 Kaiwaka  War  Memorial  Hall  HlRE  -  Phone  4312725  or 
kaiwaka.hall.bookings@gmail.com 
 Hakaru Community Hall HIRE -Ph. 4312256 or 4312110 
 Te Pounga Marae queries - R. O'Leary 4312 423, J.Nathan 021 
186 7382 
 Kaiwaka Sports Association hire/queries - C. Anderson 4312051 
or kaiwakasports@gmail.com 
Justice of Peace:  
B.FJaques  4312  048;  L.Donaldson  4312  228;  A.F.Hargreaves 
4312 045, W.Howard 4312 725 - please phone to make sure they 
are available www.justiceofthepeace.org.nz 
Marriage Celebrants:  
L.Donaldson; A.F.Hargreaves; Y Osborne
LOCAL SERVICES 
*Emergencies - Ambulance, Fire, Police - dial 111 
*Non-urgent Police phone 09 4311150
A A: Meets Wed., 8pm Kaiwaka Ph: 4315543, 0800229 6757 
ASUREQUALITY LTD (was AgriQuality) Call Free 0508 0011 22  
BUDGETING SERVICE, WELLSFORD: Free confidential advice & 
support for all areas of personal finance. Ph (09) 423 7123 
CAB-Citizens Advice Bureau.Wellsford Ph: 4237333 
0800 367 222 email:cab.wells@xtra.co.nz  
CIVIL DEFENCE - Kaiwaka Community Response Group: 
kaiwaka.civildefencecrg@gmail.com, 4312725 Wendy 
DOG/STOCK /NOISE CONTROL 0800 105 890 
FUNERAL SERVICES: Morris & Morris Ltd, 
Whangarei - Bev Jaques Ph:4312367 or 0800667747 
GRANDPARENTS Raising Grandchildren: Dianah Roberts 0223819539 
HAKARU & DISTRICTS MEMORIAL RSA (Inc) 733 Settlement Rd, 
Hakaru. Ph 4312 176 or Graeme Hitchcock (President) 431 3064 
HAKARU LANDFILL/Transfer Station:Open everyday except 
Tuesday10am-4pm.Ph4312629 Cost-$55 trailer load up to 1 cubic metre. 
Ph:4258567 - office 
KAIPARA DISTRICT COUNCIL www.kaipara.govt.nz:  
Help Desk FREEPHONE 0800 727 059  
KAIWAKA KOHANGA REO: Ph:4312620 
KAIWAKA CEMETERY: Ph: 4312045 or 4314017 
KAIWAKA LIBRARY: kaiwaka.library@gmail.com  
Mon. 4-6pm; Wed., Thurs., Fri., Sat. 10am-2pm Ph:4312539 
KAIWAKA PLAYCENTRE: Ph Juanita 0274134904; open Mon, Wed, 
Fri 9am-12pm. Hastie Lane; Monday to Friday 9.00am - 12 noon. 
KAIWAKA POST OFFICE:Ph:4312 431  
Post Code: 0573 for RD2 and 0542 for all Kaiwaka Post Office mail 
KAIWAKA PRIMARY SCHOOL: Ph: 4312309   
KAIWAKA SPORTS ASSN: Ph 4312005; 4312129 gym 
KAIWAKA ST JOHN: Manager Steve Rosser 09 4318403, 021 355734 
KATE'S PLACE Community Centre - Employment services, Free Health 
Nurse, Plunket, Advocacy, Osteopath, A.A., Legal Advice. 4312 661 
LINKING HANDS Health Shuttle Ph 4315906 or 09 4318969 
MINISTRY FOR PRIMARY INDUSTRIES - General inquiries Call 
Free 0800 008 333 
NORTHPOWER: Faults Kaiwaka area 0800 104040 
OTAMATEA COMMUNITY SERVICES: Counselling, parent coach, 
Family Support worker, budget advice, food bank. Mon-Fri 9am-3pm. Ph 
09 431 9080 http://www.otamateacs.org/ 
PARENTPORT: Free, practical family support service Puhoi to Paparoa 
Ph or txt: Dianne 027 280 5093 or 09 425 9357 
PLUNKET:  Kaiwaka  -Kate's  Place  Clinic  1st  Wednesday  of  the  month; 
Mangawhai  - Rose Madsen Cottage: Coffee Group 9:30 every Monday.  Clinic 
every Monday and Thursday. 
Maungaturoto - Good News Church, Clinic 2nd and 4th Wednesday.  
Cynthia 09 431 7340 or 027 675 3488 
PLUNKET HELPLINE -0800 933 922 (24 hours) 
TAITOKERAU COMMUNITY LAW: Free confidential legal advice and 
assistance, 2nd
Thursday
 of each month. Ph: 0800 155 529 for apps.  
TE URI O HAU Settlement Trust Tangata Developments: Whanau Ora 
021 793262  
VETERINARY SERVICE MANGAWHAI: 
Ph: 4314535 Mon-Fri 8.00-5.00, Sat 9-12, a/h appt. 
WELLSFORD DOCTORS: Ph: 4238 086 
CHURCHES:
 
Kaiwaka  Revival  Church  -  Your  Community  Church:  Sundays  10am. 
Ph: Pastor Tawhiri 09 431 8988 or Pastor Paul 09 4312 068 Visit us at 
www.facebook.com/kaiwakachurch 
 
St  Paul's  Anglican  Church  1st  Sun.  9.00am  (Eucharist),  3rd  Sun. 
9.00am (Family Service). Contact: Rev. Wayne Thornton Ph 431 4122 
www.mangawhaianglican.org.nz 
 
Church of Christ the King, Mangawhai:9.30am every Sunday 
 
St.Mary's  Catholic  Church:  Maungaturoto  –  Griffins  Road,  Saturday 
evening  Vigil  Mass  6pm;  Mangawhai  –  Senior  Citizens  Hall,  Sunday 
Mass  8:30am;  Wellsford  –  Matheson  Road,  Sunday  Mass  10:30am;  
Mid-week Mass times and all enquires to Fr. Bill Fletcher – phone 423 8170
 
Baptist Church: Sun. 10.30am Mangawhai Snr Cit.Hall.Ph:4312339 
 
Cause  Way  Church  Mangawhai:  Sundays  10.15am,  Mangawhai 
Community  Recreation  Centre,  Insley  St.  Ph:  09  4314782