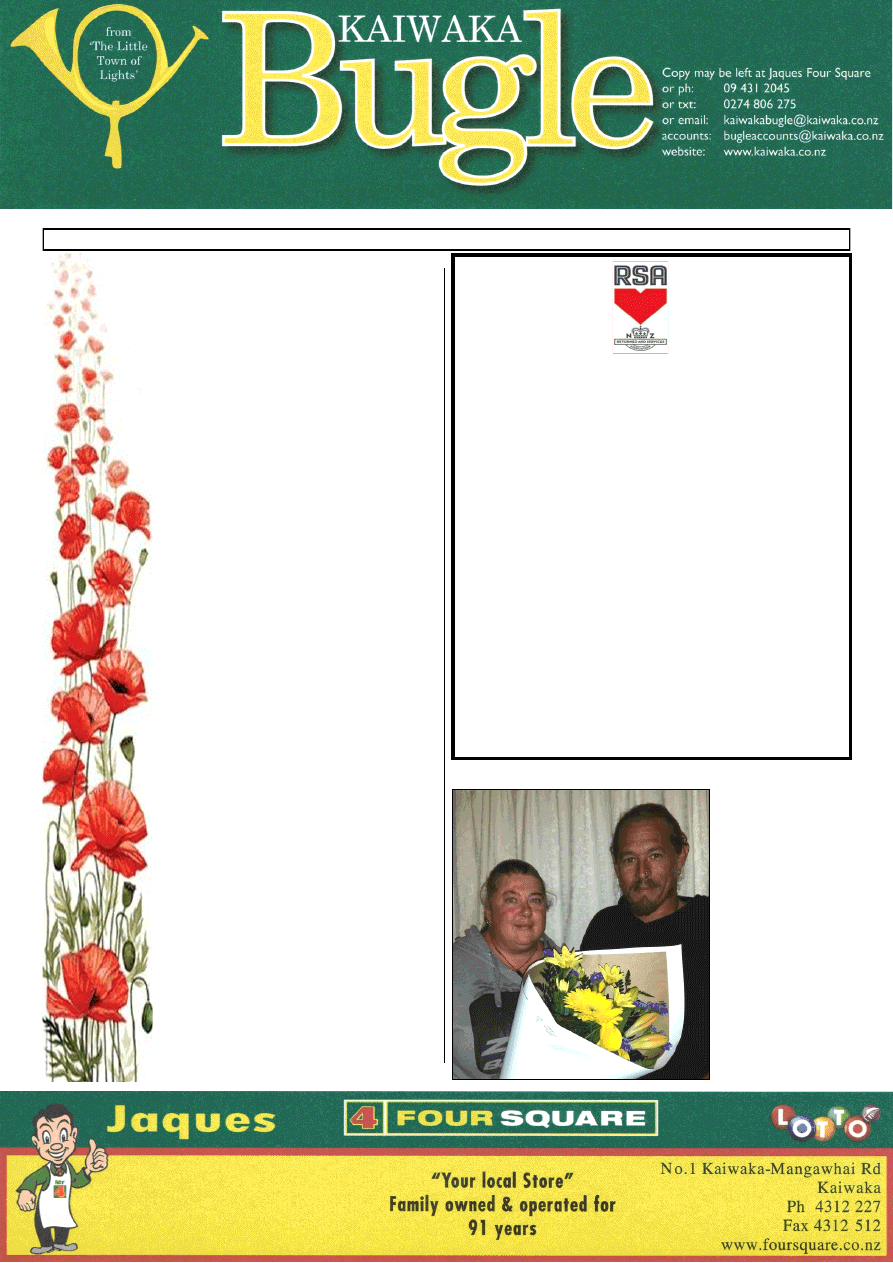 www.kaiwaka.co.nz 
Kaiwaka Bugle - 17 April 2018 
Page 1 
No: 7 
17 April 2018 
Trading Hours: 
Monday to Friday 8:00am - 6:30pm 
Saturday 8:00am - 7:00pm 
Sunday 9:00am - 6:00pm  
WHY WEAR A POPPY?
"
Please wear a Poppy," the lady said, 
And held one forth, but I shook my head, 
Then I stopped and watched as she offered them 
there, 
And her face was old and lined with care; 
But beneath the scars the years had made 
There remained a smile that refused to fade.  
A boy came whistling down the street, 
Bouncing along on carefree feet, 
His smile was full of joy and fun: 
"Lady," said he, "May I have one?" 
When she pinned it on he turned to say, 
"Why do we wear a poppy today?" 
The lady smiled in her wistful way, 
And answered, "This is ANZAC Day, 
And the poppy there is a symbol for 
The gallant ones who died in war, 
And because they did, you and I are free, 
That's why we wear the poppy, you see. 
I had a boy about your size, 
With golden hair and big blue eyes. 
He loved to play and jump and shout, 
Free as a bird he would race about. 
As the years went by he learned and grew, 
And became a young man – as you will, too. 
 He was fine and strong, with a boyish smile,  
 But he'd seemed with us such a little while  
 When war broke out and he went away.  
 I still remember his face that day  
 When he smiled at me and said, Goodbye,  
 I'll be back soon, Mom, so please don't cry. 
But the war went on and he had to stay, 
And all I could do was wait and pray. 
His letters told of the dreadful plight, 
(I can see it still in my dreams at night) 
With the tanks and guns and cruel barbed wire, 
and the mines and bullets, the bombs and fire. 
Till at last, at last, the war was won – 
And that's why we wear a poppy, son." 
The small boy turned as if to go, 
Then said, "Thanks lady, I'm glad to know, 
That sure did sound like an awful fight, 
But your son – did he come back all right?" 
A tear rolled down each faded cheek: 
She shook her head but didn't speak. 
I slunk away in a sort of shame, 
And if you were me you'd have done the same: 
For our thanks, in giving, is oft delayed 
Though our freedom was bought 
And thousands paid. 
And so when we see a poppy worn, 
Let us reflect on the burden borne, 
By those who gave their very all, 
When asked to answer their country's call. 
That we at home in peace might live. 
Then wear a poppy, Remember And give. 
by Don Crawford (alt. - see page 3) 
Lest We Forget 
ANZAC DAY 
WEDNESDAY 25 APRIL 2018 
PARADE DETAILS 
Assemble ........................................... 1000 Hrs 
Parade Fall In – In Carpark................ 1020 Hrs 
March On (can happen earlier).......... 1030 Hrs 
Laying of Wreaths 
Lowering of Flag - Last Post 
Prayer for the fallen, 1 minute silence 
Raising of Flag – Reveille 
National Anthems 
Rolls of Honour 
Ode 
Prayer for Anzac Day 
March off – Parade Fall Out 
Light lunch served – Bar open 
If members / visitors would like to bring a plate of finger-
food it would be much appreciated 
Everyone is welcome as guests of the  
Hakaru RSA President and Committee. 
Please sign the sign-in sheet if you are not a member. 
Hakaru & Districts Memorial RSA. 
KAIWAKA GOOD SORTS 
Leanne 
Stringer 
and  Peter  Buckley 
are 
the 
happy 
recipients 
of  
Lindy's    beautiful 
flowers. 
They  are  brilliant 
'scarers' for Fright 
Night  and  spend 
hours  decorating 
the  haunted  house 
for  that  event. 
They  also  setup 
their  disco  lights 
and  fog  for  the 
KSA discos.  
'They  are  great 
volunteers',  says 
Cheryl.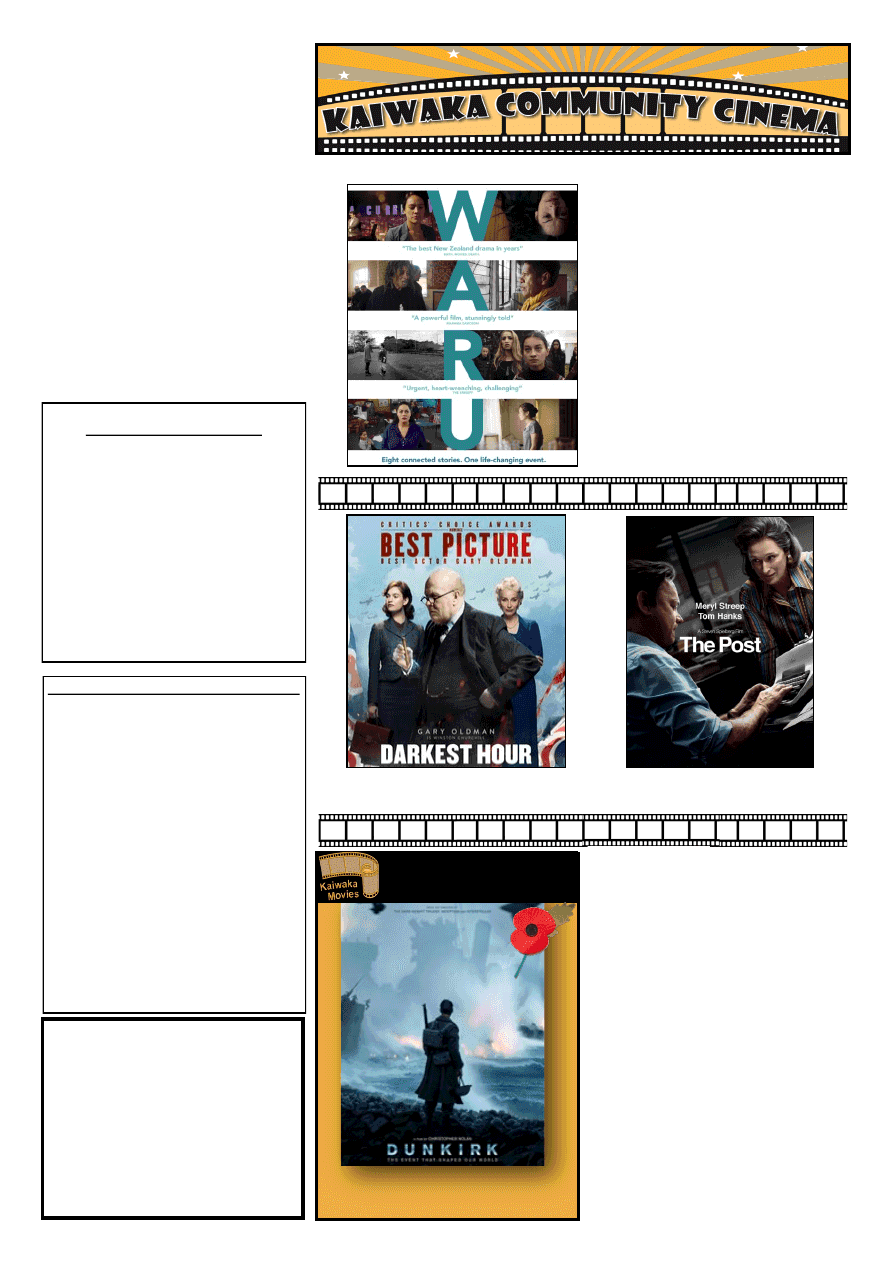 At Kaiwaka War Memorial Hall . Adults $10, Kids (under 16) $5, Family Pass (2 adults + 3 children) $25 
KAIWAKA BUGLE No. 7 
17 APRIL 2018 
CONTENTS: 
Page 3: Public Notices, Classified 
Page 5:   CC The Poppy 
Page 7:  St.John; Agridustrial;  
      PtCurtis CCC 
Page 9:   WWI Wounded 
Page 11: Kaiwaka Sports Assn 
Page 13: Otamatea High School  
Page 15: PT CCC poster; OHS 
Page 17: Kaiwaka School 
Page 19: Library; Kate's Place 
Bugle 8 will appear  1 May  
Contact for advertising, reports, articles 
or information can be made by 
Email kaiwakabugle@kaiwaka.co.nz 
Ph: 09 4312 045 Lindsey 
Txt: 027 2724137 
Copy  may  be  left  at  Jaques'  Four 
Square. 
Kaiwaka Bugle Advertisements 2017: 
All 
copy 
and 
queries 
to: 
kaiwakabugle@kaiwaka.co.nz 
The Bugle is printed on an A4 page   
Ad  sizes:  1/16  page  (3  x  9.5cm)  $5;  1/8 
(6.5  x  9.5cm  landscape  or  portrait)  $8; 
3/16 ( 10 x 9.5cm or 7.5 x 12,5)  $12.  
Classified  ads:  First  one  FREE,  $4  per 
entry (max. 30 words, max. 4 repeats). 
Payments  can  be  made  online  at 
ANZ 
06  0365  0006990  00
,  posted  or  left  at 
Jaques Four Square Store. 
We  use  Microsoft  Publisher,  and  can 
work  with  most  common  image 
formats, Word, Excel, and PDF files. 
Accounts:  
Email: bugleaccounts@kaiwaka.co.nz 
The  Kaiwaka  Bugle  is  a  community 
newspaper run by volunteers.   
Articles, etc. printed are not necessarily 
the opinion of the Bugle Team. 
Kaiwaka Bugle 
Founded May 1978 
We appreciate articles and photos about local 
events, etc, as well as ads and suggestions. 
Copies available in Kaiwaka at Jaques Four 
Square, Kaiwaka Postal Centre, Shamrock 
Service Station, Animal Health Centre, 
Kaiwaka St John shop. 
Also outlets in Maungaturoto, 
Mangawhai and Paparoa. 
Can be viewed online at  
www.kaiwaka.co.nz/Bugle  
Or a copy can be posted to you if you supply 
stamped, self-addressed DLE envelopes. 
WARU 
Friday 20 April, 7.30pm (M) 
Waru is composed of eight scenes, adding 
up  to  a  portrait  of  the  events  surrounding 
the tangi of a young child. The boy, Waru, 
has  died  in  terrible  circumstances  and  his 
people  are  gathering  to  bury  him.  Themes 
of  redemption,  retribution  and  old 
historical  wrongs  run  deep.    The  large 
ensemble  cast,  from  veterans  to  first-time 
child actors, are uniformly pretty excellent, 
with  Tanea  Heke,  Miriama  McDowell, 
Mere  Waaka  and  Kararaina  Rangihau 
especially standing out
. 
Waru (M, 86 mins) 
Directed by Briar Grace-Smith, Casey Kaa, 
Ainsley  Gardiner,  Katie  Wolfe,  Chelsea 
Cohen,  Renae  Maihi,  Paula  Jones  and 
Awanui Simich-Pene. 
Proverbs
 28:2 
When there is moral rot 
within a nation, its 
government topples easily; 
but with honest, sensible 
leaders there is stability. 
. 
Darkest Hour 
Friday 4 May, 7.30pm (PG) 
The Post 
Friday 18 May, 7.30pm (M) 
Special  
ANZAC SCREENING  
at the Kaiwaka War Memorial Hall  
DUNKIRK (M)
Friday 27 April 7.30pm 
Some of the proceeds to go to the Hakaru RSA 
Join us on our Facebook group:   Kaiwaka Community Movies
DUNKIRK  (2017) 
Friday 27 April, 7.30pm 
Kaiwaka War Memorial Hall 
When  400,000  men  couldn't  get  home, 
home came for them. 
Christopher 
Nolan's 
Oscar-winning 
World  War  II  thriller,  with  Tom  Hardy, 
Cillian  Murphy  and  Mark  Rylance. 
Nominated  for  eight  Academy  Awards 
and winner of film editing, sound editing 
and sound mixing. 
Chronicles  the  plight  of  Allied  forces, 
driven  to  the  edge  of  Europe  -  the 
seaside  town  of  Dunkirk  -  by  the 
German army. Hundreds of thousands of 
English troops are trapped on the beach, 
desperate  for  evacuation  as  the  enemy 
pushes  towards  them.  Picked  off  by 
terrifying  Stuka  dive  bombers,  their 
escape  craft  attacked  by  U-boats,  it'll 
take  the  courage  of  Spitfire  pilots  and 
civilian  sailors  to  get  more  than  a 
handful of survivors home. See page 5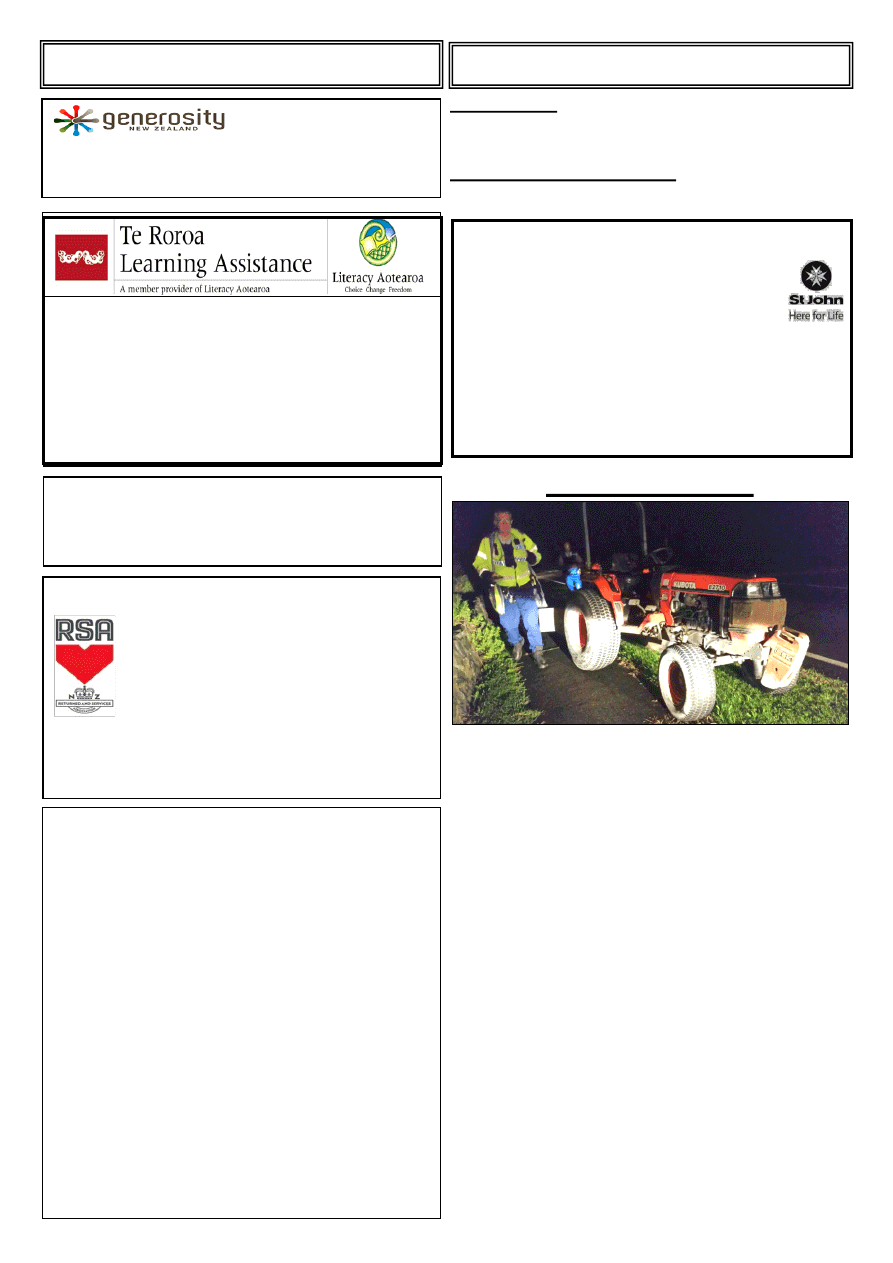 www.kaiwaka.co.nz 
Kaiwaka Bugle - 17 April 2018 
Page 3 
TE REO MÃORI TUTORS     
WANTED
We are currently looking for Te Reo Maori 
 tutors to become part of our dedicated and 
enthusiastic team
.
For more information about this opportunity   please 
contact us on:  
0800 555 635 or visit us at  
  22 Gladstone Street Dargaville    
ABOUT TOWN 
 
Woohoo!  In  the  early  hours  of  Monday  16  April:  The 
KSA  tractor  was  taken  for  a  ride  -  a  joy  ride!  As  seen 
above, the police were able to stop it in Wellsford! 

P
oppy  Day  is  Friday  20  April,  but  you  can  donate  and 
#PinAPoppy 
from 
today 
until 
April 
25. 
Visit www.pinapoppy.co.nz to find out more 

 And  a  'Well  Done'  to  the    Warehine  crew  who  have 
repaired the McClean Park parking and road great job. 
Otamatea HAWKS, 
April7: 
played the Western Sharks in 
Dargaville. Reserves had a great win:,41 - 17. The Premiers 
also had a win 27 - 22.  
 April 14: they played Hikurangi - 
the Reserves lost 26-14, the Premiers just lost 15-14.  
Please do not park in front of the Emergency Access to 
the Kaiwaka Sports Assn. fields  - it is painted yellow and 
has KEEP CLEAR signage (next to the school pool). 
Checkout the new KSA Fitness Trail  - Opening Day 29 
April at 1.30pm. 

'
'  are  looking  for  feedback  on  their 
recycling flyer. Do you think there is any more information 
you'd  like  to  know  about  recycling  in  Kaipara?  See  KDC 
FB page.
 Did you receive the flyer? 
 Kaiwaka  Revival  Church  now  has  a  website  - 
www.kaiwakarevival.co.nz 

 As seen on Love Kaipara's Facebook page: "Use It Up, 
Wear  It  Out,  Make  It  Do  or  Do  Without!"~attributed  to 
Boyd K Packer - a phrase that first became popular in the 
great depression.
The  Kaiwaka  Bugle  was  first  produced  in  May  1978  - 
please, does anyone have any of the early copies? 
                    ~ Lindsey, Ed
PUBLIC NOTICES 
CLASSIFIED 
AVAILABLE:  Kaiwaka  Automotive  Mechanical 
Repairs  -  cambelts,  clutches,  brakes;  30  years 
experience; working out of Twinkle Tow n' Tyre.  
Ph: Lyndon 021 1443566  
PART  TIME  CLEANING:  The  Kaiwaka  War 
Memorial Hall is looking for a cleaner/s for 2
1
/
2
 hours 
a fortnight. Ph: 09 4312045, Lindsey 
KAIWAKA ST. JOHN OP SHOP 
We have.... 
....2x Oil Heaters @ $15 each 
....  2x  Wooden  Cabinets  still  available....  will 
consider selling them separately at $250 each 
.... Toddlers and New-born clothing all at cheap 
prices 
....1x Single bed with mattress. 
We are needing.... 
Towels,  Facecloths,  Pots  and  pans  and  anything  else  in 
good saleable condition. 
Thank you all for your support. 
Milly and staff.
Phone 09-4312650 after 9.00 am.
HAKARU and DISTRICTS  
MEMORIAL RSA (Inc) 
AGM 
Sunday 6th May 2018 
1.30pm in the Hakaru RSA 
Agenda 
Apologies 
Financial Reports 
Election of New Committee 
General Business 
Nomination for Committee and Notices of Motion need to 
be passed to the Secretary by Sunday 29th April 2018 
Only Financial Members permitted to attend
MOLESWORTH SHEEP DOG TRIALS 
Friday and Saturday 20 – 21 April 2018 
616 Oneriri Road, Kaiwaka  
Queries to Rob 4312192 or Tony 4312045 
THE HAKARU RSA IS LOOKING FOR NEW 
CHEFS.   
There are options that we may consider.
1. Run the kitchen as it is now in a volunteer 
position, thereby supporting the RSA, with the 
RSA:  

paying for all supplies  

offering assistance in organising volunteers for the 
kitchen  

keeping all profit 
2. Run the kitchen as a sub-contractor, with that 
person:  

receiving payment (to be decided)  

organising staffing of the kitchen  

the RSA will pay for all supplies and keep all profit 
3. Take over the kitchen as a contractor, with that 
person: 

buying all supplies  

organising own staff paying the RSA for the use of 
the kitchen (to be discussed)  

keeping profits 
If any of these scenarios is something that you feel 
you can take on, in the first instance please contact 
Marlene on 431 5589. 
GENEROSITY 
WORKSHOP 
Monday 23 April at 11:20am   
in the Kaiwaka War Memorial Hall   
Members of the community are welcome to attend..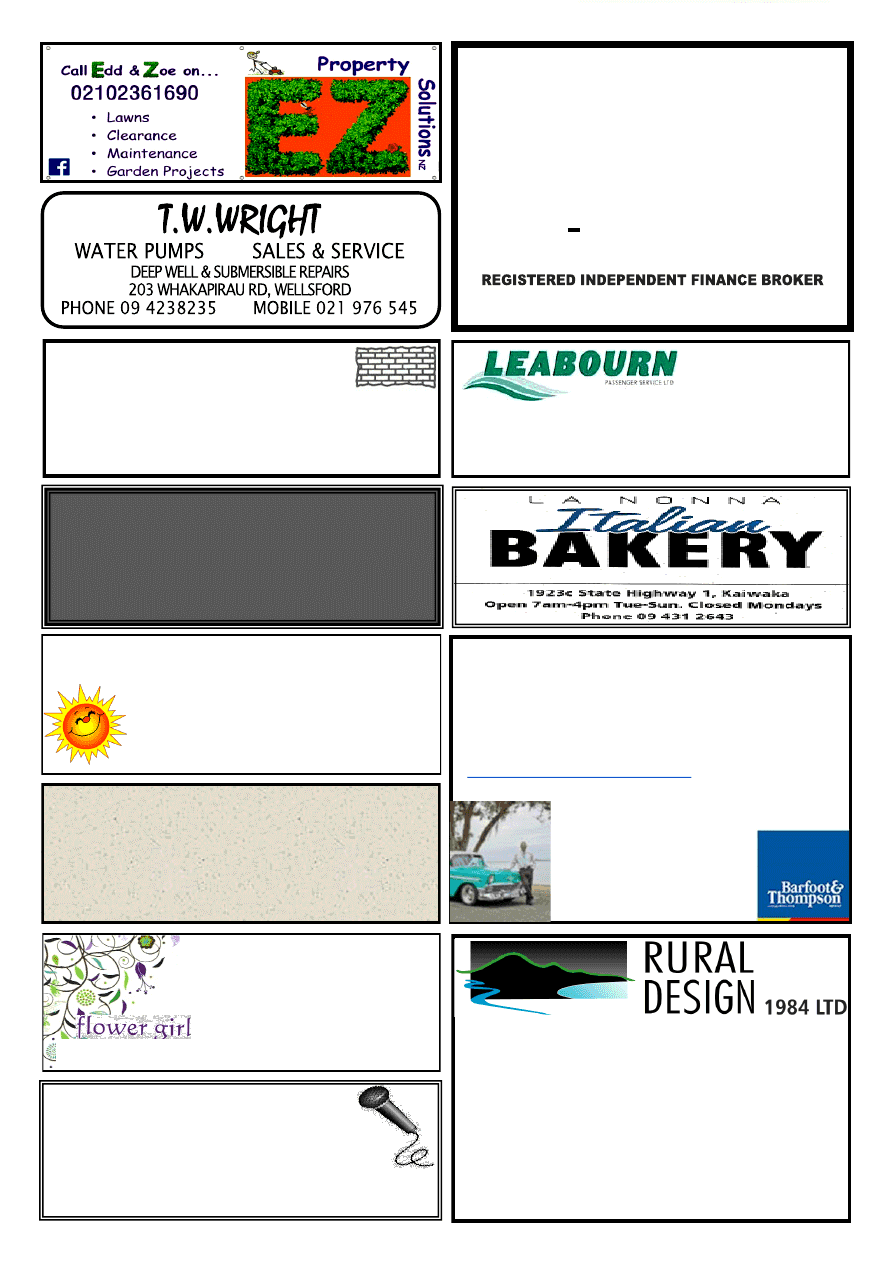 Passenger Service
Car & Van Hire  Bus & Coach Charters 
Airport Transfers    
Phone (09) 4237416 
BRICK/BLOCKLAYER 
All aspects of masonry:  
Fireplaces, Restoration & Remedial Work. 
JAMES EAGLETON 
Tel. (09) 431 2514    Mob. 0274 749 232 
jajueagles@yahoo.com.au 
210A Pukenui Road, RD2 Kaiwaka 0573 
THE SUNSHINE GIRLS
Efficient and reliable help with 
your housework. 
Ph 4312 532 
MARRIAGE CELEBRANT 
WEDDING EVENTS PLANNER 
Yvonne Osborne 
Ph 0274 989 814 
yvonne.osborne@xtra.co.nz 
Counsellor and Registered Psychotherapist 
Offers Supervision 
ACC Sensitive Claims 
Susan Matheson      MNZAC 
Dip. Psychosynthesis Counselling and Psychotherapy 
Phone 09 431 2996                                     Mobile 027 605 2427 

  After 20 years of selling in Auckland I have             
moved to Kaiwaka. 

  I have a relaxed attitude with years of  
        results and experience. 

  Please feel free to give me a call or email. 
licensed real estate agent (2008) 
Chris Barrington
Residential Sales
M 
Mangawhai
Wholesale Native Plant Nursery and Planting 
Small and Large orders welcome 
By Appointment 
300 Kaiwaka-Mangawhai Road, Kaiwaka 
Phone: 09 431 2481 
Email: info@ruraldesign.co.nz 
www.ruraldesign.co.nz 
Kaiwaka Good Sorts 
Do you know someone in our community 
who is deserving of a beautiful bunch of 
flowers? 
Send an email to us at 
kaiwakabugle@kaiwaka.co.nz 
or drop a note to Jaques Four Square to 
let the Bugle team know. 
lindywatson@hotmail.com 
4312 847 
SING RIGHT 
Professional coaching for performance,  
recording and demos. 
All level singers, musicians, singer-songwriters. 
Phone Robyn Hill 431 9159 or 022 1238126 
FINANCE FOR YOUR 
NEEDS. 
OPEN BOOK OF FUNDING 
FOR ALL SOLUTIONS. 
T-- 0275 989814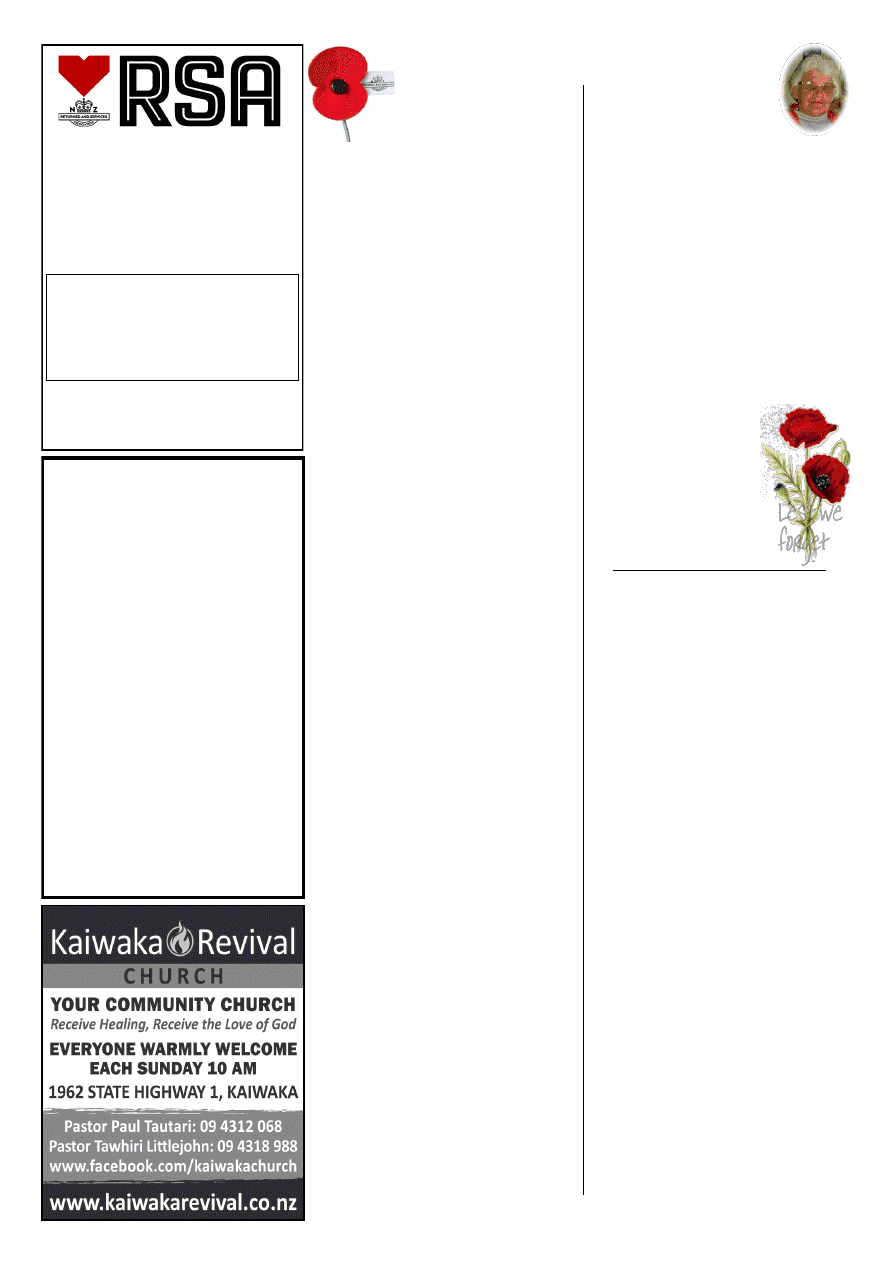 www.kaiwaka.co.nz 
Kaiwaka Bugle - 17 April 2018 
Page 5 
Lilia and her Spring lamb, Minty! 
Willow Bend
HORSE  
HOTEL 
  
Total Horse Care 
 
Agistment 
 
Riding Lessons 
 
Arena Hire (60x40) 
 
Young Horse Starting 
 
Re-training/Exercising 
 
Hoof Trimming 
 
Problem Solving 
Phone Sue 09 431 2817 
or 021 623 776 
Or email  
susanjoll11@gmail.com 
HAKARU & DISTRICTS 
MEMORIAL RSA (INC)
Members & guests are invited to 
come along and enjoy our hospitality. 
New members welcome. 
Meals are served on Thursday and 
Friday nights from 6.30pm. 
Last Friday of the month is  
'Roast Pork Night' and a sing-a-long  
with Des Chitty. 
For more information please phone 
Marlene on 431 5589 
'DUNKIRK'  (2017) 
From a movie review by Paul Asay: 
'They call it the Miracle of Dunkirk for 
a reason.  
When  the  film  opens,  a  commander 
expresses his hope that if all goes well, 
perhaps  30,000  soldiers  can  be  saved. 
Maybe 45,000, if they're lucky. 
By  the  time  the  operation  concluded, 
some  330,000  troops  had  made  it 
safely  off  Dunkirk's  beaches.  Though 
that  battle  was  the  culmination  of  an 
unmitigated  military  disaster,  it's  one 
of  the  most  inspiring  "defeats"  in  the 
annals  of  history.  Churchill's  famous 
"never surrender" speech was given in 
the  wake  of  Dunkirk,  one  that's  still 
capable  of  stirring  hearts  and  minds 
nearly 80 years later: 
"We  shall go on to the  end, we  shall fight 
in  France,  we  shall  fight  on  the  seas  and 
oceans,  we  shall  fight  with  growing 
confidence and growing strength in the air, 
we  shall  defend  our  island,  whatever  the 
cost may be. We shall fight on the beaches, 
we  shall  fight  on  the  landing  grounds,  we 
shall  fight  in  the  fields  and  in  the  streets, 
we  shall  fight  in  the  hills;  we  shall  never 
surrender." 
British  director  Christopher  Nolan  has 
made  some  fine  movies  in  the  past  - 
this is indeed a powerful story.  
Dunkirk  dramatises  the  complexity  of 
war-both its horrors and heroism-while 
admirably  not  straying  beyond  the 
boundaries of a PG-13 rating. The film 
even gives us moments of pure beauty: 
a  British  Spitfire,  out  of  gas,  silently 
gliding  over  the  beach  as  British 
soldiers  shout  a  salute  from  below. 
Dunkirk  doesn't  make  for  easy 
viewing. But it tells a story well worth 
the telling.  
Friday 27 April, 7.30pm
  KWMH
From  Thelma's 
Scrapbook … 
'WHY WEAR A 
POPPY?' 
The  front  page  poem  came  from 
Thelma's  scrapbook:  '
Don  Crawford 
turned his poem, handwritten in pencil 
and  on  two  sheets  of  foolscap,  in 
to  The  Perth  Courier  one  morning  in 
the  early  1960's,  in  which  it  was 
printed a few days later.  
Since then, "Why Wear a Poppy?" has 
appeared  in  a  multitude  of  weekly 
newspapers 
and 
magazines, 
including Legion Magazine in Canada, 
and 
foreign 
publications 
like 
Australia's 
Anzac 
Appeal 
and 
Scotland's 
Claymore 
magazine. 
Dominion  Command  of  The  Royal 
Canadian  Legion  has  produced  the 
poem  on  slides and tape  for  television 
and  radio.  And  schools 
have  used  "Why  Wear  a 
Poppy?"  extensively  for 
their  Remembrance  Day 
and 
ANZAC 
day 
programmes.  
Donald  J.  Crawford  died 
in  hospital  at  Perth, 
Ontario, 
Canada, 
on 
October 7, 2000.'  
Ref. Pastor Fergus
THE POPPY   
The Poppy is the symbol of 
remembrance for the fallen 
and hope for the living. 
The  story  of  the  Poppy 
begins  on  the  battlefields 
of  Flanders  in  Belgium  when  a 
Canadian  Lieutenant  Colonel  John 
McCrae pens a poem on 3 May 1915 in 
remembrance of a fellow soldier buried 
the day before. 
In  New  Zealand  today,  the  Poppy  is 
worn  at  Anzac  Days  and  other 
commemorative  occasions  and  is  laid 
at  New  Zealand  war  graves  and 
memorials  around  the  world.  The 
Poppy  is  our  national  symbol  of 
remembrance.  At  the  same  time  the 
Poppy  continues  to  help  the  RSA  to 
care  and  support  the  living  –  war 
veterans,  former  and  current  service 
personnel, and their families. 
Few  charitable  appeals  can  claim  the 
history  and  public  recognition  as  that 
of  the  RSA's  Poppy  Day  appeal  held 
prior  to  Anzac  Day  each  April.  The 
Poppy is a Kiwi icon. 
In  contrast  to  the  United  Kingdom, 
Canada  and  even  Australia,  in  New 
Zealand  the  Poppy  is  not  associated 
with Remembrance Day in November, 
but Anzac Day. The reason dates back 
to  the  fact  that  the  ship  carrying  the 
poppies  sent  by  the  French  Children's 
League arrived in New Zealand too late 
for  the  scheme  to  be  properly 
publicised  prior  to  Armistice  Day  (11 
November)  in  1921,  thereby  forcing 
the RSA to postpone its campaign until 
the  day  before  Anzac  Day  1922.  This 
decision 
established 
an 
historic 
precedent  whereby  the  Poppy  and 
Poppy  Day  –  as  the  day  was  known 
from  the  outset  –  became  forever 
associated  with  Anzac  Day  in  New 
Zealand. 
The  first  Poppy  Day  in  New  Zealand 
was a great success, with many centres 
selling  out  of  their  supply  of  French-
made  Poppy  sold  for  the  first  Poppy 
Day  in  1922,  when  all  up,  250,000 
poppies  were  sold  for  1  shilling  each 
(the  equivalent  of  $9.20  in  2016)  and 
15,000 larger silk flowers attracted two 
shillings  each  ($18.40),  netting  the 
national association £13,166 ($1.25M). 
Of  that  sum,  £3,695  ($350,000)  was 
sent  to  the  French  Children's  League, 
to help alleviate distress of widows and 
orphans  in  the  war-ravaged  areas  of 
northern  France.  The  remainder  of  the 
proceeds  were  used  by  the  RSA  to 
assist  returned  soldiers  so  beginning  a 
tradition  as  the  RSA's  primary  means 
of raising funds to support the needs of 
the service community. 
By  1931  the  RSA  was  producing  its 
own  poppies,  made  by  disabled 
returned soldiers at the Auckland RSA 
as well as Christchurch RSA, the latter 
is  today  the  sole  producer  of  the 
proudly New Zealand-made Poppy. 
Ref. Poppy Day Auckland RSA 
LANDSCAPING 
4 IN 1 BUCKET 
TRENCHER 
POLE HOLES 
ROTARY HOE 
COMPACT ROLLER 
OFFAL HOLES 
CAN SUPPLY WOODCHIP & POST PEEL 
5 TON TIPPER 
FOR RELIABLE AND FRIENDLY SERVICE CONTACT DAVE 
Dave Hyndman 
 
KAIWAKA 
PH: 09 4312302 
MOB: 021 431 238 
All your outdoor needs sorted so you don't have to... 
I can prune, chop, tidy, spray, mow, plant 
- you name it, I can do it! 
Residential & Commercial 
Lawn & Garden Care 
Call Rodney, your local  
lawnmowing contractor 
021 138 2344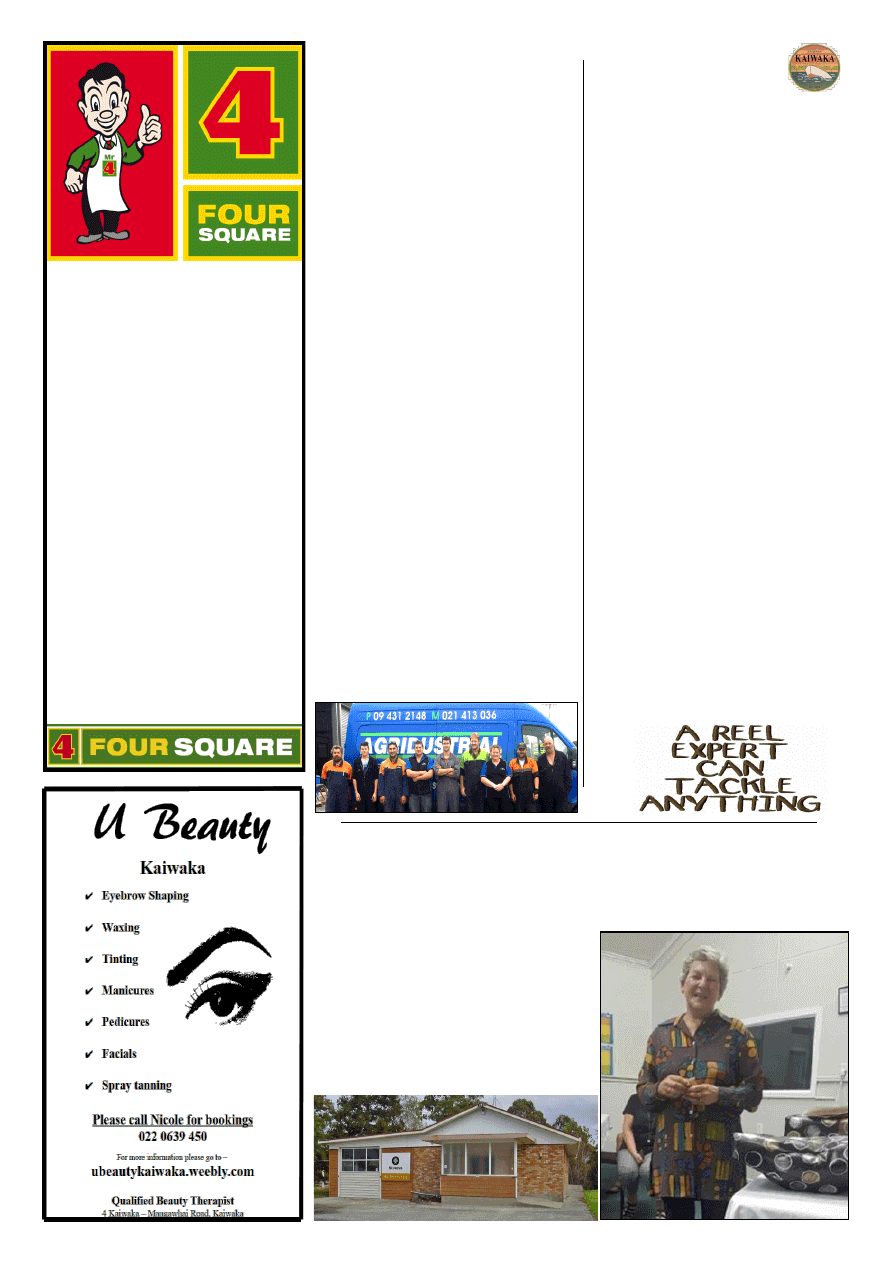 www.kaiwaka.co.nz 
Kaiwaka Bugle - 17 April 2018 
Page 7 
Refills Swap a 
bottle 
30L original size 
60L NEW IN STORE 
Larger size now 
available 
9KG gas bottle swap 
or purchase gas & 
bottle 
RUG DOCTOR HIRE  
Cleaning & stain 
products 
Talk to our Friendly staff 
Open till 6.30 Monday to Friday
Jaques Four Square 
Phone: 4312227 
1 Kaiwaka-Mangawhai Road, Kaiwaka. 
KAIWAKA ST.JOHN FAREWELL 
On  Wednesday  21  March,  the  local  St  John  held  a  pot  luck  dinner  to  honour  Judy 
Eagleton,  who has retired after nine  years dedicated service  as an Emergency Medical 
Technician (EMT) with St John.  
During the last three years alone, Judy attended more than 250 emergency incidents and 
spent approximately 780 hours on the road, mainly during night shifts. Judy has been a 
well-respected  member  of  the  Kaiwaka 
ambulance station and will be sorely missed. 
We  will  remember  Judy  for  her  flexible 
attitude  in  covering  night  shifts  at  short 
notice,  her  enthusiasm  in  helping  others  in 
their 
training, 
her 
excellent 
clinical 
knowledge and her great attention to detail. 
Judy,  we  wish  you  all  the  best  in  your 
retirement  and  thank  you  for  all  you  have 
done  for  St  John  and  the  community  during 
your time with us. 
PT.CURTIS 
CRUISING CLUB 
BUSINESS UPDATE 
Agridustrial have purchased Shamrock 
Auto Care Kaiwaka, and they are very 
happy to announce that Ross has come 
across  and  joined  their  Automotive 
team  alongside  Steven  Duff    at  768 
There  are  plans  by  the  owner  for  the 
former Shamrock Auto Care building. 
From the Agridustrial Team: 
We  are  carrying  out  the  same  great 
service  that  we  already  offered  plus 
carrying  on  the  existing  services  Ross 
offered to his clients.   
We will very soon be running four full 
bays  of  Automotive  repairs  and 
service.  So  we  will  have  plenty  of 
space  to  carry  out  anything  your 
vehicles  require  from  a  Warrant  of 
Fitness  and  service  right  through  to 
transmission  rebuilds  and  engine 
rebuilds and everything in between.   
We  pride  ourselves  in  being  able  to 
offer  quick  and  efficient  service  to 
keep you on the road.  
At  Agridustrial  we  offer  a  wide  range 
of services:  

Automotive:  we  do  WOF,  repairs, 
servicing,  transmission  and  engine 
rebuilds. 

Trucks:  we  do  COF,  repairs, 
servicing  and  transmission  and  engine 
rebuilds. 

Tractors:  we  carry  out  service  and 
repairs  right  through  to  engine  and 
transmission  rebuilds,  we  work  on 
tractors  both  onsite  in  our  workshop 
and  on  farm  with  our  fully  equipped 
service vehicles. 
We  take  pride  in  the  services  we 
provide to the community. 
 East Vs West  
Open Fishing Competition 
Fri 20
th
 Sat 21
st
 and Sun 
22
nd
  2018. 
Everyone is welcome to enter, and 
the THUNDER CUP is up for grabs. 
See Poster on page 15 
Tickets  are  $30  Adult  and  $10  Junior 
(under  15yrs).  Tickets  can  be 
Purchased  at  3Furlongs  Bar  &  Grill, 
Wellsford  Sports  and  Leisure,  Jean  at 
Jaques  Superstore  or  Online  (check 
poster or Facebook page). 
Species 
are 
Snapper, 
Kingfish, 
Kahawai,  Tarakihi,  Trevally,  Gurnard, 
John Dory, Crayfish & Spearfish. 
ALL  SNAPPER  WEIGHED  IN,  GO 
IN  FOR  THE  AVERAGE  WEIGHT 
PRIZE 
WHICH 
IS 
A 
$300 
VOUCHER. 
Weigh  in  times  for  Friday  and 
Saturday are between 5-6pm, Sunday 4
-5pm  with  Prize  Giving  at  6pm  and 
shared meal to follow. 
Up and coming Events:. 
Opening Duck Shoot 5
th
 May 2018 
End  of  Year  Prize  Giving  5
th
  May 
2018 
Subs  are  Due  1
st
  June  2018,  Family 
$30 (2 Adults and 2 Children), or $20 
Single. 
Fish  of  the  Month  Winners  for 
Snapper:    Tony  Smith,  2.988kg;Tony 
Smith, 2.550kg;  Joss Tolley, 1.908kg 
New Fish of the Month is Kahawai 
Next  Club  Meeting  8
th
  May  2018  at 
3Furlongs Bar & Grill, 7pm. 
~
Wayne Leslie, Commodore.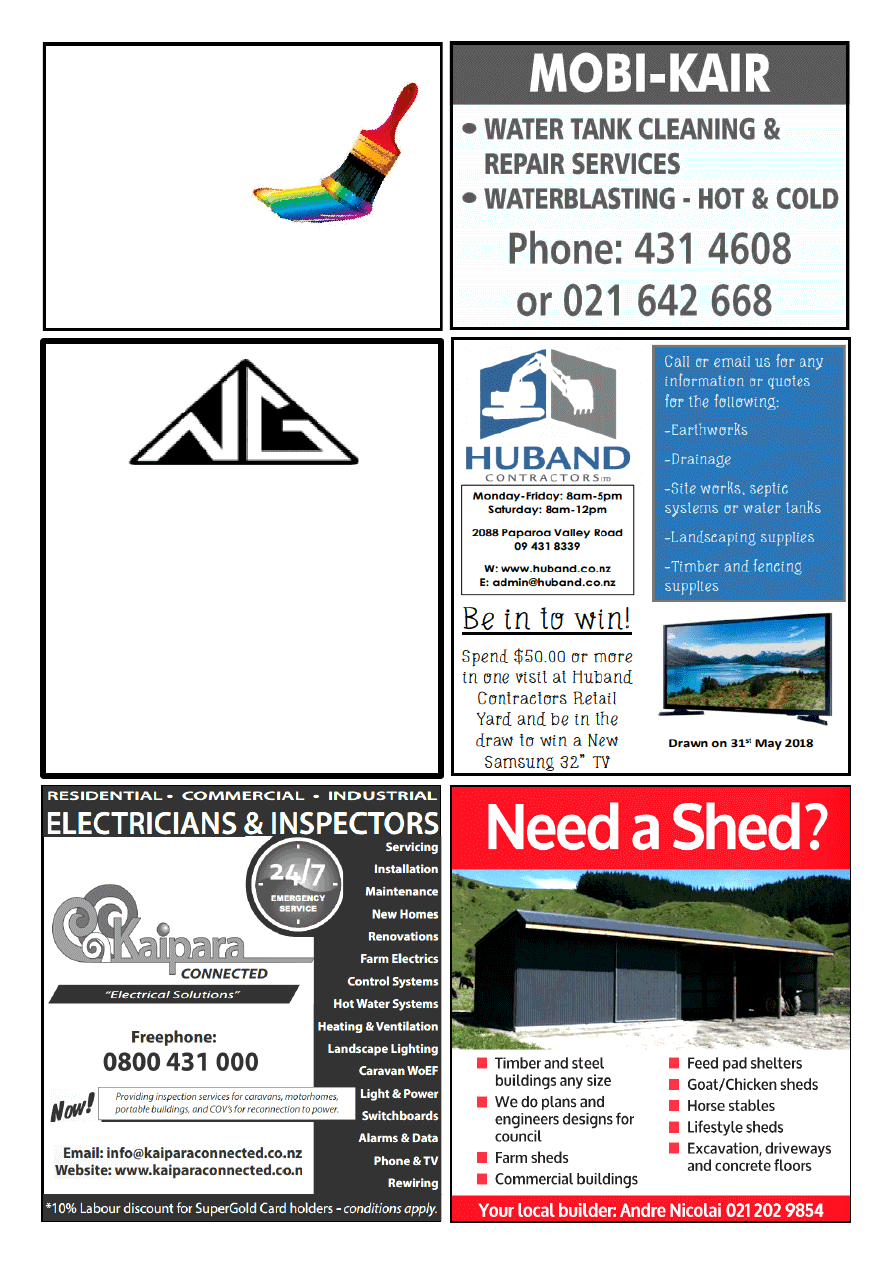 09 4312918 
0274735171 
leecooper@xtra.co.nz 
LEE COOPER PAINTERS 
(Kaiwaka Based) 
*30 yrs Experience 
*Interior/Exterior 
*New and Restoration 
*Honest and Reliable 
*Free Quotes 
NORTH GLASS 
WINDSCREEN REPAIR OR REPLACE 
GLAZING SERVICES 
MIRRORS  •  SPLASH BACKS  •  SHOWERS 
0800 70 40 10
info@northglass.co.nz 
www.northglass.co.nz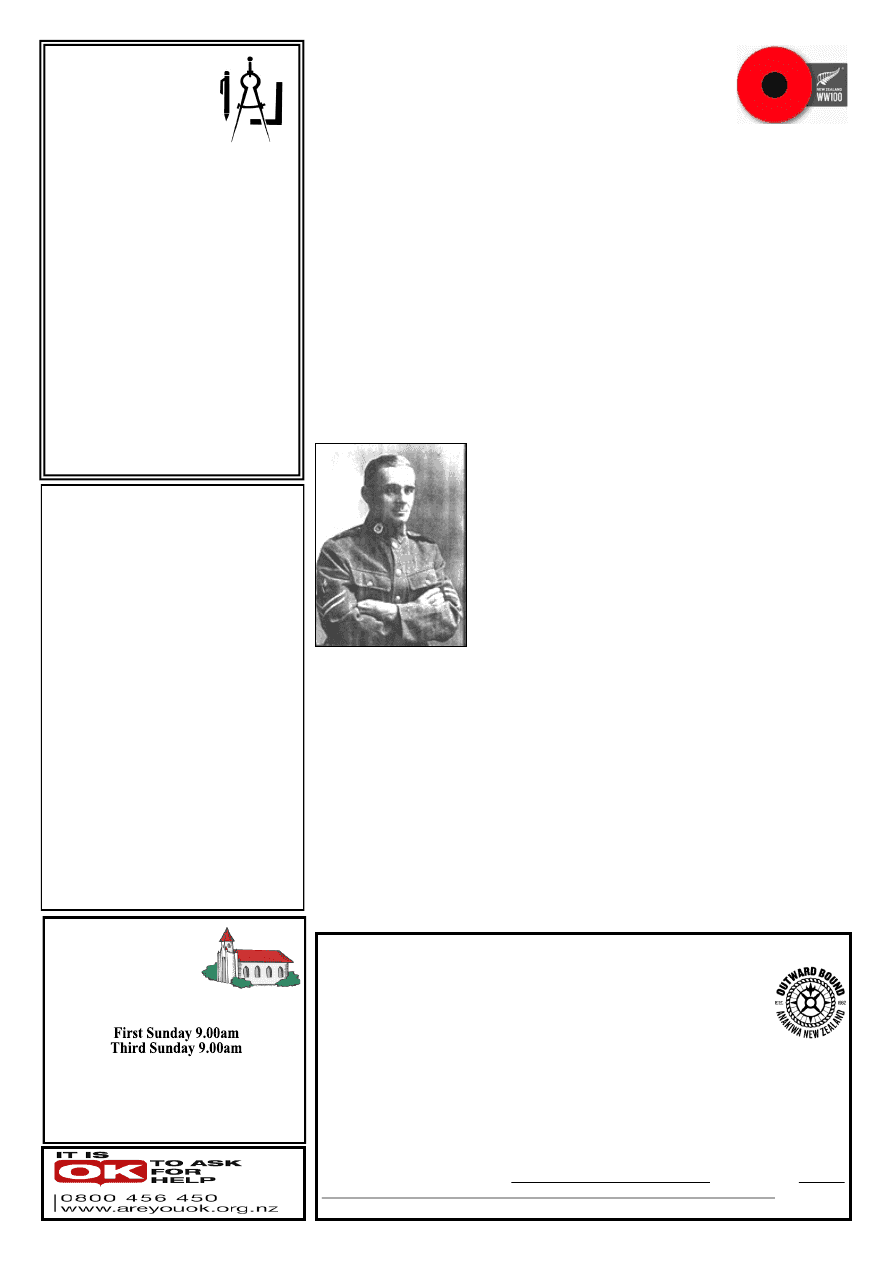 www.kaiwaka.co.nz 
Kaiwaka Bugle - 17 April 2018 
Page 9 
design  
drafting  
service 
Retired builder and manufacturer 
with over 40 years experience in the 
building industry is offering a design 
drafting service for domestic hous-
ing, sleepouts and sheds.  
Plans formulated in consultation 
with clients, with working drawings 
completed and submitted to council 
for processing.  
Extensive practical experience,  
able to identify & resolve problems.
Please ring Mike Lean on 
09 431 2260 
or 
021 431 196 
Mangawhai 
Heads 
Garden 
Centre
1758 Cove 
Road
945 0707 
021 165 2629 
ST PAUL'S  
ANGLICAN  
SUNDAY  
SERVICES
St Pauls Church: Kaiwaka-Mangawhai Rd. 
1st Sunday - Eucharist 
3rd Sunday - Family Service 
Rev. Wayne Thornton Ph 431 4122 
www.mangawhaianglican.org.nz
57  soldiers  and  3  nurses  are  listed  on 
our Kaiwaka War Memorial Hall WWI 
Honours  Boards,  of  these  15  were 
killed  or  died  of  wounds  overseas,  2 
died  in  camp  of  illness  and  17  were 
wounded. 
The  battle  wounded  returned  home  – 
not  all  to  Kaiwaka,  as  those  recorded 
on the Honours Board were either born 
in Kaiwaka, went to Kaiwaka School or 
were resident and working in the area. 
Of the wounded we remember: 
James  Lewis  Cameron,  William 
Charles Cameron, Murray Clark, Henry 
Wm  Hubert  Coates,  Arthur  Benjamin 
Cox, Thomas Davis Donaldson, Alfred 
Vernon  Groves,  Frank  Herbert,  Robert 
Noel Johnson,  William  Charles  Leslie, 
William  Quinn  Leslie,  Charles  Clark 
Littin,  John  Murdoch  McGregor, 
Harold  James  Smith,  Jonas  Percival 
Smyth,  James  Wm  Thornton,  Edward 
Roy Walton. 
Robert Noel Johnson   
Corporal 
Johnson, Serial 
No.13/197, 
also  known  as 
Noel  Johnson 
served 
in 
World  War  I, 
1914-1918. 
Noel  was  born 
17  December 
1881  in  Louth, 
England. 
He 
was  a  school 
teacher.  It  is 
recorded  in  the  'Centennial  of 
Kaiwaka', page 51 –"With the progress 
of  the  district  and  the  temporary 
increase  in  the  number  of  children 
brought  about  by  the  public  works 
during railway construction in 1913-14, 
a  school  at  Ranganui  became 
necessary. At one time there were up to 
40 children attending, the teacher there 
being  Mr  Johnston  [sic]  assisted  by 
Miss Vergie Donaldson". 
He  was  single  when  he  enlisted  with  
Otamatea, in August 1914, at the age of 
32. 
After  two  month's  training  at  Potters 
Paddock,  Ellerslie,  Auckland.    Private 
Johnson embarked with the Main Body 
along with his horse, 
sailing 
from 
Wellington 
16 
October  1914  on  the 
Star  of  India  or  Waimana,  reaching 
Suez,Egypt (3 December 1914). 
He  served  in  the  (North)  Auckland 
Mounted  Rifles  and  was  involved  in 
two campaigns -Egypt and Gallipoli. 
Sadly,  he  suffered  from  bronchial 
pneumonia  at  Gallipoli  and  was 
admitted  to  Walton-on-Thames  NZ 
Hospital, England. 
He met his wife, Mary Meta Callender, 
while  a  patient  at  Walton-on-Thames 
Hospital. She was a VAD nurse there at 
the  time.  They  were  married  in  1917 
after  he  was  invalided  home  to  New 
Zealand, where he returned to teaching.  
Noel  died  in  Auckland  in  1965  at  the 
age of 83. 
Charles Clarke Littin 40340  
The  Littin  family  were  early  Kaiwaka 
settlers.  Charles,  son  of  Charles  and 
Frances Littin, was Born 12 May 1896, 
went to Kaiwaka School and became a 
farmer with the  family in Te Hana. 
Private  C.C.Littin  (next  of  kin-his 
brother  Percival  Walter  Littin  of 
Kaiwaka)  left  Wellington  12.2.17  and 
arrived in Plymouth 2
nd
 May 1917. He 
was  at  Sling  for  the  next  month  and  
went  from  there  to  Etaples  where  he 
joined  2
nd
  Battalion    Auckland 
Regiment July 1917. He was wounded 
by  a  machine  gun  bullet to  the  foot in 
France  on  30  August  1918  and 
admitted to a Clearing Station in Rouen 
1
st
  September,  and  then  transported  to 
the  No.2  NZ  General  Hospital  in 
Walton  England.  He  embarked  from 
Liverpool  to  NZ  on  the  Maunganui, 
2.12.1918 
– 
"Discharges 
in 
consequence  of  being  no  longer 
physically  fit  for  War  Service".  Also 
recorded  the  finding  of  the  Medical 
Board that he was to "Return to NZ as 
unfit for at least 6 months". He took up 
farming  again  and  married  Lucy 
Ramsbottom  in  1919  (who  died  in 
1935), and Linda Matheson in 1940.  
Died in 1952, aged 56 and is buried in 
the Wellsford Cemetery.  
These  are  just  two  of  those  who  did 
return home. 
WWI - WOUNDED 
Robert Noel Johnson 
OUTWARD BOUND COMMUNITY VOLUNTEER 
SCHOLARSHIPS APPLICATIONS OPEN 
  Are  you,  or  do  you  know  someone  who 
shows  passion  and 
commitment  to  helping  their  community,  and  is  18-26  years 
old?    This  could  be  in  the  form  of  volunteering  for  local 
organisations,  supporting  worthy  causes  or  investing  time  in 
helping others.
Who's  the  Finest?  Scholarships  are  now  available  for  Outward  Bound's  21-
day Classic course in the Marlborough Sounds. Scholarships are available for 
courses  happening  during 
7  May  -  27  May,  4  June  -  24  June,  30  July  -  19 
August and 27 August - 16 September 2018.
The  scholarship  pays  up  to  75%  of  the  full  course  fee.  In  addition,  the 
participants just need to cover the 
cost of a medical appointment and travel to 
and from Picton. 
Call  0800  688  927,  email  jwilson@outwardbound.co.nz  or  head  to  https://
www.outwardbound.co.nz/scholarships/whos-the-finest-scholarship/  for  more 
information and closing dates.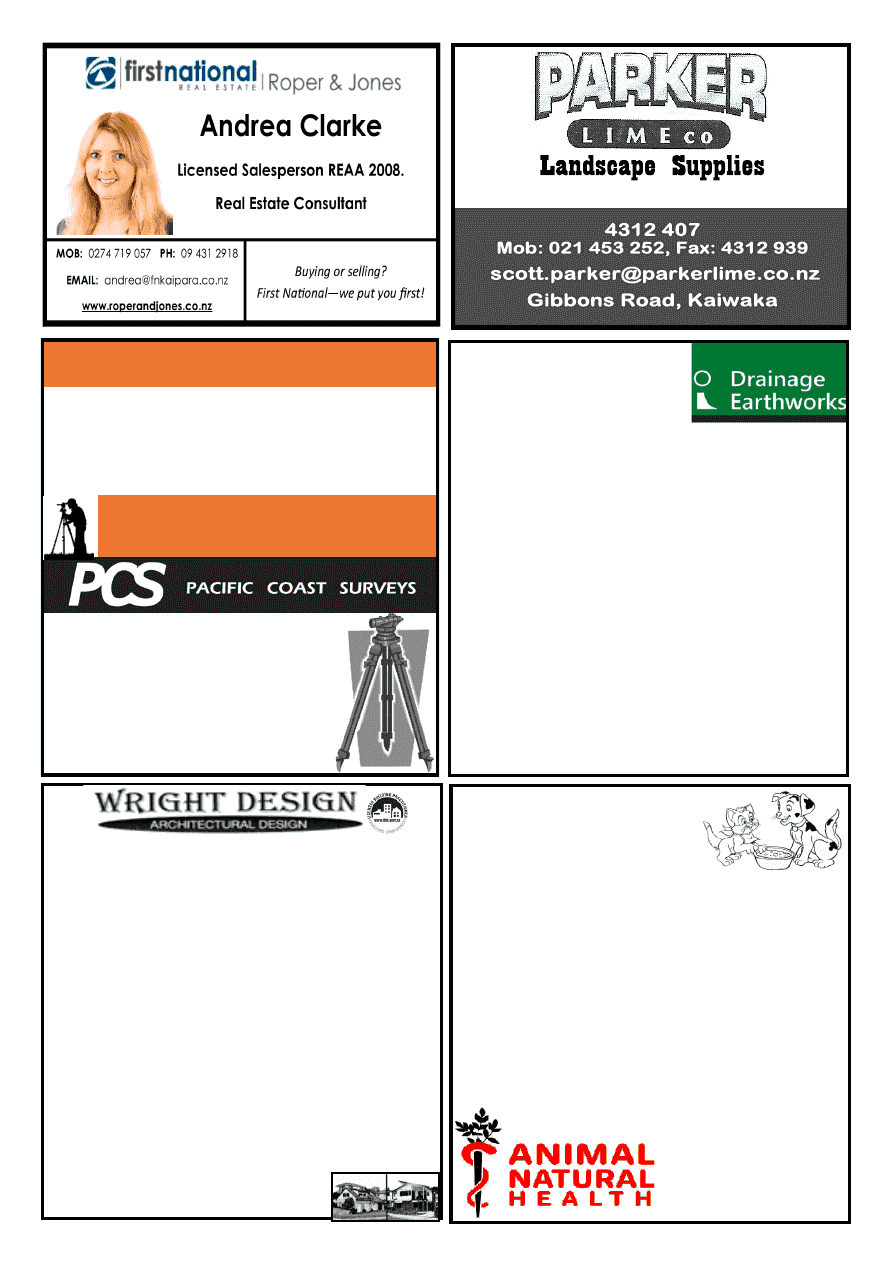 Drainage & Earthmoving 
nigel@clarkedrainage.nz 
027 2233 185 
Registered Drainlayer 
All Types of Earthworks  
> All Residential & Commercial Work  > House Sites 
> Septic System Design & Install 
> Footings & Drilling to 10m 
> Sewer Connections 
> Dams 
> Water Tank Installation 
> Roading & Races 
> Farm Work 
THE ONE STOP SHOP  
Phone Nigel for an Obligation Free Quote  
Bulk Cartage 
SURVEYORS 
SUBDIVISIONS 
HOUSE SITE SURVEYS 
CIVIL ENGINEERING 
WASTEWATER DESIGNS 
EXPERIENCED 
PROFESSIONAL 
INNOVATIVE 
Ph 09 431 5353 
0800 PACIFIC (0800 722 434) 
pacificcoastsurvey.com
Adam Booth - 027 415 5752 
Bsurv, Licensed Cadastral Surveyor
Surveying Kaipara since 1994 
If you are thinking of building then you 
will need a good and well experienced, 
qualified, and licensed designer. 
This applies if you are considering a 
new home any alterations or any 
building additions/farm buildings, 
sheds, alterations, whatsoever. 
For Resource and Building Consents, 
planning restraints, new building 
materials, applying for building permits 
– you need a capable, experienced, 
and professional designer with a clear 
knowledge of all the processes. 
Brian has been helping and organising 
all these facets of design and building 
for over 50 years. 
Wright Design offers free visits, 
consultations and advice on planning, 
design, building, council permit 
applications, guaranteed permit plan 
acceptance. 
QUALIFICATIONS 
Brian is a qualified designer 
(N.Z.C.A.D.) with over 50 years of 
varied experience in all types of 
building and is registered and Licensed 
Building practitioner in Design – 1 & 2 
Registered LBP117345 
He will ensure you will achieve the 
best from your budget. 
EXPERIENCE 
Brian's practical building and 50+ years 
of design experience means he can 
give you excellent advice and all the 
guidance needed. 
Brian can arrange engineering for a 
reasonable cost. 
•Qualified and inexpensive designer – 
N.Z.C.A.D. Registered LBP117345 
•Guaranteed design and working 
drawings 
•Free site visit to your home or 
property 
•Great service and free quotation 
PROJECTS 
Additions, alterations, basements, new 
homes, motels, bed and breakfast, 
commercial buildings, farm buildings, 
and shop fit outs are a few projects. 
Brian can show you many of his 
projects in the area to emphasise his 
versatility and can give you contact 
with satisfied clients. 
WHAT TO DO FROM NOW ON 
•Call Brian for a free quotation 
•Discuss your needs and obtain good 
advice 
•Brian can offer 
plan printing 
from A4 to A0 
(2x A1 size) 
No. 117345 
ORIJEN & ACANA  
now available!
Looking for economy with 
quality in pet food? 
Our 2kg fresh meat rolls only $12.90
Tukka Thyme Muesli (makes 3kg) - only $14.90 
Veal Bones 3kg $17.90 
Beef & Lamb Patties  3kg  $22.90 
Chicken Medallions 3kg  $18.90 
No nasty chemicals, cage & crate-free, free-range, 
organic where possible. 
Flea-Flee , Tick & Lice Control, alternatives to 
vaccinations. 
Safe beach leads, collars, toys. 
Want a choice in animal health care? 
See our Animal Naturopath.  
ANIMAL NATURAL 
HEALTH CENTRE 
Next to Italian Bakery, 
Kaiwaka 
Ph. 09 431 2217    
Open Mon-Sat.
N.Z.C.A.D., L.B.P. 117345 
PH/Fax: 09 423 8092 Mob: 021 276 7369 
Office: 3 John Sinclair Avenue, Wellsford    brianwright@xtra.co.nz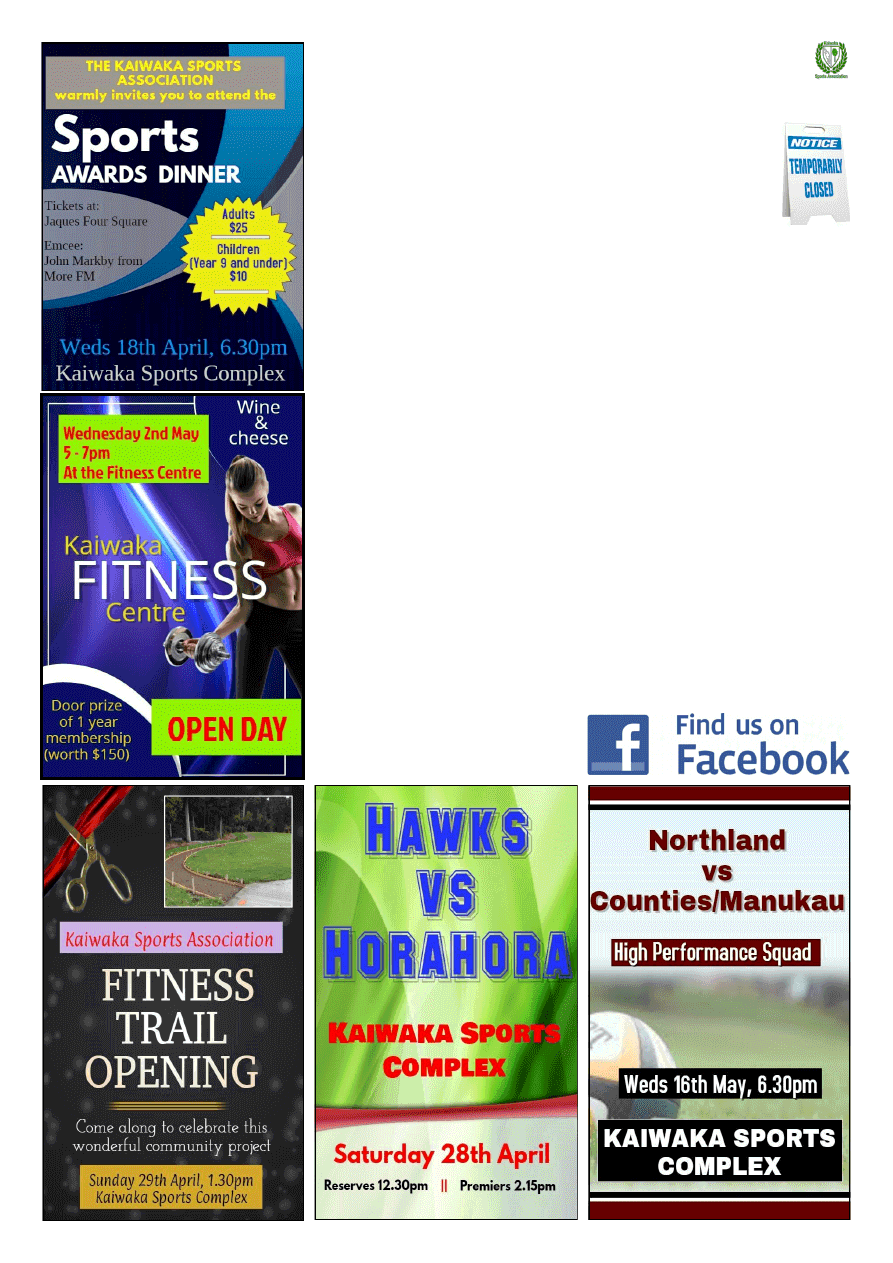 www.kaiwaka.co.nz 
Kaiwaka Bugle - 17 April 2018 
Page 11 
KAIWAKA SPORTS SOCIATION
Kaiwaka Sports Awards 
Our annual Sports Awards will be held 
this Wednesday and will be emceed by 
More  FM's  John  Markby.  Tickets  are 
$25 per adult and $10 per child 
(Year  9  and  under)  and  can  be 
purchased at Jaques Four Square. 
Fitness Centre 
Our  Fitness  Centre  will  hold  an  Open 
Day on Wednesday 2nd May 5 - 7pm. 
Come along to renew your membership 
or  start  a  new  one.  Wine  and  cheese 
provided.  Everyone  who  attends  will 
go  in  a  draw  to  win  a  free  year's 
membership 
(worth 
$150). 
A 
membership gives you 24/7 access to a 
centre  equipped  with  free  weights, 
bikes, climbers, rowers, treadmills, CV 
machines,  toilets  and  showers.  If  you 
are  on  Facebook,  please  like  the 
Kaiwaka  Fitness  page  to  keep  up  to 
date with news and events. The Fitness 
Centre  keys  will  change  over  on  20th 
May. 
For  more  information  on  the  Fitness 
Centre, please contact Siobhan on 027 
9791203. 
Rugby - senior 
Our  senior  rugby  club,  Otamatea 
Hawks,  will  next  play  at  our  grounds 
on  Saturday  28th  April  against 
Horahora. 
Reserves 
kick-off 
at 
12.30pm  and  are  followed  by  the 
Premiers at 2.15pm. 
Rugby - representative 
We  are  proud  to  be  hosting  a 
representative  rugby  match  next 
month: 
Northland 
vs 
Counties-
Manukau 
(the 
High-Performance 
squad).  It  will  be  held  on  Wednesday 
16th May, kick-off 6.30pm. 
Junior Tennis 
The Hargreaves Cup and the Anderson 
Cup  were  contended  by  the  Kaiwaka 
Tennis  Club  juniors  on  Sunday  15 
April under the guidance of coach 
John  White  and  fun  was  had  by  all. 
Results in next Bugle. 
Out of action 
We  are  redoing  the  floor  of 
our  gymnasium,  and  it  will 
be  out  of  action  for  a  few 
weeks.  So,  it  won't  be 
available  for  bookings  until 
further notice. 
Puna Reo 
Ngā  Tupuranga  O  Ngā  Puna  Reo,  a 
free  Māori  incentive  playgroup,  is 
being held in our pavilion on Tuesdays, 
9  –  1pm  during  term  time.  And  at  the 
Archie  Bull  Hall  on  Thursdays,  9  - 
1pm.  It  is  free,  with  no  ECE  hours 
required. They provide kai and learning 
for tamariki 0 – 5 years old. For more 
details,  contact  Diva  Ratu  on  021  104 
6224. 
Fitness Trail 
We have finished our Fitness Trail and 
will  hold  an  Opening  Ceremony  on 
Sunday  29th  April  at  1.30pm.  There 
will  be  a  blessing  ceremony,  lolly 
scramble  and ribbon  cutting.  After  the 
ceremony  we  would    like  everyone  to 
set off round the  round the track - you 
can  run  it,  walk  it  or  bike  it!  Hope  to 
see you there. 
Disco Night 
It was a fabulous disco  - thank you to 
everyone who came along and grooved 
down! A big thank you to Leanne Rose 
Stringer and Peter Buckley for bringing 
along  their  awesome  laser  lights  and 
fog machine - the kids loved it!
~Cheryl Anderson,  
4312 051, 027 3462702 
kaiwakasports@gmail.com 
Team Fonterra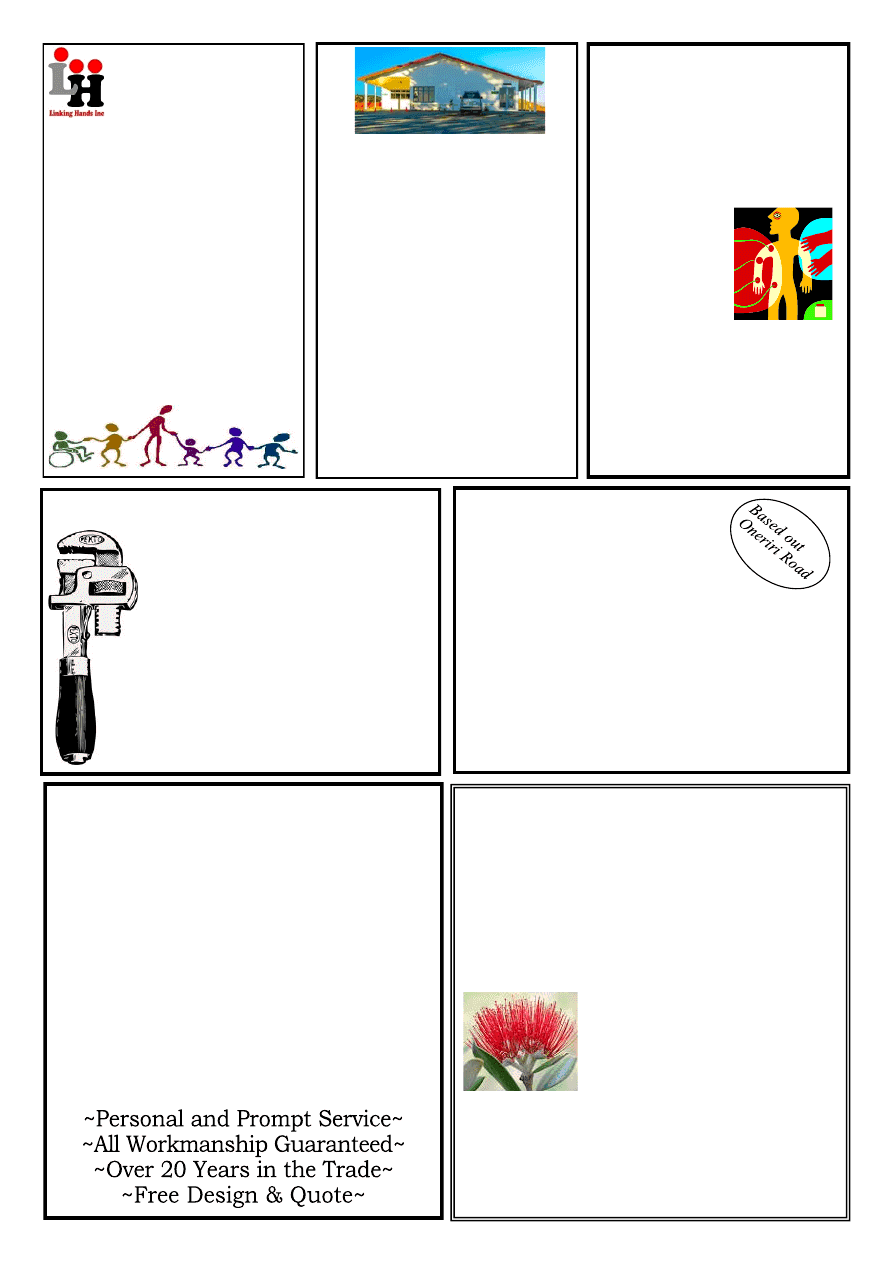 BARRY CURTIS PLUMBING LTD 
REGISTERED CRAFTSMAN PLUMBER 
Phone 431 5572
027 257 9884 
25 years' experience 
Friendly reliable service 
All plumbing & maintenance 
Alterations and new housing 
Spouting  
C
ompetitive rates 
PROMPT EFFICIENT SERVICE 
KAIPARA FLOORING CO 
Independently owned & operated 
32 HURNDALL ST MAUNGATUROTO
Supply & Installation of Carpet, Vinyl,  
Vinyl Wood Planking
Stockists of 2m & 3m wide 
vinyl & carpet short ends
Residential & Commercial
Q Card Finance Approved 
6-18 month terms 
6 mth interest free
First Class Installations
For a free measure & quote 
phone Christine  
09 946 9886 or 021 515 415 
kaiparaflooring@gmail.com 
http://www.kaiparaflooring.co.nz/ 
HODGETTS 
CONTRACTING
Digger Work 

Driveways 

House Sites

Dams  

Drains, etc
Also available for HIRE 

4
3 ton Vib Roller 

Heavy Duty Tow  

4
Waterblaster   
 
Lazer Level 
Phone Mark 4312877 
OWEN STEVENS 
Osteo Therapist
For careful adjustments to bones 
and joints 
Treatment for humans and their 
pets 
Clinics: 
Kate's Place, 
Kaiwaka: 
Last Friday of 
month 
For bookings: 
9.00am-5.00pm  
Phone 
09 4312661 
Or phone Owen  
09 4317123 anytime 
PLANNING A NEW KITCHEN?
 CONTACT NOEL McDOWELL
WELLSFORD 
KITCHENS
Ph/Fax 094312888
KAIWAKA-Any time
 QUALITY CUSTOM MADE 
KITCHENS
Te Pounga Marae 
130 Nathan Rd. Oneriri. Kaiwaka 0573 
COMPLEX FOR 
HIRE 
Functions 
* Weddings  * Birthdays  
*Anniversaries * Meetings  * Wananga 
5 hour meeting * 12 hour stay  * 
Overnight 
*All welcome - No more Drink-driving 
Amenities: 
*Convo Combi Steamer * Bratt Pan * 
Dish Washer/Sterilizer * 3 Door Glass 
Chiller (walk in) etc…All Crockery * 
Linen Supplied * Central Heating and 
Air Conditioning and much more.  
Can also cater for small groups…. 
For more information please contact: 
Kim Wallace  
Home: 09 832 1133  Mob: 0211275340  
Email: kimwallace@xtra.co.nz 
  LINKING 
HANDS INC 
Maungaturoto - Kaiwaka - 
Mangawhai 
Meeting the needs of the community. 
A  free Health Shuttle Service, providing 
transport to those who would struggle to 
get  to  medical,  dental,  podiatry,  or 
optometrist appointments anywhere from 
Warkworth to Whangarei. 
HEALTH SHUTTLE SERVICES 
Ph/fax 09 431 8969 
OFFICE HOURS 
Maungaturoto - Monday to Friday - 
10am to 4pm 
Closed Public Holidays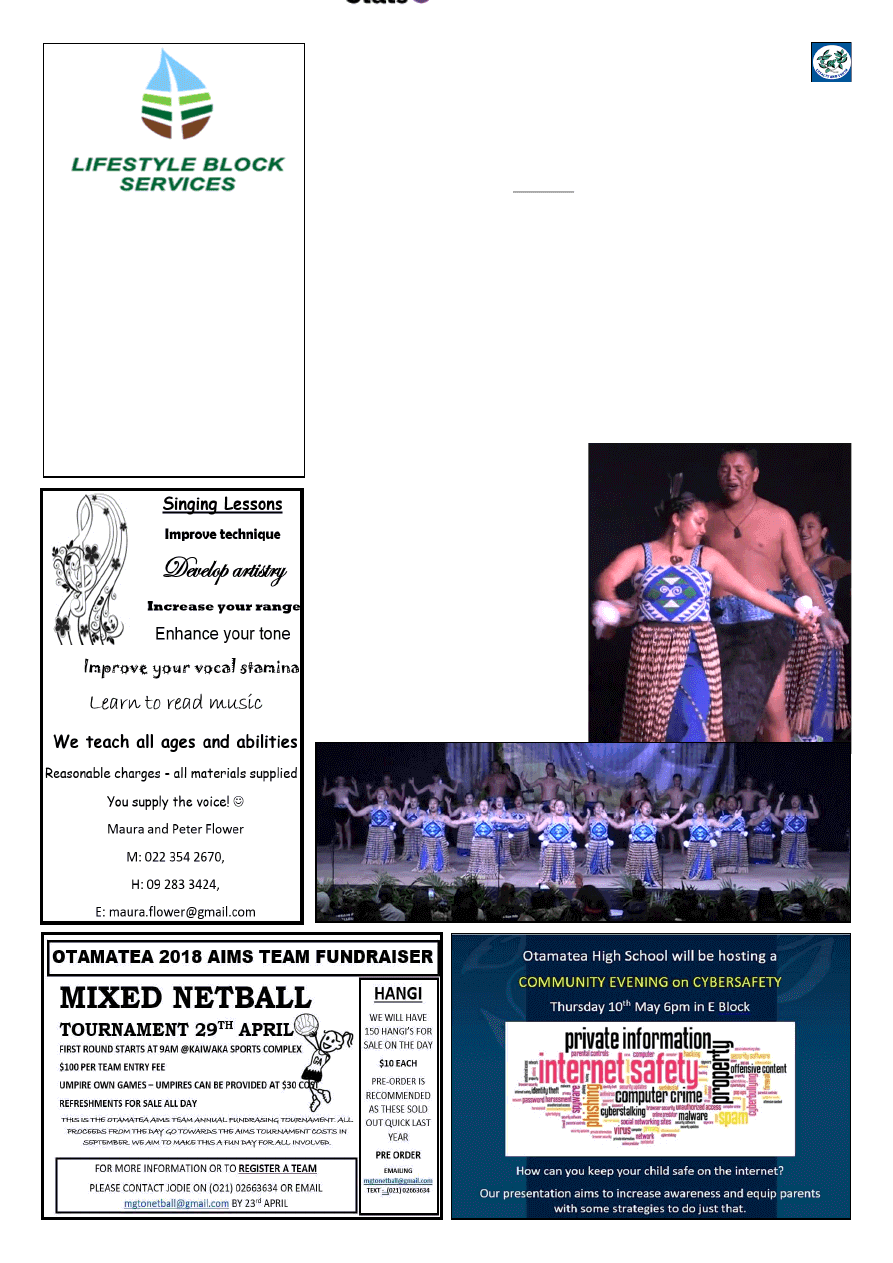 www.kaiwaka.co.nz 
Kaiwaka Bugle - 17 April 2018 
Page 13 
OTAMATEA HIGH SCHOOL  
From the Principal 
Well  done  to  all  the  students  who 
participated  in  this  year's  Te  Tai 
Tokerau  Festival  in  Kerikeri.    It  was 
wonderful  to  see  the  pride  and  mana 
that they demonstrated.   The video of 
their  performance  and  interview  with 
the  leaders  can  be  found  on  tehiku.nz. 
Pictures below. 
Well  done  to  all  the  self-driven 
pathways  students  who  participated  in 
a two day leadership course this week.  
During  this  course  they  created  an 
event  in  teams  for  the  year  8  and  9 
students to participate in, then they had 
to  adapt  their  event  ready  for  the  next 
group.  The  final  task  was  to  evaluate 
the success of their event.   Lots of fun 
was  had  by  all  of  those  involved  and 
the  senior  students  had  an  opportunity 
to  earn  14  NCEA  Level  3  credits  for 
their efforts. 
Upcoming Events 
Monday 30 April:  
First Day Term 2  
EOTC  L2  Primary  Industries  Quad  Bike 
Course at Maungaturoto Country Club 
Tuesday 1 May:  
Head Student meeting   
Community Te Reo Māori Classes 5.30pm  
EOTC  L2  Primary  Industries  Quad  Bike 
Course at Maungaturoto Country Club 
EOTC  Yr  11/Yr  12  Digital  Media  Studies 
to The Cement Works, Warkworth  
Wednesday 2 May: 
EOTC Girls and Boys Football after 2pm 
Friday 4 May: 
Staff Only Day 
Strategic Planning Day 
Otamatea High Mobile Dental Clinic 
We are examining all students who are 
enrolled  with  the  Northland  DHB 
School  Dental  Service  year  7/  8,  and 
with  the  Northland  DHB  Adolescent 
Dental  Service  years  9-13. 
Consent to treat/Medical forms will be 
issued  for  any  follow  up  treatment 
necessary.    Please  sign  and  return  as 
soon  as  possible  to  the  Dental  Clinic, 
so that treatment can be carried out. 
For  any  enquiries  or  to  make 
appointments  please  phone  the  clinic 
on:      09  431  8164,  or  our  Call  Centre 
on: 0800 698 3384. 
  Free  Adolescent  Dental  treatment  is 
available  up  until  your  18th  birthday, 
(whether  at  School,  Tech,  working  or 
not  working).      However,  you  must 
enrol  with  the  Ministry  of  Health 
Contracted  Provider:  either  with 
Northland 
DHB 
Oral 
Health 
Services, or a Private Dentist.  
It  is  important  to  have  all  signed 
Adolescent 
enrolment 
forms 
back,  before  eligible  students  can 
receive  any  treatment.   
~      Vivienne 
Moller,  (NZ  Registered  Dental  Therapist)  and 
Christine Johnson, (Dental Assistant) 
Make Baleage while the sun shines! 
Let us make hay/sileage for you, or 
buy single & 5 bale equivalents from 
us
. 
Contact Mark on 021 801 065 or 
Contact Lisa on 021 108 1057
We also do: 

Fencing 

 Spraying 

  Mulching 
 
Stockwork 

  Stock Water 
Systems 

  Tree Trimming  

 Driveway & Track Maintenance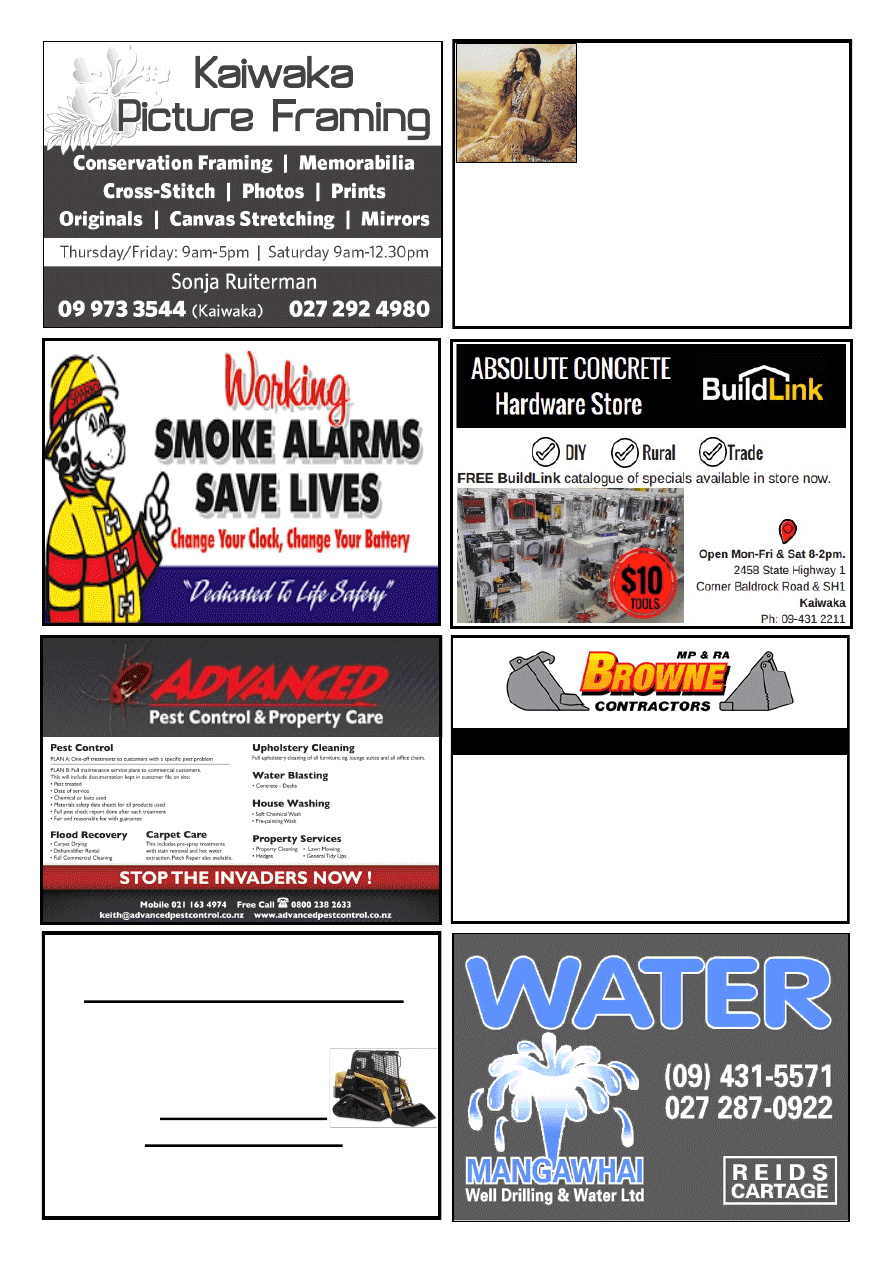 Natural Earth Ltd 
Landscape and Bobcat services 
 : Driveways :Landscaping :Retaining Walls 
 : Hole Boring: Land Levelling :Trenching 
 : Decks :Fences :Sections Cleared 
 : Plus much more
Tel 09 4312 885 
Mob 02102391280 
For A Fast Friendly Service  
Contact Tim Hicks 
4T DIGGER – BOBCAT – TIP TRUCK 
Property Maintenance - Driveways  
 Building Sites 
Stump & Tree Removal  
Hole Boring - Chain Trencher  
Calf Shed and Stockyard Cleaning 
Phone Matt: 021 199 6677 
Email: mprabrownecontractors@gmail.com 
Trails end 
spiritualist gathering 
Last Sunday of every month  
10.30-2pm  
Tea/coffee provided  $5 koha 
For all inquiries: 
021 165 2629 evenings (09) 945 0707 
Trail.end@hotmail.com 
1758 Cove Road, Mangawhai
Bringing together light minded people 
Guest speaker each month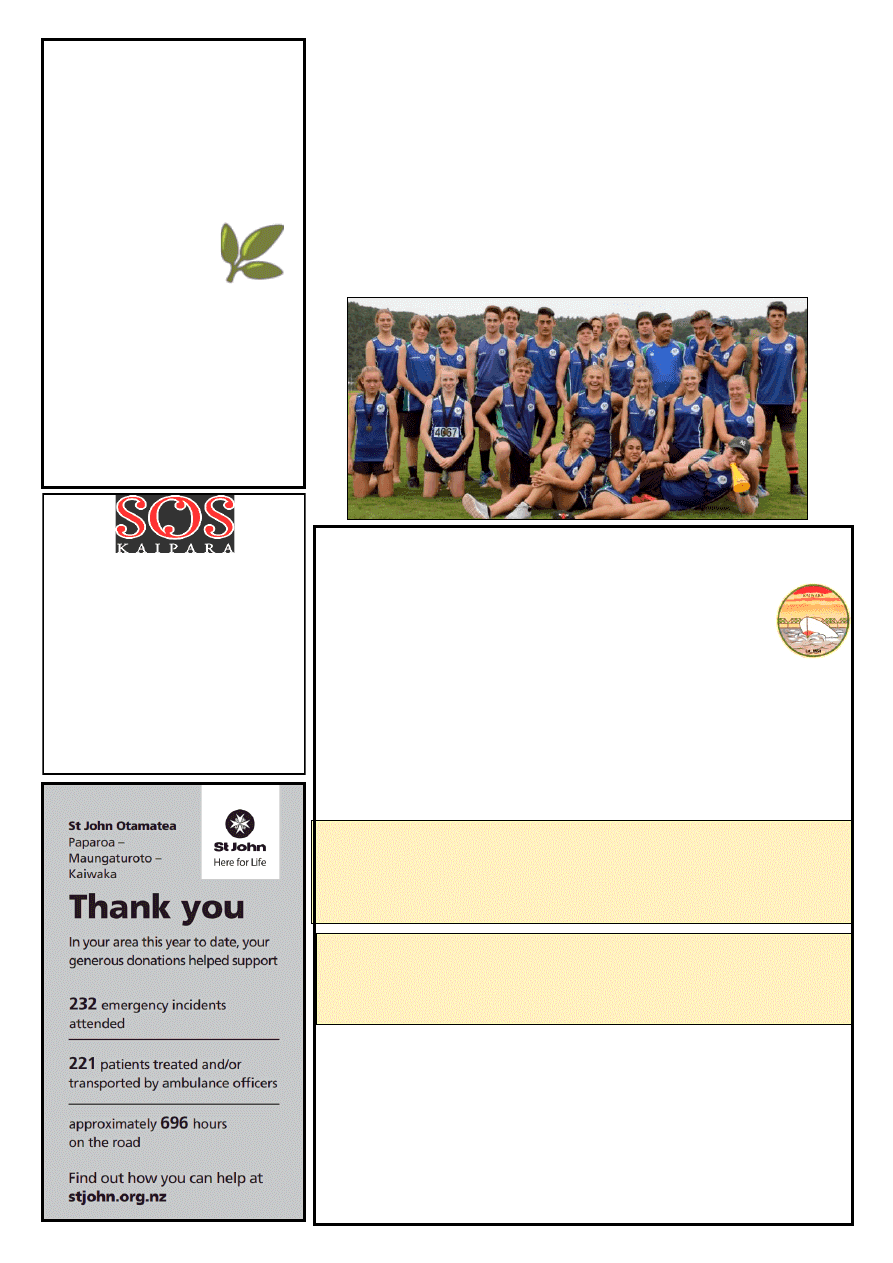 www.kaiwaka.co.nz 
Kaiwaka Bugle - 17 April 2018 
Page 15 
NORTHLAND SECONDARY SCHOOL ATHLETICS 
15  March  2018  Kensington  Park,  Whangarei.  This  year,  Otamatea  High  School  had 
twenty-five athletes, pictured below, representing the school at this event. The day was a 
huge  success  with  the  students  bringing  home  nine  1st,  five  2nd  and  three  3rd  place 
medals on the day. 
Joshua Sheppard – 1st 800 m, 1st 1500 m junior boys; Trista Comer – 1st 800 m, 2nd 400 m 
intermediate  girls;  Amyee  Sheppard  –  1st  2000  m  steeple  chase,  3rd  400  m  intermediate  girls; 
Sophie Gribble – 1st Triple jump, 1st 1500 m, 3rd 800 m intermediate girls; Aleesha Butt – 3rd 
100 m intermediate girls; Hayley Linton – 2nd 3000 m intermediate girls; Cheylysse Flannagan – 
2nd 200 m intermediate girls; Tyrone De Ardenne – 1st 200 m intermediate boys; Kyrin Harris – 
2nd 1500 m intermediate boys; Isaac Sheppard – 1st 2000 m steeple chase, 4th 1500 m senior 
boys; Dietrich Von Dincklage – 1st shot put, 2nd discus senior boys. 
Well  done  to  Haylen  Moir  Bischell,  Zayde  Wyatt,  Maia  Fairburn,  Kayden  French-
Browne and Conner Quirk who all made the 200 m finals. Well done to Maia Fairburn, 
Tyrone De Ardenne and Cheylysse Flannagan who made it into the 100 m finals. 
Well done to all the athletes. You were a credit to your school and a really supportive 
team assist on the day! Thank you to Mrs Parsons for her official time keeping duties at 
the day and to all the parents/family who supported our athletes. ~ Tina Holst  
Cut Above Gardening &  
House Maintenance  

Free quotes  

Special rates for pensioners  

Competitively priced  
 
Garden maintenance  
 
Barking/make overs 
 
Weed control with organic sprays  
 
House washing  
 
Gutter clearing  
 
Rubbish removal  
 
Hedge trimming   
 
Planting  
 
Lawn mowing  
No job to small  
Locally based  
One off or on-going regular 
maintenance  
Offering a professional service 
 at a realistic price 
Cut above gardening making  
your gardens a cut above the rest  
Please contact Jayden on 
0224683069  
S.O.S Kaipara 
Support, advocacy, crisis and 
family therapy counselling, refuge 
housing to survivors of sexual 
abuse and domestic violence. Also 
Education prevention programmes 
for the community and clients.  
Office hours 9am to 3pm Monday to 
Friday; 24/7 a Police or phone 09 
4396070 
Point Curtis Cruising Club Inc 
EAST v WEST OPEN FISHING COMPETITION 
20th & 21st & 22nd APRI 2018 
Start Time:   6am Friday 20th April 
Finish Time: 5pm Sunday 22nd April 
Weigh in Friday& Saturday: 5pm tp 6pm on Friday & Saturday 
Weigh in Sunday: 4pm to 5pm Sunday 
Maximum weigh in: 2 of each species per angler per day 
Prizegiving:  6pm Sunday 22 April. Prizewinners must be present 
BBQ:   Please bring a plate 
Tickets:  Must be purchased before 11pm Thursday 19 April 
Ticket Outlets: Three Furlongs Bar & Grill; Jean McLeish at Jaques Four 
Square; Wellsford Sports & Leisure 
Pay for Tickets by Internet Banking:    Please put your Name/Names as a 
Reference NEW Bank A/c details are No. 12 3094 0008233 00 
Seniors Entry Fee:  $30 
Species: Snapper Kingfish, Kahawai, Terakihi, Trevally, Gurnard, John 
Dory, Crayfish & Spearfish (only rod  reel or handline fishing with a 
maximum of 2 hooks). 
Senior Prizes: Snapper : 1st $300 Voucher; 2nd $200 Voucher; 3rd $100 
Voucher;  All other species: Prizes for 1st, 2nd,&  3rd. 
Juniors Entry Fee:  $10 (aged under 15) 
Species:  Snapper Kingfish, Kahawai, Terakihi, Trevally, Gurnard, John 
Dory, Crayfish & Spearfish (only rod  reel or handline fishing with a 
maximum of 2 hooks). 
Junior Prizes:  1st, 2nd & 3rd prizes for all species. 
ALL SNAPPER WEIGHED IN GO IN FOR THE AVERAGE WEIGHT PRIZE  
for a $300 VOUCHER. 
Rules & Disclaimer: 
Maximum of 2 per species per angler per day allowed to be weighed in. Fish must be weighed in green. 
There is to be no use of nets, longlines, kontikis. kites or similar. 
There is a maximum of 2 hooks per line. 
In the event of 2 or more fish the same weight – the first fish weighed in counts. 
MPI rules & regulations apply with the exception of snapper which must measure 32cm or more. 
All people on boats must have purchased tickets for this competition. 
Boundaries are anywhere north of and including Waitemata & Manukau Harbours. 
The Point Curtis Cruising Club Inc. accepts no liability for any damage or loss of property or injury to any   
person. 
Decision of Weigh-Master is final.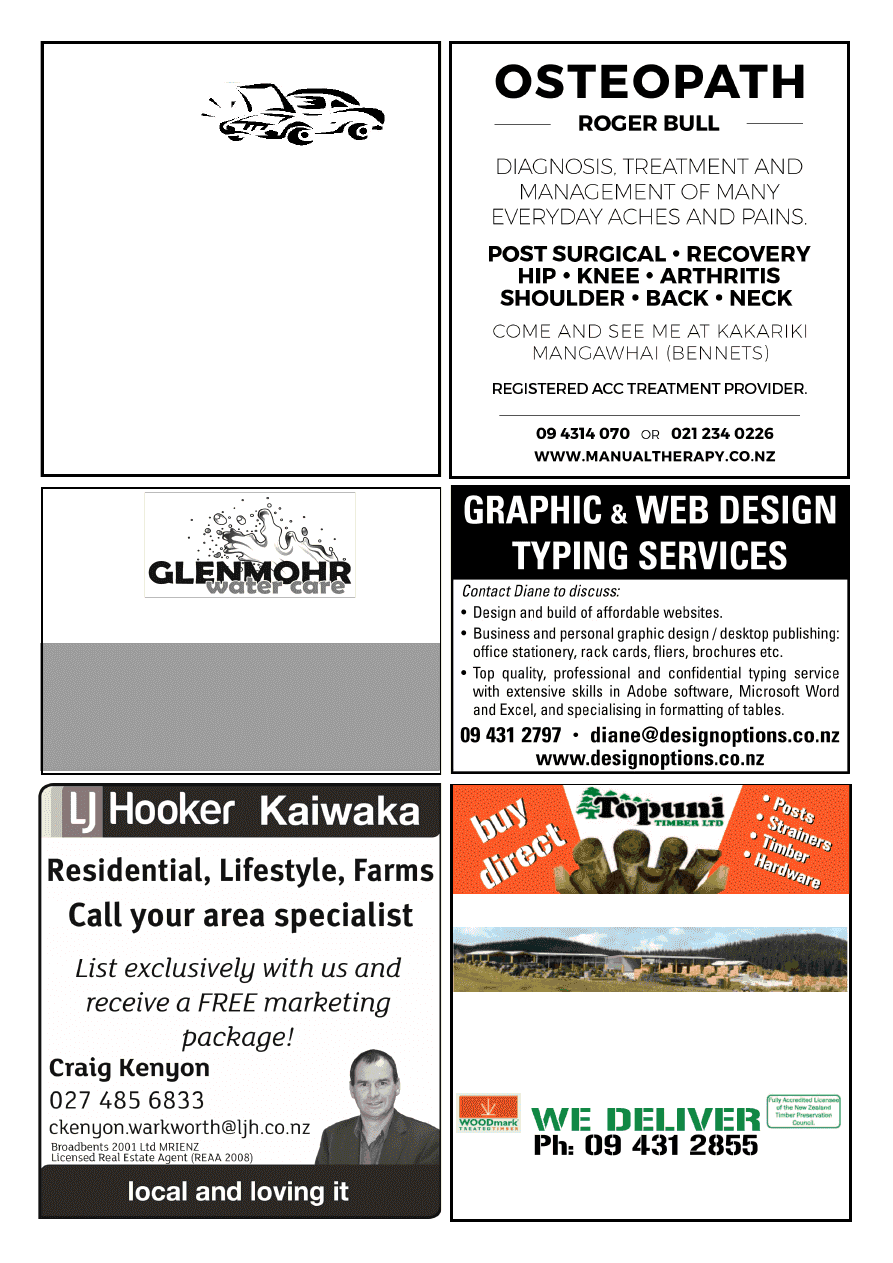 Water Tank Cleaning 
• 
Keep your water safe & clean  
• 
Removal of sediment, silt etc. 
• 
Vacuum or full scrub 
• 
Minimal water loss 
Phone Mark (09) 432 0655 or 0274 707607 
Twinkle Tow 'n' Tyre 
Think you'll get a better deal in the city? 
Ring us - it won't cost anything! 
1837 State Highway 1, Kaiwaka 
Phone 431 2823 
*W.O.F. 
*Tyres 
*Windscreen 
replacement 
*Chip repairs 
*Bulk Oil 
*Batteries 
*Welding 
*Custom built 
trailers 
*Trailer hire
LOCALLY OWNED AND OPERATED 
QUALITY PRODUCTS • FRIENDLY ADVICE • GREAT SERVICE 
Quality Products milled from High Density NORTHLAND Radiata Pine. 
Treated and guaranteed to NZS3640 with commitment to 
Environmental Safety.
Phone, fax, email, or come into the mill 
Schiska Rd, Topuni, SH1, 10 min north of Wellsford. Fax: 09 431 2856 
Email: sales@topunitimber.co.nz           Mon - Fri 7am-5pm 
• Fencing 
• Retaining 
• Decking 
• Landscaping 
• Gates 
• Hardware 
www.kaiwaka.co.nz 
Kaiwaka Bugle - 17 April 2018 
Page 17 
Reyahn George 
Leng 
Registered Electrician 
Local, honest and 
reliable. 
For your residential and 
light-commercial 
projects. 
022 314 1068 
Kaiwaka 
Hardware  
& 
Key cutting
Phone 4312 063  
or 022 0642 703
kaikey2015@gmail.com
    Keys Cut  
Household Hardware  
Sharpening  
Knives & Tools 
Curtain Tracks & Fittings
Not there? Call Doug and he'll 
sort
it for you. 
(
Next to Kaiwaka Motorcycles)
School  reopens  on  Monday  30  April. 
We will be welcoming 4 new students 
with  a  powhiri.  Everyone  is  welcome 
to attend the powhiri. 
Next term we have booked 40 places at 
the Vital Body Worlds-an international 
exhibition  of  real  human  bodies  that 
have been preserved. This is a once in 
a  lifetime  opportunity  but  will  not  be 
everyone's  cup  of  tea.  Please  research 
this exhibition online and decide if you 
would like  your  child/ren to  attend?  It 
is  better  suited  for  students  over  8 
years old. 
School  groups  are  able  to  get  entry 
tickets  for  $10  each,  and  the  bus  fare 
will be $16.00 each. 
We  will  take  40  students  and  4 
teachers. Any adults who want to come 
as  well  can  buy  tickets  upon  arrival, 
and these will be $25.00 
Whanau Raffle 
Congratulations  to  our  raffle  winners 
Willow Woodman and  
Dominique  Incorvaia  who  have  each 
won  a  delicious  Easter  Basket.  Thank 
you  everyone  who  supported  our 
Easter  Raffle.  $205.00  was  raised  and 
this  will  go  towards  new  piu  piu  for 
our  Kapa  Haka  group.  We  are  aiming 
to  have  enough  piu  piu  for  our  boy's 
and girl's front lines. (22 piu piu). 
Special  thanks  to  Bennetts  of 
Mangawhai  and  Jaques  Four  Square 
for donating the prizes. 
Appreciation Day. 
Thank  you,  Bruce  Ferguson,  for 
providing  the  water  slide  for  our 
Appreciation Day. Pictures below 
The  Drumming  Workshop  with 
Robert  Koffie  and  Ritmo  Amigo  on  5 
April  at  the  KSA  was  an  exciting 
adventure  into  African  Drumming 
delivered 
by 
a 
world-renowned 
drummer and dancer. Pictures below. 
Term 2 
30 April: Start of Term 2 
23  May:  National  Simultaneous 
Storytime. 
24 May: Lip Sync Battle 
11 June: Teacher Only Day 
25 June: Book Fair, Book Week. 
29 June: Des Hunt visit 
6 July: End of Term 2 
HELP 
PHONE NUMBERS 
HEALTHLINE:  
0800 611 116 
SAMARITANS:  
0800 726 666
YOUTHLINE:  
0800 376 633 
LIFELINE     
0800 543 354
DEPRESSION HELPLINE:  
          0800 111 756 
ALCOHOL & DRUG HELPLINE:   
 
0800 787 797 
URGENT MENTAL HEALTH LINE:  
 
0800 223 371
KAIWAKA SCHOOL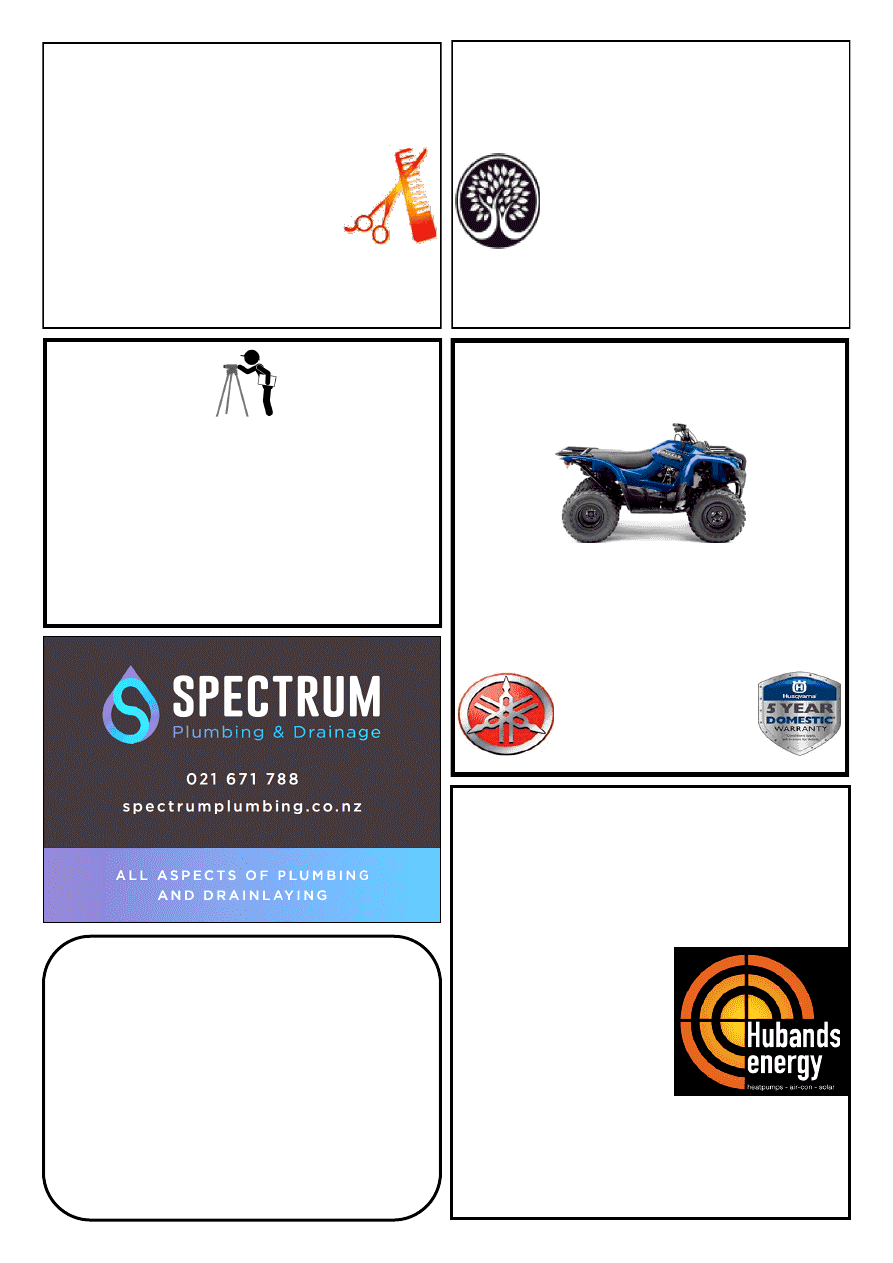 KAIWAKA 
MOTORCYCLES LTD
SALES – SERVICE – SPARES 
FARM BIKE SPECIALIST
PHONE 09 431-2127 
10 KAIWAKA-MANGAWHAI ROAD, KAIWAKA
Trimmers  
from $279
Chainsaws  
from $339
YAMAHA 
HUSQVARNA 
Northland's Award Winning 
Solar Company
SEANZ Best Solar Business Winners 2015/16
EXCLUSIVE 10 year installation warranty 
FREE No obligation onsite quote
Complete systems 
from $5990
See our range of: 
✓
Heatpumps 
✓
Airconditioning 
✓
Hot Water 
Heatpumps 
✓
Central Vacuum Systems
09 430 0019             sales@hubands.co.nz 
15 Kioreroa Road, Whangarei
Locally owned and operated for 35 years 
UP-LINK 
CHRIS WARING 
FREEVIEW INSTALLATIONS 
T.V. - HOME THEATRE &  
HI-FI ADVICE/SET UP
SKY ACCREDITED INSTALLER
MOB.0273403747 HM.094312328 
EMAIL cwaring44@gmail.com
28 YRS EXPERIENCE 
OFFERING UNBIASED ADVICE 
Ken Urquhart 
BSurv Licensed Cadastral Surveyor 
KMU Surveys Ltd
467 Bickerstaffe Road 
RD 2 
Maungaturoto 0587 
Ph 09 431 8705 
Mob 021 161 2344 
kenurquhart@xtra.co.nz 
AFFORDABLE PRICES! 
MENS CUT FROM $20.00 
LADIES CUT FROM $30.00 
KIDS CUT FROM $18.00 
COLOUR & CUT FROM $120.00 
JUST CUTS'AND   
MORE 
021 165 2629 or (09) 945 0707  
NOW SELLING: scented tealights, incense, smudge sticks, 
copper bracelets, aurora ball crystals, dream catchers, healing 
stones, rose quartz, cds, and much more. Open 6 days. 
Waipu Natural Health 
3 Cove Road, Waipu  (opposite the Pizza Barn) 
Ph: 09 432 1325 
www.waipunaturalhealth.co.nz
Clinical Nutritionist-Hair Analysis for Masked 
Allergies, Ozone Therapy, Prolotherapy, 
Naturopath-Medical Herbalist, Registered 
Massage Therapists, Reflexology-
Craniosacral Therapy, Acupuncture-Facial 
Acupuncture, Kineso Taping, Hypnotherapy, 
Counselling, ThetaHealing.
AFFORDABLE CONSULTS FOR KIDS – give us a call
Gift Vouchers available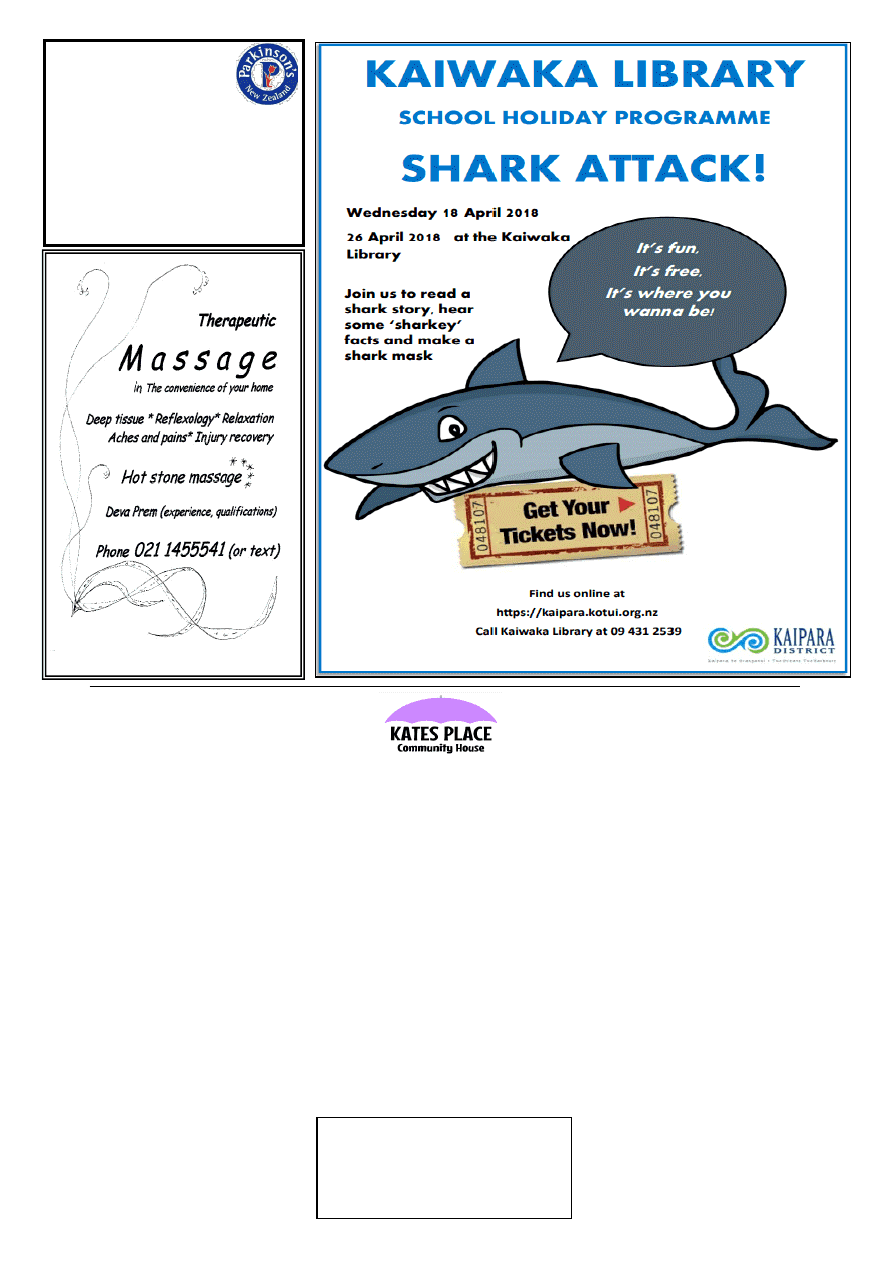 www.kaiwaka.co.nz 
Kaiwaka Bugle - 17 April 2018 
Page 19 
www.mangawhaimassage.co.nz 
SERVICES  
Advocacy - Come and see us anytime for 
support  and  advice.  Budgeting - We  will 
help  you  organise  and  plan  your 
finances.  Employment  Mentoring  - 
CVs,  career,  and  employment  support. 
Food Co-op - $10  a  week.  Bulk  buying 
group.  Save  money.  Assistance  with 
Life Planning - We  can  help  you  create 
a  life  plan.  Driver's License Coaching - 
One  on  one  learner  license  coaching. 
Plunket - 1st  Wednesday  of  the  month. 
Appointment  preferred.  Office Space To 
Rent  -  Talk  to  Kirstie  for  more 
information.  Community  Space  - 
Available for activities or meetings. Call 
us. Support Services - For  Families  or 
Individuals In crisis.   
EVENTS & ACTIVITIES  
Mid-Year Annual  Fundraiser  -  To  be 
confirmed.  
Community  Xmas  Party  -  Fun,  food 
and a visit from Santa.  
Over  65's  Lunch  -  1st  Wednesday  of 
month. 11am - 1:30pm. Contact us.  
Games Day - Every  Wednesday.  Adults, 
cards, scrabble. Contact us.  
If you have a group or event you wish 
to run in our community house, please 
talk to Kirstie.     
COURSES  
"Cooking  Great  Family  Meals  and 
Occasions on a Budget" - Stretch  your 
dollar  and  brighten  up  your  table. 
Introduction  to  Basic  Gardening  - 
Thursday 10am. Contact us.  
Small Business courses - A  variety  of 
courses and information evenings  
Health  &  Safety  Courses/  First  Aid  -  
Dates to be confirmed.  
Parenting  Courses  -  Dates  to  be 
confirmed.  "How  To  Improve  Your 
Life  by  Managing  Your  Money 
Better" -  Call us to book your place.  
"How To Handle The Pressure Cooker 
Of  Life"  -  Starting  in  May.  Evenings 
over  six  weeks.  Contact  us  to  register 
your interest.  
All  courses,  training,  and  night  classes 
content,  times  and  costs  may  vary  without 
notice.  Please  talk  to  Kirstie  at  the 
community  house  for  details  and  to  book 
your place or talk to us about running your 
own course from our centre.  
HEALTH & WELLBEING  
Movement Class - Thursday 12pm.  
For  all  ages  and  sizes.  Contact  us. 
Diabetes Clinic - Every six weeks.  
Contact  us  for  the  dates.  Plunket - First 
Wednesday of the month.  
Counselling - Usually subsidised.  
Thursday  and  Friday  Weekly Support 
Group  -  Emotional  support.  Every 
Friday  11am.  Family  Therapy  and 
Conflict  Resolution  -  Group 
or 
individual sessions.  
Osteopathic Therapist - Last  Friday  of 
the 
month. 
Owen 
Stevens. 
Physiotherapist  -  Here  on  a  weekly 
basis,  contact  us  for  more  details. 
Occupational  Therapist  -  Here  on  a 
weekly  basis.  Contact  us.  Massage 
Therapist - On  a  weekly  basis,  contact 
us for more details.  
YOUTH  
Peer  Tutoring -  Every  Wed  afternoon 
4:30pm-6:30pm.  Primary  and  secondary 
students.  Youth  counsellor  -  Most 
funding  available.  Contact  us  for 
assessment. 
Youth 
Development 
Course  -  6-week  course.  10-16  years. 
Contact  us. Creative Arts Day (Holiday 
Program)  
Contact us on  
09 431 2661 - Monday to Friday 
9am - 4pm, or phone 029 7739085, 
or call in to 1960 State Highway 
One, Kaiwaka, or follow us on 
Facebook "kates place community 
house".  
Parkinson's  
Northland 
Provide: 

Home based consultations 

Information and education on living with 
Parkinson's 

Support and exercise groups 

In-service training for other health 
providers 
Barbara Leslie RN,  
Community Educator 
09 4376881  or 027 5306221 
educator.northlandsouth@parkinsons.org.nz 
www.parkinsons.org.nz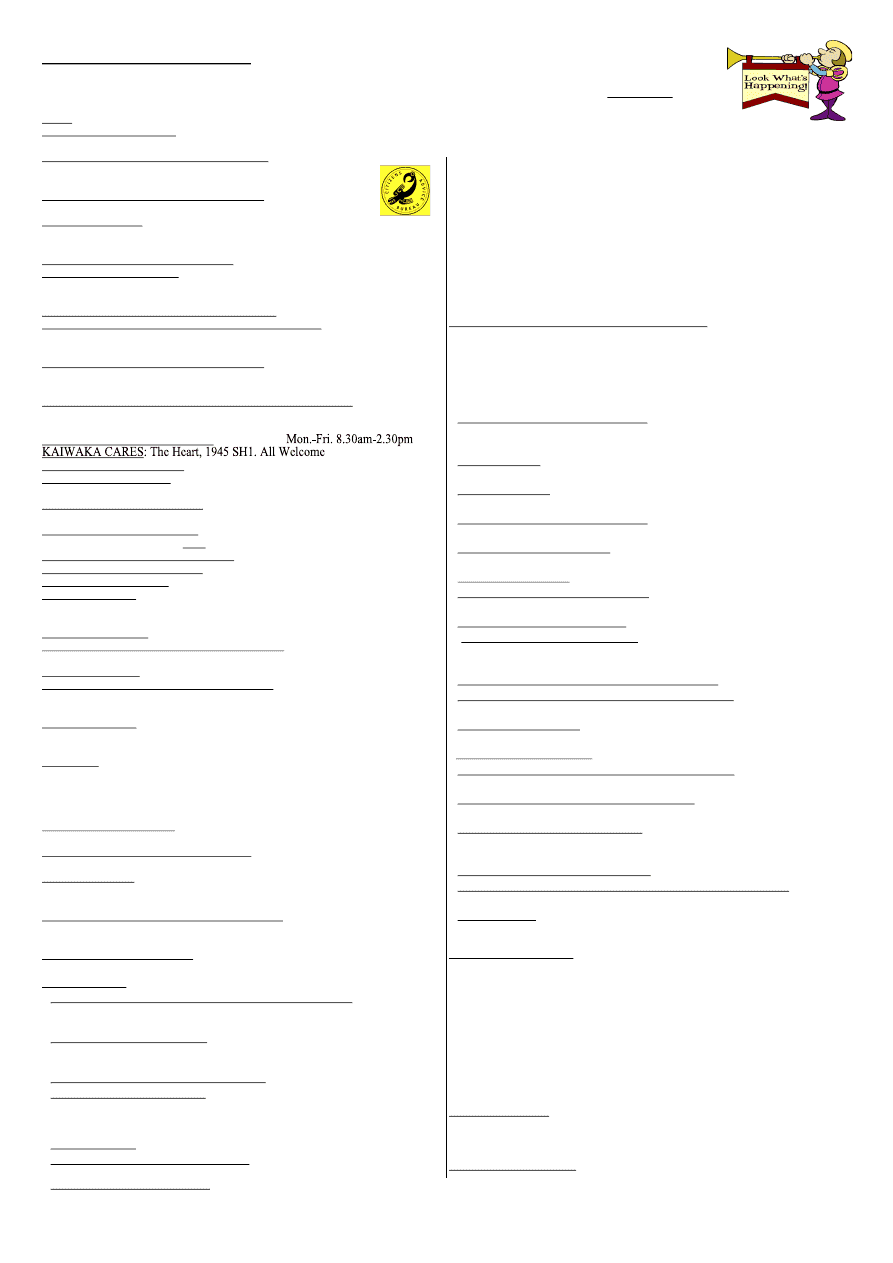 Next Bugle Deadline midday Friday 27 April  2018
WHAT'S ON
PLEASE ~ do let us know what is on - email 
kaiwakabugle@kaiwaka.co.nz 
*18Apr~Kaiwaka Library Chn's programme 
*18Apr~ Kaiwaka Sports Awards, KSA, 6.30pm 
*20Apr~'Waru', KWMH, 7.30pm 
*20-21Apr~Molesworth Sheep Dog Trials, Oneriri Rd.Kaiwaka 
*21Apr~Fearless, D Claasen, 1pm The Kauri Museum 
*23Apr~Generosity/Funding meeting11.20am KWMH 
*25Apr~ANZAC DAY 
*27Apr~'Dunkirk', KWMH, 7.30pm 
*29Apr~Otamatea Mixed Netball Tournament, KSA 
*30Apr~School Term 2 begins 
*4May~'Darkest Hour', KWMH, 7.30pm 
*6May~Hakaru and Dist. Memorial RSA AGM,1.30pm 
KWMH = Kaiwaka War Memorial Hall; KSA = Kaiwaka Sports Association 
See www.kaiwaka.co.nz for more information 
HOUSEHOLD RUBBISH COLLECTION  
Kaiwaka Pick up: 
Mondays = Green bags (Northland Waste - 09 430 3273) 
Wednesdays  = Blue bags and yellow recycling (at Jaques $3.00 
and  $1.50)  (Kaurilands  09  4392146);  ONLY  Blue  and  Yellow 
bags picked up on Oneriri Road. 
 DIABETES  Support  Group  -for  Kaiwaka,  Mangawhai, 
Wellsford  10am,  3rd  Friday  of  month  Ph:  Colleen  James  09 
4314238 
 DRINK CAN 'tear tabs' - for Starship Hospital- please collect - 
98 Kaiwaka Mangawhai Rd, leave in mailbox, Ph. 4312625  
 GENEALOGY - Wellsford: 1st Thursday in month Ph: 423 
7033; Waipu: 4th Monday in month Ph: 4312 725 
 GYMNASTICS  OTAMATEA  -  Tuesday  Ph:  Stephanie  022 
3624998 
 HAKARU PONY CLUB - Secretary Denise Rogers 021423376 
secretary@hakaruponyclub.co.nz  
 KAIPARA HUNT - Secretary Albert Doonenbal Ph 4312059 
 KAIPARA YONG FARMERS - K Danks  0211598453, meet on 
last Thursday of the month at Three Furlongs Bar & Grill 
 KAIWAKA BADMINTON -Tuesdays 7.30pm Ph: 4312345 
 
 KAIWAKA DRAMA CLUB - 
Hannah Webb 
0272863352
- KaiwakaDrama@gmail.com Monday 5:30-7:00pm KWMH - FB 
- "KaiwakaDramaClub" 
 KAIWAKA DRUM & DANCE CLASSES - 021 611198 
 KAIWAKA GARDEN & FLORAL GROUP - 2nd Thursday in 
month. Ph: 431 4744 
 KAIWAKA  CUBS  -  Thursdays  5.30-7pm,  Hakaru  Ph:Bruce 
4312542 
*KAIWAKA PILATES - Ph: 021 2072729. 
 KNITTING FOR WHANGAREI HOSPITAL - 2nd Tuesday in 
month, Archie Bull Hall 10am Ph 4314827 
 MANGAWHAI COMBINED REBUS CLUB - 2pm, 3rd 
Thursday month, Senior Citizens Hall Mangawhai. Ph: 4315777 
 OTAMATEA GREY POWER - Kath Pattinson 09 283 2052, 
1pm last Wednesday of month, Anglican Church Hall, 
Maungaturoto 
 PT CURTIS CRUISING CLUB - Jean Ph: 4312227 (wk), 4312520 (hm) 
 RSA,  HAKARU  &  DISTRICTS  WOMEN'S  SECTION  –  meets 
1.30pm 4th Thursday of the month. Ph: 431 5818  
 TRAMPING - Mondays 9am-2:30pm Maria 4312 234 
HALLS FOR HIRE: 
 St.Pauls Archie Bull Hall HIRE $20 half day, $40 full day per 
hire, S McAulay, Ph 4312311 
 Kaiwaka  War  Memorial  Hall  HlRE  -  Phone  4312725  or 
kaiwaka.hall.bookings@gmail.com 
 Hakaru Community Hall HIRE -Ph. 4312256 or 4312110 
 Te Pounga Marae queries - R. O'Leary 4312 423, J.Nathan 021 
186 7382 
 Kaiwaka Sports Association hire/queries - C. Anderson 4312051 
or kaiwakasports@gmail.com 
Justice of Peace:  
B.FJaques  4312  048;  L.Donaldson  4312  228;  A.F.Hargreaves 
4312 045, W.Howard 4312 725 - please phone to make sure they 
are available www.justiceofthepeace.org.nz 
Marriage Celebrants:  
L.Donaldson; A.F.Hargreaves; Y Osborne
LOCAL SERVICES 
*Emergencies - Ambulance, Fire, Police - dial 111 
*Non-urgent Police phone 09 4311150
A A: Meets Wed., 8pm Kaiwaka Ph: 4315543, 0800229 6757 
ASUREQUALITY LTD (was AgriQuality) Call Free 0508 0011 22  
BUDGETING SERVICE, WELLSFORD: Free confidential advice & 
support for all areas of personal finance. Ph (09) 423 7123 
CAB-Citizens Advice Bureau.Wellsford Ph: 4237333 
0800 367 222 email:cab.wells@xtra.co.nz  
CIVIL DEFENCE - Kaiwaka Community Response Group: 
kaiwaka.civildefencecrg@gmail.com, 4312725 Wendy 
DOG/STOCK /NOISE CONTROL 0800 105 890 
FUNERAL SERVICES: Morris & Morris Ltd, 
Whangarei - Bev Jaques Ph:4312367 or 0800667747 
GRANDPARENTS Raising Grandchildren: Dianah Roberts 0223819539 
HAKARU & DISTRICTS MEMORIAL RSA (Inc) 733 Settlement Rd, 
Hakaru. Ph 4312 176 or Graeme Hitchcock (President) 431 3064 
HAKARU LANDFILL/Transfer Station:Open everyday except 
Tuesday10am-4pm.Ph4312629 Cost-$55 trailer load up to 1 cubic metre. 
Ph:4258567 - office 
KAIPARA DISTRICT COUNCIL www.kaipara.govt.nz:  
Help Desk FREEPHONE 0800 727 059  
KAIWAKA KOHANGA REO: Ph:4312620 
KAIWAKA CEMETERY: Ph: 4312045 or 4314017 
KAIWAKA LIBRARY: kaiwaka.library@gmail.com  
Mon. 4-6pm; Wed., Thurs., Fri., Sat. 10am-2pm Ph:4312539 
KAIWAKA PLAYCENTRE: Ph Juanita 0274134904; open Mon, Wed, 
Fri 9am-12pm. Hastie Lane; Monday to Friday 9.00am - 12 noon. 
KAIWAKA POST OFFICE:Ph:4312 431  
Post Code: 0573 for RD2 and 0542 for all Kaiwaka Post Office mail 
KAIWAKA PRIMARY SCHOOL: Ph: 4312309   
KAIWAKA SPORTS ASSN: Ph 4312005; 4312129 gym 
KAIWAKA ST JOHN: Manager Steve Rosser 09 4318403, 021 355734 
KATE'S PLACE Community Centre - Employment services, Free Health 
Nurse, Plunket, Advocacy, Osteopath, A.A., Legal Advice. 4312 661 
LINKING HANDS Health Shuttle Ph 4315906 or 09 4318969 
MINISTRY FOR PRIMARY INDUSTRIES - General inquiries Call 
Free 0800 008 333 
NORTHPOWER: Faults Kaiwaka area 0800 104040 
OTAMATEA COMMUNITY SERVICES: Counselling, parent coach, 
Family Support worker, budget advice, food bank. Mon-Fri 9am-3pm. Ph 
09 431 9080 http://www.otamateacs.org/ 
PARENTPORT: Free, practical family support service Puhoi to Paparoa 
Ph or txt: Dianne 027 280 5093 or 09 425 9357 
PLUNKET:  Kaiwaka  -Kate's  Place  Clinic  1st  Wednesday  of  the  month; 
Mangawhai  - Rose Madsen Cottage: Coffee Group 9:30 every Monday.  Clinic 
every Monday and Thursday. 
Maungaturoto - Good News Church, Clinic 2nd and 4th Wednesday.  
Cynthia 09 431 7340 or 027 675 3488 
PLUNKET HELPLINE -0800 933 922 (24 hours) 
TAITOKERAU COMMUNITY LAW: Free confidential legal advice and 
assistance, 2nd
Thursday
 of each month. Ph: 0800 155 529 for apps.  
TE URI O HAU Settlement Trust Tangata Developments: Whanau Ora 
021 793262  
VETERINARY SERVICE MANGAWHAI: 
Ph: 4314535 Mon-Fri 8.00-5.00, Sat 9-12, a/h appt. 
WELLSFORD DOCTORS: Ph: 4238 086 
CHURCHES:
 
Kaiwaka  Revival  Church  -  Your  Community  Church:  Sundays  10am. 
Ph: Pastor Tawhiri 09 431 8988 or Pastor Paul 09 4312 068 Visit us at 
www.facebook.com/kaiwakachurch or www.kaiwakarevival.co.nz 
 
St  Paul's  Anglican  Church  1st  Sun.  9.00am  (Eucharist),  3rd  Sun. 
9.00am (Family Service). Contact: Rev. Wayne Thornton Ph 431 4122 
www.mangawhaianglican.org.nz 
 
Church of Christ the King, Mangawhai:9.30am every Sunday 
 
St.Mary's  Catholic  Church:  Maungaturoto  –  Griffins  Road,  Saturday 
evening  Vigil  Mass  6pm;  Mangawhai  –  Senior  Citizens  Hall,  Sunday 
Mass  8:30am;  Wellsford  –  Matheson  Road,  Sunday  Mass  10:30am;  
Mid-week Mass times and all enquires to Fr. Bill Fletcher – phone 423 8170
 
Baptist Church: Sun. 10.30am Mangawhai Snr Cit.Hall.Ph:4312339 
 
Cause  Way  Church  Mangawhai:  Sundays  10.15am,  Mangawhai 
Community  Recreation  Centre,  Insley  St.  Ph:  09  4314782