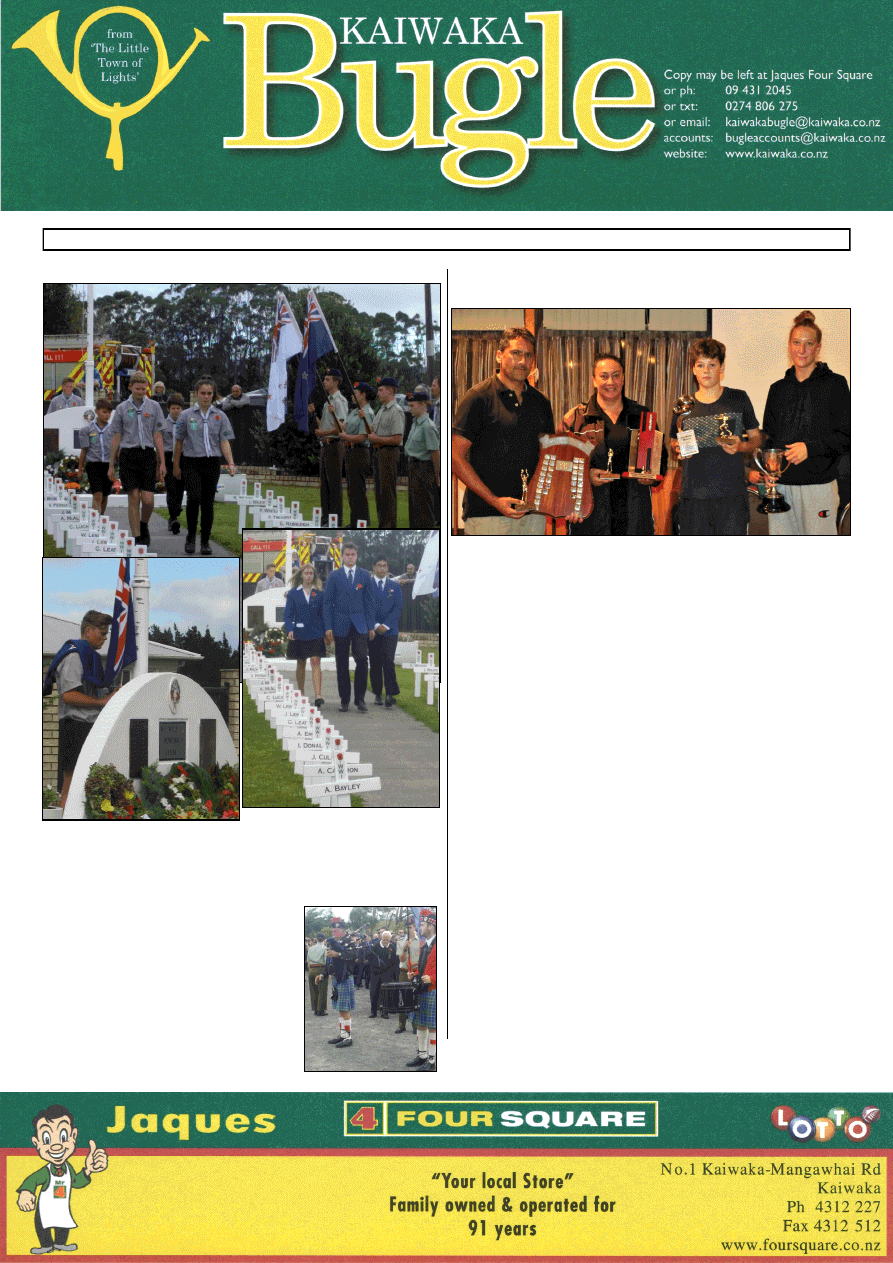 www.kaiwaka.co.nz 
Kaiwaka Bugle - 1 May 2018 
Page 1 
No: 8 
 1 May 2018 
Trading Hours: 
Monday to Friday 8:00am - 6:30pm 
Saturday 8:00am - 7:00pm 
Sunday 9:00am - 6:00pm  
ANZAC DAY: HAKARU 
HAKARU and DISTRICTS RSA 
Another fabulous turnout for our local ANZAC Service. 
C
hief Petty Officer Weapons Technician 
Jeff Dyer, RNZN, 
gave  the  speakers  address  finishing  with  a  poem  –  'The 
Poppy' - see page 7.  
Photos above:  The Scouts, in front, Max 
Tornquist  and  Brenda  Ferguson  with 
Cubs  Atariki  Ashton-Videla  and  Riley 
Rogers  behind  them;  Venturer  Hamish 
Ferguson  at  the  flag  pole  to  lower  and 
raise the flag for the Last Post; Otamatea 
High  School  wreath  bearers  led  by 
Mathias  Damsted;  Preparing  to  march  - 
Piper  Barry  Wallis  and  Louis  Prouting, 
Drummer.
The 34
th
 annual Kaiwaka Sports Association Sports Awards 
were held recently at the Kaiwaka Sports Complex. Emcee 
John  Markby  from  More  FM  read  the  profiles  of  the  28 
nominees.  The  standard  of  nominees,  particularly  in  the 
Junior category, was outstanding. 
Congratulations to the winners: 
Junior Sportsperson of the Year - Ocean Shadbolt 
Senior Sportsperson of the Year - Danyon Tana 
Service to Sport - Fiona Kemp 
Greg McRae Memorial Trophy - Alex Manuell 
Junior Sportsperson of the Year, sixteen-year-old Ocean 
Shadbolt,  was  nominated  by  the  Kaiwaka  Fitness  Centre 
for  her  achievements  in  swimming,  culminating  in  a 
Commonwealth  Games  trial.
  Ocean  has  had  spectacular 
achievements in swimming at all levels – school through to 
New Zealand Age Groups - smashing several long-standing 
records  along  the  way.  As  well  as  her  swimming 
achievements,  Ocean  also  represented  Northland  in  Tag 
and  Squash,  broke  Otamatea  High  School  records  in 
Athletics  and  Triathlon,  and  also  plays  netball.  An 
outstanding young sportswoman.
Senior  Sportsperson  of  the  Year  Danyon  Tana  was 
nominated by the Kaiwaka Touch Club. Danyon is a very 
talented  all-rounder,  having  had  achievements  in  Rugby, 
Touch  and  Tag.  His  main  sport  is  Basketball,  where  his 
dedication and love of the game paid off by being selected 
to  play  for  New  Zealand  Hoopnation  against  Malaysia. 
Danyon is currently training with the Supercity Rangers in 
Auckland. 
Nominated  by  the  Otamatea  High  School  Netball  club, 
Service  to  Sport  winner 
From left: Phillip Tana (representing son Danyon), Fiona Kemp, 
Alex Manuell, Ocean Shadbolt 
KAIWAKA SPORTS ASSN. 
SPORTS AWARDS 
              Continued on age 9 ...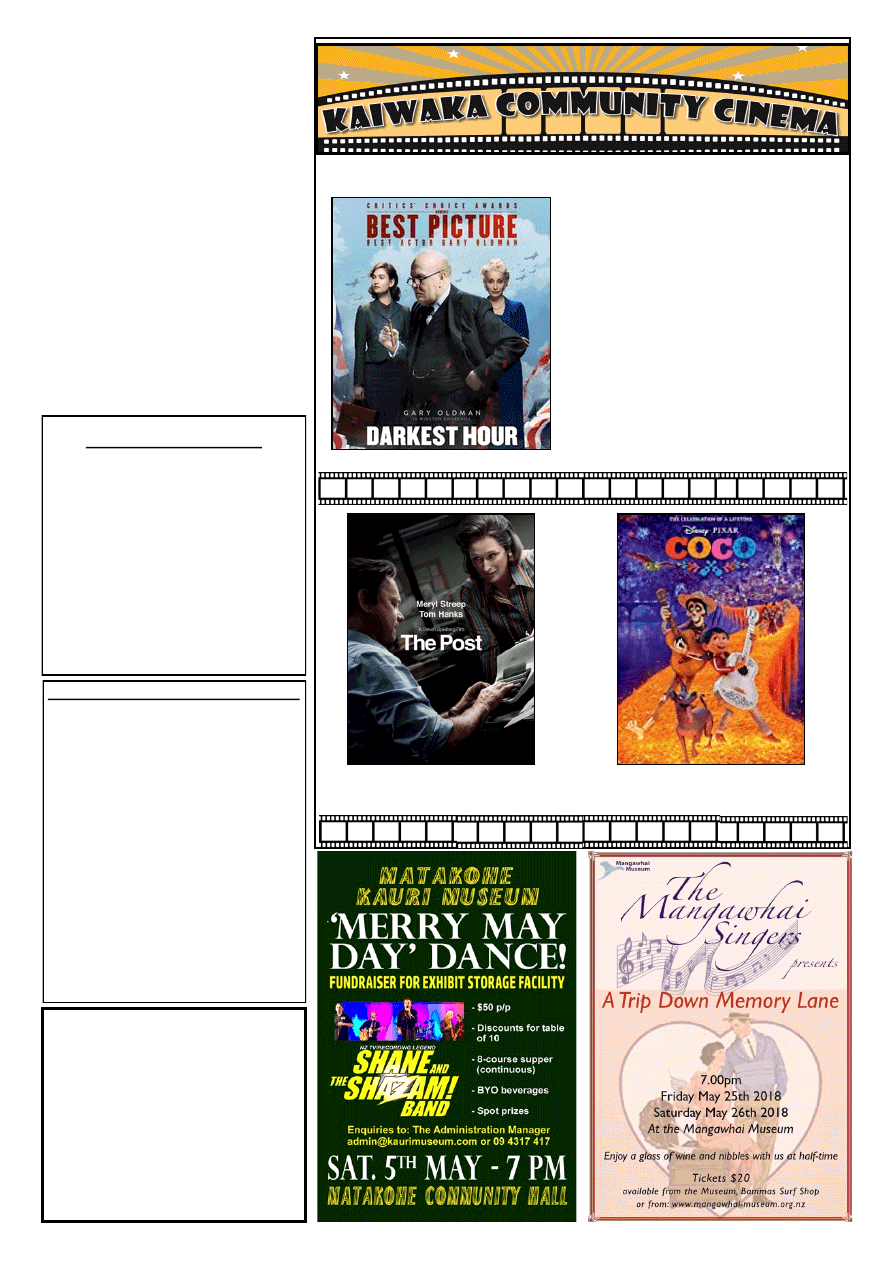 Proverbs 3:5 - 6  
Trust  in  the  Lord  with  all 
your  heart  and  lean  not  on 
your  own  understanding;  in 
all  your  ways  acknowledge 
Him and He will direct your 
paths. 
At Kaiwaka War Memorial Hall . Adults $10, Kids (under 16) $5, Family Pass (2 adults + 3 children) $25 
KAIWAKA BUGLE No. 8 
1MAY 2018 
CONTENTS 
Page 3: Public Notices, Classified 
Page 5: Kaiwaka Can; Kaiwaka 
Athletics; Mangawhai Singers 
Page 7: Point Curtis Cruising Club 
Page 9:  Molesworth  SDTC; KSA  
Page 11: Rotary; Mangawhai Artists  
Page 13: Kaiwaka Sports Assn. 
Page 15: Kauri Museum; Riverview; 
Thelma's Scrapbook 
Page 17: Kaiwaka Library; Kates Place   
Page 19: KSA First Aid Kit; Te 
Manawa Tahi Timetable 
Bugle 9 will appear 15 May 
Contact for advertising, reports, articles 
or information can be made by 
Email kaiwakabugle@kaiwaka.co.nz 
Ph: 09 4312 045 Lindsey 
Txt: 027 2724137 
Copy  may  be  left  at  Jaques'  Four 
Square. 
Kaiwaka Bugle 
Founded May 1978 
We appreciate articles and photos about local 
events, etc, as well as ads and suggestions. 
Copies available in Kaiwaka at Jaques Four 
Square, Kaiwaka Postal Centre, Shamrock 
Service Station, Animal Health Centre, 
Kaiwaka St John shop. 
Also outlets in Maungaturoto, 
Mangawhai and Paparoa. 
Can be viewed online at   
www.kaiwaka.co.nz/Bugle  
Or a copy can be posted to you if you supply 
stamped, self-addressed DLE envelopes. 
THE POST 
Friday 18 May, 7.30pm (M) 
COCO 
Sunday 27May, 2pm (PG) 
Kaiwaka Bugle Advertisements 2017: 
All 
copy 
and 
queries 
to: 
kaiwakabugle@kaiwaka.co.nz 
The Bugle is printed on an A4 page   
Ad  sizes:  1/16  page  (3  x  9.5cm)  $5;  1/8 
(6.5  x  9.5cm  landscape  or  portrait)  $8; 
3/16 ( 10 x 9.5cm or 7.5 x 12,5)  $12.  
Classified  ads:  First  one  FREE,  $4  per 
entry (max. 30 words, max. 4 repeats). 
Payments  can  be  made  online  at 
ANZ 
06  0365  0006990  00
,  posted  or  left  at 
Jaques Four Square Store. 
We  use  Microsoft  Publisher,  and  can 
work  with  most  common  image 
formats, Word, Excel, and PDF files. 
Accounts:  
Email: bugleaccounts@kaiwaka.co.nz 
The  Kaiwaka  Bugle  is  a  community 
newspaper run by volunteers.   
Articles, etc. printed are not necessarily 
the opinion of the Bugle Team. 
DARKEST HOUR 
(PG)
Friday 4 May, 7.30pm 
'A thrilling and inspiring true story begins at 
the precipice of World War II as, within days 
of becoming Prime Minister of Great Britain, 
Winston Churchill must face one of his most 
turbulent  and  defining  trials:  exploring  a 
negotiated peace treaty  with  Nazi Germa
ny, 
or  standing  firm  to  fight  for  the  ideals, 
liberty  and  freedom  of  a  nation.  As  the 
unstoppable  Nazi forces roll across Western 
Europe  and  the  threat  of  invasion  is 
imminent,  and  with  an  unprepared  public,  a 
sceptical  King,  and  his  own  party  plotting 
against  him,  Churchill  must  withstand  his 
darkest  hour,  rally  a  nation,  and  attempt  to 
change the course of world history.' 
Starring: Gary Oldman,  Lily James, Kristin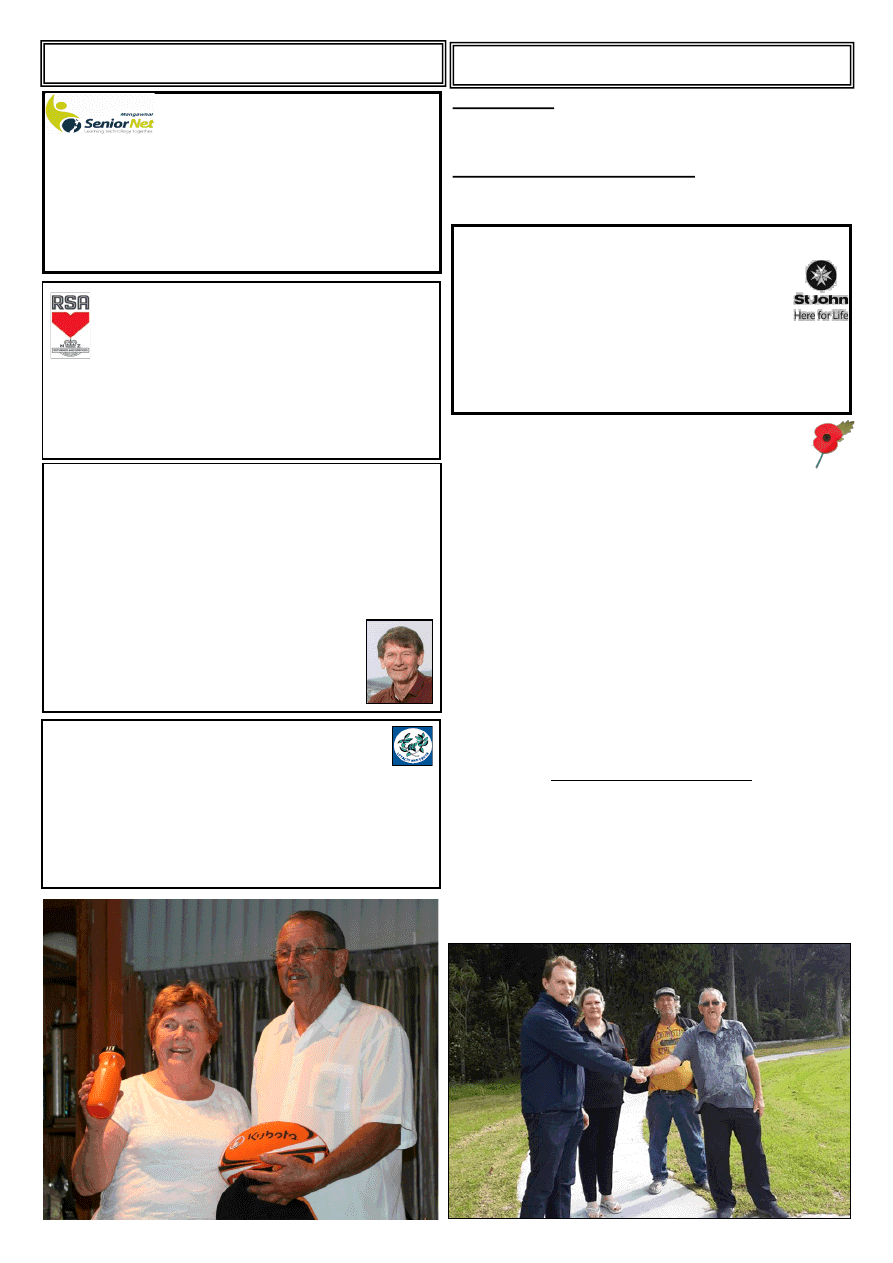 www.kaiwaka.co.nz 
Kaiwaka Bugle - 1 May 2018 
Page 3 
HAKARU and DISTRICTS  
MEMORIAL RSA (Inc) 
AGM 
Sunday 6th May 2018 
1.30pm in the Hakaru RSA 
Agenda, Apologies, Financial Reports 
Election of New Committee, General Business 
Nomination for Committee and Notices of Motion need to 
be passed to the Secretary by Sunday 29th April 2018 
Only Financial Members permitted to attend
ABOUT TOWN ... 

A big WELL DONE to our brilliant sporting folk, 
especially  the  youngsters  and  the  volunteers    -  so 
great to hear of their achievements at the Sport Awards. 

Thank  you,  Neville  Andrew  of  Hakaru  RSA  who  spoke 
before the showing of the excellent movie  'Dunkirk' - and 
we all enjoyed the Anzac bisicuits at half-time. 

Rotary  Driver  Mentor  car  launch-10.30am  Wednesday 
2nd May at Maungaturoto Centennial Hall - all welcome 

 Alpaca  Open  day  -  Sunday  6    May,  10-2pm  at  Kerdon 
Alpacas  385  Baldrock  Road,  Kaiwaka  -  celebrating 
National Alpaca Day. 

Check out the Shazam Band on page 11  - all geared for 
The Kauri Museum 'Merry May Day' Dance! 

Take the opportunity to de-sex your cat - 15% off at our 
local vet for May. 

Check  the  Bugle  online  at  www.kaiwaka.co.nz  -  the 
photographs and the advertisements look great in colour! 
~ Lindsey, Ed 
"When you do what you have to do, when you have to do it, then 
you get to do what you want to do, when you want to do it. – Anon 
PUBLIC NOTICES 
CLASSIFIED 
 FOR  SALE:  Brand  new  26"  Ladies  Milazo  Retro 
bicycle, with basket in front/carrier at back $200 ono; 
Berley Mincer - 12 volt battery operated $250 ono Ph: 
021 08206418  
GRAZING  LAND  WANTED:  For  dry  beef  stock. 
Prefer  30-70ha  size  block  but  any  size  will  be 
considered. Contact Bernie on 021 245 7242 
OTAMATEA HIGH SCHOOL 
will be hosting a 
COMMUNITY EVENING ON  
CYBERSAFETY 
Thursday 10 May 6pm 
E Block, Otamatea High School 
How can you keep your child safe on the internet? 
Our presentation aims to increase awareness and equip 
parents with some strategies to do just that. 
MONTHLY DROP IN SESSIONS
with Northland Regional Council  
Coastal South Councillor –  Rick Stolwerk 
MONDAY 7th May
9.00 - 10am Maungatapere - Office Café,  
10.30 - 11.30pm - Ruakaka WDC Office 
12.00 - 1.00pm Waipu - Deli Cafe 
1:30 - 2.30pm Kaiwaka - Kaiwaka War Memorial Hall 
KDC Councilor Jonathan Larsen will attend this session 
3.00 – 4.00pm Mangawhai - Mangawhai Museum, 
with 
Peter Wethey, Deputy Mayor KDC 
Please do not hesitate to call or text and book 
an appointment. 
021 823 770 ricks@nrc.govt.nz
NOTE: This is not a council sponsored publication 
KAIWAKA ST. JOHN OP SHOP 
We have for sale: 
1x Round Table with 6 chairs, a pair of large 
speakers, 3-seater and 2-seater leather couches 
with a matching chair to come, 1x double 
mattress, 2x single beds with mattresses, 3-
wheeler mountain pram.... all in good condition. 
We are needing, please: 
Cooking pots, towels, tea towels, blankets, lemons, limes 
and plants. ~ Thanks so much, Milly  
Phone 09-4312650 after 9.00 am.
HELP CLINIC 
SENIORNET WELLSFORD 
Need a little help with your computer, laptop, ipad, tablet? 
Come to our Help session.  Ask questions, solve 
problems, compare notes with others. 
$10 members $15 non-members 
Wednesday 2nd May - 10.30am (2 hours) 
Wellsford Community Centre 
Ph: Tony 4312269 or Val 4314042 
Or email seniornet,mangawhai@gmail.com  
ACTION at KAIWAKA SPORTS COMPLEX 
Photo  left:  At the Sports Awards dinner it was great to see 
Pam and Mark receive a small Kubota reward after chasing 
the KSA tractor to Wellsford! (
Photo by T. Brown
) 
Photo  below:  KDC  councillor  Jonathan  Larsen 
congratulating Mark Ottaway, KSA vice president and trail 
organiser,  at  the  opening  of  the  new  Fitness  Trail.  Cheryl 
Anderson,  KSA  manager,  and  Phil  Keene,  the  concrete 
man, in the background.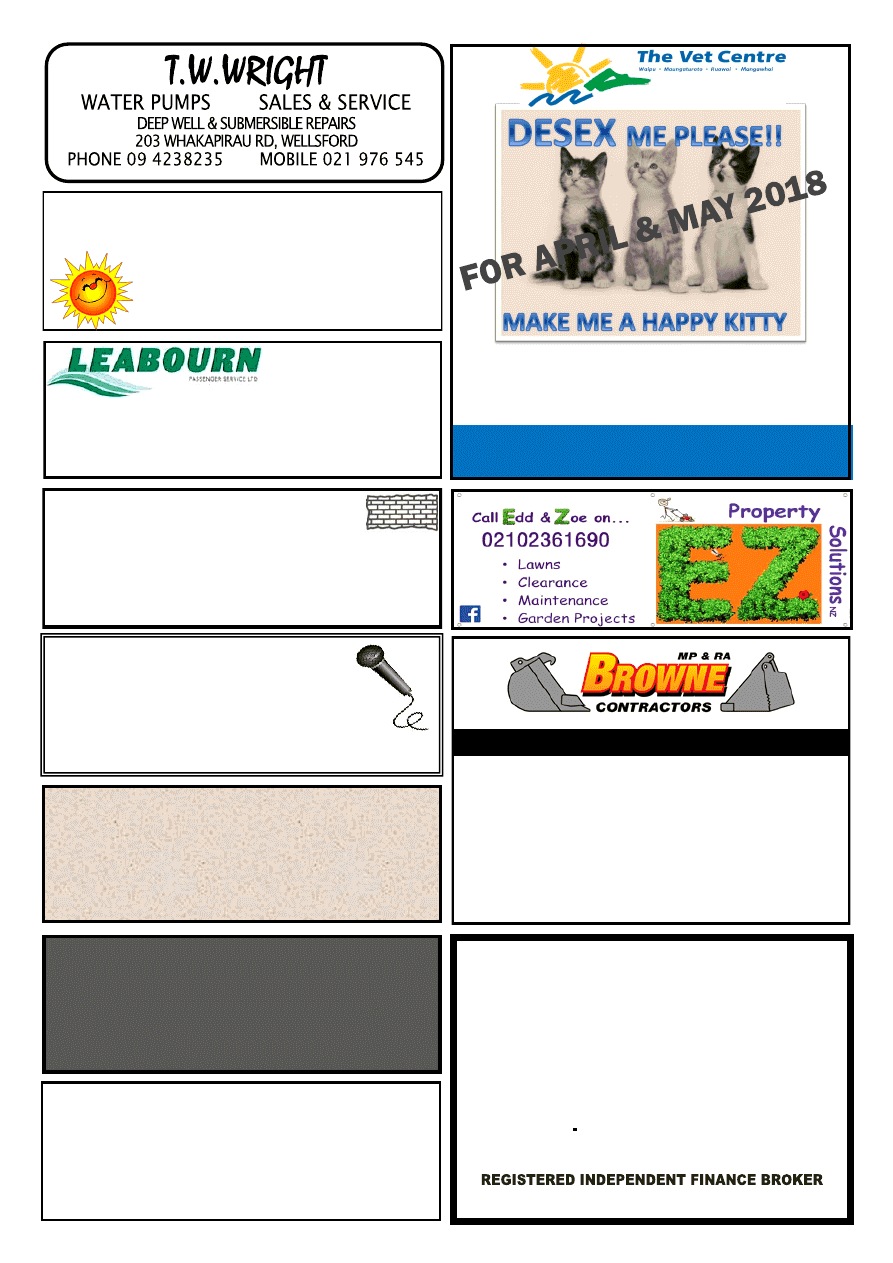 4T DIGGER – BOBCAT – TIP TRUCK 
Property Maintenance - Driveways  
 Building Sites 
Stump & Tree Re-
moval  
Hole Boring - 
Chain Trencher  
Calf Shed and Stockyard Cleaning 
Phone Matt: 021 199 6677 
Email: mprabrownecontractors@gmail.com 
BRICK/BLOCKLAYER 
All aspects of masonry: 
Fireplaces, Restoration & Remedial Work.
JAMES EAGLETON
Tel. (09) 431 2514     Mob. 0274 749 232
jajueagles@yahoo.com.au 210A Pukenui Road, RD2, Kaiwaka 0573 
THE SUNSHINE GIRLS
Efficient and reliable help with 
your housework. 
Ph 4312 532 
Counsellor and Registered Psychotherapist 
Offers Supervision
Susan Matheson 
MNZAC 
Dip. Psychosynthesis Counselling and Psychotherapy 
Phone 09 431 2996                        Mobile 027 605 2427 
MARRIAGE CELEBRANT 
WEDDING EVENTS PLANNER 
Yvonne Osborne 
Ph 0274 989 814 
yvonne.osborne@xtra.co.nz 
Passenger Service
Car & Van Hire  Bus & Coach Charters 
Airport Transfers    
Phone (09) 4237416 
SING RIGHT 
Professional coaching for performance,  
recording and demos. 
All level singers, musicians, singer-songwriters. 
Phone Robyn Hill 431 9159 or 022 1238126 
Michael Hogan 
Licensed Builder 
Quality new homes, renovations, and additions 
Phone: 027 974 1045 
Email: michaelhoganbuilder@gmail.com 
Website: michaelhoganbuilder.com 
FINANCE FOR YOUR 
NEEDS. 
OPEN BOOK OF FUNDING 
FOR ALL SOLUTIONS. 
T --  0275 989814 
E - 
15% off kitten speys & castrates 
~ includes post op pain relief & microchipping ~  
AT YOUR LOCAL VET CENTRE 
Mangawhai Clinic  Maungaturoto Clinic  
Ruawai Clinic            Waipu Clinic 
36 Moir Street  
184 Hurndall Street  
23 Jellicoe Road       53 The Centre 
MANGAWHAI  
MAUNGATUROTO  RUAWAI  
                WAIPU 
Ph: 09 4314535  
Ph: 09 4318318  
Ph: 09 4392506         Ph:  09 4320693  
www.kaiwaka.co.nz 
Kaiwaka Bugle - 1 May 2018 
Page 5 
Willow Bend
HORSE  
HOTEL 
  
Total Horse Care 
 
Agistment 
 
Riding Lessons 
 
Arena Hire (60x40) 
 
Young Horse Starting 
 
Re-training/Exercising 
 
Hoof Trimming 
 
Problem Solving 
Phone Sue 09 431 2817 
or 021 623 776 
Or email  
susanjoll11@gmail.com 
ST PAUL'S  
ANGLICAN  
SUNDAY  
SERVICES
St Pauls Church: Kaiwaka-Mangawhai Rd. 
Rev. Wayne Thornton Ph 431 4122 
www.mangawhaianglican.org.nz
Proverbs 3:5-6 
Whakapaua tou 
ngakau ki te whakawhirinaki ki a Ihowa, 
kaua hoki e okioki ki tou matauranga 
ake.
I ou ara katoa whakaaro ki a ia, a 
mana e whakatika ou huarahi. 
A TRIP DOWN 
MEMORY LANE 
The Mangawhai Singers present this 
year "A Trip Down Memory Lane" 
The  Mangawhai  Singers  have  been 
singing together since 2009. Originally 
begun  as  a  group  who  just  liked  to 
sing,  they  enjoy  being  able  to  share 
their love of song with the community.  
The group has never profited from their 
concerts  and  over  the  years  have 
supported  hospice,  St  John,  the 
Mangawhai  Museum,  and  the  Pioneer 
village  as  well  as  entertaining  at  local 
functions including the RSA, with their 
songs, especially at Christmas time and 
adding  a  touch  of  humour  to  their 
programmes. 
Currently  with  23  members,  plus  3 
musicians,  with  Des  Chitty,  on  guitar, 
Reg  Jaques  on  organ,  and  now  with  a 
new  pianist Judy  Faris.  Next  year  will 
be  their  10th  Anniversary.  Age  is  no 
barrier  with  members  of  the  choir 
ranging  from  16  to  80!  Enjoyment  is 
the key! 
The group will be presenting a concert 
this year on the 25th and 26th of May 
at  7pm,  once  more  in  the  Mangawhai 
Museum.  Tickets  are  $20  and  are 
available  from  the  Museum,  Bammas 
Surf  Shop  or  from  www.mangawhai-
museum.org.nz 
KAIWAKA 
ATHLETIC CLUB 
This club, which operates on a Monday 
night at Otamatea High School had its 
annual prizegiving on the 8 April. We 
have  a  relatively  small  club,  and 
encourage  families  to  bring  all  their 
children 
along, 
including 
pre-
schoolers.  
Two of our athletes Chiara and Keegan 
Lydiard  were  successful  in  the 
Northland children's championships as 
well. 
Winners of the trophies this year were: 
7-year olds – Chiara Lydiard and Jacob 
McLeod;  8-year  olds,  Amelia  Martin 
and Tyler Sinclair; 10-year-old, Logan 
Sinclair; 12-year-old, Keegan Lydiard. 
The  1500m  trophies  were  won  by 
Chiara and Tyler.  
Thank you to all the parents who have 
attended  and  supported  the  children 
this  year.  The  club  could  not  run 
without you. 
We  operate  on  a  Monday  night, 
commencing in November, and we are 
always  looking  for  new  families.  No 
qualifications  are  required  but  we  do 
have  an  expectation  that  parents  will 
stay and help run the events. 
CENTRE OF KAIWAKA 
UNDER SCRUTINY 
The last month has been a very positive 
one  for  Kaiwaka  Can,  our  local 
community 
liaison 
group. 
We 
presented  our  case  to  Kaipara  District 
Council for the inclusion of the 10-year 
plan 
budget 
amount 
for 
new 
footbridges  and  footpaths.  Our  new 
Council  rep,  Jenny  Rooney  attended 
our last meeting and got an idea of all 
we are doing. And Jonathan Larsen was 
also 
there, 
giving 
us 
real 
encouragement  lately  with  our  future 
plans. 
The most exciting development though 
is  the  work  being  done  by  our 
development  group  who  are  working 
on major upgrades for central Kaiwaka, 
the area from Oneriri Road north. If we 
include  a  new  footbridge  across  the 
river west of the southern bridge, it will 
open  up  extra  parking,  dog  walks, 
picnic areas, disabled access across the 
highway and lots of spaces for planting 
and  beautification.  We  hope  to  hold  a 
public  meeting  in  the  near  future  to 
show  the  plans  and  open  them  for 
comment as well as talk about the other 
projects  we  are  involved  in.  Inclusion 
of the river bank and access to the hotel 
environs  is  another  possibility  to  look 
at some time. 
More planned for the future 
A second stage of the same process will 
be  the  development  running  from 
McClean 
Park 
across 
another 
footbridge  to  the  west  of  the  northern 
bridge,  linking  in  with  footpath  and 
cycleway  access  to  create  a  pedestrian 
circle round central Kaiwaka with safe 
passage under both road bridges. It will 
also  link  in  with  existing  and  planned 
walkways  to  offer  far  longer  walking 
opportunities  than  there  are  now.  The 
new  fitness  trail  around  the  sports 
grounds will be a welcome part of this. 
We have plans to make McClean Park 
a  far  more  varied  and  useful  space  for 
both travellers and locals. 
It is a large area currently underutilised, 
but we hope to see real changes to this 
in the future. 
Environmental issues 
We are also working on ways to tackle 
some  of  the  environmental  challenges 
in  the  area.  Noxious  weeds  of  various 
sorts  are  spoiling  some  of  the  natural 
stands  of  trees  near  the  heart  of 
Kaiwaka.  A  start  has  been  made  on 
clearing  some  of  these  and  the  group 
would  love  to  have  many  more  from 
the community involved in this. 
Neighbourhood support 
This is a topic being worked on and the 
good news is that a car is now available 
for  neighbourhood  patrols.  What  we 
need  now  is  a  team  of  volunteer 
drivers.  Sadly,  Kaiwaka  and  surrounds 
are not crime and problem free and this 
is one initiative that could help make a 
difference. 
So,  lots  of  things  going  on.  We  look 
forward  to  bringing  these  and  other 
projects to a public meeting so you can 
see and comment on what is happening 
in our great little township. 
Derek Christensen, Chair Kaiwaka Can 
Te Pounga Marae 
130 Nathan Rd. Oneriri. Kaiwaka 0573 
COMPLEX FOR 
HIRE 
Functions 
* Weddings  * Birthdays  
*Anniversaries * Meetings  * Wananga 
5 hour meeting * 12 hour stay  * 
Overnight 
*All welcome - No more Drink-driving 
Amenities: 
*Convo Combi Steamer * Bratt Pan * 
Dish Washer/Sterilizer * 3 Door Glass 
Chiller (walk in) etc…All Crockery * 
Linen Supplied * Central Heating and 
Air Conditioning and much more.  
Can also cater for small groups…. 
For more information please contact: 
Kim Wallace  
Home: 09 832 1133  Mob: 0211275340  
Email: kimwallace@xtra.co.nz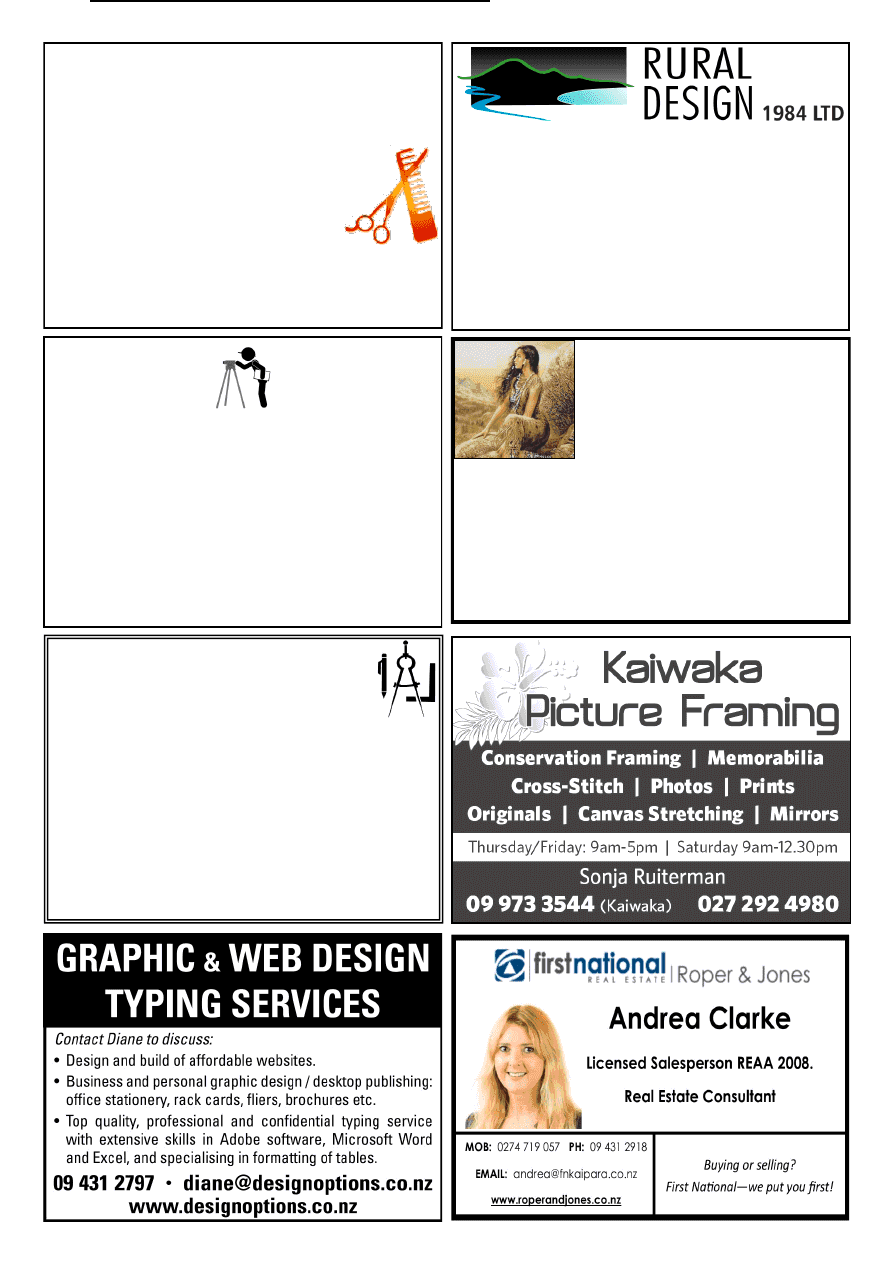 design drafting  
service 
Retired builder and manufacturer with over 40 years  
experience in the building industry is offering a design 
drafting service  
for domestic housing, sleepouts and sheds.  
Plans formulated in consultation with clients, with 
working drawings completed and submitted to  
council for processing.  Extensive practical experience,  
able to identify & resolve problems. 
Please ring Mike Lean on 
09 431 2260 
or 
021 431 196 
Ken Urquhart 
BSurv Licensed Cadastral Surveyor 
KMU Surveys Ltd
467 Bickerstaffe Road 
RD 2 
Maungaturoto 0587 
Ph 09 431 8705 
Mob 021 161 2344 
kenurquhart@xtra.co.nz 
WHOLESALE NATIVE PLANT NURSERY 
AND LANDSCAPING 
By Appointment 
Small and Large orders welcome 
Phone: 09 431 2481 
Email: info@ruraldesign.co.nz 
AFFORDABLE PRICES! 
MENS CUT FROM $20.00 
LADIES CUT FROM $30.00 
KIDS CUT FROM $18.00 
COLOUR & CUT FROM $120.00 
JUST CUTS'AND   
MORE 
021 165 2629 or (09) 945 0707  
NOW SELLING: scented tealights, incense, smudge sticks, 
copper bracelets, aurora ball crystals, dream catchers, healing 
stones, rose quartz, cds, and much more. Open 6 days. 
Trails end 
spiritualist gathering 
Last Sunday of every month  
10.30-2pm  
Tea/coffee provided  $5 koha 
For all inquiries: 
021 165 2629 evenings (09) 945 0707 
Trail.end@hotmail.com 
1758 Cove Road, Mangawhai
Bringing together like-minded people 
Guest speaker each month
(
Next to Kaiwaka Motorcycles)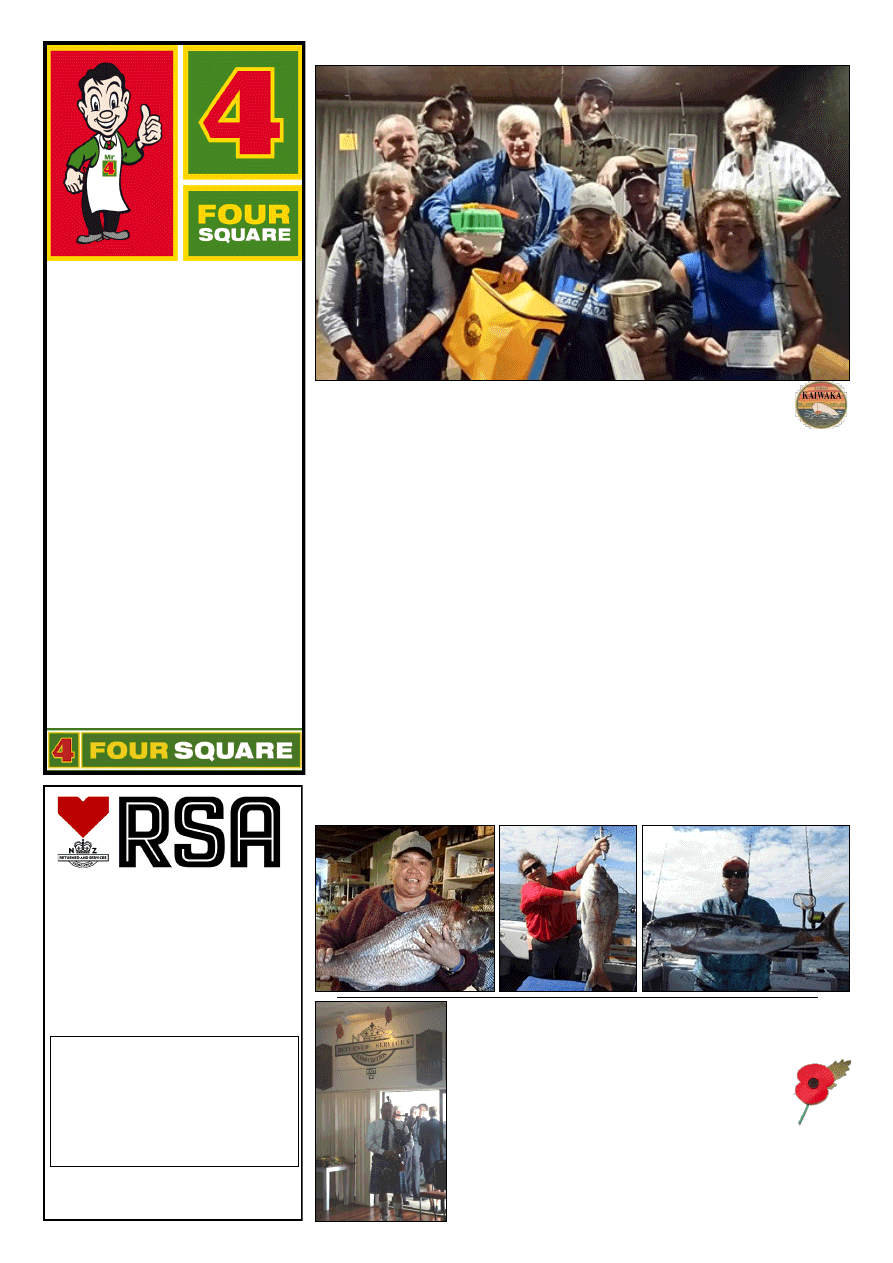 www.kaiwaka.co.nz 
Kaiwaka Bugle - 1 May 2018 
Page 7 
HAKARU & DISTRICTS 
MEMORIAL RSA (INC)
Members & guests are invited to 
come along and enjoy our 
hospitality. 
New members welcome. 
Meals are served on 
Thursday and Friday nights 
from 6.30pm. 
Last Friday of the month is  
'Roast Pork Night' and a sing-a-long  
with Des Chitty. 
For more information please phone 
Marlene on 431 5589 
Refills Swap a 
bottle 
30L original size 
60L NEW IN STORE 
Larger size now 
available 
9KG gas bottle swap 
or purchase gas & 
bottle 
RUG DOCTOR HIRE  
Cleaning & stain 
products 
Talk to our Friendly staff 
Jaques Four Square 
Phone: 4312227 
1 Kaiwaka-Mangawhai Road, Kaiwaka. 
POINT CURTIS CRUISING CLUB  
East Vs West Fishing Competition was 
held  on  Friday  20
th,
  Saturday  21
st
  and 
Sunday 22
nd
 April. 
There  weren't  too  many  entrants, 
which  was  a shame,  but  some  fun  for 
those that did enter. 
Results for Juniors: 
Snapper:  Caleesto  Mills  1.154kg;  Bella 
Kake .959kg; Bella Kake  .649kg 
Kahawai:  Bella  Kake  1.898kg;  Bella 
Kake   1.857kg; Bella Kake 1.594kg 
Trevally:  Bella  Kake  2.569kg;  Bella 
Kake .406kg 
Results for Seniors: 
Snapper:  Carol  Welsford-Mills  7.782kg; 
Tracy 
Phillips 
7.649kg; 
David 
Casey 4.549k 
Kingfish: Renna Brown   12.433kg; Tracy 
Phillips 7.592kg 
Kahawai:  Montina  Cook  2.386kg;  Tracy 
Phillips  2.139kg;  Carol  Welsford-Mills 
2.069kg 
Trevally:    Mickey  Renton  1.746kg;  John 
Whelan 0.945kg 
Gurnard:  Louise  Alpress  0.759kg;  David 
Casey   0.582kg 
Photos below: Carol, Tracy, Renna & big fish! 
The THUNDER  Cup  was won 
by Carol Welsford-Mills 
Average  Snapper  Weight  Winner 
Keith Mills 1.990kg 
East Coast had the Most Fish Weighed 
in;$50  Raffle  #9  was  won  by  Jean 
McLeish. 
Thank  you  to  Joss,  Sandy,  Jean  and 
Christine  for  all  the  work  you  did  for 
the  Fishing  Comp,  very  much 
appreciated ladies. 
Opening  Duck  Shoot  5
th
  May  Club 
Members only and $20 to enter. 
Species: 
Mallard, 
Grey, 
Parry, 
Pheasant,  Canadian  Goose,  Pukeko, 
Turkey, Peacock and Swan (black). 
Also  End  of  Year  Prize  Giving  to 
follow. 
Don't forget Subs are Due 1
st
 June $30 
Family  (2  Adults  and  2  aged  under 
15yrs) or $20 per person. 
Fish  of  the  Month  till  8
th
  May: 
Kahawai 
Next Club Meeting Tues 8
th
 May 7pm 
3Furlongs Bar & Grill 
. ~Wayne Leslie (Commodore) 
L to R – Back: Montina Cook, Mickey Renton, John Whelan; Middl:e Keith Mills, 
Gravy, David Casey; Front Louise Alpress, Carol Welsford-Mills and Tracy Phillips 
The Poppy 
I am not a badge of honour, I am not a racist smear, 
I 
am not a fashion statement to be worn but once a year, 
I am not glorification of conflict or of war. 
I am not a paper ornament or a token, I am more. 
I am a loving memory of a father or son, 
A mother, a sister or daughter each and every one. 
I am paper or enamel, I am old or shining new, 
I am a way of saying thank you, To every one of you. 
I am a simple poppy, a reminder to you all, 
That courage, faith and honour will stand where heroes fall.  
As  read by G Dyer. ~ 
Paul Hunter 2014
Photo left: Barry Wallis - Hakaru RSA ANZAC Day piper.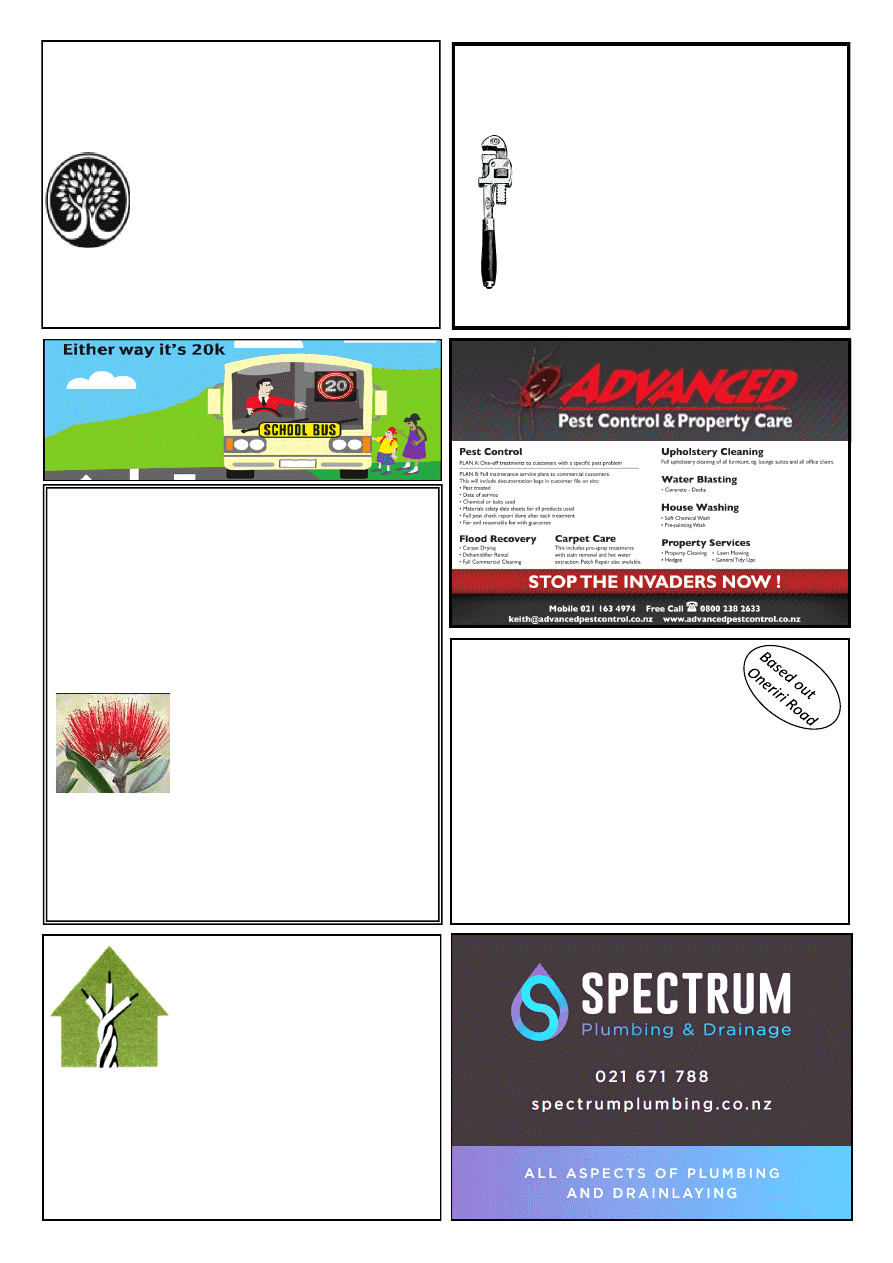 Waipu Natural Health 
3 Cove Road, Waipu  (opposite the Pizza Barn) 
Ph: 09 432 1325 
www.waipunaturalhealth.co.nz
Clinical Nutritionist-Hair Analysis for Masked 
Allergies, Ozone Therapy, Prolotherapy, 
Naturopath-Medical Herbalist, Registered 
Massage Therapists, Reflexology-
Craniosacral Therapy, Acupuncture-Facial 
Acupuncture, Kineso Taping, Hypnotherapy, 
Counselling, ThetaHealing.
AFFORDABLE CONSULTS FOR KIDS – give us a call
Gift Vouchers available
KAIPARA FLOORING CO 
Independently owned & operated 
32 HURNDALL ST MAUNGATUROTO
Supply & Installation of Carpet, Vinyl,  
Vinyl Wood Planking
Stockists of 2m & 3m wide 
vinyl & carpet short ends
Residential & Commercial
Q Card Finance Approved 
6-18 month terms 
6 mth interest free
First Class Installations
For a free measure & quote 
phone Christine  
09 946 9886 or 021 515 415 
kaiparaflooring@gmail.com 
http://www.kaiparaflooring.co.nz/ 
BARRY CURTIS PLUMBING LTD 
REGISTERED CRAFTSMAN PLUMBER 
Phone 4315572 
027 257 9884 
25 years experience 
Friendly reliable service 
All plumbing and maintenance 
Alterations and new housing 
Spouting 
Competitive rates 
PROMPT EFFICIENT  SERVICE 
HODGETTS 
CONTRACTING
Digger Work   

Driveways 

House Sites   

Dams   
 
Drains, etc
Also available for HIRE 
3 ton Vib Roller Heavy Duty Tow  
Waterblaster     Lazer Level
Phone Mark 4312877 
        027 447 8554 
Reyahn George 
Leng 
Registered Electrician 
Local, honest and reliable. 
For your residential and 
light-commercial projects. 
022 314 1068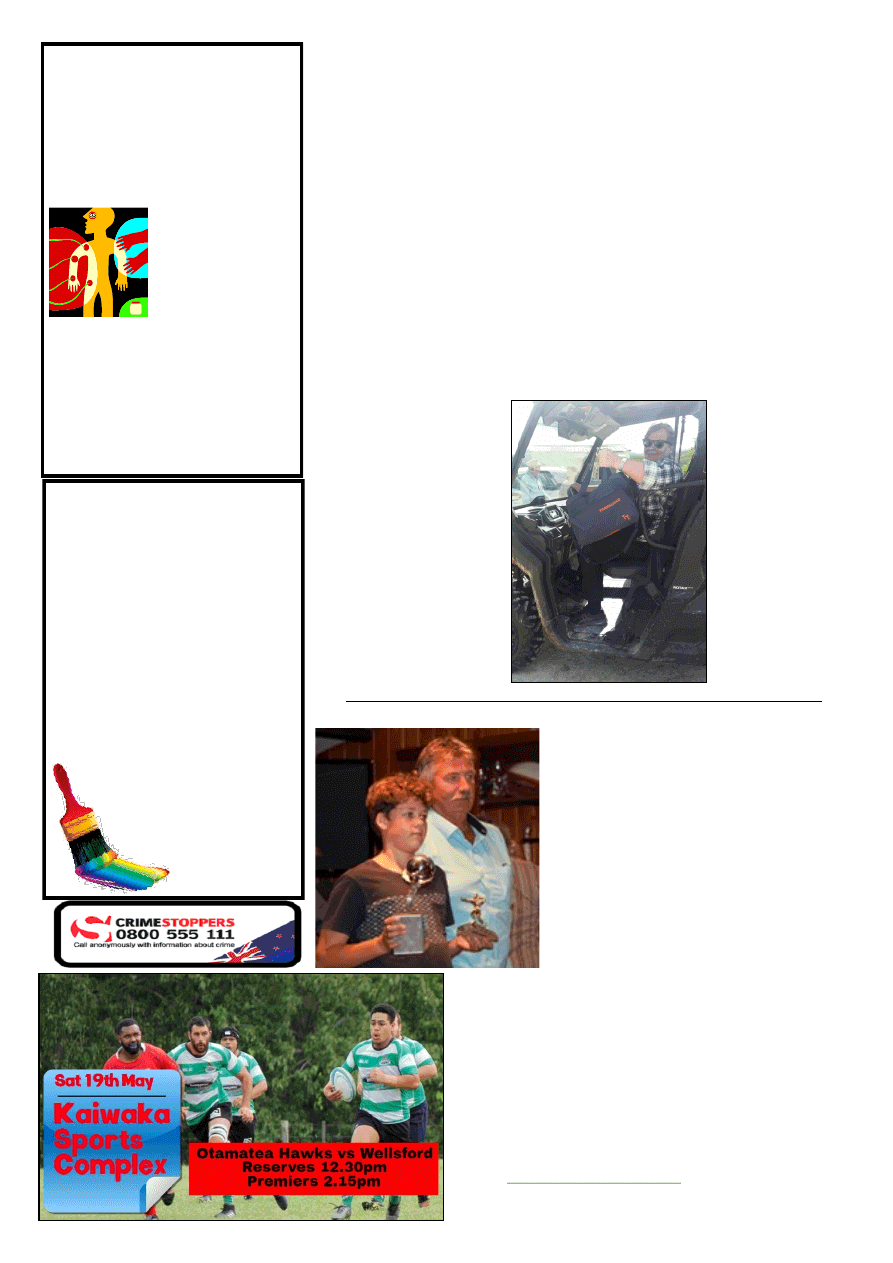 www.kaiwaka.co.nz 
Kaiwaka Bugle - 1 May 2018 
Page 9 
LEE COOPER 
PAINTERS 
(Kaiwaka Based) 
*30 yrs Experience 
*Interior/Exterior 
*New and Restoration 
*Honest and Reliable 
*Free Quotes 
 
09 4312918 
0274735171 
leecooper@xtra.co.nz 
LOCAL SHEEP DOG TRIALS
OWEN STEVENS 
Osteo Therapist
For careful adjustments  
to bones and joints 
Treatment for humans  
and their pets 
Clinics: 
Kate's Place, 
Kaiwaka: 
Last Friday of 
month 
9.00am-5.00pm 
For bookings: 
Phone 
09 4312661 
Or phone Owen   
09 4317123  anytime 
KAIWAKA SPORTS ASSN. SPORTS AWARDS 
… continued
Molesworth Sheep Dog Trial Club just 
held a very successful 69th annual trial 
at  the  Paton  Family  farm  on  Oneriri 
Road. Dog trials don't happen without 
an extraordinary amount of preparation 
and  planning  by  a  dedicated  group  of 
volunteers.  Many  who  don't  even 
compete but have a keen understanding 
of  New  Zealand  working  dogs.  Dog 
trials  require  people  who  supply 
property,  in this  case  the Paton family 
and  Robert Taylor  were truly  amazing 
in  the  preparation  of  roading  and 
parking  areas  and  a  wonderfully  tidy 
headquarters. 
Sheep  were  supplied  by  the  Hastie 
Family,  as  they  have  done  for  some 
years,  well  presented  and  prepared  for 
a successful trial. 
Molesworth  has  a  history  of  good 
courses  and  good  sheep  and  that  is 
what  it  takes  to  pull 
competitors  from  distant 
areas.  This  year  was  no 
exception,  81  heading  dogs 
and 35 huntaway dogs who 
came from the Far North to 
Taumarunui. 
This  year's  judges  came 
from 
Wanganui 
and 
enjoyed the chance to judge 
away  from  home  and  in 
surrounds  not  familiar  to 
them.  They  were hosted  by 
the Hastie Family and had a 
thoroughly enjoyable visit. 
Rob  and  Deb  Hastie  are 
joint secretaries and are just 
about  the  longest  serving 
dog trial secretaries in New 
Zealand.  No  locals  topped  the 
leaderboard, but two had worthy places 
-  Scott McRae  with Toby and  Duncan 
Gilligan with Dodge. 
Sponsors  are  so  important  for  any 
sporting  event  -  they  were  Rabobank, 
Purina  Tux,  FMG,  Farmlands,  Doug 
Poland  Motors,  PGG  Wrightson, 
Kelvin  Colthurst,  Greenlea  and  Direct 
Animal Health. 
A  huge  list  of  volunteers  need  to  be 
acknowledged:  Hastie  Family  -  Rob, 
Deb, Euan and Fiona and Devan; Scott 
(president)  and  Jacquie  McRae; 
Hargreaves  Family  -  Lindsey,  Tony, 
Ross,  David,  Mary  and  Neitana;  from 
Oneriri  Station  -  Duncan  Gilligan, 
Alayna  Exley,  Jemma  Bresnel,  and 
their Prattley Yards! Kitchen Helpers - 
Gay Young, Karen Harris, Ann Cullen, 
Lynne  Coates.  Extra  helpers  include 
Dick  Pocock,  Rob 
Whitehead,  Eddie 
Coates,  Jim  Leslie, 
Morrie 
Leslie, 
Corina  Ross,  Ann 
Jeffries, 
Kim 
Marshall, 
Bob 
Sceats, Geoff Long, 
Ben Haddon. 
Each 
evening 
finished  with  a 
wonderful 
BBQ 
cooked  by  Glenn 
and Dalliese Jaques. 
Thank you all. 
Photo:  Karen  off to 
deliver  smokos  in 
her 'Defender'! 
Fiona Kemp is a dedicated netball volunteer. 
Over  the  last  year  Fiona  coached  several 
teams,  was  Club  president,  ran  development 
programmes,  and  was  a
ccepted  into  the 
Northern 
Zone 
Elite 
Performance 
Programme 
as  a  coach.  Fiona  was  team 
manager of the U11 Junior Hawks and t
eam 
manager  of  Kemp  Whanau  Touch  team.
Fiona  also  co-organises  and  runs  the 
successful  annual  marae  Touch  event,  the 
Whanaunga Touch Tournament.
The  Greg  McRae  Memorial  Trophy 
(awarded  for  sporting  excellence  and 
contribution  to  sport)  was  won  by  Alex 
Manuell. Alex is a talented all-rounder -  he 
represented  Northland  at  Tag  and  played  at 
the New Zealand Tag Nationals, he represented Northland 
at Rippa Rugby and competed at the National Rippa Rugby 
Championships, he had school achievements in swimming, 
athletics  and  rugby  sevens,  and  is  currently  the  Wellsford 
Squash  Club  Junior  Boys  Champion.  His  contribution  to 
sport  is  varied:  Alex  attended  Tag  refereeing  courses  and 
refereed every Thursday night at the Tomarata Tag Module, 
he refereed junior Rippa Rugby events, he refereed Squash, 
and also helped out at Touch and Hawks matches.  
Many thanks to Mark and Pam and their catering team for a 
lovely  meal  and  to  Teresa  Brown  who  took  photos 
throughout the  evening. The  photos  can  be  viewed  on  our 
website www.kaiwakasports.co.nz.  
Photo  above:    Scott  McRae,  brother  of  the  late  Greg  McRae, 
present the sporting excellence trophy to Alex Manuell.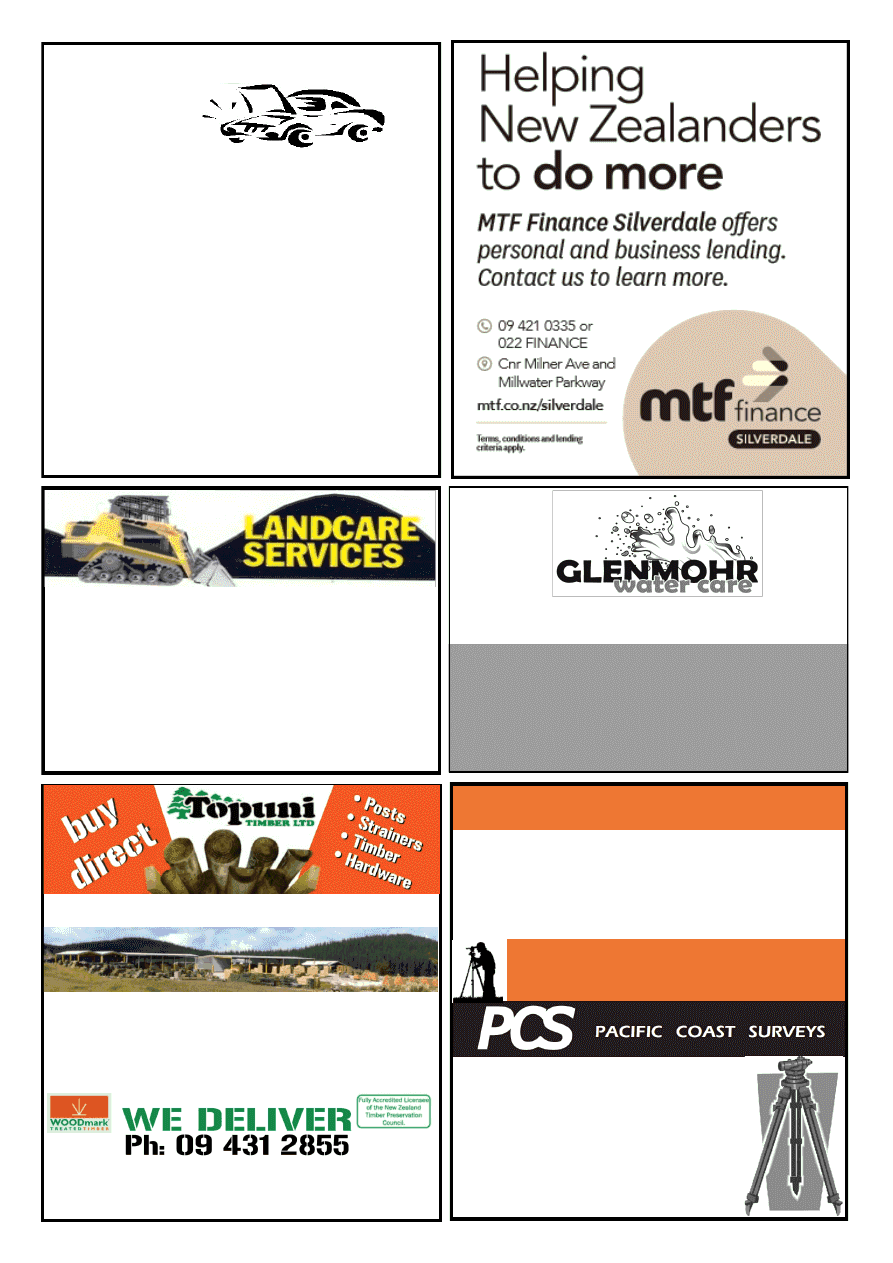 LOCALLY OWNED AND OPERATED 
QUALITY PRODUCTS • FRIENDLY ADVICE • GREAT SERVICE 
Quality Products milled from High Density NORTHLAND Radiata Pine. 
Treated and guaranteed to NZS3640 with commitment to 
Environmental Safety.
Phone, fax, email, or come into the mill 
Schiska Rd, Topuni, SH1, 10 min north of Wellsford. Fax: 09 431 2856 
Email: sales@topunitimber.co.nz           Mon - Fri 7am-5pm 
• Fencing 
• Retaining 
• Decking 
• Landscaping 
• Gates 
• Hardware 
SURVEYORS 
SUBDIVISIONS 
HOUSE SITE SURVEYS 
CIVIL ENGINEERING 
WASTEWATER DESIGNS 
EXPERIENCED 
PROFESSIONAL 
INNOVATIVE 
Ph 09 431 5353 
0800 PACIFIC (0800 722 434) 
pacificcoastsurvey.com
Adam Booth - 027 415 5752 
Bsurv, Licensed Cadastral Surveyor
Surveying Kaipara since 1994 
Water Tank Cleaning 
• 
Keep your water safe & clean  
• 
Removal of sediment, silt etc. 
• 
Vacuum or full scrub 
• 
Minimal water loss 
Phone Mark (09) 432 0655 or 0274 707607 
LANDSCAPING 
4 IN 1 BUCKET 
TRENCHER 
POLE HOLES 
ROTARY HOE 
COMPACT ROLLER 
OFFAL HOLES 
CAN SUPPLY WOODCHIP & POST PEEL 
5 TON TIPPER 
FOR RELIABLE AND FRIENDLY SERVICE CONTACT DAVE 
Dave Hyndman 
 
KAIWAKA 
PH: 09 4312302 
MOB: 021 431 238 
Twinkle Tow 'n' Tyre 
Think you'll get a better deal in the city? 
Ring us - it won't cost anything! 
1837 State Highway 1, Kaiwaka 
Phone 431 2823 
*W.O.F. 
*Tyres 
*Windscreen 
replacement 
*Chip repairs 
*Bulk Oil 
*Batteries 
*Welding 
*Custom built 
trailers 
*Trailer hire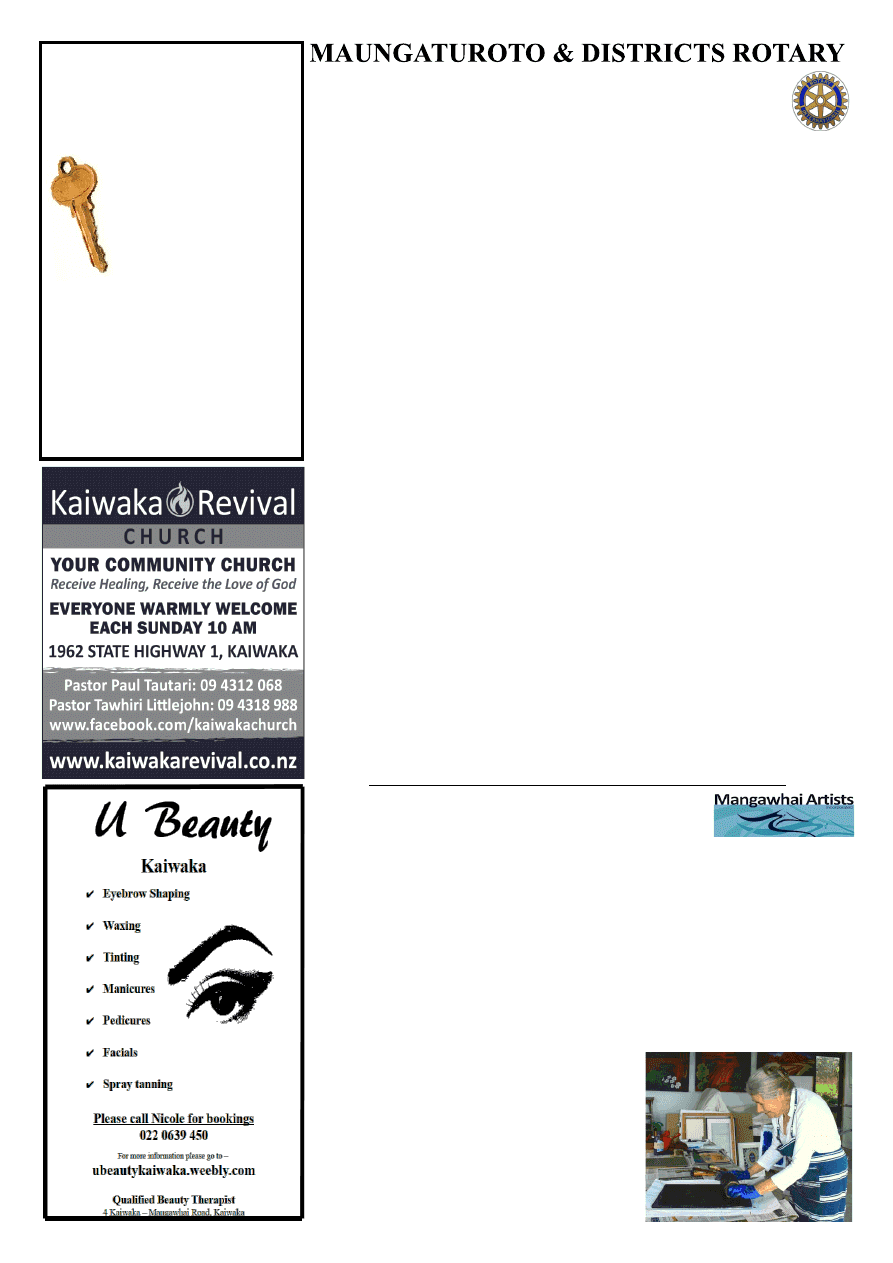 www.kaiwaka.co.nz 
Kaiwaka Bugle - 1 May 2018 
Page 11 
We  have  been  involved  in  activities 
supporting  the  community  as  well  as 
being  part  of  the  bigger  picture  of 
Rotary this month.  

To begin with we have upgraded the 
track  through  Nikau  Grove  on  Whaka 
Street by putting metal on the paths and 
placing  marker  pegs  around  the  track. 
This  circular  track  gives  users  the 
opportunity  to  appreciate  the  native 
flora and fauna within our town.  

We  have  also  been  involved  in  the 
planning  work  to  continue  the  cycle/
walkway in the west of our area. Once 
the work is completed on the highway 
upgrade,  the  then  defunct  one-way 
bridges  at  Matakohe  have  been 
designated  to  be  part  of  this  track. 
Meetings  are  being  held  and  options 
being looked at to provide a track that 
will  not  only  make  cycling  easier  but 
also  give  visitors  to  our  area  a  chance 
to  appreciate  our  beautiful  countryside 
in safety.  

Now training has been completed for 
our  Driver  Mentoring  scheme  we  are 
awaiting  Te  Roroa  to  process 
prospective  candidates  so  that  we  can 
start the 12-week course. If you believe 
you are eligible for this, call Te Roroa 
at 0800 555635.  

We are also going to be working with 
Albie Paton who is running an auction 
at  the  Den  in  Bickerstaffe  Road  on  2 
June  (Queens  Birthday  weekend), 
proceeds  from  which  will  go  to  the 
Dementia  unit  being  built  by  the  Rest 
Home. 

Activities  involving  Rotary  as  an 
International 
Organisation 
have 
included  our  District  Conference  held 
in  Kerikeri.  Not  only  is  this  a  chance 
for  us  to  connect  with  other  Rotarians 
from  our  District  (which  includes  a 
number  of  Islands  to  the north  of  NZ) 
but  also  to  hear  inspirational 
speakers  like  Pio  Terei 
MNZM  (a  comedian  with  a 
subtle 
message 
and 
an 
awesome singing voice) and Rez Gardi 
(Young  NZer  of  the  year  2017)  a 
Kurdish refugee who spent 10 years in 
a  refugee  camp,  came  to  NZ  speaking 
no  English  but  is  now  a  qualified 
lawyer  who  wants  to  help  the 
marginalised in our society. 

Our  first  Paul  Harris  Fellow  night 
was a success when 17 awardees (both 
Rotarian  and  community  members)  of 
this  prestigious  honour  gathered  with 
family  and  friends.  Guest  speaker  on 
the  night  was  Peter  Garnett  who  is 
involved 
with 
ROMAC 
(an 
organisation  that  hosts  and  supports 
youngsters  from  the  islands  who 
require surgery – mostly cardiac – that 
they  could  not  get  in  their  own 
country.)  This  scheme  is  supported  by 
Starship  staff  as  well.  Peter  had  a 
recent  patient  (and  her  mother)  with 
him.  Her  surgery  was  successful,  and 
she  was  just  waiting  to  go  back  to 
Timor Leste. 

 Several  Rotarians  were  able  to 
support  the  Rotary  Youth  Driving 
Awareness  program  in  Whangarei 
where  most  of  the  Year  12  students 
from Otamatea High were given goals, 
plans  and  strategies  to  make  them 
better drivers.  

 Late in April we also had a candidate 
attending the Rotary Youth Leadership 
week. We have always known that this 
is  a  life  changing  event  and  a  number 
of  conference  speakers  spoke  of  the 
impact RYLA had on their lives. 
If you have read this and are interested 
in learning more about Rotary you can 
access our website <rotarymgto.club> 
MANGAWHAI ARTISTS invite you to 
One moonlit night … and Von Tempsky – MANU RAY 

One  moonlit  night....  is  a  thrilling  and  'wow'  factor 
exhibition  that  will  take  you  into  a  Magical  Mangawhai  Bush  installation  in 
Mangawhai Artists Gallery. Using the materials created and crafted during the 
two week community art project, Rosina and her team of Mangawhai artists will 
transform  the  gallery  into  a  moonlight  night  bush  scene.  Trees,  Nikau  Palms, 
birds, creatures, the night sky, all will shimmer with light and moonlight magic. 
Opening on Saturday 5 May at 3pm by Mayor Jason Smith, the exhibition 
and installation will run until Sunday 13 May when people are invited to come 
and collect their painted bush materials. All community members are welcome 
and encouraged to come to the opening or to visit the exhibition, painters or not, 
come along to enjoy. 

Von  Tempsky  –  MANU  RAY, is a one off, one week exhibition by Wendy 
Clifford,  pictured  below.  Wendy  is  well  known  for  her  printmaking  although 
few have seen her beautifully handcrafted book and woodcuts which follow the 
exploits  of  Gustavus  von  Tempsky  during  the 
New  Zealand  Land  Wars  in  the  years  1863  to 
1868.  This  exhibition  is  an  opportunity  to  see 
how  an  artist  researches  and  prepares  for  a 
substantial art project. Reference material and a 
short  biography  of  von  Tempsky  will  be 
displayed. 
The  book  will  be  on  display  in  the  exhibition 
and  each  illustration  is  also  shown  as  framed 
works.  Opens  10am,  Friday  18  May  until 
Wednesday 23 May. 
Kaiwaka 
Hardware  
& 
Key cutting
Phone 4312 063  
or 022 0642 703
kaikey2015@gmail.com
    Keys Cut  
Household Hardware  
Sharpening  
Knives & Tools 
Curtain Tracks & Fittings
Not there? Call Doug and he'll 
sort
it for you. 
(
Next to Kaiwaka Motorcycles)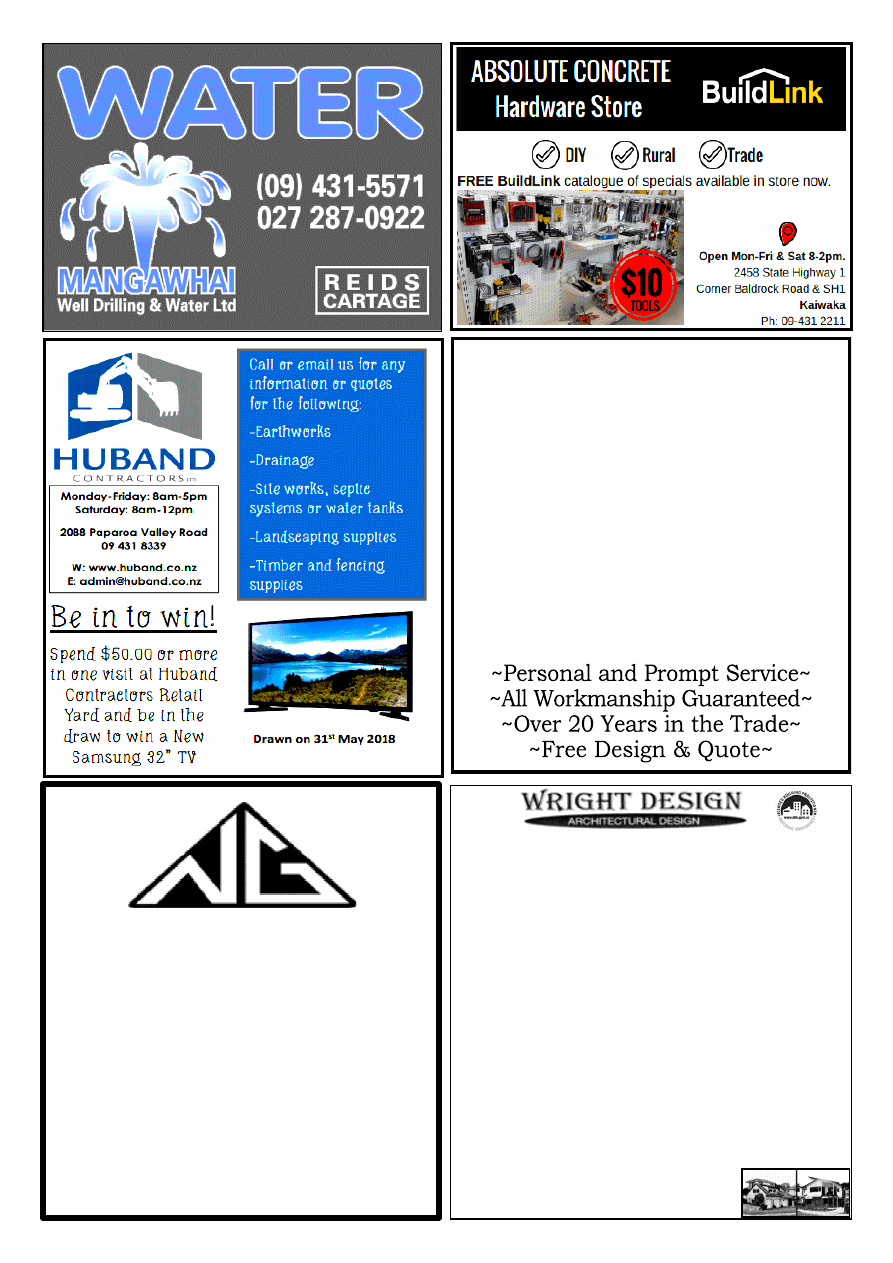 NORTH GLASS 
WINDSCREEN REPAIR OR REPLACE 
GLAZING SERVICES 
MIRRORS  •  SPLASH BACKS  •  SHOWERS 
0800 70 40 10
info@northglass.co.nz 
www.northglass.co.nz 
PLANNING A NEW KITCHEN?
 CONTACT NOEL McDOWELL
WELLSFORD 
KITCHENS
Ph/Fax 094312888
KAIWAKA-Any time
 QUALITY CUSTOM MADE 
KITCHENS
If you are thinking of building then you 
will need a good and well experienced, 
qualified, and licensed designer. 
This applies if you are considering a 
new home any alterations or any 
building additions/farm buildings, 
sheds, alterations, whatsoever. 
For Resource and Building Consents, 
planning restraints, new building 
materials, applying for building permits 
– you need a capable, experienced, 
and professional designer with a clear 
knowledge of all the processes. 
Brian has been helping and organising 
all these facets of design and building 
for over 50 years. 
Wright Design offers free visits, 
consultations and advice on planning, 
design, building, council permit 
applications, guaranteed permit plan 
acceptance. 
QUALIFICATIONS 
Brian is a qualified designer 
(N.Z.C.A.D.) with over 50 years of 
varied experience in all types of 
building and is registered and Licensed 
Building practitioner in Design – 1 & 2 
Registered LBP117345 
He will ensure you will achieve the 
best from your budget. 
EXPERIENCE 
Brian's practical building and 50+ years 
of design experience means he can 
give you excellent advice and all the 
guidance needed. 
Brian can arrange engineering for a 
reasonable cost. 
•Qualified and inexpensive designer – 
N.Z.C.A.D. Registered LBP117345 
•Guaranteed design and working 
drawings 
•Free site visit to your home or 
property 
•Great service and free quotation 
PROJECTS 
Additions, alterations, basements, new 
homes, motels, bed and breakfast, 
commercial buildings, farm buildings, 
and shop fit outs are a few projects. 
Brian can show you many of his 
projects in the area to emphasise his 
versatility and can give you contact 
with satisfied clients. 
WHAT TO DO FROM NOW ON 
•Call Brian for a free quotation 
•Discuss your needs and obtain good 
advice 
•Brian can offer 
plan printing 
from A4 to A0 
(2x A1 size) 
No. 117345 
N.Z.C.A.D., L.B.P. 117345 
PH/Fax: 09 423 8092 Mob: 021 276 7369 
Office: 3 John Sinclair Avenue, Wellsford    brianwright@xtra.co.nz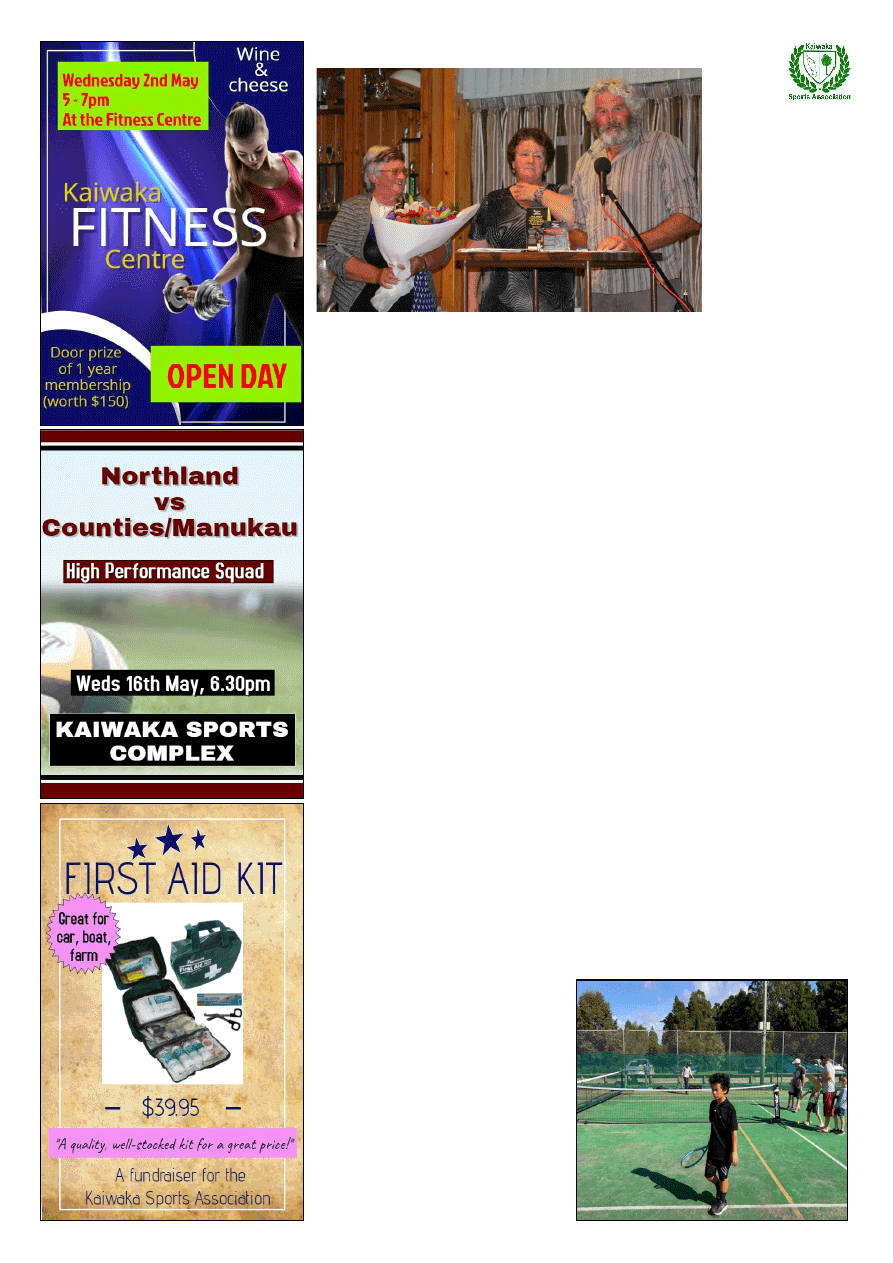 www.kaiwaka.co.nz 
Kaiwaka Bugle - 1 May 2018 
Page 13 
           KAIWAKA SPORTS ASSN 
KAIWAKA SPORTS AWARDS 
One  of  our  biggest  events  of  the  year, 
the Sports Awards, was held last week.  
During  the  Awards  Dinner  we  made  a 
presentation  to  Elaine  Nimmo  in 
recognition  of  her  years  of  service  to 
the  Kaiwaka  Sports  Association, 
particularly with netball.  
Photo  above:  Elaine  is  pictured  with 
KSA President Wayne Leslie and wife 
Linda.  A  report  on  the  Sports  Awards 
is in this edition of the Bugle. 
FITNESS CENTRE 
Our  Fitness  Centre  will  hold  an  Open 
Day  this  Wednesday,  5  -  7pm.  Come 
along  to  renew  your  membership  or 
start  a  new  one.  Wine  and  cheese 
provided.  Everyone  who  attends  will 
go  in  a  draw  to  win  a  free  year's 
membership 
(worth 
$150). 
A 
membership gives you 24/7 access to a 
centre  equipped  with  free  weights, 
bikes, climbers, rowers, treadmills, CV 
machines,  toilets  and  showers.  If  you 
are  on  facebook,  please  like  the 
Kaiwaka  Fitness  page  to  keep  up  to 
date with news and events. The Fitness 
Centre  keys  will  change  over  on  20
th
May. 
For  more  information  on  the  Fitness 
Centre,  please  contact  Siobhan  on  027 
9791203. 
RUGBY - SENIOR 
Our  senior  rugby  club,  Otamatea 
Hawks,  will  next  play  at  our  grounds 
on  Saturday  19
th
  May  against 
Wellsford. 
Reserves 
kickoff 
at 
12.30pm  and  are  followed  by  the 
Premiers at 2.15pm. 
RUGBY - REPRESENTATIVE 
We  are  proud  to  be  hosting  a 
representative  rugby  match  this 
month:  Northland  vs  Counties-
Manukau  (the  High  -Performance 
squad). It will be held on Wednesday 
16
th
 May, kickoff 6.30pm.  
JUNIOR TENNIS 
O
ur  tennis  juniors  vied  for  the 
Hargreaves  and  Anderson  cups 
recently  in  a  handicap  tournament. 
After  a  very  wet  night  the  tennis 
courts dried out just enough to allow 
play  under  a  hot  sun.  The  younger 
juniors played half court games while 
the  advanced  juniors  played  full  sets 
for 
the 
Anderson 
cup.  Caitlin  Rogers 
took 
the 
girl's 
Hargreaves 
cup 
whilst 
Marino 
Waiapo  took  the 
boy's cup for the 2nd 
year  in  a  row.  Most 
thrilling  was  the  hot 
competition  for  the 
Anderson  cup.  Even 
with a hand in a cast 
Biilie  Le  Mesurier-
Cowbourne  pushed 
Faun  Driver  to  a  set 
tie  breaker  with  Faun  finally  winning 
the  advantage.  Thank  you  to  coach 
John  White  and  all  the  parents  who 
have  supported  the  tennis  club  this 
season  as  well  as  Amanda  Das  for 
organising  Twilight Tennis.
  And  a big 
thank  you  to  Club  President  Floyd 
Driver, for all his work over the season. 
DEFIBRILLATOR 
Did  you  know  that  we  have  a 
defibrillator on site? A defibrillator is a 
mobile electrical device that provides a 
shock to the heart when there is a life-
threatening  arrhythmia  present.  The 
defibrillator  features  voice  prompts 
which 
provide 
step-by-step 
instructions.  The  defibrillator  is  in  the 
toilet  block  (opposite  the  swimming 
pool) as this area is open to the public 
at all times. 
OUT OF ACTION 
We  are  redoing  the  floor  of  our 
gymnasium, and it will be out of action 
for  a  few  weeks.  So,  it  won't  be 
available  for  bookings  until  further 
notice.      
FIRST AID KIT FUNDRAISER 
I'm selling First Aid kits as a fundraiser 
for  the  Sports  Association. 
At  $39.95, 
these  first  aid  kits  are  excellent  value 
for  money  and  similar  kits  often  retail 
for  over  $60.  This  is  a  large  carry  kit 
with transparent fold-out compartments 
which  contains  77  items  and  follows 
OSH  and  Consumer  regulations.  An 
order form is on  page 19 of this edition 
of the Bugle. The deadline for orders is 
18
th
 May. 
Cheryl Anderson 
4312 051, 027 3462702 
kaiwakasports@gmail.com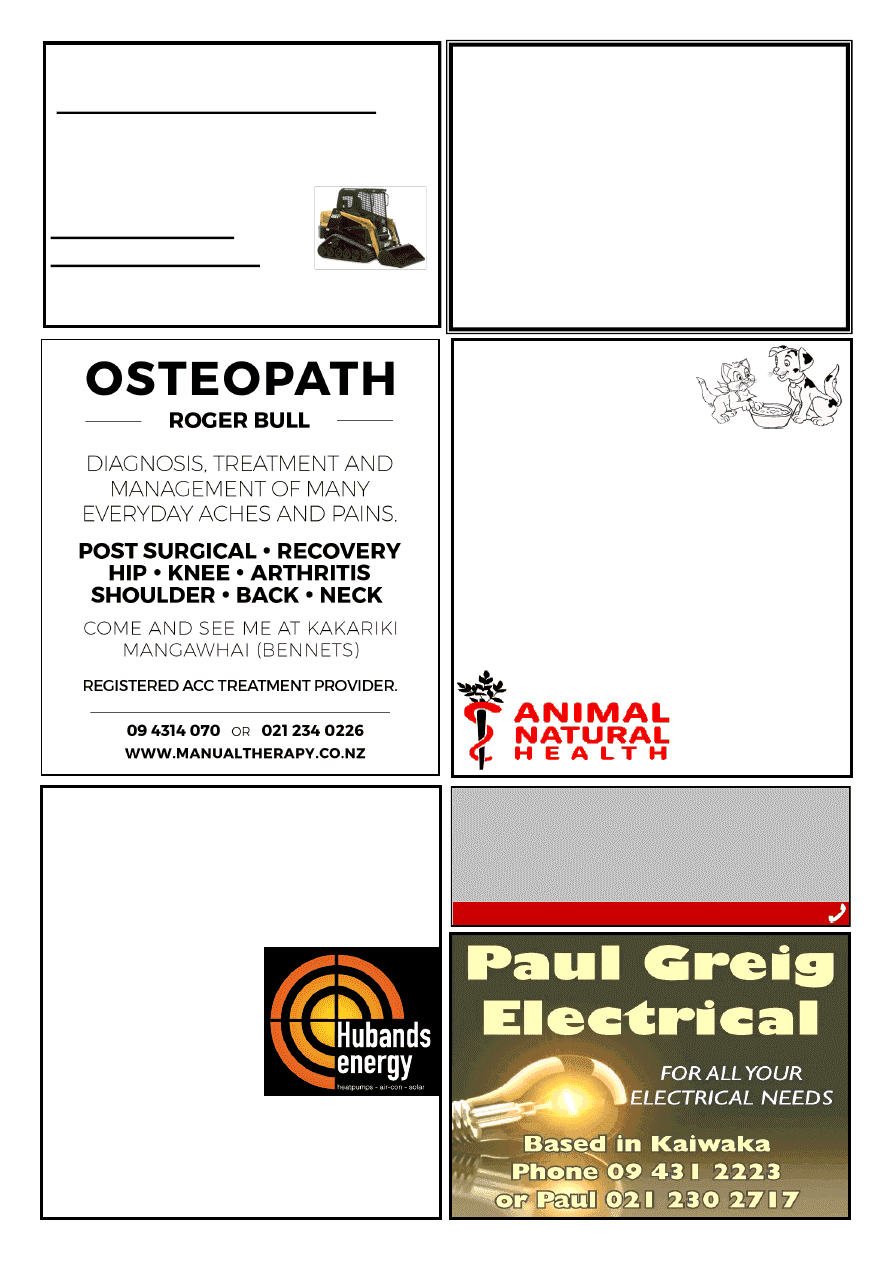 Natural Earth Ltd 
 Landscape and Bobcat services 
 : Driveways  :Landscaping  :Retaining Walls 
 : Hole Boring: Land Levelling :Trenching 
 : Decks :Fences :Sections Cleared: Plus much 
more 
Tel   09 4312885 
Mob 02102391280   
For A Fast Friendly  
Service Contact Tim Hicks 
CALL CRIMESTOPPERS 
Worried about something that doesn't seem right to 
you? Concerned about activity that could be 
harmful? Call Crimestoppers.  
You don't need to know all the facts.
CALL 0800 555 111 ANONYMOUSLY 
Northland's Award Winning 
Solar Company
SEANZ Best Solar Business Winners 2015/16
EXCLUSIVE 10 year installation warranty 
FREE No obligation onsite quote
Complete systems 
from $5990
See our range of: 
✓
Heatpumps 
✓
Airconditioning 
✓
Hot Water 
Heatpumps 
✓
Central Vacuum Systems
09 430 0019             sales@hubands.co.nz 
15 Kioreroa Road, Whangarei
Locally owned and operated for 35 years 
Mangawhai Heads 
Garden Centre
1758 Cove Road
945 0707 
021 165 2629 
ORIJEN & ACANA  
now available!
Looking for economy with 
quality in pet food? 
Our 2kg fresh meat rolls only $12.90
Tukka Thyme Muesli (makes 3kg) - only $14.90 
Veal Bones 3kg $17.90 
Beef & Lamb Patties  3kg  $22.90 
Chicken Medallions 3kg  $18.90 
No nasty chemicals, cage & crate-free, free-range, 
organic where possible. 
Flea-Flee , Tick & Lice Control, alternatives to 
vaccinations. 
Safe beach leads, collars, toys. 
Want a choice in animal health care? 
See our Animal Naturopath.  
ANIMAL NATURAL 
HEALTH CENTRE 
Next to Italian Bakery, 
Kaiwaka 
Ph. 09 431 2217    
Open Mon-Sat.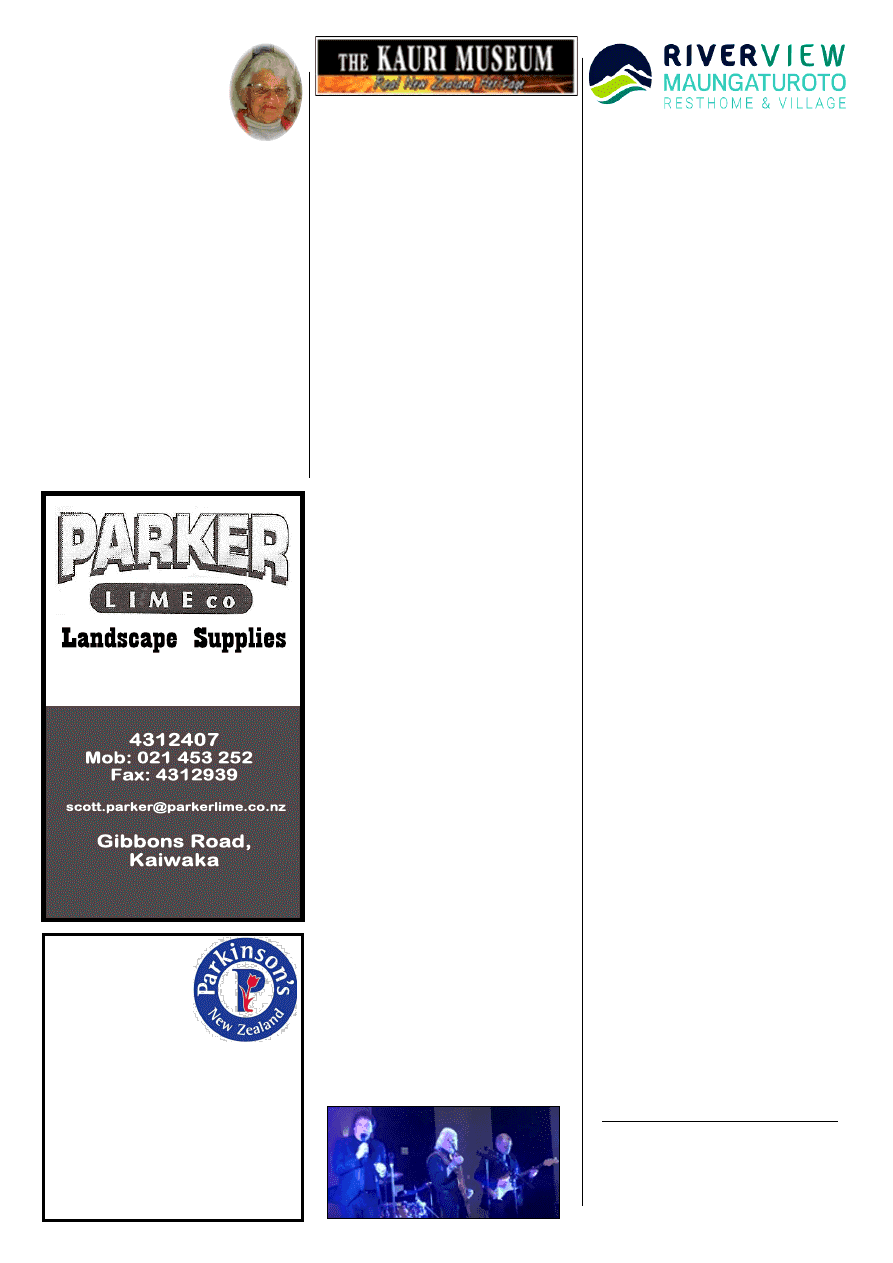 www.kaiwaka.co.nz 
Kaiwaka Bugle - 1 May 2018 
Page 15 
Bulk Cartage 
RIVERVIEW REPORT 
The 
Maungaturoto 
Community 
Charitable  Trust  appreciates  and 
welcomes  every  donation  made  to  us. 
As  we  are  a  charitable  organisation, 
working  for  the  benefit  of  our  ageing 
population,  all  donations  are  put  to 
good  use,  helping  support  and  extend 
our range of services. 
Our  current  project  to  build  the 
Dementia  Unit  is  currently  paused 
while further funds are raised and some 
survey issues are completed. 
How can you help? 
There  are  a  range  of  ways  you  can 
support the Trust. 

Donations 
As  a  registered  charity  any  donations 
given  to  the  Trust  are  tax  deductible. 
You  will  receive  a  tax  receipt  for  any 
donations.  Every  donation,  no  matter 
how big or small helps us provide our 
much-needed  services  per  our  'Plan 
For the Future'. 

Consider establishing a regular direct 
debit for an ongoing donation as part of 
our monthly supporter's scheme. Even 
pledging  as  little  as  $10  per  month 
enables  us  to  increase  our  service 
delivery.  You  can  make  a  regular 
monthly  payment  of  $10,  $20,  $40  or 
more.  Donations  can  be  made  by 
automatic  payment,  direct  to  our  bank 
account 06-0365- 0014253-46 
Please  include  your  name  and  address 
and a tax receipt will be issued to you 
at the end of the financial year. 

Could you offer a debenture? 
The  Trust  is  actively  fundraising  to 
complete the Dementia unit then to add 
additional  capacity  to  our  existing 
facilities.  This  requires  capital.  If  you 
are able to invest into this project over 
the next few years talk to us about the 
possibility  of  establishing  a  debenture 
loan to the Trust. 

Leaving a legacy in your Will. 
Naming the Maungaturoto Community 
Charitable Trust in your will is another 
way  to  provide  meaningful  financial 
support to the Trust. The money comes 
from  your  estate,  after  your  death. 
Your  solicitor  will  be  able  to  advise 
you on how to make a bequest in your 
will. 
Over  the  next  few  months  you  will 
hear  of  more  opportunities  to  help, 
Albie  and  the  Den  are  preparing  a 
monster 
auction 
over 
Queens 
Birthday Weekend. 
Planning  is  underway  for  some 
livestock  incentives  in  collaboration 
with  the  primary  school  and  local 
farmers. 
Parkinson's  
Northland 
Provide: 

Home based        
consultations 

Information and 
education on living with Parkinson's 

Support and exercise groups 

In-service training for other health 
providers 
Barbara Leslie 
RN
Community Educator 
09 4376881  or 027 5306221 
educator.northlandsouth@parkinsons.org.nz 
www.parkinsons.org.nz 
'Collection  storage'  is not a topic that 
stirs  imagination  or  gets  the  pulses 
racing  but,  in  an  institution  like  The 
Kauri Museum it is a hot issue.  
With  an  enormous  collection  (a  lot  of 
which  is  on  display),  there  are  also 
thousands  of  objects  unseen,  stored  in 
the  most  unlikely  places  wherever 
there  is  a  space.  A  solution  to  the 
problem has been found and this year's 
May Day Dance fundraiser, to be held 
in  the  Matakohe  Hall  on  Saturday  5 
May,  is  in  aid  of  improving  and 
upgrading  our  collection  storage 
facilities. 
Shane  and  the  Shazam  Band  are  back 
for  this  year's  major  event  with  some 
new  members  which,  according  to 
local  band  member,  Alistair  Taylor,  is 
"the  best  line-up  they  have  ever  had". 
All  have  a  long  association  with  New 
Zealand popular music. 
Shane  was  a  pop  idol  of  the  1960s, 
appearing  on  television  show  C'mon 
and winning a Loxene Golden Disc in 
1969 with his number one hit 'St Paul'. 
These days, apart from performing, he 
has  his  own  TV  show,  Rocking  the 
Planet,  and  appears  regularly  on  the 
chat show, The Beat Goes On.  
Lead guitarist, Kevin Furey, played on 
Shane's  hit,  'St  Paul',  after  which  he 
joined  the  group  Quincy  Conserve. 
Kevin  has  also  been  a  member  of  the 
Royal New Zealand Navy Band for 20 
years.  
Dean  Ruscoe,  was  drummer  with 
Hogsnort  Rupert  and  in  the  backing 
band for Billy T James and the Māori 
Volcanics on a tour of Europe.  
Graham Gibson, rhythm guitar, started 
in  the  1960s  as  part  of  Roger  Skinner 
and  the  Motivation,  while  steel  guitar 
and  keyboard  player  Murray  Patten's 
background is with rock-a- billy bands, 
described  as  "a  loose  connection 
between  blues  and  country,  rocked 
up!" 
Matakohe local Alistair who plays bass 
guitar, has been playing in bands for 30 
years. 
A new sound system has improved the 
quality  of  the  band's  sound  so  much 
that  live  recordings  are  about  to  be 
turned  into  a  12  track  CD.  Shane  and 
the  Shazam  Band  have  a  huge 
following  in  the  North  Island  being 
booked  through  until  January  2019. 
You  can  view  them  on  You  Tube  but 
better 
still,  join  us  and  listen  to  them 
perform  live.  Dance  the  night  away 
while  feasting  on  a  continuous  supper 
and at the same time helping The Kauri 
Museum storage project. 
Conflicting Proverbs
 … 
Nothing ventured, nothing gained. 
Better safe than sorry. 
The bigger, the better. 
The best things come in small packages.
From Thelma's 
Scrapbook … 
with 
Mother's 
Day 
coming up. 
"What is Love? 
Love  is  giving  someone  a  portion  of 
your heart 
Love is thinking of them  
though you're close or far apart 
Love is feeling tenderness about  
the smallest things 
Love is glowing in the warmth  
a special moment brings 
In just a touch or smile 
Love is everything that counts 
It's what makes life worthwhile." 
Many countries across the world have adopted 
the  Mother's  Day  celebration  based  on  the 
United States origin
. One possibility was
 the 
late  1800's  a  social  activist  Julia  Ward  Howe, 
who  organised  special  services  and  rallies  for 
women  to  unite  against  war.  And  two,  in  May 
1908  Anna  Jarvis  paid  tribute  to  her  mother 
who improved sanitation conditions for women 
on  both  sides  of  the  Civil  War. 
Celebrations 
of 
mothers
 and  motherhood  can  be  traced 
back to the ancient Greeks and Romans..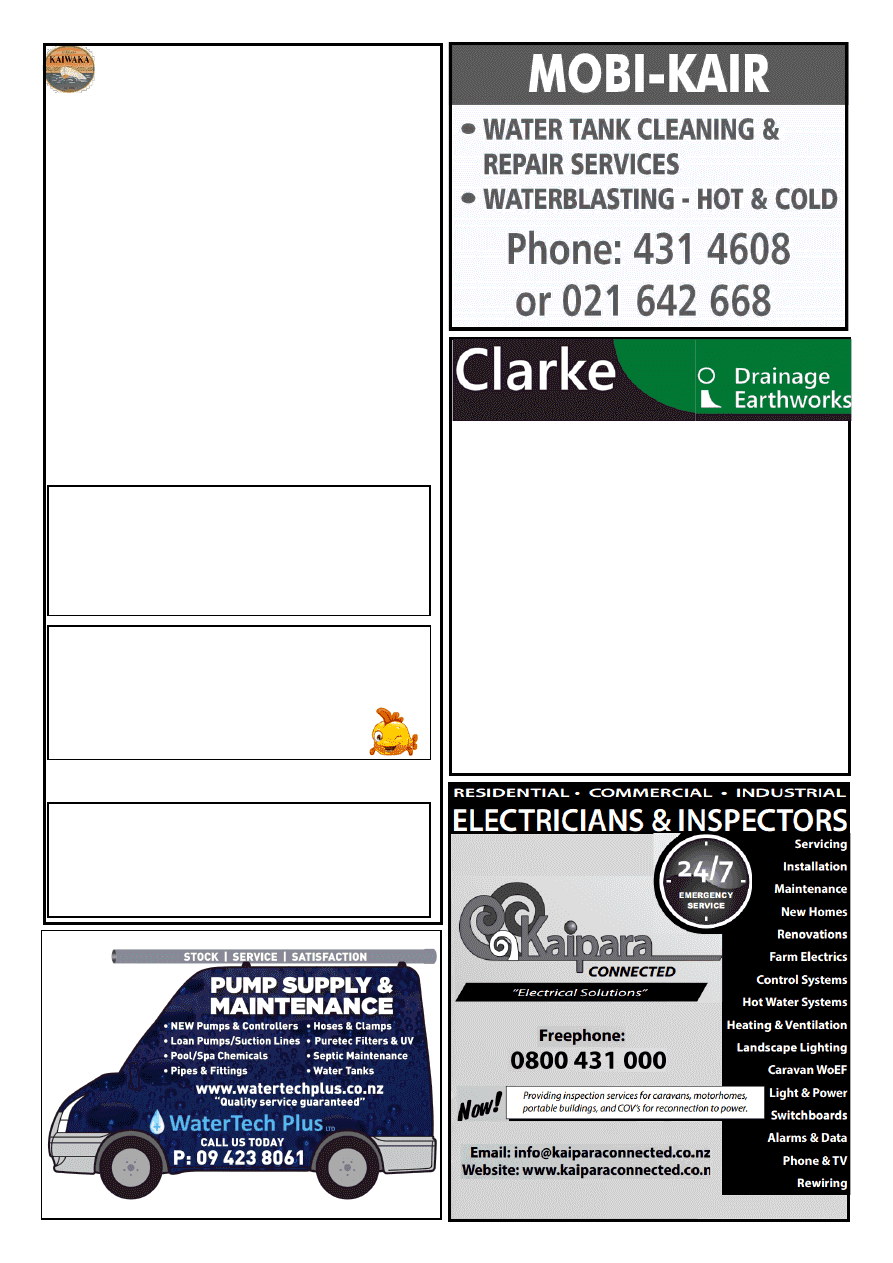 Registered Drainlayer 
All Types of Earthworks  
> All Residential & Commercial Work  > House Sites 
> Septic System Design & Install 
> Footings & Drilling to 10m 
> Sewer Connections 
> Dams 
> Water Tank Installation 
> Roading & Races 
> Farm Work 
THE ONE STOP SHOP  
Phone Nigel for an Obligation Free Quote  
Drainage & Earthmoving 
clarkedrainage@xtra.co.nz 
027 2233 185 
 Point Curtis Cruising Club Inc  
Club Members Only 
Opening Day Game Bird Season  
& End of Year Prize Giving 
Saturday 5th May 2018 
Tickets: To be purchased before 11pm 4th May 2018 
Weigh in: 4pm to 5pm on 5th May 2018 at the  
3Furlongs Bar & Grill Kaiwaka 
Anyone in line to weigh in at 5pm will be entered. No 
late weigh ins. 
Maximum Weigh In: 2 per species per shooter. 
Game Bird Prize Giving: 6pm on Saturday 5th May 
2018 at 3 Furlongs Bar & Grill, Kaiwaka 
Prize winners must be present to collect prize. 
End of Year Prize Giving:  
To follow Game Bird prize giving. 
Shared Meal:  
To follow prize giving - Please bring a plate. 
Ticket Outlets: Jean at Jaques 4 Square, Kaiwaka, 3 
Furlongs Bar & Grill, Kaiwaka, Wellsford 
Sports & Leisure 
Or pay for tickets by Internet Banking Bank A/c 
details are: ASB Wellsford No 12 3094 0008233 00 
Please use your Name/Names as a Reference. 
Adults Entry Fee: $20 
All competitors must be financial members of The 
Point Curtis Cruising Club Inc for at least 7 days prior 
to the competition 
Species: Mallard, Grey, Parry, Pheasant, Canadian 
Goose, Pukeko, 
Black Swan, Turkey & Peacock 
Prizes: 1st, 2nd & 3rd in all categories 
Juniors (Aged under 15) Entry Fee: $10 
All competitors must be financial members of The 
Point Curtis Cruising Club Inc for at least 7 days prior 
to the competition 
Species: Mallard, Grey, Parry, Pheasant, Canadian 
Goose, Pukeko, 
Black Swan, Turkey & Peacock 
Prizes: 1st, 2nd & 3rd in all categories  
Note: Fish & Game NZ rules apply 
Disclaimer: 
No late weigh ins 
In the event of 2 or more birds of the same species weigh the 
same weight – the first one weighed in wins.  
The Point Curtis Cruising Club Inc. accepts no liability for any 
damage or loss  of belongings or injury to any person. 
Decision of the Weigh-Master is final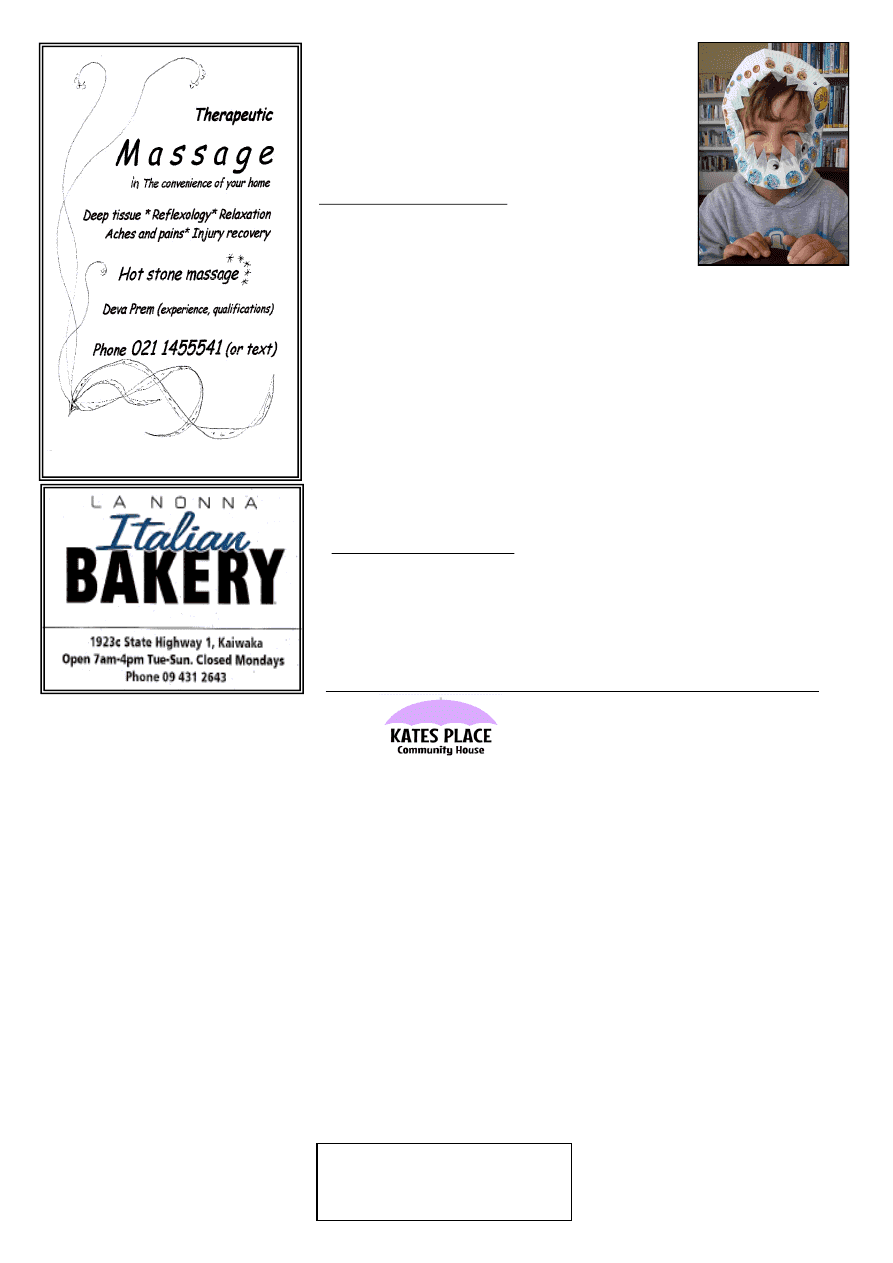 www.kaiwaka.co.nz 
Kaiwaka Bugle - 1 May 2018 
Page 17 
www.mangawhaimassage.co.nz 
SERVICES  
Advocacy - Come and see us anytime for 
support  and  advice.  Budgeting - We  will 
help  you  organise  and  plan  your 
finances.  Employment  Mentoring  - 
CVs,  career,  and  employment  support. 
Food Co-op - $10  a  week.  Bulk  buying 
group.  Save  money.  Assistance  with 
Life Planning - We  can  help  you  create 
a  life  plan.  Driver's License Coaching - 
One  on  one  learner  license  coaching. 
Plunket - 1st  Wednesday  of  the  month. 
Appointment  preferred.  Office Space To 
Rent  -  Talk  to  Kirstie  for  more 
information.  Community  Space  - 
Available for activities or meetings. Call 
us. Support Services - For  Families  or 
Individuals In crisis.   
EVENTS & ACTIVITIES  
Mid-Year  Annual  Fundraiser  -  To  be 
confirmed.  
Community  Xmas  Party  -  Fun,  food 
and a visit from Santa.  
Over  65's  Lunch  -  1st  Wednesday  of 
month. 11am - 1:30pm. Contact us.  
Games Day - Every  Wednesday.  Adults, 
cards, scrabble. Contact us.  
If you have a group or event you wish 
to run in our community house, please 
talk to Kirstie.     
COURSES  
"Cooking  Great  Family  Meals  and 
Occasions on a Budget" - Stretch  your 
dollar  and  brighten  up  your  table. 
Introduction  to  Basic  Gardening  - 
Thursday 10am. Contact us.  
Small Business courses - A  variety  of 
courses and information evenings  
Health  &  Safety  Courses/  First  Aid  -  
Dates to be confirmed.  
Parenting  Courses  -  Dates  to  be 
confirmed.  "How  To  Improve  Your 
Life  by  Managing  Your  Money 
Better" -  Call us to book your place.  
"How To Handle The Pressure Cooker 
Of  Life"  -  Starting  in  May.  Evenings 
over  six  weeks.  Contact  us  to  register 
your interest.  
All  courses,  training,  and  night  classes 
content,  times  and  costs  may  vary  without 
notice.  Please  talk  to  Kirstie  at  the 
community  house  for  details  and  to  book 
your place or talk to us about running your 
own course from our centre.  
HEALTH & WELLBEING  
Movement Class - Thursday 12pm.  
For  all  ages  and  sizes.  Contact  us. 
Diabetes Clinic - Every six weeks.  
Contact  us  for  the  dates.  Plunket - First 
Wednesday of the month.  
Counselling - Usually subsidised.  
Thursday  and  Friday  Weekly Support 
Group  -  Emotional  support.  Every 
Friday  11am.  Family  Therapy  and 
Conflict  Resolution  -  Group 
or 
individual sessions.  
Osteopathic Therapist - Last  Friday  of 
the 
month. 
Owen 
Stevens. 
Physiotherapist  -  Here  on  a  weekly 
basis,  contact  us  for  more  details. 
Occupational  Therapist  -  Here  on  a 
weekly  basis.  Contact  us.  Massage 
Therapist - On  a  weekly  basis,  contact 
us for more details.  
YOUTH  
Peer  Tutoring -  Every  Wed  afternoon 
4:30pm-6:30pm.  Primary  and  secondary 
students.  Youth  counsellor  -  Most 
funding  available.  Contact  us  for 
assessment. 
Youth 
Development 
Course  -  6-week  course.  10-16  years. 
Contact  us. Creative Arts Day (Holiday 
Program)  
Contact us on  
09 431 2661 - Monday to Friday 
9am - 4pm, or phone 029 7739085, 
or call in to 1960 State Highway 
One, Kaiwaka, or follow us on 
Facebook "kates place community 
(09) 431 2661  
1960 SH1, Kaiwaka  
Overdue reminders 
With  our  new  library  system,  library 
members may now opt-in to automated 
email  reminders  about  their  books, 
including one a few days before they're 
due  in  case  you've  lost  sight  of  that 
date. If you would like to receive these, 
send 
an 
email 
to 
me 
-
 kaiwaka.library@gmail.com - or a text 
to 027 480 6275, saying you'd like this, 
and I'll set that up for you. 
Book swaps 
The NLN Large Print and Audio swap 
is  done  -  thank  you  to  everyone  who 
helped  with  it.  It's  a  huge  job  on  the 
day, and many hands make light work, 
as they say. There is now a new range 
of  large  print  and  audio  books  on  our 
shelves  to  choose  from,  something  for 
everyone. 
The  next  swap  is  the  Dargaville  one, 
which  will  be  in  early  June.  Now's  a 
good time to come in and look through 
those books on our shelves, before they 
disappear. 
Reserving books 
Have  you  taken  a  look  at  the  new 
online catalogue since it went live last 
month?  You'll  find  it  through  the 
library  page  on  the  Kaipara  District 
Council  web  site,  or  go  straight 
to https://kaipara.kotui.org.nz/ 
You  can  search  our  shelves,  and  the 
shelves  of  the  other  libraries  in  the 
district, from the comfort of your own 
home, on your own computer, tablet or 
phone, and you can reserve books from 
there  so  they're  waiting  for  you  next 
time  you  come  in.  If  you  don't 
remember your PIN, or have never set 
one  on  your  library  account  before, 
follow  the  on-
screen prompts 
to set it. If you 
have 
any 
difficulties, 
contact  me  or 
the  volunteer 
on duty. 
I  will  contact 
you  when  the 
book 
has 
arrived  in  the 
library  (if  it 
had  to  come  from  another  in  the 
district) and is ready for you. 
School Holiday Program 
We had a fabulous time last week with 
our  school  holiday  program,  "Shark 
Attack". We  read  a  story  about  sharks 
and  made  shark  masks  to  take  home. 
Watch  out  for  a  similar  program  next 
school  holidays  and  register  your  kids 
so they don't miss out. 
Book review 
Sodden  Downstream  by  Brannavan 
Gnanalingam - "
thousands  flee  central 
Wellington as a far too common 'once in a 
century' storm descends. Roads are closed, 
and all rail is halted. For their own safety, 
city  workers  are  told  that  they  must  go 
home  early.  Sita  is  a  Tamil  Sri  Lankan 
refugee living in the Hutt Valley. She's just 
had a call from her boss. If she doesn't get 
to  her  cleaning  job  in  the  city,  she'll  lose 
her  contract."  Sita's  journey  is  an  eye-
opener, as you travel with her towards the 
city. Will she make it safely, or at all? 
This 
book  was  short-listed  for  the  Ockham 
New Zealand Book Awards last year. I 
recommend it without hesitation, and is 
on our Rental Fiction shelves. 
See you in the library! ~Wendy 
KAIWAKA LIBRARY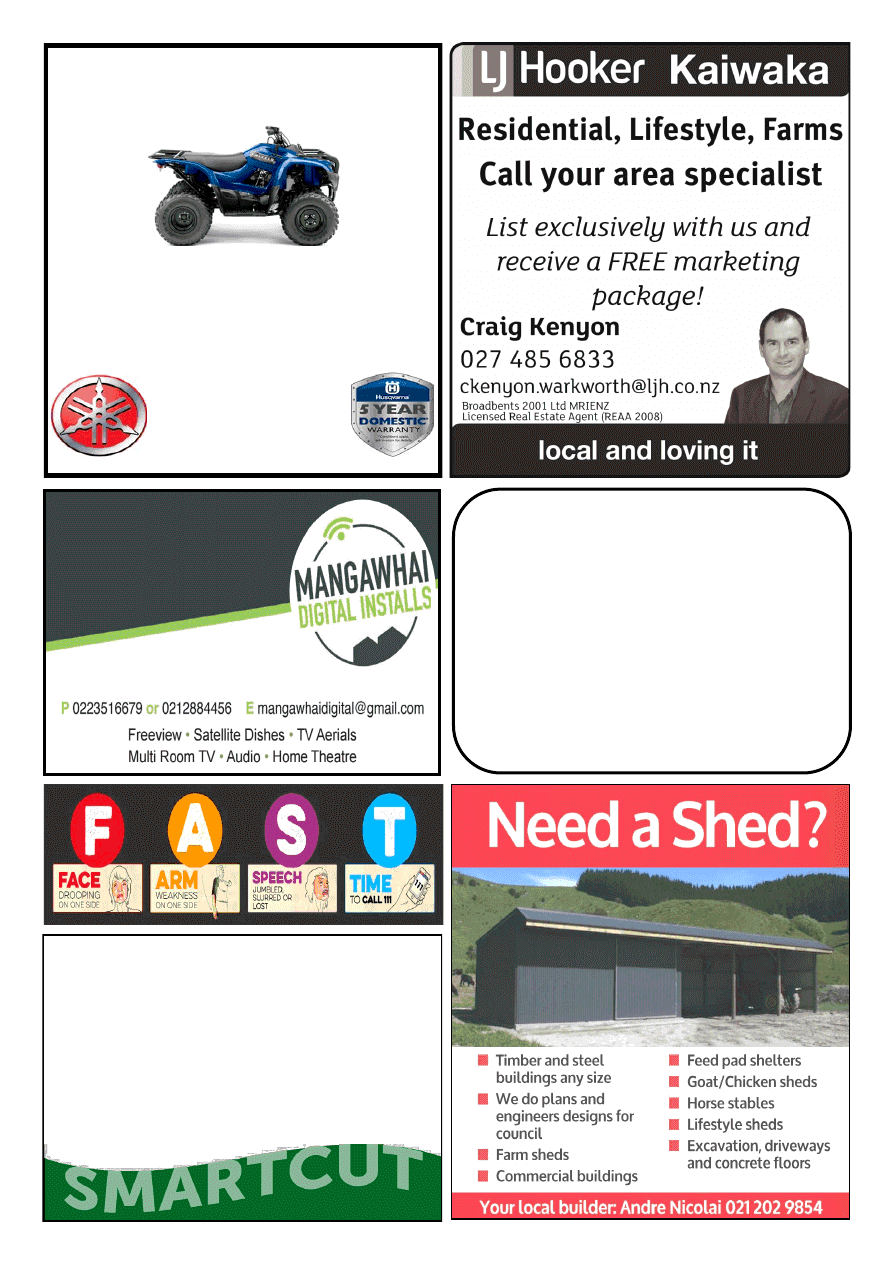 All your outdoor needs sorted so you don't have to... 
I can prune, chop, tidy, spray, mow, plant 
- you name it, I can do it! 
Residential & Commercial 
Lawn & Garden Care 
Call Rodney, your local  
lawnmowing contractor 
021 138 2344 
KAIWAKA 
MOTORCYCLES LTD
SALES – SERVICE – SPARES 
FARM BIKE SPECIALIST
PHONE 09 431-2127 
10 KAIWAKA-MANGAWHAI ROAD, KAIWAKA
Trimmers  
from $279
Chainsaws  
from $339
YAMAHA 
HUSQVARNA 
UP-LINK 
CHRIS WARING 
FREEVIEW INSTALLATIONS 
T.V. - HOME THEATRE &  
HI-FI ADVICE/SET UP
SKY ACCREDITED INSTALLER
MOB.0273403747 HM.094312328 
EMAIL cwaring44@gmail.com
28 YRS EXPERIENCE 
OFFERING UNBIASED ADVICE 
www.kaiwaka.co.nz 
Kaiwaka Bugle - 1 May 2018 
Page 19 
FIRST AID KIT 
Fundraising for the Kaiwaka Sports Association 
We are selling a quality first aid kit for $39.95. These first aid kits are excellent value 
for  money  and  similar  kits  often  retail  for  over  $60.  This  is  a  large  carry  kit  with 
transparent  fold-out  compartments  which  contains  77  items  and  follows  OSH  and 
Consumer regulations. 
Everyone  should have  an  updated first aid kit  handy  –  great for  the  home,  farm, 
boat and car.  
To order please return this form with your payment by 18
th
 May. 
Delivery will be the following fortnight.  
Enquiries to Cheryl Anderson on kaiwakasports@gmail.com. 
Kit Contents 
Digital Thermometer, Instant Ice Pack, 2 x Emergency Blankets, 1 x 
CPR Resuscitation mask with valve, 1 x Eye Pad 5.5cm x 7.5cm, 2 x 
Burns Dressings 20cm x 30cm, 2 x Conforming Bandage Rolls 6cm 
x 400cm, 2 x Conforming Bandage Rolls 8cm x 400cm, 20 x Band 
Aid strips 7.5cm x 2cm, 2 x Triangular Bandages 90cm x 90cm x 
127cm, Long adhesive strip 6cm x 20cm, Adhesive Multi-pore Tape 
Roll 13mm x 5m, 3 x Butterfly Adhesive Plasters 7.4cm x 4.5cm, 2 x 
Knuckle Adhesive Plasters 7.5cm x 3.7cm, 4 x Semi-permeable 
Dressings 6cm x 7cm, 3 x Adhesive Island Dressings 6cm x 7cm, 2 x 
Adhesive Island Dressings 6cm x 10cm, Combined/Abdominal 
absorbent pad 23cm x 12.5cm, Scissors 15cm, Tweezers (metal), 4 
pairs large PVC safety gloves, 10 x safety pins, 4 x Soap wipes 20cm 
x 19cm, 4 x Saline Cleansing Wipes 20cm x 19cm, First Aid Guide. 
Payment options:   Cash, Cheque (payable to KSA) or Bank direct 060365002247200  
(use reference first aid kit and your full name) 
Ways to return form:     
•
Drop off in folder behind checkout at Jaques Four Square 
•
Scan and email to Cheryl at kaiwakaports@gmail,com 
THE MINISTRY OF EDUCATION'S LEARNING SUPPORT  
The  Ministry  of  Education's  Learning  Support  (previously  known  as  Special  Education)  Service  and  Resource  Teachers:  Learning  and 
Behaviour  (RTLB)  have  been  working  with  your  Schools/Kura,  Early  Childhood,  Te  Rūnanga  o  Ngāti  Whātua  and  Te  Uri  o  Hau  to 
provide better support for children. We are trialling a different way of working so that children who need additional support, access this as 
quickly as possible.
What  is  happening?  We  have  set  up  Support  Hubs  (called  Te  Manawa  Tahi)  in  various  locations  in  your  community.  If  you  have  a 
concern about your child's language development, learning progress, social and emotional wellbeing, or behaviour, Te Manawa 
Tahi have specialists available so you can discuss your concerns directly with them. Through this discussion we will determine what help 
may be required and identify next steps. 
How can you find us? Te Arahi will be flying on a flag outside each Te Manawa Tahi venue. 
When is this happening? Please see the timetable for information on when and where Te Manawa Tahi will be in your community. 
From  9:30  am  to  12:30  pm 
Te  Manawa  Tahi  can  be 
visited by appointment. You 
can  ring  and  make  an 
appointment  by  calling  0800 
KAHUI  AKO  (0800  52484 
256) or your School / Kura / 
Early  Childhood  centre  can 
make  an  appointment  for 
you. You can also email us at 
learningsupport.twincoast 
@education.govt.nz  or  visit 
our  Facebook  page  "Te 
Manawa  Tahi  Twin  Coast" 
and keep an eye out for our 
updates 
and 
helpful 
resources. 
If you want to drop in to Te 
Manawa  Tahi  without  an 
appointment  you  can  do  so 
from 1:00 pm to 2:00 pm. 
When  are  the  changes 
happening? 
We are trialling the different 
way  of  working  from 
October  2017  through  until 
June 2018. 
Make Baleage while the sun shines! 
Let us make hay/sileage for you, or 
buy single & 5 bale equivalents from 
us
. 
Contact Mark on 021 801 065 or 
Contact Lisa on 021 108 1057
We also do: 

Fencing 

 Spraying 

  Mulching 
 
Stockwork 

  Stock Water 
Systems 

  Tree Trimming  

 Driveway & Track Maintenance  
Date 
 Hub Location 
Appointment Times  
Drop-in Times 
Available between:                     Available Between: 
Wednesday  Archie Bull Hall Kaiwaka-St.Pauls Church  9:30am - 12:30pm     
1:00pm -2:00pm 
9 May 2018  11 Kaiwaka-Mangawhai Road, Kaiwaka 
Wednesday  Maungaturoto St.John Ambulance Hall 
9:30am -12:30pm          1:00pm - 2:00pm 
16 May 2018  Hurndall St,Maungaturoto 
Wednesday  Mangawhai Museum Village 
9:30am - 12:30pm             1:00pm - 2:00pm 
23 May 2018  Molesworth Dr, Mangawhai Heads 
Wednesday  Paparoa School 
9:30am -12:30pm             1:00pm -2:00pm 
30 May 2018  14 Franklin Road, Paparoa 
Wednesday  Archie Bull Hall Kaiwaka-St.Pauls Church 
9:30am - 12:30pm             1:00pm - 2:00pm 
6 June 2018  11 Kaiwaka-Mangawhai Road, Kaiwaka 
Wednesday  Maungaturoto St.John Ambulance Hall 
9:30am - 12:30pm             1:00pm -2:00pm 
13 June 2018 Hurndall St,Maungaturoto 
Wednesday  Mangawhai Museum Village 
9:30am -12:30pm             1:00pm -2:00pm 
20 June 2018 Molesworth Dr, Mangawhai Heads 
Wednesday  Paparoa School 
9:30am -12:30pm             1:00pm - 2:00pm 
27 June 2018 14 Franklin Road, Paparoa 
Wednesday  Archie Bull Hall Kaiwaka-St.Pauls Church 
9:30am - 12:30pm            1:00pm - 2:00pm 
4 July 2018     11 Kaiwaka-Mangawhai Road, Kaiwaka
Te Manawa Tahi Timetable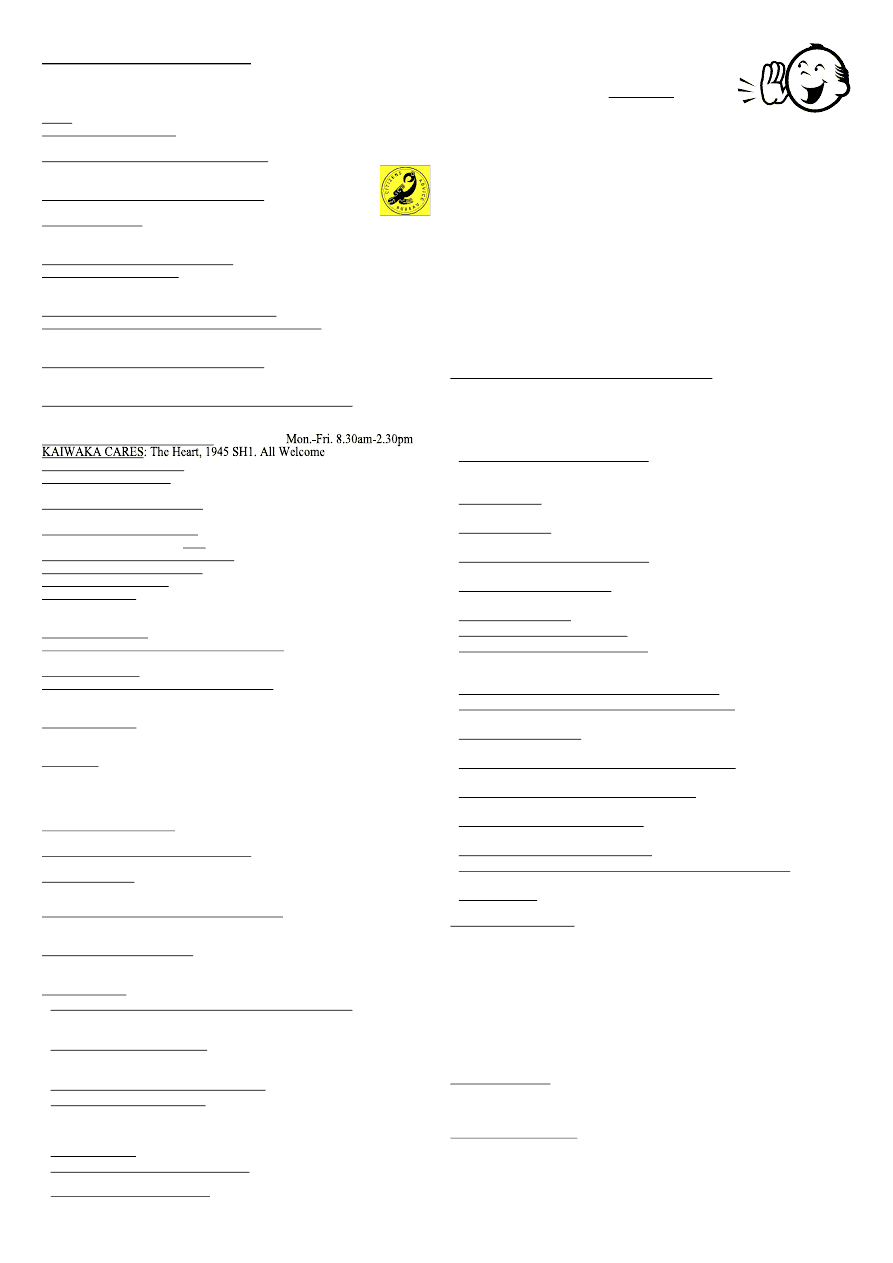 Next Bugle Deadline midday Friday 11 May 2018
WHAT'S ON
PLEASE ~ do let us know what is on - email 
kaiwakabugle@kaiwaka.co.nz 
Advertising in WHAT'S ON is FREE  
*4May~'Darkest Hour', KWMH, 7.30pm 
*5May~'Merry May Day Dance', Matakohe Hall, 7pm 
*6May~Hakaru and Dist. Memorial RSA AGM,1.30pm 
*7May~Kaiwaka Fitness Centre OPEN DAY, 5-7pm 
*13May~ MOTHER'S DAY 
*16May~ Rugby-Northland v Counties/Manukau, KSA, 6.30pm 
*10May~Cybersafety, Otamatea High School, 6pm 
*18May~'The POST', KWMH, 7.30pm 
*19May~Otamatea Hawks v Wellsford, KSA, 12.30pm 
*26&27May~Mangawhai Singers, Mangawhai Museum, 7pm 
*27May~'Coco', KWMH, 2pm 
KWMH = Kaiwaka War Memorial Hall; KSA = Kaiwaka Sports Association 
See www.kaiwaka.co.nz for more information 
HOUSEHOLD RUBBISH COLLECTION - Kaiwaka Pick up: 
Mondays = Green bags (Northland Waste - 09 430 3273) 
Wednesdays  = Blue bags and yellow recycling (at Jaques $3.00 
and  $1.50)  (Kaurilands  09  4392146);  ONLY  Blue  and  Yellow 
bags picked up on Oneriri Road. 
 DIABETES  Support  Group  -for  Kaiwaka,  Mangawhai, 
Wellsford  10am,  3rd  Friday  of  month  Ph:  Colleen  James  09 
4314238 
 DRINK CAN 'tear tabs' - for Starship Hospital- please collect - 
98 Kaiwaka Mangawhai Rd, leave in mailbox, Ph. 4312625  
 GENEALOGY - Wellsford: 1st Thursday in month Ph: 423 
7033; Waipu: 4th Monday in month Ph: 4312 725 
 GYMNASTICS  OTAMATEA  -  Tuesday  Ph:  Stephanie  022 
3624998 
 HAKARU PONY CLUB - Secretary Denise Rogers 021423376 
secretary@hakaruponyclub.co.nz  
 KAIPARA HUNT - Secretary Albert Doonenbal Ph 4312059 
 KAIWAKA BADMINTON -Tuesdays 7.30pm Ph: 4312345 
 KAIWAKA  DRAMA  CLUB  - 
Hannah  Webb 
0272863352 
KaiwakaDrama@gmail.com Monday 5:30-7:00pm KWMH - FB 
- "KaiwakaDramaClub" 
 KAIWAKA DRUM & DANCE CLASSES - 021 611198 
 KAIWAKA GARDEN & FLORAL GROUP - 2nd Thursday in 
month. Ph: 431 4744 
 KAIWAKA  CUBS  -  Thursdays  5.30-7pm,  Hakaru  Ph:Bruce 
4312542 
 KNITTING FOR WHANGAREI HOSPITAL - 2nd Tuesday in 
month, Archie Bull Hall 10am Ph 4314827 
 MANGAWHAI COMBINED REBUS CLUB - 2pm, 3rd 
Thursday month, Senior Citizens Hall Mangawhai. Ph: 4315777 
 OTAMATEA GREY POWER - Kath Pattinson 09 283 2052, 
1pm last Wednesday of month, Anglican Church Hall, Mgto 
 PT CURTIS CRUISING CLUB - Jean Ph: 4312227 (wk), 4312520 (hm) 
 RSA,  HAKARU  &  DISTRICTS  WOMEN'S  SECTION  –  meets 
1.30pm 4th Thursday of the month. Ph: 431 5818  
 TRAMPING - Mondays 9am-2:30pm Maria 4312 234 
HALLS FOR HIRE: 
 St.Pauls Archie Bull Hall HIRE $20 half day, $40 full day per 
hire, S McAulay, Ph 4312311 
 Kaiwaka  War  Memorial  Hall  HlRE  -  Phone  4312725  or 
kaiwaka.hall.bookings@gmail.com 
 Hakaru Community Hall HIRE -Ph. 4312256 or 4312110 
 Te Pounga Marae queries - R. O'Leary 4312 423, J.Nathan 021 
186 7382 
 Kaiwaka Sports Association hire/queries - C. Anderson 4312051 
or kaiwakasports@gmail.com 
Justice of Peace:  
B.FJaques  4312  048;  L.Donaldson  4312  228;  A.F.Hargreaves 
4312 045, W.Howard 4312 725 - please phone to make sure they 
are available www.justiceofthepeace.org.nz 
Marriage Celebrants:  
L.Donaldson; A.F.Hargreaves; Y Osborne
LOCAL SERVICES 
*Emergencies - Ambulance, Fire, Police - dial 111 
*Non-urgent Police phone 09 4311150
A A: Meets Wed., 8pm Kaiwaka Ph: 4315543, 0800229 6757 
ASUREQUALITY LTD (was AgriQuality) Call Free 0508 0011 22  
BUDGETING SERVICE, WELLSFORD: Free confidential advice & 
support for all areas of personal finance. Ph (09) 423 7123 
CAB-Citizens Advice Bureau.Wellsford Ph: 4237333 
0800 367 222 email:cab.wells@xtra.co.nz  
CIVIL DEFENCE - Kaiwaka Community Response Group: 
kaiwaka.civildefencecrg@gmail.com, 4312725 Wendy 
DOG/STOCK /NOISE CONTROL 0800 105 890 
FUNERAL SERVICES: Morris & Morris Ltd, 
Whangarei - Bev Jaques Ph:4312367 or 0800667747 
GRANDPARENTS Raising Grandchildren: Dianah Roberts 0223819539 
HAKARU & DISTRICTS MEMORIAL RSA (Inc) 733 Settlement Rd, 
Hakaru. Ph 4312 176 or Graeme Hitchcock (President) 431 3064 
HAKARU LANDFILL/Transfer Station:Open everyday except 
Tuesday10am-4pm.Ph4312629 Cost-$55 trailer load up to 1 cubic metre. 
Ph:4258567 - office 
KAIPARA DISTRICT COUNCIL www.kaipara.govt.nz:  
Help Desk FREEPHONE 0800 727 059  
KAIWAKA KOHANGA REO: Ph:4312620 
KAIWAKA CEMETERY: Ph: 4312045 or 4314017 
KAIWAKA LIBRARY: kaiwaka.library@gmail.com  
Mon. 4-6pm; Wed., Thurs., Fri., Sat. 10am-2pm Ph:4312539 
KAIWAKA PLAYCENTRE: Ph Juanita 0274134904; open Mon, Wed, 
Fri 9am-12pm. Hastie Lane; Monday to Friday 9.00am - 12 noon. 
KAIWAKA POST OFFICE:Ph:4312 431  
Post Code: 0573 for RD2 and 0542 for all Kaiwaka Post Office mail 
KAIWAKA PRIMARY SCHOOL: Ph: 4312309   
KAIWAKA SPORTS ASSN: Ph 4312005; 4312129 gym 
KAIWAKA ST JOHN: Manager Steve Rosser 09 4318403, 021 355734 
KATE'S PLACE Community Centre - Employment services, Free Health 
Nurse, Plunket, Advocacy, Osteopath, A.A., Legal Advice. 4312 661 
LINKING HANDS Health Shuttle Ph 4315906 or 09 4318969 
MINISTRY FOR PRIMARY INDUSTRIES - General inquiries Call 
Free 0800 008 333 
NORTHPOWER: Faults Kaiwaka area 0800 104040 
OTAMATEA COMMUNITY SERVICES: Counselling, parent coach, 
Family Support worker, budget advice, food bank. Mon-Fri 9am-3pm. Ph 
09 431 9080 http://www.otamateacs.org/ 
PARENTPORT: Free, practical family support service Puhoi to Paparoa 
Ph or txt: Dianne 027 280 5093 or 09 425 9357 
PLUNKET:  Kaiwaka  -Kate's  Place  Clinic  1st  Wednesday  of  the  month; 
Mangawhai  - Rose Madsen Cottage: Coffee Group 9:30 every Monday.  Clinic 
every Monday and Thursday. 
Maungaturoto - Good News Church, Clinic 2nd and 4th Wednesday.  
Cynthia 09 431 7340 or 027 675 3488 
PLUNKET HELPLINE -0800 933 922 (24 hours) 
TAITOKERAU COMMUNITY LAW: Free confidential legal advice and 
assistance, 2nd
Thursday
 of each month. Ph: 0800 155 529 for appts.  
TE URI O HAU Settlement Trust Tangata Developments: Whanau Ora 
021 793262  
VETERINARY SERVICE MANGAWHAI: 
Ph: 4314535 Mon-Fri 8.00-5.00, Sat 9-12, a/h appt. 
WELLSFORD DOCTORS: Ph: 4238 086 
CHURCHES:
 
Kaiwaka  Revival  Church  -  Your  Community  Church:  Sundays  10am. 
Ph: Pastor Tawhiri 09 431 8988 or Pastor Paul 09 4312 068 Visit us at 
www.facebook.com/kaiwakachurch 
 
St  Paul's  Anglican  Church  1st  Sun.  9.00am  (Eucharist),  3rd  Sun. 
9.00am (Family Service). Contact: Rev. Wayne Thornton Ph 431 4122 
www.mangawhaianglican.org.nz 
 
Church of Christ the King, Mangawhai:9.30am every Sunday 
 
St.Mary's  Catholic  Church:  Maungaturoto  –  Griffins  Road,  Saturday 
evening  Vigil  Mass  6pm;  Mangawhai  –  Senior  Citizens  Hall,  Sunday 
Mass  8:30am;  Wellsford  –  Matheson  Road,  Sunday  Mass  10:30am;  
Mid-week Mass times and all enquires to Fr. Bill Fletcher – phone 423 8170
 
Baptist Church: Sun. 10.30am Mangawhai Snr Cit.Hall.Ph:4312339 
 
Cause  Way  Church  Mangawhai:  Sundays  10.15am,  Mangawhai 
Community  Recreation  Centre,  Insley  St.  Ph:  09  4314782