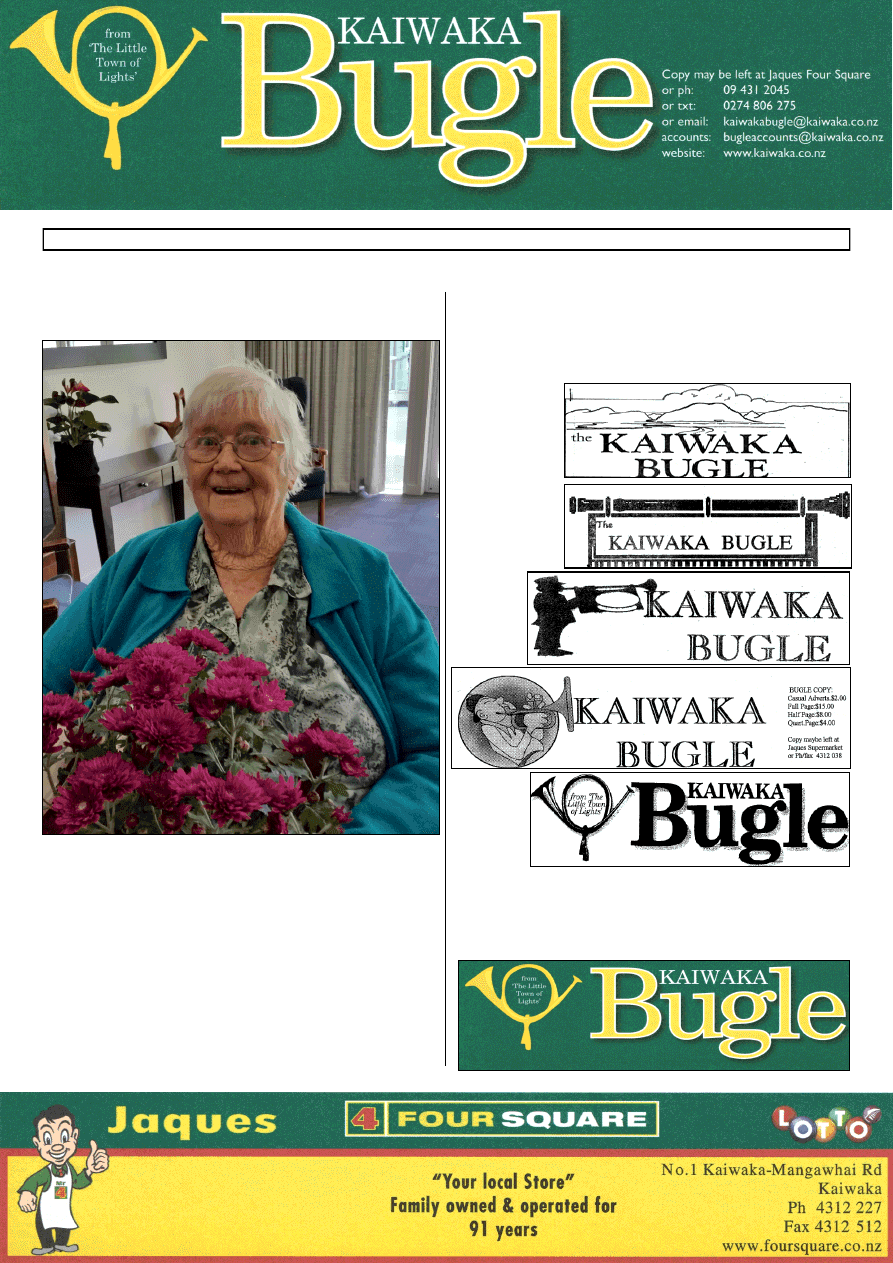 www.kaiwaka.co.nz 
Kaiwaka Bugle - 15 May 2018 
Page 1 
No: 9 
15 May 2018 
Trading Hours: 
Monday to Friday 8:00am - 6:30pm 
Saturday 8:00am - 7:00pm 
Sunday 9:00am - 6:00pm  
HAPPY 40TH BIRTHDAY, KAIWAKA BUGLE!
SHARP AS A TACK! 
And then Mary Corker says, " Sometimes I sit on one too!" 
Pictured  above  is  Mary  Corker  at  the  Selwyn  Park 
Retirement Village last week - a true Kaiwaka Good Sort! 
Mary  began  our  local  newspaper  40  years  ago.    Now 
known as 'the Bugle'! 
Back in 1978 Mary bought a Gestetner duplicator and with 
her trusty typewriter put the 'Kaiwaka News' together. She 
would gather items of news and happenenings through her 
community activities, plus notes folk would phone in, and 
when there was enough to fill a page she would print 100 
copies  then  leave  them  at  Jaques  Four  Square.  Her  son, 
Robert,  took  an  interest  and  named  the  'paper'  'Kaiwaka 
Bugle'. 
Mary  and  her  husband,  Roy,  and  the  3  oldest  of  their  6 
children  moved  to  their  Kaiwaka  farm  on  SH1  opposite 
Pukekaroro in 1950. 
...cont'd on page 5...
KAIWAKA BUGLE HEADERS 
Kaiwaka's  first  local  news  'paper',  back  in  1978,  did  not 
have a header - it was plain 'Kaiwaka News'. 
But  not  long  after  the  earlier  newsletters  Robert  Corker 
gave the paper its name - KAIWAKA BUGLE 
By  the  1980s  
the 
line 
drawing 
of 
Pukekararo 
was added. 
1993 a banner: 
Then 
the 
Buglers:  1  in 
1994  till  2  in  
1997, 
with 
prices 
and 
contacts 
included 
to 
the 
right. 
And 
in 
2003  the 
header 
was 
designed 
by Terry Moyle, Contour Creative of Kaiwaka - this header 
was  black  and  white  until  March  2009  when  Bob  Holley 
and  Barfoot  &  Thompson  printed  and  donated  the  front 
page in a blue strip. In 2011: the now familiar green colour 
that Jaques Four Square  continue to print and donate….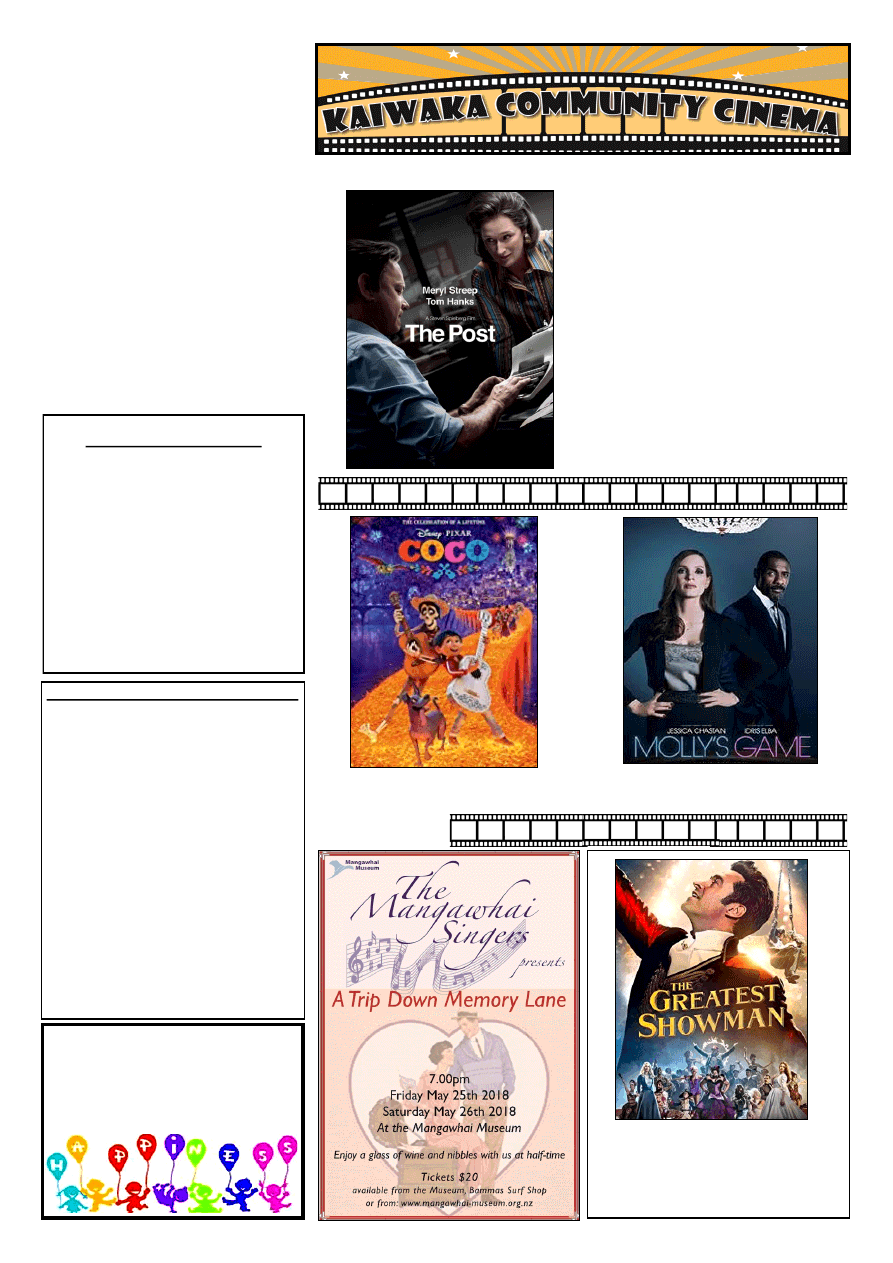 'The  Greatest Showman' 
Sunday 20May, 2pm (PG)  
FUNDRAISER for KAIPARA 
BASKETBALL at KWMH
At Kaiwaka War Memorial Hall . Adults $10, Kids (under 16) $5, Family Pass (2 adults + 3 children) $25 
KAIWAKA BUGLE NO.9 
15 MAY 2018 
CONTENTS: 
Page 3: Public Notices, Classified 
Page 5:  Weather; Women's RSA 
Page 7:  OHS; Scottish Country 
Dancing 
Page 9:   Pt.Curtis Cruising Club 
Page 11: Kaiwaka Sports Assn 
Page 13: Kaiwaka School; Fireman 
Page 15:Thelma's Scrapbook; MX 
Champ 
Page 17: Poppy Places; Library 
Page 19: KSA First Aid Kit - form 
Bugle 10 will appear  29 May  
Contact for advertising, reports, articles 
or information can be made by 
Email kaiwakabugle@kaiwaka.co.nz 
Ph: 09 4312 045 Lindsey 
Txt: 027 2724137 
Copy  may  be  left  at  Jaques'  Four 
Square. 
Kaiwaka Bugle Advertisements 2018: 
All 
copy 
and 
queries 
to: 
kaiwakabugle@kaiwaka.co.nz 
The Bugle is printed on an A4 page   
Ad  sizes:  1/16  page  (3  x  9.5cm)  $5;  1/8 
(6.5  x  9.5cm  landscape  or  portrait)  $8; 
3/16 ( 10 x 9.5cm or 7.5 x 12,5)  $12.  
Classified  ads:  First  one  FREE,  $4  per 
entry (max. 30 words, max. 4 repeats). 
Payments  can  be  made  online  at 
ANZ 
06  0365  0006990  00
,  posted  or  left  at 
Jaques Four Square Store. 
We  use  Microsoft  Publisher,  and  can 
work  with  most  common  image 
formats, Word, Excel, and PDF files. 
Accounts:  
Email: bugleaccounts@kaiwaka.co.nz 
The  Kaiwaka  Bugle  is  a  community 
newspaper run by volunteers.   
Articles, etc. printed are not necessarily 
the opinion of the Bugle Team. 
Kaiwaka Bugle 
Founded May 1978 
We appreciate articles and photos about local 
events, etc, as well as ads and suggestions. 
Copies available in Kaiwaka at Jaques Four 
Square, Kaiwaka Postal Centre, Shamrock 
Service Station, Animal Health Centre, 
Kaiwaka St John shop. 
Also outlets in Maungaturoto, 
Mangawhai and Paparoa. 
Can be viewed online at  
www.kaiwaka.co.nz/Bugle  
Or a copy can be posted to you if you supply 
stamped, self-addressed DLE envelopes. 
The POST 
Friday 18 May, 7.30pm (M)  
THE POST is an award-winning movie - 
with Meryl Streep and Tom Hanks. 
The  story:
 Katharine Graham is the first 
female  publisher  of  a  major  American 
newspaper  --  The  Washington  Post. 
With  help  from  editor  Ben  Bradlee, 
Graham  races  to  catch  up  with  The 
New  York  Times  to expose  a  massive 
cover-up  of  government  secrets  that 
spans  three  decades  and  four  U.S. 
presidents.  Together,  they  must 
overcome their differences as they risk 
their careers -- and very freedom  -- to 
help bring long-buried truths to light. 
Proverbs10:2
Ill-gotten gain brings no 
lasting happiness;  
right living does.
COCO 
Sunday 27May, 2pm (PG) 
MOLLY'S GAME 
Friday 1 June, 7.30pm (R13)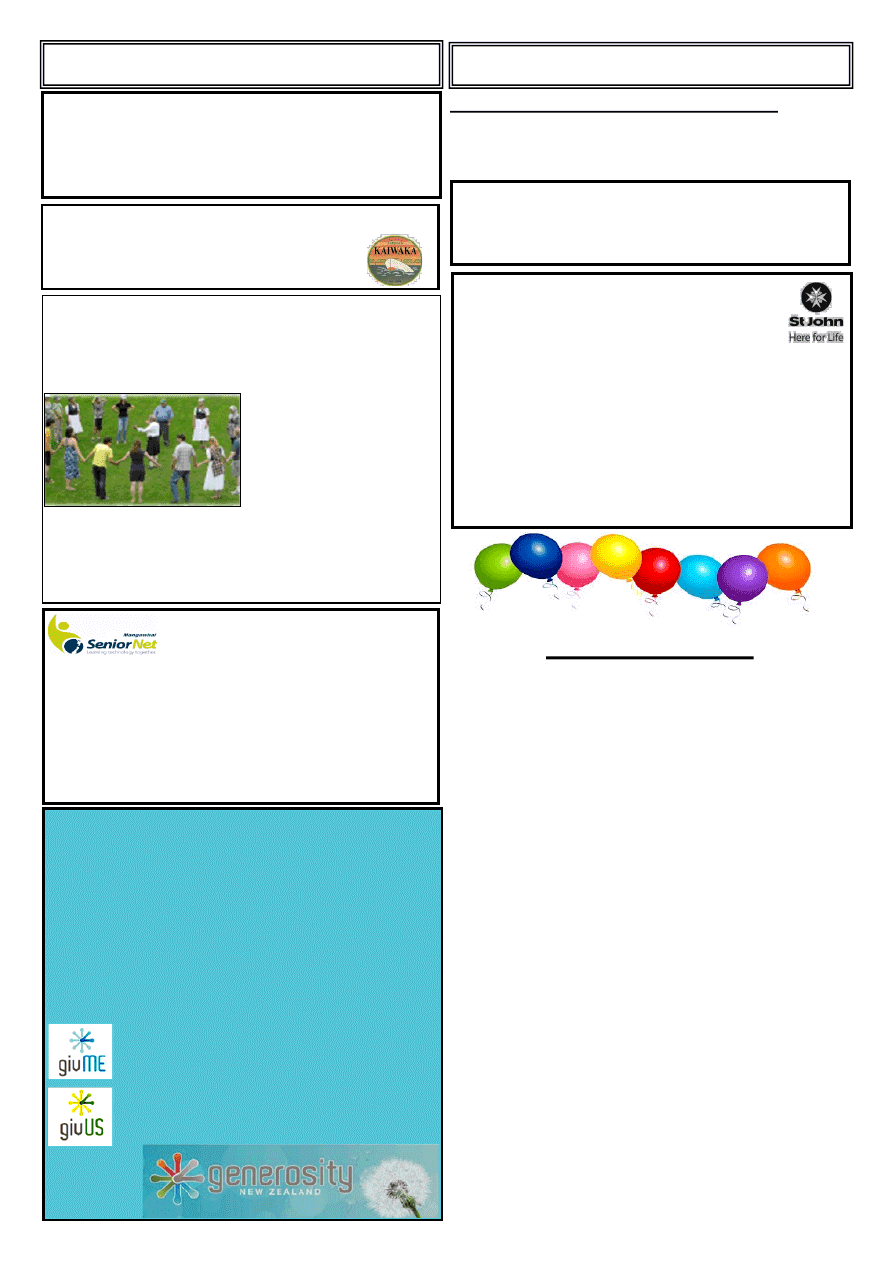 www.kaiwaka.co.nz 
Kaiwaka Bugle - 15 May 2018 
Page 3 
ABOUT TOWN 
 
Woohoo! HAPPY BIRTHDAY, Bugle 

Not  meaning  to  blow  our  own  'trumpet',  but  the  Bugle 
crew  are  very  happy  with  the  40  year  milestone  and  very 
grateful for the support of our brilliant community. 

 On  talking  with  Robert  Corker  this  weekend,  from  just 
north  of  Wairoa,  he  was  'over  the  moon'  knowing  the 
Bugle is alive and thriving. On the naming of the paper he  
remembers  his  father  saying,  "It  is  more  of  a  tin  whistle 
than a bugle."! 

 Our sympathies to the family of Shaun Ries who passed 
away on 29 April; and also our sympathies to the family of 
David Pacey who passed away on 2 May. 

 Our Kaiwaka Volunteer Firemen are gearing up for their 
2018 Firefighter Sky Tower Stair Challenge - see page 13 
 And  our  locals  are  appreciating  the  new  tarsealing  on 
Settlement Road!

Friday  -  Otamatea  Hawks  Under  14s  -  and  they  had  a 
win! Hawks 38 - Mid Northern 32.
 Please do not park 
in the  
Kaiwaka Sports Assn. 
Reserved 
Parking area between the swimming pool and the gymnasium. Or 
the Emergency Access to the fields. 

'
 Note: Maungaturoto's monthly Friday evening market, 
the  Maungi  Market,  is  taking  a  winter  break  and  will  be  
back up and running in September.
 Please, does anyone have any of the early copies of the 
Bugle - pre 1990? 
                    ~ Lindsey, Ed 
"
History  never  looks  like  history  when  you  are  living 
through it." ~John W. Gardner
PUBLIC NOTICES 
CLASSIFIED 
First notice FREE  for Classified or Public Notices - 
less  than  30  words  -  then  charged  as  per  advertised  
($4). This includes AGM and meeting notices, FOR 
SALE, WANTED, FOR RENT. ~ Kaiwaka Bugle 
THE  WELL  OF  HEALTH,  KAIWAKA:  Locally 
grown plants for sale-cheap; single pots of Silver beet, 
Taro,  Passionfruit,  Parsley  etc,  etc.  Quince  fruit, 
Avocados etc. 1929 SH1. Ph: 09 4312799 
HELP CLINIC 
SENIORNET MANGAWHAI 
Need a little help with your computer, laptop, ipad, 
tablet? Come to our Help session.  
Ask questions, solve problems,  
compare notes with others
. 
$10 members $15 non-members 
Wednesday 16 May - 2-4pm (2 hours) 
The Club (Bowls Club), Molesworth Drive, Mangawhai Heads 
Ph: Tony 4312269 or Val 4314042 
Or email seniornet,mangawhai@gmail.com to register. 
KAIWAKA ST. JOHN OP SHOP 
We have For Sale: 
1x Dining Suite - Extension table with 4 chairs 
and 1 Arm Chair; Side Board; Leather Lounge 
Suite - 3-seater, 2-seater and chair, 1Arm Chair 
All in good condition. Photos only in shop, but a viewing 
can easily be arranged. 
Also....Queen size mattress, Single mattress, Single bed 
with mattress; 1x cheap table and chairs; Lots of good 
cheap clothing ... 
We are needing, please: Cooking pots, Towels, Pillows 
and Blankets 
And anything else in good saleable condition 
Much appreciated, 
Milly and staff.
Phone 09-4312650 after 9.00 am.
POINT CURTIS CRUISING CLUB INC 
Annual General Meeting 
Tuesday 19
th
 June 2018 7pm 
3Furlongs Bar & Grill 
Are you looking for funding for 
an organisation or an individual? 
Generosity New Zealand is coming to the 
Kaipara on Wednesday 23 May 2018 
Kaiwaka War Memorial  Hall 11.00am 
Dargaville Town Hall Foyer 2.30pm 
Come along and find out how to apply for funding! 
givME offers access to more than 4,000 
scholarships 
givUS lists more than 1,200 resource schemes 
for communities, 
volunteer organisations and clubs 
COME SCOTTISH COUNTRY 
DANCING 
A fun and active way of keeping your brain healthy 
Wednesday mornings 10.00 – 12.00 
Kaiwaka War Memorial Hall,  
30th May until 4th July 
inclusive 
This is a six week course 
for  you  to  try  it  out  and 
see  if  this  form  of 
dancing is for you. 
Suitable  for  all  ages,  come 
on  your  own  or  with  friends.  Qualified  Teacher.  Wear 
comfortable soft soled shoes. Absolute beginners or more 
experienced dancers welcome. $5 week inc. morning tea. 
More info? Call Elaine on 09 4320532 or email 
elainegold@xtra.co.nz 
SHAUN THOMAS RIES 
Shaun's family would like to thank all who attended 
his funeral service in Kaiwaka, also the cards and 
flowers which were much appreciated. 
'Memories stay forever'.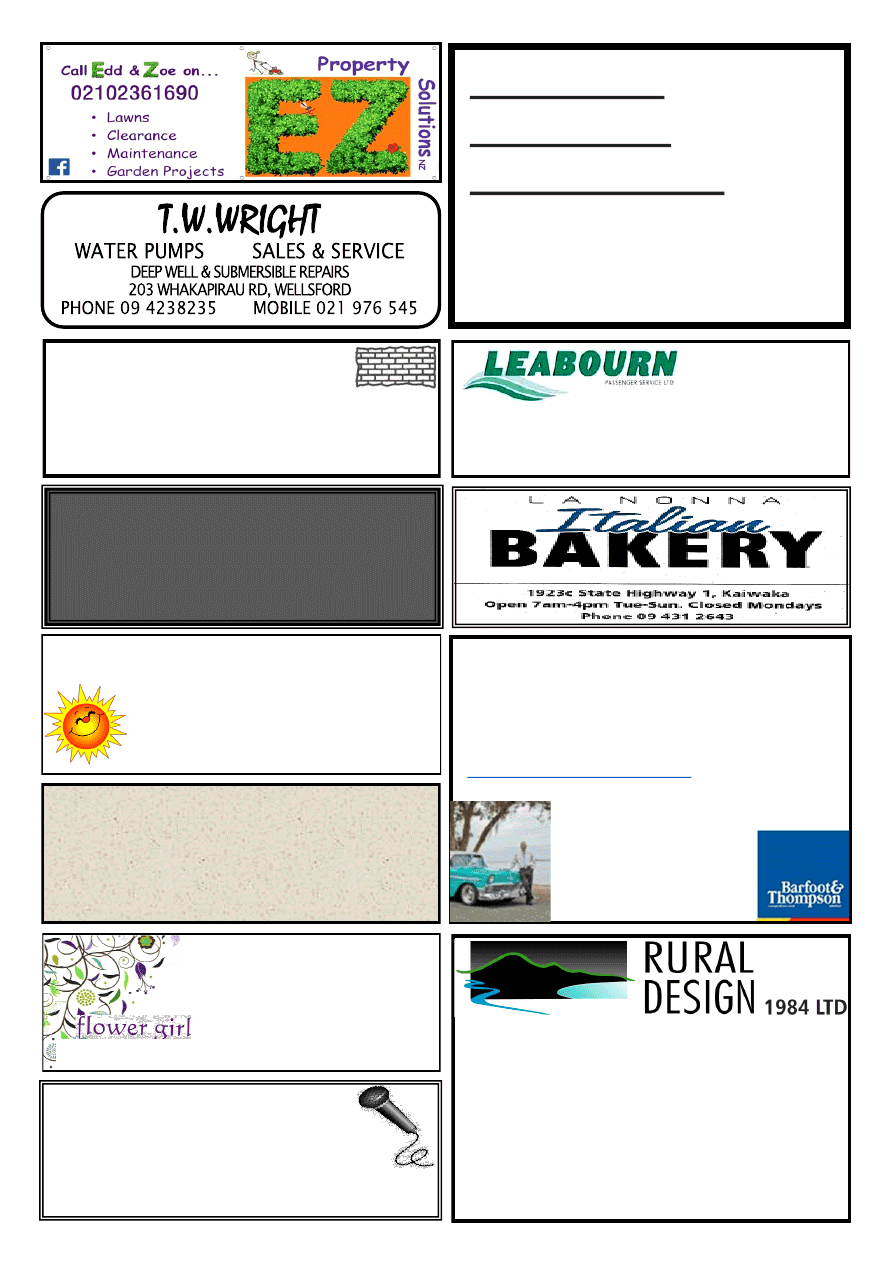 Passenger Service
Car & Van Hire   Bus & Coach Charters 
Airport Transfers    
Phone (09) 4237416 
BRICK/BLOCKLAYER 
All aspects of masonry:  
Fireplaces, Restoration & Remedial Work. 
JAMES EAGLETON 
Tel. (09) 431 2514    Mob. 0274 749 232 
jajueagles@yahoo.com.au 
210A Pukenui Road, RD2 Kaiwaka 0573 
THE SUNSHINE GIRLS
Efficient and reliable help with 
your housework. 
Ph 4312 532 
MARRIAGE CELEBRANT 
WEDDING EVENTS PLANNER 
Yvonne Osborne 
Ph 0274 989 814 
yvonne.osborne@xtra.co.nz 
Counsellor and Registered Psychotherapist 
Offers Supervision 
ACC Sensitive Claims 
Susan Matheson      MNZAC 
Dip. Psychosynthesis Counselling and Psychotherapy 
Phone 09 431 2996                                     Mobile 027 605 2427 

  After 20 years of selling in Auckland I have             
moved to Kaiwaka. 

  I have a relaxed attitude with years of  
        results and experience. 

  Please feel free to give me a call or email. 
licensed real estate agent (2008) 
Chris Barrington
Residential Sales
M 
Mangawhai
Wholesale Native Plant Nursery and Planting 
Small and Large orders welcome 
By Appointment 
300 Kaiwaka-Mangawhai Road, Kaiwaka 
Phone: 09 431 2481 
Email: info@ruraldesign.co.nz 
www.ruraldesign.co.nz 
Kaiwaka Good Sorts 
Do you know someone in our community 
who is deserving of a beautiful bunch of 
flowers? 
Send an email to us at 
kaiwakabugle@kaiwaka.co.nz 
or drop a note to Jaques Four Square to 
let the Bugle team know. 
lindywatson@hotmail.com 
4312 847 
SING RIGHT 
Professional coaching for performance,  
recording and demos. 
All level singers, musicians, singer-songwriters. 
Phone Robyn Hill 431 9159 or 022 1238126 
 FINANCE 
 FUNDING 
 SOLUTIONS 
T - 0275 989814 
E
 - osborneassociates@xtra.co.nz 
REGISTERED INDEPENDENT FINANCE BROKER 
www.kaiwaka.co.nz 
Kaiwaka Bugle - 15 May 2018 
Page 5 
Lilia and her Spring lamb, Minty! 
Willow Bend
HORSE  
HOTEL 
  
Total Horse Care 
 
Agistment 
 
Riding Lessons 
 
Arena Hire (60x40) 
 
Young Horse Starting 
 
Re-training/Exercising 
 
Hoof Trimming 
 
Problem Solving 
Phone Sue 09 431 2817 
or 021 623 776 
Or email  
susanjoll11@gmail.com 
HAKARU & DISTRICTS 
MEMORIAL RSA (INC)
Members & guests are invited to 
come along and enjoy our hospitality. 
New members welcome. 
Meals are served on Thursday and 
Friday nights from 6.30pm. 
Last Friday of the month is  
'Roast Pork Night' and a sing-a-long  
with Des Chitty. 
For more information please phone 
Marlene on 431 5589 
HAKARU RSA 
WOMEN'S SECTION
Fourteen members were present at 
the  monthly  meeting  on  the  26th 
April.  
Many  thanks  to  the  members  of  the 
Mangawhai  CWI  and  Kaiwaka/
Mangawhai Garden Club and of course 
our 
own 
Members 
for 
their 
contribution of flowers and the help to 
make  wreaths  for  ANZAC  Day.  Also 
thank you to the members of the public 
who  brought  plates  to  assist  with  the 
food.  
Lena  our  President/Welfare  Officer 
mentioned  that  Medical  Alerts  are 
available for those who are not so well 
and may be living alone.  
We  plan  to  have  our  Mid-Year 
Christmas  Party  earlier  this  year  on 
June 5th. Venue to be decided. 
Happy  Birthday  to  Jan  Mann  and 
Doreen Woodhouse, hope you both had 
especially nice days. 
Lena,  Heather  and  June  attended 
Silverdale's  Birthday  on  Tuesday  1st 
May  and  had  an  enjoyable  day,  didn't 
manage  to  bring  home  a  raffle  this 
time! 
Hostesses  for May  are  Lena  and June, 
the  next  meeting  will  be  on  Thursday 
24th May, 1.30 pm, visitors welcome 
      ~ Ann Dowson, Reporter. 
KAIWAKA 
WEATHER 
Well,  talk  about  fast 
moving  traffic,  how  about 
fast-moving 
calendars. 
We 
are 
halfway through May already.  
April  was  a  showery  mostly  calm 
month  with  a  lot  of  nothing  much 
showers  and  a  few  heavier  dumps  of 
rain. At the end of the month we got a 
real  dose  of  wet  and  windy  weather. 
Those  calm  days  with  sun  were  most 
pleasant.  It  started  turning  much 
cooler  with  an  extra  layer  of 
bedclothes being put on.  
Our 
temperatures 
were 
very 
reasonable, but the cool south westers 
did not make it feel very warm though. 
April this year we had 107mm of rain 
and 2017 we had 260mm.We had rain 
on  12  days  this  year  and last  year  we 
had rain on 14 days.  
The  first  4  months  of  2018  we  had 
717mm  of  rain  and  2017  we  had 
725mm.   
Our driest April since 1987 was 1990 
with  3mm  and  the  wettest  was  2004 
with  266mm.    Our  driest  first  4 
months  was  2005  with  176mm  and 
wettest was 2017 with 725mm.  
The  Brynderwyn  waterfall  is  running 
freely  which  shows  the  water  table  is 
up  if  you  had  not  noticed  on  your 
farms etc.  Not much water tank filling 
going on now. It does not take long for 
the  old  wind  to  get  up  and  start 
blowing.  
Reading the paper, the other day I read 
of  a  notice  in  a  Nudist  Colony  that 
said, MUST sell washer and drier.    
Well, take care out there and look after 
each other. ~ Bev.
MARY  CORKER 
… cont'd from front page … 
So  Mary  typed  away  for  the 
next three years - not always at a set time, but always welcome. Mary was busy 
in the district with Women's Division and Institute and was a Brownie Leader 
for many years. Mary stayed on with family after Roy died in 1986 for a number 
of  years.  She  then  moved  to  Saorsa Village  in  Waipu  in  2000, and  to  Selwyn 
Park 4 years ago.  Just as at Saorsa she keeps very busy not only with outings, 
craft  work,  card  games  -  she  has  even  learnt  Bolivia  -  and  the  Residents' 
Committee, but also with her accordion and 
harmonica playing. The photo below shows 
Mary and her accordion - playing 'Wooden 
Heart'! 
Mary,  who    keeps  well  and  enjoys  her 
electric  wheelchair  for  speedy  travel,  will 
be 96 on 3 September this year. 
The  Kaiwaka  Bugle  is  a  great  medium  of 
communication  for  our  community  that 
began  with  100  sheets  of  cream  coloured 
foolscap paper  printed on the hand-turned 
gestetner has over the 40 years tried to keep 
pace  with  technology  using  the  home  and 
office  computers  and  'Dropbox'  and  a 
brilliant Proprinter that can pump out over 
800  sheets  of  A4  paper  in  five  minutes; 
from  one  volunteer  with  a  heart  for 
Kaiwaka  to  a  team  of  twenty  volunteers 
who still feel that way! 
For  more  on  the  history  of  the  Kaiwaka 
Bugle  see  Roger  T.W.  Smith's  book 
'Stories Tall, Stories Short' Kaiwaka 1959-
2009 pages 146 -152. Roger tells it well. 
NIWA's
  predictions  for  Northland 
over the next 3 months: 
⬧
Temperatures  are  likely  to  be  above 
average. 
⬧
Rainfall  totals  are  likely  to  be  above 
normal.  
⬧
 Soil  moisture  levels  and  river  flows 
are  equally  likely  to  be  in  the  near 
normal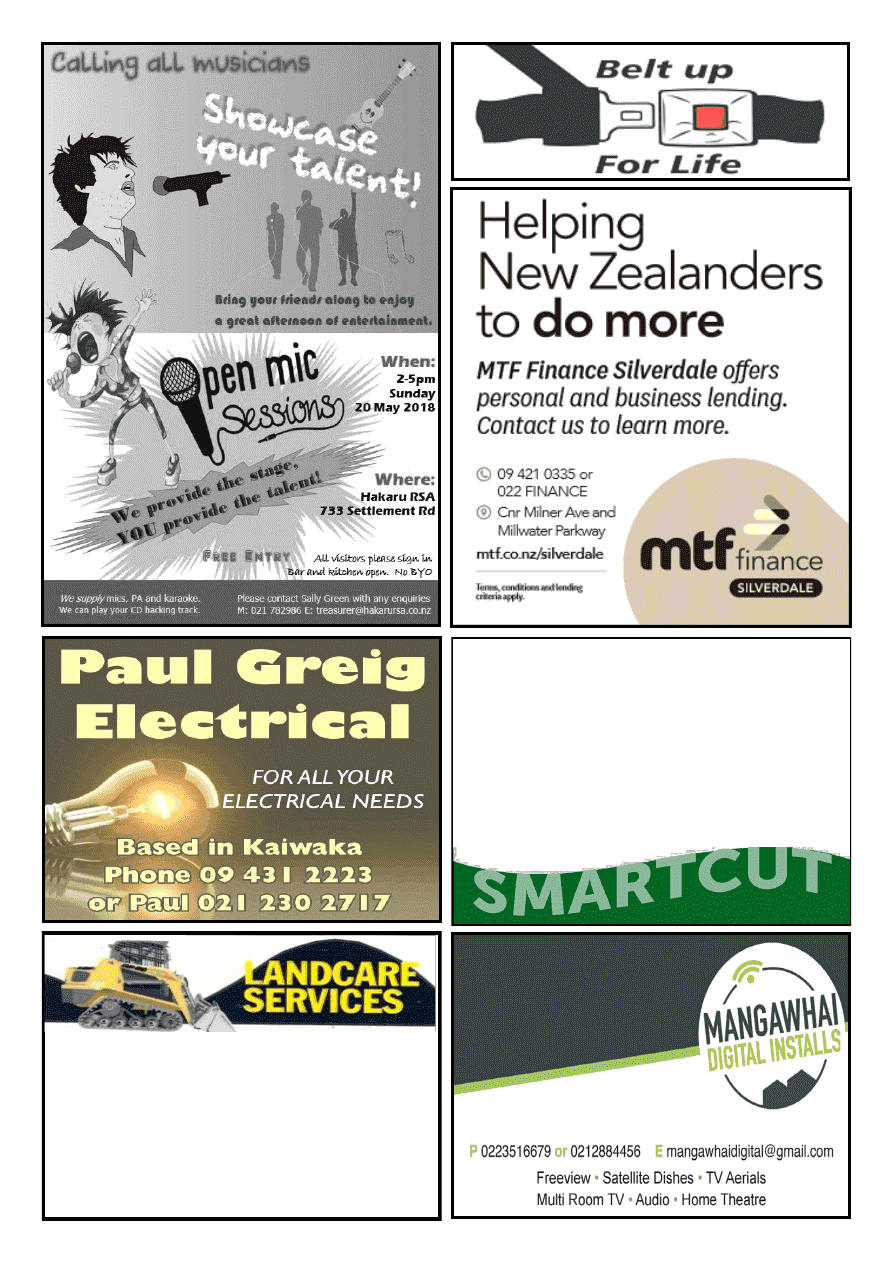 LANDSCAPING 
4 IN 1 BUCKET 
TRENCHER 
POLE HOLES 
ROTARY HOE 
COMPACT ROLLER 
OFFAL HOLES 
CAN SUPPLY WOODCHIP & POST PEEL 
5 TON TIPPER 
FOR RELIABLE AND FRIENDLY SERVICE CONTACT DAVE 
Dave Hyndman 
 
KAIWAKA 
PH: 09 4312302 
MOB: 021 431 238 
All your outdoor needs sorted so you don't have to... 
I can prune, chop, tidy, spray, mow, plant 
- you name it, I can do it! 
Residential & Commercial 
Lawn & Garden Care 
Call Rodney, your local  
lawnmowing contractor 
021 138 2344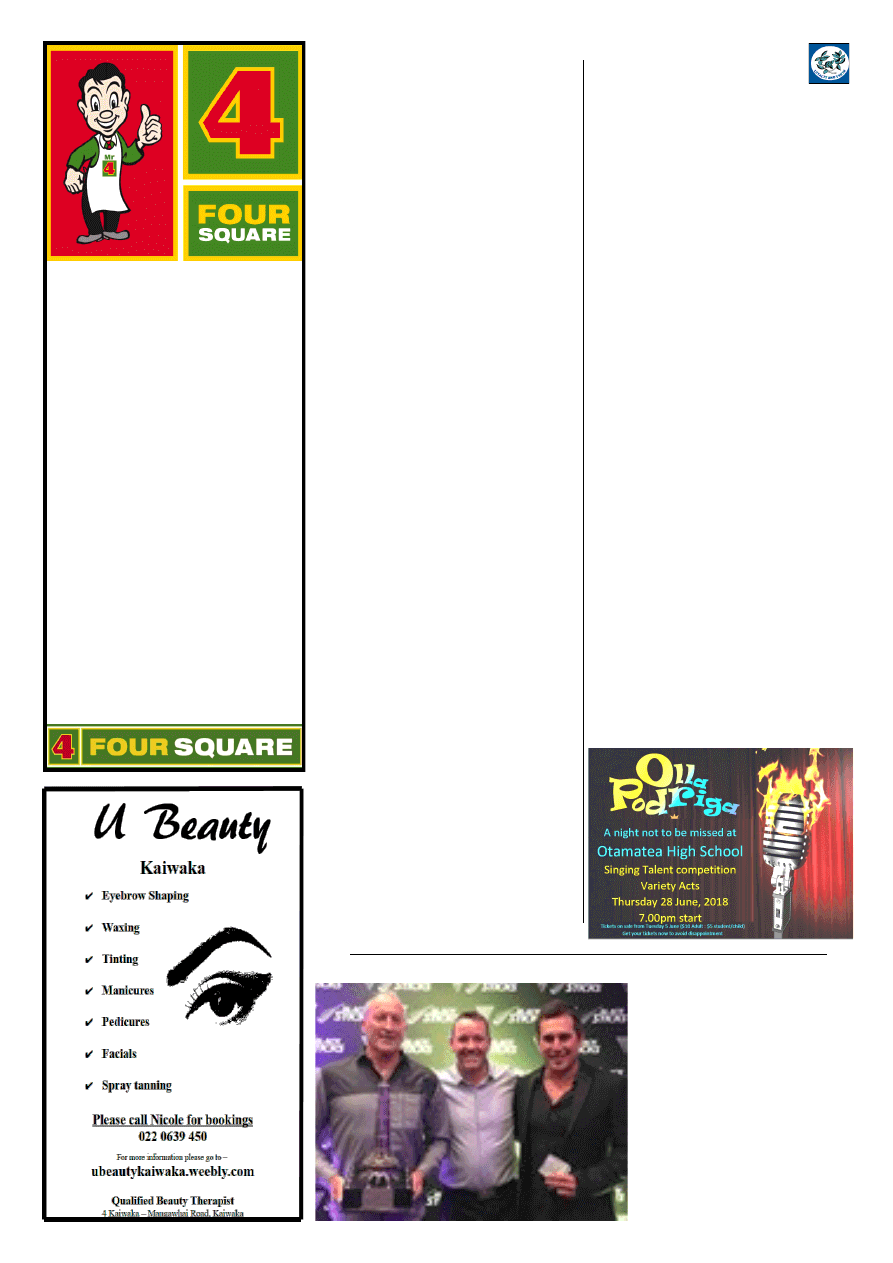 www.kaiwaka.co.nz 
Kaiwaka Bugle - 15 May 2018 
Page 7 
Refills Swap a 
bottle 
30L original size 
60L NEW IN STORE 
Larger size now 
available 
9KG gas bottle swap 
or purchase gas & 
bottle 
RUG DOCTOR HIRE  
Cleaning & stain 
products 
Talk to our Friendly staff 
Open till 6.30 Monday to Friday
Jaques Four Square 
Phone: 4312227 
1 Kaiwaka-Mangawhai Road, Kaiwaka. 
NZ HOCKEY AWARD 
A Kaiwaka Sports Assn. Senior 
Sportsperson  of  the  Year 
winner,  Merv  Huxford  was 
recently  awarded  the  Pakistan 
Trophy for Outstanding Service 
to Hockey at the  2018 Hockey 
New  Zealand  Annual  Awards 
Dinner.      
Photo  shows  Merv,  left,  with 
Blacksticks 
Men's 
Coach 
Darren  Smith  and  Retired 
Blacksticks 
player 
Dave 
Kosoof  who  received  the  HHZ 
Performance Coach of the Year 
Award.  
 IMPROVE YOUR 
BRAIN HEALTH – 
COME SCOTTISH 
COUNTRY DANCING
Everyone knows someone meeting the 
challenges of dementia or Alzheimer's 
and  hopes  it  won't  happen  to  them  or 
their family or friends. 
We  may  not  be  able  to  avoid  the 
problem,  but  we  can  surely  help 
ourselves by supporting our own good 
brain  health.  The  Alzheimer's  Society 
of  NZ  recommend  that  what  is  good 
for  the  heart  is  good  for  the  brain, 
namely: - 
Physical  Activity;  Mental  activity, 
especially  new  things;  Social  activity 
and a good healthy diet. 
Scottish  Country  Dancing  answers  all 
of these needs. 
The  dancing  itself  is  a  social  form  of 
dance  where  we  encourage  people  to 
change  partners  and  to  get  to  know 
other  dancers.  We  dance  in  groups  of 
six or eight and work together to do the 
dance. 
It is quite obviously a physical activity 
but  by  learning  new  patterns  and 
movements  within  each  dance  it 
provides mental stimulation too. 
The  food?  Well,  we  will  be  dancing 
from  10  until  12  on  Wednesday 
morning so we could always go out for 
lunch afterwards! 
The aim of the six dancing sessions at 
$5  each  week  is  to  get  to  know  folk, 
have  fun  and  look  after our  heads  and 
hearts at the same time. 
Do  come  and  try  it  out.  Kaiwaka 
Memorial  Hall, Wednesdays  from  30
th
May to the 4th July. You don't need to 
bring a partner but if you want to come 
with  a  group  of  friends  that  would  be 
great! 
Wear 
soft 
soled, 
light 
comfortable  shoes.  If  you  enjoy  the 
dancing and want to continue you may 
like to invest in dancing shoes at a later 
date. 
Drop  the  kids  off  and  come  on  to 
dance;  rouse  yourself  from  your 
retirement chair; take a couple of hours 
from  the  computer  for  you.  All 
welcome, please come and try it out. 
Elaine  and  Steve  09  4320532  / 
elainegold@xtra.co.nz 
for 
any 
questions. 
OTAMATEA 
HIGH SCHOOL
From the Principal 
The strategic planning and visioning 
day  on  4  May  was  beneficial  with 
great contributions from staff, students, 
and  community  members.    We  are 
currently working on a new vision for 
the school which and will then align all 
school processes to this vision.  
Thanks  to  those  parents  who  attended 
the  cyber  safety  evening.    It  was  a 
very  informative evening. If  you  were 
unable  to  attend  but  would  like  to 
receive  the  PowerPoint  and  additional 
resources, 
please 
contact 
the 
school.      Over  the  next  few  weeks  I 
will add some of these resources to Te 
Panui. 
Academic 
Counselling 
Parent-
Student 
Teacher 
(PST) 
conferences:    On  Wednesday  16
th
May  we  will  be  holding  our  annual 
PST  conferences  for  all  of  our  senior 
students.    No  classes  run  on  this  day, 
but all senior students and their parents 
have  an  allocated  time  to  meet  with 
their  whānau  teacher  to  discuss  their 
progress.  Year 10 students will also be 
involved  in  a  careers  programme  on 
this  day.  Students  are  able  to  wear 
mufti on this day. Buses will therefore 
be running as usual on this day.  
~Rachel Clothier-Simmonds, Principal
 The  annual  Olla  Podriga  will  be  held 
on Thursday 28 June starting at 7pm - 
in the Otamatea High School Hall. 
This  a  special  evening  of  singing  and 
variety acts. Tickets go on sale from 5 
June - adults $10, student/child $5. 
[
The  Spanish  Podriga/Podrida  - 
The 
French 
translated  olla  podrida  as  pot 
pourri,  an  expression  English  speakers 
adapted to potpourri. Ref. Google]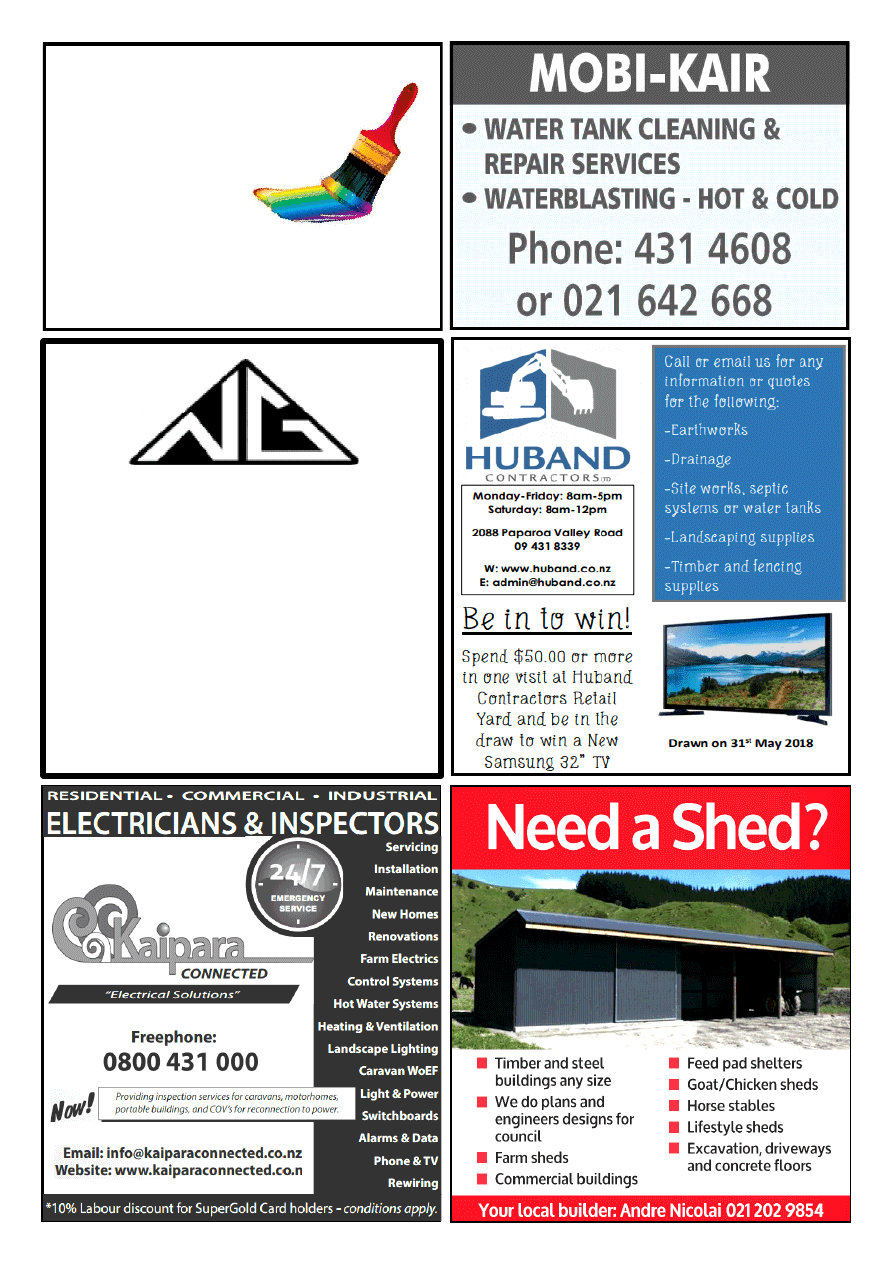 09 4312918 
0274735171 
leecooper@xtra.co.nz 
LEE COOPER PAINTERS 
(Kaiwaka Based) 
*30 yrs Experience 
*Interior/Exterior 
*New and Restoration 
*Honest and Reliable 
*Free Quotes 
NORTH GLASS 
WINDSCREEN REPAIR OR REPLACE 
GLAZING SERVICES 
MIRRORS  •  SPLASH BACKS  •  SHOWERS 
0800 70 40 10
info@northglass.co.nz 
www.northglass.co.nz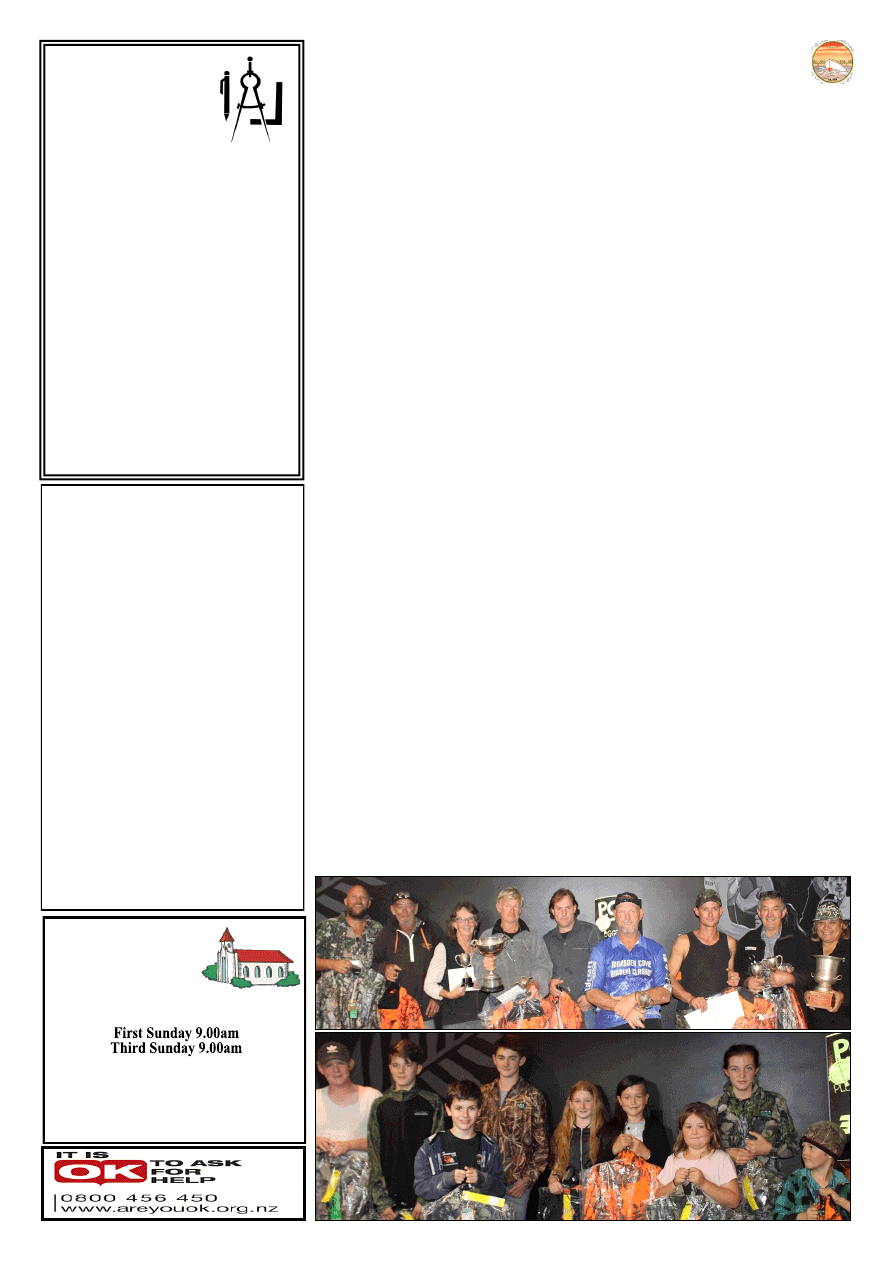 www.kaiwaka.co.nz 
Kaiwaka Bugle - 15 May 2018 
Page 9 
design  
drafting  
service 
Retired builder and manufacturer 
with over 40 years experience in the 
building industry is offering a design 
drafting service for domestic hous-
ing, sleepouts and sheds.  
Plans formulated in consultation 
with clients, with working drawings 
completed and submitted to council 
for processing.  
Extensive practical experience,  
able to identify & resolve problems.
Please ring Mike Lean on 
09 431 2260 
or 
021 431 196 
Mangawhai 
Heads 
Garden 
Centre
1758 Cove 
Road
945 0707 
021 165 2629 
ST PAUL'S  
ANGLICAN  
SUNDAY  
SERVICES
St Pauls Church: Kaiwaka-Mangawhai Rd. 
1st Sunday - Eucharist 
3rd Sunday - Family Service 
Rev. Wayne Thornton Ph 431 4122 
www.mangawhaianglican.org.nz
PT.CURTIS CRUISING CLUB 
Great turn out for opening Duck shoot 
and end of year prize giving. 
Results - End of Year  
JUNIORS
Snapper: Sonya Steiner3.900kg 
Kahawai: Bella Kake  1.898kg 
Trevally: Bella Kake  2.569kg 
Gurnard: Bob Mills 1.005kg 
Eel: Hunter Ries  6.013kg 
Peacock: Bradley Kennedy  4.911kg 
Swan (black): Jayden Wilson  6.828kg 
Turkey: Amanda Ries   8.900kg 
Mallard : Owen Clarke  1.380kg 
Parry: Blake Hamlin  1.953kg 
Pukeko: Blake Hamlin  1.152kg 
Pheasant: Michayla Kennedy  1.258kg 
SENIORS 
Snapper: Gravy  9.484kg 
Kahawai:   Gravy   2.664kg 
Kingfish: Justin Walker  22.493kg 
Trevally: Mickey Renton    1.746kg 
Gurnard: Joss Tolley    1.404kg 
Crayfish: Dave Kennedy   3.06 kg 
Boar: Nigel Ball  57.70 kg 
Peacock: Hayden Smith   5.545kg 
Swan (black): Dale Hamlin 6.995kg 
Turkey: Kevin Ries  9.273kg 
Mallard: Dave Kennedy 1.565kg 
Parry: Dale Hamlin  2.194kg 
Grey: Dale Hamlin 1.243kg 
Canadian Goose: Dale Hamlin 6.587kg 
Pukeko:  Ben Ries 1.162kg 
Pheasant: Mark Nimmo  1.645kg 
Opening Day Duck Shoot Results
JUNIORS 
Mallard: 1
st
   Loyd Clarke   1.244kg; 2
nd
   Tessa 
Ball 1.233kg; 3
rd
  Tessa Ball 1.143kg. 
Grey: 1
st
 Loyd Clarke  1.084kg 
Parry: 1
st
 Jayden Wilson  1.900kg; 2
nd
 Bradley 
Kennedy  1.791kg;3
rd
  Jayden Wilson  1.740kg 
Pukeko: 1
st
  Tessa Ball .763kg; 2
nd
  Tessa 
Ball .650kg 
Swan (black): 1
st
 Jayden Wilson 5.257kg; 2
nd
Bradley Kennedy  4.932kg; 3
rd
 Bradley 
Kennedy 4.585kg 
Peacock:1
st
  Caleesto Mills  4.807kg 
Turkey: 1
st
 Bradley Kennedy 7.919kg; 2
nd
Bradley Kennedy .272kg; 3
rd
 Michayla 
Kennedy5.511kg 
SENIORS 
Mallard: 1
st
 Hayden Smith 1.443kg;2
nd
 Pongo 
1.415kg; 3
rd
Hayden Smith 1.360kg 
Grey: 1
st
 Tony Smith 1.319kg  2
nd
  Dale 
Hamlin  1.248kg  3
rd
  Dave Kennedy 1.207kg 
Parr:1
st
  Dave Kennedy  2.050kg; 2
nd
  Kevin 
Ries  1.958kg 3
rd
  Hayden Smith  1.939kg 
Pheasant 1
st
  Dale Hamlin  1.425kg; 2
nd
  Tony 
Smith 1.206kg; 3
rd
  Keith Mills  1.197kg 
Pukeko: 1
st
 Trevor Wright  1.096kg  2
nd
   Dale 
Hamlin 1.090kg; 3
rd
 Pongo   1.054kg 
Swan (black):1
st
 Nigel Ball 7.317kg; 2
nd
   Tony 
Smith 6.722kg ; 3
rd
  Kevin Ries  5.236 
 Peacock: 1
st
  Keith Mills  4.896kg; 2
nd
 Dale 
Hamlin 4.822kg; 3
rd
 Koby Worsell 4.637kg 
Turkey: 1
st
 Dave Kennedy 9.556kg;2
nd
 Wattie 
8.713kg; 3
rd
 Mark Nimmo 8.310kg 
The winner of the spot prize which 
was  a  Gun  Holder  &  Mounting 
Bracket  valued  at  $345  kindly 
donated  by  Doug  &  Karl  Poland 
from Poland Motors Wellsford was 
ticket no 817 – Grabba Mills.
The winner of the raffle which was 
a  Buffalo  Camo  Lined  Jacket 
valued  at  $250  kindly  donated  by 
Doug  &  Karl  Poland  from  Poland 
Motors Wellsford was ticket no 8 – 
Dozey Clarke.
Thank you, Poland Motors, !!!
Thank  you  to  all  that  helped  with 
weighing  in  Ducks,  selling  raffles  and 
those who brought a plate . 
Coming Up:
⧫
Pool  Competition:  North  v  South  to 
be  held  at  3Furs  Bar  &  Grill  Sunday 
3
rd
 June 2018 all welcome to join in. 
⧫
Pool Competition against Mangawhai 
Club  to  be  held  at  3Furs  Bar  &  Grill 
Saturday 30
th
 June 2018 all welcome to 
join in. 
⧫
Closing  Duck  Shoot:  Sat  30
th
  June 
and Sun 1
st
 July, tickets $20 Adult $10 
Junior  (aged  under  15yrs)  Club 
Members only. 
⧫
Subs are due 1
st
 June: $20 Single, $30 
Family 2 Adults 2 Juniors (aged under 
15yrs). 
⧫
Fish  of  the  Month  Winners  for 
Kahawai:    1st  Gravy    2.664kg; 
2
nd
   Linda Leslie 2.134kg; 
3
rd
    Carol 
Welsford-Mills   1.888kg
⧫
New Fish of the Month is Gurnard till 
19
th
 June 2018
⧫
Next  Club  Meeting  Tuesday19  June
2018 at 3Furlongs Bar & Grill, 7pm. 
~
Wayne Leslie, Commodore.  
Photos  below:  End  of  Year  Winners  - 
Seniors and Juniors. 
Photos  of  the  Opening  of  Duck  Shooting 
Winners can be seen on page 19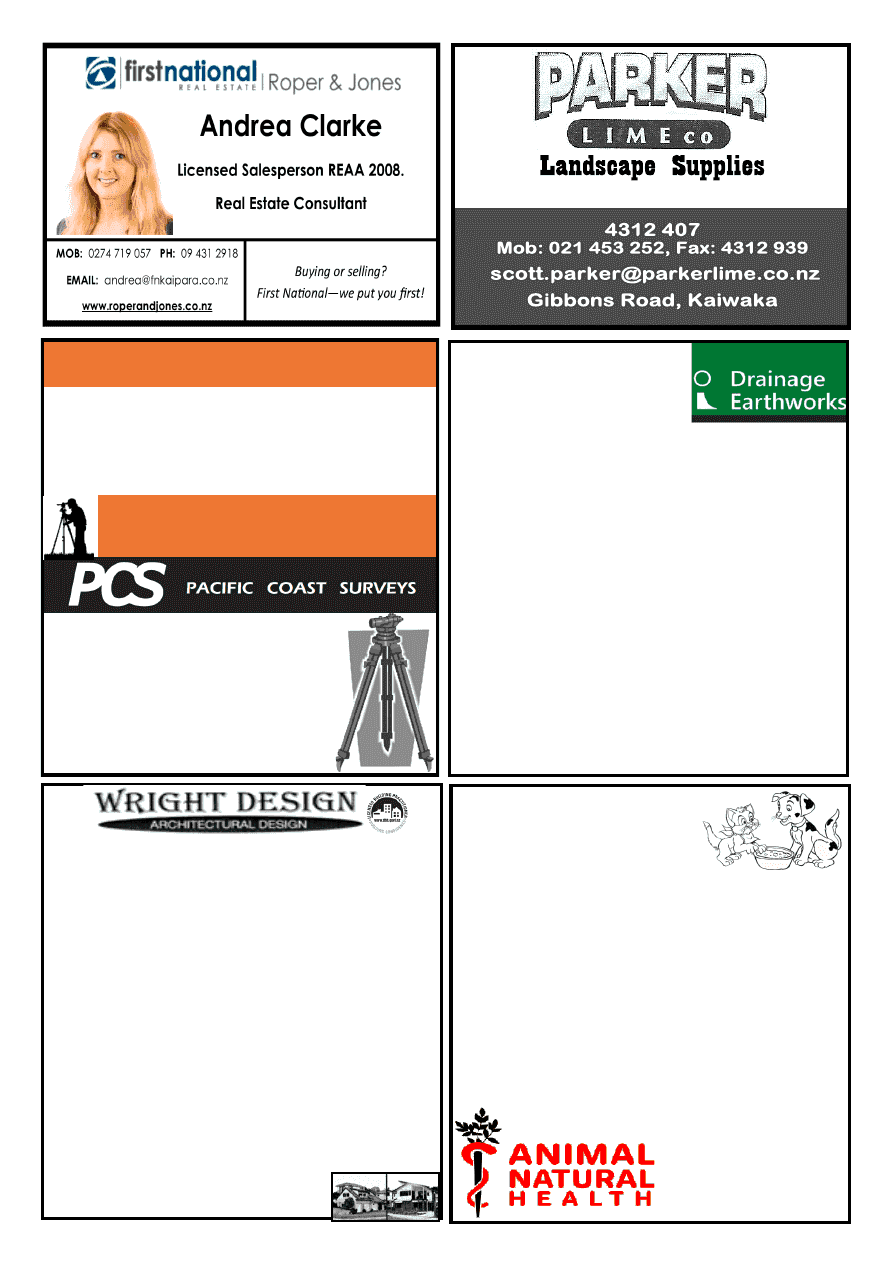 Drainage & Earthmoving 
nigel@clarkedrainage.nz 
027 2233 185 
Registered Drainlayer 
All Types of Earthworks  
> All Residential & Commercial Work  > House Sites 
> Septic System Design & Install 
> Footings & Drilling to 10m 
> Sewer Connections 
> Dams 
> Water Tank Installation 
> Roading & Races 
> Farm Work 
THE ONE STOP SHOP  
Phone Nigel for an Obligation Free Quote  
Bulk Cartage 
SURVEYORS 
SUBDIVISIONS 
HOUSE SITE SURVEYS 
CIVIL ENGINEERING 
WASTEWATER DESIGNS 
EXPERIENCED 
PROFESSIONAL 
INNOVATIVE 
Ph 09 431 5353 
0800 PACIFIC (0800 722 434) 
pacificcoastsurvey.com
Adam Booth - 027 415 5752 
Bsurv, Licensed Cadastral Surveyor
Surveying Kaipara since 1994 
If you are thinking of building then you 
will need a good and well experienced, 
qualified, and licensed designer. 
This applies if you are considering a 
new home any alterations or any 
building additions/farm buildings, 
sheds, alterations, whatsoever. 
For Resource and Building Consents, 
planning restraints, new building 
materials, applying for building permits 
– you need a capable, experienced, 
and professional designer with a clear 
knowledge of all the processes. 
Brian has been helping and organising 
all these facets of design and building 
for over 50 years. 
Wright Design offers free visits, 
consultations and advice on planning, 
design, building, council permit 
applications, guaranteed permit plan 
acceptance. 
QUALIFICATIONS 
Brian is a qualified designer 
(N.Z.C.A.D.) with over 50 years of 
varied experience in all types of 
building and is registered and Licensed 
Building practitioner in Design – 1 & 2 
Registered LBP117345 
He will ensure you will achieve the 
best from your budget. 
EXPERIENCE 
Brian's practical building and 50+ years 
of design experience means he can 
give you excellent advice and all the 
guidance needed. 
Brian can arrange engineering for a 
reasonable cost. 
•Qualified and inexpensive designer – 
N.Z.C.A.D. Registered LBP117345 
•Guaranteed design and working 
drawings 
•Free site visit to your home or 
property 
•Great service and free quotation 
PROJECTS 
Additions, alterations, basements, new 
homes, motels, bed and breakfast, 
commercial buildings, farm buildings, 
and shop fit outs are a few projects. 
Brian can show you many of his 
projects in the area to emphasise his 
versatility and can give you contact 
with satisfied clients. 
WHAT TO DO FROM NOW ON 
•Call Brian for a free quotation 
•Discuss your needs and obtain good 
advice 
•Brian can offer 
plan printing 
from A4 to A0 
(2x A1 size) 
No. 117345 
ORIJEN & ACANA  
now available!
Looking for economy with 
quality in pet food? 
Our 2kg fresh meat rolls only $12.90
Tukka Thyme Muesli (makes 3kg) - only $14.90 
Veal Bones 3kg $17.90 
Beef & Lamb Patties  3kg  $22.90 
Chicken Medallions 3kg  $18.90 
No nasty chemicals, cage & crate-free, free-range, 
organic where possible. 
Flea-Flee , Tick & Lice Control, alternatives to 
vaccinations. 
Safe beach leads, collars, toys. 
Want a choice in animal health care? 
See our Animal Naturopath.  
ANIMAL NATURAL 
HEALTH CENTRE 
Next to Italian Bakery, 
Kaiwaka 
Ph. 09 431 2217    
Open Mon-Sat.
N.Z.C.A.D., L.B.P. 117345 
PH/Fax: 09 423 8092 Mob: 021 276 7369 
Office: 3 John Sinclair Avenue, Wellsford    brianwright@xtra.co.nz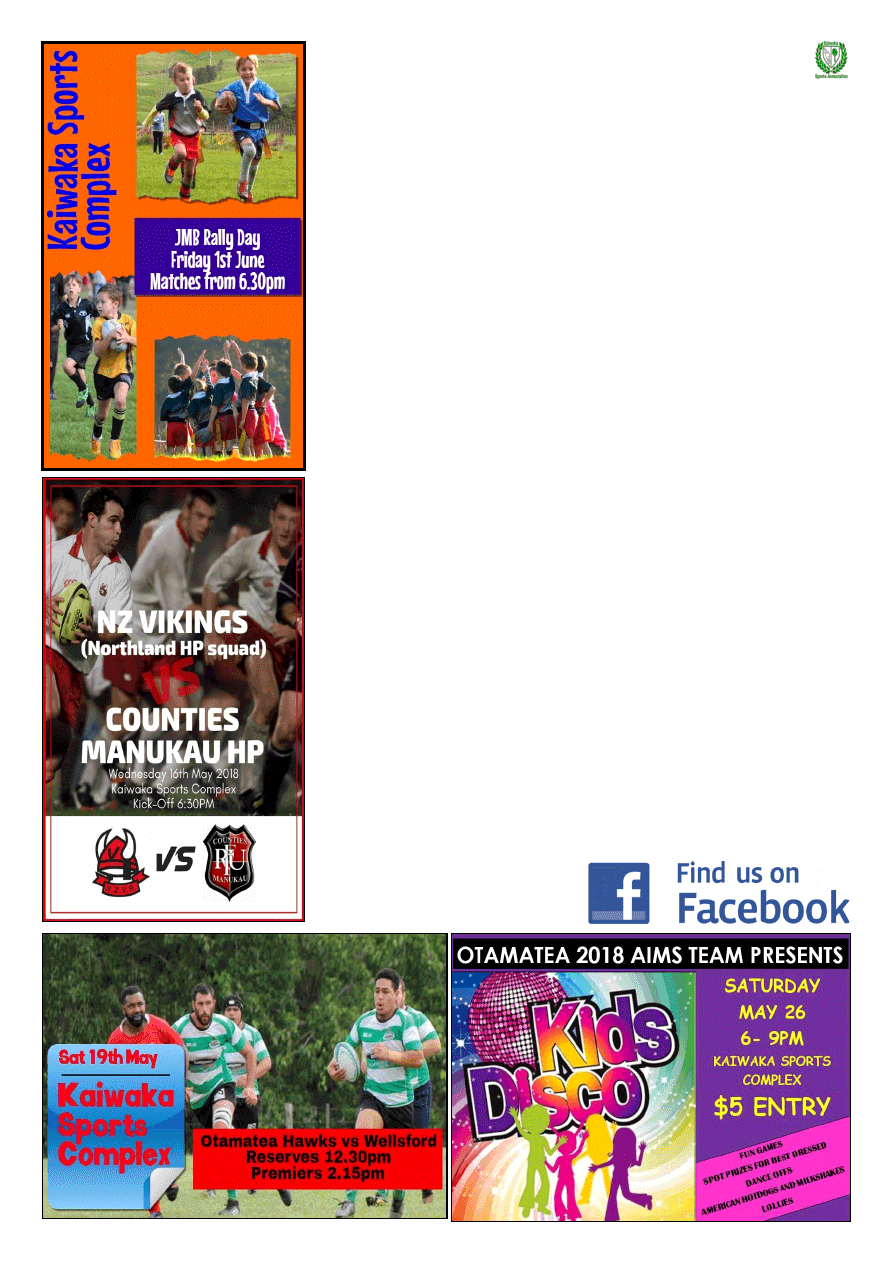 www.kaiwaka.co.nz 
Kaiwaka Bugle - 15 May 2018 
Page 11 
KAIWAKA SPORTS ASSOCIATION
Fitness Centre 
There  was  a  good  turnout  to  our 
Fitness  Centre's  Open  Day  last  week, 
thank  you  to  everyone  who  came. 
Congratulations  to  Roger  Smith  who 
won  the  door  prize  of  a  free  years 
membership. 
Keys  to  our  Fitness  Centre  are 
changing  over  on  the  20th  of  this 
month,  so  if  you  have  ever  thought 
about  taking  out  a  membership  –  now 
is  the  perfect  time  to  do  it!  You  can 
purchase a year's membership for $150 
which  will  give  you  24/7  access  to  a 
centre  equipped  with  free  weights, 
bikes, climbers, rowers, treadmills, CV 
machines, toilets and showers. You can 
buy a key from Jaques Four Square, or 
for  more  information  please  contact 
Fitness  Centre  President  Siobhan  Cole 
on 027 9791203. 
Rugby - senior 
The  Otamatea  Hawks  are  playing  at 
our grounds, Saturday 19 May, against 
Wellsford. 
Reserves 
kickoff 
at 
12.30pm  and  are  followed  by  the 
Premiers at 2.15pm. 
Rugby - JMB 
All  five  JMB  clubs  (Paparoa, 
Maungaturoto,  Eastern  United  -  our 
local  Kaiwaka  team,  Wellsford  and 
Tomarata)  will  be  playing  at  our 
grounds  on  Friday  1st  June.  Matches 
start at 6.30pm. 
Rugby - representative 
Come  along  to  the  KSA  this 
Wednesday - 16 May - to watch some 
quality  rugby:  Northland  vs  Counties/
Manukau 
(the 
High-Performance 
squad). 
Kickoff 
is 
6.30pm, 
refreshments will be available. 
Badminton 
Keen  for  Badminton?  Turn  up  to  our 
gymnasium on Tuesday evenings, from 
7.30pm  -  all  ages  and  abilities 
welcome.  A  casual  sub  is  only  $3  per 
person  per  night.  Badminton  is  lots  of 
fun and an easy game to pick up. New 
members  welcome,  just  bring  soft 
soled  shoes  and  a  sense  of  humour! 
Club  racquets  are  available  for  you  to 
borrow. 
Puna Reo 
Ngā  Tupuranga  O  Ngā  Puna  Reo,  a 
free  Māori  incentive  playgroup,  is 
being held in our pavilion on Tuesdays, 
9  –  1pm  during  term  time.  And  at  the 
Archie  Bull  Hall  on  Thursdays,  9  - 
1pm.  It  is  free,  with  no  ECE  hours 
required. They provide kai and learning 
for tamariki 0 – 5 years old. For more 
details,  contact  Diva  Ratu  on  021  104 
6224. 
Disco 
The Otamatea Aims team is putting on 
a  Disco  at  the  KSA  on  Saturday  26th 
May to fundraise for travel to Tauranga 
in September for the Aims games. The 
Disco will run from 6 – 9pm, $5 entry. 
On  sale:  American  hot  dogs,  milk 
shakes  and  other  treats.  Fun  games, 
dance  competitions  and  spot  prizes. 
Bring  the  kids  along  in  a  fluoro  outfit 
for an awesome night of fun with their 
friends! 
Congratulations Merv 
A  fabulous  achievement  by  our  2016 
KSA  Senior  Sportsperson  of  the  Year 
winner.  Merv  Huxford  was  recently 
awarded  the  Pakistan  Trophy  for 
Outstanding Service to Hockey. 
Congratulations  Merv,  and  very  well 
deserved! 
First Aid Kit Fundraiser 
If  you  have  got  active  kids  (or  maybe 
just  accident-prone  kids!)  you  will 
need a decent first aid kit. I am selling 
quality,  extensive  kits  as  a  fundraiser 
for  the  Sports  Association.  At  $39.95, 
these  first  aid  kits  are  excellent  value 
for  money  and  similar  kits  often  retail 
for  over  $60.  This  is  a  large  carry  kit 
with transparent fold-out compartments 
which  contains  77  items  and  follows 
OSH  and  Consumer  regulations.  An 
order form is on page 19  of this Bugle. 
The deadline for orders is this Friday. 
~Cheryl Anderson,  
4312 051, 027 3462702 
kaiwakasports@gmail.com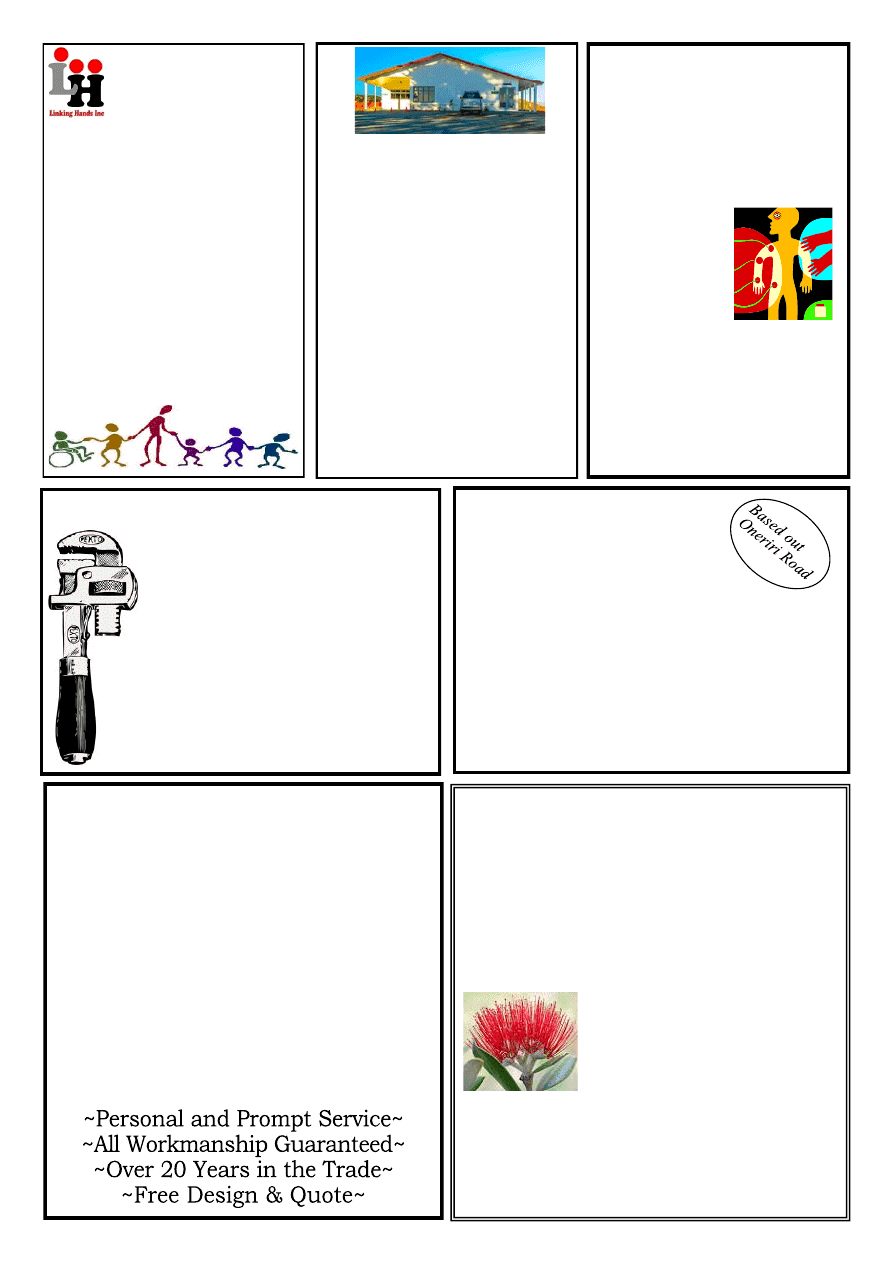 BARRY CURTIS PLUMBING LTD 
REGISTERED CRAFTSMAN PLUMBER 
Phone 431 5572
027 257 9884 
25 years' experience 
Friendly reliable service 
All plumbing & maintenance 
Alterations and new housing 
Spouting  
C
ompetitive rates 
PROMPT EFFICIENT SERVICE 
KAIPARA FLOORING CO 
Independently owned & operated 
32 HURNDALL ST MAUNGATUROTO
Supply & Installation of Carpet, Vinyl,  
Vinyl Wood Planking
Stockists of 2m & 3m wide 
vinyl & carpet short ends
Residential & Commercial
Q Card Finance Approved 
6-18 month terms 
6 mth interest free
First Class Installations
For a free measure & quote 
phone Christine  
09 946 9886 or 021 515 415 
kaiparaflooring@gmail.com 
http://www.kaiparaflooring.co.nz/ 
HODGETTS 
CONTRACTING
Digger Work 

Driveways 

House Sites

Dams  

Drains, etc
Also available for HIRE 

4
3 ton Vib Roller 
⧫
Heavy Duty Tow  

4
Waterblaster   
⧫ 
Lazer Level 
Phone Mark 4312877 
OWEN STEVENS 
Osteo Therapist
For careful adjustments to bones 
and joints 
Treatment for humans and their 
pets 
Clinics: 
Kate's Place, 
Kaiwaka: 
Last Friday of 
month 
For bookings: 
9.00am-5.00pm  
Phone 
09 4312661 
Or phone Owen  
09 4317123 anytime 
PLANNING A NEW KITCHEN?
 CONTACT NOEL McDOWELL
WELLSFORD 
KITCHENS
Ph/Fax 094312888
KAIWAKA-Any time
 QUALITY CUSTOM MADE 
KITCHENS
Te Pounga Marae 
130 Nathan Rd. Oneriri. Kaiwaka 0573 
COMPLEX FOR 
HIRE 
Functions 
* Weddings  * Birthdays  
*Anniversaries * Meetings  * Wananga 
5 hour meeting * 12 hour stay  * 
Overnight 
*All welcome - No more Drink-driving 
Amenities: 
*Convo Combi Steamer * Bratt Pan * 
Dish Washer/Sterilizer * 3 Door Glass 
Chiller (walk in) etc…All Crockery * 
Linen Supplied * Central Heating and 
Air Conditioning and much more.  
Can also cater for small groups…. 
For more information please contact: 
Kim Wallace  
Home: 09 832 1133  Mob: 0211275340  
Email: kimwallace@xtra.co.nz 
  LINKING 
HANDS INC 
Maungaturoto - Kaiwaka - 
Mangawhai 
Meeting the needs of the community. 
A  free Health Shuttle Service, providing 
transport to those who would struggle to 
get  to  medical,  dental,  podiatry,  or 
optometrist appointments anywhere from 
Warkworth to Whangarei. 
HEALTH SHUTTLE SERVICES 
Ph/fax 09 431 8969 
OFFICE HOURS 
Maungaturoto - Monday to Friday - 
10am to 4pm 
Closed Public Holidays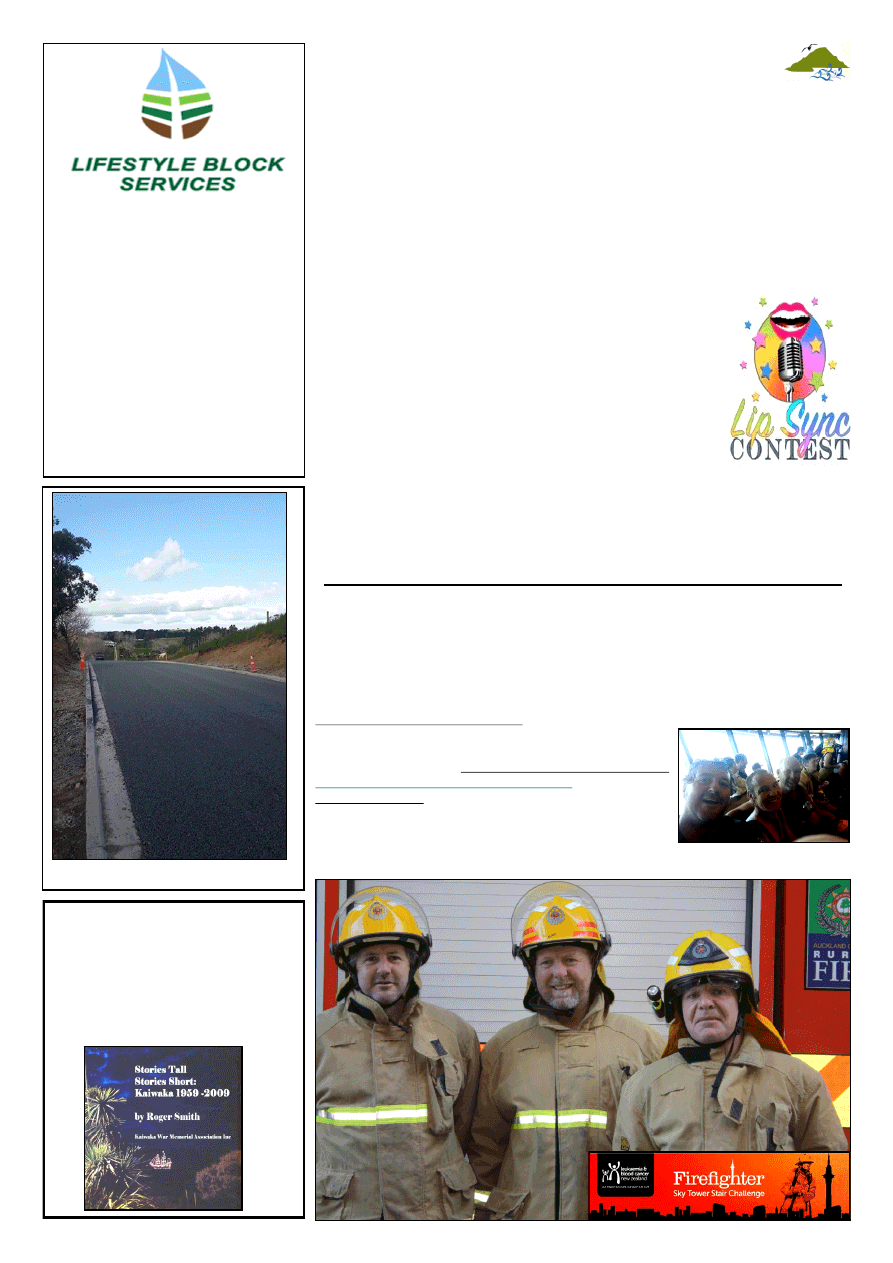 www.kaiwaka.co.nz 
Kaiwaka Bugle - 15 May 2018 
Page 13 
Stories Tall, Stories Short:  
Kaiwaka 1959-2009 
by Roger TW Smith
$40
Available through the  
Kaiwaka Bugle 
Ph: 09 4312045 
Make Baleage while the sun shines! 
Let us make hay/sileage for you, or 
buy single & 5 bale equivalents from 
us
. 
Contact Mark on 021 801 065 or 
Contact Lisa on 021 108 1057
We also do: 

Fencing 

 Spraying 

  Mulching 
 
Stockwork 

  Stock Water 
Systems 

  Tree Trimming  

 Driveway & Track Maintenance  
The  Library  will  be  re-opening  shortly. 
Please  have  a  BIG  check-up  at  home  for 
library  books  so  we  can  have  it  fully 
stocked  for  the  re-opening.  We  are  all 
looking forward to this. 
The  Lip  Sync  Competition  is  fast 
approaching,  we  hope  you  are  all 
practising. 
PTA  NEED  YOUR  HELP!  We  need 
donations  for  spot  prizes,  anything  is 
welcome! Also, we need parent help before 
and  on  the  night.  Please  contact  Toni  on 
021 08747111 
11  June  is  a  Teacher  Only  Day,  as  the 
teachers  will  be  attending  a  Professional 
Development Day about Growth Mindsets. 
This  is  with  all  the  other  schools  in  our 
Community of Learning. 
Events: 
15 May: Ki-o-raha Sport 
17 May: Vital Body World 
23 May: National Simultaneous Story time. 
24 May: Lip Sync Battle 
29 May: Yr 5&6 Rippa 
30 May: Ki-o-raha Sport 
4 June: Queens Birthday 
11 June: Teacher Only Day 
Tena Koutou, 
The  'School  Based  Throat  Swabbing 
Program'  commenced  at  the  beginning  of 
Term 1. This is a 2-year contract aimed at 
detecting  Strep  Throat  and  thereby 
reducing  incidence  of  Rheumatic  Heart 
Fever.  The  schools  that  are  a  part  of  this 
program  are  nominated  by  the  DHB  on  a 
decile basis. 
We  visit  the  school  twice  a  week,  Term  1 
saw  us  complete  34  throat  swabs  with  4 
positive results. Once we receive a positive 
result  we  arrange  antibiotics  directly  with 
the whanau and follow up at day 5 and 10 
of the course. 
We  had  a  huge  increase  of  consent  forms 
returned by offering the prize incentive and 
have  approximately  20  outstanding.Over 
the  whole  Kaipara  there  is  12  schools 
involved and a return rate of 36 positives. 
Nga mihi, Naomi Walker 
KAIWAKA 
SCHOOL PTA 
Lip Sync 
Competition 
Thursday 24 May, 
6.30pm 
Kaiwaka War 
Memorial Hall 
Gold Coin Donation  
Solo - Duo - Group 
"Best Class" Trophy 
Adults encouraged 
to give it a go too! 
Contact: Toni on 
toniaphillips123@gmail.com or the 
Kaiwaka School 09 4312309 for entry 
forms or enquiries. 
Awesome Prizes, plus Spot Prizes! 
KAIWAKA SCHOOL  
OUR FIREMEN CLIMB 
On the 19th May 2018 four local Kaiwaka Volunteer Fire Brigade members are 
competing in the 2018 Firefighter Sky Tower Stair Challenge. 
Team Captain is Kraig Steiner with other team members Mike Law, Keith Mills 
and Tim Brown participating. We are raising money for the Leukaemia & Blood 
Cancer  New  Zealand  (LBC)  Charity,  if  you  would  like  to  make  a  donation 
please go to 
https://firefightersclimb.org.nz/ and find the Team "Kaiwaka 781" or search for 
one of the below participants: 
Kraig Steiner, Mike Law, Keith Mills, Tim Brown. 
Team 
page: 
https://secure.leukaemia.net.nz/
registrant/TeamFundraisingPage.aspx?
We  would  like  to  thank  those  local  people  and 
businesses  that  have  already  donated  it  is  much 
appreciated. 
Photos:  Left  -  2017  crew  celebrating  at  the  top  of  Sky  Tower;  Below  -  Volunteer 
Firemen Tim Brown, Mike Renton and Keith Mills - the 2017 team! 
Wonderful tarseal on Settlement Road!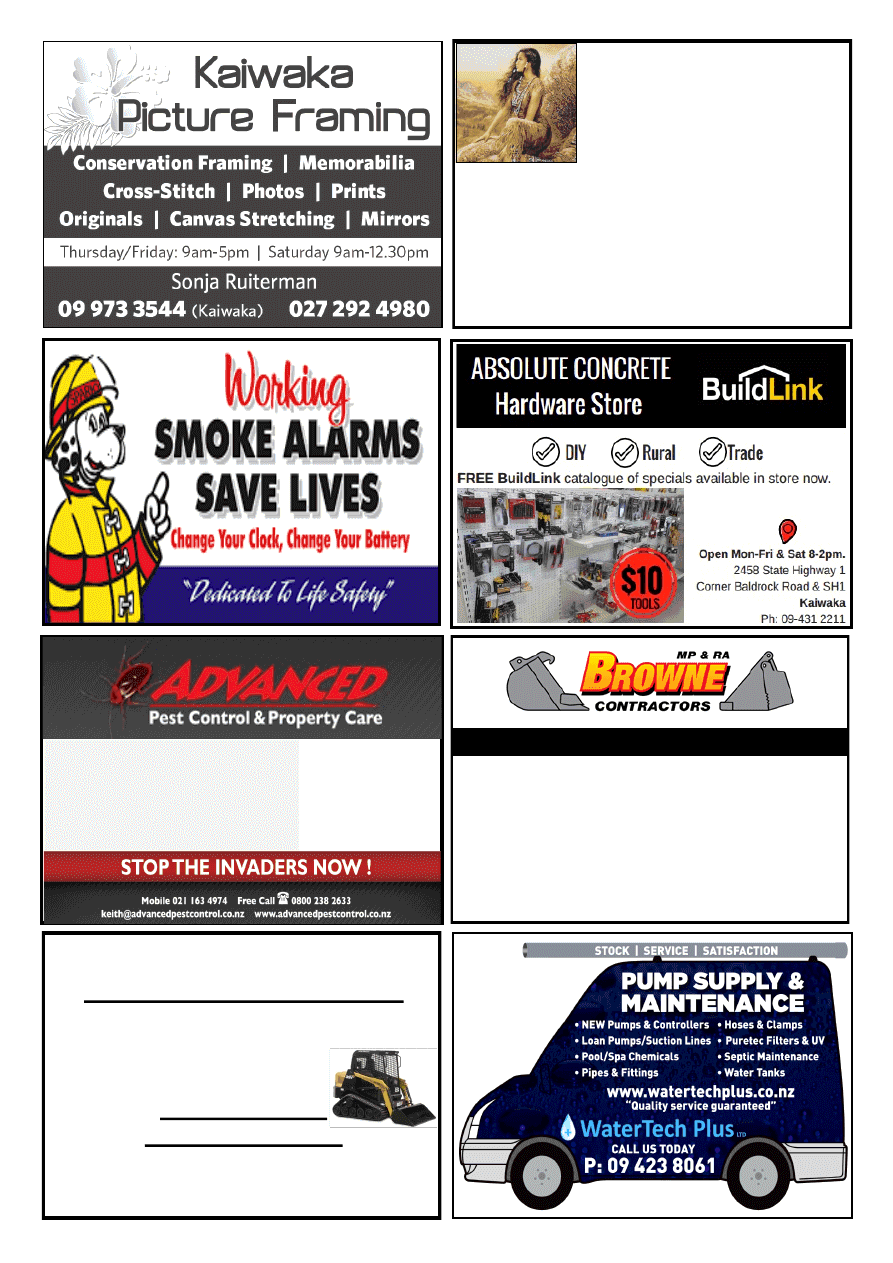 Natural Earth Ltd 
Landscape and Bobcat services 
 : Driveways :Landscaping :Retaining Walls 
 : Hole Boring: Land Levelling :Trenching 
 : Decks :Fences :Sections Cleared 
 : Plus much more
Tel 09 4312 885 
Mob 02102391280 
For A Fast Friendly Service  
Contact Tim Hicks 
4T DIGGER – BOBCAT – TIP TRUCK 
Property Maintenance - Driveways  
 Building Sites 
Stump & Tree Removal  
Hole Boring - Chain Trencher  
Calf Shed and Stockyard Cleaning 
Phone Matt: 021 199 6677 
Email: mprabrownecontractors@gmail.com 
Trails end 
spiritualist gathering 
Last Sunday of every month  
10.30-2pm  
Tea/coffee provided  $5 koha 
For all inquiries: 
021 165 2629 evenings (09) 945 0707 
Trail.end@hotmail.com 
1758 Cove Road, Mangawhai
Bringing together like-minded people 
Guest speaker each month
Pest Control 
PLAN A: One-off treatments to customers with a specific pest problem 
PLAN B: Full maintenance service plans to commercial customers. 
This will include documentation kept in customer file on site: 
⚫
Pest treated 
⚫
Date of service 
⚫
Chemical or baits used 
⚫
Full pest check report done after each treatment 
⚫
Fair and reasonable fee with guarantee 
Flood Recovery 
Carpet Care 
⚫
Carpet Drying 
This includes pre-spray treatments 
⚫
Dehumidifier Rental 
with stain removal and hot water extraction.  
Upholstery Cleaning 
Full upholstery cleaning of all furniture.  
eg lounge suites and all office chairs 
Water Blasting 
⚫
Concrete - Decks 
House Washing 
⚫
Soft Chemical Was 
⚫
Pre-painting Wash 
Property Services 
⚫
Property Cleaning  Lawn Mowing 
www.kaiwaka.co.nz 
Kaiwaka Bugle - 15 May 2018 
Page 15 
From  Thelma's 
Scrapbook … 
The History of 
'Aprons' 
GRANDMA'S APRON 
I  don't  think  our  kids  know  what  an 
apron is! 
The  principal  use  of  Grandma's  apron 
was  to  protect  the  dress  underneath, 
because  she  only  had  a  few,  it  was 
easier to wash aprons than dresses and 
they used less material, but along with 
that,  it  served  as  a  potholder  for 
removing hot pans from the oven. 
It  was  wonderful  for  drying  children's 
tears,  and  on  occasion  was  even  used 
for cleaning out dirty ears… 
From the chicken coop, the apron was 
used  for  carrying  eggs,  fussy  chicks, 
and sometimes half-hatched eggs to be 
finished in the warming oven. 
When  company  came,  those  aprons 
were ideal hiding places for shy kids. 
And  when  the  weather  was  cold 
grandma wrapped it around her arms. 
Those  big  old  aprons  wiped  many  a 
perspiring  brow,  bent  over  the  hot 
wood stove. 
Chips and kindling wood were brought 
into the kitchen in that apron. 
From the garden, it carried all sorts of 
vegetables. 
After  the  peas  had  been  shelled,  it 
carried out the hulls. 
In the Fall, the apron was used to bring 
in apples that had fallen from the trees. 
When  unexpected  company  drove  up 
the  road,  it  was  surprising  how  much 
furniture that old apron could dust in a 
matter of seconds. 
When  dinner  was  ready,  Grandma 
walked  out  onto  the  porch,  waved  her 
apron,  and  the  men-folk  knew  it  was 
time  to  come  in  from  the  fields  to 
dinner. 
It  will  be  a  long  time  before  someone 
invents something that will replace that 
'old-time  apron'  that  served  so  many 
purposes. 
REMEMBER: 
Grandma  used  to  set  her  hot  baked 
apple pies on the window sill to cool. 
Her  granddaughters  set  theirs  on  the 
window sill to thaw. 
They  would  go  crazy  now  trying  to 
figure  out  how  many  germs  were  on 
that apron. 
I  never  caught  anything  from  an 
apron… but love. 
(Author Unknown) 
See  the  'Aprons'  Textile  Exhibition  at 
The  Kauri  Museum,  Matakohe  - 
showing  till July. 
Cut Above Gardening &  
House Maintenance  
⚫
Free quotes  
⚫
Special rates for pensioners  
⚫
Competitively priced  
 
Garden maintenance  
 
Barking/make overs 
 
Weed control with organic sprays  
 
House washing  
 
Gutter clearing  
 
Rubbish removal  
 
Hedge trimming   
 
Planting  
 
Lawn mowing  
No job to small  
Locally based  
One off or on-going regular 
maintenance  
Offering a professional service 
 at a realistic price 
Cut above gardening making  
your gardens a cut above the rest  
Please contact Jayden on 
0224683069  
S.O.S Kaipara 
Support, advocacy, crisis and 
family therapy counselling, refuge 
housing to survivors of sexual 
abuse and domestic violence. Also 
Education prevention programmes 
for the community and clients.  
Office hours 9am to 3pm Monday to 
Friday; 24/7 a Police or phone 09 
4396070 
NORTHLAND MX 
CHAMP 
Congratulations  to  Robyn  Turnbull 
who on Sunday 29th April at Ruakaka 
won  the  Northland  Senior  Women's 
Motocross champs. 
The 
comp 
was 
a 
four-round 
competition 
between 
Dargaville, 
Maungaturoto, Whangarei and Rodney 
clubs. 
This  follows  a  great  National 
Motorcross  Women's  Cup  Series  for 
Robyn - in February where she finished 
in 7th place and a 2nd place in the Dirt 
Rider  Downunder  Women's  Valley 
champs in Patetonga. 
Pictured: Above - Robyn in action, and 
below -receiving her winner's trophy. 
Q. What is smarter than a talking bird? 
A: A spelling bee! 
Q: What do you get when you cross a dog 
with a phone? 
A: A golden receiver! 
Q: 
Which side of the turkey has the most 
feathers? 
A: The outside!
Q: Why do giraffes have long necks? 
A: Because they have smelly feet.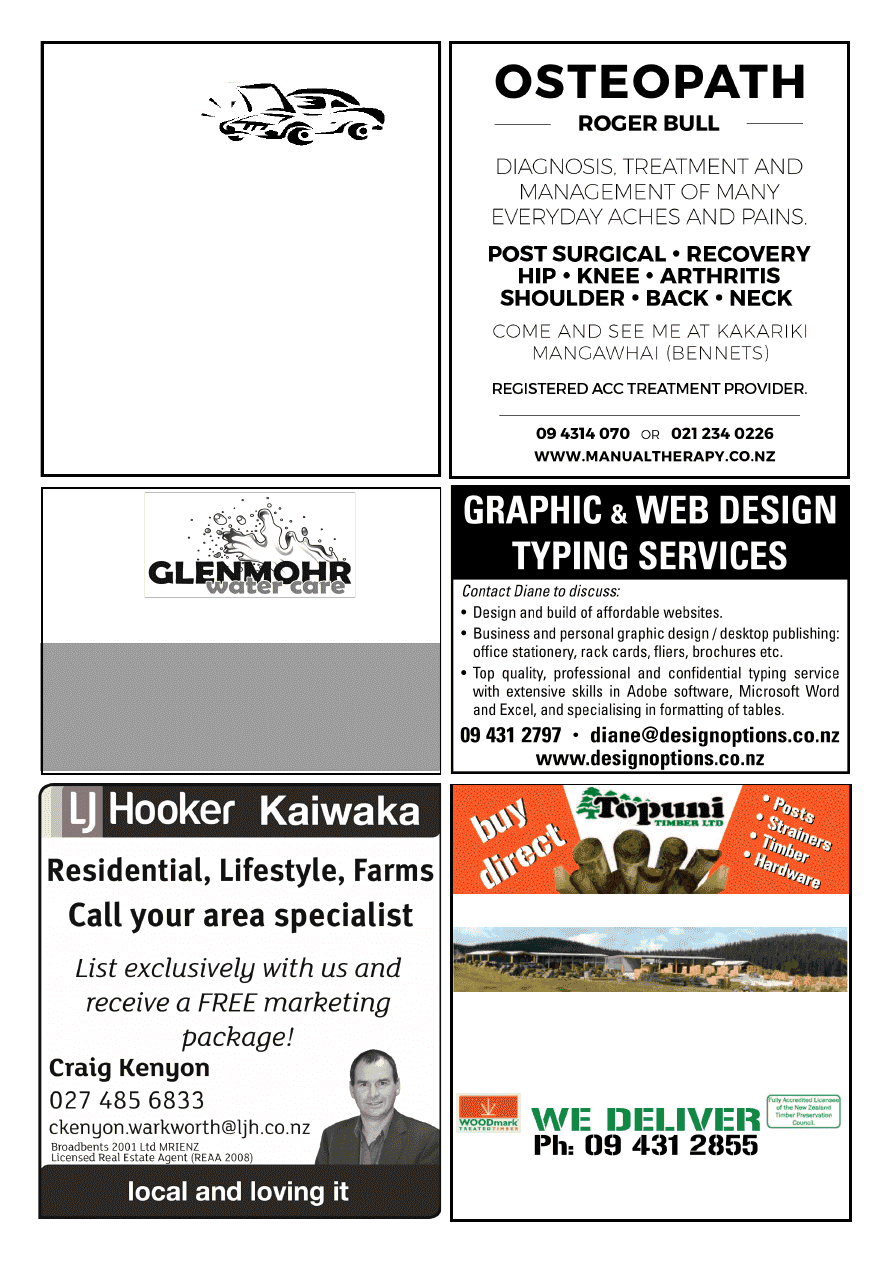 Water Tank Cleaning 
• 
Keep your water safe & clean  
• 
Removal of sediment, silt etc. 
• 
Vacuum or full scrub 
• 
Minimal water loss 
Phone Mark (09) 432 0655 or 0274 707607 
Twinkle Tow 'n' Tyre 
Think you'll get a better deal in the city? 
Ring us - it won't cost anything! 
1837 State Highway 1, Kaiwaka 
Phone 431 2823 
*W.O.F. 
*Tyres 
*Windscreen 
replacement 
*Chip repairs 
*Bulk Oil 
*Batteries 
*Welding 
*Custom built 
trailers 
*Trailer hire
LOCALLY OWNED AND OPERATED 
QUALITY PRODUCTS • FRIENDLY ADVICE • GREAT SERVICE 
Quality Products milled from High Density NORTHLAND Radiata Pine. 
Treated and guaranteed to NZS3640 with commitment to 
Environmental Safety.
Phone, fax, email, or come into the mill 
Schiska Rd, Topuni, SH1, 10 min north of Wellsford. Fax: 09 431 2856 
Email: sales@topunitimber.co.nz           Mon - Fri 7am-5pm 
• Fencing 
• Retaining 
• Decking 
• Landscaping 
• Gates 
• Hardware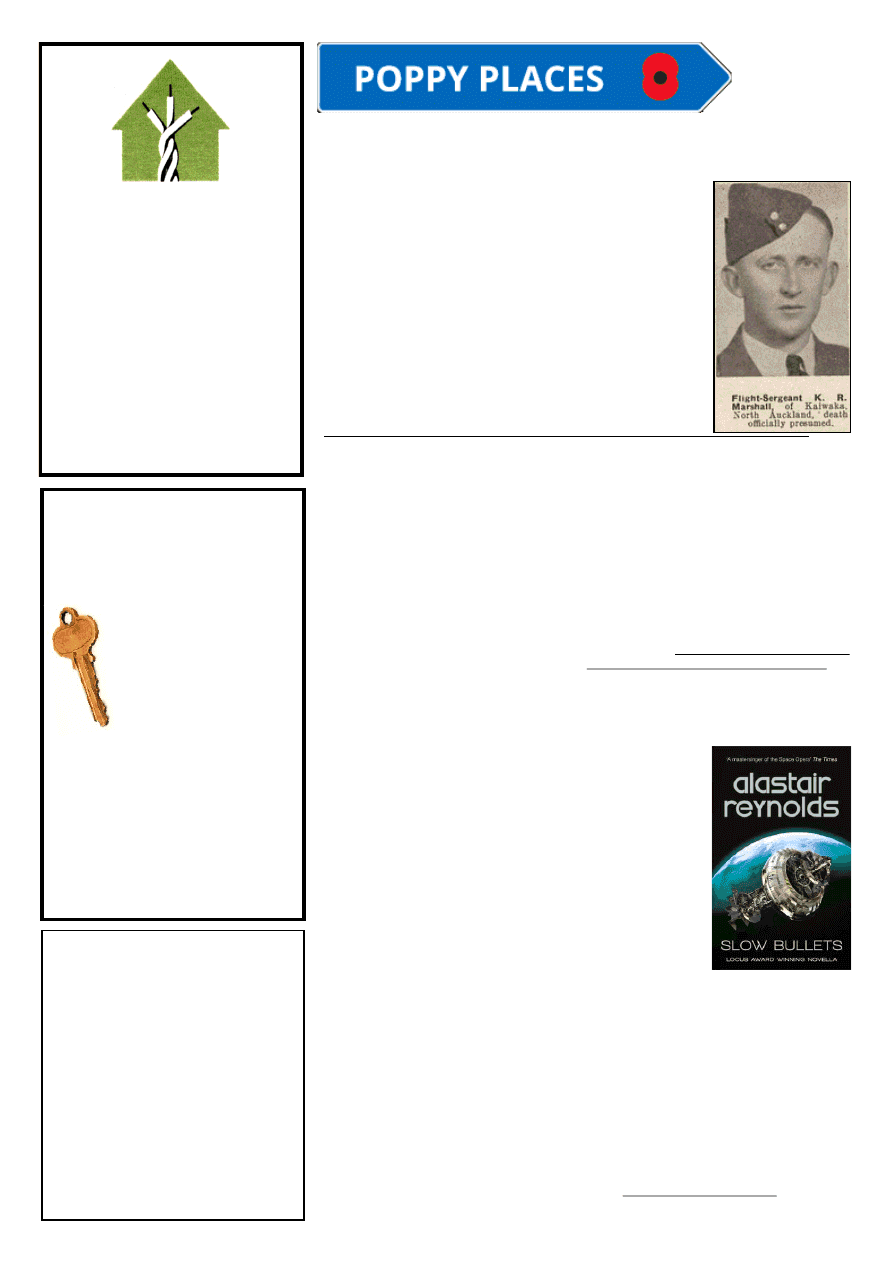 www.kaiwaka.co.nz 
Kaiwaka Bugle - 15 May 2018 
Page 17 
Reyahn George 
Leng 
Registered Electrician 
Local, honest and 
reliable. 
For your residential and 
light-commercial 
projects. 
022 314 1068 
Kaiwaka 
Hardware  
& 
Key cutting
Phone 4312 063  
or 022 0642 703
kaikey2015@gmail.com
    Keys Cut  
Household Hardware  
Sharpening  
Knives & Tools 
Curtain Tracks & Fittings
Not there? Call Doug and he'll 
sort
it for you. 
(
Next to Kaiwaka Motorcycles)
HELP 
PHONE NUMBERS 
HEALTHLINE:  
0800 611 116 
SAMARITANS:  
0800 726 666
YOUTHLINE:  
0800 376 633 
LIFELINE     
0800 543 354
DEPRESSION HELPLINE:  
          0800 111 756 
ALCOHOL & DRUG HELPLINE:   
 
0800 787 797 
URGENT MENTAL HEALTH LINE:  
 
0800 223 371
Justice of the Peace 
Did you know that we often have a JP 
available in the library? Look for the JP 
sign  on  display  on  the  library  steps  - 
when the sign is out, feel free to come 
in  and  ask  to  see  me  (the  JP).  I  can 
witness  signatures,  certify  copies  of 
documents  (don't  forget  to  bring  the 
originals,  too),  and  take  affidavits  and 
statutory  declarations.  Bring  some 
photo  ID  with  you  (driver's  licence, 
passport,  etc),  even  if  I  know  you 
already.  There  is  no  charge  for  this 
service. 
Library hours 
The  library  is  open  Mondays  4pm  to 
6pm,  and  Wednesdays  to  Saturdays 
10am to 2pm, each week. The library is 
closed on public holidays. 
Next book swap 
The  date  for  the  next  Dargaville  book 
swap  has  now  been  set  -  Thursday  7 
June. Do come and check those shelves 
before  the  books  are  packed  up  ready 
to  go.  If  you  have  a  Dargaville  book 
issued  to  you,  it  does  not  need  to  be 
back before the swap - we will send it 
on its way when you've returned it. 
Paparoa Library 
Paparoa  Library  is  temporarily  closed, 
while  the  building  is  renovated  and 
readied for the medical centre to move 
in.  The  library  will  be  in  a  different 
part  of  the  same  building  when  they 
open  again.  In  the  meantime,  Paparoa 
Library  members  are  welcome  to 
borrow  books  from  Kaiwaka  and 
Maungaturoto  Libraries  while  their 
library  is  closed.  If  you've  got  friends 
over  that  way,  please  remind  them  of 
this,  if  they  come  over  this  way.  All 
community  library  members  in  the 
district  can  borrow  from  Dargaville 
Library with their cards, too. 
Generosity NZ 
A  new  date  has  been  set  for  this 
presentation  -  Wednesday  23  May, 
11:00am at the Kaiwaka War Memorial 
Hall.  Generosity  NZ  is  a  service  that 
provides  access  to  extensive  funding 
opportunities  offered  throughout  New 
Zealand,  through  their  givUS  and 
givME 
portals 
for 
community 
organisations 
and 
individuals 
respectively.  Come  along  and  find  out 
how  to  use  this  service  effectively, 
which can be accessed for free through 
your  membership  at  Kaiwaka  Library 
(or any other library in the district) via 
this  link  - 
OurServices/Libraries/Community.html  
Book reviews 
Slow  bullets  by  Alastair  Reynolds  -
  this  is  "an  interstellar  adventure  of 
war,  identity,  betrayal,  and  the 
preservation  of 
civilization 
itself.  A  vast 
conflict,  one  that 
has  encompassed 
hundreds 
of 
worlds  and  solar 
systems,  appears 
to be finally at an 
end. 
A 
conscripted 
soldier 
is 
beginning 
to 
consider  her  life 
after the war and 
the  family  she 
has  left  behind.  But  for  Scur—and  for 
humanity—peace  is  not  to  be.  On  the 
brink of the ceasefire, Scur is captured 
by a renegade war criminal, and left for 
dead  in  the  ruins  of  a  bunker.  She 
revives  aboard  a  prisoner  transport 
vessel.  Something  has  gone  terribly 
wrong  with  the  ship." This  book  is  on 
our Rental Fiction shelves.
See you in the library! ~Wendy 
Kaiwaka Library, cnr State Highway 1 and 
Kaiwaka Mangawhai Road. PO Box 89, 
Kaiwaka 0542.  
Phone 4312 539. 
Email kaiwaka.library@gmail.com Open Wed-
Sat 10am-2pm, Mon 4-6pm. Free membership 
is available to all residents in the Kaiwaka area.
KAIWAKA LIBRARY 
Ref.
http://poppyplaces.nz/  "
The  New  Zealand  Poppy  Places  Trust  has  been 
established to develop, promote, and oversee a nation-wide project to commemorate and 
recognise as part of the heritage of New Zealanders, the participation of New Zealand in 
military  conflicts  and  military  operational  services  overseas.  The  Places  of 
Remembrance  project  will  encourage  all  New  Zealanders  in  local  communities  to:  1. 
Identify places in New Zealand which have a link to our military 
involvement  in  a  conflict  or  operational  service  overseas;  2. 
Research  and  record  the  history  of  these  places  on  the 
poppyplaces.org.nz  website;  3.  Link  the  physical  with  the 
recorded  history,  by  joining  the  community  in  an  organised 
remembrance  ceremony  to  educate  and  to  forever  mark  the 
place/monument with a poppy." 
MARSHALL  ROAD  is  an  excellent  example  for  such  a 
signpost.  F/Sgt  Keith  Marshall  RNZAF  grew  up  on  the 
farm  Marshall  Road  now  travels  through.  The  Apple 
Basket was his home! 
He died 19 February 1943 when fourteen aircraft from 295 
Squadron  were  tasked  with  a  raid  on  three  electricity 
transformers  at  Distre,  near  Saumur  (north-west  France). 
Two aircraft were brought down by anti-aircraft fire. Keith 
was  one  of  the  crew  who  died  on  this  mission  and  is 
buried in Saumur Communal Cemetery.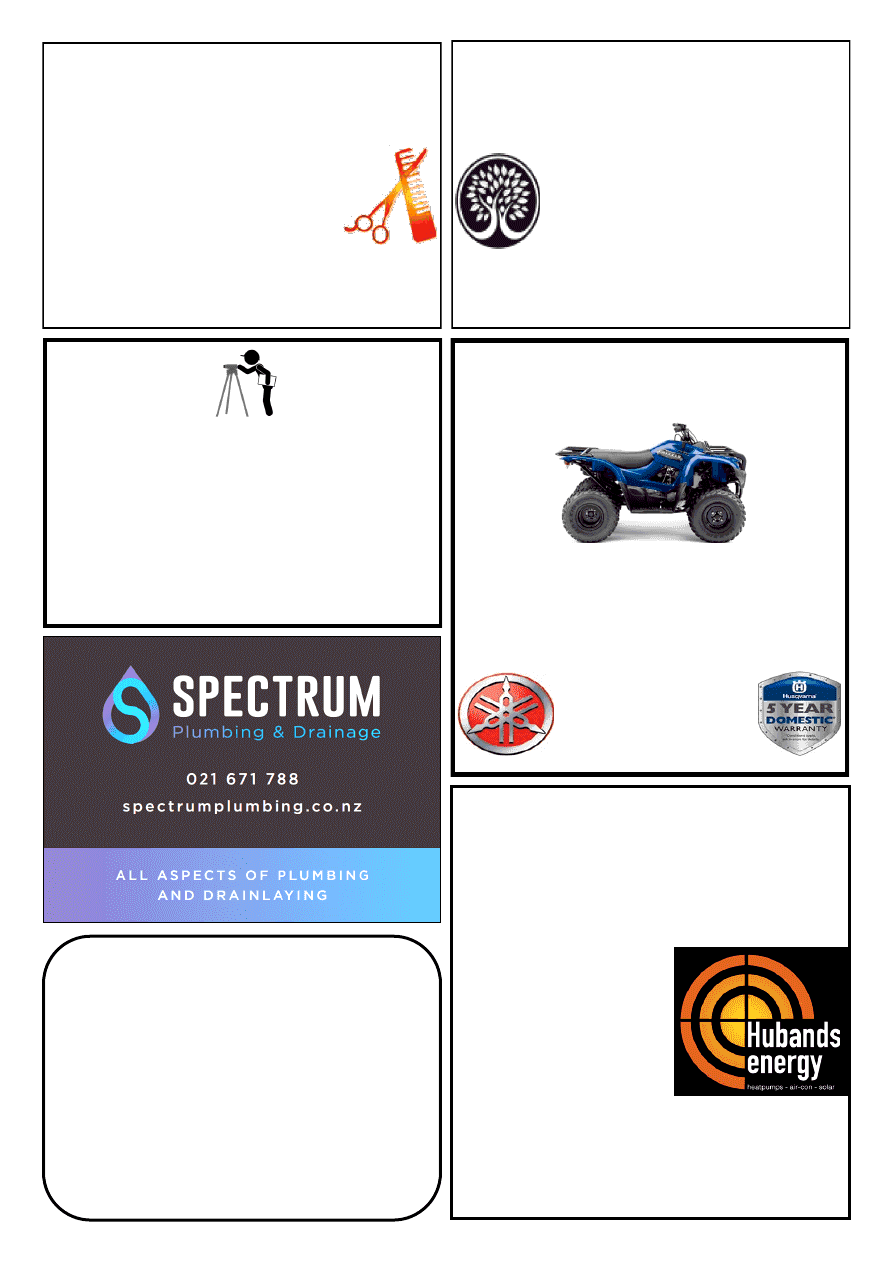 KAIWAKA 
MOTORCYCLES LTD
SALES – SERVICE – SPARES 
FARM BIKE SPECIALIST
PHONE 09 431-2127 
10 KAIWAKA-MANGAWHAI ROAD, KAIWAKA
Trimmers  
from $279
Chainsaws  
from $339
YAMAHA 
HUSQVARNA 
Northland's Award Winning 
Solar Company
SEANZ Best Solar Business Winners 2015/16
EXCLUSIVE 10 year installation warranty 
FREE No obligation onsite quote
Complete systems 
from $5990
See our range of: 
✓ 
Heatpumps 
✓ 
Airconditioning 
✓ 
Hot Water 
Heatpumps 
✓ 
Central Vacuum Systems
09 430 0019             sales@hubands.co.nz 
15 Kioreroa Road, Whangarei
Locally owned and operated for 35 years 
UP-LINK 
CHRIS WARING 
FREEVIEW INSTALLATIONS 
T.V. - HOME THEATRE &  
HI-FI ADVICE/SET UP
SKY ACCREDITED INSTALLER
MOB.0273403747 HM.094312328 
EMAIL cwaring44@gmail.com
28 YRS EXPERIENCE 
OFFERING UNBIASED ADVICE 
Ken Urquhart 
BSurv Licensed Cadastral Surveyor 
KMU Surveys Ltd
467 Bickerstaffe Road 
RD 2 
Maungaturoto 0587 
Ph 09 431 8705 
Mob 021 161 2344 
kenurquhart@xtra.co.nz 
AFFORDABLE PRICES! 
MENS CUT FROM $20.00 
LADIES CUT FROM $30.00 
KIDS CUT FROM $18.00 
COLOUR & CUT FROM $120.00 
JUST CUTS'AND   
MORE 
021 165 2629 or (09) 945 0707  
NOW SELLING: scented tealights, incense, smudge sticks, 
copper bracelets, aurora ball crystals, dream catchers, healing 
stones, rose quartz, cds, and much more. Open 6 days. 
Waipu Natural Health 
3 Cove Road, Waipu  (opposite the Pizza Barn) 
Ph: 09 432 1325 
www.waipunaturalhealth.co.nz
Clinical Nutritionist-Hair Analysis for Masked 
Allergies, Ozone Therapy, Prolotherapy, 
Naturopath-Medical Herbalist, Registered 
Massage Therapists, Reflexology-
Craniosacral Therapy, Acupuncture-Facial 
Acupuncture, Kineso Taping, Hypnotherapy, 
Counselling, ThetaHealing.
AFFORDABLE CONSULTS FOR KIDS – give us a call
Gift Vouchers available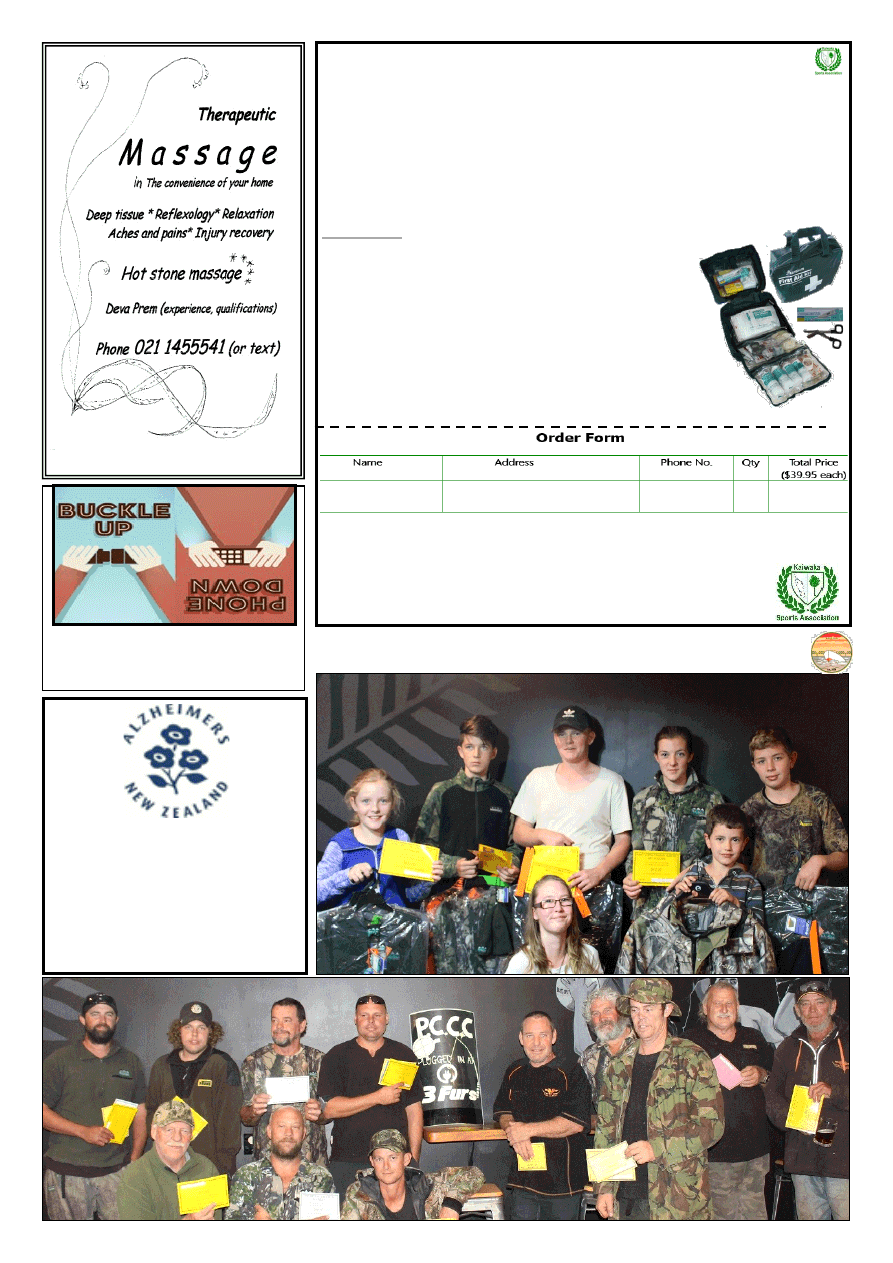 www.kaiwaka.co.nz 
Kaiwaka Bugle - 15 May 2018 
Page 19 
www.mangawhaimassage.co.nz 
FIRST AID KIT 
Fundraising for the Kaiwaka Sports Association 
We are selling a quality first aid kit for $39.95. These first aid kits are excellent value 
for  money  and  similar  kits  often  retail  for  over  $60.  This  is  a  large  carry  kit  with 
transparent  fold-out  compartments  which  contains  77  items  and  follows  OSH  and 
Consumer regulations. 
Everyone  should have  an  updated first aid kit  handy  –  great for  the  home,  farm, 
boat and car.  
To order please return this form with your payment by 18
th
 May. 
Delivery will be the following fortnight.  
Enquiries to Cheryl Anderson on kaiwakasports@gmail.com. 
Kit Contents 
Digital Thermometer, Instant Ice Pack, 2 x Emergency Blankets, 1 x 
CPR Resuscitation mask with valve, 1 x Eye Pad 5.5cm x 7.5cm, 2 x 
Burns Dressings 20cm x 30cm, 2 x Conforming Bandage Rolls 6cm 
x 400cm, 2 x Conforming Bandage Rolls 8cm x 400cm, 20 x Band 
Aid strips 7.5cm x 2cm, 2 x Triangular Bandages 90cm x 90cm x 
127cm, Long adhesive strip 6cm x 20cm, Adhesive Multi-pore Tape 
Roll 13mm x 5m, 3 x Butterfly Adhesive Plasters 7.4cm x 4.5cm, 2 x 
Knuckle Adhesive Plasters 7.5cm x 3.7cm, 4 x Semi-permeable 
Dressings 6cm x 7cm, 3 x Adhesive Island Dressings 6cm x 7cm, 2 x 
Adhesive Island Dressings 6cm x 10cm, Combined/Abdominal 
absorbent pad 23cm x 12.5cm, Scissors 15cm, Tweezers (metal), 4 
pairs large PVC safety gloves, 10 x safety pins, 4 x Soap wipes 20cm 
x 19cm, 4 x Saline Cleansing Wipes 20cm x 19cm, First Aid Guide. 
 
Payment options:   Cash, Cheque (payable to KSA) or Bank direct 060365002247200  
(use reference first aid kit and your full name) 
Ways to return form:     
•
Drop off in folder behind checkout at Jaques Four Square 
•
Scan and email to Cheryl at kaiwakaports@gmail,com 
The Ministry of Transport says driver distraction is a 
factor in around 11 per cent of crashes and accounted 
for 22 deaths and 210 serious injuries in 2016. That 
same year, almost a third of people who died on New 
Zealand roads were not wearing seatbelts.
Pt.CURTIS CRUISING CLUB  
Season Opening Winners - Juniors and Seniors 
Alzheimers Society Northland Inc 
ALZHEIMERS SUPPORT 
GROUP 
Meet on 2nd Wednesday  
of each month 
11am - 12pm at the 
Mangawhai Golf Club Rooms 
Phone 0800 004 001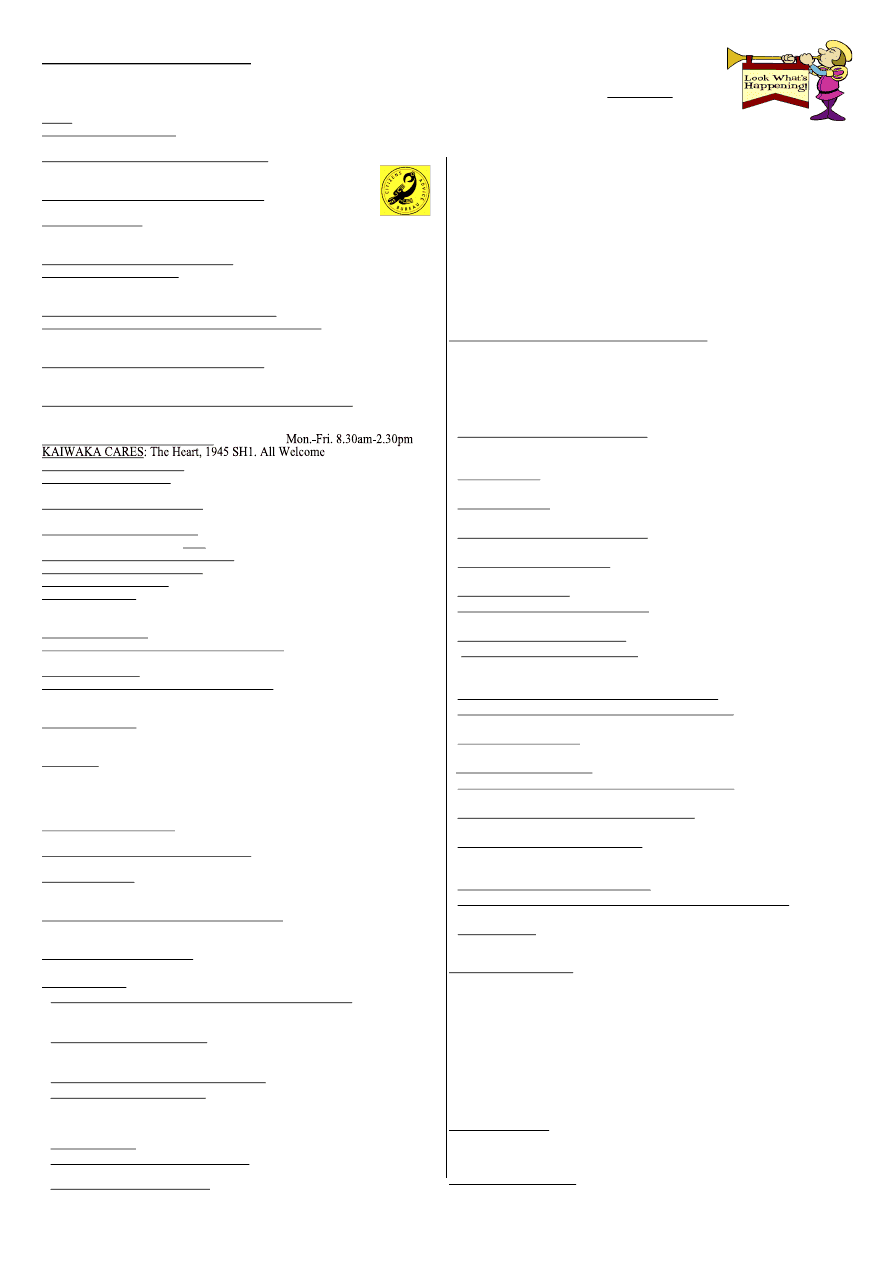 Next Bugle Deadline midday Friday 25 May  2018
WHAT'S ON
PLEASE ~ do let us know what is on - email 
kaiwakabugle@kaiwaka.co.nz 
*16May~ Rugby-Northland v Counties/Manukau, KSA, 6.30pm 
*10May~Cybersafety, Otamatea High School, 6pm 
*18May~'The POST', KWMH, 7.30pm 
*19May~Otamatea Hawks v Wellsford, KSA, 12.30pm 
*19May~Sky Tower Stair Challenge 
*23May~GenerosityNZ, 11am, KWMH 
*24May~Kaiwaka School Lip Sync comp. 6.30pm,KWMH 
*26&27May~Mangawhai Singers, Mangawhai Museum, 7pm 
*27May~'COCO', KWMH, 2pm 
*30May~Scottish Country Dancing, 10am-12pm, KWMH  
*19Jun~Pt.Curtis Cruising Club AGM, 7pm, 3 Furs Bar & Grill 
KWMH = Kaiwaka War Memorial Hall; KSA = Kaiwaka Sports Association 
See www.kaiwaka.co.nz for more information 
HOUSEHOLD RUBBISH COLLECTION  
Kaiwaka Pick up: 
Mondays = Green bags (Northland Waste - 09 430 3273) 
Wednesdays  = Blue bags and yellow recycling (at Jaques $3.00 
and  $1.50)  (Kaurilands  09  4392146);  ONLY  Blue  and  Yellow 
bags picked up on Oneriri Road. 
 DIABETES  Support  Group  -for  Kaiwaka,  Mangawhai, 
Wellsford  10am,  3rd  Friday  of  month  Ph:  Colleen  James  09 
4314238 
 DRINK CAN 'tear tabs' - for Starship Hospital- please collect - 
98 Kaiwaka Mangawhai Rd, leave in mailbox, Ph. 4312625  
 GENEALOGY - Wellsford: 1st Thursday in month Ph: 423 
7033; Waipu: 4th Monday in month Ph: 4312 725 
 GYMNASTICS  OTAMATEA  -  Tuesday  Ph:  Stephanie  022 
3624998 
 HAKARU PONY CLUB - Secretary Denise Rogers 021423376 
secretary@hakaruponyclub.co.nz  
 KAIPARA HUNT - Secretary Albert Doonenbal Ph 4312059 
 KAIPARA YONG FARMERS - K Danks  0211598453, meet on 
last Thursday of the month at Three Furlongs Bar & Grill 
 KAIWAKA BADMINTON -Tuesdays 7.30pm Ph: 4312345 
 
 KAIWAKA DRAMA CLUB - 
Hannah Webb 
0272863352
- KaiwakaDrama@gmail.com Monday 5:30-7:00pm KWMH - FB 
- "KaiwakaDramaClub" 
 KAIWAKA DRUM & DANCE CLASSES - 021 611198 
 KAIWAKA GARDEN & FLORAL GROUP - 2nd Thursday in 
month. Ph: 431 4744 
 KAIWAKA  CUBS  -  Thursdays  5.30-7pm,  Hakaru  Ph:Bruce 
4312542 
*KAIWAKA PILATES - Ph: 021 2072729. 
 KNITTING FOR WHANGAREI HOSPITAL - 2nd Tuesday in 
month, Archie Bull Hall 10am Ph 4314827 
 MANGAWHAI COMBINED REBUS CLUB - 2pm, 3rd 
Thursday month, Senior Citizens Hall Mangawhai. Ph: 4315777 
 OTAMATEA GREY POWER - Kath Pattinson 09 283 2052, 
1pm last Wednesday of month, Anglican Church Hall, 
Maungaturoto 
 PT CURTIS CRUISING CLUB - Jean Ph: 4312227 (wk), 4312520 (hm) 
 RSA,  HAKARU  &  DISTRICTS  WOMEN'S  SECTION  –  meets 
1.30pm 4th Thursday of the month. Ph: 431 5818  
 TRAMPING - Mondays 9am-2:30pm Maria 4312 234 
HALLS FOR HIRE: 
 St.Pauls Archie Bull Hall HIRE $20 half day, $40 full day per 
hire, S McAulay, Ph 4312311 
 Kaiwaka  War  Memorial  Hall  HlRE  -  Phone  4312725  or 
kaiwaka.hall.bookings@gmail.com 
 Hakaru Community Hall HIRE -Ph. 4312256 or 4312110 
 Te Pounga Marae queries - R. O'Leary 4312 423, J.Nathan 021 
186 7382 
 Kaiwaka Sports Association hire/queries - C. Anderson 4312051 
or kaiwakasports@gmail.com 
Justice of Peace:  
B.FJaques  4312  048;  L.Donaldson  4312  228;  A.F.Hargreaves 
4312 045, W.Howard 4312 725 - please phone to make sure they 
are available www.justiceofthepeace.org.nz 
Marriage Celebrants:  
L.Donaldson; A.F.Hargreaves; Y Osborne
LOCAL SERVICES 
*Emergencies - Ambulance, Fire, Police - dial 111 
*Non-urgent Police phone 09 4311150
A A: Meets Wed., 8pm Kaiwaka Ph: 4315543, 0800229 6757 
ASUREQUALITY LTD (was AgriQuality) Call Free 0508 0011 22  
BUDGETING SERVICE, WELLSFORD: Free confidential advice & 
support for all areas of personal finance. Ph (09) 423 7123 
CAB-Citizens Advice Bureau.Wellsford Ph: 4237333 
0800 367 222 email:cab.wells@xtra.co.nz  
CIVIL DEFENCE - Kaiwaka Community Response Group: 
kaiwaka.civildefencecrg@gmail.com, 4312725 Wendy 
DOG/STOCK /NOISE CONTROL 0800 105 890 
FUNERAL SERVICES: Morris & Morris Ltd, 
Whangarei - Bev Jaques Ph:4312367 or 0800667747 
GRANDPARENTS Raising Grandchildren: Dianah Roberts 0223819539 
HAKARU & DISTRICTS MEMORIAL RSA (Inc) 733 Settlement Rd, 
Hakaru. Ph 4312 176 or Graeme Hitchcock (President) 431 3064 
HAKARU LANDFILL/Transfer Station:Open everyday except 
Tuesday10am-4pm.Ph4312629 Cost-$55 trailer load up to 1 cubic metre. 
Ph:4258567 - office 
KAIPARA DISTRICT COUNCIL www.kaipara.govt.nz:  
Help Desk FREEPHONE 0800 727 059  
KAIWAKA KOHANGA REO: Ph:4312620 
KAIWAKA CEMETERY: Ph: 4312045 or 4314017 
KAIWAKA LIBRARY: kaiwaka.library@gmail.com  
Mon. 4-6pm; Wed., Thurs., Fri., Sat. 10am-2pm Ph:4312539 
KAIWAKA PLAYCENTRE: Ph Juanita 0274134904; open Mon, Wed, 
Fri 9am-12pm. Hastie Lane; Monday to Friday 9.00am - 12 noon. 
KAIWAKA POST OFFICE:Ph:4312 431  
Post Code: 0573 for RD2 and 0542 for all Kaiwaka Post Office mail 
KAIWAKA PRIMARY SCHOOL: Ph: 4312309   
KAIWAKA SPORTS ASSN: Ph 4312005; 4312129 gym 
KAIWAKA ST JOHN: Manager Steve Rosser 09 4318403, 021 355734 
KATE'S PLACE Community Centre - Employment services, Free Health 
Nurse, Plunket, Advocacy, Osteopath, A.A., Legal Advice. 4312 661 
LINKING HANDS Health Shuttle Ph 4315906 or 09 4318969 
MINISTRY FOR PRIMARY INDUSTRIES - General inquiries Call 
Free 0800 008 333 
NORTHPOWER: Faults Kaiwaka area 0800 104040 
OTAMATEA COMMUNITY SERVICES: Counselling, parent coach, 
Family Support worker, budget advice, food bank. Mon-Fri 9am-3pm. Ph 
09 431 9080 http://www.otamateacs.org/ 
PARENTPORT: Free, practical family support service Puhoi to Paparoa 
Ph or txt: Dianne 027 280 5093 or 09 425 9357 
PLUNKET:  Kaiwaka  -Kate's  Place  Clinic  1st  Wednesday  of  the  month; 
Mangawhai  - Rose Madsen Cottage: Coffee Group 9:30 every Monday.  Clinic 
every Monday and Thursday. 
Maungaturoto - Good News Church, Clinic 2nd and 4th Wednesday.  
Cynthia 09 431 7340 or 027 675 3488 
PLUNKET HELPLINE -0800 933 922 (24 hours) 
TAITOKERAU COMMUNITY LAW: Free confidential legal advice and 
assistance, 2nd
Thursday
 of each month. Ph: 0800 155 529 for apps.  
TE URI O HAU Settlement Trust Tangata Developments: Whanau Ora 
021 793262  
VETERINARY SERVICE MANGAWHAI: 
Ph: 4314535 Mon-Fri 8.00-5.00, Sat 9-12, a/h appt. 
WELLSFORD DOCTORS: Ph: 4238 086 
CHURCHES:
 
Kaiwaka  Revival  Church  -  Your  Community  Church:  Sundays  10am. 
Ph: Pastor Tawhiri 09 431 8988 or Pastor Paul 09 4312 068 Visit us at 
www.facebook.com/kaiwakachurch or www.kaiwakarevival.co.nz 
 
St  Paul's  Anglican  Church  1st  Sun.  9.00am  (Eucharist),  3rd  Sun. 
9.00am (Family Service). Contact: Rev. Wayne Thornton Ph 431 4122 
www.mangawhaianglican.org.nz 
 
Church of Christ the King, Mangawhai:9.30am every Sunday 
 
St.Mary's  Catholic  Church:  Maungaturoto  –  Griffins  Road,  Saturday 
evening  Vigil  Mass  6pm;  Mangawhai  –  Senior  Citizens  Hall,  Sunday 
Mass  8:30am;  Wellsford  –  Matheson  Road,  Sunday  Mass  10:30am;  
Mid-week Mass times and all enquires to Fr. Bill Fletcher – phone 423 8170
 
Baptist Church: Sun. 10.30am Mangawhai Snr Cit.Hall.Ph:4312339 
 
Cause  Way  Church  Mangawhai:  Sundays  10.15am,  Mangawhai 
Community  Recreation  Centre,  Insley  St.  Ph:  09  4314782