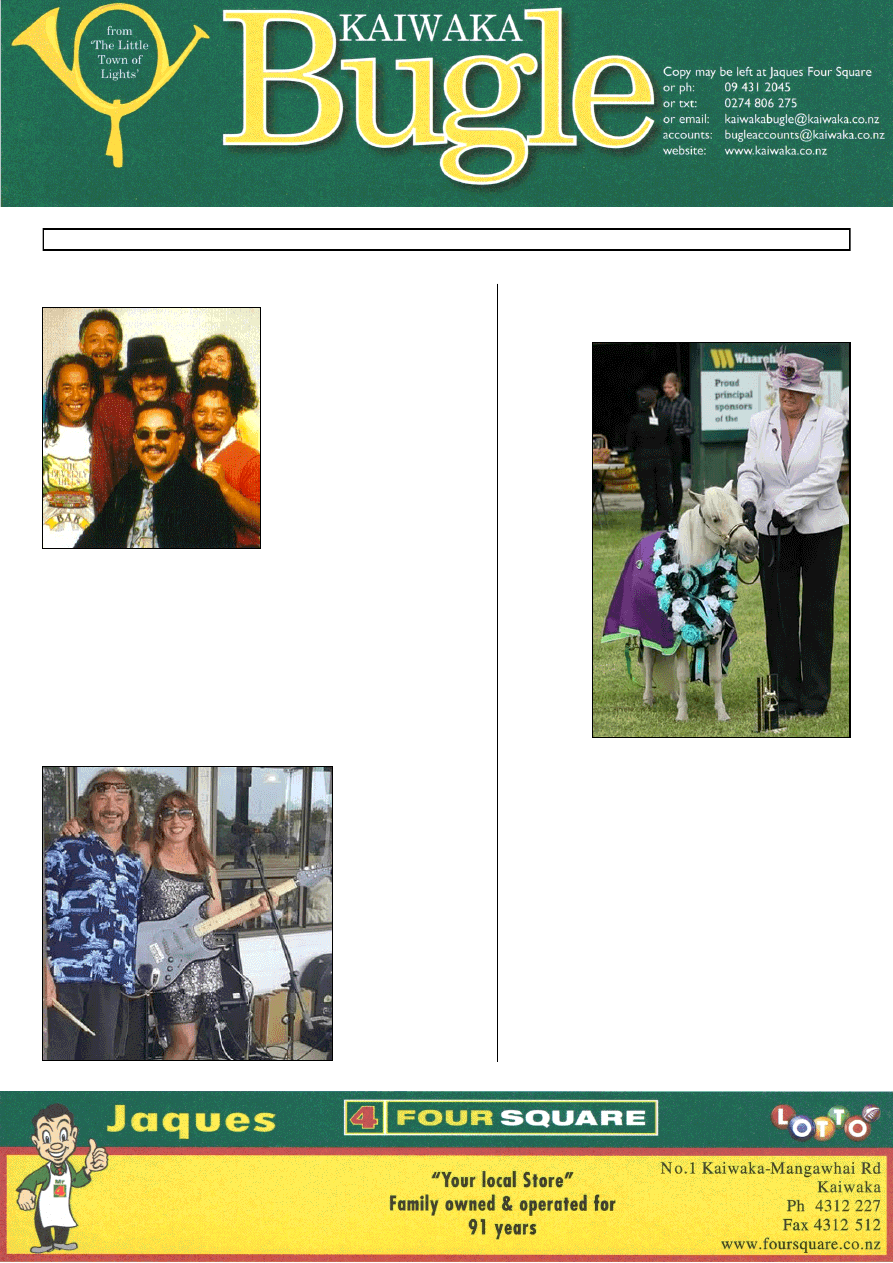 www.kaiwaka.co.nz 
Kaiwaka Bugle - 29 May 2018 
Page 1 
No: 10 
 29 May 2018 
Trading Hours: 
Monday to Friday 8:00am - 6:30pm 
Saturday 8:00am - 7:00pm 
Sunday 9:00am - 6:00pm  
 …. continued on page 17 
HERBS to HAPPY FISH! 
Miniature Horses and Lee Renton 
- Lee 
shows  miniature  horses.  From  Lee:  "I  have  a  team 
of  4  which 
will  become 
6 
this 
season! 
From 
October  till 
late  March 
my 
horses 
become  my 
life.  Nearly 
every 
weekend 
I 
am  showing 
either  at  a 
NZMHA, 
A&P  or  an 
AIM show. I 
travel  as  far 
as 
Whangarei 
in  the  North 
and 
Cambridge 
in 
the 
Waikato 
South. 
There  are  a  number  of  classes  we  can  enter 
including  BP  -  Best  Presented,  which  is  judged  on 
both  Horse  and  Handler  and  obviously  on 
presentation of each – this includes: 
Conformation - how well your horse is put together; 
Colour  -  there  are  quite  a  range  of  colours.  Solid 
colours  like  black,  chestnut,  Pintos,  Dilutes, 
Appaloosa;  Head  -  how  in  proportion  the  head  is 
(being little and cute helps  - lol); Movement  - how 
well they move; Also, Showmanship- how well the 
Handler  and  Horse  combine;  Jumping  -  where  the 
horse  jumps  over  a  number  of  jumps;  Trail-  where 
the  horse  negotiates  a  number  of  obstacles  and 
challenges. 
I started out with getting a Miniature Horse for my 
granddaughters  to  brush  etc.,  as  my  full  height 
horses were just too big!!  
Hearts, an older bomb-proof mare came to live with 
us  -  and  is  still  here,  enjoying  her  retirement  at 
23years. I then decided to purchase one to show, and 
along came Ice, a 2year old black mare, who is now 
Kaiwaka 
music 
legend  Gordon  Joll 
- 
While  many  will  know  Gordon 
as  the  legendary  drummer  in 
Kiwi  reggae  band  Herbs,  what 
they  might  not  know  about 
Gordon  is  his  music  career 
started  many  moons  ago  in  a 
band called Tramp.   
Tramp  were  a  band  of  six  Kiwi 
blokes  who  formed  back  in  the 
'70s,  and  after  46  years  Jetstar 
has  brought  the  band  back 
together!  
Tramp's  story  started  on  air,  on 
TVNZ's  talent  show  Studio  One 
New  Faces.  The  crew  –  Gordon,  Tony  King,  brothers  Mark  and 
Paul Town-Treweek, Rodney McCauley and Paul Nickless – gave it 
their all, but despite their best efforts came in second place
, 
 with 
the  late  Phil  Warren,  who  was  on  the  judging  panel  at  the  time, 
criticising  the  band  for  having  "too  many  guitars".  While  Gordon 
went on to find fame, the band joke that to this day, that very line 
still haunts them
 . 
From  Gordon:  "
I  moved  to  Kaiwaka  in  October  2014  when  I 
moved here to be with my wife Sue who has lived here since 2005.
Yes,  I  have  played  a  few  Sweetwaters  concerts,  one  year  with 
HERBS  -  pictured  above,  Hello  Sailor  and  Pat  Green  from  the 
USA. 
The Tramp story came out of the blue, when Tony King submitted a 
photo  for  a  Jetstar 
promo;  refer  to  story 
on  my  facebook  page 
or 
I  have  been  actively 
involved  in  the  New 
Zealand music industry 
all  my  life  having 
played  with  HERBS, 
Joe 
Walsh, 
Hello 
Sailor, 
Hammond 
Gamble,  Prince  Tui 
Teka,  Billy  T  James, 
Tom Sharplin, to name 
a few. 
I  have  just  recently 
finished a national tour 
with  Rick  Wills  from 
KAIWAKA'S GOT TALENT 
A HORSE or TWO! 
 …. continued on page 9 
Pictured:  Herbs  above;  Gordon 
& Sue - Happy Fish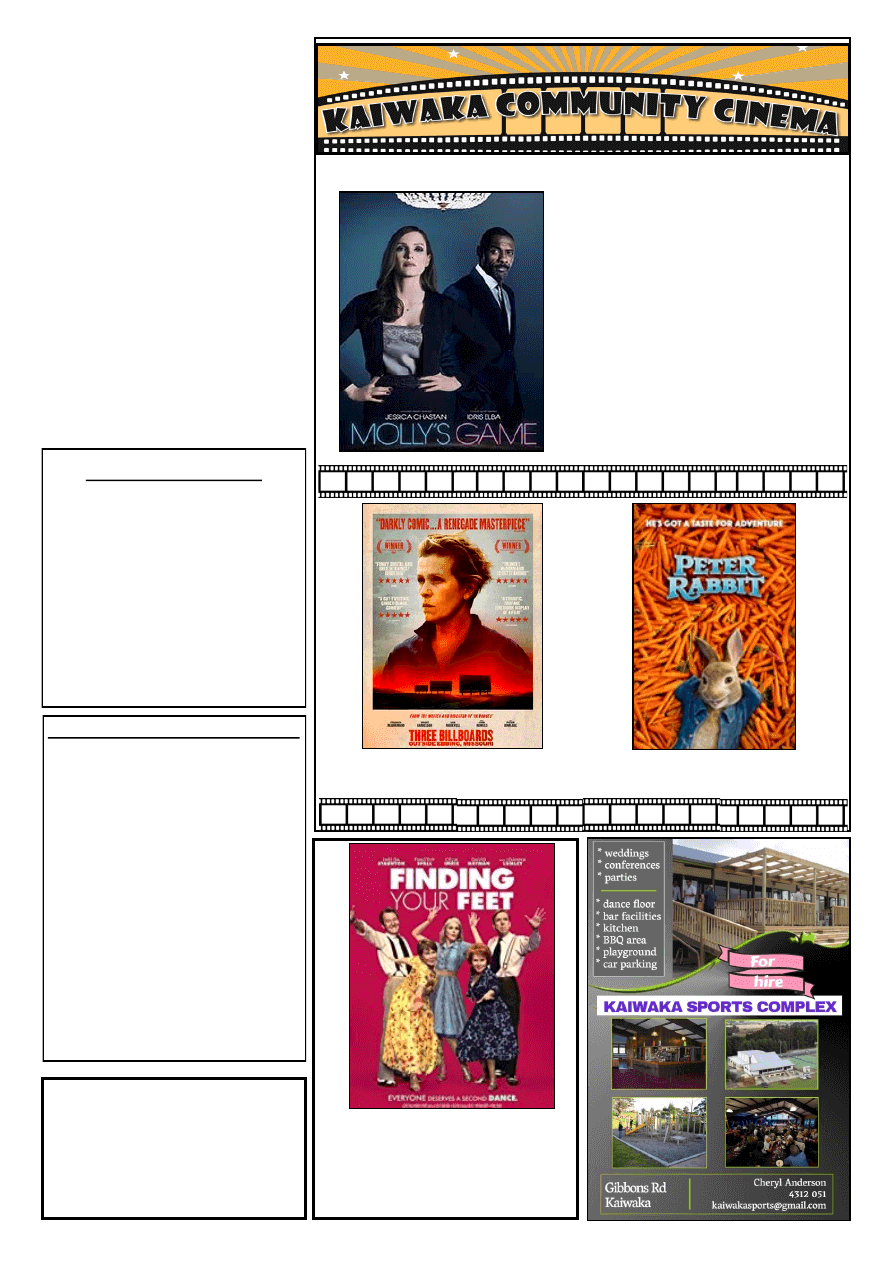 At Kaiwaka War Memorial Hall . Adults $10, Kids (under 16) $5, Family Pass (2 adults + 3 children) $25 
KAIWAKA BUGLE No. 10 
29 MAY 2018 
CONTENTS 
Page 3: Public Notices, Classified 
Page 5: KDC; Councillor's Comment; 
Northland Road Safety 
Page 7: Pt.CCC; Thelma's Scrapbook; 
Linking Hands; Kaiwaka Spotted! 
Page 9:  ORT; Gordon Joll 
Page 11: Mangawhai Artists  
Page 13: Kaiwaka Sports Assn. 
Page 15: Riverview; Kaiwaka School 
Page 16: Maura Flower 
Page 17: Rotary; Le Renton  
Page 19: Kauri Museum; Old Friends 
Bugle 11 will appear 12 June 
Contact for advertising, reports, articles 
or information can be made by 
Email kaiwakabugle@kaiwaka.co.nz 
Ph: 09 4312 045 Lindsey 
Txt: 027 2724137 
Copy  may  be  left  at  Jaques'  Four 
Square. 
Kaiwaka Bugle 
Founded May 1978 
We appreciate articles and photos about local 
events, etc, as well as ads and suggestions. 
Copies available in Kaiwaka at Jaques Four 
Square, Kaiwaka Postal Centre, Shamrock 
Service Station, Animal Health Centre, 
Kaiwaka St John shop. 
Also outlets in Maungaturoto, 
Mangawhai and Paparoa. 
Can be viewed online at   
www.kaiwaka.co.nz/Bugle  
Or a copy can be posted to you if you supply 
stamped, self-addressed DLE envelopes. 
Three Billboards Outside Ebbing 
Friday 15 June, 7.30pm (R16) 
PETER RABBIT 
Sunday 24 June 2pm (PG) 
Proverbs 27:4    
Jealousy  is  more  dangerous 
and cruel than anger.
Kaiwaka Bugle Advertisements 2017: 
All 
copy 
and 
queries 
to: 
kaiwakabugle@kaiwaka.co.nz 
The Bugle is printed on an A4 page   
Ad  sizes:  1/16  page  (3  x  9.5cm)  $5;  1/8 
(6.5  x  9.5cm  landscape  or  portrait)  $8; 
3/16 ( 10 x 9.5cm or 7.5 x 12,5)  $12.  
Classified  ads:  First  one  FREE,  $4  per 
entry (max. 30 words, max. 4 repeats). 
Payments  can  be  made  online  at 
ANZ 
06  0365  0006990  00
,  posted  or  left  at 
Jaques Four Square Store. 
We  use  Microsoft  Publisher,  and  can 
work  with  most  common  image 
formats, Word, Excel, and PDF files. 
Accounts:  
Email: bugleaccounts@kaiwaka.co.nz 
The  Kaiwaka  Bugle  is  a  community 
newspaper run by volunteers.   
Articles, etc. printed are not necessarily 
the opinion of the Bugle Team. 
MOLLY'S GAME 
(R13)
Friday 1 June, 7.30pm 
'MOLLY'S GAME is based on the true story 
of Molly Bloom, an Olympic-class skier who 
ran  the  world's  most  exclusive  high-stakes 
poker  game  for  a  decade  before  being 
arrested in the middle of the night by 17 FBI 
agents wielding automatic weapons.  
Her  players  included  Hollywood  royalty, 
sports  stars,  business  titans  and  finally, 
unbeknownst  to  her,  the  Russian  mob.  Her 
only  ally  was  her  criminal  defence  lawyer 
Charlie  Jaffey,  who  learned  that  there  was 
much more to Molly than the tabloids led us 
to believe.' 
Starring  Jessica  Chastain  and  Idris  Elba; 
writer-director Aaron Sorkin. 
FINDING YOUR FEET 
Friday 29 June,  6pm (M) 
Movie & Dinner Night $30 
Ticket Entrance Only 
Call 021 2154495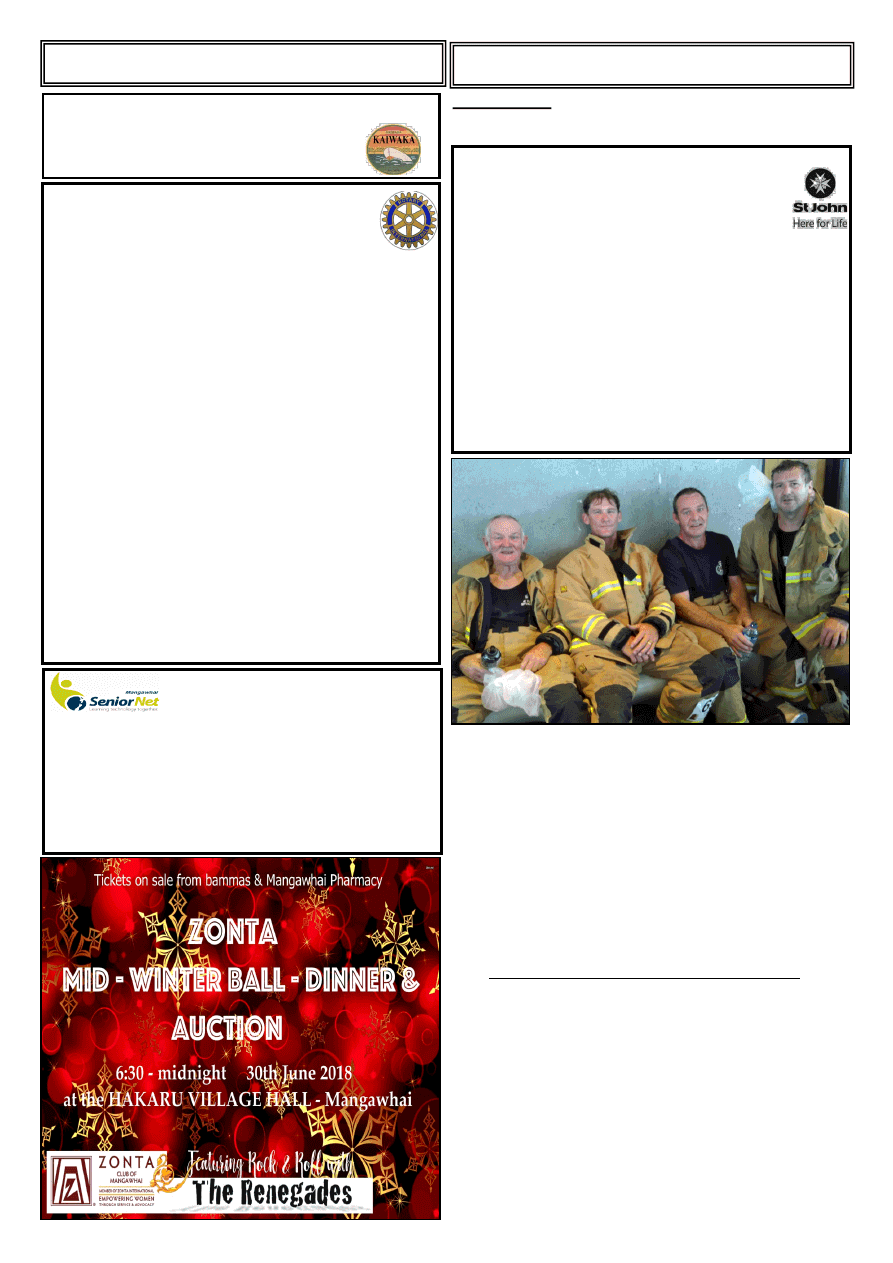 www.kaiwaka.co.nz 
Kaiwaka Bugle - 29 May 2018 
Page 3 
ABOUT TOWN ... 

 What brilliant folk we have in our community  - special 
thanks to Gordon Joll, Lee Renton and Maura Flower. 

A big WELL DONE to our mighty firemen!

Our  condolences  to  the  families  of  Adrian  Reddy  and 
Colin Birkenhead, who passed away recently.

The Zonta Club of Mangawhai are once again hosting a 
midwinter ball & auction - Saturday 30 June, Hakaru Hall. 

Check  the  Bugle  online  at  www.kaiwaka.co.nz  -  the 
photographs and the advertisements look great in colour! 
~ Lindsey, Ed 
"Wherever life plants you, bloom with grace" . – Anon 
PUBLIC NOTICES 
CLASSIFIED 
 FOR  SALE:  For  Sale:  Piano,  in  excellent  condition. 
Has  lovely  tone.    $100.  Located  in  Kaiwaka.  Ph  021 
243 0372. 
WELL DONE KAIWAKA 781  
The  Kaiwaka  781  Team  from  Kaiwaka  Volunteer  Fire 
Brigade would like to thank all those people that helped us 
raise over $2500 for the "Leukaemia & Blood Cancer New 
Zealand (LBC)" charity. 
Thank you very much, it is much appreciated!!! 
Kraig Steiner (Team Captain), Mike Law, Tim Brown and 
Keith  Mills  completed  the  51  flights  of  stairs  on  the 
19
th
 May - Kraig Steiner recorded a great time of just over 
15 minutes. 
Mike  Law  says  he  has  now  retired  or  just  tired  from  the 
event and will help us with support next year, great effort.  
The  Fire  and  Emergency  New  Zealand  help  raised  over 
$1,250,000 for "Leukaemia & Blood Cancer New Zealand 
(LBC)" charity. 
KAIWAKA ST. JOHN OP SHOP 
We have lots of goodies for sale
.... 
1x Single mattress 
1x small recliner chair 
1x beautiful arm chair and side board ...both in 
very good condition 
1x small round table without chairs...ideal for small 
kitchen, in very good condition 
1x Cane Babies Bassinette ...needs a repaint 
Lots of 50c – $1.00 items 
Lots of good winter clothes -  Babies, Toddlers and Teens 
all 50c - $2.00 
We are wanting 
3x Volunteers able to work on either Mondays, 
Wednesdays or Fridays. 
Also.... Towels, Blankets, Cooking Pots, Plants, and 
anything else in good saleable condition. 
 ~ Thanks so much, Milly  and Staff 
Phone 09-4312650 after 9.00 am.
HELP CLINIC 
SENIORNET WELLSFORD 
Need a little help with your computer, laptop, ipad, tablet? 
Come to our Help session.  Ask questions, solve 
problems, compare notes with others. 
$10 members $15 non-members 
Wednesday 30th May - 10.30am (2 hours) 
The Club (Bowls Club), Molesworth Drive, Mangawhai Heads 
Ph: Tony 4312269 or Val 4314042 
Or email seniornet,mangawhai@gmail.com  
POINT CURTIS CRUISING CLUB INC 
Annual General Meeting 
Tuesday 19
th
 June 2018 7pm 
3Furlongs Bar & Grill 
Fund Raising Auction
Saturday 2nd June 
Maungaturoto Centennial Hall 
The Maungaturoto and Districts Rotary Club in 
conjunction with the Den 
With all proceeds going to the Dementia Unit Funds 
Viewing 10 am Auction starts 11 am    
Eft Pos will be available 
We  are  currently  gathering  good  saleable  items  of 
furniture and  goods. All items  will be picked up by 
Friday  1st  June.  We  prefer  to  have  everything  on 
hand  before  the  day.  We  do  not  want  any  dirty  or 
broken items as they cost money to dispose of. 
Some of the interesting items already on hand so far 
are  a  stove  with  4  elements,  a  small  oven  and  a 
dishwasher  underneath.  A  fold-away  Murphy  bed; 
several good wall units, tables and chairs including a 
glass  one,  chests  of  drawers,  coffee  tables,  lounge 
suites,  Laz  Y  Boy  chairs,  sofas,  fridge,  dressing 
tables and beds, bedroom suite; plenty of good Bric a 
Brac, old hand tools, wood lathe and other tools. 
If you have items to donate contact Albie Paton Ph: 
4318148  or  0274949448,  Alex  Tetzner  or  Keith 
Shadbolt or any other Rotary member and they  will 
arrange pick up. 
Community  Trust  members  will  be  available  to 
answer questions about the Dementia Unit and other 
planned extensions.  
Below: Mike law, Kraig Steiner, Keith Mills,  
Tim Brown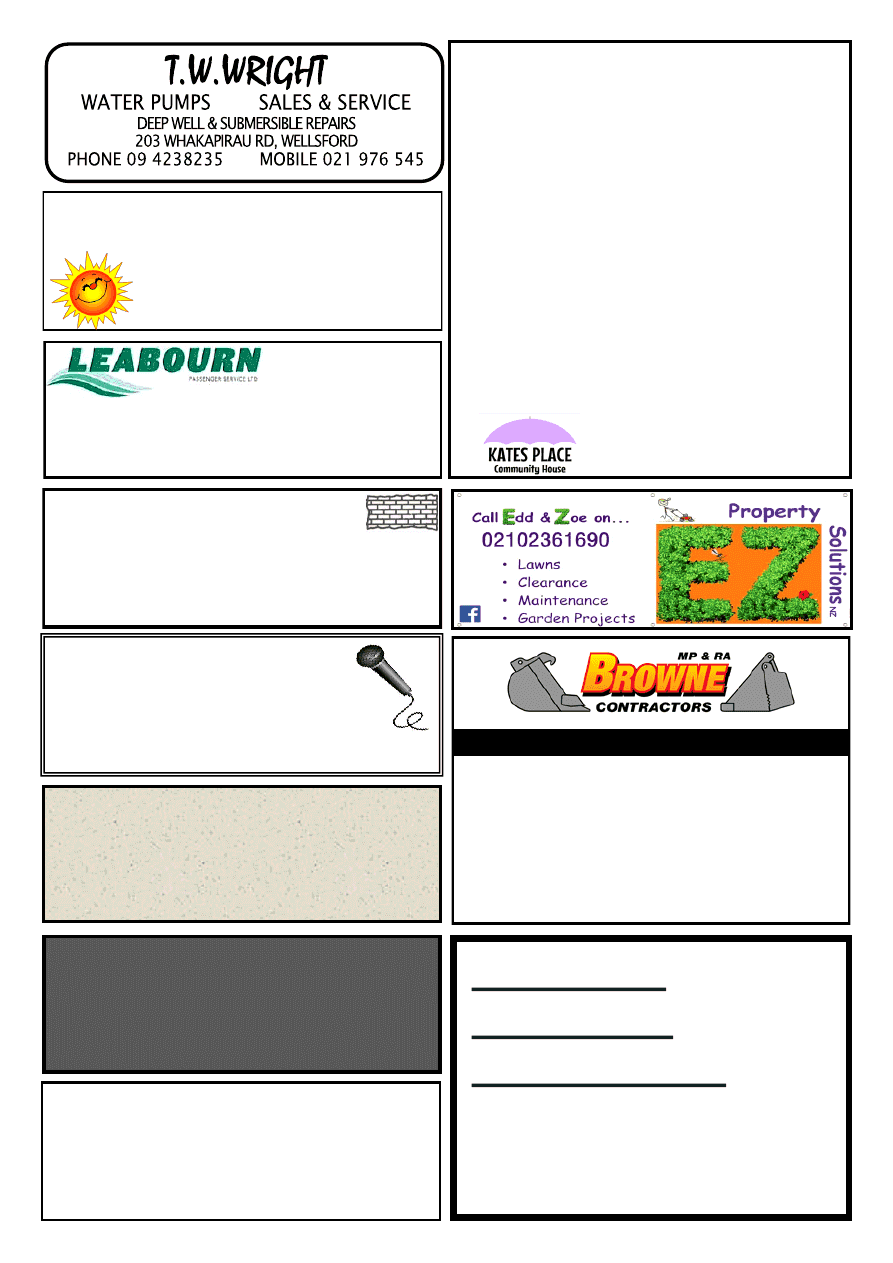 4T DIGGER – BOBCAT – TIP TRUCK 
Property Maintenance - Driveways  
 Building Sites 
Stump & Tree Re-
moval  
Hole Boring - 
Chain Trencher  
Calf Shed and Stockyard Cleaning 
Phone Matt: 021 199 6677 
Email: mprabrownecontractors@gmail.com 
BRICK/BLOCKLAYER 
All aspects of masonry: 
Fireplaces, Restoration & Remedial Work.
JAMES EAGLETON
Tel. (09) 431 2514     Mob. 0274 749 232
jajueagles@yahoo.com.au 210A Pukenui Road, RD2, Kaiwaka 0573 
THE SUNSHINE GIRLS
Efficient and reliable help with 
your housework. 
Ph 4312 532 
Counsellor and Registered Psychotherapist 
Offers Supervision
Susan Matheson 
MNZAC 
Dip. Psychosynthesis Counselling and Psychotherapy 
Phone 09 431 2996                        Mobile 027 605 2427 
MARRIAGE CELEBRANT 
WEDDING EVENTS PLANNER 
Yvonne Osborne 
Ph 0274 989 814 
yvonne.osborne@xtra.co.nz 
Passenger Service
Car & Van Hire   Bus & Coach Charters 
Airport Transfers    
Phone (09) 4237416 
SING RIGHT 
Professional coaching for performance,  
recording and demos. 
All level singers, musicians, singer-songwriters. 
Phone Robyn Hill 431 9159 or 022 1238126 
Michael Hogan 
Licensed Builder 
Quality new homes, renovations, and additions 
Phone: 027 974 1045 
Email: michaelhoganbuilder@gmail.com 
Website: michaelhoganbuilder.com 
 FINANCE 
 FUNDING 
 SOLUTIONS 
T - 0275 989814 
E
 - osborneassociates@xtra.co.nz 
REGISTERED INDEPENDENT FINANCE BROKER 
WEEKLY TRIP EVERY 
THURSDAY 
- MAUNGATUROTO -  KAIWAKA -  
- WELLSFORD - WARKWORTH - 
(and back) 
For anyone & everyone, save money, save gas, be social, go 
shopping, visit the doctor, get to the library, got to the 
dentist, meet your friends, have lunch, get to WINZ. 
Kate's Place Community House & OCS have teamed up to 
provide a van service that will travel from Maungaturoto 
to Warkworth every Thursday. 
TIMETABLE: 

9.30am: 
Maungaturoto. OCS 155 Hurndall St. 

10am: 
Kaiwaka, Kate's Place Community House, 1960 SH 1 

10.20am: 
Wellsford, Te Ha Oranga, 158 Rodney St. 

10.45am 
Warkworth Centre 

1.30pm 
Depart Warkworth 

2.30pm 
Arrive Maungaturoto 
Conditions: No eating or drinking in the van. Children under 14 
must be accompanies by an adult. Must book a space in advance. 
$5 per adult  
Book on 09 4312661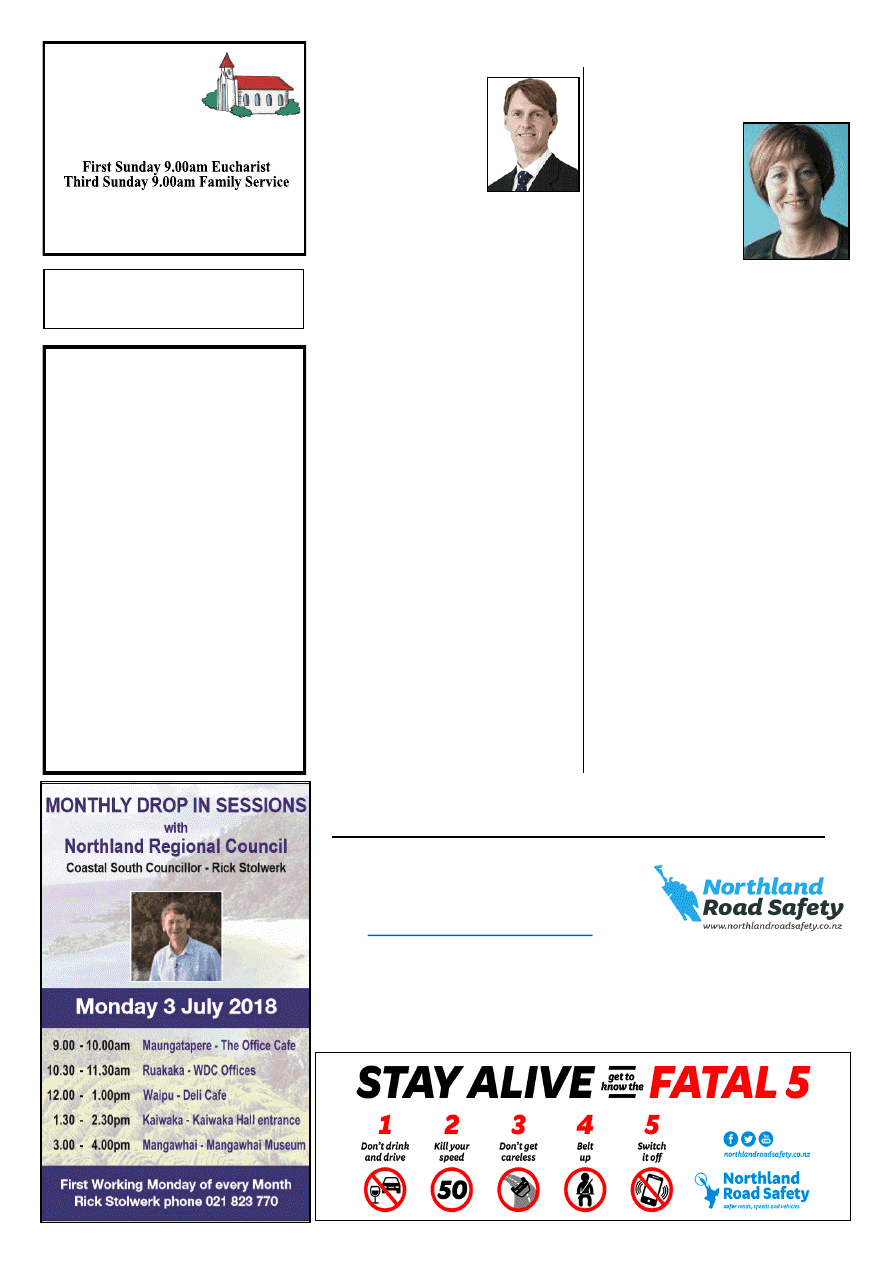 www.kaiwaka.co.nz 
Kaiwaka Bugle - 29 May 2018 
Page 5 
Willow Bend
HORSE  
HOTEL 
  
Total Horse Care 
 
Agistment 
 
Riding Lessons 
 
Arena Hire (60x40) 
 
Young Horse Starting 
 
Re-training/Exercising 
 
Hoof Trimming 
 
Problem Solving 
Phone Sue 09 431 2817 
or 021 623 776 
Or email  
susanjoll11@gmail.com 
ST PAUL'S  
ANGLICAN  
SUNDAY  
SERVICES
St Pauls Church: Kaiwaka-Mangawhai Rd. 
Rev. Wayne Thornton Ph 431 4122 
www.mangawhaianglican.org.nz
Proverbs 27: 4 
Ko atu mōrearea, 
me te nanakia atu i te riri hae .
CHECK-OUT 
NORTHLAND ROAD 
SAFETY WEBSITE  
The  Northland  Road  Safety  website  has  been  developed  by  the  Northland 
Regional Council Transport Projects Team to promote Northland's road safety 
issues and partners. Northland's strength is in working together to communicate 
and share responsibility for issues and problem solving. Results are gained from 
a  long-term  view  and  a  consistent,  evidence-based  approach  that  gradually 
builds people's awareness, behaviour change along with effective interventions 
developing into lasting safety outcomes.
COUNCIL 
APPOINTS NEW 
CHIEF EXECUTIVE 
Mayor  of  Kaipara, 
Dr.  Jason  Smith  is 
delighted  to  be  able 
to 
announce 
the 
appointment 
of 
Louise 
Miller 
as 
Kaipara 
District 
Council's  new  Chief 
Executive.  "This  is 
the  culmination  of  a  rigorous 
recruitment  process  started  late  last 
year and the Council was unanimous in 
appointing  Louise  at  its  extraordinary 
meeting  held  in  Maungaturoto  on 
Tuesday  15  May  2018"  said  Mayor 
Smith. 
Louise  comes  to  Kaipara  from 
Tauranga  City  Council  where  she  is 
currently a General Manager and 
Corporate Director. She has previously 
held  positions  at  Tauranga  as  General 
Manager Community Services and as a 
Programme  Director.  As  part  of  the 
due  diligence  in  the  recruitment 
process  Louise  along  with  Mayor 
Smith, met with key Iwi leaders across 
the Kaipara. 
Council has also appointed Curt Martin 
–  currently  Chief  Operating  Officer 
and General Manager 
Infrastructure  at  Kaipara  District 
Council  -  to  the  role  of  Interim  Chief 
Executive  until  Louise  is  able  to  take 
up  her  new  post,  currently  scheduled 
for September of this year. 
"This is an exciting time for Kaipara as 
these  appointments  enable  us  to 
continue  to  build  on  the  substantial 
progress  that  has  been  made  since  the 
return  to  a  democratically  elected 
council  over  18  months  ago."  Said 
Mayor  Smith.  "I  look  forward  to 
working  with  Louise  and  the  Council 
to  keep  Kaipara  moving  forward  into 
the future." 
COUNCILLOR'S 
COMMENT* 
with 
Otamatea 
Ward 
Councillor 
Jonathan Larsen. 
The  sealing  of  1.2 
kilometres of Settlement 
Road is nearly complete 
with minor ancillary works (line 
marking  and  guardrail)  expected  to  be 
completed by the end of May.  
Crack  sealing  repairs  on  Kaiwaka-
Mangawhai  Road  are  also  due  to 
commence, along with footpath repairs 
on Marshall Road. 
The  draft  Long  Term  Plan  (Council's 
ten-year  budget)  was  adopted  in 
principle  at  this  month's  Council 
meeting. This will come back for final 
adoption at the June meeting. All going 
to  plan  this  will  include  the  Kaiwaka 
pedestrian bridge and footpath project. 
The  reserve  contribution  policy  that  I 
have been working on for the past year 
was also finally adopted at the meeting. 
This  means  that  there  will  now  be  a 
fund  catchment  area  specifically  for 
Kaiwaka and surrounds.  
I'd  be  keen  to  hear  your  thoughts  on 
what  the  Kaiwaka  area  (including 
Oruawharo, Oneriri and Hakaru) needs 
in  the  way  of  new  reserve  land 
acquisitions  and  upgraded  and  new 
recreational  facilities  on  existing 
reserves.  A  contestable  application 
round  for  this  fund  will  be  advertised 
in  July  to  allow  community  groups  to 
pitch their ideas. 
If you have any community projects or 
issues  that  you  would  like  assistance 
with, I can be contacted on Ph. 021 185 
8389  or  Cr.Larsen@kaipara.govt.nz. 
My  'The  WorkBoot  Councillor' 
Facebook  page  is  also,  now  up  and 
running. 
*The  views  expressed  are  those  of  the 
writer and do not necessarily represent 
the consensus position of Council.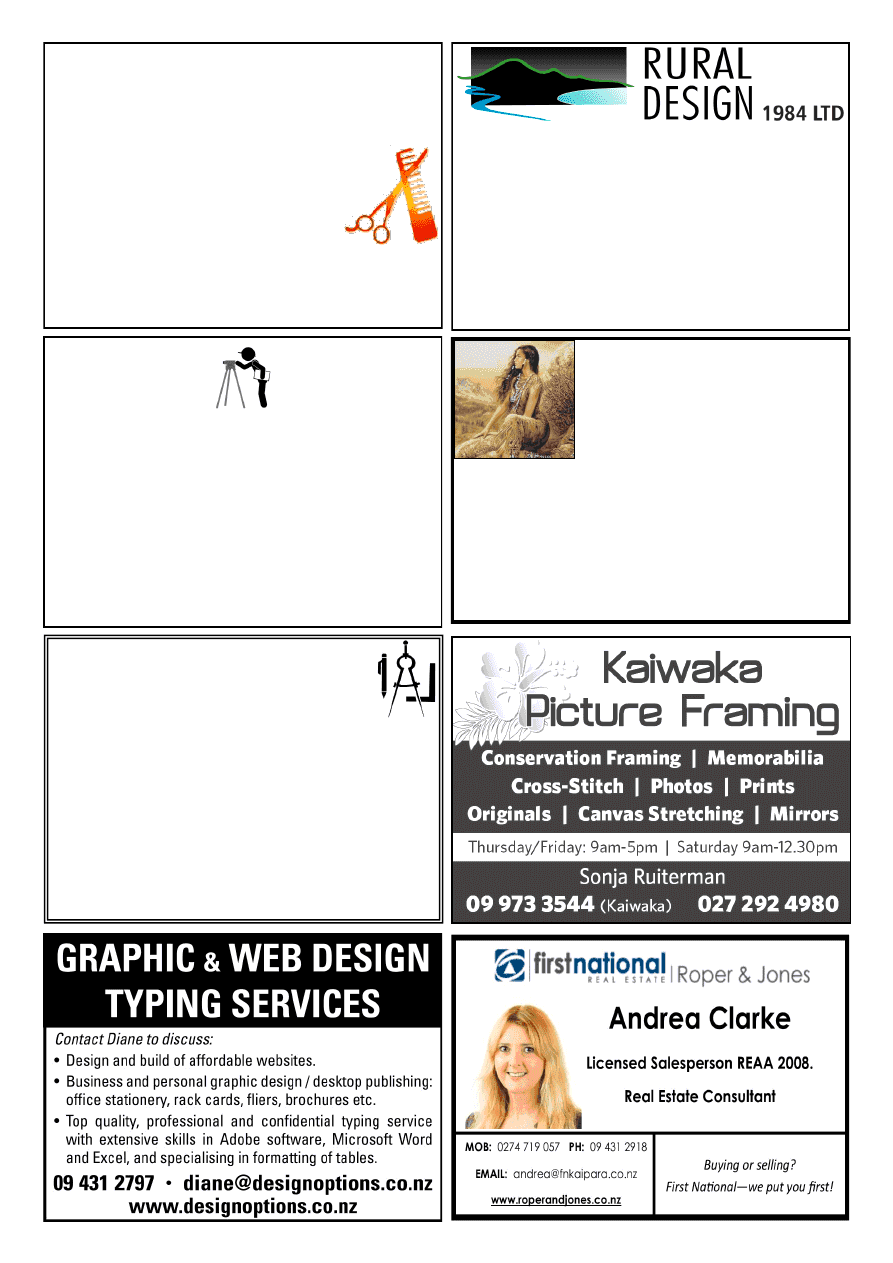 design drafting  
service 
Retired builder and manufacturer with over 40 years  
experience in the building industry is offering a design 
drafting service  
for domestic housing, sleepouts and sheds.  
Plans formulated in consultation with clients, with 
working drawings completed and submitted to  
council for processing.  Extensive practical experience,  
able to identify & resolve problems. 
Please ring Mike Lean on 
09 431 2260 
or 
021 431 196 
Ken Urquhart 
BSurv Licensed Cadastral Surveyor 
KMU Surveys Ltd
467 Bickerstaffe Road 
RD 2 
Maungaturoto 0587 
Ph 09 431 8705 
Mob 021 161 2344 
kenurquhart@xtra.co.nz 
WHOLESALE NATIVE PLANT NURSERY 
AND LANDSCAPING 
By Appointment 
Small and Large orders welcome 
Phone: 09 431 2481 
Email: info@ruraldesign.co.nz 
AFFORDABLE PRICES! 
MENS CUT FROM $20.00 
LADIES CUT FROM $30.00 
KIDS CUT FROM $18.00 
COLOUR & CUT FROM $120.00 
JUST CUTS'AND   
MORE 
021 165 2629 or (09) 945 0707  
NOW SELLING: scented tealights, incense, smudge sticks, 
copper bracelets, aurora ball crystals, dream catchers, healing 
stones, rose quartz, cds, and much more. Open 6 days. 
Trails end 
spiritualist gathering 
Last Sunday of every month  
10.30-2pm  
Tea/coffee provided  $5 koha 
For all inquiries: 
021 165 2629 evenings (09) 945 0707 
Trail.end@hotmail.com 
1758 Cove Road, Mangawhai
Bringing together light minded people 
Guest speaker each month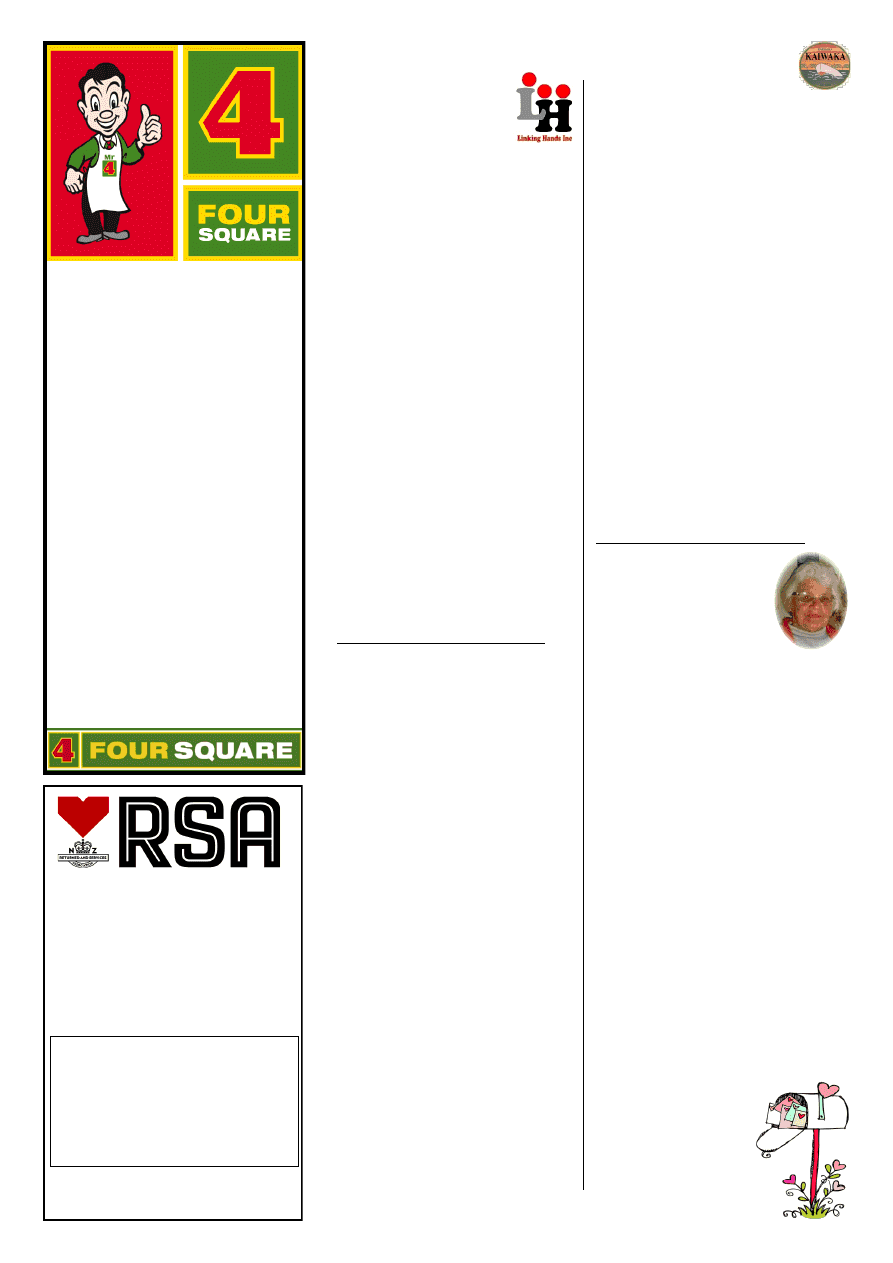 www.kaiwaka.co.nz 
Kaiwaka Bugle - 29 May 2018 
Page 7 
HAKARU & DISTRICTS 
MEMORIAL RSA (INC)
Members & guests are invited to 
come along and enjoy our 
hospitality. 
New members welcome. 
Meals are served on 
Thursday and Friday nights 
from 6.30pm. 
Last Friday of the month is  
'Roast Pork Night' and a sing-a-long  
with Des Chitty. 
For more information please phone 
Marlene on 431 5589 
Refills Swap a 
bottle 
30L original size 
60L NEW IN STORE 
Larger size now 
available 
9KG gas bottle swap 
or purchase gas & 
bottle 
RUG DOCTOR HIRE  
Cleaning & stain 
products 
Talk to our Friendly staff 
Jaques Four Square 
Phone: 4312227 
1 Kaiwaka-Mangawhai Road, Kaiwaka. 
POINT CURTIS 
CRUISING 
CLUB  

1
st
 June: Subs are Due $30 Family (2 
Adults 2 juniors aged under 15yrs) $20 
Single 

3
rd
 June: Pool Competition North Vs 
South. Held at The 3Furs Bar & Grill, 
Everyone welcome to come along. 

19th  June:  AGM  at  the    3 
Furlongs  Bar  &  Grill  at  7pm. 
Club monthly meeting will follow 
AGM. All welcome. 

30
th
  June:  Pool Competition against 
Mangawhai  Club.  Held  at  The  3Furs 
Bar & Grill. Come and join in. 

30
th
  June  and  1
st
  July:  End  of 
Season Duck Shoot. Tickets $20 Adult 
$10  Juniors  (aged  under  15yrs).  Club 
Members only. 
Tickets can be purchased at 3Furs Bar 
&  Grill,  Wellsford  Sports  and  Leisure 
and Jean from Jaques Superstore. 

Fish  of  the  Month:  Gurnard  till 
19
th
 June 
Next Club Meeting and AGM19
th
 June 
2018 at The 3Furs Bar & Grill 7pm. 
 ~Wayne Leslie (Commodore) 
Spotted on Stuff.co.nz:  
KAIWAKA  
"Five underrated small New Zealand 
towns" – by Lorna Thornber, 25 May 
2018 
REEFTON, PATEA, GERALDINE. 
RUATORIA and 
'KAIWAKA, NORTHLAND   
Any town with a name that translates to 
"food canoe" is a winner in our books. 
Often  overlooked  in  favour  of  its 
coastal  neighbours,  Kaiwaka  is  where 
it's really at in lower Northland. 
If  you're looking for a  true  blue small-
town Kiwi experience that is. 
The town's lack of conventional tourist 
attractions is  part  of  its charm  - there's 
not  much  to  do  other  than  explore  the 
area,  chill  out  or  chow  down  on  some 
of that namesake food.  
Carey, who runs an Airbnb surrounded 
by fruit and olive trees and native bush 
just  outside  Kaiwaka,  recommends 
checking out La Nonna Italian Bakery, 
the  Kaiwaka  Cheese  Shop  -  which 
stocks  some  52  varieties  from  around 
New Zealand and Europe - Jaques Four 
Square  (the  Jaques  here  makes  all  the 
difference) and  popular  local  hangouts 
Three  Furlongs  Bar  and  Grill,  and  the 
Spice Lounge. 
If you like the idea of an actual food 
canoe you could try hiring or borrowing 
one (or bring your own) and go fishing 
on one of the three rivers that feed into 
the Kaipara Harbour… ' 
LINKING HANDS 
Inspire  and  Contribute  at 
our AGM 
After  the  success  of  our  10-
year celebrations in March, it 
is  now  time  to  put  Linking 
Hands'  Board  together  for  the  next 
year. 
We 
need 
your 
inspired 
contribution  at  our  Annual  General 
Meeting on the 26th of June at 7pm 
in  the  Anglican  Church  Hall  in 
Maungaturoto.  
Linking Hands found an effective way 
to  combine  the  efforts  of  the 
Maungaturoto,  Paparoa,  Kaiwaka, 
Mangawhai,  Waipu  and  Ruakaka 
communities  to  help  people  get  to 
medical 
appointments 
when 
experiencing  transport  challenges. 
Dozens of volunteer drivers and a fleet 
of vehicles help to accomplish this. 
The AGM will report on the past year 
and  elect  a  winning  team  for  the  next 
one.  Everyone  is  welcome,  and  your 
contribution 
can 
make 
a 
real 
difference.  Come  meet  likeminded 
people  and  enjoy  a  light  supper 
afterwards.  If  you  feel  inclined  to  put 
your  name  forward  to  serve  on  the 
Board, please call 09 431 8969 now.  
New  Premises.  Linking  Hands  is 
looking  for  new  premises  to  rent  in 
Maungaturoto.  It  has  to  be  centrally 
located  and  have  off-street  parking 
space for three vehicles. Also, about 50 
square  meters  of  office  space.  Please 
let us know if you can help. 
From Thelma's 
Scrapbook … 
JUST A LINE TO SAY  
I'M LIVING  
Just a line to say I'm 
living,  
And not among the dead, 
Though I'm getting more forgetful  
And mixed up in the head. 
I've got used to my arthritis,  
To my dentures I'm resigned, 
I can manage my bifocals but, 
Oh, how much I miss my mind! 
For sometimes I cannot remember,  
As I stand at the foot of the stairs, 
If I must go up for something,  
Or have just come down from there. 
And before the fridge so often,  
My poor mind is filled with doubt, 
Have I just put the food away,  
Or have I come to take some out? 
So if it's my turn to write to you,  
There's no need for getting sore, 
I may think that I have written  
And don't want to be a bore. 
But often I think about you 
And wish that you were near 
But now it's nearly mail time  
So I must say,  
"Good-bye my dear", 
Then I stand beside the  
letterbox  
With a face so really red, 
Instead of mailing my letter,  
I opened it instead!!!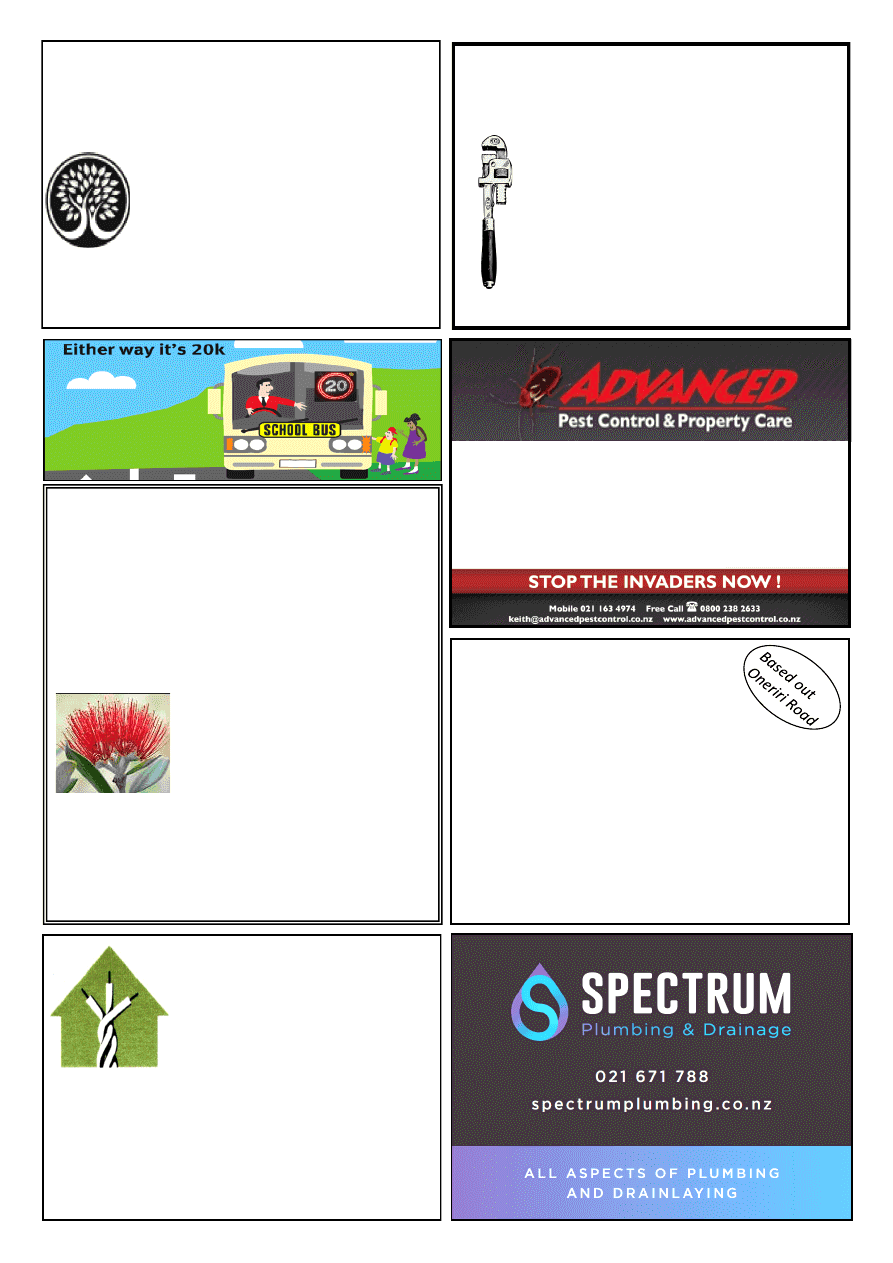 Waipu Natural Health 
3 Cove Road, Waipu  (opposite the Pizza Barn) 
Ph: 09 432 1325 
www.waipunaturalhealth.co.nz
Clinical Nutritionist-Hair Analysis for Masked 
Allergies, Ozone Therapy, Prolotherapy, 
Naturopath-Medical Herbalist, Registered 
Massage Therapists, Reflexology-
Craniosacral Therapy, Acupuncture-Facial 
Acupuncture, Kineso Taping, Hypnotherapy, 
Counselling, ThetaHealing/Change Catalyst
.
AFFORDABLE CONSULTS FOR KIDS – give us a call
Gift Vouchers available
KAIPARA FLOORING CO 
Independently owned & operated 
32 HURNDALL ST MAUNGATUROTO
Supply & Installation of Carpet, Vinyl,  
Vinyl Wood Planking
Stockists of 2m & 3m wide 
vinyl & carpet short ends
Residential & Commercial
Q Card Finance Approved 
6-18 month terms 
6 mth interest free
First Class Installations
For a free measure & quote 
phone Christine  
09 946 9886 or 021 515 415 
kaiparaflooring@gmail.com 
http://www.kaiparaflooring.co.nz/ 
BARRY CURTIS PLUMBING LTD 
REGISTERED CRAFTSMAN PLUMBER 
Phone 4315572 
027 257 9884 
25 years experience 
Friendly reliable service 
All plumbing and maintenance 
Alterations and new housing 
Spouting 
Competitive rates 
PROMPT EFFICIENT  SERVICE 
HODGETTS 
CONTRACTING
Digger Work   

Driveways 

House Sites   

Dams   
 
Drains, etc
Also available for HIRE 
3 ton Vib Roller Heavy Duty Tow  
Waterblaster     Lazer Level
Phone Mark 4312877 
        027 447 8554 
Reyahn George 
Leng 
Registered Electrician 
Local, honest and reliable. 
For your residential and 
light-commercial projects. 
022 314 1068  
Pest Control 
PLAN A: One-off treatments to customers with a specific pest problem 
PLAN B: Full maintenance service plans to commercial customers. 
This will include documentation kept in customer file on site: 
⚫
Pest treated 
⚫
Date of service 
⚫
Chemical or baits used 
⚫
Full pest check report done after each treatment 
⚫
Fair and reasonable fee with guarantee 
Flood Recovery 
Carpet Care 
⚫
Carpet Drying   
This includes pre-spray treatments 
⚫
Dehumidifier Rental 
with stain removal and hot water extraction.  
⚫
Full Commercial Cleaning  Patch repair also available 
Upholstery Cleaning 
Full upholstery cleaning of all furniture.  
eg lounge suites and all office chairs 
Water Blasting 
⚫
Concrete - Decks 
House Washing 
⚫
Soft Chemical Was 
⚫
Pre-painting Wash 
Property Services 
⚫
Property Cleaning  
Lawn Mowing 
⚫
Hedges General  Tidy Ups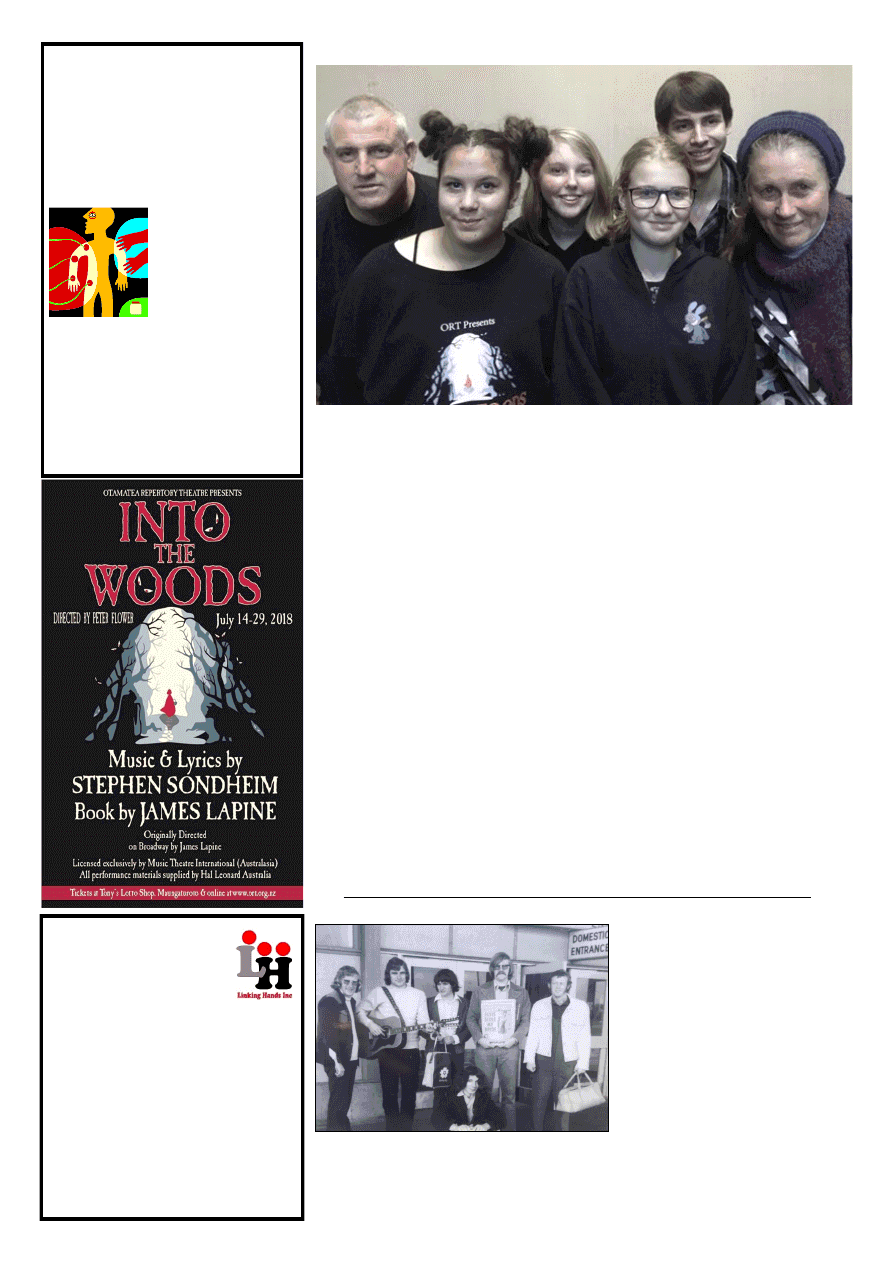 www.kaiwaka.co.nz 
Kaiwaka Bugle - 29 May 2018 
Page 9 
Foreigner and Dave Collwell from 
Bad  Company,  promoted  as  the 
Rock Steady tour. 
I  was  inducted  into  the  New 
Zealand  Music  Hall  of  Fame  in 
2012. 
My  wife  Sue  and  I  formed  the 
popular band Happy Fish and have 
been  working  the  pubs  and  clubs 
in the greater Auckland area since 
2015.    We  are  currently  working 
on  our  first  CD  "Catch  Us  On  A 
Good  Day",  featuring  seven 
original  songs  and  two  of  our 
favourite covers, due for release later this year.  
For  more  info  go  to  www.happyfishband.co.nz.    Local  gigs  include  The 
Tomarata School fundraiser fireworks night and of course the annual Kaiwaka 
"Top  of  the  Rock"  event  which  we  have  played  at  for  the  last  three 
years.  Happy Fish have a South Island Tour starting November." 
OWEN STEVENS 
Osteo Therapist
For careful adjustments  
to bones and joints 
Treatment for humans  
and their pets 
Clinics: 
Kate's Place, 
Kaiwaka: 
Last Friday of 
month 
9.00am-5.00pm 
For bookings: 
Phone 
09 4312661 
Or phone Owen   
09 4317123  anytime 
GORDON JOLL 
… continued from front page
LINKING 
HANDS INC 
Maungaturoto - Kaiwaka - 
Mangawhai 
Meeting the needs of the 
community. 
A  free  Health  Shuttle  Service,  providing 
transport  to  those  who  would  struggle  to 
get  to  medical,  dental,  podiatry,  or 
optometrist  appointments  anywhere  from 
Warkworth to Whangarei. 
HEALTH SHUTTLE SERVICES  
Ph/fax 09 431 8969 
OFFICE HOURS 
Maungaturoto - Monday to Friday - 
10am to 4pm 
Closed Public Holidays 
Above - left to right: Jeff Dyer (Cinderella's Father), Tyga Daniero (Little Red Riding Hood), Lilli 
McCarthy  (backstage  assistant),  Tara  Moyle  (chicken  and  Sleeping  Beauty),  Haydn  Dyer  (The 
Narrator), Elizabeth Becroft (Little Red Riding Hood's Granny) 
'Into the Woods'  
– directed by Peter Flower 
If you enjoy a great story with humour, 
and  clever  music,  then  'Into  the 
Woods' is a must-see. 
This  Broadway  Musical,  with  music 
and  lyrics  by  Stephen  Sondheim  and 
book by James Lapine, intertwines the 
plots  of  several  Brothers  Grimm  and 
Charles  Perrault  fairy  tales,  exploring 
the  consequences  of  the  characters' 
wishes and quests. 
The  main  characters  are  taken  from 
'Little Red Riding Hood', 'Jack and the 
Beanstalk', 
'Rapunzel' 
and 
'Cinderella',  as  well  as  several  others. 
The musical is tied together by a story 
involving a childless baker and his wife 
and their quest to begin a family, their 
interaction with a witch who has placed 
the curse on them, and their interaction 
with other storybook characters during 
their journey. 
The  musical  debuted  in  San  Diego  at 
the  Old  Globe  Theatre  in  1986  and 
premiered  on  Broadway  on  November 
5,  1987,  where  it  won  several  Tony 
Awards, 
including 
Outstanding 
Musical, in a year dominated by Lloyd 
Webber's 'The Phantom of the Opera'. 
Ray Palmer, Orchestral Director for the 
ORT  production,  is  very  excited  to  be 
involved, as the theatre will be using a' 
cutting-edge orchestral suite', the latest 
in  interactive-musical  technology,  as 
the accompaniment. 
Opening  night  is Saturday 14 July @ 
7.30pm  and  the  season  runs  for  eight 
shows  with  the  final  show  on  Sunday 
29 July @ 2pm.  
More  than  half  of  the  shows  will  be 
during  the  school  holidays,  providing 
excellent family entertainment.  
Tickets 
available 
online 
at 
www.ort.org.nz  or  at  Tony's  Lotto 
Shop in Maungaturoto. Adults $28 and 
school students $15.  
'May Masquerade' 2018 
This  was  another  excellent  event 
organised  by  the  theatre.  Our 
celebration to honour Mothers, featured 
delicious  food,  catered  by  the  ORT 
committee,  lovely  singing  by  many 
young  talented  performers,  and  an 
entertaining  quiz.  The  afternoon  was 
lots of fun for all those who attended. 
See you In the Woods… Maura Flower 
OTAMATEA REPERTORY THEATRE 
Tramp!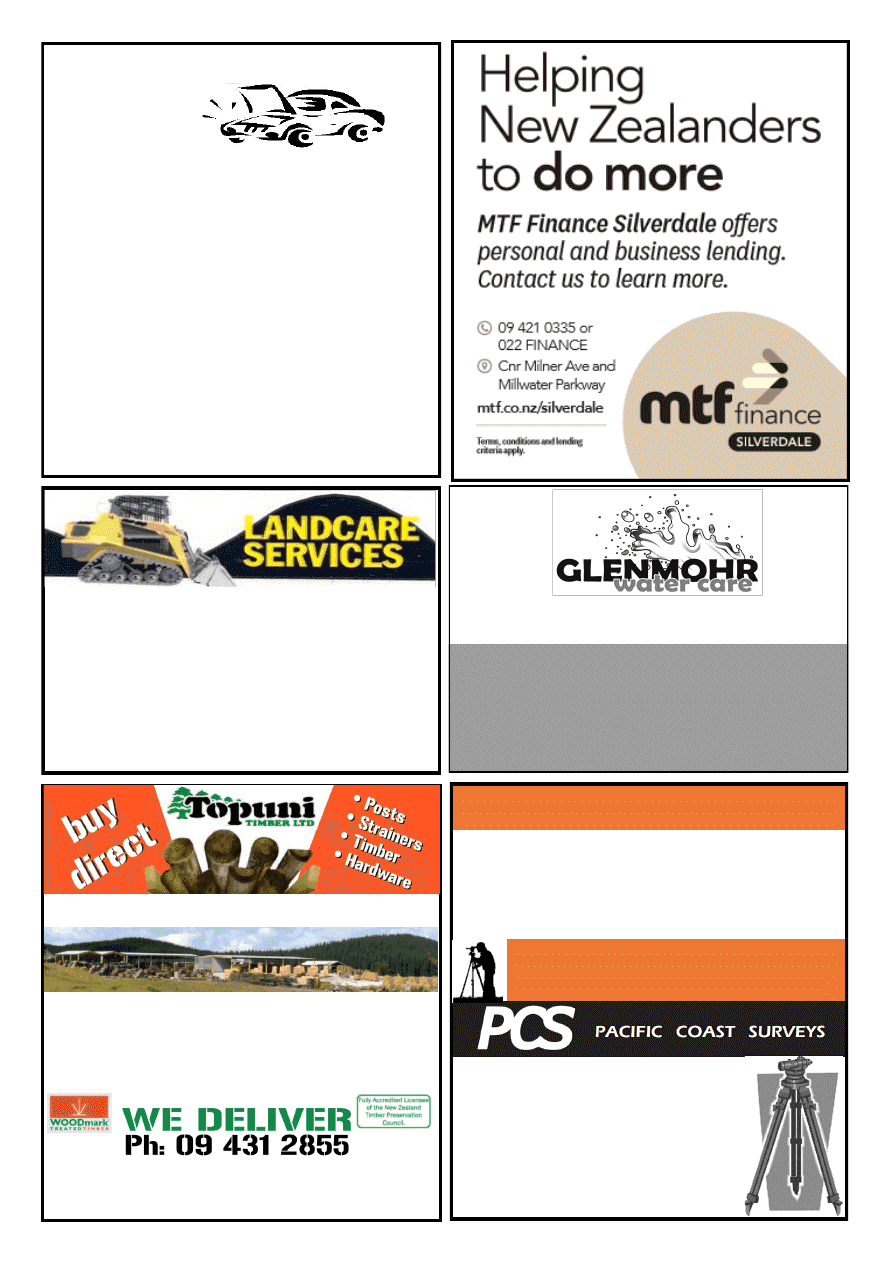 LOCALLY OWNED AND OPERATED 
QUALITY PRODUCTS • FRIENDLY ADVICE • GREAT SERVICE 
Quality Products milled from High Density NORTHLAND Radiata Pine. 
Treated and guaranteed to NZS3640 with commitment to 
Environmental Safety.
Phone, fax, email, or come into the mill 
Schiska Rd, Topuni, SH1, 10 min north of Wellsford. Fax: 09 431 2856 
Email: sales@topunitimber.co.nz           Mon - Fri 7am-5pm 
• Fencing 
• Retaining 
• Decking 
• Landscaping 
• Gates 
• Hardware 
SURVEYORS 
SUBDIVISIONS 
HOUSE SITE SURVEYS 
CIVIL ENGINEERING 
WASTEWATER DESIGNS 
EXPERIENCED 
PROFESSIONAL 
INNOVATIVE 
Ph 09 431 5353 
0800 PACIFIC (0800 722 434) 
pacificcoastsurvey.com
Adam Booth - 027 415 5752 
Bsurv, Licensed Cadastral Surveyor
Surveying Kaipara since 1994 
Water Tank Cleaning 
• 
Keep your water safe & clean  
• 
Removal of sediment, silt etc. 
• 
Vacuum or full scrub 
• 
Minimal water loss 
Phone Mark (09) 432 0655 or 0274 707607 
LANDSCAPING 
4 IN 1 BUCKET 
TRENCHER 
POLE HOLES 
ROTARY HOE 
COMPACT ROLLER 
OFFAL HOLES 
CAN SUPPLY WOODCHIP & POST PEEL 
5 TON TIPPER 
FOR RELIABLE AND FRIENDLY SERVICE CONTACT DAVE 
Dave Hyndman 
 
KAIWAKA 
PH: 09 4312302 
MOB: 021 431 238 
Twinkle Tow 'n' Tyre 
Think you'll get a better deal in the city? 
Ring us - it won't cost anything! 
1837 State Highway 1, Kaiwaka 
Phone 431 2823 
*W.O.F. 
*Tyres 
*Windscreen 
replacement 
*Chip repairs 
*Bulk Oil 
*Batteries 
*Welding 
*Custom built 
trailers 
*Trailer hire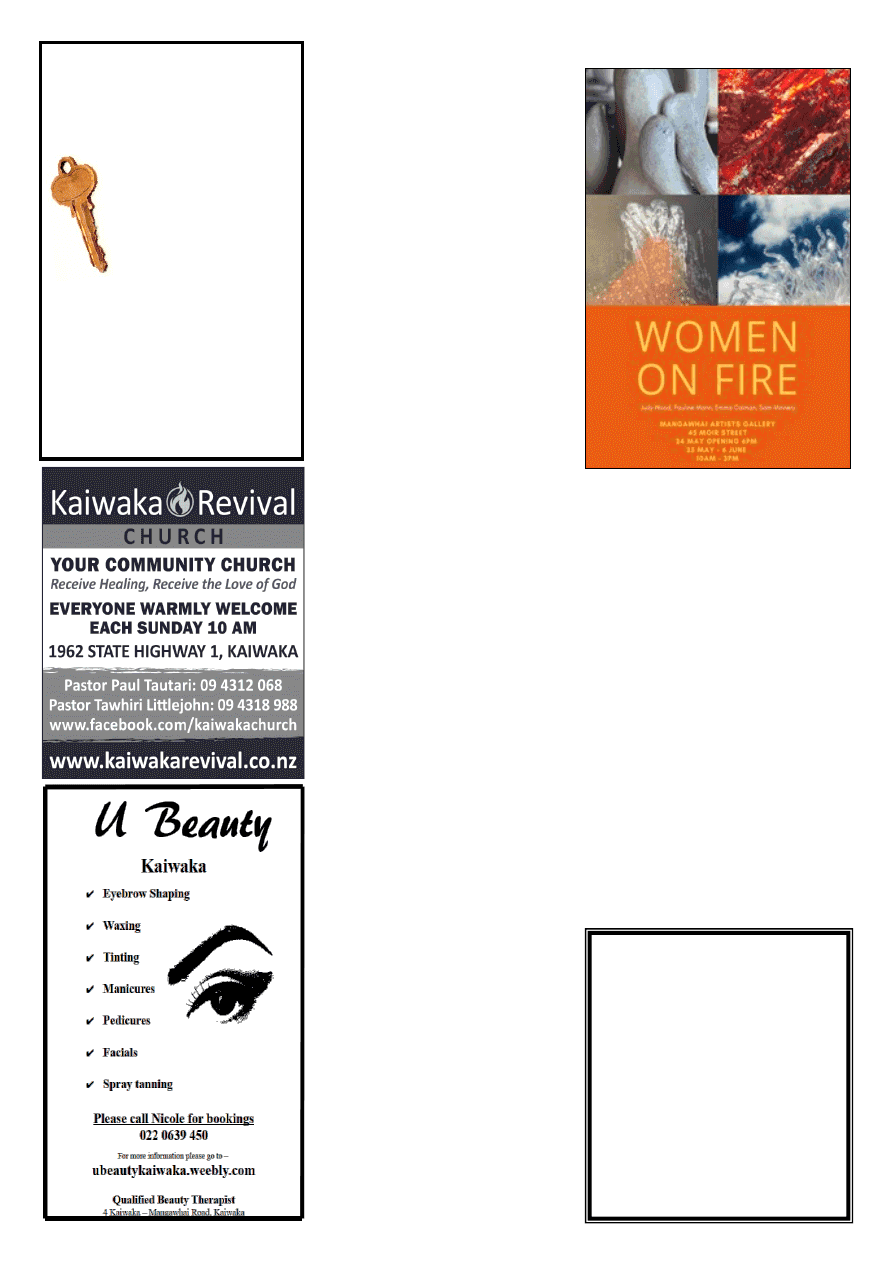 www.kaiwaka.co.nz 
Kaiwaka Bugle - 29 May 2018 
Page 11 
MANGAWHAI ARTISTS  
Women on Fire 
Pauline Mann, Judy Wood, 
Samantha Minnery, Emma Caiman 
Opens Thursday 24 May 6pm to 6 June 
10 – 3 daily 
On Fire! Energy, creativity, dynamism 
and drama – fire is the theme of a 
collaborative exhibition by four artists. 
'Women on Fire' is a thrilling finale to 
the  Mangawhai  Artists  Gallery  2017-
18 exhibition season. The works are in 
glass, 
clay 
and 
a 
multimedia 
presentation  combining  charcoal  work 
with original song writing, singing and 
recording. 
Established  ceramic  artist,  Judy  Wood 
was  the  impetus  for  this  show.  She  is 
joined  by  Mangawhai  artists  in  glass, 
Pauline  Mann  and  Samantha  Minnery 
and Tomarata's Emma Caiman who is 
presenting  in  charcoal  and  music.  The 
art  works  are  deeply  personal 
reflections  on  the  qualities  of  their 
materials  -  mediated  by  fire  -  and  the 
metaphysical  and  literal  journey  it 
takes us on. 
About the Artists 

Pauline loves translucent colour and 
materials, teaching herself to paint with 
glass,  allowing  her  to  express  the 
colour  world  as  she  sees  it.  She  uses 
kiln  formed  glass  in  the  slumped  and 
fused methods. 

Pauline  and  Emma  have  had  many 
creative  endeavours.  Emma  was 
intending  to  illustrate  her  children's 
stories with her beautiful line drawing, 
then,  once  Pauline  introduced  her  to  a 
transformative  charcoal  technique,  she 
began a whole new creative adventure, 
combining  it  with  her  recording,  song 
writing and singing skills. 

Judy  has  been  making  pots  since 
1969 and met Emma and Pauline in the 
late  80's.  They  have  worked,  played 
and  travelled  together  ever  since  and 
watched  Judy  build  on  her  original 
production  pottery  skills  -  teaching, 
painting,  healing  and  now  a  clay 
sculptor  -  free  to  explore,  break  the 
rules and create. Judy and Pauline will 
show some of their collaborative work 
in this exhibition. 

Samantha is the most recent addition 
to  the  group.  She  was  drawn  to 
Mangawhai nearly three years ago and 
has  found  her  place  in  the  Rakaunui 
Art  Village.  Samantha  uses  flame 
working  techniques  to  create  her 
delightful  glass  assemblages  which 
vividly  express  her  soul  connection  to 
this medium. 

The  exhibition  collateral  (poster, 
cards  and  biography  notes)  were  put 
together  by  another  Mangawhai 
newcomer,  Susan  Dugdale,  who  met 
Pauline  in  the  early  2000s  in  the 
Wellington  Steiner  School  where  they 
worked  together,  Susan  in  theatre 
production  and  Pauline  on  set  and 
costume design. 
This  journey  of  fire  and  spirit  ignites 
them  on  their  journey  into  the 
unknown,  and  propels  them  into  a 
letting  go  that  allows  the  creative 
processes to unfold. 
Winter Workshop Programme 
Saturday 9 June – Sunday 5 August  
Book now – classes are filling up; For 
more  information  on  the  Winter 
Workshop  Programme,  the  courses, 
tutors and 
how  to  book  look  at  the  Mangawhai 
Artists website mangawhaiartists.co.nz/
learning-opportunities 
There  are  13  Workshops  on  drawing, 
painting, mosaics, printing and more to 
choose from.  
 Mangawhai Artists Winter Workshops 
have  planned  some  drop-in  events  for 
Saturday mornings (no bookings 
are  required,  eg.  Saturday  30  June  -  a 
free  workshop  by  Carol  Marianne  of 
Plastic Free Mangawhai so people can 
make  their  own  t-shirt  shopping  bags 
and  customise  it  with  a  print  or 
Saturday 23 July - 'Fish Print', a repeat 
of 
last's 
years' 
most 
popular 
fundraiser;  choose  your  fish,  choose 
your paper and PRINT. 
Kaiwaka 
Hardware  
& 
Key cutting
Phone 4312 063  
or 022 0642 703
kaikey2015@gmail.com
    Keys Cut  
Household Hardware  
Sharpening  
Knives & Tools 
Curtain Tracks & Fittings
Not there? Call Doug and he'll 
sort
it for you. 
(
Next to Kaiwaka Motorcycles)
COLIN  SAMUEL 
BIRKENHEAD 
7.3.1945 - 19-5-2018 
Vic  Birkenhead  and  family  would 
like  to  thank  everyone  for  their 
support  for  Colin  over  the  past 
twelve months. 
Dad  is  now  at  rest  in  "Hunter's 
Heaven". 
A  BIG  Thank  You  to  Pongo  and 
Tony  Hargreaves  -  we  could  not 
have done this without your help and 
support. 
~ Vic Birkenhead.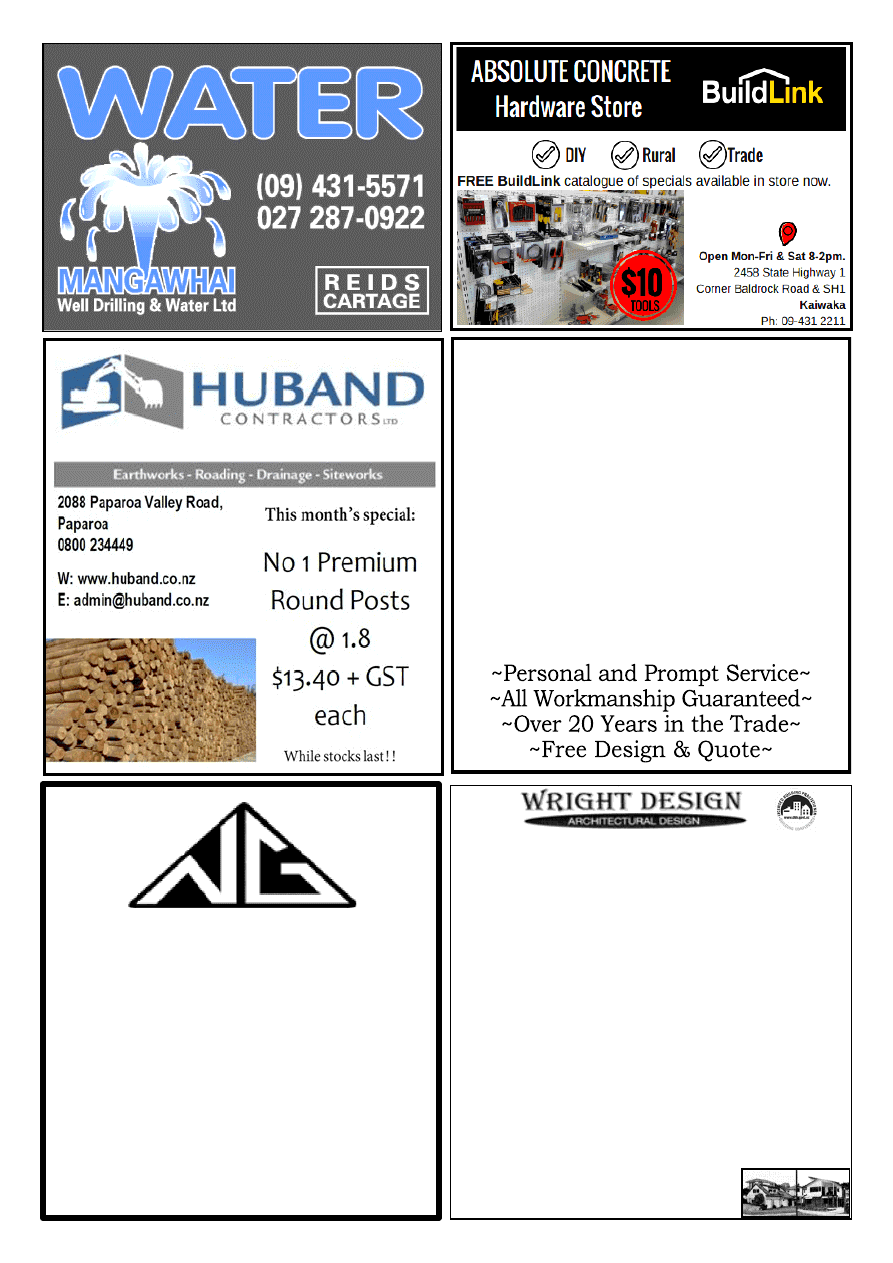 NORTH GLASS 
WINDSCREEN REPAIR OR REPLACE 
GLAZING SERVICES 
MIRRORS  •  SPLASH BACKS  •  SHOWERS 
0800 70 40 10
info@northglass.co.nz 
www.northglass.co.nz 
PLANNING A NEW KITCHEN?
 CONTACT NOEL McDOWELL
WELLSFORD 
KITCHENS
Ph/Fax 094312888
KAIWAKA-Any time
 QUALITY CUSTOM MADE 
KITCHENS
If you are thinking of building then you 
will need a good and well experienced, 
qualified, and licensed designer. 
This applies if you are considering a 
new home any alterations or any 
building additions/farm buildings, 
sheds, alterations, whatsoever. 
For Resource and Building Consents, 
planning restraints, new building 
materials, applying for building permits 
– you need a capable, experienced, 
and professional designer with a clear 
knowledge of all the processes. 
Brian has been helping and organising 
all these facets of design and building 
for over 50 years. 
Wright Design offers free visits, 
consultations and advice on planning, 
design, building, council permit 
applications, guaranteed permit plan 
acceptance. 
QUALIFICATIONS 
Brian is a qualified designer 
(N.Z.C.A.D.) with over 50 years of 
varied experience in all types of 
building and is registered and Licensed 
Building practitioner in Design – 1 & 2 
Registered LBP117345 
He will ensure you will achieve the 
best from your budget. 
EXPERIENCE 
Brian's practical building and 50+ years 
of design experience means he can 
give you excellent advice and all the 
guidance needed. 
Brian can arrange engineering for a 
reasonable cost. 
•Qualified and inexpensive designer – 
N.Z.C.A.D. Registered LBP117345 
•Guaranteed design and working 
drawings 
•Free site visit to your home or 
property 
•Great service and free quotation 
PROJECTS 
Additions, alterations, basements, new 
homes, motels, bed and breakfast, 
commercial buildings, farm buildings, 
and shop fit outs are a few projects. 
Brian can show you many of his 
projects in the area to emphasise his 
versatility and can give you contact 
with satisfied clients. 
WHAT TO DO FROM NOW ON 
•Call Brian for a free quotation 
•Discuss your needs and obtain good 
advice 
•Brian can offer 
plan printing 
from A4 to A0 
(2x A1 size) 
No. 117345 
N.Z.C.A.D., L.B.P. 117345 
PH/Fax: 09 423 8092 Mob: 021 276 7369 
Office: 3 John Sinclair Avenue, Wellsford    brianwright@xtra.co.nz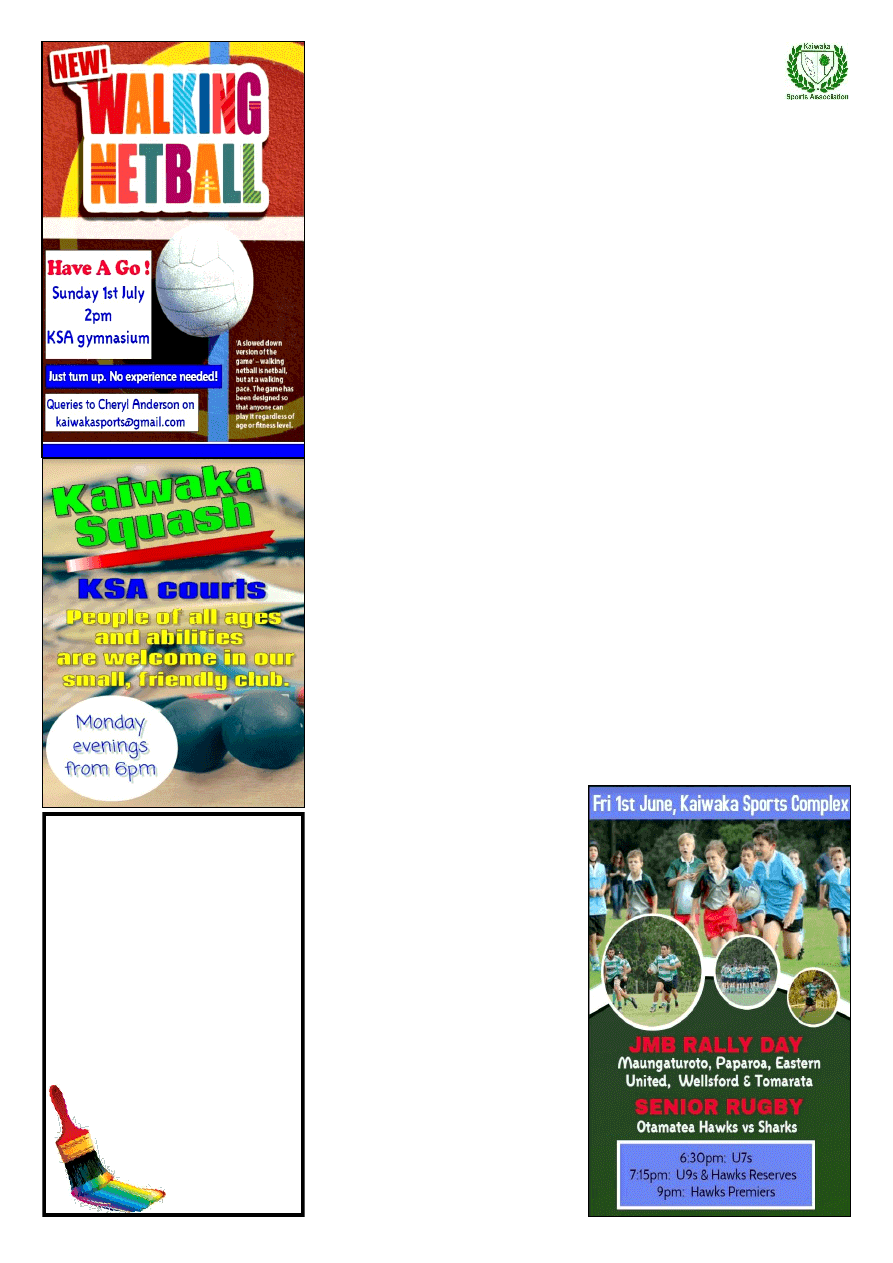 www.kaiwaka.co.nz 
Kaiwaka Bugle - 29 May 2018 
Page 13 
           KAIWAKA SPORTS ASSN 
Walking Netball - 'take a walk on 
the mild side!' 
Here  is  something  new  for  Kaiwaka. 
Do you have fond memories of playing 
netball when you were younger but feel 
you  could  no  longer  keep  up  with  the 
game?  Maybe  you  are  pregnant  or 
carrying  an  injury  which  means  you 
need  a  low-impact  activity.  Walking 
Netball could be for you! 
Walking Netball is a slower version of 
the  game,  with  no  running  or jumping 
allowed. It is suitable for people of all 
ages and abilities with the focus on fun 
rather than competition. 
I  am  putting  on  a  'Have  A  Go'  day, 
and  then  if  there  is  enough  interest,  I 
will  organise  a  Module.  So  for  a 
'taster'  of  Walking  Netball,  come 
along to our gymnasium on Sunday 1st 
July at 2pm. Tell your friends! 
Rugby - JMB 
All  five  JMB  clubs  (Paparoa, 
Maungaturoto, 
Eastern 
United, 
Wellsford  and  Tomarata)  will  be 
playing at our grounds this Friday. This 
is a combined evening with the Senior 
Hawks  matches.  Under  7s  kick-off  at 
6.30pm  and  Under  9s  kick-off  at 
7.15pm. 
Rugby – IMB 
The  next  IMB  matches  at our  grounds 
will  be  next  Saturday  9th.  Our  Junior 
Hawks  Under  11s  and  Under  13s  will 
both be playing. 
Rugby - Senior 
The  next  Hawks  matches  at  our 
grounds will be this Friday against the 
Western  Sharks.  The  evening  will  be 
combined  with  JMB  matches.  The 
Hawks  Reserves  kick-off  at  7.15pm 
and  are  followed  by  the  Premiers  at 
9pm. 
No Parking 
There are three No Parking zones at the 
Kaiwaka  Sports  Complex.  They  are 
clearly marked but we have an ongoing 
problem with people ignoring them. 
These  zones  are  in  place  as  they  are 
either an accessway onto the fields for 
emergency  vehicles  or  they  are 
disabled parking.  
The three areas are: in front of the gate 
by  the  swimming  pool,  next  to  the 
driveway by the tennis court and on the 
concreted area between the gymnasium 
and  the  noticeboard.  Please  respect 
the No Parking signs! 
Squash 
Did  you  know  that  squash  is  widely 
considered  to  be  the  healthiest  sport? 
This  is  because  squash  improves  your 
aerobic  fitness,  burns  off  calories, 
boosts  flexibility  and  sprint  speed, 
improves 
hand-eye 
co-ordination, 
develops  the  strength  and  power  of 
your  muscles  and  boosts  your 
cardiovascular fitness. 
If  you  are  keen  to  give  squash  a  try, 
simply turn up to the courts on our club 
nights, Mondays from 6pm (the door to 
the squash courts is opposite the tennis 
courts). 
If  you  would  like  to join the 
club, an annual membership gives you 
access  to  the  courts  24/7  with  free 
lights. Membership  is  $80  for  a single 
adult or $150 for a family. Or you can 
pay a $3 per club night casual fee. 
To  purchase  a  membership  contact 
Craig 
Wallis 
on 
craig_wallis@hotmail.com. 
Fitness Centre 
Keys  to  our  Fitness  Centre  have  now 
changed  over,  so  if  you  have  ever 
thought about taking out a membership 
– now is the perfect time to do it! You 
can  purchase  a  year's  membership  for 
$150  which  will  give  you  24/7  access 
to a centre equipped with free weights, 
bikes, climbers, rowers, treadmills, CV 
machines, toilets and showers. 
For  people  wanting  to  buy  a  single 
membership,  you  can  get  a  key  from 
Jaques Four Square. 
For 
people 
wanting 
a 
family 
membership,  please  contact  Fitness 
Centre  President  Siobhan  Cole  on  027 
9791203. 
Hirage of the Sports Complex 
Did  you  know  our  Sports  Complex  is 
available  for  hire?  We  cater  for 
weddings, 
conferences, 
parties, 
corporate  events,  meetings  etc  with 
seated dining for up to 130 people. We 
provide a quality venue complete with 
bar,  kitchen,  a  spacious  lounge  with 
dance  floor,  plenty  of  parking,  and  all 
at a very reasonable rate. 
Plus, we hire out our kitchen to groups 
who  require  a  commercially  licensed 
kitchen for food preparation. 
Check  out  our  website  for  all  the 
details ww.kaiwakasports.co.nz.  
Cheryl Anderson 
4312 051, 027 3462702 
kaiwakasports@gmail.com 
LEE COOPER 
PAINTERS 
(Kaiwaka Based) 
*30 yrs Experience 
*Interior/Exterior 
*New and Restoration 
*Honest and Reliable 
*Free Quotes 
 
09 4312918 
0274735171 
leecooper@xtra.co.nz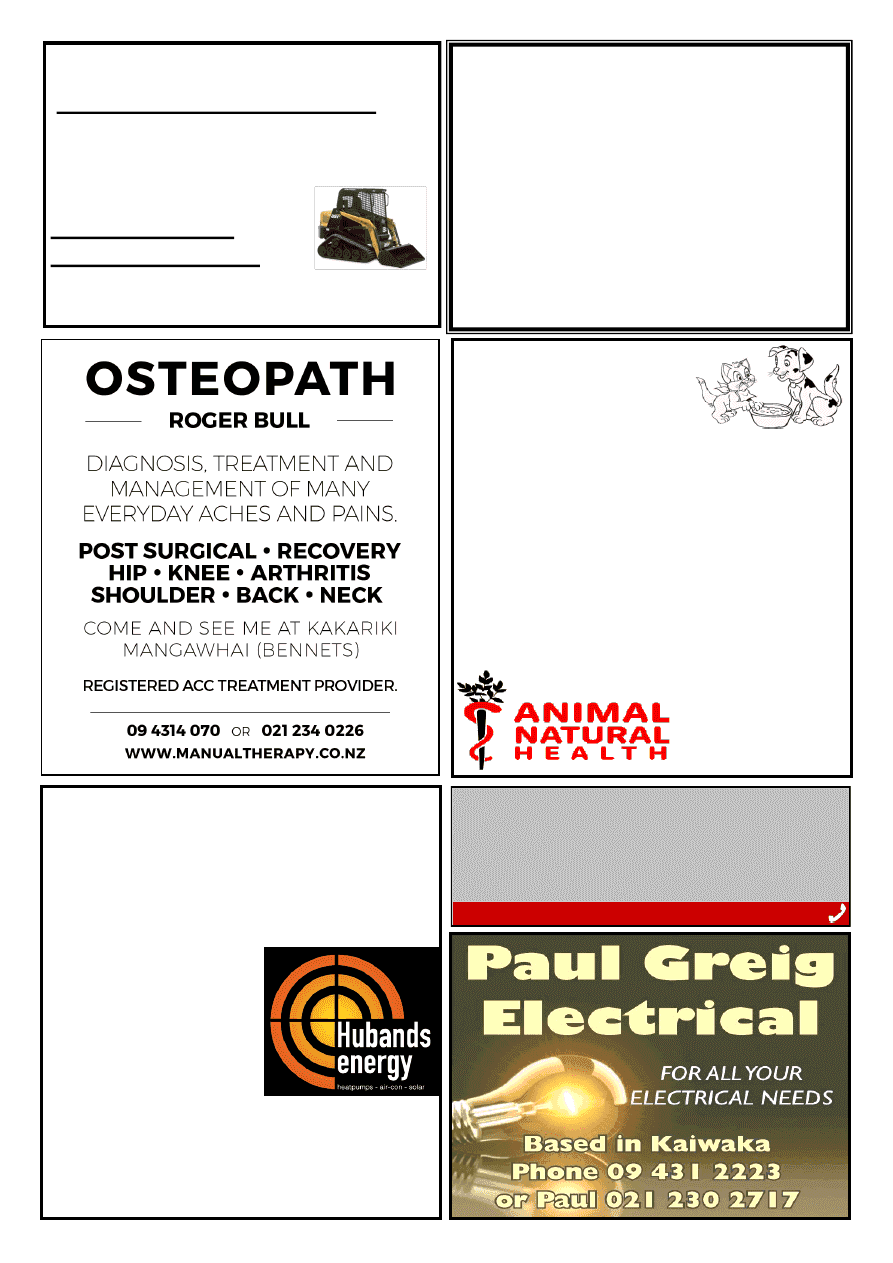 Natural Earth Ltd 
 Landscape and Bobcat services 
 : Driveways  :Landscaping  :Retaining Walls 
 : Hole Boring: Land Levelling :Trenching 
 : Decks :Fences :Sections Cleared: Plus much 
more 
Tel   09 4312885 
Mob 02102391280   
For A Fast Friendly  
Service Contact Tim Hicks 
CALL CRIMESTOPPERS 
Worried about something that doesn't seem right to 
you? Concerned about activity that could be 
harmful? Call Crimestoppers.  
You don't need to know all the facts.
CALL 0800 555 111 ANONYMOUSLY 
Northland's Award Winning 
Solar Company
SEANZ Best Solar Business Winners 2015/16
EXCLUSIVE 10 year installation warranty 
FREE No obligation onsite quote
Complete systems 
from $5990
See our range of: 
✓ 
Heatpumps 
✓ 
Airconditioning 
✓ 
Hot Water 
Heatpumps 
✓ 
Central Vacuum Systems
09 430 0019             sales@hubands.co.nz 
15 Kioreroa Road, Whangarei
Locally owned and operated for 35 years 
Mangawhai Heads 
Garden Centre
1758 Cove Road
945 0707 
021 165 2629 
ORIJEN & ACANA  
now available!
Looking for economy with 
quality in pet food? 
Our 2kg fresh meat rolls only $12.90
Tukka Thyme Muesli (makes 3kg) - only $14.90 
Veal Bones 3kg $17.90 
Beef & Lamb Patties  3kg  $22.90 
Chicken Medallions 3kg  $18.90 
No nasty chemicals, cage & crate-free, free-range, 
organic where possible. 
Flea-Flee , Tick & Lice Control, alternatives to 
vaccinations. 
Safe beach leads, collars, toys. 
Want a choice in animal health care? 
See our Animal Naturopath.  
ANIMAL NATURAL 
HEALTH CENTRE 
Next to Italian Bakery, 
Kaiwaka 
Ph. 09 431 2217    
Open Mon-Sat.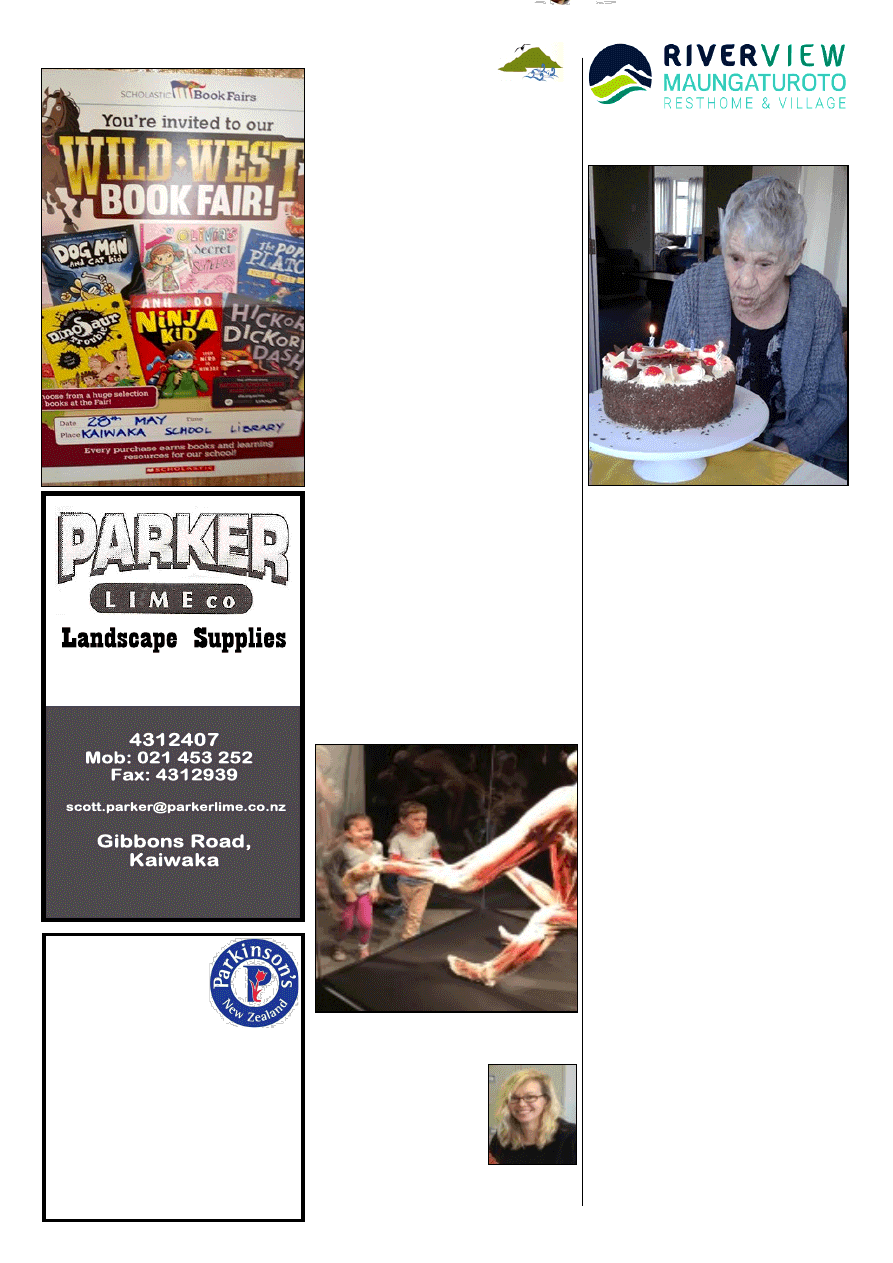 www.kaiwaka.co.nz 
Kaiwaka Bugle - 29 May 2018 
Page 15 
Bulk Cartage 
RIVERVIEW REPORT 
Early in May we celebrated our second 
100th birthday in 2018.  
We  wished  Jeanne  Bell  a  very  Happy 
100th  Birthday.  Jeanne  had  a 
wonderful  day  out  and  celebratory 
lunch with family. 
To  keep  the  funding  pot  boiling  the 
Maungaturoto  Community  Charitable 
Trust  has  established  a  funding  group 
headed  by  Albie  Paton,  with  the 
support of Trustees Graham Slatter and 
Jamie  Ewen  along  with  some  other 
enthusiastic 
community 
minded 
people.  This  group  charged  with  the 
raising  of  funds  for  the  Dementia  unit 
is still in its formative stage, but at the 
time  of  writing  one  very  substantial 
sum  of  money  has  been  promised  as 
well  as  several  cattle  beasts  and  a 
wether  hogget.  Some  of  these  offers 
have come from outside the immediate 
Maungaturoto 
area, 
one 
from 
Mangawhai  and  one  from  Kaiwaka. 
This  is  a  great  start  as  canvasing  is  in 
early stages. 
You  may  get  a  visit  from  one  of  the 
committee  over  the  next  month  or  so, 
we would love everybody to contribute 
be  it  large  or  small,  money,  goods, 
services,  or  animals.  The  Trust  has  an 
account  with  Silver  Fern  Farms,  also 
Greenlea. 
We  are  confident  the  people  of 
Maungaturoto  will  always  front  up 
with  what  they  can  afford,  whether  it 
be large or small, all contributions will 
be  greatly  received  and  will  ensure 
Maungaturoto  will  have  yet  another 
community facility that we may all be 
proud of. 
Our  first  major  event  will  be  the 
Auction  sponsored  by  "The  Den"  and 
"Maungaturoto  and  District  Rotary 
Club"  to  be  held  on  Queens  Birthday 
weekend  Saturday  2nd  June  at  the 
Centennial  Hall  at  11  am  –  Furniture 
and general goods have been collected 
and further entries will be accepted up 
to Friday June 1st . 
Parkinson's  
Northland 
Provide: 

Home based consultations 

Information and education on living 
with Parkinson's 

Support and exercise groups 

In-service training for other health 
providers 
Barbara Leslie 
RN
Community Educator 
09 4376881  or 027 5306221 
barbara.leslie@parkinsons.org.nz 
www.parkinsons.org.nz 
KAIWAKA SCHOOL 
Kaiwaka School Book Fair 
Where: Kaiwaka School Library 
When: 28 May - 1 June  
Why:  This  is  an  opportunity  for 
parents, 
caregivers, 
grandparents, 
family  friends  to  see  a  huge  range  of 
children's  books  on  display  and  buy 
these if you want to. Also, it's a good 
way  to  buy  birthday  and  Christmas 
presents. 
It is great to actually have the books on 
site and for the kids to see and hear lots 
of  different  stories  all  at  once.  The 
books are at reduced prices. 
Sometimes  people  like  to  buy  one  for 
their  child  and  one  for  the  school 
library  -  this  is  a  really  good  way  to 
make a specific donation to the school, 
and  all  the  students  benefit.  On 
Thursday  31st  May  we  will  have  a 
Book  Character  Dress-Up  day,  and 
there will be competitions and displays 
for the children to be a part of. 
Please  come  up  to  school  anytime 
during this week -8.00am to 5.00pm, 
with your friends and families, to view, 
enjoy and purchase books. 
Thank you, PTA 
Our  wonderful  PTA  have  donated  10 
iPads to the junior school. The teachers 
and  staff  are  really  excited  about  this 
generous gift, as it enables our students 
to practise reading and maths, to write 
stories  and  to  make  videos  and 
presentations  easily.  Thank  you, 
Courtney,  and  the  PTA  helpers.  Also 
thank you to you the parents who allow 
your  children  to  buy  jucies  and  hot 
dogs, when the PTA are fundraising. 
Body Worlds Exhibition 
 The trip to Auckland last week, to see 
the  Body  Worlds  Exhibition  was 
fabulous. 
Congratulations 
Mrs 
Sharlene 
Tornquist, on attaining your Masters in 
Educational  Leadership  - 
pictured right. 
Coming Up: 
28 May:  Book Week 
31 May: Book Dress Up 
Day 
29 May: Yr 5 & 6 Rippa 
30 May: Ki-o-raha Sport 
4 June: Queens Birthday 
11 June: Teacher Only Day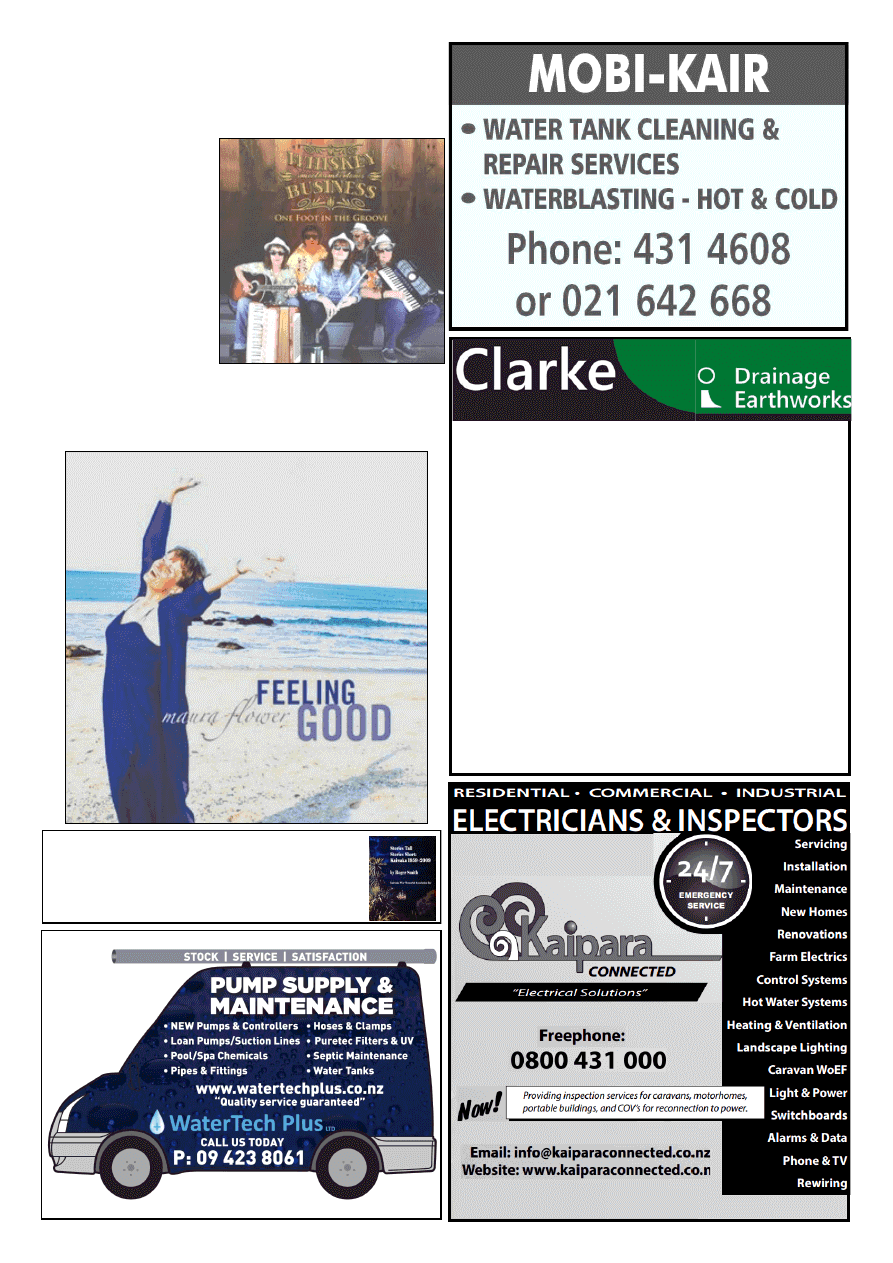 Stories Tall, Stories Short  
Kaiwaka 1959-2009 
by Roger TW Smith.  $40 
At All - Sortz Collectables or phone  4312 045 
Registered Drainlayer 
All Types of Earthworks  
> All Residential & Commercial Work  > House Sites 
> Septic System Design & Install 
> Footings & Drilling to 10m 
> Sewer Connections 
> Dams 
> Water Tank Installation 
> Roading & Races 
> Farm Work 
THE ONE STOP SHOP  
Phone Nigel for an Obligation Free Quote  
Drainage & Earthmoving 
clarkedrainage@xtra.co.nz 
027 2233 185 
MUSIC FROM MAURA   
Not  only  does  Maura  Flower  teach  singing  but  has  
produced  CDs.  Maura  is  also  very  involved  in  our  very 
successful Otamatea Repertory Theatre. 
Here  she  says,  "The  first  album  we  made  was  'Feeling 
Good'  in  2005.   It  is  an 
album of jazz standards - 
I am singing with a group 
of  session  musicians, 
recorded  in  Kamo  at 
Music  Mayhem.   Easy-
listening. 
The  second  album,  'One 
Foot  in  the  Groove'  was 
recorded  in  2012  -  I  was 
part  of  a  group  called 
Whiskey  Business,  and 
the  style  -  'progressive 
bluegrass'  -  featuring 
myself,  Peter  Flower, 
Joan  Brown  and  Jen 
Calthrop.   Our  group  is  no  longer  together  but  the  music 
lives on with the CD.  You can listen to this one on Spotify 
and iTunes. 
Both albums are for sale at Tony's in Maungaturoto for $25.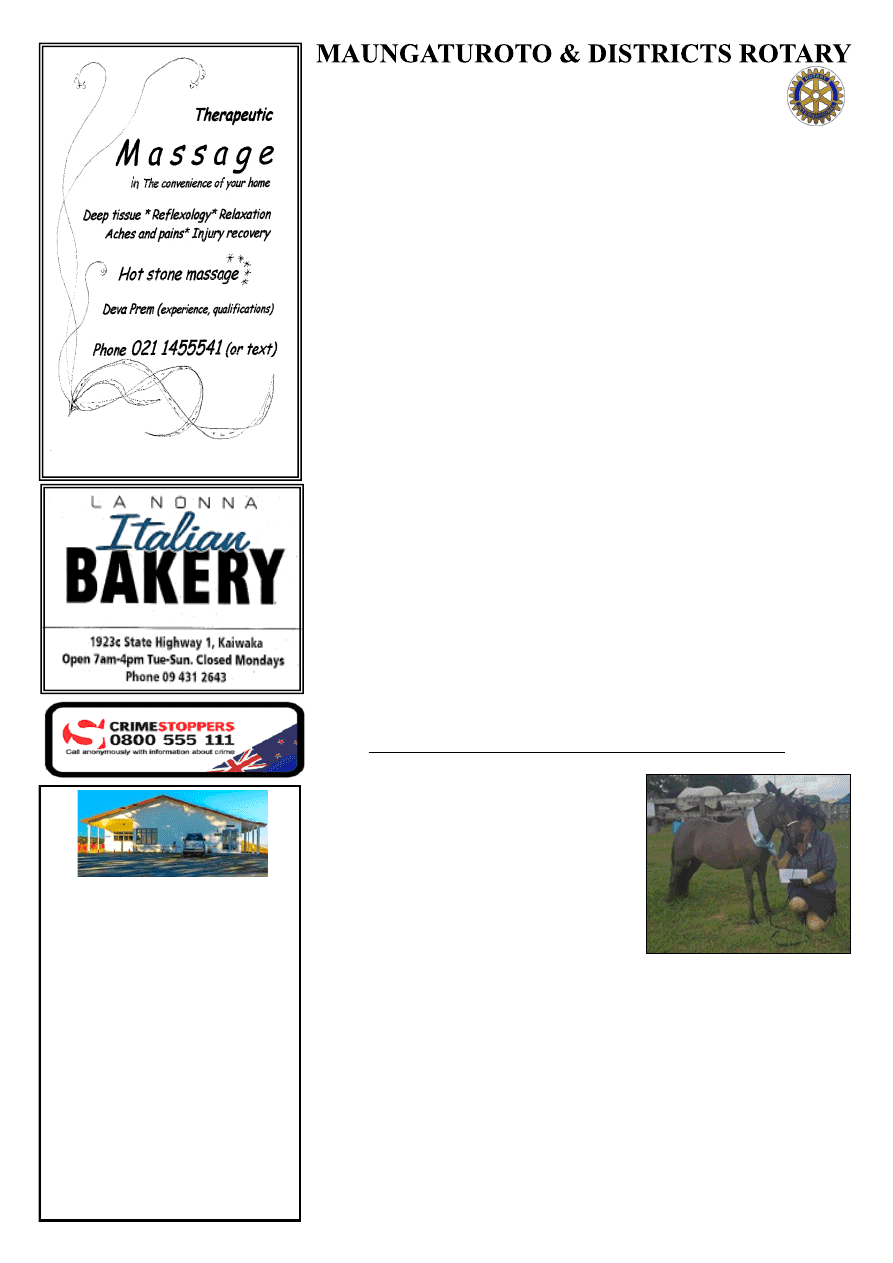 www.kaiwaka.co.nz 
Kaiwaka Bugle - 29 May 2018 
Page 17 
www.mangawhaimassage.co.nz 
MINIATURE HORSES 
Continued from front page 
... 
Te Pounga Marae 
130 Nathan Rd. Oneriri. Kaiwaka 0573 
COMPLEX FOR 
HIRE 
Functions 
* Weddings  * Birthdays  
*Anniversaries * Meetings  * Wananga 
5 hour meeting * 12 hour stay  * 
Overnight 
*All welcome - No more Drink-driving 
Amenities: 
*Convo Combi Steamer * Bratt Pan * 
Dish Washer/Sterilizer * 3 Door Glass 
Chiller (walk in) etc…All Crockery * 
Linen Supplied * Central Heating and 
Air Conditioning and much more.  
Can also cater for small groups…. 
For more information please contact: 
Kim Wallace  
Home: 09 832 1133  Mob: 0211275340  
Email: kimwallace@xtra.co.nz 
Duke of Edinburgh 
By  the  time  this  article  goes  to  print 
the upgrade of Nikau Grove pathways 
will  be  complete.  By  involving  Duke 
of Edinburgh students, we are helping 
them 
attain 
the 
community 
commitment  that  is  part  of  the  award 
and we will continue to have them help 
upgrade  the  walkway  at  the  Country 
Club.  While  it  is  a  clearly  defined 
pathway it does tend to get overgrown. 
We  are  very  fortunate  to  have  such 
scenic areas that we can access within 
our  township  and  it  is  great  that  we 
have  young  people  in  our  community 
who  are  willing  to  help  with  the 
upgrades. 
Cycle/Walkway  
The group of people who are interested 
in  progressing  the  cycle/walkway 
between  Paparoa  and  Ruawai  are 
making  good  progress  having  split 
their  energies  with  one  group  looking 
at  the  logistics  of  the  track  while  the 
others  will  be  responsible  for 
administration and fundraising. 
Calf litter  
Some of you may have already bought 
bags  of  calf  litter  which  makes  an 
effective addition to gardens. This was 
a  project  initiated  by  the  late  Terry 
Hanna  and  with  the  help  of  his  son, 
Craig,  we  are  going  to  be  able  to 
continue  with  this  great  fundraising 
option.  You  will  notice  that  we  now 
have  properly  printed  20kg  bags  and 
have  used  technology  to  provide  a 
more effective way of filling the bags. 
This product will continue to be sold at 
local  markets  as  well  as  at  the 
Maungaturoto  Four  Square  (please 
contact  a  Rotarian  if  you  want  a  bulk 
load.) 
June Pitman  
Two  of  us  were  able  to  visit 
Tinopai  school,  promoting 
Duffy  books.  Children's 
author  June  Pitman  was  present,  and 
she  not  only  used  her  story-telling 
ability to have the children spellbound 
but at the end she presented two books 
to each student. These are taken home 
by  the  youngsters  and  it  is  hoped  that 
they will be encouraged to read more. 
Dr Tracey Wedge  
Once again, we have had a number of 
very interesting speakers, two of whom 
originally came from the Paparoa area. 
Dr  Tracey  Wedge  is  the  Curator  at 
Matakohe  Kauri  museum  who  spoke 
about  the  process  of  qualifying  as  a 
Conservator  as  well  as  some  of  the 
details  of  what  her  job  involves.  The 
Museum is fortunate to have someone 
like  her  on  their  staff  as  Conservators 
in NZ are very limited. 
Scott Freeman  
While  most  of  us  are  familiar  with 
dairy farms that involve cows, we were 
given  an  insight  into  dairy  goat 
farming  by  Scott  Freeman  who  is 
involved  with  a  herd  of  600  Saanan 
goats  near  Morrinsville  as  well  as 
being a Dairy Farm consultant. He told 
us  that  goats  are  very  efficient 
producers  with  great  personalities  and 
they  milk  like  cows  but  have  diseases 
like  sheep.  The  pool  of  farmers  is 
closed  and  the  payout  has  not 
decreased since 1995. Our speakers are 
always  entertaining,  and  it  is  great  to 
hear from locals who have returned to 
the area. 
If you have read this and are interested 
in learning more about Rotary you can 
access our website <rotarymgto.club> 
6 and a stunning dapple gray); next came Coby, 
a weanling gelding, who is now 4 and a lovely 
chocolatey  colour.  But  wait,  a  stunning  Pinto 
weanling  filly  then  caught  my  eye,  so  Bubba 
joined  the  team!!  Bubba's  breeder  was  very 
happy with how I was doing on the show scene 
and  offered  me  another  filly,  so  Gypsy,  a  little 
palomino joined us ... that was it!! Sure!! Have 
you heard the saying "like potato chips - one is 
never enough"? So, this season 2 more geldings 
have  joined  the  herd  -  a  black  weanling  Jimmi 
(Bubba's 
1
⁄
2
  brother)  and  a  beautiful  2year  old 
rich red bay Sammi (Coby's 
1
⁄
2
 brother). 
Over the last 2 show seasons I have watched and learnt a lot and my horses are 
now consistently placing and have been doing very well. A couple of highlights 
from  last  season  –  one,  Ice  winning  a  few  Reserve  Supremes  in  Performance 
(jumping  and  trail  -  which  she  loves)  and  two,  Gypsy  winning  an  Overall 
Supreme Category A. 
In  saying  that  I  have  been  lucky  enough  that  ALL  my  horses  are  doing  very 
well,  consistently  gaining  Champion/Reserve  champion  placings  -  I  am 
Extremely Proud of them! 
While  working  at  Jaques  4  Square  I'm  sure  I  drive  all  our  customers  crazy 
talking about my horses, but they are a very important part of my life. A BIG 
Thankyou  also  to  Paula  and  Greg  who  change  rosters  around  and  give  me 
Fridays off in the season to prepare my horses to show. 
If  anyone  is  interested  in  knowing  anymore  or  are  interested  in  showing  etc  I 
belong to about 4 clubs and am happy to point you in the right direction!!  I am 
secretary of the Matakana Miniature Horse Club, based in Warkworth which is 
the closest club.  
 ….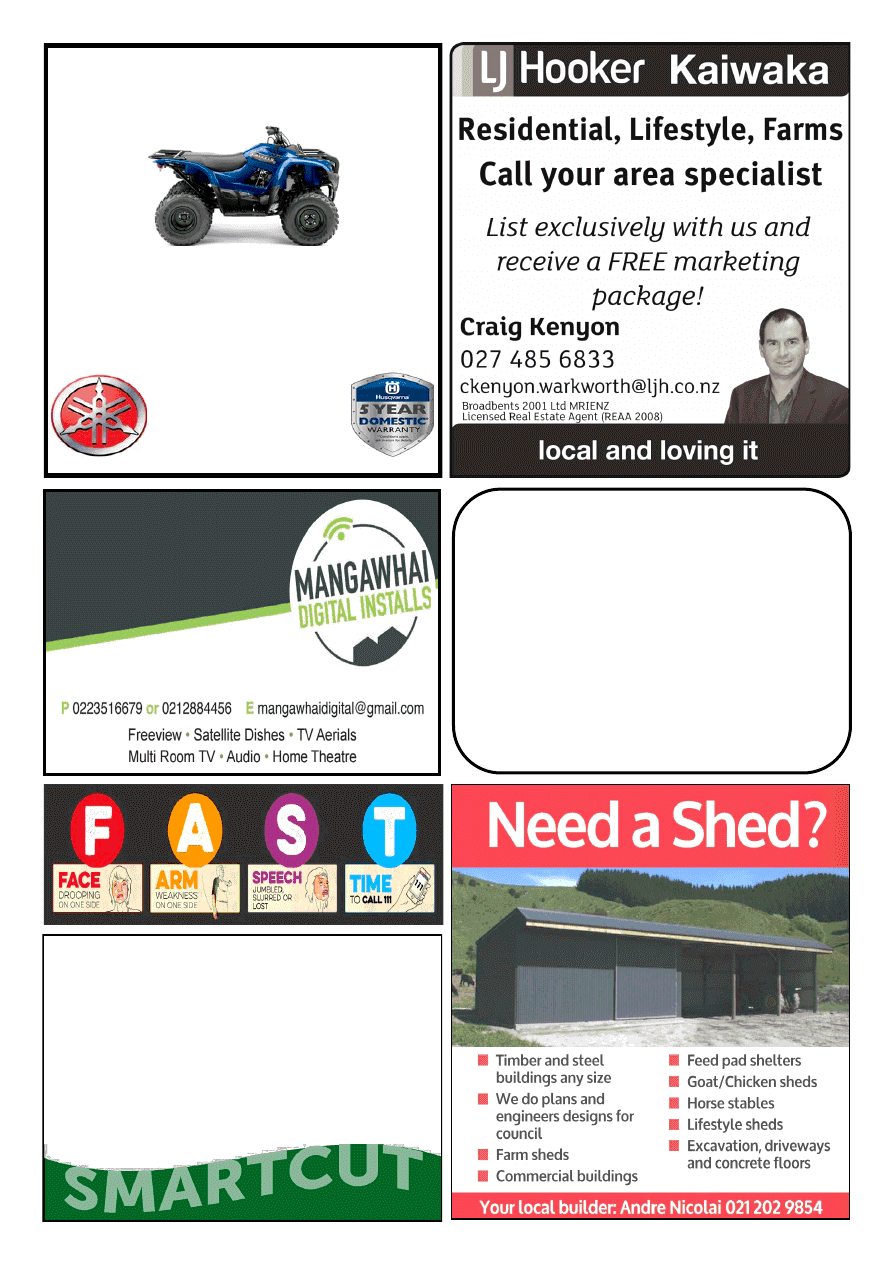 All your outdoor needs sorted so you don't have to... 
I can prune, chop, tidy, spray, mow, plant 
- you name it, I can do it! 
Residential & Commercial 
Lawn & Garden Care 
Call Rodney, your local  
lawnmowing contractor 
021 138 2344 
KAIWAKA 
MOTORCYCLES LTD
SALES – SERVICE – SPARES 
FARM BIKE SPECIALIST
PHONE 09 431-2127 
10 KAIWAKA-MANGAWHAI ROAD, KAIWAKA
Trimmers  
from $279
Chainsaws  
from $339
YAMAHA 
HUSQVARNA 
UP-LINK 
CHRIS WARING 
FREEVIEW INSTALLATIONS 
T.V. - HOME THEATRE &  
HI-FI ADVICE/SET UP
SKY ACCREDITED INSTALLER
MOB.0273403747 HM.094312328 
EMAIL cwaring44@gmail.com
28 YRS EXPERIENCE 
OFFERING UNBIASED ADVICE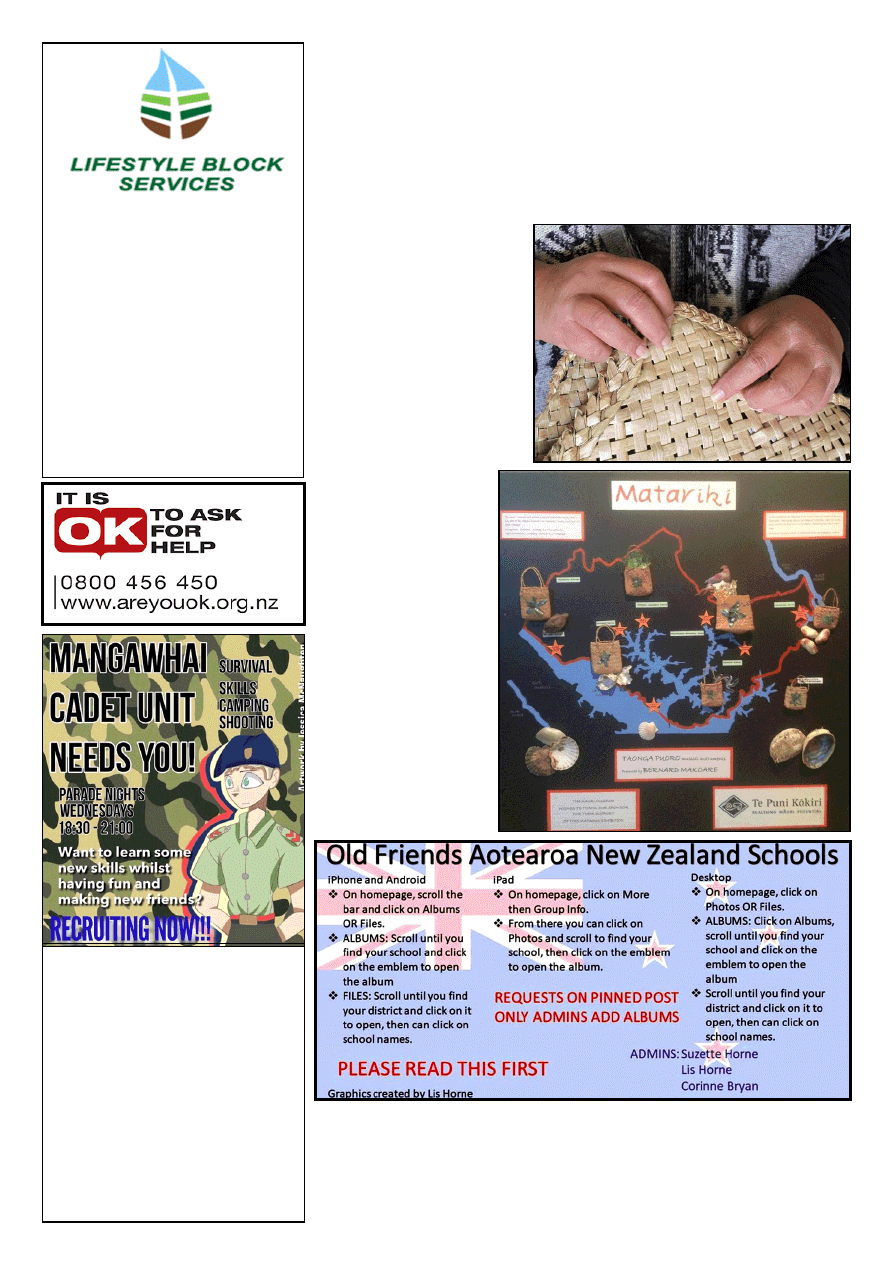 www.kaiwaka.co.nz 
Kaiwaka Bugle - 29 May 2018 
Page 19 
THE KAURI MUSEUM
Make Baleage while the sun shines! 
Let us make hay/sileage for you, or 
buy single & 5 bale equivalents from 
us
. 
Contact Mark on 021 801 065 or 
Contact Lisa on 021 108 1057
We also do: 

Fencing 

 Spraying 

  Mulching 
 
Stockwork 

  Stock Water 
Systems 

  Tree Trimming  

 Driveway & Track Maintenance  
This Facebook Group 'Old Friends New Zealand Schools' was founded as the 
old  'Friends'  one  had  closed  down.  There  were  many  people  say  they  had 
missed it so Corinne Bryan found a few old school mates and began this group. 
Corinne says, "Please share and like the group and we love all the school photos 
you are sharing. Unfortunately we can not retrieve any photos that you may have 
put on the last site. If you have any amusing stories or happenings at any of your 
schools please share. Thank you."
MANGAWHAI CADET 
UNIT  
RECRUITING NOW
- Are you 13-18?  
- Keen on learning some new skills 
whilst having fun and making new 
friends? 
Come along and check us out at: 
733 Settlement Road 
Wednesday's 
6:30pm to 9:00pm 
For more information contact:  
CAPT Rachel Elliott 
0212720112 
rachel.elliott@cadetforces.org.nz 
Matariki - Māori New Year 
Mid-June  marks  the  beginning  of 
Matariki  (Māori  New  Year)  when  the 
Matariki  star  cluster,  also  called  the 
Pleiades  or  Seven  Sisters,  rises  in  the 
sky.  For  many  years,  The  Kauri 
Museum  has  worked  with  seven 
primary  schools  of  the  old  Otamatea 
area  to  produce  themed  story  boards 
for  display.  This  year's  theme  is  'Ngā 
Ika o Otamatea'. 
Each  of  the  participating 
schools  has  been  given  the 
name  of  a  fish,  numerous  in 
their  area,  and  asked  to 
interpret  the  subject  in  any 
manner they wish.  
To  mark  the  opening  on  the 
first day of Matariki, 15 June - 
10am 
to 
2pm, 
Bernard 
Makoare  will  demonstrate  the 
making 
and 
playing 
of 
traditional 
Māori 
musical 
instruments,  taonga  puoro, 
followed  by  a  preview  of  the 
exhibition.  The  afternoon  will 
be dedicated to kapa haka 
performance 
before 
students  return  to  school. 
Anyone 
interested 
is 
invited to attend.  
Raranga flax weaving 
Our 
2018 
Matariki 
programme  also  includes 
the opportunity to attend a 
raranga  flax  weaving 
workshop.  
There  are  two  workshops 
scheduled,  the  first  held 
over  a  weekend  and  then 
a  later,  mid-week  course. 
These  are  tutored  by 
Whaea Geraldine Jenkins. 
Participants will learn the 
correct 
protocols 
for 
harvesting 
harakeke, 
preparation  of  the  fibre 
and then weave their own 
kete  to  pass  on  to 
someone 
special. 
Bookings  are  essential  for  the 
workshops: 
Saturday  16  &  Sunday  17 June  10am-
3pm OR Tuesday 24 & Wednesday 25 
July 10am-3pm; Cost: $40 per person 
Bring: your lunch, an old shirt/ apron, a 
flat wooden board, a blunt knife. 
Queries: call (09) 431-7417 or 
 email admin@kaurimuseum.com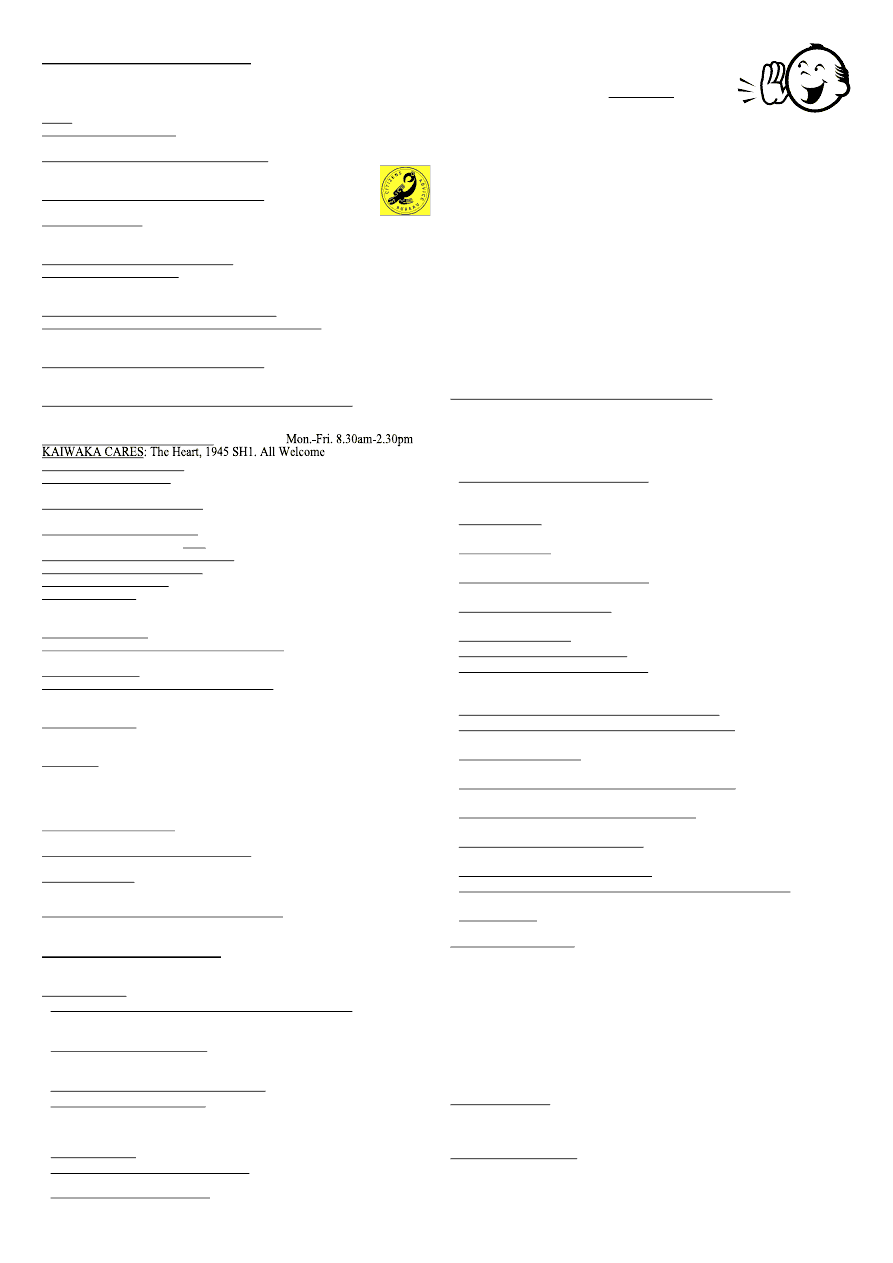 Next Bugle Deadline midday Friday 8 June 2018
WHAT'S ON
PLEASE ~ do let us know what is on - email 
kaiwakabugle@kaiwaka.co.nz 
Advertising in WHAT'S ON is FREE  
*28May -1Jun~Kaiwaka School Book Fair 
*30May~Scottish Country Dancing, 10am-12pm, KWMH  
*1Jun~ 'Molly's Game', KWMH, 7.30pm 
*2Jun~Fundraising Auction, Centennial Hall Maungaturoto 
*4Jun~QUEEN'S BIRTHDAY 
*15Jun~'Three Billboards Outside Ebbing', KWMH, 7.30pm 
*19Jun~Pt.Curtis Cruising Club AGM, 7pm, 3 Furs Bar & Grill 
*24Jun~'Peter Rabbit' KWMH, 2pm 
*26Jun~Linking Hands AGM, 6pm Anglican Church Hall Mgto 
*29Jun~'Finding Your Feet' Dinner & Movie, KWMH 6pm 
*1Jul~Walking Netball, KSA, 2pm 
*14Jul~Opening Night 'Into the Woods'. ORT, 7.30pm 
KWMH = Kaiwaka War Memorial Hall; KSA = Kaiwaka Sports Association 
See www.kaiwaka.co.nz for more information 
HOUSEHOLD RUBBISH COLLECTION - Kaiwaka Pick up: 
Mondays = Green bags (Northland Waste - 09 430 3273) 
Wednesdays  = Blue bags and yellow recycling (at Jaques $3.00 
and  $1.50)  (Kaurilands  09  4392146);  ONLY  Blue  and  Yellow 
bags picked up on Oneriri Road. 
 DIABETES  Support  Group  -for  Kaiwaka,  Mangawhai, 
Wellsford  10am,  3rd  Friday  of  month  Ph:  Colleen  James  09 
4314238 
 DRINK CAN 'tear tabs' - for Starship Hospital- please collect - 
98 Kaiwaka Mangawhai Rd, leave in mailbox, Ph. 4312625  
 GENEALOGY - Wellsford: 1st Thursday in month Ph: 423 
7033; Waipu: 4th Monday in month Ph: 4312 725 
 GYMNASTICS  OTAMATEA  -  Tuesday  Ph:  Stephanie  022 
3624998 
 HAKARU PONY CLUB - Secretary Denise Rogers 021423376 
secretary@hakaruponyclub.co.nz  
 KAIPARA HUNT - Secretary Albert Doonenbal Ph 4312059 
 KAIWAKA BADMINTON -Tuesdays 7.30pm Ph: 4312345 
 KAIWAKA  DRAMA  CLUB  - 
Hannah  Webb 
0272863352 
KaiwakaDrama@gmail.com Monday 5:30-7:00pm KWMH - FB 
- "KaiwakaDramaClub" 
 KAIWAKA DRUM & DANCE CLASSES - 021 611198 
 KAIWAKA GARDEN & FLORAL GROUP - 2nd Thursday in 
month. Ph: 431 4744 
 KAIWAKA  CUBS  -  Thursdays  5.30-7pm,  Hakaru  Ph:Bruce 
4312542 
 KNITTING FOR WHANGAREI HOSPITAL - 2nd Tuesday in 
month, Archie Bull Hall 10am Ph 4314827 
 MANGAWHAI COMBINED REBUS CLUB - 2pm, 3rd 
Thursday month, Senior Citizens Hall Mangawhai. Ph: 4315777 
 OTAMATEA GREY POWER - Kath Pattinson 09 283 2052, 
1pm last Wednesday of month, Anglican Church Hall, Mgto 
 PT CURTIS CRUISING CLUB - Jean Ph: 4312227 (wk), 4312520 (hm) 
 RSA,  HAKARU  &  DISTRICTS  WOMEN'S  SECTION  –  meets 
1.30pm 4th Thursday of the month. Ph: 431 5818  
 TRAMPING - Mondays 9am-2:30pm Maria 4312 234 
HALLS FOR HIRE: 
 St.Pauls Archie Bull Hall HIRE $20 half day, $40 full day per 
hire, S McAulay, Ph 4312311 
 Kaiwaka  War  Memorial  Hall  HlRE  -  Phone  4312725  or 
kaiwaka.hall.bookings@gmail.com 
 Hakaru Community Hall HIRE -Ph. 4312256 or 4312110 
 Te Pounga Marae queries - R. O'Leary 4312 423, J.Nathan 021 
186 7382 
 Kaiwaka Sports Association hire/queries - C. Anderson 4312051 
or kaiwakasports@gmail.com 
Justice of Peace:  
B.FJaques  4312  048;  L.Donaldson  4312  228;  A.F.Hargreaves 
4312 045, W.Howard 4312 725 - please phone to make sure they 
are available www.justiceofthepeace.org.nz 
Marriage Celebrants:  
L.Donaldson; A.F.Hargreaves; Y Osborne
LOCAL SERVICES 
*Emergencies - Ambulance, Fire, Police - dial 111 
*Non-urgent Police phone 09 4311150
A A: Meets Wed., 8pm Kaiwaka Ph: 4315543, 0800229 6757 
ASUREQUALITY LTD (was AgriQuality) Call Free 0508 0011 22  
BUDGETING SERVICE, WELLSFORD: Free confidential advice & 
support for all areas of personal finance. Ph (09) 423 7123 
CAB-Citizens Advice Bureau.Wellsford Ph: 4237333 
0800 367 222 email:cab.wells@xtra.co.nz  
CIVIL DEFENCE - Kaiwaka Community Response Group: 
kaiwaka.civildefencecrg@gmail.com, 4312725 Wendy 
DOG/STOCK /NOISE CONTROL 0800 105 890 
FUNERAL SERVICES: Morris & Morris Ltd, 
Whangarei - Bev Jaques Ph:4312367 or 0800667747 
GRANDPARENTS Raising Grandchildren: Dianah Roberts 0223819539 
HAKARU & DISTRICTS MEMORIAL RSA (Inc) 733 Settlement Rd, 
Hakaru. Ph 4312 176 or Graeme Hitchcock (President) 431 3064 
HAKARU LANDFILL/Transfer Station:Open everyday except 
Tuesday10am-4pm.Ph4312629 Cost-$55 trailer load up to 1 cubic metre. 
Ph:4258567 - office 
KAIPARA DISTRICT COUNCIL www.kaipara.govt.nz:  
Help Desk FREEPHONE 0800 727 059  
KAIWAKA KOHANGA REO: Ph:4312620 
KAIWAKA CEMETERY: Ph: 4312045 or 4314017 
KAIWAKA LIBRARY: kaiwaka.library@gmail.com  
Mon. 4-6pm; Wed., Thurs., Fri., Sat. 10am-2pm Ph:4312539 
KAIWAKA PLAYCENTRE: Ph Juanita 0274134904; open Mon, Wed, 
Fri 9am-12pm. Hastie Lane; Monday to Friday 9.00am - 12 noon. 
KAIWAKA POST OFFICE:Ph:4312 431  
Post Code: 0573 for RD2 and 0542 for all Kaiwaka Post Office mail 
KAIWAKA PRIMARY SCHOOL: Ph: 4312309   
KAIWAKA SPORTS ASSN: Ph 4312005; 4312129 gym 
KAIWAKA ST JOHN: Manager Steve Rosser 09 4318403, 021 355734 
KATE'S PLACE Community Centre - Employment services, Free Health 
Nurse, Plunket, Advocacy, Osteopath, A.A., Legal Advice. 4312 661 
LINKING HANDS Health Shuttle Ph 4315906 or 09 4318969 
MINISTRY FOR PRIMARY INDUSTRIES - General inquiries Call 
Free 0800 008 333 
NORTHPOWER: Faults Kaiwaka area 0800 104040 
OTAMATEA COMMUNITY SERVICES: Counselling, parent coach, 
Family Support worker, budget advice, food bank. Mon-Fri 9am-3pm. Ph 
09 431 9080 http://www.otamateacs.org/ 
PARENTPORT: Free, practical family support service Puhoi to Paparoa 
Ph or txt: Dianne 027 280 5093 or 09 425 9357 
PLUNKET:  Kaiwaka  -Kate's  Place  Clinic  1st  Wednesday  of  the  month; 
Mangawhai  - Rose Madsen Cottage: Coffee Group 9:30 every Monday.  Clinic 
every Monday and Thursday. 
Maungaturoto - Good News Church, Clinic 2nd and 4th Wednesday.  
Cynthia 09 431 7340 or 027 675 3488 
PLUNKET HELPLINE -0800 933 922 (24 hours) 
TAITOKERAU COMMUNITY LAW: Free confidential legal advice and 
assistance, 2nd
Thursday
 of each month. Ph: 0800 155 529 for appts.  
TE URI O HAU Settlement Trust Tangata Developments: Whanau Ora 
021 793262  
VETERINARY SERVICE MANGAWHAI: 
Ph: 4314535 Mon-Fri 8.00-5.00, Sat 9-12, a/h appt. 
WELLSFORD DOCTORS: Ph: 4238 086 
CHURCHES:
 
Kaiwaka  Revival  Church  -  Your  Community  Church:  Sundays  10am. 
Ph: Pastor Tawhiri 09 431 8988 or Pastor Paul 09 4312 068 Visit us at 
www.facebook.com/kaiwakachurch 
 
St  Paul's  Anglican  Church  1st  Sun.  9.00am  (Eucharist),  3rd  Sun. 
9.00am (Family Service). Contact: Rev. Wayne Thornton Ph 431 4122 
www.mangawhaianglican.org.nz 
 
Church of Christ the King, Mangawhai:9.30am every Sunday 
 
St.Mary's  Catholic  Church:  Maungaturoto  –  Griffins  Road,  Saturday 
evening  Vigil  Mass  6pm;  Mangawhai  –  Senior  Citizens  Hall,  Sunday 
Mass  8:30am;  Wellsford  –  Matheson  Road,  Sunday  Mass  10:30am;  
Mid-week Mass times and all enquires to Fr. Bill Fletcher – phone 423 8170
 
Baptist Church: Sun. 10.30am Mangawhai Snr Cit.Hall.Ph:4312339 
 
Cause  Way  Church  Mangawhai:  Sundays  10.15am,  Mangawhai 
Community  Recreation  Centre,  Insley  St.  Ph:  09  4314782