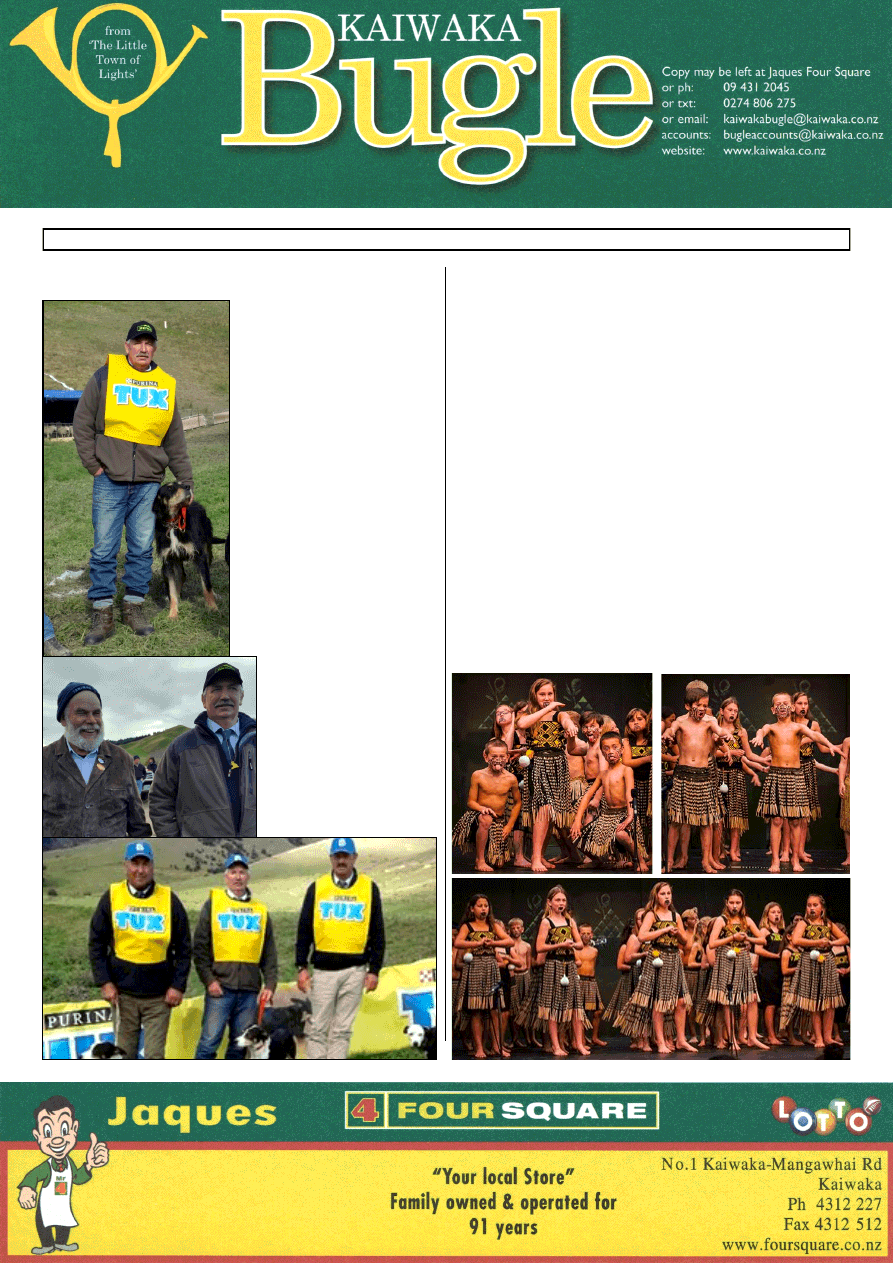 www.kaiwaka.co.nz 
Kaiwaka Bugle - 12 June 2018 
Page 1 
No: 11 
12 June 2018 
Trading Hours: 
Monday to Friday 8:00am - 6:30pm 
Saturday 8:00am - 7:00pm 
Sunday 9:00am - 6:00pm  
SCOTT WINS TWICE! 
Scott  McRae,  president  of  our  local  Molesworth  Sheep 
Dog  Trial  Club,  had  a 
brilliant 
New 
Zealanad 
Championship  at  Blenheim 
with his two dogs - huntaway 
Toby and heading dog Corey. 
He  was  3rd  with  Toby 
(pictured  left)  in  the  Zigzag 
Hunt  and  5th  with  Corey  in 
the  Longhead.  Scott's  result 
with 
Toby 
was 
truly 
remarkable,  in  that  he  was 
nearly  dead  a  month  a  go 
with  a  twisted  gut  -  Scott 
said, "Mate, you owe me big 
time!" 
Northland  had  two  other 
successful  trialists  Neville 
Child  and  Murray  Child,  of 
Maungakaramea  -  pictured 
below either side of Scott. 
They  were  so  successful  that 
between  Scott  and  the  Child 
brothers  they  accumulated 
enough  points  to  win the 
Cyril  Perry  Trophy  for 
the first time! This trophy 
is  for  the  highest  scoring 
region  at  the  New 
Zealand Sheep Dog Trial 
Championship 
- 
the 
equivalent  of  rugby's 
Ranfurly Shield.  
Pictured left - Rob Hastie 
Molesworth 
Club 
secretary with Scott. 
KAIWAKA SCHOOL SEEKS 
COMMUNITY SUPPORT 
As  many  of  you  already  know  Kaiwaka  School  has  a 
thriving and energetic kapa haka group. And their group is 
big!  Over  95%  of  the  school's  pupils  take  part.  It's  an 
enthusiastic  and  joyful  rōpū  led  by  the  dedicated  Mina 
Paikea. 
But, with the school roll growing rapidly, so too is the kapa 
haka  group.  This  means  Kaiwaka  School  no  longer  has 
enough piupiu (flax costumes), and those they do have are 
over  20  years  old!  Kaiwaka  School  are  keen  to  buy 
beautiful  handcrafted  piupiu  that  honour  the  performer's 
mana and the mahi that they put into performing. 
And,  to  do  this,  they  are  asking  for  the  help  of  the  wider 
community and that means YOU! 
Kaiwaka School Board of Trustees has pledged half the cost 
of the new costumes and now the school needs your help to 
help raise the other half. 
A  Give-a-Little  page  has  been  set  up  to  raise  additional 
funds.  Each  and  every  dollar  will  make  a  difference,  so 
please  share  this  page  with  friends  and  whanau,  donate 
what you can and support Kaiwaka School. 
https://givealittle.co.nz/cause/piupiu-for-kaiwaka-school-
Thank you. Photos: Josie Gritten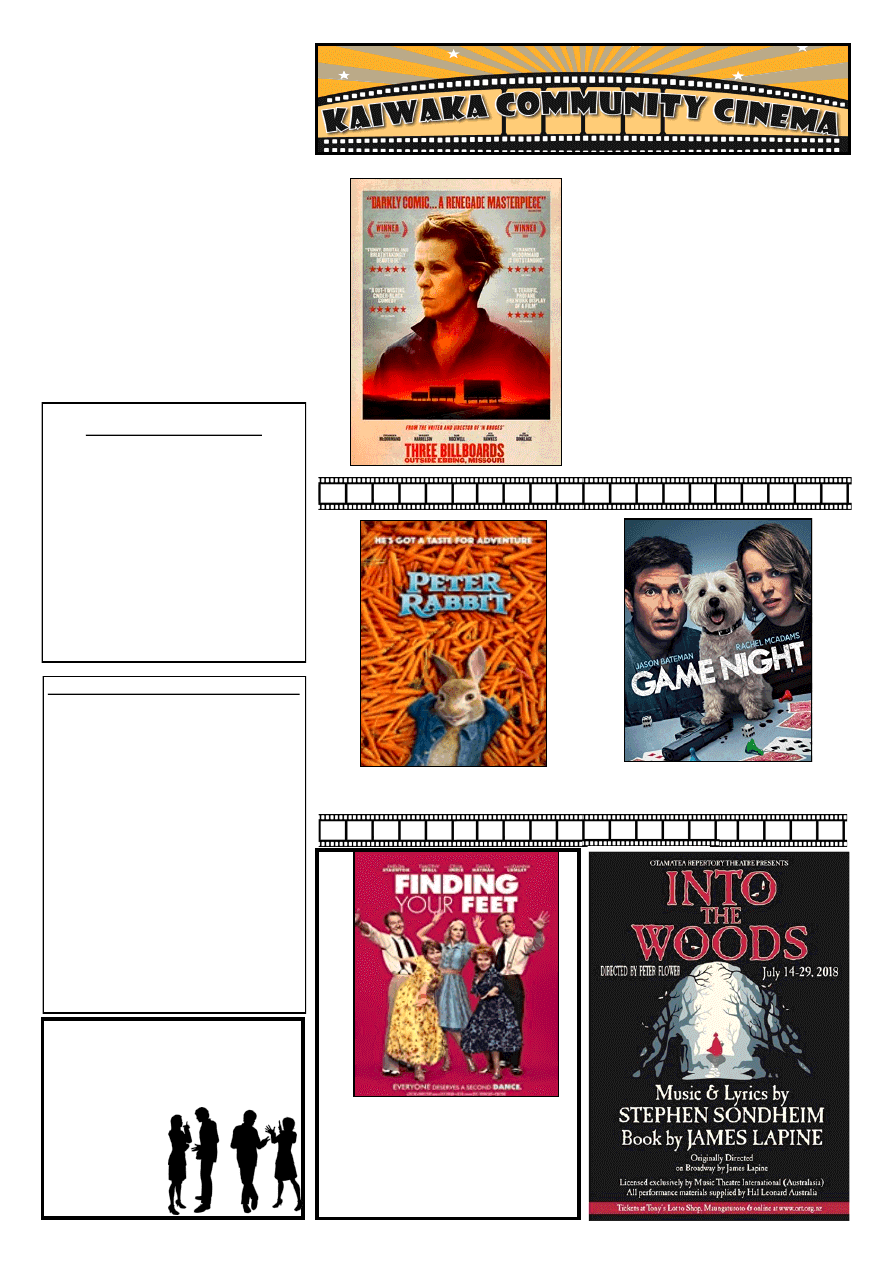 'FINDING YOUR FEET' 
Friday 29 June,  6pm (M) 
Movie & Dinner Night $30 
Ticket Entrance Only 
Call 021 2154495
At Kaiwaka War Memorial Hall . Adults $10, Kids (under 16) $5, Family Pass (2 adults + 3 children) $25 
KAIWAKA BUGLE NO.11 
12 JUNE 2018 
CONTENTS: 
Page 3: Public Notices, Classified 
Page 5: Hakaru Womens Section; 
Zonta 
Page 7:  OHS; Outward Bound  
Page 9:  40Hour Famine; Pt CCC  
Page 11: Kaiwaka Sports Assn 
Page 13: Kaiwaka School 
Page 15: Wig Wednesday; Thelma's 
Scrapbook; Nina Quan 
Page 17: Kaiwaka Library 
Page 19: SARADALE 
Bugle 12 will appear  26 June  
Contact for advertising, reports, articles 
or information can be made by 
Email kaiwakabugle@kaiwaka.co.nz 
Ph: 09 4312 045 Lindsey 
Txt: 027 2724137 
Copy  may  be  left  at  Jaques'  Four 
Square. 
Kaiwaka Bugle Advertisements 2018: 
All 
copy 
and 
queries 
to: 
kaiwakabugle@kaiwaka.co.nz 
The Bugle is printed on an A4 page   
Ad  sizes:  1/16  page  (3  x  9.5cm)  $5;  1/8 
(6.5  x  9.5cm  landscape  or  portrait)  $8; 
3/16 ( 10 x 9.5cm or 7.5 x 12,5)  $12.  
Classified  ads:  First  one  FREE,  $4  per 
entry (max. 30 words, max. 4 repeats). 
Payments  can  be  made  online  at 
ANZ 
06  0365  0006990  00
,  posted  or  left  at 
Jaques Four Square Store. 
We  use  Microsoft  Publisher,  and  can 
work  with  most  common  image 
formats, Word, Excel, and PDF files. 
Accounts:  
Email: bugleaccounts@kaiwaka.co.nz 
The  Kaiwaka  Bugle  is  a  community 
newspaper run by volunteers.   
Articles, etc. printed are not necessarily 
the opinion of the Bugle Team. 
Kaiwaka Bugle 
Founded May 1978 
We appreciate articles and photos about local 
events, etc, as well as ads and suggestions. 
Copies available in Kaiwaka at Jaques Four 
Square, Kaiwaka Postal Centre, Shamrock 
Service Station, Animal Health Centre, 
Kaiwaka St John shop. 
Also outlets in Maungaturoto, 
Mangawhai and Paparoa. 
Can be viewed online at  
www.kaiwaka.co.nz/Bugle  
Or a copy can be posted to you if you supply 
stamped, self-addressed DLE envelopes. 
THREE BILLBOARDS 
OUTSIDE  EBBING 
Friday 15 June, 7.30pm (R16)  
Three 
Billboards 
Outside 
Ebbing, 
Missouri  is  a  2017 
directed,  and  produced  by 
'Mildred  Hayes,  a  hard-nosed  mother  is 
seeking justice  for her murdered daughter. 
With  no  arrests  after  seven  months, 
Mildred  puts  up  three  roadside  signs  to 
goad  Ebbing  police  chief  into  action.  But 
the  law  -  and  especially  Sam  Rockwell's 
hot-headed deputy - don't take kindly to the 
provocation.
' 
Starring:  Frances  McDormand,  Abbie 
Cornish, Woody Harrelson, Sam Rockwell 
. 
Proverbs18:1
The selfish man/woman 
quarrels against every sound 
principle of 
conduct by 
demanding 
their own 
way. 
PETER RABBIT 
Sunday 24 June, 2pm (PG) 
GAME NIGHT 
Friday 1 3 July, 7.30pm (R16)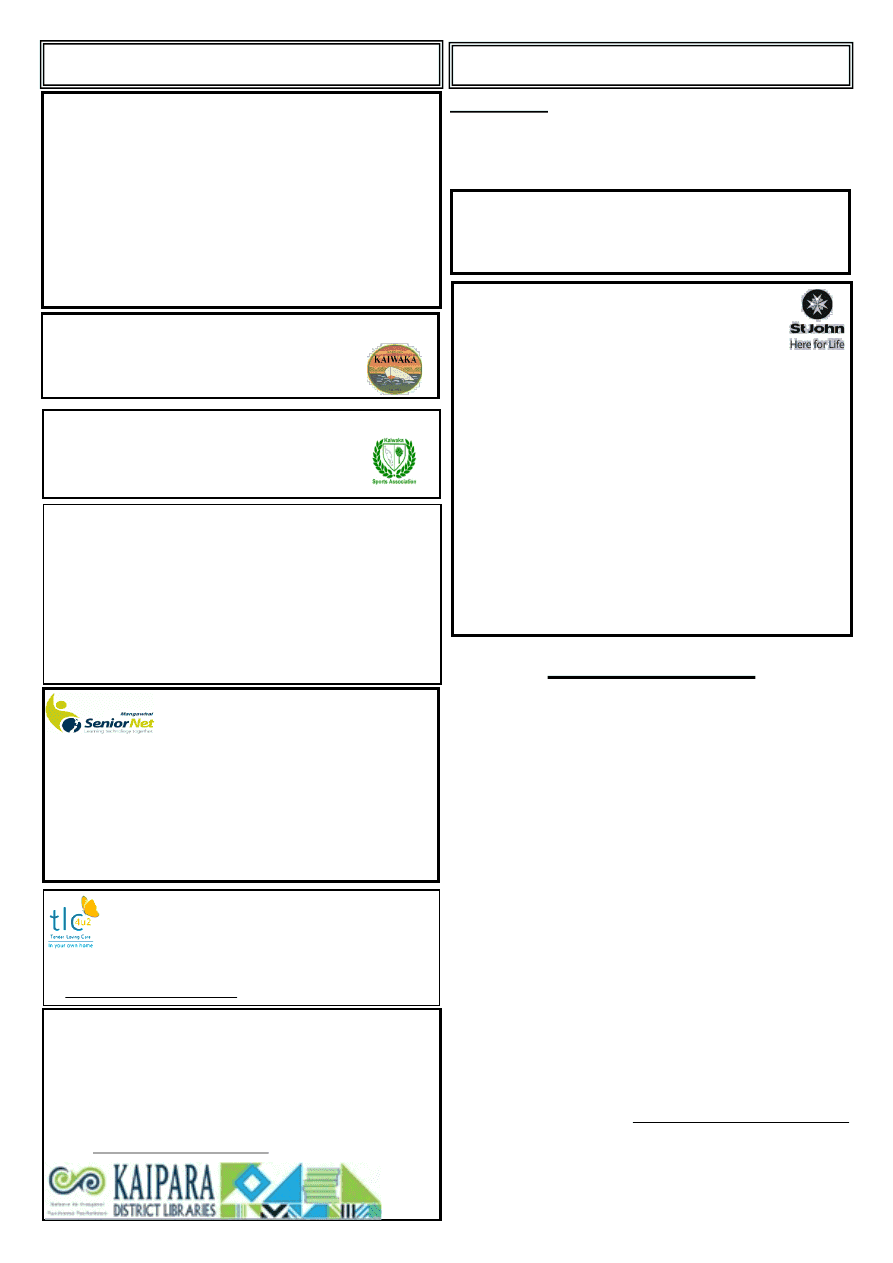 www.kaiwaka.co.nz 
Kaiwaka Bugle - 12 June 2018 
Page 3 
ABOUT TOWN 
 
Well Done, Scott McRae, local sheep dog trial president, 
on his success at the NZSDT Championships! 

Tell  Your  Story:  Thanks  to  Liz  Lawrence  for  her  
wonderful  story  of  Saradale  -  see  page  19;  photos  of    the 
Sarah  home  can  be  found  on  page  81  of  'Kaiwaka:  A 
Photographic History. 

 For more information on 'Tell Your Story' contact Bruce 
on 
09 4801949  

And a 'Well Done' to the Otamatea High School students 
who took part in the 40 Hour Famine! 

Another  Well  Done  -  this  time  to  Jamie  Nikora  who 
received  the  Young  Building  Control  Officer  of  the  Year 
Award recently. Jamie began his career as a cadet with the 
Kaipara  District  Council  when  the  KDC  office  was  in 
Kaiwaka. 

Otamatea Hawks  all grades results  …. will get regular 
rugby results soon.
 Please  do  not  park 
in  the   
Kaiwaka  Sports  Assn. 
'
Reserved  Parking'  area between the swimming pool and 
the gymnasium. Or 
the 'Emergency Access' to the fields. 
Check  out  the  reusable  cotton  string  produce  bags  at 
Jaques Four Square - no more plastic needed! 

Note: SeniorNet's next Help Clinic will be on Thursday 
(Not Wednesday) due to the Club not being available. 

 The  Kauri  Museum:  Calling  all  photographers,  online 
entries  for  The  Kauri  Museum's  Northland  Photography 
Awards is now open. Visit https://www.kau.nz/tour/awards/
                    ~ Lindsey, Ed 
"
At the end of the day, you can't please everybody so you 
may as well please yourself." ~ Steve Hansen, prior to All 
Blacks v France Test 9/6/18 
PUBLIC NOTICES 
CLASSIFIED 
First notice FREE  for Classified or Public Notices - 
less  than  30  words  -  then  charged  as  per  advertised  
($4). This includes AGM and meeting notices, FOR 
SALE, WANTED, FOR RENT. ~ Kaiwaka Bugle 
FOR  SALE:  Cafe Blanket, Queen (duck egg colour). 
Made with duck feather & down -warm & light weight 
qualities. Use on own as cover, blanket or accessory to 
bed  linen.  Brand  new,  still  in  original  packaging. 
Retails for $199. I'm selling for $130. Phone 4312051. 
HELP CLINIC 
SENIORNET MANGAWHAI 
Need a little help with your computer, laptop, ipad, 
tablet? Come to our Help session.  
Ask questions, solve problems,  
compare notes with others
. 
$10 members $15 non-members 
Thursday 14 June 10.30-12.30pm (2 hours) 
The Club (Bowls Club), Molesworth Drive, Mangawhai Heads 
Ph: Tony 4312269 or Val 4314042 
Or email seniornet,mangawhai@gmail.com to register. 
KAIWAKA ST. JOHN OP SHOP 
We still have For Sale: 
⬧
The  sideboard  which  measures  approx.  2 
metres long x 1 metre high which can be viewed 
at the Kaiwaka St. John station. Please just give 
me a call at the shop to arrange a time. It is now $100. 
⬧
We  also  have  a  solid  wood  round  table  in  great  order 
which would be ideally suited for a small kitchen 
⬧
We have 4 lovely red 'retro look' modern table chairs in 
excellent condition, 2x nice armchairs- (not matching), 
⬧
1x  foam  mattress  suitable  for  child's  bed,  and  lots  of 
lovely knick-knacks of all descriptions. 
⬧
We have a lot of babies and children's clothes and shoes 
in  excellent  condition  all  priced  from  50cents  -  $1,  and 
also lots of adults lovely warm jackets 
We  are  needing,  please:  single, double and queen beds 
preferably  with  mattresses  but  they  must  be  in  good 
condition please; also rugs and mats, towels, blankets, and 
pillows  and  also  tools  both  for  garden  and  workshop. 
Anything else much appreciated. ~ Milly and staff.
Phone 09-4312650 after 9.00 am. 
POINT CURTIS CRUISING CLUB INC 
Annual General Meeting 
Tuesday 19
th
 June 2018 7pm 
3Furlongs Bar & Grill 
ADRIAN ANDREW REDDY 
Thank  you to  all those  who have provided care and 
support  to  us  since  Adrian's  death  on  the  12th  of 
May. 
I  would  also  like  to  acknowledge  the  help  of  his 
carers, the staff at Coast to Coast  Medical Centres - 
in particular Maungaturoto - during his illness. 
Many  of  you  have  supported  him  in  his  business 
ventures  since  1966.  It  is  and  has  been  much 
appreciated.  
  Thank you, Elaine, Rebecca, Jo and families.  
"TELL YOUR STORY" 
A group of friendly folk all interested in writing meet 
alternate  Thursdays  in  the  Mangawhai  Village 
Library,  just  down  the  road  from  Kaiwaka,  to  tell 
their  story  and  meet  other  folk  interested  in 
writing...or  poetry...  or  limericks  ...or  script  writing 
for film. Learn how to publish yours. 
Next  meeting  will  be  Thursday  June  7th  at  7:30pm. 
All welcome. See 'Saradale' on page 19 
Fundraising Opportunity 
Is  your  community  group  looking  for  a  fundraising 
opportunity?  Kaipara Libraries have books available 
for  you  to  sell.   We  have  to  clear  out  old  books  to 
make room for the new. 
Contact us today if you are interested.  Phone 0800 
532 542 (0800 KDC LIB) or 
email library@kaipara.govt.nz
KAIWAKA SPORTS ASSOCIATION 
MEETING 
Wednesday 4th July, 7pm 
Kaiwaka Sports Complex 
CAREGIVERS WANTED 
Tlc4u2  requires  caregivers  for  hourly  care  in 
Warkworth  and  Kaiwaka.  We  particularly  are 
looking for a caregiver to provide home help for 
10 hours a week in that area.  For further information and 
if this position is of interest, please send your cv through 
to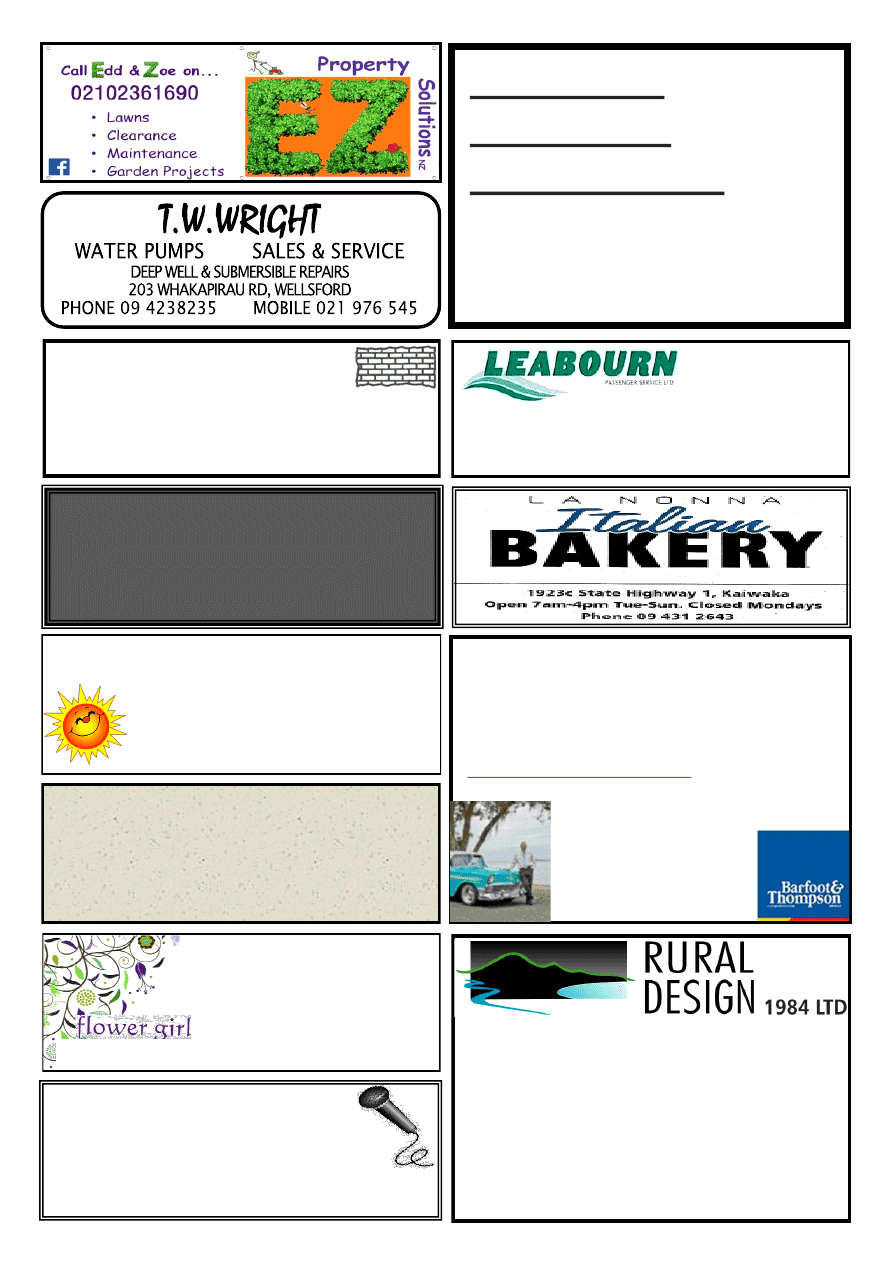 Passenger Service
Car & Van Hire   Bus & Coach Charters 
Airport Transfers    
Phone (09) 4237416 
BRICK/BLOCKLAYER 
All aspects of masonry:  
Fireplaces, Restoration & Remedial Work. 
JAMES EAGLETON 
Tel. (09) 431 2514    Mob. 0274 749 232 
jajueagles@yahoo.com.au 
210A Pukenui Road, RD2 Kaiwaka 0573 
THE SUNSHINE GIRLS
Efficient and reliable help with 
your housework. 
Ph 4312 532 
MARRIAGE CELEBRANT 
WEDDING EVENTS PLANNER 
Yvonne Osborne 
Ph 0274 989 814 
yvonne.osborne@xtra.co.nz 
Counsellor and Registered Psychotherapist 
Offers Supervision 
ACC Sensitive Claims 
Susan Matheson      MNZAC 
Dip. Psychosynthesis Counselling and Psychotherapy 
Phone 09 431 2996                                     Mobile 027 605 2427 

  After 20 years of selling in Auckland I have             
moved to Kaiwaka. 

  I have a relaxed attitude with years of  
        results and experience. 

  Please feel free to give me a call or email. 
licensed real estate agent (2008) 
Chris Barrington
Residential Sales
M 
Mangawhai
Wholesale Native Plant Nursery and Planting 
Small and Large orders welcome 
By Appointment 
300 Kaiwaka-Mangawhai Road, Kaiwaka 
Phone: 09 431 2481 
Email: info@ruraldesign.co.nz 
www.ruraldesign.co.nz 
Kaiwaka Good Sorts 
Do you know someone in our community 
who is deserving of a beautiful bunch of 
flowers? 
Send an email to us at 
kaiwakabugle@kaiwaka.co.nz 
or drop a note to Jaques Four Square to 
let the Bugle team know. 
lindywatson@hotmail.com 
4312 847 
SING RIGHT 
Professional coaching for performance,  
recording and demos. 
All level singers, musicians, singer-songwriters. 
Phone Robyn Hill 431 9159 or 022 1238126 
 FINANCE 
 FUNDING 
 SOLUTIONS 
T - 0275 989814 
E
 - osborneassociates@xtra.co.nz 
REGISTERED INDEPENDENT FINANCE BROKER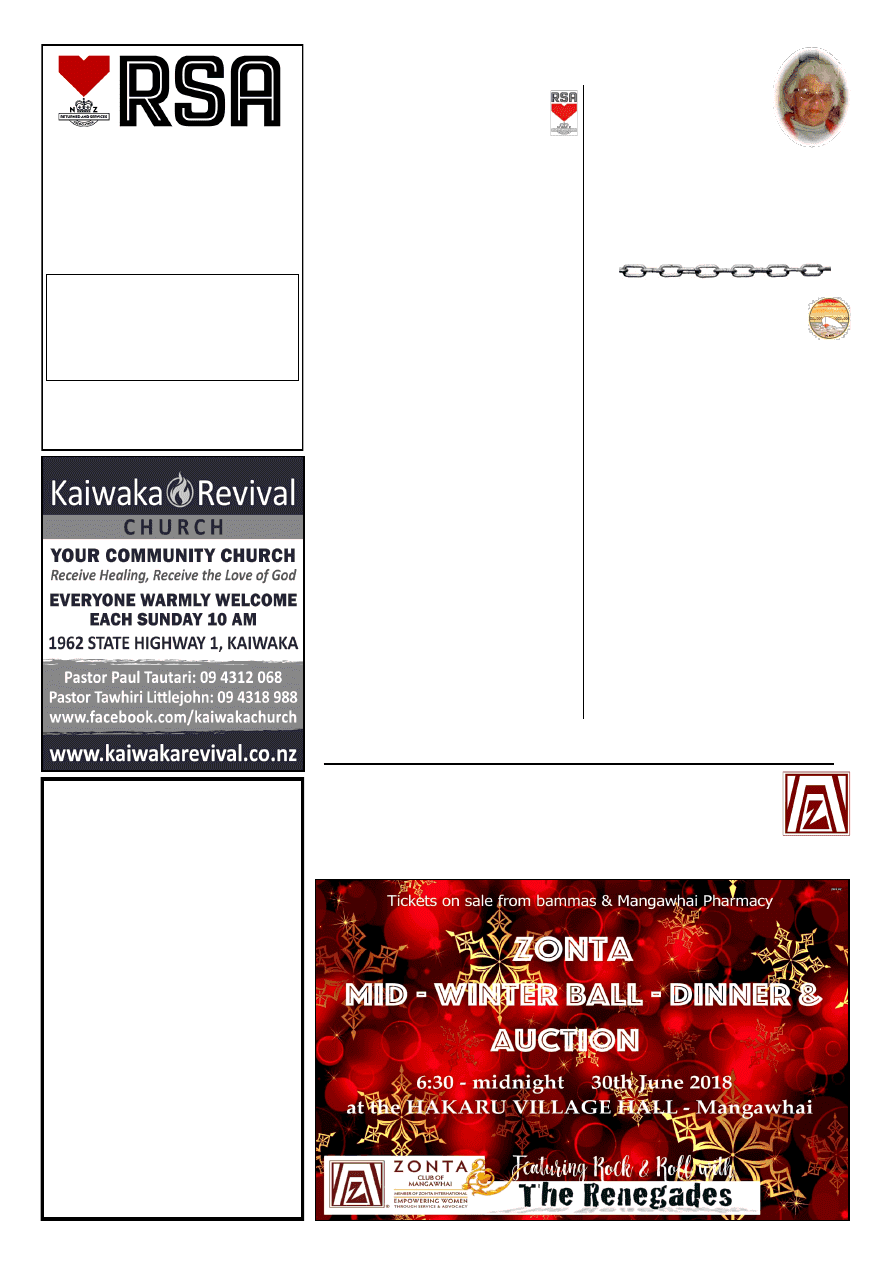 www.kaiwaka.co.nz 
Kaiwaka Bugle - 12 June 2018 
Page 5 
Lilia and her Spring lamb, Minty! 
Willow Bend
HORSE  
HOTEL 
  
Total Horse Care 
 
Agistment 
 
Riding Lessons 
 
Arena Hire (60x40) 
 
Young Horse Starting 
 
Re-training/Exercising 
 
Hoof Trimming 
 
Problem Solving 
Phone Sue 09 431 2817 
or 021 623 776 
Or email  
susanjoll11@gmail.com 
HAKARU & DISTRICTS 
MEMORIAL RSA (INC)
Members & guests are invited to 
come along and enjoy our hospitality. 
New members welcome. 
Meals are served on Thursday and 
Friday nights from 6.30pm. 
Last Friday of the month is  
'Roast Pork Night' and a sing-a-long  
with Des Chitty. 
For more information please phone 
Marlene on 431 5589 
HAKARU RSA 
WOMEN'S SECTION
Twelve  members  attended  the 
May  meeting  on  the  24th  which 
was  chaired  by  June  Wilson  in 
Lena's absence (hope the wedding went 
well Lena). 
We  decided  to  visit the  Salt  &  Pepper 
Cafe'  in  Waipu  for  our  mid  Christmas 
Luncheon on Tuesday the 5th June. 
There  is  to  be  a  NWA  meeting  at 
Hokianga  on  14th  July,  those  wishing 
to  attend  phone  Lena  on  4315034. 
On  Tuesday  17th  July  Birkenhead 
Womens  section  have  invited  us  to 
their Birthday, those wishing to attend 
phone Jan on 4314512. 
Waipu  Womens  section  are  going  to 
New  Lynn  RSA  and  Lynmall  on  a 
shopping  spree.  We  have  been  invited 
to  join  them  on  the  bus  for  $15  p.p. 
This  will  take  place  on  Tuesday  26th 
June,  please  phone  Jan  if  you  wish  to 
go. 
Many  thanks  to  Anne  Kelly  who  has 
kindly  donated  Avon  products  for  our 
sales  table,  a  lot  of  them  have  been 
sold already. 
Trish  Black  is  taking  names  for  the 
Operatunity  Rock  'n  Roll  show  on 
Friday 15th June at 11a.m., please ring 
Trish if you are interested in going on 
4314154  as  soon  as  possible. 
The Birthday Girls for this month were 
Petronella Brom and Shirley De V'ries, 
hope  you  both  had  enjoyable  days 
Ladies. 
No  date  has  been set  for the  over  80's 
afternoon tea as yet!! 
Our  next  meeting  is  on  Thursday  July 
26th at 1.15p.m. and we hope to have a 
Card Making Demo. 
See you there. New members are 'Most 
Welcome'. ~ 
Cheers, Ann
The Zonta Club 
of Mangawhai are 
once again hosting a midwinter ball and auction on June 30th, 2018 
at  the  Hakaru  Hall.  Tickets  are  available  from  Bammas  and  The 
Mangawhai Pharmacy - all proceeds go to Zonta projects such as our 
Second Chance and Spirit of Adventure Scholarships, and our baby packs that 
benefit women and girls in the local community. 
PT.CURTIS 
CRUISING CLUB
⧫
1
st
 June:  Subs  are  Due  $30 
Family (2 Adults 2 juniors aged under 
15yrs) $20 Single. 
Or  if  paying  by  Internet  Banking 
please  use  your  Name/Names  as  a 
Reference and if its Subs. 
Bank 
A/c 
details 
are: 
ASB 
WELLSFORD  No  12  3094  0008233 
00 
⧫
1
9th  June:  AGM  at  the  3  Furlongs 
Bar  &  Grill  at  7pm.   Club  Monthly 
meeting  will  follow  AGM.   All 
welcome.
⧫
30
th
 June:  Pool  Competition  against 
Mangawhai  Club  to  be  held  at  The 
3Furs Bar & Grill, Come and join in. 
⧫
30
th
 June  and  1
st
 July:  End  of 
Season Duck Shoot. 
Tickets  $20  Adult  $10  Juniors  (aged 
under 15yrs). Club Members only. 
Tickets can be purchased at 3Furs Bar 
&  Grill, Wellsford  Sports and  Leisure 
and Jean from Jaques Superstore. 
⧫
Fish  of  the  Month:  Gurnard  till 
19
th
 June. 
 ~ Wayne Leslie, Commodore
From  Thelma's 
Scrapbook … 
"It's nice to be important, 
but more important to be 
nice!" 
"You never find a worse patient, than 
when you are nursing a grudge!" 
"The chains of habits are often too 
weak to be felt, until they are too 
strong to be broken.!"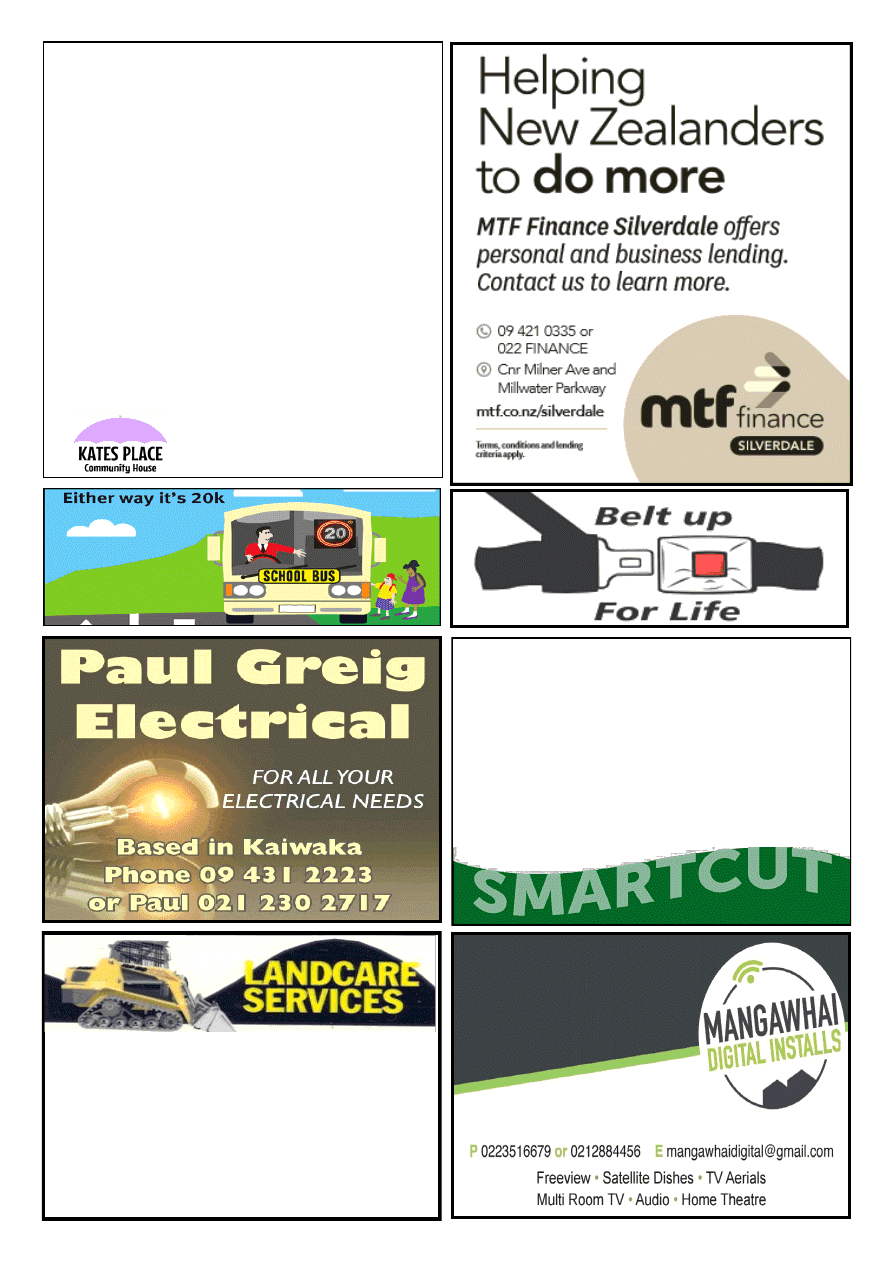 LANDSCAPING 
4 IN 1 BUCKET 
TRENCHER 
POLE HOLES 
ROTARY HOE 
COMPACT ROLLER 
OFFAL HOLES 
CAN SUPPLY WOODCHIP & POST PEEL 
5 TON TIPPER 
FOR RELIABLE AND FRIENDLY SERVICE CONTACT DAVE 
Dave Hyndman 
 
KAIWAKA 
PH: 09 4312302 
MOB: 021 431 238 
All your outdoor needs sorted so you don't have to... 
I can prune, chop, tidy, spray, mow, plant 
- you name it, I can do it! 
Residential & Commercial 
Lawn & Garden Care 
Call Rodney, your local  
lawnmowing contractor 
021 138 2344 
WEEKLY TRIP EVERY 
THURSDAY 
- MAUNGATUROTO -  KAIWAKA -  
- WELLSFORD - WARKWORTH - 
(and back) 
For anyone & everyone, save money, save gas, be social, 
go shopping, visit the doctor, get to the library, got to 
the dentist, meet your friends, have lunch, get to WINZ. 
Kate's Place Community House & OCS have teamed up to 
provide a van service that will travel from Maungaturoto 
to Warkworth every Thursday. 
TIMETABLE: 

9.30am: 
Maungaturoto. OCS 155 Hurndall St. 

10am: 
Kaiwaka, Kate's Place Community House, 1960 SH 1 

10.20am: 
Wellsford, Te Ha Oranga, 158 Rodney St. 

10.45am 
Warkworth Centre 

1.30pm 
Depart Warkworth 

2.30pm 
Arrive Maungaturoto 
Conditions: No eating or drinking in the van. Children under 14 
must be accompanies by an adult. Must book a space in 
advance. 
$5 per adult  
Book on 09 4312661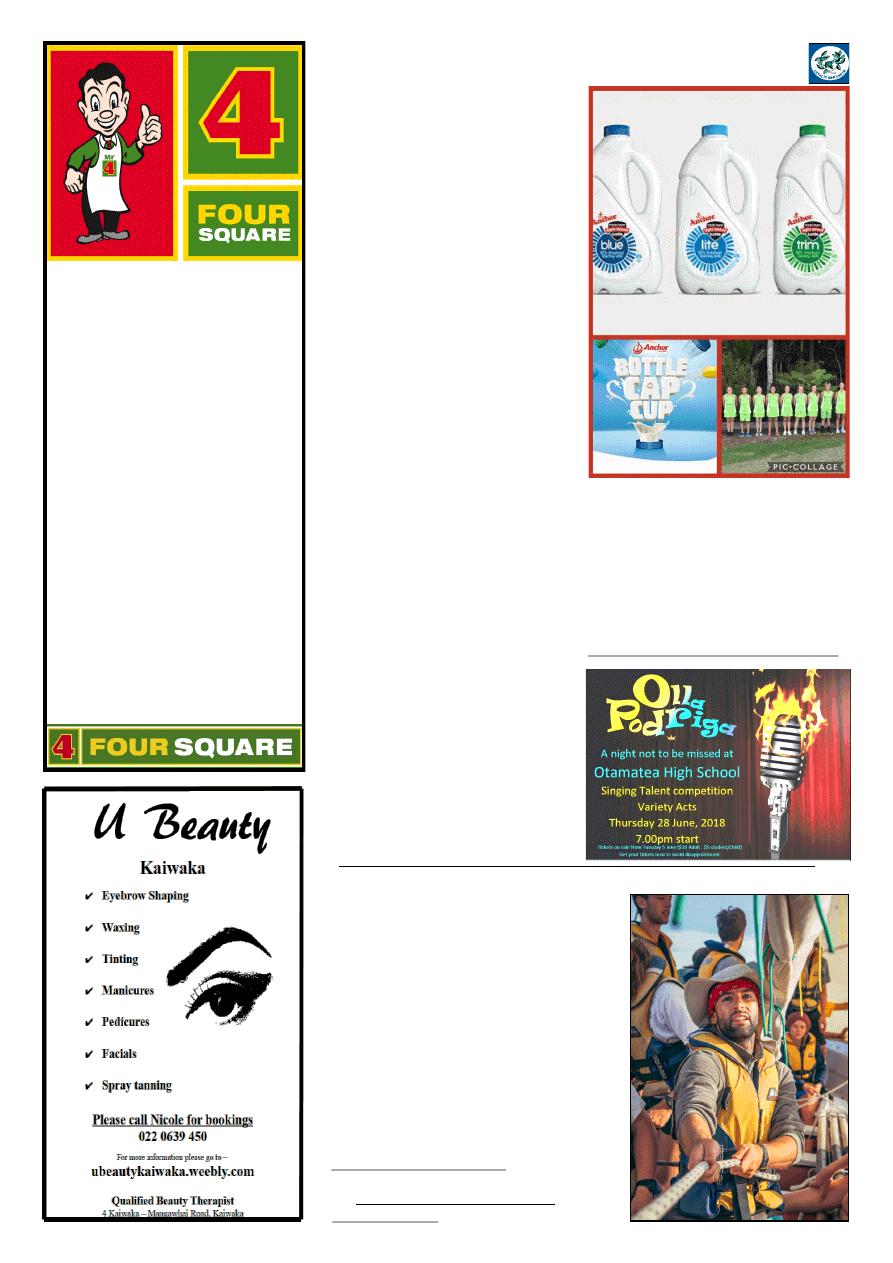 www.kaiwaka.co.nz 
Kaiwaka Bugle - 12 June 2018 
Page 7 
New in store  
Organic Re-usable 
cotton string produce 
bags 
Selling at cost $3.00  
Ask our friendly staff at 
check out 
Winter essentials 
Hot Water bottles in 
stock $5.90  
Ug boot slippers, gloves 
& socks 
NEW FRESH & LOCAL 
Orata Oysters 200g pot 
Limited time special $14.99 
Delivered on a Wednesday 
Open till 6.30 Monday to Friday
Jaques Four Square 
Phone: 4312227 
1 Kaiwaka-Mangawhai Road, Kaiwaka. 
OTAMATEA HIGH SCHOOL
From the Principal 
School  Ball:   Tickets are now on sale 
at  the  school  office  for  the  school 
ball.  This year the ball will be held at 
Maungaturoto  Centennial  Hall  on 
Monday  9th  July  from  7pm  until 
11pm.    Year  12  and  13  students  are 
able to bring outside partners but must 
complete an outside partner form.  
After  ball  parties:    Last  year  an 
organised  after  ball  was  shut  down  at 
the last minute by the police as it was 
not  legal.      This  resulted  in 
disappointment  from  students  and 
some parents. This year I want to avoid 
that  disappointment  and  so  have 
attached  the  legal  position  from  the 
Police  below.      The  law  changed  a 
couple  of  years  ago  as  a  result  of  a 
number  of  very  serious  issues  related 
to after balls around the country. As a 
school  we  want  to  keep  our  students 
safe  and  we  also  want  them  to  enjoy 
the school ball as an event in it's own 
right.  Your support with this is much 
appreciated.  
Olla Podriga  
Our  annual  talent  quest,  Olla  Podriga, 
is  also  coming  up  on  Thursday  28th 
June.  Tickets  can  be  bought  at  the 
school  office  -  $20  for  adults  and  $5 
for students and children.  It is always 
an  awesome  evening  showcasing  the 
talents of our students. 
AIMS  Games  Bottle  Cap  Cup 
Competition 
OTAMATEA  AIMS  TEAM  -  THEY 
NEED  TO  COLLECT  AS  MANY 
ANCHOR  BOTTLE  CAPS  AS 
POSSIBLE! 
 Let's  win  some  awesome  prizes  for 
our  AIMS  Netball  Team.  Including  a 
chance  to  have  a  visit  from 
commonwealth  Gold  Medalist  'Tom 
Walsh'. 
Otamatea  High  School  has  been 
assigned  to  a  'pool'  based  on  our 
enrolment  size  to  ensure  that  we  will 
be  competing  against  similar  sized 
schools.  Our  collection  box  will  be 
located  in  'The  Hub'  foyer  or  contact 
Pat Buxton, Kaiwaka. 
COLLECT  THE  CAPS  -  Eligible 
milk bottles: 2L and 1L Anchor Fresh 
White Milk, includes 2L and 1L 
Blue, 
Lite,  Trim,  Calci+,  Silver  top,  Zero 
Lacto Blue, Zero Lacto Trim, Organic 
Blue and Organic Trim 
https://bottlecapcup.anchordairy.com/ 
FINAL DAYS TO APPLY FOR OUTWARD BOUND 
COMMUNITY VOLUNTEER 
SCHOLARSHIPS 
      Are you doing good in your   
      hood?  Or  do  you  know  someone 
      who is? 
Then 
don't 
miss 
this 
opportunity! 
Applications close shortly for Outward Bound 
'Who's the Finest' Community Scholarships, 
providing  up  to  75%  funding  of  a  21-day 
Classic course.  
Applicants  need  to  be  18-26  years  old  and 
be  actively  volunteering  in  the  community. 
Limited scholarships are available for courses 
in June, July and August. 
If this sounds like you or someone you know, 
then apply online 
at www.outwardbound.co.nz before 30 June. 
Call 0800 688 927, 
email jwilson@outwardbound.co.nz or head 
to Outward Bound for more information.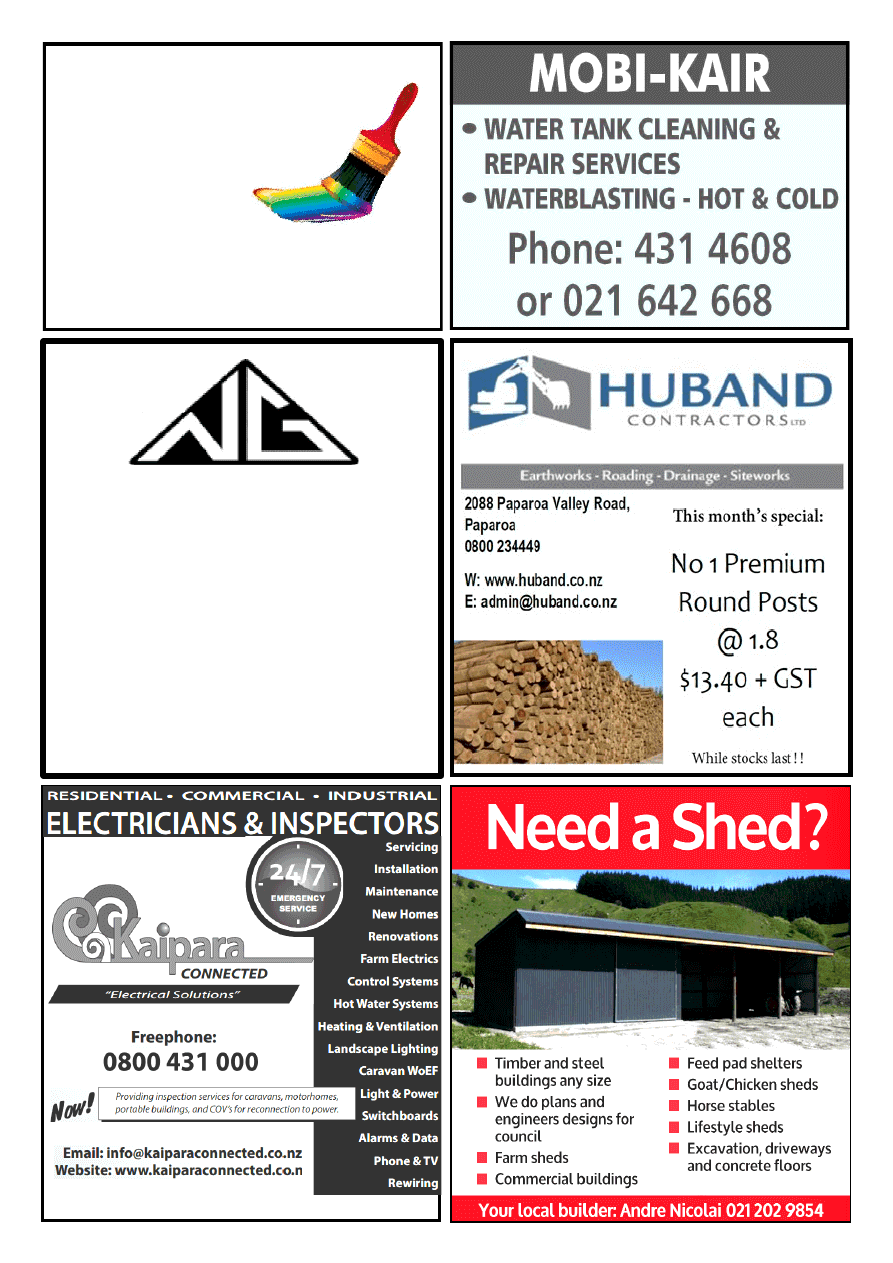 09 4312918 
0274735171 
leecooper@xtra.co.nz 
LEE COOPER PAINTERS 
(Kaiwaka Based) 
*30 yrs Experience 
*Interior/Exterior 
*New and Restoration 
*Honest and Reliable 
*Free Quotes 
NORTH GLASS 
WINDSCREEN REPAIR OR REPLACE 
GLAZING SERVICES 
MIRRORS  •  SPLASH BACKS  •  SHOWERS 
0800 70 40 10
info@northglass.co.nz 
www.northglass.co.nz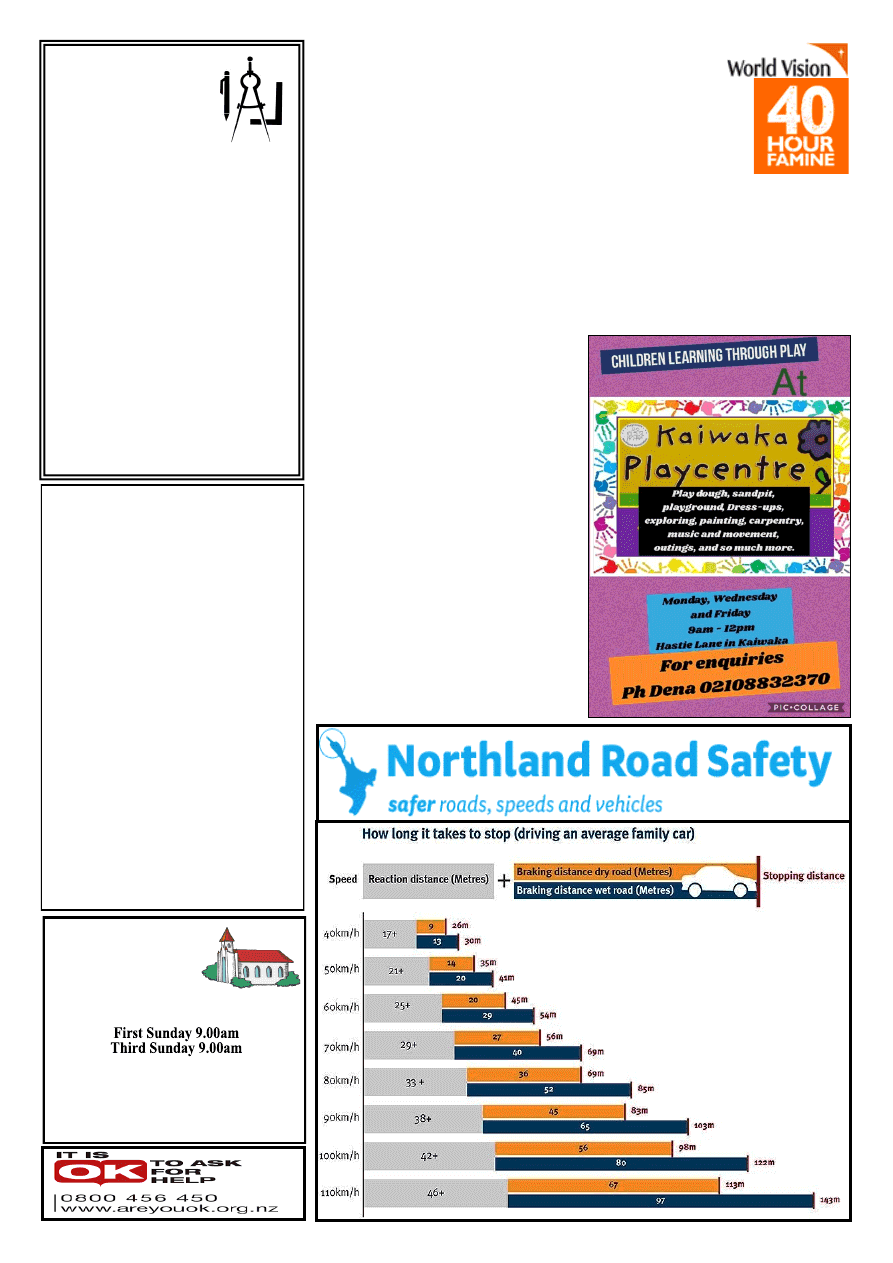 www.kaiwaka.co.nz 
Kaiwaka Bugle - 12 June 2018 
Page 9 
design  
drafting  
service 
Retired builder and manufacturer 
with over 40 years experience in the 
building industry is offering a design 
drafting service for domestic hous-
ing, sleepouts and sheds.  
Plans formulated in consultation 
with clients, with working drawings 
completed and submitted to council 
for processing.  
Extensive practical experience,  
able to identify & resolve problems.
Please ring Mike Lean on 
09 431 2260 
or 
021 431 196 
Mangawhai 
Heads 
Garden 
Centre
1758 Cove 
Road
945 0707 
021 165 2629 
ST PAUL'S  
ANGLICAN  
SUNDAY  
SERVICES
St Pauls Church: Kaiwaka-Mangawhai Rd. 
1st Sunday - Eucharist 
3rd Sunday - Family Service 
Rev. Wayne Thornton Ph 431 4122 
www.mangawhaianglican.org.nz
Otamatea  High  School  students,  along 
with  2000  students  from  16  Northland 
schools,  gave  something  up  last 
weekend  -  food,  technology,  furniture, 
speaking  -  as  part  of  World  Vision's 
upcoming 40 Hour Famine. 
The 40 Hour Famine is New Zealand's 
largest  youth  fundraising  event  and  it 
reaches  250,000 individuals  each  year, 
with  an  estimated  90,000  active 
participants  raising  about $1.9  million. 
This year it will run from the 8
th
 to the 
10
th
 of June. 
This  year,  the  Famine  is  about  a 
generation of New Zealanders standing 
united with the child refugees of South 
Sudan.  Each  day,  approximately  100 
unaccompanied,  separated  or  at-risk 
children  cross  the  border  from  South 
Sudan into Uganda in search of safety. 
The  money  raised  from  famine  2018 
will  be  used  to  fund  World  Vision's 
work  providing  essentials  to  get  those 
children back on their feet. 
This  year  we've  teamed  up  with 
international 
dancer 
and 
choreographer Parris Goebel. In her 
role  as  ambassador  for  the  40  Hour 
famine, 
Goebel 
travelled 
to 
the  refugee  settlements  in  Northern 
Uganda,  to  see  World  Vision's  work. 
She says "I'm so excited to be teaming 
up with World Vision this year to help 
give  the  refugee  children  of  South 
Sudan 
a 
brighter 
future." 
World  Vision  New  Zealand  National 
Director  Grant  Bayldon  says  having 
Goebel  on  board  in  support  of  the  40 
Hour  Famine  will  play  a  big  part  in 
reaching  young  people  in  New 
Zealand. 
"Parris  has  a  genuine 
heart  for  helping  the 
refugees 
of 
South 
Sudan and young Kiwis 
will  see  that  and  be 
inspired  by  her  passion  to  help  too."  
Bayldon says the 40 Hour Famine will 
give South Sudanese children hope for 
a better future.  
"We're  asking  a  generation  of  young 
New  Zealanders  to  stand  united  with 
the  children  of  South  Sudan  to  bring 
them essentials like food, water, shelter 
and education." 
Thousands of Northland students went  
without for 40 Hour Famine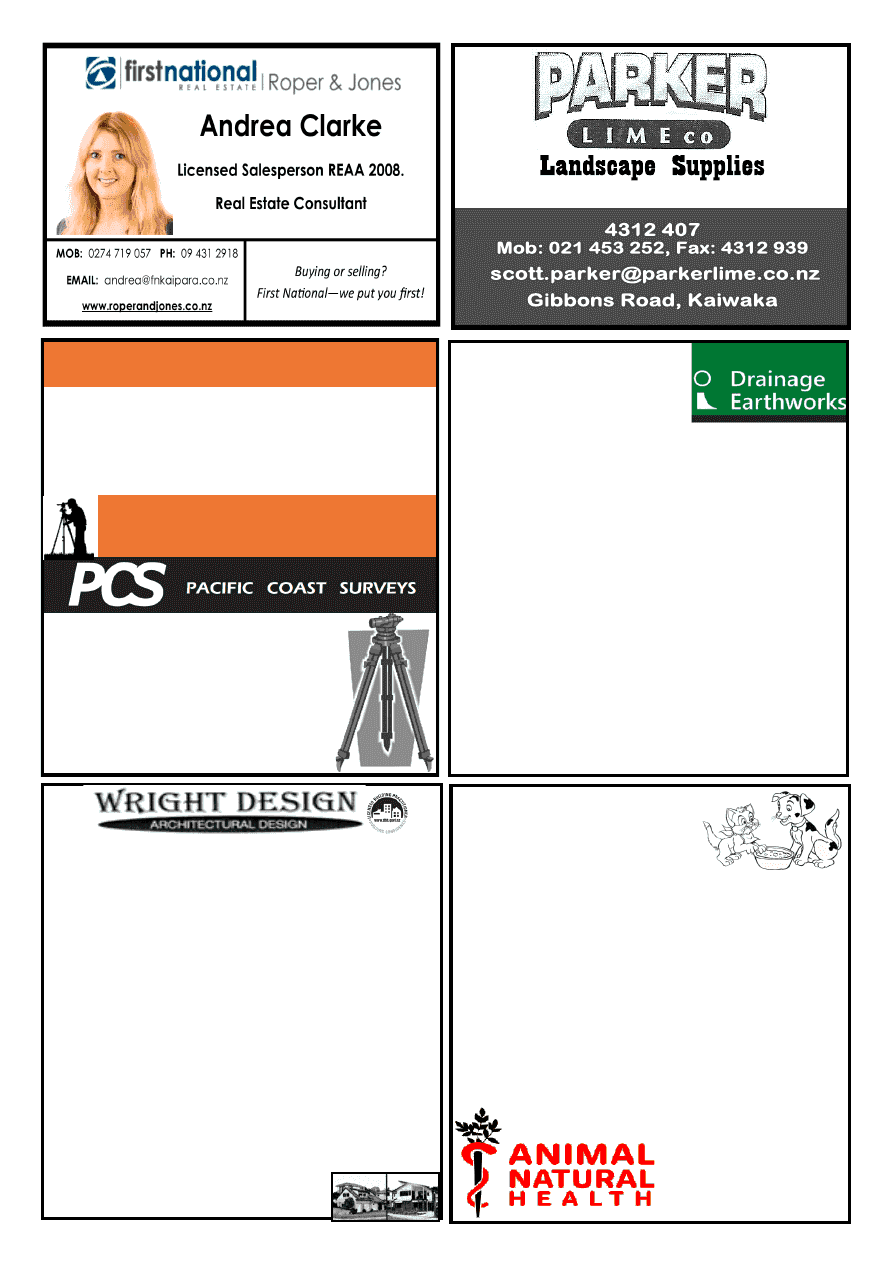 Drainage & Earthmoving 
nigel@clarkedrainage.nz 
027 2233 185 
Registered Drainlayer 
All Types of Earthworks  
> All Residential & Commercial Work  > House Sites 
> Septic System Design & Install 
> Footings & Drilling to 10m 
> Sewer Connections 
> Dams 
> Water Tank Installation 
> Roading & Races 
> Farm Work 
THE ONE STOP SHOP  
Phone Nigel for an Obligation Free Quote  
Bulk Cartage 
SURVEYORS 
SUBDIVISIONS 
HOUSE SITE SURVEYS 
CIVIL ENGINEERING 
WASTEWATER DESIGNS 
EXPERIENCED 
PROFESSIONAL 
INNOVATIVE 
Ph 09 431 5353 
0800 PACIFIC (0800 722 434) 
pacificcoastsurvey.com
Adam Booth - 027 415 5752 
Bsurv, Licensed Cadastral Surveyor
Surveying Kaipara since 1994 
If you are thinking of building then you 
will need a good and well experienced, 
qualified, and licensed designer. 
This applies if you are considering a 
new home any alterations or any 
building additions/farm buildings, 
sheds, alterations, whatsoever. 
For Resource and Building Consents, 
planning restraints, new building 
materials, applying for building permits 
– you need a capable, experienced, 
and professional designer with a clear 
knowledge of all the processes. 
Brian has been helping and organising 
all these facets of design and building 
for over 50 years. 
Wright Design offers free visits, 
consultations and advice on planning, 
design, building, council permit 
applications, guaranteed permit plan 
acceptance. 
QUALIFICATIONS 
Brian is a qualified designer 
(N.Z.C.A.D.) with over 50 years of 
varied experience in all types of 
building and is registered and Licensed 
Building practitioner in Design – 1 & 2 
Registered LBP117345 
He will ensure you will achieve the 
best from your budget. 
EXPERIENCE 
Brian's practical building and 50+ years 
of design experience means he can 
give you excellent advice and all the 
guidance needed. 
Brian can arrange engineering for a 
reasonable cost. 
•Qualified and inexpensive designer – 
N.Z.C.A.D. Registered LBP117345 
•Guaranteed design and working 
drawings 
•Free site visit to your home or 
property 
•Great service and free quotation 
PROJECTS 
Additions, alterations, basements, new 
homes, motels, bed and breakfast, 
commercial buildings, farm buildings, 
and shop fit outs are a few projects. 
Brian can show you many of his 
projects in the area to emphasise his 
versatility and can give you contact 
with satisfied clients. 
WHAT TO DO FROM NOW ON 
•Call Brian for a free quotation 
•Discuss your needs and obtain good 
advice 
•Brian can offer 
plan printing 
from A4 to A0 
(2x A1 size) 
No. 117345 
ORIJEN & ACANA  
now available!
Looking for economy with 
quality in pet food? 
Our 2kg fresh meat rolls only $12.90
Tukka Thyme Muesli (makes 3kg) - only $14.90 
Veal Bones 3kg $17.90 
Beef & Lamb Patties  3kg  $22.90 
Chicken Medallions 3kg  $18.90 
No nasty chemicals, cage & crate-free, free-range, 
organic where possible. 
Flea-Flee , Tick & Lice Control, alternatives to 
vaccinations. 
Safe beach leads, collars, toys. 
Want a choice in animal health care? 
See our Animal Naturopath.  
ANIMAL NATURAL 
HEALTH CENTRE 
Next to Italian Bakery, 
Kaiwaka 
Ph. 09 431 2217    
Open Mon-Sat.
N.Z.C.A.D., L.B.P. 117345 
PH/Fax: 09 423 8092 Mob: 021 276 7369 
Office: 3 John Sinclair Avenue, Wellsford    brianwright@xtra.co.nz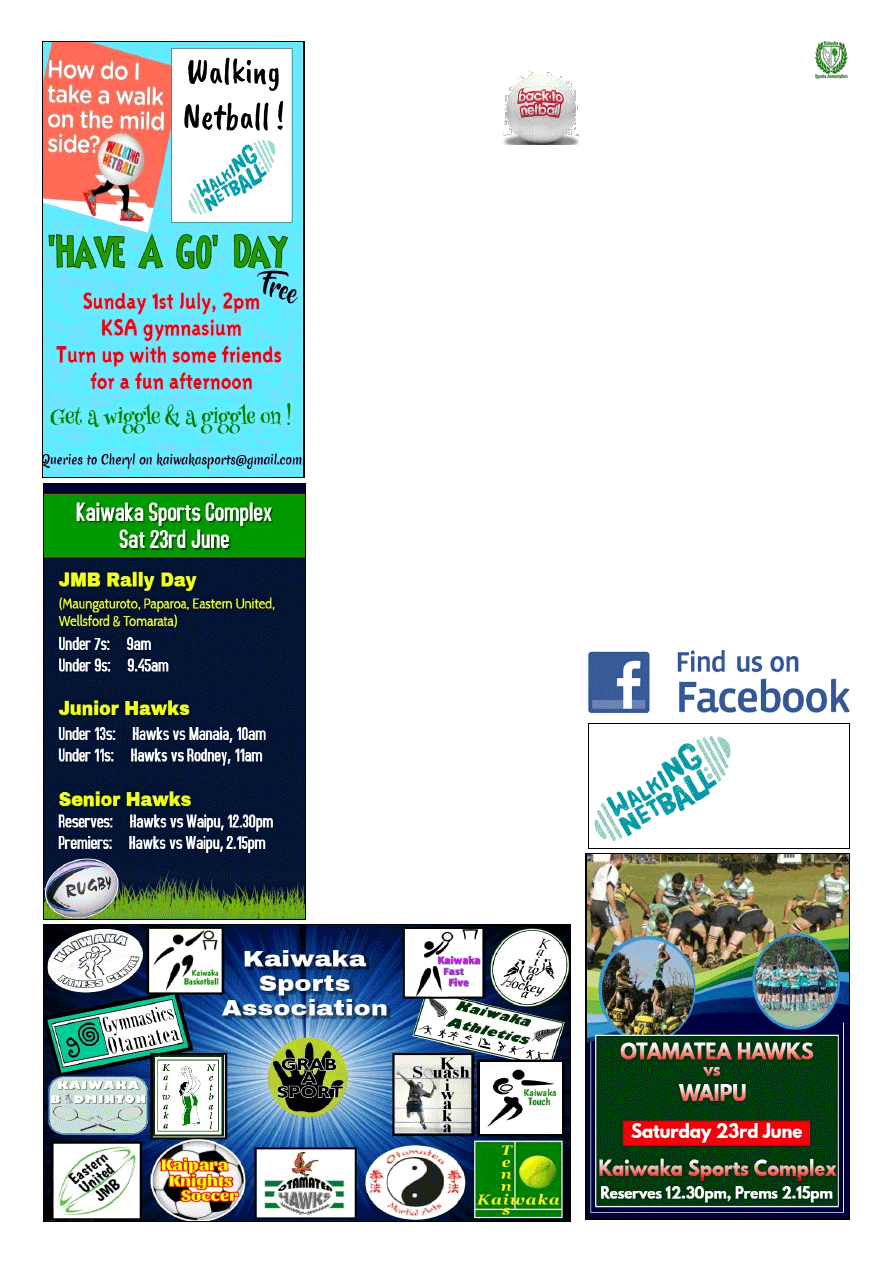 www.kaiwaka.co.nz 
Kaiwaka Bugle - 12 June 2018 
Page 11 
KAIWAKA SPORTS SOCIATION
Walking Netball 
Love  netball  but  can't  run 
and jump like you used to? 
If  you  can  walk  and  pass, 
then  you  can  play  Walking 
Netball!  Walking  Netball  is  a  slower 
version of the game, with no running or 
jumping  allowed.  It  is  suitable  for 
people of all ages and abilities with the 
focus on fun rather than competition. 
I  am  putting  on  a  'Have  A  Go'  day, 
and  then  if  there  is  enough  interest,  I 
will  organise  a  Module.  So  for  a 
'taster'  of  Walking  Netball,  come 
along to our gymnasium on Sunday 1st 
July at 2pm. 
Rugby - Rippa 
An 
inter-schools 
Rippa 
Rugby 
Tournament will be held at our grounds 
this  Thursday  14th  from  10am. 
Spectators welcome. 
Rugby - JMB 
All  five  JMB  clubs  (Paparoa, 
Maungaturoto, 
Eastern 
United, 
Wellsford  and  Tomarata)  will  be 
playing  at  our  grounds  next  Saturday 
23
rd
 June. Under 7s kick-off at 9am and 
Under  9s  kick-off  at  9.45am.  This  is 
the beginning of a full day of rugby, as 
the  JMB  matches  will  be  followed  by 
two  Junior  Hawks  matches  and  then 
two Senior Hawks matches. 
Rugby – Junior Hawks 
The next Junior Hawks matches held at 
our  grounds  will  be  next  Saturday 
23rd.  Our  Under  11s  are  taking  on 
Rodney  and  the  Under  13s  will  be 
playing Manaia. 
Rugby – Senior Hawks 
Our  Senior  Hawks  take  on  Waipu  at 
our  grounds  next  Saturday  23rd  June. 
The Reserves kick-off at 12.30pm and 
are  followed  by  the  Premiers  at 
2.15pm. 
Weddings at the Sports Complex 
Planning on getting married? Or know 
someone  who  is? The Kaiwaka  Sports 
Complex  is an  economic  and  spacious 
wedding  venue  with  a  large  lounge, 
bar,  dance  floor,  ample  parking,  easy 
access  off  SH1  -  all  at  a  very 
reasonable price. 
There  are  several  photogenic 
spots  within  our  grounds  that  are 
perfect for the wedding ceremony. 
Check  out  our  website  for  all  the 
details www.kaiwakasports.co.nz. 
KSA Meeting 
There  will  be  a  Sports  Association 
meeting  on  Wednesday  4th  July  at 
7pm,  in  the  Sports  Complex.  All 
welcome. 
KSA Clubs 
Did  you  all  know  that  all  these  sports 
clubs  are  affiliated  to  the  Sports 
Association: 

Squash 

Rugby (JMB, IMB, Junior Hawks and 
Senior Hawks) 

Gymnastics 

Martial Arts 

Tennis 

Netball (Primary School, High School 
and Seniors) 

Hockey 

Soccer 

Fast Five Netball 

Touch Rugby 

Fitness Centre 

Athletics 

Badminton 
For details on any of these clubs, check 
our website www.kaiwakasports.co.nz, 
our Facebook page or contact me. 
~Cheryl Anderson,  
4312 051, 027 3462702 
kaiwakasports@gmail.com 
'Have A Go' 
Fun Day:  
Sunday 1st 
July, 2pm, KSA 
Gymnasium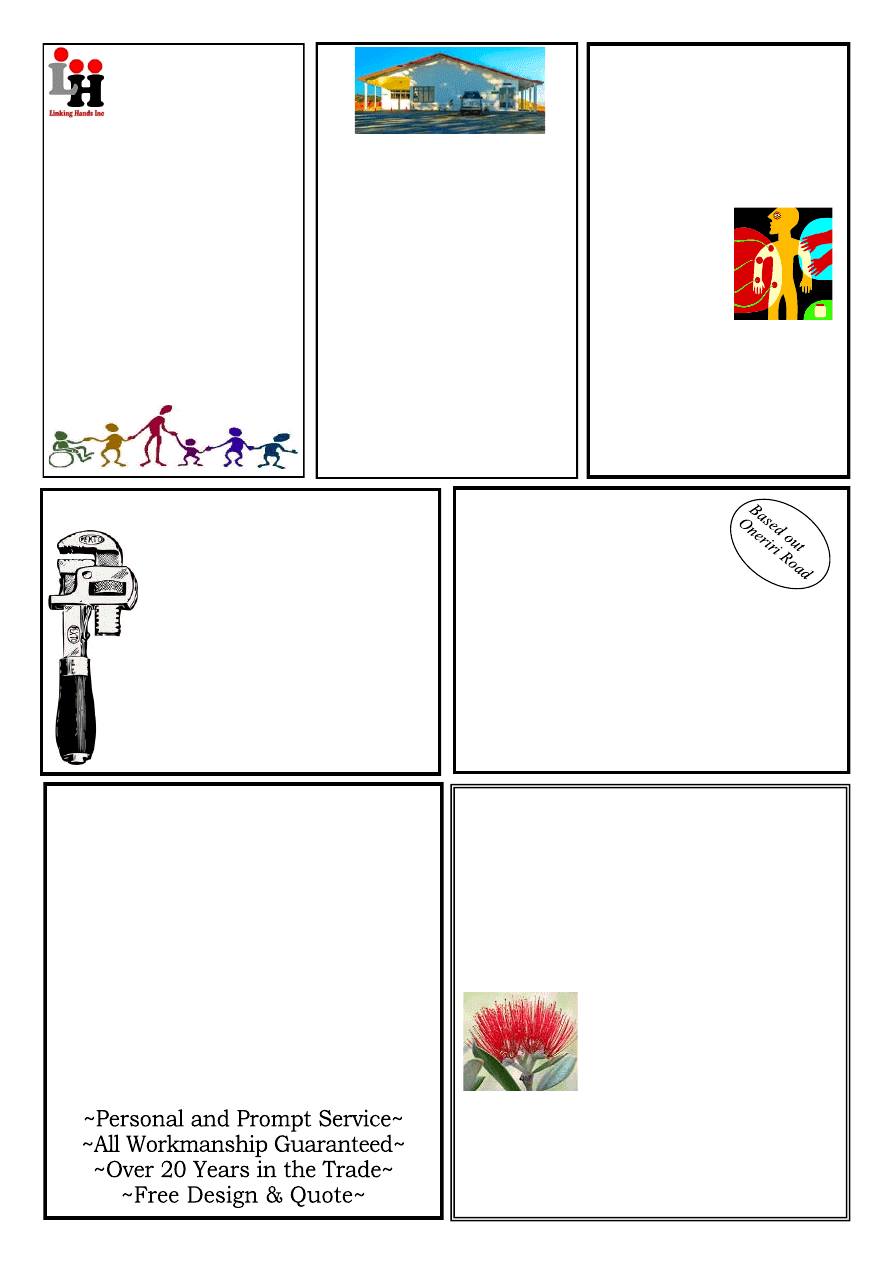 BARRY CURTIS PLUMBING LTD 
REGISTERED CRAFTSMAN PLUMBER 
Phone 431 5572
027 257 9884 
25 years' experience 
Friendly reliable service 
All plumbing & maintenance 
Alterations and new housing 
Spouting  
C
ompetitive rates 
PROMPT EFFICIENT SERVICE 
KAIPARA FLOORING CO 
Independently owned & operated 
32 HURNDALL ST MAUNGATUROTO
Supply & Installation of Carpet, Vinyl,  
Vinyl Wood Planking
Stockists of 2m & 3m wide 
vinyl & carpet short ends
Residential & Commercial
Q Card Finance Approved 
6-18 month terms 
6 mth interest free
First Class Installations
For a free measure & quote 
phone Christine  
09 946 9886 or 021 515 415 
kaiparaflooring@gmail.com 
http://www.kaiparaflooring.co.nz/ 
HODGETTS 
CONTRACTING
Digger Work 

Driveways 

House Sites

Dams  

Drains, etc
Also available for HIRE 

4
3 ton Vib Roller 
⧫
Heavy Duty Tow  

4
Waterblaster   
⧫ 
Lazer Level 
Phone Mark 4312877 
OWEN STEVENS 
Osteo Therapist
For careful adjustments to bones 
and joints 
Treatment for humans and their 
pets 
Clinics: 
Kate's Place, 
Kaiwaka: 
Last Friday of 
month 
For bookings: 
9.00am-5.00pm  
Phone 
09 4312661 
Or phone Owen  
09 4317123 anytime 
PLANNING A NEW KITCHEN?
 CONTACT NOEL McDOWELL
WELLSFORD 
KITCHENS
Ph/Fax 094312888
KAIWAKA-Any time
 QUALITY CUSTOM MADE 
KITCHENS
Te Pounga Marae 
130 Nathan Rd. Oneriri. Kaiwaka 0573 
COMPLEX FOR 
HIRE 
Functions 
* Weddings  * Birthdays  
*Anniversaries * Meetings  * Wananga 
5 hour meeting * 12 hour stay  * 
Overnight 
*All welcome - No more Drink-driving 
Amenities: 
*Convo Combi Steamer * Bratt Pan * 
Dish Washer/Sterilizer * 3 Door Glass 
Chiller (walk in) etc…All Crockery * 
Linen Supplied * Central Heating and 
Air Conditioning and much more.  
Can also cater for small groups…. 
For more information please contact: 
Kim Wallace  
Home: 09 832 1133  Mob: 0211275340  
Email: kimwallace@xtra.co.nz 
  LINKING 
HANDS INC 
Maungaturoto - Kaiwaka - 
Mangawhai 
Meeting the needs of the community. 
A  free Health Shuttle Service, providing 
transport to those who would struggle to 
get  to  medical,  dental,  podiatry,  or 
optometrist appointments anywhere from 
Warkworth to Whangarei. 
HEALTH SHUTTLE SERVICES 
Ph/fax 09 431 8969 
OFFICE HOURS 
Maungaturoto - Monday to Friday - 
10am to 4pm 
Closed Public Holidays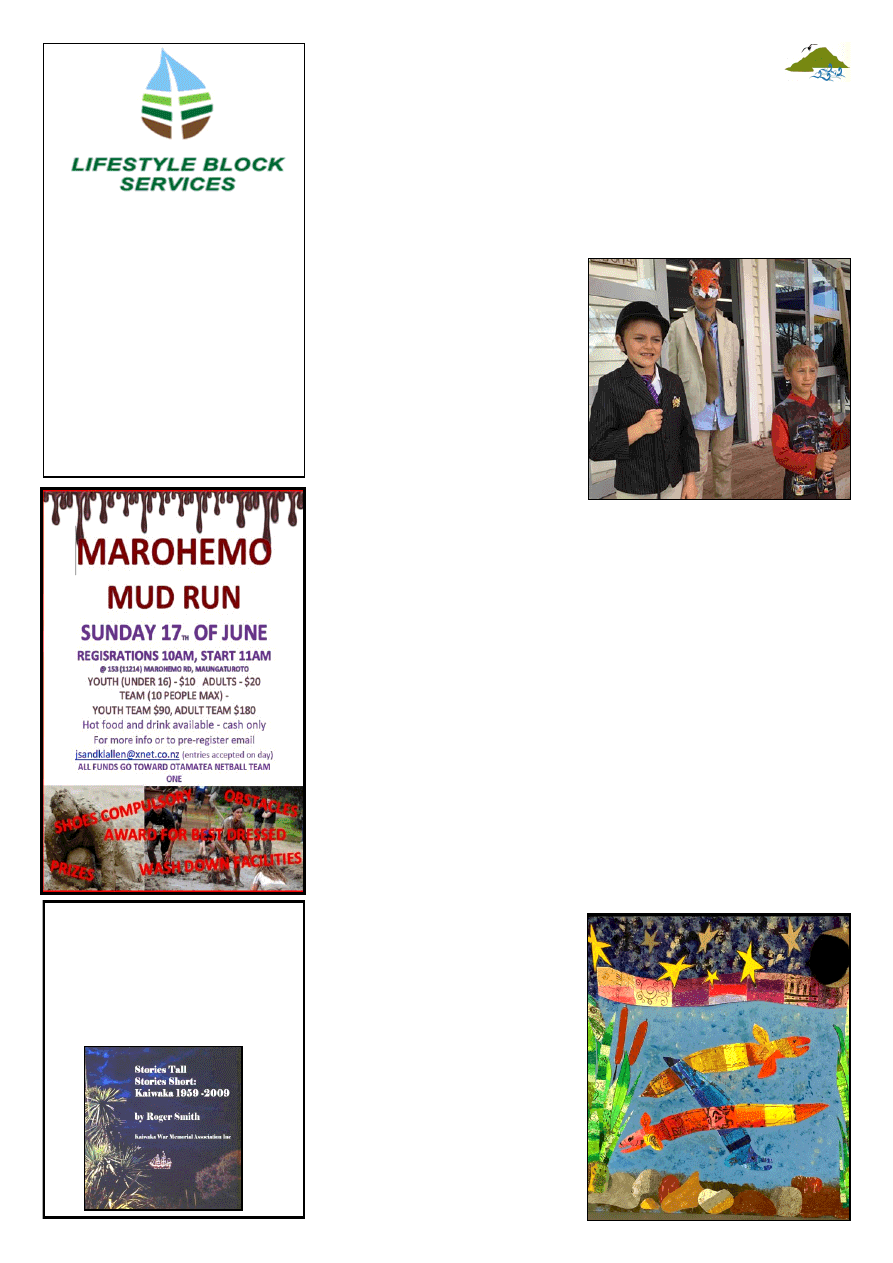 www.kaiwaka.co.nz 
Kaiwaka Bugle - 12 June 2018 
Page 13 
Stories Tall, Stories Short:  
Kaiwaka 1959-2009 
by Roger TW Smith
Available  at All-Sortz Collectables or 
phone  4312 045 
Also  
Kaiwaka: A Photographic History 
Contact Mark on 021 801 065  
or 
Contact Lisa on 021 108 1057 

 Small HaylSilage Baling & 
Wrapping 

 Fencing 

 Spraying 

  Mulching 
 
Stockwork  

  Stock Water Systems  

 Driveway & Track Maintenance  

 Tree Trimming 
The  Board  of  Trustees  have  accepted 
the resignation of Miss Anna Elworthy, 
with  regret.  Anna  has  accepted  a 
teaching  position  in  an  International 
School  in  Myanmar.  We wish  her and 
her  family  the  very  best  with  this 
exciting new adventure. 
Our  first  ever  Lip  Sync  Battle  was 
magnificent,  enjoyed  by  everyone 
there.  Thank  you  to  the  PTA  for 
organising  this  excellent  event  for  our 
school-you did a great job. 
Special thanks to Toni Phillips for co-
ordinating  the  event  so  well,  and  to 
Blake  Worsfold  for  comparing  the 
night. 
Everything  went  so  smoothly,  and 
everyone could hear everything. 
Special thanks also to our judges-what 
a  hard  job!  Thank  you  Ad  Clarijs, 
Cheryl  Anderson  and  Whaea  Mina 
Paikea.  But  most  of  all,  thank  you  to 
one  special  Dad  and  all  the  kids  who 
were  brave  enough  perform  in  this 
Battle.  You  have  started  something 
grand. I have already been asked about 
when next year's Battle will be! 
Thursday  21st  June:  The  teachers 
who  belong  to  NZEI,  the  Education 
Sector Union, are going to a meeting at 
12.00pm.  There  will  be  some  teachers 
staying at school and will supervise the 
children. If you would like to pick your 
children  up  early  that  day,  you  are 
welcome  to  do  so.  Either  way  we  do 
not mind, but please let us know so we 
can  manage  the  students  staying  at 
school.  The  buses  will  run  as  per 
normal  and  there  will  be After  School 
Care as usual. 
Our  Book  Fair was really good, there 
was  a  lot  of  interest  shown  by  our 
parents, caregivers and students. Thank 
you  for  your  support.  Thank  you  to 
Sara McAulay for organising this Book 
Fair.  Our  Book  Character  Parade  was 
fabulous. 
The  Te  Uri  o  Hau  Kapa  Haka 
Festival  is  on  Saturday  30  June  at 
Rodney  College.  This  will  be 
magnificent,  so  please  keep  this  date 
free.  All  our  Kapa  Haka  kids  are 
involved.  The  Powhiri  is  at  10.30am.   
~ Rosie Ellis, Principal 
Book Fair 2018 
To  all  the  people  in  our  school 
community, I would like to say a very 
big THANKYOU for the support given 
to  the  first  Scholastic  Book  fair  we 
have  hosted  at  Kaiwaka  School  in  a 
very  long  time.  By  just  agreeing  to 
have  the  fair,  we  received  $300  worth 
of  books  for  our  Library.  Scholastic 
were kind enough to donate the prizes 
for  Book  Character  Day  also,  AND 
THEN  ....by  agreeing  to  host  another 
Book  Fair  late  Term  3,  2019  we 
received  another  $60.00  worth  of 
books.  Wow!!  Early  count  shows  we 
sold  just  over  $1300  worth  of  books 
and product. That's fantastic!!  
~ Sara McAulay, Librarian.
Book Character Dress-Up Day  
Junior  Winning  Costumes  were:  1st 
Indiana  Jones  (Levi  Walker),  2nd 
Harry  Potter  (Wihemara  Maaka),  3rd 
Heremonie 
(Josephine 
Griffiths). 
Senior  Winning  Costumes  were:  1st 
Fantastic  Mr  Fox  (William  Reid),  2nd  
Horse Rider (Bella Holden), 3rd Harry 
Potter  (Serafim  Shefer) 
-  pictured 
below
. The teachers did really well too! 
Thanks Everyone. 
Art Work for Matariki at the Kauri 
Museum, Matakohe 
Seven 
local 
schools, 
including 
Kaiwaka, have been invited to exhibit a 
piece of art, celebrating Matariki, at the 
Kauri Museum, Matakohe. 
This  year  the  theme  was  the  fish  that 
are  abundant  in  our  local  area. 
Kaiwaka School was given the tuna, or 
eel. 
Over  one  hundred  of  our  tamariki 
worked on this project, with our junior 
school colouring the pieces that would 
form  the  picture  with  pastels.  Our 
senior students, using Maori tattoo art, 
completed  the  coloured  squares  with 
many intricate designs. 
We  pieced  the  many  bits  together 
showing  the  tuna  in  our  harbour, 
flaxes,  raupo  and  of  course  the  seven 
Matariki stars - pictured below. It will 
be put in the exhibition starting on the 
June  15
th
.  Visit  the  Museum  to  see 
what our talented tamariki have done. 
~ Sara.
KAIWAKA SCHOOL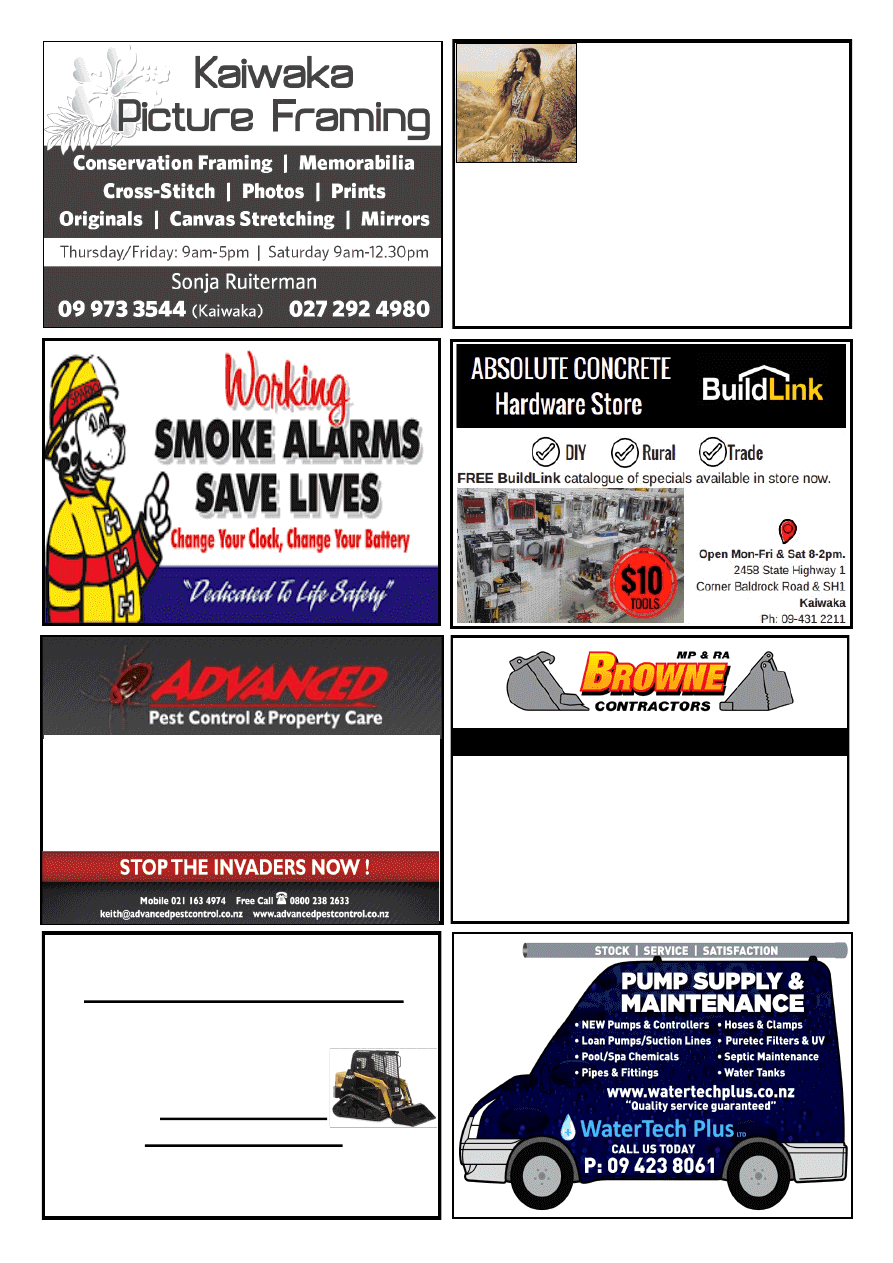 Natural Earth Ltd 
Landscape and Bobcat services 
 : Driveways :Landscaping :Retaining Walls 
 : Hole Boring: Land Levelling :Trenching 
 : Decks :Fences :Sections Cleared 
 : Plus much more
Tel 09 4312 885 
Mob 02102391280 
For A Fast Friendly Service  
Contact Tim Hicks 
4T DIGGER – BOBCAT – TIP TRUCK 
Property Maintenance - Driveways  
 Building Sites 
Stump & Tree Removal  
Hole Boring - Chain Trencher  
Calf Shed and Stockyard Cleaning 
Phone Matt: 021 199 6677 
Email: mprabrownecontractors@gmail.com 
Trails end 
spiritualist gathering 
Last Sunday of every month  
10.30-2pm  
Tea/coffee provided  $5 koha 
For all inquiries: 
021 165 2629 evenings (09) 945 0707 
Trail.end@hotmail.com 
1758 Cove Road, Mangawhai
Bringing together like-minded people 
Guest speaker each month
Pest Control 
PLAN A: One-off treatments to customers with a specific pest problem 
PLAN B: Full maintenance service plans to commercial customers. 
This will include documentation kept in customer file on site: 
⚫
Pest treated 
⚫
Date of service 
⚫
Chemical or baits used 
⚫
Full pest check report done after each treatment 
⚫
Fair and reasonable fee with guarantee 
Flood Recovery 
Carpet Care 
⚫
Carpet Drying 
This includes pre-spray treatments 
⚫
Dehumidifier Rental 
with stain removal and hot water extraction.  
⚫
Full Commercial Cleaning  Patch repair also available 
Upholstery Cleaning 
Full upholstery cleaning of all furniture.  
eg lounge suites and all office chairs 
Water Blasting 
⚫
Concrete - Decks 
House Washing 
⚫
Soft Chemical Was 
⚫
Pre-painting Wash 
Property Services 
⚫
Property Cleaning  Lawn Mowing 
⚫
Hedges General   Tidy Ups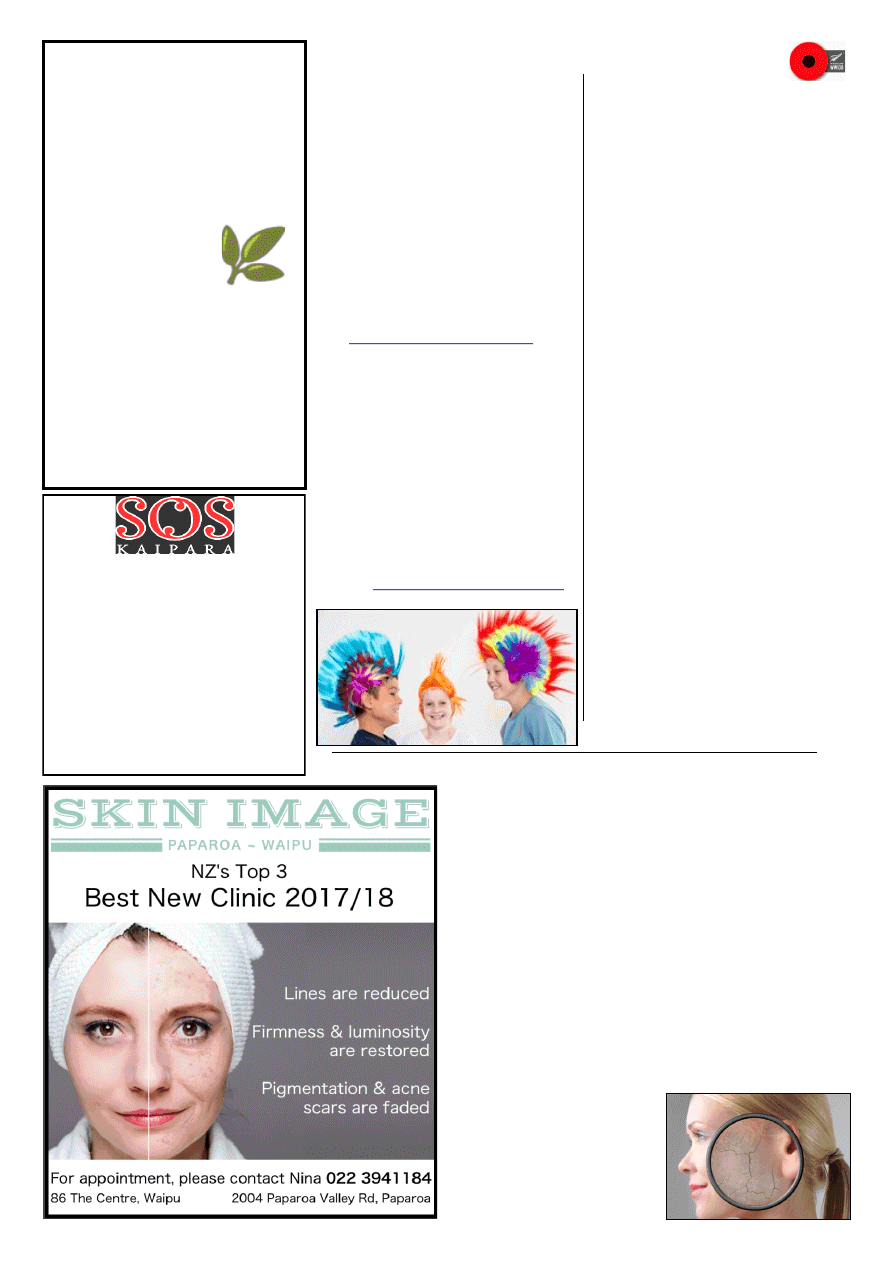 www.kaiwaka.co.nz 
Kaiwaka Bugle - 12 June 2018 
Page 15 
S.O.S Kaipara 
Support, advocacy, crisis and 
family therapy counselling, refuge 
housing to survivors of sexual 
abuse and domestic violence. Also 
Education prevention programmes 
for the community and clients.  
Office hours 9am to 3pm Monday to 
Friday; 24/7 the Police or  
phone 09 4396070 
REMEMBERING  D  DAY 
NORMANBY 
By 6:30 a.m. on June 6, 1944, 
about 18,000 soldiers were on the  ground. 
The  Gold,  Juno,  Sword  and  Utah  beaches 
were won quickly by British and Canadian 
forces, but Omaha Beach proved difficult. 
"Guys  were  drowning.  The  water  was  red 
with  blood.  Guys  getting  wounded  and 
killed. I really wasn't afraid of any of that. 
I  was  afraid  of  drowning.  Once  I  got  on 
land, things were worse, you know?" - Pvt. 
Rocco Moretto. 
By  8:20  a.m.  on  Omaha  Beach,  Germans 
were  shooting  at  American  soldiers.  The 
Allies  encountered  rising  tides  and 
obstacles  on  the  beach,  and  more  than 
3,000 soldiers couldn't fight anymore. 
The battle continued, and three hours later, 
the  Allies  had  launched  a  formidable 
response. 
Prime 
Minister 
Winston 
Churchill told members of parliament, "So 
far  the  commanders  who  are  engaged 
report  that  everything  is  proceeding 
according to plan. And what a plan!" 
Meanwhile,  Adolf  Hitler  reassured  his 
commanders  that  the  invasion  was  a  good 
thing;  he  reasoned  that  it  gave  the  Nazis 
access to the Allied forces. 
But  near  Normandy,  the  Allies  continued 
to advance against the Germans, with more 
than 156,000 troops on shore by the end of 
the day. 
Up  to  12,000  Allies  and  9,000  Germans 
were killed that day. 
The  Allies  went  on  to  liberate  Bayeux  on 
June 7. 
"They  fight  not  for  the  lust  of  conquest. 
They  fight  to  end  conquest.  They  fight  to 
liberate." - Franklin D. Roosevelt 
"The 6th June is not a day like others: it is 
not  just  the  longest  day  or  a  day  to 
remember the dead, but a day for the living 
to keep the promise written with the blood 
of the fighters, to be loyal to their sacrifice 
by building a world that is fairer and more 
human."  —  French  President  Francois 
Hollande 
Let  us  not  forget  those  who  sacrificed  so 
much in the name of freedom - 
"When  you  go  home  tell  them  of  us  and 
say: for your tomorrow we gave our today" 
~ From Stuart Griggs (Facebook) 
YOUR SKIN IN THE WINTER 
Your skin is amazing! Given the right care and nourishment, 
it  does  its  own  amazing  work  like  regenerating  new  skin 
cells and shedding the old ones. 
Over  the  summer,  most  of  us  would  have  sweated  and  our 
skin got a bit shiny with the extra sebum. This together with 
dead skin cells, any dirt or grime may be clogging up your 
pores or making your skin look a bit dull and blotchy. Add to 
this the cold, wind, low air humidity and heating would truly 
put your skin to the test. Your skin is likely to look and feel 
dry  and  tired  if  you  have  not  provided  sufficient  care 
beforehand, and if you tend to be too economical with your 
skin care at present. 
As  we  approach  the  cooler  months,  now  is  a  great  time  to 
deeply  cleanse  and  repair  any  UV  related  damage  over  the 
summer,  at  the  same  time  strengthen  the  skin  with  rich 
nutrients in preparation for the cooler months. 
Regular  but  gentle  cleansing  actually  supports  the  natural 
exfoliation  process  and  prepares  the  skin  for  serums  and 
moisturisers.  Make  sure  you  feed  the  skin  with  a  good 
balanced  diet and  nourish it  with  skincare that contains  the 
right nutrients for your skin, at the right dosage, in a delivery 
system  that  your  skin  can 
absorb. 
If required, your skin therapists 
are the best people to guide and 
help  you  customize  your 
skincare  to  respond  to  the 
changing demands of your skin. 
Nina Quan,  
Skin and Beauty Therapist 
CHILD CANCER 
FOUNDATION'S 
WIG WEDNESDAY  
Wednesday 20
th
 June 2018.    

Don your wigs on June 20
th
 for Wig 
Wednesday  –  a  fundraising  day  for 
Child  Cancer  Foundation  with  a 
difference. 

Wig  Wednesday  is  open  to  schools, 
businesses,  and  individuals  –  anyone 
who  wants  to  join  and  show  their 
support for Kiwi kids with cancer! And 
of course, we ask you all to participate 
by  donating  or  sponsoring  those  who 
dare to wear a wig! 

It's  easy  to  join  in:  register  with 
Child 
Cancer 
Foundation 
at  www.wigwednesday.org.nz  and 
they  will  provide  you  with  everything 
you  need  for  your  Wig  Wednesday 
event. 

Child Cancer Foundation receives no 
direct funding from the government so 
relies  on  the  generosity  of  New 
Zealanders. Thanks to Kiwis like you, 
they  can  be there for  more  than  1,700 
Kiwi  kids  with  cancer  and  their 
families,  helping  them  navigate  the 
child  cancer  journey,  giving  them 
support,  strength  and  helping  them 
maintain hope. 

Don't  mullet over!  Register for Wig 
Wednesday 
by 
visiting  www.wigwednesday.org.nz  or 
call 0800 424 453. 
Cut Above Gardening &  
House Maintenance  
⚫
Free quotes  
⚫
Special rates for pensioners  
⚫
Competitively priced  
⚫
Locally based 
 
Garden maintenance  
 
Make overs 
 
Barking 
 
Weed control  
 
House washing  
 
Rubbish removal  
 
Hedge trimming  
 
Light tree removal  
 
Planting  
No job too small  
One off or on-going regular 
maintenance  
Offering a professional service 
 at a realistic price 
Please contact Jayden on 
0224683069  
Water Tank Cleaning 
• 
Keep your water safe & clean  
• 
Removal of sediment, silt etc. 
• 
Vacuum or full scrub 
• 
Minimal water loss 
Phone Mark (09) 432 0655 or 0274 707607 
Twinkle Tow 'n' Tyre 
Think you'll get a better deal in the city? 
Ring us - it won't cost anything! 
1837 State Highway 1, Kaiwaka 
Phone 431 2823 
*W.O.F. 
*Tyres 
*Windscreen 
replacement 
*Chip repairs 
*Bulk Oil 
*Batteries 
*Welding 
*Custom built 
trailers 
*Trailer hire
LOCALLY OWNED AND OPERATED 
QUALITY PRODUCTS • FRIENDLY ADVICE • GREAT SERVICE 
Quality Products milled from High Density NORTHLAND Radiata Pine. 
Treated and guaranteed to NZS3640 with commitment to 
Environmental Safety.
Phone, fax, email, or come into the mill 
Schiska Rd, Topuni, SH1, 10 min north of Wellsford. Fax: 09 431 2856 
Email: sales@topunitimber.co.nz           Mon - Fri 7am-5pm 
• Fencing 
• Retaining 
• Decking 
• Landscaping 
• Gates 
• Hardware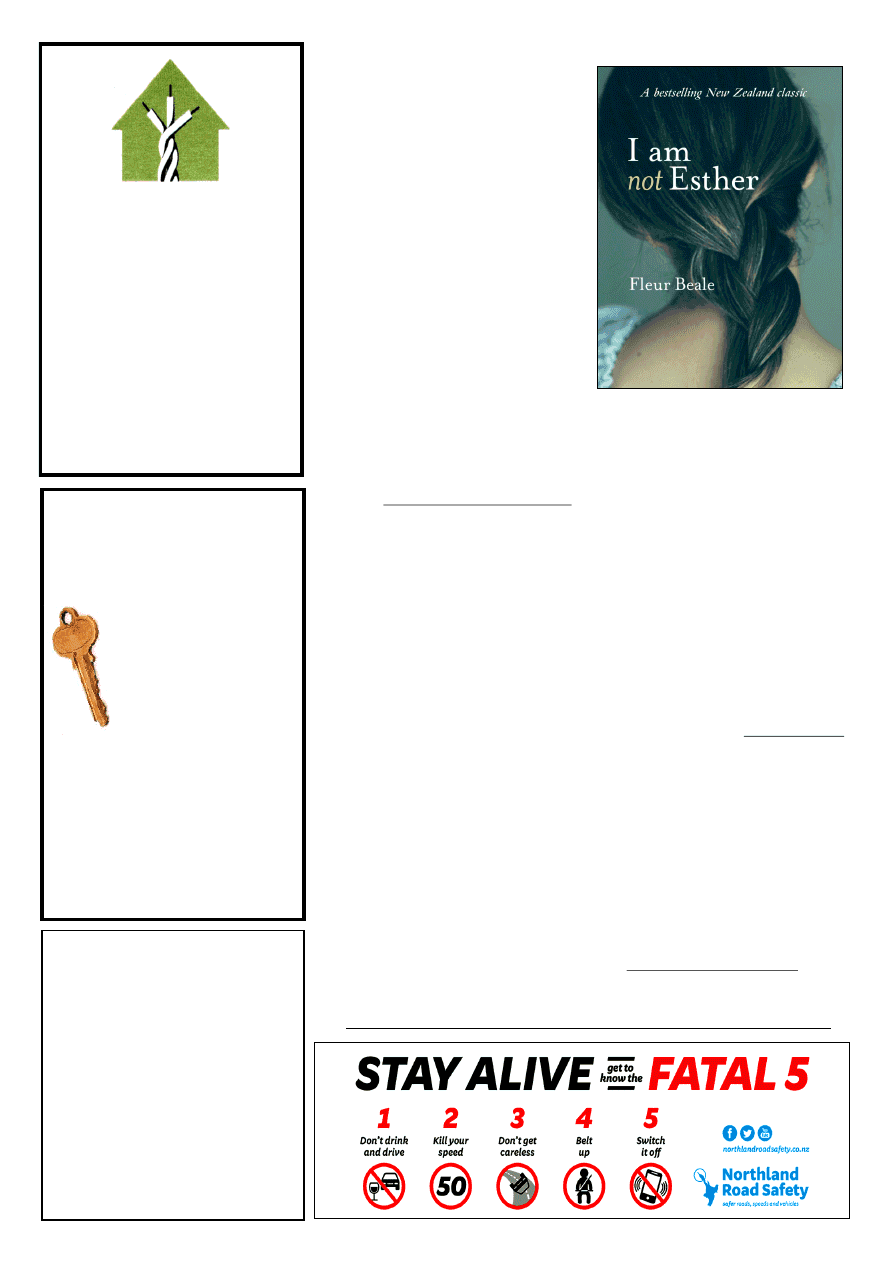 www.kaiwaka.co.nz 
Kaiwaka Bugle - 12 June 2018 
Page 17 
Reyahn George 
Leng 
Registered Electrician 
Local, honest and 
reliable. 
For your residential and 
light-commercial 
projects. 
022 314 1068 
Kaiwaka 
Hardware  
& 
Key cutting
Phone 4312 063  
or 022 0642 703
kaikey2015@gmail.com
    Keys Cut  
Household Hardware  
Sharpening  
Knives & Tools 
Curtain Tracks & Fittings
Not there? Call Doug and he'll 
sort
it for you. 
(
Next to Kaiwaka Motorcycles)
HELP 
PHONE NUMBERS 
HEALTHLINE:  
0800 611 116 
SAMARITANS:  
0800 726 666
YOUTHLINE:  
0800 376 633 
LIFELINE     
0800 543 354
DEPRESSION HELPLINE:  
          0800 111 756 
ALCOHOL & DRUG HELPLINE:   
 
0800 787 797 
URGENT MENTAL HEALTH LINE:  
 
0800 223 371
Dargaville Book Swap 
By the time you read this, the books on 
the  Dargaville  shelves  in  our  library 
will  be  a  new  selection  for  you  to 
choose from. Many thanks to everyone 
involved  with the  swap  last  week.  We 
have these books until December. 
Overdues 
There  will  be  a  change  to the  way  we 
send  out  reminders  about  overdue 
items  soon.  In  the  past,  the  reminders 
have  come  from  me,  when  I  ran  a 
report  to  tell  me  what  was  overdue;  it 
was usually weekly, but not always. 
We will be changing to using our new 
library management system to send out 
reminders  automatically  once  a  week. 
Reminders  will  be  sent  a  few  days 
before  an  item  is  due  to  be  returned, 
when  an  item  is  a  week  overdue,  two 
weeks  overdue,  and  finally  when  it  is 
three weeks overdue. 
Those  who  have  opted  to  receive 
emails  will  have  emails  sent  to  the 
address  held  in  the  system  -  you  can 
check  that  address  by  logging  in  to 
your  library  account, or  send  an  email 
to  me  (kaiwaka.library@gmail.com) 
and I'll look it up for you and update it 
if necessary. 
This  is  strictly  opt-in  -  you  won't 
receive  automated  emails  just  because 
we hold an email address for you, only 
if we've had a conversation about it and 
you've agreed to it. If you would like to 
opt in to receiving emails, let me know 
and I'll set that for you.  
In the near future, we will also have an 
opt-in  SMS  texting  option  -  I  will  let 
you  know  more  about  that  when  it's 
available. 
With  this  new  system,  we  will  be 
introducing  a  new  fee  to  further  align 
our  practices  with  Dargaville  Public 
Library  -  if  you  leave  your  overdue 
items  so  long  that  that  third-week 
letter/email is sent, a $5.00 fee will be 
added to your account. 
It  is  very  easy  to  renew  your  items 
before  things  get  that  far  -  or  get  it 
sorted if the item has been returned but 
somehow  missed  being  processed  off 
your  account  -  so  when  you  receive  a 
reminder  about  overdues  please  take  a 
moment to deal to it. Return the items 
if  you've  finished  with  them,  renew 
them via our online service, ask me or 
the  library  volunteer  on  duty  to  renew 
them  for  you,  or  contact  me  to  let  me 
know  there's  a  problem  so  I  can  get  it 
sorted. 
Book review 
I 
am 
not 
Esther by Fleur 
Beale. "Imagine  that  your  mother  tells 
you  she's  going  away.  She  is  going  to 
leave  you  with  relatives  you've  never 
heard  of  -  and  they  are  members  of  a 
strict  religious  cult.  Your  name  is 
changed,  and  you  are  forced  to  follow 
the severe set of social standards set by 
the  cult.  There  is  no  television,  no 
radio,  no  newspaper.  No  mirrors.  You 
must  wear  long,  modest  clothes.  You 
don't  know  where  your  mother  is,  and 
you  are  beginning  to  question  your 
own  identity.  I  Am  Not  Esther  is  a 
gripping  psychological  thriller  written 
by  New  Zealand  Post  Children's  Book 
Awards-winning children's writer Fleur 
Beale.  In  Esther  she  creates  an 
enthralling  and  utterly  compelling 
portrait of a teenager going through her 
worst  nightmare."  (goodreads.com) 
This  was  a  fascinating  read,  and  I'm 
going to have to re-read the sequel I am 
Rebecca, which I read two years ago - 
it starts out with events described at the 
end  of Esther.  Both  books  are  on  our 
Teen  Fiction  shelves.  I  recently 
discovered there 
is a third book to this 
series,  which  I've  now  ordered for  our 
library. 
See you in the library, Wendy 
Kaiwaka Library, cnr State Highway 1 and 
Kaiwaka Mangawhai Road. PO Box 89, 
Kaiwaka 0542.  
Phone 4312 539. 
Email kaiwaka.library@gmail.com  
Open Wed-Sat 10am-2pm, Mon 4-6pm. 
Free membership is available to all 
residents in the Kaiwaka area.
KAIWAKA LIBRARY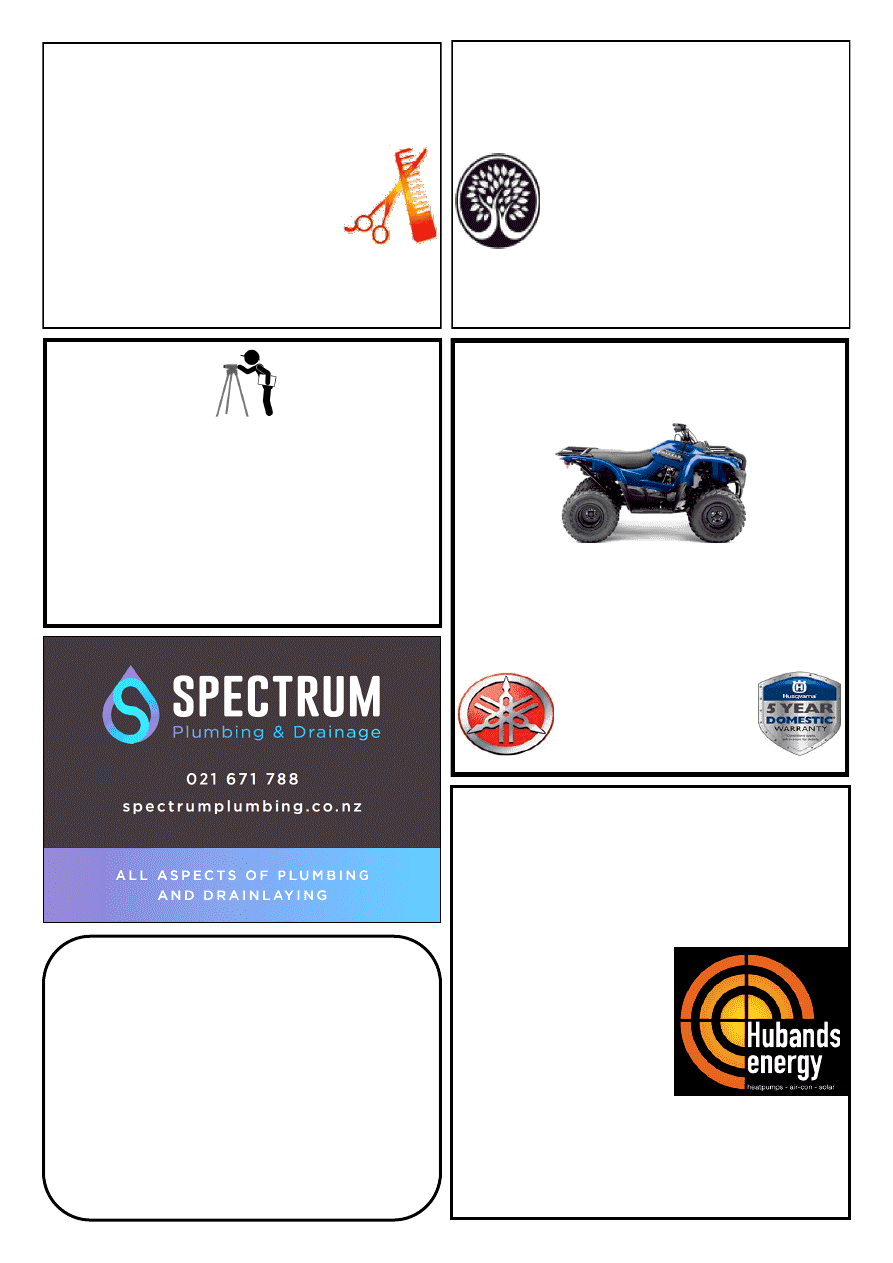 KAIWAKA 
MOTORCYCLES LTD
SALES – SERVICE – SPARES 
FARM BIKE SPECIALIST
PHONE 09 431-2127 
10 KAIWAKA-MANGAWHAI ROAD, KAIWAKA
Trimmers  
from $279
Chainsaws  
from $339
YAMAHA 
HUSQVARNA 
Northland's Award Winning 
Solar Company
SEANZ Best Solar Business Winners 2015/16
EXCLUSIVE 10 year installation warranty 
FREE No obligation onsite quote
Complete systems 
from $5990
See our range of: 
✓ 
Heatpumps 
✓ 
Airconditioning 
✓ 
Hot Water 
Heatpumps 
✓ 
Central Vacuum Systems
09 430 0019             sales@hubands.co.nz 
15 Kioreroa Road, Whangarei
Locally owned and operated for 35 years 
UP-LINK 
CHRIS WARING 
FREEVIEW INSTALLATIONS 
T.V. - HOME THEATRE &  
HI-FI ADVICE/SET UP
SKY ACCREDITED INSTALLER
MOB.0273403747 HM.094312328 
EMAIL cwaring44@gmail.com
28 YRS EXPERIENCE 
OFFERING UNBIASED ADVICE 
Ken Urquhart 
BSurv Licensed Cadastral Surveyor 
KMU Surveys Ltd
467 Bickerstaffe Road 
RD 2 
Maungaturoto 0587 
Ph 09 431 8705 
Mob 021 161 2344 
kenurquhart@xtra.co.nz 
AFFORDABLE PRICES! 
MENS CUT FROM $20.00 
LADIES CUT FROM $30.00 
KIDS CUT FROM $18.00 
COLOUR & CUT FROM $120.00 
JUST CUTS'AND   
MORE 
021 165 2629 or (09) 945 0707  
NOW SELLING: scented tealights, incense, smudge sticks, 
copper bracelets, aurora ball crystals, dream catchers, healing 
stones, rose quartz, cds, and much more. Open 6 days. 
Waipu Natural Health 
3 Cove Road, Waipu  (opposite the Pizza Barn) 
Ph: 09 432 1325 
www.waipunaturalhealth.co.nz
Clinical Nutritionist-Hair Analysis for Masked 
Allergies, Ozone Therapy, Prolotherapy, 
Naturopath-Medical Herbalist, Registered 
Massage Therapists, Reflexology-
Craniosacral Therapy, Acupuncture-Facial 
Acupuncture, Kineso Taping, Hypnotherapy, 
Counselling, ThetaHealing/Change Catalyst.
AFFORDABLE CONSULTS FOR KIDS – give us a call
Gift Vouchers available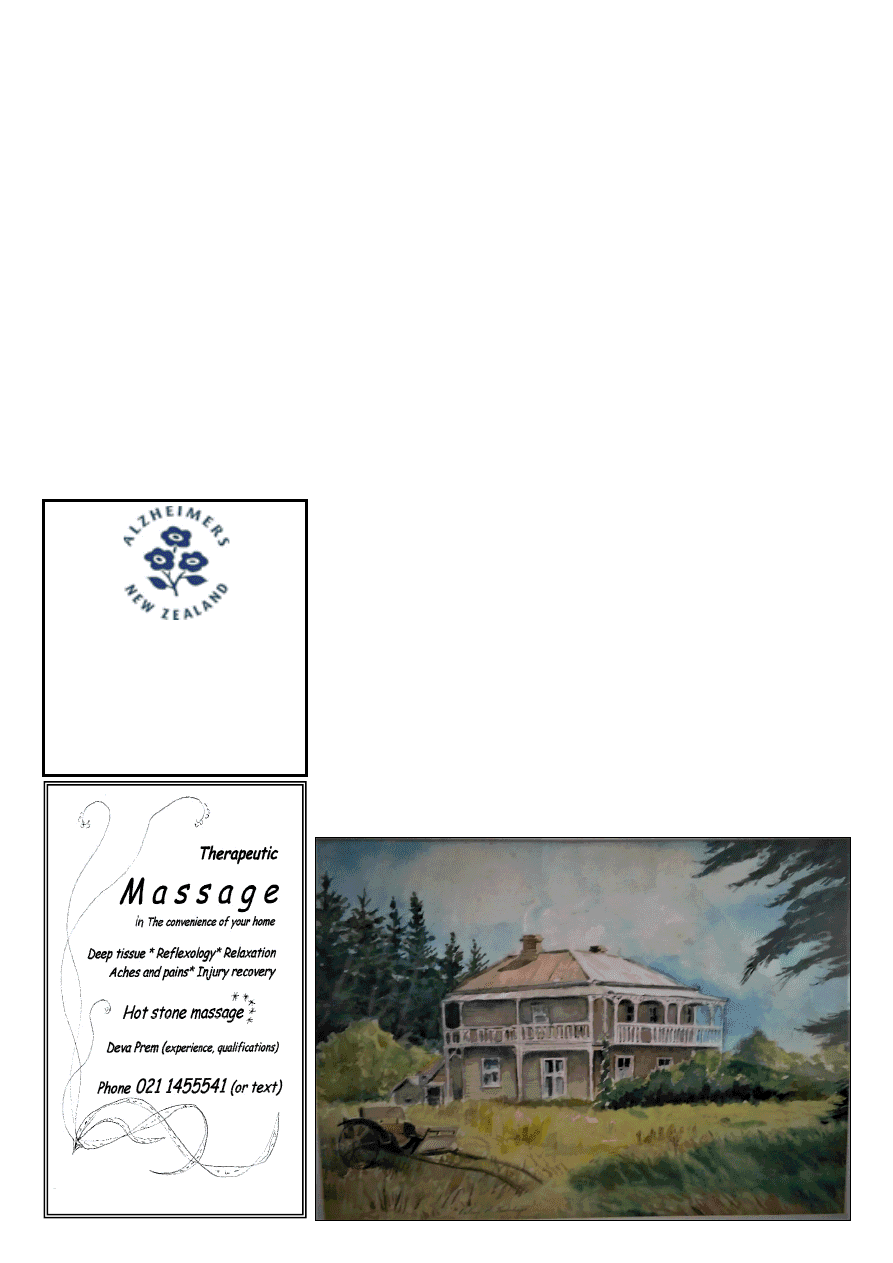 www.kaiwaka.co.nz 
Kaiwaka Bugle - 12 June 2018 
Page 19 
TELL YOUR STORY:  "SARADALE"
My  grandfather,  C.J.M.  Clark,  who 
was  born  in  1894  in  the  Kaipara 
District and grew up there, used to tell 
us  stories  about  a  formidable  old  lady 
who  ran  her  substantial  home  at 
Hakaru  as  an  inn,  where  weary 
travellers  could  stop  on  their  way 
North,  or  South,  (or  East  or  West)  as 
the case may be. 
If a tramp sought shelter for the night, 
she  would  make  him  work  hard,  then 
give him a bowl of soup and a crust of 
bread and tell him to sleep in the shed. 
If  a  customer  got  too  drunk  on  her 
home-brew  she  was  likely  to  charge 
him for three nights instead of one. 
One summer's day, my grandfather and 
his parents were invited to share a joint 
of boiled mutton with the old lady and 
her  friend.  He  recalled  watching  in 
fascination  as  the  cold  joint  of  meat 
started to move on the plate. When his 
father, who had been asked to carve the 
meat,  indicated  a  number  of  very  live 
crawling things on the meat, one of the 
old  dears  said  to  the  other  "Goodness 
me, aren't they large ones!" The ladies 
ate  the  meat  quite  happily  after  great-
granddad  removed  the  crawlers,  my 
grandfather,  only  six  or  seven  at  the 
time,  also  ate  heartily  and  couldn't 
fathom why his parents seemed to have 
suddenly turned vegetarian! 
Fascinated by these stories, my brother 
Chris  and  I  were  delighted  when  our 
parents  suggested  we  should  go  and 
explore the old, now abandoned, house 
that  we  had  passed  so  many  times  on 
the  way  to  our  Bach  at  Mangawhai 
Heads, (bought in 1957.) 
Set  behind  a  stand  of  tall  macrocarpa 
trees, the grand old house stood lifeless 
and  empty.  We  opened  the  wide,  low, 
double  gates  and  entered  the  property. 
What  must  have  once  been  a  large, 
well-tended  garden  was  overgrown  – 
the  grass  knee-high  and  scattered  with 
'dog-daisies'.  An  old  jaunting  cart  lay 
rusting and rotting in one corner. Long 
neglected  rambling  roses  made  an 
impenetrable 
hedge, 
worthy 
of 
'Sleeping  Beauty';  in  one  part  of  the 
garden  and  old  fruit  trees,  covered  in 
lichen,  showed  the  remains  of  a  once-
productive  orchard.  We  longed  to 
explore  inside    but  as  we  walked 
around  the  house  all  the  doors  and 
windows  were  shut  tight.  We  peered 
through  the  dining  room  windows. 
What we saw through the cobwebs and 
old lace curtains amazed us! 
There  were  several  small  tables,  each 
one  still  set  as  if  ready  for  the  next 
meal,  with  white  damask  tablecloths 
and neatly folded napkins. Some tables 
even  had  cutlery  and  cruet  sets  on 
them! How long had they sat there like 
that?  We  had  no  idea.  We  were  even 
more eager to find a way in! 
We  went  to  the  front  door,  turned  the 
knob  and  pushed  –  to  our  immense 
surprise  and  delight  the  door  creaked 
open! We walked into the foyer of the 
house.  There  was  a  carpeted  hallway 
running  through  to  the  back  of  the 
house  and  to  the  right  of  it  a  wooden 
staircase  leading  to  the  second  floor. 
Directly  in  front  of  us  there  was  a 
rather  moth-eaten,  stuffed  pheasant  on 
its eternal flight up the wall and below 
it,  on  a  small  semi-circular  shelf,  an 
arrangement  of  waxed  fruit,  preserved 
under a tall glass dome. To the left was 
the entrance to the dining room which, 
for  some  reason,  remained  the  most 
fully  furnished  room  in  the  house.  To 
the  right  was  the  parlour,  which  can't 
have  been  very  interesting  because  I 
can't  remember  what,  if  anything  was 
in it apart from an old fireplace. 
We climbed the narrow flight of stairs 
which  led  up  to  the  bedrooms.  The 
floorboards  of  the  upstairs  hallway 
were  rickety  and  dangerous.  Some  of 
them were rotting, (maybe the roof had 
been  leaking.)  We  only  entered  one 
bedroom  –  it  had  a  couple  of  single 
beds with white-painted iron bed-heads 
and grotty old mattresses and (the most 
memorable  thing  for  me)  somebody's 
personal  letters  and  envelopes  strewn 
all  over  one  bed  and  the  floor  as  if 
somebody  had  been  looking  for 
something in a hurry. We didn't touch 
these-  though  they  might  have  been 
interesting  -the  feeling  that  one  of  us 
might  drop  through  the  rotten 
floorboards  at  any  moment  persuaded 
us  to  abandon  our  exploration  of  the 
second  floor  and  we  left,  closing  the 
front  door  behind  us.  We  had  the 
feeling that the owner of the old house 
might  have  died  there  and  "Saradale" 
was  forever  after  referred  to  (by  us 
kids) as "the haunted house". We went 
back  there  a  few  times  to  take  photos 
for  Mum's  paintings.  Then  one 
summer  we  returned,  and  the  house 
was  gone!  It  had  been  completely 
destroyed. The land is now empty. 
~  Liz  Lawrence,  with  her  mother's 
painting below. 
www.mangawhaimassage.co.nz 
Alzheimers Society Northland Inc 
ALZHEIMERS SUPPORT 
GROUP 
Meet on 2nd Wednesday  
of each month 
11am - 12pm at the 
Mangawhai Golf Club Rooms 
Phone 0800 004 001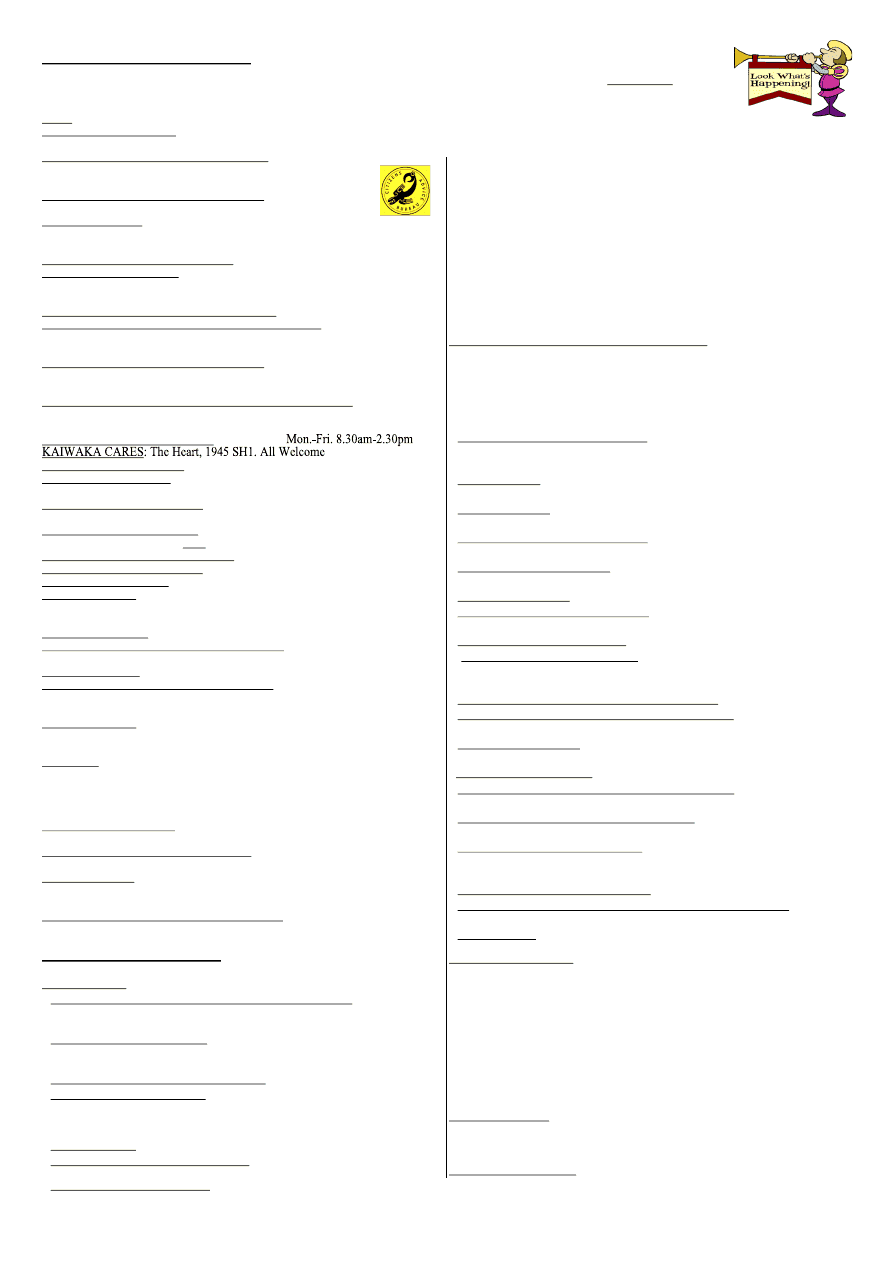 Next Bugle Deadline midday Friday 22 June  2018
WHAT'S ON
PLEASE ~ do let us know what is on - email 
kaiwakabugle@kaiwaka.co.nz 
*14Jun~Inter schools Rippa Rugby, 10am, KSA 
*15Jun~'Three Billboards Outside Ebbing', KWMH, 7.30pm 
*19Jun~Pt.Curtis Cruising Club AGM, 7pm, 3 Furs Bar & Grill 
*23Jun~Rugby - Junior to Senior,9am kick-off, KSA 
*24Jun~'Peter Rabbit' KWMH, 2pm 
*26Jun~Linking Hands AGM, 6pm Anglican Church Hall Mgto 
*28Jun~Olla Podriga, Otamatea High School, 7pm 
*29Jun~'Finding Your Feet' Dinner & Movie, KWMH 6pm 
*1Jul~Walking Netball, KSA, 2pm 
*4Jul~Kaiwaka Sports Assn Meeting, 7pm, KSA 
*13Jul~'Game Night' KWMH, 7.30pm 
*14Jul~Opening Night 'Into the Woods'. ORT, 7.30pm 
KWMH = Kaiwaka War Memorial Hall; KSA = Kaiwaka Sports Association 
See www.kaiwaka.co.nz for more information 
HOUSEHOLD RUBBISH COLLECTION  
Kaiwaka Pick up: 
Mondays = Green bags (Northland Waste - 09 430 3273) 
Wednesdays  = Blue bags and yellow recycling (at Jaques $3.00 
and  $1.50)  (Kaurilands  09  4392146);  ONLY  Blue  and  Yellow 
bags picked up on Oneriri Road. 
 DIABETES  Support  Group  -for  Kaiwaka,  Mangawhai, 
Wellsford  10am,  3rd  Friday  of  month  Ph:  Colleen  James  09 
4314238 
 DRINK CAN 'tear tabs' - for Starship Hospital- please collect - 
98 Kaiwaka Mangawhai Rd, leave in mailbox, Ph. 4312625  
 GENEALOGY - Wellsford: 1st Thursday in month Ph: 423 
7033; Waipu: 4th Monday in month Ph: 4312 725 
 GYMNASTICS  OTAMATEA  -  Tuesday  Ph:  Stephanie  022 
3624998 
 HAKARU PONY CLUB - Secretary Denise Rogers 021423376 
secretary@hakaruponyclub.co.nz  
 KAIPARA HUNT - Secretary Albert Doonenbal Ph 4312059 
 KAIPARA YONG FARMERS - K Danks  0211598453, meet on 
last Thursday of the month at Three Furlongs Bar & Grill 
 KAIWAKA BADMINTON -Tuesdays 7.30pm Ph: 4312345 
 
 KAIWAKA DRAMA CLUB - 
Hannah Webb 
0272863352
- KaiwakaDrama@gmail.com Monday 5:30-7:00pm KWMH - FB 
- "KaiwakaDramaClub" 
 KAIWAKA DRUM & DANCE CLASSES - 021 611198 
 KAIWAKA GARDEN & FLORAL GROUP - 2nd Thursday in 
month. Ph: 431 4744 
 KAIWAKA  CUBS  -  Thursdays  5.30-7pm,  Hakaru  Ph:Bruce 
4312542 
*KAIWAKA PILATES - Ph: 021 2072729. 
 KNITTING FOR WHANGAREI HOSPITAL - 2nd Tuesday in 
month, Archie Bull Hall 10am Ph 4314827 
 MANGAWHAI COMBINED REBUS CLUB - 2pm, 3rd 
Thursday month, Senior Citizens Hall Mangawhai. Ph: 4315777 
 OTAMATEA GREY POWER - Kath Pattinson 09 283 2052, 
1pm last Wednesday of month, Anglican Church Hall, 
Maungaturoto 
 PT CURTIS CRUISING CLUB - Jean Ph: 4312227 (wk), 4312520 (hm) 
 RSA,  HAKARU  &  DISTRICTS  WOMEN'S  SECTION  –  meets 
1.30pm 4th Thursday of the month. Ph: 431 5818  
 TRAMPING - Mondays 9am-2:30pm Maria 4312 234 
HALLS FOR HIRE: 
 St.Pauls Archie Bull Hall HIRE $20 half day, $40 full day per 
hire, S McAulay, Ph 4312311 
 Kaiwaka  War  Memorial  Hall  HlRE  -  Phone  4312725  or 
kaiwaka.hall.bookings@gmail.com 
 Hakaru Community Hall HIRE -Ph. 4312256 or 4312110 
 Te Pounga Marae queries - R. O'Leary 4312 423, J.Nathan 021 
186 7382 
 Kaiwaka Sports Association hire/queries - C. Anderson 4312051 
or kaiwakasports@gmail.com 
Justice of Peace:  
B.FJaques  4312  048;  L.Donaldson  4312  228;  A.F.Hargreaves 
4312 045, W.Howard 4312 725 - please phone to make sure they 
are available www.justiceofthepeace.org.nz 
Marriage Celebrants:  
L.Donaldson; A.F.Hargreaves; Y Osborne
LOCAL SERVICES 
*Emergencies - Ambulance, Fire, Police - dial 111 
*Non-urgent Police phone 09 4311150
A A: Meets Wed., 8pm Kaiwaka Ph: 4315543, 0800229 6757 
ASUREQUALITY LTD (was AgriQuality) Call Free 0508 0011 22  
BUDGETING SERVICE, WELLSFORD: Free confidential advice & 
support for all areas of personal finance. Ph (09) 423 7123 
CAB-Citizens Advice Bureau.Wellsford Ph: 4237333 
0800 367 222 email:cab.wells@xtra.co.nz  
CIVIL DEFENCE - Kaiwaka Community Response Group: 
kaiwaka.civildefencecrg@gmail.com, 4312725 Wendy 
DOG/STOCK /NOISE CONTROL 0800 105 890 
FUNERAL SERVICES: Morris & Morris Ltd, 
Whangarei - Bev Jaques Ph:4312367 or 0800667747 
GRANDPARENTS Raising Grandchildren: Dianah Roberts 0223819539 
HAKARU & DISTRICTS MEMORIAL RSA (Inc) 733 Settlement Rd, 
Hakaru. Ph 4312 176 or Graeme Hitchcock (President) 431 3064 
HAKARU LANDFILL/Transfer Station:Open everyday except 
Tuesday10am-4pm.Ph4312629 Cost-$55 trailer load up to 1 cubic metre. 
Ph:4258567 - office 
KAIPARA DISTRICT COUNCIL www.kaipara.govt.nz:  
Help Desk FREEPHONE 0800 727 059  
KAIWAKA KOHANGA REO: Ph:4312620 
KAIWAKA CEMETERY: Ph: 4312045 or 4314017 
KAIWAKA LIBRARY: kaiwaka.library@gmail.com  
Mon. 4-6pm; Wed., Thurs., Fri., Sat. 10am-2pm Ph:4312539 
KAIWAKA PLAYCENTRE: Ph Juanita 0274134904; open Mon, Wed, 
Fri 9am-12pm. Hastie Lane; Monday to Friday 9.00am - 12 noon. 
KAIWAKA POST OFFICE:Ph:4312 431  
Post Code: 0573 for RD2 and 0542 for all Kaiwaka Post Office mail 
KAIWAKA PRIMARY SCHOOL: Ph: 4312309   
KAIWAKA SPORTS ASSN: Ph 4312005; 4312129 gym 
KAIWAKA ST JOHN: Manager Steve Rosser 09 4318403, 021 355734 
KATE'S PLACE Community Centre - Employment services, Free Health 
Nurse, Plunket, Advocacy, Osteopath, A.A., Legal Advice. 4312 661 
LINKING HANDS Health Shuttle Ph 4315906 or 09 4318969 
MINISTRY FOR PRIMARY INDUSTRIES - General inquiries Call 
Free 0800 008 333 
NORTHPOWER: Faults Kaiwaka area 0800 104040 
OTAMATEA COMMUNITY SERVICES: Counselling, parent coach, 
Family Support worker, budget advice, food bank. Mon-Fri 9am-3pm. Ph 
09 431 9080 http://www.otamateacs.org/ 
PARENTPORT: Free, practical family support service Puhoi to Paparoa 
Ph or txt: Dianne 027 280 5093 or 09 425 9357 
PLUNKET:  Kaiwaka  -Kate's  Place  Clinic  1st  Wednesday  of  the  month; 
Mangawhai  - Rose Madsen Cottage: Coffee Group 9:30 every Monday.  Clinic 
every Monday and Thursday. 
Maungaturoto - Good News Church, Clinic 2nd and 4th Wednesday.  
Cynthia 09 431 7340 or 027 675 3488 
PLUNKET HELPLINE -0800 933 922 (24 hours) 
TAITOKERAU COMMUNITY LAW: Free confidential legal advice and 
assistance, 2nd
Thursday
 of each month. Ph: 0800 155 529 for apps.  
TE URI O HAU Settlement Trust Tangata Developments: Whanau Ora 
021 793262  
VETERINARY SERVICE MANGAWHAI: 
Ph: 4314535 Mon-Fri 8.00-5.00, Sat 9-12, a/h appt. 
WELLSFORD DOCTORS: Ph: 4238 086 
CHURCHES:
 
Kaiwaka  Revival  Church  -  Your  Community  Church:  Sundays  10am. 
Ph: Pastor Tawhiri 09 431 8988 or Pastor Paul 09 4312 068 Visit us at 
www.facebook.com/kaiwakachurch or www.kaiwakarevival.co.nz 
 
St  Paul's  Anglican  Church  1st  Sun.  9.00am  (Eucharist),  3rd  Sun. 
9.00am (Family Service). Contact: Rev. Wayne Thornton Ph 431 4122 
www.mangawhaianglican.org.nz 
 
Church of Christ the King, Mangawhai:9.30am every Sunday 
 
St.Mary's  Catholic  Church:  Maungaturoto  –  Griffins  Road,  Saturday 
evening  Vigil  Mass  6pm;  Mangawhai  –  Senior  Citizens  Hall,  Sunday 
Mass  8:30am;  Wellsford  –  Matheson  Road,  Sunday  Mass  10:30am;  
Mid-week Mass times and all enquires to Fr. Bill Fletcher – phone 423 8170
 
Baptist Church: Sun. 10.30am Mangawhai Snr Cit.Hall.Ph:4312339 
 
Cause  Way  Church  Mangawhai:  Sundays  10.15am,  Mangawhai 
Community  Recreation  Centre,  Insley  St.  Ph:  09  4314782