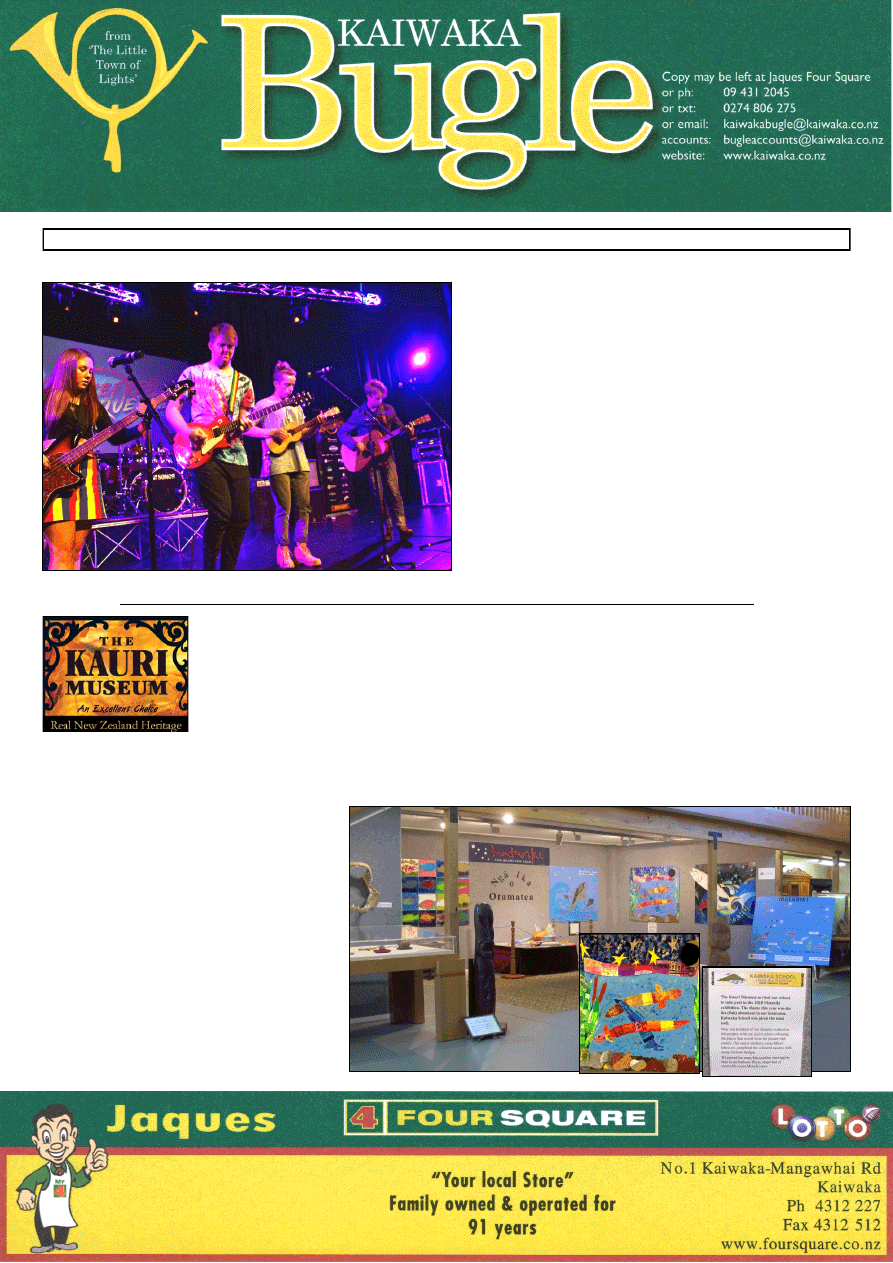 www.kaiwaka.co.nz 
Kaiwaka Bugle - 26 June 2018 
Page 1 
No: 12 
 26 June 2018 
Trading Hours: 
Monday to Friday 8:00am - 6:30pm 
Saturday 8:00am - 7:00pm 
Sunday 9:00am - 6:00pm  
Soup of the Day - Lilah Ferguson,  Connor Goodall, Isaac 
Nozer and Oskar Primbs (pictured left to right) of Rodney 
College 
performing 
at 
this 
year's 
Northland 
Smokefreerockquest final at Forum North on Friday nigh
t 
22 June. 
Lialh says, "We had lots of fun performing. I think for us 
it wasn't so much that we wanted to win but that the boys 
and I got the chance to make music together." 
Soup  of  the  Day  won  the  ZM  People's  Choice  award. 
Kamo  High  School's  A08  was  the  winning  band    and 
second  was 
Rillet  from  Broadwood  Area  School  and  Te 
Kura Taumata o Panguru.
Georgia,  Rockquest  Auckland  publicist  says  Soup  of  the 
Day was really great - one of her favourites on the night. 
Smokefreerockquest, 30 years of musical success,  is New 
Zealand's  nationwide,  live,  original  music,  youth  event 
staging  over  30  events  and    giving  young  musicians  the 
opportunity  to  perform  live  in  a  professional  setting,  in 
venues from Whangarei to Invercargill.   
To hear their music go to YouTube and key in 'rockquest' or 'king tide', and f
or more information 
visit www.sfrq.nz 
ROCKQUEST TALENT: 'SOUP OF THE DAY' 
This  year's  Matariki  Day  at  The 
Kauri  Museum  was  an  outstanding 
success.  For  more  than  a  month, 
students at seven primary schools in 
the  old  Otamatea  area,  had  been 
working on their art board as part of 
the  museum's  annual  Matariki  school  exhibition.  This 
year's theme is Ngā Ika o Otamatea, the fish of Otamatea, 
and  Kaiwaka  School's  nominated  species  was  the  eel,  or 
tuna - insert in centre of display photo. 
More than 100 students, along with staff and 
parents,  of  those  schools  able  to  attend, 
assembled at the museum on Friday 15 June 
for the opening of the exhibition and to join 
in  other  events  also  planned  for  the  day.  A 
long  blast  on  a  pūkāea,  or  trumpet,  got  the 
group's  attention  before  the  karanga  called 
everyone  into  the  Volunteers  Hall.  After 
welcoming  speeches,  students  formed  an 
eager  audience  to  learn  about  taonga  puoro 
(Māori  musical  instruments)  from  their 
maker  and  player,  Bernard  Makoare  from 
Kaihu. An impromptu music lesson on some 
of  the  instruments  ended  the  presentation. 
Matua  Bernard  then  opened  the  exhibition 
with  a  karakia,  in  which  he  was  helped  by 
the students, and then it was time for lunch. 
Back in the Volunteers Hall, a kapa haka concert with items 
from  all  four  schools,  was  enjoyed  by  students,  staff  and 
parents;  not  to  mention a  few  visitors to the  museum  who 
joined the audience! 
Afternoon tea concluded the day at the museum and then it 
was time to go back to school to catch a bus home. 
The Kauri Museum would like to thank Kaiwaka School for 
being part of Ngā Ika o Otamatea. Students have produced 
some outstanding artwork for this exhibition. It will remain 
on display until 29 July. Don't forget to come and see it! 
THE KAURI MUSEUM: MATARIKI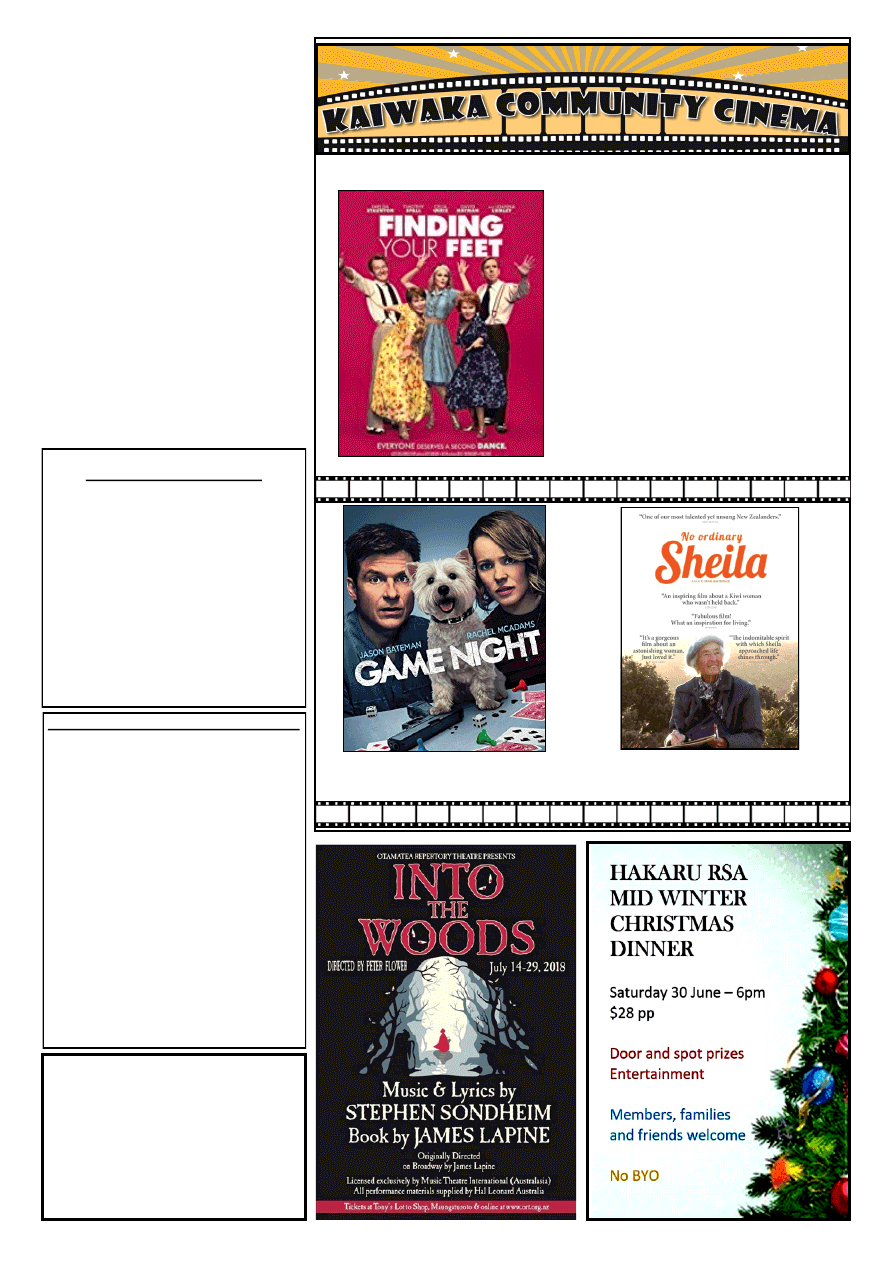 At Kaiwaka War Memorial Hall . Adults $10, Kids (under 16) $5, Family Pass (2 adults + 3 children) $25 
KAIWAKA BUGLE No. 12 
26 JUNE 2018 
CONTENTS 
Page 3: Public Notices, Classified 
Page 5: Kaiwaka Weather; OCS; 
Matariki Kapahaka Festival 
Page 7: Mobility Action Plan; 
Thelma's Scrapbook 
Page 9:  Pt.Curtis CC. 
Page 11: Garden Show; Mangawhai 
Artists; Bird Survey  
Page 13: Kaiwaka Sports Assn. 
Page 15: OHS; Kaiwaka School 
Page 16: Kaiwaka Fitness Activities 
Page 17: Rotary; OHS  
Page 19: 'ALF' 
Bugle 13will appear 10 July 
Contact for advertising, reports, articles 
or information can be made by 
Email kaiwakabugle@kaiwaka.co.nz 
Ph: 09 4312 045 Lindsey 
Txt: 027 2724137 
Copy  may  be  left  at  Jaques'  Four 
Square. 
Kaiwaka Bugle 
Founded May 1978 
We appreciate articles and photos about local 
events, etc, as well as ads and suggestions. 
Copies available in Kaiwaka at Jaques Four 
Square, Kaiwaka Postal Centre, Shamrock 
Service Station, Animal Health Centre, 
Kaiwaka St John shop. 
Also outlets in Maungaturoto, 
Mangawhai and Paparoa. 
Can be viewed online at   
www.kaiwaka.co.nz/Bugle  
Or a copy can be posted to you if you supply 
stamped, self-addressed DLE envelopes. 
GAME NIGHT 
Friday 1 3 July, 7.30pm (R16) 
No Ordinary SHEILA 
Friday 27 July, 7.30pm (PG) 
Proverbs 
3:13-15 
The  person  who  knows  right 
from  wrong  and  has  good 
judgement  and  common  sense  is 
happier  than  the  person  who  is 
immensely  rich!  For  such 
wisdom is far more valuable than 
precious 
jewels. 
Nothing 
compares with it. 
Kaiwaka Bugle Advertisements 2017: 
All 
copy 
and 
queries 
to: 
kaiwakabugle@kaiwaka.co.nz 
The Bugle is printed on an A4 page   
Ad  sizes:  1/16  page  (3  x  9.5cm)  $5;  1/8 
(6.5  x  9.5cm  landscape  or  portrait)  $8; 
3/16 ( 10 x 9.5cm or 7.5 x 12,5)  $12.  
Classified  ads:  First  one  FREE,  $4  per 
entry (max. 30 words, max. 4 repeats). 
Payments  can  be  made  online  at 
ANZ 
06  0365  0006990  00
,  posted  or  left  at 
Jaques Four Square Store. 
We  use  Microsoft  Publisher,  and  can 
work  with  most  common  image 
formats, Word, Excel, and PDF files. 
Accounts:  
Email: bugleaccounts@kaiwaka.co.nz 
The  Kaiwaka  Bugle  is  a  community 
newspaper run by volunteers.   
Articles, etc. printed are not necessarily 
the opinion of the Bugle Team. 
FINDING YOUR FEET 
Friday 29 June,  6pm (M) 
Movie only ~ sorry Dinner Tickets 
sold out! 
'When "Lady" Sandra Abbott discovers that 
her  husband  of  40  years  is  having  an  affair 
with  her  best  friend,  she  seeks  refuge  in 
London  with  her  estranged,  older  sister  Bif. 
The two could not be more different - Sandra 
is a fish out of water next to her outspoken, 
serial  dating,  free-spirited  sibling. But 
different  is  just  what  Sandra  needs  at  the 
moment, and she reluctantly lets Bif drag her 
along to a community dance class, where she 
starts finding her feet.' 
Starring:  Timothy  Spall,  Joanna  Lumley, 
Imelda  Staunton,  Celia  Imrie,  David 
Hayman.  
 To book phone 
021 782986 
www.kaiwaka.co.nz 
Kaiwaka Bugle - 26 June 2018 
Page 3 
ABOUT TOWN ... 

 What  brilliant  young  folk  we  have 
in  our  community  -  Soup  of  the  Day; 
and  Alien  Weaponry  who  were 
previous Smokefreerockquest winners.

Woohoo  for  WALKING!  See  also 
the list of Low Impact fitness activities 
available in Kaiwaka on page 16.

 Our condolences to the friends and 
family of Joss, picture right, who died 
recently.

HAWKS  Junior  rugby:  Under  11s, 
13s and 14s all had great wins on the weekend.

And WELL Done Otamatea Aims Netball team on a very 
successful tournament in Kerikeri!

 NOTE: Sunday 1st July Jaques Four Square will close at 
4pm for their Stocktake. 
~ Lindsey, Ed 
""Find a problem in your life and see if others are having the 
same issue -  and solve it." ~ Village Kitchen founder Rebecca 
Jones. Ref NZ Herald 18/6/18. 
PUBLIC NOTICES 
CLASSIFIED 
 FOR  SALE:  Cafe Blanket, Queen (duck egg colour). 
Made with duck feather & down -warm & light weight 
qualities. Use on own as cover, blanket or accessory to 
bed  linen.  Brand  new,  still  in  original  packaging. 
Retails for $199. I'm selling for $130. Phone 4312051 
KAIWAKA ST. JOHN OP SHOP 
We have lots of goodies for sale
.... 
Our clothing sale will continue till the end of the month. 
As  well  as  the  $5  bag  of  clothes  offer  we  have 
Belts,  Ties,  Socks,  Undies,  Knickers,  Petticoats, 
Beanies, Scarves and Shoes all on Sale. Boots are 
half  price.  Sale  includes  Babies,  Children's  and  Adults 
clothes and accessories. 
We also have: 
2 small kitchen tables; 1x round and 1x extension (extension 
table has two chairs); Solid coffee table with 2 drawers 
1x lovely Ottoman...the top lifts up for storage underneath 
1x  solid  chest  of  drawers....  2  small  and  4  bigger 
drawers...older style, but really nice. 
Lots of Jig-saws...all cheap; Sets of disposable tablemats 
Lovely pieces of Bric-a-brac. 
We need, please: 
Blankets,  pillows,  Rugs  and  mats,  Tools,  Jewellery,  Pot 
plants and anything else in good saleable condition.  
Much appreciated, Milly and Staff. 
Phone 09-4312650 after 9.00 am.
HELP CLINIC 
SENIORNET WELLSFORD 
Need a little help with your computer, laptop, ipad, tablet? 
Come to our Help session.  Ask questions, solve 
problems, compare notes with others. 
$10 members $15 non-members 
Wednesday 27th June - 10.30am-12.30pm 
(2 hours) 
The Club (Bowls Club), Molesworth Drive, Mangawhai Heads 
Ph: Tony 4312269 or Val 4314042 
Or email seniornet,mangawhai@gmail.com  
KAIWAKA SPORTS ASSOCIATION 
MEETING 
Wednesday 4th July, 7pm  
Kaiwaka Sports Complex 
WALKING GROUP 
New Activity! Kaiwaka Fitness Trail.  
Meet at the heli-pad - Kaiwaka Sports Association  
Tuesdays 8.30am and/or 4pm. FREE!   
Amy Griffiths, physio 021 2072729  
1 circuit = 482m. All levels; walking sticks, baby buggies, 
stride out or get one foot past the other. All welcome! 
LINKING HANDS 
Annual General Meeting  
26th  June at 7pm  
in the Anglican Church Hall  
Maungaturoto.  
For the Maungaturoto, Paparoa, Kaiwaka, Mangawhai, 
Waipu and Ruakaka communities  
TEAM UP 
Youth Development Programme 
We  have  identified  a  need  in  our  community  to  support  our  youth 
that are falling through he cracks. They maybe displaying anti-social 
behaviours,  feel  disengaged  from  their  peers,  family  or  community. 
They  may  appear  depressed,  anxious,  angry  and  isolated  or  just 
generally unmotivated and mot reaching their full potential. 
TEAM UP 
will support our youth to: 

RAISE SEL AWARENESS 

DEVELOP LIFE SKILLS 

POSITIVELY FACE CHALLENGES 

ACCEPT THEIR UNIQUE SELF  

MAKE CHANGE 

WORK TOWARD A SUCCESSFUL FUTURE 
Course starts Sunday 8th July to Sunday 5th August 2018 
9am to 5pm - Ages 9 to 14 years 
Transport available. All meals & resources at no cost. 
To register contact us at Kates Place Community House 
Ph: 09 431 2661 or 029 773 9085 or fb "TEAM UP"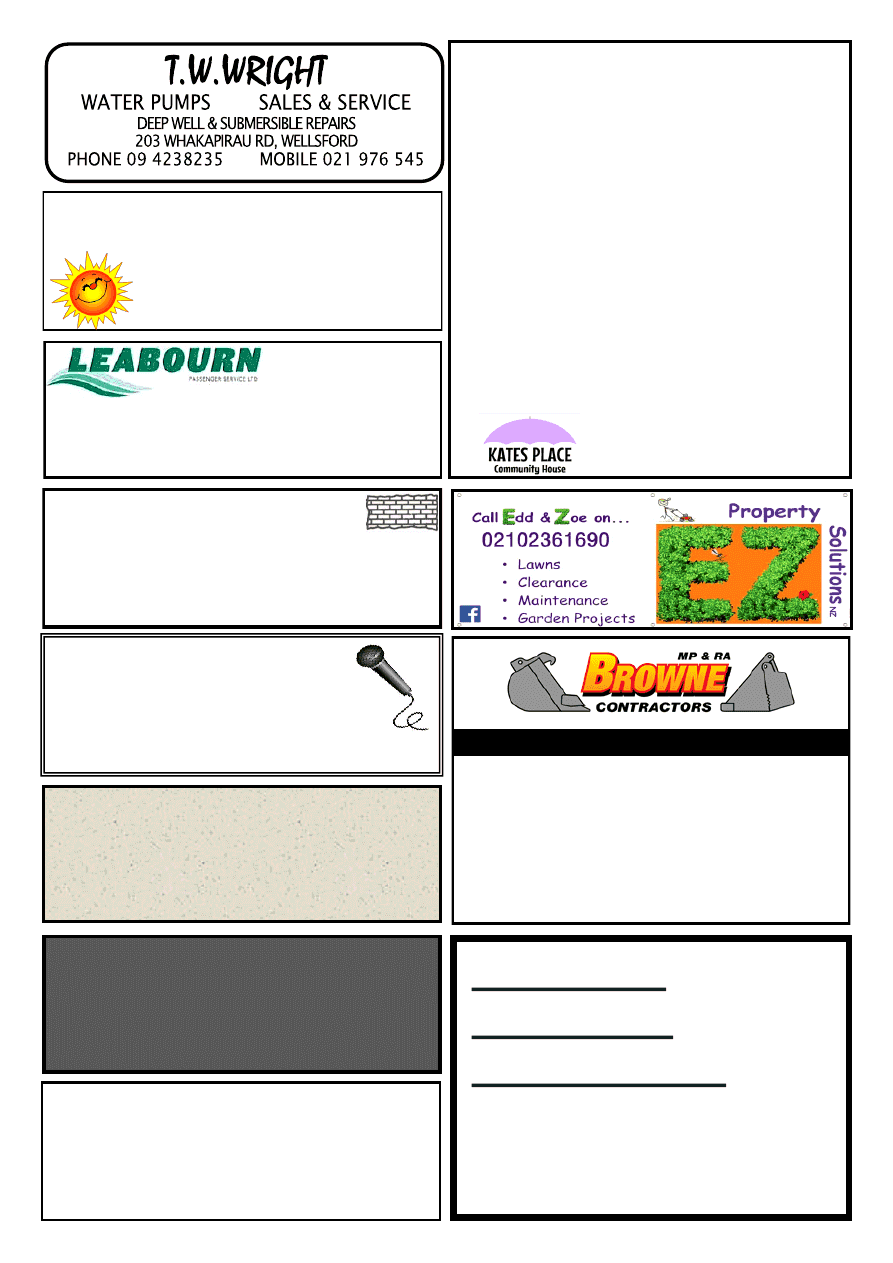 4T DIGGER – BOBCAT – TIP TRUCK 
Property Maintenance - Driveways  
 Building Sites 
Stump & Tree Re-
moval  
Hole Boring - 
Chain Trencher  
Calf Shed and Stockyard Cleaning 
Phone Matt: 021 199 6677 
Email: mprabrownecontractors@gmail.com 
BRICK/BLOCKLAYER 
All aspects of masonry: 
Fireplaces, Restoration & Remedial Work.
JAMES EAGLETON
Tel. (09) 431 2514     Mob. 0274 749 232
jajueagles@yahoo.com.au 210A Pukenui Road, RD2, Kaiwaka 0573 
THE SUNSHINE GIRLS
Efficient and reliable help with 
your housework. 
Ph 4312 532 
Counsellor and Registered Psychotherapist 
Offers Supervision
Susan Matheson 
MNZAC 
Dip. Psychosynthesis Counselling and Psychotherapy 
Phone 09 431 2996                        Mobile 027 605 2427 
MARRIAGE CELEBRANT 
WEDDING EVENTS PLANNER 
Yvonne Osborne 
Ph 0274 989 814 
yvonne.osborne@xtra.co.nz 
Passenger Service
Car & Van Hire   Bus & Coach Charters 
Airport Transfers    
Phone (09) 4237416 
SING RIGHT 
Professional coaching for performance,  
recording and demos. 
All level singers, musicians, singer-songwriters. 
Phone Robyn Hill 431 9159 or 022 1238126 
Michael Hogan 
Licensed Builder 
Quality new homes, renovations, and additions 
Phone: 027 974 1045 
Email: michaelhoganbuilder@gmail.com 
Website: michaelhoganbuilder.com 
 FINANCE 
 FUNDING 
 SOLUTIONS 
T - 0275 989814 
E
 - osborneassociates@xtra.co.nz 
REGISTERED INDEPENDENT FINANCE BROKER 
WEEKLY TRIP EVERY 
THURSDAY 
- MAUNGATUROTO -  KAIWAKA -  
- WELLSFORD - WARKWORTH - 
(and back) 
For anyone & everyone, save money, save gas, be social, go 
shopping, visit the doctor, get to the library, got to the 
dentist, meet your friends, have lunch, get to WINZ. 
Kate's  Place  Community  House  &  Otamatea  Community 
Services have teamed up to provide a van service that will 
travel  from  Maungaturoto  to  Warkworth  every 
Thursday. 
TIMETABLE: 

9.30am: 
Maungaturoto. OCS 155 Hurndall St.

10am: 
Kaiwaka, Kate's Place Community House, 1960 SH 1 

10.20am: 
Wellsford, Te Ha Oranga, 158 Rodney St. 

10.45am 
Warkworth Centre 

1.30pm 
Depart Warkworth 

2.30pm 
Arrive Maungaturoto 
Conditions: No eating or drinking in the van. Children under 14 
must be accompanies by an adult. Must book a space in advance. 
$5 per adult  
Book on 09 4312661 
www.kaiwaka.co.nz 
Kaiwaka Bugle - 26 June 2018 
Page 5 
Willow Bend
HORSE  
HOTEL 
  
Total Horse Care 
 
Agistment 
 
Riding Lessons 
 
Arena Hire (60x40) 
 
Young Horse Starting 
 
Re-training/Exercising 
 
Hoof Trimming 
 
Problem Solving 
Phone Sue 09 431 2817 
or 021 623 776 
Or email  
susanjoll11@gmail.com 
ST PAUL'S  
ANGLICAN  
SUNDAY  
SERVICES
St Pauls Church: Kaiwaka-Mangawhai Rd. 
Rev. Wayne Thornton Ph 431 4122 
www.mangawhaianglican.org.nz
The  next  free  shopping  trip  to 
Whangarei will be Wednesday 25 July; 
leaves Maungturoto at 9.30 and returns 
about 3.30.  
Sincere  thanks  to  all  those  who  have 
donated  goods,  baby  clothes,  toys  and 
items  for  the  Food  Bank  shelves.  The 
money  donated  at  the  seniors'  lunch 
goes to local youth groups. 
Thanks also to our fantastic volunteers 
who help with the seniors' lunch on the 
first  Wednesday  of  each  month,  our 
administration assistants, our Financial 
Mentor  who  has  been  a  great  addition 
to  the  team,  also  our  dedicated 
Governance  Board  who  willingly  give 
of their time to ensure we keep things 
going smoothly.  
Our  services  are  free  and  include 
counselling  for  couples,  children, 
individuals  -    for  any  situation.  Our 
Parenting Coach can visit in the home 
those  seeking  help  with  children  aged 
from  baby  to  teen.  Our  Financial 
Mentors can go over your budget with 
you,  provide  transport  and  accompany 
you  to  WINZ  making  sure  you  are 
receiving all you are entitled to.  
You do not need to be referred to make 
use of these services, you are welcome 
to  phone  or  call  at  the  Community 
House to talk about your needs, or you 
can use the online referral form which 
can  be  found  on  our  website  at 
From all at OCS 
I have changed my system for labelling homemade 
freezer meals. I used to carefully note in large clear 
letters,  "Meatloaf"  or  "Pot  Roast"  or  "Steak  and 
Vegetables or "Chicken and Dumplings" or "Beef Pot 
Pie."
However,  I  used  to  get  frustrated  when  I  asked  my 
husband  what  he  wanted  for  dinner  because  he 
never asked for any of those things. So, I decided to 
stock the freezer with what he really likes.  
If you look in my freezer now, you'll see a whole new 
set of labels. You'll find dinners with neat little tags 
that  say:  "Whatever,"  "Anything,"  "I  Don't  Know,"  "I 
Don't Care," "Something Good," or "Food."  
My  frustration  is  now  reduced  because  no  matter 
what  my  husband  replies  when  I  ask  him  what  he 
wants for dinner, I know that it is there waiting. 
KAIWAKA  
WEATHER 
May  seems  so  far  away 
now.    Due  to  circumstances 
beyond my control I have been unable 
to  give  you  a  report.    So  just  to  jog 
your  memories.    It  was  a  pretty 
reasonable  month  with  a  little  bit  of 
everything and not a lot of anything.   
For May 2018 we had 96mm rain and 
2017 we had 110mm.  
Our wettest May since 1987 was 2001 
with  281mm  and  the  driest  was  2007 
with 21mm.   
Our  first  5months  of  2018  we  had 
813mm and 2017 we had 835mm.  
Our  wettest  first  5  months  since  1987 
was  2011  with  854mm  and  the  driest 
was 1999 with 108mm.  
We  had  rain  on  10days  of  the  month 
for 2018 and 9 days of rain for 2017.   
Well  that  is  me  until  the  next  Bugle 
with June's weather report.  
Take care, Bev. 
Matariki pipiri whānau, pipiri hapū, pipiri hapori whānui. 
Matariki that draws all people from our community 
together 
Not  long  to  go  until  the  second  Te  Uri  o  Hau  Matariki  Festival  at  Rodney 
College  from  10.30am  on  Saturday  30th  June.  A  raft  of  activities  showcased 
during  the  event:  a  whakairo  (carving)  and  raranga  (weaving)  exhibition  with 
people  demonstrating  some  of  the 
wares;  kapa  haka  from  local  high 
schools  and  primary  schools;  an 
inaugural  art  competition;  kai  stalls; 
hauora  (health  stalls)  and kaitīakitanga 
(environmental  management);  with  a 
crew  demonstrating  their  dedication  to 
kaupapa  Māori,  their  craft  and  in  full 
support  of  the  Matariki  kaupapa.  We 
encourage  you  to  bring  the  whānau 
down  and  enjoy  the  festivities.  This 
event  has  been  brought  to  you  by  the 
Rodney local Board-Auckland Council, 
Te  Puni  Kōkiri  and  Te  Uri  o  Hau 
Settlement Trust. 
Art Competition  
Te  Uri  o  Hau  Matariki  Kapahaka 
Festival  is  holding  an  art  competition 
with a prize pool of $500. 
There are 4 categories: Ages 0-6, 7-12, 
13-18 and 19+ 
If you have a tangible piece of art that 
relates to Matariki or unity, then this is 
the  competition  for  you.  For  further 
details  please  email  Bailey  Cuddy  at 
bcuddy@uriohau.co.nz 
or 
Reno 
Skipper at matuareno@gmail.com
AFFORDABLE 
PRICES! 
MENS CUT FROM $20.00 
LADIES CUT FROM $30.00 
KIDS CUT FROM $18.00 
COLOUR & CUT FROM $120.00 
JUST 
CUTS'AND   
MORE 
021 165 2629 or  
(09) 945 0707  
NOW SELLING: scented tealights, 
incense, smudge sticks, copper bracelets, 
aurora ball crystals, dream catchers, 
healing stones, rose quartz, cds, and much 
more. Open 6 days.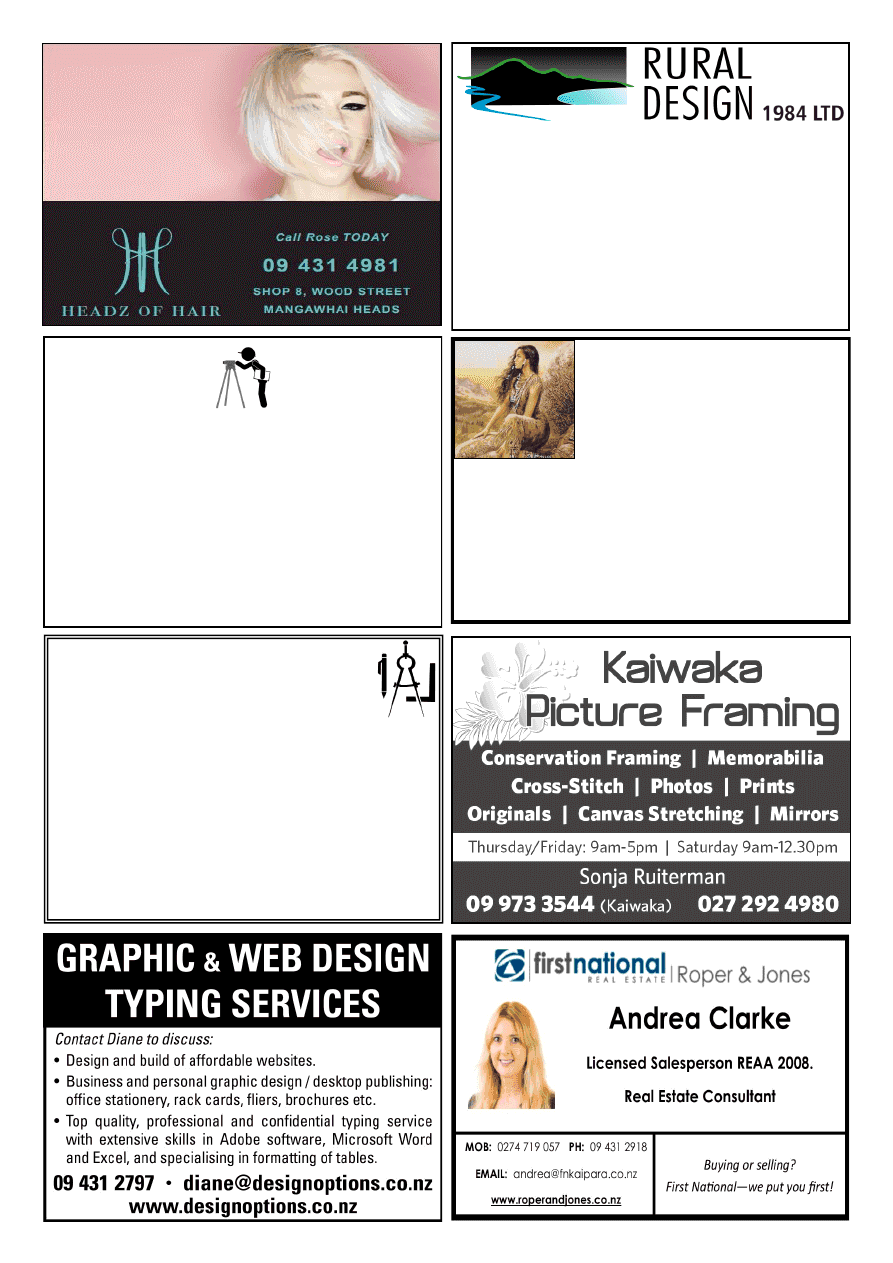 design drafting  
service 
Retired builder and manufacturer with over 40 years  
experience in the building industry is offering a design 
drafting service  
for domestic housing, sleepouts and sheds.  
Plans formulated in consultation with clients, with 
working drawings completed and submitted to  
council for processing.  Extensive practical experience,  
able to identify & resolve problems. 
Please ring Mike Lean on 
09 431 2260 
or 
021 431 196 
Ken Urquhart 
BSurv Licensed Cadastral Surveyor 
KMU Surveys Ltd
467 Bickerstaffe Road 
RD 2 
Maungaturoto 0587 
Ph 09 431 8705 
Mob 021 161 2344 
kenurquhart@xtra.co.nz 
WHOLESALE NATIVE PLANT NURSERY 
AND LANDSCAPING 
By Appointment 
Small and Large orders welcome 
Phone: 09 431 2481 
Email: info@ruraldesign.co.nz 
Trails end 
spiritualist gathering 
Last Sunday of every month  
10.30-2pm  
Tea/coffee provided  $5 koha 
For all inquiries: 
021 165 2629 evenings (09) 945 0707 
Trail.end@hotmail.com 
1758 Cove Road, Mangawhai
Bringing together light minded people 
Guest speaker each month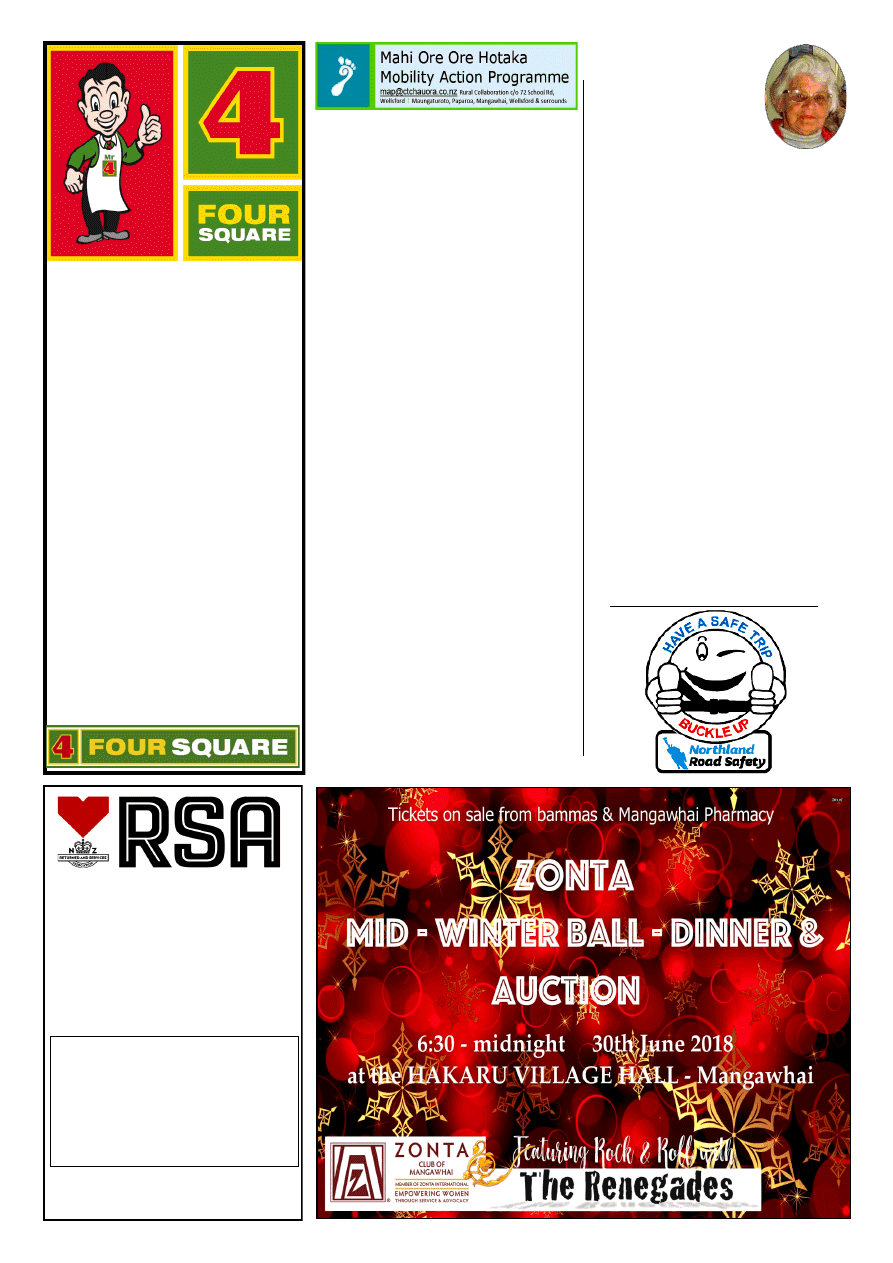 www.kaiwaka.co.nz 
Kaiwaka Bugle - 26 June 2018 
Page 7 
From Thelma's 
Scrapbook … 
The Woman in  
the Queue 
What is loneliness?  
It is impossible to describe 
in  a  word,  but  sometime  ago  I 
witnessed  it  in  an  example.  During  a 
bread shortage, long queues gathered in 
the  supermarket,  and,  as  so  often 
happens,  all  were  making  the  best  of 
the situation and the queue was cheery 
and friendly. 
Then  a  strange  thing  happened.  The 
assistant  saw  a  white-haired  pensioner 
leave the queue just before she reached 
the  counter  and  slip  away  to  join  it  at 
the end again. Puzzled, the girl kept an 
eye on her and to her surprise the same 
thing  happened  again  -  as  soon  as  the 
old woman drew near the counter, she 
turned  away  to  the  back  of  the  queue. 
Why on earth was she doing it? 
You  may  have  guessed  that  it  was 
because  she  was  lonely.  No  one  ever 
dropped into her house for a chat. Her 
family  was  far  away,  her  neighbours 
were  young  people  who  were  out  all 
day.  But  in  the  queue,  she  found 
warmth,  friendship,  a  sense  of 
belonging  and  someone  to  speak  to, 
even though they were strangers. 
That  is  loneliness.  Please  don't  let  it 
happen to anyone you know! 
HAKARU & DISTRICTS 
MEMORIAL RSA (INC)
Members & guests are invited to 
come along and enjoy our 
hospitality. 
New members welcome. 
Meals are served on 
Thursday and Friday nights 
from 6.30pm. 
Last Friday of the month is  
'Roast Pork Night' and a sing-a-long  
with Des Chitty. 
For more information please phone 
Marlene on 431 5589 
SUNDAY 1ST JULY 
SHOP HOURS 
9AM TO 4PM 
CLOSED AFTER 
4PM FOR 
STOCKTAKE 
Stuck for gift ideas? 
We have a large range of 
gift  cards  for  heaps  of 
different stores. 
Not  sure  what  they 
would like? 
Load Visa or Mastercard. 
Gift 
card, 
problem 
solved. Easy peasy!! 
Jaques Four Square 
Phone: 4312227 
1 Kaiwaka-Mangawhai Road, Kaiwaka. 
WINTER ACHES AND 
PAINS GETTING YOU 
DOWN? 
Mahi  Ore  Ore  Hotaka  or  the  Mobility 
Action  Programme  is  still  running  in 
Wellsford,  Kaiwaka,  Maungaturoto, 
Mangawhai and Paparoa areas. 
If  you  are  over  18  years,  have 
musculoskeletal  pain  ie  pain  in  your 
muscles  or  joints  e.g.  arthritis,  back 
pain, old injuries and are NOT covered 
by ACC, then this programme could be 
for you! 
If  you  meet  this  criteria  you  can  be 
assessed  by  an  experienced  physio  or 
occupational  therapist.  You  can  then 
have  access  to  hydrotherapy/self-
management 
classes/dietician 
and 
more. 
This  service  is  at  NO  COST.  It  is 
funded by the Ministry of Health via a 
collaboration  of  Restart  Rehab  & 
Associates  Ltd,  Active  Living  Physio, 
Coast to Coast Health Care and Te Ha 
Oranga. 
Hurry funding will run out soon! 
Here's  what  some  of  the  participants 
had to say: 
"This course is very well rounded for all, 
no matter your age or disability" 
"This group has helped me get my back 
pain under control and able to maintain it" 
I'm looking forward to getting back to 
netball training" 
"Well worth it, I have enjoyed it all. Would 
recommend it to everyone" 
"Really felt the benefit of the hydrotherapy 
with the physiotherapist" 
Please call: Amy Griffiths (Physio) 021 
207 
2729 
or 
Alice 
Sullivan 
(occupational therapist) 027 291 7239.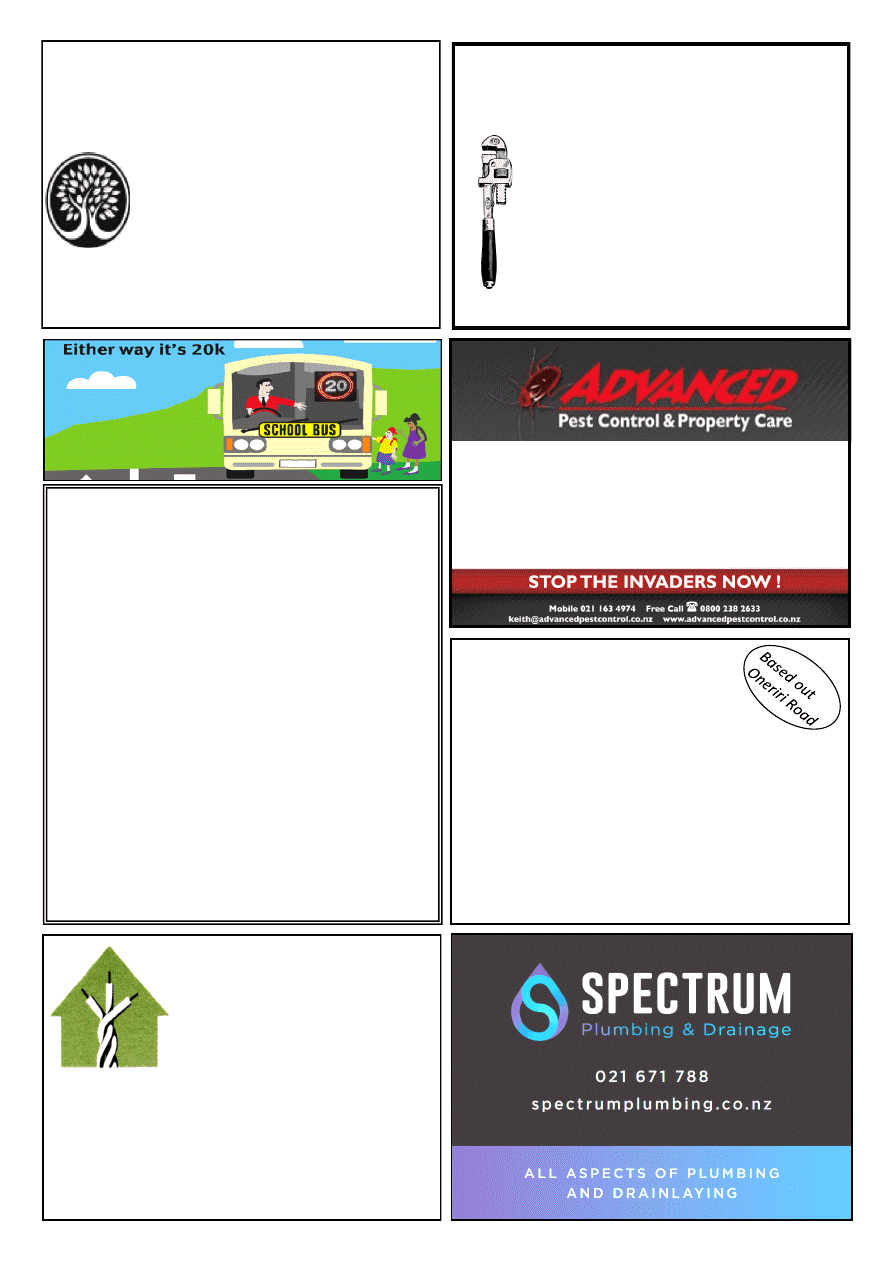 Waipu Natural Health 
3 Cove Road, Waipu  (opposite the Pizza Barn) 
Ph: 09 432 1325 
www.waipunaturalhealth.co.nz
Clinical Nutritionist-Hair Analysis for Masked 
Allergies, Ozone Therapy, Prolotherapy, 
Naturopath-Medical Herbalist, Registered 
Massage Therapists, Reflexology-
Craniosacral Therapy, Acupuncture-Facial 
Acupuncture, Kineso Taping, Hypnotherapy, 
Counselling, ThetaHealing/Change Catalyst
.
AFFORDABLE CONSULTS FOR KIDS – give us a call
Gift Vouchers available
KAIPARA FLOORING CO 
Independently owned & operated 
32 HURNDALL ST MAUNGATUROTO
Supply & Installation of Carpet, Vinyl,  
Vinyl Wood Planking
Stockists of 2m & 3m wide 
vinyl & carpet short ends
Residential & Commercial
Q Card Finance Approved 
6-18 month terms 
6 mth interest free
First Class Installations
For a free measure & quote 
phone Christine  
09 946 9886 or 021 515 415 
kaiparaflooring@gmail.com 
http://www.kaiparaflooring.co.nz/ 
BARRY CURTIS PLUMBING LTD 
REGISTERED CRAFTSMAN PLUMBER 
Phone 4315572 
027 257 9884 
25 years experience 
Friendly reliable service 
All plumbing and maintenance 
Alterations and new housing 
Spouting 
Competitive rates 
PROMPT EFFICIENT  SERVICE 
HODGETTS 
CONTRACTING
Digger Work   

Driveways 

House Sites   

Dams   
 
Drains, etc
Also available for HIRE 
3 ton Vib Roller Heavy Duty Tow  
Waterblaster     Lazer Level
Phone Mark 4312877 
        027 447 8554 
Reyahn George 
Leng 
Registered Electrician 
Local, honest and reliable. 
For your residential and 
light-commercial projects. 
022 314 1068  
Pest Control 
PLAN A: One-off treatments to customers with a specific pest problem 
PLAN B: Full maintenance service plans to commercial customers. 
This will include documentation kept in customer file on site: 
⚫
Pest treated 
⚫
Date of service 
⚫
Chemical or baits used 
⚫
Full pest check report done after each treatment 
⚫
Fair and reasonable fee with guarantee 
Flood Recovery 
Carpet Care 
⚫
Carpet Drying   
This includes pre-spray treatments 
⚫
Dehumidifier Rental 
with stain removal and hot water extraction.  
⚫
Full Commercial Cleaning  Patch repair also available 
Upholstery Cleaning 
Full upholstery cleaning of all furniture.  
eg lounge suites and all office chairs 
Water Blasting 
⚫
Concrete - Decks 
House Washing 
⚫
Soft Chemical Was 
⚫
Pre-painting Wash 
Property Services 
⚫
Property Cleaning  
Lawn Mowing 
⚫
Hedges General  Tidy Ups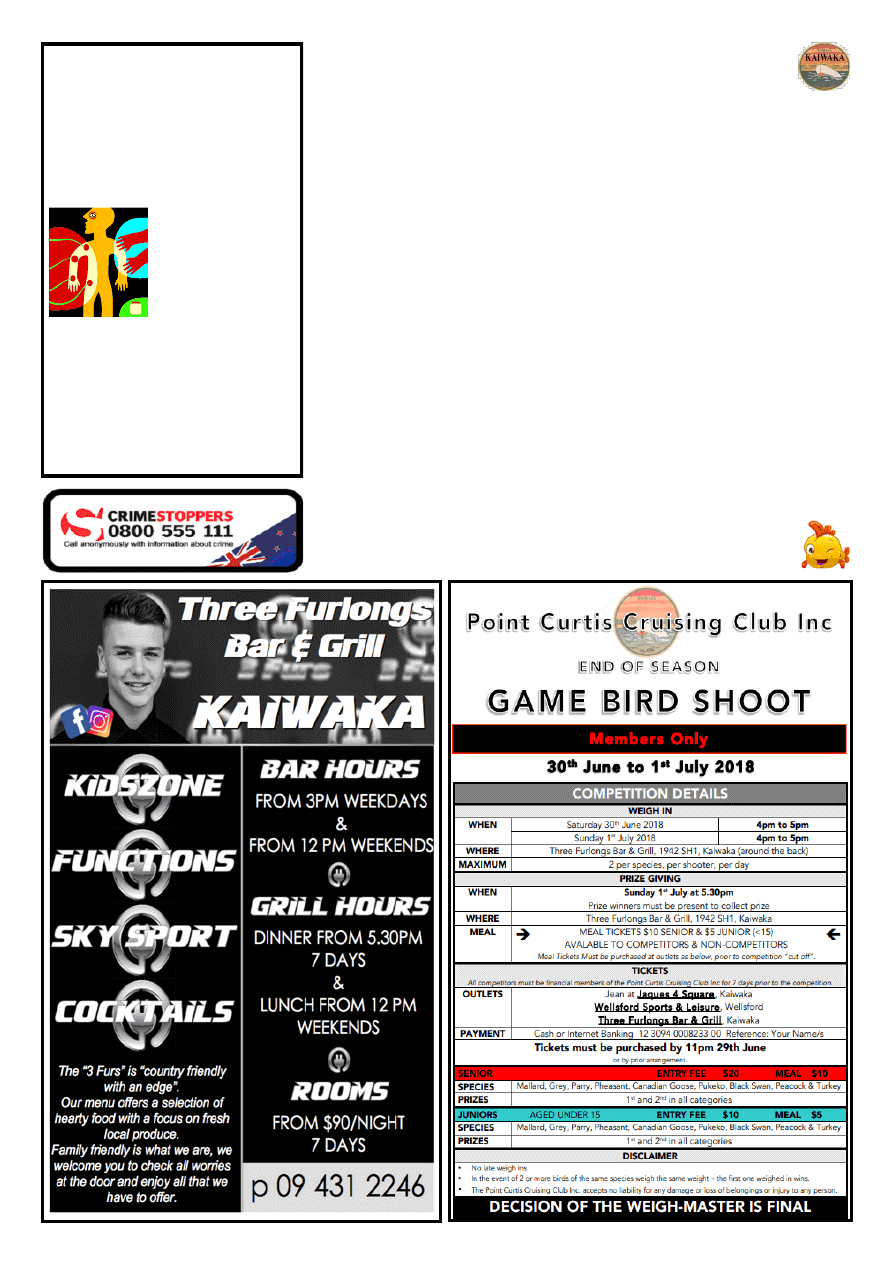 www.kaiwaka.co.nz 
Kaiwaka Bugle - 26 June 2018 
Page 9 
OWEN STEVENS 
Osteo Therapist
For careful adjustments  
to bones and joints 
Treatment for humans  
and their pets 
Clinics: 
Kate's Place, 
Kaiwaka: 
Last Friday of 
month 
9.00am-5.00pm 
For bookings: 
Phone 
09 4312661 
Or phone Owen   
09 4317123  anytime 
Tramp! 
POINT CURTIS CRUISING CLUB  
The  PCCC  AGM  was  held  on  the 
Tuesday 19
th
 June. 
A few good things were discussed and 
are as follows:  
Positions remained the same 
Patron – Dan Mills 
Life Member – Trevor Linnell 
Commodore – Pongo 
Vice Commodore – Tony Smith 
Secretary – Renna Brown 
Treasurer – Jean McLeish 
We  are  going  to  trial  with 
Competitions, either Duck Shooting or 
Fishing  the  option  to  Purchase  a  meal 
ticket with the competition ticket. 
Adult  $10  meal  ticket,  Junior  $5  meal 
ticket. And yes, you may just purchase 
a meal ticket if you don't fish or shoot 
but enjoy coming along. 
This will free up some time for some of 
you  that  rush  home  and  try  make  a 
plate. 
The  other  change  made  was  'Cut 
Off' date for the Club Board. 
The new End of Year Cut-off date is 
20
th
  April  2019.  Anything  weighed 
after that date will be recorded, then go 
to  start  the  Club  Board  for  the  new 
season. 
This  will  also help  Sandy with 
getting things sorted for end of 
year prize giving. 
1
st
 June Subs were due $30 Family or 
$20 Single. 
If you wish to pay by internet banking. 
Please  use  your  Name/Names  as  a 
Reference.  Bank  details  are:  No  12 
3094 0008233 00 
30
th
  June  Pool  Comp  Against  the 
Mangawhai Club @ 3Furs 
30
th
  June  -  1
st
  July  End  of  Season 
Duck  Shoot.  See  details  in  poster 
below. 
$20 Senior $10 Junior and don't forget 
the meal option. 
Tickets  can  be  Purchased  from  Jean 
McLeish at Jaques, Wellsford Sports & 
Leisure or Three Furlongs Bar & Grill. 
Fish  of  the  Month  Winner  for 
Gurnard  winner  -  Mickey  Renton 
0.700kg 
New Fish of the Month is Snapper 
Next  Club  Meeting  10
th
  July  2018 
7pm at The 3Furs Bar & Grill 
 ~Wayne Leslie (Commodore)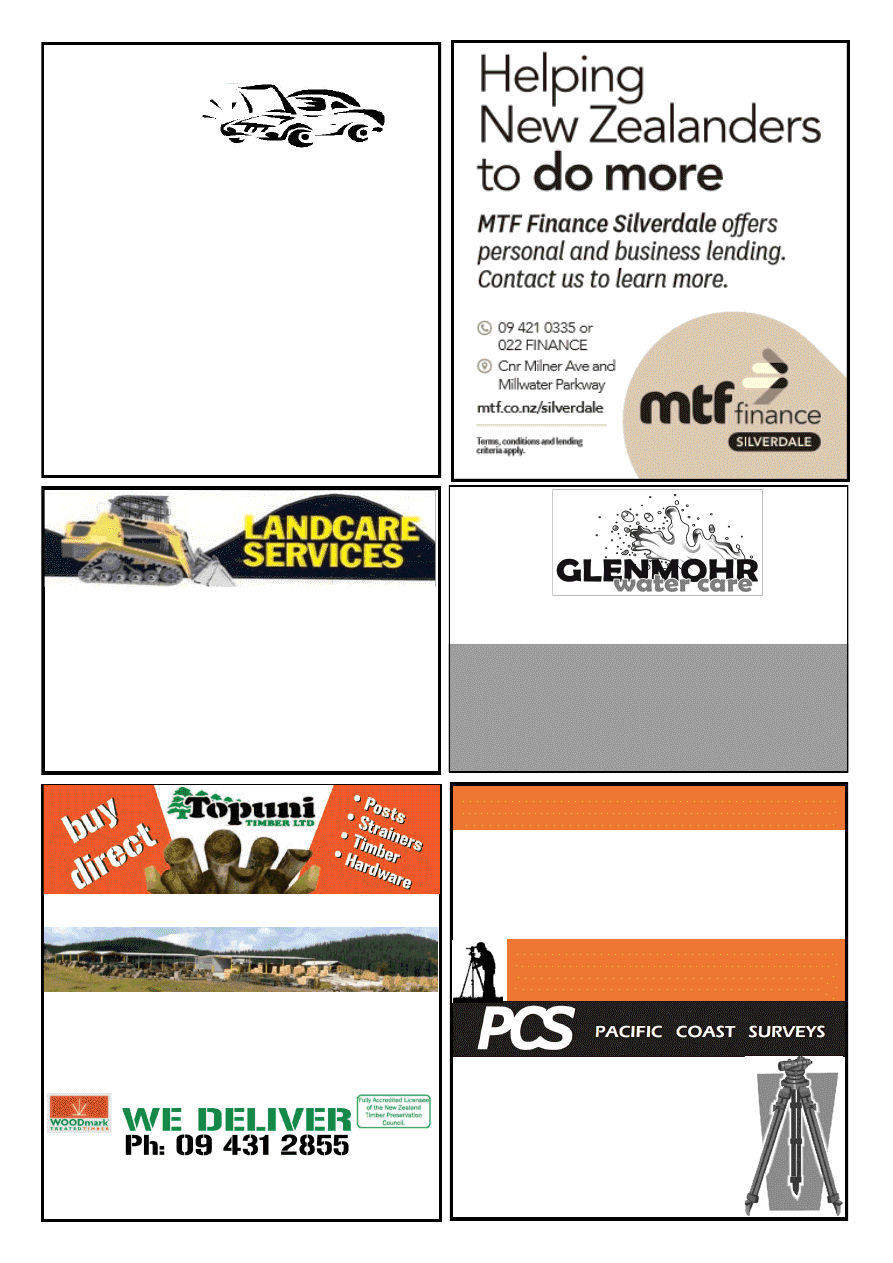 LOCALLY OWNED AND OPERATED 
QUALITY PRODUCTS • FRIENDLY ADVICE • GREAT SERVICE 
Quality Products milled from High Density NORTHLAND Radiata Pine. 
Treated and guaranteed to NZS3640 with commitment to 
Environmental Safety.
Phone, fax, email, or come into the mill 
Schiska Rd, Topuni, SH1, 10 min north of Wellsford. Fax: 09 431 2856 
Email: sales@topunitimber.co.nz           Mon - Fri 7am-5pm 
• Fencing 
• Retaining 
• Decking 
• Landscaping 
• Gates 
• Hardware 
SURVEYORS 
SUBDIVISIONS 
HOUSE SITE SURVEYS 
CIVIL ENGINEERING 
WASTEWATER DESIGNS 
EXPERIENCED 
PROFESSIONAL 
INNOVATIVE 
Ph 09 431 5353 
0800 PACIFIC (0800 722 434) 
pacificcoastsurvey.com
Adam Booth - 027 415 5752 
Bsurv, Licensed Cadastral Surveyor
Surveying Kaipara since 1994 
Water Tank Cleaning 
• 
Keep your water safe & clean  
• 
Removal of sediment, silt etc. 
• 
Vacuum or full scrub 
• 
Minimal water loss 
Phone Mark (09) 432 0655 or 0274 707607 
LANDSCAPING 
4 IN 1 BUCKET 
TRENCHER 
POLE HOLES 
ROTARY HOE 
COMPACT ROLLER 
OFFAL HOLES 
CAN SUPPLY WOODCHIP & POST PEEL 
5 TON TIPPER 
FOR RELIABLE AND FRIENDLY SERVICE CONTACT DAVE 
Dave Hyndman 
 
KAIWAKA 
PH: 09 4312302 
MOB: 021 431 238 
Twinkle Tow 'n' Tyre 
Think you'll get a better deal in the city? 
Ring us - it won't cost anything! 
1837 State Highway 1, Kaiwaka 
Phone 431 2823 
*W.O.F. 
*Tyres 
*Windscreen 
replacement 
*Chip repairs 
*Bulk Oil 
*Batteries 
*Welding 
*Custom built 
trailers 
*Trailer hire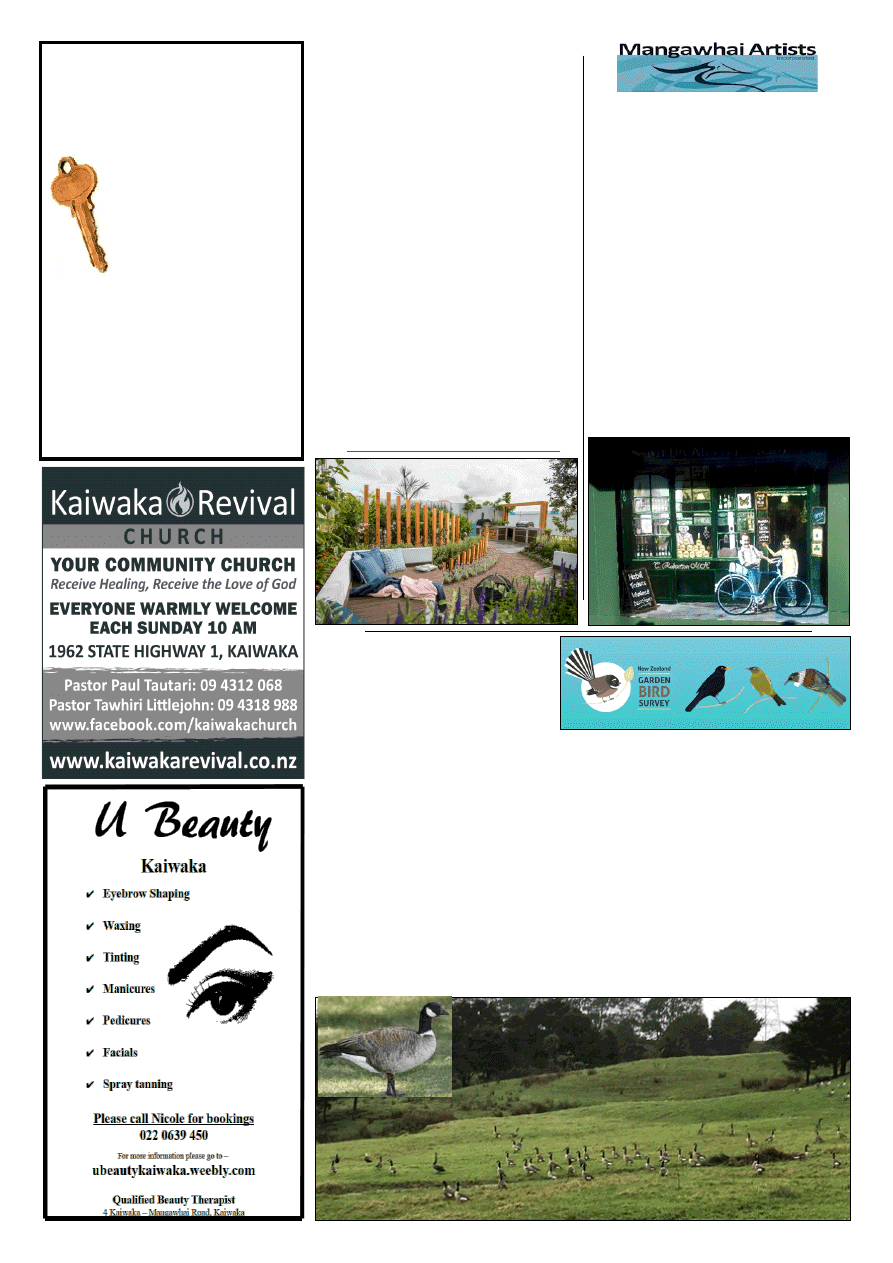 www.kaiwaka.co.nz 
Kaiwaka Bugle - 26 June 2018 
Page 11 
Old Apothecary Shop
A  detailed  and  life-like  painting  by 
Linda  Hobbs  has  been  turned  into  an 
enormous  print  and  an  eye-catching, 
and  possibly  distracting,  mural  for 
drivers in Hamilton.   
The Old Apothecary painting adorns a 
previously  large  blank  wall  of  Herbal 
Shop  and  Clinic  in  Lorne  Street 
Hamilton.    Mixing  art  and  signage, 
Linda  says  she  wanted  something 
intriguing  for  drivers  to  look  at  while 
sitting at the traffic lights and to draw 
attention  to  her  friend's  Herbal  Shop.  
The  painting  features  the  owner  and 
her  husband  business  partner  as 
children on bikes and peeping out from 
inside  the  shop  is  the  owners' 
Grandmother. 
Linda lives in Te Arai and is a member 
of Mangawhai Artists Inc.  
Kaiwaka 
Hardware  
& 
Key cutting
Phone 4312 063  
or 022 0642 703
kaikey2015@gmail.com
    Keys Cut  
Household Hardware  
Sharpening  
Knives & Tools 
Curtain Tracks & Fittings
Not there? Call Doug and he'll 
sort
it for you. 
(
Next to Kaiwaka Motorcycles)
BIRD SURVEY 
The  New  Zealand  Garden  Bird 
Survey for 2018 is running from 30 
June till 3 July.  
Landcare  Research  say,  "Birds  act 
as  'backyard  barometers'  -  telling 
us about the health of the environment we live in". Spend just one hour watching 
birds in your garden and record the highest number of each species you see or 
hear  at  one  time  to  help  monitor  distribution  and  detect  population  trends  in 
garden  birds.  Check  their  website,  landcareresearch.co.nz,  or  key  in  'garden 
birds survey nz' to find the Survey Sheet how to identify birds; plus there are 
fun school activities  for children  (I  love  the  brilliant bird  masks)    listed  under 
Resources for Schools. 
WHAT ABOUT A FARMLAND BIRD SURVEY? 
It has been noted that Oneriri Peninsula has an abundance of large birds grazing 
the  farmland  (and  fouling  it  too  -  no  pun  intended!).  There  have  been  a  large 
number of turkeys roaming from farm to farm as long as I can remember, but 
now the peacocks, the paradise ducks and Canadian geese have joined them. 
Thank you to Penny Paikea who took this photo last week of a flock of Canadian 
geese just on the north side of Kaitara Bridge. There about 50 in this photo and 
another 50 in the creek below them. 
~ Lindsey
ANY DAY WILL BE A GOOD DAY 
AT THE NZ FLOWER & GARDEN 
SHOW 2018 
Everyone  from  weekend  home  and 
garden warriors, to horticultural, 
design 
and  art  aficionados  are  urged  to  mark 
their  diaries  now  for  the  2018  New 
Zealand  Flower  and  Garden  Show, 
being  held  for  a  second  time  at  West 
Auckland's The Trusts  Arena
  from  28 
November until 2 December 2018. 
Popular  Show  favourites  will  be  back 
again,  and  visitors  will  be  offered  the 
chance  to  experience  award-winning 
garden  exhibits,  feature  floral  art 
installations and display
s 
To 
ensure 
that 
Auckland's 
unpredictable  weather  doesn't  play 
havoc  with  visitors  plans,  organisers 
have  released  discounted  Earlybird 
tickets  for  $28  (Seniors  $26)  plus 
booking  fees,  which  for  the  first  time 
will be valid for ANY DAY of the five 
day  show  if  purchased  by  31  August 
2018. 
For 
more 
information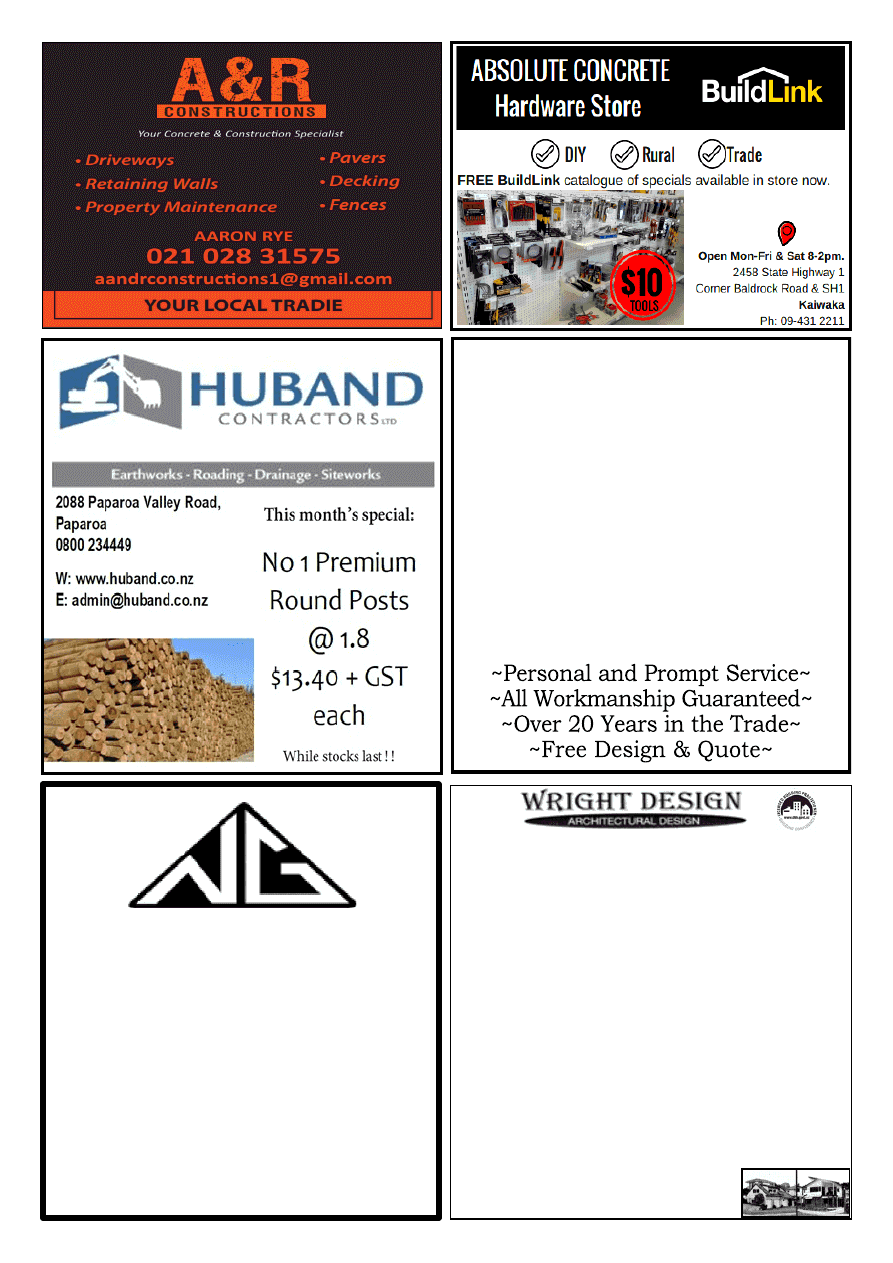 NORTH GLASS 
WINDSCREEN REPAIR OR REPLACE 
GLAZING SERVICES 
MIRRORS  •  SPLASH BACKS  •  SHOWERS 
0800 70 40 10
info@northglass.co.nz 
www.northglass.co.nz 
PLANNING A NEW KITCHEN?
 CONTACT NOEL McDOWELL
WELLSFORD 
KITCHENS
Ph/Fax 094312888
KAIWAKA-Any time
 QUALITY CUSTOM MADE 
KITCHENS
If you are thinking of building then you 
will need a good and well experienced, 
qualified, and licensed designer. 
This applies if you are considering a 
new home any alterations or any 
building additions/farm buildings, 
sheds, alterations, whatsoever. 
For Resource and Building Consents, 
planning restraints, new building 
materials, applying for building permits 
– you need a capable, experienced, 
and professional designer with a clear 
knowledge of all the processes. 
Brian has been helping and organising 
all these facets of design and building 
for over 50 years. 
Wright Design offers free visits, 
consultations and advice on planning, 
design, building, council permit 
applications, guaranteed permit plan 
acceptance. 
QUALIFICATIONS 
Brian is a qualified designer 
(N.Z.C.A.D.) with over 50 years of 
varied experience in all types of 
building and is registered and Licensed 
Building practitioner in Design – 1 & 2 
Registered LBP117345 
He will ensure you will achieve the 
best from your budget. 
EXPERIENCE 
Brian's practical building and 50+ years 
of design experience means he can 
give you excellent advice and all the 
guidance needed. 
Brian can arrange engineering for a 
reasonable cost. 
•Qualified and inexpensive designer – 
N.Z.C.A.D. Registered LBP117345 
•Guaranteed design and working 
drawings 
•Free site visit to your home or 
property 
•Great service and free quotation 
PROJECTS 
Additions, alterations, basements, new 
homes, motels, bed and breakfast, 
commercial buildings, farm buildings, 
and shop fit outs are a few projects. 
Brian can show you many of his 
projects in the area to emphasise his 
versatility and can give you contact 
with satisfied clients. 
WHAT TO DO FROM NOW ON 
•Call Brian for a free quotation 
•Discuss your needs and obtain good 
advice 
•Brian can offer 
plan printing 
from A4 to A0 
(2x A1 size) 
No. 117345 
N.Z.C.A.D., L.B.P. 117345 
PH/Fax: 09 423 8092 Mob: 021 276 7369 
Office: 3 John Sinclair Avenue, Wellsford    brianwright@xtra.co.nz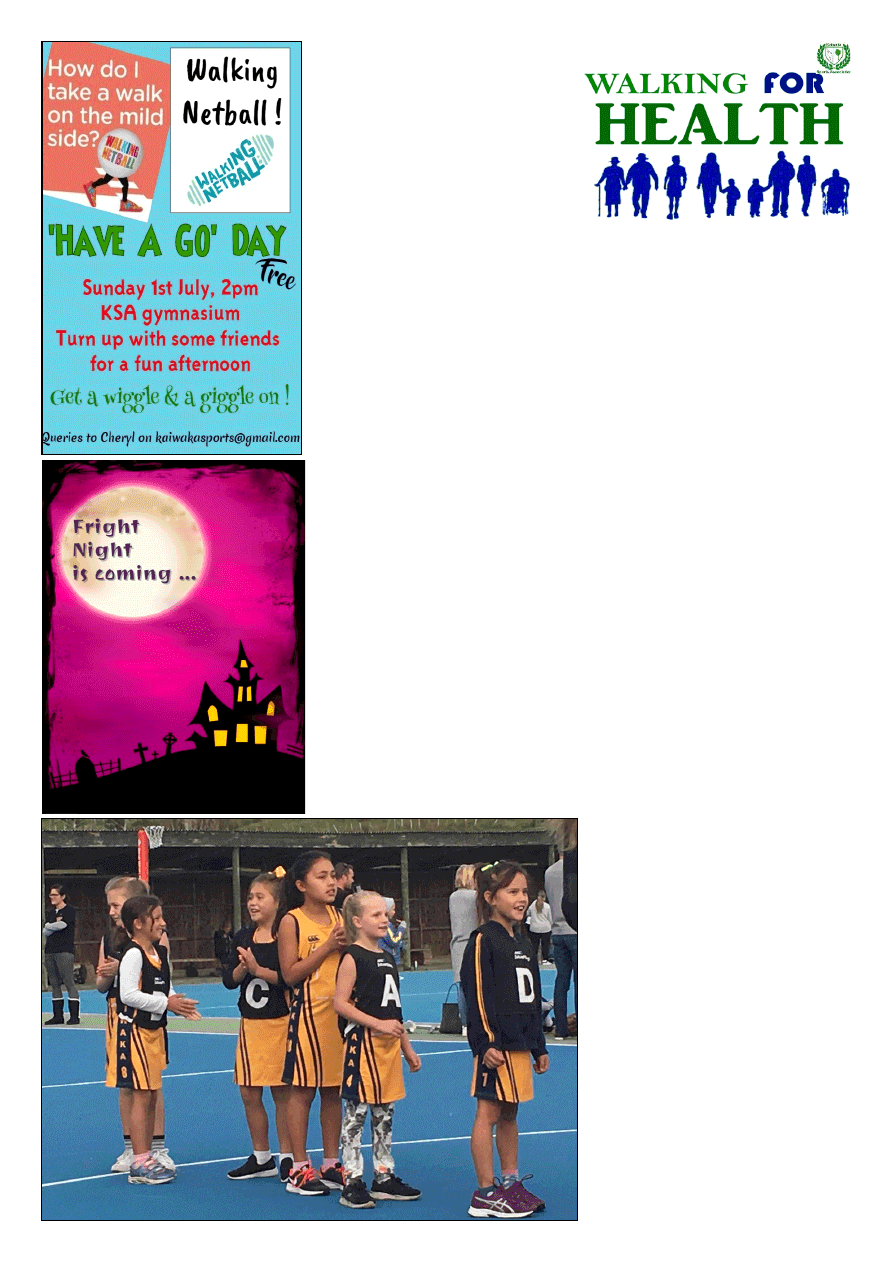 www.kaiwaka.co.nz 
Kaiwaka Bugle - 26 June 2018 
Page 13 
           KAIWAKA SPORTS ASSN 
New to Kaiwaka – 
Walking Group 
Kaiwaka's 
physiotherapist 
Amy 
Griffith is starting up a Walking Group, 
which  will  be  based  around  our  new 
Fitness Trail at the Sports Complex. It 
will  be  held  every  Tuesday,  starting 
this  Tuesday  26th,  at  8:30am  and  at 
4pm.  Suitable  for  all  levels:  walking 
sticks,  baby  buggies,  stride  out  or  just 
get one foot past the other. Meet at the 
helipad.  All  welcome.  No  cost.  Call 
Amy on 021 2072729 or just turn up. 
Martial Arts 
Our Martial Arts club, led by black belt 
instructor  Craig  Bennetts,  offers 
Kempo and Tai Chi classes out of our 
gymnasium. 
Kempo is held on Wednesday's: 
5 – 9 yrs 3:15 – 4pm; 10 – 15 yrs 4:15 
– 5:15pm; 16+ yrs 5:30 – 6:30pm 
Tai  Chi  classes  are  held  on 
Wednesdays  7  –  8am  and  on  Sundays 
8:30  –  10am.  Check  out  the  Martial 
Arts flyer on www.kaiwakasports.co.nz 
for  the  opportunity  to  redeem  a  free 
offer. 
For  more  information  on  Martial  Arts 
please contact Craig on 4315 170. 
Walking Netball 
What is Walking Netball? It's basically 
netball,  but  at  a  walking  pace  with 
rules  on  footwork  and  possession 
differing  slightly  to  the  regular  game. 
The  game  has  been  designed  so  that 
anyone can play it regardless of age or 
fitness level. So, whether you've had to 
put  your  netball  career  on  hold  due  to 
injury,  or  you  thought  you'd  hung  up 
your  netball  shoes  a  long  time  ago, 
walking  netball  is  a  fantastic  way  to 
introduce yourself back into the sport. 
I'm  putting  on  a  'Have  A  Go'  day  in 
the  KSA  gymnasium,  this  Sunday  1st 
July at 2pm. 
Bring some friends! 
Netball - Junior 
19  Kaiwaka  girls  play  in  our  Junior 
Netball  Club.  The  club  is  split  into  3 
teams,  Kaiwaka  1,  Kaiwaka  Unicorns 
and Kaiwaka Dolphins. The teams train 
at our courts and then play on Saturday 
mornings at Wellsford. 
All  the  girls  love  the  game  and  play 
with  pride  representing  the  Kaiwaka 
community. Well done girls! 
Netball - Intermediate 
The season has started well with all the 
teams doing well in their grade, Junior 
1  and  Senior  2  are  both  undefeated  so 
far  this  season.  Our  club  is  lucky  to 
have  some  amazing  umpires  with  the 
four students Devine, Jemma, Anthony 
and Maddy improving each week. The 
season finishes in August and we hope 
these results continue. 
Netball - Senior 
After  a  good  turnout  at  trials,  our 
Otamatea-Ex  Netball  Club  have  three 
senior teams this season. Teams 1 and 
2  have  been  graded  into  Premier/A 
grade for seven weeks then will be split 
into  Premier  and  A  grades  to  play  for 
three  weeks  then  finals.  Team  3  have 
been  graded  in  B  grade  and  will  have 
ten weeks of competition before finals. 
So far, all teams have been training and 
playing  well  with  good  results. 
Otamatea-Ex  1  are  unbeaten  this 
season and are hoping to continue this 
way. 
Gymnasium Hire 
Did  you  know  that  our  gymnasium  is 
available for hire? 
If  you've  got  a  family  get-together 
coming  up,  you  might  like  to  have  a 
fun, energetic afternoon together. 
If  you  wanted  to  play  a  structured 
sport,  the  gymnasium  is  marked  for 
basketball,  netball,  turbo  touch  and 
badminton  -  or  you  could  just  let  the 
young ones run around! 
Email me to make a booking. 
KSA Meeting 
There  will  be  a  Sports  Association 
meeting  on  Wednesday  4th  July  at 
7pm,  in  the  Sports  Complex.  All 
welcome. 
Cheryl Anderson 
4312 051, 027 3462702 
kaiwakasports@gmail.com 
Kaiwaka Junior netballers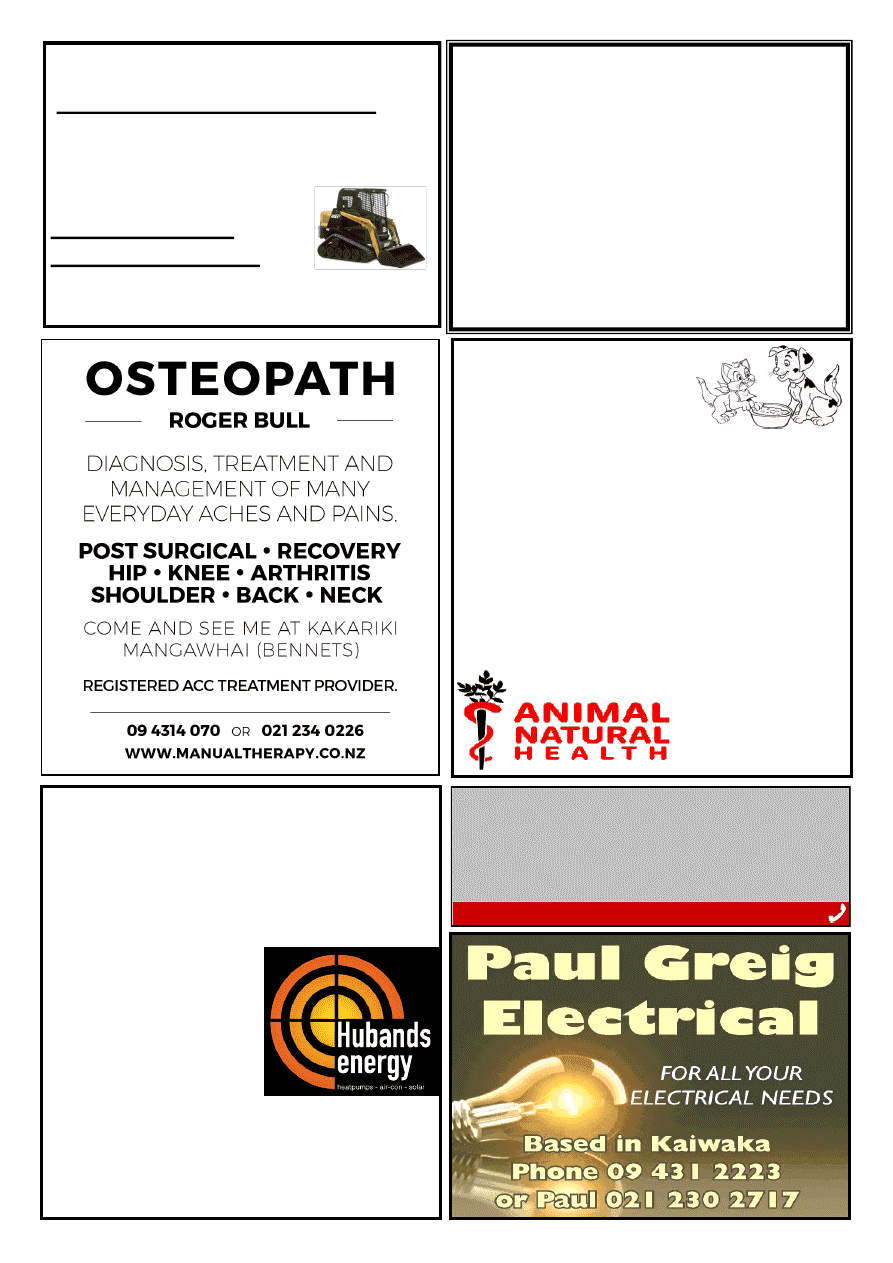 Natural Earth Ltd 
 Landscape and Bobcat services 
 : Driveways  :Landscaping  :Retaining Walls 
 : Hole Boring: Land Levelling :Trenching 
 : Decks :Fences :Sections Cleared: Plus much 
more 
Tel   09 4312885 
Mob 02102391280   
For A Fast Friendly  
Service Contact Tim Hicks 
CALL CRIMESTOPPERS 
Worried about something that doesn't seem right to 
you? Concerned about activity that could be 
harmful? Call Crimestoppers.  
You don't need to know all the facts.
CALL 0800 555 111 ANONYMOUSLY 
Northland's Award Winning 
Solar Company
SEANZ Best Solar Business Winners 2015/16
EXCLUSIVE 10 year installation warranty 
FREE No obligation onsite quote
Complete systems 
from $5990
See our range of: 
✓ 
Heatpumps 
✓ 
Airconditioning 
✓ 
Hot Water 
Heatpumps 
✓ 
Central Vacuum Systems
09 430 0019             sales@hubands.co.nz 
15 Kioreroa Road, Whangarei
Locally owned and operated for 35 years 
Mangawhai Heads 
Garden Centre
1758 Cove Road
945 0707 
021 165 2629 
ORIJEN & ACANA  
now available!
Looking for economy with 
quality in pet food? 
Our 2kg fresh meat rolls only $12.90
Tukka Thyme Muesli (makes 3kg) - only $14.90 
Veal Bones 3kg $17.90 
Beef & Lamb Patties  3kg  $22.90 
Chicken Medallions 3kg  $18.90 
No nasty chemicals, cage & crate-free, free-range, 
organic where possible. 
Flea-Flee , Tick & Lice Control, alternatives to 
vaccinations. 
Safe beach leads, collars, toys. 
Want a choice in animal health care? 
See our Animal Naturopath.  
ANIMAL NATURAL 
HEALTH CENTRE 
Next to Italian Bakery, 
Kaiwaka 
Ph. 09 431 2217    
Open Mon-Sat.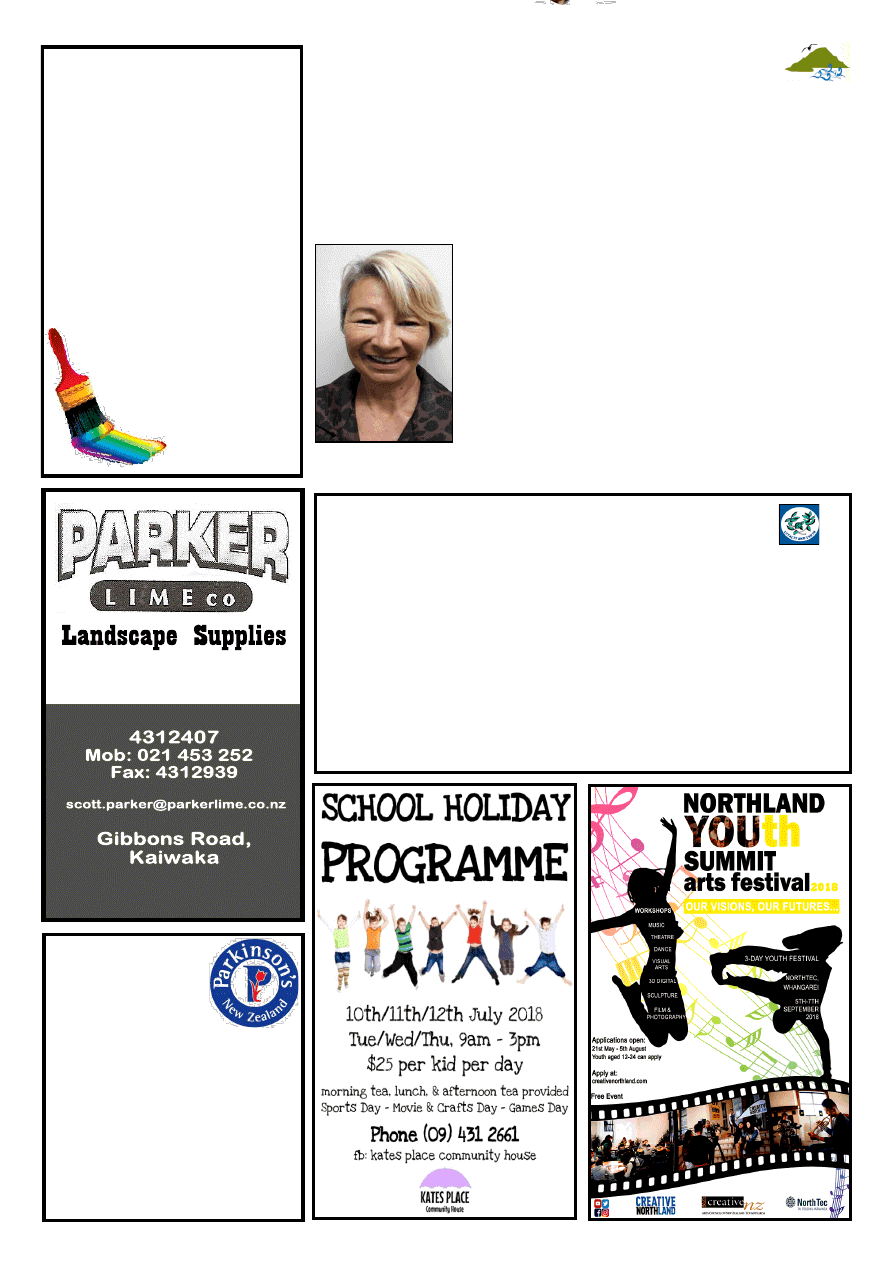 www.kaiwaka.co.nz 
Kaiwaka Bugle - 26 June 2018 
Page 15 
Bulk Cartage 
Parkinson's  
Northland 
Provide: 

Home based consultations 

Information and education on living 
with Parkinson's 

Support and exercise groups 

In-service training for other health 
providers 
Barbara Leslie 
RN
Community Educator 
09 4376881  or 027 5306221 
barbara.leslie@parkinsons.org.nz 
www.parkinsons.org.nz 
KAIWAKA SCHOOL 
The Te Uri o Hau  
Kapa Haka Festival 
This is on Saturday 30 June at Rodney 
College,  Wellsford.  This  will  be 
magnificent,  so  please  keep  this  date 
free.  All  our  Kapa  Haka  kids  are 
involved.  Please  take  your  children  by 
car  by  10.30  am  and  return  when  you 
wish. Our performance time has yet to 
be confirmed. 
After School Care 
The  Board  has 
accepted 
the 
resignation 
of 
Mieka Vollmer as 
assistant  at  After 
School  Care.  We 
thank  her  for  her 
service  to  our 
school  and  wish 
her  the  best  with 
her future. 
We 
welcome 
Catherine  Elliot, 
pictured,  onto  our  After-School  Care 
Staff. Catherine will start on Friday this 
week. 
Kaiwaka School PTA 
Thank you to everyone who supported 
our  LIP  SYNC  night.  The  children  all 
did so well with their performances and 
we hope you enjoyed it as much as we 
did. We managed to raise $600 towards 
our  next  lot  of  iPads  for  our  junior 
classrooms. A massive thank you to the 
parents  who  helped  out  during  the 
night  and  also  to  our  major  sponsors 
for  the  night,  Three  Furlongs  Bar  and 
Grill,  Kaiwaka  Motorcycles,  Rural 
Design and Bennetts of Mangawhai. 
Book Fair 2018 
Thanks  again  for  your  support  of  the 
Kaiwaka  School  Book  Fair.  In  total 
there  was  $1493  worth  of  books  sold 
and the value of free books received for 
our school was $748, as commission
.  ~ 
Sara McAulay, Librarian. 
Coming Up: 
29 June: Des Hunt visit 
30  June:  Te  Uri  o  Hau  Kapa  Haka 
Festival at Rodney College. Powhiri at 
10.30am. Performance at 11.35 am.   
6 July: End of Term 2 
23 July: Start of Term 3 
LEE COOPER 
PAINTERS 
(Kaiwaka Based) 
*30 yrs Experience 
*Interior/Exterior 
*New and Restoration 
*Honest and Reliable 
*Free Quotes 
 
09 4312918 
0274735171 
leecooper@xtra.co.nz 
Otamatea High School PTCA 
What would you do with a team of workers at your disposal? 
WIN 40 HOURS of LABOUR 
Valued at$15,00 
plus up to 10m
3
 of mulch valued at over $400 

Labour can be used on whatever you want (gardening, spring cleaning, 
painting, washing, etc.) 

Proceeds used towards landscaping within the school grounds. 

Prize to be redeemed within a 40km radius of Otamatea High School. 

Prize to be redeemed on Saturday 3rd November. If unable due to  
rain, postponement date will be Sunday 4th November. 
Tickets $5 each or two for $8  
Tickets available at: Kaiwaka -Jaques Four Square, Three Furlongs Bar & Grill; 
Maungaturoto - Sitting Duck, Real Town Pies; Mangawhai - Bammas, 
Opportunity Factory; and PTCA members.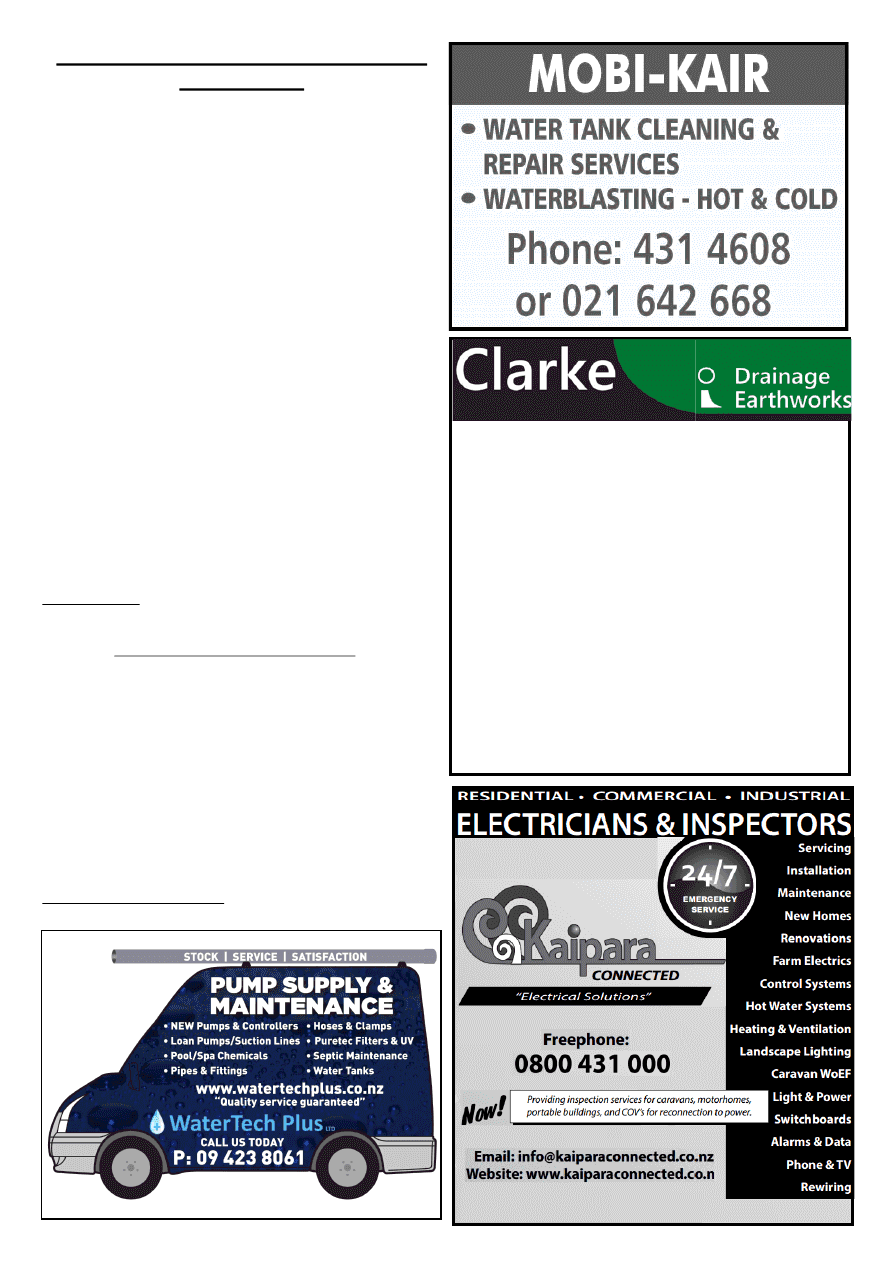 Registered Drainlayer 
All Types of Earthworks  
> All Residential & Commercial Work  > House Sites 
> Septic System Design & Install 
> Footings & Drilling to 10m 
> Sewer Connections 
> Dams 
> Water Tank Installation 
> Roading & Races 
> Farm Work 
THE ONE STOP SHOP  
Phone Nigel for an Obligation Free Quote  
Drainage & Earthmoving 
clarkedrainage@xtra.co.nz 
027 2233 185 
KAIWAKA FITNESS ACTIVITIES 
Low Impact 
Aqua Aerobics  Karen's Pool, Te Hana, Mon am & 
pm, Thurs am & pm, $7. Call Karen  09 4239361. Fun 
exercise in water. 
Badminton  Kaiwaka Sports Association Gymnasium, 
Tuesdays 7.30pm. $3 casual Kaye 09 4312345. 
Racquets available to borrow 
Kaiwaka Fitness Centre Kaiwaka Sports Association. 
24hr, 7 days/wk. $140/yr Forms available at Jaques 4 
Square. Pay by cash at Jaques. Exercise bikes, cross 
trainers, treadmills, weights etc 
Line Dancing Kaiwaka War Memorial Hall Monday 
10am. Contact Eleanor Robinson 4315160 and 
Robinsons.roost@xtra.co.nz 
Lower Limb Strength Class Mangawhai Physio. 
Tuesdays 0930-1030. $10 Call Mangawhai physio:  
094314476. Strengthen and stretch hips, backs and 
knees. Improve balance. Strengthen arthritic joints or if 
you have had a joint replacement. 
Pilates The Heart/Ark, Opposite Furlongs. Thursdays 
6.15pm- 7.45pm. $12 Call Amy Griffiths 0212072729. 
Beginners and intermediate. Physio led. 
Scottish Country Dancing Kaiwaka War Memorial 
Hall. Wed 10-1200. 30
th
 May until July $5 Elaine 09 
4320532 
Splashfit Karen's pool, Te Hana. Wed 1100-1200. 
$10. Amy Griffiths 0212072729 Physio-led exercise in 
water. Low level exercise. 
Tai Chi Kaiwaka War Memorial Hall. Tuesdays 10am 
Andrew Young 094223424 or 027327 6604 
taichi@pl.net. Balance, meditation, memory 
Tai Chi Kaiwaka Sports Association. Wed 7-8am 
Sundays 0830-1000. From $16 /mth Craig Bennetts 
431 5170 otamatea.kempo@farmside.co.nz  Balance, 
meditation, memory. 
Walking group: New Activity! Kaiwaka Fitness Trail. 
Meet at the heli-pad at the Kaiwaka Sports Association 
Tuesdays 0830 and 4pm. FREE!  Amy Griffiths, 
physio 021 2072729 1 circuit = 482m. All levels; 
walking sticks, baby buggies, stride out or get one foot 
past the other. All welcome! 
Walking Netball Kaiwaka Sports Association 
gymnasium. Starts 2pm Sunday 1
st
 July. Email Cheryl 
at kaiwakasports@gmail.com 
Yoga The Heart/Ark. Heidi 0220208800 
Yoga Vinyasa Flow The Heart/Ark Friday 0830- 1000 
$15 casual.  Carla 021 2968794, 
carl.rosseels@gmail.com. moderately paced dynamic 
yoga flow, with inspirational themes, meditative.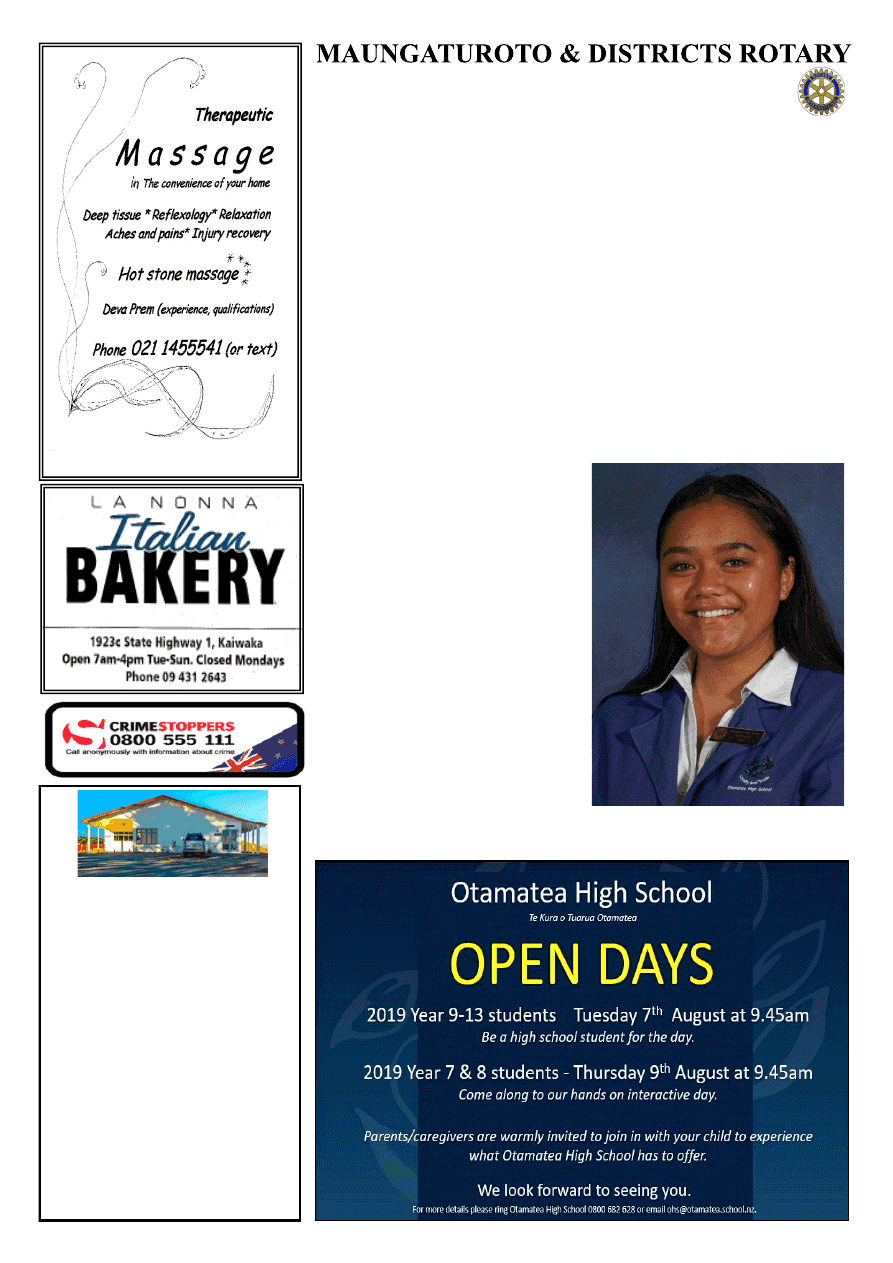 www.kaiwaka.co.nz 
Kaiwaka Bugle - 26 June 2018 
Page 17 
www.mangawhaimassage.co.nz 
Te Pounga Marae 
130 Nathan Rd. Oneriri. Kaiwaka 0573 
COMPLEX FOR 
HIRE 
Functions 
* Weddings  * Birthdays  
*Anniversaries * Meetings  * Wananga 
5 hour meeting * 12 hour stay  * 
Overnight 
*All welcome - No more Drink-driving 
Amenities: 
*Convo Combi Steamer * Bratt Pan * 
Dish Washer/Sterilizer * 3 Door Glass 
Chiller (walk in) etc…All Crockery * 
Linen Supplied * Central Heating and 
Air Conditioning and much more.  
Can also cater for small groups…. 
For more information please contact: 
Kim Wallace  
Home: 09 832 1133  Mob: 0211275340  
Email: kimwallace@xtra.co.nz 
During  the  month  we  have  had  a  mix 
of  "planned"  speakers  as  well  as 
several  who  have  stepped  up  on  the 
night.  All  of  these  have  shown  the 
unique nature of our community. 
District (9910)  
We  were  recently  visited  by  26 
Rotarians  who,  as  part  our  District 
(9910) attend Rotary clubs to the south 
of  us.  This  was  a  great  evening  to 
interact  with  Clubs  of  varying  sizes 
and  to  learn  about  the  projects,  they 
have  undertaken  in the past  year.  It  is 
obvious that each Club becomes aware 
of  specific  needs  within  their 
community and works out the best way 
to address them. What they were doing 
has certainly given us further ideas for 
coming years. 
Driver Mentoring  
You  will  possibly  have  noticed  our 
Driver  Mentoring  car  because  it  now 
has  been  sign  written  with  our 
sponsors' names. This sponsorship has 
meant that the cost of the car has been 
covered  which  is  great.  We  have  had 
one success story so far and there are a 
growing  number  of  people  being 
mentored.  If  you  are  interested  in 
accessing  the  scheme,  please  get  in 
touch  with  Te  Roroa  (who  are  doing 
the bookwork) 0800 555635, to check 
your eligibility. 
Rotary Youth Leadership  
John  Kenworthy-Thompson  has  come 
back 
from 
the 
Rotary 
Youth 
Leadership  Course  (RLI)  full  of 
enthusiasm  for  the  week.  As  have  all 
previous  attendees,  John  found  the 
focus of the course really good and the 
ability  to  discuss  and  problem  solve 
with  40  other  positively  motivated 
young people was quite inspirational. 
The Den Auction 
We supported Albie and The Den with 
his  auction  for  the  Dementia  unit  and 
while  the  inclement  weather  did  put 
people off many customers went away 
with  bargains  and  our  club  has  been 
able  to  contribute  their  share  ($2,500) 
towards  the  Unit. Thank  you 
to  all  who  contributed  to  the 
day. 
Kaiwaka Movie 
Keep an eye for another fundraiser – a 
movie at Kaiwaka "Pecking Order". At 
the  time  of  going  to  press  we  are  co-
ordinating  with  Hakaru  Scouts  as  to 
the  best  Friday  night  we  can  use  so 
look out for advertising. 
Rotary Club Speech Contest 
Last  week  we  saw  a  representative 
from  Otamatea  High  School  take  part 
in  the Whangarei  Rotary Club  Speech 
contest.  While  Maddy  Lemuelu, 
pictured below, did not win, her speech 
was  very  thought-provoking.  Two  of 
her  quotes  were:  "the  best  stories  are 
pages in your passport" and "alone we 
can do so little, together we can do so 
much" – something we have all learnt 
when  completing  projects  within  this 
community.  We  wish  Maddy  all  the 
best  on  her  forth-coming  student 
exchange to Spain. 
If you have read this and are interested 
in learning more about Rotary you can 
access our website <rotarymgto.club> 
 ….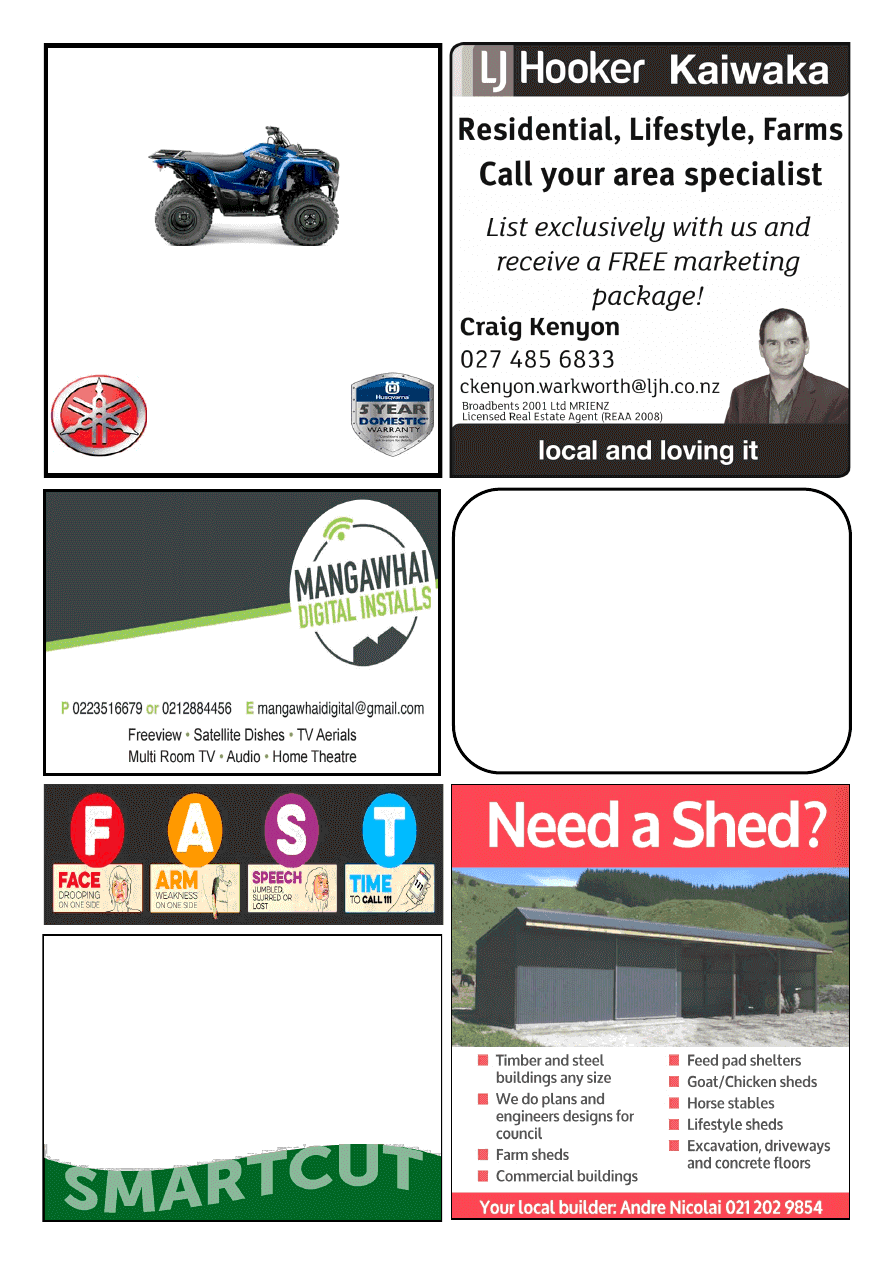 All your outdoor needs sorted so you don't have to... 
I can prune, chop, tidy, spray, mow, plant 
- you name it, I can do it! 
Residential & Commercial 
Lawn & Garden Care 
Call Rodney, your local  
lawnmowing contractor 
021 138 2344 
KAIWAKA 
MOTORCYCLES LTD
SALES – SERVICE – SPARES 
FARM BIKE SPECIALIST
PHONE 09 431-2127 
10 KAIWAKA-MANGAWHAI ROAD, KAIWAKA
Trimmers  
from $279
Chainsaws  
from $339
YAMAHA 
HUSQVARNA 
UP-LINK 
CHRIS WARING 
FREEVIEW INSTALLATIONS 
T.V. - HOME THEATRE &  
HI-FI ADVICE/SET UP
SKY ACCREDITED INSTALLER
MOB.0273403747 HM.094312328 
EMAIL cwaring44@gmail.com
28 YRS EXPERIENCE 
OFFERING UNBIASED ADVICE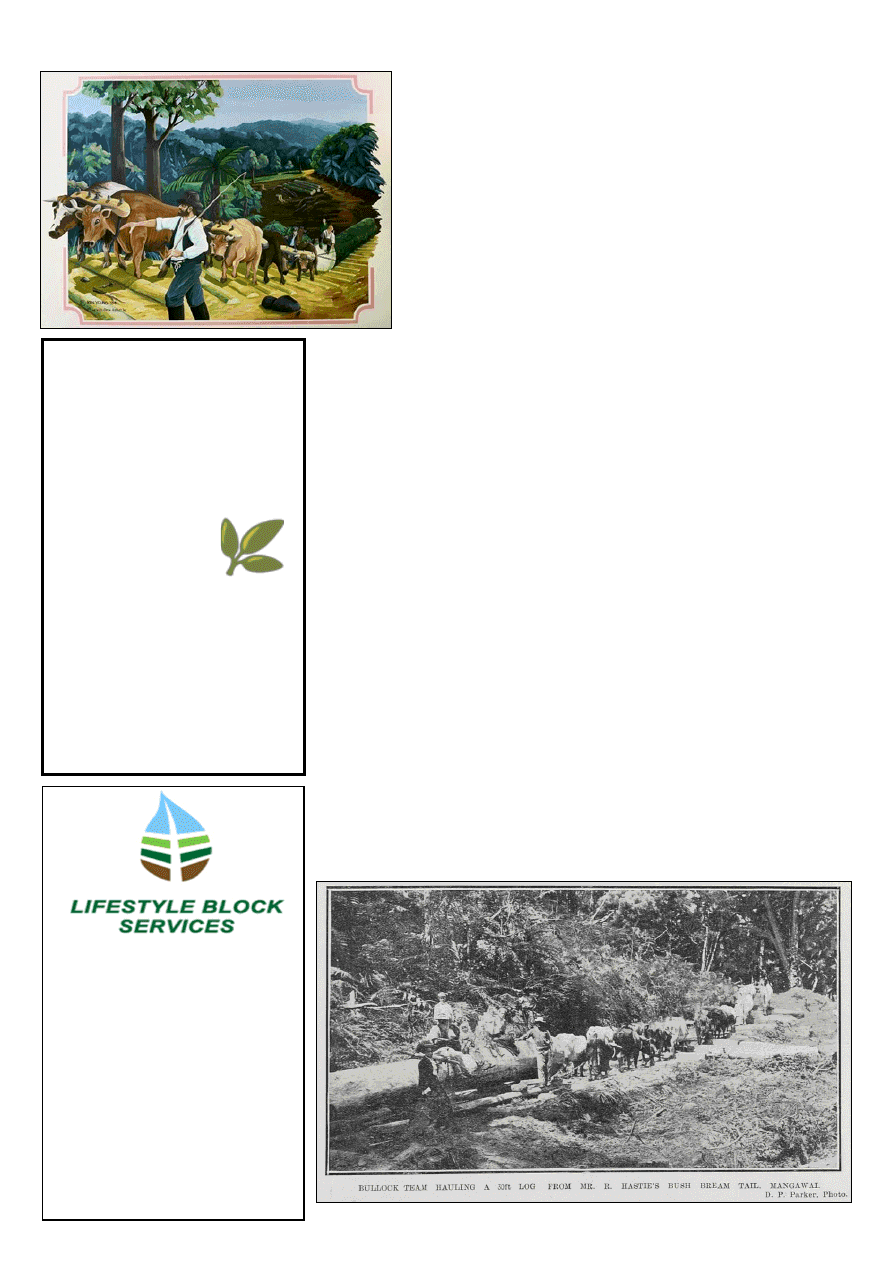 www.kaiwaka.co.nz 
Kaiwaka Bugle - 26 June 2018 
Page 19 
Sir George Grey Special Collections, Auckland Libraries, AWNS-19060412-3-4 ,published Auckland Weekly News 12 April 1906 p3   
Contact Mark on 021 801 065  
or 
Contact Lisa on 021 108 1057 

 Small HaylSilage Baling & 
Wrapping 

 Fencing 

 Spraying 

  Mulching 
 
Stockwork  

  Stock Water Systems  

 Driveway & Track Maintenance  

 Tree Trimming 
Cut Above Gardening &  
House Maintenance  
⚫
Free quotes  
⚫
Special rates for pensioners  
⚫
Competitively priced  
⚫
Locally based 
 
Garden maintenance  
 
Make overs 
 
Barking 
 
Weed control  
 
House washing  
 
Rubbish removal  
 
Hedge trimming  
 
Light tree removal  
 
Planting  
No job too small  
One off or on-going regular 
maintenance  
Offering a professional service 
 at a realistic price 
Please contact Jayden on 
0224683069  
In 
the 
Warkworth 
Museum  there  are  tools 
and  equipment  belonging 
to  the  time  of  the  giant 
Kauri  which  grew  in 
profusion  along  the  sides 
of  the  Kaipara  Harbour 
and  elsewhere.  As  a 
young  man  I  met  a 
gentleman who worked in 
this  industry  for  many 
years.  His  name  was  Alf 
Mabbet,  Alf  taught  me 
crafts that are no longer in 
practise  today.  More  than 
that,  he  was  a  bullock 
master;  I  borrowed  some 
of  Alf's  story  for  one  of  my  books, 
which reads like this. 
'He  was  a  big  man  and  he  clasped 
Alex's  hand  as  he  dismounted,  plum 
near  crushing  it  as  he  pumped  it  in 
enthusiasm.  He  then  pushed  the  horse 
aside  as  if  he  were  plumping  a  pillow 
down.  Alex  made  a  mental  note  to 
never  upset  the  man.  Alf  had  three 
daughters  and  a  great  dane.  Alex  had 
not noticed the field outside which was 
full of bulls, thus a mild shock hit him, 
as  he  saw  the  heads  along  the  fence 
line.  "Is  everything  big  around  here?" 
he  thought  to  himself.  "What's  in  the 
food  they  eat?"  As  the  two  men  sat 
over  a  fresh  pot  of  Billy  tea,  Alex 
noticed one of the daughters, go up to 
the  huge  beasts  in  the  paddock  and 
tousle one's forelock. He was shocked 
and  feared  for  the  girl  who  was  too 
small to play with such an animal. Alf 
saw  the  concern  on  his  face  and  told 
him  not  to  mind,  "the  children  have 
grown  up  with  them"  he  said.  The 
bullocks  were  used  to  pull  the  kauri 
logs down to the forestry rail head or a 
wagon which took them to the mill.  
Alf  was  very  proud  of  his  bullock 
team; he said they could go anywhere, 
uphill,  and  down  pulling  really  heavy 
loads.  A  day  or  so  later  at  four  in  the 
dim  light  of  a  coming  morning,  Alex 
came  to  offer  a  hand,  he  felt 
completely  useless  as  the  little  girls 
rushed  around  him  with  buckles  and 
shackles  prodding  the  big  lumpy 
bullock  into  line  as  the  chain  came 
through to join them up. Before long, it 
was  done,  and  Alex  had  only  just 
finished one shackle, never the less he 
trudged  off  with  Alf  and  one  of  the 
girls  who  was  dressed  in  rough 
dungarees and  boots. The team  with  a 
crack  of  a  whip  headed  up  to  the  tree 
line, they let the animals tow them as at 
the last-minute Alf had tied a farm sled 
to the traces. 
From  time  to  time  it  was  an  effort  to 
stay on the sled as the ground was very 
rutted. Two hours had passed and they 
were  at  the  felling  line.  The  men  had 
already begun and were trimming up a 
trunk  of  immense  size  with  a  girth  of 
about  twenty-five  feet.  Someone  had 
driven  pins  into  it  and  Alf  wrapped  a 
chain around the log attaching the end 
to a pin. As the bullock pulled the log 
rolled over. The bullock team of eight 
pulled  the  log  to  the  rail  head.  Then 
using  log  jacks  men  straightened  the 
log  and  chocked  it  ready  for  loading 
onto the kauri train. Often one of Alf's 
daughters would lead the head bullock 
for  her  father,  and  as  age  crept  up  on 
Alf  he  wondered  what  he  would  do 
with the team. The bullocks were able 
to cover almost any terrain, unlike the 
new machine called a caterpillar which 
he had heard was used in America. 
The  problem  was  with  bullock,  a 
person had to raise and keep them, and 
it  took  much  time  early  in  the  day  to 
harness  the  animals  lift  the  yokes  on, 
and then free them at the end of a day. 
One point in favour of the bullock was 
that when on the job they foraged and 
fed  themselves.  Alf  having  no  sons 
eventually took his daughters and team 
to Agricultural shows 
to show the skills to city folk.' 
Toitū he kāinga, whatu ngarongaro he tangata. 
(While the land remains, the inhabitants are 
gone) Meaning the trees! 
By Bevan Lawrence,   
Mangawhai Writers Group 
WHAT'S YOUR STORY:  "ALF"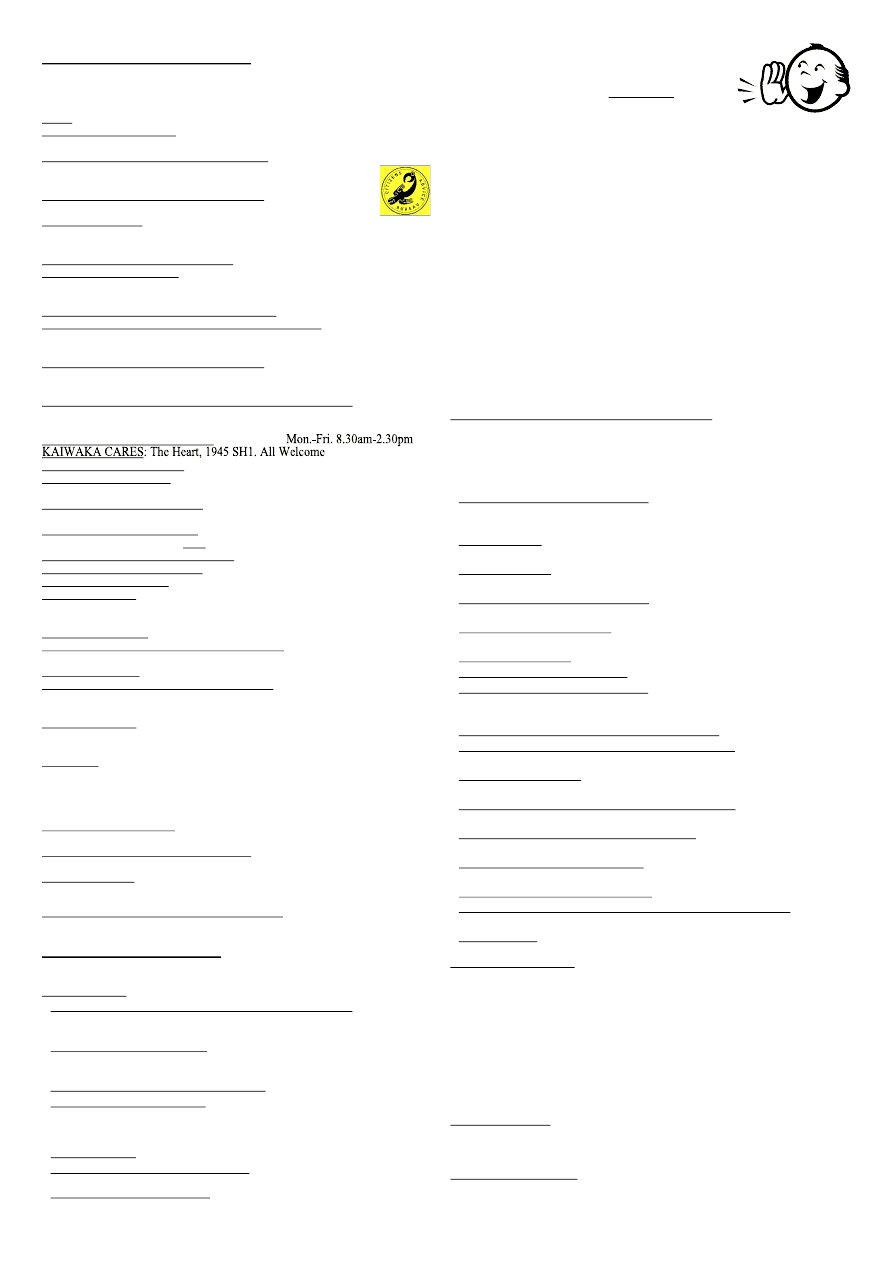 Next Bugle Deadline midday Friday 6 July 2018
WHAT'S ON
PLEASE ~ do let us know what is on - email 
kaiwakabugle@kaiwaka.co.nz 
Advertising in WHAT'S ON is FREE  
*
26Jun~Walking Group , 8.30am or 4pm, KSA Fitness Trail 
*26Jun~Linking Hands AGM, 6pm Anglican Church Hall Mgto 
*28Jun~Olla Podriga, Otamatea High School, 7pm 
*29Jun~'Finding Your Feet' Dinner & Movie, KWMH 6pm 
*30Jun~KapaHaka Festival, Rodney College, 10.30am 
*30Jun~Hakaru RSA Mid Winter Dinner, 6pm 
*30Jun~ Zonta Mid-Winter Ball & Auction, Hakaru Hall, 6.30pm 
*30Jun-1Jul~ Pt.Curtis CC Game Bird Shoot 
*1Jul~Walking Netball, KSA, 2pm 
*4Jul~Kaiwaka Sports Assn Meeting, 7pm, KSA 
*6Jul~End of School Term 2. 
*13Jul~'Game Night' KWMH, 7.30pm 
*14Jul~Opening Night 'Into the Woods'. ORT, 7.30pm 
*23Jul~School Term 3 begins. 
KWMH = Kaiwaka War Memorial Hall; KSA = Kaiwaka Sports Association 
See www.kaiwaka.co.nz for more information 
HOUSEHOLD RUBBISH COLLECTION - Kaiwaka Pick up: 
Mondays = Green bags (Northland Waste - 09 430 3273) 
Wednesdays  = Blue bags and yellow recycling (at Jaques $3.00 
and  $1.50)  (Kaurilands  09  4392146);  ONLY  Blue  and  Yellow 
bags picked up on Oneriri Road. 
 DIABETES  Support  Group  -for  Kaiwaka,  Mangawhai, 
Wellsford  10am,  3rd  Friday  of  month  Ph:  Colleen  James  09 
4314238 
 DRINK CAN 'tear tabs' - for Starship Hospital- please collect - 
98 Kaiwaka Mangawhai Rd, leave in mailbox, Ph. 4312625  
 GENEALOGY - Wellsford: 1st Thursday in month Ph: 423 
7033; Waipu: 4th Monday in month Ph: 4312 725 
 GYMNASTICS  OTAMATEA  -  Tuesday  Ph:  Stephanie  022 
3624998 
 HAKARU PONY CLUB - Secretary Denise Rogers 021423376 
secretary@hakaruponyclub.co.nz  
 KAIPARA HUNT - Secretary Albert Doonenbal Ph 4312059 
 KAIWAKA BADMINTON -Tuesdays 7.30pm Ph: 4312345 
 KAIWAKA  DRAMA  CLUB  - 
Hannah  Webb 
0272863352 
KaiwakaDrama@gmail.com Monday 5:30-7:00pm KWMH - FB 
- "KaiwakaDramaClub" 
 KAIWAKA DRUM & DANCE CLASSES - 021 611198 
 KAIWAKA GARDEN & FLORAL GROUP - 2nd Thursday in 
month. Ph: 431 4744 
 KAIWAKA  CUBS  -  Thursdays  5.30-7pm,  Hakaru  Ph:Bruce 
4312542 
 KNITTING FOR WHANGAREI HOSPITAL - 2nd Tuesday in 
month, Archie Bull Hall 10am Ph 4314827 
 MANGAWHAI COMBINED REBUS CLUB - 2pm, 3rd 
Thursday month, Senior Citizens Hall Mangawhai. Ph: 4315777 
 OTAMATEA GREY POWER - Kath Pattinson 09 283 2052, 
1pm last Wednesday of month, Anglican Church Hall, Mgto 
 PT CURTIS CRUISING CLUB - Jean Ph: 4312227 (wk), 4312520 (hm) 
 RSA,  HAKARU  &  DISTRICTS  WOMEN'S  SECTION  –  meets 
1.30pm 4th Thursday of the month. Ph: 431 5818  
 TRAMPING - Mondays 9am-2:30pm Maria 4312 234 
HALLS FOR HIRE: 
 St.Pauls Archie Bull Hall HIRE $20 half day, $40 full day per 
hire, S McAulay, Ph 4312311 
 Kaiwaka  War  Memorial  Hall  HlRE  -  Phone  4312725  or 
kaiwaka.hall.bookings@gmail.com 
 Hakaru Community Hall HIRE -Ph. 4312256 or 4312110 
 Te Pounga Marae queries - R. O'Leary 4312 423, J.Nathan 021 
186 7382 
 Kaiwaka Sports Association hire/queries - C. Anderson 4312051 
or kaiwakasports@gmail.com 
Justice of Peace:  
B.FJaques  4312  048;  L.Donaldson  4312  228;  A.F.Hargreaves 
4312 045, W.Howard 4312 725 - please phone to make sure they 
are available www.justiceofthepeace.org.nz 
Marriage Celebrants:  
L.Donaldson; A.F.Hargreaves; Y Osborne
LOCAL SERVICES 
*Emergencies - Ambulance, Fire, Police - dial 111 
*Non-urgent Police phone 09 4311150
A A: Meets Wed., 8pm Kaiwaka Ph: 4315543, 0800229 6757 
ASUREQUALITY LTD (was AgriQuality) Call Free 0508 0011 22  
BUDGETING SERVICE, WELLSFORD: Free confidential advice & 
support for all areas of personal finance. Ph (09) 423 7123 
CAB-Citizens Advice Bureau.Wellsford Ph: 4237333 
0800 367 222 email:cab.wells@xtra.co.nz  
CIVIL DEFENCE - Kaiwaka Community Response Group: 
kaiwaka.civildefencecrg@gmail.com, 4312725 Wendy 
DOG/STOCK /NOISE CONTROL 0800 105 890 
FUNERAL SERVICES: Morris & Morris Ltd, 
Whangarei - Bev Jaques Ph:4312367 or 0800667747 
GRANDPARENTS Raising Grandchildren: Dianah Roberts 0223819539 
HAKARU & DISTRICTS MEMORIAL RSA (Inc) 733 Settlement Rd, 
Hakaru. Ph 4312 176 or Graeme Hitchcock (President) 431 3064 
HAKARU LANDFILL/Transfer Station:Open everyday except 
Tuesday10am-4pm.Ph4312629 Cost-$55 trailer load up to 1 cubic metre. 
Ph:4258567 - office 
KAIPARA DISTRICT COUNCIL www.kaipara.govt.nz:  
Help Desk FREEPHONE 0800 727 059  
KAIWAKA KOHANGA REO: Ph:4312620 
KAIWAKA CEMETERY: Ph: 4312045 or 4314017 
KAIWAKA LIBRARY: kaiwaka.library@gmail.com  
Mon. 4-6pm; Wed., Thurs., Fri., Sat. 10am-2pm Ph:4312539 
KAIWAKA PLAYCENTRE: Ph Juanita 0274134904; open Mon, Wed, 
Fri 9am-12pm. Hastie Lane; Monday to Friday 9.00am - 12 noon. 
KAIWAKA POST OFFICE:Ph:4312 431  
Post Code: 0573 for RD2 and 0542 for all Kaiwaka Post Office mail 
KAIWAKA PRIMARY SCHOOL: Ph: 4312309   
KAIWAKA SPORTS ASSN: Ph 4312005; 4312129 gym 
KAIWAKA ST JOHN: Manager Steve Rosser 09 4318403, 021 355734 
KATE'S PLACE Community Centre - Employment services, Free Health 
Nurse, Plunket, Advocacy, Osteopath, A.A., Legal Advice. 4312 661 
LINKING HANDS Health Shuttle Ph 4315906 or 09 4318969 
MINISTRY FOR PRIMARY INDUSTRIES - General inquiries Call 
Free 0800 008 333 
NORTHPOWER: Faults Kaiwaka area 0800 104040 
OTAMATEA COMMUNITY SERVICES: Counselling, parent coach, 
Family Support worker, budget advice, food bank. Mon-Fri 9am-3pm. Ph 
09 431 9080 http://www.otamateacs.org/ 
PARENTPORT: Free, practical family support service Puhoi to Paparoa 
Ph or txt: Dianne 027 280 5093 or 09 425 9357 
PLUNKET:  Kaiwaka  -Kate's  Place  Clinic  1st  Wednesday  of  the  month; 
Mangawhai  - Rose Madsen Cottage: Coffee Group 9:30 every Monday.  Clinic 
every Monday and Thursday. 
Maungaturoto - Good News Church, Clinic 2nd and 4th Wednesday.  
Cynthia 09 431 7340 or 027 675 3488 
PLUNKET HELPLINE -0800 933 922 (24 hours) 
TAITOKERAU COMMUNITY LAW: Free confidential legal advice and 
assistance, 2nd
Thursday
 of each month. Ph: 0800 155 529 for appts.  
TE URI O HAU Settlement Trust Tangata Developments: Whanau Ora 
021 793262  
VETERINARY SERVICE MANGAWHAI: 
Ph: 4314535 Mon-Fri 8.00-5.00, Sat 9-12, a/h appt. 
WELLSFORD DOCTORS: Ph: 4238 086 
CHURCHES:
 
Kaiwaka  Revival  Church  -  Your  Community  Church:  Sundays  10am. 
Ph: Pastor Tawhiri 09 431 8988 or Pastor Paul 09 4312 068 Visit us at 
www.facebook.com/kaiwakachurch 
 
St  Paul's  Anglican  Church  1st  Sun.  9.00am  (Eucharist),  3rd  Sun. 
9.00am (Family Service). Contact: Rev. Wayne Thornton Ph 431 4122 
www.mangawhaianglican.org.nz 
 
Church of Christ the King, Mangawhai:9.30am every Sunday 
 
St.Mary's  Catholic  Church:  Maungaturoto  –  Griffins  Road,  Saturday 
evening  Vigil  Mass  6pm;  Mangawhai  –  Senior  Citizens  Hall,  Sunday 
Mass  8:30am;  Wellsford  –  Matheson  Road,  Sunday  Mass  10:30am;  
Mid-week Mass times and all enquires to Fr. Bill Fletcher – phone 423 8170
 
Baptist Church: Sun. 10.30am Mangawhai Snr Cit.Hall.Ph:4312339 
 
Cause  Way  Church  Mangawhai:  Sundays  10.15am,  Mangawhai 
Community  Recreation  Centre,  Insley  St.  Ph:  09  4314782