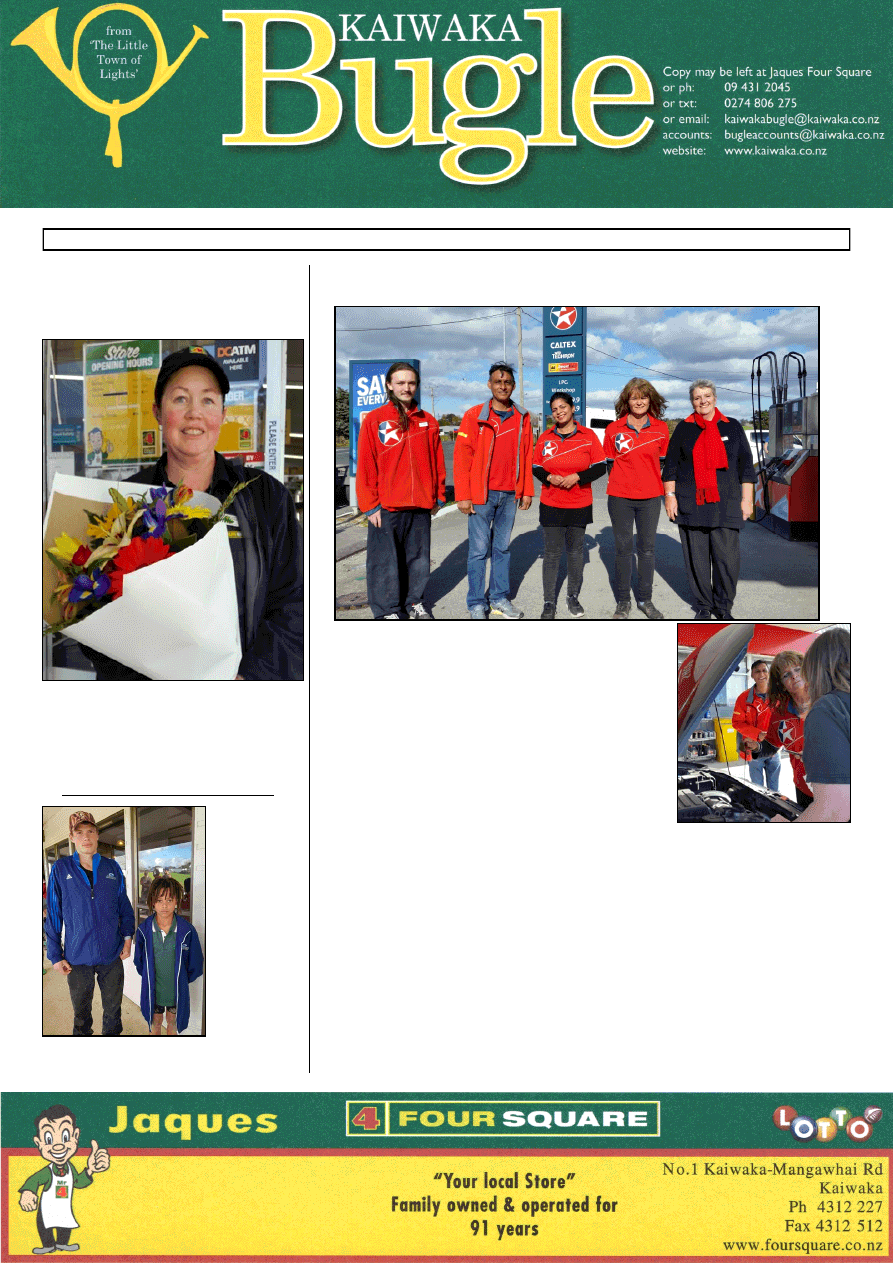 www.kaiwaka.co.nz 
Kaiwaka Bugle - 10 July 2018 
Page 1 
No: 13 
10 July 2018 
Trading Hours: 
Monday to Friday 8:00am - 6:30pm 
Saturday 8:00am - 7:00pm 
Sunday 9:00am - 6:00pm  
MESSAGE FROM OUR LOCAL CALTEX 
SERVICE STATION 
KAIWAKA GOOD 
SORT 
A  beautiful  bouquet  of  flowers  from 
Lindy for Jean McLeish! 
Jean  McLeish  will  help  with  rugby 
without  a  question,  notably  with  the 
Junior Hawks home rally days; she is a 
member  of  many  committees  - 
especially  the  Pt.Curtis  Cruising  Club 
and is your friendly local shopkeeper at 
Jaques Four Square. Thank you, Jean! 
Over the last week, one topic that has generated much 
conversation  has  been  the  introduction  of  the  Fuel 
Tax of 10c + GST levied by the Auckland Council on 
fuel sold within its boundary. 
This  tax  has  caused  some  changes  in  peoples' 
fuelling  routines,  especially  those  living  around  the 
fringes of the Auckland region. 
It has also had an effect on gas stations on either side 
of the boundary. 
The  Caltex  in  Kaiwaka  is  the  first  station  that  lies 
outside  this  tax  boundary  on  SH1  and  has  been 
retailing  fuel  all  week  at  11.5c  below  the  Auckland 
sites. 
The station which has relied on ongoing support from the local community for 
years has now become the station of choice for people even outside town. 
Site  Manager  Manpreet  has  been  in  charge  of  this  business  since  the  station 
changed ownership around this time last year. She confirms that there has been 
an increase in fuel sales over the last week and she and her staff have been busier 
than usual but does point out that these are still early days. 
She would like to remind customers that the Recommended Retail Price (RRP) is 
governed  by  the  Fuel  suppliers  taking  into  account  lots  of  contributing  factors 
and therefore is not a simple case of the retailer setting its own prices. 
Any changes decided upon by the suppliers do get passed on to the retailers and 
will reflect on the price. 
Raman,  the  Assistant  Manager,  thinks  that  this  increase  could  be  a  temporary 
phase  that  is  associated  with  any  change  of  this  magnitude  and  believes  the 
market will adjust to accommodate these changes. 
The Management here would like to take the opportunity to thank the staff and 
the local community for their support and believes this support will continue into 
the future.                                      
~ Manpreet
Caltex Kaiwaka: Isaac, Raman, Manpreet, Karen, Jan 
A recent photo, 
at  Kaiwaka,  of 
young  Hawks 
rugby  players: 
Brett 
Allen- 
Player  of  the 
day  Under  14s, 
and 
Tembo 
Kimani 
from 
Under 11s  who 
stepped  up  to 
play  in  Under 
13s.  They  both 
got  jackets  that 
were  donated 
by 
Matt 
Moulds 
– 
Blues player and captain of the Northland 
Taniwha
.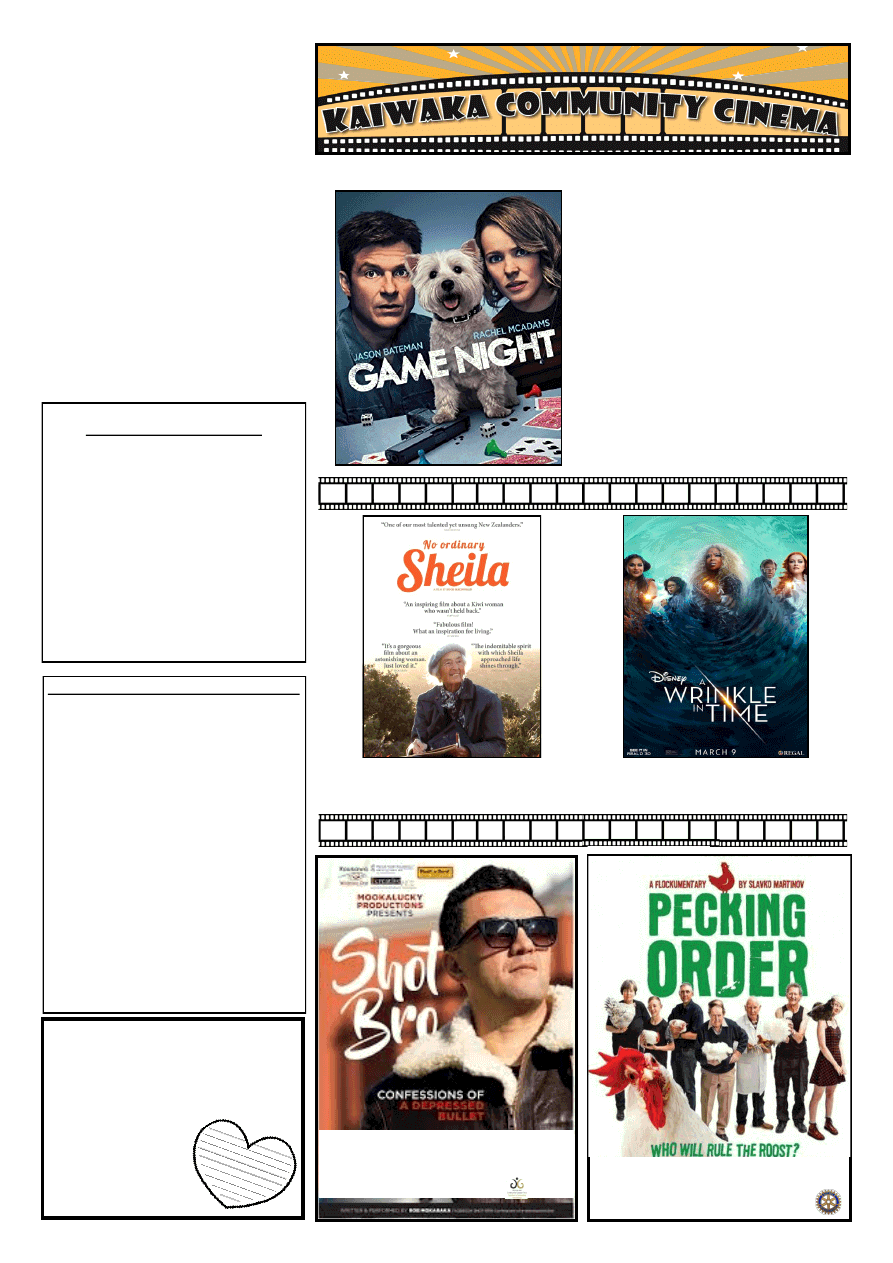 At Kaiwaka War Memorial Hall . Adults $10, Kids (under 16) $5, Family Pass (2 adults + 3 children) $25 
KAIWAKA BUGLE NO.13 
10 JULY 2018 
CONTENTS: 
Page 3: Public Notices, Classified 
Page 5: Pt CCC; Weather; Thelma's 
Scrapbook 
Page 7:  OHS AIMs Team; Rotary 
Page 9:  Councillor's Comment  
Page 11: Kaiwaka Sports Assn 
Page 13: ORT; OHS 
Page 15: Nina Quan; Kaiwaka Can 
Page 17: Kaiwaka School; Te Manawa 
Tahi Timetable 
Page 19: Tell Us A Story 
Bugle 14 will appear  24 July  
Contact for advertising, reports, articles 
or information can be made by 
Email kaiwakabugle@kaiwaka.co.nz 
Ph: 09 4312 045 Lindsey 
Txt: 027 2724137 
Copy  may  be  left  at  Jaques'  Four 
Square. 
Kaiwaka Bugle Advertisements 2018: 
All 
copy 
and 
queries 
to: 
kaiwakabugle@kaiwaka.co.nz 
The Bugle is printed on an A4 page   
Ad  sizes:  1/16  page  (3  x  9.5cm)  $5;  1/8 
(6.5  x  9.5cm  landscape  or  portrait)  $8; 
3/16 ( 10 x 9.5cm or 7.5 x 12,5)  $12.  
Classified  ads:  First  one  FREE,  $4  per 
entry (max. 30 words, max. 4 repeats). 
Payments  can  be  made  online  at 
ANZ 
06  0365  0006990  00
,  posted  or  left  at 
Jaques Four Square Store. 
We  use  Microsoft  Publisher,  and  can 
work  with  most  common  image 
formats, Word, Excel, and PDF files. 
Accounts:  
Email: bugleaccounts@kaiwaka.co.nz 
The  Kaiwaka  Bugle  is  a  community 
newspaper run by volunteers.   
Articles, etc. printed are not necessarily 
the opinion of the Bugle Team. 
Kaiwaka Bugle 
Founded May 1978 
We appreciate articles and photos about local 
events, etc, as well as ads and suggestions. 
Copies available in Kaiwaka at Jaques Four 
Square, Kaiwaka Postal Centre, Shamrock 
Service Station, Animal Health Centre, 
Kaiwaka St John shop. 
Also outlets in Maungaturoto, 
Mangawhai and Paparoa. 
Can be viewed online at  
www.kaiwaka.co.nz/Bugle  
Or a copy can be posted to you if you supply 
stamped, self-addressed DLE envelopes. 
GAME NIGHT 
Friday 13 July, 7.30pm (R16)  
"Competitive  gamers  Max  (Jason 
and 
Annie 
McAdams) meet during trivia night at 
a  bar,  quickly  fall  in  love,  and  get 
married  …  Max  and  Annie's  weekly 
game  night  gets  kicked  up  a  notch 
when  Max's  brother  Brooks  arranges 
a  murder  mystery  party  --  complete 
with fake thugs and federal agents. So 
when  Brooks  gets  kidnapped,  it's  all 
supposed to be part of the game…" 
Directed 
by 
Daley  and  Jonathan  Goldstein  and 
written by Mark Perez.  
Proverbs 3:3  
Never tire of loyalty and 
kindness.  
Hold these virtues tightly.  
Write them deep 
within your  
heart.
No Ordinary SHEILA 
Friday 27 July, 7.30pm (PG) 
A WRINKLE in TIME 
Sunday 29 July, 2pm (PG) 
FAMILY FRIENDLY 
⚫
Bream Bay Trust Takutai Place 
16th July 7pm-9pm 
⚫
Kaiwaka War Memorial Hall 
17th July 7pm-9pm 
⚫
Maungaturoto Centennial Hall 
18th July 7pm-9pm 
                       GOLD COIN DONATION 
Bream Bay Community Support Trust 
In partnership with 
Te Uri O Hau Tangata Developmnet 
Otamatea Family Service Maungaturoto 
Kate's Place Kaiwaka 
Conversation and cup of tea afterwards 
Maungaturoto and Districts Rotary and 
Kaiwaka Scouts Fundraiser  
Kaiwaka War Memorial Hall 
Friday 20 July, 7.30pm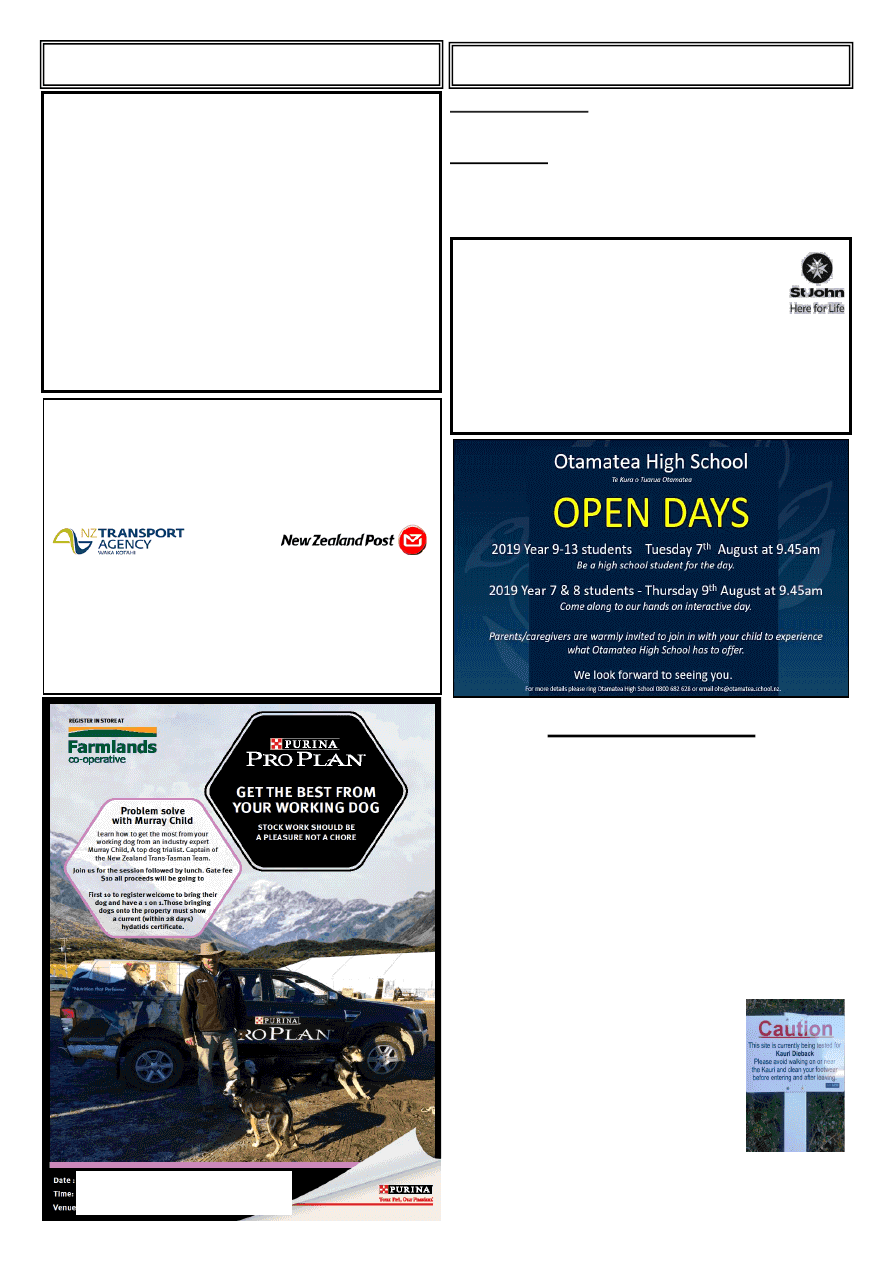 www.kaiwaka.co.nz 
Kaiwaka Bugle - 10 July 2018 
Page 3 
ABOUT TOWN 
 
Congratulations Cheryl Anderson and Derek Christensen 
on their Rotary Paul Harris Fellow Awards . 

Our local Caltex staff are being kept busy with the recent 
rise in the Auckland fuel process! 

Note:  this  year  has  been  Kaiwaka's  wettest  June  since 
1987,  actually  the  first  6  months  of    this  year  has  been  a 
record rainfall for Kaiwaka. 

 We  remember  Pat  Mitchell  and  Ron  Littin,  former 
residents of Kaiwaka, who both passed away last week. 

 For more information on 'Tell Your Story' contact Bruce 
on 
09 4801949 

And a  'Well Done' to the Otamatea Netball AIMs team 
on their big win in Kerikeri. 

Help:  Do  you  know  where  the  rest  of  KSA's  stainless 
steel  bain  marie  dishes  are?  These  are  the  large  stainless 
steel 'pots' from out of the KSA kitchen. There should be 
7, but now there are only 4! 

 Have  you  seen 
the  new  'Kauri 
Dieback'  sign  at  the  Kaiwaka  Sports 
grounds - stick to the tracks! 

So  sad  to  see  the    deep  ruts  left  in  the 
grass  area  at  McClean  Park  -  the  culprit 
was seen stuck there! 

 Need  some  help  with  training  your 
working dog? Get some tips on Friday 27 
July  at  Oneriri  Station  (end  of  Oneriri 
Road).
                  ~ Lindsey, Ed 
A  positive  attitude  may  not  solve  all  your  problems,  but  it  will 
annoy enough people to make it worth the effort. ~Herm Albright.
PUBLIC NOTICES 
CLASSIFIED 
GARAGE  SALE:  Saturday  21
st
  July,  9AM,  at  9 
Margaret  Way,  Langs  Beach.  All  Household  Goods. 
Cash please.
FOR  SALE:  Cafe Blanket, Queen (duck egg colour). 
Made with duck feather & down -warm & light weight 
qualities. Use on own as cover, blanket or accessory to 
bed  linen.  Brand  new,  still  in  original  packaging. 
Retails for $199. I'm selling for $130. Phone 4312051 
KAIWAKA ST. JOHN OP SHOP 
Please note ALL goods received at the 
Kaiwaka St.John Op Shop are donated 
We need, please: 
mats, towels, blankets,  pillows 
and also tools both for garden and workshop.  
Anything else much appreciated. ~ Milly and staff.
Phone 09-4312650 after 9.00 am. 
We still have many donated articles, clothing, 
furniture, etc. for sale - check us out  
at 1919 SH1, Kaiwaka 
KAIWAKA WHANGAREI HOSPITAL 
KNITTERS 
We  would  like  to  take  this  opportunity  to  thank 
everyone  for  their  ongoing  support  of  knitting, 
crochet  and  sewing  of  garments  for  Ward  2 
Children's` Ward and SCBU Premature baby unit at 
Whangarei Hospital. 
These  items  are  greatly  appreciated  by  all  the 
families  who  receive  garments.  We  are  a  small 
volunteer  group  and  donations  of  wool  is  always 
accepted. 
We  meet  every  2
nd
  Tuesday  of  the  month  at  the 
Archie  Bull  Hall  -  behind  St  Pauls  Church  in 
Kaiwaka. 10am till 12.00pm. 
Everyone is most welcome to join us and see what we do. 
Thank you again 
Elaine Reddy and Gale Matheson 094314827 
KAIWAKA POST CENTRE and 
FOOD MART 
POST CENTRE TRADING HOURS 
MONDAY TO FRIDAY 8:00am to 5:00pm 
SATURDAY 8:00am to 12:00pm 
CLOSED ON SUNDAY and on PUBLIC HOLIDAYS 
FOOD MART (GROCERIES) 
MONDAY TO SUNDAY 7:30am to 7:30pm 
IF ANY QUERIES PLEASE CALL 
STORE MANAGER AMRIT on 09 4312431 
OR EMAIL: kaiwakafood19a@gmail.com 
1919a State Highway1, Kaiwaka 0542 
27-7-2018   
 Contact: 
10am Start   
 Robert 09 4312192 
Oneriri Station   Duncan 0276593562 
Molesworth Dog Trial Club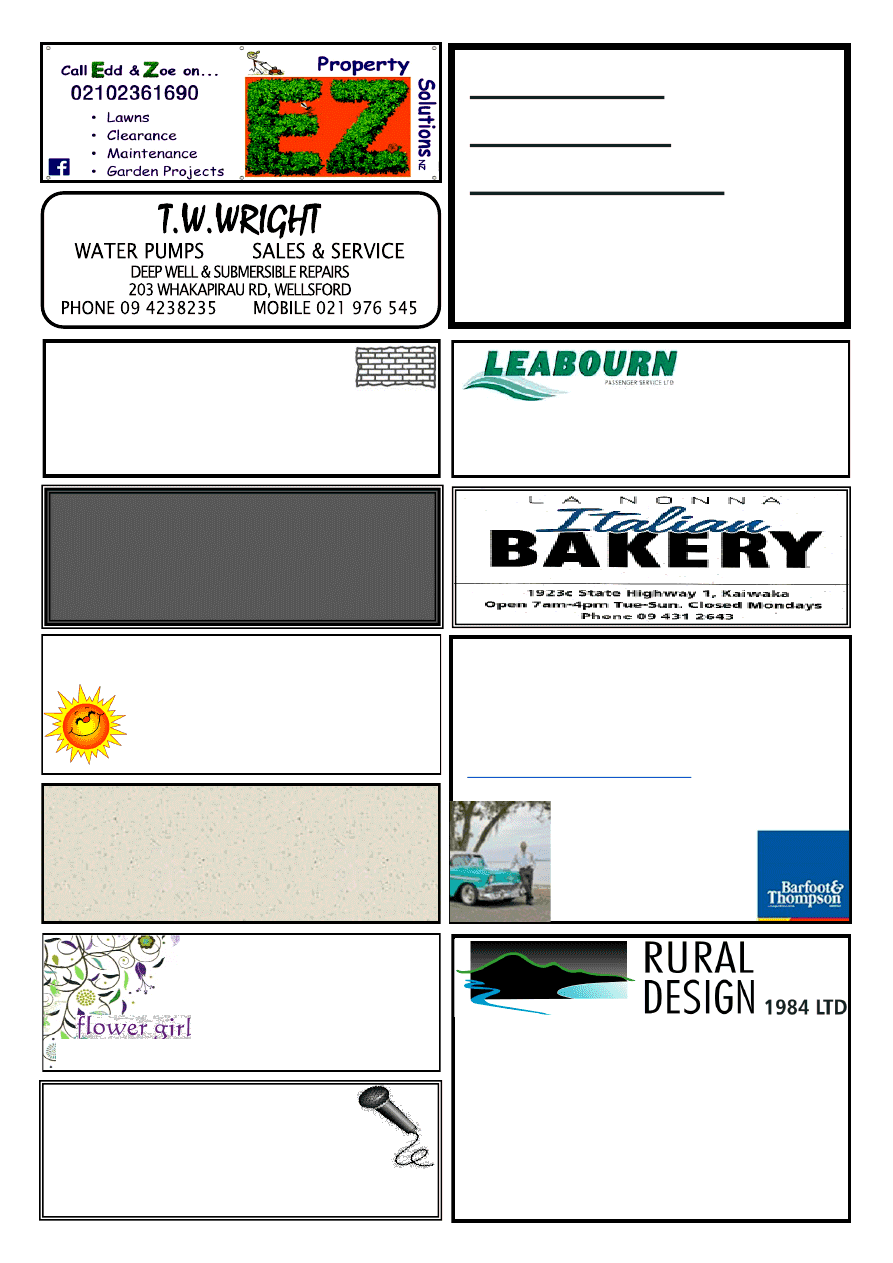 Passenger Service
Car & Van Hire   Bus & Coach Charters 
Airport Transfers    
Phone (09) 4237416 
BRICK/BLOCKLAYER 
All aspects of masonry:  
Fireplaces, Restoration & Remedial Work. 
JAMES EAGLETON 
Tel. (09) 431 2514    Mob. 0274 749 232 
jajueagles@yahoo.com.au 
210A Pukenui Road, RD2 Kaiwaka 0573 
THE SUNSHINE GIRLS
Efficient and reliable help with 
your housework. 
Ph 4312 532 
MARRIAGE CELEBRANT 
WEDDING EVENTS PLANNER 
Yvonne Osborne 
Ph 0274 989 814 
yvonne.osborne@xtra.co.nz 
Counsellor and Registered Psychotherapist 
Offers Supervision 
ACC Sensitive Claims 
Susan Matheson      MNZAC 
Dip. Psychosynthesis Counselling and Psychotherapy 
Phone 09 431 2996                                     Mobile 027 605 2427 

  After 20 years of selling in Auckland I have             
moved to Kaiwaka. 

  I have a relaxed attitude with years of  
        results and experience. 

  Please feel free to give me a call or email. 
licensed real estate agent (2008) 
Chris Barrington
Residential Sales
M 
Mangawhai
Wholesale Native Plant Nursery and Planting 
Small and Large orders welcome 
By Appointment 
300 Kaiwaka-Mangawhai Road, Kaiwaka 
Phone: 09 431 2481 
Email: info@ruraldesign.co.nz 
www.ruraldesign.co.nz 
Kaiwaka Good Sorts 
Do you know someone in our community 
who is deserving of a beautiful bunch of 
flowers? 
Send an email to us at 
kaiwakabugle@kaiwaka.co.nz 
or drop a note to Jaques Four Square to 
let the Bugle team know. 
lindywatson@hotmail.com 
4312 847 
SING RIGHT 
Professional coaching for performance,  
recording and demos. 
All level singers, musicians, singer-songwriters. 
Phone Robyn Hill 431 9159 or 022 1238126 
 FINANCE 
 FUNDING 
 SOLUTIONS 
T - 0275 989814 
E
 - osborneassociates@xtra.co.nz 
REGISTERED INDEPENDENT FINANCE BROKER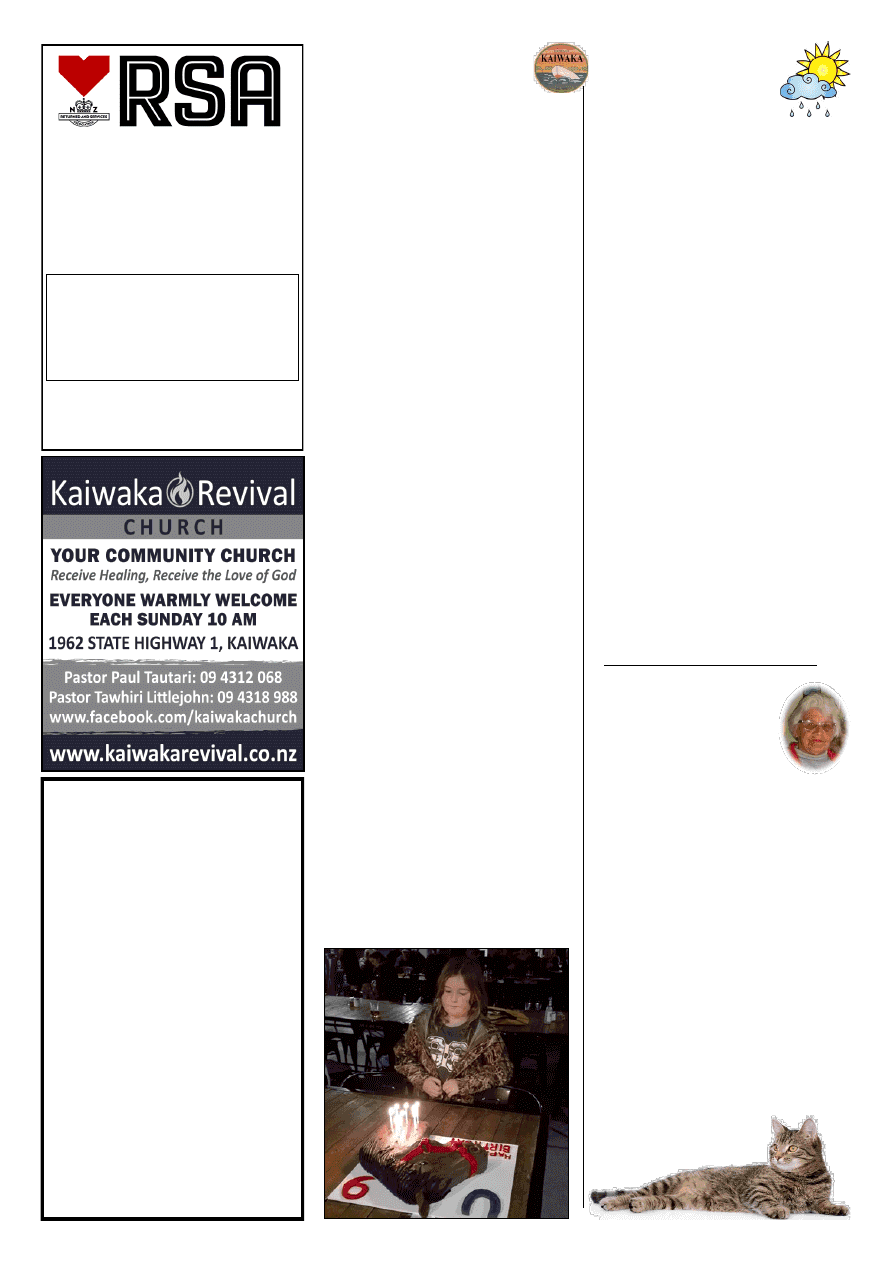 www.kaiwaka.co.nz 
Kaiwaka Bugle - 10 July 2018 
Page 5 
Lilia and her Spring lamb, Minty! 
Willow Bend
HORSE  
HOTEL 
  
Total Horse Care 
 
Agistment 
 
Riding Lessons 
 
Arena Hire (60x40) 
 
Young Horse Starting 
 
Re-training/Exercising 
 
Hoof Trimming 
 
Problem Solving 
Phone Sue 09 431 2817 
or 021 623 776 
Or email  
susanjoll11@gmail.com 
HAKARU & DISTRICTS 
MEMORIAL RSA (INC)
Members & guests are invited to 
come along and enjoy our hospitality. 
New members welcome. 
Meals are served on Thursday and 
Friday nights from 6.30pm. 
Last Friday of the month is  
'Roast Pork Night' and a sing-a-long  
with Des Chitty. 
For more information please phone 
Marlene on 431 5589 
PT.CURTIS 
CRUISING CLUB
Well done to those that braved the cold 
on  Saturday  30
th
  June  and  Sunday 
1
st
  July  for  the  End  of  Season  Duck 
Shoot. 
The  new  idea  for  purchasing  Meal 
Tickets  at  Competitions  was  trialled 
and positively received. 
Competition Results: 
2018 End of Season Game Bird 
Shoot Junior Prize List – (in Kgs) 
Parry: 1
st
 Tessa Ball 1.773kgs; 
Pheasant: 1
st
 Tessa Ball 1.368kgs; 
Pukeko: 1
st
 Tessa Ball .844kg, 2
nd
Amanda Ries .815kg; Peacock: 1
st
Caleesto Mills 4.674kgs, 2
nd
 Caleesto 
Mills 3.130kgs; Turkey: 1
st
 Amanda 
Ries 7.434kgs 
2018 End of Season Game Bird 
Shoot Senior Prize List 
Mallard: 1
st
 Trevor Wright 1.410Kgs, 
2
nd
 Pongo 1.397Kgs; Grey: Dale 
Hamlin 1.170Kgs, 2
nd
 Michayla 
Kennedy 1.154Kgs; Parry: 1
st
 Trevor 
Wright 2.028Kgs, 2
nd
 Keith Mills 
1.974Kgs; Pheasant: 1
st
 Pongo 
1.476Kgs, 2
nd
 Dave Kennedy 
1.376Kgs; Canadian Goose: 1
st
 Tony 
Smith 5.355Kgs, 2
nd
 Tony Smith 
4.133Kgs; Pukeko: 1
st
 Dale Hamlin 
1.174Kgs, 2
nd
 Dale Hamlin 1.139Kgs; 
Black Swan: 1
st
 Michayla Kennedy 
5.651Kgs, 2
nd
 Dave Kennedy 
5.394Kgs; Peacock: 1
st
 Keith Mills 
5.221Kgs, 2
nd
 Pongo 5.002Kgs; 
Turkey: 1
st
 Pongo 10.702Kgs, 2
nd
 Dale 
Hamlin 9.497Kgs 
The  Raffle  Winner:  #34  Tony 
Smith. 
Big Happy Birthday to Amanda Ries, 
pictured  below,  who  turned  9,  and 
thank  you  for  bringing  your  beautiful 
cake to share with the Club. 
1
st
  June  Subs  are  Due: $30 Family 
(2 Adults 2 juniors aged under 15yrs), 
$20  Single.  If  paying  by  Internet 
Banking please use your Name/Names 
as  a  Reference.  Bank  A/c  details  are: 
ASB  WELLSFORD  No  12  3094 
0008233 00 
Fish of the Month: Snapper 
Next  Club  Meeting  10
th
  July  2018 
7pm at The 3Furs Bar & Grill 
  ~ Wayne Leslie, Commodore
From  Thelma's 
Scrapbook … 
'House Mates 
I have a little lodger, though 
she doesn't pay me rent -  
She's settled very well, though, and 
she seem to be content. 
I find her on my pillow; on my 
worktop or my shelf 
Or in the comfy chair where I'd like to 
sit myself. 
She comes and goes without a word, 
and though we get on well, I must 
admit she treats the place just like a 
posh hotel! 
She stalks around the kitchen, tail 
raised, cool and dignified, 
She often turns her nose up at the food 
that I provide. 
She scratches at my table - toys and 
scratch posts are rejected, 
Yet if I should remind her there are 
rules to be respected, 
She slowly turns and makes me laugh 
with that distinctive stare 
That tells me it is her house, and she 
deigns to let me share!' 
Emma Canning.
KAIWAKA  
WEATHER 
YAY! We have gone passed 
the shortest day and the sun 
is  travelling  south  quite  rapidly  now 
thank goodness.  
Ooh  yes  June  was  wet  with  a  few 
storms  -  a  bit  of  wild  wind  and 
thunderstorms also a few frosts. There 
were  a  few  well  below  0deg  with  the 
nights and mornings making it hard to 
get  out  of  bed  and  the  work  force 
trying to get the fingers and brain into 
gear.    That  last  lightning  and 
thunderstorm shook a few people with 
it  being  right  overhead.    Gee  the 
ground is wet, and it is great to see the 
sun shining up and warming up. I think 
there  would  be  a  few  rainfalls  read  at 
different places higher than ours.   
Well,  at  our  house  for  June  2018  we 
had 318mm and 2017 we had 238mm. 
Our wettest June since 1987 was 2018 
with  318mm  and  the  driest  June  was 
2012 52mm.  
The  first  6  months  of  2018  we  had 
1131mm and 2017 we had 1073mm.   
Our  wettest  6  months  since  1987  was 
2018  with  1131  and  the  driest  was 
1987 with 300mm.  
We  had  rain  on  11  days  of  June  this 
year and rain on 12 days for 2017.   
Always remember this: 'You don't stop 
laughing  because  you  grow  old,  you 
grow  old  because  you  stop  laughing'. 
Remember  summer  is  coming  now  so 
chin up and keep warm until then.  
               ~ Bev.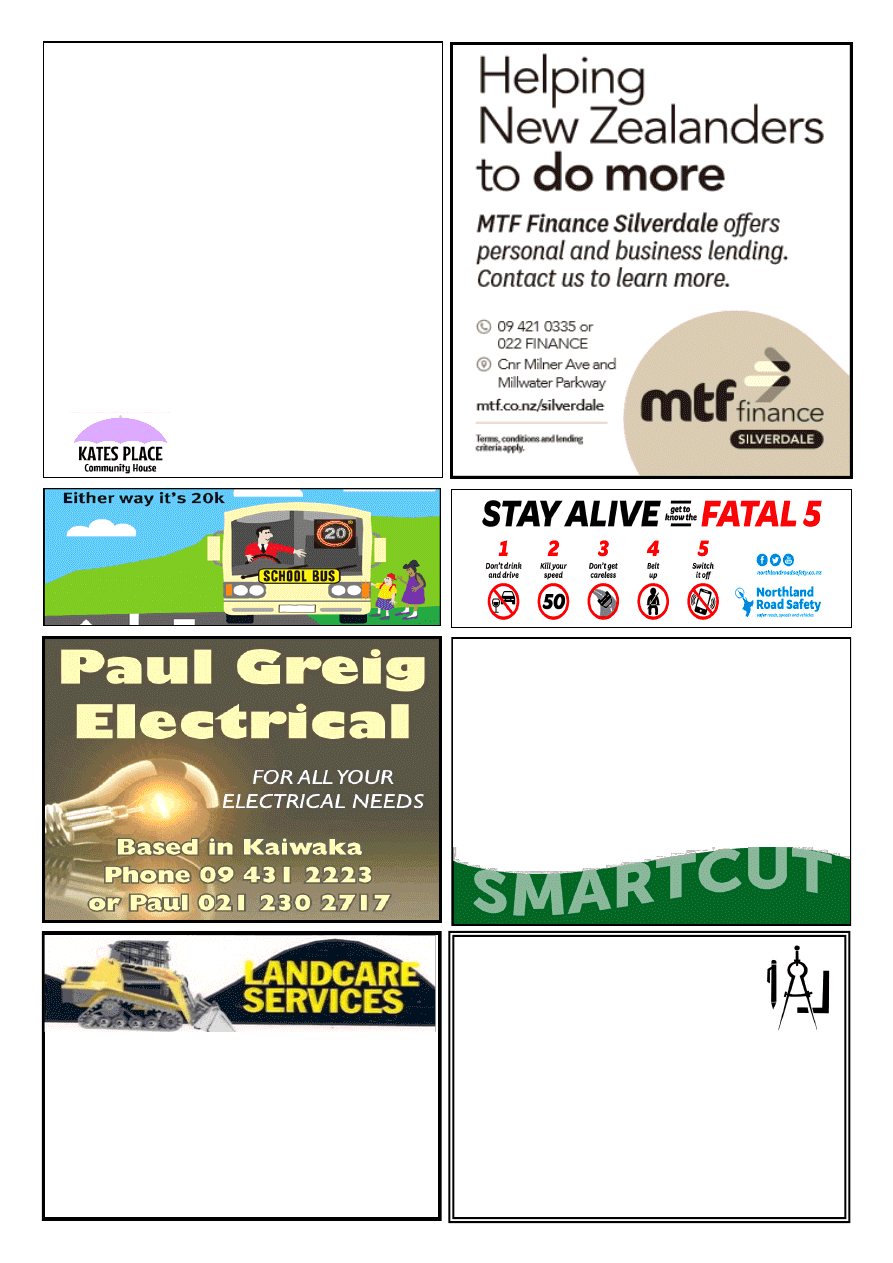 LANDSCAPING 
4 IN 1 BUCKET 
TRENCHER 
POLE HOLES 
ROTARY HOE 
COMPACT ROLLER 
OFFAL HOLES 
CAN SUPPLY WOODCHIP & POST PEEL 
5 TON TIPPER 
FOR RELIABLE AND FRIENDLY SERVICE CONTACT DAVE 
Dave Hyndman 
 
KAIWAKA 
PH: 09 4312302 
MOB: 021 431 238 
All your outdoor needs sorted so you don't have to... 
I can prune, chop, tidy, spray, mow, plant 
- you name it, I can do it! 
Residential & Commercial 
Lawn & Garden Care 
Call Rodney, your local  
lawnmowing contractor 
021 138 2344 
WEEKLY TRIP EVERY 
THURSDAY 
- MAUNGATUROTO -  KAIWAKA -  
- WELLSFORD - WARKWORTH - 
(and back) 
For anyone & everyone, save money, save gas, be social, 
go shopping, visit the doctor, get to the library, got to 
the dentist, meet your friends, have lunch, get to WINZ. 
Kate's Place Community House & OCS have teamed up to 
provide a van service that will travel from Maungaturoto 
to Warkworth every Thursday. 
TIMETABLE: 

9.30am: 
Maungaturoto. OCS 155 Hurndall St. 

10am: 
Kaiwaka, Kate's Place Community House, 1960 SH 1 

10.20am: 
Wellsford, Te Ha Oranga, 158 Rodney St. 

10.45am 
Warkworth Centre 

1.30pm 
Depart Warkworth 

2.30pm 
Arrive Maungaturoto 
Conditions: No eating or drinking in the van. Children under 14 
must be accompanies by an adult. Must book a space in 
advance. 
$5 per adult  
Book on 09 4312661 
design drafting  
service 
Retired builder and manufacturer with over 
40 years experience in the building industry is offering a 
design drafting service for domestic housing, sleepouts 
and sheds.  
Plans formulated in consultation with clients, with 
working drawings completed and submitted to council 
for processing.  
Extensive practical experience, able to identify & resolve 
problems.
Please ring Mike Lean on 
09 431 2260 
or 
021 431 196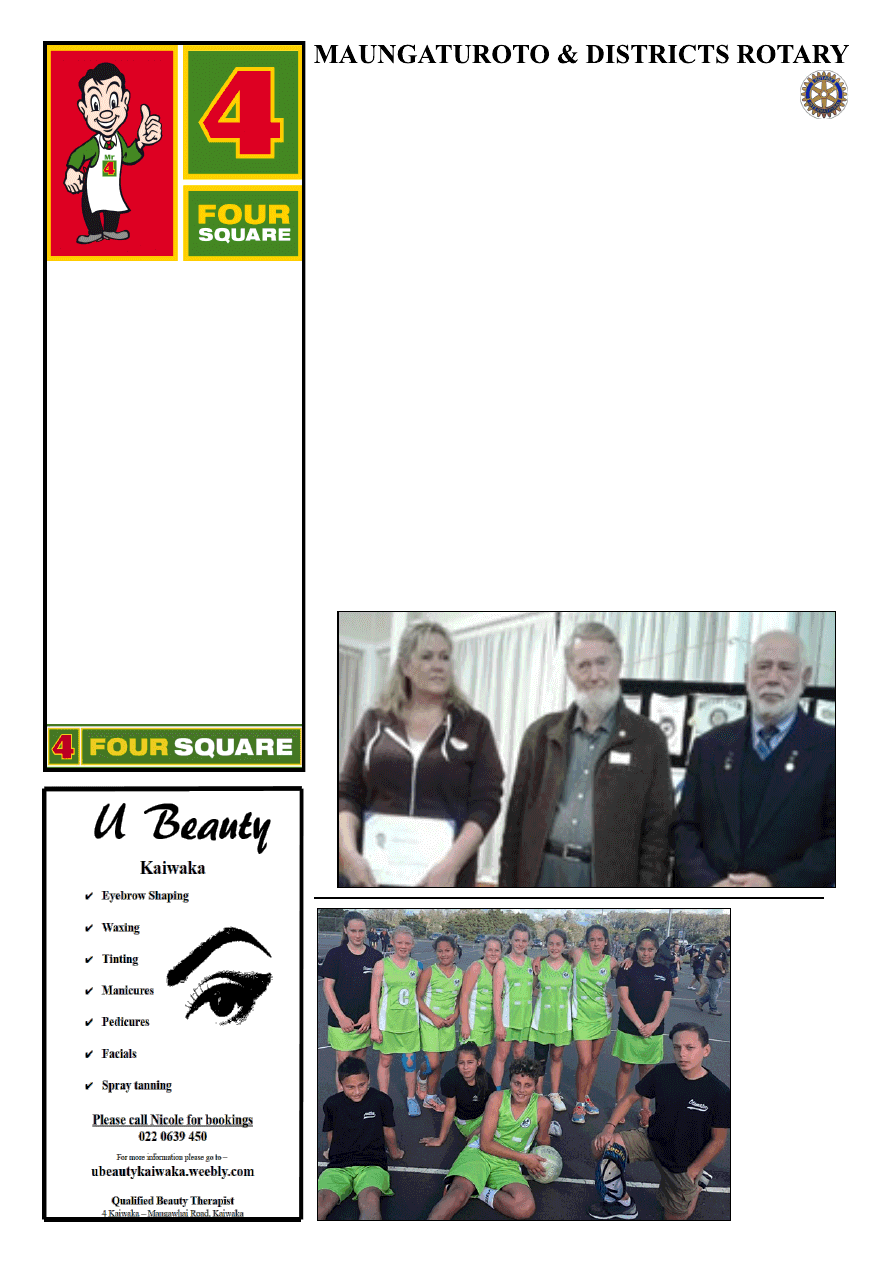 www.kaiwaka.co.nz 
Kaiwaka Bugle - 10 July 2018 
Page 7 
New in store  
Organic Re-usable 
cotton string produce 
bags 
Selling at cost $3.00  
Ask our friendly staff at 
check out 
Winter essentials 
Hot Water bottles in 
stock $5.90  
Ug boot slippers, gloves 
& socks 
NEW FRESH & LOCAL 
Orata Oysters 200g pot 
Limited time special $14.99 
Delivered on a Wednesday 
Open till 6.30 Monday to Friday
Jaques Four Square 
Phone: 4312227 
1 Kaiwaka-Mangawhai Road, Kaiwaka. 
President Alex Tetzner welcomed all to 
the 
'Changeover' 
evening, 
but 
especially  incoming  Assistant  District 
Governor, Peter Johns from Mt Roskill, 
Beth Dalebrook, and two special guests 
from  Kaiwaka,  Cheryl  Anderson  and 
Derek  Christiansen.    Peter  played  a 
trumpet 
voluntary 
to 
welcome 
incoming  President  Keith  and  partner 
Els to the table. 
Presentations 
Albie Paton gave Don McKay a cheque 
for  $20,000  from  the  Den  (this  brings 
The  Den's  contribution  to  the 
Dementia unit to more than $40,000. In 
accepting  this  money  Don  made  the 
comment  that  an  aging  population 
required  higher  levels  of  care  and  a 
number of locals had to be sent for care 
outside  the  community.  The  plan  is  to 
keep as many of these people close to a 
familiar  environment  and  family.  He 
thanked  Albie  for  his  enthusiasm  and 
the  tremendous  fundraising  efforts  he 
has  been  involved  in.  President  Alex 
then  spoke  of  the  Club's  donation  of 
$2,500,  which  were  proceeds  of  the 
auction run in conjunction with Albie. 
Paul Harris Fellow presentations 
Firstly, Incoming ADG Peter presented 
the  awards  but  not  before  explaining 
the  significance  of  the  Paul  Harris 
Fellow  award  to  Cheryl,  Kaiwaka 
Sports  Assn  and  Derek  for  Kaiwaka 
Can. Both recipients told why 
they  became  part  of  their 
organisations,  three  projects 
they were proud to have been involved 
with and one challenge each had faced. 
As  they  answered  these  questions,  all 
present  knew  why  they  had  been 
chosen  to  be  awarded  the  Paul  Harris 
Fellow pin. 
Then Peter made the PHF presentation 
to  Rose  Plunkett  QSM  from  Paparoa. 
This  deserving  lady's  resume  included 
involvement with a variety of activities 
but  paramount  amongst  them  is  the 
compassion  she  has  had  over  many 
years for the disadvantaged families in 
the  community  and  the  work  that  she 
undertakes to support them.   
 Changing of the Presidential Guard  
President  Alex  (and  Lyn)  to  President 
Keith (and Els) - the Presidential chain 
was passed on as was the brooch which 
is  traditionally  given  to  the  partner  of 
the President. 
What is a Paul Harris Fellow? Paul Harris 
was  the  founder  of  Rotary  in  1928.  The 
Award  was  created  in  1957and  the 
Foundation  is  contributed  to  by  Rotary 
clubs  throughout  the  world.  In  New 
Zealand  this award  is  given  to  a  Rotarian 
or person from the community who is seen 
to  have  contributed  a  great  deal  to  the 
organisation, 
community 
or 
often 
combination of both. 
Photo left: 
The 
Otamatea 
Netball 
AIMs 
netball  team  - 
winners  of  the 
recent  Kerikeri 
tournament. 
This  team  will 
be  going  to  the 
AIMs 
tournament 
in 
Tauranga  9-14 
Sept
ember. 
L to R:Cheryl Anderson, Derek Christensen 
and Rotarian Peter Johns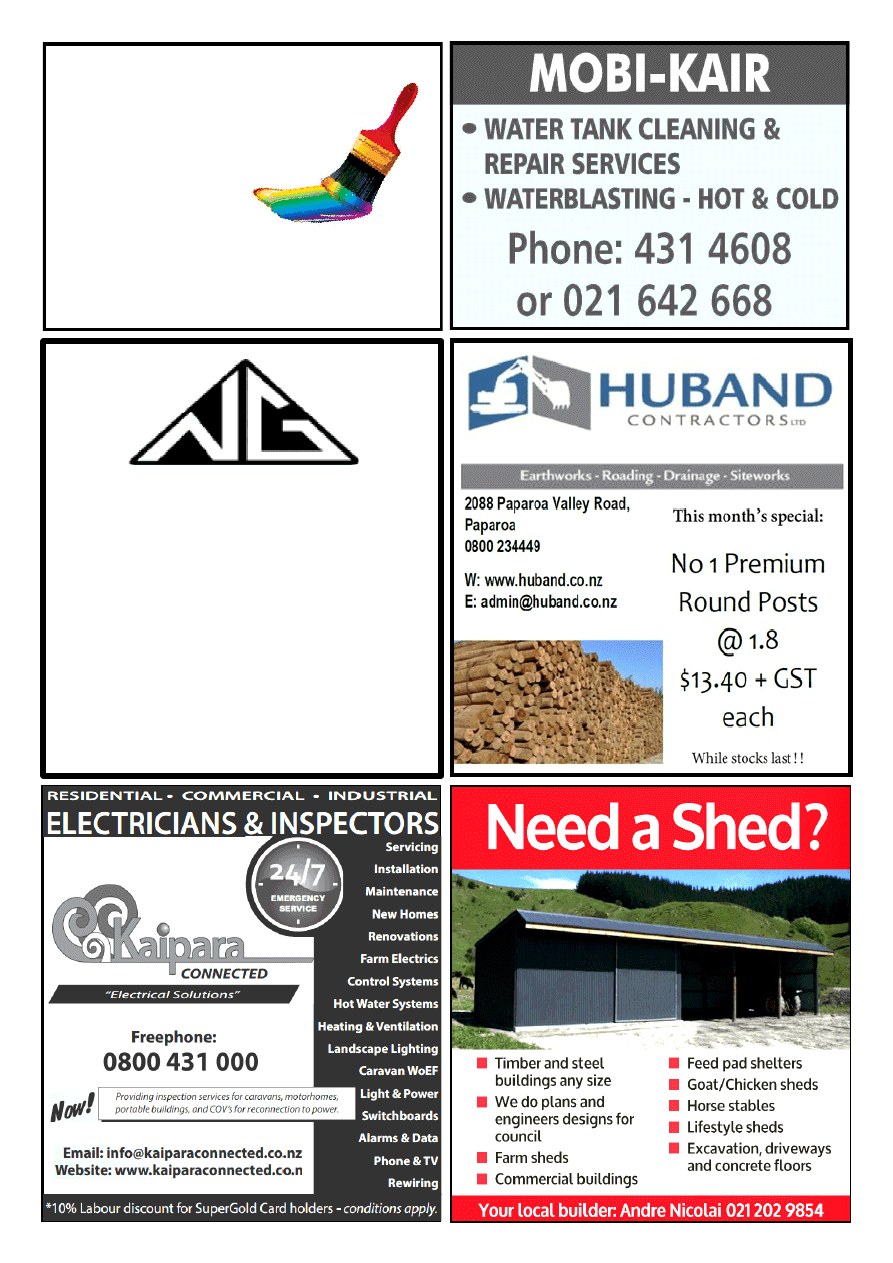 09 4312918 
0274735171 
leecooper@xtra.co.nz 
LEE COOPER PAINTERS 
(Kaiwaka Based) 
*30 yrs Experience 
*Interior/Exterior 
*New and Restoration 
*Honest and Reliable 
*Free Quotes 
NORTH GLASS 
WINDSCREEN REPAIR OR REPLACE 
GLAZING SERVICES 
MIRRORS  •  SPLASH BACKS  •  SHOWERS 
0800 70 40 10
info@northglass.co.nz 
www.northglass.co.nz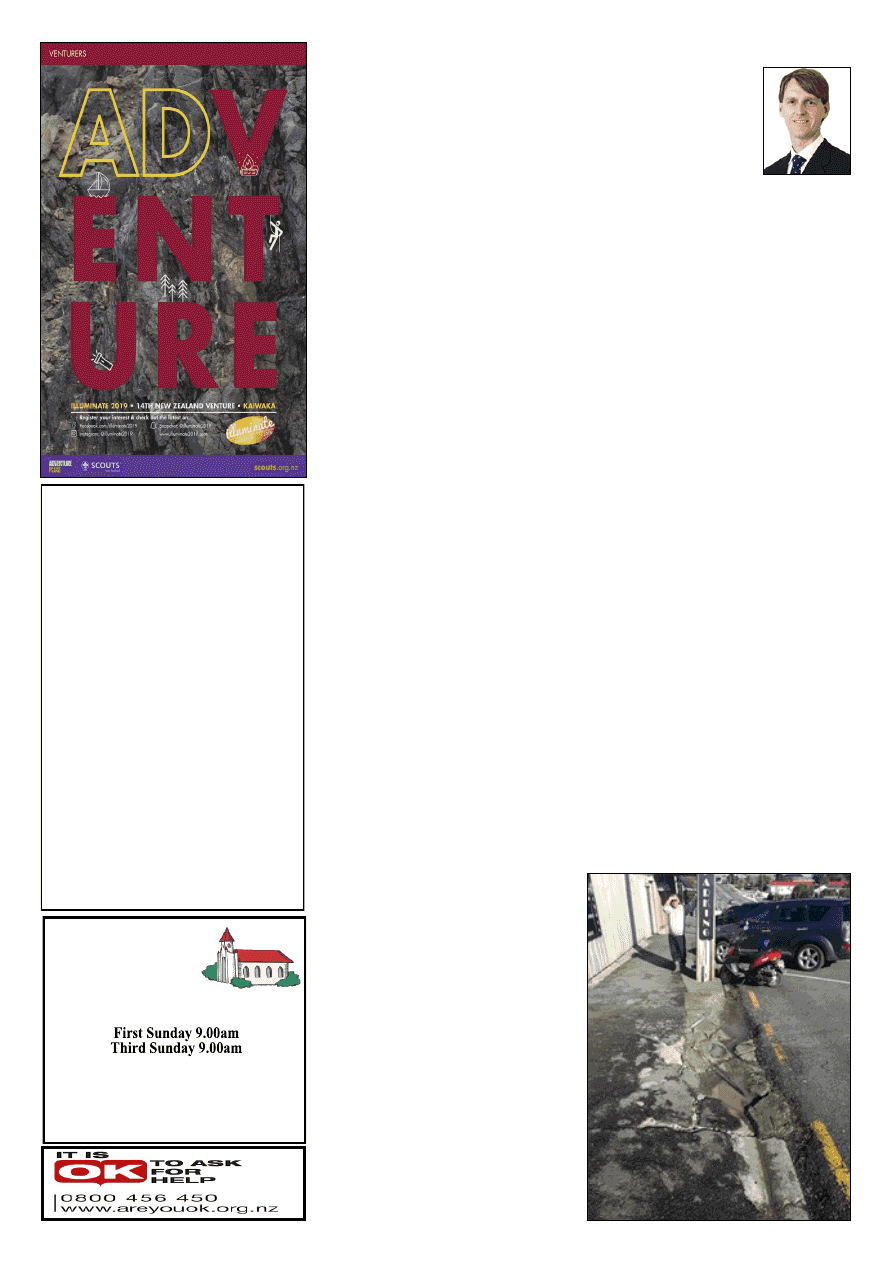 www.kaiwaka.co.nz 
Kaiwaka Bugle - 10 July 2018 
Page 9 
Mangawhai 
Heads 
Garden 
Centre
1758 Cove 
Road
945 0707 
021 165 2629 
ST PAUL'S  
ANGLICAN  
SUNDAY  
SERVICES
St Pauls Church: Kaiwaka-Mangawhai Rd. 
1st Sunday - Eucharist 
3rd Sunday - Family Service 
Rev. Wayne Thornton Ph 431 4122 
www.mangawhaianglican.org.nz
with  Otamatea  Ward  Councillor 
Jonathan Larsen.
The new roading maintenance contract 
came  into  effect  on  1  July  2018.  The 
contract  has  an  at-risk  monthly 
payment to incentivise the contractor to 
meet  the  required  standards.  I  had  a 
good  meeting  with  the  "Mayor  of 
Kaiwaka"  Mark  Ottaway  recently 
about  fixing  some  issues  around 
Kaiwaka's streets and footpaths. These 
issues  included  the  broken  footpath 
beside Kate's Place - see photo below, 
cesspit  debris  left  on  the  berm  and 
metal  washed  out  onto  Kaiwaka-
Mangawhai Road, bad potholing at the 
Gibbons  Rd  entrance  to  Jaques' 
Supermarket,  messy  crossing  leading 
into  Café  Eutopia,  and  overgrown 
planting on the corner of Oneriri Rd. I 
passed  these  issues  on  to  Council's 
customer  service  team  and  got  very 
prompt  responses  from  the  contractor 
re  investigating  and  remedying  these 
issues.  I'll  keep  a  check  on  progress, 
but  it  seems  that  the  new  system  is 
working.  If  you  have  any  issues  with 
roads  or  other  Council  customer 
service  issues,  you  can  email  them  to 
council@kaipara.govt.nz  or  phone 
0800  100  388.  If  you  don't  get  a 
satisfactory  response let  me  know  and 
I'll follow up. 
Long Term Plan  
After  months  of  workshops,  hearings 
and  deliberation,  the  Long  Term  Plan 
2018-2028  (LTP)  was  finally  adopted 
at the June Council meeting. This is the 
Council's  ten-year  budget  which  is 
reviewed  every  three  years.  The  LTP 
has  set  average  rates  increases  of 
4.97% for 2018/19, 5.26% for 2019/20 
and  4.83  %  for  2020/2021.  Now  that 
the LTP has been adopted by majority 
vote  of  Council  I  am  required  to 
support 
this 
decision 
and 
implementation  of  the  plan.  I  have 
however  been  asked  recently  why  I 
moved  to  amend  the  plan  and 
ultimately voted against it, and think I 
have  a  duty  to  explain.  The  main 
reasons are – 
1.  I  think  the  proposed  approximately 
5% 
average 
rates 
increase, 
compounding  each  year  for  the  next 
three  years,  is  excessive.  The  local 
government  cost  index  (LGCI),  our 
best  measure  of  the  inflated  cost  of 
running  Council,  is  forecast  at  around 
2%  for  the  next  three  years.  I  saw 
increased  spending  on  staff  and 
consultants, but no internal efficiencies 
and no increases in levels of service to 
ratepayers.  Therefore,  I  found  the  3% 
margin between the LGCI and the rates 
increase hard to justify. 
2. The 5% increase is an average, and 
for  some,  including  revaluation,  the 
increase this year will be up to 34%. I 
thought  this  was  an  unreasonable  and 
unnecessary burden especially in times 
of relatively low inflation. 
3.  Council  proposes  spending  $7.32 
million on reviewing the 
district  plan.  I  don't 
think  this  is  prudent  and 
certainly  not  without  a 
comprehensive  business 
case  to  support  it. 
Planning  for  growth  is 
important  – but each $200k represents 
about  one  percent  of  rates,  so  that's  a 
pretty  expensive  book  review!  With 
such  a  large  budget,  I  am  concerned 
that  this  will  become  a  feeding  frenzy 
with 
consultants 
and 
planners 
capturing  the  process  and  wasting 
ratepayers'  money.  This  happened 
when  the  cost  of  the  last  review  blew 
out to about $5 million. I think we need 
to learn from our history and not repeat 
Council's  spendthrift  mistakes  of  the 
past. 
4.  The  implementation  of  the 
Mangawhai  Community  Plan  (MCP) 
was consulted on to be 80% funded by 
a  targeted  rate  on  "Mangawhai" 
properties.  However,  the  LTP  is  now 
imposing the 80% rate on an area that 
extends  as  far  west  as  Baldrock  Rd 
towards  Kaiwaka.  This  area  could  not 
reasonably  be  considered  to  be 
Mangawhai,  and  I  was  not  satisfied 
with  the  legal  opinions  provided  to 
support this approach. Furthermore, the 
rate  is  now  being  funded  via  a 
differential on the general rate and not 
via  a  targeted  rate.  This  was  also  not 
consulted  on  and  means  that the  MCP 
rate  is  hidden  in  the  general  rate  - 
ratepayers  therefore  can't  easily  see 
how  much  they  are  actually  paying 
towards the MCP. 
If you have any community projects or 
issues  that  you  would  like  assistance 
with, I can be contacted on Ph. 021 185 
8389  or  Cr.Larsen@kaipara.govt.nz. 
Check  out  my  'The  WorkBoot 
Councillor'  Facebook  page  for regular 
updates. 
*The  views  expressed  are  those  of  the 
writer and do not necessarily represent the 
consensus position of Council.  
COUNCILLOR'S COMMENT*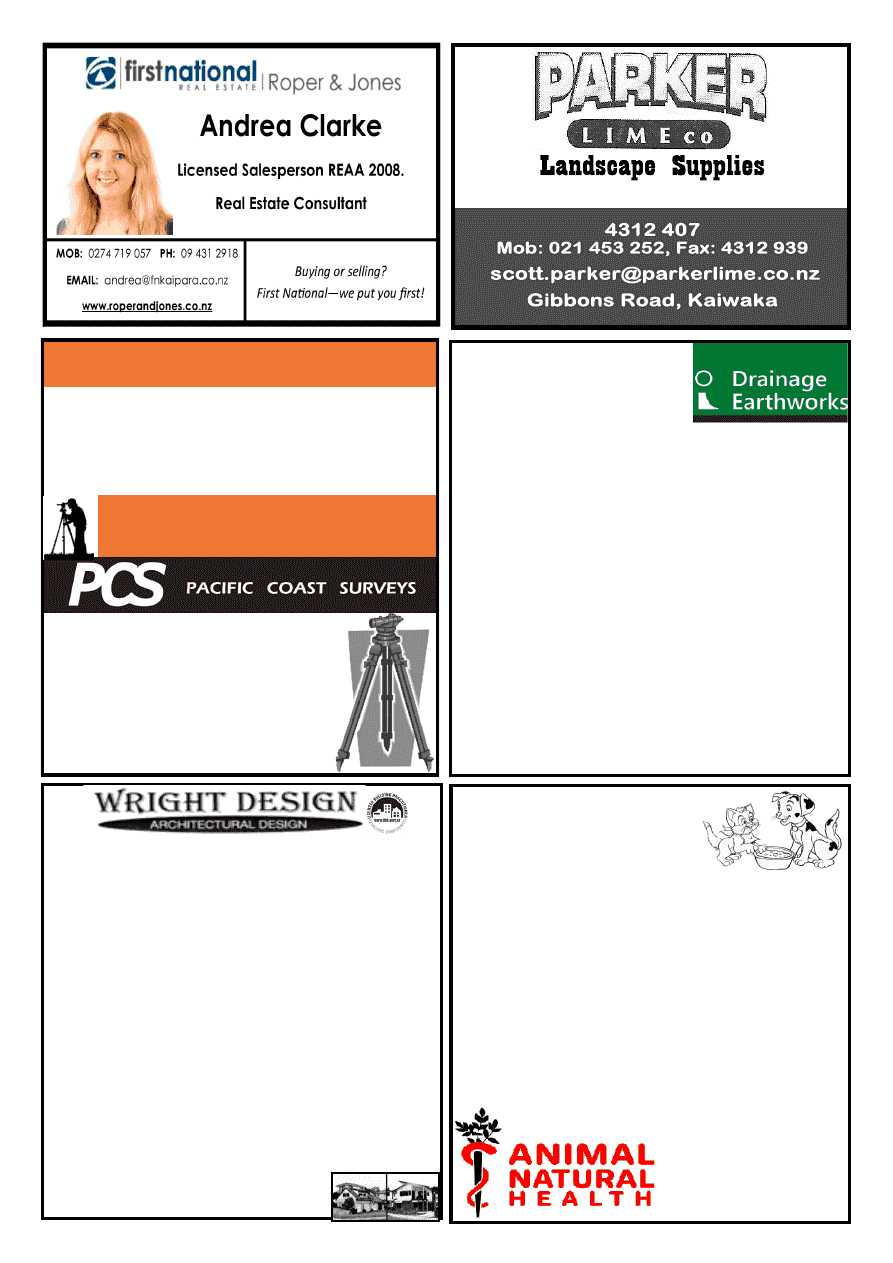 Drainage & Earthmoving 
nigel@clarkedrainage.nz 
027 2233 185 
Registered Drainlayer 
All Types of Earthworks  
> All Residential & Commercial Work  > House Sites 
> Septic System Design & Install 
> Footings & Drilling to 10m 
> Sewer Connections 
> Dams 
> Water Tank Installation 
> Roading & Races 
> Farm Work 
THE ONE STOP SHOP  
Phone Nigel for an Obligation Free Quote  
Bulk Cartage 
SURVEYORS 
SUBDIVISIONS 
HOUSE SITE SURVEYS 
CIVIL ENGINEERING 
WASTEWATER DESIGNS 
EXPERIENCED 
PROFESSIONAL 
INNOVATIVE 
Ph 09 431 5353 
0800 PACIFIC (0800 722 434) 
pacificcoastsurvey.com
Adam Booth - 027 415 5752 
Bsurv, Licensed Cadastral Surveyor
Surveying Kaipara since 1994 
If you are thinking of building then you 
will need a good and well experienced, 
qualified, and licensed designer. 
This applies if you are considering a 
new home any alterations or any 
building additions/farm buildings, 
sheds, alterations, whatsoever. 
For Resource and Building Consents, 
planning restraints, new building 
materials, applying for building permits 
– you need a capable, experienced, 
and professional designer with a clear 
knowledge of all the processes. 
Brian has been helping and organising 
all these facets of design and building 
for over 50 years. 
Wright Design offers free visits, 
consultations and advice on planning, 
design, building, council permit 
applications, guaranteed permit plan 
acceptance. 
QUALIFICATIONS 
Brian is a qualified designer 
(N.Z.C.A.D.) with over 50 years of 
varied experience in all types of 
building and is registered and Licensed 
Building practitioner in Design – 1 & 2 
Registered LBP117345 
He will ensure you will achieve the 
best from your budget. 
EXPERIENCE 
Brian's practical building and 50+ years 
of design experience means he can 
give you excellent advice and all the 
guidance needed. 
Brian can arrange engineering for a 
reasonable cost. 
•Qualified and inexpensive designer – 
N.Z.C.A.D. Registered LBP117345 
•Guaranteed design and working 
drawings 
•Free site visit to your home or 
property 
•Great service and free quotation 
PROJECTS 
Additions, alterations, basements, new 
homes, motels, bed and breakfast, 
commercial buildings, farm buildings, 
and shop fit outs are a few projects. 
Brian can show you many of his 
projects in the area to emphasise his 
versatility and can give you contact 
with satisfied clients. 
WHAT TO DO FROM NOW ON 
•Call Brian for a free quotation 
•Discuss your needs and obtain good 
advice 
•Brian can offer 
plan printing 
from A4 to A0 
(2x A1 size) 
No. 117345 
ORIJEN & ACANA  
now available!
Looking for economy with 
quality in pet food? 
Our 2kg fresh meat rolls only $12.90
Tukka Thyme Muesli (makes 3kg) - only $14.90 
Veal Bones 3kg $17.90 
Beef & Lamb Patties  3kg  $22.90 
Chicken Medallions 3kg  $18.90 
No nasty chemicals, cage & crate-free, free-range, 
organic where possible. 
Flea-Flee , Tick & Lice Control, alternatives to 
vaccinations. 
Safe beach leads, collars, toys. 
Want a choice in animal health care? 
See our Animal Naturopath.  
ANIMAL NATURAL 
HEALTH CENTRE 
Next to Italian Bakery, 
Kaiwaka 
Ph. 09 431 2217    
Open Mon-Sat.
N.Z.C.A.D., L.B.P. 117345 
PH/Fax: 09 423 8092 Mob: 021 276 7369 
Office: 3 John Sinclair Avenue, Wellsford    brianwright@xtra.co.nz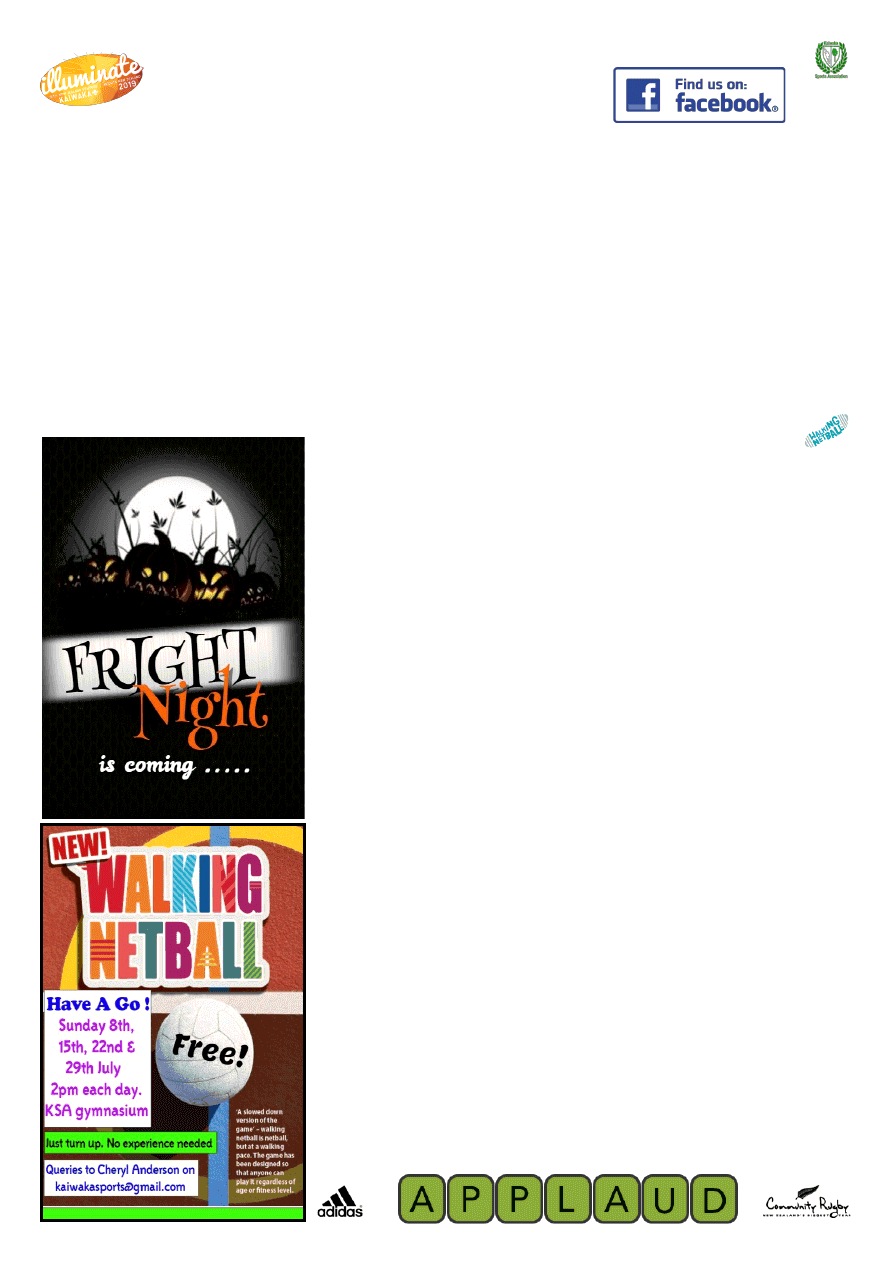 www.kaiwaka.co.nz 
Kaiwaka Bugle - 10 July 2018 
Page 11 
KAIWAKA SPORTS SOCIATION
Illuminate  2019    - 
Community  Meeting 
August 10th 
The  Venture  Organising  team  will  be 
presenting  an  outline  for  'Illuminate 
2019' - the 14th New Zealand Venture 
which  will  run  from  December  31st 
until  January  11th  .  This  Scouts  New 
Zealand  event  for  teenagers  will  be 
held  at  our  grounds  and  the  school 
grounds  and  will  see  over  1,000 
participants camping here. As well as a 
lot of activity on the site, there will be a 
number  of  vehicle  movements  and 
many  local  facilities  and  services 
involved. Cory Lang, Venture Director 
says, "we want to take the opportunity 
to  engage  with  the  local  community, 
fully  inform  them  and  share  this 
exciting event with them. We've had a 
tremendous  response  from  those  we 
have  had contact  with  so  far  and  want 
to  make  sure  everyone  feels  informed 
about  what  we  will  be  doing  on  those 
12 days and how we intend to manage 
things". 
The  Community  Meeting  will  be  held 
on  Friday  10th  August  at  7pm  at  the 
Sports Complex. All welcome. 
Thank you Marilyn 
Marilyn  Wright  has  been  the  KSA 
Treasurer for two years and is stepping 
down.  At  the  KSA  meeting  last  week 
Marilyn  was  presented  with  a  bouquet 
of  flowers  in  appreciation  of  all  the 
time  and  effort  she  has  put  into  the 
Sports Association. Marilyn has been a 
very  capable,  efficient  member  of  our 
group, so we will miss her! All the best 
Marilyn. 
Walking Group 
Kaiwaka's 
physiotherapist 
Amy 
Griffith  has  started  a  Walking  Group, 
which is based around our new Fitness 
Trail  at  the  Sports  Complex.  It  is  held 
every  Tuesday  at  8:30am  and  at  4pm. 
Suitable  for  all  levels:  walking  sticks, 
baby buggies. Stride out or just get one 
foot past the other. Meet at the helipad. 
All welcome. No cost. 
Taniwha Shield Tournament 
Northland' prestigious Primary Schools 
Rugby  Tournament,  the  Taniwha 
Shield,  is  being  held  this  week  in 
Hokianga.  All  the  best  to  our  local 
team, the Rodney/Otamatea Rhinos. 
Rugby – Senior Hawks 
Our  Otamatea  Hawks  will  play  their 
promotion/relegation  match  at  our 
grounds  on  Saturday  21st  July  at 
2.15pm.  Their  opposition  will  be  the 
winners  of  Division  2  (yet  to  be 
confirmed). Mark it in your diary – the 
boys  would  appreciate  lots  of 
hometown support! 
Rugby – Junior Hawks 
Congratulations  to  the  Junior  Hawks 
who  were  selected  to  play  in  the 
Taniwha  Shield  tournament.  All  the 
best for the Under 15s team playing in 
Moerewa  next  week.  And  a  big  thank 
you to all those parents and supporters 
who  turn  up  to  the  Junior  Hawks 
matches  to  cheer  on  the  boys  –  your 
positive support is appreciated. 
Rugby - JMB 
Our junior rugby club will celebrate the 
end  of  their  season  with  a  prizegiving 
on Thursday 2nd August at the KSA at 
6.30pm. All welcome. 
Applaud 
The  Kaiwaka  Sports  Association  is 
now  a  member  of  Applaud;  a  New 
Zealand  Rugby  initiative  to  encourage 
supporters  to  be  good  sports  and  to 
stamp 
out 
anti-social 
side-line 
behaviour.  We  want  to  continue  to 
have positive attitudes at matches held 
at  the  Sports  Complex,  and  we  expect 
all visitors to the KSA to support this. 
Missing from our kitchen 
Has anyone got some of our bain maire 
containers  at  home?  We  should  have 
seven but we have only got four. 
Gymnasium Hire 
Did  you  know  that  our  gymnasium  is 
available  for  hire?  If  you  have  got  a 
family  get-together  coming  up,  you 
might  like  to  have  a  fun,  energetic 
afternoon together. 
If  you  wanted  to  play  a  structured 
sport,  the  gymnasium  is  marked  for 
basketball,  netball,  turbo  touch  and 
badminton  -  or  you  could  just  let  the 
young ones run around. 
Mark 
And  many  thanks  to  Mark  Ottaway 
who  has  spent  countless  hours  in  the 
gymnasium  redoing  the  floor  –  we 
appreciate  Mark's  dedication  to  the 
KSA. 
Walking Netball 
Keen  to  try  your  hand  at  Walking 
Netball?  Our  "Have  A  Go"  day  last 
week was great fun, so I have decided 
to put on a few more. Every Sunday in 
July I will run a fun session - just turn 
up to our gymnasium at 2pm - no need 
to register, just rock on up. 
No  need  to  worry  about  the  weather  - 
we  will  be  inside  the  gymnasium,  so 
we will be nice and dry. 
Upcoming events 
We may be in the middle of winter, but 
summer  will  roll  around  fast  enough, 
so if you are looking for a reason to get 
into shape for the warmer months, you 
could start training for one of our major 
summer sporting events: 
❖
our  annual  Top  of  the  Rock  multi-
sport event will be held on Sunday 10th 
February  and  features  options  for 
running, cycling or walking. 
❖
our 
annual 
Otamatea 
tennis 
tournament  is  held  over  Anniversary 
Weekend  in  January  and  players  can 
enter  in  the  doubles,  combines  or 
singles. 
❖
the  Whanaunga  Touch  Tournament 
will be held at our grounds on Saturday 
19th January. 
❖
the  Kaiwaka  Touch  Module  will  be 
held  over  the  summer  months.  Start 
date to be confirmed. 
❖
and,  although  this  is  not  a  sporting 
event,  it  is  one  of  our  most  popular 
annual  events  –  yes,  it's  Fright  Night! 
Mark  it  in  your  diary,  Saturday  27th 
October. 
For more information 
Looking  for  information  on  hiring  the 
Sports  Complex?  Or  on  our  affiliated 
sports  clubs?  Check  out  our  website: 
www.kaiwakasports.co.nz . 
We also have an active Facebook page, 
you  will  find  it  under  Kaiwaka  Sports 
Complex. 
~Cheryl Anderson, 4312 051, 027 3462702 
kaiwakasports@gmail.com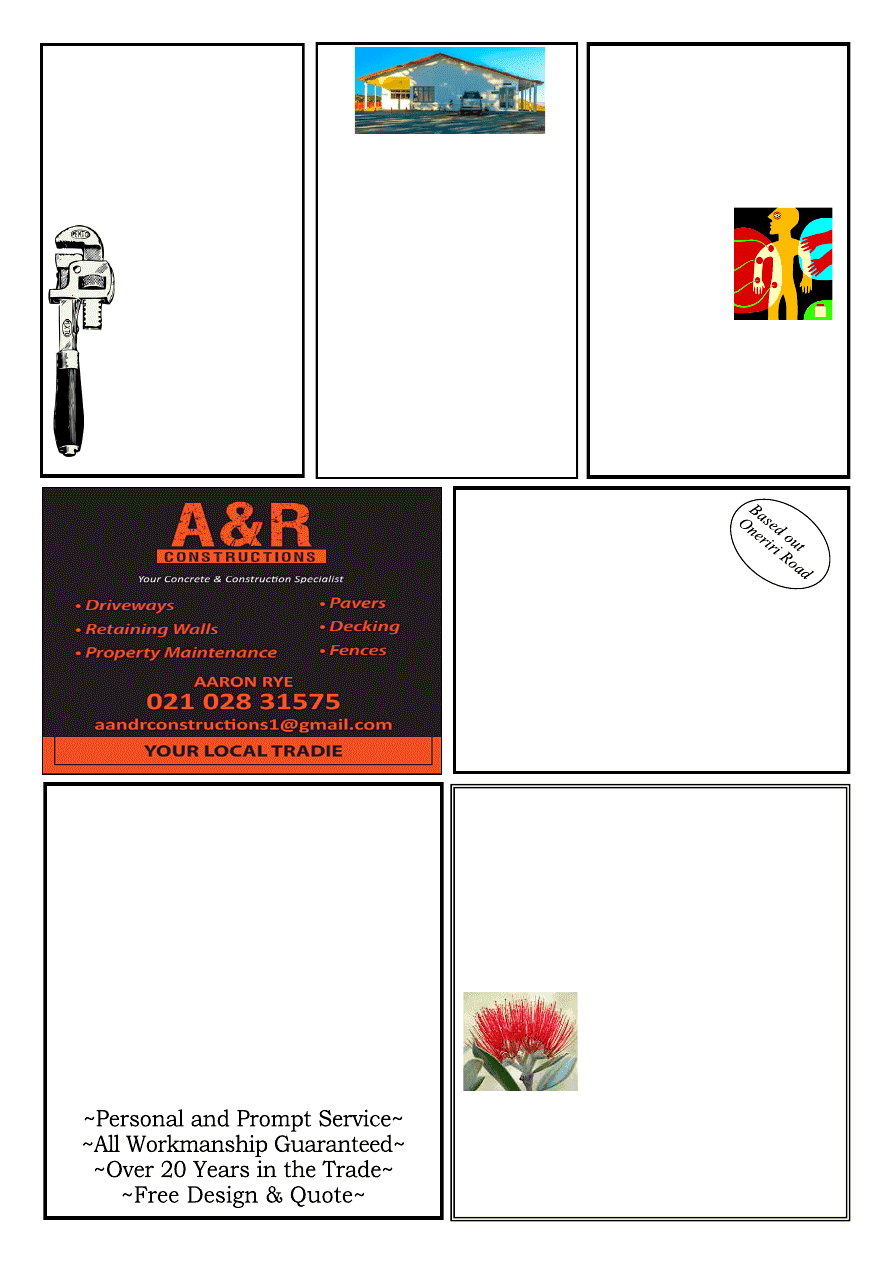 BARRY CURTIS 
PLUMBING LTD 
REGISTERED CRAFTSMAN 
PLUMBER 
Phone 431 5572 
027 257 9884 
25 years' experience 
Friendly reliable service 
All plumbing & 
maintenance 
Alterations and new 
housing 
Spouting  
Competitive rates 
PROMPT 
EFFICIENT 
SERVICE 
KAIPARA FLOORING CO 
Independently owned & operated 
32 HURNDALL ST MAUNGATUROTO
Supply & Installation of Carpet, Vinyl,  
Vinyl Wood Planking
Stockists of 2m & 3m wide 
vinyl & carpet short ends
Residential & Commercial
Q Card Finance Approved 
6-18 month terms 
6 mth interest free
First Class Installations
For a free measure & quote 
phone Christine  
09 946 9886 or 021 515 415 
kaiparaflooring@gmail.com 
http://www.kaiparaflooring.co.nz/ 
HODGETTS 
CONTRACTING
Digger Work 

Driveways 

House Sites

Dams  

Drains, etc
Also available for HIRE 

4
3 ton Vib Roller 
⧫
Heavy Duty Tow  

4
Waterblaster   
⧫ 
Lazer Level 
Phone Mark 4312877 
OWEN STEVENS 
Osteo Therapist
For careful adjustments to bones 
and joints 
Treatment for humans and their 
pets 
Clinics: 
Kate's Place, 
Kaiwaka: 
Last Friday of 
month 
For bookings: 
9.00am-5.00pm  
Phone 
09 4312661 
Or phone Owen  
09 4317123 anytime 
PLANNING A NEW KITCHEN?
 CONTACT NOEL McDOWELL
WELLSFORD 
KITCHENS
Ph/Fax 094312888
KAIWAKA-Any time
 QUALITY CUSTOM MADE 
KITCHENS
Te Pounga Marae 
130 Nathan Rd. Oneriri. Kaiwaka 0573 
COMPLEX FOR 
HIRE 
Functions 
* Weddings  * Birthdays  
*Anniversaries * Meetings  * Wananga 
5 hour meeting * 12 hour stay  * 
Overnight 
*All welcome - No more Drink-driving 
Amenities: 
*Convo Combi Steamer * Bratt Pan * 
Dish Washer/Sterilizer * 3 Door Glass 
Chiller (walk in) etc…All Crockery * 
Linen Supplied * Central Heating and 
Air Conditioning and much more.  
Can also cater for small groups…. 
For more information please contact: 
Kim Wallace  
Home: 09 832 1133  Mob: 0211275340  
Email: kimwallace@xtra.co.nz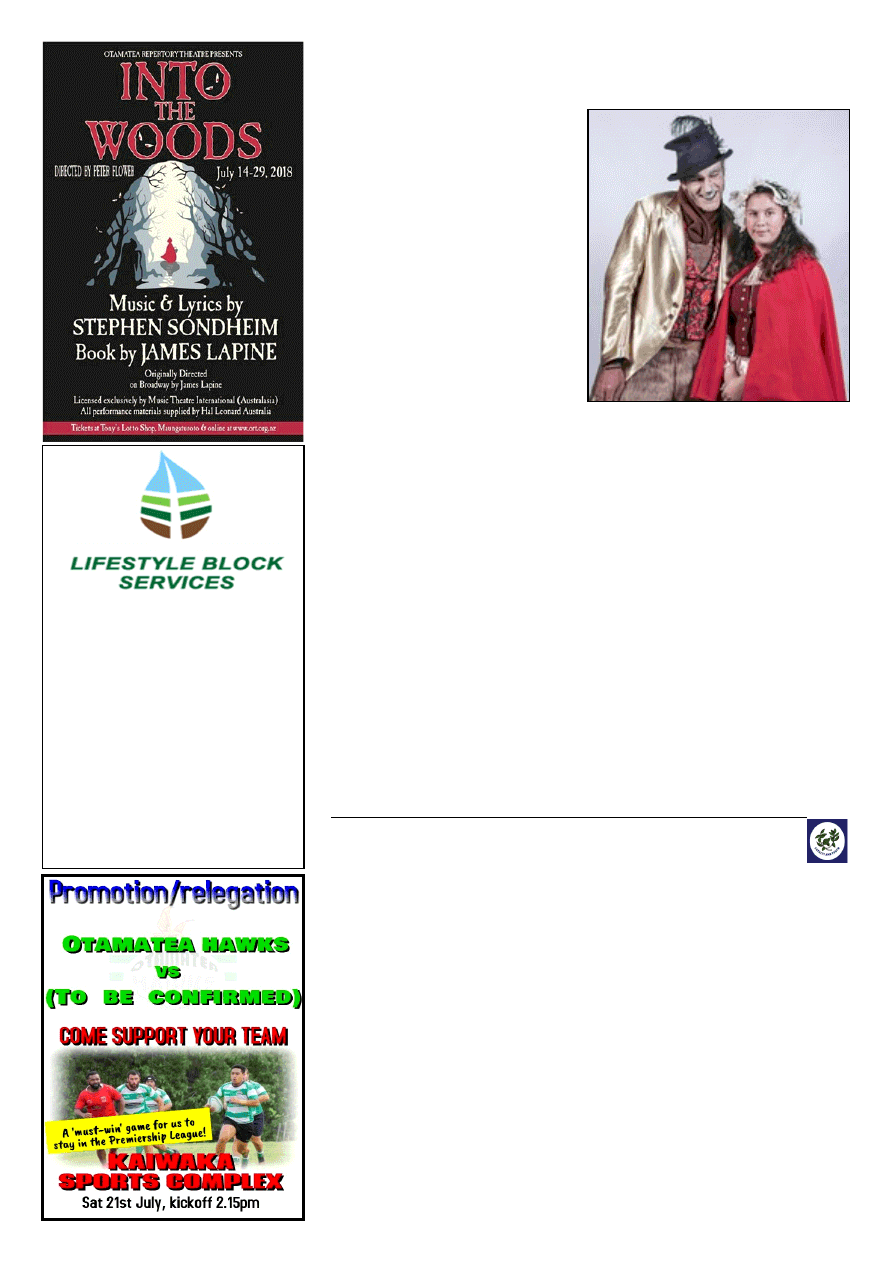 www.kaiwaka.co.nz 
Kaiwaka Bugle - 10 July 2018 
Page 13 
Contact Mark on 021 801 065  
or 
Contact Lisa on 021 108 1057 

 Small HaylSilage Baling & 
Wrapping 

 Fencing 

 Spraying 

  Mulching 
 
Stockwork  

  Stock Water Systems  

 Driveway & Track Maintenance  

 Tree Trimming 
Opening  night-  14  July  -  is  rolling 
around, and 'Into the Woods' is sure to 
be 
a 
perfect 
school-holiday 
entertainment for the family. 
In  fact,  more  than  half  of  the  shows 
will  be  during  the  school  holidays. 
Theatre  lovers  who  come  to  the 
opening  weekend  of  'Into  the  Woods' 
will  enjoy  a  20%  discount.  Some 
conditions  apply  -  you  must  buy  four 
or more tickets, and one ticket must be 
for  an  adult.  This  special  is  for  the 
opening  weekend  only,  and  tickets 
must  be  purchased  at  Tony's  Lotto 
Shop to get the discount, or ring Maura 
Flower 022 354 2670 
This  very  clever  Broadway  Musical 
intertwines  the  plots  of  several 
Brothers 
Grimm 
and 
Charles 
Perraultfairy  tales,  exploring  the 
consequences of the characters' wishes 
and quests. 
The  main  characters  are  taken  from 
'Little  Red  Riding  Hood',  'Jack  and 
the 
Beanstalk', 
'Rapunzel' 
and 
'Cinderella',  as  well  as  several  others. 
The musical is tied together by a story 
involving  a  childless  baker  and  his 
wife  and  their  quest  to  begin  a  family 
and their interaction with a witch who 
has placed the curse on them. 
The  musical  premiered  on  Broadway 
in  1987,  and  it  won  several  Tony 
Awards, 
including 
Outstanding 
Musical, in a year dominated by Lloyd 
Webber's 'The Phantom of the Opera'. 
We  will  be  using  a'  cutting-edge 
orchestral  suite',  the  latest  in 
interactive-musical technology, for the 
musical accompaniment. 
We  have  an  excellent  cast  with  many 
young,  talented  performers.  Our 
theatre  enjoys  air-conditioning  and 
upholstered  seats.  We  have  EFTPOS 
available for your convenience. 
The  season  runs  for  a  total  of  eight 
shows  with  the  final  show  on  Sunday 
29  July  @  2pm.  Tickets  available 
online  at  www.ort.org.nz  or  at  Tony's 
Lotto  Shop  in  Maungaturoto.  Adults 
$28 and school students $15 
Nat Curnow 
Nat enjoys playing the 'bad guy', as he 
feels they are often just misunderstood 
or  a  product  of  circumstance.  This  is 
Nat's  eighth consecutive  year,  playing 
(mostly) the bad guy, with this ORT – 
"a miraculous little theatre company." 
Tyga Daniero 
Tyga lives in Kaiwaka and attends the 
Otamatea  Christian  School.  Last  year 
she  played  the  lead  role  of  Prince 
Verdi  in  pantomime,  'The  Frog 
Prince'.  She  loves  playing  the  role  of 
Little  Red  Riding  Hood,  as  "some  of 
the  things  she  does  are  funny,  and  I 
enjoy the humour in her lines." 
OTAMATEA REPERTORY THEATRE 
'Into the Woods'  
– by Stephen Sondheim, directed by Peter Flower 
Above:  The  Wolf  (Nat  Curnow)  and  Little 
Red Riding Hood (Tyga Daniero) 
OTAMATEA HIGH SCHOOL
Principal's News 
Olla 
Podriga 
was 
once 
again 
outstanding.    Well  done  to  all  the 
performers and a special congratulation 
to  the  prize  winners  -  1st  Place  and 
People's  Choice  Award:  Maddy 
Lemuelu  and  Teighan  LLoydd,  2nd 
Place: Brooke Hutton, 3rd Place: Rose 
Batten,  Highly  Commended:  Kate 
Cotching. 
Uniform  and  other  items:    If  you 
have  any  item  of  school  uniform  at 
home  that  you  no  longer  need  please 
consider  donating  it  back  to  the 
school.    We  run  a  uniform  exchange 
and  the  PTCA  also  sell  second  hand 
uniform,  so  all  items  will  be  put  to 
good use.  If you have other items (eg, 
tramping boots, backpacks for Duke of 
Edinburgh,  calculators)  that  you 
believe  the  school  may  benefit  from 
please  contact  the  school  office  to  see 
if it can be put to good use. 
Traffic safety:  The new speed  
limit  at  peak  school  drop  off  and  pick 
up  hours  is  40  kph  on  Bickerstaffe 
Road. A new 10 bay bus lane will also 
be installed adjacent to the school field 
which  should  further  assist  with 
improving 
safety 
within 
our 
community.    This  is  a  joint  initiative 
between Kaipara District Council, New 
Zealand  Transport  Authority  and  the 
school. 
~Rachel Clothier-Simmonds, Principal
Host Families Wanted 
Otamatea  High  School  is  looking  for 
families  of  all  kinds  who  might  be 
interested  in  hosting  international 
students for short or long stays. If you 
are  interested  in  hosting  any  one  or 
several  of  these  students,  please 
contact:  Heather  Troost,  International 
Student  Director,  Otamatea  High 
School, 
021 
080 
98222 
or 
heather.troost@otamatea.school.nz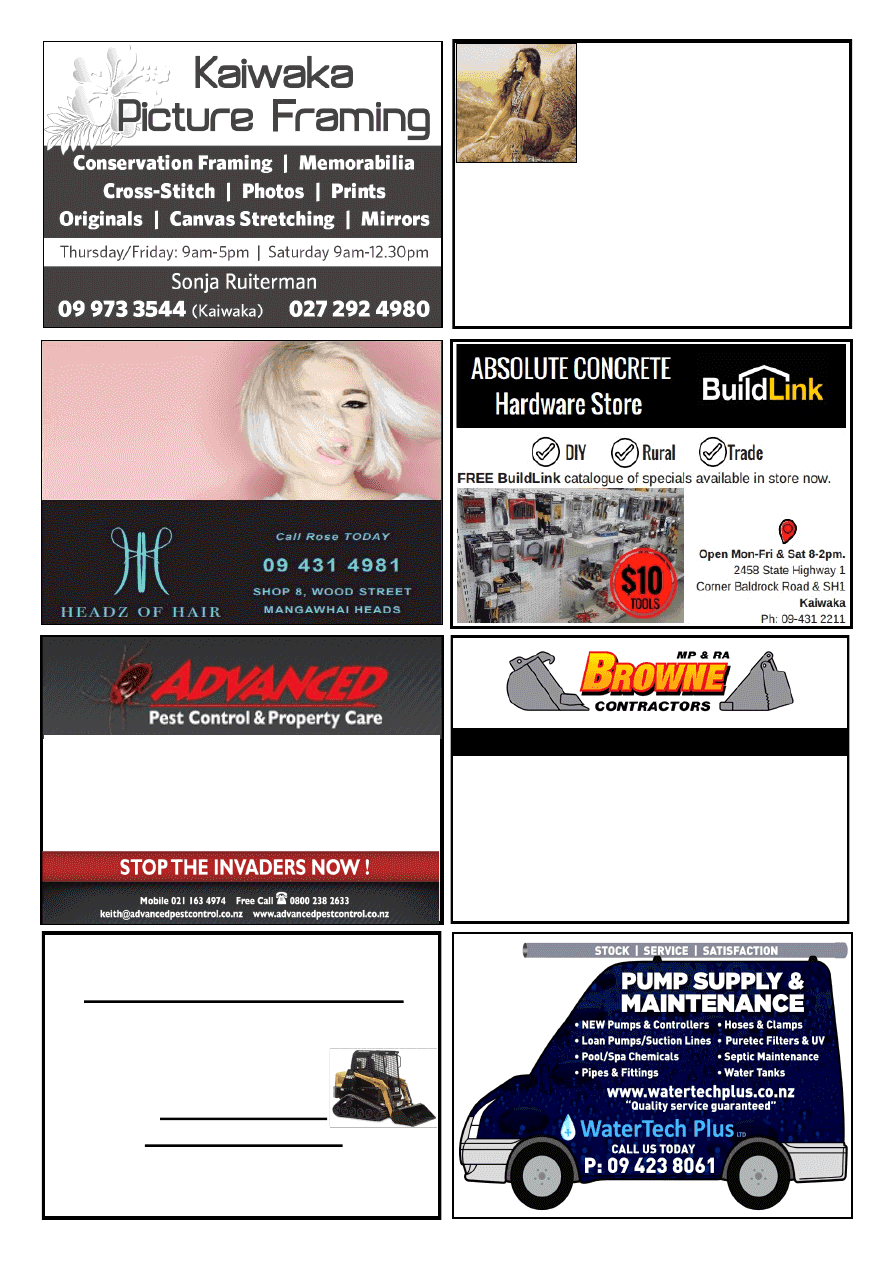 Natural Earth Ltd 
Landscape and Bobcat services 
 : Driveways :Landscaping :Retaining Walls 
 : Hole Boring: Land Levelling :Trenching 
 : Decks :Fences :Sections Cleared 
 : Plus much more
Tel 09 4312 885 
Mob 02102391280 
For A Fast Friendly Service  
Contact Tim Hicks 
4T DIGGER – BOBCAT – TIP TRUCK 
Property Maintenance - Driveways  
 Building Sites 
Stump & Tree Removal  
Hole Boring - Chain Trencher  
Calf Shed and Stockyard Cleaning 
Phone Matt: 021 199 6677 
Email: mprabrownecontractors@gmail.com 
Trails end 
spiritualist gathering 
Last Sunday of every month  
10.30-2pm  
Tea/coffee provided  $5 koha 
For all inquiries: 
021 165 2629 evenings (09) 945 0707 
Trail.end@hotmail.com 
1758 Cove Road, Mangawhai
Bringing together like-minded people 
Guest speaker each month
Pest Control 
PLAN A: One-off treatments to customers with a specific pest problem 
PLAN B: Full maintenance service plans to commercial customers. 
This will include documentation kept in customer file on site: 
⚫
Pest treated 
⚫
Date of service 
⚫
Chemical or baits used 
⚫
Full pest check report done after each treatment 
⚫
Fair and reasonable fee with guarantee 
Flood Recovery 
Carpet Care 
⚫
Carpet Drying 
This includes pre-spray treatments 
⚫
Dehumidifier Rental 
with stain removal and hot water extraction.  
⚫
Full Commercial Cleaning  Patch repair also available 
Upholstery Cleaning 
Full upholstery cleaning of all furniture.  
eg lounge suites and all office chairs 
Water Blasting 
⚫
Concrete - Decks 
House Washing 
⚫
Soft Chemical Was 
⚫
Pre-painting Wash 
Property Services 
⚫
Property Cleaning  Lawn Mowing 
⚫
Hedges General   Tidy Ups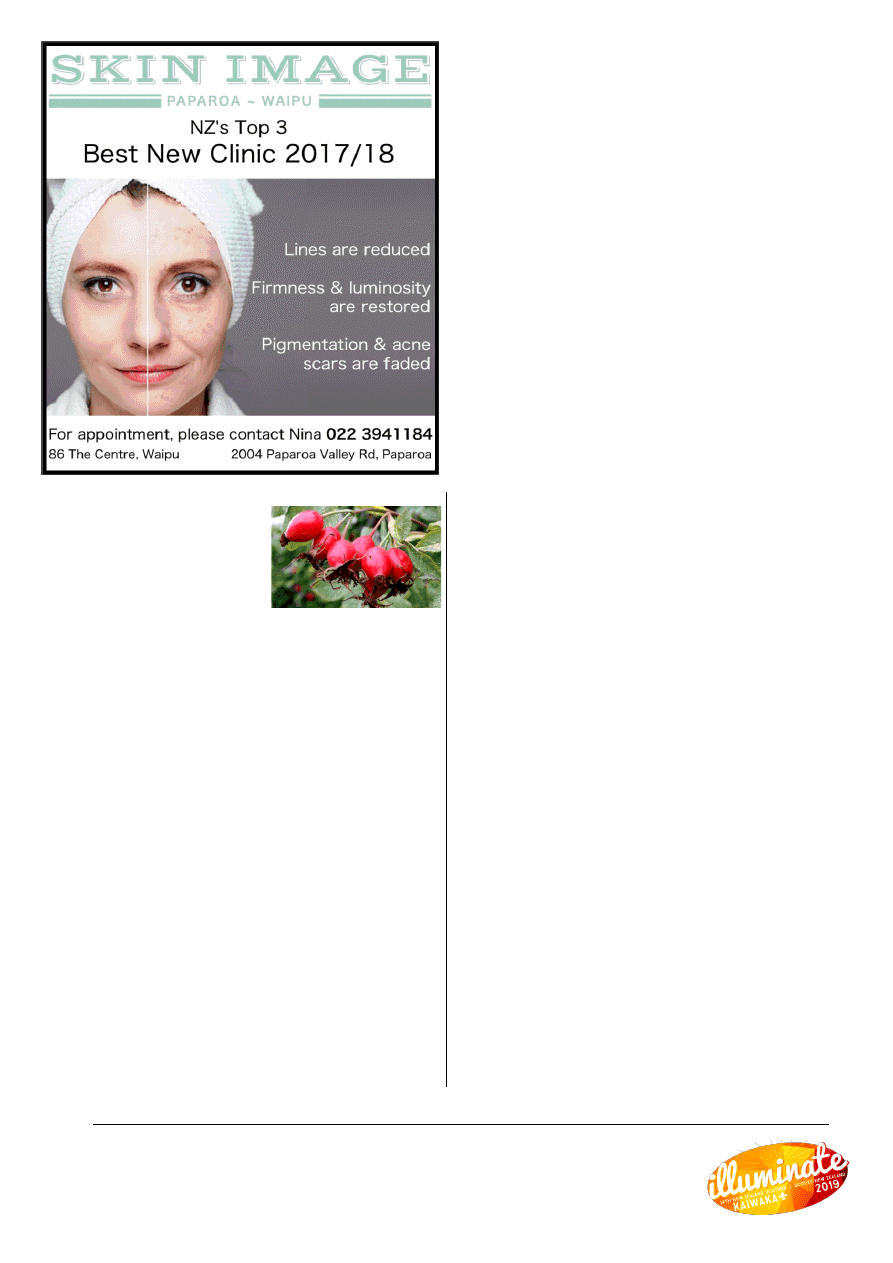 www.kaiwaka.co.nz 
Kaiwaka Bugle - 10 July 2018 
Page 15 
ROSEHIP SEED OIL  
As  a  skin  therapist,  I  use 
Rosehip  Seed  Oil  in  my 
treatments  and  prescription  all 
the time, yet I had no idea where 
it  came  from  or  what  it  looked 
like  in  its  raw  form,  until 
recently on a trip to Wanaka… 
We were driving from Wanaka to Dunedin and decided to 
pull over to take photos of all the reds and golds on the hill 
side, and when I stepped back for a better shot, I stepped 
into  this  thorny  bush  and  let  out  a  swear  word  just  when 
my husband said "careful of the rosehip bush". I stopped in 
my tracks and said "what makes you think that's a rosehip 
bush?"  I  was  a  bit  confused  because  rosehip  conjures  up 
images  of  a  pale  liquid,  rich  in  omega-3  and  omega-6 
which I use in my skin treatments. 
To  me  rosehip  is  a  beautiful  oil  in  a  bottle,  not  a  thorny 
bush with little red berries on the hillside in Central Otago. 
I  got  talking  to  some  locals  and  apparently  the  Chinese 
gold miners brought the rosehip plants to NZ and used the 
rose hips in their teas during the winters to ward off colds 
and flus because the rose hips are also rich in antioxidants 
including  Vitamin  C,  flavonoids,  polyphenols  and 
carotenoids. 
If  you  go  to  Central  Otago  in  April,  you  will  see  the 
hillsides  covered  in  rosehip  bushes  with  their  pretty  red 
berries. I picked a handful and boiled them in green tea, it 
had a nice clean but rather bitter taste. 
The oil used in skincare is extracted from the tiny seeds of 
the  rose  hips.  It  contains  high  concentrations  of  essential 
fatty acids which is needed for cellular membrane and skin 
regeneration  and  it  is  the  only  oil  that  contains  trans-
retinoic acid, the precursor of Vitamin A. I use a pure form 
of  rosehip  seed  oil  to  treat  photo  damaged  skin,  lipid  dry 
skin and skin with diffused redness. 
I'm not sure if the rosehip bushes in Central Otago are the 
exact species used to manufacture the oil used in skincare 
but I was so happy I got to see, touch, feel and taste rose 
hips.            ~ 
Nina Quan, Skin and Beauty Therapist 
GETTING THERE PIECE BY 
PIECE  
Updating the work of Kaiwaka Can 
This  past  month  has  been  a  quieter  one  for  Kaiwaka  Can. 
But little by little, we are getting through the many projects 
that are in the Township Improvement Plan and also other 
projects that aim to make Kaiwaka a better place to live. 
Playground fence  
At  long  last,  the  playground  fence  seems  to  be  about  to 
happen. We have had delays for all sorts of reasons but are 
ready now to start painting the posts and palings and get the 
corner posts in the ground. If anyone would like to be part 
of  a  working  bee  to  help,  especially  with  painting,  get  in 
touch with me at the number below. 
Tree planting 
Planting took place on Friday along the western side of the 
highway, from the old post office (Leabourn's Bus Depot) 
area  down  to  Oneriri  Road.  This  matches  the  planting  of 
trees on the other side above the hotel. When these trees are 
grown, it will give a far softer look to Kaiwaka for people 
travelling through. 
You  will  have  noticed  the  changes  in  the  carpark  outside 
Mormors. This is to brings exiting cars round at right angles 
to  the  Highway,  making  this  very  dangerous  exit  safer. 
Sadly, it has cost another of our precious carpark spaces but 
we  are  looking  at  other  options  to  increase  the  number  of 
places to park. 
We  have  been  working  to  get  action  on  the  Oneriri  Road 
intersection,  notorious  for  its  difficulty  and  the  traffic 
tangles  caused.  Unfortunately,  we  are  not  getting  very  far 
because  there  don't  seem  to  have  been  enough  serious 
injuries! I thought the thinking behind traffic planning was 
to prevent accidents happening, not just form a memorial to 
ones that have already happened! 
Pest plants 
Northern Regional Council is getting really involved in pest 
plant  eradication.  A  small  group  in  Kaiwaka  Can  has  the 
same aim and anyone who would like to be part of such a 
group should get in touch. 
We  are  working  with  Jenny  Rooney,  our  new  Council 
representative, to plan ahead on the Township Improvement 
Plan  but  we  are  also  looking  at  the  wider  picture  of 
Kaiwaka development so that we can meet changing needs 
in  a  timely  fashion.  You  will  all  be  aware  of  the  growth 
taking place in and around Kaiwaka. The school enrolments 
are  just  one  indication  of  how  many  new  people  are  in 
town. 
We are looking at incorporation as a society, so that we will 
be  able  to  access  a  wider  range  of  funds  from  various 
sources. So far over three and a half years we have operated 
on a nil budget with no expenses. 
Almost all of our projects have been funded out of various 
Council  budgets  for  which  we  are  most  grateful.  But  we 
have more to do than their budgets will stretch to. 
Monthly meetings - 5.30pm on third Wednesday 
Our  monthly  meetings  have  been  changed  from  Monday 
evening  to  Wednesday  evening,  third  Wednesday  each 
month  at  5.30pm,  open  to  everyone.  We  have  lost  our 
secretary,  Ian  Leighton,  who  has  done  a  great  job  for  us 
over  the  past  two  years.  We  will  miss  his  faithful  service 
and rapid production of minutes each month. Look forward 
to  seeing  other  newcomers  over  the  next  few  months.  We 
plan a community consultation along with Council probably 
in October when everyone can have their say on what has 
happened and what needs to happen. 
Derek Christensen (Chair) 
Ph 099469077 or 0273572751. 
ILLUMINATE KAIWAKA 
Illuminate 2019 is coming to Kaiwaka 
And the organisers are coming to meet you! In five months time we plan on tripling Kaiwaka's population.  
We'd like to tell you a little about this event and share our plans with you. We are keen to hear the thoughts 
and ideas of the community. All welcome. 7pm, 10 August, Kaiwaka Sports Complex. 
14th New Zealand Venture SCOUTS New Zealand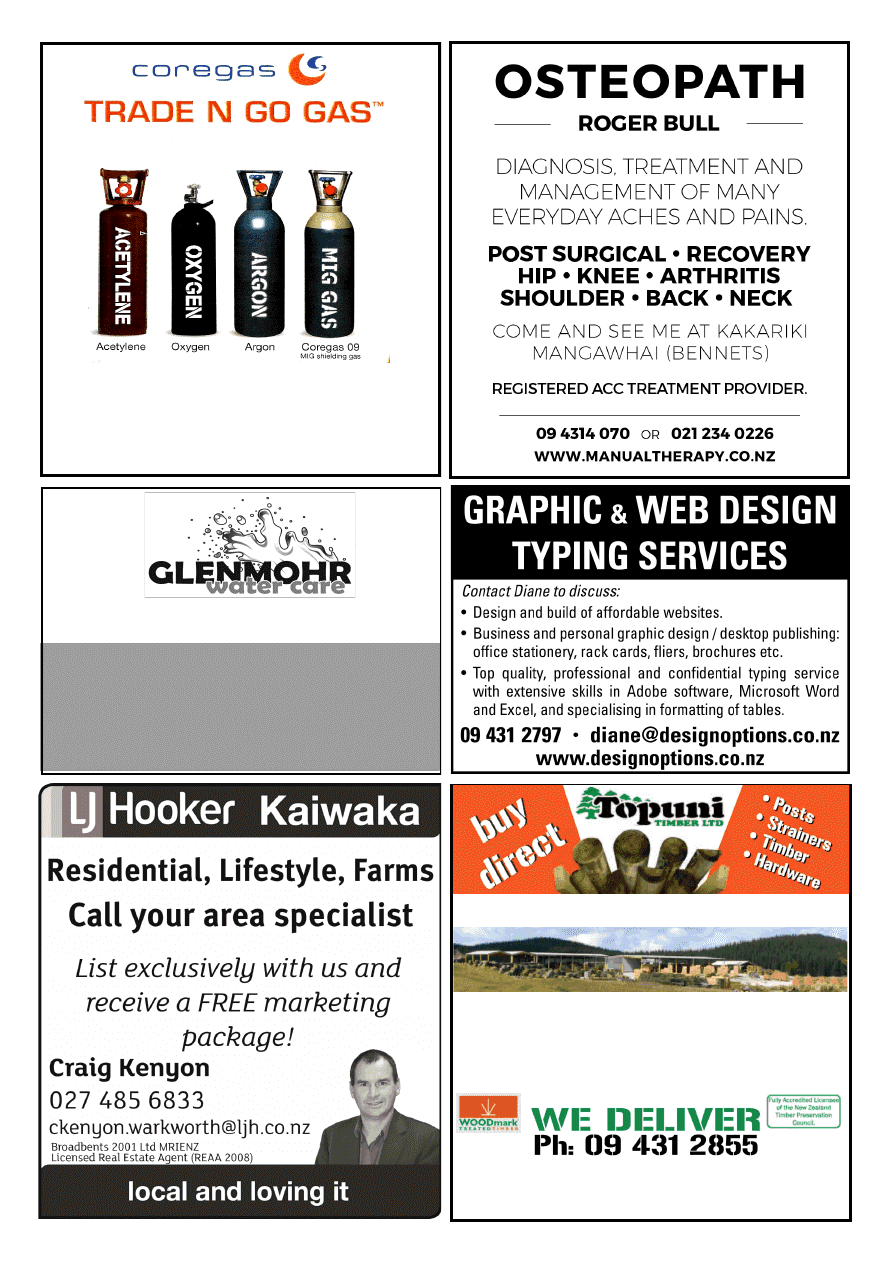 Water Tank Cleaning 
• 
Keep your water safe & clean  
• 
Removal of sediment, silt etc. 
• 
Vacuum or full scrub 
• 
Minimal water loss 
Phone Mark (09) 432 0655 or 0274 707607 
Now available at Twinkle Tow n' Tyre 
Mob: 021 833 960 
Ph & Fax: 09 431 2823 
1837 State Highway 1, Kaiwaka 
LOCALLY OWNED AND OPERATED 
QUALITY PRODUCTS • FRIENDLY ADVICE • GREAT SERVICE 
Quality Products milled from High Density NORTHLAND Radiata Pine. 
Treated and guaranteed to NZS3640 with commitment to 
Environmental Safety.
Phone, fax, email, or come into the mill 
Schiska Rd, Topuni, SH1, 10 min north of Wellsford. Fax: 09 431 2856 
Email: sales@topunitimber.co.nz           Mon - Fri 7am-5pm 
• Fencing 
• Retaining 
• Decking 
• Landscaping 
• Gates 
• Hardware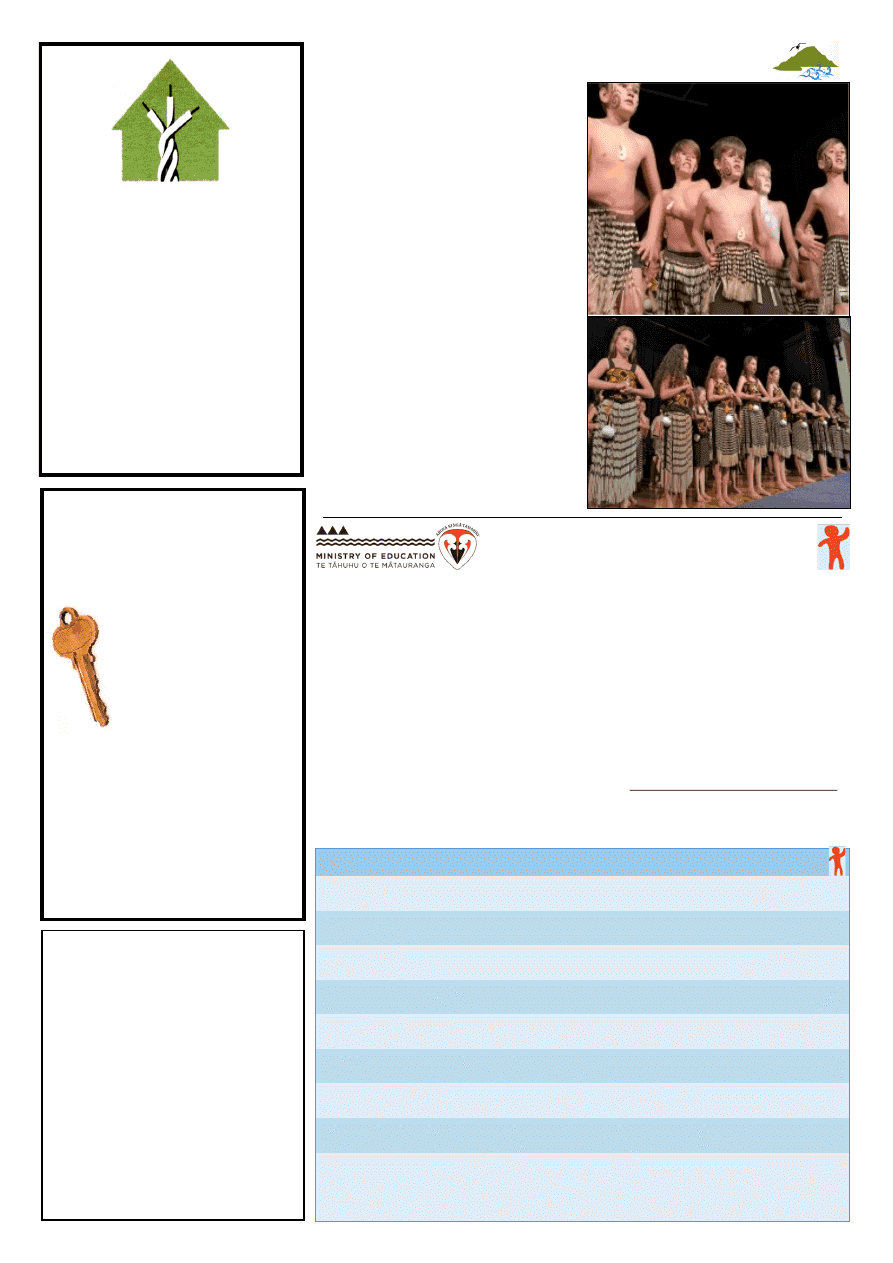 www.kaiwaka.co.nz 
Kaiwaka Bugle - 10 July 2018 
Page 17 
Reyahn George 
Leng 
Registered Electrician 
Local, honest and 
reliable. 
For your residential and 
light-commercial 
projects. 
022 314 1068 
Kaiwaka 
Hardware  
& 
Key cutting
Phone 4312 063  
or 022 0642 703
kaikey2015@gmail.com
    Keys Cut  
Household Hardware  
Sharpening  
Knives & Tools 
Curtain Tracks & Fittings
Not there? Call Doug and he'll 
sort
it for you. 
(
Next to Kaiwaka Motorcycles)
HELP 
PHONE NUMBERS 
HEALTHLINE:  
0800 611 116 
SAMARITANS:  
0800 726 666
YOUTHLINE:  
0800 376 633 
LIFELINE     
0800 543 354
DEPRESSION HELPLINE:  
          0800 111 756 
ALCOHOL & DRUG HELPLINE:   
 
0800 787 797 
URGENT MENTAL HEALTH LINE:  
 
0800 223 371
The  Ministry  of  Education's  Learning 
Support  Service  (previously  known  as 
Special  Education)  has  been  working 
with 
your 
Schools/Kura, 
Early 
Childhood, Te Rūnanga o Ngāti Whātua 
and  Te  Uri  o  Hau  to  provide  Te Arahi 
better  support  to  children  who  need 
additional help with their learning.  
We are working in a different way so that 
children  who  need  additional  support, 
access  this  as  quickly  as  possible. 
Difficulties  with  learning  might  include 
language  and  learning  delay,  social  and 
emotional  difficulties,  behaviour  and 
wellbeing. 
What is happening? 
We have set up Support Hubs (called Te 
Manawa  Tahi)  in  various  locations  in 
your  community.  Te  Manawa  Tahi  have 
specialists  available  so  you  can  discuss 
your  concerns  directly  with  them  and 
determine what may be required to help.   
Te Arahi will be flying on a flag outside 
each Te Manawa Tahi venue. 
When is this happening? 
Please  see  the  timetable  below  for 
information  on  when  and  where  Te 
Manawa  Tahi  will  be  in  your 
community. 
Our team will be available between 9:30 
am to 2:00 pm.  You can ring and make 
an  appointment  by  calling  0800  52484 
256  or  your  School  /  Kura  /  Early 
Childhood 
centre 
can 
make 
an 
appointment for you. You can also email 
us  at  TT.Support@education.govt.nz  or 
visit  our  Facebook  page  "Te  Manawa 
Tahi 
Tai Tokerau" and keep an eye out 
for our updates and helpful resources. 
Support for children having  
difficulty learning  
  25 July 2018 
 Maungaturoto Primary School   
8 Gorge Rd, Maungaturoto 
 9:30am to 
2:00pm 
 1 August 2018 
 Mangawhai Museum Village 
 Molesworth Dr, Mangawhai Heads 
9:30am to 
2:00pm 
 8 August 2018 
 Paparoa School   
14 Franklin Road, Paparoa 
9:30am to 
2:00pm 
 15 August 2018 
 Archie Bull Hall Kaiwaka-St.Pauls Church    
11 Kaiwaka-Mangawhai Road, Kaiwaka 
9:30am to 
2:00pm 
 22 August 2018  
 Maungaturoto Primary School    
8 Gorge Rd, Maungaturoto 
9:30am to 
2:00pm 
 29 August 2018  
 Mangawhai Museum Village 
Molesworth Dr, Mangawhai Heads 
9:30am to 
2:00pm 
 5 September 2018    Paparoa School   
14 Franklin Road, Paparoa 
9:30am to 
2:00pm 
 12 September 2018    Archie Bull Hall Kaiwaka-St.Pauls Church    
11 Kaiwaka-Mangawhai Road, Kaiwaka 
9:30am to 
2:00pm 
 19 September 2018      
 Maungaturoto Primary School    
8 Gorge Rd, Maungaturoto 
9:30am to 
2:00pm 
26 September 2018      Mangawhai Museum Village 
Molesworth Dr, Mangawhai Heads 
9:30am to 
2:00pm 
Te Manawa Tahi Timetable 
Date 
                            Hub Location 
                                    Appointment Times  
KAIWAKA SCHOOL  
Next  term  we  welcome  Zerelda  Pirini 
onto our staff. Zerelda will be teaching 
in Room 4, to replace Anna Elworthy, 
who is leaving to travel overseas.  
What  a  fabulous  day  at  the  Te  Uri  o 
Hau  Matariki  Kapa  Haka  Festival  last 
Saturday.  It  was  wonderful  having  so 
many students and their families there. 
Our  kids  performed  magnificently. 
Thank you for supporting our school. 
Our  school  roll  is  growing  very 
rapidly. We now have 158 students and 
will  have  quite  a  few  starting  next 
term. If you have a pre-schooler due to 
start in the next two years, please let us 
know urgently. We need to plan and be 
ready for the future. ~ Rosie Ellis 
Upcoming events 
23 July: Start of Term 3 
31 July: Science Road Show for senior 
students at OHS. 
9 August: OHS Open Day 
16 August: School Fun Run  
22 August: Enrolments at OHS 
AND 
23 November: School Twilight Gala 
6-7  December:  Noho  Marae  at 
Otamatea Marae.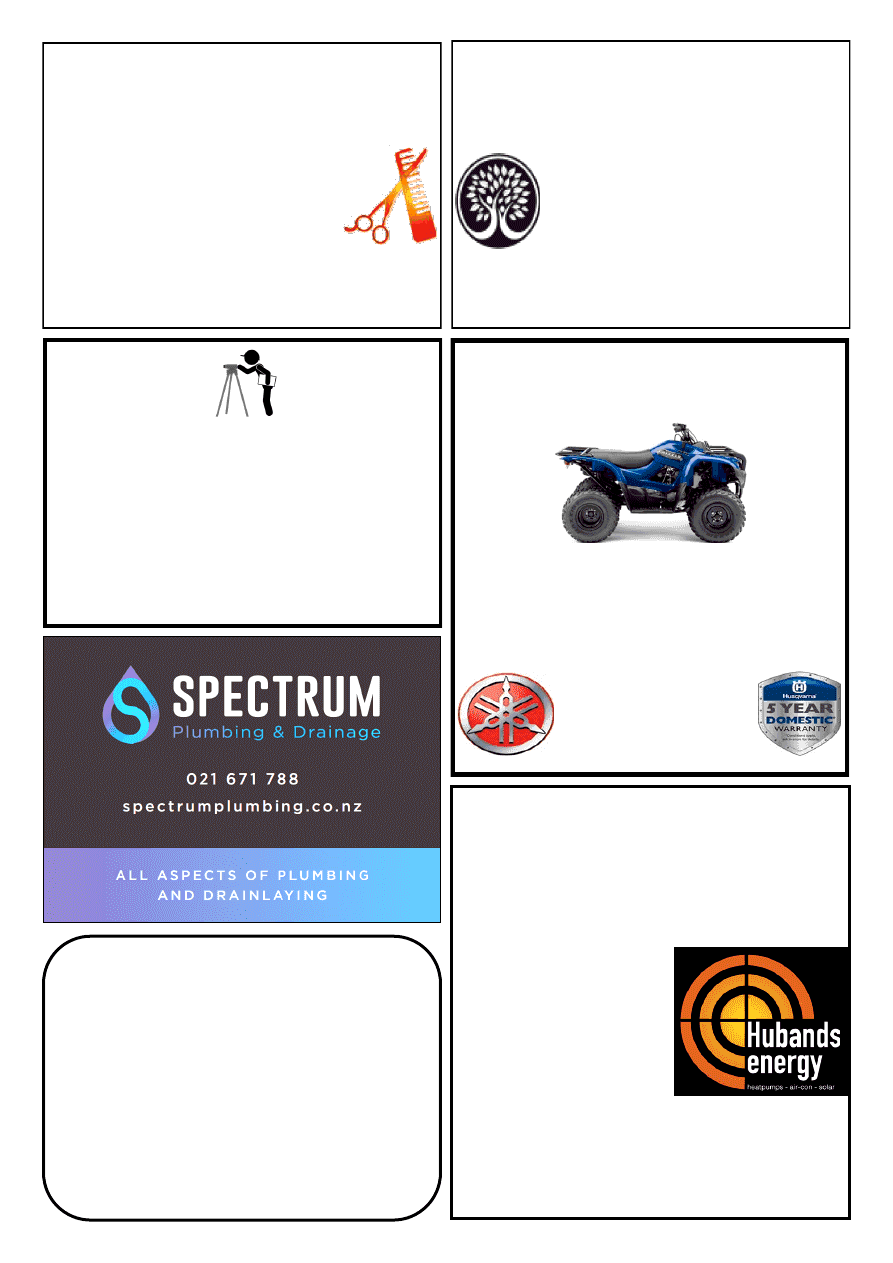 KAIWAKA 
MOTORCYCLES LTD
SALES – SERVICE – SPARES 
FARM BIKE SPECIALIST
PHONE 09 431-2127 
10 KAIWAKA-MANGAWHAI ROAD, KAIWAKA
Trimmers  
from $279
Chainsaws  
from $339
YAMAHA 
HUSQVARNA 
Northland's Award Winning 
Solar Company
SEANZ Best Solar Business Winners 2015/16
EXCLUSIVE 10 year installation warranty 
FREE No obligation onsite quote
Complete systems 
from $5990
See our range of: 
✓ 
Heatpumps 
✓ 
Airconditioning 
✓ 
Hot Water 
Heatpumps 
✓ 
Central Vacuum Systems
09 430 0019             sales@hubands.co.nz 
15 Kioreroa Road, Whangarei
Locally owned and operated for 35 years 
UP-LINK 
CHRIS WARING 
FREEVIEW INSTALLATIONS 
T.V. - HOME THEATRE &  
HI-FI ADVICE/SET UP
SKY ACCREDITED INSTALLER
MOB.0273403747 HM.094312328 
EMAIL cwaring44@gmail.com
28 YRS EXPERIENCE 
OFFERING UNBIASED ADVICE 
Ken Urquhart 
BSurv Licensed Cadastral Surveyor 
KMU Surveys Ltd
467 Bickerstaffe Road 
RD 2 
Maungaturoto 0587 
Ph 09 431 8705 
Mob 021 161 2344 
kenurquhart@xtra.co.nz 
AFFORDABLE PRICES! 
MENS CUT FROM $20.00 
LADIES CUT FROM $30.00 
KIDS CUT FROM $18.00 
COLOUR & CUT FROM $120.00 
JUST CUTS'AND   
MORE 
021 165 2629 or (09) 945 0707  
NOW SELLING: scented tealights, incense, smudge sticks, 
copper bracelets, aurora ball crystals, dream catchers, healing 
stones, rose quartz, cds, and much more. Open 6 days. 
Waipu Natural Health 
3 Cove Road, Waipu  (opposite the Pizza Barn) 
Ph: 09 432 1325 
www.waipunaturalhealth.co.nz
Clinical Nutritionist-Hair Analysis for Masked 
Allergies, Ozone Therapy, Prolotherapy, 
Naturopath-Medical Herbalist, Registered 
Massage Therapists, Reflexology-
Craniosacral Therapy, Acupuncture-Facial 
Acupuncture, Kineso Taping, Hypnotherapy, 
Counselling, ThetaHealing/Change Catalyst.
AFFORDABLE CONSULTS FOR KIDS – give us a call
Gift Vouchers available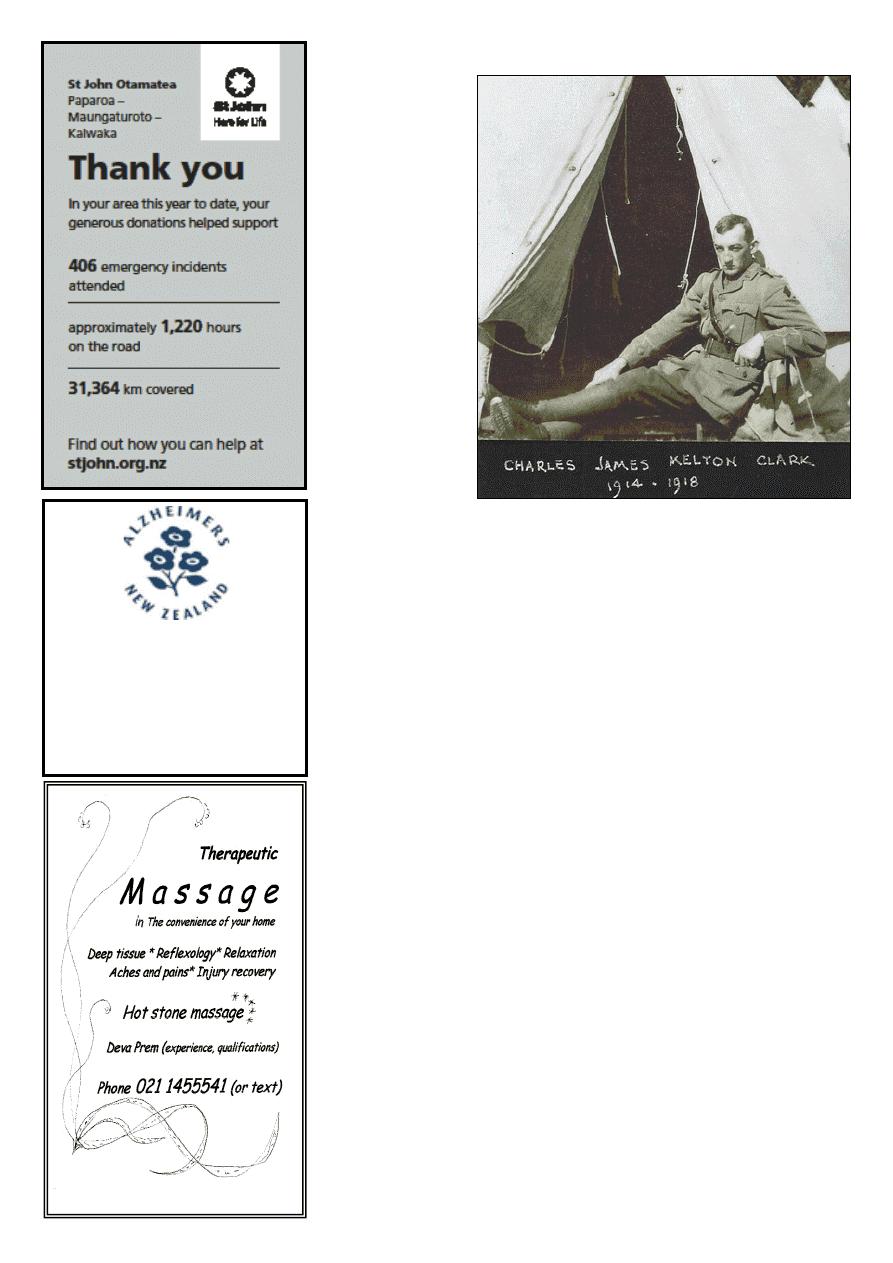 www.kaiwaka.co.nz 
Kaiwaka Bugle - 10 July 2018 
Page 19 
TELL YOUR STORY:  "MELTON CLARK"
There  was  a  bush 
camp  at  the  Tara,  a 
property  not  very  far 
from 
Mangawhai 
which 
was 
subsequently  farmed 
by  the  Wintle  family. 
The  old  Rev.Wm. 
Gittos  a  Wesleyan 
itinerant 
preacher 
while  passing  through 
Kaiwaka  heard  that 
during a booze-up one 
of  the  chaps  had 
collected  a  crack  on 
the  nut  with  an  axe 
and was reported to be 
in a pretty bad way, so 
as  he  had  sufficient 
medical  knowledge  to 
get by he rode down to 
the  Tara.  He  related 
that the camp was in a 
state of drunken stupor 
except  the  victim  who 
was  unconscious  and 
his  wound,  which  was 
a nasty one, was fly blown. So, the old 
Rev  dragged  the  men  one  at  a  time 
down  to  the  creek  and  soused  them 
until  they  were  sufficiently  sober  to 
construct a stretcher out of sacks and a 
couple of saplings. Then came the long 
carry,  in  relays,  across  country  to  the 
Mangawhai  Pub  where  the  grog  had 
come  from.  The  publican  was  called 
outside  and  told,  "Take  a  look  at  your 
handiwork!"  "You  will  take  this  poor 
fellow in, you will nurse him, and you 
will feed him, and you will not charge 
him  a  penny  piece,  and  if  he  should 
die, I will swear an information against 
you for being an accessory to a murder 
charge."  
On  hearing  the  tale  from  the  Rev, 
Melton 
Clark 
announced 
"You 
couldn't make a charge like that stick". 
The  Rev  replied  with  a  huge  smile  on 
his  old  weather-beaten  dial,  "You  are 
quite  right,  but  the  ignorant  publican 
didn't know I was bluffing, did he?"  
Incidentally  the  bushman,  due  to  not 
having a great deal of matter inside the 
skull  which  could  be  injured,  even  by 
an axe, recovered. One curious custom 
in the early days, was the building of a 
bach  on  another  person's  land  with 
apparently  no  certainty  of  tenure,  no 
right  of  removal  or  chance  of 
compensation  should  the  owner  of  the 
land  or  his  successor in title say,  "Get 
Out!" 
One  such  builder  was  a  Scandinavian 
Swede  called  Johnson  who  had 
deserted from a whaler and since lived 
among  the  Maori  for  many  years 
before finally settling. As far as known, 
he had no income except for a few bob 
he picked up from time to time doing a 
job  for  one  of  the  settlers  or  selling 
some  fish.  He  was  in  the  habit  of 
blowing into Ivon's place at meal times 
where he was always assured of a good 
feed.  He  was  an  old  bloke  completely 
devoid  of  humour,  a  'liar  de'luxe'. 
Ivon was discussing sporting dogs with 
his  mate  one  evening,  old  Johnson  sat 
in  the  corner  of  the  kitchen  saying 
nothing. Finally, he broke in "Vell dey 
ver  pretty  good  dogs  but  not  good  as 
my vun. I vas out in de Towai an I miss 
my dog. Vell I tink he will come 'ome 
ven  he  is  good  an  ready,  but  he  no 
come!  Nex  year  I  vos  in  the  Towai 
again an vot you tink  I see? Dere in a 
hollow  rush  vas  the  skeleton  of  a 
pheasant, and der still pointing at him, 
vas the skeleton of my dog. Now vould 
you believe dat?" On another occasion 
I  was  explaining  the  merit  of  a  point 
two  two  gun,  Johnson  broke  in  with 
"Vell, I had a smoodbore rifle vunce". 
Melton  corrected  him,  saying  that  a 
rifle  could  not  be  a  smooth  bore, 
explaining why. "She ver a smood-bore 
rifle",  he  persisted,  so  left  to  box  on. 
"Vell  I  vas  out  an  I  see a pigeon  on a 
tree. I fire an down he fall. I pick him 
up an valk a little bit fuder and dere vos 
anudder  vun.  An  would  you  believe  it 
or not, ven I valk still fuder der lay de 
turd."  He  was  told  firmly  that  they 
believed  the  very  last  couple of  words 
in his story. 
~  by  B  Lawrence.  Photo  above  is  my 
grandfather, C.J.M. Clark, while in the 
N.Z.E.F 1916.  
"TELL YOUR STORY" 
A  group  of  friendly  folk  all  interested  in 
writing  meet  alternate  Thursdays  in  the 
Mangawhai Village  Library, just down the 
road  from  Kaiwaka,  to  tell  their  story  and 
meet  other  folk  interested  in  writing...or 
poetry... or limericks ...or script writing for 
film. Learn how to publish yours. 
All  welcome. 
For  more  information  on 
'Tell  Your  Story'  contact  Bruce  on 
09 
4801949 
www.mangawhaimassage.co.nz 
Alzheimers Society Northland Inc 
ALZHEIMERS SUPPORT 
GROUP 
Meet on 2nd Wednesday  
of each month 
11am - 12pm at the 
Mangawhai Golf Club Rooms 
Phone 0800 004 001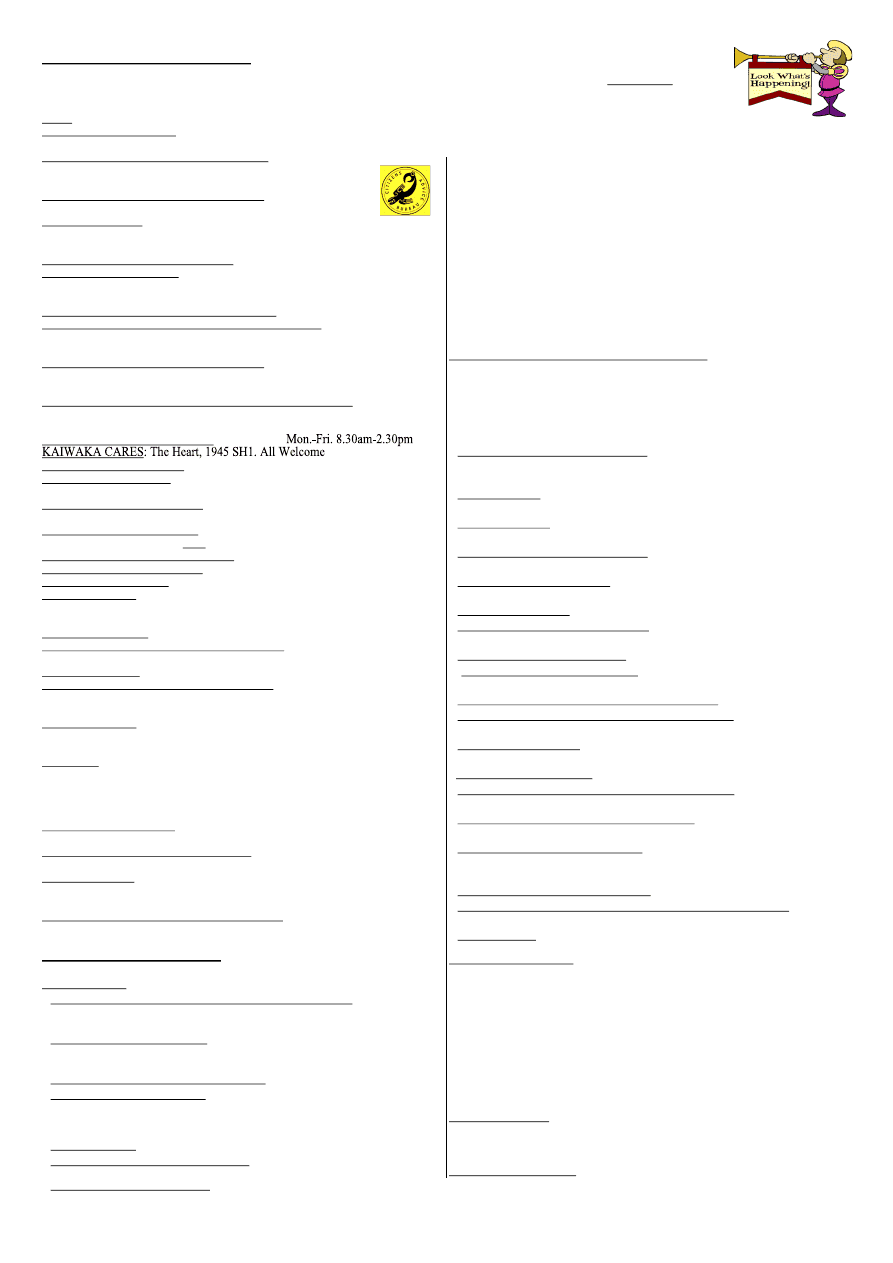 Next Bugle Deadline midday Friday 20 July  2018
WHAT'S ON
PLEASE ~ do let us know what is on - email 
kaiwakabugle@kaiwaka.co.nz 
*13Jul~Movie:'Game Night' KWMH, 7.30pm 
*14Jul~Opening Night 'Into the Woods'. ORT, 7.30pm 
*14Jul~Movie: Black Panther', KWMH, 5.30pm 
*17Jul~Movie: 'Shot Bro' KWMH, 7-9pm 
*18Jul~Kaiwaka Can meet. Archie Bull Hall, 5.30pm 
*20Jul~Movie :'Pecking Order', KWMH, 7.30pm 
*23Jul~School Term 3 begins. 
*27Jul~Working Dog Training, Oneriri Station, 10am 
*27Jul~Movie :'No Ordinary Sheila', KWMH, 7.30pm 
*29Jul~Movie :'A Wrinkle in Time', KWMH, 2pm 
*7Aug~Otamatea High School OPEN DAY -Yr9 to 13 
*9Aug~Otamatea High School OPEN DAY - Yr7&8 
KWMH = Kaiwaka War Memorial Hall; KSA = Kaiwaka Sports Association 
See www.kaiwaka.co.nz for more information 
HOUSEHOLD RUBBISH COLLECTION  
Kaiwaka Pick up: 
Mondays = Green bags (Northland Waste - 09 430 3273) 
Wednesdays  = Blue bags and yellow recycling (at Jaques $3.00 
and  $1.50)  (Kaurilands  09  4392146);  ONLY  Blue  and  Yellow 
bags picked up on Oneriri Road. 
 DIABETES  Support  Group  -for  Kaiwaka,  Mangawhai, 
Wellsford  10am,  3rd  Friday  of  month  Ph:  Colleen  James  09 
4314238 
 DRINK CAN 'tear tabs' - for Starship Hospital- please collect - 
98 Kaiwaka Mangawhai Rd, leave in mailbox, Ph. 4312625  
 GENEALOGY - Wellsford: 1st Thursday in month Ph: 423 
7033; Waipu: 4th Monday in month Ph: 4312 725 
 GYMNASTICS  OTAMATEA  -  Tuesday  Ph:  Stephanie  022 
3624998 
 HAKARU PONY CLUB - Secretary Denise Rogers 021423376 
secretary@hakaruponyclub.co.nz  
 KAIPARA HUNT - Secretary Albert Doonenbal Ph 4312059 
 KAIPARA YONG FARMERS - K Danks  0211598453, meet on 
last Thursday of the month at Three Furlongs Bar & Grill 
 KAIWAKA BADMINTON -Tuesdays 7.30pm Ph: 4312345 
 
 KAIWAKA DRAMA CLUB - 
Hannah Webb 
0272863352
- KaiwakaDrama@gmail.com - FB - "KaiwakaDramaClub" 
 KAIWAKA DRUM & DANCE CLASSES - 021 611198 
 KAIWAKA GARDEN & FLORAL GROUP - 2nd Thursday in 
month. Ph: 431 4744 
 KAIWAKA  CUBS  -  Thursdays  5.30-7pm,  Hakaru  Ph:Bruce 
4312542 
*KAIWAKA PILATES - Ph: 021 2072729. 
 KNITTING FOR WHANGAREI HOSPITAL - 2nd Tuesday in 
month, Archie Bull Hall 10am Ph 4314827 
 MANGAWHAI COMBINED REBUS CLUB - 2pm, 3rd 
Thursday month, Senior Citizens Hall Mangawhai. Ph: 4315777 
 OTAMATEA GREY POWER - Kath Pattinson 09 283 2052, 
1pm last Wednesday of month, Anglican Church Hall, 
Maungaturoto 
 PT CURTIS CRUISING CLUB - Jean Ph: 4312227 (wk), 4312520 (hm) 
 RSA,  HAKARU  &  DISTRICTS  WOMEN'S  SECTION  –  meets 
1.30pm 4th Thursday of the month. Ph: 431 5818  
 TRAMPING - Mondays 9am-2:30pm Maria 4312 234 
HALLS FOR HIRE: 
 St.Pauls Archie Bull Hall HIRE $20 half day, $40 full day per 
hire, S McAulay, Ph 4312311 
 Kaiwaka  War  Memorial  Hall  HlRE  -  Phone  4312725  or 
kaiwaka.hall.bookings@gmail.com 
 Hakaru Community Hall HIRE -Ph. 4312256 or 4312110 
 Te Pounga Marae queries - R. O'Leary 4312 423, J.Nathan 021 
186 7382 
 Kaiwaka Sports Association hire/queries - C. Anderson 4312051 
or kaiwakasports@gmail.com 
Justice of Peace:  
B.FJaques  4312  048;  L.Donaldson  4312  228;  A.F.Hargreaves 
4312 045, W.Howard 4312 725 - please phone to make sure they 
are available www.justiceofthepeace.org.nz 
Marriage Celebrants:  
L.Donaldson; A.F.Hargreaves; Y Osborne
LOCAL SERVICES 
*Emergencies - Ambulance, Fire, Police - dial 111 
*Non-urgent Police phone 09 4311150
A A: Meets Wed., 8pm Kaiwaka Ph: 4315543, 0800229 6757 
ASUREQUALITY LTD (was AgriQuality) Call Free 0508 0011 22  
BUDGETING SERVICE, WELLSFORD: Free confidential advice & 
support for all areas of personal finance. Ph (09) 423 7123 
CAB-Citizens Advice Bureau.Wellsford Ph: 4237333 
0800 367 222 email:cab.wells@xtra.co.nz  
CIVIL DEFENCE - Kaiwaka Community Response Group: 
kaiwaka.civildefencecrg@gmail.com, 4312725 Wendy 
DOG/STOCK /NOISE CONTROL 0800 105 890 
FUNERAL SERVICES: Morris & Morris Ltd, 
Whangarei - Bev Jaques Ph:4312367 or 0800667747 
GRANDPARENTS Raising Grandchildren: Dianah Roberts 0223819539 
HAKARU & DISTRICTS MEMORIAL RSA (Inc) 733 Settlement Rd, 
Hakaru. Ph 4312 176 or Graeme Hitchcock (President) 431 3064 
HAKARU LANDFILL/Transfer Station:Open everyday except 
Tuesday10am-4pm.Ph4312629 Cost-$55 trailer load up to 1 cubic metre. 
Ph:4258567 - office 
KAIPARA DISTRICT COUNCIL www.kaipara.govt.nz:  
Help Desk FREEPHONE 0800 727 059  
KAIWAKA KOHANGA REO: Ph:4312620 
KAIWAKA CEMETERY: Ph: 4312045 or 4314017 
KAIWAKA LIBRARY: kaiwaka.library@gmail.com  
Mon. 4-6pm; Wed., Thurs., Fri., Sat. 10am-2pm Ph:4312539 
KAIWAKA PLAYCENTRE: Ph Juanita 0274134904; open Mon, Wed, 
Fri 9am-12pm. Hastie Lane; Monday to Friday 9.00am - 12 noon. 
KAIWAKA POST OFFICE:Ph:4312 431  
Post Code: 0573 for RD2 and 0542 for all Kaiwaka Post Office mail 
KAIWAKA PRIMARY SCHOOL: Ph: 4312309   
KAIWAKA SPORTS ASSN: Ph 4312005; 4312129 gym 
KAIWAKA ST JOHN: Manager Steve Rosser 09 4318403, 021 355734 
KATE'S PLACE Community Centre - Employment services, Free Health 
Nurse, Plunket, Advocacy, Osteopath, A.A., Legal Advice. 4312 661 
LINKING HANDS Health Shuttle Ph 4315906 or 09 4318969 
MINISTRY FOR PRIMARY INDUSTRIES - General inquiries Call 
Free 0800 008 333 
NORTHPOWER: Faults Kaiwaka area 0800 104040 
OTAMATEA COMMUNITY SERVICES: Counselling, parent coach, 
Family Support worker, budget advice, food bank. Mon-Fri 9am-3pm. Ph 
09 431 9080 http://www.otamateacs.org/ 
PARENTPORT: Free, practical family support service Puhoi to Paparoa 
Ph or txt: Dianne 027 280 5093 or 09 425 9357 
PLUNKET:  Kaiwaka  -Kate's  Place  Clinic  1st  Wednesday  of  the  month; 
Mangawhai  - Rose Madsen Cottage: Coffee Group 9:30 every Monday.  Clinic 
every Monday and Thursday. 
Maungaturoto - Good News Church, Clinic 2nd and 4th Wednesday.  
Cynthia 09 431 7340 or 027 675 3488 
PLUNKET HELPLINE -0800 933 922 (24 hours) 
TAITOKERAU COMMUNITY LAW: Free confidential legal advice and 
assistance, 2nd
Thursday
 of each month. Ph: 0800 155 529 for apps.  
TE URI O HAU Settlement Trust Tangata Developments: Whanau Ora 
021 793262  
VETERINARY SERVICE MANGAWHAI: 
Ph: 4314535 Mon-Fri 8.00-5.00, Sat 9-12, a/h appt. 
WELLSFORD DOCTORS: Ph: 4238 086 
CHURCHES:
 
Kaiwaka  Revival  Church  -  Your  Community  Church:  Sundays  10am. 
Ph: Pastor Tawhiri 09 431 8988 or Pastor Paul 09 4312 068 Visit us at 
www.facebook.com/kaiwakachurch or www.kaiwakarevival.co.nz 
 
St  Paul's  Anglican  Church  1st  Sun.  9.00am  (Eucharist),  3rd  Sun. 
9.00am (Family Service). Contact: Rev. Wayne Thornton Ph 431 4122 
www.mangawhaianglican.org.nz 
 
Church of Christ the King, Mangawhai:9.30am every Sunday 
 
St.Mary's  Catholic  Church:  Maungaturoto  –  Griffins  Road,  Saturday 
evening  Vigil  Mass  6pm;  Mangawhai  –  Senior  Citizens  Hall,  Sunday 
Mass  8:30am;  Wellsford  –  Matheson  Road,  Sunday  Mass  10:30am;  
Mid-week Mass times and all enquires to Fr. Bill Fletcher – phone 423 8170
 
Baptist Church: Sun. 10.30am Mangawhai Snr Cit.Hall.Ph:4312339 
 
Cause  Way  Church  Mangawhai:  Sundays  10.15am,  Mangawhai 
Community  Recreation  Centre,  Insley  St.  Ph:  09  4314782