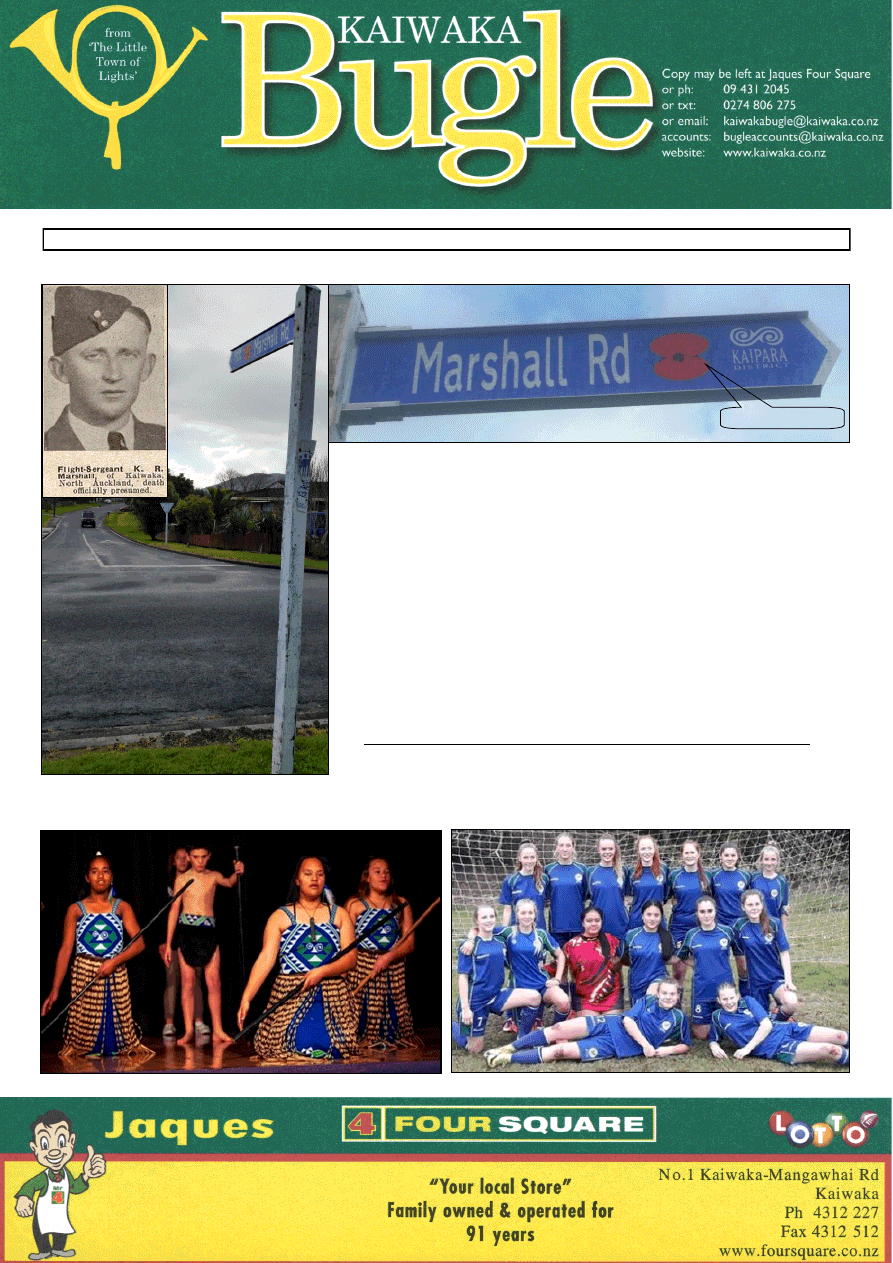 www.kaiwaka.co.nz 
Kaiwaka Bugle - 24 July 2018 
Page 1 
No: 14 
 24 July 2018 
Trading Hours: 
Monday to Friday 8:00am - 6:30pm 
Saturday 8:00am - 7:00pm 
Sunday 9:00am - 6:00pm  
MARSHALL ROAD: A Place of Remembrance 
Below, left: Te Uri o Hau Matariki Festival at Rodney Colllege on 
30   June,    with  Maddy  Lemuelu  leading  the  event  for  Otamatea 
High School. 
Below, right: The Otamatea High School team following their win 
at the South Zone Girls' Football for the first time! 
OTAMATEA HIGH SCHOOL 
A  Poppy  Places  Trust  road  sign  is  now  at  Marshall  Road  -  an  excellent 
example for such a signpost. F/Sgt Keith Marshall RNZAF  grew up on the 
farm Marshall Road now travels through. The Apple Basket was his home! 
New  Zealand  Herald,1  October  1943,Page  1  Roll  Of  Honour  … 
'MARSHALL, Keith  Reynold,  Flight-Sergeant,  R.N.Z.A.F.,  death  officially 
presumed on the morning of February 20, 1943; elder son of the late Hugh 
and Elizabeth Rosalind Marshall, of Kaiwaka; dearly-loved brother of Ian.'
He  died  19  February  1943  when  fourteen  aircraft  from  295  Squadron  were 
tasked  with  a  raid  on  three  electricity  transformers  at  Distre,  near  Saumur 
(north-west  France).  Two  aircraft  were  brought  down  by  anti-aircraft  fire. 
Keith was one of the crew who died on this mission and is buried in Saumur 
Communal Cemetery.  
Keith's brother, known as Jock, lived in the family home  until 1978, when he 
died  aged  68.  John  Keighley  then  purchased  the  Marshall  farm  and  later 
began the subdivision. 
Ref.
http://poppyplaces.nz/  "
The  New  Zealand  Poppy  Places  Trust  has  been 
established to develop, promote, and oversee a nation-wide project to commemorate 
and  recognise  as  part  of  the  heritage  of  New  Zealanders,  the  participation  of  New 
Zealand in military conflicts and military operational services overseas 
Large RED Poppy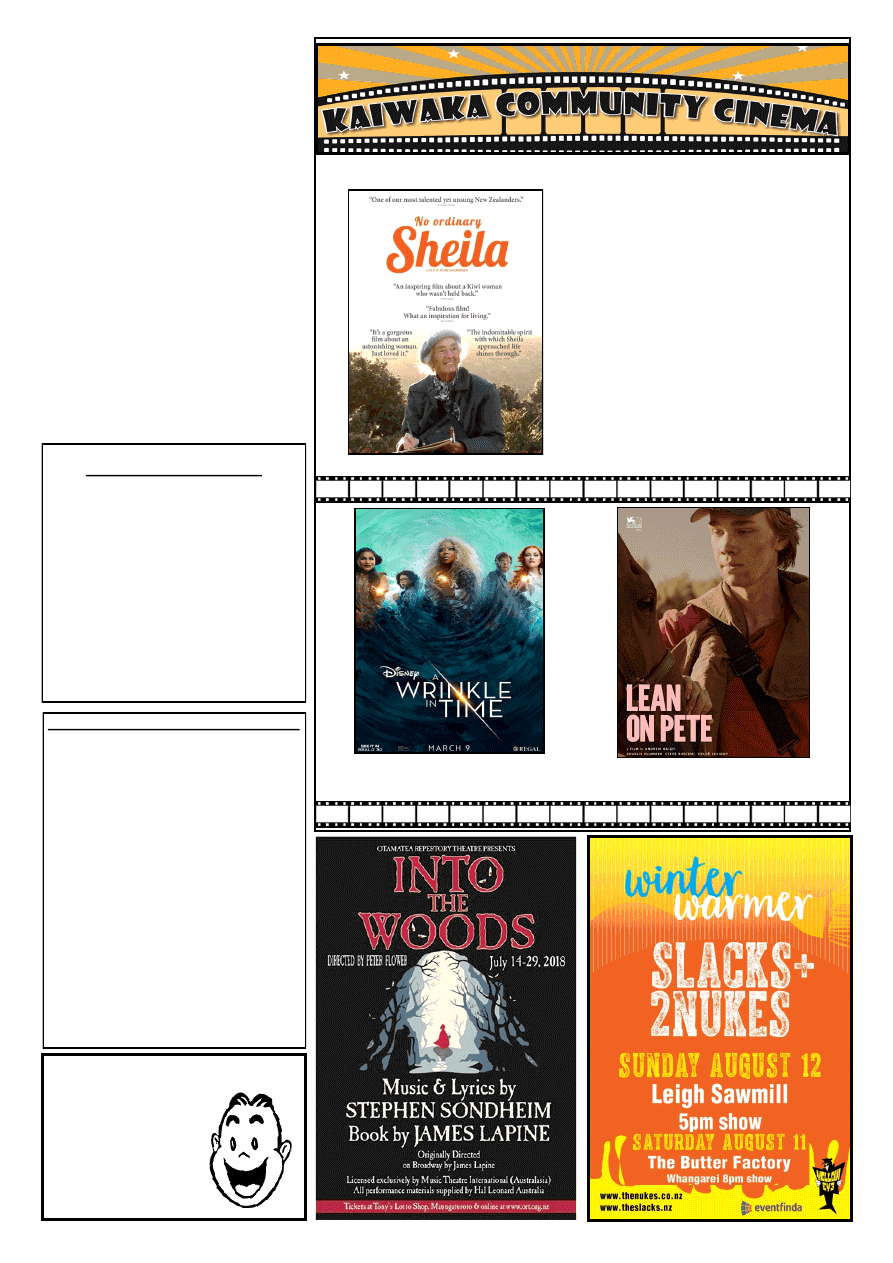 At Kaiwaka War Memorial Hall . Adults $10, Kids (under 16) $5, Family Pass (2 adults + 3 children) $25 
KAIWAKA BUGLE No. 14 
24 JULY 2018 
CONTENTS 
Page 3: Public Notices, Classified 
Page 5: OCS;  Pt.Curtis CC; Teen 
Turbulence with Adrienne Wood. 
Page 7: Rotary; ORT; Daffodil Day 
Page 9:  OHS 
Page 11: Kaiwaka Can 
Page 13: Kaiwaka Sports Assn. 
Page 15: Maungaturoto Country Club 
Page 16: Kaiwaka Fitness Activities 
Page 17: Kaiwaka Library; 1939 
Kaiwaka School photo  
Page 19: 'Two True Tales' 
Bugle 15will appear 7 August 
Contact for advertising, reports, articles 
or information can be made by 
Email kaiwakabugle@kaiwaka.co.nz 
Ph: 09 4312 045 Lindsey 
Txt: 027 2724137 
Copy  may  be  left  at  Jaques'  Four 
Square. 
Kaiwaka Bugle 
Founded May 1978 
We appreciate articles and photos about local 
events, etc, as well as ads and suggestions. 
Copies available in Kaiwaka at Jaques Four 
Square, Kaiwaka Postal Centre, Shamrock 
Service Station, Animal Health Centre, 
Kaiwaka St John shop. 
Also outlets in Maungaturoto, 
Mangawhai and Paparoa. 
Can be viewed online at   
www.kaiwaka.co.nz/Bugle  
Or a copy can be posted to you if you supply 
stamped, self-addressed DLE envelopes. 
A WRINKLE in TIME 
Sunday 29 July, 2pm (PG) 
LEAN ON PETE 
Friday 10 August, 7.30pm (R16) 
Proverbs 
17:22 
A cheerful 
disposition is good 
for your health; 
Gloom and doom 
leave you bone-tired.
Kaiwaka Bugle Advertisements 2017: 
All 
copy 
and 
queries 
to: 
kaiwakabugle@kaiwaka.co.nz 
The Bugle is printed on an A4 page   
Ad  sizes:  1/16  page  (3  x  9.5cm)  $5;  1/8 
(6.5  x  9.5cm  landscape  or  portrait)  $8; 
3/16 ( 10 x 9.5cm or 7.5 x 12,5)  $12.  
Classified  ads:  First  one  FREE,  $4  per 
entry (max. 30 words, max. 4 repeats). 
Payments  can  be  made  online  at 
ANZ 
06  0365  0006990  00
,  posted  or  left  at 
Jaques Four Square Store. 
We  use  Microsoft  Publisher,  and  can 
work  with  most  common  image 
formats, Word, Excel, and PDF files. 
Accounts:  
Email: bugleaccounts@kaiwaka.co.nz 
The  Kaiwaka  Bugle  is  a  community 
newspaper run by volunteers.   
Articles, etc. printed are not necessarily 
the opinion of the Bugle Team. 
No Ordinary SHEILA 
Friday 27 July, 7.30pm (PG) 
'Hugh  Macdonald's  fascinating  and 
inspiring  doco  of  his  cousin,  writer 
and illustrator Sheila Natusch, retraces 
a  long  life  dedicated  to  sharing  her 
understanding  and  love  of  New 
Zealand's nature and history. 
"You just get on with it. You can't go 
under.  There  are  such  people,  but  I 
am not one of them." 
  ~ Sheila Natusch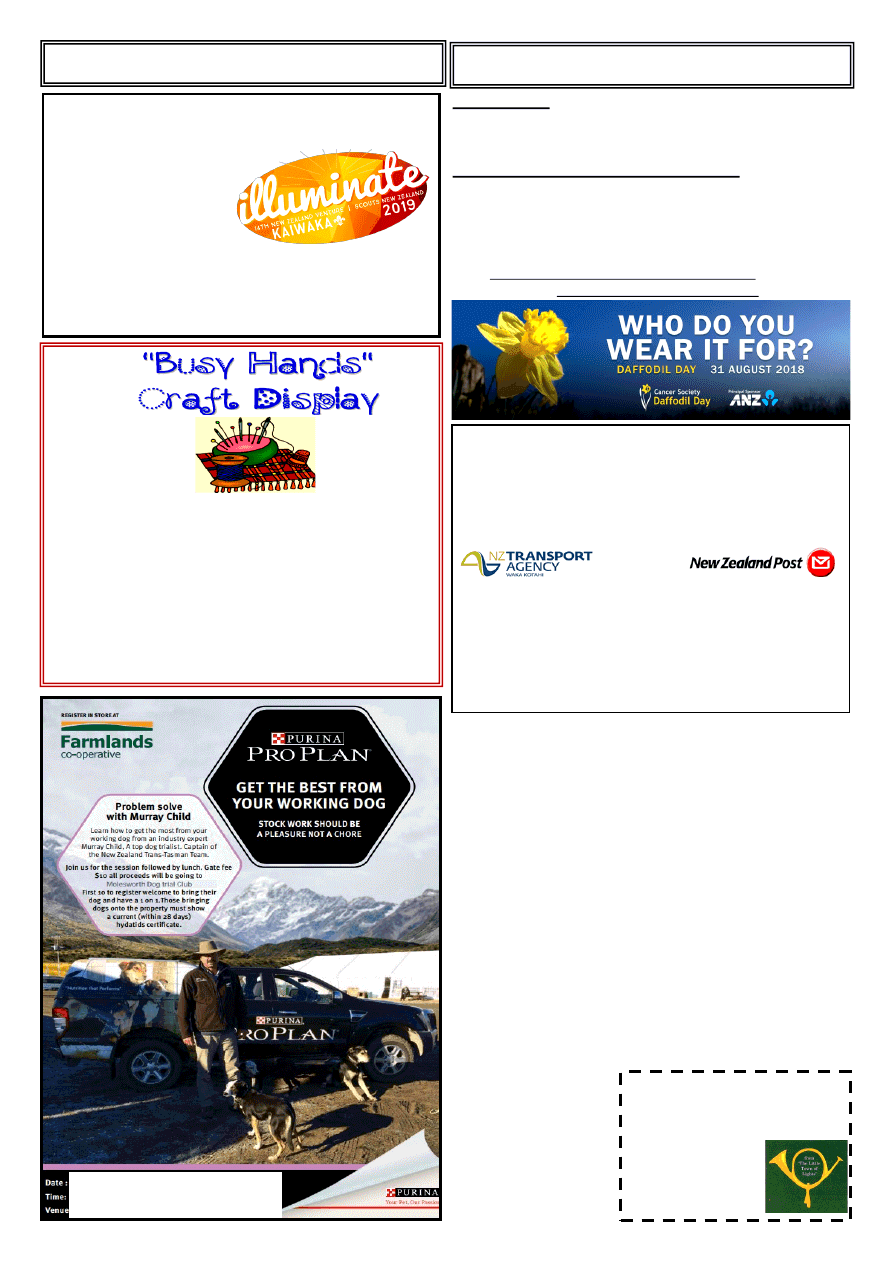 www.kaiwaka.co.nz 
Kaiwaka Bugle - 24 July 2018 
Page 3 
ILLUMINATE KAIWAKA 
Illuminate 2019 is coming to Kaiwaka 
And the organisers are coming to meet you! 
In 5 months time we plan 
on tripling Kaiwaka's 
population. 
We would like to tell you a 
little about this event and 
share our plans with you. 
We are also keen to hear the thoughts and ideas of the 
community. All welcome  
Friday 10 August, 7pm, Kaiwaka Sports Complex 
14th New Zealand Venture 
SCOUTS New Zealand 
ABOUT TOWN ... 

The Kaiwaka FIRE SIREN will not be working for next 
2 weeks (possibly the result of lightening strikes). 

Great  feedback  on  the  KSA  Fitness  path  -  no  need  to 
walk on 'soft' ground!  The WALKING Group meet at the 
KSA  helipad  every  Tuesday  8.30am  and/or  4pm  -  its 
FREE!

 Volunteers  needed  to  help  paint  the  town  playground 
fence - please phone Derek 099469077 or 0273572751

 Great  win  for    Otamatea  Rugby  Hawks  on  Saturday  - 
securing their place in the premier grade for 2019.

Check  out  your  2018/2019  RATES  on  the  Kaipara 
Council website ww.kaipara.govt.nz 

  NOTE: 
The  musicians,  Nukes  and  Slacks,  will  be  in 
Whangarei 11 August and at the Leigh Sawmill 12 August 
– if you go mention 'Kaiwaka Bugle' – you might be in for 
some giveaways!

 See the Marshall Road sign's large RED poppy in colour 
online at kaiwaka.co.nz or at the end of Puawai Street!
~ Lindsey, Ed 
 "Ka  whati  te  tai,  ka 
pao te torea – when the 
tide  ebbs  the  pied 
oystercatcher  strikes".  
Take  all  opportunities 
that  come  your  way  as 
symbolised  by  the  Pied 
Oystercatcher.  ~  from 
the  Otamatea  High 
School newsletter. 
PUBLIC NOTICES 
CLASSIFIED 
KAIWAKA BUGLE 
DEADLINE DATES 
2018 
- 
every second Friday
August 3, 17, 31 
September 14, 28 
October 12, 26 
November 9, 23 
December 10 
FOR SALE: Cafe Blanket, Queen (colour Duck egg); 
made with duck feather and down. Brand new. Retails 
for $199. I'm selling for $99. Phone 4312 051. 
DAFFODIL  DAY  VOLUNTEERS:  The  Cancer 
Society is seeking more volunteers for Daffodil Day in 
the  Kaiwaka  area.  If  you  can  spare  some  time  on 
Friday 31 August, please sign up to volunteer. It'll only 
take  two  hours,  and  you  will  be  helping  your 
community.  For  more  information  and  to  sign  up, 
visit www.tinyurl.com/DDVolunteer2018, call 09 437 
5593 or email northland@akcansoc.org.nz  
Come and enjoy the work of talented 
Craftspeople including patchwork, tatting,  
bobbin lacemaking, card making and wool craft. 
Saturday 18 August 
10am - 3pm 
Christ the King 
9 Molesworth Drive, Mangawhai 
Gold Coin Entry 
Refreshments provided 
For further information please phone: 027 329 4994  
or email: mountain2view@xtra.co.nz 
27-7-2018  
 Contact: 
10am Start 
 Robert 09 4312192 
Oneriri Station   Duncan 0276593562 
KAIWAKA POST CENTRE and 
FOOD MART 
POST CENTRE TRADING HOURS 
MONDAY TO FRIDAY 8:00am to 5:00pm 
SATURDAY 8:00am to 12:00pm 
CLOSED ON SUNDAY and on PUBLIC HOLIDAYS 
FOOD MART (GROCERIES) 
MONDAY TO SUNDAY 7:30am to 7:30pm 
IF ANY QUERIES PLEASE CALL 
STORE MANAGER AMRIT on 09 4312431 
OR EMAIL: kaiwakafood19a@gmail.com 
1919a State Highway1, Kaiwaka 0542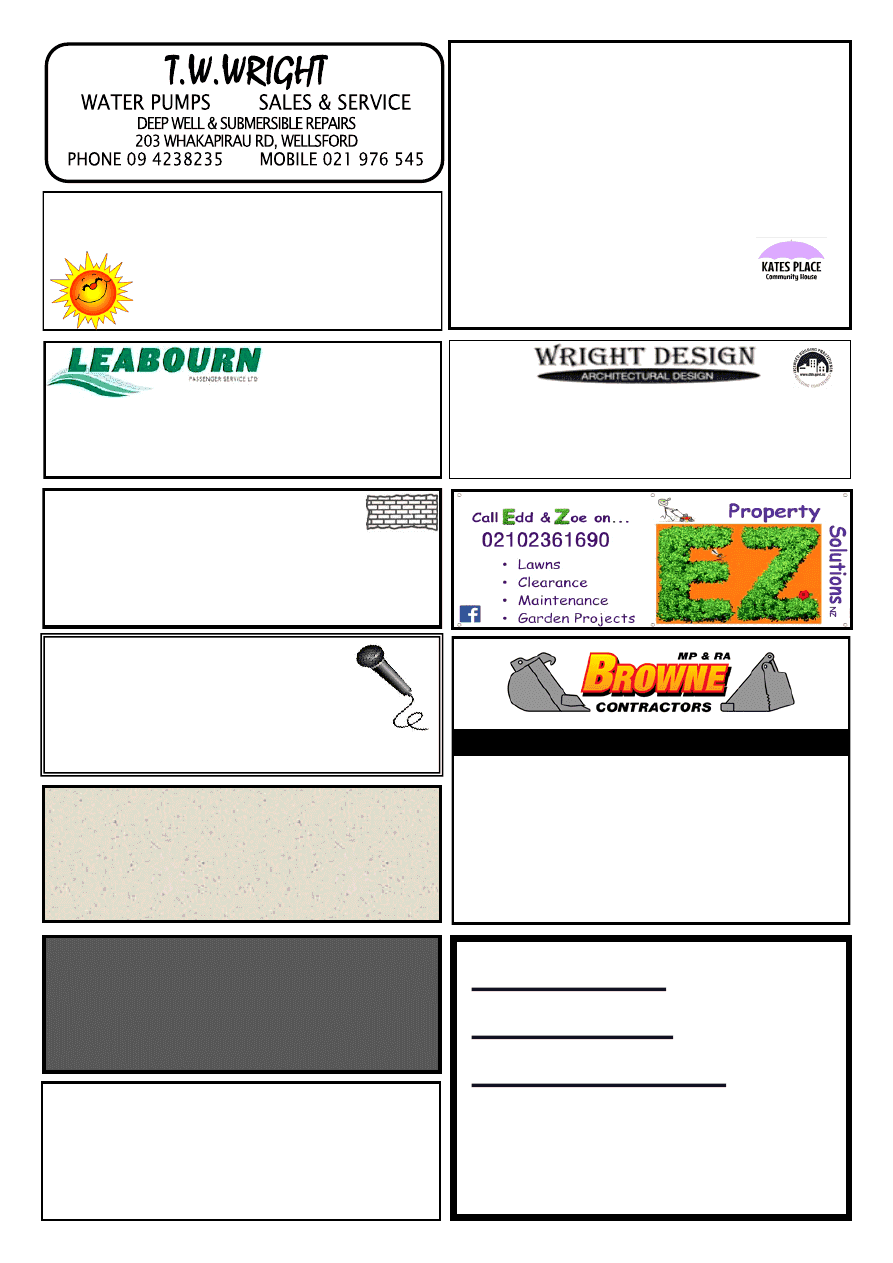 4T DIGGER – BOBCAT – TIP TRUCK 
Property Maintenance - Driveways  
 Building Sites 
Stump & Tree Re-
moval  
Hole Boring - 
Chain Trencher  
Calf Shed and Stockyard Cleaning 
Phone Matt: 021 199 6677 
Email: mprabrownecontractors@gmail.com 
BRICK/BLOCKLAYER 
All aspects of masonry: 
Fireplaces, Restoration & Remedial Work.
JAMES EAGLETON
Tel. (09) 431 2514     Mob. 0274 749 232
jajueagles@yahoo.com.au 210A Pukenui Road, RD2, Kaiwaka 0573 
THE SUNSHINE GIRLS
Efficient and reliable help with 
your housework. 
Ph 4312 532 
Counsellor and Registered Psychotherapist 
Offers Supervision
Susan Matheson 
MNZAC 
Dip. Psychosynthesis Counselling and Psychotherapy 
Phone 09 431 2996                        Mobile 027 605 2427 
MARRIAGE CELEBRANT 
WEDDING EVENTS PLANNER 
Yvonne Osborne 
Ph 0274 989 814 
yvonne.osborne@xtra.co.nz 
Passenger Service
Car & Van Hire   Bus & Coach Charters 
Airport Transfers    
Phone (09) 4237416 
SING RIGHT 
Professional coaching for performance,  
recording and demos. 
All level singers, musicians, singer-songwriters. 
Phone Robyn Hill 431 9159 or 022 1238126 
Michael Hogan 
Licensed Builder 
Quality new homes, renovations, and additions 
Phone: 027 974 1045 
Email: michaelhoganbuilder@gmail.com 
Website: michaelhoganbuilder.com 
 FINANCE 
 FUNDING 
 SOLUTIONS 
T - 0275 989814 
E
 - osborneassociates@xtra.co.nz 
REGISTERED INDEPENDENT FINANCE BROKER 
WEEKLY TRIP EVERY THURSDAY 
- MAUNGATUROTO -  KAIWAKA -  
- WELLSFORD - WARKWORTH - (and back) 
For anyone & everyone, save money, save gas, be social, go shopping, 
visit  the  doctor,  get  to  the  library,  got  to  the  dentist,  meet  your 
friends, have lunch, get to WINZ. 
Kate's Place Community House & Otamatea Community Services have 
teamed up to provide a van service that will travel from Maungaturoto 
to Warkworth every Thursday. 
TIMETABLE: 

9.30am: 
Maungaturoto. OCS 155 Hurndall St.

10am: 
Kaiwaka, Kate's Place Community House, 1960 SH 1 

10.20am: 
Wellsford, Te Ha Oranga, 158 Rodney St. 

10.45am 
Warkworth Centre 

1.30pm 
Depart Warkworth 

2.30pm 
Arrive Maungaturoto 
Conditions: No eating or drinking in the van. Children under 14 must be 
accompanies by an adult. Must book a space in advance. 
$5 per adult Book on 09 4312661 
No. 117345 
N.Z.C.A.D., L.B.P. 117345 
PH/Fax: 09 423 8092 Mob: 021 276 7369 
Office: 3 John Sinclair Avenue, Wellsford    brianwright@xtra.co.nz 
For Resource and Building Consents, planning restraints, new building materials - 
you need a capable, experienced, and professional designer with a clear 
knowledge of all the processes. Brian has been helping and organising all these 
facets of design and building for over 50 years. 
Wright Design offers free visits, consultations and advice on planning, design, 
building, council permit applications, guaranteed permit plan acceptance.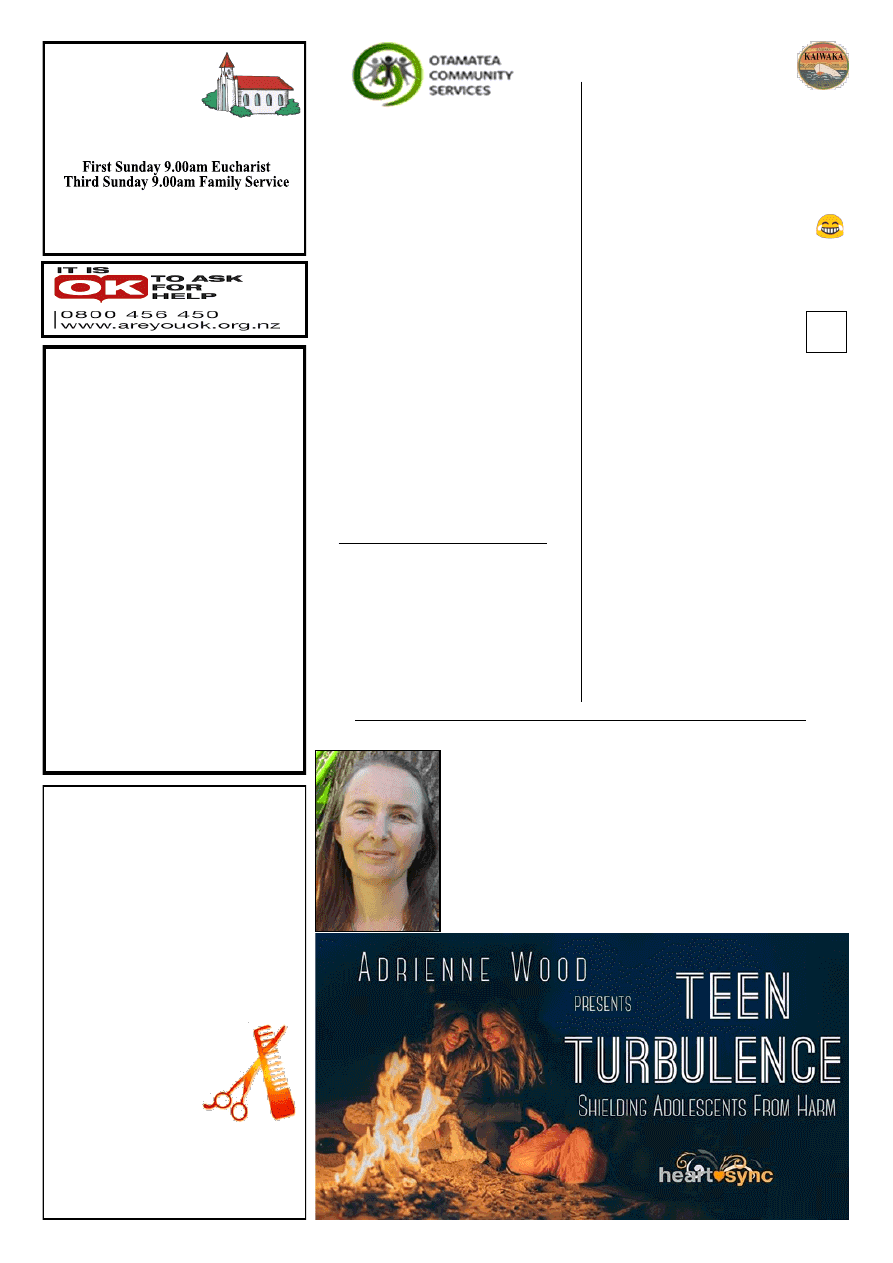 www.kaiwaka.co.nz 
Kaiwaka Bugle - 24 July 2018 
Page 5 
Willow Bend
HORSE  
HOTEL 
  
Total Horse Care 
 
Agistment 
 
Riding Lessons 
 
Arena Hire (60x40) 
 
Young Horse Starting 
 
Re-training/Exercising 
 
Hoof Trimming 
 
Problem Solving 
Phone Sue 09 431 2817 
or 021 623 776 
Or email  
susanjoll11@gmail.com 
ST PAUL'S  
ANGLICAN  
SUNDAY  
SERVICES
St Pauls Church: Kaiwaka-Mangawhai Rd. 
Rev. Wayne Thornton Ph 431 4122 
www.mangawhaianglican.org.nz
MONEY  MATTERS
:  The  first 
Thursday group in July went very well 
with  plenty  of  interest  and  a  good 
sharing  of  ideas  and  plans  for 
managing one's money and looking at 
ways  of  making  the  dollar  go  further. 
By now there may have been a trip to 
the  supermarket  in  our  mini-bus  to 
shop  for  ingredients  to  cook  healthy, 
tasty meals. 
These  groups  are  held  each  Thursday 
in  August  from  10  –  12.  Phone  The 
Community House, 431 9080 to let us 
know you will be coming. 
The  Community  House  continues  to 
grow with the addition of more people 
on  the  staff  to  ensure  we  connect  and 
serve more efficiently. 
FREE  SHOPPING  TRIP
:  Don't 
forget  we  take  the  mini-bus  to 
Whangarei  on  the  4th  Wednesday  of 
the  month,  leaving  at  9.30  and 
returning  around  3.30.The  next  free 
shopping  trip  to  Whangarei  will  be 
Wednesday 25 July. 
Phone 431 9080 to let us know you are 
coming.   
From all at OCS 
TEEN TURBULENCE  
Adrienne Wood from Heartsync will be speaking on Teen 
Turbulence  at  the  Rodney  College,  Wellsford  on  Friday 
17th  August  7-9pm,  and  again  in  Mangawhai  Village  Hall 
Saturday 18th August 7-9pm. 
She  is  an  incredible  speaker  and  will    share  her  tips  and 
experiences  on  the,  often  tricky,  subject  of  the  teenage 
years. The talks will be suitable for parents of children aged 
10 and up. 
For more information:   
http://www.heartsync.co.nz/Events.html 
https://www.facebook.com/heartsyncnz/ 
AFFORDABLE 
PRICES! 
MENS CUT FROM $20.00 
LADIES CUT FROM $30.00 
KIDS CUT FROM $18.00 
COLOUR & CUT FROM $120.00 
JUST 
CUTS'AND   
MORE 
021 165 2629 or  
(09) 945 0707  
NOW SELLING: scented tealights, 
incense, smudge sticks, copper bracelets, 
aurora ball crystals, dream catchers, 
healing stones, rose quartz, cds, and much 
more. Open 6 days. 
POINT CURTIS 
CRUISING 
CLUB  
Pool  competition  held  on  30th  June 
against  Mangawhai  Club  at  the 
3Furlongs  Bar  &  Grill  was  won  by 
Kaiwaka. 
A  clean  sweep,  Kaiwaka  won  the 
singles, doubles and the boat race well 
done and thank you for those who 
played. 
The  3Furlongs  Bar  &  Grill  also  ran  a 
raffle,  the  prize  was  a  pool  cue  and 
case  valued  at  $200.  Sandy  was  the 
proud  winner  ,  and  proceeds  from  the 
raffle were donated to our club. 
THANK  YOU  3FURLONGS 
BAR & GRILL!! 

Super  Club  Competition  we  are  still 
waiting on details. 

Pool  competition  against  Wellsford 
inn dates to be confirmed. 

Don't forget Subs were Due 1st June. 
Family  $30  (2adults  2  juniors  aged 
under 15yrs) & Single $20. 

Internet 
banking 
details: 
ASB  Wellsford  No.  12  3094  0008233 
00.  Please  use  your  name/names  as 
reference. 

Fish  of  the  month  for  Snapper 
Winner 
was 
1st 
Renna 
Brown      8.180kg;  2nd  Renna  Brown 
5.358kg. 

New  Fish  of  the  month  is  Kahawai 
till 14th August. 

Next  Club  meeting  Tuesday  14th 
August 2018 @ 3Furlongs Bar & Grill 
7pm 
 ~Wayne Leslie (Commodore) 
Me:  I was doing an overnight at a hotel away from 
home.  I  took  my  computer  down  to  the  bar  to  do 
some data entries. 
I sat down at the bar and I asked the bartender, 
'What's the Wifi password?' 
Bartender: 'You need to buy a drink first.'
Me:  'Okay, I'll have a beer.' 
Bartender:  'We have Molson's Canadian on tap' 
Me:  'Sure. How much is that?' 
Bartender:  '$8.00.' 
Me:    'Here  you  are.    OK  now,  what's  the  Wifi 
password?' 
Bartender:  'youneedtobuyadrinkfirst'...No  spaces 
and all lowercase.'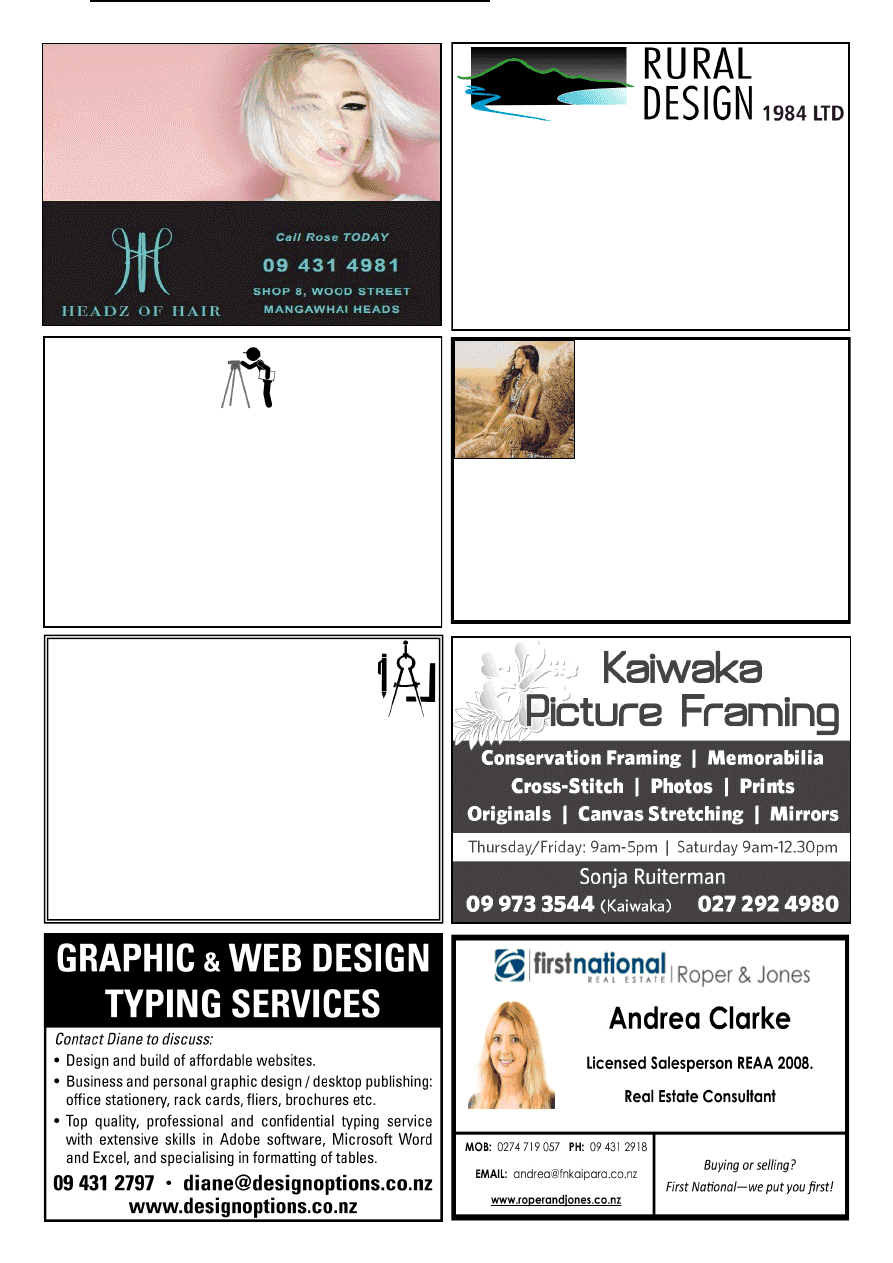 design drafting  
service 
Retired builder and manufacturer with over 40 years  
experience in the building industry is offering a design 
drafting service  
for domestic housing, sleepouts and sheds.  
Plans formulated in consultation with clients, with 
working drawings completed and submitted to  
council for processing.  Extensive practical experience,  
able to identify & resolve problems. 
Please ring Mike Lean on 
09 431 2260 
or 
021 431 196 
WHOLESALE NATIVE PLANT NURSERY 
AND LANDSCAPING 
By Appointment 
Small and Large orders welcome 
Phone: 09 431 2481 
Email: info@ruraldesign.co.nz 
Trails end 
spiritualist gathering 
Last Sunday of every month  
10.30-2pm  
Tea/coffee provided  $5 koha 
For all inquiries: 
021 165 2629 evenings (09) 945 0707 
Trail.end@hotmail.com 
1758 Cove Road, Mangawhai
Bringing together light minded people 
Guest speaker each month
(
Next to Kaiwaka Motorcycles)
Ken Urquhart 
BSurv Licensed Cadastral Surveyor 
KMU Surveys Ltd
467 Bickerstaffe Road 
RD 2 
Maungaturoto 0587 
Ph 09 431 8705 
Mob 021 161 2344 
kenurquhart@xtra.co.nz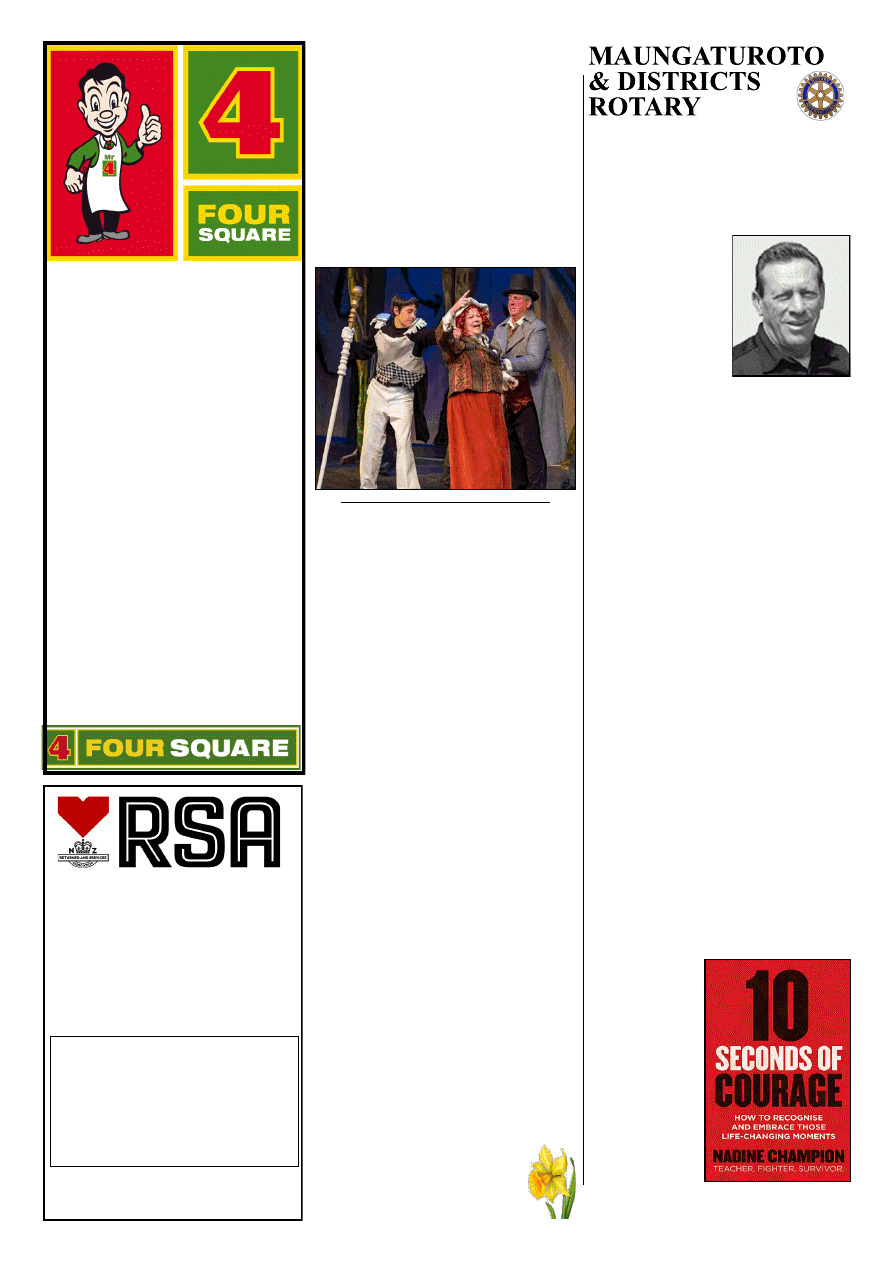 www.kaiwaka.co.nz 
Kaiwaka Bugle - 24 July 2018 
Page 7 
During the past month we have had the 
changing  of  Presidents.  Each  person 
holds  this  position  for  one  year  and 
each President puts their own mark on 
the year. This event is always a special 
celebration  which  is  attended  by  a 
number  of  past  Rotarians  and  guests. 
Past  President  Alex 
spoke 
of 
the 
achievements 
within  his  year,  the 
most  notable  of 
which 
was 
the 
introduction  of  the 
Driver  Mentoring 
scheme.  
Our  President  this 
year is Keith Shadbolt, pictured above 
and  while  he  will  have  some  new 
initiatives we will continue to promote 
Driver  Mentoring  and  the  sale  of  Calf 
Litter  as  well  as  continuing  work  on 
the  community  projects  that  are 
ongoing  like  Nikau  Grove  and  Piroa 
Falls.  
We are planning a visit to the Packard 
Car  museum  at  Maungatapere  as  well 
as  having  more  combined  meetings 
with  Paparoa  Lions  and  Rotary  clubs 
that are also part of our District. 
We  are  grateful  for  the  ongoing 
support  of  the  Otamatea  High  School 
Duke  of  Edinburgh  students,  Hockey 
and Netball groups who are able to use 
the  provision  of  meals  at  our  weekly 
meetings  as  a  fundraiser.  This  means 
we  are  not  only  supporting  these 
groups  on  a  rostered  basis  but  also 
enjoy delicious meals. 
We  continue  to  have  some  great 
speakers  and  a  notable  one  recently 
was  Pam  Chapman  who  had  been  a 
caterer  for  Rotary  for  about  18  years 
but  relinquished  this  when  she  started 
an  Early  Childhood  centre  in 
Dargaville. Her talk to us related to an 
inspirational 
person, 
Nadine 
Champion, who had spoken at an Early 
Childhood  conference.  If  you  get  a 
chance  to  read  Nadine's  book  "10 
Seconds of Courage", we are sure you 
will  be  moved  as  much  as  we  were. 
Thank  you,  Pam,  not  only  for  your 
contribution  to 
Rotary  but  also 
to 
this 
community. 
Calf Litter 
If 
you 
are 
interested 
in 
purchasing  Calf 
Litter 
– 
an 
excellent 
addition 
to 
gardens  (bags 
or  bulk)  please 
call:  Alex  (09)
4316434 
or 
Brian  (09)  4317418.  Product  also  on 
sale at Maungaturoto Four Square. 
HAKARU & DISTRICTS 
MEMORIAL RSA (INC)
Members & guests are invited to 
come along and enjoy our 
hospitality. 
New members welcome. 
Meals are served on 
Thursday and Friday nights 
from 6.30pm. 
Last Friday of the month is  
'Roast Pork Night' and a sing-a-long  
with Des Chitty. 
For more information please phone 
Marlene on 431 5589 
STUCK FOR GIFT 
IDEAS? 
We have a large range of 
gift cards for heaps of 
different stores. 
Not sure what they 
would like? 
Load Visa or Mastercard. 
Gift card, problem 
solved.  
Easy peasy!! 
Jaques Four Square 
Phone: 4312227 
1 Kaiwaka-Mangawhai Road, Kaiwaka. 
DAFFODIL DAY  
Friday 31
st
 August 2018 
Sharing hope for the 1 in 3 
Kiwis affected by Cancer 
Please  keep  the  Cancer  Society  and 
Daffodil  Day  in  mind  for  your  mid-late 
August  planning.  Daffodil  Day  is  New 
Zealand's largest street appeal. Its goal is 
to  unite  New  Zealanders  to  help  beat 
cancer  and,  by  raising  much  needed 
funds,  ensure  the  Cancer  Society  can 
continue to support vital cancer research 
and  provide  practical  help,  care  and 
comfort through out the country. 
This  is  the  Cancer  Society's  biggest 
communication  event  in  2018,  and  we 
thank  you  in  advance  for  your  help  in 
spreading  hope  for  the  1  in  3  kiwis 
affected  by  cancer,  their  whānau  and 
friends. 
"Across  New  Zealand  the  Cancer 
Society  is  out  every  day  of  the  year 
helping  people  who  are  affected  by  all 
types  of  cancer,"  says  Mike  Kernaghan, 
the  Cancer  Society  of  New  Zealand 
CEO. 
"We  offer  practical  and  emotional 
support to people when they are at their 
most  vulnerable.   Behind  laboratory 
doors  our  researchers  are  working  on 
new  drugs  and  treatments.     And  our 
teams  across  the  country  are  working 
tirelessly  with  communities  to  raise 
awareness  and  help  prevent  future 
cancers.    We  can  only  do  all  this,  and 
more,  thanks  to  the  money  collected  on 
Daffodil  Day  –  every  dollar 
collected 
by 
our 
12,000 
volunteers  is  used  to  help  New 
Zealand  and  New  Zealanders 
beat cancer."
OTAMATEA 
REPERTORY 
THEATRE 
'INTO THE WOODS' 
ORT  had  an  awesome  opening 
weekend  of  this  brilliant  show.  Make 
sure you get your tickets! Book now on 
Facebook  or  at  www.ort.org.nz  or  at 
Tony's  Lotto  Shop  in  Maungaturoto  - 
the  final  show  on  Sunday  29  July  at 
2pm.  
A scene from 'Into the Woods':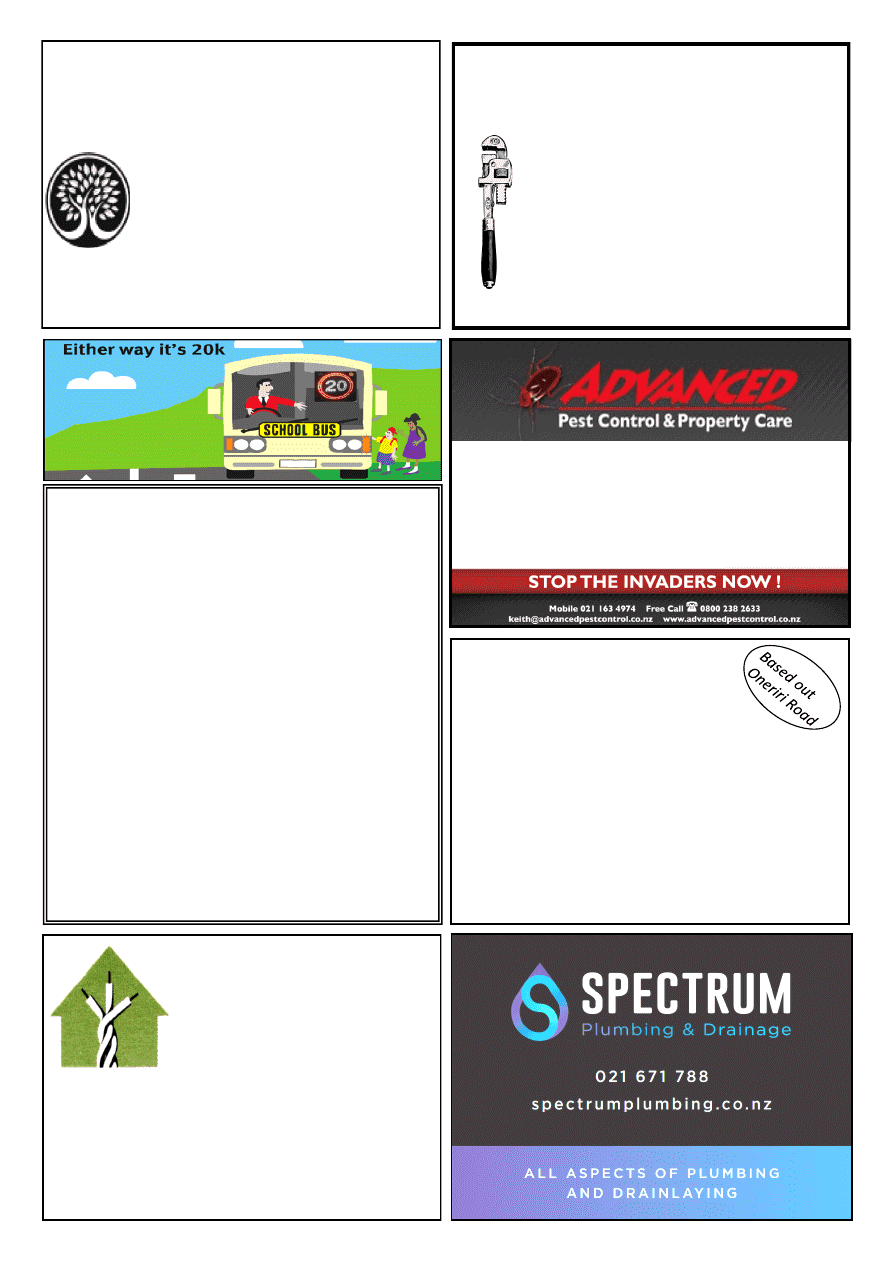 Waipu Natural Health 
3 Cove Road, Waipu  (opposite the Pizza Barn) 
Ph: 09 432 1325 
www.waipunaturalhealth.co.nz
Clinical Nutritionist-Hair Analysis for Masked 
Allergies, Ozone Therapy, Prolotherapy, 
Naturopath-Medical Herbalist, Registered 
Massage Therapists, Reflexology-
Craniosacral Therapy, Acupuncture-Facial 
Acupuncture, Kineso Taping, Hypnotherapy, 
Counselling, ThetaHealing/Change Catalyst
.
AFFORDABLE CONSULTS FOR KIDS – give us a call
Gift Vouchers available
KAIPARA FLOORING CO 
Independently owned & operated 
32 HURNDALL ST MAUNGATUROTO
Supply & Installation of Carpet, Vinyl,  
Vinyl Wood Planking
Stockists of 2m & 3m wide 
vinyl & carpet short ends
Residential & Commercial
Q Card Finance Approved 
6-18 month terms 
6 mth interest free
First Class Installations
For a free measure & quote 
phone Christine  
09 946 9886 or 021 515 415 
kaiparaflooring@gmail.com 
http://www.kaiparaflooring.co.nz/ 
BARRY CURTIS PLUMBING LTD 
REGISTERED CRAFTSMAN PLUMBER 
Phone 4315572 
027 257 9884 
25 years experience 
Friendly reliable service 
All plumbing and maintenance 
Alterations and new housing 
Spouting 
Competitive rates 
PROMPT EFFICIENT  SERVICE 
HODGETTS 
CONTRACTING
Digger Work   

Driveways 

House Sites   

Dams   
 
Drains, etc
Also available for HIRE 
3 ton Vib Roller Heavy Duty Tow  
Waterblaster     Lazer Level
Phone Mark 4312877 
        027 447 8554 
Reyahn George 
Leng 
Registered Electrician 
Local, honest and reliable. 
For your residential and 
light-commercial projects. 
022 314 1068  
Pest Control 
PLAN A: One-off treatments to customers with a specific pest problem 
PLAN B: Full maintenance service plans to commercial customers. 
This will include documentation kept in customer file on site: 
⚫
Pest treated 
⚫
Date of service 
⚫
Chemical or baits used 
⚫
Full pest check report done after each treatment 
⚫
Fair and reasonable fee with guarantee 
Flood Recovery 
Carpet Care 
⚫
Carpet Drying   
This includes pre-spray treatments 
⚫
Dehumidifier Rental 
with stain removal and hot water extraction.  
⚫
Full Commercial Cleaning  Patch repair also available 
Upholstery Cleaning 
Full upholstery cleaning of all furniture.  
eg lounge suites and all office chairs 
Water Blasting 
⚫
Concrete - Decks 
House Washing 
⚫
Soft Chemical Was 
⚫
Pre-painting Wash 
Property Services 
⚫
Property Cleaning  
Lawn Mowing 
⚫
Hedges General  Tidy Ups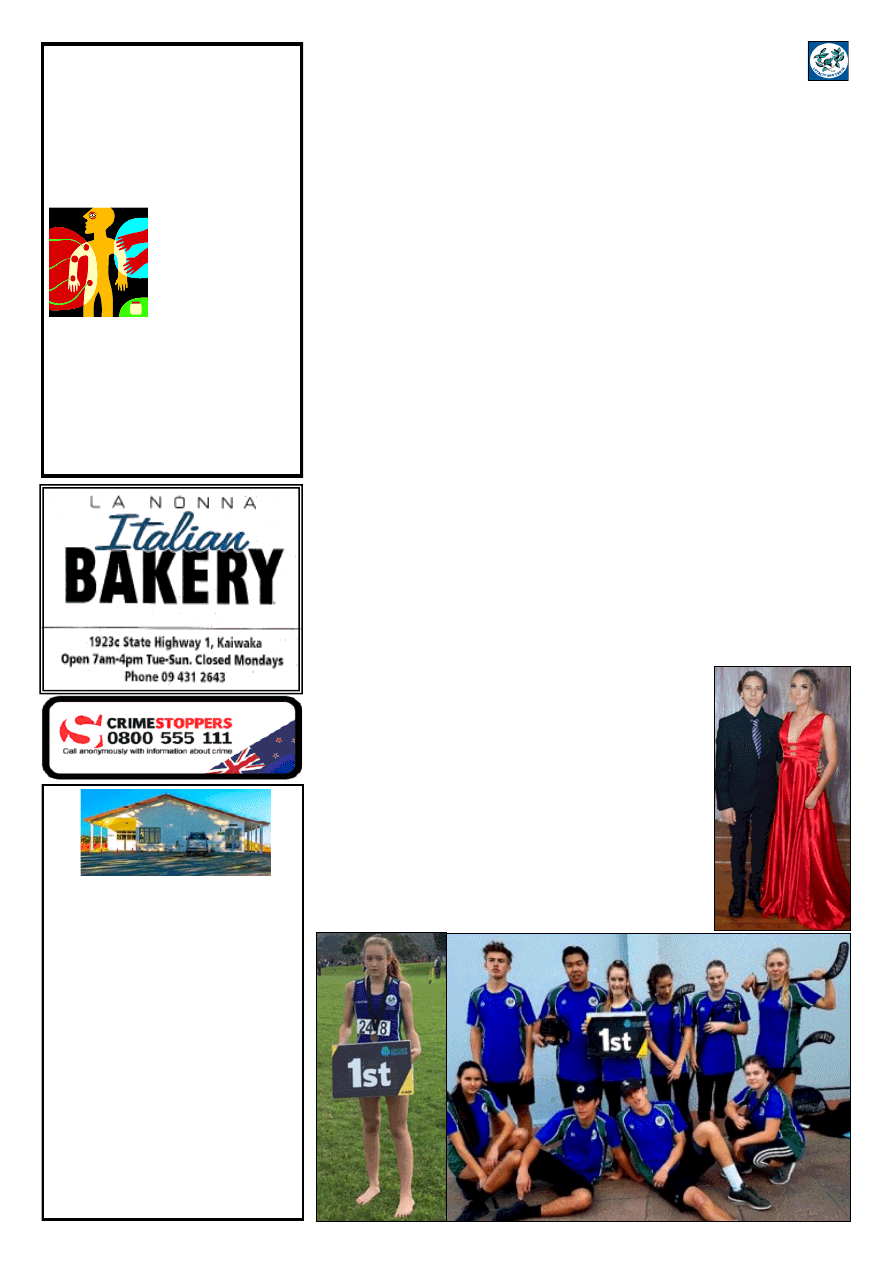 www.kaiwaka.co.nz 
Kaiwaka Bugle - 24 July 2018 
Page 9 
OTAMATEA HIGH SCHOOL 
OWEN STEVENS 
Osteo Therapist
For careful adjustments  
to bones and joints 
Treatment for humans  
and their pets 
Clinics: 
Kate's Place, 
Kaiwaka: 
Last Friday of 
month 
9.00am-5.00pm 
For bookings: 
Phone 
09 4312661 
Or phone Owen   
09 4317123  anytime 
Tramp! 
Principal's Comment  
Term  Two was another action-packed 
term with lots of exciting opportunities 
that  the  students  were  involved  in. 
Otamatea  again  represented  well  in 
sporting  activities,  winning  the  South 
Zone  Girls'  Football for the first time 
and  narrowly  missing  out  in  penalties 
against  Bream  Bay  for  the  north/south 
play  off.  For  the  second  consecutive 
year  we  won  the  Senior  Floorball 
competition.  Cross  country  continues 
to  be  extremely  strong  with  a  number 
of  placings  in  both  the  Lower  North 
and  Northland  competitions.  The 
poetry cafes hosted by the year 7 and 8 
syndicate 
were 
great 
events 
showcasing  the  poetic  talents  of  our 
younger  students.  The  audience  were 
sent  on  a  rollercoaster  of  emotions  as 
students  recited  their  poems  ranging 
from spring and summer to loneliness, 
death  and  depression!  Parents  and 
caregivers  viewed  the  vibrant  wall 
displays and enjoyed hearing about the 
learning of their children and of course 
enjoyed the nibbles provided. Some of 
the young leaders in the syndicate also 
attended  an  inspiring  day  in  Auckland 
at the National Young Leaders' Day.  
Olla  Podriga  was  another  spectacular 
event  and  once  again  the  hall  was 
packed out full of students, family and 
community  members.  The  quality  was 
outstanding, and it was great to see so 
many  younger  students  find  the 
confidence  to  give  it  a  go.  As  always, 
the audience got behind everyone.  
The  Matariki  Festival  hosted  at 
Rodney  College  showcased  our  kapa 
haka  students,  as  well  as  those  from 
other local schools. The whakairo stall 
was  very  popular  with  some  of  the 
whakairo  students  and  ex-students 
demonstrating  their  work,  as  well  as 
allowing  people  of  all  ages  to  have  a 
go.  Many  of  our  students  also  won 
prizes  in  the  art  competition.  Finally, 
some  of  the  adult  students  of  the 
evening  Te  Reo  Māori  class,  along 
with the Kaiwaka Te Reo Māori class, 
performed  some  waiata  on  the  stage. 
All  in  all,  it  was  a  fantastic  event, 
assisted by beautiful weather. 
 The annual senior school ball was an 
awesome  event,  organised  by  some 
senior 
students 
and 
Mrs 
Christie. The Maungaturoto Centennial 
Hall  was  decorated  as  a  50's  diner, 
complete  with  jukebox.  Year  10 
students dressed accordingly as waiters 
and  waitresses  and  the  senior  students 
looked  amazing  in  their  suits  and 
dresses.  Thank  you  to  all  those 
community members who assisted with 
making such a wonderful evening from 
the  Otamatea  Netball  Club  who 
provided  excellent  diner  food  such  as 
milkshakes,  burgers,  curly  fries  and 
doughnuts.  The  parents  who  provided 
excellent  security  on  the  very  cold 
evening  and  Terri  Donaldson  for  her 
assistance  with  the  hall  preparations 
and  providing  numerous  costumes  for 
those attending. Thanks also go to Mrs 
Christie and the ball committee for the 
many  hours  of  organisation  and 
preparation.  
Coming up early in term three (12th  – 
14th  August)  is  the  Reporoa 
Exchange.  This  year  we  will  be 
hosting  this  competition,  which  is  the 
longest  senior  sporting  competition  in 
the  country,  now  in  its  53rd  year.  We 
have  won  this  for  the  past  two  years 
and once again will be looking to retain 
the shield.  
On  Tuesday  7th  and  Thursday  9th 
August  we  will  be  holding  Open 
Days  at  the  school.  Local  school 
children are invited to come along with 
their  parents  and  caregivers.  These 
days  provide  an  excellent  opportunity 
to  see  what  the  school  has  to  offer. 
Rachel Clothier-Simmonds
Photos: 
1.  Belle  and  Beau  of 
the ball - Kayla Reid 
and 
Hunter 
Goodfellow.  Prince 
and  Princess  -  Tyler 
Flanagan  and  Ocean 
Shadbolt.  King  was 
Corey  Slimo,  Kasey 
Ata was the Queen of 
the 
ball, 
Curtis 
Stanaway  &  Molly 
Curnow 
- 
cutest 
couple. 
2.  Trista  Comer  won 
the 3 Km U16 junior 
girls'.  race  at  the 
Northland 
Cross 
Country.  
3.For the second year 
in  a  row  OHS  have 
won 
the 
Senior 
Division Floor Ball.
Te Pounga Marae 
130 Nathan Rd. Oneriri. Kaiwaka 0573 
COMPLEX FOR 
HIRE 
Functions 
* Weddings  * Birthdays  
*Anniversaries * Meetings  * Wananga 
5 hour meeting * 12 hour stay  * 
Overnight 
*All welcome - No more Drink-driving 
Amenities: 
*Convo Combi Steamer * Bratt Pan * 
Dish Washer/Sterilizer * 3 Door Glass 
Chiller (walk in) etc…All Crockery * 
Linen Supplied * Central Heating and 
Air Conditioning and much more.  
Can also cater for small groups…. 
For more information please contact: 
Kim Wallace  
Home: 09 832 1133  Mob: 0211275340  
Email: kimwallace@xtra.co.nz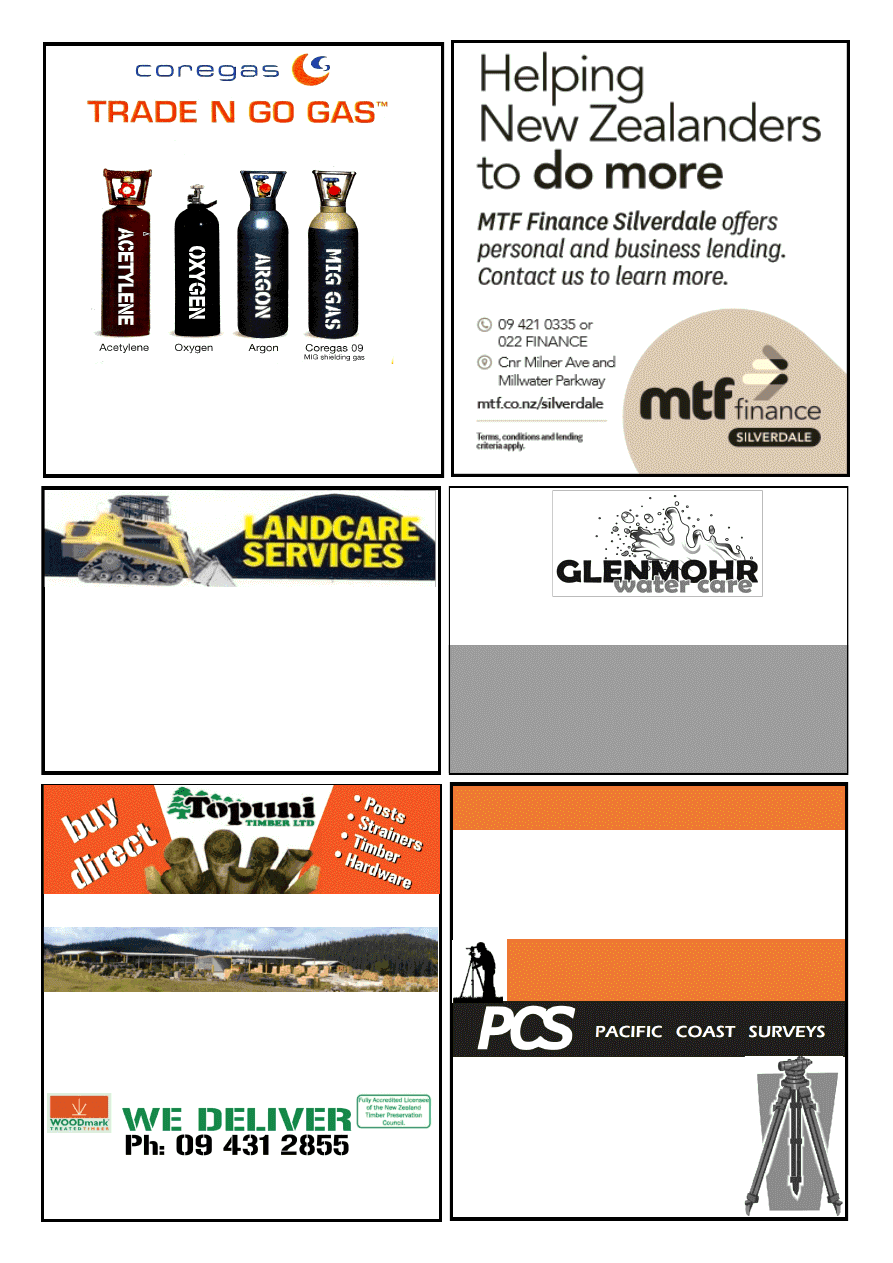 LOCALLY OWNED AND OPERATED 
QUALITY PRODUCTS • FRIENDLY ADVICE • GREAT SERVICE 
Quality Products milled from High Density NORTHLAND Radiata Pine. 
Treated and guaranteed to NZS3640 with commitment to 
Environmental Safety.
Phone, fax, email, or come into the mill 
Schiska Rd, Topuni, SH1, 10 min north of Wellsford. Fax: 09 431 2856 
Email: sales@topunitimber.co.nz           Mon - Fri 7am-5pm 
• Fencing 
• Retaining 
• Decking 
• Landscaping 
• Gates 
• Hardware 
SURVEYORS 
SUBDIVISIONS 
HOUSE SITE SURVEYS 
CIVIL ENGINEERING 
WASTEWATER DESIGNS 
EXPERIENCED 
PROFESSIONAL 
INNOVATIVE 
Ph 09 431 5353 
0800 PACIFIC (0800 722 434) 
pacificcoastsurvey.com
Adam Booth - 027 415 5752 
Bsurv, Licensed Cadastral Surveyor
Surveying Kaipara since 1994 
Water Tank Cleaning 
• 
Keep your water safe & clean  
• 
Removal of sediment, silt etc. 
• 
Vacuum or full scrub 
• 
Minimal water loss 
Phone Mark (09) 432 0655 or 0274 707607 
LANDSCAPING 
4 IN 1 BUCKET 
TRENCHER 
POLE HOLES 
ROTARY HOE 
COMPACT ROLLER 
OFFAL HOLES 
CAN SUPPLY WOODCHIP & POST PEEL 
5 TON TIPPER 
FOR RELIABLE AND FRIENDLY SERVICE CONTACT DAVE 
Dave Hyndman 
 
KAIWAKA 
PH: 09 4312302 
MOB: 021 431 238 
Now available at Twinkle Tow 'n' Tyre 
Mob: 021 833 960 
Ph & Fax: 09 431 2823 
1837 State Highway 1, Kaiwaka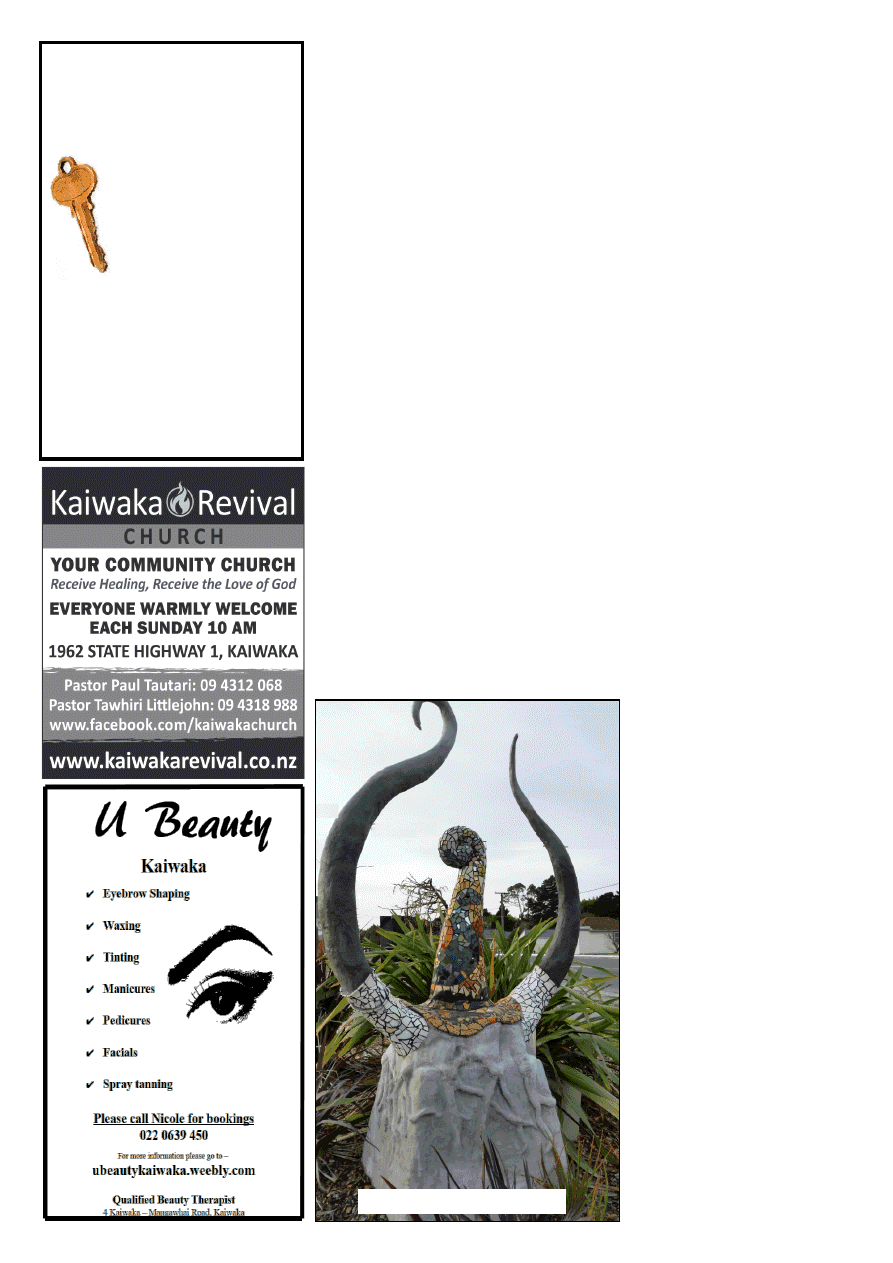 www.kaiwaka.co.nz 
Kaiwaka Bugle - 24 July 2018 
Page 11 
Kaiwaka 
Hardware  
& 
Key cutting
Phone 4312 063  
or 022 0642 703
kaikey2015@gmail.com
    Keys Cut  
Household Hardware  
Sharpening  
Knives & Tools 
Curtain Tracks & Fittings
Not there? Call Doug and he'll 
sort
it for you. 
(
Next to Kaiwaka Motorcycles)
Kaiwaka  Can  had  a  very  productive 
meeting  last  Wednesday  with  the 
welcome  attendance  of  Jonathan 
Larsen  our  local  Councillor  and Jenny 
Rooney, our council liaison person. We 
were able to explore a range of projects 
that  have  been  piling  up  with  little 
progress  and  came  away  with  some 
good results. 
Kaiwaka Central 
The  group  that  has  been  working  on 
plans  for  Kaiwaka  Central  (southern 
bridge to Kaiwaka Mangawhai Road is 
the  first  stage)  will  meet  next  week 
with Council staff and Jonathan Larsen 
to explore how the Long Term Plan of 
KDC can be integrated with our plans. 
There  is  provision  over  the  next  three 
years  in  the  Long  Term  Plan  for 
footbridges  and  footpaths  in  this  area 
and  also  money  available  through 
application 
from 
the 
Reserve 
Contributions fund. Now we are trying 
to tease out the way forward. 
Welcome Sculptures 
To  our  surprise  we  found  recently  the 
hold up in this was a very complex set 
of  conditions  from  NZTA  which  we 
hadn't  signed.  The  reason  was  very 
simple. We hadn't seen them! Now we 
have  them  and  can  start  to  untangle 
what they need. 
Playground Fence 
Expect  to  see  this  soon.  However,  it 
would  be  there  a  little  quicker  with 
some  keen  volunteers  to  paint  the 
timber, at least to priming stage, before 
we put it up, making it safer and easier 
to handle. If you would like to be part 
of this, ring me on the number below. 
Oneriri Road 
We  have  hit  a  brick  wall  on  this  one, 
the official verdict being there haven't 
been enough serious accidents! This is 
despite the mushrooming population up 
the road and its branches. 
Weed attack! 
Our  environmental  enthusiasts  have 
come  up  with  plans  for  reducing  the 
weeds round Kaiwaka, an ever present 
problem.  In  September  we  will  invite 
you all to join in a national weed week 
with clean up projects. But in addition, 
there will also be a weed of the month 
project  advertised  through  the  Bugle. 
So,  look  out  for  the  first  weeds  to  get 
our attention. 
Road maintenance 
Jonathan Larsen has been active getting 
some  of  the  potholes  and  eyesores 
cleaned up round town. One very major 
one  though  seems  to  have  slipped  the 
attention  of  the  roading  team  at  KDC, 
namely the slip up Gibbons Road, there 
for  probably  18  months  and  the  scene 
of  a  very  serious  accident  about  a 
month ago. 
Incorporation 
We  need  to  become  an  incorporated 
society  so  that  funding  applications 
have  an  official  body  to  act.  We  are 
gathering  our  foundation  membership 
names  and  working  on  rules,  so  this 
can be achieved shortly. 
Incidentally talking of funding, we are 
very  grateful  for  the  generous  $500 
donation  from  Rotary  recently 
which  is  going  towards  the 
playground  fence  completion. 
Thank you Rotary. 
And  we  would  love  more 
people  to  join  us.  Kaiwaka Can 
is  a  completely  open  group. 
While we have a team of regulars 
and  will  have  a  starting 
membership  for  Incorporation, 
we  are  open  at  any  meeting  for 
any  local  people  to  join  us  or 
even to come to just one meeting 
with  an  issue  that  is  on  your 
mind.  Third  Wednesday  each 
month  at  Archie  Bull  Hall, 
5.30pm, behind St Pauls Church. 
Review Meeting 
A  large  part  of  what  we  do  in 
partnership with Kaipara District 
Council  is  driven  by  the 
Township  Improvement  Plan, 
drawn  up  between  NZTA, 
Council  and  Kaiwaka  Can,  now 
nearly  three  years  ago.  In 
October  we  will  hold  a  Council 
driven  meeting  to  review  our 
progress  and  hear  from  people 
about  other  concerns  regarding 
our great little town. 
Derek Christensen, Chair 
099469077 or 0273572751 
KAIWAKA CAN  
READY FOR SOME NEW MOVES 
A new sculpture at Eutopia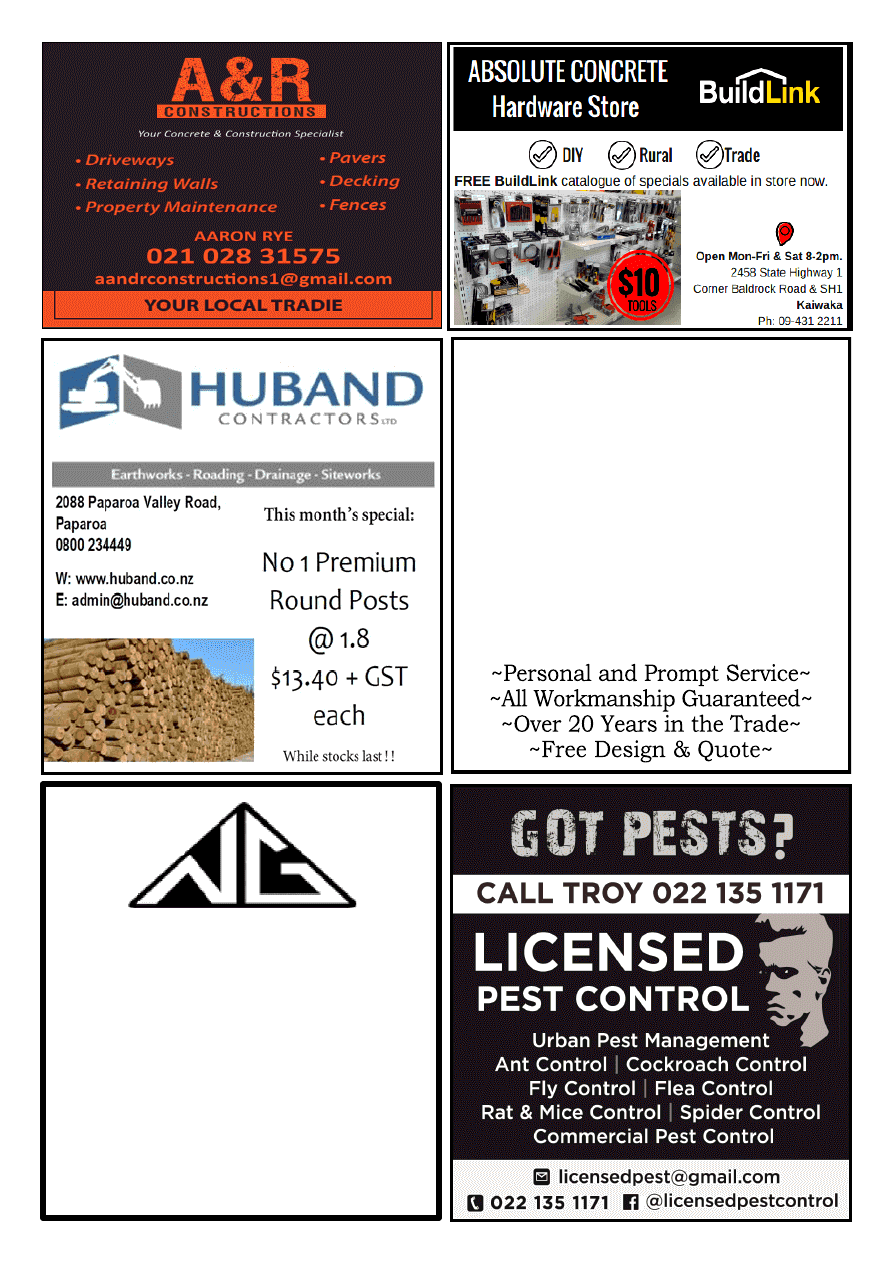 NORTH GLASS 
WINDSCREEN REPAIR OR REPLACE 
GLAZING SERVICES 
MIRRORS  •  SPLASH BACKS  •  SHOWERS 
0800 70 40 10
info@northglass.co.nz 
www.northglass.co.nz 
PLANNING A NEW KITCHEN?
 CONTACT NOEL McDOWELL
WELLSFORD 
KITCHENS
Ph/Fax 094312888
KAIWAKA-Any time
 QUALITY CUSTOM MADE 
KITCHENS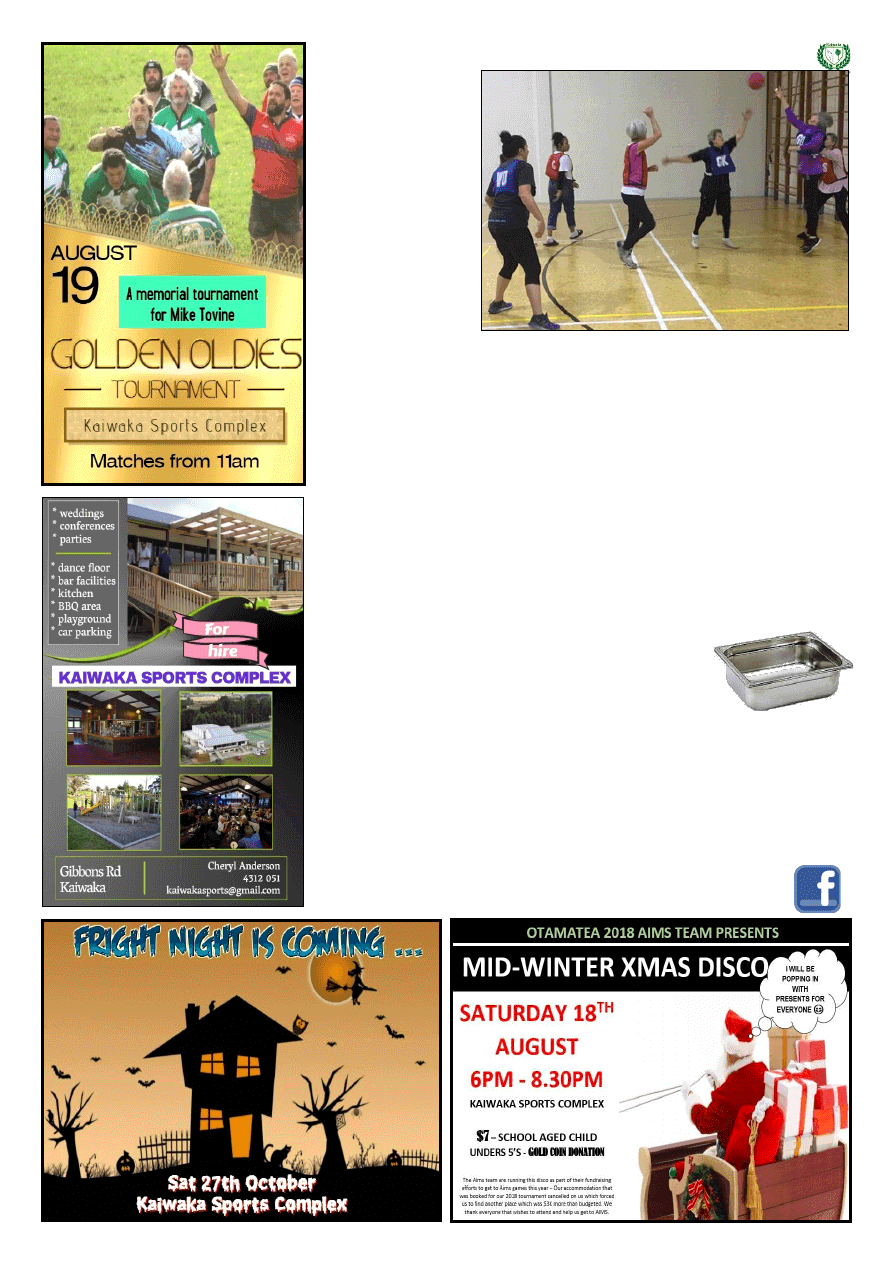 www.kaiwaka.co.nz 
Kaiwaka Bugle - 24 July 2018 
Page 13 
           KAIWAKA SPORTS ASSN 
Mid-Winter 
Xmas 
Disco 
The  Otamatea  AIMS 
team are holding a Mid
-Winter Xmas Disco at 
the  KSA  on  Saturday 
18
th
 August. It will run 
from 
6pm 
until 
8.30pm, 
$7 
entry. 
Santa will be making a 
quick 
visit 
with 
presents  for  all  kids! 
Lots  of  yummy  food 
for sale.  This will be a 
fun  night  of  dancing, 
music, friends and fun.. 
Rugby – HAWKS 
Our  Otamatea  Hawks  took  on  Moerewa/
United  Kawakawa  on  Saturday  in  the 
promotions/relegation  match.  We  were 
victorious,  coming  away  with  a  hard-
fought win 26 - 17. Well done to our men. 
Rugby – Golden Oldies 
We are hosting a Golden Oldies rugby 
tournament  on  Sunday  19
th
  August. 
Matches  start  from  11am,  spectators 
welcome.  
Rugby - JMB 
Our junior rugby club will celebrate the 
end  of  their  season  with  a  prizegiving 
on Thursday 2
nd
 August at the KSA at 
6.30pm. All welcome.  
Rugby 
- 
Taniwha 
Shield 
Tournament
Well  done  to  our  local  Year  7  &  8 
team,  the  Rodney/Otamatea  Rhino's 
who  competed  in  the  Northland 
Taniwha Shield week long tournament 
in Hokianga. The team finished in last 
place,  but  tried  their  best  in  all  their 
matches. 
Illuminate  2019  - 
Community 
Meeting August 10
th
The  Venture  Organising  team  will  be 
presenting  an  outline  for  'Illuminate 
2019' -  the  14
th
  New  Zealand Venture 
which  will  run  from  December  31
st
until  January  11
th
.  This  Scouts  New 
Zealand  event  for  teenagers  will  be 
held  at  our  grounds  and  the  school 
grounds  and  will  see  over  1,000 
participants camping here. As well as a 
lot of activity on the site, there will be 
a  number  of  vehicle  movements  and 
many  local  facilities  and  services 
involved.   
The  organisers  would  like  to  explain 
their  plans  and  answer  any  queries 
from Kaiwaka  townsfolk, so they have 
arranged  a  Community  Meeting.  
This will be held on Friday 10
th
 August 
at  7pm  at  the  Sports  Complex.  All 
welcome.  
Walking Netball
Pictured  above  -  a  game  in  progress. 
Keen  to  try  your  hand  at  Walking 
Netball?  There'll  be  a  fun  session  this 
Sunday  29
th 
  July. 
No  need  to
  worry 
about the weather - we'll be inside the 
gymnasium, so we'll be nice and dry.  
Missing from our kitchen 
Has  anyone  got 
some  of  our  bain 
maire containers at 
home?  
We  should  have 
seven but we've only got four.
Hirage
Did  you  know  our  Sports  Complex  is 
available for hire? A great local option 
for  weddings,  parties,  conferences  etc.
And  we  also  hire  out  our  kitchen  to 
groups  who  require  a  commercially 
licensed  kitchen  for  food  preparation.
Check  out  our  website  for  all  the 
details: www.kaiwakasports.co.nz.
Cheryl Anderson 
4312 051, 027 3462702 
kaiwakasports@gmail.com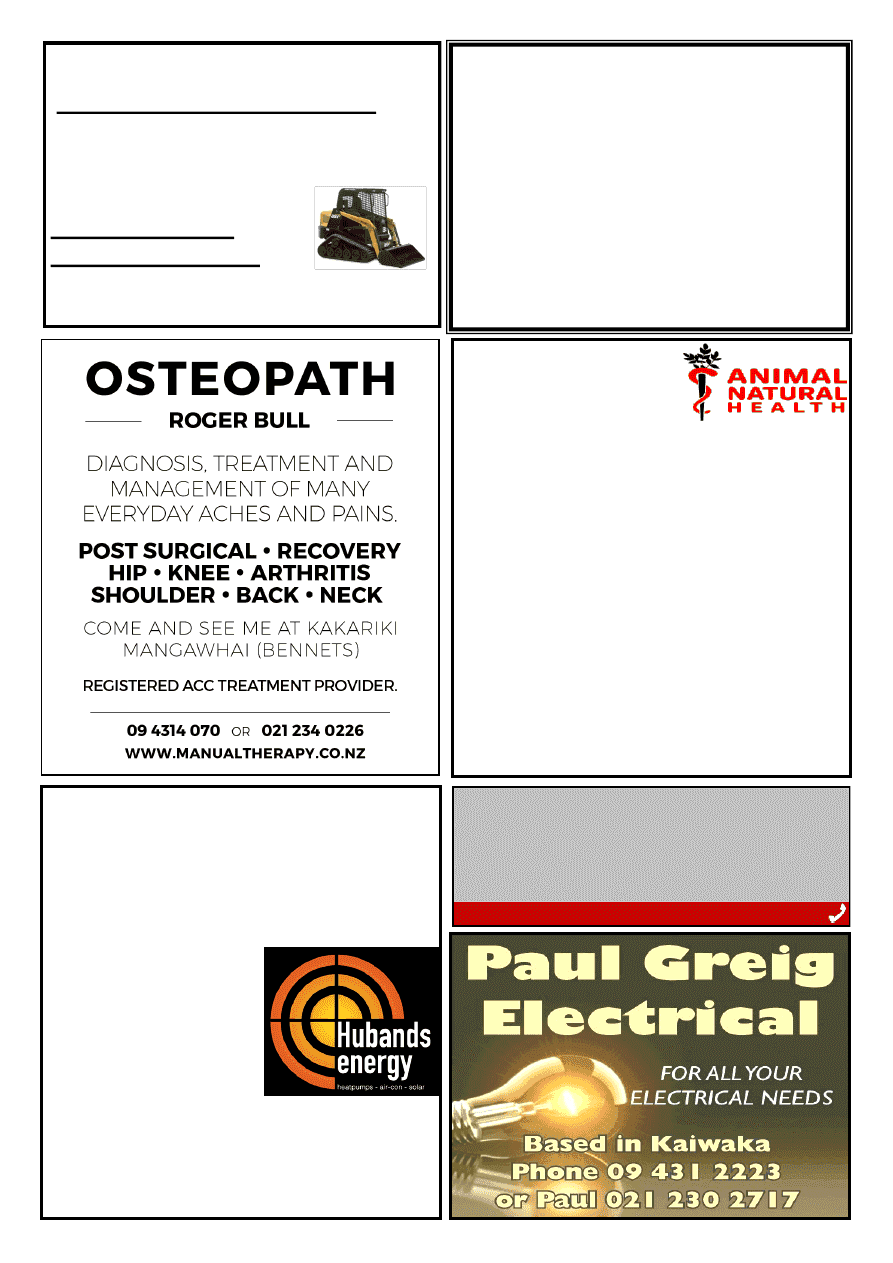 Natural Earth Ltd 
 Landscape and Bobcat services 
 : Driveways  :Landscaping  :Retaining Walls 
 : Hole Boring: Land Levelling :Trenching 
 : Decks :Fences :Sections Cleared: Plus much 
more 
Tel   09 4312885 
Mob 02102391280   
For A Fast Friendly  
Service Contact Tim Hicks 
CALL CRIMESTOPPERS 
Worried about something that doesn't seem right to 
you? Concerned about activity that could be 
harmful? Call Crimestoppers.  
You don't need to know all the facts.
CALL 0800 555 111 ANONYMOUSLY 
Northland's Award Winning 
Solar Company
SEANZ Best Solar Business Winners 2015/16
EXCLUSIVE 10 year installation warranty 
FREE No obligation onsite quote
Complete systems 
from $5990
See our range of: 
✓ 
Heatpumps 
✓ 
Airconditioning 
✓ 
Hot Water 
Heatpumps 
✓ 
Central Vacuum Systems
09 430 0019             sales@hubands.co.nz 
15 Kioreroa Road, Whangarei
Locally owned and operated for 35 years 
Mangawhai Heads 
Garden Centre
1758 Cove Road
945 0707 
021 165 2629 
ANIMAL NATURAL 
HEALTH CENTRE 
Next to Italian Bakery,  
S.H. 1, Kaiwaka 
Phone: 09 431 2217 
Hours: Mon-Fri 9.30-5.00 pm Sat 9.30-4.00 pm 
Petfood 
– Extensive raw meat selection: 
Free-range / organic where possible, no 
preservatives 
Purely Pets Patties, 'Out of the Wild' Game, 
Pet Deli, Bulk Buys, Bones, Brisket, Fish 
 
– Mighty Mix Biscuits & Concentrate 
– Tukka Thyme Muesli, Ziwi Peak Cat & Dog 
– Orijen & Acana Kibble, safe Treats. 
 
Organic Apple Cider Vinegar 
Chemical-free flea, worm, tick & lice controls 
Alternatives to vaccinations (HP Nosodes) 
Homeopathic/Herbal/Nutriceutical Products 
Eco friendly hygiene products, Leads & Collars 
Animal Naturopath: Sarndra G Urwin Dip NAH (Hons)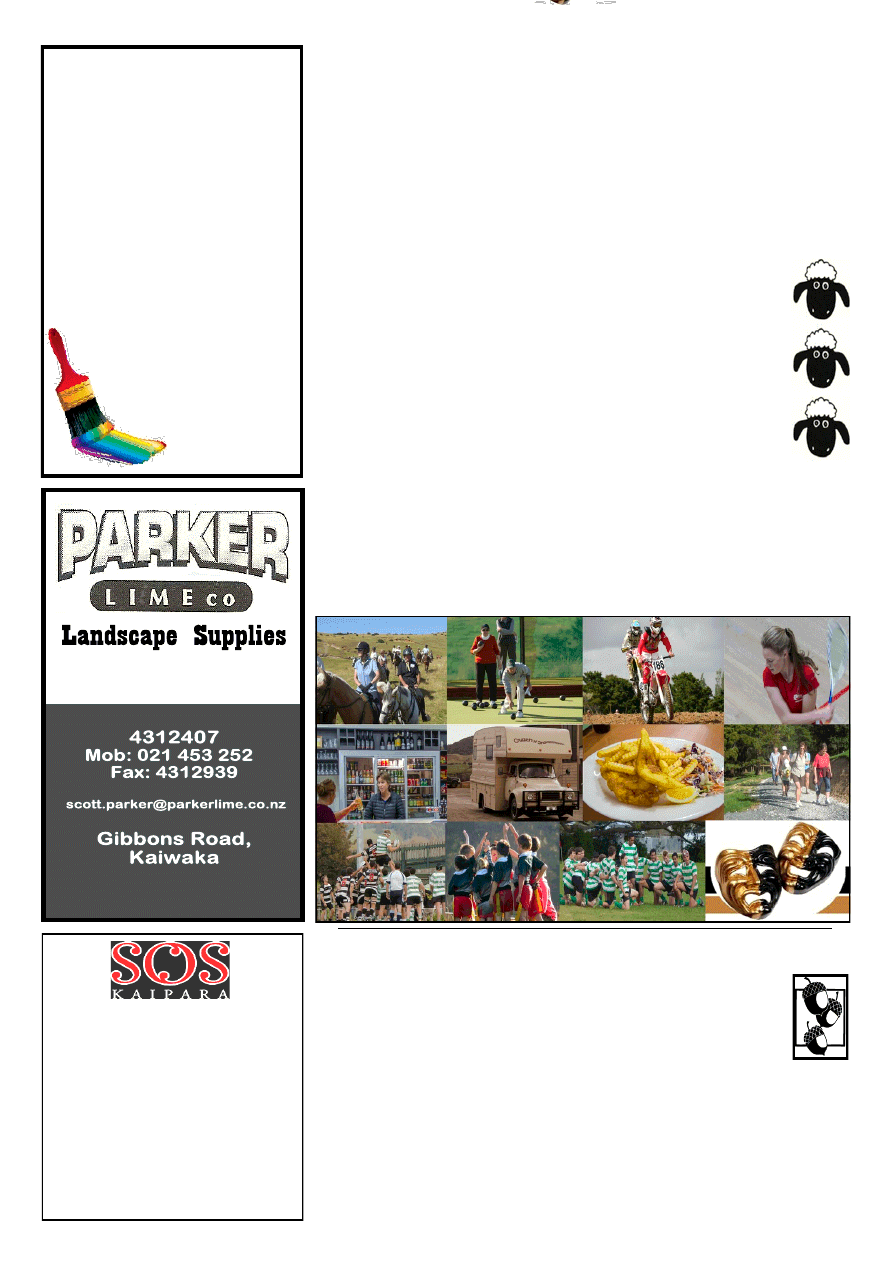 www.kaiwaka.co.nz 
Kaiwaka Bugle - 24 July 2018 
Page 15 
S.O.S Kaipara 
Support, advocacy, crisis and 
family therapy counselling, refuge 
housing to survivors of sexual 
abuse and domestic violence. Also 
Education prevention programmes 
for the community and clients.  
Office hours 9am to 3pm Monday to 
Friday; 24/7  Police  
or phone 09 4396070 
Bulk Cartage 
LEE COOPER 
PAINTERS 
(Kaiwaka Based) 
*30 yrs Experience 
*Interior/Exterior 
*New and Restoration 
*Honest and Reliable 
*Free Quotes 
 
09 4312918 
0274735171 
leecooper@xtra.co.nz 
MAUNGATUROTO COUNTRY CLUB 
SPORTS - SOCIAL - CONFERENCE CENTRE 
PO Box 81 Bickerstaffe Rd Maungaturoto 0547  
T 09 4318 326  F 09 4318 324 
www.thecountryclub.co.nz 
The Club is open . . . 
Come in and enjoy a drink and a meal from Raquel's Kitchen. You can join the 
Club for the low price of $15 per year.  
Applications forms are available on request. 
The Club is a great venue for business meetings or private functions. 
Check us out on www.thecountryclub.co.nz 
Maungaturoto Community Walkway: 
CLOSED FOR LAMBING 
From  July  to  September,  the  walkway  will  be  closed  and  in  the 
meantime some 
maintenance will be done so it'll be in good shape for summer. This is 
being led to Stella Clyde, who made the walkway happen in the first 
place, and Otamatea High School students, who also got the walkway 
going, and a generous donation by the Otamatea Op Shop. Thank you 
to them all. 
Do you enjoy any of these sports or activities? 
Bowls, Squash, Rugby, Theatre, Motorcross, Equestrian. 
If you'd like to participate or find out more - these clubs are all 
affiliated to the Country Club. 
How to get to and contact the Club: 
Bickerstaffe Rd - turn left at the stonewalled entrance before  
Otamatea High School. 
Phone 4318 326 or the Secretary 4318266 
Private Functions * Open for drinks and dining – Thursday and Friday 
evenings. 
GET OUT OF YOUR COMFORT ZONE 
An unknown poet wrote:  
'I used to have a comfort zone where I knew I couldn't fail; 
 the same four walls of busywork were really more like jail. 
 I longed so much to do the things I'd never done before, 
but stayed inside my comfort zone and paced the same old floor.  
I said it didn't matter that I wasn't doing much;  
I said I didn't care for things like dreams and goals and such.  
I claimed to be so busy with the things inside my zone,  
but deep inside I longed for something special of my own.  
I couldn't let my life go by just watching others win;  
I held my breath and stepped outside and let the change begin.  
I took a step, and with new strength I'd never felt before,  
I kissed my comfort zone goodbye, then closed and locked the door. 
If you are in a comfort zone, afraid to venture out, remember that all winners 
were at one time filled with doubt.'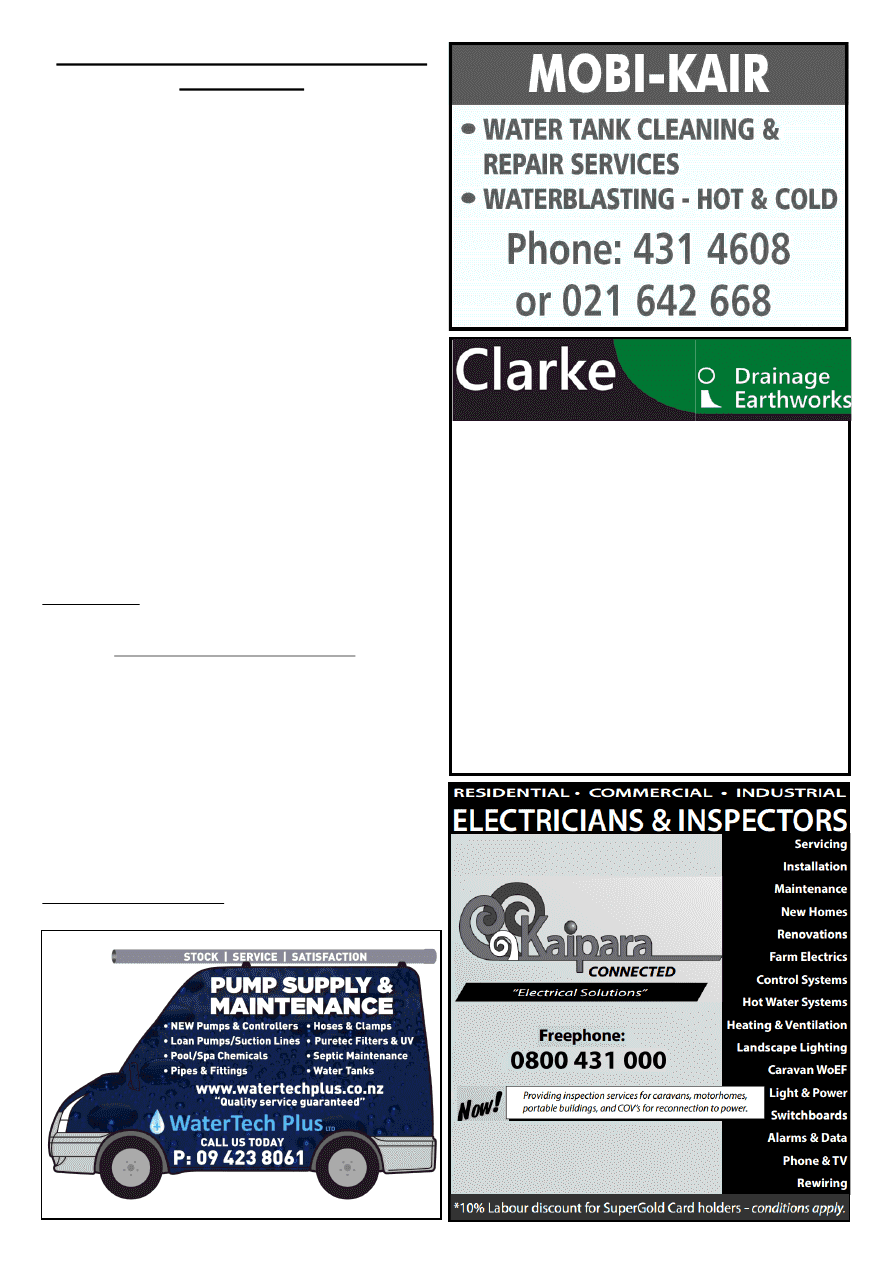 Registered Drainlayer 
All Types of Earthworks  
> All Residential & Commercial Work  > House Sites 
> Septic System Design & Install 
> Footings & Drilling to 10m 
> Sewer Connections 
> Dams 
> Water Tank Installation 
> Roading & Races 
> Farm Work 
THE ONE STOP SHOP  
Phone Nigel for an Obligation Free Quote  
Drainage & Earthmoving 
nigel@clarkedrainage.nz 
027 2233 185 
KAIWAKA FITNESS ACTIVITIES 
Low Impact 
Aqua Aerobics  Karen's Pool, Te Hana, Mon am & 
pm, Thurs am & pm, $7. Call Karen  09 4239361. Fun 
exercise in water. 
Badminton  Kaiwaka Sports Association Gymnasium, 
Tuesdays 7.30pm. $3 casual Kaye 09 4312345. 
Racquets available to borrow 
Kaiwaka Fitness Centre Kaiwaka Sports Association. 
24hr, 7 days/wk. $140/yr Forms available at Jaques 4 
Square. Pay by cash at Jaques. Exercise bikes, cross 
trainers, treadmills, weights etc 
Line Dancing Kaiwaka War Memorial Hall Monday 
10am. Contact Eleanor Robinson 4315160 and 
Robinsons.roost@xtra.co.nz 
Lower Limb Strength Class Mangawhai Physio. 
Tuesdays 0930-1030. $10 Call Mangawhai physio:  
094314476. Strengthen and stretch hips, backs and 
knees. Improve balance. Strengthen arthritic joints or if 
you have had a joint replacement. 
Pilates The Heart/Ark, Opposite Furlongs. Thursdays 
6.15pm- 7.45pm. $12 Call Amy Griffiths 0212072729. 
Beginners and intermediate. Physio led. 
Scottish Country Dancing Kaiwaka War Memorial 
Hall. Wed 10-1200. 30
th
 May until July $5 Elaine 09 
4320532 
Splashfit Karen's pool, Te Hana. Wed 1100-1200. 
$10. Amy Griffiths 0212072729 Physio-led exercise in 
water. Low level exercise. 
Tai Chi Kaiwaka War Memorial Hall. Tuesdays 10am 
Andrew Young 094223424 or 027327 6604 
taichi@pl.net. Balance, meditation, memory 
Tai Chi Kaiwaka Sports Association. Wed 7-8am 
Sundays 0830-1000. From $16 /mth Craig Bennetts 
431 5170 otamatea.kempo@farmside.co.nz  Balance, 
meditation, memory. 
Walking group: New Activity! Kaiwaka Fitness Trail. 
Meet at the heli-pad at the Kaiwaka Sports Association 
Tuesdays 0830 and 4pm. FREE!  Amy Griffiths, 
physio 021 2072729 1 circuit = 482m. All levels; 
walking sticks, baby buggies, stride out or get one foot 
past the other. All welcome! 
Walking Netball Kaiwaka Sports Association 
gymnasium. Starts 2pm Sunday 1
st
 July. Email Cheryl 
at kaiwakasports@gmail.com 
Yoga The Heart/Ark. Heidi 0220208800 
Yoga Vinyasa Flow The Heart/Ark Friday 0830- 1000 
$15 casual.  Carla 021 2968794, 
carl.rosseels@gmail.com. moderately paced dynamic 
yoga flow, with inspirational themes, meditative. 
Email: info@kaiparaconnected.co.nz 
Website: www.kaiparaconnected.co.nz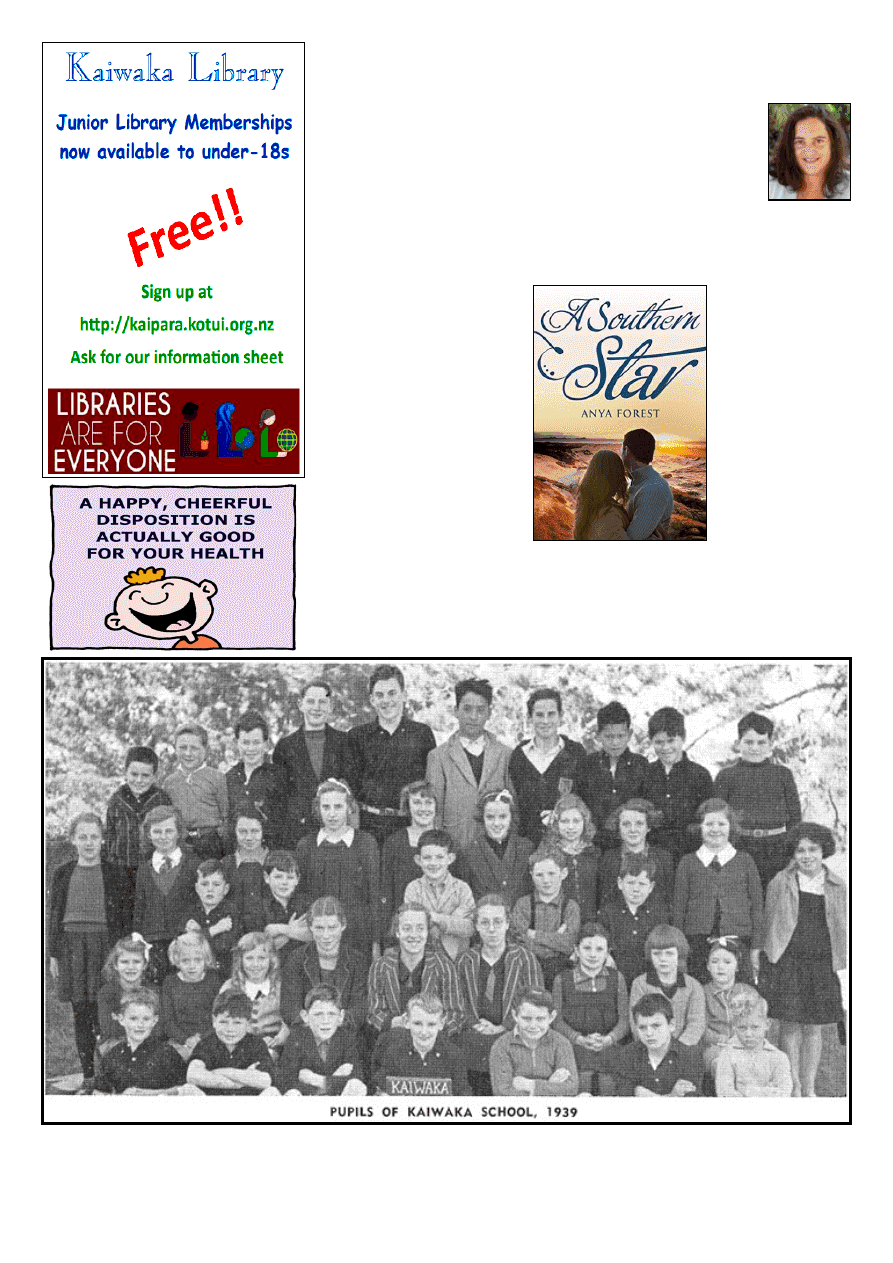 www.kaiwaka.co.nz 
Kaiwaka Bugle - 24 July 2018 
Page 17 
KAIWAKA LIBRARY 
Junior Library Memberships 
We  now  offer  library  memberships  to 
kids as well as adults. Sign up the same 
way  as  the  adults  (at  https://
onlinereg.kotui.org.nz/forms/45 
or 
come  in  to  the  library)  but  choose  the 
Junior  option  on  the  first  screen.  We 
have  an  information  brochure  at  the 
counter  if  you  want  more  information 
before joining - just ask us for one. 
Free to join the library 
It  is  free  for  any  resident  and/or 
ratepayer in the Kaipara District to join 
Kaiwaka Library and use our facilities. 
That is, for adults and children 
alike.  Adults  need  to  provide 
two  forms  of  identification, 
children  need  to  name  a 
guarantor.  Contact  me  if  you 
would like to know more. 
Book Reviews 
This  mortal  boy  by  Fiona 
Kidman. Albert Black was just 
18  years  old  when,  as  a 
disillusioned  lad  in  his  home 
city of Belfast with no future to 
be had there, he became a "ten-
pound-Pom"  and  emigrated  to 
Wellington.  To  all  intents  and 
purposes, he had his whole life 
ahead  of  him  in  the  land  of 
milk and honey  - so how did he come 
to  be  known  as  the  'jukebox  killer'  in 
Auckland,  resulting  in  him  being  the 
second-to-last  person  hanged  for  a 
crime 
in 
New  Zealand?  This 
novelisation of true events is a sad tale 
of  listless  youths  struggling  to  find 
their place in a world that is hostile to 
them.  I  found  it  a 
compelling read and have 
no 
hesitation 
in 
recommending  it.  This 
book  is  on  the  Rental 
Fiction  shelves  in  our 
library. 
Across  the  strait series -  A  southern 
star,  A  southern  shelter,  and  A 
southern  strait,  by  Anya  Forest 
(pictured  above).  These  three  books 
tell  the  story  of  Blake  Ryan  and  his 
close  friends  and 
family.  He's  a  good 
young 
Southern 
Man,  into  hunting 
and 
tramping 
around 
Stewart 
Island when he's not 
working 
at 
the 
vineyard 
in 
Queenstown.  These 
are 
straight-out 
romance  stories,  set 
in  southern  New 
Zealand,  about  men 
and  women  who 
have  hurdles  to 
overcome  in  their 
lives.  I  really  enjoyed  them.  These 
books are on the Rental Fiction shelves 
in our library. 
See you in the library, Wendy
Kaiwaka Library, cnr State Highway 1 and Kaiwaka Mangawhai Road. 
PO 
Box 
89, 
Kaiwaka 
0542. 
Phone 
4312 
539. 
Email  kaiwaka.library@gmail.com  Open  Wed-Sat  10am-2pm,  Mon  4-
6pm. Free membership is available to all residents in the Kaiwaka area. 
This  photo taken  at the beginning  of  World War  II,  is  from  the  Facebook  page  of  Old  Friends  New  Zealand  Schools 
among the Kaiwaka school photos. Can you help name these pupils. We know 
Harry Wright (the tallest lad in the back 
row), Fay Leabourn, Gabrielle Gibbons
 - both in Row 2, two and three from the left. 
To see more go to Facebook, type 'Old Friends New Zealand Schools'  in the search bar, click on FILES (on the left) and 
a  list  of  Albums  will  come  up,  scroll  to  Northland, click,  then  scroll  down  to Kaiwaka  and   a  number  of    our  school 
photos will appear.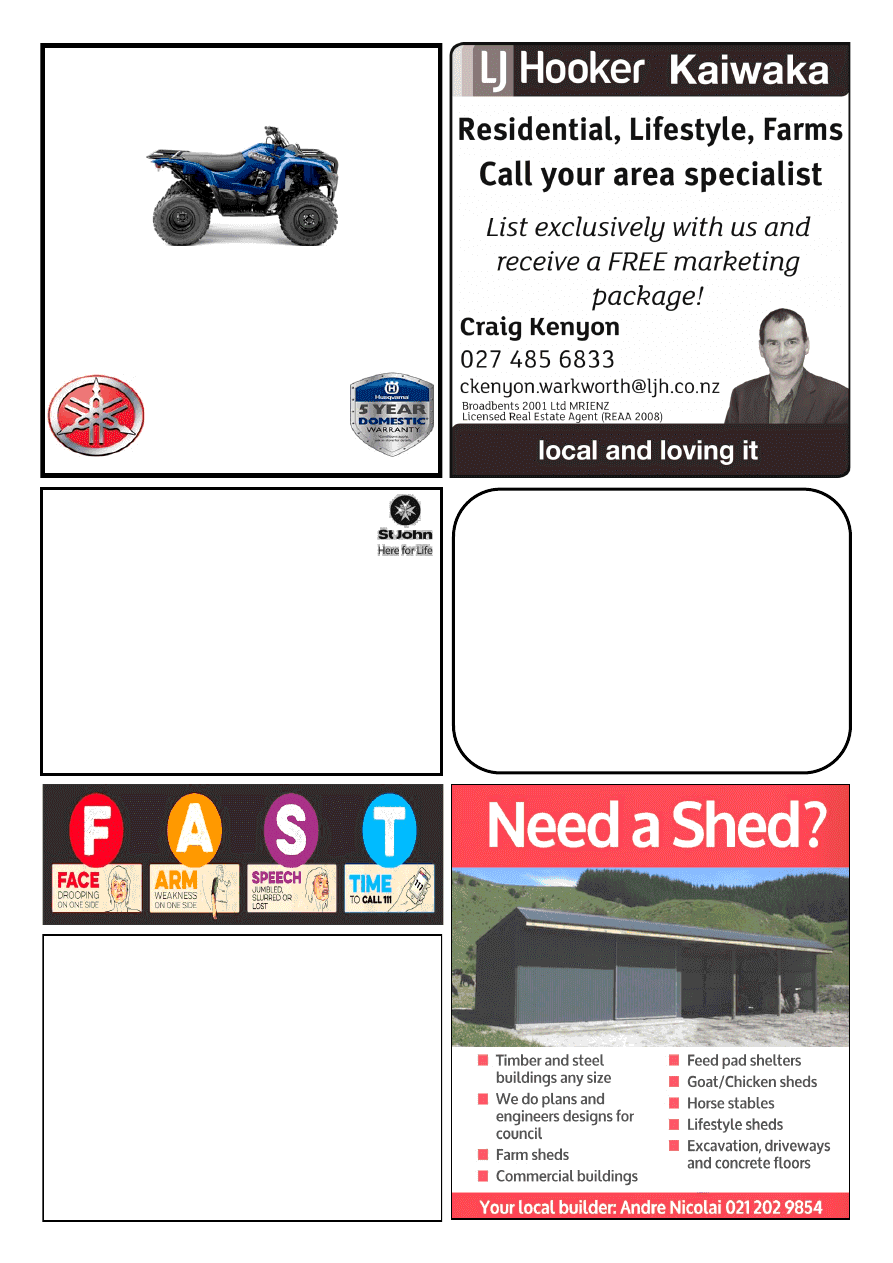 All your outdoor needs sorted so you don't have to... 
I can prune, chop, tidy, spray, mow, plant 
- you name it, I can do it! 
Residential & Commercial 
Lawn & Garden Care 
Call Rodney, your local  
lawnmowing contractor 
021 138 2344 
KAIWAKA 
MOTORCYCLES LTD
SALES – SERVICE – SPARES 
FARM BIKE SPECIALIST
PHONE 09 431-2127 
10 KAIWAKA-MANGAWHAI ROAD, KAIWAKA
Trimmers  
from $279
Chainsaws  
from $339
YAMAHA 
HUSQVARNA 
UP-LINK 
CHRIS WARING 
FREEVIEW INSTALLATIONS 
T.V. - HOME THEATRE &  
HI-FI ADVICE/SET UP
SKY ACCREDITED INSTALLER
MOB.0273403747 HM.094312328 
EMAIL cwaring44@gmail.com
28 YRS EXPERIENCE 
OFFERING UNBIASED ADVICE 
KAIWAKA ST. JOHN  
OP SHOP 
We have lots of goodies for sale
.... 
We  have  Belts,  Ties,  Socks,  Undies,  Knickers,  Petticoats, 
Beanies,  Scarves  and  Shoes,  Boots  -includes  Babies, 
Children's and Adults clothes and accessories. 
We also have: 
A variety of furniture ... 
Lots of Jig-saws...all cheap; Sets of disposable tablemats 
Lovely pieces of Bric-a-brac. 
We need, please: 
Blankets, pillows, rugs, mats, tools, jewellery, pot plants and 
anything else in good saleable condition.  
Much appreciated, Milly and Staff. 
Phone 09-4312650 after 9.00 am. 
1919 SH 1, Kaiwaka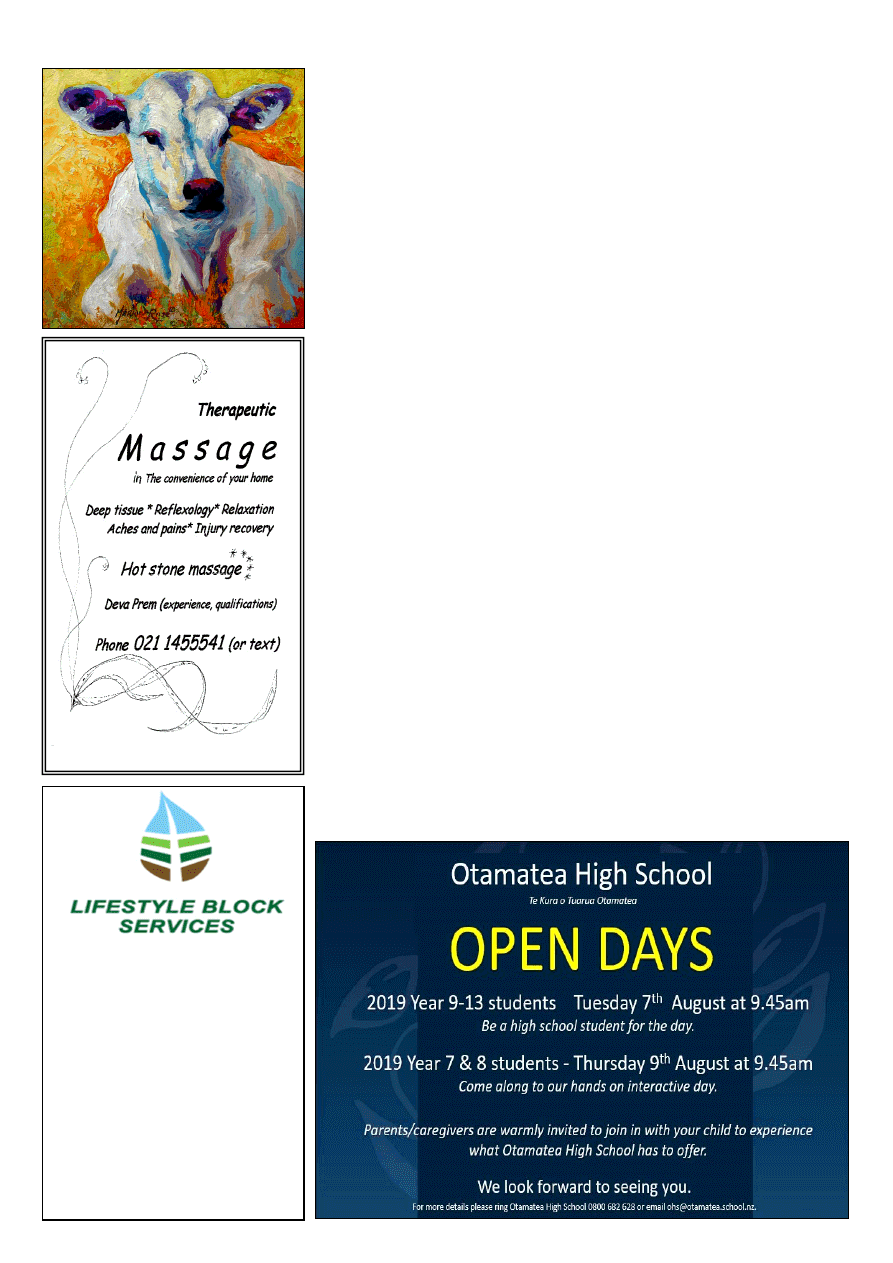 www.kaiwaka.co.nz 
Kaiwaka Bugle - 24 July 2018 
Page 19 
Contact Mark on 021 801 065  
or 
Contact Lisa on 021 108 1057 

 Small HaylSilage Baling & 
Wrapping 

 Fencing 

 Spraying 

  Mulching 
 
Stockwork  

  Stock Water Systems  

 Driveway & Track Maintenance  

 Tree Trimming 
Mary,  Tom  and  their  daughter  were 
town  folk  who  inherited  a  small  piece 
of land. Grandma got them two young 
calves  Otis  and  Ergle.  Eventually  it 
came time to call home-kill. Tom never 
liked Otis, so the next night at dinner, 
he  said  he  was  enjoying  his  Otis 
sausages.  "Aw  Dad  it's  not!"  said  the 
daughter.  Weeks  later  Grandma  told 
the  six-year-old  don't  worry  she  was 
getting  them  two  more  calves.  The 
granddaughter  replied  "Great,  more 
meat!"  I  believe  the  new  calves  are 
called T Bone and Rump. 
Sometime in the seventies I met a man 
named  William  Souter.  I  was  on  my 
first day in a specialist boat yard and at 
morning  tea  I  sat  down  at  the  smoko 
table, in front of me was a big cup ring 
scorched  into  the  table  top.  I  was 
promptly  told  by  the  other  men  not  to 
sit there as it was Billy's seat. He was a 
very stout, strong dour Scotsman, with 
a  loud  gruff  Glaswegian  accent.  As 
time  passed  in  the  yard  I  learned  that 
Billy was a Shipwright from the Clyde, 
tough  as  they  come,  he  had  pounded 
deck planking onto the QEII in driving 
snow.  He  had  rescued  drunken  mates 
from  going  to  sleep  on  the  way  home 
full  of  "whusky"  from  the  pub,  thus 
saving them from being frozen to death 
by  falling  to  sleep  against  the  fences 
along the streets of Glasgow. 
Billy was a good man, and capable and 
one  time  whilst  working  together  he 
told  me  privately  that  he  was  a  little 
lonely  and  needed  to  get  a  dog  for 
company.  As  it  happened  I  had  a 
lovely  affectionate,  gentle,  black  and 
tan  German  Shepherd,  at  the  time  my 
girl  friend  had  a  nice  one  also,  so  we 
didn't  want  two  dogs.  Billy  was  very 
grateful  after  getting  the  dog  and  his 
growl  towards  me  stopped  somewhat, 
but 
still 
continued 
to 
others. 
Unfortunately  the  other  Alsatian  dog 
took  a  liking  to  my  sheep  one  night 
whilst  staying  over,  and  attacked  five 
of them. Either the girl had to go or the 
dog! Suddenly on my hands were three 
dead  and  two  badly  injured  animals. 
Not  being  one  who  likes  waste,  I 
butchered  the  animals  for,  would  you 
believe it? Dog food! So, at work I told 
Billy  to  come  by  on  the  weekend  to 
pick up some meat. 
I  had  a  carcase  hanging  from  a  tree 
branch as his car wound its way up the 
farm  drive.  The  animal  was  skinned, 
split up the middle and I was just into 
ringing it, so the offal would fall into a 
plastic lined bin underneath, as was my 
usual  method.  As  Billy  came  over  I 
selected  the  creature's  lung  from  the 
bin  of  offal  and  asked  him,  if  he  had 
ever  seen  this?  "Nah  Byo,  whut  ye 
talkin  aboot?"  I  put  the  lung  to  my 
mouth  and  blew  it  up  showing  all  the 
veins  and  such.  Well  this  big 
bombastic man who most people were 
afraid of, feet went out from under him 
and he fainted, collapsed right there on 
the  drive  -  the  tough  Scotsman!  He 
came  to  after  a  bit  and  departed  with 
plenty of meat wrapped in news print. 
We never mentioned that episode ever 
again, especially not at work. 
By Bevan Lawrence,   
Mangawhai Writers Group 
Finally, 
the 
local 
creative 
Mangawhai  Writers  group  has  a 
place to meet again. 
We  will  meet  in  the  old  school 
house  opposite  the  Museum  every 
second  Thursday  of  the  month  at 
7:30pm.  –  next  one  Thursday  9 
August. 
There  will  be  discussion  of  their 
works  and  some  will  read  excerpts. 
We  encourage  writing  as  a  way  to 
record  our  histories  and  stories  for 
later generations to find. 
Contact Bevan Lawrence at 4801949 
for information. 
WHAT'S Your Story:  TWO TRUE TALES ABOUT TOWNIES. 
www.mangawhaimassage.co.nz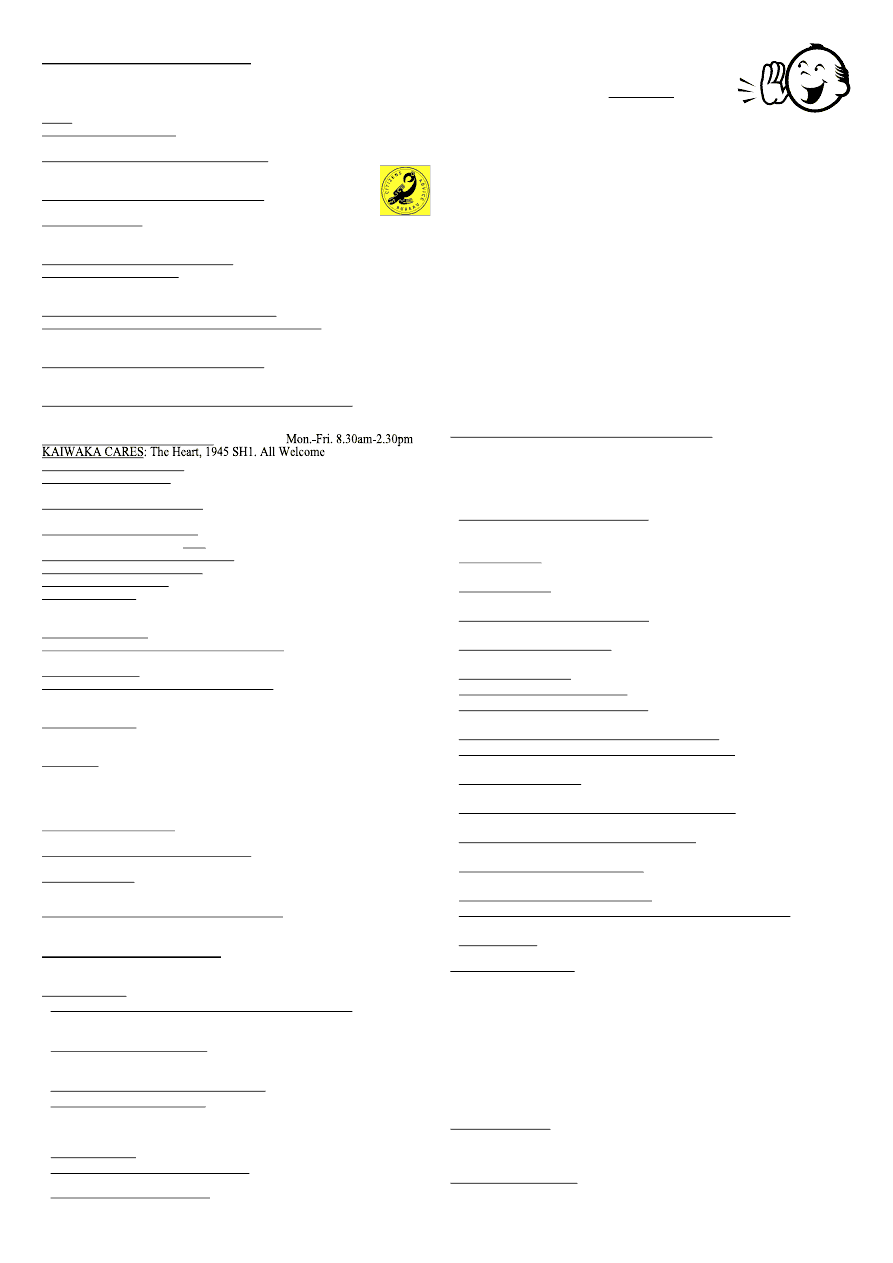 Next Bugle Deadline midday Friday 3 August 2018
WHAT'S ON
PLEASE ~ do let us know what is on - email 
kaiwakabugle@kaiwaka.co.nz 
Advertising in WHAT'S ON is FREE  
*27Jul~Working Dog Training, Oneriri Station, 10am 
*27Jul~'Movie: No Ordinary Sheila', KWMH, 7.30pm 
*29Jul~'Movie: A Wrinkle in Time', KWMH, 2pm 
*29Jul~Last Night 'Into the Woods'. ORT, 7.30pm 
*7Aug~Otamatea High School OPEN DAY -Yr9 to 13 
*9Aug~Otamatea High School OPEN DAY - Yr7&8 
*9Aug~Mangawhai Writers Group, Old School-Museum,7.30pm 
*10Aug~Scout Venture:  Illuminate Kaiwaka, KSA, 7pm 
*10Aug~Movie 'Lean on Pete', KWMH, 7.30pm 
*15Aug~Kaiwaka Can meet Archie Bull Hall, 5.30pm 
*18Aug~Busy Hands Craft Display, Christ the King, Mwi 10am 
*18Aug~Mid Winter Christmas Disco, KSA, 6-8.30pm 
*29Aug~Movie 'The Guernsey Literary & Potato Peel Pie 
Society' , KWMH, 7.30pm 
*31Aug~DAFFODIL DAY 
KWMH = Kaiwaka War Memorial Hall; KSA = Kaiwaka Sports Association 
See www.kaiwaka.co.nz for more information 
HOUSEHOLD RUBBISH COLLECTION - Kaiwaka Pick up: 
Mondays = Green bags (Northland Waste - 09 430 3273) 
Wednesdays  = Blue bags and yellow recycling (at Jaques $3.00 
and  $1.50)  (Kaurilands  09  4392146);  ONLY  Blue  and  Yellow 
bags picked up on Oneriri Road. 
 DIABETES  Support  Group  -for  Kaiwaka,  Mangawhai, 
Wellsford  10am,  3rd  Friday  of  month  Ph:  Colleen  James  09 
4314238 
 DRINK CAN 'tear tabs' - for Starship Hospital- please collect - 
98 Kaiwaka Mangawhai Rd, leave in mailbox, Ph. 4312625  
 GENEALOGY - Wellsford: 1st Thursday in month Ph: 423 
7033; Waipu: 4th Monday in month Ph: 4312 725 
 GYMNASTICS  OTAMATEA  -  Tuesday  Ph:  Stephanie  022 
3624998 
 HAKARU PONY CLUB - Secretary Denise Rogers 021423376 
secretary@hakaruponyclub.co.nz  
 KAIPARA HUNT - Secretary Albert Doonenbal Ph 4312059 
 KAIWAKA BADMINTON -Tuesdays 7.30pm Ph: 4312345 
 KAIWAKA  DRAMA  CLUB  - 
Hannah  Webb 
0272863352 
KaiwakaDrama@gmail.com - FB - "KaiwakaDramaClub" 
 KAIWAKA DRUM & DANCE CLASSES - 021 611198 
 KAIWAKA GARDEN & FLORAL GROUP - 2nd Thursday in 
month. Ph: 431 4744 
 KAIWAKA  CUBS  -  Thursdays  5.30-7pm,  Hakaru  Ph:Bruce 
4312542 
 KNITTING FOR WHANGAREI HOSPITAL - 2nd Tuesday in 
month, Archie Bull Hall 10am Ph 4314827 
 MANGAWHAI COMBINED REBUS CLUB - 2pm, 3rd 
Thursday month, Senior Citizens Hall Mangawhai. Ph: 4315777 
 OTAMATEA GREY POWER - Kath Pattinson 09 283 2052, 
1pm last Wednesday of month, Anglican Church Hall, Mgto 
 PT CURTIS CRUISING CLUB - Jean Ph: 4312227 (wk), 4312520 (hm) 
 RSA,  HAKARU  &  DISTRICTS  WOMEN'S  SECTION  –  meets 
1.30pm 4th Thursday of the month. Ph: 431 5818  
 TRAMPING - Mondays 9am-2:30pm Maria 4312 234 
HALLS FOR HIRE: 
 St.Pauls Archie Bull Hall HIRE $20 half day, $40 full day per 
hire, S McAulay, Ph 4312311 
 Kaiwaka  War  Memorial  Hall  HlRE  -  Phone  4312725  or 
kaiwaka.hall.bookings@gmail.com 
 Hakaru Community Hall HIRE -Ph. 4312256 or 4312110 
 Te Pounga Marae queries - R. O'Leary 4312 423, J.Nathan 021 
186 7382 
 Kaiwaka Sports Association hire/queries - C. Anderson 4312051 
or kaiwakasports@gmail.com 
Justice of Peace:  
B.FJaques  4312  048;  L.Donaldson  4312  228;  A.F.Hargreaves 
4312 045, W.Howard 4312 725 - please phone to make sure they 
are available www.justiceofthepeace.org.nz 
Marriage Celebrants:  
L.Donaldson; A.F.Hargreaves; Y Osborne
LOCAL SERVICES 
*Emergencies - Ambulance, Fire, Police - dial 111 
*Non-urgent Police phone 09 4311150
A A: Meets Wed., 8pm Kaiwaka Ph: 4315543, 0800229 6757 
ASUREQUALITY LTD (was AgriQuality) Call Free 0508 0011 22  
BUDGETING SERVICE, WELLSFORD: Free confidential advice & 
support for all areas of personal finance. Ph (09) 423 7123 
CAB-Citizens Advice Bureau.Wellsford Ph: 4237333 
0800 367 222 email:cab.wells@xtra.co.nz  
CIVIL DEFENCE - Kaiwaka Community Response Group: 
kaiwaka.civildefencecrg@gmail.com, 4312725 Wendy 
DOG/STOCK /NOISE CONTROL 0800 105 890 
FUNERAL SERVICES: Morris & Morris Ltd, 
Whangarei - Bev Jaques Ph:4312367 or 0800667747 
GRANDPARENTS Raising Grandchildren: Dianah Roberts 0223819539 
HAKARU & DISTRICTS MEMORIAL RSA (Inc) 733 Settlement Rd, 
Hakaru. Ph 4312 176 or Graeme Hitchcock (President) 431 3064 
HAKARU LANDFILL/Transfer Station:Open everyday except 
Tuesday10am-4pm.Ph4312629 Cost-$55 trailer load up to 1 cubic metre. 
Ph:4258567 - office 
KAIPARA DISTRICT COUNCIL www.kaipara.govt.nz:  
Help Desk FREEPHONE 0800 727 059  
KAIWAKA KOHANGA REO: Ph:4312620 
KAIWAKA CEMETERY: Ph: 4312045 or 4314017 
KAIWAKA LIBRARY: kaiwaka.library@gmail.com  
Mon. 4-6pm; Wed., Thurs., Fri., Sat. 10am-2pm Ph:4312539 
KAIWAKA PLAYCENTRE: Ph Juanita 0274134904; open Mon, Wed, 
Fri 9am-12pm. Hastie Lane; Monday to Friday 9.00am - 12 noon. 
KAIWAKA POST OFFICE:Ph:4312 431  
Post Code: 0573 for RD2 and 0542 for all Kaiwaka Post Office mail 
KAIWAKA PRIMARY SCHOOL: Ph: 4312309   
KAIWAKA SPORTS ASSN: Ph 4312005; 4312129 gym 
KAIWAKA ST JOHN: Manager Steve Rosser 09 4318403, 021 355734 
KATE'S PLACE Community Centre - Employment services, Free Health 
Nurse, Plunket, Advocacy, Osteopath, A.A., Legal Advice. 4312 661 
LINKING HANDS Health Shuttle Ph 4315906 or 09 4318969 
MINISTRY FOR PRIMARY INDUSTRIES - General inquiries Call 
Free 0800 008 333 
NORTHPOWER: Faults Kaiwaka area 0800 104040 
OTAMATEA COMMUNITY SERVICES: Counselling, parent coach, 
Family Support worker, budget advice, food bank. Mon-Fri 9am-3pm. Ph 
09 431 9080 http://www.otamateacs.org/ 
PARENTPORT: Free, practical family support service Puhoi to Paparoa 
Ph or txt: Dianne 027 280 5093 or 09 425 9357 
PLUNKET:  Kaiwaka  -Kate's  Place  Clinic  1st  Wednesday  of  the  month; 
Mangawhai  - Rose Madsen Cottage: Coffee Group 9:30 every Monday.  Clinic 
every Monday and Thursday. 
Maungaturoto - Good News Church, Clinic 2nd and 4th Wednesday.  
Cynthia 09 431 7340 or 027 675 3488 
PLUNKET HELPLINE -0800 933 922 (24 hours) 
TAITOKERAU COMMUNITY LAW: Free confidential legal advice and 
assistance, 2nd
Thursday
 of each month. Ph: 0800 155 529 for appts.  
TE URI O HAU Settlement Trust Tangata Developments: Whanau Ora 
021 793262  
VETERINARY SERVICE MANGAWHAI: 
Ph: 4314535 Mon-Fri 8.00-5.00, Sat 9-12, a/h appt. 
WELLSFORD DOCTORS: Ph: 4238 086 
CHURCHES:
 
Kaiwaka  Revival  Church  -  Your  Community  Church:  Sundays  10am. 
Ph: Pastor Tawhiri 09 431 8988 or Pastor Paul 09 4312 068 Visit us at 
www.facebook.com/kaiwakachurch 
 
St  Paul's  Anglican  Church  1st  Sun.  9.00am  (Eucharist),  3rd  Sun. 
9.00am (Family Service). Contact: Rev. Wayne Thornton Ph 431 4122 
www.mangawhaianglican.org.nz 
 
Church of Christ the King, Mangawhai:9.30am every Sunday 
 
St.Mary's  Catholic  Church:  Maungaturoto  –  Griffins  Road,  Saturday 
evening  Vigil  Mass  6pm;  Mangawhai  –  Senior  Citizens  Hall,  Sunday 
Mass  8:30am;  Wellsford  –  Matheson  Road,  Sunday  Mass  10:30am;  
Mid-week Mass times and all enquires to Fr. Bill Fletcher – phone 423 8170
 
Baptist Church: Sun. 10.30am Mangawhai Snr Cit.Hall.Ph:4312339 
 
Cause  Way  Church  Mangawhai:  Sundays  10.15am,  Mangawhai 
Community  Recreation  Centre,  Insley  St.  Ph:  09  4314782