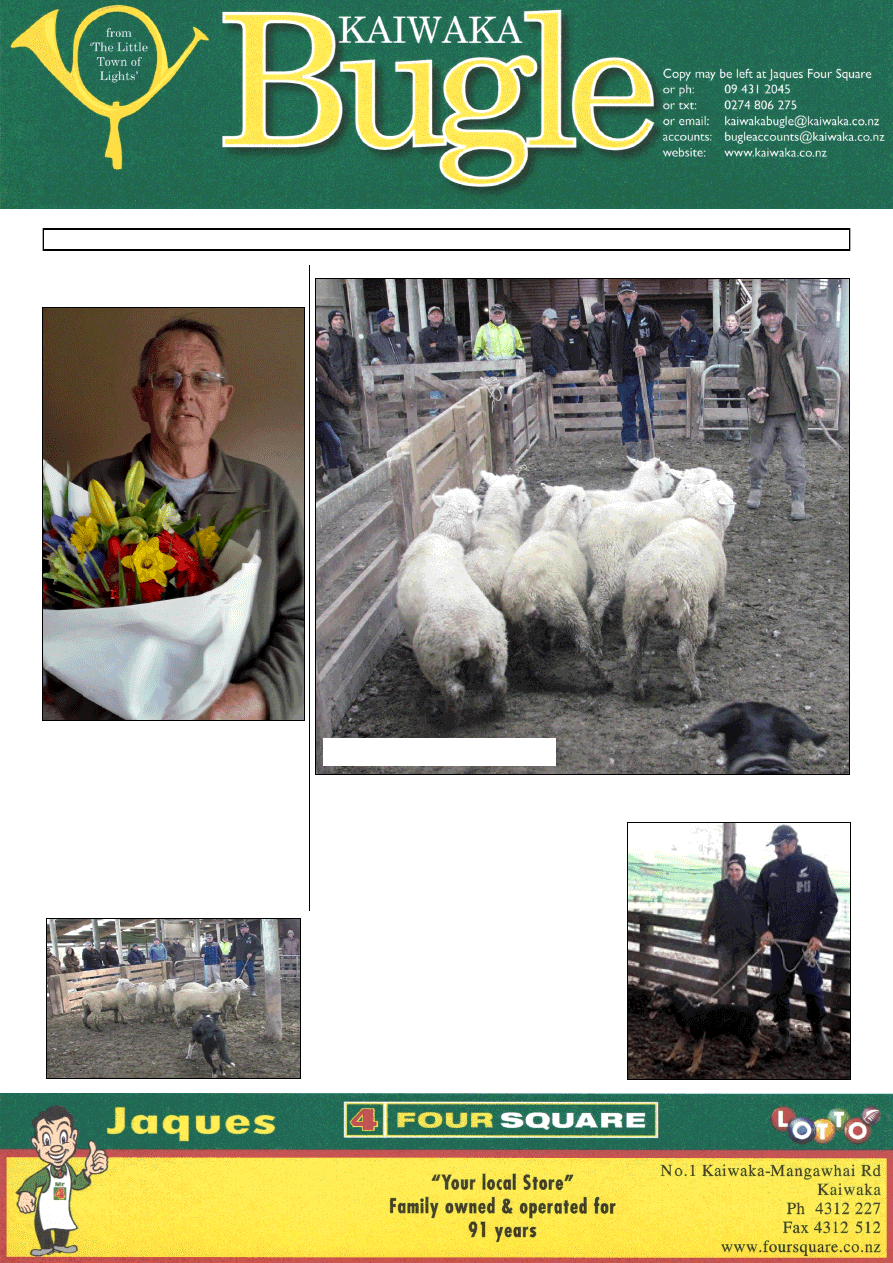 www.kaiwaka.co.nz 
Kaiwaka Bugle - 7 August 2018 
Page 1 
No: 15 
7 August 2018 
Trading Hours: 
Monday to Friday 8:00am - 6:30pm 
Saturday 8:00am - 7:00pm 
Sunday 9:00am - 6:00pm  
THE  WORKING DOG 
Brian Robinson and his young huntaway 
following Murray Child's instruction. 
KAIWAKA GOOD 
SORT 
A  beautiful  bouquet  of  flowers  from 
Lindy  for  Mark  Ottaway.  A  special 
thank  you  for  all  the  work  he  does  at 
the  Kaiwaka  Sports  Complex  and 
grounds.  He  has  put  in  so  much  work 
at  the  KSA  lately  -  with  redoing  the 
gymnasium  floor  and  the  instigation 
and  finishing of the fitness trail. He is 
now working toward benches placed in 
strategic places for folk to take a break 
– then there will be fitness equipment! 
Thank you, Mark! 
Captain  of  the  New  Zealand  Trans  Tasman  Sheep  Dog  Trial  Team,  Murray 
Child,  from  Maungakaramea,  led  a  training  field  day  on  Friday  27  July  at 
Oneriri Station, Kaiwaka (excellent venue). 
A  lot  of  promising  young  dogs  were  on 
display,  after  watching  them  for  a  while, 
Murray was then able to offer his advice on 
their 
continued 
development. 
He 
demonstrated  with  some  of  his  own  young 
dogs,  but  also  worked  one  to  one  with  each 
dog  and  owner. Murray's theme  for the day 
was that  a well trained dog makes mustering 
a pleasure. 
There were at least fifty people, local farmers 
and  dog  trialers,  from  the  far  north  to 
Helensville in the south in attendance.  
Special thanks to Murray Child, Vanessa and 
Farmlands, Arthur Speirs and Purina , 
the 
Molesworth SDTC, and to Trevor Smyth and 
Oneriri Station for such a successful event.  
Photos by Rob Hastie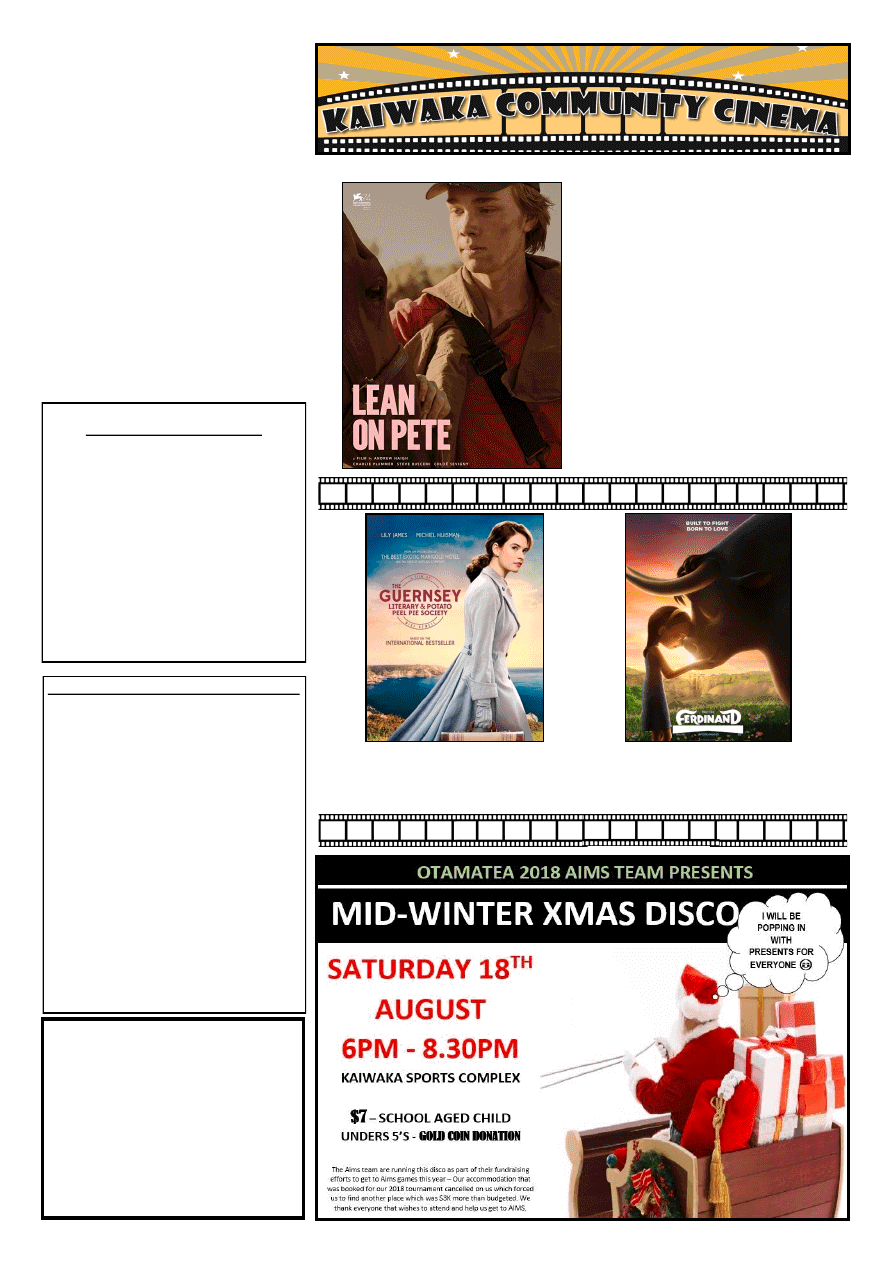 At Kaiwaka War Memorial Hall . Adults $10, Kids (under 16) $5, Family Pass (2 adults + 3 children) $25 
KAIWAKA BUGLE NO.15 
7 AUGUST 2018 
CONTENTS: 
Page 3: Public Notices, Classified 
Page 5: Pt CCC; Weather; Mangawhai 
Artists 
Page 7:  Kauri Museum Totara House 
Page 9:  Thelma's Scrapbook; KDC 
Page 11: Kaiwaka Sports Assn 
Page 13: OHS; Kaiwaka Past 
Page 15: 1939 Kaiwaka School Photo 
Page 17: Kaiwaka School; Weed of the 
Month 
Page 19: Tell Us A Story 
Bugle 16 will appear  21 August  
Contact for advertising, reports, articles 
or information can be made by 
Email kaiwakabugle@kaiwaka.co.nz 
Ph: 09 4312 045 Lindsey 
Txt: 027 2724137 
Copy  may  be  left  at  Jaques'  Four 
Square. 
Kaiwaka Bugle Advertisements 2018: 
All 
copy 
and 
queries 
to: 
kaiwakabugle@kaiwaka.co.nz 
The Bugle is printed on an A4 page   
Ad  sizes:  1/16  page  (3  x  9.5cm)  $5;  1/8 
(6.5  x  9.5cm  landscape  or  portrait)  $8; 
3/16 ( 10 x 9.5cm or 7.5 x 12,5)  $12.  
Classified  ads:  First  one  FREE,  $4  per 
entry (max. 30 words, max. 4 repeats). 
Payments  can  be  made  online  at 
ANZ 
06  0365  0006990  00
,  posted  or  left  at 
Jaques Four Square Store. 
We  use  Microsoft  Publisher,  and  can 
work  with  most  common  image 
formats, Word, Excel, and PDF files. 
Accounts:  
Email: bugleaccounts@kaiwaka.co.nz 
The  Kaiwaka  Bugle  is  a  community 
newspaper run by volunteers.   
Articles, etc. printed are not necessarily 
the opinion of the Bugle Team. 
Kaiwaka Bugle 
Founded May 1978 
We appreciate articles and photos about local 
events, etc, as well as ads and suggestions. 
Copies available in Kaiwaka at Jaques Four 
Square, Kaiwaka Postal Centre, Shamrock 
Service Station, Animal Health Centre, 
Kaiwaka St John shop. 
Also outlets in Maungaturoto, 
Mangawhai and Paparoa. 
Can be viewed online at  
www.kaiwaka.co.nz/Bugle  
Or a copy can be posted to you if you supply 
stamped, self-addressed DLE envelopes. 
LEAN ON PETE 
Friday 10 August, 7.30pm (R16
)  
"Lean  on  Pete  is  a  2017 
British  drama  film  written  and 
directed by Andrew Haigh, based on 
the novel of the same name by Willy 
It 
stars 
Plummer,  Chloë  Sevigny,  Travis 
follows  a  15-year-old  boy  who 
begins  to  work  at  a  stable  and 
befriends an ailing racehorse. 
Charley  and  Pete  head  out  into  the 
great  unknown,  embarking  on  an 
odyssey  across  the  new  American 
frontier  in  search  of  a  loving  aunt 
Charley hasn't seen in years... " 
Proverbs 27:21
The purity of silver and gold can 
be tested in a crucible, but a man/
woman is tested by their reaction 
to man's praise.
(Praise  tests  a  person,  just  as  high 
temperatures test metal. How does praise 
affect  you?  Do  you  work  to  get  it?  Do 
you work harder after you've gotten it?)
The Guernsey Literary & Potato 
Peel Pie Society 
Friday 24 August, 7.30pm (M)  
FERDINAND 
Sunday 26 August, 2pm (PG)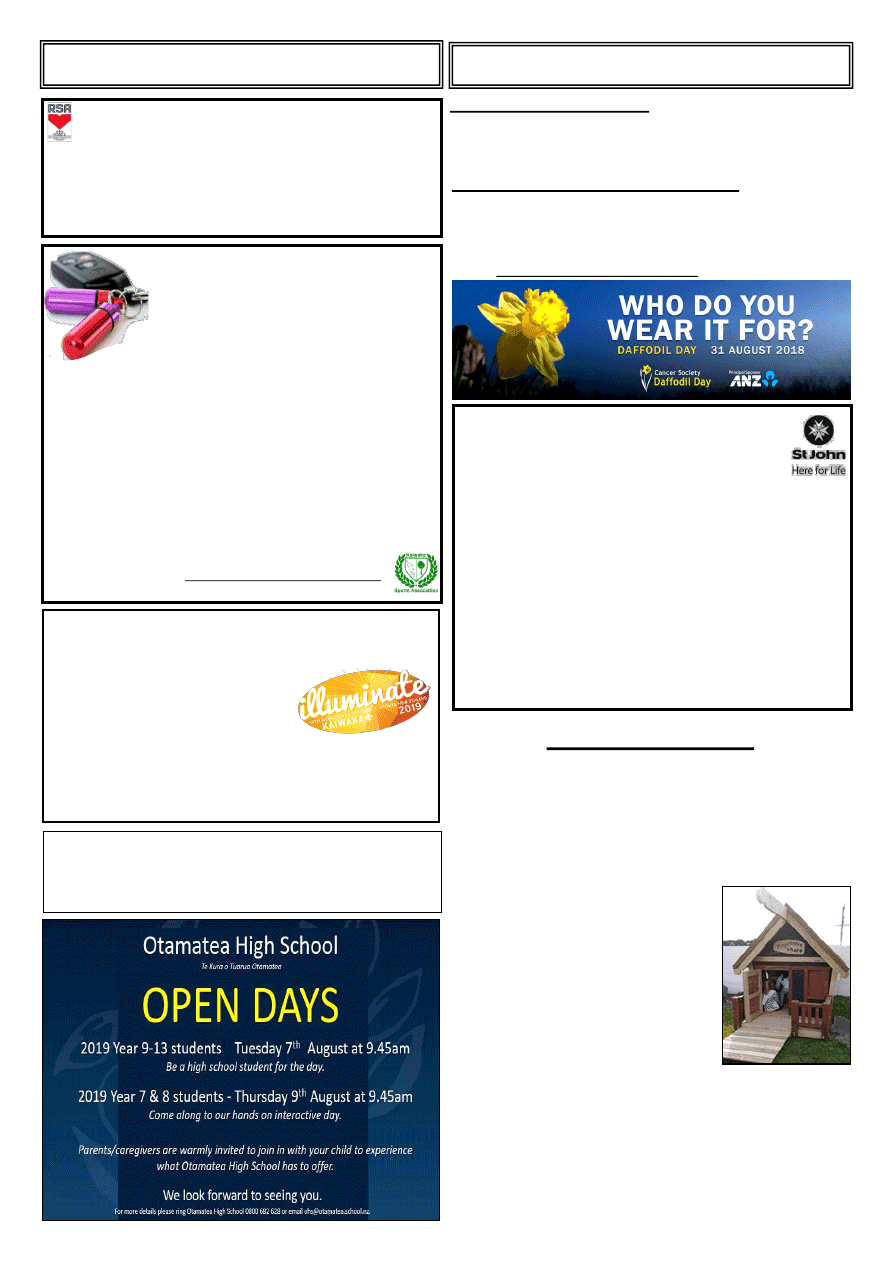 www.kaiwaka.co.nz 
Kaiwaka Bugle - 7 August 2018 
Page 3 
ABOUT TOWN 
 
Thank you to all those who have helped name our 1939 
Kaiwaka  School  pupil's  photo,  especially  Doug  Leslie, 
Pam  Ottaway,  Brenda  Gibson  (nee  Neil  and  Bowmar 
descendant), and the family of the Stewart twins.  

Extra: From the front page of Bugle 14 - it was noted that 
Merv O'Connor owned the Marshall Rd farm between Jock 
Marshall and John Keighley. 

 Remember:  DOG  Registration  this  month  -  see  the 
Council article on page 9. 

 Note  from  our  weather  lady:  Our 
wettest July since 1987 was 1998 with 
602mm  and  the  driest  July  was  1993 
with 33mm.    

And a 'Well Done' to the  organisers 
of  the  working  dog  training  day  at 
Oneriri Station. 

 Live Night at Mangawhai Museum - 
1st September, 4.30-7pm 

 Pictured 
right 
is 
Kaiwaka 
Playcentre's  newest  building  -  their 
Playcentre Whare! 

 Kaiwaka  School  will  be  closed  15  August  -  if  the 
Teacher Strike goes ahead.

 Elizabeth  Preston,  the  wonderful  lady  who  keeps 
McClean Park tidy, was most upset again by the disrespect 
shown with poor driving behaviour on the park's grass. 
~ Lindsey, Ed 
"Life is such a miracle, a series of small miracles. It really is, if 
you learn how to look at it with the right perspective."  
~James Patterson, Suzanne's Diary for Nicholas 
PUBLIC NOTICES 
CLASSIFIED 
FIREWOOD FOR SALE: Dry split pine mainly, $90 
cubic metre pick up, Marshall Rd or $200 minimum 2 
cubes  delivered  Kaiwaka  area.  0211313611  or 
4312006 Please leave message. if unanswered. 
KAIWAKA ST. JOHN OP SHOP 
Please note ALL goods received at the 
Kaiwaka St.John Op Shop are donated 
HALF Price Clothing SALE until 11th August
Still lots of good stuff! 
Note:  Furniture,  CDs,  DVDs  and  some  jewellery  not 
included ( as we don't have a lot of these) 
Furniture For Sale: 
King  bed  $200  ono,  1  Single  mattress  $30,  1  Footstool 
$30,  1  2-seater  couch,  leather  (no  chairs)  $100,  1  low 
sideboard $150 ono - all in VG condition. 
1 Coffee Table on wheels $30, 1 kitchen table (no chairs) 
$25, 2 Filing Cabinets. 
Needed: 
Blankets,  Tools,  Jewellery  -  anything  else  much 
appreciated.  ~ Milly and staff.
Phone 09-4312650 after 9.00 am. 
- check us out at 1919 SH1, Kaiwaka 
TRIPE AND ONION LUNCHEON  
or an (alternative meal) is to be served on  
Sunday 19th August at 1 p.m. at the RSA Clubrooms 
Cost of meal is $12.00 
Members and members of the Public all welcome.  
It would help for catering purposes if you could 
phone your names to Lena on 4315034. 
KSA FUNDRAISER:  
SAVE-A-LIFE KEYRING 
If you have one of these keyrings, you 
could save a life! 
The Save-a-Life keyring has a capsule 
which  contains  a  soluble  aspirin. 
Chewed  or  placed  under  the  tongue,  an  aspirin  can 
make  all  the  difference  when  someone  is 
experiencing  signs  of  a  heart  attack.  The  aspirin 
potentially  helps  keep  a  patient  alive  for  what 
paramedics call "The Golden Hour". This is the time 
between when the attack begins, paramedics arriving 
on  the  scene  and  the  time  it  takes  to  transport  the 
patient to hospital. 
The keyrings come in packs of 3 and the cost is only 
$15  -  a  small  price  to  pay  for  potentially  saving 
somebody's  life.  A  thoughtful  gift  for  upcoming 
Father's Day. 
Contact Cheryl o
to place an order. 
ILLUMINATE KAIWAKA 
Illuminate 2019 is coming to Kaiwaka 
And the organisers are coming to meet you! 
In 5 months time we plan on tripling 
Kaiwaka's population. We would 
like to tell you a little about this 
event and share our plans with you. 
We are also keen to hear the 
thoughts and ideas of the community. All welcome  
Friday 10 August, 7pm, Kaiwaka Sports Complex 
14th New Zealand Venture 
SCOUTS New Zealand 
DAFFODIL  DAY  VOLUNTEERS:  The  Cancer 
Society is seeking more volunteers for Daffodil Day in 
the  Kaiwaka  area.  If  you  can  spare  some  time  on 
Friday  31  August,  please  phone  Gay  on  4312098  to 
volunteer.  For  more  information  call  09  437  5593  or 
email northland@akcansoc.org.nz  
KAIPARA HUNT AGM 
Friday 17 August, 8pm 
Maungaturoto Country Club 
All Welcome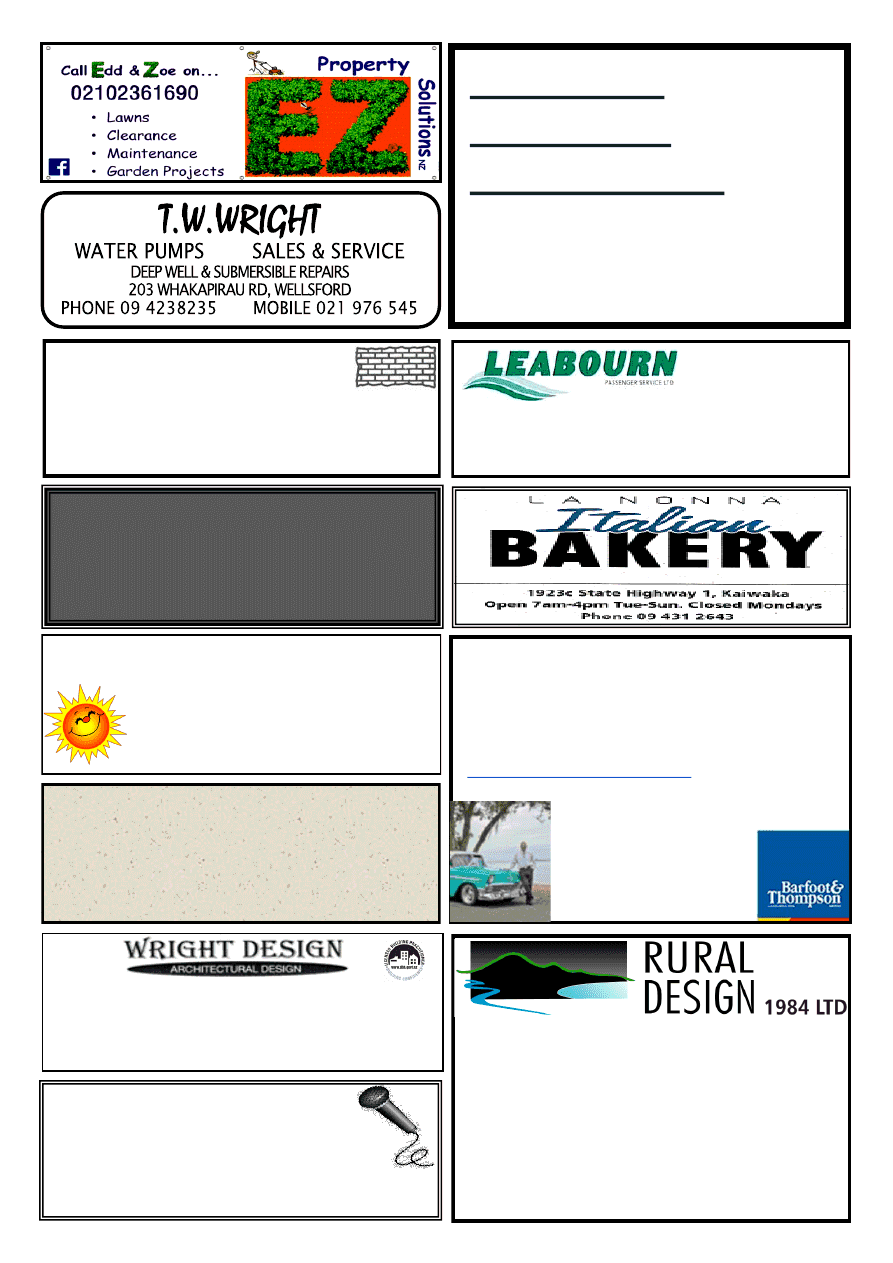 Passenger Service
Car & Van Hire   Bus & Coach Charters 
Airport Transfers    
Phone (09) 4237416 
BRICK/BLOCKLAYER 
All aspects of masonry:  
Fireplaces, Restoration & Remedial Work. 
JAMES EAGLETON 
Tel. (09) 431 2514    Mob. 0274 749 232 
jajueagles@yahoo.com.au 
210A Pukenui Road, RD2 Kaiwaka 0573 
THE SUNSHINE GIRLS
Efficient and reliable help with 
your housework. 
Ph 4312 532 
MARRIAGE CELEBRANT 
WEDDING EVENTS PLANNER 
Yvonne Osborne 
Ph 0274 989 814 
yvonne.osborne@xtra.co.nz 
Counsellor and Registered Psychotherapist 
Offers Supervision 
ACC Sensitive Claims 
Susan Matheson      MNZAC 
Dip. Psychosynthesis Counselling and Psychotherapy 
Phone 09 431 2996                                     Mobile 027 605 2427 

  After 20 years of selling in Auckland I have             
moved to Kaiwaka. 

  I have a relaxed attitude with years of  
        results and experience. 

  Please feel free to give me a call or email. 
licensed real estate agent (2008) 
Chris Barrington
Residential Sales
M 
Mangawhai
Wholesale Native Plant Nursery and Planting 
Small and Large orders welcome 
By Appointment 
300 Kaiwaka-Mangawhai Road, Kaiwaka 
Phone: 09 431 2481 
Email: info@ruraldesign.co.nz 
www.ruraldesign.co.nz 
SING RIGHT 
Professional coaching for performance,  
recording and demos. 
All level singers, musicians, singer-songwriters. 
Phone Robyn Hill 431 9159 or 0274 725610 
 FINANCE 
 FUNDING 
 SOLUTIONS 
T - 0275 989814 
E
 - osborneassociates@xtra.co.nz 
REGISTERED INDEPENDENT FINANCE BROKER 
No. 117345 
N.Z.C.A.D., L.B.P. 117345 
PH/Fax: 09 423 8092 Mob: 021 276 7369 
Office: 3 John Sinclair Avenue, Wellsford    brianwright@xtra.co.nz 
For Resource and Building Consents, planning restraints, new building materials - 
you need a capable, experienced, and professional designer with a clear 
knowledge of all the processes. Brian has been helping and organising all these 
facets of design and building for over 50 years. 
Wright Design offers free visits, consultations and advice on planning, design, 
building, council permit applications, guaranteed permit plan acceptance.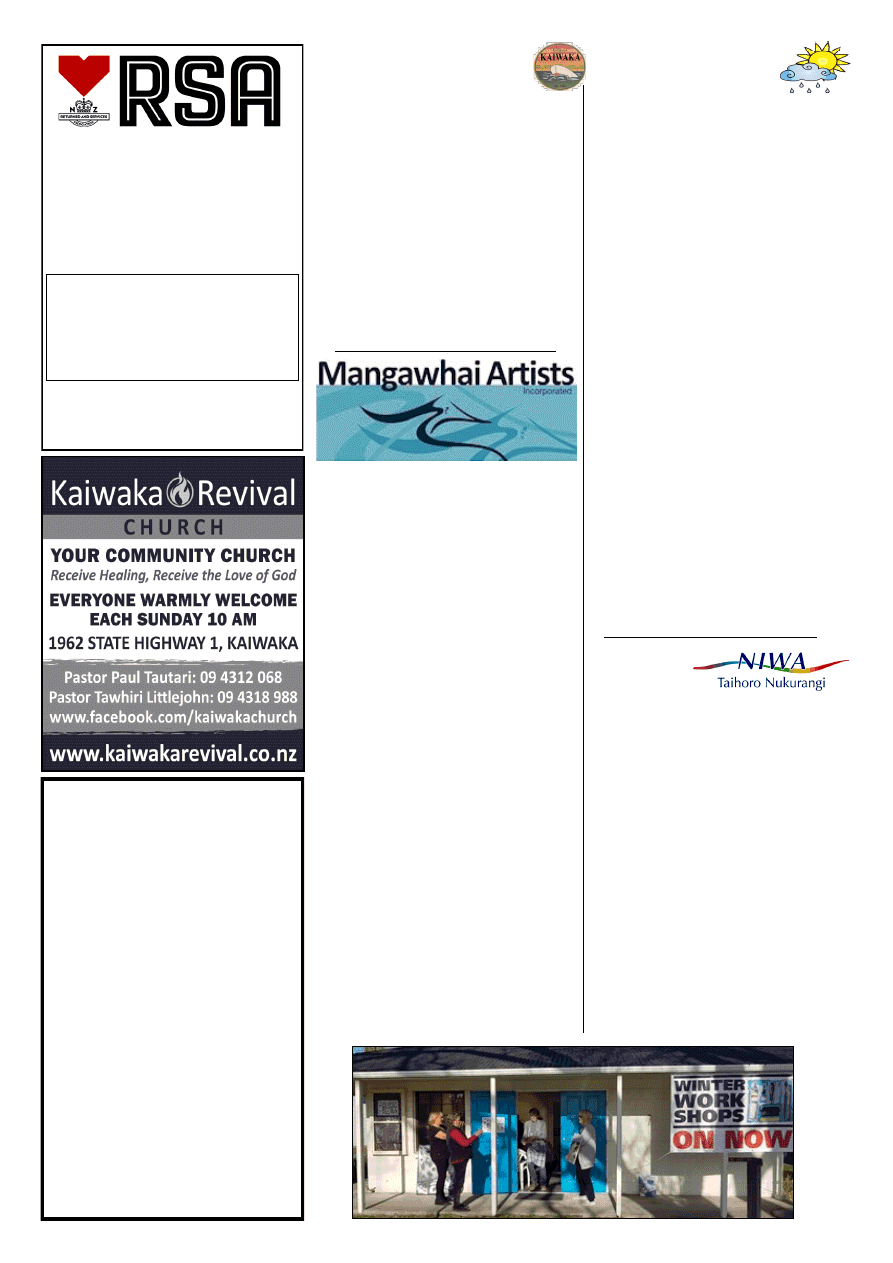 www.kaiwaka.co.nz 
Kaiwaka Bugle - 7 August 2018 
Page 5 
Lilia 
Willow Bend
HORSE  
HOTEL 
  
Total Horse Care 
 
Agistment 
 
Riding Lessons 
 
Arena Hire (60x40) 
 
Young Horse Starting 
 
Re-training/Exercising 
 
Hoof Trimming 
 
Problem Solving 
Phone Sue 09 431 2817 
or 021 623 776 
Or email  
susanjoll11@gmail.com 
HAKARU & DISTRICTS 
MEMORIAL RSA (INC)
Members & guests are invited to 
come along and enjoy our hospitality. 
New members welcome. 
Meals are served on Thursday and 
Friday nights from 6.30pm. 
Last Friday of the month is  
'Roast Pork Night' and a sing-a-long  
with Des Chitty. 
For more information please phone 
Marlene on 431 5589 
PT.CURTIS 
CRUISING CLUB
Pool Competition:  
Sunday 12th August at the 3 Furlongs 
v  Wellsford  Inn.    Start  time  around 
1pm. All welcome !!
Subs  were  due  1
st
  June: $30 Family 
(2 Adults 2 juniors aged under 15yrs), 
$20  Single.  If  paying  by  Internet 
Banking please use your Name/Names 
as  a  Reference.  Bank  A/c  details  are: 
ASB  WELLSFORD  No  12  3094 
0008233 00. 
Fish  of  the  Month:  Kahawai  till  14 
August. 
Next Club Meeting: 14
th
 August 2018 
7pm at The 3Furlongs Bar & Grill. 
  ~ Wayne Leslie, Commodore
KAIWAKA  
WEATHER 
Well here we go again. 7 months gone 
already of the year.  It was a reasonable 
July.  It  was  cold,  not  too  much  wind 
with  a  bit  of  sun  poking  through  the 
clouds  and  getting  warmer.  Those 
persistent  showers  have  been  a 
nuisance keeping the ground damp - no 
lawn  mowing  around  here  going  on. 
We  need  a  hovercraft  with  a  mower 
blade  under  it  (now  there    is  a 
suggestion for a project for someone). 
As  I  often  say,  at  least  we  know  we 
will  get  some  rain  sometime,  not  like 
other countries.  The children are back 
at school and before you know it there 
will be more holidays for them soon.   
For July 2018 we recorded 130mm and 
July 2017 it was 168.  
Our  wettest July  since  1987  was  1998 
with  602mm  and  the  driest  July  was 
1993 with 33mm.  
The  first  7  months  of  2018  we  had 
1261mm.  and  July  2017  we  had 
1241mm.  
The  wettest  first  7  months  since  1987 
was 2018 with 1261mm and the driest 
was 1987 with 480mm.  
We  had  rain  on  15days  in  July  2018 
and in 2017 we had rain on 17 days.   
Did  you  know  Dolphins  are  so smart? 
It  only  takes  them  a  week  to  train 
someone  to  stand  by  the  poolside  and 
throw  fish  to  them.    Take  care  out 
there and be kind to each other. Bev. 
NIWA 
Highlights 
for July include: 
Warmer than average temperatures 
Lots of rain in the South Island 
Highest temperature 22.3°C, Kaikoura 
on 21 July 
Lowest  temperature  -7.6°C,  Middle-
march on 13 July 
Highest 1-day rainfall 246 mm, at Mil-
ford Sound on 6 July 
Of  the  six  main  centres  in  July  2018, 
Tauranga was the warmest and sunni-
est,  Christchurch  was  the  coolest  and 
driest, and Wellington was the wettest 
and least sunny. 
Predictions  for  August  -October 
2018: 
⚫
Temperatures  are  most  likely  to  be 
near average (50% chance). 
⚫
Rainfall  totals,  soil  moisture  levels 
and  river  flows  are  all  about  equally 
likely to be near normal (40% chance) 
or below normal (35% chance).
Mangawhai Artists Gallery 
Winter Workshops - wonderful 
The  last  few  weeks  might  have  been 
chilly  and  wet  but for  many  people  in 
Mangawhai  it  has  been  a  productive, 
creative  and  energising  time.  Rain, 
frost  and  bursts  of  sun  –  the  painting, 
drawing,  printmaking  and  so  much 
more  made  the  Mangawhai  Artists 
Gallery  Winter  Workshop  programme 
the  place  to  be  to  avoid  winter  blues. 
With 
over 
thirty-six 
learning 
opportunities, at times the Gallery was 
as busy as summer exhibition weeks. 
Learning coordinator for 
Mangawhai  Artists,  Nicola  Everett 
thanked  the  tutors  who  made  sure  the 
workshops  were  well  run,  stimulating 
and  provided  for  beginners  and  the 
more experienced. People participating 
were  thrilled  at  the  variety  with  many 
remarking it was great to have so much 
choice but they hated not being able to 
do  all  the  workshops.  Many  are 
planning  ahead  to  next  year  and 
considering what they might do. 
Mangawhai  Artists  Inc  (MAI)  is 
planning  to  expand  their  current 
Gallery to build a year-round workshop 
space. Mary-Anne Boyd, Chair of MAI 
explained,  'we  know  there  is  demand 
for  lots  of  learning  opportunities.  We 
are delighted that with a designated art 
workspace we can offer so much more. 
Fund raising will begin soon'. 
Print  Week  was  supported  by  Kaipara 
Creative Communities.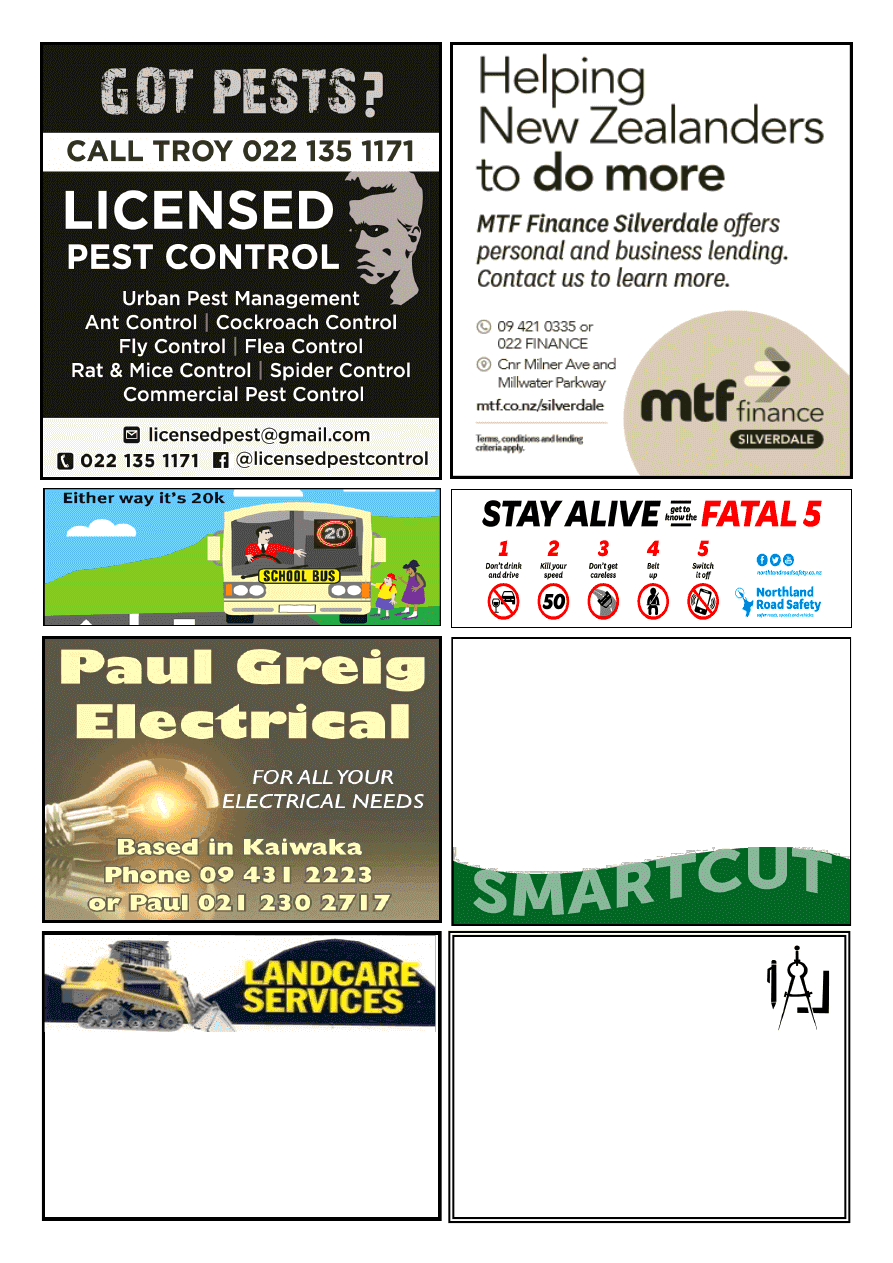 LANDSCAPING 
4 IN 1 BUCKET 
TRENCHER 
POLE HOLES 
ROTARY HOE 
COMPACT ROLLER 
OFFAL HOLES 
CAN SUPPLY WOODCHIP & POST PEEL 
5 TON TIPPER 
FOR RELIABLE AND FRIENDLY SERVICE CONTACT DAVE 
Dave Hyndman 
 
KAIWAKA 
PH: 09 4312302 
MOB: 021 431 238 
All your outdoor needs sorted so you don't have to... 
I can prune, chop, tidy, spray, mow, plant 
- you name it, I can do it! 
Residential & Commercial 
Lawn & Garden Care 
Call Rodney, your local  
lawnmowing contractor 
021 138 2344 
design drafting  
service 
Retired builder and manufacturer with over 
40 years experience in the building industry is offering a 
design drafting service for domestic housing, sleepouts 
and sheds.  
Plans formulated in consultation with clients, with 
working drawings completed and submitted to council 
for processing.  
Extensive practical experience, able to identify & resolve 
problems.
Please ring Mike Lean on 
09 431 2260 
or 
021 431 196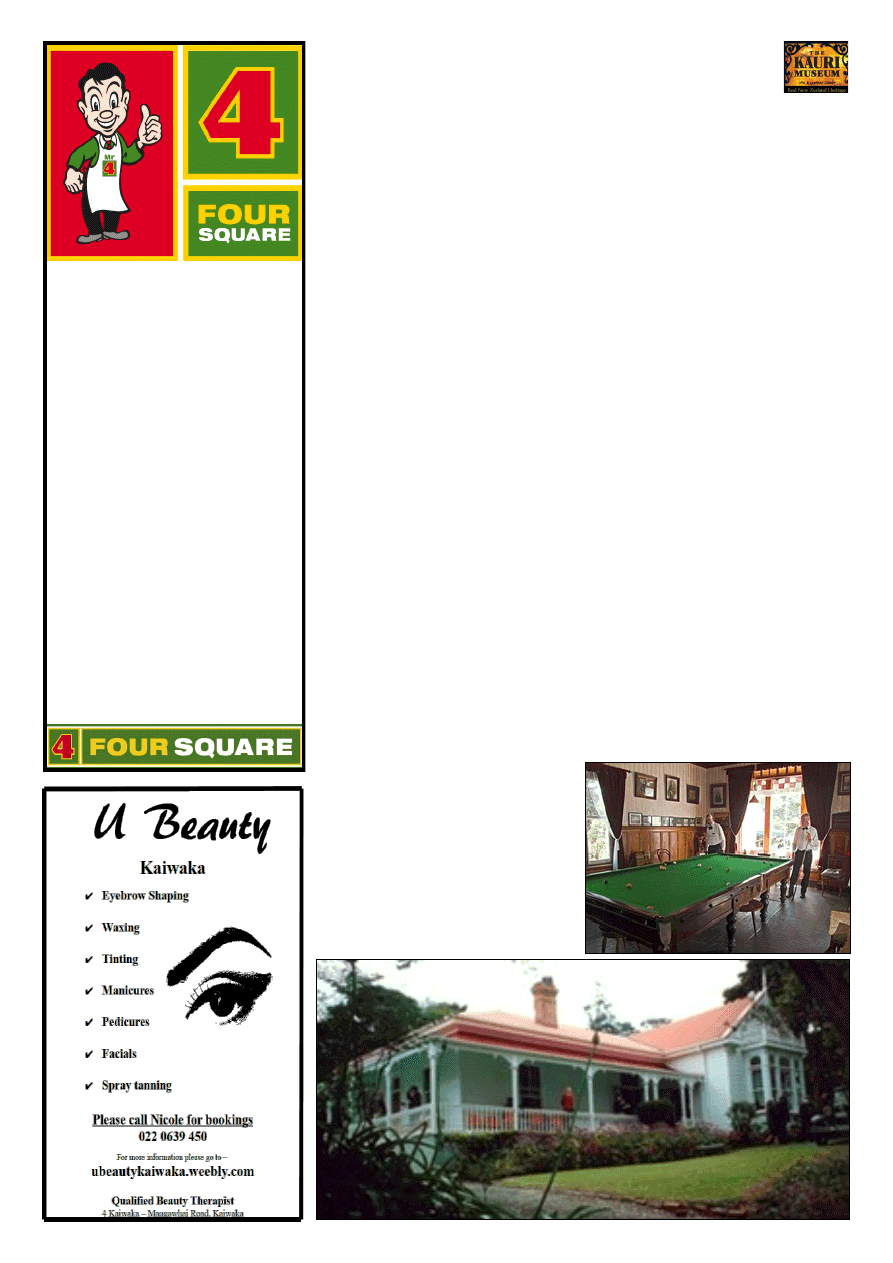 www.kaiwaka.co.nz 
Kaiwaka Bugle - 7 August 2018 
Page 7 
FINDING A SUSTAINABLE FUTURE 
FOR TOTARA HOUSE 
NEW RANGE OF 
REUSABLE BAGS!! 
Hessian Charlie - very 
funky $2.99 
Black Multi bottle bag 
$1.59 
Set of 5 ECO Produce 
bags $5.99 
Moving towards eliminating 
single use plastic bags 
Remember to bring your 
reusable bags, everyone 
helps 
Don't forget we have 
kindling firewood  
& 9kg gas bottle swap 
Open till 6.30 Monday to Friday
Jaques Four Square 
Phone: 4312227 
The Kauri Museum, in Matakohe, cares 
for  many  unique  treasures.  We  share 
the  stories  these  treasures  represent 
with 
our 
local, 
national 
and 
international visitors. The Museum is a 
charity  that  does  not  receive  any  local 
government,  or  central  government, 
funding.  One  of  the  jewels  in  our 
crown is a one of a kind home - Totara 
House. It is an 1896 kauri villa, set in a 
glorious  prize-winning  garden,  which 
stands  across  the  valley  from  The 
Kauri  Museum.  It  was  built  by  local 
builders  Samuel  and  Edward  Cooksey 
for George and Emily Smith. Made of 
timber  milled  in  the  family  sawmill  at 
the  bottom  of  the  road,  Totara  House 
was  home  to  George  and  Emily  and 
their family of eight children. 
Access  to  the  choicest  pieces  of  kauri 
timber  at  the  mill  resulted  in  the 
creation  of  magnificent  wall  panelling 
lining  George  and  Emily's  billiard 
room.  Panelling  that  is  unparalleled  in 
any existing home. 
Totara  House  remained  lived  in  by 
George and Emily's children until 2013 
when  Mavis  Smith  (aged  102)  passed 
away. 
The  Kauri  Museum  has  always  had  a 
strong  connection  with  Totara  House. 
It was in the kitchen, over a cup of tea, 
in  front  of  the  range,  that  the  idea  for 
the  museum  was  proposed.  The  Smith 
family  worked  closely  with  Mervyn 
Sterling  and  the  wider  community  on 
the museum project. Their commitment 
to  local  history  was  complete  when 
they  bequeathed Totara  House, and its 
contents, to the Museum. 
Listed as an Historic Place Category 2 
with  Heritage  New  Zealand  Pouhere 
Taonga  the  covenant  provides  long 
term  protection  for  the  property. 
However, the house did not come with 
an endowment for maintenance and its 
listing with Heritage New Zealand does 
not  provide  revenue  either.  As  an 
important  part  of  our  collection  The 
Kauri  Museum  is  tasked  with  the  care 
of  the  house  and  its  unique  collection 
of  family  heirlooms  and  stories.  The 
house and gardens are opened for 
visitors  on  request.  We  also  have  a 
summer  open  season  for  the  house 
where visitors are welcomed and taken 
on  a  tour  through  the  house. 
Unfortunately,  income  raised  from 
admission activities is not sufficient to 
sustain  the  upkeep  of  Totara  House. 
We have to think differently about how 
we  can  preserve  the  house  and  its 
stories for future generations – and we 
need your help! 
Heritage  experts  have  thought  about 
the  plight  of  buildings  in  similar 
situations  overseas.  Donna  Harris,  in 
her  book  'New  Solutions  for  House 
Museums',  makes  a  number  of 
recommendations: 
⚫ Repurposing the Heritage House as a 
study house – not open for the general 
public  but  accessed  on  a  semi-regular 
basis  for  educational  purposes 
(workshops,  community  groups, 
architecture students) 
⚫ Repurposing  for  a  non-house 
museum use e.g. a library, guest house, 
shop, educational classroom, storage or 
office space 
⚫ Co-stewardship  or  cooperative 
partnership  with  another  organisation 
that  has  similar  preservation  goals  in 
mind 
⚫ Adaptive  use  administered  by  the 
Museum  Board  or  by  a  heritage-
sympathetic  third  party  These  ideas 
require  refining  to  suit  an  historic 
home that is in a rural location – with 
marvellous  harbour  views!  We  need 
input from our community to establish 
a  sustainable  future  for  this  uniquely 
Kaipara treasure. 
Please  send  through  any  thoughts  and 
impressions  that  you  might  have  by 
email  to  admin@kaurimuseum.com  or 
contact  the  Chief  Executive  Officer, 
Lisa Tolich or Collections Manager 
Curator, Dr Tracey Wedge by phone at 
09 431 7417.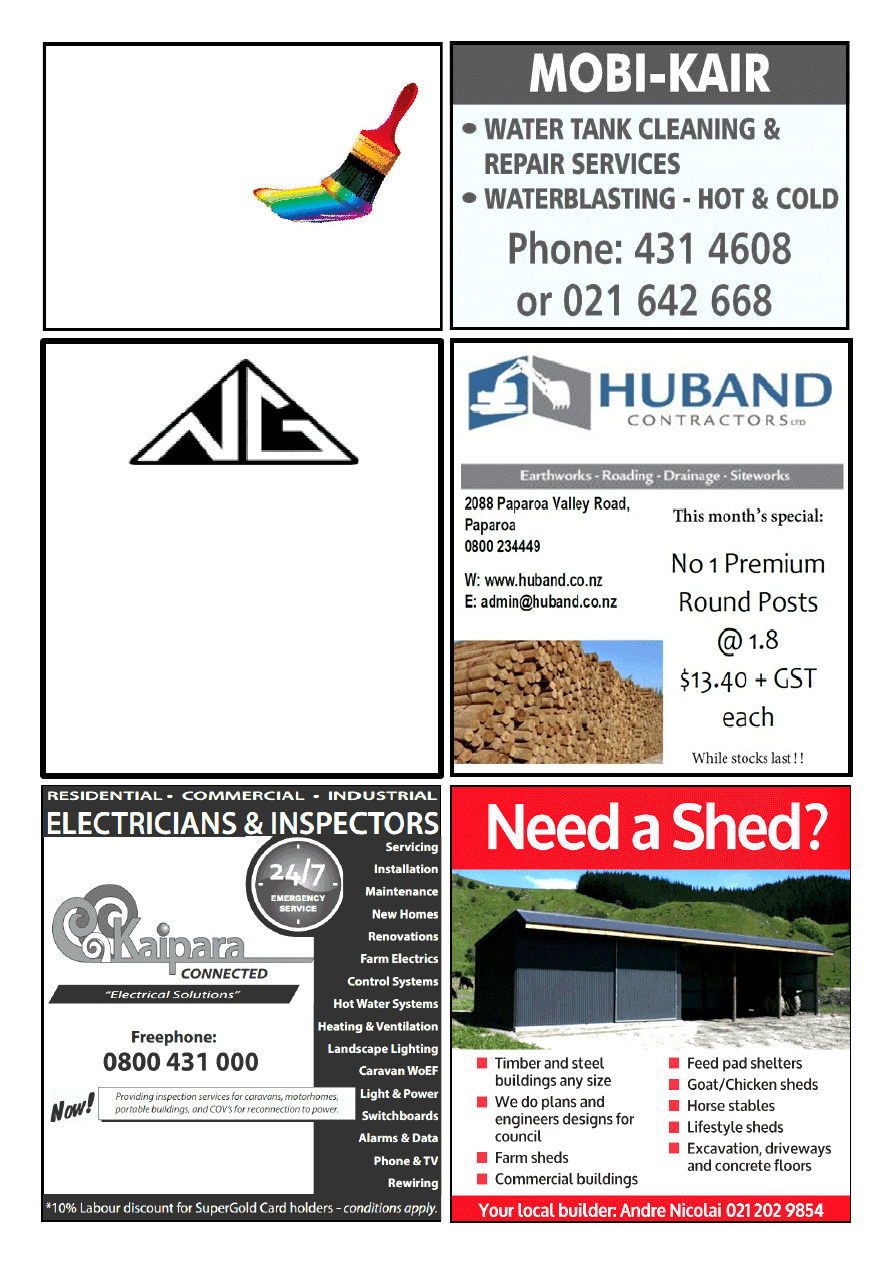 09 4312918 
0274735171 
leecooper@xtra.co.nz 
LEE COOPER PAINTERS 
(Kaiwaka Based) 
*30 yrs Experience 
*Interior/Exterior 
*New and Restoration 
*Honest and Reliable 
*Free Quotes 
NORTH GLASS 
WINDSCREEN REPAIR OR REPLACE 
GLAZING SERVICES 
MIRRORS  •  SPLASH BACKS  •  SHOWERS 
0800 70 40 10
info@northglass.co.nz 
www.northglass.co.nz 
Email: info@kaiparaconnected.co.nz 
Website: www.kaiparaconnected.co.nz 
www.kaiwaka.co.nz 
Kaiwaka Bugle - 7 August 2018 
Page 9 
Mangawhai 
Heads 
Garden 
Centre
1758 Cove 
Road
945 0707 
021 165 2629 
ST PAUL'S  
ANGLICAN  
SUNDAY  
SERVICES
St Pauls Church: Kaiwaka-Mangawhai Rd. 
1st Sunday - Eucharist 
3rd Sunday - Family Service 
Rev. Wayne Thornton Ph 431 4122 
www.mangawhaianglican.org.nz
DOG 
REGISTRATION  
All dogs over the age of 12 weeks 
old  must  be  registered  by  31 
August 2018. 
If  your  dog  has  been  registered  with 
Kaipara  District  Council  previously, 
then  a  registration  renewal  notice  has 
been  posted  to  the  last  recorded 
address  on  Council's  records  recently. 
Any  dog  owner  who  has  not  received 
their  notice  can  contact  Council  to 
update  their  current  address  and 
contact details. 
Dog  registration  fees  are  $66.00  per 
non-working  dog  and  $44.00  for 
working  dogs  if  paid  by  31  August 
2018.  
All  dogs  in  New  Zealand  are  legally 
required  to  be  registered,  and 
microchipped.  (Working  dogs  are  the 
exception for microchipping). 
Payments can be made online via Reg 
the  Dog  (www.regthedog.co.nz)  or  at 
Council's  office  in  Dargaville  or 
Mangawhai. 
The  fees  cover  93%  of  the  cost  of 
Council's 
Animal 
Management 
Services  include  24/7  animal  control 
for  matters  relating  to  public  safety, 
supply of a dog shelter for homeless or 
lost  dogs,  educational  programmes 
encouraging 
responsible 
dog 
ownership  and  patrol  services  to 
manage  nuisance  dogs.  Additional 
costs  over  and  above  what  is 
contracted  through  Council's  service 
provider include summer patrols at Kai 
Iwi  Lakes  and  extra  patrolling  in 
Dargaville  Township  due  to  the 
number  of  nuisance  dogs  reported.  In 
the  last  financial  year  this  additional 
cost  added  $26,529  to  Council's 
animal management contract cost. 
Council responded to nearly 1,300 dog
-related callouts in the last year up until 
30  June  2018  with  96  dogs  being 
impounded. 
KAIPARA 
CITIZEN'S AWARD 
Citizens  Awards  are  awarded  in 
recognition  of  substantial  service, 
usually of a voluntary nature or beyond 
normal 
employment, 
benefiting 
Kaipara and its people.  
Nominations opened on 1 August 2018 
and  close  4pm  Friday  31  August. 
Nomination  forms  are  available  at 
www.kaipara.govt.nz  or  at  Council 
Service Centres and libraries. 
For 
further 
information 
about 
nominations,  please  contact  Jenny 
Rooney, jrooney@kaipara.govt.nz 
From Thelma's 
Scrapbook … 
The 10 Canine 
Commandments 
1. My life is likely to last ten to fifteen 
years. Any  separation  from  you  will 
be  painful  for  me.  Remember  that 
when you buy me. 
2. Give  me  time  to  understand what 
you want of me. 
3. Place  your  trust  in me - it's crucial 
for my well-being. 
4. Don't  be  angry  at  me for long, and 
don't  lock  me  up  as  punishment.  You 
have  your  work,  your    entertainment 
and your friends. I have only you. 
5.  Talk  to  me  sometimes.  Even  if  I 
don't  understand  your  words,  I 
understand  your  voice  when  it's 
speaking to me. 
6.  Be  aware of  however  you  treat  me, 
I'll never forget it. 
7.  Remember  before  you  hit  me  that  I 
have  teeth  that  could  easily  crush  the 
bones in your hands, but that I  choose 
not to bite you. 
8.  Before  you  scold  me  for  being 
uncooperative,  obstinate  or  lazy, 
ask  yourself  if  something  might  be 
bothering  me. Perhaps I'm not getting 
the  right  food,  or  I've  been  out  in  the 
sun or in the cold too long, or my heart 
is getting old and weak. 
9. Take  care  of  me  when  I  get  old. 
You too, will grow old. 
10. Go with me on difficult journeys. 
Never say: 'I can't bear to watch it', 'let 
it happen in my absence' or 'I am tired 
of  you'.  Everything  is  easier  for  me  if 
you are there. Remember, I love you. 
Above:  Dora  showing  off  her  new 
green 
Kaipara 
District 
dog 
registration tag!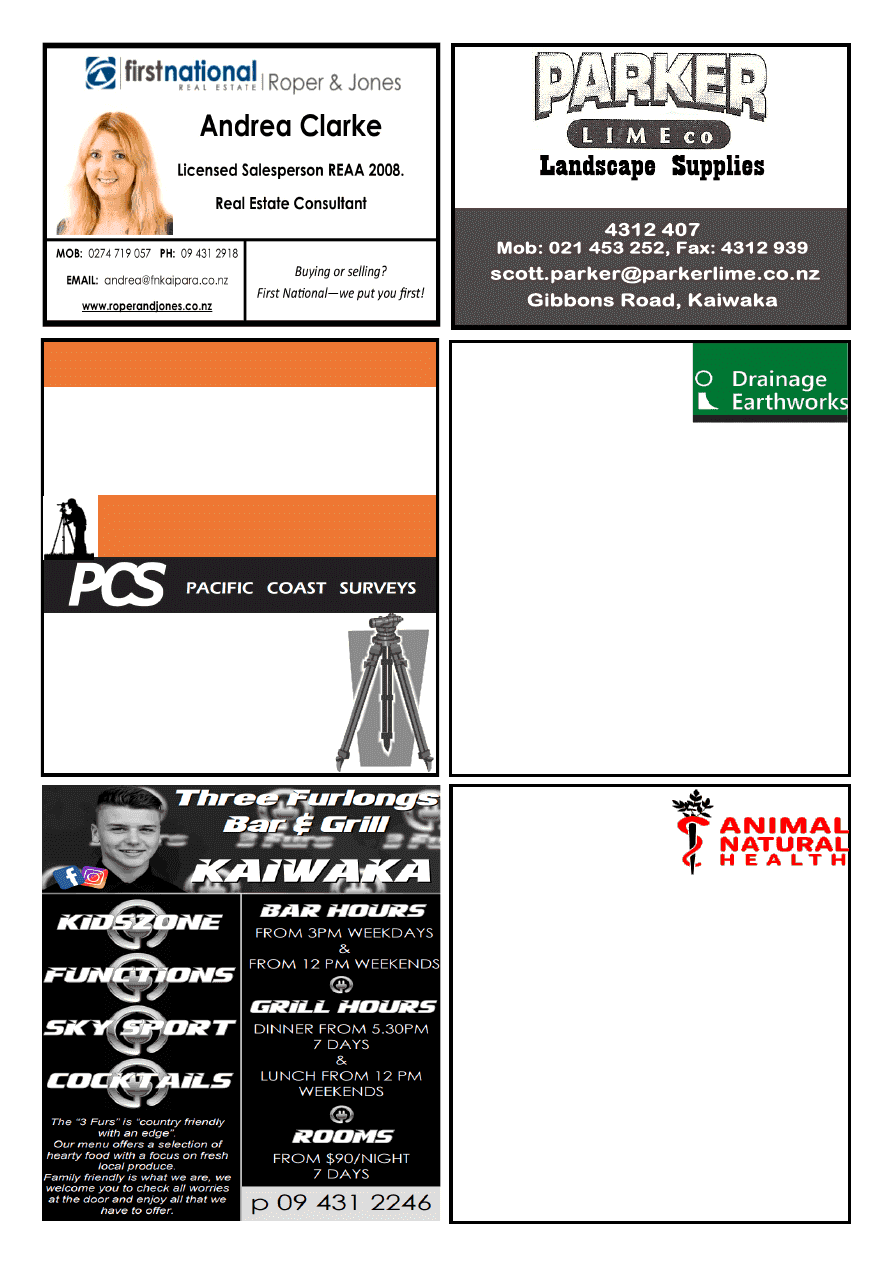 Drainage & Earthmoving 
nigel@clarkedrainage.nz 
027 2233 185 
Registered Drainlayer 
All Types of Earthworks  
> All Residential & Commercial Work  > House Sites 
> Septic System Design & Install 
> Footings & Drilling to 10m 
> Sewer Connections 
> Dams 
> Water Tank Installation 
> Roading & Races 
> Farm Work 
THE ONE STOP SHOP  
Phone Nigel for an Obligation Free Quote  
Bulk Cartage 
SURVEYORS 
SUBDIVISIONS 
HOUSE SITE SURVEYS 
CIVIL ENGINEERING 
WASTEWATER DESIGNS 
EXPERIENCED 
PROFESSIONAL 
INNOVATIVE 
Ph 09 431 5353 
0800 PACIFIC (0800 722 434) 
pacificcoastsurvey.com
Adam Booth - 027 415 5752 
Bsurv, Licensed Cadastral Surveyor
Surveying Kaipara since 1994 
ANIMAL NATURAL 
HEALTH CENTRE 
Next to Italian Bakery,  
S.H. 1, Kaiwaka 
Phone: 09 431 2217 
Hours: Mon-Fri 9.30-5.00 pm Sat 9.30-4.00 pm 
Petfood 
– Extensive raw meat selection: 
Free-range / organic where possible, no preservatives 
Purely Pets Patties, 'Out of the Wild' Game, 
Pet Deli, Bulk Buys, Bones, Brisket, Fish 
 
– Mighty Mix Biscuits & Concentrate 
– Tukka Thyme Muesli, Ziwi Peak Cat & Dog 
– Orijen & Acana Kibble, safe Treats. 
 
Organic Apple Cider Vinegar 
Chemical-free flea, worm, tick & lice controls 
Alternatives to vaccinations (HP Nosodes) 
Homeopathic/Herbal/Nutriceutical Products 
Eco friendly hygiene products, Leads & Collars 
Animal Naturopath: Sarndra G Urwin Dip NAH (Hons)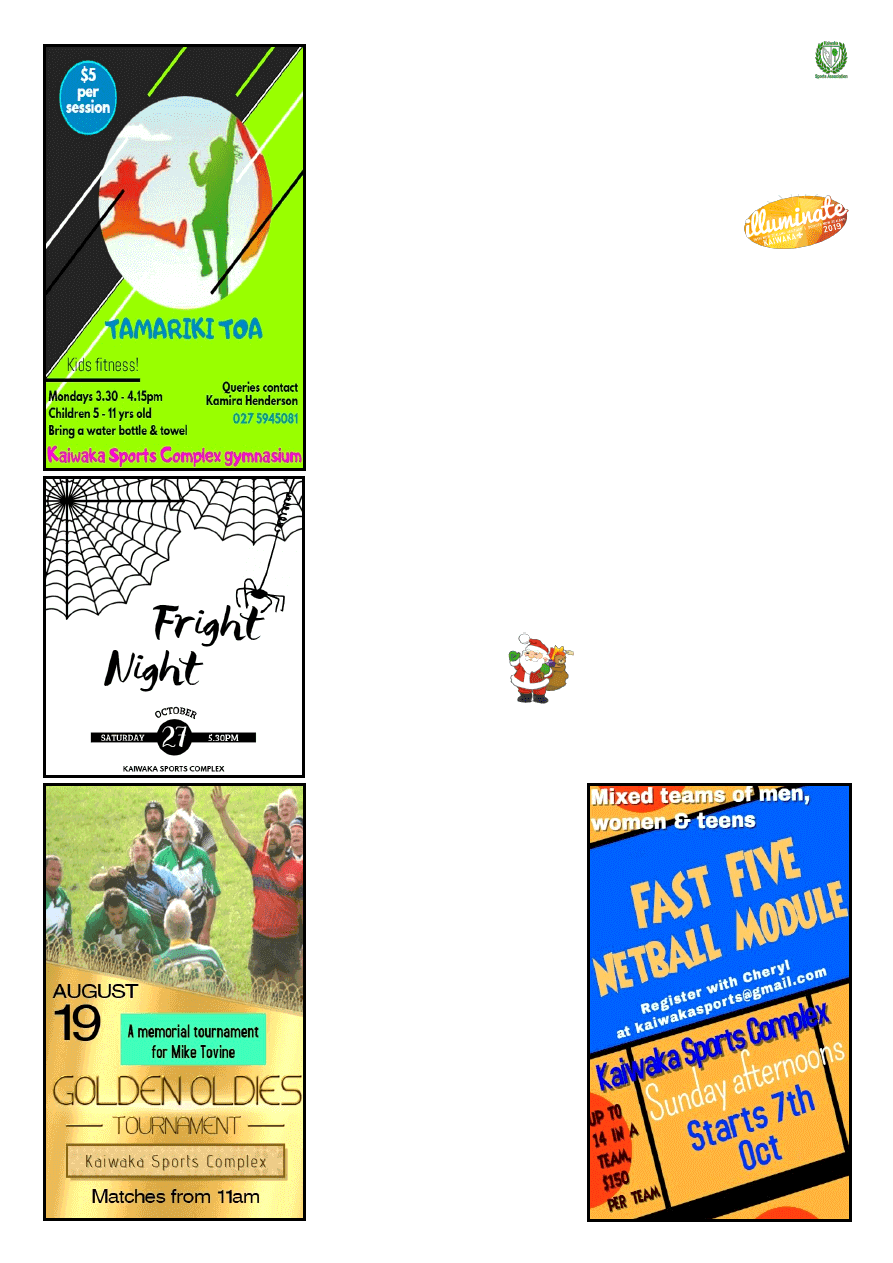 www.kaiwaka.co.nz 
Kaiwaka Bugle - 7 August 2018 
Page 11 
KAIWAKA SPORTS ASSOCIATION
Tamariki Toa 
Introducing Tamariki Toa – fun fitness 
sessions for kids! The sessions are held 
on Mondays in our gymnasium, 3:30 - 
4:15pm.  Price  is  $5  per  child.  Please 
wear  suitable  clothing  and  footwear 
and  bring  a  water  bottle  and  towel. 
Queries  to  Kamira  Henderson  on  027 
5945081. 
Fast Five Netball 
Who's keen to give Fast Five netball a 
go? 
There  will  be  a  social,  mixed  module 
for  men,  women  and  teenagers  with 
games  held  in  our  gymnasium  on 
Sunday 
afternoons 
starting 
7th 
October. You can have up to 14 players 
in  a  team,  and  the  team  fee  is  $150. 
Email  me  for  the  team  registration 
form.  This  will  be  a  fun,  friendly 
module,  so  why  not  get  a  group  of 
mates together and give it a try! 
Rugby – Golden Oldies 
We are hosting a Golden Oldies rugby 
tournament  on  Sunday  19th  August. 
Matches  start  at  11am,  spectators 
welcome. 
Rugby – JMB 
All  family,  friends  and  supporters  of 
Eastern  United  JMB  players  are 
welcome  to  attend  their  prizegiving 
and  pot-luck  dinner  at  the  KSA  this 
Thursday  9th  at  6.30pm.  The  end-of-
season celebration will be a trip to the 
Whangarei 
Aquatic 
Centre 
this 
Saturday. 
Mid-Winter Xmas Disco 
The  Otamatea  AIMS  team 
are  holding  a  Mid-Winter 
Xmas  Disco  at  the  KSA  on 
Saturday 18th August. It will 
run  from  6pm  until  8.30pm,  $7  entry. 
Santa will be making a quick visit with 
presents  for  all  kids!  Lots  of  yummy 
food  for  sale. This  will  be  a  fun  night 
of dancing, music, friends and fun. 
Walking Netball 
Our  Walking  Netball  sessions  have 
now  wound  up  -  many  thanks  to 
everyone  who  came  along  each  week. 
Lots of laughter and fun! 
Squash 
Did  you  know  that  squash  is  widely 
considered  to  be  the  healthiest  sport? 
This  is  because  squash  improves  your 
aerobic  fitness,  burns  off  calories, 
boosts  flexibility  and  sprint  speed, 
improves 
hand-eye 
co-ordination, 
develops  the  strength  and  power  of 
your  muscles  and  boosts  your 
cardiovascular  fitness.  Our  club nights 
are  held  on  Monday  evenings.  People 
of all ages and abilities are welcome in 
our  small,  friendly  club.  For  squash 
enquiries,  please  contact  Craig  Wallis 
on craig_wallis@hotmail.com  
Mike's Big Shave 
After  a  scare  with  Non-Hodgkin 
Lymphoma  a  few  years  ago,  local 
Mike  Henderson  has  decided  to  shave 
his  head  to  raise  funds  for  the  Child 
Cancer Foundation. We're proud to be 
hosting  'Mike's  Big  Shave'  on 
Saturday  1st  September  at  2pm. 
KSA President Wayne Leslie will also 
be  shaving  his  head  -  any  other 
'shavees'  are  most  welcome!  Queries 
to Siobhan Cole on 027 9791203. 
Illuminate  2019  -  Community 
Meeting this Friday, 10 August 
The  Venture  Organising  team  will  be 
presenting  an  outline 
for 'Illuminate 2019' – 
the  14th  New  Zealand 
Venture which will run 
from  December  31st  until  January 
11th.  This  Scouts  New  Zealand  event 
for  teenagers  will  be  held  at  our 
grounds  and  the  school  grounds  and 
will  see  over  1,000  participants 
camping  here.  As  well  as  a  lot  of 
activity  on  the  site,  there  will  be  a 
number  of  vehicle  movements  and 
many  local  facilities  and  services 
involved. 
The  organisers  would  like  to  explain 
their  plans  and  answer  any  queries 
from Kaiwaka townsfolk, so they have 
arranged  a  Community  Meeting.  This 
will be held this Friday 10th at 7pm at 
the Sports Complex. All welcome. 
Fright Night – help please 
Our Fright Night will be in a couple of 
months.  This  is  one  of  Kaiwaka's 
biggest events of the year, with several 
hundred people coming along to enjoy 
our  Haunted  House  and  other  spooky 
activities. 
I'd  love  some  new  decorations  and 
props  to  deck  out  the  pavilion  –  so  if 
there are any creative people out there 
who'd  be  interested  in  making  some 
Halloween-themed items, please get in 
touch with me: 
cherylanderson051@gmail.com 
~Cheryl Anderson, 4312 051, 027 3462702 
kaiwakasports@gmail.com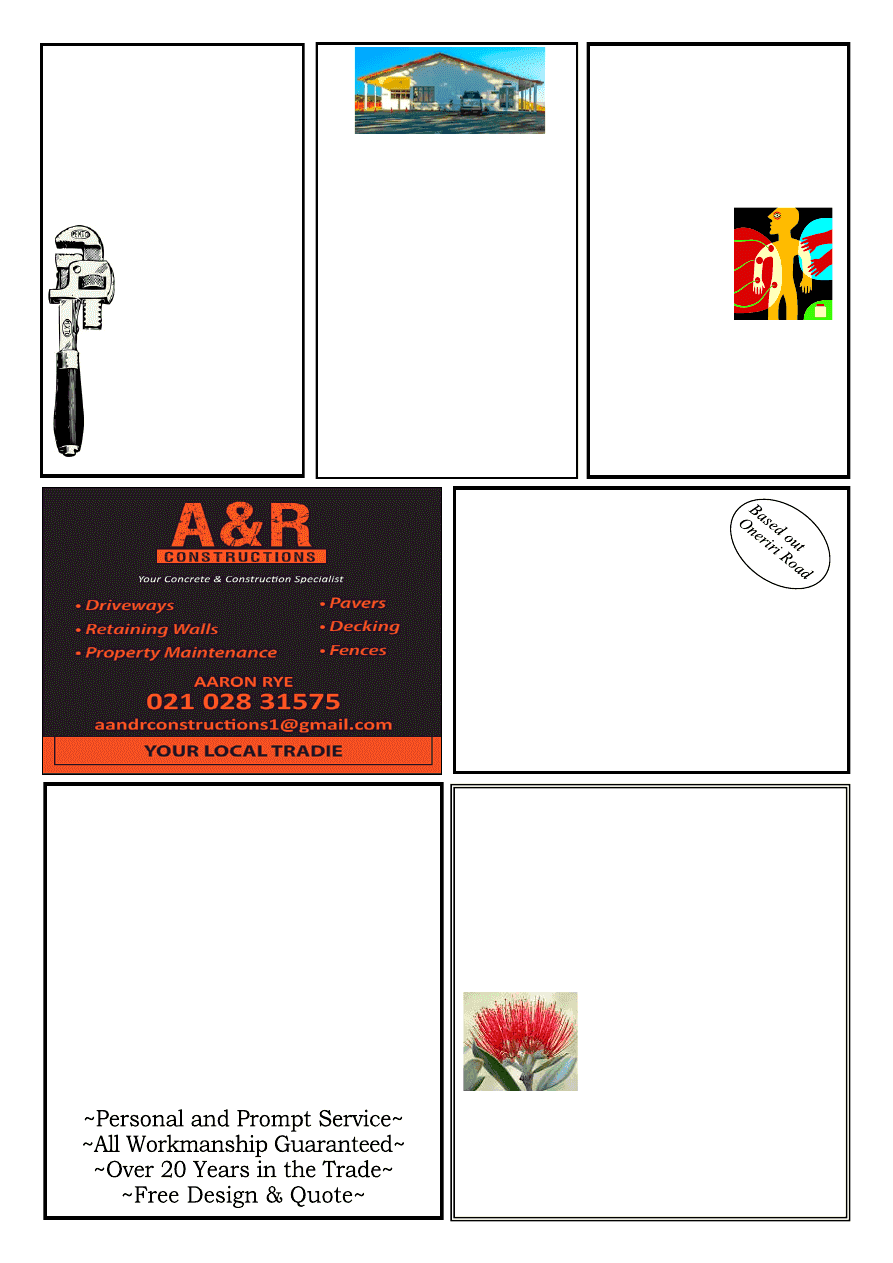 BARRY CURTIS 
PLUMBING LTD 
REGISTERED CRAFTSMAN 
PLUMBER 
Phone 431 5572 
027 257 9884 
25 years' experience 
Friendly reliable service 
All plumbing & 
maintenance 
Alterations and new 
housing 
Spouting  
Competitive rates 
PROMPT 
EFFICIENT 
SERVICE 
KAIPARA FLOORING CO 
Independently owned & operated 
32 HURNDALL ST MAUNGATUROTO
Supply & Installation of Carpet, Vinyl,  
Vinyl Wood Planking
Stockists of 2m & 3m wide 
vinyl & carpet short ends
Residential & Commercial
Q Card Finance Approved 
6-18 month terms 
6 mth interest free
First Class Installations
For a free measure & quote 
phone Christine  
09 946 9886 or 021 515 415 
kaiparaflooring@gmail.com 
http://www.kaiparaflooring.co.nz/ 
HODGETTS 
CONTRACTING
Digger Work 

Driveways 

House Sites

Dams  

Drains, etc
Also available for HIRE 

4
3 ton Vib Roller 
⧫
Heavy Duty Tow  

4
Waterblaster   
⧫ 
Lazer Level 
Phone Mark 4312877 
OWEN STEVENS 
Osteo Therapist
For careful adjustments to bones 
and joints 
Treatment for humans and their 
pets 
Clinics: 
Kate's Place, 
Kaiwaka: 
Last Friday of 
month 
For bookings: 
9.00am-5.00pm  
Phone 
09 4312661 
Or phone Owen  
09 4317123 anytime 
PLANNING A NEW KITCHEN?
 CONTACT NOEL McDOWELL
WELLSFORD 
KITCHENS
Ph/Fax 094312888
KAIWAKA-Any time
 QUALITY CUSTOM MADE 
KITCHENS
Te Pounga Marae 
130 Nathan Rd. Oneriri. Kaiwaka 0573 
COMPLEX FOR 
HIRE 
Functions 
* Weddings  * Birthdays  
*Anniversaries * Meetings  * Wananga 
5 hour meeting * 12 hour stay  * 
Overnight 
*All welcome - No more Drink-driving 
Amenities: 
*Convo Combi Steamer * Bratt Pan * 
Dish Washer/Sterilizer * 3 Door Glass 
Chiller (walk in) etc…All Crockery * 
Linen Supplied * Central Heating and 
Air Conditioning and much more.  
Can also cater for small groups…. 
For more information please contact: 
Kim Wallace  
Home: 09 832 1133  Mob: 0211275340  
Email: kimwallace@xtra.co.nz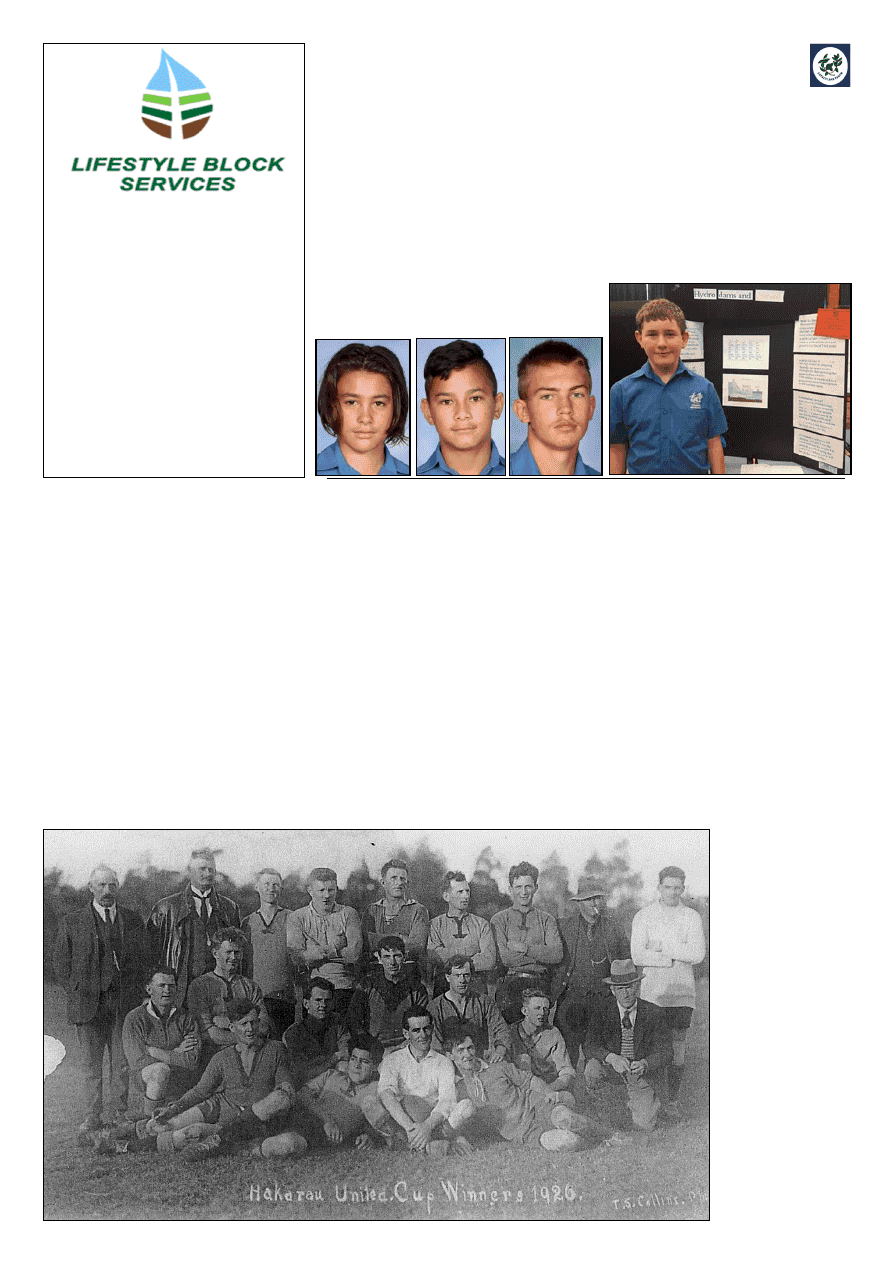 www.kaiwaka.co.nz 
Kaiwaka Bugle - 7 August 2018 
Page 13 
Contact Mark on 021 801 065  
or 
Contact Lisa on 021 108 1057 

 Small HaylSilage Baling & 
Wrapping 

 Fencing 

 Spraying 

  Mulching 
 
Stockwork  

  Stock Water Systems  

 Driveway & Track Maintenance  

 Tree Trimming 
Principal's News 
Congratulations  to  the  following 
students: Tamati Phillips and Reef Riri 
who  made  the  Northland  Under  13 
rugby squad and Brady Foster who has 
been  selected for  the  Northland  Under 
16 rugby squad - pictured below. 
All  the  year  7  and  8  students  who 
participated  in  the  2018  Science 
Fair.  The winners were: 
Year  8  Science  Fair  Winners:  1st = 
Kate 
Cotching 
and 
Ayla 
Antunovich,  2nd  Cortney  Phillips  3rd 
Quentin Barber. Year  7  Science  Fair 
Winners:  1st Callum Smith (pictured), 
2nd=  Max  Cotching  and  Kellan 
Antunovich,        3rd  Sophie  van 
Harlingen and Chloe Comer. 
The  Science  Roadshow  on 
Tuesday was a fantastic event enjoyed 
by our year 7 and 8 students as well as 
students  from  many  local  primary 
schools. 
We have our Open Days coming up on 
7th  and  9th  August.    This  is  always  a 
great  day  for  the  students  from  local 
schools  as  well  as  those  moving  into 
the area to visit the school. 
Also  coming  up  is  the  Reporoa 
Exchange from Sunday 12th - Tuesday 
14th August.  
OTAMATEA HIGH SCHOOL
1926 
RUGBY 
PLAYERS 
Please  can  you  help 
name  these  rugby 
players? 
The 
photo 
was 
taken  by  Tudor 
Collins 
of 
the 
'Hakarau 
[sic] 
United 
Cup 
Winners 1926'. 
We  are  certain  we 
know  two  in  the 
back  row  -  Brian 
Linnell,  3rd  from 
left, 
and 
Joker 
Donaldson, 
5th 
from left. 
Wintles 
and 
Stewarts 
are 
possibly  in  this 
team. 
Articles  in  PapersPast.natlib.govt.nz 
relating to the local fundraising for the 
New  Zealand  1940  Centennial  list  a 
great number of  our local residents.  
The  Otamatea  Centennial  fundraising 
for  the  memorial  schemes  included 
"...
Improvements  to  the  Kaiwaka  and 
Hakaru  domains  and  the  provision  of 
recreational facilities at Mangawai are 
estimated to cost £300. The erection of 
a  new  library  and  rest  room  at 
Maungaturoto  is  expected  to  cost 
£900
…"  from  NZ  Herald  April  1939. 
The 
Kaiwaka 
1940 
Centennial 
Memorial gateposts were first placed at 
McClean  Park  Tennis  and  Rugby 
ground on SH1 - they now stand either 
side  if  the  entrance  to  the  Kaiwaka 
Sports Domain off Gibbons Road. 
NORTHERN 
ADVOCATE, 
14 
MARCH 1939: 
More Queens In Otamatea Carnival 
Further  candidates  in  the  Otamatea 
Queen Carnival to raise Centennial funds 
are:-  
Miss  Loila  Parker  (Matakohe  riding). 
Miss  Gwen  Bowmar (Kaiwaka riding). 
Ballots were held in each instance, there 
being five nominated for Matakohe. 
Mr  A.  H.  Dallas,  secretary  of  the 
Otamatea  Sub-Zone  A  7  executive, 
explained  the  proposals  at  the  meetings, 
which  were  largely  attended.  Mr  P.  F. 
Stratford  presided  at  Matakohe,  and  Mr 
W. J. Litten at Kaiwaka. 
 Kaiwaka Committee:  
The  committee  formed  to  work  in  the 
interests  of  the Kaiwaka candidate  was: 
Miss  N.  Dowson  (secretary),  Mrs  W.  E. 
Dunn  (Women's  Institute),  Mrs  K. 
Leabourn  (Plunket  Society),  Miss  J. 
Bowmar (basketball club), Miss E. Hall, 
Messrs  J.  Brewer  (tennis  club),  A.  G. 
Bull  (Church  of  England),  J.  Hay,  Jun. 
(Presbyterian  Church),  W.  H.  Colson 
(Farmers'  Union),  T.  Bowmar  (Domain 
Board), 
A 
Gibbons (Kaiwaka School Committee), 
E.  Coates  (Pukekaroro School), Wm. 
Littin  (Hall  Society),  Mrs  C  .Wintle 
(Hakaru  Women's  Institute),  Messrs  E. 
Brown (Hakaru Tennis Club), D. Stewart 
(Hakaru  United  Football  Club),  A.  W. 
Leslie  (Hakaru  Golf  Club),  W. 
R.Dowson,  R.  Hastie  (Mangawai),  and 
R.  D.  Leslie.  This  committee  may  be 
added to. Several local bodies, including 
those  at  Mangawai,  are  not  yet 
represented.  
A  meeting  of  the Kaiwaka committee 
will be held this week. 
NAMES FROM KAIWAKA'S PAST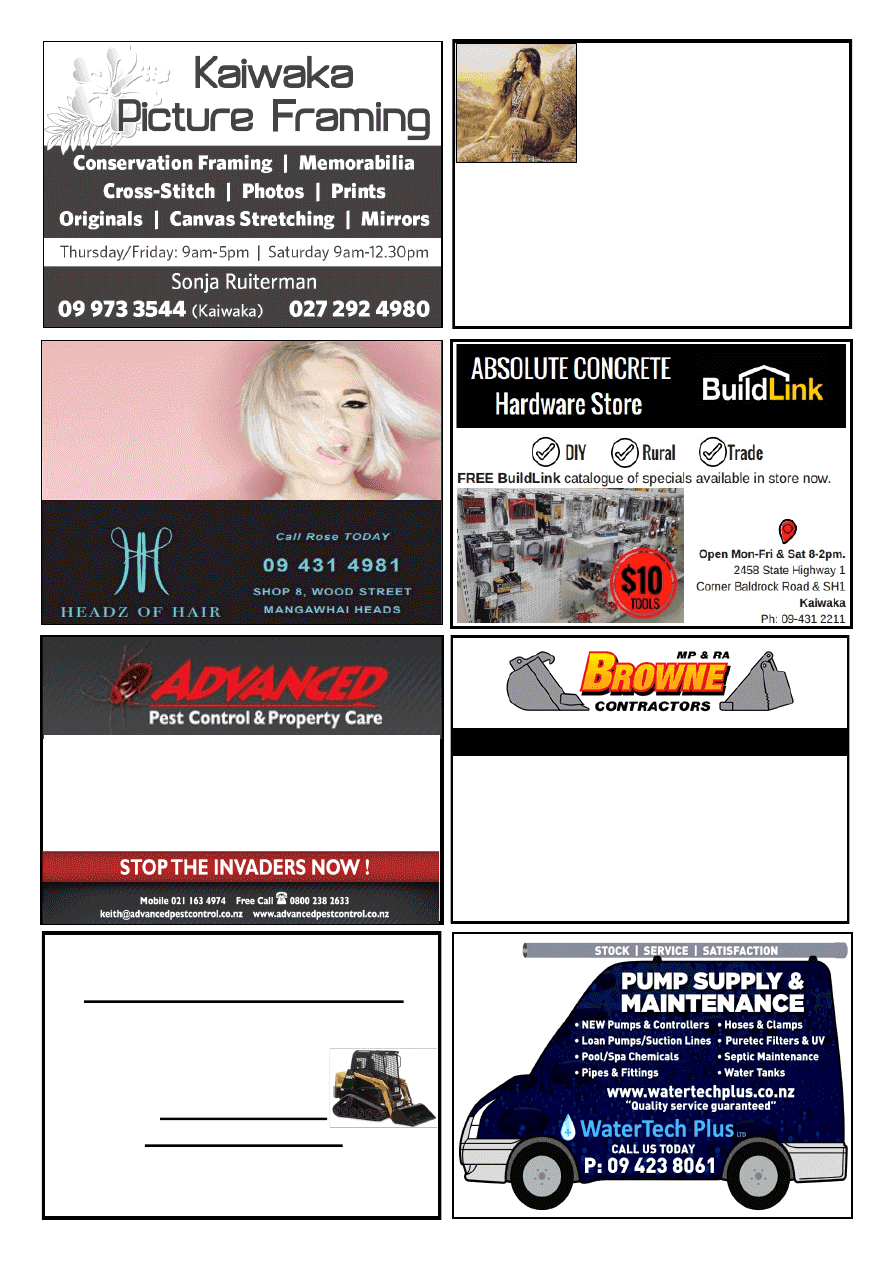 Natural Earth Ltd 
Landscape and Bobcat services 
 : Driveways :Landscaping :Retaining Walls 
 : Hole Boring: Land Levelling :Trenching 
 : Decks :Fences :Sections Cleared 
 : Plus much more
Tel 09 4312 885 
Mob 02102391280 
For A Fast Friendly Service  
Contact Tim Hicks 
4T DIGGER – BOBCAT – TIP TRUCK 
Property Maintenance - Driveways  
 Building Sites 
Stump & Tree Removal  
Hole Boring - Chain Trencher  
Calf Shed and Stockyard Cleaning 
Phone Matt: 021 199 6677 
Email: mprabrownecontractors@gmail.com 
Trails end 
spiritualist gathering 
Last Sunday of every month  
10.30-2pm  
Tea/coffee provided  $5 koha 
For all inquiries: 
021 165 2629 evenings (09) 945 0707 
Trail.end@hotmail.com 
1758 Cove Road, Mangawhai
Bringing together like-minded people 
Guest speaker each month
Pest Control 
PLAN A: One-off treatments to customers with a specific pest problem 
PLAN B: Full maintenance service plans to commercial customers. 
This will include documentation kept in customer file on site: 
⚫
Pest treated 
⚫
Date of service 
⚫
Chemical or baits used 
⚫
Full pest check report done after each treatment 
⚫
Fair and reasonable fee with guarantee 
Flood Recovery 
Carpet Care 
⚫
Carpet Drying 
This includes pre-spray treatments 
⚫
Dehumidifier Rental 
with stain removal and hot water extraction.  
⚫
Full Commercial Cleaning  Patch repair also available 
Upholstery Cleaning 
Full upholstery cleaning of all furniture.  
eg lounge suites and all office chairs 
Water Blasting 
⚫
Concrete - Decks 
House Washing 
⚫
Soft Chemical Was 
⚫
Pre-painting Wash 
Property Services 
⚫
Property Cleaning  Lawn Mowing 
⚫
Hedges General   Tidy Ups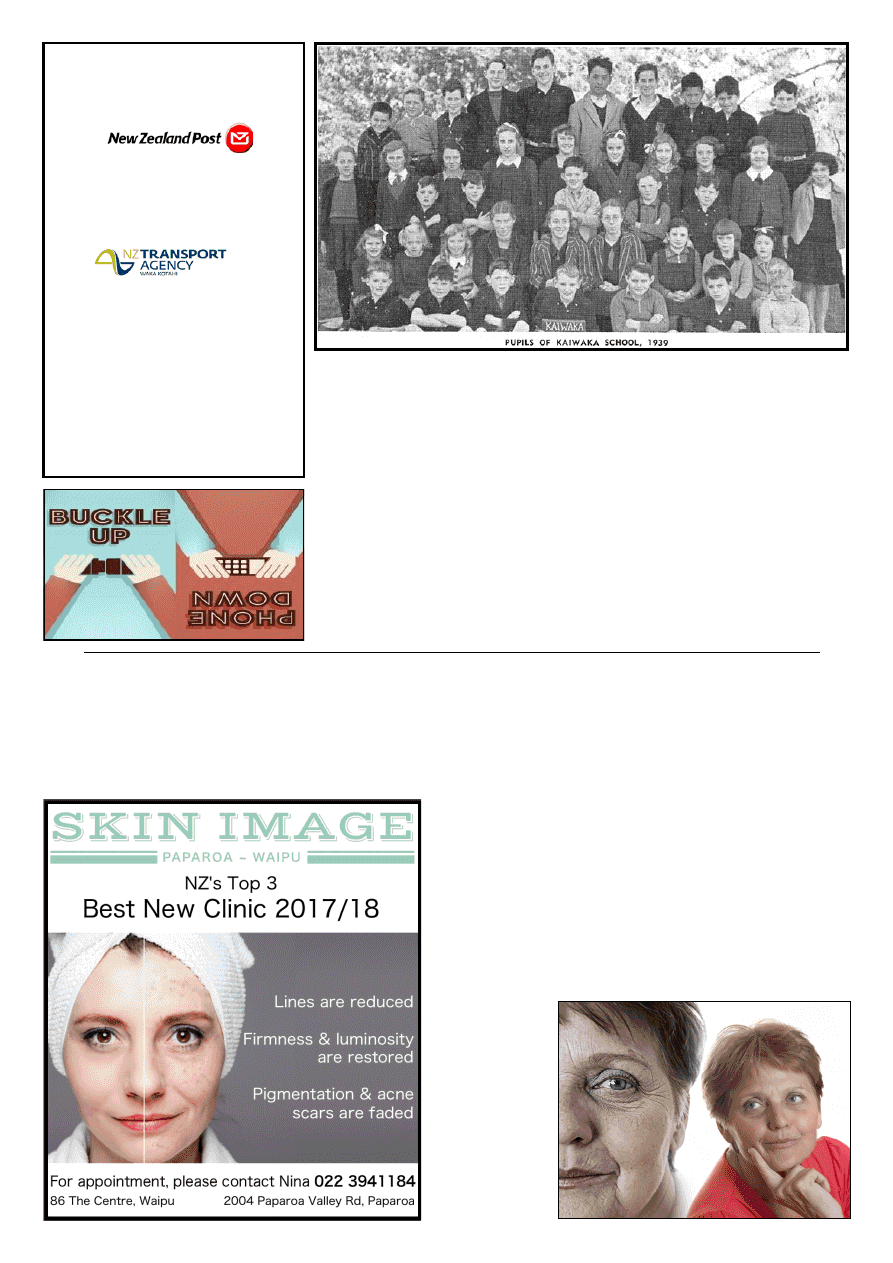 www.kaiwaka.co.nz 
Kaiwaka Bugle - 7 August 2018 
Page 15 
COLLAGEN INDUCTION THERAPY (C.I.T) 
A  couple  of  months  ago  I  talked  about  LED  light  therapy  as  a  modality  for  skin  rejuvenation  and  healing.  Another 
scientifically  proven  modality  is  Collagen  Induction  Therapy  (C.I.T.)  Collagen  induction  therapy  is  the  most  natural, 
effective, value for money skin treatment there is when it comes to improving skin health. There is NO injection of any 
products into the skin. The treatment is about inducing the skin's self-repair process by creating precise, micro injuries in 
the  skin  which  creates  and  stimulates  the  production  of  new  collagen  and  elastin.  This  is  important  because  when  we 
reach 30, our collagen production slows right down so this is a way of reminding the skin to make collagen the way it 
used to (when we were younger). 
It's a great treatment for fine lines and wrinkles, skin tone and 
texture, loose and sluggish skin, enlarged pores, acne scarring 
and  pigmentation.  The  treatment  can  be  done  on  most  body 
parts  including  face,  neck,  décolletage,  hands,  stomach,  legs 
and arms. 
A  question  I  always  get  asked  is  "when  will  I  see  results?". 
Visible  results  are  evident  5  to  8  weeks  after  the  treatment. 
However,  one  of  the  most  exciting  things  about  C.I.T.  is  that 
your results will continue to improve over the next 12 months 
as  the  new  collagen  and  elastin  settles,  strengthens  and 
rejuvenates your skin from within. 
Before  committing  to  C.I.T.  please  make  sure  your  skin 
therapist does a thorough consultation to determine your skin's 
suitability, 
explains  to  you 
what 
happens 
during the 
treatment,  guides 
you on the before 
and  after  care, 
works  in  a  sterile 
field  during  the 
treatment.       
~ 
Nina Quan,  
Skin  and  Beauty 
Therapist 
1939ERS NAMED! WELL NEARLY 
With thanks to our local 'super sleuths' we have named these pupils. 
Back  Row:  Bill  Wright,  Doug  Anderson,  Ray  Eltringham,  Jack  Mills,  Harry 
Wright,  Ngapuhi  Nathan,  Ian  Balderston,  Benny  Nathan,    Eric  Eltringham, 
Selwyn  Gubb.  4th  Row:  Merle  Stewart,  Bonnie  Gibbons,  Mary  Smith,  Inez 
Wright,  Dorothy  Pierce,  Betty  Wright,  Eileen  Gibbons,  Joyce  Dunn,  Sonny 
Bowmar,  Joan  Eltringham.  3rd  Row:  Ron  Littin,  ?  Eltringham,    Murray 
Stewart,  Ian  (Sandy)  Mills,  ?  Eltringham.  2nd  Row:  Marjorie  Pierce,  Fay 
Leabourn, Gabrielle Gibbons, Jill Mills (twin of Jack in back row), Alvene and 
Noeline Stewart (twins), Linda Bowmar, Edith Smith, Elaine Ross. Front  row: 
Doug leslie, ? Eltringham, Bill Jaques, Jack Leslie, Steve Smith, Owen Bowmar, 
Dick Brewer.  
We are just missing the first names of three of the Eltringham family. 
Note: Dick Brewer's father, Jack Brewer, was appointed Kaiwaka's postmaster 
in  June 1937. Dick went on to play rugby for Counties; his son, Mike Brewer 
played  32  tests  for  the  All  Blacks.  Mike's  son,  Harrison,  played  for  the  Irish 
Under 20s.  
KAIWAKA POST 
CENTRE and 
FOOD MART 
POST CENTRE TRADING HOURS 
MONDAY to FRIDAY 8am to 5pm 
SATURDAY 8am to 12pm 
CLOSED ON SUNDAY and on 
PUBLIC HOLIDAYS 
FOOD MART (GROCERIES) 
MONDAY TO SUNDAY  
7:30am to 7:30pm 
IF ANY QUERIES PLEASE CALL 
STORE MANAGER AMRIT  
on 09 4312431 or 
EMAIL: kaiwakafood19a@gmail.com 
1919a State Highway1, Kaiwaka 0542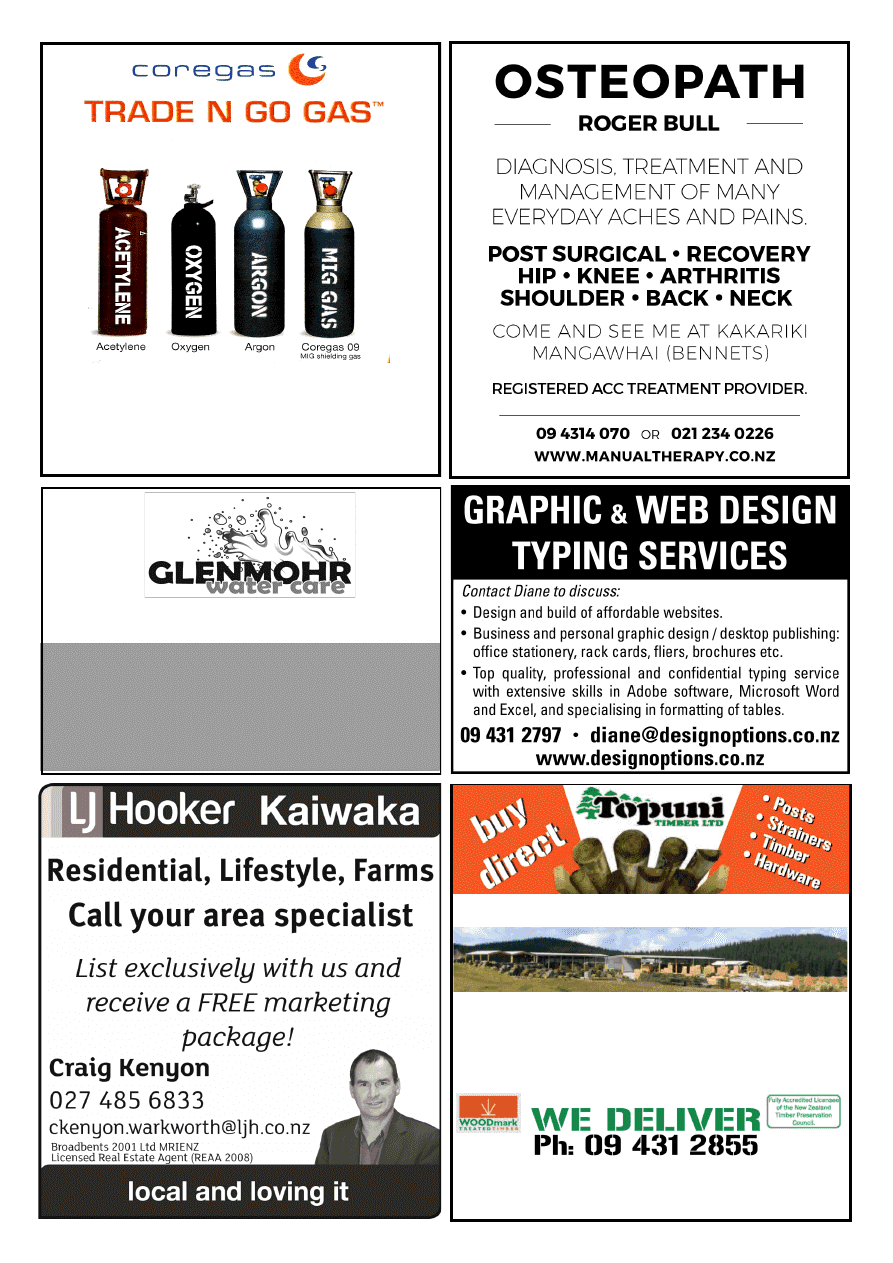 Water Tank Cleaning 
• 
Keep your water safe & clean  
• 
Removal of sediment, silt etc. 
• 
Vacuum or full scrub 
• 
Minimal water loss 
Phone Mark (09) 432 0655 or 0274 707607 
Now available at Twinkle Tow 'n' Tyre 
Mob: 021 833 960 
Ph & Fax: 09 431 2823 
1837 State Highway 1, Kaiwaka 
LOCALLY OWNED AND OPERATED 
QUALITY PRODUCTS • FRIENDLY ADVICE • GREAT SERVICE 
Quality Products milled from High Density NORTHLAND Radiata Pine. 
Treated and guaranteed to NZS3640 with commitment to 
Environmental Safety.
Phone, fax, email, or come into the mill 
Schiska Rd, Topuni, SH1, 10 min north of Wellsford. Fax: 09 431 2856 
Email: sales@topunitimber.co.nz           Mon - Fri 7am-5pm 
• Fencing 
• Retaining 
• Decking 
• Landscaping 
• Gates 
• Hardware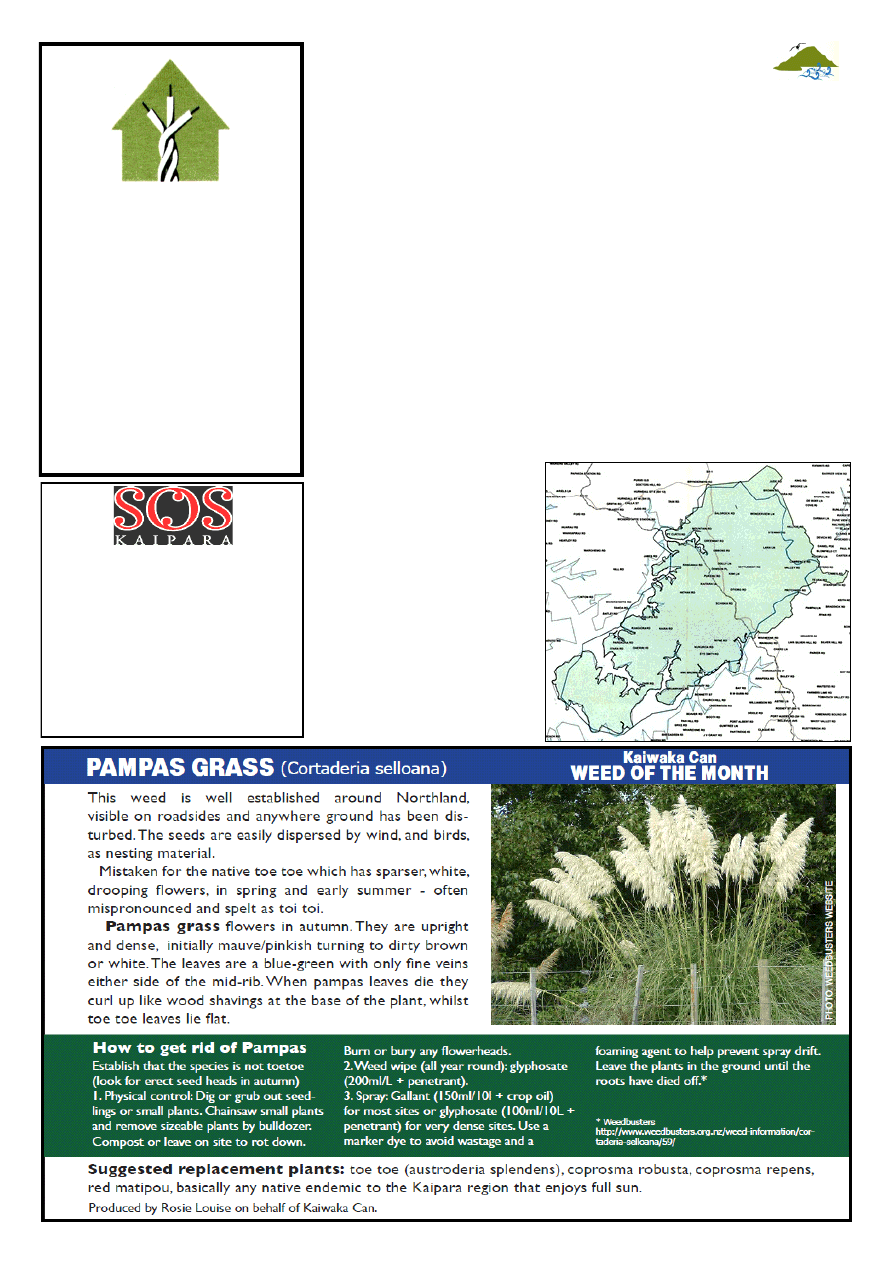 www.kaiwaka.co.nz 
Kaiwaka Bugle - 7 August 2018 
Page 17 
Reyahn George 
Leng 
Registered Electrician 
Local, honest and 
reliable. 
For your residential and 
light-commercial 
projects. 
022 314 1068 
S.O.S Kaipara 
Support, advocacy, crisis and 
family therapy counselling, refuge 
housing to survivors of sexual 
abuse and domestic violence. Also 
Education prevention programmes 
for the community and clients.  
Office hours 9am to 3pm Monday to 
Friday; 24/7 a Police or  
phone 09 4396070 
KAIWAKA SCHOOL  
Welcome  back  to  school  for  Term  3 
2018.    We  have  welcomed  ten  new 
students  and  two  new  staff  members 
into  our  school.  Staff  members  -  Ms 
Zeralda  Pirini  is  the  new  teacher  in 
Room  4,  replacing  Anna  Elworthy, 
who has moved overseas and Mr Jesse 
White, a teacher aide in Room 3. 
This  term  we  are  having  a  Fun  Run 
fundraiser  for  our  cross  country.  Our 
students  will  seek  sponsors  for  their 
running, and we hope to raise funds for 
new computers. 
Kaiwaka School PTA News 
We  are  now  making  Ham,  Cheese, 
lettuce  and  mayo  filled  rolls  every 
Friday,  orders  need  to  be  into  the 
school  office  before  end  of  school 
Thursday  or  your  child  will  miss  out, 
as  the  lovely  ladies  down  at  Jaques 
bake the buns for us fresh every Friday 
morning,  selling  for  $3  each  until  the 
end of Term. 
Advanced Warning-The school gala on 
23  November  and  the  PTA  are  in 
charge  of  the  'white  elephant' 
area this year, if you are having a 
clean  out  or  have  anything  you 
would  like  to  donate  to  us, 
please keep us in mind and hold 
onto the items until closer to the 
gala, we would really appreciate 
it. 
We are looking into holding our 
first  night  time  meeting  this 
term,  keep  a  look  out  in  the 
newsletter  diary  for  the  date. 
Thanks, Courtney 
The Teacher Strike:  
The school will be closed on 15 
August if this goes ahead. Please 
consider  arrangements  for  the 
care of your children. 
Upcoming events 
9 August: OHS Open Day 
16 August: School Fun Run  
22 August: Enrolments at OHS 
23 August: Hotshots Tennis starts 
10 September: Production Week 
28 September: End of Term 3 
AND 
23 November: School Twilight Gala 
6-7  December:  Noho  Marae  at 
Otamatea Marae. 
Proposed Kaiwaka School Zone 
To  avoid  overcrowding,  the  Board  of 
Kaiwaka Primary School is requesting that 
an  enrolment  scheme  be  approved  by  the 
Ministry of Education. 
The  zone  proposed  (map  below)  can  be 
seen  at  the  school  or  on  the  Kaiwaka 
Primary School Facebook page. 
Please look over the draft plan and provide 
us  with  any  feedback  that  you  would  like 
us to consider. We would also like to know 
if there are no concerns, and you are happy 
for  us  to  proceed.  We  would  like  to  have 
your  feedback  by  August  30th  please. 
Rosie Ellis, Principal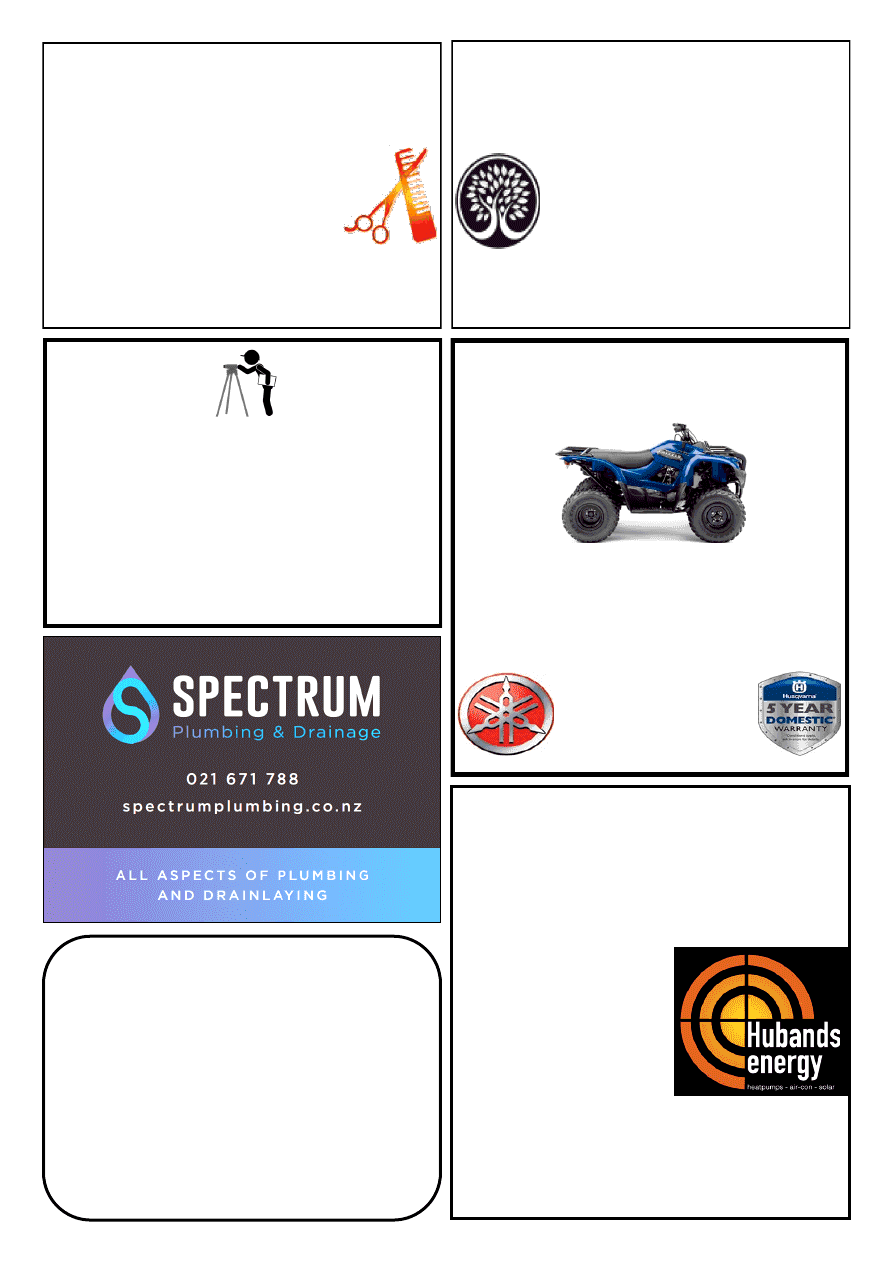 KAIWAKA 
MOTORCYCLES LTD
SALES – SERVICE – SPARES 
FARM BIKE SPECIALIST
PHONE 09 431-2127 
10 KAIWAKA-MANGAWHAI ROAD, KAIWAKA
Trimmers  
from $279
Chainsaws  
from $339
YAMAHA 
HUSQVARNA 
Northland's Award Winning 
Solar Company
SEANZ Best Solar Business Winners 2015/16
EXCLUSIVE 10 year installation warranty 
FREE No obligation onsite quote
Complete systems 
from $5990
See our range of: 
✓ 
Heatpumps 
✓ 
Airconditioning 
✓ 
Hot Water 
Heatpumps 
✓ 
Central Vacuum Systems
09 430 0019             sales@hubands.co.nz 
15 Kioreroa Road, Whangarei
Locally owned and operated for 35 years 
UP-LINK 
CHRIS WARING 
FREEVIEW INSTALLATIONS 
T.V. - HOME THEATRE &  
HI-FI ADVICE/SET UP
SKY ACCREDITED INSTALLER
MOB.0273403747 HM.094312328 
EMAIL cwaring44@gmail.com
28 YRS EXPERIENCE 
OFFERING UNBIASED ADVICE 
Ken Urquhart 
BSurv Licensed Cadastral Surveyor 
KMU Surveys Ltd
467 Bickerstaffe Road 
RD 2 
Maungaturoto 0587 
Ph 09 431 8705 
Mob 021 161 2344 
kenurquhart@xtra.co.nz 
AFFORDABLE PRICES! 
MENS CUT FROM $20.00 
LADIES CUT FROM $30.00 
KIDS CUT FROM $18.00 
COLOUR & CUT FROM $120.00 
JUST CUTS'AND   
MORE 
021 165 2629 or (09) 945 0707  
NOW SELLING: scented tealights, incense, smudge sticks, 
copper bracelets, aurora ball crystals, dream catchers, healing 
stones, rose quartz, cds, and much more. Open 6 days. 
Waipu Natural Health 
3 Cove Road, Waipu  (opposite the Pizza Barn) 
Ph: 09 432 1325 
www.waipunaturalhealth.co.nz
Clinical Nutritionist-Hair Analysis for Masked 
Allergies, Ozone Therapy, Prolotherapy, 
Naturopath-Medical Herbalist, Registered 
Massage Therapists, Reflexology-
Craniosacral Therapy, Acupuncture-Facial 
Acupuncture, Kineso Taping, Hypnotherapy, 
Counselling, ThetaHealing/Change Catalyst.
AFFORDABLE CONSULTS FOR KIDS – give us a call
Gift Vouchers available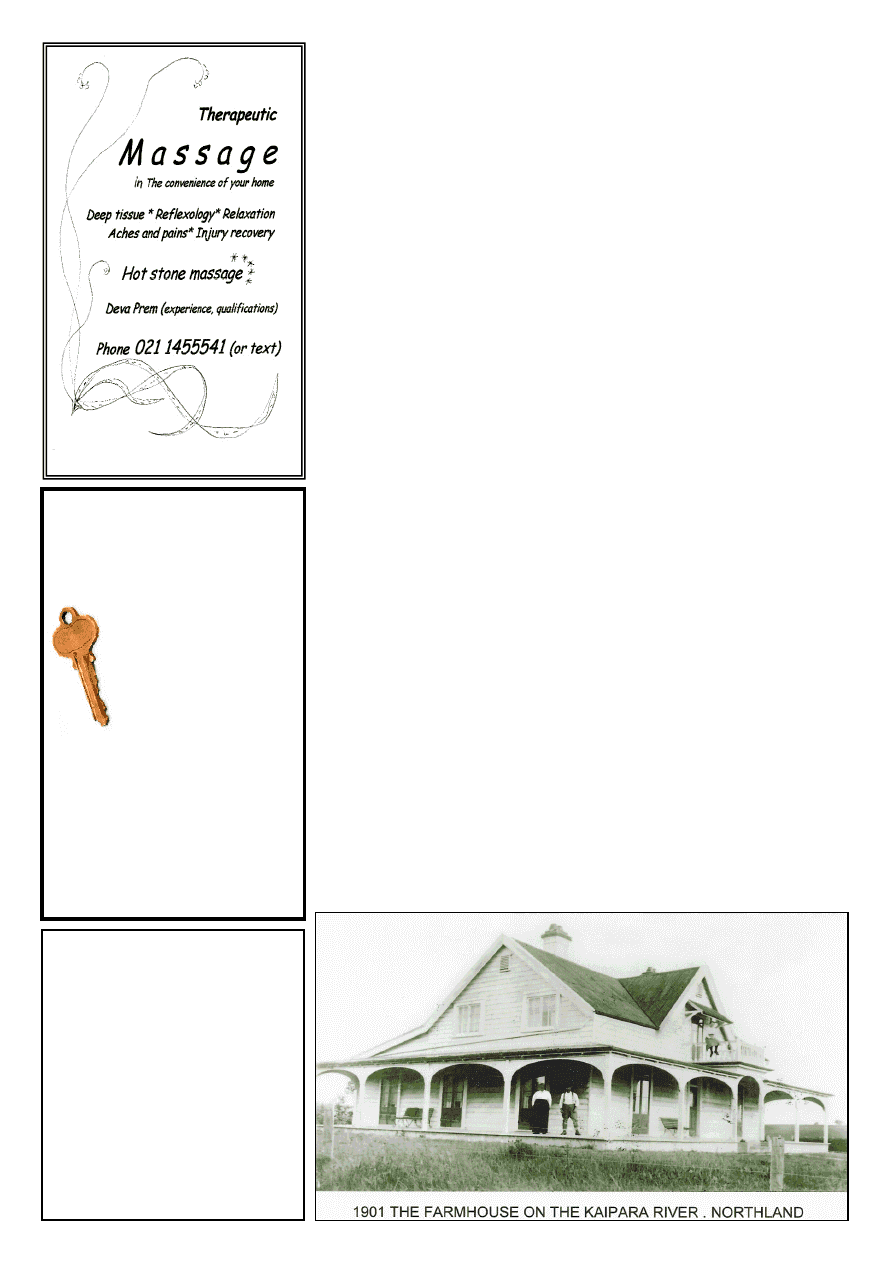 www.kaiwaka.co.nz 
Kaiwaka Bugle - 7 August 2018 
Page 19 
Another Story:  FROM MELTON CLARK
About  nineteen  twelve 
we  had  a 
house  party  in  the  old  Kaipara  home; 
among  the  guests  was  an  innocent 
some  relative  of  mothers.  It  was 
decided  to  also  have  a  picnic  lunch  at 
the  mountain  creek  as  we  called  it,  a 
lovely  creek  at  the  foot  of  Mount 
Pukekeru  [sic],  and  afterwards  those 
who wanted could climb the hill. Some 
of  the  ladies  went  in  the  four-wheeler 
buggy  while  others  and  the  men  folk 
rode.  My  cobber  and  I  went  straight 
across country on foot, our job being to 
boil the billies and after that to clear a 
path uphill with slashers.  
Toward the end of lunch when the odd 
scrap of bread had been tossed into the 
pool,  somebody  said,  "Look,  there 
seems to be a fish nibbling that bread". 
There was, and some fish too. The pool 
about twenty feet across was very deep 
with  almost  sheer  sides.  The  fish  of 
course  was  a  fresh  water  eel,  between 
three to four feet long, and that's a lot 
of eel! And so, to work. A long stick of 
Manuka, a thin line of flax and a bit of 
cold  mutton  taken  from  a  sandwich, 
tied  on  the  end,  combined  with  a 
minimum of movement, a maximum of 
patience and a great deal of hope. The 
eel  swallows  the  meat  and  after  some 
moments,  positioning  one's  self  like  a 
golf  professional,  a  huge  yank  on  the 
tea  tree  pole  and  out  comes  the  eel. 
You need a cobber on the bank with a 
slasher  raised  ready  to  deliver  a  blow 
like a baseball player, and at the same 
time trying to make a noise like an old 
stump. Otherwise the catch soon slides 
back  to  its  home.  Mr  Innocent  wore  a 
considerable 
corporation 
(which 
perhaps  was  not  his  fault),  a  flowered 
waistcoat,  and  a  stiff  white  collar  and 
tie, and all this to a picnic, mark you! It 
offended my sense of decency, so when 
the  bloke  poked  a  finger  into  the 
gaping mouth I held my breath and said 
nothing.  It  should  be  explained  that 
eels  do  not  have  teeth  as  such  but 
rather  a  rough  palate  something  like 
sand  paper.  Naturally,  the  bigger  the 
eel the rougher the palate. So, when the 
jaws  closed,  due  solely  to  a  muscular 
spasm, no harm would have been done 
to  the  finger  provided  it  was  not  torn 
away  in  sheer  panic,  which  it  was. 
Some  folk  who  know  little  have  to 
learn the hard way. 
Mangawhai,  as  I  knew  it 
until my 
late teens, was a two-cottage beach, the 
old  one  belonging  to  the  old  man  the 
other  farther  up  the  harbour  belonging 
to  a  Captain  Olsen.  I  would  guess  the 
Dad's property comprised abut twenty-
five  acres  and  ran  from  the  old  road 
along  to  the  creek.  Outside  one  of  the 
windows was a huge Aloe with spines 
to  match,  as  well  as  several  box  thorn 
trees  which  a  boy  would  have  good 
reason to remember. The rocks around 
the  first  point  leading  to  the  Heads 
were  covered  with  oysters  and  our 
favourite method of cooking these was 
to  put  them,  shell  and  all,  on  a  wide 
iron  bars  over  the  embers  of  an  open 
fire. We were never short of fish. First 
the cockle on a bent pin and a length of 
cotton  for  sprats,  then  a  heavy  line 
stretched  between  two  Manuka  stakes 
driven  into  the  sand  close  to  the 
channel at low tide with traces hanging 
down  but  kept  well  off  the  sand, 
otherwise  a  type  of  shellfish  very 
common there would rat the lot. Three 
or four snapper (tamure) and perhaps a 
kahawai or two was normal for a dozen 
hooks.  Sharks  took  the  odd  one  of 
course.  In  those  early  days  the  sand 
hills  increased  in  height  all  the  way 
from  the  Heads  to  the  existing  high 
ones  opposite  Mangawhai,  and  in 
season  provided  the  nesting  grounds 
for  literally  thousands  of  sea  birds  of 
all types. Many times, I have been dive 
bombed by the Tern if one should show 
interest  in  the  young  cowering  in  the 
sand. Interesting little birds with all the 
guts in the world.  
A  costal  boat  called  the  'Ruby'  ran 
onto  the  rocks  on  the  northern  side  of 
Sentinel  Rock  before  I  reached  the 
mature  age  of  being  able  to  wander 
round on my own. In fact, it may have 
been  before  I  was  born  to  still  further 
pollute this  world  of  sin.  The  old  Dad 
said  that  he  and  Captain  Olsen  rowed 
out  and  took  the  crew  off.  The  boat 
became  a  total  wreck,  but  I  have  a 
vivid  recollection  of  seeing  the  rusted 
boilers among the rocks. 
~  by  B  Lawrence.  Photo  below:  Clark  home 
(just north of Kaiwaka).  
For  more  information  on  'Tell  Your  Story' 
contact Bruce on 
09 4801949 
.
www.mangawhaimassage.co.nz 
Kaiwaka 
Hardware  
& 
Key cutting
Phone 4312 063  
or 022 0642 703
kaikey2015@gmail.com
    Keys Cut  
Household Hardware  
Sharpening  
Knives & Tools 
Curtain Tracks & Fittings
Not there? Call Doug and he'll 
sort
it for you. 
(
Next to Kaiwaka Motorcycles)
HELP 
PHONE NUMBERS 
HEALTHLINE:  
0800 611 116 
SAMARITANS:  
0800 726 666
YOUTHLINE:  
0800 376 633 
LIFELINE     
0800 543 354
DEPRESSION HELPLINE:  
          0800 111 756 
ALCOHOL & DRUG HELPLINE:   
 
0800 787 797 
URGENT MENTAL HEALTH LINE:  
 
0800 223 371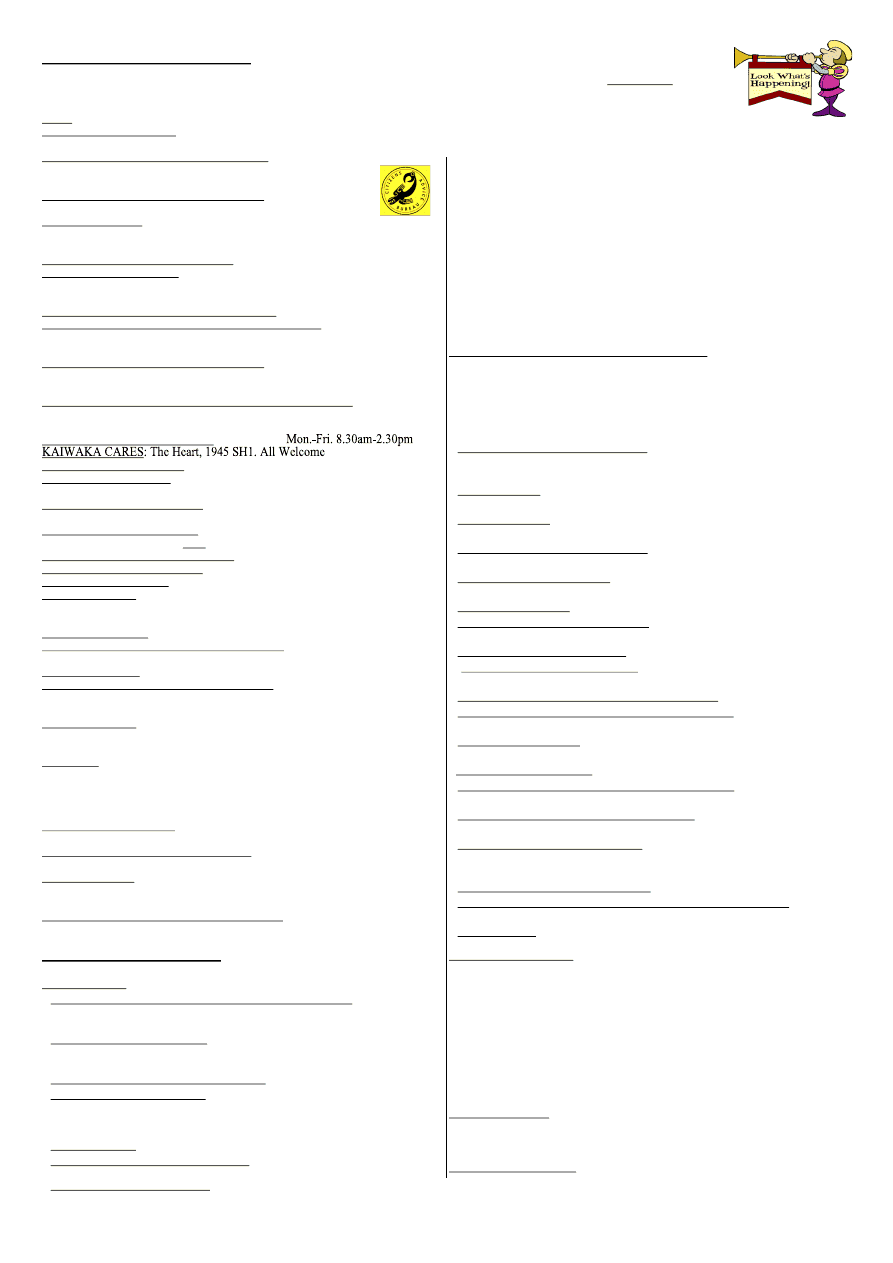 Next Bugle Deadline midday Friday 17 August  2018
WHAT'S ON
PLEASE ~ do let us know what is on - email 
kaiwakabugle@kaiwaka.co.nz 
*7Aug~Otamatea High School OPEN DAY -Yr9 to 13 
*9Aug~Otamatea High School OPEN DAY - Yr7&8 
*9Aug~Mangawhai Writers Group, Old School-Museum,7.30pm 
*10Aug~Scout Venture:  Illuminate Kaiwaka, KSA, 7pm 
*10Aug~Movie 'Lean on Pete', KWMH, 7.30pm 
*12Aug~Pt.CCC Pool Competition, 3 Furlongs Bar & Grill, 1pm 
*15Aug~Kaiwaka Can meet Archie Bull Hall, 5.30pm 
*17Aug~Teen Turbulence, Rodney College Wellsford, 7pm 
*18Aug~Busy Hands Craft Display, Christ the King, Mwi 10am 
*18Aug~Mid Winter Christmas Disco, KSA, 6-8.30pm 
*29Aug~Movie 'The Guernsey Literary & Potato Peel Pie 
Society' , KWMH, 7.30pm 
*31Aug~DAFFODIL DAY 
KWMH = Kaiwaka War Memorial Hall; KSA = Kaiwaka Sports Association 
See www.kaiwaka.co.nz for more information 
HOUSEHOLD RUBBISH COLLECTION  
Kaiwaka Pick up: 
Mondays = Green bags (Northland Waste - 09 430 3273) 
Wednesdays  = Blue bags and yellow recycling (at Jaques $3.00 
and  $1.50)  (Kaurilands  09  4392146);  ONLY  Blue  and  Yellow 
bags picked up on Oneriri Road. 
 DIABETES  Support  Group  -for  Kaiwaka,  Mangawhai, 
Wellsford  10am,  3rd  Friday  of  month  Ph:  Colleen  James  09 
4314238 
 DRINK CAN 'tear tabs' - for Starship Hospital- please collect - 
98 Kaiwaka Mangawhai Rd, leave in mailbox, Ph. 4312625  
 GENEALOGY - Wellsford: 1st Thursday in month Ph: 423 
7033; Waipu: 4th Monday in month Ph: 4312 725 
 GYMNASTICS  OTAMATEA  -  Tuesday  Ph:  Stephanie  022 
3624998 
 HAKARU PONY CLUB - Secretary Denise Rogers 021423376 
secretary@hakaruponyclub.co.nz  
 KAIPARA HUNT - Secretary Albert Doonenbal Ph 4312059 
 KAIPARA YONG FARMERS - K Danks  0211598453, meet on 
last Thursday of the month at Three Furlongs Bar & Grill 
 KAIWAKA BADMINTON -Tuesdays 7.30pm Ph: 4312345 
 
 KAIWAKA DRAMA CLUB - 
Hannah Webb 
0272863352
- KaiwakaDrama@gmail.com - FB - "KaiwakaDramaClub" 
 KAIWAKA DRUM & DANCE CLASSES - 021 611198 
 KAIWAKA GARDEN & FLORAL GROUP - 2nd Thursday in 
month. Ph: 431 4744 
 KAIWAKA  CUBS  -  Thursdays  5.30-7pm,  Hakaru  Ph:Bruce 
4312542 
*KAIWAKA PILATES - Ph: 021 2072729. 
 KNITTING FOR WHANGAREI HOSPITAL - 2nd Tuesday in 
month, Archie Bull Hall 10am Ph 4314827 
 MANGAWHAI COMBINED REBUS CLUB - 2pm, 3rd 
Thursday month, Senior Citizens Hall Mangawhai. Ph: 4315777 
 OTAMATEA GREY POWER - Kath Pattinson 09 283 2052, 
1pm last Wednesday of month, Anglican Church Hall, 
Maungaturoto 
 PT CURTIS CRUISING CLUB - Jean Ph: 4312227 (wk), 4312520 (hm) 
 RSA,  HAKARU  &  DISTRICTS  WOMEN'S  SECTION  –  meets 
1.30pm 4th Thursday of the month. Ph: 431 5818  
 TRAMPING - Mondays 9am-2:30pm Maria 4312 234 
HALLS FOR HIRE: 
 St.Pauls Archie Bull Hall HIRE $20 half day, $40 full day per 
hire, S McAulay, Ph 4312311 
 Kaiwaka  War  Memorial  Hall  HlRE  -  Phone  4312725  or 
kaiwaka.hall.bookings@gmail.com 
 Hakaru Community Hall HIRE -Ph. 4312256 or 4312110 
 Te Pounga Marae queries - R. O'Leary 4312 423, J.Nathan 021 
186 7382 
 Kaiwaka Sports Association hire/queries - C. Anderson 4312051 
or kaiwakasports@gmail.com 
Justice of Peace:  
B.FJaques  4312  048;  L.Donaldson  4312  228;  A.F.Hargreaves 
4312 045, W.Howard 4312 725 - please phone to make sure they 
are available www.justiceofthepeace.org.nz 
Marriage Celebrants:  
L.Donaldson; A.F.Hargreaves; Y Osborne
LOCAL SERVICES 
*Emergencies - Ambulance, Fire, Police - dial 111 
*Non-urgent Police phone 09 4311150
A A: Meets Wed., 8pm Kaiwaka Ph: 4315543, 0800229 6757 
ASUREQUALITY LTD (was AgriQuality) Call Free 0508 0011 22  
BUDGETING SERVICE, WELLSFORD: Free confidential advice & 
support for all areas of personal finance. Ph (09) 423 7123 
CAB-Citizens Advice Bureau.Wellsford Ph: 4237333 
0800 367 222 email:cab.wells@xtra.co.nz  
CIVIL DEFENCE - Kaiwaka Community Response Group: 
kaiwaka.civildefencecrg@gmail.com, 4312725 Wendy 
DOG/STOCK /NOISE CONTROL 0800 105 890 
FUNERAL SERVICES: Morris & Morris Ltd, 
Whangarei - Bev Jaques Ph:4312367 or 0800667747 
GRANDPARENTS Raising Grandchildren: Dianah Roberts 0223819539 
HAKARU & DISTRICTS MEMORIAL RSA (Inc) 733 Settlement Rd, 
Hakaru. Ph 4312 176 or Graeme Hitchcock (President) 431 3064 
HAKARU LANDFILL/Transfer Station:Open everyday except 
Tuesday10am-4pm.Ph4312629 Cost-$55 trailer load up to 1 cubic metre. 
Ph:4258567 - office 
KAIPARA DISTRICT COUNCIL www.kaipara.govt.nz:  
Help Desk FREEPHONE 0800 727 059  
KAIWAKA KOHANGA REO: Ph:4312620 
KAIWAKA CEMETERY: Ph: 4312045 or 4314017 
KAIWAKA LIBRARY: kaiwaka.library@gmail.com  
Mon. 4-6pm; Wed., Thurs., Fri., Sat. 10am-2pm Ph:4312539 
KAIWAKA PLAYCENTRE: Ph Juanita 0274134904; open Mon, Wed, 
Fri 9am-12pm. Hastie Lane; Monday to Friday 9.00am - 12 noon. 
KAIWAKA POST OFFICE:Ph:4312 431  
Post Code: 0573 for RD2 and 0542 for all Kaiwaka Post Office mail 
KAIWAKA PRIMARY SCHOOL: Ph: 4312309   
KAIWAKA SPORTS ASSN: Ph 4312005; 4312129 gym 
KAIWAKA ST JOHN: Manager Steve Rosser 09 4318403, 021 355734 
KATE'S PLACE Community Centre - Employment services, Free Health 
Nurse, Plunket, Advocacy, Osteopath, A.A., Legal Advice. 4312 661 
LINKING HANDS Health Shuttle Ph 4315906 or 09 4318969 
MINISTRY FOR PRIMARY INDUSTRIES - General inquiries Call 
Free 0800 008 333 
NORTHPOWER: Faults Kaiwaka area 0800 104040 
OTAMATEA COMMUNITY SERVICES: Counselling, parent coach, 
Family Support worker, budget advice, food bank. Mon-Fri 9am-3pm. Ph 
09 431 9080 http://www.otamateacs.org/ 
PARENTPORT: Free, practical family support service Puhoi to Paparoa 
Ph or txt: Dianne 027 280 5093 or 09 425 9357 
PLUNKET:  Kaiwaka  -Kate's  Place  Clinic  1st  Wednesday  of  the  month; 
Mangawhai  - Rose Madsen Cottage: Coffee Group 9:30 every Monday.  Clinic 
every Monday and Thursday. 
Maungaturoto - Good News Church, Clinic 2nd and 4th Wednesday.  
Cynthia 09 431 7340 or 027 675 3488 
PLUNKET HELPLINE -0800 933 922 (24 hours) 
TAITOKERAU COMMUNITY LAW: Free confidential legal advice and 
assistance, 2nd
Thursday
 of each month. Ph: 0800 155 529 for apps.  
TE URI O HAU Settlement Trust Tangata Developments: Whanau Ora 
021 793262  
VETERINARY SERVICE MANGAWHAI: 
Ph: 4314535 Mon-Fri 8.00-5.00, Sat 9-12, a/h appt. 
WELLSFORD DOCTORS: Ph: 4238 086 
CHURCHES:
 
Kaiwaka  Revival  Church  -  Your  Community  Church:  Sundays  10am. 
Ph: Pastor Tawhiri 09 431 8988 or Pastor Paul 09 4312 068 Visit us at 
www.facebook.com/kaiwakachurch or www.kaiwakarevival.co.nz 
 
St  Paul's  Anglican  Church  1st  Sun.  9.00am  (Eucharist),  3rd  Sun. 
9.00am (Family Service). Contact: Rev. Wayne Thornton Ph 431 4122 
www.mangawhaianglican.org.nz 
 
Church of Christ the King, Mangawhai:9.30am every Sunday 
 
St.Mary's  Catholic  Church:  Maungaturoto  –  Griffins  Road,  Saturday 
evening  Vigil  Mass  6pm;  Mangawhai  –  Senior  Citizens  Hall,  Sunday 
Mass  8:30am;  Wellsford  –  Matheson  Road,  Sunday  Mass  10:30am;  
Mid-week Mass times and all enquires to Fr. Bill Fletcher – phone 423 8170
 
Baptist Church: Sun. 10.30am Mangawhai Snr Cit.Hall.Ph:4312339 
 
Cause  Way  Church  Mangawhai:  Sundays  10.15am,  Mangawhai 
Community  Recreation  Centre,  Insley  St.  Ph:  09  4314782