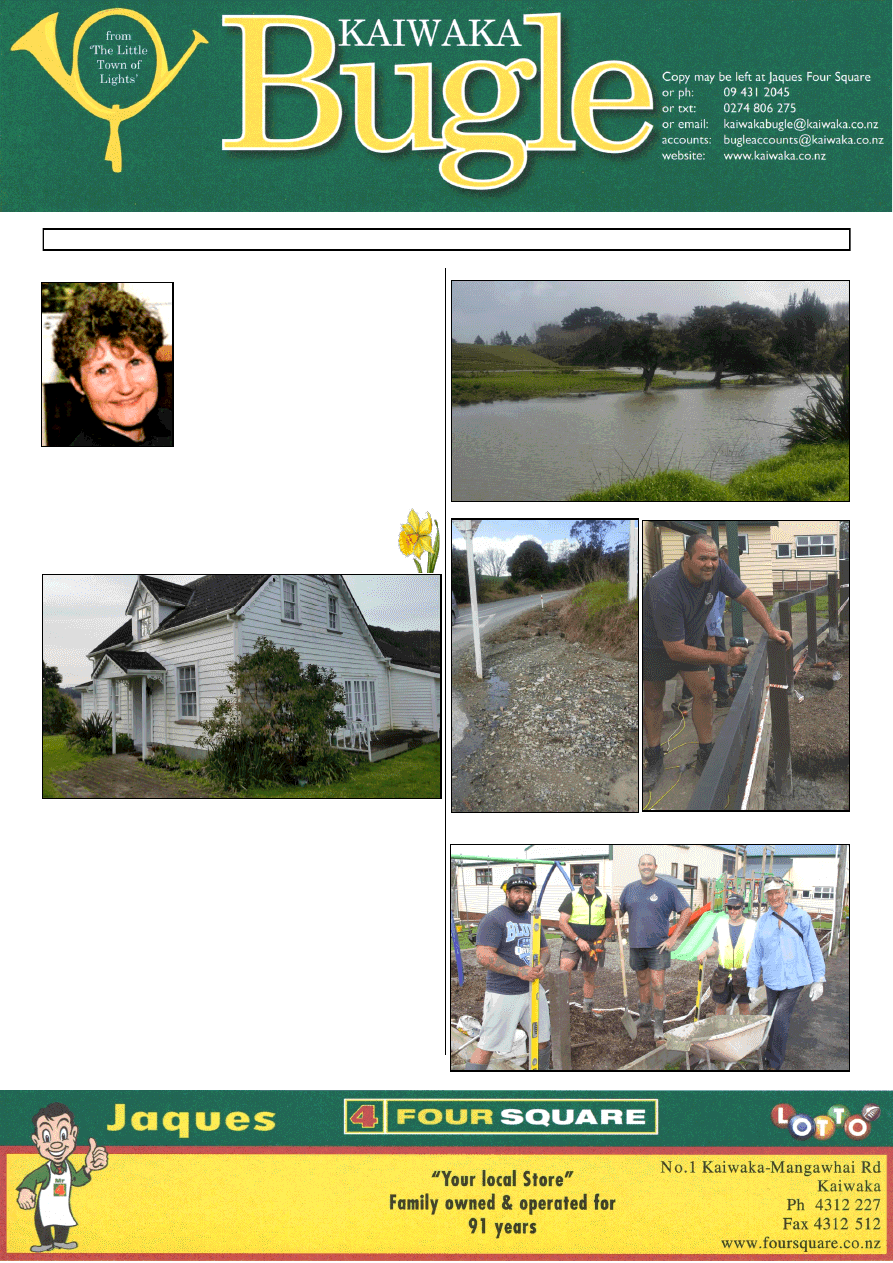 www.kaiwaka.co.nz 
Kaiwaka Bugle - 21 August 2018 
Page 1 
No: 16 
 21 August 2018 
Trading Hours: 
Monday to Friday 8:00am - 6:30pm 
Saturday 8:00am - 7:00pm 
Sunday 9:00am - 6:00pm  
BUGLE CREW MEMBER 
THE MANDER HOME 
This beautiful home, pictured above, just north of Kaiwaka 
on SH1 was built by Frank Mander in 1886 at Point Ernie, 
just above the shore line where the kauri logs floated ready 
for  the  ships,  on  one  of  Angus  and  Margaret  Stewart's 
original Crown Grants (1864). A photo can be seen in 'Hill 
of  the  Sea  Bird'  by  AP  Watson,  page  126  .  The  Manders 
lived there till 1888 after which the Stewarts towed the then 
single  story  house  to  its  present  position.  In  about  1900 
they added a second story and reroofed it with corrugated 
iron. Ron and Gay Young made some alterations, including 
removing the verandah. 
Ref:  'Skye  to  Timber  Mountain'  by  Desmond  Stewart, 
2004, pages 141-3. This includes a description of the house 
and  photos.  This  area  is  well  written  about  in    Jane 
Mander's book 'The Story of a New Zealand River'.  
ABOUT TOWN 
Bugle Team member, Gay Young, was 
farewelled  at  the  Kaiwaka  Sports 
Complex on Monday 13 August. 
She  joined  the  Bugle  team  after  the 
loss of her husband Ron, and came to 
thoroughly enjoy the fellowship. Even 
when she was gravely ill she said she 
expected to be back at the Bugle soon. 
Most people will remember Gay as the 
Daffodil Lady for Kaiwaka - and right 
to  the  last  was  still  organising  this 
year's roster for volunteers. 
Gay, nee Greenway,  was truly a Kaiwaka girl  - she spent 
all her life in Kaiwaka, except for a time in Auckland. She 
worked  in  both  Kaiwaka  and  Wellsford  post  offices,  and  
with  husband  Ron  raced  greyhounds,  bred  Welsh 
ponies, campervanned and enjoyed their home 
(below). 
She  is  survived  by  daughter  and  son-in-law,  Angela 
and Mike, and their three sons. 
King tide on 14 August - as seen from McClean Park 
Above left: A culvert on Pukenui Rd? Above right: Wiremu 
Paikea and  crew, below, at the playground working bee.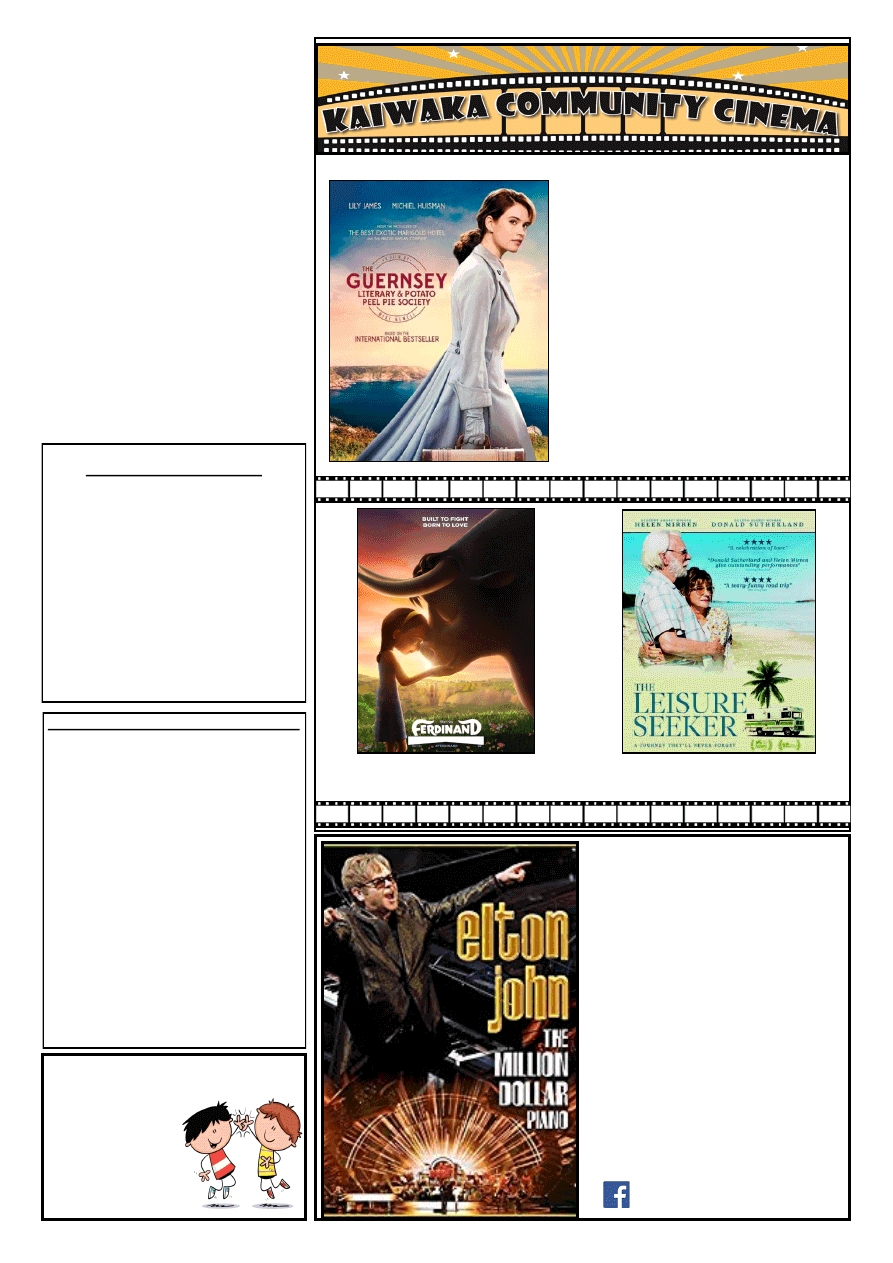 At Kaiwaka War Memorial Hall . Adults $10, Kids (under 16) $5, Family Pass (2 adults + 3 children) $25 
KAIWAKA BUGLE No. 16 
21 AUGUST 2018 
CONTENTS 
Page 3: Public Notices, Classified 
Page 5: OCS;  Pt.Curtis CC; Thelma's 
Scrapbook; ORT 
Page 7: Rotary; Kauri Museum 
Page 9:  OHS; Golden Oldies Rugby 
Page 11: Kaiwaka Can 
Page 13: Kaiwaka Sports Assn. 
Page 15:  Illuminate; Maungaturoto 
Community Trust 
Page 16: Kaiwaka Fitness Activities 
Page 17: Kaiwaka Library; 1926  
Hakaru Rugby  photo  
Page 19: 'Tell Us a story' 
Bugle 17 will appear 4 September 
Contact for advertising, reports, articles 
or information can be made by 
Email kaiwakabugle@kaiwaka.co.nz 
Ph: 09 4312 045 Lindsey 
Txt: 027 2724137 
Copy  may  be  left  at  Jaques'  Four 
Square. 
Kaiwaka Bugle 
Founded May 1978 
We appreciate articles and photos about local 
events, etc, as well as ads and suggestions. 
Copies available in Kaiwaka at Jaques Four 
Square, Kaiwaka Postal Centre, Shamrock 
Service Station, Animal Health Centre, 
Kaiwaka St John shop. 
Also outlets in Maungaturoto, 
Mangawhai and Paparoa. 
Can be viewed online at   
www.kaiwaka.co.nz/Bugle  
Or a copy can be posted to you if you supply 
stamped, self-addressed DLE envelopes. 
FERDINAND 
Sunday 26 August, 2pm (PG)  
The LEISURE SEEKER 
Friday 7 September, 7.30pm (M) 
Proverbs 
17:
17  
Friends love 
through all kinds 
of weather, and 
families stick 
together in all 
kinds of trouble.
Kaiwaka Bugle Advertisements 2017: 
All 
copy 
and 
queries 
to: 
kaiwakabugle@kaiwaka.co.nz 
The Bugle is printed on an A4 page   
Ad  sizes:  1/16  page  (3  x  9.5cm)  $5;  1/8 
(6.5  x  9.5cm  landscape  or  portrait)  $8; 
3/16 ( 10 x 9.5cm or 7.5 x 12,5)  $12.  
Classified  ads:  First  one  FREE,  $4  per 
entry (max. 30 words, max. 4 repeats). 
Payments  can  be  made  online  at 
ANZ 
06  0365  0006990  00
,  posted  or  left  at 
Jaques Four Square Store. 
We  use  Microsoft  Publisher,  and  can 
work  with  most  common  image 
formats, Word, Excel, and PDF files. 
Accounts:  
Email: bugleaccounts@kaiwaka.co.nz 
The  Kaiwaka  Bugle  is  a  community 
newspaper run by volunteers.   
Articles, etc. printed are not necessarily 
the opinion of the Bugle Team. 
The Guernsey Literary & Potato 
Peel Pie Society 
Friday 24 August, 7.30pm (M)   
This a 2018 historical romantic comedy-
drama film directed by Mike Newell and 
written by Don Roos and Tom Bezucha. 
The  screenplay  is  based  on  the  2008 
novel of the same name, written by Mary 
Ann Shaffer and Annie Barrows.  
"In  1946  a  London-based  writer  begins 
exchanging  letters  with  residents  on  the 
island  of  Guernsey,  which  was  German-
occupied during WWII. Feeling compelled to 
visit the island, she starts to get a picture of 
what it was like during the occupation …." 
ELTON JOHN 
The MILLION DOLLAR PIANO 
Friday 28 September, 
7.30pm 
Music  Movie   
& Supper Night  
$20.00 tickets  
Ticket entry only 
Kaiwaka War Memorial Hall 
Ph: 021 2154495 
Free Tea & Coffee during Interval 
Kaiwaka Community Movies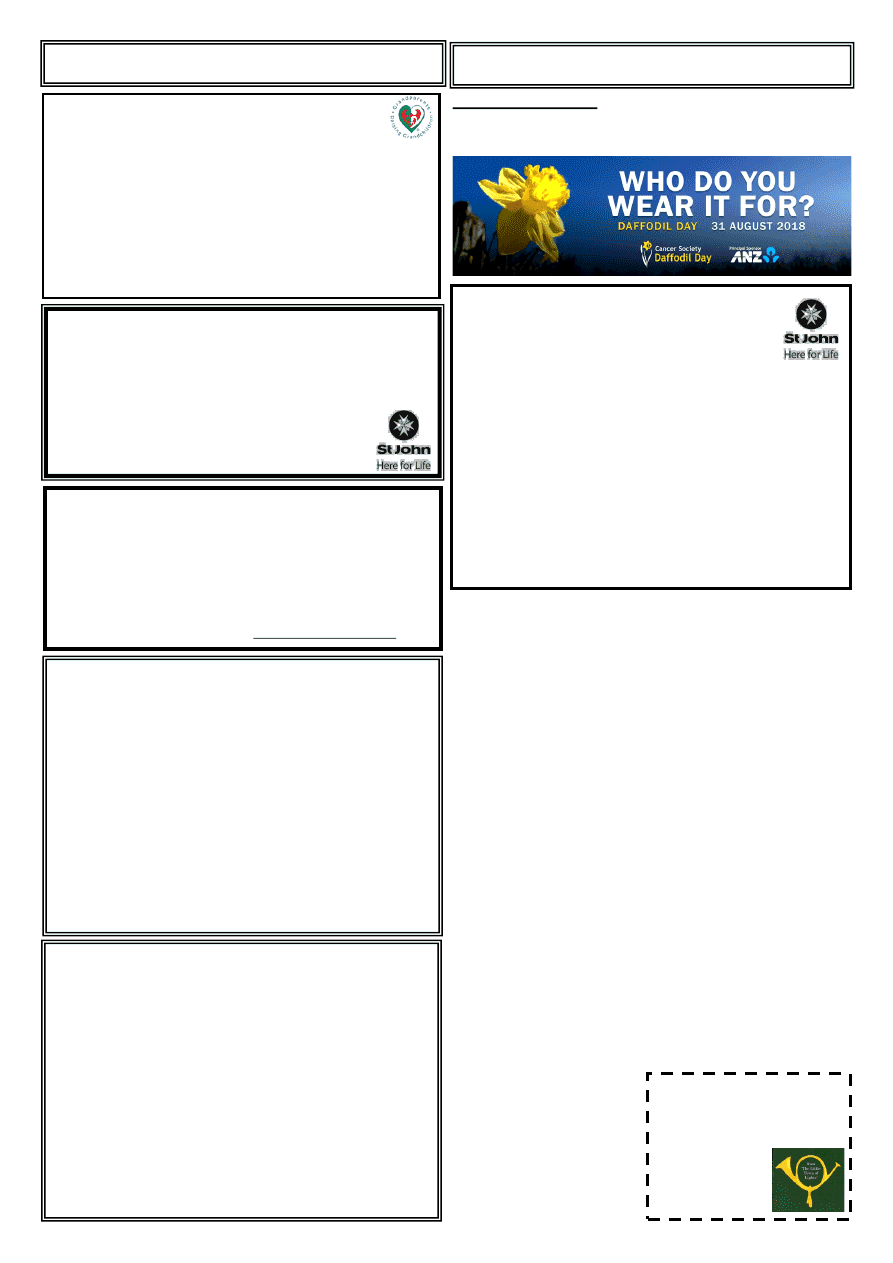 www.kaiwaka.co.nz 
Kaiwaka Bugle - 21 August 2018 
Page 3 
Grandparent's Raising  
Grandchildren Trust NZ  
For members in our area there is a meeting being 
held on 28th August, 10.30am - 1.30pm  
at the Archie Bull Hall, Kaiwaka. 
Please let me know if you can attend by phoning me 
on 0223819539 or text, or cobbied@hotmail.com   
We will have representatives from Auckland who are 
very  interested  in  hearing  from  you  with  regard  to 
issues  you  may  have  that  are  unresolved  be  they 
legal or other issues. 
ABOUT TOWN ... 

 Great movie coming up this Friday night "The Guernsey 
Literary  &  Potato  Peel  Pie  Society"  -  7.30pm,  Kaiwaka 
War Memorial Hall.

 A  BIG  thank  you  to    the  playground  fence  workers  - 
especially Wiremu Paikea. 

 FRIGHT  NIGHT  -  Cheryl  is  looking  for  new  ideas  for 
the scary parts! See the Kaiwaka Sports news on page 13.

 A plea for LAMBS  - Mangawhai Beach school students 
are looking for orphan lambs for their school Ag. Day.

 ILLUMINATE  2019  -  The  Venturers  will  be  in  town! 
See page 15 or illuminate2019.com  for more information.

DOG  Registration  due  31  August  -  on  the  Kaipara 
Council website www.kaipara.govt.nz 

 Kaiwaka  business  is  growing  -  see  the  new  building 
going up at Archer Concepts/Kaiwaka Furniture. 

 A big thank you to Wade Adolf and Sam Olesen for their  
top-notch assistance in a search and rescue! 

 Thank you to John Bowmar and Derek Mason for adding 
names to our 1926 Hakaru rugby team photo. Do you have a 
photo needing names? We have  had a query regarding any 
photos of the road workers cottages on Gibbons Road at the 
time of the main highway realignment - any hidden away? 

The  Maungaturoto  Friday  evening  monthly  market  is 
under way again - 7 September. 

  Early call - decorate a Xmas tree in December - modern, 
colourful, all shells, all men's ties, a single colour … see ad. 
            ~ Lindsey, Ed 
"You 
can 
screw 
up 
completely  …  sometimes 
because  your  mind  just 
wasn't  properly  on  it." 
Anne Hegerty, The Chaser.   
PUBLIC NOTICES 
CLASSIFIED 
 DAFFODIL DAY: Volunteer collectors will be in the 
Kaiwaka  area  on  Friday  31  August    -  outside  Jaques 
Four Square and La Nonna Café. 
KAIWAKA BUGLE 
DEADLINE DATES 
2018 
- every second Friday 
August 31 
September 14, 28 
October 12, 26 
November 9, 23 
December 10 
KAIWAKA ST. JOHN  
OP SHOP 
We have lots For Sale
: 
1x Small Refrigerator and 
1x Small Chest Freezer...old, but still in use right up to 
when we picked them up two days ago...in good 
condition. 
1x King bed 
1x Footrest; 1x Retro China Cabinet; Mirrors 
Come....buy...browse.... Your choice!! 
We are needing please: 
Children's toys.... Dolls, Cars, Trikes etc. 
Floor rugs and mats, Lamps, Blankets, Towels. 
Much appreciated, Milly and Staff. 
Phone 09-4312650 after 9.00 am. 
1919 SH 1, Kaiwaka
ST JOHN TRASH AND TREASURE 
8th to 12th October 
Good quality goods will be collected prior or can be 
brought to 
Maungaturoto Centennial Hall during the week. 
We intend to have a late night –  
open until 7pm on Wednesday 10th October 
Please call Eileen 021 142 0357 
TREES FOR CHARITY 2018 
EXPRESSIONS OF INTEREST SOUGHT 
WE WILL PROVIDE THE CHRISTMAS TREE -  
YOU PROVIDE THE DECORATIONS  
Name your Charity of Choice ~ place it in Holy Trinity, 
Maungaturoto for folk to enjoy! 
Anyone (or groups) interested please get in touch with 
Eileen: 021 142 0357 or b.parsons@xtra.co.nz 
SPIRIT OF SPRING FAIR 
Saturday 13 October 
10 am - 4pm 
Kaiwaka War Memorial Hall 
Still looking for  
Massage, Reflexology, Retail, Produce 
Please phone 
Iris 022 156 7445 
Jean 021 269 3925 
SPIRIT OF SPRING FAIR 
Saturday 13 October 
10 am - 4pm ~ Entry Fee 
Kaiwaka War Memorial Hall 
READERS, HEALERS, MASSAGE, CRYSTALS, 
AURA PHOTOGRAPHY, ART, EAR CANDLES, 
RETAIL, and much more … 
For more information 
Contact 
Iris 022 156 7445 
Jean 021 269 3925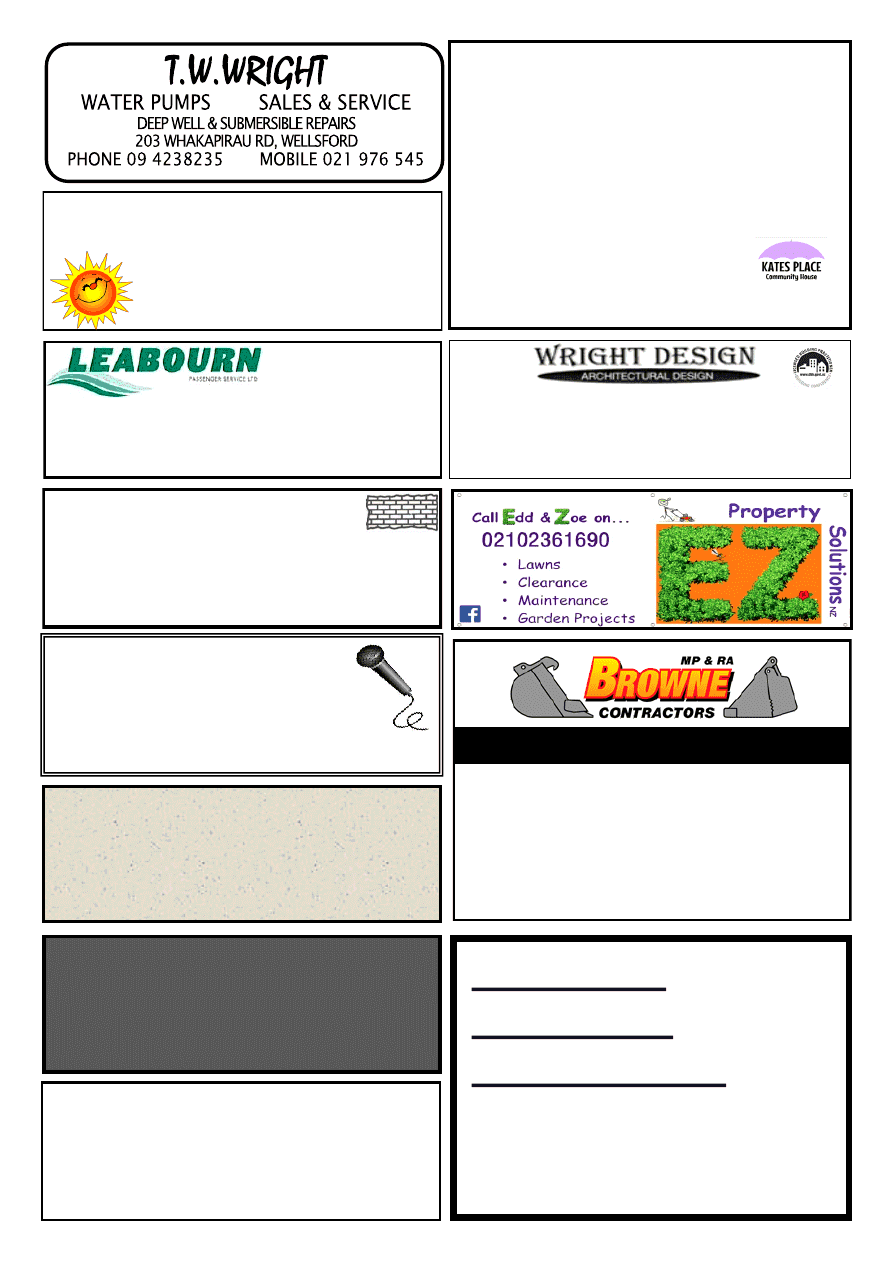 4T DIGGER – BOBCAT – TIP TRUCK 
 Property Maintenance - Driveways  
 Building Sites 
Stump & Tree Removal  
Hole Boring - Chain Trencher  
Calf Shed and Stockyard Cleaning 
Phone Matt: 021 199 6677 
Email: mprabrownecontractors@gmail.com 
BRICK/BLOCKLAYER 
All aspects of masonry: 
Fireplaces, Restoration & Remedial Work.
JAMES EAGLETON
Tel. (09) 431 2514     Mob. 0274 749 232
jajueagles@yahoo.com.au 210A Pukenui Road, RD2, Kaiwaka 0573 
THE SUNSHINE GIRLS
Efficient and reliable help with 
your housework. 
Ph 4312 532 
Counsellor and Registered Psychotherapist 
Offers Supervision
Susan Matheson 
MNZAC 
Dip. Psychosynthesis Counselling and Psychotherapy 
Phone 09 431 2996                        Mobile 027 605 2427 
MARRIAGE CELEBRANT 
WEDDING EVENTS PLANNER 
Yvonne Osborne 
Ph 0274 989 814 
yvonne.osborne@xtra.co.nz 
Passenger Service
Car & Van Hire   Bus & Coach Charters 
Airport Transfers    
Phone (09) 4237416 
SING RIGHT 
Professional coaching for performance,  
recording and demos. 
All level singers, musicians, singer-songwriters. 
Phone Robyn Hill 431 9159 or 0274 725610 
Michael Hogan 
Licensed Builder 
Quality new homes, renovations, and additions 
Phone: 027 974 1045 
Email: michaelhoganbuilder@gmail.com 
Website: michaelhoganbuilder.com 
 FINANCE 
 FUNDING 
 SOLUTIONS 
T - 0275 989814 
E
 - osborneassociates@xtra.co.nz 
REGISTERED INDEPENDENT FINANCE BROKER 
WEEKLY TRIP EVERY THURSDAY 
- MAUNGATUROTO -  KAIWAKA -  
- WELLSFORD - WARKWORTH - (and back) 
For anyone & everyone, save money, save gas, be social, go shopping, 
visit  the  doctor,  get  to  the  library,  got  to  the  dentist,  meet  your 
friends, have lunch, get to WINZ. 
Kate's Place Community House & Otamatea Community Services have 
teamed up to provide a van service that will travel from Maungaturoto 
to Warkworth every Thursday. 
TIMETABLE: 

9.30am: 
Maungaturoto. OCS 155 Hurndall St.

10am: 
Kaiwaka, Kate's Place Community House, 1960 SH 1 

10.20am: 
Wellsford, Te Ha Oranga, 158 Rodney St. 

10.45am 
Warkworth Centre 

1.30pm 
Depart Warkworth 

2.30pm 
Arrive Maungaturoto 
Conditions: No eating or drinking in the van. Children under 14 must be 
accompanies by an adult. Must book a space in advance. 
$5 per adult Book on 09 4312661 
No. 117345 
N.Z.C.A.D., L.B.P. 117345 
PH/Fax: 09 423 8092 Mob: 021 276 7369 
Office: 3 John Sinclair Avenue, Wellsford    brianwright@xtra.co.nz 
For Resource and Building Consents, planning restraints, new building materials - 
you need a capable, experienced, and professional designer with a clear 
knowledge of all the processes. Brian has been helping and organising all these 
facets of design and building for over 50 years. 
Wright Design offers free visits, consultations and advice on planning, design, 
building, council permit applications, guaranteed permit plan acceptance. 
www.kaiwaka.co.nz 
Kaiwaka Bugle - 21 August 2018 
Page 5 
Willow Bend
HORSE  
ST PAUL'S  
ANGLICAN  
SUNDAY  
SERVICES
St Pauls Church: Kaiwaka-Mangawhai Rd. 
Rev. Wayne Thornton Ph 431 4122 
www.mangawhaianglican.org.nz
CHANGES:  Our  fantastic  accounts 
and  funding  manager  is  moving  on  to 
do other things in the South Island and 
will be missed more than he knows. To 
take his place we are fortunate to have 
found  the  perfect  replacement  –  well, 
actually, he found us - it is so great to 
have  the  right  person  for  this 
demanding role.  
Also,  we  now  have  a  Community 
Support  Manager.  We  aim  to  fulfil  as 
much  as  we  can  in  the  needs  of  our 
senior  citizens  as  one  part  of  her  role 
and she is also able to offer support to 
people  struggling  with  addictions.  It 
followed that a person dedicated to the 
role was required and again, we didn't 
need to look, she found us - two extra 
counsellors our group is growing. 
GOVERNANCE  BOARD: The  OCS 
AGM will have been held by the time 
this  is  printed.  It's  possible  there  will 
be more changes as the dedicated long-
standing  Chair  and  Board  members 
have  more  than  done  their  share.  We 
will report on any changes in the next 
issue of the Bugle 
FREE SHOPPING TRIPS: The mini
-bus  goes  to  Whangarei  on  the  fourth 
Wednesday  of  the  month, and  now  an 
additional  trip  goes  on  the  second 
Tuesday.  Phone  us  on  431  9080  to 
book your seat. 
OUR SERVICES: You are able to self
-refer for any of our services, and there 
is no charge.   
From all at OCS 
OTAMATEA 
REPERTORY 
THEATRE 
'
The  Sleeping  Beauty'  by  Ben 
Crocker. Our next production is to be a 
pantomime,  based  on  the  fairy-tale 
story of Sleeping Beauty, is  to be held 
in mid-to-late November. 
Northland  Performing  Arts  Festival 
This  is  to  be  held  in  Whangarei  at 
Forum  North,  over  two  weekends  in 
September:  8th  and  9th  September  for 
age  12  and  under,  and  21st-23rd 
September  for  age  13  and over.  Many 
local  children  will  be  performing  and 
would appreciate your support. Contact 
Maura  Flower  for  further  details  022 
354 2670  
Fundraising 
Concert 
for 
the 
Maungaturoto Dementia Unit Advance 
notice  of  this  –  save  the  date  –  26th 
October  2018,  at  the  theatre.  The 
Mangawhai 
Singers 
will 
be 
performing,  among  others.  More 
details to follow…  
Albi  and  the  Wolves  -  another  very 
special  opportunity  to  see  our  own 
'Albi'  back  for  another  concert,  with 
his  highly-acclaimed  band.  The  band 
recently  won  a  Tui  Award  for  Best 
Folk  Album.  So  save  this  date  too  – 
Saturday  3rd  November  at  the theatre. 
More details to follow. 
Maura Flower 
AFFORDABLE 
PRICES! 
MENS CUT FROM $20.00 
LADIES CUT FROM $30.00 
KIDS CUT FROM $18.00 
COLOUR & CUT FROM $120.00 
JUST 
CUTS'AND   
MORE 
021 165 2629 or  
(09) 945 0707  
NOW SELLING: scented tealights, 
incense, smudge sticks, copper bracelets, 
aurora ball crystals, dream catchers, 
healing stones, rose quartz, cds, and much 
more. Open 6 days. 
POINT CURTIS 
CRUISING 
CLUB  
 Pool Competition held on Sunday 12 
August against Wellsford Inn was won 
by  Kaiwaka  10-8.  Big  thanks  to  those 
who turned up and played. 
Subs can still be paid, they were due 
1st June Family $30 (2adults 2 juniors 
aged  under  15yrs)  &  Single  $20. 
Internet 
banking 
details: 
ASB 
Wellsford  No.  12  3094  0008233  00. 
Please  use  your  name/names  as 
reference. 
Fish  of  the  Month  Winners  for 
Kahawai:  Gravy  2.364kg;  Tony  Smith 
2.240kg; Gravy 1.854kg 
New Fish of the Month is Snapper 
Next Club Meeting is 11
th
 September 
2018 7pm @ 3Furlongs Bar & Grill. 
 ~Wayne Leslie (Commodore) 
From Thelma's  
Scrapbook. … 
With Daffodil Day in 
mind! 
'On my bedroom window sill 
Blooms a yellow daffodil; 
Once it was a bundle brown, 
Lying in a skip in town; 
Who'd of guessed that russet bulb 
Sheltered any flower at all? 
Who'd have dreamed the Queen of 
Spring 
Lurked in that small dingey thing? 
How I love you Daffodil 
Dancing on my window-sill!!'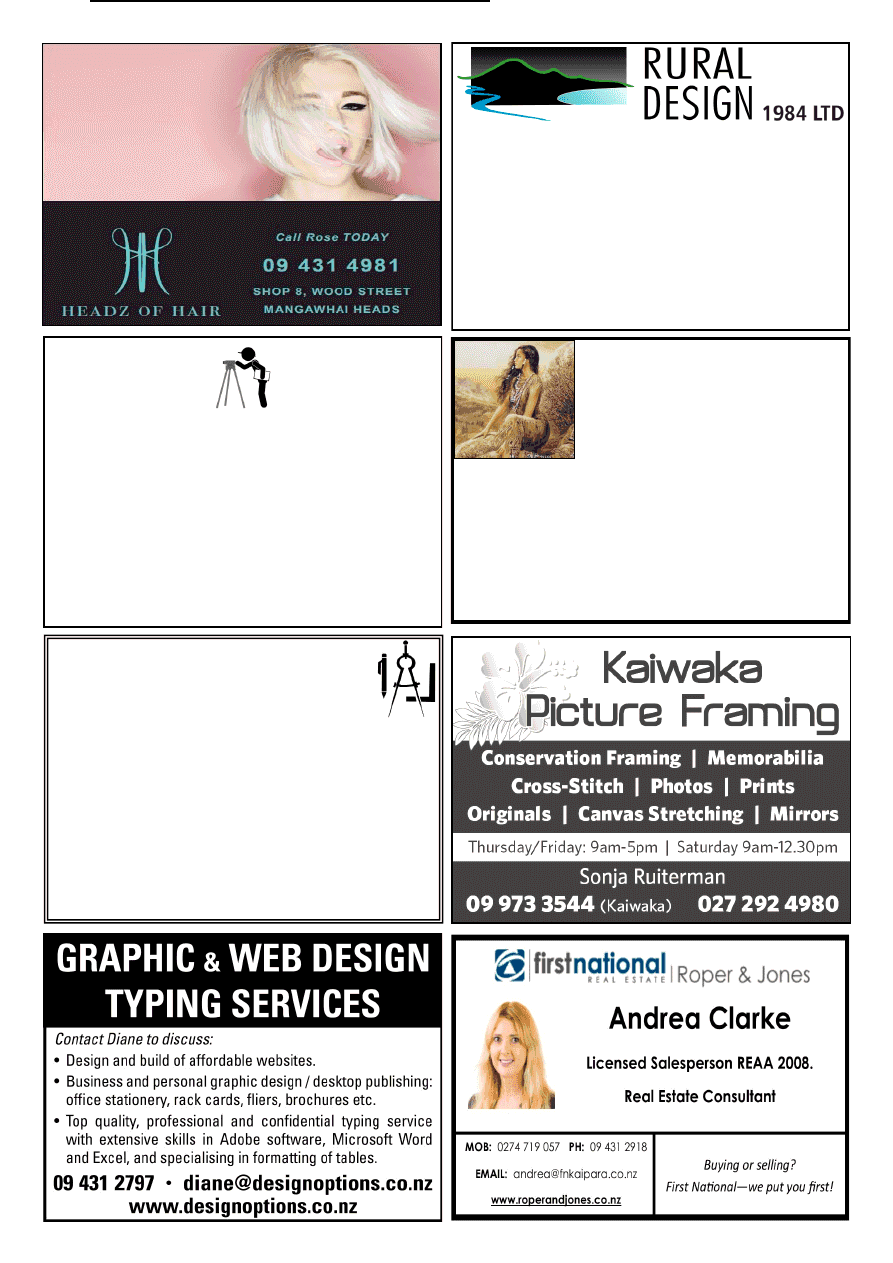 design drafting  
service 
Retired builder and manufacturer with over 40 years  
experience in the building industry is offering a design 
drafting service  
for domestic housing, sleepouts and sheds.  
Plans formulated in consultation with clients, with 
working drawings completed and submitted to  
council for processing.  Extensive practical experience,  
able to identify & resolve problems. 
Please ring Mike Lean on 
09 431 2260 
or 
021 431 196 
Ken Urquhart 
BSurv Licensed Cadastral Surveyor 
KMU Surveys Ltd
467 Bickerstaffe Road 
RD 2 
Maungaturoto 0587 
Ph 09 431 8705 
Mob 021 161 2344 
kenurquhart@xtra.co.nz 
WHOLESALE NATIVE PLANT NURSERY 
AND LANDSCAPING 
By Appointment 
Small and Large orders welcome 
Phone: 09 431 2481 
Email: info@ruraldesign.co.nz 
Trails end 
spiritualist gathering 
Last Sunday of every month  
10.30-2pm  
Tea/coffee provided  $5 koha 
For all inquiries: 
021 165 2629 evenings (09) 945 0707 
Trail.end@hotmail.com 
1758 Cove Road, Mangawhai
Bringing together light minded people 
Guest speaker each month
(
Next to Kaiwaka Motorcycles)
www.kaiwaka.co.nz 
Kaiwaka Bugle - 21 August 2018 
Page 7 
As mentioned in a previous Bugle, we 
now  have  a  new  President,  Keith 
Shadbolt.  Each  President  brings  their 
unique ideas to the Club and this year, 
rather  than  having  a  number  of 
Directors we will have two. One group 
will  focus  on  Community  Service 
while  the  other  one  on  Youth, 
International 
and 
Fellowship. 
However,  members  will  continue  to 
work  together  on  various  community 
projects. 
Trevor Brljevich  
We  were  fortunate  to  have  Trevor 
Brljevich PHF, talk to us at one of our 
dinner  meetings.  Most  of  you  will 
know  Trevor  for  his  dedication  to  St 
John  (he  was  a  founding  member  in 
1955  and is  still  involved on  the  Area 
Committee)  but  he  is  also  a  proficient 
flower  breeder  and  grower.  This 
humble man, who many of you will see 
at  the  local  markets  selling  his  wares, 
still 
maintains 
large 
gardens 
incorporating  not  only  dahlias  and 
lilies  but  also  many  varieties  of 
vegetables.  Trevor's  speech  was  not 
only  interesting  but  also  very 
inspirational. 
Trevor  told  us  that  his  flowers  are  a 
living  memorial  to  his  father  and  that 
he  always  strives  for  excellence.  His 
goal  in  life  is,  "if  I  can  do  one  small 
thing to make life a better place, I have 
succeeded". A motto that we should all 
try to emulate. 
Brynderwyn walkway 
We  will  have  to  find  a  new  home  for 
the  picnic  table  that  was  originally 
built  to  be  placed  on  the  Brynderwyn 
walkway.  This  area  is  now 
closed  to  the  public.  It  is 
thought  that  we  might  be  able 
to  place  it  in  Nikau  Grove.  We  still 
need  to  make  a  short  board  walk  on 
one of the wetter parts of the track and 
also place a bridge over the roots of the 
kauri tree. 
Duke of Edinburgh students  
We have appreciated the help of DOE  
students  from  the  High  School  in 
helping us bag calf litter and in helping 
us keep the Rotary car clean.  
Driver Mentoring 
With  the  Driver  Mentoring,  our  goal 
has  been  met  so  far  –  three  students 
have  sat  and  passed  their  Restricted 
licences.  May  this  continue  in  the 
coming months. 
Several  members  have  been  able  to 
avail themselves of training offered by 
District 9910 in Rotary. These sessions 
are  great  to  be  part  of  as  it  makes  us 
realize that our Club is part of a much 
bigger,  wide  reaching  organisation 
(and also allows us to share ideas with 
other Clubs). 
Marion Burns  
Mark in your diaries for next year – 2 
March,  Centennial  Hall,  60's  dance 
featuring Marion Burns – fiddler extra-
ordinaire  –  part  of  McSweeney 
Brothers Band. 
Calf Litter 
If you are interested in purchasing Calf 
Litter  –  an  excellent  addition  to 
gardens  (bags  or  bulk)  please  call: 
Alex  (09)4316434  or  Brian  (09) 
4317418.  Product  also  on  sale  at 
Maungaturoto Four Square. 
HAKARU & DISTRICTS 
MEMORIAL RSA (INC)
Members & guests are invited to 
come along and enjoy our 
hospitality. 
New members welcome. 
Meals are served on 
Thursday and Friday nights 
from 6.30pm. 
Order from Blackboard Menu  
and a sing-a-long  
with Des Chitty. 
For more information please phone 
Graeme on 431 2563 
STUCK FOR GIFT 
IDEAS? 
We have a large range of 
gift cards for heaps of 
different stores. 
Not sure what they 
would like? 
Load Visa or Mastercard. 
Gift card, problem 
solved.  
Easy peasy!! 
Jaques Four Square 
Phone: 4312227 
1 Kaiwaka-Mangawhai Road, Kaiwaka. 

SETTLERS DAY  
Saturday  6  October,  The  Kauri 
Museum's  big  day  for  all  the  family. 
The  theme  for  2018  is  'Revolution  of 
Industry' 
and 
there 
will 
be 
demonstrations, 
activities, 
entertainment, 
competitions, 
food 
stalls, 
and 
numerous 
special 
stallholders  showcasing  their  trades 
and crafts.  

DIY 
SCHOOL 
HOLIDAY 
WORKSHOPS  
Ceramics and pottery making 3 and 10 
October.  

OTAMATEA 
QUILTER'S 
ANNUAL EXHIBITION  
19 October until 18 November. 

TEXTILES EXHIBITION  
The Everyday Apron', run over the last 
few  months  has  now  been  replaced 
with our new textiles exhibition 
'A  Touch  of  Lace  for  every 
Occasion', which runs until 11 
November 
and 
features 
stunning  examples  of  lace 
work.  Ranging  from  domestic 
items  such  as  tablecloths,  to 
wedding 
and 
christening 
gowns,  socks  and  collars,  the 
display includes some exquisite 
pieces 
of 
Victorian 
and 
Edwardian women's fashion. 

The 
KAURI 
MUSEUM'S 
NORTHLAND 
PHOTOGRAPHY AWARDS  
A  large  increase  in  entries  by  the 
closing  date  was  a  very  satisfying 
outcome  for  the  organisers  in  this 
second  year  of  the  competition.  The 
winners  were  presented  with  their 
prizes  at  our  opening  function  on  the 
evening of 10 August.  
All  entries  will  be  available  to  view 
online 
www.kau.nz/northland-
photography-awards-2018/ 
where 
voting  for  the  Tudor  Collins  People's 
Choice Award can also be undertaken. 
The winner will not be announced until 
7 October when the exhibition closes. 
Below: Devon Grove by Chloe Smith 
Coming events at The KAURI Museum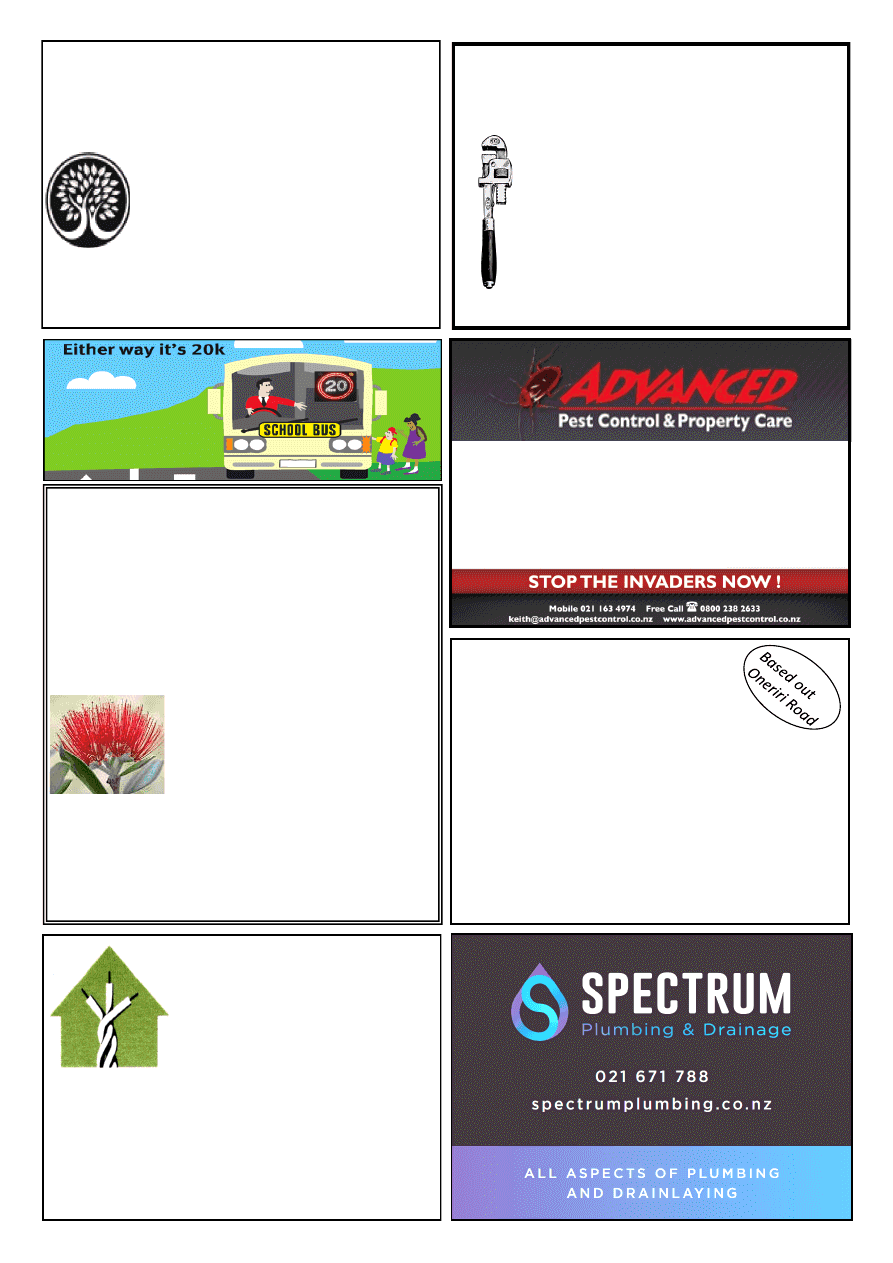 Waipu Natural Health 
3 Cove Road, Waipu  (opposite the Pizza Barn) 
Ph: 09 432 1325 
www.waipunaturalhealth.co.nz
Clinical Nutritionist-Hair Analysis for Masked 
Allergies, Ozone Therapy, Prolotherapy, 
Naturopath-Medical Herbalist, Registered 
Massage Therapists, Reflexology-
Craniosacral Therapy, Acupuncture-Facial 
Acupuncture, Kineso Taping, Hypnotherapy, 
Counselling, ThetaHealing/Change Catalyst
.
AFFORDABLE CONSULTS FOR KIDS – give us a call
Gift Vouchers available
KAIPARA FLOORING CO 
Independently owned & operated 
32 HURNDALL ST MAUNGATUROTO
Supply & Installation of Carpet, Vinyl,  
Vinyl Wood Planking
Stockists of 2m & 3m wide 
vinyl & carpet short ends
Residential & Commercial
Q Card Finance Approved 
6-18 month terms 
6 mth interest free
First Class Installations
For a free measure & quote 
phone Christine  
09 946 9886 or 021 515 415 
kaiparaflooring@gmail.com 
http://www.kaiparaflooring.co.nz/ 
BARRY CURTIS PLUMBING LTD 
REGISTERED CRAFTSMAN PLUMBER 
Phone 4315572 
027 257 9884 
25 years experience 
Friendly reliable service 
All plumbing and maintenance 
Alterations and new housing 
Spouting 
Competitive rates 
PROMPT EFFICIENT  SERVICE 
HODGETTS 
CONTRACTING
Digger Work   

Driveways 

House Sites   

Dams   
 
Drains, etc
Also available for HIRE 
3 ton Vib Roller Heavy Duty Tow  
Waterblaster     Lazer Level
Phone Mark 4312877 
        027 447 8554 
Reyahn George 
Leng 
Registered Electrician 
Local, honest and reliable. 
For your residential and 
light-commercial projects. 
022 314 1068  
Pest Control 
PLAN A: One-off treatments to customers with a specific pest problem 
PLAN B: Full maintenance service plans to commercial customers. 
This will include documentation kept in customer file on site: 
⚫
Pest treated 
⚫
Date of service 
⚫
Chemical or baits used 
⚫
Full pest check report done after each treatment 
⚫
Fair and reasonable fee with guarantee 
Flood Recovery 
Carpet Care 
⚫
Carpet Drying   
This includes pre-spray treatments 
⚫
Dehumidifier Rental 
with stain removal and hot water extraction.  
⚫
Full Commercial Cleaning  Patch repair also available 
Upholstery Cleaning 
Full upholstery cleaning of all furniture.  
eg lounge suites and all office chairs 
Water Blasting 
⚫
Concrete - Decks 
House Washing 
⚫
Soft Chemical Was 
⚫
Pre-painting Wash 
Property Services 
⚫
Property Cleaning  
Lawn Mowing 
⚫
Hedges General  Tidy Ups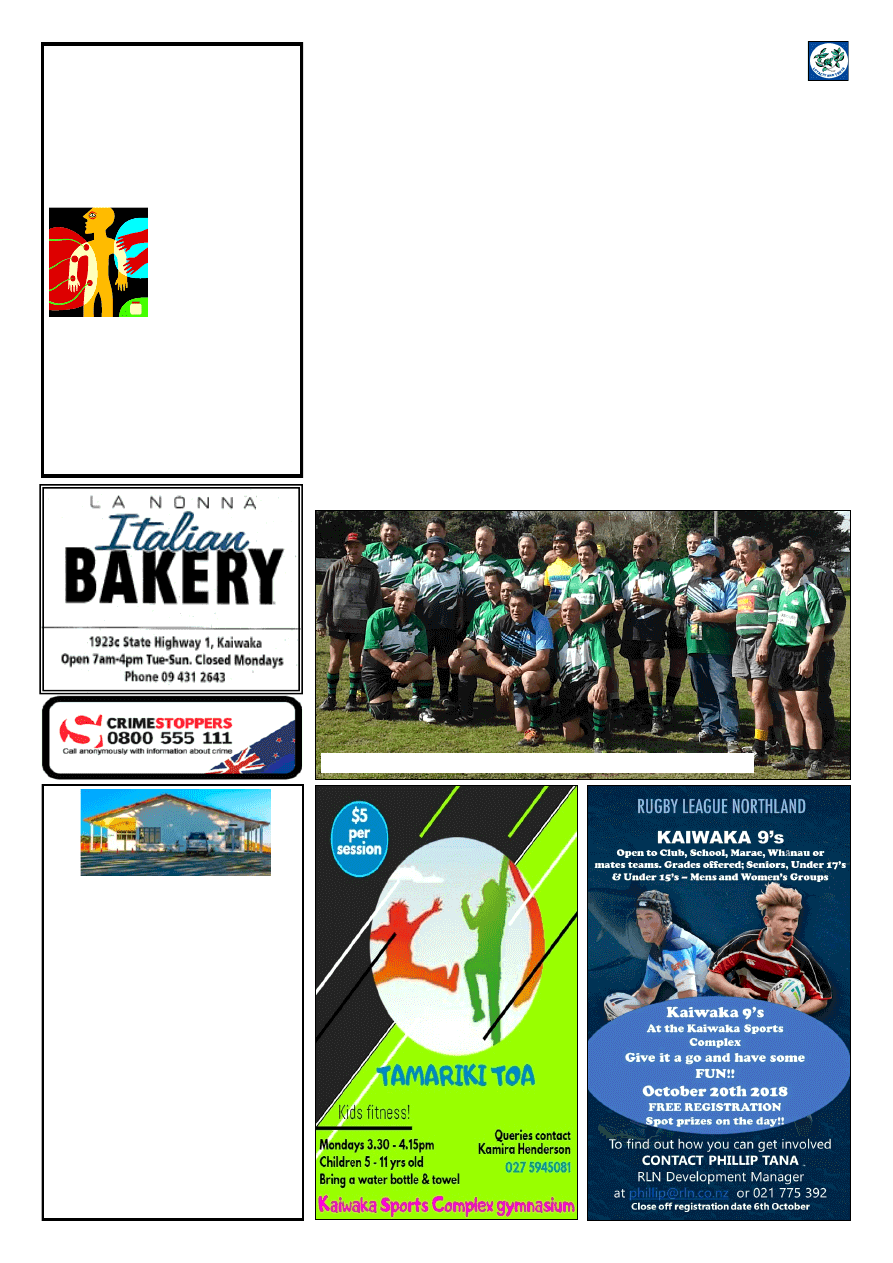 www.kaiwaka.co.nz 
Kaiwaka Bugle - 21 August 2018 
Page 9 
OTAMATEA HIGH SCHOOL 
OWEN STEVENS 
Osteo Therapist
For careful adjustments  
to bones and joints 
Treatment for humans  
and their pets 
Clinics: 
Kate's Place, 
Kaiwaka: 
Last Friday of 
month 
9.00am-5.00pm 
For bookings: 
Phone 
09 4312661 
Or phone Owen   
09 4317123  anytime 
Tramp! 
Principal's Comment  
Congratulations  to  Noah  Martin  for 
being selected for the U11 South Zone 
Representative rugby team.  
The  Open  Days  at  the  school  were 
fantastic.  It was a privilege to host the 
Year  6s  and  8s  from  the  local  schools 
for the day.  The Year 13s and prefects 
were  wonderful  hosts  and  many  other 
students  were  great  ambassadors  for 
the school by assisting in various ways. 
Congratulations  to  all  the  students 
involved  in  the  Reporoa  Exchange 
this  past  week.  This  exchange  is 
believed  to  be  the  longest  running 
senior  sports  exchange  in  the  country.  
It was started in the first year that both 
schools started - 1966. Thank you once 
again  for  those  who  billeted  students.  
We 
won 
the 
exchange 
4-3 
demonstrating  great  commitment  by 
recovering  from  Reporoa's  3  -  0  lead 
after the basketball and debating.  Our 
football,  netball,  hockey  and  rugby 
teams won their respective games.  
On  Wednesday  22nd  August  we  are 
holding  our  enrolment  evening  at 
school.    Please  contact  the  school  for 
an appointment time if you have 
a child that you wish to enrol for 2019.  
School  and  Team  Photos  – Thursday 
23 August 
Rachel Clothier-Simmonds, Principal 
Year 7 Robotics Club 
We need a few Smart phones to run the 
apps for our robot balls. If you perhaps 
have  a  smart  phone  that  you  are  not 
using  anymore,  would  you  consider 
donating it to the school to be used by 
the Robotics Club? 
~ E. van den Berg 
Health News 

Chickenpox  is  going  around  in  the 
community.   

Some facts about chickenpox: 
Preventable  by  vaccine;  Usually  self-
treatable;  Spreads  easily;  Usually  self-
diagnosable  but  you  can  ask  your  GP, 
Practice  Nurse  or  Public  Health  Nurse  if 
you  are  unsure;  It  resolves  within  days  to 
weeks; It is highly contagious to those who 
haven't  had  the  disease  or  been 
unvaccinated against it; The most common 
symptoms  include:    Itchy  blister  like  rash 
on the skin which start with fatigue, fever, 
loss  of  appetite,  headache,  sore  throat  or 
swollen lymph nodes 

Treatment  usually  involves  relieving 
symptoms. 
~ Celia Kriek, Public Health Nurse 
Te Pounga Marae 
130 Nathan Rd. Oneriri. Kaiwaka 0573 
COMPLEX FOR 
HIRE 
Functions 
* Weddings  * Birthdays  
*Anniversaries * Meetings  * Wananga 
5 hour meeting * 12 hour stay  * 
Overnight 
*All welcome - No more Drink-driving 
Amenities: 
*Convo Combi Steamer * Bratt Pan * 
Dish Washer/Sterilizer * 3 Door Glass 
Chiller (walk in) etc…All Crockery * 
Linen Supplied * Central Heating and 
Air Conditioning and much more.  
Can also cater for small groups…. 
For more information please contact: 
Kim Wallace  
Home: 09 832 1133  Mob: 0211275340  
Email: kimwallace@xtra.co.nz 
Mike Tovine Memorial, KSA, last Sunday: "Golden Oldies" pre game.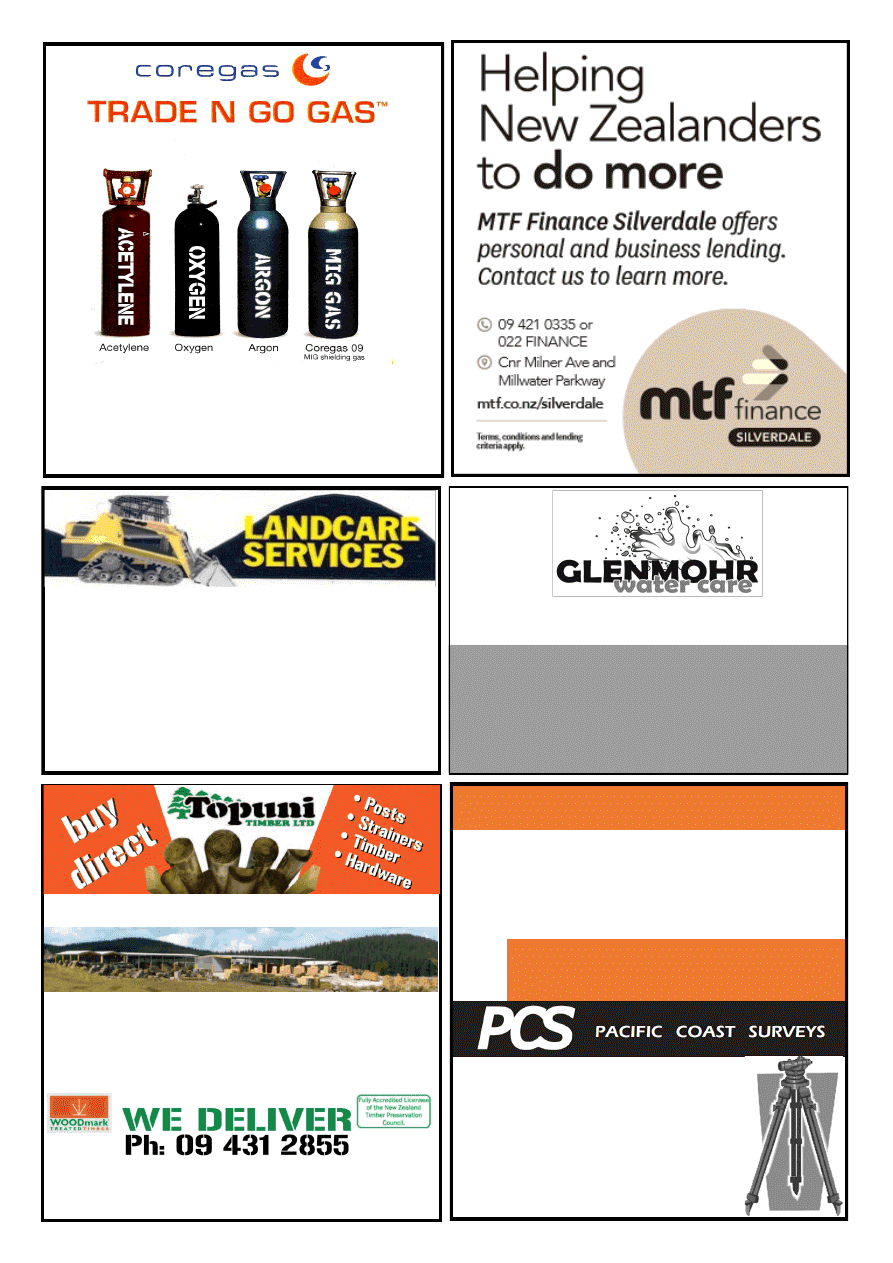 LOCALLY OWNED AND OPERATED 
QUALITY PRODUCTS • FRIENDLY ADVICE • GREAT SERVICE 
Quality Products milled from High Density NORTHLAND Radiata Pine. 
Treated and guaranteed to NZS3640 with commitment to 
Environmental Safety.
Phone, fax, email, or come into the mill 
Schiska Rd, Topuni, SH1, 10 min north of Wellsford. Fax: 09 431 2856 
Email: sales@topunitimber.co.nz           Mon - Fri 7am-5pm 
• Fencing 
• Retaining 
• Decking 
• Landscaping 
• Gates 
• Hardware 
SURVEYORS 
SUBDIVISIONS 
HOUSE SITE SURVEYS 
CIVIL ENGINEERING 
WASTEWATER DESIGNS 
EXPERIENCED 
PROFESSIONAL 
INNOVATIVE 
Ph 09 431 5353 
0800 PACIFIC (0800 722 434) 
pacificcoastsurvey.com
Adam Booth - 027 415 5752 
Bsurv, Licensed Cadastral Surveyor
Surveying Kaipara since 1994 
Water Tank Cleaning 
• 
Keep your water safe & clean  
• 
Removal of sediment, silt etc. 
• 
Vacuum or full scrub 
• 
Minimal water loss 
Phone Mark (09) 432 0655 or 0274 707607 
LANDSCAPING 
4 IN 1 BUCKET 
TRENCHER 
POLE HOLES 
ROTARY HOE 
COMPACT ROLLER 
OFFAL HOLES 
CAN SUPPLY WOODCHIP & POST PEEL 
5 TON TIPPER 
FOR RELIABLE AND FRIENDLY SERVICE CONTACT DAVE 
Dave Hyndman 
 
KAIWAKA 
PH: 09 4312302 
MOB: 021 431 238 
Now available at Twinkle Tow 'n' Tyre 
Mob: 021 833 960 
Ph & Fax: 09 431 2823 
1837 State Highway 1, Kaiwaka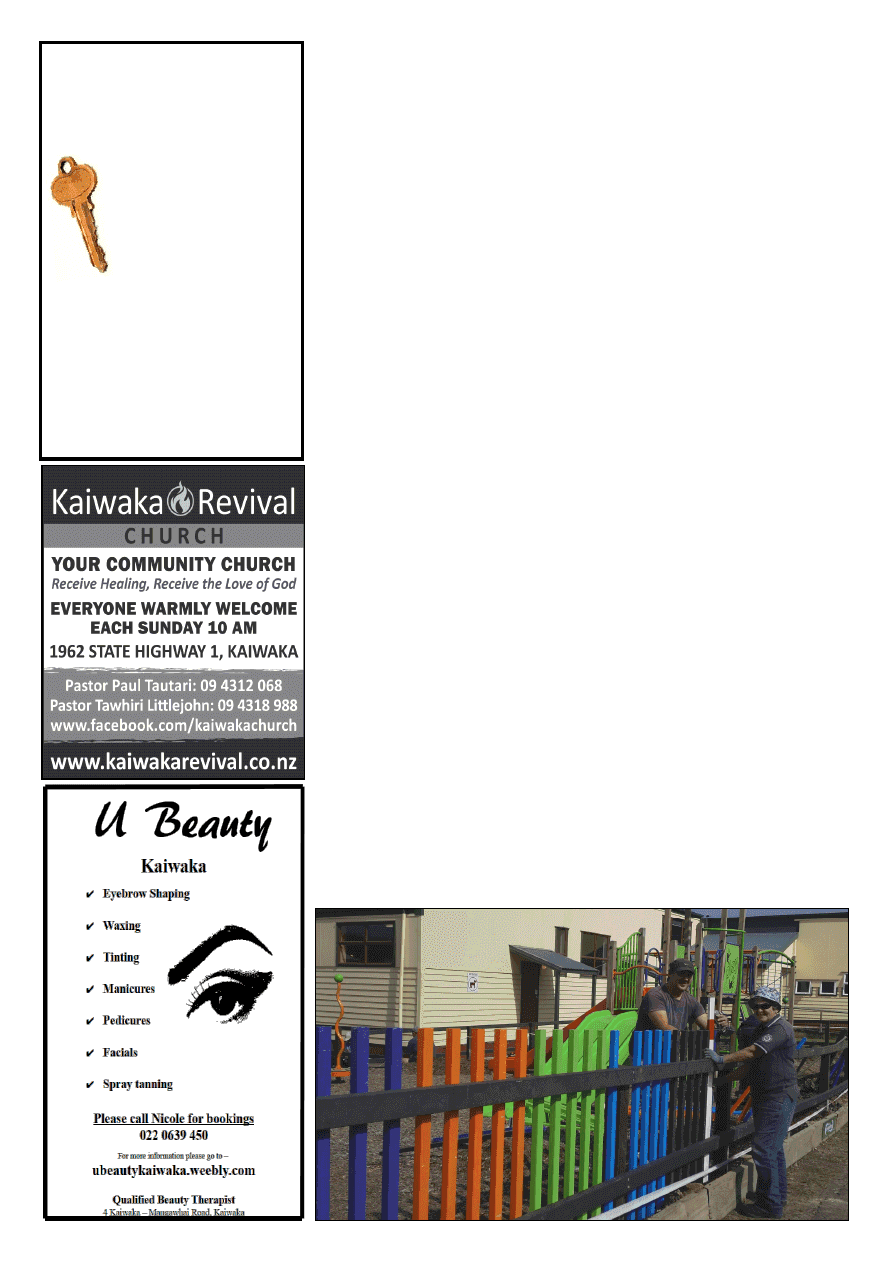 www.kaiwaka.co.nz 
Kaiwaka Bugle - 21 August 2018 
Page 11 
Kaiwaka 
Hardware  
& 
Key cutting
Phone 4312 063  
or 022 0642 703
kaikey2015@gmail.com
    Keys Cut  
Household Hardware  
Sharpening  
Knives & Tools 
Curtain Tracks & Fittings
Not there? Call Doug and he'll 
sort
it for you. 
(
Next to Kaiwaka Motorcycles)
Kaiwaka is now more colourful 
Kaiwaka  has  a  whole lot more  colour. 
As I write the playground fence build , 
pictured below,  is under way and over 
the next couple of days, posts, rails and 
balustrades  will  be  going  up,  all 
painted  in  bright  colours  to  match  the 
playground equipment. This has been a 
long drawn out project with all sorts of 
setbacks  but  thanks  to  the  help  of 
Council, support from other people and 
firms and the never ending persistence 
of  Wiremu  Paikea,  it  has  arrived. 
Thank  you  Wiremu  in  particular  for 
never  giving  up.  The  parents  and 
children  who  use  the  playground  will 
always be grateful. 
Kaiwaka  Central  –  a  major 
project shaping up. 
An  expert  team  has  now  completed 
drawings, 
design 
and 
estimated 
costings  for  the  Kaiwaka  Central 
project.  This  will  include  a  footbridge 
over  Kaiwaka  River,  a  dog  friendly 
track  along  the  river  bank  below 
Eutopia,  a  properly  formed  path  under 
the  bridge  and  along  the  river  bank  to 
the  east  including  a  wheelchair  access 
path up to Mormors. It will also put in 
place  10  carparks  on  Oneriri  Road 
from  which  people  can  walk  over  the 
footbridge and either up the hill to west 
side  shops  or  under  the  bridge  to  east 
side  shops.  It  will  include  plantings, 
picnic tables and everything needed to 
make this an attractive and welcoming 
way into central Kaiwaka. Next step is 
to  work  with  Council  and  the  various 
parts  of  Council  to  integrate  a  very 
complex project. 
Weeds watch out! 
Our  environmental  team  is  waging  a 
war  on  weeds  and  wants  you  to  get 
involved.  They  are  forming  links  with 
other  weed  control  groups,  working  in 
with  Northern  Regional  Council  pest 
control plans and also highlighting the 
special  national  weed  focus  in  the 
middle of September. 
Time to get incorporated 
We  have  acted  in  a  very  low-key 
fashion up till now with Council being 
very  helpful  with  funding  along  with 
NZTA.  But  we  now  need the  capacity 
to apply directly for funding ourselves 
and  for  that  we  need  to  be 
incorporated.  We  have  begun  the 
process  of  setting  up  a  formal 
membership,  developing  a  set  of  rules 
and  making  final  application.  We  still 
plan  however  to  work  in  a  very  open 
and inclusive manner and Kaiwaka Can 
is always open at any of its meetings to 
anyone  interested.  We  want  people 
especially  to  commit  to  whatever  is 
their passion for Kaiwaka and not feel 
you are just adding another meeting to 
your timetable. 
And we now have a logo! 
We  now  have  a  Kaiwaka  Can  logo, 
beautifully  designed  by  Rosie,  one  of 
our  gifted  artistic  members  and  this 
will be ready for the next Bugle article 
and  also  form  the  design  for  the 
common 
seal 
when 
we 
are 
incorporated.  We  are  lucky  as  a 
community to have so many gifted and 
generous people living amongst us. 
Community consultation 
Council  is  planning  a  community 
consultation  along  with  Kaiwaka  Can, 
to  review  community  ideas  and 
responses,  especially  to  the  Kaiwaka 
Township  Improvement  Plan  which 
has  now  been in  place for  three  years. 
This will be in October. 
Lights... 
The  Venturer  scouts  are  holding  their 
huge jamboree from 1
st
 to 11th January 
2019.  1500  extras  round  Kaiwaka, 
camping  at  the  Sports  grounds!  Their 
theme  is  Illumination,  based  on  our 
reputation  as  The  Little  Town  of 
Lights.  We  have  explained  to  them 
what has happened to the lights, but we 
are working hard to bring at least some 
lights  back.  I  have  a  letter  outlining 
possibilities  for  individuals 
and 
businesses  but  we  encourage  everyone 
who  can  to  see  if  we  can  light  up 
before Christmas. 
Special  thanks  to  Jonathan  Larsen, 
councillor  for  our  area  for  KDC  and 
Rick  Stolwerk,  our  area  councillor  for 
Northern  Regional  Council  who  both 
give  us  great  support  and  bring 
expertise and guidance. 
A good month for Kaiwaka Can which 
we  are  working  to  turn  into  real 
improvements for Kaiwaka. 
Derek Christensen, Chair 
derekandisa@gmail.com
KAIWAKA CAN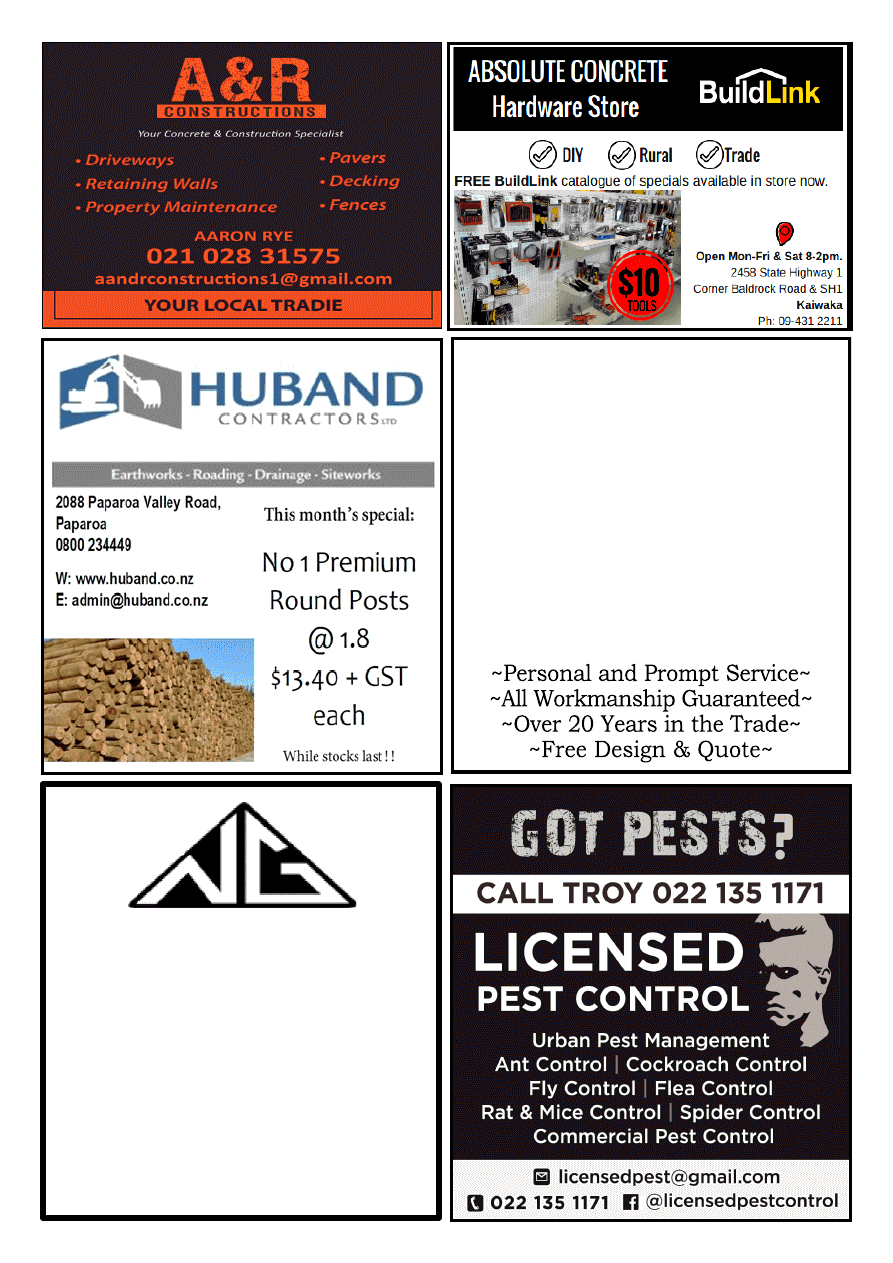 NORTH GLASS 
WINDSCREEN REPAIR OR REPLACE 
GLAZING SERVICES 
MIRRORS  •  SPLASH BACKS  •  SHOWERS 
0800 70 40 10
info@northglass.co.nz 
www.northglass.co.nz 
PLANNING A NEW KITCHEN?
 CONTACT NOEL McDOWELL
WELLSFORD 
KITCHENS
Ph/Fax 094312888
KAIWAKA-Any time
 QUALITY CUSTOM MADE 
KITCHENS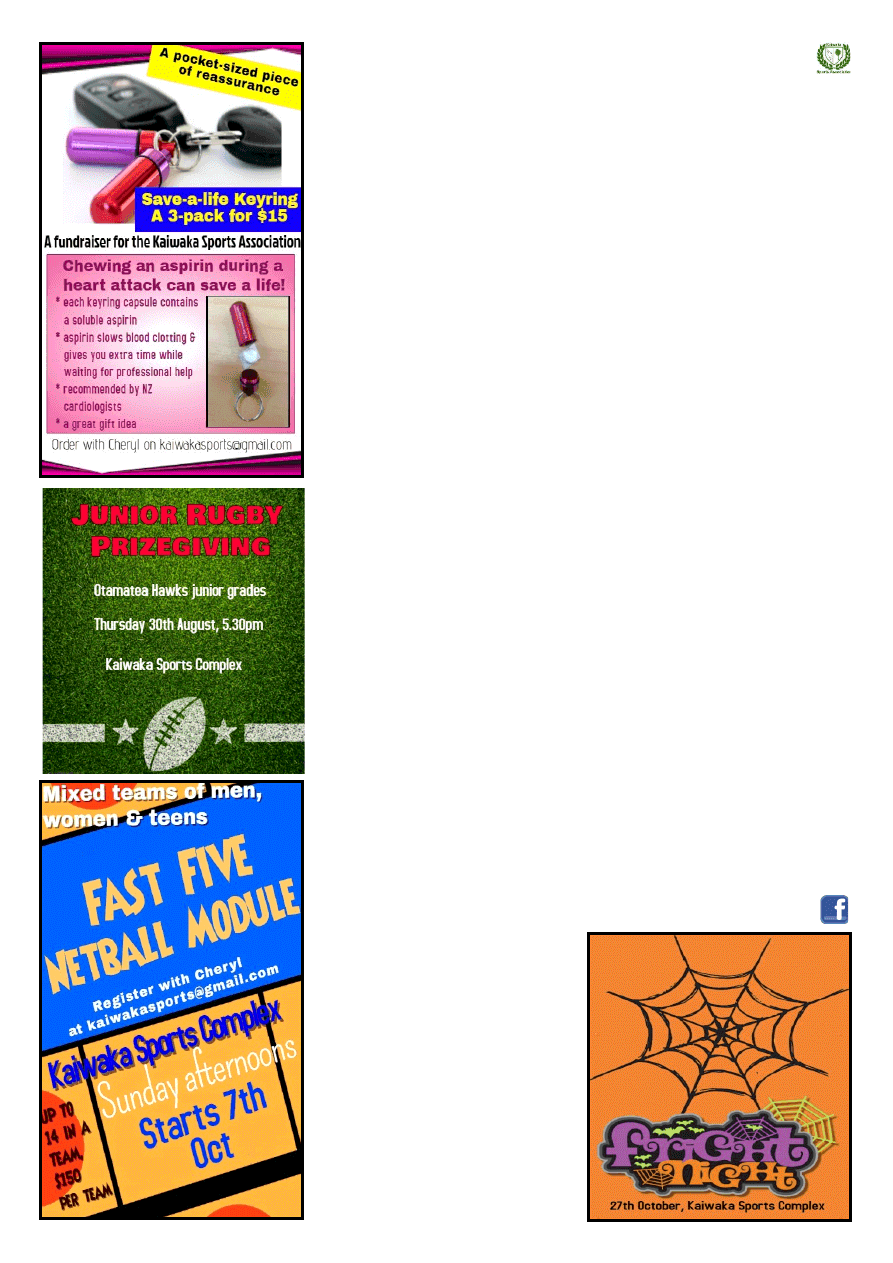 www.kaiwaka.co.nz 
Kaiwaka Bugle - 21 August 2018 
Page 13 
           KAIWAKA SPORTS ASSN 
KSA  Fundraiser:  Save-a-Life 
keyring 
If you have one of these keyrings, you 
could save a life! 
The Save-a-Life keyring has a capsule 
which  contains  a  soluble  aspirin. 
Chewed or placed under the tongue, an 
aspirin  can  make  all  the  difference 
when someone is experiencing signs of 
a  heart  attack.  The  aspirin  potentially 
helps  keep  a  patient  alive  for  what 
paramedics  call  "The  Golden  Hour". 
This  is  the  time  between  when  the 
attack  begins,  paramedics  arriving  on 
the  scene  and  the  time  it  takes  to 
transport the patient to hospital. 
The  keyrings  are  $15  for  a  3-pack  -  a 
small  price  to  pay  for  potentially 
saving  somebody's  life.  Buy  one  for 
someone you love. A great gift idea for 
upcoming Father's Day. Contact me on 
cherylanderson051@gmail.com 
to 
place an order. 
Tamariki Toa 
Tamariki  Toa  (kid's  fitness)  sessions 
are  held  on  Mondays  in  our 
gymnasium,  3:30  -  4:15pm.  For 
children  5  –  11  years  old.  Price  is  $5 
per 
child. 
Queries 
to 
Kamira 
Henderson on 027 5945081. 
Fast Five Netball 
Who's keen to give Fast Five netball a 
go? 
There  will  be  a  social,  mixed  module 
for  men,  women  and  teenagers  with 
games  held  in  our  gymnasium  on 
Sunday afternoons starting 7
th
 October. 
You  can  have  up  to  14  players  in  a 
team,  and  the  team  fee  is $150.  Email 
me for the team registration form. This 
will be a fun, friendly module, so why 
not  get  a  group  of  mates  together  and 
give it a try! 
Rugby – JMB 
Eastern United JMB celebrated the end 
of  their  season  of  rugby  with  their 
prizegiving  and  pot  luck  dinner  at  the 
Sports Complex last week and a trip to 
the Whangarei hot pools. Many thanks 
to  Te  Awhina  Whitehead  for  running 
another enjoyable season. 
Rugby – Junior Hawks 
Our junior rugby players will celebrate 
their  season  with  a  prizegiving  at  our 
Sports  Complex  on  Thursday  30th 
August at 5.30pm. Players, parents and 
supporters are welcome. 
Rugby – Senior Hawks 
Our  senior  rugby  club  will  hold  their 
prizegiving  at  our  Sports  Complex  on 
Saturday  8
th
  September  at  1pm. 
Players,  sponsors  and  supporters  are 
welcome. 
Congratulations 
Two  of  our  local  boys  are  into  the 
Northland  19s!  Congratulations  to 
Rhys Shadbolt and Tamati Abel. 
League Festival 
Announcing  Kaiwaka  9s!  A  Rugby 
League  Festival  to  be  held  at  our 
grounds  on  Saturday  20th  October. 
Grades  of  U15s,  U17s  and  Seniors. 
Entry  is  free.  To  enter  a  team, 
please  contact  Phillip  Tana  on 
phillip@rln.co.nz  .  Deadline  for 
registrations is 6
th
 October. 
Toga Party 
Up  for  a  Toga  party?  Lock  it  in  your 
diary:  KSA,  29th  September  at  6pm. 
Pre-sale  tickets  are  $10  –  please 
contact  Sarah  Baldwin  on  021 
02668130. 
Mike's Big Shave 
Mike Henderson is shaving his head to 
raise  funds  for  the  Child  Cancer 
Foundation. 
We  are  proud  to  be  hosting  "Mike's 
Big Shave" on Saturday 1st September 
at  2pm.  KSA  President  Wayne  Leslie 
will  also  be  shaving  his  head  -  any 
other  'shavees'  are  most  welcome! 
Queries  to  Siobhan  Cole  on  027 
9791203. 
Touch Module 
Who's keen for Summer Touch! It will 
be  held  on  Wednesday  evenings  in 
January and February. Keep an eye out 
for more details a bit closer to the time. 
Illuminate 2019 
The  Venture  Organising  team  were 
thrilled  with  the  large  turnout  to  their 
Community  Meeting  last  week.  They 
explained  their  plans  for  Illuminate 
which  will  be  held  at  the  Kaiwaka 
Sports Complex in early January. Over 
900  teenagers  have  already  registered 
for Illuminate, so it's shaping up to be 
a  huge  event!  If  you  have  any  queries 
about it, let me know. 
Fright Night – help please 
Our Fright Night will be in a couple of 
months.  This  is  one  of  Kaiwaka's 
biggest events of the year, with several 
hundred people coming along to enjoy 
our  Haunted  House  and  other  spooky 
activities. 
I would love some new decorations and 
props  to  deck  out  the  pavilion  –  so  if 
there are any creative people out there 
who  would  be  interested  in  making 
some  Halloween-themed  items,  please 
get 
in 
touch 
with 
me: 
cherylanderson051@gmail.com . 
Cheryl Anderson 
4312 051, 027 3462702 
kaiwakasports@gmail.com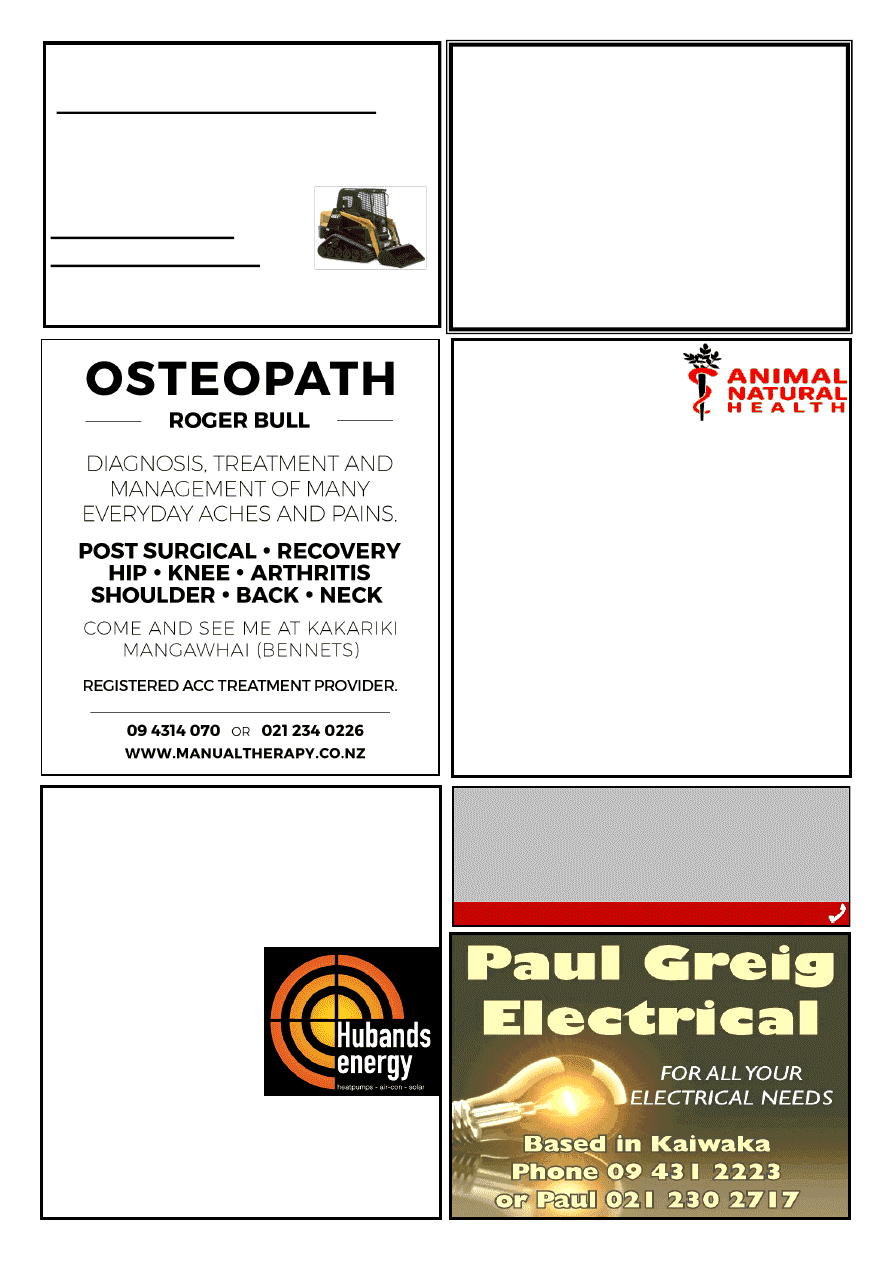 Natural Earth Ltd 
 Landscape and Bobcat services 
 : Driveways  :Landscaping  :Retaining Walls 
 : Hole Boring: Land Levelling :Trenching 
 : Decks :Fences :Sections Cleared: Plus much 
more 
Tel   09 4312885 
Mob 02102391280   
For A Fast Friendly  
Service Contact Tim Hicks 
CALL CRIMESTOPPERS 
Worried about something that doesn't seem right to 
you? Concerned about activity that could be 
harmful? Call Crimestoppers.  
You don't need to know all the facts.
CALL 0800 555 111 ANONYMOUSLY 
Northland's Award Winning 
Solar Company
SEANZ Best Solar Business Winners 2015/16
EXCLUSIVE 10 year installation warranty 
FREE No obligation onsite quote
Complete systems 
from $5990
See our range of: 
✓ 
Heatpumps 
✓ 
Airconditioning 
✓ 
Hot Water 
Heatpumps 
✓ 
Central Vacuum Systems
09 430 0019             sales@hubands.co.nz 
15 Kioreroa Road, Whangarei
Locally owned and operated for 35 years 
Mangawhai Heads 
Garden Centre
1758 Cove Road
945 0707 
021 165 2629 
ANIMAL NATURAL 
HEALTH CENTRE 
Next to Italian Bakery,  
S.H. 1, Kaiwaka 
Phone: 09 431 2217 
Hours: Mon-Fri 9.30-5.00 pm Sat 9.30-4.00 pm 
Petfood 
– Extensive raw meat selection: 
Free-range / organic where possible, no 
preservatives 
Purely Pets Patties, 'Out of the Wild' Game, 
Pet Deli, Bulk Buys, Bones, Brisket, Fish 
 
– Mighty Mix Biscuits & Concentrate 
– Tukka Thyme Muesli, Ziwi Peak Cat & Dog 
– Orijen & Acana Kibble, safe Treats. 
 
Organic Apple Cider Vinegar 
Chemical-free flea, worm, tick & lice controls 
Alternatives to vaccinations (HP Nosodes) 
Homeopathic/Herbal/Nutriceutical Products 
Eco friendly hygiene products, Leads & Collars 
Animal Naturopath: Sarndra G Urwin Dip NAH (Hons)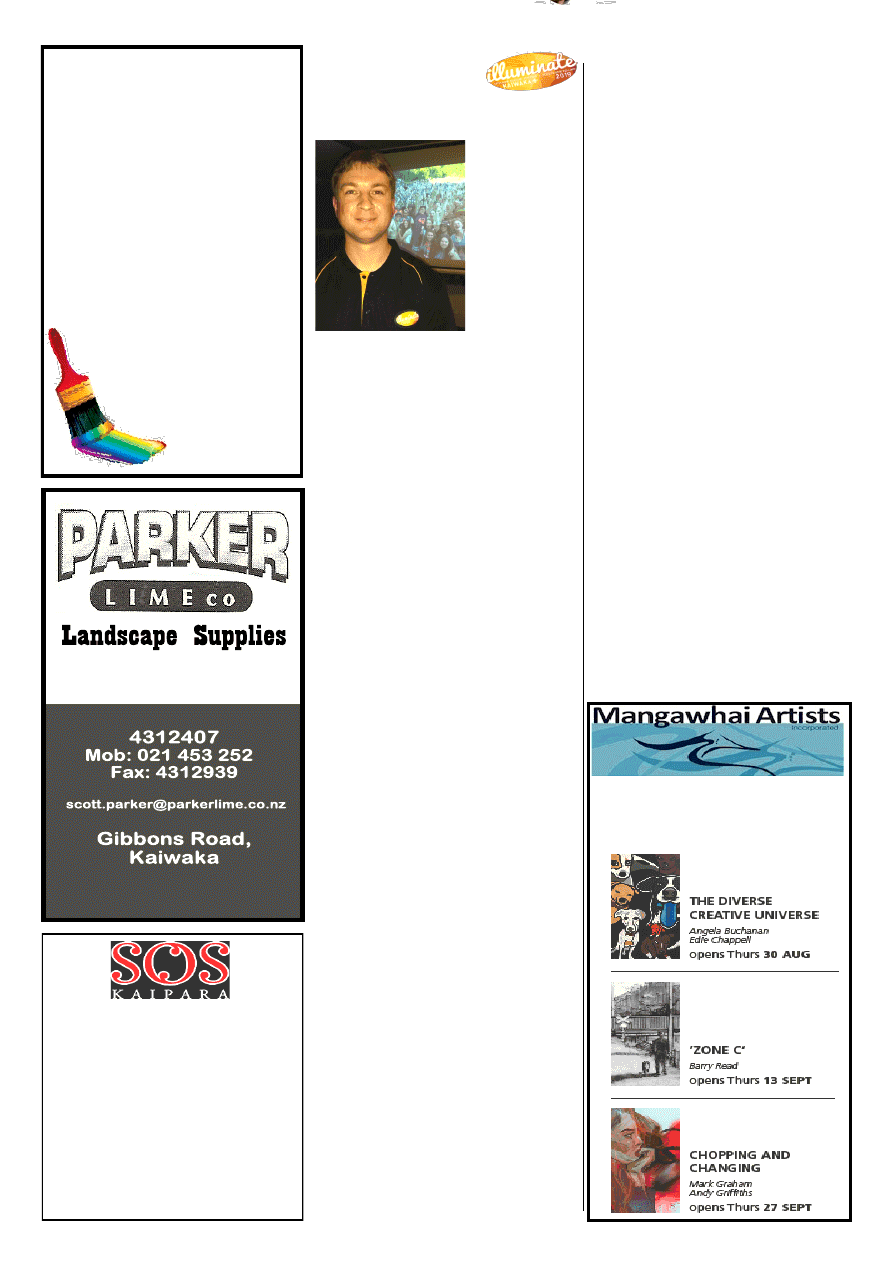 www.kaiwaka.co.nz 
Kaiwaka Bugle - 21 August 2018 
Page 15 
S.O.S Kaipara 
Support, advocacy, crisis and 
family therapy counselling, refuge 
housing to survivors of sexual 
abuse and domestic violence. Also 
Education prevention programmes 
for the community and clients.  
Office hours 9am to 3pm Monday to 
Friday; 24/7  Police  
or phone 09 4396070 
14
th
 New Zealand 
Venture   
Illuminate 2019 
Monday December 31st 2018 - 
Friday 11th January 2019 
Cory Lang, Venture director - pictured, 
and  his  team 
gave 
an 
excellent 
rundown on the 
Venture  at  the 
KSA  on  10 
August: 
The  Opening 
Ceremony  is 
on  Tuesday  1st 
January. 
The 
next  morning 
the  participants 
leave the site until Sunday 6th January. 
The  Venture  is  a  12-day  event  for 
Venturers.  These  are  14-18-year-old 
Scouts and Guides, who come from all 
over  New  Zealand  as  well  as  a  large 
number from overseas. 
With  a  primary  role  of  youth 
development,  Scouts  aim  to  provide 
opportunities  for  our  young  people  to 
challenge  and  stretch  themselves  on  a 
number  of  levels  -  intellectually  and 
socially, as well as physically, in a safe 
environment. 
The  event  is  divided  into  two  parts  - 
Phase 1 commences with the first night 
at  Kaiwaka  for  an  opening  ceremony. 
The  following  day  participants  leave 
for their 'expedition'. An expedition is 
a  five-day  activity,  or  number  of 
activities,  which  individuals  have  pre-
selected.  There  is  a  choice  of  35 
expeditions  ranging  from  skill  based 
such  as  photography  and  masterchef, 
through  to  physical  and  mental 
challenges such as caving and amazing 
race,  and  many  that  are  a  mixture  of 
adventure, 
self-development 
and 
personal  challenge.  The  full  array  can 
be 
viewed 
on 
our 
website 
illuminate2019.com With the exception 
of caving, all expeditions will be based 
throughout Northland and Auckland. 
Phase  2:  January  6th,  they  will  again 
set  up  camp  with  all  but  a  few  under 
canvas.  The  programme  for  this  phase 
is  a  combination  of  onsite  and  offsite 
activities 
aimed 
at 
engaging, 
challenging  and  growing  our  young 
people 
socially, 
physically, 
intellectually, in character, emotionally 
and  spiritually.  This  Phase  is  packed 
with  lots  of  'fun'  activities  as  well  as 
the more challenging. 
Projected numbers:  between 900 and 
1000  youth  members  and  will  have 
around 200 leaders and staff. 
The  site:  The  Venturers  will  have 
exclusive  use  of  the  Kaiwaka  Primary 
School,  Kaiwaka  Sports  Complex  and 
some adjoining land for the duration of 
the event. They will operate a medical 
centre, 
dining 
facilities 
using 
professional  caterers,  a  security  team, 
additional  site  services  for  ablutions 
and  water  management,  and  traffic 
management  for  the  bus  and  minivan 
movements. 
Bulk Cartage 
LEE COOPER 
PAINTERS 
(Kaiwaka Based) 
*30 yrs Experience 
*Interior/Exterior 
*New and Restoration 
*Honest and Reliable 
*Free Quotes 
 
09 4312918 
0274735171 
leecooper@xtra.co.nz 
MANGAWHAI ARTISTS  
EXHIBITIONS 2018   
45 Moir Street, Mangawhai 
Exhibitions run for two weeks 
Maungaturoto Community 
Charitable Trust Fund Raising 
Committee  
Please look in the shop window next to 
the  Maungaturoto  Lotto  shop  for  a 
display  of  plans  of  the  retirement 
village  and  dementia  unit  with  an 
explanation  and  a  barometer  of  how 
fund raising is progressing.  
By  the  time  this  is  published,  the 
barometer  should  be  around  or  over 
$200,000.  The  barometer  will  be 
updated in $50,000 increases. To those 
who have indicated they will donate, it 
would  be  nice  to  have  your  donations 
as  we  want  to  start  applying  to  the 
major funding organisations (Lotteries, 
ASB, etc.). The bank has indicated we 
will  need  closer  to  $700,000  than 
$500,000  for  them  to  release  their 
facility.  
We as a fund-raising committee will be 
running  various  fund-raising  events 
throughout  the  year.  In  October,  we 
hope  to  have  a  night  at  the  Otamatea 
Repertory  Theatre  featuring  the 
Mangawhai  Choral  group.  The  calf 
raising  scheme  is  being  organised  by 
Pepe Ewen, so let her know if you are 
raising one or more calves or donating 
a  calf  for  someone  else  to  rear.  For 
those  who  want  to  rear  a  calf  or  two, 
we will provide milk powder and meal. 
For  more  information  on  the  calf 
scheme  contact  Pepe  Ewen  ph. 
4318389.  
For  those  who  want  to  donate  money 
and/or  a  debenture  or  goods  or  stock 
and  haven't  been  seen  yet,  contact 
Albie  0274949448,  Jamie  Ewen 
0272743362, Bill Cullen 021431723 or 
Mike Smales 021431682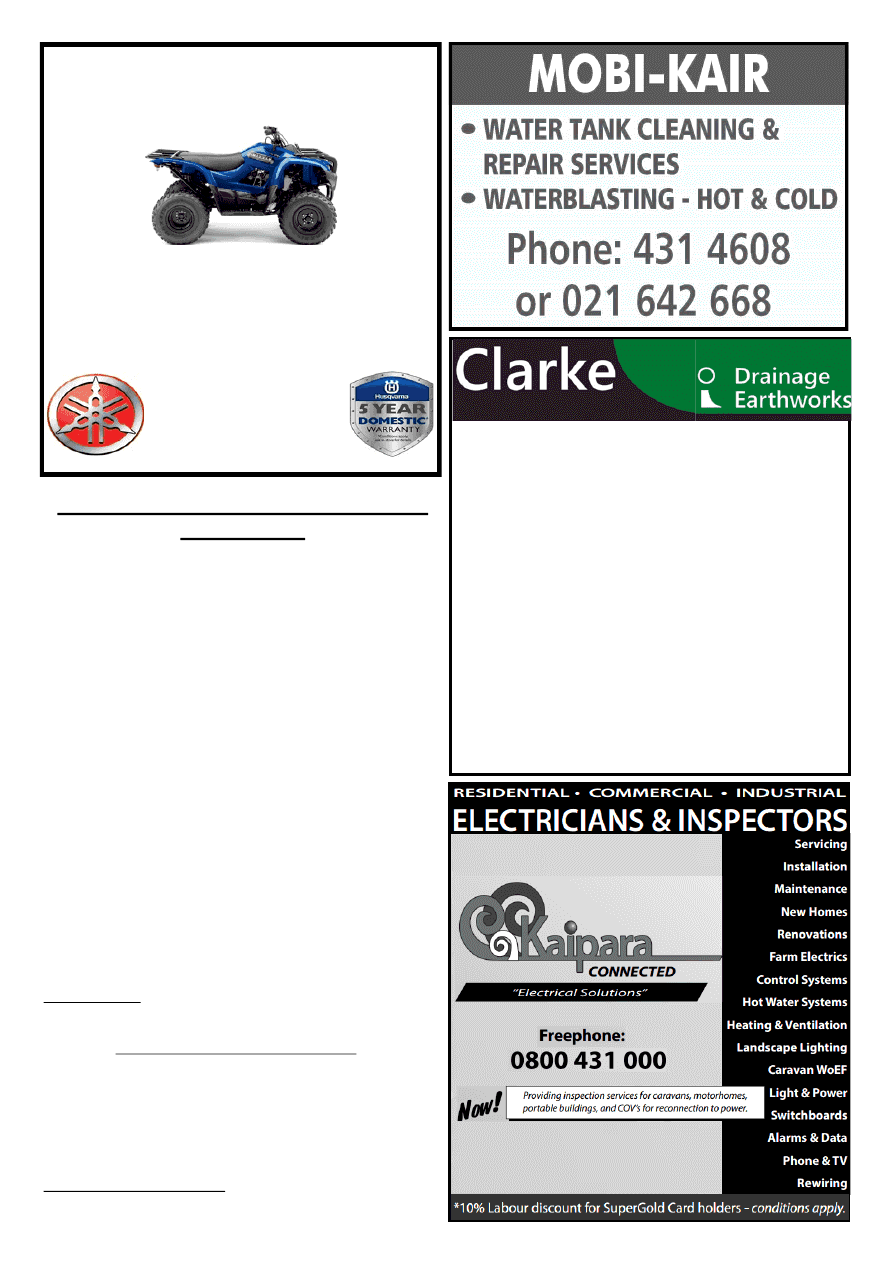 Registered Drainlayer 
All Types of Earthworks  
> All Residential & Commercial Work  > House Sites 
> Septic System Design & Install 
> Footings & Drilling to 10m 
> Sewer Connections 
> Dams 
> Water Tank Installation 
> Roading & Races 
> Farm Work 
THE ONE STOP SHOP  
Phone Nigel for an Obligation Free Quote  
Drainage & Earthmoving 
nigel@clarkedrainage.nz 
027 2233 185 
KAIWAKA FITNESS ACTIVITIES 
Low Impact 

Aqua Aerobics  Karen's Pool, Te Hana, Mon am & 
pm, Thurs am & pm, $7. Call Karen  09 4239361.   

Badminton  Kaiwaka Sports Association 
Gymnasium, Tuesdays 7.30pm. $3 casual Kaye 09 
4312345. Racquets available to borrow 

Kaiwaka Fitness Centre Kaiwaka Sports 
Association. 24hr, 7 days/wk. $140/yr Forms available 
at Jaques 4 Square. Pay by cash at Jaques. Exercise 
bikes, cross trainers, treadmills, weights etc 

Line Dancing Kaiwaka War Memorial Hall Monday 
10am. Contact Eleanor Robinson 4315160 and 
Robinsons.roost@xtra.co.nz 

Lower Limb Strength Class Mangawhai Physio. 
Tuesdays 9.30-10.30. $10 Call Mangawhai physio:  
094314476. Strengthen and stretch hips, backs and 
knees.  

Pilates The Heart/Ark, Thursdays 6.15pm-7.45pm. 
$12 Call Amy Griffiths 0212072729. Beginners and 
intermediate. Physio led. 

Splashfit Karen's pool, Te Hana. Wed 11-12. $10. 
Amy Griffiths 0212072729 Physio-led exercise in 
water. Low level exercise. 

Scottish Country Dancing Kaiwaka War Memorial 
Hall. Wed 10-12. $5 Elaine 09 4320532 

Tai Chi Kaiwaka War Memorial Hall. Tuesdays 
10am Andrew Young 094223424 or 027327 6604 

Tai Chi Kaiwaka Sports Association. Wed 7-8am 
Sundays 8.30-10am. From $16 /mth Craig Bennetts 
431 5170 otamatea.kempo@farmside.co.nz   

Walking group: Kaiwaka Fitness Trail. Meet at the 
heli-pad at the Kaiwaka Sports Association Tuesdays 
8.30 and 4pm. FREE!  Amy Griffiths, physio 021 
2072729 1 circuit = 482m. All levels 

Yoga The Heart/Ark. Heidi 0220208800 

Yoga Vinyasa Flow The Heart/Ark Friday 8.30-10 
$15 casual.  Carla 021 2968794, 
carl.rosseels@gmail.com. moderately paced dynamic 
yoga flow, with inspirational themes, meditative. 
Email: info@kaiparaconnected.co.nz 
Website: www.kaiparaconnected.co.nz 
KAIWAKA 
MOTORCYCLES LTD
SALES – SERVICE – SPARES 
FARM BIKE SPECIALIST
PHONE 09 431-2127 
10 KAIWAKA-MANGAWHAI ROAD, KAIWAKA
Trimmers  
from $279
Chainsaws  
from $339
YAMAHA 
HUSQVARNA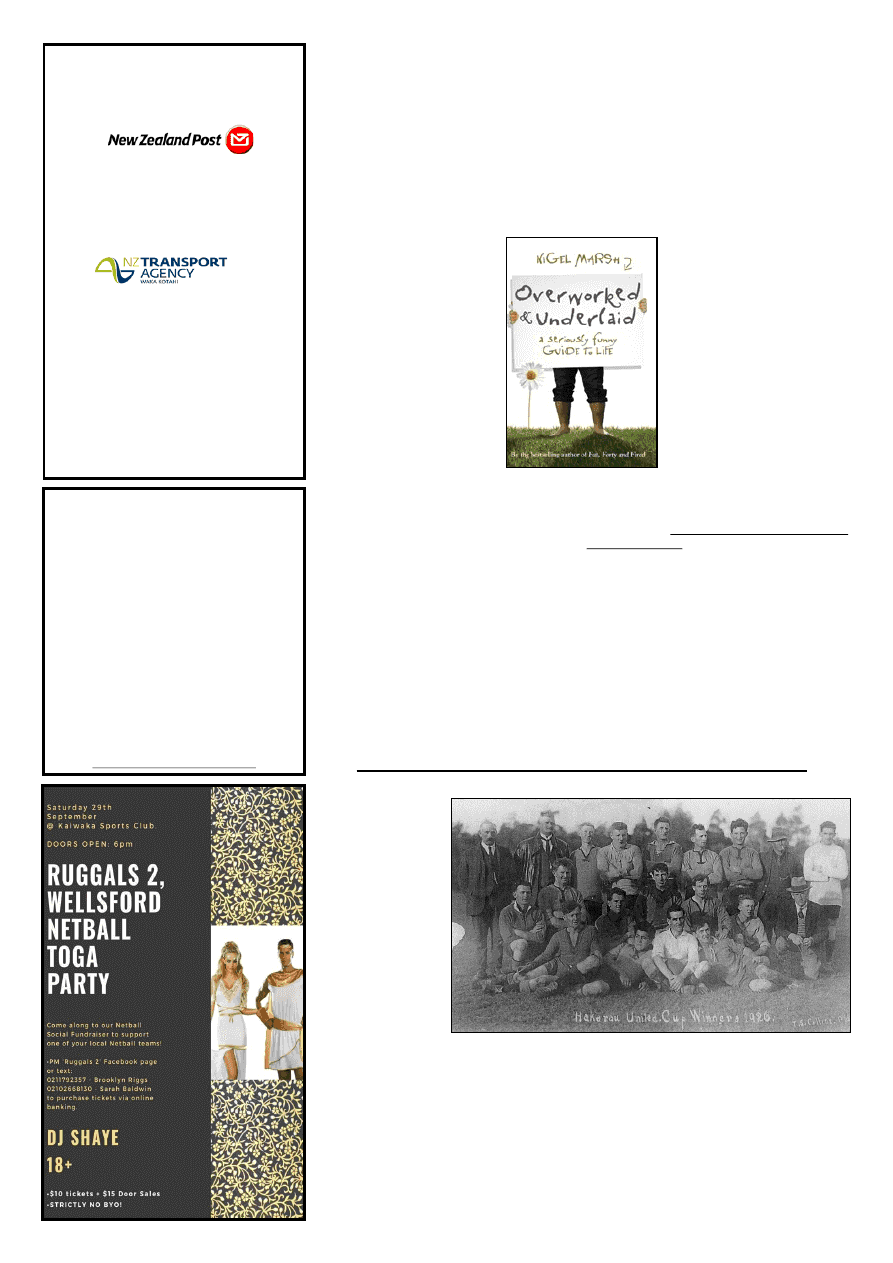 www.kaiwaka.co.nz 
Kaiwaka Bugle - 21 August 2018 
Page 17 
KAIWAKA LIBRARY 
Free Wi-Fi 
We have a new modem for our free Wi-Fi 
service,  which  should  solve  technical 
difficulties  some  people  have  had  with 
connecting  to  our  free  service.  Please  let 
me  know  if  you  can't  connect  to  one  or 
both 
of 
our 
bands. 
One 
is 
called Kaiwaka_Library  and  is  a  slower 
connection  but  you  should  be  able  to 
connect  to  it  from  a  greater  distance;  the 
other is called Kaiwaka_Library_5 and is a 
faster  connection  but  has  a  shorter  range. 
Both  are  free  for  anyone  to 
connect  to,  and  no  password 
is required. We leave the Wi-
Fi  running  night  and  day. 
Thank you to Kaipara District 
Council  for  providing  the 
funding  to  pay  for  this 
service. 
Overdue notices 
The  automated  email  notice 
system  is  now  up  and 
running.  This  is  an  opt-in 
service  -  if  you'd  like  to  be 
included,  let  me  know.  It 
includes  an  email  three  days 
before  an  item  is  due,  then 
when  the  item  is  a  week 
overdue,  two  weeks  overdue,  and  lastly 
when  it  is  three  weeks  overdue.  At  the 
three-week point, if you've not returned or 
renewed the item or have not been in touch 
with me about it, a $5 charge will be added 
to  your  library  account,  the  item  will  be 
marked as "lost", and you won't be able to 
borrow  any  more  items  until  the  lost  item 
has been dealt to. This includes the online 
book  and  magazine  services.  It's  better  to 
have a conversation with me about the item 
before we get to that stage. 
If  you don't opt-in to the  automated email 
service, you'll still get a reminder from me 
about  overdue  items,  by  phone,  text  or 
email. The $5 fee when an item is marked 
as lost still applies. 
Moral of the story - if you have an overdue 
item, get it renewed or talk to me about it if 
there is a problem, before it's gone that far. 
Book review 
Heather's  recently  read Overworked  & 
underlaid:  a  seriously  funny  guide  to 
life by Nigel  Marsh.  Heather  found  it  an 
uplifting read, and a chuckle. You'll find it 
on our Non-Fiction shelves,  where its free 
to  borrow.  (646  MAR).  "Ever  felt  that 
you're  slogging  away  in  a  job  you  don't 
enjoy  buying  things  you  don't  need  to 
impress people you don't like? If so, Nigel 
Marsh  knows  how  you  feel.  He  lifts  the 
carpet  on life's dilemmas that 
have given  him cause  to  stop 
and  think.  It  makes  a 
refreshing  change  from  those 
self-help experts who claim to 
have  all the  answers. Instead, 
this  is  simply  one  man's 
observations  of  life  and  how 
to live with it - without losing 
your sense of humour." (book 
cover) 
I've  recently  purchased  two 
other  titles  by  this  author  -
 Fat,  forty  and  fired,  and Fit, 
fifty and fired up. They're not 
on the shelves yet, but they're 
in the library catalogue so you 
can place a hold on them and be the first to 
borrow  when  they're  processed.  Place  the 
hold  yourself  through  the  online  public 
catalogue 
https://ent.kotui.org.nz/client/
or ask me to do it for you 
(in person or via email) 
Have you read a library book recently and 
particularly  enjoyed  it?  Feel  free  to  write 
down  a  little  something  about  what  you 
liked  about  it (it  doesn't  need  to  contain  a 
description of the plot if you don't want to 
do  that),  include  the  title  and  author  and 
your name, and send it to me; we can then 
use  your  recommendation  to  share  the 
book with others. Write it down and drop it 
in  to  the  library,  post  it  to  us,  or  send  an 
email; contact details are below.  
See you in the library, Wendy
Kaiwaka Library, cnr State Highway 1 and Kaiwaka Mangawhai Road. 
PO 
Box 
89, 
Kaiwaka 
0542. 
Phone 
4312 
539. 
Email  kaiwaka.library@gmail.com  Open  Wed-Sat  10am-2pm,  Mon  4-
6pm. Free membership is available to all residents in the Kaiwaka area. 
KAIWAKA POST 
CENTRE and 
FOOD MART 
POST CENTRE TRADING HOURS 
MONDAY to FRIDAY 8am to 5pm 
SATURDAY 8am to 12pm 
CLOSED ON SUNDAY and on 
PUBLIC HOLIDAYS 
FOOD MART (GROCERIES) 
MONDAY TO SUNDAY  
7:30am to 7:30pm 
IF ANY QUERIES PLEASE CALL 
STORE MANAGER AMRIT  
on 09 4312431 or 
EMAIL: kaiwakafood19a@gmail.com 
1919a State Highway1, Kaiwaka 0542 
Maungaturoto  
Country Club 
SPORTS - SOCIAL - CONFERENCE 
CENTRE  
The club is open Fridays from 4pm and 
Thursdays from 6pm - come and enjoy a 
drink and a meal from Raquel's Kitchen.  
You can join the Club  - $15 a year. 
Application forms available on request. 
Affiliated activities: Bowls, Squash, 
Rugby, Theatre, Motorcross, Equestrian. 
PO Box 81 Bickerstaffe Rd 
Maungaturoto 0547 Tel 09 4318 326 
1926 RUGBY PLAYERS 
We  have  more 
names  for  this 
photo  was  taken 
by  Tudor  Collins 
of  the  'Hakarau 
[sic]  United  Cup 
Winners 1926'! 
Derek  Mason  was 
able  to  help,  and 
also  told  that  the 
Hakaru rugby field 
was on the flat just 
before  the  Hakaru 
Hall  -  not  all  that 
flat as there was an 
uphill  incline  to 
score on the southern touch line! 
Back  row  -  Nathaniel  Mason  Snr  (possibly),  ?,  Brian  Linnell,  Fred  Bowmar,  
Joker Donaldson,? ?, ?;  Middle row - ?, ?, ?, possibly Tommy Donaldson, ?, ?, 
Dennis Lawrence; Front row - no names except for the player holding the ball - 
Nat Mason. 
At this stage the Kauri Museum or the Mangawhai Museum folk have not been 
able to name them either, but we are certain there will be a Stewart in this team. 
From  the  Kaiwaka  Centennial  book  -  page  105: '
Most prominent among local 
players,  in  their  day,  were  Doug.  Stewart  (Hakaru),  Tom,  Sandy  and  Jim  (Joker) 
Donaldson,  H.  C.  (Snowy)  Paikea,  Jack  and  Brian  Linnell,  Claude  and  Dave  Wintle 
(Tara). All of these men have been well-known representative players, with distinction.  
Tom Donaldson .... on his return from the war in July 1919 (after having been away for 
5 years) he captained the Otamatea reps. the first Saturday after his return….'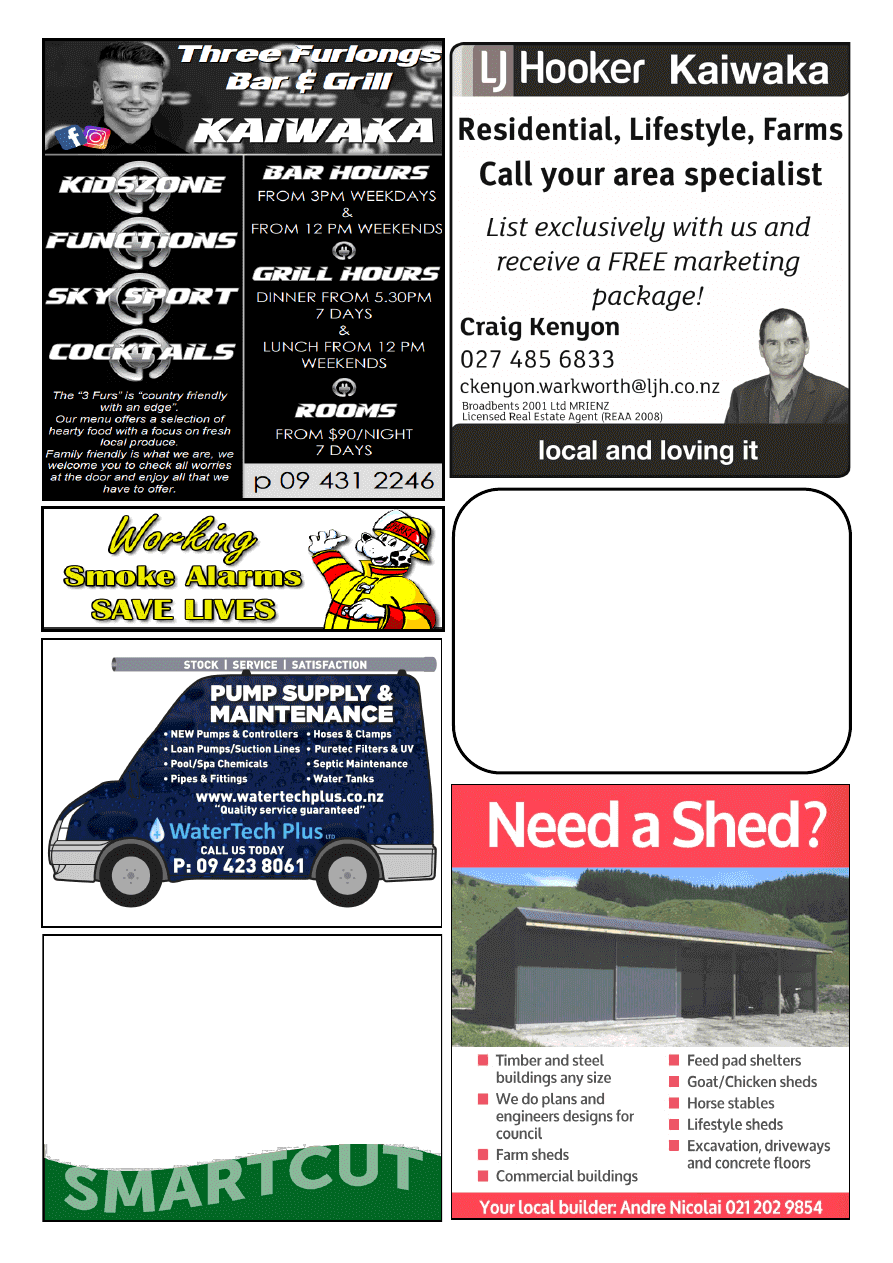 All your outdoor needs sorted so you don't have to... 
I can prune, chop, tidy, spray, mow, plant 
- you name it, I can do it! 
Residential & Commercial 
Lawn & Garden Care 
Call Rodney, your local  
lawnmowing contractor 
021 138 2344 
UP-LINK 
CHRIS WARING 
FREEVIEW INSTALLATIONS 
T.V. - HOME THEATRE &  
HI-FI ADVICE/SET UP
SKY ACCREDITED INSTALLER
MOB.0273403747 HM.094312328 
EMAIL cwaring44@gmail.com
28 YRS EXPERIENCE 
OFFERING UNBIASED ADVICE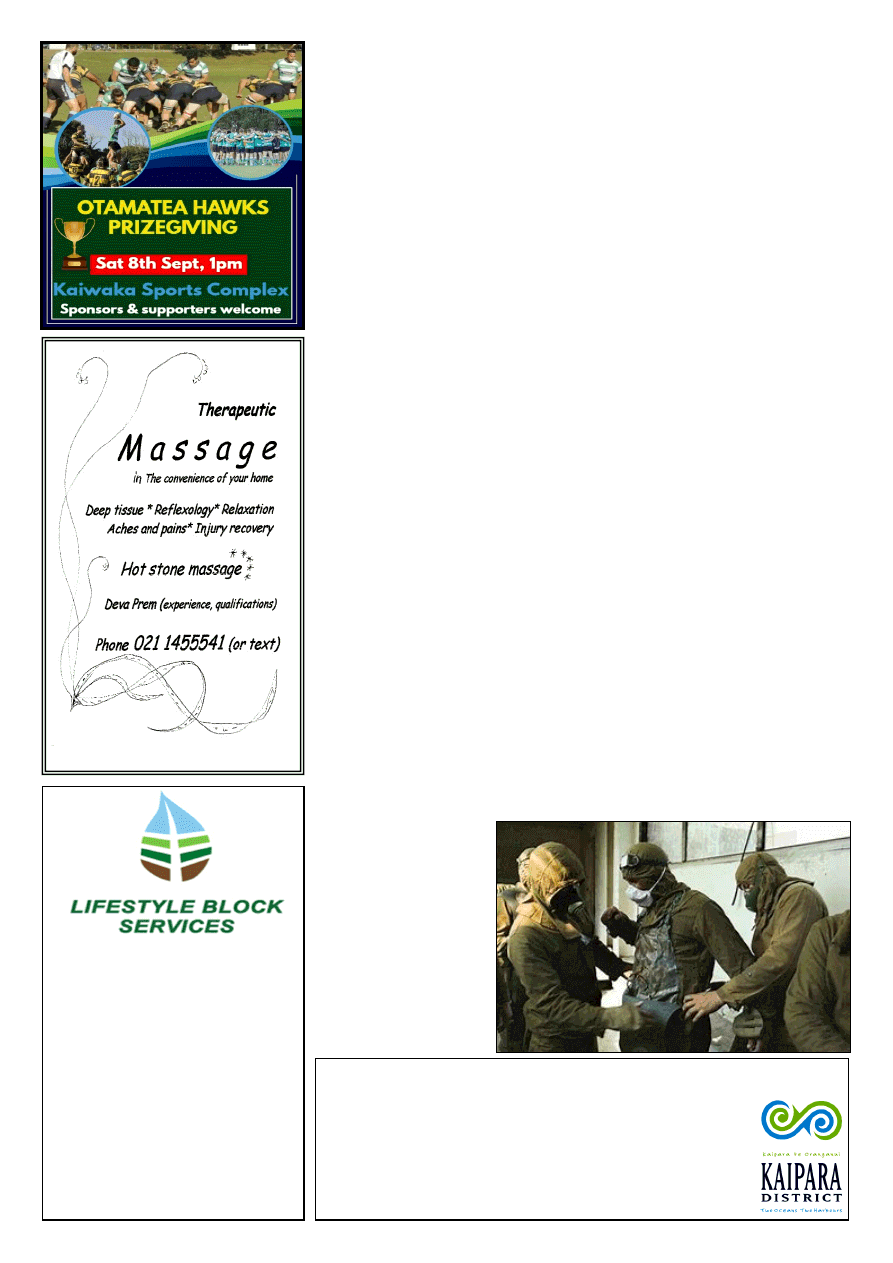 www.kaiwaka.co.nz 
Kaiwaka Bugle - 21 August 2018 
Page 19 
Contact Mark on 021 801 065  
or 
Contact Lisa on 021 108 1057 

 Small HaylSilage Baling & 
Wrapping 

 Fencing 

 Spraying 

  Mulching 
 
Stockwork  

  Stock Water Systems  

 Driveway & Track Maintenance  

 Tree Trimming 
As  far  back  as can  be  remembered  all 
Kiwi  peoples  are  immigrants,  here  is 
the story of two. 
My wife, an English language teacher, 
met  a  young  man  of  very  meagre 
means  who  needed help. He  opted for 
more than just class time and was full 
of  questions  when  he  came  to  our 
home.  He  was  Persian  (Iranian)  and 
came  from  Tabriz  he  left  due  to 
persecution as he was a Christian. Due 
to his looks and accent he found work 
in  an  Italian  restaurant  cooking  and 
serving Pizza. He saved every penny or 
dollar I should say of his wages, and he 
worked  every  hour  God  sent,  sleeping 
only  a  few  of  them  nightly.  The 
restaurant had decided to sell off some 
Italian  ice-cream  machines,  which  he 
promptly  bought.  With  help  he 
obtained  a  mortgage  and  bought  a 
small bungalow, at the back was an old 
large shed once used for storing oxides. 
Still scrimping and saving and going to 
auctions  he  bought  equipment  and 
materials  to  make  a  small  cool  store 
and prep room inside the shed. During 
this  time  he  asked  us  to  arrange  a 
marriage for him, a customary thing in 
his  culture. With  a  great sigh  of  relief 
by us he eventually met a girl through 
a friend when he was invited to a party. 
Long  story  short,  he  now  owns  some 
houses, an ice-cream factory, and nice 
cars and has two fantastic children: one 
son who runs the factory, the other an 
international sports woman. 
The second man a Russian, looking for 
a  better  life,  came  to  our  factory 
claiming to be skilled enough to make 
bespoke  furniture.  There  was  some 
doubt  as  he  had  no  papers  showing 
this. So, needing workers, we gave him 
a job on a trial for one month. Several 
years  later  many  of  the  other  men 
would  pass  his  bench  and  just  say 
"Vun  month  Vassili"  in  a  Russian 
accent and laugh. Vas, as 
he  was  known  also 
needed  help  to  buy  a 
modest  house  for  his 
family,  which  he  got 
from  us.  He  had  been 
drafted 
into 
the 
communist  military  and 
ordered  to  be  a  member 
of  a  squad  sent  to  clean 
up  Chernobyl.  He  was 
required  to  wear  a  lead 
lined  body  suit;  besides 
the  heat  it  was  not 
possible 
to 
relieve 
oneself  whilst  in  it.  As  a  result,  many 
of  the  men  returned  in  a  day,  having 
soiled  inside  their  gear.  On  one  trip 
over  the  reactor  site  the  helicopter 
transporting  everyone  crashed,  Vas 
was badly burned down one side of his 
body.  This  at  least  served  to  relieve 
him of any further work there, but one 
resulting effect was that his teeth began 
to  rot.  After  a  reasonable  time  as  a 
cabinet maker he took up some training 
as  a  dental  technician.  These  days  he 
works  in  Wellington  as  a  denture 
maker. 
I  have  some  fine  furniture  in  my 
lounge  made  by  him,  a  talented 
addition of skills to New Zealand. 
No  doubt  if  his  children  follow  in  his 
footsteps more hard-working kiwis will 
become a part of this country. 
A little perspective sometimes clarifies. 
In  1095  the  Pope  sent  messengers  all 
over  Europe  to  gather  Knights, 
defenders  of  the  realm  to  save  two 
thirds  of  former  Christian  territory 
from being Muslim, western European 
Christians  wished  to  check  the  spread 
of  Islam  and  save  Jerusalem,  the 
Knights  Templar  were  formed  in 
France  to  this  end.  Moving  fast 
forward,  fascist  Germany  initiated 
Jewish 
Genocide; 
senseless, 
unwarranted oppression of Jews meant 
that  a  huge  amount  of  Art,  Music  and 
sophisticated  culture  was  lost  from 
Europe. A further aside, from 1516 the 
respected  governor  (Dogé)  of  Veneto, 
knowing  that  with  the  degradation  of 
the  silk  road,  Venice  was  losing  its 
wealth and prosperity decided to set an 
area  (the  forge)  ghetto  in  Italian,  as  a 
home  for  the  historically  displaced 
Jewish  people.  He  knew  the  Jews 
would  bring  much  needed  revenue  to 
the  city.  Christian  guards  were 
appointed  to  control  their  movements 
of  after  hours.  Refer  to  Shakespeare's 
Merchant of Venice 1597. 
~ Bevan Lawrence 
TELL US A STORY ~ 
Bevan Lawrence
www.mangawhaimassage.co.nz 
KAIPARA DISTRICT COUNCIL : 31 AUGUST 
31 August 2018 is the last day for: 

Dog Registration - without a penalty 

Sport NZ Rural Travel Fund  

Creative Communities Scheme

Nomination for 
Citizens Awards 

Submissions on representation arrangements for the KDC 
elections in 2019 and 2022. 
Online application, nomination and submission forms for the 
above are available on the Council website kaipara.govt.nz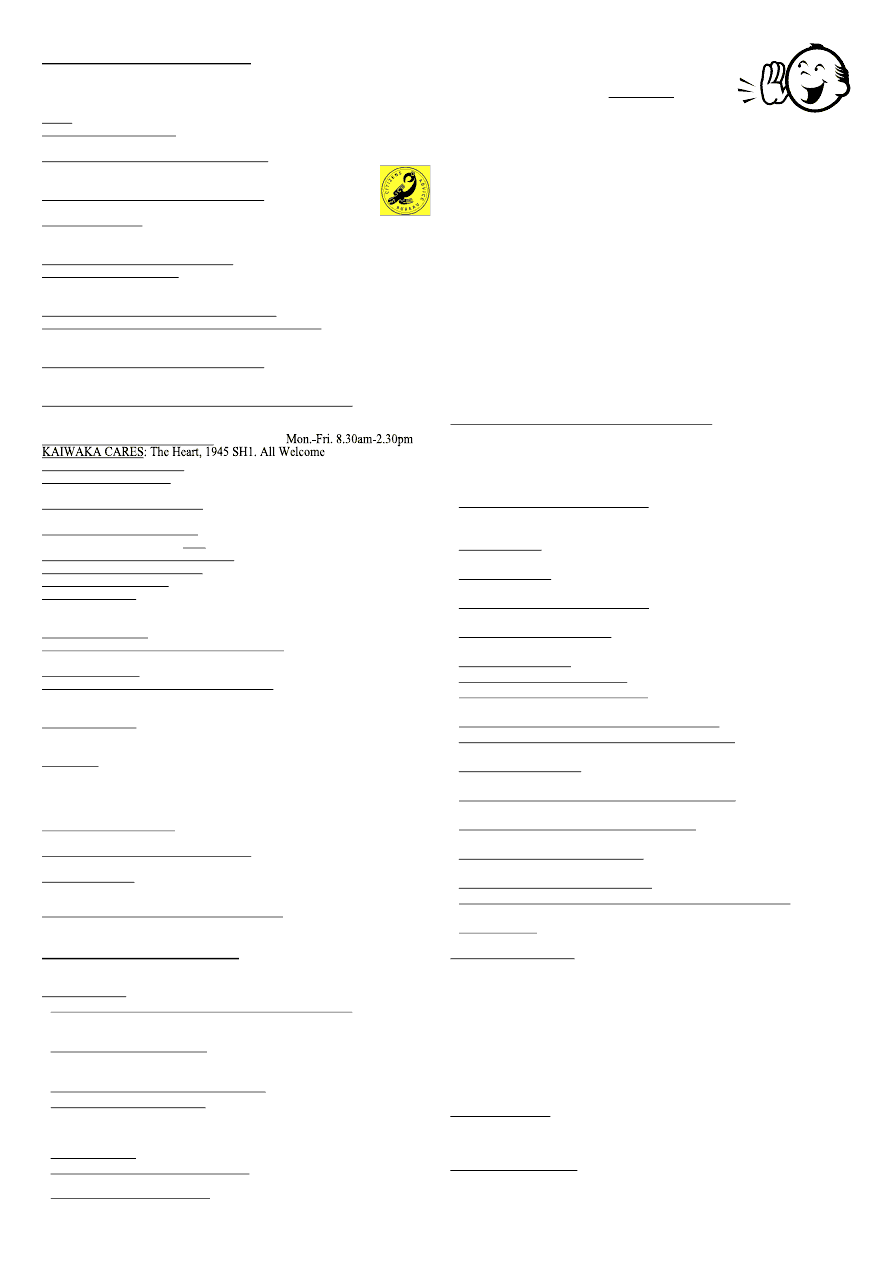 Next Bugle Deadline midday Friday 31 August 2018
WHAT'S ON
PLEASE ~ do let us know what is on - email 
kaiwakabugle@kaiwaka.co.nz 
Advertising in WHAT'S ON is FREE  
*24Aug~Movie 'The Guernsey Literary & Potato Peel Pie 
Society' , KWMH, 7.30pm 
*26Aug~Movie 'Ferdinand', KWMH, 2pm 
*28Aug~Grandparents Raising Grandchildren meet. Archie Bull 
Hall, 10,30am 
*30Aug~HAWKS Junior Rugby Prizegiving, KSA, 5.30pm 
*31Aug~DAFFODIL DAY 
*1Sep~'Mike's Big Shave', KSA, 2pm  
*7Sep~Movie 'The Leisure Seeker', KWMH, 7.30pm 
*8Sep~HAWKS Senior Rugby Prizegiving, KSA, 1pm 
*13Sep~Kaiwaka School Production 
*28Sep~ Movie & Supper 'Elton John', KWMH, 7.30pm 
*28Sep~End of School Term 3 
*7Oct~KSA Fast Five Netball begins 
*8-12Oct~Otamatea St John Trash & Treasure, Maungaturoto 
KWMH = Kaiwaka War Memorial Hall; KSA = Kaiwaka Sports Association 
See www.kaiwaka.co.nz for more information 
HOUSEHOLD RUBBISH COLLECTION - Kaiwaka Pick up: 
Mondays = Green bags (Northland Waste - 09 430 3273) 
Wednesdays  = Blue bags and yellow recycling (at Jaques $3.00 
and  $1.50)  (Kaurilands  09  4392146);  ONLY  Blue  and  Yellow 
bags picked up on Oneriri Road. 
 DIABETES  Support  Group  -for  Kaiwaka,  Mangawhai, 
Wellsford  10am,  3rd  Friday  of  month  Ph:  Colleen  James  09 
4314238 
 DRINK CAN 'tear tabs' - for Starship Hospital- please collect - 
98 Kaiwaka Mangawhai Rd, leave in mailbox, Ph. 4312625  
 GENEALOGY - Wellsford: 1st Thursday in month Ph: 423 
7033; Waipu: 4th Monday in month Ph: 4312 725 
 GYMNASTICS  OTAMATEA  -  Tuesday  Ph:  Stephanie  022 
3624998 
 HAKARU PONY CLUB - Secretary Denise Rogers 021423376 
secretary@hakaruponyclub.co.nz  
 KAIPARA HUNT - Secretary Albert Doonenbal Ph 4312059 
 KAIWAKA BADMINTON -Tuesdays 7.30pm Ph: 4312345 
 KAIWAKA  DRAMA  CLUB  - 
Hannah  Webb 
0272863352 
KaiwakaDrama@gmail.com - FB - "KaiwakaDramaClub" 
 KAIWAKA DRUM & DANCE CLASSES - 021 611198 
 KAIWAKA GARDEN & FLORAL GROUP - 2nd Thursday in 
month. Ph: 431 4744 
 KAIWAKA  CUBS  -  Thursdays  5.30-7pm,  Hakaru  Ph:Bruce 
4312542 
 KNITTING FOR WHANGAREI HOSPITAL - 2nd Tuesday in 
month, Archie Bull Hall 10am Ph 4314827 
 MANGAWHAI COMBINED REBUS CLUB - 2pm, 3rd 
Thursday month, Senior Citizens Hall Mangawhai. Ph: 4315777 
 OTAMATEA GREY POWER - Kath Pattinson 09 283 2052, 
1pm last Wednesday of month, Anglican Church Hall, Mgto 
 PT CURTIS CRUISING CLUB - Jean Ph: 4312227 (wk), 4312520 (hm) 
 RSA,  HAKARU  &  DISTRICTS  WOMEN'S  SECTION  –  meets 
1.30pm 4th Thursday of the month. Ph: 431 5818  
 TRAMPING - Mondays 9am-2:30pm Maria 4312 234 
HALLS FOR HIRE: 
 St.Pauls Archie Bull Hall HIRE $20 half day, $40 full day per 
hire, S McAulay, Ph 4312311 
 Kaiwaka  War  Memorial  Hall  HlRE  -  Phone  4312725  or 
kaiwaka.hall.bookings@gmail.com 
 Hakaru Community Hall HIRE -Ph. 4312256 or 4312110 
 Te Pounga Marae queries - R. O'Leary 4312 423, J.Nathan 021 
186 7382 
 Kaiwaka Sports Association hire/queries - C. Anderson 4312051 
or kaiwakasports@gmail.com 
Justice of Peace:  
B.FJaques  4312  048;  L.Donaldson  4312  228;  A.F.Hargreaves 
4312 045, W.Howard 4312 725 - please phone to make sure they 
are available or go to www.justiceofthepeace.org.nz 
Marriage Celebrants:  
L.Donaldson; A.F.Hargreaves; Y Osborne
LOCAL SERVICES 
*Emergencies - Ambulance, Fire, Police - dial 111 
*Non-urgent Police phone 09 4311150
A A: Meets Wed., 8pm Kaiwaka Ph: 4315543, 0800229 6757 
ASUREQUALITY LTD (was AgriQuality) Call Free 0508 0011 22  
BUDGETING SERVICE, WELLSFORD: Free confidential advice & 
support for all areas of personal finance. Ph (09) 423 7123 
CAB-Citizens Advice Bureau.Wellsford Ph: 4237333 
0800 367 222 email:cab.wells@xtra.co.nz  
CIVIL DEFENCE - Kaiwaka Community Response Group: 
kaiwaka.civildefencecrg@gmail.com, 4312725 Wendy 
DOG/STOCK /NOISE CONTROL 0800 105 890 
FUNERAL SERVICES: Morris & Morris Ltd, 
Whangarei - Bev Jaques Ph:4312367 or 0800667747 
GRANDPARENTS Raising Grandchildren: Dianah Roberts 0223819539 
HAKARU & DISTRICTS MEMORIAL RSA (Inc) 733 Settlement Rd, 
Hakaru. Ph 4312 176 or Graeme Hitchcock (President) 431 3064 
HAKARU LANDFILL/Transfer Station:Open everyday except 
Tuesday10am-4pm.Ph4312629 Cost-$55 trailer load up to 1 cubic metre. 
Ph:4258567 - office 
KAIPARA DISTRICT COUNCIL www.kaipara.govt.nz:  
Help Desk FREEPHONE 0800 727 059  
KAIWAKA KOHANGA REO: Ph:4312620 
KAIWAKA CEMETERY: Ph: 4312045 or 4314017 
KAIWAKA LIBRARY: kaiwaka.library@gmail.com  
Mon. 4-6pm; Wed., Thurs., Fri., Sat. 10am-2pm Ph:4312539 
KAIWAKA PLAYCENTRE: Ph Juanita 0274134904; open Mon, Wed, 
Fri 9am-12pm. Hastie Lane; Monday to Friday 9.00am - 12 noon. 
KAIWAKA POST OFFICE:Ph:4312 431  
Post Code: 0573 for RD2 and 0542 for all Kaiwaka Post Office mail 
KAIWAKA PRIMARY SCHOOL: Ph: 4312309   
KAIWAKA SPORTS ASSN: Ph 4312005; 4312129 gym 
KAIWAKA ST JOHN: Manager Steve Rosser 09 4318403, 021 355734 
KATE'S PLACE Community Centre - Employment services, Free Health 
Nurse, Plunket, Advocacy, Osteopath, A.A., Legal Advice. 4312 661 
LINKING HANDS Health Shuttle Ph 4315906 or 09 4318969 
MINISTRY FOR PRIMARY INDUSTRIES - General inquiries Call 
Free 0800 008 333 
NORTHPOWER: Faults Kaiwaka area 0800 104040 
OTAMATEA COMMUNITY SERVICES: Counselling, parent coach, 
Family Support worker, budget advice, food bank. Mon-Fri 9am-3pm. Ph 
09 431 9080 http://www.otamateacs.org/ 
PARENTPORT: Free, practical family support service Puhoi to Paparoa 
Ph or txt: Dianne 027 280 5093 or 09 425 9357 
PLUNKET:  Kaiwaka  -Kate's  Place  Clinic  1st  Wednesday  of  the  month; 
Mangawhai  - Rose Madsen Cottage: Coffee Group 9:30 every Monday.  Clinic 
every Monday and Thursday. 
Maungaturoto - Good News Church, Clinic 2nd and 4th Wednesday.  
Cynthia 09 431 7340 or 027 675 3488 
PLUNKET HELPLINE -0800 933 922 (24 hours) 
TAITOKERAU COMMUNITY LAW: Free confidential legal advice and 
assistance, 2nd
Thursday
 of each month. Ph: 0800 155 529 for appts.  
TE URI O HAU Settlement Trust Tangata Developments: Whanau Ora 
021 793262  
VETERINARY SERVICE MANGAWHAI: 
Ph: 4314535 Mon-Fri 8.00-5.00, Sat 9-12, a/h appt. 
WELLSFORD DOCTORS: Ph: 4238 086 
CHURCHES:
 
Kaiwaka  Revival  Church  -  Your  Community  Church:  Sundays  10am. 
Ph: Pastor Tawhiri 09 431 8988 or Pastor Paul 09 4312 068 Visit us at 
www.facebook.com/kaiwakachurch 
 
St  Paul's  Anglican  Church  1st  Sun.  9.00am  (Eucharist),  3rd  Sun. 
9.00am (Family Service). Contact: Rev. Wayne Thornton Ph 431 4122 
www.mangawhaianglican.org.nz 
 
Church of Christ the King, Mangawhai:9.30am every Sunday 
 
St.Mary's  Catholic  Church:  Maungaturoto  –  Griffins  Road,  Saturday 
evening  Vigil  Mass  6pm;  Mangawhai  –  Senior  Citizens  Hall,  Sunday 
Mass  8:30am;  Wellsford  –  Matheson  Road,  Sunday  Mass  10:30am;  
Mid-week Mass times and all enquires to Fr. Bill Fletcher – phone 423 8170
 
Baptist Church: Sun. 10.30am Mangawhai Snr Cit.Hall.Ph:4312339 
 
Cause  Way  Church  Mangawhai:  Sundays  10.15am,  Mangawhai 
Community  Recreation  Centre,  Insley  St.  Ph:  09  4314782